The Guardian reports this morning that Tony Blair is to take on a new role leading the European Council on Tolerance and Reconciliation.
This is no doubt great news. The 21st century's greatest war criminal is called to lead the campaign against 'extremism' which he himself instigated. Truth be told, it only makes sense to appoint a mass murderer to such a delicate job because only a genocidal character could be intimately familiar with the nitty gritty of institutional hatred and intolerance.
The British former prime minister who launched an immoral interventionist war has been appointed as chairman of the European Council on Tolerance following his spectacular success as a Peace Envoy to the Middle East introducing reconciliation and new harmony to the entire region.
In a joint article (paywall) with Moshe Kantor, the president of the council of the European Jewish Congress, Blair recently expressed his devotion to the Jews and the primacy of their suffering. "Antisemitism is not a Jewish problem, but one infecting the whole of society and needs to be tackled for the sake of us all."
The penny dropped. Blair, seemingly understands his contribution to Jew hatred. Next time when he launches a global criminal war with no end he must make sure that rather than using Lord Cash Point Levy  as his chief fund raiser he should consider using someone else, preferably a 'gentile' (If he finds one). Even Blair must have grasped by now that the clear association between his Ziocon war and a Jewish financier is 'not just a Jewish problem.'  With 5 million people dead in the region it infects the whole universe.
It is encouraging to learn that the council chaired by Blair doesn't really believe in elementary freedom, quite the opposite, it believes it should promote legislation to confront  'holocaust denial', and this makes a lot of sense to me. As a person who perpetrated a holocaust himself, Blair is interested in laws that would stop any attempt to narrating and revising the past. I totally agree. I believe that all history except the Jewish one, must be abolished all together and immediately. We are moving forward, we progress, we should invest in the future rather than attempt to find out what really happened let alone why.
The quandary of the economic dilemma continues. A globe suffering from a deflationary financial impact, while consumer prices rise well above the reported cost of living increases, does not bode well that prospects of commercial growth can rescue the world economy. What changes can overcome this predicament? Well, some academic scholar's offers serious concern that a long term rebound towards prosperity is no longer possible.
In an essay, What if economic growth is no longer possible in the 21st century?, Sean McElwee and Lew Daly argue that fundamental changes will be the norm in this century.
"Many economists have warned that the old model is dying out. In a much-cited paper, Robert Gordon argues that the rapid growth we take for granted is not only historically anomalous but likely to slow significantly in the 21st century, pointing in particular to diminishing returns from technology as one major drag. Developed countries have already picked the "low-hanging fruit" of technological advance (in Tyler Cowen's phrase), and future innovations will produce far less growth, he argues."
Postulating from a climate charge bias the authors claim a bleak future is in the cards.
"The conclusions that flow from these observations are stark. The old economic paradigm relied on unsustainable growth, so we must change the paradigm. For decades, our rising standard of living came at a deep cost to our environment and our children's future. There is simply not enough planetary bio-capacity to grow our way out of the messy moral discussions of distribution. The idea that inequality is merely an inefficiency to be corrected with a technocratic fix or perpetual growth is no longer tenable."
Compare this perspective with that in The End of Economic Growth by Charles Siegel who presents three backdrops.
"First, imagine that people decide they have enough at the economic level of the United States in the 1960s—the time when American social critics began to say that our economy was so affluent that it was geared to waste. Imagine that individuals generally chose more free time rather than more income, and imagine that people also made the political decisions needed to limit sprawl, excessive automobile use, and other forms of destructive consumption, so per capita GWP stops growing when it reaches the level of 1965 America.

As a second scenario, imagine that the world imitates the current American consumerist style, so growth does not end until everyone in the world has the income that more affluent Americans have today. Imagine that everyone wants as many useless medical treatments as insured Americans receive today, everyone wants to spend as much on schooling as the most affluent American suburbs do today, everyone wants to drive to the mall and shop till they drop, everyone wants an oversized house in a sprawl suburb and at least two family cars. People are not satisfied until there are more motor vehicles than registered drivers in the world, as there already are in the United States.

Finally, as a third scenario, imagine that we do not do not allow choice of work hours. Instead, we continue to believe the economists who tell us we need growth to avoid unemployment, so the entire world decides it must stimulate demand and promote growth endlessly to create more jobs, as America did after World War II."
An objective analysis of both research approaches needs to ask, what about the unabated increase in population and world-wide debt.
If technology is pushing the limits of providing real economy of scale or reduced innovative and useful generation of economic growth, the prospects for a rising prosperity is significantly diminished. Ever since the industrial revolution, a general economic improvement has registered improvement in individual lives.
The supposition that the planet is running out of bio-capacity is certainly debatable. However, dispute over spending beyond our mutual means and burdening future generations is not arguable.
A forecast that people will choose to consume less will not be from a perspective of voluntary design, but from decreased employment opportunities, lower pay and increases in taxes.
The notion that the entire world will achieve the Herbert Hoover adage, A chicken in every pot and a car in every garage, is about as remote as achieving universal brotherhood.
As for stimulating demand, is that really possible when currencies continue to lose their purchasing power, low interest rates savage savers and government debt is the only engine of funding public programs and make- work jobs?
Lacking in all these academic approaches is the fact that corporatists, bureaucrats, authority officials and the financial elites have no interest or desire to see ordinary citizen prosper.
Economic growth is no longer possible; because of intentional decisions that accept the strategy that most people are no longer necessary to maintain the conspicuous excesses of the super rich.
Since the consumer society is distained by the socialists in academia, it is not expected that their analysis would value a strong independent domestic economy.
The message they would have you believe and work to impose on all of us is that we must sacrifice for the communal good.
Contrary to this attitude is to accept that the common good is actually achieved under a prosperous national economy.
The bare facts are hard to accept for most "Free Trade" proponents. The primary starting point is to write off the bankster debt and issue honest money. As long as the Federal Reserve is allowed to control the monetary creation of currency, the rules of compound interest apply and actual economic growth is impossible.
Accept that the economic woes of the planet are solvable by the liberating spirit of individual entrepreneurs and small business merchants if the stranglehold of transnational corporatocracy model was broken.
The actual resource in short supply is the will and courage to build a true free market where competition is encouraged and monopolies are broken up. Without the insurmountable burden imposed by the counterfeit financial dictatorship, the world could recover. As it stands now, business as usual will destroy the masses.
"Political Ponerology" is the name given by Polish psychiatrist Andrzej M. Łobaczewski to an interdisciplinary study of the founders (i.e., Karl Marx) and supporters of 20th century totalitarian political regimes. His study utilizes data from psychology, sociology, philosophy, and history to account for the propagation of man's inhumanity to man through such phenomena as terrorism, aggressive war, ethnic cleansing, ostracism, genocide, and despotism:
"As many as 7 million Ukrainians were starved in Soviet Socialist dictator Joseph Stalin's artificial, forced famine in Ukraine in 1932 and 1933. This is approximately the total population of Manitoba, Newfoundland, British Columbia, New Brunswick, Saskatchewan, Nova Scotia, and Prince Edward Island." (Inky Mark, M. P. Dauphin – Swan River House of Commons 2 June 1998, Famine-Genocide in Ukraine 1932-1933)

"Moscow employed the famine as a political weapon against the Ukrainians in the years 1932-1933. The famine was in its entirety artificially induced and organized." (ibid, Investigation of Communist Takeover and Occupation of the Non-Russian Nations of the U.S.S.R p. 35)

"… On one side, millions of starving peasants, their bodies often swollen from lack of food; on the other, soldiers, members of the GPU carrying out the instructions of the dictatorship of the proletariat. They had gone over the country like a swarm of locusts and taken away everything edible; they had shot or exiled thousands of peasants, sometimes whole villages; they had reduced some of the most fertile land in the world to a melancholy desert." (ibid, Malcolm Muggeridge, "War on the Peasants," Fortnightly Review, 1 May, 1933)

"Food is a weapon." (ibid, Maxim Litvinov – Soviet Commissar of Foreign Affairs)
According to the authors of "The Black Book of Communism," Communist and Socialist regimes did not just commit criminal acts but were criminal enterprises in their very essence:
"…all ruled lawlessly and without regard for human life (and) one particular feature of many Communist regimes (was) their use of famine as a weapon. The Bolsheviks had decided to eliminate…any challenge or resistance, even if passive, to their absolute power. This strategy applied not only to groups with opposing political views, but also to such social groups as the nobility, the middle class, the intelligentsia…the clergy…military officers and the police." (pp. xvii, 8-9)
A coalition of atheist pagan Jews (Bolsheviks) and atheist pagan Gentiles (Marxist Communists) systematically stole the personal property of Russians and sexually perverted their children and conditioned them to hate the Trinity, Jesus Christ God Incarnate in particular, as well as their own parents, the Christian church and their homeland.  The sons of Belial undermined and destroyed the traditional family, unleashed a holocaust of abortion, homosexualized culture, desecrated and blasphemed churches, crucified thousands of nuns and priests and in general, committed monstrous crimes against humanity which took the lives of more than sixty-million men, women, and children. For example:
"About 200,000 clergy, many crucified, scalped and otherwise tortured, were killed during the approximately 60 years of communist rule in the former Soviet Union, a Russian commission reported this week. In addition, another 500,000 religious figures were persecuted and 40,000 churches destroyed in the period from 1922 to 1980, the report said. Half the country's mosques and more than half the synagogues were also destroyed" Clergymen were crucified on churches' holy gates, shot, scalped [and] strangled," said Alexander Yakovlev, head of the Commission for the Rehabilitation of the Victims of Political Repression. The commission prepared the report for Russian President Boris Yeltsin. "I was especially shocked by accounts of priests turned into columns of ice in winter," Yakovlev said. "It was total cruelty." (paulbogdanor.com)

"Persecution and martyrdom of Christians under 20th century totalitarianism–mainly of Russian Orthodox Christians under Bolshevism–is by far the greatest crime in all of recorded history….Attempts at "killing the soul" started only months after the Revolution of 1917." Persecution and martyrdom was, "several times greater than the Holocaust in terms of innocent lives brutally destroyed.   It has killed more Christians in a few decades than all other causes put together in all ages, with Islam a distant second as the cause of their death and suffering. And yet it still remains a largely unknown, often minimized, or scandalously glossed over crime." (New Martyrs of the East and Coming Trials in the West, Srdja Trifkovic, OrthodoxyToday.com)
In this light we can understand why Lobaczewskis' original manuscript quickly went into the furnace just minutes before a secret police raid.  In 1984 the manuscript was reassembled, but according to Lobaczewski, its publication was blocked by technocratic globalist Zbigniew Brzezinski.  After half a century of suppression it is finally available.
Though Lobaczewski's study is a clinically accurate description of the nature of human evil it falls into the error of attributing evil to biological causes rather than the sin nature of man.   Despite this failing, Political Ponerology is a shocking account of large scale evil super-heated by hatred of the Holy God and burning with envy and will to power—or what Lobaczewski terms 'ponerogenic processes'  that overtook modern Russia and have overtaken whole societies and nations since time immemorial.
When ponerogenic processes have finally saturated a society's entire ruling class and opposition from morally convicted people has been crushed, then we are dealing with what Lobaczewski calls Macrosocial Evil or a "macrosocial ponerologic phenomenon." (p. 121)
Ponerogenic processes are synonymous with the unfettered, vastly inflamed sin nature of man beginning with inflated pride issuing in covetousness, selfishness, ingratitude, jealousy, resentment and hate, all of which early Church Fathers combined into the cold-blooded vice known as envy.   Thus when 'macrosocial ponerologic phenomenon' has saturated a nation's ruling class and most of its society it means that a tyranny of evil fueled by poneros has overtaken it.   Poneros is:
"The passion which causes evil, the father of death, the first entrance for sin, the root of wickedness, the birth of sorrow, the mother of misfortune, the basis of disobedience, the beginning of shame. Envy

banishes us from paradise….Envy made Joseph a slave. Envy is the death-dealing sting, the hidden weapon, the sickness of nature, the bitter poison, the self-willed emaciation, the bitter dart, the nail of the soul, the fire in the heart, the flame burning on the inside…" (Life of Moses, Gregory of Nyssa, quoted in Death by Envy, Fr. George R.A. Aquaro, p. 74)

"Scripture combines envy with jealousy, covetousness and stinginess, into a single concept that is a manifestation of idolatry (narcissism) of self and belief that there is a limited supply of good." (ibid)
Scripture attributes poneros to the Evil One, the leader of all forces of evil.   The Evil One is the spirit of rebellion and negation, the father of lies, "the adversary" "the accuser,"  "calumniator" and undiluted essence of envy who works through the principle of negation and rebellion in the fallen souls of lawless natural men:
"The evil man out of his evil treasure bringeth forth evil (poneros) things" Matthew 12:35
Poneros  has played a part in human dynamics ever since the Evil One persuaded the envy-bitten Cain to murder his brother Abel, Judas to betray Jesus Christ and the Pharisees to crucify Him, and Saul to suddenly throw his spear at David in a murderous attempt at pinning him to a wall. (1 Sam. 18:11)  In fact, the envy-bitten Saul tried three times to kill David with a javelin (1 Sam. 18:10-11, 19: 9-10) and to bring about David's death by the Philistines. (1 Sam. 18:25)
Poneros is also the spirit animating British philosopher Adam Smith's sophistry, that is, his phony concern postured in sophisticated questions and 'evidence' such as,
"Is having a loving family an unfair advantage?"  "Should parents snuggling up for one last story before lights out be even a little concerned about the advantage they might be conferring?"
"Evidence shows that the difference between those who get bedtime stories and those who don't – the difference in their life chances – is bigger than the difference between those who get elite private schooling and those that don't." (Parents reading to kids blasted as 'unfair,' Joe Kovacs, WND, May, 2015)
Kurt Vonnegut, Jr. captures the spirit of poneros in his brilliantly conceived short story, "Harrison Bergeron,"
"THE YEAR WAS 2081, and everybody was finally equal. They weren't only equal before God and the law. They were equal every which way. Nobody was smarter than anybody else. Nobody was better looking than anybody else. Nobody was stronger or quicker than anybody else. All this equality was due to the 211th, 212th, and 213th Amendments to the Constitution, and to the unceasing vigilance of agents of the United States Handicapper General."   
As a tyranny of poneros had overtaken and led to the degradation and implosion of ancient Greek society, an exploration of Greek thought with regard to types of envy will prove enlightening. The first type is 'zelos,' a kind of envy stirred up by any perceived superiority (inequality).  In the poem, 'Work and Days,' Isocrates presents the spirit of zelos as "with grim face and screaming voice, who delights in evil" and causes Decency and Respect to flee. (1)  The anonymous author "Michael Swift" warns of this very thing in a widely circulated article called "Gay Revolutionary."  In prose that chills the spine Swift warns the envied straight community that the men of Sodom shall be victorious,
"..because we are filled with the ferocious bitterness of the oppressed who have been forced to play seemingly bit parts in your dumb, heterosexual shows throughout the ages…We too are capable of firing guns and manning barricades of the ultimate revolution….Tremble, hetero swine, when we appear before you without our masks."  (Spirit Wars: Pagan Revival in Christian America, Peter Jones, p. 255)
Empowered by spineless, accommodating jellies throughout our seminaries, pulpits, government and courts, the envy-bitten men and women of modern Sodom maliciously terrorize Christian bakers, florists, bed and breakfast owners and other decent, law-abiding straight males and females, forcing them to either submit or be crushed even as the men of Sodom openly rape the souls and bodies of their sons and daughters in churches, schools, and elsewhere. (Envy and the Greeks: A Study of Human Behavior, Peter Walcot, pp. 2-3 from Death by Envy, Fr. George R. A. Aquaro, p. 12)
As the Holy Triune God is the "moral monster" responsible for the poor choices, weaknesses, sin nature and failures of the self-pitying, self-absorbed and envy-bitten, zelos is also the spirit behind the 'murder' of the Christian God, the closing off of the supernatural dimension and the Way to Paradise with the requisite suppression of His Revelation to man, the miracle of Special Creation, Original Sin, Moral Law, immutable Truth, judgment, and hell. Thus zelos is the lying, hateful, intolerant spirit behind the elevation of evolutionary scientism above the inerrant Word of God.
Zelos animates back-stabbing gossip, slander, snooping, spying, tale-bearing, the politics of personal destruction as well as special rights and privileges for the so-called oppressed (envy-bitten).  Zelos demands redistribution of wealth, egalitarian sameness issuing in loss of gender identity (i.e., mother, father, husband, wife) in favor of gender-neutral terms such as 'partner.' It demands same-sex marriage, absolute inclusion and tolerance, 'legalized' illegal immigration, the mandated sexualization and perversion of our youth by pan-sexual and omni-gendered sexologists, and a hob-nailed boot viciously crushing the faces of envied "oppressors."
Morally, zelos is the venom behind America's reigning Pharisaic legalism: political correctness, hate crime laws, speech codes, gender equality, economic equality, and sensitivity training.  In 'political' terms, green-eyed zelos is the spirit of green multiculturalism, green ecology, green sustainability, green 'family planning,' green global warming/cooling/change, green socialism and green diversity.
In "Diversity': The Idol of Academia," Jack Kerwick describes diversity as a 'god' that is as educationally invidious as it is false:
"Diversity" is not just a good in the academic world. It is the supreme good, the one good before which all other considerations must yield…."cultural diversity" not only doesn't correspond to a rise in intellectual diversity; it invariably corresponds to a rise in political uniformity. This is crucial, for the promotion of "cultural diversity" is nothing more or less than the promotion of a left-wing ideological agenda."  (June 26, 2014 Jack Kerwick, Front Page Magazine)
Zelos in its every malignant, sadistic permutation is the green-eyed spirit behind left-wing ideology and its' totalitarian fantasy:
"Socialism is a philosophy of failure, the creed of ignorance, and the gospel of envy, its inherent virtue is the equal sharing of misery." (Winston Churchill, British orator, author and Prime Minister during World War II, 1874-1965)

"When I say that Marxism is based on envy, I mean that the glorious revolution of the proletariat…was really a promise to put a final end to all the conditions that make for envy." (Joseph Epstein, author and former editor of The American Scholar, from Truths about Socialism, Coral Ridge Ministries, p. 66)
After zelos come philotimia and hybris.   In Greek mythology, philotimia is narcissism–love of self, love of attention, love of self-affirmation, love of self-gratification– while hybris is the arrogance, insolence, contempt, insult, shame, hatred and mistreatment of human objects of envy by a sadistic narcissist. In Greece, philotemia and hybris were on display when the gods and their earthly counterparts punished inferior 'subhumans' for usurping their authority as well as when they struggled amongst themselves for positions of primacy.   In America, philotimia and hybris are visible when America's left-right 'ruling class' god-men try to destroy each other in their vicious power struggles among themselves. These two green-eyed monsters, philotemia/hybris are on display whenever the god-men's lapdog media engage in vicious psychological bullying and other malicious forms of mistreatment of stupid, unevolved hominids –the hard-working middle class, especially the Tea Party and God-fearing orthodox Christians and faithful Jews—the so-called oppressors.
Philotimia/hybris is also the spirit animating the intolerant, hateful attitudes of evolutionary theologians toward defenders of the Revealed Word of God beginning with the Genesis account of creation ex nihilo.
Phthonos is the fourth type of envy/covetousness.  Phthonos seeks to deprive envied 'other' of possessions, honor, status, spiritual gifts and virtues.  Phthonos for example, is the diabolical Darwinian reductionism of man in his Creator's spiritual image to ape.  It is the green-eyed totalitarian spirit of Agenda 21 together with save the earth and re-wilding schemes that elevate crocodiles, trash fish, and other creatures above the welfare of human beings. Phthonos animates carbon footprint schemes, population control plans, passive euthanasia (refusal of health care to targeted Obama care recipients), the attempted theft of Bundy's ranch and other private property and resources.  Phthonos is driven not just to ostracize and confiscate but to use psychological manipulation (i.e., lies, false guilt, slander, propaganda, scape-goating) and other terroristic force to take or deprive 'other' of whatever is coveted/envied.
Phthonos will even drive a man (i.e., Cain) to murder his own brother, to "murder" the Holy God (i.e., Nimrod, Karl Marx) and Jesus Christ God Incarnate (Nietzsche).
After ancient Greece had been overtaken by the spirit of poneros, the egalitarian, collectivist, or leveling impulse served to help relieve an envy-torn culture by leveling all men down to the lowest common denominator.  This was enforced by character destruction and the threat of ostracism.
"…one had to watch not only the malevolent actions of envious friends and enemies, but the very real threat of ostracism by the democratic community.  Philanthropy had much less to do with (love of man) as it had with….avoiding other people's phthonos of one's success."  (Death by Envy, p. 14)
The fifth type of envy is vaskonia or Evil Eye (ophthalmos poneros) and means something even more malignant than phthonos.    Vaskonia bespeaks an evil spirit associated with demonic possession and the malign touch or glance of which leaves a soiled imprint and implies instant victimization and death.   Vaskonia is inherently sudden, meaning one wrong word, one wrong expression, or the impulse of a moment is all it takes to become the victim of the Evil Eye.
As a whole, Scripture combines envy with hatred of the Holy God and one's brother, which means that there can be no love whatsoever where there is envy and hatred in one's heart.
Today increasing numbers of Americans at every level of society, on both left and right, Christian and secular, are controlled by their passions unfettered from the restraint of transcendent moral law.   Adding to the problem are culturally relevant church models attended by thousands of Americans that cater to felt-needs and self-indulgent emotional feel-goodism (2 Tim. 4: 1-220).  Thus America is "a nation ruled by its passions," said Reb Bradley, author of "Born Liberal Raised Right."  This is why  heinous acts,
"…of casual disregard for life, unheard of fifty years ago, have become a familiar item on the evening news; students killing classmates, children murdering their playmates….these gruesome crimes are merely symptomatic of a breakdown of moral fiber…"  ( pp. 2-3)
The most frightening aspect of America's descent into moral imbecility, narcissism, heresy, apostasy, pathological lying, and lawlessness is that our society is being overtaken by "ponerological processes."   Through the White House, State Department and other federal agencies, legislatures, media, Hollywood, courts, academia, pentagon, seminaries and even pulpits, the spirit of poneros is encompassing our society, suppressing and demonizing orthodox Christians, faithful Jews and other morally informed people, and overspreading our nation with a "macrosocial ponerologic phenomenon."  This will lead inevitably to a tyranny of evil, persecution and martyrdom:
"The New Martyrs' example and their legacy is precious, because in this, 21st century, it will be the turn of Western Christians to experience martyrdom. In Western Europe they will be persecuted by the unholy alliance between the postmodern, Christophobic velvet totalitarianism of the therapeutic hyper-state, and a resurgent Islam which already accounts for a quarter of all newborns in France. In the United States they will be persecuted for refusing to accept the destruction of the moral foundation of the society, currently epitomized by abortion, by "gay marriage," and by the ever-expanding speech and thought codes. Instead of being thrown to the lions or sent to Siberia, the resisters will be subjected–by some monstrous mechanism devised by an ever more activist judiciary–to the mandatory "sexual diversity orientation sessions," or feminist-led pro-abortionist "right-to-choose education workshops," or "immigrant rights sensitivity training," after which the continuing refusal to recant will lead to compulsory "therapy" and forced medication. This scenario is not farfetched on either side of the Atlantic. Western Christians should be prepared for martyrdom."  (ibid, Srdja Trifkovic)
Judgment
In "Idols for Destruction" Herbert Schlossberg proposes that we use idolatry as a framework for comprehension of the evil and persecution sweeping over and through our post-Christian society. (p. 34)   The biblical explanation for moral imbecility and narcissism in connection with the end of society resides in the concept of judgment upon an idolatrous people (Ro. 1:28-32):
"Certain men, the children of Belial, are gone out from among you…saying, Let us go and serve other gods, which you have not known…"   (Deut. 13: 13; Judges 19: 22, 20:13; 1 Sam. 1:16, 2:12, 10:27, 25:17, 25:25, 30:22; 2 Sam. 16:7, 20:1, 23:6; 1 Kings 21:10, 21:13; 2 Chron. 6:15, 13:7)
Scripture depicts a societies' people as either having submitted themselves to the Triune God or else as idolaters (sons of Belial) who having rebelled against Him have been delivered by Him over to worthless, useless, hardened, loveless minds.  This is how the Old Testament portrays Israel.  Israel had become an evil nation of idolaters fully deserving the judgment the Lord brought against it.  Its' rebellion was accompanied by a turning to idols (which can also be idols of mind such as scientism and evolutionary cosmogonies) and this idolatry brought the nation to it's' end.
The Decalogue shows that the beginning of idolatry is pride (preference for self over the Holy Trinity and neighbor). The will of the proud man is not in submission to the Trinity but self, thus having made an idol out of himself he assumes he possesses honor and rights. This is why pride leads to contempt for truth, law, wisdom, norms, authority, standards, rules, institutions and other people in combination with any or all of the following vices: pathological lying, treachery, murderous thoughts, gluttony, greed, covetousness, lust, hate, cheating, promiscuity, sadism, sodomy, pederasty, pedophilia, adultery, theft and the dehumanization of other people resulting in psychological and physical slavery, population control schemes, abortion, brutality, terror, mass-murder (genocide) and man-made famines.
In the final analysis, malice and envy towards the Holy Trinity compels man to destroy creation and to annihilate his God-given soul/spirit by imagining himself as 'one' with the evolving universe of matter and energy. This is the definition of damnation, said Fr. Aquaro. Hell is not a punishment meted out by a hateful Holy God as some would think, but an absolute refusal of a pardon granted all mankind. It is impossible to receive good from a person one envies, and so it is that one cannot be saved if one resents the Holy Triune God. This is the message of the Prodigal Son in Luke 15:11-32 when the elder brother refused to enter the house upon his brother's return. It is also the underlying meaning of CS Lewis's pointed observation that the door to hell will be slammed and locked from inside:
"The man wakes from the final struggle of death, in absolute loneliness…Not a hint, not a shadow of anything outside his consciousness reaches him…Soon misery will beget on his imagination a thousand shapes of woe, which he will not be able to rule, direct, or even distinguish from real presences." (C.S. Lewis: George MacDonald, an Anthology, p. 61)
1. Death by Envy, Fr. George R.A. Aquaro
During the Oscars last Sunday night, winner Patricia Arquette, Boyhood, admonished America to work for women's equal pay. J.K. Simmons, Whiplash, invited Americans to phone their parents and thank them. Michael Keaton, Birdman, told the audience how thankful he felt for his life and his son.
All of the winners and losers spoke eloquently about their fortunes and misfortunes in the American film making business. Ironically, legendary Clint Eastwood's epic film, American Sniper, out-grossed all the other top Oscar winning films combined. The academy ignored his movie.
The movie, Selma, produced by Oprah Winfrey, didn't fare very well. If you remember, back in the era of Dr. Martin Luther King, African-Americans marched from Selma to Montgomery, Alabama to force this nation toward voter rights and Black rights in the American pantheon.
Since that time, America evolved to see African-Americans like Colin Powell become Secretary of State; Clarence Thomas and Thurgood Marshall served on the Supreme Court; Condoleezza Rice became Secretary of State; Barack Obama became president and much more as US Senators, governors, mayors and House of Representatives feature African-Americans from every walk of life.
African-Americans dominate the NBA, NFL and major television shows such as "Scandal" and "How to get away with murder." American Blacks head up Fortune 500 companies.
With all of their success, a black dance group pranced on the stage at the Oscars with a highly racially charged routine depicting their struggles against White America. At one point, they all raised their hands, shouting, "Hands up! Don't shoot!" They referred to 18-year-old Michael Brown in Ferguson, Missouri who lost his life after he robbed a convenience store and charged a police officer.
Six African-American witnesses testified that Brown wrestled the police officer for his gun in the police squad car and they testified that Brown charged the police officer with intent to overpower him. Riots and carnage resulted in burning down a good portion of the city while Al Sharpton and Jesse Jackson charged racism and ruthless police tactics.
In reality, Michael Brown showed up in several videos where he viciously beat an old man senseless and his crime sheet showed a budding criminal who would reach jail or death, whichever came first.
Somehow, major Black leaders lay the blame on White America for all of Black America's problems. Even Barack Obama said that Trayvon Martin, a budding criminal in his own right, could be Obama's son.
Black Americans omit or ignore numerous aspects of Black crime, poverty, illiteracy and prison sentences.
First of all, the latest statistics show that 6,000 Black on Black killings occur annually in the USA via strangling, guns, knifes and beatings. No Black leaders whisper a word about how to solve such horrible numbers. They don't condemn their own actions, but they always condemn Whites.
Second, 73 percent of African-American children arrive out of wedlock and into welfare with a single mother annually. None of the Black community that screams at the Brown and Garner killings, breathes a word about the irresponsible actions of Black teen girls and their boyfriends. They live on welfare provided by the American taxpayer. Is it any wonder that the African-American family devolves into fatherless families, rogue children, violence, illiteracy, shoplifting and cyclical dependency on taxpayers?
Third, figures show that Black American teens quit high school by 50 to 60 percent in our major cities. Millions of African-Americans guarantee their poverty, homelessness, joblessness and fatherless families. They choose their conditions.
Fourth, millions of Black Americans fill our prisons in a response to their choices to deal, consume and transport drugs. Each African-American chooses prison when they choose to break the law.
Fifth, a whopping 48 million Americans failed themselves as to education, personal responsibility and personal accountability as they subsist on food stamps provided by American taxpayers. Millions of Blacks stand in the ranks of those who gain EBT cards (Electronic Benefits Transfers) for food stamps and free housing.
Each person, Black or White, suffering lack of an education and making poor choices, brings a personal tragedy into the fabric of American life. Our inner city projects like Chicago, Detroit, New York City, Atlanta, Houston, Denver and Los Angeles—bear witness that we must change our national priorities.
Instead of massive financial disasters of 13-year wars created and maintained by bankers and the Military Industrial Complex, we need to fund national educational systems that work for our youth. We need all male and all female schools with dress codes to take the sexual intrigues out of the classrooms. We need to teach parents how to parent their children by mandatory classes before marriage. We need to pay teachers and mentors ample money to create discipline and respect for education.
We need to stop endless and massive legal immigration, that injects 1.2 million people annually, who take jobs from our working poor. We need to reduce all immigration to less than 100,000 annually instead of the current 100,000 every 30 days. We must elect Congressional leaders who garrison troops on our Mexican border to stop in excess of 500,000 illegal aliens jumping our borders and into our workforce annually. If not, we cannot and will not solve mass unemployment of Black America. The past five presidents and Congresses did nothing to help Black or White Americans as to jobs. In fact, Congress forces our poorest into more poverty by mass immigration.
We need Black national leaders to lead, guide and inspire African-American youth to participate in the American Way of Life. Whether Black America likes its past or not, it now must deal with living in a highly educated, highly industrialized 21st century country.
We need all the angry Al Sharpton's, all Black entertainers, all sports heroes and political leaders to stand in front of Black audiences and thank their lucky stars for living in America. If Black Americans lived in the unending violence of Africa for a few months, examples—mass murderer Boko Haram, Somalia, Sudan, Congo, millions dying of AIDS, etc., they would change their mantra of "Hands up! Don't Shoot!" to "How lucky I am! Praise the Lord!"
Have Black Americans wondered why all those millions of starving African immigrants clamor to come to America? They die by the millions in Africa from starvation, AIDS, cholera, Malaria, genocide wars and worse.
If we hope to maintain a viable civilization, we all need to buckle down to education, jobs, lawful communities and civil participation. If not, we all face Ferguson, Missouri's in our own towns across the nation, especially in our cities where the cauldrons boil with contempt for law and order. You heard the marches, "Kill cops now!"
Once our nation loses its respect for law and order, we all face what occurs in Africa, the Middle East, Mexico and Paris, France daily. It's not going to be pretty for anyone.
The "Exceptional" U.S. Suffers Crushing Defeat in Debaltsevo…
"There's no city left. It's destroyed."

— Anonymous Ukrainian soldier following the battle of Debaltsevo
In less than a year, the United States has toppled the democratically-elected government of Ukraine, installed a Washington-backed stooge in Kiev, launched a bloody and costly war of annihilation on Russian-speaking people in the East, thrust the economy into a downward death spiral, and reduced the nation to an anarchic, failed state destined to endure a vicious fratricidal civil war for as far as the eye can see.
Last week, Washington suffered its greatest military defeat in more than a decade when Ukraine's US-backed army was soundly routed in the major railway hub of Debaltsevo. Roughly, 8,000 Ukrainian regulars along with untold numbers of tanks and armored units were surrounded in what-came-to-be-known-as "the cauldron."  The army of the Donetsk Peoples Republic led by DPR commander  Alexander Zakharchenko, encircled the invading army and gradually tightened the cordon, eventually killing or capturing most of the troops within the pocket. The Ukrainian Armed Forces suffered major casualties ranging between  3,000 to 3,500 while a vast amount of lethal military hardware was left behind.
According to Zakharchenko, "The amount of equipment Ukrainian units have lost here is beyond description."
Additionally, the US-backed proxy-army saw many of its crack troops and top-notch units destroyed in the fighting leaving Kiev unable to continue the war without assistance from allies in the US or Europe.  The full impact of the defeat will not be known until angry troops returning from the front amass on the streets of the Capital and demand Petro Poroshenko's resignation. The Ukrainian President is responsible for the massacre at Debaltsevo.  He was fully aware that his army faced encirclement but ordered them to remain in order to satisfy powerful right-wing elements in his government. The disaster is even more terrible due to the fact that it was entirely avoidable and achieved no strategic purpose at all. Extreme hubris frequently impacts outcomes on the battlefield. This was the case at Debaltsevo.
The debacle ensures that the bumbling president's days are numbered. It's nearly certain that he will either be replaced or hanged sometime in weeks ahead. He has already flown his family to safety out of the country, and there's growing speculation that both Washington and the far-right nationalists who occupy the Security Services will insist on his removal. That paves the way for a second Ukrainian coup in less than a year, a grim reminder of the tragic failings of US policy in Ukraine. Check out this blurb from a post at the Vineyard of the Saker:
"Looks like the Nazi death squads are on the march again, this time they are looking at Kiev.  Thirteen death-squad (aka "volunteer battalion") leaders have now declared that they are forming their own military command under the command of the notorious Semen Semenchenko. Officially, they are not in any way opposed to the current regime, so said Semenchenko, but in reality their rank and file members are pretty clear about what they want to do: organize a third Maidan and toss out Poroshenko.
What makes these 21st century version of the SA so dangerous for Poroshenko it that he, unlike Hitler, does not have a 21st century version of the SS to eliminate them all overnight.  In fact, according to many reports the entire southern part of the rump-Ukraine is now "Kolomoiski-land" fully under the control of the oligarch who finances these death-squads.  Add to this the fact that most of the Rada is composed of the very same battalion commanders and assorted Nazi freaks, and you will why Poroshenko is now very much in danger……

The sad reality is that there is simply nobody in the Ukraine capable of disarming these so-called "volunteer battalions".  There are now thousands of uniformed Nazi freaks roaming around with guns who can now impose their law of the jungle on everybody.  It sure looks like the future of Banderastan will be something like a mix of Somalia and Mad Max – a failed state, a comprehensively destroyed economy, a collapsed social order and the law of armed gangs of thugs." (The Vineyard of the Saker)
If Poroshenko is doomed to be the scapegoat in the Debaltsevo cock-up, it's only because he followed the foolhardy advice of his Washington paymasters. Had he listened to his military advisors instead, he probably would have withdrawn his troops earlier and spared himself a Gadhafi-like demise.  Now, that's probably no longer possible.
Poroshenko's desperation has led to an appeal to western allies and the United Nations for the deployment of a peacekeeping mission in Ukraine.  The request is an admission of defeat and has no chance of being implemented, mainly because it  violates the terms of the recent peace agreement (Minsk 2.0), but, also, because voting members on the Security Council (Russia and China) are certain to veto the idea. Clearly, Poroshenko, who is increasingly embattled and reviled, is grasping at straws hoping to avoid the same violent end he ruthlessly inflicted on so many of his countrymen. Here is a brief summary of recent events from the World Socialist Web Site:
"The debacle suffered by the Kiev regime exposes the utterly reckless and frankly stupid character of the policy pursued by Washington and its EU allies in Ukraine….

The initial attempts of the Kiev regime and its CIA backers to subjugate east Ukraine by sheer military terror, relying on fascist militias and select units of the Ukraine army that it considered to be reliable, have failed….

Nevertheless, Washington is pressing Kiev to prepare for a renewed offensive and is still discussing directly arming the Ukrainian army against Russia with US weapons….

In west Ukraine, the population is evading or resisting draft orders to obtain more cannon fodder for the east Ukraine war. At the same time, Ukraine's economy, cut off from its main industrial base in east Ukraine and its export markets in Russia, is collapsing.

"The country is at war that they cannot afford to fight. There is no economy any longer….Gerald Celente of Trends Journal told Russia Today. "That $160 billion loss of trade with Russia has destroyed the economy, when it was already in a severe recession. It went from very bad to worse than depression levels."

("US-backed Kiev regime faces military debacle in east Ukraine war", Alex Lantier, World Socialist Web Site
Washington has largely won the information war, having persuaded Congress and the American people that US policy in Ukraine is "just", but on the ground, where it counts, Washington has encountered one catastrophic failure after another. This process will undoubtedly persist until the costs are too exorbitant to bear.
Ukraine War Driven by Gas-Dollar Link…
"The Fed's 'need' to take on an even more active role as foreigners further slow the purchases of our paper is to put the pedal to the metal on the currency debasement race now being run in the developed world — a race which is speeding us all toward the end of the present currency regime." Stephanie Pomboy, MacroMavens

"No matter what our Western counterparts tell us, we can see what's going on. NATO is blatantly building up its forces in Eastern Europe, including the Black Sea and the Baltic Sea areas. Its operational and combat training activities are gaining in scale." Russian President Vladimir Putin
If there was a way the United States could achieve its long-term strategic objectives and, at the same time, avoid a war with Russia, it would do so. Unfortunately, that is not an option, which is why there's going to be a clash between the two nuclear-armed adversaries sometime in the near future.
Let me explain: The Obama administration is trying to rebalance US policy in a way that shifts the focus of attention from the Middle East to Asia, which is expected to be the fastest growing region in the coming century. This policy-change is called the "pivot" to Asia. In order to benefit from Asia's surge of growth, the US plans to beef up its presence on the continent, expand its military bases, strengthen bilateral alliances and trade agreements, and assume the role of regional security kingpin. The not-so-secret purpose of the policy is China "containment", that is, Washington wants to preserve its position as the world's only superpower by controlling China's explosive growth. (The US wants a weak, divided China that will do what it's told.)
In order to achieve its goals in Asia, the US needs to push NATO further eastward, tighten its encirclement of Russia, and control the flow of oil and gas from east to west. These are the necessary preconditions for establishing US hegemonic rule over the continent. And this is why the Obama administration is so invested in Kiev's blundering junta-government; it's because Washington needs Poroshenko's neo Nazi shock troops to draw Russia into a conflagration in Ukraine that will drain its resources, discredit Putin in the eyes of his EU trading partners, and create the pretext for deploying NATO to Russia's western border.
The idea that Obama's proxy army in Ukraine is defending the country's sovereignty is pure bunkum. What's going on below the surface is the US is trying to stave off irreversible economic decline and an ever-shrinking share of global GDP through military force. What we're seeing in Ukraine today, is a 21st century version of the Great Game implemented by political fantasists and Koolaid drinkers who think they can turn the clock back to the post WW2 heyday of the US Empire when the world was America's oyster. Thankfully, that period is over.
Keep in mind, the glorious US military has spent the last 13 years fighting sheep herders in flip-flops in Afghanistan in a conflict that, at best, could be characterized as a stalemate. And now the White House wants to take on Russia?
Can you appreciate the insanity of the policy?
This is why Secretary of Defense Chuck Hagel was sacked last week, because he wasn't sufficiently eager to pursue this madcap policy of escalating the wars in Afghanistan, Iraq, Syria and Ukraine. Everyone knows it's true, the administration hasn't even tried to deny it. They'd rather stick with foam-at-the-mouth buffoons, like Susan Rice and Samantha Powers, then a decorated veteran who has more credibility and intelligence in his little finger than Obama's whole National Security team put together.
So now Obama is completely surrounded by rabid warmongering imbeciles, all of whom ascribe to the same fairytale that the US is going to dust-off Russia, remove Assad, redraw the map of the Middle East, control the flow of gas and oil from the ME to markets in the EU, and establish myriad beachheads across Asia where they can keep a tight grip on China's growth.
Tell me, dear reader, doesn't that strike you as a bit improbable?
But, of course, the Obama claque think it's all within their grasp, because, well, because that's what they've been told to think, and because that's what the US has to do if it wants to maintain its exalted position as the world's lone superpower when its economic significance in the world is steadily declining. You see, here's the thing: The exceptional nation is becoming more unexceptional all the time, and that's what has the political class worried, because they see the handwriting on the wall, and the writing says, "Enjoy it while it lasts, buddy, cuz you ain't gonna be numero uno much longer."
And the US has allies in this wacky crusade too, notably Israel and Saudi Arabia. The Saudis have been particularly helpful lately by flooding the market with oil to push down prices and crush the Russian economy. (On Friday, Benchmark crude oil prices plummeted to a four-year low, with Brent crude sinking to $69.11 a barrel.) The Obama administration is using the classic one-two punch of economic sanctions and plunging oil revenues to bully Moscow into withdrawing from Crimea so Washington can move its nuclear arsenal to within spitting distance of Moscow. Here's a bit of background from the Guardian:
"Think about how the Obama administration sees the state of the world. It wants Tehran to come to heel over its nuclear programme. It wants Vladimir Putin to back off in eastern Ukraine. But after recent experiences in Iraq and Afghanistan, the White House has no desire to put American boots on the ground. Instead, with the help of its Saudi ally, Washington is trying to drive down the oil price by flooding an already weak market with crude. As the Russians and the Iranians are heavily dependent on oil exports, the assumption is that they will become easier to deal with.

John Kerry, the US secretary of state, allegedly struck a deal with King Abdullah in September under which the Saudis would sell crude at below the prevailing market price. That would help explain why the price has been falling at a time when, given the turmoil in Iraq and Syria caused by Islamic State, it would normally have been rising." (Stakes are high as US plays the oil card against Iran and Russia, Larry Eliot, Guardian)
And here's more from Salon's Patrick L. Smith at Salon:
"Less than a week after the Minsk Protocol was signed, Kerry made a little-noted trip to Jeddah to see King Abdullah at his summer residence. When it was reported at all, this was put across as part of Kerry's campaign to secure Arab support in the fight against the Islamic State.

Stop right there. That is not all there was to the visit, my trustworthy sources tell me. The other half of the visit had to do with Washington's unabated desire to ruin the Russian economy. To do this, Kerry told the Saudis 1) to raise production and 2) to cut its crude price. Keep in mind these pertinent numbers: The Saudis produce a barrel of oil for less than $30 as break-even in the national budget; the Russians need $105.

Shortly after Kerry's visit, the Saudis began increasing production, sure enough — by more than 100,000 barrels daily during the rest of September, more apparently to come…

Think about this. Winter is coming, there are serious production outages now in Iraq, Nigeria, Venezuela and Libya, other OPEC members are screaming for relief, and the Saudis make back-to-back moves certain to push falling prices still lower? You do the math, with Kerry's unreported itinerary in mind, and to help you along I offer this from an extremely well-positioned source in the commodities markets: "There are very big hands pushing oil into global supply now," this source wrote in an e-mail note the other day." (What Really Happened in Beijing: Putin, Obama, Xi And The Back Story The Media Won't Tell You, Patrick L. Smith, Salon)
The Obama team managed to persuade our good buddies the Saudis to flood the market with oil, drive down prices, and put the Russian economy into a nosedive. At the same time, the US has intensified its economic sanctions, done everything in its power to sabotage Gazprom's South Stream pipeline (that would bypass Ukraine and deliver natural gas to Europe via a southern route), and cajole the Ukrainian parliament into auctioning off 49 percent of the leasing rights and underground storage facilities to privately-owned foreign corporations.
How do you like that? So the US has launched a full-blown economic war against Russia that's been completely omitted in the western media. Are you surprised?
Washington is determined to block further Russo-EU economic integration in order to collapse the Russian economy and put foreign capital in control of regional energy distribution. It's all about the pivot. The big money guys figure the US has to pivot to Asia to be a player in the next century. All of these unprovoked attacks on Moscow are based on that one lunatic strategy.
But aren't people in the EU going to be angry when they can't get the energy they need (at the prices they want) to run their businesses and heat their homes?
Washington doesn't think so. Washington thinks its allies in the Middle East can meet the EU's energy needs without any difficulty. Check out this clip from an article by analyst F. William Engdahl:
"…details are emerging of a new secret and quite stupid Saudi-US deal on Syria and the so-called IS. It involves oil and gas control of the entire region and the weakening of Russia and Iran by Saudi Arabian flooding the world market with cheap oil. ….

On September 11, US Secretary of State Kerry met Saudi King Abdullah at his palace on the Red Sea. The King invited former head of Saudi intelligence, Prince Bandar to attend. There a deal was hammered out which saw Saudi support for the Syrian airstrikes against ISIS on condition Washington backed the Saudis in toppling Assad, a firm ally of Russia and de facto of Iran and an obstacle to Saudi and UAE plans to control the emerging EU natural gas market and destroy Russia's lucrative EU trade. A report in the Wall Street Journal noted there had been "months of behind-the-scenes work by the US and Arab leaders, who agreed on the need to cooperate against Islamic State, but not how or when.

The process gave the Saudis leverage to extract a fresh US commitment to beef up training for rebels fighting Mr. Assad, whose demise the Saudis still see as a top priority."
(The Secret Stupid Saudi-US Deal on Syria, F. William Engdahl, BFP)
So the wars in Ukraine and Syria are not really separate conflicts at all. They're both part of the same global resource war the US has been prosecuting for the last decade and a half. The US plans to cut off the flow of Russian gas and replace it with gas from Qatar which will flow through Syria and onto the EU market after Assad is toppled.
Here's what's going on: Syria's troubles began shortly after it announced that it was going to be part of an "Islamic pipeline" that would transfer natural gas from the South Pars gas field off the coast of Iran across Iraq and Syria, eventually connecting to Greece and the lucrative EU market. According to author Dmitri Minin:
"A gas pipeline from Iran would be highly profitable for Syria. Europe would gain from it as well, but clearly someone in the West didn't like it. The West's gas-supplying allies in the Persian Gulf weren't happy with it either, nor was would-be no. 1 gas transporter Turkey, as it would then be out of the game." (The Geopolitics of Gas and the Syrian Crisis: Syrian "Opposition" Armed to Thwart Construction of Iran-Iraq-Syria Gas Pipeline, Dmitri Minin, Global Research)
Two months after Assad signed the deal with Iraq and Iran, the rebellion broke out in Syria. That's quite a coincidence, don't you think? Funny how frequently those kinds of things happen when foreign leaders don't march to Washington's tune.
Here's more from Minin:
"Qatar is doing all it can to thwart the construction of the pipeline, including arming the opposition fighters in Syria, many of whom come from Saudi Arabia, Pakistan and Libya…

The Arabic newspaper Al-Akhbar cites information according to which there is a plan approved by the U.S. government to create a new pipeline for transporting gas from Qatar to Europe involving Turkey and Israel…

This new pipeline is to begin in Qatar, cross Saudi territory and then the territory of Jordan, thus bypassing Shiite Iraq, and reach Syria. Near Homs the pipeline is to branch in three directions: to Latakia, Tripoli in northern Lebanon, and Turkey. Homs, where there are also hydrocarbon reserves, is the project's main crossroads, and it is not surprising… that the fiercest fighting is taking place. Here the fate of Syria is being decided. The parts of Syrian territory where detachments of rebels are operating with the support of the U.S., Qatar and Turkey, that is, the north, Homs and the environs of Damascus, coincide with the route that the pipeline is to follow to Turkey and Tripoli, Lebanon. A comparison of a map of armed hostilities and a map of the Qatar pipeline route indicates a link between armed activities and the desire to control these Syrian territories. Qatar's allies are trying to accomplish three goals: to break Russia's gas monopoly in Europe; to free Turkey from its dependence on Iranian gas; and to give Israel the chance to export its gas to Europe by land at less cost."
How do you like that; another coincidence: "The fiercest fighting (in Syria) is taking place" where there's massive "hydrocarbon reserves" and along the planned pipeline route.
So the conflict in Syria isn't really about terrorism at all. It's about natural gas, competing pipelines and access to markets in the EU. It's about money and power. The whole ISIS-thing is a big hoax to conceal what's really going on, which is a global war for resources, more blood for oil.
But how does the US benefit from all of this, after all, won't the gas revenues go to Qatar and the transit countries rather than the US?
Yep, they sure will. But the gas will also be denominated in dollars which will shore up demand for USDs thus perpetuating the petrodollar recycling system which creates a vast market for US debt and which helps to keep US stocks and bonds in the nosebleed section. And that's what this is all about, preserving dollar supremacy by forcing nations to hold excessive amounts of USDs to use in their energy transactions and to service their dollar-denominated debts.
As long as Washington can control the world's energy supplies and force the world to trade in dollars, it can spend well in excess of what it produces and not be held to account. It's like having a credit card you never have to pay off.
That's a racket Uncle Sam is prepared to defend with everything he's got, even nukes.
What's going on with our police? More and more, it seems that our men in blue have been transformed from a friendly neighborhood peace office, whose mission is to protect and serve, to a hostile military force, whose mission is to harass and intimidate.
I am going to broach a subject in this syndicated column this week that people such as me are not supposed to talk about. By people such as me, I mean Christians, "conservatives," Republican-types, etc. "We" are NEVER supposed to criticize the police–not in any shape, manner, or form. ANY criticism of all things police (and military, for that matter) is immediately deemed to be "left-wing," "unpatriotic," etc. To criticize the police in any way brings immediate and vehement accusations that one is against law and order or is a "bleeding heart liberal," etc. But, in all probability, the vast majority of "our" folks will simply ignore this column. My observation is "WE" are mostly very closed-minded and don't tolerate ideas that are outside the box of what is heard on FOX NEWS or from today's milquetoast preachers.
However, it is an absolute fact that today's law enforcement agencies are more and more being militarized and are becoming more and more hostile to the American citizenry. More and more, police officers view the American people as "enemy combatants" and are developing a deeply imbedded "us versus them" mindset. More and more, police officers are behaving like soldiers, not peace officers. Examples of police abuse are becoming more and more frequent and more and more severe. If this breach of the public trust is not reined in soon, it is going to get very ugly in this country.
When I grew up, we were all taught that policemen were our friends and that we could always trust them. Hardly anyone teaches that to their children anymore–and for good reason. Too many policemen have abused and misused the trust that the American people have placed in them. I'm sorry if you don't like to hear that–I don't enjoy saying that–but it is the honest truth.
More and more often, routine traffic stops quickly escalate into full-fledged police abuse over the most innocent conduct. Too many police officers today have developed an "I-have-a-badge-and-a-gun-and-therefore-I-can-do-anything-I-want" attitude. More and more police officers seem to feel that the law they are sworn to enforce is whatever they determine the law to be. More and more often, bringing up constitutional rights to a police officer today or merely questioning what a police officer is doing often invites physical beating, incarceration, or even death. This is especially true if one attempts to film a police officer.
One does not have to search long to find limitless examples of what I am talking about.
In the State of New York, a police sergeant is under investigation for slapping around a law-abiding young man simply because he asked the officer why he was demanding to search his vehicle. After the young man questioned the sergeant, who is a 27-year veteran of the police force, the officer slapped the man and yelled that he could "rip your f****** head off and s*** down your neck." The only reason an internal investigation is going on is because another passenger video-recorded the event.
See the report:
Cop Suspended After He Was Caught On Camera Brutally Slapping Driver Who Asked Why He Needed To Search His Car
In Philadelphia, Pennsylvania, a police officer threatened to "beat the s***" out of a young man for simply looking at him. That's right. All the young man did was look at him as he walked down the street.
In Miami, Florida, a police officer went ballistic with rage after a young man, whom he had just given a traffic ticket to, said, "God bless you." That simple remark set off a profanity-laced tirade from the officer in which he took out his handcuffs and threatened to put the young man in jail.
See the report:
Cop Goes Nuts When Told "God Bless You"
In East Dublin, Georgia, drug task force police officers gunned down an innocent grandfather in his own home on the word of a self-confessed meth addict. Police executed a no-knock invasion of the home and killed the innocent 59-year-old businessman who had armed himself to protect his family from what he could only determine were armed home invaders. The resident was killed in a hail of gunfire by police. He was completely innocent of any drug offenses. Police acted as judge, jury, and executioner of the poor man.
See the report:
Police Kill Georgia Grandfather During No-Knock Raid On Wrong Home
In Boynton Beach, Florida, two young men were pulled over by police in a traffic stop. One of the young men began to video-record the officers. Quickly, the policemen became enraged and began physically assaulting the young men. One officer pointed his pistol at the boys and threatened to immediately shoot them. At no point did the young men display a weapon or physically assault the officers. Granted, the young men acted rudely and disrespectfully. But since when in America is cockiness and rudeness a potential death sentence?
But the worst part of the story came afterward when the chief of police issued a statement defending the conduct of the officers. Chief Jeffrey Katz viewed the video tape (recorded by a passenger in the car) and said the following: "When I watch this video, I don't see a car full of young men who are behaving in a manner consistent with FEAR OF THE POLICE." (Emphasis added)
See the report here:
'I'll Put A Round In Your A** So Quick': Florida Police Chief Defends Cop Who Threatened To Shoot Young Black Man Because He Filmed His Partner Throwing Him On The Ground
Did you get that? The police chief and his officers were angry that the young men didn't FEAR the police enough.
So, that's it. We are supposed to FEAR the police. Really? Then, pray tell, who are the police supposed to fear? My father didn't teach me to fear the police. He taught me to respect the police. And he taught me that the police were my friends. He did not teach me that I had to fear for my rights and my very life every time I'm pulled over for a traffic stop. And that's not the way that Sheriff Cliff Arnold's deputies behaved while I was growing up.
And, again in the State of Georgia, Henry County Police forced a small group of fifth graders to the ground at gunpoint as they attempted to build a tree fort in their neighborhood. Can you imagine? Throwing 11-year-old children to the ground and putting a gun to their heads for building a tree fort? This is reality in modern America's burgeoning Police State.
See the report here:
Cop Pulls Gun On Fifth Graders Building Tree Fort
These kinds of reports are virtually endless.
Am I suggesting that all sheriff's deputies and police officers behave in such fashion? Of course not! I am confident that the vast majority of our men and women in blue (and brown for sheriff's deputies) are honest, law-abiding people who are doing their best to keep the peace and who respect the rights of the citizens they are charged to serve. But I am saying that the training procedures and mindset of our police agencies nationwide IS quickly developing into a police-state mentality. And the everyday occurrences such as those listed above absolutely prove my assertion. It is also an undeniable fact that more and more police training omits teaching the Constitution and, accordingly, more and more police officers are truly ignorant of the rights and liberties of the American people under the U.S. Constitution.
Based on current statistical data, you and I are eight times more likely to be killed by a police officer than we are an actual terrorist. Since 2001, over 5,000 American citizens have been killed by policemen. How many of these deaths were truly justified we will never know as police departments and courts of law have a proven track record of hardly ever charging an officer with wrongful death.
Add to the above the fact that even many minor incidents will often result in SWAT teams being deployed. In fact, Eastern Kentucky University professor Peter Kraska documents research showing, "There has been more than a 1,400% increase in the total number of police paramilitary deployments, or callouts, between 1980 and 2000. Today, an estimated 45,000 SWAT-team deployments are conducted yearly among those departments surveyed; in the early 1980s there was an average of about 3,000."
See Kraska's report here:
Militarization And Policing–It's Relevance To 21st Century
Has violent crime increased 1,400 percent during that time? Not at all. In fact, for the last several years, violent crime has been decreasing to the point that currently it is at record lows. So, how can the need for SWAT teams increase by 1,400 percent? It is the result of Washington, D.C., deliberately militarizing our police agencies.
I am convinced that the Department of Homeland Security (DHS) is intentionally turning our State and local police agencies against us. Washington, D.C., is deliberately militarizing our police agencies. Give them military equipment, weapons, training, etc., and they will start acting like soldiers, not policemen. And that is exactly what is happening.
The phrase that we hear constantly repeated today by law enforcement personnel and spokesmen is "the safety of the officer." But wait a minute! The sworn duty of a police officer is to obey the Constitution (including the Bill of Rights), which is designed to protect the rights, liberties, and safely of the American people. The role of the police officer is to protect the safety of the public. Any man or woman who volunteers to put on a badge should be consciously willing to put his or her life on the line to protect the public. That's what their job is all about. And no one forces them to take this risk; they take it of their own volition.
Of course the men and women of law enforcement want to go home at the end of their shift. But so do the people of their community. Policemen are not the only ones who face hostility and threats of violence. I have had my life threatened too many times to count. I have even been shot at. (I would venture to say that the vast majority of police officers in the country have never actually been shot at.) I have had my family threatened. And none of us wear Kevlar vests and helmets and can call backup with the push of a button (calling 911 is not the same as a policeman calling for back up–not even close).
If the safety of the officer is the primary duty of policemen, they should just shoot suspects on sight and eliminate the threat before it exists. And that is pretty much what they do in totalitarian countries. But this is America where the rule of law and the rights of the individual reign supreme. In a free country, people are judged to be innocent until proven guilty. Plus, the only lawful reason a police officer has to fire his weapon at someone is for the same reason that the rest of us can do so: for self-defense against an imminent threat to their (our) lives.
Again, the impetus of the militarization of police is coming directly from DHS. In addition to receiving military equipment, hardware, attack helicopters, tanks, etc., from the DOD and DHS, more and more often U.S. military Special Forces troops are being employed to train our local police personnel. To the miscreants inside the Beltway, the American people are seen as the real terrorists, not foreign enemies or the criminal gang members that are pouring across our southern border. In truth, DHS is using our local police agencies in much the same way that the Nazi government used the local police agencies inside the occupied countries of Europe. And, unfortunately, it seems that most of our Christians, "conservatives," and Republican-types are completely oblivious to the problem.
I applaud the numerous constitutionalist sheriffs around the country who are doing their best to maintain constitutional government within their counties and who are courageously resisting the efforts of DHS to turn their deputies into Storm Troopers. I just wish we had a lot more of these stalwart defenders of liberty. The American people are not doing a very good job of electing these kinds of patriots to public office, including the sheriff's office. But on the whole, our sheriff's offices around the country are far less oppressive than their counterparts in city police departments. The obvious reason for this is due to the fact that, while the sheriff is a constitutionally elective office, our chiefs of police are usually appointed by some sort of city council and are not answerable directly to the public. Bureaucrats are seldom known for any kind of allegiance to constitutional government.
And, again, this column is not an indictment against any of our law-abiding, liberty-loving, policemen and sheriff's deputies. And I suggest that any policeman who would take umbrage at this column is subconsciously incriminating him or herself. Of all people, police officers, themselves, should be the most angry when their fellow officers betray the public trust and violate fundamental rights. A bad cop reflects badly on good cops. Therefore, instead of reacting angrily against a column such as this, it should behoove honest policemen to lead the charge against this kind of unlawful conduct being committed by their brethren in blue. They should also be the ones to most doggedly resist the militarization of their agencies by DHS.
However, this column IS an indictment against the current trend within law enforcement to become increasingly federalized, militarized, and Gestapo-like. I suppose it is also an indictment against the American people (including Christians, "conservatives," and Republican-types) who seem to be blind and apathetic to what is becoming a major problem within our country.
Continuing to allow airplane flights into America loaded with people streaming out of Ebola-ravaged Africa must be the dumbest act that Congress, the Center for Disease Control and Barack Obama could possibly perpetrate on the American people.
To send 3,000 of our young men and women over to Ebola-ravaged Africa with some kind of insane idea that we could stop the epidemic, must be the second dumbest idea of Barack Obama and his band of incompetent advisors. Anyone with a room-temperature IQ and an ounce of common sense would take logical action in the face of such a virulent virus.
As a superintendent of a school system, you wouldn't invite sick students with chicken pox, small pox, mumps, measles and polio into your school. You would mandate they stay home to protect the students and teachers in your school. Why? Infectious diseases guaranteed to jump from student to student!
If I stood at the helm in the White House: I would immediately stop all flights into the United States from Africa. I would not subject one single American to Ebola unnecessarily.
The president's authorizing a call-up of the reserves or the National Guard to fight a virulent disease like Ebola in Africa with no idea of the outcome—must rank up there with the movie, "Dumb and Dumber." Instead of saving Africa from itself, those 3,000 troops may well become disease vectors themselves that bring Ebola back to America in greater numbers, or, simply kill a bunch of our country's finest soldiers.
"Africa's biggest problem is not drought, disease, or dictators," Dr. Don Boys. "But drinking and defecation are the biggest problem! This is true of India, Asia, and areas of South America. Eighty per- cent of diseases in developing countries are caused by unsafe water and poor sanitation. Africa, India, and some areas in South America are open cesspools where children play, parents wash clothes and get drinking water, workers irrigate crops, etc. In those areas, fresh water is unknown and open defecation (OD) is common."
Very few Americans comprehend the gutter-level hygiene that encourages diseases like Ebola, cholera, dysentery, tuberculosis and other bugs that proliferate in third world countries. Africa suffers incredibly contaminated water, food and soil.
"Now for the first time in human history most people live in cities, often in the slums," said Boys. "More than 70 percent of Africa's urban population lives in slums! Around one-third of the urban population in developing countries, nearly one billion people, live in slums. There is one toilet for every 500 people in the slums of Nairobi, Kenya. However, the biggest problem is in rural areas where the problem can be more quickly solved but not without difficulty. Nearly 540 million people, more than 60 percent of Africa's population, currently practice open defecation according to the African Development Bank Group."
Americans stand no chance of changing African culture to leap into the 21st century standards of sanitation. You might as well ask a mosquito to fly to the moon.
The same stands true for countries like India where 1,000 children die 24/7 of diarrhea and dysentery. Utter misery faces citizens of Pakistan, Nepal and Mexico every day of the year.
The World Health Organization Public Health Director lamented, "What is shocking…is this picture of someone practicing open defecation and in the other hand having a mobile phone."
I remember hiking in Asia when I saw water buffalo defecating along the trail. Women immediately grabbed the pile of dung in their hands to take it off to a drying rack for fuel. When you see it firsthand, you gag, but then, you get used to it. It's sickening, but that's how they operate in the third world. Several billions of people around this planet don't use a toilet, but do use the land as their latrine.
Is it any wonder that diseases like TB kill 2,000,000 (million) people annually? That Chagas infects 14 million in South America? That AIDES killed 25 million in 30 years in Africa?
So, does it make sense to you that Obama, Congress and the CDC expect to import more and more Ebola patients back into the USA? Are you excited that your kids or you could very well become the next victims? Are you going to stand by to wait for it to happen in your community?
For this obviously incompetent man sitting in the White House to send our soldiers over to a hot zone of Ebola infections must rate with a madman thinking he can walk into an AIDS ward to have sex with all the victims and walk out untouched with the disease.
But in this case, Obama sends our kids over to Ebola hot zones in Africa, not his kids.
Right now, two innocent nurses in Texas face death because of the importation of Mr. Duncan from Liberia who later died. Who allows this kind of insanity?
If nurses can't fend off the disease in a hospital while wearing haz-mat suits, how in the name of common sense and rational thought will 3,000 soldiers fend off Ebola with M-16's? Somebody in high places shows criminal stupidity on a scale heretofore unimaginable.
You can see on the CDC website we find this unsettling phrase:
"No FDA-approved vaccine or medicine (e.g., antiviral drug) is available for Ebola."
As with the Iraq War, few Americans protested the stupidity of invading that country under the lie of "Weapons of Mass Destruction." As with 9/11, our presidents and Congress failed to stop illegal immigration.
Call your Congressman/woman; governor; senator; newspaper, radio and TV station to scream that you want all flights cancelled coming in from Africa. Scream that you don't want 3,000 of our kids to go over to Africa to be infected by Ebola.
To sit silent and let the incompetent in the White House and incompetents in Congress invite America's Ebola epidemic—makes no sense whatsoever.
Back when we took biology classes in high school, we all studied the life-cycle of the caterpillar, right?  Where it went from being a caterpillar to spinning a cocoon to becoming a butterfly to laying its eggs to hatching back into a caterpillar again, right?
I'm thinking that this life-cycle is rather similar to the life-cycle of Wall Street & War Street's huge, scary war machine — which started out being mostly financed by American taxpayers, right?  But then as the "world's greatest super-power" began to grow and grow, its insatiable appetite for more and more weaponization began to grow and grow too — and it started to need a whole big bunch of more "lettuce" to pay for these weapons as well.
And so even though the huge amount of taxes paid by our parents and grandparents had clearly been enough to keep the American armies of World War II afloat, the American military-industrial complex of the 21st century really couldn't just rely on just us lowly taxpayers to keep their huge new American "peace-keeping" forces supplied — especially with so many of us now not even having any more income left to tax!
There was definitely no longer enough "lettuce" left in the United States to keep this big caterpillar fed, right?
So how is Wall Street & War Street going to continue to feed its insatiable appetite?  By expanding its reach, right?  By conquering other countries and then getting these new vassals to finance their own destruction — and to also finance the American weapons machine as well.  Whew!  Bad news for the conquered countries — but good news for American taxpayers.  We don't get stuck with the bill at the end of the meal.  Maybe.
And so Africa is forced to pay for its own colonization.   And the Middle East is forced to pay for its own colonization.  And Europe is forced to pay for its own colonization.  And so on and so forth.  You get the idea, right?
So then the big fat happy American war machine caterpillar finally begins spinning its cocoon.  And soon that part of its life-cycle is accomplished, thanks to tanks and guns and NATO and the World Bank and the IMF.
And then what happens next?  Out pops a big beautiful butterfly, right?  Well, not exactly.  The butterfly then dies in the cocoon?  Not that either.  What actually happens next is that the butterfly goes on to lay even more eggs — but they are eggs of destruction, and soon the whole world will have been eaten up by its infinite number of baby vassals and baby wars, gobbling up everything in sight.
Just look what happened to the American war machine's babies in Ukraine.  That whole country is now toast after it let the Iron Butterfly in.  And its baby, Israel?  Almost every "gardener" in the world hates Israel now — because it has become yet another caterpillar pest, eating up everything in sight.
And just look at those ISIS "rebels" in Syria that the American war machine has sponsored, supported, encouraged and trained.  John McCain even had his photo taken with some of these guys.
According to Rick Sterling, writing in Counterpunch, "The names of James Foley and Steven Sotloff can be added to those of about 200,000 Syrians who have died as a direct consequence of US policy of regime change by proxy war in Syria."
And according to journalist Thierry Meyssan, "We know from the British news agency Reuters that, in January 2014, a secret session of Congress voted financing and arming the Free Syrian Army, the Islamic Front, and Al-Nosra Front of the Islamic Emirate until September 30, 2014…[and] finally, in mid-February, a two-day seminar at the US National Security Council was attended by heads of allied secret services involved in Syria, definitely to prepare the EIS offensive in Iraq."
But now America's war machine is currently bombing the crap out of ISIS, its own baby.  Eating it alive too.  What's with that?
Nigeria thought it could cuddle up to this butterfly mother too.  Well, Nigeria's oil is now paying for America's endless wars.  And so is Iraq's oil.  And Syria's oil.  And Libya's.  Libyan "rebel" leaders thought they could kiss up to its mother as well — and now they also have had their heads bitten off by good old Mom.
And Saudi Arabia had better watch out.  It is next.  That's all I gotta say about that.
I guess that the only difference between the life-cycle of the caterpillar and the life-cycle of the American war machine is thatcaterpillars turn into butterflies, go on to lay more eggs and so the cycle continues — whereas the American war machine just eats its young.
Calling it treason: When American leaders steal over 11 trillion dollars from US taxpayers
"None dare call it treason," intoned various Joe McCarthy supporters back in the 1950s.    But I'm daring to call it treason now — when the very people that Americans elect and trust set about to deliberately and purposely steal all our money so they can run a serial-killer torture chamber in our basement.
What red-blooded decent patriotic American has ever said, "Gee, I want to spend my tax money on Abu Ghraib and blowing up women and children and 'full spectrum dominance' rather than infrastructure and schools!"  But yet that is where our money is now going.  In my book, that is treason.
People are starving on the mean streets of New York City and Houston and Miami so that others can afford to bomb women and children in Syria, Libya, Iraq, Palestine and Ukraine.  Sounds like treason to me.
We Americans have neglected our own country for far too long.  And if we ourselves don't stop the American military-industrial complex's war machine, then we too should be tried for treason and sent to jail for forsaking the precious values of freedom and equality that this country was founded upon.
Us.  Off to jail too — along with the faceless serial-killer treasonous ogres in Washington who hide behind their benevolent Jason-like masks of Patriotism and War.
Why hasn't Washington joined Russian President Putin in calling for an objective, non-politicized international investigation by experts of the case of the Malaysian jetliner?
The Russian government continues to release facts, including satellite photos showing the presence of Ukrainian Buk anti-aircraft missiles in locations from which the airliner could have been brought down by the missile system and documentation that a Ukrainian SU-25 fighter jet rapidly approached the Malaysian airliner prior to its downing. The head of the Operations Directorate of Russian military headquarters said at a Moscow press conference today (July 21) that the presence of the Ukrainian military jet is confirmed by the Rostov monitoring center.
The Russian Defense Ministry pointed out that, at the moment of destruction of MH-17, an American satellite was flying over the area. The Russian government urges Washington to make available the photos and data captured by the satellite.
President Putin has repeatedly stressed that the investigation of MH-17 requires "a fully representative group of experts to be working at the site under the guidance of the International Civil Aviation Organization (ICAO)." Putin's call for an independent expert examination by ICAO does not sound like a person with anything to hide.
Turning to Washington, Putin stated, "In the meantime, no one [not even the "exceptional nation"] has the right to use this tragedy to achieve their narrowly selfish political goals."
Putin reminded Washington, "We repeatedly called upon all conflicting sides to stop the bloodshed immediately and to sit down at the negotiating table. I can say with confidence that if military operations were not resumed [by Kiev] on June 28 in eastern Ukraine, this tragedy wouldn't have happened."
What is the American response?
Lies and insinuations.
Yesterday (July 20) US Secretary of State John Kerry said that pro-Russian separatists were involved in the downing of the Malaysian airliner and said that it was "pretty clear" that Russia was involved. Here are Kerry's words: "It's pretty clear that this is a system that was transferred from Russia into the hands of separatists. We know with confidence, with confidence, that the Ukrainians did not have such a system anywhere near the vicinity at that point and time, so it obviously points a very clear finger at the separatists."
Kerry's statement is just another of the endless lies told by US secretaries of state in the 21st century. Who can forget Colin Powell's package of lies delivered to the UN about Saddam Hussein's "weapons of mass destruction" or Kerry's lie repeated endlessly that Assad "used chemical weapons against his own people" or the endless lies about "Iranian nukes"?
Remember that Kerry, on a number of occasions, stated that the US had proof that Assad crossed the "red line" by using chemical weapons. However, Kerry was never able to back up his statements with evidence. The US had no evidence to give the British prime minister, whose effort to have parliament approve Britain's participation with Washington in a military attack on Syria was voted down. Parliament told the prime minister, "no evidence, no war."
Again, here is Kerry declaring "confidence" in statements that are directly contradicted by the Russian satellite photos and endless eye witnesses on the ground.
Why doesn't Washington release its photos from its satellite?
The answer is for the same reason that Washington will not release all the videos it confiscated and that it claims prove that a hijacked 9/11 airliner hit the Pentagon. The videos do not support Washington's claim, and the US satellite photos do not support Kerry's claim.
The UN weapons inspectors on the ground in Iraq reported that Iraq had no weapons of mass destruction. However, the fact did not support Washington's propaganda and was ignored. Washington started a highly destructive war based on nothing but Washington's intentional lie.
The International Atomic Energy Agency's inspectors on the ground in Iran and all 16 US intelligence agencies reported that Iran had no nuclear weapons program. However, the fact was inconsistent with Washington's agenda and was ignored by both the US government and the presstitute media.
We are witnessing the same thing right now with the assertions in the absence of evidence that Russia is responsible for the downing of the Malaysian airliner.
Not every member of the US government is as reckless as Kerry and John McCain. In place of direct lies, many US officials use insinuations.
US Senator Diane Feinstein is the perfect example. Interviewed on the presstitute TV station CNN, Feinstein said, "The issue is where is Putin? I would say, 'Putin, you have to man up. You should talk to the world. You should say, if this is a mistake, which I hope it was, say it.'"
Putin has been talking to the world nonstop calling for an expert non-politicized investigation, and Feinstein is asking Putin why he is hiding behind silence. We know you did it, Feinstein insinuates, so just tell us whether you meant to or whether it was an accident.
The way the entire Western news cycle was orchestrated with blame instantly being placed on Russia long in advance of real information suggests that the downing of the airliner was a Washington operation. It is, of course, possible that the well-trained presstitute media needed no orchestration from Washington in order to lay the blame on Russia. On the other hand, some of the news performances seem too scripted not to have been prepared in advance.
We also have the advanced preparation of the youtube video that purports to show a Russian general and Ukrainian separatists discussing having mistakenly downed a civilian airliner. As I pointed out earlier, this video is twice damned. It was ready in advance and by implicating the Russian military, it overlooked that the Russian military can tell the difference between a civilian airliner and a military airplane. The existence of the video itself implies that there was a plot to down the airliner and blame Russia.
I have seen reports that the Russian anti-aircraft missile system, as a safety device, is capable of contacting aircraft transponders in order to verify the type of aircraft. If the reports are correct and if the transponders from MH-17 are found, they might record the contact.
I have seen reports that Ukrainian air control changed the route of MH-17 and directed it to fly over the conflict area. The transponders should also indicate whether this is correct. If so, there clearly is at least circumstantial evidence that this was an intentional act on the part of Kiev, an act which would have required Washington's blessing.
There are other reports that there is a divergence between the Ukrainian military and the unofficial militias formed by the right-wing Ukrainian extremists who apparently were the first to attack the separatists. It is possible that Washington used the extremists to plot the airliner's destruction in order to blame Russia and use the accusations to pressure the EU to go along with Washington's unilateral sanctions against Russia. We do know that Washington is desperate to break up the growing economic and political ties between Russia and Europe.
If it was a plot to down an airliner, any safety device on the missile system could have been turned off so as to give no warning or leave any telltale sign. That could be the reason a Ukrainian fighter was sent to inspect the airliner. Possibly the real target was Putin's airliner and incompetence in implementing the plot resulted in the destruction of a civilian airliner.
As there are a number of possible explanations, let's keep open minds and resist Washington's propaganda until facts and evidence are in. In the very least, Washington is guilty of using the incident to blame Russia in advance of the evidence. All Washington has shown us so far are accusations and insinuations. If that is all Washington continues to show us, we will know where the blame resides.
In the meantime, remember the story of the boy who cried "wolf!" He lied so many times that when the wolf did come, no one believed him. Will this be Washington's ultimate fate?
Instead of declaring war on Iraq, Afghanistan, Libya, Somalia, and Syria, why did Washington hide behind lies? If Washington wants war with Iran, Russia, and China, why not simply declare war? The reason that the US Constitution requires war to begin with a declaration of war by Congress is to prevent the executive branch from orchestrating wars in order to further hidden agendas. By abdicating its constitutional responsibility, the US Congress is complicit in the executive branch's war crimes. By approving Israel's premeditated murder of Palestinians, the US government is complicit in Israel's war crimes.
Ask yourself this question: Would the world be a safer place with less death, destruction and displaced peoples and more truth and justice if the United States and Israel did not exist?
Dr Paul Craig Roberts was Assistant Secretary of the Treasury for Economic Policy and associate editor of the Wall Street Journal. He was columnist for Business Week, Scripps Howard News Service, and Creators Syndicate. He has had many university appointments. His internet columns have attracted a worldwide following. His latest book, The Failure of Laissez Faire Capitalism and Economic Dissolution of the West is now available. 
Putin Knows What Happened to MH17, But He's Not Saying — Yet…
"We have repeatedly called on all parties to immediately stop the bloodshed and sit down at the negotiating table. We strongly believe that if military action in the East of Ukraine had not been renewed on the 28th of June, this tragedy wouldn't have happened. However, no one has the right to use this tragedy to pursue their own political aims. Such events should unite and not divide people."

Russian President Vladimir Putin, Official statement on the downing of Malaysia Airlines flight 17

"Lets be clear, both Russia and the US know what happened. They'd have to. Their intelligence and orbital systems saw it all…. They'd have to know."

Omen 4, comments line Zero Hedge
Washington's plan to "pivot" to Asia by establishing a beachhead in Ukraine and sabotaging trade relations between Europe and Russia, entered a new phase last Thursday when Malaysia Airlines flight 17 was shot down by a surface-to-air missile launched from east Ukraine. Since then, the western media and prominent members of the US political establishment have used the incident to attack Russia mercilessly and to hold Russian President Vladimir Putin personally responsible for the deaths of the 295 passengers.
On Sunday, the Obama administration launched its most impressive propaganda blitz to date, scheduling appearances for  US Secretary of State John Kerry  on all five Sunday morning talk shows where he made unsubstantiated claims that MH17 was shot down by Russia-backed rebels in east Ukraine.  According to Kerry, Russia has not only "supported, armed and trained" the separatists, but also provided them with the missile system (BUK) which was used to bring down the jetliner.
On CBS's  "Face the Nation", Kerry said:
"We know for certain that the separatists have a proficiency that they've gained by training from Russians as to how to use these sophisticated SA-11 systems….. there's enormous amount of evidence, even more evidence than I just documented, that points to the involvement of Russia in providing these system, training the people on them." ("Kerry Says Russia Trained Separatists to Use Antiaircraft Missiles", New York Times)
Amazingly, Kerry's claims don't square with those of his boss, President Barack Obama who admitted on Friday that he didn't know who shot down MH17 or why. He said, "I think it's too early for us to be able to guess what intentions those who might have launched the surface-to-air missile might have had… In terms of identifying specifically what individual or group of individuals, you know, personnel ordered the strike, how it came about—those are things that I think are going to be subject to additional information that we're going to be gathering."
The fact that neither the contents of the black boxes or the cockpit recordings have yet been revealed didn't deter Kerry from making accusations and possibly tainting the investigation. Nor did Kerry mention the fact that the Ukrainian military –who also had BUK missile systems in the area–may have mistakenly taken down the airliner. None of the five hosts challenged Kerry on any of his claims. He was able to provide the state's view of the incident without challenge or debate, just as one would expect in a dictatorship where information is carefully monitored.
And Kerry didn't stop there either. He went on to claim that Moscow had sent "a convoy several weeks ago of about 150 vehicles with armored personnel carriers, multiple rocket launchers, tanks, artillery, all of which crossed over from Russia into the eastern part of Ukraine and was turned over to the separatists."
Needless to say, none of the major media or respective Intel agencies (who closely follow activities on the border) have uttered a word about Kerry's phantom convoy. Without satellite imagery or some other proof, we must assume that Kerry's claim is about as reliable as his bogus 4-page "White Paper" that pinned the use of sarin gas on the Syrian government, a charge that was designed to escalate US involvement in the Syrian war and–as journalist Robert Parry says, "spur President Obama into a quick decision to bomb Syrian government targets."
It's also worth noting that the journalist who co-authored Sunday's piece on Kerry in the New York Times was none other than Michael R. Gordon. In 2002 Gordon co-wrote a piece about aluminum tubes with Judith Miller which was intended to scare readers "with images of mushroom clouds" into supporting the war in Iraq.   The story turned out to be complete baloney, but it helped to pave the way for the US invasion as it was intended to do.   Gordon escaped blame for the article, while the discredited  Miller was released.
Now the politicians and the media are at it again; trying to whip up war fever to get the public on board for another bloody intervention. Only this time, the target audience is not really the American people as much as it is Europeans. The real objective here, is to build support for additional economic sanctions as well as a deployment of NATO troops to Russia's western border. Washington want to sabotage further economic integration between the EU and Russia so that it can control  the flow of vital resources to the EU, crash the Russian economy, and establish a tollbooth between the continents. It's all part of Washington's "pivot" strategy that is critical to maintaining global hegemony throughout the 21st century. This is from the NY Times:
"If investigators are able to confirm suspicions that the Malaysia Airlines jet was brought down by a surface-to-air missile fired by pro-Russian rebels who mistook it for a military aircraft, American officials expressed hope that the tragedy will underscore their case that Moscow has been violating Ukrainian sovereignty. While Mr. Obama imposed new sanctions on Russia just a day before, Europeans refused to adopt measures as stringent out of fear of jeopardizing their own economic ties….

The Obama administration already has additional sanctions prepared that could be put into effect quickly if Mr. Obama so chooses. "The question is does this finally move the Europeans across that threshold," said a senior administration official, who insisted on anonymity to speak more candidly. "I don't know, but how could it not?"

European officials were cautious in their initial reactions, seeking time and information before jumping to possible consequences, and were reluctant to assign blame. But most of the passengers were Europeans. The majority of them, 154 in all, were from the Netherlands, where the flight originated, which could increase pressure on European governments to respond….Some analysts said the disaster would invariably lead to a re-evaluation of Europe's approach to Russia.

"Ultimately this is going to ratchet up pressure within Europe to do what they should have done a long time ago," said John E. Herbst, a former American ambassador to Ukraine now at the Atlantic Council in Washington. "The strength of the opposition to firm steps remains strong, and so it's not going to go away. It's just that their position just took a serious hit and it should lead to a stronger set of European sanctions."…

While Mr. Obama did not articulate such a position, his former secretary of state, Hillary Rodham Clinton, gave voice publicly to what administration officials were saying privately…."Europeans have to be the ones to take the lead on this. It was a flight from Amsterdam to Kuala Lumpur over European territory. There should be outrage in European capitals."
Can you see what's going on? Washington doesn't care about the facts. What matters to Obama and Co. is getting the Europeans on board ("ratcheting up pressure within Europe") so they can gin up the sanctions, shut off  Russian gas, deprive Putin of a vital source of revenue, and set up shop (NATO bases) in Eurasia." Whether US Intel agencies were involved in the missile attack or not doesn't change the fact that Washington clearly benefits from the tragedy.
Keep in mind, that the reason Putin hasn't deployed Russian troops to stop the violence in east Ukraine is because the EU is his biggest trading partner and he doesn't want to do anything that will put the kibosh on their business dealings.  Russia needs Europe just like Europe needs Russia. They're a perfect fit, which is why Washington has concocted this goofy plan to throw a wrench in the works. It's because Washington wants to be the Kingfish in Eurasia and control the continents' resources as well as the growth of regional economies. To achieve that objective, they need to convince EU leaders and people that Putin is a reckless aggressor who can't be trusted. That's why Kiev has launched one provocation after another since the legitimate Ukrainian government (Viktor Yanukovych) was ousted in late February and replaced with by a US-backed junta government. Most of the provocations have gone unreported in the western media, although they have regularly involved violations of international law and crimes against humanity, like the use of incendiary "phosphorous" ordnance on June, 12 in Slavyansk,    or the bombing of a kindergarten in Slavyansk  or the deliberate bombing of hospitals in east Ukraine,  or the killing of journalists  or the firing of mortar rounds across the border into Russia  or the massacre at Odessa where 42 people were burned to death in a fire at the Trade Unions Building that was started by pro-junta hooligans and neo Nazis. None of these were reported in the western media where the coverage is tailored to advance the corporate-state agenda.
All of these incidents were concocted with one goal in mind; to provoke Putin into sending in the tanks thus providing the media with the opportunity to demonize him as the new Hitler. Putin has wisely avoided that trap deciding instead to work collaboratively with EU leaders Merkel and  Hollande to try to persuade Ukrainian president Petro Poroshenko to stop the bombardment in the east and agree to an immediate ceasefire.
Poroshenko, however, who takes his orders from Washington, has refused to end the violence. In fact, on Monday the "chocolate king" launched a massive attack on the city of Donetsk, home to nearly one million civilians. Here's a clip from a report from RT on Monday July 21:
"A heavy firefight is underway in a section of the city of Donetsk, with cannonade heard downtown. Self-defense reports of pro-Kiev armored vehicles and infantry trying to cut through defenses next to the central railway terminal.

Ukrainian troops equipped with tanks and armored vehicles are making an attempt to break into Donetsk, a city of approximately 950,000 people, an official of the rebels' self-proclaimed Donetsk People's Republic, Sergey Kavtaradze, informed Reuters." ("Kiev forces attack city of Donetsk, civilian casualties reported", RT)
Poroshenko has no intention of complying with a ceasefire, because a ceasefire does not achieve the Obama administration's objective, which is to lure Putin into a bloody and protracted guerilla war. This is what makes the downing of MH17 so suspicious, because it could very well be a false flag operation intended to hurl more mud on Putin.
In any event, the fate of MH17 isn't going to be a secret for long. As journalist Pepe Escobar points out in a recent piece in the Asia Times,  Russian intelligence has collected tons of data that will help connect the dots. Here's a clip from Escobar's latest titled "It was Putin's missile?":
"Russian intelligence (has)  been surveilling/tracking everything that happens in Ukraine 24/7. In the next 72 hours, after poring over a lot of tracking data, using telemetry, radar and satellite tracking, they will know which type of missile was launched, from where, and even produce communications from the battery that launched it. And they will have access to forensic evidence." ("It was Putin's missile?" Pepe Escobar, Asia Times)
So, one way or another, we're going to know what happened.  The US and Russia have the data they need to figure out where the missile was launched and who launched it. They probably even have recordings of  communications between Air Traffic Tower and the airliner. They know it all, but they'll probably be cautious about what they reveal and when they reveal it.
My guess, is that Putin will drag his feet to see whether the investigation is thorough, transparent and even-handed or an elaborate hoax used to discredit him in the eyes of his trading partners.
Clearly, the Obama team see this as an opportunity to do a number on Putin, so they could be tempted to use fake evidence like the grainy photos that popped up in the New York Times some months ago that were supposed to prove that Russian military experts were secretly directing the rebellion in east Ukraine. (The photos were fake.) If they try a stunt like that this time around, Putin will be ready for them. And, of course, if he has solid proof that the plane was blown up by Poroshenko's henchmen, then there could be hell to pay. In fact, it might just bring Obama's proxy war to a screeching halt.
One can only hope.
"The unipolar world model has failed. People everywhere have shown their desire to choose their own destiny, preserve their own cultural identity, and oppose the West's attempts at military, financial, political and ideological domination."

– Vladimir Putin

"While the human politics of the crisis in Ukraine garner all the headlines, it is the gas politics that in many ways lies at the heart of the conflict."

– Eric Draitser, Waging war against Russia, one pipeline at a time, RT
What does a pipeline in Afghanistan have to do with the crisis in Ukraine?
Everything. It reveals the commercial interests that drive US policy. Just as the War in Afghanistan was largely fought to facilitate the transfer of natural gas from Turkmenistan to the Arabian Sea, so too, Washington engineered the bloody coup in Kiev to cut off energy supplies from Russia to Europe to facilitate the US pivot to Asia.
This is why policymakers in Washington are reasonably satisfied with the outcome of the war in Afghanistan despite the fact that none of the stated goals were achieved. Afghanistan is not a functioning democracy with a strong central government, drug trafficking has not been eradicated, women haven't been liberated, and the infrastructure and school systems are worse than they were before the war. By every objective standard the war was a failure. But, of course, the stated goals were just public relations blather anyway. They don't mean anything. What matters is gas, namely the vast untapped reserves in Turkmenistan that could be extracted by privately-owned US corporations who would use their authority to control the growth of US competitors or would-be rivals like China. That's what the war was all about. The gas is going to be transported via a pipeline from Turkmenistan, across Afghanistan, Pakistan and India to the Arabian sea, eschewing Russian and Iranian territory. The completion of the so called TAPI pipeline will undermine the development of an Iranian pipeline, thus sabotaging the efforts of a US adversary.
The TAPI pipeline illustrates how Washington is aggressively securing the assets it needs to maintain its dominance for the foreseeable future. Now, check this out from The Express Tribune, July 5:
"Officials of Pakistan, India, Afghanistan and Turkmenistan are set to meet in Ashgabat next week to push ahead with a planned transnational gas pipeline connecting the four countries and reach a settlement on the award of the multi-billion-dollar project to US companies.

"The US is pushing the four countries to grant the lucrative pipeline contract to its energy giants. Two US firms – Chevron and ExxonMobil – are in the race to become consortium leaders, win the project and finance the laying of the pipeline," a senior government official said while talking to The Express Tribune.

Washington has been lobbying for the gas supply project, called Turkmenistan, Afghanistan, Pakistan and India (Tapi) pipeline, terming it an ideal scheme to tackle energy shortages in Pakistan. On the other side, it pressed Islamabad to shelve the Iran-Pakistan gas pipeline because of a nuclear standoff with Tehran…

According to officials, Petroleum and Natural Resources Minister Shahid Khaqan Abbasi will lead a delegation at the meeting of the TAPI pipeline steering committee on July 8 in Ashgabat.

…At present, bid documents are being prepared in consultation with the Asian Development Bank, which is playing the role of transaction adviser. The documents will be given to the two companies only for taking part in the tender.

Chevron is lobbying in India, Pakistan and Afghanistan to clinch a deal, backed by the US State Department. However, other companies could also become part of the consortium that will be led either by Chevron or ExxonMobil." (TAPI pipeline: Officials to finalise contract award in Ashgabat next week, The Express Tribune)
So the pipeline plan is finally moving forward and, as the article notes, "The documents will be given to the two companies only for taking part in the tender."
Nice, eh? So the State Department applies a little muscle and "Voila", Chevron and Exxon clinch the deal. How's that for a free market?
And who do you think is going to protect that 1,000 mile stretch of pipeline through hostile Taliban-controlled Afghanistan?
Why US troops, of course, which is why US military bases are conveniently located up an down the pipeline route. Coincidence?
Not on your life. Operation "Enduring Freedom" is a bigger hoax than the threadbare war on terror.
So let's not kid ourselves. The war had nothing to do with liberating women or bringing democracy to the unwashed masses. It was all about power politics and geostrategic maneuvering; stealing resources, trouncing potential rivals, and beefing up profits for the voracious oil giants. Who doesn't know that already? Here's more background from the Wall Street Journal:
"Earlier this month, President Obama sent a letter to (Turkmenistan) President Berdimuhamedow emphasizing a common interest in helping develop Afghanistan and expressing Mr. Obama's support for TAPI and his desire for a major U.S. firm to construct it.

…Progress on TAPI will also jump-start many of the other trans-Afghan transport projects—including roads and railroads—that are at the heart of America's "New Silk Road Strategy" for the Afghan economy.

The White House should understand that if TAPI isn't built, neither U.S. nor U.N. sanctions will prevent Pakistan from building a pipeline from Iran." (The Pipeline That Could Keep the Peace in Afghanistan, Wall Street Journal)
Can you see what's going on? Afghanistan, which is central to Washington's pivot strategy, is going to be used for military bases, resource extraction and transportation. That's it. There's not going to be any reconstruction or nation building. The US doesn't do that anymore. This is the stripped-down, no-frills, 21st century imperialism. "No nation for you, buddy. Just give us your gas and off we'll go." That's how the system works now. It's alot like Iraq –the biggest hellhole on earth–where "oil production has surged to its highest level in over 30 years". (according to the Wall Street Journal) And who's raking in the profits on that oil windfall?
Why the oil giants, of course. (ExxonMobil, BP and Shell) Maybe that's why you never read about what a terrible mistake the war was. Because for the people who count, it really wasn't a mistake at all. In fact, it all worked out pretty well.
Of course, the US will support the appearance of democracy in Kabul, but the government won't have any real power beyond the capital. It never did anyway. (Locals jokingly called Karzai the "mayor of Kabul") As for the rest of the country; it will be ruled by warlords as it has been since the invasion in 2001. (Remember the Northern Alliance? Hate to break the news, but they're all bloodthirsty, misogynist warlords who were reinstated by Rumsfeld and Co.)
This is the new anarchic "Mad Max" template Washington is applying wherever it intervenes. The intention is to dissolve the nation-state in order to remove any obstacle to resource extraction, which is why failed states are popping up wherever the US sticks its big nose. It's all by design. Chaos is the objective. Simply put: It's easier to steal whatever one wants when there's no center of power to resist.
This is why political leaders in Europe are so worried, because they don't like the idea of sharing a border with Somalia, which is exactly what Ukraine is going to look like when the US is done with it.
In Ukraine, the US is using a divide and conquer strategy to pit the EU against trading partner Moscow. The State Department and CIA helped to topple Ukraine's elected President Viktor Yanukovych and install a US stooge in Kiev who was ordered to cut off the flow of Russian gas to the EU and lure Putin into a protracted guerilla war in Ukraine. The bigwigs in Washington figured that, with some provocation, Putin would react the same way he did when Georgia invaded South Ossetia in 2006. But, so far, Putin has resisted the temptation to get involved which is why new puppet president Petro Poroshenko has gone all "Jackie Chan" and stepped up the provocations by pummeling east Ukraine mercilessly. It's just a way of goading Putin into sending in the tanks.
But here's the odd part: Washington doesn't have a back-up plan. It's obvious by the way Poroshenko keeps doing the same thing over and over again expecting a different result. That demonstrates that there's no Plan B. Either Poroshenko lures Putin across the border and into the conflict, or the neocon plan falls apart, which it will if they can't demonize Putin as a "dangerous aggressor" who can't be trusted as a business partner.
So all Putin has to do is sit-tight and he wins, mainly because the EU needs Moscow's gas. If energy supplies are terminated or drastically reduced, prices will rise, the EU will slide back into recession, and Washington will take the blame. So Washington has a very small window to draw Putin into the fray, which is why we should expect another false flag incident on a much larger scale than the fire in Odessa. Washington is going to have to do something really big and make it look like it was Moscow's doing. Otherwise, their pivot plan is going to hit a brick wall. Here's a tidbit readers might have missed in the Sofia News Agency's novinite site:
"Ukraine's Parliament adopted .. a bill under which up to 49% of the country's gas pipeline network could be sold to foreign investors. This could pave the way for US or EU companies, which have eyed Ukrainian gas transportation system over the last months.

…Prime Minister Arseniy Yatsenyuk was earlier quoted as saying that the bill would allow Kiev to "attract European and American partners to the exploitation and modernization of Ukraine's gas transportation," in a situation on Ukraine's energy market he described as "super-critical". Critics of the bill have repeatedly pointed the West has long been interest in Ukraine's pipelines, with some seeing in the Ukrainian revolution a means to get access to the system. (Ukraine allowed to sell up to 49% of gas pipeline system, novinite.com)
Boy, you got to hand it to the Obama throng. They really know how to pick their coup-leaders, don't they? These puppets have only been in office for a couple months and they're already giving away the farm.
And, such a deal! US corporations will be able to buy up nearly half of a pipeline that moves 60 percent of the gas that flows from Russia to Europe. That's what you call a tollbooth, my friend; and US companies will be in just the right spot to gouge Moscow for every drop of natural gas that transits those pipelines. And gouge they will too, you can bet on it.
Is that why the State Department cooked up this loony putsch, so their fatcat, freeloading friends could rake in more dough?
This also explains why the Obama crowd is trying to torpedo Russia's other big pipeline project called Southstream. Southstream is a good deal for Europe and Russia. On the one hand, it would greatly enhance the EU's energy security, and on the other, it will provide needed revenues for Russia so they can continue to modernize, upgrade their dilapidated infrastructure, and improve standards of living. But "the proposed pipeline (which) would snake about 2,400 kilometers, or roughly 1,500 miles, from southern Russia via the Black Sea to Bulgaria, Serbia, Hungary and ultimately Austria. (and) could handle about 60 billion cubic meters of natural gas a year, enough to allow Russian exports to Europe to largely bypass Ukraine" (New York Times) The proposed pipeline further undermines Washington's pivot strategy, so Obama, the State Department and powerful US senators (Ron Johnson, John McCain, and Chris Murphy) are doing everything in their power to torpedo the project.
"What gives Vladimir Putin his power and control is his oil and gas reserves and West and Eastern Europe's dependence on them," Senator Johnson said in an interview. "We need to break up his stranglehold on energy supplies. We need to bust up that monopoly." (New York Times)
What a bunch of baloney. Putin doesn't have a monopoly on gas. Russia only provides 30 percent of the gas the EU uses every year. And Putin isn't blackmailing anyone either. Countries in the EU can either buy Russian gas or not buy it. It's up to them. No one has a gun to their heads. And Gazprom's prices are competitive too, sometimes well-below market rates which has been the case for Ukraine for years, until crackpot politicians started sticking their thumb in Putin's eye at every opportunity; until they decided that that they didn't have to pay their bills anymore because, well, because Washington told them not to pay their bills. That's why.
Ukraine is in the mess it's in today for one reason, because they decided to follow Washington's advice and shoot themselves in both feet. Their leaders thought that was a good idea. So now the country is broken, penniless and riven by social unrest. Regrettably, there's no cure for stupidity.
The neocon geniuses apparently believe that if they sabotage Southstream and nail down 49 percent ownership of Ukraine's pipeline infrastructure, then the vast majority of Russian gas will have to flow through Ukrainian pipelines. They think that this will give them greater control over Moscow. But there's a glitch to this plan which analyst Jeffrey Mankoff pointed out in an article titled "Can Ukraine Use Its Gas Pipelines to Threaten Russia?". Here's what he said:
"The biggest problem with this approach is a cut in gas supplies creates real risks for the European economy… In fact, Kyiv's efforts to siphon off Russian gas destined to Europe to offset the impact of a Russian cutoff in January 2009 provide a window onto why manipulating gas supplies is a risky strategy for Ukraine. Moscow responded to the siphoning by halting all gas sales through Ukraine for a couple of weeks, leaving much of eastern and southern Europe literally out in the cold. European leaders reacted angrily, blaming both Moscow and Kyiv for the disruption and demanding that they sort out their problems. While the EU response would likely be somewhat more sympathetic to Ukraine today, Kyiv's very vulnerability and need for outside financial support makes incurring European anger by manipulating gas supplies very risky." (Can Ukraine Use Its Gas Pipelines to Threaten Russia, two paragraphs)
The funny thing about gas is that, when you stop paying the bills, they turn the heat off. Is that hard to understand?
So, yes, the State Department crystal-gazers and their corporate-racketeer friends might think they have Putin by the shorthairs by buying up Ukraine's pipelines, but the guy who owns the gas (Gazprom) is still in the drivers seat. And he's going to do what's in the best interests of himself and his shareholders. Someone should explain to John Kerry that that's just how capitalism works.
Washington's policy in Ukraine is such a mess, it really makes one wonder about the competence of the people who come up with these wacko ideas. Did the brainiacs who concocted this plan really think they'd be able to set up camp between two major trading partners, turn off the gas, reduce a vital transit country into an Iraq-type basketcase, and start calling the shots for everyone in the region?
It's crazy.
Europe and Russia are a perfect fit. Europe needs gas to heat its homes and run its machinery. Russia has gas to sell and needs the money to strengthen its economy. It's a win-win situation. What Europe and Russia don't need is the United States. In fact, the US is the problem. As long as US meddling persists, there's going to be social unrest, division, and war. It's that simple. So the goal should be to undermine Washington's ability to conduct these destabilizing operations and force US policymakers to mind their own freaking business. That means there should be a concerted effort to abandon the dollar, ditch US Treasuries, jettison the petrodollar system, and force the US to become a responsible citizen that complies with International law.
It won't happen overnight, but it will happen, mainly because everyone is sick and tired of all the troublemaking.
It's no longer easy to be a faithful Christian in America, says Dr. Robert P. George, chairman of the U.S. Commission on International Religious Freedom.  Our culture increasingly condemns Christian beliefs as bigoted and hateful: 
 
"They despise us if we refuse to call good evil and evil good." (American Christians Should Prepare to Be Despised, Official Tells National Prayer Breakfast, Rob Kerby, ChristianHeadlines.com, May 15, 2014) 
 
The Princeton University professor and author told Washington, D.C.'s 10th annual National Catholic Prayer Breakfast that American culture no longer favors faithful Christians. For example, he asked attendees to consider, 
 
"….the derision that comes from being pro-life and pro-traditional marriage (they) threaten us with consequences if we refuse to call what is good, evil, and what is evil, good. They demand us to conform our thinking to their orthodoxy, or else say nothing at all…"  
 
Dr. George told the prayer breakfast: 
 
"The intimidation to remain silent is insidious and growing…what American Christians are facing is the 21st century version of the question, 'Am I ashamed of the Gospel?"   
 
If anything, some evolutionary theologians and their gullible Christian flocks, both evolutionary theist and progressive creationist, are at least as hostile if not more so toward faithful defenders of the miracle of Special Creation than are their evolutionary atheist and occult pantheist counterparts: Luciferians, god-men, goddesses, shaman, Satanists, witches, necromancers, and astrologers. 
 
The usual diatribe thrown against altogether despised creationists goes something like this:  
 
Since Darwin introduced the theory of evolution some Christians have been uncomfortable with the idea that all species (i.e., reptiles, birds, bugs, dogs, apes, humans) share a common ancestry moving from primordial matter to creeping things, crawling things, swimming things, knuckle-dragging things to man under the direction of the God of evolution.   Thus the Earth was not created instantaneously as St. Augustine held or created in six days as most early Church Fathers affirmed. Nor was Adam created by the One God in three Persons as a living soul embodied in flesh, fully person, fully man right from the beginning.   Adam and Eve, if they even existed were emergent products of evolution, their closest relative soulless hominids.  Thus the events described in Genesis are not meant to convey the miraculous creation ex nihilo but the scientific 'reality' that the universe has an impotent creator that made and ignited a Cosmic Egg (Big Bang) which generated matter and energy. Then after billions of years of God-directed evolution eventuating in the suffering and death of millions of life-forms (God's fault, btw) man inexplicably fell from grace even though God is the guilty party, the real cause of death and suffering.  
 
According to this counter-intuitive Gnostic-laced tale of nonsense, evolutionary science, not God's Revelation, is a reality in nature explainable by reason and empirical observation and faithful Christians who deny this are in denial of reality.  Faithful Christians who actually affirm the Revelation of God and Special Creation are guilty of defending the backwards, anti-scientific, anti-evolution 'fundamentalist' interpretation of the book of Genesis thus are not only a cause of embarrassment to fashionably-correct, scientifically enlightened Christians, but are also guilty of harming Christianity. (Creationism Harms Christianity, sacerdotus.wordpress.com) 
 
However, it isn't faithful Christians who are 'embarrassments' but rather intellectually arrogant evolution-obsessed theologians.  These wolves in sheep clothing mesmerize and persuade susceptible Christian sheep to uncritically accept dangerous esoteric ideas like evolution.
 
 With respect to Darwin's theory, Darwin is not its' inventor. He received the idea from his nature-worshipping pagan grandfather Erasmus Darwin, an important name in European Masonic anti-Christian Church organizations engaged in destructive revolutionary activism. Erasmus mentored his grandson Charles: 
 
"Dr. Erasmus Darwin (1731-1802) was the first man in England to suggest those ideas which were later to be embodied in the Darwinian theory by his grandson, Charles Darwin (1809-1882) who wrote in 1859 Origin of Species." (Scarlet and the Beast, Vol. II, John Daniel, p. 34) 
 
According to anthropologist Henry Fairfield Osborn, longtime director of the American Museum of Natural History, ancient pagans are the inventers of modern evolutionism. In the introduction to his history of evolutionism Osborn wrote:
 
 "When I began the search for anticipations of the evolutionary theory….I was led back to the Greek natural philosophers and I was astonished to find how many of the pronounced and basic features of the Darwinian theory were anticipated even as far back as the seventh century B.C." (Osborn, From the Greeks to Darwin, p. xi) 
 
By its' nature evolutionism belongs to the category of naturalism (all that exists is nature or cosmos), making it antithetical, or in fierce opposition to the infinite Triune God, the supernatural dimension and special creation.  The personal Triune God is outside of His creation—the natural dimension of space, time, matter and energy—thus He is not subject to the laws of science: 
 
"….science has no satisfactory answer to the question of the origin of life on the earth. Perhaps the appearance of life on the earth is a miracle. Scientists are reluctant to accept that view, but their choices are limited: either life was created on the earth by the will of a being outside the grasp of scientific understanding, or it evolved on our planet spontaneously, through chemical reactions occurring in nonliving matter lying on the surface of the planet. The first theory places the question of the origin of life beyond the reach of scientific inquiry. It is a statement of faith in the power of a Supreme Being not subject to the laws of science. The second theory is also an act of faith. The act of faith consists in assuming that the scientific view of the origin of life is correct, without having concrete evidence to support that belief." (Until the Sun Dies, Robert Jastrow, Ph.D. Theoretical Physics, pp. 62-63, 1977) 
 
Only by conceptually murdering the supernatural Triune God and replacing Him with a 'god' within the natural dimension (naturalism), thus subject to scientific inquiry, can intellectually arrogant theologians presume to speak for god, claiming that he made and exploded a Cosmic Egg and directs evolutionary transformism together with the rest of their twisted theology dressed in Christian clothing.
 
 As an idea evolution is like an onion consisting of multitudinous layers of esoteric meaning.  Darwin's theory occupies two or three layers. The many other layers already existed prior to Erasmus going back to the Renaissance and before that to ancient Chaldea and India thence to ancient Greece and Rome where evolution is always and everywhere connected to reincarnation and spiritual evolution (transformism).    
 
On ancient pagan conceptions of reincarnation and spiritual evolution early Church Father Gregory of Nyssa said: 
 
"[I]f one should search carefully, he will find that their doctrine is of necessity brought down to this. They tell us that one of their sages said that he, being one and the same person, was born a man, and afterward assumed the form of a woman, and flew about with the birds, and grew as a bush, and obtained the life of an aquatic creature—and he who said these things of himself did not, so far as I can judge, go far from the truth, for such doctrines as this—of saying that one should pass through many changes—are really fitting for the chatter of frogs or jackdaws or the stupidity of fishes or the insensibility of trees" (The Making of Man 28:3; A.D. 379).  
 
Evolution appeared in Christendom during the Renaissance when certain Christian theologians, mystics and scholars such as Emanuel Swedenborg had discovered Chaldean astrology, Hermetic magic, occult Jewish Kabbalah, Eastern mystical traditions and the ancient ways of 'going within' (contacting spirits).  All of this was accompanied by conceptions of reincarnation and spiritual evolution.  They studied these ancient occult traditions which they translated resulting in Hermetic Kabbalah. Then like Pico della Mirandola, they argued that occult hermetic science – the divine technology or Magic Way of reaching divine status and powers through ritual procedures and spiritual evolution is the best proof of the divinity of Christ.  (God and the Knowledge of Reality, Thomas Molnar, pp. 78-79) 
 
Father Richard John Neuhaus pulls all of these occult traditions together in his analysis of modern evolutionary scientism as a revitalization of ancient spiritual traditions closely connected to elemental spirits. In his book, "American Babylon," Neuhaus argues that astrological elemental spirits (powers and principalities) have been recast as, 
 
"…evolutionary dynamics, life forces, or laws of nature." Though described as laws rather than spirits, these elemental "forces"…. work their inexorable ways in cold indifference to reason, to will, to love, and to hope. In short, it is suggested that the elemental spirits are in charge and that human freedom is a delusion." (p. 226)
 
 Despite that modern evolutionary theologians validate their esoteric projects as empirical or observational science in reality observational science is their enemy.   For instance, evolutionary theology alleges that hominids are supposed to be our ancestors, the so-called transitional life-forms linking modern humans to the common ancestor of all life.    
 
However, the hominid claim has fallen flat on its' face, said Carl Wieland. In "Making Sense of Apeman Claims," Wieland reports that a consistent pattern has emerged in direct opposition to the evolutionary story.  Over the decades, each new fossil find has been falling quite naturally into one of only three major groups.    And two of these, Neanderthal and Homo erectus turn out to be strikingly similar, in fact, Neanderthals are "clearly human descendants of Adam." (Creation, Vol. 36, No. 3, 2014, p. 38)
 
 Although the third category generates the most excitement among evolution-worshippers it turns out to be an extinct non-human primate group, anatomically not between apes and humans.    
 
Sequencing of Neanderthal DNA clearly shows interbreeding with modern populations, particularly those from Eastern Europe, meaning that Neanderthals are not a separate species, despite evolutionary claims that they split off from the human lineage 500,000 years ago.  This evidence is a major blow to evolutionary theist and "progressive" or "old-earth creationist notions." (p. 38). 
 
It is because evolutionary 'old-earth' theologians reject what God said in favor of what man said, their starting point is fallible secular dating, hence they, 
 
"….must regard Neanderthals as pre-Adamic soulless nonhumans despite all the archaeological evidences of their humanity.   But DNA now makes this completely dead in the water, having children together means they must be the same created kind."  (pp. 38-39) 
 
Among the scientifically affirmed finds showing that Neanderthals were human are: 
 
1. Stone tools and specialized bone tools for leatherworking. 
 
2. The controlled use of fire, including heating birch bark peelings to make special pitch to haft wooden shafts onto stone tools. 
 
3.  Perfectly balanced, finely crafted wooden hunting javelins. 
 
4. Jewelry 
 
5. Evidence of body decorations and cosmetics. 
 
6. Burying their dead with ornaments. 
 
7. Cooking utensils and the use of herbs in food. 
 
8. Symbolic thinking 
 
9. High-tech 'superglue' 
 
10. A complex structure built 1 mile underground where no daylight penetrates suggests the technology and know-how to transport sustained fire as a source of light that far down. 
 
11. Evidence of dwellings made of timber draped with animal skins 
 
12.  Recent detailed analysis of hyoid bone (associated with the voice box) indicates they could speak, as does recent genetic evidence.  (ibid, Wieland) 
 
"For he spoke and they were made: he commanded and they were created." Psalm 33:9  
 
Either the infinite personal One God in three Persons spoke or He did not. If He did, then Jesus is God in the flesh, the Creator and Living Word (John 1: 1-5) the Light that came into the world (John 3: 1-9) who perfectly fulfills all prophecy from the antediluvian world to the post-flood world: 
 
"And he said: I am the God of thy father, the God of Abraham, the God of Isaac, and the God of Jacob. Moses hid his face: for he durst not look at God."     Exodus 3:6 
 
If the One God in three Persons spoke then what He revealed to Moses with respect to the miracle of creation is thesis (True Truth), making evolution antithesis (the lie).  The faith of the Christian Church and of the average Christian has had, and still has, its foundation as much in the literal and historic elements of Genesis, the book of beginnings revealed 'mouth to mouth' by the Angel to Moses, as in that of the person and deity of Jesus Christ.  
 
The Return of an Ancient Heresy  
 
The primary tactic employed by defiant, intellectually proud theologians eager to accommodate Scripture and the Church to modern science and pagan evolutionary thinking is predictable. It is the argument that evolution is entirely compatible with the Bible when Genesis, especially the first three chapters, is viewed in its entirety in a non-literal, non-historical context. This is not a heresy unique to modern times. The early Church Fathers dealt with this heresy as well, counting it among the heretical tendencies of apostate Jewish Cabbalists, Origenists and Gnostic pagans such as Simon Magus. 
 
Fourth-century Fathers such as John Chrysostom, Basil the Great and Ephraim the Syrian, all of whom wrote commentaries on Genesis, specifically warned against treating Genesis as an unhistorical myth or allegory. John Chrysostom strongly warned against paying heed to these heretics, 
 
"…let us stop up our hearing against them, and let us believe the Divine Scripture, and following what is written in it, let us strive to preserve in our souls sound dogmas." (Genesis, Creation, and Early Man, Fr. Seraphim Rose, p. 31)
 
 As St. Cyril of Alexandria wrote, higher theological, spiritual meaning is founded upon humble, simple faith in the literal and historic elements of Genesis as Revealed by God and one cannot apprehend rightly the Scriptures without believing in the historical reality of the events and people they describe. (ibid, Seraphim Rose, p. 40) 
 
In agreement, Vishal Mangalwadi (1949- ), founder-president of BOMI/Revelation Movement observes that the Revelation of God is the only available foundation for truth, freedom and faith in God's gift of reason.  But Western theologians and intellectuals have closed their minds to Revelation, hence Truth, reason and Special Creation.  Because "intelligent" Americans no longer believe in "True Truth" (Francis Schaeffer) they invent stories and use empty god words as substitutes for the infinite, personal Triune God.  Thus Gospel Truth is now 'Gospel Story' and history a series of unfolding stories such as the physical science story (Big Bang) which may or may not include the use of a god-word; the biological science story (evolutionary transformism), the climate science story (global warming or change), and the social science story (gay marriage): 
 
"Doing science" increasingly means peddling politically correct dogma – that is, stories that have evolved into myths. No one really knows if there was only one Big Bang or other bigger bangs as well; whether we live in a universe or multi-verse; whether life evolved on this planet or came from outer space . . . but if you want a tenured position in a university, and if you want your research projects funded, you have to toe politically correct storyline – champion dogma."  (How Did the West's 'Rational Animal' Become Incapable of Using Reason? Mangalwadi) 
 
The abandonment of God's Revelation in favor of story-telling   
 
Christendom and Protestant America did not emerge from the darkness of story-telling and god-words but arose to illustrious heights on the awe-inspiring wings of the Revelation of God, hence the Genesis account of creation ex nihilo, the uniquely Christian definition of man as a person because created in the spiritual image of the infinite One God in three Persons, God's unchanging Moral Law and the Biblical view of man's sinful condition. Their subsequent fall was traced by Richard Weaver in his book, "Ideas Have Consequences" (1945). 
 
Weaver writes that 14th century Western man had made an "evil decision" to abandon his belief in the transcendent Triune God, His Revelation and unchanging universals, thus the position that "there is a source of truth higher than and independent of man…" The consequence of this 'evil decision' is a still unfolding catastrophe reaching fullness in our own time: 
 
"The denial of everything transcending experience means inevitably…the denial of truth. With the denial of objective truth there is no escape from the relativism of 'man is the measure of all things." (The Conservative Intellectual Movement in America, George H. Nash, pp. 32-33) 
 
The substance of 'man is the measure of all things' is idolatry.  The beginning of idolatry is pride (narcissism), which together with selfishness demonstrates preference for one's self instead of the Triune God, His Revelation (hence 'True Truth') and neighbor (and unwanted, inconvenient human life, i.e., babies).  Just as no violation of the Law can occur without one first being an idolater, envy/covetousness and murder are its' final results, for where 'self' is primary then 'self' deserves everything it can get, no matter the cost to other people.   
 
The fall of the West and America is due to the idolatry of darkened souls turned by choice toward evil.  From the antediluvians to our own age, the truth as to this evil said Athanasius, 
 
"….is that it originates, and resides, in the perverted choice of the darkened soul" which, "materialized by forgetting God" and engrossed in lower things, "makes them into gods," and thereby "descends into a hopeless depth of delusion and superstition," whereby "they ceased to think that anything existed beyond what is seen, or that anything was good save things temporal and bodily; so turning away and forgetting that she was in the image of the good God, she no longer… sees God the Word after whose likeness she is made; but having departed from herself, imagines and feigns what is not (and then) advancing further in evil, they came to celebrate as gods the elements and the principles of which bodies are composed…."(Against the Heathen, New Advent) 
 
Having descended into delusion and superstition darkened souls imagined that "all that exists" is the natural dimension, meaning the universe of matter, animated powers, forces, and deterministic laws, all of which they celebrated and attributed miraculous powers to just as modern evolution worshippers do, whether secular or theological: 
 
"There is an energy in the world, a spark, an electricity that everything is plugged into. The Greeks called it zoe, the mystics call it 'Spirit,' and Obi-Wan called it 'the Force'…..This energy, spark, and electricity that pulses through all of creation sustains it, fuels it, and keeps it growing. Growing, evolving, reproducing…" (Love Wins, Rob Bell, pgs. 144-145) 
 
Evolutionary scientism is not observational science in search of how things really work in this world but rather a disastrous occult science tradition whose taproot stretches back to Babylon and before that the pre-flood world.   The 'Christian' teachers and defenders of this demonic heresy are guilty of leading unwitting sheep astray, possibly to their doom, and of besmirching and defaming faithful defenders of special creation as backwards, anti-science, anti-evolution destroyers of the faith.   However, in reality creationists are the defenders of thesis (True Truth) against the damnable incursion of antithesis (occultism) into the good news, the Gospel of Christ. 
 
 In this light, what are vicious attacks against Special Creation as well as those against the sanctity of human life, and traditional one man one woman marriage but evil wills offended by and resentful of Higher Authority, True Truth, 'other' (unwanted, inconvenient human life) and moral restrictions and limitations? 
 
"For whoever shall be ashamed of me and of my words, of him shall the Son of man be ashamed, when he shall come in his own glory, and in his Father's, and of the holy angels."    Luke 9:26 
 
Who are the intolerant ones, the highly offended because ashamed of our Lord and his words?  Who are the selfish, intellectually arrogant story-tellers whose embarrassing doctrine of change (evolution) is "really fitting for the chatter of frogs or jackdaws or the stupidity of fishes or the insensibility of trees"'?   
 
Hint:  Not Creationists or any of the faithful. 
The World Has Lost Understanding…
"We regard killing on United Nations 'peace-keeping-missions' as 'necessary' and to be accepted as a fact of life.  At the same time, our murderous century views with horror God's law.  God has no right, they hold, to require judgment.  Modern theology believes God should represent love and 'niceness,' never justice and judgment.  Humanistic sentiment wants evil-doers to be dealt with gently.  As a result, we have a culture which tolerates criminals, hoodlums, and exploiters of welfare who believe that they have a 'right' to pursue their evil ways.  Men are intolerant towards the claims of God and tolerant towards evil."  R. J. Rushdoony, "Deuteronomy" Pg. 205
Ninety nine percent of the world's population is controlled by a small group of elite oligarchs that compose less than one percent its inhabitants.
Tiny, high flying aircraft cover the sky with mysterious trails that expand into long, thin, vaporous clouds which are even more mysteriously ignore by the people, the media, and the government – no one seems to know who sponsors the flights, what they are spraying or why they are spraying it..  When it started, those that noticed were called "conspiracy theorists" so comments on the beginning of the spraying were quickly squelched.  Now everyone sees the mysterious chemtrails but no one challenges them.
The price of gasoline has followed a similar pattern.  When gas went to $3.00 a gallon there was a considerable outcry but now that it is approaching $4.00 a gallon no one is complaining.
When rumors of the intended overlay of the laws of the world's nations with world government there was lots of consternation but now that it was begun in earnest during the Twenty-First Century it is quickly progressing with little resistance.
When President Clinton's Administration was responsible for the deaths of over 80 innocent men, women, and children at the Koresh Compound in Waco, Texas and no one was held responsible it set the stage for what happened under the administrations of President Bush and President Obama; Executive Orders have virtually abolished the Bill of Rights setting in place the structure for a police state far worse than in Russia or Germany..
There was lots of publicity when President George W. Bush's mendacity led us into war in Iraq.  But now that our armed assault in the Middle East has gone on for over ten years and amassed debt in the trillion dollar range people are disgruntled but are seemingly unaware that debt is an obligation and eventually the citizens of the United States will be forced to pay it.
Hundreds of thousands of nominal, naïve Christians have spent the last several decades trying to defy the Word of God by predicting the Second Coming of Christ.  It has not happened.  A lessor number of those who acknowledged the Conspiracy have been predicting a national catastrophe for several decades. That has not happened.
People know that the world is being drastically changed.  They know that the governments of the individual nations are involved in ominous events that are happening on a daily basis.  They are beginning to realize that governments are part of the problem and therefore cannot become part of the solution.
While the closely controlled media censors the news so that nothing about the dangers to our freedom is leaked to the public the internet has innumerable speculative and prophetic articles that contain kernels of truth but are tragically surrounded by borders of speculation.
We know that the threat to our freedom is real but like the chemtrails we do not know who is giving the orders or when a particular event will occur.
There is very little that can be done about the clouds of tyranny that are falling over us.  The gun packing patriots that flocked to the Bundy Ranch can resist the government but they are fighting against a far superior force that is fully prepared to overcome such resistance.
The American people do not vote on pernicious legislation. The men and women they elect pass these bills even though they often failed to read them.  Major legislation like NAFTA and GATT passed with unknown content.  This procedure allows the veiled authors of inimical legislation to rule the nation as invisible kings.
Our nation has been infused with immigrants who know little or nothing about our culture and are intent on accumulating as much money and power as possible.  Already defiled by the destruction of voter qualifications our electoral system has been destroyed by allowing the wisdom of informed, long term citizens to be destroyed by the ballot of stupid voters and recent immigrants.  The hope that participation the political process will bring us peace and freedom is futile.
C-Span recently hosted a consortium of female power brokers who discussed what could be done about sexual harassment in the armed services.  This group of very smart women never touched on the fact that men were created with a desire to have sex with women and women were designed to succumb.  Instead, they spent the entire house discussing how they could force men and women into close proximity and then force them to control their desires.  They never considered the fact that forcing different sexes to live together and remain chaste is like setting a building on fire and hoping is doesn't burn.
Fantasy has overtaken our world.  Someone on the internet wondered if chemtrails were real!  The entire government has accepted as fact that our nation is threatened and must sacrifice freedom for safety.  They assume that the attack on the world trade center was perpetrated by Muslim enemies and ignore the sizeable block of evidence that it was a false flag.  Everyone seems to believe that Blacks and Jews are oppressed races and must be protected by sacrificing our right to free speech.  Large segments of our population support our troops and the killing and maiming of innocent people a product of U.S. imperialism.
"In the 21st century it is difficult to find a significant statement made by Washington that is not a lie. Obamacare is a lie. Saddam Hussein's weapons of mass destruction is a lie. Assad's use of chemical weapons is a lie. Iranian nukes are a lie. Russia's invasion and annexation of Crimea is a lie. No fly zones are a lie. Russian aggression against Georgia is a lie. 9/11, the basis for Washington's destruction of civil liberty and illegal military attacks, is itself a lie. The fantastic story that a few Saudi Arabians without government or intelligence agency backing outwitted the entire national security apparatus of the Western world is unbelievable. It is simply not credible that every institution of the national security state simultaneously failed. That Washington would tell such a fantastic lie shows that Washington has no respect for the intelligence of the American people and no respect for the integrity of the American media. It shows also that Washington has no respect for the intelligence and integrity of its European and Asian allies. Paul Craig Roberts, "Gangster State America"
Read Robert's article on the coming nuclear war.
When serious problems are evaded they fester and create bigger problems.  Peace is jeopardized when reality is ignored.  Blacks and Whites cannot live together when bad Black behavior is ignored or erroneously blamed on Whites.  We cannot have peace when the controlled press fails to publish black crime against White citizens and allows denigration of White citizens by both Blacks and Jews; sooner or later this persistent inequity will cause problems.
It would be hard to find another nation that showcases the tragedy of allowing humanist government to erase immutable Law than the United States of America.  Mutable human opinion has reduced the social, legal, and governmental factions of our nation to an absurd jumble of cognitive dissonances that are impervious to order.
Human beings are not gods and their governments are not sovereign.  We live in a created world that is controlled by an Entity Who requires our obeisance.  We were created to live in that world and to obey that Deity, the One True God.  Confusion and tyranny are often results of our disobedience and signs of God's judgment.  It is time the Christian Church acknowledges the fact the God is indeed still on His Throne and is the Sovereign ruler to this fast deteriorating world.
"It is not lonely man but all the nations that have fallen prey to original sin, to the desire to be as God (Gen. 3:5).   Each makes itself its own source of law, a clear usurpation of God's prerogative.  Each seeks to limit or prohibit the freedom of God's Word.  The nations without exception claim sovereignty, a plain assertion of their own lordship or deity.  Every nation is and has been a religious entity.  Moreover, the nations, as they now exist and function, are members of the fallen world of Adam and fanatic advocates of Adam's faith and rebellion." R. J. Rushdoony. "Systematic Theology" Vol.1, Pg. 234
Memorial Day is when we commemorate our war dead. Like the Fourth of July, Memorial Day is being turned into a celebration of war.
Those who lose family members and dear friends to war don't want the deaths to have been in vain. Consequently, wars become glorious deeds performed by noble soldiers fighting for truth, justice, and the American way. Patriotic speeches tell us how much we owe to those who gave their lives so that America could remain free.
The speeches are well-intentioned, but the speeches create a false reality that supports ever more wars. None of America's wars had anything to do with keeping America free. To the contrary, the wars swept away our civil liberties, making us unfree.
President Lincoln issued an executive order for the arrest and imprisonment of northern newspaper reporters and editors. He shut down 300 northern newspapers and held 14,000 political prisoners. Lincoln arrested war critic US Representative Clement Vallandigham from Ohio and exiled him to the Confederacy. President Woodrow Wilson used WWI to suppress free speech, and President Franklin D. Roosevelt used WWII to intern 120,000 US citizens of Japanese descent on the grounds that race made them suspect. Professor Samuel Walker concluded that President George W. Bush used the "war on terror" for an across the board assault on US civil liberty, making the Bush regime the greatest danger American liberty has ever faced.
Lincoln forever destroyed states' rights, but the suspension of habeas corpus and free speech that went hand in hand with America's three largest wars was lifted at war's end. However, President George W. Bush's repeal of the Constitution has been expanded by President Obama and codified by Congress and executive orders into law. Far from defending our liberties, our soldiers who died in "the war on terror" died so that the president can indefinitely detain US citizens without due process of law and murder US citizens on suspicion alone without any accountability to law or the Constitution.
The conclusion is unavoidable that America's wars have not protected our liberty but, instead, destroyed liberty. As Alexander Solzhenitsyn said, "A state of war only serves as an excuse for domestic tyranny."
Southern secession did pose a threat to Washington's empire, but not to the American people.Neither the Germans of WWI vintage nor the Germans and Japanese of WWII vintage posed any threat to the US. As historians have made completely clear, Germany did not start WWI and did not go to war for the purpose of territorial expansion. Japan's ambitions were in Asia. Hitler did not want war with England and France. Hitler's territorial ambitions were mainly to restore German provinces stripped from Germany as WWI booty in violation of President Wilson's guarantees. Any other German ambitions were to the East. Neither country had any plans to invade the US. Japan attacked the US fleet at Pearl Harbor hoping to remove an obstacle to its activities in Asia, not as a precursor to an invasion of America.
Certainly the countries ravaged by Bush and Obama in the 21st century–Iraq, Afghanistan, Libya, Somalia, Syria, Pakistan, and Yemen posed no military threat to the US. Indeed, these were wars used by a tyrannical executive branch to establish the basis of the Stasi State that now exists in the US.
The truth is hard to bear, but the facts are clear. America's wars have been fought in order to advance Washington's power, the profits of bankers and armaments industries, and the fortunes of US companies. Marine General Smedley Butler said, " I served in all commissioned ranks from a second Lieutenant to a Major General. And during that time, I spent most of my time being a high-class muscle man for Big Business, for Wall Street, and for the bankers. In short, I was a racketeer for capitalism."
It is more or less impossible to commemorate the war dead without glorifying them, and it is impossible to glorify them without glorifying their wars.
For the entirety of the 21st century the US has been at war, not war against massed armies or threats to American freedom, but wars against civilians, against women, children, and village elders, and wars against our own liberty. Elites with a vested interest in these wars tell us that the wars will have to go on for another 20 to 30 years before we defeat "the terrorist threat."
This, of course, is nonsense. There was no terrorist threat until Washington began trying to create terrorists by military attacks, justified by lies, on Muslim populations.
Washington succeeded with its war lies to the point that Washington's audacity and hubris have outgrown Washington's judgment.
By overthrowing the democratically elected government in Ukraine, Washington has brought the United States into confrontation with Russia. This is a confrontation that could end badly, perhaps for Washington and perhaps for the entire world.
If Gaddafi and Assad would not roll over for Washington, why does Washington think Russia will? Russia is not Libya or Syria. Washington is the bully who having beat up the kindergarden kid, now thinks he can take on the college linebacker.
The Bush and Obama regimes have destroyed America's reputation with their incessant lies and violence against other peoples. The world sees Washington as the prime threat.
Worldwide polls consistently show that people around the world regard the US and Israel as the two countries that pose the greatest threat to peace. http://www.ibtimes.com/gallup-poll-biggest-threat-world-peace-america-1525008 and
http://www.jewishfederations.org/european-poll-israel-biggest-threat-to-world-peace.aspx
The countries that Washington's propaganda declares to be "rogue states" and the "axis of evil," such as Iran and North Korea, are far down the list when the peoples in the world are consulted. It could not be more clear that the world does not believe Washington's self-serving propaganda. The world sees the US and Israel as the rogue states.
The US and Israel are the only two countries in the world that are in the grip of ideologies. The US is in the grip of the Neoconservative ideology which has declared the US to be the "exceptional, indispensable country" chosen by history to exercise hegemony over all others. This ideology is buttressed by the Brzezinski and Wolfowitz doctrines that are the basis of US foreign policy.
The Israeli government is in the grip of the Zionist ideology that declares a "greater Israel" from the Nile to the Euphrates. Many Israelis themselves do not accept this ideology, but it is the ideology of the "settlers" and those who control the Israeli government.
Ideologies are important causes of war. Just as the Hitlerian ideology of German superiority is mirrored in the Neoconservative ideology of US superiority, the Communist ideology that the working class is superior to the capitalist class is mirrored in the Zionist ideology that Israelis are superior to Palestinians. Zionists have never heard of squatters' rights and claim that recent Jewish immigrants into Palestine–invaders really–have the right to land occupied by others for millenniums.
Washington's and Israel's doctrines of superiority over others do not sit very well with the "others." When Obama declared in a speech that Americans are the exceptional people, Russia's President Putin responded, "God created us all equal."
To the detriment of its population, the Israeli government has made endless enemies. Israel has effectively isolated itself in the world. Israel's continued existence depends entirely on the willingness and ability of Washington to protect Israel. This means that Israel's power is derivative of Washington's power.
Washington's power is a different story. As the only economy standing after WWII, the US dollar became the world money. This role for the dollar has given Washington financial hegemony over the world, the main source of Washington's power. As other countries rise, Washington's hegemony is imperiled.
To prevent other countries from rising, Washington invokes the Brzezinski and Wolfowitz doctrines. To be brief, the Brzezinski doctrine says that in order to remain the only superpower, Washington must control the Eurasian land mass. Brzezinski is willing for this to occur peacefully by suborning the Russian government into Washington's empire. "A loosely confederated Russia . . . a decentralized Russia would be less susceptible to imperial mobilization." In other words, break up Russia into associations of semi-autonomous states whose politicians can be suborned by Washington's money.
Brzezinski propounded "a geo-strategy for Eurasia." In Brzezinski's strategy, China and "a confederated Russia" are part of a "transcontinental security framework," managed by Washington in order to perpetuate the role of the US as the world's only superpower.
I once asked my colleague, Brzezinski, that if everyone was allied with us, who were we organized against? My question surprised him, because I think that Brzezinski remains caught up in Cold War strategy even after the demise of the Soviet Union. In Cold War thinking it was important to have the upper hand or else be at risk of being eliminated as a player. The importance of prevailing became all consuming, and this consuming drive survived the Soviet collapse. Prevailing over others is the only foreign policy that Washington knows.
The mindset that America must prevail set the stage for the Neoconservatives and their 21st century wars, which, with Washington's overthrow of the democratically elected government of Ukraine, has resulted in a crisis that has brought Washington into direct conflict with Russia.
I know the strategic institutes that serve Washington. I was the occupant of the William E.Simon Chair in Political Economy, Center for Strategic and International Studies, for a dozen years. The idea is prevalent that Washington must prevail over Russia in Ukraine or Washington will lose prestige and its superpower status.
The idea of prevailing always leads to war once one power thinks it has prevailed.
The path to war is reinforced by the Wolfowitz Doctrine. Paul Wolfowitz, the neoconservative intellectual who formulated US military and foreign policy doctrine, wrote among many similar passages:
"Our first objective is to prevent the re-emergence of a new rival, either on the territory of the former Soviet Union or elsewhere [China], that poses a threat on the order of that posed formerly by the Soviet Union. This is a dominant consideration underlying the new regional defense strategy and requires that we endeavor to prevent any hostile power from dominating a region whose resources would, under consolidated control, be sufficient to generate global power."
In the Wolfowitz Doctrine, any other strong country is defined as a threat and a power hostile to the US regardless of how willing that country is to get along with the US for mutual benefit.
The difference between Brzezinski and the Neoconservatives is that Brzezinski wants to suborn Russia and China by including them in the empire as important elements whose voices would be heard, If only for diplomatic reasons, whereas the Neoconservatives are prepared to rely on military force combined with internal subversion orchestrated with US financed NGOs and even terrorist organizations.
Neither the US nor Israel is embarrassed by their worldwide reputations as the two countries that pose the greatest threat. In fact, both countries are proud to be recognized as the greatest threats. The foreign policy of both countries is devoid of any diplomacy. US and Israeli foreign policy rests on violence alone. Washington tells countries to do as Washington says or be "bombed into the stone age." Israel declares all Palestinians, even women and children, to be "terrorists," and proceeds to shoot them down in the streets, claiming that Israel is merely protecting itself against terrorists. Israel, which does not recognize the existence of Palestine as a country, covers up its crimes with the claim that Palestinians do not accept the existence of Israel.
"We don't need no stinking diplomacy. We got power."
This is the attitude that guarantees war, and that is where the US is taking the world. The prime minister of Britain, the chancellor of Germany, and the president of France are Washington's enablers. They provide the cover for Washington. Instead of war crimes, Washington has "coalitions of the willing" and military invasions that bring "democracy and women's rights" to non-compliant countries.
China gets much the same treatment. A country with four times the US population but a smaller prison population, China is constantly criticized by Washington as an "authoritarian state." China is accused of human rights abuses while US police brutalize the US population.
The problem for humanity is that Russia and China are not Libya and Iraq. These two countries possess strategic nuclear weapons. Their land mass greatly exceeds that of the US. The US, which was unable to successfully occupy Baghdad or Afghanistan, has no prospect of prevailing against Russia and China in conventional warfare. Washington will push the nuclear button. What else can we expect from a government devoid of morality?
The world has never experienced rogue states comparable to Washington and Israel. Both governments are prepared to murder anyone and everyone. Look at the crisis that Washington has created in Ukraine and the dangers thereof. On May 23, 2014, Russia's President Putin spoke to the St. Petersburg International Economic Forum, a three-day gathering of delegations from 62 countries and CEOs from 146 of the largest Western corporations.
Putin did not speak of the billions of dollars in trade deals that were being formalized. Instead Putin spoke of the crisis that Washington had brought to Russia, and he criticized Europe for being Washington's vassals for supporting Washington's propaganda against Russia and Washington's interference in vital Russian interests.
Putin was diplomatic in his language, but the message that powerful economic interests from the US and Europe received is that it will lead to trouble if Washington and European governments continue to ignore Russia's concerns and continue to act as if they can interfere in Russia's vital interests as if Russia did not exist.
The heads of these large corporations will carry this message back to Washington and European capitals. Putin made it clear that the lack of dialogue with Russia could lead to the West making the mistake of putting Ukraine in NATO and establishing missile bases on Russia's border with Ukraine. Putin has learned that Russia cannot rely on good will from the West, and Putin made it clear, short of issuing a threat, that Western military bases in Ukraine are unacceptable.
Washington will continue to ignore Russia. However, European capitals will have to decide whether Washington is pushing them into conflict with Russia that is against European interests. Thus, Putin is testing European politicians to determine if there is sufficient intelligence and independence in Europe for a rapprochement.
If Washington in its overbearing arrogance and hubris forces Putin to write off the West, the Russian/Chinese strategic alliance, which is forming to counteract Washington's hostile policy of surrounding both countries with military bases, will harden into preparation for the inevitable war.
The survivors, if any, can thank the Neoconservatives, the Wolfowitz doctrine, and the Brzezinski strategy for the destruction of life on earth.
The American public contains a large number of misinformed people who think they know everything. These people have been programmed by US and Israeli propaganda to equate Islam with political ideology. They believe that Islam, a religion, is instead a militarist doctrine that calls for the overthrow of Western civilization, as if anything remains of Western civilization.
Many believe this propaganda even in the face of complete proof that the Sunnis and Shi'ites hate one another far more than they hate their Western oppressors and occupiers. The US has departed Iraq, but the carnage today is as high or higher than during the US invasion and occupation. The daily death tolls from the Sunni/Shi'ite conflict are extraordinary. A religion this disunited poses no threat to anyone except Islamists themselves. Washington successfully used Islamist disunity to overthrow Gaddafi, and is currently using Islamist disunity in an effort to overthrow the government of Syria. Islamists cannot even unite to defend themselves against Western aggression. There is no prospect of Islamists uniting in order to overthrow the West.
Even if Islam could do so, it would be pointless for Islam to overthrow the West. The West has overthrown itself. In the US the Constitution has been murdered by the Bush and Obama regimes. Nothing remains. As the US is the Constitution, what was once the United States no longer exists. A different entity has taken its place.
Europe died with the European Union, which requires the termination of sovereignty of all member countries. A few unaccountable bureaucrats in Brussels have become superior to the wills of the French, German, British, Italian, Dutch, Spanish, Greek, and Portuguese peoples.
Western civilization is a skeleton. It still stands, barely, but there is no life in it. The blood of liberty has departed. Western peoples look at their governments and see nothing but enemies. Why else has Washington militarized local police forces, equipping them as if they were occupying armies? Why else has Homeland Security, the Department of Agriculture, and even the Postal Service and Social Security Administration ordered billions of rounds of ammunition and even submachine guns? What is this taxpayer-paid-for arsenal for if not to suppress US citizens?
As the prominent trends forecaster Gerald Celente spells out in the current Trends Journal, "uprisings span four corners of the globe." Throughout Europe angry, desperate and outraged peoples march against EU financial policies that are driving the peoples into the ground. Despite all of Washington's efforts with its well funded fifth columns known as NGOs to destabilize Russia and China, both the Russian and Chinese governments have far more support from their people than do the US and Europe.
In the 20th century Russia and China learned what tyranny is, and they have rejected it.
In the US tyranny has entered under the guise of the "war on terror," a hoax used to scare the sheeple into abandoning their civil liberties, thus freeing Washington from accountability to law and permitting Washington to erect a militarist police state. Ever since WWII Washington has used its financial hegemony and the "Soviet threat," now converted into the "Russian threat," to absorb Europe into Washington's empire.
Putin is hoping that the interests of European countries will prevail over subservience to Washington. This is Putin's current bet. This is the reason Putin remains unprovoked by Washington's provocations in Ukraine.
If Europe fails Russia, Putin and China will prepare for the war that Washington's drive for hegemony makes inevitable.
Paul Craig Roberts was Assistant Secretary of the Treasury for Economic Policy and associate editor of the Wall Street Journal. He was columnist for Business Week, Scripps Howard News Service, and Creators Syndicate. He has had many university appointments. His internet columns have attracted a worldwide following. His latest books are, The Failure of Laissez Faire Capitalism and How America Was Lost. http://www.paulcraigroberts.org/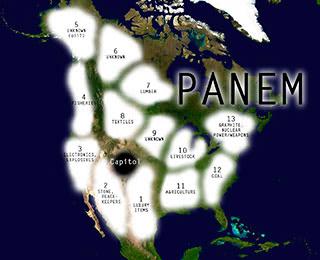 One of the most popular films of 2012 was The Hunger Games which portrayed a post-apocalyptic nation called Panem in which a super-rich, super-pampered, super-callous 'elite' lived in high-tech luxury while the rest of the population daily battled to survive in abject poverty locked away behind prison fences in intensively-populated 'people zones'. Panem comes from the Latin phrase 'panem et circenses' or 'bread and circuses' — a term derived from Rome and meaning to give the people diversions and distractions to hide what is being done to them. Exactly what is happening today.
The Totalitarian Tiptoes to just such a world are happening all around us, although most people can't see this because they don't connect the dots. People tend to live in their own 'little world' and focus on only a few subjects and interests. This gives them a distorted view of what is happening because they are so busy concentrating on the strands that they cannot see the tapestry. The world of The Hunger Games is already well on the way to fruition unless humanity has a fundamental reassessment of reality.
The foundations, structure and 'must haves' of a Hunger Games society are detailed in a plan being imposed through the United Nations called Agenda 21 which encompasses two related themes of 'sustainable development' and 'biodiversity'. Sustainable development — as in don't use more than can be replaced — sounds sensible enough at first until you realize what this and biodiversity really mean in the context of the conspiracy.
Agenda 21 was established at the United Nations Conference on Environment and Development in Rio de Janerio, Brazil, in 1992, hosted by Maurice Strong, a Canadian oil and business billionaire and long-time front man for the Rothschilds and Rockefellers. Strong has been a leader of their exploit-the-environment-to-scam-the-people programme which is now in full flow. Strong is a member of the Club of Rome, the environmental Hidden Hand in the Round Table network that includes the Bilderberg Group, Trilateral Commission and Council on Foreign Relations.
Strong said in support of Agenda 21:
'Isn't the only hope for this planet that the industrialised civilization collapse? Isn't it our responsibility to bring that about?'
This is a man who became mega-rich through the oil industry. He now lives in billionaire luxury in China where carbon-emitting industry is booming and he is a director of the Chicago Climate Exchange (largest shareholder, Goldman Sachs), which is 'the world's first and North America's only legally-binding greenhouse-gas emission registry reduction-system for emission sources and offset projects in North America and Brazil'.
The Exchange was established with funding from the Joyce Foundation where Barack Obama was once a director. Strong and Al Gore make money through the Carbon Exchange and other means from the lies they promote about climate change and the solutions they propose. Kate Johnston wrote on the Globalresearch.cawebsite:
'The same men that sold us the myth of man-made global warming are the same men that sold us the "solution" of a Carbon Tax and Emissions Trading Scheme and now they're profiting off their lucrative investments which are based on lies.' (See "The Climate Change Hoax").
Strong fled to China in 2006 after being accused of corruption with respect to the UN oil for food program.
Climate change propaganda is a No-Problem-Reaction-Solution technique to justify Agenda 21 and its stable-mate the Biodiversity Treaty. This is an internationally-binding document involving nearly 200 countries. The United States signed the treaty, but it was not ratified by the Senate after people like ecologist and ecosystem scientist Dr. Michael Coffman exposed its true consequences and implications. He said that he realized during the 1980s and 1990s that the plan was to use the excuse of protecting the environment to confiscate half the land of the United States.
Similar plans exist for every other country. America may not have ratified the treaty, but it is being implemented by the day. Agenda 21 demands the central global control of all land; all private property; all water sources and distribution; all other resources which includes people in its definition; all energy supplies and distribution and all food production and distribution.
Agenda 21 is called 'the agenda for the 21st century' and that refers to global fascism / communism. This is a summary of what Agenda 21 / Sustainable Development / Biodiversity is seeking to impose:
An end to national sovereignty
State planning and management of all land resources, ecosystems, deserts, forests, mountains, oceans and fresh water; agriculture; rural development; biotechnology; and ensuring 'equity' (equal slavery)
The State to 'define the role' of business and financial resources
Abolition of private property (it's not 'sustainable')
'Restructuring' the family unit
Children raised by the State
People told what their job will be
Major restrictions on movement
Creation of 'human settlement zones'
Mass resettlement as people are forced to vacate land where they currently live
Dumbing down education (achieved)
Mass global depopulation in pursuit of all the above
This horrific plan is being coordinated through the United Nations, the stalking horse for world dictatorship, via a non-governmental network once called the International Council of Local Environmental Initiatives ICLEI), and now known as Local Governments for Sustainability although still using the shortened name ICLEI. The United Nations is now opening 'embassies' around the world called 'UN Houses' under the guise of raising awareness of UN activities, but not the activities that people really need to know about. They have opened one in Hunter Square, Edinburgh, Scotland, for example.
Local Governments for Sustainability (ICLEI) and other organisations are integrating the plan into every village, town, city and region and it is already becoming widespread across the world. The organisational infrastructure of Agenda 21 is already fantastic and involves government agencies, non-governmental organisations (NGOs), think-tanks, trusts, foundations, 'training' (mind control) operations and 'initiatives' which have been building the infrastructure for what they call 'the post-industrial, post-democratic' society while the public go about their daily business oblivious of the prison being built all around them by the hour.
Harvey Ruvin, a vice-chairman of ICLEI, was asked how Agenda 21 would affect liberties with regard to the US Constitution and Bill of Rights, private property and freedom of speech. He replied:
'Individual rights must take a back-seat to the collective.'
The arrogance of these people is breathtaking. The extraordinary network supporting ICLEI and Agenda 21 includes the Rockefeller-sponsored America 2050; United Cities and Local Governments (UCLG); Metropolis; World Economic Forum; United Nations Framework Convention on Climate Change; United Nations International Strategy for Disaster Reduction; World Bank; Clinton Climate Initiative; Climate Group (Tony Blair); World Conservation Union (IUCN); Renewable Energy and Energy Efficiency Partnership; Global Footprint Network; Renewable Energy and Energy Efficiency Partnership; Global Footprint Network; International Centre for Sustainable Cities; Earthquakes and Megacities Initiative and the Stakeholder Forum. These and so many others are working to the same end — Agenda 21 and total human enslavement worldwide, although most of those involved will have no idea that they are building a global prison for themselves and their families.
Another of these front organisations is the World Business Council for Sustainable Development which includes the hideously anti-people Monsanto. Destroying food-growing land, contaminating the countryside with toxins and replacing proper food with deadly and soil-destroying genetically-modified organisms is Monsanto's contribution to 'sustainability'. Agenda 21 is operating in more than 600 towns, cities and counties in the United States and expanding by the day.
A member of the Agenda 21 committees in Santa Cruz, California, in the mid-1990s said that the proposals he heard were so crazy that he laughed at them because they could never happen. These included that 'Mother Earth's surface was not to be scratched'; humans should be concentrated in settlement zones; education should focus on the environment as a central organising principle and all aspects of life covered by Agenda 21, but all of these crazy plans are now being introduced. It's all happy, feely, smiling faces and how we care, when the truth is that Agenda 21 is a vicious, brutal, heartless strategy to impose a global Orwellian state.
Agenda 21 manipulators either create or hijack some local organisation or other, many of them in locations with large populations, and they have their (controlled) leadership to agree the Agenda 21 blueprint for their community together with any uninformed, unwitting idiots who can be sold a human nightmare as saving the planet. This allows them to claim that decisions were made after 'public participation' when that would have been the last thing they wanted, and 99 percent of the 'community' has never heard of Agenda 21 let alone had their say on it. They want no democracy which is why these people talk privately, sometimes even publicly, about the post-democratic, post-industrial society.
They want to control every man, woman and child on the planet — everyone and everywhere and every resource, water source and piece of land. To do this they need a global structure of fascist control that goes right down into every local community with the jackboots at local level enforcing the will of the global centre. This is why there is so much emphasis on local authorities and town and city authorities in Agenda 21.
There is a 'training organisation' called Common Purpose (common purpose, common consensus, everyone the same) which has been paid very large amounts of money by governments and local authorities, police forces and other institutions of state to 'train the leaders' of the post-democratic, post-industrial society. Common Purpose was heavily represented in the Leveson 'inquiry' leading to new media laws in Britain. It is not a training programme; it is a programming programme and turns out unquestioning zombie administrators who serve the god of Agenda 21 and the associated European Union. The theme of 'common' also applies to the ever greater standardisation of laws and regulations and constant reference to 'international law'. This is the unfolding global dictatorship of Agenda 21. What do you need to be a global dictator? Laws that everyone on the planet must obey — international law and the standardisation of global regulation.
You can see The Hunger Games connection when you look at the official Biodiversity wish-for map of the United States in Figure 1. The red areas are designated for no human use and most of the rest of America is confiscated for little and highly-regulated use. The mass of the population would be concentrated in high-rise, densely-packed 'human settlement zones' and denied access to something like 80 percent of present day America. It is without question the world of The Hunger Games with a globally-enforced top-down hierarchy that has a world government using its world army and police force to impose its will at regional and local levels (sectors). The Rockefeller-funded America 2050 has produced a map of the new United States divided into eleven 'megaregions' and includes parts of Canada (Figure 2). Seattle, Portland and Vancouver, British Columbia, become the megaregion known as 'Cascadia' and this regional system comes under the collective name of 'megalopolis' which is Greek for large city or great city. America, Canada and Mexico are due to merge to form the North American Union in line with the European Union blueprint.
The European Union is planned to be broken up into regions and the same structure is in development all over the world. The map of the new Europe has regions from different countries linked up with regions in other countries to end any vestige of national sovereignty or even national existence (Figure 3). This is a global plan with its fierce central control hidden behind its lower elements such as the European Union and local government. What is planned would clearly require a fantastic reduction of the global population and this is indeed what Agenda 21 / Sustainable Development / Biodiversity demand.
The e-book Agenda 21: Your Life In Their Hands can be downloaded here.
reference:
Icke, David. The Perception Deception. Ryde: David Icke Books, 2013.
Julian Websdale is an independent researcher in the fields of esoteric science and metaphysics, and a self-initiate of the Western Esoteric Tradition. His interest in these subjects began in 1988. Julian was born in England, received his education as an electronic and computer engineer from the University of Bolton, served in a Vaishnava monastery during 2010, and has travelled to over 21 countries. Julian is also a member of the Palestinian Solidarity Campaign.
Source: Julian Websdale  |  Waking Times | War Is Crime