Almost a year has passed since we last took note of Turkey's increasing clout in three key areas of neo-Ottoman expansion: the Balkans, the Arab world, and the predominantly Muslim regions of the former Soviet Union. Each has played a significant part in reshaping the geopolitics of the Greater Middle East over the past decade. This complex project, which remains under-reported in the Western media and denied or ignored by policy-makers in Washington, is going well for Prime Minister Rejep Tayyip Erdoğan and his AKP (Justice and Development Party).
On the external front, Ankara's decision to support the uprising against Bashar al-Assad's regime in Syria has changed the equation in the region. Until last spring, Erdoğan's team was advising Bashar to follow the path of political and economic reform in order to avoid descent into violent anarchy. Within months, however, Turkey has become a key player in Washington's regime-change strategy by not only providing operational bases and supply channels to the rebels, but by simultaneously confronting Iran over Syria. The war of words between them is escalating. Earlier this week, Iranian Chief of Staff General Hassan Firousabadi accused Turkey of assisting the "war-waging goals of America. The AKP government has reinforced Turkey's old position as a key U.S. regional partner. It is skillfully pursuing its distinct regional objectives, which in the long run are bound to collide with those of the U.S., while appearing to act at the behest of Washington and revamping its Cold War role as a reliable NATO-"Western" outpost in the region.
This newly gained credit has enabled Erdoğan to make a series of problematic moves with impunity, the most notable being Turkey's growing support for Hamas in the Palestinian Authority and its treatment of Iraq as a state with de facto limited sovereignty. In a highly publicized symbolic gesture, on July 24 Erdoğan met Hamas leader Khaled Mashaal at his official residence to break the daily fast during the holy Muslim month of Ramadan. Ties between Turkey and Hamas, which rules the Gaza Strip, have blossomed since Turkey's alliance with Israel collapsed following a raid by Israeli troops on a Turkish aid ship bound for Gaza in 2010. At the same time, Ankara's links with the more moderate Fatah movement, which rules the West Bank, are at a standstill; Turkey wants Hamas to prevail in the Palestinian power struggle.
In northern Iraq, Turkey has developed close relations with the Kurdish leadership in Kirkuk. It has made significant investments in the autonomous Iraqi Kurdish region as a means of exerting political influence and thus preempting demands for full independence, which could have serious implications for the Kurdish minority in eastern Turkey. In an audacious display of assertiveness, Turkish Foreign Minister Ahmet Davutoglu visited the Kurdish-ruled northern Iraq earlier this month without notifying the government in Baghdad, let alone seeking its approval. Turning the putative Kurdish statelet in Iraq into its client is a major coup for the government in Ankara. The partnership is based on the common interest of denying the Marxist PKK guerrillas a foothold on either side of the border. In a joint statement, Turkey and Iraqi Kurdistan warned the PKK that they would act jointly to counter any attempt to exploit the power vacuum in Syria. Another far-reaching albeit unstated common goal is to provide Iraq's Kurds with a potential northwestern route for their oil and gas exports, which Al Maliki's central government would not be able to control. The net effect is likely to be further weakening of an already unstable Iraq in the aftermath of U.S. withdrawal; yet Washington appears unperturbed by Turkey's gambit. It is apparently unaware of the fact that, in Ankara's worldview, "nothing can stand in the way of its dream of becoming the ultimate energy bridge between East and West."
The Obama Administration has been equally indifferent to Prime Minister Erdoğan's trouble-making in the Balkans. Most recently, his provocative statement last month that Bosnia and Herzegovina is in the "care" of his country has caused no reaction in Washington. "Bosnia and Herzegovina is entrusted to us," stated Erdoğan during a meeting of Justice and Development Party (AK Party) provincial heads held in Ankara on July 11,recalling the alleged statement of the late Bosnian Muslim leader, Alija Izetbegović, whom Erdoğan visited on his deathbed in Sarajevo. "He whispered in my ear these phrases: 'Bosnia is entrusted to you [Turkey]. These places are what remain of the Ottoman Empire'," said Erdoğan. He went on to describe Izetbegović as "a legendary hero and captain," and to declare that Turkey would "put this trust in God with high precision."
The notion of Bosnia and Herzegovina being given as a 'trust' to Turkey in the name of its Ottoman legacy reflects an earlier statement by the outgoing leader of the Islamic community in Bosnia, Efendi Mustafa Cerić, who told Erdoğan that "Turkey is our Mother. That's how it was always, and it will remain like that." Erdoğan's latest outburst was immediately welcomed by the leader of the biggest Muslim party in Bosnia and Herzegovina, Sulejman Tihić.
The notion that Bosnia has been bequeathed by its fundamentalist Muslim leader to the Turkish state is unsurprisingly anathema to the non-Muslim majority of Bosnia's citizens. "Bosnia and Herzegovina is not a land to be inherited," said Igor Radojičić, the Bosnian Serb Parliament speaker. Bosnian Croat leader Dragan Čović expressed puzzlement that Izetbegović could imagine Bosnia was his to give away as a trust. Analysts outside Bosnia also expressed outrage. Serbian historian Čedomir Antić, called the statement "an unprecedented provocation" that should be "officially renounced by Bosnia, Croatia and Serbia". Professor Darko Tanasković, Serbia's former ambassador to Turkey, was not surprised, however. The statement represents a political reality, he said, that Turkey sees the Balkans as a priority in its ambitious foreign policy.
Three months earlier the leader of the Islamic Community in Montenegro (Islamska zajednica Crne Gore, IZCG),Reis Rifat Fejzić, signed an agreement with the authorities in Podgorica on the status of the Muslim minority there. The Agreement stipulates that any disputes within the Islamic Community will be referred for arbitration to the Directorate of Religious Affairs of the Turkish Republic (Diyanet İşleri Başkanlığı). This is a remarkable development: the Republic of Montegnegro—a sovereign, non-Muslim Balkan state—has formally granted decision-making powers in matters affecting some of its citizens to an institution of another sovereign and nominally still secular state. Imam Fejzić's explanation added an interesting twist to the story. Some disputes among Roman Catholics are referred to the Vatican, he said, so it is normal for Muslim disputes to be referred to Ankara. In other words, the Turkish state is to assume the role of an Islamic Vatican for the Muslim millets of the former Ottoman Empire. The Montenegrin precedent is the model Ankara will seek to apply elsewhere. Turkish politicians have already taken an active role in mediating between the rival factions of the Muslim religious and political establishment in Serbia's Sanjak region.
The U.S. is sympathetic to Turkey's Balkan ambitions not only because they seem to fit in with a Western strategy of long standing, but also because Turkey is seen as a counterweight to Iran's influence in the region. As John Schindler, the author of the seminal book Unholy Terror pointed out recently, the close relationship between leading circles in Sarajevo and Tehran harks back to before the Bosnian war. During the war the Clinton Administration aided and abetted Iranian deliveries of arms to the Bosnian Muslim side, and the SDA has always had a soft spot for Tehran. Now, however, with a potential war with Iran looming, Schindler says,the U.S. and its European allies, who have done so much to help the Bosnian Muslims for a generation, have had enough. As reported by the Sarajevo daily Dnevni avaz, last week Patrick Moon and Nigel Casey, the American and British ambassadors to BiH, jointly read the riot act to Sadik Ahmetović, the country's powerful security minister, telling him that the SDA and Sarajevo must sever their secret ties—espionage, political, financial—with Tehran:
Sarajevo officially has been given a warning to reset its course in a European and Western direction as war with Iran looms. Hard decisions will have to be made by the SDA. They have been repeatedly deferred for nearly two decades but can be avoided no longer. If the Bosnian Muslims opt to stick with Iran as tensions rise, the ramifications for them and all Europe may be dire indeed.
Bosnia's Muslims, ever mindful of the need for foreign support in their disputes with the country's Serbs and Croats, will likely opt for even closer links with Ankara to compensate for an eventual weakening of the Iranian connection —and they will do so with Washington's approval. Yet again Turkey will strengthen its position in the Balkans while relying on the Western powers to do its field work.
At home, the parallel process of re-Islamization of the Turkish state and society is well-nigh-irreversible. The Army has been decisively neutralized as a political factor. Last February, Erdogan declared that it is not the goal of the AKP government to raise atheist generations, and he certainly has been true to his word. Earlier this month, Turkey's Board of Higher Education appointed Islamic scholar Suleyman Necati Akcesme as its secretary-general. His duties will include appointing professors and rectors, as well as overseeing universities. Akcesme will occupy a position of direct influence over Turkey's higher education —unimaginable for an imam in the old Kemalist setup. The influence of the shadowy Gülen Movement, a fundamentalist sect calling for a New Islamic Age based on the "Turkish-Islamic Synthesis," is becoming all-pervasive, with rich businessmen and senior civil servants donating an average of 10 percent of their income to the cemaat. According to the August 8 issue of Der Spiegel,
Gülen's influence in Turkey was enhanced when … the AKP won the Turkish parliamentary election in 2002. Observers believe that the two camps entered into a strategic partnership at first, with Gülen providing the AKP with votes while Erdogan protected the cemaat. According to information obtained by US diplomats, almost a fifth of the AKP's members of parliament were members of the Gülen movement in 2004, including the justice and culture ministers. Many civil servants act at the behest of the "Gülen brothers," says a former senior member… In 2006, former police chief Adil Serdar Sacan estimated that the Fethullahcis held more than 80 percent of senior positions in the Turkish police force . . .
Sharia-inspired legislation is affecting the society at large. Turkey's recent laws and taxes on alcohol sales are more rigorous than those in Egypt or Tunisia before last year's revolutions. Employers are now authorized to fire any employer who comes to work having had a drink, as opposed to being drunk. Having a single glass of raki, wine or beer with lunch—perfectly common in the business community until a few months ago—may now abruptly end a career. More troublingly, Turkey now leads the world in "honor killings" of girls, with a murder rate five times that of Pakistan. As Turkish affairs expert Barry Rubin has noted, many Turks are astounded by Obama's policy of favoring the current regime in Ankara: "the regime has thrown hundreds of people in prison without trial or evidence… and it is turning Turkey into a repressive police state," yet the Department of State and the White House remain indifferent. Turkey's secularists feel abandoned and betrayed.
Turkey's shift from Kemalism via post-Kemalism to anti-Kemalism is a process of historic significance for the Greater Middle East. In 2005 senior State Department official Daniel Fried declared, absurdly, that Erdoğan's AKP was simply the Islamic equivalent of a West European Christian Democratic party and that Turkey remains a staunch ally of the United States. The diagnosis was evidently mistaken seven years ago. Today it amounts to an unforgivable act of willful self-deception.
In the meantime Secretary of State Hillary Clinton prepares for discussions in Istanbul on August 11 that will focus on forming a "common operational picture" with the Turks "to guide a democratic transition in post-Assad Syria."
The greatest crimes of human history are made possible by the most colorless human beings. They are the careerists. The bureaucrats. The cynics. They do the little chores that make vast, complicated systems of exploitation and death a reality. They collect and read the personal data gathered on tens of millions of us by the security and surveillance state. They keep the accounts of ExxonMobil, BP and Goldman Sachs. They build or pilot aerial drones. They work in corporate advertising and public relations. They issue the forms. They process the papers. They deny food stamps to some and unemployment benefits or medical coverage to others. They enforce the laws and the regulations. And they do not ask questions.
Good. Evil. These words do not mean anything to them. They are beyond morality. They are there to make corporate systems function. If insurance companies abandon tens of millions of sick to suffer and die, so be it. If banks and sheriff departments toss families out of their homes, so be it. If financial firms rob citizens of their savings, so be it. If the government shuts down schools and libraries, so be it. If the military murders children in Pakistan or Afghanistan, so be it. If commodity speculators drive up the cost of rice and corn and wheat so that they are unaffordable for hundreds of millions of poor across the planet, so be it. If Congress and the courts strip citizens of basic civil liberties, so be it. If the fossil fuel industry turns the earth into a broiler of greenhouse gases that doom us, so be it. They serve the system. The god of profit and exploitation. The most dangerous force in the industrialized world does not come from those who wield radical creeds, whether Islamic radicalism or Christian fundamentalism, but from legions of faceless bureaucrats who claw their way up layered corporate and governmental machines. They serve any system that meets their pathetic quota of needs.
These systems managers believe nothing. They have no loyalty. They are rootless. They do not think beyond their tiny, insignificant roles. They are blind and deaf. They are, at least regarding the great ideas and patterns of human civilization and history, utterly illiterate. And we churn them out of universities. Lawyers. Technocrats. Business majors. Financial managers. IT specialists. Consultants. Petroleum engineers. "Positive psychologists." Communications majors. Cadets. Sales representatives. Computer programmers. Men and women who know no history, know no ideas. They live and think in an intellectual vacuum, a world of stultifying minutia. They are T.S. Eliot's "the hollow men," "the stuffed men." "Shape without form, shade without colour," the poet wrote. "Paralysed force, gesture without motion."
It was the careerists who made possible the genocides, from the extermination of Native Americans to the Turkish slaughter of the Armenians to the Nazi Holocaust to Stalin's liquidations. They were the ones who kept the trains running. They filled out the forms and presided over the property confiscations. They rationed the food while children starved. They manufactured the guns. They ran the prisons. They enforced travel bans, confiscated passports, seized bank accounts and carried out segregation. They enforced the law. They did their jobs.
Political and military careerists, backed by war profiteers, have led us into useless wars, including World War I, Vietnam, Iraq and Afghanistan. And millions followed them. Duty. Honor. Country. Carnivals of death. They sacrifice us all. In the futile battles of Verdun and the Somme in World War I, 1.8 million on both sides were killed, wounded or never found. In July of 1917 British Field Marshal Douglas Haig, despite the seas of dead, doomed even more in the mud of Passchendaele. By November, when it was clear his promised breakthrough at Passchendaele had failed, he jettisoned the initial goal—as we did in Iraq when it turned out there were no weapons of mass destruction and in Afghanistan when al-Qaida left the country—and opted for a simple war of attrition. Haig "won" if more Germans than allied troops died. Death as score card. Passchendaele took 600,000 more lives on both sides of the line before it ended. It is not a new story. Generals are almost always buffoons. Soldiers followed John the Blind, who had lost his eyesight a decade earlier, to resounding defeat at the Battle of Crécy in 1337 during the Hundred Years War. We discover that leaders are mediocrities only when it is too late.
David Lloyd George, who was the British prime minister during the Passchendaele campaign, wrote in his memoirs: "[Before the battle of Passchendaele] the Tanks Corps Staff prepared maps to show how a bombardment which obliterated the drainage would inevitably lead to a series of pools, and they located the exact spots where the waters would gather. The only reply was a peremptory order that they were to 'Send no more of these ridiculous maps.' Maps must conform to plans and not plans to maps. Facts that interfered with plans were impertinencies."
Here you have the explanation of why our ruling elites do nothing about climate change, refuse to respond rationally to economic meltdown and are incapable of coping with the collapse of globalization and empire. These are circumstances that interfere with the very viability and sustainability of the system. And bureaucrats know only how to serve the system. They know only the managerial skills they ingested at West Point or Harvard Business School. They cannot think on their own. They cannot challenge assumptions or structures. They cannot intellectually or emotionally recognize that the system might implode. And so they do what Napoleon warned was the worst mistake a general could make—paint an imaginary picture of a situation and accept it as real. But we blithely ignore reality along with them. The mania for a happy ending blinds us. We do not want to believe what we see. It is too depressing. So we all retreat into collective self-delusion.
In Claude Lanzmann's monumental documentary film "Shoah," on the Holocaust, he interviews Filip Müller, a Czech Jew who survived the liquidations in Auschwitz as a member of the "special detail." Müller relates this story:
"One day in 1943 when I was already in Crematorium 5, a train from Bialystok arrived. A prisoner on the 'special detail' saw a woman in the 'undressing room' who was the wife of a friend of his. He came right out and told her: 'You are going to be exterminated. In three hours you'll be ashes.' The woman believed him because she knew him. She ran all over and warned to the other women. 'We're going to be killed. We're going to be gassed.' Mothers carrying their children on their shoulders didn't want to hear that. They decided the woman was crazy. They chased her away. So she went to the men. To no avail. Not that they didn't believe her. They'd heard rumors in the Bialystok ghetto, or in Grodno, and elsewhere. But who wanted to hear that? When she saw that no one would listen, she scratched her whole face. Out of despair. In shock. And she started to scream."
Blaise Pascal wrote in "Pensées," "We run heedlessly into the abyss after putting something in front of us to stop us from seeing it."
Hannah Arendt, in writing "Eichmann in Jerusalem," noted that Adolf Eichmann was primarily motivated by "an extraordinary diligence in looking out for his personal advancement." He joined the Nazi Party because it was a good career move. "The trouble with Eichmann," she wrote, "was precisely that so many were like him, and that the many were neither perverted nor sadistic, that they were, and still are, terribly and terrifyingly normal."
"The longer one listened to him, the more obvious it became that his inability to speak was closely connected with an inability to think, namely, to think from the standpoint of somebody else," Arendt wrote. "No communication was possible with him, not because he lied but because he was surrounded by the most reliable of all safeguards against words and the presence of others, and hence against reality as such."
Gitta Sereny makes the same point in her book "Into That Darkness," about Franz Stangl, the commandant of Treblinka. The assignment to the SS was a promotion for the Austrian policeman. Stangl was not a sadist. He was soft-spoken and polite. He loved his wife and children very much. Unlike most Nazi camp officers, he did not take Jewish women as concubines. He was efficient and highly organized. He took pride in having received an official commendation as the "best camp commander in Poland." Prisoners were simply objects. Goods. "That was my profession," he said. "I enjoyed it. It fulfilled me. And yes, I was ambitious about that, I won't deny it." When Sereny asked Stangl how as a father he could kill children, he answered that he "rarely saw them as individuals. It was always a huge mass. … [T]hey were naked, packed together, running, being driven with whips. …" He later told Sereny that when he read about lemmings it reminded him of Treblinka.
Christopher Browning's collection of essays, "The Path to Genocide," notes that it was the "moderate," "normal" bureaucrats, not the zealots, who made the Holocaust possible. Germaine Tillion pointed out "the tragic easiness [during the Holocaust] with which 'decent' people could become the most callous executioners without seeming to notice what was happening to them." The Russian novelist Vasily Grossman in his book "Forever Flowing" observed that "the new state did not require holy apostles, fanatic, inspired builders, faithful, devout disciples. The new state did not even require servants—just clerks."
"The most nauseating type of S.S. were to me personally the cynics who no longer genuinely believed in their cause, but went on collecting blood guilt for its own sake," wrote Dr. Ella Lingens-Reiner in "Prisoners of Fear," her searing memoir of Auschwitz. "Those cynics were not always brutal to the prisoners, their behavior changed with their mood. They took nothing seriously—neither themselves nor their cause, neither us nor our situation. One of the worst among them was Dr. Mengele, the Camp Doctor I have mentioned before. When a batch of newly arrived Jews was being classified into those fit for work and those fit for death, he would whistle a melody and rhythmically jerk his thumb over his right or his left shoulder—which meant 'gas' or 'work.' He thought conditions in the camp rotten, and even did a few things to improve them, but at the same time he committed murder callously, without any qualms."
These armies of bureaucrats serve a corporate system that will quite literally kill us. They are as cold and disconnected as Mengele. They carry out minute tasks. They are docile. Compliant. They obey. They find their self-worth in the prestige and power of the corporation, in the status of their positions and in their career promotions. They assure themselves of their own goodness through their private acts as husbands, wives, mothers and fathers. They sit on school boards. They go to Rotary. They attend church. It is moral schizophrenia. They erect walls to create an isolated consciousness. They make the lethal goals of ExxonMobil or Goldman Sachs or Raytheon or insurance companies possible. They destroy the ecosystem, the economy and the body politic and turn workingmen and -women into impoverished serfs. They feel nothing. Metaphysical naiveté always ends in murder. It fragments the world. Little acts of kindness and charity mask the monstrous evil they abet. And the system rolls forward. The polar ice caps melt. The droughts rage over cropland. The drones deliver death from the sky. The state moves inexorably forward to place us in chains. The sick die. The poor starve. The prisons fill. And the careerist, plodding forward, does his or her job.
Source: Chris Hedges | Truthdig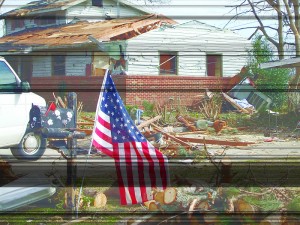 Have you ever wondered why things have been going so badly for the United States in recent years?  Our economy is falling apart, we have been plagued with heat, drought and endless natural disasters, our cities are absolutely crumbling, we just keep getting involved in even more wars and Americans are more anxious and more overweight than ever before.  So why are so many bad things happening to America?  Why do we lead the world in so many bad categories?  Why does nothing seem to be going right?  Are we under some kind of a curse?  It is almost as if we have entered a "perfect storm" that just keeps getting worse.  In the old days it would seem like something bad would happen to the United States every once in a while, but now massive problems seem to be hitting us in rapid fire fashion.  At this point, many Americans have "crisis fatigue" because our problems never seem to end.  Each new crisis just seems to overlap with all of the other problems that are still going on.  So why is this happening, and what is our country going to look like if our problems continue to multiply at this rate?
The following are some of the bad things that are happening to America right now….
Heat And Drought
This summer, thousands of new high temperature records have been set all over the country, and weather conditions are much drier than normal in most of the nation.
In fact, the drought that we are experiencing right now is being called the worst drought in more than 50 years.  More than 1,000 counties in the United States have already been declared to be official disaster areas, and there is no end to the drought in sight.
All over America this drought is killing the corn and this is causing the price of corn to soar.  The following is from a recentFinancial Post article….
Chicago Board of Trade corn for December delivery has soared 54% since mid-June, reaching a contract high of US$7.78 on Monday and approaching its record price near US$8.

Soybeans for November delivery soared to a new contract high of US$15.97 before slipping back a few cents.

Crop watchers were alarmed that corn rated poor-to-very poor jumped to 38%, versus 30% last week and 11% a year ago.
The record high for the price of corn is just $7.99 a bushel.  Many believe that the price of corn will soon blow well past that price and could eventually reach $10 a bushel.
Unfortunately, there is not much hope on the horizon.  It is being projected that these very hot and very dry conditions will persist well into August.
Wildfires
The extreme heat has also been responsible for an unusual number of wildfires in the western United States this year.  The recent horrific wildfires in Colorado made headlines all over the nation.
Sadly, these wildfires are part of a rising trend.  The truth is that the 6 worst years for wildfires in the United States ever recorded have all happened since the year 2000.
So what is causing this to happen?
What is causing so much of the country to go up in flames?
Tornadoes
Earlier this year, many areas of the heartland of America were absolutely ripped to shreds by very powerful tornadoes.
More tornadoes happen in the United States than anywhere else in the world, and unfortunately we have seen a tremendous amount of tornado activity in this country in recent years.
In 2009, there were 1146 tornadoes in the United States.
In 2010, there were 1282 tornadoes in the United States.
In 2011, there were 1691 tornadoes in the United States.
Overall, 2011 was the worst year for natural disasters in U.S. history.
So where will 2012 rank when everything is all said and done?
Fukushima
Radiation from the Fukushima nuclear disaster will be affecting Americans for many years to come.
Most Americans do not think much about Fukushima anymore, but the truth is that Fukushima is still putting out a tremendous amount of radiation, and that radiation travels eastward towards us.
A couple of months ago, one reporter discovered that radiation levels in rain falling on Los Angeles were five times above normal.
But we don't hear about this in the mainstream media, do we?
One recent study concluded that the highest concentration of Fukushima radiation in the Pacific Ocean will eventually be just off the west coast of the United States.
But our "authorities" tell us that there is no reason to be concerned, so most Americans will continue to ignore the incredible tragedy that continues to unfold at Fukushima.
If you are not sure what to think about what is going on at Fukushima, perhaps the following statistic will get your attention….
Recent tests have shown that 36 percent of all children living in the Fukushima Prefecture in Japan have abnormal growths on their thyroid glands.  After the Chernobyl disaster, less than 2 percent of all children living in the area surrounding Chernobyl were found to have abnormal growths on their thyroid glands.
Economic Collapse
The last recession was the worst economic crisis that America has faced since the Great Depression, and our economy has never even come close to recovering from it.
Now we are on the verge of another global financial meltdown that appears likely to be even worse than the last one.
Peter Schiff, the president of Euro Pacific Capital, says that the U.S. economy is headed for a crisis that will make the recession of 2008 and 2009 look like a walk in the park.
So what is going to happen if the economy goes into the toilet and unemployment skyrockets much higher than it is now?
That is frightening to think about.
Poverty Explosion
Even during this "economic recovery", poverty in America continues to soar.
For example, since Barack Obama has been president the number of Americans on food stamps has risen from 32 million to 46 million.
Overall, 49 percent of all Americans live in a home where at least one person receives benefits from the federal government according to the U.S. Census Bureau.  That is an all-time record high.
The Death Of American Cities
The United States once had dozens of great manufacturing cities that were the envy of the entire globe.
Today, many of those cities have degenerated into crime-ridden, drug infested hellholes.
Things have gotten so bad in Detroit that thousands of homes are literally being torn down in an effort to "make the city safer"….
As the next step in an April deal between financially strapped Detroit and the state of Michigan, Governor Rick Snyder is finalizing a plan to tear down thousands of abandoned houses in a bid to make the city safer.

Detroit has been hard-hit over the past four decades by a steep drop in population, a steadily eroding tax base and crippling budget deficits, resulting in countless barren streets punctuated by vacant lots and burned-out buildings.
Increase In Crime
Have you noticed that crime is on the rise in many of our communities?
The murder rate in Chicago is up 38 percent so far this year, and justifiable homicide rose by 79 percent in Detroit during 2011.
Criminals are getting bolder and are doing things that we have not seen before.
For example, on Saturday night a mob of 300 teens invaded a Wal-Mart in Jacksonville, Florida and went absolutely wild.  They started stealing stuff, breaking stuff and throwing food at each other without any concern for what the security guards would do.
When have we ever seen stuff like this happen in America before?
America already has the highest incarceration rate in the world and the largest total prison population on the entire planet by a very wide margin.
How many more people do we plan to lock up?
Meanwhile, even many Americans that are not considered to be "criminals" are becoming very cold-hearted.  Just check out what happened in Arlington, Virginia recently.  A video surveillance camera captured footage of numerous people walking right past a man that had just been hit by a car and was dying on the sidewalk.  He was lying face down and bleeding and nobody even went up to him to see if he was okay.
If you were in a similar situation, would you stop to help that man?
Gang Violence
All over America gangs are taking over local communities.
According to the FBI, there are now a total of 1.4 million gang members living in America.  Just since 2009, that number has risen by 40 percent.
To get an idea of how deeply Mexican drug cartels have infiltrated our cities, just check out the maps on this article.
As I wrote about the other day, there are only 200 police officers in Chicago's Gang Enforcement Unit to go up against an estimated 100,000 gang members living in the city of Chicago right now.
With numbers such as those, it is easy to see how violence in many of our cities could spiral out of control very, very quickly.
War
The United States continues to get pulled into more wars, and the conflicts that we are already involved in never seem to end.
Just today, 22 NATO supply trucks were destroyed in Afghanistan.  The war in Afghanistan has already lasted much longer than World War II did, and there is no end in sight.
Meanwhile, Barack Obama has gotten the U.S. military involved in conflicts in Yemen, Somalia, Pakistan and a whole bunch of other places.  The following is from a recent Wired article….
The center of the US drone war has shifted to Yemen, where 23 American strikes have killed an estimated 155 people so far this year. But you wouldn't know about it — or about the cruise missile attacks, or about the US commando teams in Yemen — by reading the report the White House sent to Congress about US military activities around the globe. Instead, there's only the blandest acknowledgement of "direct action" in Yemen, "against a limited number of [al-Qaida] operatives and senior leaders."

The report, issued late Friday, is the first time the United States has publicly, officially acknowledged the operations in Yemen and in nearby Somalia that anyone with internet access could've told you about years ago. But the report doesn't just fail to admit the extent of the shadow war that America is waging in the region. It's borderline legal — at best. The War Powers Resolution of 1973 requires the president to inform Congress about any armed conflicts America is engaged in. Friday's report isn't just uninformative about Yemen. It doesn't even mention the US campaign in Pakistan, even though the Defense Secretary says America is "at war" there.
So what is next?
Well, there are endless headlines warning that war with Syria is coming.
Other headlines warn that war with Iran is coming.
Where will this all end?
Anxiety Epidemic
Americans today are more unhappy and more anxious than ever before.
The following is from a recent Business Insider article….
According to a recent World Health Organization study, 31 percent of Americans are likely to suffer from an anxiety problem at some point during their lifetimes — compared to 25.3 percent of those in Colombia, and 24.6 percent in New Zealand, the countries that rank second and third. You'd think people in developing or unstable states — those preoccupied with concerns farther down on the Maslow Scale — would be more anxious than we are. Not so. "According to the 2002 World Mental Health Survey, people in developing-world countries such as Nigeria are up to five times less likely to show clinically significant anxiety levels than Americans, despite having more basic life-necessities to worry about," writes Taylor Clark, author of Nerve: Poise Under Pressure, Serenity Under Stress, and the Brave New Science of Fear and Cool. "What's more, when these less-anxious developing-world citizens emigrate to the United States, they tend to get just as anxious as Americans.

"The United States has transformed into the planet's undisputed worry champion," Clark adds.
Obesity Epidemic
Of all the major industrialized nations, the United States is the most obese, and a recent Gallup survey found that Americans are more concerned about our obesity epidemic than ever before.
And nobody can deny that we are getting fatter.
Back in 1962, only 13 percent of all Americans were obese.
Today, approximately 36 percent of all Americans are obese.
Drug Addiction Epidemic
The United States has a higher percentage of drug addicts than any other major industrialized nation does.
We love to escape the pain of our every day lives.
At this point, the United States has the highest rate of illegal drug use in the entire world.
The United States also has a higher percentage of people addicted to prescription drugs than anyone else does.
So what does that say about us exactly?
Child Abuse Epidemic
In the United States, we treat our children very badly.
Sadly, there are more than 3 million reports of child abuse in the United States every single year, and the United States has the highest child abuse death rate on the entire globe.
Teen Pregnancy Epidemic
When our kids grow up they tend to be very sexually active as teens.
Amazingly, the United States has the highest teen pregnancy rate on the entire planet.
And all of this sexual activity is rapidly spreading disease among our teens.  According to one study, one out of every fourteen girls in the United States has at least one sexually transmitted disease.
Divorce Epidemic
We like to make movies and television shows about families, but the truth is that the family structure in the United States has been breaking down for a very long time.
Today, the United States has the highest divorce rate in the world by a very wide margin.
Some example for the rest of the world we are, eh?
16 Trillion Dollar National Debt
Right now the U.S. national debt is $15,884,155,929,632.05.
We will shortly cross the 16 trillion dollar mark.
This is the greatest debt in the history of the world and it is beyond criminal that we plan to pass this debt on to future generations.
Our greed has destroyed the future for our children and our grandchildren and yet we continue to borrow trillions more because we just can't help ourselves.
Political Nightmare
On top of everything else, we have a horrifying lack of leadership here in America.
Our last four presidents have been four of the worst presidents in U.S. history, and in 2012 we are faced with an incredibly depressing choice at the polls.
Is Barack Obama really the best that the Democrats can do?
The American people elected an incompetent con man to the highest office in the land.  Virtually every decision that he makes is wrong and virtually everything that he has tried to do while in office has been a failure.
The Republicans dislike Barack Obama so much that they picked the candidate most like Obama out of the entire Republican field to go up against Obama.
What kind of sense does that make?
Is Mitt Romney really the best that the Republicans can do?
Right now the best selling point that Republicans have for Romney is this….
"You better vote for him or you will get another four years of Obama".
But Mitt Romney would certainly also be a bad president and would lead us down the exact same road that Obama has.
This fall, Americans will either get to vote for the worst president in U.S. history or another guy who will almost certainly be one of the worst presidents in U.S. history.
How depressing is that?
So as this nation continues to fall apart, we are guaranteed to have an absolutely horrible leader in the White House.
Perhaps we are really cursed.
So do you have an opinion about why so many bad things are happening to America?
Source: The American Dream
The security and surveillance state does not deal in nuance or ambiguity. Its millions of agents, intelligence gatherers, spies, clandestine operatives, analysts and armed paramilitary units live in a binary world of opposites, of good and evil, black and white, opponent and ally. There is nothing between. You are for us or against us. You are a patriot or an enemy of freedom. You either embrace the crusade to physically eradicate evildoers from the face of the Earth or you are an Islamic terrorist, a collaborator or an unwitting tool of terrorists. And now that we have created this monster it will be difficult, perhaps impossible, to free ourselves from it. Our 16 national intelligence agencies and army of private contractors feed on paranoia, rumor, rampant careerism, demonization of critical free speech and often invented narratives. They justify their existence, and their consuming of vast governmental resources, by turning even the banal and the mundane into a potential threat. And by the time they finish, the nation will be a gulag.
This is why the National Defense Authorization Act (NDAA), which was contested by me and three other plaintiffs before Judge Katherine B. Forrest in the U.S. District Court for the Southern District of New York on Thursday, is so dangerous. This act, signed into law by President Barack Obama last Dec. 31, puts into the hands of people with no discernible understanding of legitimate dissent the power to use the military to deny due process to all deemed to be terrorists, or terrorist sympathizers, and hold them indefinitely in military detention. The deliberate obtuseness of the NDAA's language, which defines "covered persons" as those who "substantially supported" al-Qaida, the Taliban or "associated forces," makes all Americans, in the eyes of our expanding homeland security apparatus, potential terrorists. It does not differentiate. And the testimony of my fellow plaintiffs, who understand that the NDAA is not about them but about us, repeatedly illustrated this.
Alexa O'Brien, a content strategist and information architect who co-founded the U.S. Day of Rage, an organization created to reform the election process and wrest it back from corporate hands, was the first plaintiff to address the court. She testified that when WikiLeaks released 5 million emails from Stratfor, a private security firm that does work for the U.S. Department of Homeland Security, the Marine Corps and the Defense Intelligence Agency, she discovered that the company was attempting to link her and her organization to Islamic radicals and websites as well as jihadist ideology.
Last August there was an email exchange between Fred Burton, Stratfor's vice president for counterterrorism and corporate security and a former deputy director of the counterterrorism division of the State Department's Diplomatic Security Service, and Thomas Kopecky, director of operations at Investigative Research Consultants Inc. and Fortis Protective Services LLC. In that exchange, leaked Feb. 27 by WikiLeaks, Kopecky wrote: "I was looking into that U.S. Day of Rage movement and specifically asked to connect it to any Saudi or other fundamentalist Islamic movements. Thus far, I have only hear[d] rumors but not gotten any substantial connection. Do you guys know much about this other than its US Domestic fiscal ideals?"?
But that changed quickly. Stratfor, through others working in conjunction with the FBI, soon linked U.S. Day of Rage to al-Qaida and other terrorist groups.
In early September, U.S. Day of Rage, which supported the Sept. 17 call to occupy Wall Street, received Twitter messages that falsely accused it of being affiliated with terrorist groups. The messages came from a privately owned security and intelligence contractor, Provide Security, managed by Thomas Ryan, who works for U.S. military and government agencies, and Dr. Kevin Schatzle, a former FBI, Secret Service and New York City Police Department counterterrorism agent who is on the advisory board of a private intelligence firm that sells technology to profile and interrogate terrorism suspects. On Sept. 1 U.S. Day of Rage received three private, direct Twitter messages that read:
"Now you are really in over your head with this. Muslims from an Afghanistan Jihad site have jumped in. …"
"You seem peaceful, but #Anonymous will tarnish that reputation and FAST! They plan to hack NYPD and Banks for #OccupyWallStreet with #RefRef."
"Just a heads up. I watched your training videos, but do you realize the #Anonymous relationship/infiltration will cause you MANY problems."
On Oct. 14, 2011, Provide Security's Ryan published an article—"The Email Archive of #OccupyWallStreet Movement," on the Andrew Breitbart Presents Big Government website page—that tied U.S. Day of Rage to al-Qaida and other terrorist groups. Ryan said in the article that he had "recruited other people to help U.S. begin the collection of data" from social media sites that included U.S. Day of Rage. The article goes on:
On August 10, 2011, the hacker group, "Anonymous" announced that it would join the Occupy Wall Street demonstrations. That's what sparked my interest in monitoring #OccupyWallStreet.

I reached out to a colleague and asked if he would be interested in studying the protest with me. At first, it seemed disorganized, and we believed it would only be a few hundred protestors.

As we engaged in monitoring its growth, we recruited other people to help us begin the collection of data available via social media. We began mapping out key players, and monitored Anonymous's efforts to organize protests in the San Francisco Bay area public transportation system (#opBART) in order to detect patterns of key influences.

Then, at the end of August, we were alerted by a fellow researcher that information about USDoR (U.S. Day of Rage, to which Occupy Wall Street is connected) had been posted on Shamuk and Al-Jihad, two Al-Qaeda recruitment sites. We began to take the "Occupy" protest more seriously, and dedicated more time to researching and monitoring.

Days later, Anonymous announced that it would be releasing its new DDOS (Distributed Denial of Service) tool. Because of the Al-Qaeda posting, we contacted the New York Field Office of the FBI so they could investigate the potential threat. From that point on, we decided we needed to include the Human Element of Intelligence (HUMINT), and to infiltrate the protestors to map their ties to Anonymous, and to the postings on Shamuk and Al-Jahad.
Though all this sounds like the delusions of the mentally imbalanced, or perhaps mentally impaired, it was enough to trigger a response within the twisted minds of those who work from the shadows of our security and surveillance state. O'Brien, who was working at the time as a digital media architect for a publicly traded energy efficiency firm, was told by the company's director of federal programs, a former interrogator and foreign language specialist with the Massachusetts Army National Guard, that he had been asked about her by U.S. government agents numerous times. She was pulled off several projects and then pushed out of her job.
Now the engine of conspiracy, which feeds the machine, was in full gear. On Jan. 11, Australian Security Magazine published an article titled "Radical Islam: Global influence in domestic affairs" that directly tied U.S. Day of Rage to radical Islamic groups. It read, in part:
More recently we found the same types of activity by radical Islamists during the planning of the U.S. Day of Rage that was scheduled for September 17th 2011. While it certainly did not take root and there were none of the violent clashes that took place during the UK riots, none the less the same types of people were there seeking to influence proceedings. Those aiming to influence the U.S. Day of Rage followed a similar pattern as the group and individuals we found trying to influence groups for CHOGM [Commonwealth Heads of Government]. Most were looking to promote violent confrontation, while some were spreading low level jihadist propaganda.
One of the plaintiffs in our lawsuit, Birgitta Jónsdóttir, an Icelandic parliamentarian who has advocated transparency laws that would clear the way for WikiLeaks to operate in Iceland and helped produce a videoabout the 2007 Baghdad airstrike that killed two journalists and nine other civilians, did not appear in court. Author Naomi Wolf, who, along with Cornel West, has offered to join me, Noam Chomsky, Daniel Ellsberg, the Icelander and three others as plaintiffs, read Jónsdóttir's affidavit to the court.
In January 2011 Jónsdóttir, although she is not a U.S. citizen, was served by the United States Department of Justice with a subpoena demanding information "about all [her] tweets and more since November 1st 2009." The demanded information, which she has refused to provide, includes all mailing addresses and billing information, all connection records and session times, all IP addresses used to access Twitter, and all known email accounts, as well as the "means and source of payment," including banking records and credit cards. The Justice Department subpoenaed records for the period from Nov. 1, 2009, to the present. The foreign minister of Iceland advised Jónsdóttir not to travel to the United States for the court hearing on Thursday, fearing she might be detained, especially after the Justice Department refused to issue a statement in writing stating that she would not be held if she appeared on American soil.
Perhaps the most chilling exchange on Thursday took place between government lawyers and Judge Forrest. The judge, who will probably rule in May, repeatedly asked for assurance that the plaintiffs would not be subject to detention under the NDAA. It was an assurance the two government lawyers refused to give. She asked U.S. Assistant Attorney Benjamin Torrance whether the government would see a book containing the sentence "I support the political goals of the Taliban" as providing "material support" for "associated forces."
Torrance did not rule out such an interpretation.
"You are unable to say that [such a book] consisting of political speech could not be captured under [NDAA section] 1021?" the judge asked.
"We can't say that," Torrance answered.
"Are you telling me that no U.S. citizen can be detained under 1021?" Forest asked.
"That's not a reasonable fear," the government lawyer said.
"Say it's reasonable to fear you will be unlucky [and face] detention, trial. What does 'directly supported' mean?" she asked.
"We have not said anything about that …" Torrance answered.
"What do you think it means?" the judge asked. "Give me an example that distinguishes between direct and indirect support. Give me a single example."?
"We have not come to a position on that," he said.
"So assume you are a U.S. citizen trying not to run afoul of this law. What does it [the phrase] mean to you?" the judge said.
"I couldn't offer any specific language," Torrance answered. "I don't have a specific example."
There are now 1,271 government agencies and 1,931 private companies that work on programs related to counterterrorism, homeland security and intelligence in about 10,000 locations across the United States, The Washington Post reported in a 2010 series by Dana Priest and William M. Arken. There are 854,000 people with top-secret security clearances, the reporters wrote, and in Washington, D.C., and the surrounding area 33 building complexes for top-secret intelligence work are under construction or have been built since September 2011. Investigative reporter James Bamford wrote in the latest issue of Wired magazine that the National Security Agency is building the largest spy center in the country in Bluffdale, Utah, as part of a secret NSA surveillance program code-named "Stellar Wind." Bamford noted that the NSA has established listening posts throughout the country to collect, store and examine billions of email messages and phone calls.
If we lose this case it will hand to the vast network of operatives and agencies that investigate and demonize anyone who is not subservient to the corporate state the power to detain citizens and strip them of due process. It will permit the security and surveillance state to brand as terrorists any nonviolent protesters and movements, along with social and political critics, that in the government's imagination have any trace of connection to al-Qaida or "associated forces." If the National Defense Authorization Act is not reversed it will plunge us into despotism, leaving us without a voice, trapped in eddies of fear and terror, unsure of what small comment, what small action, could be misinterpreted to push us out of our jobs or send us to jail. This is the future before us. And we better fight back now while we can.
Source: Truthdig
Pledging he will defeat Hezbollah this time…
Beirut – One fellow who works at the Beirut US Embassy tells the story of how, each year around the time of the vernal equinox, since 2005 when Jeffrey Feltman became the American Ambassador (given Jeff's domination of US Middle East Policy, he is still essentially US Ambassador to Lebanon, Syria, Israel, Saudi Arabia, Iraq, Jordan, Egypt, the Gulf, and much of the region although other names appear from time to time on the local US Embassy doorplates) the now multi-hatted US Assistant Secretary of State for Near Eastern Affairs would perform a sort of ritual.
"The Lebanese people must join together to tell Hezbollah and its allies that the Lebanese state will no longer be hijacked for an Iranian-Syrian agenda." Jeff called on Lebanese voters to organize immediately for the coming election and "to once again show the world how they can transcend fear and use the 2013 parliamentary elections to defeat the remnants of the Syrian occupation, the pillar of which is Hezbollah, and reject the apologists of Syrian President Bashar al-Assad's butchery."
Feltman, identified to the 7thanniversary of the "Cedar Revolution" (which his office named) gathering, two elements that he claimed were constant across the board in the Arab Spring countries: "Yearning for dignity and a triumph over fear." He omitted any reference to the yearning to overcome rising poverty, corruption, lack of jobs and government neglect as well as the repression of religious and ethnic minorities that continue to fuel the uprisings against US supported regimes four of which have collapsed while four others are still teetering. One observer thought his "triumph over fear"language was a call for citizens to risk their lives and to take to the streets.
Jeff's pep rally for the coming Lebanese Parliamentary elections that will help determine the next Lebanese government which will affect US plans for the region, has set the tone and scaffolding for his team's soon to be announced electoral platform. Organizing the campaign for the pro-US-Israel Saudi team will likely once again be supported by staffers at US Embassy Beirut and also worked on by Jeff's State Department Bureau.
According to Lebanese election specialists at Lebanon's Lebanese International University (LIU), Notre Dame, and Lebanese American University (LAU) the coming US driven Lebanese elections will include:
–record prices for vote purchases that sometimes during the 2009 election saw the purchase price of a vote sometimes rise as high as $5000 plus fancy mobile phones for the sellers teenagers and cars for some dads;
–intense demonization of Hezbollah among its Shia base plus scare tactics and silly whispering campaigns claiming that the party it will ban alcohol, institute chadouri dress codes, revive the discarded idea of an Islamic republic, buy up property in other sects neighborhoods, corruption, and more indictments coming from the Special Tribunal for Lebanon (STL);
–during the coming months of the run up to the 2013 Parliamentary election, Lebanon will also witness more cold stare visits from US bureaucrats such as US Treasury Under Secretary for Terrorism and Financial Intelligence David Cohen who was in Lebanon this week rattling the cage of Lebanese Central Bank officials warning that the US suspects hat Lebanese banks are being used to fund the Iranian nuclear program and to finance the Syrian regime so the US may have to act against Lebanese banks and for sure the Beirut based Bank Saderat Iran and the Syrian Lebanese Commercial Bank;
–fanning the embers of Shia-Christian discord such as last week's Maronite Antonine University incident when some Shia students prayed outside a Church on Campus and Lebanese Forces strongman Samir Geagea tried to make a political issue of it;
In support of Feltman's 2013 Lebanese Parliamentary election launch, the Arabphobic and anti-Muslim Republican chairman of the House Homeland Security Committee, Peter King, used another one of his "warn America" hearings this week (3/22/12) in which he said something Feltman may have wanted to but diplomatically did not. King declared that "the Iranian-backed and funded militant group Hezbollah has hundreds of operatives based in the United States waiting orders to strike" and he added that "Hezbollah, and not al-Qaida, poses the greatest terrorist threat to all Americans".
Some Sunni supporters of Hezbollah, and there are many across Lebanon who support its domestic programs and Resistance stances, are urging the Party to preempt the Feltman team plans to divide Lebanon's Muslim and to take a courageous and bold political initiative in Parliament that would reach out to the Sunni community, the international human rights movement and give heightened credence to Hezbollah moral and religious beliefs that demand human dignity for all currently in Lebanon.
That action would be to immediately enact in Parliament the right to work and temporary home ownership laws (pending their Return to Palestine at the first opportunity) for the Palestinians refugees in Lebanon, 95% of whom who Sunni Muslims. Every Sunni in Lebanon knows this is the right thing to do as does everyone else in Lebanon and beyond who know about the legalized discrimination against Palestinian refugees in Lebanon.
Were Hezbollah to undertake this historic and courageous act, which it currently has the political power to do, Hezbollah would earn for itself among the Sunni community vital additional respect.
Hezbollah would also thereby help thwart the U.S.-Israel effort to reset Middle Eastern politics in terms of a serious Sunni-Shi'ite schism while quite likely defeating Washington-Tel Aviv plans for next year's Parliamentary elections. Those plans, as Jeffrey Feltman made clear this week, are to install their own team in the Grand Serail that may well determine the course of regional and Lebanese politics for years to come.
By Kimberly Dozier and David Espo…
Osama bin Laden, the face of global terrorism and architect of the Sept. 11, 2001, attacks, was killed in a firefight with elite American forces Monday, then quickly buried at sea in a stunning finale to a furtive decade on the run.
Long believed to be hiding in caves, bin Laden was tracked down in a costly, custom-built hideout not far from a Pakistani military academy.
"Justice has been done," President Barack Obama said in a dramatic announcement at the White House while a crowd cheered outside and hundreds more gathered at ground zero in Manhattan to celebrate the news.
The military operation took mere minutes.
U.S. helicopters ferrying elite counter-terrorism troops into the compound identified by the CIA as bin Laden's hideout — and back out again in less than 40 minutes. Bin Laden was shot in the head, officials said, after he and his bodyguards resisted the assault.
Three adult males were also killed in the raid, including one of bin Laden's sons, whom officials did not name. One of bin Laden's sons, Hamza, is a senior member of al-Qaida. U.S. officials also said one woman was killed when she was used as a shield by a male combatant, and two other women were injured.
The U.S. official who disclosed the burial at sea said it would have been difficult to find a country willing to accept the remains. Obama said the remains had been handled in accordance with Islamic custom, which requires speedy burial.
"I heard a thundering sound, followed by heavy firing. Then firing suddenly stopped. Then more thundering, then a big blast," said Mohammad Haroon Rasheed, a resident of Abbottobad, Pakistan, after the choppers had swooped in and then out again.
Bin Laden's death marks a psychological triumph in a long struggle that began with the Sept. 11 attacks, and seems certain to give Obama a political lift. But its ultimate impact on al-Qaida is less clear.
The greatest terrorist threat to the U.S. is now considered to be the al-Qaida franchise in Yemen, far from al-Qaida's core in Pakistan. The Yemen branch almost took down a U.S.-bound airliner on Christmas 2009 and nearly detonated explosives aboard two U.S. cargo planes last fall. Those operations were carried out without any direct involvement from bin Laden.
The few fiery minutes in Abbottobad followed years in which U.S. officials struggled to piece together clues that ultimately led to bin Laden, according to an account provided by senior administration officials who spoke on condition of anonymity because of the sensitivity of the operation.
Based on statements given by U.S. detainees since the 9/11 attacks, they said, intelligence officials have long known that bin Laden trusted one al-Qaida courier in particular, and they believed he might be living with him in hiding.
Four years ago, the United States learned the man's identity, which officials did not disclose, and then about two years later, they identified areas of Pakistan where he operated. Last August, the man's residence was found, officials said.
"Intelligence analysis concluded that this compound was custom built in 2005 to hide someone of significance," with walls as high as 18 feet and topped by barbed wire, according to one official. Despite the compound's estimated $1 million cost and two security gates, it had no phone or Internet running into the house.
By mid-February, intelligence from multiple sources was clear enough that Obama wanted to "pursue an aggressive course of action," a senior administration official said. Over the next two and a half months, the president led five meetings of the National Security Council focused solely on whether bin Laden was in that compound and, if so, how to get him, the official said.
Obama made a decision to launch the operation on Friday, shortly before flying to Alabama to inspect tornado damage, and aides set to work on the details.
The president spent part of his Sunday on the golf course, but cut his round short to return to the White House for a meeting where he and top national security aides reviewed final preparations for the raid.
Two hours later, Obama was told that bin Laden had been tentatively identified.
CIA director Leon Panetta was directly in charge of the military team during the operation, according to one official, and when he and his aides received word at agency headquarters that bin Laden had been killed, cheers broke out around the conference room table.
Administration aides said the operation was so secretive that no foreign officials were informed in advance, and only a small circle inside the U.S. government was aware of what was unfolding half a world away.
In his announcement, Obama said he had called Pakistani President Asif Ali Zardari after the raid, and said it was "important to note that our counter-terrorism cooperation with Pakistan helped lead us to bin Laden and the compound where he was hiding."
One senior administration told reporters, though, "we were very concerned … that he was inside Pakistan, but this is something we're going to continue to work with the Pakistani government on."
The compound is about a half-mile from a Pakistani military academy, in a city that is home to three army regiments and thousands of military personnel. Abbottabad is surrounded by hills and with mountains in the distance.
Critics have long accused elements of Pakistan's security establishment of protecting bin Laden, though Islamabad has always denied it, and in a statement the foreign ministry said his death showed the country's resolve in the battle against terrorism.
Whatever the global repercussions, bin Laden's death marked the end to a manhunt that consumed most of a decade that began in the grim hours after bin Laden's hijackers flew planes into the World Trade Center twin towers in Manhattan and the Pentagon across the Potomac River from Washington. A fourth plane was commandeered by passengers who overcame the hijackers and forced the plane to crash in the Pennsylvania countryside.
In all, nearly 3,000 were killed in the worst terror attacks on American soil.
Former President George W. Bush, who was in office on the day of the attacks, issued a written statement hailing bin Laden's death as a momentous achievement. "The fight against terror goes on, but tonight America has sent an unmistakable message: No matter how long it takes, justice will be done," he said.
Article from: news.yahoo.com
For the past 30 years, somebody, somewhere, or a group of people in high places decided to destroy the successful equation of "melting pot" within America. That 'entity' decided to pitch diversity and multiculturalism as the new monikers dismantling English as America's common language. "It" decided to inject hundreds of incompatible cultures and languages into America while adding another 100 million people to stress the environment even further.
That same "It" worked its magic in France, Great Britain, Holland, Norway, France, Belgium and other countries—with devastating results: fragmenting, balkanizing and separated societies.
Like a group of chemistry students in a classroom where the teacher leaves for an emergency phone call—for kicks or giggles—the students start tossing multiple chemicals into a test tube to see what happens. Result: the mixture either melts the tube down or explodes. No one knows what kind of volatility may occur.
Today, our once "stable and sustainable" population suffered growth from a reasonable 194 million people in 1963 to a unsustainable 309 million in 2010. While we continue 'celebrating' our amazingly 'diverse' society with immigrants from over 150 countries, speaking 100 languages—in reality, the wheels fall off the 'romantic' pitch by newspapers such as the Denver Post and television networks across the USA. You will hear "racist confrontations" in dozens of media outlets weekly.
On the educational side, Brian Williams reported a 76 percent dropout/flunkout rate in Detroit, Michigan schools last spring. Why? They feature 50 different languages and unending diversity. Everyone speaks a slew of languages except English, they don't know Thomas Jefferson, promote their own cultures and they call themselves hyphenated-Americans. Illiteracy rates exceed 50 percent according to an article in Time Magazine. (Source: Tragedy of Detroit, Time Magazine)
But hundreds of schools throughout the USA in major cities like LA, San Francisco, Chicago, Atlanta, Houston, Dallas, Miami, Denver and others suffer 50 to 60 percent dropout/flunkout rates. Denver vacillates between 52 to 67 percent dropout/flunkout rates. Brian Williams added, "About 1.2 million teens hit the streets every spring unable to read or write."
What happens when this country finds itself without a common language, culture and national identity? What happens when enough immigrants do not, cannot or will not integrate into American society? What happens when their cultures and languages trump America's culture and English language? Today, 42 million Americans cannot read or write. Another 50 million read at the fourth grade level. Name the one term that defines third world societies: illiteracy. America degrades with every illiterate citizen.
You can see it accelerating in Islamic Detroit, Michigan. Already, we hear calls for Sharia Law. For Americans that don't understand Sharia—its runs counter to everything in Western law. It subjugates women, commits barbaric acts such as female genital mutilation and calls for honor killings of women for minor infractions. Mexican reconquista operates in the Southwest and children continue to fare poorly in schools after several generations because of their 'poverty culture' roots in Mexico. In Arizona last week, immigrants painted the American flag with Nazi swastikas and stomped on it at the capital in Phoenix.
Other examples:
In New York, February 16, 2009, FOX News, Joshua Rhett Miller reported, "The estranged wife of a Muslim television executive feared for her life after filing for divorce last month from her abusive husband," her attorney said — and was found beheaded Thursday in his upstate New York television studio. Aasiya Z. Hassan, 37, was found dead on Thursday at the offices of Bridges TV in Orchard Park, N.Y., near Buffalo. Her husband, Muzzammil Hassan, 44, has reportedly been charged with second-degree murder.
Adam Gadahn: The California-born Muslim convert assists Shukrijumah and Osama bin Laden as al-Qaida's chief propagandist. He tailors the group's message to American Muslims. In 2006, Gadahn invoked U.S. Muslims to attack military bases. Three years later, U.S. Army Major Hasan shot 43, killing 13 at Fort Hood.
Anwar Awlaki: Articulate and media savvy, the American-born cleric is al-Qaida's top recruiter of Western suicide cells. Awlaki has recruited or radicalized countless homegrown terrorists, including the Fort Hood shooter and the Times Square bomber, both English-speaking citizens. Authorities also believe he ordered the Christmas airliner attack. Thought to be bin Laden's heir, Awlaki has called on American Muslims to turn against their government, "Jihad against America is binding on every other (American) Muslim," he said.
For Americans that cherish the successful "melting pot" concept, at what point do they lose control of their culture, language and way of life—in favor of a polyglot of incompatible cultures, religions and languages?
At what point will all those countries 'exhausting' their excess population into America—take responsibility for their own fecundity and their own citizens—in their own countries?
At what point will Americans stand up for being Americans? On every level—unrelenting and accelerating immigration cannot be sustained environmentally, educationally, linguistically or culturally—if America hopes to survive the 21st century.
Latest figures show the USA adding 70 million immigrants within 25 years. Can we remain sustainable? Ask anyone in Bangladesh, Mexico or India!
Christopher Bollyn is an American journalist and researcher. He is widely known for his extensive researches on the September 11, 2001 attacks which reveal that Israel has been complicit in planning and carrying out the terrorist attacks that cost the lives of 2,976 victims and left more than 6,000 injured. The U.S. government under ex-President Bush introduced the paramilitary group Al-Qaida the main culprit of the attacks and adopted an aggressive policy towards the Muslim nations thereafter It also enacted the USA PATRIOT Act that would enable the U.S. government to search and investigate the telephone and email communications of the U.S. citizens under the pretext of discovering and mapping out the possible threats to the U.S. national security. Bollyn has written on the U.S. – Israel relations comprehensively and believes that a powerful corporate cartel of Zionists control and mastermind the large-scale U.S. foreign policy.
What follows is the full text of an in-depth interview with Christopher Bollyn in which we've discussed the post 9-11 "War on Terrorism" project devised by the Bush administration, the complicity of the state of Israel in the 9-11 attacks, the fate of Israeli regime in the wake of its growing isolation, the stance of United States administration towards Iran's nuclear dossier and the double standards it exercises with regards to the Israel's military nuclear program.
Kourosh Ziabari: Dear Christopher; you've written on the 9/11 attacks and the involvement of the Mossad and CIA in the attacks extensively. The former Italian President Francisco Cossiga has also testified that Mossad and CIA were involved in the attacks. Would you please summarize for our readers the evidence which, according to your research, indicates that Israel created the 9/11 catastrophe?
Christopher Bollyn: The earliest evidence of Israeli involvement in 9-11 was actually revealed in the news on the very day of the terror attacks and shortly thereafter, but never followed up in the mainstream media.
First, there was the van of 5 Israelis who were arrested in New Jersey on 9-11.  This group, which included two Mossad agents known to U.S. law enforcement, had been observed videotaping the destruction of the Twin Towers with themselves celebrating in front of the camera, flicking their lighters and laughing with the burning towers in the background across the river.  These Israelis worked for a fake moving company, Urban Moving Systems of Weehawken, New Jersey, which actually turned out to be a Mossad front operation. Dominic Suter, the head of the phony company, was allowed to escape to Israel shortly after 9-11 although he was a terror suspect being investigated by the FBI.  The five Israelis, some of whom refused or failed lie detector tests, were caught in possession of multiple passports, box cutters, and a large amount of cash stuffed in their socks. Their van tested positive for explosives when checked by New Jersey police, at least until the FBI took over the investigation. When the five Mossadniks were returned to Israel in November 2001, three of them appeared on a popular television show and openly admitted that their mission had been to document the terror attacks. Who had given them this mission was not discussed.
Secondly, there were some 4,000 Israelis who were expected to have been at the World Trade Center, as per the Israeli foreign ministry and the Jerusalem Post, who did not show up for work on 9-11. There were text messages sent on Odigo, an Israeli-owned instant messaging system, warning of the terror attacks several hours before the first plane hit the towers. These warnings were evidently sent in Hebrew and warned of terror attacks at the World Trade Center. Alex Diamandis, Odigo's vice president, said, "The messages said something big was going to happen in a certain amount of time, and it did – almost to the minute."  The Odigo story was reported in the Washington Post, but not a single New York newspaper picked it up. The Post reported that the FBI had sent a team to Israel to investigate the content and origin of these messages, but the story was dropped and never investigated any further in the U.S. media.  How odd.
Both of these stories were reported, but only briefly and then dropped into the memory hole. I began my 9-11 research by investigating these stories. With such clear evidence of Israeli prior knowledge of the attacks, I pursued my investigation to see if Israelis or Zionists were involved in other key aspects of the crime or the cover-up, and I found that they were. Indeed, orthodox Jews and Zionists cropped up at every critical point of the operation, which I discuss in detail in my book, Solving 9-11 – The Deception that Changed the World.
The key U.S. official behind the 9-11 cover-up was Assistant Attorney General Michael Chertoff, an Israeli citizen and son of a Mossad agent. Chertoff was the head of the criminal division of the Department of Justice at the time and the top boss of the FBI.  From this position Chertoff managed the FBI's "non-investigation" of 9-11, and supervised the confiscation and destruction of the critical evidence from the crime scenes, such as videotapes, aircraft debris, and more than 99 percent of the steel from the World Trade Center. The destruction of this crucial evidence is a crime in and of itself.
KZ: You've come to the conclusion that Israel was the main culprit of the 9/11 attacks; however, your opponents categorize you as a conspiracy theorist. Is this a fair judgment?
CB: A conspiracy is a secret plan by a group of people to do something harmful or illegal. There is certainly no question that the terror attacks of 9-11 were planned and carried out by a group of people acting in secret. A conspiracy theorist in this context would be a person who believes that a conspiracy is behind the terrorism attacks that started the so-called "War on Terror."  Presidents George W. Bush and Barack Obama have both stated that an Islamic conspiracy, headed by Osama Bin Laden and Al Qaida, is behind 9-11. Based on this specious and unproven assertion the Bush administration invaded Afghanistan in October 2001 and began a war of occupation which the Obama administration has adopted as its own and continues to fight to this day. President Obama says the U.S. is fighting the war in Afghanistan because of 9-11.
I, on the other hand, consider 9-11 to be an unsolved crime and have pursued my investigation based on the available evidence. Since the evidence indicates that Israeli intelligence had prior knowledge of the attacks and because prior knowledge of something like 9-11 is indicative of involvement in the crime, I have worked on the hypothesis that the state of Israel was involved in 9-11 and have pursued my investigation along that line. That does not make me a conspiracy theorist.
One of the main reasons I rejected the government claim that Al Qaida was behind 9-11 is because all the evidence indicates that the Twin Towers and WTC 7 were demolished with explosives. The plane crashes did not bring down the Twin Towers and Larry Silverstein's 47-story building, which collapsed a block away without even being hit.
When I learned in the summer of 2002 that molten iron had been found at the base of all three towers, I knew I had evidence that the Bush administration's explanation of what had happened to the World Trade Center was false. This important discovery revealed that the public had been lied to by the government about what really happened on 9-11.
The publication of the peer-reviewed paper about the discovery of large amounts of active super-thermite in the dust of the demolished World Trade Center by Dr. Steven E. Jones and others in March 2009 provides scientific proof that an extremely energetic form of thermite, made with nanotechnology, was responsible for the pulverization of the 220 concrete floors of the Twin Towers, and everything on them. This is what created the immense clouds of hot dust that everyone saw on 9-11.
Survivors have said that the dust was burning hot. This is because it contained tiny droplets of molten iron, which were described and shown in the U.S. Geological Survey study of the dust. The hot spots that burned beneath the rubble for three months were hotter than the boiling point of iron and created nanosize particles that were found in large quantities in the smoke rising from the pile.  These were all clear indications that thermite had been used to demolish the towers.
Logically, the discovery of chips of super-thermite in the dust marked the end of the official version as an acceptable explanation for what happened to the Twin Towers.  Neither Osama Bin Laden nor Al Qaida had anything to do with the creation or application of the super-thermite that pulverized the World Trade Center.  These facts are becoming clear to a growing number of people.  The game is over for the 9-11 cover-up crowd.
KZ: You introduced Michael Chertoff as the key person responsible for the destruction of 9/11 evidence. Isn't the U.S. administration really aware of the fact that, as you believe, Israel was behind the 9/11 attacks? Have the U.S. statesmen ever referred to the research carried out by you and other scholars who put forward evidence that Israel carried out the 9/11 attacks?
CB: In March 2010, Dr. Alan Sabrosky, the former Director of Strategic Studies at the U.S. Army War College, said in a radio interview: "It is one hundred percent certain that 9-11 was a Mossad operation, period."  Dr. Sabrosky also stated that high-level U.S. military officers know that Israel did it.
Dr. Sabrosky is, to my knowledge, the first person from the U.S. military establishment to have publicly supported the hypothesis that Israeli intelligence was behind 9-11.  I have not heard of any U.S. statesman refer to my research although I am sure there are many politicians who are aware of it.
KZ: The war on terrorism project was initially set off following the 9/11 attacks. In other words, the 9/11 attacks played into the hands of the U.S. administration to launch military strikes against Iraq and Afghanistan, as alleged state sponsors of terrorism. Is there any third country which is liable to be targeted next? Is this third country going to be Iran?
Bollyn:  My hypothesis is that 9-11 was an Israeli-designed "false-flag" operation that was meant to be blamed on Al Qaida in order to kick-start the Zionist-designed "War on Terror." Actually, Iran is probably the main target, at least in the minds of the Zionist war planners. This is because the CIA and the Mossad got kicked out of Iran when Shah Pahlavi was overthrown in 1979.  The foreign oil corporations, big capital, and their intelligence agencies want to get Iran back under their control.
I always thought that the name "Central Command" or CENTCOM was a strange name for the military command that oversees U.S. operations in the Middle East – central to whom?  Iran now finds itself surrounded by U.S. military interventions on three sides and CENTCOM is based in Qatar, right in the middle.
Furthermore, Iran has long been the target of a concerted effort led by the Zionists and the controlled press to impose sanctions in an effort to weaken the largest independent nation in the Middle East. This is why they use the issue of Iran's nuclear development, most unfairly, as a club to attack the Iranian government. The Zionist Axis of New York, London, and Tel Aviv refuses to accept that Iran is not under their control.
KZ: You've published pictures on your website which depict the Jews demonstrating against Tel Aviv, holding placards that read: "The state of Israel does not represent world Jewry". Is the controversial regime of Israel, which is even hated by a large number of its own citizens, going to survive with the trajectory it has adopted?
CB:  No. I don't see how a small, artificial state run by terrorists and despised by its neighbors and most of the world can possibly survive in the long term. It simply is not sustainable. This is, after all, why 9-11 was carried out – to bring the U.S. military into the Middle East to protect the Zionist hegemony in the region. Public opinion, however, has turned strongly against Israel as a result of a long string of Zionist crimes and atrocities.  A state that is so despised simply cannot survive for long.
KZ: The United States officials regularly reaffirm their commitment to the security of Israel and disallow the international community to hold her accountable for the war crimes it commits. Is it possible for the international bodies, including the United Nations Security Council, to investigate Israel's criminal conduct independently and put on trial the Tel Aviv officials while the United States continually supports the Jewish state?
CB:  This is the real problem. Zionist influence and control over the U.S. government prevents the international community from reining in the behavior of the nuclear-tipped outlaw state of Israel.  The U.S. veto in the U.N. Security Council has effectively protected Israel from sanctions for decades. But the failure to enforce international law and apply corrective measures on the state of Israel has resulted in the creation of a monster-state that is now out of control. Had the system of international law worked as it should Israel would have been forced to adjust its behavior and find a way to live in peace with the Palestinians and its neighbors.
KZ: What do you think about the recent massacre of peace activists aboard the Freedom Flotilla who were heading towards the Gaza strip to break the siege of the beleaguered enclave? Why did the U.S. and European leaders keep silent in respect of the vicious assault of the Israel Defense Forces on the peace activists? Would the international reactions have been the same if Iran had carried out the attack?
CB: Of course not. If Iran had committed such a massacre on the high seas it would have been punished severely and immediately by the United Nations and international community. Furthermore, if any other state besides Israel were to impose a blockade on 1.5 million civilians causing extreme hardship and suffering, it would be condemned by every nation in the world. To understand the mild response of the Obama administration to the blockade and the massacre of the nine Turkish peace activists we should recall that Rahm Emanuel, the chief of staff of the Obama White House, was in Israel the week before the attack and met with Benjamin Netanyahu only four days before the Israeli assault on the Freedom Flotilla. It should be noted that Emanuel, an Israeli citizen and the son of an Irgun terrorist, runs the Obama administration.
When it comes to the European response, we now have a weak centralized European Union that discourages unilateral actions taken by the member states. Furthermore, European foreign ministers remember very well what happened to Anna Lindh of Sweden who had called for a European boycott of Israel. She was murdered in broad daylight in Stockholm.
KZ: In one of your recent articles, you've reviewed the bankruptcy of three Icelandic banks and related it to the Israeli regime's plundering of Iceland's economy. Would you please elaborate on this for us and our readers?
CB: The bankrupting of Iceland's three biggest banks in the fall of 2008 was caused by a foreign-run operation which involved people connected to the Mossad and the most extreme right-wing politicians from the Likud, including Benjamin Netanyahu and Ehud Olmert.  The First Lady of Iceland also happens to be an Israeli.  The operation basically gained control of the privatized and deregulated banks and puffed them up as it sucked money out of them in the form of billions of dollars in unsecured loans.  The privatized banks were simply loaded up with debt and pushed off a cliff.  The Icelandic banks were lending huge amounts of money to dodgy Jewish financial tycoons left and right – without any collateral of real value. The largest Icelandic bank to fail, Kaupthing, for example, lent more than $2.5 billion to the Tchenguiz operation, which is run by Victor Tchenguiz in Israel.  Robert Tchenguiz, who received billions from Kaupthing, was also one of the largest stockholders in the bank.
The plundering of the banks of Iceland is very similar to the Bernard Madoff scam, the bank failures, and the huge bail-out that occurred at the same time in the United States.  Madoff was the chairman of the Sy Syms business school at Yeshiva University.  His partner, the late Sy Syms, was also a long-standing director of the privatized Israel Discount Bank of New York, which has a branch in Switzerland that operates under Swiss bank secrecy laws. Kaupthing also had a bank in Luxembourg that had a Swiss branch in Geneva. When Kaupthing collapsed, their Luxembourg subsidiary with the Swiss branch were taken over by David Rowland, an offshore financier who works closely with Israeli intelligence. When the Icelandic banks collapsed under a mountain of debt, the national government and international lenders were called in to absorb the losses while the bank robbers escaped with the money they stashed in secret bank accounts in Switzerland.
KZ: The United States frequently attacks Iran over its human rights record and what is claimed to be the undemocratic nature of the Iranian regime. Should we take the Washington's accusations for granted, we come across to the identical situations in countries such as Saudi Arabia and Egypt in which the human right records are far more disappointing and deplorable than Iran; however, the United States maintains close ties with them and never states a single word in protest to their repression of the public freedoms and violations of human rights. How is it possible to justify this double standard?
CB: This is the typical double standard seen in U.S. foreign policy.  Any behavior is acceptable from a regime that is willing to play ball with big capital, big oil, and Israel.  On the other hand, any regime that refuses to go along will find itself ostracized and penalized. The Hamas government of Palestine is a good example. Hamas won the democratic election fair and square, but because it refuses to be accept Israeli demands and conditions it has been ostracized. Meanwhile, Mahmoud Abbas is treated as the president of Palestine by the United States although he has not been elected and simply extends his term like a tyrant.
Iran is treated in the same way. It is ostracized because it pursues its own national interests and challenges the Anglo-American and Zionist hegemony in the Middle East.  This is why the U.S. uses its influence to sanction Iran for its nuclear development program, which is legal and monitored, while completely ignoring Israel's secret nuclear arsenal. We should remember that BP, the oil company that has mucked up the Gulf of Mexico, originally started as the Anglo-Iranian Oil company, with the rights to virtually all the oil of Iran. A BP tanker was the first ship to load up with Iraqi oil after the U.S.-led invasion and occupation of Iraq. These are the people who wage war to steal the assets of sovereign nations.
KZ: What's your anticipation for the prospect of the Israeli regime? It is being isolated in the eyes of nations around the world while being supported by the U.S. and European governments. Will the sponsorship of the U.S. and its EU allies for the state of Israel come to cease one day? Will the Washington – Tel Aviv ties eventually end in altercation and animosity?
CB: The state of Israel is an artificial state that is protected and supported by the United States. This support is due to Zionist influence and corruption of the American political system. Were this to change and were Israel to lose the support of the U.S. government it would be unable to survive.  The current government in Israel is composed of the most extreme elements of Israeli society, which is increasingly becoming more orthodox and Russian. Zionist moderates have been pushed aside by the most aggressive and unscrupulous extremists. Those who could have made peace have been killed and replaced by terrorists who know only war.
The people of the United States are fed up with these costly and disastrous wars in the Middle East.  A growing number are becoming aware that we have been conned into these wars. The growing divide between the people who know they have been lied to and the government who covers up the truth about 9-11 is simply not sustainable. The United States is sitting on a political fault line that may slide at any time. When the truth of 9-11 reaches a critical mass there will be a political earthquake that will sweep the criminals from power. This is why the discovery of super-thermite in the dust of the World Trade Center is so important, because it marked the end of the government version of 9-11 as an acceptable explanation.
When the deception and lies about 9-11 are exposed and the Zionist and Israeli culprits revealed, Israel will be left without a friend in the world. The racist and militant Zionist regime of Israel is bound to pass from the stage of history just like the communist dictatorships of the Soviet Union and the apartheid regime of South Africa. Such deeply unpopular regimes often fall without a shot being fired. They simply collapse because they are rotten to the core and unable to stand any longer.
It's too bad Barack Obama didn't consult with Malalai Joya before giving his Nobel acceptance speech on Thursday. The ex-Afghan Parliamentarian could have helped the president to see that the ongoing US occupation is damaging to both American and Afghan interests. Afghanistan is not the "just war" that Obama defends so passionately in his speech. It's part of a larger US geopolitical strategy which Joya outlines in her new book "A Woman Among the Warlords: The extraordinary story of an Afghan who dared to raise her voice". US policymakers have decided to establish a beachhead in Central Asia to monitor the growth of China, surround Russia, control vital resources from the Caspian Basin, and provide security for US mega-corporations who see Asia as the "market of the future." It is the Great Game all over again. "Victory" in Afghanistan means that a handful of weapons manufacturers, oil magnates, and military contractors will get very rich. That's it. It has nothing to do with al-Qaida, "democracy promotion" or US national security. That's all just public relations pablum.
"A Woman Among the Warlords" is an explosive book that takes a scalpel to many of the illusions surrounding the US invasion of Afghanistan. For example, most Americans have never heard about the "Warlord Strategy", a term that is commonplace among Afghans. That's because it doesn't mesh with the western media's narrative about Afghan "liberation". The truth is, US war-planners, led by Sec Def Donald Rumsfeld, settled on a plan to hand over entire regions of Afghanistan to the warlords before the first shot was fired. The whole "liberation"-meme was just a ruse to elicit support for the war. How many Americans would support sending more troops if they knew that the original justification of the war was a bunch of baloney?
Here's how Joya sums it up in her own words:
"The people of Afghanistan are fed up with the occupation of their country and with the corrupt, Mafia-state of Hamid Karzai and the warlords and drug lords backed by NATO…. It is clear now that the real motive of the U.S. and its allies, hidden behind the so-called "war on terror," was to convert Afghanistan into a military base in Central Asia and the capital of the world's opium drug trade. Ordinary Afghan people are being used in this chess game, and western taxpayers' money and the blood of soldiers is being wasted on this agenda that will only further destabilize the region….
I offer my condolences to the families here who have lost their loved ones. (They) are the victims of the wrong policy of your government. The families of Afghan civilians killed in this war share your feelings of loss. If we turn these sorrows into strength, we can end this war. Bringing the troops home at the end of 2011 is too late; the troops should be withdrawn as soon as possible, before more Afghan and American lives are needlessly lost."
Joya is focused and uncompromising; a one-woman wrecking crew. She's also an electrifying speaker who can bring an audience to their feet when she rails against the war. People can sense her intensity, her honesty, and her unwavering commitment to justice. Unlike Obama, she isn't disposed to lofty-sounding platitudes that only serve to perpetuate war and suffering. (Obama Nobel speech: "We must begin by acknowledging the hard truth that we will not eradicate violent conflict in our lifetimes.") Joya's goal is peace; an end to 30 years of war, an end to US occupation and religious fanaticism. Regrettably, Obama's military escalation ensures that the conflict will drag on for years to come bringing misery to even more people.
Malalai Joya: "As I write these words, Afghanistan is getting progressively worse. We are caught between two enemies: the Taliban on one side and US/NATO forces and their warlord hirelings on the other…. Obama's military build up will only bring more suffering and death to innocent civilians…. I hope that the lessons in this book will reach President Obama and his policymakers in Washington, and warn them that the people of Afghanistan reject their brutal occupation and their support of the warlords and druglords." ("A Woman Among the Warlords", p5)
"A Woman Among the Warlords" gives readers a glimpse of the vast destruction brought on by the US invasion. Joya repeatedly denounces Rumsfeld's strategy which restored warlords to power, thus, condemning 32 million Afghans to a life of fear under war criminals and human rights abusers. She also takes aim at the media which provided cover for the warlords by referring to them as the "Northern Alliance"–or the equally misleading–"United Islamic Front for the Salvation of Afghanistan". As Joya points out, attitudes about the conflict are largely shaped by disinformation, omissions and propaganda. Obama's Noble speech proves that those same lies will now be delivered by a more competent spokesman.
Malalai Joya: "While the United States bombed from the sky, the CIA and special forces had already arrived in the northern provinces of Afghanistan to hand out millions of dollars in cash and weapons to Northern Alliance commanders. They were the same extremists whose militias had pillaged Afghanistan during the civil war: Dostum, Sayyaf, Khalili, Rhabbani, Fahim, General Arif, Dr. Abdullah, Haji Qadir, Ustad Atta, Mohammad, Daoud, and Hazrat Ali among others. …Fahim, another ruthless man with a dark past. The western media tried at the time to portray these warlords as "anti-Taliban resistance forces and liberators of Afghanistan," but in fact Afghan people believed they were no better than the Taliban." (Ibid, pg 52)
As the Taliban fled across the Pakistan border amid heavy aerial bombardment, the warlords seized entire provinces reestablishing their iron-fisted rule over the local people. The Bush administration succeeded in replacing one repressive regime with another. No attempt was ever made to establish democracy.
From the New York Times November 19, 2001: "The galaxy of warlords who tore Afghanistan apart in the early 1990s and who were vanquished by the Taliban because of their corruption and perfidy are back on their thrones, poised to exercise power in the ways they always have."
Joya provides biographical sketches of many of the warlords, including Abdul Rasul Sayyaf, a rabid fundamentalist "who massacred thousands in Kabul during the 1990s." In one Kabul purge he ordered his soldiers, "Don't leave anyone alive–Kill them all." Sayyaf was "the person who invited international terrorist Osama bin Laden to Afghanistan during the 1980s. He also trained and mentored Khalid Sheikh Mohammed , the man who the US claims was the mastermind of the 9-11 attacks." (p 67)
How many Americans would continue to support the war if they knew they were protecting the friends of bin Laden and Khalid Sheikh Mohammed?
Malalai Joya again: "Most people in the west have been led to believe that intolerance, brutality, and severe oppression of women in Afgahnistan began with the Taliban regime. But this is a lie, more dust in the eyes of the world from the warlords who dominate the American-backed, so-called democratic government of Hamid Karzai. In truth, some of the worst atrocities in our recent past were committed during the civil war by the men who are now in power."
During the blackest days of the Afghan civil war in 1992, a group of warlords seized Kabul razing much of it to the ground. "The militias of Dostum, Sayyaf, Massoud, Mazari, and Hekmatyar pillaged the city, robbing families and slaughtering and raping women. Eventually, anywhere from 65,000 to 80,000 innocent people were killed in Kabul alone, though there are no official figures for the staggering death toll. According to the United Nations, more than 90 percent of the city was destroyed. (Eventually) "the country was split up into fiefdoms, ruled by the whims of rival thugs and warlords." (Ibid p26)
Joya's Solution: "Withdraw All Foreign Troops"
Malalai Joya: "Some people say that when the troops withdraw, a civil war will break out. Often this prospect is raised by people who ignore the vicious conflict and humanitarian disaster that is already occurring in Afghanistan. The longer the foreign troops stay in Afghanistan, the worse the eventual civil war will be for the Afghan people. The terrible civil war that followed the Soviet withdrawal certainly could never justify… the destruction and death caused by that decade-long occupation." (p 217)…Today we live under the shadow of the gun with the most corrupt and unpopular government in the world. (p 211)
The war that one reads about in the western media, is not the real war. Obama supporters should get a copy of "A Woman Among the Warlords" and compare the reality of occupation to the propaganda in the newspapers. The fact is, the United States has handed Afghanistan over to a group of genocidal maniacs and religious zealots. Even now, the warlords could not continue their brutal repression of the Afghan people without the continued support of the United States. Many of the warlords are still on the US payroll, which Obama somehow failed to mention in his "Peace Prize" speech.
"A Woman Among the Warlords" is a great-read and the perfect antidote for the incessant barrage of war propaganda. It's definitely worth a look.
All the crying from the left about how Obama "the peace candidate" has now become "a war president" … Whatever are they talking about? Here's what I wrote in this report in August 2008, during the election campaign:
We find Obama threatening, several times, to attack Iran if they don't do what the United States wants them to do nuclear-wise; threatening more than once to attack Pakistan if their anti-terrorist policies are not tough enough or if there would be a regime change in the nuclear-armed country not to his liking; calling for a large increase in US troops and tougher policies for Afghanistan; wholly and unequivocally embracing Israel as if it were the 51st state.
Why should anyone be surprised at Obama's foreign policy in the White House? He has not even banned torture, contrary to what his supporters would fervently have us believe. If further evidence were needed, we have the November 28 report in the Washington Post: "Two Afghan teenagers held in U.S. detention north of Kabul this year said they were beaten by American guards, photographed naked, deprived of sleep and held in solitary confinement in concrete cells for at least two weeks while undergoing daily interrogation about their alleged links to the Taliban." This is but the latest example of the continuance of torture under the new administration.
But the shortcomings of Barack Obama and the naiveté of his fans is not the important issue. The important issue is the continuation and escalation of the American war in Afghanistan, based on the myth that the individuals we label "Taliban" are indistinguishable from those who attacked the United States on September 11, 2001, whom we usually label "al Qaeda". "I am convinced," the president said in his speech at the United States Military Academy (West Point) on December 1, "that our security is at stake in Afghanistan and Pakistan. This is the epicenter of violent extremism practiced by al Qaeda. It is from here that we were attacked on 9/11, and it is from here that new attacks are being plotted as I speak."
Obama used one form or another of the word "extremist" eleven times in his half-hour talk. Young, impressionable minds must be carefully taught; a future generation of military leaders who will command America's never-ending wars must have no doubts that the bad guys are "extremists", that "extremists" are by definition bad guys, that "extremists" are beyond the pale and do not act from human, rational motivation like we do, that we — quintessential non-extremists, peace-loving moderates — are the good guys, forced into one war after another against our will. Sending robotic death machines flying over Afghanistan and Pakistan to drop powerful bombs on the top of wedding parties, funerals, and homes is of course not extremist behavior for human beings.
And the bad guys attacked the US "from here", Afghanistan. That's why the United States is "there", Afghanistan. But in fact the 9-11 attack was planned in Germany, Spain and the United States as much as in Afghanistan. It could have been planned in a single small room in Panama City, Taiwan, or Bucharest. What is needed to plot to buy airline tickets and take flying lessons in the United States? And the attack was carried out entirely in the United States. But Barack Obama has to maintain the fiction that Afghanistan was, and is, vital and indispensable to any attack on the United States, past or future. That gives him the right to occupy the country and kill the citizens as he sees fit. Robert Baer, former CIA officer with long involvement in that part of the world has noted: "The people that want their country liberated from the West have nothing to do with Al Qaeda. They simply want us gone because we're foreigners, and they're rallying behind the Taliban because the Taliban are experienced, effective fighters." 1
The pretenses extend further. US leaders have fed the public a certain image of the insurgents (all labeled together under the name "Taliban") and of the conflict to cover the true imperialistic motivation behind the war. The predominant image at the headlines/TV news level and beyond is that of the Taliban as an implacable and monolithic "enemy" which must be militarily defeated at all costs for America's security, with a negotiated settlement or compromise not being an option. However, consider the following which have been reported at various times during the past two years about the actual behavior of the United States and its allies in Afghanistan vis-à-vis the Taliban, which can raise questions about Obama's latest escalation: 2
The US military in Afghanistan has long been considering paying Taliban fighters who renounce violence against the government in Kabul, as the United States has done with Iraqi insurgents.
President Obama has floated the idea of negotiating with moderate elements of the Taliban. 3
US envoy to Afghanistan and Pakistan, Ambassador Richard Holbrooke, said last month that the United States would support any role Saudi Arabia chose to pursue in trying to engage Taliban officials. 4
Canadian troops are reaching out to the Taliban in various ways.
A top European Union official and a United Nations staff member were ordered by the Kabul government to leave the country after allegations that they had met Taliban insurgents without the administration's knowledge. And two senior diplomats for the United Nations were expelled from the country, accused by the Afghan government of unauthorized dealings with insurgents. However, the Afghanistan government itself has had a series of secret talks with "moderate Taliban" since 2003 and President Hamid Karzai has called for peace talks with Taliban leader Mohammed Omar.
Organizations like the International Committee of the Red Cross as well as the United Nations have become increasingly open about their contacts with the Taliban leadership and other insurgent groups.
Gestures of openness are common practice among some of Washington's allies in Afghanistan, notably the Dutch, who make negotiating with the Taliban an explicit part of their military policy.
The German government is officially against negotiations, but some members of the governing coalition have suggested Berlin host talks with the Taliban.
MI-6, Britain's external security service, has held secret talks with the Taliban up to half a dozen times. At the local level, the British cut a deal, appointing a former Taliban leader as a district chief in Helmand province in exchange for security guarantees.
Senior British officers involved with the Afghan mission have confirmed that direct contact with the Taliban has led to insurgents changing sides as well as rivals in the Taliban movement providing intelligence which has led to leaders being killed or captured.
British authorities hold that there are distinct differences between different "tiers" of the Taliban and that it is essential to try to separate the doctrinaire extremists from others who are fighting for money or because they resent the presence of foreign forces in their country.
British contacts with the Taliban have occurred despite British Prime Minister Gordon Brown publicly ruling out such talks; on one occasion he told the House of Commons: "We will not enter into any negotiations with these people."
For months there have been repeated reports of "good Taliban" forces being airlifted by Western helicopters from one part of Afghanistan to another to protect them from Afghan or Pakistani military forces. At an October 11 news conference in Kabul, President Hamid Karzai himself claimed that "some unidentified helicopters dropped armed men in the northern provinces at night." 5
On November 2, IslamOnline.net (Qatar) reported: "The emboldened Taliban movement in Afghanistan turned down an American offer of power-sharing in exchange for accepting the presence of foreign troops, Afghan government sources confirmed. 'US negotiators had offered the Taliban leadership through Mullah Wakil Ahmed Mutawakkil (former Taliban foreign minister) that if they accept the presence of NATO troops in Afghanistan, they would be given the governorship of six provinces in the south and northeast … America wants eight army and air force bases in different parts of Afghanistan in order to tackle the possible regrouping of [the] Al-Qaeda network,' a senior Afghan Foreign Ministry official told IslamOnline.net." 6
There has been no confirmation of this from American officials, but the New York Times on October 28 listed six provinces that were being considered to receive priority protection from the US military, five which are amongst the eight mentioned in the IslamOnline report as being planned for US military bases, although no mention is made in the Times of the above-mentioned offer. The next day, Asia Times reported: "The United States has withdrawn its troops from its four key bases in Nuristan [or Nooristan], on the border with Pakistan, leaving the northeastern province as a safe haven for the Taliban-led insurgency to orchestrate its regional battles." Nuristan, where earlier in the month eight US soldiers were killed and three Apache helicopters hit by hostile fire, is one of the six provinces offered to the Taliban as reported in the IslamOnline.net story.
The part about al-Qaeda is ambiguous and questionable, not only because the term has long been loosely used as a catch-all for any group or individual in opposition to US foreign policy in this part of the world, but also because the president's own national security adviser, former Marine Gen. James Jones, stated in early October: "I don't foresee the return of the Taliban. Afghanistan is not in imminent danger of falling. The al-Qaeda presence is very diminished. The maximum estimate is less than 100 operating in the country, no bases, no ability to launch attacks on either us or our allies." 7
Shortly after Jones's remarks, we could read in the Wall Street Journal: "Hunted by U.S. drones, beset by money problems and finding it tougher to lure young Arabs to the bleak mountains of Pakistan, al-Qaida is seeing its role shrink there and in Afghanistan, according to intelligence reports and Pakistan and U.S. officials. … For Arab youths who are al-Qaida's primary recruits, 'it's not romantic to be cold and hungry and hiding,' said a senior U.S. official in South Asia." 8
From all of the above is it not reasonable to conclude that the United States is willing and able to live with the Taliban, as repulsive as their social philosophy is? Perhaps even a Taliban state which would go across the border between Afghanistan and Pakistan, which has been talked about in some quarters. What then is Washington fighting for? What moves the president of the United States to sacrifice so much American blood and treasure? In past years, US leaders have spoken of bringing democracy to Afghanistan, liberating Afghan women, or modernizing a backward country. President Obama made no mention of any of these previous supposed vital goals in his December 1 speech. He spoke only of the attacks of September 11, al Qaeda, the Taliban, terrorists, extremists, and such, symbols guaranteed to fire up an American audience. Yet, the president himself declared at one point: "Al Qaeda has not reemerged in Afghanistan in the same numbers as before 9/11, but they retain their safe havens along the border." Ah yes, the terrorist danger … always, everywhere, forever, particularly when it seems the weakest.
How many of the West Point cadets, how many Americans, give thought to the fact that Afghanistan is surrounded by the immense oil reserves of the Persian Gulf and Caspian Sea regions? Or that Afghanistan is ideally situated for oil and gas pipelines to serve much of Europe and south Asia, lines that can deliberately bypass non-allies of the empire, Iran and Russia? If only the Taliban will not attack the lines. "One of our goals is to stabilize Afghanistan, so it can become a conduit and a hub between South and Central Asia so that energy can flow to the south …", said Richard Boucher, Assistant Secretary of State for South and Central Asian Affairs in 2007. 9
Afghanistan would also serve as the home of American military bases, the better to watch and pressure next-door Iran and the rest of Eurasia. And NATO … struggling to find a raison d'être since the end of the Cold War. If the alliance is forced to pull out of Afghanistan without clear accomplishments after eight years will its future be even more in doubt?
So, for the present at least, the American War on Terror in Afghanistan continues and regularly and routinely creates new anti-American terrorists, as it has done in Iraq. This is not in dispute even at the Pentagon or the CIA. God Bless America.

Although the "surge" failed as policy, it succeeded as propaganda.
They don't always use the word "surge", but that's what they mean. Our admirable leaders and our mainstream media that love to interview them would like us to believe that escalation of the war in Afghanistan is in effect a "surge", like the one in Iraq which, they believe, has proven so successful. But the reality of the surge in Iraq was nothing like its promotional campaign. To the extent that there has been a reduction in violence in Iraq (now down to a level that virtually any other society in the world would find horrible and intolerable, including Iraqi society before the US invasion and occupation), we must keep in mind the following summary of how and why it "succeeded":
Thanks to America's lovely little war, there are many millions Iraqis either dead, wounded, crippled, homebound or otherwise physically limited, internally displaced, in foreign exile, or in bursting American and Iraqi prisons. Many others have been so traumatized that they are concerned simply for their own survival. Thus, a huge number of potential victims and killers has been markedly reduced.
Extensive ethnic cleansing has taken place: Sunnis and Shiites are now living much more than before in their own special enclaves, with entire neighborhoods surrounded by high concrete walls and strict security checkpoints; violence of the sectarian type has accordingly gone down.
In the face of numerous "improvised explosive devices" on the roads, US soldiers venture out a lot less, so the violence against them has been sharply down. It should be kept in mind that insurgent attacks on American forces following the invasion of 2003 is how the Iraqi violence all began in the first place.
For a long period, the US military was paying insurgents (or "former insurgents") to not attack occupation forces.
The powerful Shiite leader Muqtada al-Sadr declared a unilateral cease-fire for his militia, including attacks against US troops, that was in effect for an extended period; this was totally unconnected to the surge.
We should never forget that Iraqi society has been destroyed. The people of that unhappy land have lost everything — their homes, their schools, their neighborhoods, their mosques, their jobs, their careers, their professionals, their health care, their legal system, their women's rights, their religious tolerance, their security, their friends, their families, their past, their present, their future, their lives. But they do have their surge.
The War against Everything and Everyone, Endlessly
Nidal Malik Hasan, the US Army psychiatrist who killed 13 and wounded some 30 at Fort Hood, Texas in November reportedly regards the US War on Terror as a war aimed at Muslims. He told colleagues that "the US was battling not against security threats in Iraq and Afghanistan, but Islam itself." 10 Hasan had long been in close contact with Anwar al-Awlaki, a US-born cleric and al Qaeda sympathizer now living in Yemen, who also called the US War on Terror a "war against Muslims". Many, probably most, Muslims all over the world hold a similar view about American foreign policy.
I believe they're mistaken. For many years, going back to at least the Korean war, it's been fairly common for accusations to be made by activists opposed to US policies, in the United States and abroad, as well as by Muslims, that the United States chooses as its bombing targets only people of color, those of the Third World, or Muslims. But it must be remembered that in 1999 one of the most sustained and ferocious American bombing campaigns ever — 78 days in a row — was carried out against the Serbs of the former Yugoslavia: white, European, Christians. Indeed, we were told that the bombing was to rescue the people of Kosovo, who are largely Muslim. Earlier, the United States had come to the aid of the Muslims of Bosnia in their struggle against the Serbs. The United States is in fact an equal-opportunity bomber. The only qualifications for a country to become an American bombing target appear to be: (a) It poses a sufficient obstacle — real, imagined, or, as with Serbia, ideological — to the desires of the empire; (b) It is virtually defenseless against aerial attack.
Notes
For the news items which follow if not otherwise sourced, see:

The Independent (London), December 14, 2007
Daily Telegraph (UK) December 26, 2007
The Globe and Mail (Toronto) May 1, 2008
BBC News, October 28, 2009 ↩

New York Times, March 11, 2009 ↩
Kuwait News Agency, November 24, 2009 ↩
Pakistan Observer (Islamabad daily), October 19, 2009; The Jamestown Foundation (conservative Washington, DC think tank), "Karzai claims mystery helicopters ferrying Taliban to north Afghanistan", November 6, 2009; Institute for War and Peace Reporting (London), "Helicopter rumour refuses to die", October 26, 2009 ↩
IslamOnline, "US Offers Taliban 6 Provinces for 8 Bases", November 2, 2009↩
Washington Times, October 5, 2009, from a CNN interview ↩
Wall Street Journal, October 13, 2009 ↩
Talk at the Paul H. Nitze School for Advanced International Studies, Washington, DC, September 20, 2007. ↩
Christian Science Monitor, November 17, 2009 ↩
Is it time to disband the Republican Party?
Surely, the events of the past week suggest that the G.O.P. has outlived its shelf-life and needs to be conveyed pell-mell to the nearest dumpster. First, there was the Joe Wilson flap, where the indignant representative from South Carolina barked "You Lie" to President Barack Obama during his prepared remarks to Congress on health care. This is the very same Wilson who applauded all the bogus allegations about imaginary weapons of mass destruction and ties to al-Qaida made in countless speeches by ex-president George W Bush. Now we are expected to believe that Joe is acting in "good conscience" in opposing minimal health care to a larger swath of uninsured Americans?
Right.
Typical of Bush-era Republicans, Wilson issued a groveling apology to the White House, and then–just hours later–made an about-face in an appearance on the Sean Hannity program. Wilson defended all the canards which Obama effectively disproved in Wednesday night's speech. Here's a clip from the FOX News transcript:
WILSON: And we had the Congressional Research Office. Just last month, in August, they did a study and indicated that there were no restrictions against providing or not enforceable restrictions for illegal aliens to fully participate in the programs.
HANNITY: All right. Here's the question because I read the bill, every page of it. And.
WILSON: I did, too.
HANNITY: And I — your interpretation, I agree with Congressional Research Office on immigration. I also believe that they've come up with a sneaky way to fund abortions, although they're denying it. Do you agree with me on abortions and on Medicare cuts?
WILSON: I do. Because — and when you read the bill, it really doesn't take long, because you can see that you have the health choice administration commissioner. And this commissioner will have czar-like powers and could do virtually anything they wanted to do, including abortion coverage."
Hmmmm? So immigrants will be able to get free health care because they are not explicitly restricted from the program? Now that's a bit of a stretch.
Wilson applies the same back-asswards logic to abortion–which is NOT provided for under the provisions of the bill–but will be allowed (Wilson speculates) because the program will have a "czar-like" commissioner who oversees operations.
Question: What large government program does NOT have a commissioner? Do they all have "czar-like" powers or just the ones that Wilson and his insurance-lobby friends oppose?
So, if Wilson believes so strongly that he's right, why did he apologize to Obama? Either he caved in to the pressure or he's being insincere? He's either a coward or a hypocrite. Which is it?
Regrettably, the ongoing Republican meltdown doesn't end with Wilson's outburst. It has since spread virus-like to the torrid escapades of California congressman Mike Duvall, the randy graybeard who was caught on tape boasting about his steamy encounters with industry lobbyists.
"She is so hot!", Duvall moaned as he recounted the story of his spanking sessions with shapely lobbyists in "eye-patch" underwear (whose only interest was to use the arthritic Yorba Linda dinosaur to nuzzle closer to the public trough) Duvall has since stepped down as congressman (while denying all wrongdoing) and has been stripped of his role on the House Ethics Committee, a stinging blow to the family values-espousing conservative.
So far, there's no proof that the powerful lobbies in Sacramento knew that sexual favors were being traded for votes.
Uh, huh.
The Los Angeles Times summed it up best saying, "Money is at least as powerful a motivator as sex. Someone frequently gets screwed as a result; all too often, it's the people of California."
Indeed.
So, Duvall will now join the long caravan of ex-Republican leaders whose wick-dipping shenanigans and duplicity brought their careers to a swift close.
How much longer will the public put up with this nonsense before the party is banned altogether and its leaders are released on a street in Falluja with a sidearm and a week's worth of C-rations?
Remember when people used to take the Republicans seriously?
Think back to Eisenhower or Goldwater or Reagan. Yes, even the waxy-coiffed "Gipper" was far superior to the present crop of clownshoes conservatives who fill-out the Republican congressional roster. Where do they get these guys? And, how does a legitimate political party deteriorate into a frat-boy rabble of clueless misfits and crackpots so fast?
The truth is, the Republicans are simply a party adrift, lacking both purpose and vision. The main problem is that it is extremely hard to rally support for a platform which includes just two planks; war and tax cuts. That's just not a winning message. That's why Republicans are always trying to attach themselves to anti-choice, pro-gun conservatives–to create the impression that they feel passionately about something besides killing and money. But it's a tough-sell, especially given Bush's record of doubling the national debt and initiating bloody conflicts from the southern coast of Somalia to the northern tip of Afghanistan–a 12 thousand arc of instability compliments of the GOP.
Republicans have also demonstrated their utter lack of sincerity about their signature moral issue, abortion. Does anyone remember George W. Bush–who controlled both houses of congress– pushing legislation to make abortion illegal?
Of course not. It was all phony posturing. Just like the flap over Obama's fiscal stimulus is just phony posturing. The Republicans know what happens when businesses and consumers stop spending and the government doesn't take up the slack; stock markets crash, businesses can't roll over their debt, bank failures spike, and unemployment skyrockets. They weren't going to let that happen. The only choice was to pump money into the system via tax cuts, public works programs, state aid and extended unemployment insurance and wait for a rebound. George Bush would have done the same thing, in fact, he did. Bush initiated the first stimulus package, a fact that the Republican "deficit hawks" always fail to mention.
Without stimulus, a recession can turn into a Depression. Hard times can get even harder.
The Republicans have morphed into the party of "No" –not because of their strong convictions and commitment to principle–but because they think it will improve their chances in the mid-term elections. That's all there is to it. The only thing that matters is regaining power, and that means, making sure that Obama fails. Every shrieking protester at a Town Hall meeting is another triumph for the Republicans; another step-stone back to the White House. This is political opportunism at its worst—pushing the country towards anarchy for political advantage. The Republicans have become a party of thugs.
It would be better for everyone if they rolled up their tent and called it quits. Good riddance.
In a speech at the Council on Foreign Relations (CFR) on Wednesday, Secretary of State Hillary Clinton outlined the Obama administration's foreign policy, which has been widely touted as a sharp break from that of his predecessor's. Judging from commentary in the media, Obama has ushered in a new age of diplomacy and international engagement. Clinton herself suggested as much.
But setting aside the platitudes that comprised most of Clinton's speech and looking closely at her remarks that actually spoke meaningfully towards U.S. policy under the Obama, a different picture emerges, one not of a change of course from Bush but rather of near perfect continuity between the two administrations.
Obama's foreign policy parallels Bush's. The train may have switched tracks, but it's still headed in the same direction.
Take, for starters, the framework Clinton established early on in her speech. "Liberty, democracy, justice and opportunity underlie our priorities", she said. "Some accuse us of using these ideals to justify actions that contradict their very meaning. Others say we are too often condescending and imperialistic, seeking only to expand our power at the expense of others. And yes, these perceptions have fed anti-Americanism, but they do not reflect who we are."
See, U.S. foreign policy doesn't really contradict enlightened rhetoric and declarations of benevolent intent from policy makers. The U.S. isn't really condescending or imperialistic. It doesn't really seek only to expand its power at the expense of others. No, these are merely "perceptions", and false ones. The obvious corollary is that we musn't change our policies, only work to correct these warped perceptions that cause people to unjustly oppose U.S. actions.
It hardly needs to be said that there's nothing new about that formula.
The multilateralism touted by Obama is different from Bush's unilateralism, but only slightly. The difference is that Bush openly declared that if you aren't with us, you're against us. Obama's team is being more nuanced and diplomatic in talking about building the "architecture of global cooperation".
But in the end, it's still about furthering U.S. interests as perceived by Washington and the corporate oligarchy. Cooperation and multilateralism, as it was under Bush, is fine, so long as it serves our "interests" as defined by that minority segment of the population. Obama's strategy is quite different in terms of rhetoric about diplomacy, but the actual policy goal goals are indistinguishable from previous administrations.
One means by which policy goals are accomplished is through NATO, a matter that Clinton addressed. She observed that NATO was designed for the Cold War. But rather than becoming obsolete with the end of the Cold War, even now, two decades later, NATO must instead be restructured "to update its strategic concept so that it is as effective in this century as it was in the last."
This is precisely the same policy as previous administrations.
Or take Clinton's remarks about the Israeli-Palestinian conflict. She says the Obama administration "wasted no time in starting an intensive effort on day one to realize the rights of Palestinians and Israelis to live in peace and security in two states".
President Bush said exactly the same thing in not dissimilar language, only to implement an actual policy that fully supported Israel's crimes against the Palestinians, including it's 23-day full-scale military assault on Gaza beginning December 27.
U.S. policy under Obama hasn't altered that framework one iota. The House of Representatives, for example, just approved Obama's foreign aid budget that rewards Israel for it's massacre of Palestinians in Gaza and other violations of international law with an additional $2.2 billion, on top of $555 million already allocated earlier this year.
Still, we are supposed to believe that the Obama administration is doing something "to ease the living conditions of Palestinians, and create circumstances that can lead to the establishment of a viable Palestinian state." Clinton offers no evidence that the U.S. has done anything more than spout rhetoric about this, rendered meaningless by the U.S.'s actual actions.
Bush and Obama alike have paid lip service to the rights and aspirations of the Palestinians, but the actual facts about U.S. foreign policy point to an opposite conclusion from the one Clinton would have the public believe.
Clinton's remarks on Iran similarly reflect perfect continuity from the Bush administration framework, asserting "the Iranian march toward a nuclear weapon" as fact, despite the complete lack of evidence to support the claim, and even the conclusion of the U.S.'s own intelligence community to the contrary.
The Obama administration has made it's position clear. It is willing to engage in "diplomacy" with Iran. The proposed "dialogue" and offer "to engage Iran" would entail "giving its leaders a clear choice: whether to join the international community as a responsible member" by acquiescing to U.S. demands to halt uranium enrichment, "or to continue down a path to further isolation" by refusing to accept the U.S. ultimatum.
This policy doesn't differ from Bush's one jot or one tittle, except inasmuch as it is an escalation of the Bush policy. "We remain ready to engage with Iran," Clinton reminds us, "but the time for action is now. The opportunity will not remain open indefinitely."
As Clinton has explained earlier, sanctions even more stringent than those imposed under Bush, "crippling sanctions" in her words, will follow. Iran must be punished for refusing to bow to the will of Washington, and if there's a change, it's that Obama is even more eager than Bush to inflict it.
The policy formula for Afghanistan and Pakistan is familiar enough: "In Afghanistan and Pakistan, our goal is to disrupt, dismantle, and ultimately defeat al-Qaida and its extremist allies, and to prevent their return to either country." This warrants little comment, other than the observation that Obama hasn't only continued Bush's policy here, but escalated it by "sending an additional 17,000 troops and 4,000 military trainers to Afghanistan."
Or take Iraq, where the Obama administration is "developing a long-term economic and political relationship … as outlined by the US-Iraq Strategic Framework Agreement" that was implemented under the Bush administration. No comment is required here.
And what about U.S. policy towards "enemy combatants"? Clinton asserted, "We renewed our own values by prohibiting torture" — but torture has always been prohibited under U.S. law. Obama's Executive Order didn't do anything new, it merely reiterated already existing prohibitions.
Clinton said the administration is "beginning to close the Guantanamo Bay detention facility." What she meant is that they've begun the process of beginning the process to close "Gitmo". It's a long ways from actually closing, and there's plenty of opposition and other obstacles to overcome before this can happen, assuming the administration is sincere in its stated desire to shut Gitmo down.
There's little reason to doubt their sincerity; shutting down Gitmo would be a useful way to do away with what has become a symbol for the unjustness of U.S. detention policy while doing little or nothing to actually alter that policy.
Obama, for instance, has not challenged, but accepted and reinforced the assumption of Executive power employed under the Bush administration under which detainees were captured and imprisoned in Gitmo in the first place.
On policy issue after policy issue, the continual torrent of media commentary to the contrary aside, the Obama administration represents a continuation of the existing power establishment and goals and means of furthering U.S. strategic interests as defined by that very narrow and entirely self-interested segment of American society.
The CFR itself is among the prominent means by which these narrow interests perpetuate themselves. Clinton, herself a member, made some telling offhand remarks before beginning her scripted speech. Remarking on the CFR's new headquarters in Washington, D.C., she said, "I am delighted to be here in these new headquarters. I have been often to I guess the mother ship in New York City, but it's good to have an outpost of the Council right here down the street from the State Department. We get a lot of advice from the Council, so this will mean I won't have as far to go to be told what we should be doing and how we should think about the future."
And so it goes, business as usual.
No secretary of state will come to that office with stronger pro-Israel credentials or closer ties to the Jewish community than Sen. Hillary Clinton, Douglas Bloomfield assures his readers in The Jerusalem Post. Good for them; but for the rest of us, Mrs. Clinton's appointment as the third woman U.S. Secretary of State is hugely problematic. It heralds "the end of the world as we know it," in many ways, although neither she nor her coterie necessarily know what they are doing. That dumb bliss may be their sole saving grace.
At the technical level, Hillary Clinton is likely to deepen the chronic crisis of the once-venerable institution at Washington's Foggy Bottom, to which her two female predecessors have contributed in two different ways.
Madeleine Albright was an activist who will be remembered for her hubris ("If we have to use force, it is because we are America. We are the indispensable nation. We stand tall. We see further into the future."), coupled with studied callousness. Asked on "60 Minutes" about the death of a half-million Iraqi children due to sanctions, she promptly responded, "I think this is a very hard choice, but the price is worth it." Her crowning glory was her premeditated 1999 war in the Balkans, prior to which she said that "the Serbs need a little bombing." Her State Department contributed to the formulation, as well as execution, of Bill Clinton's doctrine of "humanitarian intervention."
Condoleezza Rice, less evil and more obtuse, will be remembered for nothing. She was an auxilliary tool of the Bush-Cheney team, with all key decisions made elsewhere.
Mrs. Clinton will try to rebuild the relative importance of the Department of State, which will become her personal fiefdom, but her labors will not be for the better. Her appointment, the most significant among several major figures from the Clinton era, belies Obama's rhetoric of "change" when it comes to foreign affairs. There will be tectonic shifts, cultural and moral, at home. The established premises of an imperial presidency – which in world affairs inevitably translates into the quest for dominance and justification for global interventionism – will not be challenged, however.
Once it is accepted that Obama's primary interest lies in an irreversible redistribution of power and money at home, it ceases to be surprising that he chose Hillary Clinton as his chief diplomat. Allowing her to indulge in some global grandstanding is acceptable to him, if that means the Clintons will not stand in the way of his domestic agenda. They are both revolutionaries, after all: that Mrs. Clinton is instinctively opposed to any traditional understanding of diplomacy became obvious during the primary campaign, when she accused Obama of "naivete" for saying he was willing to meet leaders of Iran, Syria and North Korea.
With Robert Gates staying at the Pentagon and Jim Jones as Obama's national security adviser, there will be a lot of continuity in the U.S. foreign policy, not only with the 1990s but also with recent years. In Mrs. Clinton's case there will be more lies, the hallmark of the family. During the primaries she listed a number of foreign policy accomplishments based on her husband's legacy. She claimed that in 1999 she "negotiated open borders" in Macedonia to Albanian refugees from Kosovo, although the crossings were opened days before her arrival. She had repeatedly invoked her "dangerous" trip to Bosnia in 1996, including alleged snipers at Tuzla airport, whereas the Bosnian war had ended six months earlier and video footage shows smiling schoolchildren greeting her in Tuzla. (She later admitted "misspeaking" over sniper claims.)
In the same spirit Mrs. Clinton declared, in late 2002,
"Saddam Hussein has worked to rebuild his chemical and biological weapons stock, his missile-delivery capability and his nuclear program. He has also given aid, comfort and sanctuary to terrorists, including al-Qaida members. I want to insure that Saddam Hussein makes no mistake about our national unity and for our support for the president's efforts to wage America's war against terrorists and weapons of mass destruction."
Hillary Clinton says that she has had second thoughts since that time, and a year ago she declared in Foreign Affairs magazine that "US troops should be brought home." During the primary campaign, however, she was markedly less willing than Obama to commit to a withdrawal timetable. The woman who voted to authorize the Iraq war, and who parroted lies used to justify it, cannot be expected to clean up the mess created by that war. It is more likely that she will advocate a downsized, rebranded, and effectively open-ended U.S. occupation of Iraq for which the military has been preparing ever since the "Surge."
In Afghanistan, far from disengaging, Mrs. Clinton will advocate greater troop deployments and an escalation of military activity. On Iran, during the primaries she sounded like John McCain: "I want the Iranians to know that if I'm the president, we will attack Iran" if it attacks Israel, she declared last April: "In the next 10 years, during which they might foolishly consider launching an attack on Israel, we would be able to totally obliterate them." She will negotiate with the mullahs, however, if Tehran's tacit support is considered necessary for the achievement of her major ambition: a breakthrough in the Middle East.
Bill Clinton came closer than any U.S. president to brokering Arab-Israeli peace in the final year of his presidency, and insiders say that Hillary will place this issue at the top of her agenda. She is a favourite of the pro-Israel lobby, however, and it is unclear what she can offer, or do, in 2009-2010 that was not offered or tried at Camp David a decade earlier.
A Palestinian state in Gaza and the West Bank in return for recognition of Israel's right to exist, security guarantees, and diplomatic recognition, is all fine but distinctly déjà vu. She will need to present a fresh formula, but to make it viable she will have to start by rephrasing her stated support for "undivided" Jerusalem. Considering the realities of American politics, she may find it harder to do so than Ehud Olmert, the city's former mayor and – until recently – Israel's prime minister.
The misnamed war on terrorism is the weakest spot in Barack Hussein Obama's global agenda, and Hillary Clinton will do nothing to rectify the problem. Alone among leading contenders of either party, she has no section devoted to fighting terrorism on her website and had very little to say on it during the campaign. "We know we need global coalitions to tackle global problems like climate change, poverty, AIDS, and terrorism," she declared, hinting at her priorities.
To confuse natural phenomena, human condition, and a lifestyle-inflicted disease with the most tangible real and present threat to Western civilization would be remarkable in any prominent public figure. In view of Mrs. Clinton's appointment it is alarming.
That she does not understand the phenomenon of Jihad was evident during her U.S. Senate campaign, in the course of which on at least two occasions she hosted receptions organized by the Muslim Public Affairs Council (MPAC), a group that has promoted the activities of Hamas, Turkey's fundamentalist Welfare Party, and the Muslim Brotherhood. Mrs. Clinton had to return $50,000 received from MPAC—the Jewish vote in New York was at risk!—but she justified her contacts by claiming that she was trying "to promote a framework for peace," that included "lines of communication to many different groups and many different individuals."
Her "framework for peace" in the Balkans is the same as her husband's: unqualified support for Muslims in Bosnia and Kosovo against their Christian neighbors. In her book Hillary's Choice, Gail Sheehy recalls that she pressed Bill to start the Kosovo war in 1999. When he expressed concern that bombing could have undesirable effects, including the prospect of rising civilian casualties, Hillary persisted: "I urged him to bomb. You cannot let this go on at the end of a century that has seen the major holocaust of our time. What do we have NATO for if not to defend our way of life?"
There had never been a "holocaust" in Kosovo, of course, but to this day she sees the U.S.-led NATO aggression against Serbia as a good war. In her Senate speech before the Iraq war vote she pointed approvingly to her husband's decision and drew parallels to the Bush administration's rationale for removing Saddam from power.
On the slender plus side, Hillary Clinton appears to be less Russophobic than some of Obama's advisors, notably Zbigniew and Mark Brzezinski. She has criticized the Bush administration's "obsessive" focus on "expensive and unproven missile defense technology," the deployment of which in Poland and the Czech Republic is a key point of contention between Washington and Moscow. She favors further reducing both sides' nuclear arsenals, and also supports U.S. Senate approval of the Comprehensive Test Ban Treaty. On the key issue of further NATO enlargement, however, both she and Obama will continue the Bush administration's flawed policy of seeking membership for Ukraine and Georgia.
That Obama's foreign policy may follow the neoliberal-hawkish Democratic tradition became apparent with the selection of Sen. Joe Biden as his running mate, and soon after the election with the appointment of Rep. Rahm Emanuel as his chief of staff. It is not incidental that both were enthusiastic supporters of Clinton's war against Yugoslavia in 1999, which marked a significant turning point not only for America and NATO but also for the West as a whole. It was the first time in American history that the principle of state sovereignty, and of the rule of law itself, were subverted in the name of an allegedly humanitarian ideology of velvet-totalitarianism.
The Clintons' disregard for old international norms and mechanisms for the protection of national liberties, or their misuse as tools of their destruction, was as revolutionary on the global scene as Obama's presidency will be domestically. In that sense Hillary Clinton's appointment may reflect Obama's understanding that they are partners in the same project of transforming reality to fit their ideological preferences. At a less lofty level this decision may nevertheless prove to be his first major blunder. It is difficult to imagine Obama – or anyone else – keeping the Clintons under control for an extended period of time. He has made himself hostage not only to Hillary's inevitable games and whims, but also to the future conduct of her husband.
Bill Clinton made his comeback in September 2005, when he assembled 800 prime ministers, kings and other worthies to launch the Clinton Global Initiative to address "poverty, global warming, religious conflict and better governance." He has gone far since. There are 208,000 donors to the William J. Clinton Foundation, which covers the Global Initiative as well as his presidential library. The list includes controversial associates like Frank Giustra, the Canadian billionaire who went with Bill Clinton to Kazakhstan and subsequently obtained a $425m mining contract there. Even as his wife was negotiating the Cabinet deal with Obama in late November, Clinton was in Kuwait giving a half-million-dollar speech on the global financial crisis, compliments of the host country's National Bank. The potential for scandal is considerable.
Hillary's ambition is another ticking bomb. She is presenting a smiling face now, but she detests the man who stole the nomination she regarded as rightfully hers. There will never be a relationship of trust and confidence between them.
"Two of the nation's greatest secretaries of state in the modern period, Dean Acheson and Henry Kissinger, were not personally close but were intellectually bonded to their presidents," notes Walter Isaacson, the co-author of "The Wise Men," a book about America's postwar foreign policy establishment. The comparison is not apt. Neither Acheson nor Kissinger were presidential hopefuls. Hillary Clinton, by contrast, sees herself as destined to be the first woman president. If the attainment of that goal demands contradicting, undermining, or otherwise betraying the first black president, she will do it.
With Obama at the Oval Office and Hillary Clinton at State, America is less likely than ever to rediscover a world in which she will be secure and free, and will not threaten security and freedom of others. Those goals are inseparable from the preservation of our identity and our liberty at home. They are unattainable because this country's domestic liberty and identity are at greater peril than ever.
This government cannot articulate foreign policy strategies founded upon the notion of America as a real, completed nation, because the chief executive wants to turn it into a very different nation.
The United States could have and should have rediscovered the definable American Interest, and proclaimed it to be the foundation of its diplomacy, as befits a coherent and harmonious polity.
It was not to be, alas. May God help us all: Kyrie eleison.

Dr. Srdja Trifkovic is a regular columnist for Novakeo.com

Dr. Trifkovic is Foreign Affairs Editor of Chronicles: A Magazine of American Culture, published by The Rockford Institute, and Director of the Institute's Center for International Affairs. He has a BA (Hon) in international relations from the University of Sussex (UK), a BA in political science from the University of Zagreb (Croatia), and a PhD in history from the University of Southampton (UK).
www.trifkovic.mysite.com
The American people were led to believe that America's fine men and women in uniform were sent halfway around the world to Iraq and Afghanistan to fight a "war on terror." Of course, everyone now knows that Saddam Hussein had nothing to do with the attacks on September 11, 2001. I am sure that most everyone also remembers that the vast majority of the terrorists who participated in those attacks were from Saudi Arabia, not Iraq. Yet, Saudi leaders continue to enjoy the coziest of relationships–and, dare I say, friendships–with President George W. Bush.
Does anyone besides me remember when Bush said that countries had to decide whether they would be friends with either terrorists or the United States, but that they could not be friends with both? Well, Saudi Arabia has probably financed, supported, and befriended more terrorists in the Middle East than any other nation in the world (except perhaps Red China), yet they continue to be "friends" with the United States.
Another glaring inconsistency regarding the "war on terror" is the fact that for some seven years since the 9/11 attacks, our nation's borders and ports are as open and porous as ever. These open borders make the argument that "we are fighting them over there, so we won't have to fight them over here" look absolutely disingenuous–even laughable.
If foreign terrorists want to bring the fight to America's streets again, they still have plenty of opportunity to do so. In fact, we have no idea how many potential terrorists have already slipped across our borders and are right now living among us. Furthermore, we have no idea how many potential terrorists continue to pour through these wide open sieves that we call borders.
How can this administration look the American people in the eye with a straight face and claim that it is fighting a "war on terror," while it does almost nothing to secure our borders and ports? As Marcellus said in Shakespeare's Act 1 of Hamlet, "Something is rotten in the state of Denmark." Amen. Something is also rotten in Washington, D.C.
Besides, why should al Qaeda attack us now? The U.S. occupation of Iraq is the best recruiting tool they ever had. Do the American people not realize (I think most of them actually do) that, thanks to our protracted occupation of Iraq, al Qaeda might actually be stronger now than it was when we invaded that country in 2003.
If the Bush administration was serious about fighting a war on terror, it would absolutely, resolutely, and immediately seal our borders and ports. It is nothing short of lunacy to send our National Guard forces to Iraq for the purpose of protecting that country's borders, while leaving America's borders wide open!
Not only does the Bush administration not secure our borders and ports, it wants to provide a "path to citizenship" for illegal aliens. It allows tax dollars to be used to pay for illegal aliens' education, social services, and medical care. It offers birthright citizenship for illegal aliens. And it prosecutes and imprisons Border Patrol agents Ignacio Ramos and Jose Compean for shooting (but not seriously enough to prevent his escape back into Mexico) a known illegal alien and drug trafficker.
No wonder the flood of illegal aliens has skyrocketed since George W. Bush became President of the United States.
And is there anyone who does not understand that a John McCain Presidency will be more of the McSame? A McCain White House promises a 100-year occupation of Iraq along with continued open borders and ports. Plus, McCain will also push forward with his plans to grant amnesty to illegal aliens.
In addition, when it comes to illegal immigration, amnesty, etc., there will be no relief from an Obama White House. Both Barack Obama and John McCain are pro-open borders, pro-amnesty twins.
Instead of fighting a "war on terror," the Bush administration (and numerous administrations before it) is allowing our troops to be used as the personal militia of the United Nations and for the commercial benefit of international corporations.
Remember, soon after our troops invaded Iraq, President Bush explicitly reported that the reason for the invasion was to defend "the credibility of the United Nations." But this has been the pattern of White House behavior ever since the U.N. was created back in 1945. Presidents from both parties have repeatedly injected U.S. troops into copious conflicts and wars, all for the purpose of enforcing and augmenting the policies of the United Nations.
In fact, the last constitutional conflict that the U.S. military fought was World War II. Virtually every war since has been a U.N. manufactured and manipulated conflict. The war in Iraq is no different.
I ask the reader, If you were President, and you sincerely believed that you were fighting a war on terror, and that you had to take the drastic action of sending other men's sons and daughters to fight and die in order to wage this war (not to mention the prospect of potentially bankrupting the country to fight it), would you be so careless or indifferent as to not close the borders to the threat of terrorists who might actually decide to attack us? I doubt that there is a reader who would not agree that anyone who took such a task seriously would–at the very minimum–do this.
So, I repeat: the fact that George W. Bush refuses to seal our borders and ports proves that whatever else he thinks he is accomplishing in Iraq, he is disingenuous when he proclaims that he is fighting a "war on terror." (Again, the country that had the closest connections to the 9/11 terrorists was Saudi Arabia, not Iraq. If fighting the terrorists was the focus, why did Bush not attack Saudi Arabia?)
And that means John McCain is disingenuous when he says he wants U.S. troops to stay in Iraq for 100 years so "we won't have to fight the terrorists over here" while, at the same time, promoting amnesty for illegal aliens (which does nothing but promote even more illegal immigration).
No, my friends. The real war is not a "war on terror." The real war is a war against constitutional government, personal liberty, and national sovereignty. It is a war against the fundamental principles of America's Founding Fathers, that America should be a friend and trader with all, but engaged in entangling alliances with none. It is a war against the Bill of Rights. It is a war against the Spirit of '76, the spirit that says America is a free and independent country, subservient to no international entity or interest. It is a war against the principle that would put America first. It is a war against the very heart and soul of everything this country has stood for ever since our patriot forebears stood on Lexington Green and Concord Bridge. And this war is not being waged from Baghdad or Tehran. It is being waged from Washington, D.C.

Chuck Baldwin is a guest columnist for Novakeo.com
You can reach him at: chuck@chuckbaldwinlive.com
Please visit Chuck's web site at http://www.chuckbaldwinlive.com
You know, the patience that you are asking the American people to provide while you continue to slog around in the quagmire called Iraq; while the "surge" creates conditions that will unite the Iraqi people. May I be so bold as to remind you that one of your campaign promises was to unite the American people? Seven years later, the United States is more divided than at any time since the infamous Civil War. And that is only problem one.
How many more of our sons, daughters, brothers, sisters, husbands. wives, fathers and mothers do you intend to be slaughtered or totally broken in mind and body before they are allowed to come home to salvage their homes, marriages, and family relationships as they work to restore the long-neglected framework of American life? You have stated that your goal is to establish democracy in the Middle East, a laudable goal on its deceptive face, but the problem is much deeper than that.
You say that the Iraqi people want peace and perhaps they do, on a temporary basis. However, even there, your premise is fatally flawed. First, there are no "Iraqi people"! Never were and probably never will be. Their religious, cultural, and historical differences are too deep and any reconciliation will take thousands of years because they have been just as they are for that long already. You see, history tells us that the whole area of the former Mesopotamia was populated by bands of nomadic warriors, loyal to nobody except their tribal leaders and willing and able at any time to shed the blood of anybody from any other tribe. They were eventually placed under a British "protectorate" but the Englishmen found nothing but a perpetual war on their hands and never did create anything resembling a peaceful state among them.
When England proposed to end their protectorate, the world leaders met in conference to decide what could be done with Mesopotamia as a whole. They recognized Saudi Arabia, Iran, and Syria as independent nations and turned Kuwait over to the governance of the sheiks. Other small nations were carved out, which left them with a large area containing the tribes which either did not fit anywhere else or whom they did not trust with independence. Turkey did not and does not want the Kurds because they might unite with the Turkish Kurds and start a revolution in that country. They would not allow Iran to include the area because it would make Iran too large and powerful, and culture of the remaining tribes was so worrisome that they would cause trouble in any nation that might accept them.
And so, in an agreement of inspired practicality, they bundled them all together, gave them limited access to the sea, and placed them under the rule of a brutal despot under the theory that only by force could they be controlled. And it worked! While the Kurds did cause trouble for Turkey from time to time, or the Ba'athists did start a row with Iran occasionally, they were largely kept under control by their ruling tyrants. Even your father, President George H. W. Bush, put them back within their borders after they invaded Kuwait and sanctions were imposed upon them by the United Nations. This caused them great suffering but it kept them inside their assigned space and they were no threat to anybody.
Now, back to the subject of patience which, by the way, has never seemed to be your own long suit. When the conglomeration of Egyptians and Saudis flew those planes into the World Trade Center, the patient and prudent thing to do would be to allow the criminal justice system of the world to work, to track down their instigators, and to bring them to justice in the same way we did with the first group who thought they could bomb our most prominent landmark with impunity. But you were not amenable to patience and prudence and, instead, launched an aggressive war against the nation of Afghanistan.
You had none when you, for your own reasons, decided that it was necessary to invade Iraq and those reasons changed as often as they were proven wrong. Now you tell us that our goal is to provide "peace. freedom, and democracy". You could have left the problem, (whatever it was), in the hands of the UN and let that body have all the patience in the world, taking all the time that was necessary to assure that the Iraqi penchant for violence was once again under control. However, then, it was yourself who had no patience. You could not wait to invade an already weakened nation of ill and half-starved people because, you said, they were a threat to us. With a hastily-assembled "coalition of the willing", the bribed, and the coerced as cover, American soldiers were diverted from Afghanistan and Al Qaida to this never-ending war in Iraq
No, Mr. President, you have exhausted our patience. This is a one-of-a-kind war, unlike any that our nation has ever seen, and we view it as a failure and a wild goose chase. You have destroyed our nation's economy and caused enormous suffering among the populace of this nation as well as that of others with your blind devotion to an endeavor which can only be compared to the folly of the numerous Crusades of the Middle Ages. This nation is tired of your incessant war, of having our men taken from us and asked to fight on to the death against a number of enemies who are simultaneously fighting each other. After six years of your ineptitude, profligate spending, and destruction of our national resources, when you ask for even more patience, you may find that we are already fresh out

Mary Pitt is a regular columnist for Novakeo.com
Mary Pitt is a septuagenarian Kansan, a free-thinker, and a warrior for truth and justice. Huzzahs and whiny complaints may be sent to mpitt@cox.net
Dispatches exposes a new phase in America's dirty war on al Qaida: the rendition and detention of women and children. Last year, President Bush confirmed the existence of a CIA secret detention program but he refused to give details and said it was over.
Dispatches reveals new evidence confirming fiercely-denied reports that many of the CIA captives were held and interrogated in Europe. Those prisons may now be closed but the programme is by no means over, it's just changed. A new front has opened up in the Horn of Africa and America has outsourced its renditions to its allies.