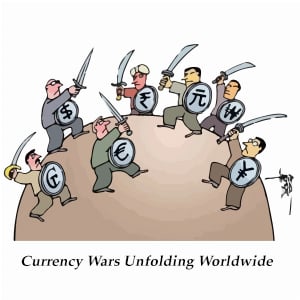 The first two months of 2015 have seen turmoil in the currency markets extend from Russia and Ukraine to the heart of Europe.
"Central Banks Now Open 24/7 Fighting Currency Wars and Deflation," blared a February 12th Bloomberg headline. Against this backdrop, precious metals have been on the rise in terms of all currencies except the Swiss franc and the U.S dollar.
In January, the Swiss National Bank shocked markets by announcing that it would de-link its currency from the euro. The move came one week ahead of the European Central Bank's $1.1 trillion Quantitative Easing announcement. Swiss officials decided it would be too costly to keep accumulating depreciating euros in order to maintain the currency peg. The Swiss franc surged by the most ever in a single day.
With the exception of Switzerland, all other countries in Europe (and many others around the world) are trying to depreciate their currencies.
Since January 1, the following central banks have announced interest rate cuts or other monetary easing measures: European Central Bank, Reserve Bank of Australia, Reserve Bank of New Zealand, Monetary Authority of Singapore, and the central banks of India, Canada, Denmark, and Sweden.
On February 12th, the Swedish Riksbank announced a surprise rate cut from 0% to below 0%. "To ensure that inflation rises towards the target, the Riksbank is prepared to quickly make monetary policy more expansionary, even between the ordinary monetary policy meetings," the world's oldest central bank said in a statement.
Sweden joins the European Central Bank and the central banks of a handful of other countries in pushing benchmark interest rates into negative territory. These central bankers are all aiming to revive inflation. "Investors" who are buying bonds yielding less than nothing (a negative rate) are apparently convinced that central bankers won't succeed in depreciating their currencies.
Insanity! Investors Now Paying for the "Privilege" of Lending to Broke Governments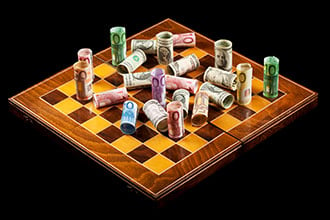 This could go down as one of the oddest, most irrational asset bubbles in history. Trillions of dollars are now tied up in debt instruments that promise to return less than the invested principal. According to a report issued by J.P. Morgan, $3.6 trillion in government bonds around the world now carry negative yields.
It raises the obvious question; why would so many people be willing to accept a negative rate of return?
You'd think that institutional investors would start getting wise to holding gold as a hard-currency alternative to cash instruments that yield less than zero. The fact that gold has no interest rate is actually an advantage in an environment where competing rates are negative! Plus, unlike most of the bonds issued in this upside-down interest rate market, gold has significant appreciation potential.
If inflation rises even modestly to the 2% target of European and U.S. central bankers, then bonds issued at rates of below 2% will all be losers. The two-year Treasury note yields only 0.63%. Even the recent 10-year yield of 1.98% fails to match the Federal Reserve's inflation ambitions.
The fact that gold has no interest rate is actually an advantage in an environment where competing rates are negative!
In this environment of ultra-low nominal yields or even negative real yields, precious metals as a reserve asset look very attractive. Many central bankers around the world agree and are busily accumulating gold. According to a report issued by the World Gold Council in February, governments around the world added 477.2 metric tons of gold to their reserves in 2014. That haul was the second biggest in 50 years.
When inflation fears return to the market, as they eventually will, precious metals will become one of the premier asset classes to hold. Even now, they are performing better than virtually all other world currencies.
The end game of these ongoing currency wars is that all fiat currencies will be debased. And a true flight to quality will accelerate – with assets fleeing depreciating currencies (and debt instruments denominated in them) and piling into gold and silver.
Will the Fed Chicken Out on Rate Hikes?
Of course, right now it's deflation fears that are dominating headlines. But the inflationary policy responses from the European Central Bank and others that have followed the ECB's lead have lifted gold and silver prices markedly in terms of euros and other currencies.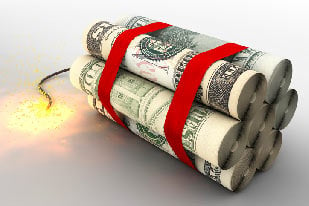 As confidence in European currencies plunges, there's only so much corresponding dollar strength the Federal Reserve is willing to tolerate. There's been much talk of rate hikes coming later this year, and that widespread expectation has been priced into the market. Any rhetorical or policy disappointments from the Fed in the months ahead could cause traders to sell the dollar.
Whether later this year or further down the road, it's only a matter of time before currency turmoil spreads to the United States.
The U.S. has a higher debt-to-GDP ratio than some troubled European countries. It has higher levels of unfunded liabilities (estimated to be in excess of $100 trillion) than any other country. The dollar's status as world reserve currency has allowed the U.S. to become financially overextended. But that vaunted status is slowly deteriorating as Russia, China, and other countries form economic alliances that bypass the dollar.
When these chickens come home to roost, you don't want to be wholly dependent on the U.S. government's promises or its currency. Sizeable holdings in physical precious metals will help make you financially resilient in the face of the spreading global currency crisis.
Is Putin Creating A New World Order?
"If undercharging for energy products occurs deliberately, it also effects those who introduce these limitations. Problems will arise and grow, worsening the situation not only for Russia but also for our partners." – Russian President Vladimir Putin
It's hard to know which country is going to suffer the most from falling oil prices. Up to now, of course, Russia, Iran and Venezuela have taken the biggest hit, but that will probably change as time goes on. What the Obama administration should be worried about is the second-order effects that will eventually show up in terms of higher unemployment, market volatility, and wobbly bank balance sheets. That's where the real damage is going to crop up because that's where red ink and bad loans can metastasize into a full-blown financial crisis. Check out this blurb from Nick Cunningham at Oilprice.com and you'll see what I mean:
"According to an assessment from the Federal Reserve Bank of Dallas, an estimated 250,000 jobs across eight U.S. states could be lost in 2015 if oil prices don't rise. More than 50 percent of those job losses would occur in Texas, which leads the nation in oil production.

There are some early signs that a slowdown in drilling could spread to the manufacturing sector in Texas… One executive at a metal manufacturing company said in the survey, "the drop in crude oil prices is going to make things ugly… quickly." Another company that manufactures machinery told the Dallas Fed, "Low oil prices will drive reductions in U.S. drilling rigs, which will in turn reduce the market for our products."

The sentiment was similar for a chemical manufacturer, who said "lower oil prices will adversely impact margins. Energy volatility will cause our customers to keep inventories tight."

States like Texas, North Dakota, Oklahoma, and Louisiana have seen their economies boom over the last few years as oil production surged. But the sector is now deflating, leaving gashes in employment rolls and state budgets." (Low Prices Lead To Layoffs In The Oil Patch, Nick Cunningham, Oilprice.com)
Of course industries lay-off workers all the time and it doesn't always lead to a financial crisis. But unemployment is just one part of the picture, lower personal consumption is another. Take a look:
"Falling oil prices are a bigger drag on economic growth than the incremental "savings" received by the consumer…..Another way to show this graphically is to look at the annual changes in Personal Consumption Expenditures (PCE) in aggregate as compared to the subsection of PCE spent on energy and related products. This is shown in the chart below.

Lower Energy Prices To Lower PCE (Personal Consumption Expenditures):
See? So despite what you might have read in the MSM, lower gas prices do not translate into greater personal consumption or more robust growth. Quiet the contrary, they tend to intensify deflationary pressures and reduce activity which is a damper on growth.
Then there's the knock-on effects that crashing prices and layoffs have on other industries like mining, manufacturing and chemical production. Here's more from Oil Price:
"Oil and gas production makeup a hefty chunk of the "mining and manufacturing" component of the employment rolls. Since 2000, when the oil price boom gained traction, Texas has comprised more than 40% of all jobs in the country according to first quarter data from the Dallas Federal Reserve…

The majority of the jobs "created" since the financial crisis have been lower wage paying jobs in retail, healthcare and other service sectors of the economy. Conversely, the jobs created within the energy space are some of the highest wage paying opportunities available in engineering, technology, accounting, legal, etc. In fact, each job created in energy related areas has had a "ripple effect" of creating 2.8 jobs elsewhere in the economy from piping to coatings, trucking and transportation, restaurants and retail….

The obvious ramification of the plunge in oil prices is that eventually the loss of revenue will lead to cuts in production, declines in capital expenditure plans (which comprise almost 1/4th of all capex expenditures in the S&P 500), freezes and/or reductions in employment, and declines in revenue and profitability…

Simply put, lower oil and gasoline prices may have a bigger detraction on the economy than the "savings" provided to consumers." (The Gasoline Price Myth, Lance Roberts, oilprice.com)
None of this sounds very reassuring, does it? And yet, all we hear from the media is how the economy is going to reach "escape velocity" on the back of cheap oil. Nonsense. This is just more "green shoots" baloney wrapped in public relations hype. The fact is, the economy needs the good-paying jobs more than it needs low-priced energy. But now that prices are tumbling, those jobs are going to disappear which is going to be a drag on growth. Now check out these headlines I picked up on Google News that help to show what's going on off the radar:
"Texas is in danger of a recession", CNN Money.
"Texas Could Be Headed for an Oil-Fueled Recession, JP Morgan Economist Says", Wall Street Journal "Good Times From Texas to North Dakota May Turn Bad on Oil-Price Drop", Bloomberg
"Low Oil Prices in the New Year Are Screwing Petrostates", Vice News
"Top US Oil States Are Taking A Hit From Plunging Crude Prices", Business Insider
Get the picture? If oil prices continue to fall, unemployment is going to spike, activity is going to slow, and the economy is going tank. And the damage won't be limited to the US either. Get a load of this from the UK Telegraph:
"A third of Britain's listed oil and gas companies are in danger of running out of working capital and even going bankrupt amid a slump in the value of crude, according to new research.

Financial risk management group Company Watch believes that 70pc of the UK's publicly listed oil exploration and production companies are now unprofitable, racking up significant losses in the region of £1.8bn.

Such is the extent of the financial pressure now bearing down on highly leveraged drillers in the UK that Company Watch estimates that a third of the 126 quoted oil and gas companies on AIM and the London Stock Exchange are generating no revenues.

The findings are the latest warning to hit the oil and gas industry since a slump in the price of crude accelerated in November when the Organisation of Petroleum Exporting Countries (Opec) decided to keep its output levels unchanged. The decision has caused carnage in oil markets with a barrel of Brent crude falling 45pc since June to around $60 per barrel." (Third of listed UK oil and gas drillers face bankruptcy, Telegraph)
"Carnage in oil markets," you say?
Indeed. Many of the oil-drilling newcomers set up shop to take advantage of the low rates and easy money available in the bond market. Now that prices have crashed, investors are avoiding energy-related junk bonds like the plague which is making it impossible for the smaller companies to roll over their debt or attract fresh capital. When these companies start to default en masse, as they certainly will if prices don't rebound, the blowback will be felt on bank balance sheets across the country creating the possibility of another financial meltdown. (Now we ARE talking about a financial crisis.)
The basic problem is that the banks have bundled a lot of their dodgy debt into financially-engineered products like Collateralized Loan Obligations (CLOs) and Collateralized Debt Obligations (CDOs) that will inevitably fail when borrowers are no longer able to service the loans. The rot can be concealed for a while, but eventually, if prices don't recover, a significant number of these companies are going to go under which will push the perennially-undercapitalized banking system to the brink once again. That's why Washington's plan to push down oil prices (to hurt the Russian economy) might have made sense on a short-term basis (to shock Putin into submission) but as a long-term strategy, it's nuts. And what's even crazier, is that Obama has decided to double-down on the same wacky plan even though Putin hasn't given an inch. Check this out from Reuters on Monday:
"The Obama administration has opened a new front in the global battle for oil market share, effectively clearing the way for the shipment of as much as a million barrels per day of ultra-light U.S. crude to the rest of the world…

The Department of Commerce on Tuesday ended a year-long silence on a contentious, four-decade ban on oil exports, saying it had begun approving a backlog of requests to sell processed light oil abroad.

The action comes at a critical juncture for the global oil market. World prices have halved to less than $60 a barrel since the summer as top exporter Saudi Arabia, once a staunch defender of $100 oil, refused to cut production in the face of surging U.S. shale output and tempered global demand…

With global oil markets in flux, it is far from clear how much U.S. condensate will find a market overseas."
(Analysis – U.S. opening of oil export tap widens battle for global market, Reuters)
Does that make sense to you, dear reader? Why would Obama suddenly opt to change the rules of the game when he knows it will increase supply and push prices down even further? Why would he do that? Certainly, he doesn't want to inflict more pain on domestic producers, does he?
Let's let Obama answer the question for himself. Here's a clip from an NPR interview with the president just last week. About halfway through the interview, NPR's Steve Inskeep asks Obama: "Are you just lucky that the price of oil went down and therefore their currency collapsed or …is it something that you did?
Barack Obama: If you'll recall, their (Russia) economy was already contracting and capital was fleeing even before oil collapsed. And part of our rationale in this process was that the only thing keeping that economy afloat was the price of oil. And if, in fact, we were steady in applying sanction pressure, which we have been, that over time it would make the economy of Russia sufficiently vulnerable that if and when there were disruptions with respect to the price of oil — which, inevitably, there are going to be sometime, if not this year then next year or the year after — that they'd have enormous difficulty managing it." (Transcript: President Obama's Full NPR Interview)
Am I mistaken or did Obama just admit that he wanted "disruptions" in the "price of oil" because he figured Putin would have "enormous difficulty managing it"?
Isn't that the same as saying that it was all part of Washington's plan; that plunging prices were just the icing on the cake for their asymmetrical attack on the Russian economy? It sure sounds like it. And that would also explain why Obama decided to allow domestic producers to dump more oil on the market even though it's going to send prices lower. Apparently, none of that matters as long as the policy hurts Russia.
So maybe the US-Saudi oil collusion theory isn't so far fetched after all. Maybe Salon's Patrick L. Smith was right when he said:
"Less than a week after the Minsk Protocol was signed, Kerry made a little-noted trip to Jeddah to see King Abdullah at his summer residence. When it was reported at all, this was put across as part of Kerry's campaign to secure Arab support in the fight against the Islamic State.

Stop right there. That is not all there was to the visit, my trustworthy sources tell me. The other half of the visit had to do with Washington's unabated desire to ruin the Russian economy. To do this, Kerry told the Saudis 1) to raise production and 2) to cut its crude price. Keep in mind these pertinent numbers: The Saudis produce a barrel of oil for less than $30 as break-even in the national budget; the Russians need $105.

Shortly after Kerry's visit, the Saudis began increasing production, sure enough — by more than 100,000 barrels daily during the rest of September, more apparently to come…

Think about this. Winter is coming, there are serious production outages now in Iraq, Nigeria, Venezuela and Libya, other OPEC members are screaming for relief, and the Saudis make back-to-back moves certain to push falling prices still lower? You do the math, with Kerry's unreported itinerary in mind, and to help you along I offer this from an extremely well-positioned source in the commodities markets: "There are very big hands pushing oil into global supply now," this source wrote in an e-mail note the other day." ("What Really Happened in Beijing: Putin, Obama, Xi And The Back Story The Media Won't Tell You", Patrick L. Smith, Salon)
Vladimir Putin: Public Enemy Number 1
Let's cut to the chase: All these oil shenanigans are really aimed at just one man: Vladimir Putin. There are a number of reasons why Washington wants to get rid of Putin, the first of which is that the Russian president has become an obstacle to US plans to pivot to Asia. That's the main issue. As long as Putin is calling the shots, there's going to be growing resistance to NATO's push eastward and Washington's military expansion across Central Asia which could undermine US plans to encircle China and remain the world's only superpower. Here's an excerpt from Zbigniew Brzezinski's The Grand Chessboard which helps to explain the importance Eurasia is in terms of Washington's global ambitions:
"..how America 'manages' Eurasia is critical. A power that dominates Eurasia would control two of the world's three most advanced and economically productive regions. A mere glance at the map also suggests that control over Eurasia would almost automatically entail Africa's subordination, rendering the Western Hemisphere and Oceania (Australia) geopolitically peripheral to the world's central continent. About 75 per cent of the world's people live in Eurasia, and most of the world's physical wealth is there as well, both in its enterprises and underneath its soil. Eurasia accounts for about three-fourths of the world's known energy resources." (p.31) (Zbigniew Brzezinski, The Grand Chessboard: American Primacy And It's Geostrategic Imperatives, Key Quotes From Zbigniew Brzezinksi's Seminal Book)
Get it? Prevailing in Asia is the administration's top priority, which is why the US is rapidly moving its military assets into place. Check this out from the World Socialist Web Site:
"Under Obama's "pivot to Asia," the Pacific Command will account for more than 60 percent of all US military forces, up from 50 percent under the Bush administration. This includes new US basing arrangements in the Philippines, Singapore and Australia, as well as renewed close military ties to New Zealand, and ongoing US military exercises in Thailand, Malaysia, Indonesia and Taiwan….(as well as) large troop deployments in Japan and South Korea, including nuclear-armed units." (The global scale of US militarism, Patrick Martin, World Socialist Web Site)
The "Big Shift" is already underway, which is why obstacles have to be removed and Putin's got to go.
Second, Putin has made himself a general nuisance vis a vis US strategic objectives in Syria, Iran and Ukraine. In Syria, Putin has thrown his support behind Assad who the US wants to topple in order to redraw the map of the Middle East and build gas pipelines from Qatar to Turkey to access the lucrative EU market.
Third, Putin has strengthened a number of coalitions and alliances –the BRICS bank, the Eurasian Economic Union, and the Shanghai Cooperation Organization–all of which pose a challenge to US dominance in the region as well as a viable alternative to neoliberal financial institutions like the IMF and World Bank. Going back to Brzezinski's "chessboard" once again, we see that the US should not feel threatened by any one nation, but should be constantly on-the-lookout for "regional coalitions" which could derail its plans to rule the world. Here's Brzezinski again:
"…the three grand imperatives of imperial geostrategy are to prevent collusion and maintain security dependence among the vassals, to keep tributaries pliant and protected, and to keep the barbarians from coming together." (p.40)

"Henceforth, the United States may have to determine how to cope with regional coalitions that seek to push America out of Eurasia, thereby threatening America's status as a global power." (p.55) (Zbigniew Brzezinski, The Grand Chessboard: American Primacy And It's Geostrategic Imperatives, Key Quotes From Zbigniew Brzezinksi's Seminal Book)
As a founding member and primary backer of these organizations, (and initiator of giant energy deals with China, India and Turkey) Putin has become Washington's biggest headache and a logical target for regime change.
Finally, Putin is doing whatever he can to circumvent dollar-denominated business and financial transactions. The move away from the buck is a direct attack on the US's greatest source of power, the ability to control the de facto international currency and to require that other nation's stockpile dollars for their energy purchases which are then recycled into US financial assets, stocks bonds and US Treasuries. This petrodollar-recycling scam allows the US to run gigantic current account deficits without raising interest rates or reducing government spending. Putin's anti-dollar policies could diminish the greenback's role as reserve currency and put an end to a system that institutionalizes looting.
This is why Putin is Public Enemy Number 1. It's because he's blocking the US pivot to Asia, strengthening anti-Washington coalitions, sabotaging US foreign policy objectives in the Middle East, creating institutions that rival the IMF and World Bank, transacting massive energy deals with critical US allies, increasing membership in an integrated, single-market Eurasian Economic Union, and attacking the structural foundation upon which the entire US empire rests, the dollar.
Naturally, Washington's powerbrokers are worried about these developments, just as they are worried about the new world order which is gradually taking shape under Putin's guidance. But, so far, they haven't been able to do anything about it. The administration's regime change schemers and fantasists have shown time-and-again that they're no match for Bad Vlad who has beaten them at every turn.
Bravo, Putin.
Anyone who follows the news regularly, knows that the media has done everything in its power to smear Vladimir Putin and to demonize him as a tyrant and a thug. Fortunately, most people aren't buying it.
Yes, I've seen the polls that say that Putin and Russia are viewed "less favorably" than they were prior to the crisis in Ukraine. In fact, here's a clip from a recent PEW survey which seems to prove that I'm wrong:
"Across the 44 countries surveyed, a median percentage of 43% have unfavorable opinions of Russia, compared with 34% who are positive.

Negative ratings of Russia have increased significantly since 2013 in 20 of the 36 countries surveyed…

Americans and Europeans in particular have soured on Russia over the past 12 months. More than six-in-ten in Poland, Germany, Italy, Spain, France, the U.S. and the UK have an unfavorable image of Russia. And in all but one of these countries negative reviews are up by double digits since last year, including by 29 percentage points in the U.S., 27 points in Poland, 24 points in the UK and 23 points in Spain." (Russia's Global Image Negative amid Crisis in Ukraine: Americans' and Europeans' Views Sour Dramatically, PEW Research)
These results strongly suggest that the public blames Moscow for the fighting in Ukraine and (presumably)agrees with the prevailing storyline that Putin is a vicious aggressor who seized Crimea in order to rebuild the Soviet Empire. The problem with the PEW survey is that the results are based random samples of nationwide face-to-face or telephone interviews.
Why is that a problem?
It's a problem because the man-on-the-street hasn't the foggiest idea of what's going on in Ukraine. All he knows is what he's heard on TV. So, naturally, when he's asked to offer his opinion on the matter, he's going to regurgitate some variation of the official version, which is that Putin is responsible.
But try asking someone who's actually been following events in Ukraine that same question, and you're going to get an entirely different answer. Among the people who follow the daily developments in Ukraine, roughly two out of three support the Russian position. This isn't something you're going to find in the survey data, but if you take the time to comb the comments lines in the international media, you'll see what I'm saying is true.
I hadn't figured this out until last week's G-20 Summit in Brisbane when Canada's PM Stephen Harper brusquely greeted Putin saying, "I guess I'll shake your hand, but I only have one thing to say to you: you need to get out of Ukraine."
The incident immediately became headline news around the world as journalists for all the major media heaped praise on Harper for courageously "shirt-fronting" the dastardly Putin. What was left out in the media's account of the exchange, was Putin's crisp retort, which was, "Unfortunately it is impossible, (for us to leave Ukraine) because we are not there."
Touché. As you might expect, Putin's response did not fit with the media's narrative, so it was scrubbed from the coverage altogether.
The Harper incident was a particularly big deal in Canada where all the newspapers ran gushing articles lauding the prime minister for his righteousness and fortitude. Oddly enough, however, only a small percentage of the people who commented on the dust-up, saw Harper as the hero. Here's a few samples of what ordinary people had to say. This is from BobsOpinion:
"Harper embarrasses Canadians again on the international stage. It will take years for Canadians to re-build our international relationships and to re-build our reputation."
This comment is from redondex:
"Harper made a childish and baseless remark to Putin and walked off with a grin of a proud five year old spoilt kid. All Harper achieved was to ridicule himself in front of the rest of the world. That is our leaders usual behavior."
This is from Makman1:
"I was under the impression that a proper democracy would first use negotiating as a way to understand the divergent groups involved in the Ukrainian revolution and then apply a political solution, if possible. The present Ukrainian government immediately used force. PERIOD! The Harper government, instead of using its "influence" to attempt to defuse a complex situation blindly followed the actions of the USA. If Harper really cared at all he would ask his foreign minister to get directly involved with Russian and Ukrainian counterparts and help reach a compromise…. Hopefully, Harper is not supporting Ukrainian right wing fascists?"
This is from Jörð:
"It's not wise for Harper to follow America's lead on every foreign policy. The USA government has a terrible track record when it comes to getting things right in foreign lands. Also Putin was correct when he responded to Harper's comment by saying "It's impossible, we are not there." Technically Russia is not "In" the Ukraine."
This is Time4Change:
"This is another example of Harper BLUSTERING backed with NO SUBSTANCE! Why are there NO SANCTIONS on the Russian Energy Giants Rosneft and Rostec? Could it be the hundreds of billions of $s the Russians have invested in the tar sands have caused Harper to be the SOFTEST on ACTIONS while shouting the loudest."
And this is from Mt Athabaska:
" …one day Harper will reach puberty on global affairs."
It's worth noting that these comments were lifted from article that was published by the Canadian Broadcasting Corporation. I was shocked at how harshly Harper was criticized by his own countrymen. I was also surprised that the author's obvious anti-Putin bias had virtually no impact on the opinions of the people who commented on the incident. In fact, it appeared to make many of them mad.
I should also mention that I omitted all of the comments that lambasted Harper for hiding in a broom closet "while a gun battle ensued in a nearby hallway of the Parliament building in Ottawa" in early October. (See here: Needless to say, Harper's comical performance at the G-20 hasn't convinced anyone that he's the courageous leader he imagines himself to be.)
The media is increasingly worried that it's losing its ability to persuade people to support policies that only serve the interests of elites. The media has rolled out all the heavy artillery in its campaign to demonize Putin, but the strategy hasn't worked. In fact, it's backfired quite badly leading some publications to cancel their comments section altogether.
And the response from readers has been huge too, mainly because the standoff between two nuclear-armed adversaries has galvanized the publics' attention. For example, in the CBC article I cited above, more than 2,500 comments have been posted already, while many of the other articles on Ukraine or Putin have exceeded 6,000 comments. This just shows how closely people are following events and how passionate they feel about the policy.
And, as we said earlier, this isn't just a Canadian phenom either. For example, here are a few of the comments I picked up from an article in the conservative UK Telegraph in an article titled Global economy to suffer as Putin quits G20 early.
Zeug Gezeugt:
"The US supports the neo-Nazi ethnic cleansing campaign in east Ukraine, Russia supports the Russian speaking Ukrainian majority in the east against it. Pretty simple really, and the US enforced sanctions can only harm EU Russian relations, a win-win all round for the neoconservative hawks."
Pamela Cohen:
"So, the media tells us in the Title that Putin is to blame when the Global economy suffers, because he left the G20 early. What stupidity. And what a statement in bringing warships as their targeted President attends yet another meeting. Good for Putin. Blame the US-backed coup and looting and 4000 deaths on Putin, and blame the Ukrainian plane that shot down a passenger flight on him, too. Then shun him at a world meeting, as if he doesn't have the right and responsibility to defend his country's borders, Naval base, pipeline and brothers in the Ukraine as they are shelled and killed by US manipulation.
Instead of shock and awe and intruding where they didn't belong like the US in all the Mid-Eastern countries according to long-ago made plans, Putin sends humanitarian aid and the people vote in Donetsk and Luhansk.
Putin-not all Americans are stupid sheep. My apologies for the onslaught of ignorance and imperialism. You are standing up to bullies of the worst kind. The world needs peaceful solutions to restore the harm of NWO fanaticism and corrupt bankers. Hold the line."
MP Jones: "The US never ended the cold war and the 'useful idiots' in this context are us in Europe and the UK."
Richard N:
"Most British people are deeply unconvinced by the flood of US and EU propaganda over Ukraine, trying to cast Russia as the villain – when the civil war there was caused directly by the US and their EU side kicks backing a coup to overthrow the elected government of a sovereign country, Ukraine."
timepass:
"With due respect to the author, you say that his (Putin's) popularity will rise at home as a consequence of this. Please read the message boards North American and European, you will find his popularity seems to have increased everywhere.
Guess the Brains behind 5 eyes and snooping will now have to move into the new reality of the power of the internet to provide information which they would not like others to get. Just a question of time before they make their next move – Censorship!"
Busufi:
"If, the 'Seven Dwarfs' (US, UK, EU, Japan, Australia, Canada, and South Africa) like bullies, weren't so obsessed with beating Russia or China into a corner, rather than bringing Russia or China into their corner; the world would be a better place. Co-operation works better than devastation."
John Derbyshire :
"Why all this Anti Russian propaganda. The fools who run the West keep creating bogeymen Bin Laden, ISIS, oddly both had connections to Western Powers. So as we face an economic down in the world economy we need another bogeyman, and up pops Putin in the Capitalist controlled media!
People seem to have short memories of pre Putin era, when Yeltsin backed by the West led the country to economic meltdown. Maybe he has scant regard for democratic institutions, but do Western governments support the views of the people!
All of this came about when the United States pushed Nato's borders eastward and involved themselves in the Ukraine, particularly Mr Kerry. Russia felt itself threatened not by demands of democracy a device used by the worlds superpower, but the growing influence of the United States in the region. The fact that the USA exploited ethnic tensions only shows what was their intention in the region."
petergardener:
"If the objective is to make Mr Putin appear isolated on the world stage in order to make him less popular at home, it isn't working and also shows a profound misunderstanding of the Russian mind-set. '
Our Western political leaders also have a profound misunderstanding of strategy. Just about everything they do in relation to Russia is wrong and gains the West nothing. But they do like willy waving. Just a pity they do so much damage while they are at it."
RedBaron9495: "With the public, the effect is rebounding and probably starting to gain Putin more support and worldwide sympathy. This British news forum is good example of that. They made the mistake of going into overkill…..and the public are wising up to the propaganda. They seen this all before prior to Iraq 2003 invasion…and again with Gaddafi."
Circle of DNA :
"Well, the lives of average folks in Russia has been drastically improved since Putin took the reins of power. He defends Russian interests, fights the empire of chaos, and is massively supported by his people. He is also well educated and a first class statesmen. What is there not to like about him?"
Alltaxationistheft: "The Russian people appreciate how lucky they've been for Vladimir Putin to be around at the right time to resist the Neocon supremacist Wolfowitz doctrine…
Since the 1990s , the war mongering maniacs in the West have been planning to asset strip, and plunder Russia via "liberal democracy", claiming its natural resources while funding serial inter-ethnic tribal wars via US allies Qatar and Saudi Arabia…
In the 1990s, Russian people were driven into starvation ,prostitution and suicide under pro American "Liberal" US corporate puppet Yeltsin… but Putin kicked the CIA EU Mossad lunatics out and has been re-building a Russia into a world power ever since."
anonymous:
"The classless western free (loading) world that produces very little except paper currency, lies and bullshit. I am surprised Mr. Putin came and surrounded himself with such low life scum.
When all the western oligarchs hate someone as much as they hate President Putin, you know he has to be doing something right."
There's no need to be selective. Curious readers should go to any editorial platform that covers the crisis in Ukraine and judge for themselves if what I'm saying is true or not. The comments above are in no way extraordinary. What they do show, however, is that the media is losing the propaganda war in pretty stunning fashion, and that's a huge victory for ordinary people. It's very difficult for elites to prosecute their criminal wars or implement their rip-off economic policies when people can clearly see what they're up to.
Now check out this article in the German paper Zeit Online where the author bemoans the media's loss of influence. The article is titled "How Putin Divides":
"Why do so many German citizens judge the crisis in Crimea in a completely different way than politicians and the media?
In my 30 years of experience with debates, I have never seen anything like what is now happening in Germany in the dispute over Russia and Crimea….
Unless surveys are misleading, two-thirds of German citizens, voters and readers stand opposed to four-fifths of the political class – in other words, to the government, to the overwhelming majority of members of parliament and to most newspapers and broadcasters. But what does "stand" mean? Many are downright up in arms. And from what one can gauge from letters to the editor, the share of critics seems significantly higher now than what was triggered by Sarrazin's inflammatory book back then." (Zeit Online)
Did you catch that part about the "two-thirds of German citizens.. stand opposed to four-fifths of the political class…and to most newspapers and broadcasters"?
That's a triumph in itself, isn't it? And what is the issue they disagree about?
They disagree "about the conflict between an aggressive autocrat (Bad Vlad) and Western democracies."(the Washington-led troublemakers)
Here's more from the same article:
"…the legitimacy of international law is being questioned in an offensive manner, while the legitimacy of Putin's nationalist-imperialist ideology is being seriously considered….. It doesn't do any good to accuse the majority of sheepishness or base economic selfishness, even if that seems to be the driving motive of some business leaders… The issue goes deeper, much deeper." (How Putin Divides, Von Bernd Ulrich, Zeit Online)
"The legitimacy of international law is being questioned"?!?
Have you ever read such crybaby gibberish in your life?
Why is "the legitimacy of international law is being questioned"? Because people don't accept blindly what they read the papers and hear on the news anymore? Because corporate editors no longer control how people think about issues? Because people are using their critical thinking skills to see through the lies and bullshit that idiots like the author ladle out in heaping doses every day? Is that why?
It seems to me that that's a positive development, that people should question whatever they read in the papers and look for other sources of information before they form an opinion.
The bottom line is that no one believes the goofy propaganda the western media is trying to ram down the everyone's throat anymore.
As kyle555 at Zero Hedge says: "India, China, Brazil and a host of other countries, representing more than half the world's population, aren't buying the western imperialist narrative on Ukraine. Nor are major segments of the domestic populations of the countries that are warmongering against Russia."
Nor do they believe that US wars are a force for good in the world. Here's strannick at Zero Hedge:
"Russia has seen firsthand the American dream for other nations, as American backed Oligarchs pillaged Russia while it's people starved and were impoverished. Putin loves his country, and won't sit on his thumbs while America attempts to encircle it through proxies while rationalizing its actions through corrupt MSMedia propaganda."
Nor are they buying the "Putin is Hitler" crappola.
This is from smacker:
"People see in Putin a proud national leader who has the guts to stand up to our own criminals and who has over 80% support from his own population. That is enough to admire the guy, whatever else he might be."
This is from Gaius frakkin':
"A lot of the hatred from the political puppets in the West is due to Putin's popularity. They're jealous sociopaths who yearn to be respected and admired as much as him. The fact that Putin's popularity is never mentioned is the key tell."
And this from Joe Tierney:
"Vladdy-Poot is hammering home the point that the euros need to stop being America's bitches, think for themselves, consider the terrible "costs" accruing to them for "wearing the blue dress" for America.
…America's "global chaos ploy" is failing. Its cynical, "throw everyone under the bus" strategy just to cut across the rise of Russia-China is exposed for what it is – America cares nothing about the euros or anyone else. All it cares about is its own global dominance in perpetuity, no matter the "costs" to the rest of the world, including its friends and allies.
Putin has balls the size of the moon, and you can damn well bet that right now Russia and Putin are secretly being cheered on a grand scale around the globe."
There's a reason why, according to Gallup, Trust in Media (is at an) All-Time Low. It's because the corporate media is the most perfidious, double-dealing, hypocritical institution in the country today. That's why the anti-Putin propaganda has fallen on deaf ears. It's because most people know you can't believe anything you read in the news.
"Russia reinforced what Western and Ukrainian officials described as a stealth invasion on Wednesday [August 27], sending armored troops across the border as it expanded the conflict to a new section of Ukrainian territory. The latest incursion, which Ukraine's military said included five armored personnel carriers, was at least the third movement of troops and weapons from Russia across the southeast part of the border this week."
None of the photos accompanying this New York Times story online showed any of these Russian troops or armored vehicles.
"The Obama administration," the story continued, "has asserted over the past week that the Russians had moved artillery, air-defense systems and armor to help the separatists in Donetsk and Luhansk. 'These incursions indicate a Russian-directed counteroffensive is likely underway', Jen Psaki, the State Department spokeswoman, said. At the department's daily briefing in Washington, Ms. Psaki also criticized what she called the Russian government's 'unwillingness to tell the truth' that its military had sent soldiers as deep as 30 miles inside Ukraine territory."
Thirty miles inside Ukraine territory and not a single satellite photo, not a camera anywhere around, not even a one-minute video to show for it. "Ms. Psaki apparently [sic] was referring to videos of captured Russian soldiers, distributed by the Ukrainian government." The Times apparently forgot to inform its readers where they could see these videos.
"The Russian aim, one Western official said, may possibly be to seize an outlet to the sea in the event that Russia tries to establish a separatist enclave in eastern Ukraine."
This of course hasn't taken place. So what happened to all these Russian soldiers 30 miles inside Ukraine? What happened to all the armored vehicles, weapons, and equipment?
"The United States has photographs that show the Russian artillery moved into Ukraine, American officials say. One photo dated last Thursday, shown to a New York Times reporter, shows Russian military units moving self-propelled artillery into Ukraine. Another photo, dated Saturday, shows the artillery in firing positions in Ukraine."
Where are these photographs? And how will we know that these are Russian soldiers? And how will we know that the photos were taken in Ukraine? But most importantly, where are the fucking photographs?
Why am I so cynical? Because the Ukrainian and US governments have been feeding us these scare stories for eight months now, without clear visual or other evidence, often without even common sense. Here are a few of the many other examples, before and after the one above:
The Wall Street Journal (March 28) reported: "Russian troops massing near Ukraine are actively concealing their positions and establishing supply lines that could be used in a prolonged deployment, ratcheting up concerns that Moscow is preparing for another [sic] major incursion and not conducting exercises as it claims, US officials said."
"The Ukrainian government charged that the Russian military was not only approaching but had actually crossed the border into rebel-held regions." (Washington Post, November 7)
"U.S. Air Force Gen. Philip M. Breedlove told reporters in Bulgaria that NATO had observed Russian tanks, Russian artillery, Russian air defense systems and Russian combat troops enter Ukraine across a completely wide-open border with Russia in the previous two days." (Washington Post, November 13)
"Ukraine accuses Russia of sending more soldiers and weapons to help rebels prepare for a new offensive. The Kremlin has repeatedly denied aiding the separatists." (Reuters, November 16)
Since the February US-backed coup in Ukraine, the State Department has made one accusation after another about Russian military actions in Eastern Ukraine without presenting any kind of satellite imagery or other visual or documentary evidence; or they present something that's very unclear and wholly inconclusive, such as unmarked vehicles, or unsourced reports, or citing "social media"; what we're left with is often no more than just an accusation. The Ukrainian government has matched them.
On top of all this we should keep in mind that if Moscow decided to invade Ukraine they'd certainly provide air cover for their ground forces. There has been no mention of air cover.
This is all reminiscent of the numerous stories in the past three years of "Syrian planes bombing defenseless citizens". Have you ever seen a photo or video of a Syrian government plane dropping bombs? Or of the bombs exploding? When the source of the story is mentioned, it's almost invariably the rebels who are fighting against the Syrian government. Then there's the "chemical weapon" attacks by the same evil Assad government. When a photo or video has accompanied the story I've never once seen grieving loved ones or media present; not one person can be seen wearing a gas mask. Is it only children killed or suffering? No rebels?
And then there's the July 17 shootdown of Malaysia Flight MH17, over eastern Ukraine, taking 298 lives, which Washington would love to pin on Russia or the pro-Russian rebels. The US government – and therefore the US media, the EU, and NATO – want us all to believe it was the rebels and/or Russia behind it. The world is still waiting for any evidence. Or even a motivation. Anything at all. President Obama is not waiting. In a talk on November 15 in Australia, he spoke of "opposing Russia's aggression against Ukraine – which is a threat to the world, as we saw in the appalling shoot-down of MH17". Based on my reading, I'd guess that it was the Ukranian government behind the shootdown, mistaking it for Putin's plane that reportedly was in the area.
Can it be said with certainty that all the above accusations were lies? No, but the burden of proof is on the accusers, and the world is still waiting. The accusers would like to create the impression that there are two sides to each question without actually having to supply one of them.
The United States punishing Cuba
For years American political leaders and media were fond of labeling Cuba an "international pariah". We haven't heard that for a very long time. Perhaps one reason is the annual vote in the United Nations General Assembly on the resolution which reads: "Necessity of ending the economic, commercial and financial embargo imposed by the United States of America against Cuba". This is how the vote has gone (not including abstentions):

This year Washington's policy may be subject to even more criticism than usual due to the widespread recognition of Cuba's response to the Ebola outbreak in Africa.
Each fall the UN vote is a welcome reminder that the world has not completely lost its senses and that the American empire does not completely control the opinion of other governments.
Speaking before the General Assembly before last year's vote, Cuban Foreign Minister Bruno Rodriguez declared: "The economic damages accumulated after half a century as a result of the implementation of the blockade amount to $1.126 trillion." He added that the blockade "has been further tightened under President Obama's administration", some 30 US and foreign entities being hit with $2.446 billion in fines due to their interaction with Cuba.
However, the American envoy, Ronald Godard, in an appeal to other countries to oppose the resolution, said:
The international community … cannot in good conscience ignore the ease and frequency with which the Cuban regime silences critics, disrupts peaceful assembly, impedes independent journalism and, despite positive reforms, continues to prevent some Cubans from leaving or returning to the island. The Cuban government continues its tactics of politically motivated detentions, harassment and police violence against Cuban citizens.
So there you have it. That is why Cuba must be punished. One can only guess what Mr. Godard would respond if told that more than 7,000 people were arrested in the United States during the Occupy Movement's first 8 months of protest in 2011-12 ; that many of them were physically abused by the police; and that their encampments were violently destroyed.
Does Mr. Godard have access to any news media? Hardly a day passes in America without a police officer shooting to death an unarmed person.
As to "independent journalism" – What would happen if Cuba announced that from now on anyone in the country could own any kind of media? How long would it be before CIA money – secret and unlimited CIA money financing all kinds of fronts in Cuba – would own or control most of the media worth owning or controlling?
The real reason for Washington's eternal hostility toward Cuba has not changed since the revolution in 1959 – The fear of a good example of an alternative to the capitalist model; a fear that has been validated repeatedly over the years as many Third World countries have expressed their adulation of Cuba.
How the embargo began: On April 6, 1960, Lester D. Mallory, US Deputy Assistant Secretary of State for Inter-American Affairs, wrote in an internal memorandum: "The majority of Cubans support Castro … The only foreseeable means of alienating internal support is through disenchantment and disaffection based on economic dissatisfaction and hardship. … every possible means should be undertaken promptly to weaken the economic life of Cuba." Mallory proposed "a line of action which … makes the greatest inroads in denying money and supplies to Cuba, to decrease monetary and real wages, to bring about hunger, desperation and overthrow of government."
Later that year, the Eisenhower administration instituted its suffocating embargo against its everlasting enemy.
The United States judging and punishing the rest of the world
In addition to Cuba, Washington currently is imposing economic and other sanctions against Burma, Democratic Republic of the Congo, Iran, China, North Korea, South Korea, United Arab Emirates, Pakistan, Sri Lanka, Switzerland, Turkey, Germany, Malaysia, South Africa, Mexico, South Sudan, Sudan, Russia, Syria, Venezuela, India, and Zimbabwe. These are sanctions mainly against governments, but also against some private enterprises; there are also many other sanctions against individuals not included here.
Imbued with a sense of America's moral superiority and "exceptionalism", each year the State Department judges the world, issuing reports evaluating the behavior of all other nations, often accompanied by sanctions of one kind or another. There are different reports rating how each lesser nation has performed in the previous year in areas such as religious freedom, human rights, the war on drugs, trafficking in persons, and sponsors of terrorism. The criteria used in these reports are often political. Cuba, for example, is always listed as a sponsor of terrorism whereas anti-Castro exile groups in Florida, which have committed literally hundreds of terrorist acts over the years, are not listed as terrorist groups or supporters of such.
Cuba, which has been on the sponsor-of-terrorism list longer (since 1982) than any other country, is one of the most glaring anomalies. The most recent State Department report on this matter, in 2012, states that there is "no indication that the Cuban government provided weapons or paramilitary training to terrorist groups." There are, however, some retirees of Spain's Basque terrorist group ETA (which appears on the verge of disbanding) in Cuba, but the report notes that the Cuban government evidently is trying to distance itself from them by denying them services such as travel documents. Some members of the Revolutionary Armed Forces of Colombia (FARC) have been allowed into Cuba, but that was because Cuba was hosting peace talks between the FARC and the Colombian government, which the report notes.
The US sanctions mechanism is so effective and formidable that it strikes fear (of huge fines) into the hearts of banks and other private-sector organizations that might otherwise consider dealing with a listed state.
Some selected thoughts on American elections and democracy
In politics, as on the sickbed, people toss from one side to the other, thinking they will be more comfortable.
– Johann Wolfgang von Goethe (1749-1832)
2012 presidential election:
223,389,800 eligible to vote
128,449,140 actually voted
Obama got 65,443,674 votes
Obama was thus supported by 29.3% of eligible voters
There are 100 million adults in the United States who do not vote. This is a very large base from which an independent party can draw millions of new votes.
If God had wanted more of us to vote in elections, he would give us better candidates.
"The people can have anything they want. The trouble is, they do not want anything. At least they vote that way on election day." – Eugene Debs, American socialist leader (1855-1926)
"If persons over 60 are the only American age group voting at rates that begin to approximate European voting, it's because they're the only Americans who live in a welfare state – Medicare, Social Security, and earlier, GI loans, FHA loans." – John Powers
"The American political system is essentially a contract between the Republican and Democratic parties, enforced by federal and state two-party laws, all designed to guarantee the survival of both no matter how many people despise or ignore them." – Richard Reeves (1936- )
The American electoral system, once the object of much national and international pride, has slid inexorably from "one person, one vote", to "one dollar, one vote".
Noam Chomsky: "It is important to bear in mind that political campaigns are designed by the same people who sell toothpaste and cars. Their professional concern in their regular vocation is not to provide information. Their goal, rather, is deceit."
If the Electoral College is such a good system, why don't we have it for local and state elections?
"All the props of a democracy remain intact – elections, legislatures, media – but they predominantly function at the service of the oligarchy." – Richard Wolff
The RepDem Party holds elections as if they were auctions; indeed, an outright auction for the presidency would be more efficient. To make the auction more interesting we need a second party, which must at a minimum be granted two privileges: getting on the ballot in all 50 states and taking part in television debates.
The US does in fact have two parties: the Ins and the Outs … the evil of two lessers.
Alexander Cockburn: "There was a time once when 'lesser of two evils' actually meant something momentous, like the choice between starving to death on a lifeboat, or eating the first mate."
Cornel West has suggested that it's become difficult to even imagine what a free and democratic society, without great concentrations of corporate power, would look like, or how it would operate.
The United States now resembles a police state punctuated by elections.
How many voters does it take to change a light bulb? None. Because voters can't change anything.
H.L. Mencken (1880-1956): "As democracy is perfected, the office represents, more and more closely, the inner soul of the people. We move toward a lofty ideal. On some great and glorious day the plain folks of the land will reach their heart's desire at last, and the White House will be adorned by a downright moron."
"All elections are distractions. Nothing conceals tyranny better than elections." – Joel Hirschhorn
In 1941, one of the country's more acerbic editors, a priest named Edward Dowling, commented: "The two greatest obstacles to democracy in the United States are, first, the widespread delusion among the poor that we have a democracy, and second, the chronic terror among the rich, lest we get it."
"Elections are a necessary, but certainly not a sufficient, condition for democracy. Political participation is not just a casting of votes. It is a way of life." – UN Human Development Report, 1993
"If you don't vote, you can't complain!" I reply, "You have it backwards. If you DO vote, you can't complain. You asked for it, and they're going to give it to you, good and hard."
"How to get people to vote against their interests and to really think against their interests is very clever. It's the cleverest ruling class that I have ever come across in history. It's been 200 years at it. It's superb." – Gore Vidal
We can't use our democracy/our vote to change the way the economy functions. This is very anti-democratic.
What does a majority vote mean other than that the sales campaign was successful?
Roman Emperor Marcus Aurelius: "The opinion of 10,000 men is of no value if none of them know anything about the subject."
We do have representative government. The question is: Who does our government represent?
"On the day after the 2002 election I watched a crawl on the bottom of the CNN news screen. It said, 'Proprietary software may make inspection of electronic voting systems impossible.' It was the final and absolute coronation of corporate rights over democracy; of money over truth." – Mike Ruppert, RIP
"It's not that voting is useless or stupid; rather, it's the exaggeration of the power of voting that has drained the meaning from American politics." – Michael Ventura
After going through the recent national, state and local elections, I am now convinced that taxation without representation would have been a much better system.
"Ever since the Constitution was illegally foisted on the American people we have lived in a blatant plutocracy. The Constitution was drafted in secret by a self-appointed elite committee, and it was designed to bring three kinds of power under control: Royalty, the Church, and the People. All were to be subjugated to the interests of a wealthy elite. That's what republics were all about. And that's how they have functioned ever since." – Richard K. Moore
"As demonstrated in Russia and numerous other countries, when faced with a choice between democracy without capitalism or capitalism without democracy, Western elites unhesitatingly embrace the latter." – Michael Parenti
"The fact that a supposedly sophisticated electorate had been stampeded by the cynical propaganda of the day threw serious doubt on the validity of the assumptions underlying parliamentary democracy as a whole." – British Superspy for the Soviets Kim Philby (1912-1988), explaining his reasons for becoming a Communist instead of turning to the Labour Party
US Supreme Court Justice Louis Brandeis (1856-1941): "We may have democracy in this country, or we may have wealth concentrated in the hands of a few, but we cannot have both."
"We don't need to run America like a business or like the military. We need to run America like a democracy." – Jill Stein, Green Party presidential candidate 2012
Notes
Democracy Now!, October 30, 2013
Huffingfton Post, May 3, 2012
Department of State, Foreign Relations of the United States, 1958-1960, Volume VI, Cuba(1991), p.885 (online here)
For the complete detailed list, see U.S. Department of State, Nonproliferation Sanctions
U.S. Department of State, "Country Reports on Terrorism 2012, Chapter 3: State Sponsors of Terrorism," May 20, 2013
Global trade relationships and agreements are moving in very different directions. The public relations press releases hide the undercurrents that are driving the formations of alternative economic alliances. While the G 20, markets its all inclusive umbrella policy forums, the mere formation of a BRICS counterweight forecasts deep and fundamental differences. So what is really behind the creation of a different approach to the post WWII dominate U.S. lead model? A clue can be found in an attempt to modify the operations and direction of IMF functions.
Announced in the Russian press, BRICS to propose IMF reform at G20 summit, is a pressure attempt to move the center of power away from current synergism.
"At the G20 summit in the Australian city of Brisbane on November 15-16, Russia and other BRICS countries (Brazil, India, China and South Africa) will propose alternative solutions concerning the reform of the International Monetary Fund, involving, in particular, gradual implementation of reforms, Russian G20 Sherpa Svetlana Lukash told reporters.

"The most important thing for us is the still unresolved G20 problem of the IMF reform," Lukash said. She recalled the U.S. Congress has yet to ratify the 2010 resolution. "Not only does it thwart the process of renewing the IMF in accordance with the current reality where we see a big rise in the role of emerging economies. It also prevents the decisions to double the IMF capital from coming into force," she said."
The appearance of maintaining a working relationship among opposing interests may present an assuring PR message, but who really believes that the path to a new cold war is paved with mutual cooperation? Impetus for a parallel financial system is certainly based more on political objective than commerce or economic benefits.
The Washington Post describes What the new bank of BRICS is all about in this manner.
"Heads of state from Brazil, Russia, India, China, and South Africa (the so-called BRICS countries) agreed to establish a New Development Bank (NDB) at their summit meeting. They will have a president (an Indian for the first six years), a Board of Governors Chair (a Russian), a Board of Directors Chair (a Brazilian), and a headquarters (in Shanghai). What is the purpose of this BRICS bank? Why have these countries created it now? And, what implications does it have for the global development-finance landscape?

The "what" is relatively straightforward. The NDB has been given $50 billion in initial capital. As with similar initiatives in other regions (see below), the BRICS bank appears to work on an equal-share voting basis, with each of the five signatories contributing $10 billion. The capital base is to be used to finance infrastructure and "sustainable development" projects in the BRICS countries initially, but other low and middle-income countries will be able buy in and apply for funding. BRICS countries have also created a $100 billion Contingency Reserve Arrangement (CRA), meant to provide additional liquidity protection to member countries during balance of payments problems. The CRA—unlike the pool of contributed capital to the BRICS bank, which is equally shared—is being funded 41 percent by China, 18 percent from Brazil, India, and Russia, and 5 percent from South Africa."

China's motivation to participate in BRICS banking is most interesting and revealing. Since it is not absolutely essential for China to be a member of BRICS, Gudrun Wacker, from the German Institute for International and Security Affairs presents this finding in a report, China's role in G20 / BRICS and Implications, may shed an insight on their reasoning.

"The future of BRICS depends on the future performance of the G7/8 and G20: If the G20 develops into a real coordination mechanism, there might be less Chinese interest in BRICS. The future prospects of BRICS were presented as less promising than those of the G20, since BRICS will not be able to solve global problems. It is not yet clear whether the main deliverable of BRICS will be directed at cooperation among its members or at third countries. While the idea of BRIC as a group was originally picked up by Russia (the invitation to the first summit, as a move toward "extension" of the strategic triangle Russia, China. India?), its members are now all active in certain fields. For China, it is also an important effort to emerge from its isolation (Copenhagen climate summit). Another factor shaping the future of BRICS might be the development of US-China relations: While all interview partners agreed that BRICS does not aim at creating a new, anti-Western world order, it can be seen as a response to the US-led world order."
The methodology of Mr. Wacker's research relied upon comments from interviews. Relying on sentiments that BRICS goal is not bent on developing a counterbalance to Western banking hegemony is poppycock. Geopolitical dimensions in international affairs have Russia as the latest bogyman. Any economic analysis that ignores power brokers desperate attempt to shift the causes of a failing world economy onto the backs of enemy nations is flawed.
Also, the notion that major economic transnational corporatists operate with altruism for third world countries is sheer lunacy. All these trade organizations are attempts to position vying interests to settle for a subservient role to a subordinate structure under a global debt creation banking system.
Attempts to scare the populist into believing that Global Warming inaction raises specter of war over climate change are absurd. "At the G20 summit, other nations overrode host Australia's attempts to keep climate change off the agenda and agreed to call for strong action with the aim of adopting a binding protocol at the Paris conference." Such initiatives are pure political "PC" orthodoxy and actually diminish prosperity.
The great schism in trade among nations is that some countries are not willing to lie down with diseased parasites. This should not be construed to favor the emergence of the BRICS union as a shining future. However, what it does purport is that the road to the NWO modeling for globalism by entrenched financial elites has produced opposition.
Conflict is the normal human condition, and especially when money is used as a medium of world control and domination is the goal. The G 20 is useless. Breaking the banking monopoly that fosters endless terror and war is the universal objective for the inhabitants of this planet. Another unsavory photo op for world leaders just produces more nausea.
"Equal pay for equal work!" the mantra goes. "Women get only 73 cents on a man's dollar!" These are oft-heard slogans, and we may well hear them again during the fall campaign with the War on Women afoot. Now, going beyond the rhetoric, it's not widely known but nonetheless true that the intersex pay gap is attributable to different career choices men and women make: women tend to choose less lucrative fields (e.g., soft sciences instead of hard ones), work shorter hours even when "full time," are more likely to value personal fulfillment and job flexibility over money, are more inclined to take time off, generally have less job tenure and more often decline promotions. But while I've examined these factors at length in the past, the topic today is something more fundamental. This is that there would be a problem with even a well-intended equal-pay-for-equal-work scheme:
Hardly anyone knows what equal work is.
And the government hasn't the foggiest idea.
Recently I mentioned how women tennis players now receive the same prize money as the men at Grand Slam events (Wimbledon; and the US, French and Australian opens) and how this is hailed as a victory for "equality." Yet since the women still only play best of three sets but the men best of five, this actually means the men must work longer for the same pay. Even this, however, doesn't truly illuminate the issue: what actually constitutes "equal work" in professional tennis?
I'll introduce the point with another example. The top 10 female fashion models earned 10 times as much as their male counterparts in 2013. Is this unequal pay for equal work? Not really.
While I don't know if women models' job is more labor intensive, I know they don't get paid because they're capable of posing, wearing clothing, standing under hot lights or parading down runways. It's because their "work" helps to satisfy a market — and it satisfies a bigger market than the men's work does.
Note here that while people today frown upon discrimination based on innate qualities, integral to doing the women models' work is being female. If the male models were women, they might be able to do the same "work" and satisfy the market equally.
Likewise, does the "work" in tennis directly have to do with number of sets played? As an aspiring 12-year-old tennis nut, I'd sometimes play 10 sets a day under the sweltering summer sun, but no one thought of compensating me and I never felt oppressed. Professional tennis players earn money because they satisfy a market, and the men's "work" does this more effectively than the women's. And how would we characterize this more valued work?
It is success on the men's tour — people want to see the grandest stage in the game.
Thus, the only way a woman in tennis could do work equal to that of Roger Federer or Rafael Nadal is to compete on, and succeed equally on, the ATP Tour. Of course, a woman who could would not only enjoy the same prize money (it's greater in men's tennis overall), but would become a sporting sensation and might very well receive endorsements dwarfing the men's. So her "work" then could actually be greater.
There are endless more mundane examples. A woman gynecologist I know will only hire female assistants because she believes it makes her patients more comfortable. Not only is this an example of why sex discrimination is often justifiable, but what if she was forced to hire a man? If the patients were indeed less comfortable — and, therefore, perhaps less likely to visit her practice — would that man truly be doing "equal work"?
Now consider female police officers. Forget for a moment that standards on forces were long ago lowered to accommodate women based on "disparate impact" theory and that Eric Holder is currently suingthe Pennsylvania State Police for treating women equally. Imagine a study found that people in general, and the criminally inclined in particular, found male officers more imposing and therefore were more likely to mind their p's and q's around them. Would, then, even a highly competent female officer be able to perform "equal work"? And if not, and reflecting the phenomenon with fashion models, wouldn't being male (or at least appearing so, to head the "transgender" argument off at the pass) be integral to the "work" of policing?
What of a female reporter in male athletes' locker rooms? Not only wouldn't it be allowed if the sexes were reversed, but if those men were less comfortable and less likely to be forthcoming in their comments — or even if they just had to modify their behavior — could her "work" really be equal to that of a male reporter's?
Next, my local hardware store provides knowledgeable workers, all men, who render valuable advice on products and how to perform various home repairs. If it was determined that people found a female in that role less credible and were then not quite as likely to buy from the establishment, would even a highly competent woman be able to do "equal work" in that capacity?
What about the little West Indian restaurant, with all-black workers, I loved when I spent a few weeks in Tampa? If hiring a white person made the eatery seem less authentic and negatively affected its appeal, would that individual be able to do "equal work"? The same, of course, could be asked about a black person working in a German restaurant. In these cases race would be integral to the "work."
And what of a homosexual Boy Scout troop leader? If his presence made parents less likely to enroll their boys in the organization, could he be capable of "equal work"?
Of course, one knee-jerk reaction here is to say that people "shouldn't" view female cops or hardware specialists, or homosexuals differently than anyone else. But this is a moral argument of questionable morality, as it applies a bias in selectively objecting to market biases. People take little issue with gynecologists or day-care centers that won't hire men, with male models being paid less or with ethnic restaurants hiring only non-whites. But try only hiring only male cops or employees; compensating a male hardware specialist more handsomely; or, as with Abercrombie a few years back, valuing employees who don't wear hijabs over those who do. You may have an experience with the DOJ or EEOC that'll make a dance with the IRS seem pleasant.
We could also talk about how we "should" value work. If we were deific or at least angelic, we would certainly value a mother-of-four's labors or Mother Teresa's loving charity more than Facebook and completely devalue rappers' vulgarity. And even though I earn less than mainstream-press profferers of pablum, I consider my work infinitely more valuable. But flawed though market determinations may be, they're still the best guide available.
Even within this worldly context, though, some may say there's more nuance to the matter of work than my examples express. They may contend, for instance, that female police and hardware specialists might have strengths that counterbalance or even outweigh their weaknesses. And guess what?
I agree.
My examples could possibly be lacking.
And this just buttresses the point: virtually no one — if anyone — can properly assess what constitutes equal work in every situation.
This is yet another reason why the matter of work and pay is none of the government's business. Are bureaucrats, politicians and judges qualified to determine what equal work might be in the thousands of professions in America? Government isn't God; it's not even the market, which can be defined as economic democracy expressed through purchasing decisions. When it intrudes into the economy it's more like Hitler trumping his generals during WWII and deciding on military strategy: an autocratic agency as incompetent as it is arrogant.
Norman Rockwell's America carried incredible nostalgia for the way this country once operated.  "Father Knows Best" captured our understanding of "family" in America.  Jackie Gleason on the "Honeymooners" along with Andy Taylor and Barney Fife instilled our mutual belonging.  Bill Cosby brought us together with the "Cosby Show."  Everyone spoke English and everyone enjoyed employment and hope.
From the 50s to the 70s, most people worked a job, our Congress made laws to ensure our well-being along with a viable nationhood.  Even with our racial strife, women's rights, gay rights and battles over Roe vs. Wade—America allowed every citizen the right to pursue "Life, liberty and the pursuit of happiness."
After my latest bicycle journey across America this summer, we unknowingly bear witness to the greatest racial and demographic shift ever self-inflicted on one country in the history of the world.  By 2042, the Pew Research Center reports that the current European-American majority (down from 90 percent in 1960 to 54 percent in 2014) faces the new Latino majority within 28 years.  All of it created by endless legal and illegal immigration.
During the next 36 years, Americans face an added 100 million legal immigrants from 150 countries around the globe.  They stream into America at blinding speed via our invitations, chain migration and birth rates.  How can we equate adding 100 million immigrants?  Answer: that number equates to doubling the size of our 25 most populated cities.  It means New York City jumps from 8.3 million to 16.6 million, Chicago from 5.1 million to 10.2 million and on down the line.
What does such an immigration invasion mean to our communities?  Our way of life?  Our quality of life?  Our standard of living?  Our environment?  Our educational systems?
Answer:  as the numbers rise to that 100 million level, everything in our society degrades, devolves, degenerates and worsens.
You cannot stop a fire by spraying gasoline on it.  You can't solve California's drought or wildfires by adding another 20 million foreigners to that state via immigration.  We cannot EVER catch up to exponential growth because it outruns our ability to solve its endemic and systemic consequences.
And, oxymoronically, we can't solve our predicament by passing S744 Amnesty Bill that doubles legal immigration to 2.0 million annually.
What's the final equation?  Since I traveled through dozens of third world countries in the last 40 years, I noticed they couldn't solve their problems, either.  They face(d) horrific food and water contamination, disease and shortages.  Just look at Ebola in Africa along with AIDS that killed 15 million thus far.  Their citizens face endless illiteracy because they can't install a viable educational system. They face conflict over resources.
As you notice in such areas as Iraq, Afghanistan, Haiti, Mexico, Brazil, China, India, Bangladesh, Indochina, Congo, Ethiopia, Somalia and dozens of other countries—you see continual religious, resource, food and water conflicts.
That's where the United States of America steams.  You can see it in our ethnic conflicts today whether Ferguson, MO riots, Chicago featuring 50 gun fights over the 4th of July weekend, black on black killings into the tens of thousands over the past several decades, 76 percent dropout/flunkout rates for Detroit public schools, which creates over 60 percent illiteracy rates.  Illiteracy remains the key indicator of a third world country.  Once it takes hold, it becomes intractable.
One look at our welfare system shows 68 percent of African-American children reared by a single mother on welfare.  We feed 48 million Americans and non-Americans with EBT or food stamps.  We see a complete breakdown of our middle class with no way to fight joblessness, futility or obesity caused by illiteracy.  Right now, obesity explodes as a national epidemic of health care nightmares for our citizens.
Question: how do you think any of our current sociological, environmental, water, energy, racial and growing religious strife can or will get better.  With those 100 million legal immigrants, you may expect to see an increase of Muslims in our country from 7.5 million to well over 20-30 million by 2050.  Sociologists reported that once Islam reaches 8 percent of the host nation's population, they become violent, arrogant and use the system to back the host country down to agree to Sharia Law. Notice the riots in Sweden and two separate London's. Look at France's nightmare.  Sharia law stands against every Western sensibility for women's rights, gays' rights, free speech, education, marriage choices and religious choice.  Note that hundreds of Muslim-Americans signed up to join terrorists groups in the Middle East.   What happens when they turn their terror toward us?
Australia discovered a major plot fomented by citizen Muslims to commit beheadings in the streets of Sydney this summer. If you think I am kidding, watch this short video:
Published on Sep 18, 2014: More than 800 Police in Australia have carried out anti-terror raids in Sydney (12 suburbs) sparked by intelligence reports that Islamic extremists were planning random killings (beheadings) in Australia:https://www.youtube.com/watch?v=V0ctrDnM__4
Additionally, look for three major languages to create major chaos and loss of our national ethos in the coming decades. Look for linguistic confusion and separation from being a citizen of the United States because you speak Arabic, Spanish or English.  In the end, we face becoming a nation of strangers.
What solutions might we enact to save ourselves?
Immediate reduction of all legal immigration to less than 100,000 annually instead of the current 100,000 every 30 days from 150 countries around the globe.
Immediate enforcement of our current work, rent and transport laws against employers of anyone illegally in the USA.
Immediate discussion on "60 Minutes"; "Face the Nation" ; "Meet the Press" ; Charlie Rose; NBC, CBS, FOX, ABC, CNN, Bill O'Reilly, Wolf Blitzer, Shepard Smith, Megyn Kelley and all talk radio shows on how many people can our country hold and what's the point of adding another 100 million foreigners when we already face enormous problems with what we currently hold.
Millions of Americans need to join www.NumbersUSA.org; www.CapsWeb.org and www.Fairus.org and www.TheSocialContract.com in order to grow you strength via collective empowerment.
Otherwise, we keep heading where we're headed. And, we'll end up just like any third world country.  Crowded, scant opportunities, lack of education, water shortages, energy crisis, religious conflict, environmental degradation and worse.  It's inevitable if we fail to stop mass immigration.  I am amazed that I am the only US journalist who sees this monster so clearly, yet I see no national movement to stop it.  Result: we doom our kids to a very sobering future of a fractured and fragmented civilization that cannot right itself.
It long ago became clear to me that, despite all the pretense, protesting and politicking, no one who has ever seriously thought about equality actually believes in it. When making this case, one could point to how Eric Holder's DOJ is currently suing the Pennsylvania State Police for treating women equally (how dare they!), but there's perhaps no better example than a recent BBC writer who asks, "Is sport sexist?"
The author, Aimee Lewis, poses the question because there are still sports where the women's categories don't precisely correspond to the men's; for example, she mentions how women gymnasts and swimmers don't always compete in the same kinds of events, the no-contact rule in women's lacrosse and how in tennis, "While men play five sets at Grand Slams, women can only compete over three sets."
Now, the last example well illustrates the convoluted thinking underpinning much of the equality movement. Is the correct way of framing this that "women can only compete over three sets"?
Or it is that men must compete over five?
This is especially relevant since the equality police long ago lobbied for, and succeeded in getting, equal prize money for women at the Grand Slams (Wimbledon, French Open, U.S. Open, Australian Open). In other words, the male players must now work longer for the same pay and thus are actually earning less per hour than the women.
Equality?
The head of the Women's Tennis Association, Stacey Allaster, was asked about this recently, called it "an old discussion" and said, "[W]e're ready, willing and able to play five sets if that's what they'd like us to play."
Question: Years ago, did Allaster merely say, "We're ready, willing and able to accept equal prize money if that's what they'd like to offer"?
No, she zealously lobbied for it.
Why isn't she lobbying now for equal work for her players' equal pay? Sure, it's human nature to want the benefits others have but not their liabilities. But if you really believe in Equality™, you don't just shout the word in an effort to institute a different model of inequality, one that benefits you or your agenda.
Having said this, I agree with Lewis' implication: sport is "sexist." After all, there is a separate realm of athletics that's protected from the best competition and is only available to one sex. It is, of course, called women's sports.
This isn't just snark. There's a simple answer to any feminist complaint about inequality in sports: You want the men's money, exposure, standards, respect or something else?
Compete in men's sports.
And women have the opportunity. Golfers Annika Sorenstam and Michelle Wie have received "sponsor's exemptions" to play in PGA (men's) events. Women have tried out for the NBA and have attempted to work their way up to baseball's major leagues through the farm system. The door, Ms. Allaster, is open — you just have to be ready, willing and, most importantly, able to walk through it.
The point is this: It's silly and hypocritical to lobby for equality within an inherently unequal system while simultaneously supporting that system. And if you do, do you really believe in equality in principle? Or only as ploy?
To arbitrarily say that female athletes should earn the same as male ones is like saying that lightweight boxers should have the same purses as heavyweights. It's like saying the best handicapped "differently abled" athletes (as in the Special Olympics) should not only get paid, but they should earn the same as the able-bodied. And what of elite high-school athletes? The mile record for 15-year-old boys is better than the women's world record, and the boys' American high-school record is considerably better. And with some variation, these gaps hold across sports, yet most of these hard-working male athletes will never succeed in the men's professional ranks and will never earn even what the women do. Should these young sportsmen not only be paid but be compensated as handsomely as the pros?
The answer is simple: If the market — which is just economic democracy expressed through purchasing decisions — valued events for the handicapped or juniors as highly as it does professional men's sports, those arenas would command the same revenues. The same is true of women's sports, of course, but in that case we're expected to offer a special dispensation from the market forces that apply to anyone and everyone else. We're also supposed to ignore professions in which women are paid more, such as modeling, in which 2013's 10 top-earning female models commanded 10 times as much as their male counterparts.
Equality?
The reason why heavyweight boxers have always received more money and exposure (satisfied the market more) than lightweights is because the heavyweight world champion is the world champion. This is the same reason men's professional sports command greater revenue and exposure than athletic arenas for juniors, the handicapped or collegians — or for women. The best male athletes are the best athletes. Other sports categories exist to provide other people with opportunities to compete, have fun and build character. They are not jobs programs.
The truth is that not just sport but all of nature's and man's world is a place defined by varying degrees of quality, not equality. This is no doubt why the Bible barely mentions the notion, except when referring to weights and measures. It's also why I tend to doubt that anyone who has ever pondered equality deeply actually believes in it. It sure is a great rallying cry, though, when trying to overturn the status quo and institute a special-interest-group favoring system of inequality.
For this reason it actually would be beneficial to eliminate sex-specific categories in sports, let everyone compete together and allow the cream to rise to the top. After all, to use a twist on Lincoln's observation about laws, the best way to eliminate a bad social movement is to apply its tenets strictly. If we actually had to live with the reality of "equality" instead of just its rhetoric, lobbying for equality might go out the window really, really fast.
Is the fact that half of the Scots want to split from Britain and the news that hundreds of young Muslim Brits are fighting with Jihadi militant groups in Syria connected?
Of course they are. These two social phenomena are intrinsically linked, yet in the intellectual desert in which we live, no one dares to address the subject. The boundaries of our curiosity are limited by our deference to political correctness and Zionist sensitivities.
From a political perspective, Jihadi enthusiasm amongst young Western Muslims is an outcome of the emergence of tribalism in the West; but isn't the call for Scottish independence driven by a similar tribal urge? From both a philosophical and dialectic perspective, Jihadi identification and the Scottish call for independence are the antithesis of the New Left and its corrosive Identity (ID) politics that have been spread in our midst for too long.
In the last five decades we have witnessed a relentless attack on nationalism and patriotic values. These attacks are commonly associated with the 'New Left' and have been led in large part by the Jewish intelligencia. It was the Frankfurt School's thesis on Authoritarian Personality (Adorno & co) and Wilhelm Reich's take on 'Mass Conservatism' that suggested that there was something wrong, dangerous and even vile to be found among the masses and their 'reactionist' political orientation.  Contemporary Left cosmopolitan icon Noam Chomsky has been calling for the abolishment of borders and states (except, of course, the Jewish State* for many years. Chomsky is proudly hostile to patriotism and nationalism. Yet we must examine the alternative offered by Chomsky, The Frankfurt School, The New Left and The Guardian – the media outlet that enthusiastically disseminates these ideas.
For reasons that I have discussed numerous times, the New 'Left' and the Jewish intelligencia have vigorously advocated the replacement of the national patriotic discourse with ID politics. In practice, this was intended to break the cohesiveness of the working class and the national bond and replace it with a score of marginal and sectarian discourses. The Left that once claimed to be a universal voice for the working people was hijacked. It became the mouthpiece of ID groups, most of them defined by biology (gender, skin color and race), sexual preferences (LGBT) and even religion (Jews only).
The outcome has been devastating. ID politics that initially purported to promote authentic thinking ended up promoting the opposite. It dismantled authenticity and replaced it with  'Identification.' Instead of being who we really are (John, Sue, Nahida or Abraham) we've been trained to identify with group ideology. We adopted a new manner of speech. We convey our thoughts 'as a'; 'as a Jew,' 'as a woman,' 'as a gay,' 'as a black,' instead of expressing our own and very personal authentic feelings and beliefs as we experience them in an unmediated existential mode.
In practice, we have replaced authenticity with detachment, alienation and mimicry.  Instead of celebrating Being in the most existential manner we learned to pre-mediate what being a 'woman', 'Jew', 'black', 'gay' should sound like. We learned to envisage what our identification 'may entail' and to react as our identification demands.  What I describe above is the practical result of the 'forgetfulness of Being,' a term coined by the great German philosopher Martin Heidegger. But it is at this point that tribal awareness; nationalism and patriotism are reinvigorated and seem to be gaining ground.
In order to explain this shift, l would like first to examine the case presented by Zionism, Israel and Jewish progressive politics.
Those who attend progressive meetings become accustomed to the righteous Jewish manner of speech. Many Jews launch their speeches with the 'as a Jew' cliché. Needless to mention, neither I nor any other scholar of Jewish ID politics have ever managed to figure out what this cliché means. The reason is that it doesn't mean a thing.
For years I have asked many Jews to address this question and haven't received a sound reply. The 'as a Jew' seems to convey a meaningful logos, but in practice it is used to block critical discussion of the emptiness of the notion of Jewish progressive ID. In truth, there is no Jewish value system and as the great Israeli philosopher Yeshayahu Leibowitz observed in the 1970s, there is no such a thing as 'Jewish ethics.' The Jew is expected to follow Mitzvoth and laws (halakha) instead of acting upon his ethical judgment. The conclusion is devastating – 'as a Jew' is an empty expression. It is a deceptive mode used to convey an image of a Jewish ethical heritage that doesn't exist.
This is where Zionism and Israel intervene. They offer the Jew an opportunity to rid himself of the sham of clichés and offer a glimpse of authentic redemption. Zionism and Israel say to the young Diaspora Jew – instead of speaking 'as a Jew' why don't you just 'Be a Jew?' – take the first El Al flight, come to Israel, join the IDF, learn how to drive a tank. By the time your transformation is complete you will be able 'to pour your wrath on the Goyim' in the name of the Jewish people and in accordance with Jewish heritage (as the Zionist interpret this heritage).
Whether we like it or not, Israel and Zionism give meaning to Jewishness.
The Zionist call is very appealing to young Diaspora Jews (American, British, French, Australian). The IDF is saturated with lone soldiers who arrived in the 'promised land' just to wear the uniform and serve their people.
Israel and Zionism provide an authentic patriotic answer to the anti-patriotic mode that has become the voice of the New Left.
ISIS and other Jihadi groups offer the young Muslim a similar product. Instead of talking 'as a Muslim,' a statement that means very little within a consumerist, materialist, multi cultural society, the Islamic State and other Jihadi organizations offer their young Western followers the opportunity to Be a proper Muslim. Instead of participating in the inauthentic 'as a' game, ISIS calls on its followers to participate in a holy war, the ultimate form of true spiritual fulfillment.
It would be foolish to tag ISIS Western combatants as "bad Muslims" or 'evil fundamentalists' while turning a blind eye to the rising popularity of Jihadi culture within Muslim communities in the region and in the West. I recommend that we examine the popularity of ISIS amongst young Muslims in the light of the popularity of the Zionist cause within Western Jewish communities. I can't see why a young British Muslim fighting in Iraq is worse than a Jewish British citizen serving in the IDF and ruining the lives of Palestinians in Gaza and the West Bank.
The rise of nationalism and tribalism is prevalent throughout Europe and much of the world. This week Britain is on the verge of breaking up. Half of the Scots prefer to split from the Kingdom. What is going on in Scotland is a repetition of the same pattern. Instead of subscribing to a watery meaningless British 'collectivism;' Scotland, as a unifying symbolic bond has much more to offer its people.
To sum up, it seems that the attempt by the New Left to weaken the Nation state by promoting ID politics has backfired. It has led toward a sharp rise of tribal orientation and local patriotism. This reading may also help us to grasp the historical failures of the New Left and its mentors at the Frankfurt School. As we know, the masses never joined the Left. The promised revolution never occurred either.  And the reason is plain: real working people didn't have cause to impersonate working people – they were the working people.
The Left's advocacy of mimicry was not without its benefits. It brought itself some popularity amongst middle class Guardian readers and progressive Jews.  But the current outburst of tribalism suggests that our society is changing direction. Society may never be the same, and this may be a very positive occurrence.
"French aircraft were due to begin their first reconnaissance flights over Iraq," France's Foreign Minister Laurent Fabius announced on September 15. Britain is already flying reconnaissance missions over Iraq. Several other countries – Arab ones included – say they are willing to support the air campaign. None seem interested in pledging any ground troops, however.
"Well, you will hear from Secretary Kerry on this over the coming days. And what he has said is that others have suggested that they're willing to do that. But we're not looking for that right now," Chief of Staff Denis McDonough waffled on "Meet the Press" on Sunday, September 14. "We're trying to put together the specifics of what we expect from each of the members," he added, which is one way of saying the United States is finding it hard to persuade other countries to provide ground forces – something the self-designed leader of the "coalition" is unwilling to do. Also on "Meet the Press" James Baker noted that the biggest problem "of course, is who are our, quote, 'partners on the ground' that the president referred to in his speech. And I don't know where they come from." Let it be noted that Baker put forth an ad-hoc strategic plan that was, in fact, far better than the one outlined by Obama. He suggested joining forces with China, Russia, Iran, Syria and others, following a non-UN-sponsored international conference of genuine international leaders.
There are no "partners on the ground" for now, and those that the Administration wants to groom for the role are worse than none: McDonough conceded that ground troops are needed, "that's why we want this program to train the [Syrian] opposition that's currently pending in Congress." In my curtain-raiser on President Obama's much-heralded speech of September 10, posted two days before he delivered it ("Obama's Non-Strategy"), I warned that he – disastrously – still counts on the non-existent "moderate rebels" in Syria to come on board, and still refuses to talk to Bashar al-Assad, whose army is the only viable force capable of confronting the IS now and for many years to come. In short, "he has no plan to systematically degrade the IS capabilities, no means to shrink the territory that they control, and certainly no strategy to defeat them."
Obama's address to the nation on September 10 confirmed all of the above, but it also contained numerous non sequiturs, falsehoods, and delusional assertions that need to be addressed one by one. (The President's words are in italics.)
I want to speak to you about what the United States will do with our friends and allies to degrade and ultimately destroy the terrorist group known as ISIL.
This is an audacious statement of intent: not what the U.S. and America's unnamed "friends and allies" will try to do, but what they will do to destroy an effective fighting force of some 30,000 fanatical jihadists at the time of this writing, and rapidly rising – an army, in fact, which is well armed and equipped, solvent, and highly motivated. Regardless of the coherence of Obama's proposed methods – more of that later – what he announced is the beginning of yet another open-ended Middle Eastern war in which the United States will be fully committed and in which the "job" will not be considered "done" until and unless the IS is "destroyed." Newt Gingrich is already salivating at the prospect of America spending "half of a century or more hunting down radicals, growing reliable self-governing allies, and convincing friends and neutrals to be anti-radical." This nightmare is good news – at home – only for the military-industrial complex, and abroad for the jihadists of all color and hue. "Half a century or more" of such idiocy can only accelerate this country's road to bankruptcy, financial as well as moral.
Over the last several years, we have consistently taken the fight to terrorists who threaten our country. We took out Osama bin Laden and much of al Qaeda's leadership in Afghanistan and Pakistan.
Osama bin Laden's death did not make one scintilla of difference. Al Qaeda's (AQ) leadership is not a snake but a hydra: you can "take out" a hundred of its leaders today, and another hundred will take their place tomorrow. Successfully killing scores or thousandsof jihadists should not be confused with winning against jihad. More importantly – and Obama seems to be oblivious to the fact – al Qaeda is not a hierarchical organization, but a state of mind and a blueprint for action. Its non-affiliates, too – in Nigeria, Libya, Syria, the Philippines, Kashmir etc. – follow the same guiding principles and seek the same millenarian objectives. As any counterterrorism expert can tell you, "targeted" drone killings are doing more damage than good by angering local populations – which suffer "collateral damage" – thus providing an inexhaustible pool of fresh recruits for the jihadists (quite apart from legal and moral considerations).
We've targeted al Qaeda's affiliate in Yemen, and recently eliminated the top commander of its affiliate in Somalia.
It is breathtaking that Obama should imply that Yemen and Somalia are his administration's success stories that should be emulated in the campaign against the IS. As Nicholas Kristof noted in The New York Times, "Obama may be the only person in the world who would cite conflict-torn Yemen and Somalia as triumphs."
Yemen is an ever-growing hotbed of terrorist activity regardless of (and more likely partly due to) more than 100 American airstrikes since 2002, which killed some 500 militants and over a hundred civilians. (When Yemeni kids are disobedient, their parents have a new tool of enforcing discipline: "A big American drone will come and get you!") The Department of state admitted in its most recent worldwide terrorism report that "of the AQ affiliates, AQAP (Al Qaeda in the Arabian Peninsula) continues to pose the most significant threat to the United States and U.S. citizens and interests in Yemen." Its success, according to the report, is "due to an ongoing political and security restructuring within the government itself" [i.e. no effective government and no reliable security forces]. "AQAP continued to exhibit its capability by targeting government installations and security and intelligence officials, but also struck at soft targets, such as hospitals," and it continues to expand territory under its control. Somalia is an utterly failed state with no functioning government, and al-Shabaab's terrorist base from which complex operations are launched against soft targets in neighboring countries (notably last year's attack on Nairobi's Westgate mall, which killed at least 67 people).
If this is the model for the anti-IS campaign, then even a century of Newt's "hunting down radicals, growing reliable self-governing allies, and convincing friends and neutrals to be anti-radical" will be a fiasco – albeit on an infinitely grander scale.
We've done so while bringing more than 140,000 American troops home from Iraq, and drawing down our forces in Afghanistan, where our combat mission will end later this year. Thanks to our military and counterterrorism professionals, America is safer.
The fruits of the war in Iraq are all too visible. It cannot be stated often enough that America's war against Saddam – who never threatened the United States, and opposed Islamic terrorism – produced the IS, which is now treated as an existential threat which requires another American war to eliminate.
In Afghanistan the Taliban is well poised to make a comeback one, two, at most three years after the end of the American combat mission. It is able to carry out attacks in the center of the capital, Kabul, the latest of which – on September 16 – killed three members of NATO's International Security Assistance Force. Safer, indeed.
Now let's make two things clear: ISIL is not "Islamic." No religion condones the killing of innocents, and the vast majority of ISIL's victims have been Muslim.
This is surreal. Obama may have been born and raised a Muslim, but he claims not to be a Muslim now; it is therefore as preposterous for him to pass judgments on the Islamic bona fides of Muslim entities as it would be for the Saudi king to decide whether the Orange Order of Ulster or the Episcopal Church are "Christian" (a purely technical parallel, of course). In any event, Obama's theological credentials were established with clarity in the aftermath of James Foley's beheading by the IS, when he declared (also in the context of absolving Islam of any connection with the IS) that "no just God would stand for what they did yesterday and what they do every single day." Since they did what they did, this unambiguous statement means that – in Obama's opinion – either there is no God, or God is not just.
Contrary to Obama's assurances, Islam does condone the killing of infidels (non-Muslims) and apostates (Shiites) – they are not "innocents" by definition. And of course Muslims have been killing other Muslims – often on a massive scale – ever since three of the four early caliphs, Muhammad's immediate successors, were murdered by their Muslim foes. It is immaterial whether ISIS is true to "Islam" as Obama chooses to define it. It is undeniable that it is true to the principles and practices of historical Islam.
Obama either does not know what he is talking about, or he is practicing a variety of taqiyya. As Nonie Darwish put it bluntly in the American Thinker on September 12, Obama does not want to go down in history as the one who destroyed and extinguished the dream of resurrecting the Islamic State. Under his watch Islam was placed on a pedestal and that helped revive the Islamic dream of the Caliphate:
Muslims felt that Obama was their man, under whom they had a chance to achieve their powerful Islamic state. Obama himself was not happy with the military takeover and destruction of the Muslim Brotherhood in Egypt. Jihadist ambition had to move away from Egypt to war-torn Syria and Iraq. For more than two years, Islamists have carried out flagrant and barbaric mass terrorism – beheadings, torture, kidnapping, and sexual slavery of women, men, and children. Obama ignored the problem until it blew up in our faces with the beheading of two Americans.
Even if he could defeat ISIS, Darwish argues, that would turn him into an infidel enemy number one of Islam – one who supported Muslims in their dream of the Caliphate by looking the other way, only to later crush it. Obama therefore cannot be honest about this dilemma regarding ISIS; "a dilemma between his duty to the USA, the country he chose to lead, and his dream of becoming the hero of the Muslim World who taught the West a lesson on how to treat Muslims. Obama will not obliterate ISIS but will contain it, as he said. He will eventually kick the can to the next administration, not only because he hates wars as he claims, but because he does not want to be enemy number one of Islam and the Muslims." That is Obama's dirty little secret that explains his paralysis before ISIS, Darwish concludes: "Ironically, the man who claimed to have healed the relationship between the West and the Muslim world will go down in history as the one who helped the rise and the bloody fall of the Islamic State and perhaps America itself."
And ISIL is certainly not a state… It is recognized by no government, nor the people it subjugates.
Obama does not know the feelings of some ten million people under IS control. Many of those who did not cherish life under its black banner have already fled to Damascus, Baghdad, or Erbil. There is no doubt that it is successful in attracting thousands upon thousands of new recruits every month. And as I wrote in the current issue of Chronicles, the Caliphate is a "state" whether we like it or not:
Traditional international law postulates the possession of population, of territory, and the existence of a government that exercises effective control over that population and territory: a state exists if it enjoys a monopoly on coercive mechanisms within its domain, which the caliphate does. After all, unrecognized state entities such as Transnistria, Abkhazia, Northern Cyprus, South Ossetia, and Nagorno-Karabakh command their denizens' overwhelming loyalty and exercise effectively undisputed control over their entire territory. Some international jurists may cite the ability of the self-proclaimed state's authority to engage in international discourse, but that is a moot point. The capacity to control a putative state's territory and population almost invariably leads to such ability, regardless of the circumstances of that state's inception: South Sudan is a recent case in point, and the creation of Israel in 1947 also comes to mind.
ISIS controls an area the size of Montana in northeastern Syria and western and northwestern Iraq. It has substantial funds at its disposal, initially given it by the Saudis, Kuwaitis, Turks, Qataris, Bahrainis, UAE donors, et al., and augmented to the tune of half a billion dollars looted from the Iraqi government vaults in Mosul and Tikrit. It is effective in collecting taxes, tolls, and excise duties. With no debts or liabilities, the existing stash and ongoing cash flow makes the emerging Caliphate more solvent than dozens of states currently represented in the UN. It has enough oil and derivatives not only for its own needs, but also to earn the foreign exchange needed to buy all the food and other goods it needs from abroad.
ISIL is a terrorist organization, pure and simple.
It is not that (see above). This statement reflects a conceptual delusion which ab initio cannot provide the basis for a sound strategy. Obama's own State Department declared as far back as July 23 that "ISIL is no longer simply a terrorist organization" – or at least that is what Brett McGurk, deputy assistant secretary for Iraq and Iran, told a House Foreign Affairs Committee hearing on that day. "It is now a full-blown army seeking to establish a self-governing state through the Tigris and Euphrates Valley in what is now Syria and Iraq."
And it has no vision other than the slaughter of all who stand in its way.
It does have a vision. That vision is eminently Islamic in its millenarian strategic objectives, in its tactics, and in its methods. It is no more utopian than Obama's vision of an "indispensable" America, which – as he put it at the very end of his speech – stands for "freedom, justice and dignity," an America which defends those "timeless ideals that will endure long after those who offer only hate and destruction have been vanquished from the Earth."
In its self-proclaimed status as a caliphate, the IS claims – in principle – religious authority over all Muslims in the world, and ultimately aspires to bring all Muslim-inhabited lands of the world under its political control. Last June ISIS published a document which announced that "the legality of all emirates, groups, states and organizations becomes null by the expansion of the khilafah's authority and arrival of its troops to their areas." It rejects the political divisions established by Western powers in the Sykes–Picot Agreement of 1917. Its self-declared immediate-to-medium-term goal is to conquer Iraq, Syria and other parts of al-Sham – the loosely-defined Levant region – including Jordan, Israel, Palestine, Lebanon, Cyprus and southeastern Turkey. It is a bold, even audacious vision, but a vision it most certainly is.
In a region that has known so much bloodshed, these terrorists are unique in their brutality. They execute captured prisoners. They kill children. They enslave, rape, and force women into marriage. They threatened a religious minority with genocide.
There is absolutely nothing "unique" in the IS fighters' brutality. They are only following the example of their prophet. Muhammad executed Meccan prisoners after the battle of Badr in 624AD. He condoned the killing of women and children besieged in Ta'if in 630. He and his followers enslaved, raped and forced into marriage Jewish women after he massacred the men of the Jewish tribes of Banu Qurayzain 627 and Banu Nadir in 629. He even "married" one of the captured Banu Nadir women, Safiyya bint Huyayy captured after the men Banu Nadir were massacred. He did not "threaten" the Jews of the Arabian peninsula with genocide, he carried that genocide so thoroughly that not a trace of them remains to this day. Christians living in the IS who want to remain in the "caliphate" face three options according to IS officials: converting to Islam, paying a religious tax (jizya), or "the sword." This choice is as conventionally Islamic as it gets, having been stipulated many times in the Quran and hadith.
But this is not our fight alone. American power can make a decisive difference, but we cannot do for Iraqis what they must do for themselves, nor can we take the place of Arab partners in securing their region. That's why I've insisted that additional U.S. action depended upon Iraqis forming an inclusive government, which they have now done in recent days… I can announce that America will lead a broad coalition to roll back this terrorist threat.
The would-be coalition of Sunni Muslim "partners" includes those who had been aiding and abetting ISIS for years, and who have neither the will nor the resources to fight it. As I wrote here last week, those countries' military forces are unable to confront an enemy which consists of highly motivated light infantry, knows the terrain, enjoys considerable popular support, and operates in small motorized formations:
On the basis of its poor showing in Yemen it is clear that the Saudis in particular are no better than the Iraqi army which performed so miserably last June. Even when united in their overall strategic objectives, Arab armies are notoriously unable to develop integrated command and control systems – as was manifested in 1947-48, in the Seven-Day War of 1967, and in the Yom Kippur War of 1973. Their junior officers are discouraged from making independent tactical decisions by their inept superiors who hate delegating authority. Both are, inevitably, products of a culture steeped in strictly hierarchical modes of thought and action. Furthermore, their expensive hardware integrated into hard to maneuver brigade-sized units is likely to be useless against an elusive enemy who will avoid pitched battles.
An additional unresolved problem is Turkey, which is staying aloof and will not allow even U.S. facilities in its territory to be used for the air campaign. Erdogan is definitely not a "partner," and Turkey continues to tolerate steady recruiting of ISIS volunteers in its territory as well as the passage of foreign jihadists across the 550-mile borderit shares with Syria and Iraq.
The most important problem in creating a coalition with Obama's "Arab partners" is religious, however. The leaders of all Sunni Arab countries and Turkey are well aware that, contrary to Obama's claims, ISIS is a Muslim group firmly rooted in the teachings and practices of orthodox Sunni Islam. They are loath to ally themselves with the kuffar in fighting those who want to fulfill the divine commandment to strive to create the Sharia-based universal caliphate. Those leaders are for the most part serious believers, and they do not want to go to hell.
Our objective is clear: we will degrade, and ultimately destroy, ISIL through a comprehensive and sustained counter-terrorism strategy. First, we will conduct a systematic campaign of airstrikes against these terrorists. Working with the Iraqi government, we will expand our efforts … so that we're hitting ISIL targets as Iraqi forces go on offense.
The Shia-dominated Iraqi army is not to be counted upon, as attested by its flight from Mosul, and it cannot be counted upon to cooperate with the armed forces of the overtly anti-Shia regimes, even if in the fullness of time they provided ground troops. The Kurdish pershmerga also would be loath to treat Saudis or Qataris as brothers-in-arms. Even if they were capable of major operations, which they are not, both the Iraqi army and the peshmerga would be perceived by the Sunni Arab majority in northwestern Iraq as an occupying force with the predictable result that the "caliphate" could count on thousands of fresh volunteers. Obama's "regional allies" could end up helping their Sunni coreligionists fight the Shia "apostates." They regard the IS in western Iraq and northeastern Syria as a welcome buffer against the putative Shia crescent extending from Iran to the Lebanese coast. As for the "Iraqi forces," they are devoid of any offensive potential now and that will not change for years to come.
Across the border, in Syria, we have ramped up our military assistance to the Syrian opposition… In the fight against ISIL, we cannot rely on an Assad regime that terrorizes its people; a regime that will never regain the legitimacy it has lost. Instead, we must strengthen the opposition as the best counterweight to extremists like ISIL, while pursuing the political solution necessary to solve Syria's crisis once and for all.
"The Syrian opposition" is ideologically indistinguishable from the IS, militarily ineffective, internally divided, and far keener to renew its stalled fight against Bashar al-Assad than to fight the Caliphate. America's would-be "coalition" partners have indirectly indicated that they are aware of this fact: several mentioned Iraq when announcing the proposed military measures last Monday, but none made any mention of the challenge next door.
Obama's present heavy reliance on the "Syrian opposition" is at odds with his own doubts about its viability, which were openly expressed in an interview with New York Times's Tom Friedman only a month earlier:
"With 'respect to Syria,' said the president, the notion that arming the rebels would have made a difference has 'always been a fantasy. This idea that we could provide some light arms or even more sophisticated arms to what was essentially an opposition made up of former doctors, farmers, pharmacists and so forth, and that they were going to be able to battle not only a well-armed state but also a well-armed state backed by Russia, backed by Iran, a battle-hardened Hezbollah, that was never in the cards.'"
Now, however, Obama is rejecting cooperation with Damascus – the only realist course with any chance of success – and is relying on a "fantasy" scenario to create some boots on the ground. No lessons have been drawn from Libya's collapse into bloody anarchy, or from the failure of America's decade-long effort to train and equip the Iraqi army, which disintegrated when faced with the IS three months ago. Such fiascos notwithstanding, Obama wants to build up a Syrian rebel force as one of the pillars of his strategy – that same force of which he said to Friedman on August 8 that "there's not as much capacity as you would hope."
We will continue providing humanitarian assistance to innocent civilians who have been displaced by this terrorist organization. This includes Sunni and Shia Muslims who are at grave risk, as well as tens of thousands of Christians and other religious minorities. We cannot allow these communities to be driven from their ancient homelands.
"Tens of thousands of Christians" is a hundred-fold reduction of the magnitude of the problem that long-suffering community has faced in the region since the start of the Iraqi war in 2003. Obama's statement is the exact numerical and moral equivalent to saying that "hundreds of thousands of European Jews" were at grave risk at the time of the Wannsee conference. As Peggy Noonan wrote the other day in the Wall Street Journal, "genocide" is the right word to describe the plight of the region's Christians, noting that "for all his crimes and failings, Syria's justly maligned Assad was not attempting to crush his country's Christians. His enemies were – the jihadists, including those who became the Islamic State." As well as those, let us add, who are now being groomed by the President of the United States to fight the Islamic State. No wonder he is deliberately and cynically minimizing the plight of his protégés' Christian victims.
This is our strategy.
Lord have mercy!
This is American leadership at its best: we stand with people who fight for their own freedom; and we rally other nations on behalf of our common security and common humanity.
Cringe.
My Administration has also secured bipartisan support for this approach here at home. I have the authority to address the threat from ISIL.
This is disputable. Obama refers to the authorization originally concerning action against al-Qaeda, treating as a blank check for starting a new war of unknown magnitude and duration.
This counter-terrorism campaign will be waged through a steady, relentless effort to take out ISIL wherever they exist, using our air power and our support for partner forces on the ground. This strategy of taking out terrorists who threaten us, while supporting partners on the front lines, is one that we have successfully pursued in Yemen and Somalia for years.
Deja-vu all over again. On the grimly positive note, more Yemeni and Somali-like "successes" may be needed to accelerate America's eventual return home.
America is better positioned today to seize the future than any other nation on Earth.
It would be a cliché to state that Obama is either deluded or stunningly cynical. He is both, of course, I'd say roughly 60:40.
Our technology companies and universities are unmatched; our manufacturing and auto industries are thriving. Energy independence is closer than it's been in decades. For all the work that remains, our businesses are in the longest uninterrupted stretch of job creation in our history.
Cringe again: tasteless, self-serving inanities that have nothing to do with ISIS or strategy. Obama's psychopatic narcissism trumps that of the Clintons, impossible as it may have seemed.
Abroad, American leadership is the one constant in an uncertain world. It is America that has the capacity and the will to mobilize the world against terrorists.
"The world," indeed, minus Russia, China, India, Brazil, Argentina, Iran, South Africa, and scores of lesser powers on all continents (save Australia) which have the capacity and the will to reject Obama's audacious and increasingly absurd notions of global leadership.
It is America that has rallied the world against Russian aggression, and in support of the Ukrainian peoples' right to determine their own destiny. It is America – our scientists, our doctors, our know-how – that can help contain and cure the outbreak of Ebola. It is America that helped remove and destroy Syria's declared chemical weapons so they cannot pose a threat to the Syrian people – or the world – again.
There is no "Russian aggression," and "the Ukrainian peoples' right to determine their own destiny" was brazenly undermined by the State Department/CIA-engineered coup d'etat in Kiev last February. It is preposterous for Obama to take credit for the destruction of Syria's chemical weapons – it was Vladimir Putin's diplomatic coup which got Obama off the hook when Congress and the public at large expressed their opposition to the intended bombing of Syria. But yes, American scientists and doctors definitely "can help contain and cure the outbreak of Ebola." That was the only true statement in Obama's address. Its relevance to his anti-IS strategy is unclear.
And it is America that is helping Muslim communities around the world not just in the fight against terrorism, but in the fight for opportunity, tolerance, and a more hopeful future.
… especially in places like Marseilles, Antwerp, Malmo, Dortmund, and Dearborn, Michigan.
America, our endless blessings bestow an enduring burden. But as Americans, we welcome our responsibility to lead. From Europe to Asia – from the far reaches of Africa to war-torn capitals of the Middle East – we stand for freedom, for justice, for dignity. These are values that have guided our nation since its founding.
Obama wouldn't know the founding values if they hit him in the head. He is the worst president of the United States in history after all. That is no mean feat, considering the competition.
The statistics are just beginning to be analyzed—by UN agencies and a myriad of NGO's whose mandates include salvaging young lives from the nearly incalculable ravages of the five-week (and counting) Zionist aggression upon Gaza. It is of course the third aggression in six years against the 1.8 million Palestinians, sardine-canned into what is increasingly referred to as history's largest open air prison, but the outcome this time is looking particularly cruel and grim.
As the Netanyahu regime announced (on 8/10/14) that its attacks on Gaza would continue, increasing numbers of obscene calls—for Israel to "finish the job" and "go all the way" etc.—are floating in the Zionist state's malodorous public echo-chamber, emanating from such figures as the Knesset's deputy speaker, who advocates driving Palestinians into the Sinai desert and resettling Gaza with Jews.
In Khuza'a "the Israeli military had trapped at least 32 people in a home and then prevented the Red Cross from evacuating them before shelling the area," reported Lebanese-American journalist Roqayah Chamseddine. Hoping for safe haven, the people in the house sought refuge in the basement of a neighbor's home, where they found additional families already inside.
"By that point we were 120 people, 10 men and the rest women and children," Kamel al-Najjar recalled for Human Rights Watch.
After dawn and without warning (no polite leaflets or knocks on the roof apparently), Israel struck the house, killing three people and wounding 15 others.
The toll of the war on Gaza's children has been "catastrophic," according to UN agencies. At least 450 have been killed, and those not having their physical bodies buried have found their innocence entombed. It is another casualty in the war—a war against all things daring to live and resist in Gaza. According to Chamseddine:
"Israel has forced the children of Gaza to lay flowers atop headstones, and watch helplessly as coffins that are filled with not only their most beloved family members, teachers, neighbors, and friends but also their most treasured memories, lullabies, lessons learned and those that will never come, descend into the belly of the earth. Their lips will memorize and form prayers for the dead and the stars that defied the siege that flickered freely high above them will be snatched from their skies."
Increasingly it is being heard from Gazans that "Israel has stolen everything beautiful in our lives," and Israel's barbarity confirms this sentiment.
Middle East analysts point out that it is difficult to recall a time in modern history when there has been so much sustained slaughter of this region's civilian population, with more than two-thirds of the victims being women and children. For the past year, UN agencies and other humanitarian organizations have lamented a simple reality—that there is not a sufficient level of international aid to save lives and treat those in need of emergency and longer term medical care.
But now something is changing.
The horrors we have just witnessed, especially with respect to traumas inflicted on children, is producing, as should be the case, a major and rapidly growing international focus on salvaging young lives. Descriptions and evaluations of the consequences of Gaza wars are being published and urgently discussed. Some analysts and government officials, including Pentagon planners, are calling for a 'Medical Marshall Plan,' to save Gaza's children. One proposed first step is the dispatching of a humanitarian support group of hospital ships that would sail to Gaza without further delay.
What can and must be done, by the United States and other countries with the naval and medical capacity to do so, is to organize a Hospital Ship flotilla to break the siege of Gaza, to anchor offshore, and to begin caring for the medical needs of all, with a special focus on children and their psychological well-being. Call it a Mercy Mission. Initially it could include the following countries—all well known for their hospital ships with up-and-running medical staffs: the USA, UK, France, China, Russia, Spain, Argentina, and Australia. Within this group of nations are ships with hundreds of patient beds and fully stocked pharmacies. Moreover, it is a group not likely to be interfered with by those who have imposed the inhumane blockade of Gaza (and of course it even includes some of their collaborators in the region), but perhaps most importantly, every country on the list possesses one or more hospital ships that are fully staffed and available to act.
France is reportedly ready to join such an effort and is also working on a related crisis—in Iraq, where it plans delivery of first aid equipment "in the coming hours," according to the office of Francois Hollande. The French president has "reaffirmed the will of France to stand by the side of civilian victims of continued attacks" in Iraq, and his spokesmen said that "France will do the same thing for Gaza."
"The European Union is called upon to also take necessary measures with great urgency to respond to immediate humanitarian needs," the spokesman added.
Hundreds of EU citizens, with their specialized skills in fields of pediatric medicine and child psychology, are reportedly ready to help the children of Gaza. Two fully stocked and staffed American medical ships, the USNS Mercy and the USNS Comfort, could contribute greatly to the effort. Each ship's hospital is a full floating medical treatment facility, containing 12 fully equipped operating rooms, a 1,000-bed patient capacity, digital radiological services, medical laboratory, pharmacy, optometry lab, and intensive care ward; each also has a dental clinic with full services, CT scanner, and two oxygen-producing plants.
Helicopter landing decks are available as well, for patient transports, and the ships also have side ports that could take on patients from Gaza fishing boats and other crafts at sea. In addition to these two mammoth-sized medical vessels, dozens of other US Navy ships also have hospitals on board. For example, in one year, the medical department of the USS George Washington handled over 15,000 out-patient visits, drew almost 27,000 lab samples, filled almost 10,000 prescriptions, took about 2,300 x-rays, and performed 65 surgical operations—and nearly 100 other US ships are capable of doing the same.
Just one example with respect to capacity is illustrative. In April of this year, the USNS Comfort—a converted 70,000-ton tanker—sailed from Norfolk, Virginia carrying 900 doctors, nurses, and engineers, including staff from the U.S. military, civilian agencies, non-government charities, and even foreign navies. The ship is designed to be deployed quickly for four month intensive full service medical assistance; yet similar capacities obtain in certain other US ships and in foreign navies as well. All of these resources must be put to immediate use to save Gaza's children.
Looking at the longer term, the Pentagon should seriously consider ordering a sufficient number of catamaran transports and shallow-draft littoral ships to fill out the flotilla, vessels capable of delivering aid by sea via the relatively shallow Gaza coastline. The success of breaking the siege of Gaza will likely give impetus to a UN Security Council decision to construct a seaport for Gaza, perhaps with a shipping channel to Cyprus.
Similarly, the UK hospital ship, RFA Argus, designated as a 'Primary Casualty Receiving Ship,' is moored in Falmouth, England, and is also uniquely designed for this type of humanitarian crisis; and it, too, is reportedly ready to sail once given the green light by Downing Street.
Five Hospital ships are urgently needed along Gaza's shoreline at the following locations: opposite Jabaliya and North Gaza, Gaza City, Deir al-Balah, Khan Younis, and Rafah.
Although attacking a hospital ship is clearly a war crime, the Israeli pattern of targeting medical facilities in Gaza is well known, and threats from the settler movement and the right wing Likud Party to "sink any ship that enters Gaza waters if judged to be aiding the terrorists" must be taken seriously. Yet one imagines the occupation regime would have to think carefully about sinking another US Navy vessel as it did in 1967 with the repeated bombing of the USS Liberty.
Instead of recycling raw combat power, the White House can best meet the demands of a war-weary American public through an emphasis on missions such as those the USNS Mercy and USNS Comfort are designed for. Poll after US public opinion poll reveal that Americans believe their humanitarian values are best reflected when our navy is tailored for delivering humanitarian aid to places like Gaza, and not by delivering munitions to occupying colonial regimes.
"The Christian religion is the religion of our country. From it are derived our prevalent notions of the character of God, the great moral governor of the universe. On its doctrines are founded the peculiarities of our free institutions." (William McGuffey, d. May 4, 1873, professor at the University of Virginia, president of Ohio University, and author of McGuffey's Readers; earstohear.net)
Andre Comte-Sponville, one of France's preeminent atheist philosophers agrees.  In his New York Times bestseller, "The Little Book of Atheist Spirituality," Sponville observes that even though Western and American civilization has become nonreligious it is nevertheless profoundly rooted in transcendent Biblical morality and traditions.   That overt and implied atheism has all but supplanted Biblical beliefs pleases yet simultaneously frightens Sponville as he clearly sees that if Western civilization entirely ceases to be Christian it will fall into something like a refined nihilism.  And if we believe that nothing remains,
"….we might as well throw in the towel at once.   We would have nothing left to oppose to either fanaticism from without or to nihilism from within—and, contrary to what many people seem to think, nihilism is the primary danger.  We would belong to a dead civilization, or at least a dying one….Wealth has never sufficed to make a civilization, poverty, even less so.  Civilizations require culture, imagination, enthusiasm and creativity, and none of these things come without courage, work and effort."    Without these necessities, "Good night…the Western world has decided to replace faith with somnolence." (pp. 28-29)
Sponville admits that in his younger years he had believed in the supernatural God of Revelation and been raised a Christian.  Up till around the age of eighteen his faith was powerful. But then he embraced evolutionary scientism and fell away, and this falling away said Sponville, was liberating because for the liberated autonomous 'self' whose life no longer has any ultimate meaning or purpose there is no valid reason why he personally should not do as he wants to do, or why his friends should not live in the way that they find most advantageous to themselves.
But the lies, amoralism and perverse license, the nihilism Sponville rejoices in becomes an unbearable source of horror and dread when reproduced in millions of souls.  Sponville is right to fear the spread of nihilism, for when multiplied by millions it means there is no longer an ultimate, transcendent source of unchanging truth and moral law independent of sinful men, and as Sponville knows, therefore dreads, the lie is the father of violence:
"(The lie) is the word, act, sign of cunning or silence which makes use of wiles to deceive (all who seek) truth….the attitude of the liar, who full of subtlety, audacity and at times cruel cynicism, misleads his neighbor into the quick sands of falsity.  The use of the lie reveals the liar as a person of evil intentions.  He who tells lies as a way of getting ahead lacks a love of truth (he or she is) a self-centered dissimulator, cunningly manipulating his fellowmen for his own evil purposes."   (The Roots of Violence, Rev. Vincent P. Miceli, S.J., p.29)
Nihilism is the satanically inverted philosophy of violence, lies and license of America's president, his cabinet, and the amoral progressive ruling class of which they are members.  It is also the philosophy of the Marquis de Sade, Friedrich Nietzsche, Karl Marx and the Sophist Callicles in Plato's 'Georgias' who declares:
"The fact is this: luxury and licentiousness and liberty, if they have the support of force, are virtue and happiness and the rest of these embellishments-—the unnatural covenants of mankind-—are all mere stuff and nonsense." (Making Gay Okay, Reilly, pp. 31-32)
In other words, with a consensus of lies backed by force and the threat of violence, the Revelation of God, the Christian Church, virtue, true truth, marriage, gender, your children, your humanity, your wealth, your home, your business, and your Constitutional rights become whatever agents of violence and the mobs in back of them want them to be or not to be from one moment to the next.
What nihilism has already led to in England, said Nate Steuer of Jeremiah Cry Ministries, are buildings that once served as churches that are now museums, stores and even nightclubs, a strong belief in evolution and a strong homosexual-rights movement:
"They don't want to hear the gospel. The gospel is pressed down,' and the homosexual-rights movement is so rooted in England that Christians are afraid to go 'into the streets and preach,' fearing what the LBGT community will do."  ("Fate of Christianity in UK not too far from U.S., warns evangelist," Chris Woodward, OneNewsNow.com, July 8, 2014)
Evolutionary scientism is a form of nihilism leading in practice to dehumanization, demoralization, reckless irresponsibility and genocide.   It is a sham science said G.K. Chesterton.  It is a license by which the stupidest,
"…or wickedest action is supposed to become reasonable or respectable, not by having found a reason in scientific fact, but merely by having found any sort of excuse in scientific language."  The program and attitude of scientism is a "serpent….as slippery as an eel," a "demon…as elusive as an elf," an "evil and elusive creature."   (The Restitution of Man: C.S. Lewis and the Case against Scientism, Michael D. Aeschliman, p. 43)
Evolutionary scientism has amply demonstrated itself as a virulently anti-human, catastrophically destructive, demonically murderous worldview. In just the first eighty-seven years of the twentieth century, violent spirits who love evil and devouring words and breathe out slaughter and death brutally exterminated between 100-170 million un-evolved 'subhuman' men, women, and children in the Soviet Union and Nazi Germany.
In the Soviet Union, the Triune God-and-human hating nihilist of violence, Vladimir Lenin, exulted that,
"Darwin put an end to the belief that the animal and vegetable species bear no relation to oneanother (and) that they were created by God, and hence immutable." (Fatal Fruit, Tom DeRosa, p. 9)
In other words, the 'death' of the God of Revelation allows unfettered violence against millions of people because they are no longer the immutable image-bearers of the Triune God but rather expendable products of evolution on a par with slime, weeds, slugs and rocks.  Empowered by evolutionary scientism, Lenin exercised godlike power over life and death. He saw himself as, "the master of the knowledge of the evolution of social species." 
Fueled by hate, contempt and murderous rage it was Lenin who "decided who should disappear by virtue of having been condemned to the dustbin of history." From the moment Lenin made the "scientific" decision that the bourgeoisie represented a stage of humanity that evolution had surpassed, "its liquidation as a class and the liquidation of the individuals who actually or supposedly belonged to it could be justified." (The Black Book of Communism, p. 752)
In Nazi Germany evolutionary scientism resulted in gas chambers, ovens, and the liquidation of eleven million "useless eaters" and other undesirables.
Alain Brossat draws the following conclusions about the two regimes of nihilism, the Soviet Union and Nazi Germany, and the ties that bind them:
"The 'liquidation' of the Muscovite executioners, a close relative of the 'treatment' carried out by Nazi assassins, is a linguistic microcosm of an irreparable mental and cultural catastrophe that was in full view on the Soviet Stage. The value of human life collapsed, and thinking in categories replaced ethical thought…In the discourse and practice of the Nazi exterminators, the animalization of Other…was closely linked to the ideology of race. It was conceived in the implacably hierarchical racial terms of "subhumans" and "supermen"…but in Moscow in 1937, what mattered…was the total animalization of the Other, so that a policy under which absolutely anything was possible could come into practice." (Black Book of Communism, p. 751)
As in England, evolutionary scientism has replaced the God of Revelation, thus with the animalization of Americans millions of unborn humans have already been aborted, growing numbers of unwanted adults euthanized and late-term unborn babies cruelly dismembered.
Writing in, "New York Abortion Bill Allows Shooting Babies Through the Heart With Poison to Kill Them" Steven Ertelt reports that New York is already the abortion/murder capital of the United States, with practically no oversight of the industry.   Throughout the second trimester, developing babies can be completely dismembered,
"… even when they can feel pain (by) pulling the baby out piece by piece until the mother's uterus is empty. After the abortion, the abortionist must reassemble the child's body to ensure nothing has been left inside the child's mother." (LifeNews.com | 5/20/14 6:28 PM)
What nihilists now demand for late-term abortions that will be legalized in New York by the abortion-expanding Women's Equality Act, is the murder of babies,
"… by sliding a needle filled with a chemical agent, such as digoxin, into the beating heart, before being delivered."
Then there is Wisconsin-based abortionist Dennis Christensen and his partner Bernard Smith who have performed 85,000 to 95,000 abortions in a 40 year period:
"So I see it as a calling, I guess," Christensen said. "But I've been called, I've served and now I'd like to call someone else."  (Abortionist Who's Killed 95,000 Babies in Abortions: "I See It as a Calling" Steven Ertelt, LifeNews.com, 7/7/14)
Something "called him" to murder 95,000 babies, but it wasn't the Holy God of Revelation.
When for millions of nihilists the God of Revelation does not exist and life has no higher, fixed meaning or purpose with neither hope of an afterlife nor any accountability to their Maker for their actions here in this world, then men no longer have reason and purpose for being good, thus are free to be evil.  They are at liberty to invoke meaningless law and perverted justice to destroy freedom, dismember babies, and force disordered appetites upon men, women, and children.  They are free to accuse the good man of evil, to enslave other people and deprive them of life-sustaining electricity, gas, and water.  With this freedom they vandalize and plunder the property and wealth of others and throw our borders open to floods of illegals, rapists, drug-lords, terrorists, pedophiles, murderers and other sinister individuals.
Nihilists can freely lie so as to "normalize" whatever wicked fantasies and schemes they desire, such as global warming/cooling/change, redistributive justice, common core, 'gay' equality and Decadence Festivals:
"The Southern Decadence Festival is one of our nation's most notorious celebrations of sodomy, public sex acts, prostitution, drunkenness, and worse, but is by no means the only such festival….decadence festivals are held over and across post-Christian America and Western Europe as well as in Canada, Hong Kong, Australia, Thailand, Brazil, Belarus, Ireland, Japan, Scotland, China, S. Africa, India and Taipei." (Sex slaves, sexual anarchy and decadence festivals: ominous signs of something really rotten," L. Kimball, Renew America, Oct. 25, 2012)
A society of nihilists is a welcome mat to human predators of every stripe from drug lords, ISIS, and the Muslim Brotherhood to flesh-peddlers and the world's criminal elite: the occult Luciferian New World Order super-wealthy criminal consortium and their merciless leftwing and rightwing allies.   This cohort of sinister nihilists believe in nothing, know only hate, contempt, violence, greed and egotism and share a foundational hatred of the Tri-Personal God of Revelation, faithful Christians and Jews and  traditional Christian grounded Western and American civilization.
In the impeccably documented book, "Sinisterism: Secular Religion of the Lie," Bruce Walker describes the super-wealthy consortium and their like-minded allies as Sinisterists, making political labels like Far Right (Nazis/Fascists), liberals and Far Left (Progressives, Bolsheviks, Marxists, Communists) and even like-minded Radical Muslims the same thing.
What unite all Sinisterists are their hatreds:
"They hate Christians…Jews…America (and) Israel.  They hate truth.  They hate the very idea of truth.  They hate the idea of humans as unique and special in the universe.  They hate the idea of a great moral purpose unfolding in our lives.  Sinisterism is a bundle of connected hatreds.  For the sake of their hatreds, Sinisterists lust for power."(preface)
Because Sinisterists hate the idea of man as God's spiritual image-bearer they have 'killed' the Triune God and forced nihilistic Darwinism upon us because it reduces mankind to less than nothing.  They also invent words and sound-bite phrases such as heterosexist, homophobe, global change and nonexistent categories of mankind such as "racial species" and "emerging genders" that imprison thought.   Following are some other examples:
1. Multiculturalism: the stealthy destruction of America's traditional Christian based culture by insidious elevation of pagan and pantheist cultures and belief systems in the name of politically correct tolerance, pluralism and inclusion.
2.'Gay rights/'gay' marriage: rebellion against and negation of the two created sexes, procreation, and the idea of normal.
3. Political correctness, speech codes, sensitivity training, and hate crime laws:  psychic-cages for the minds of traditional-values Americans.
4. Perverse sex education: As was the case in the Soviet Union, its ultimate purpose is the subversion and perversion of our youth—the awakening of the Devil, as Karl Marx's comrade Bakunin admitted.
5. Critical theory: the mindless vomiting out of destructive criticism upon everything good, true, excellent, normal, and traditional.
6. Global change, Agenda 21, Green Movement, redistributive justice: the evisceration of our standard of living and individual liberties in order to 'save the planet' — in other words, penury, misery, death and slavery on behalf of Gaia.
7. Sustainability: Extreme population control calling for the annihilation of billions of people to achieve spiritual communism.
8. Religious pluralism: the erasure of faithful Judaism, Christian theism and America's founding Christian-based worldview by way of elevating Wicca, animism, Islam, New Age occult spirituality, Gnostic paganism, Buddhism,  shamanism, goddess worship, Luciferian Masonry and atheism in the name of politically correct tolerance and inclusion.
In order to destroy rational thinking, nihilists use words and phrases (i.e., change, "make love not war," "we are Trayvon" "evolution is an established fact of science") to create images rather than ideas and then concentrate on endless repetition of the same word-pictures,
"…to create a hypnotic effect to defend an otherwise hopeless case.  Sinisterists use the same words over and over again."   (p.12)
Nihilism's black heart is the worship of lies, particularly the Big Lie of evolution.   'Elite' transnational Robert Muller, father of Common Core Curriculum and former Assistant Secretary-General of the UN and former Chancellor of the UN University for Peace in Costa Rica speaks of the fate that will befall all politically incorrect thinkers, especially anti-evolutionists:
"…all those who hold contrary beliefs" to politically correct thought favored for the "next  phase of evolution" will "disappear."  A hellish fate awaits all who resist political and spiritual globalization, "…those who criticize the UN are anti-evolutionary, blind, self-serving people.  Their souls will be parked in a special corral of the universe for having been retarding forces, true aberrations in the evolution and ascent of humanity."  (False Dawn, Lee Penn, p. 133)
With malice aforethought, sinister nihilists have dumbed-down Westerners and Americans by infiltrating our education institutions and even our seminaries with nihilist philosophies, propaganda and schemes such as evolutionary scientism, perverse sex education, so-called 'higher Biblical criticism,' critical theory, multiculturalism and revised history.
As evolutionary scientism and the relativity of truth are fatal doctrines– types of nihilism that deny objective truth and reality— they result in the rapid disintegration of critical thinking, faith in God, respect and manners resulting in a twisted, inverted society dominated by moral imbeciles—narcissistic despots, thugs, human parasites and bizarre polymorphously perverse beings— at every level of government and society who know how they feel and what they covet and are thus entitled to but can't think straight, can't spell, and don't know right from wrong.
It should be obvious by now, said Walker, that the relations of people in American and Western society are growing coarser,
"…..more dishonest….shallower….lonelier…more desperate for the narcotics of power, applause and fear as we perceive ourselves moving closer to the status of gods and goddesses.  If we choose, as individuals, that idolatry, then we are doomed.  All the dystopian nightmares of Orwell, Bradbury, Huxley and others will become real all too soon….we will (either) surrender to thugs governing enslaved nations or embittered terrorists." (p. 252)
Our so-called "scientifically enlightened" age is an age of nihilism.  Ecstatic with the voluptuous delight of destruction which rolls humans into satanic depths; nihilists keep pushing society to the brink of social chaos and suicide:
"The Modern Liberal will invariably (and) inevitably side with evil over good, wrong over right and the behaviors that lead to failure over those that lead to success. When I say the Modern Liberal is morally and intellectually retarded at the level of the five-year old child, it is not hyperbole: its diagnosis." (Evan Sayet, The Kindergarten of Evil,evansayet.com)
Nihilism is lawlessness, idolatry, violence, perversion, fear, terrors of mind, and horrors of conscience and loss of true freedom since the despair of nihilism ends in man's slavery to his dark side, death and damnation.
In his poem "The Second Coming," Yeats reveals the murderous delight of de Sade's, Nietzsche's, Marx's, and Callicles modern offspring:
"Things fall apart; the center cannot hold
The blood-dimmed tide is loosed and everywhere
The ceremony of innocence is drowned
The best lack all conviction, while the worst are
Full of passionate intensity.
Surely some revelation is at hand; 
Surely the Second Coming is at hand."
If Western and American nihilists continue to set the God of Revelation aside in favor of "self" and what they really do know are lies and empty, shallow, meaningless evil, then a tyranny of evil will come upon us swiftly and terribly.  But there is another path before us: the way of repentance, truth, decency and God's Divine Truth.  His eternally unchanging Truth will set us free. We should choose the path of Truth and goodness:
"On that choice hangs the fate of humanity. People will either embrace goodness or deny that goodness can exist and commit moral suicide (and) worship The Lie."   (ibid, Walker, p. 252)
People who choose the way of true truth will find the goodness and Light of God.  As they follow the Way of Truth they will stumble sometimes, occasionally journey down blind alleys, and perhaps be on the wrong side of causes at times, but they,
"…will never lose hope or the help of other normal people and the Blessed Creator of the Universe." (ibid, p. 233)
The narrow way leads ever up toward truth, light, beauty, goodness, courage, hope, peace and eternal physical life in an unimaginably beautiful Paradise.   The other way is a broad highway spilling into a downward spiraling vortex marked by the despair of nihilism, the darkness of lies, the sulphuric stench of soul-destroying hate, and the horror of nothingness finally issuing into an eternity in outer darkness.
What would a psychiatrist call this? Delusions of grandeur?
US Secretary of State John Kerry, July 8, 2014:
"In my travels as secretary of state, I have seen as never before the thirst for American leadership in the world."
President Barack Obama, May 28, 2014:
"Here's my bottom line, America must always lead on the world stage. If we don't, no one else will."
Nicholas Burns, former US Under Secretary of State for Political Affairs, May 8, 2014:
"Where is American power and leadership when the world needs it most?"
Mitt Romney, Republican Party candidate for President, September 13, 2012:
"The world needs American leadership. The Middle East needs American leadership and I intend to be a president that provides the leadership that America respects and keep us admired throughout the world."
Paul Ryan, Congressman, Republican Party candidate for Vice President, September 12, 2012:
"We need to be reminded that the world needs American leadership."
John McCain, Senator, September 9, 2012:
"The situation in Syria and elsewhere 'cries out for American leadership'."
Hillary Clinton, September 8, 2010:
"Let me say it clearly: The United States can, must, and will lead in this new century. Indeed, the complexities and connections of today's world have yielded a new American Moment — a moment when our global leadership is essential, even if we must often lead in new ways."
Senator Barack Obama, April 23, 2007:
"In the words of President Franklin Roosevelt, we lead the world in battling immediate evils and promoting the ultimate good. I still believe that America is the last, best hope of Earth."
Gallup poll, 2013:
Question asked: "Which country do you think is the greatest threat to peace in the world today?"
Replies:
United States 24%
Pakistan 8%
China 6%
Afghanistan, Iran, Israel, North Korea, each 5%
India, Iraq, Japan, each 4%
Syria 3%
Russia 2%
Australia, Germany, Palestinian territories, Saudi Arabia, Somalia, South Korea, UK, each 1%
The question is not what pacifism has achieved throughout history, but what has war achieved?
Remark made to a pacifist: "If only everyone else would live in the way you recommend, I would gladly live that way as well – but not until everyone else does."
The Pacifist's reply: "Why then, sir, you would be the last man on earth to do good. I would rather be one of the first."
Article 9 of the Japanese Constitution, 1947, words long cherished by a large majority of the Japanese people:
"Aspiring sincerely to an international peace based on justice and order, the Japanese people forever renounce war as a sovereign right of the nation and the threat or use of force as means of settling international disputes.

"In order to accomplish the aim of the preceding paragraph, land, sea, and air forces, as well as other war potential, will never be maintained. The right of belligerency of the state will not be recognized."
This statement is probably unique amongst the world's constitutions.
But on July 1, 2014 the government of Japanese Prime Minister Shinzo Abe, without changing a word of Article 9, announced a "reinterpretation" of it to allow for military action in conjunction with allies. This decision can be seen as the culmination of a decades-long effort by the United States to wean Japan away from its post-WW2 pacifist constitution and foreign policy and set it back on the righteous path of being a military power once again, only this time acting in coordination with US foreign policy needs.
In the triumphalism of the end of the Second World War, the American occupation of Japan, in the person of General Douglas MacArthur, played a major role in the creation of this constitution. But after the communists came to power in China in 1949, the United States opted for a strong Japan safely ensconced in the anti-communist camp. For pacifism, it's been downhill ever since … step by step … MacArthur himself ordered the creation of a "national police reserve", which became the embryo of the future Japanese military … visiting Tokyo in 1956, US Secretary of State John Foster Dulles told Japanese officials: "In the past, Japan had demonstrated her superiority over the Russians and over China. It was time for Japan to think again of being and acting like a Great Power."  … various US-Japanese security and defense cooperation treaties, which called on Japan to integrate its military technology with that of the US and NATO … the US supplying new sophisticated military aircraft and destroyers … all manner of Japanese logistical assistance to the US in Washington's frequent military operations in Asia … repeated US pressure on Japan to increase its military budget and the size of its armed forces … more than a hundred US military bases in Japan, protected by the Japanese military … US-Japanese joint military exercises and joint research on a missile defense system … the US Ambassador to Japan, 2001: "I think the reality of circumstances in the world is going to suggest to the Japanese that they reinterpret or redefine Article 9."  … Under pressure from Washington, Japan sent several naval vessels to the Indian Ocean to refuel US and British warships as part of the Afghanistan campaign in 2002, then sent non-combat forces to Iraq to assist the American war as well as to East Timor, another made-in-America war scenario … US Secretary of State Colin Powell, 2004: "If Japan is going to play a full role on the world stage and become a full active participating member of the Security Council, and have the kind of obligations that it would pick up as a member of the Security Council, Article Nine would have to be examined in that light."  …
In 2012 Japan was induced to take part in a military exercise with 21 other countries, converging on Hawaii for the largest-ever Rim of the Pacific naval exercises and war games, with a Japanese admiral serving as vice commander of the combined task force.  And so it went … until, finally, on July 1 of this year, the Abe administration announced their historic decision. Abe, it should be noted, is a member of the Liberal Democratic Party, with which the CIA has had a long and intimate connection, even when party leaders were convicted World War 2 war criminals.
If and when the American empire engages in combat with China or Russia, it appears that Washington will be able to count on their Japanese brothers-in-arms. In the meantime, the many US bases in Japan serve as part of the encirclement of China, and during the Vietnam War the United States used their Japanese bases as launching pads to bomb Vietnam.
The US policies and propaganda not only got rid of the annoying Article 9, but along the way it gave rise to a Japanese version of McCarthyism. A prime example of this is the case of Kimiko Nezu, a 54-year-old Japanese teacher, who was punished by being transferred from school to school, by suspensions, salary cuts, and threats of dismissal because of her refusal to stand during the playing of the national anthem, a World War II song chosen as the anthem in 1999. She opposed the song because it was the same one sung as the Imperial Army set forth from Japan calling for an "eternal reign" of the emperor. At graduation ceremonies in 2004, 198 teachers refused to stand for the song. After a series of fines and disciplinary actions, Nezu and nine other teachers were the only protesters the following year. Nezu was then allowed to teach only when another teacher was present.
Yankee Blowback
The number of children attempting to cross the Mexican border into the United States has risen dramatically in the last five years: In fiscal year 2009 (October 1, 2009 – September 30, 2010) about 6,000 unaccompanied minors were detained near the border. The US Department of Homeland Security estimates for the fiscal year 2014 the detention of as many as 74,000 unaccompanied minors. Approximately 28% of the children detained this year are from Honduras, 24% from Guatemala, and 21% from El Salvador. The particularly severe increases in Honduran migration are a direct result of the June 28, 2009 military coup that overthrew the democratically-elected president, Manuel Zelaya, after he did things like raising the minimum wage, giving subsidies to small farmers, and instituting free education. The coup – like so many others in Latin America – was led by a graduate of Washington's infamous School of the Americas.
As per the standard Western Hemisphere script, the Honduran coup was followed by the abusive policies of the new regime, loyally supported by the United States. The State Department was virtually alone in the Western Hemisphere in not unequivocally condemning the Honduran coup. Indeed, the Obama administration has refused to call it a coup, which, under American law, would tie Washington's hands as to the amount of support it could give the coup government. This denial of reality still persists even though a US embassy cable released by Wikileaks in 2010 declared: "There is no doubt that the military, Supreme Court and National Congress conspired on June 28 [2009] in what constituted an illegal and unconstitutional coup against the Executive Branch". Washington's support of the far-right Honduran government has been unwavering ever since.
The questions concerning immigration into the United States from south of the border go on year after year, with the same issues argued back and forth: What's the best way to block the flow into the country? How shall we punish those caught here illegally? Should we separate families, which happens when parents are deported but their American-born children remain? Should the police and various other institutions have the right to ask for proof of legal residence from anyone they suspect of being here illegally? Should we punish employers who hire illegal immigrants? Should we grant amnesty to at least some of the immigrants already here for years? … on and on, round and round it goes, decade after decade. Those in the US generally opposed to immigration make it a point to declare that the United States does not have any moral obligation to take in these Latino immigrants.
But the counter-argument to this last point is almost never mentioned: Yes, the United States does indeed have a moral obligation because so many of the immigrants are escaping a situation in their homeland made hopeless by American intervention and policy. In addition to Honduras, Washington overthrew progressive governments which were sincerely committed to fighting poverty in Guatemala and Nicaragua; while in El Salvador the US played a major role in suppressing a movement striving to install such a government. And in Mexico, though Washington has not intervened militarily since 1919, over the years the US has been providing training, arms, and surveillance technology to Mexico's police and armed forces to better their ability to suppress their own people's aspirations, as in Chiapas, and this has added to the influx of the oppressed to the United States, irony notwithstanding.
Moreover, Washington's North American Free Trade Agreement (NAFTA), has brought a flood of cheap, subsidized US agricultural products into Mexico, ravaging campesino communities and driving many Mexican farmers off the land when they couldn't compete with the giant from the north. The subsequent Central American Free Trade Agreement (CAFTA) has brought the same joys to the people of that area.
These "free trade" agreements – as they do all over the world – also result in government enterprises being privatized, the regulation of corporations being reduced, and cuts to the social budget. Add to this the displacement of communities by foreign mining projects and the drastic US-led militarization of the War on Drugs with accompanying violence and you have the perfect storm of suffering followed by the attempt to escape from suffering.
It's not that all these people prefer to live in the United States. They'd much rather remain with their families and friends, be able to speak their native language at all times, and avoid the hardships imposed on them by American police and other right-wingers.
M'lady Hillary
Madame Clinton, in her new memoir, referring to her 2002 Senate vote supporting military action in Iraq, says: "I thought I had acted in good faith and made the best decision I could with the information I had. And I wasn't alone in getting it wrong. But I still got it wrong. Plain and simple."
In a 2006 TV interview, Clinton said: "Obviously, if we knew then what we know now, there wouldn't have been a vote. And I certainly wouldn't have voted that way."
On October 16, 2002 the US Congress adopted a joint resolution titled "Authorization for Use of Military Force Against Iraq". This was done in the face of numerous protests and other political events against an American invasion.
On February 15, 2003, a month before the actual invasion, there was a coordinated protest around the world in which people in some 60 countries marched in a last desperate attempt to stop the war from happening. It has been described as "the largest protest event in human history." Estimations of the total number of participants involved reach 30 million. The protest in Rome involved around three million people, and is listed in the 2004 Guinness Book of World Records as the largest anti-war rally in history. Madrid hosted the second largest rally with more than 1½ million protesters. About half a million marched in the United States. How many demonstrations in support of the war can be cited? It can be said that the day was one of humanity's finest moments.
So what did all these people know that Hillary Clinton didn't know? What information did they have access to that she as a member of Congress did not have?
The answer to both questions is of course "Nothing". She voted the way she did because she was, as she remains today, a wholly committed supporter of the Empire and its unending wars.
And what did the actual war teach her? Here she is in 2007, after four years of horrible death, destruction and torture:
"The American military has done its job. Look what they accomplished. They got rid of Saddam Hussein. They gave the Iraqis a chance for free and fair elections. They gave the Iraqi government the chance to begin to demonstrate that it understood its responsibilities to make the hard political decisions necessary to give the people of Iraq a better future. So the American military has succeeded."
And she spoke the above words at a conference of liberals, committed liberal Democrats and others further left. She didn't have to cater to them with any flag-waving pro-war rhetoric; they wanted to hear anti-war rhetoric (and she of course gave them a tiny bit of that as well out of the other side of her mouth), so we can assume that this is how she really feels, if indeed the woman feels anything. The audience, it should be noted, booed her, for the second year in a row.
"We came, we saw, he died." – Hillary Clinton as US Secretary of State, giggling, as she referred to the uncivilized and utterly depraved murder of Moammar Gaddafi in 2011.
Imagine Osama bin Laden or some other Islamic leader speaking of September 11, 2001: "We came, we saw, 3,000 died, ha-ha."
Notes
Los Angeles Times, September 23, 1994
Washington Post, July 18, 2001
BBC, August 14, 2004
Honolulu Star-Advertiser, June 23 and July 2, 2012
Tim Weiner, "Legacy of Ashes: The History of the CIA" (2007), p.116-21
Washington Post, August 30, 2005
Washington Post, June 6, 2014
Speaking at the "Take Back America" conference, organized by the Campaign for America's Future, June 20, 2007, Washington, DC; this excerpt can be heard on the June 21, 2007 edition of Democracy Now!
Culprits Include The City Of Chicago, Big Retailers, The Media, And Churches…
Proponents of the Nanny State have been trying to take away man's Natural right of self-defense ever since the United Nations was created back in 1945. Of course, the Natural right of self-defense is totally unknown in communist and socialist countries; and big-government toadies in several so-called "democratic" countries have also succeeded in turning citizens into subjects by removing or severely restricting the Natural right of self-defense. Obviously, I'm talking about countries such as Great Britain, France, Germany, New Zealand, Australia, and Canada.
By self-defense, I am talking about a man's right to carry a Personal Defense Weapon (PDW)–which, in modern times, mostly requires a firearm–anywhere and everywhere he goes. A state that does not allow a man to be personally armed in his day-to-day activities is literally stripping him of his right of self-defense. To require a citizen to keep his or her PDW in their home or vehicle is to deny the citizen's Natural right of self-defense. To say a citizen may lawfully protect himself in only limited and duly-prescribed locations is to make the citizen a subject of the state. Furthermore, it removes from him the most fundamental of all the Natural rights that were granted to him by his Creator: the right of self-defense.
Four-legged predators are constantly on the prowl for animals that are defenseless. Two-legged predators do the same thing. These human predators do not respect "gun-free" zones. Like all predators, they are opportunistic beasts. They prey on the weak and vulnerable. When the state takes away a person's right to be always armed, it makes the entire citizenry weak and vulnerable. As I have said many times, guns don't kill people; gun-free zones kill people.
Gun control laws are among the most egregious violations of Natural Law. Men and women who are truly free are allowed to carry a PDW everywhere they go. Banks, schools, government buildings, churches, etc., should be no exceptions. It is no coincidence that just about every single mass-shooting in recent memory has taken place in a so-called "gun-free" zone, where the only people who were armed were the perpetrators. Gun-free zones turn free men into human prey.
For all intents and purposes, several states and major cities within the United States have become "gun-free" zones, in that they mostly deny their citizens the right to carry a PDW on their person. Whether the people of these cities and states realize it or not, they have lost the right to be called free men and have been turned into human prey by their own State and municipal governments. There is no greater example of this tyranny than the city of Chicago, Illinois.
Chicago has some of the strictest and most stringent gun-control laws in the entire nation. The government of Chicago has, in effect, turned the town into a giant killing-field where ravenous two-legged beasts are allowed to feast on the millions of defenseless prey that inhabit our country's third largest city. For example, over the past Independence Day weekend, 82 people were shot and 14 people were killed in Chicago violence. Breitbart.com covered the story:
"Breitbart reported that the violence was high on Friday, Saturday, and Sunday morning, but when Thursday, the final hours of Sunday, and the first few hours of Monday morning were added to the accounting, the rate of violence proved to be even more appalling.
"On Monday morning, July 7, the Chicago Tribune shocked the city with the list of weekend violence reporting that between Thursday, as the holiday weekend began, to the early hours of Monday morning, Chicago experienced 82 shootings with 14 killed."
Included in the Breitbart report is the fact that one man's life was actually saved by virtue of the fact that he had a concealed carry permit (no small feat in the City of Chicago) and used his PDW to protect himself against three violent miscreants. In this case, one of the dead was a violent predator. Had the innocent citizen not been armed, he would have been the statistic. In addition, the report states that eight of the dead were at the hands of Chicago police officers in the line of duty, proving, once again, that policemen carry guns, not for the protection of the citizenry, but for their own protection.
Predictably, Chicago Mayor Rahm Emanuel blamed the increased violence on "weak" gun laws in the neighboring states of Indiana and Wisconsin.
See the Breitbart.com report here:
Between Thursday And Monday 82 Shot, 14 Killed In Chicago Violence
Of course, what Emanuel won't tell you is that the violent crime rates of those states where the right to keep AND BEAR arms is less infringed are far less–far less! For example, there are 11 states in the country that allow their citizens to carry firearms freely and openly with no permit or license required. Those states are Alaska, Montana, Idaho, Wyoming, Nevada, Arizona, New Mexico, South Dakota, Vermont, Kentucky, and Virginia. So, using Emanuel's logic, one could expect that there should have been hundreds of shootings in those states last weekend–what with their "weak" gun laws and all, right? You know that's not true.
Check the incidents of shootings in the above-listed states and we might even discover that the City of Chicago may have had more shootings over this past Independence Day weekend than those 11 states COMBINED. Think of it: the City of Chicago (with some of the strictest gun control laws in the country) may have had more shootings than the combined shootings of the 11 states that recognize their citizens' Natural right of self-defense by allowing them to freely and openly carry a PDW.
Of course, it's not only various and sundry governments (though they are the most egregious usurpers of the Natural right of self-defense) that want to deny people the right to bear arms; many large retailers are adding their weight to the anti-self-defense hysteria.
Just a few days ago, the giant retailer, Target, announced a corporate policy that asks its patrons to leave their firearms at home. Once again, Breitbart.com covers the story.
"On July 2nd, Target 'respectfully' asked law-abiding citizens to 'not bring firearms' in their stores.
"The department store chain did this via an announcement posted on its website and shared by interim CEO John Mulligan.
"The announcement says:
"'As you've likely seen in the media, there's been a debate about whether guests in communities that permit "open carry" should be allowed to bring firearms into Target stores. Our approach has always been to follow local laws, and of course, we will continue to do so. But starting today we will respectfully request that guests not bring firearms to Target–even in communities where it is permitted by law.'
"By taking this step, Target joins Chipotle, Jack in the Box, Sonic, and Chili's in asking law-abiding citizens not to carry guns in their businesses."
The author of the report, AWR Hawkins, notes, "Within two weeks of asking law-abiding customers to come unarmed, two Jack in the Box stores were robbed, and a shooting took place at a third. Patrons were robbed at gunpoint in one of the robberies, as well."
See the report at:
Target 'Respectfully' Asks Law-Abiding Citizens To Leave Guns At Home
But the war against your Natural right to self-defense doesn't stop with the City of Chicago or the Target chain-stores. The mainstream media seem absolutely determined to take away your right to defend yourself and your loved ones.
After CNN sacked Piers Morgan due to his immense unpopularity, which was mostly due to his arrogant attacks against America's Second Amendment, the cable network recently announced that it was replacing Morgan with former America's Most Wanted host, John Walsh, who immediately proclaimed that his show would continue Morgan's attacks against the Second Amendment.
Once more, Breitbart.com covers the story:
"Former America's Most Wanted host John Walsh is hosting a new show on CNN on which he vows to keep the push for gun control and the war on the NRA alive.
"According to The Wrap, Walsh said:
"'I'm the father of a murdered child. I've done nothing but track violence in America since my son was murdered. We have a serious problem with guns in this country… and the NRA solution to arm every grammar-school 80-year-old teacher with a gun is absolutely ludicrous.'
"He claims the NRA has gotten so big and financially powerful through relationships with gun manufacturers that 'they're not a lobbyist on Capitol Hill, they're a gun manufacturer rep.'
"Walsh's new show, The Hunt, premieres July 13. Walsh says he did not initially realize 'how much his gun control efforts would be a part of his new show.'"
See the report at:
New CNN Host John Walsh Vows To Continue Piers Morgan's War On The NRA
Obviously, CNN is hoping that it's continued anti-Second Amendment agenda will be more palatable to the American people if it comes from a fellow American–especially one with whom everyone can truly sympathize with by virtue of his losing a child to an act of violence (although Adam Walsh's murder did not involve the use of a firearm)–than from the arrogant and pompous British elitist, Piers Morgan. But make no mistake about it: the anti-Second Amendment message is the same. Only the messenger has changed.
And most sadly, churches, too, are often at the forefront of the anti-self-defense fanaticism. Christian leaders from denominations across the board are often the ones who promote gun control (even gun confiscation) among their congregations and who deny their parishioners the right to be armed on church property.
For example, back in 2004, the president of the LDS church issued a declaration to all Mormon churches in Utah that gave "public notice that firearms are prohibited in the church's houses of worship, including temples, meetinghouses, the Assembly Hall, the Salt Lake Tabernacle, and the Conference Center."
The declaration went on to say, "Once such public notice is given, persons who bring firearms into a church house of worship should be informed of the church's position and politely asked to take their firearms to another safe location. Persons who refuse to take their firearms from the house of worship or repeatedly ignore the church's prohibition should be referred to local law enforcement officers for possible criminal prosecution."
See the church statement here:
Text Of Letter From First Presidency On Guns
But if you think the LDS church is the only church in the country that has taken such a position, you are sadly misinformed. My educated guess is that the vast majority of denominations and churches in America have a very similar position.
But instead of denying the Christian people of America from exercising their God-given right of self-defense on church property, church leaders should be boldly teaching the Biblical Natural Law principles of self-defense and encouraging their people to jealously guard this most fundamental liberty. By demanding that Christian people not be armed on church property, church leaders are no better than Rahm Emanuel–who insists that Chicago's residents not be allowed to protect themselves–and are opening up their churches to those two-legged wolves who would seek to devour the sheep.
There are only a small handful of countries today that recognize the Natural right of self-defense. The advent of the United Nations has facilitated the demise of this right in country after country. The United States is the last major power that yet somewhat protects this most precious Natural right.
Obviously, several State and local governments within the United States (not to mention the worst offender of all: the federal government in Washington, D.C.) have themselves assisted the dismantlement of the right of self-defense. Several giant retailers are assisting the attacks against our Natural right of self-defense. The mainstream media is incessant in its attacks against the Second Amendment. And even many of America's churches have set themselves against the right to BEAR arms. The war against our Natural right of self-defense continues.
However, I need to point out that the architects of the Nanny State have been trying to disarm the American people since even before the United Nations was created. And while the right to keep and bear arms has been severely restricted by myriads of federal, State, and local laws, the American people continue to be the most heavily armed people in the world. Not only is the American citizenry an armed citizenry, it is an absolutely determined citizenry. The message to any and all potential tyrants who would attempt to remove our Natural right of self-defense is the same–whether they are from King George's London, Mao's Beijing, Stalin's Moscow, Emanuel's Chicago, Obama's Washington, D.C., or the U.N.'s New York City: MOLON LABE, COME AND TAKE THEM!
Central banks have shifted into stocks and are buying up everything that isn't bolted to the floor.
That's the gist of the story that breathlessly appeared in the Financial Times about a week ago and swept across the blogosphere like a Santa Anna brushfire. And there's some truth to it too, if taken with a large grain of salt. Here's a clip from the Omfif's report the FT's cites in the article:
"A cluster of central banking investors has become major players on world equity markets," says a report to be published this week by the Official Monetary and Financial Institutions Forum (Omfif), a central bank research and advisory group. The trend "could potentially contribute to overheated asset prices", it warns." (Financial Times)
So, there you have it; stocks are rising, central banks are buying stocks like mad, therefore, central banks are driving the market. That's all there is to it, right?
And we're not talking chump change here either. According to the Omfif"s press release "global central banks and public sector institutions now account for an eye-watering "$29.1tn worth of investments … in 162 countries."
Hmm. It's easy to read that statement and assume that central banks have purchased $29 trillion in stocks, isn't it? That's what the folks over at Zero Hedge did. Check out the headline they ran shortly after the story appeared in the FT: "Cluster Of Central Banks" Have Secretly Invested $29 Trillion In The Market" (Zero Hedge)
But that's not what the press release says, is it? It says "global central banks and public sector institutions". There's a big difference between the stocks a bank buys and all the investments in public pension funds, 401Ks, sovereign wealth funds etc. A huge difference. It looks like someone might be engaging in a bit of fear-mongering to get a rise out of readers.
That's not to downplay the fact that CB's are distorting prices by playing the market. They are. No one disputes that. Just like no one disputes that central banks should limit their activities to doing their job, which is maintaining price stability. (We're deliberately omitting "full employment" since the Fed thinks it's a big joke anyway.) But, hey, everyone knows these guys are a dodgy lot to begin with, so it's hard to get whipped up into a lather every time they get caught in some new flimflam. Besides CB stock purchases are likely insignificant compared to corporate stock buybacks which are presently just-south of $600 billion per year. CB stock purchases are no where near that, regardless of what you read at Zero Hedge. Check this out in the Wall Street Journal:
"Last year, the corporations in the Russell 3000, a broad U.S. stock index, repurchased $567.6 billion worth of their own shares—a 21% increase over 2012, calculates Rob Leiphart, an analyst at Birinyi Associates, a research firm in Westport, Conn. That brings total buybacks since the beginning of 2005 to $4.21 trillion—or nearly one-fifth of the total value of all U.S. stocks today." (Will Stock Buybacks Bite Back?, Wall Street Journal)
Yikes. "$4.21 trillion"! Now that's what you call froth.
Anyway, the reason CBs are buying equities is to hedge their losses on the mountain of low-yielding bonds they purchased in their effort to recapitalize the insolvent banking system. They're already taking it in the shorts for an estimated $250 billion per year, and when rates start marching upward, (as they inevitably will) they're going to be bleeding red ink from both eyeballs. That's why they want to diversify their portfolio; to staunch the hemorrhaging. Even so, the whole matter looks shabby and underhanded, which of course it is. It also calls into question present stock valuations which have been soaring with the zero rates, QE and positive earnings reports, the trifecta which pushes equities into the stratosphere regardless of the shitty condition of the underlying "real" economy. So–just like everyone else–the banks want to get on the winning side of the trade. But what a firestorm they've set off with these latest shenanigans! Here's a sample of the outrage you'll find on the Internet. This is from a Bill Bonner article titled "Proof the Stock Market Is Being Rigged":
"We are still reeling.
Yesterday, we reported that central banks are major buyers of stocks…
We hardly know where to begin…

Outraged, we sputter and spit… we search for words… we look for metaphors and narratives… anything that will put this extraordinary situation in the right light…

Ah yes… central banks create new money… it gets passed around the financial community in many ways… and ultimately ends up in the equity markets…

In short, a grand slam of deceit. The World Series of financial catastrophe will follow. But that could be a long way off." (Proof the Stock Market Is Being Rigged, Bonner and Partners)
"A grand slam of deceit"?
Fair enough. A little hyperbolic, but that's to be expected, right? But, c'mon now, given the long list of scandals in the last few years–High-Frequency Trading (HFT), "toxic" mortgage-backed securities, Libor, London Whale, Robo-signing, structured finance, Madoff etc etc–it's hard not to be little blasé about the whole deal, isn't it? I'm not sure where Bonner's been, but if you were to ask Joe Blow on the street, whether he thought the "market was rigged or not", he'd undoubtedly nod his head affirmatively as if it was the most obvious thing in the world. Because it is the most obvious thing in the world. Heidi Moore summed it up pretty well in a recent article at the Gurdian. She said:
"Most Americans don't think much about the stock market, and that's just fine with Wall Street. Because once you wake up to how screwed up the stock market really is, the financial industry knows you're likely to get very nervous and take your money out.

Many are catching on: between 2007 and 2014, investors pulled $345bn from the stock market. E-Trades are down and worries are up, with 73% of Americans still not inclined to buy stocks, five years after the financial crisis…

Let's get one thing straight: Investor confidence is not the problem. The screwed-up stock market is the problem. It's time to break down the polite fiction that investing in the stock market is something that sane, rational, sensible people do. It is a high-risk contact sport for your money…

The US stock market depends entirely on the ignorance of regular people who are supposed to just shovel their money into retirement funds and 401(k)s, pay a whopping one-third of your retirement in fees to high-priced managers, and never whisper a complaint.

It's a wonder that anyone (trusts the market) at all." (Wall Street and Washington want you to believe the stock market isn't rigged. Guess what? It still is, Heidi Moore, Guardian)
The market is totally rigged from stem to stern, which is why it is so hard to feign outrage at this latest sign of corruption. It's just par for the course. What we found more interesting, was the OMFIF's contention that the experimental monetary policies, the centrals banks initiated to deal with the Financial Crisis, have changed the system to what the author calls "state capitalism".
"Whether or not this trend is a good thing", he opines, "may be open to question. What is incontestable is that it has happened".
While you can't expect the media to cover something like this, it's certainly worth mulling over. The fact is, CBs have taken over economic policy altogether. They're running the whole shooting match. The various congresses and parliaments across the western world now merely act as a rubber stamp for the austerity measures demanded by their corporate bosses. Fiscal policy is a dead letter in the US, Japan, Australia, Canada, UK and the Eurozone. Everywhere the bank cartel has extended it's grip, fiscal policy has been jettisoned altogether. It's bailouts and lavish subsidies for the 1 percenters and belt-tightening, shock therapy for everyone else. Isn't that how it works? State Capitalism isn't a conspiracy theory. It's just class warfare taken to the next level. Check this out from Dave Marsh at Marketwatch:
"Central banks' foreign-exchange reserves have grown unprecedentedly fast, especially in the developing world. The same authorities that are responsible for maintaining financial stability are often the owners of the large funds that add to liquidity in many markets…

Evidence of an increase in equity-buying by central banks and other public-sector investors has emerged from a survey of publicly owned or managed investments compiled by the Official Monetary and Financial Institutions Forum (OMFIF)… There are worries that central banks may be over-stretching themselves by operating in too many areas.

Jens Weidmann, president of Germany's Bundesbank — spoke yearningly last week of the need for "central banks to shed their role as decision-makers of last resort and, thus, to return to their normal business."

He said this "would help to preserve the independence of central banks, which is a key precondition to maintaining price stability in the long run." (Central banks becoming major investors in stock markets, Dave Marsh, Marketwatch)
You might want to read that first part over again to savor what the author is saying. Here it is: "The same authorities that are responsible for maintaining financial stability are often the owners of the large funds that add to liquidity in many markets."
That's what you call corruption with a capital "C". But then the author does a 180 and waxes-on about "preserving the independence of central banks, which is a key precondition to maintaining price stability in the long run."
Right. The whole independence thing is a big joke. Why would anyone in their right mind bestow such extraordinary powers ("independence") on a group of voracious, cutthroat bankers who have repeatedly shown that they can't be trusted?
Huh?
It's insanity. This latest outrage just proves that the central bank system needs to be either reformed or terminated. Preferably, terminated.
This is one in a series of articles taken from eyewitness testimony before the International Common Law Court of Justice in Brussels. Five international judges are examining evidence of child rape, torture, murder and kidnapping allegedly done by global elite members of the Ninth Circle Satanic Child Sacrifice Cult network. Regular Ninth Circle child sacrifices were said to take place in the catacombs of Catholic Cathedrals, the Vatican, on private estates and groves and government military bases in Belgium, Holland, Spain, Australia, Ireland, France, England and the US. At least 34 child mass grave sites were identified in Ireland, Spain and Canada – and refused excavation by the respective governments, Crown of England and Catholic Church. Named as present in Ninth Circle activities were Pope Francis, former Pope Ratzinger;Anglican, United Church of Canada and Catholic Church officials including Cardinals; members of European royalty including Queen Elizabeth and Prince Phillip; officials of the Canadian, Australian, UK and US military and governments including the USA's CIA, plus prominent government ministers, judges, politicians and businessmen from the US, Belgium, Holland, Canada, Australia, France, Ireland and the UK.
Teens were drugged, stripped naked, raped, hunted down in the woods and killed by European royals according to this week's latest eyewitness to testify before theInternational Common Law Court of Justice in Brussels. The woman was the fourth eyewitness to give accounts about these human hunting parties of the global elite Ninth Circle Satanic Child Sacrifice Cult network. A former member of the Netherlands criminal drug syndicate known as Octopus testified that victims were obtained for these human hunting parties from juvenile detention centers in Belgium and Holland.
"In 2004 I was an involuntary witness to torture, rape and murder sessions of drugged children performed for a group of high ranked people of the Netherlands" stated a woman. "I was taken to a hunting party in Belgium close to Brussels where I saw two boys and a girl ages 14 to 16, hunted and killed by global elites. The human hunting party was heavily guarded by the Netherlands Royal Guards. I was told that King Albert of Belgium was present."
Four eyewitnesses confirmed that as children and youths they were forced to attend human hunting parties where they and other children were raped, with some killed, and deceased boy's penises were cut off. Allegedly there was a Dutch countryside palace where boys' penises were displayed like trophies on a wall. Some hunting parties were hosted on the grounds of Belgium Queen Beatrix's Palace.
Dutch therapist Toos Nijenhuis claimed that as a four year-old she was forced to witness murders of children that involved former Pope Ratzinger, a Dutch Catholic Cardinal, plus the father of Netherlands Belgium Queen Beatrix and Bilderberger Founder, Dutch Crown Prince Alfrink Bernhard. "I saw the former Pope Joseph Ratzinger murder a little girl″ another witness confirmed. "It was at a French chateau in the fall of 1987. It was ugly, horrible and didn't happen just once. Ratzinger and Bernhard were some of the more prominent men who took part."
In Ireland, Spain and Canada 34 child mass grave sites were discovered and appeared linked to Ninth Circle activities. The largest was the Mohawk Indian Residential School in Brantford Ontario where child remains were identified in 2008 before the Catholic Church, Canadian government and English Crown shut down the dig by professional archeologists. The 2013 ICLCJ Court had found Queen Elizabeth and Prince Phillip guilty for the Oct. 10 1964 disappearance of ten native children from the Catholic residential school in Kamloops British Columbia. In the first two weeks of the 2014 court witnesses identified Dutch and Belgian royal participants in the rape and killing of Mohawk children and newborns. Named were Bernhard and King Hendrick, consort to Queen Wilhelmina of Holland.
Alleged to be present during the human hunting parties were the late Prince Johan Friso and his wife Mabel Wisse Smit, former ministers, the top man of the Dutch army, the under secretary of the Raad Van State in the Netherlands, the Vice-Roy next to Queen Beatrix and other global business and political leaders including some from the US. "Surely the present King Willem Alexander and King Filip and their wives know about this abuse and murder of children" said one eyewitness."They do nothing about it and likely are the ones to stop investigations and prosecutions."
In January 2014 the brother of the king of Holland Prince Johan Friso passed away in a coma after these three Dutch-language websites shown here reached the internet. The websites revealed that Friso was at the human hunting and killing parties."The story came on the internet after years of trying to move the policy and justice department in the Netherlands to act against the criminals," an eyewitness said. "Nobody did anything to stop these criminals, probably because Queen Beatrix and King Albert likely interfered with the investigations."
Human hunting parties were said to take place on the grounds of Belgium Queen Beatrix's Palace in the Netherlands. Two witnesses have named former Pope Joseph Ratzinger and Queen Beatrix's father the deceased Prince Alfrink Bernhard, as being present at child sacrifices. Both were said to be Nazi sympathizers.
The ICLCJ Court received a collection of Jesuit archival records about a child sacrificial cult known as the Knights of Darkness. In 1933 the Knights were established by the Catholic Jesuits and Nazi Waffen S.S. Division. The records showed Ratzinger was identified as a member of the Knights while working as an S.S. Chaplain's assistant at the Ravensbruck Concentration Camp in Germany. The records also stated that Ratzinger participated in child sacrificial rites using kidnapped children from the camps or political prisoners.
Another court document called the Magisterial Privilege indicated child sacrifice was a regular occurrence at the Vatican. At the tender age of 12 "Svali" of San Diego County California claimed she was brought to catacombs beneath the Vatican to witness the sacrifice of a three year-old drugged boy. In this video her interviewer said that 24 years prior a "Maria" told him she witnessed another satanic child sacrifice rite in the same Vatican Catacombs.
Last week an Irish police investigator reported to the ICLCJ Court that the close to 800 babies buried in a Catholic Nun's septic tank were dismembered, decapitated and in bits and pieces – signs that they could have been murdered in Satanic child sacrifice rites. In the last two months the ICLCJ Court has heard these heart-wrenching testimonies about the rape, torture and murder of children as recently as 2010 by Catholic leaders, European royal family members and other global elites. Murder sites of the Ninth Circle Satanic Child Sacrifice Cult were said to be in the catacombs of Catholic Cathedrals including the Vatican and on private estates, military establishments and groves in Belgium, Holland, Spain, Australia, France, England and the US.
The ICLCJ Court has been overwhelmed with newly discovered evidence and a number of new witnesses coming forward to testify about Ninth Circle Satanic Child Sacrifice Cult activities. They have uncovered Ninth Circle Satanic Cult member possible involvement in international child sacrifice, kidnapping, exploitation and drug rings. The five international judges and 27 jury members were expected to remain in session for at least a year due to the complexity of the cases.
Amnesty has been offered to citizens or employees of the Vatican, Crown of England, churches or governments willing to give sworn testimony or evidence that leads to the prosecution of these global elites suspected of committing crimes. Rewards up to 10,000 euros or around 13,660 dollars was available through the ICLCJ court.
The ICLCJ Court had over 450 Common Law Peace Officers in 13 countries, with 51 local chartered groups operating. Local organizing funds were available for common law groups that applied through the International Tribunal into Crimes of Church and State. To contact officers of the court or ITCCS Field Secretary Kevin Annett, email or call: itccscentral@gmail.com, info@iclcj.com, admin@iclcj.com, hiddenfromhistory1@gmail.com, 250-591-4573 (Canada), or 386-323-5774 (USA)
About the Author
Judy Byington, MSW, LCSW, retired, author of "Twenty Two Faces: Inside the Extraordinary Life of Jenny Hill and Her Twenty Two Multiple Personalities" (www.22faces.com) is a retired therapist, Public Speaker, Activist and investigative journalist whose articles on international child exploitation rings have been cited on over 3,000 websites. The ex-Supervisor, Alberta Mental Health and Director Provo Family Counseling Center is the CEO of Child Abuse Recovery and Speakers Bureau (www.ChildAbuseRecovery.com). If you have news tips about child abuse issues please email Judy info@22faces.com. You are invited to sign our petition to Congress for an investigation of the CIA mind control of children by clicking here.
Source: TRUTHCDM