I once wrote about Chilean president Salvador Allende:
Washington knows no heresy in the Third World but genuine independence. In the case of Salvador Allende independence came clothed in an especially provocative costume – a Marxist constitutionally elected who continued to honor the constitution. This would not do. It shook the very foundation stones upon which the anti-communist tower is built: the doctrine, painstakingly cultivated for decades, that "communists" can take power only through force and deception, that they can retain that power only through terrorizing and brainwashing the population. There could be only one thing worse than a Marxist in power – an elected Marxist in power.
There was no one in the entire universe that those who own and run "United States, Inc." wanted to see dead more than Hugo Chávez. He was worse than Allende. Worse than Fidel Castro. Worse than any world leader not in the American camp because he spoke out in the most forceful terms about US imperialism and its cruelty. Repeatedly. Constantly. Saying things that heads of state are not supposed to say. At the United Nations, on a shockingly personal level about George W. Bush. All over Latin America, as he organized the region into anti-US-Empire blocs.
Long-term readers of this report know that I'm not much of a knee-reflex conspiracy theorist. But when someone like Chávez dies at the young age of 58 I have to wonder about the circumstances. Unremitting cancer, intractable respiratory infections, massive heart attack, one after the other … It is well known that during the Cold War, the CIA worked diligently to develop substances that could kill without leaving a trace. I would like to see the Venezuelan government pursue every avenue of investigation in having an autopsy performed.
Back in December 2011, Chávez, already under treatment for cancer, wondered out loud: "Would it be so strange that they've invented the technology to spread cancer and we won't know about it for 50 years?" The Venezuelan president was speaking one day after Argentina's leftist president, Cristina Fernández de Kirchner, announced she had been diagnosed with thyroid cancer. This was after three other prominent leftist Latin America leaders had been diagnosed with cancer: Brazil's president, Dilma Rousseff; Paraguay's Fernando Lugo; and the former Brazilian leader Luiz Inácio Lula da Silva.
"Evo take care of yourself. Correa, be careful. We just don't know," Chávez said, referring to Bolivia's president, Evo Morales, and Rafael Correa, the president of Ecuador, both leading leftists.
Chávez said he had received words of warning from Fidel Castro, himself the target of hundreds of failed and often bizarre CIA assassination plots. "Fidel always told me: 'Chávez take care. These people have developed technology. You are very careless. Take care what you eat, what they give you to eat … a little needle and they inject you with I don't know what." 1
When Vice President Nicolas Maduro suggested possible American involvement in Chávez's death, the US State Department called the allegation absurd. 2
Several progressive US organizations have filed a Freedom of Information Act request with the CIA, asking for "any information regarding or plans to poison or otherwise assassinate the President of Venezuela, Hugo Chavez, who has just died."
I personally believe that Hugo Chávez was murdered by the United States. If his illness and death were NOT induced, the CIA – which has attempted to assassinate more than 50 foreign leaders, many successfully 3 – was not doing its job.
When Fidel Castro became ill several years ago, the American mainstream media was unrelenting in its conjecture about whether the Cuban socialist system could survive his death. The same speculation exists now in regard to Venezuela. The Yankee mind can't believe that large masses of people can turn away from capitalism when shown a good alternative. It could only be the result of a dictator manipulating the public; all resting on one man whose death would mark finis to the process.
It's the end of the world … again
The American Israel Public Affairs Committee (AIPAC) recent convention in Washington produced the usual Doomsday talk concerning Iran's imminent possession of nuclear weapons and with calls to bomb that country before they nuked Israel and/or the United States. So once again I have to remind everyone that these people – Israeli and American officials – are not really worried about an Iranian attack. Here are some of their many prior statements:
In 2007, in a closed discussion, Israeli Foreign Minister Tzipi Livni said that in her opinion "Iranian nuclear weapons do not pose an existential threat to Israel." She "also criticized the exaggerated use that [Israeli] Prime Minister Ehud Olmert is making of the issue of the Iranian bomb, claiming that he is attempting to rally the public around him by playing on its most basic fears." 4
2009: "A senior Israeli official in Washington", reported the Washington Post (March 5), asserted that "Iran would be unlikely to use its missiles in an attack [against Israel] because of the certainty of retaliation."
In 2010 the Sunday Times of London (January 10) reported that Brigadier-General Uzi Eilam, war hero, pillar of the Israeli defense establishment, and former director-general of Israel's Atomic Energy Commission, "believes it will probably take Iran seven years to make nuclear weapons."
January 2012: US Secretary of Defense Leon Panetta told a television audience: "Are they [Iran] trying to develop a nuclear weapon? No, but we know that they're trying to develop a nuclear capability." 5
Later that month we could read in the New York Times (January 15) that "three leading Israeli security experts – the Mossad chief, Tamir Pardo, a former Mossad chief, Efraim Halevy, and a former military chief of staff, Dan Halutz – all recently declared that a nuclear Iran would not pose an existential threat to Israel."
Then, a few days afterward, Israeli Defense Minister Ehud Barak, in an interview with Israeli Army Radio (January 18), had this exchange:
Question: Is it Israel's judgment that Iran has not yet decided to turn its nuclear potential into weapons of mass destruction?

Barak: People ask whether Iran is determined to break out from the control [inspection] regime right now … in an attempt to obtain nuclear weapons or an operable installation as quickly as possible. Apparently that is not the case.
In an April 20, 2012 CNN interview Barak repeated this sentiment: "It's true that probably [Iranian leader] Khamenei has not given orders to start building a [nuclear] weapon." 6
And on several other occasions, Barak has stated: "Iran does not constitute an existential threat against Israel." 7
Lastly, we have the US Director of National Intelligence, James Clapper, in a January 2012 report to Congress: "We do not know, however, if Iran will eventually decide to build nuclear weapons." … There are "certain things [the Iranians] have not done" that would be necessary to build a warhead.8
So why, then, do Israeli and American leaders, at most other times, maintain the Doomsday rhetoric? Partly for AIPAC to continue getting large donations. For Israel to get massive amounts of US aid. For Israeli leaders to win elections. To protect Israel's treasured status as the Middle East's sole nuclear power.
Listen to Danielle Pletka, vice president for foreign and defense policy studies at America's most prominent neo-con think tank, American Enterprise Institute:
The biggest problem for the United States is not Iran getting a nuclear weapon and testing it, it's Iran getting a nuclear weapon and not using it. Because the second that they have one and they don't do anything bad, all of the naysayers are going to come back and say, "See, we told you Iran is a responsible power. We told you Iran wasn't getting nuclear weapons in order to use them immediately." … And they will eventually define Iran with nuclear weapons as not a problem. 9
Osama bin Laden, Bradley Manning, & William Blum
Bradley Manning has the charge of "Aiding the enemy" hanging over his head. This could lead to a sentence of life in prison. As far as can be deduced, the government believes that the documents and videos that Manning gave to Wikileaks, which Wikileaks then widely distributed to international media, aided the enemy because it put US foreign policy in a very bad light.
Manning's attorneys have asked the prosecution more than once for specific examples of how "the enemy" (whoever that may refer to in a world full of people bitterly angry at the United States because of any of many terrible acts carried out by the US government) has been "aided" by the Wikileaks disclosures. Just how has the enemy made use of the released material to harm the United States? The government has not provided any such examples, probably because what really bothers Washington officials is the embarrassment they have experienced before the world resulting from the documents and videos; which indeed are highly embarrassing even to genuine war criminals; filled with violations of international law, atrocities, multiple lies to everyone, revelations of gross hypocrisy, and much more.
So our splendid officials are considering putting Bradley Manning in prison forever simply because they're embarrassed. Hard to find much fault with that.
But now the prosecutors have announced that a Navy Seal involved in the killing of Osama bin Laden is going to testify at the court martial that bin Laden possessed articles about the Wikileaks documents that Manning leaked. Well, there must be a hundred million other people in the world who have similar material on their computers. The question remains: What use did the enemy make of that?
The Iraqi government made use of the material, inducing them to refuse immunity to US troops for crimes committed in Iraq, such as the cold-blooded murders revealed by the Wilileaks videos; this in turn led the US to announce that it was ending its military engagement in Iraq. However, Manning was indicted in May 2010, well before the Iraqi decision to end the immunity.
In January, 2006 bin Laden, in an audio tape, declared: "If Bush decides to carry on with his lies and oppression, then it would be useful for you to read the book 'Rogue State' [by William Blum], which states in its introduction … " He then went on to quote the opening of a paragraph I wrote (which appears actually in the Foreword of the British edition only, that was later translated to Arabic), which in full reads:
"If I were the president, I could stop terrorist attacks against the United States in a few days. Permanently. I would first apologize – very publicly and very sincerely – to all the widows and the orphans, the impoverished and the tortured, and all the many millions of other victims of American imperialism. I would then announce that America's global interventions – including the awful bombings – have come to an end. And I would inform Israel that it is no longer the 51st state of the union but – oddly enough – a foreign country. I would then reduce the military budget by at least 90% and use the savings to pay reparations to the victims and repair the damage from the many American bombings and invasions. There would be more than enough money. Do you know what one year of the US military budget is equal to? One year. It's equal to more than $20,000 per hour for every hour since Jesus Christ was born.

"That's what I'd do on my first three days in the White House. On the fourth day, I'd be assassinated."
Thus, Osama bin Laden was clearly making use of what I wrote, and the whole world heard it. And I was thus clearly "aiding the enemy". But I was not prosecuted.
The United States would like to prove a direct use and benefit by "the enemy" of the material released by Wikileaks; but so far it appears that only possession might be proven. In my case the use, and presumed propaganda benefit, were demonstrated. The fact that I wrote the material, as opposed to "stealing" it, is irrelevant to the issue of aiding the enemy. I knew, or should have known, that my criticisms of US foreign policy could be used by the foes of those policies. Indeed, that's why I write what I do. To provide ammunition to anti-war and other activists.
The Department of Justice and socialism
For many years when I've been asked to explain just what I mean by "socialism" I've usually replied simply: "Putting people before profits". There are a thousand-and-one details that would have to be considered in a transformation from a capitalist society to a socialist society, but rather than going into all that it's much simpler to leave it with just that motto, which expresses theessence of my socialist society. In any event, in that glorious future world things will evolve in ways that could not be wholly predicted. The structure could take any one of many forms, but the essence must remain the same if it's going to be called socialist.
Thus was I both surprised and amused in reading a news article about the current trial in New Orleans which is attempting to determine, amongst other things, the extent of blame of various companies, particularly BP, involved in the 2010 historic accident which took the lives of 11 workers and dumped an estimated 172 million gallons of crude oil in the Gulf of Mexico. The US Justice Department attorney declared in his opening statement: "The evidence will show that BP put profits before people, profits before safety and profits before the environment." 10
Well, imagine that. The Justice Department certainly captured the essence of corporate behavior. The attorney chose such words because he knew that the sentiments expressed would appeal to the average American sitting on a jury. The members of the jury would understand that BP had blatantly ignored and violated certain cherished ideals like people, safety and the environment. Prosecuting the corporation would sound fair and just to them.
Yet, when someone like me expresses such sentiments – and I have used the exact same words on occasion – I run the risk of being written off as an "extremist", a "radical", and other bad-for-you labels; not long ago it was "commie".
The irony runs even deeper. If a corporation flagrantly ignores putting profits before everything else, stockholders can sue the executives.
This just in! The real reason the Pope resigned!
He's losing his mind.
In January, US Defense Secretary Leon Panetta met with Pope Benedict XVI to receive his blessing. Afterward, Panetta said the pontiff told him, "Thank you for helping to keep the world safe." 11
The precious art of assassinating legally
Obama hopeium addicts can soon be expected to call for support of the president's increasing use of drones for assassination on the ground of their being good for the environment. My White House agent informs me that Obama is going to announce that all American drones will soon be composed 85% of recyclable material and will be solar-powered. And each drone missile will have the following painted on its side: "He was a bad guy. Just take our word for it!"
The Guardian (London), December 29, 2011 ↩
Huffington Post, March 7, 2013 ↩
Haaretz.com (Israel), October 25, 2007; print edition October 26 ↩
"Face the Nation", CBS, January 8, 2012 ↩
Washington Post, August 1, 2012 ↩
Iran Media Fact Check, "Does Israel Consider Iran an 'Existential Threat'?" ↩
The Guardian (London), January 31, 2012 ↩
Political Correction, "American Enterprise Institute Admits The Problem With Iran Is Not That It Would Use Nukes" ↩
Associated Press, February 26, 2013 ↩
Washington Post, January 17, 2013 ↩
LONDON – One's got to love the sound of a Frenchman's Mirage 2000 fighter jet in the morning. Smells like… a delicious neo-colonial breakfast in Hollandaise sauce. Make it quagmire sauce.
Apparently, it's a no-brainer. Mali holds 15.8 million people – with a per capita gross domestic product of only around US$1,000 a year and average life expectancy of only 51 years – in a territory twice the size of France (per capital GDP $35,000 and upwards). Now almost two-thirds of this territory is occupied by heavily weaponized Islamist outfits. What next? Bomb, baby, bomb.
So welcome to the latest African war; Chad-based French Mirages and Gazelle helicopters, plus a smatter of France-based
Rafales bombing evil Islamist jihadis in northern Mali. Business is good; French president Francois Hollande spent this past Tuesday in Abu Dhabi clinching the sale of up to 60 Rafales to that Gulf paragon of democracy, the United Arab Emirates (UAE).
The formerly wimpy Hollande – now enjoying his "resolute", "determined", tough guy image reconversion – has cleverly sold all this as incinerating Islamists in the savannah before they take a one-way Bamako-Paris flight to bomb the Eiffel Tower.
French Special Forces have been on the ground in Mali since early 2012.
The Tuareg-led NMLA (National Movement for the Liberation of Azawad), via one of its leaders, now says it's "ready to help" the former colonial power, billing itself as more knowledgeable about the culture and the terrain than future intervening forces from the CEDEAO (the acronym in French for the Economic Community of Western African States).
Salafi-jihadis in Mali have got a huge problem: they chose the wrong battlefield. If this was Syria, they would have been showered by now with weapons, logistical bases, a London-based "observatory", hours of YouTube videos and all-out diplomatic support by the usual suspects of US, Britain, Turkey, the Gulf petromonarchies and – oui, monsieur – France itself.
Instead, they were slammed by the UN Security Council – faster than a collection of Marvel heroes – duly authorizing a war against them. Their West African neighbors – part of the ECOWAS regional bloc – were given a deadline (late November) to come up with a war plan. This being Africa, nothing happened – and the Islamists kept advancing until a week ago Paris decided to apply some Hollandaise sauce.
Not even a football stadium filled with the best West African shamans can conjure a bunch of disparate – and impoverished – countries to organize an intervening army in short notice, even if the adventure will be fully paid by the West just like the Uganda-led army fighting al-Shabaab in Somalia.
To top it all, this is no cakewalk. The Salafi-jihadis are flush, courtesy of booming cocaine smuggling from South America to Europe via Mali, plus human trafficking. According to the UN Office of Drugs Control, 60% of Europe's cocaine transits Mali. At Paris street prices, that is worth over $11 billion.
Turbulence ahead 
General Carter Ham, the commander of the Pentagon's AFRICOM, has been warning about a major crisis for months. Talk about a self-fulfilling prophecy. But what's really going on in what the New York Times quaintly describes as those "vast and turbulent stretches of the Sahara"?
It all started with a military coup in March 2012, only one month before Mali would hold a presidential election, ousting then president Amadou Toumani Toure. The coup plotters justified it as a response to the government's incompetence in fighting the Tuareg.
The coup leader was one Captain Amadou Haya Sanogo, who happened to have been very cozy with the Pentagon; that included his four-month infantry officer basic training course in Fort Benning, Georgia, in 2010. Essentially, Sanogo was also groomed by AFRICOM, under a regional scheme mixing the State Department's Trans Sahara Counter Terrorism Partnership program and the Pentagon's Operation Enduring Freedom. It goes without saying that in all this "freedom" business Mali has been the proverbial "steady ally" – as in counterterrorism partner – fighting (at least in thesis) al-Qaeda in the Islamic Maghreb (AQIM).
Over the last few years, Washington's game has elevated flip-flopping to high art. During the second George W Bush administration, Special Forces were very active side by side with the Tuaregs and the Algerians. During the first Obama administration, they started backing the Mali government against the Tuareg.
An unsuspecting public may pore over Rupert Murdoch's papers – for instance, The Times of London – and its so-called defense correspondent will be pontificating at will on Mali without ever talking about blowback from the Libya war.
Muammar Gaddafi always supported the Tuaregs' independence drive; since the 1960s the NMLA agenda has been to liberate Azawad (North Mali) from the central government in Bamako.
After the March 2012 coup, the NMLA seemed to be on top. They planted their own flag on quite a few government buildings, and on April 5 announced the creation of a new, independent Tuareg country. The "international community" spurned them, only for a few months later to have the NMLA for all practical purposes marginalized, even in their own region, by three other – Islamist – groups; Ansar ed-Dine ("Defenders of the Faith"); the Movement for Unity and Jihad in West Africa (MUJAO); and al-Qaeda in the Islamic Maghreb (AQIM).
Meet the players
The NMLA is a secular Tuareg movement, created in October 2011. It claims that the liberation of Azawad will allow better integration – and development – for all the peoples in the region. Its hardcore fighters are Tuaregs who were former members of Gaddafi's army. But there are also rebels who had not laid down their arms after the 2007-2008 Tuareg rebellion, and some that defected from the Malian army. Those who came back to Mali after Gaddafi was executed by the NATO rebels in Libya carried plenty of weapons. Yet most heavy weapons actually ended up with the NATO rebels themselves, the Islamists supported by the West.
AQIM is the Northern African branch of al-Qaeda, pledging allegiance to "The Doctor", Ayman al-Zawahiri. Its two crucial characters are Abu Zaid and Mokhtar Belmokhtar, former members of the ultra-hardcore Algerian Islamist outfit Salafist Group for Predication and Combat (SGPC). Belmokhtar was already a jihadi in 1980s Afghanistan.
Abu Zaid poses as a sort of North African "Geronimo", aka Osama bin Laden, with the requisite black flag and a strategically positioned Kalashnikov featuring prominently in his videos. The historical leader, though, is Belmokhtar. The problem is that Belmokhtar, known by French intelligence as "The Uncatchable", has recently joined MUJAO.
MUJAO fighters are all former AQIM. In June 2012, MUJAO expelled the NMLA and took over the city of Gao, when it immediately applied the worst aspects of Sharia law. It's the MUJAO base that has been bombed by the French Rafales this week. One of its spokesmen has duly threatened, "in the name of Allah", to respond by attacking "the heart of France".
Finally, Ansar ed-Dine is an Islamist Tuareg outfit, set up last year and directed by Iyad ag Ghali, a former leader of the NMLA who exiled himself in Libya. He turned to Salafism because of – inevitably – Pakistani proselytizers let loose in Northern Africa, then engaged in valuable face time with plenty of AQIM emirs. It's interesting to note in 2007 Mali President Toure appointed Ghali as consul in Jeddah, in Saudi Arabia. He was then duly expelled in 2010 because he got too close to radical Islamists.
Gimme 'a little more terrorism' 
No one in the West is asking why the Pentagon-friendly Sanogo's military coup in the capital ended up with almost two-thirds of Mali in the hands of Islamists who imposed hardcore Sharia law in Azawad – especially in Gao, Timbuktu and Kidal, a gruesome catalogue of summary executions, amputations, stonings and the destruction of holy shrines in Timbuktu. How come the latest Tuareg rebellion ended up hijacked by a few hundred hardcore Islamists? It's useless to ask the question to US drones.
The official "leading from behind" Obama 2.0 administration rhetoric is, in a sense, futuristic; the French bombing "could rally jihadis" around the world and lead to – what else – attacks on the West. Once again the good ol' Global War on Terror (GWOT) remains the serpent biting its own tail.
There's no way to understand Mali without examining what Algeria has been up to. The Algerian newspaper El Khabar only scratched the surface, noting that "from categorically refusing an intervention – saying to the people in the region it would be dangerous", Algiers went to "open Algerian skies to the French Mirages".
Secretary of State Hillary Clinton was in Algeria last October, trying to organize some semblance of an intervening West African army. Hollande was there in December. Oh yes, this gets juicier by the month.
So let's turn to Professor Jeremy Keenan, from the School of Oriental and African Studies (SOAS) at London University, and author of The Dark Sahara (Pluto Press, 2009) and the upcomingThe Dying Sahara (Pluto Press, 2013).
Writing in the January edition of New African, Keenan stresses, "Libya was the catalyst of the Azawad rebellion, not its underlying cause. Rather, the catastrophe now being played out in Mali is the inevitable outcome of the way in which the 'Global War on Terror' has been inserted into the Sahara-Sahel by the US, in concert with Algerian intelligence operatives, since 2002."
In a nutshell, Bush and the regime in Algiers both needed, as Keenan points out, "a little more terrorism" in the region. Algiers wanted it as the means to get more high-tech weapons. And Bush – or the neo-cons behind him – wanted it to launch the Saharan front of the GWOT, as in the militarization of Africa as the top strategy to control more energy resources, especially oil, thus wining the competition against massive Chinese investment. This is the underlying logic that led to the creation of AFRICOM in 2008.
Algerian intelligence, Washington and the Europeans duly used AQIM, infiltrating its leadership to extract that "little more terrorism". Meanwhile, Algerian intelligence effectively configured the Tuaregs as "terrorists"; the perfect pretext for Bush's Trans-Saharan Counter-Terrorism Initiative, as well as the Pentagon's Operation Flintlock – a trans-Sahara military exercise.
The Tuaregs always scared the hell out of Algerians, who could not even imagine the success of a Tuareg nationalist movement in northern Mali. After all, Algeria always viewed the whole region as its own backyard.
The Tuaregs – the indigenous population of the central Sahara and the Sahel – number up to 3 million. Over 800,000 live in Mali, followed by Niger, with smaller concentrations in Algeria, Burkina Faso and Libya. There have been no less than five Tuareg rebellions in Mali since independence in 1960, plus three others in Niger, and a lot of turbulence in Algeria.
Keenan's analysis is absolutely correct in identifying what happened all along 2012 as the Algerians meticulously destroying the credibility and the political drive of the NMLA. Follow the money: both Ansar ed-Dine's Iyad ag Ghaly and MUJAO's Sultan Ould Badi are very cozy with the DRS, the Algerian intelligence agency. Both groups in the beginning had only a few members.
Then came a tsunami of AQIM fighters. That's the only explanation for why the NMLA was, after only a few months, neutralized both politically and militarily in their own backyard.
Round up the usual freedom fighters
Washington's "leading from behind" position is illustrated by this State Department press conference. Essentially, the government in Bamako asked for the French to get down and dirty.
And that's it.
Not really. Anyone who thinks "bomb al-Qaeda" is all there is to Mali must be living in Oz. To start with, using hardcore Islamists to suffocate an indigenous independence movement comes straight from the historic CIA/Pentagon playbook.
Moreover, Mali is crucial to AFRICOM and to the Pentagon's overall MENA (Middle East-Northern Africa) outlook. Months before 9/11 I had the privilege to crisscross Mali on the road – and by the (Niger) river – and hang out, especially in Mopti and Timbuktu, with the awesome Tuaregs, who gave me a crash course in Northwest Africa. I saw Wahhabi and Pakistani preachers all over the place. I saw the Tuaregs progressively squeezed out. I saw an Afghanistan in the making. And it was not very hard to follow the money sipping tea in the Sahara. Mali borders Algeria, Mauritania, Burkina Faso, Senegal, the Ivory Coast and Guinea. The spectacular Inner Niger delta is in central Mali – just south of the Sahara. Mali overflows with gold, uranium, bauxite, iron, manganese, tin and copper. And – Pipelineistan beckons! – there's plenty of unexplored oil in northern Mali.
As early as February 2008, Vice Admiral Robert T Moeller wassaying that AFRICOM's mission was to protect "the free flow of natural resources from Africa to the global market"; yes, he did make the crucial connection to China, pronounced guilty of " challenging US interests".
AFRICOM's spy planes have been "observing" Mali, Mauritania and the Sahara for months, in thesis looking for AQIM fighters; the whole thing is overseen by US Special Forces, part of the classified, code-named Creek Sand operation, based in next-door Burkina Faso. Forget about spotting any Americans; these are – what else – contractors who do not wear military uniforms.
Last month, at Brown University, General Carter Ham, AFRICOM's commander, once more gave a big push to the "mission to advance US security interests across Africa". Now it's all about the – updated – US National Security Strategy in Africa, signed by Obama in June 2012. The (conveniently vague) objectives of this strategy are to "strengthen democratic institutions"; encourage "economic growth, trade and investment"; "advance peace and security"; and "promote opportunity and development."
In practice, it's Western militarization (with Washington "leading from behind") versus the ongoing Chinese seduction/investment drive in Africa. In Mali, the ideal Washington scenario would be a Sudan remix; just like the recent partition of North and South Sudan, which created an extra logistical headache for Beijing, why not a partition of Mali to better exploit its natural wealth? By the way, Mali was known as Western Sudan until independence in 1960.
Already in early December a "multinational" war in Mali was on the Pentagon cards.
The beauty of it is that even with a Western-financed, Pentagon-supported, "multinational" proxy army about to get into the action, it's the French who are pouring the lethal Hollandaise sauce (nothing like an ex-colony "in trouble" to whet the appetite of its former masters). The Pentagon can always keep using its discreet P-3 spy planes and Global Hawk drones based in Europe, and later on transport West African troops and give them aerial cover. But all secret, and very hush hush.
Mr Quagmire has already reared its ugly head in record time, even before the 1,400 (and counting) French boots on the ground went into offense.
A MUJAO commando team (and not AQIM, as it's been reported), led by who else but the "uncatchable" Belmokhtar, hit a gas field in the middle of the Algerian Sahara desert, over 1,000 km south of Algiers but only 100 km from the Libyan border, where they captured a bunch of Western (and some Japanese) hostages; a rescue operation launched on Wednesday by Algerian Special Forces was, to put it mildly, a giant mess, with at least seven foreign hostages and 23 Algerians so far confirmed killed.
The gas field is being exploited by BP, Statoil and Sonatrach. MUJAO has denounced – what else – the new French "crusade" and the fact that French fighter jets now own Algerian airspace.
As blowback goes, this is just the hors d'oeuvres. And it won't be confined to Mali. It will convulse Algeria and soon Niger, the source of over a third of the uranium in French nuclear power plants, and the whole Sahara-Sahel.
So this new, brewing mega-Afghanistan in Africa will be good for French neoloconial interests (even though Hollande insists this is all about "peace"); good for AFRICOM; a boost for those Jihadis Formerly Known as NATO Rebels; and certainly good for the never-ending Global War on Terror (GWOT), duly renamed "kinetic military operations".
Django, unchained, would be totally at home. As for the Oscar for Best Song, it goes to the Bush-Obama continuum: There's no business like terror business. With French subtitles, bien sur.
Pepe Escobar is the author of Globalistan: How the Globalized World is Dissolving into Liquid War (Nimble Books, 2007) and Red Zone Blues: a snapshot of Baghdad during the surge. His most recent book is Obama does Globalistan (Nimble Books, 2009). He may be reached at pepeasia@yahoo.com
Source: Asia Times Online
Ashtabula, Ohio, is facing problems which could overload their already struggling social welfare services. Across America more people are being forced onto food stamps or facing starvation. Some of these have lost their jobs. Others can no longer work because of disabilities which can be accounted for in other ways.
This appears to be especially true, and becoming more so, in Ashtabula, a small town of 29,000 inhabitants which sits at the epicenter of four superfund sites, one of the most in any county in Ohio today.
While many of the companies responsible for the toxic waste have packed up and moved operations to third world countries, others have moved in, continuing the same practices. From the perspective of such companies, for instance Millennium, the attractions of the area include the history of previous pollution. Although the impact on the people and environment, calculated monetarily, would be enormous the company has routinely paid a tiny stipend, frequently around $50,000 a year in fines to the EPA.
Diseases and conditions which, two generations ago, were barely known, now account for a significant number of the individuals now requiring aid. Among these conditions are Parkinson's and Multiple Sclerosis, both neurological in origin, both becoming far more common in Ashtabula.
From multiple directions and sources indications now affirm something has changed. Tracking the incidence of these devastating diseases could result in nothing but more rapid action to identify the conditions which are increasing their incidence in Americans. Yet legislation which would accomplish this is stalled in Congress. In 2010, the House passed H.R. 1362, a act similar to the stalled Senate bill, S. 425: National Neurological Diseases Surveillance System Act of 2011.
The House bill passed with 206 cosponsors. The nearly identical Senate bill has 14 cosponsors, nine Democrats and five Republicans.. Both would provide for the establishment of permanent national surveillance systems for multiple sclerosis, Parkinson's disease, and other neurological diseases and disorders. But until both pass and are signed into law, this cannot happen.
Having information freely available not only enables better choices for all of us, today it may well spell the difference between life and death for many Americans. Not knowing forces us to struggle in ignorance of facts essential for our health and well-being. And since these facts widely include information collected and retained by those in public service, whose salaries are paid by taxpayers, this calls into question the motives of those working for government.
In Steve Lerner's book, "Sacrifice Zones: The Front Lines of Toxic Chemical Exposure in the United States," we see the unstated policy of ignoring corporate impact in specific areas for reasons which are never stated, also applied to the lives of the people who live there. The section of the Lerner book, which outlines the impact of Manganese poisoning in Marietta, Ohio, could well have been written about Ashtabula.
By so doing, the joining of corporate interests with the power of the state to externalize their costs and so augment their profits. In a rational world destroying the present value of resources which are common to all of us as the life-spans, intellectual and health of people are diminished and destroyed would be automatically treated as crimes.
Evading the consequences of these crimes by using the institutions of government smacks of a violation under color of law. Now, we must ask ourselves if the present compilation of policies is random, or planned.
A"National Sacrifice Zone" is defined as an area so contaminated or depleted of its resources as to have little or no future use. The term has been applied to areas which are badly polluted through previous corporate abuse of resources which go far beyond any right of ownership which can, rationally, be claimed by those responsible. Of the enormous number of examples presently in the forefront of public consciousness are fracking and manganese poisoning.
But the 'sacrifice zones' go beyond land, air, water, and the environment of which these are elements. It also includes people. In Ashtabula, and across both Ohio and Indiana, the sacrifice made to corporate prosperity included people's health, their lives, and an additional cost has been paid in the slow, but inevitable shock suffered as they individually discovered the institutions, for which we pay, were actually working against them.
As you read Lerner's book you hear the words of ordinary Americans, struggling to understand what is happening to them and why their lives and well being do not matter.
"We thought we had the American dream," says Lesley Kuhl, who since 2002 has lived with her husband and two young children on a quiet, leafy street in Marietta, Ohio.
Mrs. Kuhl is a Republican, who considered herself conservative, when the threat to her children forced her into action along with both environmental activists and others in her town, like Caroline Beidler, who could no longer ignore the visible impact of pollutants on the health of their families.
Caroline Beidler and her husband, Keith Bailey, a carpenter, had built their "dream home," in Marietta, Ohio. At the time they were unaware that their little piece of heaven was only four miles, as the crow flies, from the French-owned ferroalloy plant of Eramet Marietta, Inc.
According to Steve Lerner, author of "Sacrifice Zones," "Eramet (which uses manganese, cadmium, and lead, among other feedstocks, to strengthen steel and purify chromium) releases tons of heavy metal dust into the air. It is one of the county's top polluters."
Their efforts transitioned from an informal club which logged the ugly odors carried by the breeze from the plant to increasingly organized efforts to stop the emissions. These struggles began in 2002. They continue today.
Tetrachloroethylene, "a chemical that can cause dizziness, headaches, nausea, unconsciousness, and even death.," was only one of the pollutants being emitted. Tetrachloroethylene was not even on the long list of chemicals that Eramet admitting having released. In 2004, the company did, "emit 15,000 pounds of chromium compounds into the air and 75,000 pounds into the river and 500,000 pounds of airborne manganese."
Manganese is a known neurotoxin. Manganese poisoning mimics Parkinson's Disease, among many other conditions.
At first, Beidler was reluctant to make trouble. Over time she realized just how many road blocks existed between the safety of her children. Little help was forthcoming from state regulatory officials.
They discovered how many ways accountability could be evaded by companies which routinely spend money to influence government but never enough to solve the problems they create. Fingers were pointed in every possible direction but little changed.
According to Lerner, "Total releases of toxic chemicals by Eramet reported to federal officials were radically cut from about 12 million pounds when the company was purchased in 2000 to about 6 million pounds of TRI releases in 2004."
In December 2005 a report by David Pace of the Associated Press listed Eramet as the top factory nationwide "whose emissions created the most potential health risk for residents in the surrounding community." Washington County was ranked number one for the "highest health risk from industrial pollution in 2000."
This was the year Lesley Kuhl really confronted the problem.
The group which formed around Beidler and Kuhl, "began to collect information about air quality in their region and make their network of members aware of key regulatory developments, scientific studies, health studies, and emissions at Eramet."
The bottom-line motive was the continuing threat to children, their children. In December 2005 Mrs. Kuhl read an article in the local newspaper on the impact of elevated levels of air-borne heavy metals their possible impact on the development of the brains of very young children. The Kuhl children had suffered numerous sinus infections that had to be treated with antibiotics, and one of whom was diagnosed with a developmental disorder. Loss of IQ points was also listed as a possibility.
Further research revealed older people could experience mood and movement problems from exposure. Suggestions for a 'study,' to take three years, was not a solution.
Also, the families realized even moving was no guarantee of a safe haven. How could they know where was safe? Their children began to be tested for manganese exposure.
The Kuhls and others continued to be shocked at the disregard for the health and well being of their children. Their knowledge of the problem, and how long it had been known, increased.
Dick Wittberg, another resident, who heads the Mid-Ohio Valley Health Department, had carried out a pilot study in the late 1990s. The study compared the ability of children in Marietta to perform physical tasks and answer academic questions. These were compared the results from Marietta with, "a control sample of children from a similar-sized town in Athens, Ohio, located forty-five miles away."
A battery of 13 tests were administered to fourth-graders in both cities. The children were matched, "for age, sex, and parental education. The tests measured such things as educational proficiency, balance, visual contrast sensitivity, and short-term memory."
The results were disturbing: "across the board: the Marietta youngsters scored significantly lower on the tests than did those from Athens." In his opinion, "the study points to some neurological differences and one has to suspect manganese. Nobody knows, for kids, how much [exposure] is too much."
The stalling tactics continue from Aramet.
Protocols for handling potential pollutants, thus eliminating the danger of impact exist today.  This is not rocket science.  The only impact to be felt if such procedures become standard is to end a threat to public health, the need  for clean-up, all too often paid for by taxpayers, and awaken corporate balance sheets to the reality of a real free market.  There is no inherent freedom to cause harm to others.
It is time to get specific about what protocols must be applied and on the issue of liability.
This is how a free market is applied. You can tell if it is a free market because if government can intervene to limit liability or allow acts which are, by their nature criminal, what you are seeing is corporate fascism.
As bad as the situation is in Marietta, what is facing Ashtabula could be far worse. The toxic releases of Manganese are double what is present in Marietta, the source of pollution, Millennium, is far closer to population centers, and a clock, of which we have only recently become aware, is ticking toward a point of no return for many people.
A study, Parkinsonism Induced by Chronic Manganese Intoxication– An Experience in Taiwan, by Chin-Chang Huang, MD, includes the troubling facts, "Excessive manganese exposure may induce a neurological syndrome called manganism, which is similar to Parkinson's disease (PD). However, close observation of patients with manganism reveals a clinical disease entity different from PD, not only in the clinical manifestations, but also in therapeutic responses. " "…after long-term follow-up studies, patients with manganism showed prominent deterioration in the parkinsonian symptoms during the initial 5-10 years, followed by a plateau during the following 10 years."
The summary, in large part quoted above, ends with, "Although typical patients with manganism are different from patients with PD, the potential risk of inhaling welding fumes, which may accelerate the onset of PD or even induce PD, has been raised during recent years. This controversial topic requires further investigation.
The results of this study should be considered along with this graph showing money spent on lobbying by the American Chemical Council. Source: Open Secrets While it is nearly impossible to know how the money was spent the timing is telling.
Also available to influence legislators are the many corporations who readily donate to non-profits which, people believe, are working solely to protect them. These include, "3M, Amoco, Chevron, Dow Chemical, Exxon, General Motors, Occidental Petroleum, Philip Morris, Proctor & Gamble and W.R. Grace," according to Integrity in Science, who routinely tracks such relationships.
The people of Ashtabula are not inhaling fumes from working as welding. They are getting it directly and it is time action was taken to establish real standards backed up by real disincentives as those impacted are compensated. In so doing, Ashtabula can begin the process of returning America to a nation of law and justice.
For more information contact Ashtabula Renewal – The Clean-Up ashtabulanenewal.org 
Melinda Pillsbury-Foster, Organizing Director, Dave Lincoln, Technical Director
The New World Order, designed around a functional police state that is encouraged by continuous popular cultural messages, is apparent to even the most avid establishment apologist. Liberty and freedom, hardly ever mentioned in a positive light by the mass media, is a direct threat to the ruling class. The proliferation of degenerate behavior is lauded so that those who object to such conduct will be demeaned as outcasts of the decadent society. The imposition of a police state is necessary to coerce decent people into forced obedience.
Cultural celebrities and icons come and go, but their art often rings on for good or bad. Political propaganda, embedded in media projects, has transcended subliminal messages and now emphasizes in your face brashness. The breakdown of the traditional value society is so complete, that what was once viewed as insulting political disinformation now passes as a promotion for a loyalist NWO drama.
One such Showtime production is the pathetic Homeland series. Rachel Shabi offers her review assessment in the piece; Does Homeland just wave the American flag?
"Instead, Homeland presents a retuned version of the same unshakeable assurance that, even when things are really complicated, American values are the fairest, the most right and the best. Sure, the series shows US forces doing terrible things: covering up a drone attack that kills civilians in Iraq; trigger-happy in a US mosque, leaving innocents dead there, too. But these are presented as necessary acts in pursuit of far worse crimes. Homeland's core message is that the US means well, but sometimes has to do bad things; while the Arab and/or Muslim enemy doesn't mean well and hence does unfathomably bad things. Not much of a progression really, is it?"
When the postmortem of the Patriotic Act era is dissected, the treason of intelligence community operations will be written in their full horror. The police state glorified in Homeland episodes is meant to prepare the public for the next stage of centralized oppression.
While cable or broadcast TV is so removed from Little House on the Prairie, today's programming is designed to facilitate the psychological acceptance of the transition into a maximum lock down prison society.
In the essay, Mass Mind Control Through Network Television, Alex Ansary warns of the prison industrial complex.
"Turn on your local newscast. You have a few minutes of blue-collar crime, hardly any white collar crime, a few minutes of sports, misc. chit chat, random political jibber-jabber, and a look at the weather that no one is forecasting correctly. Is that what happened in your town? And we're supposed to own the airwaves! The mainstream media openly supports the interests of the prison industrial complex. The stories focus on minority criminal groups, and exploit the real threat to appear much more dangerous than they are. Think about the growing per capita number of prisoners in the country. Then remember that this is happening at the same time that our prison boom began. The police on our streets have created criminals. The focus is to keep us in a state of fear, that way the elitists can attack any group they want to without fear of consequence. This is why the media is continuing to craft the timeless art of dehumanization."
The cutting edge of mind control has long included the use of music and lyrics that produce subconscious meanings. Now the fascist messages in street music indoctrinate not only the youth but target to reinforce the despotic aspirations of TSA flunkies.
The article, The Transhumanist and Police State Agenda in Pop Music, provides two examples of globalist messages disguised as performances by Rihanna and Beyonce.
"In hip-hop slang, the term "hard" usually refers to someone who is street-savvy, gritty, rebellious and who is decisively "not down with police". Hard transposes this term to a military context. Her militaristic video features a gang of uniformed men dancing under the orders of "General Rihanna". We've come a long way from Public Enemy's Fight the Power…it is now Submit to the Power. All of this military/dictatorial imagery is mixed with Rihanna's sexy moves and outfits, appealing to the masses' basest instinct: sex."
"Beyonce walks on stage with a bunch of men dressed in riot gear… the type of unit a police state would use to repress opposition during popular turmoil. What are they doing in Beyonce's performance? Contributing to permeate popular culture with police-state imagery."
In the follow-up account, you can read the description mentioned in this report.
"Two recent examples of the perpetuation of the police state agenda in popular culture are Jay-Z and Kanye West's music video No Church in the Wild and Adam Lambert's Never Close our Eyes. In spite of, or perhaps because of, the fact that these songs are two different genres that aim to reach two different markets, they both contribute to the saturation of popular culture with police state imagery. While the authorities are not necessarily portrayed as the "good guys", they are nevertheless there, as if their presence at any kind of public demonstration is normal."
Contrast this dark brute force portrayal, with an age of optimism and hope. The peace and love themes in the music and political actions of John Lennon offer a rudimentary alternative to the grisly atrocities that the establishment commits routinely in the name of national security.
Gangster rap has little in common with All You Need is Love.
Rebellion of youth is natural, but resigned acceptance for submission to the police state is repression. The thirty-two years since his assassination has been one long road into oblivion. Read the "Interview With Investigative Reporter Jack Jones" for insights into the elimination of a dangerous messenger of peace.What a long way away from John Lennon's lyrics in the song Revolution.
You say you'll change the constitution

Well, you know

We all want to change your head

You tell me it's the institution

Well, you know

You'd better free your mind instead

But if you go carrying pictures of Chairman Mao

You ain't gonna make it with anyone anyhow
Now, transition from the mental liberation of the Beetle era, and go back and examine the overt war crimes of the premier American despot, Abraham Lincoln. Biographer and jingoism jezebel LBJ groupie, Doris Kearns Goodwin's book, Team of Rivals: The Political Genius of Abraham Lincoln served as the backdrop of Steven Spielberg's production of the recent released Lincoln film.
Alec Ryan writes in the American Renaissance:
"In the modern Hollywood narrative, all American history revolves around the Sacred Black Experience. Lincoln confirms this, bending historical truth to paint the most ruthless, bloody-minded, strong-willed American leader in history as some kind of smug, pre-post-modern storyteller croaking gamely through the difficulties like a paleface Obama sans teleprompter. The few Southerners are snarling, greasy bigots, recoiling before the erect, scowling black Union guards as they slink by during a meeting that led to the Hampton Roads peace conference of February 1865.

The film has throughout a sense of hushed awe, as if kowtowing to its own self-evident righteousness. There is no balance, no complexity, no sense of inner struggle or desperation. No opposing arguments. Its simplistic outlook more closely resembles the popcorn-psychology Avengers or Justice League rather than the serious historical movie that it clearly wishes to be acclaimed."
The point of evaluating the worship adoration of the destroyer of the Republic with the authoritarianism of the newly re-elected president is to equate the despotism of both of their regimes. The imposition of the police state is part of the master plan to enslave the inherent autonomy of free citizens.
The insidious popular culture strips the institutions of traditional constitutional protections and separations of powers by diminishing the will of sovereign citizens to fight tyranny. The goal of imposing savage dehumanizing ruthlessness seeks to spread the Sons of Anarchy mindset into positions of authority. The merging of law enforcement into the ranks of criminal organizations becomes a common occurrence in the police state environment.
Once upon a time, the peace officer maintained order and balance. Now law enforcement deems that natural rights are arbitrary and conditional on obedience to government dictates.
911 provided the excuse to inflict a "War of Terror" under the disguise of national security. The Homeland program scripts that foster the ends justify the means are repugnant to every liberty advocate. Each day, the evolving police state is becoming more invasive and punitive.
A culture that glorifies jack booted thugs that order innocent citizens around as sinister terrorists destroys the essence of the nation. The New World Order essentially uses depressing indoctrination of the inevitability for submission to their mind game matrix.
The walking dead that accept a dependent society administered by bureaucratic goons, willingly tolerant a fate of bondage. Since texting is all the rage and the written language is sorely deficient, maybe the best way to communicate though the popular culture is to withdraw from the experience as much as possible. Try one on one contact; you might be surprised with the results.
You think that America's corporate-owned government has its drawbacks?  Wait until you hear what the corporate-owned government in Nigeria is up to!  You think that the results of having corporate Big Money buying off America's politicians has been scary and sad?  Then you obviously haven't ever been to Nigeria — where they have definitely gone way far beyond merely "scary" or "sad".
When it comes to having a corporate-owned government, apparently Nigeria has become the prototype, the ideal, the epitome of what corporate-owned government can really achieve if it puts its mind to it.  Corporations in America like Citibank and Monsanto and Georgia-Pacific and Chevron can only hope to aspire to the high levels of corporatism that have been achieved in Nigeria.
Nigeria today has broken the mold and set the bar really high.
But how do I know all this?  From an interview with an expert on Nigeria that took place yesterday in a local park in Berkeley over tuna-fish sandwiches.
"So.  What's up in Nigeria?" I asked him, immediately diving right in.
"Don't even ask," he replied.  "For one thing, our government is composed of mainly puppet thugs put into office by corporate neo-colonialists — but these office-holders have no power at all.  They are only there as a showcase, an illusion, a shadow puppet show created to make it look like someone with dark skin is in charge over there and to give corporations someone to officially sign the documents that have handed Nigeria over to them."
That's ironic.  In America, corporations try to dig up shadow puppets with light skin.
"When we were children in Nigeria," continued the expert, "all of us wanted to go off to college because those in our villages who had gone to college would come home and everyone would honor them.  But not any more.  Now the children in the villages and towns of Nigeria all want to grow up to be government thugs!  To drive big shiny cars and take money from oil companies and beat people up."
     "Something like that has happened in America too," I replied.  "Little kids used to want to grow up to be doctors or firefighters or scientists.  High school kids wanted to go to college and become architects or engineers or Bob the Builder.  Now all they want to do is study business so they can rush off to Wall Street and make a killing.  Who wants to be a doctor when they can orchestrate pension-plan takeovers and outsource American jobs.  Or go into politics."  Yeah.  And become corporate-owned government thugs like in Nigeria.
"And it used to be that everyone in Nigeria at least had a chance of going to high school," said the expert.  "But the levels of available education there are falling fast."  Keep them barefoot and dumb?  Seems to be the trend here in America too.
"Whenever we thought of America when we were children, we all wanted to be like that — democracy and all.  Owning something that said 'Made in America' on it was a very big deal.  And now it's all made in China.  But what amazes me most about Americans today is that they all sit back and take this and say nothing.  They just listen to Rush Limbaugh and Glen Beck and Fox News and accept their fate like lambs to the slaughter."
     I know what he means.  And in my humble opinion, it all started back in 1963 when no one really questioned who shot JFK — and who benefited most.  Who had the motive, means and opportunity?  It surely wasn't Cuba or even the USSR.  "Who killed the Kennedys?  After all it was you and me," sang the Rolling Stones — and they nailed it.  Then most Americans went on to never question the lack of preparedness before 9-11http://www.paulcraigroberts.org/2012/09/11/the-11th-anniversary-911-paul-craig-roberts/ or the obvious lies about weapons of mass destruction or the need for bank bailouts or….  Sheep.
"Don't Tread on Me" is now history, sent off to America's outdated memorabilia rubbish heap.
     "When the BP oil spill happened over here in the Gulf," my expert continued, "BP spent a lot of money on maintaining their public image in America and making excuses.  Well, Nigeria has a big oil spill almost every day.  Oil spills like that are common in Nigeria.  But the major difference between there and here is that BP doesn't even bother to make excuses in Nigeria.  They don't even consider Nigerians important enough to even make excuses.  They treat us like some kind of annoying pests that they just have to put up with while extracting our oil.  Not really human."  Definitely beyond sad.
Imagine all those photos of shorebirds on the Gulf Coast covered with oil — and then imagine Nigerians covered with oil like that too.  The toxic "body burden" that many Nigerian villagers are bearing these days is tragic.
     "Have you ever been to Nigeria?" he asked me.  "Rich people there live in securely gated communities and behind high walls.  There is no walking down the streets in Nigeria for rich people.  Why would anyone ever want to live like that?  To always be guarded and gated and stuck behind walls?  That's no way to live.  Having economic equality leads to more freedom — even for the rich."
But as the rich become more and more separated from the poor here in America too, that's definitely the direction we also are going in.  Freedom, like money, does not trickle down.
    Next we discussed a whole bunch of other reasons why having a corporate-owned government has led to a failed nation in Nigeria — and will also lead to a failed nation here.  But I forgot to take notes and can't remember the rest of what all we discussed.  But you get the gist.  Government of the people, by the people and for the people is good.  Corporate-owned government is proving to be very very bad.
To paraphrase a recent saying that's now making the rounds on FaceBook, "If Romney's proposed corporatist policies actually work, then George W. Bush would have given the keynote speech at the Republican convention — and Nigeria would be a proud role model for democracy and freedom, not just another miserable failed state."
PS:  Has anyone started to miss Libya's Muammar Gaddafi yet?  If he hadn't been brutally murdered and his corpse dragged through the streets of Sirte, Ambassador Stevens would still be alive and well too.
And does anybody but me find it ironic that the rockets used to attack the American consulate in Benghazi probably came from the same stockpile of weapons supplied to NATO's allies, the al-Qaeda-linked Libyan Islamic Fighting Group, and paid for by America's corporate-owned government?
Shades of Ronald Reagan's favorite "freedom fighters" in Afghanistan — Osama bin Ladin and friends. 
The greatest crimes of human history are made possible by the most colorless human beings. They are the careerists. The bureaucrats. The cynics. They do the little chores that make vast, complicated systems of exploitation and death a reality. They collect and read the personal data gathered on tens of millions of us by the security and surveillance state. They keep the accounts of ExxonMobil, BP and Goldman Sachs. They build or pilot aerial drones. They work in corporate advertising and public relations. They issue the forms. They process the papers. They deny food stamps to some and unemployment benefits or medical coverage to others. They enforce the laws and the regulations. And they do not ask questions.
Good. Evil. These words do not mean anything to them. They are beyond morality. They are there to make corporate systems function. If insurance companies abandon tens of millions of sick to suffer and die, so be it. If banks and sheriff departments toss families out of their homes, so be it. If financial firms rob citizens of their savings, so be it. If the government shuts down schools and libraries, so be it. If the military murders children in Pakistan or Afghanistan, so be it. If commodity speculators drive up the cost of rice and corn and wheat so that they are unaffordable for hundreds of millions of poor across the planet, so be it. If Congress and the courts strip citizens of basic civil liberties, so be it. If the fossil fuel industry turns the earth into a broiler of greenhouse gases that doom us, so be it. They serve the system. The god of profit and exploitation. The most dangerous force in the industrialized world does not come from those who wield radical creeds, whether Islamic radicalism or Christian fundamentalism, but from legions of faceless bureaucrats who claw their way up layered corporate and governmental machines. They serve any system that meets their pathetic quota of needs.
These systems managers believe nothing. They have no loyalty. They are rootless. They do not think beyond their tiny, insignificant roles. They are blind and deaf. They are, at least regarding the great ideas and patterns of human civilization and history, utterly illiterate. And we churn them out of universities. Lawyers. Technocrats. Business majors. Financial managers. IT specialists. Consultants. Petroleum engineers. "Positive psychologists." Communications majors. Cadets. Sales representatives. Computer programmers. Men and women who know no history, know no ideas. They live and think in an intellectual vacuum, a world of stultifying minutia. They are T.S. Eliot's "the hollow men," "the stuffed men." "Shape without form, shade without colour," the poet wrote. "Paralysed force, gesture without motion."
It was the careerists who made possible the genocides, from the extermination of Native Americans to the Turkish slaughter of the Armenians to the Nazi Holocaust to Stalin's liquidations. They were the ones who kept the trains running. They filled out the forms and presided over the property confiscations. They rationed the food while children starved. They manufactured the guns. They ran the prisons. They enforced travel bans, confiscated passports, seized bank accounts and carried out segregation. They enforced the law. They did their jobs.
Political and military careerists, backed by war profiteers, have led us into useless wars, including World War I, Vietnam, Iraq and Afghanistan. And millions followed them. Duty. Honor. Country. Carnivals of death. They sacrifice us all. In the futile battles of Verdun and the Somme in World War I, 1.8 million on both sides were killed, wounded or never found. In July of 1917 British Field Marshal Douglas Haig, despite the seas of dead, doomed even more in the mud of Passchendaele. By November, when it was clear his promised breakthrough at Passchendaele had failed, he jettisoned the initial goal—as we did in Iraq when it turned out there were no weapons of mass destruction and in Afghanistan when al-Qaida left the country—and opted for a simple war of attrition. Haig "won" if more Germans than allied troops died. Death as score card. Passchendaele took 600,000 more lives on both sides of the line before it ended. It is not a new story. Generals are almost always buffoons. Soldiers followed John the Blind, who had lost his eyesight a decade earlier, to resounding defeat at the Battle of Crécy in 1337 during the Hundred Years War. We discover that leaders are mediocrities only when it is too late.
David Lloyd George, who was the British prime minister during the Passchendaele campaign, wrote in his memoirs: "[Before the battle of Passchendaele] the Tanks Corps Staff prepared maps to show how a bombardment which obliterated the drainage would inevitably lead to a series of pools, and they located the exact spots where the waters would gather. The only reply was a peremptory order that they were to 'Send no more of these ridiculous maps.' Maps must conform to plans and not plans to maps. Facts that interfered with plans were impertinencies."
Here you have the explanation of why our ruling elites do nothing about climate change, refuse to respond rationally to economic meltdown and are incapable of coping with the collapse of globalization and empire. These are circumstances that interfere with the very viability and sustainability of the system. And bureaucrats know only how to serve the system. They know only the managerial skills they ingested at West Point or Harvard Business School. They cannot think on their own. They cannot challenge assumptions or structures. They cannot intellectually or emotionally recognize that the system might implode. And so they do what Napoleon warned was the worst mistake a general could make—paint an imaginary picture of a situation and accept it as real. But we blithely ignore reality along with them. The mania for a happy ending blinds us. We do not want to believe what we see. It is too depressing. So we all retreat into collective self-delusion.
In Claude Lanzmann's monumental documentary film "Shoah," on the Holocaust, he interviews Filip Müller, a Czech Jew who survived the liquidations in Auschwitz as a member of the "special detail." Müller relates this story:
"One day in 1943 when I was already in Crematorium 5, a train from Bialystok arrived. A prisoner on the 'special detail' saw a woman in the 'undressing room' who was the wife of a friend of his. He came right out and told her: 'You are going to be exterminated. In three hours you'll be ashes.' The woman believed him because she knew him. She ran all over and warned to the other women. 'We're going to be killed. We're going to be gassed.' Mothers carrying their children on their shoulders didn't want to hear that. They decided the woman was crazy. They chased her away. So she went to the men. To no avail. Not that they didn't believe her. They'd heard rumors in the Bialystok ghetto, or in Grodno, and elsewhere. But who wanted to hear that? When she saw that no one would listen, she scratched her whole face. Out of despair. In shock. And she started to scream."
Blaise Pascal wrote in "Pensées," "We run heedlessly into the abyss after putting something in front of us to stop us from seeing it."
Hannah Arendt, in writing "Eichmann in Jerusalem," noted that Adolf Eichmann was primarily motivated by "an extraordinary diligence in looking out for his personal advancement." He joined the Nazi Party because it was a good career move. "The trouble with Eichmann," she wrote, "was precisely that so many were like him, and that the many were neither perverted nor sadistic, that they were, and still are, terribly and terrifyingly normal."
"The longer one listened to him, the more obvious it became that his inability to speak was closely connected with an inability to think, namely, to think from the standpoint of somebody else," Arendt wrote. "No communication was possible with him, not because he lied but because he was surrounded by the most reliable of all safeguards against words and the presence of others, and hence against reality as such."
Gitta Sereny makes the same point in her book "Into That Darkness," about Franz Stangl, the commandant of Treblinka. The assignment to the SS was a promotion for the Austrian policeman. Stangl was not a sadist. He was soft-spoken and polite. He loved his wife and children very much. Unlike most Nazi camp officers, he did not take Jewish women as concubines. He was efficient and highly organized. He took pride in having received an official commendation as the "best camp commander in Poland." Prisoners were simply objects. Goods. "That was my profession," he said. "I enjoyed it. It fulfilled me. And yes, I was ambitious about that, I won't deny it." When Sereny asked Stangl how as a father he could kill children, he answered that he "rarely saw them as individuals. It was always a huge mass. … [T]hey were naked, packed together, running, being driven with whips. …" He later told Sereny that when he read about lemmings it reminded him of Treblinka.
Christopher Browning's collection of essays, "The Path to Genocide," notes that it was the "moderate," "normal" bureaucrats, not the zealots, who made the Holocaust possible. Germaine Tillion pointed out "the tragic easiness [during the Holocaust] with which 'decent' people could become the most callous executioners without seeming to notice what was happening to them." The Russian novelist Vasily Grossman in his book "Forever Flowing" observed that "the new state did not require holy apostles, fanatic, inspired builders, faithful, devout disciples. The new state did not even require servants—just clerks."
"The most nauseating type of S.S. were to me personally the cynics who no longer genuinely believed in their cause, but went on collecting blood guilt for its own sake," wrote Dr. Ella Lingens-Reiner in "Prisoners of Fear," her searing memoir of Auschwitz. "Those cynics were not always brutal to the prisoners, their behavior changed with their mood. They took nothing seriously—neither themselves nor their cause, neither us nor our situation. One of the worst among them was Dr. Mengele, the Camp Doctor I have mentioned before. When a batch of newly arrived Jews was being classified into those fit for work and those fit for death, he would whistle a melody and rhythmically jerk his thumb over his right or his left shoulder—which meant 'gas' or 'work.' He thought conditions in the camp rotten, and even did a few things to improve them, but at the same time he committed murder callously, without any qualms."
These armies of bureaucrats serve a corporate system that will quite literally kill us. They are as cold and disconnected as Mengele. They carry out minute tasks. They are docile. Compliant. They obey. They find their self-worth in the prestige and power of the corporation, in the status of their positions and in their career promotions. They assure themselves of their own goodness through their private acts as husbands, wives, mothers and fathers. They sit on school boards. They go to Rotary. They attend church. It is moral schizophrenia. They erect walls to create an isolated consciousness. They make the lethal goals of ExxonMobil or Goldman Sachs or Raytheon or insurance companies possible. They destroy the ecosystem, the economy and the body politic and turn workingmen and -women into impoverished serfs. They feel nothing. Metaphysical naiveté always ends in murder. It fragments the world. Little acts of kindness and charity mask the monstrous evil they abet. And the system rolls forward. The polar ice caps melt. The droughts rage over cropland. The drones deliver death from the sky. The state moves inexorably forward to place us in chains. The sick die. The poor starve. The prisons fill. And the careerist, plodding forward, does his or her job.
Source: Chris Hedges | Truthdig
Two Years After The BP Oil Spill, Is The Gulf Ecosystem Collapsing?
The BP oil spill started on April 20, 2010. We've previously warned that the BP oil spill could severely damage the Gulf ecosystem.
Since then, there are numerous signs that the worst-case scenario may be playing out:
A recent report also notes that there are flesh-eating bacteria in tar balls of BP oil washing up on Gulf beaches
If you still don't have a sense of the devastation to the Gulf, American reporter Dahr Jamail lays it out pretty clearly:
"The fishermen have never seen anything like this," Dr Jim Cowan told Al Jazeera. "And in my 20 years working on red snapper, looking at somewhere between 20 and 30,000 fish, I've never seen anything like this either."

Dr Cowan, with Louisiana State University's Department of Oceanography and Coastal Sciences started hearing about fish with sores and lesions from fishermen in November 2010.

Cowan's findings replicate those of others living along vast areas of the Gulf Coast that have been impacted by BP's oil and dispersants.

Gulf of Mexico fishermen, scientists and seafood processors have told Al Jazeera they are finding disturbing numbers of mutated shrimp, crab and fish that they believe are deformed by chemicals released during BP's 2010 oil disaster.

Along with collapsing fisheries, signs of malignant impact on the regional ecosystem are ominous: horribly mutated shrimp, fish with oozing sores, underdeveloped blue crabs lacking claws, eyeless crabs and shrimp – and interviewees' fingers point towards BP's oil pollution disaster as being the cause.

Eyeless shrimp

Tracy Kuhns and her husband Mike Roberts, commercial fishers from Barataria, Louisiana, are finding eyeless shrimp.

"At the height of the last white shrimp season, in September, one of our friends caught 400 pounds of these," Kuhns told Al Jazeera while showing a sample of the eyeless shrimp.

According to Kuhns, at least 50 per cent of the shrimp caught in that period in Barataria Bay, a popular shrimping area that was heavily impacted by BP's oil and dispersants, were eyeless. Kuhns added: "Disturbingly, not only do the shrimp lack eyes, they even lack eye sockets."
Eyeless shrimp, from a catch of 400 pounds of eyeless shrimp, said to be caught September 22, 2011, in Barataria Bay, Louisiana [Erika Blumenfeld/Al Jazeera]

"Some shrimpers are catching these out in the open Gulf [of Mexico]," she added, "They are also catching them in Alabama and Mississippi. We are also finding eyeless crabs, crabs with their shells soft instead of hard, full grown crabs that are one-fifth their normal size, clawless crabs, and crabs with shells that don't have their usual spikes … they look like they've been burned off by chemicals."

On April 20, 2010, BP's Deepwater Horizon oilrig exploded, and began the release of at least 4.9 million barrels of oil. BP then used at least 1.9 million gallons of toxic Corexit dispersants to sink the oil.

Keath Ladner, a third generation seafood processor in Hancock County, Mississippi, is also disturbed by what he is seeing.

"I've seen the brown shrimp catch drop by two-thirds, and so far the white shrimp have been wiped out," Ladner told Al Jazeera. "The shrimp are immune compromised. We are finding shrimp with tumors on their heads, and are seeing this everyday."

While on a shrimp boat in Mobile Bay with Sidney Schwartz, the fourth-generation fisherman said that he had seen shrimp with defects on their gills, and "their shells missing around their gills and head".

"We've fished here all our lives and have never seen anything like this," he added.

Ladner has also seen crates of blue crabs, all of which were lacking at least one of their claws.

Darla Rooks, a lifelong fisherperson from Port Sulfur, Louisiana, told Al Jazeera she is finding crabs "with holes in their shells, shells with all the points burned off so all the spikes on their shells and claws are gone, misshapen shells, and crabs that are dying from within … they are still alive, but you open them up and they smell like they've been dead for a week".

Rooks is also finding eyeless shrimp, shrimp with abnormal growths, female shrimp with their babies still attached to them, and shrimp with oiled gills.

"We also seeing eyeless fish, and fish lacking even eye-sockets, and fish with lesions, fish without covers over their gills, and others with large pink masses hanging off their eyes and gills."

Rooks, who grew up fishing with her parents, said she had never seen such things in these waters, and her seafood catch last year was "ten per cent what it normally is".

"I've never seen this," he said, a statement Al Jazeera heard from every scientist, fisherman, and seafood processor we spoke with about the seafood deformities.

Given that the Gulf of Mexico provides more than 40 per cent of all the seafood caught in the continental US, this phenomenon does not bode well for the region, or the country.

***

"The dispersants used in BP's draconian experiment contain solvents, such as petroleum distillates and 2-butoxyethanol. Solvents dissolve oil, grease, and rubber," Dr Riki Ott, a toxicologist, marine biologist and Exxon Valdez survivor told Al Jazeera. "It should be no surprise that solvents are also notoriously toxic to people, something the medical community has long known".

The dispersants are known to be mutagenic, a disturbing fact that could be evidenced in the seafood deformities. Shrimp, for example, have a life-cycle short enough that two to three generations have existed since BP's disaster began, giving the chemicals time to enter the genome.

Pathways of exposure to the dispersants are inhalation, ingestion, skin, and eye contact. Health impacts can include headaches, vomiting, diarrhea, abdominal pains, chest pains, respiratory system damage, skin sensitisation, hypertension, central nervous system depression, neurotoxic effects, cardiac arrhythmia and cardiovascular damage. They are also teratogenic – able to disturb the growth and development of an embryo or fetus – and carcinogenic.

Cowan believes chemicals named polycyclic aromatic hydrocarbons (PAHs), released from BP's submerged oil, are likely to blame for what he is finding, due to the fact that the fish with lesions he is finding are from "a wide spatial distribution that is spatially coordinated with oil from the Deepwater Horizon, both surface oil and subsurface oil. A lot of the oil that impacted Louisiana was also in subsurface plumes, and we think there is a lot of it remaining on the seafloor".

Marine scientist Samantha Joye of the University of Georgia published results of her submarine dives around the source area of BP's oil disaster in the Nature Geoscience journal.

Her evidence showed massive swathes of oil covering the seafloor, including photos of oil-covered bottom dwelling sea creatures.

While showing slides at an American Association for the Advancement of Science annual conference in Washington, Joye said: "This is Macondo oil on the bottom. These are dead organisms because of oil being deposited on their heads."

Dr Wilma Subra, a chemist and Macarthur Fellow, has conducted tests on seafood and sediment samples along the Gulf for chemicals present in BP's crude oil and toxic dispersants.

"Tests have shown significant levels of oil pollution in oysters and crabs along the Louisiana coastline," Subra told Al Jazeera. "We have also found high levels of hydrocarbons in the soil and vegetation."

According to the US Environmental Protection Agency, PAHs "are a group of semi-volatile organic compounds that are present in crude oil that has spent time in the ocean and eventually reaches shore, and can be formed when oil is burned".

"The fish are being exposed to PAHs, and I was able to find several references that list the same symptoms in fish after the Exxon Valdez spill, as well as other lab experiments," explained Cowan. "There was also a paper published by some LSU scientists that PAH exposure has effects on the genome."

The University of South Florida released the results of a survey whose findings corresponded with Cowan's: a two to five per cent infection rate in the same oil impact areas, and not just with red snapper, but with more than 20 species of fish with lesions. In many locations, 20 per cent of the fish had lesions, and later sampling expeditions found areas where, alarmingly, 50 per cent of the fish had them.

"I asked a NOAA [National Oceanic and Atmospheric Administration] sampler what percentage of fish they find with sores prior to 2010, and it's one tenth of one percent," Cowan said. "Which is what we found prior to 2010 as well. But nothing like we've seen with these secondary infections and at this high of rate since the spill."

"What we think is that it's attributable to chronic exposure to PAHs released in the process of weathering of oil on the seafloor," Cowan said. "There's no other thing we can use to explain this phenomenon. We've never seen anything like this before."

***

Crustacean biologist Darryl Felder, in the Department of Biology with the University of Louisiana at Lafayette is in a unique position.

Felder has been monitoring the vicinity of BP's blowout Macondo well both before and after the oil disaster began, because, as he told Al Jazeera, "the National Science Foundation was interested in these areas that are vulnerable due to all the drilling".

"So we have before and after samples to compare to," he added. "We have found seafood with lesions, missing appendages, and other abnormalities."

Felder also has samples of inshore crabs with lesions. "Right here in Grand Isle we see lesions that are eroding down through their shell. We just got these samples last Thursday and are studying them now, because we have no idea what else to link this to as far as a natural event."

According to Felder, there is an even higher incidence of shell disease with crabs in deeper waters.

"My fear is that these prior incidents of lesions might be traceable to microbes, and my questions are, did we alter microbial populations in the vicinity of the well by introducing this massive amount of petroleum and in so doing cause microbes to attack things other than oil?"

One hypothesis he has is that the waxy coatings around crab shells are being impaired by anthropogenic chemicals or microbes resulting from such chemicals.

"You create a site where a lesion can occur, and microbes attack. We see them with big black lesions, around where their appendages fall off, and all that is left is a big black ring."

Felder added that his team is continuing to document the incidents: "And from what we can tell, there is a far higher incidence we're finding after the spill."

"We are also seeing much lower diversity of crustaceans," he said. "We don't have the same number of species as we did before [the spill]."

***

Felder is also finding "odd staining" of animals that burrow into the mud that cause stain rings, and said: "It is consistently mineral deposits, possibly from microbial populations in [overly] high concentrations."

***

Dr Andrew Whitehead, an associate professor of biology at Louisiana State University, co-authored the report Genomic and physiological footprint of the Deepwater Horizon oil spill on resident marsh fishes that was published in the journal Proceedings of the National Academy of Sciences in October 2011.

Whitehead's work is of critical importance, as it shows a direct link between BP's oil and the negative impacts on the Gulf's food web evidenced by studies on killifish before, during and after the oil disaster.

"What we found is a very clear, genome-wide signal, a very clear signal of exposure to the toxic components of oil that coincided with the timing and the locations of the oil," Whitehead told Al Jazeera during an interview in his lab.

According to Whitehead, the killifish is an important indicator species because they are the most abundant fish in the marshes, and are known to be the most important forage animal in their communities.

"That means that most of the large fish that we like to eat and that these are important fisheries for, actually feed on the killifish," he explained. "So if there were to be a big impact on those animals, then there would probably be a cascading effect throughout the food web. I can't think of a worse animal to knock out of the food chain than the killifish."

But we may well be witnessing the beginnings of this worst-case scenario.

Whitehead is predicting that there could be reproductive impacts on the fish, and since the killifish is a "keystone" species in the food web of the marsh, "Impacts on those species are more than likely going to propagate out and effect other species. What this shows is a very direct link from exposure to DWH oil and a clear biological effect. And a clear biological effect that could translate to population level long-term consequences."

***

Ed Cake, a biological oceanographer, as well as a marine and oyster biologist, has "great concern" about the hundreds of dolphin deaths he has seen in the region since BP's disaster began, which he feels are likely directly related to the BP oil disaster.

"Adult dolphins' systems are picking up whatever is in the system out there, and we know the oil is out there and working its way up the food chain through the food web – and dolphins are at the top of that food chain."

Cake explained: "The chemicals then move into their lipids, fat, and then when they are pregnant, their young rely on this fat, and so it's no wonder dolphins are having developmental issues and still births."

Cake, who lives in Mississippi, added: "It has been more than 33 years since the 1979 Ixtoc-1 oil disaster in Mexico's Bay of Campeche, and the oysters, clams, and mangrove forests have still not recovered in their oiled habitats in seaside estuaries of the Yucatan Peninsula. It has been 23 years since the 1989 Exxon Valdez oil disaster in Alaska, and the herring fishery that failed in the wake of that disaster has still not returned."

Cake believes we are still in the short-term impact stage of BP's oil disaster.

"I will not be alive to see the Gulf of Mexico recover," said Cake, who is 72 years old. "Without funding and serious commitment, these things will not come back to pre-April 2010 levels for decades."

***

"We're continuing to pull up oil in our nets," Rooks said. "Think about losing everything that makes you happy, because that is exactly what happens when someone spills oil and sprays dispersants on it. People who live here know better than to swim in or eat what comes out of our waters."

Khuns and her husband told Al Jazeera that fishermen continue to regularly find tar balls in their crab traps, and hundreds of pounds of tar balls continue to be found on beaches across the region on a daily basis.

Meanwhile Cowan continues his work, and remains concerned about what he is finding.

"We've also seen a decrease in biodiversity in fisheries in certain areas. We believe we are now seeing another outbreak of incidence increasing, and this makes sense, since waters are starting to warm again, so bacterial infections are really starting to take off again. We think this is a problem that will persist for as long as the oil is stored on the seafloor."
Did the BP Spill Ever Really Stop?
We've repeatedly documented that BP's gulf Mocando well is still leaking.
Stuart Smith – a successful trial lawyer who won a billion dollar verdict against Exxon Mobil –noted recently:
New sampling data from the nonprofit Louisiana Environmental Action Network (LEAN) provide confirmation that not only is BP's oil still very much present in the water in Bayou La Batre, but that it still exists in a highly toxic state nearly two years after the spill.

Here are photos of brown oily foam washing ashore in Bayou La Batre (just west of Mobile Bay) on February 27, 2012:


Photo credit to the Louisiana Environmental Action Network (LEAN)


Water samples were taken by Dennis and Lori Bosarge, LEAN members from Coden, Alabama. The lab-certified test results are in (see full lab report at bottom), and they are startling in that they suggest that oil is still leaking from the Macondo reservoir – most likely from cracks and fissures in the seafloor around the plugged wellhead. Scientists believe the cracks were caused by BP's heavy-handed "kill" efforts.

***

Despite numerous opportunities to do so, the U.S. Coast Guard has never publicly denied that the Macondo field is still leaking. And these latest sampling results out of Bayou La Batre provide damning new evidence that the BP oil spill never really ended.
Government Sits On Its Hands …
The New York Times notes today:
Congress's response to the spill has been truly pathetic. It has not passed a single bill to prevent another catastrophe, according to a report issued Tuesday by former members of a presidential commission that investigated the spill. Congress has failed even to codify the Interior Department's sound regulatory reforms, which could be undone by a future administration.

***

The administration has developed new standards for each stage of the drilling process — from rig design to spill response — insisting that operators fully prepare for worst-case scenarios. But the commissioners' report notes that the new equipment systems have not yet been tested in deep-water conditions.
Indeed, Mother Jones points out that the White House pressured scientists to underestimate BP spill size. And see this Forbes write up, and our previous reporting on the topic.
This is exactly like Fukushima and the financial mess, because  government's approach to crises is consistent, no matter what area we are talking about: let the giant companies which fund political campaigns do whatever they want … and then help them cover up the extent of the crisis once it inevitably hits.
Source: Washington's Blog
The Lord High Almighty Pooh-Bah of Threats…
As we all know only too well, the United States and Israel would hate to see Iran possessing nuclear weapons. Being "the only nuclear power in the Middle East" is a great card for Israel to have in its hand. But — in the real, non-propaganda world — is USrael actually fearful of an attack from a nuclear-armed Iran? In case you've forgotten …
In 2007, in a closed discussion, Israeli Foreign Minister Tzipi Livni said that in her opinion "Iranian nuclear weapons do not pose an existential threat to Israel." She "also criticized the exaggerated use that [Israeli] Prime Minister Ehud Olmert is making of the issue of the Iranian bomb, claiming that he is attempting to rally the public around him by playing on its most basic fears." 1
2009: "A senior Israeli official in Washington" asserted that "Iran would be unlikely to use its missiles in an attack [against Israel] because of the certainty of retaliation." 2
In 2010 the Sunday Times of London (January 10) reported that Brigadier-General Uzi Eilam, war hero, pillar of the Israeli defense establishment, and former director-general of Israel's Atomic Energy Commission, "believes it will probably take Iran seven years to make nuclear weapons."
Early last month, US Secretary of Defense Leon Panetta told a television audience: "Are they [Iran] trying to develop a nuclear weapon? No, but we know that they're trying to develop a nuclear capability." 3
A week later we could read in the New York Times (January 15) that "three leading Israeli security experts — the Mossad chief, Tamir Pardo, a former Mossad chief, Efraim Halevy, and a former military chief of staff, Dan Halutz — all recently declared that a nuclear Iran would not pose an existential threat to Israel."
Then, a few days afterward, Israeli Defense Minister Ehud Barak, in an interview with Israeli Army Radio (January 18), had this exchange:
Question: Is it Israel's judgment that Iran has not yet decided to turn its nuclear potential into weapons of mass destruction?
Barak: People ask whether Iran is determined to break out from the control [inspection] regime right now … in an attempt to obtain nuclear weapons or an operable installation as quickly as possible. Apparently that is not the case.
Lastly, we have the US Director of National Intelligence, James Clapper, in a report to Congress: "We do not know, however, if Iran will eventually decide to build nuclear weapons. … There are "certain things [the Iranians] have not done" that would be necessary to build a warhead. 4
Admissions like the above — and there are others — are never put into headlines by the American mass media; indeed, only very lightly reported at all; and sometimes distorted — On the Public Broadcasting System (PBS News Hour, January 9), the non-commercial network much beloved by American liberals, the Panetta quote above was reported as: "But we know that they're trying to develop a nuclear capability, and that's what concerns us." Flagrantly omitted were the preceding words: "Are they trying to develop a nuclear weapon? No …" 5
One of Israel's leading military historians, Martin van Creveld, was interviewed by Playboy magazine in June 2007:
Playboy: Can the World live with a nuclear Iran?
Van Creveld: The U.S. has lived with a nuclear Soviet Union and a nuclear China, so why not a nuclear Iran? I've researched how the U.S. opposed nuclear proliferation in the past, and each time a country was about to proliferate, the U.S. expressed its opposition in terms of why this other country was very dangerous and didn't deserve to have nuclear weapons. Americans believe they're the only people who deserve to have nuclear weapons, because they are good and democratic and they like Mother and apple pie and the flag. But Americans are the only ones who have used them. … We are in no danger at all of having an Iranian nuclear weapon dropped on us. We cannot say so too openly, however, because we have a history of using any threat in order to get weapons … thanks to the Iranian threat, we are getting weapons from the U.S. and Germany."
And throughout these years, regularly, Israeli and American officials have been assuring us that Iran is World Nuclear Threat Number One, that we can't relax our guard against them, that there should be no limit to the ultra-tough sanctions we impose upon the Iranian people and their government. Repeated murder and attempted murder of Iranian nuclear scientists, sabotage of Iranian nuclear equipment with computer viruses, the sale of faulty parts and raw materials, unexplained plane crashes, explosions at Iranian facilities … Who can be behind this but USrael? How do we know? It's called "plain common sense". Or do you think it was Costa Rica? Or perhaps South Africa? Or maybe Thailand?
Defense Secretary Panetta recently commented on one of the assassinations of an Iranian scientist. He put it succinctly: "That's not what the United States does." 6
Does anyone know Leon Panetta's email address? I'd like to send him my list of United States assassination plots. More than 50 foreign leaders were targeted over the years, many successfully. 7
Not long ago, Iraq and Iran were regarded by USrael as the most significant threats to Israeli Middle-East hegemony. Thus was born the myth of Iraqi Weapons of Mass Destruction, and the United States proceeded to turn Iraq into a basket case. That left Iran, and thus was born the myth of the Iranian Nuclear Threat. As it began to sink in that Iran was not really that much of a nuclear threat, or that this "threat" was becoming too difficult to sell to the rest of the world, USrael decided that, at a minimum, it wanted regime change. The next step may be to block Iran's lifeline — oil sales using the Strait of Hormuz. Ergo, the recent US and EU naval buildup near the Persian Gulf, an act of war trying to goad Iran into firing the first shot. If Iran tries to counter this blockade it could be the signal for another US Basket Case, the fourth in a decade, with the devastated people of Libya and Afghanistan, along with Iraq, currently enjoying America's unique gift of freedom and democracy.
On January 11, the Washington Post reported: "In addition to influencing Iranian leaders directly, [a US intelligence official] says another option here is that [sanctions] will create hate and discontent at the street level so that the Iranian leaders realize that they need to change their ways."
How utterly charming, these tactics and goals for the 21st century by the leader of "The Free World". (Is that expression still used?)
The neo-conservative thinking (and Barack Obama can be regarded as often being a fellow traveler of such) is even more charming than that. Listen to Danielle Pletka, vice president for foreign and defense policy studies at America's most prominent neo-con think tank, American Enterprise Institute:
The biggest problem for the United States is not Iran getting a nuclear weapon and testing it, it's Iran getting a nuclear weapon and not using it. Because the second that they have one and they don't do anything bad, all of the naysayers are going to come back and say, "See, we told you Iran is a responsible power. We told you Iran wasn't getting nuclear weapons in order to use them immediately." … And they will eventually define Iran with nuclear weapons as not a problem. 8
What are we to make of that and all the other quotations above? I think it gets back to my opening statement: Being "the only nuclear power in the Middle East" is a great card for Israel to have in its hand. Is USrael willing to go to war to hold on to that card?
Please tell me again … What is the war in Afghanistan about?
With the US war in Iraq supposedly having reached a good conclusion (or halfway decent … or better than nothing … or let's get the hell out of here while some of us are still in one piece and there are some Iraqis we haven't yet killed), the best and the brightest in our government and media turn their thoughts to what to do about Afghanistan. It appears that no one seems to remember, if they ever knew, that Afghanistan was not really about 9-11 or fighting terrorists (except the many the US has created by its invasion and occupation), but was about pipelines.
President Obama declared in August 2009: "But we must never forget this is not a war of choice. This is a war of necessity. Those who attacked America on 9/11 are plotting to do so again. If left unchecked, the Taliban insurgency will mean an even larger safe haven from which al Qaeda would plot to kill more Americans." 9
Never mind that out of the tens of thousands of people the United States and its NATO front have killed in Afghanistan not one has been identified as having had anything to do with the events of September 11, 2001.
Never mind that the "plotting to attack America" in 2001 was devised in Germany and Spain and the United States more than in Afghanistan. Why hasn't the United States bombed those countries?
Indeed, what actually was needed to plot to buy airline tickets and take flying lessons in the United States? A room with some chairs? What does "an even larger safe haven" mean? A larger room with more chairs? Perhaps a blackboard? Terrorists intent upon attacking the United States can meet almost anywhere, with Afghanistan probably being one of the worst places for them, given the American occupation.
The only "necessity" that drew the United States to Afghanistan was the desire to establish a military presence in this land that is next door to the Caspian Sea region of Central Asia — which reportedly contains the second largest proven reserves of petroleum and natural gas in the world — and build oil and gas pipelines from that region running through Afghanistan.
Afghanistan is well situated for oil and gas pipelines to serve much of south Asia, pipelines that can bypass those not-yet Washington clients, Iran and Russia. If only the Taliban would not attack the lines. Here's Richard Boucher, US Assistant Secretary of State for South and Central Asian Affairs, in 2007: "One of our goals is to stabilize Afghanistan, so it can become a conduit and a hub between South and Central Asia so that energy can flow to the south." 10
Since the 1980s all kinds of pipelines have been planned for the area, only to be delayed or canceled by one military, financial or political problem or another. For example, the so-called TAPI pipeline (Turkmenistan-Afghanistan-Pakistan-India) had strong support from Washington, which was eager to block a competing pipeline that would bring gas to Pakistan and India from Iran. TAPI goes back to the late 1990s, when the Taliban government held talks with the California-based oil company Unocal Corporation. These talks were conducted with the full knowledge of the Clinton administration, and were undeterred by the extreme repression of Taliban society. Taliban officials even made trips to the United States for discussions. 11 Testifying before the House Subcommittee on Asia and the Pacific on February 12, 1998, Unocal representative John Maresca discussed the importance of the pipeline project and the increasing difficulties in dealing with the Taliban:
The region's total oil reserves may well reach more than 60 billion barrels of oil. Some estimates are as high as 200 billion barrels … From the outset, we have made it clear that construction of the pipeline we have proposed across Afghanistan could not begin until a recognized government is in place that has the confidence of governments, leaders, and our company.
When those talks stalled in July, 2001 the Bush administration threatened the Taliban with military reprisals if the government did not go along with American demands. The talks finally broke down for good the following month, a month before 9-11.
The United States has been serious indeed about the Caspian Sea and Persian Gulf oil and gas areas. Through one war or another beginning with the Gulf War of 1990-1, the US has managed to establish military bases in Saudi Arabia, Kuwait, Bahrain, Qatar, Oman, Afghanistan, Pakistan, Uzbekistan, Tajikistan, Kyrgyzstan, and Kazakhstan.
The war against the Taliban can't be "won" short of killing everyone in Afghanistan. The United States may well try again to negotiate some form of pipeline security with the Taliban, then get out, and declare "victory". Barack Obama can surely deliver an eloquent victory speech from his teleprompter. It might even include the words "freedom" and "democracy", but certainly not "pipeline".
Love me, love me, love me, I'm a Liberal (Thank you, Phil Ochs. We miss you.)
Angela Davis, star of the 1960s, like most members of the Communist Party, was/is no more radical than the average American liberal. Here she is recently addressing Occupy Wall Street: "When I said that we need a third party, a radical party, I was projecting toward the future. We cannot allow a Republican to take office. … Don't we remember what it was like when Bush was president?" 12
Yes, Angela, we remember that time well. How can we forget it since Bush, by all important standards, is still in the White House? Waging perpetual war, relentless surveillance of the citizenry, kissing the corporate ass, police brutality? … What's changed? Except for the worse. Where's our single-payer national health insurance? Nothing even close. Where's our affordable university education? Still the most backward in the "developed" world. Where's our legalized marijuana — I mean really legalized? If you think that's changed, you must be stoned. Where's our abortion on demand? What does your guy Barack think about that? Are the indispensable labor unions being rescued from oblivion? Ha! The ultra-important minimum wage? Inflation adjusted, equal to the mid-1950s.
Has the American threat to the environment and the world environmental movement ceased? Tell that to a dedicated activist-internationalist. Has the 50-year-old embargo against Cuba finally ended? It has not, and I can still not go there legally. The police-state War on Terror at home? Scarcely a month goes by without the FBI entrapping some young "terrorists". Are more Banksters and Wall Street Society-Screwers (except for the harmless insider-traders) being imprisoned? Name one. The really tough regulations of the financial area so badly needed? Keep waiting. How about executives of the BP Oil Spill Company being arrested? Or war criminals, mass murderers, and torturers with names like … Oh, I don't know, let's see … maybe like Cheney or Bush or Rumsfeld or Wolfowitz or someone with a crazy name like Condoleezza? All walking completely free, all celebrated.
"A major decline of progressive America occurred during the Clinton years as many liberals and their organizations accepted the presence of a Democratic president as an adequate substitute for the things liberals once believed in. Liberalism and a social democratic spirit painfully grown over the previous 60 years withered during the Clinton administration." — Sam Smith13
"A change of Presidents is like a change of advertising campaigns for a soft drink; the product itself still tastes the same, but it now has a new 'image'." — Richard K. Moore
Notes
Haaretz.com (Israel), October 25, 2007; print edition October 26
Washington Post, March 5, 2009
"Face the Nation", CBS, January 8, 2012; see video
The Guardian (London), January 31, 2012″
"PBS's Dishonest Iran Edit", FAIR (Fairness and Accuracy in Reporting), January 10, 2012
Reuters, January 12, 2012
Talk given by the president at Veterans of Foreign Wars convention, August 17, 2009
Talk at the Paul H. Nitze School for Advanced International Studies, Washington, DC, September 20, 2007
See, for example, the December 17, 1997 article in the British newspaper, The Telegraph, "Oil barons court Taliban in Texas". For further discussion of the TAPI pipeline and related issues, see this article by international petroleum engineer John Foster.
Washington Post, January 15, 2012
Sam Smith was a longtime publisher and journalist in Washington, DC, now living in Maine. Subscribe to his marvelous newsletter, the Progressive Review.
Has medical marijuana helped my sore knees?
I've just about tried everything there is to make my sore knees and right ankle feel better — physical therapy, acupuncture, SynVisc (nasty stuff), chiropractic, Advil, hydrotherapy, Tiger Balm, xi gong, steam baths, reiki, Filipino psychic surgery, hypnotherapy, Zam-Zam water, deep-tissue massage, yoga,..  You name it and I've tried it.  But nothing has worked — until now.
Now I've discovered "DocGreen's Therapeutic Healing Cream," which is made from shea butter, palm oil, vegetable wax and cannabis.  That's right, you read that right.  I am currently rubbing marijuana onto my knees.
And, yes, it's legal.  And, yes, it works.
"But where did you get this stuff?" you might ask.  "While standing on a corner in West Oakland?  After skipping across the border to Tijuana?  By following hippies around up on Telegraph?  In the evidence room at the DEA?  Where?"
I got it at my friendly local marijuana dispensary http://www.harborsidehealthcenter.com/.  And what a trip that was too, with all kinds of types — from arthritic old ladies and dying cancer patients to young men and women who looked like they've never been sick a day in their life — standing in a really long line and waiting their turn in front of a huge display counter featuring everything from manufactured doobies and sativa buds to infused chocolates and ointments like the kind that I got.
But, hey, DocGreen's soothing therapeutic ointment worked.
Plus it also made me sort of happy — a big surprise there.  Not that I was stoned or zonked or nothing, and there was definitely no slow-motion-type incapacitation or uncontrollable munchies like I've heard that you get from eating dope brownies or smoking a spliff.  And there was none of that sudden Bob Marley "one-love" positive-vib stuff either.  I still have all the same worries and troubles that I used to have before — that corporatists are still destroying our country and my tooth still hurts and I'm still overdrawn at the bank — but now I'm just a little bit less on edge about all that and a little bit more able to cope.
I figured that since just a little bit of DocGreen's healing therapeutic moisturizer helped my soreness and also my frame of mind, then perhaps I should try a bit more.  So I rubbed some of the ointment onto my sore neck as well.  Wrong thing to do.  An immediate headache resulted, and then I started worrying again all over — but this time more fiercely.  Oh rats.  I just knew it was too good to be true.  Looks like I'd better go back to trying holy water and saunas.
But then I listened to Layna Berman on KPFA and she said that many people end up getting addicted to various substances by trying to "take the edge off" their lives.  Hey, I wanna take the edge off!  But according to Berman, no, that's not a good idea,   Apparently having worries is a good thing — because they force you to act, to try out different things that might end all those worries.  Perhaps like joining OWS in order to end the corporatists' sleazy reign of terror in Washington?  Oh, okay.
Berman also stated that by using outside means of cheering oneself up, then our body loses its own ability to cheer itself up.
Then I listened to a video on "Full Disclosure" that talked about how California is being taken over by Mexican drug lords — even including taking over the legal medical marijuana trade.  Yikes!
According to a recent "Full Disclosure" report, "Mexican Drug Cartels are controlling industrial farming of Marijuana while enslaving both the illegal alien laborers and the U. S. Farmers.  Once entrapped by the Cartels, they are unable escape with their lives."  http://www.fulldisclosure.net/Blogs/107.php
Double yikes!  Now I'm in danger of becoming a member of the Sinaloa drug cartel!  Just because I've got bad knees.
If marijuana is illegal, shouldn't they make all those other artificial feel-good substances illegal too?  Like cigarettes and booze?  Wouldn't it be nice if you had to have a doctor's prescription before you could set foot into a liquor store?
Someone else just recommended that I just simply stick to eating mushrooms.  According to a recent TED video on the subject, mushrooms are the last best hope for this planet and we can even use them instead of fossil fuel: http://www.youtube.com/watch?v=XI5frPV58tY  Yeah, but can mushrooms make my ankle and knees (and brain) feel any better?
Then I went up to that dispensary on Telegraph Avenue at http://berkeleypatientscare.com/ and got a chocolate infusion to eat.  Forget that!  One small bite almost the size of a baby's fingernail and I was absolutely frozen in place for the next TWELVE WHOLE HOURS.  I couldn't even get to my computer to call for help on FaceBook!
Welcome to an edgy world where a single incident at an energy "chokepoint" could set a region aflame, provoking bloody encounters, boosting oil prices, and putting the global economy at risk.  With energy demand on the rise and sources of supply dwindling, we are, in fact, entering a new epoch — the Geo-Energy Era — in which disputes over vital resources will dominate world affairs.  In 2012 and beyond, energy and conflict will be bound ever more tightly together, lending increasing importance to the key geographical flashpoints in our resource-constrained world.
Take the Strait of Hormuz, already making headlines and shaking energy markets as 2012 begins.  Connecting the Persian Gulf and the Indian Ocean, it lacks imposing geographical features like the Rock of Gibraltar or the Golden Gate Bridge.  In an energy-conscious world, however, it may possess greater strategic significance than any passageway on the planet.  Every day, according to the U.S. Department of Energy, tankers carrying some 17 million barrels of oil — representing 20% of the world's daily supply — pass through this vital artery.
So last month, when a senior Iranian official threatened to block the strait in response to Washington's tough new economic sanctions, oil prices instantly soared. While the U.S. military has vowed to keep the strait open, doubts about the safety of future oil shipments and worries about a potentially unending, nerve-jangling crisis involving Washington, Tehran, and Tel Aviv have energy experts predicting high oil prices for months to come, meaning further woes for a slowing global economy.
The Strait of Hormuz is, however, only one of several hot spots where energy, politics, and geography are likely to mix in dangerous ways in 2012 and beyond.  Keep your eye as well on the East and South China Seas, the Caspian Sea basin, and an energy-rich Arctic that is losing its sea ice.  In all of these places, countries are disputing control over the production and transportation of energy, and arguing about national boundaries and/or rights of passage.
In the years to come, the location of energy supplies and of energy supply routes — pipelines, oil ports, and tanker routes — will be pivotal landmarks on the global strategic map.  Key producing areas, like the Persian Gulf, will remain critically important, but so will oil chokepoints like the Strait of Hormuz and the Strait of Malacca (between the Indian Ocean and the South China Sea) and the "sea lines of communication," or SLOCs (as naval strategists like to call them) connecting producing areas to overseas markets.  More and more, the major powers led by the United States, Russia, and China will restructure their militaries to fight in such locales.
You can already see this in the elaborate Defense Strategic Guidance document, "Sustaining U.S. Global Leadership," unveiled at the Pentagon on January 5th by President Obama and Secretary of Defense Leon Panetta.  While envisioning a smaller Army and Marine Corps, it calls for increased emphasis on air and naval capabilities, especially those geared to the protection or control of international energy and trade networks.  Though it tepidly reaffirmed historic American ties to Europe and the Middle East, overwhelming emphasis was placed on bolstering U.S. power in "the arc extending from the Western Pacific and East Asia into the Indian Ocean and South Asia."
In the new Geo-Energy Era, the control of energy and of its transport to market will lie at the heart of recurring global crises.  This year, keep your eyes on three energy hot spots in particular: the Strait of Hormuz, the South China Sea, and the Caspian Sea basin.
The Strait of Hormuz
A narrow stretch of water separating Iran from Oman and the United Arab Emirates (UAE), the strait is the sole maritime link between the oil-rich Persian Gulf region and the rest of the world.  A striking percentage of the oil produced by Iran, Iraq, Kuwait, Qatar, Saudi Arabia, and the UAE is carried by tanker through this passageway on a daily basis, making it (in the words of the Department of Energy) "the world's most important oil chokepoint."  Some analysts believe that any sustained blockage in the strait could trigger a 50% increasein the price of oil and trigger a full-scale global recession or depression.
American leaders have long viewed the Strait as a strategic fixture in their global plans that must be defended at any cost.  It was an outlook first voiced by President Jimmy Carter in January 1980, on the heels of the Soviet invasion and occupation of Afghanistan which had, he told Congress, "brought Soviet military forces to within 300 miles of the Indian Ocean and close to the Strait of Hormuz, a waterway through which most of the world's oil must flow."  The American response, he insisted, must be unequivocal: any attempt by a hostile power to block the waterway would henceforth be viewed as "an assault on the vital interests of the United States of America," and "repelled by any means necessary, including military force."
Much has changed in the Gulf region since Carter issued his famous decree, known since as the Carter Doctrine, and established the U.S. Central Command (CENTCOM) to guard the Strait — but not Washington's determination to ensure the unhindered flow of oil there.  Indeed, President Obama has made it clear that, even if CENTCOM ground forces were to leave Afghanistan, as they have Iraq, there would be no reduction in the command's air and naval presence in the greater Gulf area.
It is conceivable that the Iranians will put Washington's capabilities to the test.  On December 27th, Iran's first vice president Mohammad-Reza Rahimi said, "If [the Americans] impose sanctions on Iran's oil exports, then even one drop of oil cannot flow from the Strait of Hormuz."  Similar statements have since been made by other senior officials (and contradicted as well by yet others).  In addition, the Iranians recently conducted elaborate naval exercises in the Arabian Sea near the eastern mouth of the strait, and more such maneuvers are said to be forthcoming.  At the same time, the commanding general of Iran's army suggested that the USS John C. Stennis, an American aircraft carrier just leaving the Gulf, should not return.  "The Islamic Republic of Iran," he added ominously, "will not repeat its warning."
Might the Iranians actually block the strait?  Many analysts believe that the statements by Rahimi and his colleagues are bluster and bluffmeant to rattle Western leaders, send oil prices higher, and win future concessions if negotiations ever recommence over their country's nuclear program.  Economic conditions in Iran are, however, becoming more desperate, and it is always possible that the country's hard-pressed hardline leaders may feel the urge to take some dramatic action, even if it invites a powerful U.S. counterstrike.  Whatever the case, the Strait of Hormuz will remain a focus of international attention in 2012, with global oil prices closely following the rise and fall of tensions there.
The South China Sea
The South China Sea is a semi-enclosed portion of the western Pacific bounded by China to the north, Vietnam to the west, the Philippines to the east, and the island of Borneo (shared by Brunei, Indonesia, and Malaysia) to the south.  The sea also incorporates two largely uninhabited island chains, the Paracels and the Spratlys.  Long an important fishing ground, it has also been a major avenue for commercial shipping between East Asia and Europe, the Middle East, and Africa.  More recently, it acquired significance as a potential source of oil and natural gas, large reserves of which are now believed to lie in subsea areas surrounding the Paracels and Spratlys.
With the discovery of oil and gas deposits, the South China Sea has been transformed into a cockpit of international friction.  At least some islands in this energy-rich area are claimed by every one of the surrounding countries, including China — which claims them all, and has demonstrated a willingness to use military force to assert dominance in the region.  Not surprisingly, this has put it in conflict with the other claimants, including several with close military ties to the United States.  As a result, what started out as a regional matter, involving China and various members of the Association of Southeast Asian Nations (ASEAN), has become a prospective tussle between the world's two leading powers.
To press their claims, Brunei, Malaysia, Vietnam, and the Philippines have all sought to work collectively through ASEAN, believing a multilateral approach will give them greater negotiating clout than one-on-one dealings with China. For their part, the Chinese have insisted that all disputes must be resolved bilaterally, a situation in which they can more easily bring their economic and military power to bear.  Previously preoccupied with Iraq and Afghanistan, the United States has now entered the fray, offering full-throated support to the ASEAN countries in their efforts to negotiate en masse with Beijing.
Chinese Foreign Minister Yang Jiechi promptly warned the United States not to interfere.  Any such move "will only make matters worse and the resolution more difficult," he declared.  The result was an instant war of words between Beijing and Washington.  During a visit to the Chinese capital in July 2011, Chairman of the Joint Chiefs of Staff Admiral Mike Mullen delivered a barely concealed threat when it came to possible future military action.  "The worry, among others that I have," he commented, "is that the ongoing incidents could spark a miscalculation, and an outbreak that no one anticipated."  To drive the point home, the United States has conducted a series of conspicuous military exercises in the South China Sea, including some joint maneuvers with ships from Vietnam and the Philippines.  Not to be outdone, China responded with naval maneuvers of its own.  It's a perfect formula for future "incidents" at sea.
The South China Sea has long been on the radar screens of those who follow Asian affairs, but it only attracted global attention when, in November, President Obama traveled to Australia and announced, with remarkable bluntness, a new U.S. strategy aimed at confronting Chinese power in Asia and the Pacific.  "As we plan and budget for the future," he told members of the Australian Parliament in Canberra, "we will allocate the resources necessary to maintain our strong military presence in this region."  A key feature of this effort would be to ensure "maritime security" in the South China Sea.
While in Australia, President Obama also announced the establishment of a new U.S. base at Darwin on that country's northern coast, as well as expanded military ties with Indonesia and the Philippines.  In January, the president similarly placed special emphasis on projecting U.S. power in the region when he went to the Pentagon to discuss changes in the American military posture in the world.
Beijing will undoubtedly take its own set of steps, no less belligerent, to protect its growing interests in the South China Sea.  Where this will lead remains, of course, unknown.  After the Strait of Hormuz, however, the South China Sea may be the global energy chokepoint where small mistakes or provocations could lead to bigger confrontations in 2012 and beyond.
The Caspian Sea Basin
The Caspian Sea is an inland body of water bordered by Russia, Iran, and three former republics of the USSR: Azerbaijan, Kazakhstan, and Turkmenistan.  In the immediate area as well are the former Soviet lands of Armenia, Georgia, Kyrgyzstan, and Tajikistan.  All of these old SSRs are, to one degree or another, attempting to assert their autonomy from Moscow and establish independent ties with the United States, the European Union, Iran, Turkey, and, increasingly, China.  All are wracked by internal schisms and/or involved in border disputes with their neighbors.  The region would be a hotbed of potential conflict even if the Caspian basin did not harbor some of the world's largest undeveloped reserves of oil and natural gas, which could easily bring it to a boil.
This is not the first time that the Caspian has been viewed as a major source of oil, and so potential conflict.  In the late nineteenth century, the region around the city of Baku – then part of the Russian empire, now in Azerbaijan — was a prolific source of petroleum and so a major strategic prize.  Future Soviet dictator Joseph Stalin first gained notoriety there as a leader of militant oil workers, and Hitler sought to capture it during his ill-fated 1941 invasion of the USSR.  After World War II, however, the region lost its importance as an oil producer when Baku's onshore fields dried up.  Now, fresh discoveries are being made in offshore areas of the Caspian itself and in previously undeveloped areas of Kazakhstan and Turkmenistan.
According to energy giant BP, the Caspian area harbors as much as 48 billion barrels of oil (mostly buried in Azerbaijan and Kazakhstan) and 449 trillion cubic feet of natural gas (with the largest supply in Turkmenistan).  This puts the region ahead of North and South America in total gas reserves and Asia in oil reserves.  But producing all this energy and delivering it to foreign markets will be a monumental task.  The region's energy infrastructure is woefully inadequate and the Caspian itself provides no maritime outlet to other seas, so all that oil and gas must travel by pipeline or rail.
Russia, long the dominant power in the region, is pursuing control over the transportation routes by which Caspian oil and gas will reach markets.  It is upgrading Soviet-era pipelines that link the former SSRs to Russia or building new ones and, to achieve a near monopoly over the marketing of all this energy, bringing traditional diplomacy, strong-arm tactics, and outright bribery to bear on regional leaders (many of whom once served in the Soviet bureaucracy) to ship their energy via Russia.  As recounted in my book Rising Powers, Shrinking Planet, Washington sought to thwart these efforts by sponsoring the construction of alternative pipelines that avoid Russian territory, crossing Azerbaijan, Georgia, and Turkey to the Mediterranean (notably the BTC, or Baku-Tbilisi-Ceyhan pipeline), while Beijing is building its own pipelines linking the Caspian area to western China.
All of these pipelines cross through areas of ethnic unrest and pass near various contested regions like rebellious Chechnya and breakaway South Ossetia.  As a result, both China and the U.S. have wedded their pipeline operations to military assistance for countries along the routes.  Fearful of an American presence, military or otherwise, in the former territories of the Soviet Union, Russia has responded with military moves of its own, including its brief August 2008 war with Georgia, which took place along the BTC route.
Given the magnitude of the Caspian's oil and gas reserves, many energy firms are planning new production operations in the region, along with the pipelines needed to bring the oil and gas to market.  The European Union, for example, hopes to build a new natural gas pipelinecalled Nabucco from Azerbaijan through Turkey to Austria.  Russia has proposed a competing conduit called South Stream.  All of these efforts involve the geopolitical interests of major powers, ensuring that the Caspian region will remain a potential source of international crisis and conflict.
In the new Geo-Energy Era, the Strait of Hormuz, the South China Sea, and the Caspian Basin hardly stand alone as potential energy flashpoints. The East China Sea, where China and Japan are contending for a contested undersea natural gas field, is another, as are the waters surrounding the Falkland Islands, where both Britain and Argentina hold claims to undersea oil reserves, as will be the globally warming Arctic whose resources are claimed by many countries.  One thing is certain: wherever the sparks may fly, there's oil in the water and danger at hand in 2012.
Source: Michael T. Klare | TomDispatch.com
23 Things That Are Not What They Seem To Be On Television…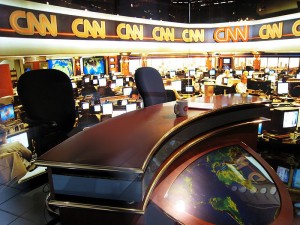 Most Americans believe the lie that the mainstream media is "fair and balanced" and is looking out for the interests of average Americans.  Well, that simply is not true.  Those in the mainstream media serve those that are providing them with paychecks.  The reality is that just 6 gigantic corporationscollectively own most of the major mainstream media outlets in this country.  Reporters are simply not going to be allowed to report stories that are severely damaging to those corporations or to the owners of those corporations.  In addition, reporters are simply not going to be allowed to report stories that are severely damaging to those that spend millions of dollars on advertising (such as pharmaceutical companies) on those mainstream media outlets.  At this point, our "news" is absolutely packed with propaganda.  Way too often, things are not what they seem to be on television.  The mainstream media lies, lies and then lies some more.  They give us the version of "reality" that their owners want us to have.
The following are 23 things that are not what they seem to be on television….
The Lie: Mitt Romney won Iowa.
The Truth: Mitt Romney may not have won Iowa.  The following report of a documented vote discrepancy comes from KCCI….
Edward True, 28, of Moulton, said he helped count the votes and jotted the results down on a piece of paper to post to his Facebook page. He said when he checked to make sure the Republican Party of Iowa got the count right, he said he was shocked to find they hadn't.

"When Mitt Romney won Iowa by eight votes and I've got a 20-vote discrepancy here, that right there says Rick Santorum won Iowa," True said. "Not Mitt Romney."

True said at his 53-person caucus at the Garrett Memorial Library, Romney received two votes. According to the Iowa Republican Party's website, True's precinct cast 22 votes for Romney.
So how many other "vote discrepancies" were there in Iowa?  Was this just a "coincidence" or did someone do this on purpose?
The Lie: Barack Obama will be much different from George W. Bush and will actually protect our civil liberties.
The Truth: Under Barack Obama we have lost even more of our civil liberties than we did under George W. Bush.  Barack Obama recently signed a new lawthat gives the U.S. military the power to arrest U.S. citizens on American soil, detain them indefinitely and ship them off to Guantanamo Bay for endless "interrogation" sessions.
The Lie: SOPA is all about cracking down on international sellers of counterfeit goods.
The Truth: SOPA is all about censoring the Internet and cracking down on websites that the federal government does not like.
The Lie: The U.S. unemployment rate is now at 8.5% and will continue to fall as the U.S. economy recovers.
The Truth: If the number of Americans considered to be "looking for work" was the same today as it was back in 2007, the "official" unemployment rate put out by the U.S. government would about 11 percent, and the U.S. middle classcontinues to be systematically destroyed right in front of our eyes.
The Lie: The debt crisis in Europe has been stabilized and the euro is going to be just fine.
The Truth: The debt crisis in Europe continues to get worse and the euro isdropping like a rock.
The Lie: The U.S. stock market is in great shape and is poised to soar to new heights in 2012.
The Truth: Investors are pulling money out of stocks at an alarming rate.  In fact, as CNBC recently noted, investors have pulled more money out of mutual funds than they have put into mutual funds for 9 weeks in a row.  A lot of people out there expect that something really bad is going to happen very soon….
Investors yanked money out of U.S. equity mutual funds for a ninth-consecutive week despite a bullish 2012 outlook from Wall Street and a December rally that's carried over into the New Year.
The Lie: There are no plans to replace the U.S. dollar as the global reserve currency.
The Truth: Top financial authorities all over the world have been developing plans for a new global currency for a long time.  The following comes from aCNN article….
The International Monetary Fund issued a report Thursday on a possible replacement for the dollar as the world's reserve currency.

The IMF said Special Drawing Rights, or SDRs, could help stabilize the global financial system.
The Lie: There is not a municipal bond crisis in America.
The Truth: There is a growing municipal bond crisis in America.  Over the last several months a whole host of municipal bonds have been downgraded.  Just today, Moody's downgraded Illinois government debt from A2 to A.
The Lie: Chicago is a safe place to live.
The Truth: 14 people were shot across the Chicago area on Thursday alone.
The Lie: Federal employees are not overpaid.
The Truth: The federal government is advertising for an "invitations coordinator" that will make between $53,500 and $102,900 per year.
The Lie: The old-fashioned incandescent light bulbs are bad for the environment and it is a good thing that the federal government is requiring that they bephased out.
The Truth: The new CFL light bulbs are filled with mercury, they are an environmental nightmare and they are incredibly toxic and dangerous if they are broken.
The Lie: The U.S. education system is producing a huge crop of really sharp students who are prepared to be the leaders of tomorrow.
The Truth: The U.S. education system is a complete and total joke.  It is producing millions of students that are not prepared to face the real world at all.  The following is a short excerpt from a recent article by Mac Slavo that many of you will find illuminating….
————————————————-
Economics Professor Jack Chambless of Valencia College in Florida had his sophomore students write a short essay on what the American dream means to them and what, specifically, they wanted the federal government to do to help them achieve that dream.
The results demonstrate the sheer magnitude of the idiocy of a public education system dead set on indoctrination rather than education:
I took the essays from three classes – about 180 students…

About 10% of the students said they wanted the government to leave them alone and not tax them too much and let them regulate their own lives.

But over 80% of the students said that the American dream to them meant a job, a house, and plenty of money for retirement and vacations and things like this. When it came to the part about the federal government, eight out of ten students said they wanted free health care, they wanted the government to pay for their tuition, they wanted the government to pay for the down payment on their house, they expected the government to, quote, "give them a job." Many of them said they wanted the government to tax wealthier individuals so that they would have an opportunity to have a better life.
The following is an excerpt from one of the non-sensical essays written by a student of Professor Chambless:
"As human beings, we are not really responsible for our own acts, and so we need government to control those who don't care about others."
————————————————-
You can read the rest of that article right here.
The Lie: Specific social and political agendas are not promoted in U.S. public schools.
The Truth: According to CNSNews.com, a new California law makes it mandatory for all public school children to be taught the "role and contributions" that "lesbian, gay, bisexual, and transgender Americans" have played in the "development of California and the United States of America."
The Lie: We have to send our troops overseas to fight the terrorists "over there" or else they will come and fight us over here.
The Truth: Dozens of jihadist training camps are operating inside the United States right now and the federal government could not care less.  The following is from a recent WorldNetDaily article about a jihadist organization that is operating 35 training camps on U.S. soil right now….
Jamaat ul-Fuqra, known in the U.S. as "Muslims of America," has purchased or leased hundreds of acres of property – from New York to California – in which the leader, Sheikh Mubarak Gilani, boasts of conducting "the most advanced training courses in Islamic military warfare."

In a recruitment video captured from Gilani's "Soldiers of Allah," he states in English: "We are fighting to destroy the enemy. We are dealing with evil at its roots and its roots are America."

Though Gilani and his organization is suspected of committing assassinations and firebombings inside the U.S., and is also suspected of the beheading murder of Wall Street Journal reporter Daniel Pearl in Pakistan, the terrorist camps spread through the country continue to expand in numbers and population.
But apparently Islamic terror is only a "problem" when the federal government wants to use it to justify invading another country.
In fact, there have been several instances where the U.S. government has actually allied with al-Qaeda in order to overthrow governments.  The latest example of this was in Libya.
The Lie: Our politicians know exactly what they are doing and they have a plan for getting U.S. debt under control.
The Truth: When Ronald Reagan took office, the U.S. national debt was less than 1 trillion dollars.  Today, the U.S. national debt is over 15.2 trillion dollars.  In spite of all this, the American people keep sending the same big spenders back to Washington D.C. over and over and over.
The Lie: The Obama administration is enforcing our immigration laws.
The Truth: The Obama administration has instituted "backdoor amnesty" for illegal immigrants and even plans to provide them with work permits.
The Lie: The number of earthquakes is not increasing.
The Truth: The number of earthquakes is increasing dramatically.  As the "Ring of Fire" continues to wake up the next few years could be very, very interesting.
The Lie: The nuclear crisis at Fukushima is under control and things are getting back to normal.
The Truth: Large areas around Fukushima will be uninhabitable for the indefinite future.  Back in April, I published an article entitled "Much Of Northern Japan Uninhabitable Due To Nuclear Radiation?"  At the time, almost everyone in the mainstream media was insisting that Fukushima was nothing like Chernobyl and that those that lived near Fukushima would be able to return to their homes fairly soon.
Well, it turns out that those of us that feared the worst were right after all.  Just consider the following quote from the New York Times….
Broad areas around the stricken Fukushima Daiichi nuclear plant could soon be declared uninhabitable, perhaps for decades, after a government survey found radioactive contamination that far exceeded safe levels, several major media outlets said Monday.
The Lie: Fluoride is good for our teeth and we should put huge amounts of it into our drinking water.
The Truth: Fluoride is a very toxic sedative and can be very harmful to the teeth.  Incredibly, even the federal government is finally admitting that high levels of fluoride in our drinking water can be harmful.  In fact, the feds have reduced the "recommended amount" of fluoride in our drinking water for the first time in 50 years.
We probably won't see them ban fluoride any time soon, but for them to even acknowledge a problem with fluoride is a major step.  In a recent article on CNN, it was reported that the federal government is now saying that high levels of fluoride in the water have now officially been linked with fluorosis….
The Department of Health and Human Services and Environmental Protection Agency are proposing the change because of an increase in fluorosis — a condition that causes spotting and streaking on children's teeth.
The Lie: Using cell phones is perfectly safe and they do not cause cancer.
The Truth: Using cell phones can definitely increase your risk for cancer.  Some very startling scientific studies have come out recently that are hard to ignore.
The following is an excerpt from a recent CNN article about one of these studies….
At the highest exposure levels — using a mobile phone half an hour a day over a 10-year period — the study found a 40 percent increased risk of glioma brain tumors.
The Lie: The federal government works very hard to keep dangerous prescription drugs from ever entering the marketplace.
The Truth: America's addiction to prescription drugs is getting a lot of people put into the ground.  Adverse reactions to prescription drugs kill a huge number of Americans every year.  A recent Vanity Fair article entitled "Deadly Medicine" began with the following statement….
Prescription drugs kill some 200,000 Americans every year. Will that number go up, now that most clinical trials are conducted overseas—on sick Russians, homeless Poles, and slum-dwelling Chinese—in places where regulation is virtually nonexistent, the F.D.A. doesn't reach, and "mistakes" can end up in pauper's graves?
The Lie: Members of Congress work really hard to fix the problems that this country is facing.
The Truth: Members of Congress work an average of about two and a half days per week.
The Lie: The United States has the best health care system in the world.
The Truth: The United States spends far more on health care than anyone else in the world, but we rank 50th in life expectancy, 47 countries have a lower infant mortality rate than we do and the federal government is chasing millions of good doctors out of the medical profession.
Source: The American Dream
The Private Global Power Elite embedded in major governments is dead set on imposing World Government on us sooner rather than later. Let's look at 12 mega-processes – veritable "Triggers" – that we infer they are using to achieve their goals.
All roads lead to World Government.  This should come as no surprise.  London's Financial Times openly articulated this view in an article by their chief foreign affairs commentator, Gideon Rachman, published on 8 December 2009, whose title said it all: "And Now for a World Government." These goals are echoed by the Trilateral Commission, CFR and Bilderberg insiders – even by the Vatican.
Macro-managing planet Earth is no easy matter. It requires strategic and tactical planning by a vast think-tank network allied to major elite universities whereby armies of academics, operators, lobbyists, media players and government officers interface, all abundantly financed by the global corporate and banking superstructure.
They do this holistically, knowing that they operate on different stages moving at very different speeds:
Financial Triggers move at lightning speed thanks to electronic information technology that can make or break markets, currencies and entire countries in just hours or days;
Economic Triggers move slower: manufacturing cars, aircraft, food, clothes, building plants and houses takes months;
Political Triggers tied to the "democratic system" put politicians in power for several years;
Cultural Triggers require entire generations to implement; this is where PsyWar has reached unprecedented "heights".
Risk-managing this whole process takes into account the many pitfalls and surprises in store.  So each plan in every field counts, with "Plan B's" – even Plans "C" and "D" – which can be implemented if needed.
Twelve Triggers for World Government
Today, the Global Power Elite are wrapping up globalization and ushering in World Government.  Paraphrasing the tightrope walker in German philosopher Friedrich Nietzsche's "Thus Spake Zarathustra," this implies "….a dangerous crossing, a dangerous wayfaring, a dangerous looking-back, a dangerous trembling and halting…"
These 12 Triggers are interlinked and interlocked in a highly complex, holistic matrix, very flexible in its tactics but rigidly unbending in its strategic objectives. When read as a whole, the picture that unfolds shows that whole being far more than the sum of its parts.
1) Financial Meltdown. Since 2008, the Global Financial System continues on life-support. Ben Bernanke, Timothy Geithner and the US economic hit team – Robert Rubin, Larry Summers and Goldman Sachs, CitiGroup, JPMorganChase mega-bankers working with the Bank of England and the European Central Bank – have not and will not take any measures to help the populace and ailing economies.  They just funnel trillions to the banking elite, imposing the media myth that certain banks are "too big to fail" (Orwellian Newspeak for "too damn powerful to fail"). Why? Because it's not governments overseeing, supervising and controlling Goldman Sachs, CitiCorp, HSBC, Deutsche Bank, JPMorganChase, but exactly the other way around…
2) Economic Crises.  Today, "Destructive Extreme Capitalism" is collapsing national and regional economies, reformatting them into international slave-labour Gulag-like entities that Joseph Stalin would envy.   Our woes lie not with the world's real economy (mostly intact), but with the fake world of finance, banks, and speculation;
3) Social Upheavals.  Meltdowns in Greece, Ireland, Portugal, Iceland and – soon to come – Italy, Spain and others, trigger violent social uprisings, even in the US and UK;
4) Pandemics.  Get ready for more "flu surprises" leading to mandatory vaccinations: a discreet opportunity to slip RFID chips into our bodies and test "intelligent viruses" targeting specific DNA strains.  Racially and ethnically selective viruses as part of mass depopulation campaigns?
5) Global Warming. As the global economy sinks into zero growth mode, economic drivers shift from growth expansion to consumption contraction. Will coming "carbon credits" open the path to full societal control?
6) Terrorist "False Flag" Mega-Attacks. The Elite have this wildcard up their sleeve to jump-start new "crises" as short-cuts towards world government.  Will new "attacks" dwarfing 9/11 justify further global wars, invasions and genocide?  A nuclear weapon over a major city to be blamed on the Elite's "enemies"?
7) Generalized War in the Middle East. As we speak, naval forces, bombers, entire armies are poised to attack and invade Syria, Iran…
8 ) Ecological/Environmental "Accidents". The 1986 Chernobyl nuclear accident sparked the beginning of the end of the former USSR by showing the world and the Soviets themselves that their State could no longer manage their own nuclear facilities.  April 2010 saw the BP "Deepwater Horizon" oil rig eco-catastrophe in the Gulf of Mexico; since March 2011, Japan and the world have been grappling with a much larger nuclear accident in the Fukushima Daiichi nuclear complex.  Was foul play involved?
9) Assassination of a major political or religious figure to be blamed on an Elite enemy.  Mossad, CIA, MI6 are really good at playing this type of dirty trick;
10) Attacks on "Rogue States" – Iraq, Libya… Who's next? Iran? Syria?  Venezuela?  North Korea?
11) Staged "Religious" Event. The growing need of the masses for meaning in their lives makes them easy victims of a Hollywood-staged, 3D virtual reality hologram show, orchestrating a "second coming".  An electronically engineered "messianic figure" acting in sync with Elite global objectives?   Who would dare go against God himself?
12) Staged "Alien Contact." This too may be in the works.  For decades, large sectors of world population have been programmed to believe in aliens.  Here too, hologram technology could stage a "space vehicle landing" – on the White House lawn, of course – highlighting the "need" for Mankind to have "unified representation" in the face of extraterrestrials.  Further justification for world government?
What do such interlocking "crises" have in common? Global warming, pandemics, "international terrorism", financial collapse, economic depression, even alien contacts?  They all serve to show that they cannot be addressed by any single nation state, thus "justifying" the need for World Government.
2012: We must stay especially alert, understanding things the way they really are and not the way the global TV Masters want us to believe they are.
Source: Adrian Salbuchi for RT
I just had a dream that it was the end of the world. So should I still go Christmas shopping or not?  Why bother, I thought.  But just to be on the safe side, I also asked the mysterious psychic Madam Jane for some input.  "Are my dreams and the Mayan calendars and all those Rapture freaks right?  Is the end of the world actually on its way?  Are we really all gonna die soon?"
"Yes of course," replied Madam Jane.
Oh dear.
"The amount of carbon dioxide in our atmosphere is mounting at a catastrophic rate and will cause irreversibly-disastrous climate change in the next five years — and by far the biggest cause of this problem is the U.S. military and its allies.  Every time NATO bombs Libya and Americans bomb Pakistan and Israel bombs Gaza or a helicopter takes off in Afghanistan or a U.S. carrier fleet steams toward Syria and the Persian Gulf, we move one step closer to irreversible climate change," stated Madam Jane, swaying back and forth with her eyes closed.
"Would it help at all if I had my car smog-checked today?" I then asked her hopefully.  Madame Jane just rolled her eyes.   "We're doomed," she replied.
So.  How do I want to spend my last days here on Earth?  Not a clue.  If you knew that seven billion people had approximately five years to live before climate-change-caused floods started pouring in from our rivers, and deserts started taking over our farmlands and oceans started drowning our coastal cities and a dreadful ice age started to set in, what would you do?
"I'd move to Hawaii," replied Madam Jane.  Not me.  I'd buy hip-waders, ear muffs and really warm coats.
PS:  According to a recent AlterNet article entitled "Game Over for Planet Earth," we're all gonna be fried like fish in a skillet first before we even get a chance to freeze to death or drown.
      AlterNet says, "[Here's a] prediction offered by Fatih Birol, chief economist at the International Energy Agency:  Without an effective international agreement to staunch greenhouse gases within five years, the door will close on preventing a potentially disastrous rise in the planet's temperature."
PPS:  Madam Jane's ominous-sounding and doom-like claim that irreversible climate change is only five years away is actually erroneous.  And AlterNet's five-year claim is wrong too.  According to the Christian Science Monitor, irreversible climate change is already here.
"Even if all the world's smokestacks and tailpipes were to suddenly stop spewing CO2, if all the trees everywhere were to be left standing, and if all the remaining coal, oil, and gas were to stay in the ground [and the American war-machine would suddenly stop spewing CO2 like there's no tomorrow as well], the planet would still be feeling the effects of global warming a millennium from now."
PPPS:  How can we keep cheering on American wars abroad — without bringing those wars back home to us too, like the recent violent shootings in Oakland and the recent pepper-spraying at U.C. Davis?
My Christmas shopping may just have to wait.
EXTRA!  EXTRA!  Madam Jane also predicts that the "American war" on Iran is about to happen too!
Remember back when, long before the war on Iraq was declared, millions of tons of war material was being amassed at various East Coast military bases here in the U.S.?  Well, Madam Jane states that they are at it again.  "Long endless lines of container trucks are currently pouring into supply depots all over the East Coast."  Oops.
Plus America's bottom-kissing "yellow journalism" media is already geared up to make Iran look like the ultimate bad guy — just as it did right before Bush's illegal invasion of Iraq.
And not only that but, according to Middle East specialist David Pratt, the video game Battlefield 3 has just come out with a brand new version — starring good old Iran as the penultimate evil villain.  It just doesn't get any more "War Profiteers Gone Crazy" than that!
And when Iran does get attacked, just THINK of all the air pollution that will be released!  Good grief.  Then Battlefield 3 will have to put out an even newer version — featuring deadly hand-to-hand combat with radioactive smog.
Since BP's catastrophic Macondo Blowout in the Gulf of Mexico last year, the Obama Administration has granted nearly 300 new drilling permits [1] and shirked plans to plug 3,600 of more than 28,000 abandoned wells, which pose significant threats to the severely damaged sea.
Among those granted new permits for drilling in the Gulf, on Friday Obama granted BP permission to explore for oil in the Gulf, allowing it to bid on new leases that will be sold at auction in December.
Reports Dow Jones:
"The upcoming lease sale, scheduled for Dec. 14 in New Orleans, involves leases in the western Gulf of Mexico. The leases cover about 21 million acres, in water depths of up to 11,000 feet. It will be the first lease auction since the Deepwater Horizon spill." [2]
Massachusetts Rep. Ed Markey objected to BP's participation in the upcoming lease sale, pointing out that:
"Comprehensive safety legislation hasn't passed Congress, and BP hasn't paid the fines they owe for their spill, yet BP is being given back the keys to drill in the Gulf."
Environmental watchdog, Oceana, added its objection to the new permits, saying that none of the new rules implemented since April 2010 would have prevented the BP disaster.
"Our analysis shows that while the new rules may increase safety to some degree, they likely would not have prevented the last major oil spill, and similarly do not adequately protect against future ones." [3]
Detailing the failure of the Dept. of Interior's safety management systems, Oceana summarizes:
Regulation exemptions ("departures") are often granted, including one that arguably led to the BP blowout;
Economic incentives make violating rules lucrative because penalties are ridiculously small;
Blowout preventers continue to have critical deficiencies; and
Oversight and inspection levels are paltry relative to the scale of drilling operation.
Nor have any drilling permits been denied [4] since the BP catastrophe on April 20, 2010, which still spews oil today [5].
28,079 Abandoned Wells in Gulf of Mexico
In an explosive report at Sky Truth, John Amos reveals from government data that "there are currently 24,486 known permanently abandoned wells in the Gulf of Mexico,and 3,593 'temporarily' abandoned wells, as of October 2011." [6]
TA wells are those temporarily sealed so that future drilling can be re-started. Both TA wells and "permanently abandoned" (PA) wells endure no inspections.
Over a year ago, the Dept. of Interior promised to plug the "temporarily abandoned" (TA) wells, and dismantle another 650 production platforms no longer in use. [7] At an estimated decommissioning cost of $1-3 billion [8], none of this work has been started, though Feds have approved 912 permanent abandonment plans and 214 temporary abandonment plans submitted since its September 2010 rule. [9]
Over 600 of those abandoned wells belong to BP, reported the Associated Press last year, adding that some of the permanently abandoned wells date back to the 1940s [10]. Amos advises that some of the "temporarily abandoned" wells date back to the 1950s.
"Experts say abandoned wells can repressurize, much like a dormant volcano can awaken. And years of exposure to sea water and underground pressure can cause cementing and piping to corrode and weaken," reports AP.
Leaking abandoned wells pose a significant environmental and economic threat. A three-month EcoHearth investigation revealed that a minimum of 2.5 million abandoned wells in the US and 20-30 million worldwide receive no follow up inspections to ensure they are not leaking. Worse:
"There is no known technology for securely sealing these tens of millions of abandoned wells. Many—likely hundreds of thousands—are already hemorrhaging oil, brine and greenhouse gases into the environment. Habitats are being fundamentally altered. Aquifers are being destroyed. Some of these abandoned wells are explosive, capable of building-leveling, toxin-spreading detonations. And thanks to primitive capping technologies, virtually all are leaking now—or will be." [11]
Sealed with cement, adds EcoHearth, "Each abandoned well is an environmental disaster waiting to happen. The triggers include accidents, earthquakes, natural erosion, re-pressurization (either spontaneous or precipitated by fracking) and, simply, time."
As far back as 1994, the Government Accountability Office warned that there was no effective strategy in place to inspect abandoned wells, nor were bonds sufficient to cover the cost of abandonment. Lease abandonment costs estimated at "$4.4 billion in current dollars … were covered by only $68 million in bonds." [12]
The GAO concluded that "leaks can occur… causing serious damage to the environment and marine life," adding that "MMS has not encouraged the development of nonexplosive structure removal technologies that would eliminate or minimize environmental damage."
Not only cement, but seals, valves and gaskets can deteriorate over time. A 2000 report by C-FER Technologies to the Dept. of Interior identified several different points where well leaks can occur, as this image (p. 26) reveals. To date, no regulations prescribe a maximum time wells may remain inactive before being permanently abandoned. [13]
"The most common failure mechanisms (corrosion, deterioration, and malfunction) cause mainly small leaks [up to 49 barrels, or 2,058 gallons]. Corrosion is historically known to cause 85% to 90% of small leaks."
Depending on various factors, C-FER concludes that "Shut-In" wells reach an environmental risk threshhold in six months, TA wells in about 10-12 years, and PA wells in 25 years. Some of these abandoned wells are 63 years old.
The AP noted that none of the 1994 GAO recommendations have been implemented. Abandoned wells remain uninspected and pose a threat which the government continues to ignore.
Agency Reorganization
The Minerals Management Service (MMS) was renamed the Bureau of Ocean Energy Management, Regulation and Enforcement (BOEMRE) last May after MMS drew heavy fire for malfeasance, including allowing exemptions to safety rules it granted to BP. An Office of Inspector General investigation revealed that MMS employees accepted gifts from the oil and gas industry, including sex, drugs and trips, and falsified inspection reports. [14]
Not only was nothing was done with the 1994 GAO recommendations to protect the environment from abandoned wells, its 2003 reorganization recommendations [15] were likewise ignored. In a June 2011 report on agency reorganization in the aftermath of the Gulf oil spill, the GAO reports that "as of December 2010," the DOI "had not implemented many recommendations we made to address numerous weaknesses and challenges." [16]
Reorganization proceeded. Effective October 1, 2011, the Dept. of the Interior split BOEMRE into three new federal agencies: the Office of Natural Resources Revenue to collect mineral leasing fees, the Bureau of Safety and Environmental Enforcement (BSEE) and the Bureau of Ocean Energy Management (BOEM) "to carry out the offshore energy management and safety and environmental oversight missions." The DOI admits:
"The Deepwater Horizon blowout and resulting oil spill shed light on weaknesses in the federal offshore energy regulatory system, including the overly broad mandate and inherently conflicted missions of MMS which was charged with resource management, safety and environmental protection, and revenue collection." [17]
BOEM essentially manages the development of offshore drilling, while BSEE oversees environmental protection, with some eco-protection overlap between the two agencies. [18]
Early this month, BSEE Director Michael R. Bromwich spoke at the Global Offshore Safety Summit Conference in Stavanger, Norway, sponsored by the International Regulators Forum. He announced a new position, Chief Environmental Officer of the BOEM:
"This person will be empowered, at the national level, to make decisions and final recommendations when leasing and environmental program heads cannot reach agreement. This individual will also be a major participant in setting the scientific agenda for the United States' oceans." [19]
Bromwich failed to mention anything about the abandoned wells under his purview. Out of sight, out of mind.
Cost of the Macondo Blowout
On Monday, the GAO published its final report of a three-part series on the Gulf oil disaster. [20] Focused on federal financial exposure to oil spill claims, the accountants nevertheless point out that, as of May 2011, BP paid $700 million toward those spill claims out of its $20 billion Trust established to cover that deadly accident. BP and Oxford Economics estimate the total cost for eco-cleanup and compensatory economic damages will run to the "tens of billions of dollars." [21]
On the taxpayer side, the GAO estimates the federal government's costs will exceed the billion dollar incident cap set by the Oil Pollution Act of 1990 (as amended). As of May 2011, agency costs reached past $626 million.
The Oil Spill Liability Trust Fund's income is generated from an oil barrel tax that is set to expire in 2017, notes GAO.
With Monday's District Court decision in Louisiana, BP also faces punitive damages on "thousands of thousands of thousands of claims." U.S. District Judge Carl Barbier denied BP's appeal that might have killed several hundred thousand claims, among them that clean up workers have still not been fully paid by BP. [22]
Meanwhile, destroying the planet for profit continues unabated. It's time to Occupy the Gulf of Mexico: No more oil drilling in our food source.
Notes:
[1] U.S. Bureau of Safety and Environmental Enforcement, "Status of Gulf of Mexico Well Permits," n.d. http://www.bsee.gov/Regulations-and-Guidance/Permits/Status-of-Gulf-of-Mexico-Well-Permits.aspx
[2] Tennille Tracy, "US Govt Approves First BP Deepwater Exploration Plan in US Gulf Under New Rules," Dow Jones News Wire, 24 Oct. 2011. Reproduced athttp://www.firstenercastfinancial.com/news/story/45441-us-govt-approves-first-bp-deepwater-exploration-plan-us-gulf-under-new-rules
[3] Michael Craig and Jacqueline Savitz, "False Sense of Safety: Safety Measures Will Not Make Offshore Drilling Safe," Oceana, 20 Oct. 2011http://na.oceana.org/sites/default/files/reports/OffshoreSafetyReport_Oceana_10-18-11.pdf
Also see Oceana's online appendix showing an analysis of each new safety measure's effect on safety.http://na.oceana.org/sites/default/files/OnlineAppendix_SafetyReport_Oceana_10-19-11.pdf
[4] U.S. Bureau of Safety and Environmental Enforcement, "Application for Permit to Drill (APD) Approval Process and Definitions," n.d.http://www.bsee.gov/uploadedFiles/APD_Facts_and_Definitions_BSEE.pdf
[5] See, e.g.:
David Edwards, "New evidence of a massive oil slick near Deepwater Horizon site," Raw Story, 1 Sept. 2011. http://www.rawstory.com/rawreplay/2011/09/new-evidence-of-a-massive-oil-slick-near-deepwater-horizon-site/
Frank Whalen, "Oil Still Gushing from Bp Well in Gulf," American Free Press, 2 Sept. 2011. http://americanfreepress.net/?p=341
Dahr Jamail, "Environmental Disaster in the Gulf of Mexico: The Escalation of BP's Liability," Global Research, 5 Oct. 2011.http://www.globalresearch.ca/index.php?context=va&aid=26947
Luis R. Miranda, "Gulf of Mexico Sea Floor Unstable, Fractured, Spilling Hydrocarbons," The Real Agenda, 10 Oct. 2011. http://real-agenda.com/2011/10/10/gulf-of-mexico-sea-floor-unstable-fractured-spilling-hydrocarbons/
[6] John Amos, "Over 28,000 Abandoned Wells in the Gulf of Mexico," 18 Oct. 2011.http://blog.skytruth.org/2011/10/abandoned-wells-in-gulf-of-mexico.html
[7] U.S. Dept. of the Interior, "Interior Department Issues 'Idle Iron' Guidance," 15 Sept. 2010. http://www.doi.gov/news/pressreleases/Interior-Department-Issues-Idle-Iron-Guidance.cfm
[8] Siobhan Hughes, "Plugs Ordered on Idle Wells: Move to Permanently Seal Sites in Gulf Could Cost Billions but Create New Work," Wall Street Journal, 16 Sept. 2010.http://online.wsj.com/article/SB10001424052748703743504575493782591743858.html
[9] U.S. Bureau of Safety and Environmental Enforcement, "Idle Iron Update," n.d. (pp. 9-16) https://www.noia.org/website/download.asp?id=47290
[10] Jeff Donn and Mitch Weiss, "Gulf of Mexico hides 27,000 abandoned wells," Associated Press, 7 July 2010.http://www.dallasnews.com/news/state/headlines/20100707-Gulf-of-Mexico-hides-27-000-1068.ece
[11] Steven Kotler, "Planet Sludge: Millions of Abandoned, Leaking Oil Wells and Natural-Gas Wells Destined to Foul Our Future," EcoHearth, 17 Aug. 2011.http://ecohearth.com/eco-zine/green-issues/1609-abandoned-leaking-oil-wells-natural-gas-well-leaks-disaster.html
[12] U.S. Government Accounting Office, "Offshore Oil and Gas Resources: Interior Can Improve its Management of Lease Abandonment," (GAO/RCED-94-82) May 1994.http://archive.gao.gov/t2pbat3/151878.pdf
[13] J.R. Nichols and S.N. Kariyawasam, "Risk Assessment of Temporarily Abandoned or Shut-in Wells," C-FER Technologies, Oct. 2000.http://www.boemre.gov/tarprojects/329/329AA.pdf
[14] U.S. Dept. of the Interior, Office of Inspector General, "Investigative Report – Island Operating Company, et al.," 31 March 2010.http://www.govexec.com/pdfs/052510ts1.pdf
[15] U.S. Government Accounting Office, "Results-Oriented Cultures: Implementation Steps to Assist Mergers and Organizational Transformations," (GAO-03-669) 2 July 2003. http://www.gao.gov/products/GAO-03-669
[16] U.S. Government Accountability Office, "Oil and Gas: Interior's Restructuring Challenges in the Aftermath of the Gulf Oil Spill," (GAO-11-734T) 2 June 2011.http://www.gao.gov/new.items/d11734t.pdf
[17] U.S. Dept. of the Interior, "Interior Department Completes Reorganization of the Former MMS," 30 Sept. 2011. http://www.doi.gov/news/pressreleases/Interior-Department-Completes-Reorganization-of-the-Former-MMS.cfm#
[18] U.S. Dept. of the Interior, untitled document distinguishing the areas of responsibility between the BOEM and the BSEE. n.d.http://www.bsee.gov/uploadedFiles/A%20to%20Z%20Guide%20web%20version%281%29.pdf
[19] U.S. Bureau of Ocean Energy Management, "BSEE Director Delivers Remarks at the International Regulators Forum 2011 Global Offshore Safety Summit Conference," 4 Oct. 2011. http://www.boemre.gov/ooc/press/2011/press1004.htm
[20] U.S. Government Accountability Office, "Deepwater Horizon Oil Spill: Actions Needed to Reduce Evolving but Uncertain Federal Financial Risks," (GAO-12-86), 24 Oct. 2011. http://www.gao.gov/new.items/d1286.pdf
[21] U.S. Government Accountability Office, "Deepwater Horizon Oil Spill: Preliminary Assessment of Federal Financial Risks and Cost Reimbursement and Notification Policies and Procedures," 9 Nov. 2010. http://www.gao.gov/new.items/d1190r.pdf
[22] Sabrina Canfield, "Judge Denies BP Appeal That Might Have Killed Thousands of Claims," Courthouse News Service, 24 Oct. 2011.http://www.courthousenews.com/2011/10/24/40864.htm
As courts and bureaucrats continue to assert that citizens have no fundamental right to produce and consume the foods of their choice, we find Monsanto lurking nearby. The Wisconsin judge who recently ruled that we have no right to own a cow or drink its milk resigned to join one of Monsanto's law firms.
Former judge Patrick J. Fiedler now works for Axley Brynelson, LLP, which defended Monsanto against a patent infringement case filed by Australian firm, Genetic Technologies, Ltd. (GTL) in early 2010.
GTL had sued several biotechnology firms, a medical lab and a crime lab that had used its patented methods for analyzing DNA sequences. Though a federal case, the district court which heard the matter, sits in Dane County, Wisconsin, where Fiedler coincidentally served as a state judge.
In that case, the US Patent and Trademark Office (PTO) "upheld Genetic Technologies Ltd.'s patent for noncoding DNA technologies, giving more firepower to the Australian company's patent infringement suit against Monsanto Inc., Pioneer Hi-Bred International Inc. and a slew of rival laboratories," reports Law360.
In another link, Myriad Genetics, which holds the exclusive U.S. patent on human genes, BRCA1 and BRCA2, granted the license to GTL in 2002. These human genes are associated with breast and ovarian cancer.
In 2009, the ACLU and the Public Patent Foundation (PubPat) sued the PTO, Myriad Genetics, and principals at the University of Utah Research Foundation, charging that patents on genes are unconstitutional and invalid. The suit also charges that such patents stifle diagnostic testing and research that could lead to cures and that they limit women's options regarding their medical care.
In an absurd ruling this year, the Second Circuit Court of Appeals allowed the patent on these human genes, even though the DNA sequence occurs in nature. The court decided that simply because researchers had been able to extract it, the firm owns it. Of course, under this thinking, all of nature can be patented if human technology allows extraction.
"The U.S. Patent and Trademark Office has granted thousands of patents on human genes – in fact, about 20 percent of our genes are patented. A gene patent holder has the right to prevent anyone from studying, testing or even looking at a gene. As a result, scientific research and genetic testing has been delayed, limited or even shut down due to concerns about gene patents," commented ACLU.
The US ruling gives Myriad monopolistic control over these human genes, and over diagnostic testing for that DNA sequence. The case is now headed to the US Supreme Court.
The Myriad patent was also challenged in Australia and at the European Patent Office. In 2009, the EPO granted a highly restricted BRCA1 patent.
Australia's case will be heard in February 2012. Dr Luigi Palombi, who supports the pending Patent Amendment Bill, believes the US decision "is irrational, contrary to scientific fact and little more than a knee-jerk reaction to the fear mongering of the American biotechnology industry. It claims that without gene patents it will not have any incentive to undertake necessary research. Of course, this is a lie."
Part of the problem, Palombi explains, is that much of the research that allowed Myriad to develop its breast cancer test was publicly funded. Going further:
"The decision turns patent law on its head because it means that the prize is given for the discovery not for the invention (a new, tangible and practical use of the discovery).
"The second problem is, Myriad's scientists discovered and linked genetic mutations to breast and ovarian cancers, but that's a long way off an invention. If there was any invention by Myriad (assuming it was also novel and involved an inventive step), it was in the development of a diagnostic test."
Of note, in his dissenting opinion, Judge William C. Bryson wrote that the Dept. of Justice filed an amicus brief asserting that Myriad's gene claims are not patent-eligible, thus undermining the PTO's position. Bryson wrote:
"… the Department of Justice speaks for the Executive Branch, and the PTO is part of the Executive Branch, so it is fair to assume that the Executive Branch has modified its position from the one taken by the PTO in its 2001 guidelines…"
Given the DOJ's protection of Monsanto interests, however, it is likely that its opposition to Myriad's patents may have more to do with stifling competition than protecting nature from theft by biotech firms. After DOJ attorney Elena Kagen moved to the Supreme Court, the high court ruled in Monsanto's favor allowing the planting of genetically modified alfalfa.
Earlier this year, Obama pressured the USDA to remove the buffer zone requirement for GM alfalfa, further ensuring genetic contamination of natural alfalfa. That decision ensures the destruction of the organic meat and dairy industries in the U.S. which rely on natural alfalfa feed. It will also strengthen biotech's monopoly control over our food.
Obama has stacked his administration with Monsanto employees and biotech proponents, including Michael Taylor as FDA Deputy Commissioner for Foods, Tom Vilsack as Secretary of Agriculture, Islam Siddiqui as Ag Trade Representative, and Elena Kagen on the Supreme Court.
In a related matter, PubPat also filed suit this year against Monsanto over the patenting of genetically modified seeds which contaminate natural crops. "As Justice Story wrote in 1817, to be patentable, an invention must not be 'injurious to the well being, good policy, or sound morals of society,'" notes the complaint, citing studies showing harm caused by Monsanto's Roundup herbicide, including human placental damage, lymphoma, myeloma, animal miscarriages, and other impacts on human health.
That any official would approve gene patents is bad enough – discovering nature is not inventing it. But in the Wisconsin case, Judge Fiedler ruled that humans:
"Do not have a fundamental right to own and use a dairy cow or a dairy herd;"
"Do not have a fundamental right to consume the milk from their own cow;"
"Do not have a fundamental right to board their cow at the farm of a farmer;"
"Do not have a fundamental right to produce and consume the foods of their choice;" and
Cannot enter into private contracts "outside the scope of the State's police power."
Ruling against raw milk forces consumers to drink genetically modified, antibiotic-laden milk from cows fed an unnatural diet of pesticide-loaded feed. No doubt that makes Monsanto a major fan of Patrick Fiedler. His decision was rendered on Sept. 9 and he stepped down from the bench on Sept. 30.
This case begs for competent legal counsel who can get the outrageous decision overturned.
Hat tip SedonaEarthKnits and some investigative work by semi-anonymous bloggers.
Will democracy survive the debt and dependence it fosters?
This generation of Americans has been witness to one of the most stunning declines of a great power in the history of the world.
In 2000, the United States ran a surplus. In 2009, it ran a deficit of $1.4 trillion—10 percent of the economy. The 2010 deficit was almost equal, and the 2011 deficit is projected even higher. The national debt is surging to 100 percent of GDP, portending an eventual run on the dollar, a default, or Weimar inflation. The greatest creditor nation in history is now the world's greatest debtor.
In the first decade of what was to be the Second American Century, a net of zero new jobs were created. Average households were earning less in real dollars at the end of the decade than at the beginning. The net worth of the American family, in stocks, bonds, savings, home values, receded 4 percent.
Fifty-thousand plants and factories shut down. As a source of jobs, manufacturing fell below healthcare and education in 2001, below retail sales in 2002, below local government in 2006, below leisure and hospitality, i.e., restaurants and bars, in 2008—all for the first time.
In April 2010, three of every four Americans, 74 percent, said the country is weaker than a decade ago, and 57 percent said life in America will be worse for the next generation than it is today.
Who did this to us? We did it to ourselves.
We abandoned economic nationalism for globalism. We cast aside fiscal prudence for partisan bidding for voting blocs. We ballooned our welfare state to rival the socialist states of Europe. And we launched a crusade for democracy that has us tied down in two decade-long south Asian wars.
•  •  •
In 2009, Paul Volcker, former chairman of the Federal Reserve, told Congress the cause of the grave financial crisis was trade-related imbalances. Pressed by Sen. Chris Dodd, Volcker added, "Go back to the imbalances in the economy. The United States has been consuming more than it has been producing for many years."
For decades, Japan's trade surplus with the United States was the largest on earth. In the 21st century, China's trade surplus with the United States began to dwarf Japan's. In 2008, China exported five times the dollar volume of goods to America as she imported, and her trade surplus with America set a world record between any two nations—$266 billion. In August 2010, China's trade surplus with the United States set a new all-time monthly record, $28 billion.
Nor was it all in toys and textiles. In critical items that the Commerce Department defines as advanced technology products (ATP), the U.S. trade deficit with China in 2010 hit a record $95 billion. China today has the trade profile of an industrial and technological power while the manifest of U.S. exports to China, aircraft excepted, reads like the exports of the Jamestown Colony to the mother country.
What was the impact of this tsunami of imports on employment? During the first decade of the 21st century, U.S. semiconductors and electronic-component producers lost 42 percent of their jobs; communications-equipment producers lost 48 percent of their jobs; textile and apparel producers lost, respectively, 63 percent and 61 percent of their jobs.
At every election, politicians decry America's deepening dependence on foreign oil. But the U.S. trade deficit in manufactures, $440 billion in 2008, was $89 billion larger than the U.S. deficit in crude oil. Why is a dependence on the oil of Canada, Mexico, Venezuela, Nigeria, Saudi Arabia, and the Gulf a greater concern than a dependence on a rival power for computers and vital components of our high-tech industries and weapons systems?
As Auggie Tantillo, Executive Director of the American Manufacturing Trade Action Committee, argues:
Running a trade deficit for natural resources that the United States lacks is something that cannot be helped, but running a massive trade deficit in man-made products that America easily could produce itself is a choice—a poor choice that is bankrupting the country and responsible for the loss of millions of jobs.
The consequences of these trade "imbalances": De-industrialization of America. A growing dependence on China for the necessities of our national life and the loans to pay for them. A loss of millions of the best jobs Americans ever had. A median wage and family income that have been stagnant for a decade. A steep decline in the global purchasing power of the dollar. A loss of national dynamism. A debt bomb that went off in our face in September 2008.
"It's time to stop worrying about the deficit—and start panicking about the debt," the Washington Post editorial began, "The fiscal situation was serious before the recession. It is now dire":
In the space of a single fiscal year, 2009, the debt soared from 41 percent of the gross domestic product to 53 percent. This sum, which does not include what the government has borrowed from its own trust funds, is on track to rise to a crushing 85 percent of the economy by 2018.
Focusing on the "public debt"—that held by citizens, corporations, pension funds, and foreign governments—understates the true national debt, which is $14 trillion. But even that does not reflect the "structural deficit" the nation faces from legislated commitments to Social Security, Medicare, and government and military pensions.
According to David Walker, former head of the Government Accountability Office, these unfunded liabilities total $60 trillion, with Medicare accounting for $38 trillion. With the first wave of Baby Boomers reaching eligibility for full Social Security benefits in 2011, and the entire generation moving onto the rolls by 2029, an Everest of debt will begin to rise out of the sea and be visible to the world.
What are the risks of the exploding U.S. public debt?
Chinese, Japanese, and Gulf governments and sovereign wealth funds will suspect, as some already do, that they are holding U.S. paper on which America will one day default or cheapen by inflation. As their fears rise, our creditors will stop buying and start selling U.S. debt, or demand a higher rate of interest commensurate with their rising risk. The Fed will have to raise rates to attract borrowers, tumbling the economy into recession.
Once the vicious cycle begins, warns Walker, interest on the U.S. debt will become the largest item in the federal budget.
Is the new Congress aware of the peril? For the departed Congress was surely not. The lead story in the Post that same morning in December 2009 that the alarmed editorial on the national debt ran began thus: "The Senate cleared for President Obama's signature on Sunday a $447 billion omnibus spending bill that contains thousands of earmarks and double-digit increases for several Cabinet agencies." Total cost of the Senate bill—"$1.1 trillion, including average spending increases of 10 percent for dozens of federal agencies."
Democrats claimed the gusher of money was needed to make up for the neglect of the Bush years. But the Bush years had been the fattest years for federal spending since the Great Society, and Bush had added his trillion-dollar wars and trillion-dollar tax cuts. By the end of his presidency, even conservatives were calling Bush our first Great Society Republican.
•  •  •
"The lessons of history… show conclusively that continued dependence upon relief induces a spiritual and moral disintegration fundamentally destructive to the national fibre. To dole out relief in this way is to administer a narcotic, a subtle destroyer of the human spirit."
These words about Depression-era welfare are from Roosevelt's 1935 State of the Union. FDR feared this self-reliant people might come to depend permanently upon government for the necessities of their daily lives. And, as with narcotics, such a dependency would destroy the national fiber and spirit.
Yet late in 2010 came news that 41.8 million Americans were on food stamps and the White House was predicting that the number would rise to 43 million in 2011.
It did. By December 2010, 42.9 million Americans were on food stamps and in Washington, D.C. more than a fifth of the population was getting food stamps. One in seven Americans cannot feed himself.
To chart America's decline, this program is a good place to begin.
As a harbinger of the Great Society, in 1964, a Food Stamp Act was signed into law by LBJ appropriating $75 million for 350,000 individuals in 40 counties and three cities. The Food Stamp Act became law half a decade after J.K. Galbraith in his bestseller had declared America to be the world's Affluent Society. No one was starving in the 1960s.
When Nixon took office in 1969, 3 million Americans were receiving food stamps at a cost of $270 million. Then CBS ran a program featuring a premature baby near death and told us it was an infant starving in America. The nation demanded action, and Nixon acted. When he left office in 1974, the food stamp program was feeding 16 million people at a cost of $4 billion.
Fast forward to 2009. The cost to taxpayers of the food stamp program hit $56 billion. The number of recipients and cost of the program continued to soar in 2010. First among the reasons is family disintegration. Forty-one percent of America's children are born out of wedlock. Among black Americans it is 71 percent. Food stamps feed children abandoned by their fathers. Taxpayers are taking up slack for millions of deadbeat dads.
What a changed country we have become. A less affluent America survived a Depression and world war without anything like 99 weeks of unemployment insurance, welfare payments, earned income tax credits, food stamps, rent supplements, day care, school lunches, and Medicaid. The expectation was that almost everyone, with hard work and by keeping the nose to the grindstone, could make his or her own way.
No more. We have accepted today the existence in perpetuity of a permanent underclass of scores of millions who cannot cope and must be carried by society—fed, clothed, housed, tutored, medicated at taxpayer's expense their entire lives. We have a dependent nation the size of Spain in our independent America. We have a new division in our country, those who pay a double or triple fare, and those who ride forever free.
There has been a precipitous decline in the character of our people. We are not only not the people our parents were. We are not even the people we used to be. FDR was right about what would happen if we did not get off the narcotic of welfare. Our country has undergone a "spiritual and moral disintegration, fundamentally destructive to the national fibre."
In his Economic Consequences of the Peace, written after the Paris conference of 1919 that produced the Treaty of Versailles, John Maynard Keynes wrote, "Lenin is said to have declared that the best way to destroy the capitalist system was to debauch the currency. By a continuing process of inflation, governments can confiscate, secretly and unobserved, an important part of the wealth of their citizens." Keynes agreed:
Lenin was certainly right. There is no subtler, no surer means of overturning the existing basis of society than to debauch the currency. The process engages all the hidden forces of economic law on the side of destruction, and does it in a manner which not one man in a million is able to diagnose.
Thinking back on what a nickel could buy in one's boyhood, and what a dollar buys today, calls to mind the insight of Lenin and Keynes. In 1952, a Coke cost a nickel, as did a candy bar. Movies cost 25 cents, as did a gallon of gas or a pack of cigarettes, though you could pick up a carton for $2.
On the Internet the other day, a bargain was offered by the state of Kentucky: "Cut your smoking costs by as much as 60%. On an annual basis the savings are enormous. Premium Brand Name cigarettes like Camel and Marlboro as low as $43.99 per carton."
Who is guilty of this debauching of the dollar? Well, who has had custody of the currency since 1913?
For the financial crisis that wiped out trillions in wealth and dumped us into the deepest recession since the 1930s, many have felt the lash of public anger. The Bush Republicans and Barney Frank Democrats who prodded lenders into making subprime mortgages to people who could not afford the houses they were buying. Fannie and Freddie. The Wall Street banks. The AIG geniuses.
Yet the Federal Reserve, though it controls the money, and every financial crisis is a monetary crisis, has escaped indictment.
"[T]he very people who devised the policies that produced the mess are now posing as the wise public servants who will show us the way out," writes Tom Woods, whose Meltdown traced the Fed's role in every financial crisis since the creature was spawned on Jekyll Island.
The "forgotten depression" of 1920-21 was brought on by the Fed's printing of money for Wilson's war. When, at war's end, the Fed tightened, production fell 20 percent between mid-1920 and mid-1921. Why did we not read of that depression? Because Harding refused to intervene. He let businesses and banks fail and prices fall. The fever broke, and America, after slashing Wilson's wartime tax rates, took off into the Roaring Twenties.
Then, as Milton Friedman related in a Monetary History of the United States, for which he won a Nobel Prize, the Fed began to expand the money supply in the mid-1920s. Cash poured into equity markets where stocks could be bought on 10 percent margin. The market soared. When the market stalled and stocks began to fall, the margin calls went out. Panic ensued. Banks in the thousands closed. A third of the money supply was wiped out. Thus did the Federal Reserve cause the Depression. Smoot and Hawley were framed.
Of the financial collapse that brought on the recession of 2008-2010 Woods writes, "The Fed was the greatest single contributor… . [M]ore dollars were created between 2000 and 2007 than in the rest of the republic's history." When the Fed tightened, that bubble, too, burst. Many argue that were it not for the independence and vision of Fed Chairman Ben Bernanke, the economy might have gone into the abyss after the Lehman Brothers collapse. But who brought us to the brink of the abyss?
•  •  •
We were blind-sided. We never saw it coming.
So said Goldman Sachs' Lloyd Blankfein of the financial crisis of 2008, likening the probability of such a collapse to four hurricanes hitting the East Coast in a single season. Blankfein was reminded by the chairman of the Financial Crisis Inquiry Committee that hurricanes are "acts of God." But Blankfein was supported by Jamie Dimon of JPMorgan Chase, "Somehow, we just missed… that home prices don't go up forever."
Backing Blankfein's plea of incomprehension is this undeniable truth: the crisis that killed Lehman Brothers would have killed them all, had not the Treasury and Federal Reserve given them cash transfusions of hundreds of billions in bailout money.
Yet there were Americans who warned of the housing bubble being created. Some predicted the empire of debt was coming down. Just as today there are those warning that the United States, with deficits running at 10 percent of GDP, is risking a run on the dollar or default on the national debt. Among them are Rudolph Penner, former head of the Congressional Budget Office, and David Walker.
With the public debt having risen in 2009 from 41 to 53 percent of GDP, Penner and Walker believe it imperative that we get the deficit under control. Yet it is difficult to see how, politically, this can be done.
There are three ways to do it. The first is through rapid economic growth that increases tax revenue and reduces outlays for the safety-net programs such as unemployment insurance. But growth comes slowly and can take us only so far. To close a deficit of 10 percent of GDP, major cuts in federal spending and tax hikes seem unavoidable.
Yet consider. The five largest items in the federal budget are Social Security, Medicare, Medicaid, defense, and interest on the debt. With trillion-dollar deficits projected through the Obama years, interest on the debt, which has to be paid, must go up.
And with seniors angry over Medicare cuts to finance health coverage for the uninsured, it would seem suicidal for the Democrats to cut Medicare again. The same holds for Medicaid. Is the Democratic Party, decimated in 2010, going to cut health benefits for the people who stood loyally by that party in defeat? Is the Democratic Party going to grab the third rail of American politics and agree to cut Social Security?
Any cuts in major entitlement programs by House Republicans would require the acquiescence of Harry Reid's Senate and Obama's White House. And how likely is that?
As for defense, Obama has himself deepened America's involvement in Afghanistan to 100,000 troops and the Pentagon has to replace weaponry and machines destroyed or depreciated in a decade of war.
Where, then, are the big budget cuts to come from?
Will Congress or the White House cut homeland security, the FBI, or the CIA after the near disaster over Detroit, Christmas Day 2009, and the failed bombing of Times Square? Will Democrats and Republicans come together to cut veterans' benefits, spending for our crumbling infrastructure of roads and bridges, or education when Obama is promising every child a chance at a college degree?
Will Reid's Senate approve of cuts in food stamps, unemployment insurance, or the Earned Income Tax Credit when joblessness is still near double digits? Will a Senate that increased the budget of each department by an average of 10 percent for 2010 agree to take a knife to federal agencies or salaries when federal bureaucrats and beneficiaries of federal programs are the most reliable voting blocs in the Democratic coalition?
Not only has Obama promised not to raise taxes on the middle class, any broad-based tax increase would be hemlock for him and his party and never be approved by a Republican House.
Obama is caught in a dilemma from which there appears no escape. Democrats are the Party of Government. They feed it and it feeds them. The larger government becomes, the more agencies established, the more bureaucrats hired, the more citizens receiving benefits or checks, the more deeply entrenched is the Party of Government.
For 80 years, this has been the Democratic formula for success. "Tax and tax, spend and spend, elect and elect" was the pithy depiction of that policy attributed to FDR aide Harry Hopkins. And herein lies Obama's dilemma. How does the leader of the Party of Government preside over an era of austerity, where federal employees and federal benefits are radically reduced, to avert a default on the debt?
Republicans, too, have drawn a line from which they cannot retreat.
They will not vote for a tax increase. Not only would that violate a commitment almost all have made to the people who elected them, it would seem suicidal. Republicans who sign on to tax hikes cannot go home again. For allied to the party today are Tea Party irregulars who shoot deserters and defectors in Washington's tax battles and budget wars.
Republicans are not going to cross these people, for they have before them examples of what happens to those who do. Sen. Arlen Specter voted for the Obama stimulus and faced an instant primary challenge from former Rep. Pat Toomey who took a 20-point lead, forcing Specter to quit the party to survive. Specter is gone and Toomey is in the Senate. Tea Party people are not schooled in the Gerald Ford politics of compromise and consensus.
Conservatives are resisting tax hikes because they believe government has grown too immense for the good of the nation. Indeed, many prefer to run the risk of a debt default rather than transfer more wealth from the people and the private institutions that produce it to feed a government that cannot control its appetite.
Where does that leave President Obama—and us?
If taxes are off the table, defense and war costs are rising, and cuts in Social Security, Medicare, Medicaid, and the other entitlements are politically poisonous, how do we reduce a deficit of $1.3 or $1.5 trillion? America is facing not just a gridlock in government, but a deadlock of democracy, a crisis of the system and of the state itself.
On Nov. 2, 2010, in the third national election in four years, Americans voted again to get rid of a ruling regime. The nation is taking on the aspect of the French Fourth Republic, which shifted from one party and premier to another until the call went out from an exasperated nation to General de Gaulle to come and take charge of affairs. Both parties have lost the mandate of heaven. We are in uncharted waters. The country is up for grabs.
Ours is the world's oldest constitutional republic, the model for them all. But if our elected leaders are incapable of imposing the sacrifices needed to pull the nation back from devaluation or default, is democracy really the future of mankind? Or is the model for the future the state capitalism of a China that weathered the storm better and has returned to 10-12 percent annual growth?
We have a system failure rooted in a societal failure. For behind the disaster lay greed, stupidity, and incompetence on a colossal scale. "Avarice, ambition," warned John Adams, will "break the strongest cords of our Constitution as a whale goes through a net. Our Constitution is made only for a moral and religious people. It is wholly inadequate for any other."
America's fiscal crisis is a test of whether democracy is sustainable. Adams, like others of the Founding Fathers, did not think so. "Remember, that democracy never lasts long. It soon wastes, exhausts, and murders itself. There never was a democracy yet that did not commit suicide.
Source: Patrick J. Buchanan | American Conservative