What would happen if we Americans suddenly decided to withdraw all of our troops currently scattered all over the world and to actually bring them back to within our own US borders where they belong?  What would happen if we actually closed down all of America's extensive and pricy (over one thousand and counting) military bases and black-site operations all around the globe?  We may never know.  "Why?" you might ask.  Because it is never gonna happen, that's why.
Despite all of the incredibly huge amounts of money, energy, pain and grief that all these bases and black-site operations are costing us American taxpayers daily right now, the subject of closing even a few of these bases and black-site operations (or at least to stop opening up new ones!) isn't even up for debate.
There are so many other topics that we are happily debating in America right now — but not this one.
Americans are currently debating such crap topics as how best to save rich people from having to pay taxes; whether cops should be allowed to kill minority and/or poor people at will; why torture is a good thing; how we can most easily give large corporations our life savings and pensions; whether or not our kids should get measles vaccines; and exactly how soon "we" can bomb the crap out of Russia.  But one of the most important subjects for debate in America today is not even on the menu right now.
A raging debate on how to return America to its grand old isolationist tradition should be the major topic in every newspaper headline and TV news show in America right now.  But, sadly, it is not.
And there are many other life-threatening topics for debate here in America that we should be discussing too (but are not) such as, "Is it really in our best interest to support chaos in the Middle East or be Israeli neo-colonialists' catspaws?"  Or whether corporations really are people, or "Why is election-malfeasance in America is still running amuck?"  Or if we really want to be committing climate-change suicide?  Or why America now has the same distribution of wealth between the upper classes and the rest of us that it had back in 1910 and that the difference in income between America's top 1% and the rest of us is further apart now than any other time in history including the Roman Empire, Charles Dickens' London and Marie Antoinette's France.
According to economist Thomas Piketty, "Income inequality has exploded in the United States."
And why the freak is America a member of NATO, the most war-mongering organization in the entire world outside of the US Department of "Defense"?
And — really?  Here's a headline that will warm all those Scrooge-like corporate hearts: "Pentagon preparing for mass civil breakdown"Social science is being militarized to develop 'operational tools' to target peaceful activists and non-violent protest movements. Should we not be discussing that too?
And then there's that good old "New World Order" thingie popping up again, and it no longer even includes America on the list of those giving the New Orders — because the global overlord dudes who are currently drawing up the list to re-order our world seem to have us Americans in mind only to play the minor roles of vassals and serfs.
But none of these other topics are up for debate in America either.
According to journalist Juan Cole, the top five favorite planks for the Republican party platform in 2016 are gonna be torture, war-mongering, bank corruption, tax evasion for the uber-rich and how best to steal elections.     Why aren't we discussing that either?
Frankly, there seems to be no debate in America today on almost any topic that should be of primary concern to We the People who are paying for all this crap.  But I digress.  Let's get back on topic, the topic of closing over a thousand US military bases and black-site operations all across the globe.
Of course I myself am obviously an advocate for closing all U.S. bases and black-site operations on foreign soil and bringing all of our troops home where they belong.  So.  Let's debate.
Debaters in favor of keeping America's foreign empire strong and all these bases and black-site operations open might come up with a list of arguments such as:
1.  "They" will come here and terrorize us if we let down our guard.
2.  We will then have little or no access to raw materials and natural resources.  Our economy will shrink.
3.  We need the war industry because it produces jobs.
4.  We must bring freedom and democracy to the world and stop tyrannies.
These four points are all laughably easy to refute — except for perhaps point number three.  Here are my counter-arguments:
1.  In the many decades since the end of WW II, America has systematically created more enemies than one can shake a stick at due to its brutal policy of foreign military interference abroad.  People all over the world used to love America.  But this is no longer true.  Obviously.  These foreign bases and black-site operations are not keeping America safe.  Just look at 9/11.  Just look at the Great Recession of 2008.  I rest my case.
2.  Hey, we can always get access to foreign natural resources by actually paying for them.  Now there's a unique idea.  It's called Capitalism!
Right now, our military mainly serves the purpose of acting as thugs and extortionists for corporations, allowing corporations to go into foreign countries at will and steal their natural resources.  Our nation's finest young men and women are being forced to serve as mega-corporations' personal security forces and Mafia crews.  Hell, let these corporations pay for their own damn security thugs.  Why should we taxpayers do the job?  We are never the ones who make money off of this deal.  Au contraire.  We get to pay through the nose for it.
Why should we American taxpayers keep paying out trillions of dollars so that the best and brightest of our young generation can die violent and lonely deaths and leave widows and orphans behind them — in order to "Keep Corporations Strong"?  It's like Vietnam all over again.
3.  Yes, the war industry does produce jobs.  But working for the Yankee Dollar is a high-risk employment, is morally repugnant and the benefits are few.  How about, instead, that we hire all those soldiers to work in the solar industry or to repair our shabby infrastructure?  Or train them to become doctors or teachers.  Just think of the money we'd save!
4.  America doesn't bring democracy to the world.  "We" mostly bring dictators and ruffians and torturers and election fraud.  And "we" are currently supporting monsters like ISIS and those neo-Nazis in Ukraine.  It's all about the money.  The American dream has become a nightmare if you live overseas (and will probably become more of a nightmare here too if we continue to keep the same vampires and doofuses in charge).
That's my argument and I'm sticking with it.
Hey, I may be wrong here about proposing that we immediately bring all of "our" weapons and troops home.  Or I may be right.  Who knows.  But shouldn't we at least be having this debate?
Author's note:  "War Street" is the simplified name that I've given to the war-mongers, weapons manufacturers and military-industrial complex members who pretty much own America right now — along with their buddies on Wall Street and K Street of course.
This is my own personal list.  Feel free to jump right in with a list of your own.
1.   That the Civil War was fought to free the slaves.  Nah, that was solely an afterthought.  The real reason for the Civil War was the lust for $$$$ and power.  Like war always is for.
2.  That holding the Union together back in 1860 was a good thing.  A good thing for who?  Dontcha sometimes just wish that The South had been allowed to go on its own merry way back then — so that we now don't have to waste billions of Yankee dollars on Red State racists, corrupt senators, war-mongers and welfare queens?  Boy, I could surely live without Mitch McConnell.  He's our ultimate grand prize for The North having won the 1860 Civil War?  Really?
3.  "Remember the Maine!"  Yeah right.  Apparently the sinking of the Maine was a false-flag operation to force Americans into a brutal war with Spain.  http://zinnedproject.org/about/a-peoples-history-a-peoples-pedagogy/
4.  The 1908 invasion of the Philippines — wherein approximately one-sixth of its population was massacred by the US Army in the name of bringing "Democracy" to Filipinos.  They could have lived without that one — literally.
5.  World War I?  Really?  Do you even have to ask why this war was based on lies — such as that the Huns were out to murder our babies?  Or that the Lusitania was torpedoed by the evil Kaiser when actually it was illegally carrying six million pounds of explosives on board a munitions transport ship disguised at a cruise liner before it blew up.  Or how about the famous "Zimmerman Telegram" lie?
6.  Pearl Harbor.  Roosevelt knew.  Of course he did.  And Senator Prescott Bush invested in Nazi Germany bigtime.  And after WW II was over, our very own CIA brought 1,000 Nazi officers over here to help J. Edgar Hoover, Allen Dulles and Joe McCarthy organize their new Cold War storm-troopers.  And today "Corporatism," as Mussolini called it, is now king in the USA — and all over the rest of world too.  Unbelievable.  Was there any reason at all why we fought World War II?  http://www.nytimes.com/2014/10/27/us/in-cold-war-us-spy-agencies-used-1000-nazis.html?_r=1
7.  The invasion of Korea.  Again, that phony "Democracy" thing came into play — as it has again and again and again as Wall Street and War Street set up dictator after dictator across the globe and then whitewashed these brutal bad guys to the gullible American public back home:
7.a  Chaing Kai-shek, "Our democratic ally in Asia"
7.b  The Shah of Iran, "Our democratic ally in the Middle East."
7.c  Fulgencio Batista, "Our democratic ally in Cuba."
7.d  Apartheid South Africa, "Our democratic ally in Africa."
7.d  Francisco Franco, "Our democratic ally in Spain."
7.e   Syngman Rhee, "Our democratic ally in South Korea."
7.f.  Papa Doc Duvalier, "Our democratic ally in Haiti."
7.g  Augusto Pinochet, "Our democratic ally in Chile."
7.h  Manuel Noriega, "Our democratic ally in Panama."
7.i  Mubarak and Sisi, "Our democratic allies in Egypt."  http://www.amec.org.za/articles-presentations/135-egypt/484-sisi-s-unenviable-dilemma-the-illusion-of-stability-and-the-perpetuation-of-unrest
7.i  King Salman al Saud, "Our democratic ally in Saudi Arabia."  http://thetyee.ca/Opinion/2015/01/23/Canada-Saudi-Arabia-Weapons-Deal/
Although I must admit that the new Saudi king now appears to be actually lightening up and coming to his senses a bit — not an easy task for someone who allegedly has Alzheimers http://www.huffingtonpost.com/david-hearst/a-saudi-palace-coup_b_6531246.html

However, Saudi Arabia still has a "Democratic" track record that would impress even Hitler, Stalin and Genghis Khan.  In Saudi Arabia today, for example, the government holds a public beheading on the average of once every four days.  No wonder that their ISIS protegees are handy with swords.  But don't even get me started on the Saudis! http://www.iacenter.org/nafricamideast/oil012915/
There are approximately 50 other "Democratic ally" dictators that I could list here too but am running out of space.  I don't wanna be doing this forever you know.
8.  The Kennedy assassination.  Do you really believe that one lone gunman could have gotten through all that security without any help, or could have made that incredible kill shot with a BB gun from behind Kennedy and very far away — and yet still manage to hit the front of Kennedy's head?  Then I have a bridge to sell you.  Lee Harvey Oswald was definitely not Chris Kyle.  He was a patsy.
9.  Vietnam!  The Gulf of Tonkin incident was made-up baloney.
10.  Remember all those lies we were told by that "low-life scum" Henry Kissinger during his vicious secret bombings of Cambodian rice paddies in 1969, wherein approximately 600,000 poor Cambodian farmers were massacred from the skies?  "Never happened," said Henry.  Plausible deniability is all that matters to him.  http://www.informationclearinghouse.info/article40867.htm
11.  The Iran-Contra scandal.  The death squads in Central America.  And all that BS about "Americans do not torture" — even as War Street was running the School of the Americas right under our noses.
12.  What came next?  Oh yeah.  That Milosevic nightmare.  Milosevic was America's go-to guy — until he wasn't.  Didn't you ever wonder why no one did anything to stop him until after socialist Yugoslavia was just a hot mess?
13.  Saudi Arabia.  Again.  They told us that the Saudis were the good guys, but actually Saudi Arabia is where most of the 9-11 hijackers came from. http://www.newyorker.com/news/daily-comment/twenty-eight-pages
14.  Israel, said to be "Our democratic ally in the Middle East."  But if Israel is a democracy, I'll eat my hat.  Just ask the Moroccan-Israeli Jews living there. http://vimeo.com/60814711  Or the Ethiopian-Israeli Jews.
Violent and shifty Israeli neo-colonialists have also committed despicable crime after despicable crime against humanity in the most undemocratic fashion, including their brutal, traitorous, dastardly and deliberate attempt to sink the USS Liberty, a false-flag operation approved and facilitated by War Street itself https://www.youtube.com/watch?v=fRZSzdQuOqM, the horrors of the genocidal bombing of Gaza and Israeli neo-colonials' covert support of ISIS– all in order to steal territory and oil in the Middle East.
Just watch this horrifying film of Israeli neo-colonials' cowardly destruction of a whole city in Gaza, using US weapons and $$$$: https://www.youtube.com/watch?v=rQ41ko3L5Xc  And if you still have the stomach, watch this too: https://www.youtube.com/watch?v=DTr_Un4a_zA
15.  Saddam Husein, who we were told was Ronald Reagan's hot new Middle East boy wonder — until he wasn't.  See #12.
16.  And then there was that first Gulf war, totally based on a lie.  The Kuwaitis were slant-drilling into Iraqi oil reserves, a big no-no, and so Pappy Bush told Saddam, "Sure, they deserve it, go ahead and invade…"  And remember all those incubator babies too?  Lies upon lies.
17.  September 11, 2001.  Bush knew.   And let it happen.  http://www.paulcraigroberts.org/2015/01/30/police-state-upon-us-paul-craig-roberts/
18.  As a result of that infamous "Second Pearl Harbor" on Bush's watch, we were once again lied to and told that we needed to invade Afghanistan instead of Saudi Arabia.  And that we needed to invade Iraq.
18.a.  John McCain himself lied right to my face in Baghdad back in 2007 — but I still can't decide if it was a lie of commission or omission.  At a press conference in the Green Zone, McCain told us that it was perfectly safe for him to walk around a marketplace in Baghdad — but neglected to tell us that he was also protected by body armor, humvees and helicopters, and also put a battalion of grunts in harm's way while he did it.  http://jpstillwater.blogspot.com/2007/04/letters-from-iraq-me-light-brigade-john.html
Just that same morning, I had been told by Major Hernandez of CPIC that if I wanted to go outside of the Green Zone without a major armored escort, I would be dead within five minutes after crossing the 14th of July Bridge.  Luckily I believed Major Hernandez and not John McCain.
18.b.  That, after 9-11, we also needed to invade Libya, Syria, Yemen, Lebanon, I forget where all else, if we were ever to be safe.  And that we needed to invade oodles of other countries all over the world in order to "Keep America Safe".  That was the biggest lie so far.  Are we safe yet?
19.  That Muammar Gaddafi in Libya was standing in the way of "Democracy".  Well, he sure isn't standing in the way any more!  Turns out he was standing in the way of anarchy.  But you get what you pay for.
20.  That Bashar Assad in Syria is in cahoots with ISIS.  Yeah right.  NATO, Turkey, Israel, Saudi Arabia and the Pentagon are in cahoots with ISIS.  Assad is only the victim here, the one who is getting his country torn apart.  Why would he want to support the brigands who are robbing his home? http://www.counterpunch.org/2015/01/30/syria-yes-we-are-responsible/
21.  "I am Charlie."  No, you aren't.  "I am the CIA".  Watching that film of the killers getting into their getaway car was just a big joke.  They took their time.  They even put their AK-47 on the roof of the car while they fiddled with their backpacks and chatted about the weather, obviously knowing that they were protected.  But then they weren't.  See # 12.  https://www.youtube.com/watch?v=iZyHQljawdE&x-yt-ts=1421914688&x-yt-cl=84503534&bpctr=1422157632
22.  The debacle in Ukraine.  "We're not involved," the Pentagon tells me.  Then how come when Flight MH17 was tragically shot down by the Ukies, War Street went to such lengths to blame the event on Russia and not on the neo-Nazi stooges they had set up in Kiev?  https://consortiumnews.com/2015/01/06/nyt-still-pretends-no-coup-in-ukraine/
23.  That the torture and mass murders at Auschwitz and the "preemptive war" on and occupation of Holland, France, Greece, Norway,  Denmark and Poland by Hitler's minions were obviously war crimes — but the torture and mass murders at Abu Ghraib, Guantanamo and Gaza, and "preemptive war" on and occupation of Afghanistan, Iraq, Libya, Syria, Lebanon and Palestine by Bush and Obama's minions aren't.  https://www.youtube.com/watch?v=N294FMDok98&app=desktop
That Nuremberg standards apply to war crimes committed 70 years ago but no longer apply to war crimes committed today.
24.  That we are always being told the truth by the New York Times and Fox News.  Yeah right.  Despite the fact that War Street just loves the "Newspaper of record" to pieces, the Times needs to wash its mouth out with soap.  And Politifact just announced that 60% of everything Fox News tells us is lies.  60%?  Yikes! http://www.politifact.com/punditfact/article/2014/jul/01/introducing-scorecards-tv-networks/?fb_action_ids=10204846428834242&fb_action_types=og.shares
25.  That War is better than Peace.
http://www.crescent-online.net/2015/02/distorting-the-story-of-syrias-heritage-destruction-eva-bartlett-4815-articles.html
Sorry, that's all of the War Street lies I can think of right now.  But I'm sure there are many more out there, many many more lies that I've missed.  Transparency is clearly and obviously not an American value — and democracy doesn't seem to be one either.
But I will tell you one thing that I know for sure:  I won't ever be fooled again.  And the rest of America needs to avoid being suckered down the garden path to War Street as well.
Whether to require labeling on GMO foods should be the easiest and simplest of decisions. If health and safety is really a mandate of federal agencies, 'where is the beef' in their policies? Come on people, banning such modifications is not even remotely being considered, so why will the government not lead the way and allow the public to be reasonably informed with full disclosure of exactly the makeup and alterations to the very essence of the food we eat.
Advocates stressing caution provide Top 10 Reasons to Label Genetically Engineered Foods. Where are the warning labels that sheer common sense demands?
The Convention on Biodiversity recognizes that genetic engineering is a threat to amount and variety of life on the planet.
Scientists reviewing data from Monsanto's own studies "have proven that genetically engineered foods are neither sufficiently healthy or proper to be commercialized."
Biotech's scattershot technique of spraying plant cells with a buckshot of foreign genes that hit chromosomes in random spots would trigger the expression of new allergens and change the character of plant proteins.
Milk and dairy products from cows injected with genetically engineered growth hormones ARE different from conventional and organic milk and dairy products.
The third generation of hamsters fed genetically engineered soy suffered slower growth, a high mortality rate, and a bizarre birth defect: fur growing in their mouths. Many also lost the ability to have pups.
Animals fed genetically engineered feed ARE different from animals fed conventional and organic feed.
A single serving of genetically engineered soy can result in horizontal gene transfer, where the bacteria in the human gut adopts the soy's DNA.
Genetically engineered foods ARE different from conventional and organic foods.
Genetically engineered foods have not been tested to determine whether they are safe for human consumption.
Almost all non-organic processed food and animal products in the U.S. today contain ingredients that come from genetically engineered crops or from animals given genetically engineered feed, vaccines or growth hormones.
Health concerns are on the minds of responsible consumers, especially since Obamacare rationing lowers the quality of care. Proponents of limited government are cautious to expand regulations and bureaucratic regulation. However, how can a consumer accept the risk when meaningful labeling is absent?
If you think you are diligent in avoiding selecting such genetically engineered food with your shopping, think again because, What Are We Eating?
"We Currently Eat Genetically Engineered Food, But Don't Know It.
A genetically engineered food is a plant or meat product that has had its DNA artificially altered in a laboratory by genes from other plants, animals, viruses, or bacteria, in order to produce foreign compounds in that food. This type of genetic alteration is not found in nature, and is experimental. The correct scientific term is "transgenics," and is also often referred to as (GE) genetically engineered.
Example: Genetically Modified corn has been engineered in a laboratory to produce pesticides in its own tissue. GMO Corn is regulated by the Environmental Protection Agency as an Insecticide, but is sold unlabeled. [EPA Pesticides ]"
So what is the nutrimental value of this laboratory designed foods? Should there be open transparency so that full disclosure can evaluate exactly what comprises this new source of sustenance?  If you listen to the Center for Science in the Public Interest (CSPI), think again. CSPI Refuses to Debate Consumers Union on Labeling of GMO Foods presents suspect reasoning.
"Gregory Jaffe, CSPI's director of Biotechnology told a reporter last year  — "we don't feel it should be mandated on labels that foods are produced with GM crops."
"You could argue for example that non-GMO label claims are misleading since they falsely imply that food made without GE ingredients is safer or superior in some other way," Jaffe said."
Attempts to equate natural foods with a genetically engineered menu are no surprise. That bistro of fine dining, Monsanto falls back on the select club of government authorities and medical experts of chemically toxic healers to justify the limits on warnings of known risks. In Labeling Food and Ingredients Developed from GM Seed, establishment science protects the corporate benefactors of the designer disease and drug treatment cycle.
"Within the United States, the Food and Drug Administration (FDA) oversees food labeling. FDA guidance requires labeling of food products containing ingredients from GM seed if there is a meaningful difference between that food and its conventional counterpart. The American Medical Association (AMA) supports FDA's approach and approved a formal statement asserting that there is no scientific justification for special labeling of foods containing GM ingredients."
Skyrocketing cancer associated with processed foods promises to be dwarfed by the hidden consequences of GMO experimentations. Yet, the government simply ignores their mission of promoting public health.
Overcoming this threat is no easy process. When Labeling of Genetically Modified Foods provides a list of pros and cons for mandatory labeling, their negative reasons fall short of reassuring that a GMO food system is safe. Their argument follows a familiar pattern, Caveat Emptor "Let the buyer beware".
"Mandatory labeling would extend much further and would require, at a minimum, that all food products containing any GM ingredient (above a certain threshold for trace amounts) to indicate that fact. Stronger mandatory labeling requirements could include identification of each specific GM ingredient and its level of content in the product. Mandatory labeling requires further regulatory interventions including monitoring and enforcement. Under a mandatory labeling system, all consumers—both those that are concerned about the GM ingredients and those that are not—help bear the costs associated with being able to verify that foods do or do not use GM ingredients."
Since our health is ultimately our own responsibility, having reliable labeling on all GMO foodstuffs should be a prudent requirement to enhance public knowledge. Taking actions like those listed in 10 Things You Can Do to Stop GMOs, should not necessitate a full scale crisis. Putting people before corporate profits needs to become the standard every consumer deserves.

When I was in India several years ago, I learned a lot about its historic caste system and the role of its "untouchables".  But I never put two and two together — that we might have "untouchables" and a caste system here in America too — until I saw photos of what happened in Ferguson, Missouri, this August. http://www.stltoday.com/news/multimedia/special/ferguson-in-pictures/html_24b2b105-90e3-5ef0-9c65-769e848c0d31.html
When I was in the Peace Corps in South Africa, I learned all about its grim apartheid practices in the past.  But I never actually figured it out — until Ferguson — that America practiced apartheid too, and that the old apartheid bantustans of South Africa strongly resemble modern African-American bantustans like Ferguson; deliberately kept isolated, controlled and apart from the rest of America until there is almost no hope of ever getting out of them except by doing hard time in prison.  http://www.blackagendareport.com/node/14361
When I visited the slums of Kampala, I was struck by what a third-world country Uganda was, with many of its poorest citizens being jobless, homeless, hopeless and living a bleak hand-to-mouth existence.  But it never occurred to me that parts of America have similar unemployment rates, sparse education systems and the hopelessness of a third-world country too — until Ferguson gave me that new perspective.  http://www.berkeleydailyplanet.com/issue/2014-08-22/article/42376?headline=Why-Ferguson-Blew-Up--and-What-Can-We-Learn-About-Gaza—By-Becky-O-Malley
In Israel/Palestine, I saw people constantly discriminated against "not by the content of their character but by the color of their skin," to paraphrase Martin Luther King.  But not until Ferguson, where whites clearly hold all the power and use it corruptlyhttp://stlouis.cbslocal.com/2013/08/21/subpoena-reveals-focus-federal-probe-in-st-louis-county/, did I realize how deeply ingrained institutional racial and economic prejudice was in America too.  http://vimeo.com/103920346
When I was embedded in Iraq, I saw American tanks and weaponry like you wouldn't believe, used on Iraqi civilians to keep them in line.  But it wasn't until I saw videos of Ferguson that I realized that the use of tanks and military weaponry have become standard warfare procedure against civilians here in America too.  http://readersupportednews.org/opinion2/277-75/25310-the-most-wanted-man-in-the-world
When I was in Burma, I saw minorities being labeled as inferior, being called insulting names and constantly being accused of laziness, stupidity, immorality and violence to the point where in some cases the minorities actually started suffering from the Stockholm Syndrome and becoming all the things that they were constantly being labeled as — but I never really brought this connection back home until Ferguson.  http://readersupportednews.org/opinion2/277-75/25515-focus-ny-times-dishonesty-on-ferguson-called-out-on-msnbc-and-at-times
When I was in Honduras, I heard tales about how Ronald Reagan funded his brutal death squads there by having the CIA fly whole plane-loads of drugs into secret airfields in Arkansas via "Air America" and then sell all those drugs in the ghettos here at home.
http://www.amazon.com/The-Underground-Empire-Governments-Embrace/dp/0385175353
http://www.amazon.com/Cocaine-Politics-Central-America-Updated/dp/0520214498/ref=pd_sim_b_4?ie=UTF8&refRID=11C8MB7EWPKSZZMEHNQH
http://www.amazon.com/The-Big-White-Lie-Epidemic/dp/156025064X/ref=pd_sim_b_6?ie=UTF8&refRID=11C8MB7EWPKSZZMEHNQH
http://www.amazon.com/Trafficking-Boom-Bust-America-Cocaine/dp/0684190249
When I was in Ukraine several years ago, everything was peaceful — but just look at it now.  It's a war zone.  And just another example of our tax dollars at work abroad destroying people's lives rather than fixing people's lives here at home.
http://jpstillwater.blogspot.com/2009/09/rosh-hashanah-me-25000-hasidim-arrive.html
I wouldn't mind at all if that five billion dollars had been spent here at home instead.  It could have bought Ferguson a new library, several new schools and probably a new hospital too.  http://www.globalresearch.ca/american-conquest-by-subversion-victoria-nulands-admits-washington-has-spent-5-billion-to-subvert-ukraine/5367782
The post-Cold War status quo in Eastern Europe, not to mention in Western Europe, is now dead. 

For Western plutocracy, that 0.00001% at the top, the real Masters of the Universe, Russia is the ultimate prize; an immense treasure of natural resources, forests, pristine water, minerals, oil and gas. Enough to drive any NSA-to-CIA Orwellian/Panopticon war game to ecstasy. How to pounce and profit from such a formidable loot? 

Enter Globocop NATO. Barely out of having its collective behind unceremoniously kicked by a bunch of mountain warriors with Kalashnikovs, the North Atlantic Treaty Organization is now fast


"pivoting" – that same old Mackinder to Brzezinski game – to Russia. The road map will be put in place at the group's summit in early September in Wales. 

Meanwhile, the MH17 tragedy is undergoing a fast metamorphosis. When the on-site observations by this Canadian OSCE monitor (watch the video carefully) are compounded with this analysis by a German pilot, a strong probability points to a Ukrainian Su-25's 30 mm auto-cannon firing at the cockpit of MH17, leading to massive decompression and the crash. 

No missile – not even an air-to-air R-60M, not to mention a BUK (the star of the initial, frenetic American spin). The new possible narrative fits with on-site testimony by eyewitness in this now famously "disappeared" BBC report. Bottom line: MH17 configured as a false flag, planned by the US and botched by Kiev. One can barely imagine the tectonic geopolitical repercussions were the false flag to be fully exposed. 

Malaysia has handed out the flight recorders to the UK; this means NATO, and this spells out manipulation by the CIA. Air Algerie AH5017 went down after MH17. The analysis has already been released. That begs the question of why it is taking so long for MH17's black boxes to be analyzed/tampered with. 

Then there's the sanctions game: Russia remains guilty – with no evidence – thus it must be punished. The EU abjectly followed His Master's Voice and adopted all the hardcore sanctions against Russia they were discussing last week. 

Yet there are loopholes. Moscow will have reduced access to US dollar and euro markets. Russian state-owned banks are forbidden from selling shares or bonds in the West. Yet Sberbank, Russia's largest, has not been sanctioned. 

So Russia in the short and medium term will have to finance itself. Well, Chinese banks could easily replace that kind of lending. Don't forget the Russia-China strategic partnership. As if Moscow needed another warning that the only way to go is to increasingly bypass the US dollar system. 

EU nations will suffer. Big time. BP has a 20% stake in Rosneft, and it's already freaking out on the record. ExxonMobil, Norway's Statoil and Shell will also be affected. Sanctions don't touch the gas industry; now that would have propelled the EU's counterproductive stupidity to galactic levels. Poland – hysterically blaming Moscow for everything under the sun – gets more than 80% of its gas from Russia. The no less strident Baltic states, as well as Finland, get 100%. 

The ban on dual-use goods – civilian and military applications – will badly affect Germany, the top EU exporter to Russia. On defense, the UK and France will suffer; the UK has no less than 200 licenses selling weapons and missile launching gear to Russia. Yet the French 1.2 billion euro (US$1.6 billion) sale of Mistral assault ships to Russia will go ahead. 

Meanwhile, in the demonization front … 

This is what Associated Press spins as "analysis" and distributes to papers around the world; a collection of cliches desperately in search of a thesis. Dmitri Trenin of the Carnegie Moscow Center, faithful to who pays his bills, gets a few things right and most things wrong. David Stockman at least has a ball deconstructing the lies of the Warfare State. 

But the real thing is definitely Putin's economic adviser Sergei Glazyev. One of his key theses is that European business must be really careful to protect their interests as the US attempts to "ignite a war in Europe and a Cold War against Russia". 

This, though, is the ultimate bombshell – delivered by a cool, calm and collected Glazyev. Watch it carefully. A detailed reappraisal of what Glazyev has been saying for weeks now, mixed with some outstanding comments here leads to a inevitable conclusion: key sectors of Western plutocracy want a still ill-defined war with Russia. And journalism's Holy Grail – never trust anything until it's officially denied – confirms it. 

NATO's Plan A is to install missile batteries in Ukraine; that is already being discussed in detail in the run-up to NATO's summit in Wales in early September. Needless to say, if that happens, for Moscow, that's way beyond a red line; it implies a first strike capability at Russia's western borderlands. 

Washington's short Plan A, meanwhile, is to organize a wedge between the federalists in Eastern Ukraine and Russia. This implies progressive, direct funding of Kiev in parallel to building up, via American advisers already on the ground, and vast weaponizing, a huge proxy army (nearly 500,000 by the end of the year, according to Glazyev's projection). Endgame on the ground would be to seal the federalists off into a very small area. Ukrainian President Petro Poroshensko has been on the record saying this should happen by early September. If not, by the end of 2014. 

In the US, and a great deal of the EU, a monstrous grotesquerie has developed, packaging Putin as the new Stalinist Osama bin Laden. So far, his strategy on Ukraine was to be patient – what I called Vlad Lao Tzu – watching the Kiev gang hang themselveswhile trying to sit down with the EU in a civilized manner working for a political solution. 

Now we may be facing a game changer, because the mounting evidence, which Glazyev and Russian intel relayed to Putin, points to Ukraine as a battlefield; a concerted drive for regime change in Moscow; a concerted drive aiming for a destabilized Russia; and even the possibility of a definitive provocation. 

Moscow, allied with the BRICS, is actively working to bypass the US dollar – which is the anchor of a parallel US war economy based on printing worthless pieces of green paper. Progress is slow, but tangible; not only the BRICS but BRICS aspirants, the G-77, the Non-Aligned Movement (NAM), the whole Global South is absolutely fed up with the Empire of Chaos's non-stop bullying and want another paradigm in international relations. The US counts on NATO – which it manipulates at will – and mad dog Israel; and perhaps the GCC, the Sunni petro-monarchies partners in the Gaza carnage, which can be bought/silenced with a slap on the wrist. 

The temptation for Putin to invade Eastern Ukraine in 24 hours and reduce the Kiev militias to dust must have been super-human. Especially with the mounting cornucopia of dementia; ballistic missiles in Poland and soon Ukraine; indiscriminate bombing of civilians in Donbass; the MH17 tragedy; the hysterical Western demonization. 
A bear with limited patience

But Putin is wired for playing the long game. The window of opportunity for a lightning strike is gone; that kung fu move would have stopped NATO in its tracks with a fait accompli, and the ethnic cleansing of 8 million Russians and Russophones in Donbass would never have developed. 

Still, Putin won't "invade" Ukraine because Russian public opinion doesn't want him to. Moscow will keep supporting what is a de facto resistance movement in the Donbass. Remember: in give or take two months, General Winter starts to set in those broke, IMF-plundered Ukrainian pastures. 

The leaked German-Russian peace plan will be implemented over Washington's collective dead body. This New Great Game, to a great extent, is also about preventing Russia-EU economic integration via Germany, part of a full Eurasian integration including China and its myriad Silk Roads. 

If Russia's trade with the EU – about US$410 billion in 2013 – is due to take a hit because of sanctions, then that also spells out a Go East movement. Which implies a Russian fine-tuning of theEurasian Economic Union project. No more a Greater Europe from Lisbon to Vladivostok – Putin's original idea. Enter the Eurasian Union as a brother in arms of China's myriad Silk Roads. Still, this spells out a strong Russia-China partnership at the heart of Eurasia – and still this is absolute anathema to the Masters of the Universe. 

Make no mistake, the Russia-China strategic partnership will keep evolving very fast – with Beijing in symbiosis with Moscow's immense natural and military-technological resources. Not to mention the strategic benefits. A case could be made this has not happened since Genghis Khan. But it's not like Xi Jinping is pulling a Khan to subdue Siberia and beyond. 

Cold War 2.0 is now inevitable because the Empire of Chaos will never accept Russia's sphere of influence in parts of Eurasia (as it doesn't accept China's). It will never accept Russia as an equal partner (exceptionalists don't do equality). And it will never forgive Russia – alongside China – for openly defying the creaking, exceptionalist, American-imposed order. 

If the US deep state, guided by those nullities who pass for leadership, in desperation, goes one step beyond – it could be a genocide in Donbass; a NATO attack on Crimea; or worst case scenario, an attack against Russia itself – watch out. The Bear will strike. 

Pepe Escobar is the author of Globalistan: How the Globalized World is Dissolving into Liquid War (Nimble Books, 2007), Red Zone Blues: a snapshot of Baghdad during the surge (Nimble Books, 2007), and Obama does Globalistan (Nimble Books, 2009).
He may be reached at pepeasia@yahoo.com.
Source: Asia Times Online
And Why the Facts Matter Now…
Part One of Four…
"I'm not a journalist and the facts don't matter." – Rayelan Allen, RMN owner and editor
"All politics is personal," or "the personal is political." Early feminist sayings
In November of 2002 we had been lied to about Weapons of Mass Destruction, the reason given for invading Iraq, resistance to the war was waning. Standing in the way, though this was not publicly known at the time, was Saddam Hussein, who was very willing to leave Iraq forever – if he was paid.
Paying him off would have been far cheaper than the cost of the war. But it would not have accomplished the real goals.
The real drive for war was oil and the dollar. The details were carried out by a group of people who had no conscience, willing to lie themselves into power and lie, cheat, steal and kill, to keep it. Together, they have changed our world, bringing us to the precipice of destruction. These are the acts of individuals who behave in exactly the same way in their personal lives. I know.
The build up to war, constructed by the Bush White House, took place as events in my own life played out in shocking ways but which proved to be highly informative in a horrible way.
The strategies used by those I was forced to deal with personally were the same as those used by the NeoCons who were driving us to war. At the time, I was fighting to protect my daughter, Morgan, from the consequences of her life-long bad behavior and judgment. Later, I realized this was not possible.
She is a psychopath acting on the mistaken belief she can get away with anything. Harming others, or even killing them, was perfectly acceptable to her.
Our internal values determine all parts of our lives and for all parts we are responsible and accountable.
How many people died because of the War in Iraq and the lies told to us? At least a million and a half, though the total is probably higher.
How many people misdirected their life efforts through patriotic fervor incited by people who had intentionally used the symbols and language of honor to defraud us? The number is unbearably high.
How many of us have struggled to understand how this could have happened?
Hold the impact of the war and how this was accomplished in mind as we consider what happened from the time this story began in 1997 until the invasion of Iraq began in the spring of 2003.
The Personal
I first became active in politics during the Goldwater campaign. My goal was to achieve social justice and individual empowerment. While pursing these goals I joined the Libertarian Party in 1974. I managed campaigns, ran for office, did fundraising and organized. I left when it was clear the Kochs had destroyed any potential for effective action in 1988.
I studied the problem of organizations while remaining active. In 1997 I was a Regent for the National Federation of Republican Women and coping with the continuing crises generated by my husband, Craig Franklin. Not filing his taxes, when he owed nothing, was typical of Craig's irresponsible behavior. I wrote this article about what we called, "The Tax Crisis," in 2008. You're Not Paranoid – The IRS is out to get you.
After I solved the problem Craig decided to leave me and take all the money with him.
Beginning in 1997 Morgan, who had committed the incredibly ugly act of working with Craig to defraud me of millions of dollars during our divorce, had, in October of 1998, started a sexual relationship with an old boy friend of mine, John Fund, then on the Editorial Board of the Wall Street Journal. She wanted a rich husband and decided he would do.
Always ambitious, she had emerged from her childhood, which had traumatized her entire family, functionally illiterate – and her previous prospect for marital bounty,Eugene Volokh, had flown the coop the month before.
She was actually traveling with my estranged husband, on a tour of New York, London, and Paris, when she and John started their affair. Would she have hesitated if she had known how promiscuous John had become, enabled by the power accrued as a NeoCon operative? Probably not. But she might have played things differently.
John Fund was placed at the WSJ in 1984 by connections who maintained close ties with the people who were already working to put Bush in office by stealing the election in 2000. Positioned as a journalist he is actually a political operative, his first experiences in this coming through the Koch Brothers' attempt to take over the Libertarian Party.
Taking up with your mother's former boy friend, someone you have referred to as 'Uncle John' since you were a child, is scandalous behavior, there is no other word for it. This type of behavior is normal for Morgan.
I had no idea this was going on because I was thousands of miles away caring for my oldest son, Arthur, who had attempted suicide by shooting himself through the brain on March 22, 1998. It would be another year before he would be able to even go to the bathroom himself. My entire focus was on his care.
Morgan and I were not talking because her deviousness and lies had included attempting to persuade me she needed a heart transplant in an attempt to get me to turn off her brother's life support. She called me to ask for his heart. This happened, I later realized, soon after she had been paid $10,000 to do this by my estranged husband, Craig Franklin.
One of the reasons psychopaths get away with so much is our inability to believe the ugliness of their real motives. This is also true in politics.
When John started his liaison with Morgan he expected a job as speechwriter for the Bush administration, still two years in the future. They were already discussing war with Iraq. John would assist, pushing the agenda in the media.
After years of dealing with Morgan I knew not to believe her if she did not offer proof but I had no reason to distrust John. So, in September, 1999, for practically the only time in her life, Morgan told the truth, with proof.
Puzzled at the persistent rumors about a relationship between her and John, I called to ask him. John and I had been chatting regularly for over twenty years. Asked about the relationship he expressed shock. He denied it, saying he had fed her cat for her once or twice. I believed him. He was completely persuasive, giving the impression of absolute openness.
It was the WeaselSearch Tape, recorded by Morgan in September of 1999, which changed my mind.
This is a man who helped lie us into war. His personal ethics match the ones he uses professionally.
One afternoon that September Morgan called me to beg for help. She was broke and about to be evicted from her apartment in Jersey City. John, she said, had forced her to abort his baby the previous March and then dumped her. A heated discussion ensued as I relayed to her my recent conversation with John.
Hearing a call coming in, Morgan put me on hold. It was John. She recorded her conversation with him. You can listen to it on the tape above. A few minutes later I had heard the whole of it.
I was stunned and confronted him on the phone soon afterward. He hung up on me. His cover blown he moved to the next strategy, distancing.
As a result of a fax I sent to the WSJ moments later, the job as a speechwriter for the Bush White House, already being promised, vanished. The fax, I was told, was copied at least five times on its way to his office.
The illusion of family values needed to be retained.
Instead of a job in the White House, which John had earned through his work as an operative for the NeoCons, then coming to power, he was told to write a book about how liberals steal elections. This would provide cover for the electronic hacking about to begin.
Stealing Elections: How Voter Fraud Threatens Our Democracy, would be published September 24, 2004.
The relationship between John and Morgan seemed to stabilize for a while. Fund spent nearly half his time at the apartment I rented in NY at the Rivergate. I was rarely there. John told me he intended to marry Morgan, who he said really loved. I wished them well, glad they had come to some resolution.
But then, in December of 2000 Morgan realized he was sneaking into my empty room to call other women, including Federal judge Diane Sykes, late at night. He left emails where Morgan could find them.
I received copies of these from Morgan via email. This one, Fund sent on July 22 this same year, was typical.
Morgan's relationship with John continued, headed for rockier and rockier ground as the number of 'other women' Morgan discovered increased.
Despite this, they moved in together in Jersey City in July of 2001, just days after Morgan had vented to John Connolly of Vanity Fair. From those interviews Connolly wrote an article titled, "Sex, Lies and the Tape." Over my objections Morgan had given him a copy of the tape she had made in 1999.
The article was published September 4, 2001, along with the tape.
Connolly had arranged for the article to be published in Talk Magazine – but Fund intimidated Tina Brown into canceling the story by having his attorney, John J. Walsh, call and make threats. Walsh later billed for services, producing this letter. Morgan also found a Work Memo later.
Instead, the article was published only online on a site called WeaselSearch, from which it got its name. When the site folded it was hosted on American Politics Journal, where it is today.
What Fund did to stop publication is standard operating procedure for NeoCons. He used this later against me.
But because the article refuted the lies John had continued to tell, a scandal erupted anyway.
Understandably, this event did not contribute to bliss in John and Morgan's relationship but the reasons were far more complex than just one little article.
Morgan called me, outraged. She had refurbished John's apartment at his request and he was refusing to pay her back. When she moved in the utilities had been turned off because of his non-payment and the plumbing did not work. I made her produce the receipts since I still did not trust her. She kept track of payment for cleaning supplies and repairs, which were complete before she told me John was battering her in the later part of September.
The violence, she later said, had begun one evening after an event at the ALEC Conference in New York in early August.
I had hoped the relationship would work out. To say it didn't vastly understates the case.
I did not believe her until I heard it happening over the phone, which happened in late September. When I heard John's demonic glee as he pounded her I felt obligated to take action. As I have said, Morgan lies. Another friend of her's, Eric Buchanan, confirmed he had also heard this taking place on another occasion. Both of us advised Morgan to leave him. She refused.
During this time Carol Divine Molin, a Republican Woman, called me to express concern for Morgan as a battered woman. She told me she counseled women who had been battered.
Then it came out that her motive was reigniting her brief fling with Fund by assisting him with Morgan. The fling had taken place some time earlier, after Fund spoke to a group to which Molin belonged. Liking what she saw, evidently, she took him home with her. Fund's parting words were, by report, "You got to swallow."
We learned Molin had complained to the management at the Wall Street Journal about how she had been treated the year before.
The beatings continued. Morgan filed police reports in New Jersey.
Morgan became aware John was still lying about their relationship, saying he barely knew her, while she was living with him. At one point she used her cell phone so I could hear him telling these lies to Lloyd Grove from the Washington Post.
Listening to him lie was stunning. Again, I begged her to leave.
After she found even more emails, from a growing list of other women, she agreed. The emails included these between him and Michele Davis, on January 13th and 18th, and this Email, revealing the sexual relationship he had begun with law professor Gail Heriot, also on the 13th of January.
Christine Hall Reis, a new bride, offered the services of herself and her friend, Julie Currie, from Kroll Opposition Research to John on January 21, 2002. Christine had sent an unusual photo of herself to John, which he printed and left on the floor, where Morgan found it.
Morgan moved out of the apartment in Jersey City and into an apartment I rented for her in New York around January 24 – 26, 2002. I breathed a sigh of relief, but it was not over. The craziness escalated.
John found out where Morgan was living and moved in with her. He left a litter of papers there, some of which Morgan scanned and sent me to prove this was happening. This letter from Fidelity Investments is dated January 25, 2002. Morgan picked it up off the floor in her Manhattan apartment after John left it there. Another incident of battery soon took place just moments before I arrived at the apartment. When I walked in I saw Morgan bloodied and bruised.
The New York police report was filed.
John had been told by his two closest friends, Dick Cheney and Karl Rove, who occupied adjacent spaces on his speed dial, he needed to provide evidence Morgan had lied. Which she might well have done. But there were witnesses. Buchanan and I had heard beatings take place and were ignored by authorities. Neither of us were ever called though the authorities knew we were witnesses.
Fund received help from some of the other women in his life. A few of these were victims themselves, unaware of what was really happening and are not named. Others, like Gail Heriot, whose relationship with Fund began in a hotel room in December of 2001 or January of 2002, assisted in building the website Fund used to insert lies into public view and wrote letters for him, libeling both Morgan and myself.
Desperate, we sought help from people who were politically at odds with the NeoCons. One of these individuals was Sidney Blumenthal.
It was at this time Blumenthal put a keylogger on Morgan's computer to steal information about Fund. He had refused to help, trying to persuade her it was enough to expose him politically. So Morgan returned the keylogger favor, against my advice.
While she can't write a literate sentence Morgan was a wiz with computers. It was this act which would expose to us the strategy adopted by the Bush White House to ensure the War in Iraq was not stopped in November of 2002.
An attempt to kill Morgan took place in May, 2002. I heard this over the phone as the key turned in the door of her apartment. Morgan threw herself against it and engaged the dead bolt. I believed her. She is not that good an actress.
Then, she went into hiding with a couple in Georgia.
As the campaign to sell the fiction of Weapons of Mass Destruction was hammered into accepted fact Morgan was following Sidney via his emails and reading early chapters of his book, Clinton's War. Occasionally she would forward me a copy.
By November war appeared to be inevitable. Then, Morgan called me and asked if U-Day was something like E-Bay. The keylogger had turned up something with more surprises than Blumenthal's book.
Saddam, in communication with Blumenthal, wanted to cut a deal to be paid to leave so war would not be necessary. I had the origin of the email checked out and the expert said it had come from the Emirates and Baghdad was a likely source.
The appointed agents for insuring Saddam would stay put were the Clintons and their old friend, Sidney Blumenthal. This activism on their parts is likely the real source of the largess which flowed into the Clinton coffers, not Hillary's public speaking abilities or investment savvy.
The previous January Fund had forced Morgan to sign a 'confession' saying no abuse had taken place. The documents were dated January 24, 2002, just before she moved out.
Evidently, Fund promised to pay her what he owned her if she signed and, stupidly, she did. Since an accounting of what Fund owed matched what was asked if you add in the outdated checks Morgan found while cleaning, which Fund had given her, it is likely Rove and Cheney decided this was not enough 'proof' to be persuasive.
Eric and I knew the statement was hogwash and would have so testified.
The real campaign to destroy our credibility began in 2003, after Fund's friends realized they had more than one political operation to protect. They needed to protect John, a pivotal political operative, and the truth about Saddam.
So evidence was sought and obtained through trade with those holding it.
Craig, my former husband, was Senior Vice President of Green Hills Software, Inc. He and the company's president, Dan O'Dowd, had made a deal in 1997 to defraud their partners. Dan would have a fake stock option agreement made to deny me a marital share during our divorce and Craig would lead a walk out to keep Glenn Hightower, Dan's partner, from exercising his buy out option when Dan exercised it and made him an offer.
Morgan had supplied a recording of Craig gloating about this and in late 1999 I had filed a law suit. Morgan gave a deposition on February 22, 2001. The suit settled and the deposition was never certified, making it illegal to copy.
Green Hills Software, LLC. exchanged a copy of this deposition for defense contracts. Today, Green Hills Software, Inc. is a billion dollar company heavily into drone technology and supplying the Military Industrial Complex.
The campaign to destroy our credibility began in early 2003.
On January 23, 2003 Fund filed an answer to Morgan's law suit in New York.
On April 1, 2003 Melinda's webmaster received a threatening letter.
On April 3, 2003, Dan O'Dowd decided the desperate need for servicemembers was to provide a measly $5,000 for a child's college education. He amount pledged, $100.000, with matching funds up to $250.000. The non-profit was incorporated on the 9th and announced publicly on April 10th. The is an embarrassingly minor contribution for a corporation which made billions from contracts flowing from the military.
On April 7, 2003 Craig Franklin handed an enveloped copy of Morgan's Deposition to Anne
Fisher, his then girl friend, telling her it contained Morgan's deposition. It was addressed to John Fund.  It was a Green Hills envelope with the postage paid by the company in advance.
On April 8, 2003 RuthlessPeople was down.
On May 11, 2003, Mother's Day morning, I wrote an email responding to questions received early that morning from Eric Alterman for an article which would be published on the 15th.
On May 15, 2003 Eric Alterman's hit piece, "Who Framed John Fund?" was published in The
Nation.
On May 16, 2003 Gene Gaudette, Editor of American Politics Journal, received a Letter via email from Gail Heriot, one of Funds many girl friends libeling us.
On June 21, 2003 JohnFund.com, a hit site, appeared online. The site came down sometime after May 19th this year. It can be viewed through the WayBackMachine.
On July 22, 2003 Wendy MacElroy, who calls herself a feminist but focuses her attack pieces on women, traded a hit piece on Morgan for a gig at Fox News. Wendy, who has known Melinda since the 1970s, failed to call her or Morgan. The article is titled, False Rape Charges Hurt Real Victims.
During this time Melinda received notice from the IRS claiming she owed money. The IRS refused to tell her why since her returns were produced by a CPA and documented all expenses.
Carried out this way, the NeoCon campaign was masked and did not appear to have any relationship with the War in Iraq. It was all 'personal.'
But all parts of our lives reflect our values, which is why trying to separate the two in this was is wrong.
Clearly, everyone else had agendas which had nothing to do with the simple, provable fact John Fund committed domestic violence. This is a crime and should be prosecuted even if the victim has lied previously and is a jerk. 
In 2004 I wrote GREED – The NeoConning of America, a lightly fictionalized autobiography framed around my daughter, not myself. I am now reissuing a non-fiction version, which includes "the Bunker in Georgia" Story. That story about Saddam began in Chapter 16 – A Signal from the Bunker, in subsection The Bunker in Georgia.
Saddam also knew too much.
No one read the book, though the reviews were very good.
I wonder what would have happened if I had understood the ruthless lack of conscience these people carry behind smiling, and lying, faces in both their personal and professional lives. What choices would I have made, personal and political?
The next years were given over to stark survival and caring for my son. Since Morgan had drained me of money this was much more difficult. I fought back because I had to, using the only tool I could afford, the truth.
Stay tuned for Part Two – What Happens When You Know Too Much

While staying here in Damascus, I have heard the same thing said again and again from a whole array of sources, including foreign journalists, Syrian citizens and even Christian nuns.  "This war on Syria is being fought by Al Qaeda operatives, fanatic Islamist jihadis, foreign fighters, terrorists and mercenaries for hire.  And they are being financed by American money and given American weapons."  Yikes!
    What this means to me personally is that my very own head (which I have actually become quite attached to) could possibly be blown off at any minute by fanatics and/or weapons bought and paid for by my very own tax dollars.  Now that is a really confusing thought.
"War by proxy" is becoming a more and more frequently-used phrase here in Syria.  The American military-industrial complex is now out-sourcing their war.
   But, hey, that's better than having American soldiers over here fighting and dying for Wall Street and War Street like they did in Iraq.  Our soldiers' jobs are being shipped overseas?  That's one example of outsourcing that is just fine by me.
Except, in the words of one local college professor I interviewed the other day, "We Syrians are fighting dirty enemies.  This is a dirty war.  The jihadists attack hospitals, power plants and schools.  But the Syrian people are fighting back."  The professor also mentioned the discovery of vast new oil fields off the Syrian coast.  And he found it ironic that the very first place that the jihadis, inquisionists, Taliban wannabes and Al Qaeda death squads attacked was in this oil-rich region.  The original peaceful protests by Syrians themselves — before the Taliban wannabes arrived in force from overseas and turned Syria into a slaughterhouse — took place in Daraa, not in the oil fields.  Hmmm.
  "I also find it ironic that Americans are citing democracy as their primary reason for attacking Syria — while their biggest ally in this region is Saudi Arabia, a known dictatorship."  Not to mention the doubts that everyone has about American elections.  Take Diebold for instance.  And Florida and Ohio and that weird Supreme Court ruling that forced GWB down our throats.  And voter ID cards and 92-year-old women turned away from the polls.  But, hey, America is famous for exporting hypocrisy.  Get over it, prof.
  In Sweida, I talked with a young woman who spoke English and she said, "Living in Syria is like living in one of those Hollywood horror movies."  Slasher flicks.  "These terrorists come here and they bomb our hospitals and schools, kill and rape women and children and even eat our flesh like cannibals.  We Syrians just want this horror movie to stop."  And she was proud of Bashar Assad for standing up to these wannabe Freddy Kruegers.  And most of the Syrians I have talked with feel the same way.  "And you would too — if it happened to you."
And it did happen to me too — sort of.  I can hear the shelling outside Damascus going on night and day.  Nerve-racking.   I almost felt like a heroic citizen of London during the Blitz.
Syria's president, Bashar Assad, has been playing the Great Game of political chess in this region like he is a grand master — and perhaps that's why the American military-industrial complex hates him so much.  But Syrians love him.  They just do.  It's a Syrian thing.  Remember what Maya Angelou said in "I know Why the Caged Bird Sings"?  How she was being raped as a child and prayed for the Green Lantern to save her?  Well President Assad, like it or not, is Syria's Green Lantern.
Assad might have been a bit to enthusiastic in the past about suppressing dissidence.  But please be aware that the inquisionist crazies and Al Qaeda freaks that have tried to invade Syria are so very much worse.  Syrians weren't totally behind Assad before the invasion — but they certainly are now, thanks to America's military-industrial complex.  Eisenhower warned us about the complex.  He shoulda warned the Syrians too.
The only thing that I can truly fault Assad on presently are all those all-pervasive giant posters of him that you see everywhere — on buildings, in shops, on cars and buses, on T-shirts and even in elevators.  Everywhere.  He should stop doing that.  He's not just some Ken doll or even the next Brad Pitt.  He's a political genius who is trying save Syria from the bad guys.  He should have understood by now that he has found a place in the hearts of the Syrians and just leave it at that.
PS:  Observing the elections was fun.  It was like attending a country-wide block party.  Or, as Mother Agnes-Mariam said to me in an interview at the Dama Rose Hotel, "It would be impossible to coerce that many Syrians to vote out of fear. People actually went out from rebel-held territory to vote.  Even the rebels voted."  So. Who are you going to believe about the authenticity of the Syrian elections?   Mother Agnes-Mariam who said that they were valid — or Wall Street and War Street, who claim they were a fraud?
Are you going to believe the same people who lied to us about Iraq having weapons of mass destruction – or a mother-superior Christian nun?
PPS:  In Homs, those nasty American-sponsored jihadists blew up a historic old Christian church — only to find an even older church lay buried under the newer church's foundations.  Built in 59 AD, this older church might actually been visited by the Apostles and Saint Paul himself.  And these Taliban wannabes were happily trying to blow this older church up too.  But apparently they got distracted by trying to break up the bones of some nearby Christian saints' relics — and the old church was saved!
PPPS:  I never did get to meet President Assad.  "Apparently he has to keep his eye out for being assassinated by drones," one journalist explained to me as to why Assad hadn't come to the Dama Rose hotel.  But still…I could have worn my cool "Berkeley High Water Polo Team" T-shirt that I had swiped from my daughter Ashley.  I'm sure Assad would have been quite impressed.
"Prior to the 2003 invasion and occupation of Iraq, US and other western oil companies were all but completely shut out of Iraq's oil market. But thanks to the invasion and occupation, the companies are now back inside Iraq and producing oil there for the first time since being forced out of the country in 1973."

– Antonia Juhasz, oil industry analyst,  Al Jazeera.
These are the 'best of times' for the oil giants in Iraq.  Production is up, profits are soaring, and big oil is rolling in dough.  Here's the story from the Wall Street Journal:
"Iraq's oil production surged to its highest level in over 30 years last month, surprising skeptics of the country's efforts to restore its oil industry after decades of war and neglect."  (Wall Street Journal)
Mission accomplished?
You bet.  But for those who still cling to the idea that the US was serious about promoting democracy or removing a vicious dictator or  eliminating WMD or any of the other kooky excuses, consider what we've learned in the last couple weeks. Here's the story from Aljazeera:
"While the US military has formally ended its occupation of Iraq, some of the largest western oil companies, ExxonMobil, BP and Shell, remain.

On November 27, 38 months after Royal Dutch Shell announced its pursuit of a massive gas deal in southern Iraq, the oil giant had its contract signed for a $17bn flared gas deal. Three days later, the US-based energy firm Emerson submitted a bid for a contract to operate at Iraq's giant Zubair oil field, which reportedly holds some eight million barrels of oil.

Earlier this year, Emerson was awarded a contract to provide crude oil metering systems and other technology for a new oil terminal in Basra, currently under construction in the Persian Gulf, and the company is installing control systems in the power stations in Hilla and Kerbala. Iraq's supergiant Rumaila oil field is already being developed by BP, and the other supergiant reserve, Majnoon oil field, is being developed by Royal Dutch Shell. Both fields are in southern Iraq." ("Western oil firms remain as US exits Iraq", Dahr Jamail, Aljazeera.)
If it sounds like the big boys are dividing the spoils among themselves; it's because they are. Exxon, BP, Shell; they're all here. They all have their contracts in hand, and they're all drilling their brains out thanks to the American servicemen and women who gave their lives for some trumped up baloney about WMD. Isn't that what's going on?
Sure it is. And even now–after all the reasons for going to war have been exposed as lies–the farce continues. Nothing has changed. Nothing. There's still no talk of reparations, no official investigation, no indictments, no prosecutions, no trials, no penalties, no nothing. Not even a stinking apology. Just a big "up yours" Iraq. We're way too important to apologize for killing a million of your people and reducing your five thousand year old civilization to a pile of rubble.  Instead, we'll just screw you some more and paper it over with a little public relations, like Obama did a couple weeks ago when he promised to "leave behind a sovereign, stable and self-reliant Iraq, with a representative government that was elected by its people".
Oh yeah. Obama's all about sovereignty and stability, everyone knows that.  That's why Baghdad is the terror capital of the world, because Obama's so committed to security.
These PR blurbs are effective though, they provide the necessary cover for leaving enough troops behind to protect the oil installations and pipelines.  That's the kind of security Obama cares about. Security for the oiligarchs and their stolen property.  Everyone else can fend for themselves, which is why Baghdad is such a bloody mess.  Here's more from Aljazeera:
"Prior to the 2003 invasion and occupation of Iraq, US and other western oil companies were all but completely shut out of Iraq's oil market," oil industry analyst Antonia Juhasz told Al Jazeera. "But thanks to the invasion and occupation, the companies are now back inside Iraq and producing oil there for the first time since being forced out of the country in 1973." (Aljazeera)
Yeah, thanks for that invasion, Mr. Bush. We couldn't have done it without you, guy. Hope you have a great retirement painting pictures of poodles and stuff while people continue to get blown to pieces in the terrorist Hellhole you created. Here's more Al Jazeera:
"Juhasz, author of the books The Tyranny of Oil and The Bush Agenda, said that while US and other western oil companies have not yet received all they had hoped the US-led invasion of Iraq would bring them, "They've certainly done quite well for themselves, landing production contracts for some of the world's largest remaining oil fields under some of the world's most lucrative terms."
Dr Abdulhay Yahya Zalloum, an international oil consultant and economist …(said) he believes western oil companies have successfully acquired the lions' share of Iraq's oil, "but they gave a little piece of the cake for China and some of the other countries and companies to keep them silent". (Aljazeera)
How do you like that? These guys operate just like the Mafia. The Bossman pays off China with a few million barrels, and China keeps its mouth shut. Nice. Everyone gets "their cut" so they don't go blabbing to the media about the ripoff that's taking place in broad daylight. The stench of corruption is overpowering.
And here's something else you won't see in the media. In a White House press release,  the Obama administration announced that they would continue to support Iraq's "efforts to develop the energy sector" in order  to "help boost Iraq's oil production."….
According to Assim Jihad, spokesman for Iraq's ministry of oil, "Iraq has a goal of raising its oil production capacity to 12m bpd by 2017, which would place it in the top echelon of global producers." (Aljazeera)
"12 million barrels-per-day by 2017″?
That makes this the biggest petroleum heist in history. And we're supposed to believe that the oil bigwigs didn't know anything about this before the war? What a crock! I'll bet you even money the CEOs and their lackeys figured out that Saudi Arabia was running out of gas, so they decided to pick up stakes and move their operations to good old Mesopotamia. That's why they put their money on Bush and Cheney, because they knew that two former oil men would do the heavy lifting once they got shoehorned into the White House.  The whole thing was a set-up from the get-go, right down to the 5 shady Supremes who suspended the voting in Florida and crowned Bush emperor in 2000. The whole thing was probably mapped out years in advance.
Big oil runs everything in America. People talk about the power of Wall Street and Israel, but oil is still king. They run it all, and they own it all. And "what they say, goes."  Here's more:
"Juhasz explained that ExxonMobil, BP and Shell were among the oil companies that "played the most aggressive roles in lobbying their governments to ensure that the invasion would result in an Iraq open to foreign oil companies".

They succeeded," she added. "They are all back in." (Aljazeera)
Hooray. Big oil wins again, and all it cost was a million or so Iraqis who got blown to bits air raids or shot up at checkpoints, or beaten to death with a rubber hose at Abu Ghraib or any of the other democracy reeducation centers that dot the countryside. But, hey, look at the bright side: At least production is up, right? Can you see how sick this is? Here's more:
"Under the current circumstances, the possibility of a withdrawal of western oil companies from Iraq appears remote, and the Obama administration continues to pressure Baghdad to pass the Iraq Oil Law." (Aljazeera)
And what is the "Iraq Oil Law", you ask?
It's a way to privatize the oil market using Production Sharing Agreements (PSAs) which disproportionately benefit the corporations.  Obama's a big backer of the law since it means even heftier profits for his thieving  friends.  In other words, the humongous profits they're already skimming off aren't quite good enough. They want more. They want to own the whole shooting match lock, stock and barrel.
This is really an outrage. What other country behaves like this?
No one. No other country in the world goes out and kills a million people, destroys their country, and leaves them to scrape by on next to nothing just so they can pad the bank accounts of voracious plutocrats have more dough than they know what to do with. No one else would even dare to act like that for fear that they'd get bombed into annihilation by the world's biggest bullyboy, the US of A.  Only the US can get away with this type of crap, because the US is a law unto itself.
Iraq was the Cradle of Civilization. Now it's the cradle of shit. The US decimated Iraq; blew it to bits, bombed its industries, its bridges, its schools, its hospitals, leveled its cities, polluted its water, spread diseases everywhere, killed its kids,  pitted brother against brother,   and transformed a vibrant, unique country into a dysfunctional cesspit run by opportunists, gangsters, and fanatics.
And, here's the corker:  No one gives a rip. Face it: No one gives a flying fu** about Iraq. The American people lost interest long ago, the politicians can't be bothered, and the UN is too afraid of the US to lift a finger to help. They'd rather stamp their feet and scold Putin over Crimea than utter a peep about the genocide in Iraq.  That's the state of things today, right?  No accountability for the men who started the war, and no justice for the victims. Just the infrequent (phony) pronouncement of support from the White House or the all-too-frequent sectarian bombing that leaves an untold number of civilians dead or wounded. This is all the US leaves behind; hatred, death and destruction.
Here's a clip from a poem by Iraqi writer who wants readers to take a minute and think about all the suffering the United States has created. The poem is titled "Flying Kites":
"Come and see our overflowing morgues and find our little ones for us…

You may find them in this corner or the other, a little hand poking out, pointing out at you…

Come and search for them in the rubble of your "surgical" air raids, you may find a little leg or a little head…pleading for your attention.

Come and see them amassed in the garbage dumps, scavenging morsels of food…

Come and see  our little ones, under-nourished or dying from disease. Cholera, dysentery, infections…

Come and see, come…."  ("Flying Kites" Layla Anwar)
A million people were killed so a few rich fu**ers could get even richer. That's a hell of a legacy.
The Koch's Secret Sauce – The Profit is in the Poisons 
(Sort of like those special spices in your Indian food!)
Of course, it is not likely Charles himself was hunkered down in the secret laboratory under his mansion in Wichita, Kansas.  But he certainly knew the formula.
Koch Truths and Green Fields Renewal will now reveal the actual content of the ugly substance which bubbled out of the broken pipe in Mayflower a little over a year ago. Notice, this information has been carefully sequestered by ExxonMobil.
Believe us, they have their reasons for this.
This sample of Wabasca Heavy was taken at the Suspected Source, (the pump station about 20 miles upstream from the Pegasus pipeline rupture). From there, it was sent by the USCG for analysis in Canada in June 2013, a few months after the Mayflower disaster. This is typical of what was in the pipe just before it ruptured.
Gas Chromatogram of Mayflower Suspected Source  – These are the fingerprints, what ExxonMobil has worked so hard to hide from the public and their victims.
Source: EPA/ ESTS
Above we see a hybrid Dilbit mixture, with virtually identical distribution of heavy hydrocarbon molecules (on the right) as we saw in the Wabasca Heavy sample in Part 1.
But this Secret Sauce has special additions. These new additions include the toxic BTEXs like benzene, a virulent carcinogen, and toluene, a neurotoxin.
And the concentration levels were very, very high in the Secret Sauce.
Would having know about this made a difference in treating the victims? Absolutely.
But then the evidence would also have been presented in court, an eventuality to be avoided at all costs, especially if those costs can be externalized to small children and other victims.

"Please don't go to Haiti — it could be dangerous down there!" several worried friends begged me right before I left.  But boy were they wrong.  Haiti is totally fun!  I never had so much fun in my life as I did this past week in Haiti.  And this is my very own tourist guidebook to all the neat stuff that I've done down here.  Not exactly the Lonely Planet.  But boy am I having a good time.
The most frequently asked question before I left was, "Are you going down there to do humanitarian work?"  No no no.  I'm going down there to be a tourist!
To start with, I got a really great bargain deal on Expedia — $800 to fly me from SFO to Port au Prince and five nights in a convenient, clean and quiet hotel called the Diquini Guest House.  This was absolutely the smartest thing that I did on this trip.  Why?  Because the manager of the guest house, a former member of the Haitian diaspora and long-time resident of Washington DC, took me under his wing and for a reasonable fee let me hire his driver, translated for me, kept me fed on nicely-flavored Haitian stew and rice — and then took me off to explore Port au Prince.  www.diquinigh.com.
First we went to the famous Hotel Oloffson where the ghosts of past American ex-pat writers such as Graham Greene and Lillian Hellman roam its gardens, terraces and gingerbread-style balconies; where Mick Jagger and even Jacqueline Kennedy have stayed — and where the famous vudou-inspired RAM band was playing that night. http://hoteloloffson.com/
The next day we explored what is left of the 2010 earthquake ruins, from what was left of the tragically beautiful stone-filigreed huge rose window of the old cathedral and the site of the historic National Palace to various small tent cities dotting Port au Prince that still house earthquake victims today, and the ruined buildings that still have market stalls precariously tucked into whichever concrete slabs are still left standing.
"So, Jane, how is Port au Prince actually doing now, four years after the quake?" you might ask, now that I'm an actual eye-witness to the scene of the crime.  It's not doing super-good, but not doing as badly as I had expected either.  Most of the tent cities are gone now — as a lot of the homeless victims have by now squashed themselves in with relatives, left for the countryside or otherwise made do.
"But what are Haitians really like?" you might ask next.  You can tell what Haitians are really like by the way that they drive.  There are only a handful of traffic signals in Port au Prince and even fewer rules of the road.  And Haitians drive very fast.  But they also drive in a way that is almost polite.  Everyone wants to get where they are going (and to get there fast) — but no one wants to actually hurt anyone else.  I didn't see any road rage there.  Just people trying to get by.
Basically, Haitians are just people trying to get by after having been dealt a very rough hand for a very long time, from the moment they were kidnapped from Africa and sold as slaves here — starting in 1503, just eleven years after Columbus discovered the island.  And those slaves were expendable too, worked to death in a few years at most and then replaced by other new slaves.
Then after having fought for and achieved its freedom in 1804, Haiti was also constantly attacked, exploited and/or invaded for the next 200-plus years by America, Canada and various combinations of European nations.  And now Haiti is one of the poorest countries in the world, resembling the slums of Uganda or the slums of Zimbabwe.  And yet despite their poverty, which is dire and extreme, Haitians still remain stoically polite.
Next we went off to the Iron Market bazaar to buy Haitian stuff to hang on my walls when I get home.  And then we drove all over Port au Prince — the grand tour.  And that night we went off to Carnival in the Carrefour district.  Are you jealous yet?
Carrefour's pre-Lenten carnival was like one gigantic block party and was actually as much fun as Berkeley in the 1960s, the benchmark against I always measure how much fun something is.
I also wanted to go see San Souci and the Citadel, UNESCO world heritage sites up  in Cap Haitien, but it was a seven-hour drive to get there, so we went to Fonds des Negres instead, which was only a three-hour drive, and I met a vodou master there.  "No one is cursing you," he told me.  Not even the NSA?  Good to know.  Then he performed a candlelight ritual to help my knees get better.  Then he pulled out a business card for his son who owns a botanica in SoCal who, for a price, could finish my knee treatment when I got back home .  And then the vodou master pulled out his cell phone and started texting someone.  Guess the ritual was over.
And there's also a cave in the mountains near Fonds des Negres where a "Suzan," a vodou spirit, resides.  But you have to get there by motorcycle and we didn't have time to do all that on this day trip.  So I just bought a sequin-covered vodou flag instead.

"Have you seen any zombies in Haiti?" might be your next question.  Sorry, no.  But on my plane ride down here, we ran into a bunch of really scary turbulence over Chicago and I thought I was going to die.  So I had an epiphany.  "When you are in your mother's womb, the only way out is by going through a whole bunch of pain first — and death is also like that.  First you pass through a whole bunch of pain and then, poof, you are out on the Other Side."  As a zombie?  Let's hope not.
The next day we went out searching for Jean-Bertrand Aristide  and then ended the day in that famous five-star hotel in Petionville — just to see how the other 1% lives.  Trust me, they are living well.
What else have I done down here?  I can't remember exactly.  But I will tell you this:  I have really had fun.  And if you ever want to go to Haiti too, I totally recommend it highly.  And, no, I'm not getting paid to say this.
PS:  While in Haiti, I also watched the winter Olympics on TV — thus getting a chance to compare Port au Prince and Sochi.  One city has far too little city planning and one city had far too much!
According to journalist Roi Tov, "With less than 350,000 denizens, [Sochi] has been occupied by at least 25,000 police officers, 30,000 soldiers, 8,000 special forces, and an undisclosed number of FSB agents."
Port au Prince is nothing like that.  The streets go every which-way like a patchwork quilt.  But it does have one thing in common with Sochi — abuse of its fragile labor force.
And let's also compare Port au Prince with Havana.  I'm currently reading Carlos Eire's autobiography, "Learning to Die in Miami".  Eire appears to believe with all his heart that the Castro experience was a nightmare — and yet just compare Cuba and Haiti today.  Haiti has been under the thumb of American and European corporatists for ages and ages.  And now, despite all its amazingly fertile soil and impressive mineral riches, Haiti is currently one of the poorest countries in the world.  Seven out of ten Haitians live on less than $2 a day, according to the International Red Cross.
But in Havana under the Castro brothers, everyone has a good chance of getting a college education.
But, hell, most Haitians are lucky to have a chance to even get as far as fourth grade!
If Fulgencio Batista and the American corporatists who owned him back in 1959 had remained in power and Castro had never taken over Cuba, Cuba today would more than likely look just like Haiti today.  And does anyone with a working brain really think that having American and European oil companies, bankers, war profiteers and neo-cons in control in Syria, Venezuela and Ukraine are going to help those countries either?  Hell, just look at what those guys did to Afghanistan, Iraq and Libya — and to Detroit!
It's all too customary for those analyzing the crises humanity faces to associate climate change, aka global warming, with whatever proximate cause they postulate for our imminent demise. John Tirman, for instance, in his book 100 Ways America Is Screwing Up the World lists as the first way "Altering the Earth's Climate". Richard Heinberg of the Post Carbon Institute includes Climate along with Energy and Debt as the three problem areas which threaten our future. Nafez Mossadeq Ahmed, author of A User's Guide to the Crisis of Civilization, integrates climate change with the other crises he believes civilization faces: the financial meltdown, dwindling oil reserves, terrorism and food shortages. This linking of concrete, demonstrable societal ills with the less grounded, more debatable theory of global warming is an ill-considered, strategic mistake, I think, as I believe critics of the global warming theory, the so-called "deniers", are going to win the debate, at least for the near future. It would be a tragedy if valid, much-needed warnings about the dangers haunting our future were to be discredited because of their being tied to discredited fears about climate change.
Here's why I think this is likely to happen. The warming trend which the earth experienced in the thirty years before the turn of this century has virtually stopped. This "hiatus", as it is called, has been going on for over a decade and is likely to continue for another two. Check out this graph from the National Oceanic and Atmospheric Administration:
What do you see? I see a 60-year cycle in which a 30-year cooling period alternates with a 30-year warming period; to wit, from about 1880 to 1910 the mean global temperature went down, then from 1910 to 1940 the earth warmed up, then from 1940 to 1970, the earth cooled slightly, followed by the 30-year period from 1970 to 2000 when the earth warmed dramatically, and finally the dozen years from the turn of the century till now during which the mean temperature hasn't risen (the hiatus). Given that the concept of a mean global temperature is an artificial construct subject to error and manipulation, just looking at this graph what would you predict for the near future? Wouldn't you bet that for the next 20 years or so the earth is not going to get warmer, may even cool a bit?
If this does come to pass, what will be the consequence for the theory of global warming? Won't it be viewed with increasing skepticism by the pubic at large, at least until the next warming demi-cycle commences 20 years from now? Won't the discrediting of the global warming theory infect theories which have been linked to it? Are you willing to wait 20 years for your forewarnings of impending doom to be taken seriously?
Unless you have been following the issue as I have, you are probably not aware that the debate over the theory of global warming has been heating up (pardon the pun) of late, largely because of the prolonged global tepidness. If you believe the science is settled, consider that the "settled" science has generated a multiplicity of climate models which have done a terrible job of forecasting, invariably predicting warmer temperatures than what has actually occurred. If the science is so settled, why have global warming adherents only recently postulated that heat from the warming of the atmosphere is being absorbed by the oceans, their explanation for the hiatus? The models did not foresee this.What about that august body of climate scientists who comprise the UN's Intergovernmental Panel on Climate Change (IPCC), you ask. Just recently the IPCC certified once again – with 95% certainty (whatever that means) – that human activities are causing global warming? We are told that 1800 scientists arrived at this conclusion; but, if you look into it, you will find the majority of the scientists on the panel are not climatologists and some not scientists at all. One scientist who served on the IPCC's review committee called global warming fears the worst scientific scandal in history, predicting "When people come to know what the truth is, they will feel deceived by science and scientists."For one side in a debate to label the opposition "deniers" is a sleazy rhetorical gambit usually employed by the name-callers when they are losing the debate (equally true in the case of another group of iconoclasts routinely labeled "deniers", but that's a story for another day). Consider who some of these so-called "deniers" are:
Richard Lindzen, Professor of Meteorology at MIT
Fred Singer, Professor emeritus of environmental science at the University of Virginia
Roy Spencer, former NASA Senior Scientist for Climate Studies
Judith Curry, chair of the School of Earth and Atmospheric Sciences at Georgia Tech
Pat Michaels, past president of the American Association of State Climatologists
Do you really believe such people deny science?
Perhaps you believe such credentialed skeptics are in the pay of Big Oil. It's true that the global warming theory was once opposed by powerful interests who dominated the debate; but, when a former Vice President of the United States can win both an Academy Award and a Noble Prize for a highly tendentious film full of hyperbole and misinformation, you know there are powerful interests behind the global warming scare, too. If Big Oil has bought off the media, why is it that so many people are aware that sea ice in the Arctic shrank to its smallest extent in modern times in 2012 but not that sea ice in the Antarctic was expanding at the same time or that ice in the Arctic made its largest rebound ever last year, approaching the average for the last thirty years? Why is every extreme weather event – even blizzards– attributed to global warming when, in fact, extreme events like hurricanes, forest fires, tornados and even record high temperatures are less prevalent today than in the past?
I'm not a climatologist, so I'm neither inclined nor competent to expound on the science of global warming, but I do hope to have convinced you that the science surrounding global warming is far from settled and consequently to hitch your wagon to that fading star is not a good idea. Please, at least listen to what the skeptics have to say – for instance, by consulting the websites I've cited – before you link the fate of your own doleful prophecies to that of climate change.
Two rather interesting things have happened to me lately.  First, I had one of my teeth pulled this week — totally not a fun experience.  And, second, while still oozing pain and eating Hydrocodone and climbing the walls, I started reading a book about plants by Michael Pollan, entitled "The Botany of Desire".  So now I have suddenly become an expert on both pain-killers and gardens.
Having one's tooth pulled is like, er, pulling teeth.  It really hurts.  So from now on I plan to brush and floss constantly and do whatever it takes to keep my remaining teeth healthy and clean.  Someone recommended gargling with Bombay Sapphire twice a day.  I'd try even that.
Even though the student doctor who pulled my tooth at the UCSF School of Dentistry was an angel of mercy combined with Dr. McDreamy, having one's tooth extracted is never pretty.  I kept reciting that mantra "Challenges make me stronger" in the dental chair and silently doing jin shin jyutzu — but even that didn't work.  I'm a wimp.  And not only that but once the tooth was out, they wouldn't even give it back to me to give to the Tooth Fairy.  Rats.
Then, once finally back home and safely collapsed into bed, I took some of those "opioid" pain-killers they gave me — and dreamed that I was an escaped convict running a funeral parlor in my childhood hometown (Millbrae) and hiding under my daughter Ashley's bed (probably from NSA).  Forget that.  No more weird Kubla-Khan dreams for me.  I'm sticking with aspirin.
Now I'm wishing there was something I could do to replace my poor sweet little lost tooth, but there doesn't seem to be anything.  Getting a dental implant is expensive — $3,000 per tooth, even done by a dental student.  Who can afford that?  Not me.  So now I've got a big gap in my teeth.  How ugly is that!  However, I won't be alone for long.  Two-thirds of America will soon be joining me in being gap-toothed as well unless affordable dental insurance becomes available reasonably soon.  But if not, then we'll all be totally ugly together, not just me.  America goes third-world.  Who would have thought.
I also have a postage-stamp sized garden attached to my apartment, which grows nothing.  According to Michael Pollan, this shouldn't be happening — unless there has been some really heavy-duty weed killer sprayed there at one time.  Yes, there was.  But not by me.  So, apparently, what I need now is all new dirt.  And at the rate that American agribusiness keeps using millions of tons of herbicides and pesticides each year, all of America will soon be needing all new dirt too.
"Actually, it's not the heavy use of herbicides and pesticides that is causing the most problems on huge agribusiness farms," to summarize one of Pollan's chapters on the potato, "but rather the monoculture nature of their crops.  Organic farmers can vary and rotate what they plant and thus stave off insect and fungal infestations — but if your main customer for potatoes is McDonalds, then you have to plant Burbank russets and only Burbank russets all of the time.  So it is Americans themselves that are causing the major use of [stuff] like Roundup and Roundup-Ready GMOs."
So if I promise to plant a huge variety of everything in my garden, from fingerling potatoes to roses to dandelions, then will at least SOMETHING finally grow?
And will I also be able to grow a new tooth?
Aside from Michael Pollan, why else have my thoughts been turning to gardening lately?  In the middle of freaking January?  Because this winter has been the sunniest one in Berkeley that I have ever seen.  It's like freaking summer here now, like July, every day — even going beyond April or May.  www.weather.com even declared Berkeley a drought area the other day.  Time to bust out the seeds.
Michael Pollan also wrote about cannabis in his book on plants.  "Marijuana doesn't make you forgetful of everything.  It just makes you forget [stuff] that's not important."  Interesting.  I always forget names.  So I guess names aren't all that important or necessary for me to remember.  Whew.  I'm off the hook then.  Am not getting senile dementia after all, just sorting out my priorities.
And maybe that's why Alzheimer sufferers forget so much mental stuff too — they might be shutting down everything that won't immediately help them to cope with this devastating disease (yes, I know that Alzheimers also rots its victims' brains — but isn't that just one more good reason for them to shut said brains down?)
With regard to raising the minimum wage here in soon-to-be-toothless America, wouldn't it make more sense to just cut the rate of inflation instead?  Starting by eliminating the Federal Reserve and its tendencies to print meaningless Monopoly money and to finance Endless War?  And, while we're at it, let's stop giving out billions in "food stamps" to corporate welfare queens like Bank of America, BP, WalMart, Halliburton and Monsanto.  Works for me.  And can we also please bring our millions of jobs back from overseas too?
Back in 1963, I made $1.75 an hour while working in the post office on weekends and during summers.  With this money plus some help from my parents (yes, they could also afford to help me back then), I was able to graduate from San Jose State College without requiring any student loans.  And in 1966, when I got a big salary-bump to $3.50 an hour for working the stamp window instead of sorting mail, I was able put myself through graduate school at UC Berkeley, just by working during summer vacations.  Can you even imagine staying alive and not homeless in Berkeley today on that kind of salary — let alone paying for your tuition at Cal as well.
What has happened to all of America's jobs and wealth since the 1960s, back when we were the richest country in the world?  That's a no-brainer.  It's all flown away into the pockets of Wall Street mega-bankers, the numbered Cayman accounts of war profiteers and the fat wallets of all those corporate welfare queens who currently own and run our government.
While it's always a good idea to raise America's minimum wage a few dollars, it's also important to stop runaway inflation — and to also start lowering a certain type of maximum wage as well:  The maximum amount that rich guys can steal from us before they get sent to jail.And we need to put some teeth into these new regulations too.
A poll last year showed that trust in the mainstream media is increasing, which should worry all of us who value truth, integrity and press freedom. Why? Here are 10 disturbing things everyone needs to know about the global media giants who control our supply of information, wielding immense power over the people- and even over the government.
1. Mainstream media exists solely to make profit

What´s the purpose of the mainstream media? Saying that the press exists to inform, educate or entertain is like saying Apple corporation´s primary function is to make technology which will enrich our lives. Actually, the mass media industry is the same as any other in a capitalist society: it exists to make profit. Medialens, a British campaigning site which critiques mainstream (or corporate) journalism, quotedbusiness journalist Marjorie Kelly as saying that all corporations, including those dealing with media, exist only to maximize returns to their shareholders. This is, she said,  ´the law of the land…universally accepted as a kind of divine, unchallengeable truth´. Without pleasing shareholders and a board of directors, mass media enterprises simply would not exist. And once you understand this, you´ll never watch the news in the same way again.
2. Advertisers dictate content
So how does the pursuit of profit affect the news we consume? Media corporations make the vast majority (typically around 75%) of their profit from advertising, meaning it´s advertisers themselves that dictate content- not journalists, and certainly not consumers. Imagine you are editor of a successful newspaper or TV channel with high circulation or viewing figures. You attract revenue from big brands and multinational corporations such as BP, Monsanto and UAE airlines. How could you then tackle important topics such as climate change, GM food or disastrous oil spills in a way that is both honest to your audience and favorable to your clients? The simple answer is you can´t. This might explain why Andrew Ross Sorkin of the New York Times-  sponsored by Goldman Sachs-  is so keen todefend the crooked corporation. Andrew Marr, a political correspondent for the BBC, sums up the dilemma in his autobiography: ´The biggest question is whether advertising limits and reshapes the news agenda. It does, of course. It's hard to make the sums add up when you are kicking the people who write the cheques.´ Enough said…
3. Billionaire tycoons & media monopolies threaten real journalism


The monopolization of the press (fewer individuals or organizations controlling increasing shares of the mass media) is growingyear by year, and this is a grave danger to press ethics and diversity. Media mogul RupertMurdoch´s  neo-liberal personal politics are reflected in his 175 newspapers and endorsed by pundits (see Fox news) on the 123 TV channels he owns in the USA alone. Anyone who isn´t worried by this one man´s view of the world being consumed by millions of people across the globe- from the USA to the UK, New Zealand to Asia, Europe to Australia- isn´t thinking hard enough about the consequences. It´s a grotesquely all-encompassing monopoly, leaving no doubt that Murdoch is one of the most powerful men in the world. But as the News International phone hacking scandal  showed, he´s certainly not the most honorable or ethical. Neither is AlexanderLebedev, a former KGB spy and politician who bought British newspaper The Independent  in 2010.  With Lebedev´s fingers in so many pies (the billionaire oligarch is into everything from investment banking to airlines), can we really expect news coverage from this once well-respected publication to continue in the same vein? Obviously not: the paper had always carried a banner on its front page declaring itself  ´free from party political bias, free from proprietorial influence´, but interestingly this was dropped in September 2011.
4. Corporate press is in bed with the government

Aside from the obvious, one of the most disturbing facts to emerge from Murdoch´s News International phone hacking scandal (background information here ) was the exposure of shady connections  between top government officials and press tycoons. During the scandal, and throughout the subsequent Leveson inquiry into British press ethics (or lack of them), we learned of secret meetings, threatsby Murdoch to politicians who didn´t do as he wanted, and that Prime Minister David Cameron has a very close friendship with The Sun´s then editor-in-chief (and CEO of News International) Rebekah Brooks. How can journalists do their job of holding politicians to account when they are vacationing together or rubbing shoulders at private dinner parties? Clearly, they don´t intend to. But the support works both ways- Cameron´s government tried to help Murdoch´s son win a bid for BSkyB, while bizarrely,  warmongering ex Prime Minister Tony Blair is godfather to Murdoch´s daughter Grace. As well as ensuring an overwhelming bias in news coverage and election campaigns, flooding newspapers with cheap and easy articles from unquestioned government sources, and gagging writers from criticizing those in power, these secret connections also account for much of the corporate media´s incessant peddling of the patriotism lie–  especially in the lead-up to attacks on other countries. Here´s an interestinganalysis of The New York Times´s coverage of the current Syria situation for example, demonstrating how corporate journalists are failing to reflect public feeling on the issue of a full-scale attack on Assad by the US and its allies. 

5. Important stories are overshadowed by trivia

You could be forgiven for assuming that the most interesting part of Edward Snowden´s status as a whistleblower was his plane ride from Hong Kong to Russia, or his lengthy stint waiting in Moscow airport for someone- anyone– to offer him asylum. Because with the exception of The Guardian who published the leaks (read them in fullhere), the media has generally preferred not to focus on Snowden´s damning revelations about freedom and tyranny, but rather on banaltrivia – his personality and background, whether his girlfriend misses him, whether he is actually a Chinese spy, and ahhh, didn´t he remind us all of Where´s Waldo as he flitted across the globe as a wanted fugitive? The same could be said of Bradley Manning´s gender re-assignment, which conveniently overshadowed the enormous injustice of his sentence. And what of Julian Assange? His profile on the globally-respected BBC is dedicated almost entirely to a subtle smearing of character, rather than detailing Wikileaks´s profound impact on our view of the world. In every case, the principal stories are forgotten as our attention, lost in a sea of trivia, is expertly diverted from the real issues at hand: those which invariably, the government wants us to forget.
6. Mainstream media doesn´t ask questions

´Check your sources, check your facts´ are golden rules in journalism 101, but you wouldn´t guess that from reading the mainstream press or watching corporate TV channels. At the time of writing, Obama is beating the war drums over Syria. Following accusations by the US and Britain that Assad was responsible for a nerve gas attack on his own civilians last month, most mainstream newspapers- like the afore-mentioned New York Times– have failed to demand evidence or call for restraint on a full-scale attack. But there are several good reasons why journalists should question the official story. Firstly, British right-wing newspaper The Daily Mail actually ran a news piece back in January this year, publishing leaked emails from a British arms company showing the US was planning a false flag chemical attack on Syria´s civilians. They would then blame it on Assad to gain public support for a subsequent full-scale invasion. The article was hastily deleted but a cached version still exists. Other recent evidence lends support to the unthinkable. It has emerged that the chemicals used to make the nerve gas were indeed shipped from Britain, and German intelligenceinsists Assad was not responsible for the chemical attack. Meanwhile, a hacktivist has come forward with alleged evidence of US intelligence agencies´ involvement in the massacre (download it for yourself here ), with a growing body of evidence suggesting this vile plot was hatched by Western powers. Never overlook the corporate media´s ties to big business and big government before accepting what you are told- because if journalism is dead, you have a right and a duty to ask your own questions.
7. Corporate journalists hate real journalists

Sirota rightly points out the irony of this: ´Here we have a reporter expressing excitement at the prospect of the government executing the publisher of information that became the basis for some of the most important journalism in the last decade.´ Sirota goes on to note various examples of what he calls the ´Journalists against Journalism club´, and gives severalexamples of how The Guardian columnist Glenn Greenwald has been attacked by the corporate press for publishing Snowden´s leaks. The New York Times' Andrew Ross Sorkin called for Greenwald's arrest, while NBC's David Gregory´s declared that Greenwald has ´aided and abetted Snowden´. As for the question of whether journalists can indeed be outspoken, Sirota accurately notes that it all depends on whether their opinions serve or challenge the status quo, and goes on to list the hypocrisy of Greenwald´s critics in depth: ´Grunwald has saber-rattling opinions that proudly support the government's drone strikes and surveillance. Sorkin's opinions promote Wall Street's interests. (The Washington Post´s David) Broder had opinions that supported, among other things, the government's corporate-serving "free" trade agenda. (The Washington Post´s Bob) Woodward has opinions backing an ever-bigger Pentagon budget that enriches defense contractors. (The Atlantic´s Jeffrey) Goldberg promotes the Military-Industrial Complex's generally pro-war opinions. (The New York Times´s Thomas) Friedman is all of them combined, promoting both "free" trade and "suck on this" militarism. Because these voices loyally promote the unstated assumptions that serve the power structure and that dominate American politics, all of their particular opinions aren't even typically portrayed as opinions; they are usually portrayed as noncontroversial objectivity.´
8. Bad news sells, good news is censored, and celebrity gossip trumps important issues

It´s sad but true: bad news really does sell more newspapers. But why? Are we really so pessimistic? Do we relish the suffering of others? Are we secretly glad that something terrible happened to someone else, not us? Reading the corporate press as an alien visiting Earth you might assume so. Generally, news coverage is sensationalist and depressing as hell, with so many pages dedicated to murder, rape and pedophilia and yet none to the billions of good deeds and amazingly inspirational movements taking place every minute of every day all over the planet. But the reasons we consume bad news are perfectly logical. In times of harmony and peace, people simply don´t feel the need to educate themselves as much as they do in times of crises. That´s good news for anyone beginning to despair that humans are apathetic, hateful and dumb, and it could even be argued that this sobering and simple fact is a great incentive for the mass media industry to do something worthwhile. They could start offering the positive and hopeful angle for a change. They could use dark periods of increased public interest to convey a message of peace and justice. They could reflect humanity´s desire for solutions and our urgent concerns for the environment. They could act as the voice of a global population who has had enough of violence and lies to campaign for transparency, equality, freedom, truth, and real democracy. Would that sell newspapers? I think so. They could even hold a few politicians to account on behalf of the people, wouldn´t that be something? But for the foreseeable future, it´s likely the corporate press will just distract our attention with another picture of Rhianna´s butt, another rumor about Justin Bieber´s coke habit, or another article about Kim Kardashian (who is she again?) wearing perspex heels with swollen ankles while pregnant. Who cares about the missing$21 trillion, what was she thinking?
9. Whoever controls language controls the population

Have you read George Orwell´s classic novel1984 yet? It´s become a clichéd reference in today´s dystopia, that´s true, but with good reason. There are many- too many- parallels between Orwell´s dark imaginary future and our current reality, but one important part of his vision concerned language. Orwell coined the word ´Newspeak´  to describe a simplistic version of the English language with the aim of limiting free thought on issues that would challenge the status quo (creativity, peace, and individualism for example). The concept of Newspeak includes what Orwell called ´DoubleThink´-  how language is made ambiguous or even inverted to convey the opposite of what is true. In his book, the Ministry of War is known as the Ministry of Love, for example, while the Ministry of Truth deals with propaganda and entertainment. Sound familiar yet? Another book that delves into this topic deeper is Unspeak, a must-read for anyone interested in language and power and specifically how words are distorted for political ends. Terms such as ´peace keeping missiles´, ´extremists´ and ´no-fly zones´, weapons being referred to as ´assets´, or misleading business euphemisms such as ´downsizing´ for redundancy and ´sunset´ for termination- these, and hundreds of other examples, demonstrate how powerful language can be. In a world of growing corporate media monopolization, those who wield this power can manipulate words and therefore public reaction, to encourage compliance, uphold the status quo, or provoke fear.
10. Freedom of the press no longer exists

The only press that is currently free (at least for now) is the independent publication with no corporate advertisers, board of directors, shareholders or CEOs. Details of how the state has redefined journalism are noted here and are mentioned in #7, but the best recent example would be the government´s treatment of The Guardian over its publication of the Snowden leaks. As a side note, it´s possible this paper plays us as well as any other- The Guardian Media Group isn´t small fry, after all. But on the other hand- bearing in mind points 1 to 9- why should we find it hard to believe that after the NSA files were published, editor Alan Rusbridge wastold by the powers that be ´you´ve had your fun, now return the files´, that government officials stormed his newsroom and smashed up hard drives, or that Greenwald´s partner David Miranda wasdetained for 9 hours in a London airport under the Terrorism Act as he delivered documents related to the columnist´s story? Journalism, Alan Rusbridge lamented, ´may be facing a kind of existential threat.´ As CBS Evening News anchor Dan Rather wrote: 'We have few princes and earls today, but we surely have their modern-day equivalents in the very wealthy who seek to manage the news, make unsavory facts disappear and elect representatives who are in service to their own economic and social agenda… The "free press" is no longer a check on power. It has instead become part of the power apparatus itself.'
Sophie is a staff writer for True Activist and a freelance feature writer for various publications on society, activism and other topics. You can read more of her stuff here.
Source: True Activist
Control oil and you control nations," said US Secretary of State Henry Kissinger in the 1970s.  "Control food and you control the people."
Global food control has nearly been achieved, by reducing seed diversity with GMO (genetically modified) seeds that are distributed by only a few transnational corporations. But this agenda has been implemented at grave cost to our health; and if the Trans-Pacific Partnership (TPP) passes, control over not just our food but our health, our environment and our financial system will be in the hands of transnational corporations.
Profits Before Populations
Genetic engineering has made proprietary control possible over the seeds on which the world's food supply depends. According to an Acres USA interview of plant pathologist Don Huber, Professor Emeritus at Purdue University, two modified traits account for practically all of the genetically modified crops grown in the world today. One involves insect resistance. The other, more disturbing modification involves insensitivity to glyphosate-based herbicides (plant-killing chemicals). Often known as Roundup after the best-selling Monsanto product of that name, glyphosate poisons everything in its path except plants genetically modified to resist it.
Glyphosate-based herbicides are now the most commonly used herbicides in the world. Glyphosate is an essential partner to the GMOs that are the principal business of the burgeoning biotech industry. Glyphosate is a "broad-spectrum" herbicide that destroys indiscriminately, not by killing unwanted plants directly but by tying up access to critical nutrients.
Because of the insidious way in which it works, it has been sold as a relatively benign replacement for the devastating earlier dioxin-based herbicides. But a barrage of experimental data has now shown glyphosate and the GMO foods incorporating it to pose serious dangers to health. Compounding the risk is the toxicity of "inert" ingredients used to make glyphosate more potent. Researchers have found, for example, that the surfactant POEA can kill human cells, particularly embryonic, placental and umbilical cord cells. But these risks have been conveniently ignored.
The widespread use of GMO foods and glyphosate herbicides helps explain the anomaly that the US spends over twice as much per capita on healthcare as the average developed country, yet it is rated far down the scale of the world's healthiest populations. The World Health Organization has ranked the US LAST out of 17 developed nations for overall health.
Sixty to seventy percent of the foods in US supermarkets are now genetically modified. By contrast, in at least 26 other countries—including Switzerland, Australia, Austria, China, India, France, Germany, Hungary, Luxembourg, Greece, Bulgaria, Poland, Italy, Mexico and Russia—GMOs are totally or partially banned; and significant restrictions on GMOs exist in about sixty other countries.
A ban on GMO and glyphosate use might go far toward improving the health of Americans. But the Trans-Pacific Partnership, a global trade agreement for which the Obama Administration has sought Fast Track status, would block that sort of cause-focused approach to the healthcare crisis.
Roundup's Insidious Effects
Roundup-resistant crops escape being killed by glyphosate, but they do not avoid absorbing it into their tissues. Herbicide-tolerant crops have substantially higher levels of herbicide residues than other crops. In fact, many countries have had to increase their legally allowable levels—by up to 50 times—in order to accommodate the introduction of GM crops. In the European Union, residues in food are set to rise 100-150 times if a new proposal by Monsanto is approved. Meanwhile, herbicide-tolerant "super-weeds" have adapted to the chemical, requiring even more toxic doses and new toxic chemicals to kill the plant.
Human enzymes are affected by glyphosate just as plant enzymes are: the chemical blocks the uptake of manganese and other essential minerals. Without those minerals, we cannot properly metabolize our food. That helps explain the rampant epidemic of obesity in the United States. People eat and eat in an attempt to acquire the nutrients that are simply not available in their food.
According to researchers Samsell and Seneff in Biosemiotic Entropy: Disorder, Disease, and Mortality (April 2013):
Glyphosate's inhibition of cytochrome P450 (CYP) enzymes is an overlooked component of its toxicity to mammals. CYP enzymes play crucial roles in biology . . . . Negative impact on the body is insidious and manifests slowly over time as inflammation damages cellular systems throughout the body. Consequences are most of the diseases and conditions associated with a Western diet, which include gastrointestinal disorders, obesity, diabetes, heart disease, depression, autism, infertility, cancer and Alzheimer's disease.
More than 40 diseases have been linked to glyphosate use, and more keep appearing. In September 2013, the National University of Rio Cuarto, Argentina, published research finding that glyphosate enhances the growth of fungi that produce aflatoxin B1, one of the most carcinogenic of substances. A doctor from Chaco, Argentina, told Associated Press, "We've gone from a pretty healthy population to one with a high rate of cancer, birth defects and illnesses seldom seen before." Fungi growths have increased significantly in US corn crops.
Glyphosate has also done serious damage to the environment. According to an October 2012 report by the Institute of Science in Society:
Agribusiness claims that glyphosate and glyphosate-tolerant crops will improve crop yields, increase farmers' profits and benefit the environment by reducing pesticide use. Exactly the opposite is the case. . . . [T]he evidence indicates that glyphosate herbicides and glyphosate-tolerant crops have had wide-ranging detrimental effects, including glyphosate resistant super weeds, virulent plant (and new livestock) pathogens, reduced crop health and yield, harm to off-target species from insects to amphibians and livestock, as well as reduced soil fertility.
Politics Trumps Science
In light of these adverse findings, why have Washington and the European Commission continued to endorse glyphosate as safe? Critics point to lax regulations, heavy influence from corporate lobbyists, and a political agenda that has more to do with power and control than protecting the health of the people.
In the ground-breaking 2007 book Seeds of Destruction: The Hidden Agenda of Genetic Manipulation, William Engdahl states that global food control and depopulation became US strategic policy under Rockefeller protégé Henry Kissinger. Along with oil geopolitics, they were to be the new "solution" to the threats to US global power and continued US access to cheap raw materials from the developing world. In line with that agenda, the government has shown extreme partisanship in favor of the biotech agribusiness industry, opting for a system in which the industry "voluntarily" polices itself. Bio-engineered foods are treated as "natural food additives," not needing any special testing.
Jeffrey M. Smith, Executive Director of the Institute for Responsible Technology, confirms that US Food and Drug Administration policy allows biotech companies to determine if their own foods are safe. Submission of data is completely voluntary. He concludes:
In the critical arena of food safety research, the biotech industry is without accountability, standards, or peer-review. They've got bad science down to a science.
Whether or not depopulation is an intentional part of the agenda,widespread use of GMO and glyphosate is having that result. The endocrine-disrupting properties of glyphosate have been linked to infertility, miscarriage, birth defects and arrested sexual development. In Russian experiments, animals fed GM soy were sterile by the third generation. Vast amounts of farmland soil are also being systematically ruined by the killing of beneficial microorganisms that allow plant roots to uptake soil nutrients.
In Gary Null's eye-opening documentary Seeds of Death: Unveiling the Lies of GMOs, Dr. Bruce Lipton warns, "We are leading the world into the sixth mass extinction of life on this planet. . . . Human behavior is undermining the web of life."
The TPP and International Corporate Control
As the devastating conclusions of these and other researchers awaken people globally to the dangers of Roundup and GMO foods, transnational corporations are working feverishly with the Obama administration to fast-track the Trans-Pacific Partnership, a trade agreement that would strip governments of the power to regulate transnational corporate activities. Negotiations have been kept secret from Congress but not from corporate advisors, 600 of whom have been consulted and know the details. According to Barbara Chicherio in Nation of Change:
The Trans Pacific Partnership (TPP) has the potential to become the biggest regional Free Trade Agreement in history. . . .

The chief agricultural negotiator for the US is the former Monsanto lobbyist, Islam Siddique.  If ratified the TPP would impose punishing regulations that give multinational corporations unprecedented right to demand taxpayer compensation for policies that corporations deem a barrier to their profits.

. . . They are carefully crafting the TPP to insure that citizens of the involved countries have no control over food safety, what they will be eating, where it is grown, the conditions under which food is grown and the use of herbicides and pesticides.
Food safety is only one of many rights and protections liable to fall to this super-weapon of international corporate control. In an April 2013 interview on The Real News Network, Kevin Zeese called the TPP "NAFTA on steroids" and "a global corporate coup." He warned:
No matter what issue you care about—whether its wages, jobs, protecting the environment . . . this issue is going to adversely affect it . . . .

If a country takes a step to try to regulate the financial industry or set up a public bank to represent the public interest, it can be sued . . . .
Return to Nature: Not Too Late
There is a safer, saner, more earth-friendly way to feed nations. While Monsanto and US regulators are forcing GM crops on American families, Russian families are showing what can be done with permaculture methods on simple garden plots. In 2011, 40% of Russia's food was grown on dachas (cottage gardens or allotments). Dacha gardens produced over 80% of the country's fruit and berries, over 66% of the vegetables, almost 80% of the potatoes and nearly 50% of the nation's milk, much of it consumed raw. According to Vladimir Megre, author of the best-selling Ringing Cedars Series:
Essentially, what Russian gardeners do is demonstrate that gardeners can feed the world – and you do not need any GMOs, industrial farms, or any other technological gimmicks to guarantee everybody's got enough food to eat. Bear in mind that Russia only has 110 days of growing season per year – so in the US, for example, gardeners' output could be substantially greater. Today, however, the area taken up by lawns in the US is two times greater than that of Russia's gardens – and it produces nothing but a multi-billion-dollar lawn care industry.
In the US, only about 0.6 percent of the total agricultural area is devoted to organic farming. This area needs to be vastly expanded if we are to avoid "the sixth mass extinction." But first, we need to urge our representatives to stop Fast Track, vote no on the TPP, and pursue a global phase-out of glyphosate-based herbicides and GMO foods. Our health, our finances and our environment are at stake.
Ellen Brown is an attorney, president of the Public Banking Institute, and author of twelve books, including the best-selling Web of Debt. In The Public Bank Solution, her latest book, she explores successful public banking models historically and globally. Her blog articles are at EllenBrown.com.
Source: Ellen Brown | CounterPunch
No doubt you have heard about the War on Drugs, the War on Terror and the War on Happiness. However, you may not be familiar with the War on God, possibly because it would be an unpopular war to discuss publicly. By the "War on God" (definition) we mean the collection of strategies, methods and techniques which have the combined effect of preventing or seriously hampering the efforts of individuals to seek or achieve legitimate Spiritual enlightenment and the Soul's eventual return to God.
The War on God is an ancient war. While the United States and other countries play an active role in this war today, they definitely did not initiate the war. If you want to use the Christian bible as a reference, you could argue that the War on God began shortly after man was created and rejected God in favor of Satan. Clearly, in some form, the War on God has existed throughout human history.
Today, the United States has effectively broken off diplomatic relations with God. The oligarchs who run the country never physically die and so their souls stay on Earth. Apparently, the United States actually believes that its technology, occult knowledge and black magic skills place it in a position which is superior to God.
We know from whistleblowers like David Morehouse that the United States sponsors and trains a cult of psychics to carry out psychic espionage (remote viewing) and also assassinations using psychic black magic techniques. According to clips of his various interviews on YouTube, it was the training in psychic assassinations which caused Morehouse to become disillusioned, quit the secret program and blow the whistle on the operation. Other countries may well operate similar programs but the details will remain unknown until someone defects and exposes them.
The leaders of the United States have always worshiped Satan. The United States was founded by a cult of Satanists known as the Masons and remains under control of that cult today. By rebranding their cult as a nation state, the cult created the appearance of legitimacy. Cult secrets simply transitioned to state secrets. Cult threats to kill anyone telling their secrets transitioned to the crimes of treason and espionage.
Nothing really changed except for the rebranding from a cult to a government. Today, essentially all members of the CIA, NSA and NASA are Masons. All US presidents have been Masons with the two exceptions of Abraham Lincoln and John Kennedy who were both assassinated.
The term "national security" refers to the security of the cult and not to the security of the general population. The Masonic motto is "If you are not one of us, you are nothing". The cult exists only to enrich itself.
The Masons study and practice the occult. Serious study begins after they take a formal oath of allegiance to Satan at the 30th degree initiation. Basic occult knowledge is neutral and everyone who advances Spiritually learns it. However, Masons seek this knowledge to gain power and control over others as opposed to knowledge for personal advancement. This choice, commonly called the Left Hand Path, places them in opposition to the will of God.
If the Satanists simply wanted to sell their Souls to Satan and mind their own business, one could argue that they had that right because they had free choice. However, the situation is not that simple. The Satanic oligarchs did freely choose to worship Satan. However, they also desire a comfortable life. They don't want to do any "grunt" work. Therefore, they have enslaved the remainder of humanity and are holding their Souls prisoner on this planet to service their needs. Therefore, if you, as an innocent Soul, ever plan to escape from this place and return to God, it is in your interest to investigate and gain an understanding of this war so that you will have an opportunity to Spiritually evolve. Otherwise, your Soul will remain a prisoner here — lifetime after lifetime — serving the Satanic overlords essentially forever.
Earth Based Religions
The phrase Earth Based Religions (definition) refers to religious schools which seek and use knowledge, including occult knowledge, to enhance their experiences during their human lifetimes as opposed to using the same knowledge to foster Spiritual development with the ultimate goal of achieving a stable non-physical Spiritual existence.
Although Pagan religions are usually grouped into this category, a more careful examination would reveal that essentially all mainstream religions are Earth based religions. Mainstream religions make constant references to God and Heaven but never explain exactly what they are talking about. Their books concentrate on historical narratives concerning how people in the past lived and coped with the basic problems of human physical existence. They never give details of any level of Spiritual existence or even any specific hints about what life beyond death will be.
Let's try an example. Suppose you have never seen a motor vehicle. You have heard vague stories that they exist, but that is all. Then, suddenly, you find yourself behind the wheel of a car on a high speed road like the US interstate system or the A roads in Britain. What would you guess would be your chance of survival? Try less than zero.
Now suppose you physically die. Suddenly, you find yourself in your Astral body. However, no one ever told you that you have an Astral body. It does not operate under the same rules as a physical body does. It is a very pliant and nimble body. It can travel in time to the past or future, access any plane and subplane in the Astral universe and research the absolute accurate and incorruptible records system known as the Akashic Records to name just a few. But, as in the previous example, you never learned how to "drive" it.
You would have done fine on the highway if you had gradually learned to drive a motor vehicle. You would do fine after death if you had some experience and training with your Astral body. However, no one ever taught you. What practical use is any religion that constantly rants about Heaven but offers no practical advice about your life after this life?
This information may have been a guarded secret in the past, but those days are gone. You can research this information to your heart's content on the internet, locate legitimate Spiritual groups and learn from those who can leave their physical body and explore the non-physical dimensions. But, don't expect any help from a mainstream church.
You might do well to recall the famous quote attributed to Jesus, "The truth will set you free". Mainstream churches are large, rich institutions. They did not get that way by "setting people free". They got that way by terrifying their followers with ridiculous horror stories of what will happen to them if they do not obey their crazy doctrines, stay with them and give them all their money.
Gnostic and other "non-traditional" religions may be Spiritual based as opposed to Earth based. Jesus always reminded everyone that he represented a kingdom "not of this world". If we had accurate records of his true lectures we would no doubt find practical instructions and information about this "other world". We don't have this information because any practical Spiritual teachings he might have given were censored out to create the simplified — but Spiritually sterile — mainstream religions we have today. They are simple to comprehend and follow but will not lead you anywhere except another physical lifetime somewhere on Earth.
Life Before Technology
Before technology life was simple. Although existence was hard, the opportunity for Spiritual experiences was greater than today. Consider, for example, all the empty time you would have as, say, a sheep herder. Nothing to do except make sure the sheep kept moving. In this situation, there was ample opportunity for the mind to wander and perhaps contemplate and glimpse other realities.
Also, and perhaps most important, no electric grid existed on the planet. Electric fields appear as solid "matter" in the Astral dimension and so can affect Astral experiences — generally in a negative way. Artificially created electromagnetic waves which blanket the planet today also have subtle and generally negative effects on living creatures.
Pagan groups generally conduct occult rituals outdoors and away from high population areas. When buildings are used, it is desirable that they be made only of wood and assembled without any metal (nails) and, of course, have no electrical wires.
Both good and evil existed before technology as they always have. It was possible to use psychological propaganda to influence and control susceptible masses of people. However, the positive and negative forces were more in balance. It was not possible for a single group to successfully dominate the planet.
Drugs existed in the form of various plants. Adepts learned how to use them to help or harm others. People with developed psychic abilities existed as they always have and white and black occult schools existed. Legitimate Spiritual masters existed.
Some techniques that thrived have essentially become extinct because the population of the planet has devolved. It is next to impossible to successfully teach Tantra (sex yoga), because today's generation is incapable of the required level of self control. Classic Tibetan yoga techniques are still taught in isolated areas, but the masters — for good reason — will no longer consider trusting outsiders.
Information Control Techniques
Information control is essential for protecting the integrity of a compartment. People are held as slaves by constructing an information box which holds the slaves in an information prison. As long as the "walls" of the compartment remain impenetrable, the compartment — or belief system — will be stable and no slave will escape.
Considerable energy is required to achieve this. Those assigned to protect the walls obviously know that the compartment is an intellectual illusion. Therefore, they must be sworn to secrecy and intimidated in such a way that they will not compromise the integrity of the compartment. It only takes one "leak" to initiate a chain of events which could collapse the compartment and so allow the slaves to escape.
Consider, for example, the Snowden leaks. One person sharing knowledge has totally destroyed the illusion of privacy that most people had accepted as fact. It will not be possible to reconstruct this illusion. The compartment has collapsed.
Similar principles apply in the Spiritual spectrum. Because of the characteristics of the human bodies in use on this planet, most people do not retain any conscious memory of events before they were born. This is not universally true. Life forms on many other planets retain the memories of previous existences. Because humans generally do not have this recall, they are easily enslaved and can be conditioned to believe most anything.
To maintain a state of Spiritual ignorance it is important to institute methods which will prevent people from realizing that they are actually Souls experiencing a constructed illusion. People somehow reaching this state, sometimes referred to as "self realization", will no longer respond to establishment propaganda and are generally considered a threat to the current social order.
The easiest and most direct method to achieve a stable slave population is simply not to talk about anything even vaguely esoteric. For example, how often have you heard the words astral, chakra or aura mentioned on a mainstream TV channel?
Most people will then likely "remain asleep" throughout their entire lifetime and will be no problem. Unfortunately, people have a natural desire — even though it may be an unconscious desire — to Spiritually evolve. It is, after all, the true purpose of human existence.
When someone tries to break away from the contrived illusions more direct methods are needed to return the slave to a state of ignorance. Today, various methods which cause brain damage — generally performed by psychiatrists — are used to negate any success in Spiritual evolution and return the slave to a state of vacant contentment.
Diversions and Techniques Promoting Inaction
The simplest and most effective diversionary technique is to promote scientific atheismand darwinian evolutionary philosophy as established fact. If you can get someone to buy into this philosophy, their fate is sealed. Even if they experience some contact with another dimension, such as an out-of-body experience, they will follow their programming, dismiss the experience as a delusion and refuse to investigate further. When they die, they will be totally lost and confused, flounder around on some lower Astral plane and eventually reincarnate just as Spiritually ignorant as before.
A side effect of accepting scientific atheism, which totally cripples Spiritual progress, is the acceptance of suicide as a way out of life's problems. Suicide becomes a learned reaction. Consequently, when the Soul is sent back into another physical lifetime, it is likely to commit suicide again when faced with some unpleasant event. It never learns, and this cycle can repeat essentially indefinitely. Dealing with this is one of the most difficult problems faced by the administrators who work on the Astral planes.
For those who want more than scientific atheism, there is mainstream garden variety religion. Mainstream Christianity has developed a clever stonewalling technique that has worked to promote inaction for thousands of years. This technique is centered upon the argument that no one can make any progress until Jesus returns to show the way. In the meantime, people should just do nothing and wait. The effect of this is essentially the same as scientific atheism. No Spiritual progress is made.
Schemes designed to waste time are common. One really off the wall example is the decision in Syria to prohibit vacuum cleaners and standard flat brooms in homes. "Witch type" brooms consisting of a circular straw bundle are allowed. Surely there must be a good reason to keep these terrorist weapons out of the reach of the typical Syrian housewife. The official reason is to make basic housework as difficult and time consuming as possible so as to prevent the woman from having any free idle time which, if allowed, could lead to the emergence of "immoral thoughts". Perfectly logical!
In the western world, complex bureaucracies seem to be deliberately designed to make the path to whatever you want as difficult as possible. Here the apparent motive is to prevent the acquisition of enough free time for any independent thought process. There are just not enough hours in a day to allow for any quiet contemplation of anything.
"Blank time" is always reported as a factor in the development of Spiritual figures. Time alone in the wilderness, time spent meditating alone in some isolated cave or at least periods of dedicated quiet time somewhere figure prominently in historical accounts of these people.
You may know or have heard of kids who spend all their waking hours playing interactive role model video games with other kids on the internet. They eat meals by the computer and never leave except to briefly sleep before returning to the all important game. Their entire life is spent in an imaginary reality. You may want to consider that your "real" life may not be all that different. You play a role. Your attributes are fixed by what society expects based upon that role. You can't change, because others would notice. Your concept of the world beyond your little world is determined by what you see on TV. Daily, you receive your "fix" of carefully choreographed "programming" which appears unusually coherent because, as you may not know or fully comprehend, everything on TV is controlled by a few corporations and all of them are loyal to the official government party line. If you somehow had the opportunity to break from this structured "game" you play from day to day — say, the opportunity to visit other countries and see other cultures — you would likely realize that your existence has not been that much different from the kid addicted to a computer game. You would find that the actual "real" world had very little relationship to the world you had been conditioned to believe existed.
Chemical Control Techniques
"With the use of chemical brain-control agents it may be possible to control the individual and the masses and to do this unobtrusively and without the active cooperation of the victims — not a question for the future — it is here".
This is a quote from the book by Edgar Cayce titled Edgar Cayce on Atlantis. There are references to Dr. Robert Galbraith Heath, and this book bears a copyright date of 1968. The book cites an interview that Heath gave to a newspaper called The Virginia Lighthouse and cites the above statement made by him on November 20, 1966. Heath founded the Department of Psychiatry and Neurology at Tulane University, New Orleans, in 1949 and remained its Chairman until 1980.
During this period, Tulane University actively participated in the CIA mind control project known as MK Ultra [1]. Also, during this period, Tulane became an active member of the secret Institute for Defense Analyses, or IDA, a corporation whose only client is the US government. Heath reportedly performed many experiments there involving electrical stimulation of the brain via surgically implanted electrodes. This work was reportedly partially financed by the CIA and the US military. Heath is now "officially" [11] deceased.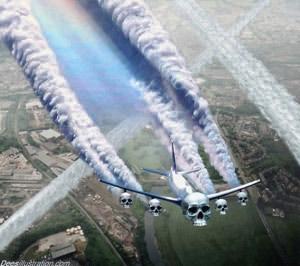 You have been drugged since you were conceived — before you were even born. Your mother was drugged. Soon after birth, you were injected with mercury containing vaccines. And the systematic process of poisoning you never stopped.
By some estimates at least eighty percent of the food in the average supermarket is poison either because it is genetically modified or laced with pesticides and other additives. Even the air is poison now because of geoengineering chemicals sprayed into the upper atmosphere.
It should be noted that things are different in the separate but parallel world of the elite. The Max Keiser show [12] discussed the secret gardens in Japan. These gardens are surrounded by high walls and guarded by the military. They produce the food for the ruling elite. Every plant in the garden has its own health certificate certifying that is pure, healthy and not genetically modified. Obviously, every developed country must have a similar secret supply chain of legitimate food for its ruling class. Certainly the elite know better than anyone that the food supply for the ordinary people is poison. They're not fools. They wouldn't touch the stuff.
Vaccines used for the elite are prepared without the mercury and other toxic additives found in vaccines given to the ordinary people.
Various agents — mainly from plants — have always existed which could be used by those aware of them to harm others or control people by altering their state of consciousness. However, only recently has it become practical to wreck the health of essentially everyone on the planet at the same time. Genetic modification of plants and other life forms used for food has made this possible. Now, quietly, people throughout the world can be sterilized, crippled with serious health problems or even killed by altering the genetic makeup of the food supply. Ordinary people remain generally ignorant of the fact that this awesome power exists and is presently being used against them.
Mind control has become a science. You can't major in it in college because this science is essentially entirely secret. The United States and other countries have spent the equivalent of billions of US dollars investigating and perfecting mind control.
Many secret research projects using unsuspecting or perhaps kidnapped people — some of whom were killed — have been conducted in the past and continue today. We only know about a very few of these projects such as MK Ultra, MK Naomi and Project Other. Even in these projects, specific details are sketchy. From these experiments, practical techniques for creating manchurian candidates and implanting created false personalities and identities have been developed and are in common use today within the secret communities.
Everyone has likely been the victim of some degree of mind control to some extent. Chemical weapons designed to mentally cripple people and render them drooling idiots are freely sold as prescription drugs in drugstores and are available to doctors to use as they please.
The lives of many kids are destroyed by these "drugs" because they have no ability to resist and their parents are ignorant and believe doctors can "do no harm". Actually, today's doctors are agents of the state. Many have top secret clearances and embrace classic Nazi philosophies such as eugenics. Their function is to watch you and make sure you "die appropriately" so as not to burden society. Anything they learn about you and anything you tell them is freely available to anyone in the intelligence community who is curious about you.
Only members of the super elite who are entitled to access top secret medicine will receive legitimate supportive medical care. Ordinary people will be deliberately allowed to die even though doctors with top secret clearances know of effective treatments which would cure them but which are classified and reserved for the chosen elite.
There is no such thing as an incurable disease any more. All the cures have been discovered. If you die, it is because you are not considered important enough to live and not because the cure does not exist.
Common sense should suggest to you that the lives of the elite have statistically different characteristics. For example, members of congress do not live sheltered lives. They work in close quarters and travel extensively both locally and internationally. They are always hanging out with prostitutes as well as playing with the young congressional pages.
Washington D.C. is reported to have more brothels than fast food joints. Strangely, however, these people do not get sick. Have you ever heard that congress had to shut down because everyone was coming down with some infection. It happens in other close populations, so what would make them exempt?
Understanding Astral Damage
Living things have an Astral component. For example, when you cut a leaf and then see the complete leaf on a Kirlian photo you are viewing the Astral component which was unaffected by cutting the physical component because it does not exist in the physical dimension.
Over one hundred years ago, practical techniques for viewing the human Aura were developed by Walter J. Kilner [4]. The original technique used dicyanin dye and a later technique used special glasses. You can't find either one today. In his research, Kilner was able to demonstrate that defects in the human Aura appeared before some corresponding disease manifested in the physical body.
Therefore, he was able to detect and prevent an adverse physical condition before it ever physically materialized. So, you ask, why don't we have this marvelous medical technique available today? Well, we do. It is in use in top secret medicine. However, only the approved elite now have access to it. The information has been removed from public knowledge and classified.
In conventional allopathic medicine, which is based upon scientific atheism and sold to the general public, there is officially no such thing as an Astral body. Conventional medicine denies the existence of anything beyond the physical dimension. Since the Astral body officially does not exist, it is not recognized as a crime to deliberately harm it.
Damage to the Astral body can be compared to damage to the physical body. If you punch holes in the physical body by cutting it, shooting bullets at it or whatever, blood runs out and germs get in. If you cause enough damage, the body dies. Astral bodies do not die, but can suffer critical energy losses. Similar to physical bodies, punching holes in the Astral body allows essential energy to escape and harmful energies to enter.
There are many events which can harm your Astral body. It is in your interest to understand these events because your Astral body will be your primary body when your physical body dies. If it has been damaged, you will be at a severe disadvantage. The chosen elite have perfect Auras because they can use the Aura balancing machines available to them at any top secret medicine provider. However, you cannot.
Also, the ruling elite seem to take some delight in causing harm to the "ordinary" people. Consequently, many drugs, food additives, GMO foods and industrial chemicals found in the environment cause Astral damage. Chemicals recognized as poisons and banned in other countries can be freely added to foods given to ordinary people in the US.
Obviously, there must exist a secret supply chain of safe food and water which is available to the chosen since they know of the contamination and certainly would not want to harm themselves or their friends.
There are ways to closely duplicate the secret techniques available only to the elite. If you can see auras or can find a reputable psychic who can, you can approximate the techniques developed by Kilner and available to everyone over a hundred years ago. Although the secret aura balancing machines are more accurate, a competent psychic healer can do the same thing. Actually, since psychics have always existed, similar techniques have been available throughout the ages to those who were aware.
Fluoride
The concept of adding fluoride to drinking water for the purpose of mind control is said to have originated in the 1930′s as a result of collaboration between German and Russian scientists [2]. Sodium fluoride was originally used and was found to cause a "mild lobotomy" in people who consumed small quantities. The effects were considered to be non reversible after one year of continuous use of the tainted water. Hitler added sodium fluoride to the water in his concentration camps to make the prisoners docile and cooperative as they waited for death.
Sodium fluoride (NaF) is used today in personal products like toothpaste. To poison the water supply of an entire country with sodium fluoride would be expensive. However, it just so happens that there is a waste product created during the manufacture of phosphate fertilizers, Fluorosilicic acid (H2SiF6), which is classified as hazardous waste and would be expensive to dispose of under EPA guidelines.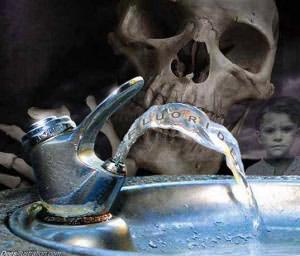 There is lots of this stuff available. This is the poison added to the public water supply in the US and some other countries. It is actually economical for industry because they don't have to pay for hazardous waste disposal. They just pump it into the public water supply.
In the human body, fluoride has an affinity for the pineal gland in the brain. The pineal gland is associated with the "third eye". Everyone has this third eye, but few are aware of it or know how to activate and use it.
Although the pineal gland is part of the physical body, the associated third eye is part of the Astral body and so is invisible in the physical dimension. The third eye allows you to see and communicate with the non-physical dimensions while fully awake and functioning in the physical dimension. So, you could see and carry on a conversation with someone in the physical dimension while invisibly also viewing and communicating with some entity on another plane of existence.
The standard Christian bible refers to the third eye with the phrase, "If thy eye be single thy whole body will be filled with light". However, only students of mysticism would recognize the true meaning of this quote.
Obviously, having this ability would be a threat to the security of any totalitarian society. Poisoning with fluoride destroys this ability and so solves that problem. Literature is available if you wish more detailed information. Simply search using the phrase "fluoride third eye".
On the chance that fluoride in the water is not sufficient to destroy any psychic abilities you may have, there are more aggressive ways to get fluoride into your brain. Here are some structural models of popular psychiatric drugs:
Notice that the element Fluorine (symbolized by its standard chemical symbol "F") figures prominently in all these compounds.
These drugs are used to cause "chemical lobotomy". By blocking communication channels with the higher levels of the human brain, they effectively convert the victim into a lower form of animal. Lower animals do not have the frontal lobes possessed by humans. That is what makes humans special. Disabling the frontal lobes effectively transforms a natural human being into, basically, a docile and obedient house pet which can be trained like a dog.
Incidentally, Fluorine also figures prominently in Sarin nerve gas.
For a more in depth study search YouTube for the free documentary Flouridegate — An American Tragedy by David Kennedy.
They All Drink From the Same Trough
If you casually look out upon the institutions of the world, it may appear to you that they are independent, discrete entities. However, they are not. They are all components of a collective which has successfully hidden its existence and true nature from the general population for generations.
Let's begin with the media in the US. Although it may appear to you that there are thousands of independent sources reporting "news", 90% of all media is controlled by six corporations. They are General Electric, News-Corp, Disney, Viacom, Time-Warner and CBS.
In the US, people believe they are protected from tyranny by the concept of "separation of powers" — that the executive, legislative and judicial branches of government are staffed by independent thinkers who "check and balance" each other. This is also a deception.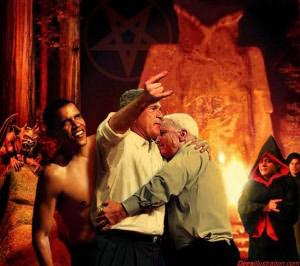 Once a year, at the end of July, there is a secret gathering on private property in the redwood forest of California called the Bohemian Grove. Although this annual meeting has been going on for over one hundred years, it is only during the last several years that outsiders have begun to learn of its existence. The only reason they have is because of the internet and independent journalism. Leaders from the mainstream media are all members of this secret club and so never even report its existence.
Who else goes to this annual secret "party"? Well, for want of a better name, we will call them the "Trusted Satanists". They are the leaders of all the major corporations, banks and representatives from all the major branches of the US government as well as foreign governments.
Although these men outwardly support the concept of capitalism for the masses, this elite group, among themselves, are perhaps best described as "rich socialists". Only men are allowed. For recreation, a stable of prostitutes — both male and female — are kept nearby off-site. The male prostitutes could theoretically enter the Grove.
The "party" begins with a Satanic ritual called "Cremation of Care" (i.e., "we don't care") which features the burning of a coffin at the base of a huge statue of an owl. Walter Cronkite reportedly was the official announcer at the grove until his death.
A secretly filmed video of this event is available on YouTube. It is supposed to be a "simulated" child sacrifice. However, since the CIA, FBI and NSA attend the ritual, who is going to complain on the chance it is a real sacrifice of a human child? After all, they are all trusted Satanists.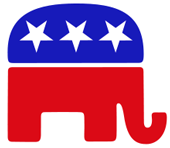 Most attendees from the United States are members of the Republican party. This is completely predictable in view of the fact that the US Republican party flaunts its affiliation with the "dark side" by prominently using the inverted star symbol on its official logo.
During the two week period, corporate leaders, the "independent" government regulators who supposedly keep corporations honest, the leaders from the executive, legislative and judicial branches of US government who are supposed to be "checking and balancing" each other, as well as the media moguls who we "trust" to report the truth, are all running around naked in the woods — pissing on the trees, playing with each other, and the male prostitutes as well as the off-site female prostitutes, and "having discussions".
Well, what are they "having discussions" about? They are discussing what they plan to do with "their world". The Manhattan Project to develop the first atomic bomb was reportedly planned at one of these discussions years ago. What about you? What about your future? What about any expectation of happiness you may have? Well, you see, you "don't need to know". Remember, "If you are not one of us, you are nothing".
Blueprints For the New World
Overview
If this link [7] is still active, it would be in your interest to read through it. This document is a transcript of a speech given by one of the insiders in the year 1969. He boldly states,"Everything is in place and no one can stop us now".
The article details how people ("people" means the slave class who are "nothing"; recall: "If you are not one of us, you are nothing") will just have to get used to changes such needing permission to have children, accepting mandated euthanasia as the law and total surveillance. Essentially all goals are now achieved, although some still remain guarded secrets.
The 1960′s was the period when physical death was eliminated. Of course, this "privilege" is only available to the select Satanic oligarchs. Effective cures for all diseases were also developed. The speaker [7] states that the cures are on file in the Rockefeller Institute. Of course, most are classified and only available to the chosen elite.
Infrastructure
The PBS documentary, Top Secret America [8], presents a good overview of the secret world of the elite. You may think no one is paying attention to the infrastructure in America because streets are in disrepair and bridges are falling down. However, you would be wrong. A tremendous amount of money is being spent on infrastructure in America — for the chosen elite. You will never see it and you will have no need for the decaying bridges and streets because you won't be around to use them. You, as well as 90+ percent of the current population, will be killed in the "Great Culling".
The new infrastructure is quite elaborate as the documentary explains. It consists of thousands of buildings which have a few stories visible above ground but which then extend for 90+ stories underground. All amenities are available within these secret structures which are basically self-sufficient.
It is important for the buildings to reach deep underground so that the lower levels can connect to the secret underground transport network. This network is global and provides safe high speed transport for the elite. Whenever the network crosses a tectonic plate, massive amounts of silicone are used to allow the transport tunnel to flex as needed. The network has access points in all countries. However, these points remain secret in countries which have yet to be subdued and co-opted into the new world order.
NWO Enabling Documents
The treaty known as the Trans-Pacific Partnership appears to be the formal enabling document for the new world. The actual document is secret and only high level corporate executives and politicians are allowed to see it.
Even after the treaty goes into force, its contents will remain secret. Because, in the United States, treaties must be openly debated in congress, the treaty is being called an "agreement" to circumvent the law and keep its contents secret. However, some details have become known.
Although the planet is officially divided into "sovereign" countries, it is overlaid with a network of transnational corporations. This network basically forms a parallel government which encircles the globe. The Trans-Pacific Partnership is designed to cause any country which signs on to surrender its national sovereignty to a secret committee composed of corporate executives. This committee can then alter the constitution and laws of any country which has accepted the treaty as suits their whim. There will be no appeal against this.
Under the treaty, there will be only one purpose to human life. That purpose will be to maximize the profits of the cabal of transnational corporations which will now be essentially a single global corporation in absolute control of the world. This effectively institutionalizes the new world order.
What does this mean for you? Well, to begin with, there can be no retirement. Paying for retirement would negatively impact corporate profits. So, if you can't work, you will be killed. Taking care of sick people would also drain corporate profits. It would be more profitable just to kill the sick and replace them with young, healthy slaves. Disabilities — forget it — disabled kids will never make it out of the womb alive.
Reeducation
To come into compliance with the philosophy of the new world, people will need to be reeducated. Military instruction documents [6] are already teaching that the Founding Fathers of the United States were extremists and anyone who thinks like them would not be suited for today's military.
Well, what did these radical extremists think?
"We hold these truths to be self-evident, that all men are created equal, that they are endowed by their Creator with certain unalienable Rights, that among these are Life, Liberty and the pursuit of Happiness."
Obviously, these principles are not compatible with the new world. The idea of a "Creator" conflicts with the official doctrine of Evolution. We can't have that. People must accept that they and the universe they live in is simply an "accident".
People are already realizing that Liberty and Happiness are gone. They know now that they live under constant surveillance and their lives get worse year after year. How about the right to Life? Can't have that. People need to be reeducated to believe that it is their "duty to die" when they are no longer useful to the state (which is now the global corporation).
Of course, the global elite will live physically forever but ordinary people will not know this.
If a world where people are conditioned to want to die and do not want kids but just sleep around for fun sounds vaguely familiar to you, you might recall that this is the future society described in Huxley's classic novel, Brave New World.
Population Modification
Please refer to [9] as a reference source. Today's "great thinkers" seem to be coming into agreement that most people are unnecessary and need to be exterminated for the convenience of the elite. Bill Gates, who has now been accepted into the super exclusive Bilderberg group, has reportedly taken the task of exterminating the third world population by giving them "free" vaccinations which will render them sterile.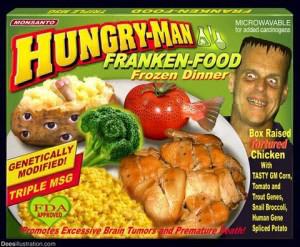 Lots of groups are working on secret sterilization methods. European tests of Monsanto's GM soybeans on hamsters showed the animals became sterile by the third generation [12]. A new gene known as Epicyte [9] is planned to be added to GM corn which will cause immediate sterilization.
Additionally, people are being "eased into" accepting the concept of "after birth abortion". Intellectuals are trying to get people to accept the argument that living human children under three or perhaps even five years old are really "not people but advanced feotuses". Since abortion is already legal, a simple change in the definition of "feotus" would allow young kids to be killed at will for any reason.
Another "new thought" gradually being programmed into the young is the pleasure of the "childless lifestyle". This propaganda seeks to convince people that having kids is too much trouble and they will be happier if they just get sterilized and then run around having lots of sex purely for fun.
These "evolutionary" population control techniques are already in effect. However, the elite likely are not willing to wait several generations to get rid of those they do not need. This brings us to the more direct method commonly called "The Great Culling" which will allow the elite to kill off most of the world's population quickly.
The most likely method will be the release of new designer viruses for which no one will have any natural immunity. Of course, the elite will all get the classified antidote. Preparations for the disposal of the bodies is already complete and stockpiles of plastic coffins — each designed to hold three bodies and manufactured under government contract by Halliburton — have been photographed and documented. Everything is now in place awaiting the "go" command.
Designer Children
Some types of designer children have already been approved for "production". Britain has approved three parent babies [10] and China has proposed a process to artificially fertilize most of a woman's eggs and then examine them to determine which is likely to produce a child with the highest IQ. This will be the only selected egg because Chinese women are only allowed to have one child and must then be sterilized.
In the new world where the only purpose of people will be to do slave labor to serve the elite corporate masters, the concept of allowing the existence of children conceived naturally clearly cannot be allowed. There would be an unexceptable chance for some kind of error that could result, for example, in the creation of a being capable of independent thought who might challenge the establishment.
A man's true worth is measured by the amount of other people's happiness that he can possess and destroy
This is a quote from the docudrama The American Ruling Class [5]. It is worthy of discussion because it is so prophetic.
The Satanic oligarchs who run this world basically exist and thrive on the misery of others. It is not enough just to use and abuse you — they want to consume your Soul. Your misery and suffering is, essentially, their "food". It is the source of their energy.
Ordinary innocent Souls are sustained by the life energy which flows from the Creator. However, since the oligarchs hate God, this energy flow is not available to them. So, they essentially survive by consuming the life energy of the innocent Souls they have captured and enslaved.
Ordinary people do not naturally choose to spend their lives in a state of constant war. They have to be somehow coerced into this behavior. Otherwise, they would likely seek a quiet, peaceful life. The atrocities the US and other warmonger nations force their citizens to commit are so contrary to basic human nature that the US loses more soldiers to suicide than it does to the enemy. The once innocent soldiers find that they simply cannot continue to live with what they have become and the memories of the horrors they have caused to others. The Satanic rulers who create wars, of course, have no problem with this.
Promotions within the inner circles of power are based upon how much evil one has done. The more harm you cause to others the greater your respect. You may have noticed that the stock market, which is a measure of the success of the elite, shows gains during periods when the average person is suffering and losses during periods when, somehow, life for the ordinary person seems to improve. The stock market set a new all time high, for example, during the Vietnam War when innocent young kids were being drafted and slaughtered in Vietnam while peaceful protesters at Penn State were executed by government forces for daring to dissent.
Why You Should Care
On the low Astral planes you will find people — Souls — who are totally lost and confused and seem to move in slow motion. They do not realize they have died. These "people" are not there because they tore up the Bible or burned the Koran or some other offensive act. They are there simply because it is the best they can do. They are using all of the Spiritual energy they have just to maintain this miserable existence. Whatever activities they engaged in while alive had no Spiritual merit and had no effect on developing or increasing their Spiritual energy level. Since the opportunity to do this ended when they died, they will remain strung out in this condition until they reincarnate again at which point they will have another chance to choose activities which enhance Spiritual energies.
You should care because the things you do and the things you fail to do during your brief life here will affect your existence for millions of years in the future.
The other dimensions operate under exact scientific rules just like this dimension. However, the rules are not the same. Because alternate sources of information are available today — mainly because of the internet — it is in your interest to at least investigate the available literature on Spirituality, energy raising techniques and various first-hand reports from people who have successfully visited the neighboring dimensions.
Source:  Walter C. Vetsch   |   3108.info  |  War Is Crime
Goldman Sachs is the epitome of the word "evil." If one wants to know what the evil central bankers are up to, one only needs to pay attention to the actions of Goldman Sachs. The power elite residing inside of this country does not begin and end with the Federal Reserve, that privilege is reserved for the interrelationship between Goldman Sachs, the Federal Reserve, the corrupt World Bank and the IMF. And now, Goldman Sachs is running the European financial system into the ground as another Goldman Sachs boy, "Super" Mario Monti, has taken over Italy to finish off what is left of the Italian financial system. Monti is also the head of the European Trilateral Commission as well as a Bilderberg member. And yet another Goldman Sachs boy is finishing off the job in Greece. It is the mission of Goldman Sachs to implode the global economy with massive debt arising from the failed derivatives market, in which the debt totals 16 times the total GDP of the planet and that debt has been passed on to the governments of the world. There is no way that any country will ever pay off this debt. The world's financial system will be collapsed and then reorganized under the Bank of International Settlement. Goldman Sachs is merely the grim reaper in this unholy process.
The Goals of Goldman Sachs
The purpose of this article is to expose the three pronged attack, directed at the American people, by Goldman Sachs, and its partners at the Federal Reserve, the US Treasury Department, the IMF and the World Bank. These central banker controlled institutions are engaged in a plot which is designed to accomplish the following:
The destruction of America's domestic economy through the introduction of derivative debt which is 16 times greater than the world's GDP. This goal has been accomplished as evidenced by the fact that America now has more workers on welfare (101 million) as opposed to actual full time workers (97 million).
Setting the chessboard in such a way that WWIII is a foregone conclusion. This is near completion as the US and Israel are poised to go to war with China and Russia, over Syria and Iran, in order to preserve the Petrodollar.
Initiating a false flag event which will culminate in martial law and the elimination to all opposition to both the coming WWIII and the imposition of a tyrannical world government as well as a one world economic system.
It is no secret that Goldman Sachs runs Wall Street. After the first bail out, Goldman Sachs cut the head off of Shearson Lehman and several other Wall Street competitors when they used their undue influence to determine winners and losers after the first round of TARP. Even Ray Charles could see that Goldman Sachs is in near complete control of our government as evidenced by the former Goldman Sachs gangsters who have run our economy into the ground (e.g., Clinton's Secretary of Treasury Goldman Sachs' Rubin, Bush's Secretary of Treasury Goldman Sachs' "too big to fail" Hank Paulson, etc.). Make no mistake about it, the introduction of the massive derivatives debt was a power consolidation move designed to collapse the economy and hand over essential control to Goldman Sachs and its partners.
History Repeats Itself
Today's events parallel the imperialists of the early 2oth Century which resulted in World War I. The Wall Street led depression of the 1930's led to the rise of political extremism and ultimately to World War II. Today, Goldman Sachs and their fellow Wall Street cronies are currently running, or dare I say ruining the global economy and the consequences are going to result in the culmination of World War III from which these same gangster bankster's will profit from the buildup, the death and destruction of billions of innocent people as well as profiting from the lucrative clean up which follows every war.
The ultimate prize for the coming war will be the ruination of the planet in order that the power structure of the earth can be reinvented in a manner that not even George Orwell could imagine. Remember, as the globalists like to say in reference to their favorite Hegelian Dialectic quote, "Out of chaos comes order." Of course, it won't be Goldman Sachs' money that pays for the destruction of humanity in the coming world war. This coming war and its subsequent blood money will be your money and my money. It goes without saying that it won't be the executives of Goldman Sachs children who are pressed into military service and will be eventually sacrificed on the battlefields of WWIII. It will be your children and my children who will be sacrificed in the name of furthering the bottom line of the Goldman Sachs Mafia and their masters at the Bank of International Settlement. Meanwhile, the Goldman Sachs children who will be safely tucked away as the world's final chapter plays out as we know it.
 Goldman Sachs Destroying the American Middle Class
This swath of international destruction being promulgated by Goldman Sachs is also being visited upon the daily lives of the American public here at home. Courtesy of the Goldman Sachs gangsters, there are no more safe financial havens for American citizens. Your bank account, your pension fund, your investment accounts and your home mortgages are no longer safe. These collective funds are not in jeopardy because of the risk of falling victim to the failing economy as much as these funds are subject to confiscation by Goldman Sachs and its shell corporations along with the complicit support of the federal government. Most of these public officials are former Goldman Sachs employees. A clear case in point lies in what happened with MF Global.
MF Global, a shell corporation beholding to Goldman Sachs, was led to the slaughter by the former Goldman Sachs executive and former New Jersey Governor and senator, John Corzine. Corzine's criminal actions directly victimized 150,000 Americans by stealing an estimated $900 million dollars of his clients' money from their supposedly secure private accounts. There is also another $600 million missing dollars from MF Global which is still unaccounted for today.  Meanwhile, Corzine avoids sharing a prison cell with Bernie Madoff by purchasing a "get-out-of-jail card" through the sponsorship of a $35,000 per plate fundraiser for that great Wall Street puppet, Barack Hussein Obama. And what are the government watch dogs doing to protect our money from this new generation of robber barons? The short answer is that key federal officials are actually partners with Goldman Sachs in this monumental violation of the public trust. Take Gary Gensler, a former Goldman Sachs executive partner, who like so many other Goldman Sachs gangsters, have been placed into key governmental oversight positions in order to protect the Goldman Sachs co-conspirators from prosecution as they continue their reign of terror upon the global economy.
…but a Goldman Sachs cop on the take.
Gary "the gangster" Gensler is the former Undersecretary of the Treasury(1999-2001) and Assistant Secretary of the Treasury (1997-1999) and the current director of the Commodity Futures Trading Commission. In his position at the time of the MF Global debacle, Gensler had the authority to go after Corzine for his role in the MF Global theft of customer funds and order restitution. However, Gensler has decided to protect a fellow member of the Goldman Sachs Mafia by not looking into the massive fraud and theft by Corzine and his cronies. Your tax dollars, paying the salary of federal officials, are overseeing the most massive illegal private transfer of wealth in the history of the planet. And this debt is payable to Goldman Sachs and their criminal enterprise partners.
You may not be one of the current 150,000 Goldman Sachs/MF Global victims. However, this Robin Hood-in-reverse-scenario, in which the rich are plundering what's left of the middle class, will soon be visited upon your bank account, your home mortgages and your pensions. Whether it is the MERS mortgage fraud or the theft being perpetrated upon Federal employee retirement accounts, these criminal banksters are in the process of stealing it all and what are you going to do about it? Our nation of entrenched sheep will do nothing. The American citizens are going to lie down and take their beating in the face of the largest unfolding criminal syndicate in human history.
While you and the rest of America are trying to collectively remove your "deer in the headlight" glaze, you, as an American, have far more serious issues to concern yourself with and you are not going to have to wait long to have your worst fears to be born out.
 Something Wicked This Way Comes
Some, who have heard my expressed sense of outrage, have asked me if I favor a violent overthrow the United States Government. To that question, I answer in the negative. However, show me a way to be involved in the overthrow of the gangsters who have hijacked my country's government, and I will be the first in line. However, before that day arrives, we have some very formidable obstacles to face with regard to what is looming just around the corner.
Goldman Sachs Is the Financial Kingpin of False Flag Attacks
If one wants to predict the next false flag attack, one merely has to watch the actions and the money movements of Goldman Sachs.
In the days leading up to the attacks on 9/11, Goldman Sachs "shorted" the sale of airline stocks which plummeted in the aftermath of the attacks. Just a coincidence you say?
In the days leading up to the housing bubble, Goldman Sachs shorted housing stocks which ignited the bubble. The Federal government fined Goldman Sachs, but in typical fashion, nobody went to jail. Just another coincidence you say?
As I documented in my seven part series, The Great Gulf Coast Holocaust, Goldman Sachs executed a "put option" for preferred insiders invested in Transocean stock, thus protecting the profits of these preferred insiders on the morning of the explosion. Transocean was the owner of the ill-fated oil rig. Goldman Sachs also sold the lion's share of its stock less than two weeks before that fateful day on April 20, 2010. Nalco was the subsidiary of Goldman Sachs and BP at the time of the explosion. Who is Nalco? Nalco was the exclusive manufacturer of the deadly oil dispersant, Corexit. Corexit has done more to wreck the ecology of the Gulf as well as the health of the Gulf Coast residents than the oil spill itself. Again, this is all documented in my seven part series. By the way, I count another three coincidences in this paragraph alone and if you are keeping score, we are looking at a total of five amazing coincidences. But wait, there is more!
The moral of this story is clear, if there is to be a significant false flag event, the financial actions of Goldman Sachs will prove to be the key. And Goldman Sachs' actions have signaled yet another oncoming false flag. As I reported on in April, Goldman Sachs instructed its brokers to sell short on gold stocks. And then after the bulk of the gold market panicked and the price of gold plummeted in a massive sell off, the Goldman Sachs boys did it again. The Goldman Sachs brokers began to purchase gold in massive amounts, for its elite clients, at a greatly depressed price. By the way, Goldman Sachs employed the EXACT same strategy with regard to the Gulf Oil tragedy. When Goldman Sachs sold off BP stock in the days before the explosion, they purchased massive amounts of BP stock at a greatly reduced price in June of 2010. The coincidence meter is now up to seven.
Why Goldman Sachs Cornered the Gold Market
The global elite would only want massive amounts of gold because something bad is about to happen to the dollar. When the dollar collapses, the elite, courtesy of the Goldman Sachs brokers will be sitting in a great position in which they hold the only sustainable medium of exchange following the collapse. But when will the collapse come? What form will it take?
As I reported, less than two weeks ago, the Bank of International Settlement ordered the central banks, including the Federal Reserve, to greatly decrease loans as a protection to the coming bad financial times. So, now we are getting warned and the narrowing down of where this is leading, is getting easier to predict.
It is important to remember that Goldman Sachs and the rest of the international banking community desperately want to wage war in Syria and eventually Iran over the demise of the Petrodollar caused by Iran in which they are selling oil for gold to India, China and Russia. There is also big money to be made by the banks in an upcoming global conflict. More importantly, and just as the world witnessed in the aftermath of WWII, consolidation of power can be achieved following a major war. Additionally, Goldman Sachs and the rest of the international bankers are not about to let China and Russia thumb their noses at the prevailing economic system. Gold will not be allowed to be used as a medium of exchange for nation states, because a nation on the gold standard, is a nation that controls its debt levels and financial security. This is unacceptable to the central bankers who kill national leaders, such as Gadaffi and Sadam Hussein, for daring to break from the plan and achieve financial independence. What the globalists also need is a game changing event which will destroy all opposition to the coming war. And the financial intentions of Goldman Sachs clearly speaks to the fact that a false flag attack is imminent which will implicate Syria and Iran and provide the pretext for the US and Israel to attack.
The Nature of the Coming False Flag Attack
The coming false flag attack which will plunge America into martial law, for our own protection of course, will result in WWIII. The false flag event could take two forms. It was reported two weeks ago, that the US was missing a nuclear weapon from a military base in Texas. This prompted Senator Lindsay Graham to state that the harbor in Charleston, SC. would be nuked if the US did not attack Syria. This is the first scenario.
The other scenario, and the far more likely one, has the power grid going down on November 13th. The Grid Ex II drill being conducted by DHS, FEMA, 150 corporations and the 50 governors, will simulate a power grid take down by terrorists on that same date. How many times have we witnessed a drill which turns into a false flag attack? This happened with 9/11, the 7/7 bombings and the Boston Marathon. There is a good chance it is going to happen here
In this scenario, once the grid is taken down, a banking collapse can be instituted and most will not notice because by the third day of a blackout, total chaos will ensue and nobody will be paying attention to the banks. Martial law will be imposed and Syria and Iran will be blamed.
The CEO of Goldman Sachs, Llloyd Blankfein, is on the record stating that an economic collapse is imminent. Need I say more?
Conclusion
Regardless of the form that an upcoming false flag event will follow, Goldman Sachs has tipped their false flag hand. A false flag event is coming and it is a safe bet that it will culminate in martial law. This would certainly explain DHS' collecting of 2.6 billion rounds of ammunition and 2700 armored personnel carriers. There is also going to be a resulting third world war. The globalists know humanity is waking up. They are running out time and they are desperate. This could all be over in a few months. Do you not feel the collective sense of dreaded anticipation that has overtaken the country? At the unconscious level, we all know what is coming.
The November power grid drill is worth watching and I predict in the upcoming weeks, there will be many articles written about how to survive the coming events. I would advise all to pay attention, but most of all, I would advise people to get their spiritual affairs in order. We come into the world with nothing and all we leave with is the sum total of our spiritual experiences. It is time to attend to that detail in the present time frame.
Source: The Common Sense Show