On the surface, the economic atmosphere of the U.S. has appeared rather calm and uneventful. Stocks are up, employment isn't great but jobs aren't collapsing into the void (at least not openly), and the U.S. dollar seems to be going strong. Peel away the thin veneer, however, and a different financial horror show is revealed.
U.S. stocks have enjoyed unprecedented crash protection due to a steady infusion of fiat money from the Federal Reserve known as quantitative easing. With the advent of the "taper", QE is now swiftly coming to a close (as is evident in the overall reduction in treasury market purchases), and is slated to end by this fall, if not sooner.
Employment has been boosted only in statistical presentation, and not in reality. The Labor Department's creative accounting of job numbers omits numerous factors, the most important being the issue of long term unemployed. Millions of people who have been jobless for so long they no longer qualify for benefits are being removed from the rolls. This quiet catastrophe has the side bonus of making it appear as though unemployment is going down.
U.S. Treasury bonds, and by extension the dollar, have also stayed afloat due to the river of stimulus being introduced by the Federal Reserve. That same river, through QE, is now drying up.
In my article The Final Swindle Of Private American Wealth Has Begun, I outline the data which leads me to believe that the Fed taper is a deliberate action in preparation for an impending market collapse. The effectiveness of QE stimulus has a shelf-life, and that shelf life has come to an end. With debt monetization no longer a useful tool in propping up the ailing U.S. economy, central bankers are publicly stepping back. Why? If a collapse occurs while stimulus is in full swing, the Fed immediately takes full blame for the calamity, while being forced to admit that central banking as a concept serves absolutely no meaningful purpose.
My research over many years has led me to conclude that a collapse of the American system is not only expected by international financiers, but is in fact being engineered by them. The Fed is an entity created by globalists for globalists. These people have no loyalties to any one country or culture. Their only loyalties are to themselves and their private organizations.
While many people assume that the stimulus measures of the Fed are driven by a desire to save our economy and currency, I see instead a concerted program of destabilization which ismeant to bring about the eventual demise of our nation's fiscal infrastructure. What some might call "kicking the can down the road," I call deliberately stretching the country thin over time, so that any indirect crisis can be used as a trigger event to bring the ceiling crashing down.
In the past several months, the Fed taper of QE and subsequently U.S. bond buying has coincided with steep declines in purchases by China, a dump of one-fifth of holdings by Russia, and an overall decline in new purchases of U.S. dollars for FOREX reserves.
With the Ukraine crisis now escalating to fever pitch, BRIC nations are openly discussing the probability of "de-dollarization" in international summits, and the ultimate dumping of the dollaras the world reserve currency.
The U.S. is in desperate need of a benefactor to purchase its ever rising debt and keep the system running. Strangely, a buyer with apparently bottomless pockets has arrived to pick up the slack that the Fed and the BRICS are leaving behind. But, who is this buyer?
At first glance, it appears to be the tiny nation of Belgium.
While foreign investment in the U.S. has sharply declined since March, Belgium has quickly become the third largest buyer of Treasury bonds, just behind China and Japan, purchasing more than $200 billion in securities in the past five months, adding to a total stash of around $340 billion. This development is rather bewildering, primarily because Belgium's GDP as of 2012 was a miniscule $483 billion, meaning, Belgium has spent nearly the entirety of its yearly GDP on our debt.
Clearly, this is impossible, and someone, somewhere, is using Belgium as a proxy in order to prop up the U.S. But who?
Recently, a company based in Belgium called Euroclear has come forward claiming to be the culprit behind the massive purchases of American debt. Euroclear, though, is not a direct buyer. Instead, the bank is a facilitator, using what it calls a "collateral highway" to allow central banks and international banks to move vast amounts of securities around the world faster than ever before.
Euroclear claims to be an administrator for more than $24 trillion in worldwide assets and transactions, but these transactions are not initiated by the company itself. Euroclear is a middleman used by our secret buyer to quickly move U.S. Treasuries into various accounts without ever being identified. So the question remains, who is the true buyer?
My investigation into Euroclear found some interesting facts. Euroclear has financial relationships with more than 90 percent of the world's central banks and was once partly owned and run by 120 of the largest financial institutions back when it was called the "Euroclear System". The organization was consolidated and operated by none other than JP Morgan Bank in 1972. In 2000, Euroclear was officially incorporated and became its own entity. However, one must remember, once a JP Morgan bank, always a JP Morgan bank.
Another interesting fact – Euroclear also has a strong relationship with the Russian government and is a primary broker for Russian debt to foreign investors. This once again proves my ongoing point that Russia is tied to the global banking cabal as much as the United States. The East vs. West paradigm is a sham of the highest order.
Euroclear's ties to the banking elite are obvious; however, we are still no closer to discovering the specific groups or institution responsible for buying up U.S. debt. I think that the use of Euroclear and Belgium may be a key in understanding this mystery.
Belgium is the political center of the EU, with more politicians, diplomats and lobbyists than Washington D.C. It is also, despite its size and economic weakness, a member of an exclusive economic club called the "Group Of Ten" (G10).
The G10 nations have all agreed to participate in a "General Arrangement to Borrow" (GAB) launched in 1962 by the International Monetary Fund (IMF). The GAB is designed as an ever cycling fund which members pay into. In times of emergency, members can ask the IMF's permission for a release of funds. If the IMF agrees, it then injects capital through Treasury purchases and SDR allocations. Essentially, the IMF takes our money, then gives it back to us in times of desperation (with strings attached).  A similar program called 'New Arrangements To Borrow' (NAB) involves 38 member countries.  This fund was boosted to approximately 370 billion SDR (or $575 billion dollars U.S.) as the derivatives crisis struck markets in 2008-2009.  Without a full and independent audit of the IMF, however, it is impossible to know the exact funds it has at its disposal, or how many SDR's it has created.
It should be noted the Bank of International Settlements is also an overseer of the G10. If you want to learn more about the darker nature of globalist groups like the IMF and the BIS, read my articles, Russia Is Dominated By Global Banks, Too, and False East/West Paradigm Hides The Rise Of Global Currency.
The following article from Harpers titled "Ruling The World Of Money," was published in 1983 and boasts about the secrecy and "ingenuity" of the Bank Of International Settlements, an unaccountable body of financiers that dominates the very course of economic life around the world.
It is my belief that Belgium, as a member of the G10 and the GAB/NAB agreements, is being used as a proxy by the BIS and the IMF to purchase U.S. debt, but at a high price. I believe that the banking elite are hiding behind their middleman, Euroclear, because they do not want their purchases of Treasuries revealed too soon. I believe that the IMF in particular is accumulating U.S. debt to be used later as leverage to absorb the dollar and finalize the rise of their SDR currency basket as the world reserve standard.
Imagine what would happen if all foreign creditors abandoned U.S. debt purchases because the dollar was no longer seen as viable as a world reserve currency.  Imagine that the Fed's efforts to stimulate through fiat printing became useless in propping up Treasuries, serving only to devalue the domestic buying power of our currency.  Imagine that the IMF swoops in as the lender of last resort; the only entity willing to service our debt and keep the system running.  Imagine what kind of concessions America would have to make to a global loan shark like the IMF.
Keep in mind, the plan to replace the dollar is not mere "theory".  In fact, IMF head Christine Lagarde has openly called for a "global financial system" to take over in the place of the current dollar based system.
The Bretton Woods System, established in 1944, was used by the United Nations and participating governments to form international rules of economic conduct, including fixed rates for currencies and establishing the dollar as the monetary backbone. The IMF was created during this shift towards globalization as the BIS slithered into the background after its business dealings with the Nazis were exposed. It was the G10, backed by the IMF, that then signed the Smithsonian Agreement in 1971 which ended the Bretton Woods system of fixed currencies, as well as any remnants of the gold standard. This led to the floated currency system we have today, as well as the slow poison of monetary inflation which has now destroyed more than 98 percent of the dollar's purchasing power.
I believe the next and final step in the banker program is to reestablish a new Bretton Woods style system in the wake of an engineered catastrophe. That is to say, we are about to go full circle. Perhaps Ukraine will be the cover event, or tensions in the South China Sea. Just as Bretton Woods was unveiled during World War II, Bretton Woods redux may be unveiled during World War III. In either case, the false East/West paradigm is the most useful ploy the elites have to bring about a controlled decline of the dollar.
The new system will reintroduce the concept of fixed currencies, but this time, all currencies will be fixed or "pegged" to the value of the SDR global basket. The IMF holds a global SDR summit every five years, and the next meeting is set for the beginning of 2015.
If the Chinese yuan is brought into the SDR basket next year, if the BRICS enter into a conjured economic war with the West, and if the dollar is toppled as the world reserve, there will be nothing left in terms of fiscal structure in the way of a global currency system. If the public does not remove the globalist edifice by force, the IMF and the BIS will then achieve their dream – the complete dissolution of economic sovereignty, and the acceptance by the masses of global financial governance. The elites don't want to hide behind the curtain anymore. They want recognition. They want to be worshiped. And, it all begins with the secret buyout of America, the implosion of our debt markets, and the annihilation of our way of life.
Source:  Brandon Smith | Alt-Market
In "The attack on biblical creation in UK schools continues," Phil Robinson reports that in the dechristianized U.K. unrelenting attacks against special creation (Genesis account) display a level of aggressive intolerance that is hard to stomach, coming as they do from self-proclaimed scientifically-enlightened 'voices of reason.'  Some schools have already banned the teaching of special creation in favor of evolutionary science.   (creation.com, Mar. 9, 2014)
Other shrill 'voices of reason' go so far as to connect special creation to mental illness and child abuse. During a radio interview in Australia famous physicist and atheist propagandist Lawrence Krauss said that while in the United States recently, he stated that "teaching creationism is child abuse and I think it is." (Prayer News, a publication of Creation Ministries, Apr. 2014)
Throughout the West and here in America a slash-and-burn operation conducted against the Genesis account, particularly its' literal and historical elements, is justified by the false idea that evolution is science, thus intolerance of special creation is often presented as a 'science versus religion' or 'faith versus reason' issue.   So successful has this war of attrition been that younger generations of Westerners and Americans have been disconnected from both Western history and its' founding Christian-based worldview, thus like seedlings recently popped up from the soil are unconcerned that special creation, where the ultimate source of life, being and unalienable rights are found, has nearly been displaced by anti-human pagan conceptions positing billions of years of evolutionary transformism from lower kinds of things to higher and higher kinds of things— even non-human kinds of things:
"For us, the best way to create new ('artificial') life forms and intelligence is to allow them to emerge through evolution, as nature does, only in much shorter timeframes and with much greater efficiency and variety."

"For conscious evolution to be successful, we need to observe and understand the actual workings of nature, in all its dynamism, to the point of profound reverence, or 'worship.' This is what I call extreme nature-worshipping… From the perspective of extreme nature-worshipping, the real significance of Darwin's evolutionary theory is not that humans descended from lower species, but that we can continue to evolve."(Cosmic Beings: Transhumanist Deism in Ted Chu's Cosmic View, Institute for Ethics & Emerging Technology, Giulio Prisco)
The vicious name-calling, seething resentment toward and censorship of the six day creation account and of all who profess and teach it should raise the eyebrows of any rational thinking person.  If evolution really is a fact of science then why the irrational name-calling, ridicule, scorn, shunning, resentment, intolerance and demonization?
The answer is that the zealous worshipper of evolution is the Spirit of our age that emerged out of the Renaissance whose answer to the Lord Jesus Christ is the Cross (crucify Him) and whose fulfillment will be the Wicked One. (2 Thess. 2:1-8)
From the Renaissance to our own time the Spirit has been transgressing, blaspheming, and departing that it need not obey His voice.   Like a dog returning to its own vomit, the Spirit has returned to its first love: the cult of demons in the Godless universe of matter, psychic energy, and animated forces where time is changed, past history rendered meaningless, and the liberated Spirit imbibes the cup of wrath, an intoxicating mixture of Babylonian Mysteries, incantations, spiritism, Gnosticism, sorcery, witchcraft, Hermetic magic, Kabbalah, reincarnation, astrology, and other devilish occult traditions.
The Book of Revelation pinpoints Babylon as the post-flood center of an occult pagan Mystery religion based on advaitic monism, science of magic transformism, exalted priesthood, gnosis, secret initiations, psychic-powers, familiar spirits, androgyny, sexual perversions, and other evils.
Babylon embraced the Great Lie. Its inhabitants claimed the title, "I AM." The root source of this evil religion and its occult power was the Great Dragon himself….Lucifer:
"…. the Great Lie (is) the foundation stone of Hinduism, Buddhism, Sufism, Jainism, Sikhism, Taoism, the Kabala, the Greek Hermetic, Eleusinian and Gnostic beliefs, Neo-Platonism, all the occult creeds from Theosophy and the Masonic orders to the Rosicrucian's (and) the New Age movement. The Great Lie is…the belief that man is God, that his true identity is the immortal self…that as God, he will never die (and) Sin and depravity are…illusions since this inner divinity is at man's core." (The Great Lie, Tal Brooke, SCP Journal, Vol. 29:2-29:3, 2005)
Though the Spirit of our age claims the title "I AM" it nevertheless follows after and falls down before other fascinating men: theoreticians of evolutionary science, nature philosophy and evolutionary pagan theology. These charismatic Pied Pipers are possessed of surpassing powers of persuasion and inflexible determination of will to which the Spirit assigns more honor than to anything else.
The Spirit has usurped the throne of the Word Incarnate (John 1:1) because He is not good, not just or benevolent but a devil, an evil Tyrant Who, with His infliction of suffering in this life and eternal punishment in the next must be deposed. (Psalm 2:2-3)
Blaming our Lord for their own sins the proud, self-righteous Spirit of rebellion, hypocrisy and negation says to Him, "…you are not my father."  My father is the god of forces, therefore:

"I am I, I come out of myself, and in choice and action I make myself." (Daniel Bell, quoted by Herbert Schlossberg in "Idols for Destruction," p. 43)
In the final analysis, the Spirit of our age is the "striving human will" seeking desperately to launch itself,
"…into minor godhood in an evolving cosmos through the mechanisms of directed spiritual evolution, spiritualized science and spirit contact." The 'new' spirituality now presents itself as the "rightful replacement for the Revealed Word (and) proclaims its spiritual liberation from the worldview that informs Christianity and its freedom from (the) personal and wholly other God.  But this new way of self-salvation (is) little more than the refurbishing of an ancient spiritual mistake."  (The Making of the New Spirituality: the Eclipse of the Western Religious Tradition, James A. Herrick, p. 279)
"As it was in the days of Noah…" 
The ominous signs of this age are obvious, said the English theologian G.H. Pember (1837-1910) in his book, "The Antichrist Babylon and the Coming Kingdom."  Just as it was during the pre-flood generations, open intercourse with demons (spiritism) is now common throughout Christendom and even in Russia.   In France it is the national pastime.   The apostles of the powers of darkness are everywhere proclaiming their scientific and evolutionary theories demonstrating that the world created itself and had no need of a Creator (p. 60) while the miseries which have resulted from sin,
"….are blasphemously charged upon the Almighty, Who so loved the world as to give His son for it (but is now) impiously forbidden to curb and discipline the rebels who owe their existence to the breath of His mouth.  And when we see such men as John Stuart Mill (and) John Morley, the late Chief Secretary for Ireland…guiding their fellows to defiant insubordination, we can scarcely wonder that Bradlaugh…said, 'This world might have been happy, had not the shadow of God fallen upon it." (pp. 35-36, 1888)
Rise of Occult Evolutionary Science 
In the impeccably researched, "The Making of the New Spirituality," James Herrick observes that the scientific tradition in Renaissance Europe developed around three basic approaches: the organic, the mechanical and the magical.   It was magical and/or occult science that provided the greatest impetus for scientific exploration. (p. 45)
C.S. Lewis underscores this point in "The Abolition of Man:"
"You will even find people who write about the sixteenth century as if Magic were a medieval survival and Science the new thing that came in to sweep it away. Those who have studied the period know better. There was very little magic in the Middle Ages: the sixteenth and seventeenth centuries are the high noon of magic. The serious magical endeavour and the serious scientific endeavour are twins: one was sickly and died, the other strong and throve. But they were twins. They were born of the same impulse. I allow that some (certainly not all) of the early scientists were actuated by a pure love of knowledge. But if we consider the temper of that age as a whole we can discern the impulse of which I speak."
In "God and the Knowledge of Reality," the Catholic philosopher and historian, Thomas Molnar (1921–2010), reveals the 'temper of that age' as a spirit of rebellion against the Christian God, and this is why occult science and evolutionary thinking provided the greatest impetus. During the Renaissance, certain Christian theologians, mystics and scholars such as Emanuel Swedenborg had discovered Hermetic magic and occult Jewish Kabbalah texts which they studied and translated resulting in Hermetic Kabbalah. Then like Pico della Mirandola, they argued that occult hermetic science – the divine technology or Magic Way of reaching divine status and powers through ritual procedures (spiritual evolution) is the best proof of the divinity of Christ. In other words said Molnar,
"…..by the time of the Renaissance the esoteric texts of the first centuries A.D. had acquired in scholarly and humanist circles an unparalleled prestige, confronting as equals the texts held sacred by the church. In Pico's estimation, 'nulla est scientia que nos magis certificet de divinitate Christ quam magia et Cabala' (there is no science that would prove for us Christ's divinity better than magic and the Cabala.)" (pp. 78-79)
Hermetic magic and Jewish Kabbalah are ancient Mystery Religion traditions, as affirmed by G. H. Pember in his classic work, "Earth's Earliest Ages."   Pember thoroughly examines the role of fallen angels in connection with the magic (occult transformism) they taught to pre-flood generations and compares them to the explosion of spiritism (open intercourse with evil spirits), astrology, the Mysteries and other occult traditions sweeping over Christendom.
Pember writes that the Mysteries are no longer veiled in mystery but boldly presented by the powerful occult brotherhood that emerged out of the Renaissance as the fruit of modern science, especially evolutionary philosophy, which the brotherhood assert was included in the instructions given,
"…to the initiates of the Hermetic, Orphic, Eleusinian, and Cabbalistic mysteries, and were familiar to Chaldean Magi, Egyptian Priests, Hindu Occultists, Essenes, Therapeutae Gnostics, and Theurgic Neo-Platonists." (Pember, pp.243-244)
Hermetic Magic

Hermeticism is an ancient Egyptian secret magic tradition based on a set of fourteen books known
collectively as the Corpus Hermeticum attributed to a mysterious figure known as Hermes Trismegistus. Implied in Hermeticism is an evolutionary process of magical transformism (spiritual evolution) moving from one kind of lower thing to another kind of higher thing:
"Human beings are themselves the product of a long spiritual evolutionary process that moves from 'creeping things' to fish, mammals, birds and then people.  Humans can—through occult knowledge and extraordinary ability—continue this evolutionary process and become daemons, then gods, and finally planets or stars." (The Making of the New Spirituality: The Eclipse of the Western Religious Tradition, James A. Herrick, p. 40)
With respect to Hermes identity, researchers of antiquity are divided.  Some believe Hermes was a mythical figure.  Others argue he was Ham or his son Cush.  The historian Samuel Shuckford argues that Hermes was Pathrusim, king of Thebais, the son of Mizraim, the son of Ham.   His Egyptian name was Tyoth or Thoth.  (The Sacred and Profane History of the World Connected, 1808)
In any case, it was Thoth-Hermes who instructed his brothers in the arts and science magic of alchemy or transmutation of a lower kind of thing into a higher kind of thing. For example, after a lengthy transformative process out of the eternally existing divine abyss (primordial matter), the self-created Sun-God Ra boasted that he "came into being from primordial matter."  He made all the forms under which he "appeared by means of the god-soul" which he raised up out of Nu, primordial matter. (The Long War Against God, Dr. Henry Morris, p. 243)
Occult Kabalah
"The Kabalah is the key to the occult sciences; and the Gnostics were born of the Kabalists." (Occult Mason Albert Pike, Morals and Dogma, p. 626)
Like its' Hermetic counterpart, Kabala implies a process of evolutionary transformism:
"…the older Enoch book (gives) a fuller insight into the "Merkabah" and "Bereshit" lore of the ancients than the "Hekalot," which present but fragments, while the central figure of the Cabala, Meṭaṭron-Enoch, is seen in ch. lxx.-lxxi. in a process of transformation." (Cabala, Jewish Encyclopedia)
According to Helena Blavatsky, one of the key architects of Luciferian New Age pantheism, Kabalah derived,
"…. from the older secret doctrines concerning divine things and cosmogony, which were combined into a theology after the time of the captivity of the Jews in Babylon. All the works that fall under the esoteric category are termed Kabalistic." (Blavatsky, Theosophical Glossary, p. 168)
The godless cosmogony of Kabala teaches the gradual condensation or evolutionary progression of a primal substance into visible matter.  This is a fundamental,
"… doctrine of the Cabala (and) is the ancient Semitic conception of the 'primal ocean,' known to the Babylonians as 'Apsu' and called by the Gnostics βύθος =  (Anz, 'Die Frage nach dem Ursprung des Gnostizismus,' p. 98).
The Chaldean occult science and pagan Mystery Religion was embraced by apostate Jews during their captivity in Babylon and delivered to subsequent generations of initiates by word of mouth. According to Blavatsky, these initiates of the Chaldean tradition in the centuries before Christ were known as Tanaim:
"The kabalist is a student of 'secret science', one who interprets the hidden meaning of the
Scriptures with the help of the symbolical Kabala… The Tanaim were the first kabalists among the Jews; they appeared at Jerusalem about the beginning of the third century before the Christian era… This secret doctrine is identical with the Persian wisdom, or 'magic'." (Ibid. p.167)
The Essenes were also associated with the Kabala. The Jewish Encyclopedia describes the cabalistic practices of the Essenes, which were Judaized elements of Eastern mystical traditions:
"So, too, were the Essenes familiar with the idea of the journey to heaven…and they were also masters of angelology. The practice of magic and incantation, the angelology and demonology, were borrowed from Babylonia, Persia, and Egypt; but these foreign elements were Judaized in the process, and took the form of the mystical adoration of the name of God and of speculations regarding the mysterious power of the Hebrew alphabet …, 'the name of God creates and destroys worlds', to become, finally, foundations of the philosophy of the 'Sefer Yetzirah."  (Cabala, Jewish Encyclopedia)
According to Blavatsky the Essenes were pagan priests of the Greek goddess, Diana of Ephesus, where the Tanaim had established a college for instruction in the Chaldean mystery religion:
"Essenes… had many Buddhistic ideas and practices; and it is noteworthy that the priests of the Great Mother at Ephesus, Diana-Bhavani with many breasts, were also denominated… It was at Ephesus where was the great College of the Essenes and all the lore the Tanaim had brought from the Chaldees… Essenes, believed in reincarnation." (Theosophical Glossary, pp. 113-14; The Secret Doctrine, Vol. II, p. 111n)
Eventually Alexandria, Egypt became the epicenter of cosmological and pagan religious ideas as well as the intellectual meeting point between Greek Mystery Religion/Hermetic magic initiates and nature sages and guardians of Kabala.  After the fall of Jerusalem, Alexandria was the center from which occult pagan Jews would disguise their mystery tradition in Christian terminology and attempt to penetrate the fledgling Church with heresy.
One of the primary tactics employed by Cabbalist pagan Jews for this purpose is the same one employed by their modern evolutionary Gnostic pagan counterparts.   It involves the reduction of the Genesis account, particularly the first three books, to allegory and myth, a ploy that eliminates the physical Adam from which all people descended and the sin that he transferred to the rest of the human race. This strikes directly at the heart of the Gospel: the need for the 'last Adam' to provide for us an escape from the wrath of God against sin incurred by the first Adam.  In this way, not only is the work of Christ on the cross rendered superfluous, meaning the heart of the faith is ripped out, but God is made responsible for sin and evil. (1 Peter 3:18-22; 1 John 2:22)
Long ago, the teachings of some of the early Church Fathers regarding the apostasy toward the end of the church age predicted the reappearance of this evil tactic. The fathers categorized it a Gnostic pagan heresy.
In "Heresies 6.10″ Hippolytus writes that the Gnostic pagan Simon Magus feigned faith and allegorized much of Scripture, especially Genesis, to support his evolutionary Hermetic and Gnostic occult pantheist teachings.   Church Fathers Ireneaus, Tertullian and Clement of Alexandria reveal that Gnostic cult leader Marcion rejected the Old Testament, taught that the God of the Old Testament and his prophets are evil, made God the author of sin and removed all references that Christ was Creator (John 1:1)   (Ireneaus, "Against Heresies 1.26, 5.1," Tertullian "Against Marcion 2.17," Clement of Alexandria, "Against Heresies 4.29)
In conclusion, the Babylonian Mystery Religion is the mother of evolutionary Cabala, Gnosticism and all other occult pagan traditions:
"….especially does Gnosticism testify to the antiquity of the Cabala. Of Chaldean origin… Gnosticism was Jewish in character long before it became Christian… Gnosticism—that is, the cabalistic 'Hokmah' (wisdom)—seems to have been the first attempt on the part of the Jewish sages to give the empirical mystic lore, with the help of Platonic and Pythagorean or Stoic ideas, a speculative turn; hence the danger of heresy…of which the systems of Philo, an adept in Cabala…show many pitfalls…Jewish gnosticism unquestionably antedates Christianity, for Biblical exegesis had already reached an age of five hundred years by the first century C.E.  Judaism had been in close contact with Babylonian-Persian ideas for at least that length of time, and for nearly as long a period with Hellenistic ideas. Magic, also, which,…was a not unimportant part of the doctrines and manifestations of gnosticism, largely occupied Jewish thinkers. There is, in general, no circle of ideas to which elements of gnosticism have been traced, and with which the Jews were not acquainted."  (Cabala, Jewish Encyclopedia)
Building  the New Tower of Babylon
In the essay, "The Paganization of Biblical Studies," Dr. Peter Jones, director of truthxchange and adjunct professor of Westminster Seminary CA., writes that the books of the evolutionary Gnostic pagan Presbyterian heretic Lloyd Geering, Emeritus Professor of Religious Studies at Victoria University, are promoted by the most powerful element of the Spirit of our age—the international occult New Age Luciferian elite-pagans—as programmatic templates for the future utopian pagan community from the point of view of Christian apostasy and socialism undergirded by evolutionary pantheist orthodoxy.
According to Geering, the world's future culture will be post-Christian, global, religiously pagan and evolutionary.  This agenda is remarkably similar to that of Teilhard de Chardins' disciple, the ex-Roman Catholic Thomas Berry in his book, "The Great Work" which is also being implemented through texts of the UN's global programs.
The rising New World Order will be post-Christian because evolution proves that human beings, as they evolved out of primordial matter, created language, then symbols, then religious explanations and God Himself.  Therefore tomorrow's culture will be pluralistic, syncretistic, relativistic and poly-gendered because evolution integrates all scientific, cultural, religious, economic and human gender into one worldwide anthill thus when the global society emerges from the evolutionary process,
"…it will require humanity to develop a new consciousness and a new form of spirituality" because "the new story which has become basic to the global world begins with a new word or idea…evolution." (ibid, Jones)
Like its' mother, Mystery Babylon, the scientifically-enlightened 'new' global religion of evolutionary transformism is occult pantheist advaita monism, which means that as an ancient impersonal god-force is within the cosmos, earth, human beings, rats, weeds, tumble bugs, cancer and everything else then all things are essentially 'one.'  Since the god-force is within all things it is within the demonically 'illumined' consciousness of every spiritually evolved initiate and adept.
This being the case, by means of trance states, brain-altering drugs, transcendental meditation, visualization, channeling, Zen Buddhism, Kundalini yoga, tantra, and other occult ways, the initiate can channel the god-force within thereby becoming a little god who controls matter because he controls mind. The physical world then, is an illusion because reality is inside the divine mind of the god-man.
This way of thinking is captured by Orwell in his book, "Nineteen Eighty-Four" in which negation of the physical world is an integral part of the social and political philosophy of Big Brother and his despotic Party. At one stage in the book, Winston stumbles upon the shocking realization that in the end the Party would announce that two plus two made five because the logic of Big Brothers' position required it since the existence of external reality was denied by his philosophy.  Thus when the Thought Police agent O'Brien tortures Winston for politically incorrect "wrong thought" he states,
"We control matter because we control the mind.  Reality is inside the skull.  You will learn by degrees, Winston.  There is nothing that we could not do.  Invisibility, levitation—anything.  I could float off this floor like a soap bubble if I wish to….You must get rid of these nineteenth-century ideas about the laws of Nature.  We make the laws of Nature." (Orwell, "The New Spirituality and its Hallmarks, Alan Morrison, SCP Journal, Vol. 30:4-31:1, 2007, p. 19)
Evolving Toward Catastrophe
In "The Aquarian Conspiracy," a book that has been called 'the New Age Bible,' Marilyn Ferguson (1938-2008) admits that the 'new age' evolutionary pantheism and occult technologies being employed throughout America were at one time the private domain of ancient initiates.   In fact, as Constance Cumbey reveals in her thoroughly researched book, "The Hidden Dangers of the Rainbow," many New Age historians claim their occult religion and techniques originated in Atlantis and afterward were preserved in the ancient land of Babylon,
"…and surrounding Plains of Shinar and from there disseminated throughout the earth, including Taoist doctrines of China, Mayan-Aztec teachings of Mexico and Central/South America; Great Spirit teachings of the American Indians, Hindu/Buddhist teachings of Asia, etc." (pp. 250-251)
After the Flood, said Shuckford, while the faithful Noah remained in the East and established the worship of the true God, eighty years after the Flood his rebellious son Ham and his sons together with other family members departed and eventually settled in the plains of Shinar where they resolved to build a tower, a monument to their own pride, vanity, ambition and rebellion against God. (ibid, p.94)
It was Noah's son Ham, according to ancient Church Father Clement, who  'preserved' and revived the Mystery Religion of 'Atlantis' and its attendant evils:
"Fallen angels taught men the use of magical incantations that would force demons to obey man. After the flood Ham the son of Noah…discovered this and taught it to his sons.  This became ingrained into the Egyptians, Persians, and Babylonians.  Ham died shortly after the fall of the Tower of Babel.  Nimrod, called Ninus by the Greeks, was handed this knowledge and by it caused men to go away from the worship of God and go into diverse and erratic superstitions and they began to be governed by the signs in the stars and motions of the planets." (Recognitions of Clement 4.26-29)
In his well-researched book, "Ancient Post-Flood History," Ken Johnson, Th.D., reports that the sons of Ham persuaded the people to accept that the true God was merely an impersonal creative force within all of nature, making man the highest form of life/god.  Through the power of persuasion, Ham and his sons revived magical evolutionary transformism, pantheism and idolatry. (pp. 47-48)
Eventually Ham was deified and worshipped by later pagans as the gods Cronus and Jupiter:
"Ham is represented by many writers as a very wicked, immodest, and profligate creature: Berosus (i) makes him a magician, and to be the same with Zoroast or Zoroastres, and speaks of him as the public corrupter of mankind; and says that he taught men to live as before the flood, to lie with mothers, sisters, daughters, males and brutes, and creatures of all sorts; and that he actually did so himself, and therefore was cast out by his father Janus, or Noah, and got the name of "Chem", the infamous and immodest…" Upon seeing his father's nakedness Ham,  "told his two brethren without; he went out of the tent after he had pleased himself with the sight… and in a wanton, ludicrous, and scoffing manner, related what he had seen: some of the Jewish Rabbins (k), as Jarchi relates, say that Canaan first saw it, and told his father of it; and some say (l), that he or Ham committed an unnatural crime with him; and others (m), that he castrated him; and hence, it is supposed, came the stories of Jupiter castrating his father Saturn, and Chronus his father Uranus."    Genesis 9:22 Gill's Exposition
History did not begin after billions of years of evolution when primitive hominids swung down from the trees and discovered how to scratch crude symbols onto rocks.    Nor did it begin after the Flood.  At least 2,000 years of human existence preceded the Flood, meaning that when Noah and his family entered the ark they carried at least one hundred years of pre-flood memories, traditions, technology, and superior knowledge. Their world view was shaped by the historical Adam and Eve and the generations of their offspring.   Thus Noah and his family brought with them not only the knowledge of the personal God, Special Creation, fall of man, the Deluge, sacrifice to God for the propitiation of sin, the arts of weapon-making and warfare, knowledge of letters, symbols, math, architecture, science, cosmetics, and agriculture  but knowledge of  first-hand encounters with Watchers, their occult teachings, the Nephilim, and primeval pantheism tied to magic, spiritism, herbal abortifacients, human and animal sacrifice, drinking of blood, males marrying males and even beasts, and many other evils.
In affirmation, the eminent researcher of antiquity James Bailey said:
"…human history can now be hesitantly traced back as an unbroken narrative to 4000 B.C….the picture emerging…is one of the Fall of Man in historic terms as well as his rise; it is a picture…more of degradation than of success; it is a picture of monotheism breaking down into polytheism and of the struggle to return to monotheism.  The establishment view of the history of religion gradually progressing from animism to polytheism (then) to monotheism is the reverse of facts." ("The God-Kings and the Titans: The New World Ascendancy in Ancient Times 1973, p. 296)
Four thousand years before Christ were the antediluvian generations and the Watchers in the post-flood world, making the billions of years of evolutionary transformism a fabulous fable.  It is neither 'new' (Ecclesiastes 1: 9-11) nor scientific except in the sense of pre-flood and post-flood occult science and attendant traditions revised and revamped for our own time, as Geering unhappily discovered.
Dr. Jones writes that Geering was surprised when he found out that the 'New Spirituality' has "links with pre-monotheistic…nature religions," leading Jones to wryly comment that in an odd turn of events,
"….contemporary spiritual' evolution goes backwards!  Biblical theism disturbed evolutionary progress.  The clocks have to be put back (for we are in the presence of) a powerful pagan/Gnostic theological agenda, claiming to be spanking new, objective and scientific, but as old as the hills."
Clocks have to be turned back, all the way back to the days of Noah in the pre-flood world where evolution is closely connected to the devil's lie that man is a being who though presently limited in time and space is nevertheless capable of achieving a great leap of being and magically evolving into a much more powerful god-like being in the future.
As the scientifically endarkened Gnostic pagan Spirit of our age simultaneously worships on the altar of 'self' as it self-righteously peers down its' long, pointy nose and contemptuously sniffs and sneers at the remnant of backwards, unscientific, anti-evolution  faithful, in reality it is the entirely deluded pagan Spirit that is on a collision course with a modern version of the pre-flood world catastrophe—-and we know how badly that ended.

The once well-respected Guardian has been reduced in recent years into a lame Zionist mouthpiece – a light Jewish Chronicle for Gentiles consumption. Last week, the paper launched an attack on Martin Heidegger, the 20th century's most influential philosopher.
"Heidegger's 'black notebooks' reveal antisemitism at core of his philosophy" the paper's headline read.  But what does that mean? Was Heidegger really a Jew hater? Did he oppose people for being ethnically or 'racially' Jewish or was he, instead, critical of Jewish politics, culture, ideology and spirit?
According to the 'progressive' British Guardian, the newly published Black Notebooks reveals that Heidegger saw 'world Judaism' as the driver of "dehumanising modernity".
Needless to mention that we didn't need a 'new publication' to assert that this was Heidegger's view of Jewish culture and politics. The German thinker, like many of his contemporaries, saw "Jerusalem" as a suppressive and corrupted spiritual, cultural and intellectual influence as opposed to "Athens", which portrayed in his eyes, the birth of humanism, universalism, aesthetics, ethics and pluralism.
Let's examine what makes a prominent thinker into an Anti Semite in the eyes of The Guardian. "While distancing himself from the racial theories pursued by Nazi intellectuals, Heidegger argues that Weltjudentum ("world Judaism") is one of the main drivers of western modernity, which he viewed critically."
But aren't we entitled to criticize religion, culture or Ideology?  Aren't we allowed to disapprove of modernity or technology and to try to identify its cultural and ideological roots? For some reason, I can't recall The Guardian taking Max Weber to task for suggesting that Protestant ethics was the driving force behind Capitalism. Embarrassingly enough, the same Guardian that clumsily and shamelessly smears the greatest continental thinker, provides a platform to a long list of Neocons, pro-war advocates such as Nick Cohen who constantly and relentlessly criticize the so-called  'Islamo-Fascists' – a code name for Islamic political culture. I guess that for The Guardian of Judea, it is only Jewish culture, religion and ideology that must remain beyond criticism.
"World Judaism", Heidegger writes in the notebooks, "is ungraspable everywhere and doesn't need to get involved in military action while continuing to unfurl its influence, whereas we are left to sacrifice the best blood of the best of our people".  But is the above observation anti Semitic? Can an honest observation be anti Semitic, or shall we say a form of 'hatred', or should it be more appropriately tagged as an uncomfortable truth?
Heidegger was a German patriot. As such he knew very well that it was Zionist leadership and German Jewish bankers in America that facilitated the entry of the USA into the first world war (in return in part for the 1917's Belfour Declaration that promised a national home for Jews in Palestine). In that regard, Heidegger, like his contemporaries, had good reason to believe that Germany was betrayed by its Jewish elite.
When Heidegger published his monumental Being And Time (1927), certainly the 20th century's most important philosophical text, the Frankfurt School, dominated by Jewish academics, had already been in operation for more than four years, gaining ground in its attempt to subvert German culture in the name of communism. As a German nationalist, Heidegger had more than just one reason to oppose Jewish culture, politics and ideology.
Heidegger was a philosopher as opposed to a politician or an 'activist'. His understanding of the world was driven by the search for an essential and categorical comprehension. For Heidegger it wasn't the 'Jew' nor was it ethnicity that posed danger, it was an ideology and culture that was set to undermine his Athenian West and its value system as he saw it. Such an approach has nothing to do with racial hatred.
Let's examine Heidegger's above statement regarding 'world Judaism', its 'ungraspable' impact and its unwillingness to 'sacrifice.' Heidegger basically suggests that the Jewish elite is launching wars by proxy. At first, this may sound like a vile criticism of Jewish culture and power within politics. But a deeper look into this statement reveals that Heidegger was highly observant. Let's face it, Heidegger certainly didn't know about the cabal of Zionist neocons who pushed Britain and the USA into an illegal war in Iraq five decades after his death. Heidegger, most definitely didn't know about the Jewish Lobby Groups: AIPAC, LFI, CFI and the CRIF. He certainly didn't know of Bernard Henri Levy or Jewish Chronicle writers David Aaronovitch and Nick Cohen, who have been advocating Zionist immoral interventionist campaigns for years. Furthermore, as Heidegger predicted, not many young Jews followed the Zionised Neocon militant enthusiasm and rushed to join the US Army Special Forces or The Royal Marines. Heidegger somehow foresaw that Jews wouldn't be overrepresented in the list of dead British and American soldiers that emerged out of this chain of futile conflicts.
When Heidegger writes, "we (the Germans) are left to sacrifice the best blood of the best of our people,"  it is Zionist proxy wars he has in his mind – those Zionist wars that are fought by everyone except the Zionists themselves. But how could the philosopher predict the Zionist's political apparatus so precisely? Was he a prophet?
To philosophize is to dig into the true essence. The philosopher's quest is a search for the essential meaning, whether it is being, beauty, knowledge, science and so on.   Heidegger, the philosopher, saw in Jewish culture something most Jews either fail to see in themselves or conceal very well and for a good reason.  It is hardly surprising that The Guardian that has systematically failed to confront the Jewish Lobby and its relentless war advocacy, would denounce the great mind who accurately listed the exact conditions in which such bellicosity takes place.
Tragically, annihilating intelligencia and deep critical thought has become an obsession of the New Left. This may explain the deterioration of the progressive discourse into an intellectual desert. The Guardian, in its current form and under its current leadership, has a major role in that process.
"In another passage", the Guardian continues, "the philosopher writes that the Jewish people, with their 'talent for calculation', were so vehemently opposed to the Nazi's racial theories because 'they themselves have lived according to the race principle for longest'".
But is this really a lie? Not at all. The German philosopher obviously hits the nail on the head. Heidegger, who didn't approve of the Nazi racist doctrine, properly noted that Nazi racial supremacy was, in fact, Kosher by nature.
It is hardly a secret that Jewish culture is ethno-centric and racially driven.  Israel defines itself as the  'Jewish State'. Far more embarrassing is the fact that Israel's Jewish opponents also follow the same racially supremacist methodology and, in most cases, operate within 'Jews only' political cells (such as JVP, IJAN, Jewish Socialist Group etc.).
Heidegger, was obviously ahead of his time in observing the similarity between Jewish political exclusiveness and Nazi ideology. Does that make Heidegger an anti Semite? Quite the opposite, it affirms that the German philosopher is a timeless precious intellectual asset.  Yet, The Guardian doesn't posses the minimal integrity to admit that Heidegger was actually spot on. Instead, the British paper is desperate to undermine the work of the great philosopher by means of inept and vague association.
By tagging Heidegger as an anti Semite The Guardian basically advises his readers not to read the greatest Germano-Grecophilosopher and certainly not to evaluate the content of his writing. This is 'Newspeak' as observed by Orwell, which minimizes the possible content of intellectual exchange by means of 'correctness'.
It is no secret that the contemporary politically correct observer adheres to the rule that truth better be inoffensive. As such, he or she contributes to the suppression of the truth and the transformation of knowledge into a system of selective concealment. Interestingly, it was Heidegger who was there to turn the floodlight onto 'concealment' and the 'forgetfulness of Being', something the Guardian has made into an art from.
Heidegger, the truth teller has come to represent everything the Jerusalemite 'Guardian of Judea' is there to suppress. I guess that the time is ripe for The Guardian to wake up. It would do well to reinstate its position as The Guardian of the truth rather than The Guardian of Zion. We could use a quality Left paper driven by true humanist and universal concerns, instead of just another ignorant and banal Zionist mouthpiece.
Flag waving Americans want to believe that their government is on the right side of history. Especially in the realm of foreign policy, the myth that the United States saved the world from despotic tyrants, popularly reflected in the victor's account of post World War II, is the accepted viewpoint. Hidden from public education is that the New World Order was the actual winner. The specific inception of the globalist forces that originated the sub rosa directions behind formable institutions and governments dates well back over centuries. However, the modern technocratic era allows for the dramatic acceleration of a one-world system imposition, which was never possible in previous times.
Loyal citizens of the old republic want to trust that the State Department, commissioned to serve as the guardian and protector of the country, is conducting foreign policy in the best interests of the nation. There is a reason why the Secretary of State is third in line to succeed the President. That purpose, intended to defend diplomatically and promote the public safety and benefit, has served a very different master for a very long time.
Senator Arthur H. Vandenberg's notorious adage, "politics stops at the water's edge", by no means ever really practiced by the political class a true national defense of the country because it was never the primary goal of the establishment.
The international corporate conglomerate of economic dominance sets the agenda for the imperium empire that deploys the worldwide military hegemony, which feeds upon endless manufactured conflicts and false flag operations. The State Department is the keeper of the keys that formulate policies, which serves only the globalist patrons that control the puppets who make up the federal bureaucracies.
The successors of the sinister cabal that planned World War I and II and created Hitler, Stalin and Mao Zedong are the same prodigy that dictates the constant regional conflicts, which engulfs the United States into destructive involvements that bleed unnecessary blood and squander national treasure.
It is this New World Order that is in charge. State Department lackeys; duped into thinking they serve the cause of freedom, implement tactics and objectives that cause profound hatred towards America by much of the world. Those who know the real score and direct the actual formulation of policy, seek to join the ranks of world dominators, who have no allegiance to country, principles or moral values.
Examine the pattern of State Department betrayal. What a great result from the liberation of Iraq to rid all those weapons of mass destruction. Expanding the opium trade in Afghanistan surely deserves praise. Then there is the killing Gaddafi that resulted in that Benghazi success. Next was the Egyptian coup d'état of Mubarak and the subsequent removal of the democratically elected Muslim Brotherhood government. Finally, leading up to the current campaign against Syria, that is proving more difficult than usual, demonstrates that keeping the orthodox mission in the protection of Israel does not always go smoothly.Yes, that New World Order playbook needs to produce a continuous crop of villains. How else can a permanent and undeviating condition of controlled chaos exist? Managing fashioned circumstances for the benefit of the crown elites is the prescribed procedure of the State Department.
Enter the bona fide "Big Dog", Vladimir Putin Nemesis of the New World Order. Establishment reports by the Zionist owned mass media is a massive cover-up. The State Department conceived operation to expand the NWO and engulfing Ukraine into the European Union sphere of control goes unreported. The enforcement military machine of the New World Order is NATO. This pathetic attempt to reconstitute the cold war to save a dying economic banksters system is just the latest political propaganda to deceive the public.
The "so called" liberation thugs that engaged in street warfare are part of a western inspired scheme that used George Soros operative fronts as cover. When the US spent $5 billion to destabilize Ukraine, such illegal intervention undermines self-determination at its core. The correct conclusion to draw from such efforts follows:
"The protests in the western Ukraine are organized by the CIA, the US State Department, and by Washington-and EU-financed Non-Governmental Organizations (NGOs) that work in conjunction with the CIA and State Department. The purpose of the protests is to overturn the decision by the independent government of Ukraine not to join the EU."
"Nuland "was expressing in shortened form the frustration with the inability of the EU to come up with any kind of sugar to make the medicine go down," said Gati. "What she is saying is we've got a crisis here, we've got to move, we can't go by EU business as usual."
The New World Order is build upon factions of elites that pivot around crux interests, while guiding their own governments into accepting the long-term outlook. One such foundational precept requires that the central banksters manage countries that are already in arrears in their debt payments. With the selection of Arseniy Yatseniuk, the central banker politico as PM for the post-coup Ukraine, the real purpose behind the upheaval becomes clear.
"Yats is also ready to impose IMF austerity on Ukraine, already one of the poorest nations in Europe. "Yatsenyuk is the kind of technocrat you want if you want austerity, with the veneer of professionalism," Vladimir Signorelli, president of boutique investment research firm Bretton Woods Research LLC in New Jersey, told Forbes last month.

"He's the type of guy who can hobnob with the European elite. A Mario Monti type: unelected and willing to do the IMFs bidding."
The announced EU $15B aid package to provide much needed cash to Ukraine accelerates the intrusion of NWO dominance into the heartland of the former Soviet empire. As the State Department Is Preparing Sanctions Against Russia, the NeoCons and International Libs in Congress eagerly want to ratchet up the appearance of a new cold war to divert away from domestic woes and a collapsing war on the terror hoax.Yet the internal motivations out of the United States government carry little weight, when viewed within the context of the long-term master plans, for extending the current New World Order into a non-compete global dominion. Pushing Russia into the arms of an already hostile China certainly does not serve the security of America. However, that is exactly the probable outcome from getting involved, (like this designed covert regime change) in the internal affairs of Eastern Europe.
Lest one forgets, that Communism was the invention of the international banksters, recognize that authoritarianism is the normal condition of human governments. The totalitarian collectivism that the phony western democracies practice produces corporate fascism. This is the preferred version of global rule that the New World Order seeks.
Therefore, when the non-elected pawns of the transitional Ukrainian NWO protectorate states, Crimea 'was, is and will be an integral part of Ukraine', you get the Yats effect of a CNN reported illusion. For the reality, the RT coverage that Sevastopol and Crimean parliament vote to join Russia, referendum to be held, describes the actual circumstances.
The pathetic hypocrisy when Obama says Crimea referendum would 'violate international law', fails to account for the capricious attitude and deadly methods employed to oust the Viktor Yanukovych government. What legitimate international law standard did the snipers use to kill both police and protestors in Kiev?Playing king maker is a very dangerous game that the State Department undertakes at its own risk. Applying these same tactics, what will be the response when the liberation dissenters surround the capital and start a national demonstration to oust the DC criminal class from power? Surely, calling out the tanks to restore the homeland order will be the official response.
With every assault orchestrated to establish a government regime change favorable to the New World Order, the prospects of meaningful resistance diminishes. When the State Department leads the parade to dump defiant state leaders, the actual legitimacy of our own government's authority evaporates.
Calling on the world community for moral permission to eliminate opposition states is like applying for a loan from the World Bank. Strings are attached that only benefit the shylock.
One needs to distinguish the genuineness of Western Civilization from the immorality of US/EU/NATO interventionism. Permanent war is the lifeblood of the New World Order. The last thing this planet needs is a global empire, which removes any country that rejects and resists the NWO feudalist model. The essence of true liberty demands that ethnic populations organize around and among their own kind.
The desperation of the Anglo-American leadership, guided by the steady corrupt banker hands, has never been more acutely high, nor obvious in full view. The entire Ukraine situation is a travesty. It includes Langley agents killing police and street demonstrators from rooftops, the confirmation coming from the Estonian Embassy (translation of scripts). It includes thefts of official Ukrainian Govt funds, again sent to the Swiss hill sanctuary. It includes sanctions delivered by a US Paper Tiger, sure to cause horrific backlash. It involves the last gasp attempt to obstruct the Gazprom energy pipelines, which will inevitably corner the European market in monopoly. It involves subterfuge with the NATO card (aka Narcotics And Treachery Outlaws) with missiles placed on the Russian borders. Look for NATO members to find a back door to exit the spurious treaty. It involves playing with nitro-glycerine in the Petro-Dollar room. It involves putting tremendous risk for much more clear isolation of the United States. The more the USGovt pushes, the more the US will be isolated. Remember that Nazis steal from their enemy states, de-fraud from their allied states, and force themselves into an isolated state. In Ukraine, the United States has over-played its weak hand. Already, a secret document was leaked in London that the UKGovt would not support the US-led sanctions against Russia.
History repeats itself from the Kremlin phone calls made during the Syrian conflict just a few months ago, when the UKGovt withdrew its support and left the US isolated, looking very weak. Already, Putin has threatened to dump USTreasury Bonds. Putin aptly calls the Anglo-Americans as Mutants. Imagine the lunacy of trying to cut off the only Russian warm water military naval port in the Crimea. Just as stupid as the Trans Pacific Partnership faux pas, trying to cut off China from its Asian neighbors and partners in trade. The intelligence level of the USGovt has never been more stupid, destructive, and in full view. The lost ground for the United States is obvious and glaring in the Persian Gulf, the Mediterranean Sea, and the Caucasus region.
IMMEDIATE PETRO-DOLLAR RISK
If the Kremlin demands Gold bullion (or even Russian Rubles) for oil payments, then the interventions to subvert the Ruble currency by the London and Wall Street houses will backfire and blow up in the bankster faces. Expect any surplus Rubles would be converted quickly to Gold bullion. If the Chinese demand that they are permitted to pay for oil shipments in Yuan currency, then the entire Petro-Dollar platform will be subjected to sledge hammers and wrecking balls. The new Petro-Yuan defacto standard will have been launched from the Shanghai outpost. If the Saudis curry favor to the Russians and Chinese by accepting non-USDollar payments for oil shipments, then the Petro-Dollar is dead and buried. The rise of the Nat Gas Coop run by Gazprom is in progress, its gas pipelines to strangle the OPEC and its bastard Petro-Dollar child. The entire USDollar foundation with the USTreasury Bond bank reserve structure is at risk is collapsing, as consequence to the desperate adventure and criminal activity conducted in Ukraine.Just like with Syria, a hidden giant energy deposit is concealed under the table. Off the Lebanese and Syrian coast, a massive off-shore energy deposit was recently discovered. The US & UK & Israeli oligarchs wish to take it all. Confusion is their game. In the western plains of Ukraine, a massive gas deposit was recently discovered. The US & European oligarchs wish to take it all. Confusion is their game.
The danger level has never been higher. No resolution to the Global Monetary War can come, which we have been seeking, without a climax. It is hardly just a financial crisis amidst a stubborn economic recovery. The nature of the currencies and their underlying sovereign bond foundation is highly toxic, which requires a strong replacement as solution, using an alternative to the USDollar alongside its reserve ledger item the USTreasury Bond. A return to the Gold Standard is coming, but the birth will have loud pangs and possibly broad damage suffered. The Global Currency Reset is better named the Return to the Gold Standard. The United States and London will not give up their control of the Weimar Printing Press easily, used for elite self-dole of extreme wealth. It has served well as the Elite credit card. They will not go quietly, and assume their place in the backwater without taking the world to the brink. No climax can occur without enormous risk and loss. The Global Paradigm Shift is in full gear, with attendant risk huge here and now. My Jackass firm belief is that the US/UK fascist team face a Waterloo event in Ukraine, the victim to be the Imperial Dollar. This bulletin will not be a comprehensive note, as the situation is too vast. The information in the Hat Trick Letter is used to interweave a story of the impending removal of the USDollar from its corrupt throne.
UNITED STATES TRAPPED AND CORNERED
The Anglo Americans have fallen into a carefully designed trap by the Russians and Chinese in a clever designed sequence. More Sun Tzu tactics have been put into practice, which utilize the momentum from the enemy to be thrust back on them. Planning for final steps must have taken place during high level Putin meetings with Xi from the elite Sochi viewing box. The unfolding of events has been more carefully engineered and orchestrated than what appears. The US/UK team has been caught in a vise for months, as the rejection of the USDollar as global reserve currency is in high gear, the refusal of the USTBond a recognized trend in diversifications. The death process is slow and grueling. Much of the American Hemisphere is surrounded and controlled by Russia & China, whether the canal, the port facilities, the oil supply, the mineral deposits, even Yuan Swap facilities. Africa has largely gone under Chinese control, with Russia playing a hidden role as well.
The Persian Gulf is in transition, with the critical protectorate role shifting to China. The Qatar royals have just ordered a dismissal of USGovt ambassadors from their nation. Note that Qatar is the site of a giant USNaval base. To be sure, the Sochi Olympic Games are over, a successful event. The gloves have thus come off. The risks have reached acute levels. The US leadership seems cavalier to the risks that over half the USGovt debt is in foreign hands, over 30% of it in Russian & Chinese hands. A severe backlash cometh. The most vulnerable player in the room is the most aggressive, arrogant, vile, and obnoxious. The instability of the situation is far beyond acute. The victim will be the USDollar and its sidekick the USTreasury Bond. The USTBonds will be kicked out of the global banking system. The Third World awaits the United States, for its domestic betrayals, its financial failures, its criminal deeds, and its war aggression.
THE RUSSIAN BACKLASH TO BE SUDDEN
Russian President Vladimir Putin will slam the West, and very soon. The initial salvo might be a natural gas cutoff by Gazprom, the Russian giant which has fast moved into the global monopoly position. Eventually, Putin might demand gold payment for the natgas in the captured pipelines, that being the plan according to The Voice. Russia supplies one quarter of Western European gas needs. It will be the opening salvo for Gold Trade Settlement, for which the Iran workarounds to the sanctions provided the critical prototype. Combined with a formal announcement of USTreasury Bond sales in volume by Russia & China, the impact would be tremendous, even devastating. The reverberation will be soon seen as the pending demise of the defacto Petro-Dollar Standard, dictated by crude oil sales in USD terms. It will also be soon seen as the end of the USTBond as the global reserve standard in banking systems. Notice for over two years, the primary buyer of USGovt debt (and its refunded rollover) has been the US Federal Reserve via bond monetization, an absolute heresy to central banking. Hyper monetary inflation cannot stand as fixed policy. The world has responded by constructing an alternative to trade settlement. The forum has been the BRICS conferences and the G-20 Meetings of finance ministers. The US & UK will gradually be excluded from both forums, a process well along. Even traditional allies like Japan are buying gold in high volume, with suppressed lowball data so far. This is game over for the USDollar, the direct victim of Ukraine backlash. The war against Russia has been veiled, but the Jackass has exposed it.
VEILED ATTACKS AGAINST RUSSIAN GAZPROM
First was the attack against Russian Gazprom in Cyprus. It was a hidden attack made to look like a bank confiscation event. Notice no bank account confiscations outside the small but important island nation. The entire Russian banking clearance system had been done through Cyprus. Also, Russia was making significant transactions to purchase Gold bullion using Cyprus as clearing house for the purchases. Second was the attack against Russian Gazprom in Syria, another complicated event. The US had used the Libyan Embassy as a weapons running facility (major diplomatic violation), after which the US lost Egypt as a transfer station on the weapons running. The false flag attack in Syria was made to look like a chemical weapons event. However, the Saudis were the guilty party. The motive by the US was to block the advance of Russian Gazprom pipelines, which are to connect to the vast Iran supply centers. Iran has far more oil & gas than Iraq. In fact, Iran is the linchpin nation, which will throw its support toward Russia. Iran will push the Nat Gas Coop certain to eclipse Saudi Arabia and the loud gaggle of OPEC members. With the Russian Gazprom, together Iran and the Nat Gas Coop will usher in the Petro-Yuan Standard and bury the Petro-Dollar, the price set by Russia, the contracts set in Shanghai. Thus the Saudis will be expendable, and their Gold in London to be totally stolen.
Move to the present. Third was the attack against Russia Gazprom in Ukraine, done by the CIA and its partner security agents from the small ally nation on the SouthEast Med corner. The old game of destabilization, popular uprising, bank thefts, and now data files stolen has been put into action. The theft of significant funds in Ukraine has only started, funds gone to Swiss banks. The full betrayal will be seen soon. The US & UK have a lunatic plan to corral the Ukraine pipelines and possibly the vast farmlands of Ukraine. The wrong-footed plan will backfire, when Putin cuts off the natgas supply to Europe, when Putin demands a new type of energy supply payment structure, and when Putin engineers certain other steps. They might execute a Nat Gas Coop double in price, much like the OPEC event in 1973. Witness the upcoming Birth of the Eurasian Trade Zone, the birth pangs heard in Ukraine. The United States and Great Britain will not be included. The Eurasian Trade Zone will span 14 time zones and will settle in gold.
IRAN WORKAROUND AS KEY PROTOTYPE SOLUTION
The Anglo Americans have disrupted a key nation with longstanding historical and religious ties to Russia. The land of Ukraine also contains Russia's only warm water naval port in the Crimea, the site of a recent suspicious earthquake. The response will be swift and firm. The Eastern nations (led by China & Russia) have been making detailed preparations in the last couple years to launch the alternative trade system founded in Gold Settlement. Its launch lacks a potential open door trigger, possibly offered by the Ukraine situation. The Gold Standard could return in a baptism by fire. The open door trigger appears to be the Western interventions into Ukraine, since the Western banking structures will not be permitted to collapse, the ugly reality. The abuse of the central bank monetary expansion and fraudulent bond redemption has gone totally out of control, forcing an endless cycle of alternative preparations and motivated reactions, including the Iran workaround with Turkey as intermediary in gold provision. Other attacks have taken place in the last few months against the Russian Ruble by Wall Street firms. The reaction will possibly be the launch of what could eventually be understood to be a gold-backed Ruble currency, combined with natgas cutoffs to Europe and USTBond dumps. At first it could be perceived as the oil-backed Ruble, but its quick hidden conversion to Gold bullion could be revealed later on. The USDollar will be discarded as obsolete, even toxic. The USDollar debt basis might be widely accepted to be the cause of the global financial crisis, and the USFed Quantitative Easing be widely understood to be the cause of the global financial collapse.
EUROPE AS KEY REGION TO TIP EASTWARD
Events inside Western Europe could unfold rapidly. Behind the scenes, much is happening. The important German-French Axis is breaking down, weakened by each passing month and bailout exercise. The motive for much of the German support of bailouts and rescue plans, as faulty as they have been, is the oversized German ownership of both French Govt debt and big French banks. They will fail, both the French sovereign debt and the big French banks. Germany must undergo a split, with a restructure from the devastating damage due to Southern European sovereign debt and related big bank losses. At the same time, Germany is on the verge of turning East to Russia. Already Russia is a large energy and mineral supplier to Germany, the heavy railway facilities in place. The core of Nordic Europe is firm. Austria and Finland are aligned with the pragmatic forces in Germany and the Netherlands. Italy is being transformed, but Spain might be lost to chaos. Turkey is also undergoing change during chaotic reform. The entire NATO Alliance has never been weaker. The military action in Ukraine is framed as a supposed NATO exercise to honor a treaty. Watch the loose end like Turkey fall off the NATO wagon, while Finland falls off the Euro currency wagon. The Jackass is eager to see the Snowden NSA files reveal key data on the illicit usage of NATO bases for narcotics distribution, the origin being Afghanistan. What a bombshell it would be if Turkey announced that their government would no longer permit heroin shipments from USMilitary aircraft on their Incirlik Airbase.
A key player in the mix is Israel. They have a Tamar floating platform, whose natgas has been pledged under contract to Russian Gazprom. The tiny nation is possibly changing its alliances out of pragmatism, seeing its drained weakened host that has duly served its purpose. The next big step is for Western Ukraine to suffer the drain of remaining resources (financial and agricultural) to the West, using all the diplomatic tools the Euro Elite can muster. The people in the East will realize that they have been betrayed once more by the Western powers. This is the critical final step. Several swing nations will consequently align with Germany, if only to make being integrated by Russia less painful. During all the transitions, China will take care of Asia in this game. The remaining overriding question is whether the US & Britain will go quietly in the night of faded empires, or else to wreck the world with nukes and viruses. The main exports out of the United States and its royal handlers have been fraudulent bonds, military hardware, genetically modified food, fast food with diabetes, pharmaceuticals, surveillance software, computer viruses, and jamming software technology. Such is the nature of the fascist transformation.
RUSSIA CANNOT BE ISOLATED
The West is in for a gigantic surprise in the sequence of events to unfold. They have placed criminal oligarchs into top government positions in Ukraine. Doing so might suit the West but not the Ukrainian people. The political brain trust in Berlin shows extremely errant strategy, still kowtowing to the USGovt and London Elite in an incomprehensible manner. The West cannot isolate Russia, which is the latest absurd bone-headed strategy. They need Russia in vital ways that will become apparent when the West faces energy supply cutoff or forced Gold payments during an open global USDollar rejection. The US will quickly feel the lost Petro-Dollar gear mechanisms. China has already aligned itself beside Russia, which makes isolation impossible. Consider the Russian commodity supply and Chinese industrial power, the new axis to the Eurasian Trade Zone.
The West cannot continue to bully Russia & China. Poking a stick in the bear's face will not work for long. Disrespecting the Chinese creditor is deep folly. The risk that coincides is for the two Asian superpowers to threaten or actually execute a dumping initiative of USTreasury Bonds, and force the United States to use its last card in a grotesque display of hugely amplified monetary expansion. The US would collapse by falling on its own sword, the event occurring in the Weimar chamber. A super high volume bond monetization machine to cover globally dumped USTBonds is a strong likelihood as climax event, with a broken derivative mechanism that is revealed during its fracture. The London banker murders (another Jackass correct forecast, made in mid-2011) indicate a motive to keep covered up the extreme $100 billion JPMorgan derivative losses at the hands of the London Whale Bruno Iksil, first sighted in May 2012. The accelerated hyper monetary inflation in response to Russian & Chinese joint retaliation would finally kill the USDollar. The echo event, born from failure, would be for the USGovt to launch the new split Scheiss Dollar. Then the USGovt could have its domestic currency finally, and then wreck it with an assured painful sequence of devaluations. The fundamentals for the US domestic only currency are truly horrible, typical of a Third World nation. Ukraine is about the last gasp of the USDollar. It has no viable defense.
UKRAINE AS WATERLOO FOR THE US DOLLAR
Ukraine is the Waterloo event for Team Obama and the Wall Street handlers, the true controllers of the White House puppet. Ukraine will lead to wreckage to the USDollar and its USTBond partner in crime. Witness the death of the USDollar and the Birth of both the Gold Trade Standard, on the new Eurasian Trade Zone landscape. Neither Russia nor China will cooperate on the IMF super sovereign reformed currency basket at this point, not during extreme hostility and conflict. Hope and pray for cooler heads to prevail, since already many serious military attacks have occurred with advanced weapons off the Syrian coast. The Western Press prefers to frame the Ukraine situation as one more curious Orange Revolution event staged in Eastern Europe, akin to the other deceptive Arab Spring events. The old Soviet Union was trapped years ago, forced to use hyper monetary inflation in defense, as the nation imploded financially. The United States is now trapped in an ironic parallel manner, and will be exposed for its heretic inflationary response that ramps up to obscene volumes, followed by financial implosion. In fact, the events from here onward are the final hurrah for the USDollar regime and the criminal cabal.
Now has never been a better time to own a big stack of gold & silver coins & bars, stored in a secure place outside the United States, outside England, outside Switzerland, even outside Canada. The people must defend against a climax of systemic failure, led by arrogance, stupidity, desperation, and delusion, even armed aggression. It remains to be seen whether the Kremlin has some secret allies who might emerge in time, from other worlds. But that is an entire other story to be told someday maybe. We earthlings will all find out soon enough. Times are changing fast, and better to be alert than to get hurt. The Global Currency Reset lies directly ahead, complete with its doubled Gold price and doubled Silver price. The Russians & Chinese are motivated to respond to a military prod, poke, and nudge by delivering a financial response. The rejection of the USDollar is near. The rapid diversification away from the USTreasury Bond is near. The arrival of the new Global Gold Standard is imminent.
Source: GoldSeek.com | Jim Willie CB, GoldenJackass.com
There is now a New American War.  It is inside America. It is called the "War on Terror". The enemy is YOU!

It is a staged, Phony War that has been created by the International Zionist Crime Syndicate (IZCS).
This New War on Terror has an enemy. That enemy is the American People, You and Me.
Every Military Force needs an enemy. Without an ongoing or perpetual war, the War profiteers quickly go bankrupt.
In order to keep their profit stream going from war, war-profiteers need to create successive new wars or a significant threat of impending war.
Creating pretexts for these much needed wars is very hard work and quite expensive too. But war is a business, a very big business, and war-profiteers need to invest big money to make even more in return.
Members of Congress must be bought, and top Generals and Admirals of the Military High Command too.
This costs a great deal of hard cold cash, but that's okay because the IZCS gets all it needs from fat US foreign aid to Israel, fat contracts with Israeli Defense providers, and fat donations from those wealthy zionist businessmen that the IZCS manipulates, guilts or shakes down.
At this point, a select group of 70,000 K-Street Lobbyists go to work distributing funds to get elected officials on Board. The several select Generals and Admirals are handled more covertly.
If this is not enough revenue to pay off the necessary officials, the IZCS gets the rest directly from its private Central Banksters who can create all the money they want digitally, anytime they want, and give it to tribal brothers or anyone else, anytime they want.
Of course the key thing here is a significant portion of these fat revenues are kicked back to the corrupt, bought and owned members of Congress who voted for them, and to select top Generals and Admirals of the High Military Command who support the IZCS intended proxy wars by America on their behalf.
Under President Obama's Administration, for whatever reasons, the High Military Command has not been willing to take payoffs and favors and has not been blackmail-able by the IZCS.
[Note: this is a long article and one option is to read the caps first and then any areas you are interested in if you have time]
Here is the new game in the so-called American Defense Industry.  It is a stateside game and it involves magically transforming any and all innocent, Constitutional, law-abiding citizens into Domestic Dissenters, aka "Domestic Terrorists" or something close enough to declare war on "Potential Domestic Dissenters, aka "Potential Domestic Terrorists". This is an occult, alchemical symbolic processing of the American people (aka "we the people") into an defined domestic enemy that can be waged war against on many fronts–phone and email tapping, massive spying and infiltration of all domestic groupings, even neighborhood coffee parties or local church charities–you name it, everything.
This new redefinition of normal law-abiding Americans into "Enemies of the State" and its internal security apparatus as a threat to national security IS a magical conversion or transformation of the normal American Society, mainstream law abiding America, into a huge domestic national security market. This is all an horrendous BIG LIE.
Actually the real situation is just the opposite–it is the USG and specifically the Fusion Centers and the Department of Homeland Security run by perverts and enemies of "we the people" that are the real risk to the true and actual national security of America the republic and to all honest, law abiding, Constitutional Americans. And the USG and DHS and Fusion Center officials are nothing less than world class criminals committing both High Treason and Sedition against America the Republic. The USG has been hijacked and is being run by those who have turned everything upside down.
This redefinition of course involves placing cameras and microphones on almost every street corner in the light-poles and pulsed beam psychotronic generators in many street lamps, turned on full power during rush hour to sedate and subdue the populace in order to keep the masses in line.
Some say that the new Chairman of the JCS, General Martin Dempsey, is a breath of fresh air, a real American Patriot who honors his Oath to defend the US Constitution from all enemies foreign and domestic.
So far, General Dempsey has resisted major efforts to coerce him to support and engage in any new major American Mideast Air and Ground invasion (another American proxy war for Israel).
And many believe that our new Secretary of Defense Chuck Hagel is another America-firster who takes his oath to defend the US Constitution seriously also.
JCS Chairman Dempsey's independence and commitment to America on this matter has elevated him to the status of a "rock star" in the view of many who appreciate his steadfastness, and he is regarded as a true America-firster.
Some experts view JCS Chairman Dempsey's integrity and commitment to America the Republic as a major turning point, signaling the realization by the High Military Command that the 9/11 attacks were an inside-job, a false-flag attack run by the IZCS with the help of several Traitors within the USAF, JCS, and NORAD.

And that it also signals a shocking realization, for the first time, that most of the Institutions of the USG have been deeply hijacked by the IZCS and their Cutouts have included the Bush Cabal which is now struggling to maintain a thin hold on power.(1)
Obviously, Chairman Dempsey's and Defense Secretary Hagel's steadfast resistance to being manipulated by the IZCS into fighting another major Mideast ground and Air proxy war for Israel appears to be driving the IZCS to desperation.  So far these America-firsters are holding fast against any and all IZCS manipulations and pressure and doing an excellent job staying on course.
The IZCS knows that unless it gets another American proxy war in the Mideast for Israel, they are finished.  They also know that if the American masses ever start finding out that 9/11 was planned and controlled by those owned by the IZCS, they are done too.
Actually the 9/11 attacks of the IZCS were in a sense a going-for-broke gamble of everything they have against the House (America the Republic). There is a very strong new American Populism which is emerging rapidly as a spontaneous by-product of the world-wide Internet and the Alternative news it carries, which provides truth to the masses for the first time.
Top insiders know all the names of who did the 9/11 inside-job false-flag attacks and are are ready to testify if an independent prosecutor is assigned and a special Grand Jury is called, and appropriate  immunity agreements are offered for "coming clean". At least one, Steve Pieczenik, MD, Ph.D., (former Assistant Secretary of State and father of many deep cover black ops, and also the main character in many Tom Clancy books) has already gone public and named names and has said he is willing to testify in a Federal Court as to who did it.(2) Obviously Dr. Pieczenik is another great American Hero.
Some top insiders close to to the High Command have suggested that America is so deeply hijacked by the IZCS that it will take some years of the actions of high officials like JCS Chairman General Dempsey and Defense Secretary Chuck Hagel to turn the tide and neutralize the rampant influence peddling of the IZCS over almost every member of Congress and many officials in the Department of Justice and the Alphabets.
Certainly the Department of Homeland Security is now recognized as a major IZCS beach-head inside America and part of a long term plan to establish a foreign controlled IZCS neo-Bolshevik military force inside America to Tyrannize, wage war against, and eventually serially mass murder most Americans.
This is why some top insiders refer to DHS as the New American Gestapo or Stasi.  Some see it now morphing into a New Red Cheka mass-murder machine for dispensing Bolshevik-style Red Terror and mass-murder to Americans.
The Cold War was a great boon to the defense Industry even though it never went hot anywhere but Korea and Vietnam, which were limited to prevent an all out nuclear exchange.
The first Iraq War (aka the Gulf War) under Bush1 resulted from covert trickery using Kuwaiti cross drilling, which was reported to Saddam Hussein by April Glaspie, who convinced him that the USG wouldn't care if he invaded Kuwait to stop the theft of his oil from his main oil field. The second Mideast war was an Invasion of Iraq and Afghanistan to get even with the alleged perps who supposedly did the 9/11 attacks, but actually never were involved at all.
President Obama is now unwilling to deploy American troops in any major new American land war or massive air bombardment campaign in the Mideast. Nor is the current US Military High Command willing to allow it at this time. In order to appease the so-called Defense Industry and their lobbyists, he has apparently deployed numerous teams of "special operators" and mercenaries but these have been fighting terrorists supported by America, a self-defeating exercise.
He has also continued to deploy drones with air-to-ground missiles to mass murder numerous innocent women, children and non-combatants. All these Mideast and African wars are illegal, unConstitutional, undeclared and unprovoked.  They have been sold to the American People and the Congress based on the BIG LIE that they are preemptive strikes necessary to prevent any more 9/11 attacks.
The need for preemptive strikes to prevent terrorist attacks inside America is an obvious lie for numerous reasons. Anyone who examines all the available evidence on 9/11, including the BBC live TV announcement by Jane Standley that WTC7 fell to the ground 20 minutes before it happened (due to top MI-6 control officers forgetting about American Daylight savings time (too much personal coke use perhaps?).(3)
In addition, if DHS's main concern is spying on normal Americans who dissent and crushing them because DHS believes they are "domestic terrorists or "potential Domestic terrorists" or "lone wolf" spontaneously emerging domestic terrorists, this obviates any lies about the need for preemptive foreign attacks. The reason?  Because DHS now claims that the emergence of these ordinary lone wolf domestic terrorists inside America is a spontaneous phenomenon, as well as a completely independent problem that has nothing to do with foreign terrorists in the Mideast.
And beside DHS allows open borders, "sanctuary cities" where illegals can not be checked for legal immigration status, given traffic tickets for minor violations, and must be granted drivers licenses and social security cards without any proof of residency. Plus, thousands of Mideast Immigrants are allowed in to America when there is already a shortage of jobs, and the Muslim Brotherhood is invited into the White House to meet with President Obama.(4)
It is obvious that as the major American Defense Contractors who are either owned or controlled by the IZCS have realized that American Mideast war efforts are waning and have worked hard to create their phony War on Terror, first in foreign countries and now in America.

They have worked hard to generate massive public fear in reaction to the 9/11 attacks in order to engender public support and vast expenditures of taxpayer dollars for a large national security market and internal security apparatus, like the Fusion Centers and its specialized assassination teams disguised as corporate or political protection squads, the DHS and the TSA with its Vipr Teams.
This phony, staged War on Terror has been very craftily engineered to be an unending war that will assure perpetual war profits for Defense Contractors and a perpetual supply of artificially created enemies inside America to feed that war. How is this possible you might ask?
This new War on Terror has been socially engineered to provide a continual stream of degradations and provocations against the average American, provoking many in a never-ending stream to resist, and causing them to be labeled dissenters.
Once they have been labeled dissenters they are put on a Department of Homeland Security (DHS) Main Core Terror Watch List, which top insiders know is a targeted assassination list for later eradication of all Freedom-loving Americans who want to restore the American Constitutional Republic.
At present the Main Core list has over ten million Americans on it, and it is growing every day with thousands of new additions. Get a ticket for a driving offense or any arrest (even if later proven innocent) and it is highly likely you will be placed on this Main Core Terror Watch and Assassination list.

If you have a prior drug arrest many years ago or any arrest, it is likely you have already been placed on this list. If a USG web troll or fusion Center Officer comes across any patriotic postings or anything they consider subversive like the East German Stasi, that poster will likely be placed on this list.
Over time these provocations are designed to result in a continuing stream of America dissenters that want to take their Republic back from the zionist hijackers and will meet DHS tyranny and force with the like. Any and all Dissenters are now being defined as "Enemies of the State".
And anyone who wants to restore the American Republic will also be defined as a "Domestic Terrorist". DHS is a terrorist group, hand assembled by American/Israeli dual citizen Traitors and is designed to tyrannize, capture and eventually be deployed against Americans to serially mass murder them.  This is why they have been called the New American Gestapo of the Neo-Bolshevik Red Cheka Terror Machine.

If you were a Ron Paul supporter or a Libertarian, you are likely on the Main Core list. If NSA routine scans of any and all of your digital emissions and have picked up enough key trigger words, then you have perhaps already been placed on the List. After all, Marcus Wolfe the former head of the East German Stasi, a vicious torturer and murder of innocent Germans, was hired as a USG consultant to set up DHS two years before he died.(5)

Note the recent admission by US Supreme Court judge Antonin Scalia that it is without question that the Prison Camps now being built by the USG will eventually be used just like they were in WW2 when innocent Japanese Citizens were wrongly captured, completely asset stripped and placed in USG Prison Camps. (6)
President Eisenhower was an insider placed in position by the Rockefellers early in his Military career and eventually propelled into the Presidency by them. But even Ike started being bothered by strong pangs of Patriotism and became alarmed at the undue influence of the Military Industrial complex over Congress. In his final public speech as President, he delivered a warning to Americans.
Ike never imagined that the Israelis would serve as the chief action agent for the City of London zionists and would eventually hijack, buy off, bribe, compromise or honey-trap almost every single member of Congress and also use their vast Central Bankster and manipulated donor funds to hijack almost all American defense and Intel contractors and American communication companies, many of which have been moved to Israel or have been located there in the first place.
Originally his speech included the phrase Military, Industrial, Congressional Complex.  He took out "Congressional" after his political aides informed him that this could end up harming the Republican Party. When he referred to "Military" in the phrase "Military Industrial Complex", he was actually thinking of the whole new peacetime defense Industry, which was driving the Military Industrial Complex and formation of a permanent armament industry.
Ike became concerned that this permanent armament industry could assert undue influence on the American political process and could hijack American society and harm its spiritual character.
Disarming the public is a key goal of the IZCS for everyone in America but them and their stooges at the DHS and the Alphabets or their militarized police now trained by the ADL.
Many Police Chiefs are taken to Israel on all-paid Anti-Terror training Junkets where they drink the Kool-aid and are subjected to some of the most sophisticated Psi powered and Psychotronic mind-kontrol ever deployed. In years past, many were given lavish gifts and provided personal escorts of their age and choice. Perhaps this practice continues?
Any Tyrannical Government must always get rid of we the people's guns in order to be able to stay in power and concentrate it. A major goal of any tyranny, like what we have in IZCS-hijacked America now, is to gain maximum power by eliminating (as in serial mass-murdering) all political opponents and dissenters. Doubt this? Then check world history the last couple of hundred years.
The USG and DHS is now ramping up the militarization of the Police of American Cities and Suburbs under DOD Program 1033 under the 'Transfer of Excess Military Property to Local Police Program".
According to a video from 'TheLipTV', "Over the last decade, we have seen over 5,000 people killed by police in the United States," when "4,489 soldiers have been killed since the beginning of the Iraq war. Since 9-11, you are 29-times more likely to be killed by a police officer than you are by a terrorist."(7)
Most local urban and suburban police departments have been "militarized", that is, received heavy armament including armored cars, MP5 and M-16 fully-automatic machine guns, grenades, grenade launchers and ballistic shields.
We the people are the new enemy of the militarized police. The police were set up to "protect and serve", but their new mission is to wage war against "we the people" on behalf of the IZCS and the ADL.
Every military force must have a designated enemy. The common American is the new enemy of the now militarized police in their new war against Americans on behalf of the IZCS and the ADL.
Whether they realize it or not, the ADL has trained most police to view most Americans (we the people) as the enemy of the police and the Nation State. Ever attended a police training seminar put on by the ADL? Often they hide who really is running it. It's the biggest bunch of twisted, sick paranoid crap one can ever imagine, and all designed to make police trigger-happy murderers of any citizen who questions their authority in any way or questions any detainment or arrest. Yes, ADL training is a crafty set of lies that produces trigger-happy cops who believe there is a domestic terrorist hiding behind every bush who want to murder them so the police cannot go home to their family at night.
This paranoid belief system will eventually produce this result as a self-fulfilling prophecy, as police tyranny and trigger-happy police continue to murder the innocent and use grossly excessive force for minor offenses. Almost all police abuse of the citizen is delivered "for your own safety", when that is another big lie.  It is done for the arrogance and authority complex of the police officer–an artifact of over 25 years of ADL training for your local police, who have almost all sold out to the feds in order to get military weapons and gear.  All in return for signing over jurisdiction to DHS and the Feds.
Police are instructed to "charge up" anyone who questions them in any way, and any slight hesitation must be met with false charges of assault and/or battery towards the officer. Officers are told, an arrestee can beat the rap, but they cannot get out of the "ride" (i.e. the arrest and hassle of it.) They are taught that this deters deviance and crime, when actually it provokes the American people to hate police officers.
The new militarized police have one new main function.  It is to continually provoke law-abiding, honest citizens with acts of selfishness and tyranny in order to "role force" them to act out so that "punishment" can be delivered.  The goal, especially with inner urban kids is to make sure they are sold all the drugs they want, in order to dirty them up and get them into the system for life. Big prisons are a private business–a very big business–and quotas or guaranteed imprisonment rates are in place to reduce costs.
Since the IZCS is actually functioning as a neo-Bolshevik political block with East German Stasi and Nazi undertones, this reveals the actual goal of DHS–to serially mass-murder all American dissenters and political opponents. Doubt this?  Then consider the purchase of over 2 Billion 40 Caliber hollow-point rounds and 7,000 M-16 fully-automatic (real assault rifles, not the mere look-a-like AR-15) and thousands of armored vehicles and armored booths, raised spy-towers and grenade launchers.(8) Many of these armored vehicles have been given to local police who have Police Chiefs who are Traitors to America the Republic in exchange for complete submission to Federal Jurisdiction of DHS.
Some of these traitors are just stupid and overly impressed by Feds or DHS Spooks, others have been paid off in very large cash donations (hundreds of thousands of USD in military duffel bags, untraceable CIA drug profits. Some have been sexually compromised by Pedophile or Honey Traps and then blackmailed into submission. Some have succumbed after being threatened or having their families threatened. This is the lowest scum-bag manipulation (aka Humint) ever deployed, and it is everyday stock and trade for the IZCS, the world's biggest sexual compromisers, and pedophile and sex-slave operators.
Lessons of History: Any serious study of History quickly shows that war is a vehicle for a nation's leaders to maintain control over their nation-states. The infamous Iron Mountain Report gave an inside glimpse of how the super-elite criminal Psychopaths running America thought about the need for ongoing war or a suitable state crisis to unify the society and solidify their control over society.
Wars are craftily engineered by criminal super-elites who rule nation-states and their advisers. There are various, crafty ways for a nation's leaders to covertly start wars. The well-established standby is to stage False-Flag attacks and then wage war on the nation state or entity that you have framed for the attack that you did.
Another way to create a terrorist with a long and successful track record is to capture abandoned children in Mideast Countries, provide for their daily needs, while mind-kontrolling them to become terrorists with psychotic suicidal delusions of revenge toward what has been identified to them as their religious enemy which needs destruction to please their god.

The British, the Israelis, and the Saudi are experts at this, and American Taxpayers have unknowingly provided a large portion of the funding for this. One trick well known among intel insiders is the practice of acts of terror against the nation of the mind-kontrolled children to create an enemy for them to later attack in revenge.
Lots of American Taxpayer dollars were covertly dispensed to create and finance terrorists for future Mideast wars. American Intel has spent a great deal of money paying others,  such as the Israelis, to do this. Otherwise, American Intel has not been very successful themselves.  Their only real success is their arming, funding and training of the Mexican Drug Cartels and the training and deployment of the disgusting mass-murdering death squads in Central and South America, who murdered over one hundred thousand innocent women, children and young men.(9)
The 9/11 attacks were an inside job by the USAF and the IZCS. The staged Gladio-style False-Flag attack was the choice selected for the attack on the Twin Towers in NYC and the Pentagon in Washington, DC, on 9-11-2001. This attack was done by the USAF, under the authority of a zionist-controlled Criminal Cabal inside the JCS and the Secret Shadow Government (SSG).(10)
The 9/11 attack was planned, set up and run by NeoCon top Policy-Makers, Israeli Intel and their stateside Sayanims, utilizing a small criminal cabal inside the USAF, NORAD and the JCS. These are facts that can no longer be disputed by any reasonable person who has examined all the available evidence.

And it is exceedingly clear to any reasonable person who examines the pre-announcement of WTC-7 destruction that the whole attack was pre-scripted in London and Israel, and that WTC-7 was wired in advance with conventional demolition charges.
Typically, it takes a considerable amount of time and labor to wire up a building, which suggests complete access at the security level.  This means that since it was a federalized building, with CIA and NYC Emergency Center occupants, building security had to be involved one way or another. And now that it has been proved that WTC-7 was wired up beforehand and demo'ed on 9-11, this means the Twin Towers had to have been pre-wired, too.
The War on Terror is obviously a Phony. But it has been the greatest boon to the American Defense Complex ever, with many times more net American Taxpayer dollars spent on this war than any other war in history, including WW2 or the Vietnam War.
Another way to establish a war is to create and fund so-called foreign terrorist groups. This is a costly exercise that take years and can involve as much work as fighting a war.  Yes, creating terrorist groups is very hard and expensive work.
But enemies for necessary wars can be created if you have the technological help of a nation that has hundreds of years experience in creating its own enemies. This nation is the City of London (Financial District), a separate nation state like the Vatican, located within England.

There is a reason England has been referred to as "Perfidious Albion" for centuries. They have been known for their ability to instigate chaos inside nations they want to control by their standard well-developed strategy of "Divide and Conquer". They are experts at creating long term provocations between different nations that have competing economic interests.

They do this in order to establish a beach-head from which to control the removal of natural resources and accrued wealth.
Remember the Opium Wars (Boxer Rebellions) where England brought opiate addiction to China as a covert act of war in order to recover all the silver and gold paid to import Tea, spices and silk from China? This was low intensity (covert) warfare that twice led to a short hot war.
The creation of the nation state Israel was created to serve as a long term provocation for numerous Mideast perpetual wars. This is why the Balfour Declaration was made, why the Nazi sent the "low Jews" to the labor camps, while the "High Jews" were able to either emigrate elsewhere or become collaborators like George Soros.
This is why the City of London created the New Israel and took land away from the Palestinians to set up a nation of Khazarian Judaic converts (aka "fake Hebrews"), a racially paranoid group mind-kontrolled to believe the delusion that they were of ancient Abrahamic Hebrew Blood.
The IZCS believes in preemptive strikes against Goyim and their institutions. Judaics have also been mind-kontrolled by Zionists (many of whom are not Judaics at all) to believe that they must hijack the American political system to preemptively crush Christianity and American Goyim Culture.

And that if they didn't succeed in this, they would be persecuted again, just like what they call the "holocaust"–translated from Old English as "a fiery sacrifice".
This philosophy of striking first and eliminating the Goyim to prevent another "holocaust" from ever occurring" is a Bolshevik ideology based on the "End Justifies the Means".
This paranoid strike-first obsession will produce push back and persecution eventually, thus serving as a self-fulfilling prophecy. Of course the Zionists who control Talmudic, Noahide Judaism know that the 6-million-dead figure is untrue, because this had appeared in the late 1800′s andearly 1900′s in Judaic literature long before the work camps of WW2.
New Genetics research exposes a vast, paranoid race-based delusion. Recent Johns Hopkins genetic research has shown conclusively that approximately 80% of the Palestinians are of Hebrew (Abrahamic) bloodlines, and approximately 90% of Judaic converts living in greater Israel are not of ancient Hebrew (Abrahamic) bloodlines. Thus, the world's greatest anti-Semites appear to be Israelis who have stolen Palestinian land and continue to do so against all UN rulings and International Law.
The nation of Israel was set up as the private nation state and Tribal Intel front for the City of London Zionist private Central Banksters, to serve as a beach-head to control the production and distribution of Mideast oil. This delusion that the Khazarian Judaic converts were God's Chosen People (ancient Hebrews from the Ten Tribes) was then en-cultured into these Judaics who were sent to Palestine and armed so they could use terrorism to expand their region of control.
Greater Israel has no real boundaries and is ever expedient, as Israeli militants keep taking land and murdering unarmed Palestinians.
A serious spell, a racial delusion of superiority has been cast on many Judaics no matter where they live, but especially so among those living in greater Israel, where the Luciferian Hex Flag flies. Whether true or not, the flag signifies the merger of demonic fallen angel Beast-Bloodlines from above, bred with Human female bloodlines below.

If we accept this Hex Flag at face value, does this mean that the top Zionists running the IZCS are perhaps alien/human hybrids, or at least claim to be in their own secret ceremonies that Stew Webb has exposed numerous times in articles and radio appearances over many years?

It is obvious that the IZCS has hijacked the US Department of State and the US Military Defense Complex as well as Congress. Listen to what Kay Griggs had to say about this.  She was married to a top USM officer and mind-kontrolled "wetboy" who became out of control and beat her and then tried to have her shut up. He and/or his controllers serious stalked and harassed Kay Griggs for years.
She went to live with Sarah McClendon for protection and was interviewed by Pastor Rick Strawcutter, which probably raised her profile so much that it saved her life.  Kay is another Great American Hero and is a courageous standup person, one of the best you could ever meet anytime, anyplace. If you get a chance, be sure and listen to her 8-hour video affidavit with Pastor Rick Strawcutter, who is another Great American Hero. You will be amazed and angered at who has been running the USG and the Military.(11)
Kay's video affidavit is packed with insider secrets known only by top Intel insiders. How much do you want to know about what is really going on in the background? How much do you dare to pull the curtain back to expose the Wizard Of Oz (as in Ounce)? You will need a great deal of courage to handle what Kay Griggs reveals. By the way, a great deal of her testimony has been cross-corroborated by experts.  Any errors she makes are minor and not directly related to her main claims.
Two sides of the same coin: Of course those on the inside of the Ruling Cabal know that Nazi-ism and Zionism are two sides of the same coin and run by the City of London Central bank controllers. This entity is the Old Black Nobility (OBN), which prefers to stay in the background.
The IZCS controls Private Central Fiat, Fractional Reserve Banking: This reality that the IZCS owns and controls private Central Banking means that they have access to and can utilize Babylonian Money-Magick to make the money they need to control the USG officials and Congress from nothing.  This access provides vast sums of money in seemingly endless quantities.  Thus, they have access to all the cash they need to buy, own, compromise or blackmail almost every single Congressman/woman and Senator in America.
The serious down-side of this system of Babylonian Money-Magick is that it is based on fiat or fake-money with nothing but debt behind it. Actually this debt is imaginary, but has a stranglehold on most of the members of the societies it has hijacked. But it cannot go on without catastrophic readjustments, which will occur at some point.
A worldwide Web of Debt: The private Central Banksters in America have been so adept and successful at extracting wealth in America and all over the world, replacing it with debt, that nearly the whole world is now engulfed in extreme debt.

And this debt has now reached the point it cannot be paid off. This of course is the IZCS's age-old plan which will result in massive chaos that engulfs the world and destroys all social systems, family systems, sex roles, and systems of government.

After this destruction of conventional society occurs, it is expected by the IZCS top leadership that a pure Luciferian NWO System will arise from the globalist framework they have put in place.  They expect this NWO System emerging from the ashes to be their Phoenix, like the legendary Phoenix of Greek and Roman mythology.
All this tidal wave of debt is phony and a big charade.  If all the people of the world unite, nationalize their monetary systems and declare all debt null and void, and if they assign all such debt directly to Central Banksters responsible for creating it, prosperity to "we the people" can return like it did to the Colonists who left England.
Babylonian Money-Magick has been used to create a debt based economy.  It does this by producing "onerous usury" and allows the easy transformation of "all the money created from nothing which is worth nothing at face value" into the vast amounts of ever-increasing wealth.  This wealth–fiat money–is covertly stripped from the common man these Banksters provide the money for and use as a means to extract real value and wealth from.
The Zionist IZCS vehicle used to gain control over almost every single member of Congress and to buy, compromise and control almost every top USG official and Judge, is the 70,000+ K Street Lobbyists, AIPAC and others who distribute the money to their marks, often through campaign contributions, cash to offshore accounts, and various other expensive luxury perks, such as ridiculously high honorariums for meaningless propaganda speeches.
And AIPAC, the ADL, the SPLC and the like are also zionist tools of espionage against America the Republic.
They should all be investigated by the FBI and fully prosecuted and convicted and sentenced for espionage by the Department of Justice. Note, espionage in many cases is a Capital Crime.
If the Rosenbergs were prosecuted, convicted and executed for their espionage against America, why should these IZCS Cutouts go free without identification and full prosecution?
These entities are really Intel fronts for espionage against America the Republic on behalf of the IZCS which includes the City of London zionist Central banksters, Israel, American NeoCons, and Israeli-American dual citizens who have betrayed America, putting Israel first over America.
Vast Funding for zionist Cutouts. These entities receive vast funding from the zionist Central Banksters and from the wealthy Judaic businessmen they shake-down or manipulate for large donations by playing on their paranoid tribal delusions.
These tribal delusions are that donations are necessary to prevent excessive antisemitism and future persecutions or "holocausts" by Goyims and Christians.
Many Judaics in America and elsewhere have been en-cultured with the false ideation that Nazi-ism was a Christian phenomena and Christians and Goyim must be destroyed.
This of course this is as far from the truth as possible because Hitler was a British Agent and Nazi-ism was created by the Tavistock Institute and the City of London Central Banksters and a counter-force to the Bolshevism they created and deployed in Russia in 1917.
What does the International Zionist Crime Syndicate (IZCS) run out of the City of London through its main Cutouts Israel and the hijacked USG attain? Obviously the IZCS's unlimited funds and the fact it owns and/or controls almost every member of Congress and most USG officials and Judges, means that the ICS has been able to determine USG Policy.

It can do this because it owns and/or controls all USG top Policy-Makers, most of whom just happen to be outside of the visible USG and within the Secret Shadow Government (SSG).
Obviously the crimes of the IZCS and their espionage fronts like AIPAC, the ADL, SPLC and the like against the American Republic are far worse than the Rosenbergs.

Listed below are some of the IZCS crimes against America:
1. The NSA and all American Intel has been completely hijacked by the IZCS and all NSA intel data goes directly to Israeli Defense Contractors and Israeli communication Corporations that process all American phone calls and data transmissions. This means that the Five Eyes International Intel System is really a Six Eyes System controlled by Israeli Intel entities and proprietaries.
Thus, America has no real Intel, and Israeli Intel has control over all American politicians, judges and officials by use of this Intel for human compromise, blackmail and sophisticated mind-kontrol operations. Any time factions within American Intel agencies (there are 37 and growing) form opposition to the IZCS, this is readily discovered through Israeli Intel intercepts of NSA raw Intel and actions to neutralize such efforts are quickly deployed–whatever is required.
The conclusion here is that America no longer has any real Intel of its own–none at all–it is all compromised and hijacked by Israeli and City of London Cutouts and contractors.
2. Because the IZCS has hijacked all American Intel directly from NSA feeds, the IZCS has a long history of stealing American intellectual property and providing it to their corporations. The IZCS can also hijack American corporate bids and defeat them repeatedly until many companies go out of business.
3. The IZCS has compromised almost every single member of Congress, US Supreme Court Judges, most Federal, and almost every single USG official and American Intel Director.
4. The IZCS's new DHS is a zionist terrorist front, a new Internal American Army that has been deployed against YOU as their NEW ENEMY. The IZCS has created and deployed DHS as the New American Stasi and a New American Neo-Bolshevik Red Cheka. It is controlled by an Israeli-American dual citizen who made millions of USD from selling unshielded X-ray machines to the TSA, which is creating numerous cancer clusters among TSA officers.
5. The principal goal of the IZCS in America is to deploy DHS to tyrannize and degrade Americans and then eventually to start a live "shoot to kill" war against ordinary Americans who organize to take their government back and restore the American Constitutional Republic. This tyranny by DHS is planned to culminate in serial mass-murder of up to 80% of Americans–one way or another.
6. The IZCS has set up and deployed AIPAC, the ADL, the SPLC and others to serve as agents of espionage inside America, to work to destroy its institution of government, dirty up Americans and to destroy the American Family, America's language borders and culture and to destroy Christianity and Deism in general.
7. The IZCS has hijacked top factions in the CIA, DEA and other American Intel and uses them to traffick illegal narcotics and drugs into America to raise money for deep-cover covert ops.
8. The IZCS has compromised almost every major Urban and Suburban police Department, coercing them to sign secret transfer of jurisdiction agreements giving the Feds, DHS and the Fusion Centers complete jurisdiction in any matter they choose.  In return, they are bribed with "stolen" war materials, machine guns, rounds, armored cars and, even in some cases, grenade launchers.
9. The IZCS has stolen numerous loads of nuclear materials from US DOD contractors and refiners for their Dimona Plant and nuclear storage center.
10. The IZCS has used NSA-provided intel to murder hundreds of witnesses to their crimes and federal Whistleblowers. The rest that they don't murder are watched and often become victims of targeted harassments, placed on DHS and Fusion Center "Terror Watch Lists", "No-Fly" Lists and "No work lists". Take the example of Ronald Reagan's Secret Agent, the Great American Hero Lee Wanta who was instrumental in "bringing down" the Soviet Union. Lee Wanta has been wrongfully imprisoned, tortured, and endures ongoing harassment.
Or consider Mark Novitsky, another Great American Hero who refused to do wrong and coverup crimes while working for an NSA contractor. Both of these American Heroes have paid a terrible price for obeying the law and for putting the welfare of the American People first.
11. The IZCS has hijacked the America Monetary Production and Distribution System and transformed Americans into debt-slaves, drastically reduced the Middle Class and the standard of living, and done this by massive asset-stripping of American wealth and prosperity.
12. The IZCS has used its Cutouts to debase American culture, take the God of our Founding Fathers out of the schools and institutions where they had certain Bible verses and phrases etched in stone, destroy traditional male and female sex roles, destroy the family, promote sexual perversion, promote promiscuity and sexual irresponsibility and addiction, promote diversity and political correctness and illegal immigration and multi-culturalism.
13. The IZCS has completely compromised all of the Major Mass media, transforming it into a propaganda dispenser for the USG and the Central Banksters which are completely under their control. Thus the Major media is now the Controlled Major Mass Media (CMMM).
14. The IZCS has hijacked American seed companies and most major food processors and is in the process of deploying sophisticated GMO's which will, over time, radically increase the death rate of Americans.
15. The IZCS has hijacked Big Pharma and Big medicine and has used it to deploy vaccines containing monkey viruses like SV40 and numerous harmful adjuvants like squalene and aluminum or formaldehyde, as well as so-called preservatives like ethyl mercury.
16. The IZCS has hijacked many large Insurance Companies and used them for its own designated purposes.
17. The IZCS has deployed contract aircraft through their hijacked intel groups like the CIA that are spraying toxic weather and eugenic substances in the atmosphere. They have also been able to covertly add these toxic substances to ordinary jet fuel.
Numerous samples of these substances have been collected by researchers and scientists who have had them analyzed.  What they found were toxic levels of nano-particulized aluminum, barium slats, Hemophilus Influenza, red blood cells, white blood cells, toxic molds, and other strange fiber like substances and compounds.
18. The IZCS has used its vast criminal networks and resources to launder its drug money by buying up large real estate entities and banks and is able to finance almost every new major corporate building with laundered drug money.
19. The IZCS has used a great deal of its money from illegal drug trafficking to build deep underground military bases (DUMBS). Some of these bases are claimed by top insiders to be joint ventures with alien entities and have special genetic labs involved in the development of alien ET/human hybrids.
20. The IZCS is the world's top Mind-kontroller.  It has used hijacked American Intel and its defense contractors to develop and deploy advanced high technology for psychotronic, direct brain entrainment and sound-based subliminal mind-kontrol.
21. Israel used advanced mind-kontrol on those who accept its all-paid junkets. Visitors end up drinking their special Kool-aide and are hit with sophisticated psychotronics, becoming significantly mind-kontrolled to operate as functional zionists without even being aware of it.
22. The IZCS has created what they call the federal family. They have done this by creating Fusion Centers, the DHS, the TSA and numerous armed (previously unarmed) agencies like the Department of Education. Unduly large salaries and extremely liberal benefits have been provided, as well as a special anointing with authoritarian powers to kill with very little accountability if any, due to the War on Terror.
Many of these federal Family folks have been mind-kontrolled by shoulder-held constant on pulsed beam microwave radios and other highly advanced psychotronics, which increases their tendencies to tyrannize and become violent with the public and minimizes their ability to control violent impulses which may crop up.
23. The IZCS has militarized local police departments and many Sheriff's departments. Their ADL provides most of the police training and drives a hard line against any public dissent, describing it as "domestic terrorism". It controls what the Fusion Centers and DHS put out as war propaganda which labels the public as "Domestic Terrorists".
Here is the first part of one of their confidential lists of Domestic Terrorists or Suspected Domestic Terrorists:  Catholics, Evangelical Christians, Veterans, Libertarians, Constitutionalists, Tax protestors, Gun owners…..These reports of course are pure ADL propaganda lies and complete smear jobs, all intended to provoke police and Federal Family officers to tyrannize and easily become violent with innocent ordinary Americans or anyone who decides to peacefully protest, an American Constitutional Right.
Remember that the operational goal of the top Policy-Makers who are tools of the IZCS is to provoke a full scale shooting war between ordinary Americans and their police and Federal family Members such as DHS.
Conclusion:  The IZCS has hijacked America and has deployed numerous weapons against it now culminating in a phony, staged War on Terror, and if you are an American or live in America, one way or another YOU will soon become THEIR NEW ENEMY. Yes, from here on out if you live in America, you are the designated enemy in this new War On Terror.
If you are a member of the federal family, it is suggested that you read and study up on the Night of the Longknives (Operation Hummingbird) and the various purges under Lenin, Stalin and Mao. Maybe you should reconsider the oath you took to UPHOLD the US Constitution from ALL ENEMIES, FOREIGN and DOMESTIC.
Now for some good news about all this.  Despite how bleak this all seems it is far from hopeless and American are beginning to wake up in mass. This is due to the worldwide Internet and the massive dissemination and diffusion of the alternative news.  Once facts are published they sink into the hearts of "we the people" with a certain resonance that makes them take hold.

It's almost instinctive how truth sticks like glue in people hearts and minds and spreads like wildfire all around the Earth. At least 1% of the American population has woken up. Some estimates are 11%. Proof of this is the massive first time gun buyers, the massive sales of high powered handguns, rifles and 12 gauge shotguns and massive ammo sales.

Guns and ammo have literally been flying off the shelves the last several years and there have been serious ammo shortages due to the massive DHS and USG stockpiling of 40 Caliber Hollow Pints and M-16 ammo rounds.
Once 12% of the population wakes up a critical mass turning point will spontaneously occur and through various very strange mass societal changes will occurs and new very powerful, unstoppable populism will emerge and the IZCS will be driven out.
If they are stupid enough to take us into a live shooting war, Internal Civil War with mass killing, the public will suffer great losses but the Federal Family will split and it and the IZCS and any of their forces will be defeated.
All wars are always won by what is in the hearts and minds.  In America the American Spirit lives and is getting stronger every day. Soon the foreign filth and their Cutouts run by the Kingpins from City of London and Israel, the perps that have hijacked America, the IZCS, will be completely exposed, stopped, or routed out, one way or another.
And there is good evidence that many retired Intel Cowboys have gone back to work to bring the IZCS Beast down and destroy its grip on American Intel and private Central Banking. Some of the covert operators have long records of success and can create and use numerous different identities.
Many of these Intel Cowboys can use make up and make their own credentials to impersonate officers, draw military and USG paychecks from multiple sources, all at the same time and hack into any computer system anywhere in the USG or American Intel, anywhere anytime. Most of them just did not realize that the IZCS has taken control because of unlimited money provided by zionist Central Banksters and Judaic supporters.
And the best news of all is that more than a few seasoned Intel Cowboys that served the Bush Cabal at its center as well as the IZCS, have now woken up, pulled away from the Bush cabal and are targeting the IZCS with deep cover covert ops that would make your hair stand on end if you were allowed to know.
Some of these Intel Cowboys have now admitted that they were kept so narrowly compartmented that they did not realize the whole picture until the Internet and the numerous Federal Whistle-blowers coming forward and spilling the beans. the simple fact is this, the worldwide Internet and the alternative news it provides spreads truth like a wildfire that cannot be put out even with the application of military force.
The Internet is the New Gutenberg Press, the Achilles Heel of the IZCS.  The Internet will turn out to be the greatest trick in history played on the IZCS by the young men at Drapa.  They sold the Internet to the IZCS and its SSG promising the greatest spying and surveillance system imaginable.  Yes the IZCS got much of what was promised but also a very big hidden surprise which assures their complete exposure and destruction, piece by piece. And this disassembling of the IZCS is already well under way.
The IZCS is now in its death throes and is like a rabid, cornered dog.  That makes it very dangerous for the next year or two until it is completely defanged which is coming. If they use the Samson option which they have been threatening numerous nation-states with (they already used it on japan with the nukes planted in the sea bed and in the security camera on site because Japanese turned against them).
New factions within the Military High Command and the USN have already taken note and are working carefully in the background to defang Dimona by utilizing secret satellite activated back-doors in various hardware circuits.
During the height of the bush Cabal (Bush1) those Intel Cowboys that did know were arrested and jailed on trumped up charges to discredit any possible testimony before Congress or in the courts. Now that many have been informed of what really happened on 9-11-01, they are hopping mad that America has been hijacked and the Constitution and its Bill of Rights, and the Rule of Law has been suppressed and ignored by this world's largest criminal cabal.
The IZCS attacks on America on 9-11-01 have proved to have been a "going for broke" attempt to build a expanded Israeli in greatest intended form. We now know that it was the greatest and final reckless mistake of Israel so far. Even far worse than Israel's False-Flag attack on the USS Liberty in their attempt to draw America into a Mideast War at the time which even President Johnson, their crypto Judaic stooge refused.
And now many Americans have finally been informed that the Murrah Building attack as well as the first NYC Twin Towers attack using a 55 drum of cyanide stolen from Louis Champon's Natural Cherrie Flavoring Plant in Boca Raton, Florida, financed by Dr. Ishan Barbouti, the IZCS Cutout that has died at least three times and always come back to life.
As few know, only the top NeoCons 911 Planners, Dr. Barbouti rose again and came back to life to assist with many of the 9/11 attacks subplots which were designed to provide numerous false leads. A few of the most Patriotic Intel Cowboys who have "traveled" very close to the very "top of the pyramid" now believe that Israel provided the anti-matter positron micro-nukes which were installed in the Twin Towers elevators approximately every ten floors.
Most retired Intel Cowboys had previously thought Israel was a supportive Intel partner but didn't realize that Israel murdered 135 Americans on the Liberty ship as a False-Flag attack and also murdered another 3,000 humans being in NYC and at the Pentagon on 911, assisted by Traitors within the USAF, NORAD and the JCS.
Now that these Intel Cowboys know the truth, they have woken up and back at work serving America's true "National Security". I don't know exactly what they will do but I would expect some very, very crafty covert moves to expose, drive the IZCS out of America or demo it irreparably if necessary.
References:
(1) http://www.veteranstoday.com/2013/11/10/was-ronald-reagan-the-last-duly-elected-president/
(2) http://www.youtube.com/watch?feature=player_detailpage&v=bU2n1UiY3I0
(3) Jane Standley BBC announcer, http://www.youtube.com/watch?feature=player_detailpage&v=ltP2t9nq9fI
(4) http://freebeacon.com/muslim-brotherhood-leader-meets-obama-in-white-house/
(5) http://thecommonsenseshow.com/2013/04/19/dismantle-the-department-of-homeland-stasi/
(6) http://www.informationclearinghouse.info/article37553.htm
(7) http://americanfreepress.net/?p=15289
(8) http://rt.com/usa/dhs-ammo-investigation-napolitano-645/
(9) http://www.washingtontimes.com/news/2011/aug/11/was-cia-behind-operation-fast-and-furious/
http://www.corbettreport.com/the-cia-and-the-drug-trade-eyeopener-preview/
(10) http://ehpg.wordpress.com/israel-did-911/
(11) Part 1: http://www.youtube.com/watch?feature=player_detailpage&v=1pyMMfqS6Kc
Part 2: http://www.youtube.com/watch?feature=player_detailpage&v=vdv8g6k2AP8
Part 3: http://www.youtube.com/watch?feature=player_detailpage&v=IJrKFkZ_uMo
Part 4: http://www.youtube.com/watch?feature=player_detailpage&v=U8r8-AHMgsI
Note: Kay Grigg's video affidavit has numerous other backup versions.  Some have more than four parts and some additional material lost due to editing.
Source: Preston James | Veterans Today
Urban War Zones are now a reality inside many American cities.
It's no longer necessary to go to Iraq, Afghanistan or Africa to enter a real war zone and have to fight for your life.
Thanks to massive CIA drug trafficking and American Free-trade Treaties like NAFTA, CAFTA, GATT & WTO, many American inner cities have been transformed into actual war zones.
These inner city war zones are infested with drug gangs that outnumber police and out gun them too.
At present these gangs are typically competing and battling with each other for turf and making a living selling drugs and running prostitutes, some captive sex-slaves. At some point if the economy worsens and the SHTF, they could easily start looting and attacking anyone and everyone.
However, in every major city in America at present, violent urban predators prey on the unarmed, old, weak, sick or disabled. And while out of control Police Swat Teams battle these predators and drug gangs, they often tyrannize the innocent which include women and young children, using excessive force all too often. There are numerous incidents of such teams murdering innocents after attacking the wrong home.
The massive War on Drugs was designed as a dualistic program. One hand, the top secret part involves the USG bringing in massive amounts of illegal drugs to raise "off the books money" for covert ops. The other hand uses all serious gang crimes arising as a pretext to militarize the police as justify their deployment as Nazi Storm Troopers.
This second part of the War on Drugs is for public disclosure and consumption. In response to all this massive urban breakdown, the worsening economy and increasing government tyranny from the Department of Homeland Security, the TSA and out of control local police, Americans are arming at an astounding rate. Guns are literally flying off the shelves and ammo sales are at an all time high also.
Americans now arming up in mass in order  to protect themselves from and this increasing USG Tyranny of the USG, DHS and their local militarized and Mind-kontrolled local police (1)  and from increasing and spreading urban crime which includes robberies, car-jackings, home burglaries and home invasions.
Also given as an important reason for arming up for the first time when asked, is a fear of possible impending economic collapse with an associated SHTF occurrence. Many express a salient and absolute need to be able to protect themselves and/or their family members from possible looters and armed home invaders which would likely accompany a SHTF urban breakdown situation.
And who should be credited with creating such a foreboding urban environment? It is the Globalist Traitors and infil-Traitors who have hijacked the political process and Banking in America.
These Globalist "enemies within" have rammed through economically disastrous Free-Trade Agreements and forced Diversity, Perversions and Political correctness accompanied by massive immigration, most illegal. All this has been designed to destroy the borders, language and culture of America, to neutralize its Constitution, Bill of Rights and Rule of Law while transforming America into a economically distressed Third World Nation.
These Globalist enemies within the Gates have been working very hard to transform America into a Democracy (Mob rule by the masses) from the Republic which was set up by our Founding Fathers.  Obviously any real enforcement of the US Constitution would assure that American would remain a republic the way it was set up.
Since the imposition of so-called "Free Trade" policies upon the American Republic, urban decay and blight have become epidemic in major American cities. Many cities have turned into Urban Jungles, where only the strongest survive. In these Urban Jungles, violent gangs prevail and the weak are parasitized and consumed, afraid to go out of their homes, especially after dark.
Take Chicago, which has become a "kill or be kill" free fire Urban War Zone in some of its Urban areas. Chicago is the one of the most gun restricted areas ever, but the only ones that do not carry guns to defend themselves are law abiding citizens.
Gang members have all the guns they want, supplied by drug gangs and the CIA and BATF.http://www.cbsnews.com/news/gang-wars-at-the-root-of-chicagos-high-murder-rate/
Some of these areas such as Washington DC have been rated as having a 300% chance of being mugged if out after dark in certain areas, which means you could likely be robbed three times in a single block if you have a victim profile (old, young, weak, disabled, female). The real unemployment rate is 37%, despite phony USG that it is 7% or less.(2)
And now Detroit has been declared Bankrupt. It has been reported that retired police and City workers will now receive approximately 13% of their pensions due.
The Ruins of Detroit:
The ten Most Dangerous American Cities which are truly Urban Jungles at Night:
There are areas in Detroit, South Chicago and St. Louis that are so violent and infested with violent gangs that even the police refuse to enter unless ordered and then do so with major forces.
Until recently parts of Detroit was so violent that police and ambulances refused to provide service during the night hours and often found abandoned dead bodies (murder victims) days later. Detroit, known as "Iron City", the jewel of America, used to be prosperous beyond measure based on the manufacture of the world's finest cars.
Remember what a 1965 Olds Starfire coupe was like, or a mid 60′s Buick Wildcat or Pontiac Bonneville was like.  How about a mid 60′s Chevy with a HP409 engine or a Plymouth Belvedere with a 426 Hemi or 440 Wedge engine?
That all changed in 1971 with the introduction of very extreme anti-pollution "clean air" laws which reduced automotive engine compression ratios from approximately 10.5 to 8.5, required the installation of retarded, goofy extremely inefficient camshafts.  The result was garbage engines that had little power, consumed huge increases in gasoline and a major shift in chassis quality to near complete crap. At that point American automotive quality was gone and is only starting to come back now forty years later.
This is but one symptom of the covert Globalist engineering of American Society on behalf of the City of London zionist Central Banksters.
This of course created a great opportunity for the Japanese Auto manufacturers, secretly owned and controlled by the super-elite American Banking families. When W. Edwards Deming, an astute American engineer approached American Automotive Manufacturers in Detroit and proposed his plan to drastically reduce defects and lemons, he was rebuffed because it was felt his plan was too expensive and too slow.
Deming's plan required 100% quality checks and verification of all parts from every supplier instead of the approximately 1% or less sampling. When Deming approached the Japanese, who had already shown a new coming expertise in motorcycles and quality circles in their electronics manufacturing, his program was accepted and implemented.
The rest is history, and after about 15 years, the American Automotive manufacturers have been playing a catch up game ever since for quality with the Japanese Auto manufacturers.
And now the Korean Automotive Manufacturers have hired retired Japanese automotive engineers as consultants and have adopted many of their same practices and principals to their automotive manufacturing.  The result?
Some Autos manufactured in South Korea have attained the same quality as the Japanese which are considered to currently be the highest quality in the world. As many automotive enthusiasts suggest, if you want the best performance buy German, if you want the highest quality buy Japanese.
It is a fair assumption that Globalism and the Free-Trade Agreements it produced, have resulted in the exportation of most American heavy industry, manufacturing and millions of good paying jobs. This alone has seriously harmed the American economy and set America on a path of destruction, starting first with its Urban Centers which have become urban wastelands and jungles, and now progressively spreading to middle class and upper middle class outlying suburbs.
Fair Trade with suitably adjusted reasonable Tariffs to protect American Jobs are necessary to America's economic survival and prosperity. Free Trade is not Free at all and is an abomination to the American republic and its Sovereignty.
It is a tool of the Globalists to enhance the earnings of their international offshore Globalist corporations at the expense of the American worker.  It is nothing less than a secret war against America's Sovereignty and the Republic itself.
The only other globalist tactic to destroy America that approaches its effectiveness are the policies of unrestricted illegal immigration, forced diversity, cultural programming that perversion is good, required perversion programming in the public schools that it is normal, and political correctness.
Obviously these are all Globalist weapons of covert war waged against America to destroy its borders, language and culture and gut it economically.  These Globalist weapons have been deployed against Americans in order to transform America into a Third World "Democracy" instead of the Republic that it was set up to be by the Founding Fathers.
These Traitors and Infil-Traitors in Congress and the Administration keep financing and running foreign wars for Israel in order to establish Democracy like they keep claiming we have in America. We have never had a democracy but they have been doing their best to kill the Republic on the behalf of their zionist owners and masters This is of course one of the biggest lies ever told.
America has always been a Republic, a democracy is mob rule. Of course bringing in 30-60 million illegal immigrants and millions of legally sanctioned foreign workers has quickly undermined American culture and tradition and established a real base to elect politicians who appeal to the masses. The election of President Obama was the first of such travesties.
Up until recently when American aircraft manufacturers starting buying foreign parts, American aircraft were the best in the world, especially the military aircraft and fighter/interceptors. Now we have an F-22 with a contaminated O2 system from China that causes some pilots to start passing out and a Boeing Dreamliner with a faulty battery system that was imported.
For years St. Louis has been so poor that some of their police radio don't work properly and their squad cars are in disrepair. In East Los Angeles, despite how tough and well armed the LA Police Department is, top police officials know that they are completely outgunned by Mexican drug gangs allowed to enter and do business inside America and also provided arms shipped by the CIA and the BATF.
It's not as if Americans weren't duly warned what such Free-Trade Treaties would produce, because Presidential Candidate Ross Perot went public with what was coming.  He described the effects as a "giant sucking sound" for American jobs as they would leave America in droves.
But despite Perot's grave warnings, President George HW Bush signed NAFTA on Dec. 17, 1992 with full Congressional support. The NAFTA Treaty was ratified after Bill Clinton became President. Soon after the sucking sound started, with shocking support the the US Department of State which provided massive grants to major corporations to move manufacturing to Mexico.  These grants continued at American taxpayer expense under the subsequent Trade Treaties that were subsequently signed and ratified such as CAFTA, GATT, and WTO.
Unbeknownst to most Americans, President Obama is now deeply involved in secret negotiations to pass the Trans Pacific Partnership Treaty (TPP) which experts have described as "NAFTA on Steroids". TPP is far more than just another Free Trade Treaty which continues to lower the value of American wages to the "rock bottom" levels in third world  countries. If signed and ratified by Congress, the TPP would be the complete end to any remaining American Sovereignty.
What established this frenzy for Free-Trade Agreements? It is now known that The last duly elected President of the United States of America was Ronald Reagan.  It is also known by seasoned intel officers that Ronald Reagan distrusted American Intel in general and especially his Vice President George HW Bush.
In fact it has now been discovered that President Reagan distrusted the CIA and American Intel so much, he set up his "Kitchen Cabinet" and brought in Lee Wanta as his Secret Agent under the Totten Doctrine (3).
George HW Bush was illegally elected later as President, since his father Prescott Bush had signed an Immunity Agreement that no future Bushes (Scherfs) would ever run for office after he was arrested for "aiding the enemy" and his Union Bank assets were seized by FDR during WW2.
It is also known that George HW Bush ran his own private CIA inside the CIA which served the specific needs of the zionist City of London Central Banksters and their franchisees, the American private Federal Reserve and major Wall Street Banksters.
Some former top American Intel believe that it was this private GHW Bush Intel organization that tried to assassinate President Reagan, by using their man, a secret service man who fired a high speed plastic disc from a compressed air powered disc-gun, the type displayed by William Colby in Congressional Hearings on the abuses of American Intel.
PBS Judy Woodruff had reported this of seeing the SS man fire a gun from a second story window that night on PBS but the story was quickly squelched and she changed it after a very convincing "not to worry visit" from some very serious American Intel agents. President Reagan, despite a long slow disjointed route to the hospital, survived. This assassination attempt however signaled that the Treasonous Bush Cabal had attained a major power base inside the Military and Congress.
The sad thing is that all the political power and influence  necessary to accomplish this and to transform the American Congress into Traitors was due to the vast money provided to K Street Lobbyists and zionist espionage groups like AIPAC, ADL, B'nai B'brith, and the like by the Central Banksters and the various Judaic groups shaken down and manipulated by zionist for donations.
So the first beach-head of the Globalists (aka zionist City of London Central Banksters and the "Old Black Nobility" they represented) was established with a bought, owned and controlled US Congress.  Once GHW Bush was elected President, the circle of control was complete.
One of George W. Bush's major assignments was to take American further down the Globalist path by fighting more Mideast wars for Israel. Another was to destroy the Republic party by being the worst President ever and fully debasing the Republican, which he did. Now the Republican leaders in Congress are tricking the Republican Party into committing suicide by agreeing to back the Democratic legislation for making illegal immigrants legal and future citizens.
So it is now obvious that the Republic Party is finished and Americans need to rise up and form a new Third Party. Otherwise you can be assured that just like in the last Presidential election, both candidates will be owned by the Bush Cabal.Unless the Bush Cabal has been fully exposed and displaced by then which is now  real possibility.
It has been estimated that there are now approximately 30 million illegal immigrants inside Americaallowed in by a Globalist controlled USG who prevented border enforcement and liberal immigration laws which are not enforced. With the the passage of the currently proposed Democratic plan for legalizing illegal immigrants, this number could easily grow to 60 to 100 million.
In most major American Cities, Police are not allowed to arrest suspected illegal immigrants for minor traffic violations or check their identification for legal status. Not so for those whose license plates are run and show up as actual American Citizens. And this is all due to orders coming down from a few top policy-Makers who operate at the nexus of the Secret Shadow Government (SSG).
GHWB could now institute major efforts to undo all the excellent plans for the economic and industrial reconstruction of America that President Reagan had set in place and activated. As has been disclosed in a previous article (4), President Reagan had brought in Lee Wanta to serve as his Secret Agent because he didn't trust the CIA which had been corrupted and hijacked by GHWB.
It should now be exceedingly clear to those who are well informed about the degradation of the American economy and rule of law accompanied by increasing tyranny, deployment of DHS, TSA and the passage of all the unConstitutional draconian laws (like the so-called Patriot Act, the Military Commissions Act, and NDAA 2014).
All this is being engineered by foreign controlled Globalist traitors and infil-Traitors who have hijacked America and worked hard to export  heavy industry, manufacturing and jobs.
And that they are doing this to asset strip America, destroy it's economy and the Republic itself in order to Balkanize America and prevent it from ever rising in economic strength again and operating as a Republic "of the people, by the people and for the people".
Their motives for all this?  To covertly re-fight the Revolutionary war that was lost and retake America on behalf of the zionist City of London Central Banksters and their Kingpin overlords the Old Black Nobility (OBN).  These hidden masters of the world-wide occult network which runs the IZCS prefer to stay hidden in the background where they can pull all the strings of several top Policy-Makers in America with no personal risk to themselves.
What can be done to turn this around? Obviously the first step is to get rid of all Free-Trade Agreements. In order to do this all the zionist espionage fronts inside America such as AIPAC, ADL, B'nai B'rith and the like must be fully exposed and prosecuted to the fullest extent of the law. In order to do this zionist Israeli-American dual citizens inside Congress and the USG and its Agencies must be exposed as traitors and agents of foreign espionage and routed out of power.
America has to stop fighting Israel's illegal Mideast wars and withdraw all aid and support for Israel as long as it is a criminal, racist apartheid state persecuting and murdering Palestinians and stealing their land incrementally.
Lee Wanta, a great American Heroe that served as President Reagan's Secret Agent under the Totten Doctrine and was instrumental in bringing down the evil Soviet Union
We need to re-institute the Wanta Reconstructing America Plan based on the Maglev High Speed Rail System which has the necessary funding already available. (5)
And it is time to also re-establish the Want Economic Recovery Plan for America that was also set up under President Reagan, but later stopped cold by George HW Bush and his Cabal when they instituted a secret coup to take over the whole USG on behalf of the City of London zionist Central Banksters and their Wall Street and Federal Reserve Franchisees.(6)
In fact it is a reasonable assumption that the massive Free-Trade attack on America's economy was largely a reaction by the Bush Cabal to these amazing economic reconstruction plans President Reagan had put in place through his Secret Agent Lee Wanta, who was the master strategist that took down the Soviet Union for President Reagan.
Recent respected surveys show that a majority of American are disgusted with the current administration and rating of the lowest ever experienced in America in the last century. Congress is also rated at an all time low with only 9% approving of it. Many view the current President as an alien imposter with no traceable past.  Some alternative media writers have stated that he is a sheep-dipped CIA creation just like Bill Clinton. All this is a mute point.  Why?
Because Ronald Reagan was the last duly elected President of the United States of America, the Republic, all presidents since have been fraudulently elected and owned by the Bush Cabal. And this Bush Cabal is the Action Agent of the City of London zionist Central Banksters and their International Zionist Crime Syndicate (IZCS).
The IZCS is centered in Israel where most intel is done by privatized Israeli corporations serving as American Defense and Intel contractors.  It is these private Israeli contactors who control all NSA raw intel and almost all American communications including internal White House phone calls and messaging, as well as all Pentagon and DOD communications.
Obviously the Bush Cabal has been able to install its own Presidential puppets and run a lucrative illegal drug trafficking operations into America.  All done to destabilize and "dirty up" American Cities while absorbing a great deal of the Welfare dollars and capturing vast "off the books" funds for their own covert operations and bribery of Congress. It is a fair conclusion that the Bush Cabal has destroyed the American Rule of Law, debased any true enforcement of the US Constitution and Bill of Rights and has corrupted every institution and agency of the USG.
However there is good news.  A growing force for good has emerged in the Alternative Media now transmitted everywhere instantly on demand by the worldwide Internet, the new Gutenberg Press and the NWO Globalist's Achilles Heel. Yes, the Controlled Mass media (CMMM) has been a propaganda mouthpiece for the Bush Cabal and the IZCS, but is now losing its appeal and credibility. The CMMM keeps feeding lies and crap to the American public that are obviously false, like the Mideast American wars are wars to establish Democracy.  More and more Americans now realize this is complete BS, that we are there to fight Israel's wars and defend British Oil interests.
Compare the articles of Veterans Today and other respected truth media now which are being published and read by millions inside America and all over the world with the CMMM. You will see the gap between the alternative media truth and the CMMM lies is ever widening and we are starting to see Alternative Media's popularity driving stories into the CMMM, even thought the CMMM usually attempts to neutralize their significance.
Many thousands of brave American Soldiers who were lied to and deceived into fighting these illegal, unConstitutional, unprovoked, undeclared wars for Israel and Big Oil, thinking that they were defending America and its freedom. Few greater lies and deceptions has ever been predicated on Americans than this complete lie.  Many thousands of Americans have been killed and horribly wounded and disabled in this war.
If the American Military ever fully realizes that all these wars were phony and based on a lie and that Israel did the 9/11 attacks with the help of a cabal within the USAF and JCS, there will be hell to pay for all those perps involved. And now there is good reason to believe that day is coming in the not too distant future.
As most Americans are beginning to realize, America has been infil-Traited by Traitors and Infil-Traitors in the highest positions of the USG.  The major economic deterioration and loss of assets to the Wall Street Banksters and the private Federal reserve through financial Fraud have been staggering and Americans are catching on the the BLATANTLY OBVIOUS.
When American society reaches a critical mass awakening to this obvious situation that Globalists have been doing everything they can to destroy America, there will be major Blow-back of astounding proportions. When 12% of Americans are awakened, a critical mass and major turning point will be reached and you will begin to see major social change like never conceived, and this will all be due to major Blow-back from awakening.
The elites hate to acknowledge it, but when large numbers of ordinary people are moved to action, it changes the narrow political world where the elites call the shots. Inside accounts reveal the extent to which Johnson and Nixon's conduct of the Vietnam War was constrained by the huge anti-war movement. It was the civil rights movement, not compelling arguments, that convinced members of Congress to end legal racial discrimination. More recently, the townhall meetings, dominated by people opposed to health care reform, have been a serious roadblock for those pushing reform…. A big turnout … can make a real difference….When someone tells you to stop imagining that you are having an impact, ask them to please direct their energy into getting 10 friends to join you in doing what needs to be done. If it has no impact, you'll have gone down trying. If it has an impact, nobody will tell you for many years. (7)
This coming complete awakening will be due to information dispensed and diffused by the Alternative Media and the worldwide Internet as well as word of mouth. it is best viewed as a byproduct of a new and powerful emerging worldwide populism which has now reached the point it is unstoppable. One recent study has established 10% as a critical mass, turning point for Society.(8)
I believe we are already at 11% and when we reach 12%, the days of the Bush cabal will be dated. They know it too and are scared sh*tless. That is why they have been going for broke trying to ram the NWO down our throats and militarize local police and build up DHS to oppress and then mass murder us.
It's time to speak up to all your family, friends and associates that we need to abandon the Republican and Democratic political Parties.  Both parties are owned and controlled by the same Overlord, the IZCS who bought them and can blackmail them with NSA provided intel.
Former Minnesota Governor Jesse Ventura, who is also a Vet and a Navy Seal/UDT man had it right in his book of the Replican and Democrat Political Gangs in America, DemoCRIPS and ReBLOODlicans (9).
Gov. Ventura recommends Americans dump both political Parties which serve the same corrupt masters and start electing alternative candidates only who are not associated with either of the two parties.
Conclusion:
It should now be exceedingly clear to those who are well informed about the degradation of the American economy and rule of law accompanied by increasing tyranny, deployment of DHS, TSA and the passage of all the unConstitutional draconian laws (like the so-called Patriot Act, the Military Commissions Act, and NDAA 2014), that all this is being engineered by foreign controlled Globalist traitors and infil-Traitors who have hijacked America and worked hard to export  heavy industry, manufacturing and jobs.
And that they are doing this to asset strip America, destroy it's economy and the Republic itself in order to Balkanize America and prevent it from ever rising in economic strength again and operating as a Republic "of the people, by the people and for the people".
Their motives for all this?  To covertly re-fight the Revolutionary war that was lost and retake America on behalf of the zionist City of London Central Banksters and their Kingpin overlords the Old Black Nobility (OBN).  These hidden masters of the world-wide occult network which runs the IZCS prefer to stay hidden in the background where they can pull all the strings of several top Policy-Makers in America with no personal risk to themselves.
(1) http://www.veteranstoday.com/2013/02/17/robocops/
(2) http://www.tpnn.com/2014/01/22/actual-unemployment-rate-37-2-not-6-7-says-wall-street-adviser/
(3) TOTTEN DOCTRINE [ 92 U.S. 105, 107 (1875) ]
(4) http://www.veteranstoday.com/2014/01/05/the-wanta-reconstructing-america-plan/
(5) http://www.veteranstoday.com/2013/12/28/high-speed-rail/
(6) http://wantarevelations.com/2014/01/wanta-plan-macro-financial-economic-check-list/
(7) http://www.zerohedge.com/contributed/2014-01-31/powers-be-are-secretly-terrified-people%E2%80%99s-power-%E2%80%A6-and-only-pretend-they%E2%80%99re-fi
(8) http://scienceblog.com/46622/minority-rules-scientists-discover-tipping-point-for-the-spread-of-ideas/
(9) http://www.amazon.com/DemoCRIPS-ReBLOODlicans-More-Gangs-Government/dp/162087587X/ref=sr_1_2?s=books&ie=UTF8&qid=1391327762&sr=1-2&keywords=jesse+ventura+democrips+and+rebloodlicans
Source: Preston James | Veterans Today
As the Russian Sochi Winter Olympics date approaches, a wave of suicide bombings in Volgograd (formerly Stalingrad, site of the decisive resistance to German invasion in 1942), have wreaked death and uncertainty in the region. On 29 December 2013 a suicide bomber exploded at the Volgograd railway station, killing the bomber and 16 more. A day later another suicide bombing on a trolleybus killed at least 15 people. The attacks come just a few weeks before the Sochi 2014 Winter Olympics begin on February 7 on the Black Sea near the border to Georgia.
Those most recent attacks followed an October 21 suicide attack in which a bomb carried by a female suicide bomber exploded on a passenger bus carrying 40 people. The Russian Emergency Situations Ministry, reported that at least 5 people died in the blast and 17 others were injured. The suicide bomber had been identified as 30-year-old Naida Asiyalova of Dagestan. Since 1999 Mujahideen Sunni Salafists, often from Saudi Arabia or other Arab countries, have tried to incite an Islamic revolution and install Sharia law in Dagestan from neighboring Chechnya as well as in Chechnya.
The recent new wave of suicide bombing attacks in the region has led many to believe they are the work of radical Mujahideen Salafist Sunnis led by an erratic Jihadist from Chechnya, Doku Umarov, who sometimes goes by the Arabized name, Dokka Abu Usman. Umarov has unilaterally proclaimed himself underground President of the unrecognized Chechen Republic of Ichkeria (ChRI), and later, the self-proclaimed Emir of the Russian North Caucasus, declaring it an Islamic state of the Caucasus Emirate. In doing so he announced, "I will serve the word of Allah and work to kill the enemies of Allah in all the time that he gives me to live on this earth." [1]
In Russia he is called the "Russian bin Laden." In March 2011, the United Nations Security Council Al-Qaida and Taliban Sanctions Committee added Umarov to the list of individuals allegedly associated with al-Qaeda, the Saudi-financed loose network of international Jihadist bands which had been trained during the 1980's Afghan war against the Soviet Union by CIA, Saudi, Israeli and Pakistani intelligence services. AL-Qaeda is a name for a database set up by Saudi intelligence to keep track of all the Arab and other Muslim mercenaries working in defeating the Russians in Afghanistan during the 1980s.
Umarov has claimed responsibility for gruesome suicide bombings, using women called ?black widows" whose husbands had been killed fighting Jihad against Russian security forces. Umarov openly claimed responsibility for the 2010 Moscow Metro bombings and the 2011 Domodedovo International Airport bombing in Moscow. The person who did the Metro bombing was a 17-year old Mujahideen widow, Dzhennet Abdurakhmanova
In June 2013, Umarov called for his followers in and outside the Caucasus to use "maximum force" to ensure the 2014 Sochi Winter Olympics do not take place: "They plan to hold the Olympics on the bones of our ancestors, on the bones of many, many dead Muslims buried on our land by the Black Sea. We as Mujahideen are required not to allow that, using any methods that Allah allows us." [2]
All indications point to the terrorists controlled by Umarov being behind the latest "Black Widow" suicide bombings in Volgograd. Naida Asiyalova, who blew herself up in the suicide bombing in Volgograd in October, is from Dagestan. She was reported "in love" with another suicide bomber before she "did her duty" to the jihad of Umarov. She was also a close friend of the woman implicated in the most recent Volgograd station bombing.[3]All indications to date point to Doku Umarov's Chechyn terrorist organization for these recent terror bombings in Russia.
The US State Department has just issued an Advisory Alert to US citizens going to Sochi as a response even though Volgograd is several hundred kilometers away.
Russia's Mujahideen terrorists
Soon after the dissolution of the Soviet Union, Halliburton, the world's largest oil services company, then led by Dick Cheney, determined that the Caucasus and the region around the former Soviet Union's Caspian Sea contained staggering volumes of untapped oil. Some said it was a "new Saudi Arabia." As part of broader Washington strategy of then-president George H.W. Bush, US intelligence began moving veterans of the bloody Afghan Mujahideen campaign into the Caucasus and Caspian region to facilitate independence from the Soviet Union and open the door for US and British oil companies to control the key oil regions.
Two "retired" CIA operatives close to former CIA head Bush, Ted Shackley and General (Ret.) Richard Secord set up a CIA "front" fake Azeribaijan oil company called Mega Oil. It was a cover to fly in hundreds of Mujahideen veterans from Afghanistan as "oilworkers."
In 1991 Richard Secord along with veterans of US operations in Laos, and later of Oliver North's operations with the Contras, turned up in Baku, Azerbaijan under the cover of MEGA Oil. This was when George H.W. Bush supported an oil pipeline stretching from Azerbaijan across the Caucasus to Turkey. Dick Cheney was then Bush senior's Defense Secretary. MEGA never found oil. But MEGA operatives in Azerbaijan engaged in military training, passed "brown bags filled with cash" to members of the Azeri government, and set up an airline on the model of the CIA's Vietnam era Air America which flew hundreds of mujahedin mercenaries from Afghanistan into Azerbaijan and the Caucasus, especially Chechnya. [4]
A faction of the CIA and US intelligence tied to the neo-conservatives and the US military industrial complex, have been involved in bringing fanatical Jihadist Islam into the traditionally Sufi peaceful Islam of the Caucasus region. Osama bin Laden actively moved from Afghanistan into Bosnia, then Kosovo and on into Chechnya after 1995, where his principal ally, fellow Saudi Jihadist, Ibn al-Khattab was leader of the Arab Mujahideen in Chechnya fighting the Russians. Chechnya happened to be the transit region for a major Russian oil pipeline from Baku into Russia for Caspian oil, something Washington was determined to block. Journalist Ali Soufan notes that by 1996, "the United States had been on the side of Muslims in Afghanistan, Bosnia, and Chechnya."[5]
At the time of the Beslan school massacre in Russia near the Georgia border in September 2004, Umarov's Jihadists, including Arab Mujahideen, were partly financed with US money via a Washington-based NGO called ACDI/VOCA. Much of the money that the US Government-funded NGO received for the project reportedly came from a US Department of Agriculture Food for Peace Project.[6] Apparently the food they dispensed was in the form of Kalashnikovs and hand grenades, not grain and apples.
According to veteran Caucasus-based journalist Jeffrey Silverman, Doku Umarov is today an "asset" controlled and guided by a Washington-based think-tank called Potomac Institute for Policy Studies.[7] The board of the Potomac Institute reads like a who's who of retired US military and intelligence people. According to Washington insider reports, Potomac is not entirely what it appears to be.
It is rather, these sources report, a front for Israeli intelligence, a group of US neo-conservatives, both working with Saudi Arabian intelligence. Two of Potomac's key people involved in the Caucasus are reported to be Prof. Jonah Alexander, who heads the institute's International Center for Terrorism Studies, and Ambassador (ret) David Smith.
Alexander has taught at Tel Aviv University and headed an interesting-sounding project, "Terrorism, Gray Area and Low Level Conflict," for the US Global Strategy Council, a group founded by Ray Cline, former Deputy Director of the CIA.[8] David J. Smith is Director of the Georgian Security Analysis Center (GSAC) at the Georgian Foundation for Strategic and International Studies in Tbilisi, Georgia. Between 2002 and 2006 Smith was US Member of the International Security Advisory Board, assisting Georgia to "build democracy and establish functional national security institutions."[9]  By all indications, he did a rather poor job if that really was what he was building.
Many of the Arab and Chechyn Jihadist terrorists plaguing Russia in recent years have been infiltrated into Chechnya from the Pankisi Gorge region across the border in Georgia, where a pro-US Saakashvili regime at the time obviously "looked the other way." Reportedly Saakashvili's brother worked in London for BP, the head of the Anglo-American oil pipeline consortium that owns the BTC pipeline from Baku through Georgia to Turkey.[10]
Contrary to outward appearance, there has been intimate cooperation between Saudi and Israeli intelligence services on matters of common strategic interest for years. Reportedly the ties began when Prince Bandar was Saudi Ambassador to Washington.[11]
If all this is true, it would suggest that Umarov's latest suicide attacks in Russia are part of a "revenge" operation of Netanyahu and Saudi Intelligence chief, Prince Bandar bin Sultan, to sabotage the Sochi Olympics, for Putin's role in winning Obama away from war against Syria last fall and openly seeking a diplomatic resolution of the Iran nuclear problem. Saudi Arabia's Bandar and Netanyahu, who admitted they were in cooperation, both were reportedly livid against Putin for sabotaging their Jihad in Syria.
Against Obama too
That the Saudis and Israel's Netanyahu are actively working as well to sabotage Obama's Iran diplomacy is also clear. On October 30, 2013, Sheldon Adelson, an Israeli-American billionaire with dual passports, a financier friend of Netanyahu who owns Las Vegas casinos, called on US Congress. He reportedly told his friends in Congress to pass new sanctions against Iran designed to sabotage the Iran-Obama talks. Adelson was the main financial backer in 2012 of Mitt Romney to defeat Obama, who has become a bitter Netanyahu foe. Adelson apparently feels that Obama has slowly been distancing from Bush and Cheney's strong tilt to the hawkish US neo-conservatives tied to the US-Israeli military industrial complex around Netanyahu's Likud Party.[12]
The Republican Jewish Coalition — led by GOP financial donor Sheldon Adelson — is asking its members to call their senators and urge them to pass a new round of sanctions on Iran amid efforts from top Obama administration officials to persuade Congress to delay such measures to allow time for negotiations with the Islamic Republic over its nuclear program to "gain traction." [13]
The Volgograd bombings are a part of a global political shift taking place with factions declaring war inside major governments. Washington is split today between a "pro-Israel" faction largely in Congress, and on the opposite side, a mix of nationalists who seem to be trying to define a genuine American interest in all the wars around the world. Reportedly General Martin E. Dempsey, the Chairman of the Joint Chiefs of Staff, the military's highest body in the Pentagon, and others around President Obama are moving to distance Washington from the Saudi-Israeli war strategy which they have realized as against American interest.
The realization in and around the White House and State Department that the US Government was being manipulated by Israeli and Saudi false intelligence was the real reason, according to Washington reports, for the abrupt decision by President Obama last summer to halt the planned war against Syria. Obama was told that the "evidence" of a Syrian government chemical weapons attack on civilians had been doctored by Saudi and Israeli intelligence to force Obama to finally declare war. [14]
That was why Obama surprisingly and inexplicably embraced the Putin mediation offer to remove the chemical weapons and why Assad quickly agreed. Obama was himself strongly against military action in Syria. The chemicals used in Syria reportedly were supplied by Prince Bandar to the rebels, not from Syrian Government forces. [15] The intelligence intercepts given President Obama purporting to be tapes of Syrian Army commanders discussing the chemical attack were given to Washington by Israeli intelligence by Israeli Defence Forces' 8200 unit and were also reportedly faked.[16]
Now this same network seems to have activated a revenge attack against Putin and Obama for foiling their stratagems. It's a high risk gamble by Netanyahu and Saudi Prince Bandar that could severely boomerang against them.
In a noteworthy footnote to the entire gruesome Doku Umarov drama, on January 17, Moscow Times reported on a social media message sent out by Chechen president, Ramzan Kadyrov, claiming that he had "new evidence" that rebel leader Doku Umarov was dead. Kadyrov wrote in an Instagram, "According to our information, Umarov is dead and we are looking for his body." He claimed that Umarov had been killed during a Russian Special Forces operation.[17] The report has not been confirmed by Moscow. The Kadyrov report has to be taken with more than a little grain of salt. The flamboyant Chechyn President has issued such messages before, the last time in December, when he wrote that Umarov was "mostly likely already dead or will be soon."[18] Whether dead or alive, it seems most likely that Doku Umarov is little more than a "cover" for the darker networks running terror against Putin's Russia in the Caucasus, and that darker network is Moscow's real problem.
Endnotes:
[1]Al Jazzera English, Chechen rebel chief denies quitting ­ Europe, Al Jazeera English., August 12, 2010.
[2] Miriam Elder. Russian Islamist Doku Umarov calls for attacks on 2014 Winter Olympics, theguardian.com. August 12, 2013.
[3] EIN News, Russia's deadly black widow cult that threatens Olympians, January 02, 2014, accessed in
http://world.einnews.com/article/183473672/k-vWy4dXMol6ijtf?afid=777&utm_source=MailingList&utm_medium=email&utm_campaign=Breaking+News%3A+world583-Thursday.
[4] Peter Dale Scott, The Falsified War on Terror: How the US Has Protected Some of Its Enemies, The Asia-Pacific Journal, Vol. 11, Issue 40, No. 2, October 7, 2013.
[5] Ali H. Soufan, The Black Banners: The Inside Story of 9/11 and the War Against al-Qaeda (New York: Norton, 2011), p. 62.
[6] Henry Kamens, Did CIA train the Boston Bombers in Georgia?, April 2013
[7] The information on the Potomac Institute and Umarov was made available to the author from Jeffrey Silverman, an investigative journalist based in the Caucasus who has researched the subject for more than twenty two years.
[8] SourceWatch, Global Strategy Council, 23 July, 2013, accessed in  http://www.sourcewatch.org/index.php?title=Global_Strategy_Council
[9] Ibid. ; As well, for bios on Smith and Alexander, the website of Potomac Institute accessed inhttp://www.potomacinstitute.org/index.php?option=com_content&view=article&id=226:smith&catid=61:fellows-&Itemid=537.
[10] Jeffrey Silverman, op. cit.
[11] Umberto Bacchi, Israel Negotiating Historic Alliance with Saudi Arabia over Iran's Nuclear Weapons, Ooctober 3, 2013, accessed in http://www.ibtimes.co.uk/articles/511160/20131003/israel-saudi-arabia-gulf-alliance-iran-nuclear.htm.
[12] Stephen J. Sniegoski , Would Romney Pursue a Neocon War Agenda?,  accessed inhttp://home.comcast.net/~transparentcabal/article36.html.
[13] Ben Armbruster,  Group Led By Billionaire Sheldon Adelson Pushes Congress To Undermine Iran Talks,  October 30, 2013, accessed in http://thinkprogress.org/security/2013/10/30/2859711/rjc-adelson-iran-sanctions/.
[14] Dale Gavlak and Yahya Ababneh, Syrians In Ghouta Claim Saudi Supplied Rebels Behind Chemical Attack, MintPress,  August 29, 2013, accessed in http://www.mintpressnews.com/witnesses-of-gas-attack-say-saudis-supplied-rebels-with-chemical-weapons/168135/.
[15] Ibid.
[16] Seymour Hersh, Whose Sarin?, London Review of Books, August 12, 2013, accessed inhttp://home.comcast.net/~transparentcabal/article36.html.; see also Harriet Sherwood, Israeli intelligence intercepted Syrian regime talk about chemical attack,theguardian.com, 28 August 2013, accessed inhttp://www.theguardian.com/world/2013/aug/28/israeli-intelligence-intercepted-syria-chemical-talk.
[17] Moscow Times, Chechen Leader Kadyrov Again Says Rebel Leader Umarov is Dead, 17 January 2014,
RIA Novosti, accessed in  http://www.themoscowtimes.com/news/article/chechen-leader-kadyrov-again-says-rebel-leader-umarov-is-dead/492910.html#ixzz2qf7FqJzz.
[18] Moscow Times, Chechen Leader Says 'Rat' Rebel Chief Is Likely Dead, 20 December 2013, accessed inhttp://www.themoscowtimes.com/news/article/chechen-leader-says-rat-rebel-chief-is-likely-dead/491867.html
Source: F. William Engdahl | Veterans Today
Ah, what a better world the Free Traders built. With the rush to the bottom, the commemoration of the NAFTA 20th anniversary is a most hollow celebration. Those who have a memory of an actual economic prosperity, lament that H. Ross Perot's warnings were ignored. Business literates urged the public to elect Perot as President. Establishment corporatist interests and corruptacrat officials joined forces to write a blueprint for economic consolidation and political futility. The fruits of this endeavor only satisfy the appetites of the select cabal of manipulation.
Heed well the undeniable results.
On The Issues, provides valuable resources. In their section, Ross Perot on Free Trade, the perceptive Texan foretold the future in his NAFTA summary.
"NAFTA is really less about trade than it is about investment. Its principal goal is to protect US companies and investors operating in Mexico. The text of the agreement is contained in two volumes covering more than 1,100 pages. The text is mind-numbingly dull. Large portions of it are written in the type of obscure legal terms found on the back of an insurance policy. Buried in the fine print are provisions that will give away American jobs and radically reduce the sovereignty of the US.

[When the Mexican media announced NAFTA, they] did not identify the tiny handful of people in Mexico who would gain the most from this trade pact. They are the 36 businessmen who own Mexico's 39 largest conglomerates. Collectively, their companies control 54% of Mexico's Gross National Product. These companies dominate virtually every sector of the Mexican economy of any consequence. When the Mexican government sold off big chunks of Mexico's state-run companies in the late 1980s and early 1990s, this tiny handful of people quickly acquired control."
Watch the video Ross Perot in 1992 on NAFTA and the "Giant Sucking Sound", and appreciate the difference in prosperity if these destructive trade agreements, that solely benefit the globalist, never came about.
The Business Insider in Looks Like Ross Perot Was Right About The "Giant Sucking Sound", acknowledges the incontestable.
"Both of Perot's opponents (George H.W. Bush and Bill Clinton) argued that NAFTA would create jobs in the U.S. because of business expansion.

However, the goods balance of trade for the U.S. with Mexico has been negative and steadily growing over the years. In 2010 it amounted to $61.6 billion, which was 9.5% of the total goods trade deficit last year.

So Perot has been vindicated in his opinion; expanded free trade has not been accompanied by an increase in jobs in the U.S. relative to the vast numbers of jobs created in the rest of the world as NAFTA became just a stepping stone on the pathway to global commerce."
From a different political persuasion, Public Citizen comes to much of the same conclusion in their research paper, NAFTA at 20: One Million Lost U.S. Jobs, Higher Income Inequality, Doubled Agriculture Trade Deficit With Mexico and Canada, Displacement and Instability in Mexico, and Corporate Attacks on Environmental Laws.
"Given NAFTA's devastating outcomes, few of the corporations or think tanks that sold it as a boon for all of us in the 1990s like to talk about it, but the reality is that their promises failed, the opposite occurred and millions of people were severely harmed."
Proponents of NAFTA often claimed that the Mexican economy would make great strides. In the video, 20 Years on, Mexico is NAFTA's Biggest Lie, the facts demonstrate a very different record. The Campaign for the Future adds to this conclusion in NAFTA: 20 Years of Spin for America's Failed Globalization Model.
"NAFTA's promoters also claimed that NAFTA would be a huge benefit to Mexico, stemming illegal immigration to the U.S., drug trafficking and other corruption, and other ills. (How is that working out?) But even with Mexico's $1 trillion NAFTA surplus with the U.S., Mexico still suffers a chronic global trade deficit as China and other countries use it as a back door to the U.S. Last year Mexico paid $60 billion for imports of mostly manufactured goods from China while earning only $6 billion from exports of mostly mineral and agricultural commodities to China."
Folks, this globalization model flops for the most simple of all reasons. Allowing the world economy to reward the neo-feudal system produces only societies that control their populations as serfs. Economists and business journalists that ignore the collapse of real income purchasing power by the vast majority, practice their trade for the conglomerate captains of commerce.
The reason that Free Trade agreement swindles, detested by the suffering public, is such a dramatic failure is that twenty years of diminished wealth hits everyone's pocketbooks. No longer can the dreadful results from the hidden fine print of treaty documents stay secret from the impoverished middle and underclass.
People are now aware that the former "giant sucking sound" has turned into a universal welfare dependency economy of lower expectations. As the global financial system descends into bankruptcy and default, the United States economy will fall even faster than that of poorer nations.
NAFTA is a prime contributor to the dramatic trade deficits that suffocates entrepreneurial ventures that could expand productive growth and achieve a higher standard of living. A Corporatocracy economic system, in union with authoritarian governmental regimes, seeks to rule a world of docile plantation peons.
What is next? CAFTA: Wall Street vs Main Street, proposed back in 2004, and now we have TPP and TTIP on the agenda. The last two decades did not satisfy the greed of the plutocrats. Only total control of transnational business traffic will complete the international trade agreement deals.Absorbing the whole of transaction cash flow into a system of strictly regulated commerce is the economic end game of the globalists. When will people rebel against this bankster's usury model of business? The darling companies that are approved NAFTA ventures are beholden to the worldwide elites of economic fascism. Perot was right on mark. Oppose future free trade treaties.
It was the winter of 1939, only a few months earlier the Soviet Union and Hitler's Third Reich had signed a partially secret accord known as the Molotov-Ribbentrop Pact; essentially a non-aggression treaty which divided Europe down the middle between the fascists and the communists. Hitler would take the West, and Stalin would take the East. Stalin's war machine had already steamrolled into Latvia. Lithuania, and Estonia. The soviets used unprecedented social and political purges, rigged elections, and genocide, while the rest of the world was distracted by the Nazi blitzkrieg in Poland. In the midst of this mechanized power grab was the relatively tiny nation of Finland, which had been apportioned to the communists.
Apologists for Stalinist history (propagandists) have attempted to argue that the subsequent attack on Finland was merely about "border territories" which the communists claimed were stolen by the Finns when they seceded from Russia during the Bolshevik Revolution. The assertion that the soviets were not seeking total dominance of the Finns is a common one. However, given the vicious criminal behavior of Russia in nearby pacified regions, and their posture towards Finland, it is safe to assume their intentions were similar. The Finns knew what they had to look forward to if they fell victim to the iron hand of Stalin, and the soviet propensity for subjugation was already legendary.
The Russian military was vastly superior to Finland's in every way a common tactician would deem important. They had far greater numbers, far better logistical capability, far better technology, etc, etc. Over 1 million troops, thousands of planes, thousands of tanks, versus Finland's 32 antiquated tanks, 114 planes which were virtually useless against more modern weapons, and 340,000 men, most of whom were reservists rallied from surrounding farmlands. Finland had little to no logistical support from the West until the conflict was almost over, though FDR would later pay lip service to the event, "condemning" soviet actions while brokering deals with them behind the scenes. Russian military leadership boasted that the Finns would run at the sound of harsh words, let alone gun fire. The invasion would be a cakewalk.
The battle that followed would later be known as the "Winter War"; an unmitigated embarrassment for the Soviets, and a perfect example of a small but courageous indigenous guerrilla army repelling a technologically advanced foe.
To Fight, Or Pretend To Fight?
Fast forward about seven decades or so, and you will discover multiple countries around the globe, including the U.S., on the verge of the same centralized and collectivized socialist occupation that the Finnish faced in 1939. The only difference is that while their invasion came from without, our invasion arose from within. The specific methods may have changed, but the underlying face of tyranny remains the same.
In America, the only existing organization of people with the slightest chance of disrupting and defeating the march towards totalitarianism is what we often refer to as the "Liberty Movement"; a large collection of activist and survival groups tied together by the inexorable principles of freedom, natural law, and constitutionalism. The size of this movement is difficult to gauge, but its social and political presence is now too large to be ignored. We are prevalent enough to present a threat, and prevalent enough to be attacked, and that is all that matters. That said, though we are beginning to understand the truly vital nature of our role in America's path, and find solidarity in the inherent values of liberty that support our core, when it comes to solutions to the dilemma of globalization and elitism, we are sharply divided.
While most activist movements suffer from a complete lack of solutions to the problems they claim to recognize, constitutional conservatives tend to have TOO MANY conceptual solutions to the ailments of the world. Many of these solutions rely upon unrealistic assumptions and methods that avoid certain inevitable outcomes. Such strategies center mostly on the concepts of "non-aggression" or pacifism idealized and romanticized by proponents of Gandhi, Martin Luther King Jr, and the anti-war movements of the 1960's and 1970's. The post-baby boomer generations in particular have grown up with an incessant bombardment of the "higher nature" of non-violence as a cure-all for every conceivable cultural ailment.
We have been taught since childhood that fighting solves nothing, but is this really true?
I can understand the allure of the philosophy. After all, physical confrontation is mentally and emotionally terrifying to anyone who is not used to experiencing it. The average "reasonable" person goes far out of their way on every occasion to avoid it. Most of the activists that I have met personally who deride the use of force against tyrannical government have never actually been in an outright confrontation of any kind in their lives, or if they have, it ended in a failure that scarred them. They have never trained for the eventuality. Many of them have never owned a firearm. The focus of their existence has been to hide from pain, rather than overcome their fears to achieve something greater.
There is nothing necessarily wrong with becoming an "intellectual warrior", unless that person lives under the fantasy that this alone will be enough to defeat the kind of evil we face today.
Non-aggression methods rely on very specific circumstances in order to be effective. Most of all, they rely on a system of government that is forced to at least PRETEND as if it cares what the masses think of it. Gandhi's Indian Independence Movement, for example, only witnessed noticeable success because the British government at that time was required to present a semblance of dignity and rule of law. But what happens if a particular tyranny reaches a point where the facade of benevolence disappears? What happens when the establishment turns to the use of the purge as a tool for consolidation? What happens when the mask comes completely off?
How many logical arguments or digital stashes of ethereal Bitcoins will it take to save one's life or one's freedom then?
Arguments For And Against Violent Action
The position against the use of "violence" (or self defense) to obstruct corrupt systems depends on three basic debate points:
1) Violence only feeds the system and makes it stronger.
2) We need a "majority" movement in order to be successful.
3) The system is too technologically powerful – to fight it through force of arms is "futile", and our chances are slim to none.
First, violence does indeed feed the system, if it is driven by mindless retribution rather than strategic self defense. This is why despotic governments often resort to false flag events; the engineering of terrorist actions blamed on scapegoats creates fear within the unaware portions of the population, which generates public support for further erosion of freedoms. However, there is such a thing as diminishing returns when it comes to the "reach, teach, and inspire" method.
The escalation of totalitarianism will eventually overtake the speed at which the movement can awaken the masses, if it has not done so already. There will come a time, probably sooner rather than later, when outreach will no longer be effective, and self defense will have to take precedence, even if that means subsections of the public will be shocked and disturbed by it. The sad fact is, the faster we wake people up, the faster the establishment will degrade social stability and destroy constitutional liberties. A physical fight is inevitable exactly because they MAKE it inevitable. Worrying about staying in the good graces of the general populace or getting honest representatives elected is, at a certain point, meaningless. I find it rather foolish to presume that Americans over the next decade or two or three have the time needed to somehow inoculate the system from within. In fact, I'm starting to doubt that strategy has any merit whatsoever.
Second, the idea that a movement needs a "majority" of public backing to shift the path of a society is an old wives tale. Ultimately, most people throughout history are nothing more than spectators in life, watching from the sidelines while smaller, ideologically dedicated groups battle for superiority. Global developments are decided by true believers; never by ineffectual gawkers. Some of these groups are honorable, and some of them are not so honorable. Almost all of them have been in the minority, yet they wield the power to change the destiny of the whole of the nation because most people do not participate in their own futures. They merely place their heads between their legs and wait for the storm to pass.
All revolutions begin in the minds and hearts of so-called "outsiders". To expect any different is to deny the past, and to assume that a majority is needed to achieve change is to deny reality.
Third, I'm not sure why non-aggression champions see the argument of statistical chance as relevant. When all is said and done, the "odds" of success in any fight against oligarchy DO NOT MATTER. Either you fight, or you are enslaved. The question of victory is an afterthought.
Technological advantage, superior numbers, advanced training, all of these things pale in comparison to force of will, as the Finnish proved during the Winter War. Some battles during that conflict consisted of less than a hundred Finns versus tens-of-thousands of soviets. Yet, at the end of the war, the Russians lost 3500 tanks, 500 aircraft, and had sustained over 125,000 dead (official numbers). The Finns lost 25,000 men. For every dead Finn, the soviets lost at least five. This is the cold hard reality behind guerrilla and attrition warfare, and such tactics are not to be taken lightly.
Do we go to the Finnish and tell them that standing against a larger, more well armed foe is "futile"? Do we tell them that their knives and bolt action rifles are no match for tanks and fighter planes? And by extension, do we go to East Asia today and tell the Taliban that their 30 year old AK-47's are no match for predator drones and cruise missiles? Obviously, victory in war is not as simple as having the biggest gun and only the uneducated believe otherwise.
The Virtues Of Violence
The word "violence" comes with numerous negative connotations. I believe this is due to the fact that in most cases violence is used by the worst of men to get what they want from the weak. Meeting violence with violence, though, is often the only way to stop such abuses from continuing.
At Alt-Market, we tend to discuss measures of non-participation (not non-aggression) because all resistance requires self-sustainability. Americans cannot fight the criminal establishment if they rely on the criminal establishment. Independence is more about providing one's own necessities than it is about pulling a trigger. But, we have no illusions about what it will take to keep the independence that we build. This is where many conceptual solutions are severely lacking.
If the system refuses to let you walk away, what do you do? If the tyrants would rather make the public suffer than admit that your social or economic methodology is better for all, how do you remove them? When faced with a cabal of psychopaths with deluded aspirations of godhood, what amount of reason will convince them to step down from their thrones?
I'm sorry to say, but these questions are only answered with violence.
The Liberty Movement doesn't need to agree on the "usefulness" of physical action because it is coming regardless. The only things left to discern are when and how. Make no mistake, one day each and every one of us will be faced with a choice – to fight, or to throw our hands in the air and pray they don't shoot us anyway. I certainly can't speak for the rest of the movement, but in my opinion only those who truly believe in liberty will stand with rifle in hand when that time comes. A freedom fighter is measured by how much of himself he is willing to sacrifice, and how much of his humanity he holds onto in the process. Fear, death, discomfort; none of this matters. There is no conundrum. There is no uncertainty. There are only the chains of self-defeat, or the determination of the gun. The sooner we all embrace this simple fact, the sooner we can move on and deal with the dark problem before us.
Source: Brandon Smith | Alt-Market
Researching economic publications on the first century of the Federal Reserve System provides a wealth of financial information that attempts to explain the way the central bank works. Rarely will the academic studies and official reports address the raw nature of a money creation by a private banking monopoly. The common practice of disparaging sources outside government or corporatist business circles, attempts to avoid addressing, much less confronting the plutocracy that controls the debt created money system.
One such source list of the ownership of the Federal Reserve, compiled by Thomas D. Schauf appears on The Federal Reserve Scam! However, before getting to the particulars of the actual families behind the central banking cabal, it is important to go directly to the source of the primary chronicler who investigated and exposed the scheme. The late, Eustace Mullins – Secrets of The Federal Reserve, video reveals the entire sordid background.
Now review 25 Fast Facts About The Federal Reserve You Need To Know, from ETF Daily News that advises investors. The way these items play into the central banking model practiced by all 187 nations that belong to the IMF, demonstrates that banksters of the most select rank, are behind continued debt bubbles that are strangling the world.
On the Left Hook site by Dean Henderson, a five part series on the Federal Reserve provides added documentation. Mr. Henderson cites from Part 1 in this series, The Federal Reserve Cartel: The Eight Families, "They are the Goldman Sachs, Rockefellers, Lehmans and Kuhn Loebs of New York; the Rothschilds of Paris and London; the Warburgs of Hamburg; the Lazards of Paris; and the Israel Moses Seifs of Rome."
Finally, watch the video by G Edward Griffin Creature From Jekyll Island A Second Look at the Federal Reserve. Mr. Griffin explains the broad picture in simple and clear terms.
With such definitive information available and widely known within financial circles, why is the public so content to remain in the dark? They live under the aftermaths of the Federal Reserve is a Cache of Stolen Assets, but resign themselves to the oblivion of lost expectations and the burden of diminished opportunities.
"Think about who really owns the land, the buildings and the resources in our country. In order to really understand the scope and extent of the economy, the differential between actual Main Street enterprise, that feeds, clothes and shelters the population, is minuscule when compared to the financial assets, both liquid and real property, that is under the command and control of the central bank."
The political class and the business establishment simply refuse to buck the controllers of the currency. Attempts for a Jackals of Jekyll Island – Federal Reserve Audit, are pushed aside because any accountability for the Fed would ripple throughout the entire world fiat paper banking system. "The FED's grip on the global moneychangers' racket is based upon maintaining the U.S. Federal Reserve funny money, as the reserve currency for the planet. The value and worth of Treasury Bills and Bonds are on the path to have the value of
Reichsbank marks. Recognize the enemy that is destroying the country and world economy."The Cato Institute provides a working paper, Has the Fed Been a Failure?, that traces the history, avowed mission and actual results of the Federal Reserve System. This scholarly approach acknowledges that other financial frameworks are "relatively easy to identify viable alternatives to the adoption of the Federal Reserve Act in 1913."
"However, recent work suggests that there has been no substantial overall improvement in the volatility of real output since the end of World War II compared to before World War I . . . the Fed cannot be credited with having reduced the frequency of banking panics or with having wielded its last-resort lending powers responsibly. In short, the Federal Reserve System, as presently constituted, is no more worthy of being regarded as the last word in monetary management than the National Currency System it replaced almost a century ago."
Lastly, the essay, Who Owns The Federal Reserve?, by Ellen Brown, substantiates that the "Fed is privately owned, and its shareholders are private banks. In fact, 100% of its shareholders are private banks. None of its stock is owned by the government."
Since the adoption of a private banking, money creation venture, the dollar has lost virtually its entire store of value. The currency has lost its universal acceptance, as multiple alternatives circulate to replace its reserve status.
The Federal Reserve's First 100 Years: A Dismal Record by Dan Ferris, identifies the ultimate consequence of the stewardship under a central bank. "The century prior to the Fed, despite setbacks, was a century of improvement in the dollar's value. The century after it, despite enormous gains in productivity, was a century of rampant Federal Reserve destruction of the dollar's value."This failure to maintain and preserve the integrity of the dollar is no accident. The actual purpose of the architects of the Federal Reserve System has never changed. Consolidate the control of money into a concealed cartel of banking houses that ultimately decide economic and political policy.
Dispensing of credit to corporatist projects, owned or run by reliable operatives of the cabal is the objective. The only beneficiaries are the original stockholders.
"Under the terms of the Federal Reserve Act, public stock was only to be sold in the event the sale of stock to member banks did not raise the minimum of $4 million of initial capital for each Federal Reserve Bank when they were organized in 1913 (12 USCA 281). Each Bank was able to raise the necessary amount through member stock sales, and no public stock was ever sold to the non-bank public."
For the rest of Americans, the Federal Reserve conspiracy is an ongoing theft syndicate. It only takes the will to admit the undeniable. Without the courage to abolish this usury monster, the next century will witness the total destruction of the country.
What is more frightening, then the loss of your money. Since most people have, some meager amount held in some form of a financial institution, the prospect of the banksters' cabal placing a charge against your account for the mere privilege of maintaining a deposit, is horrible. The Business Insider warns, In The Future, You May Have To Pay The Bank To Hold Your Money, and raises a very dreadful prospect.
"In recent weeks, economists have discussed the idea of how to implement a negative interest rate while preventing people from hoarding paper currency. Economist Miles Kimball has discussed creating an electronic currency and having an exchange rate between it and dollar bills. Others have discussed going cashless and eliminating paper currency altogether."
Negative interest rates simply mean it will cost you, in fees or service charges, to hold money in banking accounts. Examine Professor Kimball's ivory tower justification for seizing the value and purchasing power of your savings.
"University of Michigan economist Miles Kimball has developed a theoretical solution to this problem in the form of an electronic currency that would allow the Fed to bring nominal rates below zero to combat recessions. He's been presenting his plan to different economists and central bankers around the world. Kimball has also written repeatedly about it and was recently interviewed by Wonkblog's Dylan Matthews."
Now dig deep into the mind of a mentally ill pseudo intellectual to see just how far from rational money policy such monetary eggheads go to provide cover for the fractional reserve central bankers.
"If we repealed the "zero lower bound" that prevents interest rates from going below zero, there would be no need to rely on the large scale purchases of long-term government debt that are a mainstay of "quantitative easing," the quasi-promises of zero interest rates for years and years that go by the name of "forward guidance," or inflation to make those zero rates more potent."
This threat is a continuation from the initial trial balloon that appeared in the Financial Times. A video rant about, Banks to Start Charging You on Deposits, goes ballistic with outrage that the money-centered banks are emboldened as to telegraph their intentions of raiding the nest egg savings of depositors. While the justifiable emotion is understandable for a beleaguered public, the economic aftermaths of interjecting massive QE reserves is explained well by Zerohedgein recent reports with the accompanied chart.
"Furthermore, contrary to what the hypocrite banker said that "the danger is that banks are pushed into riskier assets to find yield", banks are already in the riskiest assets: just look at what JPM was doing with its hundreds of billions in excess deposits, which originated as Fed reserves on its books – we explained the process of how the Fed's reserves are used to push the market higher most recently in "What Shadow Banking Can Tell Us About The Fed's "Exit-Path" Dead End."

What the real danger is, is that once the Fed lowers IOER and there is a massive outflow of deposits, that banks which have used the excess deposits as initial margin and collateral on marginable securities to chase risk to record highs (as JPM's CIO explicitly and undisputedly did) that there would be an avalanche of selling once the negative rate deposit outflow tsunami hit."
Hence, this move to prepare the bank customer for another hosing by imposing negative rates actually is a desperate attempt to keep the derivative "day of reckoning" from hitting. This strategy will not work. In the Negotium article, Low Interest Rates Impoverish Savers, makes the point: "Designed lowering of our standard of living is visible at every turn. The money-centered banks recapitalized their balance sheets at the expense of the passbook accounts customers."With the expectation that bank accounts will actually experience debit fees for parking money will result in a massive outflow of capital. Where will the money go? Will the banks allow the return of your deposits in cash or will they impose significant costs and delay withdrawals?
Consider that under a banking system, which automatically reduces your balances, the acceleration of stripping your net worth goes into high gear. No sane individual would accept this theft willingly. However, the transition to a cashless economy might well inflict a call back of cash (Federal Reserve Notes) in circulation for an enforced substitute legal tender. Or else some variation of the "killer" Kimball electronic compulsory account may be imposed under strict governmental supervision.
Under such a circumstance, the mandatory medium of exchange strips all personal ownership from the individual. Money, in whatever form it takes, no longer will be your own property.
Negative interest rates institutionalize systemic inflation into every transaction. Throughout history, usury is condemned for charging interest on lending. What term should be used for paying no interest on capital saved? Anthony Migchels argues in Our Chains are Forged by Usury, that the objective is to create an interest-free money supply. Much like the Kimball electronic currency, the Migchels alternative resides in his own twisted hermitage, read accordingly.
"The problem is not the creation of money! Quite the opposite: it's marvelous that we never need to have a shortage of money. The problem is when the bookkeeper starts raping the debitor with interest for no other reason than the associated minus."
While debt is the central issue in all financial bubbles, the solution is not to destroy wealth creation through capital saving. Until a universal model of wizardry or alchemy is adopted that creates a stable store of value, independent from work, ingenuity or greed; expectations of an interest free currency are pipe dreams.
The benefits from negative interest rates all go to the banksters. The borrower never sees FREE interest loans, nor does the saver earn a fair rate of return. The maxim remains, Those with the Gold, Make the Rules, is no different in the age of the New World Order of central banking. Starving the saver is negative for the rest of us.
With the death of the American Republic, the headstone sums up the epitaph – stuck on stupid. People celebrate a "Politically Correct" mixed-race president as leader for a society of multiracial special interest groups as the maturing of the country. Very few writers describe the ways diverse and culturally conflicting factions clash with traditional values and tested institutions because any serious discussion, automatically presumes to be racist. Such an adolescent and narrow-minded attitude, surrenders to the forces of anti-intellectualism. It is time to liberate the fabricated guilt and face up to the certainty that our nation is a declared SOS zone.Another media induced taboo, if you want to be part of polite society, is to criticize the public for their lack of understanding or backbone. The term sheeple, derogatory in nature, smacks of a countercultural assault on prevailing and acceptable attitudes. The irony is that such current middle-of-the-road viewpoints are wholly contradictions from our moral and principled heritage.
Activist Brandon Smith depicts the situation in his article, You Should Feel Sorry For Sheeple; Here's Why. "The goal is to give sheeple comfort that they are "normal" and that anyone who steps outside the bounds of the mainstream is "abnormal" and a welcome target for the collective." He goes on to elaborate the pollution from breathing the rarefied air of the ignorant.
Sheeple Are Nothing Without The Collective
Sheeple Need Constant Approval From Others

Sheeple Are Incapable Of Original Creativity

Sheeple Are Easily Forgotten
American Denial is a disease that afflicts all political persuasions, but is severely acute in the feeble minds of "Great Society" true believers. For the uneducated pupils of government schools, the youthful appeal of grand public solutions under the velvet hand of bureaucratic guidance, are seldom tempered with the harsh reality of the inevitable political deceit. Obamacare should be a tangible teaching experience, but for the social liberal and the bleeding heart Democrats, admitting that the Barry Soetoro is a habitual liar is just too much to ask. Add in the helpless dependent welfare constituency and you get a congregation of chumps, who cannot even admit that their plight is worse off under the president, who would be king.
The reason why social collectivism is accepted so readily stems from the construct that government pays the bills, for all the establishment whores, who administer, enforce and expand the parasite society.
Forgotten and never admitted is the fact that the collection of taxes is an act of forced extortion. Likewise, mandatory health care coverage, paid by a relatively healthy youth generation to support an aging and ailing population, is pure theft.
Yet, the crazed and dazed Obama cheerleaders continue to act as propaganda props in a surreal adaptation of the theater of the absurd. You can just envision Forest Gump "stupid is as stupid does", but none of these Obama brain surgeons ever hear or got the message.
For the remnant of the sane and rational, such as the authentic Tea Party grassroots, demonizing true patriots is a fun sport for the Statist sympathizers, directed at their movement.
Henry David Thoreau wrote about lives of quiet desperation. Today our entire society's desperate condition hardly moves the sheeple. Their reliance, based upon a delusional perspective that they "cannot survive without the system, no one can survive without the system", keeps the Ponzi scheme going.Without moral principles and ethical standards, only despondency and despair are predictable. Breaking down the will of the people to resist the systemic destruction of the cherished tenets of Western Civilization is the end game objective of progressive governance.
There is no serious loyal opposition coming out of the NeoCon Republican Party. The SOS alert has gone out for decades, much to the frustration of solid God-fearing Americans. However, the march towards complete authoritarianism is uninterrupted.
Only a citizen uprising revolt and an acceptance of civil disobedience dissent has a chance to reverse the perils of government by Pharisee and Scribes regulation. Bureaucracies seldom end and never do voluntarily. Notwithstanding the Sheeple resignation, the real enemy is known to anyone with a command of history and current affairs. What is lacking is the will to act. The rest of the exploited must join in or move out of the way.
The system is only as powerful as apathy allows. Non-compliance stops despotism with implosion. The technocratic organism, that challenges the rational basis of civilized conduct, with situation ethics of relative conditionality, is poison.
Hopelessness exists when people accept benign servitude. A sure sign of an establishment toady appears, when a blanket denunciation of non-violent resistance to a corrupt system is the only response offered. Read comments from the government trolls who populate the web, with the assignment to discredit any patriotic movement or truth to power advocate.Breaking the bondage of a peer pressure, Stuck on Stupid attitude, may seem to some as a courageous deed. Then again, what is more natural then the desire to be a free and honorable person? Only the corruptible and depraved will answer in the negative.
The Obama administration is the standing joke of late night ridicule. When will community distain for the district of criminals materialize into a daily pattern of defiance? The nation deserves a concerted confrontation against the internal traitors. True American Patriots, targeted for extinction are on notice. Only a country of dullards and spineless sycophants keep the system afloat. A determined and dedicated band of brothers and sisters, who are willing to bring to justice the globalist cabal, that runs and control the handpicked flunkies in government, can be defeated.
If the vow of our founders was correct, "mutually pledge to each other our Lives, our Fortunes, and our Sacred Honor", what stops our fellow citizens from taking the same oath? How you react and engage in this struggle determines if you are a SOS fool or an esteemed national. The masters of the system are vulnerable from a mass uprising – break the denial syndrome and fight to save our country.
"Two things are infinite: the universe and human stupidity; and I'm not sure about the universe." ― Albert Einstein
The day that John Kennedy was murdered, was the day that Americans lost their country. Since that fateful day in November of 1963, our slide into tyranny has accelerated.
Nearly every form of tyranny which has overrun our country has its roots in the post-JFK assassination event. JFK was seemingly the last watchman on the wall against the encroaching tyranny of the newly created national surveillance security police state grid.
There have only been two prominent politicians who have stood up to the tyranny of the New World Order since the death of JFK. These two men would be Reagan (until he was shot by Hinckley) and Ron Paul.
The Missed Opportunity Connected to the 50th Anniversary
Last summer, I predicted that the upcoming 50th anniversary of JFK's murder would awaken a whole new generation as to the tyranny that the country has fallen under and who is responsible for that tyranny. I wrongly believed that the co-conspirators, the interlocking pieces of the JFK assassination cabal, namely, David Rockefeller, the Federal Reserve, the oil companies, the military industrial complex and the CIA and their mafia assets, would be exposed with all the attention that the 50th anniversary would provide.
I wrongly believed that these groups  with their current and undue influence on America would also be readily identified for what they did to JFK and to the country on November 22, 1963. I further believed that today's younger generation would easily build the bridge linking the corruption and undue influence of these 1963 groups to today's political landscape and this would be an easy association. Unfortunately, my predictions were in error because we in the alternative media dropped the ball.
The 2013 Establishment Propaganda Machine Is Rolled Out

The day that JFK was murdered was the day that Rockefeller won the world's biggest lottery.
With the marking of the 50th anniversary of the assassination of John F. Kennedy, there have been over 2,000 books written on the subject and countless radio and television shows devoted to the topic. This fall, the globalist news corporations have produced a rash of new JFK "investigations" which all purport to show different ways to prove that Oswald, and Oswald alone, killed John Kennedy. The new productions (e.g. National Geographic) are so bad and so faulty, that they are laughable.
Media Propagandists Ignore the Government's Final Conclusion of a Conspiracy
The modern day propagandists are winning the day with regard to the control of the narrative surrounding the assassination. During the height of America's skepticism regarding the 1964 Warren Report which stated that Lee Oswald killed John Kennedy and that he acted alone, most Americans rejected the "official explanation. What the modern day public, as well as the establishment propagandists, seem to have forgotten is that in 1977, the House Select Committee on Assassinations concluded that Oswald had help and JFK was killed as a result of a conspiracy. This was the final word on the subject from our government on the assassination. However, the history revisionists do not want a hint of a conspiracy because this could give birth to a modern day JFK assassination renaissance in a search for the co-conspirators who killed JFK. Once that search would begin, the descendants of the perpetrators organizations would not be able to escape public scrutiny. We in the alternative and truthful media missed a golden opportunity to wake up the country on this 50th Anniversary of JFK's death. This fall, if we had devoted a significant amount of time and effort to covering the assassination, and we had been relentless in our efforts, the under 40 crowd would understand who their present enemies are and they would have been awakened to the present day tyranny. We allowed our voices to be drowned out by the mainstream fictional media with their new JFK cover up pieces. Sadly, we lost a golden opportunity to wake up millions of young Americans.
At the height of JFK conspiracy fervor in the 1970′s-1990′s, according to the Gallup Poll, as many as 80% of Americans believed that there was a conspiracy to kill JFK. Today, that number has slipped to 61% thanks in large part to the new propaganda productions which are influencing our younger Americans.
In the 1990′s, Oliver Stone produced JFK and Bill Kurtis and Nigel Turner produced separate investigations into the assassination (i.e. The Men Who Killed Kennedy). In the 1990′s, the country was spellbound by the new revelations which were also bolstered by JFK admirer, Bill Clinton, as he forced the release of millions of classified JFK documents. However, the evil empire struck back around the year, 2000, and today, you see almost nothing on TV which does not show that Oswald was acting alone.
Follow the Money
What is conspicuously missing in most, if not all of the accounts related to the assassination of John F. Kennedy, is the fact that normal homicidal investigative strategies have not been employed by people in the government who would have the power to do so. One of the hallmark phrases in murder investigations is to "follow the money".
Every year at this time, I become reflective as I wonder what America, and the rest of the world might have looked like if JFK had survived, been re-elected and served a second term as President. This year I decided to follow the money and put my thoughts on paper. So, let's briefly follow the money.
Vietnam
Everybody knows that the Pentagon was frothing at the mouth to get into an armed conflict in Vietnam and/or Laos. In 1961, JFK resisted the military pressure to place troops in Laos, as he clearly instructed diplomat, Averell Harriman, to get the Laos issue settled because JFK was determined to not put combat units on the ground in Southeast Asia.
It is true that JFK was manipulated by his military advisers to place troops on the ground in Vietnam but solely in the role as "combat advisers". JFK's anti-Vietnam war stance frequently gets overlooked because of this. However, in October 1963, a mere month before his death, JFK signed National Security Action Memorandum 263 which called for the withdrawal of 1,000 troops from Vietnam by the end of 1963 and a total withdrawal of all of the combat advisers by the end of 1965. This was one nail in the coffin of JFK.
JFK gave many speeches in which he clearly stated he was opposed to widening U.S. military involvement in the war. South Vietnamese leader, Diem and his brother Nhu were opposed to U.S. attempts to control his regime and Diem and his brother were adamantly opposed U.S. full-scale U.S. military involvement beyond the 16,000 combat advisers stationed in the country. On November 1, 1963, Diem and Nhu were murdered by the CIA against JFK's wishes. Three weeks later, to the day, John F. Kennedy was murdered. Within nine months following the assassination, the LBJ administration launched the now discredited false flag event, the Gulf of Tonkin attack, and 100,000 combat troops were subsequently sent to Vietnam. Many researchers have proven the involvement of the same CIA and its Mafia connections which dates back to 1942 when the CIA was known as the OSS.
Knowing that the CIA and Mafia were involved in JFK's murder, does not tell you who ordered the assassination. Any guesses on who profited the most from the Vietnam War? In radio parlance, you will have to stay tuned, the answer will be revealed at the end.
There were huge financial incentives for the American defense industry to participate in the murder of JFK. Yes, that would be the military industrial complex which Ike warned us about in his 1960 farewell address. In 1963, Chrysler corporation and its subsidiaries received the lion's share of defense contracts for the war, most of which were resold to smaller corporations. Corporations such as Bell Helicopter enjoyed unparalleled growth during the height of the war. There are some interesting and notable parties which controlled the Chrysler defense industry interests in 1963.
Very powerful parties would have stood to have lost a lot of money had the war not materialized into a full-scale air and ground war. Who am I speaking about? All will be revealed when I connect the dots at the end. Oh by the way, the forerunner to the bid rigging and recipient of no bid contracts in Iraq, KBR, was also found guilty of the same thing in Vietnam when they were given the responsibility for building South Vietnam's military infrastructure. The more things change, the more they do stay the same.
Making Enemies with the CIA: The Bay of Pigs
It was very well known that JFK refused to support and sanction the CIA backed Cuban refugee invasion of Cuba by refusing to allow air cover. The invasion failed and the careers of CIA Director, Dulles, and CIA Assistant Director, Cabal, were over. The proverbial line in the sand had been drawn and the CIA and JFK became mortal enemies with JFK threatening to break up the agency into a "thousand pieces". Add to this fact, is the fact that it is well-known that the darker parts of the CIA act as mercenaries for certain groups who are not on the government payroll. Today, we would call these shadowy forces, the New World Order.
It is clear that with the advent of the Bay of Pigs, the brain trust for the assassination had been born and they would double down as this agency would perpetrate the cover-up, such as losing the President's brain during the autopsy to hide the fact that JFK's fatal head shot came from an exploding bullet, which means that Oswald's defective Italian rifle could not have been used in the commission of the crime. Maybe this is also why LBJ had the Presidential limousine "cleaned up" immediately following the crime and the vehicle was never subsequently examined as any other crime scene would have been. LBJ should have gone to prison for obstruction of justice, but I digress. Jim Marrs and other researchers have clearly implicated the CIA as the masterminds of the assassination. I agree with Marrs, however, the CIA were not the original planners, they merely were tasked with carrying out the assassination. Regardless, the rich and famous wanted Cuba back and JFK had destroyed their plans for continued domination of the Island state.
Ten days following the Bay of Pigs, JFK gave his famous "secret society" speech. He is the first, and the only President to ever identify the globalists as the enemy of America and humanity as a whole.
If you have never listened to the speech, you should take the time to listen now, for if you do, the events of today will make a great deal more sense.
The Cuban Missile Crisis
Havana had become a play place for the rich and famous prior to the Castro led revolution. Upon seizing power, Castro promptly nationalized all gaming resorts and the Mafia lost their insanely high profits and the rich and famous lost their financial cut, as well as their 1960 version of Bohemian Grove. In the eyes of the rich and powerful, JFK had one more opportunity to get control over Cuba with the opportunity presented by the Cuban Missile Crisis.
In 1962, in response to America's placing offensive nuclear weapons in Turkey, close to the Soviet border, the Russians did the same in Cuba. This event brought the U.S. and the Soviet Union to the brink of nuclear war. All of JFK's military advisers wanted to invade Cuba with ground troops. JFK opted for the ever-contracting naval blockade. Although history has proven that our invading troops would have been nuked, and that JFK pursued the correct course of action, the powerful military was now lining up against JFK. And, again, the rich and famous were thwarted in their desire to reassert control over Cuba and the defense contractors smelled the end of the gravy train.
Then in June of 1963, JFK gave an incredible speech at American University in which he called for the total destruction of nuclear weapons. This would have resulted in the end of the financially lucrative Cold War and the "Pax Americana enforced on the world by American weapons of war", and a movement toward "general and complete disarmament" would have begun. A few months later JFK signed a Limited Test Ban Treaty with Nikita Khrushchev. What would happen to the profits of Raytheon and Martin Marietta (now Lockheed Martin) if there was no cold war? The executives at the defense plants could relax because when JFK was killed, LBJ ordered the single largest increase in U.S. history and before the ink was even dry on JFK's death certificate.
America Cannot Have Peace, It Is Bad For Business
Please take the time and listen to JFK's, American University Speech, June 10, 1963, and if you understand what it means to be an American, it will bring tears to your eyes and I believe that this speech also brought a bullet to JFK's brain, because he was poking a stick into the eyes of the military industrial complex.
The Federal Reserve

On June 4, 1963, President Kennedy issued Executive Order 11110 and this accompanied the Kennedy act which was the beginning of an attempt to strip the Federal Reserve Bank of its power to loan money, at interest, to the government. JFK was on his way of stripping the then 50 year history of fleecing the American people. In effect, JFK, by issuing 4.3 billion dollars of U.S. notes based upon silver held in reserve, JFK was going to be able to wipe away the beginnings of national debt which, today, has mortally wounded the American economy. Please take note of the fact that this event was only a little over 5 months before the assassination. When JFK was murdered, LBJ failed to continue with the program.
Who stood to lose the most money if the Federal Reserve had lost its stranglehold on the American economy? You would be right if you answered Chase-Manhattan Bank with its 6,389,445 shares of Federal Reserve Board Stock valued at 32.3% of the total value of stock at the Fed. Also, Citibank had a lot to lose by this move as well as they were invested in the Federal Reserve shares to the tune of  4,051,851, or 20.5% of the total value. I think you might be getting an idea who owned and/or controlled the majority interests in these two banks in 1963, but there is more before we answer the question on who profited the most from the murder of a sitting President in 1963.
The Oil Depletion Allowance
By the end of 1962, the robber barons which ran the oil industry estimated, that their earnings on foreign investment capital would fall to 15 percent, compared with 30 percent in 1955 if the oil depletion allowance was diminished in accordance with JFK's proposal.
JFK's attack upon the oil depletion allowance, which permitted oil producers to deduct up to 27.5% of their income as tax exempt provided the robber barons of oil a lower tax rate and a competitive business advantage, not shared by any other business interests. JFK targeted the oil depletion allowance and it was estimated the government might retain more than $300 million in tax revenue each year if the depletion allowance was reduced. Although the oil depletion allowance remained intact, due to the congressmen who were recipients of oil company campaign contributions, JFK made some very powerful enemies in the oil industry.
It was the oil depletion allowance which made drilling for oil a no risk venture. An oil speculator could drill five wells and if four were dry wells and only the fifth struck oil, the speculator would still make money because of tax breaks resulting from the depletion allowance deducted from owed taxes. President Kennedy pointed out the obvious when he stated "… no one industry should be permitted to obtain an undue tax advantage over all others."
JFK had made an enemy out of the oil industry and its biggest tycoon, David Rockefeller with the proposal to reduce the oil depletion allowance. Do you know the two banks which controlled 53% of the Federal Reserve in 1963? Rockefeller owned the controlling interest in both banks. How about Chrysler, KBR, Bell Helicopter and the Vietnam War? You are way ahead if you said, David Rockefeller. And what about the nuclear arms race, to which the cessation of the cold war, would have meant the loss of profits to the defense industry? And who controls the defense industry? David Rockefeller. We had to have a cold war, then, for the same reasons we need a war on terror today. It is good for business and with the subsequent growth of government power which comes with war, the erosion of Constitutional liberties increases. All roads for the motivations of the JFK assassination leads to David Rockefeller as being the first mover in the plot.
Do I have the smoking gun that I can place in Rockefeller's hand? The short answer is no. However, it is safe to say that the day that John Kennedy died, there were no tears shed at the Rockefeller estate.
If JFK's murder had been anything but the killing of the President, any police detective worth his salt, would have followed the money trail and arrests would have been made based on the known facts. It is unacceptable that as we race toward the 50th Anniversary of the event, this next week, that not one person has been brought to justice in a court of law for the assassination of John Kennedy. Instead, a patsy, Lee Oswald,who never fired a gun on November 22, 1963, was framed and used as the patsy. And before Oswald could talk, he was murdered two days later under very mysterious circumstances. Over the next several days, I am going to publish mini-excerpts on facts about the JFK assassination which are not being covered by the MSM. My first entry will focus on how we know that Oswald did not kill JFK.
Reflections on What Could Have Been
If JFK would have lived, we would have not lost 58,000 lives in Vietnam. Millions of Vietnamese would have been spared. We would have an economy that is backed by silver and we would virtually have no debt because the corrupt Federal Reserve would have faded into oblivion as it did during the Andrew Jackson Administration. America would have schools that would the envy of the world, not the butt of jokes, because we would not spending money to kill people, but rather to educate, improve health care and we could have even afforded to pay off all privately held mortgages if we had only remembered the words of JFK when he reminded the faculty and staff at American University on June 10, 1963, that "We all breathe the same air…"
We would live in a far better place had we lived out JFK's expressed ideals. I write this piece, not just to remind America of what we lost and how America suffered with Jack Kennedy's death, I write this piece for those who know little of nothing of what happened on November 22, 1963, mostly young people, in order that they can know that the tyranny being imposed upon us, need not exist. There is a better way and for a moment when I listen to his speeches, I can imagine a better world.
Source: Dave Hodges | The Common Sense Show
No doubt you have heard about the War on Drugs, the War on Terror and the War on Happiness. However, you may not be familiar with the War on God, possibly because it would be an unpopular war to discuss publicly. By the "War on God" (definition) we mean the collection of strategies, methods and techniques which have the combined effect of preventing or seriously hampering the efforts of individuals to seek or achieve legitimate Spiritual enlightenment and the Soul's eventual return to God.
The War on God is an ancient war. While the United States and other countries play an active role in this war today, they definitely did not initiate the war. If you want to use the Christian bible as a reference, you could argue that the War on God began shortly after man was created and rejected God in favor of Satan. Clearly, in some form, the War on God has existed throughout human history.
Today, the United States has effectively broken off diplomatic relations with God. The oligarchs who run the country never physically die and so their souls stay on Earth. Apparently, the United States actually believes that its technology, occult knowledge and black magic skills place it in a position which is superior to God.
We know from whistleblowers like David Morehouse that the United States sponsors and trains a cult of psychics to carry out psychic espionage (remote viewing) and also assassinations using psychic black magic techniques. According to clips of his various interviews on YouTube, it was the training in psychic assassinations which caused Morehouse to become disillusioned, quit the secret program and blow the whistle on the operation. Other countries may well operate similar programs but the details will remain unknown until someone defects and exposes them.
The leaders of the United States have always worshiped Satan. The United States was founded by a cult of Satanists known as the Masons and remains under control of that cult today. By rebranding their cult as a nation state, the cult created the appearance of legitimacy. Cult secrets simply transitioned to state secrets. Cult threats to kill anyone telling their secrets transitioned to the crimes of treason and espionage.
Nothing really changed except for the rebranding from a cult to a government. Today, essentially all members of the CIA, NSA and NASA are Masons. All US presidents have been Masons with the two exceptions of Abraham Lincoln and John Kennedy who were both assassinated.
The term "national security" refers to the security of the cult and not to the security of the general population. The Masonic motto is "If you are not one of us, you are nothing". The cult exists only to enrich itself.
The Masons study and practice the occult. Serious study begins after they take a formal oath of allegiance to Satan at the 30th degree initiation. Basic occult knowledge is neutral and everyone who advances Spiritually learns it. However, Masons seek this knowledge to gain power and control over others as opposed to knowledge for personal advancement. This choice, commonly called the Left Hand Path, places them in opposition to the will of God.
If the Satanists simply wanted to sell their Souls to Satan and mind their own business, one could argue that they had that right because they had free choice. However, the situation is not that simple. The Satanic oligarchs did freely choose to worship Satan. However, they also desire a comfortable life. They don't want to do any "grunt" work. Therefore, they have enslaved the remainder of humanity and are holding their Souls prisoner on this planet to service their needs. Therefore, if you, as an innocent Soul, ever plan to escape from this place and return to God, it is in your interest to investigate and gain an understanding of this war so that you will have an opportunity to Spiritually evolve. Otherwise, your Soul will remain a prisoner here — lifetime after lifetime — serving the Satanic overlords essentially forever.
Earth Based Religions
The phrase Earth Based Religions (definition) refers to religious schools which seek and use knowledge, including occult knowledge, to enhance their experiences during their human lifetimes as opposed to using the same knowledge to foster Spiritual development with the ultimate goal of achieving a stable non-physical Spiritual existence.
Although Pagan religions are usually grouped into this category, a more careful examination would reveal that essentially all mainstream religions are Earth based religions. Mainstream religions make constant references to God and Heaven but never explain exactly what they are talking about. Their books concentrate on historical narratives concerning how people in the past lived and coped with the basic problems of human physical existence. They never give details of any level of Spiritual existence or even any specific hints about what life beyond death will be.
Let's try an example. Suppose you have never seen a motor vehicle. You have heard vague stories that they exist, but that is all. Then, suddenly, you find yourself behind the wheel of a car on a high speed road like the US interstate system or the A roads in Britain. What would you guess would be your chance of survival? Try less than zero.
Now suppose you physically die. Suddenly, you find yourself in your Astral body. However, no one ever told you that you have an Astral body. It does not operate under the same rules as a physical body does. It is a very pliant and nimble body. It can travel in time to the past or future, access any plane and subplane in the Astral universe and research the absolute accurate and incorruptible records system known as the Akashic Records to name just a few. But, as in the previous example, you never learned how to "drive" it.
You would have done fine on the highway if you had gradually learned to drive a motor vehicle. You would do fine after death if you had some experience and training with your Astral body. However, no one ever taught you. What practical use is any religion that constantly rants about Heaven but offers no practical advice about your life after this life?
This information may have been a guarded secret in the past, but those days are gone. You can research this information to your heart's content on the internet, locate legitimate Spiritual groups and learn from those who can leave their physical body and explore the non-physical dimensions. But, don't expect any help from a mainstream church.
You might do well to recall the famous quote attributed to Jesus, "The truth will set you free". Mainstream churches are large, rich institutions. They did not get that way by "setting people free". They got that way by terrifying their followers with ridiculous horror stories of what will happen to them if they do not obey their crazy doctrines, stay with them and give them all their money.
Gnostic and other "non-traditional" religions may be Spiritual based as opposed to Earth based. Jesus always reminded everyone that he represented a kingdom "not of this world". If we had accurate records of his true lectures we would no doubt find practical instructions and information about this "other world". We don't have this information because any practical Spiritual teachings he might have given were censored out to create the simplified — but Spiritually sterile — mainstream religions we have today. They are simple to comprehend and follow but will not lead you anywhere except another physical lifetime somewhere on Earth.
Life Before Technology
Before technology life was simple. Although existence was hard, the opportunity for Spiritual experiences was greater than today. Consider, for example, all the empty time you would have as, say, a sheep herder. Nothing to do except make sure the sheep kept moving. In this situation, there was ample opportunity for the mind to wander and perhaps contemplate and glimpse other realities.
Also, and perhaps most important, no electric grid existed on the planet. Electric fields appear as solid "matter" in the Astral dimension and so can affect Astral experiences — generally in a negative way. Artificially created electromagnetic waves which blanket the planet today also have subtle and generally negative effects on living creatures.
Pagan groups generally conduct occult rituals outdoors and away from high population areas. When buildings are used, it is desirable that they be made only of wood and assembled without any metal (nails) and, of course, have no electrical wires.
Both good and evil existed before technology as they always have. It was possible to use psychological propaganda to influence and control susceptible masses of people. However, the positive and negative forces were more in balance. It was not possible for a single group to successfully dominate the planet.
Drugs existed in the form of various plants. Adepts learned how to use them to help or harm others. People with developed psychic abilities existed as they always have and white and black occult schools existed. Legitimate Spiritual masters existed.
Some techniques that thrived have essentially become extinct because the population of the planet has devolved. It is next to impossible to successfully teach Tantra (sex yoga), because today's generation is incapable of the required level of self control. Classic Tibetan yoga techniques are still taught in isolated areas, but the masters — for good reason — will no longer consider trusting outsiders.
Information Control Techniques
Information control is essential for protecting the integrity of a compartment. People are held as slaves by constructing an information box which holds the slaves in an information prison. As long as the "walls" of the compartment remain impenetrable, the compartment — or belief system — will be stable and no slave will escape.
Considerable energy is required to achieve this. Those assigned to protect the walls obviously know that the compartment is an intellectual illusion. Therefore, they must be sworn to secrecy and intimidated in such a way that they will not compromise the integrity of the compartment. It only takes one "leak" to initiate a chain of events which could collapse the compartment and so allow the slaves to escape.
Consider, for example, the Snowden leaks. One person sharing knowledge has totally destroyed the illusion of privacy that most people had accepted as fact. It will not be possible to reconstruct this illusion. The compartment has collapsed.
Similar principles apply in the Spiritual spectrum. Because of the characteristics of the human bodies in use on this planet, most people do not retain any conscious memory of events before they were born. This is not universally true. Life forms on many other planets retain the memories of previous existences. Because humans generally do not have this recall, they are easily enslaved and can be conditioned to believe most anything.
To maintain a state of Spiritual ignorance it is important to institute methods which will prevent people from realizing that they are actually Souls experiencing a constructed illusion. People somehow reaching this state, sometimes referred to as "self realization", will no longer respond to establishment propaganda and are generally considered a threat to the current social order.
The easiest and most direct method to achieve a stable slave population is simply not to talk about anything even vaguely esoteric. For example, how often have you heard the words astral, chakra or aura mentioned on a mainstream TV channel?
Most people will then likely "remain asleep" throughout their entire lifetime and will be no problem. Unfortunately, people have a natural desire — even though it may be an unconscious desire — to Spiritually evolve. It is, after all, the true purpose of human existence.
When someone tries to break away from the contrived illusions more direct methods are needed to return the slave to a state of ignorance. Today, various methods which cause brain damage — generally performed by psychiatrists — are used to negate any success in Spiritual evolution and return the slave to a state of vacant contentment.
Diversions and Techniques Promoting Inaction
The simplest and most effective diversionary technique is to promote scientific atheismand darwinian evolutionary philosophy as established fact. If you can get someone to buy into this philosophy, their fate is sealed. Even if they experience some contact with another dimension, such as an out-of-body experience, they will follow their programming, dismiss the experience as a delusion and refuse to investigate further. When they die, they will be totally lost and confused, flounder around on some lower Astral plane and eventually reincarnate just as Spiritually ignorant as before.
A side effect of accepting scientific atheism, which totally cripples Spiritual progress, is the acceptance of suicide as a way out of life's problems. Suicide becomes a learned reaction. Consequently, when the Soul is sent back into another physical lifetime, it is likely to commit suicide again when faced with some unpleasant event. It never learns, and this cycle can repeat essentially indefinitely. Dealing with this is one of the most difficult problems faced by the administrators who work on the Astral planes.
For those who want more than scientific atheism, there is mainstream garden variety religion. Mainstream Christianity has developed a clever stonewalling technique that has worked to promote inaction for thousands of years. This technique is centered upon the argument that no one can make any progress until Jesus returns to show the way. In the meantime, people should just do nothing and wait. The effect of this is essentially the same as scientific atheism. No Spiritual progress is made.
Schemes designed to waste time are common. One really off the wall example is the decision in Syria to prohibit vacuum cleaners and standard flat brooms in homes. "Witch type" brooms consisting of a circular straw bundle are allowed. Surely there must be a good reason to keep these terrorist weapons out of the reach of the typical Syrian housewife. The official reason is to make basic housework as difficult and time consuming as possible so as to prevent the woman from having any free idle time which, if allowed, could lead to the emergence of "immoral thoughts". Perfectly logical!
In the western world, complex bureaucracies seem to be deliberately designed to make the path to whatever you want as difficult as possible. Here the apparent motive is to prevent the acquisition of enough free time for any independent thought process. There are just not enough hours in a day to allow for any quiet contemplation of anything.
"Blank time" is always reported as a factor in the development of Spiritual figures. Time alone in the wilderness, time spent meditating alone in some isolated cave or at least periods of dedicated quiet time somewhere figure prominently in historical accounts of these people.
You may know or have heard of kids who spend all their waking hours playing interactive role model video games with other kids on the internet. They eat meals by the computer and never leave except to briefly sleep before returning to the all important game. Their entire life is spent in an imaginary reality. You may want to consider that your "real" life may not be all that different. You play a role. Your attributes are fixed by what society expects based upon that role. You can't change, because others would notice. Your concept of the world beyond your little world is determined by what you see on TV. Daily, you receive your "fix" of carefully choreographed "programming" which appears unusually coherent because, as you may not know or fully comprehend, everything on TV is controlled by a few corporations and all of them are loyal to the official government party line. If you somehow had the opportunity to break from this structured "game" you play from day to day — say, the opportunity to visit other countries and see other cultures — you would likely realize that your existence has not been that much different from the kid addicted to a computer game. You would find that the actual "real" world had very little relationship to the world you had been conditioned to believe existed.
Chemical Control Techniques
"With the use of chemical brain-control agents it may be possible to control the individual and the masses and to do this unobtrusively and without the active cooperation of the victims — not a question for the future — it is here".
This is a quote from the book by Edgar Cayce titled Edgar Cayce on Atlantis. There are references to Dr. Robert Galbraith Heath, and this book bears a copyright date of 1968. The book cites an interview that Heath gave to a newspaper called The Virginia Lighthouse and cites the above statement made by him on November 20, 1966. Heath founded the Department of Psychiatry and Neurology at Tulane University, New Orleans, in 1949 and remained its Chairman until 1980.
During this period, Tulane University actively participated in the CIA mind control project known as MK Ultra [1]. Also, during this period, Tulane became an active member of the secret Institute for Defense Analyses, or IDA, a corporation whose only client is the US government. Heath reportedly performed many experiments there involving electrical stimulation of the brain via surgically implanted electrodes. This work was reportedly partially financed by the CIA and the US military. Heath is now "officially" [11] deceased.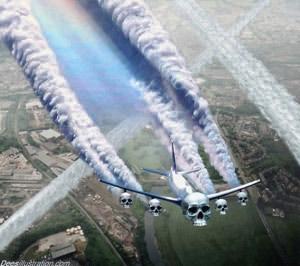 You have been drugged since you were conceived — before you were even born. Your mother was drugged. Soon after birth, you were injected with mercury containing vaccines. And the systematic process of poisoning you never stopped.
By some estimates at least eighty percent of the food in the average supermarket is poison either because it is genetically modified or laced with pesticides and other additives. Even the air is poison now because of geoengineering chemicals sprayed into the upper atmosphere.
It should be noted that things are different in the separate but parallel world of the elite. The Max Keiser show [12] discussed the secret gardens in Japan. These gardens are surrounded by high walls and guarded by the military. They produce the food for the ruling elite. Every plant in the garden has its own health certificate certifying that is pure, healthy and not genetically modified. Obviously, every developed country must have a similar secret supply chain of legitimate food for its ruling class. Certainly the elite know better than anyone that the food supply for the ordinary people is poison. They're not fools. They wouldn't touch the stuff.
Vaccines used for the elite are prepared without the mercury and other toxic additives found in vaccines given to the ordinary people.
Various agents — mainly from plants — have always existed which could be used by those aware of them to harm others or control people by altering their state of consciousness. However, only recently has it become practical to wreck the health of essentially everyone on the planet at the same time. Genetic modification of plants and other life forms used for food has made this possible. Now, quietly, people throughout the world can be sterilized, crippled with serious health problems or even killed by altering the genetic makeup of the food supply. Ordinary people remain generally ignorant of the fact that this awesome power exists and is presently being used against them.
Mind control has become a science. You can't major in it in college because this science is essentially entirely secret. The United States and other countries have spent the equivalent of billions of US dollars investigating and perfecting mind control.
Many secret research projects using unsuspecting or perhaps kidnapped people — some of whom were killed — have been conducted in the past and continue today. We only know about a very few of these projects such as MK Ultra, MK Naomi and Project Other. Even in these projects, specific details are sketchy. From these experiments, practical techniques for creating manchurian candidates and implanting created false personalities and identities have been developed and are in common use today within the secret communities.
Everyone has likely been the victim of some degree of mind control to some extent. Chemical weapons designed to mentally cripple people and render them drooling idiots are freely sold as prescription drugs in drugstores and are available to doctors to use as they please.
The lives of many kids are destroyed by these "drugs" because they have no ability to resist and their parents are ignorant and believe doctors can "do no harm". Actually, today's doctors are agents of the state. Many have top secret clearances and embrace classic Nazi philosophies such as eugenics. Their function is to watch you and make sure you "die appropriately" so as not to burden society. Anything they learn about you and anything you tell them is freely available to anyone in the intelligence community who is curious about you.
Only members of the super elite who are entitled to access top secret medicine will receive legitimate supportive medical care. Ordinary people will be deliberately allowed to die even though doctors with top secret clearances know of effective treatments which would cure them but which are classified and reserved for the chosen elite.
There is no such thing as an incurable disease any more. All the cures have been discovered. If you die, it is because you are not considered important enough to live and not because the cure does not exist.
Common sense should suggest to you that the lives of the elite have statistically different characteristics. For example, members of congress do not live sheltered lives. They work in close quarters and travel extensively both locally and internationally. They are always hanging out with prostitutes as well as playing with the young congressional pages.
Washington D.C. is reported to have more brothels than fast food joints. Strangely, however, these people do not get sick. Have you ever heard that congress had to shut down because everyone was coming down with some infection. It happens in other close populations, so what would make them exempt?
Understanding Astral Damage
Living things have an Astral component. For example, when you cut a leaf and then see the complete leaf on a Kirlian photo you are viewing the Astral component which was unaffected by cutting the physical component because it does not exist in the physical dimension.
Over one hundred years ago, practical techniques for viewing the human Aura were developed by Walter J. Kilner [4]. The original technique used dicyanin dye and a later technique used special glasses. You can't find either one today. In his research, Kilner was able to demonstrate that defects in the human Aura appeared before some corresponding disease manifested in the physical body.
Therefore, he was able to detect and prevent an adverse physical condition before it ever physically materialized. So, you ask, why don't we have this marvelous medical technique available today? Well, we do. It is in use in top secret medicine. However, only the approved elite now have access to it. The information has been removed from public knowledge and classified.
In conventional allopathic medicine, which is based upon scientific atheism and sold to the general public, there is officially no such thing as an Astral body. Conventional medicine denies the existence of anything beyond the physical dimension. Since the Astral body officially does not exist, it is not recognized as a crime to deliberately harm it.
Damage to the Astral body can be compared to damage to the physical body. If you punch holes in the physical body by cutting it, shooting bullets at it or whatever, blood runs out and germs get in. If you cause enough damage, the body dies. Astral bodies do not die, but can suffer critical energy losses. Similar to physical bodies, punching holes in the Astral body allows essential energy to escape and harmful energies to enter.
There are many events which can harm your Astral body. It is in your interest to understand these events because your Astral body will be your primary body when your physical body dies. If it has been damaged, you will be at a severe disadvantage. The chosen elite have perfect Auras because they can use the Aura balancing machines available to them at any top secret medicine provider. However, you cannot.
Also, the ruling elite seem to take some delight in causing harm to the "ordinary" people. Consequently, many drugs, food additives, GMO foods and industrial chemicals found in the environment cause Astral damage. Chemicals recognized as poisons and banned in other countries can be freely added to foods given to ordinary people in the US.
Obviously, there must exist a secret supply chain of safe food and water which is available to the chosen since they know of the contamination and certainly would not want to harm themselves or their friends.
There are ways to closely duplicate the secret techniques available only to the elite. If you can see auras or can find a reputable psychic who can, you can approximate the techniques developed by Kilner and available to everyone over a hundred years ago. Although the secret aura balancing machines are more accurate, a competent psychic healer can do the same thing. Actually, since psychics have always existed, similar techniques have been available throughout the ages to those who were aware.
Fluoride
The concept of adding fluoride to drinking water for the purpose of mind control is said to have originated in the 1930′s as a result of collaboration between German and Russian scientists [2]. Sodium fluoride was originally used and was found to cause a "mild lobotomy" in people who consumed small quantities. The effects were considered to be non reversible after one year of continuous use of the tainted water. Hitler added sodium fluoride to the water in his concentration camps to make the prisoners docile and cooperative as they waited for death.
Sodium fluoride (NaF) is used today in personal products like toothpaste. To poison the water supply of an entire country with sodium fluoride would be expensive. However, it just so happens that there is a waste product created during the manufacture of phosphate fertilizers, Fluorosilicic acid (H2SiF6), which is classified as hazardous waste and would be expensive to dispose of under EPA guidelines.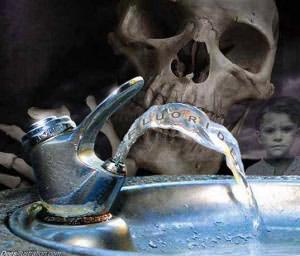 There is lots of this stuff available. This is the poison added to the public water supply in the US and some other countries. It is actually economical for industry because they don't have to pay for hazardous waste disposal. They just pump it into the public water supply.
In the human body, fluoride has an affinity for the pineal gland in the brain. The pineal gland is associated with the "third eye". Everyone has this third eye, but few are aware of it or know how to activate and use it.
Although the pineal gland is part of the physical body, the associated third eye is part of the Astral body and so is invisible in the physical dimension. The third eye allows you to see and communicate with the non-physical dimensions while fully awake and functioning in the physical dimension. So, you could see and carry on a conversation with someone in the physical dimension while invisibly also viewing and communicating with some entity on another plane of existence.
The standard Christian bible refers to the third eye with the phrase, "If thy eye be single thy whole body will be filled with light". However, only students of mysticism would recognize the true meaning of this quote.
Obviously, having this ability would be a threat to the security of any totalitarian society. Poisoning with fluoride destroys this ability and so solves that problem. Literature is available if you wish more detailed information. Simply search using the phrase "fluoride third eye".
On the chance that fluoride in the water is not sufficient to destroy any psychic abilities you may have, there are more aggressive ways to get fluoride into your brain. Here are some structural models of popular psychiatric drugs:
Notice that the element Fluorine (symbolized by its standard chemical symbol "F") figures prominently in all these compounds.
These drugs are used to cause "chemical lobotomy". By blocking communication channels with the higher levels of the human brain, they effectively convert the victim into a lower form of animal. Lower animals do not have the frontal lobes possessed by humans. That is what makes humans special. Disabling the frontal lobes effectively transforms a natural human being into, basically, a docile and obedient house pet which can be trained like a dog.
Incidentally, Fluorine also figures prominently in Sarin nerve gas.
For a more in depth study search YouTube for the free documentary Flouridegate — An American Tragedy by David Kennedy.
They All Drink From the Same Trough
If you casually look out upon the institutions of the world, it may appear to you that they are independent, discrete entities. However, they are not. They are all components of a collective which has successfully hidden its existence and true nature from the general population for generations.
Let's begin with the media in the US. Although it may appear to you that there are thousands of independent sources reporting "news", 90% of all media is controlled by six corporations. They are General Electric, News-Corp, Disney, Viacom, Time-Warner and CBS.
In the US, people believe they are protected from tyranny by the concept of "separation of powers" — that the executive, legislative and judicial branches of government are staffed by independent thinkers who "check and balance" each other. This is also a deception.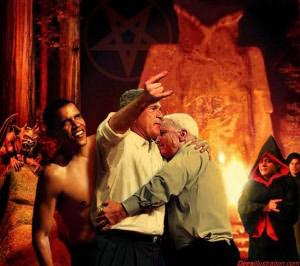 Once a year, at the end of July, there is a secret gathering on private property in the redwood forest of California called the Bohemian Grove. Although this annual meeting has been going on for over one hundred years, it is only during the last several years that outsiders have begun to learn of its existence. The only reason they have is because of the internet and independent journalism. Leaders from the mainstream media are all members of this secret club and so never even report its existence.
Who else goes to this annual secret "party"? Well, for want of a better name, we will call them the "Trusted Satanists". They are the leaders of all the major corporations, banks and representatives from all the major branches of the US government as well as foreign governments.
Although these men outwardly support the concept of capitalism for the masses, this elite group, among themselves, are perhaps best described as "rich socialists". Only men are allowed. For recreation, a stable of prostitutes — both male and female — are kept nearby off-site. The male prostitutes could theoretically enter the Grove.
The "party" begins with a Satanic ritual called "Cremation of Care" (i.e., "we don't care") which features the burning of a coffin at the base of a huge statue of an owl. Walter Cronkite reportedly was the official announcer at the grove until his death.
A secretly filmed video of this event is available on YouTube. It is supposed to be a "simulated" child sacrifice. However, since the CIA, FBI and NSA attend the ritual, who is going to complain on the chance it is a real sacrifice of a human child? After all, they are all trusted Satanists.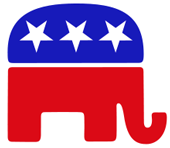 Most attendees from the United States are members of the Republican party. This is completely predictable in view of the fact that the US Republican party flaunts its affiliation with the "dark side" by prominently using the inverted star symbol on its official logo.
During the two week period, corporate leaders, the "independent" government regulators who supposedly keep corporations honest, the leaders from the executive, legislative and judicial branches of US government who are supposed to be "checking and balancing" each other, as well as the media moguls who we "trust" to report the truth, are all running around naked in the woods — pissing on the trees, playing with each other, and the male prostitutes as well as the off-site female prostitutes, and "having discussions".
Well, what are they "having discussions" about? They are discussing what they plan to do with "their world". The Manhattan Project to develop the first atomic bomb was reportedly planned at one of these discussions years ago. What about you? What about your future? What about any expectation of happiness you may have? Well, you see, you "don't need to know". Remember, "If you are not one of us, you are nothing".
Blueprints For the New World
Overview
If this link [7] is still active, it would be in your interest to read through it. This document is a transcript of a speech given by one of the insiders in the year 1969. He boldly states,"Everything is in place and no one can stop us now".
The article details how people ("people" means the slave class who are "nothing"; recall: "If you are not one of us, you are nothing") will just have to get used to changes such needing permission to have children, accepting mandated euthanasia as the law and total surveillance. Essentially all goals are now achieved, although some still remain guarded secrets.
The 1960′s was the period when physical death was eliminated. Of course, this "privilege" is only available to the select Satanic oligarchs. Effective cures for all diseases were also developed. The speaker [7] states that the cures are on file in the Rockefeller Institute. Of course, most are classified and only available to the chosen elite.
Infrastructure
The PBS documentary, Top Secret America [8], presents a good overview of the secret world of the elite. You may think no one is paying attention to the infrastructure in America because streets are in disrepair and bridges are falling down. However, you would be wrong. A tremendous amount of money is being spent on infrastructure in America — for the chosen elite. You will never see it and you will have no need for the decaying bridges and streets because you won't be around to use them. You, as well as 90+ percent of the current population, will be killed in the "Great Culling".
The new infrastructure is quite elaborate as the documentary explains. It consists of thousands of buildings which have a few stories visible above ground but which then extend for 90+ stories underground. All amenities are available within these secret structures which are basically self-sufficient.
It is important for the buildings to reach deep underground so that the lower levels can connect to the secret underground transport network. This network is global and provides safe high speed transport for the elite. Whenever the network crosses a tectonic plate, massive amounts of silicone are used to allow the transport tunnel to flex as needed. The network has access points in all countries. However, these points remain secret in countries which have yet to be subdued and co-opted into the new world order.
NWO Enabling Documents
The treaty known as the Trans-Pacific Partnership appears to be the formal enabling document for the new world. The actual document is secret and only high level corporate executives and politicians are allowed to see it.
Even after the treaty goes into force, its contents will remain secret. Because, in the United States, treaties must be openly debated in congress, the treaty is being called an "agreement" to circumvent the law and keep its contents secret. However, some details have become known.
Although the planet is officially divided into "sovereign" countries, it is overlaid with a network of transnational corporations. This network basically forms a parallel government which encircles the globe. The Trans-Pacific Partnership is designed to cause any country which signs on to surrender its national sovereignty to a secret committee composed of corporate executives. This committee can then alter the constitution and laws of any country which has accepted the treaty as suits their whim. There will be no appeal against this.
Under the treaty, there will be only one purpose to human life. That purpose will be to maximize the profits of the cabal of transnational corporations which will now be essentially a single global corporation in absolute control of the world. This effectively institutionalizes the new world order.
What does this mean for you? Well, to begin with, there can be no retirement. Paying for retirement would negatively impact corporate profits. So, if you can't work, you will be killed. Taking care of sick people would also drain corporate profits. It would be more profitable just to kill the sick and replace them with young, healthy slaves. Disabilities — forget it — disabled kids will never make it out of the womb alive.
Reeducation
To come into compliance with the philosophy of the new world, people will need to be reeducated. Military instruction documents [6] are already teaching that the Founding Fathers of the United States were extremists and anyone who thinks like them would not be suited for today's military.
Well, what did these radical extremists think?
"We hold these truths to be self-evident, that all men are created equal, that they are endowed by their Creator with certain unalienable Rights, that among these are Life, Liberty and the pursuit of Happiness."
Obviously, these principles are not compatible with the new world. The idea of a "Creator" conflicts with the official doctrine of Evolution. We can't have that. People must accept that they and the universe they live in is simply an "accident".
People are already realizing that Liberty and Happiness are gone. They know now that they live under constant surveillance and their lives get worse year after year. How about the right to Life? Can't have that. People need to be reeducated to believe that it is their "duty to die" when they are no longer useful to the state (which is now the global corporation).
Of course, the global elite will live physically forever but ordinary people will not know this.
If a world where people are conditioned to want to die and do not want kids but just sleep around for fun sounds vaguely familiar to you, you might recall that this is the future society described in Huxley's classic novel, Brave New World.
Population Modification
Please refer to [9] as a reference source. Today's "great thinkers" seem to be coming into agreement that most people are unnecessary and need to be exterminated for the convenience of the elite. Bill Gates, who has now been accepted into the super exclusive Bilderberg group, has reportedly taken the task of exterminating the third world population by giving them "free" vaccinations which will render them sterile.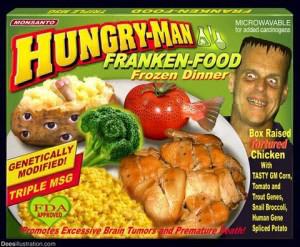 Lots of groups are working on secret sterilization methods. European tests of Monsanto's GM soybeans on hamsters showed the animals became sterile by the third generation [12]. A new gene known as Epicyte [9] is planned to be added to GM corn which will cause immediate sterilization.
Additionally, people are being "eased into" accepting the concept of "after birth abortion". Intellectuals are trying to get people to accept the argument that living human children under three or perhaps even five years old are really "not people but advanced feotuses". Since abortion is already legal, a simple change in the definition of "feotus" would allow young kids to be killed at will for any reason.
Another "new thought" gradually being programmed into the young is the pleasure of the "childless lifestyle". This propaganda seeks to convince people that having kids is too much trouble and they will be happier if they just get sterilized and then run around having lots of sex purely for fun.
These "evolutionary" population control techniques are already in effect. However, the elite likely are not willing to wait several generations to get rid of those they do not need. This brings us to the more direct method commonly called "The Great Culling" which will allow the elite to kill off most of the world's population quickly.
The most likely method will be the release of new designer viruses for which no one will have any natural immunity. Of course, the elite will all get the classified antidote. Preparations for the disposal of the bodies is already complete and stockpiles of plastic coffins — each designed to hold three bodies and manufactured under government contract by Halliburton — have been photographed and documented. Everything is now in place awaiting the "go" command.
Designer Children
Some types of designer children have already been approved for "production". Britain has approved three parent babies [10] and China has proposed a process to artificially fertilize most of a woman's eggs and then examine them to determine which is likely to produce a child with the highest IQ. This will be the only selected egg because Chinese women are only allowed to have one child and must then be sterilized.
In the new world where the only purpose of people will be to do slave labor to serve the elite corporate masters, the concept of allowing the existence of children conceived naturally clearly cannot be allowed. There would be an unexceptable chance for some kind of error that could result, for example, in the creation of a being capable of independent thought who might challenge the establishment.
A man's true worth is measured by the amount of other people's happiness that he can possess and destroy
This is a quote from the docudrama The American Ruling Class [5]. It is worthy of discussion because it is so prophetic.
The Satanic oligarchs who run this world basically exist and thrive on the misery of others. It is not enough just to use and abuse you — they want to consume your Soul. Your misery and suffering is, essentially, their "food". It is the source of their energy.
Ordinary innocent Souls are sustained by the life energy which flows from the Creator. However, since the oligarchs hate God, this energy flow is not available to them. So, they essentially survive by consuming the life energy of the innocent Souls they have captured and enslaved.
Ordinary people do not naturally choose to spend their lives in a state of constant war. They have to be somehow coerced into this behavior. Otherwise, they would likely seek a quiet, peaceful life. The atrocities the US and other warmonger nations force their citizens to commit are so contrary to basic human nature that the US loses more soldiers to suicide than it does to the enemy. The once innocent soldiers find that they simply cannot continue to live with what they have become and the memories of the horrors they have caused to others. The Satanic rulers who create wars, of course, have no problem with this.
Promotions within the inner circles of power are based upon how much evil one has done. The more harm you cause to others the greater your respect. You may have noticed that the stock market, which is a measure of the success of the elite, shows gains during periods when the average person is suffering and losses during periods when, somehow, life for the ordinary person seems to improve. The stock market set a new all time high, for example, during the Vietnam War when innocent young kids were being drafted and slaughtered in Vietnam while peaceful protesters at Penn State were executed by government forces for daring to dissent.
Why You Should Care
On the low Astral planes you will find people — Souls — who are totally lost and confused and seem to move in slow motion. They do not realize they have died. These "people" are not there because they tore up the Bible or burned the Koran or some other offensive act. They are there simply because it is the best they can do. They are using all of the Spiritual energy they have just to maintain this miserable existence. Whatever activities they engaged in while alive had no Spiritual merit and had no effect on developing or increasing their Spiritual energy level. Since the opportunity to do this ended when they died, they will remain strung out in this condition until they reincarnate again at which point they will have another chance to choose activities which enhance Spiritual energies.
You should care because the things you do and the things you fail to do during your brief life here will affect your existence for millions of years in the future.
The other dimensions operate under exact scientific rules just like this dimension. However, the rules are not the same. Because alternate sources of information are available today — mainly because of the internet — it is in your interest to at least investigate the available literature on Spirituality, energy raising techniques and various first-hand reports from people who have successfully visited the neighboring dimensions.
Source:  Walter C. Vetsch   |   3108.info  |  War Is Crime
The infamous Trilateral Commission still exists. Many people think the TC, created in 1973 by David Rockefeller, is a relic of an older time. Think again.
Patrick Wood, author of Trilaterals Over Washington, points out there are only 87 members of the Trilateral Commission who live in America. Obama appointed elevenof them to posts in his administration.
Keep in mind that the original stated goal of the TC was to create "a new international economic order." Knowing that you have to break eggs to make an omelette, consider how the following TC members, in key Obama posts, can help engender further national chaos; erase our sovereign national borders; and install binding international agreements that will envelop our economy and money in a deeper global collective: a new world order:
Tim Geithner, Treasury Secretary;
James Jones, National Security Advisor;
Paul Volker, Chairman, Economic Recovery Committee;
Dennis Blair, Director of National Intelligence.
All Trilateralists.
In the run-up to his inauguration after the 2008 presidential election, Obama was tutored by the co-founder of the Trilateral Commission, Zbigniew Brzezinski.
In Europe, the financially embattled nations of Greece and Italy brought in Lucas Papademos and Mario Monti as prime ministers. Both men are Trilateral members, and Monti is the former European chairman of the Trilateral Commission.
In the US, since 1973, author Wood counts eight out of 10 US Trade Representative appointments, and six out of eight World Bank presidencies, as American Trilateral members.
Zbigniew Brzezinski wrote, four years before birthing the TC with his godfather, David Rockefeller:
"[The] nation state as a fundamental unit of man's organized life has ceased to be the principal creative force. International banks and multinational corporations are acting and planning in terms that are far in advance of the political concepts of the nation state."
Several other noteworthy Trilateral members: George HW Bush, Bill Clinton, Dick Cheney, Al Gore. The first three men helped sink the US further into debt by fomenting wars abroad; and Gore's cap and trade blueprint would destroy industrial economies, while vastly increasing the numbers of people in Third World countries who have no access to modern sources of energy.
Does all this offer a clue as to why the US economy has failed to recover from the Wall Street debacle of 2008, why the federal bailout was a handout to super-rich criminals, and why Obama took actions which prevented a recovery?
A closer look at Tim Geithner's circle of economic advisers reveals the chilling Trilateral effect: Paul Volker; Alan Greenspan; E. Gerald Corrigan (director, Goldman Sachs); and Peter G Peterson (former CEO, Lehman Brothers, former chairman of the Council on Foreign Relations). These men are all Trilateral members.
How many foxes in the hen house do we need, before we realize their Trilateral agenda is controlling the direction of our economy?
The TC has no interest in building up the American economy. They want to torpedo it, as part of the end-game of creating a new international currency, ushering in a de facto Globalist management system for the whole planet.
Any doubt on the question of TC goals is answered by David Rockefeller himself, the founder of the TC, in his Memoirs (2003):
"Some even believe we are part of a secret cabal working against the best interests of the United States, characterizing my family and me as 'internationalists' and of conspiring with others around the world to build a more integrated global political and economic structure—one world, if you will. If that is the charge, I stand guilty, and I am proud of it."
Even in what many people mistakenly think of as the TC's heyday, the 1970s, there were few who realized its overarching power.
Here is a close-up snap shot of a remarkable moment from out of the past. It's a through-the-looking-glass secret—in the form of a conversation between a reporter, Jeremiah Novak, and two Trilateral Commission members, Karl Kaiser and Richard Cooper. The interview took place in 1978. It concerned the issue of who exactly, during President Carter's administration, was formulating US economic and political policy.
The careless and off-hand attitude of Trilateralists Kaiser and Cooper is astonishing. It's as if they're saying, "What we're revealing is already out in the open, it's too late to do anything about it, why are you so worked up, we've already won…"
NOVAK (the reporter): Is it true that a private [Trilateral committee] led by Henry Owen of the US and made up of [Trilateral] representatives of the US, UK, West Germany, Japan, France and the EEC is coordinating the economic and political policies of the Trilateral countries [which would include the US]?

COOPER: Yes, they have met three times.

NOVAK: Yet, in your recent paper you state that this committee should remain informal because to formalize 'this function might well prove offensive to some of the Trilateral and other countries which do not take part.' Who are you afraid of?

KAISER: Many countries in Europe would resent the dominant role that West Germany plays at these [Trilateral] meetings.

COOPER: Many people still live in a world of separate nations, and they would resent such coordination [of policy].

NOVAK: But this [Trilateral] committee is essential to your whole policy. How can you keep it a secret or fail to try to get popular support [for its decisions on how Trilateral member nations will conduct their economic and political policies]?

COOPER: Well, I guess it's the press' job to publicize it.

NOVAK: Yes, but why doesn't President Carter come out with it and tell the American people that [US] economic and political power is being coordinated by a [Trilateral] committee made up of Henry Owen and six others?After all, if [US] policy is being made on a multinational level, the people should know.

COOPER: President Carter and Secretary of State Vance have constantly alluded to this in their speeches.

KAISER: It just hasn't become an issue.

Source: Trilateralism: The Trilateral Commission and Elite Planning for World Management, ed. by Holly Sklar, 1980. South End Press, Boston. Pages 192-3.
Of course, although Kaiser and Cooper claimed everything being manipulated by the Trilateral Commission committee was already out in the open, it wasn't.
Their interview slipped under the mainstream media radar, which is to say, it was ignored and buried. It didn't become a scandal on the level of, say, Watergate, although its essence was far larger than Watergate.
US economic and political policy run by a committee of the Trilateral Commission—the Commission had been been created in 1973 as an "informal discussion group" by David Rockefeller and his sidekick, Zbigniew Brzezinski, who would become Jimmy Carter's National Security Advisor.
When Carter won the presidential election, his aide, Hamilton Jordan, said that if after the inauguration, Cy Vance and Brzezinski came on board as secretary of state and national security adviser, "We've lost. And I'll quit." Lost — because both men were powerful members of the Trilateral Commission and their appointment to key positions would signal a surrender of White House control to the Commission.
Vance and Brzezinski were appointed secretary of state and national security adviser, as Jordan feared. But he didn't quit. He became Carter's chief of staff.
Now consider the vast propaganda efforts of the past 40 years, on so many levels, to install the idea that all nations and peoples of the world are a single Collective.
From a very high level of political and economic power, this propaganda op has had the objective of grooming the population for a planet that is one coagulated mass, run and managed by one force. A central engine of that force is the Trilateral Commission.
Source: Patrick Wood, "Trilateral Commission Endgame" | Jon Rappoport  |  No More Fake News