To many, the above title may seem much like speaking of the bright side to malignant cancer. And did it really come out of this writer's pen? Long a staunch immigration critic, I've written many articles on the subject; Pat Buchanan used one of my lines in his book Death of the West; and Congressman John Conyers quoted me in the House on May 16, 2007, saying, "[C]onservative commentator Selwyn Duke just yesterday inveighed against any immigration (legal or not). He warned, '[R]eplace our population with a Mexican or Moslem one and you no longer have a Western civilization, you no longer have America. You have Mexico North or Iran West.'" (Conyers wasn't exactly in agreement.) And, no, it's not that a pod from outer space has taken over my body or, worse yet, that I've become a liberal. I inveigh against all immigration still. I still oppose amnesty in all forms and under all guises. Nonetheless, the latter would have, perhaps, a small bright side.
This cannot be understood without grasping that illegal migration is not the problem.
It is an exacerbation of the problem.
What does this mean? Aren't the only problems posed by migration ones unique to the illegal variety, such as an uncontrolled entry into our country that can allow diseases, terrorists and WMDs to cross our borders?
The real problem — the only one that really matters over the long term — is that we are importing socialist-oriented voters with mindsets contrary to Western ideals. This is because of the Immigration and Nationality Act of 1965 (INA65), which created a situation wherein 85 percent of our new immigrants hail from the Third World and Asia. Moreover, the legislation has led to an increase in overall immigration from a historic average of 250,000 a year to approximately 1,000,000.
If you're Obama and his fellow travelers and believe in "fundamentally" changing America, you love this because, upon being naturalized, approximately 80 percent of these newcomers will vote for you. You know Republicans get close to 90 percent of their votes from whites, so the formula for ideological conquest is simple: reduce the percentage of whites in America as much and as fast as possible. And INA65 certainly fits that bill. Non-Hispanic whites were close to 90 percent of the population in 1965.
Now they're just under 63 percent.
And California is the model for the leftist hegemony in question. Once a solidly Republican state that launched Ronald Reagan to national prominence, it would not be carried by him in a presidential election today. The last time the state went Republican was 1988, when George H.W. Bush edged Michael Dukakis by four points. Since then no Democrat has carried the state by less than a double-digit margin; the best showing the GOP had was when it held Lurch-like John Kerry to 10 points. Obama won the state by 24 points in 2008 and 23 points in '12. And in this year's Republican wave election, it was considered an accomplishment that the GOP denied the Democrats supermajorities in CA's legislative chambers.
Oh, did I mention that whites in CA are no longer even a plurality?
And here's the reality:
Once the rest of the country looks like CA demographically, it will look like it politically.
This isn't to say Republicans would disappear. They'd reinvent themselves as parties and politicians do, winning some elections by moving, to use our provisional terminology, "left." It also must be mentioned that immigration isn't the only factor in our decline; the media, academia and entertainment arena do a superb job fashioning leftist foot soldiers. And we should also note that with a world generally to the "left" of the US, it's hard to imagine where we could find traditionalist immigrants; importing socialist Swedes, Germans and French is problematic as well. (A notable difference, however, is that while the latter assimilate into our more conservative white population, Hispanics often operate within America's Hispanic milieu, which reinforces their socialist beliefs.)
Yet this is simply another reason why I adamantly oppose all (im)migration. When Ben Franklin famously answered the question of whether the 1787 Constitutional Convention had given us a republic or a monarchy by saying "A republic, if you can keep it," there would have been no "ifs" about it if our nation had comprised mainly monarchical Englishmen. So the message here is simply a statement of the obvious: foreigners cannot be relied upon to preserve authentic Americanism because they're not American. Full stop.
This is especially true when they harbor deep-seated un-American ideologies, hail from non-Western cultures and enter a multiculturalism-infected land that tells them "When in Rome…feel free to do as Ostrogoths would do."
Despite this, most conservatives don't get it. Imbued with what I've termed "immigrationism" and Proposition Nation pap, they're very diligent about conserving the Immigration and Nationality Act status quo. An example that will shock many is Senator Ted Cruz, who last year proposed not only increasing the number of "high-skilled temporary workers fivefold" — as if there aren't high-skilled Americans looking for jobs — but, unbelievably, also the doubling of legal immigration (the relevant portion of the video starts at 3:27).
Given that Cruz seems like a good man, I'll just assume he's out to lunch (in Tijuana) on this issue. But let's be clear: if you had to pick your poison and choose just one culture-rending policy, a giant amnesty one year would be preferable to a giant legal-immigration increase applicable every year.
So what's the bright side to amnesty? The well-known metaphor about a frog in a frying pan of water tells us that since frogs can't sense incremental temperature changes, a very low flame under that pan may mean the creature will remain fixed in his position until he boils to death. In contrast, turn the burner up high enough and he'll jump out and save himself.
Along with our many other problems, "Americans" (insofar as they still exist) are enduring the slow boil of cultural and demographic genocide. And executive amnesty, as with other kinds of leftist overreach, just may serve to turn that flame up high and rouse people from their torpor.
Yet this is the dimmest of bright sides, a 1-in-50 shot whose mention is mainly valuable in service to a larger point: we do need fundamental change. We need a revolution of mind, heart and spirit in which we return to our Christian foundation and dispense with moral relativism and all its corollaries — of which cultural relativism is one. Related to this, John Jay wrote in Federalist No. 2:
Providence has been pleased to give this one connected country to one united people — a people descended from the same ancestors, speaking the same language, professing the same religion, attached to the same principles of government, very similar in their manners and customs….
The "American experiment" was never meant to be one in which we could learn if, for the first time in history, a nation could intensely balkanize itself and — by rebranding it "diversity" — survive.
I do not believe the US will survive long in its present form. And when chroniclers finally write The Rise and Fall of the American Republic, they may record that the Immigration and Nationality Act of 1965 was the most destructive legislation in her history, a turning point from which there was no turning back.
There has never been a war in American history so strategically ill-conceived as the one currently developing against the Islamic State (IS) in Iraq and Syria.
The Mexican war of 1846-47 was essentially an aggressive operation to take Alta California and New Mexico, and to cement the status of Texas. It was limited in its objectives, and it was conducted in a strategically sound manner. The goals – their legality apart – were achieved, and the balance between costs and benefits was never in doubt. Vae victis!
The Civil War (under whatever name) was a "rational" bid by Abraham Lincoln and his team – legal, moral, and humanitarian considerations notwithstanding – to create a centralized state. He won the war, and hugely expanded federal governmental power. This was a disaster for America, but it was a resounding success from the standpoint of its instigators.
The 1898 war against Spain was but another exercise in Realpolitik. It finally moved America from a republic to an empire, the "manifest destiny" now manifested in Admiral Mahan's and Theodore Roosevelt's geopolitical designs.
Woodrow Wilson's 1917-1918 intervention against the Central Powers was the first overtly "ideological" war – to make the world safe for democracy etc. Its slogans were silly, but in the end it could be argued that the geopolitical purpose was well served: to prevent the dominance of the continent of Europe by a single hegemon. America did not make much difference to the outcome in the battlefield, but her entry signaled to the Germans that the Entente could not lose.
World War II was a convoluted affair that entailed FDR provoking Japan in order to provoke Germany. Considering Roosevelt's Weltanschauung it worked beautifully. His goals were rational within that paradigm, and they were fulfilled beyond expectations.
The war in Korea was a prompt response to an outright act of aggression in the disputed "Rimland" of the early Cold War. Truman, for all his failings, was right in preventing Douglas McArthur from turning it into an existential struggle. The truce of 1953 still stands. It was a limited war, of limited duration, for limited objectives.
With Vietnam we enter a murky territory. By 1968 the gap between political objectives and military means had become painfully obvious, for the first time in American history. It took the courage and vision of Richard Nixon – a statesman par excellence unjustly maligned to this day – to end that military-political quagmire. Today's Vietnam, far from being a bastion of Communist orthodoxy, is a flourishing capitalist economy and America's de facto ally in curtailing Beijing's ambitions in the South China Sea.
The 1990's were a disaster. Bill Clinton bombed the Bosnian Serbs in 1994-95, thus making Sarajevo safe for the foreign jihadists who are now providing the foreign backbone for the Islamic State. He bombed Serbia in 1999, thus making Kosovo safe for their Albanian cohorts. The oft-stated intent, that America is helping "moderate" Muslims, has never paid any dividends.
The decade following 9/11 was even worse. After two failed wars, in Afghanistan the Taliban will eventually take over, period. Iraq is a failed state, with the new Shiite prime minister rearranging the deck chairs on the sinking ship. Trillions of dollars and thousands of American lives were utterly wasted.
And now we have a new war, against the Islamic State (IS, or ISIL, as Obama prefers to call it). There is no strategy, no operational tactical plan, no end-game. Air strikes with no boots on the ground. We are told, with disgusting complacency, that this war may last thirty years (Leon Panetta), or for ever (Newt Gingrich). Our "allies" in Ankara are watching calmly as the Kurds in Kobani succumb to IS attacks. The Turks and Saudi Arabia – our "allies" – want to finish off Bashar al-Assad first and foremost, the only man who has the viable fighting force ready and willing to confront the IS.
This is postmodernia at its best. God help us.
Norman Rockwell's America carried incredible nostalgia for the way this country once operated.  "Father Knows Best" captured our understanding of "family" in America.  Jackie Gleason on the "Honeymooners" along with Andy Taylor and Barney Fife instilled our mutual belonging.  Bill Cosby brought us together with the "Cosby Show."  Everyone spoke English and everyone enjoyed employment and hope.
From the 50s to the 70s, most people worked a job, our Congress made laws to ensure our well-being along with a viable nationhood.  Even with our racial strife, women's rights, gay rights and battles over Roe vs. Wade—America allowed every citizen the right to pursue "Life, liberty and the pursuit of happiness."
After my latest bicycle journey across America this summer, we unknowingly bear witness to the greatest racial and demographic shift ever self-inflicted on one country in the history of the world.  By 2042, the Pew Research Center reports that the current European-American majority (down from 90 percent in 1960 to 54 percent in 2014) faces the new Latino majority within 28 years.  All of it created by endless legal and illegal immigration.
During the next 36 years, Americans face an added 100 million legal immigrants from 150 countries around the globe.  They stream into America at blinding speed via our invitations, chain migration and birth rates.  How can we equate adding 100 million immigrants?  Answer: that number equates to doubling the size of our 25 most populated cities.  It means New York City jumps from 8.3 million to 16.6 million, Chicago from 5.1 million to 10.2 million and on down the line.
What does such an immigration invasion mean to our communities?  Our way of life?  Our quality of life?  Our standard of living?  Our environment?  Our educational systems?
Answer:  as the numbers rise to that 100 million level, everything in our society degrades, devolves, degenerates and worsens.
You cannot stop a fire by spraying gasoline on it.  You can't solve California's drought or wildfires by adding another 20 million foreigners to that state via immigration.  We cannot EVER catch up to exponential growth because it outruns our ability to solve its endemic and systemic consequences.
And, oxymoronically, we can't solve our predicament by passing S744 Amnesty Bill that doubles legal immigration to 2.0 million annually.
What's the final equation?  Since I traveled through dozens of third world countries in the last 40 years, I noticed they couldn't solve their problems, either.  They face(d) horrific food and water contamination, disease and shortages.  Just look at Ebola in Africa along with AIDS that killed 15 million thus far.  Their citizens face endless illiteracy because they can't install a viable educational system. They face conflict over resources.
As you notice in such areas as Iraq, Afghanistan, Haiti, Mexico, Brazil, China, India, Bangladesh, Indochina, Congo, Ethiopia, Somalia and dozens of other countries—you see continual religious, resource, food and water conflicts.
That's where the United States of America steams.  You can see it in our ethnic conflicts today whether Ferguson, MO riots, Chicago featuring 50 gun fights over the 4th of July weekend, black on black killings into the tens of thousands over the past several decades, 76 percent dropout/flunkout rates for Detroit public schools, which creates over 60 percent illiteracy rates.  Illiteracy remains the key indicator of a third world country.  Once it takes hold, it becomes intractable.
One look at our welfare system shows 68 percent of African-American children reared by a single mother on welfare.  We feed 48 million Americans and non-Americans with EBT or food stamps.  We see a complete breakdown of our middle class with no way to fight joblessness, futility or obesity caused by illiteracy.  Right now, obesity explodes as a national epidemic of health care nightmares for our citizens.
Question: how do you think any of our current sociological, environmental, water, energy, racial and growing religious strife can or will get better.  With those 100 million legal immigrants, you may expect to see an increase of Muslims in our country from 7.5 million to well over 20-30 million by 2050.  Sociologists reported that once Islam reaches 8 percent of the host nation's population, they become violent, arrogant and use the system to back the host country down to agree to Sharia Law. Notice the riots in Sweden and two separate London's. Look at France's nightmare.  Sharia law stands against every Western sensibility for women's rights, gays' rights, free speech, education, marriage choices and religious choice.  Note that hundreds of Muslim-Americans signed up to join terrorists groups in the Middle East.   What happens when they turn their terror toward us?
Australia discovered a major plot fomented by citizen Muslims to commit beheadings in the streets of Sydney this summer. If you think I am kidding, watch this short video:
Published on Sep 18, 2014: More than 800 Police in Australia have carried out anti-terror raids in Sydney (12 suburbs) sparked by intelligence reports that Islamic extremists were planning random killings (beheadings) in Australia:https://www.youtube.com/watch?v=V0ctrDnM__4
Additionally, look for three major languages to create major chaos and loss of our national ethos in the coming decades. Look for linguistic confusion and separation from being a citizen of the United States because you speak Arabic, Spanish or English.  In the end, we face becoming a nation of strangers.
What solutions might we enact to save ourselves?
Immediate reduction of all legal immigration to less than 100,000 annually instead of the current 100,000 every 30 days from 150 countries around the globe.
Immediate enforcement of our current work, rent and transport laws against employers of anyone illegally in the USA.
Immediate discussion on "60 Minutes"; "Face the Nation" ; "Meet the Press" ; Charlie Rose; NBC, CBS, FOX, ABC, CNN, Bill O'Reilly, Wolf Blitzer, Shepard Smith, Megyn Kelley and all talk radio shows on how many people can our country hold and what's the point of adding another 100 million foreigners when we already face enormous problems with what we currently hold.
Millions of Americans need to join www.NumbersUSA.org; www.CapsWeb.org and www.Fairus.org and www.TheSocialContract.com in order to grow you strength via collective empowerment.
Otherwise, we keep heading where we're headed. And, we'll end up just like any third world country.  Crowded, scant opportunities, lack of education, water shortages, energy crisis, religious conflict, environmental degradation and worse.  It's inevitable if we fail to stop mass immigration.  I am amazed that I am the only US journalist who sees this monster so clearly, yet I see no national movement to stop it.  Result: we doom our kids to a very sobering future of a fractured and fragmented civilization that cannot right itself.
Maybe it's Time to Take Back the Government…
Paul Craig Roberts is not a fool. Nor is he a card-carrying Communist. His conservative credentials at least once were impeccable – a senior researcher at the Hoover Institute, Associate Editor of the Wall Street Journal, one of the economists responsible for President Reagan's supply-side economics, and Reagan's Assistant Treasury Secretary for economic policy, working for development of the tax policies that were central to everything that followed in the US.
That is why he cannot be dismissed lightly when he says the United States and Russia are already at war over the Ukraine, and the US is planning nuclear war, based upon a transparent pretense. He is not alone. Now there are almost daily expressions of concern that the US is positioning itself to take the first strike in a nuclear war with Russia; see, e.g. Stern,"Threats Against Russia Increase Danger Of Nuclear War ,"http://www.countercurrents.org/stern300814.htm
Nuclear war between the United States and Russia has been hanging over our heads now for over half a century. The great majority of the world's humans have had that possibility lurking in the background of everything they do for all their lives – the knowledge that if they live in any major urban area they are subject to annihilation by nuclear weapons on perhaps half an hour's notice., and that those who are far enough away from urban centers to survive that half hour are facing unknown terrors such as the abrupt disappearance of modern civilization and/or "nuclear winter." This is totally insane, and is pretty much proof positive that President Kennedy was wrong in his immortal American University speech (perhaps not coincidentally shortly before he was assassinated,) .
Kennedy described the insanity as all of us have lived with it for most of our lives:
"Total war makes no sense in an age where great powers can maintain large and relatively invulnerable nuclear forces and refuse to surrender without resort to those forces. It makes no sense in an age where a single nuclear weapon contains almost ten times the explosive force delivered by all the Allied air forces in the second world war. [The US and Russia are now in possession of comparable numbers, with a total of ninety thousand Allied World War IIs, by Kennedy's count, http://www.armscontrol.org/factsheets/Nuclearweaponswhohaswhat.] It makes no sense in an age when the deadly poisons produced by a nuclear exchange would be carried by wind and water and soil and seed to the far corners of the globe and to generations yet unborn."
And he gave his prognosis for ending the insanity:
"Our problems are man-made. Therefore, they can be solved by man. And man can be as big as he wants. No problem of human destiny is beyond human beings." www.countercurrents.org/arguimbau150614.htm
In the last half century, little has changed about the insanity of nuclear war, but our ability and determination to solve the problem has waned and it no longer appears within our capacity. We are no longer certain man-made problems can be solved by man, and in particular, the worst of all, that we may be unable to undo catastrophic global warming, which threatens to turn our lush, green, beautiful world into a hot, dry uninhabitable wasteland.. But let's leave that aside for the moment and focus on nuclear war.
We have all lived with the threat of nuclear war for all or most of our lives, but it has only been a threat. What Kennedy described has always been a threat to winner and loser alike. Realistic visions of the outcome include destruction of all the major cities of both Russia and the United States, followed by possible "nuclear winter" everywhere – instant destruction of the urban half of each nation involved, and slow destruction by starvation and undoubted socioeconomic chaos of much of the other half in months and years to follow. Not most folks' idea of a win, even for the sociopaths presumably involved in the planning of our wars.
"Our" wars? Perhaps not. We have "outsourced" to China millions of jobs that will never come back because we cannot compete with Chinese wages. We have given to China, with the resettlement of the likes of Pfizer, rights to uncounted numbers of patents developed as a result of centuries of carefully nurtured American ingenuity. . We left in Afghanistan and Iraq, after "our" wars, hand chosen pawns who sold Afghanistan's immense copper resources at pennies on the dollar, the great preponderance of Iraq's petroleum, and who knows what else, to China. We have left troops in both countries to provide security for Chinese industrial establishments. "China won the war," as the Kabul press said, made possible by a trillion dollars in bonds sold to China. See Arguimbau, "That much petroleum is that much bullshit," www.countercurrents.org/arguimbau150614.htm, and "The War – Did We Sacrifice A Million Lives And A $Trillion Cash Just To Hand Our Jobs To China?" (URL for Part 3 with links to Parts 1, 2, and 4),
So if "we" gave away our jobs, gave away our major corporations, gave away our trade secrets, gave away access to the natural resources assumed to be the spoils of war, donated our military men to protect Chinese industry in Afghanistan and Iraq, and charged our taxpayers over a trillion dollars for accomplishment of these tasks, then who will determine the use of our nukes? A fair question, isn't it? A nuclear war between the United States and Russia would likely leave China and our emigrated industry, the corrupters of Congress,  untouched, at least physically, and would make it overnight the unquestioned dominant economic power in the world. So perhaps we cannot assume that our government is giving full consideration to the dangers to the US itself of nuclear war with Russia.
American politics of both parties at this time portray a nation bent on self-destruction. For instance, the Republican Party, which as a practical matter is the controlling party today, "is divided between the 'hope America fails' Republicans, who appear to actively want joblessness to rise to seek political gain, and the radical Republicans who adore Ayn Rand, like Paul and Ryan, who favor extremist economic policies that would make America fail ." Budowsky, " July 4 Infamy: Republicans Try to Destroy America's Economy," And the Democrats, with as much or more support from Wall Street than the Republicans, elected a candidate for two terms whose political strategies (e.g. assertion of the existence of a Senate "super majority") have assured Republican control, whose name alone uniquely qualifies him to be controversial and misunderstood, and whose very first day in office was spent openly and deliberately rejecting central campaign promises that he could as easily have kept, "What Fools We Are,"  . Has it not come to anyone's mind that Wall Street may have intentionally engineered a politics of failure for the United States, and that the Republicans' willingness to destroy the American economy is Wall Street's as well ?
And how better quickly to engineer a lasting failure of America, than to steer it into a nuclear first strike after resettling the great corporations thousands of miles away, leaving them free to pick up the spoils in two or three newly-vacated subcontinents? Doesn't that make this nuclear confrontation uniquely dangerous?
These are insane questions, and one who poses them must question his own sanity, but they are no more nor less insane than the question, to which we now casually assume the answer: "Aren't Wall Street and the world's political and corporate leaders steering us into ultimately catastrophic climate change?"
I don't know what's going on here, but I know the people had better regain control of the nuclear weapons, and fast.
When the billionaire tech jet set decides to let down their hair, what do they talk about around the campfire? According to the New Your Times, "Google is sponsoring an elite conference this week at a golf resort in Sicily, with a guest list of chief executives, investors and celebrities, all of whom were invited to bring their families. On the agenda are high-minded discussions of global issues — along with relaxation by the Mediterranean Sea." How quaint! . . . For the real scoop, Here's What Went On At Google's Exclusive Conference For The Rich And Famous In Sicily.
"Sicilian blogger Tony Siino talked to an attendee about what went on, and told Business Insider via email that the conference, dubbed "The Camp," was three-days of intellectual discussions, relaxation, and sight-seeing.According to Siino's source, morning discussions included a wide range of topics, including how to extend human life and the design of cities of the future."
Reported by NBC local TV channel in the Bay Area has "guests include Goldman Sachs chief executive Lloyd C. Blankfein, executives from German and Spanish banks, Uber chief Travis Kalanick, Tesla boss Elon Musk, Comcast CEO Brian L. Roberts and Snapchat boss Evan Spiegel. Also on hand is Ben Horowitz, venture capitalist with Marc Andreessen at make-or-break Silicon Valley fund Andreessen Horowitz."
Spending quality time with the family between sessions in the next round of tech discoveries hardly seems to be the best use of time. Yet, time may well be the ultimate objective if you can uncover the mysteries of anti-aging research. Life Extension Magazine reports that Google Life Extension is investing in a venture called California Life Company, or Calico for short, and its goal is to extend human life by 20 to 100 years.
At this point, Google is being highly secretive about their plans for Calico. All Google would reveal is that Calico will focus "in particular on the challenge of aging and associated diseases."
Calico could produce startlingly counterintuitive breakthroughs, as a result, of Google's strengths in the following areas:
Non-commercial dedication — rather than a focus on commercial marketing of mediocre drugs as pharmaceutical companies now do.
Vast consumer access and core data-handling skills — with unprecedented data gathering, pattern-matching, and causal-relationship detection.
Ability to attract the brightest minds — potentially preferring to work on life-and-death problems instead of cutesy apps and games.
Further speculation in an essay – How's Google Dabbling in Health, Life, DNA, and Immortality? – cites areas of research has cutting-edge technology pushing the limits of the wheel of life itself.
"A CNN article listed a few common subjects, like cryonics (a process where the body is preserved in liquid nitrogen), cryotherapy (which exposes injured patients to very low temperatures for short periods of time), cloning and body part replacement, nanotechnology (deploying small robots to overcome the problem of incorrect DNA replication, one cause of aging), and even research into telomeres, the ends of a chromosome that protect cells against degradation."
Hidden within a "feel good" sentiment behind the altruism to elevate the life span of the human race is an unconvincing skepticism. In an article like Google Wants You to Live 170 Years, just does not seem believable to a rational observer.
"What Google brings to the table is data. "Not just one set of data, multiple forms," says Harry Glorikian, founder of life sciences consulting firm Scientia Advisors. "Search data, GPS data, all sorts of other pieces, electronic breadcrumbs that you produce all out there to get a picture of you."This data could be paired with each person's genome — a partial genome can be mapped today for $99 via 23andMe (another Google investment), but many are hoping a full genome will cost as much in the next few years."
Even if such ambitious projections that life extension might become common-place for the masses, it does not guarantee that everyone will be a candidate for future "Camp" invitations. Google hardly needs to market the secrets of the gods in order to maintain or enhance their cash flow. The Globe and Mail describes the gathering, "Like the World Economic Forum in Davos, Switzerland – an annual gathering of the elite at a snowy ski resort – the upstart conference from Google projects an aura of exclusivity. Its existence has not previously been disclosed."
Following the example of other enigmatic elitist stratagems, "The Camp" shows no signs of a charitable motivation when the onion is peeled. Michael Downey in the account, Google Wants To Extend Your Life laments that not enough is being done to achieve the holy grail of Ponce de Leon's Fountain of Youth.
"Tragically, while the government spends over $3 billion annually on "health concerns" of the elderly, it operates on the assumption that aging is not a disease. Corporations lack the longer-term view needed. And extremely few of the world's 1,426 billionaires, with a total net worth of $5.4 trillion, have included anti-aging research in their charities."
Do you really believe that the beautiful people, much less, the corporatist return on assets crowd, or the great democracies of the planet are eager to share any medical, genetic or nanotech leap forwards with the chattel serfs? Attending boot camp for the peasants is quite different from rubbing elbows with these Nouveau riche Sicilian Dons in the global technocratic mafia. The blueblood patricians of the banksters' families will enlighten their newly made men into the rules and ways of the global syndicate.
The Calico family franchise promises to be more alluring than the temporary ecstasy of a drug high. Most godless souls want to live forever, since rejecting an afterlife is automatic to such atheistic masters of the universe. Google has proven to be a "New Age" android. Hence, it is natural for apps, developed to manage the life cycle, become part of the smart set. The key question is will the source code become available to the masses, or will the elites maintain the restricted knowledge only for their devil witch coven.
If You Don't Have Such A Rifle, Go Buy One Now!
The recent killing of an unarmed teenager by a Ferguson, Missouri police officer incited riots in and around the northern St. Louis area. As usual, the police version and the version of several eye witnesses lie in stark contrast. The police version is, the young man was struggling with the officer and trying to take his weapon from him–and the officer fired his weapon in self-defense. Several eyewitnesses say the young man had his hands in the air and was surrendering when the officer shot him. The latter version is the more popular view of local residents, which prompted hundreds of people to riot. Yes, the victim was a young black man.
It is very unfortunate and counter-productive when race becomes the focus of any story such as this. But it almost always does. Our propaganda media, which loves to use the race card, almost always makes any such tragedy some kind of racial discrimination story. Sometimes it is; but more often than not, race had nothing to do with it.
It is also very unfortunate that among the vast majority of God-fearing, law-and-order Americans, policemen are automatically assumed to be guiltless in the face of accusations of police abuse. It's almost like when a man puts on a badge and a gun, he becomes incapable of human misconduct.
Am I suggesting that a majority of police-killings are unjustified? I am not. I still believe that the vast majority of our men and women in blue (and brown for sheriff's deputies) are good-hearted, sincere, law-abiding people who do a tough job outstandingly well. The vast majority–but not all.
Sadly, incidences of police abuse seem to be skyrocketing. Examples of police arrogance and overreach are ubiquitous. More and more law enforcement personnel have an "us versus them" mentality. And the "them" are the citizens they (the "us") took an oath to protect and serve. More and more policemen have a shoot-first-and-ask-questions-later mindset. And more and more of them look upon their fellow citizens as "the enemy."
True story: A Christian policeman was recently asked to speak at a church gathering. The officer works in the traffic division of a small town. Mostly, he gives out parking and speeding tickets. As he opened his address to his fellow churchmen, he said, "I am a cop; I work among the dregs of society." Really? People who get parking tickets and drive 10 or 15 miles an hour over the speed limit are the "dregs" of society? That statement should have disqualified everything the officer had to say after that. But, sadly, the vast majority of Christians in the audience thundered their approval with choruses of "Amen!" This illustrates the depth of the problem we are now facing.
Putting on a badge and a gun no more makes a man righteous than putting on a tool belt or a fire suit or a waitress apron or a clergyman's frock or a welder's helmet or a lab coat, etc. If anything, putting on a badge and a gun makes a man more accountable for his actions than an ordinary profession.
While the incident in Missouri is still being investigated, there are plenty of examples of police conduct that is either questionable at least or downright Gestapo-like at worst. Last month, an unarmed man was choked to death by a police officer in Staten Island, New York. Five years ago, an Oakland, California police officer shot and killed a young man while he was lying face down on a subway platform. Two years ago, an unarmed National Guardsman was shot and killed by a New York policeman during a traffic stop. Unfortunately, these incidents seem to be escalating. Yes, the Oakland officer was prosecuted and convicted, but this is the exception not the rule. Seldom is an offending police officer ever charged with a crime–or even removed from his post.
Add to the list of police killings the tens of thousands of people who are severely beaten or abused, often without provocation, by out-of-control rogue officers, and the picture becomes even more ominous. Again, I readily recognize that these rogue officers are the exception and not the rule, but the sad reality is that these bad cops are mostly allowed to continue their brutality with impunity. For a policeman to be removed from his job, much less face prosecution, is a rarity indeed.
And here is the kicker: after the New York and Missouri incidents mentioned above, the U.S. Justice Department has announced that it is widening its involvement in local policing in an attempt to curb the growing abuse of power.
Are you kidding me?
The reason that so many of our local and State police agencies are succumbing to increased examples of police abuse is directly due to the militarization of local and State police agencies by the U.S. Department of Homeland Security. The DHS is providing the funding, the armaments, the military-style vehicles, military-style tactics and training, etc. for all of these local and State police agencies. The arrogance and heavy-handed tactics of these rogue police officers is largely attributed to the influence of the U.S. government's Department of Homeland Security. Now, this same U.S. government is going to "widen" its involvement with local police agencies in order to curb police violence? Get real! You know what's happening: the U.S. Justice Department is widening its involvement in local police agencies in order to further its parochial political agendas and to further promote political correctness.
What we need are constitutional sheriffs who will courageously serve as the people's vanguard against both the overreach of the federal government (which spawns so much police abuse, both local and federal) and against rogue officers among the police agencies of his jurisdiction. We also need partisan-free prosecutors in the local court systems. So many prosecutors are primarily motivated by partisan politics than they are "liberty and justice for all." And we also need jurors who are truly blind to their prejudices and propensities and are willing to acquit or convict on the basis of proven fact alone. When a policeman steps over the line, he or she must be held as accountable as any ordinary citizen.
I personally believe, and would aggressively support, making all sheriff and county prosecutor's races non-partisan (like judges). Justice should always be politically (and, yes, racially) blind. We have far, far too many political prisoners in our jails and prisons in this country. And if you don't think that's true, it's because most of the local media refuses to report this kind of injustice due to the political connections and partisanship of the paper's publishers and editors. The same is true with local television news. Accordingly, I strongly believe that sheriff and county prosecutor's races should be non-partisan. We should probably throw in the State attorney general's race, also. Lady Justice is supposed to be blindfolded, but political partisanship has taken away her blindfold and given her tainted glasses.
Obviously, even if the killing of the young man in Missouri was unjustified, the ensuing riots were also unjustified.
My friends, if you live in a big metropolitan area, you are one Rodney King or Hurricane Katrina event away from a potential all-out war against your family and property. As in the riots in South Central Los Angeles in 1992, and in the aftermath of Hurricane Katrina in New Orleans in 2005, people in northern St. Louis were subjected to the destruction of their property and the potential loss of life in the aftermath of the shooting of the young man in Ferguson.
And, just as was the case in South Central Los Angeles, business owners in northern St. Louis protected their lives and properties with–you guessed it: AR-15 semiautomatic rifles. Had President Obama and Senator Feinstein had their way a few months back, those people in North St. Louis would have been defenseless against the violent rioters that were attacking them. The presence of the AR-15 semiautomatic rifle saved many a life and much property in Los Angeles, California in 1992, in New Orleans, Louisiana in 2005, and in North St. Louis, Missouri in 2014.
In any kind of civil unrest, the best protection any of us have is God, the loyalty and dedication of good friends and family members who are willing to protect our backs, and a .223 or .308 semiautomatic battle rifle with loaded, large-capacity magazines. If you don't have such a rifle, GO BUY ONE NOW! If you don't have enough ammo, go buy it now. And if you live in a State or city that won't let you buy one, MOVE!
Add to the chaos of civil unrest caused by either man-made or natural disasters the fact that the U.S. government is unloosing hundreds of thousands–maybe millions–of violent illegals into our country, and anyone who is not well-armed for his or her own protection is downright foolish. According to Texas State officials, there have been nearly a half-million felonies committed by illegals during the last four years IN THE STATE OF TEXAS ALONE–including over 5,000 rapes and over 2,000 murders. Remember, these are crimes committed by illegals alone in the State of Texas alone.
Border Patrol agents are warning us that violent Mexican gang members, many of whom have already committed murder, are being allowed free access into the heartland of America. Texas State Senator Dan Patrick recently reported that his State now has over 100,000 illegal immigrant gang members. Again, that's just in Texas.
The crime rate across the United States has been declining for years, and is currently at its lowest level in recent history. But watch out! Violent illegal gang members, including members of one of the most violent and notorious gangs ever, MS-13, are pouring into this country. The crime rates in communities across America are about to explode. There is no way that local police agencies are going to be able to protect you. And, in truth, that is not their job. It is your job to protect yourself, dear friend. And you are not going to protect yourself from marauding rioters or violent gang members with a six-shot revolver. Oh, the handgun is fine defense for one or two attackers; but for more than that, you need a large-capacity semiautomatic battle rifle. How many examples of civil unrest do you need to convince you? I guess the one that breaks out next to your neighborhood, huh?
Of course, the federal government is allowing these violent illegals into our country KNOWING the crime and havoc they will unleash on this country. They WANT violence and havoc to be unleashed on this country. They must raise the crime rates in America in order to justify the expansion of the national Police State they are determined to construct. But in the meantime, tens of thousands (maybe hundreds of thousands) of Americans are going to be beaten, paralyzed, robbed, raped, and murdered.
We don't have to make it easy for these two-legged beasts: we can and should be an armed and ready populace capable and determined to protect our families, friends, neighborhoods, and communities: anything less is un-American, unmanly, and, un-Christian. Yes, you heard it right: It is un-Christian.
The Bible tells believers that any man who does not provide for his own, especially those of his own house, he has denied the Christian faith and is worse than an infidel. (I Timothy 5:8) And most certainly, "providing" for one's own entails protection as much as it does food, clothing, and shelter. I, therefore, maintain that any Christian who is not prepared to protect and defend his family by being duly armed and trained in the use of arms has denied his faith and is truly worse than an infidel. Even heathens understand the Natural Law of self-defense. In fact, the entire natural kingdom understands the law of self-defense.
The recent killing of that young man in Missouri should serve to remind us that police, too, must abide by the law (I sincerely hope that the police officer involved did just that), that civil unrest can erupt anywhere in seconds, and that the need of the people to keep and bear, not just any arms, but semiautomatic battle rifles, is the best insurance for the survival of our lives and our liberties.
OMG, I am so sick and tired of writing about American-sponsored neo-Nazis in the Ukraine, American-financed genocide in Gaza and American-backed ISIS murderers in Syria and Iraq.  Geez Louise.  It's enough to make me sick!
But not sick enough to stop eating.
Even though women and children are starving in Gaza and refugees in Erbil are hunkering down in city parks and Ukrainian babies are being shot by swastika-waving skin-heads, I still gotta have three or four square meals a day.
And all the average American can say about this insane world situation is, "Where the freak is Erbil?"  It's in northern Iraq, stupid.  "Oh yeah?  So where is Iraq?"  It's that rat-hole where three trillion of your tax dollars have been pounded down in the last 20 years.  Iraq is the reason you have no jobs, no infrastructure, no schools — and no solar heating.  http://www.truth-out.org/opinion/item/25376-us-presidents-reconsidered-by-death-toll
"But what's a Gaza?"  Huh?
"It's that charnel house in Palestine where Netanyahu practices being a fascist."
"Who is Netanyahu?"  He's that guy in Israel that you pay billions of dollars to every year so he can commit genocide.  Oh, good grief.
I need comfort food!  Now!
Forget about genocide and dead babies.  Let's talk about sushi!  And mac 'n' cheese.  What is your favorite food?  I think mine is ice cream.  But I'm not sure.  Chocolate cake sounds good too.  http://blog.umamimart.com/
I once ate a beef stroganoff MRE in the Green Zone.  It was delicious.  And they had deep-fried tarantulas on offer at a roadside stall in Cambodia.  Yummers!  http://johnpilger.com/videos/year-zero-the-silent-death-of-cambodia
Got caught in a massive five-day storm off of Antarctica one time and popped Dramamine like it was candy — but still managed to eat. http://www.funnyordie.com/videos/10ce8fa617/foodie-by-jelly-donut-ashkon-daveed-diggs
Was stuck in Shenyang, China, for three weeks while waiting for my visa to North Korea to come through.  Thirteen million people in that city and only ten of them spoke English.  So I just drew a picture of a chicken and showed it to waiters.  That worked fine until one waiter brought me a live chicken.  Er, no.
And about a year later, when I finally did manage to get into North Korea, it was amazing to discover that Pyongyang featured luxury hotels, casinos, golf courses and elaborate 150,000-person choreographed mass games, all geared toward European tourists — who came in droves.  The food there, however, was on the level of mediocre California Chinese take-out — but I still felt guilty eating it, knowing how many North Koreans had starved to death in the past.
In Uganda, a young girl was selling homemade flour-and-grease chapatis on the street that were so good that I still dream about them.  "What's a chapati?"  Oh shut up.
The hummus and matzos in Israel/Palestine were great, served under an olive tree in Hebron.  Loved Bethlehem and old Jerusalem — but why do people still keep accusing me of being anti-Semitic when I'm actually only anti-fascist and anti-apartheid?  I just don't understand.  As Barb Weir is always fond of saying, "How come they never accuse the brave people who fought against apartheid in South Africa of being anti-white?"
On the beach in Yelapa, Mexico, an hour's boat-ride south of Puerto Vallarta, friendly ladies will sell you lemon meringue pie right there on the beach.  But now you don't even have to go to Yelapa to get it, you can buy lemon meringue pie right there in Puerto Vallarta.  Definitely worth the flight down if you can afford it — and if you can't, there's always the chocolate cream pie at the Sweet Adeline bakeshop here in Berkeley.  http://rt.com/op-edge/178640-immigrants-global-strategy-us/
In Motswedi, in northern South Africa, their potato fries are the best.  Just ask for Mma Peter if you go there.  Everyone knows her.  And give her a big hug from me if you do.
In Damascus, the oldest city in the world (I think), they had fabulous ice cream for sale in the souk.  That's ICE cream, not ISIS cream.  If it had been ISIS cream, I wouldn't have had to pay for it myself — Congress woulda footed the bill.
In al Anbar province, Iraq, I accompanied a U.S. Marine colonel and his staff to a "goat pull" thrown by the local sheik.  You gotta love goat meat.  But now that whole area is overrun by ISIS thugs, thanks to Bush, Obama and Hillary Clinton and their grand competition to see who can destabilize the Middle East best.
At a sidewalk cafe in Cairo, a waiter jokingly offered me 200 camels for my daughter Ashley's hand in marriage.  At least I think he was joking.  And in the Caliphate of Saudi Arabia, biological mother to ISIS and Al Qaeda (America's military-industrial complex is the father, but insists on keeping that fact on the down-low), I lived on KFC and Cinnabons at a high-end mall in Mecca.
In Haiti, you just gotta love their pumpkin soup.  In Afghanistan, their chicken kebobs were the best — unlike in Iran, where the kebobs tended to be rather dry.  Burma offered up excellent hand-made noodles.  Argentina had empanadas and beef.  Berkeley has the Berkeley Bowl, best produce store in the world.
I love food!  I love to eat!
So why do I keep thinking about all those poor starving children in Gaza and those poor slaughtered babies in Syria and Ukraine — thanks to the Yankee dollar?
"In acting, sincerity is everything. If you can fake that, you've got it made." (George Burns)
Reality is a psychological operation.
Socio-political reality basically means some group has force, money, and access to fawning media. They can define what exists.
A psyop depends on being able to engineer one story line.
A psyop depends on selling one centralized story.
If, magically, overnight, you found yourself in possession of overwhelming force and a direct pipeline to elite media anchors, you could tell your story about what exists, and you would find millions of people believing you.
What would happen if the three major networks, each with considerable power, had come up with three vastly different versions of the Boston massacre?
CBS: "FBI and local police killed one terrorist and captured the other in what observers are calling one of the bravest days in the history of law enforcement in America."
NBC: "After a violent gun battle on the streets of a great American city, during which a suspect in the Boston massacre was killed, an FBI source stunningly revealed the Bureau had shifted the blame on to their own cooperating informants. The source put it this way: 'The Tsarnaev brothers were recruited by a secret Bureau unit to plant the bombs. The plan was to blame the bombing on so-called patriots, but that fell through, so the Bureau exercised their only option. They put their own informants front and center and called them terrorists…'"
ABC: "Today, the tragic loss of life and wounding of more than 180 persons at the Boston Marathon were partially redeemed, when, amazingly, Boston police traced three pipe bombs to a CIA storage locker in Maryland…"
Suppose, in the midst of an uproar heard and echoed around the world, the networks stood by their contradictory versions of events and wouldn't back down?
A massive blow would hit psyop-land. Centralized story? Poleaxed.
People wouldn't know what to do. They expect one story line and they get three, from the highest hypnotic and influential media giants.
In a literal, though unconscious, sense, familiar time and space begin to fall apart.
But actually, it's far more surreal for the three major television networks to agree on the substance of every significant event than to come to radically different conclusions.
Unfortunately, people don't see it that way. They don't see that three behemoths dispensing the same information are key elements in thought-police fascism. They don't see that the consensus is arranged.
"Bargain price! We'll shave down your perceptual field so you can fit in with eight billion androids. You'll never miss what you can't see. On a scale from 0 to 10, your creative impulse will be coming in at about .06. That'll cement you right into the limited spectrum, where all the action is. Yes, folks, there really is a sense of family in this reality. People liking people. We're all in this together. Remember, life is better when you see what we want you to see! It takes the pressure off. Do you really care about what you think? Don't you want to be fixed, so you can think what everybody else thinks? Now that's a real program. Once we lock you in and reshuffle your electromagnetic fields, you'll emerge with our new Sameness system. You'll see what your friends see with just a bit of difference, to make it interesting…"
In a country in which art has little or no perceived value, there's a sucker born every millisecond. Why? Because when consciousness of art is nil, people accept official art, which is always present, as the guiding and only reality. And of course, they don't see it as art.
"Things can't be any other way. This is it."
Nowhere is this truer than in television news.
It's not only the content of news that is embraced, it's the style, the manner of presentation—and in the long run, the presentation is far more corrosive, far more deadly than the content.
The imitations of life called anchors are the arbiters of style. How they speak, how they look, how they themselves experience emotion—all this is planted deep in the brains of the viewers.
Most of America can't imagine the evening news could look and sound any other way.
That's how solid the long-term brainwashing is.
The elite anchors, from John Daly, in the early days of television, all the way to Brian Williams and Scott Pelley, have set the tone. They define the genre.
The elite anchor is not a person filled with passion or curiosity. Therefore, the audience doesn't have to be passionate or filled with curiosity, either.
The anchor is not a demanding voice on the air; therefore, the audience doesn't have to be demanding.
The anchor isn't hell-bent on uncovering the truth. For this he substitutes a false dignity. Therefore, the audience can surrender its need to wrestle with the truth and replace that with a false dignity of its own.
The anchor takes propriety to an extreme: it's unmannerly to look below the surface of things. Therefore, the audience adopts those manners.
The anchor inserts an actor's style into what should instead be a relentless reporter's forward motion. Therefore, the audience can remain content in its own related role: watching the actor.
The anchor taps into, and mimics, that part of the audience's psyche that wants smooth delivery of superficial cause and effect.
Night after night, the anchor, working from a long tradition, confirms that he is delivering the news as it should be delivered, in both style and substance. The audience bows before the tradition and before him.
From their perch, the elite television anchors can deign to allow a trickle of sympathy here, a slice of compassion there.
But they let the audience know that objectivity is their central mission. "We have to get the story right. You can rely on us for that."
This is the great PR arch of national network news. "These facts are what's really happening and we're giving them to you." The networks spend untold millions to convey that false assurance.
The elite anchor must pretend to believe the narrow parameters and boundaries of a story are all there is. There is no deeper meaning. There is no abyss waiting to swallow whole a major story and reveal it as a hoax. No. Never.
With this conviction in tow, the anchor can fiddle and diddle with details.
The network anchor is the wizard of Is. He keeps explaining what is. "Here's something that is, and then over here we have something else that is, and now, just in, a new thing that is." He lays down miles of "is-concrete" to pave over deeper, uncomfortable, unimaginable truth.
The anchor is quite satisfied to obtain all his information from "reputable sources." This mainly means government and corporate spokespeople. Not a problem.
Every other source, for the anchor, is murky and unreliable. He doesn't have to worry his pretty little head about whether his sources are, indeed, trustworthy. He calculates it this way: if government and corporations are releasing information, that means there is news to report.
What the FBI director has to say is news whether it's true or false, because the director said it. So why not blur over the mile-wide distinction between "he spoke the truth" and "he spoke"?
On air, the anchor is neutral, a castratus, a eunuch.
This is a time-honored ancient tradition. The eunuch, by his diminished condition, has the trust of the ruler. He guards the emperor's inner sanctum. He acts as a buffer between his master and the people. He applies the royal seal to official documents.
Essentially, the anchor is saying, "See, I'm ascetic in the service of truth. Why would I hamstring myself this way unless my mission is sincere objectivity?" And the public buys it.
All expressed shades of emotion occur and are managed within that persona of the dependable court eunuch. The anchor who can move the closest to the line of being human without actually arriving there is the champion. These days, it's Brian Williams.
The vibrating string between eunuch and human is the frequency that makes an anchor great. Think Cronkite, Chet Huntley, Edward R Murrow. Huntley was a just a touch too masculine, so they teamed him up with David Brinkley, a medium-boiled egg. Brinkley supplied twinkles of comic relief.
The public expects to hear that vibrating string. It's been conditioned by many hard nights at the tube, watching the news. When Diane Sawyer goes too far and begins dribbling (alcohol? tranqs?) on her collar, that's soap opera, and the audience loves soap opera, too.
The cable news networks don't really have anyone who qualifies as an elite anchor. Wolf Blitzer of CNN made his bones during the first Iraq war only because his name fit the bombing action so well. Brit Hume of FOX has more anchor authority than anyone now working in network television, but he's semi-retired, content to play the role of contributor, because he knows the news is a scam on wheels.
There are other reasons for "voice-neutrality" of the anchor. Neutrality conveys a sense of science. "We did the experiment in the lab and this is how it turned out."
Neutrality gives assurance that everything is under control. And neutrality implies: the nation is so powerful we don't need to trumpet our facts; we don't need to become excited; our strength is that secure.
Neutrality implies: this is a democracy; an anchor is no more important than the next person (and yet he is—another contradiction, swallowed).
Neutrality implies: we, the news division, don't have to make money (a lie); we're not like the cop shows; we're on a higher plane; we're performing a public service; we're like a responsible charity.
The anchor is the answer to the age-old question about the people. Do the people really want to suck in superficial cause and effect and surface detail, or do they want deeper truth? Do the people want comfortable gigantic lies, or do they want to look behind the curtain?
The anchor, of course, goes for surface only.
The anchor is so accustomed to lying and so accustomed to pretending the lies are true that he wouldn't know how to shift gears.
"Well, folks, our top story tonight…it turns out that IG Farben, a famous chemical and pharmaceutical octopus that put Hitler over the top in Germany, was instrumental in planning what became the EU, the European Union. In other words, today's United Europe is World War Two by other means."
I don't think Williams, Pelley, or Sawyer could deliver that line without going into a terminal paroxysm.
At the end of the Roman Empire, when the whole structure was coming apart, a brilliant and devious decision was made at the top. The Empire would proceed according to a completely different plan. Instead of continuing to stretch its resources to the breaking point with military conquests, it would attack the mind.
It would establish the Roman Church and write new spiritual law. These laws and an overriding cosmology would be dispensed, in land after land, by official "eunuchs." Men who, distanced from the usual human appetites, would automatically gain the trust of the people.
These priests would "deliver the news." They would be the elite anchors, who would translate God's orders and revelations to the public.
By edict, no one would be able to communicate with God, except through these "trusted ones." Therefore, in a sense, the priest was actually higher on the ladder of power than God Himself.
In fact, it would fall to the new Church to reinterpret all of history, writing it as a series of symbolic clues that revealed and confirmed Church doctrine (story line).
Today, people are believers because the popular stories are delivered by contemporary castrati, every night on the evening news.
If these castrati say a virus is threatening the world, and if they are backed up by neutral castrati bishops, the medical scientists, and if those medical scientists are supported by public health bureaucrats, the cardinals, and if the cardinals are given a wink and a nod by the President, the Pope, and if the Pope has just issued a missive warning that anyone with a lung infection can be isolated and quarantined, the Program is working.
Reality is a psyop.
The author of three explosive collections, THE MATRIX REVEALED, EXIT FROM THE MATRIX, and POWER OUTSIDE THE MATRIX, Jon was a candidate for a US Congressional seat in the 29th District of California. He maintains a consulting practice for private clients, the purpose of which is the expansion of personal creative power. Nominated for a Pulitzer Prize, he has worked as an investigative reporter for 30 years, writing articles on politics, medicine, and health for CBS Healthwatch, LA Weekly, Spin Magazine, Stern, and other newspapers and magazines in the US and Europe. Jon has delivered lectures and seminars on global politics, health, logic, and creative power to audiences around the world. You can sign up for his free emails atwww.nomorefakenews.com
Source: Jon Rappoport
A Centennial For The Forces of Evil…
Destruction of the culture by massive immigration supported by the government. Read Here.
Destruction of moral standards by humanists in media, education, and government.
Aberrant media propaganda and entertainment.
Unending war.
Promoting a potentially disastrous conflict with Russian.  Read Here.
Iimperialistic use of Executive Orders to pass controversial legislation.
Legal decisions by the courts that codify wickedness.
Constant attempts to promote violence by distorting the news and according immigrants and Black citizens privileged status over White citizens.
Destruction of the educational system.
Robbing the nation of its wealth by allowing cheap foreign products to destroy American businesses.
Forcing  American industry to move jobs and entire industries to foreign countries.
Destroying the family by promotion feminism and homosexuality.
Constant government distortions and outright lies.
Lethal false flag operations that are never challenged by the media or elected representatives.
Destruction of the Christian religion by legislation and massive propaganda.
Normalizing cognitive dissonance by creating opposing programs – i.e. Allowing Muslim immigration while waging war on Muslims in their own lands.
Failure of elected representatives to confront and correct media lies and distortions.
Destruction of the First Amendment by restricting public speech – against racial groups, about conspiracies, against the progression of the world order or the United Nations, about the control of news, or against the State of Israel.
Terminating media employees for expressing unpopular or politically incorrect opinions.
Distorting the law, traumatizing the public, and filling our prisons with sex related offenders that should be handled locally.
Representative James Sensenbrenner chairs a committee attempting to reform the thousands of laws that make up the Federal Criminal Code but nothing is being done about the equally ponderous laws that are now enforced by militarized local police forces.
This list could be continued – -
The European culture that was the foundation of our wealth and freedom has been destroyed.  The wealth has been stolen and we have saddled future generations with an insurmountable debt.
The United States of America that a few short decades ago was the world's wealthiest and most moral nation is now like an egg shell that has been emptied of its contents.  Aside from a lethal and vibrant military establishment, there is nothing left but fourth rate medical facilities and a plethora of food factories.  Our medical doctors are imported and the adulteration of our food supply is rampant with uninspected imports for third world nations, mutants, cellulose (wood chips) and other fillers.
The battle, if there ever was an effective deterrent, for the culture of the United States of American is over.  Our nation is hopelessly Balkanized with immigrants from every nation in the world.  Dozens of different languages are spoken by voters who are easily manipulated by unscrupulous politicians.  There is little attempt to learn English and assimilate.  They know nothing about the nation and have no concern for its well-being.  Their primary concern is often for the land they left behind.
The Pharisaical cadre that controls us, as well as much of the world, hates Christianity and is successfully destroying the gossamer Christian ethic that filled most of our churches.  They are doing this with the help of hundreds of thousands of obtuse Christians who lend them unrestrained support.  If it wasn't so tragic it would be laughable!
While our free fall is in progress other dumb Americans work tirelessly in the political arena hoping the vehicle that was responsible for our downfall will miraculously redeem itself and us.at the same time.
Millions of our citizens are unaware that they are reading and listening to news that is filled with lies and distortions; they are so badly maligned that they no longer recognize truth, so brain washed that they quickly brand a the truth teller as a deluded conspiracy theorist
History is replete with power seekers who have murdered and ravaged to create empires but the current quest for world domination is the granddaddy of them all.
Plans for world domination seem to have begun in earnest at the end of the First World War.  The United States congress approved the Federal Reserve System in 1913; the conflict began in Europe in 1914 and the United States entered the War in 1917.  U. S. participation quickly ended the conflict in 1918.  Under the aegis of world peace the ill-fated League of Nations was formed in 1920.  It soon lost the support of the world's major nations and failed in its stated mission to produce peace.   It was replaced by the United Nations at the conclusion of the Second World War http://en.wikipedia.org/wiki/World_War_II in 1945.  Peace was also the stated mission of the United Nations.
The United States provided major support to the United Nations but paid little attention to its peaceful mission, entering a war in Korea in 1950 a scant five years later.  Under the aegis of peace the real agenda of these two organizations was always world domination.
World Government at the point of a gun has been foisted on the world very slowly.  We are living in the Centennial. It has taken nearly a hundred years for the brutal character of the movement to become public.
Now, all the power centers of our nation are occupied with men and women who support world government and are willing to manipulate the public into complacency as its tentacles begin to grasp the world.  Incrementalism has allowed the incarceration of the world to progress with only token resistance.
Talented individuals are spotted early in their careers and are ushered into Ivy League educations; following stints at Oxford where they are indoctrinated with an International ethic they are mentored into power center jobs where they are stalwart supporters of world government and the shadowing cabal that is behind it..
Michele Flournoy is a case in point.  She was a guest on C-Span on Sunday for the fifteenth time since 1988.  She identified herself as an Internationalist and responded to Brian Lamb's queries like the pro that she is.  From California she was educated at Harvard and Oxford.  She was mentored and groomed and has become a go to expert on defense issues.  She held a strategic job as Under Secretary of Defense for Policy in the Obama Administration and is now President of the Center for a New American Security, a think tank that directs government defense policy.  She is one of a host of dependable Internationalists that have been groomed and inserted into important positions in government; all willingly do the bidding of their mentors.  Defense is a misnomer that has now become an aggressive military offensive to control the world.
The hugely successful incremental incarceration of the world has been accomplished by a patient promotion of several generations of seekers.  It is a sinful grab for power and control which is familiar to any historian but of a size and strength that is larger and more ominous than any of its predecessors.
This new, total oppression is coming upon us because we have and are rejecting the obvious conclusion that we were not created to govern ourselves.  Not only do we reject that clear fact but we cling to the heresy that we can play god by developing our own legal system and curbing the horrific sinful nature of every human being by requiring obedience to our particular legal opinions.  Again, we refuse to understand that if we are governed by the legal opinions of one human power they are no better than the legal opinions of another which makes war and murder inevitable.
The confusion, the proliferation of legal standards, the breakdown of law and order, police brutality, government oppression, and the resulting loss of freedom are predictable results of humanism.  We are all sinners, every one of us – all have sinned and fallen short of the mark.
It is easy for us to critique the government.  Such critiques are common and often virulent.  Each critique is a direct blow to God Who has given us His Law, the only form of righteousness available to His creation.  It is sin to assume that we have the solution to humanistic government – it is sin to think such a thought!   God created us and if we are ever to experience lasting peace and prosperity we must stop playing God and begin to obey His Commandments.
Today I read excellent critiques by Paul Craig Roberts, Pat Buchanan, and Jacob Hornberger.  All three of these men believe they have solutions to our problem.  But, all three of these men are sinners whose only righteous alternative is to turn to the Laws of the Creator.  Their thoughts are good thoughts from a human perspective, but they do not direct us to obey God's Law.  We can point out the results of allowing sinful men and women to control the world but we cannot fix it by having our opinions set in place.  Human wisdom is not the solution.  If we had spent our lives promoting obedience to God's Law instead of depending on our own opinions and understandings we would not be in this situation.
We have found the culprit and it is us!
This is one in a series of articles taken from eyewitness testimony before the International Common Law Court of Justice in Brussels. Five international judges are examining evidence of child rape, torture, murder and kidnapping allegedly done by global elite members of the Ninth Circle Satanic Child Sacrifice Cult network. Regular Ninth Circle child sacrifices were said to take place in the catacombs of Catholic Cathedrals, the Vatican, on private estates and groves and government military bases in Belgium, Holland, Spain, Australia, Ireland, France, England and the US. At least 34 child mass grave sites were identified in Ireland, Spain and Canada – and refused excavation by the respective governments, Crown of England and Catholic Church. Named as present in Ninth Circle activities were Pope Francis, former Pope Ratzinger;Anglican, United Church of Canada and Catholic Church officials including Cardinals; members of European royalty including Queen Elizabeth and Prince Phillip; officials of the Canadian, Australian, UK and US military and governments including the USA's CIA, plus prominent government ministers, judges, politicians and businessmen from the US, Belgium, Holland, Canada, Australia, France, Ireland and the UK.
Teens were drugged, stripped naked, raped, hunted down in the woods and killed by European royals according to this week's latest eyewitness to testify before theInternational Common Law Court of Justice in Brussels. The woman was the fourth eyewitness to give accounts about these human hunting parties of the global elite Ninth Circle Satanic Child Sacrifice Cult network. A former member of the Netherlands criminal drug syndicate known as Octopus testified that victims were obtained for these human hunting parties from juvenile detention centers in Belgium and Holland.
"In 2004 I was an involuntary witness to torture, rape and murder sessions of drugged children performed for a group of high ranked people of the Netherlands" stated a woman. "I was taken to a hunting party in Belgium close to Brussels where I saw two boys and a girl ages 14 to 16, hunted and killed by global elites. The human hunting party was heavily guarded by the Netherlands Royal Guards. I was told that King Albert of Belgium was present."
Four eyewitnesses confirmed that as children and youths they were forced to attend human hunting parties where they and other children were raped, with some killed, and deceased boy's penises were cut off. Allegedly there was a Dutch countryside palace where boys' penises were displayed like trophies on a wall. Some hunting parties were hosted on the grounds of Belgium Queen Beatrix's Palace.
Dutch therapist Toos Nijenhuis claimed that as a four year-old she was forced to witness murders of children that involved former Pope Ratzinger, a Dutch Catholic Cardinal, plus the father of Netherlands Belgium Queen Beatrix and Bilderberger Founder, Dutch Crown Prince Alfrink Bernhard. "I saw the former Pope Joseph Ratzinger murder a little girl″ another witness confirmed. "It was at a French chateau in the fall of 1987. It was ugly, horrible and didn't happen just once. Ratzinger and Bernhard were some of the more prominent men who took part."
In Ireland, Spain and Canada 34 child mass grave sites were discovered and appeared linked to Ninth Circle activities. The largest was the Mohawk Indian Residential School in Brantford Ontario where child remains were identified in 2008 before the Catholic Church, Canadian government and English Crown shut down the dig by professional archeologists. The 2013 ICLCJ Court had found Queen Elizabeth and Prince Phillip guilty for the Oct. 10 1964 disappearance of ten native children from the Catholic residential school in Kamloops British Columbia. In the first two weeks of the 2014 court witnesses identified Dutch and Belgian royal participants in the rape and killing of Mohawk children and newborns. Named were Bernhard and King Hendrick, consort to Queen Wilhelmina of Holland.
Alleged to be present during the human hunting parties were the late Prince Johan Friso and his wife Mabel Wisse Smit, former ministers, the top man of the Dutch army, the under secretary of the Raad Van State in the Netherlands, the Vice-Roy next to Queen Beatrix and other global business and political leaders including some from the US. "Surely the present King Willem Alexander and King Filip and their wives know about this abuse and murder of children" said one eyewitness."They do nothing about it and likely are the ones to stop investigations and prosecutions."
In January 2014 the brother of the king of Holland Prince Johan Friso passed away in a coma after these three Dutch-language websites shown here reached the internet. The websites revealed that Friso was at the human hunting and killing parties."The story came on the internet after years of trying to move the policy and justice department in the Netherlands to act against the criminals," an eyewitness said. "Nobody did anything to stop these criminals, probably because Queen Beatrix and King Albert likely interfered with the investigations."
Human hunting parties were said to take place on the grounds of Belgium Queen Beatrix's Palace in the Netherlands. Two witnesses have named former Pope Joseph Ratzinger and Queen Beatrix's father the deceased Prince Alfrink Bernhard, as being present at child sacrifices. Both were said to be Nazi sympathizers.
The ICLCJ Court received a collection of Jesuit archival records about a child sacrificial cult known as the Knights of Darkness. In 1933 the Knights were established by the Catholic Jesuits and Nazi Waffen S.S. Division. The records showed Ratzinger was identified as a member of the Knights while working as an S.S. Chaplain's assistant at the Ravensbruck Concentration Camp in Germany. The records also stated that Ratzinger participated in child sacrificial rites using kidnapped children from the camps or political prisoners.
Another court document called the Magisterial Privilege indicated child sacrifice was a regular occurrence at the Vatican. At the tender age of 12 "Svali" of San Diego County California claimed she was brought to catacombs beneath the Vatican to witness the sacrifice of a three year-old drugged boy. In this video her interviewer said that 24 years prior a "Maria" told him she witnessed another satanic child sacrifice rite in the same Vatican Catacombs.
Last week an Irish police investigator reported to the ICLCJ Court that the close to 800 babies buried in a Catholic Nun's septic tank were dismembered, decapitated and in bits and pieces – signs that they could have been murdered in Satanic child sacrifice rites. In the last two months the ICLCJ Court has heard these heart-wrenching testimonies about the rape, torture and murder of children as recently as 2010 by Catholic leaders, European royal family members and other global elites. Murder sites of the Ninth Circle Satanic Child Sacrifice Cult were said to be in the catacombs of Catholic Cathedrals including the Vatican and on private estates, military establishments and groves in Belgium, Holland, Spain, Australia, France, England and the US.
The ICLCJ Court has been overwhelmed with newly discovered evidence and a number of new witnesses coming forward to testify about Ninth Circle Satanic Child Sacrifice Cult activities. They have uncovered Ninth Circle Satanic Cult member possible involvement in international child sacrifice, kidnapping, exploitation and drug rings. The five international judges and 27 jury members were expected to remain in session for at least a year due to the complexity of the cases.
Amnesty has been offered to citizens or employees of the Vatican, Crown of England, churches or governments willing to give sworn testimony or evidence that leads to the prosecution of these global elites suspected of committing crimes. Rewards up to 10,000 euros or around 13,660 dollars was available through the ICLCJ court.
The ICLCJ Court had over 450 Common Law Peace Officers in 13 countries, with 51 local chartered groups operating. Local organizing funds were available for common law groups that applied through the International Tribunal into Crimes of Church and State. To contact officers of the court or ITCCS Field Secretary Kevin Annett, email or call: itccscentral@gmail.com, info@iclcj.com, admin@iclcj.com, hiddenfromhistory1@gmail.com, 250-591-4573 (Canada), or 386-323-5774 (USA)
About the Author
Judy Byington, MSW, LCSW, retired, author of "Twenty Two Faces: Inside the Extraordinary Life of Jenny Hill and Her Twenty Two Multiple Personalities" (www.22faces.com) is a retired therapist, Public Speaker, Activist and investigative journalist whose articles on international child exploitation rings have been cited on over 3,000 websites. The ex-Supervisor, Alberta Mental Health and Director Provo Family Counseling Center is the CEO of Child Abuse Recovery and Speakers Bureau (www.ChildAbuseRecovery.com). If you have news tips about child abuse issues please email Judy info@22faces.com. You are invited to sign our petition to Congress for an investigation of the CIA mind control of children by clicking here.
Source: TRUTHCDM
In the last few months, 47,000 refugee children stormed America's southern border.    They arrived from Central and South America.  The usual onslaught from Mexico's overburdened population continued by the thousands.
In excess of 15 million undocumented Mexican border crossers now call America home.  They feed off America's welfare systems from housing, food, educational and medical care.  They cost taxpayers in excess of $346 billion annually across 15 federal agencies.
Bush, Clinton, Bush II and Obama stopped enforcing our borders 30 years ago.  The word spread like a California wildfire.
Journalist Tom Ashbrook reported:  "The numbers of children surging over the southern US border now – unaccompanied, as young as six – is just staggering.  Forty thousand-plus.  Up 90 percent.  Still growing, flooding in.  Coming up from Central America, Mexico. Coming a thousand miles and more from Honduras.  Scared north by vicious gangs.   And now, piling up in US facilities not designed for an influx of kids."
The third world uses America, Canada, Europe and Australia for a human "escape valve."  Since the third world adds 80 million desperate children annually to already staggering populations in China, India, Bangladesh, Mexico, Indochina and most of Africa—Western countries face shocking migration numbers that will collapse civilizations.
Because of relentless, enormous and endless legal and illegal immigration, America faces an added 300,000,000 (million) more people within this century.
Ironically, Diane Sawyer, Brian Williams, Shepard Smith, Scott Pelley and Wolf Blitzer benignly report the invasion of our country—but they refuse to interview anyone who speaks about the end result of adding 300,000,000 people to America.
This is what it will look like:
"Immigration by the numbers—off the chart" by Roy Beck  www.NumbersUSA.org
http://www.youtube.com/watch?v=muw22wTePqQ
If every American saw this video, they would scream at Congress and Obama to effectively close down mass migration into America.
Instead, powerful forces like the U.S. Chamber of Commerce, Speaker of the House John Boehner and corporations clamor for more immigration in the face of 48 million Americans subsisting on food stamps and tens of millions living off taxpayers with Section 8 housing.
"Late last week, the Obama administration asked Congress for $1.4 billion in extra funding to help house, feed and transport the tens of thousands of children being caught trying to cross the border illegally, and turned to the Defense Department to help temporarily house more than 1,000 of the children," said Chris Sherman, DC journalist.
Every dollar paid out to care for endless legal and illegal immigration must be borrowed from foreign nations.  Our country stands a mind-numbing $18 trillion in debt.
As a country, as a civilization, as a people, we cannot continue on this path of accepting the world's endless refugee line.  If we continue, we face ultimate collapse ourselves.  It's that simple.
Our citizens chose 2.0 children per female since 1970, but the world eschewed birth control to continue adding 80 million annually, net gain.  Now, because of mass starvation of 10,000,000 (million children) annually, they cannot and we cannot solve the overload.
As a world traveler, I can tell you that the line never ends; it only grows exponentially.  Humanity faces hard choices in the 21st century that it continues to avoid, ignore and evade. But not much longer.
"It is abundantly clear that the reason for the uptick …has to do with what's going on in Central American countries," said an administration official on the conference call. "The federal government prepared for this trend," an official said, "but it was larger than we had anticipated."
As we continue accepting millions as the "human population escape valve" of the 21st century, the third world, driven by the Catholic Church, Islamic Church and other ancient religions refuse to advocate for birth control—continues exponentially.
This humanitarian crisis cannot and will not end well for Americans or the migrants.
What needs to be done:
Distribute birth control to third world countries.
Focus on the Catholic and Islamic churches to come to terms with human overpopulation in the 21st century worldwide; demand they come to terms with the 21st century and advocate for birth control.
Guard America's borders to allow no one to breach our country by using our military. Force those countries to deal with their own human overload. Stop encouraging endless immigration.
Reduce all legal immigration into the United States to less than 100,000 annually instead of the current 100,000 every 30 days.
Promote a world conference on human overpopulation and all nations' stake in providing birth control throughout the human family.
Interview top experts who scientifically show the end result if we fail to take destiny into our own hands.
What is that destiny?
If we don't halt population growth with justice and compassion, it will be done for us by nature, brutally and without pity – and will leave a ravaged world.  ~Nobel Laureate Dr. Henry W. Kendall
"The raging monster upon the land is population growth. In its presence, sustainability is but a fragile theoretical construct.  To say, as many do, that the difficulties of nations are not due to people, but to poor ideology and land-use management is sophistic."  Harvard scholar and biologist E.O. Wilson
"Unlimited population growth cannot be sustained; you cannot sustain growth in the rates of consumption of resources. No species can overrun the carrying capacity of a finite land mass. This Law cannot be repealed and is not negotiable." Dr. Albert Bartlett, www.albartlett.org , University of Colorado, USA.
"Most Western elites continue urging the wealthy West not to stem the migrant tide [that adds 80 million net gain annually to the planet], but to absorb our global brothers and sisters until their horrid ordeal has been endured and shared by all—ten billion humans packed onto an ecologically devastated planet." Dr. Otis Graham, Unguarded Gates
To stop the invasion, join for free:  www.CapsWeb.org ; www.NumbersUSA.org ; www.Fairus.org ; www.TheSocialContract.com
Aside from attacks on the Second Amendment, there is a certain theme that's now repeated after every massacre committed by an unhinged individual: that most all mass killers are white. After the recent Elliot Rodger murders, for instance, Michael Moore said that he no longer had "anything to say" before immediately saying, "Nearly all of our mass shootings are by angry or disturbed white males." Not to be one-upped in the inanity department by a mass of male whiteness, one Brittney Cooper at Salon wrote, "How many times must troubled young white men engage in these terroristic acts that make public space unsafe for everyone before we admit that white male privilege kills?" Ironically, Cooper had mentioned, parenthetically, that "as many commenters have pointed out, [Rodger] had a white father and mother of Asian descent," but, hey, you can't let a minor detail get in the way of a good racial screed. And perhaps mass killing is such a Caucasian domain that perpetrating one bestows a person with honorary whiteness. Yet about this we should ask a question:
Before rushing to play pin the tale on the honkey, did anyone bother to check the history of mass killings?
Because I have — a comprehensive list dating from 1982 through 9/16/2013 is found at Mother Jones here — and guess what?
Of the last 20 mass killings of that period, 9 were perpetrated by non-whites.
That would be 45 percent, which exceeds non-whites' 37 percent share of the population.
Of the last 30 mass killings, 11 were committed by non-whites — right at the 37 percent mark.
And what if we go all the way back to 1982? We then have 66 mass killings in which the races of the perpetrators were known, and 22 of them, or one-third, were at the hands of non-whites. Note here that America's demographics have been changing, with non-whites comprising only about 20 percent of the population in 1982; thus, if we consider an approximate average non-white population of 28.5 percent during the 31-year period in question, it appears that, again, mass murderers are disproportionately non-white.
In other words, there is no evidence whatsoever that mass killings are a characteristically white phenomenon.
And there never was.
In fact, the group most disproportionately represented on the Mother Jones chart is Americans of Asian descent. While only 6 percent of the population, they have been 15 percent of the 31-year period's last 20 mass killers, 13 percent of the last 30, and 9 percent of the last 66. This is quite interesting, too, since Americans of Asian descent have a very low crime rate in general.
So in light of this, why are whites implicated in mass killings? The answer is one word:
Note that prejudice is defined as, "1. an unfavorable opinion or feeling formed beforehand or without knowledge, thought, or reason." Claiming that a group commits a disproportionate amount of crime when, if anything, the truth is the opposite, is the epitome of forming beliefs without knowledge, thought, or reason. It's seizing upon a fashionable falsehood for the purposes of maligning an unfashionable group and advancing a fallacious agenda.
The truth is that if we don't want to be "cowards" on race, as Eric "the Red" Holder said Americans were, we do need to speak frankly about criminality in the US. But does this involve talking about "troubled young white men" who "make public space unsafe for everyone," as Brittney Cooper suggested? Perhaps she might want to consult with Jesse Jackson, who once said that when he walked down the street, heard footsteps and thought robbery, he'd "feel relieved" if he turned around and saw a white person behind him. So, really, if we were cynical, we could think that the Coopers of the world were trying to deflect attention from black criminality by trumpeting the white-mass-killer myth.
Then again, this all could just be the result of the new Common Core math. Take Elliot Rodger, for instance. He killed half his victims with a knife, but the whole focus was on guns. (And he's widely referred to as a "shooter." I think he was a slasher.) He was half Asian, but the whole focus was on whites. You could also call it situational attribution: a mixed race person is defined by his minority half when he achieves, as with our first "black" president. But when such an individual is recognized as having committed a crime, he's suddenly white. This can only make us wonder how long it will be before Barack Obama becomes white.
Anyway, the left may be upset that another one of their themes, the white-mass-killer myth, has bitten the dust. But all is not lost. In the area of massacres as in so many other things, they can always celebrate diversity.
"Aliens visiting Earth would report back to their superiors: 'It's quite amazing, those people worship images. They know it and they pretend not to know it.'" — Hypnotherapist Jack True.
This is a backgrounder for my mega-collection, Exit From The Matrix, which contains many exercises designed to liberate an individual from the standardized perception of reality—and usher in his own creative reality.
Mass mind control focuses on two elements: image and feeling.
By linking the two primary elements, it is possible to short-circuit thought and "cut to the chase," when it comes to enlisting the allegiance of huge populations.
Two seemingly unrelated events spurred my interest in mass mind control.
On the evening of April 12, 1945, I listened to a radio report on the death of Franklin D Roosevelt. I was seven years old.
I became upset. I didn't know why. I was angry at my own reaction.
Forty years later, I pulled into a gas station near my apartment in West Los Angeles. I got out of my car and took the cap off my gas tank. I looked to my right and saw Tony Curtis sitting in his car. I was shocked.
A few days later, I began making notes under the heading of "image-emotion cues." At the time, I was working as a reporter, writing articles for LA Weekly. I knew next to nothing about mind control, MKULTRA, Soviet psychiatric gulags, Chinese re-education programs, or US psychological warfare operations.
But because I had been painting for 25 years, I knew something about the power of images.
I remembered my first exhibition of paintings in LA, at my friend Hadidjah Lamas' house. We had hung my work in her large living room and dining room. Hadidjah had enlisted the services of a friend who had videotaped me painting in my studio, and at the exhibition she set up a television set out on her patio and continuously played the videocassette.
People came through her front door, almost automatically walked through the house to the patio, as if guided by an unseen hand, and watched the video; then they came back inside and looked at the paintings.
They would stop at a painting and say: "That picture was in the video!" It excited them.
My first note on "image-emotion cues" was, "Investing an image with importance. Projecting emotion into an image."
Projecting emotion into a newspaper image of the president, FDR. Projecting emotion into the screen image of Tony Curtis. Projecting emotion into a video of a painter working in his studio.
When people encounter an image, when they invest it with importance, they project feeling into the image—and this all happens in a private sphere, a private space.
If this didn't happen, there would be no way to control populations through images. It wouldn't work. It all starts with a person setting up his own personal feedback loop that travels from him to an image and back again.
Coming out of World War 2, US psychological warfare operatives knew they could turn their skills to political purposes. They had just succeeded in making Americans believe that all Japanese and German people were horribly evil. They had been able to manipulate imagery successfully in that area. Why couldn't they shape America's view of a whole planet that lay beyond personal experience?
They could and they did. But the power to do that emanated from the fact that every person invests images with feeling. That's where it really starts.
I had seen the 1957 film, Sweet Smell of Success, a number of times. I admired it. Burt Lancaster and Tony Curtis gave tremendous performances. When, decades later, I saw Curtis sitting in his car at that gas station, I was "working from" the emotion I had invested in his onscreen image. It produced a sense of shock and paralysis for a few seconds.
Other people might have rushed up to Curtis and asked for his autograph. With me, it was shock, cognitive dissonance. Ditto for the death of FDR. I was working off newspaper pictures I'd seen of him, and the feeling I'd invested in those presidential images. Other people, when FDR died, went out into the street and hugged their neighbors and wept openly. For me, it was upset and shock and anger.
There's nothing intrinsically wrong with investing emotion in images. It can be exhilarating. It can be uplifting. As a painter, I know this in spades. Putting emotion into images can, in fact, vault you into a different perception of reality.
But on the downside, it can also take you into lockstep with what media/propaganda operatives want you to experience, second-hand.
We focus to such a degree on how we are being manipulated that we don't stop to consider how we are participating in the operation. And our own role is clear and stark: we invest images with feeling.
So how does one individual's projection of feeling into an image become a uniform projection of the same feeling into one image, by millions of people? How does what one person invests privately become mass mind control?
Through external instruction or cues. And also, by engendering the idea that there is only a limited palette of emotions to work with in the first place.
Why do millions of people fall into line?
Because they don't realize they started the whole ball rolling themselves. All they know is: images are connected to feelings.
If they knew they were the real power in the whole operation, if they knew they were investing feelings into images all day long, if they could actually slow down enough to see how they do this….then they would be far less prone to taking instruction about what feelings they "ought to" invest in second-hand images.
Hypnotherapist Jack True unceremoniously put it to me this way: "If a dog could analyze how he got from eating meat to drooling at the sound of a bell that came at feeding time, he could stop drooling."
(If Chris Matthews could analyze how his own voluntary investment of feeling in the image of Barack Obama sends a tingle up his leg, he could stop tingling.)
We see images of people rioting all over the Middle East. We see burning flags and crowds outside embassies. We're supposed to invest our own anger and resentment into those images. Unless we're suddenly told those rioters are actually "the good rebels," in which case we're supposed to invest our joy in the images.
We see a picture of miles of flat farmland and (GMO) corn waving in the breeze. We're supposed to invest that image with feelings of happiness and pride.
Nowhere are we told we can back up a step and realize that we are the ones who begin the whole process, by projecting feelings into images. Any images.
When I was 19, I was sent to a trained expert in New York to take a Rorschach (ink-blot) Test. I was displaying signs of what would now be called Oppositional Defiance Disorder.
The expert said he wanted me to tell him everything I saw in each ink-blot. I took him at his word.
An hour later, I was still working on the first blot. I was describing everything from bats and owls and chickens to space ships and buckets of hidden treasure in caves.
Well, I was cheating a little. I wasn't really describing what I saw. I was imagining. I was taking off from what was on the page and improvising. This was outside the bounds of the Test.
The expert was seething. He was sweating, because he had many other blots to show me, and it was late in the afternoon, and he was looking at spending the entire evening with me. Finally, he held up his hand and put an end to the Test.
I wasn't playing his game. Among other sins, I wasn't investing a limited palette of feelings in the images. Therefore, my choices of "what to see" in the blots expanded greatly.
When I go to a museum, I like to watch people stand in front of abstract paintings. Many of them are stumped. They're trying to figure out what feelings they "are supposed to" project into the painting. They're looking for "instruction," and there isn't any. They're asking for mind control, and they're not getting it.
Fanaticism of any kind begins with individuals projecting feelings into images. This is harnessed by leaders, who then choose the images and direct which feelings are permitted. The tempting prospect for the follower is: participation in a drama that goes beyond what he would ordinarily experience in life. This is bolstered by the idea that what he is doing is moral.
In an election season, people on the left are urged to project messianic feelings into images of X. People on the right are cued to invest feelings of pride, hope, and "tradition" into images of Y. The real candidates aren't actually experienced.
Since Vietnam, shooting wars have been more difficult to sustain among soldiers. "In the old days," feelings of hatred could be projected into images of enemies that included civilians, so overtly killing everybody on foreign soil was easier to accept. Now, soldiers are taught "enemy combatant" and "civilian" are two different images that require the injection of two different feelings.
Here at home, police and military are taught, more and more, to invest feelings of suspicion into images of American civilians. This is an acceleration of mass mind control for law enforcement.
The astonishing number of civilians who participate in government and corporate surveillance of the public, through technological means, learn to invest "dead empty feelings" into images of citizens, as if these targets are nothing more than ciphers, units.
Bizarre instances of police detaining and questioning parents who allow their children to play unsupervised reveal another accelerating trend. These confrontations start with neighbors snitching on the parents. The neighbors have learned to invest feelings of panic, suspicion, and anger in images of "free children."
In all these cases, there is no real experience. It's all second-hand. It's all feeling-projected-into-image.
In the medical arena, countless advertisements and news stories are geared to convince people to invest feelings of trust in images of doctors. The suggestion, "Ask your doctor if X is right for you," is framed as the solution to a little problem. The problem is set this way: Drug X is wonderful; drug X has serious adverse effects; what to do? Solution: ask your doctor; trust him; he knows.
As the class of victims in society has grown by leaps and bounds, including any group that can organize and promote itself as needing help or justice—going miles beyond the people who really do need assistance—citizens have been trained to invest feelings of sympathy and concern for all images of victims everywhere, real or imagined. This, too, is mass mind control.
Pick an image; invest feelings in it. Facts don't matter. Evidence doesn't matter.
You've heard people say, So-and-so (a celebrity) has become a caricature of himself. Well, that's what it means. The celebrity has projected massive feelings of approval into a concocted, cartoonish image of himself.
As a society, we can go on this way until we become a horrific cartoon of a cartoon (well, we're already there), or we can step back and discover how we invest emotion into images, and then use that process to pour feelings into visions of our own choosing and invent better futures.
Since the dawn of time, leaders have portrayed themselves as gods. They've assembled teams to promote that image, so their followers could project powerful emotion into the image and thereby cement the leaders' control and power.
The game isn't new. Understanding the roots of it within each individual could, however, break the trance of mass mind control.
During the first West Nile fake outbreak of 1999, I spoke with a student who had just dropped out of medical school. He told me he'd been looking at electron-microscope photos of the West Nile Virus, and he suddenly realized he was "supposed to" invest feelings of "great concern" in those images.
Somehow, he broke free from the image-feeling link. He was rather stunned at the experience. His entire conditioning as a medical student evaporated.
Parents all over the world are having the same experience vis-a-vis vaccines. They realize they're supposed to invest fear in images of germs and disease, and they're also supposed to invest feelings of hope and confidence in images of needles and vaccines. They see the game. They're supposed to remain victims of mass mind control.
But they've awakened.
We've all been taught that what we feel is always and everywhere out of our control. These feelings are simply part of us, and we have to act on them. The alternative would be to sit on them and repress them and turn into androids, robots.
This is simply not true. There are an infinite number of feelings, and as strange as it may sound, we can literally invent them.
This, it is said, is inhuman. It's a bad idea. It's wrong. It would lead us to "deserting the human community."
Nonsense. That's part of the propaganda of mind control. If the controllers can convince us that we're working from a limited map of emotions and we have to stay within that territory, they can manipulate that limited set of feelings and trap us.
The power of art is that it shows us there are so many more emotions than we had previously imagined. We can be much freer than we supposed.
The synthetic world of mind control and the handful of feelings that are linked to images is what keeps us in thrall.
The world—the world of what we can be—is so much wider and more thrilling and revealing.
The author of three explosive collections, THE MATRIX REVEALED, EXIT FROM THE MATRIX, and POWER OUTSIDE THE MATRIX, Jon Rappoport was a candidate for a US Congressional seat in the 29th District of California. He maintains a consulting practice for private clients, the purpose of which is the expansion of personal creative power. Nominated for a Pulitzer Prize, he has worked as an investigative reporter for 30 years, writing articles on politics, medicine, and health for CBS Healthwatch, LA Weekly, Spin Magazine, Stern, and other newspapers and magazines in the US and Europe. Jon has delivered lectures and seminars on global politics, health, logic, and creative power to audiences around the world. You can sign up for his free emails atwww.nomorefakenews.com
Source: Jon Rappoport  |  No More Fake News
It is easy to stand up and cheer for your favorite government activity. It is quite another to acknowledge what it means in the real world.
I almost never try to speak for other people. However, I think it is fairly safe to say that the average military recruit firmly believes that he joins the military so that you and I can live and breathe in freedom. To be sure, he had other reasons for joining, but I think the defense of liberty is a fairly common characteristic.
That is certainly what I thought when I was in Navy boot camp in Orlando, Florida, in 1983. After all, this is what I had been told all my life: sailors, soldiers, airmen and marines defend freedom.
But is this actually what they do?
Consider the following:
This Marine lost both legs in an IED blast in Iraq. He claims he was forced by TSA to remove both prosthetic legs before he could board an airplane in Phoenix.
This Vietnam veteran in Spicewood, Texas, had flashbacks to his combat experience during a marijuana raid at a friend's house. What police claimed was marijuana turned out to be ragweed.
Jared Goering, who served 19 years in the Army, including tours in Iraq and Afghanistan, was kicked off the boardwalk in Wildwood, N.J. for walking with his service dog, Gator.
Emily Yates, who served two tours with the Army in Iraq, was violently arrested by park police in Philadelphia for asking why she couldn't play her banjo under some shade trees.
Dimitrios Karras is a Marine Corps veteran of Iraq and Afghanistan. Read about the ATF raid on his business in National City, California.
Martin Goldberg of Brooklyn is a World War II veteran whose apartment was subject to a drug raid. Later, the cops realized they had raided the wrong apartment. His 83-year-old wife was hospitalized with an irregular heartbeat as a result of the raid.

In 1997, four sailors from the USS Saipan (LHA-2) were falsely accused of the rape and murder of a Norfolk, Virginia, woman. One spent eight-and-one-half years in prison while the other three were sentenced to life in prison. These three were pardoned in 2009. Even though the actual killer is serving a life sentence, four innocent men are still required to register as sex offenders and are still fighting to clear their names.
Charles Loeks was 18 and fresh out of Marine boot camp. On a trip home to Covina, California, he was hanging out with a few friends when he was arrested for resisting arrest and nothing else. He spent 21 days in Los Angeles County jail, even though he had harmed no one.
Carlos Jaramillo is a former Marine combat instructor who lives in Onslow County, North Carolina. Watch what happened when he recorded a sheriff's deputy who arrested him for no apparent reason.
Noel Polanco was an unarmed 22-year-old National Guardsman who was shot and killed by New York City police at a traffic stop near LaGuardia Airport.
John Laigaie, a retired Army master sergeant, was threatened at gunpoint by police while legally carrying a gun in a park in Bellingham, Washington.
Homer Wright is an 80-year-old Army veteran who was charged with felony gun use after he shot a burglar who entered his home in Englewood, Illinois.

Mark Schmidter, a Vietnam veteran who lives in Orlando, is currently serving 145 days in a cage for passing out jurors' rights information on the steps of a local courthouse.
Justin Ross of Ankeny, Iowa, was recently discharged from the Army. Police used a battering ram to enter his home executing a warrant for some items purchased with stolen credit cards. They did not find any of these items.
Saadiq Long is an Air Force veteran who was placed on a TSA no-fly list. He had to battle for months to be removed from this list just so he could fly home from Qatar to visit his ailing mother.
Chuck Benton of Long Grove, Iowa, served 22 years in the Army. He was arrested and charged simply for living in the same house with his son who was growing medical marijuana.
Cody Donovan is a former Marine MP who lives in New Milford, N.J. He was charged with unlawful possession of a weapon after carrying a loaded gun into the Garden State Plaza mall when he attempted to help police apprehend the shooter.

In 1932, 17,000 veterans marched on Washington to demand payment of bonuses they had been promised as a result of their service in World War I. Two were shot and killed by police. 55 were arrested and 135 were injured when the United States Army became an instrument of domestic law enforcement. Two of the chief enforcers were named MacArthur and Patton. Yes, those two.
Mark England, an Army combat medic who saw action in Iraq and Kosovo was beaten and tasered by police at McCarran Airport in Las Vegas.
Air Force Staff Sergeant Matt Pinkerton of Glen Burnie, Maryland, faces second degree murder charges after fatally shooting a home intruder in September.
Leo Hendrick, an army veteran who lives in Northwood, Iowa, faces up to 30 days in jail and a $600 fine for raising chickens in his yard.
Yes, the cops had a search warrant. However that in no way excuses their vandalizing the home of Army veteran Dan Neary of Lakewood, Washington.
These World War II veterans were threatened with arrest for visiting a closed war memorial in Washington, D.C. during the October "shutdown."

These Vietnam veterans actually were arrested for visiting a New York City war memorial after curfew.
Denis Reynoso was a disabled veteran who saw action with the Marines in Iraq. He was shot dead by police in his Lynn, Massachusetts, apartment.
Nick Morgan, an Iraq veteran, was pulled out of a crowd by police in Hempstead, New York, and trampled by their horses.
Gary Shepherd of Broadhead, Kentucky was a Vietnam veteran. He used medical cannabis to relieve the pain in his left arm, which was crippled during the war. Shepherd was shot dead by a SWAT team, after they had threatened to cut down his cannabis plants.
Valente and Manuel Valenzuela of San Antonio produced sufficient documentation to enlist, respectively, in the Army and Marine Corps. Both fought in Vietnam, where Valente won a Bronze Star. Now they are facing deportation to Mexico because of erroneous entries on their birth certificates.
Jerome Murdough, a homeless Marine Corps veteran, died in a jail cell on New York's Rikers Island after being arrested for trespassing. A heating malfunction caused the temperature in the cell to soar to 100 degrees.
Kenneth Chamberlain was a retired Marine and Vietnam veteran living in White Plains, New York. Early one morning he set off his medical alert device. The first responders in this case were not medics, but rather police, who proceeded to kill Mr. Chamberlain.

This group of combat veterans in Colorado organized to help legalize marijuana during the 2012 elections. They claim – and I believe them – that marijuana helps mitigate PTSD. If you support any punishment whatsoever for a combat veteran who heals himself with a plant that grows wild in some form within a few miles of you, I don't care what you tell me. YOU DON'T BELIEVE IN FREEDOM!
Stanley Gibson, a 43-year-old Gulf War veteran was shot dead over a total non-crime by Las Vegas police in December, 2011.
Army Specialist Michael Sharkey returned home from deployment in Afghanistan to find his home in New Port Richey, Florida, unlawfully occupied by two squatters. The local sheriff says that Sharkey has no grounds upon which to evict them.
These veterans say they are being required to prove they are worthy of gun rights. Our rights are gifts from God that are inherent in our very humanity. We never have to prove to anybody that we have them.
Dwight Edwards, a disabled Marine veteran of Afghanistan, says that cops in Queens brutally beat him for no reason.
Army Staff Sgt. C.J. Grisham, who won the Bronze Star with Valor, was forcibly disarmed for no good reason by a policeman while on a hike with his son not far from Fort Hood, Texas.

Brandon Raub, a Marine who was decorated for bravery in Iraq and Afghanistan, was forced to spend a week in a Virginia mental hospital over some "anti-government" Facebook posts. (His interviewer here, John Whitehead, is a constitutional attorney, Vietnam infantry veteran and superlative anti-police state blogger.)
Operation Vigilant Eagle is a project of the Department of Homeland Security that has led to numerous Iraq and Afghanistan veterans "finding themselves under surveillance, threatened with incarceration or involuntary commitment, or arrested, all for daring to voice their concerns about the alarming state of our union and the erosion of our freedoms." Indeed, merely being a "returning veteran" can have you designated as a potential terrorist.

We will never know the whole truth about Navy veteran and former Los Angeles cop Christopher Dorner, who was the subject of a police manhunt and media witch hunt in 2013. He never got the chance to tell his story in court.
Hector Barrios came to America in 1961. He was drafted and served as an infantry soldier in Vietnam. In 1996, he was busted for possessing marijuana, which he used to treat his PTSD. As a result, he was deported to his native Mexico where he died.
Matthew Corrigan of Washington, D.C. was a first sergeant in the Army Reserve and a veteran of Iraq. His home was destroyed in a SWAT rampage because it was reported to the police that Corrigan had a gun.
Jamie Dean was an Army veteran of Afghanistan was diagnosed with PTSD. Upset about his impending deployment to Iraq, Dean had an intense emotional outburst at his Maryland home in December 2006. Even though he neither harmed nor threatened anyone, he was shot and killed by a local SWAT team.


Bennie Coleman, 76, is a retired Marine who lost his Washington, D.C., home because of a $134 tax lien that District authorities had sold to an investor.
Jeremy Usher is a former Navy hospital corpsman who lives in Greeley, Colorado. He faces jail time for using medical marijuana to treat his PTSD.
Brittany Ball, a 23-year-old soldier at Fort Jackson, S.C., was manhandled by a cop at a local bar, even though she had done nothing wrong.
Air Force Airman First Class Michael Davidson was shot in the stomach by police in Opelika, Alabama, at the scene of a traffic accident.
Benjamin Wassell sustained traumatic brain injuries while with the Marines in Iraq. The Buffalo-area resident was the first person charged with illegal gun sales under New York's new SAFE Act.

Erik Scott graduated from West Point in 1994 and served as a tank platoon leader. In 2010, he was gunned down and killed by police as he peacefully walked out of a Las Vegas Costco.
Scott Olsen saw action with the Marines in Iraq. Later, he would join the Occupy Oakland movement. In October, 2011, suffered a fractured skull after being hit in the head with a projectile fired by police.
Derek Hale served honorably with the Marines in Iraq. Although, he had committed no crime, he died after being tasered three times and then shot three times by police in Wilmington, Delaware.
Roderick King, an Iraq war veteran, was arrested in Philadelphia after he and his friends had criticized a cop's driving.
Howard Dean Bailey, a Navy veteran, was deported to his native Jamaica when immigration authorities discovered he had taken a plea bargain in a marijuana case in Norfolk, Virginia.

To be sure, the recently deceased folk singer Pete Seeger could not have been more of a leftist. However, he did serve three years in the Army after being drafted during World War II. He was sentenced to one year in jail after refusing to reveal his political connections to the House Un-American Activities Committee in 1956. He appealed this sentence, citing the First Amendment, and ultimately spent only four hours behind bars.
Larry Kirschenman of Nogales, Arizona, served 22 years in the Army and was decorated for bravery in Vietnam. Learn how he was brutalized by Border Patrol agents when asking why he was subjected to a warrantless search.
We will never know for sure what happened in Army veteran Matthew Stewart's Ogden, Utah, apartment one night in January 2012, as he will never have his day in court. He was in prison awaiting trial on charges of shooting and killing one of the police officers who raided his apartment searching for marijuana. Stewart, whose guilt was never proven, committed suicide in his cell.
Sergio Arreola is a cop in Los Angeles who served with the Marines in Iraq. He was beaten by the police in suburban Pomona for no good reason whatsoever.
This former Army paratrooper is appealing to the New York state legislature to legalize medical marijuana. He has severe multiple sclerosis and is "forced to break the law to have some semblance of a bearable existence."


On May 5, 2011, a Tucson SWAT team approached the home of Jose Guerena, who had served two tours with the Marines in Iraq. Guerena grabbed his AR-15 as is his right, but did not fire. The SWAT team let loose with 71 rounds, 60 of which perforated Guerena's body.
Marty Maiden lived a few blocks from Guerena in Tucson. and saw action with the Army in Afghanistan. He posted a suicidal note on Facebook which prompted a call to the police, who shot him dead.
Steve Lefemine is a West Point graduate who was arrested for protesting against abortion in a "no-demonstration zone" outside the Republican National Convention in New York in 2004. The 2nd Circuit U.S. Circuit Court justified the arrest based on a "compelling state interest in security".

Eileen Erickson's husband Sid served in Vietnam and died of Agent Orange exposure. Erickson is now in the crosshairs of authorities in Venice, California, who want to tear down the tree house Sid built before he died.
Listen to this disabled Navy veteran plead with then-Senate candidate Kelly Ayotte (R-NH) about the benefits of medical marijuana. Listen to the totalitarian response.
John Wrana, a 95-year-old Army Air Corps veteran of World War II, was tasered and then shot to death by police in Forest Park, Illinois. His "crime"? Refusing medical attention.
John Colaprete saw action in Vietnam as a Marine Corps officer. In 1994, his Virginia Beach home and restaurants were the object of paramilitary-style raids by the IRS. The raid was prompted by a false accusation by a former employee. While you need to watch this documentary in its entirety some time, for now just pick it up for a few minutes starting at the 55:40 mark.

Boxing legend Joe Louis was also tyrannized by the IRS. The Brown Bomber enlisted in the Army in 1942 saying "Let us at them Japs." Louis never saw combat, as he was assigned to the Special Services Division. While still a civilian, Louis fought some charity bouts and donated the proceeds to the Navy Relief Society. The IRS, however, viewed these proceeds as taxable income. IRS problems would plague him all his life. Please watch this video starting at the 53:17 mark.
Adam Arroyo is a Hispanic veteran of the Iraq war who lives in Buffalo. Police shot and killed his dog while executing a drug warrant for a black man.
Henry Taylor was a retired Air Force veteran in Louisville, Tennessee, who was shot dead by a local sheriff's deputy while investigating a burglary at a rental property he owned.
This is a fascinating article: When Johnny Comes Marching Home … He Goes to Jail. It is absolutely tragic how we chew up and spit out so many of those we send to "fight for our freedom."

Radio talk host Adam Kokesh won the Navy Commendation Medal as a Marine in Iraq. In recent years, he has been arrested several times for various non-violent protests. His most recent arrest happened after he loaded a shotgun in public in Washington, D.C. on July 4, 2013. On July 10, police violently raided his home and arrested him. He was incarcerated for four months without bond, bail or trial. He is currently on probation for two years. You may not like Kokesh's demeanor or approve of all of his antics, but he has been very courageous when so many of his critics can't be bothered to put down the remote.

James Moore, my brothah from anothah mothah, walked away from a very lucrative engineering position in San Jose to re-enlist in the Army following 9/11. He sustained significant physical injuries as well as PTSD while serving in the Special Forces in Afghanistan. On the afternoon of March 25, 2008, Moore, who had done absolutely nothing wrong, was beaten to the point of flat lining by Denver police.
One of the coolest people I have never met is Antonio Buehler. Buehler graduated from West Point in 1999, earned his Ranger tab, and saw action in Kosovo and Iraq. (He also sports a Stanford MBA.) Early in the morning on January 1, 2012, Buehler was arrested for taking a few pictures of Austin police manhandling a young woman outside a 7-11. Buehler has been arrested four times since. He heads the Peaceful Streets Project, whose members work to expose abuse, brutality and overreach both in Austin and across the nation.

There are no doubt numerous other injustices against veterans that I do not know about. Enough to fill a book. None of these things would have happened if America were a free society. As Kokesh puts it, "The greatest enemies to the Constitution are not to be found in the sands of some far off land but rather right here at home."
I cannot speak to the specific political beliefs of most of the veterans I have mentioned here. Some may be pacifists, while others may make John McCain look like a hippie in Haight-Ashbury. No matter what their individual views may be, the freedom they risked their lives for was flagrantly violated on the streets of the land they fought to protect.
Society endlessly applauds sailors, soldiers, airmen and Marines for "fighting for our freedom". It is in no way disrespectful to say that this is not what they do. No foreign government or terrorist group poses any threat to our liberty. America accounts for about half of the world's military spending. We have 300 ships in our Navy, plus thousands of planes, tanks and nuclear warheads as well as 300 million firearms in private hands. Nobody is going to invade us.
In a constitutional country, which America ceased to be 100 years ago, the job of the military – a vital and most noble one – is to defend the borders, shores and airspace. It cannot protect you from being tyrannized domestically. Indeed, throughout history, armies have been instruments of domestic tyranny. Our Constitution forbids a standing army for just this reason.
Nazi Germany and Soviet Russia had enormous military establishments. How did things work out in these countries?
I am a Christian who believes liberty is a gift from God – Leviticus 25:10; II Corinthians 3:17; Galatians 5:1. To quote Jefferson, liberty is preserved not by military might, but by "eternal vigilance" against one's own government at all levels. It is the grossest form of disrespect to send young men around the world to "fight for freedom" while relinquishing that freedom on the home front.
For several years, America has had the world's highest incarceration rate. Since 2001, Americans have gladly accepted previously unthinkable intrusions on their freedom in the name of "safety" and "security". These include, but are not limited to: warrantless searches and spying, the suspension of habeas corpus, sexual assault as a condition of travel, rampant police brutality, indefinite detention without any semblance of due process, severe restrictions on peaceful protest, massive ammunition purchases by DHS and surveillance drones in our skies watching our every move. Can predator drones be far behind?
And in every election 98 percent of voters put their stamp of approval on perpetuating this monstrosity.
On April 20, 2013, Boston and several surrounding towns got a serious taste of martial law. How many military veterans were on the receiving end of this? Is this what they signed up to fight for?
Stop thinking in clichés. Have a good hard look at everything your media and government tell you. This includes media outlets and parts of the government that you like. Study. Read. Ask questions. And learn that the defense of liberty is not the duty of the military. Rather, it is your duty and mine.
~~~~~~~~~~~~~~~~~~~~~~~~~~~~~~~~~~~~~~~~~~~~~~~~~~~~~~~~~~~~~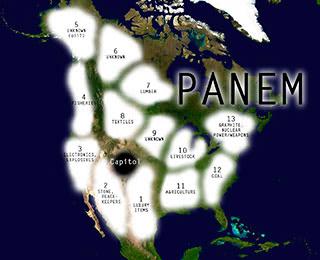 One of the most popular films of 2012 was The Hunger Games which portrayed a post-apocalyptic nation called Panem in which a super-rich, super-pampered, super-callous 'elite' lived in high-tech luxury while the rest of the population daily battled to survive in abject poverty locked away behind prison fences in intensively-populated 'people zones'. Panem comes from the Latin phrase 'panem et circenses' or 'bread and circuses' — a term derived from Rome and meaning to give the people diversions and distractions to hide what is being done to them. Exactly what is happening today.
The Totalitarian Tiptoes to just such a world are happening all around us, although most people can't see this because they don't connect the dots. People tend to live in their own 'little world' and focus on only a few subjects and interests. This gives them a distorted view of what is happening because they are so busy concentrating on the strands that they cannot see the tapestry. The world of The Hunger Games is already well on the way to fruition unless humanity has a fundamental reassessment of reality.
The foundations, structure and 'must haves' of a Hunger Games society are detailed in a plan being imposed through the United Nations called Agenda 21 which encompasses two related themes of 'sustainable development' and 'biodiversity'. Sustainable development — as in don't use more than can be replaced — sounds sensible enough at first until you realize what this and biodiversity really mean in the context of the conspiracy.
Agenda 21 was established at the United Nations Conference on Environment and Development in Rio de Janerio, Brazil, in 1992, hosted by Maurice Strong, a Canadian oil and business billionaire and long-time front man for the Rothschilds and Rockefellers. Strong has been a leader of their exploit-the-environment-to-scam-the-people programme which is now in full flow. Strong is a member of the Club of Rome, the environmental Hidden Hand in the Round Table network that includes the Bilderberg Group, Trilateral Commission and Council on Foreign Relations.
Strong said in support of Agenda 21:
'Isn't the only hope for this planet that the industrialised civilization collapse? Isn't it our responsibility to bring that about?'
This is a man who became mega-rich through the oil industry. He now lives in billionaire luxury in China where carbon-emitting industry is booming and he is a director of the Chicago Climate Exchange (largest shareholder, Goldman Sachs), which is 'the world's first and North America's only legally-binding greenhouse-gas emission registry reduction-system for emission sources and offset projects in North America and Brazil'.
The Exchange was established with funding from the Joyce Foundation where Barack Obama was once a director. Strong and Al Gore make money through the Carbon Exchange and other means from the lies they promote about climate change and the solutions they propose. Kate Johnston wrote on the Globalresearch.cawebsite:
'The same men that sold us the myth of man-made global warming are the same men that sold us the "solution" of a Carbon Tax and Emissions Trading Scheme and now they're profiting off their lucrative investments which are based on lies.' (See "The Climate Change Hoax").
Strong fled to China in 2006 after being accused of corruption with respect to the UN oil for food program.
Climate change propaganda is a No-Problem-Reaction-Solution technique to justify Agenda 21 and its stable-mate the Biodiversity Treaty. This is an internationally-binding document involving nearly 200 countries. The United States signed the treaty, but it was not ratified by the Senate after people like ecologist and ecosystem scientist Dr. Michael Coffman exposed its true consequences and implications. He said that he realized during the 1980s and 1990s that the plan was to use the excuse of protecting the environment to confiscate half the land of the United States.
Similar plans exist for every other country. America may not have ratified the treaty, but it is being implemented by the day. Agenda 21 demands the central global control of all land; all private property; all water sources and distribution; all other resources which includes people in its definition; all energy supplies and distribution and all food production and distribution.
Agenda 21 is called 'the agenda for the 21st century' and that refers to global fascism / communism. This is a summary of what Agenda 21 / Sustainable Development / Biodiversity is seeking to impose:
An end to national sovereignty
State planning and management of all land resources, ecosystems, deserts, forests, mountains, oceans and fresh water; agriculture; rural development; biotechnology; and ensuring 'equity' (equal slavery)
The State to 'define the role' of business and financial resources
Abolition of private property (it's not 'sustainable')
'Restructuring' the family unit
Children raised by the State
People told what their job will be
Major restrictions on movement
Creation of 'human settlement zones'
Mass resettlement as people are forced to vacate land where they currently live
Dumbing down education (achieved)
Mass global depopulation in pursuit of all the above
This horrific plan is being coordinated through the United Nations, the stalking horse for world dictatorship, via a non-governmental network once called the International Council of Local Environmental Initiatives ICLEI), and now known as Local Governments for Sustainability although still using the shortened name ICLEI. The United Nations is now opening 'embassies' around the world called 'UN Houses' under the guise of raising awareness of UN activities, but not the activities that people really need to know about. They have opened one in Hunter Square, Edinburgh, Scotland, for example.
Local Governments for Sustainability (ICLEI) and other organisations are integrating the plan into every village, town, city and region and it is already becoming widespread across the world. The organisational infrastructure of Agenda 21 is already fantastic and involves government agencies, non-governmental organisations (NGOs), think-tanks, trusts, foundations, 'training' (mind control) operations and 'initiatives' which have been building the infrastructure for what they call 'the post-industrial, post-democratic' society while the public go about their daily business oblivious of the prison being built all around them by the hour.
Harvey Ruvin, a vice-chairman of ICLEI, was asked how Agenda 21 would affect liberties with regard to the US Constitution and Bill of Rights, private property and freedom of speech. He replied:
'Individual rights must take a back-seat to the collective.'
The arrogance of these people is breathtaking. The extraordinary network supporting ICLEI and Agenda 21 includes the Rockefeller-sponsored America 2050; United Cities and Local Governments (UCLG); Metropolis; World Economic Forum; United Nations Framework Convention on Climate Change; United Nations International Strategy for Disaster Reduction; World Bank; Clinton Climate Initiative; Climate Group (Tony Blair); World Conservation Union (IUCN); Renewable Energy and Energy Efficiency Partnership; Global Footprint Network; Renewable Energy and Energy Efficiency Partnership; Global Footprint Network; International Centre for Sustainable Cities; Earthquakes and Megacities Initiative and the Stakeholder Forum. These and so many others are working to the same end — Agenda 21 and total human enslavement worldwide, although most of those involved will have no idea that they are building a global prison for themselves and their families.
Another of these front organisations is the World Business Council for Sustainable Development which includes the hideously anti-people Monsanto. Destroying food-growing land, contaminating the countryside with toxins and replacing proper food with deadly and soil-destroying genetically-modified organisms is Monsanto's contribution to 'sustainability'. Agenda 21 is operating in more than 600 towns, cities and counties in the United States and expanding by the day.
A member of the Agenda 21 committees in Santa Cruz, California, in the mid-1990s said that the proposals he heard were so crazy that he laughed at them because they could never happen. These included that 'Mother Earth's surface was not to be scratched'; humans should be concentrated in settlement zones; education should focus on the environment as a central organising principle and all aspects of life covered by Agenda 21, but all of these crazy plans are now being introduced. It's all happy, feely, smiling faces and how we care, when the truth is that Agenda 21 is a vicious, brutal, heartless strategy to impose a global Orwellian state.
Agenda 21 manipulators either create or hijack some local organisation or other, many of them in locations with large populations, and they have their (controlled) leadership to agree the Agenda 21 blueprint for their community together with any uninformed, unwitting idiots who can be sold a human nightmare as saving the planet. This allows them to claim that decisions were made after 'public participation' when that would have been the last thing they wanted, and 99 percent of the 'community' has never heard of Agenda 21 let alone had their say on it. They want no democracy which is why these people talk privately, sometimes even publicly, about the post-democratic, post-industrial society.
They want to control every man, woman and child on the planet — everyone and everywhere and every resource, water source and piece of land. To do this they need a global structure of fascist control that goes right down into every local community with the jackboots at local level enforcing the will of the global centre. This is why there is so much emphasis on local authorities and town and city authorities in Agenda 21.
There is a 'training organisation' called Common Purpose (common purpose, common consensus, everyone the same) which has been paid very large amounts of money by governments and local authorities, police forces and other institutions of state to 'train the leaders' of the post-democratic, post-industrial society. Common Purpose was heavily represented in the Leveson 'inquiry' leading to new media laws in Britain. It is not a training programme; it is a programming programme and turns out unquestioning zombie administrators who serve the god of Agenda 21 and the associated European Union. The theme of 'common' also applies to the ever greater standardisation of laws and regulations and constant reference to 'international law'. This is the unfolding global dictatorship of Agenda 21. What do you need to be a global dictator? Laws that everyone on the planet must obey — international law and the standardisation of global regulation.
You can see The Hunger Games connection when you look at the official Biodiversity wish-for map of the United States in Figure 1. The red areas are designated for no human use and most of the rest of America is confiscated for little and highly-regulated use. The mass of the population would be concentrated in high-rise, densely-packed 'human settlement zones' and denied access to something like 80 percent of present day America. It is without question the world of The Hunger Games with a globally-enforced top-down hierarchy that has a world government using its world army and police force to impose its will at regional and local levels (sectors). The Rockefeller-funded America 2050 has produced a map of the new United States divided into eleven 'megaregions' and includes parts of Canada (Figure 2). Seattle, Portland and Vancouver, British Columbia, become the megaregion known as 'Cascadia' and this regional system comes under the collective name of 'megalopolis' which is Greek for large city or great city. America, Canada and Mexico are due to merge to form the North American Union in line with the European Union blueprint.
The European Union is planned to be broken up into regions and the same structure is in development all over the world. The map of the new Europe has regions from different countries linked up with regions in other countries to end any vestige of national sovereignty or even national existence (Figure 3). This is a global plan with its fierce central control hidden behind its lower elements such as the European Union and local government. What is planned would clearly require a fantastic reduction of the global population and this is indeed what Agenda 21 / Sustainable Development / Biodiversity demand.
The e-book Agenda 21: Your Life In Their Hands can be downloaded here.
reference:
Icke, David. The Perception Deception. Ryde: David Icke Books, 2013.
Julian Websdale is an independent researcher in the fields of esoteric science and metaphysics, and a self-initiate of the Western Esoteric Tradition. His interest in these subjects began in 1988. Julian was born in England, received his education as an electronic and computer engineer from the University of Bolton, served in a Vaishnava monastery during 2010, and has travelled to over 21 countries. Julian is also a member of the Palestinian Solidarity Campaign.
Source: Julian Websdale  |  Waking Times | War Is Crime
Sometimes I just want to pimp slap people.
Last summer, I was at dinner during a sales convention. The conversation didn't get political until someone mentioned the NSA.
There is one in every crowd. Someone piped up and said, "They can spy on me all they want. I am not doing anything wrong."
They sang this song in Germany in 1933. And they sang it with unprecedented gusto in the months following 9/11, all in the name of  "security" and "keeping us safe".
We were at the MGM Grand in Las Vegas, the world's second largest hotel. Nothing in the post-9/11 "national security" apparatus would prevent a terrorist from walking in, setting off a bomb, and killing hundreds or even thousands of people.
The more important questions are: How do you know you are doing nothing that could be construed as wrong by some state functionary? How do you know you are not breaking some law somewhere? And why are you so implicitly trusting that your government would never do anything evil with the information it has collected on you?
This is not purely an academic matter. The practical implications are profound.
I give you several examples.
1. Niakea Williams went to her son's St. Louis-area elementary school one day to pick up her son, who has Asperger's. The school was put on lockdown and Mrs. Williams was escorted out in handcuffs.
2. Adrionna Harris was almost expelled from her middle school in Virginia Beach after taking a razor blade away from a fellow student who was trying to harm himself.
3. Read what Houston police did to this man who gave 75 cents to a homeless person.
4. A little known Denver parking ordinance can get you a $25 fine even if you haven't exceeded the two-hour limit.
5. Police in Iowa City, Iowa, seized $50,000 from this couple without charging them with a crime.
6. Alberto Willmore lost his teaching job in Manhattan over a totally bogus marijuana arrest. Even though he was never convicted of anything, he was unable to get his job back.
7. Norman Gurley was arrested in Lorain County, Ohio, because a compartment in his car could have been used to transport drugs.
8. Los Angeles County sheriff's deputies shot and killed 80-year-old Eugene Mallory in his own bed during a meth raid. No meth, or any other illegal drugs, was discovered.
9. Paul Valin contacted police to report that he found a backpack full of what he believed to be meth-making equipment 15 miles from his home near Des Moines. As a result, the DEA placed his house on its list of meth labs.
10. Ryan Holle of Pensacola, Florida, lent his roommate his car on night in 2004. As a result, Holle is currently serving a life sentence without possibility of parole for pre-meditated murder.
11. New York police seized Gerald Bryan's cash in a nighttime raid in 2012. Even though Bryan was cleared of any wrongdoing, the stolen cash was deposited in the NYPD pension fund.
12. Robert Duncan is currently serving two years in a California prison, even though the business in which he worked was legal in California.
13. Jordan Wiser spent 13 days in jail after Jefferson, Ohio, police found a pocketknife during a warrantless search of his car.
14. During a school lockdown in Clarksville, Tennessee, David Duren-Sanner gave police permission to search his car as he had "nothing to hide". Police found a fishing knife. Duren-Sanner, who previously had never been to the principal's office, was suspended for 10 days and then sent to an alternative school for 90 days.
15. Look what happened to these parents in Napa, California, even though the medical marijuana prescriptions they had were completely legal.
16. Eileen Ann Bower of suburban Pittsburgh had her newborn child taken from her for 75 days because of a false positive drug test.
17. Jerry Hartfield of Bay City, Texas, has spent the majority of his life in prison, even though hisconviction was overturned in 1980.
18. Jason Dewing of update New York was found guilty of violating a law that did not exist.
19. Don Miller of Waldron, Indiana, had his home raided by FBI agents who seized hundreds of cultural artifacts from around the world. Miller was neither arrested nor charged with anything.
20. This San Diego couple was pepper-sprayed and tasered by police who had erroneously identified their vehicle after being stolen.
21. The good news is that Brian Aitken of Mount Laurel, New Jersey, had his prison sentence commuted.The bad news is that he was originally sentenced to seven years behind bars for possessing two legally purchased guns.
22. This special needs student in McDonald, Pennsylvania, was charged with felony wiretapping for recording other students who were bullying him mercilessly.
23. Abner Schoenwetter of Miami served over six years in prison for – you can't make this stuff up – violating Honduran fisheries law.
24. Read what happened to John Filippidis of Hudson, Florida, when he was pulled over by state policewhile driving unarmed through Maryland.
25. In a case of mistaken identity, Lewis James of Durham, North Carolina, "was handcuffed and later jailed under a $1.425 million bond" after he had contacted the police to notify them of a dead body in the middle of the road. As someone put it on Facebook, "Don't call the cops. Ever. Even if you find a dead body. Just don't ever call the cops."
26. Read what happened to Diane Avera of Meridian, Mississippi, when she went to Alabama to buy Sudafed, even though she did not know that this was illegal.
27. Andy Johnson of Uinta County, Wyoming, faces EPA fines of $75,000 per day for building a pond on land that he owns.
28. Douglas Zerby of Long Beach was shot and killed by police while watering his lawn because some idiot neighbor thought the hose nozzle was a gun.
29. Darien Roseen was arrested and had his vehicle searched by sheriff's deputies in Payette County, Idaho, simply because his Colorado license plates led them to believe that he could have been carrying marijuana.
30. Brian Banks of Long Beach spent five years in prison and five more years as a registered sex offenderas a result of a rape conviction. And then his accuser changed her story.
These are not "isolated incidents." There are no doubt countless other examples of people who were doing nothing wrong, yet were harshly punished.
Also, consider the following:
• The Internal Revenue Code is 73,955 pages and millions of words long. No one has read it cover-to-cover and no one knows every aspect of it. Yet if anyone violates any of its provisions it can mean fines, prison or even death.
• We are often told that "ignorance of the law is no defense." To the right is a picture of the Yale Law Library. Do you know every law contained within these tomes?
Read what various emissaries of the Amerikan police state have done to these veterans who went all over the world to "fight for our freedom."
• Seventy-two types of Americans are classified as terrorists in various government documents. Senator Harry Reid has now added a seventy-third category.
• Read how police have used asset forfeiture laws to seize millions of dollars from people without charging them with any crimes.
• Read this article and pay special attention to these words from former NSA official William Binney: "The problem is, if they think they're not doing anything that's wrong, they don't get to define that. The central government does."
• Read how the Innocence Project has helped exonerate over 300 wrongfully imprisoned people, many of whom were on death row.
• Attorney Harvey Silverglate argues that the average American commits three felonies a day without even knowing it.
• This Ford executive claims that, thanks to GPS, "we know everyone who breaks the law."
• Although it has been estimated that there are over 3000 types of federal criminal offenses, no one knows the exact number for sure.
So, do you still feel you have nothing to fear?