In the last few months, 47,000 refugee children stormed America's southern border.    They arrived from Central and South America.  The usual onslaught from Mexico's overburdened population continued by the thousands.
In excess of 15 million undocumented Mexican border crossers now call America home.  They feed off America's welfare systems from housing, food, educational and medical care.  They cost taxpayers in excess of $346 billion annually across 15 federal agencies.
Bush, Clinton, Bush II and Obama stopped enforcing our borders 30 years ago.  The word spread like a California wildfire.
Journalist Tom Ashbrook reported:  "The numbers of children surging over the southern US border now – unaccompanied, as young as six – is just staggering.  Forty thousand-plus.  Up 90 percent.  Still growing, flooding in.  Coming up from Central America, Mexico. Coming a thousand miles and more from Honduras.  Scared north by vicious gangs.   And now, piling up in US facilities not designed for an influx of kids."
The third world uses America, Canada, Europe and Australia for a human "escape valve."  Since the third world adds 80 million desperate children annually to already staggering populations in China, India, Bangladesh, Mexico, Indochina and most of Africa—Western countries face shocking migration numbers that will collapse civilizations.
Because of relentless, enormous and endless legal and illegal immigration, America faces an added 300,000,000 (million) more people within this century.
Ironically, Diane Sawyer, Brian Williams, Shepard Smith, Scott Pelley and Wolf Blitzer benignly report the invasion of our country—but they refuse to interview anyone who speaks about the end result of adding 300,000,000 people to America.
This is what it will look like:
"Immigration by the numbers—off the chart" by Roy Beck  www.NumbersUSA.org
http://www.youtube.com/watch?v=muw22wTePqQ
If every American saw this video, they would scream at Congress and Obama to effectively close down mass migration into America.
Instead, powerful forces like the U.S. Chamber of Commerce, Speaker of the House John Boehner and corporations clamor for more immigration in the face of 48 million Americans subsisting on food stamps and tens of millions living off taxpayers with Section 8 housing.
"Late last week, the Obama administration asked Congress for $1.4 billion in extra funding to help house, feed and transport the tens of thousands of children being caught trying to cross the border illegally, and turned to the Defense Department to help temporarily house more than 1,000 of the children," said Chris Sherman, DC journalist.
Every dollar paid out to care for endless legal and illegal immigration must be borrowed from foreign nations.  Our country stands a mind-numbing $18 trillion in debt.
As a country, as a civilization, as a people, we cannot continue on this path of accepting the world's endless refugee line.  If we continue, we face ultimate collapse ourselves.  It's that simple.
Our citizens chose 2.0 children per female since 1970, but the world eschewed birth control to continue adding 80 million annually, net gain.  Now, because of mass starvation of 10,000,000 (million children) annually, they cannot and we cannot solve the overload.
As a world traveler, I can tell you that the line never ends; it only grows exponentially.  Humanity faces hard choices in the 21st century that it continues to avoid, ignore and evade. But not much longer.
"It is abundantly clear that the reason for the uptick …has to do with what's going on in Central American countries," said an administration official on the conference call. "The federal government prepared for this trend," an official said, "but it was larger than we had anticipated."
As we continue accepting millions as the "human population escape valve" of the 21st century, the third world, driven by the Catholic Church, Islamic Church and other ancient religions refuse to advocate for birth control—continues exponentially.
This humanitarian crisis cannot and will not end well for Americans or the migrants.
What needs to be done:
Distribute birth control to third world countries.
Focus on the Catholic and Islamic churches to come to terms with human overpopulation in the 21st century worldwide; demand they come to terms with the 21st century and advocate for birth control.
Guard America's borders to allow no one to breach our country by using our military. Force those countries to deal with their own human overload. Stop encouraging endless immigration.
Reduce all legal immigration into the United States to less than 100,000 annually instead of the current 100,000 every 30 days.
Promote a world conference on human overpopulation and all nations' stake in providing birth control throughout the human family.
Interview top experts who scientifically show the end result if we fail to take destiny into our own hands.
What is that destiny?
If we don't halt population growth with justice and compassion, it will be done for us by nature, brutally and without pity – and will leave a ravaged world.  ~Nobel Laureate Dr. Henry W. Kendall
"The raging monster upon the land is population growth. In its presence, sustainability is but a fragile theoretical construct.  To say, as many do, that the difficulties of nations are not due to people, but to poor ideology and land-use management is sophistic."  Harvard scholar and biologist E.O. Wilson
"Unlimited population growth cannot be sustained; you cannot sustain growth in the rates of consumption of resources. No species can overrun the carrying capacity of a finite land mass. This Law cannot be repealed and is not negotiable." Dr. Albert Bartlett, www.albartlett.org , University of Colorado, USA.
"Most Western elites continue urging the wealthy West not to stem the migrant tide [that adds 80 million net gain annually to the planet], but to absorb our global brothers and sisters until their horrid ordeal has been endured and shared by all—ten billion humans packed onto an ecologically devastated planet." Dr. Otis Graham, Unguarded Gates
To stop the invasion, join for free:  www.CapsWeb.org ; www.NumbersUSA.org ; www.Fairus.org ; www.TheSocialContract.com
Aside from attacks on the Second Amendment, there is a certain theme that's now repeated after every massacre committed by an unhinged individual: that most all mass killers are white. After the recent Elliot Rodger murders, for instance, Michael Moore said that he no longer had "anything to say" before immediately saying, "Nearly all of our mass shootings are by angry or disturbed white males." Not to be one-upped in the inanity department by a mass of male whiteness, one Brittney Cooper at Salon wrote, "How many times must troubled young white men engage in these terroristic acts that make public space unsafe for everyone before we admit that white male privilege kills?" Ironically, Cooper had mentioned, parenthetically, that "as many commenters have pointed out, [Rodger] had a white father and mother of Asian descent," but, hey, you can't let a minor detail get in the way of a good racial screed. And perhaps mass killing is such a Caucasian domain that perpetrating one bestows a person with honorary whiteness. Yet about this we should ask a question:
Before rushing to play pin the tale on the honkey, did anyone bother to check the history of mass killings?
Because I have — a comprehensive list dating from 1982 through 9/16/2013 is found at Mother Jones here — and guess what?
Of the last 20 mass killings of that period, 9 were perpetrated by non-whites.
That would be 45 percent, which exceeds non-whites' 37 percent share of the population.
Of the last 30 mass killings, 11 were committed by non-whites — right at the 37 percent mark.
And what if we go all the way back to 1982? We then have 66 mass killings in which the races of the perpetrators were known, and 22 of them, or one-third, were at the hands of non-whites. Note here that America's demographics have been changing, with non-whites comprising only about 20 percent of the population in 1982; thus, if we consider an approximate average non-white population of 28.5 percent during the 31-year period in question, it appears that, again, mass murderers are disproportionately non-white.
In other words, there is no evidence whatsoever that mass killings are a characteristically white phenomenon.
And there never was.
In fact, the group most disproportionately represented on the Mother Jones chart is Americans of Asian descent. While only 6 percent of the population, they have been 15 percent of the 31-year period's last 20 mass killers, 13 percent of the last 30, and 9 percent of the last 66. This is quite interesting, too, since Americans of Asian descent have a very low crime rate in general.
So in light of this, why are whites implicated in mass killings? The answer is one word:
Note that prejudice is defined as, "1. an unfavorable opinion or feeling formed beforehand or without knowledge, thought, or reason." Claiming that a group commits a disproportionate amount of crime when, if anything, the truth is the opposite, is the epitome of forming beliefs without knowledge, thought, or reason. It's seizing upon a fashionable falsehood for the purposes of maligning an unfashionable group and advancing a fallacious agenda.
The truth is that if we don't want to be "cowards" on race, as Eric "the Red" Holder said Americans were, we do need to speak frankly about criminality in the US. But does this involve talking about "troubled young white men" who "make public space unsafe for everyone," as Brittney Cooper suggested? Perhaps she might want to consult with Jesse Jackson, who once said that when he walked down the street, heard footsteps and thought robbery, he'd "feel relieved" if he turned around and saw a white person behind him. So, really, if we were cynical, we could think that the Coopers of the world were trying to deflect attention from black criminality by trumpeting the white-mass-killer myth.
Then again, this all could just be the result of the new Common Core math. Take Elliot Rodger, for instance. He killed half his victims with a knife, but the whole focus was on guns. (And he's widely referred to as a "shooter." I think he was a slasher.) He was half Asian, but the whole focus was on whites. You could also call it situational attribution: a mixed race person is defined by his minority half when he achieves, as with our first "black" president. But when such an individual is recognized as having committed a crime, he's suddenly white. This can only make us wonder how long it will be before Barack Obama becomes white.
Anyway, the left may be upset that another one of their themes, the white-mass-killer myth, has bitten the dust. But all is not lost. In the area of massacres as in so many other things, they can always celebrate diversity.
"Aliens visiting Earth would report back to their superiors: 'It's quite amazing, those people worship images. They know it and they pretend not to know it.'" — Hypnotherapist Jack True.
This is a backgrounder for my mega-collection, Exit From The Matrix, which contains many exercises designed to liberate an individual from the standardized perception of reality—and usher in his own creative reality.
Mass mind control focuses on two elements: image and feeling.
By linking the two primary elements, it is possible to short-circuit thought and "cut to the chase," when it comes to enlisting the allegiance of huge populations.
Two seemingly unrelated events spurred my interest in mass mind control.
On the evening of April 12, 1945, I listened to a radio report on the death of Franklin D Roosevelt. I was seven years old.
I became upset. I didn't know why. I was angry at my own reaction.
Forty years later, I pulled into a gas station near my apartment in West Los Angeles. I got out of my car and took the cap off my gas tank. I looked to my right and saw Tony Curtis sitting in his car. I was shocked.
A few days later, I began making notes under the heading of "image-emotion cues." At the time, I was working as a reporter, writing articles for LA Weekly. I knew next to nothing about mind control, MKULTRA, Soviet psychiatric gulags, Chinese re-education programs, or US psychological warfare operations.
But because I had been painting for 25 years, I knew something about the power of images.
I remembered my first exhibition of paintings in LA, at my friend Hadidjah Lamas' house. We had hung my work in her large living room and dining room. Hadidjah had enlisted the services of a friend who had videotaped me painting in my studio, and at the exhibition she set up a television set out on her patio and continuously played the videocassette.
People came through her front door, almost automatically walked through the house to the patio, as if guided by an unseen hand, and watched the video; then they came back inside and looked at the paintings.
They would stop at a painting and say: "That picture was in the video!" It excited them.
My first note on "image-emotion cues" was, "Investing an image with importance. Projecting emotion into an image."
Projecting emotion into a newspaper image of the president, FDR. Projecting emotion into the screen image of Tony Curtis. Projecting emotion into a video of a painter working in his studio.
When people encounter an image, when they invest it with importance, they project feeling into the image—and this all happens in a private sphere, a private space.
If this didn't happen, there would be no way to control populations through images. It wouldn't work. It all starts with a person setting up his own personal feedback loop that travels from him to an image and back again.
Coming out of World War 2, US psychological warfare operatives knew they could turn their skills to political purposes. They had just succeeded in making Americans believe that all Japanese and German people were horribly evil. They had been able to manipulate imagery successfully in that area. Why couldn't they shape America's view of a whole planet that lay beyond personal experience?
They could and they did. But the power to do that emanated from the fact that every person invests images with feeling. That's where it really starts.
I had seen the 1957 film, Sweet Smell of Success, a number of times. I admired it. Burt Lancaster and Tony Curtis gave tremendous performances. When, decades later, I saw Curtis sitting in his car at that gas station, I was "working from" the emotion I had invested in his onscreen image. It produced a sense of shock and paralysis for a few seconds.
Other people might have rushed up to Curtis and asked for his autograph. With me, it was shock, cognitive dissonance. Ditto for the death of FDR. I was working off newspaper pictures I'd seen of him, and the feeling I'd invested in those presidential images. Other people, when FDR died, went out into the street and hugged their neighbors and wept openly. For me, it was upset and shock and anger.
There's nothing intrinsically wrong with investing emotion in images. It can be exhilarating. It can be uplifting. As a painter, I know this in spades. Putting emotion into images can, in fact, vault you into a different perception of reality.
But on the downside, it can also take you into lockstep with what media/propaganda operatives want you to experience, second-hand.
We focus to such a degree on how we are being manipulated that we don't stop to consider how we are participating in the operation. And our own role is clear and stark: we invest images with feeling.
So how does one individual's projection of feeling into an image become a uniform projection of the same feeling into one image, by millions of people? How does what one person invests privately become mass mind control?
Through external instruction or cues. And also, by engendering the idea that there is only a limited palette of emotions to work with in the first place.
Why do millions of people fall into line?
Because they don't realize they started the whole ball rolling themselves. All they know is: images are connected to feelings.
If they knew they were the real power in the whole operation, if they knew they were investing feelings into images all day long, if they could actually slow down enough to see how they do this….then they would be far less prone to taking instruction about what feelings they "ought to" invest in second-hand images.
Hypnotherapist Jack True unceremoniously put it to me this way: "If a dog could analyze how he got from eating meat to drooling at the sound of a bell that came at feeding time, he could stop drooling."
(If Chris Matthews could analyze how his own voluntary investment of feeling in the image of Barack Obama sends a tingle up his leg, he could stop tingling.)
We see images of people rioting all over the Middle East. We see burning flags and crowds outside embassies. We're supposed to invest our own anger and resentment into those images. Unless we're suddenly told those rioters are actually "the good rebels," in which case we're supposed to invest our joy in the images.
We see a picture of miles of flat farmland and (GMO) corn waving in the breeze. We're supposed to invest that image with feelings of happiness and pride.
Nowhere are we told we can back up a step and realize that we are the ones who begin the whole process, by projecting feelings into images. Any images.
When I was 19, I was sent to a trained expert in New York to take a Rorschach (ink-blot) Test. I was displaying signs of what would now be called Oppositional Defiance Disorder.
The expert said he wanted me to tell him everything I saw in each ink-blot. I took him at his word.
An hour later, I was still working on the first blot. I was describing everything from bats and owls and chickens to space ships and buckets of hidden treasure in caves.
Well, I was cheating a little. I wasn't really describing what I saw. I was imagining. I was taking off from what was on the page and improvising. This was outside the bounds of the Test.
The expert was seething. He was sweating, because he had many other blots to show me, and it was late in the afternoon, and he was looking at spending the entire evening with me. Finally, he held up his hand and put an end to the Test.
I wasn't playing his game. Among other sins, I wasn't investing a limited palette of feelings in the images. Therefore, my choices of "what to see" in the blots expanded greatly.
When I go to a museum, I like to watch people stand in front of abstract paintings. Many of them are stumped. They're trying to figure out what feelings they "are supposed to" project into the painting. They're looking for "instruction," and there isn't any. They're asking for mind control, and they're not getting it.
Fanaticism of any kind begins with individuals projecting feelings into images. This is harnessed by leaders, who then choose the images and direct which feelings are permitted. The tempting prospect for the follower is: participation in a drama that goes beyond what he would ordinarily experience in life. This is bolstered by the idea that what he is doing is moral.
In an election season, people on the left are urged to project messianic feelings into images of X. People on the right are cued to invest feelings of pride, hope, and "tradition" into images of Y. The real candidates aren't actually experienced.
Since Vietnam, shooting wars have been more difficult to sustain among soldiers. "In the old days," feelings of hatred could be projected into images of enemies that included civilians, so overtly killing everybody on foreign soil was easier to accept. Now, soldiers are taught "enemy combatant" and "civilian" are two different images that require the injection of two different feelings.
Here at home, police and military are taught, more and more, to invest feelings of suspicion into images of American civilians. This is an acceleration of mass mind control for law enforcement.
The astonishing number of civilians who participate in government and corporate surveillance of the public, through technological means, learn to invest "dead empty feelings" into images of citizens, as if these targets are nothing more than ciphers, units.
Bizarre instances of police detaining and questioning parents who allow their children to play unsupervised reveal another accelerating trend. These confrontations start with neighbors snitching on the parents. The neighbors have learned to invest feelings of panic, suspicion, and anger in images of "free children."
In all these cases, there is no real experience. It's all second-hand. It's all feeling-projected-into-image.
In the medical arena, countless advertisements and news stories are geared to convince people to invest feelings of trust in images of doctors. The suggestion, "Ask your doctor if X is right for you," is framed as the solution to a little problem. The problem is set this way: Drug X is wonderful; drug X has serious adverse effects; what to do? Solution: ask your doctor; trust him; he knows.
As the class of victims in society has grown by leaps and bounds, including any group that can organize and promote itself as needing help or justice—going miles beyond the people who really do need assistance—citizens have been trained to invest feelings of sympathy and concern for all images of victims everywhere, real or imagined. This, too, is mass mind control.
Pick an image; invest feelings in it. Facts don't matter. Evidence doesn't matter.
You've heard people say, So-and-so (a celebrity) has become a caricature of himself. Well, that's what it means. The celebrity has projected massive feelings of approval into a concocted, cartoonish image of himself.
As a society, we can go on this way until we become a horrific cartoon of a cartoon (well, we're already there), or we can step back and discover how we invest emotion into images, and then use that process to pour feelings into visions of our own choosing and invent better futures.
Since the dawn of time, leaders have portrayed themselves as gods. They've assembled teams to promote that image, so their followers could project powerful emotion into the image and thereby cement the leaders' control and power.
The game isn't new. Understanding the roots of it within each individual could, however, break the trance of mass mind control.
During the first West Nile fake outbreak of 1999, I spoke with a student who had just dropped out of medical school. He told me he'd been looking at electron-microscope photos of the West Nile Virus, and he suddenly realized he was "supposed to" invest feelings of "great concern" in those images.
Somehow, he broke free from the image-feeling link. He was rather stunned at the experience. His entire conditioning as a medical student evaporated.
Parents all over the world are having the same experience vis-a-vis vaccines. They realize they're supposed to invest fear in images of germs and disease, and they're also supposed to invest feelings of hope and confidence in images of needles and vaccines. They see the game. They're supposed to remain victims of mass mind control.
But they've awakened.
We've all been taught that what we feel is always and everywhere out of our control. These feelings are simply part of us, and we have to act on them. The alternative would be to sit on them and repress them and turn into androids, robots.
This is simply not true. There are an infinite number of feelings, and as strange as it may sound, we can literally invent them.
This, it is said, is inhuman. It's a bad idea. It's wrong. It would lead us to "deserting the human community."
Nonsense. That's part of the propaganda of mind control. If the controllers can convince us that we're working from a limited map of emotions and we have to stay within that territory, they can manipulate that limited set of feelings and trap us.
The power of art is that it shows us there are so many more emotions than we had previously imagined. We can be much freer than we supposed.
The synthetic world of mind control and the handful of feelings that are linked to images is what keeps us in thrall.
The world—the world of what we can be—is so much wider and more thrilling and revealing.
The author of three explosive collections, THE MATRIX REVEALED, EXIT FROM THE MATRIX, and POWER OUTSIDE THE MATRIX, Jon Rappoport was a candidate for a US Congressional seat in the 29th District of California. He maintains a consulting practice for private clients, the purpose of which is the expansion of personal creative power. Nominated for a Pulitzer Prize, he has worked as an investigative reporter for 30 years, writing articles on politics, medicine, and health for CBS Healthwatch, LA Weekly, Spin Magazine, Stern, and other newspapers and magazines in the US and Europe. Jon has delivered lectures and seminars on global politics, health, logic, and creative power to audiences around the world. You can sign up for his free emails atwww.nomorefakenews.com
Source: Jon Rappoport  |  No More Fake News
It is easy to stand up and cheer for your favorite government activity. It is quite another to acknowledge what it means in the real world.
I almost never try to speak for other people. However, I think it is fairly safe to say that the average military recruit firmly believes that he joins the military so that you and I can live and breathe in freedom. To be sure, he had other reasons for joining, but I think the defense of liberty is a fairly common characteristic.
That is certainly what I thought when I was in Navy boot camp in Orlando, Florida, in 1983. After all, this is what I had been told all my life: sailors, soldiers, airmen and marines defend freedom.
But is this actually what they do?
Consider the following:
This Marine lost both legs in an IED blast in Iraq. He claims he was forced by TSA to remove both prosthetic legs before he could board an airplane in Phoenix.
This Vietnam veteran in Spicewood, Texas, had flashbacks to his combat experience during a marijuana raid at a friend's house. What police claimed was marijuana turned out to be ragweed.
Jared Goering, who served 19 years in the Army, including tours in Iraq and Afghanistan, was kicked off the boardwalk in Wildwood, N.J. for walking with his service dog, Gator.
Emily Yates, who served two tours with the Army in Iraq, was violently arrested by park police in Philadelphia for asking why she couldn't play her banjo under some shade trees.
Dimitrios Karras is a Marine Corps veteran of Iraq and Afghanistan. Read about the ATF raid on his business in National City, California.
Martin Goldberg of Brooklyn is a World War II veteran whose apartment was subject to a drug raid. Later, the cops realized they had raided the wrong apartment. His 83-year-old wife was hospitalized with an irregular heartbeat as a result of the raid.

In 1997, four sailors from the USS Saipan (LHA-2) were falsely accused of the rape and murder of a Norfolk, Virginia, woman. One spent eight-and-one-half years in prison while the other three were sentenced to life in prison. These three were pardoned in 2009. Even though the actual killer is serving a life sentence, four innocent men are still required to register as sex offenders and are still fighting to clear their names.
Charles Loeks was 18 and fresh out of Marine boot camp. On a trip home to Covina, California, he was hanging out with a few friends when he was arrested for resisting arrest and nothing else. He spent 21 days in Los Angeles County jail, even though he had harmed no one.
Carlos Jaramillo is a former Marine combat instructor who lives in Onslow County, North Carolina. Watch what happened when he recorded a sheriff's deputy who arrested him for no apparent reason.
Noel Polanco was an unarmed 22-year-old National Guardsman who was shot and killed by New York City police at a traffic stop near LaGuardia Airport.
John Laigaie, a retired Army master sergeant, was threatened at gunpoint by police while legally carrying a gun in a park in Bellingham, Washington.
Homer Wright is an 80-year-old Army veteran who was charged with felony gun use after he shot a burglar who entered his home in Englewood, Illinois.

Mark Schmidter, a Vietnam veteran who lives in Orlando, is currently serving 145 days in a cage for passing out jurors' rights information on the steps of a local courthouse.
Justin Ross of Ankeny, Iowa, was recently discharged from the Army. Police used a battering ram to enter his home executing a warrant for some items purchased with stolen credit cards. They did not find any of these items.
Saadiq Long is an Air Force veteran who was placed on a TSA no-fly list. He had to battle for months to be removed from this list just so he could fly home from Qatar to visit his ailing mother.
Chuck Benton of Long Grove, Iowa, served 22 years in the Army. He was arrested and charged simply for living in the same house with his son who was growing medical marijuana.
Cody Donovan is a former Marine MP who lives in New Milford, N.J. He was charged with unlawful possession of a weapon after carrying a loaded gun into the Garden State Plaza mall when he attempted to help police apprehend the shooter.

In 1932, 17,000 veterans marched on Washington to demand payment of bonuses they had been promised as a result of their service in World War I. Two were shot and killed by police. 55 were arrested and 135 were injured when the United States Army became an instrument of domestic law enforcement. Two of the chief enforcers were named MacArthur and Patton. Yes, those two.
Mark England, an Army combat medic who saw action in Iraq and Kosovo was beaten and tasered by police at McCarran Airport in Las Vegas.
Air Force Staff Sergeant Matt Pinkerton of Glen Burnie, Maryland, faces second degree murder charges after fatally shooting a home intruder in September.
Leo Hendrick, an army veteran who lives in Northwood, Iowa, faces up to 30 days in jail and a $600 fine for raising chickens in his yard.
Yes, the cops had a search warrant. However that in no way excuses their vandalizing the home of Army veteran Dan Neary of Lakewood, Washington.
These World War II veterans were threatened with arrest for visiting a closed war memorial in Washington, D.C. during the October "shutdown."

These Vietnam veterans actually were arrested for visiting a New York City war memorial after curfew.
Denis Reynoso was a disabled veteran who saw action with the Marines in Iraq. He was shot dead by police in his Lynn, Massachusetts, apartment.
Nick Morgan, an Iraq veteran, was pulled out of a crowd by police in Hempstead, New York, and trampled by their horses.
Gary Shepherd of Broadhead, Kentucky was a Vietnam veteran. He used medical cannabis to relieve the pain in his left arm, which was crippled during the war. Shepherd was shot dead by a SWAT team, after they had threatened to cut down his cannabis plants.
Valente and Manuel Valenzuela of San Antonio produced sufficient documentation to enlist, respectively, in the Army and Marine Corps. Both fought in Vietnam, where Valente won a Bronze Star. Now they are facing deportation to Mexico because of erroneous entries on their birth certificates.
Jerome Murdough, a homeless Marine Corps veteran, died in a jail cell on New York's Rikers Island after being arrested for trespassing. A heating malfunction caused the temperature in the cell to soar to 100 degrees.
Kenneth Chamberlain was a retired Marine and Vietnam veteran living in White Plains, New York. Early one morning he set off his medical alert device. The first responders in this case were not medics, but rather police, who proceeded to kill Mr. Chamberlain.

This group of combat veterans in Colorado organized to help legalize marijuana during the 2012 elections. They claim – and I believe them – that marijuana helps mitigate PTSD. If you support any punishment whatsoever for a combat veteran who heals himself with a plant that grows wild in some form within a few miles of you, I don't care what you tell me. YOU DON'T BELIEVE IN FREEDOM!
Stanley Gibson, a 43-year-old Gulf War veteran was shot dead over a total non-crime by Las Vegas police in December, 2011.
Army Specialist Michael Sharkey returned home from deployment in Afghanistan to find his home in New Port Richey, Florida, unlawfully occupied by two squatters. The local sheriff says that Sharkey has no grounds upon which to evict them.
These veterans say they are being required to prove they are worthy of gun rights. Our rights are gifts from God that are inherent in our very humanity. We never have to prove to anybody that we have them.
Dwight Edwards, a disabled Marine veteran of Afghanistan, says that cops in Queens brutally beat him for no reason.
Army Staff Sgt. C.J. Grisham, who won the Bronze Star with Valor, was forcibly disarmed for no good reason by a policeman while on a hike with his son not far from Fort Hood, Texas.

Brandon Raub, a Marine who was decorated for bravery in Iraq and Afghanistan, was forced to spend a week in a Virginia mental hospital over some "anti-government" Facebook posts. (His interviewer here, John Whitehead, is a constitutional attorney, Vietnam infantry veteran and superlative anti-police state blogger.)
Operation Vigilant Eagle is a project of the Department of Homeland Security that has led to numerous Iraq and Afghanistan veterans "finding themselves under surveillance, threatened with incarceration or involuntary commitment, or arrested, all for daring to voice their concerns about the alarming state of our union and the erosion of our freedoms." Indeed, merely being a "returning veteran" can have you designated as a potential terrorist.

We will never know the whole truth about Navy veteran and former Los Angeles cop Christopher Dorner, who was the subject of a police manhunt and media witch hunt in 2013. He never got the chance to tell his story in court.
Hector Barrios came to America in 1961. He was drafted and served as an infantry soldier in Vietnam. In 1996, he was busted for possessing marijuana, which he used to treat his PTSD. As a result, he was deported to his native Mexico where he died.
Matthew Corrigan of Washington, D.C. was a first sergeant in the Army Reserve and a veteran of Iraq. His home was destroyed in a SWAT rampage because it was reported to the police that Corrigan had a gun.
Jamie Dean was an Army veteran of Afghanistan was diagnosed with PTSD. Upset about his impending deployment to Iraq, Dean had an intense emotional outburst at his Maryland home in December 2006. Even though he neither harmed nor threatened anyone, he was shot and killed by a local SWAT team.


Bennie Coleman, 76, is a retired Marine who lost his Washington, D.C., home because of a $134 tax lien that District authorities had sold to an investor.
Jeremy Usher is a former Navy hospital corpsman who lives in Greeley, Colorado. He faces jail time for using medical marijuana to treat his PTSD.
Brittany Ball, a 23-year-old soldier at Fort Jackson, S.C., was manhandled by a cop at a local bar, even though she had done nothing wrong.
Air Force Airman First Class Michael Davidson was shot in the stomach by police in Opelika, Alabama, at the scene of a traffic accident.
Benjamin Wassell sustained traumatic brain injuries while with the Marines in Iraq. The Buffalo-area resident was the first person charged with illegal gun sales under New York's new SAFE Act.

Erik Scott graduated from West Point in 1994 and served as a tank platoon leader. In 2010, he was gunned down and killed by police as he peacefully walked out of a Las Vegas Costco.
Scott Olsen saw action with the Marines in Iraq. Later, he would join the Occupy Oakland movement. In October, 2011, suffered a fractured skull after being hit in the head with a projectile fired by police.
Derek Hale served honorably with the Marines in Iraq. Although, he had committed no crime, he died after being tasered three times and then shot three times by police in Wilmington, Delaware.
Roderick King, an Iraq war veteran, was arrested in Philadelphia after he and his friends had criticized a cop's driving.
Howard Dean Bailey, a Navy veteran, was deported to his native Jamaica when immigration authorities discovered he had taken a plea bargain in a marijuana case in Norfolk, Virginia.

To be sure, the recently deceased folk singer Pete Seeger could not have been more of a leftist. However, he did serve three years in the Army after being drafted during World War II. He was sentenced to one year in jail after refusing to reveal his political connections to the House Un-American Activities Committee in 1956. He appealed this sentence, citing the First Amendment, and ultimately spent only four hours behind bars.
Larry Kirschenman of Nogales, Arizona, served 22 years in the Army and was decorated for bravery in Vietnam. Learn how he was brutalized by Border Patrol agents when asking why he was subjected to a warrantless search.
We will never know for sure what happened in Army veteran Matthew Stewart's Ogden, Utah, apartment one night in January 2012, as he will never have his day in court. He was in prison awaiting trial on charges of shooting and killing one of the police officers who raided his apartment searching for marijuana. Stewart, whose guilt was never proven, committed suicide in his cell.
Sergio Arreola is a cop in Los Angeles who served with the Marines in Iraq. He was beaten by the police in suburban Pomona for no good reason whatsoever.
This former Army paratrooper is appealing to the New York state legislature to legalize medical marijuana. He has severe multiple sclerosis and is "forced to break the law to have some semblance of a bearable existence."


On May 5, 2011, a Tucson SWAT team approached the home of Jose Guerena, who had served two tours with the Marines in Iraq. Guerena grabbed his AR-15 as is his right, but did not fire. The SWAT team let loose with 71 rounds, 60 of which perforated Guerena's body.
Marty Maiden lived a few blocks from Guerena in Tucson. and saw action with the Army in Afghanistan. He posted a suicidal note on Facebook which prompted a call to the police, who shot him dead.
Steve Lefemine is a West Point graduate who was arrested for protesting against abortion in a "no-demonstration zone" outside the Republican National Convention in New York in 2004. The 2nd Circuit U.S. Circuit Court justified the arrest based on a "compelling state interest in security".

Eileen Erickson's husband Sid served in Vietnam and died of Agent Orange exposure. Erickson is now in the crosshairs of authorities in Venice, California, who want to tear down the tree house Sid built before he died.
Listen to this disabled Navy veteran plead with then-Senate candidate Kelly Ayotte (R-NH) about the benefits of medical marijuana. Listen to the totalitarian response.
John Wrana, a 95-year-old Army Air Corps veteran of World War II, was tasered and then shot to death by police in Forest Park, Illinois. His "crime"? Refusing medical attention.
John Colaprete saw action in Vietnam as a Marine Corps officer. In 1994, his Virginia Beach home and restaurants were the object of paramilitary-style raids by the IRS. The raid was prompted by a false accusation by a former employee. While you need to watch this documentary in its entirety some time, for now just pick it up for a few minutes starting at the 55:40 mark.

Boxing legend Joe Louis was also tyrannized by the IRS. The Brown Bomber enlisted in the Army in 1942 saying "Let us at them Japs." Louis never saw combat, as he was assigned to the Special Services Division. While still a civilian, Louis fought some charity bouts and donated the proceeds to the Navy Relief Society. The IRS, however, viewed these proceeds as taxable income. IRS problems would plague him all his life. Please watch this video starting at the 53:17 mark.
Adam Arroyo is a Hispanic veteran of the Iraq war who lives in Buffalo. Police shot and killed his dog while executing a drug warrant for a black man.
Henry Taylor was a retired Air Force veteran in Louisville, Tennessee, who was shot dead by a local sheriff's deputy while investigating a burglary at a rental property he owned.
This is a fascinating article: When Johnny Comes Marching Home … He Goes to Jail. It is absolutely tragic how we chew up and spit out so many of those we send to "fight for our freedom."

Radio talk host Adam Kokesh won the Navy Commendation Medal as a Marine in Iraq. In recent years, he has been arrested several times for various non-violent protests. His most recent arrest happened after he loaded a shotgun in public in Washington, D.C. on July 4, 2013. On July 10, police violently raided his home and arrested him. He was incarcerated for four months without bond, bail or trial. He is currently on probation for two years. You may not like Kokesh's demeanor or approve of all of his antics, but he has been very courageous when so many of his critics can't be bothered to put down the remote.

James Moore, my brothah from anothah mothah, walked away from a very lucrative engineering position in San Jose to re-enlist in the Army following 9/11. He sustained significant physical injuries as well as PTSD while serving in the Special Forces in Afghanistan. On the afternoon of March 25, 2008, Moore, who had done absolutely nothing wrong, was beaten to the point of flat lining by Denver police.
One of the coolest people I have never met is Antonio Buehler. Buehler graduated from West Point in 1999, earned his Ranger tab, and saw action in Kosovo and Iraq. (He also sports a Stanford MBA.) Early in the morning on January 1, 2012, Buehler was arrested for taking a few pictures of Austin police manhandling a young woman outside a 7-11. Buehler has been arrested four times since. He heads the Peaceful Streets Project, whose members work to expose abuse, brutality and overreach both in Austin and across the nation.

There are no doubt numerous other injustices against veterans that I do not know about. Enough to fill a book. None of these things would have happened if America were a free society. As Kokesh puts it, "The greatest enemies to the Constitution are not to be found in the sands of some far off land but rather right here at home."
I cannot speak to the specific political beliefs of most of the veterans I have mentioned here. Some may be pacifists, while others may make John McCain look like a hippie in Haight-Ashbury. No matter what their individual views may be, the freedom they risked their lives for was flagrantly violated on the streets of the land they fought to protect.
Society endlessly applauds sailors, soldiers, airmen and Marines for "fighting for our freedom". It is in no way disrespectful to say that this is not what they do. No foreign government or terrorist group poses any threat to our liberty. America accounts for about half of the world's military spending. We have 300 ships in our Navy, plus thousands of planes, tanks and nuclear warheads as well as 300 million firearms in private hands. Nobody is going to invade us.
In a constitutional country, which America ceased to be 100 years ago, the job of the military – a vital and most noble one – is to defend the borders, shores and airspace. It cannot protect you from being tyrannized domestically. Indeed, throughout history, armies have been instruments of domestic tyranny. Our Constitution forbids a standing army for just this reason.
Nazi Germany and Soviet Russia had enormous military establishments. How did things work out in these countries?
I am a Christian who believes liberty is a gift from God – Leviticus 25:10; II Corinthians 3:17; Galatians 5:1. To quote Jefferson, liberty is preserved not by military might, but by "eternal vigilance" against one's own government at all levels. It is the grossest form of disrespect to send young men around the world to "fight for freedom" while relinquishing that freedom on the home front.
For several years, America has had the world's highest incarceration rate. Since 2001, Americans have gladly accepted previously unthinkable intrusions on their freedom in the name of "safety" and "security". These include, but are not limited to: warrantless searches and spying, the suspension of habeas corpus, sexual assault as a condition of travel, rampant police brutality, indefinite detention without any semblance of due process, severe restrictions on peaceful protest, massive ammunition purchases by DHS and surveillance drones in our skies watching our every move. Can predator drones be far behind?
And in every election 98 percent of voters put their stamp of approval on perpetuating this monstrosity.
On April 20, 2013, Boston and several surrounding towns got a serious taste of martial law. How many military veterans were on the receiving end of this? Is this what they signed up to fight for?
Stop thinking in clichés. Have a good hard look at everything your media and government tell you. This includes media outlets and parts of the government that you like. Study. Read. Ask questions. And learn that the defense of liberty is not the duty of the military. Rather, it is your duty and mine.
~~~~~~~~~~~~~~~~~~~~~~~~~~~~~~~~~~~~~~~~~~~~~~~~~~~~~~~~~~~~~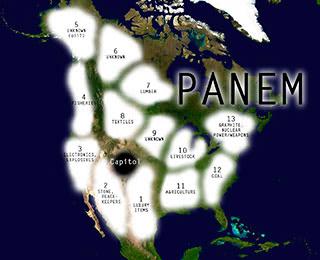 One of the most popular films of 2012 was The Hunger Games which portrayed a post-apocalyptic nation called Panem in which a super-rich, super-pampered, super-callous 'elite' lived in high-tech luxury while the rest of the population daily battled to survive in abject poverty locked away behind prison fences in intensively-populated 'people zones'. Panem comes from the Latin phrase 'panem et circenses' or 'bread and circuses' — a term derived from Rome and meaning to give the people diversions and distractions to hide what is being done to them. Exactly what is happening today.
The Totalitarian Tiptoes to just such a world are happening all around us, although most people can't see this because they don't connect the dots. People tend to live in their own 'little world' and focus on only a few subjects and interests. This gives them a distorted view of what is happening because they are so busy concentrating on the strands that they cannot see the tapestry. The world of The Hunger Games is already well on the way to fruition unless humanity has a fundamental reassessment of reality.
The foundations, structure and 'must haves' of a Hunger Games society are detailed in a plan being imposed through the United Nations called Agenda 21 which encompasses two related themes of 'sustainable development' and 'biodiversity'. Sustainable development — as in don't use more than can be replaced — sounds sensible enough at first until you realize what this and biodiversity really mean in the context of the conspiracy.
Agenda 21 was established at the United Nations Conference on Environment and Development in Rio de Janerio, Brazil, in 1992, hosted by Maurice Strong, a Canadian oil and business billionaire and long-time front man for the Rothschilds and Rockefellers. Strong has been a leader of their exploit-the-environment-to-scam-the-people programme which is now in full flow. Strong is a member of the Club of Rome, the environmental Hidden Hand in the Round Table network that includes the Bilderberg Group, Trilateral Commission and Council on Foreign Relations.
Strong said in support of Agenda 21:
'Isn't the only hope for this planet that the industrialised civilization collapse? Isn't it our responsibility to bring that about?'
This is a man who became mega-rich through the oil industry. He now lives in billionaire luxury in China where carbon-emitting industry is booming and he is a director of the Chicago Climate Exchange (largest shareholder, Goldman Sachs), which is 'the world's first and North America's only legally-binding greenhouse-gas emission registry reduction-system for emission sources and offset projects in North America and Brazil'.
The Exchange was established with funding from the Joyce Foundation where Barack Obama was once a director. Strong and Al Gore make money through the Carbon Exchange and other means from the lies they promote about climate change and the solutions they propose. Kate Johnston wrote on the Globalresearch.cawebsite:
'The same men that sold us the myth of man-made global warming are the same men that sold us the "solution" of a Carbon Tax and Emissions Trading Scheme and now they're profiting off their lucrative investments which are based on lies.' (See "The Climate Change Hoax").
Strong fled to China in 2006 after being accused of corruption with respect to the UN oil for food program.
Climate change propaganda is a No-Problem-Reaction-Solution technique to justify Agenda 21 and its stable-mate the Biodiversity Treaty. This is an internationally-binding document involving nearly 200 countries. The United States signed the treaty, but it was not ratified by the Senate after people like ecologist and ecosystem scientist Dr. Michael Coffman exposed its true consequences and implications. He said that he realized during the 1980s and 1990s that the plan was to use the excuse of protecting the environment to confiscate half the land of the United States.
Similar plans exist for every other country. America may not have ratified the treaty, but it is being implemented by the day. Agenda 21 demands the central global control of all land; all private property; all water sources and distribution; all other resources which includes people in its definition; all energy supplies and distribution and all food production and distribution.
Agenda 21 is called 'the agenda for the 21st century' and that refers to global fascism / communism. This is a summary of what Agenda 21 / Sustainable Development / Biodiversity is seeking to impose:
An end to national sovereignty
State planning and management of all land resources, ecosystems, deserts, forests, mountains, oceans and fresh water; agriculture; rural development; biotechnology; and ensuring 'equity' (equal slavery)
The State to 'define the role' of business and financial resources
Abolition of private property (it's not 'sustainable')
'Restructuring' the family unit
Children raised by the State
People told what their job will be
Major restrictions on movement
Creation of 'human settlement zones'
Mass resettlement as people are forced to vacate land where they currently live
Dumbing down education (achieved)
Mass global depopulation in pursuit of all the above
This horrific plan is being coordinated through the United Nations, the stalking horse for world dictatorship, via a non-governmental network once called the International Council of Local Environmental Initiatives ICLEI), and now known as Local Governments for Sustainability although still using the shortened name ICLEI. The United Nations is now opening 'embassies' around the world called 'UN Houses' under the guise of raising awareness of UN activities, but not the activities that people really need to know about. They have opened one in Hunter Square, Edinburgh, Scotland, for example.
Local Governments for Sustainability (ICLEI) and other organisations are integrating the plan into every village, town, city and region and it is already becoming widespread across the world. The organisational infrastructure of Agenda 21 is already fantastic and involves government agencies, non-governmental organisations (NGOs), think-tanks, trusts, foundations, 'training' (mind control) operations and 'initiatives' which have been building the infrastructure for what they call 'the post-industrial, post-democratic' society while the public go about their daily business oblivious of the prison being built all around them by the hour.
Harvey Ruvin, a vice-chairman of ICLEI, was asked how Agenda 21 would affect liberties with regard to the US Constitution and Bill of Rights, private property and freedom of speech. He replied:
'Individual rights must take a back-seat to the collective.'
The arrogance of these people is breathtaking. The extraordinary network supporting ICLEI and Agenda 21 includes the Rockefeller-sponsored America 2050; United Cities and Local Governments (UCLG); Metropolis; World Economic Forum; United Nations Framework Convention on Climate Change; United Nations International Strategy for Disaster Reduction; World Bank; Clinton Climate Initiative; Climate Group (Tony Blair); World Conservation Union (IUCN); Renewable Energy and Energy Efficiency Partnership; Global Footprint Network; Renewable Energy and Energy Efficiency Partnership; Global Footprint Network; International Centre for Sustainable Cities; Earthquakes and Megacities Initiative and the Stakeholder Forum. These and so many others are working to the same end — Agenda 21 and total human enslavement worldwide, although most of those involved will have no idea that they are building a global prison for themselves and their families.
Another of these front organisations is the World Business Council for Sustainable Development which includes the hideously anti-people Monsanto. Destroying food-growing land, contaminating the countryside with toxins and replacing proper food with deadly and soil-destroying genetically-modified organisms is Monsanto's contribution to 'sustainability'. Agenda 21 is operating in more than 600 towns, cities and counties in the United States and expanding by the day.
A member of the Agenda 21 committees in Santa Cruz, California, in the mid-1990s said that the proposals he heard were so crazy that he laughed at them because they could never happen. These included that 'Mother Earth's surface was not to be scratched'; humans should be concentrated in settlement zones; education should focus on the environment as a central organising principle and all aspects of life covered by Agenda 21, but all of these crazy plans are now being introduced. It's all happy, feely, smiling faces and how we care, when the truth is that Agenda 21 is a vicious, brutal, heartless strategy to impose a global Orwellian state.
Agenda 21 manipulators either create or hijack some local organisation or other, many of them in locations with large populations, and they have their (controlled) leadership to agree the Agenda 21 blueprint for their community together with any uninformed, unwitting idiots who can be sold a human nightmare as saving the planet. This allows them to claim that decisions were made after 'public participation' when that would have been the last thing they wanted, and 99 percent of the 'community' has never heard of Agenda 21 let alone had their say on it. They want no democracy which is why these people talk privately, sometimes even publicly, about the post-democratic, post-industrial society.
They want to control every man, woman and child on the planet — everyone and everywhere and every resource, water source and piece of land. To do this they need a global structure of fascist control that goes right down into every local community with the jackboots at local level enforcing the will of the global centre. This is why there is so much emphasis on local authorities and town and city authorities in Agenda 21.
There is a 'training organisation' called Common Purpose (common purpose, common consensus, everyone the same) which has been paid very large amounts of money by governments and local authorities, police forces and other institutions of state to 'train the leaders' of the post-democratic, post-industrial society. Common Purpose was heavily represented in the Leveson 'inquiry' leading to new media laws in Britain. It is not a training programme; it is a programming programme and turns out unquestioning zombie administrators who serve the god of Agenda 21 and the associated European Union. The theme of 'common' also applies to the ever greater standardisation of laws and regulations and constant reference to 'international law'. This is the unfolding global dictatorship of Agenda 21. What do you need to be a global dictator? Laws that everyone on the planet must obey — international law and the standardisation of global regulation.
You can see The Hunger Games connection when you look at the official Biodiversity wish-for map of the United States in Figure 1. The red areas are designated for no human use and most of the rest of America is confiscated for little and highly-regulated use. The mass of the population would be concentrated in high-rise, densely-packed 'human settlement zones' and denied access to something like 80 percent of present day America. It is without question the world of The Hunger Games with a globally-enforced top-down hierarchy that has a world government using its world army and police force to impose its will at regional and local levels (sectors). The Rockefeller-funded America 2050 has produced a map of the new United States divided into eleven 'megaregions' and includes parts of Canada (Figure 2). Seattle, Portland and Vancouver, British Columbia, become the megaregion known as 'Cascadia' and this regional system comes under the collective name of 'megalopolis' which is Greek for large city or great city. America, Canada and Mexico are due to merge to form the North American Union in line with the European Union blueprint.
The European Union is planned to be broken up into regions and the same structure is in development all over the world. The map of the new Europe has regions from different countries linked up with regions in other countries to end any vestige of national sovereignty or even national existence (Figure 3). This is a global plan with its fierce central control hidden behind its lower elements such as the European Union and local government. What is planned would clearly require a fantastic reduction of the global population and this is indeed what Agenda 21 / Sustainable Development / Biodiversity demand.
The e-book Agenda 21: Your Life In Their Hands can be downloaded here.
reference:
Icke, David. The Perception Deception. Ryde: David Icke Books, 2013.
Julian Websdale is an independent researcher in the fields of esoteric science and metaphysics, and a self-initiate of the Western Esoteric Tradition. His interest in these subjects began in 1988. Julian was born in England, received his education as an electronic and computer engineer from the University of Bolton, served in a Vaishnava monastery during 2010, and has travelled to over 21 countries. Julian is also a member of the Palestinian Solidarity Campaign.
Source: Julian Websdale  |  Waking Times | War Is Crime
Sometimes I just want to pimp slap people.
Last summer, I was at dinner during a sales convention. The conversation didn't get political until someone mentioned the NSA.
There is one in every crowd. Someone piped up and said, "They can spy on me all they want. I am not doing anything wrong."
They sang this song in Germany in 1933. And they sang it with unprecedented gusto in the months following 9/11, all in the name of  "security" and "keeping us safe".
We were at the MGM Grand in Las Vegas, the world's second largest hotel. Nothing in the post-9/11 "national security" apparatus would prevent a terrorist from walking in, setting off a bomb, and killing hundreds or even thousands of people.
The more important questions are: How do you know you are doing nothing that could be construed as wrong by some state functionary? How do you know you are not breaking some law somewhere? And why are you so implicitly trusting that your government would never do anything evil with the information it has collected on you?
This is not purely an academic matter. The practical implications are profound.
I give you several examples.
1. Niakea Williams went to her son's St. Louis-area elementary school one day to pick up her son, who has Asperger's. The school was put on lockdown and Mrs. Williams was escorted out in handcuffs.
2. Adrionna Harris was almost expelled from her middle school in Virginia Beach after taking a razor blade away from a fellow student who was trying to harm himself.
3. Read what Houston police did to this man who gave 75 cents to a homeless person.
4. A little known Denver parking ordinance can get you a $25 fine even if you haven't exceeded the two-hour limit.
5. Police in Iowa City, Iowa, seized $50,000 from this couple without charging them with a crime.
6. Alberto Willmore lost his teaching job in Manhattan over a totally bogus marijuana arrest. Even though he was never convicted of anything, he was unable to get his job back.
7. Norman Gurley was arrested in Lorain County, Ohio, because a compartment in his car could have been used to transport drugs.
8. Los Angeles County sheriff's deputies shot and killed 80-year-old Eugene Mallory in his own bed during a meth raid. No meth, or any other illegal drugs, was discovered.
9. Paul Valin contacted police to report that he found a backpack full of what he believed to be meth-making equipment 15 miles from his home near Des Moines. As a result, the DEA placed his house on its list of meth labs.
10. Ryan Holle of Pensacola, Florida, lent his roommate his car on night in 2004. As a result, Holle is currently serving a life sentence without possibility of parole for pre-meditated murder.
11. New York police seized Gerald Bryan's cash in a nighttime raid in 2012. Even though Bryan was cleared of any wrongdoing, the stolen cash was deposited in the NYPD pension fund.
12. Robert Duncan is currently serving two years in a California prison, even though the business in which he worked was legal in California.
13. Jordan Wiser spent 13 days in jail after Jefferson, Ohio, police found a pocketknife during a warrantless search of his car.
14. During a school lockdown in Clarksville, Tennessee, David Duren-Sanner gave police permission to search his car as he had "nothing to hide". Police found a fishing knife. Duren-Sanner, who previously had never been to the principal's office, was suspended for 10 days and then sent to an alternative school for 90 days.
15. Look what happened to these parents in Napa, California, even though the medical marijuana prescriptions they had were completely legal.
16. Eileen Ann Bower of suburban Pittsburgh had her newborn child taken from her for 75 days because of a false positive drug test.
17. Jerry Hartfield of Bay City, Texas, has spent the majority of his life in prison, even though hisconviction was overturned in 1980.
18. Jason Dewing of update New York was found guilty of violating a law that did not exist.
19. Don Miller of Waldron, Indiana, had his home raided by FBI agents who seized hundreds of cultural artifacts from around the world. Miller was neither arrested nor charged with anything.
20. This San Diego couple was pepper-sprayed and tasered by police who had erroneously identified their vehicle after being stolen.
21. The good news is that Brian Aitken of Mount Laurel, New Jersey, had his prison sentence commuted.The bad news is that he was originally sentenced to seven years behind bars for possessing two legally purchased guns.
22. This special needs student in McDonald, Pennsylvania, was charged with felony wiretapping for recording other students who were bullying him mercilessly.
23. Abner Schoenwetter of Miami served over six years in prison for – you can't make this stuff up – violating Honduran fisheries law.
24. Read what happened to John Filippidis of Hudson, Florida, when he was pulled over by state policewhile driving unarmed through Maryland.
25. In a case of mistaken identity, Lewis James of Durham, North Carolina, "was handcuffed and later jailed under a $1.425 million bond" after he had contacted the police to notify them of a dead body in the middle of the road. As someone put it on Facebook, "Don't call the cops. Ever. Even if you find a dead body. Just don't ever call the cops."
26. Read what happened to Diane Avera of Meridian, Mississippi, when she went to Alabama to buy Sudafed, even though she did not know that this was illegal.
27. Andy Johnson of Uinta County, Wyoming, faces EPA fines of $75,000 per day for building a pond on land that he owns.
28. Douglas Zerby of Long Beach was shot and killed by police while watering his lawn because some idiot neighbor thought the hose nozzle was a gun.
29. Darien Roseen was arrested and had his vehicle searched by sheriff's deputies in Payette County, Idaho, simply because his Colorado license plates led them to believe that he could have been carrying marijuana.
30. Brian Banks of Long Beach spent five years in prison and five more years as a registered sex offenderas a result of a rape conviction. And then his accuser changed her story.
These are not "isolated incidents." There are no doubt countless other examples of people who were doing nothing wrong, yet were harshly punished.
Also, consider the following:
• The Internal Revenue Code is 73,955 pages and millions of words long. No one has read it cover-to-cover and no one knows every aspect of it. Yet if anyone violates any of its provisions it can mean fines, prison or even death.
• We are often told that "ignorance of the law is no defense." To the right is a picture of the Yale Law Library. Do you know every law contained within these tomes?
Read what various emissaries of the Amerikan police state have done to these veterans who went all over the world to "fight for our freedom."
• Seventy-two types of Americans are classified as terrorists in various government documents. Senator Harry Reid has now added a seventy-third category.
• Read how police have used asset forfeiture laws to seize millions of dollars from people without charging them with any crimes.
• Read this article and pay special attention to these words from former NSA official William Binney: "The problem is, if they think they're not doing anything that's wrong, they don't get to define that. The central government does."
• Read how the Innocence Project has helped exonerate over 300 wrongfully imprisoned people, many of whom were on death row.
• Attorney Harvey Silverglate argues that the average American commits three felonies a day without even knowing it.
• This Ford executive claims that, thanks to GPS, "we know everyone who breaks the law."
• Although it has been estimated that there are over 3000 types of federal criminal offenses, no one knows the exact number for sure.
So, do you still feel you have nothing to fear?
America's founders, largely distrustful of centralized power, created several checks and balances into the U.S. Constitution to help insure that one person, or one group of people, would not be able to unilaterally exert his or their will over the American citizenry. First, the federal government itself was divided into three separate and distinct branches–each holding the capability (and responsibility) to check the power of the other. Second, the Bill of Rights was made part of the Constitution for the protection of individual liberties. Third, the "free and independent states" of the nation retained their sovereignty and independence after the central government was created (by the states), with the Tenth Amendment specifically recognizing their authority and jurisdiction over matters not directly delegated to the federal government.
It was also assumed that the freedom of the press and the freedom of religion would help the citizenry be sufficiently informed and inspired to keep the would-be despots at bay. And, of course, "We the People" are recognized as being the ultimate guardians of liberty by the recognition that "to secure these rights, Governments are instituted among Men, deriving their just powers from the consent of the governed." (Declaration) The "consent of the governed" was given teeth by the constitutional recognition of the people's right to wield the power of the voting booth, the jury box, and, as a last resort, the cartridge box.
What has become increasingly obvious to a large segment of the American populace is the complete unwillingness of the national media to hold the federal government accountable. Neither do America's pulpits provide the moral leadership necessary to maintain good government. The freedom of the press and religion accomplish precious little today in the safeguarding of liberty. And it is also absolutely clear that the three branches of government in Washington, D.C., adamantly refuse to use the constitutional obligations placed upon them to hold the federal government in check.
The latter was made crystal clear by a recent decision by the Supreme Court of the United States. Here is the report:
"A decision by the U.S. Supreme Court means the federal government now has an open door to 'detain as a threat to national security anyone viewed as a troublemaker,' according to critics.
"The high court this week refused to review an appeals court decision that said the president and U.S. military can arrest and indefinitely detain individuals.
"The firm of William J. Olson, P.C., which filed a friend-of-the court brief asking the court to step in, noted that not a single justice dissented from the denial of the request for review.
'The court ducked, having no appetite to confront both political parties in order to protect the citizens from military detention,' the legal team said in a statement to WND. 'The government has won, creating a tragic moment for the people–and what will someday be viewed as an embarrassment for the court.'"
The report continues: "The controversial provision authorizes the military, under presidential authority, to arrest, kidnap, detain without trial and hold indefinitely American citizens thought to 'represent an enduring security threat to the United States.'
"Journalist Chris Hedges was among the plaintiffs charging the law could be used to target journalists who report on terror-related issues.
"A friend-of-the-court brief submitted in the case stated: 'The central question now before this court is whether the federal judiciary will stand idly by while Congress and the president establish the legal framework for the establishment of a police state and the subjugation of the American citizenry through the threat of indefinite military arrest and detention, without the right to counsel, the right to confront one's accusers, or the right to trial.'
"The brief was submitted to the Supreme Court by attorneys with the U.S.
Justice Foundation of Ramona, California; Friedman Harfenist Kraut & Perlstein of Lake Success, New York; and William J. Olson, P.C. of Vienna, Virginia."
Amici Curiae of the brief included U.S. Congressman Steve Stockman, Virginia Delegate Bob Marshall, Virginia Senator Dick Black, Gun Owners of America, Downsize DC Foundation, Western Journalism Center, The Lincoln Institute for Research and Education, Tenth Amendment Center, Policy Analysis Center, Constitution Party National Committee, Professor Jerome Aumente, and yours truly, among others.
See the brief here:
The WND report goes on to say: "The 2012 NDAA was fast-tracked through the U.S. Senate, with no time for discussion or amendments, while most Americans were distracted by the scandal surrounding A&E's troubles with 'Duck Dynasty' star Phil Robertson.
"Eighty-five of 100 senators voted in favor of the new version of the NDAA, which had already been quietly passed by the House of Representatives. [Disgustingly, Montana's only U.S. House member, Republican Steve Daines, who purports himself to be a staunch conservative, voted for the indefinite detention provision of the NDAA, as did Montana's two Democrat Senators Max Baucus and Jon Tester. How did your congressman and senators vote? In my opinion, this is a monumentally-important vote, and a vote granting this unconstitutional power to the military and federal police agencies is inexcusable and demonstrates how both Democrats and Republicans will unite together to dismantle the constitutional protections of the American people in the name of "national security."]
"Hedges, a Pulitzer Prize-winning journalist, and others filed a lawsuit in 2012 against the Obama administration to challenge the legality of an earlier version of the NDAA.
"It is Section 1021 of the 2012 NDAA, and its successors, that drew a lawsuit by Hedges, Daniel Ellsberg, Jennifer Bolen, Noam Chomsky, Alex O'Brien, Kai Warg All, Brigitta Jonsottir and the group U.S. Day of Rage. Many of the plaintiffs are authors or reporters who stated that the threat of indefinite detention by the U.S. military already had altered their activities.
"'It's clearly unconstitutional,' Hedges said of the bill. 'It is a huge and egregious assault against our democracy. It overturns over 200 years of law, which has kept the military out of domestic policing.'
"Hedges is a former foreign correspondent for the New York Times and was part of a team of reporters awarded a Pulitzer Prize in 2002 for the paper's coverage of global terrorism."
See the complete WND report here:
Supreme Court Green Lights Detention Of Americans
Remember that it was Republican President George W. Bush and a Republican U.S. House and Senate that shackled the American people with the USA Patriot Act, the Department of Homeland Security–along with the rest of the gargantuan police state apparatus under which the people of the United States are now being forced to live. And it is Democrat President Barack Obama and a Democrat U.S. Senate–along with a Republican U.S. House–that continues to expand the reach of this police state. One thing that both Republicans and Democrats and conservatives and liberals agree on is the construction and implementation of a police state. Under the rubric of "national security" or "law and order," the Bill of Rights is being systematically and deliberately expunged by both sides of the political aisle.
And now we know the judicial branch of government in Washington, D.C., also refuses to hold the executive and legislative branches of government in check–as if we needed more evidence. Both Republican-appointed and Democrat-appointed justices refused to say a word condemning this draconian abuse of power within the NDAA. By so doing, the Supreme Court showed itself unwilling to stand in between the liberties of the American people and an ever-burgeoning police state.
In fact, when it comes to holding the government in DC in check, when does the Supreme Court ever intervene? Hardly ever! If it is a dispute between the states and the federal government or between individuals and the federal government, SCOTUS almost always rules in favor of DC.
Once-in-awhile, one or the other branch of government (including the judicial branch) in DC will be willing to protect constitutional liberties from another branch of government in DC, but such instances are the exception, not the rule.
And since the liberties of the American people have few friends in the national media or in the country's pulpits, the protection of our freedoms has quickly come down to the states, the local media (yes, some local media is still friendly to freedom), county sheriffs, and the people ourselves.
Currently, there is a huge momentum building among State legislatures to begin pushing back against the overreach of Washington, D.C. For example, the State of Texas is squaring off against the BLM over tens of thousands of acres along the Red River border of Texas and Oklahoma, and the State of Utah has already passed legislation claiming more than 30 million acres currently controlled by the federal government. Here is an excerpt from a Breitbart.com report:
"Utah Governor Gary Herbert (R), earlier this year, signed the Transfer of Public Lands Act. This new state law calls upon the federal government to turn over control of more than 30 million acres to the State."
See the complete report at:
Utah Grabbing Land From BLM While Texas Plays Defense
Plus, more and more county sheriffs are beginning to stand against federal encroachments. Read this report:
And, of course, just recently it was "We the People" standing against a brutish, totalitarian-style federal assault against the Bundy family in Bunkerville, Nevada. And among the brave souls at Bunkerville were State and local officials and even county sheriffs. And I was there, too. Here is the video of my message to, and prayer service for, the Oath Keepers and militia on the ground there in Bunkerville:
Sermon & Prayer At Bundy Ranch
As the three branches of government in Washington, D.C., become less and less accountable to the checks and balances assigned them by the Constitution, it is going to require that the states, county sheriffs, and people ourselves become more and more engaged in pushing back against federal overreach and abuse of power.
Few would expect a survivor of the Holocaust to be the face of genocide denial. Imagine the surprise of Suffolk Law School's student body when its administration's chosen commencement speaker turned out to be just that.
Abraham Foxman, the long-time director of the Anti-Defamation League (ADL), an organization dedicated to eradicating anti-Semitism and bigotry and protecting civil rights, seems a figure beyond reproach. Yet Foxman has invited controversy to Suffolk University for his unwillingness to recognize the 1915 Armenian Genocide – an event which saw an estimated 1.5 million Armenians massacred by the Turks – and his campaign to defeat Congressional acknowledgement of said genocide.
Criticism of Foxman has centered on this disconnect, that a man who lived through the attempted extermination of an entire race now denies that truth of another. Many at Suffolk are unwilling to participate in that hypocrisy.
Suffolk's Students Speak Out
Shortly after Foxman was announced as their 2014 speaker, Suffolk Law students rejected the decision. Amy Willis, President of the university's National Lawyers Guild chapter, told the Boston Globe that "Suffolk claims to embody diversity and be a place for all people, but this clearly is a speaker who does not embody those values."
This stance was reflected in a petition to remove Foxman as the keynote speaker, as well as to deny him the honorary Juris doctorate he is slated to receive. The petition states that Foxman's presence "not only insults students and their families, but also insults the very foundation of Suffolk Law as a safe place of diversity and acceptance." As arguments for his removal, the petition enumerates Foxman's refusal to explicitly label the Armenian Genocide as a genocide as well as his support for racial profiling of Muslim-Americans in the interest of "national security."
What Is Genocide?
Raphael Lemkin coined the term "genocide" in 1944 to describe the magnitude of premeditated racial extermination, citing what happened to the Armenians as the prime example. After the war, the United Nations approved the Convention on the Prevention and Punishment of the Crime of Genocide, establishing genocide as an international crime.
In the Convention, genocide is defined as "acts committed with intent to destroy, in whole or in part, a national, ethnical, racial or religious group," which includes "killing members of the group" and "deliberately inflicting on the group conditions of life calculated to bring about its physical destruction in whole or in part."
The mention of "intent" is significant in this definition. Foxman's 2007 statement (described below) would go out of its way to avoid labeling the Turkish pogrom as intentional, admitting only that its "consequences" were "tantamount" to genocide. To the casual observer, it is perhaps a negligible distinction. From a legal standpoint, it is strategically evasive.
What Is the Armenian Genocide?
This definition applies to the systematic slaughter of Armenians by the Turkish government that began in 1915. To understand how this genocide came to be, a brief summary of the two nations' history is required.
Existing in various forms for approximately 3,000 years of recorded history, Armenia was the first nation to declare Christianity its national religion. It remained Christian under the several empires that conquered it, including the Muslim caliphate of the Ottoman Turks. From the 15th century onward, Armenians and their fellow "infidels" were allowed to continue their religious practices, though subjected to higher taxes, fewer rights and ethnic discrimination. For the Armenians, this culminated in the Hamidian Massacres of 1894-1897. This state-sponsored pogrom was instituted by Sultan Abdul Hamid II in retaliation for Armenians' attempts to win civil rights.
By the start of World War I, political tensions between Armenians and a new Turkish government were even more strained. Armenia itself had been divided by warring empires, with Russia claiming the east and Turkey claiming the west. Duty-bound, both sides fought for their respective empires.
This dichotomy of loyalty enabled the Turks to concoct a pretext that veiled their ultimate goal of an ethnically and religiously uniform empire. A purge would enable them to "liquidate" the "Christian element" and seize the wealth and property of suspected insurgents. On April 24, 1915, the Turkish government authorized the arrest and execution of several hundred Armenian intellectuals. From that point, the executions would continue for eight years, shrouded under the fog of the Great War.
Turkish soldiers and mercenaries acting under the general outfit of "Special Operations" murdered hundreds of thousands of Armenians, Assyrians and Greeks, marching them through the Anatolian and Syrian deserts without food, water or clothing. "Infidels" not sentenced to hard labor camps were drowned in rivers, thrown off cliffs, crucified and burned alive. Property was seized, women were raped and dispatched to Turkish harems, and many children were kidnapped and forcibly converted to Islam.
The number of survivors is a matter of debate, but of a population of 2 million indigenous Armenians, it is estimated that upwards of 1.5 million were slaughtered in Turkey between 1915 and 1923. Even today, almost a century later, the Euphrates River is filled with the bones of dead Armenians, as author Peter Balakian, writing for the New York Times magazine, can attest.
Stark, horrific images exist to document the savagery of the Armenian massacre. Yet still Turkey denies its own legacy.
Turkey and Foxman's Denials
Article 301 of the Turkish penal code makes it illegal to insult Turkey, the Turkish nation or the Turkish government. To acknowledge an "Armenian Genocide" is the most egregious insult possible.
Because Turkey was the first nation in the Middle East to establish diplomatic relations with Israel and remains an instrumental ally of the West, the United States is unwilling to rock that political boat. Even when a resolution was proposed by the 110th Congress to recognize the Armenian Genocide, then President George W. Bush publicly opposed the measure. He was not the first, and current President Barack Obama's silence on the issue suggests he will not be the last.
And this has been Abraham Foxman's dilemma. His public opposition to Armenian recognition has been out of loyalty to Israel. "Our focus is Israel," he has said. "If helping Turkey helps Israel, then that's what we're in the business of doing." It seems absurd to the point of tragedy that a man who lived under Nazi oppression can answer the question of Armenian genocide with, "It was wartime. Things get messy."
But in 2007, Foxman tried to pacify his critics. Speaking for himself and the ADL, he stated that, "We have never negated but have always described the painful events of 1915-1918 perpetrated by the Ottoman Empire against Armenians as massacres and atrocities," ending with decision that "the consequences of those actions were indeed tantamount to genocide."
But "tantamount to genocide" without intent is not genocide. This calculated elision of "intent," its palpable absence, is an insult to the Armenian community. The ADL's defenders decry this as splitting hairs, but they overlook the importance of legacy and how powerfully a single word can affect it. It was important enough to prompt a dozen Massachusetts cities to pull out of the ADL's "No Place for Hate" anti-bias program. It was important enough that when Andrew H. Tarsy, a regional director for the ADL, acknowledged the genocide as true genocide, he was promptly fired from the organization.
Unfortunately for Suffolk Law School, and all those who expect the ADL to uphold its own morality, Abraham Foxman represents a willful blindness – to look the other way on a hundred-year-old crime – for the sake of political expediency.
It is the opinion of Suffolk University President James McCarthy that Foxman, despite students' protests, "is well deserving of recognition." Moreover, it is the University's hope that Foxman's "life of public service will inspire our graduates as they embark on their professional careers."
This does beg the question of what recognition the Syrian desert's uncounted dead deserve, or what their lives may have inspired, but the answers are unlikely to be found in Foxman's commencement speech.
According to The Salt Lake Tribune, "It's time for Western states to take control of federal lands within their borders, lawmakers and county commissioners from Western states said at Utah's Capitol on Friday.
"More than 50 political leaders from nine states convened for the first time to talk about their joint goal: wresting control of oil-,timber-and mineral-rich lands away from the feds.
"'It's simply time,' said Rep. Ken Ivory, R-West Jordan, who organized the Legislative Summit on the Transfer for Public Lands along with Montana state Sen. Jennifer Fielder. 'The urgency is now.'
"Utah House Speaker Becky Lockhart, R-Provo, was flanked by a dozen participants, including her counterparts from Idaho and Montana, during a press conference after the daylong closed-door summit. U.S. Sen. Mike Lee addressed the group over lunch, Ivory said. New Mexico, Arizona, Nevada, Wyoming, Oregon and Washington also were represented.
"The summit was in the works before this month's tense standoff between Nevada rancher Cliven Bundy and the Bureau of Land Management over cattle grazing, Lockhart said.
"'What's happened in Nevada is really just a symptom of a much larger problem,' Lockhart said."
See the report here:
Western Lawmakers Gather In Utah To Talk Federal Land Takeover
Now we are getting somewhere!
The western states have been used as both playground and sugar stick for big-government politicians since before most of the western states became states. Compare the percentage of State land owned by the federal government in the western states to that of the eastern states.
Here is the percentage of land owned by the federal government in seven eastern states:
Illinois: 1.8%
Ohio: 1.7%
Alabama: 1.6%
Maine: 1.1%
New York: 0.8%
Rhode Island: 0.4%
Connecticut: 0.4%
By contrast, here is the percentage of land owned by the federal government in seven western states:
Wyoming: 42.3%
California: 45.3%
Arizona: 48.1%
Idaho: 50.2%
Oregon: 53.1%
Utah: 57.4%
Nevada: 84.5%
The situation with the Bundys in Nevada highlights the heavy-handed tactics that the federal government employs against anyone who dares to challenge the manner in which the feds are attempting to kick hard-working, productive citizens off of federal lands. Remember that ranchers and farmers such as Cliven Bundy were promised access to these federal lands in perpetuity back in the nineteenth century when all of these land deals were being negotiated between the states and the federal government. Beyond that, ownership of the land by the federal government was supposed to preserve and protect the land for the people, not for the federal government.
A few years ago, there were dozens of successful and prosperous ranchers in the area around the Bundys. But since the BLM was given legislative mandates when Congress enacted the Federal Land Policy and Management Act (FLPMA) in 1976, Cliven Bundy is now the only rancher in the area still standing.
The BLM has grown into a totalitarian monster.
Today, the BLM regulates hunting, fishing, camping, hiking, boating, hang gliding, shooting, off-highway vehicle driving, mountain biking, bird watching, and visiting natural and historical sites. The BLM also regulates logging, mining, fracking and other activities. What ranchers such as Cliven Bundy are going through loggers and miners are also experiencing. In fact, it is no hyperbole to say that, for all intents and purposes, the ranching, logging, and mining industries in the western states are being systematically regulated out of existence.
And in the case of Cliven Bundy, it is not about saving the Desert Tortoise or grazing fees or anything of the sort. It is all about letting fat-cat politicians such as Harry Reid negotiate lucrative solar energy deals with Communist China. Hey, folks: if the land doesn't belong to Cliven Bundy, it doesn't belong to Harry Reid, either!
The BLM's evil twin sister is the Environmental Protection Agency (EPA), which was established in 1970. These two federal agencies have become the Wicked Witch of the East and Wicked Witch of the West in what used to be a beautiful land paved with yellow brick roads.
I dare say that if the eastern states were enduring the haranguing and harassment that the western states are enduring, the BLM would have been brought under control years ago. Absent national unity from eastern states on the matter, it is time for the western states to take matters into their own hands.
The legislative action being contemplated by the above-mentioned State legislators who assembled in Salt Lake City last Friday is a terrific first step. It is absolutely time for the western states to use their eminent domain authority to reclaim the lands within their borders that are currently owned by Washington, D.C. With the exception of National Parks, states should serve notice that they are taking back the land owned by the federal government–land that should never have been ceded to the central government to begin with.
The second problem that the siege against Cliven Bundy illustrates is the unconstitutional police powers assumed by federal agencies such as the BLM. Originally, the only federal agency that was lawfully allowed to make arrests on behalf of the U.S. government was the U.S. Marshals Service, which was created back in 1789–the year that the U.S. Constitution was ratified. Today, there are scores of alphabet agencies of the federal government who carry a badge and a gun and are allowed to enforce law at bayonet point. And the vast majority of these agencies are acting on assumed authority–authority not granted them constitutionally. Among these, there is no greater culprit than the BLM.
"You don't send the Seventh Cavalry to collect a bill, and that's exactly what happened," Pat Buchanan told Sean Hannity on his radio show last Monday.
Buchanan went on to say, "And when they put all those forces out there-that's what attracted all the others, the history of what happened at Waco, Ruby Ridge. And so these folks came to that rancher's defense. But the initial problem here is [the] sending of all the force of arms out there to that ranch, which was a provocation to which these folks responded."
See the report here:
Pat Buchanan Sums Up Nevada Ranch Standoff: Sending 'Seventh Cavalry To Collect A Bill'
The Tenth Amendment to the U.S. Constitution states, "The powers not delegated to the United States by the Constitution, nor prohibited by it to the States, are reserved to the States respectively, or to the people."
The Constitution delegates only three crimes to the federal government: treason, piracy, and counterfeiting. That's it. No other crimes are mentioned. That means that all other crimes are the purview of the states–including local and State police, sheriff's deputies, and citizen militias and posses.
Of course, the problem is the Congress (and Court) in Washington, D.C., has used the "Necessary and Proper Clause" of Article. I. Section. 8. to justify all sorts of federal law enforcement enactments.
The result of this unconstitutional federal expansion of police powers is we now have scores of federal agencies that are using unchecked and unbridled power–power that is turning the United States into a giant police state.
The states must push back!
Not only must states reclaim millions of acres of land within their borders that are now controlled by the federal government, they must also pass legislation requiring federal bureaucracies such as the BLM to obtain the consent of county sheriffs in order to execute arrest warrants. States must make it clear in unmistakable terms that only the U.S. Marshals Service may execute federal warrants within their states; otherwise, only the county sheriff is authorized to execute arrest warrants within their states.
Furthermore, the U.S. Congress needs to disarm the countless federal bureaucracies that are currently terrorizing the American people. In truth, very few federal agencies need to carry guns. The politicians in Washington, D.C., love to try to disarm the American people, but the ones they should be disarming are most of the federal alphabet agencies.
Why do employees of the federal Department of Education need to carry guns? Why do postal employees need to carry guns? Why do agents of the BLM need to carry guns? Why do employees at NASA need to carry guns? Why do employees of the EPA need to carry guns? Why do employees at NOAA need to carry guns? Why do employees of the National Weather Service need to carry guns? Why do employees of the Social Security Administration need to carry guns? Why do employees at the Department of Agriculture need to carry guns? Why do employees of the National Marine Fisheries Service need to carry guns?
Ladies and gentlemen, law enforcement is mostly the responsibility of State and local governments. Why are so many federal bureaucracies carrying guns? Agencies of the federal government are not soldiers; and they are not even policemen. Furthermore, the American people are not the enemy!
Pat Buchanan is right: had not BLM agents marched onto the Bundy ranch like Nazi Stormtroopers, none of the events that are still playing out in the Nevada desert would have taken place. The memory of Waco and Ruby Ridge are still very vivid in the collective memory of the people of the United States. If anything burns deep in our collective conscience, it is that THERE MUST NEVER AGAIN BE ANOTHER WACO OR RUBY RIDGE. And that is exactly why those Americans have put themselves between the federal government and the Bundy family down in Bunkerville, Nevada.
The events in Salt Lake City, Utah, conducted by dozens of legislators from the western states last Friday were as monumental as the events in Bunkerville, Nevada, conducted by the citizen militia the previous Saturday.
Free and independent states and "We the People" have always been the guardians of liberty in this land. And if freedom is going to be preserved for our posterity, it is going to take the combined effort of both the individual sovereign states and individual citizens to arise and stand in the gap once again. It would also seem that the rise has already begun. Praise God! The only thing missing now is the patriot pulpit.
P.S. I have been inundated with requests from pastors and laymen alike to help them establish non-501c3, unaffiliated, unorganized, unincorporated churches. I have heard their pleas; and I have a very important announcement regarding this matter coming in the very near future. Stay tuned.
What happens when an institution becomes more important than the cause for which the institution was formed? How long should people who believe in the cause remain loyal to such an institution? And at what point does loyalty to such an institution comprise an abandonment of the cause itself?
I'm afraid the majority of Americans have been institutionalized in a manner not unlike the way prisoners are institutionalized after a long period of confinement. After a point, a prisoner is so conditioned to accepting the circumstances of his confinement that, should he be released from confinement, he truly would be unable to cope. Such seems to be the mentality of a majority of us today.
Christians have been institutionalized. The reason and purpose of the church or Christian organization is no longer relevant. Generations have grown up reciting the same liturgies, regurgitating the same prayers, and rehearsing the same programs until the reason for it all doesn't even matter. But take the institution away from them, and they would not be able to cope.
The Pharisees despised the Lord Jesus because He challenged the religious institutions that had come to govern people's lives. I am convinced if Jesus came to America today, He would be just as despised by the vast majority of our religious leaders as He was by the Pharisees.
The Church that Jesus built in the Book of Acts owned no buildings, was indebted to no lenders, took no tax benefits from the civil government, had no denominational hierarchy, and identified itself with no ecclesiastical brand. And the Church was just as persecuted by the religious establishment as Christ was.
One of the reasons one may know that the modern church is so unlike Christ and the apostles is by the persecution that it never experiences. Just as the Pharisees were bosom buddies with the Roman Empire's governing elite, so are our religious leaders today. Caesar was very generous in sharing the fruit of his tyrannically-extracted bounty with his allies in the Jewish Sanhedrin. And they were happy to return the favor by insisting that the Hebrew people submit to Caesar's harsh rule over their lives.
The Pharisees also enjoyed a cozy relationship with the moneychangers. The moneychangers were descended from a long line of corrupt banking interests that dated all the way back to the Edomites. We are not talking about your friendly local banker here. These were highly organized, well-positioned money-manipulators. Jesus was so incensed with their manipulation and theft within in the Temple that he used physical violence to remove them from the property. He is recorded as doing this twice in the Gospel narratives. Note that after the second time in which it is recorded that He drove out the moneychangers (with a whip, no less), the Pharisees soon had Jesus crucified. There is no question that one of the reasons Pilate ordered Jesus to be scourged with a whip was in direct retaliation for the manner in which Jesus whipped the moneychangers. Remember, the moneychangers were from a very well-ensconced, elitist national (and even international) organization.
And lest you think all of this is irrelevant to today, the moneychangers are still very much with us. The Rothschilds, Rockefellers, and other members of the international banking elite, are the direct descendants of the moneychangers of Jesus' day. And if you ever have an opportunity to ask one of them about it, they will proudly admit it.
Yes, the Pharisees institutionalized religion. This accomplished two things: 1) it helped enslave the people, 2) it helped make them rich. The institutionalized church is accomplishing much the same things today.
The establishment church is doing as much to enslave people as any other institution in the world. Our political institutions and educational institutions have nothing on the church for making good little subjects and serfs to the all-powerful state. And if you don't think that a host of church leaders are not reaping the spoils from assisting our taskmasters, you're not paying attention.
Many, if not most, of these big-name TV evangelists have as many houses and yachts and Swiss bank accounts as any big-name Hollywood actor or politician. In some cases, more. Most of these big-church pastors are bathing in luxury. Many of them take the kinds of vacations that only CEOs of the biggest corporations or presidents could afford. Do you really think that the IRS rules and regulations governing these non-profit corporations, called churches, really bother these church leaders? Get real!
No wonder all of these "successful" preachers are constantly teaching their congregations to always submit to the government. No wonder they have no interest in abandoning their 501c3 tax-exempt status. They are in the exact same position as were the Pharisees of old. And they are just as effective in helping to enslave people today as were the Pharisees.
The institution of the church–along with its programs, formalities, buildings, rituals, etc.,–has become more important than the purpose for which the church was created. Instead of preaching the liberating message of the Cross, which frees men from the fetters of sin–and that includes sinful political and financial fetters–the church is preaching a message of subjugation and enslavement. It is teaching people to submit to all kinds of oppression, including religious oppression.
Some of the most oppressed and subjugated people in the world are religious people. There are churches and Christian colleges that are every bit as tyrannical as anything coming out of East-bloc or Muslim countries. About the only thing missing is physical torture and execution. Spiritually, however, the oppression is the same.
How could real men who love the liberty they have in Christ allow themselves–and especially their wives–to be told how to dress, how to wear their hair, what kind of music to listen to, what kind of vacations to take, what restaurants they may or may not eat at, what forms of entertainment they may or may not participate in, etc., etc., ad infinitum?
I tell you the truth: many Christians in America are already slaves. To talk to them about freedom is a complete waste of time. The chains of tyranny are already clamped around their hearts. Why should it matter to them if chains are clamped around their necks? When they talk about "defending the faith," they are talking about defending the institution. They are slaves to the institution. And the same is true for many unchurched Americans.
What is more important: liberty, or the government that is supposed to secure liberty? To a sizeable number of Americans today, it is more important to preserve the institution than the freedoms that the institution was created to protect.
Our Declaration of Independence states, "That whenever any Form of Government becomes destructive of these ends [the God-given rights of life, liberty, etc.], it is the Right of the People to alter or to abolish it, and to institute new Government, laying its foundation on such principles and organizing its powers in such form, as to them shall seem most likely to effect their Safety and Happiness."
Did you see that: "any form of government"? ANY FORM. The form of government is only as good as its ability to secure liberty.
I hear a lot of politicians and media personalities talking about "American exceptionalism." This is a potentially dangerous mindset. If one means that America is exceptional in our history and the manner in which our Constitution and Bill of Rights were established to protect liberty, well and good. But if it means that America has carte-blanche to do anything it wants–no matter how unconstitutional or tyrannical–because it is "exceptional," it is a bunch of hooey.
What difference does it make if we have a 50-State Union or not? There is a bill in the California legislature that would divide that State into six states. Five counties in Western Maryland are trying to secede from Baltimore. Ten northern counties in Colorado are trying to secede from Denver. If a State refuses to secure the liberties of the people of that State, they have every right under God to separate. The State is not nearly as important as the liberties of the people within the State.
The spirit of secession is actually growing like wildfire all over the world. In recent history, Serbia, Slovenia, Croatia, Bosnia, Montenegro, Macedonia, and Kosovo all separated from Yugoslavia. Transnistria broke free from Moldova. Abkhazia and South Ossetia fought free from Georgia. The Slovaks seceded from Czechoslovakia. And now Crimea is separating from Ukraine.
To be sure, not every country that secedes from another country is motivated purely by the love of liberty. But for those of us in America, the issue that has propelled the desire to separate from one country or one State has always been liberty. It was the love of liberty that created the United States and that created the free and independent states of Maine, Vermont, Kentucky, and West Virginia–all of which seceded from existing U.S. states.
Furthermore, what difference does it make if Washington, D.C., is our federal capital, or, if say, Helena, Montana, would become the federal capital of a mountain state confederation of Montana, Idaho, Wyoming, Northern Colorado, eastern Washington and Oregon, the Dakotas, Alberta and British Columbia, Canada, and Alaska? Or if Austin was the federal capital of an independent Republic of Texas? Preserving some sort of political union (especially if it is a forced and coerced union) is not nearly as important as preserving liberty.
Again, it is not the political institution that is important. What is important is the liberty that the political institution is supposed to secure.
Many great minds in this country are already philosophizing over the possibility that secession is an idea whose time has come–again. A few years ago, Walter Williams wrote, "Like a marriage that has gone bad, I believe there are enough irreconcilable differences between those who want to control and those want to be left alone that divorce is the only peaceable alternative. Just as in a marriage, where vows are broken, our human rights protections guaranteed by the U.S. Constitution have been grossly violated by a government instituted to protect them. Americans who are responsible for and support constitutional abrogation have no intention of mending their ways.
"Americans who wish to live free have two options: We can resist, fight and risk bloodshed to force America's tyrants to respect our liberties and human rights, or we can seek a peaceful resolution of our irreconcilable differences by separating. That can be done by peopling several states, say Texas and Louisiana, control their legislatures and then issue a unilateral declaration of independence just as the Founders did in 1776. You say, 'Williams, nobody has to go that far, just get involved in the political process and vote for the right person.' That's nonsense. Liberty shouldn't require a vote. It's a God-given or natural right.
"Some independence or secessionists movements, such as our 1776 war with England and our 1861 War Between the States, have been violent, but they need not be. In 1905, Norway seceded from Sweden, Panama seceded from Columbia (1903), and West Virginia from Virginia (1863). Nonetheless, violent secession can lead to great friendships. England is probably our greatest ally and we have fought three major wars together. There is no reason why Texiana (Texas and Louisiana) couldn't peaceably secede, be an ally, and have strong economic ties with United States.
"The bottom line question for all of us is should we part company or continue trying to forcibly impose our wills on one another?"
See William's column here:
Hear! Hear!
In the eyes of God, marriage is the most sacred of all unions. It is far more sacred than any political union. If our Creator has authorized the separation of a husband and wife under certain circumstances in which one party violated the sacred terms of the holy contract (and He has), who among us has the audacity to say that political unions may not be abandoned when government commits political adultery by forsaking its oath to the people?
Again, are we more interested in preserving an institution or the liberty that the institution is supposed to secure?
As an institution, the Church at large is apostate. Yet, millions of Christians continue to prop up an institution that has abandoned the purpose for which it was created. They are more interested in preserving the forms and liturgies and tapestries and buildings of the institution. And, all the while, they are being spiritually enslaved by the very institution they are helping to prop up.
And as an institution, the U.S. federal government is apostate. Yet, millions of citizens continue to make excuses for it, justify it, and condone it. They are more interested in preserving the agencies and entities and power of the institution. Yet, all the while, they are being enslaved by the very institution they are helping to prop up.
What happens when an institution becomes more important than the cause for which the institution was formed? When the institution is civil government and the cause is liberty, tyranny is what happens.
At this time, our U.S. Congress rates a nine percent approval rating. It means nine percent of the American public registers "brain-dead."
Those 535 members over the past 40 years deformed our nation from the largest creditor country in the world to the largest debtor nation in the world. We enjoyed less than $1 trillion in national debt to our current $18 trillion debt. That same Congress forced our young men and women into four hopeless, futile and asinine wars that killed tens of thousands of them and sent millions home with Post Traumatic Stress Disorder, drugs and alcoholism. Not to mention dismembered limbs.
That Congress danced to the Military Industrial Complex's tune of contrived wars benefiting the bankers and corporations that outfitted and fed those young soldiers. Those executives made millions while our kids came home in coffins or missing arms and legs and their minds.
That same Congress turned our nation from a rich manufacturing country into a multi-trillion dollar deficit nation where we import everything we once manufactured, to today where we buy everything from China to make their citizens rich. So rich, in fact, that we owe them $1.4 trillion in trade deficits. Ironically, China now owns many U.S. corporations and buys land for its own beachhead here in America, not to mention Vancouver, BC, Canada where it displaced most of the Canadians in the past 30 years. Chinese now dominates the language in once-English speaking Vancouver, BC.
That bunch of hot shot Congressional Critters took our vibrant economy and turned it into 15 million unemployed and 48 million food stamp users. Those same reps allowed 20 million illegal alien migrants to come into our country and work for crooked employers like Chipotle's, Marriot Hotels, Holiday Inns, McDonald's, Hormel, Tyson Chicken, Swift, painting, landscape and construction firms at minimum wages. They and the presidents that headed this country refused to enforce our laws. That's why you MUST press "1" for Spanish and "2" for English.
Today, we face enormous consequences from their actions. Yet, U.S. voters return 96 percent of incumbents—such as Boxer, Feinstein, Hatch, McCain, Kyle, Schumer, Lindsey Graham, Levin, Udall, Bennet, Rangel, Jackson, DeGette and hundreds of other failed Congressional Critters.
So are they stupid or are they corrupt?
One reader named Brad said, "They are not necessarily stupid. It's just that most of these psychopaths are bought. The wealthy buy their services and they get remuneration by jobs when they leave "service", by getting to indulge in insider trading (again – was cut out, but quietly reinstated) etc.
"Just allowing insider trading makes EVERY decision with any economic consequence suspect, as they will have a vested personal income interest in helping corporations increase profits by any means. Thus the repeal of clean air and water regulations. They allow oil fracking to use 2 million gallons of water per well, pour over 530 toxic chemicals into the aquifer to poison and ruin it, and remain exempt from EPA oversight.
"Some may not be bought. Some not all the time. The sad fact is that enough ARE compromised that essentially the damages get done consistently.
"Most in office are so stupid (such as California's Congresswoman Maxine Waters, who is also corrupt in the league with former Congressman Tom Delay of Texas) that they accept stupid, flawed societal paradigms like "what's good for business is good for America" and we can see how well that's working out.
"The parasitic wealthy class is stealing record profits in some of the worst working economy in history – why? Because they have the true entitlement society in which they get tax breaks, tax exemptions, no bid contracts, inflated government costs, subsidizations and most likely a ton of things we never hear about. Simply by allowing industry execs into the alphabet organizations like FDA, USDA, etc., allows them to regulate competition to a ridiculously low level, and to leverage their income, influence, and profits at everyone else's expense."
The greatest flaw facing all U.S. citizens remains "career politicians" that create a "good-old boy" network of cronyism and corruption.
If we citizens fail to press for a maximum of 12-year term limits, we face a downward spiral into poverty and failed government not seen since the 1930s. The majority of Congress remains corrupt. That's why things in the USA don't get better, but continue on the downward path.
Remember: power corrupts; long-term power corrupts absolutely.
Get a load of this chart from DataQuick's National Home Sales Snapshot. It'll tell you everything need to know about housing.
(Note: MSA=metropolitan statistical area)
As you can see, prices are flatlining or drifting lower while sales are sinking like a stone. That's the whole ball of wax, isn't it?
Sure, sales will increase in the spring (as they always do), but judging by the sharp dropoff in last year's hottest markets, this could be the crappiest spring selling season since the crash.
Why?
Because prices are too high, rates are too high, "organic" demand is too weak, credit is too tight, and the pool of potential buyers has shrunk to the size of a walnut, that's why.
The banks have reduced the percentage of distressed homes (foreclosures and short sales) on the market to roughly 11 percent from 59 percent in 2009. Fewer distressed homes mean higher prices, but higher prices mean fewer sales. It's a trade-off. The banks get their money, but the market goes to hell. That's how it works. According to most estimates, there are roughly 4.5 million homes in some stage of foreclosure. That means that –at the present pace–we should get through this Housing Depression a few weeks before Judgment Day. But don't hold me to that.
Did you catch this gem on Bloomberg last week? It's about the big private equity guys exiting the market. Take a look:
"Blackstone Group LP is slowing its purchases of houses to rent amid soaring prices after a buying binge made it the biggest U.S. single-family home landlord. Blackstone's acquisition pace has declined 70 percent from its peak last year, when the private equity firm was spending more than $100 million a week on properties, said Jonathan Gray, global head of real estate for the New York-based firm…

"The institutional wave has passed," Gray, who oversees almost $80 billion in property investments, said in a telephone interview. 'It's at a much lower level than it was 12 or 24 months ago.'

Private-equity firms, hedge funds, real estate investment trusts and other institutional investors have spent more than $20 billion to buy as many as 200,000 rental homes in the last two years. They snapped up properties after prices fell as much as 35 percent from the 2006 peak…

American Homes 4 Rent and Colony American Homes, the second- and third-largest single-family landlords, also have been scaling back as bargains dry up…

"We're going to have to probably slow down a little bit on our acquisition pace until we have a better view or actual certainty of the capital being available," (Chief Executive Officer David ) Singelyn said.

Colony Financial Inc. (CLNY), a REIT that invests in Colony American Homes, slowed its funding for acquisitions last year to focus on improving operations, CEO Richard Saltzman said in a November conference call…

American Residential Properties Inc. (ARPI), a landlord with 6,000 homes, slowed acquisitions by almost half in its latest quarter ending Dec. 31. It invested $104 million in 633 homes compared with $204 million on 1,251 homes in the previous quarter, the Scottsdale, Arizona-based company said in a statement." (Blackstone's Home Buying Binge Ends as Prices Surge, Bloomberg)
Okay, so the speculators are getting out of housing. How's that going to effect the market?
No one really knows yet, but it can't be good, after all, all-cash deals amounted to nearly 50 percent of all homes sales in many of the hotter markets last year. That's why prices went up even though the economy was still in the shitter, because the fatcats were loading up on cheap real estate. Now it looks like they're headed for the hills. That's NOT going to be good for sales.
Did you know that existing home sales have dropped for six months straight, dipping below trend to the same level they were at in 1998?
But how can that be, you ask, when everyone's blabbing about the recovery? How can that be when the Fed has purchased more than $1.4 trillion in mortgage-backed securities (MBS) and rates are a measly 4.5%? How can that be prices have been climbing higher for more than a year?
Sales are dropping because millions of people are underwater on their mortgages and can't afford to move. Millions more are stuck in their homes and aren't paying anything at all. Millions more have student debt up to their eyeballs and will probably never own a home. And millions more still can't find a job. That's why home sales are plunging, because the economy stinks. It's that simple. Sure, the market got a nice little bump from Bernanke's $4 trillion liquidity-surge. Big whoop. Besides, that was 2012-2013. Today things are different. Today the Fed is winding down QE and there's even talk of rate-hike. How do you think that's going to impact sales?
Now get a load of this from Redfin:
"Home sales continued to be sluggish in February, and decreasing affordability is holding back would-be buyers, according to Redfin…. Slow sales have been largely attributed to low inventory for months, but many markets have now seen inventory rise while sales continue to fall. Several markets along the West Coast have seen sharp increases in inventory, yet home sales in the West fell 13.4 percent year over year, hitting their lowest point in five years in the first two months of 2014, while prices rose 19.1 percent year over year…

West Coast Sales Hit Lowest Point in Five Years

– In Redfin's West Coast markets, sales fell 13.4% from February 2013, and hit a five-year low in the first two months of 2014. Sales fell most dramatically in Las Vegas (-22.7%), Sacramento (-21.8%) and Ventura (-20.8%). Across 19 markets, sales fell 10.3%, with markets east of the Rockies taking a less dramatic hit and a few even seeing modest increases." (Redfin)
Did you catch that part about "inventory rising while sales continue to fall"?
For months, the media has been using the "low inventory" excuse for the rotten sales figures. Now they've moved onto "bad weather" to pull the wool over people's eyes. Talk about a lame excuse. It's been in the 70 and 80s in California for most of the winter and sales are down by a whopping 13 percent. Are potential buyers staying at home because they're afraid of getting skin cancer? Is that it? (That'll probably be the next excuse.)
So why ARE home sales tanking?
It's because you can't buy a house if you're working graveyard at Freddie's Burger Bar for $8.50 an hour. It's because you can't put together a 20% down-payment if you're camped out on Mom's sofa in the attic along with Uncle Murray's trombone and your Dad's photo collection of soup cans. It's because you can't qualify for a mortgage when 100 percent of your weekly paycheck goes to paying the VISA, filling the gas-tank, and buying a few groceries at Danny's Discount Foodmart. It can't be done.
That's what's really going on. That's why the share of firsttime homebuyers is currently at its lowest level ever. That's why purchase applications are at an 18-year low. That's why the homeownership rate has slipped to levels not seen since 1995. And that's why mortgage originations were down almost 60 percent year-over-year. It's because the economy sucks. Everyone knows it.
Now take a look at one last chart. It's by Logan Mohtashami at dshort.com. from an article titled,Mortgage Purchase Applications Running Out Of Time.
As you can see, there's a pretty close connection between incomes (the green line) and the mortgage purchase applications index. (The people who can afford to buy homes.)
Surprised?
Of course not, because most people assume there's a relationship between 'what a person earns' and his 'ability to buy a home'. After all, we haven't always lived in this bizarro credit-addled world where anyone who can sit upright in a chair and sign his name on the dotted line can buy a $450,000 rambler in Orchard Hills. That's a fairly new development.
And that brings us to the point of this article, which is to show that all the monetary hocus pocus has achieved nothing. The Fed's Koolaid infusions have been a dead-loss. The market is still flat on its back. Kaput. Which shows, that if you want to fix housing, you have to fix the economy. And if you want to fix the economy; you have to put people back to work and pay them a fair wage. It's that simple.
So why can't anyone in Washington figure it out?
(Note: As this article was going to press, the latest "existing home sales" data was released.) According to USA Today:
"Existing home sales slowed again in February, falling to the lowest pace in 19 months."
So February was even slower than the coldest month of the year, January?
Unbelievable.
You have to hand it to the game-makers in the two major parties: they have done an outstanding job of putting the problems of the world into a convenient left-right paradigm. To the average conservative out there, Republican equals conservative, which equals good–while Democrat equals liberal, which equals bad. And to the average liberal out there, Democrat equals liberal, which equals good–while Republican equals conservative, which equals bad. So, all the party game-makers have to do is paint the other guys as liberal or conservative and all of the sheeple within the two parties will blindly and robotically go to the voting booth and pull the party lever, believing that they have just had a hand in defeating the "bad" guys.
But it's not just the game-makers of the two major parties that participate in this charade; the majority of talking heads on the radio and television talk shows, as well as most newscasters from the network news shows, also participate. The entire political world is seen through the jaded lenses of left and right. Granted, liberal game-makers control the vast majority of the print and television media (with the exception of FOX News), but conservative game-makers dominate the radio talk show circuit.
So, why is it that no matter which political party wins the election (congressional or presidential), nothing changes? Nothing changes with out-of-control deficit spending. Nothing changes with foreign policy. Nothing changes with the Federal Reserve. Nothing changes with federal entitlements. Nothing changes with continuing federal encroachment on personal liberties and State sovereignty. Nothing changes. Liberal or conservative, Democrat or Republican, left or right: nothing changes. Nothing!
It is an absolute fact that, for all intents and purposes, there has been virtually no discernable difference in presidential administrations since Ronald Reagan left office. George H.W. Bush, Bill Clinton, G.W. Bush, and now Barack Obama have been nothing more than one very long and continuous administration. Yet, supposedly both the left and the right have had almost equal terms in office. But, as the game-makers in "The Hunger Games" movies use illusion and manipulation to control people, so, too, the game-makers in Washington, D.C., and New York City use illusion and manipulation to control us. The left-right, conservative-liberal paradigm is an illusion, folks.
Hardly anyone in Washington, D.C., of either major party truly believes in limited government. Their only disagreements surround how increasing federal expenditures will be spent and who will decide how it's spent. Hardly anyone in Washington, D.C., of either major party truly gives two-cents for what the Constitution says about anything. Most of them never even mention the Constitution–except when they are on the campaign trail. Hardly anyone in Washington, D.C., of either major party truly gives a tinker's dam about the erosion of the Bill of Rights. The only time they even talk about reclaiming freedom is when the other party is in power. To most of them, tyranny is fine–as long as the tyrant is a member of their political party.
The reality of the situation is that a very real caste-system has developed in this country. Once most of them (Republican or Democrat) are ensconced in Washington, D.C., they see themselves as having become part of the ruling class. From then on, everything that happens–and I mean EVERYTHING–is designed to augment the pleasure, prosperity, and power of the ruling class. In a word, this is ELITISM. The problem is not liberalism or conservatism; the problem is elitism.
Have you noticed how much time and money is spent on campaigning? Even after a politician wins office, he or she continues to campaign. Constituents are bombarded constantly with mailers, phone calls, emails, television and radio addresses, etc. What motivates most politicians? Defending freedom? Reducing government overreach? Preserving the Constitution? Maintaining the Bill of Rights? No, no, no! A thousand times, no! The only thing that motivates the vast majority of our elected office holders is staying elected. Why? So that they might enjoy the perks of power for the rest of their lives. Honest patriots such as Ron Paul, Steve Stockman, the late Helen Chenoweth, the late Jesse Helms, and the late Larry McDonald are as rare as hen's teeth in Washington, D.C.
Do you really think that the majority of congressmen and senators in Washington, D.C., are worrying about the medical tsunami that Obamacare is producing? Are you kidding? They, and their families, have the finest medical insurance (and care) in the world. Do you really think that the majority of congressmen and senators in Washington, D.C., are worried about whatever gun control legislation might be enacted? Were you born yesterday? They enjoy the benefits of the tightest security–including armed security–money can buy. Do you think that the majority of congressmen and senators in Washington, D.C., are concerned about your loss of liberty? Come on! They make a living exempting themselves from the restrictive laws to which the rest of us are expected to submit.
Again, the problem is elitism. Elitism dominates the politics of both major parties inside the Beltway. It also dominates the newscasters and talking heads–from both the left and the right–that you are watching on television.
Bob Costas rails against our right to keep and bear arms, while every day of his life, he is protected by a host of armed security personnel. The same is true for the likes of Michael Bloomberg and Joe Scarborough. These multi-millionaires (and billionaires, in some cases) sit in their ivory towers completely insulated from the problems that the rest of society must endure every day.
Most of the time, elitists are absolutely superb at masking their feelings of superiority, but, occasionally, one of them will slip up and put their elitism on display for all to see. Such an event happened last week on the floor of the U.S. Senate. And the only report I saw about it came from overseas: The London Guardian newspaper. Remember, the newscasters and talking heads in this country are mostly elitists, too, and they will not be quick to shame a fellow elitist–regardless of his or her political persuasion. Their brotherhood among the elite is vastly more important than whatever political disagreements they may have.
Not only was the story covered by an overseas newspaper, the man who went public with the story was none other than the man that most of the elitists declare to be a traitor: Edward Snowden.
According to The Guardian, "The whistleblower Edward Snowden accused the chair of the Senate Intelligence Committee of double standards on Tuesday, pointing out that her outrage at evidence her staff were spied on by the CIA was not matched by concern about widespread surveillance of ordinary citizens.
"Snowden, the former contractor whose disclosures to journalists revealed widespread surveillance by the National Security Agency, was responding to an explosive statement by Senator Dianne Feinstein about the CIA's attempts to undermine a congressional investigation into interrogation and detention.
"In a surprisingly combative statement on the Senate floor on Tuesday, Feinstein, who has been widely criticised by privacy experts for failing to hold the NSA to account, accused the CIA of conducting potentially unconstitutional and criminal searches on computers used by her staff."
See the report here:
Edward Snowden Accuses Feinstein Of Hypocrisy 
There you have it, ladies and gentlemen: the public display of an angry elitist. Senator Feinstein doesn't give a plug nickel whether the NSA (or any other government agency) is spying on the American people, but when they start spying on her–or her staff–it has suddenly become a constitutional crisis. So, why does it take a foreign newspaper and a man who fled the country for fear of his life to notice Feinstein's hypocrisy? Again, it's because the majority of the American media is controlled by Feinstein's fellow elitists.
But, the story gets even more comical. According to the New York Daily News:
"California Sen. Dianne Feinstein said Sunday that her fight against the unregulated use of drones is now personal after one of the surveillance devices got a bit too close to her for comfort.
"The Democratic Chairwoman of the Senate Intelligence Committee told CBS' "60 Minutes" that a drone peeked into her window when a group of protestors from Code Pink recently gathered outside her house to rally against government surveillance."
The News report continued saying,
"'I'm in my home and there's a demonstration out front, and I go to peek out the window and there's a drone facing me,' she said of the incident. 'When is a drone picture a benefit to society? When does it become stalking? When does it invade privacy? How close to a home can a drone go?'
"According to Politico, Code Pink members have claimed that the device that flew by Feinstein's house was just a toy helicopter.
"Feinstein, who has defended the general use of drones to gather government intelligence, nevertheless stressed the importance of regulating their operation."
See the report at:
Senator Dianne Feinstein Pushes Drone Regulation After One Flies Up To Her Window 
Now, the elitist Dianne Feinstein–the one who sees nothing wrong with the government spying on you and me–is so paranoid about the government spying on her that she mistakes a toy helicopter for a drone and goes on national television to complain about it? Someone, please help me get off of the floor!
The fact is it is not adherence to the Constitution, or commitment to liberty, or compassion for the common man that drives and motivates these elites in Washington, D.C., and New York City. It is kickbacks, and favors, and contacts, and greed, and lust, and payoffs, and wining and dining, and yacht trips, and trips to foreign countries, ad infinitum, that motivates them.
As long as the American people continue to be duped by the game-makers by falling into this left-right, conservative-liberal, Republican-Democrat paradigm, nothing is going to change in this country. Nothing! If you want to restore the republic, forget what you hear from the political and media elite. Their only job is to continue the illusion; and their only desire is to continue to bask in the benefits of being part of the ruling class.
Reportedly, the CIA and its friends have taken a strong interest in Mick Jagger (seen above with Obama).
The CIA plan is to control the minds of the musicians and then use the musicians to control the minds of the populace.
The CIA uses drugs and Satanism when it mind-controls the stars.
The Rolling Stones and The Occult – Global Truth
In his book, The Ultimate Evil, Maury Terry wrote that between 1966 and 1967, the (CIA-linked) Satanic cult called the Process Church, "sought to recruit the Rolling Stones."
Jagger has been influenced by Kenneth Anger, a follower of Aleister Crowley.
Crowley worked for the UK spy service MI5.
(Aleister Crowley Was A British Intel Agent – Rense)
Author Tony Sanchez wrote that Mick Jagger "listened spellbound as Anger turned them on to Crowley's powers and ideas."
(Tony Sanchez, Up and Down WIth the Rolling Stones, p.155)
While in the UK, Anger worked on a film 'dedicated to Aleister Crowley', called Lucifer Rising, which was renamed "Invocation of My Demon Brother."
Invocation of My Demon Brother.
Mick Jagger had a starring role in the film and he composed the music.
The CIA-connected Satanist Anton LaVey played the part of His Satanic Majesty.
Chris Jagger, brother of Mick 'was originally to take the role of Lucifer'.
Then it was decided that Lucifer would be played played by Bobby Beausoleil, a member of the Manson Family, and Anger's homosexual lover.
Process Church follower Marianne Faithfull went to Egypt to take part in the film's depiction of a Black Mass.
In London, 'Anger recruited Anita Pallenberg to Satanism'.
The Rolling Stones and The Occult – Global Truth
She became the lover of three members of the Rolling Stones.
Anger said of Anita, said, "I believe that Anita is, for want of a better word, a witch…The occult unit within the Stones was Keith and Anita…and Brian. You see, Brian was a witch too."
Tony Sanchez wrote of Pallenberg in his book, Up and Down with the Rolling Stones, "She was obsessed with black magic."
The Rolling Stones and The Occult – Global Truth
LSD can lead to a person becoming mentally ill and dangerous.
MK-Ultra mind-control operations involve the use of drugs and Satanism.
Charles Manson is believed to have been a victim of the CIA's MK ULTRA brainwashing.
Manson supplied sex and drugs "to Hollywood actors, actresses, promoters, partners and rock stars."
Source: aangirfan.blogspot.ca
ATF agents raided a gun parts store over the weekend to obtain a customer list.
The raid began after Dimitri Karras, the owner of Ares Armor, in National City, Calif., refused to turn the customer list over to the federal government as demanded. A retired Marine, Karras said agents with the Bureau of Alcohol, Tobacco, Firearms, and Explosives (ATF) wanted to investigate a list of 5,000 customers who unknowingly had purchased an allegedly illegal part at the store.
The customers reportedly purchased a specific 80 percent lower receiver — used to build an AR-15 rifle – that the Department of Justice and the ATF contend is illegal because it does not have a serial number.
Ares Armor was among a handful of stores which recently received a letter from ATF agents demanding that they not only turn the non-compliant gun part over to the federal government, but provide the names of all customers who bought the item as well.
Karras' attorney asked for and received a temporary restraining order against the ATF from a federal judge, Janis L. Sammartino, who was nominated by President George W. Bush. A preliminary hearing is scheduled to review the situation on March 20.
But on Saturday the ATF agents did break in and enter Karras' gun parts store, which was closed at the time. They walked out with several boxes of files. Federal attorneys had obtained a judicial "ex parte order," which allowed them to search the store as long as no one was there. Sammartino had issued that, too.
Karras previously had said federal officials had told him to turn over the files "or we are coming in and taking pretty much anything."
"Which is a huge privacy concern and something we are not willing to do," he had said. "They were going to search all of our facilities and confiscate our computer and pretty much shut our business down. The government invades our privacy on a daily basis and everyone thinks it's okay. This is one of those situations where hopefully the government institutions come in and say, 'This is protected and you're not taking it from them.'"
Story continues below video
During the Saturday ATF raid on Ares Armor, the agent converged upon the store in full tactical gear and confiscated the remaining AR-lower receivers. Just prior to the raid, both plain clothes and undercover ATF agents reportedly questioned customers outside of the California gun store.
The customers who purchased the part likely will be contacted by federal officials soon.
"If you have purchased an 80% lower receiver from a storefront location or over the Internet from any vendor, I think it is safe to assume that the federal government either has your customer data, or is in the process of trying to obtain your customer data," wrote BearingArms.com editor Bob Owens. "If you want a truly anonymous 80% lower, pay cash via a private sale, the same as you would with a serialized firearm.
Story continues below video
"We have to wonder if this raid wasn't as much an attempt to send a message to 80% lower customers as it was a raid for user data. Perhaps they're attempting to scare people away from buying from these companies, so that they go out of business."
Source: (Tara Dodrill | Off The Grid News)  
Tuck away the many horror stories of the wrong limbs being amputated, things being left in surgery patients, terrible infections picked up in hospitals and totally wrong diagnoses. More relevant is a bureaucratic hospitalization horror that far too few Americans covered by Medicare are aware of.
Odds are that you do not know a key question to ask if you ever find yourself in a hospital for an overnight stay that could last from one or two days, or perhaps much more.  What you and anyone accompanying you want to know is whether you are being classified as "under observation."   This means that legally you are not an inpatient.  If the former, then you are likely to find yourself owing the hospital a large amount of money, because your Medicare or other health insurance will not provide the benefits associated with inpatient status.  Many, many Americans nationwide that were classified as under observation have faced unexpected bills of many tens of thousands of dollars.
So pay very close attention to what you are about to read.
If you in a hospital, possibly in an emergency room, then you or family or friends should ask some tough questions of hospital staff if you are kept in the hospital after being handled in the emergency room.  Ask if you will be kept in as an inpatient.  If told that you will be in the observation category, then you might seriously consider whether you should stay in that hospital, or perhaps seek another one if you are not in immediate need of medical attention beyond what was received in the emergency department.
Indeed, ordinary Americans should recognize what Medicare does, namely that the decision made by the hospital to classify a patient as under observation for billing purposes is a "complex medical judgment."  What that means is that different interpretations and decisions can be made, either by someone else in the hospital or professionals in a different hospital.  The critical decision to use the observation classification, with so much potential negative impact for patients, is "open to widely variable interpretation" as physician Steven J. Myerson has noted.
Because you may be in a very stressful state resulting from facing some medical condition, it is imperative that family and friends also need to become educated.  Realistically, you may not be in a clear enough mental state when you enter a hospital to ask questions and demand good answers about how the hospital is classifying your stay.
Understand this: Nothing is crazier than entering a hospital for one or more nights and being designated as under observation, which amounts to being an outpatient, rather than an inpatient.  Despite coverage by Medicare you will not have expected benefits.
Beyond hours in the emergency department, you can spend days in a hospital bed, receive regular nursing care, be given drugs and all kinds of tests.  You might even spend time in a critical care or intensive care unit.  But you can still be officially designated an outpatient in observation status.  Even though you might stay in the hospital for more than just one or two nights, unless officially designated an inpatient you face major financial liability.
Under Medicare this means you are not covered by Part A which provides the best hospital coverage, but rather covered under Part B with far inferior coverage.  This practice is as bad as anything you have ever heard about awful health insurance coverage.  Furthermore, Medicare does not cover post-discharge care for Part B observation stays. For example, a patient in observation status for a broken bone will have to pay the full cost of rehabilitation or a nursing home.  But for an inpatient Medicare pays for skilled nursing care following at least three consecutive inpatient days.  Also, observation patients pay out-of-pocket for the medication they receive in the hospital and Subtitle D drug coverage may not cover these costs.
Hard to believe but your personal physician may not know that their patient has been classified by the hospital as outpatient or under observation.  Though it would be very smart for you to raise this issue and make it clear that you do not want to stay in a hospital unless you are being admitted as an inpatient.  But starting in an emergency room makes it difficult to push this issue, but not impossible.
Even the key public document from Medicare makes clear that "You're an outpatient if you're getting emergency department services, observation services, outpatient surgery, lab tests, or X-rays, and the doctor hasn't written an order to admit you to the hospital as an inpatient."  Regardless of what a doctor has said, however, hospitals have the power to classify you as under observation.  The government advises "If you're in the hospital more than a few hours, always ask your doctor or the hospital staff if you're an inpatient or an outpatient."  Note the word "always."  That is terrific, critically important advice.
You or your accompanying relative or friend must be prepared to challenge a decision of observation status and even raise the possibility of immediately leaving the hospital. Remember, this is after any actions given in an emergency department.  Being prepared to challenge an observation status decision requires that you fully understand the considerable downside of this hospital classification.
Actually, Medicare maintains a one way communication street.  Medicare doesn't require hospitals to tell patients they are "under observation," though many will do so.  It only requires hospitals to tell patients they have been downgraded from inpatient to observation.
To be clear, if you are not classified as an inpatient, then you officially have not been admitted to the hospital though you have entered it.  Toby Edelman of the Center for Medicare Advocacy has noted that "People have no way of knowing they have not been admitted to the hospital.  They go upstairs to a bed, they get a band on their wrist, nurses and doctors come to see them, they get treatment and tests, they fill out a meal chart – and they assume that they have been admitted to the hospital."
How much of a problem is observation status?  In recent years, hospitals have increasingly classified Medicare beneficiaries as observation patients instead of admitting them, according to a Brown University nationwide analysis of Medicare claims.  From 2007 through 2009, the ratio of Medicare observation patients to those admitted as inpatients rose by 34 percent.  Worse, more than 10 percent of patients in observation were kept there for more than 48 hours, and more than 44,800 were kept in observation for 72 hours or longer in 2009 — an increase of 88 percent since 2007.
A recent New York Times article noted that under Medicare: "the number of seniors entering the hospital for observation increased 69 percent over five years, to 1.6 million in 2011."  And from 2004 to 2011, the number of observation services administered per Medicare beneficiary rose by almost 34 percent, according to the Medicare Payment Advisory Commission, while admissions per beneficiary declined 7.8 percent.  In other words, this observation issue is not a trivial or minor issue affecting just a few people.
Data showing far greater use of the observation status option than widely reported were in a 2013 report to Medicare by the Health and Human Services Inspector General for 2012 hospitalizations.  Some 2.1 million hospitalizations were designated observation status with 11 percent three nights or more and 80 percent originating in emergency departments, but another 1.4 million were long term outpatient stays that could and perhaps should have been coded as observation status.  There were also 1.1 million short term inpatient stays (less than two nights) that also could have been coded as observation status.  With increased enforcement by Medicare and penalties for hospitals, therefore, there is the possibility of 4.6 million or more annual observation status stays.  Medicare patients should be aware of large differences among hospitals.
AARP did its own study and found that from 2001 to 2009 both the frequency and duration of observation status increased.  Although only about 3.5 percent of Medicare beneficiaries were in this class in 2009, Medicare claims for observation patients grew by more than 100 percent, with the greatest increase occurring in cases not leading to an inpatient admission.  The duration of observation visits also increased dramatically.  Observation service visits lasting 48 hours or longer were the least common, but had the greatest increase, almost 250 percent for observation only and more than 100 percent for observation with inpatient admission.
According to a survey by the National Association of Professional Geriatric Care Managers (NAPGCM) in 2013 more than 80 percent of US geriatric care managers reported that "inappropriate hospital Observation Status determinations were a significant problem in their communities and 75 percent noted that the problem was growing worse.
A University of Wisconsin study found that 10.4 percent of hospitalizations in 2010 and 2011 were in the observation status category and 16.5 percent of them exceeded 48 hours and concluded "observation care in clinical practice is very different than what CMS [the Medicare agency] initially envisioned and creates insurance loopholes that adversely affect patients, health care providers, and hospitals."  In an Invited Commentary on the Wisconsin study, physician Robert M. Wachter of the Department of Medicine at the University ofCalifornia, San Francisco, summed up the observation issue as having "morphed into madness."
Note that Medicare guidelines recommend that observation stays be no longer than 24 hours and only "in rare and exceptional cases" extend past 48 hours.   Obviously, this is nearly meaningless in the real world.
Why are hospitals placing more patients in observation status?
Like so much in American society, the answer is money.
Hospitals are at risk from Medicare audits that declare patients wrongly defined as inpatients.  Payment is then rejected, potentially large amounts of money.  The government has increased audits to such a degree that since 2009 four recovery firms have reviewed bills from hospitals and physicians nationwide and recuperated $1.9 billion in overpayments. Billion!
Two physicians writing in the prestigious New England Journal of Medicine said: "When observation is used as a billing status in inpatient areas without changes in care delivery, it's largely a cost-shifting exercise – relieving the hospital of the risk of adverse action by the RAC [Recovery Audit Contractor] but increasing the patient's financial burden."
To cut its spending, Medicare has accused hospitals of over-charging by "admitting" patients instead of putting them on "observation" status.   For example, in July 2013, BethIsrael New England Deaconess Hospital in Boston paid Medicare $5.3 million to settle claims over this issue.
A new wrinkle under Obamacare is that hospitals can be penalized for readmitting patients in less than 30 days.  But observation patients cannot be counted as readmissions if they happen to return because they were not officially admitted in the first place.  To avoid this risk of financial loss, more patients can be classified as under observation.
A new Medicare rule taking effect April 1, 2014 requires doctors to admit people they anticipate staying for longer than two midnights, but to list those expected to stay for less time as observation patients.  Many medical professionals doubt that this will improve things.  Physician Ann Sheehy of the University of Wisconsin closely examined how this rule will work and concluded: "We found that four of five diagnosis codes were the same across length of stay, indicating that the cut point is arbitrary and really does not distinguish different patient groups, even though insurance benefits will be different based on length of stay."  Time, not medical condition or hospital actions, is being used.  She also noted that the government will not count nights spent at different hospitals, and that 9 percent of their observation were transfers.
Dr. Sheehy made this great point: "Observation is an outpatient designation, which implies all services delivered could be done in an outpatient setting. This is totally not the case, which is why observation status is so frustrating."
Because there is essentially no upside to being put into observation status, it is critically important for you or your advocate to be very assertive when entering the hospital.  What actions can you take after you are in the hospital and you are likely in a better mental state to address this problem?  Nothing that is likely to work for you.
The imperative is to check your status each day you are in the hospital and remember that it can be changed (from inpatient to observation, or vice versa) at any time by various hospital doctors or officials.  Sadly, in many cases a patient may not be informed that they have been in observation status until the discharge process.  That is why it is very important to ask the hospital, either through a doctor or nursing staff, what your status is and, if observation, to formally reconsider your case.  Ask if there is a hospital committee that could review your status.  Definitely ask your own doctor whether they are willing to press your case for inpatient status based on medical factors.  In theory, you could appeal observation status with Medicare after you leave the hospital, but that is difficult and few have succeeded.
The Center for Medicare Advocacy makes available a Self Help Packet for Medicare "Observation Status."  This is definitely worth keeping handy and it would be great if hospitals distributed it.  This group has an active legal case challenging the government's policy of allowing hospitalized Medicare beneficiaries to be placed in "observation status," rather than formally admitting them, and depriving them of their Part A coverage in violation of the Medicare statute and other laws.  This group makes this important observation: "Neither the Medicare statute nor the Medicare regulations define observation services.  The only definition appears in various CMS manuals."
What is really needed is action by Congress to eliminate observation status for any overnight stay, but this is unlikely unless many millions of Medicare beneficiaries demand it.  The ugly truth is that this observation status was a bureaucratic tactic to reduce Medicare spending.  It puts hospitals in the difficult position of putting their patients in a very bad financial situation.  In a real sense hospitals are being blackmailed into serving as agents to implement this awful observation policy.  A vigorous national campaign by AARP demanding congressional action is needed.