For the last several years, the press on the disastrous North American Union has been off front-page news. Nonetheless, the plans to remove barriers and open up borders keeps chucking along. Those who belief this course is desirable or those who conclude that it is unpreventable because the climate of globalization is overpowering, are subversive collaborators of the NWO or gutless wimps that deserve to be run over by the hordes of barbarians that flood our country.Jerome R. Corsi writes in the essay, Kerry signals advance of 'North American Union' plan, "with the expected ratification by Congress of the Trans-Pacific Partnership, or TPP, the Obama administration already considers the U.S., Mexico and Canada as part of a "post-NAFTA" world." What a horrendous admission to make. As stated in the article,
Obama Presses "North American Union" With Mexico, Canada, and this plan for hemispheric integration has a very long record of treason. Some background leading to the current crisis.
"Following the establishment of NAFTA in 1994, under the Clinton administration, President George W. Bush attempted to deepen the U.S.-Canada-Mexico tri-national region with the Security and Prosperity Partnership (SPP), but public opposition spearheaded by this publication, The John Birch Society, WorldNetDaily, Phyllis Schlafly's Eagle Forum, and other pro-independence, pro-Constitution groups, forced the Bush administration to shelve the plan — temporarily — and drop the tainted SPP moniker.

At the same time, the Bush administration was pushing the broadening agenda, under the banner of the Free Trade Area of the America's (FTAA), an endeavor launched during the Clinton administration to expand NAFTA to include all the nations of North and South America. As with the SPP, an awakened electorate put sufficient heat on the U.S. Congress to torpedo the FTAA. The subversive integration/merger plans that The New American had been exposing for years were confirmed in 2011 with the release by WikiLeaks of U.S. State Department cables showing that U.S. officials had been colluding with their Canadian and Mexican counterparts to undermine our constitutional government through various "integration" schemes. (See here and here.)"
Therefore, it comes as no surprise when General Petraeus announces, "After America Comes North America." He also boasted about how the three economies have been put "together" over the last 20 years as part of the "implementation" of the North American Free Trade Act. As The New American publication proves, resistance to a NAU is not only justified but also necessary if America is to survive as an independent nation.Back in 2006, Dr. Corsi refutes NeoCon proponent John Hawkins, who uses Saul D. Alinsky tactics, in Human Events account that NORTH AMERICAN UNION IS NO CONSPIRACY. The point is that the Obama administration is carrying forward the same strategy, ever protected by the lame stream media, to advance the disintegration of American sovereignty.
The video, NORTH AMERICAN UNION FORMING NOW!! THIS IS THE END OF THE U.S.A, provides a vivid analysis just what is at stake. In addition, one example of the methods used by Obama is reveled in the 2012 column, New Obama Executive Order Pushes Us Closer To A North American Union And A One World Economic System.
"Most Americans have absolutely no idea how far plans to integrate the United States, Canada and Mexico have advanced.

Last year, Barack Obama signed an agreement to create a "North American security perimeter" and most Americans never even heard about it because the mainstream news networks almost entirely ignored it.

But this is exactly what the globalists want. They don't want people to become alarmed by these moves toward North American integration. In fact, a document uncovered by Wikileaks shows that those involved in the effort to integrate North America believe that an "incremental" approach is best. Apparently they believe that small moves toward integration are less likely to alarm the general population."
Well, the pretence looks to be over. The fear of alarming American nationalists no longer exists. However, the Homeland Security policy to open the southern border is backfiring as seen in the article, Border Patrol Agents Quitting as Obama's Mass Invasion Mess at The Border Permeates the Rest of the Country.
"And now our Border Patrol agents are saying, screw it, and looking for new careers/jobs as known Mexican gang members are enjoying the Obama/Holder 'catch and release' policy.More than one person is concluding the Obama administration is responsible and has intentionally set this massive border mess into motion with his policies on immigration, hoping to force amnesty as his solution to the man-made disaster and humanitarian crisis (which is designed to never allow to go to waste) of his making."
Clearly the establishment's efforts to create a fabricated immigration crisis in order to force a bogus "comprehensive" consolidation in this dreadful North American Union, is at the core of the mass migration. For the bleeding heart do-gooders, the death trains cry out for a more humane mode of transportation to import the Central America into the former Republic of the United States.
One such redemptive fix is to interject a dose of altruism. Replace the clingers on boxcars, reminiscent of Indian Dalit untouchables, with the sleek travel experience of the U.S. and Mexico could be connected by multi-billion-dollar high speed train within FOUR YEARS.
"A multi-billion-dollar high-speed train network linking America with Mexico moved a step closer as officials from both sides of the border thrashed out details.

The proposed 300 mile route would link San Antonio, Texas, to Monterrey, Mexico – slashing the current journey time from five hours by car to under two hours."
Just look at the advantages of streamlining a direct route from Mexico, that bypasses any border checkpoints and deposits these "PC" undocumented immigrants directly to resettlement facilities. The return trip south can be used to transport Fast and Furious guns, useful in the drug trade, which is central to the economics of laundering monies in the North American Union hierarchy.A decade ago, the article, Do Foreigners Have a Right to Enter the United States?, covered the efforts of Asa Hutchinson, the then Under Secretary of Homeland Security for Border and Transportation Security.
"Starting this week foreign visitors will be digitally fingerprinted and photographed as part of a nationwide program to check their backgrounds and keep track of when they enter and leave the United States. On the surface this looks like a necessary and desirable procedure. This procedure is the first phase of the Department of Homeland Security's automated entry-exit system called the U.S. Visitor and Immigrant Status Indicator Technology, or US-VISIT."
Guess that tracking system proved too much of a burden for the latest rush to process these "so called" undocumented migrants. Oh yes, let's correct the terminology; this mass exodus wants to stay permanently in the only country that allows open borders for the premeditated and systemic destruction of their own nation.With the open admission that Former Border Patrol Agents: Illegal Immigration Crisis "Contrived", does any federal officials listen, much less act to close the border? The National Association of Former Border Patrol Officers (NAFBPO) released a statement:
"This is not a humanitarian crisis. It is a predictable, orchestrated and contrived assault on the compassionate side of Americans by her political leaders that knowingly puts minor Illegal Alien children at risk for purely political purposes. Certainly, we are not gullible enough to believe that thousands of unaccompanied minor Central American children came to America without the encouragement, aid and assistance of the United States Government. Anyone that has taken two six to seven year old children to an amusement park can only imagine the problems associated with bringing thousands of unaccompanied children that age up through Mexico and into the United States. I doubt even the Cartels would undertake that chore at any price. No, it has to be heartless corrupt politicians and their minions lusting for more money and power."
There a few issues more absolute than the words of Ronald Reagan, "A nation that cannot control its borders is not a nation." When Congressional Rep. Steve King says that "Ronald Reagan's signature on the 1986 amnesty act" gave Barack Obama about 15 million additional Hispanic votes in 2012, he is prophesying even a worse future and inevitable prospects under a North American Union.
Reading a headline in the New York Times, Pentagon Plans to Shrink Army to Pre-World War II Level, one needs to ponder what it would take for a defensive deployment on the southern border. If General John "Black Jack" Pershing was sent to track down Pancho Villa, what prevents permanent military patrols to simply guard the border? Obviously, there is not any junior grade George S. Patton's in the army that would have the courage to buck the commander of treason. This border war is the true existential threat that Americans do not have the stomach to fight.Those who propagate a North American Union are globalists and hate everything that the authentic America stands for. Look in a mirror, that ugly face could be you, if you fall for the propaganda of the NAU.
Culprits Include The City Of Chicago, Big Retailers, The Media, And Churches…
Proponents of the Nanny State have been trying to take away man's Natural right of self-defense ever since the United Nations was created back in 1945. Of course, the Natural right of self-defense is totally unknown in communist and socialist countries; and big-government toadies in several so-called "democratic" countries have also succeeded in turning citizens into subjects by removing or severely restricting the Natural right of self-defense. Obviously, I'm talking about countries such as Great Britain, France, Germany, New Zealand, Australia, and Canada.
By self-defense, I am talking about a man's right to carry a Personal Defense Weapon (PDW)–which, in modern times, mostly requires a firearm–anywhere and everywhere he goes. A state that does not allow a man to be personally armed in his day-to-day activities is literally stripping him of his right of self-defense. To require a citizen to keep his or her PDW in their home or vehicle is to deny the citizen's Natural right of self-defense. To say a citizen may lawfully protect himself in only limited and duly-prescribed locations is to make the citizen a subject of the state. Furthermore, it removes from him the most fundamental of all the Natural rights that were granted to him by his Creator: the right of self-defense.
Four-legged predators are constantly on the prowl for animals that are defenseless. Two-legged predators do the same thing. These human predators do not respect "gun-free" zones. Like all predators, they are opportunistic beasts. They prey on the weak and vulnerable. When the state takes away a person's right to be always armed, it makes the entire citizenry weak and vulnerable. As I have said many times, guns don't kill people; gun-free zones kill people.
Gun control laws are among the most egregious violations of Natural Law. Men and women who are truly free are allowed to carry a PDW everywhere they go. Banks, schools, government buildings, churches, etc., should be no exceptions. It is no coincidence that just about every single mass-shooting in recent memory has taken place in a so-called "gun-free" zone, where the only people who were armed were the perpetrators. Gun-free zones turn free men into human prey.
For all intents and purposes, several states and major cities within the United States have become "gun-free" zones, in that they mostly deny their citizens the right to carry a PDW on their person. Whether the people of these cities and states realize it or not, they have lost the right to be called free men and have been turned into human prey by their own State and municipal governments. There is no greater example of this tyranny than the city of Chicago, Illinois.
Chicago has some of the strictest and most stringent gun-control laws in the entire nation. The government of Chicago has, in effect, turned the town into a giant killing-field where ravenous two-legged beasts are allowed to feast on the millions of defenseless prey that inhabit our country's third largest city. For example, over the past Independence Day weekend, 82 people were shot and 14 people were killed in Chicago violence. Breitbart.com covered the story:
"Breitbart reported that the violence was high on Friday, Saturday, and Sunday morning, but when Thursday, the final hours of Sunday, and the first few hours of Monday morning were added to the accounting, the rate of violence proved to be even more appalling.
"On Monday morning, July 7, the Chicago Tribune shocked the city with the list of weekend violence reporting that between Thursday, as the holiday weekend began, to the early hours of Monday morning, Chicago experienced 82 shootings with 14 killed."
Included in the Breitbart report is the fact that one man's life was actually saved by virtue of the fact that he had a concealed carry permit (no small feat in the City of Chicago) and used his PDW to protect himself against three violent miscreants. In this case, one of the dead was a violent predator. Had the innocent citizen not been armed, he would have been the statistic. In addition, the report states that eight of the dead were at the hands of Chicago police officers in the line of duty, proving, once again, that policemen carry guns, not for the protection of the citizenry, but for their own protection.
Predictably, Chicago Mayor Rahm Emanuel blamed the increased violence on "weak" gun laws in the neighboring states of Indiana and Wisconsin.
See the Breitbart.com report here:
Between Thursday And Monday 82 Shot, 14 Killed In Chicago Violence
Of course, what Emanuel won't tell you is that the violent crime rates of those states where the right to keep AND BEAR arms is less infringed are far less–far less! For example, there are 11 states in the country that allow their citizens to carry firearms freely and openly with no permit or license required. Those states are Alaska, Montana, Idaho, Wyoming, Nevada, Arizona, New Mexico, South Dakota, Vermont, Kentucky, and Virginia. So, using Emanuel's logic, one could expect that there should have been hundreds of shootings in those states last weekend–what with their "weak" gun laws and all, right? You know that's not true.
Check the incidents of shootings in the above-listed states and we might even discover that the City of Chicago may have had more shootings over this past Independence Day weekend than those 11 states COMBINED. Think of it: the City of Chicago (with some of the strictest gun control laws in the country) may have had more shootings than the combined shootings of the 11 states that recognize their citizens' Natural right of self-defense by allowing them to freely and openly carry a PDW.
Of course, it's not only various and sundry governments (though they are the most egregious usurpers of the Natural right of self-defense) that want to deny people the right to bear arms; many large retailers are adding their weight to the anti-self-defense hysteria.
Just a few days ago, the giant retailer, Target, announced a corporate policy that asks its patrons to leave their firearms at home. Once again, Breitbart.com covers the story.
"On July 2nd, Target 'respectfully' asked law-abiding citizens to 'not bring firearms' in their stores.
"The department store chain did this via an announcement posted on its website and shared by interim CEO John Mulligan.
"The announcement says:
"'As you've likely seen in the media, there's been a debate about whether guests in communities that permit "open carry" should be allowed to bring firearms into Target stores. Our approach has always been to follow local laws, and of course, we will continue to do so. But starting today we will respectfully request that guests not bring firearms to Target–even in communities where it is permitted by law.'
"By taking this step, Target joins Chipotle, Jack in the Box, Sonic, and Chili's in asking law-abiding citizens not to carry guns in their businesses."
The author of the report, AWR Hawkins, notes, "Within two weeks of asking law-abiding customers to come unarmed, two Jack in the Box stores were robbed, and a shooting took place at a third. Patrons were robbed at gunpoint in one of the robberies, as well."
See the report at:
Target 'Respectfully' Asks Law-Abiding Citizens To Leave Guns At Home
But the war against your Natural right to self-defense doesn't stop with the City of Chicago or the Target chain-stores. The mainstream media seem absolutely determined to take away your right to defend yourself and your loved ones.
After CNN sacked Piers Morgan due to his immense unpopularity, which was mostly due to his arrogant attacks against America's Second Amendment, the cable network recently announced that it was replacing Morgan with former America's Most Wanted host, John Walsh, who immediately proclaimed that his show would continue Morgan's attacks against the Second Amendment.
Once more, Breitbart.com covers the story:
"Former America's Most Wanted host John Walsh is hosting a new show on CNN on which he vows to keep the push for gun control and the war on the NRA alive.
"According to The Wrap, Walsh said:
"'I'm the father of a murdered child. I've done nothing but track violence in America since my son was murdered. We have a serious problem with guns in this country… and the NRA solution to arm every grammar-school 80-year-old teacher with a gun is absolutely ludicrous.'
"He claims the NRA has gotten so big and financially powerful through relationships with gun manufacturers that 'they're not a lobbyist on Capitol Hill, they're a gun manufacturer rep.'
"Walsh's new show, The Hunt, premieres July 13. Walsh says he did not initially realize 'how much his gun control efforts would be a part of his new show.'"
See the report at:
New CNN Host John Walsh Vows To Continue Piers Morgan's War On The NRA
Obviously, CNN is hoping that it's continued anti-Second Amendment agenda will be more palatable to the American people if it comes from a fellow American–especially one with whom everyone can truly sympathize with by virtue of his losing a child to an act of violence (although Adam Walsh's murder did not involve the use of a firearm)–than from the arrogant and pompous British elitist, Piers Morgan. But make no mistake about it: the anti-Second Amendment message is the same. Only the messenger has changed.
And most sadly, churches, too, are often at the forefront of the anti-self-defense fanaticism. Christian leaders from denominations across the board are often the ones who promote gun control (even gun confiscation) among their congregations and who deny their parishioners the right to be armed on church property.
For example, back in 2004, the president of the LDS church issued a declaration to all Mormon churches in Utah that gave "public notice that firearms are prohibited in the church's houses of worship, including temples, meetinghouses, the Assembly Hall, the Salt Lake Tabernacle, and the Conference Center."
The declaration went on to say, "Once such public notice is given, persons who bring firearms into a church house of worship should be informed of the church's position and politely asked to take their firearms to another safe location. Persons who refuse to take their firearms from the house of worship or repeatedly ignore the church's prohibition should be referred to local law enforcement officers for possible criminal prosecution."
See the church statement here:
Text Of Letter From First Presidency On Guns
But if you think the LDS church is the only church in the country that has taken such a position, you are sadly misinformed. My educated guess is that the vast majority of denominations and churches in America have a very similar position.
But instead of denying the Christian people of America from exercising their God-given right of self-defense on church property, church leaders should be boldly teaching the Biblical Natural Law principles of self-defense and encouraging their people to jealously guard this most fundamental liberty. By demanding that Christian people not be armed on church property, church leaders are no better than Rahm Emanuel–who insists that Chicago's residents not be allowed to protect themselves–and are opening up their churches to those two-legged wolves who would seek to devour the sheep.
There are only a small handful of countries today that recognize the Natural right of self-defense. The advent of the United Nations has facilitated the demise of this right in country after country. The United States is the last major power that yet somewhat protects this most precious Natural right.
Obviously, several State and local governments within the United States (not to mention the worst offender of all: the federal government in Washington, D.C.) have themselves assisted the dismantlement of the right of self-defense. Several giant retailers are assisting the attacks against our Natural right of self-defense. The mainstream media is incessant in its attacks against the Second Amendment. And even many of America's churches have set themselves against the right to BEAR arms. The war against our Natural right of self-defense continues.
However, I need to point out that the architects of the Nanny State have been trying to disarm the American people since even before the United Nations was created. And while the right to keep and bear arms has been severely restricted by myriads of federal, State, and local laws, the American people continue to be the most heavily armed people in the world. Not only is the American citizenry an armed citizenry, it is an absolutely determined citizenry. The message to any and all potential tyrants who would attempt to remove our Natural right of self-defense is the same–whether they are from King George's London, Mao's Beijing, Stalin's Moscow, Emanuel's Chicago, Obama's Washington, D.C., or the U.N.'s New York City: MOLON LABE, COME AND TAKE THEM!
On July 17th Neil Young & Crazy Horse will perform at Hayarkon Park, Tel Aviv, a park built on the ruins of the Palestinian village Al Mirr, a land and people, destroyed and buried amidst unspeakable violence, but not forgotten. 
Neil Young is a Canadian singer, songwriter, guitarist and author of WAGING HEAVY PEACE
Crazy Horse is an American band best known for their association with Young beginning in 1969.
Crazy Horse has been co-credited on 11 studio albums and numerous live albums billed as by "Neil Young and Crazy Horse".
In Waging Heavy Peace, Neil Young's 2012 autobiography, Young documents his life and career shifting from the past to present and from career to personal experiences.
On page 346, Neil Young wrote:
Somewhere along the line I had suggested the name Crazy Horse after the great Indian chief and the guys liked it. Neil Young with Crazy Horse. Not 'and'…I liked that I was with them. Like we were together, not separate.
On page 137, Neil Young wrote:
When music is your life, there is a key that gets you to the core. I am so grateful that I still have Crazy Horse…they are my window to the cosmic world where the music lives and breathes. I can find myself there and go to the special area of my soul…

Just getting there is the key thing, and Crazy Horse is my way of getting there…

Am I too cosmic about this? I think not…

Do not doubt me in my sincerity, for it is that which has brought us to each other now.
In 2005, a coalition of over 170 Palestinian civil society organizations launched a campaign calling the international community to boycott Israel culturally, academically, and commercially  UNTIL Israel recognizes the indigenous Palestinian people's right to self-determination, UNTIL Israel fully complies with international law and finally honors the UNIVERSAL DECLARATION of HUMAN RIGHTS upon which the Establishment of their very Statehood was contingent upon!
 Article 1.
All human beings are born free and equal in dignity and rights.They are endowed with reason and conscience and should act towards one another in a spirit of brotherhood.

On the day of the termination of the British mandate and on the strength of the United Nations General Assembly declare The State of Israel will be based on freedom, justice and peace as envisaged by the prophets of Israel: it will ensure complete equality of social and political rights to all its inhabitants irrespective of religion it will guarantee freedom of religion [and] conscience and will be faithful to the Charter of the United Nations.– May 14, 1948. The Declaration of the Establishment of Israel
In November 2006, Father Manuel, the parish Priest at the Latin Church and school in Gaza warned the world:
Gaza cannot sleep! The people are suffering unbelievably. They are hungry, thirsty, have no electricity or clean water. They are suffering constant bombardments and sonic booms from low flying aircraft. They need food: bread and water. Children and babies are hungry…people have no money to buy food. The price of food has doubled and tripled due to the situation. We cannot drink water from the ground here as it is salty and not hygienic. People must buy water to drink. They have no income, no opportunities to get food and water from outside and no opportunities to secure money inside of Gaza. They have no hope.

Without electricity children are afraid. No light at night. No oil or candles…Thirsty children are crying, afraid and desperate…Many children have been violently thrown from their beds at night from the sonic booms. Many arms and legs have been broken. These planes fly low over Gaza and then reach the speed of sound. This shakes the ground and creates shock waves like an earthquake that causes people to be thrown from their bed. I, myself weigh 120 kilos and was almost thrown from my bed due to the shock wave produced by a low flying jet that made a sonic boom.

Gaza cannot sleep…the cries of hungry children, the sullen faces of broken men and women who are just sitting in their hungry emptiness with no light, no hope, no love. These actions are War Crimes!
Because this American cannot improve on this Letter to Neil Young from the Palestinian Students' Campaign for the Academic Boycott of Israel University Teachers' Association it follows in full here:
16.03.2014
Besieged Gaza, Palestine
Dear Neil
We are Palestinian students and youth from the besieged Gaza Strip; we write to you now on a night engulfed by huge explosions ripping through our houses and neighborhoods again, more common than the thunder and hard rain also filling the night air.
And now we hear you plan on playing your inspiring music to a packed house in Hayarkon Park, Tel Aviv, a park built on the ruins of the Palestinian village Al Mirr, a land and people, destroyed and buried amidst unspeakable violence, but not forgotten. The residents of that Palestinian village and hundreds of other villages forcibly emptied by the nascent Israeli army, were either killed or denied return, denied the chance to even visit or commemorate the lives they once had. (1)
While the world turns its back, we hope that you don't turn yours, that you heed the call of over 170 Palestinian civil society organizations, for boycott, divestment and sanctions against the Israeli regime until it abides by international law and stops denying us the right to live as any other human beings would expect.
Just as you didn't perform in Apartheid South Africa, just as you stood up against racism in the US South, just as you have so admirably supported indigenous rights in Canada against the drilling for Tar Sands, we ask you to support indigenous, displaced people wherever they may be, including we Palestinians. The words of the Native American and Indigenous Studies Association in their recent move to boycott the Israeli regime echo the struggle for indigenous rights in America. (2)
As this letter is penned the sound of more Israeli bombing reverberates around the tight refugee camps and narrow alleys where we live.
The camps are in complete darkness as the electricity has been cut.
The Israeli siege and previous bombing of our only power-plant has lead to huge fuel shortages, leaving us with just 6 hours of electricity each day.
This is just one night, but it is comparable to many other nights in Gaza, many worse nights.
We are used to facing the wrath of Israeli Merkhava tanks, drones, shellings, bombs and snipers that have brutally murdered and maimed our people for decades, for the crime of being born Palestinians, the wrong "ethnic group" for the Israeli regime who since it was established has done everything to wipe us off the map.
Listening to music is difficult in these circumstances, despite our passion for it. We have our own big range of music we love to play and Debka dance. But we have few instruments. Israel's air, land and sea blockade of all our borders has meant for years musical instruments were banned from entry to Gaza.[3]
Other items denied to us were coriander, nutmeg, ginger, dried fruit, fresh meat, lentils, pasta, chocolate, fishing rods, cattle, toys, donkey, workbooks and newspapers. Dov Weisglass, an advisor to former Prime Minister Ehud Olmert, explicitly outlined their intentions to collectively punish our population, "The idea is to put the Palestinians on a diet, but not to make them die of hunger", he announced, in contravention of article 33 of the Geneva Conventions and condemned by all major human rights organizations. (4]
The violence behind Israel's military occupation of our land is relentless and this week is no different. It began with Israeli border police shooting and killing a 38 year old Palestinian judge Raed Zeitar, the other bus passengers forced to sit and watch as he bled to death. Then 18-year-old Saji Darwish, Humanities student at Birzeit university, was shot in the head in Beitin, near Ramallah. Thousands attended his funeral the following day.
Tuesday saw four more murdered in the West Bank and Gaza.
On Wednesday Israeli authorities approved the construction of 387 housing units in the illegal settlement of Ramat Shlomo, denying the Palestinian towns of Beit Hanina and Shuafat the possibility to expand. And today a three-month old baby Ahmed Ammar Abu Nahal died of enlarged heart and liver as a result of the closure of Gaza crossings, a closure that has also left our hospitals bereft of medical supplies.
And right now we sit paralyzed in our homes as the bombs fall on us in Gaza.
Who knows when the current attacks will end.
Permanently etched on our minds are the rivers of blood that ran through the Gaza streets when for over 3 weeks in 2009 over 1400 were killed including over 330 children, with white phosphorous and other chemical weapons used in civilian areas and contaminating our land with a rise in cancers as a result.
More recently 170 more were killed in the weeklong attacks in late November 2012.
How many more sleeping in their beds now will face the same fate in the coming days, weeks and months? The trauma, fear and uncertainty never goes away.
Over two thirds of the Palestinians here in Gaza are UN registered refugees.
Over half of us are children.
We or our descendants were dispossessed entirely and forcibly removed from our homes.
The extent of this ethnic cleansing was such that one in three refugees worldwide is a Palestinian.
Expulsions of Palestinians continue today especially in Jerusalem and the West Bank, places that we in Gaza are no longer able to visit.
For what crime? The crime of being born Palestinian.
The Israeli regime denies us the freedom to come to enjoy your music, we live our lives surrounded by Navy Gunships along the sea, jeeps and wall tower snipers along the land frontier, and skies filled with the kind of aircraft unleashing yet more devastating attacks tonight.
The Gaza Strip has been made an outdoor prison, a reality beyond which most youth can never imagine, because most can never leave.
Others are hearing us and the world is beginning to wake up.
Many of your contemporaries are taking a stand including Carlos Santana, Roger Waters, Annie Lennox, Elvis Costello and the late, great Pete Seeger and Gil Scott Heron, who said he wouldn't play in Israel "until everyone is welcome there". (5)
As Israeli Apartheid week kicked off in South Africa this week, an event that has taken place in over 150 different locations worldwide, Archbishop Desmond Tutu called for the world to support the Boycott Divestment and Sanctions of Israel, just as many other Anti Apartheid heroes from South Africa have affirmed. Tutu said in his statement on Monday, "I have witnessed the systemic humiliation of Palestinian men, women and children by members of the Israeli security forces. Their humiliation is familiar to all black South Africans who were corralled and harassed and insulted and assaulted by the security forces of the apartheid government." (6)
Long before he died, Nelson Mandela demanded that we should have the self determination of any other people. "We know too well that our freedom is incomplete without the freedom of the Palestinians", he said.
Will you sing "living with war" to an audience most of which will have served or are serving in the Israeli army that during the day were bombing our families, or manning the hundreds of checkpoints that make simple journeys daily acts of humiliation?
While we in Gaza can never return to our homes that lay buried around the areas in which you will be travelling freely, will you sing, "A hundred voices from a hundred lands, need someone to listen.  People are dying here and there."
On the struggle to support First Nations rights in Canada and environmental protection you said: "If you have a conscience, you can`t go through your day without realizing what`s going on, and questioning it, and going, "Is this right?"(7)
This is the question to mull over as here in Gaza a short period of silence has descended after the bombs rained down on us yet again tonight Show the courage to say that this system of violent discrimination and racial segregation is unacceptable in Palestine, just as you showed it to be unacceptable in the American South, unacceptable in Apartheid South Africa and unacceptable for the Indigenous of the Americas.
Stand on the right side of history and stand with us, and don't entertain apartheid Israel this July.
Palestinian Students' Campaign for the Academic Boycott of Israel University Teachers' Association
###
How about Neil Young & Crazy Horse entertain Tel Aviv and wage some heavy peace by broadcasting this image on the stage at Hayarkon Park on July 17?

References:
(1) http://cosmos.ucc.ie/cs1064/jabowen/IPSC/php/place.php?plid=1985
(2) http://electronicintifada.net/blogs/ali-abunimah/major-indigenous-studies-group-endorses-israel-boycott
(3) http://www.gazagateway.org/tag/musical-instruments/
(4) http://www.guardian.co.uk/world/2006/apr/16/israel#sthash.EtPIzrik.dpuf
(5) http://www.usacbi.org/2010/04/gil-scott-heron-announces-cancellation-of-tel-aviv-concert-artist-won%E2%80%99t-play-in-israel-%E2%80%9Cuntil-everyone-is-welcome-there%E2%80%9D/
(6) http://www.haaretz.com/news/diplomacy-defense/1.578872
(7) http://edition.cnn.com/TRANSCRIPTS/0604/18/sbt.01.html
Central banks have shifted into stocks and are buying up everything that isn't bolted to the floor.
That's the gist of the story that breathlessly appeared in the Financial Times about a week ago and swept across the blogosphere like a Santa Anna brushfire. And there's some truth to it too, if taken with a large grain of salt. Here's a clip from the Omfif's report the FT's cites in the article:
"A cluster of central banking investors has become major players on world equity markets," says a report to be published this week by the Official Monetary and Financial Institutions Forum (Omfif), a central bank research and advisory group. The trend "could potentially contribute to overheated asset prices", it warns." (Financial Times)
So, there you have it; stocks are rising, central banks are buying stocks like mad, therefore, central banks are driving the market. That's all there is to it, right?
And we're not talking chump change here either. According to the Omfif"s press release "global central banks and public sector institutions now account for an eye-watering "$29.1tn worth of investments … in 162 countries."
Hmm. It's easy to read that statement and assume that central banks have purchased $29 trillion in stocks, isn't it? That's what the folks over at Zero Hedge did. Check out the headline they ran shortly after the story appeared in the FT: "Cluster Of Central Banks" Have Secretly Invested $29 Trillion In The Market" (Zero Hedge)
But that's not what the press release says, is it? It says "global central banks and public sector institutions". There's a big difference between the stocks a bank buys and all the investments in public pension funds, 401Ks, sovereign wealth funds etc. A huge difference. It looks like someone might be engaging in a bit of fear-mongering to get a rise out of readers.
That's not to downplay the fact that CB's are distorting prices by playing the market. They are. No one disputes that. Just like no one disputes that central banks should limit their activities to doing their job, which is maintaining price stability. (We're deliberately omitting "full employment" since the Fed thinks it's a big joke anyway.) But, hey, everyone knows these guys are a dodgy lot to begin with, so it's hard to get whipped up into a lather every time they get caught in some new flimflam. Besides CB stock purchases are likely insignificant compared to corporate stock buybacks which are presently just-south of $600 billion per year. CB stock purchases are no where near that, regardless of what you read at Zero Hedge. Check this out in the Wall Street Journal:
"Last year, the corporations in the Russell 3000, a broad U.S. stock index, repurchased $567.6 billion worth of their own shares—a 21% increase over 2012, calculates Rob Leiphart, an analyst at Birinyi Associates, a research firm in Westport, Conn. That brings total buybacks since the beginning of 2005 to $4.21 trillion—or nearly one-fifth of the total value of all U.S. stocks today." (Will Stock Buybacks Bite Back?, Wall Street Journal)
Yikes. "$4.21 trillion"! Now that's what you call froth.
Anyway, the reason CBs are buying equities is to hedge their losses on the mountain of low-yielding bonds they purchased in their effort to recapitalize the insolvent banking system. They're already taking it in the shorts for an estimated $250 billion per year, and when rates start marching upward, (as they inevitably will) they're going to be bleeding red ink from both eyeballs. That's why they want to diversify their portfolio; to staunch the hemorrhaging. Even so, the whole matter looks shabby and underhanded, which of course it is. It also calls into question present stock valuations which have been soaring with the zero rates, QE and positive earnings reports, the trifecta which pushes equities into the stratosphere regardless of the shitty condition of the underlying "real" economy. So–just like everyone else–the banks want to get on the winning side of the trade. But what a firestorm they've set off with these latest shenanigans! Here's a sample of the outrage you'll find on the Internet. This is from a Bill Bonner article titled "Proof the Stock Market Is Being Rigged":
"We are still reeling.
Yesterday, we reported that central banks are major buyers of stocks…
We hardly know where to begin…

Outraged, we sputter and spit… we search for words… we look for metaphors and narratives… anything that will put this extraordinary situation in the right light…

Ah yes… central banks create new money… it gets passed around the financial community in many ways… and ultimately ends up in the equity markets…

In short, a grand slam of deceit. The World Series of financial catastrophe will follow. But that could be a long way off." (Proof the Stock Market Is Being Rigged, Bonner and Partners)
"A grand slam of deceit"?
Fair enough. A little hyperbolic, but that's to be expected, right? But, c'mon now, given the long list of scandals in the last few years–High-Frequency Trading (HFT), "toxic" mortgage-backed securities, Libor, London Whale, Robo-signing, structured finance, Madoff etc etc–it's hard not to be little blasé about the whole deal, isn't it? I'm not sure where Bonner's been, but if you were to ask Joe Blow on the street, whether he thought the "market was rigged or not", he'd undoubtedly nod his head affirmatively as if it was the most obvious thing in the world. Because it is the most obvious thing in the world. Heidi Moore summed it up pretty well in a recent article at the Gurdian. She said:
"Most Americans don't think much about the stock market, and that's just fine with Wall Street. Because once you wake up to how screwed up the stock market really is, the financial industry knows you're likely to get very nervous and take your money out.

Many are catching on: between 2007 and 2014, investors pulled $345bn from the stock market. E-Trades are down and worries are up, with 73% of Americans still not inclined to buy stocks, five years after the financial crisis…

Let's get one thing straight: Investor confidence is not the problem. The screwed-up stock market is the problem. It's time to break down the polite fiction that investing in the stock market is something that sane, rational, sensible people do. It is a high-risk contact sport for your money…

The US stock market depends entirely on the ignorance of regular people who are supposed to just shovel their money into retirement funds and 401(k)s, pay a whopping one-third of your retirement in fees to high-priced managers, and never whisper a complaint.

It's a wonder that anyone (trusts the market) at all." (Wall Street and Washington want you to believe the stock market isn't rigged. Guess what? It still is, Heidi Moore, Guardian)
The market is totally rigged from stem to stern, which is why it is so hard to feign outrage at this latest sign of corruption. It's just par for the course. What we found more interesting, was the OMFIF's contention that the experimental monetary policies, the centrals banks initiated to deal with the Financial Crisis, have changed the system to what the author calls "state capitalism".
"Whether or not this trend is a good thing", he opines, "may be open to question. What is incontestable is that it has happened".
While you can't expect the media to cover something like this, it's certainly worth mulling over. The fact is, CBs have taken over economic policy altogether. They're running the whole shooting match. The various congresses and parliaments across the western world now merely act as a rubber stamp for the austerity measures demanded by their corporate bosses. Fiscal policy is a dead letter in the US, Japan, Australia, Canada, UK and the Eurozone. Everywhere the bank cartel has extended it's grip, fiscal policy has been jettisoned altogether. It's bailouts and lavish subsidies for the 1 percenters and belt-tightening, shock therapy for everyone else. Isn't that how it works? State Capitalism isn't a conspiracy theory. It's just class warfare taken to the next level. Check this out from Dave Marsh at Marketwatch:
"Central banks' foreign-exchange reserves have grown unprecedentedly fast, especially in the developing world. The same authorities that are responsible for maintaining financial stability are often the owners of the large funds that add to liquidity in many markets…

Evidence of an increase in equity-buying by central banks and other public-sector investors has emerged from a survey of publicly owned or managed investments compiled by the Official Monetary and Financial Institutions Forum (OMFIF)… There are worries that central banks may be over-stretching themselves by operating in too many areas.

Jens Weidmann, president of Germany's Bundesbank — spoke yearningly last week of the need for "central banks to shed their role as decision-makers of last resort and, thus, to return to their normal business."

He said this "would help to preserve the independence of central banks, which is a key precondition to maintaining price stability in the long run." (Central banks becoming major investors in stock markets, Dave Marsh, Marketwatch)
You might want to read that first part over again to savor what the author is saying. Here it is: "The same authorities that are responsible for maintaining financial stability are often the owners of the large funds that add to liquidity in many markets."
That's what you call corruption with a capital "C". But then the author does a 180 and waxes-on about "preserving the independence of central banks, which is a key precondition to maintaining price stability in the long run."
Right. The whole independence thing is a big joke. Why would anyone in their right mind bestow such extraordinary powers ("independence") on a group of voracious, cutthroat bankers who have repeatedly shown that they can't be trusted?
Huh?
It's insanity. This latest outrage just proves that the central bank system needs to be either reformed or terminated. Preferably, terminated.
This is one in a series of articles taken from eyewitness testimony before the International Common Law Court of Justice in Brussels. Five international judges are examining evidence of child rape, torture, murder and kidnapping allegedly done by global elite members of the Ninth Circle Satanic Child Sacrifice Cult network. Regular Ninth Circle child sacrifices were said to take place in the catacombs of Catholic Cathedrals, the Vatican, on private estates and groves and government military bases in Belgium, Holland, Spain, Australia, Ireland, France, England and the US. At least 34 child mass grave sites were identified in Ireland, Spain and Canada – and refused excavation by the respective governments, Crown of England and Catholic Church. Named as present in Ninth Circle activities were Pope Francis, former Pope Ratzinger;Anglican, United Church of Canada and Catholic Church officials including Cardinals; members of European royalty including Queen Elizabeth and Prince Phillip; officials of the Canadian, Australian, UK and US military and governments including the USA's CIA, plus prominent government ministers, judges, politicians and businessmen from the US, Belgium, Holland, Canada, Australia, France, Ireland and the UK.
Teens were drugged, stripped naked, raped, hunted down in the woods and killed by European royals according to this week's latest eyewitness to testify before theInternational Common Law Court of Justice in Brussels. The woman was the fourth eyewitness to give accounts about these human hunting parties of the global elite Ninth Circle Satanic Child Sacrifice Cult network. A former member of the Netherlands criminal drug syndicate known as Octopus testified that victims were obtained for these human hunting parties from juvenile detention centers in Belgium and Holland.
"In 2004 I was an involuntary witness to torture, rape and murder sessions of drugged children performed for a group of high ranked people of the Netherlands" stated a woman. "I was taken to a hunting party in Belgium close to Brussels where I saw two boys and a girl ages 14 to 16, hunted and killed by global elites. The human hunting party was heavily guarded by the Netherlands Royal Guards. I was told that King Albert of Belgium was present."
Four eyewitnesses confirmed that as children and youths they were forced to attend human hunting parties where they and other children were raped, with some killed, and deceased boy's penises were cut off. Allegedly there was a Dutch countryside palace where boys' penises were displayed like trophies on a wall. Some hunting parties were hosted on the grounds of Belgium Queen Beatrix's Palace.
Dutch therapist Toos Nijenhuis claimed that as a four year-old she was forced to witness murders of children that involved former Pope Ratzinger, a Dutch Catholic Cardinal, plus the father of Netherlands Belgium Queen Beatrix and Bilderberger Founder, Dutch Crown Prince Alfrink Bernhard. "I saw the former Pope Joseph Ratzinger murder a little girl″ another witness confirmed. "It was at a French chateau in the fall of 1987. It was ugly, horrible and didn't happen just once. Ratzinger and Bernhard were some of the more prominent men who took part."
In Ireland, Spain and Canada 34 child mass grave sites were discovered and appeared linked to Ninth Circle activities. The largest was the Mohawk Indian Residential School in Brantford Ontario where child remains were identified in 2008 before the Catholic Church, Canadian government and English Crown shut down the dig by professional archeologists. The 2013 ICLCJ Court had found Queen Elizabeth and Prince Phillip guilty for the Oct. 10 1964 disappearance of ten native children from the Catholic residential school in Kamloops British Columbia. In the first two weeks of the 2014 court witnesses identified Dutch and Belgian royal participants in the rape and killing of Mohawk children and newborns. Named were Bernhard and King Hendrick, consort to Queen Wilhelmina of Holland.
Alleged to be present during the human hunting parties were the late Prince Johan Friso and his wife Mabel Wisse Smit, former ministers, the top man of the Dutch army, the under secretary of the Raad Van State in the Netherlands, the Vice-Roy next to Queen Beatrix and other global business and political leaders including some from the US. "Surely the present King Willem Alexander and King Filip and their wives know about this abuse and murder of children" said one eyewitness."They do nothing about it and likely are the ones to stop investigations and prosecutions."
In January 2014 the brother of the king of Holland Prince Johan Friso passed away in a coma after these three Dutch-language websites shown here reached the internet. The websites revealed that Friso was at the human hunting and killing parties."The story came on the internet after years of trying to move the policy and justice department in the Netherlands to act against the criminals," an eyewitness said. "Nobody did anything to stop these criminals, probably because Queen Beatrix and King Albert likely interfered with the investigations."
Human hunting parties were said to take place on the grounds of Belgium Queen Beatrix's Palace in the Netherlands. Two witnesses have named former Pope Joseph Ratzinger and Queen Beatrix's father the deceased Prince Alfrink Bernhard, as being present at child sacrifices. Both were said to be Nazi sympathizers.
The ICLCJ Court received a collection of Jesuit archival records about a child sacrificial cult known as the Knights of Darkness. In 1933 the Knights were established by the Catholic Jesuits and Nazi Waffen S.S. Division. The records showed Ratzinger was identified as a member of the Knights while working as an S.S. Chaplain's assistant at the Ravensbruck Concentration Camp in Germany. The records also stated that Ratzinger participated in child sacrificial rites using kidnapped children from the camps or political prisoners.
Another court document called the Magisterial Privilege indicated child sacrifice was a regular occurrence at the Vatican. At the tender age of 12 "Svali" of San Diego County California claimed she was brought to catacombs beneath the Vatican to witness the sacrifice of a three year-old drugged boy. In this video her interviewer said that 24 years prior a "Maria" told him she witnessed another satanic child sacrifice rite in the same Vatican Catacombs.
Last week an Irish police investigator reported to the ICLCJ Court that the close to 800 babies buried in a Catholic Nun's septic tank were dismembered, decapitated and in bits and pieces – signs that they could have been murdered in Satanic child sacrifice rites. In the last two months the ICLCJ Court has heard these heart-wrenching testimonies about the rape, torture and murder of children as recently as 2010 by Catholic leaders, European royal family members and other global elites. Murder sites of the Ninth Circle Satanic Child Sacrifice Cult were said to be in the catacombs of Catholic Cathedrals including the Vatican and on private estates, military establishments and groves in Belgium, Holland, Spain, Australia, France, England and the US.
The ICLCJ Court has been overwhelmed with newly discovered evidence and a number of new witnesses coming forward to testify about Ninth Circle Satanic Child Sacrifice Cult activities. They have uncovered Ninth Circle Satanic Cult member possible involvement in international child sacrifice, kidnapping, exploitation and drug rings. The five international judges and 27 jury members were expected to remain in session for at least a year due to the complexity of the cases.
Amnesty has been offered to citizens or employees of the Vatican, Crown of England, churches or governments willing to give sworn testimony or evidence that leads to the prosecution of these global elites suspected of committing crimes. Rewards up to 10,000 euros or around 13,660 dollars was available through the ICLCJ court.
The ICLCJ Court had over 450 Common Law Peace Officers in 13 countries, with 51 local chartered groups operating. Local organizing funds were available for common law groups that applied through the International Tribunal into Crimes of Church and State. To contact officers of the court or ITCCS Field Secretary Kevin Annett, email or call: itccscentral@gmail.com, info@iclcj.com, admin@iclcj.com, hiddenfromhistory1@gmail.com, 250-591-4573 (Canada), or 386-323-5774 (USA)
About the Author
Judy Byington, MSW, LCSW, retired, author of "Twenty Two Faces: Inside the Extraordinary Life of Jenny Hill and Her Twenty Two Multiple Personalities" (www.22faces.com) is a retired therapist, Public Speaker, Activist and investigative journalist whose articles on international child exploitation rings have been cited on over 3,000 websites. The ex-Supervisor, Alberta Mental Health and Director Provo Family Counseling Center is the CEO of Child Abuse Recovery and Speakers Bureau (www.ChildAbuseRecovery.com). If you have news tips about child abuse issues please email Judy info@22faces.com. You are invited to sign our petition to Congress for an investigation of the CIA mind control of children by clicking here.
Source: TRUTHCDM
In the last few months, 47,000 refugee children stormed America's southern border.    They arrived from Central and South America.  The usual onslaught from Mexico's overburdened population continued by the thousands.
In excess of 15 million undocumented Mexican border crossers now call America home.  They feed off America's welfare systems from housing, food, educational and medical care.  They cost taxpayers in excess of $346 billion annually across 15 federal agencies.
Bush, Clinton, Bush II and Obama stopped enforcing our borders 30 years ago.  The word spread like a California wildfire.
Journalist Tom Ashbrook reported:  "The numbers of children surging over the southern US border now – unaccompanied, as young as six – is just staggering.  Forty thousand-plus.  Up 90 percent.  Still growing, flooding in.  Coming up from Central America, Mexico. Coming a thousand miles and more from Honduras.  Scared north by vicious gangs.   And now, piling up in US facilities not designed for an influx of kids."
The third world uses America, Canada, Europe and Australia for a human "escape valve."  Since the third world adds 80 million desperate children annually to already staggering populations in China, India, Bangladesh, Mexico, Indochina and most of Africa—Western countries face shocking migration numbers that will collapse civilizations.
Because of relentless, enormous and endless legal and illegal immigration, America faces an added 300,000,000 (million) more people within this century.
Ironically, Diane Sawyer, Brian Williams, Shepard Smith, Scott Pelley and Wolf Blitzer benignly report the invasion of our country—but they refuse to interview anyone who speaks about the end result of adding 300,000,000 people to America.
This is what it will look like:
"Immigration by the numbers—off the chart" by Roy Beck  www.NumbersUSA.org
http://www.youtube.com/watch?v=muw22wTePqQ
If every American saw this video, they would scream at Congress and Obama to effectively close down mass migration into America.
Instead, powerful forces like the U.S. Chamber of Commerce, Speaker of the House John Boehner and corporations clamor for more immigration in the face of 48 million Americans subsisting on food stamps and tens of millions living off taxpayers with Section 8 housing.
"Late last week, the Obama administration asked Congress for $1.4 billion in extra funding to help house, feed and transport the tens of thousands of children being caught trying to cross the border illegally, and turned to the Defense Department to help temporarily house more than 1,000 of the children," said Chris Sherman, DC journalist.
Every dollar paid out to care for endless legal and illegal immigration must be borrowed from foreign nations.  Our country stands a mind-numbing $18 trillion in debt.
As a country, as a civilization, as a people, we cannot continue on this path of accepting the world's endless refugee line.  If we continue, we face ultimate collapse ourselves.  It's that simple.
Our citizens chose 2.0 children per female since 1970, but the world eschewed birth control to continue adding 80 million annually, net gain.  Now, because of mass starvation of 10,000,000 (million children) annually, they cannot and we cannot solve the overload.
As a world traveler, I can tell you that the line never ends; it only grows exponentially.  Humanity faces hard choices in the 21st century that it continues to avoid, ignore and evade. But not much longer.
"It is abundantly clear that the reason for the uptick …has to do with what's going on in Central American countries," said an administration official on the conference call. "The federal government prepared for this trend," an official said, "but it was larger than we had anticipated."
As we continue accepting millions as the "human population escape valve" of the 21st century, the third world, driven by the Catholic Church, Islamic Church and other ancient religions refuse to advocate for birth control—continues exponentially.
This humanitarian crisis cannot and will not end well for Americans or the migrants.
What needs to be done:
Distribute birth control to third world countries.
Focus on the Catholic and Islamic churches to come to terms with human overpopulation in the 21st century worldwide; demand they come to terms with the 21st century and advocate for birth control.
Guard America's borders to allow no one to breach our country by using our military. Force those countries to deal with their own human overload. Stop encouraging endless immigration.
Reduce all legal immigration into the United States to less than 100,000 annually instead of the current 100,000 every 30 days.
Promote a world conference on human overpopulation and all nations' stake in providing birth control throughout the human family.
Interview top experts who scientifically show the end result if we fail to take destiny into our own hands.
What is that destiny?
If we don't halt population growth with justice and compassion, it will be done for us by nature, brutally and without pity – and will leave a ravaged world.  ~Nobel Laureate Dr. Henry W. Kendall
"The raging monster upon the land is population growth. In its presence, sustainability is but a fragile theoretical construct.  To say, as many do, that the difficulties of nations are not due to people, but to poor ideology and land-use management is sophistic."  Harvard scholar and biologist E.O. Wilson
"Unlimited population growth cannot be sustained; you cannot sustain growth in the rates of consumption of resources. No species can overrun the carrying capacity of a finite land mass. This Law cannot be repealed and is not negotiable." Dr. Albert Bartlett, www.albartlett.org , University of Colorado, USA.
"Most Western elites continue urging the wealthy West not to stem the migrant tide [that adds 80 million net gain annually to the planet], but to absorb our global brothers and sisters until their horrid ordeal has been endured and shared by all—ten billion humans packed onto an ecologically devastated planet." Dr. Otis Graham, Unguarded Gates
To stop the invasion, join for free:  www.CapsWeb.org ; www.NumbersUSA.org ; www.Fairus.org ; www.TheSocialContract.com
Turkey seems fond of so-called 'false flag' operations.  In 1955, for example, the Turkish government covertly bombed its own consulate in Thessaloniki, Greece and blamed it on Greeks.  The following day, Turkey stage-managed massive anti-Greek riots in Istanbul that killed over a dozen Christians and caused hundreds of millions in damage.
Fast forward to March 2014.   A leaked audiotape caught Turkish officials plotting to stage 'false flag' military attacks on their own territory and blame them on Syrians.   Turkish Foreign Minister Ahmet Davutoğlu, General Yaşar Gürel, and Intelligence chief Hakan Fidan planned to use the attacks as an excuse to invade Syria.   The title of this article could easily apply to that plot.
To close observers of the Caucasus, however, it could also describe a failed covert Turkish plan to attack Armenia two decades ago and turn the geopolitics of the region upside down.
In October 1993, two years after the USSR had splintered, an ethnic Chechen Muslim named Ruslan Khasbulatov – the Speaker, believe it or not, of the Russian Parliament – led a coup against beleaguered Russian President Boris Yeltsin.  According to American, French, and Greek officials, Khasbulatov and Muslim Turkey had a secret agreement.
If his coup succeeded, Khasbulatov would order Russian troops to withdraw from Armenia, where they helped guard the latter's border with Turkey.   That would pave the way for Turkey to invade the landlocked Christian nation of just three million inhabitants.
History tells us that Turkey has always wanted to overrun Armenia.   Doing so would create a path to Turkic-speaking Muslim Azerbaijan, the Caspian Sea, and, eventually, Central Asia.  It's called pan-Turkism.
In 1993, of course, Azerbaijan was losing its war with Armenians over the ancient, majority-Armenian province of Karabagh.   Azerbaijan was, therefore, eager for Turkey to attack Armenia, and Turkey was ready to help Azerbaijan turn the tide.
The Plot Fails
Harkening back to the Armenian genocide, Turkish President Turgut Özal had threatened to teach Armenia "the lessons of 1915."  Tansu Çiller, Turkey's prime minister, warned Armenia that she wouldn't "sit back and do nothing."  Turkey was massing forces on Armenia's western border and supplying Azerbaijan with weapons, military advisors, and paramilitary forces.  Chechen militants and Afghan Mujahideen were already fighting alongside Azeris.
A successful Turkish attack on Armenia – Russia's only military partner in the Caucasus – would have all but destroyed Russian influence in the region.  That, in turn, would have increased the likelihood that Chechnya, and much of the Muslim North Caucasus, would eventually escape the Russian Bear's grip.  For a native-born Chechen like Khasbulatov, it would all be a dream-come-true.
But bombarded by Russian tanks, Speaker Khasbulatov, V.P. Alexander Rutskoi, and hundreds of rebel parliamentarians and supporters surrendered the Parliament building on October 4, 1993.  The coup and the plot to invade Armenia had failed.
The Secret Pact
The Khasbulatov-Turkish pact was first revealed by Leonidas T. Chrysanthopoulos in his book Caucasus Chronicles (London:  Gomidas, 2002).   He was Greece's ambassador to Armenia from July 1993 to February 1994.   Chrysanthopoulos, now 68, has served as ambassador to Canada and Poland, and was recently Secretary General of the 12-country, Istanbul-based Black Sea Economic Cooperation organization.
France's ambassador to Armenia, Mme. France de Harthing, told him that "French intelligence sources" confirmed that "the Turkish incursion into Armenia would take place immediately after Khasbulatov would have withdrawn the Russian troops from Armenia."   "This information," wrote Chrysanthopoulos, "was later confirmed to me by my United States colleague," Ambassador Harry J. Gilmore.
As a "pretext," Turkey would claim to be targeting Kurdish PKK militant bases, which in fact have never existed, in Armenia.  Such a "pretext" is similar, though not identical, to a 'false flag.'
The Turkish strike would be "incursions of a limited nature," though it's unclear what "limited" meant.  More likely, as Turkey wouldn't find any PKK, the aim was to forge a permanent corridor across Armenia, link up with Azeri forces, and cleanse Karabagh of Armenians.
The U.S. and France have never, as far as is known, publicly denied the existence of the Khasbulatov-Turkish plot.  Moreover, Chrysanthopoulos gives no indication that any country tried to talk Turkey out of its deal with Khasbulatov.
Is any of this relevant today?
NATO Ambitions
Yes, because current Turkish, American, and NATO policies in the Caucasus strongly echo the 1993 Khasbulatov-Turkish plot.  For two decades, the West has been trying to penetrate and dominate the Caucasus – Georgia, Azerbaijan, and Armenia –and eventually cross the Caspian Sea into energy-rich Central Asia.
One piece of the plan has already been partially implemented: constructing oil and gas pipelines from Azerbaijan through Georgia and Turkey.
NATO's remaining goal: absorb the entire Caucasus.  NATO would thereby threaten Russia from the south, just as it now pressures Russia from the west with its absorption of much of Eastern Europe (and, NATO hopes, Ukraine).
Georgia and Azerbaijan are inclined to eventually join NATO.   Armenia, however, is not, though it has excellent relations with NATO and the West.  Armenia has little choice but to ally itself with Russia because the former faces an ongoing existential threat from NATO member Turkey, the 1993 plot being one example.
Armenia is the Caucasus's linchpin.  Had the Khasbulatov – Turkish quasi-'false flag' operation against Armenia succeeded, Russia would probably have lost, and NATO would have gained, the entire Caucasus.   New provocations, including 'false flags,' by Turkey and NATO cannot, therefore, be ruled out.
Turkish, American, and NATO leaders must also be interrogated as to whether their policies in the Caucasus are leading to peace or war.
The Koch's Secret Sauce – The Profit is in the Poisons 
(Sort of like those special spices in your Indian food!)
Of course, it is not likely Charles himself was hunkered down in the secret laboratory under his mansion in Wichita, Kansas.  But he certainly knew the formula.
Koch Truths and Green Fields Renewal will now reveal the actual content of the ugly substance which bubbled out of the broken pipe in Mayflower a little over a year ago. Notice, this information has been carefully sequestered by ExxonMobil.
Believe us, they have their reasons for this.
This sample of Wabasca Heavy was taken at the Suspected Source, (the pump station about 20 miles upstream from the Pegasus pipeline rupture). From there, it was sent by the USCG for analysis in Canada in June 2013, a few months after the Mayflower disaster. This is typical of what was in the pipe just before it ruptured.
Gas Chromatogram of Mayflower Suspected Source  – These are the fingerprints, what ExxonMobil has worked so hard to hide from the public and their victims.
Source: EPA/ ESTS
Above we see a hybrid Dilbit mixture, with virtually identical distribution of heavy hydrocarbon molecules (on the right) as we saw in the Wabasca Heavy sample in Part 1.
But this Secret Sauce has special additions. These new additions include the toxic BTEXs like benzene, a virulent carcinogen, and toluene, a neurotoxin.
And the concentration levels were very, very high in the Secret Sauce.
Would having know about this made a difference in treating the victims? Absolutely.
But then the evidence would also have been presented in court, an eventuality to be avoided at all costs, especially if those costs can be externalized to small children and other victims.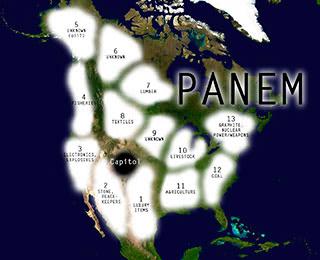 One of the most popular films of 2012 was The Hunger Games which portrayed a post-apocalyptic nation called Panem in which a super-rich, super-pampered, super-callous 'elite' lived in high-tech luxury while the rest of the population daily battled to survive in abject poverty locked away behind prison fences in intensively-populated 'people zones'. Panem comes from the Latin phrase 'panem et circenses' or 'bread and circuses' — a term derived from Rome and meaning to give the people diversions and distractions to hide what is being done to them. Exactly what is happening today.
The Totalitarian Tiptoes to just such a world are happening all around us, although most people can't see this because they don't connect the dots. People tend to live in their own 'little world' and focus on only a few subjects and interests. This gives them a distorted view of what is happening because they are so busy concentrating on the strands that they cannot see the tapestry. The world of The Hunger Games is already well on the way to fruition unless humanity has a fundamental reassessment of reality.
The foundations, structure and 'must haves' of a Hunger Games society are detailed in a plan being imposed through the United Nations called Agenda 21 which encompasses two related themes of 'sustainable development' and 'biodiversity'. Sustainable development — as in don't use more than can be replaced — sounds sensible enough at first until you realize what this and biodiversity really mean in the context of the conspiracy.
Agenda 21 was established at the United Nations Conference on Environment and Development in Rio de Janerio, Brazil, in 1992, hosted by Maurice Strong, a Canadian oil and business billionaire and long-time front man for the Rothschilds and Rockefellers. Strong has been a leader of their exploit-the-environment-to-scam-the-people programme which is now in full flow. Strong is a member of the Club of Rome, the environmental Hidden Hand in the Round Table network that includes the Bilderberg Group, Trilateral Commission and Council on Foreign Relations.
Strong said in support of Agenda 21:
'Isn't the only hope for this planet that the industrialised civilization collapse? Isn't it our responsibility to bring that about?'
This is a man who became mega-rich through the oil industry. He now lives in billionaire luxury in China where carbon-emitting industry is booming and he is a director of the Chicago Climate Exchange (largest shareholder, Goldman Sachs), which is 'the world's first and North America's only legally-binding greenhouse-gas emission registry reduction-system for emission sources and offset projects in North America and Brazil'.
The Exchange was established with funding from the Joyce Foundation where Barack Obama was once a director. Strong and Al Gore make money through the Carbon Exchange and other means from the lies they promote about climate change and the solutions they propose. Kate Johnston wrote on the Globalresearch.cawebsite:
'The same men that sold us the myth of man-made global warming are the same men that sold us the "solution" of a Carbon Tax and Emissions Trading Scheme and now they're profiting off their lucrative investments which are based on lies.' (See "The Climate Change Hoax").
Strong fled to China in 2006 after being accused of corruption with respect to the UN oil for food program.
Climate change propaganda is a No-Problem-Reaction-Solution technique to justify Agenda 21 and its stable-mate the Biodiversity Treaty. This is an internationally-binding document involving nearly 200 countries. The United States signed the treaty, but it was not ratified by the Senate after people like ecologist and ecosystem scientist Dr. Michael Coffman exposed its true consequences and implications. He said that he realized during the 1980s and 1990s that the plan was to use the excuse of protecting the environment to confiscate half the land of the United States.
Similar plans exist for every other country. America may not have ratified the treaty, but it is being implemented by the day. Agenda 21 demands the central global control of all land; all private property; all water sources and distribution; all other resources which includes people in its definition; all energy supplies and distribution and all food production and distribution.
Agenda 21 is called 'the agenda for the 21st century' and that refers to global fascism / communism. This is a summary of what Agenda 21 / Sustainable Development / Biodiversity is seeking to impose:
An end to national sovereignty
State planning and management of all land resources, ecosystems, deserts, forests, mountains, oceans and fresh water; agriculture; rural development; biotechnology; and ensuring 'equity' (equal slavery)
The State to 'define the role' of business and financial resources
Abolition of private property (it's not 'sustainable')
'Restructuring' the family unit
Children raised by the State
People told what their job will be
Major restrictions on movement
Creation of 'human settlement zones'
Mass resettlement as people are forced to vacate land where they currently live
Dumbing down education (achieved)
Mass global depopulation in pursuit of all the above
This horrific plan is being coordinated through the United Nations, the stalking horse for world dictatorship, via a non-governmental network once called the International Council of Local Environmental Initiatives ICLEI), and now known as Local Governments for Sustainability although still using the shortened name ICLEI. The United Nations is now opening 'embassies' around the world called 'UN Houses' under the guise of raising awareness of UN activities, but not the activities that people really need to know about. They have opened one in Hunter Square, Edinburgh, Scotland, for example.
Local Governments for Sustainability (ICLEI) and other organisations are integrating the plan into every village, town, city and region and it is already becoming widespread across the world. The organisational infrastructure of Agenda 21 is already fantastic and involves government agencies, non-governmental organisations (NGOs), think-tanks, trusts, foundations, 'training' (mind control) operations and 'initiatives' which have been building the infrastructure for what they call 'the post-industrial, post-democratic' society while the public go about their daily business oblivious of the prison being built all around them by the hour.
Harvey Ruvin, a vice-chairman of ICLEI, was asked how Agenda 21 would affect liberties with regard to the US Constitution and Bill of Rights, private property and freedom of speech. He replied:
'Individual rights must take a back-seat to the collective.'
The arrogance of these people is breathtaking. The extraordinary network supporting ICLEI and Agenda 21 includes the Rockefeller-sponsored America 2050; United Cities and Local Governments (UCLG); Metropolis; World Economic Forum; United Nations Framework Convention on Climate Change; United Nations International Strategy for Disaster Reduction; World Bank; Clinton Climate Initiative; Climate Group (Tony Blair); World Conservation Union (IUCN); Renewable Energy and Energy Efficiency Partnership; Global Footprint Network; Renewable Energy and Energy Efficiency Partnership; Global Footprint Network; International Centre for Sustainable Cities; Earthquakes and Megacities Initiative and the Stakeholder Forum. These and so many others are working to the same end — Agenda 21 and total human enslavement worldwide, although most of those involved will have no idea that they are building a global prison for themselves and their families.
Another of these front organisations is the World Business Council for Sustainable Development which includes the hideously anti-people Monsanto. Destroying food-growing land, contaminating the countryside with toxins and replacing proper food with deadly and soil-destroying genetically-modified organisms is Monsanto's contribution to 'sustainability'. Agenda 21 is operating in more than 600 towns, cities and counties in the United States and expanding by the day.
A member of the Agenda 21 committees in Santa Cruz, California, in the mid-1990s said that the proposals he heard were so crazy that he laughed at them because they could never happen. These included that 'Mother Earth's surface was not to be scratched'; humans should be concentrated in settlement zones; education should focus on the environment as a central organising principle and all aspects of life covered by Agenda 21, but all of these crazy plans are now being introduced. It's all happy, feely, smiling faces and how we care, when the truth is that Agenda 21 is a vicious, brutal, heartless strategy to impose a global Orwellian state.
Agenda 21 manipulators either create or hijack some local organisation or other, many of them in locations with large populations, and they have their (controlled) leadership to agree the Agenda 21 blueprint for their community together with any uninformed, unwitting idiots who can be sold a human nightmare as saving the planet. This allows them to claim that decisions were made after 'public participation' when that would have been the last thing they wanted, and 99 percent of the 'community' has never heard of Agenda 21 let alone had their say on it. They want no democracy which is why these people talk privately, sometimes even publicly, about the post-democratic, post-industrial society.
They want to control every man, woman and child on the planet — everyone and everywhere and every resource, water source and piece of land. To do this they need a global structure of fascist control that goes right down into every local community with the jackboots at local level enforcing the will of the global centre. This is why there is so much emphasis on local authorities and town and city authorities in Agenda 21.
There is a 'training organisation' called Common Purpose (common purpose, common consensus, everyone the same) which has been paid very large amounts of money by governments and local authorities, police forces and other institutions of state to 'train the leaders' of the post-democratic, post-industrial society. Common Purpose was heavily represented in the Leveson 'inquiry' leading to new media laws in Britain. It is not a training programme; it is a programming programme and turns out unquestioning zombie administrators who serve the god of Agenda 21 and the associated European Union. The theme of 'common' also applies to the ever greater standardisation of laws and regulations and constant reference to 'international law'. This is the unfolding global dictatorship of Agenda 21. What do you need to be a global dictator? Laws that everyone on the planet must obey — international law and the standardisation of global regulation.
You can see The Hunger Games connection when you look at the official Biodiversity wish-for map of the United States in Figure 1. The red areas are designated for no human use and most of the rest of America is confiscated for little and highly-regulated use. The mass of the population would be concentrated in high-rise, densely-packed 'human settlement zones' and denied access to something like 80 percent of present day America. It is without question the world of The Hunger Games with a globally-enforced top-down hierarchy that has a world government using its world army and police force to impose its will at regional and local levels (sectors). The Rockefeller-funded America 2050 has produced a map of the new United States divided into eleven 'megaregions' and includes parts of Canada (Figure 2). Seattle, Portland and Vancouver, British Columbia, become the megaregion known as 'Cascadia' and this regional system comes under the collective name of 'megalopolis' which is Greek for large city or great city. America, Canada and Mexico are due to merge to form the North American Union in line with the European Union blueprint.
The European Union is planned to be broken up into regions and the same structure is in development all over the world. The map of the new Europe has regions from different countries linked up with regions in other countries to end any vestige of national sovereignty or even national existence (Figure 3). This is a global plan with its fierce central control hidden behind its lower elements such as the European Union and local government. What is planned would clearly require a fantastic reduction of the global population and this is indeed what Agenda 21 / Sustainable Development / Biodiversity demand.
The e-book Agenda 21: Your Life In Their Hands can be downloaded here.
reference:
Icke, David. The Perception Deception. Ryde: David Icke Books, 2013.
Julian Websdale is an independent researcher in the fields of esoteric science and metaphysics, and a self-initiate of the Western Esoteric Tradition. His interest in these subjects began in 1988. Julian was born in England, received his education as an electronic and computer engineer from the University of Bolton, served in a Vaishnava monastery during 2010, and has travelled to over 21 countries. Julian is also a member of the Palestinian Solidarity Campaign.
Source: Julian Websdale  |  Waking Times | War Is Crime
"The introduction of genetically modified foods (GMO) tampers with the essence of life in an experiment with an unknown outcome and no real way to undue the damage. The FDA purposely does not require labeling of GMO food, since no one who understands the issue would ever purchase it. This makes it all the more difficult to locate healthful food."  Byron J. Richards, The Leptin Diet: How Fit Is Your Fat?
This series exposes the outright fraud against peoples' lives and the contempt for American citizens (and citizens of the world who eat our grains) with the injection of Genetically Modified Organism foods by the highest representatives in our U.S. Congress.
Call it a "financial cartel" that allows GMOs to be fed to our citizenry, but worse, for the love of money, those power elites accelerate the destruction of our Natural World.
We humans grow too clever and too arrogant to understand the long-term penalties we heap on Mother Nature until she finds no other answers but to claw back at us, i.e., cancers, disease and more aberrant environmental disasters to come.
Every crop in America, Canada, Australia and much of the third world where GMO advocates like ADM and Monsanto can force their "Frankensteinization" on farmers—they push it.
Even with all the evidence piling up, those same elites hammer any opposition into the ground.  They "bribe" the FDA officials to not label any GMO foods so you don't know what you're eating.
We destroy our own bodies by our actions, but we also obliterate the Natural World and its inhabitants.
Today around the world, trillions of bees suffer "colony collapse" via GMO crops.  Nature cannot figure out how to deal with plants that suffer genetic modification or DNA change-ups.
GMO foods represent a pitcher throwing an orange to the catcher in a Major League Baseball game.  Within several pitches, the orange wouldn't hold its form from the violent treatment.  If the batter connected with the orange, it would splatter all over the field.  Result: the game couldn't continue.  The players could not play and the spectators would go home.
But in GMO production, the consequences cannot be seen as quickly, however those "errors" against Mother Nature will surface well into the future.
Ethan Huff, science writer for Natural News said,  "A pair of studies recently published in the journal Science raises dire warnings about the continued decline of crop-pollinating insects all over the world, and what this means for the future of the world's food supply. Both studies highlight the fact that wild pollinators like bumblebees, butterflies, and beetles are basically disappearing, and that industrial agriculture, which includes genetically-modified organisms (GMOs), are a major factor causing this insect genocide.
"At least half a dozen other studies published in the last couple of years have arrived at similarly disturbing findings. They do, however, shed further light on how the situation has progressed throughout the decades, pointing to corporate monoculture practices, shrinking forests and wild lands, and general changes in physical landscapes as some of the primary culprits in promoting this ruinous trend."
We not only change the DNA of our fellow planetary travelers, but we destroy their habitat.  We seem to think no consequences will befall us.
"The earth does not belong to man, man belongs to the earth. All things are connected like the blood that unites us all. Man did not weave the web of life, he is merely a strand in it. Whatever he does to the web, he does to himself."
― Chief Seattle
Last week, I interviewed with Ross Kaminsky at www.KOA.com in Denver, Colorado. Mind you, this young man, about 30, sounded brilliant and highly articulate.  I liked him.   I spoke about America adding 100 million immigrants and a total of 138 million people by 2050—a scant 36 years from now.  I brought facts and compelling information to the show.  I attempted to show him and the public the ramifications of adding 138 million people—and that, we could not sustain such numbers and our environment.
He sat across from me saying, "We don't have a population problem. We have plenty of water and oil.  The oceans can absorb all our carbon footprint."
I said, "You're speaking with assumptions as if they were facts.  You make statements based on belief where I make them based on facts from my research."
He dumbfounded me with his arrogance that we can keep adding endless people with no consequences. He wanted everyone to live a free life.  I countered with the fact that as our population numbers rise, our freedoms decline along with balance in our Natural World.  That fact cannot be disputed.
I explained how our oceans suffer acidification and that reefs die with carbon footprint and how marine life cannot endure the onslaught.
He wouldn't hear of it.  Mind you, this young man, traveled on six continents like I have traveled.  He lives in denial and defends it. Along with him, the majority of the American public feels the same.
We see the same denial with our leaders who advocate for GMOs in plants and fish—in the face of facts.
"In one of the studies, researchers from Montana State University (MSU) compared insect data collected in the late 1800s to similar data collected in the same test location in the 1970s," said Huff. "They then compiled current data from the same area to compare to both of these other two data sets, upon which they discovered that the number of unique wild bee species had dropped by nearly half.
"What is perhaps more disturbing, however, is the fact that researchers observed modern bees to be generally interacting less with plants than they used to in previous generations. According to the data, the overall number of interactions between bees and plants has also dropped by roughly half, indicating a serious problem as far as the general food supply is concerned, as about 75 percent of global food crops rely on pollination by animals."
Managed honeybees do not pollinate crops as well as wild honeybees
The second study troubles me further:  having found that pollinating insects in general, which include a wide range of insects and other animals, continue vanishing from their normal habitats and foraging areas.
"Based on field trials conducted in 20 different countries, wild insects are clearly on the decline everywhere, and managed honeybee colonies established to replace them in many areas are failing to pick up where the wild honeybees left off," said Huff.
"In landscapes with lower diversity and lower abundance of wild insects, the crops had less fruits," explains Lucas Garibaldi, author of the second study. "Wild insects pollinated way more efficiently: Flowers produced twice as many fruits after being visited by wild insects and were more consistent in their production than when visited by honeybees."
"Some "leaders" blame climate destabilization and other outside factors for this mysterious decline in crop pollinators," said Huff. "But the major elephant in the room, and the one that the mainstream media is desperately trying to avoid, is GMOs and the chemical-based technologies used to grow them. As we have covered time and time again, neonicotinoids and other pesticide and herbicide products are responsible for weakening and killing off bees and other crop pollinators, particularly in North America where GMOs are most widely cultivated."
"The proof is obvious that one of the major reasons of the bees' decline is by the ingestion of GMO proteins," explains a report by Brit Amos from Global Research about the decline of bee colonies. "The truth is that organic farming is relatively untouched as the bee crisis is concerned. Organic farming maintains the diversity of the eco-system and preserves the quality of the foods produced."
The more I research into what we and our children face with our "disfiguring" the Natural World with our poisons and GMO assault, the more sickened I am in my mind and heart.  Since I lack any power or influence, someone like Bill Gates or Warren Buffet needs to fund campaigns to stop GMO production.  After all, it's their kids, too, who must live in this world.
All of this GMO nightmare stems from too many people needing food for survival with too many elites willing to sacrifice the Natural World in order to make endless billions of dollars to live in big homes, drive expensive cars and fly Lear Jets.
You can learn more: http://www.naturalnews.com/039582_pollinators_gmos_food_supply.html#ixzz2zSIQSIhn
Go to www.responsibletechnology.org to get involved and learn how to avoid GMOs. Look for Non-GMO Shopping Guide.
Start buying non-GMO today.
Help stop the genetic engineering of our food supply.
You may become involved:
By mail: Institute For Responsible Technology, P.O. Box 469, Fairfield, IA 52556 Online: www.responsibletechnology.org by phone:(641) 209-1765
Read the book—Genetic Roulette: The Documented Health Risk of Genetically Engineered Foods by Jeffrey M. Smith.
What happens when an institution becomes more important than the cause for which the institution was formed? How long should people who believe in the cause remain loyal to such an institution? And at what point does loyalty to such an institution comprise an abandonment of the cause itself?
I'm afraid the majority of Americans have been institutionalized in a manner not unlike the way prisoners are institutionalized after a long period of confinement. After a point, a prisoner is so conditioned to accepting the circumstances of his confinement that, should he be released from confinement, he truly would be unable to cope. Such seems to be the mentality of a majority of us today.
Christians have been institutionalized. The reason and purpose of the church or Christian organization is no longer relevant. Generations have grown up reciting the same liturgies, regurgitating the same prayers, and rehearsing the same programs until the reason for it all doesn't even matter. But take the institution away from them, and they would not be able to cope.
The Pharisees despised the Lord Jesus because He challenged the religious institutions that had come to govern people's lives. I am convinced if Jesus came to America today, He would be just as despised by the vast majority of our religious leaders as He was by the Pharisees.
The Church that Jesus built in the Book of Acts owned no buildings, was indebted to no lenders, took no tax benefits from the civil government, had no denominational hierarchy, and identified itself with no ecclesiastical brand. And the Church was just as persecuted by the religious establishment as Christ was.
One of the reasons one may know that the modern church is so unlike Christ and the apostles is by the persecution that it never experiences. Just as the Pharisees were bosom buddies with the Roman Empire's governing elite, so are our religious leaders today. Caesar was very generous in sharing the fruit of his tyrannically-extracted bounty with his allies in the Jewish Sanhedrin. And they were happy to return the favor by insisting that the Hebrew people submit to Caesar's harsh rule over their lives.
The Pharisees also enjoyed a cozy relationship with the moneychangers. The moneychangers were descended from a long line of corrupt banking interests that dated all the way back to the Edomites. We are not talking about your friendly local banker here. These were highly organized, well-positioned money-manipulators. Jesus was so incensed with their manipulation and theft within in the Temple that he used physical violence to remove them from the property. He is recorded as doing this twice in the Gospel narratives. Note that after the second time in which it is recorded that He drove out the moneychangers (with a whip, no less), the Pharisees soon had Jesus crucified. There is no question that one of the reasons Pilate ordered Jesus to be scourged with a whip was in direct retaliation for the manner in which Jesus whipped the moneychangers. Remember, the moneychangers were from a very well-ensconced, elitist national (and even international) organization.
And lest you think all of this is irrelevant to today, the moneychangers are still very much with us. The Rothschilds, Rockefellers, and other members of the international banking elite, are the direct descendants of the moneychangers of Jesus' day. And if you ever have an opportunity to ask one of them about it, they will proudly admit it.
Yes, the Pharisees institutionalized religion. This accomplished two things: 1) it helped enslave the people, 2) it helped make them rich. The institutionalized church is accomplishing much the same things today.
The establishment church is doing as much to enslave people as any other institution in the world. Our political institutions and educational institutions have nothing on the church for making good little subjects and serfs to the all-powerful state. And if you don't think that a host of church leaders are not reaping the spoils from assisting our taskmasters, you're not paying attention.
Many, if not most, of these big-name TV evangelists have as many houses and yachts and Swiss bank accounts as any big-name Hollywood actor or politician. In some cases, more. Most of these big-church pastors are bathing in luxury. Many of them take the kinds of vacations that only CEOs of the biggest corporations or presidents could afford. Do you really think that the IRS rules and regulations governing these non-profit corporations, called churches, really bother these church leaders? Get real!
No wonder all of these "successful" preachers are constantly teaching their congregations to always submit to the government. No wonder they have no interest in abandoning their 501c3 tax-exempt status. They are in the exact same position as were the Pharisees of old. And they are just as effective in helping to enslave people today as were the Pharisees.
The institution of the church–along with its programs, formalities, buildings, rituals, etc.,–has become more important than the purpose for which the church was created. Instead of preaching the liberating message of the Cross, which frees men from the fetters of sin–and that includes sinful political and financial fetters–the church is preaching a message of subjugation and enslavement. It is teaching people to submit to all kinds of oppression, including religious oppression.
Some of the most oppressed and subjugated people in the world are religious people. There are churches and Christian colleges that are every bit as tyrannical as anything coming out of East-bloc or Muslim countries. About the only thing missing is physical torture and execution. Spiritually, however, the oppression is the same.
How could real men who love the liberty they have in Christ allow themselves–and especially their wives–to be told how to dress, how to wear their hair, what kind of music to listen to, what kind of vacations to take, what restaurants they may or may not eat at, what forms of entertainment they may or may not participate in, etc., etc., ad infinitum?
I tell you the truth: many Christians in America are already slaves. To talk to them about freedom is a complete waste of time. The chains of tyranny are already clamped around their hearts. Why should it matter to them if chains are clamped around their necks? When they talk about "defending the faith," they are talking about defending the institution. They are slaves to the institution. And the same is true for many unchurched Americans.
What is more important: liberty, or the government that is supposed to secure liberty? To a sizeable number of Americans today, it is more important to preserve the institution than the freedoms that the institution was created to protect.
Our Declaration of Independence states, "That whenever any Form of Government becomes destructive of these ends [the God-given rights of life, liberty, etc.], it is the Right of the People to alter or to abolish it, and to institute new Government, laying its foundation on such principles and organizing its powers in such form, as to them shall seem most likely to effect their Safety and Happiness."
Did you see that: "any form of government"? ANY FORM. The form of government is only as good as its ability to secure liberty.
I hear a lot of politicians and media personalities talking about "American exceptionalism." This is a potentially dangerous mindset. If one means that America is exceptional in our history and the manner in which our Constitution and Bill of Rights were established to protect liberty, well and good. But if it means that America has carte-blanche to do anything it wants–no matter how unconstitutional or tyrannical–because it is "exceptional," it is a bunch of hooey.
What difference does it make if we have a 50-State Union or not? There is a bill in the California legislature that would divide that State into six states. Five counties in Western Maryland are trying to secede from Baltimore. Ten northern counties in Colorado are trying to secede from Denver. If a State refuses to secure the liberties of the people of that State, they have every right under God to separate. The State is not nearly as important as the liberties of the people within the State.
The spirit of secession is actually growing like wildfire all over the world. In recent history, Serbia, Slovenia, Croatia, Bosnia, Montenegro, Macedonia, and Kosovo all separated from Yugoslavia. Transnistria broke free from Moldova. Abkhazia and South Ossetia fought free from Georgia. The Slovaks seceded from Czechoslovakia. And now Crimea is separating from Ukraine.
To be sure, not every country that secedes from another country is motivated purely by the love of liberty. But for those of us in America, the issue that has propelled the desire to separate from one country or one State has always been liberty. It was the love of liberty that created the United States and that created the free and independent states of Maine, Vermont, Kentucky, and West Virginia–all of which seceded from existing U.S. states.
Furthermore, what difference does it make if Washington, D.C., is our federal capital, or, if say, Helena, Montana, would become the federal capital of a mountain state confederation of Montana, Idaho, Wyoming, Northern Colorado, eastern Washington and Oregon, the Dakotas, Alberta and British Columbia, Canada, and Alaska? Or if Austin was the federal capital of an independent Republic of Texas? Preserving some sort of political union (especially if it is a forced and coerced union) is not nearly as important as preserving liberty.
Again, it is not the political institution that is important. What is important is the liberty that the political institution is supposed to secure.
Many great minds in this country are already philosophizing over the possibility that secession is an idea whose time has come–again. A few years ago, Walter Williams wrote, "Like a marriage that has gone bad, I believe there are enough irreconcilable differences between those who want to control and those want to be left alone that divorce is the only peaceable alternative. Just as in a marriage, where vows are broken, our human rights protections guaranteed by the U.S. Constitution have been grossly violated by a government instituted to protect them. Americans who are responsible for and support constitutional abrogation have no intention of mending their ways.
"Americans who wish to live free have two options: We can resist, fight and risk bloodshed to force America's tyrants to respect our liberties and human rights, or we can seek a peaceful resolution of our irreconcilable differences by separating. That can be done by peopling several states, say Texas and Louisiana, control their legislatures and then issue a unilateral declaration of independence just as the Founders did in 1776. You say, 'Williams, nobody has to go that far, just get involved in the political process and vote for the right person.' That's nonsense. Liberty shouldn't require a vote. It's a God-given or natural right.
"Some independence or secessionists movements, such as our 1776 war with England and our 1861 War Between the States, have been violent, but they need not be. In 1905, Norway seceded from Sweden, Panama seceded from Columbia (1903), and West Virginia from Virginia (1863). Nonetheless, violent secession can lead to great friendships. England is probably our greatest ally and we have fought three major wars together. There is no reason why Texiana (Texas and Louisiana) couldn't peaceably secede, be an ally, and have strong economic ties with United States.
"The bottom line question for all of us is should we part company or continue trying to forcibly impose our wills on one another?"
See William's column here:
Hear! Hear!
In the eyes of God, marriage is the most sacred of all unions. It is far more sacred than any political union. If our Creator has authorized the separation of a husband and wife under certain circumstances in which one party violated the sacred terms of the holy contract (and He has), who among us has the audacity to say that political unions may not be abandoned when government commits political adultery by forsaking its oath to the people?
Again, are we more interested in preserving an institution or the liberty that the institution is supposed to secure?
As an institution, the Church at large is apostate. Yet, millions of Christians continue to prop up an institution that has abandoned the purpose for which it was created. They are more interested in preserving the forms and liturgies and tapestries and buildings of the institution. And, all the while, they are being spiritually enslaved by the very institution they are helping to prop up.
And as an institution, the U.S. federal government is apostate. Yet, millions of citizens continue to make excuses for it, justify it, and condone it. They are more interested in preserving the agencies and entities and power of the institution. Yet, all the while, they are being enslaved by the very institution they are helping to prop up.
What happens when an institution becomes more important than the cause for which the institution was formed? When the institution is civil government and the cause is liberty, tyranny is what happens.
At this time, our U.S. Congress rates a nine percent approval rating. It means nine percent of the American public registers "brain-dead."
Those 535 members over the past 40 years deformed our nation from the largest creditor country in the world to the largest debtor nation in the world. We enjoyed less than $1 trillion in national debt to our current $18 trillion debt. That same Congress forced our young men and women into four hopeless, futile and asinine wars that killed tens of thousands of them and sent millions home with Post Traumatic Stress Disorder, drugs and alcoholism. Not to mention dismembered limbs.
That Congress danced to the Military Industrial Complex's tune of contrived wars benefiting the bankers and corporations that outfitted and fed those young soldiers. Those executives made millions while our kids came home in coffins or missing arms and legs and their minds.
That same Congress turned our nation from a rich manufacturing country into a multi-trillion dollar deficit nation where we import everything we once manufactured, to today where we buy everything from China to make their citizens rich. So rich, in fact, that we owe them $1.4 trillion in trade deficits. Ironically, China now owns many U.S. corporations and buys land for its own beachhead here in America, not to mention Vancouver, BC, Canada where it displaced most of the Canadians in the past 30 years. Chinese now dominates the language in once-English speaking Vancouver, BC.
That bunch of hot shot Congressional Critters took our vibrant economy and turned it into 15 million unemployed and 48 million food stamp users. Those same reps allowed 20 million illegal alien migrants to come into our country and work for crooked employers like Chipotle's, Marriot Hotels, Holiday Inns, McDonald's, Hormel, Tyson Chicken, Swift, painting, landscape and construction firms at minimum wages. They and the presidents that headed this country refused to enforce our laws. That's why you MUST press "1" for Spanish and "2" for English.
Today, we face enormous consequences from their actions. Yet, U.S. voters return 96 percent of incumbents—such as Boxer, Feinstein, Hatch, McCain, Kyle, Schumer, Lindsey Graham, Levin, Udall, Bennet, Rangel, Jackson, DeGette and hundreds of other failed Congressional Critters.
So are they stupid or are they corrupt?
One reader named Brad said, "They are not necessarily stupid. It's just that most of these psychopaths are bought. The wealthy buy their services and they get remuneration by jobs when they leave "service", by getting to indulge in insider trading (again – was cut out, but quietly reinstated) etc.
"Just allowing insider trading makes EVERY decision with any economic consequence suspect, as they will have a vested personal income interest in helping corporations increase profits by any means. Thus the repeal of clean air and water regulations. They allow oil fracking to use 2 million gallons of water per well, pour over 530 toxic chemicals into the aquifer to poison and ruin it, and remain exempt from EPA oversight.
"Some may not be bought. Some not all the time. The sad fact is that enough ARE compromised that essentially the damages get done consistently.
"Most in office are so stupid (such as California's Congresswoman Maxine Waters, who is also corrupt in the league with former Congressman Tom Delay of Texas) that they accept stupid, flawed societal paradigms like "what's good for business is good for America" and we can see how well that's working out.
"The parasitic wealthy class is stealing record profits in some of the worst working economy in history – why? Because they have the true entitlement society in which they get tax breaks, tax exemptions, no bid contracts, inflated government costs, subsidizations and most likely a ton of things we never hear about. Simply by allowing industry execs into the alphabet organizations like FDA, USDA, etc., allows them to regulate competition to a ridiculously low level, and to leverage their income, influence, and profits at everyone else's expense."
The greatest flaw facing all U.S. citizens remains "career politicians" that create a "good-old boy" network of cronyism and corruption.
If we citizens fail to press for a maximum of 12-year term limits, we face a downward spiral into poverty and failed government not seen since the 1930s. The majority of Congress remains corrupt. That's why things in the USA don't get better, but continue on the downward path.
Remember: power corrupts; long-term power corrupts absolutely.

After two fair and lengthy hearings, the eight elected members of the Massachusetts Governor's Council, in a 4-4 tie vote on March 5, refused to confirm attorney Joseph Berman to be a Superior Court judge.  It was a defeat for Governor Deval Patrick, who had nominated Mr. Berman.  But the Council took its responsibilities seriously and rendered a well-considered judgment.
Councilors voiced many concerns about the nominee.  Foremost was a lack of truthfulness.
Berman, under oath, was asked three times whether he had requested anyone to lobby the Council to advance his nomination.  Each time, he replied no.
Later, after some stumbling, he admitted to another Councilor that he had phoned State Senator – now Congresswoman – Katherine Clark to lobby Councilors.
Mr. Berman's meager criminal trial experience also troubled Councilors. Another concern was Berman's scant knowledge of drug abuse.  And some worried that Berman, politically active and a national leader in the heavily political Anti-Defamation League (ADL), would promote those viewpoints as a judge.
Several Councilors questioned Berman's $100,000 in campaign contributions, including to Governor Patrick, since being turned down for a judgeship in 2004.  They saw this as a possible attempt to advance his judicial ambitions.
At his second hearing, Mr. Berman tried to deflect these criticisms.  He claimed, for example, to have misunderstood the Councilors' questions about lobbying them. He also said he had been studying up on drug addiction and criminal law.
Berman's being a 19-year member, and since 2006 a National Commissioner, of the ADL also caught the attention of some Councilors and media.
Recall the ADL scandal that broke out in mid-2007.  It exposed that organization's decades-old hypocrisy in denying the Armenian genocide and colluding directly with Turkey, a major human rights violator, to defeat U.S. Congressional resolutions on that genocide.
Shocked at the ADL's stance, the Massachusetts Municipal Association, which represents every city and town, then dropped its sponsorship of the ADL's so-called "No Place for Hate" anti-bias program.  So did Arlington, Bedford, Belmont, Lexington, Medford, Needham, Newburyport, Newton, Northampton, Peabody, Somerville, Watertown, and Westwood.  The ADL scandal quickly became national and international news.
Naturally, the Governor's Council quizzed Berman about his ADL leadership role.  He claimed that after the scandal erupted in 2007 he and some New England ADL members tried to convince the National ADL to change its position on the Armenian genocide.   But there is no hard proof of that.  And surely Berman knew long before 2007 of the ADL's anti-Armenian stance.  Yet he never spoke out publicly or resigned. Even after 2007, Mr. Berman remained publicly silent about the ADL's indefensible assault on Armenian Americans.
Alongside the Council's other concerns, Berman's ADL record raised doubts about his worthiness to be a judge.
On August 21, 2007, the National ADL tried to squirm out of the scandal with a press release that used deceptive and legalistic wording about the Armenian genocide.  It implied that the Armenian genocide was a mere "consequence" of wartime events, which meant it wouldn't qualify as genocide under the United Nation's official definition.  The dishonest ADL declaration was widely rejected.
Nearly 20 countries, such as Canada, France, and Argentina, the European Union Parliament, the International Association of Genocide Scholars, and the Polish Jewish lawyer who coined the word "genocide" in the 1940s, Raphael Lemkin, have recognized the Armenian genocide of 1915 -23 committed by Turkey.
Many American human rights, ethnic, and church organizations have supported the Armenian genocide resolution.  These include the American Jewish World Service and the Jewish War Veterans of the USA.
But not the ADL nor, reports the Jewish media, the American Jewish Committee, AIPAC, and B'nai B'rith.  They adhere to a long-standing arrangement among themselves, Turkey, and Israel to deny the Armenian genocide.  See "History of Lobbying" at NoPlaceForDenial.com.
The ADL professes to defend the human rights of all ethnic groups, not just Jews. It insists that the American people acknowledge and pass legislation on the Holocaust.  Yet the ADL tries to prevent recognition of a Christian genocide.  The hypocrisy is astonishing.
Meanwhile, a significant precedent has been created: Members of the ADL, or similar organizations, who aspire to a higher post, particularly in government, may now be asked what they knew of their organization's genocide hypocrisy, when they knew it, and what they did about it.  Such are the bitter fruits of deceit.
The psychopathic propaganda power brokers are inciting hysteria over expanding their Ukrainian coup operation. Pushing Russia to accept a hostile empire on their border is irrational. Belligerence and intimidation makes indefensible foreign affairs relationships. Those who swallow the "wag the dog" script that circulates in the Western mainstream media, deceived or brainwashed, are incapable of any independent thought. The forces that seek unremitting interventionist intrusions that thrive on self-induced chaos are the true threats to world peace.
Until the perception and experience of the intrepid Michael Scheuer becomes universally accepted, the failed foreign policy mistakes will continue as seen in Russia annexing Crimea is the cost of U.S.-EU intervention in Ukraine.
"Overall, U.S. and Western leaders should be lining up to thank Vladimir Putin for a painful but thorough lesson in how the adult leader of a nation protects his country's genuine national interests. And, it must be noted, Putin is not teaching rocket science. Had Western leaders received a decent education — especially in the fields of history and human nature — they would have been absolutely certain from the start that any destabilizing Western intervention in Ukraine that even remotely threatened Russia's assured access to its Crimean naval bases would provoke precisely the kind of Russian response that occurred. They also would have known that West and the UN could bleat forever about the requirements of various treaties and international law, but that a nation acting to protect what it perceives to be life-or-death national interests — as is Putin's Russia — is both insane and suicidal if it refrains from acting because of a raft of documents designed to address Cold War conditions that no longer exist.

The lesson of the Ukraine crisis — if it ends without war — for the U.S. and the EU will be crystal clear: Hoe your own row, and mind your own business. If it ends in a civil or European war, they will have only themselves to blame."
With the results from the Crimean referendum in hand the Guardian newspaper reports:
The referendum ballot itself, as posted a few days ago to the parliament's website, doesn't exactly give voters an option to say "No". The two choices are:

"Do you support joining Crimea with the Russian Federation as a subject of Russia?"

"Do you support restoration of the 1992 Crimean constitution, and Crimea's status as part of Ukraine?

This second option is somewhat contradictory: the 1992 constitution asserts Crimea is an independent state and not part of Ukraine (reference to autonomy within Ukraine was inserted at a later date). By "supporting the restoration of the 1992 constitution" voters will actually support enhanced autonomy. No matter what, voters are ticking a box for independence from Ukraine.
In the inimitable and immortal words of that heroine of all transgender sociopaths, the former Secretary of State, Hillary Clinton sums up the double standard: What Difference Does It Make? The bipartisan support for an unbalanced death wish to jump-start the DEFCON alert level, reflected in the comments of General Dempsey: US ready for military response to Russia if Crimean conflict escalates, should alarm everyone. "We do have treaty obligations with our NATO allies. And I have assured them that if that treaty obligation is triggered [in Europe], we would respond."
For a listing of reports on Lessons of the Ukrainian Coup, examine the latest BATR RealPolitik Newsletter – March 13, 2014. Especially appreciate the Robert Parry article, Neocons and the Ukraine Coup, which targets the perverse mentality of the NeoCon influence.
"Now, you have Assistant Secretary of State Nuland, the wife of prominent neocon Robert Kagan, acting as a leading instigator in the Ukrainian unrest, explicitly seeking to pry the country out of the Russian orbit. Last December, she reminded Ukrainian business leaders that, to help Ukraine achieve "its European aspirations, we have invested more than $5 billion." She said the U.S. goal was to take "Ukraine into the future that it deserves."
Any attempt to establish sanity in foreign policy must recognize that the betrayers within have sold out America for the last century. Foggy Bottom is the depository of dual loyalists as explained in the Totalitarian Collectivism essay, The State Department's New World Order Agenda.
Just who are the maniacal lunatics that drive this insatiable need to threaten continuous war to achieve global imperium? One needs not be a Putin booster to recognize that the post 911 expansions of a garrison mentality guarantees further military expeditions into the internal affairs of any country that bucks the "international community" New World Order goals.
Author of the book "The New American Empire", Rodrigue Tremblay exposes the lunacy behind The Bush-Obama's Neocon Foreign Policy of Isolating Russia and of Expanding NATO is a Dismal Failure.
"President Barack Obama was candid in admitting it on Monday March 3, 2014, when he said that "we are indicating to the Russians [that] if in fact they continue on the current trajectory they're on, then we are examining a whole series of steps — economic, diplomatic— that will isolate Russia."
Well, it is precisely this desire to expand NATO and to isolate Russia by incorporating all the countries bordering Russia into NATO, i.e. a strategy of geopolitical and military encirclement of Russia, which has provoked that country when it felt threatened in its national security.
The truth is that NATO should have been disbanded after the collapse of the Soviet empire in 1991, and especially after the Warsaw Pact was itself dismantled . . . But no! The United States wanted to take advantage of the situation and demanded that everything fell into the military-financial U.S. Empire."
The Global Gulag essay, NATO a Dinosaur Overdue for Extinction, amplifies upon this conclusion.
"If the breakdown in NATO is destined to avail an opportunity to curtail the Yankee Hyperpower, the alternative need not be the formation of another suspect alliance. It is not unpatriotic to advocate the wisdom in an America First policy. NATO doesn't secure an advance for our country, but only provides the military command and enforcement that imposes the will of global masters. Resistance and opposition against an independent EU rapid defense force, comes not from the nations of Europe, but from the elites that control the mechanisms of global power. NATO is one of their tools. Alliances are one of their methods. And suppression of viable self determination is their cherished goal."
Just think what the response would be if Putin reacted to the bellicose threats from EU/NATO/US to intervene into whatever geographic Ukraine composition remains, by re-creating Russian bases in the Western hemisphere? Venezuela becoming the 21th Century Cuba cannot stand. You can hear the cries – no Russian Guantánamo Bay bases in our backyard.
The impotency of superpower status means that the nuclear option becomes executable. This attitude is pure madness, and leads to unilateral imperialism.
When the formidable voice of moral authority, Paul Craig Roberts, warns about World War 1 All Over Again, the nation must come to grips with the fact that the establishment political class is hell bent on running the world by whatever means they decide as they undertake to eliminate any and all opposition to their brinkmanship of NWO jingoism.
"Did US Secretary of State John Kerry ask you before he delivered an all or nothing ultimatum to Russia? Did he ask Congress? Did he ask the countries of western and eastern Europe–NATO members who Kerry has committed to whatever the consequences will be of Washington's inflexible, arrogant, aggressive provocation of Russia, a well-armed nuclear power? Did Kerry ask Japan, Taiwan, South Korea, New Zealand, Australia, Canada, Mexico, South America, Africa, China, Central Asia, all of whom would be adversely affected by a world war provoked by the crazed criminals in Washington?"
Absent from a sober and balanced national policy, on what is truly best for the American people, is recognition that the internationalism fostered by Woodrow Wilson has destroyed the Republic. America First requires the acceptance and courage to admit that the globalist coup d'état, which actually took over and now rules our own country, is the definitive enemy of all humanity.
The treason of the NeoCons and International Libs promote a satanic cosmology, which seeks to destroy any traditional institutional legacy that George Washington elaborated in his Farewell Address. Risking World War III over Ukraine, especially when the forces of globalism initiated the unrest, is sheer folly.
If there are any real Patriots left in positions of authority within the Federal government, is it now time to enlist in the much-needed second American Revolution? Liberate our own country before starting conflicts that will only result in an existential demise of our nation. The American holocaust planned from within and exercised by commands from traitors is the real reign of terror that faces every truehearted citizen.
An empire necessitates the elimination of the Republic. If Crimea can hold a referendum, only the NWO Jacobins deny the same option for us.
The desperation of the Anglo-American leadership, guided by the steady corrupt banker hands, has never been more acutely high, nor obvious in full view. The entire Ukraine situation is a travesty. It includes Langley agents killing police and street demonstrators from rooftops, the confirmation coming from the Estonian Embassy (translation of scripts). It includes thefts of official Ukrainian Govt funds, again sent to the Swiss hill sanctuary. It includes sanctions delivered by a US Paper Tiger, sure to cause horrific backlash. It involves the last gasp attempt to obstruct the Gazprom energy pipelines, which will inevitably corner the European market in monopoly. It involves subterfuge with the NATO card (aka Narcotics And Treachery Outlaws) with missiles placed on the Russian borders. Look for NATO members to find a back door to exit the spurious treaty. It involves playing with nitro-glycerine in the Petro-Dollar room. It involves putting tremendous risk for much more clear isolation of the United States. The more the USGovt pushes, the more the US will be isolated. Remember that Nazis steal from their enemy states, de-fraud from their allied states, and force themselves into an isolated state. In Ukraine, the United States has over-played its weak hand. Already, a secret document was leaked in London that the UKGovt would not support the US-led sanctions against Russia.
History repeats itself from the Kremlin phone calls made during the Syrian conflict just a few months ago, when the UKGovt withdrew its support and left the US isolated, looking very weak. Already, Putin has threatened to dump USTreasury Bonds. Putin aptly calls the Anglo-Americans as Mutants. Imagine the lunacy of trying to cut off the only Russian warm water military naval port in the Crimea. Just as stupid as the Trans Pacific Partnership faux pas, trying to cut off China from its Asian neighbors and partners in trade. The intelligence level of the USGovt has never been more stupid, destructive, and in full view. The lost ground for the United States is obvious and glaring in the Persian Gulf, the Mediterranean Sea, and the Caucasus region.
IMMEDIATE PETRO-DOLLAR RISK
If the Kremlin demands Gold bullion (or even Russian Rubles) for oil payments, then the interventions to subvert the Ruble currency by the London and Wall Street houses will backfire and blow up in the bankster faces. Expect any surplus Rubles would be converted quickly to Gold bullion. If the Chinese demand that they are permitted to pay for oil shipments in Yuan currency, then the entire Petro-Dollar platform will be subjected to sledge hammers and wrecking balls. The new Petro-Yuan defacto standard will have been launched from the Shanghai outpost. If the Saudis curry favor to the Russians and Chinese by accepting non-USDollar payments for oil shipments, then the Petro-Dollar is dead and buried. The rise of the Nat Gas Coop run by Gazprom is in progress, its gas pipelines to strangle the OPEC and its bastard Petro-Dollar child. The entire USDollar foundation with the USTreasury Bond bank reserve structure is at risk is collapsing, as consequence to the desperate adventure and criminal activity conducted in Ukraine.Just like with Syria, a hidden giant energy deposit is concealed under the table. Off the Lebanese and Syrian coast, a massive off-shore energy deposit was recently discovered. The US & UK & Israeli oligarchs wish to take it all. Confusion is their game. In the western plains of Ukraine, a massive gas deposit was recently discovered. The US & European oligarchs wish to take it all. Confusion is their game.
The danger level has never been higher. No resolution to the Global Monetary War can come, which we have been seeking, without a climax. It is hardly just a financial crisis amidst a stubborn economic recovery. The nature of the currencies and their underlying sovereign bond foundation is highly toxic, which requires a strong replacement as solution, using an alternative to the USDollar alongside its reserve ledger item the USTreasury Bond. A return to the Gold Standard is coming, but the birth will have loud pangs and possibly broad damage suffered. The Global Currency Reset is better named the Return to the Gold Standard. The United States and London will not give up their control of the Weimar Printing Press easily, used for elite self-dole of extreme wealth. It has served well as the Elite credit card. They will not go quietly, and assume their place in the backwater without taking the world to the brink. No climax can occur without enormous risk and loss. The Global Paradigm Shift is in full gear, with attendant risk huge here and now. My Jackass firm belief is that the US/UK fascist team face a Waterloo event in Ukraine, the victim to be the Imperial Dollar. This bulletin will not be a comprehensive note, as the situation is too vast. The information in the Hat Trick Letter is used to interweave a story of the impending removal of the USDollar from its corrupt throne.
UNITED STATES TRAPPED AND CORNERED
The Anglo Americans have fallen into a carefully designed trap by the Russians and Chinese in a clever designed sequence. More Sun Tzu tactics have been put into practice, which utilize the momentum from the enemy to be thrust back on them. Planning for final steps must have taken place during high level Putin meetings with Xi from the elite Sochi viewing box. The unfolding of events has been more carefully engineered and orchestrated than what appears. The US/UK team has been caught in a vise for months, as the rejection of the USDollar as global reserve currency is in high gear, the refusal of the USTBond a recognized trend in diversifications. The death process is slow and grueling. Much of the American Hemisphere is surrounded and controlled by Russia & China, whether the canal, the port facilities, the oil supply, the mineral deposits, even Yuan Swap facilities. Africa has largely gone under Chinese control, with Russia playing a hidden role as well.
The Persian Gulf is in transition, with the critical protectorate role shifting to China. The Qatar royals have just ordered a dismissal of USGovt ambassadors from their nation. Note that Qatar is the site of a giant USNaval base. To be sure, the Sochi Olympic Games are over, a successful event. The gloves have thus come off. The risks have reached acute levels. The US leadership seems cavalier to the risks that over half the USGovt debt is in foreign hands, over 30% of it in Russian & Chinese hands. A severe backlash cometh. The most vulnerable player in the room is the most aggressive, arrogant, vile, and obnoxious. The instability of the situation is far beyond acute. The victim will be the USDollar and its sidekick the USTreasury Bond. The USTBonds will be kicked out of the global banking system. The Third World awaits the United States, for its domestic betrayals, its financial failures, its criminal deeds, and its war aggression.
THE RUSSIAN BACKLASH TO BE SUDDEN
Russian President Vladimir Putin will slam the West, and very soon. The initial salvo might be a natural gas cutoff by Gazprom, the Russian giant which has fast moved into the global monopoly position. Eventually, Putin might demand gold payment for the natgas in the captured pipelines, that being the plan according to The Voice. Russia supplies one quarter of Western European gas needs. It will be the opening salvo for Gold Trade Settlement, for which the Iran workarounds to the sanctions provided the critical prototype. Combined with a formal announcement of USTreasury Bond sales in volume by Russia & China, the impact would be tremendous, even devastating. The reverberation will be soon seen as the pending demise of the defacto Petro-Dollar Standard, dictated by crude oil sales in USD terms. It will also be soon seen as the end of the USTBond as the global reserve standard in banking systems. Notice for over two years, the primary buyer of USGovt debt (and its refunded rollover) has been the US Federal Reserve via bond monetization, an absolute heresy to central banking. Hyper monetary inflation cannot stand as fixed policy. The world has responded by constructing an alternative to trade settlement. The forum has been the BRICS conferences and the G-20 Meetings of finance ministers. The US & UK will gradually be excluded from both forums, a process well along. Even traditional allies like Japan are buying gold in high volume, with suppressed lowball data so far. This is game over for the USDollar, the direct victim of Ukraine backlash. The war against Russia has been veiled, but the Jackass has exposed it.
VEILED ATTACKS AGAINST RUSSIAN GAZPROM
First was the attack against Russian Gazprom in Cyprus. It was a hidden attack made to look like a bank confiscation event. Notice no bank account confiscations outside the small but important island nation. The entire Russian banking clearance system had been done through Cyprus. Also, Russia was making significant transactions to purchase Gold bullion using Cyprus as clearing house for the purchases. Second was the attack against Russian Gazprom in Syria, another complicated event. The US had used the Libyan Embassy as a weapons running facility (major diplomatic violation), after which the US lost Egypt as a transfer station on the weapons running. The false flag attack in Syria was made to look like a chemical weapons event. However, the Saudis were the guilty party. The motive by the US was to block the advance of Russian Gazprom pipelines, which are to connect to the vast Iran supply centers. Iran has far more oil & gas than Iraq. In fact, Iran is the linchpin nation, which will throw its support toward Russia. Iran will push the Nat Gas Coop certain to eclipse Saudi Arabia and the loud gaggle of OPEC members. With the Russian Gazprom, together Iran and the Nat Gas Coop will usher in the Petro-Yuan Standard and bury the Petro-Dollar, the price set by Russia, the contracts set in Shanghai. Thus the Saudis will be expendable, and their Gold in London to be totally stolen.
Move to the present. Third was the attack against Russia Gazprom in Ukraine, done by the CIA and its partner security agents from the small ally nation on the SouthEast Med corner. The old game of destabilization, popular uprising, bank thefts, and now data files stolen has been put into action. The theft of significant funds in Ukraine has only started, funds gone to Swiss banks. The full betrayal will be seen soon. The US & UK have a lunatic plan to corral the Ukraine pipelines and possibly the vast farmlands of Ukraine. The wrong-footed plan will backfire, when Putin cuts off the natgas supply to Europe, when Putin demands a new type of energy supply payment structure, and when Putin engineers certain other steps. They might execute a Nat Gas Coop double in price, much like the OPEC event in 1973. Witness the upcoming Birth of the Eurasian Trade Zone, the birth pangs heard in Ukraine. The United States and Great Britain will not be included. The Eurasian Trade Zone will span 14 time zones and will settle in gold.
IRAN WORKAROUND AS KEY PROTOTYPE SOLUTION
The Anglo Americans have disrupted a key nation with longstanding historical and religious ties to Russia. The land of Ukraine also contains Russia's only warm water naval port in the Crimea, the site of a recent suspicious earthquake. The response will be swift and firm. The Eastern nations (led by China & Russia) have been making detailed preparations in the last couple years to launch the alternative trade system founded in Gold Settlement. Its launch lacks a potential open door trigger, possibly offered by the Ukraine situation. The Gold Standard could return in a baptism by fire. The open door trigger appears to be the Western interventions into Ukraine, since the Western banking structures will not be permitted to collapse, the ugly reality. The abuse of the central bank monetary expansion and fraudulent bond redemption has gone totally out of control, forcing an endless cycle of alternative preparations and motivated reactions, including the Iran workaround with Turkey as intermediary in gold provision. Other attacks have taken place in the last few months against the Russian Ruble by Wall Street firms. The reaction will possibly be the launch of what could eventually be understood to be a gold-backed Ruble currency, combined with natgas cutoffs to Europe and USTBond dumps. At first it could be perceived as the oil-backed Ruble, but its quick hidden conversion to Gold bullion could be revealed later on. The USDollar will be discarded as obsolete, even toxic. The USDollar debt basis might be widely accepted to be the cause of the global financial crisis, and the USFed Quantitative Easing be widely understood to be the cause of the global financial collapse.
EUROPE AS KEY REGION TO TIP EASTWARD
Events inside Western Europe could unfold rapidly. Behind the scenes, much is happening. The important German-French Axis is breaking down, weakened by each passing month and bailout exercise. The motive for much of the German support of bailouts and rescue plans, as faulty as they have been, is the oversized German ownership of both French Govt debt and big French banks. They will fail, both the French sovereign debt and the big French banks. Germany must undergo a split, with a restructure from the devastating damage due to Southern European sovereign debt and related big bank losses. At the same time, Germany is on the verge of turning East to Russia. Already Russia is a large energy and mineral supplier to Germany, the heavy railway facilities in place. The core of Nordic Europe is firm. Austria and Finland are aligned with the pragmatic forces in Germany and the Netherlands. Italy is being transformed, but Spain might be lost to chaos. Turkey is also undergoing change during chaotic reform. The entire NATO Alliance has never been weaker. The military action in Ukraine is framed as a supposed NATO exercise to honor a treaty. Watch the loose end like Turkey fall off the NATO wagon, while Finland falls off the Euro currency wagon. The Jackass is eager to see the Snowden NSA files reveal key data on the illicit usage of NATO bases for narcotics distribution, the origin being Afghanistan. What a bombshell it would be if Turkey announced that their government would no longer permit heroin shipments from USMilitary aircraft on their Incirlik Airbase.
A key player in the mix is Israel. They have a Tamar floating platform, whose natgas has been pledged under contract to Russian Gazprom. The tiny nation is possibly changing its alliances out of pragmatism, seeing its drained weakened host that has duly served its purpose. The next big step is for Western Ukraine to suffer the drain of remaining resources (financial and agricultural) to the West, using all the diplomatic tools the Euro Elite can muster. The people in the East will realize that they have been betrayed once more by the Western powers. This is the critical final step. Several swing nations will consequently align with Germany, if only to make being integrated by Russia less painful. During all the transitions, China will take care of Asia in this game. The remaining overriding question is whether the US & Britain will go quietly in the night of faded empires, or else to wreck the world with nukes and viruses. The main exports out of the United States and its royal handlers have been fraudulent bonds, military hardware, genetically modified food, fast food with diabetes, pharmaceuticals, surveillance software, computer viruses, and jamming software technology. Such is the nature of the fascist transformation.
RUSSIA CANNOT BE ISOLATED
The West is in for a gigantic surprise in the sequence of events to unfold. They have placed criminal oligarchs into top government positions in Ukraine. Doing so might suit the West but not the Ukrainian people. The political brain trust in Berlin shows extremely errant strategy, still kowtowing to the USGovt and London Elite in an incomprehensible manner. The West cannot isolate Russia, which is the latest absurd bone-headed strategy. They need Russia in vital ways that will become apparent when the West faces energy supply cutoff or forced Gold payments during an open global USDollar rejection. The US will quickly feel the lost Petro-Dollar gear mechanisms. China has already aligned itself beside Russia, which makes isolation impossible. Consider the Russian commodity supply and Chinese industrial power, the new axis to the Eurasian Trade Zone.
The West cannot continue to bully Russia & China. Poking a stick in the bear's face will not work for long. Disrespecting the Chinese creditor is deep folly. The risk that coincides is for the two Asian superpowers to threaten or actually execute a dumping initiative of USTreasury Bonds, and force the United States to use its last card in a grotesque display of hugely amplified monetary expansion. The US would collapse by falling on its own sword, the event occurring in the Weimar chamber. A super high volume bond monetization machine to cover globally dumped USTBonds is a strong likelihood as climax event, with a broken derivative mechanism that is revealed during its fracture. The London banker murders (another Jackass correct forecast, made in mid-2011) indicate a motive to keep covered up the extreme $100 billion JPMorgan derivative losses at the hands of the London Whale Bruno Iksil, first sighted in May 2012. The accelerated hyper monetary inflation in response to Russian & Chinese joint retaliation would finally kill the USDollar. The echo event, born from failure, would be for the USGovt to launch the new split Scheiss Dollar. Then the USGovt could have its domestic currency finally, and then wreck it with an assured painful sequence of devaluations. The fundamentals for the US domestic only currency are truly horrible, typical of a Third World nation. Ukraine is about the last gasp of the USDollar. It has no viable defense.
UKRAINE AS WATERLOO FOR THE US DOLLAR
Ukraine is the Waterloo event for Team Obama and the Wall Street handlers, the true controllers of the White House puppet. Ukraine will lead to wreckage to the USDollar and its USTBond partner in crime. Witness the death of the USDollar and the Birth of both the Gold Trade Standard, on the new Eurasian Trade Zone landscape. Neither Russia nor China will cooperate on the IMF super sovereign reformed currency basket at this point, not during extreme hostility and conflict. Hope and pray for cooler heads to prevail, since already many serious military attacks have occurred with advanced weapons off the Syrian coast. The Western Press prefers to frame the Ukraine situation as one more curious Orange Revolution event staged in Eastern Europe, akin to the other deceptive Arab Spring events. The old Soviet Union was trapped years ago, forced to use hyper monetary inflation in defense, as the nation imploded financially. The United States is now trapped in an ironic parallel manner, and will be exposed for its heretic inflationary response that ramps up to obscene volumes, followed by financial implosion. In fact, the events from here onward are the final hurrah for the USDollar regime and the criminal cabal.
Now has never been a better time to own a big stack of gold & silver coins & bars, stored in a secure place outside the United States, outside England, outside Switzerland, even outside Canada. The people must defend against a climax of systemic failure, led by arrogance, stupidity, desperation, and delusion, even armed aggression. It remains to be seen whether the Kremlin has some secret allies who might emerge in time, from other worlds. But that is an entire other story to be told someday maybe. We earthlings will all find out soon enough. Times are changing fast, and better to be alert than to get hurt. The Global Currency Reset lies directly ahead, complete with its doubled Gold price and doubled Silver price. The Russians & Chinese are motivated to respond to a military prod, poke, and nudge by delivering a financial response. The rejection of the USDollar is near. The rapid diversification away from the USTreasury Bond is near. The arrival of the new Global Gold Standard is imminent.
Source: GoldSeek.com | Jim Willie CB, GoldenJackass.com

"Please don't go to Haiti — it could be dangerous down there!" several worried friends begged me right before I left.  But boy were they wrong.  Haiti is totally fun!  I never had so much fun in my life as I did this past week in Haiti.  And this is my very own tourist guidebook to all the neat stuff that I've done down here.  Not exactly the Lonely Planet.  But boy am I having a good time.
The most frequently asked question before I left was, "Are you going down there to do humanitarian work?"  No no no.  I'm going down there to be a tourist!
To start with, I got a really great bargain deal on Expedia — $800 to fly me from SFO to Port au Prince and five nights in a convenient, clean and quiet hotel called the Diquini Guest House.  This was absolutely the smartest thing that I did on this trip.  Why?  Because the manager of the guest house, a former member of the Haitian diaspora and long-time resident of Washington DC, took me under his wing and for a reasonable fee let me hire his driver, translated for me, kept me fed on nicely-flavored Haitian stew and rice — and then took me off to explore Port au Prince.  www.diquinigh.com.
First we went to the famous Hotel Oloffson where the ghosts of past American ex-pat writers such as Graham Greene and Lillian Hellman roam its gardens, terraces and gingerbread-style balconies; where Mick Jagger and even Jacqueline Kennedy have stayed — and where the famous vudou-inspired RAM band was playing that night. http://hoteloloffson.com/
The next day we explored what is left of the 2010 earthquake ruins, from what was left of the tragically beautiful stone-filigreed huge rose window of the old cathedral and the site of the historic National Palace to various small tent cities dotting Port au Prince that still house earthquake victims today, and the ruined buildings that still have market stalls precariously tucked into whichever concrete slabs are still left standing.
"So, Jane, how is Port au Prince actually doing now, four years after the quake?" you might ask, now that I'm an actual eye-witness to the scene of the crime.  It's not doing super-good, but not doing as badly as I had expected either.  Most of the tent cities are gone now — as a lot of the homeless victims have by now squashed themselves in with relatives, left for the countryside or otherwise made do.
"But what are Haitians really like?" you might ask next.  You can tell what Haitians are really like by the way that they drive.  There are only a handful of traffic signals in Port au Prince and even fewer rules of the road.  And Haitians drive very fast.  But they also drive in a way that is almost polite.  Everyone wants to get where they are going (and to get there fast) — but no one wants to actually hurt anyone else.  I didn't see any road rage there.  Just people trying to get by.
Basically, Haitians are just people trying to get by after having been dealt a very rough hand for a very long time, from the moment they were kidnapped from Africa and sold as slaves here — starting in 1503, just eleven years after Columbus discovered the island.  And those slaves were expendable too, worked to death in a few years at most and then replaced by other new slaves.
Then after having fought for and achieved its freedom in 1804, Haiti was also constantly attacked, exploited and/or invaded for the next 200-plus years by America, Canada and various combinations of European nations.  And now Haiti is one of the poorest countries in the world, resembling the slums of Uganda or the slums of Zimbabwe.  And yet despite their poverty, which is dire and extreme, Haitians still remain stoically polite.
Next we went off to the Iron Market bazaar to buy Haitian stuff to hang on my walls when I get home.  And then we drove all over Port au Prince — the grand tour.  And that night we went off to Carnival in the Carrefour district.  Are you jealous yet?
Carrefour's pre-Lenten carnival was like one gigantic block party and was actually as much fun as Berkeley in the 1960s, the benchmark against I always measure how much fun something is.
I also wanted to go see San Souci and the Citadel, UNESCO world heritage sites up  in Cap Haitien, but it was a seven-hour drive to get there, so we went to Fonds des Negres instead, which was only a three-hour drive, and I met a vodou master there.  "No one is cursing you," he told me.  Not even the NSA?  Good to know.  Then he performed a candlelight ritual to help my knees get better.  Then he pulled out a business card for his son who owns a botanica in SoCal who, for a price, could finish my knee treatment when I got back home .  And then the vodou master pulled out his cell phone and started texting someone.  Guess the ritual was over.
And there's also a cave in the mountains near Fonds des Negres where a "Suzan," a vodou spirit, resides.  But you have to get there by motorcycle and we didn't have time to do all that on this day trip.  So I just bought a sequin-covered vodou flag instead.

"Have you seen any zombies in Haiti?" might be your next question.  Sorry, no.  But on my plane ride down here, we ran into a bunch of really scary turbulence over Chicago and I thought I was going to die.  So I had an epiphany.  "When you are in your mother's womb, the only way out is by going through a whole bunch of pain first — and death is also like that.  First you pass through a whole bunch of pain and then, poof, you are out on the Other Side."  As a zombie?  Let's hope not.
The next day we went out searching for Jean-Bertrand Aristide  and then ended the day in that famous five-star hotel in Petionville — just to see how the other 1% lives.  Trust me, they are living well.
What else have I done down here?  I can't remember exactly.  But I will tell you this:  I have really had fun.  And if you ever want to go to Haiti too, I totally recommend it highly.  And, no, I'm not getting paid to say this.
PS:  While in Haiti, I also watched the winter Olympics on TV — thus getting a chance to compare Port au Prince and Sochi.  One city has far too little city planning and one city had far too much!
According to journalist Roi Tov, "With less than 350,000 denizens, [Sochi] has been occupied by at least 25,000 police officers, 30,000 soldiers, 8,000 special forces, and an undisclosed number of FSB agents."
Port au Prince is nothing like that.  The streets go every which-way like a patchwork quilt.  But it does have one thing in common with Sochi — abuse of its fragile labor force.
And let's also compare Port au Prince with Havana.  I'm currently reading Carlos Eire's autobiography, "Learning to Die in Miami".  Eire appears to believe with all his heart that the Castro experience was a nightmare — and yet just compare Cuba and Haiti today.  Haiti has been under the thumb of American and European corporatists for ages and ages.  And now, despite all its amazingly fertile soil and impressive mineral riches, Haiti is currently one of the poorest countries in the world.  Seven out of ten Haitians live on less than $2 a day, according to the International Red Cross.
But in Havana under the Castro brothers, everyone has a good chance of getting a college education.
But, hell, most Haitians are lucky to have a chance to even get as far as fourth grade!
If Fulgencio Batista and the American corporatists who owned him back in 1959 had remained in power and Castro had never taken over Cuba, Cuba today would more than likely look just like Haiti today.  And does anyone with a working brain really think that having American and European oil companies, bankers, war profiteers and neo-cons in control in Syria, Venezuela and Ukraine are going to help those countries either?  Hell, just look at what those guys did to Afghanistan, Iraq and Libya — and to Detroit!