"When also all that generation were gathered unto their fathers; and there arose another generation after them, which knew not the Lord, nor yet the works which He had done for Israel.  Then the Israelites did evil in the eyes of the Lord and served the Baals. They forsook the Lord, the God of their ancestors, who had brought them out of Egypt. They followed and worshiped various gods of the peoples around them. They aroused the Lord's anger…they forsook him and served Baal and the Ashtoreths."  Judges 2:10-13
In his book "New Evangelicalism: the New World Order," Paul Smith, the younger brother of Pastor Chuck Smith of Calvary Chapel, reports that the second generation sons of faithful evangelicals and evangelical pastors are going astray.  Among those who have already done so are Daniel Fuller, Frank Schaeffer, Rick Warren, and Chuck Smith Jr. (p. 177)
"New" evangelicals are traveling the broad smooth road to compromise, syncretism, universalism and evolutionary pantheism taken years ago by mainline Protestantism.  Already some apostate evangelicals have embraced and are teaching pantheist conceptions of Jesus Christ.
In the "The Christ of the New Age Movement," Ron Rhodes notes that apostate evangelical, now New Age theologian David Spangler defines Christ as a cosmic principle:
"Any old Christ will not do, not if we need to show that we have something better than the mainstream Christian traditions. It must be a cosmic Christ, a universal Christ, a New Age Christ." The Christ is not so much a religious figure, "but rather a cosmic principle, a spiritual presence whose quality infuses and appears in various ways in all the religions and philosophies that uplift humanity and seek unity with spirit." ("The Christ of the New Age Movement: Part One in a Two-Part Series on New Age Christology," cited in "A Quantum Cosmic Christ," Herescope BlogSpot, June 2012)
The cosmic Christ is the Omega refashioned.   The Omega is the Hermetic Hindu-pantheist divine One Substance featured by apostate Catholic theologian Teilhard de Chardin in his New Religion and now by Leonard Sweet in his Quantum Spirituality.
Leonard Sweet, preacher, scholar, and ordained United Methodist clergyman teaches a version of de Chardin's New Religion that he calls Quantum Spirituality. Sweet has remolded Omega as an embodiment of God in process of evolving within the substance of creation:
"Quantum spirituality bonds us to all creation as well as to other members of the human family…. This entails a radical doctrine of embodiment of God in the very substance of creation…. But a spirituality that is not in some way entheistic (whether pan- or trans-), that does not extend to the spirit-matter of the cosmos, is not Christian." (ibid, Leonard Sweet, Quantum Spirituality: A Postmodern Apologetic ")
The fall of the Christian Church is not limited to the Evangelical Church but rather the disaster is manifest over the entire denominational spectrum from the Presbyterian Church USA, which has lost hundreds of churches in the last few years, to the Episcopal and Catholic denominations.
In "Tidings of Discomfort and Joy," Jamie Dean describes a scorched earth policy being conducted by the apostate Episcopal Church against faithful Anglicans leaving the TEC:
"TEC leaders have fought dozens of court battles to force congregations leaving the denomination to forfeit the buildings they, their parents, and their grandparents paid for." (Jamie Dean, World Magazine, Dec. 28, 2013)
Phil Ashey of the American Anglican Council, an advocacy group for parishes and dioceses leaving the TEC, says these conflicts are a kind of "first fruits" of what faithful Christians outside TEC could face in coming years.
Since the TEC consecrated openly homosexual Gene Robinson as its first 'gay' bishop a decade ago, hundreds of churches have fled the denomination.  Departing churches emphasize TEC's approval of open homosexuality as an outgrowth of deeper doctrinal problems: TEC leadership has questioned the authority of Scripture for decades.
Under Katherine Jefferts Schori, the first female presiding bishop, the scorched earth policy has reached new heights.  The apostate Schori said this is because,
"Bad behavior must be confronted." (ibid)
Schori preaches a brand of evolutionary pantheism while masquerading as a Christian bishop.  As she mocks the crucial doctrines of the Christian faith, including the God of creation, the Incarnation, and the Trinity, she calls on Christians to boldly cross the frontier to become God while she taunts the Lord by use of the name Big Man,
"… and then points her finger at everyone listening and tells them that they have "missed the boat." Jefferts Schori then proclaims that she has the answer for this. We all need the "act of crossing boundaries" to become God after which our hands become a "sacrament of mission." In this way Schori continues "her mission of destroying the Christian faith through her rhetorical device of dismissive ridicule. (The False Theology of Episcopalian Bishop Katherine Jefferts Schori," Sarah Frances Ives, PhD, VirtueOnline,   Wednesday, July 11, 2012)
Within the Catholic Church losses have also been devastating, said Patrick Buchanan:
"…Catholic losses have been staggering (and) Catholics who remain in the Church are not nearly as firm in the faith or devout as their parents were.  The institutional shrinkage mirrors a spreading disbelief in doctrines that define the faith.  Millions of Catholic children are being taught their faith by heretics."  (Suicide of a Super Power: Will America Survive to 2025? pp. 91-93)
Evolutionary pantheism quietly infiltrated the Catholic Church years ago.  Bishop Fulton J. Sheen identifies the infamous heretic Teilhard de Chardin as the main villain:
"As one looks at the various trends in our day, one sees that Teilhard's conception of spirituality is in the forefront. He knew that he had to pass through many hazards, but he was directed principally to the cosmic world…..His fundamental orientation was "to attain heaven through the fulfillment of earth. Christify matter." (Bishop Fulton J. Sheen, Footprints In A Darkened Forest, p. 73)
By any name, Quantum Spirituality, Evolutionary Christianity, Schori's brand of evolutionary pantheism or Teilhard's New Religion, all are a synthesis of heresies whose primary doctrine is evolution.
Dr. R. Albert Mohler, president of The Southern Baptist Theological Seminary, describes our age as marked by so much spiritual and theological confusion that the God of the Bible has largely disappeared from view and been replaced by,
"…less imposing deities that are more amenable to the modern mind." (The Disappearance of God, Mohler, p. xiii)
We are witnessing the secularization, paganization and evaporation of orthodox Biblical theism to which must be added rebellion against every vestige of authority, an inversion of history caused by evolutionary thinking, the privatization of truth and,
"…..the fact that millions of Americans claim a divine right to their own spiritual cocoon and belief system."   Americans, "now lay claim to their 'own personal Jesus.' This personal vision of Jesus Christ may well bear little or no resemblance to Jesus as He is revealed in the Bible."  (xiii)
We are on the very brink of an anti-orthodox Christian mentality empowered and promoted by America's apostate paganized 'church.'  This development is approved and applauded by America's cultural elites.  For a long time our 'highly evolved' cultural elites–political, legal, judicial, academic, scientific, entertainment, education—have been not only been largely post-Christian in their mentality but openly hostile:
"NBC's sitcom "The New Normal" isn't just trying to remake society for the Gay Left. It's trying to remake Christianity, which is to say, destroy it."    (Brent Bozell, "The New Normal Christianity?" Townhall.com, Oct 26, 2012)
Paganized, post-Christian, sexually emancipated America is in a very advanced state of moral decay.  Years ago when its' decay was not as advanced, Pitirim Sorokin even then compared it with the morally depraved, sexually decadent social conditions in the Old Kingdom of Egypt 4,500 years ago just prior to its collapse.   In his book, "The American Sex Revolution," Sorokin reported that in the Old Kingdom:
"Sexual anarchy assumed extreme forms and spread through a large part of the population. Side by side with an increase of sexual perversions, a shameless sexual promiscuity also greatly increased. They seduced members of the same family. Relations between father and daughter…..son and mother…….Adultery, rape……prostitution greatly increased………homosexual love entered the mores of the population……all the aberrations of morbid eroticism……..unnatural relations, flagellations, and sodomy." (p. 93)
When sodomy becomes not just socially acceptable to a people but is rather a cause for celebration then collapse cannot be far behind:
"The Southern Decadence Festival is one of our nation's most notorious celebrations of sodomy, public sex acts, prostitution, drunkenness, and worse, but is by no means the only such festival. According to this year's Autumn Gay Pride Calendar, decadence festivals are held over and across post-Christian America and Western Europe as well as in Canada, Hong Kong, Australia, Thailand, Brazil, Belarus, Ireland, Japan, Scotland, China, S. Africa, India and Taipei. ("Sex slaves, sexual anarchy and decadence festivals: ominous signs of something really rotten," L. Kimball, Renew America, Oct. 25, 2012)
One of the central realities of America's moral decay was the dawning of a post-Christian culture now rapidly transitioning into an anti-orthodox Christian society.
The anti-orthodox Christian consciousness is now well developed. Tolerance is perverted into a radical secularism that is wholly open to 'gay' marriage and sodomy, abortion as  legalized 'choice,' perverse sex education for children, occult practices, Satanism, sorcery, Wicca, magic, nudity, pornography and Decadence Festivals but intolerant of God's Authority, Moral Law and sexual ethics.  The post-Christian mind is closed to the eternally unchanging higher truths of God but completely open to the idea that truth has no objective or absolute basis whatsoever.  Indeed, the postmodern mind has a fanatical dedication to moral relativism, love of self, pleasure, and its own personal Jesus idols and gods, be they evolution-gods, science-gods, mystical passion-gods, Omegas, gods-of-reason or something else.
We are living in an age of deep and undeniable breakdown, an age of darkness and spreading evil where moral constraints and restraints have been thrown off in the name of a liberation that does not emancipate but enslave.  Our increasingly bizarre age is marked by a fundamental failure of conviction in unison with deepening corruption and lawlessness characterized by pathological lying, hard-edged egotism and warped, distorted personalities; but then Scripture has told us that sinners love darkness rather than the light.
Something is happening to the consciousness of this age.   A counter-conversion of consciousness is closing the soul to Jesus Christ while opening it to powers of darkness.  If we listen closely said Albert Mohler, we can hear something,
"….like the closing of a steel door—a solemn, cataclysmic slamming of a door." (p. 166)
No matter how much discomfort and suffering it causes us we nevertheless need to "wake up" and "see" and "comprehend" these developments in order to understand the challenges we are already facing and the those yet to come.  We are in a time of shaking, and there is far worse to come.  We are about to see what remains and what falls. There is a sense, said Dr. Mohler, that we are waiting for a signal for something to tell us which way we are going to go,
"Something is happening and about to happen.   The landscape is changing, the skies are darkening—and this is something we know with a spiritual perception, a spiritual sense, a spiritual urgency.  Something is happening that we as believers in the Lord Jesus Christ should see and understand. For we cannot say that we were not warned." (pp. 158, 164, 166)
The War Is Against Paganism…
Crowns and thrones may perish.
Kingdoms rise and wane
But the Church of Jesus constant will remain
Gates of Hell can never
'Gainst the Church prevail
We have Christ's own promise
And that cannot fail
"To gain this victory, we must wage the war.  Too many want victory without the war, as though eloquence, patriotic or religious gush, ever overcame an enemy."  R. J.  Rushdoony," Numbers" Pg. 270
Patty and I spent Christmas in Destin, Florida.  Destin is an upscale resort town named from a Yankee fisherman who settled there in the mid-Nineteenth Century.  It is home to one of the nation's largest outlet malls.
In one of the shoe outlets we met a clerk from Maine.  Her story is typical of many who have been victimized by the massive changes that have been foisted on the world.  Born, raised, and married in a shoe prosperous Maine town, she and her husband had two children and were living lavishly.  He was a manager at a shoe manufacturing plant where she also worked.  Their combined income was in the high six figures providing them a luxurious lifestyle.
As the inexorable Asian labor monster invaded the shoe industry her husband lost his job. The entire industry shrunk and he was unable to find work.   She became the sole wage earner under a company promise that there would be no additional lay-offs.  The promise was broken and shortly her job was also moved offshore.   They lost everything: their home, their car, and their ability to support two children.  Without prospects of employment in Maine they moved to Florida where they are now working at dramatically lower incomes.  They have re-established their family and, though far less affluent, are again living an orderly life.  Since many employees of Maine factories are still struggling, they consider themselves fortunate.
Their story can be multiplied hundreds-of -thousands of times as industry after industry has been devastated by the planned economic reorganization of the world.
Maine is one of a number of areas that have been severely affected.  The Northeast quadrant has been hardest hit with factory closings and the accompanying disruption of the social order.  Some attempt to cite automation as a culprit but automation provides a social benefit while wholesale robbery is a devastating crime.
The current economic disaster was preceded by an earlier mini-disaster when the Japanese were given free access to our markets.  Now, Asians in several countries have entered the fray and despite efforts by the compliant media to cover it up debilitating disruption is clearly evident.
Since 1950 into the first decade of the Twenty-First Century Detroit, Michigan has lost over 61 percent of its population, Gary, Indiana 55 percent, Youngstown, Ohio over 60, Flint, Michigan over 43, Cleveland, Ohio over 56, Dayton, Ohio over 46, Canton, Ohio over 37, and Pittsburgh, Pennsylvania over 54.  Though it is growing in income Chicago has still lost over 25 percent of its population.
The kettle holding the United States population was put over very low heat in the 1950s.  The drum beat of women's liberation began and continued relentlessly until after several decades single income homes became archaic being replaced by a household income that included two working adults.  This malicious manipulation was imposed without adequate confrontation.
Then we began to hear about the competitive nature of the American work force and how they could successfully compete in the new world market.  Soon the Japanese had usurped a major percentage of the automotive industry forcing the irascibly persuasive Lee Iacocca to shame the congress into loaning Chrysler enough money to keep it afloat.
But the bloody Japanese axe that struck the auto industry was only the beginning.  The Chinese horde soon followed and suddenly every "Made in USA" product disappeared from our stores.  Faced with labor costs a fraction of U. S. standards, industry after industry moved manufacturing to Asia.
The competition was not over the ability of American workers to produce goods as efficiently as Asian labor, as it had been framed.  It was instead over the standard of living Americans had enjoyed compared to the standard of living of Chinese peasants.  As the Twenty-First Century arrived, a multitude of Americans were like the family from Maine working in retail, health-care or fast food for wages of half or less than their previous employment.
Current propaganda tells us our economy is improving and new jobs are being created.  It is all propaganda; don't believe it!   In the new world order competition will force labor costs to parity and parity is lower still.
Though they have prepared for an uprising the powers behind centralization want to maintain peace as long as they can continue extending world domination.  The media, a propaganda arm of world government, will continue to report improvement as long as people can be convinced.
Human efforts are useless in stopping this onslaught.  The battle is between Christianity and paganism.  The only effective weapon against paganism is the God of the Bible and His Law.
Rousas Rushdoony explains, "When men forsake God, they forsake all truth, because for them there is no difference between good and evil, nor between truth and lies".  "Numbers" Pg.316
The Bible, Old and New Testament, Law and Grace, comprise the full gospel.  The full gospel would have stopped tyranny in its infancy, but we have forsaken the full gospel and replaced it with the "creative word" of men.   I received an email today from my kid sister entitled "What a Church Service"; a video of Andre Rieu leading a musical worship service for a large congregation. Beautiful it is, but an appropriate church service it is not.  It is a secular multicultural extravaganza with beautiful music.
Christians who seek to be entertained with music and praise and do not have ears to hear what God requires of His people are useless in stopping the advance of Satan.  It is truth and justice and the seating of King Jesus at the throne of power that should be the objective of every Christian congregation.  Lies, fantasy, and all the manipulations of arrogant men should be confronted from our pulpits and by our congregations.  It is our Christian duty to counter the evil establishment bringing their wrath against the power of the Church of Jesus Christ.  When the Christian religion fails to create wrath in God's enemies there is a serious problem in the Christian religion.
We are being overrun by the minions of evil.  We should be fighting a war.  We need preachers whose intrepid denouncements will inspire us to enter the battle on the side of the God of the Bible.
The enemy controls our television stations, our newspapers, our government, and, sadly, most of our churches.  The voices of dissent are few.  Wake up Christians and hear the call to battle!
When a newspaper erroneously contends our economy is improving our pulpits must present Christians with the statistics that prove otherwise.  Christians are truth-tellers!  When the Media promotes homosexuality our pulpits must denounce it with God's Words from the Bible.  Christian duty requires that we confront evil.
Muslims are busy fighting for control of the Middle East.  They appear to be overcoming the secular tyrants.  Islam is a false religion and an enemy to Christianity but it is not the core danger to world freedom. In that battle Islam is an ally against the wicked forces of the new world order.
It is time to stop playing church.  It is time for every Christian minister to disregard reputation and directly confront the secular forces that threaten peace and order God intends for His creation.
Churches that concentrate on the end times, on tongues and prophecy, evangelism, or on being theologically reformed should forsake their niche religions and confront the secular minions with the full gospel.  The size of a church or its growth is of no importance; what is important is its strength against the forces of evil.  Reputations must be sacrificed; our God and King is being threatened and we are His soldiers.  It is our duty to fight for the elevation of His government– both civilians and rulers are subject to the rule of King Jesus.
As Patty and I exited a restaurant in Destin late in the afternoon on Christmas day we noticed a table of 8 young men with their heads bowed.  We thought it wonderful that all these young people were honoring the One True God.  However, on second look they were honoring the IPhone god instead.
In his book "Truth and Transformation" Indian Christian Vishal Mangalwadi tells of the yearly journey to the Ganges River by thousands of low class Hindus.  Every year the priests rob them of their money and treat them despitefully.  In spite of the harsh treatment they continue to return each year.  They return because they believe the Ganges River has healing qualities.  Belief, even irrational belief, is powerful and difficult to correct
Freedom for the masses was a product of particular Christianity.  It was not created by Biblically based expository preaching.  Nothing wrong with expository preaching but it will not maintain or retrieve freedom.  It cannot be produced through evangelism or through electing Christian men and women to public office.  It is not a product of obedience to the Constitution or of the election of political parties.
World history overflows with exploitation of the masses by individuals with superior power.  Karl Marx wrote famously and extensively about the perennial class struggle in the Communist Manifesto.  He was right about the struggle but hopelessly wrong about the solution.
I am not a theologian but I have been writing about the condition of Christianity for over a decade.  It is not only a tragedy for Christians but an affront to the triune God of All Creation that His world has become a humanistic cesspool.
Apathy is rampant in the United States of America.  Many of our citizens feel helpless.  They do not know how to fight the evil juggernaut.  Some believe they should enjoy themselves today because tomorrow they may die; they use our fleeting freedom selfishly.  Others like the political game and stubbornly work to get promising candidates elected.  Some buy guns and accumulate food in order to survive the coming chaos.  A few wealthy citizens spend millions of dollars constructing underground homes that could sustain them in luxury for long periods.  Millions of Evangelical Christians actually support the destruction of our nation with hope that Jesus will come again soon.  Like the Hindus belief in the Ganges, with feckless abandon they follow a false doctrine.
We are living in an era built on a foundation of scurrilous mendacity.  While our church leaders work to convert pagans into organizations that are both heretical and useless, our news is both censored and distorted, our entertainment supports evil practices, and our elected representatives conduct their affairs on false premises with devious intent. All of this has come about because we have allowed sinful human beings to accumulate unaccountable power.
I have been a Christian for over fifty years.  When God rescued me I hoped that our society would be changed by the Charismatic revival I was born into.  Early on, I thought that the love Christians showed for each other might attract secular society and that our institutions would be transformed by the Love of God.  I expected good fruit.  This hope was shattered when Christians claimed to love God but acted no different than their secular neighbors.  Leadership was emphasized and competition for advancement was fierce.  Feelings were hurt, people left and churches split.  God's shepherds seemed to care more for the size of their church and the number of their followers than for the redeeming power of God's love. Sermons were designed to attract members by promising "growth" and "blessing".  Like the story that Nero fiddled while Rome was burning, Christian Churches entertained their people with healing, tongues, and emotional music while America was being destroyed.
Much of this tragic lethargy was a result of a widespread conviction that the Second Coming of Christ was imminent.  The Biblical warning that no one can know the time was ignored and many leaders agreed He was "coming soon" and some actually predicted exact dates.  This disobedient foolishness marred the reputation of the Church and replaced the confrontation that might have turned the secular tide. The excitement helped grow some churches but it created slovenly Christians and heretical churches.
Now, more than a decade into the Twenty First Century, Our Savior has tarried, our nation is corrupt, and we are on the verge of tyranny.  The voice of concern can be heard but Christians have strayed so far from the Truth that remedies evade them.
A secular war is being waged against Christianity and the secular army is winning.  Make no mistake it is a religious war and the time has come for Christians to wake up and begin to use the weapons God has provided.
Christians are called to live under a different government.  We have a King, his name is Jesus.  He was crowned King by His Father and given the responsibility to reign over the world. Christians will begin to fight in the battle for control of the world when they bow before their King and obey his Commandments.  Let me repeat: Freedom will not be produced by Biblically based expository preaching nor will it come through evangelism or through electing Christian men and women to public office.  It is not a product of obedience to the Constitution or of the election of particular political parties!  Freedom is a product of the Kingship of Jesus and obedience to His Commandments.
King Jesus contends with the deification of humanity.  Human rule is despotic because all human beings are sinners.  They are incapable of bringing consistent righteousness to leadership.  Leaders who fail to work under the legal standards of the Bible will eventually produce oppressive government.  Freedom comes from obedience to God's Law by both rulers and ruled.
Kingless Christianity produces no challenge to rampant humanism.  When humanists enthrone man as king, Dispensational Christians are theologically without remedy and man's dominion continues to grow.  When man's dominion is challenged by King Jesus and His Law Word, order, peace, prosperity, and blessing present a challenge to the disorder, war, poverty, and fear of secular humanistic tyranny.
The hour is late and the task is difficult.  American churches are not used to seeing themselves as servants to King Jesus and proponents of God's Law.  Church entertainment must be replaced by preaching on obedience and sacrifice.  Christians must begin to serve their King as soldiers in the war against evil.
Guns are useful in protecting ones family but they are useless in the battle for dominion.  The later conflict is spiritual and the model is Jesus and the blood of the Saints who have previously sacrificed their lives that the Gospel might grow and flourish.
My wife Patty and I thank God for each peaceful day.  We thank Him that we are living in a nation that still enjoys the embers of Christian peace and freedom.  Sunday mornings are tranquil.  Traffic is light and there is a noticeable calm.  The Sabbath of the God of the Bible is the source of that calm.
Americans are a generous people.  They are willing to sacrifice their wealth and their time to help those less fortunate.  Altruism is a result of the Gospel of Jesus Christ.  There are still honest people in our nation.  Lost wallets are still returned with money left in them – not always but often.  Honesty is an ember of Christianity.
In the United States of America we have grown up in a culture that is kind and thoughtful.   Often we have not realized that this gentleness is a result of the Christian religion.  In spite of many useless wars Western civilization has maintained a conscience that can occasionally define evil.
Today we are watching the rapid disappearance of gentility.  Torture has become acceptable in high circles of our government.  Murder and theft have become regular fare on our television screen.  Chivalry is long gone and many women seek to overpower men.  Our policemen have become tyrannical bullies who regularly beat citizens into submission.  While our armies murder millions of innocent civilians abroad, at home we murder millions of our children by abortion.  Instead of respecting and caring for our elderly government panels will soon decide when they should die.  Actions that were unspeakable in more refined times are now accepted and promoted.  Shame has become anachronistic!
It is the duty of our churches to confront evil.  Like John the Baptist, the confrontation must be specific and personal.  Righteousness is not a product of physical force but of spiritual victory.  That victory required the life of our Savior and the lives of millions of saints who died so the Gospel might be sustained into our time.  We must be willing to make the same sacrifice.
The blessed event of the Second Coming must be left to God.  We are in the midst of a war and it is time to fight.   Jesus sits at the right hand of the Father and judges the world.  He is the King and we are His subjects.  King Jesus is our Commander.   Christians live in a different nation with a different ruler.  We live by His law and seek to bring the world under His Kingship.   Our duty is to preserve the pure Christian Gospel in its best historic form.
Evangelism is not the complete Gospel of Jesus Christ nor is praise and the Baptism of the Holy Spirit.  The Gospel of Jesus Christ is life changing, society changing, and world changing.  It is spiritual but it is also governmental.  King Jesus rules over His creation and His people obey His commandments.  Only when His rule is established will peace and prosperity return to the world.
The freedom we have enjoyed in the United States of America is a product of Christian insistence that both rulers and ruled must live and act according to the Law of God.  Samuel Rutherford  wrote Lex Rex (The Law is King).  He was condemned to death for challenging the divine rule of kings but died before he was indicted.  God's Law is King.  His Law requires our obedience.  When an evil nation encodes evil law, God's people must disobey that law.
The entire world is now in danger of coming under the humanistic rule of powerful, ambitious men.  It is the duty of The Church of Jesus Christ to challenge their authority.  God seeks Christian leaders who are willing to lay down their lives in the battle.
We need a new Christian church that understands the nature of the battle and is willing to commit itself to victory.  A church properly ordered cannot lose for God is on our side!
"This century has seen the moral paralysis of men and nations.  The crisis will not go away automatically; no historical pendulum swings men and nations back to health when they are wilfully committing suicide.  The crisis deepens daily, and the popular solutions are more and more ridiculous and inane.  We have bought disaster; we will have nothing unless we turn to God's law and way."  R. J. Rushdoony, "Numbers" Pg 214
When I saw the headline yesterday about how "Duck Dynasty" patriarch Phil Robertson had commented on a certain sexuality-defined group, I wondered how long it would be before he got the "treatment."
I saw the next headline no more than a few hours later.
In case you haven't heard, the faith-filled Louisianan wound up in hot water after being asked what was sinful by a GQ interviewer and offering the following answer, as presented by the magazine:
"Start with homosexual behavior and just morph out from there. Bestiality, sleeping around with this woman and that woman and that woman and those men," he says. Then he paraphrases Corinthians: "Don't be deceived. Neither the adulterers, the idolaters, the male prostitutes, the homosexual offenders, the greedy, the drunkards, the slanderers, the swindlers — they won't inherit the kingdom of God."
Can you guess which of the above groups caused what subsequently befell Robertson: suspension from his A&E show?
It wasn't the greedy.
Or the idolaters.
It wasn't bestialists, though there's an effort to legitimize their behavior now, too.
The swindlers?
Nope — not the slanderers, either.
Hint: One of the organizations whose complaints got Robertson suspended was GLAAD, and that doesn't stand for Guiding Light Advocates for Adulterers and Drunkards.
Of course, we all know the answer. GLAAD characterized Robertson's comments as vile and "extreme," and now he joins Dr. Laura Schlessinger and others whose careers were hobbled by the Velvet Mafia.
This is probably where I'm expected to ask, "Where's freedom of speech?" or whine about how the left should respect the other side's beliefs. But this would ignore reality, which is that every civilization has its "values." And as someone once pointed out, stigmas are the corollaries of values; if we're going to value certain things, it follows that what contradicts or condemns them will be de-valued.
People who don't understand this will utter refrains such as "I don't care what you do in your private life, just don't shove it in my face," as if something can be completely de-stigmatized but then, somehow, remain in the closet. Those who do grasp it, however, might say something such as what homosexual activists Hunter Madsen and Marshall Kirk wrote in their book After the Ball: How America Will Conquer Its Fear and Hatred of Gays in the 90's. They said that once homosexuality was normalized, those who would "still feel compelled" to oppose it would be "cow[ed] and silence[d]…as far as possible" and that if homosexual activists can "produce a major realignment solidly in favour of gay rights, the intransigents (like the racists of twenty years ago) will eventually be effectively silenced by both law and polite society." And what do we see 20 years later? Criticism of homosexuality will get overseas Westerners punished through law and Americans punished through social pressure.
How's that tolerance workin' for ya'?
"Tolerance," as it has been marketed, was always a con. Aristotle said that "[t]olerance is the last virtue of a dying society," but it's also the vice that kills it. And it so often is a vice because it's generally misunderstood. For one thing, tolerance always implies a negative, real or perceived; you wouldn't have to tolerate a beautiful car or a delectable meal — you relish those things. But you might have to tolerate a cold or bad weather. Thus, tolerance is only noble in two situations: One is when dealing with something objectively negative that cannot be eliminated, such as irremediable pain. The other is when confronted with something you don't happen to like and could avoid, but that is objectively good or neutral; an example would be tolerating a food you detest in order to avoid offending your hosts.
So while we might admire a person who can bear a cross with a stiff upper lip, what if he abides a negative he needn't put up with? He then is either a doormat or a masochist.
That's us.
The doormat, that is.
This brings us back to that modernistic "I don't care…just don't shove it in my face" attitude. This is a pipe dream and the first step toward degradation and tyranny; it is a false Americanism. As John Wesley said, "What one generation tolerates, the next generation will embrace." And once this happens it is ridiculous to wonder why the thing in question is out of the closet; accepted things by definition always will be. At this point those with an affinity for it will take the next step: marketing.
This is precisely what Madsen and Kirk prescribed with respect to homosexuality, writing that Americans needed to be desensitized to the behavior via a "continuous flood of gay-related advertising," a "conversion of the average American's emotions, mind, and will, through a planned psychological attack, in the form of propaganda fed to the nation via the media." Madsen, mind you, was a marketing man by trade.
And when this marketing is successful enough and the newly exalted product is considered a good, what will that which condemns it be considered? This is how good becomes bad, bad becomes good, and those conned into being tolerant come to be seen as intolerable (I discuss this in-depth here).
And thus is Christianity being suppressed. Make no mistake, the concept of sin is central to Christianity — and sexual sin is part of that centrality. Lust, correctly defined as disordered sexual desire, is one of the Seven Deadly Sins. So saying you cannot talk about sexual sin — in its entirety — is to say you cannot talk about Christianity in its entirety. And this is part of the process of relegating Christianity to the closet.
This tolerance trap is why Archbishop Fulton J. Sheen wrote in 1931:
America, it is said, is suffering from intolerance — it is not. It is suffering from tolerance. Tolerance of right and wrong, truth and error, virtue and evil, Christ and chaos. Our country is not nearly so overrun with the bigoted as it is overrun with the broadminded.
…Tolerance is an attitude of reasoned patience toward evil, and a forbearance that restrains us from showing anger or inflicting punishment. …Architects are as intolerant about sand as foundations for skyscrapers as doctors are intolerant about germs in their laboratories….
Tolerance does not apply to truth or principles. About these things we must be intolerant, and for this kind of intolerance, so much needed to rouse us from sentimental gush, I make a plea. Intolerance of this kind is the foundation of all stability.
Our culture war is a fight to the death. The barbarians are inside the gate, and they don't listen to reason. Show them the same tolerance they show you — and then show them the door. In the case of A&E, what should happen is that they be boycotted till brought to their knees.
To their knees.
Unless we can rediscover virtue and muster total intolerance for the intolerable, our decline will be inexorable.
Book Review…
"The white man wanted what we had, our land, but he didn't want us.  We wanted what the white man had his improvements, his guns, his modern conveniences – but we didn't want him.  And so we fought, each wanting what the other had but not wanting the other and trying to eliminate him; and we lost.  That's the story."    A mid-Twentieth Century account by an old Indian at the Owyhee reservation in Nevada.  From "The American Indian" R. J. Rushdoony
The late Rousas Rushdoony was born to immigrant parents and raised in an Armenian society on a farm in California.   He was a Christian truth-seeker with a brilliant mind, a photographic memory, and a work driven disposition.  His perspective on the American culture was not maligned by popular partisan descriptions and his accurate evaluations were often prophetic.
Though we never met his writing transformed my understanding of Christianity.
Truth steps on the toes of those who live and defend fantasy and Rushdoony had big feet.  Arminianism denuded Christianity.  It is a ubiquitous heresy and Rushdoony brought the full weight of his mighty intellect against it.  He exposed the sinful insanity of claiming to follow Christ while refusing to obey His legal standards.  As it always does his true pronouncements dragged him into controversy.
Ross House Books recently released "The American Indian" a paper-backed book of slightly over 100 pages. It chronicles Rushdoony's mission to the Shoshone and Paiute Indians at the Owyhee reservation in Nevada from 1944 to 1953.     
Rushdoony's portrays the Indian differently than the dream laden pictures presented in our movies and history books.  He found the older Indians to be astute, realistic, and pragmatic.  They were quick to notice that White American Christians did not actually believe in the religion they were trying to transmit; they did not practice it, their schools did not teach it, and their government did not follow its principles.  This sad reality resulted in the subtitle of the book, "A Standing Indictment Against Christianity and Statism in America.
Rushdoony liked and admired the Indian character.  They were realists and so was he.  Yes, they were savages capable of shocking cruelty but they were also open to technical advances and were more willing to offer others hospitality than most Christians.  An Indian was never without food and shelter since every family would unquestionably provide it whether to a stray adult or an orphaned child.
The book vividly portrays the devastation that results from dependence on government handouts. Tribal life centered on survival and since the government provided everything they needed the core of their life was destroyed. The result is wide spread debauchery, gambling, alcoholism, sexually immorality, and rape.
A tendency to addiction combined with the malignancy of government dependence contributed to the alcohol problem.  The old Indians called it "The Whiskey Religion".  They reasoned that what Christians look for in Christ, alcoholic Indians (Whites too) find in the bottle.  Alcohol was not the only problem: Peyote, a narcotic, was worshiped and used extensively with devastating results.    
Indian children were coddled; never disciplined.  Rushdoony reasoned that such leniency resulted in an inability to withstand frustration and this weakness contributed to widespread alcoholism.  When the doctrine of original sin is missing discipline is usually lacking.
Indians were trained to be valiant.  The old Indians remembered in past times young Indians entered manhood through a ritual that involved cutting open and exposing back muscles that were then thonged and tightened to keep the initiate on his tiptoes.  They were forbidden to acknowledge pain and urged to dance around a pole for three days and nights.  If they passed out they ruptured their back muscles and waited at least another year to enter manhood. 
Before the arrival of the White man survival was the primary objective of Indian culture.  The story of Jenny Owyhee showcases Indian spiritism, savagery, and intent to survive.  Jenny and Rushdoony arrived on the Reservation about the same time.  Jenny had worked for a family named Riddle.  Grant Riddle died at the age of eighty. He said Jenny had worked for his family before he was born and had grown children when he was a child.  She remembered the tribe being marched to the Reservation and would have been close to 120 year of age.  Rushdoony writes, "Jenny told me that her first four babies were girls.  At the birth of the fourth, her husband broke the power of the spirits by grabbing the new-born girl and braining her on a rock.  Jenny's next child was a boy.  She was a kind and thoughtful woman. For her, the killing of the girl was a sad necessity in order to insure a boy – for a boy meant survival in the wilderness."
Rushdoony had great respect for Indians warriors.  He believed Chief Joseph of the Nez Perce Indians was the "greatest military strategist the North American continent has ever produced.   He writes that Chief Joseph with a "handful" of warriors defeated the U. S. Army several times while transporting and protecting a large number of women and children.  Superior numbers and superior equipment were needed to defeat the resilient Indians who refused to give up.
Indians were never enslaved; they fought or they ran away.   They could not be converted to servant hood.  The older Indians viewed Negros as inferior because they allowed themselves to become slaves.
Both the writer and the Indians had great respect for realism.  Sentimentality is condemned and there is no reference to repentance. Rushdoony expresses disdain for recounting past offenses instead of concentrating on current behavior.  He recounted the indiscretions of both the Indians and the White settlers.  The White settlers bore additional guilt because they were supposedly Christians but there is nothing about the incursion of European civilization into what had previously been Indian occupied territory.
Important information about this period of Rushdoony's ministry is mysteriously missing.  His first wife, Arda, bore him four children (Rebecca, Joanna, Sharon, and Martha) and they adopted an Indian child (Ronald).  Arda is not mention in his writing nor is her image found in the several pictures taken at the Owyhee Reservation. Following a divorce she became a non-person.  Dorothy Rushdoony, his second wife, who after giving birth to a son (Thomas Kirkwood, Jr.), had also been divorced, took Arda's place as if she never existed.  I could find only one reference to Arda on the Internet.  Read it here.
There may be good reason for the dearth of information on Arda and Ronald Rushdoony; but since information is not available the mystery remains.  These events certainly influenced the family.
An appropriate ending to this essay comes from a story Rushdoony recounts about a Whisky religion renegade Indian who had been in the armed services and occupied various jails around the country.  In the midst of a session of bragging about his brawls he became serious and said, "Look at those people of mine.  They're no good.  They're like me, just no account.  All they are fit for is a reservation where someone puts a fence around them.  That's it.  They are not fit for anything else."
"But," he went on, "I've been across the country two or three times now in the last few years, and I've learned something: the white man isn't much better.  He has reservation fever now.  He wants someone to put a fence around the whole North American continent and take care of him.  He wants the government to give him a handout and look after him just like Uncle Sam looks after us. And he is going to get it. If some outfit doesn't come in and do it for him, some foreign country will turn the whole United States into a reservation: he'll to do it to himself.  You wait and see. 'Cause he's got reservation fever."
For a country founded upon the purpose of establishing religious freedom, the state worship establishment deems that their Supreme Court tribunal will announce its papal bull in the lawsuit, Sebelius v. Hobby Lobby Stores, Inc.
The SCOTUS blog explains the Issue: Whether the Religious Freedom Restoration Act of 1993 (RFRA), 42 U.S.C. §§ 2000bb et seq., which provides that the government "shall not substantially burden a person's exercise of religion" unless that burden is the least restrictive means to further a compelling governmental interest, allows a for-profit corporation to deny its employees the health coverage of contraceptives to which the employees are otherwise entitled by federal law, based on the religious objections of the corporation's owners.The first words in the Bill of Rights Amendment I, states: "Congress shall make no law respecting an establishment of religion, or prohibiting the free exercise thereof". Somehow, the barrister bar sees fit to ignore the highest law of the land, because robe magistrates deem that their rulings are a flowing and living privilege that easily conflicts with a dictionary reading of language.
Understanding the context of this case starts with an analysis by Lyle Denniston from the official SCOTUS blog.
"This time, the Court will be focusing only on whether the pregnancy-related care coverage can be enforced against profit-making companies – or their individual owners, when that is a very small group – when the coverage contradicts privately held religious beliefs."
Jeremy Weber from Christianity Today reports that - Hobby Lobby explained in a statement that its Green family owners "have no moral objection to providing 16 of the 20 FDA-approved contraceptives required under the HHS mandate and do so at no additional cost to employees under their self-insured health plan."
However, Mr. Denniston describes that the Court will look at the extent that government has preference over religious beliefs of a corporate ownership.
"It is already clear, of course, that individuals – whether they own businesses or not – do have religious beliefs that the government may not try to regulate. But it is not yet clear, and these cases will test the issue, whether they have a right – constitutional or based on a 1993 federal law – to rely upon those beliefs in refusing to provide a kind of health care coverage that they say violates the tenets of their faith."
Therefore, it seems that the high court will revisit the First Amendment rights of corporations, most recently expanded in their Citizens United decision, with the twist that religious freedom might well be quite different from political free speech.

Compelling a business enterprise to obey the "pro choice" regulations within Obamacare is certainly the objective from the record of this administration's hostility towards traditional Christian religious practices.
Mr. Denniston describes the nature of this conflict.
"On the other hand, it is not clear that a business that is formed as a corporation, and engages in a strictly commercial kind of activity, can have religious beliefs and can actually base its commercial actions upon such faith principles (separate from the religious beliefs of its owners). The Court has never ruled on that issue, but that is one of the core issues it has now agreed to consider.

In the government case – that is, the one involving the arts and crafts retailer, Hobby Lobby – the answer to questions about both the individual owners of a closely held business and the business itself as a separate entity arises under the Religious Freedom Restoration Act. That law specifies that the government cannot impose a "substantial burden on a person's exercise of religion," unless the government can prove that the burden serves "a compelling governmental interest" and that it is also "the least restrictive means" of doing that."
Here is the crux of shredding religious protection, "a compelling governmental interest". After the absurd and bizarre flip-flop from Chief Justice John Roberts on the original Obamacare decision, who could ignore the determination that the Affordable Care Act is a legal tax constitutes a compelling governmental interest?
In Part 8 – CORPORATIONS and LAW of the Totalitarian Collectivism series cites, "The 1886 case, Santa Clara County v. Southern Pacific Railroad Company, is often cited that the U.S. Supreme Court ruled that corporations are "persons" having the same rights as human beings based on the 14th Amendment."Concluding, Mr. Denniston admits the inherent legal problem of granting corporate personhood.
"The Court, in confronting that issue, probably will have to decide whether the business itself is "a person" under RFRA. If it decides that Congress did not mean to include a corporation as "a person" under RFRA, that could be the end of the corporation's RFRA claim.

There is no doubt that the individual owners are persons. But the Court must decide whether the pregnancy-related insurance coverage does, in fact, put a burden on the individual owners, or whether any burden is on the business itself, rather than its owners. That is the issue so far as individual owners' claim under RFRA goes."
Reasonable speculation envisions the Supreme Court splitting the baby in favor of a narrow decision that preserves corporate personhood, but not in this case since religious freedom is not a belief of a business company. Since reviewing the actual constitutional basis of corporate personhood is not part of this action, it is rational to presume that the establishment will be pleased.
Religion is a distant petitioner in the august chambers of state-capitalism. So when, Southern Baptist leader Russell Moore labeled the decision "the most important religious liberty question in recent years", it is a major jump of faith to believe that the Supreme Court thinks it answers to a higher power.In a press release for the Ethics and Religious Liberty Commission, he writes:
"We cannot accept the theology lesson that the government has sought to teach us, that religion is merely a matter of what happens during the scheduled times of our services, and is left there in the foyer during the rest of the week. Our religious convictions aren't reduced to mere opinions we hide in our heart and in our hymns. Our religious convictions inform the way we live.

"I pray the Supreme Court recognizes what the founders of this country saw, that religious liberty isn't a gift handed to us by Uncle Caesar. Religious liberty is given to us by God and is inalienable. Let's pray for the justices as they think through this monumentally important case."

The eternal truth in Mr. Moore's invocation is noble and accurate. Nevertheless, the world that places governmental interest over God's law is a legal system that loses all legitimacy and authority. Hobby Lobby is not challenging the fundamental First Amendment declaration of exercising their belief as an absolute right. No, for the obvious practical legal strategy, the argument seeks relief under the same hideous corporate personhood status.
Unfortunately, the religious objections of the Green family are conditional by court decree. Look no further, for the basic reason why America is doomed, when the legal system defies the intent and meaning of the very constitution that each judge swears and affirms to uphold. Hobby Lobby deserves our respect for practicing their religious faith in their business.
Moses appears eight times in carvings that ring the Supreme Court Great Hall ceiling. Yet the building is government property and the presences of Yahweh's laws in SCOTUS decisions are purely accidental. Only if it serves the interests of the state, will the court adorn a fig leaf of obedience. It is time to repent, bring back God into the public square and more importantly, into the law of the land.
"The First Amendment to the Constitution reflects that concept recognized in the Ten Commandments, that the duties we owe to God and the manner of discharging those duties are outside the purview of government." – Roy Moore
A couple of decades ago we were discussing whether or not American soldiers would fire on U. S. citizens?  Many thought they would balk at such a travesty.  Now it is common knowledge that Army leaders are selected on their willingness to do just that.  Troops are trained to do what they are told and when they are ordered to do evil deeds only a tiny number resist; some even relish the savagery.
If you are dubious consider the present state of law enforcement in the United States.  Citizens are handcuffed and arrested for trivial offenses and for no offense. They are murdered in their homes by policemen who invade by mistake.  Young men who resist their absolute power are killed or beaten into submission and even women are not immune to their violent demands.  There is little accountability for these savage encounters.
When nations decline and hunger sets its teeth into society, major violence begins and when violence begins those who fight it become equally violent.
Ambition often trumps righteousness.  Sacrificing principle to achieve personal advancement is common strategy for those who seek power.  Shakespeare wrote, "Let me have men about me that are fat, sleek-headed men and such as sleep a-nights. Yond Cassius has a lean and hungry look, He thinks too much; such men are dangerous."  Our government is full of lean, hungry, ambitious men and women!
The sin of leaders is greater than the sin of followers but both are culpable.
When a society is subjected to massive amounts of propaganda and leaders are forced by an agenda driven media to support its erroneous content, prevarications become the basis for actions that create a vortex of injustice and confusion.  This is where we are in America.  What began as little propagandas has metastasized and overcome our society.  Both leaders and followers overlook innumerable falsehoods.  The tangle has reached such proportions and goes so deep that it is difficult to find a thruthful consensus.
Confusion is used by shadowy oligarchs to control people and nations.
Unfortunately the initial fault was not in our leadership but in our culture.  We failed to confront dishonesty and turpitude in our homes, our churches, our businesses, and our government.  Our failure to confront evil has allowed evil to flourish.  We have re-elected politicians who have voted for legislation that has destroyed our government. We have allowed our schools to instruct our children in a morally empty humanism.  We have closed our eyes to the accumulation of power that has allowed a handful of like-minded individuals to control information.  We have allowed our church leaders to evade their responsibility to address and uphold our moral standards.  We have voted for the lessor to two evils when we should have shunned the electoral process in protest.
American politics is hopelessly corrupt.  Meaningful political change is impossible.
Penny's Department Stores hired an executive from another industry who spent millions of dollars offering the public an honest price structure.  His attempt to bring truth to the retail business almost bankrupted the company.  It seems that American citizens would rather live in a titillating fantasy of lies than in mundane reality.
Fred Reed has written a descriptive article about support for our military.  Americans are jingoistic; we are quick to support war and have a romantic relationship with our armed forces.  We are not concerned that war is state sanctioned murder which seldom accomplishes anything.  We are quick to believe the devious propagandists who inflict false hate on our society.  We hate Muslims because we are told they hate us because of our freedom.  We hated Germans and Japanese during WWII and transferred that substantial hate to Communists during the Korean conflict and Vietnam.  We prefer emotional patriotism to denouncing the butchery of exceptionalism.  We have forgotten that every human being is created in God's image that He loves everyone.  We have forgotten that the murder of innocent citizens in foreign lands is a national breach of the Commandment not to kill.
The Revolutionary War helped relieve us of English domination and other wars gained territory but wars from the Twentieth Century forward were useless.  They made some citizens wealthy while killing millions of innocent people, disrupting our nation, destroying our morals, and injured our youth.
We should be ashamed when our churches support war by asking us to pray for our troops.  We have the audacity to come before the King and Kings praying for his support in the murder of millions of people made in His image.  It is devilish silliness when Christian churches implore the Prince of Peace to aide in mass murder!
There has been steady resistance to the legalization of abortion by a morally bankrupt Supreme Court.  But the resistance seldom deplores the fact that the choice to murder a baby is made by the woman who carries it.   A moral nation would not use such a service!   Our nation is said to be divided over abortion; half for and half against.  If that is true half of our citizens support the murder of babies.  Isn't it time our churches began to teach God's moral code so that at least a majority of our citizens understand the Second Commandment by rejecting murder whether in the womb or by armed force?
A media conspiracy censors and distorts the news preventing Americans from knowing and understanding large amounts of important information.  Conspiracies are ubiquitous; they are common in homes, in churches, in businesses, and schools; when people gather with a common goal conspiracy of some sort soon follows.  To believe they are not common in government and the media is a serious distortion of reality.  The press censors all suggestion of conspiracy and demonizes the word. We have failed to confront this serious distortion of reality.
Sanguinity has replaced obedience and become the objective of our churches.  Christian churches that offer an emotional escape from reality are growing by leaps and bounds.  Healing, tongues, inspiring music, and a positive message attract a work warn populace.  Instead of confronting pervasive evil and teaching the Path to Righteousness and Peace church leaders allow their parishioners to behave like Hophni and Phinehas,  (Read about the fate of their Father, Eli, in 1 Samuel 4)
A thoughtful bystander watching our government leaders on C-Span has to wonder how they can destroy our freedom over a bogus threat of terrorism and still sleep at night.  President George W. Bush told us we were fighting in the Middle East to preserve our freedom.  Now that our freedom is being threatened we are blaming it on terrorists who might be a creation of the bogus wars we are fighting.  While we allow immigrants of all ilks to enter our country legally and illegally we train our army to put down civil unrest.  We spend more money on armaments than the rest of the world combined but still are expected to give up freedom for protection.  We are being governed by lies, terrorism has never been a major threat to our nation and it is a form on insanity when our leaders pass freedom threatening laws to counter a bogus enemy.
For more than two millenniums Christianity has offered hope to the world, but centralized power has always created kings and tyrants.  We have failed to follow the Biblical pattern by decentralizing power to the individual family.  Because we have failed to obeyed His Commandments, the blessings of obedience have never been realized.  As time goes on Christianity is gaining ground but we are now in one of the darkest periods the world has ever known.  This period of darkness will eventually end and Christianity will be victorious.  God will continue to extend His Kingdom.  In the meantime Christians are ordered to stand.
With over 500 pages and 1,200 footnotes, Ted Flynn's book, "Hope of the Wicked: the Master Plan to Rule the World," details many of the agendas of the global 'elite' community.  With several thousand quotes it uses the words of prime ministers, secretaries of treasury, secretaries of state, philanthropists and global business leaders to describe their NWO vision and their plans to bring it about as well as the convergence, on a global basis, of multinational corporations, foundations and the political and sociological instruments that would form a one-world government designed to bring about a New World Order.
Flynn writes that there is a confluence of events pointing to major changes that for many years have been coming to the world and they appear to be coming toward us more quickly now. Flynn argues that an 1846 heavenly apparition, a prophecy delivered by the Blessed Virgin Mary to two peasant children and approved by the Catholic Church is a stark and terrible summary of the major changes that have been coming to the world in general but the West and America in particular:
"All the civil governments will have one and the same plan, which will be to abolish and do away with every religious principle, to make way for materialism, atheism, spiritualism and vice of all kinds….The mountains and all Nature will tremble in terror, for the disorders and crimes of men have pierced the vault of the heavens…The righteous will suffer greatly.  Their prayers, their penances and their tears will rise up to Heaven and all of God's people will beg for forgiveness and mercy…And then Jesus Christ, in an act of His justice and His great mercy will command His Angels to have all His enemies put to death….and the persecutors of the Church of Jesus Christ and all those given over to sin will perish…"  (p. 445)
In another apparition approved by the Church, the Blessed Virgin Mary warned of the "annihilation of nations." (ibid, p. 445) 
Materialism, Atheism, Communism, & Annihilation of Nations and People
Friedrich Engels (1820-1895), a 19th century German political philosopher figures prominently in Karl Marx's life.  Beginning in 1844, Engels and Marx, a God-hating materialist, collaborated closely in the foundation of modern Communism.  By 1848 they had produced The Communist Manifesto and similar works.
The tragedy of Engels is that before joining forces with Marx he had been a faithful Christian.  After meeting Marx for the first time he described him as a monster subjected to devils.  Marx does not,
"…walk or run, he jumps on his heels full of anger…He stretches his arms far away in the air; the wicked fist is clenched, he rages without ceasing, as if ten thousand devils had caught him by the hair."  (Marx & Satan, Richard Wurmbrand, p. 36)
Engels was very well aware of the dangers of entangling himself with devilish sons of perdition like Marx.  In his book, "Schelling, Philosopher in Christ," he warns that a devilish spirit has entered into a great part of mankind in the heart of Christendom and now there are only two kinds of men, Christians and anti-Christians:
"Since the terrible French Revolution, an entirely new, devilish spirit has entered into a great part of mankind, and godlessness lifts its daring head in such an unashamed and subtle manner that you would think the prophecies of Scripture are fulfilled (Matthew 24:11)..And St. Paul says in II Thes. 2:3: That man of sin shall be revealed, the son of perdition, who opposes and exalts himself above all that is God, or that is worshipped…The coming of the Wicked is after the working of Satan….(therefore we must have)  nothing to do any more with indifference or coldness toward the Lord (for as of now) we have only…Christians and anti-Christians….We see the false prophets among us…They travel throughout Germany and wish to intrude everywhere; they teach their Satanic teachings in the market-places and bear the flag of the Devil from one town to another, seducing the poor youth, in order to throw them in the deepest abyss of hell and death." (ibid, p. 40)
The devilish fleshy spirit responsible for converting Engels to godless Communism was Moses Hess, the same man who had previously converted Marx. After meeting Engels in Cologne Hess wrote:
"He parted from me as an overzealous Communist.  This is how I produce ravages…" (ibid, p. 43)
The spiritual counter-conversion of Engels was striking and hideous.  Like Marx, he no longer cared about the destruction of millions of people on behalf of the Revolution. 
A bloodless Marx writes of the coming genocide of millions of men, women, and children:
"A silent, unavoidable revolution is taking place in society, a revolution that cares as little about the human lives it destroys as an earthquake cares about the houses it ravages.  Classes and races…too weak to dominate the new conditions of existence will be defeated." (ibid, p. 42)
In a similar vein, a cold-hearted Engels speaks of the coming annihilation of millions of Christians, Jews, and other peoples and nations:
"The next world war will make whole reactionary peoples disappear from the face of the earth.  This, too, is progress.  Obviously this cannot be fulfilled without crushing some delicate national flower.   But without violence and without pitilessness nothing can be obtained in history."  (p. 43) 
The Revolution
The Revolution is a movement of spirit having its taproot and energy in the devil, the spirit of hate, murder, atheism, apostasy, and 'this world only' naturalism, materialism, pantheism, and spiritualism.   The Revolution is war against the supernatural Trinity, the Father, Son and Holy Spirit, which in the words of Marx's anarchist comrade Bakunin, are the "cursed and fatal principle of authority."
The sentiment of the Revolution is satanic pride:
"….which spurns subjection to any master whatever, whether of divine or human origin." (Bakunin, Nihilism: The Root of the Revolution of the Modern Age, Fr. Seraphim Rose, p. 63)
The nature of the Revolution is the antithesis of authentic Christian faith. Whereas Christian faith is joy, patience, love, truth, humbleness, perseverance, submission in all things to the Will of God and blessed eternal life in Paradise (earth perfected), the Satanic counterfeit is full of hatred, rebelliousness, burning envy and covetousness against man and God, ingratitude, mockery, doubts, lies, revulsion, blasphemy, thoughts of murder and eternal life in Hell.
Fueled by monstrously inflated pride and dissatisfaction with self, the world, society, and God the Father Almighty, it devotes its' infernal energy toward "change," or as Marx put it, toward the wholesale destruction of the Christian-based Old Order and the establishment of a religiously pantheist, totalitarian world order because:
"The idea of God is the keynote of a perverted civilization. It must be destroyed." (Karl Marx, Marx and Satan, p. 59)  
The New World Religion  
 "(The UN is) a weird and diabolical convergence of New Age mysticism, pantheism, aboriginal animism, Communism, socialism, Luciferian occultism, apostate Christianity, Islam, Taoism, Buddhism, and Hinduism."   (The New World Religion: Teaching God's Children to Worship 'Divine Nature.' William Jasper, 2002)
The Revolution, of which the U.N., Lucis Trust (formerly Lucifer Publishing), the Cathedral of St. John the Divine, the Temple of Understanding and Baca Grande (Colorado based New Age Vatican City) are integral components, intends the complete overturning of Biblical moral and spiritual values enjoyed by Western and American civilization for over a thousand years.  As part of this goal, the Bible must be reinterpreted in terms of evolutionary pantheism, man must be fundamentally remade by eradication of every vestige of Imago Dei from his inner being, and Christian leadership reduced to a non-factor.  Flynn writes that this has largely been accomplished,
"…by placing their own leaders in place where they exert tremendous influence.  Much of this program of revolution was confirmed by Franklin D. Roosevelt in his book, 'Our Way' (which) summed up, the spiritual and immoral goals of world revolution (and how they) are being achieved, and nowhere more so than in the United States." (Flynn, p. 361)
Primary goals are:
a. Destruction of the Christian-based foundation of Western and American civilization;

b. Dissolution of legal government;

c. Destruction of sovereignty and patriotism;

d. Demoralizing, atheitizing and bringing the people of the United States into slavery via liberated sin nature and penury via graduated income taxes, property taxes, inheritance taxes, sales taxes, a massive welfare state and now socialized healthcare;

e. The abolition of God-given right to life via reproductive rights (abortion) and euthanasia and of private property via onerous building codes, zoning regulations and restrictions and by taxing property out of existence and targeting inheritance with bigger and bigger taxes;

f. Destruction of the traditional monogamous family unit via divorce, co-habitation, alternative lifestyles, abortion, pornography, hedonism and homosexuality
Before the top-down spiritually pantheist world order dominated by an occult 'elite' can come into existence, there must be a politically correct philosophy of 'new' thought and a philosophy of pantheist-based natural religion and natural science to usher in the coming political, social, legal and educational aspects of the new order since New Age evolutionary pantheism is a politically communist, ecologically 'sustainable,' sexually androgynous way of living.
In her two books on New Age evolutionary pantheism, 'The Hidden Rainbow,' and 'A Planned Deception,' Constance Cumbey writes that these goals have largely been accomplished:
"The New Age Movement is a religion complete with its own Bibles, prayers and mantras, Vatican City/Jerusalem equivalents, priests and gurus, born again experiences (they call it 'rebirthing'), spiritual laws and commandments, psychics and prophets and nearly every other indicia of a religion." (Flynn, p. 361)
According to Cumbey, the Plan for the new order includes the installation of a New Age messiah, implementation of a New Age totalitarian government and new world religion under Maitreya.  As well, there are plans to implement a universal identification system, universal credit system, universal tax, universal draft, and a world food and water authority that will control all of the world's food and water supplies.  To ensure that all people worship the New Age messiah, authentic Christianity will be completely stamped out along with all faithful Christians.
Toward this end, the evil spirit energizing and directing the Revolution intends to fully possess the Christian faith and refashion it completely.  In furtherance of his goal, the devil has audaciously declared that the supernatural Holy God the Father Almighty has been isolated in His transcendence and is therefore dead, so though the notion of God is retained, the devil proposes a functionless God that perhaps serves to ignite the Big Bang and set evolution in motion.  
 According to the devil, the Revolution is now moving with great force and speed across America nearly unopposed and will not stop until every vestige of faith in the supernatural God has been obliterated in every heart. Every man, woman, and child will experience a counter-conversion—a Satanic Initiation in the words of New Age insider David Spangler—to a 'new' pantheist spiritualism dressed in Christian symbols and terminology, an anti-gospel preached by anti-saints from the void who will assure men of their salvation though they will find only the leering face of the devil.
No doubt you have heard about the War on Drugs, the War on Terror and the War on Happiness. However, you may not be familiar with the War on God, possibly because it would be an unpopular war to discuss publicly. By the "War on God" (definition) we mean the collection of strategies, methods and techniques which have the combined effect of preventing or seriously hampering the efforts of individuals to seek or achieve legitimate Spiritual enlightenment and the Soul's eventual return to God.
The War on God is an ancient war. While the United States and other countries play an active role in this war today, they definitely did not initiate the war. If you want to use the Christian bible as a reference, you could argue that the War on God began shortly after man was created and rejected God in favor of Satan. Clearly, in some form, the War on God has existed throughout human history.
Today, the United States has effectively broken off diplomatic relations with God. The oligarchs who run the country never physically die and so their souls stay on Earth. Apparently, the United States actually believes that its technology, occult knowledge and black magic skills place it in a position which is superior to God.
We know from whistleblowers like David Morehouse that the United States sponsors and trains a cult of psychics to carry out psychic espionage (remote viewing) and also assassinations using psychic black magic techniques. According to clips of his various interviews on YouTube, it was the training in psychic assassinations which caused Morehouse to become disillusioned, quit the secret program and blow the whistle on the operation. Other countries may well operate similar programs but the details will remain unknown until someone defects and exposes them.
The leaders of the United States have always worshiped Satan. The United States was founded by a cult of Satanists known as the Masons and remains under control of that cult today. By rebranding their cult as a nation state, the cult created the appearance of legitimacy. Cult secrets simply transitioned to state secrets. Cult threats to kill anyone telling their secrets transitioned to the crimes of treason and espionage.
Nothing really changed except for the rebranding from a cult to a government. Today, essentially all members of the CIA, NSA and NASA are Masons. All US presidents have been Masons with the two exceptions of Abraham Lincoln and John Kennedy who were both assassinated.
The term "national security" refers to the security of the cult and not to the security of the general population. The Masonic motto is "If you are not one of us, you are nothing". The cult exists only to enrich itself.
The Masons study and practice the occult. Serious study begins after they take a formal oath of allegiance to Satan at the 30th degree initiation. Basic occult knowledge is neutral and everyone who advances Spiritually learns it. However, Masons seek this knowledge to gain power and control over others as opposed to knowledge for personal advancement. This choice, commonly called the Left Hand Path, places them in opposition to the will of God.
If the Satanists simply wanted to sell their Souls to Satan and mind their own business, one could argue that they had that right because they had free choice. However, the situation is not that simple. The Satanic oligarchs did freely choose to worship Satan. However, they also desire a comfortable life. They don't want to do any "grunt" work. Therefore, they have enslaved the remainder of humanity and are holding their Souls prisoner on this planet to service their needs. Therefore, if you, as an innocent Soul, ever plan to escape from this place and return to God, it is in your interest to investigate and gain an understanding of this war so that you will have an opportunity to Spiritually evolve. Otherwise, your Soul will remain a prisoner here — lifetime after lifetime — serving the Satanic overlords essentially forever.
Earth Based Religions
The phrase Earth Based Religions (definition) refers to religious schools which seek and use knowledge, including occult knowledge, to enhance their experiences during their human lifetimes as opposed to using the same knowledge to foster Spiritual development with the ultimate goal of achieving a stable non-physical Spiritual existence.
Although Pagan religions are usually grouped into this category, a more careful examination would reveal that essentially all mainstream religions are Earth based religions. Mainstream religions make constant references to God and Heaven but never explain exactly what they are talking about. Their books concentrate on historical narratives concerning how people in the past lived and coped with the basic problems of human physical existence. They never give details of any level of Spiritual existence or even any specific hints about what life beyond death will be.
Let's try an example. Suppose you have never seen a motor vehicle. You have heard vague stories that they exist, but that is all. Then, suddenly, you find yourself behind the wheel of a car on a high speed road like the US interstate system or the A roads in Britain. What would you guess would be your chance of survival? Try less than zero.
Now suppose you physically die. Suddenly, you find yourself in your Astral body. However, no one ever told you that you have an Astral body. It does not operate under the same rules as a physical body does. It is a very pliant and nimble body. It can travel in time to the past or future, access any plane and subplane in the Astral universe and research the absolute accurate and incorruptible records system known as the Akashic Records to name just a few. But, as in the previous example, you never learned how to "drive" it.
You would have done fine on the highway if you had gradually learned to drive a motor vehicle. You would do fine after death if you had some experience and training with your Astral body. However, no one ever taught you. What practical use is any religion that constantly rants about Heaven but offers no practical advice about your life after this life?
This information may have been a guarded secret in the past, but those days are gone. You can research this information to your heart's content on the internet, locate legitimate Spiritual groups and learn from those who can leave their physical body and explore the non-physical dimensions. But, don't expect any help from a mainstream church.
You might do well to recall the famous quote attributed to Jesus, "The truth will set you free". Mainstream churches are large, rich institutions. They did not get that way by "setting people free". They got that way by terrifying their followers with ridiculous horror stories of what will happen to them if they do not obey their crazy doctrines, stay with them and give them all their money.
Gnostic and other "non-traditional" religions may be Spiritual based as opposed to Earth based. Jesus always reminded everyone that he represented a kingdom "not of this world". If we had accurate records of his true lectures we would no doubt find practical instructions and information about this "other world". We don't have this information because any practical Spiritual teachings he might have given were censored out to create the simplified — but Spiritually sterile — mainstream religions we have today. They are simple to comprehend and follow but will not lead you anywhere except another physical lifetime somewhere on Earth.
Life Before Technology
Before technology life was simple. Although existence was hard, the opportunity for Spiritual experiences was greater than today. Consider, for example, all the empty time you would have as, say, a sheep herder. Nothing to do except make sure the sheep kept moving. In this situation, there was ample opportunity for the mind to wander and perhaps contemplate and glimpse other realities.
Also, and perhaps most important, no electric grid existed on the planet. Electric fields appear as solid "matter" in the Astral dimension and so can affect Astral experiences — generally in a negative way. Artificially created electromagnetic waves which blanket the planet today also have subtle and generally negative effects on living creatures.
Pagan groups generally conduct occult rituals outdoors and away from high population areas. When buildings are used, it is desirable that they be made only of wood and assembled without any metal (nails) and, of course, have no electrical wires.
Both good and evil existed before technology as they always have. It was possible to use psychological propaganda to influence and control susceptible masses of people. However, the positive and negative forces were more in balance. It was not possible for a single group to successfully dominate the planet.
Drugs existed in the form of various plants. Adepts learned how to use them to help or harm others. People with developed psychic abilities existed as they always have and white and black occult schools existed. Legitimate Spiritual masters existed.
Some techniques that thrived have essentially become extinct because the population of the planet has devolved. It is next to impossible to successfully teach Tantra (sex yoga), because today's generation is incapable of the required level of self control. Classic Tibetan yoga techniques are still taught in isolated areas, but the masters — for good reason — will no longer consider trusting outsiders.
Information Control Techniques
Information control is essential for protecting the integrity of a compartment. People are held as slaves by constructing an information box which holds the slaves in an information prison. As long as the "walls" of the compartment remain impenetrable, the compartment — or belief system — will be stable and no slave will escape.
Considerable energy is required to achieve this. Those assigned to protect the walls obviously know that the compartment is an intellectual illusion. Therefore, they must be sworn to secrecy and intimidated in such a way that they will not compromise the integrity of the compartment. It only takes one "leak" to initiate a chain of events which could collapse the compartment and so allow the slaves to escape.
Consider, for example, the Snowden leaks. One person sharing knowledge has totally destroyed the illusion of privacy that most people had accepted as fact. It will not be possible to reconstruct this illusion. The compartment has collapsed.
Similar principles apply in the Spiritual spectrum. Because of the characteristics of the human bodies in use on this planet, most people do not retain any conscious memory of events before they were born. This is not universally true. Life forms on many other planets retain the memories of previous existences. Because humans generally do not have this recall, they are easily enslaved and can be conditioned to believe most anything.
To maintain a state of Spiritual ignorance it is important to institute methods which will prevent people from realizing that they are actually Souls experiencing a constructed illusion. People somehow reaching this state, sometimes referred to as "self realization", will no longer respond to establishment propaganda and are generally considered a threat to the current social order.
The easiest and most direct method to achieve a stable slave population is simply not to talk about anything even vaguely esoteric. For example, how often have you heard the words astral, chakra or aura mentioned on a mainstream TV channel?
Most people will then likely "remain asleep" throughout their entire lifetime and will be no problem. Unfortunately, people have a natural desire — even though it may be an unconscious desire — to Spiritually evolve. It is, after all, the true purpose of human existence.
When someone tries to break away from the contrived illusions more direct methods are needed to return the slave to a state of ignorance. Today, various methods which cause brain damage — generally performed by psychiatrists — are used to negate any success in Spiritual evolution and return the slave to a state of vacant contentment.
Diversions and Techniques Promoting Inaction
The simplest and most effective diversionary technique is to promote scientific atheismand darwinian evolutionary philosophy as established fact. If you can get someone to buy into this philosophy, their fate is sealed. Even if they experience some contact with another dimension, such as an out-of-body experience, they will follow their programming, dismiss the experience as a delusion and refuse to investigate further. When they die, they will be totally lost and confused, flounder around on some lower Astral plane and eventually reincarnate just as Spiritually ignorant as before.
A side effect of accepting scientific atheism, which totally cripples Spiritual progress, is the acceptance of suicide as a way out of life's problems. Suicide becomes a learned reaction. Consequently, when the Soul is sent back into another physical lifetime, it is likely to commit suicide again when faced with some unpleasant event. It never learns, and this cycle can repeat essentially indefinitely. Dealing with this is one of the most difficult problems faced by the administrators who work on the Astral planes.
For those who want more than scientific atheism, there is mainstream garden variety religion. Mainstream Christianity has developed a clever stonewalling technique that has worked to promote inaction for thousands of years. This technique is centered upon the argument that no one can make any progress until Jesus returns to show the way. In the meantime, people should just do nothing and wait. The effect of this is essentially the same as scientific atheism. No Spiritual progress is made.
Schemes designed to waste time are common. One really off the wall example is the decision in Syria to prohibit vacuum cleaners and standard flat brooms in homes. "Witch type" brooms consisting of a circular straw bundle are allowed. Surely there must be a good reason to keep these terrorist weapons out of the reach of the typical Syrian housewife. The official reason is to make basic housework as difficult and time consuming as possible so as to prevent the woman from having any free idle time which, if allowed, could lead to the emergence of "immoral thoughts". Perfectly logical!
In the western world, complex bureaucracies seem to be deliberately designed to make the path to whatever you want as difficult as possible. Here the apparent motive is to prevent the acquisition of enough free time for any independent thought process. There are just not enough hours in a day to allow for any quiet contemplation of anything.
"Blank time" is always reported as a factor in the development of Spiritual figures. Time alone in the wilderness, time spent meditating alone in some isolated cave or at least periods of dedicated quiet time somewhere figure prominently in historical accounts of these people.
You may know or have heard of kids who spend all their waking hours playing interactive role model video games with other kids on the internet. They eat meals by the computer and never leave except to briefly sleep before returning to the all important game. Their entire life is spent in an imaginary reality. You may want to consider that your "real" life may not be all that different. You play a role. Your attributes are fixed by what society expects based upon that role. You can't change, because others would notice. Your concept of the world beyond your little world is determined by what you see on TV. Daily, you receive your "fix" of carefully choreographed "programming" which appears unusually coherent because, as you may not know or fully comprehend, everything on TV is controlled by a few corporations and all of them are loyal to the official government party line. If you somehow had the opportunity to break from this structured "game" you play from day to day — say, the opportunity to visit other countries and see other cultures — you would likely realize that your existence has not been that much different from the kid addicted to a computer game. You would find that the actual "real" world had very little relationship to the world you had been conditioned to believe existed.
Chemical Control Techniques
"With the use of chemical brain-control agents it may be possible to control the individual and the masses and to do this unobtrusively and without the active cooperation of the victims — not a question for the future — it is here".
This is a quote from the book by Edgar Cayce titled Edgar Cayce on Atlantis. There are references to Dr. Robert Galbraith Heath, and this book bears a copyright date of 1968. The book cites an interview that Heath gave to a newspaper called The Virginia Lighthouse and cites the above statement made by him on November 20, 1966. Heath founded the Department of Psychiatry and Neurology at Tulane University, New Orleans, in 1949 and remained its Chairman until 1980.
During this period, Tulane University actively participated in the CIA mind control project known as MK Ultra [1]. Also, during this period, Tulane became an active member of the secret Institute for Defense Analyses, or IDA, a corporation whose only client is the US government. Heath reportedly performed many experiments there involving electrical stimulation of the brain via surgically implanted electrodes. This work was reportedly partially financed by the CIA and the US military. Heath is now "officially" [11] deceased.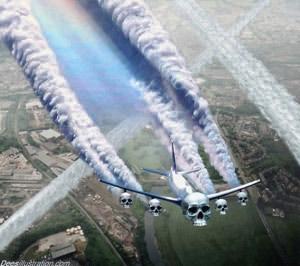 You have been drugged since you were conceived — before you were even born. Your mother was drugged. Soon after birth, you were injected with mercury containing vaccines. And the systematic process of poisoning you never stopped.
By some estimates at least eighty percent of the food in the average supermarket is poison either because it is genetically modified or laced with pesticides and other additives. Even the air is poison now because of geoengineering chemicals sprayed into the upper atmosphere.
It should be noted that things are different in the separate but parallel world of the elite. The Max Keiser show [12] discussed the secret gardens in Japan. These gardens are surrounded by high walls and guarded by the military. They produce the food for the ruling elite. Every plant in the garden has its own health certificate certifying that is pure, healthy and not genetically modified. Obviously, every developed country must have a similar secret supply chain of legitimate food for its ruling class. Certainly the elite know better than anyone that the food supply for the ordinary people is poison. They're not fools. They wouldn't touch the stuff.
Vaccines used for the elite are prepared without the mercury and other toxic additives found in vaccines given to the ordinary people.
Various agents — mainly from plants — have always existed which could be used by those aware of them to harm others or control people by altering their state of consciousness. However, only recently has it become practical to wreck the health of essentially everyone on the planet at the same time. Genetic modification of plants and other life forms used for food has made this possible. Now, quietly, people throughout the world can be sterilized, crippled with serious health problems or even killed by altering the genetic makeup of the food supply. Ordinary people remain generally ignorant of the fact that this awesome power exists and is presently being used against them.
Mind control has become a science. You can't major in it in college because this science is essentially entirely secret. The United States and other countries have spent the equivalent of billions of US dollars investigating and perfecting mind control.
Many secret research projects using unsuspecting or perhaps kidnapped people — some of whom were killed — have been conducted in the past and continue today. We only know about a very few of these projects such as MK Ultra, MK Naomi and Project Other. Even in these projects, specific details are sketchy. From these experiments, practical techniques for creating manchurian candidates and implanting created false personalities and identities have been developed and are in common use today within the secret communities.
Everyone has likely been the victim of some degree of mind control to some extent. Chemical weapons designed to mentally cripple people and render them drooling idiots are freely sold as prescription drugs in drugstores and are available to doctors to use as they please.
The lives of many kids are destroyed by these "drugs" because they have no ability to resist and their parents are ignorant and believe doctors can "do no harm". Actually, today's doctors are agents of the state. Many have top secret clearances and embrace classic Nazi philosophies such as eugenics. Their function is to watch you and make sure you "die appropriately" so as not to burden society. Anything they learn about you and anything you tell them is freely available to anyone in the intelligence community who is curious about you.
Only members of the super elite who are entitled to access top secret medicine will receive legitimate supportive medical care. Ordinary people will be deliberately allowed to die even though doctors with top secret clearances know of effective treatments which would cure them but which are classified and reserved for the chosen elite.
There is no such thing as an incurable disease any more. All the cures have been discovered. If you die, it is because you are not considered important enough to live and not because the cure does not exist.
Common sense should suggest to you that the lives of the elite have statistically different characteristics. For example, members of congress do not live sheltered lives. They work in close quarters and travel extensively both locally and internationally. They are always hanging out with prostitutes as well as playing with the young congressional pages.
Washington D.C. is reported to have more brothels than fast food joints. Strangely, however, these people do not get sick. Have you ever heard that congress had to shut down because everyone was coming down with some infection. It happens in other close populations, so what would make them exempt?
Understanding Astral Damage
Living things have an Astral component. For example, when you cut a leaf and then see the complete leaf on a Kirlian photo you are viewing the Astral component which was unaffected by cutting the physical component because it does not exist in the physical dimension.
Over one hundred years ago, practical techniques for viewing the human Aura were developed by Walter J. Kilner [4]. The original technique used dicyanin dye and a later technique used special glasses. You can't find either one today. In his research, Kilner was able to demonstrate that defects in the human Aura appeared before some corresponding disease manifested in the physical body.
Therefore, he was able to detect and prevent an adverse physical condition before it ever physically materialized. So, you ask, why don't we have this marvelous medical technique available today? Well, we do. It is in use in top secret medicine. However, only the approved elite now have access to it. The information has been removed from public knowledge and classified.
In conventional allopathic medicine, which is based upon scientific atheism and sold to the general public, there is officially no such thing as an Astral body. Conventional medicine denies the existence of anything beyond the physical dimension. Since the Astral body officially does not exist, it is not recognized as a crime to deliberately harm it.
Damage to the Astral body can be compared to damage to the physical body. If you punch holes in the physical body by cutting it, shooting bullets at it or whatever, blood runs out and germs get in. If you cause enough damage, the body dies. Astral bodies do not die, but can suffer critical energy losses. Similar to physical bodies, punching holes in the Astral body allows essential energy to escape and harmful energies to enter.
There are many events which can harm your Astral body. It is in your interest to understand these events because your Astral body will be your primary body when your physical body dies. If it has been damaged, you will be at a severe disadvantage. The chosen elite have perfect Auras because they can use the Aura balancing machines available to them at any top secret medicine provider. However, you cannot.
Also, the ruling elite seem to take some delight in causing harm to the "ordinary" people. Consequently, many drugs, food additives, GMO foods and industrial chemicals found in the environment cause Astral damage. Chemicals recognized as poisons and banned in other countries can be freely added to foods given to ordinary people in the US.
Obviously, there must exist a secret supply chain of safe food and water which is available to the chosen since they know of the contamination and certainly would not want to harm themselves or their friends.
There are ways to closely duplicate the secret techniques available only to the elite. If you can see auras or can find a reputable psychic who can, you can approximate the techniques developed by Kilner and available to everyone over a hundred years ago. Although the secret aura balancing machines are more accurate, a competent psychic healer can do the same thing. Actually, since psychics have always existed, similar techniques have been available throughout the ages to those who were aware.
Fluoride
The concept of adding fluoride to drinking water for the purpose of mind control is said to have originated in the 1930′s as a result of collaboration between German and Russian scientists [2]. Sodium fluoride was originally used and was found to cause a "mild lobotomy" in people who consumed small quantities. The effects were considered to be non reversible after one year of continuous use of the tainted water. Hitler added sodium fluoride to the water in his concentration camps to make the prisoners docile and cooperative as they waited for death.
Sodium fluoride (NaF) is used today in personal products like toothpaste. To poison the water supply of an entire country with sodium fluoride would be expensive. However, it just so happens that there is a waste product created during the manufacture of phosphate fertilizers, Fluorosilicic acid (H2SiF6), which is classified as hazardous waste and would be expensive to dispose of under EPA guidelines.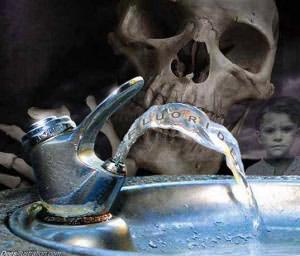 There is lots of this stuff available. This is the poison added to the public water supply in the US and some other countries. It is actually economical for industry because they don't have to pay for hazardous waste disposal. They just pump it into the public water supply.
In the human body, fluoride has an affinity for the pineal gland in the brain. The pineal gland is associated with the "third eye". Everyone has this third eye, but few are aware of it or know how to activate and use it.
Although the pineal gland is part of the physical body, the associated third eye is part of the Astral body and so is invisible in the physical dimension. The third eye allows you to see and communicate with the non-physical dimensions while fully awake and functioning in the physical dimension. So, you could see and carry on a conversation with someone in the physical dimension while invisibly also viewing and communicating with some entity on another plane of existence.
The standard Christian bible refers to the third eye with the phrase, "If thy eye be single thy whole body will be filled with light". However, only students of mysticism would recognize the true meaning of this quote.
Obviously, having this ability would be a threat to the security of any totalitarian society. Poisoning with fluoride destroys this ability and so solves that problem. Literature is available if you wish more detailed information. Simply search using the phrase "fluoride third eye".
On the chance that fluoride in the water is not sufficient to destroy any psychic abilities you may have, there are more aggressive ways to get fluoride into your brain. Here are some structural models of popular psychiatric drugs:
Notice that the element Fluorine (symbolized by its standard chemical symbol "F") figures prominently in all these compounds.
These drugs are used to cause "chemical lobotomy". By blocking communication channels with the higher levels of the human brain, they effectively convert the victim into a lower form of animal. Lower animals do not have the frontal lobes possessed by humans. That is what makes humans special. Disabling the frontal lobes effectively transforms a natural human being into, basically, a docile and obedient house pet which can be trained like a dog.
Incidentally, Fluorine also figures prominently in Sarin nerve gas.
For a more in depth study search YouTube for the free documentary Flouridegate — An American Tragedy by David Kennedy.
They All Drink From the Same Trough
If you casually look out upon the institutions of the world, it may appear to you that they are independent, discrete entities. However, they are not. They are all components of a collective which has successfully hidden its existence and true nature from the general population for generations.
Let's begin with the media in the US. Although it may appear to you that there are thousands of independent sources reporting "news", 90% of all media is controlled by six corporations. They are General Electric, News-Corp, Disney, Viacom, Time-Warner and CBS.
In the US, people believe they are protected from tyranny by the concept of "separation of powers" — that the executive, legislative and judicial branches of government are staffed by independent thinkers who "check and balance" each other. This is also a deception.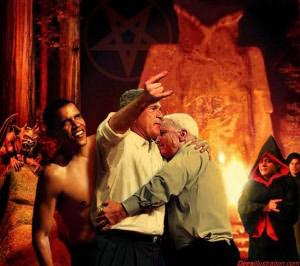 Once a year, at the end of July, there is a secret gathering on private property in the redwood forest of California called the Bohemian Grove. Although this annual meeting has been going on for over one hundred years, it is only during the last several years that outsiders have begun to learn of its existence. The only reason they have is because of the internet and independent journalism. Leaders from the mainstream media are all members of this secret club and so never even report its existence.
Who else goes to this annual secret "party"? Well, for want of a better name, we will call them the "Trusted Satanists". They are the leaders of all the major corporations, banks and representatives from all the major branches of the US government as well as foreign governments.
Although these men outwardly support the concept of capitalism for the masses, this elite group, among themselves, are perhaps best described as "rich socialists". Only men are allowed. For recreation, a stable of prostitutes — both male and female — are kept nearby off-site. The male prostitutes could theoretically enter the Grove.
The "party" begins with a Satanic ritual called "Cremation of Care" (i.e., "we don't care") which features the burning of a coffin at the base of a huge statue of an owl. Walter Cronkite reportedly was the official announcer at the grove until his death.
A secretly filmed video of this event is available on YouTube. It is supposed to be a "simulated" child sacrifice. However, since the CIA, FBI and NSA attend the ritual, who is going to complain on the chance it is a real sacrifice of a human child? After all, they are all trusted Satanists.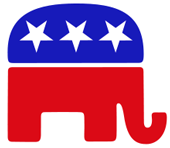 Most attendees from the United States are members of the Republican party. This is completely predictable in view of the fact that the US Republican party flaunts its affiliation with the "dark side" by prominently using the inverted star symbol on its official logo.
During the two week period, corporate leaders, the "independent" government regulators who supposedly keep corporations honest, the leaders from the executive, legislative and judicial branches of US government who are supposed to be "checking and balancing" each other, as well as the media moguls who we "trust" to report the truth, are all running around naked in the woods — pissing on the trees, playing with each other, and the male prostitutes as well as the off-site female prostitutes, and "having discussions".
Well, what are they "having discussions" about? They are discussing what they plan to do with "their world". The Manhattan Project to develop the first atomic bomb was reportedly planned at one of these discussions years ago. What about you? What about your future? What about any expectation of happiness you may have? Well, you see, you "don't need to know". Remember, "If you are not one of us, you are nothing".
Blueprints For the New World
Overview
If this link [7] is still active, it would be in your interest to read through it. This document is a transcript of a speech given by one of the insiders in the year 1969. He boldly states,"Everything is in place and no one can stop us now".
The article details how people ("people" means the slave class who are "nothing"; recall: "If you are not one of us, you are nothing") will just have to get used to changes such needing permission to have children, accepting mandated euthanasia as the law and total surveillance. Essentially all goals are now achieved, although some still remain guarded secrets.
The 1960′s was the period when physical death was eliminated. Of course, this "privilege" is only available to the select Satanic oligarchs. Effective cures for all diseases were also developed. The speaker [7] states that the cures are on file in the Rockefeller Institute. Of course, most are classified and only available to the chosen elite.
Infrastructure
The PBS documentary, Top Secret America [8], presents a good overview of the secret world of the elite. You may think no one is paying attention to the infrastructure in America because streets are in disrepair and bridges are falling down. However, you would be wrong. A tremendous amount of money is being spent on infrastructure in America — for the chosen elite. You will never see it and you will have no need for the decaying bridges and streets because you won't be around to use them. You, as well as 90+ percent of the current population, will be killed in the "Great Culling".
The new infrastructure is quite elaborate as the documentary explains. It consists of thousands of buildings which have a few stories visible above ground but which then extend for 90+ stories underground. All amenities are available within these secret structures which are basically self-sufficient.
It is important for the buildings to reach deep underground so that the lower levels can connect to the secret underground transport network. This network is global and provides safe high speed transport for the elite. Whenever the network crosses a tectonic plate, massive amounts of silicone are used to allow the transport tunnel to flex as needed. The network has access points in all countries. However, these points remain secret in countries which have yet to be subdued and co-opted into the new world order.
NWO Enabling Documents
The treaty known as the Trans-Pacific Partnership appears to be the formal enabling document for the new world. The actual document is secret and only high level corporate executives and politicians are allowed to see it.
Even after the treaty goes into force, its contents will remain secret. Because, in the United States, treaties must be openly debated in congress, the treaty is being called an "agreement" to circumvent the law and keep its contents secret. However, some details have become known.
Although the planet is officially divided into "sovereign" countries, it is overlaid with a network of transnational corporations. This network basically forms a parallel government which encircles the globe. The Trans-Pacific Partnership is designed to cause any country which signs on to surrender its national sovereignty to a secret committee composed of corporate executives. This committee can then alter the constitution and laws of any country which has accepted the treaty as suits their whim. There will be no appeal against this.
Under the treaty, there will be only one purpose to human life. That purpose will be to maximize the profits of the cabal of transnational corporations which will now be essentially a single global corporation in absolute control of the world. This effectively institutionalizes the new world order.
What does this mean for you? Well, to begin with, there can be no retirement. Paying for retirement would negatively impact corporate profits. So, if you can't work, you will be killed. Taking care of sick people would also drain corporate profits. It would be more profitable just to kill the sick and replace them with young, healthy slaves. Disabilities — forget it — disabled kids will never make it out of the womb alive.
Reeducation
To come into compliance with the philosophy of the new world, people will need to be reeducated. Military instruction documents [6] are already teaching that the Founding Fathers of the United States were extremists and anyone who thinks like them would not be suited for today's military.
Well, what did these radical extremists think?
"We hold these truths to be self-evident, that all men are created equal, that they are endowed by their Creator with certain unalienable Rights, that among these are Life, Liberty and the pursuit of Happiness."
Obviously, these principles are not compatible with the new world. The idea of a "Creator" conflicts with the official doctrine of Evolution. We can't have that. People must accept that they and the universe they live in is simply an "accident".
People are already realizing that Liberty and Happiness are gone. They know now that they live under constant surveillance and their lives get worse year after year. How about the right to Life? Can't have that. People need to be reeducated to believe that it is their "duty to die" when they are no longer useful to the state (which is now the global corporation).
Of course, the global elite will live physically forever but ordinary people will not know this.
If a world where people are conditioned to want to die and do not want kids but just sleep around for fun sounds vaguely familiar to you, you might recall that this is the future society described in Huxley's classic novel, Brave New World.
Population Modification
Please refer to [9] as a reference source. Today's "great thinkers" seem to be coming into agreement that most people are unnecessary and need to be exterminated for the convenience of the elite. Bill Gates, who has now been accepted into the super exclusive Bilderberg group, has reportedly taken the task of exterminating the third world population by giving them "free" vaccinations which will render them sterile.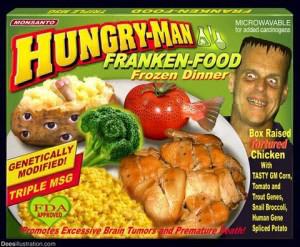 Lots of groups are working on secret sterilization methods. European tests of Monsanto's GM soybeans on hamsters showed the animals became sterile by the third generation [12]. A new gene known as Epicyte [9] is planned to be added to GM corn which will cause immediate sterilization.
Additionally, people are being "eased into" accepting the concept of "after birth abortion". Intellectuals are trying to get people to accept the argument that living human children under three or perhaps even five years old are really "not people but advanced feotuses". Since abortion is already legal, a simple change in the definition of "feotus" would allow young kids to be killed at will for any reason.
Another "new thought" gradually being programmed into the young is the pleasure of the "childless lifestyle". This propaganda seeks to convince people that having kids is too much trouble and they will be happier if they just get sterilized and then run around having lots of sex purely for fun.
These "evolutionary" population control techniques are already in effect. However, the elite likely are not willing to wait several generations to get rid of those they do not need. This brings us to the more direct method commonly called "The Great Culling" which will allow the elite to kill off most of the world's population quickly.
The most likely method will be the release of new designer viruses for which no one will have any natural immunity. Of course, the elite will all get the classified antidote. Preparations for the disposal of the bodies is already complete and stockpiles of plastic coffins — each designed to hold three bodies and manufactured under government contract by Halliburton — have been photographed and documented. Everything is now in place awaiting the "go" command.
Designer Children
Some types of designer children have already been approved for "production". Britain has approved three parent babies [10] and China has proposed a process to artificially fertilize most of a woman's eggs and then examine them to determine which is likely to produce a child with the highest IQ. This will be the only selected egg because Chinese women are only allowed to have one child and must then be sterilized.
In the new world where the only purpose of people will be to do slave labor to serve the elite corporate masters, the concept of allowing the existence of children conceived naturally clearly cannot be allowed. There would be an unexceptable chance for some kind of error that could result, for example, in the creation of a being capable of independent thought who might challenge the establishment.
A man's true worth is measured by the amount of other people's happiness that he can possess and destroy
This is a quote from the docudrama The American Ruling Class [5]. It is worthy of discussion because it is so prophetic.
The Satanic oligarchs who run this world basically exist and thrive on the misery of others. It is not enough just to use and abuse you — they want to consume your Soul. Your misery and suffering is, essentially, their "food". It is the source of their energy.
Ordinary innocent Souls are sustained by the life energy which flows from the Creator. However, since the oligarchs hate God, this energy flow is not available to them. So, they essentially survive by consuming the life energy of the innocent Souls they have captured and enslaved.
Ordinary people do not naturally choose to spend their lives in a state of constant war. They have to be somehow coerced into this behavior. Otherwise, they would likely seek a quiet, peaceful life. The atrocities the US and other warmonger nations force their citizens to commit are so contrary to basic human nature that the US loses more soldiers to suicide than it does to the enemy. The once innocent soldiers find that they simply cannot continue to live with what they have become and the memories of the horrors they have caused to others. The Satanic rulers who create wars, of course, have no problem with this.
Promotions within the inner circles of power are based upon how much evil one has done. The more harm you cause to others the greater your respect. You may have noticed that the stock market, which is a measure of the success of the elite, shows gains during periods when the average person is suffering and losses during periods when, somehow, life for the ordinary person seems to improve. The stock market set a new all time high, for example, during the Vietnam War when innocent young kids were being drafted and slaughtered in Vietnam while peaceful protesters at Penn State were executed by government forces for daring to dissent.
Why You Should Care
On the low Astral planes you will find people — Souls — who are totally lost and confused and seem to move in slow motion. They do not realize they have died. These "people" are not there because they tore up the Bible or burned the Koran or some other offensive act. They are there simply because it is the best they can do. They are using all of the Spiritual energy they have just to maintain this miserable existence. Whatever activities they engaged in while alive had no Spiritual merit and had no effect on developing or increasing their Spiritual energy level. Since the opportunity to do this ended when they died, they will remain strung out in this condition until they reincarnate again at which point they will have another chance to choose activities which enhance Spiritual energies.
You should care because the things you do and the things you fail to do during your brief life here will affect your existence for millions of years in the future.
The other dimensions operate under exact scientific rules just like this dimension. However, the rules are not the same. Because alternate sources of information are available today — mainly because of the internet — it is in your interest to at least investigate the available literature on Spirituality, energy raising techniques and various first-hand reports from people who have successfully visited the neighboring dimensions.
Source:  Walter C. Vetsch   |   3108.info  |  War Is Crime
While shopping in a local grocery store my wife asked a nearby gentleman a question; he did not speak English.  Our local Mall has lost several upscale stores; they are quickly replaced but often with unfamiliar businesses.  We now have a Chinese Massage business in our Simon Mall.  The Chinese masseuses can say hello in English but little else.  Together they chatter away in Chinese.  At WalMart in the late afternoon a gaggle of different languages come from an equal number of unassimilated individuals and families.
It is pleasant to be in the company of familiar, like-minded people.   Disagreement destroys peace and causes strife while an inability to communicate isolates. Unfamiliar cultures are interesting to visit but vexing to live in.  Unity produces civic power; diversity is anarchic and feeble. 
Minority cultures tend to lose many of their distinctive qualities in a couple of generations, multi-culturalism is self destructive.
As settlers flooded into the New World, America's United States displaced the indigenous population and expanded across the continent of North America.  Its occupants were diverse within a limited range.  Most were Europeans seeking the freedom, wealth, and adventure of a new land.  They were a rugged and independent people willing to endure unlimited toil for the reward of self sufficiency.  Denominational divisions set them apart but most were European Christians.
In the early years of the new Republic care was taken in the numbers and roots of new immigrants. Originally the qualifications were European heritage, White skin, and a willingness to assimilate.  The need for industrial workers gradually relaxed Immigration laws expanding the ethnicity of new citizens; but the gates remained well guarded until 1965.
The Immigration Act of 1965 permanently changed the character of the United States.  It removed the nationality based quota system and expanded the eligibility scope to include all nationalities plus their extended families.  Contrary to most recorded history freshman Senator Ted Kennedy had very little to do with the new law; his contribution was mostly verbal. The law itself was written by Norbert Schlei, an assistant Attorney General during the Kennedy and Johnson Administrations.  Schlei was Jewish as were New York Represenative Emanuel Cellar and New York Senator Jacob Javits, the primary powers behind this disastrous legislation.  By the year 2050 it is expected that White Christian citizens of European extraction will be a minority in the nation they founded.   Read more here.
Multiculturalism has Jewish roots. Stephen Steinlight, an eloquent spokesman for Jewish policy, confirms this historic immigration policy and in 2004 urged a startling change:  "For Jews, the immigration debate pits the heart against the head. In their gut, many feel that substantially reducing immigration betrays the legacy of their parents and grandparents. But a growing number believes that maintaining this policy betrays their children and grandchildren. The danger arises because mass immigration means importing mass anti-Semitism. The upsurge of violent anti-Semitism in Western Europe tracks perfectly with mass immigration, especially of Muslims. Mass immigration is also the generator of Balkanizing notions of extreme multiculturalism. Having worked for nearly a century through communal organizations, the courts, and interfaith dialogue to achieve a tolerant and cohesive society largely free of anti-Semitism, it's anguishing for American Jews to watch current immigration erase this outcome. However uncomfortable, American Jews must grapple with the issue: they have a greater stake than other Americans in how this policy plays out." The entire article is here
Jewish leadership doggedly conspires to enact policies that benefit Jews.  That these policies are inimical to the inhabitants of the nations they live in is of little concern.  This exclusive agenda has resulted in a litany of historic expulsions.  They were gradually expelled from Europe and England in 1290, France in 1306, Spain and Portugal in 1492, Hungry in 1376, Sicily in the 1400s, Bavaria in 1470, Bohemia in 1542, and Russia in 1881, 1891, 1897 and 1903.
Definitive success is part of their undoing.  As a race they are smart, persistently industrious, dominant, clannish, and supportive of each other.  They are social but they do not assimilate.  The Talmud has more influence on their behavior than the Ten Commandments.  Their work ethic and their clever, amoral wisdom make them invaluable in intellectual circles.  They are unusually successful in climbing the ladders of influence and power.  In the United States they make up less than 3 percent of the population but they exert frightening control over money, government, media, education, and much of industry.
Professor Kevin MacDonald contends that a high IQ allowed Jews to gain wealth and social status which they used to manipulate immigration policy. He writes, "Jewish organizations have been able to have a vastly disproportionate effect on U.S. immigration policy because Jews as a group are highly organized, highly intelligent and politically astute, and they were able to command a high level of financial, political, and intellectual resources in pursuing their political aims."  ("The Culture of Critique")
Their successful rise to power in the United States has been skillfully orchestrated by exploiting the Holocaust and controlling information.  Major assistance has come from starry eyed Evangelical Christians who with euphoric ignorance blindly support anything Jewish.  Control of the press has allowed manipulative Jewish interests to control the government and control of the government has allowed those same individuals to kidnap and use our nation for their own nefarious ends.     
American Jews are primarily Ashkenazi. They came to the United States in the late Nineteenth and early Twentieth century from Eastern Europe.  Since Communism was considered beneficial to Jews many of these immigrants were Marxists.  For a number of years in the early and mid-Twentieth Century the United States Communist Party was Kosher.
In a recent article entitled "Illegals Swarm in – Dallas Transformed"  Libertarian Nelson Hultberg writes,: "No country in the history of the world has ever survived multiculturalism. America will be no exception. All great nations protect their borders. They abide by the requisites for stability and 'ordered freedom.' Their intellectuals peruse history rigorously and learn from it. They respect the ethnic majority of their country. They do not malign its traditions and smear its heroes in the schools."
Hultberg tells of efforts by Texas communities to stem the flow of immigrants and how those efforts were countered by the ACLU and other pro-immigration organizations.   He breaks with the Libertarian tenet of open borders but makes a serious strategic error by failing to mention the tremendous influence of powerful pro-immigration Jewish interests.  Substantial Jewish financial support sustains the ACLU which in addition to supporting open borders has been a major force in wiping Christianity from the public arena.
Jewish society is not homogeneous.  Jewishness is itself a form of religion but there are several different factions within Judaism. There is stronger diverse opinion in neo-Israel than in the United States.  Some Jews are Christians and some industriously expose the Satanic nature of Zionist leadership.  The Jewish population in general is to some extent a victim of the policies of their leaders.
The Jewish push for massive alien influxes is still in full swing.  If it becomes law Immigration bill S744 will add millions of new voters to the Democratic roster. The Center for Immigration Studies estimates that current immigration volume plus S744 would create 32 million potential voters by 2036  The bill is being sponsored by radically Jewish New York Democratic Senator Charles Schumer and supported by "The Gang of Eight" (Bennet, Durbin, Flake, Graham, McCain, Menendez, and Rubio) a gang that knows who butters their bread. 
For many years United States citizens have displayed a dangerous ignorance of political reality.  Political parties create a wedge between party interests and the good of the nation and a Jewish  controlled press censors important news. Many of our citizens are intentionally stupid, they ignore impending danger seeking solace while it is available.  H. L. Mencken, the acerbic Baltimore pundit, called U. S. voters "Boobus Americanus" and the New York Post has confirmed the assumption with an article informing us that not only are our school children dumb by international standards but so is our adult population.   Read the article here.  The United States of America has become an imperialistic power being controlled like a puppet by people much smarter than its' voting adults.  We deserve the tyranny we are getting; we voted for the people who brought it to us.
America's 'New' Reality of Non-Self and Madness…
In the wake of the insurrection against the living, personal God of Revelation that began during the Renaissance eventuating in the proclamation of the death of God and cataclysmic eruptions of fire, brimstone and rivers of blood during the 20th century, ex-atheist Alexander Solzhenitsyn said the world had never before known,
"…godlessness as organized, militarized, and tenaciously malevolent as that practiced by Marxism. Within the philosophical system of Marx and Lenin, and at the heart of their psychology, hatred of God is the principal driving force, more fundamental than all their political and economic pretensions. Militant atheism is not merely incidental or marginal to Communist policy; it is not a side effect, but the central pivot." (goodreads.com)
In his analysis of Marxist Communism and its' alter ego, scientific materialism, Frank Meyers, an early conservative intellectual concluded that Communism is the state form,
"….taken by a materialist faith determined to rule the world."  Godless Communism is the "final synthesis of all heretical tendencies that have pervaded Western civilization for many centuries."  It is materialist scientism of which, "Communism is the culminating hubris of the Promethean man who reaches out for the world and means to remake creation.  It is scientism gone political." (The Conservative Intellectual Movement in America, George H. Nash, pp. 251-252)
Both scientific evolutionary materialism and its new age evolutionary pantheist counterpart belong to the family of 'new' pagan or modern naturalism.  Modern naturalism refers to a one-dimensional view of reality grounded in a monist pagan philosophy holding that only void, matter and evolutionary (developmental and change-making) energies exist.  Therefore void, matter and energy are the Ultimate One Substance of which the universe consists and with which all life is in continuity, thus "all is one" and "everything is perpetually evolving and ascending."
The main difference between these two views resides in whether matter is thought to be physical (i.e., Greek Atomism) or spiritual (Hinduism). However, both views share in common the following:
Hatred of the supernatural God of Revelation and of man as His spiritual image-bearer
One dimensional views of reality
An inverted account of  origins and history lending itself to the notion that since there was no fall then Lucifer is not the devil and men are not sinful but rather evolving into gods
Scientific materialism or its' New Age spiritual science counterpart
Evolutionary conceptions.  These serve two main functions. First, as a mechanical process of development and second, as a mechanism for purification of matter
The nihilism of Buddha
Jesus Christ to Buddha,
"…you took God away (and) your espousal of an absence of self is the most unique and fearsome claim you made." (The Lotus and the Cross: Jesus Talks with Buddha, Ravi Zacharias, pp. 59, 67)
Life is only with the living God of Revelation, the creator and upholder of the life and being (soul/spirit) of men.  But if He does not exist, it logically follows that there is no ultimate source for life, conscious being, meaning and purpose; or for the sanctity of human life, worth, dignity, individual liberty and personal property.  Without God the Father Almighty unalienable (God given) human rights are as meaningless as America's founding documents have become in our Godless pagan society.
If man is not God's spiritual image-bearer then he is less than nothing, a conclusion Buddha reached long before Jesus Christ God Incarnate walked this earth:
"Six centuries before Jesus Christ, the Buddha already knew that if God does not exist, then the human self cannot exist either…Therefore, he deconstructed the Hindu idea of the soul.  When one starts peeling the onion skin of one's psyche, he discovers that there is no solid core at the center of one's being."  Thus your sense of self becomes illusion, "Reality is nonself…You don't exist. Liberation, the Buddha taught, is realizing the unreality of your existence." (The Book that Made Your World: How the Bible Created the Soul of Western Civilization, Vishal Mangalwadi, p. 6)
Naturalism: the Antithesis
Modern naturalism is in every way the antithesis of God's Revelations and Christianity, the spiritual and moral foundation of Western civilization.   For fifteen hundred years, Christendom and then later Protestant America had affirmed the biblical view of total reality. In this historically unique view total reality consists of two interfacing, interactive halves: the seen (natural) and the unseen (supernatural).
According to this view, man faces both unseen and seen and interprets truth against these two interfacing halves of reality.  Thus Paul declares that as men live out their lives they are spectacles, "unto the world, and to angels and men." (1 Cor. 4:9)
In opposition to modern naturalism's one dimensional view, Paul affirms that total reality consists of two halves, hence this earth (the seen) is really a theater and men are actors on its stage observed not only by other men (the seen) but by the Spirit of God and angels (the unseen).
Though men cannot see the Spirit of God and very rarely see angels they can see, hear and interact with men.  The Spirit of God opens our eyes to understanding (Ps. 118: 34, 125, 144), tests our hearts, knows out secrets, motives, and thoughts (Psa. 17:3; 44:21; 139:1-4).
Both holy and unholy angels are all around us, watching, listening, helping and protecting if holy, if unholy then binding the disobedient to their power.   Just as the Lord of Hosts gives His Holy Spirit to those who love and obey Him, He can send evil spirits upon those who are rebellious, live in persistent sin, practice occult arts or men who in their pride, covetousness and envy reject and hate Him as was the case with Karl Marx and Nietzsche, the apostate Christian philosopher who proclaimed the death of God.  Unto these men the Lord of Hosts sent evil spirits just as He sent one to King Saul (1 Sam. 16:14).   The evil spirit influenced and disordered Saul's thinking, afflicted him with obsessions and paranoia, befouled his conscience, and inflated his disordered passions thereby, "filling him with unrest, anger, fear and murderous intent."  (Occult Bondage and Deliverance, Kurt E. Koch, p. 137)
Dr. Kurt Koch (1913-1987) was a highly respected German minister who pastored, counseled and delivered in excess of twenty thousand people suffering from demonic subjection. According to Koch, demonic subjection is an increasingly common occurrence in post-Christian Western and American society.  Most people have little or no clue that they are in fact demonically subjected while some people, such as Marx, Nietzsche, Hitler and Stalin seem to possess a limitless supply of demonic energy, especially when engaged in imposing their will over the wills of others.
There are many underlying causes of demonic subjection.  Koch delineates some of the leading ones common to apostatizing America:
"If a person blatantly lives a life of sin and persistently resists the Spirit of God and remains completely unrepentant, or…carries the sin of murder or abortion on his conscience, or has committed perjury or practical incest, if he has cursed his fellow men or blasphemed against the cross or against Christ, the Holy Spirit, or God, then he will have laid himself open to the devil's attacks.  Every curse is in fact a cry to the devil, and can…lead a person into bondage." (Koch, p. 138)
"….God created man in his own image…..male and female created he them." Gen. 1:27
According to the uniquely Christian view of total reality, the essence of the human is not the body and brain (the seen) but the unseen…the soul/spirit:
"It is the soul alone that God made in his own image and the soul that he loves…For the sake of the soul…the Son of God came into the world…" (Incomplete Work on Matthew, Homily 25, Ancient Christian Devotional, Oden and Crosby, p. 153)
Building off of the view of man as embodied spirit, St. Augustine (AD 354-430) affirmed that as all men are the spiritual image bearers of the supernatural Triune God in three Persons, then it logically follows that each man is a person; a trinity of being comprised of soul/spirit (unseen), and body, brain (seen).
The citadel of the soul is spirit (heart).  Spirit is immortal and self-aware.  It can will and think and is responsible for what it wills, thinks, speaks, and acts on while in this world.
Spirit is the unique property that distinguishes soul from the material body in which it is fully embedded.  In Biblical thought, spirit allows man to spiritually transcend the natural dimension in order to access the third Heaven.  By way of prayer and petitions the spirit of man's mind allows him to enter into a personal relationship with the Spirit of God.  Through this relationship, spirit is renewed over time, thus enabling man to more perfectly orient the manner of his thoughts, passions, words and actions in this world in preparation for eternity in Paradise.
In Christian thought, a person is a spirit (self) and personality is the total individuality of the spirit.  Without spirit there is no 'self,' hence no person.
The key to personal liberty in the natural or sensory half of reality is man's spiritual liberty contrasted against a genetically pre-programmed animal-like orientation.  Animals have souls but not spirits, the basis of intelligence, sensitivity, imagination, self-consciousness, reflection back and forward into time, and the capacity for truth and moral goodness.
A person is uniquely free because he can spiritually transcend his material brain to access the Spirit of the Lord as Paul affirms:
"Now the Lord is Spirit, and where the Spirit of the Lord is, there is freedom." (2 Cor. 3:17)
Vishal Mangalwadi, India's foremost Christian intellectual observes that this historically unique concept of man as God's spiritual image-bearer gave birth to the "belief in the unique dignity of human beings," and this is the force,
"…that created Western civilization, where citizens do not exist for the state but the state exists for the individual.  Even kings, presidents, prime ministers, and army generals cannot be allowed to trample upon an individual and his or her rights." (Truth and Transformation: A Manifesto for Ailing Nations, Mangalwadi, pp. 12-13)

One-Dimensional Godless Naturalism: the Reality of Non-Self
Modern naturalism, whether of materialist or pantheist permutation positing a non-existent immanent conception of deity (i.e. Omega, Gaia) is at bottom Godless, and said Ravi Zacharias,  absolutely nothing,
"… has a more direct bearing on the moral choices made by individuals or the purposes pursued by society than belief or disbelief in God." Key issues of the day "whether it be…sexual orientation and practice, or life in the fetal stage, sooner or later filter down to whether there is a God, and if so, has he spoken?" (The Real Face of Atheism, Zacharias, p. 21)
In "The Gnostic Religion," Hans Jonas provides a full-scale study of the heretical world of pre-Christian and Christian era pagan Gnostic nihilism together with its modern variants:  materialist and pantheist naturalism.
Jonas writes that while ancient Gnostic pagan man was thrown,
"…into an antagonistic, anti-divine, and therefore anti-human nature, modern man (is thrown) into an indifferent one." (p. 338)
The ancient gnostic conception was still anthropomorphic despite the nihilism, hostility and demonic.  But its' modern counterpart with its' indifferent nature, its' completely godless, soulless, anti-human, demonic nature, represents the "absolute vacuum, the really bottomless pit."
At least the ancient Gnostic dualism, as fantastic as it was, was at least self-consistent, as there was the illusion of a source for 'self' (being).   Not so for its' modern counterpart:
"So radically has anthropomorphism been banned from….nature that even man must cease to be conceived anthropomorphically if he is just an accident of nature.  As the product of the indifferent, his being, too, must be indifferent.  Then the facing of his mortality would simply warrant the reaction, 'Let us eat and drink for tomorrow we die." (ibid, p. 339)
In conclusion:
"…modern nihilism (is) infinitely more radical and more desperate than gnostic nihilism ever could be for all its panic terror of the world and its defiant contempt of its laws.  That nature does not care, one way or the other, is the true abyss.  That only man cares, in his finitude facing nothing but death, alone with….the objective meaninglessness of his projected meanings, is a truly unprecedented situation." (Jonas, p. 339)
In other words, the death of the living God of Revelation means there is neither source for life and 'self' (soul/spirit) nor for higher truth and morality, purpose, meaning, salvation and eternity.   For depersonalized man, the evolved ape or bag of chemicals, there is nothing—no heaven above, no hell below and no,
"…. vast mind behind the framing of the world; no transcending voice giving counsel to this world…no light at the end of the tunnel (hence only) the loneliness of existence in its most desolate form."  (Zacharias, p. 27)
The determined assault against the living Holy God that began during the Renaissance gained speed and force with the materialist implications of Darwin's neo-pagan theory.  The idea that humans evolved by chance and natural selection from non-life bearing chemicals lay the axe at the very foundation of the Genesis account of creation ex nihilo.  On the heels of Darwin's theory Christianity came under forceful attack allowing a one-dimensional worldview draining into nihilism to be declared a scientifically supported reality.
Darwin's "Origin of Species" was published in 1859 and instantly and uncritically accepted by people such as Karl Marx, T.H. Huxley, Herbert Spencer, Ernst Haeckel in Germany and large numbers of clergy more eager to be thought scientific and modern than to defend the faith once given.
For materialist and pantheist alike, Darwin's theory was a wish come true and so became the center of their respective one-dimensional worldviews.
The demonized Karl Marx hated the God of Revelation and his exuberance for Darwin's idea prompted him to consider dedicating his Das Kapital to Darwin, an honor which he declined.  Since Marx favored scientific materialism the rationale behind his invitation to Darwin was that he saw how Darwin's materialist theory provided a scientific framework to support the economic infrastructure on which Marx could build his godless communist utopia.
Darwin's materialist theory and Marxist materialist presuppositions (economic theory based on envy and hatred of God) together with Freud's materialist-based analysis of religion and human sexuality threw faith in God and Christianity "over the wall of civilization,' said Zacharias:
"With such abusive attacks directed at religious belief coming from so many directions, it was left for someone to cast this creature called theism completely out, and exorcise the world of all such influence.  The one who did that was the German philosopher Friedrich Nietzsche." (p. 25)
By the time of Nietzsche, perceptive thinkers had already been expressing apprehension at the prospect of multitudes of unsuspecting Westerners who would eventually be cruelly exploited by anti-human haters of God.
With Nietzsche, dreadful apprehension deepened into certainty, for Nietzsche despised religion in general, but upon Christianity he poured his unbridled fury:
"I call Christianity the one great curse, the one enormous and innermost perversion, the one great instinct of 
revenge, for which no means are too venomous, too underhanded, too underground, and too petty." (Nietzsche in "The Life of Nietzsche," Faru Forster Nietzsche, 1921, p. 656)
However, rather than mindless infatuation for Darwin's idea, Nietzsche (1844–1900) harshly criticized it:
"What surprises me most when I survey the broad destinies of man is that I always see before me the opposite of that which Darwin and his school see or want to see today: selection in favor of the stronger, better-constituted, and the progress of the species. Precisely the opposite is palpable … I incline to the prejudice that the school of Darwin has been deluded everywhere…" (Nietzsche: The evolutionist who was anti-God and anti-Darwin, Russell Grigg, creation.com)
Nietzsche was not anti-evolution but rather had his own evolutionary conception which he called "the will to power."
While Darwin received his idea from his pantheist grandfather Erasmus Darwin, Nietzsche's conception was preceded by mystical ecstasy.  Nietzsche experienced two mystical encounters with the first one taking place in August, 1881.
Charles Andler writes that previous to his scientific reasoning, Nietzsche received revelations during mystical encounters just as Spinoza did.  Mystical ecstasy,
"…. preceded (Spinoza's) system and his geometric form, thus, with Nietzsche mystical ecstasy preceded his scientific reasoning." (Charles Andler cited by Henri De Lubac, "The Drama of Atheist Humanism," p. 481)
According to Henri De Lubac, secret knowledge was revealed to Nietzsche that he was "….the first of men to know.'   The shock of it was sudden and profound.  Though no direct document relates his experience sure evidence is found in an agitated page of Ecce Homo where Nietzsche wrote:
"Suddenly, with sureness, with indescribable delicacy, a thing makes itself seen, makes itself heard.  It shakes you, it overwhelms you right to your innermost depths.  You hear it…You let it fill you….A thought blazes forth like a flash of lightening…It imposes itself as a necessity…I never had to choose it.  It is an ecstasy….You are enraptured, taken outside of yourself…All of this…is accompanied by a tumultuous feeling of liberty, of independence, of divinity…There you have my experience of the inspiration." (Lubac, p. 472)
In the months that followed he remained silent about the knowledge he received.  But in August of 1882 he discussed his experience with Lou Salome.  Salome writes that Nietzsche spoke of his encounter only in obscure words and with hushed voice.  Giving "every indication of the most profound horror" Nietzsche described the terrible and marvelous revelation he had received with two words: Eternal Return. (ibid, p. 473)
In the autumn of 1882 he experienced his second encounter which he described in the poem Sils Maria:
"I was sitting and waiting, without waiting for anything/Beyond good and evil, tasting Light sometimes and sometimes shade/Absorbed by this brew…When suddenly…what was one became two, And Zarathustra passed before me…" (ibid, p. 475)
It was a vision without a doubt, precise and sudden:
"I could tell you the day and the hour….Zarathustra has fallen on me, he assaults me.."  (ibid)
Zarathustra was an evil spirit who confirmed to Nietzsche the 'truth' of the revelations already received, which included man's evolution from worms:
"You [mankind] have made your way from worm to human, and much in you is still worm. Once you were apes, and even now the human being is still more of an ape than any ape is." (Nietzsche, Thus Spake Zarathustra, Zarathustra's Prologue section 3, trans. by G. Parkes, Oxford University Press, New York, 2005, p. 11)
Henceforth, Nietzsche is an inspired prophet who knows for certain that the God of Revelation is dead, that man's evolution from worms is absolutely true, and that he is Jesus Christ's successor, the 'new' Christ.  Within ten days he drafted by way of automatic writing the whole first book of his prophecy.  He called his finished work Zarathustra, the new Bible of scientific evolutionary naturalism, and told the world to throw away all other books, for now you have my Zarathustra, "a new Holy Book." 
It was Nietzsche, the 'new' Christ, who saw that the death of the personal God had already begun to cast its first dark shadows over Europe, and though,
"the event itself is far too great, too remote, too much beyond most people's power of apprehension, for one to suppose that so much as the report of it could have reached them," still its advent was certain, and it was men like Nietzsche, the 'new' Christ who were "the firstlings and premature children of the coming century," the century of the "triumph of Nihilism." (Nihilism: The Root of the Revolution of the Modern Age, Eugene Rose, p. 44)
Nietzsche was the first apostate Christian to gaze fully upon man's loss of faith and its terrifying consequences.  With no living God 'up there' to obstruct his vision, the nihilism he saw was agonizing.  As there was no longer any Light from God above, there was only darkness in the hermetically sealed world below.  The paralyzing darkness that overtook the mind of the 'new' Christ was spiritual.  It was not so much,
"….an exterior phenomenon crowding inward but rather an inner blinding that spread outward." (Ravi Zacharias, p. 27)
This was precisely Nietzsche's point.  With the death of the personal God of Revelation the darkness of objective meaninglessness would penetrate every avenue of thought and life, making life itself unbearable with the consequence of hedonism, abortion, euthanasia, sodomy, suicide, drugs, crime and murder becoming virtues.
Speaking through the writings of the 'new' Christ, Zarathustra went on to say that because God had died in the 19th century there would follow two terrible consequences beginning in the 20th century. (Romans 1:18)
First, the 20th century would become one of the most evil century's in history, and second, a universal madness (Romans 1:21, 22) would break out and turn the once glorious W. Europe and America upside-down.
Though apostates and the apostatizing professed themselves wise, their cognitive thought processes would become darkened (vain) and with their conscience dead to sin they would become fools, meaning they would accept and publicly profess incredibly stupid conceptions of themselves (i.e., man is an evolved worm, ape or robot; man is evolving into god).
"And I will give children to be their princes, and the effeminate shall rule over them." Isaiah 3:4
In turning away from the Spirit of God and the truth He has given, 'wise' males will become effeminate cowards and females mannish.  They will be adolescent emotional-tyrants in adult-size bodies: sinister, greedy, spiteful, vindictive, treacherous, back-stabbing sophists.  They will celebrate Lucifer (the devil) and in their madness actively seek the way of Luciferian initiation because they will be spiritually blind in regard to total reality.  Like demons they will flee from the cross of Jesus but exalt the devil as the first free thinker, the genetic creator of man, the seething energy and angel of evolution.  Truth will be lies, evil will be good, unfaithfulness will be faith and the 'wise' will preach and blaspheme from pulpits, exercise political power, enact legislation, and wield broken law to plunder, punish, and ruin.
Zarathustra has been right on both counts.  First, apostatizing W. Europe and America, though dotted here and there by small islands of Light, decency and sanity, are becoming darkened, satanically inverted places ruled by the 'wise,' hence boiling over with madness, particularly Hollywood, academia, mainstream media and the highest, most powerful political offices in the land.   Second, Nietzsche was made to show the 'wise' what is in store for them by spending the last eleven years of his life insane.
The other day I was watching the Charlie Rose show on TV, during a guest appearance by Benjamin Netanyahu.  And much to my amazement, Mr. Netanyahu acted, talked and comported himself like he was the head of some huge major nation — not just a minor Middle Eastern country smaller than New Jersey.
It was as though Netanyahu thought himself to be on the same level of importance and influence as Obama or Putin — more influential by far than Britain's prime minister, much more important than the president of France.  The guy practically even shot his (very expensive, tailor-made) cuffs! http://warincontext.org/2013/10/05/video-max-blumenthal-on-goliath-life-and-loathing-in-greater-israel/

And why not?  In reality, Netanyahu really IS more important than the president of the United States or even the Queen of England.  When Netanyahu asks almost every major world leader to jump, that leader rapidly answers, "How high?"
  What kind of Frankenstein monster have we created?
   And, more important, will we mere villagers with pitchforks ever be enough to stop Netanyahu before he turns into the world's next King Richard III?  Probably not.
An average American, just your average man-on-the-street, knows instinctively that it is WRONG to kill people, to occupy other countries, to use chemical weapons on women and children and to use tanks, bombs and nuclear weapons to steal land from shopkeepers and farmers who cannot defend themselves.  But psychopaths and major players on the world stage such as Netanyahu apparently don't get this.
Netanyahu is a neo-con.  Never forget that.  And the entire goal of any card-carrying neo-con, both in America and abroad, is not to advance Christianity or Judaism, no no no.  The entire goal of every single neo-con is to make oodles of money — at our expense.  "What's mine is mine, and what's yours is mine too."  Never forget that. http://www.roitov.com/articles/rayq.htm

Neo-cons are always happily busy creating a world consisting of haves and have-nots.  And guess which ones they want us to be?  If you have any doubt, just check out what life is like in a country completely dominated by the neo-con way of life:  "Total militarized lunacy".  http://www.counterpunch.org/2013/10/04/total-militarized-lunacy/

And, also, if you have happened to notice recently that the price of gold has gone steadily down lately, please thank a neo-con for that too.  Neo-cons have worked very hard to make this happen.  Why?  Because if gold prices fall, this forces small investors to look around for other options for making a profit — like investing in Wall Street's various ponzi schemes and casinos.  And ponzi schemes and casinos can't make money unless they have suckers to place bets.  And why would a sensible person bet on Wall Street when gold is a sure thing?
New rule:  Neo-cons will only be allowed to start a new war after they've finished their last one!
A talk at Rhodes Forum, October 5, 2013…
First, the good news. American hegemony is over. The bully has been subdued. We cleared the Cape of Good Hope, symbolically speaking, in September 2013. With the Syrian crisis, the world has passed a key forking of modern history. It was touch and go, just as risky as the Cuban missile crisis of 1962. The chances for total war were high, as the steely wills of America and Eurasia had crossed in the Eastern Mediterranean. It will take some time until the realisation of what we've gone through seeps in: it is normal for events of such magnitude. The turmoil in the US, from the mad car chase in the DC to the shutdown of federal government and possible debt default, are the direct consequences of this event.
Remember the Berlin Wall? When it went down, I was in Moscow, writing for Haaretz. I went to a press-conference with Politburo members in the President Hotel, and asked them whether they concurred that the end of the USSR and world socialist system was nigh. I was laughed at; it was an embarrassing occasion. Oh no, they said. Socialism will blossom, as the result of the Wall's fall. The USSR went down two years later. Now our memory has compacted those years into a brief sequence, but in reality, it took some time.
The most dramatic event of September 2013 was the high-noon stand-off near the Levantine shore, with five US destroyers pointing their Tomahawks towards Damascus and facing them – the Russian flotilla of eleven ships led by the carrier-killer Missile Cruiser Moskva and supported by Chinese warships. Apparently, two missiles were launched towards the Syrian coast, and both failed to reach their destination.
It was claimed by a Lebanese newspaper quoting diplomatic sources that the missiles were launched from a NATO air base in Spain and they were shot down by the Russian ship-based sea-to-air defence system. Another explanation proposed by the Asia Times says the Russians employed their cheap and powerful GPS jammers to render the expensive Tomahawks helpless, by disorienting them and causing them to fail. Yet another version attributed the launch to the Israelis, whether they were trying to jump-start the shoot-out or just observed the clouds, as they claim.
Whatever the reason, after this strange incident, the pending shoot-out did not commence, as President Obama stood down and holstered his guns. This was preceded by an unexpected vote in the British Parliament. This venerable body declined the honour of joining the attack proposed by the US. This was the first time in two hundred years that the British parliament voted down a sensible proposition to start a war; usually the Brits can't resist the temptation.
After that, President Obama decided to pass the hot potato to the Congress. He was unwilling to unleash Armageddon on his own. Thus the name of action was lost. Congress did not want to go to war with unpredictable consequences. Obama tried to browbeat Putin at the 20G meeting in St Petersburg, and failed. The Russian proposal to remove Syrian chemical weaponry allowed President Obama to save face. This misadventure put paid to American hegemony , supremacy and exceptionalism. Manifest Destiny was over. We all learned that from Hollywood flics: the hero never stands down; he draws and shoots! If he holsters his guns, he is not a hero: he's chickened out.
Afterwards, things began to unravel fast. The US President had a chat with the new president of Iran, to the chagrin of Tel Aviv. The Free Syrian Army rebels decided to talk to Assad after two years of fighting him, and their delegation arrived in Damascus, leaving the Islamic extremists high and dry. Their supporter Qatar is collapsing overextended. The shutdown of their government and possible debt default gave the Americans something real to worry about. With the end of US hegemony, the days of the dollar as the world reserve currency are numbered.
World War III almost occurred as the banksters wished it. They have too many debts, including the unsustainable foreign debt of the US. If those Tomahawks had flown, the banksters could have claimed Force Majeure and disavow the debt. Millions of people would die, but billions of dollars would be safe in the vaults of JP Morgan and Goldman Sachs. In September, the world crossed this bifurcation point safely, as President Obama refused to take the fall for the banksters. Perhaps he deserved his Nobel peace prize, after all.
The near future is full of troubles but none are fatal. The US will lose its emission rights as a source of income. The US dollar will cease to serve as the world reserve currency though it will remain the North American currency. Other parts of the world will resort to their euro, yuan, rouble, bolivar, or dinar. The US military expenditure will have to be slashed to normal, and this elimination of overseas bases and weaponry will allow the US population to make the transition rather painlessly. Nobody wants to go after America; the world just got tired of them riding shotgun all over the place. The US will have to find new employment for so many bankers, jailers, soldiers, even politicians.
As I stayed in Moscow during the crisis, I observed these developments as they were seen by Russians. Putin and Russia have been relentlessly hard-pressed for quite a while.
The US supported and subsidised Russia's liberal and nationalist opposition; the national elections in Russia were presented as one big fraud. The Russian government was delegitimised to some extent.
The Magnitsky Act of the US Congress authorised the US authorities to arrest and seize the assets of any Russian they deem is up to no good, without a recourse to a court.
Some Russian state assets were seized in Cyprus where the banks were in trouble.
The US encouraged Pussy Riot, gay parades etc. in Moscow, in order to promote an image of Putin the dictator, enemy of freedom and gay-hater in the Western and Russian oligarch-owned media.
Russian support for Syria was criticised, ridiculed and presented as a brutal act devoid of humanity. At the same time, Western media pundits expressed certainty that Russia would give up on Syria.
As I wrote previously, Russia had no intention to surrender Syria, for a number of good reasons: it was an ally; the Syrian Orthodox Christians trusted Russia; geopolitically the war was getting too close to Russian borders. But the main reason was Russia's annoyance with American high-handedness. The Russians felt that such important decisions should be taken by the international community, meaning the UN Security Council. They did not appreciate the US assuming the role of world arbiter.
In the 1990s, Russia was very weak, and could not effectively object, but they felt bitter when Yugoslavia was bombed and NATO troops moved eastwards breaking the US promise to Gorbachev. The Libyan tragedy was another crucial point. That unhappy country was bombed by NATO, and eventually disintegrated. From the most prosperous African state it was converted into most miserable. Russian presence in Libya was rather limited, but still, Russia lost some investment there. Russia abstained in the vote on Libya as this was the position of the then Russian president Dmitry Medvedev who believed in playing ball with the West. In no way was Putin ready to abandon Syria to the same fate.
The Russian rebellion against the US hegemony began in June, when the Aeroflot flight from Beijing carrying Ed Snowden landed in Moscow. Americans pushed every button they could think of to get him back. They activated the full spectre of their agents in Russia. Only a few voices, including that of your truly, called on Russia to provide Snowden with safe refuge, but our voices prevailed. Despite the US pressure, Snowden was granted asylum.
The next step was the Syrian escalation. I do not want to go into the details of the alleged chemical attack. In the Russian view, there was not and could not be any reason for the US to act unilaterally in Syria or anywhere else. In a way, the Russians have restored the Law of Nations to its old revered place. The world has become a better and safer place.
None of this could've been achieved without the support of China. The Asian giant considers Russia its "elder sister" and relies upon her ability to deal with the round-eyes. The Chinese, in their quiet and unassuming way, played along with Putin. They passed Snowden to Moscow. They vetoed anti-Syrian drafts in the UNSC, and sent their warships to the Med. That is why Putin stood the ground not only for Russia, but for the whole mass of Eurasia.
There were many exciting and thrilling moments in the Syrian saga, enough to fill volumes. An early attempt to subdue Putin at G8 meeting in Ireland was one of them. Putin was about to meet with the united front of the West, but he managed to turn some of them to his side, and he sowed the seeds of doubt in others' hearts by reminding them of the Syrian rebel manflesh-eating chieftains.
The proposal to eliminate Syrian chemical weapons was deftly introduced; the UNSC resolution blocked the possibility of attacking Syria under cover of Chapter Seven. Miraculously, the Russians won in this mighty tug-of-war. The alternative was dire: Syria would be destroyed as Libya was; a subsequent Israeli-American attack on Iran was unavoidable; Oriental Christianity would lose its cradle; Europe would be flooded by millions of refugees; Russia would be proven irrelevant, all talk and no action, as important as Bolivia, whose President's plane can be grounded and searched at will. Unable to defend its allies, unable to stand its ground, Russia would've been left with a 'moral victory', a euphemism for defeat. Everything Putin has worked for in 13 years at the helm would've been lost; Russia would be back to where it was in 1999, when Belgrade was bombed by Clinton.
The acme of this confrontation was reached in the Obama-Putin exchange on exceptionalism. The two men were not buddies to start with. Putin was annoyed by what he perceived as Obama's insincerity and hypocrisy. A man who climbed from the gutter to the very top, Putin cherishes his ability to talk frankly with people of all walks of life. His frank talk can be shockingly brutal. When he was heckled by a French journalist regarding treatment of Chechen separatists, he replied:
"the Muslim extremists (takfiris) are enemies of Christians, of atheists, and even of Muslims because they believe that traditional Islam is hostile to the goals that they set themselves. And if you want to become an Islamic radical and are ready to be circumcised, I invite you to Moscow. We are a multi-faith country and we have experts who can do it. And I would advise them to carry out that operation in such a way that nothing would grow in that place again".
Another example of his shockingly candid talk was given at Valdai as he replied to BBC's Bridget Kendall. She asked: did the threat of US military strikes actually play a rather useful role in Syria's agreeing to have its weapons placed under control?
Putin replied: Syria got itself chemical weapons as an alternative to Israel's nuclear arsenal. He called for the disarmament of Israel and invoked the name of Mordecai Vanunu as an example of an Israeli scientist who opposes nuclear weapons. (My interview with Vanunu had been recently published in the largest Russian daily paper, and it gained some notice).
Putin tried to talk frankly to Obama. We know of their exchange from a leaked record of the Putin-Netanyahu confidential conversation. Putin called the American and asked him: what's your point in Syria? Obama replied: I am worried that Assad's regime does not observe human rights. Putin almost puked from the sheer hypocrisy of this answer. He understood it as Obama's refusal to talk with him "on eye level".
In the aftermath of the Syrian stand-off, Obama appealed to the people of the world in the name of American exceptionalism. The United States' policy is "what makes America different. It's what makes us exceptional", he said. Putin responded: "It is extremely dangerous to encourage people to see themselves as exceptional. We are all different, but when we ask for the Lord's blessings, we must not forget that God created us equal." This was not only an ideological, but theological contradistinction.
As I expounded at length elsewhere, the US is built on the Judaic theology of exceptionalism, of being Chosen. It is the country of Old Testament. This is the deeper reason for the US and Israel's special relationship. Europe is going through a stage of apostasy and rejection of Christ, while Russia is deeply Christian. Its churches are full, they bless one other with Christmas and Easter blessings, instead of neutral "seasons". Russia is a New Testament country. And rejection of exceptionalism, of chosenness is the underlying tenet of Christianity.
For this reason, while organised US Jewry supported the war, condemned Assad and called for US intervention, the Jewish community of Russia, quite numerous, wealthy and influential one, did not support the Syrian rebels but rather stood by Putin's effort to preserve peace in Syria. Ditto Iran, where the wealthy Jewish community supported the legitimate government in Syria. It appears that countries guided by a strong established church are immune from disruptive influence of lobbies; while countries without such a church ­ the US and/or France ­ give in to such influences and adopt illegal interventionism as a norm.
As US hegemony declines, we look to an uncertain future. The behemoth might of the US military can still wreck havoc; a wounded beast is the most dangerous one. Americans may listen to Senator Ron Paul who called to give up overseas bases and cut military expenditure. Norms of international law and sovereignty of all states should be observed. People of the world will like America again when it will cease snooping and bullying. It isn't easy, but we've already negotiated the Cape and gained Good Hope.
(Language edited by Ken Freeland)
In this column last week, I stated the salient reasons why pastors will not take a public stand on issues regarded as controversial or political. I believe every point I made are the real reasons pastors refuse to stand for much of anything–or even objectively study anything outside their comfort zone. To read this column, go to:
Why Pastors Won't Take A Stand
To review, most pastors refuse to take a stand because:
1. They are success oriented and have an innate aversion to anything that is considered to be controversial. And, to them, there is nothing more controversial than politics.
2. They are afraid that if they take a controversial stand, they will lose members–and more importantly, tithes and offerings. Most churches are neck-deep in debt and are heavy-laden with staff and overhead. The thought of losing even a few giving families is enough intimidation to make sure that they do nothing to offend the people of the congregation. And since the pastor never addresses controversial issues or preaches "hard" sermons, his congregation is filled with people who harbor myriads of big-government, socialist ideas and would immediately bolt at any mention of Biblical Natural Law principles that ran counter to their leftist ideologies.
3. They have an erroneous interpretation of Romans 13 that civil government must be submitted to regardless of how evil or immoral its laws might be. This fallacious interpretation of Romans 13 (which is taught in practically every Christian school and college in America) has made them de facto slaves and worshippers of the state. As did Germany's pastors and Christians in the 1920s, 30s, and 40s, America's pastors and Christians suffer from national "exceptionalism." This fallacy leads them to believe that by serving the state, they are serving God. In their minds, one cannot be "right with God" if they are not totally submissive to the state.
4. The 501c3 non-profit corporation status of the Internal Revenue Code under which the vast majority of churches throughout America operate has intimidated pastors and church leaders to the point that they will do–or not do–almost anything to stay in the good graces of the IRS. To most pastors, this means staying absolutely as far away from political issues as possible–even if those issues were moral and spiritual in nature a long time before they were considered political.
5. Most pastors are ignorant of the Biblical Natural Law principles of liberty. In the same way that many attorneys are completely ignorant of constitutional government, pastors are completely ignorant of Biblical Natural Law principles. Attorneys are not taught constitutional principles in law school, and pastors are not taught Biblical Natural Law principles in Bible school.
But there is one more reason why many pastors will not take a stand that I did not address in the aforementioned column: their belief in a pre-tribulation rapture.
The word "rapture" does not appear in the Bible. The English word "rapture" is taken from the Latin word "rapere" and means to "catch away." Theologically, it means that Christians will be caught away or taken to Heaven while they are still alive. There are several scriptural passages that Christians believe relate to this event, but the most cited is I Thessalonians 4:16, 17: "For the Lord himself shall descend from heaven with a shout, with the voice of the archangel, and with the trump of God: and the dead in Christ shall rise first: Then we which are alive and remain shall be caught up (Greek word "harpazo") together with them in the clouds, to meet the Lord in the air: and so shall we ever be with the Lord."
Of course, Christians throughout the centuries have taught and believed a variety of nuances of eschatology. The various interpretations of The Second Coming of Christ are almost limitless. There are pre-tribulational, pre-millennialists; mid-tribulational, pre-millennialists; post-tribulational, pre-millennialists; partial-rapture, pre-tribulational, pre-millennialists; post-millennialists; pre-wrath, (almost) post-millennialists; amillennialists, etc. And to each of these interpretations there is a plethora of sub-divisions and schisms.
Christians have historically believed that they will be resurrected to be with Christ. However, that conviction–historically and by itself–did not prevent Christians from being engaged in whatever the political, social, or cultural battles of the time might have been. From the earliest days of Christianity, believers were politically and socially engaged in their communities and countries. During the Roman Empire, a baby was not protected by law until the father granted it official human status. Until then, babies could be legally killed or allowed to die. Christians by the thousands would go out into the streets at night and rescue babies that had been "thrown away" and left to die. During the Dark Ages, when the Bible was banned, Christians continued to widely copy and distribute the scriptures. Reformers such as Ulrich Zwingli died defending Switzerland's Protestant Reformation on the battlefield. Colonial Christians (including pastors) in great numbers participated in America's War for Independence. The great German theologian, Dietrich Bonhoeffer, joined a Nazi resistance movement. Each of these Christian believers held their individual, respective views of the Lord's coming and personal resurrection, but this did not keep them from being politically, socially, and culturally–and sometimes militarily–involved in their communities and countries.
However, with the broad acceptance of what has become known as Dispensationalism, many pastors and churches in America have almost totally removed themselves from political affairs. Except for voting (which is mostly kept private), pastors avoid politics like the plague. A few will talk in very broad and general terms about America "turning back to God," etc., but what that means specifically is seldom addressed. And if pressed for an explanation, most pastors will piously say, "God has not called me to get involved in politics." I'm not sure that God has called them to play golf either, but that doesn't prevent a host of them from engaging regularly in that worldly activity.
Dispensationalism, as it is called today, was popularized by John Darby, C. I. Scofield, and Lewis Sperry Chafer. In more modern times, John Walvoord, J. Dwight Pentecost, Charles Ryrie, Tim LaHaye, and Hal Lindsey contributed immensely to Dispensationalism's theological acceptance. The key element of Dispensationalism, as it relates to eschatology, is the doctrine of a pre-tribulation rapture of Christians. The idea is that the world is going to continue to get worse and worse until finally the Anti-Christ will arise as a global leader and will usher in seven years of "Great Tribulation," wherein a sizeable portion of the world's population will be destroyed. But before "The Great Tribulation" begins, Christian believers will be raptured into Heaven. Dispensationalists further believe that following the seven year Tribulation period, Christ will physically return to Jerusalem and establish a 1,000 year reign (called The Millennium) in which the Davidic Kingdom will be restored to Israel.
Now, let me state plainly that it is not my intention at this point to disparage the sincerity of faith and belief of the vast numbers of pastors and Christians who subscribe to Dispensationalism. Whether the pre-tribulation rapture is a correct Biblical interpretation or not is NOT the focus of this discussion. I find a sizeable number of pastors and Christians who subscribe to post-millennialism and other forms of eschatology to be just as disengaged from speaking out and engaging the political process as pre-tribulationists.
That being said, I believe it is an absolute fact that many pastors and Christians are using the doctrine of a pre-tribulation rapture to justify sitting back and doing nothing to actively resist evil and wickedness. In their minds, there is no need to be politically involved because everything is going to get worse anyway–but they are going to be raptured to Heaven before it all falls apart. I have actually had pastors say to me, "Chuck, by resisting evil government, you are fighting against God, because it is God's will that government gets worse and worse so that Jesus can come back."
The wretchedness of this kind of thinking should be obvious to any rational person. In the first place, how arrogant are these American Christians to think that they are so special that God would have to rapture them before any real tribulation began? Think of the millions of Christians in oppressed nations throughout history–and even today–who have already been, and continue to be, IN GREAT TRIBULATION. The tribulation of Christian martyrs throughout church history is legendary. Have they never read Foxe's Book of Martyrs? Do they not know what has taken place in southern Sudan over the last 20 years? Have they not read the history of Christians in Mao's China, Amin's Uganda, Pol Pot's Cambodia, Hitler's Germany, Stalin's Russia, etc. Who do they think they are? Why should Christians in America be spared what Christians throughout the world have endured and are enduring? Even if their interpretation of a pre-tribulation rapture is correct, that doesn't mean for one moment that Christians in America would not be called on to suffer great tribulation at the hands of a wicked and oppressive government–especially considering that the vast majority of pastors are doing almost nothing to resist our government from becoming wicked and oppressive. For the doctrine of a pre-tribulation rapture to be used as some kind of sit-back-and-do-nothing-because-a-divine-Seventh-Cavalry-is-coming-to-rescue-us attitude is the height of absurdity. Dare I say it borders on blasphemy?
Secondly, people who use the pre-tribulation rapture doctrine as an excuse to justify being disconnected from political involvement by saying things like, "Jesus is coming soon, so it doesn't matter!" are demonstrating either acute cowardice or immeasurable ignorance."
Christians throughout the millennia have looked for the return of Jesus. The doctrine of the Second Coming of Christ has been held sacred by Christians of every generation for over two thousand years. That Jesus is coming soon doesn't stop us from going to school and getting an education; it doesn't stop us from going to work every day to earn a living; it doesn't stop us from planning our financial futures or saving for retirement; it doesn't stop us from teaching and training our children; it doesn't stop us from learning and exercising personal skills; it doesn't stop us from locking our doors or buying expensive alarm systems to protect us from the bad guys; and it doesn't stop these disconnected pastors from spending years trying to perfect their golf game. Neither should it stop us from preserving the liberties and freedoms of our nation.
I am reminded of the Old Testament king of Judah, Hezekiah. He was told by the prophet that God was going to judge his country with great oppression, but that it would not happen until after he expired, some 15 years later. Hearing that, Hezekiah said (paraphrase), "Oh goodie! At least it won't happen while I'm alive."
I ask you, what kind of father and grandfather would rather see his own children and grandchildren endure persecution and oppression than him do something in his lifetime to prevent it? What kind of uncaring, hard-hearted, pleasure-mad sorry-excuses-for-manhood are we that we would not want to sacrifice our own comfort, our own possessions, our own lives, in order to provide something better for our children and grandchildren?
These stand-for-nothing pastors do NOT know when Jesus is coming. And they do not know what kind of tribulation their children and grandchildren are going to endure at the hands of future tyrants and despots because they refused to do something that could have prevented it.
Our Christian forebears believed in the return of Christ and in personal resurrection. Whether they were pre-millennial, post-millennial, pre-tribulational, mid-tribulational, post-tribulational, etc., they didn't allow their personal interpretation of Bible prophecy keep them from doing what was the right thing to do when it was in their power to do it. They were statesmen, leaders, and even warriors. They worked; they dug; they studied; they taught; they led; and they fought. And when needed, they risked their lives, their fortunes, and their sacred honor.
Are we really more spiritual than were they? Are we really more studied? More intelligent? More dedicated? More sincere? More courageous? Or more Christ-like?
How dare this generation of spoiled, lazy, comfort-laden, cowardly, sheepish, success-motivated, passive pulpits sit in judgment on the Christian men and women of history who, regardless of their personal interpretation of eschatology, actively engaged in the social, cultural, and, yes, political affairs of their countries–and helped bequeath to us, their posterity, a free and independent land? How dare they use the doctrine of the rapture as an excuse to justify their own indifference? And more importantly, how dare Christians tolerate such cowardice and carnality?
Thirdly, Dispensationalists allow their interpretation of Bible prophecy relating to future Israel to obfuscate the divine principles of liberty as it relates to present America. Preachers such as John Hagee have twisted the scriptures to support almost unlimited wars of aggression against Middle Eastern countries in the name of befriending Israel. In reality, unconstitutional war, nation-building, foreign interventionism, etc., is no friend to Israel, the United States, or any other country.
America's foreign policy is a global nightmare. It has made enemies where none existed. It has made it increasingly difficult for American missionaries to give the Gospel to people in foreign countries. In many countries, it has inflamed the persecution of Christians. It has greatly contributed to the economic bankruptcy of the United States. It has turned the affections of the world against us. It has turned many American Christians from peacemakers to warmongers. Under the rubric of the "war on terror," America is being turned into a giant police state. In truth, the Warfare State that has been created in this country is not a blessing to Israel (or any other country), but a curse. But the Dispensationalists' interpretation of prophecy tends to blind them to these maladies.
Yes, many pastors and Christians have a rapture problem. But the problem is not really the doctrine itself but the way it is misapplied. I know pastors of all theological and eschatological backgrounds who are actively engaged in the freedom fight; and I know pastors of all theological and eschatological backgrounds who are disengaged from the freedom fight. It's up to the man. If men want to, they can hide behind anything. And when pastors choose to hide behind the rapture, it becomes a problem for all of us.
That NBC had doctored a 911 call for the purposes of making George Zimmerman look like a bigot was a shocking revelation. Yet cut-and-paste propaganda is a common media tactic, and I'm not sure anyone is victimized by it more than Pope Francis.
You've probably read the headlines. "Pope Francis urges global leaders to end 'tyranny' of money," "Pope Francis's stunning blow to conservatives," "Pope Francis assures atheists: You don't have to believe in God to go to heaven," "Pope Says Church Is 'Obsessed' With Gays, Abortion and Birth Control"; rinse, wash and repeat. Yet these headlines range from delusion to, possibly, deception. By and large, he said, she said is not what the pope said.
Let's start with the recent big news, the Jesuit magazine interview with Pope Francis called that "stunning blow to conservatives." The stunned (and stunted) journalist who wrote that line, The Guardian's Andrew Brown, used a Francis "quotation" prevalent throughout the media. To wit: "It is not necessary to talk about…abortion, gay marriage and [contraception] all the time." Now, it's not surprising Brown didn't provide a link to the actual interview. Because not only is his cut-and-paste job missing an ellipsis (between "and" and "all the time"), it's an elliptical formulation that omits 58 words — and 58 miles of meaning.
After saying he hadn't talked about abortion, marriage and contraception much, here's what the pope actually stated: "The teaching of the church, for that matter, is clear and I am a son of the church, but it is not necessary to talk about these issues all the time [emphasis added]." The media didn't omit the italicized words merely for brevity's sake. When Francis said that the teaching is "clear" and he's a "son of the church," he is reaffirming doctrine and his fidelity to it. He's saying that the teachings in question are definitive, set in stone, and that he is loyal to mother Church as any good "son" is to his mother.
Ironically, the pope, whom Catholics believe is Christ's representative on Earth, is receiving the same treatment Jesus himself did. Many liberals make their case for homosexual behavior by saying that Christ was silent on it. Of course, Jesus didn't say anything about pedophilia, either; this doesn't mean He would have tolerated it. Likewise, it's as silly to think that dogma is null and void unless continually espoused as it is to assume that a law is no longer on the books just because legislators don't talk about it constantly.
Of course, one could still find fault with Francis's comments. While "all the time" was surely just a manner of speaking, in reality I hear far too little sermonizing at Mass about the moral teachings in question. Instead there's much nebulous talk about "love." And while love is wonderful, I'd point out that a good physician makes the correct diagnosis and treats what the patient has, not what he doesn't have. There is no powerful social movement whose placards state "Down with Love!" and "Give Hate a Chance!" As far as abortion and marriage go, however, the left has sought (and largely succeeded) in changing a tried-and-true status quo, and traditionalists' talk about these issues is simply responses commensurate with the left's cultural-attack talk. We don't hose people down indiscriminately; we simply try to douse as many fires as the cultural pyromaniacs light.
Having said all this, the main difference between Pope Francis and his two predecessors is one of style, emphasis and tactics, not dogma. Dogma cannot be changed.
One problem between the pope and secular world involves communication breakdown: terms and phrases have different connotations, and sometimes different meanings, to a devout Catholic than to a modernist. Consider, for example, Francis's July remark about homosexual priests, "[W]ho am I to judge?" This was widely viewed as deviation from Catholic doctrine, but the pope averred otherwise in the Jesuit interview, explaining, "I said what the catechism says." But what long-held Catholic doctrine did Francis's comment reflect?
The catechism states that while homosexual behavior is gravely sinful, homosexual tendencies are not (the catechism labels them "disordered"). This is simply common sense. A person generally doesn't ask for the feelings he has, and they often result from early childhood influences over which he has no control. His responsibility lies in whether or not he chooses to act upon those feelings.
This brings us to the rub: when the pope says "homosexual," he thinks of a person with the tendency, but takes for granted that a priest so burdened will strive to live a celibate life. When secularists hear the word, however, they generally think of a person engaging in homosexuality. Thus, while Francis was saying he wouldn't "judge" a person bearing the homosexual cross nobly, the secular world heard, "I won't judge the behavior."
This misunderstanding is easy to fathom. "Who am I to judge?" has become a code-phrase meaning, "There's nothing wrong with homosexual acts." But the pope is not of our culture; he's a South American, and I suspect he didn't understand the code-phrase and how it's interpreted by secular Western ears.
But some "interpretations" of the pope's words are, damnably, much farther afield. Consider the Independent's headline: Pope Francis assures atheists: You don't have to believe in God to go to heaven." Not surprisingly, this paper also suddenly forgot how to use the hyperlink feature in its reportage (what the pope actually wrote).
But Francis never said "You don't have to believe in God to go to heaven."
In fact, he never used the word "Heaven" in what was a 2688-word letter even once.
What the pope said that the media is spinning was, "God's mercy has no limits if you go to him with a sincere and contrite heart. The issue for those who do not believe in God is to obey their conscience." The Independent also quotes the pope as saying, "Sin, even for those who have no faith, exists when people disobey their conscience." Perhaps the paper has a (much) different translation from the Italian, but I find that line nowhere in the letter. Anyway, the letter is actually quite good on balance. As for insight into what Francis meant, space constraints here preclude deep theological expositions, but The Telegraph's Tim Stanley provides a decent explanation here.
Yet The Telegraph also had its Independent-of-truth moment when publishing, "Pope Francis urges global leaders to end 'tyranny' of money," which, as you could guess by now, also omits a link to the pope's actual words. The paper writes, "He [the pope] said free-market capitalism had created a 'tyranny'…. [That is,][u]nchecked capitalism had created 'a new, invisible, and at times virtual, tyranny', said the former Cardinal Jorge Bergoglio." The reality?
Francis never used the phrase "tyranny of money" or the term "free-market capitalism."
In fact, he never mentioned "capitalism" or the "free market" even once.
The pope's actual theme in what in this case was a speech, was that financiers, politicians and economists should cultivate a God-centered ethics, and Francis used the word "ethics" or "ethical" eight times and "God" four times in a speech that took mere minutes to deliver. And author of The Telegraph article, Nick Squires? He used the word "ethical" just once…in passing.
He didn't mention "God" at all.
And while he didn't present his cut-and-paste, add-and-subtract, mix-and-match formulations as direct Francis quotations, many readers would either assume they were or, in the least, wouldn't figure that he had "Zimmermanned" the pope. But it's not surprising the media is reluctant to report on a God-centered ethics.
They, apparently, are sorely lacking in it themselves.
Yet there are many reasons why media distort the pope's words. First, they'll do anything for eyeball-grabbing headlines. Second, Catholic theology has been forged over 2000 years, is very deep, and thus doesn't lend itself to sound-bite presentation. More significantly, it cannot be understood by sound-bite commentators with 15-second attention spans who, sadly, interpret things knee-jerk style via the prism of their own prejudices. Third and in keeping with this, liberals exist in a realm of rationalization, anyway, and thus can truly convince themselves that their feelings-derived "sense" of someone's meaning is gospel. The fourth factor is simple.
Leftists are dishonest.
Yet even many well-meaning people don't understand the Church. For one thing, there's the aforementioned factor: the secular and devout Catholic worlds often speak different languages, with words and phrases holding different meanings. As for doctrine, the Church isn't some journalist with hormone-imbalance-induced mood swings. Defined doctrine (dogma) cannot change, and new doctrines won't be forged with reporters. What a pope says in an interview doesn't change doctrine any more than what a president says in an interview changes American law.
But then there is a more insidious reason for the media's papal spin. Not only do the militant secularists assume the Church will eventually "get with the times" and embrace its agenda (it feels so obviously correct, you see), but they know if they can break the Catholic Church — if they can get its imprimatur — cultural domination is theirs. And, hey, if you can't break it, fake it. With image being "reality," making the low-info masses believe the Church has "seen the light" may be sufficiently demoralizing.
The last significant factor is one I'd like my Christian brethren to consider very, very seriously. By creating the illusion that the Church is abandoning certain unchanging moral principles, the media can widen the rift between the Church and some traditionalist Protestants. Beware the divide-and-conquer devils among us.
Having said all this, Pope Francis certainly gives the media much grist for the mill. One issue is his gregariousness — he said he loves being around people — and he talks to anyone and everyone about anything and everything. This is dangerous for any public figure. Moreover, while the pope is orthodox, and in that sense neither liberal nor conservative, Catholic doctrine doesn't address every issue and all its nuance. And given that Francis's instincts are, it seems to me, somewhat modernistic, I'm not confident in his pronouncements on matters beyond doctrine (or in his sense of priority). I think his grasp of economics is especially suspect.
And while the pope's tactic of stressing Christ's love and salvation message to the exclusion of certain moral doctrines is well-intended, I don't believe it will work. The militant secularists aren't interested in conciliation or compromise, but in the complete and utter destruction of Christianity. They take no prisoners.
So say your prayers; they're needed now more than ever. And I will say that Pope Francis may inspire me to expand my prayer life. For the first time ever I may start praying for laryngitis.
"Who is a liar but he that denieth that Jesus is the Christ? He is antichrist, that denieth the Father and the Son" (1 John 2:22).
"And the fifth angel sounded the trumpet, and I saw a star fall from heaven upon the earth, and there was given to him the key of the bottomless pit." (Rev. 9:1)
In his Concise Commentary Matthew Henry identifies falling stars as tepid, indecisive, weak or apostate clergy who,
"Having ceased to be a minister of Christ, he who is represented by this star becomes the minister of the devil; and lets loose the powers of hell against the churches of Christ."
John identifies antichrists, in this case clergy who serve the devil rather than Christ, sequentially.  First, like Bultmann, Teilhard de Chardin, Robert Funk, Paul Tillich, and John Shelby Spong, they specifically deny the living, personal Holy Trinity in favor of Gnostic pagan, immanent or Eastern pantheist conceptions.   Though God the Father Almighty in three Persons upholds the souls of men and maintains life and creation, His substance is not within nature (space-time dimension) as pantheism maintains, but outside of it.  Sinful men live within nature and are burdened by time and mortality; God is not.
Second, the specific denial of the Father logically negates Jesus the Christ, the Word who was in the beginning (John 1), was with God, and is God from the creation of all things (1 John 1).  In a pre-incarnate theophany, Jesus is the Angel who spoke "mouth to mouth" to Moses (Num. 12:6-9; John 9:20) and at sundry times and in many ways "spoke in times past to the fathers by the prophets, last of all…" (Hebrews 1:1)  Jesus the Christ is the incarnate Son of God who is the life and light of men, who by His shed blood on the Cross died for the remission of all sins and bestowed the privilege of adoption on all who put their faith in Him. Therefore, to deny the Holy Father is to logically deny the deity of Jesus Christ, the incarnate Son of God, hence,
"…every spirit that confesseth not that Jesus Christ is come in the flesh is not of God: and this is that spirit of antichrist . . . and even now already is it in the world" (1 John 4:3).
According to Peter (2 Peter 2:1), falling stars will work among the faithful, teaching damnable heresies that deny the Lord, cause the fall of men into unbelief, and bring destruction upon themselves:
"The natural parents of modern unbelief turn out to have been the guardians of belief."  Many thinking people came at last "to realize that it was religion, not science or social change that gave birth to unbelief.  Having made God more and more like man—intellectually, morally, emotionally—the shapers of religion made it feasible to abandon God, to believe simply in man." (James Turner of the University of Michigan in "American Babylon," Richard John Neuhaus, p. 95)
Falling Stars and Damnable Heresy
Almost thirty years ago, two well-respected social science scholars, William Sims Bainbridge and Rodney Stark found themselves alarmed by what they saw as a rising tide of irrationalism, superstition and occultism—channeling cults, spirit familiars, necromancers, Wiccans, Satanists, Luciferians, goddess worshippers, 'gay' shamans, Hermetic magicians and other occult madness at every level of society, particularly within the most influential— Hollywood, academia and the highest corridors of political power.
Like many scientists, they were equally concerned by Christian opposition to naturalistic evolution.  As is common in the science community, they assumed the cause of these social pathologies was somehow due to fundamentalism, their term for authentic Christian theism as opposed to liberalized Christianity.  Yet to their credit, the research they undertook to discover the cause was conducted both scientifically and with great integrity.  What they found was so startling it caused them to re-evaluate their attitude toward authentic Christian theism.  Their findings led them to say:
"It would be a mistake to conclude that fundamentalists oppose all science (when in reality they but oppose) a single theory (that) directly contradicts the bible. But it would be an equally great mistake to conclude that religious liberals and the irreligious possess superior minds of great rationality, to see them as modern personalities who have no need of the supernatural or any propensity to believe unscientific superstitions. On the contrary…they are much more likely to accept the new superstitions. It is the fundamentalists who appear most virtuous according to scientific standards when we examine the cults and pseudo-sciences proliferating in our society today." ("Superstitions, Old and New," The Skeptical Inquirer, Vol. IV, No. 4; summer, 1980)
In more detail they observed that authentic 'born again' Christians are far less likely to accept cults and pseudoscientific beliefs while the irreligious and liberalized Christians (i.e., progressive Catholics, Protestant emergent, NAR, word faith, prosperity gospel) are open to unscientific notions.  In fact, these two groups are most disposed toward occultism.
As Bainbridge and Stark admitted, evolution directly contradicts the Bible, beginning with the Genesis account of creation ex nihilo.  This means that evolution is the antithesis of the Genesis account. For this reason, discerning Christians refuse to submit to the evolutionary thinking that has swept Western and American society.  Nor do they accept the evolutionary theism brought into the whole body of the Church by weak, tepid, indecisive, or apostate clergy.
Over eighty years ago, Rev. C. Leopold Clarke wrote that priests who embrace evolution (evolutionary theists) are apostates from the 'Truth as it is in Jesus.' (1 John2:2)  Rev. Clarke, a lecturer at a London Bible college, discerned that evolution is the antithesis to the Revelation of God in the Deity of Jesus Christ, thus it is the greatest and most active agent of moral and spiritual disintegration:
"It is a battering-ram of unbelief—a sapping and mining operation that intends to blow Religion sky-high.  The one thing which the human mind demands in its conception of God, is that, being Almighty, He works sovereignly and miraculously—and this is the thing with which Evolution dispenses….Already a tremendous effect, on a wide scale has been produced by the impact of this teaching—an effect which can only be likened to the…collapse of foundations…" (Evolution and the Break-Up of Christendom, Philip Bell, creation.com, Nov. 27, 2012)
The faith of the Christian Church and of the average Christian has had, and still has, its foundation as much in the literal and historic meaning of Genesis, the book of beginnings revealed 'mouth to mouth' by the Angel to Moses, as in that of the person and deity of Jesus Christ.  But how horrible a travesty of the sacred office of the Christian Ministry to see church leaders more eager to be abreast of the times, than earnestly contending for the Faith once delivered unto the saints (Jude 1:3).  It is high time, said Rev. Clarke, that the Church,
"…. separated herself from the humiliating entanglement attending her desire to be thought up to date…What, after all, have custodians of Divine Revelation to do making terms with speculative Biology, which has….no message of comfort or help to the soul?" (ibid)
The primary tactic employed by priests eager to accommodate themselves and the Church to modern science and evolutionary thinking is predictable.  It is the argument that evolution is entirely compatible with the Bible when we see Genesis, especially the first three chapters, in a non-literal, non-historical context.  This is the argument embraced and advanced by mega-church pastor Timothy J. Keller.
With a position paper Keller published with the theistic evolutionary organization Bio Logos he joined the ranks of falling stars (Catholic and Protestant priests) stretching back to the Renaissance.  Their slippery-slide into apostasy began when they gave into the temptation to embrace a non-literal, non-historical view of Genesis.  (A response to Timothy Keller's 'Creation, Evolution and Christian Laypeople," Lita Cosner, Sept. 9, 2010,creation.com)
This is not a heresy unique to modern times.  The early Church Fathers dealt with this damnable heresy as well, counting it among the heretical tendencies of the Origenists.  Fourth-century Fathers such as John Chrysostom, Basil the Great and Ephraim the Syrian, all of whom wrote commentaries on Genesis, specifically warned against treating Genesis as an unhistorical myth or allegory.  John Chrysostom strongly warned against paying heed to these heretics,
"…let us stop up our hearing against them, and let us believe the Divine Scripture, and following what is written in it, let us strive to preserve in our souls sound dogmas." (Genesis, Creation, and Early Man, Fr. Seraphim Rose, p. 31)
As St. Cyril of Alexandria wrote, higher theological, spiritual meaning is founded upon humble, simple faith in the literal and historic meaning of Genesis and one cannot apprehend rightly the Scriptures without believing in the historical reality of the events and people they describe. (ibid, Seraphim Rose, p. 40)
In the integral worldview teachings of the Fathers, neither the literal nor historical meaning of the Revelations of the pre-incarnate Jesus, the Angel who spoke to Moses, can be regarded as expendable.  There are at least four critically important reasons why.  First, to reduce the Revelation of God to allegory and myth is to contradict and usurp the authority of God, ultimately deny the deity of Jesus Christ; twist, distort, add to and subtract from the entire Bible and finally, to imperil the salvation of believers.
Scenarios commonly proposed by modern Origenists posit a cleverly disguised pantheist/immanent nature deity subject to the space-time dimension and forces of evolution. But as noted previously, it is sinful man who carries the burden of time, not God.  This is a crucial point, for when evolutionary theists add millions and billions of zeros (time) to God they have transferred their own limitations onto Him.  They have 'limited' God and made Him over in their own image. This is not only idolatrous but satanic.
Additionally, evolution inverts creation.  In place of God's good creation from which men fell there is an evolutionary escalator starting at the bottom with matter, then progressing upward toward life, then up and through the life and death of millions of evolved creatures that preceded humans by millions of years until at long last an apish humanoid emerges into which a deity that is always in a state of becoming (evolving) places a soul.
Evolution amputates the entire historical precedent from the Gospel and makes Jesus Christ unnecessary as the atheist Frank Zindler enthusiastically points out:
"The most devastating thing that biology did to Christianity was the discovery of biological evolution.  Now that we know that Adam and Eve never were real people the central myth of Christianity is destroyed.  If there never was an Adam and Eve, there never was an original sin.  If there never was an original sin there is no need of salvation.  If there is no need of salvation there is no need of a saviour.  And I submit that puts Jesus…into the ranks of the unemployed.  I think evolution absolutely is the death knell of Christianity." ("Atheism vs. Christianity," 1996, Lita Cosner, creation.com, June 13, 2013)
None of this was lost on Darwin's bulldog, Thomas Henry Huxley (1825-1985).  Huxley was thoroughly familiar with the Bible, thus he understood that if Genesis is not the authoritative Word of God, is not historical and literal despite its' symbolic and poetic elements, then the entirety of Scripture becomes a collection of fairytales resulting in tragic downward spiraling consequences as the Catholic Kolbe Center for the Study of Creation makes clear in part:
"By denying the historical truth of the first chapters of Genesis, theistic evolutionism has fostered a preoccupation with natural causes almost to the exclusion of supernatural ones.  By denying the several supernatural creative acts of God in Genesis, and by downplaying the importance of the supernatural activity of Satan, theistic evolutionists slip into a naturalistic mentality which seeks to explain everything in terms of natural causes.  Once this mentality takes hold, it is easy for men to regard the concept of spiritual warfare as a holdover from the days of primitive superstition.  Diabolical activity is reduced to material or psychological causes.  The devil and his demons come to be seen as irrelevant.  Soon 'hell' joins the devil and his demons in the category of antiquated concepts.  And the theistic evolutionist easily makes the fatal mistake of thinking that he has nothing more to fear from the devil and his angels.  According to Fr. Gabriele Amorth, the chief exorcist of Rome, there is a tremendous increase in diabolical activity and influence in the formerly Christian world.  And yet most of the bishops of Europe no longer believe in the existence of evil spirits….To the Fathers of the Church who believed in the truth of Genesis, this would be incredible.  But in view of the almost universal acceptance of theistic evolution, it is hardly surprising." (The Difference it makes: The Importance of the Traditional Doctrine of Creation, Hugh Owen, kolbecenter.org)
Huxley had 'zero' respect for modern Origenists and received enormous pleasure from heaping piles of hot coals and burning contempt upon them, thereby exposing their shallow-reasoning, hypocrisy, timidity, fear of non-acceptance, and unfaithfulness.  With sarcasm dripping from his words he quipped,
"I am fairly at a loss to comprehend how any one, for a moment, can doubt that Christian theology must stand or fall with the historical trustworthiness of the Jewish Scriptures. The very conception of the Messiah, or Christ, is inextricably interwoven with Jewish history; the identification of Jesus of Nazareth with that Messiah rests upon the interpretation of passages of the Hebrew Scriptures which have no evidential value unless they possess the historical character assigned to them. If the covenant with Abraham was not made; if circumcision and sacrifices were not ordained by Jahveh; if the "ten words" were not written by God's hand on the stone tables; if Abraham is more or less a mythical hero, such as Theseus; the story of the Deluge a fiction; that of the Fall a legend; and that of the creation the dream of a seer; if all these definite and detailed narratives of apparently real events have no more value as history than have the stories of the regal period of Rome—what is to be said about the Messianic doctrine, which is so much less clearly enunciated? And what about the authority of the writers of the books of the New Testament, who, on this theory, have not merely accepted flimsy fictions for solid truths, but have built the very foundations of Christian dogma upon legendary quicksands?" (Darwin's Bulldog—Thomas Huxley, Russell Grigg, creation.com, Oct. 14, 2008)
Pouring more contempt on them he asked,
"When Jesus spoke, as of a matter of fact, that "the Flood came and destroyed them all," did he believe that the Deluge really took place, or not? It seems to me that, as the narrative mentions Noah's wife, and his sons' wives, there is good scriptural warranty for the statement that the antediluvians married and were given in marriage; and I should have thought that their eating and drinking might be assumed by the firmest believer in the literal truth of the story. Moreover, I venture to ask what sort of value, as an illustration of God's methods of dealing with sin, has an account of an event that never happened? If no Flood swept the careless people away, how is the warning of more worth than the cry of "Wolf" when there is no wolf? If Jonah's three days' residence in the whale is not an "admitted reality," how could it "warrant belief" in the "coming resurrection?" … Suppose that a Conservative orator warns his hearers to beware of great political and social changes, lest they end, as in France, in the domination of a Robespierre; what becomes, not only of his argument, but of his veracity, if he, personally, does not believe that Robespierre existed and did the deeds attributed to him?" (ibid)
Concerning Matthew 19:5:
"If divine authority is not here claimed for the twenty-fourth verse of the second chapter of Genesis, what is the value of language? And again, I ask, if one may play fast and loose with the story of the Fall as a "type" or "allegory," what becomes of the foundation of Pauline theology?" (ibid)
And concerning Cor. 15:21-22:
"If Adam may be held to be no more real a personage than Prometheus, and if the story of the Fall is merely an instructive "type," comparable to the profound Promethean mythus, what value has Paul's dialectic?" (ibid)
After much thought, C.S. Lewis concluded that evolution is the central, most radical lie at the center of a vast network of lies within which modern Westerners are entangled while Rev. Clarke identifies the central lie as the Gospel of another Spirit. The fiendish aim of this Spirit is to help men lose God, not find Him, and by contradicting the Divine Redeemer, compromising Priests are serving this Spirit and its' diabolical purposes.  To contradict the Divine Redeemer is the very essence of unfaithfulness, and that it should be done while reverence is professed,
"…. is an illustration of the intellectual and moral topsy-turvydom of Modernism…'He whom God hath sent speaketh the Words of God,' claimed Christ of Himself (John 3:34), and no assumption of error can hold water in the face of that declaration, without blasphemy."
Evolutionary theists are serving the devil, therefore "no considerations of Christian charity, of tolerance, of policy, can exonerate Christian leaders or Churches who fail to condemn and to sever themselves from compromising, cowardly, shilly-shallying priests"—the falling stars who "challenge the Divine Authority of Jesus Christ." (ibid)
The rebuttals, warnings and counsels of the Fathers against listening to Origenists (and their modern evolutionary counterparts) indicates that the spirit of antichrist operating through modern rationalistic criticism of the Revelation of God is not a heresy unique to our times but was inveighed against by early Church Fathers.
From the scholarly writings of the Eastern Orthodox priest, Fr. Seraphim Rose, to the incisive analysis, rebuttals and warnings of the Catholic Kolbe Center, creation.com, Creation Research Institute, Rev. Clarke, and many other stalwart defenders of the faith once delivered, all are a clear, compelling call to the whole body of the Church to hold fast to the traditional doctrine of creation as it was handed down from the Apostles, for as God spoke and Jesus is the Living Word incarnate, it is incumbent upon the faithful to submit their wills to the Divine Will and Authority of God rather than to the damnable heresy proffered by falling stars eager to embrace naturalistic science and the devil's antithesis— evolution.  But if it seem evil to you to serve the Lord,
"…you have your choice: choose this day that which pleases you, whom you would rather serve….but as for me and my house we will serve the Lord." Joshua 24:15