Last week, several polls came out assessing U.S. public opinion on intervention in Syria.
According to the Huffington Post poll, Americans oppose U.S. air strikes on Syria by 3-to-1. They oppose sending arms to the rebels by 4-to-1. They oppose putting U.S. ground troops into Syria by 14-to-1. Democrats, Republicans and independents are all against getting involved in that civil war that has produced 1.2 million refugees and 70,000 dead.
A CBS/New York Times poll found that by 62-to-24 Americans want to stay out of the Syrian war. A Reuters/Ipsos poll found that by 61-to-10 Americans oppose any U.S. intervention.
But the numbers shift when the public is asked if it would make a difference if the Syrian regime used poison gas. In that case, opposition to U.S. intervention drops to 44-to-27 in Reuters/Ipsos.
Yet on the Sunday talk shows and cable news, the hawks are over-represented. To have a senator call for arming the rebels and U.S. air strikes is a better ratings "get" than to have on a senator who wants to stay out of the war.
In that same CBS poll, however, the 10 percent of all Americans who say they follow the Syrian situation closely were evenly divided, 47-to-48, on whether to intervene.
The portrait of America that emerges is of a nation not overly interested in what is going on in Syria, but which overwhelmingly wants to stay out of the war.
But it is also a nation whose foreign policy elites are far more interventionist and far more supportive of sending weapons to the rebels and using U.S. air power. From these polls, it is hard not to escape the conclusion that the Beltway elites who shape U.S. foreign policy no longer represent the manifest will of Middle America.
America has not gone isolationist, but has become anti-interventionist. This country does not want its soldiers sent into any more misbegotten adventures like Iraq and Afghanistan, and does not see any vital national interest in who comes out on top in Syria.
But who is speaking up for that great silent majority? Who in the U.S. Senate is on national TV standing up to the interventionists?
Who in the Republican Party is calling out the McCainiacs?
Another story that came out this weekend, smothered by news of Israeli air strikes on Syrian military installations and missile depots, might cool elite enthusiasm – and kill any public desire to intervene.
"Syrian Rebels May Have Used Sarin Gas," ran the headline in Monday's New York Times. Datelined Geneva, the story began:
"United Nations human rights investigators have gathered testimony from casualties of Syria's civil war and medical workers indicating that rebel forces have used the nerve agent sarin, one of the lead investigators said Sunday."
The U.N. commission has found no evidence that the Syrian army used chemical weapons. But Carla Del Ponte, a former Swiss attorney general and a commission member, stated:
"Our investigators have been in neighboring countries interviewing victims, doctors and field hospitals, and according to their report of last week, which I have seen, there are strong, concrete suspicions but not yet incontrovertible proof of the use of sarin gas, from the way the victims were treated.
"This was use on the part of the opposition, the rebels."
In short, the war criminals may be the people on whose behalf we are supposed to intervene. And if it was the rebels who used sarin gas, and not the forces of President Bashar Assad, more than a few questions arise that need answering.
For just two weeks ago, the White House informed Congress:
"Our intelligence community does assess, with varying degrees of confidence, that the Syrian regime has used chemical weapons on a small scale in Syria, specifically, the chemical agent sarin."
A clamor then arose demanding Obama make good on his threat that the Syrian regime's use of poison gas would cross a "red line" and be a "game changer," calling forth "enormous consequences."
If the Syrian military did not use sarin, but the rebels did, who in the U.S. intelligence community blew this one? From whom did U.S. agencies get their evidence that sarin had been used by Damascus? Were we almost suckered by someone's latest lies about weapons of mass destruction into fighting yet another unnecessary war?
When allegations of the Syrian government's use of sarin arose, many in Congress, especially in the Republican Party, denounced Obama for fecklessness in backing off of his "red line" threat.
It now appears that Obama may have saved us from a strategic disaster by not plunging ahead with military action. And the question should be put to the war hawks:
If Assad's use of sarin should call forth U.S. air strikes, ought not the use of sarin by the rebels, if confirmed, cause this country to wash its hands of those war criminals?
Source: Buchanan.org
Why did Saddam Hussein stay in Iraq? There was every motive to leave. He had seen what happened to leaders who attempt to withstand the corporate interests who are looking for an opportunity to loot a country. While John Perkins had not yet written his book, "Confessions of an Economic Hitman," he knew the score. He could never withstand an invasion by America. He was not suicidal. He had gotten his start as a hire for the CIA and knew what was poised to happen to him, his family, and his nation.
Cast you mind back to those dark days when we were reeling, the images of towers falling from the sky still engraved on our retinas.
Voices were being raised in objection and silenced.
Look over the time line appearing in Mother Jones, September/October 2006 Issue, titled, "Lie by Lie: A Timeline of How We Got Into Iraq," by Jonathan Stein and Tim Dickinson.
The war against Iraq began June, 2002, with intense bombing. The U. S. military flew 21,736 sorties and attacked 349 targets between June and the official start of the war in 2003.
Bombing is an act of war.
Rove, Cheney, and the Bush Administration, thwarted with the lack of evidence Saddam had nothing to do with 9/11, falsified evidence of Weapons of Mass Destruction. Reports by debunked sources, specifically Curveball, who is known to be unreliable, are treated as trusted sources.
Every conceivable action is taken to suppress the truth and allow the spin campaign, which began as the White House Iraq Group in August of 2002. This included, Rove, Libby, Rice, as well as Karen Hughes and Mary Matalin.
Cheney personally lied, over and over again, to get Congress to acquiesce, to the media and to the public.
The Administration knew they were manufacturing, spinning, to start a war even while Saddam Hussein was offering to allow UN inspectors in (September 18, 2002) and all reports from returning CIA moles affirmed Saddam had abandoned WMD programs. This information is buried in the CIA bureaucracy.
Anything which disagrees with the drive for war in Iraq is suppressed. Lies, 'sexing up,' reports, are reported publicly.
The use of torture has been rationalized and is being used, despite the Geneva Conventions and Protocols on Human Rights and the Conduct of Hostilities.
The Bush Administration is, collectively, behaving like a bunch of chimps working themselves up to violence, to a person, ignoring their actions are, effectively, converting a nation dedicated to individual freedom and human rights into its antitheses.
One September 26, 2002, during a Rose Garden speech, Bush said, ""The Iraqi regime possesses biological and chemical weapons."" The same day, during a speech in Houston Bush said of Saddam, "After all, this is a guy who tried to kill my dad."
Two days later Bush said in his address to nation: "'The Iraqi regime possesses biological and chemical weapons, is rebuilding the facilities to make more, and, according to the British government, could launch a biological or chemical attack in as little as 45 minutes after the order is given."'
In an ominous foreshadowing of what was to come, Bush delivered a speech on October 7, 2002, in which he stated, "'Facing clear evidence of peril, we cannot wait for the final proof—the smoking gun—that could come in the form of a mushroom cloud."' Today we know effective deployment of drone technology was far beyond anything available to anyone – but the U. S.
Battered and intimidated, on October 11th, "Congress—including all serious Democratic contenders—votes to grant Bush power to go to war."  On November 5th, control of the Congress moved to the GOP. The campaign of lies, using fear and their love of country, had allowed the ongoing theft of elections by Karl Rove to work again.
On November 10th the UN Security Council passed Resolution 1441 offering Iraq '"a final opportunity to comply with its disarmament obligations."" Iraq immediately agreed and UN weapons inspectors returned.
Saddam Hussein would have known of every comment and been forced to consider his options. His country was being hammered by bombs, his plans to sell oil to partners other than the U. S. were, therefore stymied. It would be a compelling reality for him to consider an exit strategy at this point.
Only one event could now stop the War in Iraq from going forward, for Saddam to offer to leave Iraq. Given his options, this would have been the only safe thing for him to do. All previous events, now clear to us and documented, show he was being set up. His very life, and those of his family members, were on the line.
Saddam made just this offer in November of 2002.
Clearly, the Bush Administration would ignore this request. Saddam, therefore, made contact with the previous administration. The Clintons, through their associate Sidney Blumenthal, former White House and his son, Max, pulled out all of the stops to ensure the one event which could derail plans to invade Iraq.
The offer was made by Saddam, via email, through Max Blumenthal, this forwarded on to his father. With the Clintons assurances, they were able to persuade Saddam to stay in Iraq.
Sidney was then unaware his computer had been hacked. A keylogger was sending his emails to another party, who reported this to the CIA. The same party then found themselves subject to a barrage of harassment and threats beginning as the Iraqi Invasion began.
How much was it worth to keep Saddam in place? Could pay-offs have been made to ensure the cooperation, and silence, of the Clintons and Blumenthals?
According to a Los Angeles Times article, titled, "Clintons disclose wealth,"published April 05, 2008| written by Peter Nicholas, Robin Fields and Dan Morain,when the Clinton's left the White House, "in January 2001, they (The Clintons) had amassed more than $11 million in legal debts, incurred during investigations into the Whitewater controversy and the former president's affair with Monica S. Lewinsky." Within the next year or so their, "returns show that the family's annual income shot up after her husband left the White House, rising from $358,000 in 2000 to $16 million a year later, when Bill Clinton listed his occupation as "speaking and writing." "
Sidney Blumenthal also left the White House in less than prosperous financial condition. The cause was also a law suit stemming from elements of the NeoCon cabal which went into the White House in 2001.
In 1997, Blumenthal had filed a $30 million libel lawsuit against Internet blogger Matt Drudge and AOL, Drudge's employer, because of a false claim Drudge made of spousal abuse.
In fact, the article was the brain child of Drudge and John Fund, then still on the Editorial Board of the Wall Street Journal. Drudge had attributed the story to "top GOP sources." Drudge later retracted the story.
Drudge publicly apologized to the Blumenthals and the lawsuit was dropped with Blumenthal, who, ironically, settled by making a small payment to Drudge over a missed deposition.
In his book, The Clinton Wars, Blumenthal claimed he was forced to settle because he could no longer financially afford the suit, which had proven to be expensive. Drudge, who was guilty, had managed to receive support from both solicitations, claiming he was being harassed, and likely from operatives working for the NeoCons.
Saddam's actions, in offering to leave, were entirely predictable.
Soliciting support from the Clintons, by the Bush White House, resulted a cooperative relationship between the former and then president which was mutually beneficial, ending any threat from the Clintons and sealing them into a role within the power elite, which they continue to enjoy today.
Over the weekend, three more American soldiers lost their lives to IED roadside bombs in Afghanistan while two lost their lives to Afghanistan troops turning the weapons that we provided them—and shot our own young men.  Military people call those deaths: "insider attacks."  (Source: Associated Press report)   The Afghanistans we gave billions of dollars and sent our finest men to "free" them—continue killing our military personnel at the drop of a hat.
Five young kids serving our country in that 11 year war lived in constant danger of dying every day in that backward, goat herder and Islamic-dominated crazy country.  Understand this: illiteracy runs at 80+ percent in Afghanistan.  That country suffers dozens of war lords competing for dominance for the last 1,400 years of Islamic mayhem.  NBC's Brian Williams reported last week that our CIA funneled suitcases full of millions of U.S. taxpayer dollars to Afghanistan President Karzai to pay off tribal leaders—so they would support our troops.  Otherwise, those warlords just as soon kill our boys.
What did Congress, George W. Bush and now Barack Obama get us into?  What have we accomplished in Iraq and Afghanistan?  Why didn't we leave a week after bin Laden saw the raw end of an M-14 in via Seal Team Six?  What in the name of common sense are we doing to ourselves and our young men serving in uniform?
Answer: in the final analysis, we killed a lot of people and their kids, and they killed a lot of our kids.  Result: a lot of death, but we accomplished nothing in the way of national security as proven by our Islamic bomber immigrants at the Boston Marathon two weeks ago.
All those kids died in Vietnam, Iraq and Afghanistan for the Military Industrial Complex run by massive munitions corporations, Halliburton and anyone else who benefits from making war products.
All of it based on a lie!  Saddam Hussein did not own one, single weapon of mass destruction that he could turn onto the people of the United States.  Not one!  George Bush lied, then lied some more, and Obama continued and continues the lie in Afghanistan.   Our complicit Congress and the past two presidents should be brought up on criminal charges for killing so many people without any warrant whatsoever.
After 10 years in Iraq and 4,200 deaths along with tens of thousands of our finest kids being blown up or emotionally blown to pieces with Post Traumatic Stress Syndrome.  Several thousand of our kids already committed suicide from their experiences in Iraq and Afghanistan.  Experts expect no less than 150,000 to 200,000 former U.S. combat troops will commit suicide in the years ahead from their horrific experiences in the Middle East.  As I documented in an earlier column two years ago, 200,000 to 225,000 Vietnam combat troops who walked out of Vietnam in one piece—later killed themselves.  Endless thousands more dove into drugs, alcohol, divorces and homelessness.  Thousands of kids lost their fathers to war's long term insanity and emotional destruction.
Every single one of our "kids" that died in Vietnam, Desert Storm, Iraq and Afghanistan—died for nothing but money by mega-corporations.  I am astounded how the American Military Industrial Complex can manipulate the American people like sheep to follow their propaganda for 10 friggin' long years of lying to us.  Back when I attended college during Vietnam, we marched in the streets to "Stop the war…hell no, we won't go…."    Why? We didn't want to get killed for no reason whatsoever.
Why do those five kids' deaths in Afghanistan this week distress me?  My father served in the US Marine Corps and died while in service to our country. His death wrecked our family.  From my infant brother John who never saw his father to my own emotional turmoil for years if not decades.  My brother Rex suffered horrific emotional trauma and my sister Linda became a zombie for five years.  My mother kept us together with her heroic strength.  But none of our lives recovered and our dad's death changed our destinies.
My pain reaches out to those five kids' families who just received the news that their citizen-soldiers died over the weekend.  They're all crying right now. They weep in shock, pain and bewilderment.    They will suffer for years and decades to come. If those troops enjoyed wives and families, their offspring will forever be changed without dad.
Ironically, our all volunteer Army ingests young men, turns them into killers and spits them out emotionally wrecked or returns them back home in caskets.
War Is a Racket
U.S. Major General Smedley Butler said, "WAR is a racket. It always has been. It is possibly the oldest, easily the most profitable, surely the most vicious. It is the only one in which the profits are reckoned in dollars and the losses in lives.
"A racket is best described, I believe, as something that is not what it seems to the majority of the people. Only a small "inside" group knows what it is about. It is conducted for the benefit of the very few, at the expense of the very many. Out of war a few people make huge fortunes. In the WWI, a mere handful garnered the profits of the conflict. At least 21,000 new millionaires and billionaires were made in the United States during the World War. How many of these war millionaires shouldered a rifle? How many of them dug a trench? How many of them knew what it meant to go hungry in a rat-infested dug-out? How many of them spent sleepless, frightened nights, ducking shells and shrapnel and machine gun bullets? How many of them parried a bayonet thrust of an enemy? How many of them were wounded or killed in battle?"
You can bet that draft dodging Dick Cheney never shouldered a rifle, but he made millions with Halliburton.  George W. Bush smoked weed and snorted cocaine while in the safety of the Texas National Guard, but 58,300 less fortunate American kids got blown away.  Today, Bush's worth exceeds multiple millions while our country stands trillions in debt from the wars he and Cheney started in Iraq.
Sickening: the American people sit on their fat rear ends without so much as a whimper.  Just serve up their kids and watch the death continue.
It was Wednesday night, April 24, 2013, one day away from full moon. Under mostly clear skies, the brilliant waxing gibbous moon flew high toward the celestial meridian….
Here in Spokane, Washington, about 10:30 pm, two fresh chemtrails crisscrossed under the chin of the moon, creating a "skull and crossbones"—spectacular logo for chemtrailing. If only a skywriter had sprayed a headline to crown the scene, a certain motto…perhaps this line by Roger Waters from Pink Floyd's The Wall:
"Mother should I trust the government?"
The government has been spraying chemtrails for years, heavier all the time, yet they call the whole chemtrail hullabaloo "conspiracy theory". We don't do Stratospheric Aerosol Geoengineering (SAG), they insist. Get over it, they're just contrails.
So what about the Air Force training manual about chemtrails? [1]
Differences between contrails and chemtrails are dramatic. [2] And while all NATO countries are into chemtrailing, only Germany has admitted it—though they lie about what and why they are spraying.
Tacit justification for chemtrails is based on cooling Earth's atmosphere by reflecting the sun's energy. So what about nighttime chemtrails? The more you research chemtrail ingredients, the farther government designs blast beyond simple denial of spraying, into sinister crimes.
Perhaps a fair analogy of the simple denial: A federal agent is standing in front of you with a spray bottle, saying as he mists your face, "This is not happening. It's conspiracy theory. Your face is not being misted. Trust me." And there will always be people frightened by cognitive dissonance into convincing themselves that they are just getting sweaty…there's a light drizzle…their face has reached the dew point….
Government by Contempt
Beneath the veil of sweet talk and tough love, utter contempt is the foundational sentiment Zionist-controlled politicians hold for the masses. Politicians not controlled by Zionists rarely get elected; those that stand up to the Israeli American Public Affairs Committee (AIPAC) are usually unseated by AIPAC-funded stooges. And Zionist-controlled mainstream media (ZMM) manages public perceptions with such mastery to even hypnotize the masses into believing they are coming up with their own ideas.
Not to say ZMM always lies—they tell a lot of truth, backwards. For independent thinkers, gleaning truth from ZMM is easy, simply reverse whatever they say. If ZMM declares peace, that means war. If they say, "terrorists" they mean Mossad/FBI/CIA patsies. ZMM "news" is all agenda; Zionist-occupied US government is all about elite power. Ultimately, there are no laws, only power.
"Let me issue and control a nation's money and I care not who makes its laws."
– Amschel Bauer Mayer Rothschild – 1838
It's popular to say that the US is the world's "Superpower". But the more a person understands designs of power, the more likely they are to realize that when it comes to power, the US is a colony of Israel.
Rothschild Zionism, Rothschild-controlled central banks (in every nation on Earth but Cuba, North Korea, and Iran), the "Federal Reserve System", the "City of London"—such is where dominant power resides, at least in terms of psychopathic contrivance in a system hideous in light of humanity's potential for decency, capacity for…humanity. At the very least, humans could do better than relentlessly allowing psychopaths to rule. Pathocracy, rule by people born without a conscience, it's rule by people whose veneration for human life is generally encompassed by their own skin. Humanity has had millennia to figure out how to keep psychopaths from power. Abject failure in that regard has built up a situation where humanity faces extinction—or at least we face the threat of humanity becoming extinct, but not humans.
A rare step in the right direction: Absolutely ban from positions of higher power anyone clearly pursuing power. Complicated challenge, sure, but at least psychopaths have very reliable markers.
Power Elite
Contempt for the masses runs so deep in the elite largely because of what we commoners allow the elite to get away with. Is there no false-flag "terrorist attack" Americans will not swallow? Everything from 9/11…to the Boston Marathon with amputee actors wearing blown-off-leg prostheses. And besides not being shy about displaying their contempt, the elite seem to revel in being above the "law". "Too big to fail" has metastasized to include, "too big to prosecute".
The death grip on humanity of Rothschild-controlled central banking makes the "New World Order" seem inevitable. Many people consider the Georgia Guidestones' message to be the written-in-stone Ten Commandments of the New World Order. [3]
"Commandment" number one of the Geogia Guidestones:
"Maintain humanity under 500,000,000 in perpetual balance with nature".
The inescapable question, or challenge, for the elite: How to exterminate over 90% of human population (roughly six billion people) without rendering Earth uninhabitable. The power elite's death-and-destruction toolbox is loaded with such as Fukushima, nuclear war, climate disruption, full-spectrum pollution, GMOs, food additives, mass fluoridation, engineered diseases, vaccines…so many shock-and-awesome tools in just the toolbox top drawer. Chemtrail spraying is somewhat of a "Crescent Wrench", a tool with enormous range of menace.
Researchers have identified many constituents of the witches' brew routinely sprayed over us, a diabolical concoction containing:
Aluminum oxide particles, barium salts, barium titanates, ethylene dibromide, cadmium, methyl aluminum, desiccated human red blood cells, nano-aluminum-coated fiberglass, sub-micron particles (containing live biological matter), polymer fibers, unidentified bacteria, enterobacteria cloacal, enterobacteriaceae, mycoplasma, human white blood cells-A (restrictor enzyme used in research labs to snip and combine DNA), mold spores, bacilli and molds, yellow fungal mycotoxins, lead, mercury, nitrogen trifluoride, nickel, calcium, chromium, radioactive cesium, radioactive thorium, selenium, arsenic, titanium shards, silver, streptomyces, strontium, uranium….
In addition to adjustable menace, chemtrailing has apparently come up with its own signature disease. Morgellons. [4]
Zionist-occupied government is spending vast amounts of our money to spray us with witches' brew, while the fed (Rothschild parasite disguised as part of the federal government) sprays the elite with fresh dollars charged to us at compound interest.
Natural predators take only what they need to survive, improving genetic integrity of their prey. Humanity's psychopathic predators destroy what they need to survive.
Please consider the elite's contempt for humanity in terms of what humanity might achieve if not being hounded by psychopaths. The elite subject humanity to continuous and vicious demonic predation, mutilation of mind, body and soul—then scorn humanity's condition!
Doesn't that seem…Satanic?
Some important questions during acceleration toward extinction of  humanity, perhaps, along with apparent answers:
Are chemtrails being sprayed over us day and night?  YES
Is chemtrailing considered conspiracy theory?  YES
Is the very term conspiracy theory a premier psyop?  YES
Do the masses have power the government/elite will do anything to keep from being focused—anything to keep public power from threatening elite power? YES
Do you trust the government? ____
[1]  http://www.veteranstoday.com/2013/03/31/breaking-air-force-chemtrails-manual-available-for-download/
[2]  http://www.youtube.com/watch?v=3kcTvqiMNl8
[3]  http://georgiaguidestone.blogspot.com/
[4]  https://www.google.com/search?q=morgellaons+and+chemtrails&ie=utf-8&oe=utf-8&aq=t&rls=org.mozilla:en-US:official&client=firefox-a#client=firefox-a&hs=Jff&rls=org.mozilla:en-US:official&q=morgellons+and+chemtrails&spell=1&sa=X&ei=1eB9Uey1F-fmiwLrjoHoAw&ved=0CC8QvwUoAA&fp=1&biw=734&bih=485&bav=on.2,or.r_cp.r_qf.&cad=b&sei=rjh_UdrkD4egiQKCpYHACg
What is it that makes young men, reasonably well educated, in good health and nice looking, with long lives ahead of them, use powerful explosives to murder complete strangers because of political beliefs?
I'm speaking about American military personnel of course, on the ground, in the air, or directing drones from an office in Nevada.
Do not the survivors of US attacks in Iraq, Afghanistan, Yemen, Pakistan, Somalia, Libya and elsewhere, and their loved ones, ask such a question?
The survivors and loved ones in Boston have their answer – America's wars in Iraq and Afghanistan.
That's what Dzhokhar Tsarnaev, the surviving Boston bomber has said in custody, and there's no reason to doubt that he means it, nor the dozens of others in the past two decades who have carried out terrorist attacks against American targets and expressed anger toward US foreign policy. 1 Both Tsarnaev brothers had expressed such opinions before the attack as well.  2 The Marathon bombing took place just days after a deadly US attack in Afghanistan killed 17 civilians, including 12 children, as but one example of countless similar horrors from recent years. "Oh", an American says, "but those are accidents. What terrorists do is on purpose. It's cold-blooded murder."
But if the American military sends out a bombing mission on Monday which kills multiple innocent civilians, and then the military announces: "Sorry, that was an accident." And then on Tuesday the American military sends out a bombing mission which kills multiple innocent civilians, and then the military announces: "Sorry, that was an accident." And then on Wednesday the American military sends out a bombing mission which kills multiple innocent civilians, and the military then announces: "Sorry, that was an accident." … Thursday … Friday … How long before the American military loses the right to say it was an accident?
Terrorism is essentially an act of propaganda, to draw attention to a cause. The 9-11 perpetrators attacked famous symbols of American military and economic power. Traditionally, perpetrators would phone in their message to a local media outlet beforehand, but today, in this highly-surveilled society, with cameras and electronic monitoring at a science-fiction level, that's much more difficult to do without being detected; even finding a public payphone can be near impossible.
From what has been reported, the older brother, Tamerlan, regarded US foreign policy also as being anti-Islam, as do many other Muslims. I think this misreads Washington's intentions. The American Empire is not anti-Islam. It's anti-only those who present serious barriers to the Empire's plan for world domination.
The United States has had close relations with Saudi Arabia, Jordan and Qatar, amongst other Islamic states. And in recent years the US has gone to great lengths to overthrow the leading secular states of the Mideast – Iraq, Libya and Syria.
Moreover, it's questionable that Washington is even against terrorism per se, but rather only those terrorists who are not allies of the empire. There has been, for example, a lengthy and infamous history of tolerance, and often outright support, for numerous anti-Castro terrorists, even when their terrorist acts were committed in the United States. Hundreds of anti-Castro and other Latin American terrorists have been given haven in the US over the years. The United States has also provided support to terrorists in Afghanistan, Nicaragua, Kosovo, Bosnia, Iran, Libya, and Syria, including those with known connections to al Qaeda, to further foreign policy goals more important than fighting terrorism.
Under one or more of the harsh anti-terrorist laws enacted in the United States in recent years, President Obama could be charged with serious crimes for allowing the United States to fight on the same side as al Qaeda-linked terrorists in Libya and Syria and for funding and supplying these groups. Others in the United States have been imprisoned for a lot less.
As a striking example of how Washington has put its imperialist agenda before anything else, we can consider the case of Gulbuddin Hekmatyar, an Afghan warlord whose followers first gained attention in the 1980s by throwing acid in the faces of women who refused to wear the veil. This is how these horrible men spent their time when they were not screaming "Death to America". CIA and State Department officials called Hekmatyar "scary," "vicious," "a fascist," "definite dictatorship material". 3 This did not prevent the United States government from showering the man with large amounts of aid to fight against the Soviet-supported government of Afghanistan. 4 Hekmatyar is still a prominent warlord in Afghanistan.
A similar example is that of Luis Posada who masterminded the bombing of a Cuban airline in 1976, killing 73 civilians. He has lived a free man in Florida for many years.
USA Today reported a few months ago about a rebel fighter in Syria who told the newspaper in an interview: "The afterlife is the only thing that matters to me, and I can only reach it by waging jihad." 5 Tamerlan Tsarnaev may have chosen to have a shootout with the Boston police as an act of suicide; to die waging jihad, although questions remain about exactly how he died. In any event, I think it's safe to say that the authorities wanted to capture the brothers alive to be able to question them.
It would be most interesting to be present the moment after a jihadist dies and discovers, with great shock, that there's no afterlife. Of course, by definition, there would have to be an afterlife for him to discover that there's no afterlife. On the other hand, a non-believer would likely be thrilled to find out that he was wrong.
Let us hope that the distinguished statesmen, military officers, and corporate leaders who own and rule America find out in this life that to put an end to anti-American terrorism they're going to have to learn to live without unending war against the world. There's no other defense against a couple of fanatic young men with backpacks. Just calling them insane or evil doesn't tell you enough; it may tell you nothing.
But this change in consciousness in the elite is going to be extremely difficult, as difficult as it appears to be for the parents of the two boys to accept their sons' guilt. Richard Falk, UN special rapporteur on human rights in the Palestinian territories, stated after the Boston attack: "The American global domination project is bound to generate all kinds of resistance in the post-colonial world. In some respects, the United States has been fortunate not to experience worse blowbacks … We should be asking ourselves at this moment, 'How many canaries will have to die before we awaken from our geopolitical fantasy of global domination?'" 6
Officials in Canada and Britain as well as US Ambassador to the United Nations Susan Rice have called for Falk to be fired. 7
President Kennedy's speech, half a century ago
I don't know how many times in the 50 years since President John F. Kennedy made his much celebrated 1963 speech at American University in Washington, DC. 8  I've heard or read that if only he had lived he would have put a quick end to the war in Vietnam instead of it continuing for ten more terrible years, and that the Cold War might have ended 25 years sooner than it did. With the 50th anniversary coming up June 13 we can expect to hear a lot more of the same, so I'd like to jump the gun and offer a counter-view.
Kennedy declared:
Let us re-examine our attitude toward the Soviet Union. It is discouraging to think that their leaders may actually believe what their propagandists write. It is discouraging to read a recent authoritative Soviet text on Military Strategy and find, on page after page, wholly baseless and incredible claims such as the allegation that "American imperialist circles are preparing to unleash different types of war … that there is a very real threat of a preventative war being unleashed by American imperialists against the Soviet Union" … [and that] the political aims – and I quote – "of the American imperialists are to enslave economically and politically the European and other capitalist countries … [and] to achieve world domination … by means of aggressive war."
It is indeed refreshing that an American president would utter a thought such as: "It is discouraging to think that their leaders may actually believe what their propagandists write." This is what radicals in every country wonder about their leaders, not least in the United States. For example, "incredible claims such as the allegation that 'American imperialist circles are preparing to unleash different types of war'."
In Kennedy's short time in office the United States had unleashed many different types of war, from attempts to overthrow governments and suppress political movements to assassination attempts against leaders and actual military combat – one or more of these in Vietnam, Cambodia, Laos, British Guiana, Iraq, Congo, Haiti, Brazil, Dominican Republic, Cuba and Brazil. This is all in addition to the normal and routine CIA subversion of countries all over the world map. Did Kennedy really believe that the Soviet claims were "incredible"?
And did he really doubt that that the driving force behind US foreign policy was "world domination"? How else did he explain all the above interventions (which have continued non-stop into the 21st century)? If the president thought that the Russians were talking nonsense when they accused the US of seeking world domination, why didn't he then disavow the incessant US government and media warnings about the "International Communist Conspiracy"? Or at least provide a rigorous definition of the term and present good evidence of its veracity.
Quoting further: "Our military forces are committed to peace and disciplined in self-restraint." No comment.
"We are unwilling to impose our system on any unwilling people." Unless of course the people foolishly insist on some form of socialist alternative. Ask the people of Vietnam, Laos, Cambodia, British Guiana and Cuba, just to name some of those in Kennedy's time.
"At the same time we seek to keep peace inside the non-Communist world, where many nations, all of them our friends …" American presidents have been speaking of "our friends" for many years. What they all mean, but never say, is that "our friends" are government and corporate leaders whom we keep in power through any means necessary – the dictators, the kings, the oligarchs, the torturers – not the masses of the population, particularly those with a measure of education.
"Our efforts in West New Guinea, in the Congo, in the Middle East, and the Indian subcontinent, have been persistent and patient despite criticism from both sides."
Persistent, yes. Patient, often. But moral, fostering human rights, democracy, civil liberties, self-determination, not fawning over Israel … ? As but one glaring example, the assassination of Patrice Lumumba of the Congo, perhaps the last chance for a decent life for the people of that painfully downtrodden land; planned by the CIA under Eisenhower, but executed under Kennedy.
"The Communist drive to impose their political and economic system on others is the primary cause of world tension today. For there can be no doubt that, if all nations could refrain from interfering in the self-determination of others, the peace would be much more assured."
See all of the above for this piece of hypocrisy. And so, if no nation interfered in the affairs of any other nation, there would be no wars. Brilliant. If everybody became rich there would be no poverty. If everybody learned to read there would be no illiteracy.
"The United States, as the world knows, will never start a war."
So … Vietnam, Laos, Cambodia, Cuba, and literally dozens of other countries then, later, and now, all the way up to Libya in 2012 … they all invaded the United States first? Remarkable.
And this was the man who was going to end the war in Vietnam very soon after being re-elected the following year? Lord help us.
Bush's legacy
This is not to put George W. Bush down. That's too easy, and I've done it many times. No, this is to counter the current trend to rehabilitate the man and his Iraqi horror show, which partly coincides with the opening of his presidential library in Texas. At the dedication ceremony, President Obama spoke of Bush's "compassion and generosity" and declared that: "He is a good man." The word "Iraq" did not pass his lips. The closest he came at all was saying "So even as we Americans may at times disagree on matters of foreign policy, we share a profound respect and reverence for the men and women of our military and their families." 9 Should morality be that flexible? Even for a politician? Obama could have just called in sick.
At the January 31 congressional hearing on the nomination of Chuck Hagel to be Secretary of Defense, Senator John McCain ripped into him for his critique of the Iraq war:
"The question is, were you right or were you wrong?" McCain demanded, pressing Hagel on why he opposed Bush's decision to send 20,000 additional troops to Iraq in the so-called 'surge'.
"I'm not going to give you a yes-or-no answer. I think it's far more complicated than that," Hagel responded. He said he would await the "judgment of history."
Glaring at Hagel, McCain ended the exchange with a bitter rejoinder: "I think history has already made a judgment about the surge, sir, and you are on the wrong side of it." 10
Before the revisionist history of the surge gets chiseled into marble, let me repeat part of what I wrote in this report at the time, December 2007:
The American progress is measured by a decrease in violence, the White House has decided – a daily holocaust has been cut back to a daily multiple catastrophe. And who's keeping the count? Why, the same good people who have been regularly feeding us a lie for the past five years about the number of Iraqi deaths, completely ignoring the epidemiological studies. A recent analysis by the Washington Post left the administration's claim pretty much in tatters. The article opened with: "The U.S. military's claim that violence has decreased sharply in Iraq in recent months has come under scrutiny from many experts within and outside the government, who contend that some of the underlying statistics are questionable and selectively ignore negative trends."

To the extent that there may have been a reduction in violence, we must also keep in mind that, thanks to this lovely little war, there are several million Iraqis either dead, wounded, in exile abroad, or in bursting American and Iraqi prisons. So the number of potential victims and killers has been greatly reduced. Moreover, extensive ethnic cleansing has taken place in Iraq (another good indication of progress, n'est-ce pas? nicht wahr?) – Sunnis and Shiites are now living more in their own special enclaves than before, none of those stinking mixed communities with their unholy mixed marriages, so violence of the sectarian type has also gone down. On top of all this, US soldiers have been venturing out a lot less (for fear of things like … well, dying), so the violence against our noble lads is also down.

One of the signs of the reduction in violence in Iraq, the administration would like us to believe, is that many Iraqi families are returning from Syria, where they had fled because of the violence. The New York Times, however, reported that "Under intense pressure to show results after months of political stalemate, the [Iraqi] government has continued to publicize figures that exaggerate the movement back to Iraq"; as well as exaggerating "Iraqis' confidence that the current lull in violence can be sustained." The count, it turns out, included all Iraqis crossing the border, for whatever reason. A United Nations survey found that 46 percent were leaving Syria because they could not afford to stay; 25 percent said they fell victim to a stricter Syrian visa policy; and only 14 percent said they were returning because they had heard about improved security.

How long can it be before vacation trips to "Exotic Iraq" are flashed across our TVs? "Baghdad's Beautiful Beaches Beckon". Just step over the bodies. Indeed, the State Department has recently advertised for a "business development/tourism" expert to work in Baghdad, "with a particular focus on tourism and related services." 11
Another argument raised again recently to preserve George W.'s legacy is that "He kept us safe". Hmm … I could swear that he was in the White House around the time of September 11 … What his supporters mean is that Bush's War on Terrorism was a success because there wasn't another terrorist attack in the United States after September 11, 2001 while he was in office; as if terrorists killing Americans is acceptable if it's done abroad. Following the American/Bush strike on Afghanistan in October 2001 there were literally scores of terrorist attacks – including some major ones – against American institutions in the Middle East, South Asia and the Pacific: military, civilian, Christian, and other targets associated with the United States.
Even the claim that the War on Terrorism kept Americans safe at home is questionable. There was no terrorist attack in the United States during the 6 1/2 years prior to the one in September 2001; not since the April 1995 bombing of the federal building in Oklahoma City. It would thus appear that the absence of terrorist attacks in the United States is the norm.
William Blum speaking in Wisconsin, near Minnesota
Saturday, July 13th, the 11th Annual Peacestock: A Gathering for Peace will take place at Windbeam Farm in Hager City, WI. Peacestock is a mixture of music, speakers, and community for peace in an idyllic location near the Mississippi, just one hour's drive from the Twin Cities of Minnesota. Peacestock is sponsored by Veterans for Peace, Chapter 115, and has a peace-themed agenda. Kathy Kelly, peace activist extraordinaire, will also speak.
You can camp there and be fed well, meat or vegetarian. Full information at:http://www.peacestockvfp.org 11
Notes
William Blum, Rogue State: A Guide to the World's Only Superpower, chapters 1 and 2, for cases up to about 2003; later similar cases are numerous; e.g., Glenn Greenwald, "They Hate US for our Occupations", Salon, October 12, 2010 ↩
Huffington Post, April 20, 2013; Washington Post, April 21 ↩
Tim Weiner, Blank Check: The Pentagon's Black Budget (1990), p.149-50. ↩
William Blum, Killing Hope: U.S. Military and CIA Interventions Since World War II ↩
USA Today, December 3, 2012 ↩
ForeignPolicyJournal.com, April 21, 2013 ↩
The Telegraph (London), April 25, 2013; Politico.com, April 24 ↩
Los Angeles Times, February 1, 2013 ↩
This eminently Bushist Obama "red line" business, applied to Syria, Iran or both, is becoming a tad ridiculous.
Take Pentagon head Chuck Hagel's tour of Israel and the "friendly" GCC (the de facto Gulf Counter-revolution Club) last week. US defense contractors had the Moet flowing as Hagel merrily congregated with that prodigy of democracy – United Arab Emirates (UAE) Crown Prince Mohammed bin Zayed – to celebrate the sale of 25 F-16 fighter jets.
There's more on the way; 48 Terminal High Altitude Area Defense, or THAAD missile interceptors, at a cool US$1 billion. The Pentagon is sending one of its only two of such systems to Guam this month to counter that other threat – missiles from North Korea.
The weaponizing free fest to Israel and the Gulf petro-monarchies – missile defense, fighter jets, mega-bombs – could not but be duly hailed as the proverbial "message" to "counter Iran's nuclear ambitions", or "the air and missile threat posed by Iran", or the general "worry about Iran's pursuit of a nuclear weapon" or "Washington's determination to stop Iran from acquiring nuclear weapons."
There's no "red line" here; just hardcore weaponizing of Israel and the GCC. Any doubts, blame it on Iran. And this while Saudi-controlled media in the Middle East – roughly everything except al-Jazeera – was breathlessly spinning that Tel Aviv is pursuing a deal to use Turkish soil for an attack on Iran.
Wait; there's more weaponizing on the way – bound to neighboring latitudes. Kraus-Maffei Wegmann (KMW) from Germany closed another $2.48 billion deal with Qatar – five years in the making – to deliver 62 Leopard 2 tanks and 24 self-propelled howitzers. Qatar is not exactly using them for the 2022 FIFA World Cup; they are bound to "friendly groups in other countries" – as in Syria's "rebels", via Turkey.
Ask the Nenets 
Now take the Syria chemical weapons charade. The White House now seems to be convinced that the CIA believes, with "varying degrees of confidence", that the Syrian government has used chemical weapons. Secretary of State John Kerry – an "intervention" cheerleader posing as a dove – was already convinced.
But then Hagel said, "Suspicions are one thing; evidence is another." Just to flip-flop a little while later, during his visit to Israel, he became convinced Bashar al-Assad was using sarin gas. Of course; after all, Hagel finally had unimpeded access to Israeli – not US – intel.
And now for the beauty of Hagel's marketing; what about embarking as a traveling salesman to "our bastards" with a sales pitch of " Look, Iran and Syria are both crazy, you might consider stacking up on this, this and this."
The Nenets of Siberia – crossing the Ob river to enter the Arctic Circle – could teach a thing or two about real strategy to those limping armchair warriors in US Think Tankland. Even the Nenets would know that the current chemical weapons hysteria is a total fabrication by the CIA, MI6 and Israeli intelligence – corroborated by zero evidence. Still, the prevailing Washington "wisdom" is that a "red line" must be enforced over Syria so a "red line" must be enforced on Iran.
The fact is that the al-Assad government initially accused the "rebels" of using chemical weapons – and asked the United Nations for an official investigation.
Even the New York Times was forced, grudgingly, to admit the "rebels" acknowledged an attack happened in territory controlled by the government, with 16 Syrian Army dead, plus 10 civilians and over a hundred injured. But then the "rebels" changed the narrative, blaming Damascus of bombing their own soldiers. It was Moscow that introduced a measure of reality, detailing how Washington was stalling the UN investigation.
Our Nenets of Siberia would also know there's hardly anything secular leading the "rebels" in Syria; it's a motley crew of varying degrees of fanaticism. Once again, the Nenets would not need to freeze to death reading the New York Times to find out that the CIA is "secretly" funneling a free for all weaponizing to the "rebels" via Saudi Arabia and Qatar. Still the Obama administration peddles the fiction that Washington only supplies "non lethal" aid as Capitol Hill nutters keep insisting that Obama install a "no fly zone" over Syria – as in Libya-style NATO war remix.
Follow-on strike package, anyone? 
US Think Tankland nonetheless is ecstatic that the GCC petro-monarchies now have access to precision-guided munitions to "strike Iranian targets".
But nothing compares to the cheerleading of Israel's new access to KC-135 aerial refueling tankers – or Stratotankers. Then there's the imminent transfer of anti-radiation missiles as well – advanced versions of the AGM-88 HARM missiles. These toys will "reduce the threat to Israel's follow-on strike package."
No, this is not exactly about "US circumspection", or "US resolve in the campaign against Iranian nuclear weapons"; it's unqualified Dog of War barking.
Meanwhile, that police state run by King Playstation, also known as Jordan, has opened its airspace to Israeli drones now engaged in "monitoring" Syria.
As Asia Times Online has repeatedly warned, Obama in Syria is fast becoming a remix of Reagan in 1980s Afghanistan. We all know what came out of those "freedom fighters" afterwards. In this context, Robert Ford, Obama's alleged Syria expert, telling the Senate Foreign Relations Committee that it's important for Washington to "weigh in" to affect "the internal balance of power in Syria" qualifies as a joke line, not a red line.
There's wild speculation that after the Boston bombing Obama and Russia's Vladimir Putin made a deal; Washington lets Moscow do whatever it wants in Chechnya like, forever, but gets a nod to install a "no-fly zone" and further mayhem in Syria. There's no evidence to that. What a geopolitically savvy Putin wants to know is what does he get out of Syria in practical terms (and Obama does not have a clue). Crumbs from a NATO banquet don't apply.
As for allowing Syria to become a "Western-friendly" Wahhabi emirate or yet another failed Muslim Brotherhood fiefdom, one needs to go no further than Hezbollah's Sheikh Nasrallah … "the goal of anyone standing behind the war in Syria, is destroying Syria so that a strong, centralized state would not be established in it, and so that it would become too weak to take decisions related to its oil, sea, or borders."
Now that's what a red line is all about.
Pepe Escobar is the author of Globalistan: How the Globalized World is Dissolving into Liquid War (Nimble Books, 2007) and Red Zone Blues: a snapshot of Baghdad during the surge. His new book, just out, is Obama does Globalistan (Nimble Books, 2009).
He may be reached at pepeasia@yahoo.com.
Source: Asia Times
Why Drones, foreign and domestic, became necessary to establishment politicians and corporations…
In the autumn of 2002 America was rushing toward the War in Iraq, orchestrated by the Bush Administration, especially Karl Rove and Dick Cheney. Though most people did not yet realize this, Bill Clinton already had a very cooperative relationship with the Bush family. He and Hillary were poised to become seriously monied working for the same folks who had taken over the Republican Party in the 1960s.
You don't need to be a Straussian to embrace the strategy.
NeoConservative is the term coined by Irving Kristol, a student of Leo Strauss. The philosophy Strauss originated justifies any act which achieves the desired goal in the pursuit of power. When you understand this is a philosophy which absolutely justifies deceit and abuse of power, and extending control, the corollary becomes clear. Those using Straussianism will, ultimately, take steps to make their control perpetual because, otherwise, they will suffer at the hands of their victims.
Those accepting Straussianism knew they needed to evade exposure.
This explains the enthusiasm of both Bush and Obama for Executive Orders. Although ordinary Americans think in terms of a divide between right and left, this is an illusion. The divide has been carefully created to stymie effective corrective action by the people.
Notice how many of the measures now being put into place were being planned years ago. Homeland Security, the NSA, the militarization of our police and introduction of drones and biometrics, and the CIA and FBI do nothing to increase the security of ordinary Americans – but they are useful for controlling us.
Controlling America, and Americans, was necessary to perpetuating their power and defending them from the consequences of their deceit, beginning before the War in Iraq.
The Highly Disordered in Power
If you watched the documentary on Dick Cheney, now playing broadly on television, titled, "The World According To Dick Cheney," you find a chilling insight into the mind of someone who is focused on centralizing and increasing the power of the presidency using all available means. Cheney has long been a self-proclaimed adherent of Leo Strauss, along with Don Rumsfeldt and most of the cadre of individuals who came in to power with the Bush Administration.
Cheney, appointed to find a vice-presidential candidate for Bush in 2000, conducted a carefully scripted process which disqualified everyone except himself. Cheney knew he could never be elected president because he lacks the social skills necessary and, if he ran, his questionable health and DUIs, among other issues, would have been exposed to the media and the public.
Always described as a 'take-charge' kind of man, Cheney's entire career is defined by treating politics as war.
Karl Rove had a different agenda. While the Bush family certainly wanted the War in Iraq and had been planning for it since W. was still governor of Texas, Rove wanted a permanent hegemony over politics in America. To accomplish this, he suborned the electoral system of the United States using several different techniques.
Beginning in the late 70′s, he displaced the growing power of women moving toward social justice within the GOP, displacing this with an artificially created presence of politicized Evangelicals, galvanized and trained for political action.
For this enterprise, he enlisted Ralph Reed and Pat Robertson, long time associates through Young Republicans.
Rove spread out a network of political operatives, both within the GOP and elsewhere, in think tanks and the media. John Fund, formerly on the Editorial Board of the Wall Street Journal, is an example of this, as is Matt Drudge. This allowed Rove to plant disinformation at will in any part of the country. Both Rove and Cheney's cell numbers are on Fund's speed dial.
Rove also centralized the state Republican Parties, displacing community-based candidates in the primaries with chosen and well funded Rove functionaries. This was taking place in California in the early 90s. Many of these targeted candidates were social justice-oriented women.
To lock down his control, Rove ensured the move to electronic voting, which he could control remotely. This worked for him fairly smoothly from 2000 until last year.
The next level of strategy was the media. The media has been controlled through the CIA since the time of the Kennedy assassination, according to Peter Janney, in his book Mary's Mosaic. In exhaustive detail, the book lays out how a free media was silenced through control of those who owned the media.
Planting operatives in the media, who supplied CIA approved spin and planted stories, became standard operating procedure. Continuing this practice, Rove assigned the job of deflecting questions on the visible problems with electoral fraud to John Fund, placed at the Wall Street Journal by Robert Novak in 1984.
John Fund was essential to deflecting attention from the issue of the ongoing electoral fraud because Fund wrote, "Stealing Elections," which muddied the water on this issue. While he was only one of many operatives, he was not easily replaced because of his position at the Wall Street Journal. Therefore, political capital was expended on his protection in 2002.
People forget scandals and willingly accept explanations, given a modicum of manufactured proof. Victims and witnesses can be silenced so they can no longer defend themselves. Major events distract public attention, which, properly managed, may never be renewed.
In early September, 2001 John Connolly of Vanity Fair published, "Sex, Lies, and the Tape." Included was ataped conversation, known as the WeaselSearch Tape, between Fund and His girl friend, Morgan Pillsbury.
As you listen to this tape, made in September, 1999, and read the accompanying article you realize both Fund and his girl friend, my disordered daughter, Morgan, lie, and are not to be trusted.
I am the individual the two are discussing. Later, in 2001 – early 2002, Fund battered and nearly killed Morgan.
All of the individuals discussed here were involved in the evolution of events surrounding this tape.
By winter 2002 Rove and associates probably believed they had managed to defuse the problem Fund's battery of Morgan had caused. But the situation devolved because of computer hacking, leaking Saddam's willingness to leave later the same year.
The Oncoming War in Iraq – Autumn 2002
Cheney and Rove, both Straussians, had common ground in the drive for perpetual war in 2001 – 2002, had both adopted the ideas of Strauss. Their joint commitment to a campaign of deceit was natural to each and relatively easy to carry out through 2004 since the full array of government tools were available to them and they were united.
The rush to war started with the lies you likely remember about weapons of mass destruction. In the autumn of 2002 a juggernaut for war was launched and moving.
Then, in November, an unanticipated problem raised its head.
In November of 2002 Saddam let it be known he would gladly leave, if he was paid. An email correspondence began. Max Blumenthal, for his father, Sidney Blumenthal, and through him to the Clintons, persuaded Saddam Bush was only blustering and would not invade. They did not know, at the time, someone else was reading their emails.
For me, this part of the story started when Morgan called me from the basement where she was hiding in Georgia and asked, "Mother, is Uday something like E-Bay?" Morgan did not pay much attention to things not directly effecting her.
The John Fund Scandal, briefly, was followed by some, then dropped in the wake of 9/11. But for myself, it was a continuing problem.
Fund, an old friend of mine, had begun a sexual relationship with my daughter, lied to her, tried to dump her, and suffered the consequences anyone in the family could have told him were in the cards.
Morgan is a psychopath.  So is Fund. The reason the Weaselsearch tape was made was because I had found, to my grief, her word was not to be trusted. She made it to persuade me she had told the truth and changed her ways. This last was a lie, but she hooked me into believing her for a while.
The previous spring, 2002, I was still renting an apartment for Morgan in NY, and she had not yet fled NY, which she was forced to do because of the attempt to kill her by John Fund, aided, she was told, by Rove and Cheney.
About that time, she had put a keylogger on Sidney Blumenthal's computer. Blumenthal was, if you remember, Clinton's assistant and senior adviser.
This, I told her, was illegal. But she said it was payback because Blumenthal had had her computer hacked and stolen information from her about John Fund and others, to be used in his book, "The Clinton Wars."
Someone with power had gotten to the court in New York. Ignoring the evidence, and witnesses, they had sidelined the case, though we were told Morgenthau personally held the file on his desk. If Robert Morgenthau, District Attorney in Manhattan, what could we do? Thwarted, Morgan returned the favor and put a keylogger on Blumenthal's computer.
Morgan is disordered.  Ten years ago the problem of sociopathy and psychopathy were not nearly as widely understood as today by any of us. The disordered create chaos. But earlier the chaos Morgan created was at least localized to her family and friends. When she broadened her associations to the NeoCons, who are  also disordered,  things got worse.
In 2012 I realized psychopaths never change. I also understood much more about what had been going on with attempts to bring about the War in Iraq and why Fund, Rove, and Cheney felt endangered by Morgan's hacking.The Bush Administration knew Morgan knew about their efforts to keep Saddam in Iraq so the war could go forward.
What Morgan Found in Sid's Email Box
Morgan had been getting emails between Sidney and his son, Max, which were forwards from someone named Uday. She read them to me and sent one on, with the identifying origin. This email went on to a friend who could tell us where the email to Max had originated. The word came back it had originated in the Saudi Arabian Emirates, and very well could have come from Baghdad.
The emails urged Saddam to stay in Iraq, saying Bush would not invade as Saddam expressed his willingness to be paid to leave.
Morgan kept reading these messages and the husband of the couple, with whom she was staying, also saw these emails. When Morgan decided to put a keylogger on Uday's computer this was accomplished by using the subject line, "Women without Veils," which was the husband, Eric's, idea. It worked. Reading the emails continued, and included emails directly from Uday. I did not ask for copies and none were sent to me.
I contacted a friend's husband who worked at the CIA and left the matter in Morgan's hands. She told me the FBI had gotten in touch with her and asked her to continue to monitor the correspondence, also following Uday with the new keylogger she had installed in the computer in Baghdad.
When the bunker-buster hit Saddam's headquarters Morgan reported seeing the 'ping' move from Baghdad to Virginia. She was not contacted again. But they knew we knew.
There had been no release of information regarding the activities of Blumenthal and the Clintons in holding Saddam in Iraq in the media. The War in Iraq was building. I had a horrible, sinking feeling in the pit of my stomach.
Now we know Saddam had no Weapons of Mass Destruction and that Saddam had nothing to do with 9/11. If Saddam had been paid off to leave there would have been no war. But, of course, trillions of dollars would have been lost to the war contractors and bankers.
As you dig, the lies only get worse. If you read John Perkins', "Confessions of an Economic Hitman," it is clear you see what people will do to other human beings for money. Not a pretty picture.
Drones, militarized police, along with biometrics for tracking individuals, and control through the GPS component, now standard in our cell phones, are each essential to suppressing the ability of Americans to resist and fight back. These are paid for by Americans, but produced by private contractors. Today, contractors have become an essential part of government.
The world of government contractors is murky and hard to follow. We know little enough about politicians, nothing about contractors, who are unelected and nearly invisible. We need to know, we need transparency. Along with knowing who they are, we need to hold them accountable. Each of us is liable for doing harm to others. This is also true of contractors.
For the purpose of understanding one drone contractor we have chosen Green Hills Software, Inc., a silver member of the Association for Unmanned Aerial Vehicle Systems International.
They have been involved in this story since, at least, 2002. Read my previous article, "How a Transparent World Protects us," for details on Green Hills and their Management Team.
The company provides encryption and guidance, without which drones would not work. Green Hills is the best possible example of an errant contractor. Their relationship with John Fund began in 1999. It is likely Green Hills knew Saddam Hussein had offered to leave Iraq.
Green Hills assisted in silencing myself and Morgan with curious haste, beginning with sending the uncertified deposition, given by Morgan in 2001, to John Fund. When this took place their profits were skyrocketed with government contracts. The War in Iraq was starting.
The world would be very different today if the FED had simply printed up a billion dollars and sent it to Saddam. He would have retired and troubled us no more. Better yet, we could have looked for the real perpetrators of 9/11 and held them accountable.
What did not happen is history. Now, we understand far more clearly what the problems are we face. Out of control contractors are only one of these, but one which must be solved.
Green Hills contact information, and evidence, has been provided to attorneys in England and Pakistan who are now filing law suits. Since Green Hills is international collecting should not be a problem.
A small step, but useful in setting a new direction for America.
Has Syria crossed the "red line" that warrants a U.S. military invasion? Has it not? The political establishment in the United States seems at odds over itself. Obama's government cannot speak with one voice on the issue, and the U.S. media is likewise spewing from both sides of its mouth in an attempt to reconcile U.S. foreign policy with that most stubborn of annoyances, truth.
"The White House said on Thursday that American intelligence agencies now believed, with "varying degrees of confidence," that the Syrian government had used chemical weapons…"
Immediately afterwards, Obama's Secretary of Defense, Chuck Hagel, gave a blunt rebuke: "Suspicions are one thing; evidence is another."
This disunity mirrored the recent disagreement that Chuck Hagel had with Obama's Secretary of State, John Kerry, when both testified in front of Congress with nearly opposite versions of what was happening in Syria and how the U.S. should respond. Kerry was a cheerleader for intervention while Hagel — the military's mouthpiece — advised caution.
The U.S. government's internal squabbling over whether the Syrian government used chemical weapons is really an argument on whether the U.S. should invade Syria, since Obama claimed that any use of chemical weapons was a "red line" that, if crossed, would invoke an American military response. Never mind that Obama's "red line" rhetoric was stolen from the mouth of Bush Jr., who enjoyed saying all kinds of similarly stupid things to sound tough.
But now Obama's Bushism must be enforced, say the politicians, less the U.S. look weak by inaction. This seemingly childish argument is in fact very compelling among the U.S. political establishment, who view foreign policy only in terms of military power. If Syria is not frightened into submission by U.S. military threats, then Iran and other countries might follow suit and do as they please and U.S. "influence" would wane. Only a "firm response" can stop this domino effect from starting.This type of logic is the basis for the recent Syria chemical weapons accusations, which was conjured up by the U.S. "Intelligence" service (CIA) and its British and Israeli counterparts (the same people who "proved" that Iraq had Weapons of Mass Destruction, which later proved to be a fabricated lie). All three of these countries' intelligence agencies simply announced that the Syrian government has used chemical weapons, provided zero evidence, and then let their respective nations' media run with the story, which referred to the baseless accusations as "mounting evidence."
In the real world it appears that the U.S.-backed Syrian rebels are the ones responsible for having used chemical weapons against the Syrian government. It was the Syrian government who initially accused the U.S.-backed rebels of using chemical weapons, and asked the UN to investigate the attack. This triggered the Syrian rebels and later the Obama administration to accuse the Syrian government of the attack.
A very revealing New York Times article quoted U.S.-backed Syrian rebels admitting that the chemical weapons attack took place in a Syrian government controlled territory and that 16 Syrian government soldiers died as a result of the attack, along with 10 civilians plus a hundred more injured. But the rebels later made the absurd claim that the Syrian government accidentally bombed its own military with the chemical weapons.
Interestingly, the Russian government later accused the United States of trying to stall the UN investigation requested by the Syrian government, by insisting that the parameters of the investigation be expanded to such a degree that a never-ending discussion over jurisdiction and rules would eventually abort the investigation.
Complicating the U.S.' stumbling march to war against Syria is the fact that the only effective U.S.-backed rebel forces are Islamist extremists, the best fighters of which have sworn allegiance to Al-Qaeda. The same week that the U.S. media was screaming about chemical weapons, The NewYork Times actually published a realistic picture of the U.S.-backed Syrian rebels, which warrants extended quotes:
"Across Syria, rebel-held areas are dotted with Islamic courts staffed by lawyers and clerics, and by fighting brigades led by extremists. Even the Supreme Military Council, the umbrella rebel organization whose formation the West had hoped would sideline radical groups, is stocked with commanders who want to infuse Islamic law into a future Syrian government."
"Nowhere in rebel-controlled Syria is there a secular fighting force to speak of."

"The Islamist character of the [rebel] opposition reflects the main constituency of the rebellion…The religious agenda of the combatants sets them apart from many civilian activists, protesters and aid workers who had hoped the uprising would create a civil, democratic Syria."
Thus, yet another secular Middle Eastern government — after Iraq and Libya — is being pushed into the abyss of Islamist extremism, and the shoving is being done by the United States, which The NewYork Times discovered was funneling thousands of tons of weapons into Syria through U.S. allies in the region, Saudi Arabia and Qatar. We now know that these weapons were given to the Islamist extremists; directly or indirectly, it doesn't matter.
Even after this U.S.-organized weapons trafficking was uncovered, the Obama administration still has the nerve to say that the U.S. is only supplying "non lethal" aid to the Syrian rebels. Never mind that many of the guns that the U.S. is transporting into Syria from its allies were sold to the allies by the United States, where the weapons were manufactured.Now, many politicians are demanding that Obama institute a "no fly zone" in Syria, a euphemism for military invasion — one country cannot enforce a no fly zone inside another country without first destroying the enemy Air Force, not to mention its surface to air missiles, etc. We saw in Libya that a no fly zone quickly evolved into a full scale invasion, which would happen again in Syria, with the difference being that Syria has a more powerful army with more sophisticated weaponry, not to mention powerful allies — Iran and Russia.
This is the real reason that the U.S. military is not aligned with the Obama administration over Syria. Such a war would be incredibly risky, and inevitably lead to a wider conflict that would engulf an already war-drenched region, creating yet more "terrorists" who would like to attack the United States.
The U.S. public has learned the lessons of Iraq's WMD's, and that lesson is not lost on U.S. soldiers, few of whom want to fight another war for oil against a country which is a zero-threat to the United States.
What's ongoing now bears eerie resemblance to events preceding Bush's Iraq war. Obama's replicating a familiar scenario.
Waging war requires a pretext to do so. When none exists, it's invented. It's easy. Lies substitute for truth. Claims about Syria using chemical weapons don't wash. Repetition gets people to believe them. We've seen it all before.
Colin Power's infamous February 5, 2003 Security Council speech led to war. It was shameless deception. Later he admitted WMD claims were false. It was too late to matter.
Plans were set. The die was cast. Weeks later, America bombed, invaded and occupied Iraq. The cradle of civilization was destroyed. No WMDs existed. It was well-known but ignored. More on that below.
Powell lied claiming them. US media scoundrels repeated what demanded renunciation. A New York Times editorial headlined "The Case Against Iraq," saying:
"Secretary of State Colin Powell presented the United Nations and a global television audience yesterday with the most powerful case to date that Saddam Hussein stands in defiance of Security Council resolutions and has no intention of revealing or surrendering whatever unconventional weapons he may have."
A (no longer available online) Washington Post editorial headlined "Irrefutable," saying:
"….it is hard to imagine how anyone could doubt that Iraq possesses weapons of mass destruction."
Months later, a Carnegie Endowment for International Peace report titled "WMD in Iraq: Evidence and Implications" said the Bush administration "systematically misrepresented the threat from Iraq's WMD and ballistic missile programs."
Asked about the report, Powell stood by his Security Council testimony, saying:
"I am confident of what I presented last year. The intelligence community is confident of the material they gave me. I was representing them."

"It was information they presented to the Congress. It was information they had presented publicly and they stand behind it, and this game is still unfolding."
Powell's speech was bald-faced deception. He willfully lied, saying:
"The material I will present to you comes from a variety of sources. Some are US sources. And some are those of other countries."

"Some of the sources are technical, such as intercepted telephone conversations and photos taken by satellites. Other sources are people who have risked their lives to let the world know what Saddam Hussein is really up to."

"….Iraq's behavior show(s) that Saddam Hussein and his regime are concealing their efforts to produce more weapons of mass destruction."

"We also have satellite photos that indicate that banned materials have recently been moved from a number of Iraqi weapons of mass destruction facilities."

"The Iraqis have never accounted for all of the biological weapons they admitted they had and we know they had. They have never accounted for all the organic material used to make them."

"And they have not accounted for many of the weapons filled with these agents such as there are 400 bombs. This is evidence, not conjecture. This is true. This is all well-documented."
He claimed Saddam stockpiled "between 100 and 500 tons of chemical weapons agents." He added that "(t)here can be no doubt that (he) has biological weapons and the capability to rapidly produce more, many more."
In August 1995, Saddam's son-in-law, Hussein Kamel, defected to the West. He headed Iraq's weapons programs. US intelligence officials debriefed him. He said "All weapons – biological, chemical, missile and nuclear were destroyed….Nothing remained."
The New York Times and other US media sources reported his comments.
CNN's Brent Sadler asked him: "Can you state here and now – does Iraq still to this day hold weapons of mass destruction?"
He responded: "No. Iraq does not possess any weapons of mass destruction. I am being completely honest about this."
In the run-up to March 2003, media misinformation replaced earlier headlines. It's standard practice. It repeating again now. Obama appears heading for full-scale war on Syria.
Big lies launch wars. In "The Art of War," Sun Tzu said "All war is based on deception." Fear, misinformation and duplicity enlist public support. Naked aggression is called humanitarian intervention.
Libya 2.0 looms. Fabricating chemical weapons use looks like pretext for full-scale war. Secretary of State John Kerry claims Syria launched two chemical weapons attacks.
Defense Secretary Chuck Hagel said using them "violates every convention of warfare."
On April 25, the Los Angeles Times headlined "US lawmakers call for action on Syria's chemical weapons," saying:
They want quick action.
Senator Dianne Feinstein (D. CA) warned that without decisive action, "President Assad may calculate he has nothing more to lose." He might "further escalate this conflict."
"It is clear that 'red lines' have been crossed and action must be taken to prevent larger scale use," she added. "Syria has the ability to kill tens of thousands with its chemical weapons."
Senator John McCain (R. AZ) said "(i)t's pretty obvious the red line has been crossed."
Rep. Adam Schiff (D. CA) believes Assad's testing the international community. "The administration has said (chemical weapons use is) a game changer, but it's not clear what that new game will look like."
"I think it is incumbent on the international community to take strong action."
A same day LA Times editorial headlined "A 'red line' on Syria," saying:
"If the Assad regime has indeed used chemical weapons, the US must honor its commitment to act."

"(U)se of chemical weapons would represent a reckless escalation of Assad's war on his own people."

"Yes, the president must be sure before he acts; but if it is proved that Assad has crossed the 'red line,' Obama must respond."
Chicago Tribune editors headlined "The pink line," asking: "If Assad used chemical weapons, what will Obama do?"
He "drew a clear red line last August….(He) 'put together a range of contingency plans,' but he didn't spell them out."
"Now there's mounting, though not yet conclusive, evidence that if Assad hasn't stormed across that red line, he may be tiptoeing on it."
Tribune editors want more decisive action. "We've long argued that the US should directly arm the rebels."
Operating covertly from southern Turkey, CIA operatives have been doing it all along. It's handled through a network of intermediaries. Weapons are also entering from Lebanon, Jordan and Israel.
Tribune editors urge more. Impose a no-fly zone "to ground Assad's air force." Doing so is an act of war.
"(B)omb access roads where chemical weapons are transported, to make moving (them) difficult if not impossible."
Bombing anywhere assures doing it everywhere considered strategically important. Tribune editors urge war. They're not alone.
On April 25, Wall Street Journal editors headlined "Chemical Weapons and Consequences: Syria calls President Obama's bluff on WMD," saying:
"As President of the United States, I don't bluff," said Obama.
He "famously said (it) in March 2012, warning Iranian leaders that he would not allow them to acquire nuclear weapons."
Last month he said:
"I've made it clear to Bashar al-Assad and all who follow his orders: We will not tolerate the use of chemical weapons against the Syrian people, or the transfer of those weapons to terrorists."

"The world is watching; we will hold you accountable."
"Or not," said Journal editors. "Israel will have to consider its own military options to secure the stockpiles if the US won't act…."
"Presidents who are exposed as bluffers tend to have their bluff called again and again, with ever more dangerous consequences."
Official accusations are familiar. So is heated rhetoric that follows. Obama heads closer to full-scale intervention. Reports say around 20,000 US troops will be deployed in Jordan.
On April 26, Obama hosted Jordan's King Abdullah II in Washington. Perhaps they discussed invasion plans.
A Final Comment
While meeting with King Abdullah, Obama stopped short of saying Assad crossed a "red line." Earlier he warned doing so would unleash "unspecified consequences." Likely he meant direct US intervention.
"Horrific as it is when mortars are being fired on civilians and people are being indiscriminately killed, to use potential weapons of mass destruction on civilian populations crosses another line with respect to international norms and international law," he told reporters.
"That is going to be a game changer. We have to act prudently."
"We have to make these assessments deliberately. But I think all of us….recognize how we cannot stand by and permit the systematic use of weapons like chemical weapons on civilian populations."
Sorting things out requires "increased urgency," he stressed.
White House spokesman Jay Carney said "(h)e retains all options to respond." Further reports will explain more.
Stephen Lendman lives in Chicago. He can be reached at lendmanstephen@sbcglobal.net. His new book is titled "Banker Occupation: Waging Financial War on Humanity."http://www.claritypress.com/LendmanII.html Visit his blog site at sjlendman.blogspot.com. Listen to cutting-edge discussions with distinguished guests on the Progressive Radio News Hour on the Progressive Radio Network. It airs Fridays at 10AM US Central time and Saturdays and Sundays at noon. All programs are archived for easy listening. http://www.progressiveradionetwork.com/the-progressive-news-hourhttp://www.dailycensored.com/the-bush-legacy/
Source: ICH
Zionists and Gulf Monarchs Ponder…
Beirut – "This is one damn fine idea, what took us so long to see a simple solution that was right in front of our eyes for Christ's sake", Senator John McCain of "Bomb, bomb, bomb Iran" and "no-fly zones for Syria" notoriety, reportedly demanded to know from Dennis Ross during a recent Washington Institute for Near East Policy (WINEP) brain storming session in Washington DC.
 Ross, a founder of WINEP with Israeli government start up cash (presumably reimbursed unknowingly by American taxpayers) and currently WINEP's "Counselor", reportedly responded to the idea of facilitating Al Qeada to wage jihad against Hezbollah with the comment: "Shiites aren't the only ones seeking death to demonstrate their 'resistance' to whatever. Plenty of other Muslims also want to die as we saw last week in Boston. Let 'em all go at it and Israel can sweep out their s— when it's over."
One Congressional staffer attending the WINEP event emailed me, "Dennis spoke in jest — well I assumed he did — but who knows anymore? Things are getting ever crazier inside some of these pro-Israel think-tanks around here."
Featured on the front page of its April 25 edition, the Zionist-compliant New York Times writes that the Assad regime is apparently recovering but, "it must be understood that for all of the justified worries about the (al Qaeda affiliated) rebels "Assad remains an ally of Iran and Hezbollah. "
The Times adopts the views of Islamophobe, Daniel Pipes, who recommends that the US try to keep the two sides in Syria fighting as long as possible until they destroy each other.  Pipes, now serving as an advisor to John McClain, wrote in the Washington Times on April 11, "Evil forces pose less danger to us when they make war on each other. This keeps them focused locally, and it prevents either one from emerging victorious and thereby posing a greater danger. Western powers should guide enemies to a stalemate by helping whichever side is losing, so as to prolong their debilitating conflict."
Both Jeffrey Feltman, U.N. Under-Secretary General for Political Affairs and Susan Rice, U.S. Permanent Representative to the U.N, have at a minimum impliedly joined in the intriguing idea of siccing Jabhat al Nusra on the Party of God. This scheme, if launched, would be Feltman's 14th attempt to topple Hezbollah and defeat the Lebanese National Resistance to the occupation of Palestine since he first arrived in Beirut from Tel Aviv in 2005 to become US Ambassador to Lebanon.  This observer, among others in this region sense that given the aura still enveloping the American Embassy here,  that Jeffrey never really left his Lebanese ambassadorial post and continues to occupy this position from his new UN office.
This week Feltman warned that the spillover of Syria's war continues to be felt in Lebanon as Susan Rice, echoed him and condemned Hezbollah for "undermining the country's "dissociation policy." The latter being a bit obscure in meaning but connoting something like sitting around doing nothing while this country is being shelled by jihadists from among the 23 countries currently fighting in Syria.  Feltman informed the media on 4/22/13 that "The Secretary-General is concerned by reports that Lebanese are fighting in Syria both on the side of the regime and on the side of the opposition, hopes that the new government will find ways to promote better compliance by all sides in Lebanon with the "disassociation policy."
Given current divisions in Lebanon that will not happen anymore than Lebanon's June 9th Parliamentary elections will be held on time.
For her part, Susan lectured the UN Security Council that "Hezbollah actively enables Assad to wage war on the Syrian people by providing money, weapons, and expertise to the regime in close coordination with Iran." This position was expressed also through a statement by US. State Department spokesman , Patrick Ventrell, who said that Washington "has always been clear concerning Hezbollah's shameful role and the support it is providing for the Syrian regime and the violence it is inducing in Syria." Ventrell added: "We were clear from the start concerning the destructive role played by Iran as well as the Iranian role."
Several Israeli agents in Congress are today promoting a Jabhat el Nusra-Hezbollah war even as the Obama administration terror-lists the jihadist group. Meanwhile, Senator Lindsay Graham (R-S.C.), McCain's neocon Islamaphobe acolyte, goes a bit further and explains to Fox News, once Assad falls and Hezbollah is out of the picture "We can deal with these (jihadist) fellas."
Recent history in Libya instructs otherwise. As Turkish commentator Cihan Celik recently noted: "A divorce with al-Nusra will not be easy in Syria"
The past two years in Libya, that shadow of a country, reveals countless examples, three witnessed firsthand by this observer, during the long hot summer of 2011. What we saw was Gulf sponsors and funders offering young men, often unemployed, $ 100 per month, free cigarettes, and a Kalashnikov to do jihad.  Plenty down and out lads still accept these offers in Libya, as they do in Syria. One reason why the militias proliferated so quickly in Libya and never melted away was the phenomenon of a wannabe jihadists deciding to be a leader and recruiting perhaps a brother or two, maybe a few cousins or tribe members, and presto, they have created a militia with power they never dreamed of.
Their new life can offer many perceived benefits  from running rough shod over the civilian populations and setting up myriad mini but potent criminal enterprises specializing in kidnappings, robberies, drugs, trafficking in women, and assassinations for cash.  How many of these young men have turned in their weapons in Libya and returned to their former lives?   Or will do so when instructed by the likes of McCain or Graham?
On 4/24/13 Jabhat Al-Nusra Front intensified its threats to officials here including the Lebanese president by releasing a challenge from its media office: "…we inform you – and you may think of that as a warning or an ultimatum – that you must take immediate measures to restrain Hezbollah, otherwise, the fire will reach Beirut. If you do not abide by this within 24 hours, we will consider that you are taking part in the massacres committed by the Hezbollah members and we will unfortunately have to burn everything in Beirut." In addition they are calling for Jihad and the establishment of the "Resistance Factions for Jihad against the Regime in Syria" and also in Saida and Tripoli, Lebanon.
Israeli officials appear to be in agreement with the Ross/Pipes proposal to arrange for Al Qeada to launch a war against Hezbollah.  The Director for External Affairs at "The Moshe Dayan Center for Middle Eastern and African Studies, repeatedly claimed that the Shia are the real threat to Israel, not the Sunni and with the least threat coming from the Gulf monarchs.  He offered the view recently that "Israel is now a partner of the Sunni Arab states."  Indeed, Israel hopes that Hezbollah will forget Israel when tasked with trying repel Al Nusra and other al Qaeda affiliate attacks.
According to various Israel officials who have issued statements on the subject, Saudi Arabia, Egypt and Jordan and several other members of the Arab League constitute an "alliance of anxiety for Israel" because they claim that "Sunni Arabs are not as competent as the Shia and Iran and as a result they express doubts that Israel can rely on the Sunni states in the same way that the Sunni states can rely on Israel."
In a documentary about the Iraq war, an American soldier explains:  "Actually, we don't really have much of a problem with the Sunnis.  It's the Shias who we are afraid of.  The problem has something to do with their leader who was killed centuries ago and these fellas are willing to lay their life down for the guy.  Anyhow, that is what they told us in Special Ops class."
Al Nusra fighters currently occupying parts the south west areas of Yarmouk Palestinian refugee camp in south Damascus, recently expressed eagerness to fight Hezbollah which they claim would give them credibility with Sunni Muslims and, oddly, in this observers view, "credibility with western countries", who supposedly are al Qaeda's sworn enemies. It's sometimes hard to know who precisely is whose enemy these days in Syria as the rebels continue using areas east and southwest of Damascus as rear bases and as gateways into the capital.
Despite boasts to the contrary from Jihadist types in Syria and Lebanon, it is not clear to this observer if Jihadist and al Qaeda-affiliated groups living among Hezbollah communities in Lebanon like Fatah al Islam, Jund al Sham or Osbat al Ansar which have been here for years would actually join the Zionist promoted anti-Hezbollah jihad.
But it is evident that some Lebanese Islamists and jihadists directly connected to al Qaeda do have the ability to target Hezbollah.   Elements from each of these groups are startling to associate and identify with Jabhat al Nusra, inspired partly by their successful military operations in Syria.
Again, we saw the same thing in Libya.  Enthusiastic, ambitious young men who want to improve their lot in life try to go with a winner.  According to sources in the Ain al Hilweh Palestinian refugee camp, jihadist leaders such as Haytham and Mohammed al Saadi, Tawfic Taha, Oussama al Shehabi and Majed al Majed are recruiting followers and fighters in Lebanon and offer a ticket out the the squalid army-surrounded, Syrian-refugee-inflated camp.
Homs-based media activist Mohammad Radwan Raad claims that "the embattled residents of the rebel-controlled Homs province town of Al-Qusayr welcome Saida, Lebanon-based Sunni Sheikh Ahmad al-Assir's call for Jihad in Syria. Claims Raad, "Al-Qusayr residents welcome Assir's call and hope the Lebanese people help kick out Hezbollah members in the area…We need anyone who can get rid of them." This week Assir urged his followers to join Syrian rebels fighting troops loyal to President Bashar al-Assad and Lebanese Shiite movement Hezbollah. Al-Qusayr has been under rebel control for more than a year and on the scene reports indicate that it is about to be returned to central government control.
In response, two Salafist Sunni Lebanese sheikhs urged their followers to go to Syria to fight a jihad (religious war) in defense of Qusayr's Sunni residents. "There is a religious duty on every Muslim who is able to do so… to enter into Syria in order to defend its people, its mosques and religious shrines, especially in Qusayr and Homs," Sheikh Ahmed al-Assir told his followers. For now, experts say, such calls on the part of Lebanon's Salafists are largely bluster because the movement is far from able to wield either the arsenal or the fighting forces of Hezbollah.
Local analysts like Qassem Kassir argue that Jabhat al Nusra and friends are not organized enough to fight against Hezbollah in a conventional war, but they could cause great damage by organizing bomb attacks against the Party of God's bases and militants. The latter would be enough initially for Ross and WINEP and their Zionist handlers. Creating chaos in Lebanon being one of their goals but more importantly weakening the National Lebanese Resistance led by Hezbollah and also challenging Syria and Iran.
In a recent speech, Hezbollah Secretary-General Hassan Nasrallah offered his party's view about a Western-promoted Sunni-Shia clash, with Al-Nusra, AlQaida and all the groups which flocked to Syria, saying that what was wanted of them was to kill and get killed in Syria, in a massacre which will only serve the enemies of the Arabs and Muslims.
The coming months will reveal to us if  the several pro-Zionist Arab regimes as well as Islamophobes, including those at WINEP and other Israel-first think-tanks, are delusional in believing that John McCain's "simple solution" to those resisting the Zionist occupation of Palestine, would be to assist  Jabhat el Nusra type jihadists to make war against Hezbollah.
Whether they could defeat Hezbollah is uncertain but whether Jabhat al Nusra and friends are capable of igniting yet another catastrophe in this region is the looming question.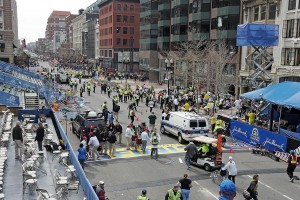 Will we ever learn the full truth about the Boston Marathon bombing?  Personally, I have been looking into this attack for days, and I just keep coming up with more questions than answers.  At this point, I honestly have no idea what really happened.  Why was a bomb drill being held on the day of the attack?  Why have authorities denied that a bomb drill was taking place?  Were Tamerlan and Dzhokhar Tsarnaev acting alone?  What was the nature of their previous contacts with the FBI and other federal agencies?  Why did the FBI at first deny that they had been in contact with the Tsarnaev brothers previously?  Why was the investigation of a mysterious Saudi national with familial links to al-Qaeda suddenly dropped shortly after the Saudi ambassador held an unscheduled meeting with Barack Obama?  Why did Michelle Obama subsequently visit that mysterious Saudi national in the hospital?  If you are looking for answers to these questions, I am afraid that I don't have them at this point.  But what alarms me is that the mainstream media seems to be afraid to ask any of the hard questions that they should be asking.  They just seem to swallow whatever the authorities tell them hook, line and sinker without following up on any of the things in this case that simply do not seem to make sense.
So what kinds of questions should they be asking?  The following are 17 unanswered questions about the Boston Marathon bombing that the media appears to be afraid to ask…
#1 Why were runners being told that a bomb squad drill was taking place during the Boston Marathon?  The following is from an article by Natural News…
Alastair Stevenson is a veteran marathon runner who has competed in dozens of marathons around the world, including the London Marathon. He's very familiar with the security typically found at marathons, and he immediately noticed something odd about the Boston marathon security.

"They kept making announcements on the loud speaker that it was just a drill and there was nothing to worry about. It seemed like there was some sort of threat, but they kept telling us it was just a drill," he was quoted as saying byLocal15TV.com.

In the interview, you'll hear Stevenson say:

"At the start at the event, at the Athlete's Village, there were people on the roof looking down onto the Village at the start. There were dogs with their handlers going around sniffing for explosives, and we were told on a loud announcement that we shouldn't be concerned and that it was just a drill. And maybe it was just a drill, but I've never seen anything like that — not at any marathon that I've ever been to. You know, that just concerned me that that's the only race that I've seen in my life where they had dogs sniffing for explosions, and that's the only place where there had been explosions."
#2 Why did authorities deny that a bomb squad drill was being held?
#3 According to The Mirror, the FBI is reportedly "hunting" a 12-strong terrorist "sleeper cell" that Tamerlan and Dzhokhar Tsarnaev were allegedly a part of…
A source close to the investigation said: "We have no doubt the brothers were not acting alone. The devices used to detonate the two bombs were highly sophisticated and not the kind of thing people learn from Google.

"They were too advanced. Someone gave the brothers the skills and it is now our job to find out just who they were. Agents think the sleeper cell has up to a dozen members and has been waiting several years for their day to come."
If that is the case, why are authorities in Boston adamantly insisting that the two brothers were acting alone?
#4 CBS News is reporting that the FBI interviewed Tamerlan Tsarnaev back in 2011.  The mother of the two Tsarnaev brothers insists that the FBI had been in contact with them for up to five years.  At first, the FBI denied any previous contact with the two suspects.  Will we ever learn the true scope of the previous relationship between the FBI and the Tsarnaev brothers?
#5 Debka is reporting that the Tsarnaev brothers were "double agents" which had been "hired by US and Saudi intelligence to penetrate the Wahhabi jihadist networks which, helped by Saudi financial institutions, had spread across the restive Russian Caucasian."  Could this possibly be true?  If so, will the American people be told the truth about these links?
#6 According to their uncle, there were "mentors" that "radicalized" the Tsarnaev brothers.  So precisely who were those "mentors"?
#7 What happened during Tamerlan Tsarnaev's trip to Dagestan and Chechnya last year?
#8 Were the Tsarnaev brothers in contact with a rebel leader named Doku Umarov who is known as "Russia's Bin Laden"?
#9 Did Tamerlan Tsarnaev post a video on YouTube last summer that expresses a belief that the 12th Imam, Mahdi, will soon come and that an Islamic army with black flags with arise out of a province in Iran known as Khorasan?
#10 Why aren't we being told that the "pressure cooker bombs" used in the Boston Marathon attacks are very similar to the kind of pressure cooker bombs that are commonly used in the Middle East?…
The Daily Beast has confirmed with U.S. counter-terrorism officials that the bombs placed Monday at the marathon were made from pressure cookers, a crude kind of explosive favored by insurgents in Pakistan and Afghanistan. A recipe for a bomb that uses the pressure cooker was part of the debut issue of Inspire, the English-language online magazine of al Qaeda in the Arabian Peninsula.
#11 Initially we were told that Saudi national Abdulrahman Ali Alharbi was a "person of interest" in the case.  But now he is scheduled to leave the countrywith the full blessing of the U.S. government.  Why is there such a rush to get him out of the United States?
#12 Why aren't we being told that Abdulrahman Ali Alharbi was photographedwith two other Saudis in the vicinity of the Boston marathon bombings?
#13 Why aren't we being told of the shocking familial links that Abdulrahman Ali Alharbi has to known members of al-Qaeda?  The following is from research complied by Walid Shoebat…
Many from Al-Harbi's clan are steeped in terrorism and are members of Al-Qaeda. Out of a list of 85 terrorists listed by the Saudi government shows several of Al-Harbi clan to have been active fighters in Al-Qaeda:

#15 Badr Saud Uwaid Al-Awufi Al-Harbi
#73 Muhammad Atiq Uwaid Al-Awufi Al-Harbi
#26 Khalid Salim Uwaid Al-Lahibi Al-Harbi
#29 Raed Abdullah Salem Al-Thahiri Al-Harbi
#43 Abdullah Abdul Rahman Muhammad Al-Harbi (leader)
#60 Fayez Ghuneim Humeid Al-Hijri Al-Harbi
Source: http://aalhameed1.net/vb/showthread.php?t=1565

Then you have Al-Harbi clan members in Gitmo:

Salim Salman Awadallah Al-Sai'di Al-Harbi
Majid Abdullah Hussein Al-Harbi
Muhammad Abdullah Saqr Al-Alawi Al-Harbi
Ghanem Abdul Rahman Ghanem Al-Harbi
Muhammad Atiq Uwaid Al-Awfi Al-Harbi
Source: http://www.muslm.net/vb/showthread.php?169019-أسماء-(90)-سعودياً-لا-زالوا-محتجزين-في-جوانتانامو

There are specific Saudi clans that are rife with members of Al-Qaeda, which makes it quite alarming as to why nearly a hundred thousand student visas are issued to these. Americans are clueless as to clan ties when it comes to terrorism.
#14 Why did U.S. Secretary of State John Kerry have a private meeting with a Saudi foreign minister shortly after Abdulrahman Ali Alharbi was identified as a potential suspect?
#15 Why did Barack Obama hold an unscheduled meeting with the ambassador from Saudi Arabia shortly after Abdulrahman Ali Alharbi was identified as a potential suspect?
#16 Why did Michelle Obama visit Abdulrahman Ali Alharbi in the hospital?
#17 Why did numerous mainstream media outlets openly suggest that "right-wing extremists" were behind the bombings in the immediate aftermath of the attack?
Source: End of the American Dream
Only a media masochist can stand watching network and cable TV news. The extent of self-immolation coming out of their broadcasts, have seldom been more vivid, with their bizarre reports on the Boston Marathon bombing. If one did not know better, the comparison with the Marx Brothers antics would have you believe that you have a ringside seat At the Circus. Silly behavior is the mainstay of the mainstream media. Real news investigation has long ago been relegated to the archives of a half century ago, when there was at least a small measure of a healthy distrust of government sources. Today the clowns that act as ventriloquist dummies have more in common with Karl Marx than Groucho.
The passion of lies flows from the lips of the talking heads, as they get their instructions from corporatist producers in their earpiece. The latest example of a Mossad agent and Zionist exponent is the infamous liar, CNN Wolf Blitzer. A Rush to Misjudgment, states, "CNN is coming under criticism after it falsely reported authorities had arrested a Boston Marathon bombing suspect, whom it had earlier described as a "dark-skinned male." Catching Blitzer tap dancing around the blowup of the designed script of placing culpability on the intended stooges, selected to advance the domestic war of terror, reminds of a skit played by Chico in a bad version of Monkey Business.
That other CNN and CIA plant, Anderson Cooper provides the complementary tag team effort to confuse and distract on a news production that even the global radical and former network owner Ted Turner has to hang his head. Cooper plays the role of Harpo as Pinky as he stirs the Duck Soup broth disinformation. The only way to watch "the government news hour" is with the volume on the Harpo setting - silent no verbal talk.
Not to be outdone the Fox News Network features another CNN alumnus, Bill Hemmer as their Zeppo, performing relatively straight (non-comedic) roles as an authoritive source for an authoritarian mindset of neoconservatives. Deceiving real liberty loving viewers with a pseudo patriotic flag waving is the hallmark of the fair and balanced news format now that Rupert Murdoch is the target of the globalists cabal to act friendly with their new world order scheme.
The next hack over at MSNBC, Chris "Gummo" Matthews on "Hardball" tonight, the host openly questioned whether at least a portion of the horror was an intentional attack against the Democratic Party. What class from this dedicated Marxist brother in media prevarications?
"Let me ask you about domestic terrorism as a category. Normally, domestic terrorists, people tend to be on the far right, well that's not a good category, just extremists, let's call them that. Do they advertise after they do something like this? Do they try to get credit as a group or do they just hate America so much or its politics or its government that they just want to do the damage, they don't care if they get public credit, if you will?"
In addition, the Weekly Standard, the quid essential NeoCon diatribe publication, lashes out at MSNBC as an adjunct enabler of the globalist agenda.
"MSNBC host Lawrence O'Donnell made the case this evening that the National Rifle Association is to blame for the slow investigation into the Boston bombings:
"There are new developments tonight in the bombing investigation here in Boston," said O'Donnell. "But that investigation could be moving faster were it not for the successful lobbying efforts of the National Rifle Association. The NRA's efforts to guarantee that American mass murderers are the best-equipped mass murders in the world is not limited to murderers who use assault weapons and high-capacity magazines. The NRA is also in the business of helping bombers get away with their crimes. Gunpowder could be traced by investigators to a buyer at the point of sale if gunpowder contained a taggant, an element that would enable tracing of the purchase of gunpowder. But thanks to the National Rifle Association, identification taggants are required by law only in plastic explosives. The NRA has successfully blocked any requirements for such taggants in gunpowder. So such supremely helpful evidence as taggants are not available to the FBI in this investigation."
The bombings took place at Monday's marathon."
For an even more revolting low in propaganda, the MSNBC: NRA 'in the Business of Helping Bombers Get Away With Their Crimes' You Tube, is typical of a state sponsored Pravda style media misinformation, that now passes as journalism. Now compare this garbage MSNBC government coordinated onslaught with the perceptive, daring and provocative coverage on Breaking the Set, with host Abby Martin that is aired on RT TV. The video broadcast of Corporate Media Disaster Porn | Weapons of Mass Distraction, raises the issue that the corporate media is reporting false information. The long record of government drill operations during "so called" terrorist events might well prove to apply to the Boston Marathon massacre.
At the forefront of this speculation, Yahoo News lays claim that Alex Jones raises 'false flag' conspiracy after Boston Marathon bombings.
"Jones suggested that the FBI orchestrated the bombings under the false flag of a terrorist organization in order to justify expanded security powers. The Boston attack, he theorized, was staged by the U.S. government to extend the reach of both the Dept. of Homeland Security and Transportation Security Administration."
With the FBI suspects, Tamerlan Tsarnaev dead and his brother Dzhokhar Tsarnaev at large and now captured, it will take some serious investigatory reporting in order to penetrate the layers of government secrecy that reasonably can be expected to conceal what actually transpired on April 15, 2013. Still, the lamestream media will never report any evidence that conflicts with the homeland security police. The presence of sensible alternative explanations are consistently dismissed when the war of terror needs another jolt of fear to keep the public on edge.
Believing any of the government press releases that pass as independent news reporting is more risky than taking your chances in a world of deranged psychopaths. Simply stated, no one in the "so called" know has the inside track on all the complexity of the official investigation, or the potential compartmental complicity in a sanctioned undercover mission.
Where are the brave correspondents that would dare shout from the rooftops, that the response from the Boston carnage is virtually a green light for lock down martial law on the public? Just look to the Faux resident pinhead, Bill O'Reilly for bold reporting, Bill O'Reilly Attacks Alex Jones and Infowars for Daring to Ask Questions About Boston Bomber Narrative.
"Fox resident blowhard Bill O'Reilly and correspondent Juliet Huddy have attacked Alex Jones and Infowars.com reporter Dan Bidondi. For the two Fox News talking heads it is apparently a serious crime to quiz Massachusetts Gov. Deval Patrick about the false flag attack in Boston on Monday. It is impermissible to call into question the validity of the official narrative now coagulating around the event. It is forbidden to deviate from the establishment's script.Huddy dismissed Jones and Bidondi as "idiots" and the accused sexual predator O'Reilly – who has strongly condemned the First Amendment in the past and has shilled for mass murder in Iraq and Afghanistan – made his disgust manifestly apparent, as usual. Both displayed contempt for the internet and alternative media, a quite natural reaction from two irrelevant teleprompter readers. Fox News in particular and the rest of the bloated script-reading dinosaur media in general are seriously threatened by free expression and news reportage on the web."
Viewers that still watch, let alone believe, the fabrications coming out of the bowls of the presstitutesneed a reality check. Just think of all the naive clones that pay their cable or satellite charges for the privilege of bonding with the establishment mouthpieces. What you get from the mind control media is a government version of indoctrination into a slave society. Denial of even the possibility of a false flag operation in the underlying exercise is the only reporting you are supposed to watch.
The FBI tells America: believe us and no one else, outlines the official dictates from the ranks of the G-man enforcers, "The implication is clear: there is official truth and then there is everything else."Since the fascination of following, another manhunt with live feeds is so compelling to the trained seals that are pinned to the screen, the significance of a tyrannical takedown of an entire region of law-abiding citizens, goes unreported by the whores that read from the government approved teleprompters. The autocue message is sanitized of any possibility that the crew of a covert operative drill might just provide cover for a despotic counterattack to the shot heard around the world.
Americans are so easily duped. The Marxist media feed Animal Crackers to a dumb downed public that swallows a systematic federalization of genuine peace keeping functions. The true race in Boston is to re-establish the rebirth of the American Revolution.
Mounting evidence suggests state-sponsored terrorism. Expect more later to confirm it. Cui bono matters most. Powerful interests benefit hugely. Ordinary people lose out.
War on terror 2.0 looms. Innocent people will suffer. Expect more repressive laws. Military spending will increase. Homeland security will be boosted. Fundamental freedoms will die. Full-blown tyranny may follow. It's already a hair's breath away.
Imperial wars on humanity will continue. New targets will be chosen. Independent governments will be attacked. New world order rules demand unchallenged global dominance. The worst of all possible outcomes may follow. State-sponsored terror facilitates it.
What's ongoing resembles post-9/11 events. Media scoundrels misreport. They do so round-the-clock. Readers and viewers are willfully misinformed.
Fear-mongering, lies and damn lies replace truth and full disclosure. Muslims became public enemy number one. Who'll suffer most with them this time?
Vital information is suppressed. Fingers point the wrong way. Innocent victims are blamed for state-sponsored terror. More on that below.
National emotions are aroused. At issue is enlisting public support. Post-9/11, Bush addressed an Episcopal National Cathedral prayer and remembrance ceremony.
"(O)ur country was attacked with deliberate and massive cruelty," he said. "We have seen the images of fire and ashes and bent steel."
He omitted what's most important. Washington bore full responsibility. The worst of all possible worlds followed.
On April 18, Obama addressed a Holy Cross Cathedral interfaith prayer service. "(I)n an instant, the day's beauty was shattered," he said. "A celebration became a tragedy. And so we come together to pray and mourn and measure our loss."
"We will find you," he added. "And yes, you will face justice. We will hold you accountable." Truth and full disclosure always loses out.
Early Friday, newly released FBI photos showed alleged bombing suspects. They're brothers. They were called "armed and extremely dangerous." Allegedly they had "explosives and guns." Official reports lack credibility.
One suspect was arrested. The other fled. He's now in hospitalized in serious condition. Police discovered his whereabouts and shot him. Officials later said the one taken into custody died. Allegedly he was killed in a "violent standoff." Cold-blooded murder is more likely.
A "massive manhunt" continues. Officials said suspects came from Chechnya or nearby. Doing so implies Islamofascists. MSNBC's Chris Matthews alleged they're Arabs. Perhaps from Yemen, he said. Media scoundrels feature this type misreporting ad nauseam.
Mossad-connected DEBKAfile called them "Chechen Wahhabi cell" members. Saudi Arabia funds it, it said. Older brother Tamerlan was 26. Police likely killed him in cold blood. He was a boxer and Bunker Hill Community College engineering student.
Younger brother Dzhokhar fled. He's 19 years old. He's a Cambridge Rindge and Latin School graduate. His father calls him a "true angel." He's a Greater Boston League all-star wrestler.
He won a city of Cambridge $2,500 scholarship. He's a second year medical student. His father said both brothers were "set up." They "killed my older son Tamerlan," he added.
Over 10 years ago, both brothers came to America with their family. They're not terrorists.
Officials said greater Boston public transportation shut down. The FAA ordered a no-fly zone over a 3.5 radius of the bombing site. Watertown, Cambridge, Newton, Brookline, Waltham, Belmont, and other suburban area residents were advised to stay home.
Colleges and universities closed for the day. Local businesses were told not to open. Thousands of officers made house-to-house searches. Swat teams are involved. Some areas were evacuated. Helicopters patrol overhead. Police cars are everywhere.
Greater Boston's never seen anything like this before. It's surreal. It resembles a bad film plot. It gets round-the-clock coverage. Managed news misinformation substitutes for cold hard facts.
Infowars headlined "Did Boston Bombing Suspect Try to Surrender?" An image showed him lying prone with his arms outstretched. He held no weapon. None appeared near him.
One suspect killed. Perhaps another to follow. What better way to bury truth. Dead men tell no tales. Exculpating evidence perhaps won't surface. Media scoundrels won't report what does.
Lots more went on. On marathon day, eyewitnesses reported bomb drills, training exercises and rooftop snipers. Authorities denied them.
University of Mobile cross country coach Alastair Stevenson contradicted them, saying:
"At the starting line this morning, they had bomb sniffing dogs and the bomb squad out there. They kept announcing to runners not to be alarmed, that they were running a training exercise."
On April 17, Anthony Gucciardi headlined "Craft International Private Military Forces at Boston Marathon?"
Images showed two men "with earpieces and military-esque gear….(T)hey may likely be employees of the Blackwater-style private military/security firm Craft International."
Their attire was later "revealed to be standard issue Craft International clothing." The skull logo on one man's cap identifies Craft.
Why were both men and others with them in Boston? Images show around 10 wearing similar attire. Nearly all had on black backpacks. They resembled those alleged to contain pressure cooker bombs.
Investigators said they contained explosives, nails and ball bearings. They detonated moments apart.
Four or more Craft operatives wore tan combat boots, tan BDUs (battle dress uniforms), black jackets, and had tactical communications gear. At least one had an "inspector radiation alert." It's used to detect dirty bomb or nuclear attack emissions.
Why were they near the marathon's finish line? Perhaps their mission was a black ops. They're experts in these type operations.
Why did FBI operatives join them? Images show them talking. An FBI truck was visible. Why were FBI agents searching for one bombing suspect before the incident took place?
Why have media scoundrels ignored this? These and related questions demand answers. Coverup and denial reflect official policy. Vital facts are suppressed. What's most important isn't reported. Misinformation substitutes.
Stephen Lendman lives in Chicago. He can be reached at lendmanstephen@sbcglobal.net.
His new book is titled "Banker Occupation: Waging Financial War on Humanity."
http://www.claritypress.com/LendmanII.html
Visit his blog site at sjlendman.blogspot.com.
Until a week ago it appeared that the government in Belgrade would give up the last vestiges of its claim to Kosovo for the sake of some indeterminate date in the future when Serbia may join the European Union. A series of unreciprocated concessions over the past few months have encouraged the KLA regime's mentors in Washington and their European backers to expect the final capitulation. In the end they overplayed their hand by demanding everything and offering nothing.
The demands have been escalating for years. The final objective was stated in December 2011, German Chancellor Angela Merkel came to Serbia to declare that the "path of Serbia into the EU can only lead through the normalization of its relations with Kosovo"—i.e., Serbia's recognition of Kosovo. This precondition was stated with her customary subtlety and diplomatic tact, but at least it had the quality of candor which made it difficult for Boris Tadić and his eurofanatical Democrats to pretend that "the European path" did not entail eventual surrender.
The defeat of Tadić last May and the subsequent establishment of a new, allegedly nationalist coalition government in July did not result in any change of course. Quite the contrary: Washington and Brussels were surprisingly comfortable dealing with Šešelj's former No. 2, Tomislav Nikolić, as president, and a former Milošević loyalist, Ivica Dačić, as prime minister. The key "Westerner" in the triumvirate is Aleksandar Vučić, known for his embarrassingly groveling statements on visits to Germany and the U.S.
There were no dividends, however. Last October Secretary of State Hillary Clinton said that Serbs must accept that they cannot change Kosovo's borders. "We oppose any discussion of territorial changes or reopening Kosovo's independent status," Mrs. Clinton declared in Priština after meeting with Kosovo's self-styled prime minister,Hashim Thaci. "These matters are not up for discussion. The boundaries of an independent, sovereign Kosovo are clear and set."
Last December, under EU pressure, Serbia agreed to the establishment of a fully-fledged border management system. It provided a visible symbol of Belgrade's loss of nerve. Furthermore, Dačić was forced to agree to joint passport and customs controls, with equal numbers of Serbian and "Kosovar" officials on duty. Accepting Priština's right to collect customs duties on goods coming from central Serbia was a significant milestone on what seemed like a terminal slide. Unsurprisingly, the Albanians saw the border as another step toward international recognition.
Serbia's government policy guidelines made public last January no longer focused on the claim of sovereign rights over the entire province, but on the modest demand for an autonomous status for some 60,000 Serbs living in four northern municipalities. Prime Minister Ivica Dačić even hinted that Serbia could agree to a UN seat for Kosovo, which caused a political storm in Belgrade, although he later withdrew the statement. But asTed Carpenter noted in The National Interest, both U.S. and EU leaders had reacted to previous conciliatory gestures from Serbia with intransigence bordering on contempt:
A majority of countries in the European Union, most crucially Germany, have adopted a similar rigid stance. U.S. and EU leaders assume that Serbia wants membership in the European Union so badly that Serb leaders will ultimately adopt a policy of unconditional surrender regarding the Kosovo issue. That may well be a dangerous miscalculation. The current government … has already moved far beyond Serbian public opinion in offering possible diplomatic compromises.
True to form, during the latest round of negotiations the EU managed to break the camel's back by refusing to offer even a fig leaf to the Belgrade troika, not even on the minimal demand that the Serbs be allowed to form an association of municipalities in the north.
There was no "deal" on offer from Brussels, and at the same time Germany's lawmakers presented an incredible list of seven demands which Serbia has to complete if she is to be granted… no, not the EU membership, but a date for the commencement of negotiations that may eventually lead to membership:
To fulfill all 96 points presented by the European Commission in early 2011;
To find and prosecute the demonstrators who attacked the German embassy in Belgrade; in February 2008, a day after Berlin recognized Kosovo's independence;
To accept, and not deny, that a "genocide" was committed in Srebrenica;
To make visible progress in resolving all open issues in direct dialogue with Kosovo.
To abolish all Serbian "parallel institutions" in northern Kosovo (such as schools and hospitals), and to stop financing them;
To apply pressure on northern Kosovo Serbs to "actively cooperate" with EULEX and Kfor;
To display visible readiness for legally binding normalization of relations with Kosovo.
The only logical explanation for this piece of 1930's-style diplomatic brutality is that the Germans want to push Serbia into Russia's arms as part of establishing an elaborate geopolitical partnership with Moscow. Putin has already responded with $500m soft loan to Belgrade, with the promise of more to come. He would not have done it had Nikolić and Dačić not accepted that the long, futile quest for Serbia's place under the Western sun is over. One likely consequence is that the dispute over Kosovo will remain frozen for years to come, as it should.
"You never let a serious crisis go to waste. And what I mean by that it's an opportunity to do things you think you could not do before." - Rahm Emanuel, former White House Chief Of Staff to Barack Obama
While many people might immediately dismiss the concept, any student of true and unadulterated history has to eventually admit this fact:  Governments exploit crisis.  Sometimes, they merely take advantage of the ensuing chaos and aftermath of a disaster they had nothing to do with directly.  Other times, they create those disasters themselves in order to engineer social and political opportunity.
In regard to the recent bombing of the Boston Marathon, which killed three people and injured at least 140, I have asked "Who do they plan to blame?"  The unaware and naïve will state that "They will blame the true culprit behind the attack, of course!"  Unfortunately, in the past couple decades I have seen numerous terrorist attacks where the blame was NOT placed on the true culprit, or, the blame was extended to totally uninvolved groups and organizations in order to politicize the event.  Governments (especially our government) squeeze each man-made disaster like a ripe papaya until every drop of sweet advantage can be collected.  They use our fear and confusion as license to attack a predetermined list of targets that may or may not have had anything to do with the original event.  They tell the story in a way that suits their end-line interests, and the last thing they are concerned with is helping the public to "understand".  In the end, what average citizens see as an authoritative analysis on the facts from their "loving" leaders is in reality nothing more than an exercise in fantasy.
Now, the thought of persons and institutions within our government being malicious enough to create a terrorist event to be used to manipulate the public towards a certain end tends to bring out furious denial in some Americans.  This is because those people with weak characters and an even weaker sense of identity tend to attach their egos to the collective.  They live vicariously through the group, or the nation state, so that the State's accomplishments and trials become THEIR accomplishments and trails.  To accuse the state of criminality is to accuse them of criminality.
The Boston bombing already has the makings of a subversive and highly exploitable false flag event, and certain undertones remind me of the now exposed Operation Gladio, a false flag program utilized by NATO governments (including the U.S.) for decades which involved multiple bombings and mass shootings of high traffic public areas across Europe that were then falsely blamed on "left-wing terrorists".  The operation was exposed in the early 1990's by the Italian government, and then quickly swept into the dust bin of history.
Vincenzo Vinciguerra, a far-right terrorist linked to Gladio and currently serving a life-sentence for the car bomb murder of three policemen stated during sworn testimony on Gladio in March of 2001:
"You had to attack civilians, the people, women, children, innocent people, unknown people far removed from any political game…"
"The reason was quite simple. They were supposed to force these people, the Italian public, to turn to the state to ask for greater security. This is the political logic that lies behind all the massacres and the bombings which remain unpunished, because the state cannot convict itself or declare itself responsible for what happened…"
The strategy used by NATO was clear – terrorize the common population, target as many innocents as possible in places where they felt most comfortable and at ease, and drive the citizenry into the waiting arms of the establishment.  The tactic creates the cancerous spread of public tension because the sense of "distance" from violence is removed.  An attack could literally happen anytime, anywhere.  A predetermined scapegoat enemy is then presented, completing the circle and galvanizing the people in the direction the establishment desires.
The methods used in Europe to demonize "left-wing" political movements could just as easily be used to demonize what some call "right-wing" political movements here in the U.S.  Let's look at some of the facts surrounding the Boston incident so far:
Boston authorities and witnesses on the scene admit that bomb sniffing dogs and roof spotters were employed before the race even began.  The local bomb squad was also coincidentally running a "controlled explosion drill" only one mile away from the attack:
http://www.local15tv.com/mostpopular/story/UM-Coach-Bomb-Sniffing-Dogs-Spotters-on-Roofs/BrirjAzFPUKKN8z6eSDJEA.cspx
Participants at the race were told repeatedly not to worry, and that a "training exercise" was taking place.  In nearly every major terror attack since 9/11, from the U.S., to the UK and Spain, the government was running "training exercises and drills" fitting the EXACT description of the threat that then suddenly occurred in real life on the same day.  Perhaps it is only an overtly reoccurring negative serendipity, but in my view, if the authorities are running a training exercise for a bombing in your town, it might be best to run for the hills before their little war-game becomes real yet again.
Boston Police Commissioner Edward Davis also stated that authorities were not aware of any specific threats to the marathon before it began, which means that they are not presenting any claims that they had reason to believe a bombing might take place:
http://news.yahoo.com/blogs/lookout/dozens-people-injured-explosion-boston-marathon-190955311.html
So, just to clarify, the Boston police on the suggestion of…someone, decided to run bomb squad training, bomb sniffing dogs, and rooftop spotters on the exact same day that the Boston Marathon happened to be bombed…just because?
I would add to this conundrum another question – With all those bomb sniffing dogs present, and with multiple devices now found on the scene, how did they not find at least one of the explosive packages before people were killed?  Those dogs need to be fired, I suppose…
Along with the immediate strangeness of the attack, the timing is also rather perfect for the establishment.
April 15th is tax day across the nation, and Tax Protest Day sponsored annually by Tea Party organizations across the country also just happened to fall on the 15th this year.  On top of this, in Massachusetts, Patriots Day (a civic holiday celebrating the battles of Lexington and Concord) is held on the third Monday of April every year, which just happened to be the 15th this year.  Oath Keepers, a constitutional organization often wrongly attacked as a "domestic extremist group" by the DHS and SPLC, just happened to have a large pro-freedom rally scheduled for the 19th of April at Lexington Green in Massachusetts.  Are we starting to get the picture here?
With the Senate in the midst of the most blatant attack on our 2nd Amendment rights in history following the passage of the absurdly fascist NDAA and the White House's unwillingness to remove American citizens as potential targets for executive ordered assassination,  and with multiple states now implementing draconian gun restrictions and even confiscations, public opinion is quickly moving against the Federal Government.  Wouldn't it be beneficial for their agenda if it turned out that the Boston Marathon Bombing was executed by a group of "pro-gun anti-income tax anti-government domestic terrorists", or maybe just Constitutionalists and Liberty Movement activists that are labeled as such?
Wouldn't that be a big turn-off for those on the fence but shifting towards gun rights and constitutionalism?  Wouldn't it be great for the DHS and the SPLC if all their anti-Constitutionalist propaganda was suddenly proven "correct"?  Maybe the TSA could even suggest roving street checkpoints and random searches so that such a calamity "never happens again".
No suspects have yet been named in the marathon attacks, and none have claimed responsibility, so perhaps I am jumping to conclusions.  Perhaps we'll find out those dastardly North Koreans were behind it all, or maybe those devious Iranians.  However, I can't shake off that smell of a setup lurking in the musty sickly statist air, and the mainstream media is already suggesting "right-wing involvement" (why don't they ever suggest left-wing extremism as a possibility…?).
As I have said many times before, during any crisis, always look at who benefited the most from the event.  Look at who had something to gain, rather than the first scapegoats they throw in front of you.  Some terror attacks are real, and some are proven as staged, but never forget that government power structures do not see these tragedies as tragedies; rather, they see them as gifts; precious openings that create vulnerabilities in the psyche of the citizenry.  They WILL exploit these vulnerabilities to further their own agenda, and they WILL exploit the Boston Marathon Bombing to demoralize and marginalize their political enemies.  Count on it.
Source: Brandon Smith | Alt-Market
On April 4 the Pentagon announced that it was sending a mobile missile defense system to Guam as a "precautionary move" to protect the island from the potential threat from North Korea. The Terminal High Altitude Area Defense system (THAAD) comprises ground-based interceptors in Alaska and California, as well as naval vessels capable of shooting down missiles.
On the same day, Defense Secretary Chuck Hagel said that North Korea posed a "real and clear danger" to the island, to U.S. allies in the region, and even to the United States. Its leaders have "ratcheted up their bellicose, dangerous rhetoric," Hagel told the National Defense University in Washington. Areas at risk include South Korea and Japan, he added, as well as Guam, Hawaii and the West Coast of the United States. "We have to take those threats seriously," he said.
It is the job of defense secretaries to take all threats seriously, but there is less than meets the eye to this one. While media coverage of tensions with North Korea makes it appear that its recent threats in response to the ongoing "Foal Eagle" U.S.-South Korean military exercises came unexpectedly, Pyongyang has a long history of objecting vehemently to such war games. North Korea is using bizarre rhetoric—as it has done many times before—but there is no "real and present danger," because the country's nuclear and missile delivery capabilities are rudimentary now and will remain so for years to come. Its three nuclear tests thus far—in 2006, 2009 and on February 12 of this year—amounted to a total yield of around 10 kilotons, or less than one-half the power of the bomb that destroyed Nagasaki in August 1945. At least two, and possibly all three, of those tests used plutonium as the fissile material. Crude and bulky, plutonium devices cannot be fitted onto a missile.
North Korea's claims to have miniaturized its latest device are unproven and probably untrue: no tell-tale isotopes indicative of weapons-grade uranium have been detected. In addition, at the moment, its uranium-enrichment facilities are not producing requisite quantities of highly-enriched uranium (HEU). The Yongbyon site—the country's main nuclear facility—has been limited to electricity generation for the past five years, as part of a disarmament-for-aid deal signed in September 2005. The agreement's implementation was always wrought with difficulties, however. Last month, the regime vowed to restart all facilities at Yongbyon—presumably including uranium enrichment to weapons-grade levels (HEU). They have the technical ability to do this, but even if the enrichment program proceeds immediately North Korea will be several years away from producing a deliverable device on a reliable missile.
In the final months of Kim Jong-il's life it appeared that the talks with the U.S. on the control of North Korea's nuclear facilities would be restarted. After he died in December 2011, his young son and successor Kim Jong-un soon shifted emphasis from hoped-for cooperation to confrontation. In February 2012, Pyongyang unexpectedly announced that it would suspend nuclear activities and observe a moratorium on nuclear and long-range missile tests in return for American food aid. That agreement was suspended after North Korea unsuccessfully launched a rocket carrying a satellite a year ago, which caused major embarrassment to the regime. A successful launch came last December, swiftly followed by the tightening of international sanctions in January (this time supported by China), a third nuclear test in February, and the ongoing escalation of warlike rhetoric since early March.
That rhetoric is a mix of bluster and bravado. Even if it had the theoretical wherewithal to threaten the United States—which it does not have—North Korea could not do it credibly: a single missile, or two, or five, would be fairly easy to intercept and destroy, and the ensuing retaliation would turn much of the People's Democratic Republic into a parking lot. In the fullness of time the North may develop a device capable of fitting into a warhead, but it will have no guidance system necessary for accuracy and no re-entry technology to bring an intercontinental ballistic missile (ICBM) back to Earth. According to the UK-based International Institute for Strategic Studies, North Korea has something that can hit American shores, but a "functioning nuclear-tipped intercontinental ballistic missile is still at least several years away."
Even if it were to miniaturize a half-dozen nuclear weapons and perfect some form of functioning delivery system, North Korea would not be able to use them as a means of blackmail to alter the regional balance of power. The U.S., Russia, China, Great Britain, France, India, Pakistan, and Israel have possessed nuclear weapons for decades. None of them has ever been able to change the status quo in its favor by threatening to use the bomb. The possession of nuclear weapons by one of the parties did not impact the outcome in Korea in 1953, or Suez in 1956, or prevent the two superpowers' defeats, in Vietnam and Afghanistan respectively. It makes no difference to China's stalled efforts to bring Taiwan under its control. South Africa had developed its own nuclear arsenal in the 1980s—it has been dismantled since—but this did not enhance its government's ability to resist the pressure to dismantle the Apartheid in the early 1990's. The political effect of a country's possession of nuclear weapons has been to force its potential adversaries to exercise caution and to freeze the existing frontiers. There is no reason to think that North Korea will be an exception to the rule.
The root causes of North Korea's apparently reckless behavior are predominantly domestic, as usual. Kim Jong-un, the third absolute ruler in the dynasty established by his late grandfather Kim Il-sung, is young (29), untested and insecure. When his father Kim Jong-il died on December 17, 2011, the military and Party leadership accepted his third son as the designated successor, but it was not immediately clear whether Jong-un would in fact take full power right away. A cult of personality started developing right away. With no track record of achievement and no sign of outstanding talent, he was hailed as the "great successor to the revolutionary cause," "outstanding leader of the party, army and people," "respected comrade identical to Supreme Commander Kim Jong-il," even as "a great person born of heaven"—an eccentric metaphor for a society nominally based on the teaching of dialectical materialism. The titles followed: within days of his father's death, Kim Jon-un was declared Supreme Commander of the Korean Peoples Army, Chairman of the Central Military Commission, and "supreme leader of the country." In March of last year, he was appointed first secretary of the Workers' Party of Korea; three months later, he was awarded the rank of a field marshal.
The plethora of titles does not mean that Kim Jong-un automatically commands the same level of authority and unquestioning obedience enjoyed by his father and grandfather before him. According to a psychological profile put together by U.S. intelligence, Kim Jong-un may feel compelled to prove just how tough he is in order to make up for his inexperience. One of the CIA's former top experts on North Korea, Joseph DeTrani, regards him as a young man insufficiently well prepared for the position, with limited foreign exposure, who has the urge to prove his toughness to his own military by emulating his grandfather, Kim Il-sung. But the heir is unlikely to start a general war, which he knows he cannot win, and in which China—his often reluctant backer—would likely remain aloof. "It would probably mean his defeat, and his defeat would probably mean the downfall of his regime and, very probably, the end of him as well," according to the Telegraph's David Blair. "Assuming that he's not suicidal, he is very unlikely to start a general conflagration." The danger remains, however, that North Korea, having ratcheted up the rhetoric for so long and having issued so many blood-curdling threats, feels that it has to do something.
My hunch is that in the end Kim the Third will do nothing. South Korea refrained from retaliation when one of its naval vessels was sunk under mysterious circumstances in disputed waters in March 2010, or when North Korea bombarded the South Korean island of Yeonpyeong in November of that year. This time the leaders in Seoul appear determined to respond to any hostile act. While China is urging all sides to tone it down, its warnings are primarily directed at North Korea. Beijing has conveyed a warning to Pyongyang that any incident would subject the North to swift and vigorous retaliation. It is noteworthy that there are no significant troop movements along the 38th parallel, and the feverish tone of North Korea's state media appears to have abated in recent days. The specific warnings that preceded the Yeonpyeong attack are now absent. The regime is well aware of North Korea's inadequacies in the nuclear and missile technologies. Economically it is a mess. According to the CIA economic assessment issued last month, North Korea's industrial and power output have receded to pre-1990 levels, while frequent crop failures since the catastrophic 1995 famine have produced chronic food shortages and malnutrition. Its people depend for survival on international food aid deliveries, mainly from China.
Once this latest teacup storm is over, a coherent long-term American response should address the question as to why North Korea feels it needs nuclear weapons in the first place. This is not because Kim Jong-un plans to reunify the peninsula by force—that he cannot do, with or without the bomb—but because Pyongyang regards the United States as a real threat. North Korea is one of the tightest despotisms in existence, but ever since it was designated the eastern pivot of the "Axis of Evil" in President George W. Bush's 2002 State of the Union Address its leaders have rational grounds to feel threatened. According to President Obama, the nuclear test offered only an illusion of greater security to North Korea. This is incorrect. The possession of nuclear weapons, far from providing an "illusion" of greater security, is the only reliable insurance policy to those states that Washington may deem fit for regime change. Had Serbia had the bomb in 1999 or Iraq in 2003, they would not have been subjected to illegal American attacks on patently spurious grounds.
Some imagination is needed in Washington, including a rethink of the old orthodoxy that nuclear proliferation is inherently dangerous. It is not. Since 1945, there have been many wars, but no catastrophic ones on par with 1914-1918 or 1939-1945. This long peace—lasting for close to seven decades thus far—is due almost entirely to the existence of nuclear weapons and to their possession by an expanding circle of powers. Contrary to the will of the United States—whose leaders do not want other countries to possess what America has possessed, and used, since 1945—nuclear proliferation has been a major factor in the preservation of peace. The "Balance of Terror" is a grim term which denotes a comforting reality, and its logic applies to the lesser powers, such as India and Pakistan, which went to war three times after the Partition—in 1947, 1965, and 1971—but not since then. On previous form, the violence in Kashmir in March 2008 and the Pakistani-linked terrorist attacks in Bombay in November of that year would have reignited the conflict—but they did not. The possession of nuclear weapons by both adversaries has been a major war-inhibiting factor for over four decades, and it will likely remain so for many years to come.
What is valid for the Subcontinent should apply to the North Korean peninsula. Sanctions or no sanctions, Pyongyang will not give up its bomb. For the sake of regional peace and stability, South Korea should acquire one as well—and there is no reason for Japan not to follow suit. Back in the 1970's, the Ford Administration induced South Korea to abandon its nuclear weapons program in return for not withdrawing American soldiers. Now is the time to reverse the sequence. Washington should grant a free nuclear hand to Seoul in return for the mutually agreed U.S. troop withdrawal. The latest crisis strengthens the case for the long-overdue withdrawal of the remaining 28,000 American troops from the Korean peninsula. It is high time to let the countries directly affected by Pyongyang's actions—South Korea, Japan, China, and Russia—deal with North Korea themselves, to the best of their abilities.