When the Syrian war jumped its borders into Iraq, surrounding nations had a perfect chance to peacefully cooperate. They've thus far refused. The war in Syria now seems to be shifting to Iraq, and the big actors in the regional drama are recklessly pushing events toward more conflict that could transform a regional proxy war into a direct multi-nation battle.
The Islamic State of Iraq and Syria (ISIS) now controls giant swaths of two nations, which are surrounded by countries that either fear ISIS or previously supported it. Old alliances are being tested as Syria and Iran come to the defense of the Iraqi government against ISIS, while the opposing alliance of U.S., Israel and the Gulf State monarchies are finding their unofficial union strained under the pressure of swelling paradoxes.
For example, the U.S. is supposedly fighting a war on terrorism, but has been in an unofficial military alliance with ISIS and other al-Qaeda groups in Syria, since all of them were actively waging war on the Syrian government.
When ISIS invaded Iraq the governments of Syria and Iran immediately offered assistance, while Obama stalled. Then, strangely, Obama's Secretary of State John Kerry "warned" Syria against air attacks targeting ISIS in Iraq, a move that was welcomed by the Iraqi government. Kerry's warning was also meant for Iran, which is finding itself sucked deeper into the two-nation war that now threatens Iran's border.
As Iraq, Syria and Iran are busy fighting ISIS, what are the U.S. and Israel doing? They are continuing their war against Syria, the war that gave ISIS a new lease on life.
Iraq begged Obama to deliver promised fighter jets to fight ISIS, Obama chose instead to give extra aid to the U.S. backed Syrian rebels, to the tune of $500 million. The Syrian rebels have been completely dominated by Islamic extremists for at least two years.
Israel, for its part, also ignored ISIS and instead bombed nine Syrian military targets. Israel has bombed Syria several times in the last year, rather than bombing ISIS or the other al-Qaeda groups attacking Syria. In reality, an emerging regional war already exists, but is being minimized or ignored by the media.
Because the U.S. would rather fund Islamic extremists in Syria, the Iraqi government requested and received fighter jets from Russia, which will inevitably create more strain between the Iraqi and U.S. governments, since giving and receiving military aid is a crucial way that countries cement alliances and exert influence.
When nations that receive military aid are disobedient, the big war toys are held back as a way to exert leverage. The Iraqi President, Nouri al-Maliki, let his political naivety blind him to this reality,and recently admitted that Iraq was "delusional" to rely completely on U.S. military aid, since Obama is using the ISIS threat and the withholding of aid to pressure Iraqi politicians to ditch al-Maliki, essentially a "legal" form of regime change that will act more in accord with U.S. interests against Iran and Syria. Obama has wanted to replace al-Maliki ever since the Iraqi president refused to join Obama's war against Syria.
As the Syria-Iraq war expands, the greater the gravitational pull it will exert on surrounding nations, who can't resist the big profits associated with mass killing. Others will participate indirectly to protect their borders, until they too are drawn in by the centripetal forces of war.
After participating in the Syrian war through proxies like Saudi Arabia and Qatar, the Obama administration finds itself neck deep in the Syrian-Iraqi blood bath, finding it difficult not to join the other sharks in the feeding frenzy.
Obama's "hands off" approach to Iraq is temporary and strategic, and is in reality "hands on" behind the scenes.  As the war spreads across borders Obama will find it less possible to abstain, since Iran, Syria and Russia will gain wider regional influence at his expense, which is happening by the minute.
The Syria-Iraq war is testing the resilience of decades-long alliances, even the future of the modern nation state, which lies at the foundation of post-WWII international law. This legal sanctity of the nation-state was emphasized by the Nuremberg trials after WWII, which established that the Nazis biggest war crime was not genocide or the holocaust, but the military invasion of sovereign nations, which created the conditions for regional and world war. The only legal war under international law is a defensive one.
But now regional wars are becoming commonplace, and borders are ignored as big powers pay and arm proxy militias to attack governments. More importantly, the U.S.-led invasions of Afghanistan, Iraq, and Libya have essentially eviscerated global international law, since the UN has been powerless in protecting sovereign nations against the aggression of the world's only superpower. The U.S. invasions have created a climate where the nation-state has lost its revered status, increasing the likelihood of more war, since the old rules no longer apply.
Obama's recent actions prove he has no intention of leaving the Middle East. As the Syrian war was spilling into Iraq, Obama requested $5 billion more for Middle East war, as if the gargantuan military budget wasn't already enough. According to The New York Times:
"The White House is asking for $4 billion to go to the Pentagon and $1 billion to the State Department for other counterterrorism operations, including training and equipping partner countries (Israel, Saudi Arabia, etc.). Some of the money, administration officials said, would cover increased costs of Special Operations Forces that have deployed around the world, while $1.5 billion would go toward counterterrorism efforts in the neighborhood around Syria: Jordan, Lebanon, Turkey and Iraq."
This $5 billion represents yet more blood money that will inevitably exacerbate the Middle East inferno. Years of ongoing U.S. military intervention — direct or indirect — has led to the unnecessary death or suffering of millions of people across the Middle East and to the large-scale destruction of Iraq, Afghanistan, Libya, Syria, and now Iraq again.
It is possible, as some are predicting, that Obama will complete a major diplomatic deal that includes Iran and the Kurdish section of Iraq. This, if successful, may create a temporary reprieve from the violence, while creating new ethnic-religious tensions that will inevitably explode again.  Any temporary deal will not eliminate the deeper causes of the war, which lie in the waning influence of the U.S. and its allies, and the rising influence of China and Russia.
All these developments emphasize the need to revive the antiwar movement here in the U.S. Those who oppose U.S. government military adventures around the world should unite and demand that no troops be sent to Iraq, that the U.S. advisors in Iraq should be brought home, and that money should be spent on jobs, education and strengthening the safety net here at home, not on war.
It's no longer easy to be a faithful Christian in America, says Dr. Robert P. George, chairman of the U.S. Commission on International Religious Freedom.  Our culture increasingly condemns Christian beliefs as bigoted and hateful: 
 
"They despise us if we refuse to call good evil and evil good." (American Christians Should Prepare to Be Despised, Official Tells National Prayer Breakfast, Rob Kerby, ChristianHeadlines.com, May 15, 2014) 
 
The Princeton University professor and author told Washington, D.C.'s 10th annual National Catholic Prayer Breakfast that American culture no longer favors faithful Christians. For example, he asked attendees to consider, 
 
"….the derision that comes from being pro-life and pro-traditional marriage (they) threaten us with consequences if we refuse to call what is good, evil, and what is evil, good. They demand us to conform our thinking to their orthodoxy, or else say nothing at all…"  
 
Dr. George told the prayer breakfast: 
 
"The intimidation to remain silent is insidious and growing…what American Christians are facing is the 21st century version of the question, 'Am I ashamed of the Gospel?"   
 
If anything, some evolutionary theologians and their gullible Christian flocks, both evolutionary theist and progressive creationist, are at least as hostile if not more so toward faithful defenders of the miracle of Special Creation than are their evolutionary atheist and occult pantheist counterparts: Luciferians, god-men, goddesses, shaman, Satanists, witches, necromancers, and astrologers. 
 
The usual diatribe thrown against altogether despised creationists goes something like this:  
 
Since Darwin introduced the theory of evolution some Christians have been uncomfortable with the idea that all species (i.e., reptiles, birds, bugs, dogs, apes, humans) share a common ancestry moving from primordial matter to creeping things, crawling things, swimming things, knuckle-dragging things to man under the direction of the God of evolution.   Thus the Earth was not created instantaneously as St. Augustine held or created in six days as most early Church Fathers affirmed. Nor was Adam created by the One God in three Persons as a living soul embodied in flesh, fully person, fully man right from the beginning.   Adam and Eve, if they even existed were emergent products of evolution, their closest relative soulless hominids.  Thus the events described in Genesis are not meant to convey the miraculous creation ex nihilo but the scientific 'reality' that the universe has an impotent creator that made and ignited a Cosmic Egg (Big Bang) which generated matter and energy. Then after billions of years of God-directed evolution eventuating in the suffering and death of millions of life-forms (God's fault, btw) man inexplicably fell from grace even though God is the guilty party, the real cause of death and suffering.  
 
According to this counter-intuitive Gnostic-laced tale of nonsense, evolutionary science, not God's Revelation, is a reality in nature explainable by reason and empirical observation and faithful Christians who deny this are in denial of reality.  Faithful Christians who actually affirm the Revelation of God and Special Creation are guilty of defending the backwards, anti-scientific, anti-evolution 'fundamentalist' interpretation of the book of Genesis thus are not only a cause of embarrassment to fashionably-correct, scientifically enlightened Christians, but are also guilty of harming Christianity. (Creationism Harms Christianity, sacerdotus.wordpress.com) 
 
However, it isn't faithful Christians who are 'embarrassments' but rather intellectually arrogant evolution-obsessed theologians.  These wolves in sheep clothing mesmerize and persuade susceptible Christian sheep to uncritically accept dangerous esoteric ideas like evolution.
 
 With respect to Darwin's theory, Darwin is not its' inventor. He received the idea from his nature-worshipping pagan grandfather Erasmus Darwin, an important name in European Masonic anti-Christian Church organizations engaged in destructive revolutionary activism. Erasmus mentored his grandson Charles: 
 
"Dr. Erasmus Darwin (1731-1802) was the first man in England to suggest those ideas which were later to be embodied in the Darwinian theory by his grandson, Charles Darwin (1809-1882) who wrote in 1859 Origin of Species." (Scarlet and the Beast, Vol. II, John Daniel, p. 34) 
 
According to anthropologist Henry Fairfield Osborn, longtime director of the American Museum of Natural History, ancient pagans are the inventers of modern evolutionism. In the introduction to his history of evolutionism Osborn wrote:
 
 "When I began the search for anticipations of the evolutionary theory….I was led back to the Greek natural philosophers and I was astonished to find how many of the pronounced and basic features of the Darwinian theory were anticipated even as far back as the seventh century B.C." (Osborn, From the Greeks to Darwin, p. xi) 
 
By its' nature evolutionism belongs to the category of naturalism (all that exists is nature or cosmos), making it antithetical, or in fierce opposition to the infinite Triune God, the supernatural dimension and special creation.  The personal Triune God is outside of His creation—the natural dimension of space, time, matter and energy—thus He is not subject to the laws of science: 
 
"….science has no satisfactory answer to the question of the origin of life on the earth. Perhaps the appearance of life on the earth is a miracle. Scientists are reluctant to accept that view, but their choices are limited: either life was created on the earth by the will of a being outside the grasp of scientific understanding, or it evolved on our planet spontaneously, through chemical reactions occurring in nonliving matter lying on the surface of the planet. The first theory places the question of the origin of life beyond the reach of scientific inquiry. It is a statement of faith in the power of a Supreme Being not subject to the laws of science. The second theory is also an act of faith. The act of faith consists in assuming that the scientific view of the origin of life is correct, without having concrete evidence to support that belief." (Until the Sun Dies, Robert Jastrow, Ph.D. Theoretical Physics, pp. 62-63, 1977) 
 
Only by conceptually murdering the supernatural Triune God and replacing Him with a 'god' within the natural dimension (naturalism), thus subject to scientific inquiry, can intellectually arrogant theologians presume to speak for god, claiming that he made and exploded a Cosmic Egg and directs evolutionary transformism together with the rest of their twisted theology dressed in Christian clothing.
 
 As an idea evolution is like an onion consisting of multitudinous layers of esoteric meaning.  Darwin's theory occupies two or three layers. The many other layers already existed prior to Erasmus going back to the Renaissance and before that to ancient Chaldea and India thence to ancient Greece and Rome where evolution is always and everywhere connected to reincarnation and spiritual evolution (transformism).    
 
On ancient pagan conceptions of reincarnation and spiritual evolution early Church Father Gregory of Nyssa said: 
 
"[I]f one should search carefully, he will find that their doctrine is of necessity brought down to this. They tell us that one of their sages said that he, being one and the same person, was born a man, and afterward assumed the form of a woman, and flew about with the birds, and grew as a bush, and obtained the life of an aquatic creature—and he who said these things of himself did not, so far as I can judge, go far from the truth, for such doctrines as this—of saying that one should pass through many changes—are really fitting for the chatter of frogs or jackdaws or the stupidity of fishes or the insensibility of trees" (The Making of Man 28:3; A.D. 379).  
 
Evolution appeared in Christendom during the Renaissance when certain Christian theologians, mystics and scholars such as Emanuel Swedenborg had discovered Chaldean astrology, Hermetic magic, occult Jewish Kabbalah, Eastern mystical traditions and the ancient ways of 'going within' (contacting spirits).  All of this was accompanied by conceptions of reincarnation and spiritual evolution.  They studied these ancient occult traditions which they translated resulting in Hermetic Kabbalah. Then like Pico della Mirandola, they argued that occult hermetic science – the divine technology or Magic Way of reaching divine status and powers through ritual procedures and spiritual evolution is the best proof of the divinity of Christ.  (God and the Knowledge of Reality, Thomas Molnar, pp. 78-79) 
 
Father Richard John Neuhaus pulls all of these occult traditions together in his analysis of modern evolutionary scientism as a revitalization of ancient spiritual traditions closely connected to elemental spirits. In his book, "American Babylon," Neuhaus argues that astrological elemental spirits (powers and principalities) have been recast as, 
 
"…evolutionary dynamics, life forces, or laws of nature." Though described as laws rather than spirits, these elemental "forces"…. work their inexorable ways in cold indifference to reason, to will, to love, and to hope. In short, it is suggested that the elemental spirits are in charge and that human freedom is a delusion." (p. 226)
 
 Despite that modern evolutionary theologians validate their esoteric projects as empirical or observational science in reality observational science is their enemy.   For instance, evolutionary theology alleges that hominids are supposed to be our ancestors, the so-called transitional life-forms linking modern humans to the common ancestor of all life.    
 
However, the hominid claim has fallen flat on its' face, said Carl Wieland. In "Making Sense of Apeman Claims," Wieland reports that a consistent pattern has emerged in direct opposition to the evolutionary story.  Over the decades, each new fossil find has been falling quite naturally into one of only three major groups.    And two of these, Neanderthal and Homo erectus turn out to be strikingly similar, in fact, Neanderthals are "clearly human descendants of Adam." (Creation, Vol. 36, No. 3, 2014, p. 38)
 
 Although the third category generates the most excitement among evolution-worshippers it turns out to be an extinct non-human primate group, anatomically not between apes and humans.    
 
Sequencing of Neanderthal DNA clearly shows interbreeding with modern populations, particularly those from Eastern Europe, meaning that Neanderthals are not a separate species, despite evolutionary claims that they split off from the human lineage 500,000 years ago.  This evidence is a major blow to evolutionary theist and "progressive" or "old-earth creationist notions." (p. 38). 
 
It is because evolutionary 'old-earth' theologians reject what God said in favor of what man said, their starting point is fallible secular dating, hence they, 
 
"….must regard Neanderthals as pre-Adamic soulless nonhumans despite all the archaeological evidences of their humanity.   But DNA now makes this completely dead in the water, having children together means they must be the same created kind."  (pp. 38-39) 
 
Among the scientifically affirmed finds showing that Neanderthals were human are: 
 
1. Stone tools and specialized bone tools for leatherworking. 
 
2. The controlled use of fire, including heating birch bark peelings to make special pitch to haft wooden shafts onto stone tools. 
 
3.  Perfectly balanced, finely crafted wooden hunting javelins. 
 
4. Jewelry 
 
5. Evidence of body decorations and cosmetics. 
 
6. Burying their dead with ornaments. 
 
7. Cooking utensils and the use of herbs in food. 
 
8. Symbolic thinking 
 
9. High-tech 'superglue' 
 
10. A complex structure built 1 mile underground where no daylight penetrates suggests the technology and know-how to transport sustained fire as a source of light that far down. 
 
11. Evidence of dwellings made of timber draped with animal skins 
 
12.  Recent detailed analysis of hyoid bone (associated with the voice box) indicates they could speak, as does recent genetic evidence.  (ibid, Wieland) 
 
"For he spoke and they were made: he commanded and they were created." Psalm 33:9  
 
Either the infinite personal One God in three Persons spoke or He did not. If He did, then Jesus is God in the flesh, the Creator and Living Word (John 1: 1-5) the Light that came into the world (John 3: 1-9) who perfectly fulfills all prophecy from the antediluvian world to the post-flood world: 
 
"And he said: I am the God of thy father, the God of Abraham, the God of Isaac, and the God of Jacob. Moses hid his face: for he durst not look at God."     Exodus 3:6 
 
If the One God in three Persons spoke then what He revealed to Moses with respect to the miracle of creation is thesis (True Truth), making evolution antithesis (the lie).  The faith of the Christian Church and of the average Christian has had, and still has, its foundation as much in the literal and historic elements of Genesis, the book of beginnings revealed 'mouth to mouth' by the Angel to Moses, as in that of the person and deity of Jesus Christ.  
 
The Return of an Ancient Heresy  
 
The primary tactic employed by defiant, intellectually proud theologians eager to accommodate Scripture and the Church to modern science and pagan evolutionary thinking is predictable. It is the argument that evolution is entirely compatible with the Bible when Genesis, especially the first three chapters, is viewed in its entirety in a non-literal, non-historical context. This is not a heresy unique to modern times. The early Church Fathers dealt with this heresy as well, counting it among the heretical tendencies of apostate Jewish Cabbalists, Origenists and Gnostic pagans such as Simon Magus. 
 
Fourth-century Fathers such as John Chrysostom, Basil the Great and Ephraim the Syrian, all of whom wrote commentaries on Genesis, specifically warned against treating Genesis as an unhistorical myth or allegory. John Chrysostom strongly warned against paying heed to these heretics, 
 
"…let us stop up our hearing against them, and let us believe the Divine Scripture, and following what is written in it, let us strive to preserve in our souls sound dogmas." (Genesis, Creation, and Early Man, Fr. Seraphim Rose, p. 31)
 
 As St. Cyril of Alexandria wrote, higher theological, spiritual meaning is founded upon humble, simple faith in the literal and historic elements of Genesis as Revealed by God and one cannot apprehend rightly the Scriptures without believing in the historical reality of the events and people they describe. (ibid, Seraphim Rose, p. 40) 
 
In agreement, Vishal Mangalwadi (1949- ), founder-president of BOMI/Revelation Movement observes that the Revelation of God is the only available foundation for truth, freedom and faith in God's gift of reason.  But Western theologians and intellectuals have closed their minds to Revelation, hence Truth, reason and Special Creation.  Because "intelligent" Americans no longer believe in "True Truth" (Francis Schaeffer) they invent stories and use empty god words as substitutes for the infinite, personal Triune God.  Thus Gospel Truth is now 'Gospel Story' and history a series of unfolding stories such as the physical science story (Big Bang) which may or may not include the use of a god-word; the biological science story (evolutionary transformism), the climate science story (global warming or change), and the social science story (gay marriage): 
 
"Doing science" increasingly means peddling politically correct dogma – that is, stories that have evolved into myths. No one really knows if there was only one Big Bang or other bigger bangs as well; whether we live in a universe or multi-verse; whether life evolved on this planet or came from outer space . . . but if you want a tenured position in a university, and if you want your research projects funded, you have to toe politically correct storyline – champion dogma."  (How Did the West's 'Rational Animal' Become Incapable of Using Reason? Mangalwadi) 
 
The abandonment of God's Revelation in favor of story-telling   
 
Christendom and Protestant America did not emerge from the darkness of story-telling and god-words but arose to illustrious heights on the awe-inspiring wings of the Revelation of God, hence the Genesis account of creation ex nihilo, the uniquely Christian definition of man as a person because created in the spiritual image of the infinite One God in three Persons, God's unchanging Moral Law and the Biblical view of man's sinful condition. Their subsequent fall was traced by Richard Weaver in his book, "Ideas Have Consequences" (1945). 
 
Weaver writes that 14th century Western man had made an "evil decision" to abandon his belief in the transcendent Triune God, His Revelation and unchanging universals, thus the position that "there is a source of truth higher than and independent of man…" The consequence of this 'evil decision' is a still unfolding catastrophe reaching fullness in our own time: 
 
"The denial of everything transcending experience means inevitably…the denial of truth. With the denial of objective truth there is no escape from the relativism of 'man is the measure of all things." (The Conservative Intellectual Movement in America, George H. Nash, pp. 32-33) 
 
The substance of 'man is the measure of all things' is idolatry.  The beginning of idolatry is pride (narcissism), which together with selfishness demonstrates preference for one's self instead of the Triune God, His Revelation (hence 'True Truth') and neighbor (and unwanted, inconvenient human life, i.e., babies).  Just as no violation of the Law can occur without one first being an idolater, envy/covetousness and murder are its' final results, for where 'self' is primary then 'self' deserves everything it can get, no matter the cost to other people.   
 
The fall of the West and America is due to the idolatry of darkened souls turned by choice toward evil.  From the antediluvians to our own age, the truth as to this evil said Athanasius, 
 
"….is that it originates, and resides, in the perverted choice of the darkened soul" which, "materialized by forgetting God" and engrossed in lower things, "makes them into gods," and thereby "descends into a hopeless depth of delusion and superstition," whereby "they ceased to think that anything existed beyond what is seen, or that anything was good save things temporal and bodily; so turning away and forgetting that she was in the image of the good God, she no longer… sees God the Word after whose likeness she is made; but having departed from herself, imagines and feigns what is not (and then) advancing further in evil, they came to celebrate as gods the elements and the principles of which bodies are composed…."(Against the Heathen, New Advent) 
 
Having descended into delusion and superstition darkened souls imagined that "all that exists" is the natural dimension, meaning the universe of matter, animated powers, forces, and deterministic laws, all of which they celebrated and attributed miraculous powers to just as modern evolution worshippers do, whether secular or theological: 
 
"There is an energy in the world, a spark, an electricity that everything is plugged into. The Greeks called it zoe, the mystics call it 'Spirit,' and Obi-Wan called it 'the Force'…..This energy, spark, and electricity that pulses through all of creation sustains it, fuels it, and keeps it growing. Growing, evolving, reproducing…" (Love Wins, Rob Bell, pgs. 144-145) 
 
Evolutionary scientism is not observational science in search of how things really work in this world but rather a disastrous occult science tradition whose taproot stretches back to Babylon and before that the pre-flood world.   The 'Christian' teachers and defenders of this demonic heresy are guilty of leading unwitting sheep astray, possibly to their doom, and of besmirching and defaming faithful defenders of special creation as backwards, anti-science, anti-evolution destroyers of the faith.   However, in reality creationists are the defenders of thesis (True Truth) against the damnable incursion of antithesis (occultism) into the good news, the Gospel of Christ. 
 
 In this light, what are vicious attacks against Special Creation as well as those against the sanctity of human life, and traditional one man one woman marriage but evil wills offended by and resentful of Higher Authority, True Truth, 'other' (unwanted, inconvenient human life) and moral restrictions and limitations? 
 
"For whoever shall be ashamed of me and of my words, of him shall the Son of man be ashamed, when he shall come in his own glory, and in his Father's, and of the holy angels."    Luke 9:26 
 
Who are the intolerant ones, the highly offended because ashamed of our Lord and his words?  Who are the selfish, intellectually arrogant story-tellers whose embarrassing doctrine of change (evolution) is "really fitting for the chatter of frogs or jackdaws or the stupidity of fishes or the insensibility of trees"'?   
 
Hint:  Not Creationists or any of the faithful. 
In a post-modernism age the most assertive and self-proclaimed worshipers in the supremacy of science, have no room for a belief in God. These arrogant elites treat anyone, who profess that a true understanding of science does not contradict the presence of the almighty, with condescending distain for refusing to accept that God is dead. The transhumanist insistence that they will emerge as supreme beings is the pivotal sacrilege that underpins the social culture and political chaos that leads to the ultimate destruction of the species. Extinction of the human race and the invention of an artificial deity, denies that the act of creation inherently is the prowess of the All Powerful.
Sophomoric intelligence based upon pretentious and conceited self-regard is actually immature and ill-informed sense of worth and understanding. The reason for the absurdity, which is the hallmark of societal dysfunction, stems from the malevolent masterminds NWO globalist plan and carried out by their technocrat minions.
The Most Secret Science by Archibald E Roberts examines the MATTOID SYNDROME in chapter twelve. "Irrational political decisions at policy-making levels force upon perceptive Americans the conclusion that an invisible government of men "unbridled by logic or understanding" has acquired ultimate power and influence in the United States. Furthermore, the image-building manipulations of these Mattoids favor the development of similar attitudes in others and give thousands—perhaps millions—of normally well-balanced persons the courage to overtly engage in absurd or infamous acts."
Colonel Archibald E. Roberts championed his views several decades ago. Yet, his analysis has not lost any of the impact or importance as the 21th century unfolds. Essentially, the situation is a geometric progression as the delusion worsens.
Scientists once relied upon empirical evidence and followed the four steps of the scientific method.
Observation and description of a phenomenon or group of phenomena.
Formulation of a hypothesis to explain the phenomena. In physics, the hypothesis often takes the form of a causal mechanism or a mathematical relation.
Use of the hypothesis to predict the existence of other phenomena, or to predict quantitatively the results of new observations.
Performance of experimental tests of the predictions by several independent experimenters and properly performed experiments.
The current credibility of the academic community is suspect as government funding and peer pressure for career advancement demands conformity to promote specific political agendas. No area of science is more tainted than the study of global climate. In the New Report, IPCC Falsifying Climate Science, New Fraud Reports Exposed, CO2 illustrates the politicization of science and the betrayal of their own methodology standards.
Inexhaustible debate on the global warming hypothesis has developed bitter contention because conclusions much be tailored to advance the globalist hysteria that is seen as necessary to maintain the New World Disorder Psychology. Wacko environmentalists share an extreme similarity with their scientist gurus who mock divine intervention and profess that man has all the knowledge necessary to become masters of the universe.
"Secular Humanism, has become, the leading export of the 'West' to the rest of the world. The movers and shakers of public policy accept its values, cosmology, as Sigmund Freud views that reason rules, and that a rejection of God is acceptable. Religion is seen as a threat, and that life can be lived without delusions, especially the illusion of a religious belief. His theory of human nature and the culture of morality is founded upon the substitute of the super-ego, for the role of religion. As the source of morality and conscience, man is able to apply his reason to follow ethical behavior."
In the end, all the HAARP manipulations and chemtrail spraying cannot and will not achieve domination over the planet. Relying on NASA to discover nirvana or trusting Japanese scientists to resolve a Fukushima nuclear winter is no better than following celebrity global warming advocates into the vast void of their own mental space.
However, the stakes become critical, when purported distinguished scientific institutes, fall into the trap of anti-intellectual conduct. The Prestigious Helmholtz Research Center Gutter-Dives…Promotes Sophomoric Attacks On Skeptics, Labelling Them "Deniers"
"It's worrisome enough that the German government itself recently issued a brochure singling out, naming, and defaming German and American climate science skeptics. Today we have one of Germany's most prestigious science associations actively backing adolescent-level attacks on skeptics who have decided not to take part in the collective climate hysteria."
Seeking remission for fabricated crisis, like the newly renamed climate disruption, plays to the mental illness of fools who demand that saving the planet requires that they bury any semblance of religious belief and repentance. According to such enlighten cretins; absolution is not necessary, since acknowledging a creator would make their Frankenstein genetic engineering and eugenics experiments unholy.
Proponents of deceptive discourse would have you believe that sophomoric reasoning is rationalizing about what one understands poorly. It is often apologetics (starting with a conclusion) and masquerades as "critical thinking". Sound good on the surface, but when you probe closely the real bias of the position becomes obvious.
"Science begins with hypotheses; apologetics begins with conclusions. Science performs experiments which can disconfirm hypotheses; apologetics employs rhetoric (conclusions can never be disconfirmed). Science discovers how the world works; Christian apologetics assures that the world conforms to the Bible (or to church doctrine). Apologetics is not a productive approach to discovering how the world works; science is not a productive method for making the world conform to the Bible."
The last point divulges the basic disconnect. Belief in the Bible is an existential decision. Inquiry in the way the world operates is not reducible to merely running technological experimentation. Dismissing the significance and value of accepting faith in a revealed Creator is the usual determination to the scientific trained mind. Yet the objection to investigate the validity for acceptance of a divine plan for the salvation of souls permeates the man-centered culture of Modern Prometheus inquiry.
The function of science is to question, but the methods of science are not synonymous with scholarship. The burden of proof that an agnostic or atheistic conviction is a requirement for conducting good science is a research project that most universities will avoid. Nevertheless, membership of good standing into the scientific community undoubtedly rests upon this canon of doctrine.
It seems to be puerile to demand blindness to the universal evident, that the cosmos provides. Benjamin Cain critique of Stephen Hawking's Scientific Atheism philosophy concludes it is absurdly anti-philosophical, so he is forced to pretend that his atheism is purely scientific.
"Here is Hawking's stripped-down argument for God's nonexistence: the universe was created in the Big Bang, which means that in its earliest stage the universe was infinitesimal and so the laws of quantum mechanics apply to its origin, and we know from those laws that quantum events can happen spontaneously without any cause; moreover, the Big Bang's gravitational singularity was in effect a black hole and we know that in modern-day black holes time stops inside of them, which means there was no time before the Big Bang and thus no time for anyone to create the universe."
Mr. Cain continues, "atheists presuppose a religion in their effort to unite naturalism with their typical liberal values: this religion is secular humanism, Scientism, positivism, or pragmatism. But when a religion is only presupposed rather than openly acknowledged, the religion is bound to be clumsy and lackluster, and that's the case with Hawking's atheistic argument."
Taking the "Political Incorrect" cult of religion to the extreme, the example of Lawrence Torcello – assistant professor of philosophy at Rochester Institute of Technology, NY, writes in an essay at The Conversation that climate scientists who fail to communicate the correct message about "global warming" should face trial for "criminal negligence". How advance civilization has become under the scientific inquisition.Absolution by compurgation testimony of your peers may become necessary for acquittal. Under the new standard of scientific rule, even the "PC" philosopher must adopt the dogma of the Galileo court. How radical the tables have turned now that we know that the earth is round and rotates around the sophomoric society.
One of the latest targets for political persecution happens to be Dinesh D'Souza. During a recent debate on the subject he argued that the two — science and religion — are fundamentally separate.
"The questions to which God is the answer are not scientific questions," D'Souza said. Humans around the world want to know why the universe exists, the purpose of our existence and what will come afterward. Science doesn't "have a clue" as to the answers to these questions, D'Souza said.
Looking to science for a discovery of salvation is irrational. Achieving Raymond Kurzweil's singularity promise of immorality within the artificial intelligence of a new life form species sounds allot like Satan's sin of pride.While religion has never rendered a redemptive society, faith in God provides the only hope in living in a world of the boundless inhumanity of man to his brother. When scientists dismiss the need for forgiveness, their culture of forging enhanced tiers of technology, usually translates into greater levels of human bondage. The real climate disruption comes out of the laboratories of weird science. Adversely altering the natural order of the universe is as simpleminded as you can get.
President Barack Obama delivered his most belligerent and menacing speech to date at the US Military Academy at West Point. Aside from the lofty rhetoric we've come to expect in every Obama presentation, the president's commencement address was a defiant restating of the Bush Doctrine of unilateral intervention, executive authority and endless warfare. The speech contained no new initiatives or surprises, but emphasized Obama's unwavering support for the policies which have plunged large parts of the Middle East, Africa, and Eurasia into civil conflict, economic collapse and war. Obama defended US aggression on the grounds of "American exceptionalism", the dubious idea that Americans are special and cannot be held to the same standards as others. The theory implies that Washington's relentless war-mongering and killing of civilians cannot be prosecuted under international law because the US is a law unto itself.
"I believe in American exceptionalism with every fiber of my being," said Obama. "But what makes us exceptional is not our ability to flout international norms and the rule of law; it is our willingness to affirm them through our actions."
Obama's statement is deliberately misleading. As the president knows, the Bush administration notified U.N. Secretary-General Kofi Annan that the US would withdraw from the International Criminal Court Treaty in May 2002 just prior to the invasion of Iraq claiming that the ICC treaty put U.S. service members and officials at risk of prosecution by a court that is "unaccountable to the American people." In retrospect, we can see that Bush and his lieutenants wanted to remove themselves from any accountability for the atrocities and crimes against humanity they planned to perpetrate in the invasion and occupation of Iraq. Thus, exceptionalism does not affirm Washington's willingness to comply with "international norms and the rule of law" as Obama says, but to absolve US leaders from any responsibility for their habitual war-making. As policy analyst Noam Chomsky has said many times, "If the Nuremberg laws were applied, then every post-war American president would have been hanged."
Here's Obama again: "Let me repeat a principle I put forward at the outset of my presidency: The United States will use military force, unilaterally if necessary, when our core interests demand it… International opinion matters, but America should never ask permission to protect our people, our homeland or our way of life."
In other words, the United States will do whatever the hell it wants to and if you don't like it: "Too bad". This is the Bush Doctrine verbatim. The West Point oration proves that the new administration has simply modified the Bush credo to suit Obama's pretentious speaking style. Strip out the visionary formulations, the grandiose bloviating, and the sweeping hand gestures and the ideas are virtually identical; unilateralism, preemption, and exceptionalism, the toxic combo that has spurred 13 years of war, occupation, regime change, black sites, extra-judicial assassinations, drone attacks, and hyperbolic state terror most of which has been directed at civilian populations whose only fault is that they occupy regions where vast petroleum reserves have been discovered or which have some fleeting strategic importance to Washington's war planners. Here's an excerpt from an article in the World Socialist Web Site titled "Obama's West Point speech: A prescription for unending war" by Bill Van Auken:
"Obama is not elaborating here a policy of defensive war to be waged only in response to an attack or the threat of an imminent attack. He is spelling out that the US reserves the right to intervene militarily wherever it believes its "core interests"—i.e., the access of its corporations and banks to markets, raw materials, cheap labor and profits—are involved.

When he speaks of "our livelihoods" and "our way of life," he is referring not to the ever-declining living standards of the American worker, but to the eight-figure compensation packages of American CEOs, whose fortunes are founded on the exploitation of the working populations and resources of the entire planet…

Everything put forward by Obama is a repudiation of international law and an endorsement of the policy of aggressive war practiced by the Nazis three-quarters of a century ago." (Obama's West Point speech: A prescription for unending war, Bill Van Auken, WSWS)
Here's Obama again defending his malignant foreign policy in terms of "leadership":
"America must always lead on the world stage. If we don't, no one else will. The military that you have joined is, and always will be, the backbone of that leadership."
Obama finds it easy to praise the people who fight his wars, even while he stealthily carries out a plan to privatize the Veterans Administration. Check out this blurb from an article titled "VA secretary resigns amid push to privatize US veterans' health care":
"Obama and members of Congress have responded to the VHA scandal with a breathtaking level of cynicism and hypocrisy, even by Washington standards … according to many lawmakers, the answer to this crisis is not the appropriation of funds to hire new doctors and other medical professionals, but the dismantling of the government program in order to provide a profit windfall to private insurers and health industry firms. The result of this policy will be less care at greater cost to veterans…

Under the "Veterans Choice Plan" being promoted by Rep. Andy Harris (Republican of Maryland), veterans could either choose to continue receiving care through the VHA or go to a private provider of their choosing. In what amounts to a voucher system, the federal government would cover the cost of insurance premiums and some out-of-pocket costs, depending on a veteran's priority ranking…

The moves to privatize veterans' health care underscore the hypocrisy of the bipartisan glorification of soldiers and veterans. It also sets a precedent for privatizing Medicare and Medicaid, the federal-state health care program for the poor." (VA secretary resigns amid push to privatize US veterans' health care, WSWS)
Is there any doubt that Obama forced General Eric Shinseki to step down so he could start to dismantle the VA? And if Obama cares so much about veterans, then why hasn't he spoken out before about other veteran-related issues like the epidemic of suicides, rapes, traumatic brain injury or PTSD? Obama's phony outrage is just a headline-grabbing gimmick to conceal what's really going on, which is the VA is being handed over to America's insatiable health care tycoons on a silver platter.
Obama again: "For the foreseeable future, the most direct threat to America, at home and abroad, remains terrorism, but a strategy that involves invading every country that harbors terrorist networks is naïve and unsustainable. I believe we must shift our counterterrorism strategy, drawing on the successes and shortcomings of our experience in Iraq and Afghanistan, to more effectively partner with countries where terrorist networks seek a foothold."
Obama's comment absurdly implies that the US has learned from its past mistakes and has fine-tuned the art of counterterrorism so it doesn't involve the squandering of valuable resources. What a joke. It's like listening to a Mafia hit-man boast that he 's learned how to save money on ammo by strangling his victims with his bare hands. This is also a good example of how the Dems think they're more effective (and discreet) in executing the elitist/corporate agenda than their rivals in the GOP. As if that was the purpose of the party!
Obama also made a few perfunctory remarks about closing Guantanamo, ending indefinite detention and taking steps to address climate change. But clearly these had nothing to do with the main thrust of the speech which was to announce his intention to expand the wars abroad. Citing hotspots in Syria, Ukraine and the South China Sea, Obama promised to "lead" with the military, asserting, by implication, dominion over these regions where the US claims to have "national interests". Obama is as committed as his predecessor, Bush, to rule by force of arms even though his current adversaries (Russia and China) are not ragtag militias in sandals, but nuclear-armed nation-states who could level the better part of the planet with a flip of the switch. Even so, Obama is determined to pursue the same provocative strategy whatever the risks increasing the probability of a miscalculation that ends in a mushroom cloud.
It's madness.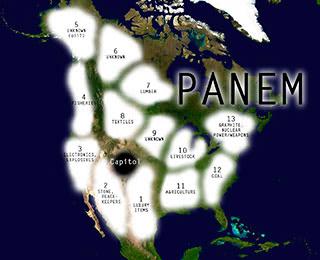 One of the most popular films of 2012 was The Hunger Games which portrayed a post-apocalyptic nation called Panem in which a super-rich, super-pampered, super-callous 'elite' lived in high-tech luxury while the rest of the population daily battled to survive in abject poverty locked away behind prison fences in intensively-populated 'people zones'. Panem comes from the Latin phrase 'panem et circenses' or 'bread and circuses' — a term derived from Rome and meaning to give the people diversions and distractions to hide what is being done to them. Exactly what is happening today.
The Totalitarian Tiptoes to just such a world are happening all around us, although most people can't see this because they don't connect the dots. People tend to live in their own 'little world' and focus on only a few subjects and interests. This gives them a distorted view of what is happening because they are so busy concentrating on the strands that they cannot see the tapestry. The world of The Hunger Games is already well on the way to fruition unless humanity has a fundamental reassessment of reality.
The foundations, structure and 'must haves' of a Hunger Games society are detailed in a plan being imposed through the United Nations called Agenda 21 which encompasses two related themes of 'sustainable development' and 'biodiversity'. Sustainable development — as in don't use more than can be replaced — sounds sensible enough at first until you realize what this and biodiversity really mean in the context of the conspiracy.
Agenda 21 was established at the United Nations Conference on Environment and Development in Rio de Janerio, Brazil, in 1992, hosted by Maurice Strong, a Canadian oil and business billionaire and long-time front man for the Rothschilds and Rockefellers. Strong has been a leader of their exploit-the-environment-to-scam-the-people programme which is now in full flow. Strong is a member of the Club of Rome, the environmental Hidden Hand in the Round Table network that includes the Bilderberg Group, Trilateral Commission and Council on Foreign Relations.
Strong said in support of Agenda 21:
'Isn't the only hope for this planet that the industrialised civilization collapse? Isn't it our responsibility to bring that about?'
This is a man who became mega-rich through the oil industry. He now lives in billionaire luxury in China where carbon-emitting industry is booming and he is a director of the Chicago Climate Exchange (largest shareholder, Goldman Sachs), which is 'the world's first and North America's only legally-binding greenhouse-gas emission registry reduction-system for emission sources and offset projects in North America and Brazil'.
The Exchange was established with funding from the Joyce Foundation where Barack Obama was once a director. Strong and Al Gore make money through the Carbon Exchange and other means from the lies they promote about climate change and the solutions they propose. Kate Johnston wrote on the Globalresearch.cawebsite:
'The same men that sold us the myth of man-made global warming are the same men that sold us the "solution" of a Carbon Tax and Emissions Trading Scheme and now they're profiting off their lucrative investments which are based on lies.' (See "The Climate Change Hoax").
Strong fled to China in 2006 after being accused of corruption with respect to the UN oil for food program.
Climate change propaganda is a No-Problem-Reaction-Solution technique to justify Agenda 21 and its stable-mate the Biodiversity Treaty. This is an internationally-binding document involving nearly 200 countries. The United States signed the treaty, but it was not ratified by the Senate after people like ecologist and ecosystem scientist Dr. Michael Coffman exposed its true consequences and implications. He said that he realized during the 1980s and 1990s that the plan was to use the excuse of protecting the environment to confiscate half the land of the United States.
Similar plans exist for every other country. America may not have ratified the treaty, but it is being implemented by the day. Agenda 21 demands the central global control of all land; all private property; all water sources and distribution; all other resources which includes people in its definition; all energy supplies and distribution and all food production and distribution.
Agenda 21 is called 'the agenda for the 21st century' and that refers to global fascism / communism. This is a summary of what Agenda 21 / Sustainable Development / Biodiversity is seeking to impose:
An end to national sovereignty
State planning and management of all land resources, ecosystems, deserts, forests, mountains, oceans and fresh water; agriculture; rural development; biotechnology; and ensuring 'equity' (equal slavery)
The State to 'define the role' of business and financial resources
Abolition of private property (it's not 'sustainable')
'Restructuring' the family unit
Children raised by the State
People told what their job will be
Major restrictions on movement
Creation of 'human settlement zones'
Mass resettlement as people are forced to vacate land where they currently live
Dumbing down education (achieved)
Mass global depopulation in pursuit of all the above
This horrific plan is being coordinated through the United Nations, the stalking horse for world dictatorship, via a non-governmental network once called the International Council of Local Environmental Initiatives ICLEI), and now known as Local Governments for Sustainability although still using the shortened name ICLEI. The United Nations is now opening 'embassies' around the world called 'UN Houses' under the guise of raising awareness of UN activities, but not the activities that people really need to know about. They have opened one in Hunter Square, Edinburgh, Scotland, for example.
Local Governments for Sustainability (ICLEI) and other organisations are integrating the plan into every village, town, city and region and it is already becoming widespread across the world. The organisational infrastructure of Agenda 21 is already fantastic and involves government agencies, non-governmental organisations (NGOs), think-tanks, trusts, foundations, 'training' (mind control) operations and 'initiatives' which have been building the infrastructure for what they call 'the post-industrial, post-democratic' society while the public go about their daily business oblivious of the prison being built all around them by the hour.
Harvey Ruvin, a vice-chairman of ICLEI, was asked how Agenda 21 would affect liberties with regard to the US Constitution and Bill of Rights, private property and freedom of speech. He replied:
'Individual rights must take a back-seat to the collective.'
The arrogance of these people is breathtaking. The extraordinary network supporting ICLEI and Agenda 21 includes the Rockefeller-sponsored America 2050; United Cities and Local Governments (UCLG); Metropolis; World Economic Forum; United Nations Framework Convention on Climate Change; United Nations International Strategy for Disaster Reduction; World Bank; Clinton Climate Initiative; Climate Group (Tony Blair); World Conservation Union (IUCN); Renewable Energy and Energy Efficiency Partnership; Global Footprint Network; Renewable Energy and Energy Efficiency Partnership; Global Footprint Network; International Centre for Sustainable Cities; Earthquakes and Megacities Initiative and the Stakeholder Forum. These and so many others are working to the same end — Agenda 21 and total human enslavement worldwide, although most of those involved will have no idea that they are building a global prison for themselves and their families.
Another of these front organisations is the World Business Council for Sustainable Development which includes the hideously anti-people Monsanto. Destroying food-growing land, contaminating the countryside with toxins and replacing proper food with deadly and soil-destroying genetically-modified organisms is Monsanto's contribution to 'sustainability'. Agenda 21 is operating in more than 600 towns, cities and counties in the United States and expanding by the day.
A member of the Agenda 21 committees in Santa Cruz, California, in the mid-1990s said that the proposals he heard were so crazy that he laughed at them because they could never happen. These included that 'Mother Earth's surface was not to be scratched'; humans should be concentrated in settlement zones; education should focus on the environment as a central organising principle and all aspects of life covered by Agenda 21, but all of these crazy plans are now being introduced. It's all happy, feely, smiling faces and how we care, when the truth is that Agenda 21 is a vicious, brutal, heartless strategy to impose a global Orwellian state.
Agenda 21 manipulators either create or hijack some local organisation or other, many of them in locations with large populations, and they have their (controlled) leadership to agree the Agenda 21 blueprint for their community together with any uninformed, unwitting idiots who can be sold a human nightmare as saving the planet. This allows them to claim that decisions were made after 'public participation' when that would have been the last thing they wanted, and 99 percent of the 'community' has never heard of Agenda 21 let alone had their say on it. They want no democracy which is why these people talk privately, sometimes even publicly, about the post-democratic, post-industrial society.
They want to control every man, woman and child on the planet — everyone and everywhere and every resource, water source and piece of land. To do this they need a global structure of fascist control that goes right down into every local community with the jackboots at local level enforcing the will of the global centre. This is why there is so much emphasis on local authorities and town and city authorities in Agenda 21.
There is a 'training organisation' called Common Purpose (common purpose, common consensus, everyone the same) which has been paid very large amounts of money by governments and local authorities, police forces and other institutions of state to 'train the leaders' of the post-democratic, post-industrial society. Common Purpose was heavily represented in the Leveson 'inquiry' leading to new media laws in Britain. It is not a training programme; it is a programming programme and turns out unquestioning zombie administrators who serve the god of Agenda 21 and the associated European Union. The theme of 'common' also applies to the ever greater standardisation of laws and regulations and constant reference to 'international law'. This is the unfolding global dictatorship of Agenda 21. What do you need to be a global dictator? Laws that everyone on the planet must obey — international law and the standardisation of global regulation.
You can see The Hunger Games connection when you look at the official Biodiversity wish-for map of the United States in Figure 1. The red areas are designated for no human use and most of the rest of America is confiscated for little and highly-regulated use. The mass of the population would be concentrated in high-rise, densely-packed 'human settlement zones' and denied access to something like 80 percent of present day America. It is without question the world of The Hunger Games with a globally-enforced top-down hierarchy that has a world government using its world army and police force to impose its will at regional and local levels (sectors). The Rockefeller-funded America 2050 has produced a map of the new United States divided into eleven 'megaregions' and includes parts of Canada (Figure 2). Seattle, Portland and Vancouver, British Columbia, become the megaregion known as 'Cascadia' and this regional system comes under the collective name of 'megalopolis' which is Greek for large city or great city. America, Canada and Mexico are due to merge to form the North American Union in line with the European Union blueprint.
The European Union is planned to be broken up into regions and the same structure is in development all over the world. The map of the new Europe has regions from different countries linked up with regions in other countries to end any vestige of national sovereignty or even national existence (Figure 3). This is a global plan with its fierce central control hidden behind its lower elements such as the European Union and local government. What is planned would clearly require a fantastic reduction of the global population and this is indeed what Agenda 21 / Sustainable Development / Biodiversity demand.
The e-book Agenda 21: Your Life In Their Hands can be downloaded here.
reference:
Icke, David. The Perception Deception. Ryde: David Icke Books, 2013.
Julian Websdale is an independent researcher in the fields of esoteric science and metaphysics, and a self-initiate of the Western Esoteric Tradition. His interest in these subjects began in 1988. Julian was born in England, received his education as an electronic and computer engineer from the University of Bolton, served in a Vaishnava monastery during 2010, and has travelled to over 21 countries. Julian is also a member of the Palestinian Solidarity Campaign.
Source: Julian Websdale  |  Waking Times | War Is Crime
"The introduction of genetically modified foods (GMO) tampers with the essence of life in an experiment with an unknown outcome and no real way to undue the damage. The FDA purposely does not require labeling of GMO food, since no one who understands the issue would ever purchase it. This makes it all the more difficult to locate healthful food."  Byron J. Richards, The Leptin Diet: How Fit Is Your Fat?
This series exposes the outright fraud against peoples' lives and the contempt for American citizens (and citizens of the world who eat our grains) with the injection of Genetically Modified Organism foods by the highest representatives in our U.S. Congress.
Call it a "financial cartel" that allows GMOs to be fed to our citizenry, but worse, for the love of money, those power elites accelerate the destruction of our Natural World.
We humans grow too clever and too arrogant to understand the long-term penalties we heap on Mother Nature until she finds no other answers but to claw back at us, i.e., cancers, disease and more aberrant environmental disasters to come.
Every crop in America, Canada, Australia and much of the third world where GMO advocates like ADM and Monsanto can force their "Frankensteinization" on farmers—they push it.
Even with all the evidence piling up, those same elites hammer any opposition into the ground.  They "bribe" the FDA officials to not label any GMO foods so you don't know what you're eating.
We destroy our own bodies by our actions, but we also obliterate the Natural World and its inhabitants.
Today around the world, trillions of bees suffer "colony collapse" via GMO crops.  Nature cannot figure out how to deal with plants that suffer genetic modification or DNA change-ups.
GMO foods represent a pitcher throwing an orange to the catcher in a Major League Baseball game.  Within several pitches, the orange wouldn't hold its form from the violent treatment.  If the batter connected with the orange, it would splatter all over the field.  Result: the game couldn't continue.  The players could not play and the spectators would go home.
But in GMO production, the consequences cannot be seen as quickly, however those "errors" against Mother Nature will surface well into the future.
Ethan Huff, science writer for Natural News said,  "A pair of studies recently published in the journal Science raises dire warnings about the continued decline of crop-pollinating insects all over the world, and what this means for the future of the world's food supply. Both studies highlight the fact that wild pollinators like bumblebees, butterflies, and beetles are basically disappearing, and that industrial agriculture, which includes genetically-modified organisms (GMOs), are a major factor causing this insect genocide.
"At least half a dozen other studies published in the last couple of years have arrived at similarly disturbing findings. They do, however, shed further light on how the situation has progressed throughout the decades, pointing to corporate monoculture practices, shrinking forests and wild lands, and general changes in physical landscapes as some of the primary culprits in promoting this ruinous trend."
We not only change the DNA of our fellow planetary travelers, but we destroy their habitat.  We seem to think no consequences will befall us.
"The earth does not belong to man, man belongs to the earth. All things are connected like the blood that unites us all. Man did not weave the web of life, he is merely a strand in it. Whatever he does to the web, he does to himself."
― Chief Seattle
Last week, I interviewed with Ross Kaminsky at www.KOA.com in Denver, Colorado. Mind you, this young man, about 30, sounded brilliant and highly articulate.  I liked him.   I spoke about America adding 100 million immigrants and a total of 138 million people by 2050—a scant 36 years from now.  I brought facts and compelling information to the show.  I attempted to show him and the public the ramifications of adding 138 million people—and that, we could not sustain such numbers and our environment.
He sat across from me saying, "We don't have a population problem. We have plenty of water and oil.  The oceans can absorb all our carbon footprint."
I said, "You're speaking with assumptions as if they were facts.  You make statements based on belief where I make them based on facts from my research."
He dumbfounded me with his arrogance that we can keep adding endless people with no consequences. He wanted everyone to live a free life.  I countered with the fact that as our population numbers rise, our freedoms decline along with balance in our Natural World.  That fact cannot be disputed.
I explained how our oceans suffer acidification and that reefs die with carbon footprint and how marine life cannot endure the onslaught.
He wouldn't hear of it.  Mind you, this young man, traveled on six continents like I have traveled.  He lives in denial and defends it. Along with him, the majority of the American public feels the same.
We see the same denial with our leaders who advocate for GMOs in plants and fish—in the face of facts.
"In one of the studies, researchers from Montana State University (MSU) compared insect data collected in the late 1800s to similar data collected in the same test location in the 1970s," said Huff. "They then compiled current data from the same area to compare to both of these other two data sets, upon which they discovered that the number of unique wild bee species had dropped by nearly half.
"What is perhaps more disturbing, however, is the fact that researchers observed modern bees to be generally interacting less with plants than they used to in previous generations. According to the data, the overall number of interactions between bees and plants has also dropped by roughly half, indicating a serious problem as far as the general food supply is concerned, as about 75 percent of global food crops rely on pollination by animals."
Managed honeybees do not pollinate crops as well as wild honeybees
The second study troubles me further:  having found that pollinating insects in general, which include a wide range of insects and other animals, continue vanishing from their normal habitats and foraging areas.
"Based on field trials conducted in 20 different countries, wild insects are clearly on the decline everywhere, and managed honeybee colonies established to replace them in many areas are failing to pick up where the wild honeybees left off," said Huff.
"In landscapes with lower diversity and lower abundance of wild insects, the crops had less fruits," explains Lucas Garibaldi, author of the second study. "Wild insects pollinated way more efficiently: Flowers produced twice as many fruits after being visited by wild insects and were more consistent in their production than when visited by honeybees."
"Some "leaders" blame climate destabilization and other outside factors for this mysterious decline in crop pollinators," said Huff. "But the major elephant in the room, and the one that the mainstream media is desperately trying to avoid, is GMOs and the chemical-based technologies used to grow them. As we have covered time and time again, neonicotinoids and other pesticide and herbicide products are responsible for weakening and killing off bees and other crop pollinators, particularly in North America where GMOs are most widely cultivated."
"The proof is obvious that one of the major reasons of the bees' decline is by the ingestion of GMO proteins," explains a report by Brit Amos from Global Research about the decline of bee colonies. "The truth is that organic farming is relatively untouched as the bee crisis is concerned. Organic farming maintains the diversity of the eco-system and preserves the quality of the foods produced."
The more I research into what we and our children face with our "disfiguring" the Natural World with our poisons and GMO assault, the more sickened I am in my mind and heart.  Since I lack any power or influence, someone like Bill Gates or Warren Buffet needs to fund campaigns to stop GMO production.  After all, it's their kids, too, who must live in this world.
All of this GMO nightmare stems from too many people needing food for survival with too many elites willing to sacrifice the Natural World in order to make endless billions of dollars to live in big homes, drive expensive cars and fly Lear Jets.
You can learn more: http://www.naturalnews.com/039582_pollinators_gmos_food_supply.html#ixzz2zSIQSIhn
Go to www.responsibletechnology.org to get involved and learn how to avoid GMOs. Look for Non-GMO Shopping Guide.
Start buying non-GMO today.
Help stop the genetic engineering of our food supply.
You may become involved:
By mail: Institute For Responsible Technology, P.O. Box 469, Fairfield, IA 52556 Online: www.responsibletechnology.org by phone:(641) 209-1765
Read the book—Genetic Roulette: The Documented Health Risk of Genetically Engineered Foods by Jeffrey M. Smith.
Is there anyone out there who still believes that Barack Obama, when he's speaking about American foreign policy, is capable of being anything like an honest man? In a March 26 talk in Belgium to "European youth", the president fed his audience one falsehood, half-truth, blatant omission, or hypocrisy after another. If George W. Bush had made some of these statements, Obama supporters would not hesitate to shake their head, roll their eyes, or smirk. Here's a sample:
– "In defending its actions, Russian leaders have further claimed Kosovo as a precedent – an example they say of the West interfering in the affairs of a smaller country, just as they're doing now. But NATO only intervened after the people of Kosovo were systematically brutalized and killed for years."
Most people who follow such things are convinced that the 1999 US/NATO bombing of the Serbian province of Kosovo took place only after the Serbian-forced deportation of ethnic Albanians from Kosovo was well underway; which is to say that the bombing was launched to stop this "ethnic cleansing". In actuality, the systematic deportations of large numbers of people did not begin until a few days after the bombing began, and was clearly a reaction to it, born of Serbia's extreme anger and powerlessness over the bombing. This is easily verified by looking at a daily newspaper for the few days before the bombing began the night of March 23/24, 1999, and the few days following. Or simply look at the New York Times of March 26, page 1, which reads:
… with the NATO bombing already begun, a deepening sense of fear took hold in Pristina [the main city of Kosovo] that the Serbs would now vent their rage against ethnic Albanian civilians in retaliation. [emphasis added]
On March 27, we find the first reference to a "forced march" or anything of that nature.
But the propaganda version is already set in marble.
– "And Kosovo only left Serbia after a referendum was organized, not outside the boundaries of international law, but in careful cooperation with the United Nations and with Kosovo's neighbors. None of that even came close to happening in Crimea."
None of that even came close to happening in Kosovo either. The story is false. The referendum the president speaks of never happened. Did the mainstream media pick up on this or on the previous example? If any reader comes across such I'd appreciate being informed.
Crimea, by the way, did have a referendum. A real one.
– "Workers and engineers gave life to the Marshall Plan … As the Iron Curtain fell here in Europe, the iron fist of apartheid was unclenched, and Nelson Mandela emerged upright, proud, from prison to lead a multiracial democracy. Latin American nations rejected dictatorship and built new democracies … "
The president might have mentioned that the main beneficiary of the Marshall Plan was US corporations  , that the United States played an indispensable role in Mandela being caught and imprisoned, and that virtually all the Latin American dictatorships owed their very existence to Washington. Instead, the European youth were fed the same party line that their parents were fed, as were all Americans.
– "Yes, we believe in democracy – with elections that are free and fair."
In this talk, the main purpose of which was to lambaste the Russians for their actions concerning Ukraine, there was no mention that the government overthrown in that country with the clear support of the United States had been democratically elected.
– "Moreover, Russia has pointed to America's decision to go into Iraq as an example of Western hypocrisy. … But even in Iraq, America sought to work within the international system. We did not claim or annex Iraq's territory. We did not grab its resources for our own gain. Instead, we ended our war and left Iraq to its people and a fully sovereign Iraqi state that could make decisions about its own future."
The US did not get UN Security Council approval for its invasion, the only approval that could legitimize the action. It occupied Iraq from one end of the country to the other for 8 years, forcing the government to privatize the oil industry and accept multinational – largely U.S.-based, oil companies' – ownership. This endeavor was less than successful because of the violence unleashed by the invasion. The US military finally was forced to leave because the Iraqi government refused to give immunity to American soldiers for their many crimes.
Here is a brief summary of what Barack Obama is attempting to present as America's moral superiority to the Russians:
The modern, educated, advanced nation of Iraq was reduced to a quasi failed state … the Americans, beginning in 1991, bombed for 12 years, with one dubious excuse or another; then invaded, then occupied, overthrew the government, tortured without inhibition, killed wantonly … the people of that unhappy land lost everything – their homes, their schools, their electricity, their clean water, their environment, their neighborhoods, their mosques, their archaeology, their jobs, their careers, their professionals, their state-run enterprises, their physical health, their mental health, their health care, their welfare state, their women's rights, their religious tolerance, their safety, their security, their children, their parents, their past, their present, their future, their lives … More than half the population either dead, wounded, traumatized, in prison, internally displaced, or in foreign exile … The air, soil, water, blood, and genes drenched with depleted uranium … the most awful birth defects … unexploded cluster bombs lying in wait for children to pick them up … a river of blood running alongside the Euphrates and Tigris … through a country that may never be put back together again. … "It is a common refrain among war-weary Iraqis that things were better before the U.S.-led invasion in 2003," reported the Washington Post. (May 5, 2007)
How can all these mistakes, such arrogance, hypocrisy and absurdity find their way into a single international speech by the president of the United States? Is the White House budget not sufficient to hire a decent fact checker? Someone with an intellect and a social conscience? Or does the desire to score propaganda points trump everything else? Is this another symptom of the Banana-Republicization of America?
Long live the Cold War
In 1933 US President Franklin D. Roosevelt recognized the Soviet Union after some 15 years of severed relations following the Bolshevik Revolution. On a day in December of that year, a train was passing through Poland carrying the first American diplomats dispatched to Moscow. Amongst their number was a 29 year-old Foreign Service Officer, later to become famous as a diplomat and scholar, George Kennan. Though he was already deemed a government expert on Russia, the train provided Kennan's first actual exposure to the Soviet Union. As he listened to his group's escort, Russian Foreign Minister Maxim Litvinov, reminisce about growing up in a village the train was passing close by, and his dreams of becoming a librarian, the Princeton-educated Kennan was astonished: "We suddenly realized, or at least I did, that these people we were dealing with were human beings like ourselves, that they had been born somewhere, that they had their childhood ambitions as we had. It seemed for a brief moment we could break through and embrace these people."
It hasn't happened yet.
One would think that the absence in Russia of communism, of socialism, of the basic threat or challenge to the capitalist system, would be sufficient to write finis to the 70-year Cold War mentality. But the United States is virtually as hostile to 21st-century Russia as it was to 20th-century Soviet Union, surrounding Moscow with military bases, missile sites, and NATO members. Why should that be? Ideology is no longer a factor. But power remains one, specifically America's perpetual lust for world hegemony. Russia is the only nation that (a) is a military powerhouse, and (b) doesn't believe that the United States has a god-given-American-exceptionalism right to rule the world, and says so. By these criteria, China might qualify as a poor second. But there are no others.
Washington pretends that it doesn't understand why Moscow should be upset by Western military encroachment, but it has no such problem when roles are reversed. Secretary of State John Kerry recently stated that Russian troops poised near eastern Ukraine are "creating a climate of fear and intimidation in Ukraine" and raising questions about Russia's next moves and its commitment to diplomacy.
NATO – ever in need of finding a raison d'être – has now issued a declaration of [cold] war, which reads in part:
"NATO foreign ministers on Tuesday [April 1, 2014] reaffirmed their commitment to enhance the Alliance's collective defence, agreed to further support Ukraine and to suspend NATO's practical cooperation with Russia. 'NATO's greatest responsibility is to protect and defend our territory and our people. And make no mistake, this is what we will do,' NATO Secretary General Anders Fogh Rasmussen said. … Ministers directed Allied military authorities to develop additional measures to strengthen collective defence and deterrence against any threat of aggression against the Alliance, Mr. Fogh Rasmussen said. 'We will make sure we have updated military plans, enhanced exercises and appropriate deployments,' he said. NATO has already reinforced its presence on the eastern border of the Alliance, including surveillance patrols over Poland and Romania and increased numbers of fighter aircraft allocated to the NATO air policing mission in the Baltic States. … NATO Foreign Ministers also agreed to suspend all of NATO's practical cooperation with Russia."
Does anyone recall what NATO said in 2003 when the United States bombed and invaded Iraq with "shock and awe", compared to the Russians now not firing a single known shot at anyone? And neither Russia nor Ukraine is even a member of NATO. Does NATO have a word to say about the right-wing coup in Ukraine, openly supported by the United States, overthrowing the elected government? Did the hypocrisy get any worse during the Cold War? Imagine that NATO had not been created in 1949. Imagine that it has never existed. What reason could one give today for its creation? Other than to provide a multi-national cover for Washington's interventions.
One of the main differences between now and the Cold War period is that Americans at home are (not yet) persecuted or prosecuted for supporting Russia or things Russian.
But don't worry, folks, there won't be a big US-Russian war. For the same reason there wasn't one during the Cold War. The United States doesn't pick on any country which can defend itself.
Cuba … Again … Still … Forever
Is there actually a limit? Will the United States ever stop trying to overthrow the Cuban government? Entire books have been written documenting the unrelenting ways Washington has tried to get rid of tiny Cuba's horrid socialism – from military invasion to repeated assassination attempts to an embargo that President Clinton's National Security Advisor called "the most pervasive sanctions ever imposed on a nation in the history of mankind".  But nothing has ever come even close to succeeding. The horrid socialism keeps on inspiring people all over the world. It's the darnedest thing. Can providing people free or remarkably affordable health care, education, housing, food and culture be all that important?
And now it's "Cuban Twitter" – an elaborately complex system set up by the US Agency for International Development (USAID) to disguise its American origins and financing, aiming to bring about a "Cuban Spring" uprising. USAID sought to first "build a Cuban audience, mostly young people; then the plan was to push them toward dissent", hoping the messaging network "would reach critical mass so that dissidents could organize 'smart mobs' – mass gatherings called at a moment's notice – that might trigger political demonstrations or 'renegotiate the balance of power between the state and society'."  It's too bad it's now been exposed, because we all know how wonderful the Egyptian, Syrian, Libyan, and other "Arab Springs" have turned out.
Here's USAID speaking after their scheme was revealed on April 3: "Cubans were able to talk among themselves, and we are proud of that."  We are thus asked to believe that normally the poor downtrodden Cubans have no good or safe way to communicate with each other. Is the US National Security Agency working for the Cuban government now?
The Associated Press, which broke the story, asks us further to believe that the "truth" about most things important in the world is being kept from the Cuban people by the Castro regime, and that the "Cuban Twitter" would have opened people's eyes. But what information might a Cuban citizen discover online that the government would not want him to know about? I can't imagine. Cubans are in constant touch with relatives in the US, by mail and in person. They get US television programs from Miami and other southern cities; both CNN and Telesur (Venezuela, covering Latin America) are seen regularly on Cuban television"; international conferences on all manner of political, economic and social issues are held regularly in Cuba. I've spoken at more than one myself. What – it must be asked – does USAID, as well as the American media, think are the great dark secrets being kept from the Cuban people by the nasty commie government?
Those who push this line sometimes point to the serious difficulty of using the Internet in Cuba. The problem is that it's extremely slow, making certain desired usages often impractical. From an American friend living in Havana: "It's not a question of getting or not getting internet. I get internet here. The problem is downloading something or connecting to a link takes too long on the very slow connection that exists here, so usually I/we get 'timed out'." But the USAID's "Cuban Twitter", after all, could not have functioned at all without the Internet.
Places like universities, upscale hotels, and Internet cafés get better connections, at least some of the time; however, it's rather expensive to use at the hotels and cafés.
In any event, this isn't a government plot to hide dangerous information. It's a matter of technical availability and prohibitive cost, both things at least partly in the hands of the United States and American corporations. Microsoft, for example, at one point, if not at present, barred Cuba from using its Messenger instant messaging service.
Cuba and Venezuela have jointly built a fiber optic underwater cable connection that they hope will make them less reliant on the gringos; the outcome of this has not yet been reported in much detail.
The grandly named Agency for International Development does not have an honorable history; this can perhaps be captured by a couple of examples: In 1981, the agency's director, John Gilligan, stated: "At one time, many AID field offices were infiltrated from top to bottom with CIA people. The idea was to plant operatives in every kind of activity we had overseas, government, volunteer, religious, every kind."
On June 21, 2012, the Bolivarian Alliance for the Peoples of Our America (ALBA) issued a resolution calling for the immediate expulsion of USAID from their nine member countries, "due to the fact that we consider their presence and actions to constitute an interference which threatens the sovereignty and stability of our nations."
USAID, the CIA, the National Endowment for Democracy (and the latter's subsidiaries), together or singly, continue to be present at regime changes, or attempts at same, favorable to Washington, from "color revolutions" to "spring" uprisings, producing a large measure of chaos and suffering for our tired old world.
Notes
William Blum, America's Deadliest Export – Democracy: The Truth About US Foreign Policy and Everything Else, p.22-5
Walter Isaacson & Evan Thomas, The Wise Men (1986), p.158
Washington Post, March 31, 2014
"NATO takes measures to reinforce collective defence, agrees on support for Ukraine", NATO website, April 1, 2014
Sandy Berger, White House press briefing, November 14, 1997, US Newswire transcript
Associated Press, April 3 & 4, 2014
Washington Post, April 4, 2014
Associated Press, June 2, 2009
George Cotter, "Spies, strings and missionaries", The Christian Century (Chicago), March 25, 1981, p.321
As the US and EU apply sanctions on Russia over its annexation' of Crimea, JP Sottile reveals the corporate annexation of Ukraine. For Cargill, Chevron, Monsanto, there's a gold mine of profits to be made from agri-business and energy exploitation.
On 12th January 2014, a reported 50,000 "pro-Western" Ukrainiansdescended upon Kiev's Independence Square to protest against the government of President Viktor Yanukovych.
Stoked in part by an attack on opposition leader Yuriy Lutsenko, the protest marked the beginning of the end of Yanukovych's four year-long government.
That same day, the Financial Timesreported a major deal for US agribusiness titan Cargill.
Business confidence never faltered
Despite the turmoil within Ukrainian politics after Yanukovych rejected a major trade deal with the European Union just seven weeks earlier, Cargill was confident enough about the future to fork over $200 million to buy a stake in Ukraine's UkrLandFarming.
According to the Financial Times, UkrLandFarming is the world's eighth-largest land cultivator and second biggest egg producer. And those aren't the only eggs in Cargill's increasingly ample basket.
On 13th December 2013, Cargill announced the purchase of a stake in a Black Sea grain terminal at Novorossiysk on Russia's Black Sea coast.
The port — to the east of Russia's strategically and historically important Crimean naval base — gives them a major entry-point to Russian markets and adds them to the list of Big Ag companies investing in ports around the Black Sea, both in Russia and Ukraine.
Cargill has been in Ukraine for over two decades, investing in grain elevators and acquiring a major Ukrainian animal feed company in 2011. And, based on its investment in UkrLandFarming, Cargill was decidedly confident amidst the post-EU deal chaos.
It's a stark juxtaposition to the alarm bells ringing out from the US media, bellicose politicians on Capitol Hill and perplexed policymakers in the White House.
Instability?… What Instablility?
It's even starker when compared to the anxiety expressed by Morgan Williams, President and CEO of the US-Ukraine Business Council — which, according to its website, has been"promoting US-Ukraine business relations since 1995."
Williams was interviewed by the International Business Times on March 13 and, despite Cargill's demonstrated willingness to spend, he said, "The instability has forced businesses to just go about their daily business and not make future plans for investment, expansion and hiring more employees."
In fact, Williams, who does double-duty as Director of Government Affairs at the private equity firm SigmaBleyzer, claimed, "Business plans have been at a standstill."
Apparently, he wasn't aware of Cargill's investment, which is odd given the fact that he could've simply called Van A. Yeutter, Vice President for Corporate Affairs at Cargill, and asked him about his company's quite active business plan.
There is little doubt Williams has the phone number because Mr. Yuetter serves on the Executive Committee of the selfsame US-Ukraine Business Council. It's quite a cozy investment club, too.
According to his SigmaBleyzer profile, Williams "started his work regarding Ukraine in 1992″ and has since advised American agribusinesses "investing in the former Soviet Union." As an experienced fixer for Big Ag, he must be fairly friendly with the folks on the Executive Committee.
Big Ag Luminaries — Monsanto, Eli Lilly, Dupont, John Deere…
And what a committee it is — it's a veritable who's who of Big Ag. Among the luminaries working tirelessly and no doubt selflessly for a better, freer Ukraine are:
Melissa Agustin, Director, International Government Affairs & Trade for Monsanto;
Brigitte Dias Ferreira, Counsel, International Affairs for John Deere;
Steven Nadherny, Director, Institutional Relations for agriculture equipment-makerCNH Industrial;
Jeff Rowe, Regional Director for DuPont Pioneer;
John F. Steele, Director, International Affairs for Eli Lilly & Company.
And, of course, Cargill's Van A. Yeutter. But Cargill isn't alone in their warm feelings toward Ukraine. As Reuters reported in May 2013, Monsanto — the largest seed company in the world — plans to build a $140 million "non-GM (genetically modified) corn seed plant in Ukraine."
And right after the decision on the EU trade deal, Jesus Madrazo, Monsanto's Vice President for Corporate Engagement, reaffirmed his company's "commitment to Ukraine"and "the importance of creating a favorable environment that encourages innovation and fosters the continued development of agriculture."
Monsanto's strategy includes a little "hearts and minds" public relations, too. On the heels of Mr. Madrazo's reaffirmation, Monsanto announced "a social development program titled 'Grain Basket of the Future' to help rural villagers in the country improve their quality of life."
The initiative will dole out grants of up to $25,000 to develop programs providing"educational opportunities, community empowerment, or small business development."
Immense Economic Importance
The well-crafted moniker 'Grain Basket of the Future' is telling because, once upon a time, Ukraine was known as 'the breadbasket' of the Soviet Union. The CIA ranks Soviet-era Ukraine second only to Mother Russia as the "most economically important component of the former Soviet Union."
In many ways, the farmland of Ukraine was the backbone of the USSR. Its fertile black soil generated over a quarter of the USSR's agriculture. It exported substantial quantities of food to other republics and its farms generated four times the output of the next-ranking republic.
Although Ukraine's agricultural output plummeted in the first decade after the break-up of the Soviet Union, the farming sector has been growing spectacularly in recent years.
While Europe struggled to shake-off the Great Recession, Ukraine's agriculture sector grew 13.7% in 2013.
Ukraine's agriculture economy is hot. Russia's is not. Hampered by the effects of climate change and 25 million hectares of uncultivated agricultural land, Russia lags behind its former breadbasket.
According to the Centre for Eastern Studies, Ukraine's agricultural exports rose from $4.3 billion in 2005 to $17.9 billion in 2012 and, harkening the heyday of the USSR, farming currently accounts for 25% of its total exports. Ukraine is also the world's third-largest exporter of wheat and of corn. And corn is not just food. It is also ethanol.
Feeding Europe
But people gotta eat — particularly in Europe. As Frank Holmes of US Global Investorsassessed in 2011, Ukraine is poised to become Europe's butcher. Meat is difficult to ship, but Ukraine is perfectly located to satiate Europe's hunger.
Just two days after Cargill bought into UkrLandFarming, Global Meat News reported a huge forecasted spike in "all kinds" of Ukrainian meat exports, with an increase of 8.1% overall and staggering 71.4% spike in pork exports.
No wonder Eli Lilly is represented on the US-Ukraine Business Council's Executive Committee. Its Elanco Animal Health unit is a major manufacturer of feed supplements.
And it is also notable that Monsanto's planned seed plant is non-GMO, perhaps anticipating an emerging GMO-unfriendly European market and Europe's growing appetite for organic foods. When it comes to Big Ag's profitable future in Europe, the stakes couldn't be higher.
A Long String of Russian Losses
For Russia and its hampered farming economy, it's another in a long string of losses to US encroachment — from NATO expansion into Eastern Europe to US military presence to its south and onto a major shale gas development deal recently signed by Chevron in Ukraine.
So, why was Big Ag so bullish on Ukraine, even in the face of so much uncertainty and the predictable reaction by Russia?
The answer is that the seeds of Ukraine's turn from Russia have been sown for the last two decades by the persistent Cold War alliance between corporations and foreign policy. It's a version of the 'Deep State' that is usually associated with the oil and defense industries, but also exists in America's other heavily subsidized industry — agriculture.
Morgan Williams is at the nexus of Big Ag's alliance with US foreign policy. To wit,SigmaBleyzer touts Mr. Williams' work with "various agencies of the US government, members of Congress, congressional committees, the Embassy of Ukraine to the US, international financial institutions, think tanks and other organizations on US-Ukraine business, trade, investment and economic development issues."
Freedom — For US Business
As President of the US-Ukraine Business Council, Williams has access to Council cohort — David Kramer, President of Freedom House. Officially a non-governmental organization, it has been linked with overt and covert 'democracy' efforts in places where the door isn't open to American interests — aka US corporations.
Freedom House, the National Endowment for Democracy and National Democratic Institute helped fund and support the Ukrainian 'Orange Revolution' in 2004. Freedom House is funded directly by the US Government, the National Endowment for Democracy and the US Department of State.
David Kramer is a former Deputy Assistant Secretary of State for European and Eurasian Affairs and, according to his Freedom House bio page, formerly a Senior Fellow at the Project for the New American Century.
Nuland's $5 Billion For Ukrainian 'Democracy'
That puts Kramer and, by one degree of separation, Big Ag fixer Morgan Williams in the company of PNAC co-founder Robert Kagan who, as coincidence would have it, is married to Victoria "F*ck the EU" Nuland, the current Assistant Secretary of State for European and Eurasian Affairs.
Interestingly enough, Ms. Nuland spoke to the US-Ukrainian Foundation last 13th December, extolling the virtues of the Euromaidan movement as the embodiment of "the principles and values that are the cornerstones for all free democracies."
Nuland also told the group that the United States had invested more than $5 billion in support of Ukraine's "European aspirations" — meaning pulling Ukraine away from Russia. She made her remarks on a dais featuring a backdrop emblazoned with a Chevron logo.
Also, her colleague and phone call buddy US Ambassador to Ukraine Geoffrey Pyatt helped Chevron cook up their 50-year shale gas deal right in Russia's kitchen.
Coca-Cola, Exxon-Mobil, Raytheon
Although Chevron sponsored that event, it is not listed as a supporter of the Foundation. But the Foundation does list the Coca-Cola Company, ExxonMobil and Raytheon as major sponsors. And, to close the circle of influence, the US-Ukraine Business Council is also listed as a supporter.
Which brings the story back to Big Ag's fixer — Morgan Williams.
Although he was glum about the current state of investment in Ukraine, he's gotta wear shades when he looks into the future. He told the International Business Times:
"The potential here for agriculture / agribusiness is amazing … Production here could double. The world needs the food Ukraine could produce in the future. Ukraine's agriculture could be a real gold mine."
Of course, his priority is to ensure that the bread of well-connected businesses gets lavishly buttered in Russia's former breadbasket. And there is no better connected group of Ukraine-interested corporations than American agribusiness.
Given the extent of US official involvement in Ukrainian politics — including the interesting fact that Ambassador Pyatt pledged US assistance to the new government in investigating and rooting-out corruption — Cargill's seemingly risky investment strategy probably wasn't that risky, after all.
J P Sottile is a freelance journalist, radio co-host, documentary filmmaker and former broadcast news producer in Washington, D.C. His weekly show, Inside the Headlines w/ The Newsvandal, co-hosted by James Moore, airs every Friday on KRUU-FM in Fairfield, Iowa. He blogs at Newsvandal.com.
Source: JP Sottile | Ecologist
People from Yemen and Pakistan and elsewhere have told me, and have testified in the U.S. Congress, that they have a hard time convincing their neighbors that everyone in the United States doesn't hate them.  There are buzzing killer robots flying over their houses night and day and every now and then blowing a bunch of people up with a missile with very little rhyme or reason that anyone nearby can decipher.  They don't know where to go or not go, what to do or not do, to be safe or keep their children safe.  Their children have instinctively taken to crouching and covering their heads just like U.S. children in the 1950s were taught to do as supposed protection from Soviet nuclear weapons.
The good news is that, of course, we don't all hate Yemenis or Pakistanis or Somalis or Afghans or Libyans or any of the other people who might suspect us of it.  The bad news — and the news that I'm afraid would be almost incomprehensible to many millions of people around the world — is that most of us have only the vaguest idea where any of those countries are, some of us don't know that they ARE countries at all, and we pay far greater attention to our sports and our pets than to whom exactly our government is killing this Tuesday.
This obliviousness comes into sharpest relief perhaps when we elect the officials who are legally called on to decide on our wars.  The extent to which Congress has handed war making over to presidents is also brought out by observing Congressional elections.  It is not at all uncommon for U.S. Congressional candidates' platforms to entirely ignore all questions of war and peace, and to win support from either Democrats or Republicans despite this omission — despite, in particular, taking no position on the area funded by 57% of the dollars they will vote on if elected, namely wars and war preparations.
Here in Virginia's Fifth Congressional District, a man named Lawrence Gaughan recently announced as a Democratic candidate for Congress.  I'd never heard of him, so I took a look at the "Issues" section of hiswebsite.  Not only WAS there such a section (some candidates campaign purely on their biography without taking positions on anything), but Gaughan's site had clear forthright statements on a number of important issues.  He backed labor unions despite their virtual nonexistence in his district.  He admitted the existence of climate change.  He backed Eisenhower era tax rates (!!).  And his statements made commitments: "I will not vote for any tax cuts for those making over 250,000 dollars a year." "I support the Dream Act." "I would vote for any legislation that would bring back jobs in construction, manufacturing and production." Either this guy had real principles or he was just too new for anyone to have explained to him how to make his promises vague enough not to commit himself to any specific actions.
All too typically, however, when I scrolled through the "Issues," I noticed a gap.  I sent this note off to the candidate's staff:
"Your candidate has some of the best and clearest positions on domestic issues that I've seen, and dramatically superior to Congressman Hurt's, but judging by his website as it stands today he seems to have no position on foreign policy whatsoever, or even on that 57% of discretionary spending that, according to the National Priorities Project, goes to militarism.  For people who support domestic social justice AND peace in the world in this district, we are put in a bind by our history. Congressman Perriello voted for every war dollar he could, and has made a career of pushing for new wars since leaving office.  Congressman Hurt is a disaster on other issues but listened to us and took a stand against missile strikes on Syria. He even listened to us on lawless imprisonment and voted against a "Defense" Authorization Act on one occasion. Helpful as it is to know what Lawrence Gaughan thinks of 43% of the budget, some of us are really going to have to know what he thinks of the larger part.  Would he cut military spending? Would he oppose new wars? Does he oppose drone strikes? Would he repeal the authorization to use military force of '01 and that of '03? Would he support economic conversion to peaceful industries on the model now set up in Connecticut? Would he advance a foreign policy of diplomacy, cooperation, actual aid, and nonviolent conflict resolution? Are there any foreign bases he would close?  Does he think having U.S. troops in 175 nations is too many, too few, or just right? Does he support joining the ICC? Thanks for your time!"
A couple of days later, Gaughan called me on the phone.  We talked for a while about foreign policies, wars, peace, militarism, the economic advantages of converting to peaceful industries, the danger of handing war powers over to presidents.  He said he opposed wars. He said he wanted to take on the influence of the military industrial complex.  He didn't seem particularly well informed, but he seemed to be coming from a fairly good place or to at least be willing to get there.
He proposed allowing military veterans to never pay any taxes.  That's not exactly the sort of resistance to militarism that President Kennedy had in mind when he wrote that wars would continue until the conscientious objector has the honor and prestige of the soldier.  Gaughan offered no tax cuts for conscientious objectors.  Still, he said he'd get some good statements on foreign policy added to his website right away. He also said he'd be willing to debate the other candidates, including the incumbent, on foreign relations, should peace groups create such a forum and invite him.
Lo and behold, the next day, this appeared on Gaughan's website:
"Military

"We have strayed from our constitution when it comes to the defense of our nation and declaration of war. I was opposed to the war in Iraq for many reasons.  The enormous price paid by our brave men and women as well as the huge financial debt that we incurred was not necessary.  Republicans in Congress continue to defer those costs on our military personnel and our veterans through the sequester and other austerity measures.

"Not withstanding the government shutdown, the Republican budget proposals that my opponent, Robert Hurt, has voted for over the past three years, have forced the Pentagon into reductions that have taken a tremendous toll on enlisted personnel right here in our district. These political policies are also causing reductions to TriCare, active duty health benefits, and to retired military pensions. As the greatest nation on earth, it is unacceptable that we have homeless veterans or military families who struggle to pay the bills.

"We owe so much to the men and women who serve. Instead of laying off soldiers and cutting funding for the VA, we could begin by eliminating the ongoing fraud by military contractors. Fraud committed by dozens of irresponsible military industry corporations have cost taxpayers more than $1.1 trillion. Eliminating this fraud would offset most of the estimated $1.2 trillion in policy savings required over the next decade in order to realize the Center on Budget and Policy Priorities estimated $1.4 trillion in deficit reduction without 'gutting our military'. Furthermore, as a component of tax reform, there should be a tax exemption status for veterans written into the tax code."
His topic, all too typically — people around the world should understand — is not how to relate to the 95% of humanity that is not in the United States, but how to treat "The Military."
His first sentence echoes our discussion of the past three-quarters century of undeclared wars, but doesn't spell it out.  Will he oppose wars that lack a Congressional declaration or not?
He picks one past war to oppose without stating his position on future wars.  He describes the costs of a war that killed some million Iraqis and destroyed a nation as all being paid by the U.S. and its soldiers.
He blames the sequester agreement on only one of the two parties that agreed to it, and buys into themyth that it has resulted in cuts to the military.  (True, Democrats in the Senate recently put up a token effort to fund veterans' needs and were blocked by Republicans.)  Gaughan claims that we owe "so much" to members of the military who "serve."  What exactly do we owe them? Can he name something that we owe them? He doesn't want soldiers to be "laid off," as if employing them is a make-work jobs program.
In my view we owe veterans housing, healthcare, education, a clean environment, and a healthy society because they are human beings — and we owe it equally to every other human being.  But we shouldn't pretend that the military's so-called "service" isn't making us hated around the world.  We shouldn't try to produce more veterans as if there were something noble about murdering people.
Gaughan almost closes on an up note.  He acknowledges fraud by military contractors.  He even calls them "military," rather than using the misleading term "defense."  But then he makes clear that he doesn't want to cut the military. He wants to create efficiency to avoid cuts while saving money.
Would he repeal authorizations to use military force? Who knows. Would he back future wars? Who can tell? Does he believe U.S. troops should be in 175 nations? Perhaps.  But if they were in 182 would he then think 182 was the right number?  Does he favor allowing presidents to murder people with missiles from drones or by any other means?  Does he think antagonizing Russia and China and Iran should remain the focus of U.S. foreign policy?  Does he want the occupation of Afghanistan ended? Who knows.
He brought up a Department of Peace on our phone call, but it didn't make the website yet.  One can hope that Gaughan's website is a work in progress.  There's certainly a chance he'll become a far better candidate and Congress member than this district has had in a long time.
But this, dear world, is more or less how the world's largest-ever killing machine operates.  It turns its eyes away from the machine's work and, if pushed, debates the care of the machine itself — maintaining more or less complete obliviousness to the horrors the machine produces in those far away places where you live and die.
Source: DavidSwanson | Washington's Blog
"We are witnessing a huge geopolitical game in which the aim is the destruction of Russia as a geopolitical opponent of the US or of the global financial oligarchy…..The realization of this project is in line with the concept of global domination that is being carried out by the US."

– Vladimir Yakunin, former Russian senior diplomat

"History shows that wherever the U.S. meddles; chaos and misery are soon to follow."

– Kalithea, comments line, Moon of Alabama
Following a 13 year rampage that has reduced large swathes of Central Asia and the Middle East to anarchy and ruin, the US military juggernaut has finally met its match on a small peninsula in southeastern Ukraine that serves as the primary operating base for Russia's Black Sea Fleet. Crimea is the door through which Washington must pass if it intends to extend its forward-operating bases throughout Eurasia, seize control of vital pipeline corridors and resources, and establish itself as the dominant military/economic power-player in the new century. Unfortunately, for Washington, Moscow has no intention of withdrawing from the Crimea or relinquishing control of its critical military outpost in Sevastopol. That means that the Crimea–which has been invaded by the Cimmerians, Bulgars, Greeks, Scythians, Goths, Huns, Khazars, Ottomans, Turks, Mongols, and Germans–could see another conflagration in the months ahead, perhaps, triggering a Third World War, the collapse of the existing global security structure, and a new world order, albeit quite different from the one imagined by the fantasists at the Council on Foreign Relations and the other far-right think tanks that guide US foreign policy and who are responsible for the present crisis.
How Washington conducts itself in this new conflict will tell us whether the authors of the War on Terror–that public relations hoax that concealed the goals of eviscerated civil liberties and one world government–were really serious about actualizing their NWO vision or if it was merely the collective pipedream of corporate CEOs and bored bankers with too much time on their hands. In the Crimea, the empire faces a real adversary, not a disparate group of Kalashinov-waving jihadis in flip-flops. This is the Russian Army; they know how to defend themselves and they are prepared to do so. That puts the ball in Obama's court. It's up to him and his crackpot "Grand Chessboard" advisors to decide how far they want to push this. Do they want to intensify the rhetoric and ratchet up the sanctions until blows are exchanged, or pick up their chips and walk away before things get out of hand? Do they want to risk it all on one daredevil roll of the dice or move on to Plan B? That's the question. Whatever US policymakers decide, one thing is certain, Moscow is not going to budge. Their back is already against the wall. Besides, they know that a lunatic with a knife is on the loose, and they're ready to do whatever is required to protect their people. If Washington decides to cross that line and provoke a fight, then there's going to trouble. It's as simple as that.
Perma-hawk, John McCain thinks that Obama should take off the gloves and show Putin who's boss. In an interview with TIME magazine McCain said "This is a chess match reminiscent of the Cold War and we need to realize that and act accordingly…We need to take certain measures that would convince Putin that there is a very high cost to actions that he is taking now."
"High cost" says McCain, but high cost for who?
What McCain fails to realize is that this is not Afghanistan and Obama is not in a spitting match with puppet Karzai. Leveling sanctions against Moscow will have significant consequences, the likes of which could cause real harm to US interests. Did we mention that "ExxonMobil's biggest non-US oil project is a collaboration with Russia's Rosneft in the Arctic, where it has billions of dollars of investments at stake." What if Putin decides that it's no longer in Moscow's interest to honor contracts that were made with US corporations? What do you think the reaction of shareholders will be to that news? And that's just one example. There are many more.
Any confrontation with Russia will result in asymmetrical attacks on the dollar, the bond market, and oil supplies. Maybe the US could defeat Russian forces in the Crimea. Maybe they could sink the fleet and rout the troops, but there'll be a heavy price to pay and no one will be happy with the outcome. Here's a clip from an article at Testosterone Pit that sums it up nicely:
"Sergei Glazyev, the most hardline of Putin's advisors, sketched the retaliation strategy: Drop the dollar, sell US Treasuries, encourage Russian companies to default on their dollar-denominated debts, and create an alternative currency system with the BRICS and hydrocarbon producers like Venezuela and Iran…

Putin's ally and trusted friend, Rosneft president Igor Sechin…suggested that it was "advisable to create an international stock-exchange for the participating countries, where transactions could be registered with the use of regional currencies." (From Now On, No Compromises Are Possible For Russia, Testosterone Pit)
As the US continues to abuse its power, these changes become more and more necessary. Foreign governments must form new alliances in order to abandon the present system–the "dollar system"–and establish greater parity between nation-states, the very nation-states that Washington is destroying one-by-one to establish its ghoulish vision of global corporate utopia. The only way to derail that project is by exposing the glaring weakness in the system itself, which is the use of an international currency that is backed by $15 trillion in government debt, $4 trillion in Federal Reserve debt, and trillions more in unpaid and unpayable federal obligations. Whatever steps Moscow takes to abort the current system and replace the world's reserve currency with money that represents a fair store of value, should be applauded. Washington's reckless and homicidal behavior around the world make it particularly unsuitable as the de facto steward of the global financial system or to enjoy seigniorage, which allows the US to play banker to the rest of the world. The dollar is the foundation upon which rests the three pillars of imperial strength; political, economic and military. Remove that foundation and the entire edifice comes crashing to earth. Having abused that power, by killing and maiming millions of people across the planet; the world needs to transition to another, more benign way of consummating its business transactions, preferably a currency that is not backed by the blood and misery of innocent victims. Paul Volcker summed up the feelings of many dollar-critics in 2010 when he had this to say:
"The growing sense around much of the world is that we have lost both relative economic strength and more important, we have lost a coherent successful governing model to be emulated by the rest of the world. Instead, we're faced with broken financial markets, underperformance of our economy and a fractious political climate."
America is irreparably broken and Washington is a moral swamp. The world needs regime change; new leaders, new direction and a different system.
In our last article, we tried to draw attention to the role of big oil in the present crisis. Author Nafeez Ahmed expands on that theme in a "must read" article in Monday's Guardian. Check out this brief excerpt from Ahmed's piece titled "Ukraine crisis is about Great Power oil, gas pipeline rivalry":
"Ukraine is increasingly perceived to be critically situated in the emerging battle to dominate energy transport corridors linking the oil and natural gas reserves of the Caspian basin to European markets… Considerable competition has already emerged over the construction of pipelines. Whether Ukraine will provide alternative routes helping to diversify access, as the West would prefer, or 'find itself forced to play the role of a Russian subsidiary,' remains to be seen." (Guardian)
The western oil giants have been playing "catch up" for more than a decade with Putin checkmating them at every turn. As it happens, the wily KGB alum has turned out to be a better businessman than any of his competitors, essentially whooping them at their own game, using the free market to extend his network of pipelines across Central Asia and into Europe. That's what the current crisis is all about. Big Oil came up "losers" in the resource war so now they want Uncle Sam to apply some muscle to put them back in the game. It's called "sour grapes", which refers to the whining that people do when they got beat fair and square. Here's more from Ahmed:
"To be sure, the violent rioting was triggered by frustration with (Ukrainian President) Yanukovych's rejection of the EU deal, (in favor of Putin's sudden offer of a 30% cheaper gas bill and a $15 billion aid package) along with rocketing energy, food and other consumer bills, linked to Ukraine's domestic gas woes ….. Police brutality to suppress what began as peaceful demonstrations was the last straw…" (Ukraine crisis is about Great Power oil, gas pipeline rivalry, Guardian)
In other words, Yanukovych rejected an offer from Chevron that the EU and Washington were pushing, and went with the sweeter deal from Russia. According to Ahmed, that pissed off the bigwigs who decided to incite the rioting. ("Putin's sudden offer of a 30% cheaper gas bill and a $15 billion aid package provoked the protests…")
Like we said before; it's just a case of sour grapes.
So, tell me, dear reader: Is this the first time you've heard a respected analyst say that oil was behind the rioting, the coup, and the confrontation with Moscow?
I'll bet it is. Whatever tentacles Wall Street may have wrapped around the White House, Capital Hill, and the US judiciary; Big Oil still rules the roost. The Apostles of the Fossil are the oldest and most powerful club in Washington, and "What they say, goes". As Ahmed so articulately points out:
"Resource scarcity, competition to dominate Eurasian energy corridors, are behind Russian militarism and US interference…Ukraine is caught hapless in the midst of this accelerating struggle to dominate Eurasia's energy corridors in the last decades of the age of fossil fuels." ("Ukraine crisis is about Great Power oil, gas pipeline rivalry", Guardian)
Did I hear someone say "Resource War"?
As we noted in an earlier article, NWO mastermind Zbigniew Brzezinski characterized the conflict with Russia in terms of cutting off "Western access to the Caspian Sea and Central Asia". For some unknown reason, America's behemoth oil corporations think the resources that lie beneath Russian soil belong to them. The question is whether their agents will push Obama to put American troops at risk to assert that claim. If they do, there's going to be a war.
A few days ago, a prominent attorney asked me a question: can religious liberty and the growing demands of government and others occupy the same space?  And if not, who wins?
This is, perhaps, not quite the right question.
Dr. Hannibal Lecter, aka "Hannibal the Cannibal" in  The Silence of the Lambs asked a more fitting one:
First principles, Clarice. Simplicity. Read Marcus Aurelius. Of each particular thing ask: What is it in itself? What is its nature?
Most pundits observing what has gone on recently in Arizona and other states regarding same-sex marriage have concluded, "We are witnessing a clash between religious and civil liberties."  While many nod their heads in agreement, this analysis is wrong.
The fact is that what the left is demanding now through our courts, through legislatures, and at ballot boxes around the country does not constitute "rights" at all, or at least not in the historical sense.
This is not a "clash of religious and civil rights."  This is a clash of freedom and untenable, outrageous demands.
There is something much, much deeper going on here.
Same-sex marriage is a trial balloon of sorts, being used to test how far Americans will allow their consciences to be suppressed by the State.
"If Christians can be compelled to lend a craft to something their conscience objects to, what can't they be compelled to participate in? We're talking about precedent; and the cases before us are bellwether test cases about whether private actors can be forcibly mandated to go against their conscience" ("Of Consciences and Cakes," First Things, Feb. 20, Andrew Walker).
A couple years ago, the Health and Human Services Contraceptive and Abortifacient Mandate served the same purpose, leading the way to where we now are.  When the State can get away with abusive behavior and strong-arm tactics toward even The Little Sisters of the Poor, let alone privately owned businesses such as Hobby Lobby, then statists know that the time is ripe to take another big step.
This battle is much bigger than anybody thinks it is.  We cannot see the forest for the trees.  We are not witnessing a clash of rights; we are in the middle of a massive social experiment.  This is a test for the viability of incremental totalitarianism.  Nothing less.
In a kind of Cloward-Piven Strategy, the assault – or "test," or however you want to identify it – is occurring on many different fronts and on many different levels simultaneously.  In addition to same-sex marriage and the health care mandate(s), we have the IRS targeting of conservative groups, constant Second Amendment attacks, voter photo ID initiatives labeled as racist by the DOJ, and state initiatives to curb abortions labeled a "War on Women."
Perhaps most chilling is the way that federalism is being undermined from within the states themselves.  State judges are now routinely overturning the expressed will of the people, acting unilaterally to impose novel viewpoints on entire state populations.
The fifty states, which are supposed to be laboratories for experimentation – conducting trial runs, so to speak – are being stripped of that function.
The beauty of America is our diversity, much of which is still reflected in the personalities of each of our states.  If the reach of the national government extends too far and we become thoroughly homogenized, we inevitably start moving toward a type of tyranny.  If the rules and the standards are exactly the same in every state, where can one go either for respite or advantage?  As the force of the national government grows, this key element of our American liberty recedes, perhaps to be lost forever.
The Economist magazine once described the wonderful functioning of our local governance very nicely:
America has 50 states with 50 sets of laws. Virginia will never ban hunting, but even if it did, there are 49 other states that won't. In America, people with unusual hobbies are generally left alone. And power is so devolved that you can more or less choose which rules you want to live under.

If you like low taxes and the death penalty, try Texas. For good public schools and subsidized cycle paths, try Portland, Oregon. Even within states, the rules vary widely. Bath County, Kentucky is dry. Next-door Bourbon County, as the name implies, is not. Nearby Montgomery County is in between: a "moist" county where the sale of alcohol is banned except in one city. Liberal foreign students let it all hang out at Berkeley; those from traditional backgrounds may prefer a campus where there is no peer pressure to drink or fornicate, such as Brigham Young in Utah. (Dec. 19, 2009)
If all our laws and regulations are essentially nationalized, there will be no choices left to us other than the single choice to comply.  The very thing that makes the United States such a wonderful success – E pluribus unum, "out of many, one" – is being destroyed.  Ironically, in the name of diversity, we are squashing diversity, trampling out opinions anathema to progressive ideology.
Statists are tickled pink that they are able to make headway on this.  And for the most part, the media are willing collaborators, as pointed out by Mollie Hemingway in The Federalist:
Religious liberty is a deeply radical concept. It was at this country's founding and it hasn't become less so. Preserving it has always been a full-time battle. But it's important, because religion is at the core of people's identity. A government that tramples religious liberty is not a government that protects economic freedom. It's certainly not a government that protects conscience rights. A government that tramples religious liberty does not have expansive press freedoms. Can you think of one country with a narrow view of religious liberty but an expansive view of economic freedom, freedom of association, press freedoms or free speech rights? One?
A media less hostile to religious liberty would think less about scoring cheap political points, creating uncivil political climates, and disparaging institutions that help humans flourish.  A media with a higher regard for truth would, it turns out, have a higher regard for religious liberty.
Sadly, we seem to have left the world of reason and tolerance. Could our media climate demonstrate that any better?  And what lies ahead, if left uncorrected, is illogical and tyrannical.  Freedom of religion was the central principle in the moral case of our country.  Once that's gone, how long can the Republic stand?
Returning to Dr. Lecter's question, "what is it in itself? What is its nature?"
Its nature is this: totalitarianism.
The current visible clash of religious and asserted civil "rights" is secondary – a symptom, not an actual cause.
In fact, the logical conclusion for the trajectory we are now on is the eventual squashing of both civil and religious rights, and this will occur because we have allowed a powerful government to play us one group against another.
What can each of us do?
The only way to stop the advancement of totalitarian measures is for the grassroots of each state to bravely stand up to the bullying, silencing tactics of out-of-touch, frightened judges, legislators, corporate cronies, and media collaborators, as they lead us down a path of decreased liberty and increased totalitarianism.
Stand up for social issues that you know in your gut to be true.  Don't allow yourself to be silenced by political correctness.  Stand up for marriage.  Stand up for life.  Stand up for the right of children to be born and to have both a mom and a dad.
Stand up also for constitutionally limited government and fiscal responsibility.
You have Truth with a capital T on your side.  You are right, and they are wrong, so do not be afraid.
Don't make the mistake of remaining quiet until you are certain you have a winning argument.  That is not your responsibility, and that is what the totalitarian left is hoping you will do.  All you are responsible for is to speak truthfully and to let others know your beliefs.  We outnumber them.  We can overwhelm them with Truth, if only each of us would open our mouths and proclaim the Truth at every opportunity.
Remember: be not afraid.
Source: Doug Mainwaring | American Thinker
Here's a way environmentalists can capitalize on Secretary of State Kerry's characterization of climate change as the "most fearsome weapon of mass destruction", a hyperbole he used in a speech in Indonesia last week. Despite the current surfeit of light oil resulting from the shale oil boom, the wave of the future is likely to be increasing production of heavy oil, the stuff that will flow (sluggishly) through the Keystone XL pipeline if it is ever built. That that is where the future lies is demonstrated by our refiners betting hard money on it, having geared up their refineries to process heavy oil coming from Canada's tar sands and Venezuela's Orinoco Belt.
One of the less desirable byproducts of refining heavy oil is something called petroleum coke or petcoke for short. Petcoke can substitute for coal and is used in the generation of electricity and the manufacture of various industrial products. But petcoke emits 5 to 10 percent more carbon dioxide (CO2) than coal on a per-unit-of-energy basis, 30 to 80 percent more per unit of weight. Moreover, it often has a high sulfur content, a smog-producer which wafts into the air when petcoke is burnt.
The more heavy oil refined, the more petcoke available to be sold, and the quantity churned out by our refineries has been increasing steadily over the last few years. Exports of petcoke have helped make the United States a net exporter of petroleum products, those exports now totaling over a half million barrels per day. In fact, petcoke contributes more to our export of refined petroleum products than gasoline and is second only to fuel distillates (whatever they are).
The United States provides over one-half of the petcoke traded in the global market. China is our best customer, their purchases having tripled over the last four years. Last year alone China's purchases increased by 50 percent. With its insatiable appetite for energy and constraints placed on the burning of petcoke in this country, China is likely to import more of our petcoke in the years ahead, despite their frantic efforts to clean their air.
If we are serious about doing something about global warming, shouldn't we save the Chinese from themselves – and ourselves and the rest of the world at the same time – by banning the export of petcoke? Free marketeers will raise a hue and cry about government intrusion into the marketplace, but they don't have much of a leg to stand on, considering that we have banned the export of crude oil for some 40 years now. If we are unwilling to make this trivial sacrifice to our bottom line (a few hundred million, maybe billion, a year), how much are we really concerned about the threat from global warming? If we use the vile stuff to fill exhausted open pit mines, banning its export might even make good economic sense in the long run. Buried in the ground, the petcoke would represent an energy stockpile we can tap as needed, if we ever figure out how to burn the stuff cleanly.
"In this postmodern age many think that no one can know Truth. It is true that we cannot know truth if there is no revelation from God."  – Vishal Mangalwadi
Dr. Vishal Mangalwadi (1949—), founder-president of BOMI/Revelation Movement, is an Indian philosopher and social reformer.   He has lectured in over 40 countries and published seventeen books including "The Book That Made Your World: How the Bible Created the Soul of Western Civilization!"  Mangalwadi's Revelation Movement exists to re-establish the cultural authority of VERITAS (Truth) because God has revealed Truth in scripture and God has given man the mind and clues to help us discover what He has concealed. Proverbs 25:2.  (RevelationMovement.com)
In a recent e-mail message entitled "The Kingdom of Darkness Encircles North America," Vishal writes that his third visit to North America opened his eyes to the magnitude and the power of a massive force of darkness facing the faithful.  Because darkness has deeply penetrated much of the body of the church it is hard to estimate how much essential theology and how many churches in North America have been lost.
Nevertheless, there are truth-warriors determinedly digging in their heels against the darkness that is rapidly encompassing both the church and North America.  Vishal compared these truth-warriors to Jedi knights and the Hobbits of middle earth who carried the day against Sauron:
"When Luke Skywalker joined the Star Wars saga, he had no idea that he was a Jedi. Nor did the tiny, motley crew that teamed up with him know what they were up against. To mix metaphors, they were little Hobbits, unaware of the importance of their mission."
The Return of Sauron's Kingdom of Darkness
During the "Fading Years," many things of "beauty and wonder remained on earth…" but also many things of "evil and dread." Then all things began to change.  A living darkness crept slowly through Greenwood the Great, and fear walked there in shadowy glades.  Then the name of the forest was changed to Mirkwood, for the "nightshade lay deep there," and few dared pass through.  Whence the evil came few could tell,
 "…and it was long ere even the Wise could discover it.  It was the shadow of Sauron and the sign of his return…and all folk feared the Sorcerer of Dol Guldur, and yet they knew not at first how great was their peril."   (The Silmarillion, J.R.R. Tolkien, p. 299)
Sauron's Kingdom of Darkness is evident in both the devastating loss of God's revealed Truth, moral law and norms in our culturally desolate secular-atheist society as well as in the failure of Americans, within and without the whole body of the Christian Church, to restrain their own corrupt passions. (James 1:14-15)
Devilish depravity in the guise of special rights and privileges such as free phones, free gas, free housing, and free condoms together with the myth of evolution as scientific fact, perverse sex-education for tots and teens, same-sex and kundalini-Holy Spirit equality, the lie of global warming, paganized Christianity and a long list of destructive freedoms such as unfettered killing as 'choice,' and 'gay' marriage and pornography and sodomy as Constitutionally guaranteed rights have become dictatorial both outside of the Church, where Sauron's 'secular' servants of sin demand all others give up their God-given rights in gratification of depraved desires, and within, where Sauron's 'Christian' servants of sin sweep away the essentials of the faith to make room for mindless, self-centered values resulting in lawless churches:
"Everyone who practices sin also practices lawlessness; and sin is lawlessness. You know that He appeared in order to take away sins; and in Him there is no sin. No one who abides in Him sins; no one who sins has seen Him or knows Him. Little children, make sure no one deceives you; the one who practices righteousness is righteous, just as He is righteous; the one who practices sin is of the devil; for the devil has sinned from the beginning. The Son of God appeared for this purpose, to destroy the works of the devil. No one who is born of God practices sin, because His seed abides in him; and he cannot sin, because he is born of God. By this the children of God and the children of the devil are obvious: anyone who does not practice righteousness is not of God, nor the one who does not love his brother. (1 John 3:4-10)
Lawless churches are nothing more than Sauron's social clubs for his servants of sin where they,
"…exercise no discernment, enforce no standards, and teach more pop psychology than timeless truth. Naturally, lawless churches are populated with lawless Christians, the greatest absurdity of them all. "What fellowship have righteousness and lawlessness?" 1 Corinthians 6:14 (How can I walk North and South at the same time?" Lawless Christians, Dan Popp, Renew America, Mar. 10, 2012)
Dr. Kurt Koch (1913-1987), a noted German theologian who counseled and delivered thousands of people suffering from demonic bondage in its various forms throughout the world argues that sin cuts a person off from God. Sin opens the door to Sauron, meaning to demonic oppression and possession seen in relation to psychological distortions having the following predominant characteristics: narcissism, hard egoism, uncongenial dark nature, violent temper, belligerence, meanness, abnormal sexuality, blasphemous thoughts and rebellious, bigoted attitudes toward Christ and God, conscious atheism, and destructive, murderous rages. (Occult ABC, Koch, pp. 266-282)
Cutting Edge Ministries David Bay identifies the 'values' of the lawless as Satanic, and adds that lawless Americans at every level of society, both in and out of the church, have embraced Satanic values with no conscious awareness that they have done so.  When a people believe in nothing higher than 'self', they make personal selfishness, intellectual arrogance, irrational feelings, lying, covetousness, physical lust, hate and envy their gods.  The elevation of these Satanic values produces in them other strong desires: for power over others, for the amassing of material possessions and the acquisition of privilege, status, star-power, and wealth as well as powerful sexual urges that must be satisfied at any cost, no matter who or what might be harmed.  (Six Step Attitudinal Change Plan, Bay, Cutting Edge Ministries)
The Christian church is the only element in society with the moral authority and the availing remedy to counteract such manifest evil, but much of America's Christian church has been compromised, thereby rendered impotent.   Having compromised and conformed itself in one way or another to our paganized culture and dictates of the scientism/evolution crowd it is no longer salt and light, thus on the fast track to being spewed out.
Malachi Martin, author of "Hostage to the Devil: the Possession and Exorcism of Five Contemporary Americans," briefly outlines the spiritually desolate condition and resulting consequences of the compromising church:
"Among the general population of Catholics and Christians of other denominations, large numbers of people no longer learn even so basic a prayer as the Our Father.   In churches and parochial schools alike, the subject of Hell is avoided, as one Midwestern priest put it, in order not to put people on a 'guilt trip.'  The idea of sin is likewise avoided, according to the same source, in order not to do 'irreparable damage to what has been taught for the past fifteen years." (P. xvi)
Fearing rejection by our paganized culture and scientistic/evolutionary establishment, compromising churches refuse to contaminate what is termed the 'rational' and 'scientific' with the essentials of the faith necessary both for salvation and for the recognition of evil.  And without the grace that is born of true faith,
"….Satan does what he does best—he ceases to exist in the eyes of those who do not see." (ibid)
Consequently, a favorable climate exists for the occurrence of demonic oppression and possession among the general population:
"Possession among the general population is so clear that it is attested to daily by competent social and psychological experts, who for the most part, appear to have no 'religious bias.'  Our cultural desolation—a kind of agony of aimlessness coupled with a dominant self-interest—is documented for us in the disintegration of our families.  In the break-up of our educational system.  In the disappearance of publicly accepted norms of decency in language, dress and behavior.  In the lives of our youth, everywhere deformed by stunning violence and sudden death, by teenage pregnancy; by drug and alcohol addiction; by disease; by suicide; by fear." And whether spoken or acted out without explanation, the dominant question of the deformed generation is, "What can you do for me?  What can my parents, my friends, my acquaintances, my enemies, my government, my country, do for me?" (pp. xiii-xiv)
Overshadowing secular-atheist America is a malevolent, living darkness sweeping virtually unseen in and through our society and compromising churches.
Dr. Carl Raschke, Professor of Religious Studies at the University of Denver, concurs.  His chilling book "Painted Black" takes you through the minds of the deviant and murderous and then explores the growing evil sweeping through our hometowns.  He concludes that the decadence, pornography, heavy metal music, drug culture, fantasy role-playing games, cruelty, mass murders, criminality, the 'new religions' and upsurge in overt Satanism in American culture have certain social and spiritual ties that bind them together, revealing that they are part of a similar dark spiritual genus enabled by mystification of the most corrupt passions and secular values:
"Satanism is but the spiritual Frankenstein created by a social order that has attempted to sustain itself without God." (Satanism and Witchcraft: The Occult and the West — Part 6, Dr. John Ankerberg and Dr. John Weldon)
America's spiritual Frankenstein bears a striking similarity to the pre-flood Frankenstein of Noah's time:
"Barbarism is that which prevailed from the days of Adam down through ten generations to the time of Noah. It is called barbarism because of the fact that in those times men had no ruling authority or mutual accord, but every man was independent and a law unto himself after the dictates of his own will." (John of Damascus, "The Fount of Knowledge," cited in Political Apocalypse, Ellis Sandoz, p. 131)
Sauron's Kingdom of Darkness has slowly crept into and changed all things in the West and America.  Within its' living shadow barbarians situated within our government, media, entertainment, military, law enforcement, academia, and compromised church work their destructive magic while fell beasts and shapes of dread openly hunt the spiritually blind in the shadowy glades of the American Mirkwood.
Please pray that our Lord will cleanse, revive and fortify His church and build up a force for spiritual and cultural resistance and renewal.   America desperately needs an army of courageous, selfless Hobbits: faithful male and female truth-warriors who will stand and fight the forces of darkness for both the soul of America and individual souls who, though their eyes are open, they cannot see the infernal darkness closing in on them.
It's all too customary for those analyzing the crises humanity faces to associate climate change, aka global warming, with whatever proximate cause they postulate for our imminent demise. John Tirman, for instance, in his book 100 Ways America Is Screwing Up the World lists as the first way "Altering the Earth's Climate". Richard Heinberg of the Post Carbon Institute includes Climate along with Energy and Debt as the three problem areas which threaten our future. Nafez Mossadeq Ahmed, author of A User's Guide to the Crisis of Civilization, integrates climate change with the other crises he believes civilization faces: the financial meltdown, dwindling oil reserves, terrorism and food shortages. This linking of concrete, demonstrable societal ills with the less grounded, more debatable theory of global warming is an ill-considered, strategic mistake, I think, as I believe critics of the global warming theory, the so-called "deniers", are going to win the debate, at least for the near future. It would be a tragedy if valid, much-needed warnings about the dangers haunting our future were to be discredited because of their being tied to discredited fears about climate change.
Here's why I think this is likely to happen. The warming trend which the earth experienced in the thirty years before the turn of this century has virtually stopped. This "hiatus", as it is called, has been going on for over a decade and is likely to continue for another two. Check out this graph from the National Oceanic and Atmospheric Administration:
What do you see? I see a 60-year cycle in which a 30-year cooling period alternates with a 30-year warming period; to wit, from about 1880 to 1910 the mean global temperature went down, then from 1910 to 1940 the earth warmed up, then from 1940 to 1970, the earth cooled slightly, followed by the 30-year period from 1970 to 2000 when the earth warmed dramatically, and finally the dozen years from the turn of the century till now during which the mean temperature hasn't risen (the hiatus). Given that the concept of a mean global temperature is an artificial construct subject to error and manipulation, just looking at this graph what would you predict for the near future? Wouldn't you bet that for the next 20 years or so the earth is not going to get warmer, may even cool a bit?
If this does come to pass, what will be the consequence for the theory of global warming? Won't it be viewed with increasing skepticism by the pubic at large, at least until the next warming demi-cycle commences 20 years from now? Won't the discrediting of the global warming theory infect theories which have been linked to it? Are you willing to wait 20 years for your forewarnings of impending doom to be taken seriously?
Unless you have been following the issue as I have, you are probably not aware that the debate over the theory of global warming has been heating up (pardon the pun) of late, largely because of the prolonged global tepidness. If you believe the science is settled, consider that the "settled" science has generated a multiplicity of climate models which have done a terrible job of forecasting, invariably predicting warmer temperatures than what has actually occurred. If the science is so settled, why have global warming adherents only recently postulated that heat from the warming of the atmosphere is being absorbed by the oceans, their explanation for the hiatus? The models did not foresee this.What about that august body of climate scientists who comprise the UN's Intergovernmental Panel on Climate Change (IPCC), you ask. Just recently the IPCC certified once again – with 95% certainty (whatever that means) – that human activities are causing global warming? We are told that 1800 scientists arrived at this conclusion; but, if you look into it, you will find the majority of the scientists on the panel are not climatologists and some not scientists at all. One scientist who served on the IPCC's review committee called global warming fears the worst scientific scandal in history, predicting "When people come to know what the truth is, they will feel deceived by science and scientists."For one side in a debate to label the opposition "deniers" is a sleazy rhetorical gambit usually employed by the name-callers when they are losing the debate (equally true in the case of another group of iconoclasts routinely labeled "deniers", but that's a story for another day). Consider who some of these so-called "deniers" are:
Richard Lindzen, Professor of Meteorology at MIT
Fred Singer, Professor emeritus of environmental science at the University of Virginia
Roy Spencer, former NASA Senior Scientist for Climate Studies
Judith Curry, chair of the School of Earth and Atmospheric Sciences at Georgia Tech
Pat Michaels, past president of the American Association of State Climatologists
Do you really believe such people deny science?
Perhaps you believe such credentialed skeptics are in the pay of Big Oil. It's true that the global warming theory was once opposed by powerful interests who dominated the debate; but, when a former Vice President of the United States can win both an Academy Award and a Noble Prize for a highly tendentious film full of hyperbole and misinformation, you know there are powerful interests behind the global warming scare, too. If Big Oil has bought off the media, why is it that so many people are aware that sea ice in the Arctic shrank to its smallest extent in modern times in 2012 but not that sea ice in the Antarctic was expanding at the same time or that ice in the Arctic made its largest rebound ever last year, approaching the average for the last thirty years? Why is every extreme weather event – even blizzards– attributed to global warming when, in fact, extreme events like hurricanes, forest fires, tornados and even record high temperatures are less prevalent today than in the past?
I'm not a climatologist, so I'm neither inclined nor competent to expound on the science of global warming, but I do hope to have convinced you that the science surrounding global warming is far from settled and consequently to hitch your wagon to that fading star is not a good idea. Please, at least listen to what the skeptics have to say – for instance, by consulting the websites I've cited – before you link the fate of your own doleful prophecies to that of climate change.
The corporate media would have us believe that the nation is in the midst of an economic recovery.
In the shadow of the approaching mid-term elections, the president cites the number of jobs created and speaks optimistically about America's economic future. The future is indeed bright, but only if you are among the wealthiest one percent of the population.
For instance, since the 2007 recession, the greatest crisis of capitalism in 75 years, corporate profits have risen, CEO salaries and bonuses are at record levels and the stock market is soaring. By contrast, workers' wages have stagnated for more than four decades, benefits are either few or non-existent, and workers are encumbered with debt that forces them to perform multiple jobs— if they can find them—in order to survive.
Jobs that offer long-term security and a living wage are scarce even for those with university degrees. Adjusted for inflation, today's workers are worse off than they were in the late 1960s.
Whose economic recovery is this?
According to economic forecaster Gerald Celente, 90 percent of the jobs created in 2013 were part-time, most of them paying low wages and providing no benefits. Student loan debt exceeds $1.1 trillion, a number that surpasses the combined credit card liability of the nation.
These debts cannot be discharged through bankruptcy. The big banks and corporations that finance political campaigns have no such restrictions placed upon them.
Even the unemployment figures are deceiving. According to the latest government data, unemployment is at 6.7 percent. In reality, that number is probably closer to 17 or 18 percent, according to economist Richard Wolff.
The government does not count people whose unemployment benefits have expired or those who have given up looking for work. A cashier working 10 hours a week at Food Lion is counted as fully employed.
We have students, many of them burdened with immense debt, entering a job market that makes it difficult for them to earn a decent living. This is the economic minefield that workers across America must navigate. A little truth might help them find their way and comprehend why this is happening.
One of the many reasons we face such a bleak economic future is the implementation of Free Trade Agreements (FTAs).
In 1992, the North American Free Trade Agreement (NAFTA) was implemented between the governments of the United States, Canada and Mexico. NAFTA was fast-tracked through Congress by President H.W. Bush and signed into law by President Clinton. NAFTA was promoted in the commercial media as an engine for job creation in the United States, an assertion that is contradicted by the facts. According to Wolff, more than 700,000 jobs fled the country as the result of NAFTA, many of them providing middle class incomes and benefits.
Those jobs are never coming back. It is not just the number of jobs created that matter, it is the quality of those jobs that is a predictor of economic success.
Furthermore, the mass movement of U.S. corporations to Mexico wrecked the already struggling Mexican economy, particularly its sustainable, locally-based businesses. The situation initiated a mass migration of immigrant Mexican workers to the U.S. in search of better-paying jobs than were available to them in the homeland. Multinational corporations seeking a source of cheap labor and a climate of deregulation are the primary benefactors. The quantifiable effect that NAFTA has had on the U.S. workers is staggering job loss, reduced wages and increasing economic disparity.
Now, with the backing of corporate lobbyists, yet another FTA—the Trans-Pacific Partnership (TPP)—is being fast-tracked through Congress. Both Democrats and Republicans are enthusiastically backing the legislation.
The Electronic Frontier Foundation describes the process: "The Trans-Pacific Partnership is a secretive, multi-national trade agreement that threatens to extend restrictive intellectual property (IP) laws across the globe and rewrite international rules on its enforcement." TPP is currently being negotiated between nine to 12 nations.
If enacted, TPP will permit privately-owned corporations to have hegemony over the governments of sovereign nations. For instance, if the state of West Virginia were to ban the use of genetically modified soybeans, Monsanto Corporation could either overturn the decision or extort billions of dollars in remuneration from their projected loss of profits. FTAs belligerently put corporate profits before the legitimate needs of the people and the welfare of the biosphere.
The implications for students and working class people will be profoundly detrimental.
Hundreds of thousands of jobs will flee the country, wages will fall yet again, autonomy will be lost, and the job market will resemble the wreckage of the Hesperus. FTAs are the means by which the power elite are turning the U.S. into a Third World economy.
A geopolitically tense atmosphere prevails.
Security is extremely tight. It's prioritized for good reason. Terrorist attacks are possible. Don't discount potential Washington shenanigans.
Perhaps raining on Putin's parade is planned. Obama may want him embarrassed. False flags are a longstanding US tradition. Will Sochi be Washington's next target? The fullness of time will tell.
It's a virtual armed camp. Measures in place are unprecedented. Around $2 billion was spent on security.
Ahead of February 6, around 23,000 personnel assured proper measures were in place as planned.
Tens of thousands of police officers are deployed. They're backed by helicopters, drones, gunboats, submarines, and 70,000 Russian troops.
Hundreds of Cossacks are involved. They'll check IDs. They'll detain suspects. Sochi's proximity to the North Caucasus raised concerns.
Islamist jihadists named it a target. They're US assets. They're used strategically. Washington used likeminded ones against Soviet Russia in Afghanistan.
Libya was targeted this way. They comprise America's anti-Syrian proxy death squads.
Russia raised concerns after December Volgograd bombings killed 34 people. Were Washington's dirty hands involved?
Is something similar planned for Sochi? Hegemons operate this way. America is by far the worst. Anything ahead is possible.
According to Sochi Organizing Committee chairman Dmitry Chernyshenko:
"Terrorism is a global threat, and for terrorism there is no boundaries, no territories, but here in Sochi from the very beginning of the construction phase the state authorities did their utmost to prepare special measures, starting from the screening of raw materials, checking all the venues and preparing far-reaching security measures to provide the safest ever environment here."
A controlled zone was established. It covers 60 kilometers. It runs along the coast. It extends 25 kilometers inland.
It includes all venues. They're heavily guarded. The entire area is for authorized visitors only.
Western anti-Russian sentiment persists. Cold War politics continues. Putin bashing is featured. He's not about to roll over for Washington.
He wants rule of law principles respected. He opposes Western imperialism. He's against meddling in the internal affairs of Russia, Syria, Ukraine and other nations.
He stresses Moscow's "independent foreign policy." He affirms the "inalienable right to security for all states, the inadmissibility of excessive force, and unconditional observance of international law."
He and Obama disagree on fundamental geopolitical issues. Key is national sovereignty. So are war and peace. America claims a divine right to fight. Putin prioritizes diplomatic conflict resolution.
Disagreements between both countries play out in dueling agendas. Washington notoriously plays hardball. Putin protects Russia's national interests. They're too important to sacrifice.
US media scoundrels target him. They vilify him. They mischaracterize him. They call him a Russian strongman. They make all kinds of baseless accusations.
Lies, damns lies and misinformation substitute for truth and full disclosure. They want him embarrassed. They're raining on his Sochi parade.
On February 6, the Financial Times headlined "Putin gambles all on creation myth behind Sochi."
"I am particularly pleased to see what is happening here because I chose this place myself," he said.
"It must have been in 2001 or 2002," he added. "(W)e were driving around and arrived at this brook, and I said: 'Let's start from here.' That's how it all began."
Putin staked much on the games, said the FT. George Washington University's Sufian Zhemukhov said "(i)f all goes well, (he'll) be seen as the leader who resurrected Russia."
Failure perhaps won't be forgiven, he added. His forthrightness for peace "made him a force on the world stage," said the FT.
A January Levada Center poll showed he'd be elected today by a wide margin. At the same time, his overall support dropped.
Excluding undecided respondents, its "higher than ever."
He's taking no chances. He's going all out to make Sochi successful. FT comments were tame compared to America's media.
The Wall Street Journal headlined "The Putin Games." He wants them to "showcase…modern Russia."
"(H)e succeeded (but) not as he intended…What could go wrong?" Sochi is the most expensive Olympics in history.
Around $50 billion was spent. It's five times the original estimate. It's double what Britain's 2012 summer games cost. It's a fourth more than China spent in 2008.
Much of Sochi's cost related to building vital infrastructure. It had to be done from scratch. Doing so added enormously to costs.
Major projects are expensive. According to Journal editors, "(t)he games are proving to be a case study in the Putin political and economic method."
They claim billions of dollars "lost to corruption." They provide no evidence proving it. They said "Russians call this Olympiad the Korimpiad."
More Putin bashing followed. It's standard scoundrel media practice. Journal editors feature it.
They claim he "made it impossible to hold his regime accountable through free elections or media."
Fact check:
Russian elections shame America's sham ones. They're democratic. They not rigged. Monied interests don't control them.
Outcomes aren't predetermined. Russian voters decide. US ones have no say.
Don't expect Journal editors to explain. Or how Voice of Russia and RT (formerly Russia Today) shame America's corporate media.
They feature news, information and opinion viewers most need to know. They do it forthrightly. They're polar opposite America's managed news misinformation.
Truth is systematically suppressed. Demagoguery, propaganda, scandal, sleaze, junk food news, and warmongering substitute.
Journal editors ignore truth and full disclosure. Bias permeates their opinions. They betray readers. They shame themselves doing so.
They claimed billions spent on Sochi left it unprepared. They cite "unfinished hotel rooms, incomplete road work and now the famous photographs of two toilets in a single stall."
RT.com responded. On February 6, it headlined "Spread fear, toilet humor? MSM guide to 'Worst. Olympics. EVAR!" (Repeat: EVAR!)
Even before the opening ceremony, MSM scoundrels drew conclusions "Sports? Not really," said RT. At issue is malicious Putin bashing. It's longstanding practice.
It's MSM's "own Sochi 2014 moan-athon." Imagine claiming something yet to occur the "worst Olympics ever." They beat up on Beijing the same way.
They "never believed in Sochi," said RT. They called its climate unfit for winter games. They cite corruption with no substantiating evidence.
They claim lax security despite unprecedented measures in place. They discuss possible terrorist threats. They leave unexplained what most worrisome – a possible disruptive US false flag attack.
It bears repeating. Perhaps Washington plans raining on Putin's parade.
On August 7, 2008, hours before Beijing's summer Olympics' opening ceremony, Georgia's Mikheil Saakashvili invaded South Ossetia. He did so at Washington's behest. Attacking was strategically timed.
After Soviet Russia's 1991 dissolution, South Assetia broke away from Georgia. It declared independence. It's home to many Russian nationals.
Moscow responded responsibly. Conflict continued for days. Then President Medvedev was on vacation. Then Prime Minister Putin was in Beijing.
In half a day before Russia intervened, 1,700 people were killed. Included were 12 Russian peacekeepers.
Moscow was blamed for Georgian aggression. Does Washington plan something similar this time? Will a false flag attack occur?
Will Obama usurp a freer hand in Ukraine? Will he take advantage in Syria? Does he plan other mischief? Is disrupting Sochi planned?
Hegemons operate this way. Washington's disturbing history gives Russia good reason for concern.
Preparations in Sochi aren't perfect, said RT. "(F)laws and problems" exist. "But what makes the Sochi Olympics 'the worst' so far is…accommodation for the global media elite."
"See it, slam it," said RT. "Intrepid Olympic reporters, we thought, would get behind the scenes, unravel the PR."
"Nope. Not this time. Of global importance were rooms (if they were available), toilets, floors, and shower curtains."
"Oh – and a request to not flush toilet paper (it's rarely done in public toilets) had the press pack throwing up."
Washington Post reporter Kathy Lally was upset about "a tiny, tiny (hotel room) sink."
It "sits atop an exposed white plastic pipe, stuck to the wall and surrounded by an unruly gob of caulk," she said.
"The single room has two lamps – which don't have light bulbs, but that's okay because they aren't near any unused outlets."
Other journalists reported missing shower curtains, lamps, chairs, inadequate heat and hot water, and whatever else they wanted to cite to bash Putin.
Fox News called conditions "laughably bad." It warned about event coverage being just as dreadful.
MSM scoundrels feature daily "hotel horror stories." They regurgitate similar tweets to each other. They find new reasons to complain.
BBC journalist Steve Rosenberg tweeted about two sit-down toilets shown side-by-side with no partition. It went viral.
RT calls it a "must have" for every Sochi story. Imagine toilet humor substituting for real journalism. It gets worse.
Whatever is happening in Russia multiple time zones away gets reported. A Moscow school shooting creates Sochi shudders.
So does a derailed gas-laden freight train exploding. It happened 500 miles northeast of Moscow. It made Sochi headlines.
CNN connected Sochi to the September 2004 Beslan school siege. Its February 5 report said:
"Amid the shrill noise of militant threats ahead of the Sochi Olympic Winter Games, the gym in Beslan is now steeped in silence, a monument to the dead, untouched almost."
Trashing Sochi bashes Putin. MSM scoundrels are deplorable. They disgrace themselves before dwindling audiences.
CNN and other US cable news networks report increasing to fewer viewers. Maybe one day they'll all tune out.
RT called Sochi the "biggest construction site in the world over the past seven years."
"Everything there – most of the hotels, sport venues, high-speed rail links, highways, 50 bridges, even the Olympic village itself – was built from scratch."
It's an extraordinary achievement in a short time. It's almost like building an entirely new city in record time. Sochi deserves praise, not criticism.
Toronto Star reporter Rosie Dimanno wrote:
"Mounds of debris, parts of roads unpaved, mesh hoarding to hide the eyesore bits, lots of trash, unreliable power – nothing upsets journalists more than an internet that goes up and down – these have all featured in Olympics over the past three decades, as the Games have grown too big, too gaudy and too complicated."
"The Olympics are no (place) for old sissies," she added. "So I'll take my own advice: Just chill."
Most MSM scoundrels report as expected. They mock legitimate journalism. It's verboten in America. It's lacking in Canada. It's largely absent in Western Europe. Managed news misinformation substitutes.
WSJ editors called Sochi "a shrine to authoritarianism." They bashed Putin relentlessly. One bald-faced lie followed others.
"(T)he underbelly of Mr. Putin's regime (was) exposed," they claimed.
New York Times editors were just as bad. They headlined "A Spotlight on Mr. Putin's Russia," saying:
"(T)he reality of (his) Russia…conflicts starkly with Olympic ideals and fundamental human rights."
"There is no way to ignore the dark side – the soul-crushing repression, the cruel new anti-gay and blasphemy laws, and the corrupt legal system in which political dissidents are sentenced to lengthy terms on false charges."
Fact check
NYT editors have a longstanding disturbing history. They one-sidedly support wealth, power and privilege. Whenever Washington wages imperial wars or plans them, they march in lockstep.
They long ago lost credibility. They feature mind-numbing misinformation. They violate their own journalistic code doing so.
They invented anti-gay law controversy. Russian gay propaganda law has nothing to do with persecuting people for their sexual orientation.
Everyone's rights are respected. Russia wants its children protected from malicious anti-gay propaganda, illicit drugs, alcohol abuse and whatever else harms them.
Responsible governance demands it. America leaves millions of children unprotected. Cutting food stamps alone denies them vital nutrition.
Don't expect Times editors to explain. Or about thousands of political prisoners languishing in America's gulag.
About torture being official US policy. About rigged US elections.  About impoverishing neoliberal harshness.
About destroying social America. About eliminating America's middle class. About waging war on freedom.
About unprecedented levels of public and private corruption. About kleptocracy masquerading as democracy.
About out-of-control corporate empowerment. About Washington being corporate occupied territory. About crushing organized labor.
About commodifying public education. About ignoring international, constitutional and US statute laws.
About violating fundamental human and civil rights. About Obama's war on humanity.
Bashing Putin takes precedence. Managed news misinformation proliferates.
Times editors report like other media scoundrels. MSM ones long ago lost credibility. They replicate the worst of each other.
They support what demands condemnation. They back wrong over right. Readers and viewers demand better.
MSM scoundrels don't deliver. Sochi games run through February 23. Expect lots more Putin bashing ahead.
Stephen Lendman lives in Chicago. He can be reached at lendmanstephen@sbcglobal.net.
His new book is titled "Banker Occupation: Waging Financial War on Humanity."
http://www.claritypress.com/LendmanII.html
Visit his blog site at sjlendman.blogspot.com.