The Bill of Rights is not an accumulation of mere words that have become expendable, when the government finds them inconvenient. The Fourth Amendment is especially an example of a promise of protecting natural rights, long ignored and often violated. While much of court precedents involve policing powers, these decisions have profound application to NSA metadata mining. With the first anniversary of the Edward Snowden disclosures, no government official or agency can continue to deny the existence of the total surveillance state.
The NSA's "General Warrants": How the Founding Fathers Fought an 18th Century Version of the President's Illegal Domestic Spying, provides an indispensible example of the fundamental conflict that always exists, when magistrates envision their duty as the maintenance of government supremacy over the inherent autonomy of individuals.
"It is "familiar history," the U.S. Supreme Court noted in Payton v. New York, that "indiscriminate searches and seizures conducted under the authority of 'general warrants' were the immediate evils that motivated the framing and adoption of the Fourth Amendment." When James Madison drafted the Fourth Amendment, he relied heavily on the Massachusetts Constitution, which forbade warrants that did not specify the "persons or objects of search, arrest, or seizure."
Since the post World War II era, the radical shift from the remnants of the former Republic, into a global authority, where the meaning of the law has no correlation to the intent of original constitutional conviction, is undeniable. What was enemy signals interception became complete domestic scrutiny and monitoring. Lost for all practical legal purposes was The Central Meaning of the Fourth Amendment. Tracey Maclin provides a historic account and judicial context on how the constitution was perverted.
"The Court's rational basis model essentially asks whether the police have acted irrationally while intruding upon the Fourth Amendment rights of individuals. The Court's model rarely requires warrants authorizing searches, disfavors vigorous judicial oversight of police searches, and prefers deference to police procedures as the mode of constitutional decision-making.

Most importantly, a rational basis model severely diminishes our rights under the Fourth Amendment. As the private container cases demonstrate, a rational basis model does not subject police searches to vigorous judicial check. In many instances, the police are free to undertake unsupervised and suspicionless searches, even when less intrusive means are available to serve the state's interests. In other contexts, warrantless searches are permitted when the only justification for such a search is police convenience.

In the end, the Court finds that all of these searches are reasonable because they rationally serve legitimate state interests. This degree of deference to police searches is at odds with the central purpose of the Fourth Amendment, which is distrust of discretionary police power. The Fourth Amendment was not inserted in the Bill of Rights so that judges could meekly defer to government intrusions of privacy; rather, the amendment was designed to control such intrusions."
The NSA purports that national security not only encompasses data mining on all citizens, but also allows for effective total immunity from oversight and accountability. This mindset expands the ordinary boundaries of maintaining the peace into a tyrannical police state. The commitment to Open Government and Transparency is as believable as the fairy tale that anyone can become President.
Abdication of judicial responsibility is so blatant that the century old decision by Justice William R. Day, Weeks v. United States (1914), U.S. Supreme Court, has no substantive application when the NSA deems that its ECHELON monitoring systems require that a PRISM be kept on everyone person. Also, watch the video, One Year Of Leaks That Turned Surveillance Conspiracy Theory to FACT!
"The point of the Fourth Amendment which often is not grasped by zealous officers is not that it denies law enforcement the support of the usual inferences which reasonable men draw from evidence. Its protection consists in requiring that those inferences be drawn by a neutral and detached magistrate, instead of being judged by the officer engaged in the often competitive enterprise of ferreting out crime. Any assumption that evidence sufficient to support a magistrate's disinterested determination to issue a search warrant will justify the officers in making a search without a warrant would reduce the Amendment to a nullity, and leave the people's homes secure only in the discretion of police officers. Crime, even in the privacy of one's own quarters, is, of course, of grave concern to society, and the law allows such crime to be reached on proper showing. The right of officers to thrust themselves into a home is also a grave concern, not only to the individual, but to a society which chooses to dwell in reasonable security and freedom from surveillance. When the right of privacy must reasonably yield to the right of search is, as a rule, to be decided by a judicial officer, not by a policeman or government enforcement agent.

There are exceptional circumstances in which, on balancing the need for effective law enforcement against the right of privacy, it may be contended that a magistrate's warrant for search may be dispensed with. But this is not such a case. No reason is offered for not obtaining a search warrant except the inconvenience to the officers and some slight delay necessary to prepare papers and present the evidence to a magistrate. These are never very convincing reasons and, in these circumstances, certainly are not enough to bypass the constitutional requirement. No suspect was fleeing or likely to take flight. The search was of permanent premises, not of a movable vehicle. No evidence or contraband was threatened with removal or destruction, except perhaps the fumes which we suppose in time will disappear. But they were not capable at any time of being reduced to possession for presentation to court. The evidence of their existence before the search was adequate and the testimony of the officers to that effect would not perish from the delay of getting a warrant.

If the officers in this case were excused from the constitutional duty of presenting their evidence to a magistrate, it is difficult to think of a case in which it should be required."
The cyber environment of digital existence does not void the need for probable cause. However, the NSA does not observe such constitutional needs when the personal computer is the depository of your private papers. Other than advancements in technological communications and archiving, the precedent of the "exclusionary rule", established in this case, is the ubiquitous causality from NSA collection that vacuums up every byte of data, using the presumption that everyone is a criminal. Even if not charged for an offense at this time, the information awaits future prosecutorial discretion.

So, when in the case Klayman v. Obama, "On December 16, Richard J. Leon of the Federal District Court for the District of Columbia ruled that the metadata collection program violates the Fourth Amendment", hopes were high that at least one federal judge had the courage to uphold the constitution. Metadata and the Fourth Amendment then cites that soon thereafter, the weight and magnate of the intelligence snooping force felt the usual letdown, when American Civil Liberties Union v. Clapper was decided.
"On December 27, Judge William H. Pauley III came to the opposite conclusion. Contrary to Judge Leon's belief that the metadata program has not been effective, Judge Pauley argued that the program could potentially have stopped the 9/11 attacks. However, the crux of his determination was that the Smith precedent applies and that no Fourth Amendment claim can be made out for Americans have no reasonable expectation of privacy regarding the metadata related to their phone calls."
Note the bizarre endorsement of this absurdly twisted legal logic that conveniently destroys the intentional importance of preserving essential privacy that corrupt courts want to make conditional.
"Among the requirements for a successful Fourth Amendment claim is establishing that a reasonable expectation of privacy was violated. On this point, the most relevant precedent to the metadata cases is 1979's Smith v. Maryland, in which the U.S. Supreme Court held that individuals have no reasonable expectation of privacy regarding the telephone numbers they call, for that information is freely provided to telephone companies and it is generally known that telephone companies keep this information in their records."
Abolishing the expectation of privacy is not subject to the redefining of what are reasonable restrictions that the government places upon its agencies. The reason why the NSA is so dangerous stems from the total lack of observing that the spying on ordinary citizens is a profound repudiation of basic and inalienable rights of each individual.
Such systematic and surreptitious gathering also has No Fourth Amendment right in metadata embedded in posted photo, so say the U.S. Court of Appeals for the Fifth Circuit. Before long, this parade of government inspection and retention will subject even the hermit and the deliberate recluse to a profile third degree. It is a never-ending process until snatching your individual identity is the ultimate outcome.
The snoops view you as an enemy of the state, unless you can prove differently, whereas the reality is that The Strange World of NSA Mind Control is the true foe of the liberty of people and a free nation.
"Stand your ground.  Don't fire unless fired upon, but if they mean to have a war, let it begin here." – Militia Captain John Parker at the Battle Of Lexington
Just a couple days ago, two armed assailants, a married couple purported by the mainstream media to be "white supremacists" and "conspiracy theorists," ambushed two police officers at a CiCi's Pizza in Las Vegas, killing the officers after screaming, "This is a revolution!" The suspects then reportedly covered one officer's body with a Gadsden Don't Tread On Me flag and then fled to a Walmart, where they killed another man with a CCW who attempted to reason with them, then committed suicide. Yes, it reads like a Southern Poverty Law Center fantasy story; and in many ways, it is.
As we all predicted the MSM has followed the pattern they have always followed, which is to equate the actions of one or two psychotics with the beliefs and principles of the liberty movement in general.
I remember when Jared Loughner fired into a crowd of people near Tucson, Ariz., killing numerous Federal and State employees; the immediate response by the media was to attempt to tie him to the liberty movement. In the end, he turned out to be a raving leftist. I remember the Boston Marathon bombing and the automatic reflex by the media to accuse "right-wing extremists" of the crime. So far, we have seen NO hard evidence to implicate anyone specific in that atrocity, including the Tsarnaev brothers. Of all the violent crimes dumped in the lap of the liberty movement over the years, how many have actually been committed or endorsed by the liberty movement? I can't think of any.
This has not prevented the establishment media from doing everything in their power to associate criminal action with political ideals.  Efforts to sully the success of the Bundy Ranch stand-off were swift, with Jared and Amanda Miller's visit to Bunkerville splashed across the headlines.  Luckily, the sound judgement of organizations like Oath Keepers led founder Stewart Rhodes to personally ask the two future shooters to leave the property.  I can only imagine the weight of the slander if they had been allowed to stay.
When an activist movement holds the moral high ground against a repressive establishment power structure, the establishment's primary recourse is to target the character of its principles. The secondary recourse is direct confrontation. If a dissenting organization is not mindlessly vicious in its methods, then simply make it APPEAR vicious. If it is not hateful in its rhetoric, then artificially tie it to people who are. And if a government really needs to kick-start a crackdown, it can engineer its own man-made calamities and blame the groups that most threaten its authority.
This was achieved to great effect in Europe from the 1950s until the 1990s by the CIA working in tandem with multiple European governments under a covert project called Operation Gladio.
Gladio was essentially a secret army of operatives and stooges, handlers and puppets, used to create false-flag terrorist shootings and bombings across Europe that were blamed on "left-wing extremists." In reality, NATO alphabet agencies were behind the entire facade. The goal was to terrorize the citizenry through a nonstop campaign of indiscriminate death, blamed on a convenient scapegoat, so that individuals would hand over more freedom and more power to the central governments. The point is, whether real or staged, I believe such events are going to escalate within the U.S. today on an incredible scale and that, regardless of evidence, they will be blamed on "right-wing extremists." In case you were wondering, that label will be foisted on most if not all of us.
That said, I think an important truth needs to be stated here: Whether the beliefs of the attackers in Las Vegas were actually liberty movement-oriented or not is ultimately irrelevant. To shoot random police and civilians and then commit suicide is an act of pure insanity, a product of mental instability that has nothing to do with political philosophy, and mental instability trumps belief and association anytime.  Mentally unstable people exist within ALL belief systems and political groups.
At bottom, I do not care what their beliefs were. Their actions do not represent the values I hold dear, nor do I think they represent the values most of us hold dear. The shooting is a tragedy, but in the grand scheme of things, it means nothing, and I have little doubt it will be forgotten within weeks.
I relate the story because I do, in fact, agree with one thing: that a "revolution," a second American Revolution, is inevitable. But I think I speak for the vast majority of the movement when I say that this revolution will not begin with the deaths of innocents or random government employees on our hands, and it certainly won't begin at the doorstep of a CiCi's Pizza.
The Bundy ranch incident, which occurred only a short drive from Las Vegas, has been a revelation for many people. Mistakes were made, provocateurs reared their ugly heads, and lessons were learned. But overall, America has been fundamentally changed, even if the average person does not realize it yet. The information war came within a razor's edge of evolving into a shooting war, with the establishment in retreat, licking its wounds while planning how it can gain back its composure and carefully crafted image of "invincibility".
What frightens the establishment most, I think, is that the American people have become active participants in their own national environment once again. At Bundy ranch, they stopped asking for mercy, they stopped begging the system to police itself, they stopped waiting for the rigged elections, and they stopped relying on useless legal avenues to effect change. Rather, they took matters into their own hands and changed the situation on the ground on their own. For oligarchy, this development is unacceptable, because one success could lead to many.
Already, we are beginning to hear whispers of possible Federal retribution against those who participated in the confrontation.
This has been cemented within the efforts of a new task force against "domestic terrorism" organized by none other than Eric "Fast and Furious" Holder.
After the recent exposure of Barack Obama's Department of Defense Directive 3025.18, we now know that since at least 2010, the White House has been setting the stage for the use of military force against "domestic threats." That is to say, for at least the past four years our government has been quietly maneuvering toward martial law. It's been happening for much longer if you count George W. Bush's Presidential Decision Directive 51, which has yet to befully declassified.
The exposure of Directive 3025.18 also came with information that the Obama Administration considered using it as a way to activate military forces and drones against the Bundy ranch. The burning question is, of course, why didn't it? The Federal government is not known for its diplomacy in the face of a defiant citizenry. Waco and Ruby Ridge made that clear. I believe that it was not necessarily the people on the ground at Bunkerville, Nev., that they were most worried about. The terrain is admittedly a terrible place to mount a defense against a mechanized horde of jackboots.
No, what the White House feared was a larger response to such an attack. It feared the millions of patriots who would swarm down from all sides if it committed to a Ruby Ridge-style siege. It feared the reality that this time, Americans were not going to sit back and watch another family be slaughtered on national television.  It feared the fact that it didn't have the moral high ground in the public eye and that a kinetic failure on its part would be met with cheers, rather than tears, from much of the populace.
So where does this leave us? With the Bundy success besmirching the Feds, the next strategic program will likely include an unprecedented effort to demonize the liberty movement perhaps to the point of a Gladio-type false-flag campaign, leading to the eventual detention of activists as domestic security threats. It's not going to end with shootings in pizzerias and slobbering hit pieces from the SPLC.  Expect a landslide of violent acts.  Expect another engineered large-scale calamity like the Oklahoma City Bombing.  Expect dozens of Timothy McVeighs to be trotted out in the media. Expect the Liberty Movement's name to be buried in an avalanche of bullshit. Mark my words; it's going to get much worse from here on.
And this is where I will add my warning.
Before the Bundy ranch became a possible battleground, I stated in my article "Real Americans Are Ready To Snap" that the liberty movement was going to draw a line in the sand over Bureau of Land Management abuses in Bunkerville, and I was right.
It seems to me that time is growing short. As tyrants become more bold, so too must the citizenry; otherwise, we shrivel up and die.  We cannot allow the movement's momentum to be shattered and driven underground as the militia movement was after Oklahoma City.  We know what is coming, and we must drive forward.  We know we will be labeled as terrorists and villains, and ultimately, we must realize that such eventualities do not matter.  The Liberty Movement is not going away.  In fact, future clashes with our criminal government are only going to become more frequent.
The next family threatened, the next activist individual or group arrested or black-bagged without legitimate cause, the next major false flag, the next use of military forces as civil law enforcement, the next unConstitutional misstep, and I have no doubt whatsoever in my mind that a revolt will erupt. It's not about making grand predictions; it's about examining the logical odds, and the odds are high. The knowledge that the establishment is considering using the full force of its military apparatus against the people has not dissuaded anyone. Bundy ranch was a very near miss. I do not expect a peaceful resolution the next time around. I also do not expect the government as it exists now to stop clamoring for more control or less corruption. If recent events have proven anything, they have proven that a second American Revolution is inevitable; and all we can do is ready ourselves.
Source: Brandon Smith | Alt-Market
Edward Snowden…
Is Edward Snowden a radical? The dictionary defines a radical as "an advocate of political and social revolution", the adjective form being "favoring or resulting in extreme or revolutionary changes". That doesn't sound like Snowden as far as what has been publicly revealed. In common usage, the term "radical" usually connotes someone or something that goes beyond the generally accepted boundaries of socio-political thought and policies; often used by the Left simply to denote more extreme than, or to the left of, a "liberal".
In his hour-long interview on NBC, May 28, in Moscow, Snowden never expressed, or even implied, any thought – radical or otherwise – about United States foreign policy or the capitalist economic system under which we live, the two standard areas around which many political discussions in the US revolve. In fact, after reading a great deal by and about Snowden this past year, I have no idea what his views actually are about these matters. To be sure, in the context of the NBC interview, capitalism was not at all relevant, but US foreign policy certainly was.
Snowden was not asked any direct questions about foreign policy, but if I had been in his position I could not have replied to several of the questions without bringing it up. More than once the interview touched upon the question of whether the former NSA contractor's actions had caused "harm to the United States". Snowden said that he's been asking the entire past year to be presented with evidence of such harm and has so far received nothing. I, on the other hand, as a radical, would have used the opportunity to educate the world-wide audience about how the American empire is the greatest threat to the world's peace, prosperity, and environment; that anything to slow down the monster is to be desired; and that throwing a wrench into NSA's surveillance gears is eminently worthwhile toward this end; thus, "harm" indeed should be the goal, not something to apologize for.
Edward added that the NSA has been unfairly "demonized" and that the agency is composed of "good people". I don't know what to make of this.
When the war on terrorism was discussed in the interview, and the question of whether Snowden's actions had hurt that effort, he failed to take the opportunity to point out the obvious and absolutely essential fact – that US foreign policy, by its very nature, regularly and routinely creates anti-American terrorists.
When asked what he'd say to President Obama if given a private meeting, Snowden had no response at all to make. I, on the other hand, would say to Mr. Obama: "Mr. President, in your time in office you've waged war against seven countries – Iraq, Afghanistan, Pakistan, Somalia, Yemen, Libya and Syria. This makes me wonder something. With all due respect, sir: What is wrong with you?"
A radical – one genuine and committed – would not let such a once-in-a-lifetime opportunity pass by unused. Contrary to what his fierce critics at home may believe, Edward Snowden is not seriously at war with America, its government or its society. Does he have a real understanding, analysis, or criticism of capitalism or US foreign policy? Does he think about what people could be like under a better social system? Is he, I wonder, even anti-imperialist?
And he certainly is not a conspiracy theorist, or at least keeps it well hidden. He was asked about 9-11 and replied:
The 9/11 commission … when they looked at all the classified intelligence from all the different intelligence agencies, they found that we had all of the information we needed … to detect this plot. We actually had records of the phone calls from the United States and out. The CIA knew who these guys were. The problem was not that we weren't collecting information, it wasn't that we didn't have enough dots, it wasn't that we didn't have a haystack, it was that we did not understand the haystack that we had.
Whereas I might have pointed out that the Bush administration may have ignored the information because they wanted something bad – perhaps of unknown badness – to happen in order to give them the justification for all manner of foreign and domestic oppression they wished to carry out. And did. (This scenario of course excludes the other common supposition, that it was an "inside job", in which case collecting information on the perpetrators would not have been relevant.)
The entire segment concerning 9/11 was left out of the television broadcast of the interview, although some part of it was shown later during a discussion. This kind of omission is of course the sort of thing that feeds conspiracy theorists.
All of the above notwithstanding, I must make it clear that I have great admiration for the young Mr. Snowden, for what he did and for how he expresses himself. He may not be a radical, but he is a hero. His moral courage, nerve, composure, and technical genius are magnificent. I'm sure the NBC interview won him great respect and a large number of new supporters. I, in Edward's place, would be even more hated by Americans than he is, even if I furthered the radicalization of more of them than he has. However, I of course would never have been invited onto mainstream American television for a long interview in prime time. (Not counting my solitary 15 minutes of fame in 2006 courtesy of Osama bin Laden; a gigantic fluke happening.)
Apropos Snowden's courage and integrity, it appears that something very important has not been emphasized in media reports: In the interview, he took the Russian government to task for a new law requiring bloggers to register – the same government which holds his very fate in their hands.
Who is more exceptional: The United States or Russia?
I was going to write a commentary about President Obama's speech to the graduating class at the US Military Academy (West Point) on May 28. When he speaks to a military audience the president is usually at his most nationalistic, jingoist, militaristic, and American-exceptionalist – wall-to-wall platitudes. But this talk was simply TOO nationalistic, jingoist, militaristic, and American-exceptionalist. ("I believe in American exceptionalism with every fiber of my being.") To go through it line by line in order to make my usual wise-ass remarks, would have been just too painful. However, if you're in a masochistic mood and wish to read it, it can be found here.
Instead I offer you part of a commentary from Mr. Jan Oberg, Danish director of the Transnational Foundation for Peace and Future Research in Lund, Sweden:
What is conspicuously lacking in the President's West Point speech?

Any reasonably accurate appraisal of the world and the role of other nations.
A sense of humility and respect for allies and other countries in this world.
Every element of a grand strategy for America for its foreign and security policy and some kind of vision of what a better world would look like. This speech with all its tired, self-aggrandising rhetoric is a thin cover-up for the fact that there is no such vision or overall strategy.
Some little hint of reforms of existing institutions or new thinking about globalisation and global democratic decision-making.
Ideas and initiatives – stretched-out hands – to help the world move towards conflict-resolution in crisis areas such as Ukraine, Syria, Libya, China-Japan and Iran. Not a trace of creativity.
Ironically, on May 30 the Wall Street Journal published a long essay by Leon Aron, a Russia scholar at the conservative American Enterprise Institute in Washington. The essay took Russian president Vladimir Putin to task for claiming that Russia is exceptional. The piece was headed:
"Why Putin Says Russia Is Exceptional"
"Such claims have often heralded aggression abroad and harsh crackdowns at home."
It states: "To Mr. Putin, in short, Russia was exceptional because it was emphatically not like the modern West – or not, in any event, like his caricature of a corrupt, morally benighted Europe and U.S. This was a bad omen, presaging the foreign policy gambits against Ukraine that now have the whole world guessing about Mr. Putin's intentions."
So the Wall Street Journal has no difficulty in ascertaining that a particular world leader sees his country as "exceptional". And that such a perception can lead that leader or his country to engage in aggression abroad and crackdowns at home. The particular world leader so harshly judged in this manner by the Wall Street Journal is named Vladimir Putin, not Barack Obama. There's a word for this kind of analysis – It's called hypocrisy.
"Hypocrisy is anything whatever may deceive the cleverest and most penetrating man, but the least wide-awake of children recognizes it, and is revolted by it, however ingeniously it may be disguised." – Leo Nikolaevich Tolstoi, (1828-1910) Russian writer
Is hypocrisy a moral failing or a failing of the intellect?
The New Cold War is getting to look more and more like the old one, wherein neither side allows the other to get away with any propaganda point. Just compare any American television network to the Russian station broadcast in the United States – RT (formerly Russia Today). The contrast in coverage of the same news events is remarkable, and the stations attack and make fun of each other by name.
Another, even more important, feature to note is that in Cold War I the United States usually had to consider what the Soviet reaction would be to a planned American intervention in the Third World. This often served as a brake to one extent or another on Washington's imperial adventures. Thus it was that only weeks after the Berlin Wall came down in 1989, the United States bombed and invaded Panama, inflicting thousands of casualties and widespread destruction, for the flimsiest – bordering on the non-existent – of reasons.  The hostile Russian reaction to Washington's clear involvement in the overthrow of the Ukrainian government in February of this year, followed by Washington's significant irritation and defensiveness toward the Russian reaction, indicates that this Cold War brake may have a chance of returning. And for this we should be grateful.
After the "communist threat" had disappeared and the foreign policy of the United States continued absolutely unchanged, it meant that the Cold War revisionists had been vindicated – the conflict had not been about containing an evil called "communism"; it had been about American expansion, imperialism and capitalism. If the collapse of the Soviet Union did not result in any reduction in the American military budget, but rather was followed by large increases, it meant that the Cold War – from Washington's perspective – had not been motivated by a fear of the Russians, but purely by ideology.
Lest we forget: Our present leaders can derive inspiration from other great American leaders.
White House tape recordings, April 25, 1972:
President Nixon: How many did we kill in Laos?
National Security Adviser Henry Kissinger: In the Laotian thing, we killed about ten, fifteen [thousand] …
Nixon: See, the attack in the North [Vietnam] that we have in mind … power plants, whatever's left – POL [petroleum], the docks … And, I still think we ought to take the dikes out now. Will that drown people?
Kissinger: About two hundred thousand people.
Nixon: No, no, no … I'd rather use the nuclear bomb. Have you got that, Henry?
Kissinger: That, I think, would just be too much.
Nixon: The nuclear bomb, does that bother you? … I just want you to think big, Henry, for Christsakes.
May 2, 1972:
Nixon: America is not defeated. We must not lose in Vietnam. … The surgical operation theory is all right, but I want that place bombed to smithereens. If we draw the sword, we're gonna bomb those bastards all over the place. Let it fly, let it fly.
–
"Every ten years or so, the United States needs to pick up some small crappy little country and throw it against the wall, just to show the world we mean business." – Michael Ledeen, former Defense Department consultant and holder of the Freedom Chair at the American Enterprise Institute
Notes
William Blum, Killing Hope, chapter 50
Jonah Goldberg, "Baghdad Delenda Est, Part Two", National Review, April 23, 2002
The World Has Lost Understanding…
"We regard killing on United Nations 'peace-keeping-missions' as 'necessary' and to be accepted as a fact of life.  At the same time, our murderous century views with horror God's law.  God has no right, they hold, to require judgment.  Modern theology believes God should represent love and 'niceness,' never justice and judgment.  Humanistic sentiment wants evil-doers to be dealt with gently.  As a result, we have a culture which tolerates criminals, hoodlums, and exploiters of welfare who believe that they have a 'right' to pursue their evil ways.  Men are intolerant towards the claims of God and tolerant towards evil."  R. J. Rushdoony, "Deuteronomy" Pg. 205
Ninety nine percent of the world's population is controlled by a small group of elite oligarchs that compose less than one percent its inhabitants.
Tiny, high flying aircraft cover the sky with mysterious trails that expand into long, thin, vaporous clouds which are even more mysteriously ignore by the people, the media, and the government – no one seems to know who sponsors the flights, what they are spraying or why they are spraying it..  When it started, those that noticed were called "conspiracy theorists" so comments on the beginning of the spraying were quickly squelched.  Now everyone sees the mysterious chemtrails but no one challenges them.
The price of gasoline has followed a similar pattern.  When gas went to $3.00 a gallon there was a considerable outcry but now that it is approaching $4.00 a gallon no one is complaining.
When rumors of the intended overlay of the laws of the world's nations with world government there was lots of consternation but now that it was begun in earnest during the Twenty-First Century it is quickly progressing with little resistance.
When President Clinton's Administration was responsible for the deaths of over 80 innocent men, women, and children at the Koresh Compound in Waco, Texas and no one was held responsible it set the stage for what happened under the administrations of President Bush and President Obama; Executive Orders have virtually abolished the Bill of Rights setting in place the structure for a police state far worse than in Russia or Germany..
There was lots of publicity when President George W. Bush's mendacity led us into war in Iraq.  But now that our armed assault in the Middle East has gone on for over ten years and amassed debt in the trillion dollar range people are disgruntled but are seemingly unaware that debt is an obligation and eventually the citizens of the United States will be forced to pay it.
Hundreds of thousands of nominal, naïve Christians have spent the last several decades trying to defy the Word of God by predicting the Second Coming of Christ.  It has not happened.  A lessor number of those who acknowledged the Conspiracy have been predicting a national catastrophe for several decades. That has not happened.
People know that the world is being drastically changed.  They know that the governments of the individual nations are involved in ominous events that are happening on a daily basis.  They are beginning to realize that governments are part of the problem and therefore cannot become part of the solution.
While the closely controlled media censors the news so that nothing about the dangers to our freedom is leaked to the public the internet has innumerable speculative and prophetic articles that contain kernels of truth but are tragically surrounded by borders of speculation.
We know that the threat to our freedom is real but like the chemtrails we do not know who is giving the orders or when a particular event will occur.
There is very little that can be done about the clouds of tyranny that are falling over us.  The gun packing patriots that flocked to the Bundy Ranch can resist the government but they are fighting against a far superior force that is fully prepared to overcome such resistance.
The American people do not vote on pernicious legislation. The men and women they elect pass these bills even though they often failed to read them.  Major legislation like NAFTA and GATT passed with unknown content.  This procedure allows the veiled authors of inimical legislation to rule the nation as invisible kings.
Our nation has been infused with immigrants who know little or nothing about our culture and are intent on accumulating as much money and power as possible.  Already defiled by the destruction of voter qualifications our electoral system has been destroyed by allowing the wisdom of informed, long term citizens to be destroyed by the ballot of stupid voters and recent immigrants.  The hope that participation the political process will bring us peace and freedom is futile.
C-Span recently hosted a consortium of female power brokers who discussed what could be done about sexual harassment in the armed services.  This group of very smart women never touched on the fact that men were created with a desire to have sex with women and women were designed to succumb.  Instead, they spent the entire house discussing how they could force men and women into close proximity and then force them to control their desires.  They never considered the fact that forcing different sexes to live together and remain chaste is like setting a building on fire and hoping is doesn't burn.
Fantasy has overtaken our world.  Someone on the internet wondered if chemtrails were real!  The entire government has accepted as fact that our nation is threatened and must sacrifice freedom for safety.  They assume that the attack on the world trade center was perpetrated by Muslim enemies and ignore the sizeable block of evidence that it was a false flag.  Everyone seems to believe that Blacks and Jews are oppressed races and must be protected by sacrificing our right to free speech.  Large segments of our population support our troops and the killing and maiming of innocent people a product of U.S. imperialism.
"In the 21st century it is difficult to find a significant statement made by Washington that is not a lie. Obamacare is a lie. Saddam Hussein's weapons of mass destruction is a lie. Assad's use of chemical weapons is a lie. Iranian nukes are a lie. Russia's invasion and annexation of Crimea is a lie. No fly zones are a lie. Russian aggression against Georgia is a lie. 9/11, the basis for Washington's destruction of civil liberty and illegal military attacks, is itself a lie. The fantastic story that a few Saudi Arabians without government or intelligence agency backing outwitted the entire national security apparatus of the Western world is unbelievable. It is simply not credible that every institution of the national security state simultaneously failed. That Washington would tell such a fantastic lie shows that Washington has no respect for the intelligence of the American people and no respect for the integrity of the American media. It shows also that Washington has no respect for the intelligence and integrity of its European and Asian allies. Paul Craig Roberts, "Gangster State America"
Read Robert's article on the coming nuclear war.
When serious problems are evaded they fester and create bigger problems.  Peace is jeopardized when reality is ignored.  Blacks and Whites cannot live together when bad Black behavior is ignored or erroneously blamed on Whites.  We cannot have peace when the controlled press fails to publish black crime against White citizens and allows denigration of White citizens by both Blacks and Jews; sooner or later this persistent inequity will cause problems.
It would be hard to find another nation that showcases the tragedy of allowing humanist government to erase immutable Law than the United States of America.  Mutable human opinion has reduced the social, legal, and governmental factions of our nation to an absurd jumble of cognitive dissonances that are impervious to order.
Human beings are not gods and their governments are not sovereign.  We live in a created world that is controlled by an Entity Who requires our obeisance.  We were created to live in that world and to obey that Deity, the One True God.  Confusion and tyranny are often results of our disobedience and signs of God's judgment.  It is time the Christian Church acknowledges the fact the God is indeed still on His Throne and is the Sovereign ruler to this fast deteriorating world.
"It is not lonely man but all the nations that have fallen prey to original sin, to the desire to be as God (Gen. 3:5).   Each makes itself its own source of law, a clear usurpation of God's prerogative.  Each seeks to limit or prohibit the freedom of God's Word.  The nations without exception claim sovereignty, a plain assertion of their own lordship or deity.  Every nation is and has been a religious entity.  Moreover, the nations, as they now exist and function, are members of the fallen world of Adam and fanatic advocates of Adam's faith and rebellion." R. J. Rushdoony. "Systematic Theology" Vol.1, Pg. 234
"The Doctrine and Covenants leaves no doubt about the Mormon teaching of exclusivity when it says the LDS Church is, 'the only true and living church upon the face of the whole earth, with which I, the Lord, am well pleased….'"
Glenn Beck recently threw a hissy fit on his daily radio program over "religious people [who] claim to be followers of Christ" getting upset that he was the featured convocation speaker at Liberty University (LU).  Beck accused those who were concerned over a cultist preaching a sermon of "absolutely smearing" LU.
Let's cut to the chase.  Glenn Beck is a Mormon in good standing.  Mormonism is a theological cult.  Thus Beck's not an authentic Christian — period.  That some Christians have the temerity to object to a cultist giving a sermon at a Christian university offended Mr. Beck, thus his rant.
In an earlier column I wrote Questioning with boldness: Which is it Glenn, are you a Mormon or a Christian? I provided an in depth examination of the Church of Jesus Christ of Latter-day Saints.  So I'm not going to spend a lot of time re-examine it here.  However, to help you get a handle on what Mormons believe, the following is a snippet of Mormon Christianity from my column.  As you will see, what they believe isn't even close to biblical Christianity:
LDS Christianity outright denies the Trinity which is an essential of biblical Christianity.  So LDS Christianity and orthodox Christianity do not believe in the same God.  Mormon Christianity teaches that there are many gods who are overseers of other planets.  The god of planet Earth, the one they call Elohim, was just a man with a body of flesh and bones who progressed to godhood and was rewarded with his own planet.  [Founder]Joseph Smith taught, "God himself was once as we are now, and is an exalted man, and sits enthroned in yonder heavens. That is the great secret… [Y]ou have got to learn how to be Gods yourselves, and to be kings and priests to God, the same as all Gods have done before you…"
Brigham Young believed in a plurality of gods: "How many Gods there are, I do not know. But there never was a time when there were not Gods…" (Journal of Discourses 7:333).
Mormons believe that after death they will become gods and will be rewarded with their own planet.  Thereafter they will spend eternity with their many wives (polygamy) producing offspring to populate their planet.  Traditional Christianity says that God is not a man. (Numbers 23:19) Mormon Christianity teaches that man first existed as spirits in heaven.  Biblical Christianity says that the physical body comes before the spiritual. (1 Cor 15:46) 
And LDS Christianity teaches this humdinger: Jesus and Lucifer are spirit children of God, which makes them spirit brothers. 
Bible believing Christians will understand that historic orthodox Christianity does not hold to any of what Joseph Smith conjured up.  There is no way that Glenn Beck is unaware of Smith's beliefs and background.  Later in my column I brought to light that,
…it was Joseph Smith and subsequent Mormon hierarchy that attacked Christianity.  The truth is Joseph Smith's religion, which he made up out of whole cloth, is an abomination to God! 
It seems weird to me that Glenn Beck spends oodles of time gathering dirt on leftist radicals and that he digs deep to get the skinny on President Obama but has neglected to do some deep digging on …  Joseph Smith.  His church's so-called prophet was a charlatan, a polygamist, an adulterer, and he was up to his eyeballs in the occult as was his father.  There's plenty of evidence on the web for inquiring minds that want to know the truth about Mormonism's founder.  (Source)
For reasons known only to him, Glenn Beck holds the LDS Church in high regard.  Consequently, he's deluded.  Why do I say that?  To put it bluntly, Mormonism is a satanic cult.  (Those who wish to research the LDS are invited to visit my website.)  LU knows this full well, yet Beck was invited to speak to its students.  As I mentioned above, Beck preached a sermon saturated with Mormon theology.  Moreover, he shared a valuable artifact — Joseph Smith's pocket watch.
Liberty University Enlightens Us
Following is LU's explanation, in part, for their decision:
We have explained over the decades repeatedly that convocation is an opportunity for students to hear from people of all faiths and from all walks of life.  Liberty has also made it clear repeatedly that it does not endorse any statements made by any convocation speaker.
So far so good.
By contrast, our faculty are all required to profess Liberty's statement of faith and to affirm our doctrinal statement.  Our students are all required to take many credit hours of theology and Bible courses, regardless of their major.  Our students have no question about what Liberty's doctrinal statement is.  It is posted publicly for all to see. Our doctrinal statement is our public statement on Mormonism.  It is the same statement that Liberty was founded upon and it will never change.
College is about learning.  How can you defend what you believe if you don't understand what others believe? 
Good point.
I believe our students are stronger in their faith because of our convocation speaker series and the wide diversity of views that they have been privileged to hear in person over the last few decades.
By the way, many conservative evangelical leaders who are closer to Beck than me have told me that they believe Beck has had a born again experience recently.
Hold it right there!  The "Glenn Beck is saved" rumor has been circulating for several years thanks largely to Wall Builders Founder David Barton, "American evangelicals' favorite historian."  If it's true, then why is Beck keeping the good news from his friends and fans?  Moreover, if he truly is regenerate then why hasn't he cut all ties to the LDS Church and joined a church where the true gospel of Christ is preached?
LU's explanation continues:
I do not know his heart but our audience knows that he was speaking only for himself and expressing his personal opinions and beliefs, not those of Liberty University or even of Mormonism generally. As Jerry Falwell, Sr., our founder, often used to say about speakers at Liberty who had different views than him, Liberty students are smart enough to eat the fish and spit out the bones! I believe that's as true today as it was in his day.
Are we to assume every student is mature in their faith and has spiritual discernment?  Are we to assume that every student who attends a Christian university has been born again and thus saved? Did it not occur to Jerry Falwell, Jr. that some of the students who ate the fish Glenn Beck dished up could have choked on the bones?!
Now, don't get me wrong. Liberty University has the right to invite whoever they wish to speak to its students.  But lately they seem to have an affinity for Mormons, as Glenn Beck has spoken at the university twice.  In 2010 he delivered the commencement address and received an honorary doctorate degree.  Likewise, Mormon Mitt Romney gave the commencement speech in 2012.
A Martyr?
Is it true that Joseph Smith died a martyr, as Glenn Beck declared to LU's students?  Not so fast, Glenn!  The factual account of what led to Smith's death reveal that he and his brother Hyrum were charged with treason and conspiracy by Illinois authorities whereby they were arrested and imprisoned in a minimum security cell in the Carthage city jail. According to The Martyrdom of Joseph Smith by Eric Johnson:
He and his brother Hyrum Smith were murdered on June 27, 1844, by an armed mob, an event that has prompted Mormons to classify them as martyrs. It has caused others, however, to raise the question whether someone who dies in a gun battle fighting against his enemies can be considered to be a martyr. A close examination of the term reveals that one must meet specific requirements to be considered a martyr, which involve, for example, the reasons why one is put to death and the way one faces such a death. An investigation of the reasons why Smith was murdered and the actions he took to avoid this fate inevitably makes it difficult to maintain that Smith was "like a lamb led to the slaughter." (Source)
Johnson offers several reasons why he believes it is not accurate to classify Smith a martyr which you'll find in his essay under the heading: THE FALLACY OF DEEMING SMITH A MARTYR.
Glenn's Rant
To spare you from having to read Beck's ridiculous rant, I'll post a few quotes from a piece by Erica Ritz:
This is why your churches are dwindling. … You think you're standing for something, when indeed, you're standing for hate and bigotry. I think Jesus was hanging out with prostitutes and sinners, wasn't he? You won't even listen to a man who says … 'I challenge you to know your faith, not my faith, your faith so well that you're willing to die for it. Stand with one another.' That frightens you so much? If it does, you might want to consider that you're on the wrong side.
Let's see.  "Prophet" Joseph Smith said that "Christianity had become apostate, and all of their creeds were corrupt, and all of their followers were deceived." Therefore, it fell to Smith not to "reform" the Christian church, but to "restore" it."
And anyone who rejects Mormon heresy is "standing for hate and bigotry."
More…
I look at every single lover of light and truth as my ally, my friend, my brother. … I look at everyone who is my enemy as my brother. I don't care what you say; I don't care what you think your belief is; I don't care what your lifestyle is — you're not going to change me. And I invite you to join me, join others of multiple faiths — never asking anyone to change their faith — asking you to strengthen your faith, whatever it is. (Source)
Beck is oblivious to the fact that his truth is NOT biblical Truth.  On the contrary, what he's "preaching" to anyone who's willing to listen, and to a captive audience at LU by the way, is ecumenism.  This New Age Mormon who professes Christ vociferously urges his followers to join together with other religious faiths and sing We Are the World.  If Michael Jackson were alive today, he'd be proud of Glenn.
Partnerships
Glenn claims he's read the Bible several times.  Perhaps he has.  However, he must have skipped over Paul's teaching in 2 Cor. 6:14-16:
Do not be unequally yoked with unbelievers. For what partnership has righteousness with lawlessness? Or what fellowship has light with darkness? What accord has Christ with Belial?  Or what portion does a believer share with an unbeliever?  What agreement has the temple of God with idols?  For we are the temple of the living God.
Unbelievers are in darkness.  For this reason believers are not to unite with them in any sort of spiritual enterprise.  And those who are in darkness, the unsaved, are not our brothers and sisters.  Thus, we are commanded to share the gospel of Christ with them.  (1 Cor. 15:1-11)
One last quote from Glenn Beck's hero, Joseph Smith where we learn a bit more of his bizarre and unbiblical understanding of God, which, by his own admission is the view of God Glenn holds as he is, after all, a professing Mormon:
I say, if you were to see him [God] to-day, you would see him like a man in form–like yourselves, in all the person, image, and very form as a man . . . it is necessary that we should understand the character and being of God, and how he came to be so; for I am going to tell you how God came to be God. We have imagined and supposed that God was God from all eternity,  I will refute that idea, and will take away and do away the veil, so that you may see . . . and that he was once a man like us; yea, that God himself the Father of us all, dwelt on an earth the same as Jesus Christ himself did.  (Source)
Now a bit of wise counsel from Erin Benziger in What If 'My God' Is Bigger than 'Your God'? :
It is sinful pride that leads men into idolatry as they create imaginary gods that suit their own personal needs. It is the same sinful pride that prevents men from bowing low before the True God. It is this pride that refuses to acknowledge one's own inability to offer anything truly "good" and refuses to acknowledge his own sinfulness. Yet it is God Who can, by wonderful, amazing grace, break a man of this pride and bring him to his knees in humility. It is God Who can bring the most stubborn, prideful man to a place of repentance and faith in the Savior, Jesus Christ. May we pray this day and every day that God would use us to proclaim the truth of His Gospel to such men, and may we pray that His Spirit would stir and work within those men to bring them to repentant, saving faith and knowledge of His Son. (Source)
Recommended:
Church of Jesus Christ of Latter-day Saints/Mormonism—On Solid Resources
New Age Movement—On Solid Rock Resources
Glenn Beck's "pure personal truth," Part 1, Part 2—Marsha West
The damaging of Iran's centrifuges through the Stuxnet virus a year or so back can only be considered an act of war (certainly the Iranians see it that way!). Is the President authorized to commit acts of war against Iran? I have yet to meet any foreign policy wonk who thinks so. The closest thing to an "authorization to use military force (AUMF)" they can come up with is Article 2 of the Constitution. All I find there is the vesting of executive power in the President and the naming him "Commander in Chief". The article goes on to state the President shall "from time to time" recommend to the "Consideration" of Congress "such Measures as he shall judge necessary and expedient" (This in contradistinction to the explicit right of Congress to declare war in Article 1).
Only a constitutional lawyer of John Yoo's caliber could take this to mean President Obama (or Bush, under whom it all started) is authorized to commit acts of war against Iran. But I have heard of no move to hold the president accountable for violating the constitution. Maybe that should yet be considered, as the question of what hostile acts the president is authorized to engage in has assumed a qualitatively larger dimension with the confrontation with Russia over Ukraine. Is Obama authorized to commit acts of war against Russia?
The idea may seem preposterous, but consider this. Even before the confrontation began, back last July, a Russian space launch, which was to place a satellite in orbit as part of Russia's attempt to build a global positioning system (GPS) competitive with our own, failed spectacularly while being broadcast live on national TV. Then, in May, another launch carrying a $200 million telecommunications satellite failed. Such failures can hardly be blamed on Russian ineptitude in space technology as we rely on their rocket engines for our own launches, including shuttling astronauts to the International Space Station. By comparison, the European space agency has not suffered a launch failure in 12 years.
Then, in early March, there was a major fire at the largest refinery in Europe, which happens to be in Russia. Here's a photo of it:
At that time, you may recall, Russia's annexation of the Crimea appeared imminent. Finally, in late April there was a massive explosion at an ammunition depot in Siberia (There have been a number of ammo dump explosions over the last few years).
Are we committing acts of war against Russia?* Is the president authorized to engage in such hostile acts? Consider that Iranian centrifuges would still be blowing up without the Iranians knowing why or we being aware our government was at war with Iran if the Iranians (with Russian help) hadn't discovered the Stuxnet virus. It might be well to press the president on this point before we learn the hard way why the Founding Fathers, in their wisdom, placed the power to declare war exclusively in the hands of the legislative branch.
*If we are, I think I know how we are doing it; but, lest you reclassify me from conspiracy nut to bona fide wacko, I'll keep it to myself (just two words: Star Wars).
In 2008, Houston police pulled over CIA agent Roland Carnaby on what appeared to be a routine traffic stop. A few seconds later, Carnaby was dead.
It is illegal to detain a CIA agent under any circumstances. They may carry any weapon, anywhere, anytime, and request assistance from any law enforcement official with more than certainty.
Why then would this incident be part of a highly classified Russian intelligence report? Could it, perhaps, be that Carnaby, answering directly to former President and CIA Director, George H.W. Bush, was murdered to silence his participation in the theft and sale of American nuclear warheads?
Carnaby was holding a trove of documents outlining the theft and transfer of hundreds of nuclear warheads from the Pantex Plant near Amarillo, Texas. Weapons sent there for disassembly were transshipped to Israel and, from there, refurbished, their cores remachined and then sold around the world or stored in Israeli embassies and consulates around the world.
The Russian report outlines a very different view of the past 30 years, a "view" that "fits like a glove."
DIMONA OUT OF ACTION
The report not only confirms Israel's nuclear weapon inventory but outlines the program of subterfuge and piracy required to keep Israel as a nuclear power after their facility at Dimona suffered a critical "event" in 1988.
"Dimona is a standard 75-megawatt thermal open top reactor as used in France for their plutonium weapons production program, their version of Stanford (Editor's note: Probably "Hanford").

Due to overuse as a fast breeder reactor by the Israelis, Dimona suffered a "steam explosion" IE a flash over indecent due to neutron criticality back in the late 1980's under Bush 1. This shut down its operation for many years until repairs could be made.

It know only operates at very low power levels due to neutron absorption damage to the containment vessel. Now mainly use for isotope production. This forced the Israelis to turn to stolen nuclear stockpiles from the US for the continuation of their nuclear program."
The highly classified Russian report, released, experts believe, to demonstrate American hypocrisy over recent events in the Ukraine, is a litany of horror stories. If this is a "first shot over the bow" by Russian intelligence, American officials can only dread what may be to come.
BACKGROUND

48 hours ago, the retired chief of Russia's counter-intelligence effort for the Middle East released a highly classified report designed to embarrass the United States and demonstrate their servitude to Israel and complicity in broad acts of nuclear proliferation.
The report, loaded with "shock value" intelligence and backed by reams of supporting documents including classified nuclear weapons plans demonstrated that Russia has been able to maintain a high level of penetration of not just American nuclear weapons labs but security agencies as well.
ROUND ONE, 9/11
The report, carefully structured for maximum shock value, begins with 9/11, the watershed event of our era:
"The type of nuclear devices used on 911 were a modified version of the W-54 nuclear artillery shells that were covertly provided to the Israelis between 1988 and 1998 from US surplus stockpiles illegally exported during the Bush/Clinton era.
Chemical analysis done by DOE Sandi was able to identify the chemical/radiation footprint or fingerprint of the warheads based on samples taken after 911 of the fallout at ground zero."
According to the report, 911 was an Israeli operation facilitated by blackmail of Bush 41 and 43, threatening them with "outing" for their personal financial involvement in the sale of 350 primarily w54 nuclear artillery rounds, sold through Israel but distributed to a number of nations.
The Russian report further outlines that NATO partners, particularly Britain and France, were involved every step of the way. 911 was cover for stolen gold, stock fraud and the looting of the American economy. The "wars for profit" were the Bush boys cashing in on their own.
THE "HOW" OF 911
A number of theories have been introduced to explain the mysterious effects seen at ground zero on 9/11. In an article on the Press TV website, evidence of a widespread cover-up of an epidemic of radiation exposure-related cancers tied to 9/11, was presented.
Not only has Russia confirmed the Press TV findings, they present evidence of nuclear weapons use, evidence from a suppressed report based on findings by the Department of Energy's Sandia Laboratories.
"Only a 2 kiloton device was needed to drop the buildings. A 2 kiloton device will produce a fireball of apx 150 to 200 feet in diameter at over 4000 degrees Centigrade. Just large enough to melt the I beams of the central core of the building and drop them in place. The light flash would last less than 1 second and primarily be in the UV light range. Overpressure would only be at 60PSI max and directed upwards with the blast.
Fallout would be minimal and located to within ground zero range only. Radiation would drop to acceptable levels within 72 hrs. after the blast. Most fall out was trapped in the cement dust thus causing all of the recent cancer deaths that we are now seeing in NYC amongst first responders."
The report continues with details that close the door on speculation about 9/11, putting an end to conspiracy theories and, in particular, the wildest one of all, the pseudo-science fairy tale broadly rejected by the 9/11 Commission but allowed to stand as America descended into an Islamophobic frenzy.
"Fallout would be minimal and located to within ground zero range only. Radiation would drop to acceptable levels within 72 hrs. after the blast. Most fall out was trapped in the cement dust thus causing all of the recent cancer deaths that we are now seeing in NYC amongst first responders.

Melted steel and iron oxide or "nano thermite" is a byproduct of the very high gamma ray / Neutron flux induced into the central steel core. The radiation dissolves the steel into iron oxide consuming the carbon and silicone in the steel."
This explains the missing steel columns and the very important clue of the "vaporized" 20 ton antenna tower atop the south tower. The upward blast of radiation literally vaporized it. Video evidence proves this to be true.
The total (redacted) data file from DOE Sandia on the 911 event is well over 72 MB. "P.S. Snowden didn't have a Q clearance so he missed this one."
The scope of the Bush/Cheney/Israeli nuclear proliferation operation, according to the report, is well beyond anything imagined. Here, Russia places the blame, naming not only Vice President Dick Cheney and former White House Chief of Staff Ram Emanuel but Tom Countryman, tasked, according to Russian sources, with actually managing the program that spread nuclear weapons to Brazil, North and South Korea, Saudi Arabia and a number of other nations.
"Illegal distribution of US nuclear material to foreign allies was not limited to Israel. Virtually all NATO allies were in on this scam too. Dick Cheney was the bad guy on this one. Bush2/Cheney traded nuclear pits to foreign country as IOU's in order to get what they wanted. Tom Countryman a well-known Israeli operative is curiously now in charge of N.N.P. at the State Department under Obama. He was put there by Ram Emanuel."
REACTIVATING "DEAD NUKES"
Only nuclear weapons that had deteriorated but could be recommissioned were of use to Israel. The Russian report outlines the basis for selecting the W-54 warhead and exacting details on how weapons were created out of America's "nuclear scrap heap."
"A total of over 350 pits were transferred to the Israelis over a 10 to 20 year period of time. The W-54 type of pit design were the most desirable due to the 2 point implosion pit design. This is the easiest to re manufacture and modify as compared to other circular pit designs.
The pill shaped design of the W-54 type weapon contains over 1.5 times more plutonium than a standard pit. This would allow enough Plutonium to be recovered that was still of weapons grade use even after 32 plus years of age. Americium build up in the pit over time eventually makes the Pit unusable as a weapon so they have a limited shelf life based on how fast or slow the Plutonium was produce in the reactor at Stanford.
Usually it was about 150 days max. Irradiation time in the reactor during production determines the shelf life of the pit as weapons grade material. All of the micro nukes used by the Israelis are re-manufactured W-54 type series devices."
CONCLUSION
According to the Russian report, Israel used remanufactured W-54 warheads, reconfigured as micro-nukes, for terror bombings in Bali, London and to destroy the Fukashima nuclear reaction site in Japan.
With weapons around the world, stored in embassies and consulates, and their powerful friends in the American "right," Israel has managed to maintain nuclear superpower status without a real production facility, using only pirates and traitors, something America, according to our Russian sources, seems to have no shortage of.
Gordon Duff is a Marine Vietnam veteran, a combat infantryman, and Senior Editor at Veterans Today. His career has included extensive experience in international banking along with such diverse areas as consulting on counter insurgency, defense technologies or acting as diplomatic representative for UN humanitarian and economic development efforts. Gordon Duff has traveled to over 80 nations. His articles are published around the world and translated into a number of languages. He is regularly on TV and radio, a popular and sometimes controversial guest. 
Source: Veterans Today | Press TV
Before Federal trolls or indoctrinated government "true believers", starts spreading their slurs, you had better gauge the sentiment in the real America. Seventy-two percent of Americans, in a Gallop poll say big government is a greater threat to the U.S. in the future than is big business or big labor, a record high in the nearly 50-year history of this question. Yet the "so called" authorities would have you accept that only a conspiracy theorist thinks that the great protectors of law and order are capable of routing out Christians, 2nd Amendments advocates, 911 Truth proponents, Tea Party members, Patriot-Liberty groups or Global Warming deniers, and confining them to prison gulags. So when the House introduced HR 645, in 2009 that directs the Secretary of Homeland Security to establish national emergency centers on military installations, every citizen should feel threatened by its own government.
Here are some of those nasty facts that endanger all of us. The Albuquerque Journal account in the article, MISSION CREEP: Homeland Security a 'runaway train' should alarm everyone.
"Today, the Department of Homeland Security is the third-largest agency in the federal government, behind only the Departments of Veterans Affairs and Defense.

When created in 2002, DHS merged 22 pre-existing federal agencies into one, marking the largest reorganization of the federal government in more than 50 years. Among the agencies included under the Homeland Security umbrella are the Coast Guard, Customs and Border Protection, Secret Service, Transportation Security Administration and the Federal Emergency Management Agency.

In the first year of its existence, the Department of Homeland Security employed 180,000 full-time workers. Today, 240,000 people collect paychecks from the agency, according to its website.

The department's budget has more than doubled since the agency's inception in 2003, when it spent $29 billion. This year, DHS is slated to spend $61 billion."

Beginning at its inception, Homeland Security had all the telltale indications that a militarized national interment force was designed to segregate, if not bury, domestic 'enemies of the state".
From the executive summary, US FEMA Camps published by the Geopolitical Monitor states:
"In August 2002, then Attorney General John Ashcroft called for American citizens who are deemed 'enemy combatants' to be detained indefinitely without charge and independently of the judiciary. This legal position was upheld in the case of a US citizen detained abroad by the 4th U.S. Circuit Court of Appeals in a January 2003 ruling.

For some time FEMA has been renovating and constructing new detention camps throughout the country. In January 2006 Haliburton subsidiary KBR announced that it had been awarded an "indefinite delivery / indefinite quantity contract to construct detention facilities for the Department of Homeland Security worth a maximum of $385 million over 5 years."

Stated Purpose

"Little has been said about the purpose of the detainment camps but when official comment has been made it has stated that the camps are for the temporary detainment of illegal immigrants."
PLEASE, if that objective was true, how does one explain away the Breitbart reporting that 'We Have a Commitment' From Boehner on Amnesty This Year? At the same time, the Obama administration demonstrates that their own Government released hundreds of immigrant felons. Only a fool would believe that this FEMA fairy tale yarn about their detention facilities. Dave Hodges of The Common Sense Show always reveals the true unpleasant details that most Americans are afraid to confront. In his article, CBS News Admits FEMA Camps Are Real, a leaked memo from KBR manager, Bob Siefert, referenced a disturbing call for the installation of fencing and wire used for large-scale detention of prisoners.
"Subcontractors will mobilize, transport, erect, install and demobilize temporary fencing, barricades, and associated equipment according to federal, state and local laws, codes and manufacturer installation instructions. The Subcontractor shall be able to mobilize and deploy key personnel(s) within four (4) hours of NTP to meet with KBR Site Manager at the Responder Support Camp (RSC) site in order to finalize the site design plan and acquire site-specific design requirements and layout. Number of linear footage:

"Approximately 2,300LF for a 301 person camp after 36 hours of NTP"

"Approximately 3,600LF for 1,000 person camp after 72 hours of NTP"
This sounds like FEMA camp activation to me and it closely parallels the FEMA camp events on the East Coast in the aftermath of Sandy."
Since so many apolitical mentally challenged flag wavers, accept the myth that I'm From The Government and Here To Help, even in the face of stark reality, the only rational conclusion is to expect the worst. The Nolan Chart features an essay by Walt Gelles, Time To Abolish The FEMA Camps, that succinctly makes the case for questioning the true purpose of Homeland Security constructed FEMA internment camps.
"The FEMA camps are ready… Eight hundred empty secret prisons, detention centers, concentration camps scattered around the U.S.A.-fully operational, surrounded by full-time armed guards, and ready to receive prisoners.

Obama's Homeland Security Department bought 1.6 billion bullets using your taxpayer dollars. That's five bullets for every man, woman, and child…five bullets waiting to pierce your skull…hollow-point bullets, sniper bullets, forbidden under international law for use in war. Plus 2,700 military tanks for domestic use, and Obama has created a para-military police force operating under Homeland Security.

Do you think those 1.6 billion bullets were intended for a bunch of Arab terrorists trying to take over a Walmart or an airport? Think again. Do you really believe the FEMA camps were built to house Muslim fanatics or flood victims? Get real. Go ask Hillary Clinton what the FEMA camps are for. Go ask Nancy Pelosi or John Boehner or President Obama/Soetoro. You're paying billions of dollars for the government to put you away.

Most of the 800 FEMA camps can house up to 20,000 prisoners. That works out to 15 million Americans the government is ready to lock up. All the camps have railroad facilities, and the boxcars have been built to transport the prisoners. Sounds like Auschwitz? The cars have shackles welded in; plastic coffins are stockpiled and ready for use.

What if enough people found out that the 9/11 "terrorist" attack was no terrorist attack at all, but a false-flag event carried out by the U.S. Government to serve as a pretext to invade Iraq and Afghanistan and to install the Surveillance State at home? And what if millions of people demanded that the real perpetrators, the real 9/11 mass murderers-in the White House, the CIA, the Pentagon, the judiciary-be brought to justice in a Nuremberg-style criminal court?

The FEMA camps are ready. To put the movement's leaders away. To crush the dissent."
What portion of this explanation is incorrect? Refusal to face up to the actions of DHS will not necessarily save you from selection for a place at a FEMA camp. The transition of Americans from thinking defenders of constitutional liberties into dumb down nationalists and servile obedient slaves, explained in the essay, From Viet Nam Defiance to Boston Surrender, needs a response to a fundamental question. Will you allow forcible transport to a FEMA camp? Or will you gladly pack up your toothbrush and submit to "Diesel Therapy" and ride the bus to your new cell?
"Corrosive incrementalism of totalitarian policies developed in an environment of gradual apathy, over the last half century. Dissenting opposition movements, persistently confrontational against the establishment became less organized and vocal. As a result, institutions of influence descended into deeper depths of moral corruption, as the agencies of bureaucratic dominance expanded their reach and scope of tyranny."
The prospects of declaring martial law, as well as, federal direction of coercive compliance and assimilation of local law enforcement assets, is the only logical purpose of creating militarized FEMA encampments. In a country, that maintains Private Prisons and the Enslavement Society, it is one small step to eliminate any opposition by way of herding defiant resistors into secure concentration camps.
Those who still say it could never happen in the United States, lack a historic perspective and current events understanding. Ever since the exploited ultimate excuse of the 911 false flag, the nation has suffered from acute delusional disorder syndrome. With the announcement that the 9/11 Museum Opens to Families, First Responders With Emotional Dedication Ceremony, you witness another psychological warfare opportunity to pave the way for the latest tactic of indoctrinating the public into accepting that domestic terrorists are the new focus of the Homeland Security mission.
Under both Bush and Obama, the authoritarians have built the greatest threat to America; namely, a permanent police state. Depending upon the FEMA district in which you reside, the presence of Federal concertina wire may vary. However, the rail cars are able to move human cargo in all directions and the trains will run on time. Check out the FEMA camp closest to you.
With the adoption of the National Defense Authorization Act (NDAA), codifying indefinite military detention without charge or trial into law, places at risk every American in the torture chamber of the Gitmo captivity culture. Before long, the next fabricated crisis offers the opportunity for Martial Law that translates into the order for the knock at your door. Will you accept DHS chains? Or will you die, a bona fide American hero and resist?
The phrase "conspiracy theorist" is a derogatory smear phrase thrown at someone in an attempt to paint them as a lunatic. It's a tactic frequently used by modern-day thought police in a desperate attempt to demand "Don't go there!"
But let's step back for a rational moment and ask the commonsense question: Are there really NO conspiracies in our world?
The Attorney General of South Carolina would surely disagree with such a blanket statement. After all, he sued five pharmaceutical companies for conducting a price-fixing conspiracy to defraud the state of Medicaid money.
Similarly, in 2008, a federal judge ruled that three pharmaceutical companies artificially marked up their prices in order to defraud Medicare.
In fact, dozens of U.S. states have filed suit against pharmaceutical companies for actions that are conspiracies: conspiracy to engage in price fixing, conspiracy to bribe doctors, conspiracy to defraud the state and so on.
The massive drug company GlaxoSmithKline, even more, plead guilty to a massive criminal fraud case involving a global conspiracy to bribe doctors into prescribing more GSK drugs.
And this is just the tip of the iceberg. A deeper look into the criminality of just the drug industry alone reveals a widespread pattern of conspiratorial behavior to defraud the public and commit felony crimes in the name of "medicine."
What is a conspiracy, exactly?
As any state or federal prosecutor will gladly tell you, a "conspiracy" is simply when two or more people plot to commit an act of deceit (or a crime).
Thus, when three hoodlums plan to rob the local Quickie Mart, they are engaged in a "conspiracy" and will likely be charged with a "conspiracy to commit armed robbery" in addition to the different crime of "armed robbery." The fact that they planned it with several friends makes it a "conspiracy" worthy of additional felony charges, you see. When these charges are brought up in court, the judge doesn't look at the prosecutor and say, "You are a conspiracy theorist!" That would be absurd.
The idea, then, that there is no such thing as a conspiracy is flatly ludicrous. And people who condemn others as being "conspiracy theorists" only make themselves look mentally impaired.
To live in our modern world which is full of collusion and conspiracy — and yet somehow DENY the existence of any conspiracies at all — is an admission of a damaged brain. Of course there are conspiracies, and when people analyze those conspiracies, they are "theorizing" about what happened. This is, in fact, precisely the job that police detectives and FBI agents carry out almost daily.
Most police detectives are, in reality, "conspiracy investigators" and analysts.
There are endless examples of real conspiracies
Auto manufacturers routinely conspire to cover up mechanical defects that put customer lives at risk. Even National Public Radio lays out the full timeline of the General Motors conspiracy to hide the problem with its faulty ignition switches.
Last year, food corporations conspired with the Grocery Manufacturers of America (the GMA) tocommit money laundering crimes in Washington state in order to funnel money into a campaign to defeat GMO labeling there.
The FDA conspired with a drug manufacturer to keep a deadly diabetes drug called Rezulin on the market in the USA even after safety regulators pulled the product in Europe.
Similarly, the corrupt, criminal-minded operators of mainstream science journals conspired in a particularly evil way to railroad Dr. Andrew Wakefield with provably false accusations about the nature of his research into the side effects of vaccines. The GMO Seralini study has been similarly railroaded by a genuine conspiracy of evil, corrupt science journal editors who routinely conspire to suppress all the science they don't want to be seen by the public. Fortunately, 150 other scientists have come to support Seralini with a global condemnation of the obviously contrived scientific censorship.
We live in a world of such deception and collusion that, frankly stated, it's hard to find a large institution (such as medicine, agriculture or the war industry) which isn't involved in some sort of conspiracy at some level.
What is a "conspiracy theorist?
The pejorative "conspiracy theorist" is meant to demean and ridicule skeptics of official stories.
Most so-called "conspiracy theorists" are really skeptics, by definition. They're skeptical of what the government tells them. They're skeptical of the claim that drug companies are really only interested in helping humankind and have no desire to make money. They're skeptical that food corporations are telling them the truth about what's in their food. And they're also skeptical of anything coming out of Washington D.C., regardless of which party happens to be in power at the time.
People who are not skeptics of "official stories" tend to be dull-minded. To believe everything these institutions tell you is a sign of mental retardation. To ask questions, on the other hand, is a sign of higher intelligence and wisdom.
Skeptics of official stories, it turns out, also have the support of history on their side. How many times has it later been revealed that the American people were lied to by the very institutions we were supposed to trust?
For example, it is an historical fact that 98 million Americans were injected with hidden cancer viruses which were later found in polio vaccines strongly recommended by the CDC. In an effort to cover that up and rewrite history, the CDC later scrubbed all accounts of that history from its website, pretending it never happened.
That's more than a cover-up; it's an Orwellian-style conspiracy to selectively rewrite history and deny Americans any memory of a monumental, deadly error made by the CDC in collusion with the vaccine industry.
According to two former Merck virologists, that company conspired to fake the results of its vaccine tests by spiking test samples with animal antibodies, thereby falsely distorting the results to make the vaccine appear effective. The two virologists filed a False Claims Act with the federal government detailing the conspiracy, saying:
Merck also added animal antibodies to blood samples to achieve more favorable test results, though it knew that the human immune system would never produce such antibodies, and that the antibodies created a laboratory testing scenario that "did not in any way correspond to, correlate with, or represent real life … virus neutralization in vaccinated people…"
Conspiracies of money and big banks
Every month, the Federal Reserve conspires to steal a portion of your wealth through "quantitative easing" — an irresponsible money creation scheme that devalues all the currency already in circulation (i.e. the money in your bank account).
The money the Fed creates is, not surprisingly, handed over to the big Wall Street banks — the same banks that received a jaw-dropping $29 trillion in "bailout money" since the near-collapse of U.S. banking in late 2008.
Why did this bailout money go to the banks instead of the American people? Because powerful people sat in dark rooms and colluded to send the money to the most influential banks. A conspiracy, in other words, by definition.
Had that same amount of money been equally distributed across the U.S. population, the Fed would have distributed nearly $100,000 to each and every citizen in America; man, woman and child. But instead of enriching the population, the banking bailout burdened the population with the debt now owed to the Fed by future taxpayers.
Every $1 trillion created by the Fed, after all, is $1 trillion "loaned" to the U.S. Treasury which must somehow be repaid. In truth, the minute you start to investigate how money is created, why the Federal Reserve is a private banking cartel and why the big banks get all the bailout money, you run head-first into genuine conspiracies almost from the outset. When you look up the word "conspiracy" in a dictionary, it should probably say, "See Banking and Finance."
Our world is full of conspiracies because it's full of people who deceive
The reason conspiracies are real is because humanity is a race capable of extreme deception. As long as there are people whose actions are based in greed, jealousy and a desire to dominate others, there will be real conspiracies plotted and operating across every sector of society.
The correct term for "conspiracy theorist" should really be "conspiracy analyst." Most of the people who are skeptical of official stories are, in fact, analyzing conspiracies in an attempt to understand what really happened and what took place behind closed doors.
A highly-recommended book the delves into this matter in more detail is the five-star-rated masterpiece Official Stories: Counter-Arguments for a Culture in Need by Liam Scheff.
This book will open the minds of those who still have the cognitive capability remaining to grasp it. (Sadly, the injection of mercury into babies in the form of vaccines has damaged so many brains across America that many people are now cognitively incapable of rational thought.)
And remember: the next time someone flings the phrase "conspiracy theorist" in your direction, simply know that they are effectively wearing a DUNCE hat on their heads by admitting they have failed to acknowledge that true conspiracies are rather commonplace.
That's not merely a theory, either: it's a statement of fact.
Source: Mike Adams |Natural News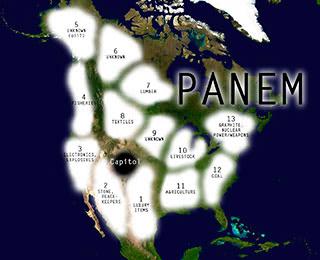 One of the most popular films of 2012 was The Hunger Games which portrayed a post-apocalyptic nation called Panem in which a super-rich, super-pampered, super-callous 'elite' lived in high-tech luxury while the rest of the population daily battled to survive in abject poverty locked away behind prison fences in intensively-populated 'people zones'. Panem comes from the Latin phrase 'panem et circenses' or 'bread and circuses' — a term derived from Rome and meaning to give the people diversions and distractions to hide what is being done to them. Exactly what is happening today.
The Totalitarian Tiptoes to just such a world are happening all around us, although most people can't see this because they don't connect the dots. People tend to live in their own 'little world' and focus on only a few subjects and interests. This gives them a distorted view of what is happening because they are so busy concentrating on the strands that they cannot see the tapestry. The world of The Hunger Games is already well on the way to fruition unless humanity has a fundamental reassessment of reality.
The foundations, structure and 'must haves' of a Hunger Games society are detailed in a plan being imposed through the United Nations called Agenda 21 which encompasses two related themes of 'sustainable development' and 'biodiversity'. Sustainable development — as in don't use more than can be replaced — sounds sensible enough at first until you realize what this and biodiversity really mean in the context of the conspiracy.
Agenda 21 was established at the United Nations Conference on Environment and Development in Rio de Janerio, Brazil, in 1992, hosted by Maurice Strong, a Canadian oil and business billionaire and long-time front man for the Rothschilds and Rockefellers. Strong has been a leader of their exploit-the-environment-to-scam-the-people programme which is now in full flow. Strong is a member of the Club of Rome, the environmental Hidden Hand in the Round Table network that includes the Bilderberg Group, Trilateral Commission and Council on Foreign Relations.
Strong said in support of Agenda 21:
'Isn't the only hope for this planet that the industrialised civilization collapse? Isn't it our responsibility to bring that about?'
This is a man who became mega-rich through the oil industry. He now lives in billionaire luxury in China where carbon-emitting industry is booming and he is a director of the Chicago Climate Exchange (largest shareholder, Goldman Sachs), which is 'the world's first and North America's only legally-binding greenhouse-gas emission registry reduction-system for emission sources and offset projects in North America and Brazil'.
The Exchange was established with funding from the Joyce Foundation where Barack Obama was once a director. Strong and Al Gore make money through the Carbon Exchange and other means from the lies they promote about climate change and the solutions they propose. Kate Johnston wrote on the Globalresearch.cawebsite:
'The same men that sold us the myth of man-made global warming are the same men that sold us the "solution" of a Carbon Tax and Emissions Trading Scheme and now they're profiting off their lucrative investments which are based on lies.' (See "The Climate Change Hoax").
Strong fled to China in 2006 after being accused of corruption with respect to the UN oil for food program.
Climate change propaganda is a No-Problem-Reaction-Solution technique to justify Agenda 21 and its stable-mate the Biodiversity Treaty. This is an internationally-binding document involving nearly 200 countries. The United States signed the treaty, but it was not ratified by the Senate after people like ecologist and ecosystem scientist Dr. Michael Coffman exposed its true consequences and implications. He said that he realized during the 1980s and 1990s that the plan was to use the excuse of protecting the environment to confiscate half the land of the United States.
Similar plans exist for every other country. America may not have ratified the treaty, but it is being implemented by the day. Agenda 21 demands the central global control of all land; all private property; all water sources and distribution; all other resources which includes people in its definition; all energy supplies and distribution and all food production and distribution.
Agenda 21 is called 'the agenda for the 21st century' and that refers to global fascism / communism. This is a summary of what Agenda 21 / Sustainable Development / Biodiversity is seeking to impose:
An end to national sovereignty
State planning and management of all land resources, ecosystems, deserts, forests, mountains, oceans and fresh water; agriculture; rural development; biotechnology; and ensuring 'equity' (equal slavery)
The State to 'define the role' of business and financial resources
Abolition of private property (it's not 'sustainable')
'Restructuring' the family unit
Children raised by the State
People told what their job will be
Major restrictions on movement
Creation of 'human settlement zones'
Mass resettlement as people are forced to vacate land where they currently live
Dumbing down education (achieved)
Mass global depopulation in pursuit of all the above
This horrific plan is being coordinated through the United Nations, the stalking horse for world dictatorship, via a non-governmental network once called the International Council of Local Environmental Initiatives ICLEI), and now known as Local Governments for Sustainability although still using the shortened name ICLEI. The United Nations is now opening 'embassies' around the world called 'UN Houses' under the guise of raising awareness of UN activities, but not the activities that people really need to know about. They have opened one in Hunter Square, Edinburgh, Scotland, for example.
Local Governments for Sustainability (ICLEI) and other organisations are integrating the plan into every village, town, city and region and it is already becoming widespread across the world. The organisational infrastructure of Agenda 21 is already fantastic and involves government agencies, non-governmental organisations (NGOs), think-tanks, trusts, foundations, 'training' (mind control) operations and 'initiatives' which have been building the infrastructure for what they call 'the post-industrial, post-democratic' society while the public go about their daily business oblivious of the prison being built all around them by the hour.
Harvey Ruvin, a vice-chairman of ICLEI, was asked how Agenda 21 would affect liberties with regard to the US Constitution and Bill of Rights, private property and freedom of speech. He replied:
'Individual rights must take a back-seat to the collective.'
The arrogance of these people is breathtaking. The extraordinary network supporting ICLEI and Agenda 21 includes the Rockefeller-sponsored America 2050; United Cities and Local Governments (UCLG); Metropolis; World Economic Forum; United Nations Framework Convention on Climate Change; United Nations International Strategy for Disaster Reduction; World Bank; Clinton Climate Initiative; Climate Group (Tony Blair); World Conservation Union (IUCN); Renewable Energy and Energy Efficiency Partnership; Global Footprint Network; Renewable Energy and Energy Efficiency Partnership; Global Footprint Network; International Centre for Sustainable Cities; Earthquakes and Megacities Initiative and the Stakeholder Forum. These and so many others are working to the same end — Agenda 21 and total human enslavement worldwide, although most of those involved will have no idea that they are building a global prison for themselves and their families.
Another of these front organisations is the World Business Council for Sustainable Development which includes the hideously anti-people Monsanto. Destroying food-growing land, contaminating the countryside with toxins and replacing proper food with deadly and soil-destroying genetically-modified organisms is Monsanto's contribution to 'sustainability'. Agenda 21 is operating in more than 600 towns, cities and counties in the United States and expanding by the day.
A member of the Agenda 21 committees in Santa Cruz, California, in the mid-1990s said that the proposals he heard were so crazy that he laughed at them because they could never happen. These included that 'Mother Earth's surface was not to be scratched'; humans should be concentrated in settlement zones; education should focus on the environment as a central organising principle and all aspects of life covered by Agenda 21, but all of these crazy plans are now being introduced. It's all happy, feely, smiling faces and how we care, when the truth is that Agenda 21 is a vicious, brutal, heartless strategy to impose a global Orwellian state.
Agenda 21 manipulators either create or hijack some local organisation or other, many of them in locations with large populations, and they have their (controlled) leadership to agree the Agenda 21 blueprint for their community together with any uninformed, unwitting idiots who can be sold a human nightmare as saving the planet. This allows them to claim that decisions were made after 'public participation' when that would have been the last thing they wanted, and 99 percent of the 'community' has never heard of Agenda 21 let alone had their say on it. They want no democracy which is why these people talk privately, sometimes even publicly, about the post-democratic, post-industrial society.
They want to control every man, woman and child on the planet — everyone and everywhere and every resource, water source and piece of land. To do this they need a global structure of fascist control that goes right down into every local community with the jackboots at local level enforcing the will of the global centre. This is why there is so much emphasis on local authorities and town and city authorities in Agenda 21.
There is a 'training organisation' called Common Purpose (common purpose, common consensus, everyone the same) which has been paid very large amounts of money by governments and local authorities, police forces and other institutions of state to 'train the leaders' of the post-democratic, post-industrial society. Common Purpose was heavily represented in the Leveson 'inquiry' leading to new media laws in Britain. It is not a training programme; it is a programming programme and turns out unquestioning zombie administrators who serve the god of Agenda 21 and the associated European Union. The theme of 'common' also applies to the ever greater standardisation of laws and regulations and constant reference to 'international law'. This is the unfolding global dictatorship of Agenda 21. What do you need to be a global dictator? Laws that everyone on the planet must obey — international law and the standardisation of global regulation.
You can see The Hunger Games connection when you look at the official Biodiversity wish-for map of the United States in Figure 1. The red areas are designated for no human use and most of the rest of America is confiscated for little and highly-regulated use. The mass of the population would be concentrated in high-rise, densely-packed 'human settlement zones' and denied access to something like 80 percent of present day America. It is without question the world of The Hunger Games with a globally-enforced top-down hierarchy that has a world government using its world army and police force to impose its will at regional and local levels (sectors). The Rockefeller-funded America 2050 has produced a map of the new United States divided into eleven 'megaregions' and includes parts of Canada (Figure 2). Seattle, Portland and Vancouver, British Columbia, become the megaregion known as 'Cascadia' and this regional system comes under the collective name of 'megalopolis' which is Greek for large city or great city. America, Canada and Mexico are due to merge to form the North American Union in line with the European Union blueprint.
The European Union is planned to be broken up into regions and the same structure is in development all over the world. The map of the new Europe has regions from different countries linked up with regions in other countries to end any vestige of national sovereignty or even national existence (Figure 3). This is a global plan with its fierce central control hidden behind its lower elements such as the European Union and local government. What is planned would clearly require a fantastic reduction of the global population and this is indeed what Agenda 21 / Sustainable Development / Biodiversity demand.
The e-book Agenda 21: Your Life In Their Hands can be downloaded here.
reference:
Icke, David. The Perception Deception. Ryde: David Icke Books, 2013.
Julian Websdale is an independent researcher in the fields of esoteric science and metaphysics, and a self-initiate of the Western Esoteric Tradition. His interest in these subjects began in 1988. Julian was born in England, received his education as an electronic and computer engineer from the University of Bolton, served in a Vaishnava monastery during 2010, and has travelled to over 21 countries. Julian is also a member of the Palestinian Solidarity Campaign.
Source: Julian Websdale  |  Waking Times | War Is Crime
The enormous energy spent on analyzing candidates and predicting elections is time wasted when the actual decisions are predetermined before the voting takes place. Even excluding voter fraud from the final count, the party selection process has made the decision. The pretense that primaries reflect the will of the electorate deceives the registered voter, amuses the party insiders and benefits the advertisement and media moguls. Ideas, policy positions and core principles take a back seat to the art of spinning and negatively defining the opponent.
Rivals start within your own party. Therefore, it comes as no surprise that the Republicans Tighten Grip on Debates in 2016 Race.
"Party leaders want to tighten their grip on a presidential primary season they believe has grown unruly and too long. This year, the party moved to set the nominating calendar by scheduling the first four contests — Iowa, New Hampshire, South Carolina and Nevada — for February, allowing other states to begin voting in March and holding winner-take-all primaries starting March 15.

Taken together, these procedural steps could thwart an underfunded insurgent who needs the free exposure of televised debates and would be hurt by a series of rapid-fire contests in March that could be tilted toward an establishment-backed contender.

A few conservative stalwarts on the committee are nervous about the establishment's consolidation of power over the primaries. "Do we want a committee of the national committee, which will surely be controlled by the national chairman, picking which candidates participate in all Republican presidential debates?"
This point is illustrated in the AP report RNC Changes debate Rules for 2016. "The RNC rules panel endorsed the creation of a 13-person committee that would limit how many presidential debates can take place and who can ask the questions. The full committee on Friday went along with that plan to ban candidates who participate in scofflaw debates from future RNC-backed sessions, by a 152-to-7 vote."
Before the usual ceremonial indignation takes hold, ask yourself what is exactly sacrosanct about a stacked primary system that has little to do with an open contest. Patricians that make up the GOP establishment long ago graduated from the country club set.
Nonetheless, the bleeding hearts over at Salon would have you believe that the Democrats operate by different rules. Why Democrats need a primary, too offers advice why the anointed "Queen of Mean" that Rodman woman, would attain a benediction from going through an orchestrated charade before her canonization.
"Clinton would benefit from that input just as all incumbents and other party luminaries do, despite the fact that they would rather not have to have that fight. It is not good for a president to take the office without having taken the temperature of his or her supporters and understanding what they care about and what they expect. During a tempestuous period like this one, it's even more important than usual. It would only be to her advantage to have a challenger who could bring forth those issues and allow the public to see them argued before she goes up against a Republican."
Lost in the fervor of progressive rhetoric is that the Democratic Party is just as elitist as the Republicans are. Both operate as useful idiots and corporatist tools of a system that has long ago abandoned the practice of free enterprise.
Contrast this American version of a Punch and Judy show that has an elephant bully bemoaning the folk hero Robin Hood, who actually resembles an ass, with the exceptional Broadway Play, "The Best Man" by Gore Vidal. Watch the 1964 movie version and consider just how far the political system has collapsed in half a century.
The basic assumption in the play and movie is that the nominee of the Democratic Party will handedly beat their Republican opponent. Characterizing convention ballot voting by delegates as a genuine selection process may be strange to those who were raised on the myth that registered voters in a state primary really has a voice in the inauguration of the next President.
A system of party bosses and smoke room dealmakers, surely must be far worse from the televised mortifying pilgrimage and penitent self-flagellation that goes into winning the party's nomination? Or, is it . . .
Remember the way the primaries served the faithful Democrats in 2008.
"According to news reports, Barack Obama and Hillary Clinton went out of their way to hold their long-awaited private meeting in a very specific location – not at Hillary's mansion in Washington – but in Northern Virginia, which also just happens to be the scene of the 2008 Bilderberg meeting.The neo-liberal website Wonkette, which had previously ridiculed "conspiracy theorists" for ascribing power to Bilderberg, seemed to take a somewhat different tone when it made the connection between Obama and Hillary's meeting and the Bilderberg Group."

Orders from on high or more to the point, international deciders had their "heart to heart" with Hillary, passing her over, and giving her a maybe for 2016. George W. Bush liked to call himself the decider, but we all should know that decisions out of Skull and Bones are not based upon primary results.

Vidal's screenplay portrayed a party convention as a real nomination fight. To whatever slime degree existed in the horse-trading to win delegates back then, the appearance in today's selection makes no pretext of concealing the hidden hands behind picking the next President.

The partisan politics protection racket has but one goal; namely, serve and safeguard establishment interests of the elites, who really command the ultimate power. In addition to the Presidency, Congress shares broad similarities in their version of The Incumbent Protection Racket.

"In the U.S. House of Representatives, over the past five elections, incumbents have been re-elected at an average rate of 96 percent. According to my unscientific calculations, a congressman is more likely to be eaten by a polar bear while panning for gold in Key West than to be voted out of office."

Serious challenges in Congressional district primacies are rare. The exception was in 2010 with the success of Tea Party candidates. However, such expression of the will of the people cannot stand in the polluted Potomac sewer that passes for representative democracy. Just look at the concerted efforts to sabotage populist support to retool the excesses in the federal government. Party Goers – What Do You Take With Your Tea?, indicates that all the sugar in the Caribbean will not prevent the political diabetes disease from going into shock. The bipartisan protection con knows how to close ranks among the political class.

"When main street middle class beleaguered taxpayers resonated that, the system was out of whack, the damage control team went into overdrive. This background helps to explain why the face of unprompted Tea Party individualism must be distorted, maligned and redirected."

Great disappointment among Tea Party activists in the hostile welcome from establishment NeoCons has set in. The alternative to playing the no win beltway game provided in Dissecting U.S. Elections – the People vs. the Pols, best states the rational solution.

"What if a real grassroots national movement emerged that supersedes all ideology with a singular purpose – remove all careerist "pols" from office. Forget about the phony No Labels effort to diffuse popular disgust. The solution is to attract the very citizens who NEVER vote in elections.

A national campaign – No Confidence – would be the clear message that the arrogant confidence game crooks could understand."

Drawing upon a universal appeal to break from the travesties of the two party frauds is necessary to register countrywide outrage. Only through vigorous dissention will The Meaning of Third Parties in America, bring the necessary pressure to collapse both the Democrat and Republican Parties.

"The solution to implement meaningful reform is to defuse the political power that is presently concentrated within the 'Tweedle-dumb and Tweedle Dee' parties. The notion that differences between them are based upon core principles, denies the unending descent into 'collectivism'. The edges have varied shapes, but the centers are formed from the same sponge."
You can always resolve that either party will never nominate "The Best Man". If you are so delusional to believe that a woman is the answer in the oval office, look in a different direction. Elizabeth Warren the self-proclaimed Pinocchio-hontas, is a sorry excuse for an accomplished liar. Flush with law school disingenuous skills, this want-a-be feminine messiah would have you believe that Hillary is the New World Order's favorite grandmother.
Nonetheless, fake opposition simply projects the image that there is a choice in candidates. Noam Scheiber, in the New Republic writes, "A Clinton-Warren matchup would have all sorts of consequences, none of them especially heartwarming. The most immediate is that Warren would probably lose." Well so much for a contest between squaws, better suited for commitment to the Hiawatha Insane Asylum.Partisan politics is mostly a ruse designed to divert attention from service to the substantial interests of establishment globalists. The noise generated around campaigns and media coverage, ignores or conceals the existent deals that serve the real goals and intentions of the master puppeteers. The terminal lesson is that establishment politics treats the public as reservation squatters.
So, what do we have here? In Libya, in Syria, and elsewhere the United States has been on the same side as the al-Qaeda types. But not in Ukraine. That's the good news. The bad news is that in Ukraine the United States is on the same side as the neo-Nazi types, who – taking time off from parading around with their swastika-like symbols and calling for the death of Jews, Russians and Communists – on May 2 burned down a trade-union building in Odessa, killing scores of people and sending hundreds to hospital; many of the victims were beaten or shot when they tried to flee the flames and smoke; ambulances were blocked from reaching the wounded. Try and find an American mainstream media entity that has made a serious attempt to capture the horror.
And how did this latest example of American foreign-policy exceptionalism come to be? One starting point that can be considered is what former Secretary of Defense and CIA Director Robert Gates says in his recently published memoir: "When the Soviet Union was collapsing in late 1991, [Defense Secretary Dick Cheney] wanted to see the dismemberment not only of the Soviet Union and the Russian empire but of Russia itself, so it could never again be a threat to the rest of the world." That can serve as an early marker for the new cold war while the corpse of the old one was still warm. Soon thereafter, NATO began to surround Russia with military bases, missile sites, and NATO members, while yearning for perhaps the most important part needed to complete the circle – Ukraine.
In February of this year, US State Department officials, undiplomatically, joined anti-government protesters in the capital city of Kiev, handing out encouragement and food, from which emanated the infamous leaked audio tape between the US ambassador to Ukraine, Geoffrey Pyatt, and the State Department's Victoria Nuland, former US ambassador to NATO and former State Department spokesperson for Hillary Clinton. Their conversation dealt with who should be running the new Ukraine government after the government of Viktor Yanukovich was overthrown; their most favored for this position being one Arseniy Yatsenuk.
My dear, and recently departed, Washington friend, John Judge, liked to say that if you want to call him a "conspiracy theorist" you have to call others "coincidence theorists". Thus it was by the most remarkable of coincidences that Arseniy Yatsenuk did indeed become the new prime minister. He could very soon be found in private meetings and public press conferences with the president of the United States and the Secretary-General of NATO, as well as meeting with the soon-to-be new owners of Ukraine, the World Bank and the International Monetary Fund, preparing to impose their standard financial shock therapy. The current protestors in Ukraine don't need PHDs in economics to know what this portends. They know about the impoverishment of Greece, Spain, et al. They also despise the new regime for its overthrow of their democratically-elected government, whatever its shortcomings. But the American media obscures these motivations by almost always referring to them simply as "pro-Russian".
An exception, albeit rather unemphasized, was the April 17 Washington Post which reported from Donetsk that many of the eastern Ukrainians whom the author interviewed said the unrest in their region was driven by fear of "economic hardship" and the IMF austerity plan that will make their lives even harder: "At a most dangerous and delicate time, just as it battles Moscow for hearts and minds across the east, the pro-Western government is set to initiate a shock therapy of economic measures to meet the demands of an emergency bailout from the International Monetary Fund."
Arseniy Yatsenuk, it should be noted, has something called the Arseniy Yatsenuk Foundation. If you go to the foundation's website you will see the logos of the foundation's "partners".  Among these partners we find NATO, the National Endowment for Democracy, the US State Department, Chatham House (Royal Institute of International Affairs in the UK), the German Marshall Fund (a think tank founded by the German government in honor of the US Marshall Plan), as well as a couple of international banks. Is any comment needed?
Getting away with supporting al-Qaeda and Nazi types may be giving US officials the idea that they can say or do anything they want in their foreign policy. In a May 2 press conference, President Obama, referring to Ukraine and the NATO Treaty, said: "We're united in our unwavering Article 5 commitment to the security of our NATO allies". (Article 5 states: "The Parties agree that an armed attack against one or more of them … shall be considered an attack against them all.") Did the president forget that Ukraine is not (yet) a member of NATO? And in the same press conference, the president referred to the "duly elected government in Kyiv (Kiev)", when in fact it had come to power via a coup and then proceeded to establish a new regime in which the vice-premier, minister of defense, minister of agriculture, and minister of environment, all belonged to far-right neo-Nazi parties.
The pure awfulness of the Ukrainian right-wingers can scarcely be exaggerated. In early March, the leader of Pravy Sektor (Right Sector) called upon his comrades, the infamous Chechnyan terrorists, to carry out further terrorist actions in Russia.
There may be one important difference between the old Cold War and the new one. The American people, as well as the world, can not be as easily brainwashed as they were during the earlier period.
Over the course of a decade, in doing the research for my first books and articles on US foreign policy, one of the oddities to me of the Cold War was how often the Soviet Union seemed to know what the United States was really up to, even if the American people didn't. Every once in a while in the 1950s to 70s a careful reader would notice a two- or three-inch story in the New York Times on the bottom of some distant inside page, reporting that Pravda or Izvestia had claimed that a recent coup or political assassination in Africa or Asia or Latin America had been the work of the CIA; theTimes might add that a US State Department official had labeled the story as "absurd". And that was that; no further details were provided; and none were needed, for how many American readers gave it a second thought? It was just more commie propaganda. Who did they think they were fooling? This ignorance/complicity on the part of the mainstream media allowed the United States to get away with all manner of international crimes and mischief.
It was only in the 1980s when I began to do the serious research that resulted in my first book, which later became Killing Hope, that I was able to fill in the details and realize that the United States had indeed masterminded that particular coup or assassination, and many other coups and assassinations, not to mention countless bombings, chemical and biological warfare, perversion of elections, drug dealings, kidnapings, and much more that had not appeared in the American mainstream media or schoolbooks. (And a significant portion of which was apparently unknown to the Soviets as well.)
But there have been countless revelations about US crimes in the past two decades. Many Americans and much of the rest of the planet have become educated. They're much more skeptical of American proclamations and the fawning media.
President Obama recently declared: "The strong condemnation that it's received from around the world indicates the degree to which Russia is on the wrong side of history on this."  Marvelous … coming from the man who partners with jihadists and Nazis and has waged war against seven nations. In the past half century is there any country whose foreign policy has received more bitter condemnation than the United States? If the United States is not on the wrong side of history, it may be only in the history books published by the United States.
Barack Obama, like virtually all Americans, likely believes that the Soviet Union, with perhaps the sole exception of the Second World War, was consistently on the wrong side of history in its foreign policy as well as at home. Yet, in a survey conducted by an independent Russian polling center this past January, and reported in the Washington Post in April, 86 percent of respondents older than 55 expressed regret for the Soviet Union's collapse; 37 percent of those aged 25 to 39 did so. (Similar poll results have been reported regularly since the demise of the Soviet Union. This is fromUSA Today in 1999: "When the Berlin Wall crumbled, East Germans imagined a life of freedom where consumer goods were abundant and hardships would fade. Ten years later, a remarkable 51% say they were happier with communism.")
Or as the new Russian proverb put it: "Everything the Communists said about Communism was a lie, but everything they said about capitalism turned out to be the truth."
A week before the above Post report in April the newspaper printed an article about happiness around the world, which contains the following charming lines: "Worldwide polls show that life seems better to older people – except in Russia." … "Essentially, life under President Vladimir Putin is one continuous downward spiral into despair." … "What's going on in Russia is deep unhappiness." … "In Russia, the only thing to look forward to is death's sweet embrace."
No, I don't think it was meant to be any kind of satire. It appears to be a scientific study, complete with graphs, but it reads like something straight out of the 1950s.
The views Americans hold of themselves and other societies are not necessarily more distorted than the views found amongst people elsewhere in the world, but the Americans' distortion can lead to much more harm. Most Americans and members of Congress have convinced themselves that the US/NATO encirclement of Russia is benign – we are, after all, the Good Guys – and they don't understand why Russia can't see this.
The first Cold War, from Washington's point of view, was often designated as one of "containment", referring to the US policy of preventing the spread of communism around the world, trying to blockthe very idea of communism or socialism. There's still some leftover from that – see Venezuela and Cuba, for example – but the new Cold War can be seen more in terms of a military strategy. Washington thinks in terms of who could pose a barrier to the ever-expanding empire adding to its bases and other military necessities.
Whatever the rationale, it's imperative that the United States suppress any lingering desire to bring Ukraine (and Georgia) into the NATO alliance. Nothing is more likely to bring large numbers of Russian boots onto the Ukrainian ground than the idea that Washington wants to have NATO troops right on the Russian border and in spitting distance of the country's historic Black Sea naval base in Crimea.
The myth of Soviet expansionism
One still comes across references in the mainstream media to Russian "expansionism" and "the Soviet empire", in addition to that old favorite "the evil empire". These terms stem largely from erstwhile Soviet control of Eastern European states. But was the creation of these satellites following World War II an act of imperialism or expansionism? Or did the decisive impetus lie elsewhere?
Within the space of less than 25 years, Western powers had invaded Russia three times – the two world wars and the "Intervention" of 1918-20 – inflicting some 40 million casualties in the two wars alone. To carry out these invasions, the West had used Eastern Europe as a highway. Should it be any cause for wonder that after World War II the Soviets wanted to close this highway down? In almost any other context, Americans would have no problem in seeing this as an act of self defense. But in the context of the Cold War such thinking could not find a home in mainstream discourse.
The Baltic states of the Soviet Union – Estonia, Latvia, and Lithuania – were not part of the highway and were frequently in the news because of their demands for more autonomy from Moscow, a story "natural" for the American media. These articles invariably reminded the reader that the "once independent" Baltic states were invaded in 1939 by the Soviet Union, incorporated as republics of the USSR, and had been "occupied" ever since. Another case of brutal Russian imperialism. Period. History etched in stone.
The three countries, it happens, were part of the Russian empire from 1721 up to the Russian Revolution of 1917, in the midst of World War I. When the war ended in November 1918, and the Germans had been defeated, the victorious Allied nations (US, Great Britain, France, et al.) permitted/encouraged the German forces to remain in the Baltics for a full year to crush the spread of Bolshevism there; this, with ample military assistance from the Allied nations. In each of the three republics, the Germans installed collaborators in power who declared their independence from the new Bolshevik state which, by this time, was so devastated by the World War, the revolution, and the civil war prolonged by the Allies' intervention, that it had no choice but to accept the fait accompli. The rest of the fledgling Soviet Union had to be saved.
To at least win some propaganda points from this unfortunate state of affairs, the Soviets announced that they were relinquishing the Baltic republics "voluntarily" in line with their principles of anti-imperialism and self-determination. But is should not be surprising that the Soviets continued to regard the Baltics as a rightful part of their nation or that they waited until they were powerful enough to reclaim the territory.
Then we had Afghanistan. Surely this was an imperialist grab. But the Soviet Union had lived next door to Afghanistan for more than 60 years without gobbling it up. And when the Russians invaded in 1979, the key motivation was the United States involvement in a movement, largely Islamic, to topple the Afghan government, which was friendly to Moscow. The Soviets could not have been expected to tolerate a pro-US, anti-communist government on its border any more than the United States could have been expected to tolerate a pro-Soviet, communist government in Mexico.
Moreover, if the rebel movement took power it likely would have set up a fundamentalist Islamic government, which would have been in a position to proselytize the numerous Muslims in the Soviet border republics.
Notes
See RT.com (formerly Russia Today) for many stories, images and videos
Robert Gates, Duty (2014), p.97
If this site has gone missing again, a saved version can be found here.
Voice of Russia radio station, Moscow, April 18, 2014; also see Answer Coalition, "Who's who in Ukraine's new [semi-fascist] government", March 11, 2014
RT.com, news report March 5, 2014
CBS News, March 3, 2014
Washington Post, April 11, 2014
USA Today (Virginia), Oct. 11, 1999, page 1
Washington Post print edition, April 2, 2014; online here
In "The attack on biblical creation in UK schools continues," Phil Robinson reports that in the dechristianized U.K. unrelenting attacks against special creation (Genesis account) display a level of aggressive intolerance that is hard to stomach, coming as they do from self-proclaimed scientifically-enlightened 'voices of reason.'  Some schools have already banned the teaching of special creation in favor of evolutionary science.   (creation.com, Mar. 9, 2014)
Other shrill 'voices of reason' go so far as to connect special creation to mental illness and child abuse. During a radio interview in Australia famous physicist and atheist propagandist Lawrence Krauss said that while in the United States recently, he stated that "teaching creationism is child abuse and I think it is." (Prayer News, a publication of Creation Ministries, Apr. 2014)
Throughout the West and here in America a slash-and-burn operation conducted against the Genesis account, particularly its' literal and historical elements, is justified by the false idea that evolution is science, thus intolerance of special creation is often presented as a 'science versus religion' or 'faith versus reason' issue.   So successful has this war of attrition been that younger generations of Westerners and Americans have been disconnected from both Western history and its' founding Christian-based worldview, thus like seedlings recently popped up from the soil are unconcerned that special creation, where the ultimate source of life, being and unalienable rights are found, has nearly been displaced by anti-human pagan conceptions positing billions of years of evolutionary transformism from lower kinds of things to higher and higher kinds of things— even non-human kinds of things:
"For us, the best way to create new ('artificial') life forms and intelligence is to allow them to emerge through evolution, as nature does, only in much shorter timeframes and with much greater efficiency and variety."

"For conscious evolution to be successful, we need to observe and understand the actual workings of nature, in all its dynamism, to the point of profound reverence, or 'worship.' This is what I call extreme nature-worshipping… From the perspective of extreme nature-worshipping, the real significance of Darwin's evolutionary theory is not that humans descended from lower species, but that we can continue to evolve."(Cosmic Beings: Transhumanist Deism in Ted Chu's Cosmic View, Institute for Ethics & Emerging Technology, Giulio Prisco)
The vicious name-calling, seething resentment toward and censorship of the six day creation account and of all who profess and teach it should raise the eyebrows of any rational thinking person.  If evolution really is a fact of science then why the irrational name-calling, ridicule, scorn, shunning, resentment, intolerance and demonization?
The answer is that the zealous worshipper of evolution is the Spirit of our age that emerged out of the Renaissance whose answer to the Lord Jesus Christ is the Cross (crucify Him) and whose fulfillment will be the Wicked One. (2 Thess. 2:1-8)
From the Renaissance to our own time the Spirit has been transgressing, blaspheming, and departing that it need not obey His voice.   Like a dog returning to its own vomit, the Spirit has returned to its first love: the cult of demons in the Godless universe of matter, psychic energy, and animated forces where time is changed, past history rendered meaningless, and the liberated Spirit imbibes the cup of wrath, an intoxicating mixture of Babylonian Mysteries, incantations, spiritism, Gnosticism, sorcery, witchcraft, Hermetic magic, Kabbalah, reincarnation, astrology, and other devilish occult traditions.
The Book of Revelation pinpoints Babylon as the post-flood center of an occult pagan Mystery religion based on advaitic monism, science of magic transformism, exalted priesthood, gnosis, secret initiations, psychic-powers, familiar spirits, androgyny, sexual perversions, and other evils.
Babylon embraced the Great Lie. Its inhabitants claimed the title, "I AM." The root source of this evil religion and its occult power was the Great Dragon himself….Lucifer:
"…. the Great Lie (is) the foundation stone of Hinduism, Buddhism, Sufism, Jainism, Sikhism, Taoism, the Kabala, the Greek Hermetic, Eleusinian and Gnostic beliefs, Neo-Platonism, all the occult creeds from Theosophy and the Masonic orders to the Rosicrucian's (and) the New Age movement. The Great Lie is…the belief that man is God, that his true identity is the immortal self…that as God, he will never die (and) Sin and depravity are…illusions since this inner divinity is at man's core." (The Great Lie, Tal Brooke, SCP Journal, Vol. 29:2-29:3, 2005)
Though the Spirit of our age claims the title "I AM" it nevertheless follows after and falls down before other fascinating men: theoreticians of evolutionary science, nature philosophy and evolutionary pagan theology. These charismatic Pied Pipers are possessed of surpassing powers of persuasion and inflexible determination of will to which the Spirit assigns more honor than to anything else.
The Spirit has usurped the throne of the Word Incarnate (John 1:1) because He is not good, not just or benevolent but a devil, an evil Tyrant Who, with His infliction of suffering in this life and eternal punishment in the next must be deposed. (Psalm 2:2-3)
Blaming our Lord for their own sins the proud, self-righteous Spirit of rebellion, hypocrisy and negation says to Him, "…you are not my father."  My father is the god of forces, therefore:

"I am I, I come out of myself, and in choice and action I make myself." (Daniel Bell, quoted by Herbert Schlossberg in "Idols for Destruction," p. 43)
In the final analysis, the Spirit of our age is the "striving human will" seeking desperately to launch itself,
"…into minor godhood in an evolving cosmos through the mechanisms of directed spiritual evolution, spiritualized science and spirit contact." The 'new' spirituality now presents itself as the "rightful replacement for the Revealed Word (and) proclaims its spiritual liberation from the worldview that informs Christianity and its freedom from (the) personal and wholly other God.  But this new way of self-salvation (is) little more than the refurbishing of an ancient spiritual mistake."  (The Making of the New Spirituality: the Eclipse of the Western Religious Tradition, James A. Herrick, p. 279)
"As it was in the days of Noah…" 
The ominous signs of this age are obvious, said the English theologian G.H. Pember (1837-1910) in his book, "The Antichrist Babylon and the Coming Kingdom."  Just as it was during the pre-flood generations, open intercourse with demons (spiritism) is now common throughout Christendom and even in Russia.   In France it is the national pastime.   The apostles of the powers of darkness are everywhere proclaiming their scientific and evolutionary theories demonstrating that the world created itself and had no need of a Creator (p. 60) while the miseries which have resulted from sin,
"….are blasphemously charged upon the Almighty, Who so loved the world as to give His son for it (but is now) impiously forbidden to curb and discipline the rebels who owe their existence to the breath of His mouth.  And when we see such men as John Stuart Mill (and) John Morley, the late Chief Secretary for Ireland…guiding their fellows to defiant insubordination, we can scarcely wonder that Bradlaugh…said, 'This world might have been happy, had not the shadow of God fallen upon it." (pp. 35-36, 1888)
Rise of Occult Evolutionary Science 
In the impeccably researched, "The Making of the New Spirituality," James Herrick observes that the scientific tradition in Renaissance Europe developed around three basic approaches: the organic, the mechanical and the magical.   It was magical and/or occult science that provided the greatest impetus for scientific exploration. (p. 45)
C.S. Lewis underscores this point in "The Abolition of Man:"
"You will even find people who write about the sixteenth century as if Magic were a medieval survival and Science the new thing that came in to sweep it away. Those who have studied the period know better. There was very little magic in the Middle Ages: the sixteenth and seventeenth centuries are the high noon of magic. The serious magical endeavour and the serious scientific endeavour are twins: one was sickly and died, the other strong and throve. But they were twins. They were born of the same impulse. I allow that some (certainly not all) of the early scientists were actuated by a pure love of knowledge. But if we consider the temper of that age as a whole we can discern the impulse of which I speak."
In "God and the Knowledge of Reality," the Catholic philosopher and historian, Thomas Molnar (1921–2010), reveals the 'temper of that age' as a spirit of rebellion against the Christian God, and this is why occult science and evolutionary thinking provided the greatest impetus. During the Renaissance, certain Christian theologians, mystics and scholars such as Emanuel Swedenborg had discovered Hermetic magic and occult Jewish Kabbalah texts which they studied and translated resulting in Hermetic Kabbalah. Then like Pico della Mirandola, they argued that occult hermetic science – the divine technology or Magic Way of reaching divine status and powers through ritual procedures (spiritual evolution) is the best proof of the divinity of Christ. In other words said Molnar,
"…..by the time of the Renaissance the esoteric texts of the first centuries A.D. had acquired in scholarly and humanist circles an unparalleled prestige, confronting as equals the texts held sacred by the church. In Pico's estimation, 'nulla est scientia que nos magis certificet de divinitate Christ quam magia et Cabala' (there is no science that would prove for us Christ's divinity better than magic and the Cabala.)" (pp. 78-79)
Hermetic magic and Jewish Kabbalah are ancient Mystery Religion traditions, as affirmed by G. H. Pember in his classic work, "Earth's Earliest Ages."   Pember thoroughly examines the role of fallen angels in connection with the magic (occult transformism) they taught to pre-flood generations and compares them to the explosion of spiritism (open intercourse with evil spirits), astrology, the Mysteries and other occult traditions sweeping over Christendom.
Pember writes that the Mysteries are no longer veiled in mystery but boldly presented by the powerful occult brotherhood that emerged out of the Renaissance as the fruit of modern science, especially evolutionary philosophy, which the brotherhood assert was included in the instructions given,
"…to the initiates of the Hermetic, Orphic, Eleusinian, and Cabbalistic mysteries, and were familiar to Chaldean Magi, Egyptian Priests, Hindu Occultists, Essenes, Therapeutae Gnostics, and Theurgic Neo-Platonists." (Pember, pp.243-244)
Hermetic Magic

Hermeticism is an ancient Egyptian secret magic tradition based on a set of fourteen books known
collectively as the Corpus Hermeticum attributed to a mysterious figure known as Hermes Trismegistus. Implied in Hermeticism is an evolutionary process of magical transformism (spiritual evolution) moving from one kind of lower thing to another kind of higher thing:
"Human beings are themselves the product of a long spiritual evolutionary process that moves from 'creeping things' to fish, mammals, birds and then people.  Humans can—through occult knowledge and extraordinary ability—continue this evolutionary process and become daemons, then gods, and finally planets or stars." (The Making of the New Spirituality: The Eclipse of the Western Religious Tradition, James A. Herrick, p. 40)
With respect to Hermes identity, researchers of antiquity are divided.  Some believe Hermes was a mythical figure.  Others argue he was Ham or his son Cush.  The historian Samuel Shuckford argues that Hermes was Pathrusim, king of Thebais, the son of Mizraim, the son of Ham.   His Egyptian name was Tyoth or Thoth.  (The Sacred and Profane History of the World Connected, 1808)
In any case, it was Thoth-Hermes who instructed his brothers in the arts and science magic of alchemy or transmutation of a lower kind of thing into a higher kind of thing. For example, after a lengthy transformative process out of the eternally existing divine abyss (primordial matter), the self-created Sun-God Ra boasted that he "came into being from primordial matter."  He made all the forms under which he "appeared by means of the god-soul" which he raised up out of Nu, primordial matter. (The Long War Against God, Dr. Henry Morris, p. 243)
Occult Kabalah
"The Kabalah is the key to the occult sciences; and the Gnostics were born of the Kabalists." (Occult Mason Albert Pike, Morals and Dogma, p. 626)
Like its' Hermetic counterpart, Kabala implies a process of evolutionary transformism:
"…the older Enoch book (gives) a fuller insight into the "Merkabah" and "Bereshit" lore of the ancients than the "Hekalot," which present but fragments, while the central figure of the Cabala, Meṭaṭron-Enoch, is seen in ch. lxx.-lxxi. in a process of transformation." (Cabala, Jewish Encyclopedia)
According to Helena Blavatsky, one of the key architects of Luciferian New Age pantheism, Kabalah derived,
"…. from the older secret doctrines concerning divine things and cosmogony, which were combined into a theology after the time of the captivity of the Jews in Babylon. All the works that fall under the esoteric category are termed Kabalistic." (Blavatsky, Theosophical Glossary, p. 168)
The godless cosmogony of Kabala teaches the gradual condensation or evolutionary progression of a primal substance into visible matter.  This is a fundamental,
"… doctrine of the Cabala (and) is the ancient Semitic conception of the 'primal ocean,' known to the Babylonians as 'Apsu' and called by the Gnostics βύθος =  (Anz, 'Die Frage nach dem Ursprung des Gnostizismus,' p. 98).
The Chaldean occult science and pagan Mystery Religion was embraced by apostate Jews during their captivity in Babylon and delivered to subsequent generations of initiates by word of mouth. According to Blavatsky, these initiates of the Chaldean tradition in the centuries before Christ were known as Tanaim:
"The kabalist is a student of 'secret science', one who interprets the hidden meaning of the
Scriptures with the help of the symbolical Kabala… The Tanaim were the first kabalists among the Jews; they appeared at Jerusalem about the beginning of the third century before the Christian era… This secret doctrine is identical with the Persian wisdom, or 'magic'." (Ibid. p.167)
The Essenes were also associated with the Kabala. The Jewish Encyclopedia describes the cabalistic practices of the Essenes, which were Judaized elements of Eastern mystical traditions:
"So, too, were the Essenes familiar with the idea of the journey to heaven…and they were also masters of angelology. The practice of magic and incantation, the angelology and demonology, were borrowed from Babylonia, Persia, and Egypt; but these foreign elements were Judaized in the process, and took the form of the mystical adoration of the name of God and of speculations regarding the mysterious power of the Hebrew alphabet …, 'the name of God creates and destroys worlds', to become, finally, foundations of the philosophy of the 'Sefer Yetzirah."  (Cabala, Jewish Encyclopedia)
According to Blavatsky the Essenes were pagan priests of the Greek goddess, Diana of Ephesus, where the Tanaim had established a college for instruction in the Chaldean mystery religion:
"Essenes… had many Buddhistic ideas and practices; and it is noteworthy that the priests of the Great Mother at Ephesus, Diana-Bhavani with many breasts, were also denominated… It was at Ephesus where was the great College of the Essenes and all the lore the Tanaim had brought from the Chaldees… Essenes, believed in reincarnation." (Theosophical Glossary, pp. 113-14; The Secret Doctrine, Vol. II, p. 111n)
Eventually Alexandria, Egypt became the epicenter of cosmological and pagan religious ideas as well as the intellectual meeting point between Greek Mystery Religion/Hermetic magic initiates and nature sages and guardians of Kabala.  After the fall of Jerusalem, Alexandria was the center from which occult pagan Jews would disguise their mystery tradition in Christian terminology and attempt to penetrate the fledgling Church with heresy.
One of the primary tactics employed by Cabbalist pagan Jews for this purpose is the same one employed by their modern evolutionary Gnostic pagan counterparts.   It involves the reduction of the Genesis account, particularly the first three books, to allegory and myth, a ploy that eliminates the physical Adam from which all people descended and the sin that he transferred to the rest of the human race. This strikes directly at the heart of the Gospel: the need for the 'last Adam' to provide for us an escape from the wrath of God against sin incurred by the first Adam.  In this way, not only is the work of Christ on the cross rendered superfluous, meaning the heart of the faith is ripped out, but God is made responsible for sin and evil. (1 Peter 3:18-22; 1 John 2:22)
Long ago, the teachings of some of the early Church Fathers regarding the apostasy toward the end of the church age predicted the reappearance of this evil tactic. The fathers categorized it a Gnostic pagan heresy.
In "Heresies 6.10″ Hippolytus writes that the Gnostic pagan Simon Magus feigned faith and allegorized much of Scripture, especially Genesis, to support his evolutionary Hermetic and Gnostic occult pantheist teachings.   Church Fathers Ireneaus, Tertullian and Clement of Alexandria reveal that Gnostic cult leader Marcion rejected the Old Testament, taught that the God of the Old Testament and his prophets are evil, made God the author of sin and removed all references that Christ was Creator (John 1:1)   (Ireneaus, "Against Heresies 1.26, 5.1," Tertullian "Against Marcion 2.17," Clement of Alexandria, "Against Heresies 4.29)
In conclusion, the Babylonian Mystery Religion is the mother of evolutionary Cabala, Gnosticism and all other occult pagan traditions:
"….especially does Gnosticism testify to the antiquity of the Cabala. Of Chaldean origin… Gnosticism was Jewish in character long before it became Christian… Gnosticism—that is, the cabalistic 'Hokmah' (wisdom)—seems to have been the first attempt on the part of the Jewish sages to give the empirical mystic lore, with the help of Platonic and Pythagorean or Stoic ideas, a speculative turn; hence the danger of heresy…of which the systems of Philo, an adept in Cabala…show many pitfalls…Jewish gnosticism unquestionably antedates Christianity, for Biblical exegesis had already reached an age of five hundred years by the first century C.E.  Judaism had been in close contact with Babylonian-Persian ideas for at least that length of time, and for nearly as long a period with Hellenistic ideas. Magic, also, which,…was a not unimportant part of the doctrines and manifestations of gnosticism, largely occupied Jewish thinkers. There is, in general, no circle of ideas to which elements of gnosticism have been traced, and with which the Jews were not acquainted."  (Cabala, Jewish Encyclopedia)
Building  the New Tower of Babylon
In the essay, "The Paganization of Biblical Studies," Dr. Peter Jones, director of truthxchange and adjunct professor of Westminster Seminary CA., writes that the books of the evolutionary Gnostic pagan Presbyterian heretic Lloyd Geering, Emeritus Professor of Religious Studies at Victoria University, are promoted by the most powerful element of the Spirit of our age—the international occult New Age Luciferian elite-pagans—as programmatic templates for the future utopian pagan community from the point of view of Christian apostasy and socialism undergirded by evolutionary pantheist orthodoxy.
According to Geering, the world's future culture will be post-Christian, global, religiously pagan and evolutionary.  This agenda is remarkably similar to that of Teilhard de Chardins' disciple, the ex-Roman Catholic Thomas Berry in his book, "The Great Work" which is also being implemented through texts of the UN's global programs.
The rising New World Order will be post-Christian because evolution proves that human beings, as they evolved out of primordial matter, created language, then symbols, then religious explanations and God Himself.  Therefore tomorrow's culture will be pluralistic, syncretistic, relativistic and poly-gendered because evolution integrates all scientific, cultural, religious, economic and human gender into one worldwide anthill thus when the global society emerges from the evolutionary process,
"…it will require humanity to develop a new consciousness and a new form of spirituality" because "the new story which has become basic to the global world begins with a new word or idea…evolution." (ibid, Jones)
Like its' mother, Mystery Babylon, the scientifically-enlightened 'new' global religion of evolutionary transformism is occult pantheist advaita monism, which means that as an ancient impersonal god-force is within the cosmos, earth, human beings, rats, weeds, tumble bugs, cancer and everything else then all things are essentially 'one.'  Since the god-force is within all things it is within the demonically 'illumined' consciousness of every spiritually evolved initiate and adept.
This being the case, by means of trance states, brain-altering drugs, transcendental meditation, visualization, channeling, Zen Buddhism, Kundalini yoga, tantra, and other occult ways, the initiate can channel the god-force within thereby becoming a little god who controls matter because he controls mind. The physical world then, is an illusion because reality is inside the divine mind of the god-man.
This way of thinking is captured by Orwell in his book, "Nineteen Eighty-Four" in which negation of the physical world is an integral part of the social and political philosophy of Big Brother and his despotic Party. At one stage in the book, Winston stumbles upon the shocking realization that in the end the Party would announce that two plus two made five because the logic of Big Brothers' position required it since the existence of external reality was denied by his philosophy.  Thus when the Thought Police agent O'Brien tortures Winston for politically incorrect "wrong thought" he states,
"We control matter because we control the mind.  Reality is inside the skull.  You will learn by degrees, Winston.  There is nothing that we could not do.  Invisibility, levitation—anything.  I could float off this floor like a soap bubble if I wish to….You must get rid of these nineteenth-century ideas about the laws of Nature.  We make the laws of Nature." (Orwell, "The New Spirituality and its Hallmarks, Alan Morrison, SCP Journal, Vol. 30:4-31:1, 2007, p. 19)
Evolving Toward Catastrophe
In "The Aquarian Conspiracy," a book that has been called 'the New Age Bible,' Marilyn Ferguson (1938-2008) admits that the 'new age' evolutionary pantheism and occult technologies being employed throughout America were at one time the private domain of ancient initiates.   In fact, as Constance Cumbey reveals in her thoroughly researched book, "The Hidden Dangers of the Rainbow," many New Age historians claim their occult religion and techniques originated in Atlantis and afterward were preserved in the ancient land of Babylon,
"…and surrounding Plains of Shinar and from there disseminated throughout the earth, including Taoist doctrines of China, Mayan-Aztec teachings of Mexico and Central/South America; Great Spirit teachings of the American Indians, Hindu/Buddhist teachings of Asia, etc." (pp. 250-251)
After the Flood, said Shuckford, while the faithful Noah remained in the East and established the worship of the true God, eighty years after the Flood his rebellious son Ham and his sons together with other family members departed and eventually settled in the plains of Shinar where they resolved to build a tower, a monument to their own pride, vanity, ambition and rebellion against God. (ibid, p.94)
It was Noah's son Ham, according to ancient Church Father Clement, who  'preserved' and revived the Mystery Religion of 'Atlantis' and its attendant evils:
"Fallen angels taught men the use of magical incantations that would force demons to obey man. After the flood Ham the son of Noah…discovered this and taught it to his sons.  This became ingrained into the Egyptians, Persians, and Babylonians.  Ham died shortly after the fall of the Tower of Babel.  Nimrod, called Ninus by the Greeks, was handed this knowledge and by it caused men to go away from the worship of God and go into diverse and erratic superstitions and they began to be governed by the signs in the stars and motions of the planets." (Recognitions of Clement 4.26-29)
In his well-researched book, "Ancient Post-Flood History," Ken Johnson, Th.D., reports that the sons of Ham persuaded the people to accept that the true God was merely an impersonal creative force within all of nature, making man the highest form of life/god.  Through the power of persuasion, Ham and his sons revived magical evolutionary transformism, pantheism and idolatry. (pp. 47-48)
Eventually Ham was deified and worshipped by later pagans as the gods Cronus and Jupiter:
"Ham is represented by many writers as a very wicked, immodest, and profligate creature: Berosus (i) makes him a magician, and to be the same with Zoroast or Zoroastres, and speaks of him as the public corrupter of mankind; and says that he taught men to live as before the flood, to lie with mothers, sisters, daughters, males and brutes, and creatures of all sorts; and that he actually did so himself, and therefore was cast out by his father Janus, or Noah, and got the name of "Chem", the infamous and immodest…" Upon seeing his father's nakedness Ham,  "told his two brethren without; he went out of the tent after he had pleased himself with the sight… and in a wanton, ludicrous, and scoffing manner, related what he had seen: some of the Jewish Rabbins (k), as Jarchi relates, say that Canaan first saw it, and told his father of it; and some say (l), that he or Ham committed an unnatural crime with him; and others (m), that he castrated him; and hence, it is supposed, came the stories of Jupiter castrating his father Saturn, and Chronus his father Uranus."    Genesis 9:22 Gill's Exposition
History did not begin after billions of years of evolution when primitive hominids swung down from the trees and discovered how to scratch crude symbols onto rocks.    Nor did it begin after the Flood.  At least 2,000 years of human existence preceded the Flood, meaning that when Noah and his family entered the ark they carried at least one hundred years of pre-flood memories, traditions, technology, and superior knowledge. Their world view was shaped by the historical Adam and Eve and the generations of their offspring.   Thus Noah and his family brought with them not only the knowledge of the personal God, Special Creation, fall of man, the Deluge, sacrifice to God for the propitiation of sin, the arts of weapon-making and warfare, knowledge of letters, symbols, math, architecture, science, cosmetics, and agriculture  but knowledge of  first-hand encounters with Watchers, their occult teachings, the Nephilim, and primeval pantheism tied to magic, spiritism, herbal abortifacients, human and animal sacrifice, drinking of blood, males marrying males and even beasts, and many other evils.
In affirmation, the eminent researcher of antiquity James Bailey said:
"…human history can now be hesitantly traced back as an unbroken narrative to 4000 B.C….the picture emerging…is one of the Fall of Man in historic terms as well as his rise; it is a picture…more of degradation than of success; it is a picture of monotheism breaking down into polytheism and of the struggle to return to monotheism.  The establishment view of the history of religion gradually progressing from animism to polytheism (then) to monotheism is the reverse of facts." ("The God-Kings and the Titans: The New World Ascendancy in Ancient Times 1973, p. 296)
Four thousand years before Christ were the antediluvian generations and the Watchers in the post-flood world, making the billions of years of evolutionary transformism a fabulous fable.  It is neither 'new' (Ecclesiastes 1: 9-11) nor scientific except in the sense of pre-flood and post-flood occult science and attendant traditions revised and revamped for our own time, as Geering unhappily discovered.
Dr. Jones writes that Geering was surprised when he found out that the 'New Spirituality' has "links with pre-monotheistic…nature religions," leading Jones to wryly comment that in an odd turn of events,
"….contemporary spiritual' evolution goes backwards!  Biblical theism disturbed evolutionary progress.  The clocks have to be put back (for we are in the presence of) a powerful pagan/Gnostic theological agenda, claiming to be spanking new, objective and scientific, but as old as the hills."
Clocks have to be turned back, all the way back to the days of Noah in the pre-flood world where evolution is closely connected to the devil's lie that man is a being who though presently limited in time and space is nevertheless capable of achieving a great leap of being and magically evolving into a much more powerful god-like being in the future.
As the scientifically endarkened Gnostic pagan Spirit of our age simultaneously worships on the altar of 'self' as it self-righteously peers down its' long, pointy nose and contemptuously sniffs and sneers at the remnant of backwards, unscientific, anti-evolution  faithful, in reality it is the entirely deluded pagan Spirit that is on a collision course with a modern version of the pre-flood world catastrophe—-and we know how badly that ended.
The freedom of the press and the freedom of religion are two of the most important elements of a free society. These were so important to America's Founding Fathers that they were protected in the First Amendment to the U.S. Constitution. A free and independent press serves as watchdogs for liberty, while a free and independent church serves as watchmen for liberty. Sadly, both watchdog and watchman are, for the most part, missing in today's America.
Just about everyone knows that the vast majority of the national press corps has a strong liberal bias. That's a given. But, it's actually worse than that. Instead of being watchdogs on the government, the mainstream media has become little more than lap dogs for the government. Instead of reporting the truth, most of the media is actually more concerned with covering up the truth. With precious few exceptions, investigative reporting is dead in the national news media.
Oh, sure. Republican administrations are depicted more negatively by the mainstream media than are Democrat administrations. No doubt about that. Can anyone recall the media hoopla over Vice President Dan Quayle's misspelling of the word "potato"? The liberal media talked about that almost nonstop for months. But did you hear much of anything when President Barack Obama recently misspelled the word "respect"? I mean from media sources outside of FOX News? Nope. Nary a word.
But when it comes to investigating the truth behind what government spokesmen tell us, it doesn't matter to a tinker's dam whether it is a Republican or Democrat administration: about the only thing national newscasters know to do is to report whatever the official story of the government is. Once in a blue moon, a mainstream newspaper, such as the New York Times, will dare to print a report that questions an official government story, but not very often. And when such a report is printed, it digs only so deep. For the last several years, about the only major newspaper that has had the guts to actually do some real investigative reporting is the London Guardian. Even the Washington Times prints mostly milquetoast exposés.
CBS reporter, Sharly Attkisson, recently left the network due to its liberal bias and aversion to investigative reporting. Politico said this about Attkisson's leaving: "Attkisson, who has been with CBS News for two decades, had grown frustrated with what she saw as the network's liberal bias, an outsize influence by the network's corporate partners and a lack of dedication to investigative reporting, several sources said. She increasingly felt that her work was no longer supported and that it was a struggle to get her reporting on air."
See the Politico report here:
Sharyl Attkisson Resigns From CBS News
In an interview with the CBS affiliate in Philadelphia, Chris Stigall reported, "Responding to comments regarding a Phoenix television reporter yesterday who initially claimed that the White House pre-screens questions from reporters, Attkisson said, 'I wouldn't [be] surprised if sometimes there is that level of cooperation with some questions. If I need something answered from the White House and they won't tell me, I'll call our White House Correspondent. They're friendlier with the White House Correspondents in general. So the White House Correspondent may ask Jay Carney or one of his folks about an issue and they will be told "ask that at the briefing and we'll answer it." They want to answer it in front of everybody. They do know it's coming and they'll call on you. There's that kind of coordination sometimes. I wouldn't be shocked if there's sometimes more coordination. I don't think it's everybody on every briefing, every day. I'm pretty sure it's not. But I think people would be surprised at the level of cooperation reporters have in general with politicians.'"
See Stigall's report here:
Sharyl Attkisson: There Is Coordination Between Reporters And Politicians
Attkisson was putting it very mildly. There is more than just coordination going on between the federal government and the national news media; it's more like coziness and calculated manipulation.
Since when has the major media dared to investigate and report the truth regarding any of the major events that have transpired in this country? The last time there was even a semblance of genuine investigative reporting seen in the national press corps was during the Watergate scandal when Richard Nixon was President–and that was politically-motivated from start to finish.
The mainstream media didn't bother to seriously investigate Ruby Ridge or Waco or the Oklahoma City bombing or TWA Flight 800 or the Sandy Hook shootings or (and especially) the attacks which occurred on 9/11/01. These events took place with both Republicans and Democrats at the helm: it didn't matter. Government spokesmen gave the media the official story, and the media repeatedly regurgitated the official story until anyone who dared to question the official story was turned into a conspiracy nut. That's not reporting the news, folks. That is manipulating the news to disseminate propaganda. Joseph Goebbels had nothing on the major media in America today.
Again, the modern American media are not watchdogs over government; they are lap dogs for government. Reporters who try to truly dig and investigate are seldom rewarded–just the opposite. Their stories are buried–if published at all. They are disinvited from interviewing notable dignitaries. They are passed over for promotions–or even dismissed. It doesn't take people in the news business long to get the message that if they want to go anywhere, they must toe the line and become good little puppets. The First Amendment freedom of the press has been negated by the press itself.
Likewise, the First Amendment freedom of religion has also been negated. A free and independent clergy is essential to the maintenance of liberty. But, for the most part, America has not had a free and independent clergy in decades.
The IRS 501c3 designation for churches, along with State incorporation, has turned America's watchmen into little more than glorified CEOs. The average pulpit is just as politically correct as the national news media. Plus, the average church is as much about the bottom line as news shows.
Did you know that there used to be a time when the major television networks expected that their news shows would not operate in the black financially? It's true. Back then, it was more important that news shows reported and investigated the news than turn a profit. Therefore, corporate donations and government chagrin had little impact upon newscasters and reporters. Those days are long gone.
By the same token, did you know that there used to be a time in this country when most of our pastors and ministers (regardless of denomination) were more concerned about being Biblically correct than being politically correct? For example, so prominent was the role that Presbyterian pastors played in the American Revolution that as news of the rebellion spread throughout England, Horace Walpole told his fellow members of the British Parliament, "There is no use crying about it. Cousin America has run off with a Presbyterian parson, and that is the end of it." Of course, Presbyterians were not the only clergymen in Colonial America to champion the cause of liberty and independence from behind their pulpits.
In truth, if it wasn't for clergymen such as John Leland (along with political statesmen such as Patrick Henry, of course), it is doubtful that there would even be a First Amendment–or the rest of the Bill of Rights, for that matter.
But, back then, pastors were not motivated by the desire to build big buildings or impress political potentates or climb ecclesiastical elevators. They were motivated by courage and commitment. And you could tell it every time you went to church. They didn't mince words; and their sermons seldom concluded in less than an hour. They were watchmen.
Sadly, in the same manner in which the national news media have abandoned their responsibility as America's watchdogs, so, too, the vast majority of pastors have abandoned their responsibility as America's watchmen. The First Amendment protection of the freedom of the press and religion is not enough to protect the freedom of the press and religion from themselves.
To be sure, many of our pastors and ministers today are sincere, compassionate, and honorable men. But they have never been taught the Biblical principles of liberty; they have never been taught how to apply the liberty principles of Scripture to our everyday lives–including our political lives; they have never been taught the true meaning of Biblical submission in general and Romans 13 in particular. However, more and more of these men are coming awake to these things. Of course, others stubbornly refuse to even consider the truth of these matters.
But, listen up, folks! Truth will always find a way to reveal itself: the dear Lord will make sure of that. As the mainstream media became toadies of Big Government, along came independent radio talk shows, newspapers, and the Internet. And in all likelihood, more people are getting their news and information from online sources today than from network or cable news shows. As a result, more and more people are awakening to the truth every day.
And, by the same token, as many establishment churches and pastors have become toadies of the IRS and political correctness, new, independent, unorganized, non-501c3 churches and fellowships are sprouting up all over America. Some of these groups are led by ministers whom God has led out of the establishment church. Others are led by laymen who have likewise left the establishment church. I hear from these people every day. And, by the grace of God, I hope to be more personally involved in helping Christian people around the country form liberty-oriented churches. More on that soon.
The First Amendment was designed to protect America's watchdogs and watchmen. And it is a truism that there can never be a revival of liberty in this land without a resurrection of our watchdogs and watchmen. The good news is that resurrection is already taking place.
Nobody expected events to move on with such a breath-taking speed. The Russians took their time; they sat on the fence and watched while the Brown storm-troopers conquered Kiev, and they watched while Mrs Victoria Nuland of the State Department and her pal Yatsenyuk ("Yats") slapped each other's backs and congratulated themselves on their quick victory. They watched when President Yanukovych escaped to Russia to save his skin. They watched when the Brown bands moved eastwards to threaten the Russian-speaking South East. They patiently listened while Mme Timoshenko, fresh out of gaol, swore to void treaties with Russia and to expel the Russian Black Sea Fleet from its main harbour in Sevastopol. They paid no heed when the new government appointed oligarchs to rule Eastern provinces. Nor did they react when children in Ukrainian schools were ordered to sing "Hang a Russian on a thick branch" and the oligarch-governor's deputy promised to hang dissatisfied Russians of the East as soon as Crimea is pacified. While these fateful events unravelled, Putin kept silent.
He is a cool cucumber, Mr Putin. Everybody, including this writer, thought he was too nonchalant about Ukraine's collapse. He waited patiently. The Russians made a few slow and hesitant, almost stealthy moves. The marines Russia had based in Crimea by virtue of an international agreement (just as the US has marines in Bahrain) secured Crimea's airports and roadblocks, provided necessary support to the volunteers of the Crimean militia (called Self-Defence Forces), but remained under cover. The Crimean parliament asserted its autonomy and promised a plebiscite in a month time. And all of a sudden things started to move real fast!
The poll was moved up to Sunday, March 16. Even before it could take place, the Crimean Parliament declared Crimea's independence. The poll's results were spectacular: 96% of the votes were for joining Russia; the level of participation was unusually high – over 84%. Not only ethnic Russians, but ethnic Ukrainians and Tatars voted for reunification with Russia as well. A symmetrical poll in Russia showed over 90% popular support for reunification with Crimea, despite liberals' fear-mongering ("this will be too costly, the sanctions will destroy Russian economy, the US will bomb Moscow", they said).
Even then, the majority of experts and talking heads expected the situation to remain suspended for a long while. Some thought Putin would eventually recognise Crimean independence, while stalling on final status, as he did with Ossetia and Abkhazia after the August 2008 war with Tbilisi. Others, especially Russian liberals, were convinced Putin would surrender Crimea in order to save Russian assets in the Ukraine.
But Putin justified the Russian proverb: the Russians take time to saddle their horses, but they ride awfully fast. He recognised Crimea's independence on Monday, before the ink on the poll's results dried.  The next day, on Tuesday, he gathered all of Russia's senior statesmen and parliamentarians in the biggest, most glorious and elegant St George state hall in the Kremlin, lavishly restored to its Imperial glory, and declared Russia's acceptance of Crimea's reunification bid. Immediately after his speech, the treaty between Crimea and Russia was signed, and the peninsula reverted to Russia as it was before 1954, when Communist Party leader Khrushchev passed it to the Ukrainian Soviet Republic.
This was an event of supreme elation for the gathered politicians and for people at home watching it live on their tellies. The vast St George Hall applauded Putin as never before, almost as loudly and intensely as the US Congress had applauded Netanyahu. The Russians felt immense pride: they still remember the stinging defeat of 1991, when their country was taken apart. Regaining Crimea was a wonderful reverse for them. There were public festivities in honour of this reunification all over Russia and especially in joyous Crimea.
Historians have compared the event with the restoration of Russian sovereignty over Crimea in 1870, almost twenty years after the Crimean War had ended with Russia's defeat, when severe limitations on Russian rights in Crimea were imposed by victorious France and Britain. Now the Black Sea Fleet will be able to develop and sail freely again, enabling it to defend Syria in the next round. Though Ukrainians ran down the naval facilities and turned the most advanced submarine harbour of Balaclava into shambles, the potential is there.
Besides the pleasure of getting this lost bit of land back, there was the additional joy of outwitting the adversary. The American neocons arranged the coup in Ukraine and sent the unhappy country crashing down, but the first tangible fruit of this break up went to Russia.
A new Jewish joke was coined at that time:
Israeli President Peres asks the Russian President:
       
Vladimir, are you of Jewish ancestry?

      

Putin: What makes you think so, Shimon?

       

Peres: You made the US pay five billion dollars to deliver Crimea to Russia. Even for a Jew, that is audacious!
Five billion dollars is a reference to Victoria Nuland's admission of having spent that much for democratisation (read: destabilisation) of the Ukraine. President Putin snatched victory from the jaws of defeat, and US hegemony suffered a set-back.
The Russians enjoyed the sight of their UN representative Vitaly Churkin coping with a near-assault by Samantha Power. The Irish-born US rep came close to bodily attacking the elderly grey-headed Russian diplomat telling him that "Russia was defeated (presumably in 1991 – ISH) and should bear the consequences… Russia is blackmailing the US with its nuclear weapons," while Churkin asked her to keep her hands off him and stop foaming at the mouth. This was not the first hostile encounter between these twain: a month ago, Samantha entertained a Pussy Riot duo, and Churkin said she should join the group and embark on a concert tour.
The US Neocons' role in the Kiev coup was clarified by two independent exposures. Wonderful Max Blumenthal and Rania Khalek showed that the anti-Russian campaign of recent months (gay protests, Wahl affair, etc.) was organised by the Zionist Neocon PNAC (now renamed FPI) led by Mr Robert Kagan, husband of Victoria "Fuck EC" Nuland. It seems that the Neocons are hell-bent to undermine Russia by all means, while the Europeans are much more flexible. (True, the US troops are still stationed in Europe, and the old continent is not as free to act as it might like).
The second exposé was an interview with Alexander Yakimenko, the head of Ukrainian Secret Services (SBU) who had escaped to Russia like his president. Yakimenko accused Andriy Parubiy, the present security czar, of making a deal with the Americans. On American instructions, he delivered weapons and brought snipers who killed some 70 persons within few hours. They killed the riot police and the protesters as well.
The US Neocon-led conspiracy in Kiev was aimed against the European attempt to reach a compromise with President Yanukovych, said the SBU chief. They almost agreed on all points, but Ms Nuland wanted to derail the agreement, and so she did – with the help of a few snipers.
These snipers were used again in Crimea: a sniper shot and killed a Ukrainian soldier. When the Crimean self-defence forces began their pursuit, the sniper shot at them, killed one and wounded one. It is the same pattern: snipers are used to provoke response and hopefully to jump-start a shootout.
Novorossia
While Crimea was a walkover, the Russians are far from being home and dry. Now, the confrontation moved to the Eastern and South-Eastern provinces of mainland Ukraine, called Novorossia (New Russia) before the Communist Revolution of 1917. Alexander Solzhenitsyn in his later years predicted that Ukraine's undoing would come from its being overburdened by industrial provinces that never belonged to the Ukraine before Lenin, – by Russian-speaking Novorossia. This prediction is likely to be fulfilled.
Who fights whom over there? It is a great error to consider the conflict a tribal one, between Russians and Ukrainians. Good old Pat Buchanan made this error saying that "Vladimir Putin is a blood-and-soil, altar-and-throne ethno-nationalist who sees himself as Protector of Russia and looks on Russians abroad the way Israelis look upon Jews abroad, as people whose security is his legitimate concern." Nothing could be farther away from truth: perhaps only the outlandish claim that Putin is keen on restoring the Russian Empire can compete.
Putin is not an empire-builder at all (to great regret of Russia's communists and nationalists). Even his quick takeover of Crimea was an action forced upon him by the strong-willed people of Crimea and by the brazen aggression of the Kiev regime. I have it on a good authority that Putin hoped he would not have to make this decision. But when he decided he acted.
The ethno-nationalist assertion of Buchanan is even more misleading. Ethno-nationalists of Russia are Putin's enemies; they support the Ukrainian ethno-nationalists and march together with Jewish liberals on Moscow street demos. Ethno-nationalism is as foreign to Russians as it is foreign to the English. You can expect to meet a Welsh or Scots nationalist, but an English nationalist is an unnatural rarity. Even the English Defence League was set up by a Zionist Jew. Likewise, you can find a Ukrainian or a Belarusian or a Cossack nationalist, but practically never a Russian one.
Putin is a proponent and advocate of non-nationalist Russian world. What is the Russian world?
Russian World
Russians populate their own vast universe embracing many ethnic units of various background, from Mongols and Karels to Jews and Tatars. Until 1991, they populated an even greater land mass (called the Soviet Union, and before that, the Russian Empire) where Russian was the lingua franca and the language of daily usage for majority of citizens. Russians could amass this huge empire because they did not discriminate and did not hog the blanket. Russians are amazingly non-tribal, to an extent unknown in smaller East European countries, but similar to other great Eastern Imperial nations, the Han Chinese and the Turks before the advent of Young Turks and Ataturk. The Russians did not assimilate but partly acculturated their neighbours for whom Russian language and culture became the gateway to the world. The Russians protected and supported local cultures, as well, at their expense, for they enjoy this diversity.
Before 1991, the Russians promoted a universalist humanist world-view; nationalism was practically banned, and first of all, Russian nationalism. No one was persecuted or discriminated because of his ethnic origin (yes, Jews complained, but they always complain). There was some positive discrimination in the Soviet republics, for instance a Tajik would have priority to study medicine in the Tajik republic, before a Russian or a Jew; and he would be able to move faster up the ladder in the Party and politics. Still the gap was small.
After 1991, this universalist world-view was challenged by a parochial and ethno-nationalist one in all ex-Soviet republics save Russia and Belarus. Though Russia ceased to be Soviet, it retained its universalism. In the republics, people of Russian culture were severely discriminated against, often fired from their working places, in worst cases they were expelled or killed. Millions of Russians, natives of the republics, became refugees; together with them, millions of non-Russians who preferred Russian universalist culture to "their own" nationalist and parochial one fled to Russia. That is why modern Russia has millions of Azeris, Armenians, Georgians, Tajiks, Latvians and of smaller ethnic groups from the republics. Still, despite discrimination, millions of Russians and people of Russian culture remained in the republics, where their ancestors lived for generations, and the Russian language became a common ground for all non-nationalist forces.
If one wants to compare with Israel, as Pat Buchanan did, it is the republics, such as Ukraine, Georgia, Uzbekistan, Estonia do follow Israeli model of discriminating and persecuting their "ethnic minorities", while Russia follows the West European model of equality.
France vs Occitania
In order to understand the Russia-Ukraine problem, compare it with France. Imagine it divided into North and South France, the North retaining the name of France, while the South of France calling itself "Occitania", and its people "Occitans", their language "Occitan". The government of Occitania would force the people to speak Provençal, learn Frederic Mistral's poems by rote and teach children to hate the French, who had devastated their beautiful land in the Albigensian Crusade of 1220. France would just gnash its teeth. Now imagine that after twenty years, the power in Occitania were violently seized by some romantic southern fascists who were keen to eradicate "800 years of Frank domination" and intend to discriminate against people who prefer to speak the language of Victor Hugo and Albert Camus. Eventually France would be forced to intervene and defend francophones, at least in order to stem the refugee influx. Probably the Southern francophones of Marseilles and Toulon would support the North against "their own" government, though they are not migrants from Normandy.
Putin defends all Russian-speakers, all ethnic minorities, such as Gagauz or Abkhaz, not only ethnic Russians. He defends the Russian World, all those russophones who want and need his protection. This Russian World definitely includes many, perhaps majority of people in the Ukraine, ethnic Russians, Jews, small ethnic groups and ethnic Ukrainians, in Novorossia and in Kiev.
Indeed Russian world was and is attractive. The Jews were happy to forget their schtetl and Yiddish; their best poets Pasternak and Brodsky wrote in Russian and considered themselves Russian. Still, some minor poets used Yiddish for their self-expression. The Ukrainians, as well, used Russian for literature, though they spoke their dialect at home for long time. Nikolai Gogol, the great Russian writer of Ukrainian origin, wrote Russian, and he was dead set against literary usage of the Ukrainian dialect. There were a few minor Romantic figures who used the dialect for creative art, like Taras Shevchenko and Lesya Ukrainka.
Solzhenitsyn wrote: "Even ethnic-Ukrainians do not use and do not know Ukrainian. In order to promote its use, the Ukrainian government bans Russian schools, forbids Russian TV, even librarians are not allowed to speak Russian with their readers. This anti-Russian position of Ukraine is exactly what the US wants in order to weaken Russia."
Putin in his speech on Crimea stressed that he wants to secure the Russian world – everywhere in the Ukraine. In Novorossia the need is acute, for there are daily confrontations between the people and the gangs sent by the Kiev regime. While Putin does not yet want (as opposed to Solzhenitsyn and against general Russian feeling) to take over Novorossia, he may be forced to it, as he was in Crimea. There is a way to avoid this major shift: the Ukraine must rejoin the Russian world. While keeping its independence, Ukraine must grant full equality to its Russian language speakers. They should be able to have Russian-language schools, newspapers, TV, be entitled to use Russian everywhere. Anti-Russian propaganda must cease. And fantasies of joining NATO, too.
This is not an extraordinary demand: Latinos in the US are allowed to use Spanish. In Europe, equality of languages and cultures is a sine qua non. Only in the ex-Soviet republics are these rights trampled – not only in Ukraine, but in the Baltic republics as well. For twenty years, Russia made do with weak objections, when Russian-speakers (the majority of them are not ethnic Russians) in the Baltic states were discriminated against. This is likely to change. Lithuania and Latvia have already paid for their anti-Russian position by losing their profitable transit trade with Russia. Ukraine is much more important for Russia. Unless the present regime is able to change (not very likely), this illegitimate regime will be changed by people of Ukraine, and Russia will use R2P against the criminal elements in power.
The majority of people of Ukraine would probably agree with Putin, irrespective of their ethnicity. Indeed, in the Crimean referendum, Ukrainians and Tatars voted en masse together with Russians. This is a positive sign: there will be no ethnic strife in the Ukraine's East, despite US efforts to the contrary. The decision time is coming up fast: some experts presume that by end of May the Ukrainian crisis will be behind us.
English language editing by Ken Freeland.
"From the moment the Soviet Union collapsed in 1991, the United States has relentlessly pursued a strategy of encircling Russia, just as it has with other perceived enemies like China and Iran. It has brought 12 countries in central Europe, all of them formerly allied with Moscow, into the NATO alliance. US military power is now directly on Russia's borders…This crisis is in part the result of a zero-sum calculation that has shaped US policy toward Moscow since the Cold War: Any loss for Russia is an American victory, and anything positive that happens to, for, or in Russia is bad for the United States. This is an approach that intensifies confrontation, rather than soothing it."

– Stephen Kinzer, "US a full partner in Ukraine debacle", Boston Globe

"We have removed all of our heavy weapons from the European part of Russia and put them behind the Urals" and "reduced our Armed Forces by 300,000. We have taken several other steps required by the Adapted Conventional Armed Forces Treaty in Europe (ACAF). But what have we seen in response? Eastern Europe is receiving new weapons, two new military bases are being set up in Romania and in Bulgaria, and there are two new missile launch areas — a radar in Czech republic and missile systems in Poland. And we are asking ourselves the question: what is going on? Russia is disarming unilaterally. But if we disarm unilaterally then we would like to see our partners be willing to do the same thing in Europe. On the contrary, Europe is being pumped full of new weapons systems. And of course we cannot help but be concerned."

– Russian President Vladimir Putin, Munich Conference on Security Policy, February 2007
The Obama administration's rationale for supporting the fascist-led coup in Ukraine collapsed on Wednesday when a "hacked" phone call between EU foreign affairs chief Catherine Ashton and Estonian foreign minister Urmas Paet revealed that the snipers who fired on protestors in Maidan Square in Kiev were not aligned with President Viktor Yanukovych, but with the protest leaders themselves. The significance of the discovery cannot be overstated since the Obama team has used the killing of protestors to justify its support for the new imposter government. Now it appears that members of the new government may be implicated in the killing of innocent civilians. This new information could force Obama to withdraw his support for the coup plotters in Kiev, which would derail the administration's plan to remove Russia from the Crimea and expand NATO into Ukraine. Here's a short recap of the details from an article in Russia Today:
"Estonian foreign ministry has confirmed the recording of his conversation with EU foreign policy chief is authentic. Urmas Paet said that snipers who shot at protesters and police in Kiev were hired by Maidan leaders.

During the conversation, Paet stressed that "there is now stronger and stronger understanding that behind the snipers, it was not Yanukovich, but it was somebody from the new coalition."….

The Estonian Ministry of Foreign Affairs also issued a statement on its website, saying that the recording of the leaked telephone conversation between Paet and Ashton is "authentic." ("Estonian Foreign Ministry confirms authenticity of leaked call on Kiev snipers", Russia Today)
To its credit, the UK Guardian published an article reporting the basic facts, but there's been no coverage by the New York Times, the Washington Post or any of the major TV News networks. America's elite media are engaged in a coordinated news blackout to keep people from seeing that the Obama administration and their EU collaborators are supporting a group of far-right extremists who were directly involved in the killing of civilians in order to topple a democratically-elected government. Here's more from the same article:
"…there is a stronger and stronger understanding that behind snipers it was not Yanukovych, it was somebody from the new coalition," Paet says…the same handwriting, the same type of bullets, and it's really disturbing that now the new coalition, that they don't want to investigate what exactly happened." ("Ukraine crisis: bugged call reveals conspiracy theory about Kiev snipers", Guardian)
There won't be an investigation because an investigation would reveal the truth, and the truth would undermine Obama's plan to install a puppet regime in Kiev. The new government has already shown that it is more than willing to do Washington's bidding, that is, to impose austerity measures on the working people of Ukraine, to pay off fatcat bondholders in Berlin and Brussels via more extortionist IMF loans, to extend NATO to Russia's border in contravention of agreements made with Bush the Elder following the fall of the Berlin Wall, and to pursue the crackpot dreams of global hegemony laid out in "The Grand Chessboard" by New World Order fantasist Zbigniew Brzezinski. These are the primary objectives of the present policy which could be upended by the allegations of foul play.
The smoking gun revelations of the hacked phone call came just hours before US officials indicated they were planning to increase their military footprint in Eastern Europe. According to the World Socialist Web Site:
"Defense Secretary Chuck Hagel said the Pentagon will boost joint training of NATO forces in Poland and step up NATO air patrols in the Baltics…US military officials said they were deploying six F-15 fighter jets and KC-135 transport planes. ….One guided-missile frigate, the USS Taylor, is still in a Black Sea port in Turkey after patrolling the region during the Sochi Olympics…

Turkish officials confirmed that they had given a US Navy warship permission to pass through the Bosphorus straits into the Black Sea, which borders Ukraine." ("Amid Ukraine crisis, US launches military escalation in Eastern Europe", World Socialist Web Site)
Also Russia Today reports that: "The guided missile destroyer, the USS Truxton, is heading to the Black Sea, for what the US military said is a "routine" deployment…The ship has a crew of about 300 and is part of an aircraft carrier strike group that left the US in mid-February." ("US navy confirms missile destroyer USS Truxton approaching the Black Sea", RT)
"Routine deployment"? So provoking a war with Russia is "routine"? Talk about understatement.
The military escalation occurs in an atmosphere of heightened tension between the two nuclear-armed powers and will certainly add to their mutual distrust. Hagel's deployment is consistent with a plan for antagonizing Moscow that was proposed just days earlier in the Washington Post by the Obama administration's ideological godfather, Zbigniew Brzezinski. Here's a bit of what Brzezinski had to say in the article titled "What is to be done? Putin's aggression in Ukraine needs a response":
"…the West should promptly recognize the current government of Ukraine as legitimate. Uncertainty regarding its legal status could tempt Putin to repeat his Crimean charade…

"…the West should convey.. that the Ukrainian army can count on immediate and direct Western aid so as to enhance its defensive capabilities. There should be no doubt left in Putin's mind that an attack on Ukraine would precipitate a prolonged and costly engagement, and Ukrainians should not fear that they would be left in the lurch.

Meanwhile, NATO forces, consistent with the organization's contingency planning, should be put on alert. High readiness for some immediate airlift to Europe of U.S. airborne units would be politically and militarily meaningful. If the West wants to avoid a conflict, there should be no ambiguity in the Kremlin as to what might be precipitated by further adventurist use of force in the middle of Europe." ("What is to be done? Putin's aggression in Ukraine needs a response", Washington Post)
"Adventurist"? Dr. Strangelove is calling the Kremlin adventurist when his recommendations would put NATO, the US and Moscow on hairtrigger alert increasing the chances of an error in judgment that could lead to thermonuclear war. Isn't that the pot calling the kettle black?
But listen to the tone of Brzezinski's op-ed. In just a few short paragraphs, the author–who many respect as a restrained and brilliant global strategist–refers to Putin as a thug, a Mafia gangster, Mussolini, and Hitler. I imagine if he had another paragraph to work with, he would have added Beelzebub Satan to the list.
This isn't politics; it's hysterics. It's incendiary, jingoistic mumbo-jumbo intended to rouse the public and fan the flames of nationalism. It's the same kind of self-righteous raving that precipitated the invasion of Iraq.
And what is Brzezinski saying?
Is he saying that events in the Crimea are a threat to US national security? Is he saying that the US should now feel free to apply the Monroe Doctrine everywhere across the planet, sticking our big nose wherever the president sees fit?
The trouble in the Crimea has nothing to do with the United States. We have no dog in this fight. This is about military expansion into Eurasia, this is about pipeline corridors and oil fields, this is about dismantling the Russian Federation and positioning multinational corporations and Wall Street investment banks in Asia for the new century. And, finally, this is an ego-driven crusade by an old man who wants to see his looneybin NWO global hegemony vision enacted before they cart him off on a marble slab. That's what this is really about; the glorious new world disorder, the dystopian wetdream of thinktank patricians everywhere whose only purpose in life is to initiate wars that other-peoples-sons will have to fight.
Entering Ukraine into the corporate-western alliance is a critical part of Brzezinski's masterplan. The basic strategy has been underway since the fall of the Berlin Wall when neoliberal carpetbaggers from the US assisted in the looting of the former Soviet state leaving Russia politically broken and economically destitute. Since then, US policy towards Russia has been overtly hostile, making every effort to encircle the oil-rich nation while positioning nuclear missile installations on its perimeter. Now Washington is using its fascist-backed coup in Ukraine to force Moscow to relinquish its grip on a region that is vital to its national security.
Here's a brief excerpt from an interview with Stephen Cohen, professor of Russian studies and history emeritus at New York University on Monday on PBS Newshour. Cohen helps to clarify what is really going on viv a vis the US and Russia:
"What we're watching today is the worst kind of history being made, the descent of a new Cold War divide between West and East in Europe, this time not in faraway Berlin, but right on Russia's borders through Ukraine. That will be instability and the prospect of war for decades to come for our kids and our grandchildren. The official version is that Putin is to blame; he did this. But it simply isn't true. This began 20 years ago when Clinton began the movement of NATO toward Russia, a movement that's continued.

…the fundamental issue here is that, three or four years ago, Putin made absolutely clear he had two red lines…One was in the former Soviet republic of Georgia. (Putin would not allow NATO in Georgia) The other was in Ukraine. We crossed both. You got a war in Georgia in 2008, and you have got today in Ukraine because we, the United States and Europe, crossed Putin's red line." (PBS News Hour)
There's no doubt who is to blame for the present conflict in Cohen's mind. It's Washington.
So, here we are, between a rock and a hard place: Putin cannot back down on an issue that's crucial to national security, and Washington is more determined than ever to pull Ukraine into –what Henry Kissinger calls–"a cooperative international system." (aka–global capitalist rule) That means there's going to be a war.
On Thursday, Crimea MPs voted unanimously to hold a referendum on whether the region should become a part of Russia or not. The balloting will take place in 10 days although Obama has already said that he will not honor the results. Apparently, other countries need to get the green-light from Washington before they conduct their elections now. This is how ridiculous things have gotten.
In 2008, Brzezinski revealed the real motives behind US aggression in Central Asia in an article that appeared in the Huffington Post that dealt primarily with the dust up in Georgia. (where Putin deployed Russian troops to defend Russian speaking civilians in South Ossetia.) Here's what Brzezinski had to say:
"The question the international community now confronts is how to respond to a Russia that engages in the blatant use of force with larger imperial designs in mind: to reintegrate the former Soviet space under the Kremlin's control and to cut Western access to the Caspian Sea and Central Asia by gaining control over the Baku/Ceyhan pipeline that runs through Georgia.

In brief, the stakes are very significant. At stake is access to oil as that resource grows ever more scarce and expensive and how a major power conducts itself in our newly interdependent world, conduct that should be based on accommodation and consensus, not on brute force.

If Georgia is subverted, not only will the West be cut off from the Caspian Sea and Central Asia. We can logically anticipate that Putin, if not resisted, will use the same tactics toward the Ukraine. Putin has already made public threats against Ukraine." ("Brzezinski: Russia's invasion of Georgia is Reminiscent of Stalin's attack on Finland"; Huffington Post)
Huh? It sounds a lot like Brzezinski thinks that oil should be his. Or maybe he thinks it belongs to the western oil giants; is that it?
So we're not dealing with national security, sovereignty or spheres of influence here. What we're really talking about is "access to oil." Not only that, but Brzezinski is being quite blunt in his assertion that "the West" –as he calls it–has a legitimate claim to the resources on other people's land. Where'd he come up with that one?
In another interview on Kavkacenter.com, in 2008, Brzezinski sounded the same alarm with a slightly different twist. Here's an excerpt from the article titled "Russia tends to destabilize Georgia":
"Brzezinski said the United States witnessed "cases of possible threats by Russia… motivated not by some territorial disputes….but caused by intention to take control over the Baku-Ceyhan pipeline".

"If Georgia government is destabilized, western access to Baku, Caspian Sea and further will be limited", said Brzezinski …. he stated that Russia will try to consolidate its monopoly on these markets and will use all existing political and economic levers, including "politically motivated cessation of energy supplies" in Europe and Baltic states.

"Russia actively tends to isolate the Central Asian region from direct access to world economy, especially to energy supplies", considers the political scientist." ("Zbigniew Brzezinski: "Russia tends to destabilize Georgia" kavkacenter.com)
Putin is not isolating anyone and he's certainly not taking over anyone's damned pipeline. He's the president of Russia. He sells oil and makes money, that's how the system works. It's called capitalism. But the oil is theirs. The natural gas is theirs. The pipelines are theirs. Not ours. Get over it!
Don't kid yourself, it's all about oil. Oil and power. The United States imperial ambitions are thoroughly marinated in oil, access to oil, and control of oil. Without oil, there's no empire, no dollar hegemony, no overbloated, bullyboy military throwing weaker countries against the wall and extorting tribute. Oil is the coin of the realm, the path to global domination.
Putin has audacity to think that the oil beneath Russian soil belongs to Russia. Washington wants to change his mind about that. And that's why the situation in Ukraine is so dangerous, because the voracious thirst for oil is pushing us all towards another world war.