Forget about alleged Russian aggression and land grabbing in Ukraine – the real problem for the United States is Vladimir Putin. To be more precise, the real problem is a strong, independent Russia under the leadership of President Putin, a Russia that stands up for its national rights, respect for international norms and which is not prepared to simply roll over to placate American hegemonic selfish interests, like propping up its bankrupt dollar.
As the American-led NATO military alliance meets in Wales this week, it is obvious that Washington and its European minions are thrashing around trying to find a new purpose for an organization that was formed 65 years ago during the Cold War. The summit in the Welsh city of Newport is being billed as «the most important meeting of NATO since the end of the Cold War» – might we wonder why? – more than two decades ago.
US President Barack Obama is in attendance with 60 world leaders, including those of the 28 NATO member states. Shamelessly, there is much high-flown rhetoric about «defending Europe from Russian aggression». NATO secretary general Anders Fogh Rasmussen even had the gall to state, at the opening of the conference, that «Russia is attacking Ukraine».
«So we continue to call on Russia to pull back its troops from Ukrainian borders, and stop the flow of weapons and fighters into Ukraine», said Rasmussen without a modicum of evidence, or even a semblance of citing evidence.
The day before the NATO summit opened, Barack Obama, speaking in Estonia, used the very same kind of provocative rhetoric, accusing Russia of aggression in Ukraine and violating international law. The American president rolled off slanderous words about «Russian-financed, Russian-armed, Russian-trained, Russian-supported and often Russian-directed separatists in Ukraine».
As Russia's envoy to NATO, Alexandr Grushko, said of such accusations mouthed by Western leaders, «they are not facts, they are forgeries». Grushko said that NATO was escalating tensions with Russia without any evidence to support its reckless conduct. «There have been no troop build-ups or movements of military hardware», he added.
It is astounding that all the militarist hype surrounding the NATO conference, along with bombastic declarations of collective security and vows to protection «our members in Eastern Europe», has been invoked with absolutely no credible proof, such as satellite images of Russian troop and tank movements, missile launches or aircraft incursions of Ukrainian territory. It's like policy is being made on the basis of fantasy and preconceptions.
However, that's not to say that there aren't real concerns at play. There most certainly are. But the Western powers and their dutiful so-called news media are in full propaganda mode to conceal what those underlying concerns are.
What Obama and other senior US figures have been emphasizing over the past six months has been the need for European members of NATO to «step up to the plate» in terms of financing NATO. For most of its 65-year existence, the US has largely funded the workings of NATO, being by far the largest member. There is good reason for this historical American largesse. NATO has served as the US vehicle to exert a dominant military, political and economic presence over Europe. Without NATO, Washington would have significantly reduced influence over its European «allies». In particular, Washington might have to witness a natural historical tendency for closer political and economic ties between Europe and Russia, if it were not for NATO's grip on the continent.
It is significant that over the past two decades since the end of the Cold War – and hence arguably the end of NATO's purpose – European funding of the organization fell from over 30 per cent down to nearly 20 per cent. In other words, that suggests that European states were losing interest in NATO as having any relevance in the post-Cold War era. It seems that what Washington is hell-bent on doing is to revive the relevance of NATO by talking up the threat to European security from Russia. A revived NATO means a revived US presence in Europe, which is essential for American global hegemony.
This would give the real meaning for why Washington has taken the lead over past year in escalating tensions with Russia over Ukraine. This has in turn led to a growing chasm between Moscow and Europe, where up to recently there were cordial diplomatic relations based on substantial economic and trade partnerships.
Of course in this political endeavour Washington has found willing European accomplices to accentuate tensions. The British government has played a trusted lackey role for the American agenda, as has the US handpicked junta in Kiev led by Arseniy Yatsenyuk, as well as the pro-Western regimes in Poland and the Baltic states.
This underlying agenda of American geopolitical hegemony – not alleged Russian aggression – was betrayed earlier this week during the joint speeches of Barack Obama and his Estonian counterpart Toomas Hendrik Ilves. When both leaders were asked about their views on the 1997 Founding Act between NATO and Russia, they said that the commitment to non-expansion by NATO was now redundant because the «landscape had changed».
The American-educated Estonian leader said: «That was the security environment of 1997, when Boris Yeltsin was [Russian] President, and there had been no violations of either the UN Charter or the 1975 Helsinki Final Act, the 1990 Paris Charter».
Note that Ilves reiterates groundless assertions that Russia has committed violations of the UN Charter and other treaties. But what is telling is his reference to former Russian leader Boris Yeltsin. Yeltsin was acceptable to American and Europeans because he was seen as a weak, pliable figure that allowed Western capital free rein in the newly opened Russian territory following the collapse of the Soviet Union. Yelstin's era was also a time of rampant corruption by Russian oligarchs who were closely associated with Western capital. That corrosive culture came to a halt with the election of Vladimir Putin twice as president between 2000-2008, and again in 2012.
In his speech, Obama concurred that «much has changed» since the NATO-Russia Founding Act of 1997, making the latter non-applicable. But Obama's words gave more away about the deeper political concerns. He said of Russia: «I've said consistently our preference is a strong, productive, cooperative Russia. But the way to achieve that is by abiding to international norms, to improving the economy, to focusing on how they can actually produce goods and services that other people want and give opportunity to their people and educate them. That's not the path that they've been pursuing over the last several years. It's certainly not in evidence when it comes to their strategy in Ukraine».
So what Obama, that is, Washington, is concerned about is not Ukraine or alleged Russian aggression, but rather issues of «economic production and cooperation» – that is cooperation with Western capital. What's more, «that's not the path that they've [Russian government] been pursuing over the last several years». In other words, that's not what Russia is permitting the West under the tenure of President Vladimir Putin; and this predates the recent crisis in Ukraine.
These real, underlying American concerns about Putin's Russia not playing American ball were spelled out in an opinion column in the New York Times earlier this year, on March 23, by the former US ambassador to Moscow, Michael McFaul.
Notwithstanding false claims about annexing Crimea, McFaul writes: «The decision by President Vladimir V Putin of Russia to annex Crimea ended the post-Cold War era in Europe. Since the late Gorbachev-Reagan years, the era was defined by zigzags of cooperation and disputes between Russia and the West, but always with an underlying sense that Russia was gradually joining the international order. No more».
The former American ambassador goes on to lament «the collapse of the Soviet order did not lead smoothly to a transition to democracy and markets inside Russia, or Russia's integration into the West». In other words, Russia did not make a smooth transition that suited American interests.
McFaul lays the blame for this lack of Russian «integration into the West» on President Putin, accusing him of being «an autocrat» and of harking back to the days of the old Soviet Union. McFaul's invective against Putin is just slander, but what it barely conceals is that Washington is acutely disgruntled with how it perceives Putin's Russia as not acting like a vassal state, as it was intended to be under Yeltsin at the time of signing the Founding Act between NATO and Russia.
That is why Washington now wants to scrap the Founding Act, and to push NATO expansion around Russia's borders.
McFaul ended his NY Times column by calling for isolation and punitive sanctions on Russia, a policy that has become ever more pointed in subsequent months.
And it is more than a coincidence that America's rulers have stepped up their aggression towards Russia since President Putin has embarked on a raft of regional trade and development alliances with Eurasian countries, Iran, China, and other BRICS nations, as well as Latin America. Putin's declared moves to replace the US dollar with bilateral currencies for transactions in energy trade has also marked him out as a threat to US hegemonic interests. Putin's Russia has also stood by its Syrian Arab ally over the past three years rather than relenting to the US-NATO criminal agenda of regime change in that country.
This is the context for why Washington is corralling NATO with the «crisis in Ukraine». It is not about Russian aggression. It is about Putin being an independent world leader who is not bowing down to American imperial dictate.
Source: SCF

When I was in India several years ago, I learned a lot about its historic caste system and the role of its "untouchables".  But I never put two and two together — that we might have "untouchables" and a caste system here in America too — until I saw photos of what happened in Ferguson, Missouri, this August. http://www.stltoday.com/news/multimedia/special/ferguson-in-pictures/html_24b2b105-90e3-5ef0-9c65-769e848c0d31.html
When I was in the Peace Corps in South Africa, I learned all about its grim apartheid practices in the past.  But I never actually figured it out — until Ferguson — that America practiced apartheid too, and that the old apartheid bantustans of South Africa strongly resemble modern African-American bantustans like Ferguson; deliberately kept isolated, controlled and apart from the rest of America until there is almost no hope of ever getting out of them except by doing hard time in prison.  http://www.blackagendareport.com/node/14361
When I visited the slums of Kampala, I was struck by what a third-world country Uganda was, with many of its poorest citizens being jobless, homeless, hopeless and living a bleak hand-to-mouth existence.  But it never occurred to me that parts of America have similar unemployment rates, sparse education systems and the hopelessness of a third-world country too — until Ferguson gave me that new perspective.  http://www.berkeleydailyplanet.com/issue/2014-08-22/article/42376?headline=Why-Ferguson-Blew-Up--and-What-Can-We-Learn-About-Gaza—By-Becky-O-Malley
In Israel/Palestine, I saw people constantly discriminated against "not by the content of their character but by the color of their skin," to paraphrase Martin Luther King.  But not until Ferguson, where whites clearly hold all the power and use it corruptlyhttp://stlouis.cbslocal.com/2013/08/21/subpoena-reveals-focus-federal-probe-in-st-louis-county/, did I realize how deeply ingrained institutional racial and economic prejudice was in America too.  http://vimeo.com/103920346
When I was embedded in Iraq, I saw American tanks and weaponry like you wouldn't believe, used on Iraqi civilians to keep them in line.  But it wasn't until I saw videos of Ferguson that I realized that the use of tanks and military weaponry have become standard warfare procedure against civilians here in America too.  http://readersupportednews.org/opinion2/277-75/25310-the-most-wanted-man-in-the-world
When I was in Burma, I saw minorities being labeled as inferior, being called insulting names and constantly being accused of laziness, stupidity, immorality and violence to the point where in some cases the minorities actually started suffering from the Stockholm Syndrome and becoming all the things that they were constantly being labeled as — but I never really brought this connection back home until Ferguson.  http://readersupportednews.org/opinion2/277-75/25515-focus-ny-times-dishonesty-on-ferguson-called-out-on-msnbc-and-at-times
When I was in Honduras, I heard tales about how Ronald Reagan funded his brutal death squads there by having the CIA fly whole plane-loads of drugs into secret airfields in Arkansas via "Air America" and then sell all those drugs in the ghettos here at home.
http://www.amazon.com/The-Underground-Empire-Governments-Embrace/dp/0385175353
http://www.amazon.com/Cocaine-Politics-Central-America-Updated/dp/0520214498/ref=pd_sim_b_4?ie=UTF8&refRID=11C8MB7EWPKSZZMEHNQH
http://www.amazon.com/The-Big-White-Lie-Epidemic/dp/156025064X/ref=pd_sim_b_6?ie=UTF8&refRID=11C8MB7EWPKSZZMEHNQH
http://www.amazon.com/Trafficking-Boom-Bust-America-Cocaine/dp/0684190249
When I was in Ukraine several years ago, everything was peaceful — but just look at it now.  It's a war zone.  And just another example of our tax dollars at work abroad destroying people's lives rather than fixing people's lives here at home.
http://jpstillwater.blogspot.com/2009/09/rosh-hashanah-me-25000-hasidim-arrive.html
I wouldn't mind at all if that five billion dollars had been spent here at home instead.  It could have bought Ferguson a new library, several new schools and probably a new hospital too.  http://www.globalresearch.ca/american-conquest-by-subversion-victoria-nulands-admits-washington-has-spent-5-billion-to-subvert-ukraine/5367782
Poor Ukraine just can't seem to catch a break.
Its ancient history reads like a whole patchwork quilt of disaster stories and its modern history gets even worse.  First there was that insanely terrible Ukraine famine of 1932-33, artificially manufactured by Joseph Stalin in order to forestall a revolt.  And in just those two short years, 25,000 Ukrainians a day died of starvation — until more than 10 million people were dead.
Then Hitler's Nazis killed 150,000 Jewish Ukrainians at Babi Yar and used eastern Ukraine as a bloody staging area for the siege of Stalingrad.  3.5 million Soviet soldiers died in Nazi prison camps during World War II and many of those soldiers were local boys.  Ultimately, more than five million Ukrainians died fighting Nazi Germany and most of Ukraine's 1.5 million Jews were wiped out.  Poor Ukraine!
Then Chernobyl blew up.
Then there was a series of corruption scandals, assassinations, price de-regulations, worker strikes, coal mine explosions and a 3.5 billion deficit to deal with during the 1990s, and the new Ukraine republic was destabilized to the point where its major exports became online porn, mail-order brides and Mafioso types running protection rackets in Sacramento.
Then there was that famous CIA-backed "Orange Revolution" in 2004, yet another total disaster — followed this year by Kiev's famous beer hall putsch.
Geez Louise, why can't our CIA ever come up with a plan that Americans can be proud of?
The 2014 neo-Nazi putsch in Kiev, the various resultant slaughters of Resistance fighters in eastern Ukraine and the recent shooting down of Malaysia's MH17 all seem to have one thing in common:  Like any other CIA-backed "nation-building" operation throughout the known world, they are all sort of shadowy, shady and hard to define.  However, I am certainly going to try to define them.
To try to understand the pattern of what just happened in Ukraine, you first gotta to go all the way back to Central America during Ronald Reagan's reign and climb into the mind of John Negroponte — a one-trick-pony kind of guy whose major contribution to America's international diplomatic policy was the judicious use of snipers and other Trojan-horse-style agitators to initiate various casus-belli false-flag operations.
And since that time when all Hell was unleashed on Central America thanks to John Negroponte (and we still have all those kids at our borders to prove it too), wherever there have been any kind of protests against CIA policy throughout the world, our John's dead-eye sniper dudes would show up on the sly, take out a few key people on both sides and then just sit back and watch the fun as both sides began to tear each other apart.
Negroponte's signature handiwork soon became available in Iraq, for instance, happily starting wars between Sunnis and Shias.
And even before Iraq received the benefit of Negroponte's ingenious full monty, there was also the bloody aftermath of 9-11 — wherein some crazy Saudi dudes blew up the Twin Towers and Negroponte's homeys then blamed it on Afghanistan.  And we taxpayers are still paying for that one.
And wasn't Negrgoponte's can't-fail modus operandi also employed in Syria too?  And Scotland?  And Gaza?  But I digress.
It's almost 100% certain that Negroponte's brain-children were also at play during the Ukraine protests in Maidan Square last winter too, when both police and protestors were shot at by snipers.   And the result?  Kiev's very own beer-hall putsch and seizure of the government by pro-CIA thugs.  Poor Ukraine.
The breadbasket of eastern Europe and a jewel in anybody's crown is now once again wracked by war and killing and death.  And the Odessa Steps run red with blood.  Again.
"So get to your point, Jane."
What am I really trying to say here?  That perhaps Negroponte and his ballistic-favoring minions have now taken his sniper-attack method of starting conflicts to a whole new level — and are now using long-range missiles instead of long-range rifles to get the dance started?  And thus shooting down the Malaysia airline and blaming it on Russia or Ukrainian Resistance fighters is an idea that he and/or his CIA buddies would definitely come up with?  Just saying.
PS:   According to several MSM reports regarding the deadly missile that shot down Malaysia MH17, apparently the Russians did it.  Apparently Russian bad guys loaded a BUK missile onto a truck, drove through the night like Humphrey Bogart, arrived in eastern Ukraine, set up the equipment, fired at the plane and then high-tailed it back to Russia, not even stopping for coffee or to blow up anything else on their way back.
Russia wouldn't benefit at all from doing something like this — but who else had means, motive and opportunity?   Let's ask our John.
And blaming it on Ukrainian Resistance fighters doesn't make any sense either.  They haven't done anything like this before or since.  Why just this one time?
Has anyone asked this one simple question yet?  "Has the Resistance shot anything else out of the sky with missiles besides just this one plane?"  Have any fighter jets, helicopters, dragons, pterodactyls or sea serpents been shot down by the Resistance as well?  Or was it only this just one lucky shot from, perhaps, some out-of-control pissed-off Ukrainian Resistance fighter's high-powered BB gun super-soaker?  http://consortiumnews.com/2014/07/20/what-did-us-spy-satellites-see-in-ukraine/
Central banks have shifted into stocks and are buying up everything that isn't bolted to the floor.
That's the gist of the story that breathlessly appeared in the Financial Times about a week ago and swept across the blogosphere like a Santa Anna brushfire. And there's some truth to it too, if taken with a large grain of salt. Here's a clip from the Omfif's report the FT's cites in the article:
"A cluster of central banking investors has become major players on world equity markets," says a report to be published this week by the Official Monetary and Financial Institutions Forum (Omfif), a central bank research and advisory group. The trend "could potentially contribute to overheated asset prices", it warns." (Financial Times)
So, there you have it; stocks are rising, central banks are buying stocks like mad, therefore, central banks are driving the market. That's all there is to it, right?
And we're not talking chump change here either. According to the Omfif"s press release "global central banks and public sector institutions now account for an eye-watering "$29.1tn worth of investments … in 162 countries."
Hmm. It's easy to read that statement and assume that central banks have purchased $29 trillion in stocks, isn't it? That's what the folks over at Zero Hedge did. Check out the headline they ran shortly after the story appeared in the FT: "Cluster Of Central Banks" Have Secretly Invested $29 Trillion In The Market" (Zero Hedge)
But that's not what the press release says, is it? It says "global central banks and public sector institutions". There's a big difference between the stocks a bank buys and all the investments in public pension funds, 401Ks, sovereign wealth funds etc. A huge difference. It looks like someone might be engaging in a bit of fear-mongering to get a rise out of readers.
That's not to downplay the fact that CB's are distorting prices by playing the market. They are. No one disputes that. Just like no one disputes that central banks should limit their activities to doing their job, which is maintaining price stability. (We're deliberately omitting "full employment" since the Fed thinks it's a big joke anyway.) But, hey, everyone knows these guys are a dodgy lot to begin with, so it's hard to get whipped up into a lather every time they get caught in some new flimflam. Besides CB stock purchases are likely insignificant compared to corporate stock buybacks which are presently just-south of $600 billion per year. CB stock purchases are no where near that, regardless of what you read at Zero Hedge. Check this out in the Wall Street Journal:
"Last year, the corporations in the Russell 3000, a broad U.S. stock index, repurchased $567.6 billion worth of their own shares—a 21% increase over 2012, calculates Rob Leiphart, an analyst at Birinyi Associates, a research firm in Westport, Conn. That brings total buybacks since the beginning of 2005 to $4.21 trillion—or nearly one-fifth of the total value of all U.S. stocks today." (Will Stock Buybacks Bite Back?, Wall Street Journal)
Yikes. "$4.21 trillion"! Now that's what you call froth.
Anyway, the reason CBs are buying equities is to hedge their losses on the mountain of low-yielding bonds they purchased in their effort to recapitalize the insolvent banking system. They're already taking it in the shorts for an estimated $250 billion per year, and when rates start marching upward, (as they inevitably will) they're going to be bleeding red ink from both eyeballs. That's why they want to diversify their portfolio; to staunch the hemorrhaging. Even so, the whole matter looks shabby and underhanded, which of course it is. It also calls into question present stock valuations which have been soaring with the zero rates, QE and positive earnings reports, the trifecta which pushes equities into the stratosphere regardless of the shitty condition of the underlying "real" economy. So–just like everyone else–the banks want to get on the winning side of the trade. But what a firestorm they've set off with these latest shenanigans! Here's a sample of the outrage you'll find on the Internet. This is from a Bill Bonner article titled "Proof the Stock Market Is Being Rigged":
"We are still reeling.
Yesterday, we reported that central banks are major buyers of stocks…
We hardly know where to begin…

Outraged, we sputter and spit… we search for words… we look for metaphors and narratives… anything that will put this extraordinary situation in the right light…

Ah yes… central banks create new money… it gets passed around the financial community in many ways… and ultimately ends up in the equity markets…

In short, a grand slam of deceit. The World Series of financial catastrophe will follow. But that could be a long way off." (Proof the Stock Market Is Being Rigged, Bonner and Partners)
"A grand slam of deceit"?
Fair enough. A little hyperbolic, but that's to be expected, right? But, c'mon now, given the long list of scandals in the last few years–High-Frequency Trading (HFT), "toxic" mortgage-backed securities, Libor, London Whale, Robo-signing, structured finance, Madoff etc etc–it's hard not to be little blasé about the whole deal, isn't it? I'm not sure where Bonner's been, but if you were to ask Joe Blow on the street, whether he thought the "market was rigged or not", he'd undoubtedly nod his head affirmatively as if it was the most obvious thing in the world. Because it is the most obvious thing in the world. Heidi Moore summed it up pretty well in a recent article at the Gurdian. She said:
"Most Americans don't think much about the stock market, and that's just fine with Wall Street. Because once you wake up to how screwed up the stock market really is, the financial industry knows you're likely to get very nervous and take your money out.

Many are catching on: between 2007 and 2014, investors pulled $345bn from the stock market. E-Trades are down and worries are up, with 73% of Americans still not inclined to buy stocks, five years after the financial crisis…

Let's get one thing straight: Investor confidence is not the problem. The screwed-up stock market is the problem. It's time to break down the polite fiction that investing in the stock market is something that sane, rational, sensible people do. It is a high-risk contact sport for your money…

The US stock market depends entirely on the ignorance of regular people who are supposed to just shovel their money into retirement funds and 401(k)s, pay a whopping one-third of your retirement in fees to high-priced managers, and never whisper a complaint.

It's a wonder that anyone (trusts the market) at all." (Wall Street and Washington want you to believe the stock market isn't rigged. Guess what? It still is, Heidi Moore, Guardian)
The market is totally rigged from stem to stern, which is why it is so hard to feign outrage at this latest sign of corruption. It's just par for the course. What we found more interesting, was the OMFIF's contention that the experimental monetary policies, the centrals banks initiated to deal with the Financial Crisis, have changed the system to what the author calls "state capitalism".
"Whether or not this trend is a good thing", he opines, "may be open to question. What is incontestable is that it has happened".
While you can't expect the media to cover something like this, it's certainly worth mulling over. The fact is, CBs have taken over economic policy altogether. They're running the whole shooting match. The various congresses and parliaments across the western world now merely act as a rubber stamp for the austerity measures demanded by their corporate bosses. Fiscal policy is a dead letter in the US, Japan, Australia, Canada, UK and the Eurozone. Everywhere the bank cartel has extended it's grip, fiscal policy has been jettisoned altogether. It's bailouts and lavish subsidies for the 1 percenters and belt-tightening, shock therapy for everyone else. Isn't that how it works? State Capitalism isn't a conspiracy theory. It's just class warfare taken to the next level. Check this out from Dave Marsh at Marketwatch:
"Central banks' foreign-exchange reserves have grown unprecedentedly fast, especially in the developing world. The same authorities that are responsible for maintaining financial stability are often the owners of the large funds that add to liquidity in many markets…

Evidence of an increase in equity-buying by central banks and other public-sector investors has emerged from a survey of publicly owned or managed investments compiled by the Official Monetary and Financial Institutions Forum (OMFIF)… There are worries that central banks may be over-stretching themselves by operating in too many areas.

Jens Weidmann, president of Germany's Bundesbank — spoke yearningly last week of the need for "central banks to shed their role as decision-makers of last resort and, thus, to return to their normal business."

He said this "would help to preserve the independence of central banks, which is a key precondition to maintaining price stability in the long run." (Central banks becoming major investors in stock markets, Dave Marsh, Marketwatch)
You might want to read that first part over again to savor what the author is saying. Here it is: "The same authorities that are responsible for maintaining financial stability are often the owners of the large funds that add to liquidity in many markets."
That's what you call corruption with a capital "C". But then the author does a 180 and waxes-on about "preserving the independence of central banks, which is a key precondition to maintaining price stability in the long run."
Right. The whole independence thing is a big joke. Why would anyone in their right mind bestow such extraordinary powers ("independence") on a group of voracious, cutthroat bankers who have repeatedly shown that they can't be trusted?
Huh?
It's insanity. This latest outrage just proves that the central bank system needs to be either reformed or terminated. Preferably, terminated.
What The DHS Is Building Is Indeed A Beast…
One of the great concerns of our Founding Fathers was a large standing army on American soil. James Madison spoke for all of America's founders when he said, "A standing military force, with an overgrown Executive will not long be safe companions to liberty." I wonder what Madison and the rest of our founders would have to say about the Department of Homeland Security (DHS).
John Whitehead, the president of The Rutherford Institute, recently wrote a trenchant summary of the DHS. He began by saying, "If the United States is a police state, then the Department of Homeland Security (DHS) is its national police force, with all the brutality, ineptitude and corruption such a role implies. In fact, although the DHS' governmental bureaucracy may at times appear to be inept and bungling, it is ruthlessly efficient when it comes to building what the Founders feared most–a standing army on American soil."
Whitehead observes that the DHS employs over 240,000 full time workers and has an annual budget of $61 billion. Sub-agencies of the DHS include the Coast Guard, Customs and Border Protection, Secret Service, Transportation Security Administration (TSA), and the Federal Emergency Management Agency (FEMA).
Whitehead states, "In the 12 years since it was established to 'prevent terrorist attacks within the United States,' the DHS has grown from a post-9/11 knee-jerk reaction to a leviathan with tentacles in every aspect of American life. With good reason, a bipartisan bill to provide greater oversight and accountability into the DHS' purchasing process has been making its way through Congress.
"A better plan would be to abolish the DHS altogether. In making the case for shutting down the de facto national police agency, analyst Charles Kenny offers the following six reasons: one, the agency lacks leadership; two, terrorism is far less of a threat than it is made out to be; three, the FBI has actually stopped more alleged terrorist attacks than DHS; four, the agency wastes exorbitant amounts of money with little to show for it; five, 'An overweight DHS gets a free pass to infringe civil liberties without a shred of economic justification'; and six, the agency is just plain bloated."
In addition to Kenny's reasons for shutting down the DHS, Whitehead adds the following indictments:
"Militarizing police and SWAT teams. The DHS routinely hands out six-figure grants to enable local municipalities to purchase military-style vehicles, as well as a veritable war chest of weaponry, ranging from tactical vests, bomb-disarming robots, assault weapons and combat uniforms. This rise in military equipment purchases funded by the DHS has, according to analysts Andrew Becker and G.W. Schulz, 'paralleled an apparent increase in local SWAT teams.' The end result? An explosive growth in the use of SWAT teams for otherwise routine police matters, an increased tendency on the part of police to shoot first and ask questions later, and an overall mindset within police forces that they are at war–and the citizenry are the enemy combatants.
"Stockpiling ammunition. DHS, along with other government agencies, has been stockpiling an alarming amount of ammunition in recent years, which only adds to the discomfort of those already leery of the government. As of 2013, DHS had 260 million rounds of ammo in stock, which averages out to between 1,300 to 1,600 rounds per officer. The US Army, in contrast, has roughly 350 rounds per soldier. DHS has since requisitioned more than 1.6 billion rounds of ammo, 'enough,' concludes Forbes magazine, 'to sustain a hot war for 20+ years.'
"Distributing license plate readers. DHS has already distributed more than $50 million in grants to enable local police agencies to acquire license plate readers, which rely on mobile cameras to photograph and identify cars, match them against a national database, and track their movements. Relying on private contractors to maintain a license plate database allows the DHS and its affiliates to access millions of records without much in the way of oversight.
"Contracting to build detention camps. In 2006, DHS awarded a $385 million contract to a Halliburton subsidiary to build detention centers on American soil. Although the government and Halliburton were not forthcoming about where or when these domestic detention centers would be built, they rationalized the need for them in case of 'an emergency influx of immigrants, or to support the rapid development of new programs' in the event of other emergencies such as 'natural disasters.' Viewed in conjunction with the NDAA provision allowing the military to arrest and indefinitely detain anyone, including American citizens, it would seem the building blocks are already in place for such an eventuality.
"Tracking cell-phones with Stingray devices. Distributed to local police agencies as a result of grants from the DHS, these Stingray devices enable police to track individuals' cell phones–and their owners–without a court warrant or court order. The amount of information conveyed by these devices about one's activities, whereabouts and interactions is considerable. As one attorney explained: 'Because we carry our cellphones with us virtually everywhere we go, stingrays can paint a precise picture of where we are and who we spend time with, including our location in a lover's house, in a psychologist's office or at a political protest.'
"Carrying out military drills and lockdowns in American cities. Each year, DHS funds military-style training drills in cities across the country. These Urban Shield exercises, elaborately staged with their own set of professionally trained Crisis Actors playing the parts of shooters, bystanders and victims, fool law enforcement officials, students, teachers, bystanders and the media into thinking it's a real crisis.
"Using the TSA as an advance guard. The TSA now searches a variety of government and private databases, including things like car registrations and employment information, in order to track travelers' before they ever get near an airport. Other information collected includes 'tax identification number, past travel itineraries, property records, physical characteristics, and law enforcement or intelligence information.'
"Conducting virtual strip searches with full-body scanners. Under the direction of the TSA, American travelers have been subjected to all manner of searches ranging from whole-body scanners and enhanced patdowns at airports to bag searches in train stations. In response to public outrage over what amounted to a virtual strip search, the TSA has begun replacing the scanners with equally costly yet less detailed models. The old scanners will be used by prisons for now.
"Carrying out soft target checkpoints. VIPR task forces, comprised of federal air marshals, surface transportation security inspectors, transportation security officers, behavior detection officers and explosive detection canine teams have laid the groundwork for the government's effort to secure so-called 'soft' targets such as malls, stadiums, bridges, etc. Some security experts predict that checkpoints and screening stations will eventually be established at all soft targets, such as department stores, restaurants, and schools. DHS' Operation Shield, a program which seeks to check up on security protocols around the country with unannounced visits, conducted a surprise security exercise at the Social Security Administration building in Leesburg, Fla., when they subjected people who went to pick up their checks to random ID checks by federal agents armed with semi-automatic weapons.
"Directing government workers to spy on Americans. Terrorism Liaison Officers are firefighters, police officers, and even corporate employees who have received training to spy on and report back to government entities on the day-to-day activities of their fellow citizens. These individuals are authorized to report 'suspicious activity' which can include such innocuous activities as taking pictures with no apparent aesthetic value, making measurements and drawings, taking notes, conversing in code, espousing radical beliefs, and buying items in bulk.
"Conducting widespread spying networks using fusion centers. Data collecting agencies spread throughout the country, aided by the National Security Agency, fusions centers–of which there are at least 78 scattered around the U.S.–constantly monitor our communications, collecting and cataloguing everything from our internet activity and web searches to text messages, phone calls and emails. This data is then fed to government agencies, which are now interconnected: the CIA to the FBI, the FBI to local police. Despite a budget estimated to be somewhere between $289 million and $1.4 billion, these fusion centers have proven to be exercises in incompetence, often producing irrelevant, useless or inappropriate intelligence, while spending millions of dollars on 'flat-screen televisions, sport utility vehicles, hidden cameras and other gadgets.'"
On a personal note, I can testify to Whitehead's warning regarding fusion centers. When I ran as the Constitution Party's candidate for President back in 2008, DHS fusion centers funneled warnings to the State of Missouri law enforcement agencies to be on the look-out for people sporting bumper stickers with my name, Ron Paul's name, and Bob Barr's (the Libertarian Party candidate for President that same year) name. People with these bumper stickers were said to be "potential dangerous militia members," "extremists," etc.
When word of this blatant violation of fundamental liberties publicly surfaced, tens of thousands of outraged Americans inundated the political offices within the State of Missouri. Ron, Bob, and I sent a letter to the governor and MIAC officer in charge demanding an apology and that the statements be removed from Missouri law enforcement memos. Public pressure was so massive that it didn't take long for Missouri officials to apologize to us and remove the libelous statements. However, if you think this kind of conduct is not continuing, you are very mistaken.
I have had several liberty-minded law enforcement officers (in several states) personally show me interoffice memos and computer reports depicting me (and several other liberty-minded public figures) as "extremists," "radicals," "hate-group leaders," etc. Virtually, every such memo or report is being distributed to local police departments and sheriff's offices via DHS fusion centers–in concert with the ultra-liberal Southern Poverty Law Center (SPLC).
Whitehead continues:
"Carrying out Constitution-free border control searches. On orders from the DHS, the government's efforts along the border have become little more than an exercise in police state power, ranging from aggressive checkpoints to the widespread use of drone technology, often used against American citizens traveling within the country. Border patrol operations occur within 100 miles of an international crossing, putting some 200 million Americans within the bounds of aggressive border patrol searches and seizures, as well as increasingly expansive drone surveillance. With 71 checkpoints found along the southwest border of the United States alone, suspicionless search and seizures on the border are rampant. Border patrol agents also search the personal electronic devices of people crossing the border without a warrant.
"Funding city-wide surveillance cameras. As Charlie Savage reports for the Boston Globe, the DHS has funneled 'millions of dollars to local governments nationwide for purchasing high-tech video camera networks, accelerating the rise of a "surveillance society" in which the sense of freedom that stems from being anonymous in public will be lost.' These camera systems, installed on city streets, in parks and transit systems, operating in conjunction with sophisticated computer systems that boast intelligent video analytics, digital biometric identification, military-pedigree software for analyzing and predicting crime and facial recognition software, create a vast surveillance network that can target millions of innocent individuals.
"Utilizing drones and other spybots. The DHS has been at the forefront of funding and deploying surveillance robots and drones for land, sea and air, including robots that resemble fish and tunnel-bots that can travel underground. Despite repeated concerns over the danger surveillance drones used domestically pose to Americans' privacy rights, the DHS has continued to expand its fleet of Predator drones, which come equipped with video cameras, infrared cameras, heat sensors, and radar. DHS also loans its drones out to local, state, and federal law enforcement agencies for a variety of tasks, although the agency refuses to divulge any details as to how, why and in what capacity these drones are being used by police. Incredibly, the DHS has also been handing out millions of dollars in grants to local police agencies to 'accelerate the adoption' of drones in their localities."
Whitehead concludes by saying, "It's not difficult to see why the DHS has been described as a 'wasteful, growing, fear-mongering beast.' If it is a beast, however, it is a beast that is accelerating our nation's transformation into a police state through its establishment of a standing army, a.k.a. national police force."
See John Whitehead's report here:
Has The Dept. of Homeland Security Become America's Standing Army?
When the British government employed such tactics (in their own way, given the lack of technology in the mid-1700s), the pulpits of Colonial America thundered forth the call of liberty. Presbyterians, Baptists, Congregationalists, Separatists, Anglicans: it didn't matter. Pastors from across the denominational spectrum boldly and courageously implored their congregants to resist these tyrannical tactics. And resist they did!
So, what are our pastors and churches doing today in the face of this burgeoning police state? For the most part, they are sitting back mute and dumb. If they are not absolutely apathetic to the rise of this beast, they are actually assisting it. Through the egregiously unbiblical interpretation of Romans 13, whereby pastors are telling their adherents to submit to evil government, or through the fear of losing their precious 501c3 tax-exempt status, pastors are deliberately leading their churches as sheep to the slaughter.
And make no mistake about it: what the DHS is building is indeed a BEAST. And prophecy buffs should be well-acquainted with that word. Does not the Scripture warn us that there are "many" anti-Christs in the world? Is not the word "beast" and "anti-Christ" synonymous? They absolutely are. Prophecy students are also well aware of the fact that the prophetic "beast" is as much a system as it is a person. Without a doubt, this beastly system is being constructed before our very eyes.
Interestingly enough, this beast was created by the professing Christian president, G.W. Bush. Is that why Christian pastors are so complacent? Are they truly that gullible? A "conservative" Republican creates the beast, and a "liberal" Democrat feeds it. Both are equally culpable.
These pastors can talk about following Jesus all they want; they can cry crocodile tears when they sing Amazing Grace all they want; they can preach about Heaven all they want; and they can talk about being "born again" all they want. But if they are not warning their people about this growing beast, and if they are not emphatically imploring their people to resist this beast, they are helping to feed their sheep to the wolves.
Dear Christian friends, get out of these churches! As nice as the pastor seems to be, as sincere as he seems to be, as doctrinally-sound as he appears to be, by his refusal to resist this growing police state he is helping to put the chains of slavery around the necks of your children and grandchildren. He is facilitating the rise of a very dangerous and hungry beast in our land.
Real men of God throughout history have been noted by their courage to resist the evil beasts that have attempted to devour God's people. From Gideon and Samson to Martin Luther and Huldrych Zwingli, and from Dietrich Bonhoeffer and Martin Niemoller to Jonas Clark and James Caldwell, these men of God were indefatigable and heroic champions of liberty.
The "standing military force" and "overgrown Executive" are here! Now, where are the patriot pulpits to resist them?
If millions of soldiers from south of the border were flooding our nation for the purposes of colonizing our land, we would easily recognize the threat. And if some amongst us were aiding and abetting this invasion — purposely lowering border security to facilitate it — we'd know what to call them. And we'd know how they should be dealt with.
This comes to mind when considering the flood of humanity that does continually pour across our border, a phenomenon whose most recent manifestation is the children's crusade (which includes many teens, some of whom are gang members) currently in the news. Oh, the people trespassing on our land aren't wearing uniforms; they aren't wielding cold steel. But this isn't always necessary. As Muammar Gaddafi once pointed out, some invasions are prosecuted "without sword, without gun, without conquest." "We don't need terrorists; we don't need homicide bombers," he said. "The 50 plus million Muslims [in Europe] will turn it into the Muslim Continent within a few decades." Of course, in the waning West, we call this "diversity" and "demographic change."
And as we're being diversified into a country definitely not Western via demographic warfare, as we euphemize from sunrise to the sunset of our demise, something is exactly the same as in my opening example:
There are those amongst us aiding and abetting this invasion.
We can start with the fact that Barack Obama and his fellow travelers have sparked this most recent human wave with promises of amnesty for young illegals. Obama has also hobbled immigration enforcement, which itself is a euphemistic way of saying that he has, like a fifth column, cleared the way for an invading force. Adding insult to injury, not only is there no effort at deportation, but his administration's first response to the children's crusade was to provide lawyers for the illegals — paid for with your tax money — to help make these reinforcements permanent.
In fact, Obama is so intent on aiding the invasion that he has served notice that if Congress won't be complicit in his scheme, he will use an executive order to help the foreign boots on the ground.
Question: what do you call such a person?
Of course, this is nothing new. We have had seven amnesties in recent decades, and all the way through there were promises to secure the border. It never happened. Fool me once, shame on you. And if they can fool you seven times?
You're a doormat.
There's only one thing foreign boots on the ground do to doormats, mind you — and it isn't to show respect and gratitude.
It's obvious why leftists such as Obama have long facilitated immigration: they are importing voters. Upwards of 80 percent of the new arrivals will vote Democrat upon being naturalized. And is this any surprise? Most all illegals — and a majority of legal immigrants — hail from Hispanic nations, which are notoriously socialist (only the degree varies). And people don't suddenly change ideology just because they change location.
This brings us to Republicans who claim that Hispanics are a "natural conservative constituency" and that all the GOP need do is offer the olive branch of amnesty. Theirs is an imagination that could put Gene Roddenberry to shame.
While Hispanics do generally favor amnesty, the main thing the majority of them want is what they voted for in their socialist homelands: big government. Don't believe me, Karl? Just consider recent Pew research (hat tip: American Thinker's Thomas Lifson) showing that only 19 percent of Hispanics favor a smaller government while a whopping 75 percent prefer a bigger one. Of course, assimilation is the answer, right? Take a gander at the rest of the Pew data:
And what does this equate to once Hispanic majority status is reached (along with the leftward drift of non-Hispanic whites)?
19- 75 = government of Venezuela
36-58 = government of Mexico
In other words, modern immigration = death of America.
And to reiterate, this doesn't mean just illegal migration. Ever since Ted Kennedy's immigration act of 1965, 85 percent of our legal immigrants have hailed from the Third World and Asia. So in terms of demographic and ideological change, there is no difference between legal and illegal migration.
Yet it isn't just Hispanic immigrants. One reason I favor a moratorium on all immigration is that we face a largely socialist world. Where would we find immigrants amenable to authentic Americanism? Europe? China? Africa? The Middle East? The only exception may be Russia, but I wouldn't want to bet my culture on that, either.
While I've framed this ideologically, it can be defined culturally and racially (gasp!), too. And I won't shrink from this since it is exactly what the left is doing.
There's an old saying, if you can't get the people to change the government, change the people. Here's a simple fact: what we call traditional conservatism is a phenomenon of Christian, European-descent people (modern Europeans no longer qualify because of their secularism). One can debate the reasons for this, but it is plainly true. It's why almost 90 percent of GOP voters are white and almost 90 percent are Christian; it's why church attendance is one of the best predictors of voting patterns. Mind you, this doesn't mean that other groups won't contain some conservatives, but the fact is that no other major group is majority conservative.
Then there is that uncomfortable truth: Obama and many other leftists hate what they see as "white America"— Obama described white culture as "alien" in his book Dreams from My Father — and they want to destroy it as fast as possible. This is why, while giving the 1998 commencement address at Oregon's Portland State University, Bill Clinton spoke glowingly of the day when whites become a minority in America (to the uproarious cheers of the mostly white students).
Of course, this is where Obama, Clinton and the rest of the fifth column will say that if you're not cheering, you're a bigot.
If the Joneses were somehow gaining access to the Smith's home, squatting there and slowly taking over while the police refused to enforce trespassing laws, no one would wonder if the Smiths objected. The fact that Joneses aren't Smiths would be explanation enough. Or let's say that millions of Chinese were flooding the Ivory Coast, were supplanting African culture and threatening to soon outnumber the Africans. Would we be surprised if the Ivorians were up in arms? Would anthropologists call the transformation anything but cultural genocide?
Again, though, we call this diversity. But there's a funny thing about that oh-so necessary quality:
It's only encouraged in Western lands.
If diversity is such an imperative, why don't we push it in Saudi Arabia, Japan, Tunisia or Rwanda? And don't tell me we're just minding our own business, as Obama thought nothing of parading around Africa last year preaching about homosexual rights.
The truth is that when liberals say "Our strength lies in our diversity," they really mean their strength. They're building a solid socialist majority that won't blink at leftist corruption because these new arrivals are inured to it — corruption is status quo in their native lands.
And what else can we say about these migrants? Most are just coming to the US to make money, while some have criminal designs. But what is certain is that even if they were capable of shedding deep-seated socialist instincts, they're not coming here to become American — in spirit. And they're casting votes Americans won't cast.
Back in 2009, a former Labour (Britain's liberal party) speechwriter created a firestorm by revealing that the UK government had encouraged unfettered immigration "to rub the Right's nose in diversity." This prompted The Telegraph's Ed West to call the leftists' plan "borderline treason."
Borderline? I think that's another border that was brazenly crossed. And does this kind of behavior deserve any less damning a characterization on our side of the pond?
"Stand your ground.  Don't fire unless fired upon, but if they mean to have a war, let it begin here." – Militia Captain John Parker at the Battle Of Lexington
Just a couple days ago, two armed assailants, a married couple purported by the mainstream media to be "white supremacists" and "conspiracy theorists," ambushed two police officers at a CiCi's Pizza in Las Vegas, killing the officers after screaming, "This is a revolution!" The suspects then reportedly covered one officer's body with a Gadsden Don't Tread On Me flag and then fled to a Walmart, where they killed another man with a CCW who attempted to reason with them, then committed suicide. Yes, it reads like a Southern Poverty Law Center fantasy story; and in many ways, it is.
As we all predicted the MSM has followed the pattern they have always followed, which is to equate the actions of one or two psychotics with the beliefs and principles of the liberty movement in general.
I remember when Jared Loughner fired into a crowd of people near Tucson, Ariz., killing numerous Federal and State employees; the immediate response by the media was to attempt to tie him to the liberty movement. In the end, he turned out to be a raving leftist. I remember the Boston Marathon bombing and the automatic reflex by the media to accuse "right-wing extremists" of the crime. So far, we have seen NO hard evidence to implicate anyone specific in that atrocity, including the Tsarnaev brothers. Of all the violent crimes dumped in the lap of the liberty movement over the years, how many have actually been committed or endorsed by the liberty movement? I can't think of any.
This has not prevented the establishment media from doing everything in their power to associate criminal action with political ideals.  Efforts to sully the success of the Bundy Ranch stand-off were swift, with Jared and Amanda Miller's visit to Bunkerville splashed across the headlines.  Luckily, the sound judgement of organizations like Oath Keepers led founder Stewart Rhodes to personally ask the two future shooters to leave the property.  I can only imagine the weight of the slander if they had been allowed to stay.
When an activist movement holds the moral high ground against a repressive establishment power structure, the establishment's primary recourse is to target the character of its principles. The secondary recourse is direct confrontation. If a dissenting organization is not mindlessly vicious in its methods, then simply make it APPEAR vicious. If it is not hateful in its rhetoric, then artificially tie it to people who are. And if a government really needs to kick-start a crackdown, it can engineer its own man-made calamities and blame the groups that most threaten its authority.
This was achieved to great effect in Europe from the 1950s until the 1990s by the CIA working in tandem with multiple European governments under a covert project called Operation Gladio.
Gladio was essentially a secret army of operatives and stooges, handlers and puppets, used to create false-flag terrorist shootings and bombings across Europe that were blamed on "left-wing extremists." In reality, NATO alphabet agencies were behind the entire facade. The goal was to terrorize the citizenry through a nonstop campaign of indiscriminate death, blamed on a convenient scapegoat, so that individuals would hand over more freedom and more power to the central governments. The point is, whether real or staged, I believe such events are going to escalate within the U.S. today on an incredible scale and that, regardless of evidence, they will be blamed on "right-wing extremists." In case you were wondering, that label will be foisted on most if not all of us.
That said, I think an important truth needs to be stated here: Whether the beliefs of the attackers in Las Vegas were actually liberty movement-oriented or not is ultimately irrelevant. To shoot random police and civilians and then commit suicide is an act of pure insanity, a product of mental instability that has nothing to do with political philosophy, and mental instability trumps belief and association anytime.  Mentally unstable people exist within ALL belief systems and political groups.
At bottom, I do not care what their beliefs were. Their actions do not represent the values I hold dear, nor do I think they represent the values most of us hold dear. The shooting is a tragedy, but in the grand scheme of things, it means nothing, and I have little doubt it will be forgotten within weeks.
I relate the story because I do, in fact, agree with one thing: that a "revolution," a second American Revolution, is inevitable. But I think I speak for the vast majority of the movement when I say that this revolution will not begin with the deaths of innocents or random government employees on our hands, and it certainly won't begin at the doorstep of a CiCi's Pizza.
The Bundy ranch incident, which occurred only a short drive from Las Vegas, has been a revelation for many people. Mistakes were made, provocateurs reared their ugly heads, and lessons were learned. But overall, America has been fundamentally changed, even if the average person does not realize it yet. The information war came within a razor's edge of evolving into a shooting war, with the establishment in retreat, licking its wounds while planning how it can gain back its composure and carefully crafted image of "invincibility".
What frightens the establishment most, I think, is that the American people have become active participants in their own national environment once again. At Bundy ranch, they stopped asking for mercy, they stopped begging the system to police itself, they stopped waiting for the rigged elections, and they stopped relying on useless legal avenues to effect change. Rather, they took matters into their own hands and changed the situation on the ground on their own. For oligarchy, this development is unacceptable, because one success could lead to many.
Already, we are beginning to hear whispers of possible Federal retribution against those who participated in the confrontation.
This has been cemented within the efforts of a new task force against "domestic terrorism" organized by none other than Eric "Fast and Furious" Holder.
After the recent exposure of Barack Obama's Department of Defense Directive 3025.18, we now know that since at least 2010, the White House has been setting the stage for the use of military force against "domestic threats." That is to say, for at least the past four years our government has been quietly maneuvering toward martial law. It's been happening for much longer if you count George W. Bush's Presidential Decision Directive 51, which has yet to befully declassified.
The exposure of Directive 3025.18 also came with information that the Obama Administration considered using it as a way to activate military forces and drones against the Bundy ranch. The burning question is, of course, why didn't it? The Federal government is not known for its diplomacy in the face of a defiant citizenry. Waco and Ruby Ridge made that clear. I believe that it was not necessarily the people on the ground at Bunkerville, Nev., that they were most worried about. The terrain is admittedly a terrible place to mount a defense against a mechanized horde of jackboots.
No, what the White House feared was a larger response to such an attack. It feared the millions of patriots who would swarm down from all sides if it committed to a Ruby Ridge-style siege. It feared the reality that this time, Americans were not going to sit back and watch another family be slaughtered on national television.  It feared the fact that it didn't have the moral high ground in the public eye and that a kinetic failure on its part would be met with cheers, rather than tears, from much of the populace.
So where does this leave us? With the Bundy success besmirching the Feds, the next strategic program will likely include an unprecedented effort to demonize the liberty movement perhaps to the point of a Gladio-type false-flag campaign, leading to the eventual detention of activists as domestic security threats. It's not going to end with shootings in pizzerias and slobbering hit pieces from the SPLC.  Expect a landslide of violent acts.  Expect another engineered large-scale calamity like the Oklahoma City Bombing.  Expect dozens of Timothy McVeighs to be trotted out in the media. Expect the Liberty Movement's name to be buried in an avalanche of bullshit. Mark my words; it's going to get much worse from here on.
And this is where I will add my warning.
Before the Bundy ranch became a possible battleground, I stated in my article "Real Americans Are Ready To Snap" that the liberty movement was going to draw a line in the sand over Bureau of Land Management abuses in Bunkerville, and I was right.
It seems to me that time is growing short. As tyrants become more bold, so too must the citizenry; otherwise, we shrivel up and die.  We cannot allow the movement's momentum to be shattered and driven underground as the militia movement was after Oklahoma City.  We know what is coming, and we must drive forward.  We know we will be labeled as terrorists and villains, and ultimately, we must realize that such eventualities do not matter.  The Liberty Movement is not going away.  In fact, future clashes with our criminal government are only going to become more frequent.
The next family threatened, the next activist individual or group arrested or black-bagged without legitimate cause, the next major false flag, the next use of military forces as civil law enforcement, the next unConstitutional misstep, and I have no doubt whatsoever in my mind that a revolt will erupt. It's not about making grand predictions; it's about examining the logical odds, and the odds are high. The knowledge that the establishment is considering using the full force of its military apparatus against the people has not dissuaded anyone. Bundy ranch was a very near miss. I do not expect a peaceful resolution the next time around. I also do not expect the government as it exists now to stop clamoring for more control or less corruption. If recent events have proven anything, they have proven that a second American Revolution is inevitable; and all we can do is ready ourselves.
Source: Brandon Smith | Alt-Market
The Robber Barons of the 19th and 20th century had nothing over the elites of today's globalist transnational financial conglomerates. The Richest Americans, listed in Forbes conceals the real power that controls the economy. Net worth is deficient in gauging dominance in financial commercialism and monetary preeminence. The Top 50 Highest-Paid CEOs as reported by ABC News ties into Michael Hiltzik's account that CEO-to-worker pay gap is obscene, "The average CEO-to-worker pay ratio in 2012 was about 350 to 1." Yet the divide in pay does not exemplify the exact lose in a livable standard of living for the ordinary staffer.If corporate multinationals were really about creating actual wealth, the pay of inspirational leadership and senior management talent, that executes the business plan, would be incidental if the employees were sharing in affluence. Those who demand higher minimum wage compensation do not understand how business works. The inordinate wealth divide, cannot and will not be reduced, until genuine economic prosperity is achieved.
Analyze the idiocy of a naive Undergraduate Research Fellow, Brian Chesley in 3 Ways to Reduce the Wealth Gap.
1. Open higher education to everyone.

2. Increase the minimum wage.

3. Increase taxes on the rich.
Such ignorant and illiterate attitudes demonstrate that institutions of higher learning encourage an atmosphere of social collectivism that plays directly into the hands of the new tyrannical tycoons.
The New York Times OP-ED piece by Daniel Altman (an adjunct associate professor of economics at the New York University Stern School of Business and a former member of the New York Times editorial board), proposes a foolish mindset and proposal in To Reduce Inequality, Tax Wealth, Not Income.
"In 1992, the top tenth of the population controlled 20 times the wealth controlled by the bottom half. By 2010, it was 65 times. Our graduated income-tax system redistributes a small amount of money every year but does little to slow the polarization of wealth."

American household wealth totaled more than $58 trillion in 2010. A flat wealth tax of just 1.5 percent on financial assets and other wealth like housing, cars and business ownership would have been more than enough to replace all the revenue of the income, estate and gift taxes, which amounted to about $833 billion after refunds. Brackets of, say, zero percent up to $500,000 in wealth, 1 percent for wealth between $500,000 and $1 million, and 2 percent for wealth above $1 million would probably have done the trick as well."
Absent in redistribution of wealth schemes is that the method of authentic free enterprise is never understood. Nor is there ever an effort to reestablish the principles of real business competition. The marketplace of voluntary and mutually beneficial commercial transactions, destroyed by the systemic Corporatocracy model, is the ultimate reason why wealth disparity is so great. The literal legacy of the Robber Barons is the internationalist financial system of central banking that predetermines the outcomes of selective patrons from calculating crony capitalism.
Public companies, once established to develop, produce and sell innovative goods or services are rare in an environment where financial manipulation is the primary vehicle to riches. Equity exchanges, based upon raising capital for industrious and constructive ventures, seldom function for this utilitarian purpose. The global economy, in reality, has perfected an anti-free enterprise filter that stamps out initiative and penalties upstarts that are not part of the cartels.
With the insolvency of the world-banking system an inescapable fact, the prospects for even more concentration of real assets into the hands of the financial elites, posed for the final wealth confiscation, of resources not already in their hands, is upon us.
When the internationalist financial system implodes and business screeches to a halt, a populist movement to clawback century long fraudulent gains of the hidden stashes from the interlocked illuminati families is the only coherent alternative to establish a fiscally sound financial future.
"The 2014 Bilderberg meeting is another example of those "blurred lines" between government, big oil and the financial sector, the three pillars of war. According to some reports, the topics of discussion at this year's meeting will include the situation in Ukraine and the Russia-NATO relationship, as well as the Transatlantic Trade and Investment Partnership (TTIP), an agreement which, according to Stop TTIP, "is in fact a corporate coup that will take us to a 'corporatocracy', a corporate-run world."
The mental confusion that blocks out the way the world fundamentally functions prevents focusing upon any essential debate as to substitute economic parameters for an equitable stake and remuneration for productive contributions to the success of any commercial venture.
The term Robber Barons, should not be substituted for every prosperous risk taker or self-made entrepreneur. The corruption within the cabal economy is rooted in the very nature of the favorable treatment given to participants in the criminal corporatist syndicate.
As Ms. Lévesque correctly describes the methods and operations of this New World Order neo-feudalism, the only structure that offers any prospects for an economic renaissance must target and strip the political influence of the globalists as much as the confiscation of their vast holdings.
Do not be deceived, by communist or socialist newspeak. Sharing the wealth is not the objective. The goal is imposing an unconditionally surrender upon the banksters, which is serious business. Start with the elimination of the Rehypothecation of Collateral. Lawful business has no room for coexistence with derivatives and swaps.Holding the body politic accountable and committed to breaking up the banksters' monopoly requires compliance regulatory resistance from within the business community. It is just as important as customer and buyer rejection of the corporate induced consumer society. Sadly, most people simply are uninformed about the principles of sound business.
Most CEO's are not businesspersons, but are globalist enablers and often are outright thieves. The needed business revolution will not be lead by their ilk.
Real competition can never be encouraged until inventive and audacious risk-takers have practical alternatives to fund their enterprises. Only then, will the wealth ratio narrow as affluence, that is more tangible, expands and the fortunes of the oligarchy diminish.
During my youth, I grew up as a "Service Brat." My dad served 27 years in the U.S. Marine Corps. I respected God, the Stars and Stripes, America and our presidents without question. I loved my mom's apple pie!
However, credible researches discovered that President Franklin D. Roosevelt "let" Pearl Harbor occur to draw public support to jump the United States into World War II.
Our kids fought the Korean War because somebody in Harry S. Truman's circle decided we needed to stop communism over 10,000 miles from our shores. The best bet on who started the Korean War: a banker, a corporation head or anyone hoping to make enormous gains off mass deaths.
By the time Vietnam conscripted and killed a lot of my friends, as well as my own time in the U.S. Army, I learned about lies, corruption, bankers and the real reason for Vietnam. I learned that presidents lie. They think nothing of sacrificing young men in ridiculous wars such as Lyndon Baines Johnson's onslaught of Southeast Asia. He killed over 2.3 million Vietnamese and 58,319 of our young men. He ruined millions of lives, families and the environment with Agent Orange.
Years later, George W. Bush "created" the Iraq War on his lies and deceptions of "Weapons of Mass Destruction." He destroyed an entire functioning civilization, brought endless death and misery to God knows how many people. We're still fighting and dying in Afghanistan over a year since bin Laden died at the hands of Navy Seals.
Highly decorated U.S. General Smedley Butler, upon retiring, wrote a book that every American should read: War is a Racket. The only people who benefit from war: bankers, munitions manufacturers, clothing and food producers and corporations. They make a lot of money off death of our citizen soldiers.
General Dwight D. Eisenhower warned us about the "Military Industrial Complex" that engineers wars, global tensions and anything to shove our kids into uniform and battles. Congress and presidents shoved our noses into everybody else's business for decades.
We didn't listen to Butler. We "supported" all those wars via massive "advertising" that a "threat" awaited us. Those wars made a lot of CEOs filthy rich.
In 1971, defense expert Daniel Ellsberg presented the Pentagon Papers exposing the incredible corruption and widening of the Vietnam War by Nixon and Johnson before him—all based on lies.
Last week, NBC's Brian Williams interviewed "whistleblower" intelligence officer Edward Snowden about the National Security Agency's incredible spying on American citizens. I watched the entire interview: Snowden showed himself to be incredibly honest, forthright, concerned, all-American, he honors the U.S. Constitution and he is a man of principles. He chronicled his work in the government that opened him to the corruption at the highest offices in our government.
Secretary of State Kerry called Snowden a "Traitor, coward and should come home to face the music."
Daniel Ellsberg responded, "Kerry's remarks are despicable!"
I agree. We need 10,000 Edward Snowden's. In America today, we face incredible corruption in our Congress and Mr. Obama himself. The list grows: Fast and Furious, won't enforce our immigration laws, phony Social Security number, Benghazi killings, suing states from enforcing their own laws, continue to fund 10 year wars when they know they are futile, and on and on. The corruption in Congress runs wide, deep and sickening from 20 and 30 year career Senators and Congressmen swimming in lies, cheating and playing the American people. Insider military trading on the stock market, paid off by corporations to NOT enforce our immigration laws and another 100 crimes against the American people.
"So many things we are told are untrue," said Snowden. "The Iraq War was launched on false premises. We were led by false statements to go into Iraq."
I can stand with Snowden because I know we marched into Vietnam on the same false statements such as the "Gulf of Tonkin Incident."
When he tried to notify superiors, they said, "You should stop asking questions."
I faced the same thing when I served as an officer in the U.S. Army. I learned to never question orders. If I did, command officers ridiculed me. I learned quickly to follow the military protocol.
Snowden said, "I watched the government's dishonesty. What was going on needed to be told to the public. I did nothing to harm the citizens or soldiers of America."
Williams asked, "Why won't you come home and face the music?"
"The Espionage Act states that you cannot have a defense," said Snowden. "The music is not an open court or fair trail."
"Are you blameless," asked Williams.
"The most important idea is that what is right may not be legal," said Snowden.
I can attest to that fact. Once the man or "group" who gained George Bush's ear turned the crank to initiate the Iraq War, no sane, rational or reasoning man could stop it.
"We are seeing an erosion and obstruction of our rights as citizens under the NSA," said Snowden. "I felt that I was/am serving my country and protecting my fellow citizens. Even one of the U.S. Senators said that bulk surveillance is unacceptable. We see senior officials taking powers they don't warrant. In the end, I did the right thing."
I applaud Snowden. If more Snowden's stood up in the face of withering criticism or "following the power elites" that create wars or spy on our own citizens or recklessly endanger our country—none of our kids would have died in Korea, Vietnam, Iraq, Desert Storm or Afghanistan.
Look to career U.S. Senators like Feinstein, Boxer, Reid, Udall, Bennet, McCain, Kyle, Schumer, Levin, Kerry, Durbin, Kennedy, Hatch, Graham and dozens of other senators for their complicity in driving this country into needless wars, not defending our borders, slamming us into $18 trillion debt and putting all of us at risk. For example: the current S744, passed by the Senate last year, guarantees our country spirals into the demographic, cultural and linguistic toilet. Yet, the damned fools passed it. I recall Mark Twain's sage words, "Suppose you are an idiot and suppose you are a member of Congress…ah but I repeat myself."
We should welcome Edward Snowden home as a national hero, and, at the same time shouting out to Secretary of State John Kerry, "You're despicable beyond measure."
Ever wonder why nobody (except Kareem Serageldin) went to jail for all the crimes committed during the financial bubble that popped in 2008?
If you think back to the 2000-era bubble, lots of people went to jail for the fraud perpetuated at Enron, Tyco, Adelphia, and other firms. Plus, the law back then destroyed a whole accounting firm — Arthur Andersen, you may remember — and 28,000 jobs along with it, in the wake of the bust.
Yet post-2000, firms with far more brazen crimes got off by paying a mere fine.
Take HSBC.
Its U.S. subsidiary committed, as Taibbi writes, "an astonishing list of crimes — a laundry list that included pretty much every kind of crime a bank can possibly be charged with."
Such as:
Laundering billions of dollars for drug cartels in Mexico and Colombia
Washing money for terrorist-connected organizations in the Middle East
Allowing "rogue states" under formal sanctions by the U.S. to move billions freely through the bank
Helping Russian mobsters wash money under an elaborate traveler's check scheme
Etc.
And what was the penalty for all this?
$1.9 billion.
At the time, it was the biggest fine in history. But in context, for a firm that made $22 billion per year, it was not much at all. In fact, looked at in a cold calculating light, the message clearly is: Crime pays.
Note there was no jail time for anybody. Everybody at HSBC got paid. Well, HSBC agreed to partially — partially, mind you – defer (!) bonus payments to its top executives.
Oh, and HSBC had to say it was sorry. "We are profoundly sorry," said CEO Stuart Gulliver.
But how did we get here?
Matt Taibbi explores the reasons in his book The Divide. Taibbi used to write for Rolling Stone. He was the guy who famously called Goldman Sachs a "great vampire squid wrapped around the face of humanity, relentlessly jamming its blood funnel into anything that smells like money." (I wish I had written that line.)
He's a very good investigative reporter and a fine writer. He's mellowed out a bit in this book and you won't find much of the usual Taibbi name-calling and profanity. Taibbi, for good or ill, plays this one straight.
He covers a lot of ground, but the central thesis is one most people will intuitively grasp: If you are rich and powerful, you can get away with almost anything. Rights exist on a sliding scale. And if you are on the bottom, you can do time for loitering.
Taibbi writes:
"The cleaving of the country into two completely different states — one a small archipelago of hyper acquisitive untouchables, the other a vast ghetto of expendables with only theoretical rights — has been in the works a long time."
But to answer the question posed up top about why nobody's going to jail, there's more to the story. You have to go back to a memo written by Eric Holder, the current attorney general, back in 1999, when he was an official in the Clinton White House.
He articulated a concept called "collateral consequences."
It meant, in essence, that the government could take into account all kinds of factors like job losses and such in deciding whether to press criminal charges against a big company. "If the math isn't there," Taibbi writes summing things up, "hold the charges. Seek other forms of justice instead. Fines. Civil sanctions. Cease and desist orders. Deferred prosecutions. There are other ways, Holder wrote, to get the job done."
In other words, there would never be another Arthur Andersen. Firms had new ways to wiggle out of criminal charges. Hence, we have the monster we have today. Companies too big to jail.
Meanwhile, in other aspects of life, a culture approximating a police state grows apace. Taibbi points to the record levels of incarcerations in the U.S. "Our prison population, in fact, is now the biggest in the history of human civilization," Taibbi writes. The U.S. has more people behind bars today "than there were at any time in Stalin's gulags."
The story here is nasty. He tells the story of private prisons, such as those of Corrections Corp. of America. They get, "depending on whom you believe," upward of $166 per day from the federal government per inmate. This is four times what it cost back when the government took care of its own detainees.
"The big influx of cash impressed investors on Wall Street," Taibbi writes. From 2000-2011, CCA's stock went up 34-fold. Sales went from $300 million to $1.7 billion by 2011. "Overall, the corrections industry is one of the soundest stock/equity bets in the world, with soaring revenues — the industry as a whole pulled in more than $5 billion in America in 2011."
Needless to say, that didn't just happen. CCA and others donate generously to politicians. They support anything that might lead to more people spending time in their cells. They particularly like anti-immigrant bills. And Taibbi has harrowing tales about the mistreatment of immigrants in this country. He calls Hispanic immigrants "one of America's last great cash crops."
"And someone else wins, too," Taibbi writes. "Wall Street. Some of the biggest investors in private prison companies are, you guessed it, the too-big-to-fail banks."
Taibbi writes about an analysis from Zacks that gleefully revels in the lack of economic sensitivity in the business. And then cites a chart with shows a hockey stick increase in the number of incarcerated Americans.
So the country is turning more and more into a dragnet… but only for the poorest. There is no HSBC banker sitting in a CCA cell. It is symbolic of the kind of economy we have today:
"Like too-big-to-fail banking itself, private prisons are an industry that depends not on the unpredictable economy but upon political connections. It's the perfect kind of business in the oligarchical capitalism age, with guaranteed profits to provide a low-cost public insurance against the vagaries of the market."
The economy is riddled with corruption like this, a marriage between big business and Big Government. And a recurring theme in this book is the offspring this marriage creates: a relentless, insatiable bureaucratic force that grinds up individuals fed into its maw.
"These bureaucracies accomplish just two things," Taibbi writes. "They make small piles of money smaller and big piles of money bigger… It just relentlessly creates and punishes losers, who get to sit beneath an ever-narrowing group of winners, who may or may not stay on top for long."
Legal rights are not absolute. Those with money who can tirelessly throw lawyers and lawsuits and counterlawsuits at any problem can survive almost anything. For the rest, it's a matter of attrition. And those at the bottom have no chance.
I can't do justice to all the journalistic fieldwork and stories Taibbi has put in his 416-page book. It is a gripping read and will infuriate you and frighten you, and maybe even make you sad for what's happened to the "Land of the Free."
The book does not have a happy ending. The good guys don't win in the end. But I encourage you give it a read. What it describes is life in these United States. Those of us who cherish liberty have quite a job ahead of us.
Sincerely,
Chris Mayer
Chris Mayer studied finance at the University of Maryland, graduating magna cum laude. He went on to earn his MBA while embarking on a decade-long career in corporate banking. Chris is the editor of Capital and Crisis and Mayer's Special Situations, a monthly report that unearths unique and unconventional opportunities in smaller-cap stocks. In 2008, Chris authored Invest Like a Dealmaker: Secrets From a Former Banking Insider.
Source: Laissez Faire
How corrupt has America become? It has become as corrupt as globalism itself, a byproduct in international greed, where the gutting of good paying jobs has relegated the United States to being nothing more than a third rate country with a first rate war machine. An essential aspect to what we regard as the American economy today is its reliance on fraud and corruption, from the banking sector to corporations exporting and outsourcing good jobs with the help of a political class that is not only fraudulent but treasonous to the extreme, they are driving America towards an abyss that it will not come back from.
Waging international war for resources under false pretenses is a globalists wet dream, and under the cloak of the nefarious "war on terror," multinational defense and security firms have made trillions of dollars over the last decade. They destroy so they can rebuild, and all the human collateral damage is just an unsightly part of doing business.
Another perverse aspect to globalism is massive illegal immigration under the disreputable banner of multiculturalism, for some shady businesses in America the profit margins can increase exponentially by hiring illegal workers over Americans.
Corporations hire illegal workers to keep wages low, and benefits to an absolute minimum. Americans are shunned for unquestioning cheep labor, and governments allow and foster this fraud to the detriment of many Americans. Some Americans, if you can still call them Americans, profit greatly in this perverse atmosphere of fraud.  The Federal government consistently places the interests of illegal aliens and businesses who hire them over and above American workers and the 'rule of law'.
A case in point is Oklahoma, specifically Tulsa, Oklahoma, which has become a hotbed of greed and corruption. Tulsa is what some call a sanctuary city, where tens of thousands of illegal workers are in jobs that Americans are obviously not occupying. This ugly fact is good for some corporations and businesses, expanding their profits by paying undocumented workers low wages with no real benefits. What does it cost the American tax payers when these illegal workers have babies and use the medical industry with false identities, who foots the medical bills?  It defiantly is not businesses or the governments.
Another case in point is a company called Name Brand Clothing; based in Tulsa, it has stores in six states, the company sells salvage clothing at 75 percent off retail and it prefers to hire illegal workers instead of Americans. It is the proverbial 'poster child' for corporate greed and corruption in Tulsa, Oklahoma.
Why does it hire illegal workers? Well, first of all, it is about greed, making some people rich at the expense of everyone else. The managers at Name Brand Clothing generate outrageous bonuses by essentially suppressing wages on all hourly paid employees year after year. They choose illegal workers because illegal's do not complain about being stuck on minimum wage for years on end with no real medical benefits and no paid holidays.
The owners and managers of Name Brand Clothing knowingly and willingly submit false identifications and Social Security Numbers to the IRS and to the Oklahoma Tax Commission, which is of course contrary to both federal and state laws. They have been doing this for over a decade, and they can commit these criminal acts because Federal and State governments are currently as corrupt and dishonest as companies like Name Brand Clothing.
Veracity Voice interviewed a long time worker at Name Brands Clothing for an inside examination into the workings of corporate greed and corruption that currently plagues corporate America.
We are protecting the person's identity because the person is still currently employed by the company. We will refer to that person as the 'Employee'.
Veracity Voice: How long have you been working for Name Brands?
Employee: I rather not say exactly since I still work for them, lets just say that I have been employed at Name Brands for about 10 years, give or take a couple of years.
Veracity Voice: What do you do there?
Employee: Again, I rather not say exactly, lets just say I worked in the head office, and have seen the corruption first hand.
Veracity Voice: Why have you decided to speak out at this time, and not before?
Employee: Actually I did in a way speak about this before; I wrote a letter to the Sheriff's department, and the FBI about 4 years ago. I also wrote letters too FOX 23 and Channel Six News, concerning the outlandish fraud and corruption happening at Name Brands, and absolutely nothing came of it. It seems that it is not PC to talk about this issue in Tulsa; the mainstream media won't touch it. That is why I am talking with Veracity Voice; the only outlet whistleblowers have today in America is in the alternative media.
Veracity Voice: Are you saying that the mainstream media is covering it up?
Employee: In a way they are by not reporting all the law breaking going around Tulsa as far as hiring illegal workers by businesses, they certainly seem to be part of the club, and will not rock the boat.
Veracity Voice: What Club?
Employee: Corrupt businesses, Local, State and Federal governments that allow the criminal behavior, the police departments that will not enforce the law and mainstream media that will not report any of it. It is one big corrupt club.
Veracity Voice: What kind of fraud and corruption have you seen at Name Brands?
Employee: Well, you can compare the greed and corruption at Name Brands along the lines of what's happening in Wall Street and the financial system, some people are profiting greatly through outright fraud and thievery at the expense of everyone else, and government is engaged in helping the criminality.
At Name Brands, the fraud is done by submitting false ID's and Social Security Numbers (SSN) to the IRS. I've seen with my own eyes management turn away American workers seeking work then turn around and hire illegals. The main reason they do this, Is because the illegals are content to work for minimum wage with no real benefits. Essentially, they keep everyone's wages stagnant except for management.
Veracity Voice: What do you mean except for management?
Employee: The lower the costs for running the business, the higher the bonuses for management, its classic corporate greed. Management at Name Brands make large sums of money in the form of bonuses while all other workers do not receive real medical benefits or paid holidays except for two, Thanksgiving and Christmas, and those two paid holidays are highly conditional.
Veracity Voice: Highly conditional?
Employee: Yes, two weeks prior to Thanksgiving and Christmas if an employee is late for work for any reason Name Brands will not pay you for the holiday.
Veracity Voice: You're kidding right?
Employee: No, unfortunately I'm not kidding. At Name Brands it's a culture of nepotism and greed, like the saying goes "there is no honor among thieves" there is no honesty, no real integrity, just godless corruption. There is one woman, who has worked for the company for 17 years, and she has only received one 5 cent raise not counting minimum wage increases. It's outright disgusting how they treat workers.
Veracity Voice: Why does she stay?
Employee: Well, some people have problems, and finding other employment can be difficult.
Veracity Voice: What kind of problems?
Employee: All sorts of problems like emotional and mental problems, in some cases drug problems, other cases workers being ex-convicts, finding employment can be difficult. Like some parasite, companies like Name Brands like to take advantage of the most vulnerable and disadvantaged in society, that's why they like illegals; they can thieve from them without any complaint, protected by corrupt governments. Most self-respecting Americans will not work for a company that treats hourly workers like trash.
Veracity Voice: Let's get back to the fraud, how many illegals are they employing?
Employee: At TPC which is Name Brands production center in North Tulsa, they usually have around 80 illegals working there, and at their store in South Tulsa there are about 10.
Veracity Voice: That many?
Employee: Yes, it's absolutely incredulous and in your face. It is both frustrating and depressing at the same time to see this traitorous conduct on a daily basis. It is time for Americans to take a stand against these globalists that are profiting through corruption.
Veracity Voice: Who are the people that run Name Brands Clothing in Tulsa?
Employee: As far as I know, Rusty Gaddy is the CEO, Jim Stevenson and Jim Breese are VP's. At TPC there is Reid Lewellin and Jason Garman, both managers, and Brent Daily is the manager at the Tulsa Store, they all commit fraud on a daily bases. They do not care for America or Americans, all they care about is increasing their bonuses at the expense of everyone else, and what really bothers me is that the governments, both at the local and federal level engage in the same fraud, they do absolutely nothing about it. The Federal government knows very well that Name Brands has for well over a decade submitted thousands of false ID's and SSN's. This is criminal behavior at both the local and Federal level when the government chooses not to enforce its own laws.
Veracity Voice: What do you think should be done with these people?
Employee: These people are more than thieving fraudsters, they are traitors to the country and its people, so I say arrest Rusty Gaddy, arrest Jim Breese, arrest Jason Garman and Reid Lewellin, and arrest all of the crooks that run the criminal enterprise called Name Brands Clothing. These people are also very cowardly, if they find out that any employee is against their corruption they will slander him or her with false accusations, they will make up stuff to make that employee look bad. The two most egregious slanderers at Name Brands are Jason Garman and Jim Breese, they will slander and harass you to the point of desperation, and people will quit their jobs because of the continual harassment.
Veracity Voice: Job harassment is a crime.
Employee: Yes, and they get away with that too.
Veracity Voice: Talk a little bit about the one man that has used more than one ID to work at Name Brands.
Employee: Ya, he has three different aliases. I do not know which one is his real name, all I know is that Name Brands went out and got him a new fake ID, when they found out that the old ID the man was using belonged to a another man.
Veracity Voice: Where did they get the fake ID?
Employee: I do not know for sure, I heard that they went to some website run by the Federal government, and it provided Name Brands with a fake ID.
Veracity Voice: What do you think should be done with companies that choose to break the law as a regular part of doing business?
Employee: Again, arrest and prosecute the criminals, if law enforcement will not do their jobs, then Americans need to start fighting back by boycotting corporations like Name Brands that fragrantly and openly break the law. I mean these people act like it's the turn of the 20th century or something; these anti-American globalists – at the end of the day that's what these people really are – Name Brands conducts business like multinationals that run sweatshops all over the third world. They help create the culture of illegal behavior, by giving employment to illegals, which allows the illegals to stay in the city, drive vehicles without drivers licenses and insurance, use emergency Heath Services at taxpayer cost, they currently function 'above the law' and all accountability. Real Americans need to stand up against these criminals before they completely destroy this country.
Veracity Voice: Many in the business sector and in the political establishment will argue that the illegals fill jobs that Americans will not do, this reasoning is also pushed by the mainstream media, what do you say to this reasoning?
Employee: I think it is a false argument, I've seen with my own eyes Name Brands turn away Americans willing to work, in some cases desperate for a job, they are turned away in favor of hiring illegals. So, that kind of reasoning is nothing more than an illusion.
Veracity Voice: Some will charge you with racism for holding these views, how do you respond to this kind of slander?
Employee: It has been my experience that those that accuse people of being racist are in fact racists themselves. They falsely accuse others of being racist so they could push their nefarious agenda by smearing the reputations of those that are opposed to their mendacity and corruption. The charge of racism holds no water in the case of illegal immigration.
Veracity Voice: Why don't you look for another job?
Employee: I am its not easy finding work these days. And if I quit, I probably will not be able to collect unemployment benefits if I can't find a job.
Veracity Voice: Why?
Employee: Because Name Brands will fight against your right to obtain unemployment insurance, its company policy. They will send their managers to testify against your eligibility for unemployment benefits, and they will without any hesitation, lie and malign anyone applying for the benefits.
Veracity Voice: They have done this before, entered false information against former employees to the Unemployment Bureau?
Employee: Yes, many times, and they get away with that too, companies like Name Brands function 'above the law,' and it must stop now.
Veracity Voice: Thank you for your time.
Employee: You're welcome.
The massive unrestrained flux in illegal immigration has changed the demographics of Tulsa, forcing many businesses to provide bilingual services, including city and state government services at great cost to the taxpayer. It is the ongoing balkanization of the city where east Tulsa is now known as little Mexico, a criminal and negative phenomenon that is currently occurring in many cities across the nation.
"Prior to the 2003 invasion and occupation of Iraq, US and other western oil companies were all but completely shut out of Iraq's oil market. But thanks to the invasion and occupation, the companies are now back inside Iraq and producing oil there for the first time since being forced out of the country in 1973."

– Antonia Juhasz, oil industry analyst,  Al Jazeera.
These are the 'best of times' for the oil giants in Iraq.  Production is up, profits are soaring, and big oil is rolling in dough.  Here's the story from the Wall Street Journal:
"Iraq's oil production surged to its highest level in over 30 years last month, surprising skeptics of the country's efforts to restore its oil industry after decades of war and neglect."  (Wall Street Journal)
Mission accomplished?
You bet.  But for those who still cling to the idea that the US was serious about promoting democracy or removing a vicious dictator or  eliminating WMD or any of the other kooky excuses, consider what we've learned in the last couple weeks. Here's the story from Aljazeera:
"While the US military has formally ended its occupation of Iraq, some of the largest western oil companies, ExxonMobil, BP and Shell, remain.

On November 27, 38 months after Royal Dutch Shell announced its pursuit of a massive gas deal in southern Iraq, the oil giant had its contract signed for a $17bn flared gas deal. Three days later, the US-based energy firm Emerson submitted a bid for a contract to operate at Iraq's giant Zubair oil field, which reportedly holds some eight million barrels of oil.

Earlier this year, Emerson was awarded a contract to provide crude oil metering systems and other technology for a new oil terminal in Basra, currently under construction in the Persian Gulf, and the company is installing control systems in the power stations in Hilla and Kerbala. Iraq's supergiant Rumaila oil field is already being developed by BP, and the other supergiant reserve, Majnoon oil field, is being developed by Royal Dutch Shell. Both fields are in southern Iraq." ("Western oil firms remain as US exits Iraq", Dahr Jamail, Aljazeera.)
If it sounds like the big boys are dividing the spoils among themselves; it's because they are. Exxon, BP, Shell; they're all here. They all have their contracts in hand, and they're all drilling their brains out thanks to the American servicemen and women who gave their lives for some trumped up baloney about WMD. Isn't that what's going on?
Sure it is. And even now–after all the reasons for going to war have been exposed as lies–the farce continues. Nothing has changed. Nothing. There's still no talk of reparations, no official investigation, no indictments, no prosecutions, no trials, no penalties, no nothing. Not even a stinking apology. Just a big "up yours" Iraq. We're way too important to apologize for killing a million of your people and reducing your five thousand year old civilization to a pile of rubble.  Instead, we'll just screw you some more and paper it over with a little public relations, like Obama did a couple weeks ago when he promised to "leave behind a sovereign, stable and self-reliant Iraq, with a representative government that was elected by its people".
Oh yeah. Obama's all about sovereignty and stability, everyone knows that.  That's why Baghdad is the terror capital of the world, because Obama's so committed to security.
These PR blurbs are effective though, they provide the necessary cover for leaving enough troops behind to protect the oil installations and pipelines.  That's the kind of security Obama cares about. Security for the oiligarchs and their stolen property.  Everyone else can fend for themselves, which is why Baghdad is such a bloody mess.  Here's more from Aljazeera:
"Prior to the 2003 invasion and occupation of Iraq, US and other western oil companies were all but completely shut out of Iraq's oil market," oil industry analyst Antonia Juhasz told Al Jazeera. "But thanks to the invasion and occupation, the companies are now back inside Iraq and producing oil there for the first time since being forced out of the country in 1973." (Aljazeera)
Yeah, thanks for that invasion, Mr. Bush. We couldn't have done it without you, guy. Hope you have a great retirement painting pictures of poodles and stuff while people continue to get blown to pieces in the terrorist Hellhole you created. Here's more Al Jazeera:
"Juhasz, author of the books The Tyranny of Oil and The Bush Agenda, said that while US and other western oil companies have not yet received all they had hoped the US-led invasion of Iraq would bring them, "They've certainly done quite well for themselves, landing production contracts for some of the world's largest remaining oil fields under some of the world's most lucrative terms."
Dr Abdulhay Yahya Zalloum, an international oil consultant and economist …(said) he believes western oil companies have successfully acquired the lions' share of Iraq's oil, "but they gave a little piece of the cake for China and some of the other countries and companies to keep them silent". (Aljazeera)
How do you like that? These guys operate just like the Mafia. The Bossman pays off China with a few million barrels, and China keeps its mouth shut. Nice. Everyone gets "their cut" so they don't go blabbing to the media about the ripoff that's taking place in broad daylight. The stench of corruption is overpowering.
And here's something else you won't see in the media. In a White House press release,  the Obama administration announced that they would continue to support Iraq's "efforts to develop the energy sector" in order  to "help boost Iraq's oil production."….
According to Assim Jihad, spokesman for Iraq's ministry of oil, "Iraq has a goal of raising its oil production capacity to 12m bpd by 2017, which would place it in the top echelon of global producers." (Aljazeera)
"12 million barrels-per-day by 2017″?
That makes this the biggest petroleum heist in history. And we're supposed to believe that the oil bigwigs didn't know anything about this before the war? What a crock! I'll bet you even money the CEOs and their lackeys figured out that Saudi Arabia was running out of gas, so they decided to pick up stakes and move their operations to good old Mesopotamia. That's why they put their money on Bush and Cheney, because they knew that two former oil men would do the heavy lifting once they got shoehorned into the White House.  The whole thing was a set-up from the get-go, right down to the 5 shady Supremes who suspended the voting in Florida and crowned Bush emperor in 2000. The whole thing was probably mapped out years in advance.
Big oil runs everything in America. People talk about the power of Wall Street and Israel, but oil is still king. They run it all, and they own it all. And "what they say, goes."  Here's more:
"Juhasz explained that ExxonMobil, BP and Shell were among the oil companies that "played the most aggressive roles in lobbying their governments to ensure that the invasion would result in an Iraq open to foreign oil companies".

They succeeded," she added. "They are all back in." (Aljazeera)
Hooray. Big oil wins again, and all it cost was a million or so Iraqis who got blown to bits air raids or shot up at checkpoints, or beaten to death with a rubber hose at Abu Ghraib or any of the other democracy reeducation centers that dot the countryside. But, hey, look at the bright side: At least production is up, right? Can you see how sick this is? Here's more:
"Under the current circumstances, the possibility of a withdrawal of western oil companies from Iraq appears remote, and the Obama administration continues to pressure Baghdad to pass the Iraq Oil Law." (Aljazeera)
And what is the "Iraq Oil Law", you ask?
It's a way to privatize the oil market using Production Sharing Agreements (PSAs) which disproportionately benefit the corporations.  Obama's a big backer of the law since it means even heftier profits for his thieving  friends.  In other words, the humongous profits they're already skimming off aren't quite good enough. They want more. They want to own the whole shooting match lock, stock and barrel.
This is really an outrage. What other country behaves like this?
No one. No other country in the world goes out and kills a million people, destroys their country, and leaves them to scrape by on next to nothing just so they can pad the bank accounts of voracious plutocrats have more dough than they know what to do with. No one else would even dare to act like that for fear that they'd get bombed into annihilation by the world's biggest bullyboy, the US of A.  Only the US can get away with this type of crap, because the US is a law unto itself.
Iraq was the Cradle of Civilization. Now it's the cradle of shit. The US decimated Iraq; blew it to bits, bombed its industries, its bridges, its schools, its hospitals, leveled its cities, polluted its water, spread diseases everywhere, killed its kids,  pitted brother against brother,   and transformed a vibrant, unique country into a dysfunctional cesspit run by opportunists, gangsters, and fanatics.
And, here's the corker:  No one gives a rip. Face it: No one gives a flying fu** about Iraq. The American people lost interest long ago, the politicians can't be bothered, and the UN is too afraid of the US to lift a finger to help. They'd rather stamp their feet and scold Putin over Crimea than utter a peep about the genocide in Iraq.  That's the state of things today, right?  No accountability for the men who started the war, and no justice for the victims. Just the infrequent (phony) pronouncement of support from the White House or the all-too-frequent sectarian bombing that leaves an untold number of civilians dead or wounded. This is all the US leaves behind; hatred, death and destruction.
Here's a clip from a poem by Iraqi writer who wants readers to take a minute and think about all the suffering the United States has created. The poem is titled "Flying Kites":
"Come and see our overflowing morgues and find our little ones for us…

You may find them in this corner or the other, a little hand poking out, pointing out at you…

Come and search for them in the rubble of your "surgical" air raids, you may find a little leg or a little head…pleading for your attention.

Come and see them amassed in the garbage dumps, scavenging morsels of food…

Come and see  our little ones, under-nourished or dying from disease. Cholera, dysentery, infections…

Come and see, come…."  ("Flying Kites" Layla Anwar)
A million people were killed so a few rich fu**ers could get even richer. That's a hell of a legacy.
Before Federal trolls or indoctrinated government "true believers", starts spreading their slurs, you had better gauge the sentiment in the real America. Seventy-two percent of Americans, in a Gallop poll say big government is a greater threat to the U.S. in the future than is big business or big labor, a record high in the nearly 50-year history of this question. Yet the "so called" authorities would have you accept that only a conspiracy theorist thinks that the great protectors of law and order are capable of routing out Christians, 2nd Amendments advocates, 911 Truth proponents, Tea Party members, Patriot-Liberty groups or Global Warming deniers, and confining them to prison gulags. So when the House introduced HR 645, in 2009 that directs the Secretary of Homeland Security to establish national emergency centers on military installations, every citizen should feel threatened by its own government.
Here are some of those nasty facts that endanger all of us. The Albuquerque Journal account in the article, MISSION CREEP: Homeland Security a 'runaway train' should alarm everyone.
"Today, the Department of Homeland Security is the third-largest agency in the federal government, behind only the Departments of Veterans Affairs and Defense.

When created in 2002, DHS merged 22 pre-existing federal agencies into one, marking the largest reorganization of the federal government in more than 50 years. Among the agencies included under the Homeland Security umbrella are the Coast Guard, Customs and Border Protection, Secret Service, Transportation Security Administration and the Federal Emergency Management Agency.

In the first year of its existence, the Department of Homeland Security employed 180,000 full-time workers. Today, 240,000 people collect paychecks from the agency, according to its website.

The department's budget has more than doubled since the agency's inception in 2003, when it spent $29 billion. This year, DHS is slated to spend $61 billion."

Beginning at its inception, Homeland Security had all the telltale indications that a militarized national interment force was designed to segregate, if not bury, domestic 'enemies of the state".
From the executive summary, US FEMA Camps published by the Geopolitical Monitor states:
"In August 2002, then Attorney General John Ashcroft called for American citizens who are deemed 'enemy combatants' to be detained indefinitely without charge and independently of the judiciary. This legal position was upheld in the case of a US citizen detained abroad by the 4th U.S. Circuit Court of Appeals in a January 2003 ruling.

For some time FEMA has been renovating and constructing new detention camps throughout the country. In January 2006 Haliburton subsidiary KBR announced that it had been awarded an "indefinite delivery / indefinite quantity contract to construct detention facilities for the Department of Homeland Security worth a maximum of $385 million over 5 years."

Stated Purpose

"Little has been said about the purpose of the detainment camps but when official comment has been made it has stated that the camps are for the temporary detainment of illegal immigrants."
PLEASE, if that objective was true, how does one explain away the Breitbart reporting that 'We Have a Commitment' From Boehner on Amnesty This Year? At the same time, the Obama administration demonstrates that their own Government released hundreds of immigrant felons. Only a fool would believe that this FEMA fairy tale yarn about their detention facilities. Dave Hodges of The Common Sense Show always reveals the true unpleasant details that most Americans are afraid to confront. In his article, CBS News Admits FEMA Camps Are Real, a leaked memo from KBR manager, Bob Siefert, referenced a disturbing call for the installation of fencing and wire used for large-scale detention of prisoners.
"Subcontractors will mobilize, transport, erect, install and demobilize temporary fencing, barricades, and associated equipment according to federal, state and local laws, codes and manufacturer installation instructions. The Subcontractor shall be able to mobilize and deploy key personnel(s) within four (4) hours of NTP to meet with KBR Site Manager at the Responder Support Camp (RSC) site in order to finalize the site design plan and acquire site-specific design requirements and layout. Number of linear footage:

"Approximately 2,300LF for a 301 person camp after 36 hours of NTP"

"Approximately 3,600LF for 1,000 person camp after 72 hours of NTP"
This sounds like FEMA camp activation to me and it closely parallels the FEMA camp events on the East Coast in the aftermath of Sandy."
Since so many apolitical mentally challenged flag wavers, accept the myth that I'm From The Government and Here To Help, even in the face of stark reality, the only rational conclusion is to expect the worst. The Nolan Chart features an essay by Walt Gelles, Time To Abolish The FEMA Camps, that succinctly makes the case for questioning the true purpose of Homeland Security constructed FEMA internment camps.
"The FEMA camps are ready… Eight hundred empty secret prisons, detention centers, concentration camps scattered around the U.S.A.-fully operational, surrounded by full-time armed guards, and ready to receive prisoners.

Obama's Homeland Security Department bought 1.6 billion bullets using your taxpayer dollars. That's five bullets for every man, woman, and child…five bullets waiting to pierce your skull…hollow-point bullets, sniper bullets, forbidden under international law for use in war. Plus 2,700 military tanks for domestic use, and Obama has created a para-military police force operating under Homeland Security.

Do you think those 1.6 billion bullets were intended for a bunch of Arab terrorists trying to take over a Walmart or an airport? Think again. Do you really believe the FEMA camps were built to house Muslim fanatics or flood victims? Get real. Go ask Hillary Clinton what the FEMA camps are for. Go ask Nancy Pelosi or John Boehner or President Obama/Soetoro. You're paying billions of dollars for the government to put you away.

Most of the 800 FEMA camps can house up to 20,000 prisoners. That works out to 15 million Americans the government is ready to lock up. All the camps have railroad facilities, and the boxcars have been built to transport the prisoners. Sounds like Auschwitz? The cars have shackles welded in; plastic coffins are stockpiled and ready for use.

What if enough people found out that the 9/11 "terrorist" attack was no terrorist attack at all, but a false-flag event carried out by the U.S. Government to serve as a pretext to invade Iraq and Afghanistan and to install the Surveillance State at home? And what if millions of people demanded that the real perpetrators, the real 9/11 mass murderers-in the White House, the CIA, the Pentagon, the judiciary-be brought to justice in a Nuremberg-style criminal court?

The FEMA camps are ready. To put the movement's leaders away. To crush the dissent."
What portion of this explanation is incorrect? Refusal to face up to the actions of DHS will not necessarily save you from selection for a place at a FEMA camp. The transition of Americans from thinking defenders of constitutional liberties into dumb down nationalists and servile obedient slaves, explained in the essay, From Viet Nam Defiance to Boston Surrender, needs a response to a fundamental question. Will you allow forcible transport to a FEMA camp? Or will you gladly pack up your toothbrush and submit to "Diesel Therapy" and ride the bus to your new cell?
"Corrosive incrementalism of totalitarian policies developed in an environment of gradual apathy, over the last half century. Dissenting opposition movements, persistently confrontational against the establishment became less organized and vocal. As a result, institutions of influence descended into deeper depths of moral corruption, as the agencies of bureaucratic dominance expanded their reach and scope of tyranny."
The prospects of declaring martial law, as well as, federal direction of coercive compliance and assimilation of local law enforcement assets, is the only logical purpose of creating militarized FEMA encampments. In a country, that maintains Private Prisons and the Enslavement Society, it is one small step to eliminate any opposition by way of herding defiant resistors into secure concentration camps.
Those who still say it could never happen in the United States, lack a historic perspective and current events understanding. Ever since the exploited ultimate excuse of the 911 false flag, the nation has suffered from acute delusional disorder syndrome. With the announcement that the 9/11 Museum Opens to Families, First Responders With Emotional Dedication Ceremony, you witness another psychological warfare opportunity to pave the way for the latest tactic of indoctrinating the public into accepting that domestic terrorists are the new focus of the Homeland Security mission.
Under both Bush and Obama, the authoritarians have built the greatest threat to America; namely, a permanent police state. Depending upon the FEMA district in which you reside, the presence of Federal concertina wire may vary. However, the rail cars are able to move human cargo in all directions and the trains will run on time. Check out the FEMA camp closest to you.
With the adoption of the National Defense Authorization Act (NDAA), codifying indefinite military detention without charge or trial into law, places at risk every American in the torture chamber of the Gitmo captivity culture. Before long, the next fabricated crisis offers the opportunity for Martial Law that translates into the order for the knock at your door. Will you accept DHS chains? Or will you die, a bona fide American hero and resist?
Origin of the Master Model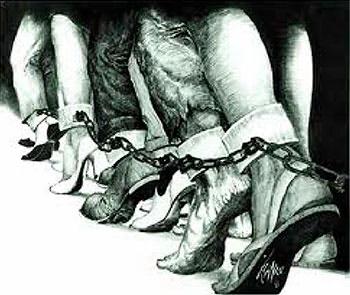 The master plan for world domination we see playing out today was first proposed to the US at the end of World War I. However, there were no takers. People were too war weary. However, when the plan was again proposed at the end of World War II, it was accepted. Consequently, World War II quietly transitioned into the secret "war" to set up what has become known as the "new world order" — an absolute dictatorship over the entire planet.
The United States set up the School of the Americas to train future dictators and terrorists who would be sent out into the world to destroy sovereign nations and place them under US domination by installing puppet governments obedient to the United States. Many conquests were made quietly using clever economic tricks [2]. However, leaders who refused to submit quietly would see their entire country reduced to rubble and the land rendered unlivable by uranium dust scattered by US bombs. The message was clear: Submit to the United States or face total destruction.
A social model based upon the assumption that cleverness and power automatically convey the right to take anything desired from those who are less adept and unable to resist is not a sustainable model for harmonious social interactions. However, this is the chosen model. The mantra for this model, "A man's true worth is measured by the amount of other peoples' happiness that he can possess and destroy" [1], is essentially a call for a class war between the greedy elite and the innocent masses of the world who simply desire a peaceful existence.
Acquisitions
The United States looks at the rest of the world as a "resource". If a country has something — oil, gold, minerals, etc. — that the US covets, it believes it has the right to take those things by whatever means necessary. In many cases the coveted resource is human slave labor. Let's look at some representative examples:
With the cooperation of the dictator, United Fruit Company (US) owned almost half of the country and used the locals as slaves to harvest its Chiquita brand bananas. However, during the period from 1945-1954 new leaders made changes. They helped the poor and set up social security and health care. Then they took land away from United Fruit and gave it to the local people. United fruit complained to the CIA that its business interests were being interfered with by the "communist" government. Any government which shows kindness to the poor and weak is called communist by the US. The US attacked Guatemala — killed the elected leaders and many thousands of citizens — and established a puppet dictatorship which would obey the will of United Fruit. The people were returned to a state of slavery. The CIA trained death squads to make sure the people were crushed into submission.
Strip Mining in Africa [4]
In Africa, the International Monetary Fund — a puppet of the US — destroys a country with strip mining. The original country was self sustaining. People were able to grow lots of food and hunt animals. However, once the land was ruined by US corporations, it was unusable to plant crops and the native animals died. The people had to buy food from other countries with money loaned to them by the IMF which they could never hope to repay. Therefore, a once free and self supporting people were made debt slaves of the IMF. Once all the natural resources have been stolen, the corporations will simply pack up and leave the indigenous people to starve and die.
Countries Used as Trash Dumps [5]
Used computers and associated items are dumped in poor countries where starving barefoot children sift through the mess of hazardous waste and broken obsolete glass computer monitors hoping to find something they can sell to get enough money to stay alive another day. Property stickers show the waste is mainly from the US government and various US state governments.
Corruption of Trusted Sources
Reporters and News Organizations
The masses are conditioned to believe news they receive from establishment sources. In the earlier times, this assumption was often correct. It was considered so important by the founding fathers that freedom of the press was enshrined in the US constitution. However, times have changed.
Walter Cronkite was known as the "trusted voice". No one knew he was also the official announcer at the secret Bohemian Grove meetings. The leaders of the world's news organizations also attend this event. That is why, even though the meetings began over one hundred years ago, until recently no one knew this group even existed. President George W. Bush may have set a new record for bribing journalists to allow their trusted name to be used as the author of material actually written by government propaganda experts. Apparently, everyone has a price and the government, of course, has no problem when it comes to money.
When Ronald Reagan reportedly ordered the death of investigative reporter Jessica Savitch [6], the message to independent journalists was clear: Go against the official party line an you're done!
Today, dedicated journalists face mysterious deaths and strange single car accidents but a few survive long enough to give us a glimpse of truths we would otherwise never know. They are true heroes.
Churches
Churches are everywhere. Unfortunately, legitimate Spiritual teachers are not. People look at churches either as harmless or with some sort of conditioned hypnotic respect. Churches send out "missionaries". However, the "mission" of these missionaries may not be so clear. If you wanted to infiltrate a foreign country, these people would be an ideal asset.
Churches are not Spiritual centers. At best, all they want is your money. At worst, they are Satanic and you are in severe Spiritual danger if you come under their influence and control.
The Catholic Church has been a trusted asset of the US intelligence community for quite some time. Significant information obtained by priests during confessions is routinely passed on to the government.
This agreement predates the internet by many years. Because the church has branches in almost every country, it has great potential for covert activities. For example, if you need to get an operative who is in danger out of a country, they can go to a Catholic church for "confession". Once the door is closed, they can exit through a secret passage, be disguised in robes and spirited safely out of the country. Church secrecy is at least on a par with US secrecy. Also, the Catholic church and the US shadow government share the same Satanic value system and engage in child rape and ritual killings.
Doctors and the Medical Industry
Medicine in the United States is an industry. It is no longer a profession. Its corporate model puts profit above all else. If some patients accidentally benefit they are the lucky ones.
The medical community has a rigid hierarchical structure and effective mechanisms for enforcing secrecy. Essentially, its model closely resembles the military chain of command structure. This makes it a perfect partner for the government in the area of secret human experiments.
For example, when the government was doing radiation experiments on humans, a doctor or someone dressed as a doctor would just walk up to unsuspecting patients and inject them with radioactive material. They were then secretly followed for years to see what would happen. Eventually, some of those who survived were told the truth. Most people used in the MK Ultra and subsequent secret projects were never notified.
Hospitals are set up to protect themselves. Staff may appear to be dedicated, smiling people who truly care about you. However, they are basically prostitutes who are being nice because you are worth money to them. When they make mistakes they have a "loss prevention" department staffed by clever lawyers who are trained to protect the financial interests of the hospital by denying everything and fabricating believable coverups. They are trained to do whatever is necessary. The staff will all agree to support whatever lies are needed. They know their job and their financial future depends upon maintaining strict secrecy.
The only people who receive legitimate medical care are the select elite cleared to accesstop secret medicine. These people always get excellent care because the doctors work for the shadow government and mistakes on their part are simply not tolerated.
Infiltrations
Countries which have the resources to sustain an intelligence community generally try to get operatives (spies) into other countries so they can directly observe activities. When real people gather intelligence, this is called human intelligence or HUMINT. The US, of course, does this too. However, you may not be aware of the extent to which the US also infiltrates itself. The central government really does not trust anyone.
Essentially all local police departments, state offices and state governors have a covert federal agent working close by pretending to be just another employee. Also, every US neighborhood has an informer who reports to the federal government. Large corporations, which tend to behave like "mini governments", need to be infiltrated and kept under observation. Colleges and universities are also monitored.
Here is how this spy network operates: The NSA likes to recruit young kids right out of college. When they are hired and sworn to secrecy they still do not know what their assignment will be. They must agree to do this assignment without first being told what it is.
Some agents, like John Perkins [2], are assigned to work in other countries. However, others are assigned to work inside the US. Their assignment could be to go to some state and apply to join the local police department. They would pretend to be just a regular person looking for a job. They would take the necessary training and spend their life as a local policeman so they could directly observe other local police from the inside and report to the NSA. Since they are actually an employee of the NSA, presumably they get to keep both salaries and, eventually, both retirements. All significant local police forces in the US are infiltrated this way.
Additionally, some agents will be assigned to get a job on the state governor's staff as well as in major local state agencies. A CIA or NSA agent is always on the staff at major colleges and universities. The same goes for major corporations.
Senior level agents are allowed to have special TV receivers in their homes linked to the secret government TV network. This way everyone stays on the same page. The channels on this network actually broadcast the truth. TV channels available to ordinary people contain only government approved propaganda mixed with "bread and circuses" presentations to make sure the sheeple stay asleep and content.
Fronts
The US government is involved in illegal activities internationally and domestically. If it performed these activities overtly in the name of the United States, there would be serious consequences under both international and local laws. To avoid this situation, the US government operates thousands of "front organizations" which appear to be private but are actually shadow operatives of the US.
For example, John Perkins [2] explained that he was recruited, hired and trained by the NSA. He was an NSA agent. However, for his cover as an economic hit man, he "officially" worked for a "private" company called Charles T. Main. This company was a government front to shield the US because the activities the NSA trained Perkins to do were illegal.
This is standard operating procedure for the US as well as other countries and many corporations. It shields them from legal recourse by providing deniability for the crimes they actually direct and commit.
Generally, when the US wants to influence other sovereign countries, it creates harmless looking NGO's which appear to be independent but are actually fronts for covert activities.
Domestically, colleges and universities — especially those with associated medical schools and hospitals — are great places to conceal a variety of covert projects such as the MK Ultra series of human experiments which, reportedly, continue today using new cover names. The US also likes to create non-profit corporations which exist only to provide classified services to the United States. A good example would be the Institutes for Defense Analysis (IDA). The US, reportedly, is its only client.
Programming
Mass media "programming" is actually programming you. It has developed into a subtle form of mind control. Before radio and television, special interests recognized that motion pictures could be used to alter public opinion in their favor. Perhaps, for example, you wanted to attack labor unions. When radio and later television came along providing access to national and international audiences, the temptation to exploit these technologies became irresistible. Originally, the US government recognized this and set up fairness rules to prevent monopolies from taking over the broadcast media and blocking opposing viewpoints. All this ended, unfortunately, when Ronald Regan canceled all the fairness regulations. Today, a handful of powerful corporations own and control essentially all content delivered by radio and television.
Television is the main vehicle for mass indoctrination. It is said that people watching TV actually fall into a light hypnotic trance. The "entertainment" you see on TV does not "just happen to be there". It is very carefully planned and timed to attract and influence targeted audiences. It is said that if some event were to somehow shut down all television broadcasts the government would experience a severe crisis because it would lose control over the minds of the masses.
TV creates sort of a "hive mind" among the masses and keeps everyone coordinated and tuned into the official party line. Without this, people would have no choice but to start thinking for themselves and forming independent opinions. Clearly, this would be a disaster.
The radio broadcast of "War of the Worlds" and the later movie "The Day the Earth Stood Still" are said to be CIA psychological experiments to judge how the general public would react to some type of ET contact.
Today, broadcasting is not just a one way event. Because people react to events and use social media to express these reactions, the effect of specific propaganda can be analyzed in real time. Since the government now intercepts all electronic communications, it is able to see general opinions and then tweak algorithms to maximize the desired effect of propaganda. This ability makes TV a two-way communications system although most people, of course, do not realize this and have no concept of the level of sophistication these technologies have reached.
Information Theory
Information Theory is the name of a relatively new branch of science which became popular in the 1960′s. It covers a broad range of technologies. Basically, it is the science of the flow of information and how that flow can be selectively controlled so that information flows only in desired pathways. As you may have already guessed, governments love this sort of stuff.
ECM
ECM stands for Electronic Counter Measures. In general, these are techniques to disable other electronic devices. Basically, it is electronic warfare. When the secret service is active in an area, for example, they will selectively jam all radio frequencies except for the specific frequencies they are using so that no one else can communicate.
World leaders, who are generally terrified of "threats" materializing from practically anywhere, like to travel with ECM generators running just in case "someone" from "somewhere" was trying to target them for "some reason". Basically, they are paranoid whack jobs.
People familiar with aviation tell the story of how Tony Blair, while traveling to or near a commercial airport, reportedly caused a commercial jet to crash because all the ECM garbage he was transmitting jammed the plane's navigation system. Of course, the British government would never admit this.
Secure Communication With Submarines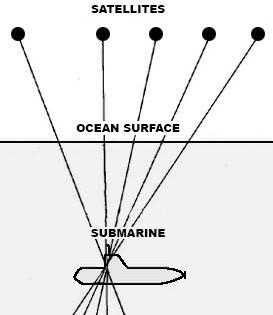 Since submarines were invented, communicating with them has been a problem because conventional radio waves will not travel underwater. Therefore, early submarines had to get close enough to the surface to put up some kind of antenna in the air to send or receive radio messages. Obviously, this could pose a problem if you did not wish to be discovered and located. After all, the motivation to create submarines in the first place was the feeling that they would be able to move about the planet secretly. However, newer technologies now make this impossible.
To solve the problem of reliable secure communication without the need to surface, scientists learned that sea water was essentially transparent to a special type of Argon laser. To set up the current communications network, it was decided to use several satellites with each satellite sending only part of an encrypted communication signal. The complete signal could only be received at a specific point underwater where all the laser beams intersected. Intercepting only one or two beams would prove useless. This communications system is considered to be impossible to intercept.
Quantum Entanglement
Returning to the submarine issue for a moment, before modern communications were perfected, there was a search for some reliable method to send a signal to a submerged submarine that could not be detected. This was considered necessary in a war situation to secretly transmit an attack command. What they originally did was to locate a couple of people who could communicate telepathically. One would be at the command base and the other on the submarine. Doing a bit more research, it was determined that this type of communication is instantaneous and somehow operated outside of time. Radio waves travel at the speed of light.
Quantum entanglement is a process which uses technology to send and receive signals outside of space-time. Now, why would you possibly want to do this? Well, if you had a base or a colony on a planet in some other solar system light years away, you would not want to wait years for messages to be received. Following this thread — and adding some basic common sense — why would you want to dedicate resources to search for habitable planets in distant solar systems when you had already "proven" it would be impossible to ever get there? Could it just be that someone is not coming clean with whole story?
The Separation Barrier
This is a model of the separation barrier which insulates the ruling class from the slave class. It is essentially "intellectual apartheid". The question is, why is it there. It takes considerable effort, money and manpower to maintain this artificial barrier. What is the reasoning behind not having a level playing field for everyone? Why does this idea absolutely terrify the elite? What are they afraid of?
The Pirate Story
This is a summary of a story told years ago on a radio broadcast most likely by Paul Harvey:
Ordinary people were afraid. The Earth was flat so they dare not venture far from home. Periodically, a pirate ship would come. They did not know how it got there or from where it came. It brought treasures they had never seen. The Chief Pirate would encourage the young men to study and specialize in specific skills. He wanted them to become educated but only in one narrow area. The Chief Pirate knew the world was not flat and how to navigate to other lands. However, this knowledge was never discussed. This "top secret" knowledge or the "big picture of the known world" would only be given to the Chief Pirate's son who would inherit his title and someday become the Chief Pirate.
This story is about the origin of the concept we call compartmentalization — the process of controlling the slave masses by only allowing them to know specific bits of the truth while the leaders are allowed to know total truth.
ELITE RULING CLASS
SECURITY CLEARANCES
SECRET POLICE
ASSASSINS
SURVEILLANCE — SIGINT HUMINT COMINT
SPY SATELLITES
SPY DRONES
SMART ELECTRIC METERS
INTERNET SURVEILLANCE
NEIGHBORHOOD SPIES
PLENTIFUL STREET DRUGS
PSYCHIATRIC FORCED DRUGGING
GENETICALLY MODIFIED FOOD
FLUORIDATED WATER
COORDINATED TELEVISION PROPAGANDA
DEGRADED PUBLIC EDUCATION
LOCAL MILITARIZED POLICE
---
SLAVE CLASS
Leaders can only maintain their status if there are slaves. Otherwise, everyone would be equal and operate on a level playing field. This means "leaders" would have to pull their own weight like everyone else. Clearly, this would be intolerable. Leaders love beautiful and exotic things but don't want to do the work needed to create these things. They probably could not even plant a garden much less build the various "ivory towers" where they like to live surrounded by servants. If left on their own they would very likely starve. This is why it is so important to create and maintain the complex separation barrier.
Why don't people who live above the separation barrier ever "come down" and talk to the people below the barrier? Well, other than the obvious fact that they would likely be killed or jailed for espionage or treason, there is another, simpler, reason.
Would you like to spend your days sitting in an open field with kindergarten kids looking for four leaf clovers? Probably not. You have progressed beyond that. The slaves below the separation barrier cannot even imagine the world of those who live above the barrier. In fact, the elite do not even consider the slaves human. They call them "disposable biological units". The United Nations prefers the slang term "the herd". Slaves can be easily bred in quantities needed and programmed to do desired tasks. Then, they can be easily disposed of when no longer useful. That's how they look at you. So, why would they want to make friends with you?
The Mars Example
There is an interesting event playing out today that you may have noticed. This concerns the recruitment and selection of people to be sent to Mars. There are simulation projects where volunteers are locked away to imitate the long voyage to Mars. They are being told that this is a one way trip and they can never hope to return to Earth.
What you are witnessing is the selection process for the "seed people" who will be used to breed the future slave class on Mars. In a situation similar to the period when most believed the Earth was flat and you would fall off if you tried to go to sea, these people are convinced that the only way to get to mars is to ride a rocket on a perilous journey taking years. Because they truly believe this, when they get to Mars, they will teach this crap to their kids along with other misconceptions like it is impossible to go faster than the speed of light and other associated obsolete scientific principles. They will have no
desire to ever return to Earth or go anywhere else because they truly believe it is not possible. They will be contented slaves.
Of course the truth is that there are already secret colonies on Mars. It is not that hard to get there using antigravity and other secret propulsion methods and it is quite likely possible to simply walk through some kind of wormhole device and come out on Mars.
However, the slaves will never know this. Just as it is done on Earth, there will be an artificial separation barrier. The insiders will know the truth and will be physically hidden from the slaves. There will be secret police and other methods — the same as are used on Earth — to make sure no slave ever escapes from the "information prison". Business as usual will continue.
Reinforcement of Ignorance
Governments and their oligarchs love to keep their subjects in a cloud of ignorance. Back in the days when people believed the Earth was flat, the inner circle ruling class knew it was round. Maintaining the deception was convenient because it kept the slaves from developing any desire to travel far from home.
Nothing has changed all that much today. Consider, for example, all the fuss over the missing MH370 plane. You are being played for a sucker. It is impossible for that plane to have "disappeared".
The US DoD spy satellite system reportedly consists of ten constellations of satellites. Each constellation has over seven thousand satellites. They see and record everything that happens on this planet. The floor of the oceans can be seen just as clearly as the land areas. The resolution of the system is better than one square millimeter. Also, everything is recorded so you can go back in time and play past images.

This is a picture of a common electric lamp. Take this lamp and throw it in the ocean — any ocean anywhere on this planet. The spy satellite system will locate it, give you the coordinates and give you a photo at least as good as the one above. That is the capability of the system. So, clearly, it is impossible not to know the location of something as large as a Boeing 777 plane. All the TV publicity is a choreographed play. You are being scammed and you need to wake up and realize this fact.
Murders and Assassinations
To ensure a strong empire, dissent must be crushed. The United States trains assassins and carries out both domestic and foreign murders and assassinations on a regular basis. You may be familiar with the classic movie scenes where a black limousine with tinted windows drives by a target with thugs shooting machine guns. Although this would accomplish the task, it is a bit too obvious in a country that advertises itself to be a free, civilized democracy. Someone might catch on and begin to doubt the party line. Consequently, these things must be done quietly.
Inside the US, murders are reportedly carried out by a group known as "FBI Division Five". Other agencies likely have the responsibility for foreign assassinations. However, the basic techniques used would be similar.
Typically, an agent would wake up every day and connect to the top secret internet to see who he was assigned to kill that day. There would be several options. If it was important to eliminate the target immediately, a fast acting chemical agent would be selected which, for example, would cause the target to die within a few hours of a "natural" heart attack.
However, if time was not critical and the government just wanted the target out of the way, you might want to select one of the cancer causing agents such as those likely used to eliminate Hugo Chavez and Senator Ted Kennedy.
There is also a third possibility. This involves character assassination instead of actual murder. Consider, for example, a person who has gained a lot of public recognition talking about, say, free energy. If you simply kill the person, there could be blowback and talk that he was silenced by the government. In such cases, it is easier to use a chemical agent designed not to kill but, rather, to cause states of mental confusion resulting in obviously strange behavior. This would be coordinated with the government controlled mainstream press to make sure everyone became convinced the person was a nut and would therefore ignore anything said without regard to the truth or validity of the message.
Once the appropriate chemical has been selected, you need to load it into the secret delivery system and locate your target. To find your target you will connect to the top secret internet and pinpoint the location of the target through their cell phone. You can also activate all the cameras and microphones in electronic gadgets connected to the internet associated with the target in case you wish to look around the target's home and hear in real time what is taking place.
Of course, this will not help you locate the target when it is time to actually do the hit. So, you need to get the top secret profile data which will show any predictable habits of the target. Everyone is constantly tracked through their cell phones and profiles are logged and stored. In this case, the profile shows that the target has a favorite restaurant and goes there for lunch every day around 11:30. Now, you know exactly what to do. You go to the restaurant, hang out until you see your target, and get in line behind the target. Now, all you need to do is slightly bump into the target to deliver the chemical. Generally, the targets never even notice.
This mission is now complete. If it is early enough, you can check back in to the top secret system to see who you are supposed to kill next. Just another day. Just a routine job.
Money
Money is an imaginary force. It is used to motivate and control slaves. Real forces effect all life forms. However, only people respond to money. The only reason they do is because they have been artificially programmed to do so.
Money can be created in unlimited quantities by those adept in the use of this force. The physical world is finite, however the world of imagination is not. There is no limit to the quantity of money that can be imagined into existence. Money can also be imagined out of existence.
Let's assume that one day the entire financial system simply disappeared. If you lived in a rural area and had a nice veggie garden, some friendly chickens, collection facilities for rain water and a few photocells for electricity, you would not notice this. The veggies would continue to grow. Rain would periodically fall. The chickens would lay eggs as usual. The sun would continue to shine. However, if you lived in a city environment, you would be devastated.
Before money, people lived in small hunter-gatherer groups. The concept of ownership did not exist. People worked and survived as a group. Men and women were equal. Everyone contributed to the community. Resources were shared equally. The concept of "mine" and "yours" did not exist. Women generally became pregnant only once about every three years although there was no birth control. Later, when the concept of money entered the consciousness, women were seen as having less value because men were paid for work but women were not paid to raise and care for kids. Society has changed, however, the downgraded status of women has not.
Money systems have always been manipulated by clever people. When gold was used as money, people learned they could dilute pure gold with silver or maybe even lead to come up with something that looked like pure gold and had the correct weight but was a fraud. A king suspected he was being scammed but had no way to prove it. He called on the great minds of the time for help. This led to what is known as the Archimedes' principle which is better known today as "specific gravity". This principle made it possible to compare a sample known to be pure gold to a questionable sample and prove the unknown sample was not pure gold. Likely, some clever crook lost his head once this test became known.
There is a general belief that gold is the ultimate reference for all money. However, secrets concerning the exact quantity of gold make this a perilous assumption. Reportedly, the United States stole a tremendous quantity of physical gold from Japan towards the end of World War II. This gold exists off the books. To make matters worse, Japan was not all that concerned. Japan had been using gold bars as ballast on its ships because they were compact and heavy. They thought nothing of throwing the bars overboard as necessary. Japan used platinum as a money reference and the US never got that. This should make one rethink all the hype about the value of gold. It may be a lot more plentiful than we have been led to believe. Also, the secret off the books stashes of gold would allow its relative value to be manipulated at will just like other commodity markets.
The Financial Axis of Evil [3]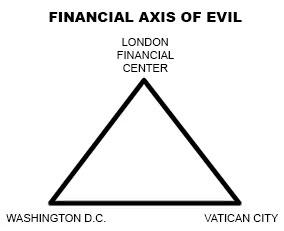 This is the model of the financial axis of evil which rules this planet. It consists of three main branches as shown above. Collectively, they are known as "The Empire of the City". Briefly, here is how this system operates:
The London financial district is in London, Washington D.C. is in the United States and the Vatican is in Italy. However, these three places are not part of the countries where they exist. They are independent "city states" and have their own laws and constitution. They are, effectively, "mini countries" inside of other countries and fly their own flags. The city state of London is a private corporation and pays no taxes to actual London or to Britain. The city state of London is the master power center and is controlled by the Rothschild family which considers itself to be the legal owner of this planet. The Vatican is the largest private land owner in the world and the first true multinational corporation with installations (churches) and secret agents (The Knights of Malta) everywhere. They control through the power of fear of the unknown and practice black magic. Washington D.C. relies upon brute military force. All three closely cooperate combining their specialties of financial trickery, witchcraft and military might. Of course, all three worship Satan as their Master.
Slavery
Slavery is alive and well throughout the world. The US constitution prohibits slavery, however, most americans live in slave-like conditions.
It is said that it will take the average college student until age fifty to pay back their student loan.
The constitutional amendment prohibiting slavery addressed the concept of physically owning another person. However, it did not address the issue of holding another person in bondage as a debt slave. It also did not consider the concept of private for profit prisons who force inmates to work as slaves. These systems exist today and are perfectly legal.
Actually, a recent report from prestigious Princeton University has reclassified the US government as an oligarchy — a country run by and for the rich elite. Former US President Carter has stated that the United States "no longer has a functioning democracy". So much for the Founding Father's dream. Speaking of dreams, check out the free you tube video titled "The American Dream".
Other forms of slavery are illegal but still flourish. Sex slaves are always in demand. Traffickers are sometimes caught but you need to realize that your leaders use sex slaves and also routinely abuse young girls and boys. Sometimes they are also killed during occult rituals. No one ever talks about this and these people are never punished. This has been the normal way of life for Satan worshipers for many years and nothing has changed or is likely to ever change in the future. Stanley Kubrick's last movie, Eyes Wide Shut, covers this subject. Some believe this intense dramatization of how the elite really live may have cost him his life.
People still have some rights left in the United States but other countries are a different story. Qatar is doing construction for the World Cup. The event is not scheduled until the year 2022, however they have already killed 1200 slaves [7] by working them to death. People are lured from poor countries with the promise of jobs and money. When they arrive, their passports are confiscated and they are forced to work until they literally drop dead. If the World Cup is actually held in Qatar in 2022, there will be glamorous TV coverage and no one will remember or care about all the dead slaves. The show must go on.
Qatar, incidentally, sponsors Al Jazeera TV network.
Adaptation Techniques
The status quo of today will never change because the people who created it will never die. Because of top secret medicine, when men like Henry Kissinger, who heads the Bilderberg Group's steering committee, get too feeble to function, they will simply go to one of the secret locations and use the temporal reversal device to regress back to about twenty years old. Their memories will be unaffected. Then they will get new identities and continue on. This process can be repeated indefinitely.
Because you can never change the status quo, your best hope for a lifetime of reasonable quality is to find clever ways to live in this world with as much independence as possible.
One method of adaptation is autonomous and semi-autonomous communities. If the community is registered as a religious institution it is automatically shielded from most government interference by the US constitution. It pays no taxes and can pretty much write its own rules by simply calling whatever it wants to do "religious doctrine". Many small semi-autonomous groups exist where people who share a common set of values find ways to quietly live out their lives pretty much on their own terms. The government does not seem interested in bothering these smaller groups as long as they live peacefully and are not doing anything that the government perceives to be a threat.
The Amish people are a good example of an autonomous group. You would probably not want to live as they do, however, before you completely dismiss them, you may want to look at some definite advantages in their chosen lifestyle.
Remember, these are the people who reject technology. They just might have made the correct choice. Technology, at first, seemed like a good idea. However, now that people are addicted to technology they are also enslaved by technology. Everything they do is monitored and recorded by the government. Privacy no longer exists. It did not have to be this way.
Technology, in itself, is not evil. However, it can be quite evil if you live under a government run by sociopathic control freaks which, unfortunately, you do. In the Amish world, electronic surveillance does not exist because electronic devices do not exist. The constant propaganda from TV has no effect on people who do not have TV. A horse does not report its position to a GPS satellite and is not controlled by a computer.
Also, the people are generally healthy and do not suffer from many diseases common to the mainstream population. They are not being poisoned by fluorinated water or additives found in processed food because they don't use these things. Also, they get lots of physical exercise.
Without totally withdrawing from the world, there are some positive steps you can take. By now you know never to drink fluorinated water or use any personal product containing fluoride such as many brands of toothpaste. To minimize harmful food additives, look for Kosher food which is marked with either the encircled "K" or "U" (Ultra Kosher). These foods have less or no harmful additives. The Jewish community is very protective of its people and the Mossad is widely considered to be the best intelligence service in the world. Therefore, they would have the inside scoop on everything including food and do not want to see their people harmed.
Whatever you decide to do, you definitely do not want to be part of so called mainstream society. These people are doomed. They are sheep (sheeple) slowly walking to the slaughter house. Don't go there!
---
references and credits
[1] DVD "The American Ruling Class". ASIN: B001HM2CE2.
[2] John Perkins. Book: Confessions of an Econemic Hit Man; DVD (free on you tube): "Apology of an Economic Hit Man"; RT interviews.
[3] See the free you tube videos titled "The Red Shield".
[4] DVD: "The Wages of Debt", RT Intl. Also available for purchase.
[5] DVD "Terra Blight", RT Intl. Also available for purchase.
[6] Interview with John Judge of Veterans Against Military Psychiatry.
[7] Also search using the phrase "qatar slaves world cup".
© 2014 W C Vetsch. All rights reserved.
Source: Walter C. Vetsch  |  3108.info | War Is Crime
Imagine: you are dressed up for a night on Broadway, but your neighbours are involved in a vicious quarrel, and you have to gun up and deal with the trouble instead of enjoying a show, and a dinner, and perhaps a date. This was Putin's position regarding the Ukrainian turmoil.
The Russians have readjusted their sights, but they do not intend to bring their troops into the two rebel republics, unless dramatic developments should force them.
It is not much fun to be in Kiev these days. The revolutionary excitement is over, and hopes for new faces, the end of corruption and economic improvement have withered. The Maidan street revolt and the subsequent coup just reshuffled the same marked deck of cards, forever rotating in power.
The new acting President has been an acting prime minister, and a KGB (called "SBU" in Ukrainian) supremo. The new acting prime minister has been a foreign minister. The oligarch most likely to be "elected" President in a few days has been a foreign minister, the head of the state bank, and personal treasurer of two coups, in 2004 (installing Yushchenko) and in 2014 (installing himself). His main competitor, Mme Timoshenko, served as a prime minister for years, until electoral defeat in 2010.
These people had brought Ukraine to its present abject state. In 1991, the Ukraine was richer than Russia, today it is three times poorer because of these people's mismanagement and theft. Now they plan an old trick: to take loans in Ukraine's name, pocket the cash and leave the country indebted. They sell state assets to Western companies and ask for NATO to come in and protect the investment.
They play a hard game, brass knuckles and all. The Black Guard, a new SS-like armed force of the neo-nazi Right Sector, prowls the land. They arrest or kill dissidents, activists, journalists. Hundreds of American soldiers, belonging to the "private" company Academi (formerly Blackwater) are spread out in Novorossia, the pro-Russian provinces in the East and South-East. IMF–dictated reforms slashed pensions by half and doubled the housing rents. In the market, US Army rations took the place of local food.
The new Kiev regime had dropped the last pretence of democracy by expelling the Communists from the parliament. This should endear them to the US even more. Expel Communists, apply for NATO, condemn Russia, arrange a gay parade and you may do anything at all, even fry dozens of citizens alive. And so they did.
The harshest repressions were unleashed on industrial Novorossia, as its working class loathes the whole lot of oligarchs and ultra-nationalists. After the blazing inferno of Odessa and a wanton shooting on the streets of Melitopol the two rebellious provinces of Donetsk and Lugansk took up arms and declared their independence from the Kiev regime. They came under fire, but did not surrender. The other six Russian-speaking industrial provinces of Novorossia were quickly cowed. Dnepropetrovsk and Odessa were terrorised by personal army of Mr Kolomoysky; Kharkov was misled by its tricky governor.
Russia did not interfere and did not support the rebellion, to the great distress of Russian nationalists in Ukraine and Russia who mutter about "betrayal". So much for the warlike rhetoric of McCain and Brzezinski.
Putin's respect for others' sovereignty is exasperating. I understand this sounds like a joke, — you hear so much about Putin as a "new Hitler". As a matter of fact, Putin had legal training before joining the Secret Service. He is a stickler for international law. His Russia has interfered with other states much less than France or England, let alone the US. I asked his senior adviser, Mr Alexei Pushkov, why Russia did not try to influence Ukrainian minds while Kiev buzzed with American and European officials. "We think it is wrong to interfere", he replied like a good Sunday schoolboy. It is rather likely Putin's advisors misjudged public sentiment. « The majority of Novorossia's population does not like the new Kiev regime, but being politically passive and conservative, will submit to its rule", they estimated. "The rebels are a small bunch of firebrands without mass support, and they can't be relied upon", was their view. Accordingly, Putin advised the rebels to postpone the referendum indefinitely, a polite way of saying "drop it".
They disregarded his request with considerable sang froid and convincingly voted en masse for secession from a collapsing Ukraine. The turnout was much higher than expected, the support for the move near total. As I was told by a Kremlin insider, this development was not foreseen by Putin's advisers.
Perhaps the advisors had read it right, but three developments had changed the voters' minds and had sent this placid people to the barricades and the voting booths:
1. The first one was the fiery holocaust of Odessa, where the peaceful and carelessly unarmed demonstrating workers were suddenly attacked by regime's thugs (the Ukrainian equivalent of Mubarak's shabab) and corralled into the Trade Unions Headquarters. The building was set on fire, and the far-right pro-regime Black Guard positioned snipers to efficiently pick off would-be escapees. Some fifty, mainly elderly, Russian-speaking workers were burned alive or shot as they rushed for the windows and the doors. This dreadful event was turned into an occasion of merriment and joy by Ukrainian nationalists who referred to their slain compatriots as "fried beetles". (It is being said that this auto-da-fé was organised by the shock troops of Jewish oligarch and strongman Kolomoysky, who coveted the port of Odessa. Despite his cuddly bear appearance, he is pugnacious and violent person, who offered ten thousand dollars for a captive Russian, dead or alive, and proposed a cool million dollars for the head of Mr Tsarev, a Member of Parliament from Donetsk.)
2. The second was the Mariupol attack on May 9, 2014. This day is commemorated as V-day in Russia and Ukraine (while the West celebrates it on May 8). The Kiev regime forbade all V-day celebrations. In Mariupol, the Black Guard attacked the peaceful and weaponless town, burning down the police headquarters and killing local policemen who had refused to suppress the festive march. Afterwards, Black Guard thugs unleashed armoured vehicles on the streets, killing citizens and destroying property.
The West did not voice any protest; Nuland and Merkel weren't horrified by this mass murder, as they were by Yanukovich's timid attempts to control crowds.
The people of these two provinces felt abandoned; they understood that nobody was going to protect and save them but themselves, and went off to vote.
3. The third development was, bizarrely, the Eurovision jury choice of Austrian transvestite Conchita Wurst for a winner of its song contest.
The sound-minded Novorossians decided they want no part of such a Europe.
Actually, the people of Europe do not want it either:
It transpired that the majority of British viewers preferred a Polish duo, Donatan & Cleo, with its We Are Slavic. Donatan is half Russian, and has courted controversy in the past extolling the virtues of pan-Slavism and the achievements of the Red Army, says the Independent.
The politically correct judges of the jury preferred to "celebrate tolerance", the dominant paradigm imposed upon Europe.
This is the second transvestite to win this very political contest; the first one was Israeli singer Dana International.
Such obsession with re-gendering did not go down well with Russians and/or Ukrainians.
The Russians have readjusted their sights, but they do not intend to bring their troops into the two rebel republics, unless dramatic developments should force them.

RUSSIAN PLANS

Imagine: you are dressed up for a night on Broadway, but your neighbours are involved in a vicious quarrel, and you have to gun up and deal with the trouble instead of enjoying a show, and a dinner, and perhaps a date. This was Putin's position regarding the Ukrainian turmoil.
A few months ago, Russia had made a huge effort to become, and to be seen as, a very civilized European state of the first magnitude. This was the message of the Sochi Olympic games: to re-brand, even re-invent Russia, just as Peter the Great once had, as part of the First World; an amazing country of strong European tradition, of Leo Tolstoy and Malevich, of Tchaikovsky and Diaghilev, the land of arts, of daring social reform, of technical achievements, of modernity and beyond — the Russia of Natasha Rostova riding a Sikorsky 'copter. Putin spent $60 billion to broadcast this image.
The old fox Henry Kissinger wisely said:
Putin spent $60 billion on the Olympics. They had opening and closing ceremonies, trying to show Russia as a normal progressive state. So it isn't possible that he, three days later, would voluntarily start an assault on Ukraine. There is no doubt that… at all times he wanted Ukraine in a subordinate position. And at all times, every senior Russian that I've ever met, including dissidents like Solzhenitsyn and Brodsky, looked at Ukraine as part of the Russian heritage. But I don't think he had planned to bring it to a head now.
However, Washington hawks decided to do whatever it takes to keep Russia out in the cold. They were afraid of this image of "a normal progressive state" as such Russia would render NATO irrelevant and undermine European dependence on the US. They were adamant about retaining their hegemony, shattered as it was by the Syrian confrontation. They attacked Russian positions in the Ukraine and arranged a violent coup, installing a viciously anti-Russian regime supported by football fans and neo-Nazis, paid for by Jewish oligarchs and American taxpayers. The victors banned the Russian language and prepared to void treaties with Russia regarding its Crimean naval base at Sebastopol on the Black Sea. This base was to become a great new NATO base, controlling the Black Sea and threatening Russia.
Putin had to deal quickly and so he did, by accepting the Crimean people's request to join Russian Federation. This dealt with the immediate problem of the base, but the problem of Ukraine remained.
The Ukraine is not a foreign entity to Russians, it is the western half of Russia. It was artificially separated from the rest in 1991, at the collapse of the USSR. The people of the two parts are interconnected by family, culture and blood ties; their economies are intricately connected. While a separate viable Ukrainian state is a possibility, an "independent" Ukrainian state hostile to Russia is not viable and can't be tolerated by any Russian ruler. And this for military as well as for cultural reasons: if Hitler had begun the war against Russia from its present border, he would have taken Stalingrad in two days and would have destroyed Russia in a week.
A more pro-active Russian ruler would have sent troops to Kiev a long time ago. Thus did Czar Alexis when the Poles, Cossacks and Tatars argued for it in 17th century. So also did Czar Peter the Great, when the Swedes occupied it in the 18th century. So did Lenin, when the Germans set up the Protectorate of Ukraine (he called its establishment "the obscene peace"). So did Stalin, when the Germans occupied the Ukraine in 1941.
Putin still hopes to settle the problem by peaceful means, relying upon the popular support of the Ukrainian people. Actually, before the Crimean takeover, the majority of Ukrainians (and near all Novorossians) overwhelmingly supported some sort of union with Russia. Otherwise, the Kiev coup would not have been necessary. The forced Crimean takeover seriously undermined Russian appeal. The people of Ukraine did not like it. This was foreseen by the Kremlin, but they had to accept Crimea for a few reasons. Firstly, a loss of Sevastopol naval base to NATO was a too horrible of an alternative to contemplate. Secondly, the Russian people would not understand if Putin were to refuse the suit of the Crimeans.
The Washington hawks still hope to force Putin to intervene militarily, as it would give them the opportunity to isolate Russia, turn it into a monster pariah state, beef up defence spending and set Europe and Russia against each other. They do not care about Ukraine and Ukrainians, but use them as pretext to attain geopolitical goals.
The Europeans would like to fleece Ukraine; to import its men as "illegal" workers and its women as prostitutes, to strip assets, to colonise. They did it with Moldova, a little sister of Ukraine, the most miserable ex-Soviet Republic. As for Russia, the EU would not mind taking it down a notch, so they would not act so grandly. But the EU is not fervent about it. Hence, the difference in attitudes.
Putin would prefer to continue with his modernisation of Russia. The country needs it badly. The infrastructure lags twenty or thirty years behind the West. Tired by this backwardness, young Russians often prefer to move to the West, and this brain drain causes much damage to Russia while enriching the West. Even Google is a result of this brain drain, for Sergey Brin is a Russian immigrant as well. So are hundreds of thousands of Russian scientists and artists manning every Western lab, theatre and orchestra. Political liberalisation is not enough: the young people want good roads, good schools and a quality of life comparable to the West. This is what Putin intends to deliver.
He is doing a fine job of it. Moscow now has free bikes and Wi-Fi in the parks like every Western European city. Trains have been upgraded. Hundreds of thousands of apartments are being built, even more than during the Soviet era. Salaries and pensions have increased seven-to-tenfold in the past decade. Russia is still shabby, but it is on the right track. Putin wants to continue this modernisation.
As for the Ukraine and other ex-Soviet states, Putin would prefer they retain their independence, be friendly and work at a leisurely pace towards integration a la the European Union.
He does not dream of a new empire. He would reject such a proposal, as it would delay his modernisation plans.
If the beastly neocons would not have forced his hand by expelling the legitimate president of Ukraine and installing their puppets, the world might have enjoyed a long spell of peace.
But then the western military alliance under the US leadership would fall into abeyance, US military industries would lose out, and US hegemony would evaporate. Peace is not good for the US military and hegemony-creating media machine. So dreams of peace in our lifetime are likely to remain just dreams.
What will Putin do?
Putin will try to avoid sending in troops as long as possible. He will have to protect the two splinter provinces, but this can be done with remote support, the way the US supports the rebels in Syria, without 'boots on the ground'. Unless serious bloodshed on a large scale should occur, Russian troops will just stand by, staring down the Black Guard and other pro-regime forces.
Putin will try to find an arrangement with the West for sharing authority, influence and economic involvement in the failed state. This can be done through federalisation, or by means of coalition government, or even partition. The Russian-speaking provinces of Novorossia are those of Kharkov (industry), Nikolayev (ship-building), Odessa (harbour), Donetsk and Lugansk (mines and industry), Dnepropetrovsk (missiles and high-tech), Zaporozhe (steel), Kherson (water for Crimea and ship-building), all of them established, built and populated by Russians. They could secede from Ukraine and form an independent Novorossia, a mid-sized state, but still bigger than some neighbouring states. This state could join the Union State of Russia and Belarus, and/or the Customs Union led by Russia. The rump Ukraine could manage as it sees fit until it decides whether or not to join its Slavic sisters in the East. Such a set up would produce two rather cohesive and homogeneous states.
Another possibility (much less likely at this moment) is a three-way division of the failed Ukraine: Novorossia, Ukraine proper, and Galicia&Volyn. In such a case, Novorossia would be strongly pro-Russian, Ukraine would be neutral, and Galicia strongly pro-Western.
The EU could accept this, but the US probably would not agree to any power-sharing in the Ukraine. In the ensuing tug-of-war, one of two winners will emerge. If Europe and the US drift apart, Russia wins. If Russia accepts a pro-Western positioning of practically all of Ukraine, the US wins. The tug-of-war could snap and cause all-out war, with many participants and a possible use of nuclear weapons. This is a game of chicken; the one with stronger nerves and less imagination will remain on the track.
Pro and Contra
It is too early to predict who will win in the forthcoming confrontation. For the Russian president, it is extremely tempting to take all of Ukraine or at least Novorossia, but it is not an easy task, and one likely to cause much hostility from the Western powers. With Ukraine incorporated, Russian recovery from 1991 would be completed, its strength doubled, its security ensured and a grave danger removed. Russia would become great again. People would venerate Putin as Gatherer of Russian Lands.
However, Russian efforts to appear as a modern peaceful progressive state would have been wasted; it would be seen as an aggressor and expelled from international bodies. Sanctions will bite; high tech imports may be banned, as in the Soviet days. The Russian elites are reluctant to jeopardize their good life. The Russian military just recently began its modernization and is not keen to fight yet, perhaps not for another ten years.
But if they feel cornered, if NATO moves into Eastern Ukraine, they will fight all the same.
Some Russian politicians and observers believe that Ukraine is a basket case; its problems would be too expensive to fix. This assessment has a 'sour grapes' aftertaste, but it is widespread. An interesting new voice on the web, The Saker, promotes this view. "Let the EU and the US provide for the Ukrainians, they will come back to Mother Russia when hungry", he says. The problem is, they will not be allowed to reconsider. The junta did not seize power violently in order to lose it at the ballot box.
Besides, Ukraine is not in such bad shape as some people claim. Yes, it would cost trillions to turn it into a Germany or France, but that's not necessary. Ukraine can reach the Russian level of development very quickly –- in union with Russia. Under the EC-IMF-NATO, Ukraine will become a basket case, if it's not already. The same is true for all East European ex-Soviet states: they can modestly prosper with Russia, as Belarus and Finland do, or suffer depopulation, unemployment, poverty with Europe and NATO and against Russia, vide Latvia, Hungary, Moldova, Georgia. It is in Ukrainian interests to join Russia in some framework; Ukrainians understand that; for this reason they will not be allowed to have democratic elections.
Simmering Novorossia has a potential to change the game. If Russian troops don't come in, Novorossian rebels may beat off the Kiev offensive and embark on a counter-offensive to regain the whole of the country, despite Putin's pacifying entreaties. Then, in a full-blown civil war, the Ukraine will hammer out its destiny.
On a personal level, Putin faces a hard choice. Russian nationalists will not forgive him if he surrenders Ukraine without a fight. The US and EU threaten the very life of the Russian president, as their sanctions are hurting Putin's close associates, encouraging them to get rid of or even assassinate the President and improve their relations with the mighty West. War may come at any time, as it came twice during the last century – though Russia tried to avoid it both times. Putin wants to postpone it, at the very least, but not at any price.
His is not an easy choice. As Russia procrastinates, as the US doubles the risks, the world draws nearer to the nuclear abyss. Who will chicken out?
(Language editing by Ken Freeland)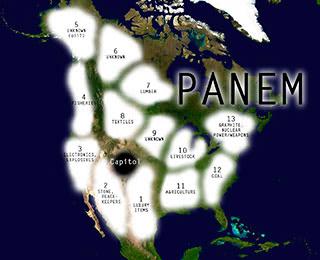 One of the most popular films of 2012 was The Hunger Games which portrayed a post-apocalyptic nation called Panem in which a super-rich, super-pampered, super-callous 'elite' lived in high-tech luxury while the rest of the population daily battled to survive in abject poverty locked away behind prison fences in intensively-populated 'people zones'. Panem comes from the Latin phrase 'panem et circenses' or 'bread and circuses' — a term derived from Rome and meaning to give the people diversions and distractions to hide what is being done to them. Exactly what is happening today.
The Totalitarian Tiptoes to just such a world are happening all around us, although most people can't see this because they don't connect the dots. People tend to live in their own 'little world' and focus on only a few subjects and interests. This gives them a distorted view of what is happening because they are so busy concentrating on the strands that they cannot see the tapestry. The world of The Hunger Games is already well on the way to fruition unless humanity has a fundamental reassessment of reality.
The foundations, structure and 'must haves' of a Hunger Games society are detailed in a plan being imposed through the United Nations called Agenda 21 which encompasses two related themes of 'sustainable development' and 'biodiversity'. Sustainable development — as in don't use more than can be replaced — sounds sensible enough at first until you realize what this and biodiversity really mean in the context of the conspiracy.
Agenda 21 was established at the United Nations Conference on Environment and Development in Rio de Janerio, Brazil, in 1992, hosted by Maurice Strong, a Canadian oil and business billionaire and long-time front man for the Rothschilds and Rockefellers. Strong has been a leader of their exploit-the-environment-to-scam-the-people programme which is now in full flow. Strong is a member of the Club of Rome, the environmental Hidden Hand in the Round Table network that includes the Bilderberg Group, Trilateral Commission and Council on Foreign Relations.
Strong said in support of Agenda 21:
'Isn't the only hope for this planet that the industrialised civilization collapse? Isn't it our responsibility to bring that about?'
This is a man who became mega-rich through the oil industry. He now lives in billionaire luxury in China where carbon-emitting industry is booming and he is a director of the Chicago Climate Exchange (largest shareholder, Goldman Sachs), which is 'the world's first and North America's only legally-binding greenhouse-gas emission registry reduction-system for emission sources and offset projects in North America and Brazil'.
The Exchange was established with funding from the Joyce Foundation where Barack Obama was once a director. Strong and Al Gore make money through the Carbon Exchange and other means from the lies they promote about climate change and the solutions they propose. Kate Johnston wrote on the Globalresearch.cawebsite:
'The same men that sold us the myth of man-made global warming are the same men that sold us the "solution" of a Carbon Tax and Emissions Trading Scheme and now they're profiting off their lucrative investments which are based on lies.' (See "The Climate Change Hoax").
Strong fled to China in 2006 after being accused of corruption with respect to the UN oil for food program.
Climate change propaganda is a No-Problem-Reaction-Solution technique to justify Agenda 21 and its stable-mate the Biodiversity Treaty. This is an internationally-binding document involving nearly 200 countries. The United States signed the treaty, but it was not ratified by the Senate after people like ecologist and ecosystem scientist Dr. Michael Coffman exposed its true consequences and implications. He said that he realized during the 1980s and 1990s that the plan was to use the excuse of protecting the environment to confiscate half the land of the United States.
Similar plans exist for every other country. America may not have ratified the treaty, but it is being implemented by the day. Agenda 21 demands the central global control of all land; all private property; all water sources and distribution; all other resources which includes people in its definition; all energy supplies and distribution and all food production and distribution.
Agenda 21 is called 'the agenda for the 21st century' and that refers to global fascism / communism. This is a summary of what Agenda 21 / Sustainable Development / Biodiversity is seeking to impose:
An end to national sovereignty
State planning and management of all land resources, ecosystems, deserts, forests, mountains, oceans and fresh water; agriculture; rural development; biotechnology; and ensuring 'equity' (equal slavery)
The State to 'define the role' of business and financial resources
Abolition of private property (it's not 'sustainable')
'Restructuring' the family unit
Children raised by the State
People told what their job will be
Major restrictions on movement
Creation of 'human settlement zones'
Mass resettlement as people are forced to vacate land where they currently live
Dumbing down education (achieved)
Mass global depopulation in pursuit of all the above
This horrific plan is being coordinated through the United Nations, the stalking horse for world dictatorship, via a non-governmental network once called the International Council of Local Environmental Initiatives ICLEI), and now known as Local Governments for Sustainability although still using the shortened name ICLEI. The United Nations is now opening 'embassies' around the world called 'UN Houses' under the guise of raising awareness of UN activities, but not the activities that people really need to know about. They have opened one in Hunter Square, Edinburgh, Scotland, for example.
Local Governments for Sustainability (ICLEI) and other organisations are integrating the plan into every village, town, city and region and it is already becoming widespread across the world. The organisational infrastructure of Agenda 21 is already fantastic and involves government agencies, non-governmental organisations (NGOs), think-tanks, trusts, foundations, 'training' (mind control) operations and 'initiatives' which have been building the infrastructure for what they call 'the post-industrial, post-democratic' society while the public go about their daily business oblivious of the prison being built all around them by the hour.
Harvey Ruvin, a vice-chairman of ICLEI, was asked how Agenda 21 would affect liberties with regard to the US Constitution and Bill of Rights, private property and freedom of speech. He replied:
'Individual rights must take a back-seat to the collective.'
The arrogance of these people is breathtaking. The extraordinary network supporting ICLEI and Agenda 21 includes the Rockefeller-sponsored America 2050; United Cities and Local Governments (UCLG); Metropolis; World Economic Forum; United Nations Framework Convention on Climate Change; United Nations International Strategy for Disaster Reduction; World Bank; Clinton Climate Initiative; Climate Group (Tony Blair); World Conservation Union (IUCN); Renewable Energy and Energy Efficiency Partnership; Global Footprint Network; Renewable Energy and Energy Efficiency Partnership; Global Footprint Network; International Centre for Sustainable Cities; Earthquakes and Megacities Initiative and the Stakeholder Forum. These and so many others are working to the same end — Agenda 21 and total human enslavement worldwide, although most of those involved will have no idea that they are building a global prison for themselves and their families.
Another of these front organisations is the World Business Council for Sustainable Development which includes the hideously anti-people Monsanto. Destroying food-growing land, contaminating the countryside with toxins and replacing proper food with deadly and soil-destroying genetically-modified organisms is Monsanto's contribution to 'sustainability'. Agenda 21 is operating in more than 600 towns, cities and counties in the United States and expanding by the day.
A member of the Agenda 21 committees in Santa Cruz, California, in the mid-1990s said that the proposals he heard were so crazy that he laughed at them because they could never happen. These included that 'Mother Earth's surface was not to be scratched'; humans should be concentrated in settlement zones; education should focus on the environment as a central organising principle and all aspects of life covered by Agenda 21, but all of these crazy plans are now being introduced. It's all happy, feely, smiling faces and how we care, when the truth is that Agenda 21 is a vicious, brutal, heartless strategy to impose a global Orwellian state.
Agenda 21 manipulators either create or hijack some local organisation or other, many of them in locations with large populations, and they have their (controlled) leadership to agree the Agenda 21 blueprint for their community together with any uninformed, unwitting idiots who can be sold a human nightmare as saving the planet. This allows them to claim that decisions were made after 'public participation' when that would have been the last thing they wanted, and 99 percent of the 'community' has never heard of Agenda 21 let alone had their say on it. They want no democracy which is why these people talk privately, sometimes even publicly, about the post-democratic, post-industrial society.
They want to control every man, woman and child on the planet — everyone and everywhere and every resource, water source and piece of land. To do this they need a global structure of fascist control that goes right down into every local community with the jackboots at local level enforcing the will of the global centre. This is why there is so much emphasis on local authorities and town and city authorities in Agenda 21.
There is a 'training organisation' called Common Purpose (common purpose, common consensus, everyone the same) which has been paid very large amounts of money by governments and local authorities, police forces and other institutions of state to 'train the leaders' of the post-democratic, post-industrial society. Common Purpose was heavily represented in the Leveson 'inquiry' leading to new media laws in Britain. It is not a training programme; it is a programming programme and turns out unquestioning zombie administrators who serve the god of Agenda 21 and the associated European Union. The theme of 'common' also applies to the ever greater standardisation of laws and regulations and constant reference to 'international law'. This is the unfolding global dictatorship of Agenda 21. What do you need to be a global dictator? Laws that everyone on the planet must obey — international law and the standardisation of global regulation.
You can see The Hunger Games connection when you look at the official Biodiversity wish-for map of the United States in Figure 1. The red areas are designated for no human use and most of the rest of America is confiscated for little and highly-regulated use. The mass of the population would be concentrated in high-rise, densely-packed 'human settlement zones' and denied access to something like 80 percent of present day America. It is without question the world of The Hunger Games with a globally-enforced top-down hierarchy that has a world government using its world army and police force to impose its will at regional and local levels (sectors). The Rockefeller-funded America 2050 has produced a map of the new United States divided into eleven 'megaregions' and includes parts of Canada (Figure 2). Seattle, Portland and Vancouver, British Columbia, become the megaregion known as 'Cascadia' and this regional system comes under the collective name of 'megalopolis' which is Greek for large city or great city. America, Canada and Mexico are due to merge to form the North American Union in line with the European Union blueprint.
The European Union is planned to be broken up into regions and the same structure is in development all over the world. The map of the new Europe has regions from different countries linked up with regions in other countries to end any vestige of national sovereignty or even national existence (Figure 3). This is a global plan with its fierce central control hidden behind its lower elements such as the European Union and local government. What is planned would clearly require a fantastic reduction of the global population and this is indeed what Agenda 21 / Sustainable Development / Biodiversity demand.
The e-book Agenda 21: Your Life In Their Hands can be downloaded here.
reference:
Icke, David. The Perception Deception. Ryde: David Icke Books, 2013.
Julian Websdale is an independent researcher in the fields of esoteric science and metaphysics, and a self-initiate of the Western Esoteric Tradition. His interest in these subjects began in 1988. Julian was born in England, received his education as an electronic and computer engineer from the University of Bolton, served in a Vaishnava monastery during 2010, and has travelled to over 21 countries. Julian is also a member of the Palestinian Solidarity Campaign.
Source: Julian Websdale  |  Waking Times | War Is Crime