Over a year ago I published an essay entitled 'The Linchpin Lie: How Global Collapse Will Be Sold To The Masses'. This essay addressed efforts by the ever malicious Rand Corporation to create a false narrative surrounding the possibility of global collapse. Linchpin Theory, as it was named by it's originator and Rand Corp. employee, John Casti, is I believe the very future of propaganda. Every engineered crisis needs a clever cover story, and in Linchpin Theory, we are told that all human catastrophe is a mere natural product of the "overcomplexity" within various systems. Yes, there is no accounting of false flag geopolitics or elitist conspiracy, no acknowledgment of deliberately initiated chaos; such things do not exist in the world of "linchpins". Rather, the Rand Corporation would have us believe that the world is a massive game of Jenga, and the supporting pieces just remove themselves from the teetering structure by magical and coincidental causality.
Today, the linchpin lie is now being carefully inserted into the mainstream narrative. I can't say I was shocked to hear Alan Greenspan use its basic premise when he recently stated that:
"I have come to the conclusion that bubbles…are a function of human nature. We don't have enough observations, but my tentative hypothesis to what we're dealing with is that both a necessary and sufficient condition for the emergence of a bubble is a protracted period of stable economic activity at low inflation. So it is a very difficult policy problem. I do believe that central banks that believe they can quell bubbles are living in a state of unrealism."
It is important that we understand what Greenspan is actually doing here. The former Fed chairman is asserting that economic bubbles like the derivatives bubble of 2008 are a "natural function", like the seasons, and are out of the control of central bankers. The truth is that central bankers have never tried to "quell" economic bubbles, they have been deliberately creating them in order to position the global economy into a crisis which they can then exploit. Greenspan is not only diverting blame for all the past and future economic crashes central banks have engineered, he is also setting the propaganda stage for a great change in the dynamic of the central banking concept – what the IMF's Christine Lagarde calls the "global economic reset".
The current central banking structure gives the illusion of separation and sovereignty. Most people who have not researched the nature of the international banking cartel believe that the Federal Reserve, for instance, is a separate national entity from the Central Bank of Russia, or the Central Bank of China. They believe that these institutions act of their own accord rather than in concert with each other. The reality is, there is no Federal Reserve. There is no Central Bank of Russia. There are no separate entities. There are no Western banks and there are no BRICS. All of these banking edifices are merely front organizations for global financiers, as Council on Foreign Relations insider (and friend to the Rockefellers) Carroll Quigley made clear in his book, Tragedy And Hope:
"It must not be felt that the heads of the world's chief central banks were themselves substantive powers in world finance. They were not. Rather they were the technicians and agents of the dominant investment bankers of their own countries, who had raised them up, and who were perfectly capable of throwing them down. The substantive financial powers of the world were in the hands of these investment bankers who remained largely behind the scenes in their own unincorporated private banks. These formed a system of international cooperation and national dominance which was more private, more powerful, and more secret than that of their agents in the central banks. "
A "global economic reset", I suspect, will consist of a grand shift away from covert cooperation between central banks to an OPENLY centralized one world banking system, predicated on the concepts put forward by the IMF and led by the Bank of International Settlements, which has always been behind the scenes handing down commandments to the seemingly separate central banks of nations.
In order for this "reset" to be achieved, however, the establishment needs a historically monumental distraction. A distraction so confounding and terrifying that by the time the public has a chance to examine the situation rationally, the elites have already tightened the noose.
I have been warning ever since the beginning of the derivatives/debt collapse of 2007/2008 that the international financiers and globalists who created the artificially low interest rates and fiat lending bonanza would one day be required to fashion a considerably dangerous event in orderto trigger the final collapse of the dollar based monetary system and replace it with a new currency (or basket of currencies), along with a new centralized financial authority.
This distracting event would have to rely on three very important strategies in order to succeed –
1) The use of what I call the "scattershot effect"; a swarm of smaller crises growing exponentially until it blurs together to create one dynamic calamity.
2) The use of multiple false paradigms in order to confuse the masses and pit them against one another in an absurd fight over fake and meaningless causes.
3) The use of deceptive benevolence on the part of the financial elite as they tap dance in to act as global "mediators", ready to save the public from itself.
The end result would be a new brand of "world war" rather unique to history.
When most people imagine WWIII, they immediately envision images of nuclear bombs and mushroom clouds, however, I believe that when world war erupts, it may progress far differently from our cinematic assumptions. Regional conflicts are very likely, there is no doubt, but if one places himself in the shoes of the elites, one realizes that all out mechanized nuclear Armageddon is not really necessary to achieve the desired result of global governance.
Economic warfare alone could be extremely effective in initiating full spectrum fiscal implosion as well as mass starvation, mass panic, and mass desperation. All the signs lead me to believe that financial combat and 4th generation warfare will be used in the place of large armies and missiles.
The Scattershot Effect
Consider the sheer scope and number of crisis situations that have reached explosive proportions just in the past six months.
Syria continues to destabilize due to ISIS insurgents supported by the U.S., Saudi Arabia, and Israel; it is a horrifying storm which is now bleeding into other nations such as Iraq.
Iraq is on the verge of complete disintegration as the same western organized ISIS movestowards the outskirts of Baghdad.
Libya has imploded, with the American embassy evacuated, as well as the French and British, as various militias battle for supremacy.
The Ukraine crisis is nearing mutation into another beast entirely after the attack on Malaysian flight MH17. In just the past week, the EU has instituted sanctions against Russia, fighting has become even more fierce around Donetsk, Russia has been accused of firing artillery into Ukraine, and the U.S. now claims that Russia has violated the terms of the Intermediate Range Nuclear Forces treaty.
In the meantime, the Federal Reserve continues to taper QE3 while ignoring the unprecedented equities bubble they have birthed in the stock market, as well as refusing to answer the question as to who will actually buy U.S. Treasury debt if they do not? Our secret friend from Belgium? And what if this secret friend is, as I suspect, actually the IMF/BIS global loan shark duo? What then? Do we become yet another third world African-style debtor owing our very infrastructure to a financial bureaucracy on the other side of the world?
And what about the Baltic Dry Index, one of the few measures of global shipping demand that cannot be manipulated by outside money interests? Well, the BDI is back down to historic lows,falling 65% since January, signaling that the so-called "economic recovery" is not at all what it is cracked up to be.
Add to this the deluge of illegal immigration on the southern border, aided by the Obama Administration, as well as possible presidential impeachment and lawsuit proceedings, and you have a recipe for total chaos of the fiscal variety.
If the first six to seven months of 2014 have been this frenetic, how bad will the next six months be?
False Paradigms
We are all aware of the prevalence of the false Left/Right paradigm in American politics. Hopefully most people in the Liberty Movement understand, for example, that any impeachment or lawsuit proceedings against Barack Obama will be nothing more than a crafted circus designed to accomplish nothing – a con game to placate conservatives with useless top-down solutions while the country burns around their ears.
There are other false paradigms that are not so clear to some, though…
The false Israel/Hamas paradigm has certainly duped a particular subsection of Americans and even a few patriots, even though it is historical fact that the creation of Hamas itself wasfunded and supported by the Israeli government. Why do Israeli politicians put money and arms at the disposal of Muslim extremist groups like Hamas and ISIS, only to enter into brutal conflict with them later? Could it be that the Israeli government does not have the best interests of the Israeli people at heart? Could it be that Israel is being used by internationalists as a catalyst for chaos? It is vital that we question the intentions behind such contrary actions in the Middle East.
Why has the U.S. government (Democrats and Republicans), Saudi Arabia, and Israel put support behind the ISIS caliphate in Iraq after spending decades of time, billions in resources, and thousands of lives, attempting to overrun and dominate the region? Why are these governments creating enemies that will later try to harm us?
It is all about false paradigms; dividing the masses into numerous conflicting sides and pitting them against each other when they should be fighting against the elites.
The false East/West paradigm is perhaps the most dangerous lie facing free men today. It is a lie that may very well define our generation if not our century. I have outlined in multiple articlesthe substantial evidence that proves beyond a doubt that Russia and China are members of the globalist agenda, and that the tensions between our two hemispheres are completely fabricated.
The latest announcement of a BRICS bank to rival the IMF is yet another scheme to perpetuate the illusion that the elites of these nations are at odds. In fact, the BRICS conference mission statement makes it clear that developing nations have no intention of breaking from the IMF (and certainly not the BIS). Instead, the BRICS bank is meant to provide "leverage" to "force" the IMF to become more inclusive, and hand over more power and participation. Vladimir Putin had this to say at the latest summit:
"In the BRICS case we see a whole set of coinciding strategic interests. First of all, this is the common intention to reform the international monetary and financial system. In the present form it is unjust to the BRICS countries and to new economies in general. We should take a more active part in the IMF and the World Bank's decision-making system. The international monetary system itself depends a lot on the US dollar, or, to be precise, on the monetary and financial policy of the US authorities. The BRICS countries want to change this."
Brazilian President Dilma Rousseff insisted that the BRICS were not seeking to distance themselves from the Washington-based International Monetary Fund:
"On the contrary, we wish to democratize it and make it as representative as possible…"
Putin and the BRICS commonly rail against the "unipolar" financial system revolving around the U.S. dollar, but in the end they are only controlled opposition, and their solution is to place even more power into the hands of the IMF (a supposedly U.S. government controlled institution), creating a truly unipolar world order.  If the U.S. loses its IMF veto status this year due to lack of allocated funds, and the BRICS dump the dollar as world reserve, this may very well happen.
As sanctions between Russia and the U.S. snowball, a perfect rationalization for a dollar decoupling will be created that very few people would have believed possible only a few years ago.  It is only a matter of time before fiscal warfare escalates to destructive levels. Russia will inevitably cut off gas exports to the EU, and the BRICS will inevitably drop the U.S. dollar as a world reserve standard.
The U.S. relationship to the EU is also currently being presented as dubious, and this is not by accident. Failing relations between America and Germany are yet more theater for the masses to chew on. Western allies have been spying on each other for decades, but somehow the exposure of CIA activities in Germany is shocking news? The NY Fed suddenly attacks Deutsche Bank, seeking expanded monitoring and regulation? Germany's business interests are highly damaged by U.S. sanctions against Russia? It would seem as though someone is trying to create an artificial divide between elements of the EU and the U.S.
I believe that the narrative is being prepared for a faked financial breakup between the U.S. and many of its former allies, isolating the U.S., and destroying the dollar, but to what end? To answer that question, we must ask WHO ultimately benefits from these actions?
The Rise Of The Hero Bankers
In June of last year, the Bank of International Settlements, the central bank of central banks whose history began with the financial support of the Third Reich, released a statementwarning that "easy money" from central banks was creating a dangerous bubble in stock markets around the world.
The IMF too has been pushing warnings of stock bubble collapse into the mainstream.
In June of this year, the BIS, a normally obscure and secretive organization, released another statement pronouncing that government had been led into a "false sense of security" by easy monetary policy and low interest rates, making the world economy perpetually unstable.
For an organization so covert and occult, the BIS sure has become rather candid lately. Frankly, I agree with everything they have said. However, I do not agree with the hypocrisy of the BIS, which dominates the decisions of all of its member banks, publicly criticizing policies which it most likely scripted itself. Why would the BIS suddenly denounce fiscal methods it used to promote? Because the BIS is setting itself up as the great prognosticator of a collapse that IT HELPED ENGINEER.
After the great financial war has subsided, and the people are suitably poverty stricken and desperate, it will be institutions like the BIS and IMF that swoop in to "save the day". Their offer will be to consolidate economic control into the hands of an elite group of bankers "not affiliated" with any particular nation state, thereby insulating them from "political concerns". The argument will be that national sovereignty is a bane on the back of humanity. They will claim that the catastrophe will continue until we "simplify" and streamline our economic and political systems. They will present themselves as the heroes of the age; the ones who predicted the crisis would occur, and the ones who had a solution ready to save the day (after sufficient death and destruction, of course).
As long as people remain obsessed with false paradigms and faux enemies, the establishment's goal of complete centralized dominance will be predictably attainable. If we change our focus to the internationalists as the true danger instead of playing their game by their rules, then things will become far more interesting…
Source: Brandon Smith | Alt-Market
A Centennial For The Forces of Evil…
Destruction of the culture by massive immigration supported by the government. Read Here.
Destruction of moral standards by humanists in media, education, and government.
Aberrant media propaganda and entertainment.
Unending war.
Promoting a potentially disastrous conflict with Russian.  Read Here.
Iimperialistic use of Executive Orders to pass controversial legislation.
Legal decisions by the courts that codify wickedness.
Constant attempts to promote violence by distorting the news and according immigrants and Black citizens privileged status over White citizens.
Destruction of the educational system.
Robbing the nation of its wealth by allowing cheap foreign products to destroy American businesses.
Forcing  American industry to move jobs and entire industries to foreign countries.
Destroying the family by promotion feminism and homosexuality.
Constant government distortions and outright lies.
Lethal false flag operations that are never challenged by the media or elected representatives.
Destruction of the Christian religion by legislation and massive propaganda.
Normalizing cognitive dissonance by creating opposing programs – i.e. Allowing Muslim immigration while waging war on Muslims in their own lands.
Failure of elected representatives to confront and correct media lies and distortions.
Destruction of the First Amendment by restricting public speech – against racial groups, about conspiracies, against the progression of the world order or the United Nations, about the control of news, or against the State of Israel.
Terminating media employees for expressing unpopular or politically incorrect opinions.
Distorting the law, traumatizing the public, and filling our prisons with sex related offenders that should be handled locally.
Representative James Sensenbrenner chairs a committee attempting to reform the thousands of laws that make up the Federal Criminal Code but nothing is being done about the equally ponderous laws that are now enforced by militarized local police forces.
This list could be continued – -
The European culture that was the foundation of our wealth and freedom has been destroyed.  The wealth has been stolen and we have saddled future generations with an insurmountable debt.
The United States of America that a few short decades ago was the world's wealthiest and most moral nation is now like an egg shell that has been emptied of its contents.  Aside from a lethal and vibrant military establishment, there is nothing left but fourth rate medical facilities and a plethora of food factories.  Our medical doctors are imported and the adulteration of our food supply is rampant with uninspected imports for third world nations, mutants, cellulose (wood chips) and other fillers.
The battle, if there ever was an effective deterrent, for the culture of the United States of American is over.  Our nation is hopelessly Balkanized with immigrants from every nation in the world.  Dozens of different languages are spoken by voters who are easily manipulated by unscrupulous politicians.  There is little attempt to learn English and assimilate.  They know nothing about the nation and have no concern for its well-being.  Their primary concern is often for the land they left behind.
The Pharisaical cadre that controls us, as well as much of the world, hates Christianity and is successfully destroying the gossamer Christian ethic that filled most of our churches.  They are doing this with the help of hundreds of thousands of obtuse Christians who lend them unrestrained support.  If it wasn't so tragic it would be laughable!
While our free fall is in progress other dumb Americans work tirelessly in the political arena hoping the vehicle that was responsible for our downfall will miraculously redeem itself and us.at the same time.
Millions of our citizens are unaware that they are reading and listening to news that is filled with lies and distortions; they are so badly maligned that they no longer recognize truth, so brain washed that they quickly brand a the truth teller as a deluded conspiracy theorist
History is replete with power seekers who have murdered and ravaged to create empires but the current quest for world domination is the granddaddy of them all.
Plans for world domination seem to have begun in earnest at the end of the First World War.  The United States congress approved the Federal Reserve System in 1913; the conflict began in Europe in 1914 and the United States entered the War in 1917.  U. S. participation quickly ended the conflict in 1918.  Under the aegis of world peace the ill-fated League of Nations was formed in 1920.  It soon lost the support of the world's major nations and failed in its stated mission to produce peace.   It was replaced by the United Nations at the conclusion of the Second World War http://en.wikipedia.org/wiki/World_War_II in 1945.  Peace was also the stated mission of the United Nations.
The United States provided major support to the United Nations but paid little attention to its peaceful mission, entering a war in Korea in 1950 a scant five years later.  Under the aegis of peace the real agenda of these two organizations was always world domination.
World Government at the point of a gun has been foisted on the world very slowly.  We are living in the Centennial. It has taken nearly a hundred years for the brutal character of the movement to become public.
Now, all the power centers of our nation are occupied with men and women who support world government and are willing to manipulate the public into complacency as its tentacles begin to grasp the world.  Incrementalism has allowed the incarceration of the world to progress with only token resistance.
Talented individuals are spotted early in their careers and are ushered into Ivy League educations; following stints at Oxford where they are indoctrinated with an International ethic they are mentored into power center jobs where they are stalwart supporters of world government and the shadowing cabal that is behind it..
Michele Flournoy is a case in point.  She was a guest on C-Span on Sunday for the fifteenth time since 1988.  She identified herself as an Internationalist and responded to Brian Lamb's queries like the pro that she is.  From California she was educated at Harvard and Oxford.  She was mentored and groomed and has become a go to expert on defense issues.  She held a strategic job as Under Secretary of Defense for Policy in the Obama Administration and is now President of the Center for a New American Security, a think tank that directs government defense policy.  She is one of a host of dependable Internationalists that have been groomed and inserted into important positions in government; all willingly do the bidding of their mentors.  Defense is a misnomer that has now become an aggressive military offensive to control the world.
The hugely successful incremental incarceration of the world has been accomplished by a patient promotion of several generations of seekers.  It is a sinful grab for power and control which is familiar to any historian but of a size and strength that is larger and more ominous than any of its predecessors.
This new, total oppression is coming upon us because we have and are rejecting the obvious conclusion that we were not created to govern ourselves.  Not only do we reject that clear fact but we cling to the heresy that we can play god by developing our own legal system and curbing the horrific sinful nature of every human being by requiring obedience to our particular legal opinions.  Again, we refuse to understand that if we are governed by the legal opinions of one human power they are no better than the legal opinions of another which makes war and murder inevitable.
The confusion, the proliferation of legal standards, the breakdown of law and order, police brutality, government oppression, and the resulting loss of freedom are predictable results of humanism.  We are all sinners, every one of us – all have sinned and fallen short of the mark.
It is easy for us to critique the government.  Such critiques are common and often virulent.  Each critique is a direct blow to God Who has given us His Law, the only form of righteousness available to His creation.  It is sin to assume that we have the solution to humanistic government – it is sin to think such a thought!   God created us and if we are ever to experience lasting peace and prosperity we must stop playing God and begin to obey His Commandments.
Today I read excellent critiques by Paul Craig Roberts, Pat Buchanan, and Jacob Hornberger.  All three of these men believe they have solutions to our problem.  But, all three of these men are sinners whose only righteous alternative is to turn to the Laws of the Creator.  Their thoughts are good thoughts from a human perspective, but they do not direct us to obey God's Law.  We can point out the results of allowing sinful men and women to control the world but we cannot fix it by having our opinions set in place.  Human wisdom is not the solution.  If we had spent our lives promoting obedience to God's Law instead of depending on our own opinions and understandings we would not be in this situation.
We have found the culprit and it is us!
With the centurial commemoration of the Great War, the Timeline of World War I provides a chronological list of facts and occurrences. Contrast such details with a wholly inadequate and sanitized version of the Top 5 Causes of World War 1:
1. Mutual Defense Alliances

2. Imperialism

3. Militarism

4. Nationalism

5. Immediate Cause: Assassination of Archduke Franz Ferdinand
None of these simplistic categories or labels has any veritable bearing on the underlying political, social, economic and evil forces that conspired to drive Western Civilizations into a self-induced suicidal slaughter. The true history of World War I is rooted in the permanent struggle against satanic powers that seek the destruction of Christendom, the financial enslavement of humanity and the death of gentile society.
Understand the real history of The Rothschild 1901 – 1919: The secret creators of World War 1.
"In this war, the German Rothschild's loan money to the Germans, the British Rothschilds loan money to the British, and the French Rothschilds loan money to the French. Furthermore, the Rothschilds have control of the three European news agencies, Wolff (est. 1849) in Germany, Reuters (est. 1851) in England, and Havas (est. 1835) in France. The Rothschilds use Wolff to manipulate the German people into a fervor for war. From around this time, the Rothschilds are rarely reported in the media, because they own the media."
The video, World War 1, What Happened?, explains in the most fundamental manner, The Role of the Jews in WWI summarized by Benjamin H. Freedman. "The Balfour Declaration was merely Great Britain's promise to pay the Zionists what they had agreed upon as a consideration for getting the United States into the war."
Now read the essay, The Money Masters: How International Bankers Gained Control of America, for the account of America betrayal.
"In America, J.P. Morgan was the sales agent for war materials to both the British and the French.

In fact, six months into the war, Morgan became the largest consumer on earth, spending $10 million a day.

Other Rothschild allies in the United States made out as well from the war. President Wilson appointed Bernard Baruch to head the War Industries Board. According to historian James Perloff, both Baruch and the Rockefellers profited by some $200 million during the war."
The more that things change the further they remain the same. The essay, International Bankers and WW I references, the book, A Century of War by William Engdahl.
"By 1920, Morgan partner Thomas W. Lamont noted with obvious satisfaction that, as a result of four years of war and global devastation, 'the national debts of the world have increased by $210,000,000,000 or about 475% in the last six years, and as a natural consequence, the variety of government bonds and the number of investors in them have been greatly multiplied.' These results have made themselves manifest in all the investment markets of the world but nowhere, perhaps, in greater measure than in the United States."

"It may be noted that in 1913 the US government budget was a mere $714,000,000 (714 million dollars) while the Rockefeller empire was worth 950 million dollars in 1913. The Rockefeller and Morgan empires were built through financing by the Rothschild banking family."
Such financial manipulation deserves an honest evaluation, as Brother Nathaniel offers, in his summary of the Benjamin H. Freedman viewpoint in the article, Jews Blackmailed Wilson Into WW I.
"Not a shot had been fired on German soil yet Germany was offering England peace terms. They offered England a negotiated peace on what the lawyers call a status quo ante basis, which means: "Let's call the war off and let everything be as it was before the war started."

England, in the summer of 1916, was considering Germany's peace terms. They had no choice. It was either accepting this negotiated peace that Germany was offering them or going on with the war and being totally defeated.

While that was going on, the Zionists in Germany, led by the Jew, Chaim Weitzman, who later became the 1st President of Israel, went to the British War Cabinet and said: "Don't capitulate to Germany. You can win this war if the United States comes in as your ally. We can arrange this. But in return, you must promise us Palestine once the tide turns in your favor."

In this war, 115,516 American soldiers were killed and 202,002 were maimed for life.

That is what the Anti-Christian Jews of the world conspired to achieve in their crooked diplomatic underworld."
Harsh words, but what was the actual outcome? Mujahid Kamran in the essay, International bankers and WW I, provides an insight into the true reason behind waging World War I.
"Historian Alan Brugar has pointed out that for every soldier who died in battle, the international bankers made a profit of $10,000 dollars! It was the bankers who manipulated the horrific World War I. This bloodletting was not just to make profits – this was also carried out to exhaust countries by bleeding them and enhance the control of bankers over governments with the objective of setting up the New World Order (NWO)."

"The penetration of the banking families into the power fabric of nations can be gauged from the astonishing fact that during WWI German intelligence was headed by the banker Max Warburg, brother of a naturalized US citizen Paul Warburg. Paul Warburg authored the diabolical Federal Reserve scheme. The Warburg's were among the owners of the Federal Reserve. Both represented their respective "countries" in the "delegations" that met at the "peace" negotiations at Versailles after WWI in which Germany was ripped off completely."
Remember that after World War I, Henry Ford published the Dearborn Independent and accounts on The Jewish Hand in the World War.
"As Henry Ford saw it, "Mr. Wilson, while President, was very close to the Jews. His administration, as everyone knows, was predominantly Jewish."22 Wilson seems to have been the first president to have the full backing of the Jewish Lobby, including multiple major financial donors. And he was the first to fully reward their support."
Today, such writings often criticized as anti-Semitic, present a viewpoint that is acknowledged by the Jewish Writer, Oscar Levy, The World Significance of the Russian Revolution; The International Jew, Vol. III, 1921, p. 184-87. The site, The Evil of Zionism Exposed by Jews, quotes Mr. Levy.
"There is scarcely an event in modern history that cannot be traced to the Jews. Take the Great War (World War I)…the Jews have made this war! … We (Jews) who have posed as the saviors of the world…we Jews, today, are nothing else but the world's seducers, its destroyer's, its incendiaries, its executioners … We have finally succeeded in landing you into a new hell."
Henry Makow Ph.D. comments on the Webster Tarpley version of history (EVIL DEMIURGE OF THE TRIPLE ENTENTE AND WORLD WAR I) in the essay, Illuminati Bankers Instigated World War One, by saying that Dr. Tarpley "eschews mention of Jewish bankers in favor of euphemisms like "Venetians." Therefore it is unusual for him to state bluntly that King Edward VII was in the pay of the Rothschilds and was responsible for World War One."
In a "TC" environment, the modern genteelism, international finance has even more dire consequences facing the world today. The T. Hunt Tooley account, Merchants of Death Revisited: Armaments, Bankers, and the First World War references Professor Carroll Quigley and his books, Tragedy and Hope (1966) and The Anglo-American Establishment (written in 1949).
"In these works, Quigley described explicitly a kind of secret, benevolent "network consisting of international bankers and connected elites in business, education, the media, and government which had existed since the nineteenth century:

The powers of financial capitalism had another far-reaching aim, nothing less than to create a world system of financial control in private hands able to dominate the political system of each country and the economy of the world as a whole.

In Quigley's telling, the role of this elite and its banking connections in World War I was that of financing the "Anglo-American" cause against the Central Powers, whose victory might have threatened what he viewed as the existing Anglo-American Pax Romana."
Contrast these with the banksters inspired and executed system of the pre World War I reality as described by David A, Stockman in If Only The U.S. Had Stayed Out Of World War I. "Between 1870 and 1914, there was a 45-year span of rising living standards, stable prices, massive capital investment and prolific technological progress. In terms of overall progress, these four-plus decades have never been equaled — either before or since."A century ago, the term Jew had negative connotations associated with a long history as shylock moneychangers. In the present day, polite and accepted conversation pressures discourse to strike the idiom from the vocabulary. Purging future history from the scourge of debt created finance requires the courage of Henry Ford to strip international finance from its economic dominance and political power. Any ethnic, religious or tribal identity that bears the responsibility of inciting anti-Christian demise is the avowed enemy of all humanity.
International banksters thrive on war. World War I proved that no political regime is immune from satanic belligerence. The last century is an anthology of fabricated conflicts designed to foster Quigley's NWO financial and coercive control vision. The Rothschild Dynasty vastly extends beyond family and tribe, as it is a matrix for the eradication of the sacred tenants and sanctity of individual life that is a bedrock principle of Western Civilization.
World War I was not about national disputes, but was a planned destruction of Christendom. This defining struggle gave rise to the temple of Totalitarian Collectivism. The only GREAT WAR is the battle to defeat the demon forces that want to impose a Luciferian rule upon the planet. Wars kill citizens, while usury destroys societies.Few people know, much less, understand the essential lesson of World War I. The entire last century needs interpreting and evaluation through the lenses of the eternal struggle. Ignorance is bliss for most people, but faulty history is much more dangerous.
By every objective standard, Abenomics has been a complete flop. Household spending has plunged, wages have dropped for 23 months in a row, inflation is on the rise, the number of workers who can only find part-time jobs has ballooned to 38 percent, and most economists now expect 2nd quarter GDP to shrink to minus 4 percent or worse. So where's the silver lining?
There isn't one. It's all hype. In fact, the only part of Prime Minister's Shinzo Abe's economic strategy that has succeeded has been the public relations campaign, which has bamboozled the Japanese people into believing that pumping trillions of yen into financial assets will lead to widespread prosperity. Good luck with that. We can see how well that worked in the US where stock prices have nearly tripled in the last five years, but the real economy is still flat on its back. So why would quantitative easing (QE) work in Japan when it hasn't worked in the US?
It hasn't, and it won't. The whole thing is a farce. But political leaders like Prime Minister Shinzo Abe and their central bank lackeys continue to promote this absurd flimflam because it boosts profits for their constituents. That's what this nonsense is all about; trying to find new ways to enrich the parasite class during a "self induced" long-term slump. The only problem is that everyone else is worse off than before, mainly because the silver spoon slackers at the top of the heap are getting a bigger and bigger share of the pie. That just leaves a few crumbs for everyone else, which is why economic activity has slowed to a crawl. It's because the people who typically spend money and rev up the economy, have no money to spend. It's that simple. Check out this blurb from the Testosterone Pit:
"The Abe administration is doing everything in the book to bolster the fortunes of Japan Inc.: offering tax cuts, more public works, and stimulus packages, snatching the Olympics by hook or crook, and cranking up inflation. In April, prices for all items soared 3.4% from a year earlier, and goods prices a confiscatory 5.2%. Yet wages were stuck in the mire, and adjusted for inflation, they plunged…

Then came the consumption tax hike, a broad-based tax that impacts consumers and businesses across the economy. The months before the effective date of April 1, consumers and businesses binged to save that extra 3% in taxes on big-ticket items, and businesses rang up sales faster than they could count." Japan Inc.'s Worst Quarterly Outlook Since The 2011 Earthquake, Testosterone Pit
How do you like that? So, with the economy already on the ropes, class warrior Abe decided to squeeze working people even more by pushing through a regressive sales tax that put household spending into a nosedive. (Get a load of this ski-jump chart of household spending)
But while Abe has been raising taxes on the workerbees, he's cutting them for his crooked corporate buddies. As part of his dubious "growth strategy" the Japanese PM has promised to slash corporate taxes from 35 percent to 29 percent, a move that will reduce revenues and increase Japan's humongous public debt even more. (Japan's debt is already a gargantuan 240 percent of GDP.) Many analysts think that Abe's move could trigger a panic in the bond market if investors start to think he's not serious about addressing the debt. Even so, that's a risk that Abe's willing to take as long as it saves his cheesy corporate friends a few shekels.
Of course the best way to pay down the debt, is through economic growth. But that can't be done when wages are either stagnant or dropping as they are in Japan. Check this out from mni market news:
"Base wages, the key to a recovery in cash earnings, fell 0.2% on year, marking the 23rd consecutive decrease…. In real terms, total wages slumped 3.1% in April, showing the annual inflation rate above 1% is hurting household income in the absence of substantial wage growth and in light of the sales tax hike to 8% from 5% on April 1″. (Japan Apr Total Wages Post 2nd Straight Rise; Base Wages Down, MNI Market News)
The economy can't grow when demand is weak, and demand is perennially weak in Japan because wages and incomes are shriveling. That means less personal consumption, less economic activity, and smaller GDP. Recently, the situation has gotten worse due to the Bank of Japan's money printing operations which have increased inflation which has reduced worker's buying power. Check this out form the Japan Times:
"Consumer prices climbed in May at their fastest pace in 32 years, swelled by the hike in the consumption tax and higher utility charges that are squeezing Japanese budgets as wage gains remain limited.

Consumer prices excluding fresh food but not energy, rose 3.4 percent from a year earlier, the Statistics Bureau said Friday…Household spending subsequently sank 8 percent, more than the forecast fall of 2.3 percent, separate data showed…

All 14 major gas and electricity companies raised prices from May to the highest level since the current pricing system began in May 2009, according to the Asahi Shimbun. Tokyo Electric Power Co. announced a price hike of 5.3 percent in May for households, reflecting the higher tax, rising energy costs and other factors." (Prices climb most in 32 years as wages limp along, Japan Times)
So, with prices rising and wages stagnant, Japan is experiencing what most analysts anticipated when Abe first announced his plan to hike the sales tax, that is, household spending has dropped precipitously increasing the likelihood of another recession. Abe decided that pushing more of the government's operating costs onto working people was more important than the health of the economy.
Naturally, Abe's policies have had a catastrophic effect on the working poor. As we noted earlier, the number of part-time workers in Japan has grown dramatically over the last few years. According to Reuters,
"part-time, temporary and other non-regular workers who typically make less than half the average pay has jumped 70 percent from 1997 to 19.7 million today — 38 percent of the labor force."

Abenomics has made life considerably harder for these people due to the higher taxes, soaring prices, and reduced welfare benefits. The data show that Japan's poverty rate is "the sixth-worst among the 34 OECD countries" while "child poverty in working, single-parent households is by far the worst at over 50 percent, making Japan the only country where having a job does not reduce the poverty rate for that group." (Japan's working poor left behind by Abenomics, Reuters)
Abe's attack on working people has intensified in the last few weeks as he's unveiled parts of his "third arrow" of structural reforms. Along with cutting corporate taxes, Abe wants to take the Government Pension Investment Fund (GPIF), "the world's deepest pot of savings", and shove it in the stock market. George W. Bush wanted to do the same thing with Social Security but abandoned the idea after Lehman Brothers collapsed and the economy tanked. Now Abe is pushing the same loony plan which will put the long-term security of Japan's elderly at risk just to boost profits for his voracious plutocrat friends.
Abe also wants to eliminate overtime pay, make it easier for corporate bosses to fire workers, and allow foreign workers to care for children and the elderly in a series of "special economic zones". All of the so called "reforms" are just ways of extracting more wealth from labor by loosening regulations. None of them have anything to do with increasing productivity, boosting capital investment or sparking more innovation. They're all about wringing every last dime out of the people who are already so broke they can barley keep their heads above water.
On top of it all, Abe's easy money policies have ignited the same flurry of "irrational exuberance" they have in the US. As Marketwatch notes, "A greater number of investors are demanding increased dividends and share buybacks than (ever) before."
Stock buybacks are a particularly execrable activity that pumps up stock prices without adding anything to productivity. It's pure-unalloyed asset inflation prompted by insanely loose monetary policies. Here's more from Marketwatch:
"Japanese companies … are sitting on a record amount of cash: about $3 trillion at the end of March …

A number of large Japanese companies, including Toyota, NTT Docomo and Mitsubishi Corp., have announced plans for big stock buybacks, which improve shareholder returns by increasing the value of the remaining shares outstanding." (In Japan, dividends, buybacks take the stage, Marketwatch)
Yipee! Shareholders are getting richer on Abe's idiot programs. Too bad they'll be gone when the bubble bursts and the system plunges back into crisis.
What a screwball system.
Abenomics has nothing to do with prosperity, growth or even deflation. That's all BS. The policy is designed to do exactly what it does, generate hefty profits for slacker speculators and corporate muck-a-mucks while everyone else faces higher prices, lower wages and a dimmer future.
If that's not class warfare, then what is it?
In case you are a rabid partisan supporter of the Obama administration, or forgot your history, Richard Nixon was charged for ostensibly the same offense, that President Obama's loyal minion Lois Lerner oversaw. Joseph Curl writes in the Washington Times, IRS scandal gets Nixonian: The 18½-minute (or 26-month) gap.Article 2 of the Articles of Impeachment against Nixon charged that he:
"endeavored to obtain from the Internal Revenue Service, in violation of the constitutional rights of citizens, confidential information contained in income tax returns for purposes not authorized by law, and to cause, in violation of the constitutional rights of citizens, income tax audits or other income tax investigation to be initiated or conducted in a discriminatory manner."

That's exactly what the Internal Revenue Service did under President Obama before the 2012 election.

There isn't much dispute there. The IRS sought to delay tax-exempt status for conservative and tea party groups, and succeeded (as the government often does when fighting its foes). So Congress, which has oversight of all things government, asked for all correspondence among the major players."
So when an IRS Source: Lerner's Hard Drive Likely Destroyed, all you can do is ask if any of Rose Mary Woods' relatives are Democrats and still work for the federal government establishment. If Watergate brought the country to the constitutional brink, what exactly would Obama have to do in order for Congressional House impeachment and a Senate trial and removal from office?Just examine some of the most egregious crimes, 25 Violations of Law By President Obama and His Administration. However, in the post Clinton impeachment culture, the career political class does not have the stomach to live by and enforce most provisions of constitutional law.
The press revolving door that Jay Carney used to drop the charade that he was a real journalist at Time to become a Whitehouse Press Secretary lap dog is a good indication that the Fourth Estate just does not has the zeal to do a "Woodward and Bernstein" on Obama. No doubt, media mouthpieces are proficient with deep throat fellatio, but their "PC" ethics require that their trade be applied solely as the serviceof their multiracial POTUS. The notion of conducting serious investigational reporting that could lead to the removal of a treasonous crook is not in their newspeak playbook.By any historic standard the economy is plummeting, the government is despotic, the culture is in denial and the world is collapsing. The Obama presidency has created an administration that is a total failure. Incompetency in purpose, policy and execution is beyond belief. The country is imploding on every level. The only rational conclusion is that Obama's mission has always been the intentional destruction of the nation.
Back in 2011, Charles Krauthammer wrote an essay, Obama's Louis XV budget that received widespread coverage. Louis XV was king of France from 1715 to 1774. The analogy needs a little appreciation of pervasive failures within the French monarchy during this era.Dr. Krauthammer reviews the Obama's budget complexities and the consequences for future administrations.
"Yet for all its gimmicks, this budget leaves the country at decade's end saddled with publicly held debt triple what Obama inherited.

A more cynical budget is hard to imagine. This one ignores the looming debt crisis, shifts all responsibility for serious budget-cutting to the Republicans – for which Democrats are ready with a two-year, full-artillery demagogic assault – and sets Obama up perfectly for reelection in 2012."
Now we all know that the provincial peasants picked "The Beloved" Obama for a second term. Grasp the similarities. "Most scholars believe Louis XV's decisions damaged the power of France, weakened the treasury, discredited the absolute monarchy, and made it more vulnerable to distrust and destruction."
For an outstanding summary from Afterburner with Bill Whittle, view the video, Le Deluge – Obama is Quickly Becoming Louis XV. "Obama is figuring that it doesn't matter what horrendous things he does to this country, because after him will be a deluge anyway. He's becoming entirely comparable to France's Louis XV."
Both Krauthammer and Whittle seem to be describing a society in decay awaiting a day of reckoning. However, the royal rule of Barack Hussein Obama II continues on its merry way with little righteous outrage from the masses, which are too busy SNAP eating "la croûte de pâté" (or the crust of the pâté) their Supplemental Nutrition Assistance Program rations.
Many academics argue that Louis XV was unequal to the high expectations of his subjects. "Historians have depicted this ruler as one of the weakest of the Bourbons, a do-nothing king who left affairs of state to ministers while indulging in his hobbies of hunting and womanizing."

Gossip has it from the lips of Fred DeRuvo that palace intrigue in the Obama court has strange bedfellows.
"Now, all of a sudden, we're to learn that Barack Obama is a closet womanizer, a real flirt? Do you think it's possible that the entire event was created in the labs of "Jarrett Amalgamated" to throw people off the scent, to make us stop talking about the fact that he may very likely be gay?

The idea that Obama likes woman is preposterous! The idea that he's such a flirtatious womanizer is also preposterous. The idea that Michelle Obama is planning on divorcing him is beyond preposterous! It's not going to happen because she has a ton to lose.

Who's going to pay for all of her vacations and birthday bashes once Obama is no longer president? Who's going to pay for her home and lessons to learn to drive a car and then buy a car? Who's going to pay for her god-awful choice in dresses and pantsuits?"
Nonetheless, we all know that the "Big Dog", immunized the Presidency from sex scandals and since Congress will not impeach for serious trespasses of the law, probable expectations are that Obama's weak and ineffective rule will just accelerate the general decline, culminating in a final oppressive oligarchy.
When the deluge hits, the next commander in crime will share similarities with Louis XVI, but do not expect that a fatal sentence for treason is likely. Ending the imperial presidency will never come with a helicopter ride into retirement. Woefully, after Nixon, the legacy of regal executive administrations never subsided, even under the inept Jimmy Carter.Louis XVI indecisiveness led some elements of the people of France to view him as a symbol of the perceived tyranny of the Ancien Régime. Today, the American public has the entire establishment to contend with and overthrowing an aristocracy looks bloody easy in comparison. Dave Hodges, of the Common Sense Show chimes in on a weird and frightening accusation from the now deceased Ted Gunderson, Retired FBI Agent Tells Militias Feds Have Set Up 30,000 Guillotines. Mr. Hodges asks:
"Why in God's good name would this government import 30,000 guillotines as Gunderson claimed? Oh, I know that some of the sheep are now looking up from the ground and have just said "there aren't are any guillotines in the United States." Then please tell me, sheep of America, why did Representative Doug Teper, of the Georgia Legislative Assembly (Democrat) introduced a bill which will supplant the method of execution, the electric chair, with the guillotine?"
The next observation is even more blood chilling.
"Everyone that I have spoken to agrees that the guillotine is highly efficient. Most everyone I have talked with stated that organ harvesting will indeed be even a bigger business and the guillotine is the most efficient killing machine to that end. Some of my sources stated that the next phase of the transhumanism experiments and developments requires a severed human head to facilitate the mixing of humans and animals into one sentient being. Further, futuristic DARPA robots will have human heads after the initial purge and subsequent executions. This makes sense because after the head is severed, the eyes blink and signs of life continue for up to a minute. This would allow a team to "freeze" and to preserve the head for whatever purpose."
The reluctance of impeachment for the current imposter, occupying the oval office, is putting the terminal NWO kismet plot in motion. Popular legend holds that Louis XV said, "After me, the flood" ("Après moi, le déluge"). Well, the tsunami after Obama will make the reign of Louis XVI look tame.
The constitutional republic, long ago buried, shows few signs of resurrection. However, the authoritarians that administer this reign of terror have assigned a cell in a personal Bastille for dissenters. The cry, vive la liberté (long live freedom) has no place in the Totalitarian Collectivism of the globalist worldwide empire. Disassembling the United States is necessary before the New Regime can replace the vestiges of individual liberty and inherent autonomy. Barack Obama is an arrogant buffoon that does the biding of his illuminati elite elders, who are modern day descendants of the same masterminds behind the French Revolution. Ignoring justified impeachment proceedings is capitulation to the slaughter of our way of life. Lop off the cancer of imperious presidencies.
In the last few months, 47,000 refugee children stormed America's southern border.    They arrived from Central and South America.  The usual onslaught from Mexico's overburdened population continued by the thousands.
In excess of 15 million undocumented Mexican border crossers now call America home.  They feed off America's welfare systems from housing, food, educational and medical care.  They cost taxpayers in excess of $346 billion annually across 15 federal agencies.
Bush, Clinton, Bush II and Obama stopped enforcing our borders 30 years ago.  The word spread like a California wildfire.
Journalist Tom Ashbrook reported:  "The numbers of children surging over the southern US border now – unaccompanied, as young as six – is just staggering.  Forty thousand-plus.  Up 90 percent.  Still growing, flooding in.  Coming up from Central America, Mexico. Coming a thousand miles and more from Honduras.  Scared north by vicious gangs.   And now, piling up in US facilities not designed for an influx of kids."
The third world uses America, Canada, Europe and Australia for a human "escape valve."  Since the third world adds 80 million desperate children annually to already staggering populations in China, India, Bangladesh, Mexico, Indochina and most of Africa—Western countries face shocking migration numbers that will collapse civilizations.
Because of relentless, enormous and endless legal and illegal immigration, America faces an added 300,000,000 (million) more people within this century.
Ironically, Diane Sawyer, Brian Williams, Shepard Smith, Scott Pelley and Wolf Blitzer benignly report the invasion of our country—but they refuse to interview anyone who speaks about the end result of adding 300,000,000 people to America.
This is what it will look like:
"Immigration by the numbers—off the chart" by Roy Beck  www.NumbersUSA.org
http://www.youtube.com/watch?v=muw22wTePqQ
If every American saw this video, they would scream at Congress and Obama to effectively close down mass migration into America.
Instead, powerful forces like the U.S. Chamber of Commerce, Speaker of the House John Boehner and corporations clamor for more immigration in the face of 48 million Americans subsisting on food stamps and tens of millions living off taxpayers with Section 8 housing.
"Late last week, the Obama administration asked Congress for $1.4 billion in extra funding to help house, feed and transport the tens of thousands of children being caught trying to cross the border illegally, and turned to the Defense Department to help temporarily house more than 1,000 of the children," said Chris Sherman, DC journalist.
Every dollar paid out to care for endless legal and illegal immigration must be borrowed from foreign nations.  Our country stands a mind-numbing $18 trillion in debt.
As a country, as a civilization, as a people, we cannot continue on this path of accepting the world's endless refugee line.  If we continue, we face ultimate collapse ourselves.  It's that simple.
Our citizens chose 2.0 children per female since 1970, but the world eschewed birth control to continue adding 80 million annually, net gain.  Now, because of mass starvation of 10,000,000 (million children) annually, they cannot and we cannot solve the overload.
As a world traveler, I can tell you that the line never ends; it only grows exponentially.  Humanity faces hard choices in the 21st century that it continues to avoid, ignore and evade. But not much longer.
"It is abundantly clear that the reason for the uptick …has to do with what's going on in Central American countries," said an administration official on the conference call. "The federal government prepared for this trend," an official said, "but it was larger than we had anticipated."
As we continue accepting millions as the "human population escape valve" of the 21st century, the third world, driven by the Catholic Church, Islamic Church and other ancient religions refuse to advocate for birth control—continues exponentially.
This humanitarian crisis cannot and will not end well for Americans or the migrants.
What needs to be done:
Distribute birth control to third world countries.
Focus on the Catholic and Islamic churches to come to terms with human overpopulation in the 21st century worldwide; demand they come to terms with the 21st century and advocate for birth control.
Guard America's borders to allow no one to breach our country by using our military. Force those countries to deal with their own human overload. Stop encouraging endless immigration.
Reduce all legal immigration into the United States to less than 100,000 annually instead of the current 100,000 every 30 days.
Promote a world conference on human overpopulation and all nations' stake in providing birth control throughout the human family.
Interview top experts who scientifically show the end result if we fail to take destiny into our own hands.
What is that destiny?
If we don't halt population growth with justice and compassion, it will be done for us by nature, brutally and without pity – and will leave a ravaged world.  ~Nobel Laureate Dr. Henry W. Kendall
"The raging monster upon the land is population growth. In its presence, sustainability is but a fragile theoretical construct.  To say, as many do, that the difficulties of nations are not due to people, but to poor ideology and land-use management is sophistic."  Harvard scholar and biologist E.O. Wilson
"Unlimited population growth cannot be sustained; you cannot sustain growth in the rates of consumption of resources. No species can overrun the carrying capacity of a finite land mass. This Law cannot be repealed and is not negotiable." Dr. Albert Bartlett, www.albartlett.org , University of Colorado, USA.
"Most Western elites continue urging the wealthy West not to stem the migrant tide [that adds 80 million net gain annually to the planet], but to absorb our global brothers and sisters until their horrid ordeal has been endured and shared by all—ten billion humans packed onto an ecologically devastated planet." Dr. Otis Graham, Unguarded Gates
To stop the invasion, join for free:  www.CapsWeb.org ; www.NumbersUSA.org ; www.Fairus.org ; www.TheSocialContract.com
Can you see the "Truth"?
"The truth will set you free. But first, it will piss you off." – Gloria Steinem
Are you tired of floating around in that pink goop of the Matrix? Are you ready to slough off the illusion like it was an old hat? Has the White Rabbit been too fast for you so far? If you are reading this article, you are here to wake up. Here are five ways to slow that white rabbit down so you can catch up.
1) Money is a Hoax
"The Western worldview says, in essence, that technological progress is the highest value and that we were born to consume, to endlessly use and discard natural recourses, other species, gadgets, toys, and often, each other. The most highly prized freedom is the right to shop. It's a world of commodities, not entities, and economic expansion is the primary measure of progress. Competition, taking, and hoarding are higher values than cooperation, sharing, and gifting. Profits are valued over people, money over meaning, entitlement over justice, "us" over "them." This is the most dangerous addiction in the world, not only because of its impact on humanity but because it is rapidly undermining the natural systems that sustain the biosphere." – Bill Plotkin
It is not the more evolved aspect of ourselves that tricks us into thinking that we need money to survive; it's the less evolved aspect of ourselves that does the tricking. With our advanced technologies we imagine that we know the way the world works, when, for the most part, we have forgotten how everything is connected.
Until we can relearn "a language older than words," and once again engage in a healthy dialogue with nature and the cosmos, we will continue to be tricked by the less evolved aspects of ourselves. The more awareness we bring to this extremely complicated cognitive dissonance, the more possible it will be to achieve an ecologically, economically, and socially sustainable world.
As it stands, however, the Federal Reserve is a house of cards guarded by a red herring. Money is the opiate of the masses, and the masses are too busy spending it on worthless crap to get to know each other as healthy individuals, let alone as a healthy community. We have become Pavlov Dogs, and money is our dinner bell. But money was never meant to be horded, or even amassed, it was meant to circulate as a way of uplifting the community. And yet here we are, hoarding and amassing, while our communities are in unhealthy disarray. It's high time we abandoned the force-fed shibboleth that having more money makes us better people. It doesn't. Being healthy, compassionate and moral is what makes us better people.
2) Debt is Fiction
"There are two ways to conquer and enslave a nation. One is by the sword. The other is by debt." –  John Adams
Unfortunately our nation has been enslaved by debt. Our current system is not an economic system at all, but an ecocidal system; an intrinsic obsolescence of conspicuous consumption. It's a grave misfortune that efficiency, sustainability, and preservation are the enemies of our socioeconomic system. This has got to be the most bizarre delusion in the history of human thought, a retarded Ponzi scheme en masse.
But it's difficult to get people to understand something when money, and especially debt, prevents them from understanding it. Instead of ownership, give us strategic access. Instead of equity, give us equality. Instead of one-track-minded profit, give us open-minded people. Instead of unsustainable monetary-based economics, give us a sustainable resource-based economy, which is basically the scientific method applied to ecological and social concerns.
As tough as it is to hear, nature is a dictatorship. We can either listen to it and fall into harmony or deny it and suffer. Ask yourself this question by Fleet & Lasn: "When the economic system fails, will we know how to behave, how to act, how to appreciate, how to value, how to survive, how to be and how to love in a world that no longer defines relations by money?"
Defenestrate your TV set!
3) Media is Manipulation
"Any dictator would admire the uniformity and obedience of the U.S. media." – Noam Chomsky
Media has always been an effective method for manipulating people. We are social creatures who are also psychological creatures. This combination makes us unwittingly vulnerable to the power of suggestion. As it stands, media has been our Achilles Heel. These days the "news" we receive from corporate media is more likely to be disinformation. Skepticism is a must when reading or viewing the information provided by these outlets.
The key: Don't believe anything you hear and only half of what you see. Analyze the Kool Aide before you swallow it. Even then, be prepared to vomit it back up at the first sign of deception. Remain circumspect and question all authority. They don't have our best interest at heart. They only want our money, and to remain powerful. Like Wendell Berry wrote in the Unsettling of America, "People whose governing habit is the relinquishment of power, competence, and responsibility, make excellent spenders. They are the ideal consumers. By inducing in them little panics of boredom, powerlessness, sexual failure, mortality, paranoia, they can be made to buy virtually anything that is "attractively packaged.""
We are slowly becoming more aware of corporate media lying to us. But they know we know they're lying to us. And we know they know we know they're lying to us. With enough inertia, this debacle of a process just continues until we are eventually lying to ourselves. And here we are. Like the great Baruch Spinoza once surmised, "The supreme mystery of despotism, its prop and stay, is to keep men in a state of deception, and cloak the fear by which they must be held in check, so that they will fight for their servitude as if for salvation." And here we are, unless we decide to wake up.
For it is seeking you.
4) Government is a Corporation
"The end of democracy and the defeat of the American Revolution will occur when government falls into the hands of lending institutions and moneyed incorporations." – Thomas Jefferson
Here's the thing: we do not live in a democracy, and we probably never really have. A prestigious Princeton study recently concluded that we live in an oligarchy: rule by a few individuals. And these individuals just so happen to be plutocrats, making this particular flavor of oligarchy a plutocracy: rule by the rich.
The problem is that money itself has become an immoral agent within an otherwise amoral system that praises itself as moral. Ask yourself: do you wish to live out harried lives of nine-to-five slavery, giving up your days to heartless corporations that don't give a damn about anything except making money, or do you wish to live a happy life of loving compassion, doing what you enjoy, in spite of plutocracy, oligarchy, and tyranny?
The Occupy Movement succeeded in shifting the tenor and shape of debate in the world, but we must not rest on our laurels. Trickle-down economics DOES NOT WORK! Austerity economics DOES NOT WORK! Corporations are NOT people. Money does NOT equal speech. It's a trap. If we don't get big money out of politics then everything we want to do will be hopeless. We need to be smarter with our mobilization tactics for the change and allocation of power within our society. So far the security and surveillance state has boxed us in, like the great MLK Jr. said, "Those who love peace must learn to organize as effectively as those who love war."
About the Author
Gary 'Z' McGee, a former Navy Intelligence Specialist turned philosopher, is the author of Birthday Suit of God and The Looking Glass Man. His works are inspired by the great philosophers of the ages and his wide awake view of the modern world.
**This article was originally posted at Fractal Enlightenment.**
Source: Waking Times
On Thursday, European Central Bank chief Mario Draghi dropped rates on overnight deposits to minus 0.1% thereby charging commercial banks to keep their money at the ECB. The move, which was applauded by the media as a "historic measure to fight deflation", is nothing of the kind. Negative rates have been used in both Sweden and Denmark in recent years, but to little effect. The policy will not "get the banks lending again" as the ECB suggests, nor will it ease the high unemployment and slow growth that have plagued the Eurozone for the last six years. In truth, the rate change will have no impact at all. It's merely public relations stunt designed to create the impression that the ECB is aggressively addressing the crisis for which it is largely responsible. Here's how the World Socialist Web Site summed it up:
"The move is an expression of the fact that, nearly six years since the collapse of Lehman Brothers, the world economy remains mired in deep crisis, for which the world's central banks have no solution outside of pumping trillions into banks and financial firms. While trillions are handed out to the banks, workers throughout the continent are told that there is "no money" to pay for pensions, social programs, and healthcare benefits." (European Central Bank cuts interest rate below zero, WSWS)
Stock traders loved the news that the ECB was going "sub zero". As we've seen before, any indication that the easy money regime is here-to-stay is enough to send equities skyrocketing, which it did. All the main indices notched substantial gains on the day while the SandP 500 surged to a new record of 1,940.
The idea that charging the banks a small fee on overnight deposits will induce them to lend more freely, demonstrates a laughable misunderstanding of how the system really works. Banks don't need piles of reserves to issue loans. What they need is creditworthy customers and strong demand. But, of course, demand is weak because the ECB has taken steps to keep the EU in a permanent state of Depression through its austerity policies. What this shows, is that the objectives of the class war precede the requirements for a healthy economy. Draghi and his cohorts would rather decimate the welfare state and reduce EU working people to abject poverty, then implement the policies that would generate a strong economic recovery.
But won't the lower rates lead to more lending, you ask? After all, when the price of money falls, borrowing becomes more attractive, right?
It's a persuasive theory, but it doesn't work that way. For example, check out this blurb from Reuters and you'll see what I mean:
"Lending to companies in the euro zone contracted at the fastest pace on record in November, piling pressure on the European Central Bank to do more to revive the currency bloc's economy…

"Worryingly, there is still no sign of any trend change in bank lending to euro zone businesses…" said Howard Archer, chief European economist at IHS Economics…

Corporate borrowing in the euro zone overall declined at the fastest pace on record, November's 3.9 percent drop comparing with a 3.8 percent decline on the year in the previous month.

Bank lending to Italian firms fell at an annual pace of 5.9 percent in November, the sharpest decline in the measure's 10-year history. That was also true for the euro zone's smallest economy, Malta, which recorded a 10.4 percent drop….The biggest decline was in Spain, where lending to companies fell 13.5 percent." (Euro zone corporate lending shrinks at record pace in November, Reuters)
The reason bank lending saw "the sharpest decline in the measure's 10-year history", is because the economy is in a depression, and people don't borrow tons of dough in a depression. They cut back, hunker down and squirrel-away whatever they can. Draghi knows this. He's just going through the motions to make it look like he cares. It's all PR. What he really cares about is his constituents, and what they want, is an end of the welfare state.
What's so irritating about all of this, is that we know how fix the economy. We know how to increase activity. We know how to boost demand, create jobs, and raise GDP. None of this is new.
When the private sector (consumers and businesses) can't spend for some reason, then the government has to step up and spend like crazy to keep the economy going. The only alternative is to allow consumption to fall sharply, which will push up unemployment, push down GDP and do vast damage to both the economy and financial system. Why would anyone want to do that, especially when all they have to do is increase the budget deficits temporarily while consumers patch their balance sheets and get back on their feet again?
Monetary policy has not and will not fix the economy. How many years are we going to repeat the same mistake before we acknowledge that? The whole presumption that this pointless, circle-jerk policy is designed to do anything other than provide another bailout for underwater, insolvent financial institutions and the crooked bank bondholders who own the whole friggin' planet is laughable in the extreme. Check this out from Bloomberg:
"In a bid to get credit flowing to parts of the economy that need it, the ECB also opened a 400-billion-euro ($542 billion) liquidity channel tied to bank lending and officials will start work on an asset-purchase plan. While conceding that rates are at the lower bound "for all practical purposes," he signaled the the ECB is willing to act again." (Bloomberg)
So that's what this is really all about, eh? Draghi is just laying the groundwork for a European version of QE?
Yep. Sure is. And that means another $542 billion will go to the chiseler class. Another $542 billion propping up crooked banks by purchasing their unwanted, toxic Asset-Backed Securities. (ABS) Do you think I'm kidding? I'm not. That's what the money is earmarked for.
The point is, monetary policy alone will not produce a strong, self sustaining recovery, which is a point that Keynes makes in Chapter 12 of "The General Theory of Employment, Interest and Money". Here's what he says:
"For my own part I am now somewhat skeptical of the success of a merely monetary policy directed towards influencing the rate of interest. I expect to see the State, which is in a position to calculate the marginal efficiency of capital-goods on long views and on the basis of the general social advantage, taking an ever greater responsibility for directly organizing investment; since it seems likely that the fluctuations in the market estimation of the marginal efficiency of different types of capital, calculated on the principles I have described above, will be too great to be offset by any practicable changes in the rate of interest." (John Maynard Keynes, "The General Theory of Employment, Interest and Money", marxists.org, 2002)
Keynes is just stating the obvious, that during periods of weak demand, the sensible option is for the government to take up the slack by "directly organizing investment", in other words, spending money to keep the economy running. Doesn't that seem infinitely more reasonable than the Draghi approach which involves a decade of experimental monetary policy that ends in social upheaval, high unemployment, and political unrest?
And here's the thing: Keynes "The General Theory" was published in 1936. That's nearly 80 years ago! This isn't some new-fangled theory concocted by pointy-head crackpots like Bernanke. This is settled science. Fiscal stimulus works. If the government spends, unemployment will drop. If the government spends, the economy will grow. What else do you need to know?
We've been hoeing this same row for 6 years now and the economy is still in the dumps. And, in the EU, it's even worse. Youth unemployment is above 50 percent in Spain and Greece, GDP stuck at a miserable 0.2 percent, business and consumer lending still shrinking, bond yields on sovereign debt are in the toilet, civil disorder and fascism are on the rise, and with the entire 17-member union is rushing headlong into deflation.
And Draghi thinks that negative rates are going to fix all this and put the economy back on the road to recovery?
In your dreams! The only way out of a mess like this is to spend like a madman, which is what Keynes recommended in his famous statement about bottles stuffed with banknotes. Here's what he said:
"If the Treasury were to fill old bottles with banknotes, bury them at suitable depths in disused coalmines which are then filled up to the surface with town rubbish, and leave it to private enterprise on well-tried principles of laissez-faire to dig the notes up again… there need be no more unemployment and, with the help of the repercussions, the real income of the community, and its capital wealth also, would probably become a good deal greater than it actually is. It would, indeed, be more sensible to build houses and the like; but if there are political and practical difficulties in the way of this, the above would be better than nothing." (p. 129)
Okay, so it sounds crazy, but it's really no different than Bernanke's "helicopter drop" theory, that is, that –during a severe downturn–the government needs to find a way to stimulate demand. The best way to do that, is to avoid the normal transmission mechanisms (which don't function properly during a slump) and get money directly into the hands of the people who will spend it quickly and get the economy growing again. It's all about spending, spending, spending. It doesn't matter if people buy Ipads or Ant Farms. Just spend, dammit. Spending is activity, activity is growth, growth reduces unemployment, which leads to more investment, more jobs and a virtuous circle.
If it seems to you, dear reader, that Keynes antidote for the ailing economy is more likely to succeed than Draghi's, then you are certainly right. Massive doses of fiscal stimulus WILL revive the EU economy, lower unemployment, and boost growth. The question is whether that's a goal the public should really support or not? In other words, is there any point in trying to restore a system which, at its very core, is unstable, self destructive and exploitative? Here's how Counterpunch economics writer Rob Urie sums it up:
"John Maynard Keynes created a host of economic patch-jobs to save capitalism from more effective solutions. In the pit of the Great Depression FDR implemented programs based on Mr. Keynes' ideas (which) produced minor relief now deemed by the economic insightful-lite to be a 'robust' economic recovery….. But the cause, leveraged (finance) capitalism gone wild, was only temporarily tamped down by regulation while its intrinsic instability was left intact…

Calls for re-regulation, managed capitalism, beg the question: re-regulate what? As demonstrated by history, the system of finance capitalism is intrinsically unstable and economically destabilizing. Under the guise of reviving a functioning financial system a dysfunctional system has been revivified, not revived, and nearly all benefits continue to accrue to a tiny economic elite." (Financial Crises and Economic Depressions, Rob Urie, CounterPunch)
So, yeah, Keynes' remedies will work. They'll definitely get the economy up-and-running again and keep it sputtering-along until the next crisis. But why bother?
Why not just scrap the whole thing and move on to Plan B.
"Actually, as Winston well knew, it was only four years since Oceania had been at war with Eastasia and in alliance with Eurasia. But that was merely a piece of furtive knowledge, which he happened to possess because his memory was not satisfactorily under control. Officially the change of partners had never happened. Oceania was at war with Eurasia: therefore Oceania had always been at war with Eurasia. The enemy of the moment always represented absolute evil, and it followed that any past or future agreement with him was impossible…" – George Orwell, 1984
Nations, cultures and populations are best controlled through the use of false paradigms. This is a historically proven tactic exploited for centuries by oligarchs around the world. Under the Hegelian dialectic (the very foundation of the Marxist and collectivist ideology), one could summarize the trap of false paradigms as follows:
If (A) my idea of freedom conflicts with (B) your idea of freedom, then (C) neither of us can be free until everyone agrees to be a slave.
In other words: problem, reaction, solution. Two sides are pitted against each other in an engineered contest. Each side is led to believe that its position is the good and right position. Neither side questions the legitimacy of the conflict, because each side fears this will lead to ideological weakness and disunity.
The two sides go to war, sometimes economically, sometimes militarily. Both governments demand that individuals relinquish freedom, independence and self-reliance, a sacrifice that "must be made" so that victory can be achieved. In the end, neither nation nor society has truly won. The only winners are the oligarchs, who sing words of loyalty to their respective camps, while acting in league from the very beginning. The oligarchs, who never intended to target each other in the first place. Their target, their ONLY target, was the citizenry itself — the dumbfounded masses now mesmerized with shock, awe and terror.
The false paradigm method and the Hegelian dialectic are in full force today. Only a few years ago, Russia, China and the United States were considered close economic and political allies. Today, those alliances are being quickly scrapped in order to make room for conflict, a conflict useful only to a select international elite. As I have outlined in numerous articles, includingRussia Is Dominated By Global Banks, Too and False East/West Paradigm Hides The Rise Of Global Currency, when one looks beyond all the theatrical rhetoric being thrown around between Barack Obama and Vladimir Putin, the ultimate reality is that the relationship of both governments to the global banking elite is the same.
During both of Obama's Presidential terms, he has flooded his cabinet with current and formeremployees of Goldman Sachs, a longtime proving ground for elitist financiers with globalist aspirations.
And who is the primary economic adviser to Vladimir Putin and the Russian state? WhyGoldman Sachs, of course!
U.S. and European elites have been calling for a centralization of economic power under the control of the International Monetary Fund, as a well as a new global currency.
Not surprisingly, Putin also wants a new global currency under the control of the IMF.
Obama is closely advised by globalists like Zbigniew Brzezinski, a member of the Council on Foreign Relations and cofounder of the Trilateral Commission, who in his book Between Two Ages: America's Role In The Technetronic Era states:
"The nation-state is gradually yielding its sovereignty …[F]urther progress will require greater American sacrifices. More intensive efforts to shape a new world monetary structure will have to be undertaken, with some consequent risk to the present relatively favorable American position…"
As long as he has been in power, Putin has been closely advised by Henry Kissinger, yet another member of the CFR and proponent of the Trilateral Commission, who has said:
"In the end, the political and economic systems can be harmonized in only one of two ways: by creating an international political regulatory system with the same reach as that of the economic world; or by shrinking the economic units to a size manageable by existing political structures, which is likely to lead to a new mercantilism, perhaps of regional units. A new Bretton Woods kind of global agreement is by far the preferable outcome…"
Both Kissinger and Brzezinski refer to this harmonized global economic and political structure as the "New World Order." The fact that the political leaders of Russia and the United States are clearly being directed by such men should not be taken lightly.
China, too, has made demands for a restructuring of the global monetary system into acentralized currency basket under the dominance of the IMF.
China's ties to the banking elite of London are well documented.
The call on both sides for a new monetary system and the end of the dollar as world reserve seems to greatly contradict the fantasy that the East and West are fundamentally at odds.  The progression towards a world currency and/or economic governance also appears to be growing along with the consolidation of economic and military ties between Eastern nations. This would suggest that the rise of the East and the crippling of Western elements is actually advantageous to global bankers in the long term.
While disinformation agents and media shills have attempted to downplay any danger to the strength of America and the dollar, Eastern governments have been swiftly establishing alliances and decoupling from U.S. influence.
The historic 30-year Russia/China gas deal has, of course, been finalized. This deal is already eating up market space and influencing the way in which the energy trade traditionally behaves.
China and Russia have also expanded on their bilateral agreements made in 2010, which remove the dollar as the reserve currency in transactions between the two nations.
China's thirst for gold continues, while the country is now building its own gold exchange to rival the U.S. Comex.
Russia has recently established what Putin calls the "Eurasian Economic Union," a deal which includes Kazakhstan and Belarus, two countries that hold large, freshly discovered oil fields.
In response to the engineered conflict over Ukraine, as well as the "Asian-Pacific Pivot" by the U.S., China has openly called for a new security pact with Russia and Iran.
Let's also not forget that China is set to surpass the U.S. as the world's largest economy by 2016, according to the Organization for Economic Co-operation and Development (OECD).
While the rise of the East is being painted in Western circles as a threat to U.S. and NATO dominance, the bigger picture is being hidden from view. Yes, indeed, the consolidation of the East is a considerable threat to the dollar and the U.S. economy — most importantly in the event that China refuses to accept dollars as payment on exports and debts. With the world's largest exporter/importer refusing to take dollars as a reserve, most nations will inevitably follow their lead.  The argument against this development is, of course, that there is no rational trigger for such a violent fiscal attack. I would remind skeptics that there was no rational trigger for the current strengthened relations between Russia and China until the Ukraine crisis. Is anyone really foolish enough to bet against another direct or indirect conflict between NATO and the East? And is anyone really ignorant enough to assume that said event would not be used as an excuse to cut the legs out from under the dollar completely?
The New World Order players have positioned the East and West for just such a scenario. Why? In my article Who Is The New Secret Buyer Of U.S. Debt?, I give evidence indicating that the Bank of International Settlements and the IMF are preparing the financial world for a new global monetary system, brought into existence by a second Bretton Woods conference. The debasement of the dollar and the rise of the East are NOT obstacles to this plan.  Rather, they are required factors. There can be no truly global economic system without "harmonization", the demise of the dollar's world reserve status, and the end of sovereign economic governance.
For those who doubt this scenario, read Paul Volcker's latest statement, as reported by Zero Hedge.
Volcker, the same man who was directly involved in the destruction of the first Bretton Woods agreement and the final death rattle of the gold standard, is now promoting a NEW Bretton Woods-style agreement in which currencies are pegged to a controlled market system — in essence, a centralized international monetary system. Volcker also suggests that a single nation-based reserve currency like the dollar may be a danger to overall fiscal health.
Volcker is right. The dollar-dominated forex casino and fiat fraud is a danger to the world. Volcker helped make it that way! And what a surprise, the former Federal Reserve chairman has a solution on a silver platter for the American people — all we need is GLOBALcentralization and bureaucratic oversight.
The propaganda is being carefully planted within the mainstream. Christine Lagarde of the IMF now spends the whole of her media interviews inserting the phrase "global economic reset" without explaining exactly what that would entail, while central banking elites like Volcker suggest a Bretton Woods II conference leading to a global monetary authority. In the meantime, Russian government-funded media outlets like RT produce pieces accusing the U.S. of being a nuclear menace while we Americans get to watch manipulative Hollywood films like "Jack Ryan: Shadow Recruit," which depicts a Russian plot to collapse the U.S. economy.  China and U.S. representatives squabble with each other at geopolitical meetings fueling fears of diplomatic breakdown, while the Pentagon "suggests" they may have to revamp their military strategies in consideration of yet another World War.  Just as in Orwell's book, 1984, old enemies become allies and then enemies once again, and at the top of the pyramid, it's all a farce.
The best lies contain elements of truth. The truth here is that the East is forming alliances in opposition to the West, the West is involved in underhanded covert operations all over the planet, and both "sides" are in fact on the verge of a catastrophic battle for supremacy. The great lie is that important details have been left out of our little story. Both sides are merely puppet pieces in a grand game of global chess, and any conflict will ultimately benefit the small group of men standing over the board. They include the international financiers who have influenced the very policy fabric of each government toward a climactic crisis which they hope will finally give them the "New World Order" they have always dreamed of.
Source: Brandon Smith | Alt-Market
The World Has Lost Understanding…
"We regard killing on United Nations 'peace-keeping-missions' as 'necessary' and to be accepted as a fact of life.  At the same time, our murderous century views with horror God's law.  God has no right, they hold, to require judgment.  Modern theology believes God should represent love and 'niceness,' never justice and judgment.  Humanistic sentiment wants evil-doers to be dealt with gently.  As a result, we have a culture which tolerates criminals, hoodlums, and exploiters of welfare who believe that they have a 'right' to pursue their evil ways.  Men are intolerant towards the claims of God and tolerant towards evil."  R. J. Rushdoony, "Deuteronomy" Pg. 205
Ninety nine percent of the world's population is controlled by a small group of elite oligarchs that compose less than one percent its inhabitants.
Tiny, high flying aircraft cover the sky with mysterious trails that expand into long, thin, vaporous clouds which are even more mysteriously ignore by the people, the media, and the government – no one seems to know who sponsors the flights, what they are spraying or why they are spraying it..  When it started, those that noticed were called "conspiracy theorists" so comments on the beginning of the spraying were quickly squelched.  Now everyone sees the mysterious chemtrails but no one challenges them.
The price of gasoline has followed a similar pattern.  When gas went to $3.00 a gallon there was a considerable outcry but now that it is approaching $4.00 a gallon no one is complaining.
When rumors of the intended overlay of the laws of the world's nations with world government there was lots of consternation but now that it was begun in earnest during the Twenty-First Century it is quickly progressing with little resistance.
When President Clinton's Administration was responsible for the deaths of over 80 innocent men, women, and children at the Koresh Compound in Waco, Texas and no one was held responsible it set the stage for what happened under the administrations of President Bush and President Obama; Executive Orders have virtually abolished the Bill of Rights setting in place the structure for a police state far worse than in Russia or Germany..
There was lots of publicity when President George W. Bush's mendacity led us into war in Iraq.  But now that our armed assault in the Middle East has gone on for over ten years and amassed debt in the trillion dollar range people are disgruntled but are seemingly unaware that debt is an obligation and eventually the citizens of the United States will be forced to pay it.
Hundreds of thousands of nominal, naïve Christians have spent the last several decades trying to defy the Word of God by predicting the Second Coming of Christ.  It has not happened.  A lessor number of those who acknowledged the Conspiracy have been predicting a national catastrophe for several decades. That has not happened.
People know that the world is being drastically changed.  They know that the governments of the individual nations are involved in ominous events that are happening on a daily basis.  They are beginning to realize that governments are part of the problem and therefore cannot become part of the solution.
While the closely controlled media censors the news so that nothing about the dangers to our freedom is leaked to the public the internet has innumerable speculative and prophetic articles that contain kernels of truth but are tragically surrounded by borders of speculation.
We know that the threat to our freedom is real but like the chemtrails we do not know who is giving the orders or when a particular event will occur.
There is very little that can be done about the clouds of tyranny that are falling over us.  The gun packing patriots that flocked to the Bundy Ranch can resist the government but they are fighting against a far superior force that is fully prepared to overcome such resistance.
The American people do not vote on pernicious legislation. The men and women they elect pass these bills even though they often failed to read them.  Major legislation like NAFTA and GATT passed with unknown content.  This procedure allows the veiled authors of inimical legislation to rule the nation as invisible kings.
Our nation has been infused with immigrants who know little or nothing about our culture and are intent on accumulating as much money and power as possible.  Already defiled by the destruction of voter qualifications our electoral system has been destroyed by allowing the wisdom of informed, long term citizens to be destroyed by the ballot of stupid voters and recent immigrants.  The hope that participation the political process will bring us peace and freedom is futile.
C-Span recently hosted a consortium of female power brokers who discussed what could be done about sexual harassment in the armed services.  This group of very smart women never touched on the fact that men were created with a desire to have sex with women and women were designed to succumb.  Instead, they spent the entire house discussing how they could force men and women into close proximity and then force them to control their desires.  They never considered the fact that forcing different sexes to live together and remain chaste is like setting a building on fire and hoping is doesn't burn.
Fantasy has overtaken our world.  Someone on the internet wondered if chemtrails were real!  The entire government has accepted as fact that our nation is threatened and must sacrifice freedom for safety.  They assume that the attack on the world trade center was perpetrated by Muslim enemies and ignore the sizeable block of evidence that it was a false flag.  Everyone seems to believe that Blacks and Jews are oppressed races and must be protected by sacrificing our right to free speech.  Large segments of our population support our troops and the killing and maiming of innocent people a product of U.S. imperialism.
"In the 21st century it is difficult to find a significant statement made by Washington that is not a lie. Obamacare is a lie. Saddam Hussein's weapons of mass destruction is a lie. Assad's use of chemical weapons is a lie. Iranian nukes are a lie. Russia's invasion and annexation of Crimea is a lie. No fly zones are a lie. Russian aggression against Georgia is a lie. 9/11, the basis for Washington's destruction of civil liberty and illegal military attacks, is itself a lie. The fantastic story that a few Saudi Arabians without government or intelligence agency backing outwitted the entire national security apparatus of the Western world is unbelievable. It is simply not credible that every institution of the national security state simultaneously failed. That Washington would tell such a fantastic lie shows that Washington has no respect for the intelligence of the American people and no respect for the integrity of the American media. It shows also that Washington has no respect for the intelligence and integrity of its European and Asian allies. Paul Craig Roberts, "Gangster State America"
Read Robert's article on the coming nuclear war.
When serious problems are evaded they fester and create bigger problems.  Peace is jeopardized when reality is ignored.  Blacks and Whites cannot live together when bad Black behavior is ignored or erroneously blamed on Whites.  We cannot have peace when the controlled press fails to publish black crime against White citizens and allows denigration of White citizens by both Blacks and Jews; sooner or later this persistent inequity will cause problems.
It would be hard to find another nation that showcases the tragedy of allowing humanist government to erase immutable Law than the United States of America.  Mutable human opinion has reduced the social, legal, and governmental factions of our nation to an absurd jumble of cognitive dissonances that are impervious to order.
Human beings are not gods and their governments are not sovereign.  We live in a created world that is controlled by an Entity Who requires our obeisance.  We were created to live in that world and to obey that Deity, the One True God.  Confusion and tyranny are often results of our disobedience and signs of God's judgment.  It is time the Christian Church acknowledges the fact the God is indeed still on His Throne and is the Sovereign ruler to this fast deteriorating world.
"It is not lonely man but all the nations that have fallen prey to original sin, to the desire to be as God (Gen. 3:5).   Each makes itself its own source of law, a clear usurpation of God's prerogative.  Each seeks to limit or prohibit the freedom of God's Word.  The nations without exception claim sovereignty, a plain assertion of their own lordship or deity.  Every nation is and has been a religious entity.  Moreover, the nations, as they now exist and function, are members of the fallen world of Adam and fanatic advocates of Adam's faith and rebellion." R. J. Rushdoony. "Systematic Theology" Vol.1, Pg. 234
During my youth, I grew up as a "Service Brat." My dad served 27 years in the U.S. Marine Corps. I respected God, the Stars and Stripes, America and our presidents without question. I loved my mom's apple pie!
However, credible researches discovered that President Franklin D. Roosevelt "let" Pearl Harbor occur to draw public support to jump the United States into World War II.
Our kids fought the Korean War because somebody in Harry S. Truman's circle decided we needed to stop communism over 10,000 miles from our shores. The best bet on who started the Korean War: a banker, a corporation head or anyone hoping to make enormous gains off mass deaths.
By the time Vietnam conscripted and killed a lot of my friends, as well as my own time in the U.S. Army, I learned about lies, corruption, bankers and the real reason for Vietnam. I learned that presidents lie. They think nothing of sacrificing young men in ridiculous wars such as Lyndon Baines Johnson's onslaught of Southeast Asia. He killed over 2.3 million Vietnamese and 58,319 of our young men. He ruined millions of lives, families and the environment with Agent Orange.
Years later, George W. Bush "created" the Iraq War on his lies and deceptions of "Weapons of Mass Destruction." He destroyed an entire functioning civilization, brought endless death and misery to God knows how many people. We're still fighting and dying in Afghanistan over a year since bin Laden died at the hands of Navy Seals.
Highly decorated U.S. General Smedley Butler, upon retiring, wrote a book that every American should read: War is a Racket. The only people who benefit from war: bankers, munitions manufacturers, clothing and food producers and corporations. They make a lot of money off death of our citizen soldiers.
General Dwight D. Eisenhower warned us about the "Military Industrial Complex" that engineers wars, global tensions and anything to shove our kids into uniform and battles. Congress and presidents shoved our noses into everybody else's business for decades.
We didn't listen to Butler. We "supported" all those wars via massive "advertising" that a "threat" awaited us. Those wars made a lot of CEOs filthy rich.
In 1971, defense expert Daniel Ellsberg presented the Pentagon Papers exposing the incredible corruption and widening of the Vietnam War by Nixon and Johnson before him—all based on lies.
Last week, NBC's Brian Williams interviewed "whistleblower" intelligence officer Edward Snowden about the National Security Agency's incredible spying on American citizens. I watched the entire interview: Snowden showed himself to be incredibly honest, forthright, concerned, all-American, he honors the U.S. Constitution and he is a man of principles. He chronicled his work in the government that opened him to the corruption at the highest offices in our government.
Secretary of State Kerry called Snowden a "Traitor, coward and should come home to face the music."
Daniel Ellsberg responded, "Kerry's remarks are despicable!"
I agree. We need 10,000 Edward Snowden's. In America today, we face incredible corruption in our Congress and Mr. Obama himself. The list grows: Fast and Furious, won't enforce our immigration laws, phony Social Security number, Benghazi killings, suing states from enforcing their own laws, continue to fund 10 year wars when they know they are futile, and on and on. The corruption in Congress runs wide, deep and sickening from 20 and 30 year career Senators and Congressmen swimming in lies, cheating and playing the American people. Insider military trading on the stock market, paid off by corporations to NOT enforce our immigration laws and another 100 crimes against the American people.
"So many things we are told are untrue," said Snowden. "The Iraq War was launched on false premises. We were led by false statements to go into Iraq."
I can stand with Snowden because I know we marched into Vietnam on the same false statements such as the "Gulf of Tonkin Incident."
When he tried to notify superiors, they said, "You should stop asking questions."
I faced the same thing when I served as an officer in the U.S. Army. I learned to never question orders. If I did, command officers ridiculed me. I learned quickly to follow the military protocol.
Snowden said, "I watched the government's dishonesty. What was going on needed to be told to the public. I did nothing to harm the citizens or soldiers of America."
Williams asked, "Why won't you come home and face the music?"
"The Espionage Act states that you cannot have a defense," said Snowden. "The music is not an open court or fair trail."
"Are you blameless," asked Williams.
"The most important idea is that what is right may not be legal," said Snowden.
I can attest to that fact. Once the man or "group" who gained George Bush's ear turned the crank to initiate the Iraq War, no sane, rational or reasoning man could stop it.
"We are seeing an erosion and obstruction of our rights as citizens under the NSA," said Snowden. "I felt that I was/am serving my country and protecting my fellow citizens. Even one of the U.S. Senators said that bulk surveillance is unacceptable. We see senior officials taking powers they don't warrant. In the end, I did the right thing."
I applaud Snowden. If more Snowden's stood up in the face of withering criticism or "following the power elites" that create wars or spy on our own citizens or recklessly endanger our country—none of our kids would have died in Korea, Vietnam, Iraq, Desert Storm or Afghanistan.
Look to career U.S. Senators like Feinstein, Boxer, Reid, Udall, Bennet, McCain, Kyle, Schumer, Levin, Kerry, Durbin, Kennedy, Hatch, Graham and dozens of other senators for their complicity in driving this country into needless wars, not defending our borders, slamming us into $18 trillion debt and putting all of us at risk. For example: the current S744, passed by the Senate last year, guarantees our country spirals into the demographic, cultural and linguistic toilet. Yet, the damned fools passed it. I recall Mark Twain's sage words, "Suppose you are an idiot and suppose you are a member of Congress…ah but I repeat myself."
We should welcome Edward Snowden home as a national hero, and, at the same time shouting out to Secretary of State John Kerry, "You're despicable beyond measure."
President Barack Obama's commencement address at West Point on May 28 managed to displease pretty much everyone in the nation's commentariat. Before making an overall assessment of its significance, it is necessary to examine the validity and implications of Obama's individual statements.
"[B]y most measures America has rarely been stronger relative to the rest of the world. Those who argue otherwise – who suggest that America is in decline or has seen its global leadership slip away – are either misreading history or engaged in partisan politics."
This key assertion, made at the beginning of the President's address, does not stand to empirical scrutiny. In economic terms, America was far stronger vis-à-vis the rest of the world in 1945 than she is today. In more recent times, U.S. share of world GDP peaked in 1985 with just under 33 percent of global GDP (nominal). Between 2004 and 2014, United States' share of global gross domestic product (GDP) adjusted for purchasing power parity (PPP) has fallen from 22.5 percent to 18.5 percent, and it is expected to continue falling. By the end of this year China will overtake the United States in gross domestic product, which had originally been projected to happen by the end of this decade. Analysts concede will gradually shift the ability to confer advantages or disadvantages on other countries – in other words, power – in China's favor.
In military terms, while America enjoyed the nuclear monopoly in 1945-49, her period of undisputed unipolar dominance was between 1991 (the collapse of the USSR) and 2008 (Russia's counterattack in South Ossetia). Although the Pentagon budget will drop from $600 billion this year to $500 billion in 2015, it will continue to account for over a third of the global total. The unsatisfactory outcomes in Iraq and Afghanistan and dented America's image of military invincibility. As the Economist commented on May 3, "The yawning gap between Uncle Sam and his potential foes seems bound to shrink." The prevailing view among most critical analysts is that over the past decade the U.S. has suffered military reverses, and now faces severe global competition.
As for the "global leadership," it is unclear what exactly Obama had in mind. Russia and China are creating a powerful Eurasian counterweight to what they rightly perceive as Washington's continuing bid for the global hegemony. India's new prime minister is a potential partner at best, and certainly loath to acknowledge America's "leadership."  In the Islamic world, Obama's attempts at appeasement – which started with the Cairo speech in 2009 – have not worked: The U.S. is now even more unpopular in the Muslim world than it was under George W. Bush. America is heartily disliked even in Turkey and Jordan, presumably our allies, not least because of the continuing drone strikes. American influence in Latin America is weaker now than at any time since Theodore Roosevelt, as manifested in the unanimous rejection of Washington's efforts to effect a regime change in Venezuela. Members of the American elite class are hard pressed to name a single country with which the U.S. has better relations today than five years ago. The NSA global spying network has infuriated even some otherwise reliable American friends in Western Europe. Most "Old Europeans" are remarkably resistant to U.S. pressure to agree to serious sanctions against Russia.
On balance it appears that Barack Obama is the one misreading history and engaging in partisan politics.
"Meanwhile, our economy remains the most dynamic on Earth, our businesses the most innovative."
In reality, by most value-neutral parameters the American economy is chronically weak and insolvent:
Some "dynamism," some "innovation"…
"America continues to attract striving immigrants."
Obama's statement is correct. It does not illustrate America's alleged strength as was his intent, however; it underscores this country's major weakness. Illegal immigration is spiraling out of control, the Border Patrol is overwhelmed. If the influx continues at current high levels, the U.S. population will increase to almost half a billion in 2060 – more than a 50 percent increase. New immigrants – mostly from the Third World, unskilled, uneducated, and a net drain on American resources – and their descendants will account for over one hundred million of that increase. On current form, English-speaking Americans of European origin will become a minority in their own country four decades from now. They will inhabit an increasingly overpopulated, polluted, lumpenproleterized, permanently impoverished country. America unfortunately does continue "to attract striving immigrants," mostly illegal ones and of poor quality. This is far greater threat to the survival of the United States in a historically or culturally recognizable form than terrorism or any conceivable alliance of foreign powers. Barack Obama does not understand this, or does not care, or – just as likely – cherishes the prospect.
"The values of our founding inspire leaders in parliaments and new movements in public squares around the globe."
By "public squares" Obama was probably alluding to Kiev's Maidan. Indeed, it has propelled some "new movements" to global prominence, such as the Svoboda party and the Right Sector. The Founding Fathers would be horrified to learn that, in the opinion of the President of the United States, their values have inspired Messrs. Tyahnybok, Yarosh, and other blood-soaked heirs to Stepan Bandera. This is on par with Senator Joseph Lieberman saying, "The United States of America and the Kosovo Liberation Army stand for the same values and principles. Fighting for the KLA is fighting for human rights and American values."
"And when a typhoon hits the Philippines, or schoolgirls are kidnapped in Nigeria, or masked men occupy a building in Ukraine, it is America that the world looks to for help."
Obama is mixing apples (natural disasters) and pears (man-made ones). The problem of Islamic terrorism in Nigeria was exacerbated by the refusal of the Department of State under Hillary Clinton to place Boko Haram ("Secular Education is Sinful") on the list of foreign terrorist organizations in 2011, despite the urging of the Justice Department, the FBI, the CIA, and over a dozen Senators and Congressmen. The de facto protection thus given to Boko Haram has enabled it to morph into a state-within-the-state with an estimated 300,000 followers.
It would be ironic if "the world" were to look to America for help in Ukraine (which in any event it does not), since the course of crisis there has been, overwhelmingly, of Washington's own making, as manifested in Victoria Nuland's famous phone call to Ambassador Pyatt. The new Drang nach Ostenmakes sense from the point of view of the liberal globalist-neoconservative duopoly: there is no better way to ensure U.S. dominance along the European rimland in perpetuity than drawing Europe back into NATO (i.e. U.S.) security orbit in general and subverting the Russo-German rapprochement in particular. The "masked men" in buildings are a direct consequence of American meddling.
"So the United States is and remains the one indispensable nation. That has been true for the century past, and it will be true for the century to come."
It has never been true, it is not true now, and it never will be true. Madeleine Albright's famous dictum was an arrogant statement by an immigrant ignorant of American history and a sign of her well-attested instability. It was reiterated in Bill Clinton's 1996 speech, where he explained why he intervened, disastrously, in Bosnia: "The fact is America remains the indispensable nation. There are times when America, and only America, can make a difference between war and peace, between freedom and repression, between hope and fear." That Obama has chosen to recycle such rubbish is a sign of intellectual and moral bankruptcy. "Indispensable" to whom, exactly? It is unimaginable for the leader of any other country in the world – Vladimir Putin, say, or Xi Jinping – to advance such a claim. It is tasteless at best and psychotically grandomaniac at worst, a latter day "Manifest Destiny" on steroids. The problem is that such hubristic delusions easily translate into non-negotiable foreign policy objectives. Resisting the will of the "indispensable nation" is ipso facto evil: Susan Rice's condemnation of Chinese and Russian vetoes of the U.S.-supported UN Security Council resolution on Syria as "disgusting," "shameful" and "unforgivable" comes to mind.
"Russia's aggression towards former Soviet states unnerves capitals in Europe while China's economic rise and military reach worries its neighbors."
Quite apart from the genesis of the crisis in Ukraine, to which "Russia's aggression" hardly applies, Obama's use of the term "former Soviet states," plural, implies that in his opinion Ukraine is not the only "victim of Russia's aggression." Presumably he means Georgia, the only "former Soviet state" with which Russia has had a conflict since the collapse of the Soviet Union. If so, and there is no other explanation for his turn of his phrase, Obama has a dangerously flawed understanding of the August 2008 Georgian crisis.
Georgian then-President Mikheil Saakashvili's order to attack South Ossetia's capital, Tskhinvali, was a breathtakingly audacious challenge to Russia, to which she was bound to react forcefully. That response was promptly exploited, for the first time since Gorbachev, by the American mainstream media machine and the foreign-policy community in Washington to paint Russia as a rogue power that is not only dangerous but intrinsically malignant. The vehemence of that rhetoric exceeded anything ever said or written about jihad, before or after September 11. To be fair, Saakashvili was led to believe that he was tacitly authorized to act as he did. President George W. Bush had treated Georgia as a "strategic partner" ever since the Western-engineered "Rose Revolution" five years earlier, and in early 2008 he strongly advocated NATO membership for Georgia. Washington had repeatedly supported Georgia's "sovereignty and territorial integrity," which implied the right to use force to bring South Ossetia and Abkhazia to heel, just as it is supporting "resolute action" in Donetsk and Lugansk today. Saakashvili may be forgiven for imagining that the United States would have bailed him out if things went badly. It is noteworthy that he was not disabused of such notions. The calculus in Washington appears to have been based on a win-win scenario, not dissimilar to the current Ukrainian strategy. Had Georgian troops occupied South Ossetia in a blitzkrieg operation modeled after Croatia's "Operation Storm," while the Russians remained hesitant or ineffective, Moscow would have suffered a major strategic and (more importantly) psychological defeat after almost four years of sustained strategic recovery. If Russia intervened, however, she would be duly demonized and the U.S. would push for NATO consolidation with new vigor. "Old" Europeans – the Germans especially – would be pressed to abandon their détente with Moscow. A resentful Georgia would become chronically anti-Russian, thus ensuring a long-term American presence in the region.
In the event, like the Ukrainian army today, the Georgian army performed so poorly that a military fait accompli was out of its reach. Excesses against Ossetian civilians – just like the shelling of schools in Slavyansk today – made the "victim of aggression" narrative hard to sell, Obama's "aggression" rhetoric notwithstanding.
"The question we face… is not whether America will lead but how we will lead, not just to secure our peace and prosperity but also extend peace and prosperity around the globe."
It is unclear how, if at all, America will secure her own "peace and prosperity" in the years and decades to come, let alone how she can extend it "around the globe." If this is a statement of Obama's grand strategy, it is flawed in principle and unfeasible in detail. In this statement there is not a hint of an overall blueprint for action that matches our country's resources to her vital interests. A sound grand strategy enables a state to deploy its political, military, economic, and moral resources in a balanced and proportionate manner, in order to protect and enhance its security and promote its well-being, never mind "the globe." In Obama's universe, however, there are no brains behind "indispensable," heavy-handed diplomacy and military power. Obama creates a false dilemma ("the question we face") unsupported by facts. China, India, Russia, the Muslim world and Latin America do not want to be "led," quite the contrary. Old Europe is reluctant at best. Subsaharan Africa is an irrelevant mess. The question we face is not global leadership, but national survival.
"Regional aggression that goes unchecked, whether in southern Ukraine or the South China Sea or anywhere else in the world, will ultimately impact our allies, and could draw in our military. We can't ignore what happens beyond our boundaries."
This simultaneous dig at Russia and China reflects a hubristic world view that is unmatched by conflict-management resources. A sane American relationship with Moscow demands acceptance that Russia has legitimate interests in her "near-abroad." Obama' four-nation tour of East Asia last Aprilescalated existing U.S. military commitments to the region, created some new ones, deeply irritated China, and emboldened American allies and clients to play hardball with Beijing. Obama does not understand that it is extremely dangerous for a great power to alienate two of its nearest rivals simultaneously. The crisis in Ukraine is going on, but the situation in Asia is potentially more volatile. Dealing with both theaters from the position of presumed strength and trying to dictate the outcomes is perilous, as many would-be hegemons (Philip II, Louis XIV, Napoleon, Kaiser Wilhelm, Hitler), blinded by arrogance, have learned to their peril. Obama has continued the hegemonist habit of instigating crises at different spots around the world, even though the resources are scarce and the strategy is fundamentally faulty. An overtly anti-U.S. alliance between Russia and China is now in the making. U.S. overreach led to the emergence of a de facto alliance in the Eurasian Heartland, embodied in the gas deal signed in Shanghai. Russia and China are not natural allies and they may have divergent long-term interests, especially in Central Asia, but they are on the same page when it comes to resisting U.S. hegemony, pardon, "leadership." In the early 1970's Dr. Henry Kissinger wisely understood the benefits of an opening to Beijing as a means of pressuring Moscow on the Cold War's central front. Back then the USSR was far more powerful than the People's Republic. Today, by contrast, China is much more economically and demographically powerful than Russia, and for the United States the optimal strategy would dictate being on good terms with the weaker party in the triangle. America does not have a policymaker of Kissinger's stature today, who would understand the potential of a long-term understanding with Moscow as a tool of curtailing Chinese ambitions along the Pacific Rim.
"America must always lead on the world stage. If we don't, no one else will. The military that you have joined is, and always will be, the backbone of that leadership."
The notion that "the world stage" demands a "leader" is flawed. It is at fundamental odds with the balance-of-power paradigm, which has historically secured the longest periods of peace and unprecedented prosperity to the civilized world. Today's world is being multipolarized, whether Obama the Exceptionalist likes that or not. The very idea of the self-awarded "world leadership" would appear absurd in the days of Bismarck or Metternich. Washington has neither the resources nor the minds for such a role, even if it were called for.
"The United States will use military force, unilaterally if necessary, when our core interests demand it — when our people are threatened; when our livelihoods are at stake; when the security of our allies is in danger."
None of the above applied in Bosnia, Kosovo, Afghanistan, Iraq, or Libya… but enough of Obama. There was more rhetoric at West Point, including an ode to American exceptionalism and further references to America's global leadership, but it just as tedious, vacuous and intellectually wanting as the first ten minutes of his address.
Overall, it is evident that the United States in Barack Obama's final term has not given up the hegemonist habit of instigating crises at different spots around the world, even though the management resources are scarce and the strategy is fundamentally faulty. An overtly anti-U.S. alliance between Russia and China is now in the making. It will be a belated equivalent of the Franco-Russian alliance of 1893 – the predictable result of an earlier great power, Wilhelm's Kaiserreich, basing its strategy on hubristic overestimation of its capabilities. U.S. overreach has led to the emergence of a de facto alliance in the Eurasian Heartland, embodied in last month's energy agreement signed in Shanghai. Russia and China are not natural allies and they may have divergent long-term interests, especially in Central Asia, but they are on the same page when it comes to resisting U.S. hegemony.
In the early 1970's Dr. Henry Kissinger wisely understood the benefits of an opening to Beijing as a means of pressuring Moscow on the Cold War's central front. Back then the USSR was far more powerful than the People's Republic. Today, by contrast, China is much more economically and demographically powerful than Russia, and for the United States the optimal strategy would dictate being on good terms with the weaker party in the triangle. It is unfortunate that America does not have a policymaker of Kissinger's stature today, who would understand the potential of a long-term understanding with Moscow as a tool of curtailing Chinese ambitions along the Pacific Rim.
Judging by the West Point address, for the remaining two and a half years of Obama's term U.S.-initiated global confrontations will continue as before. Instead of de-escalating the bloody mess to which she has made a hefty contribution, Victoria Nuland will continue encouraging her blood-soaked protégés in Kiev to seek a military end-game in the East. Instead of calming the South China Sea, Washington will continue encouraging its clients to be impertinent. And Putin and Xi will draw their conclusions: that they do have a powerful common enemy, a rogue regime not amenable to reason or rational calculus.
It cannot be otherwise, considering the Obama Administration's 2012 Defense Strategic Guidance, which is but a rehash of the strategic assumptions of the Bush era. In Obama's words from two years ago, our "enduring national interest" is to maintain the unparalleled U.S. military superiority, "ready for the full range of contingencies and threats" amid "a complex and growing array of security challenges across the globe." The Guidance itself asserts that the task of the United States is to "confront and defeat aggression anywhere in the world." This is not a grand strategy but a blueprint for disaster—especially when combined with the interventionists' urge to "confront and defeat" not only aggression as such but also "aggression" resulting from  internal conflicts irrelevant to the American interest (Syria, Ukraine) and putative threats to regional stability (Iran).
Obama is a more reluctant interventionist than McCain or Romney would have been, but he, too, does not recognize the limits of American power and does not correlate that power with this country's security and prosperity. He fails to balance military and nonmilitary, short and long-term capabilities. He rejects the fact that the world is becoming multipolar again, while the relative power of the United States is in steady decline. Obama's absence of a viable grand strategy produces policies that are disjointed, nonsensical, and self-defeating. He is prone, no less than his predecessor, to equate any stated political objective in some faraway land with America's vital interests, without ever offering a coherent definition of those "vital" interests.
On both sides of the duopoly, the ideology of American exceptionalism and the doctrine of global dominance reign supreme. At a time of domestic economic weakness and cultural decline, foreign policy based on the American interest requires prudence, restraint, and a rational link between ends and means. Abroad, it demands disengagement from distant countries of which we know little; at home, a sane immigration policy.
It will not happen.
"I liken the economy to a car on a flat road that has no momentum. When you take your foot off the gas, the car just stops moving." — Stephanie Pomboy, Interview Barron's
If you follow the stock market, you probably think the economy is sizzling. But if bonds are your thing, then you probably think we're still in recession.
So which is the better gauge of what's going on in the real economy; stocks or bonds?
The bond market is more accurate. And recently, long-term yields have been dropping like a stone which is not a good sign for the economy. Investors seem to think that slow growth and low inflation are here to stay, and they could be right. According to Bloomberg, "Falling yields on longer-term Treasuries historically reflect periods of lackluster growth. Since 1960, they have predicted seven of the last eight recessions when 10-year yields fell below 3-month bill rates." As of today, the benchmark 10-year UST is a dismal 2.44 percent.
The reason investors have been piling back into Treasuries is because is the labor market is weak and there's no sign of inflation anywhere. When wages stagnate and incomes drop–as they have since the slump ended– then there's no upward pressure on prices because everyone is making less dough, so there's less demand, less growth and, hence, less inflation. Of course, Obama could have fixed the situation by holding off on slashing the deficits or by increasing the amount of stimulus in his fiscal package. That would have circulated more money into the economy boosting employment and revving up growth. But that would have put the economy back on its feet again which was not what he wanted. What he wanted was to grind working people into the ground by keeping the economy on life-support while his chiseling Wall Street buddies made out like bandits on the latest stock market bubble. The Wall Street Journal explains what's going on:
"Bond yields are – once again – plunging worldwide. The reason for this revived buying among fixed-income investors is that central banks are – once again – signaling their intent to ease monetary conditions in yet another bid to kick-start sluggish economies and forestall a downward spiral in prices, or deflation. The prospect that central banks will continue to inject money into the world's bond markets…has acted as a green light for the world's bond buyers."
So investors think the Fed will have to taper the "Taper" and start buying more government paper. But why?
Because they have no choice. Many of the usual buyers of US Treasuries have cut back on their monthly purchases or stopped buying altogether. That means that rates will have to rise to attract more buyers unless the Fed makes up the difference. Check out this blurb from Barron's interview with Stephanie Pomboy:
"Foreigners are buying about $10 billion a month of Treasuries. This compares with deficit financing needs for the U.S. government of roughly $40 billion a month, based on this year's deficit. So the Fed needs to pick up roughly $30 billion a month in slack. When the Fed slashed its buying to $25 billion, effective this month, it for the first time opened up a demand deficit for Treasuries. If they continue to taper, that gap will expand, and things could get bumpy in the Treasury market. Rates won't go up five basis points before the Fed would start talking about more QE." (Barrons Interview Posits Weak US Economy, Barron's)
It'll get bumpy alright, real bumpy. Higher rates will send housing and stocks into freefall. The Fed will have no choice but to step in to stop the bleeding.
The economy is already suffering from chronic lack of demand. Add higher rates to the mix, and cost-conscious consumers are going to cut back on everything from auto loans to nights-on-the-town. Yellen's not going to let that happen. She's going to come up with some cockamamie excuse for buying more USTs and hope-like-hell that wages and incomes rebound so she can start tapering again.
This illustrates the conceptual flaw in Central Bank policy. QE and zero rates are supposed to reduce the price of money, thereby enticing consumers to take out loans and spend like crazy. That, in turn, is supposed to generate more activity and stronger growth. But there's a slight glitch to this theory, that is, consumers aren't the brain-dead lab rats the Fed thinks they are. Most people don't base their spending decisions on price alone. Sometimes, for example, it doesn't make sense to borrow money no matter how cheap it is. The average working stiff doesn't give a rip if he can get a loan at 3.5 percent when his credit card is already maxed out and the only job he can find is working graveyard at Jack in the Box. That guy doesn't need more debt, he needs a decent paying job. Here's how the managing partner of MBMG Group, Paul Gambles explained the phenom in an interview on CNBC:
"People and businesses are not inclined to borrow money during a downturn purely because it is made cheaper to do so. Consumers also need a feeling of job security and confidence in the economy before taking on additional borrowing commitments." (Washington's blog via Zero Hedge)
Bingo. Of course, the members of the Fed know that this whole "cheap money" thing is bogus, but they keep reiterating the same blather so they can keep the wampum flowing to their crooked friends on Wall Street. It's worth noting that: since the end of the recession, "one-third of all income increases in this country went to just 16,000 households, 95 percent of it went to the top 1 percent, and the bottom 90 percent's incomes fell, and they fell by 15 percent."
In other words, the Fed knows exactly how QE works, (and who benefits) and it has nothing to do with extending credit to working people. That's malarkey. It's all about providing limitless liquidity for financial speculators so they can send stocks into the stratosphere and rake in record profits. Here's a blurb from a piece by Zero Hedge that helps to illustrate what's going on:
"According to the most recent CapitalIQ data, the single biggest buyer of stocks in the first quarter were none other than the companies of the S&P500 itself, which cumulatively repurchased a whopping $160 billion of their own stock in the first quarter!
Should the Q1 pace of buybacks persist into Q2 which has just one month left before it too enters the history books, the LTM period as of June 30, 2014 will be the greatest annual buyback tally in market history." (Here Is The Mystery, And Completely Indiscriminate, Buyer Of Stocks In The First Quarter, Zero Hedge)
Why are companies buying shares of their own stock, you ask, when buybacks add no productive value to a company at all?
It's because it gooses stock prices which makes shareholders happy. It's a complete scam. And it's a huge scam, too. Currently, total stock buybacks represent a whopping $4 trillion or 20 percent of the total stock market value. Just think of the walloping prices are going to take when these same shareholders decide it's time to bail out? Look out below!
Now get a load of this clip from Action Forex:
"Disappointment over the pace of economic growth explains at least some of the downturn in yields. The U.S. economy very likely contracted in the first quarter of the year, perhaps by as much as 1.0% annualized … Even with a strong bounce back in the second quarter … – the average pace of growth in the first half of the year will be a tepid 2.0%, about the pace it's been since the end of the recession…
The retrenchment in yields also reflects events abroad … However, there is perhaps another reason for the decline in yields that is more pernicious. There is the realization that even after the recovery has run its course, economic growth is likely to be slower than it has been in the past. Slower growth means that as the fed funds rate eventually moves off the floor, it will not go back to the 5.25% it was prior to the Great Recession or even the 4.0% it averaged over the quarter of a decade prior. Expectations of "lower forever"…increasingly appear to be built into longer-term interest rates." (A year in the bond market, Action Forex)
Did you catch that part about "lower forever"?
What the author means is that the economy has reset at a lower level of activity and will not return to normal. This is an admission that the managers of the system have no intention of fixing what's wrong; cleaning up the banks, writing down the debts, regulating the system, increasing workers buying power (boosting demand) or providing sustained fiscal stimulus until unemployment and growth are back where they should be. Instead, basic macro has been replaced with public relations, that is, a swindle that's spearheaded by faux-liberal icons Krugman and Summers who are pushing the "secular stagnation" folderol which is just a lame excuse for maintaining the status quo plus a few anemic add-ons, like infrastructure projects. Big whoop. It's all a fig leaf for maintaining the same wealth shifting monetary policies that are in place today.
So this is it? Are we really doomed to a future of high unemployment and slow growth?
The IMF seems to think so. Here's an excerpt from an article by Nick Beams which gives a rundown on a recent IMF report that was ignored by the media. The article is titled "No end to economic breakdown":
"Almost six years after the eruption of the global financial crisis, the International Monetary Fund has effectively ruled out any return to the economic growth rates that preceded September 2008.
Two major chapters of the IMF's World Economic Outlook … provide a gloomy assessment of the state of the world economy. In the advanced economies, investment is falling as a proportion of gross domestic product (GDP), while in the "emerging markets," there is no prospect for growth rates to return to pre-2007 levels.
The IMF notes that real interest rates have been declining since the 1980s and are "now in slightly negative territory." But this has failed to boost productive investment. On the contrary, what it calls "scars" from the global financial crisis "have resulted in a sharp and persistent decline in investment in advanced economies." Between 2008 and 2013, there was a two-and-a-half percentage point decline in the investment to GDP ratio in these countries. The report adds that ratios "in many advanced economies are unlikely to recover to pre-crisis levels in the next five years."
This conclusion is of immense significance given the critical role of investment in the functioning of the capitalist economy … Investment…is the key driving force of capitalist economic growth … But if investment stagnates or declines, the circle turns vicious. This is what is now taking place." IMF report: No end to economic breakdown (april), wsws
So no return to normal, after all. The American people are now facing a long period of high unemployment and slow growth that will shrink the middle class and change the country in ways we can hardly imagine. It's unavoidable. It's the policy.
NOTE: As this piece was going to press, the Wall Street Journal announced that "revised" First Quarter GDP contracted at a 0.6% annual rate. So while stocks have been setting records almost daily due to the massive injections of money from the Fed, the economy is steadily sliding towards recession.
On the surface, the economic atmosphere of the U.S. has appeared rather calm and uneventful. Stocks are up, employment isn't great but jobs aren't collapsing into the void (at least not openly), and the U.S. dollar seems to be going strong. Peel away the thin veneer, however, and a different financial horror show is revealed.
U.S. stocks have enjoyed unprecedented crash protection due to a steady infusion of fiat money from the Federal Reserve known as quantitative easing. With the advent of the "taper", QE is now swiftly coming to a close (as is evident in the overall reduction in treasury market purchases), and is slated to end by this fall, if not sooner.
Employment has been boosted only in statistical presentation, and not in reality. The Labor Department's creative accounting of job numbers omits numerous factors, the most important being the issue of long term unemployed. Millions of people who have been jobless for so long they no longer qualify for benefits are being removed from the rolls. This quiet catastrophe has the side bonus of making it appear as though unemployment is going down.
U.S. Treasury bonds, and by extension the dollar, have also stayed afloat due to the river of stimulus being introduced by the Federal Reserve. That same river, through QE, is now drying up.
In my article The Final Swindle Of Private American Wealth Has Begun, I outline the data which leads me to believe that the Fed taper is a deliberate action in preparation for an impending market collapse. The effectiveness of QE stimulus has a shelf-life, and that shelf life has come to an end. With debt monetization no longer a useful tool in propping up the ailing U.S. economy, central bankers are publicly stepping back. Why? If a collapse occurs while stimulus is in full swing, the Fed immediately takes full blame for the calamity, while being forced to admit that central banking as a concept serves absolutely no meaningful purpose.
My research over many years has led me to conclude that a collapse of the American system is not only expected by international financiers, but is in fact being engineered by them. The Fed is an entity created by globalists for globalists. These people have no loyalties to any one country or culture. Their only loyalties are to themselves and their private organizations.
While many people assume that the stimulus measures of the Fed are driven by a desire to save our economy and currency, I see instead a concerted program of destabilization which ismeant to bring about the eventual demise of our nation's fiscal infrastructure. What some might call "kicking the can down the road," I call deliberately stretching the country thin over time, so that any indirect crisis can be used as a trigger event to bring the ceiling crashing down.
In the past several months, the Fed taper of QE and subsequently U.S. bond buying has coincided with steep declines in purchases by China, a dump of one-fifth of holdings by Russia, and an overall decline in new purchases of U.S. dollars for FOREX reserves.
With the Ukraine crisis now escalating to fever pitch, BRIC nations are openly discussing the probability of "de-dollarization" in international summits, and the ultimate dumping of the dollaras the world reserve currency.
The U.S. is in desperate need of a benefactor to purchase its ever rising debt and keep the system running. Strangely, a buyer with apparently bottomless pockets has arrived to pick up the slack that the Fed and the BRICS are leaving behind. But, who is this buyer?
At first glance, it appears to be the tiny nation of Belgium.
While foreign investment in the U.S. has sharply declined since March, Belgium has quickly become the third largest buyer of Treasury bonds, just behind China and Japan, purchasing more than $200 billion in securities in the past five months, adding to a total stash of around $340 billion. This development is rather bewildering, primarily because Belgium's GDP as of 2012 was a miniscule $483 billion, meaning, Belgium has spent nearly the entirety of its yearly GDP on our debt.
Clearly, this is impossible, and someone, somewhere, is using Belgium as a proxy in order to prop up the U.S. But who?
Recently, a company based in Belgium called Euroclear has come forward claiming to be the culprit behind the massive purchases of American debt. Euroclear, though, is not a direct buyer. Instead, the bank is a facilitator, using what it calls a "collateral highway" to allow central banks and international banks to move vast amounts of securities around the world faster than ever before.
Euroclear claims to be an administrator for more than $24 trillion in worldwide assets and transactions, but these transactions are not initiated by the company itself. Euroclear is a middleman used by our secret buyer to quickly move U.S. Treasuries into various accounts without ever being identified. So the question remains, who is the true buyer?
My investigation into Euroclear found some interesting facts. Euroclear has financial relationships with more than 90 percent of the world's central banks and was once partly owned and run by 120 of the largest financial institutions back when it was called the "Euroclear System". The organization was consolidated and operated by none other than JP Morgan Bank in 1972. In 2000, Euroclear was officially incorporated and became its own entity. However, one must remember, once a JP Morgan bank, always a JP Morgan bank.
Another interesting fact – Euroclear also has a strong relationship with the Russian government and is a primary broker for Russian debt to foreign investors. This once again proves my ongoing point that Russia is tied to the global banking cabal as much as the United States. The East vs. West paradigm is a sham of the highest order.
Euroclear's ties to the banking elite are obvious; however, we are still no closer to discovering the specific groups or institution responsible for buying up U.S. debt. I think that the use of Euroclear and Belgium may be a key in understanding this mystery.
Belgium is the political center of the EU, with more politicians, diplomats and lobbyists than Washington D.C. It is also, despite its size and economic weakness, a member of an exclusive economic club called the "Group Of Ten" (G10).
The G10 nations have all agreed to participate in a "General Arrangement to Borrow" (GAB) launched in 1962 by the International Monetary Fund (IMF). The GAB is designed as an ever cycling fund which members pay into. In times of emergency, members can ask the IMF's permission for a release of funds. If the IMF agrees, it then injects capital through Treasury purchases and SDR allocations. Essentially, the IMF takes our money, then gives it back to us in times of desperation (with strings attached).  A similar program called 'New Arrangements To Borrow' (NAB) involves 38 member countries.  This fund was boosted to approximately 370 billion SDR (or $575 billion dollars U.S.) as the derivatives crisis struck markets in 2008-2009.  Without a full and independent audit of the IMF, however, it is impossible to know the exact funds it has at its disposal, or how many SDR's it has created.
It should be noted the Bank of International Settlements is also an overseer of the G10. If you want to learn more about the darker nature of globalist groups like the IMF and the BIS, read my articles, Russia Is Dominated By Global Banks, Too, and False East/West Paradigm Hides The Rise Of Global Currency.
The following article from Harpers titled "Ruling The World Of Money," was published in 1983 and boasts about the secrecy and "ingenuity" of the Bank Of International Settlements, an unaccountable body of financiers that dominates the very course of economic life around the world.
It is my belief that Belgium, as a member of the G10 and the GAB/NAB agreements, is being used as a proxy by the BIS and the IMF to purchase U.S. debt, but at a high price. I believe that the banking elite are hiding behind their middleman, Euroclear, because they do not want their purchases of Treasuries revealed too soon. I believe that the IMF in particular is accumulating U.S. debt to be used later as leverage to absorb the dollar and finalize the rise of their SDR currency basket as the world reserve standard.
Imagine what would happen if all foreign creditors abandoned U.S. debt purchases because the dollar was no longer seen as viable as a world reserve currency.  Imagine that the Fed's efforts to stimulate through fiat printing became useless in propping up Treasuries, serving only to devalue the domestic buying power of our currency.  Imagine that the IMF swoops in as the lender of last resort; the only entity willing to service our debt and keep the system running.  Imagine what kind of concessions America would have to make to a global loan shark like the IMF.
Keep in mind, the plan to replace the dollar is not mere "theory".  In fact, IMF head Christine Lagarde has openly called for a "global financial system" to take over in the place of the current dollar based system.
The Bretton Woods System, established in 1944, was used by the United Nations and participating governments to form international rules of economic conduct, including fixed rates for currencies and establishing the dollar as the monetary backbone. The IMF was created during this shift towards globalization as the BIS slithered into the background after its business dealings with the Nazis were exposed. It was the G10, backed by the IMF, that then signed the Smithsonian Agreement in 1971 which ended the Bretton Woods system of fixed currencies, as well as any remnants of the gold standard. This led to the floated currency system we have today, as well as the slow poison of monetary inflation which has now destroyed more than 98 percent of the dollar's purchasing power.
I believe the next and final step in the banker program is to reestablish a new Bretton Woods style system in the wake of an engineered catastrophe. That is to say, we are about to go full circle. Perhaps Ukraine will be the cover event, or tensions in the South China Sea. Just as Bretton Woods was unveiled during World War II, Bretton Woods redux may be unveiled during World War III. In either case, the false East/West paradigm is the most useful ploy the elites have to bring about a controlled decline of the dollar.
The new system will reintroduce the concept of fixed currencies, but this time, all currencies will be fixed or "pegged" to the value of the SDR global basket. The IMF holds a global SDR summit every five years, and the next meeting is set for the beginning of 2015.
If the Chinese yuan is brought into the SDR basket next year, if the BRICS enter into a conjured economic war with the West, and if the dollar is toppled as the world reserve, there will be nothing left in terms of fiscal structure in the way of a global currency system. If the public does not remove the globalist edifice by force, the IMF and the BIS will then achieve their dream – the complete dissolution of economic sovereignty, and the acceptance by the masses of global financial governance. The elites don't want to hide behind the curtain anymore. They want recognition. They want to be worshiped. And, it all begins with the secret buyout of America, the implosion of our debt markets, and the annihilation of our way of life.
Source:  Brandon Smith | Alt-Market
Origin of the Master Model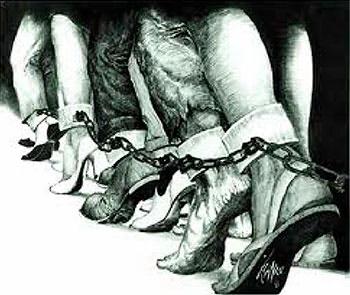 The master plan for world domination we see playing out today was first proposed to the US at the end of World War I. However, there were no takers. People were too war weary. However, when the plan was again proposed at the end of World War II, it was accepted. Consequently, World War II quietly transitioned into the secret "war" to set up what has become known as the "new world order" — an absolute dictatorship over the entire planet.
The United States set up the School of the Americas to train future dictators and terrorists who would be sent out into the world to destroy sovereign nations and place them under US domination by installing puppet governments obedient to the United States. Many conquests were made quietly using clever economic tricks [2]. However, leaders who refused to submit quietly would see their entire country reduced to rubble and the land rendered unlivable by uranium dust scattered by US bombs. The message was clear: Submit to the United States or face total destruction.
A social model based upon the assumption that cleverness and power automatically convey the right to take anything desired from those who are less adept and unable to resist is not a sustainable model for harmonious social interactions. However, this is the chosen model. The mantra for this model, "A man's true worth is measured by the amount of other peoples' happiness that he can possess and destroy" [1], is essentially a call for a class war between the greedy elite and the innocent masses of the world who simply desire a peaceful existence.
Acquisitions
The United States looks at the rest of the world as a "resource". If a country has something — oil, gold, minerals, etc. — that the US covets, it believes it has the right to take those things by whatever means necessary. In many cases the coveted resource is human slave labor. Let's look at some representative examples:
With the cooperation of the dictator, United Fruit Company (US) owned almost half of the country and used the locals as slaves to harvest its Chiquita brand bananas. However, during the period from 1945-1954 new leaders made changes. They helped the poor and set up social security and health care. Then they took land away from United Fruit and gave it to the local people. United fruit complained to the CIA that its business interests were being interfered with by the "communist" government. Any government which shows kindness to the poor and weak is called communist by the US. The US attacked Guatemala — killed the elected leaders and many thousands of citizens — and established a puppet dictatorship which would obey the will of United Fruit. The people were returned to a state of slavery. The CIA trained death squads to make sure the people were crushed into submission.
Strip Mining in Africa [4]
In Africa, the International Monetary Fund — a puppet of the US — destroys a country with strip mining. The original country was self sustaining. People were able to grow lots of food and hunt animals. However, once the land was ruined by US corporations, it was unusable to plant crops and the native animals died. The people had to buy food from other countries with money loaned to them by the IMF which they could never hope to repay. Therefore, a once free and self supporting people were made debt slaves of the IMF. Once all the natural resources have been stolen, the corporations will simply pack up and leave the indigenous people to starve and die.
Countries Used as Trash Dumps [5]
Used computers and associated items are dumped in poor countries where starving barefoot children sift through the mess of hazardous waste and broken obsolete glass computer monitors hoping to find something they can sell to get enough money to stay alive another day. Property stickers show the waste is mainly from the US government and various US state governments.
Corruption of Trusted Sources
Reporters and News Organizations
The masses are conditioned to believe news they receive from establishment sources. In the earlier times, this assumption was often correct. It was considered so important by the founding fathers that freedom of the press was enshrined in the US constitution. However, times have changed.
Walter Cronkite was known as the "trusted voice". No one knew he was also the official announcer at the secret Bohemian Grove meetings. The leaders of the world's news organizations also attend this event. That is why, even though the meetings began over one hundred years ago, until recently no one knew this group even existed. President George W. Bush may have set a new record for bribing journalists to allow their trusted name to be used as the author of material actually written by government propaganda experts. Apparently, everyone has a price and the government, of course, has no problem when it comes to money.
When Ronald Reagan reportedly ordered the death of investigative reporter Jessica Savitch [6], the message to independent journalists was clear: Go against the official party line an you're done!
Today, dedicated journalists face mysterious deaths and strange single car accidents but a few survive long enough to give us a glimpse of truths we would otherwise never know. They are true heroes.
Churches
Churches are everywhere. Unfortunately, legitimate Spiritual teachers are not. People look at churches either as harmless or with some sort of conditioned hypnotic respect. Churches send out "missionaries". However, the "mission" of these missionaries may not be so clear. If you wanted to infiltrate a foreign country, these people would be an ideal asset.
Churches are not Spiritual centers. At best, all they want is your money. At worst, they are Satanic and you are in severe Spiritual danger if you come under their influence and control.
The Catholic Church has been a trusted asset of the US intelligence community for quite some time. Significant information obtained by priests during confessions is routinely passed on to the government.
This agreement predates the internet by many years. Because the church has branches in almost every country, it has great potential for covert activities. For example, if you need to get an operative who is in danger out of a country, they can go to a Catholic church for "confession". Once the door is closed, they can exit through a secret passage, be disguised in robes and spirited safely out of the country. Church secrecy is at least on a par with US secrecy. Also, the Catholic church and the US shadow government share the same Satanic value system and engage in child rape and ritual killings.
Doctors and the Medical Industry
Medicine in the United States is an industry. It is no longer a profession. Its corporate model puts profit above all else. If some patients accidentally benefit they are the lucky ones.
The medical community has a rigid hierarchical structure and effective mechanisms for enforcing secrecy. Essentially, its model closely resembles the military chain of command structure. This makes it a perfect partner for the government in the area of secret human experiments.
For example, when the government was doing radiation experiments on humans, a doctor or someone dressed as a doctor would just walk up to unsuspecting patients and inject them with radioactive material. They were then secretly followed for years to see what would happen. Eventually, some of those who survived were told the truth. Most people used in the MK Ultra and subsequent secret projects were never notified.
Hospitals are set up to protect themselves. Staff may appear to be dedicated, smiling people who truly care about you. However, they are basically prostitutes who are being nice because you are worth money to them. When they make mistakes they have a "loss prevention" department staffed by clever lawyers who are trained to protect the financial interests of the hospital by denying everything and fabricating believable coverups. They are trained to do whatever is necessary. The staff will all agree to support whatever lies are needed. They know their job and their financial future depends upon maintaining strict secrecy.
The only people who receive legitimate medical care are the select elite cleared to accesstop secret medicine. These people always get excellent care because the doctors work for the shadow government and mistakes on their part are simply not tolerated.
Infiltrations
Countries which have the resources to sustain an intelligence community generally try to get operatives (spies) into other countries so they can directly observe activities. When real people gather intelligence, this is called human intelligence or HUMINT. The US, of course, does this too. However, you may not be aware of the extent to which the US also infiltrates itself. The central government really does not trust anyone.
Essentially all local police departments, state offices and state governors have a covert federal agent working close by pretending to be just another employee. Also, every US neighborhood has an informer who reports to the federal government. Large corporations, which tend to behave like "mini governments", need to be infiltrated and kept under observation. Colleges and universities are also monitored.
Here is how this spy network operates: The NSA likes to recruit young kids right out of college. When they are hired and sworn to secrecy they still do not know what their assignment will be. They must agree to do this assignment without first being told what it is.
Some agents, like John Perkins [2], are assigned to work in other countries. However, others are assigned to work inside the US. Their assignment could be to go to some state and apply to join the local police department. They would pretend to be just a regular person looking for a job. They would take the necessary training and spend their life as a local policeman so they could directly observe other local police from the inside and report to the NSA. Since they are actually an employee of the NSA, presumably they get to keep both salaries and, eventually, both retirements. All significant local police forces in the US are infiltrated this way.
Additionally, some agents will be assigned to get a job on the state governor's staff as well as in major local state agencies. A CIA or NSA agent is always on the staff at major colleges and universities. The same goes for major corporations.
Senior level agents are allowed to have special TV receivers in their homes linked to the secret government TV network. This way everyone stays on the same page. The channels on this network actually broadcast the truth. TV channels available to ordinary people contain only government approved propaganda mixed with "bread and circuses" presentations to make sure the sheeple stay asleep and content.
Fronts
The US government is involved in illegal activities internationally and domestically. If it performed these activities overtly in the name of the United States, there would be serious consequences under both international and local laws. To avoid this situation, the US government operates thousands of "front organizations" which appear to be private but are actually shadow operatives of the US.
For example, John Perkins [2] explained that he was recruited, hired and trained by the NSA. He was an NSA agent. However, for his cover as an economic hit man, he "officially" worked for a "private" company called Charles T. Main. This company was a government front to shield the US because the activities the NSA trained Perkins to do were illegal.
This is standard operating procedure for the US as well as other countries and many corporations. It shields them from legal recourse by providing deniability for the crimes they actually direct and commit.
Generally, when the US wants to influence other sovereign countries, it creates harmless looking NGO's which appear to be independent but are actually fronts for covert activities.
Domestically, colleges and universities — especially those with associated medical schools and hospitals — are great places to conceal a variety of covert projects such as the MK Ultra series of human experiments which, reportedly, continue today using new cover names. The US also likes to create non-profit corporations which exist only to provide classified services to the United States. A good example would be the Institutes for Defense Analysis (IDA). The US, reportedly, is its only client.
Programming
Mass media "programming" is actually programming you. It has developed into a subtle form of mind control. Before radio and television, special interests recognized that motion pictures could be used to alter public opinion in their favor. Perhaps, for example, you wanted to attack labor unions. When radio and later television came along providing access to national and international audiences, the temptation to exploit these technologies became irresistible. Originally, the US government recognized this and set up fairness rules to prevent monopolies from taking over the broadcast media and blocking opposing viewpoints. All this ended, unfortunately, when Ronald Regan canceled all the fairness regulations. Today, a handful of powerful corporations own and control essentially all content delivered by radio and television.
Television is the main vehicle for mass indoctrination. It is said that people watching TV actually fall into a light hypnotic trance. The "entertainment" you see on TV does not "just happen to be there". It is very carefully planned and timed to attract and influence targeted audiences. It is said that if some event were to somehow shut down all television broadcasts the government would experience a severe crisis because it would lose control over the minds of the masses.
TV creates sort of a "hive mind" among the masses and keeps everyone coordinated and tuned into the official party line. Without this, people would have no choice but to start thinking for themselves and forming independent opinions. Clearly, this would be a disaster.
The radio broadcast of "War of the Worlds" and the later movie "The Day the Earth Stood Still" are said to be CIA psychological experiments to judge how the general public would react to some type of ET contact.
Today, broadcasting is not just a one way event. Because people react to events and use social media to express these reactions, the effect of specific propaganda can be analyzed in real time. Since the government now intercepts all electronic communications, it is able to see general opinions and then tweak algorithms to maximize the desired effect of propaganda. This ability makes TV a two-way communications system although most people, of course, do not realize this and have no concept of the level of sophistication these technologies have reached.
Information Theory
Information Theory is the name of a relatively new branch of science which became popular in the 1960′s. It covers a broad range of technologies. Basically, it is the science of the flow of information and how that flow can be selectively controlled so that information flows only in desired pathways. As you may have already guessed, governments love this sort of stuff.
ECM
ECM stands for Electronic Counter Measures. In general, these are techniques to disable other electronic devices. Basically, it is electronic warfare. When the secret service is active in an area, for example, they will selectively jam all radio frequencies except for the specific frequencies they are using so that no one else can communicate.
World leaders, who are generally terrified of "threats" materializing from practically anywhere, like to travel with ECM generators running just in case "someone" from "somewhere" was trying to target them for "some reason". Basically, they are paranoid whack jobs.
People familiar with aviation tell the story of how Tony Blair, while traveling to or near a commercial airport, reportedly caused a commercial jet to crash because all the ECM garbage he was transmitting jammed the plane's navigation system. Of course, the British government would never admit this.
Secure Communication With Submarines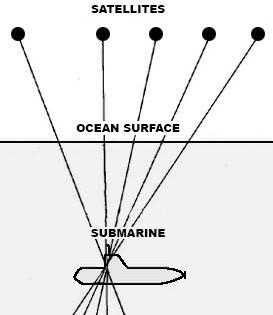 Since submarines were invented, communicating with them has been a problem because conventional radio waves will not travel underwater. Therefore, early submarines had to get close enough to the surface to put up some kind of antenna in the air to send or receive radio messages. Obviously, this could pose a problem if you did not wish to be discovered and located. After all, the motivation to create submarines in the first place was the feeling that they would be able to move about the planet secretly. However, newer technologies now make this impossible.
To solve the problem of reliable secure communication without the need to surface, scientists learned that sea water was essentially transparent to a special type of Argon laser. To set up the current communications network, it was decided to use several satellites with each satellite sending only part of an encrypted communication signal. The complete signal could only be received at a specific point underwater where all the laser beams intersected. Intercepting only one or two beams would prove useless. This communications system is considered to be impossible to intercept.
Quantum Entanglement
Returning to the submarine issue for a moment, before modern communications were perfected, there was a search for some reliable method to send a signal to a submerged submarine that could not be detected. This was considered necessary in a war situation to secretly transmit an attack command. What they originally did was to locate a couple of people who could communicate telepathically. One would be at the command base and the other on the submarine. Doing a bit more research, it was determined that this type of communication is instantaneous and somehow operated outside of time. Radio waves travel at the speed of light.
Quantum entanglement is a process which uses technology to send and receive signals outside of space-time. Now, why would you possibly want to do this? Well, if you had a base or a colony on a planet in some other solar system light years away, you would not want to wait years for messages to be received. Following this thread — and adding some basic common sense — why would you want to dedicate resources to search for habitable planets in distant solar systems when you had already "proven" it would be impossible to ever get there? Could it just be that someone is not coming clean with whole story?
The Separation Barrier
This is a model of the separation barrier which insulates the ruling class from the slave class. It is essentially "intellectual apartheid". The question is, why is it there. It takes considerable effort, money and manpower to maintain this artificial barrier. What is the reasoning behind not having a level playing field for everyone? Why does this idea absolutely terrify the elite? What are they afraid of?
The Pirate Story
This is a summary of a story told years ago on a radio broadcast most likely by Paul Harvey:
Ordinary people were afraid. The Earth was flat so they dare not venture far from home. Periodically, a pirate ship would come. They did not know how it got there or from where it came. It brought treasures they had never seen. The Chief Pirate would encourage the young men to study and specialize in specific skills. He wanted them to become educated but only in one narrow area. The Chief Pirate knew the world was not flat and how to navigate to other lands. However, this knowledge was never discussed. This "top secret" knowledge or the "big picture of the known world" would only be given to the Chief Pirate's son who would inherit his title and someday become the Chief Pirate.
This story is about the origin of the concept we call compartmentalization — the process of controlling the slave masses by only allowing them to know specific bits of the truth while the leaders are allowed to know total truth.
ELITE RULING CLASS
SECURITY CLEARANCES
SECRET POLICE
ASSASSINS
SURVEILLANCE — SIGINT HUMINT COMINT
SPY SATELLITES
SPY DRONES
SMART ELECTRIC METERS
INTERNET SURVEILLANCE
NEIGHBORHOOD SPIES
PLENTIFUL STREET DRUGS
PSYCHIATRIC FORCED DRUGGING
GENETICALLY MODIFIED FOOD
FLUORIDATED WATER
COORDINATED TELEVISION PROPAGANDA
DEGRADED PUBLIC EDUCATION
LOCAL MILITARIZED POLICE
---
SLAVE CLASS
Leaders can only maintain their status if there are slaves. Otherwise, everyone would be equal and operate on a level playing field. This means "leaders" would have to pull their own weight like everyone else. Clearly, this would be intolerable. Leaders love beautiful and exotic things but don't want to do the work needed to create these things. They probably could not even plant a garden much less build the various "ivory towers" where they like to live surrounded by servants. If left on their own they would very likely starve. This is why it is so important to create and maintain the complex separation barrier.
Why don't people who live above the separation barrier ever "come down" and talk to the people below the barrier? Well, other than the obvious fact that they would likely be killed or jailed for espionage or treason, there is another, simpler, reason.
Would you like to spend your days sitting in an open field with kindergarten kids looking for four leaf clovers? Probably not. You have progressed beyond that. The slaves below the separation barrier cannot even imagine the world of those who live above the barrier. In fact, the elite do not even consider the slaves human. They call them "disposable biological units". The United Nations prefers the slang term "the herd". Slaves can be easily bred in quantities needed and programmed to do desired tasks. Then, they can be easily disposed of when no longer useful. That's how they look at you. So, why would they want to make friends with you?
The Mars Example
There is an interesting event playing out today that you may have noticed. This concerns the recruitment and selection of people to be sent to Mars. There are simulation projects where volunteers are locked away to imitate the long voyage to Mars. They are being told that this is a one way trip and they can never hope to return to Earth.
What you are witnessing is the selection process for the "seed people" who will be used to breed the future slave class on Mars. In a situation similar to the period when most believed the Earth was flat and you would fall off if you tried to go to sea, these people are convinced that the only way to get to mars is to ride a rocket on a perilous journey taking years. Because they truly believe this, when they get to Mars, they will teach this crap to their kids along with other misconceptions like it is impossible to go faster than the speed of light and other associated obsolete scientific principles. They will have no
desire to ever return to Earth or go anywhere else because they truly believe it is not possible. They will be contented slaves.
Of course the truth is that there are already secret colonies on Mars. It is not that hard to get there using antigravity and other secret propulsion methods and it is quite likely possible to simply walk through some kind of wormhole device and come out on Mars.
However, the slaves will never know this. Just as it is done on Earth, there will be an artificial separation barrier. The insiders will know the truth and will be physically hidden from the slaves. There will be secret police and other methods — the same as are used on Earth — to make sure no slave ever escapes from the "information prison". Business as usual will continue.
Reinforcement of Ignorance
Governments and their oligarchs love to keep their subjects in a cloud of ignorance. Back in the days when people believed the Earth was flat, the inner circle ruling class knew it was round. Maintaining the deception was convenient because it kept the slaves from developing any desire to travel far from home.
Nothing has changed all that much today. Consider, for example, all the fuss over the missing MH370 plane. You are being played for a sucker. It is impossible for that plane to have "disappeared".
The US DoD spy satellite system reportedly consists of ten constellations of satellites. Each constellation has over seven thousand satellites. They see and record everything that happens on this planet. The floor of the oceans can be seen just as clearly as the land areas. The resolution of the system is better than one square millimeter. Also, everything is recorded so you can go back in time and play past images.

This is a picture of a common electric lamp. Take this lamp and throw it in the ocean — any ocean anywhere on this planet. The spy satellite system will locate it, give you the coordinates and give you a photo at least as good as the one above. That is the capability of the system. So, clearly, it is impossible not to know the location of something as large as a Boeing 777 plane. All the TV publicity is a choreographed play. You are being scammed and you need to wake up and realize this fact.
Murders and Assassinations
To ensure a strong empire, dissent must be crushed. The United States trains assassins and carries out both domestic and foreign murders and assassinations on a regular basis. You may be familiar with the classic movie scenes where a black limousine with tinted windows drives by a target with thugs shooting machine guns. Although this would accomplish the task, it is a bit too obvious in a country that advertises itself to be a free, civilized democracy. Someone might catch on and begin to doubt the party line. Consequently, these things must be done quietly.
Inside the US, murders are reportedly carried out by a group known as "FBI Division Five". Other agencies likely have the responsibility for foreign assassinations. However, the basic techniques used would be similar.
Typically, an agent would wake up every day and connect to the top secret internet to see who he was assigned to kill that day. There would be several options. If it was important to eliminate the target immediately, a fast acting chemical agent would be selected which, for example, would cause the target to die within a few hours of a "natural" heart attack.
However, if time was not critical and the government just wanted the target out of the way, you might want to select one of the cancer causing agents such as those likely used to eliminate Hugo Chavez and Senator Ted Kennedy.
There is also a third possibility. This involves character assassination instead of actual murder. Consider, for example, a person who has gained a lot of public recognition talking about, say, free energy. If you simply kill the person, there could be blowback and talk that he was silenced by the government. In such cases, it is easier to use a chemical agent designed not to kill but, rather, to cause states of mental confusion resulting in obviously strange behavior. This would be coordinated with the government controlled mainstream press to make sure everyone became convinced the person was a nut and would therefore ignore anything said without regard to the truth or validity of the message.
Once the appropriate chemical has been selected, you need to load it into the secret delivery system and locate your target. To find your target you will connect to the top secret internet and pinpoint the location of the target through their cell phone. You can also activate all the cameras and microphones in electronic gadgets connected to the internet associated with the target in case you wish to look around the target's home and hear in real time what is taking place.
Of course, this will not help you locate the target when it is time to actually do the hit. So, you need to get the top secret profile data which will show any predictable habits of the target. Everyone is constantly tracked through their cell phones and profiles are logged and stored. In this case, the profile shows that the target has a favorite restaurant and goes there for lunch every day around 11:30. Now, you know exactly what to do. You go to the restaurant, hang out until you see your target, and get in line behind the target. Now, all you need to do is slightly bump into the target to deliver the chemical. Generally, the targets never even notice.
This mission is now complete. If it is early enough, you can check back in to the top secret system to see who you are supposed to kill next. Just another day. Just a routine job.
Money
Money is an imaginary force. It is used to motivate and control slaves. Real forces effect all life forms. However, only people respond to money. The only reason they do is because they have been artificially programmed to do so.
Money can be created in unlimited quantities by those adept in the use of this force. The physical world is finite, however the world of imagination is not. There is no limit to the quantity of money that can be imagined into existence. Money can also be imagined out of existence.
Let's assume that one day the entire financial system simply disappeared. If you lived in a rural area and had a nice veggie garden, some friendly chickens, collection facilities for rain water and a few photocells for electricity, you would not notice this. The veggies would continue to grow. Rain would periodically fall. The chickens would lay eggs as usual. The sun would continue to shine. However, if you lived in a city environment, you would be devastated.
Before money, people lived in small hunter-gatherer groups. The concept of ownership did not exist. People worked and survived as a group. Men and women were equal. Everyone contributed to the community. Resources were shared equally. The concept of "mine" and "yours" did not exist. Women generally became pregnant only once about every three years although there was no birth control. Later, when the concept of money entered the consciousness, women were seen as having less value because men were paid for work but women were not paid to raise and care for kids. Society has changed, however, the downgraded status of women has not.
Money systems have always been manipulated by clever people. When gold was used as money, people learned they could dilute pure gold with silver or maybe even lead to come up with something that looked like pure gold and had the correct weight but was a fraud. A king suspected he was being scammed but had no way to prove it. He called on the great minds of the time for help. This led to what is known as the Archimedes' principle which is better known today as "specific gravity". This principle made it possible to compare a sample known to be pure gold to a questionable sample and prove the unknown sample was not pure gold. Likely, some clever crook lost his head once this test became known.
There is a general belief that gold is the ultimate reference for all money. However, secrets concerning the exact quantity of gold make this a perilous assumption. Reportedly, the United States stole a tremendous quantity of physical gold from Japan towards the end of World War II. This gold exists off the books. To make matters worse, Japan was not all that concerned. Japan had been using gold bars as ballast on its ships because they were compact and heavy. They thought nothing of throwing the bars overboard as necessary. Japan used platinum as a money reference and the US never got that. This should make one rethink all the hype about the value of gold. It may be a lot more plentiful than we have been led to believe. Also, the secret off the books stashes of gold would allow its relative value to be manipulated at will just like other commodity markets.
The Financial Axis of Evil [3]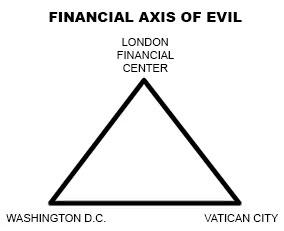 This is the model of the financial axis of evil which rules this planet. It consists of three main branches as shown above. Collectively, they are known as "The Empire of the City". Briefly, here is how this system operates:
The London financial district is in London, Washington D.C. is in the United States and the Vatican is in Italy. However, these three places are not part of the countries where they exist. They are independent "city states" and have their own laws and constitution. They are, effectively, "mini countries" inside of other countries and fly their own flags. The city state of London is a private corporation and pays no taxes to actual London or to Britain. The city state of London is the master power center and is controlled by the Rothschild family which considers itself to be the legal owner of this planet. The Vatican is the largest private land owner in the world and the first true multinational corporation with installations (churches) and secret agents (The Knights of Malta) everywhere. They control through the power of fear of the unknown and practice black magic. Washington D.C. relies upon brute military force. All three closely cooperate combining their specialties of financial trickery, witchcraft and military might. Of course, all three worship Satan as their Master.
Slavery
Slavery is alive and well throughout the world. The US constitution prohibits slavery, however, most americans live in slave-like conditions.
It is said that it will take the average college student until age fifty to pay back their student loan.
The constitutional amendment prohibiting slavery addressed the concept of physically owning another person. However, it did not address the issue of holding another person in bondage as a debt slave. It also did not consider the concept of private for profit prisons who force inmates to work as slaves. These systems exist today and are perfectly legal.
Actually, a recent report from prestigious Princeton University has reclassified the US government as an oligarchy — a country run by and for the rich elite. Former US President Carter has stated that the United States "no longer has a functioning democracy". So much for the Founding Father's dream. Speaking of dreams, check out the free you tube video titled "The American Dream".
Other forms of slavery are illegal but still flourish. Sex slaves are always in demand. Traffickers are sometimes caught but you need to realize that your leaders use sex slaves and also routinely abuse young girls and boys. Sometimes they are also killed during occult rituals. No one ever talks about this and these people are never punished. This has been the normal way of life for Satan worshipers for many years and nothing has changed or is likely to ever change in the future. Stanley Kubrick's last movie, Eyes Wide Shut, covers this subject. Some believe this intense dramatization of how the elite really live may have cost him his life.
People still have some rights left in the United States but other countries are a different story. Qatar is doing construction for the World Cup. The event is not scheduled until the year 2022, however they have already killed 1200 slaves [7] by working them to death. People are lured from poor countries with the promise of jobs and money. When they arrive, their passports are confiscated and they are forced to work until they literally drop dead. If the World Cup is actually held in Qatar in 2022, there will be glamorous TV coverage and no one will remember or care about all the dead slaves. The show must go on.
Qatar, incidentally, sponsors Al Jazeera TV network.
Adaptation Techniques
The status quo of today will never change because the people who created it will never die. Because of top secret medicine, when men like Henry Kissinger, who heads the Bilderberg Group's steering committee, get too feeble to function, they will simply go to one of the secret locations and use the temporal reversal device to regress back to about twenty years old. Their memories will be unaffected. Then they will get new identities and continue on. This process can be repeated indefinitely.
Because you can never change the status quo, your best hope for a lifetime of reasonable quality is to find clever ways to live in this world with as much independence as possible.
One method of adaptation is autonomous and semi-autonomous communities. If the community is registered as a religious institution it is automatically shielded from most government interference by the US constitution. It pays no taxes and can pretty much write its own rules by simply calling whatever it wants to do "religious doctrine". Many small semi-autonomous groups exist where people who share a common set of values find ways to quietly live out their lives pretty much on their own terms. The government does not seem interested in bothering these smaller groups as long as they live peacefully and are not doing anything that the government perceives to be a threat.
The Amish people are a good example of an autonomous group. You would probably not want to live as they do, however, before you completely dismiss them, you may want to look at some definite advantages in their chosen lifestyle.
Remember, these are the people who reject technology. They just might have made the correct choice. Technology, at first, seemed like a good idea. However, now that people are addicted to technology they are also enslaved by technology. Everything they do is monitored and recorded by the government. Privacy no longer exists. It did not have to be this way.
Technology, in itself, is not evil. However, it can be quite evil if you live under a government run by sociopathic control freaks which, unfortunately, you do. In the Amish world, electronic surveillance does not exist because electronic devices do not exist. The constant propaganda from TV has no effect on people who do not have TV. A horse does not report its position to a GPS satellite and is not controlled by a computer.
Also, the people are generally healthy and do not suffer from many diseases common to the mainstream population. They are not being poisoned by fluorinated water or additives found in processed food because they don't use these things. Also, they get lots of physical exercise.
Without totally withdrawing from the world, there are some positive steps you can take. By now you know never to drink fluorinated water or use any personal product containing fluoride such as many brands of toothpaste. To minimize harmful food additives, look for Kosher food which is marked with either the encircled "K" or "U" (Ultra Kosher). These foods have less or no harmful additives. The Jewish community is very protective of its people and the Mossad is widely considered to be the best intelligence service in the world. Therefore, they would have the inside scoop on everything including food and do not want to see their people harmed.
Whatever you decide to do, you definitely do not want to be part of so called mainstream society. These people are doomed. They are sheep (sheeple) slowly walking to the slaughter house. Don't go there!
---
references and credits
[1] DVD "The American Ruling Class". ASIN: B001HM2CE2.
[2] John Perkins. Book: Confessions of an Econemic Hit Man; DVD (free on you tube): "Apology of an Economic Hit Man"; RT interviews.
[3] See the free you tube videos titled "The Red Shield".
[4] DVD: "The Wages of Debt", RT Intl. Also available for purchase.
[5] DVD "Terra Blight", RT Intl. Also available for purchase.
[6] Interview with John Judge of Veterans Against Military Psychiatry.
[7] Also search using the phrase "qatar slaves world cup".
© 2014 W C Vetsch. All rights reserved.
Source: Walter C. Vetsch  |  3108.info | War Is Crime
The phrase "conspiracy theorist" is a derogatory smear phrase thrown at someone in an attempt to paint them as a lunatic. It's a tactic frequently used by modern-day thought police in a desperate attempt to demand "Don't go there!"
But let's step back for a rational moment and ask the commonsense question: Are there really NO conspiracies in our world?
The Attorney General of South Carolina would surely disagree with such a blanket statement. After all, he sued five pharmaceutical companies for conducting a price-fixing conspiracy to defraud the state of Medicaid money.
Similarly, in 2008, a federal judge ruled that three pharmaceutical companies artificially marked up their prices in order to defraud Medicare.
In fact, dozens of U.S. states have filed suit against pharmaceutical companies for actions that are conspiracies: conspiracy to engage in price fixing, conspiracy to bribe doctors, conspiracy to defraud the state and so on.
The massive drug company GlaxoSmithKline, even more, plead guilty to a massive criminal fraud case involving a global conspiracy to bribe doctors into prescribing more GSK drugs.
And this is just the tip of the iceberg. A deeper look into the criminality of just the drug industry alone reveals a widespread pattern of conspiratorial behavior to defraud the public and commit felony crimes in the name of "medicine."
What is a conspiracy, exactly?
As any state or federal prosecutor will gladly tell you, a "conspiracy" is simply when two or more people plot to commit an act of deceit (or a crime).
Thus, when three hoodlums plan to rob the local Quickie Mart, they are engaged in a "conspiracy" and will likely be charged with a "conspiracy to commit armed robbery" in addition to the different crime of "armed robbery." The fact that they planned it with several friends makes it a "conspiracy" worthy of additional felony charges, you see. When these charges are brought up in court, the judge doesn't look at the prosecutor and say, "You are a conspiracy theorist!" That would be absurd.
The idea, then, that there is no such thing as a conspiracy is flatly ludicrous. And people who condemn others as being "conspiracy theorists" only make themselves look mentally impaired.
To live in our modern world which is full of collusion and conspiracy — and yet somehow DENY the existence of any conspiracies at all — is an admission of a damaged brain. Of course there are conspiracies, and when people analyze those conspiracies, they are "theorizing" about what happened. This is, in fact, precisely the job that police detectives and FBI agents carry out almost daily.
Most police detectives are, in reality, "conspiracy investigators" and analysts.
There are endless examples of real conspiracies
Auto manufacturers routinely conspire to cover up mechanical defects that put customer lives at risk. Even National Public Radio lays out the full timeline of the General Motors conspiracy to hide the problem with its faulty ignition switches.
Last year, food corporations conspired with the Grocery Manufacturers of America (the GMA) tocommit money laundering crimes in Washington state in order to funnel money into a campaign to defeat GMO labeling there.
The FDA conspired with a drug manufacturer to keep a deadly diabetes drug called Rezulin on the market in the USA even after safety regulators pulled the product in Europe.
Similarly, the corrupt, criminal-minded operators of mainstream science journals conspired in a particularly evil way to railroad Dr. Andrew Wakefield with provably false accusations about the nature of his research into the side effects of vaccines. The GMO Seralini study has been similarly railroaded by a genuine conspiracy of evil, corrupt science journal editors who routinely conspire to suppress all the science they don't want to be seen by the public. Fortunately, 150 other scientists have come to support Seralini with a global condemnation of the obviously contrived scientific censorship.
We live in a world of such deception and collusion that, frankly stated, it's hard to find a large institution (such as medicine, agriculture or the war industry) which isn't involved in some sort of conspiracy at some level.
What is a "conspiracy theorist?
The pejorative "conspiracy theorist" is meant to demean and ridicule skeptics of official stories.
Most so-called "conspiracy theorists" are really skeptics, by definition. They're skeptical of what the government tells them. They're skeptical of the claim that drug companies are really only interested in helping humankind and have no desire to make money. They're skeptical that food corporations are telling them the truth about what's in their food. And they're also skeptical of anything coming out of Washington D.C., regardless of which party happens to be in power at the time.
People who are not skeptics of "official stories" tend to be dull-minded. To believe everything these institutions tell you is a sign of mental retardation. To ask questions, on the other hand, is a sign of higher intelligence and wisdom.
Skeptics of official stories, it turns out, also have the support of history on their side. How many times has it later been revealed that the American people were lied to by the very institutions we were supposed to trust?
For example, it is an historical fact that 98 million Americans were injected with hidden cancer viruses which were later found in polio vaccines strongly recommended by the CDC. In an effort to cover that up and rewrite history, the CDC later scrubbed all accounts of that history from its website, pretending it never happened.
That's more than a cover-up; it's an Orwellian-style conspiracy to selectively rewrite history and deny Americans any memory of a monumental, deadly error made by the CDC in collusion with the vaccine industry.
According to two former Merck virologists, that company conspired to fake the results of its vaccine tests by spiking test samples with animal antibodies, thereby falsely distorting the results to make the vaccine appear effective. The two virologists filed a False Claims Act with the federal government detailing the conspiracy, saying:
Merck also added animal antibodies to blood samples to achieve more favorable test results, though it knew that the human immune system would never produce such antibodies, and that the antibodies created a laboratory testing scenario that "did not in any way correspond to, correlate with, or represent real life … virus neutralization in vaccinated people…"
Conspiracies of money and big banks
Every month, the Federal Reserve conspires to steal a portion of your wealth through "quantitative easing" — an irresponsible money creation scheme that devalues all the currency already in circulation (i.e. the money in your bank account).
The money the Fed creates is, not surprisingly, handed over to the big Wall Street banks — the same banks that received a jaw-dropping $29 trillion in "bailout money" since the near-collapse of U.S. banking in late 2008.
Why did this bailout money go to the banks instead of the American people? Because powerful people sat in dark rooms and colluded to send the money to the most influential banks. A conspiracy, in other words, by definition.
Had that same amount of money been equally distributed across the U.S. population, the Fed would have distributed nearly $100,000 to each and every citizen in America; man, woman and child. But instead of enriching the population, the banking bailout burdened the population with the debt now owed to the Fed by future taxpayers.
Every $1 trillion created by the Fed, after all, is $1 trillion "loaned" to the U.S. Treasury which must somehow be repaid. In truth, the minute you start to investigate how money is created, why the Federal Reserve is a private banking cartel and why the big banks get all the bailout money, you run head-first into genuine conspiracies almost from the outset. When you look up the word "conspiracy" in a dictionary, it should probably say, "See Banking and Finance."
Our world is full of conspiracies because it's full of people who deceive
The reason conspiracies are real is because humanity is a race capable of extreme deception. As long as there are people whose actions are based in greed, jealousy and a desire to dominate others, there will be real conspiracies plotted and operating across every sector of society.
The correct term for "conspiracy theorist" should really be "conspiracy analyst." Most of the people who are skeptical of official stories are, in fact, analyzing conspiracies in an attempt to understand what really happened and what took place behind closed doors.
A highly-recommended book the delves into this matter in more detail is the five-star-rated masterpiece Official Stories: Counter-Arguments for a Culture in Need by Liam Scheff.
This book will open the minds of those who still have the cognitive capability remaining to grasp it. (Sadly, the injection of mercury into babies in the form of vaccines has damaged so many brains across America that many people are now cognitively incapable of rational thought.)
And remember: the next time someone flings the phrase "conspiracy theorist" in your direction, simply know that they are effectively wearing a DUNCE hat on their heads by admitting they have failed to acknowledge that true conspiracies are rather commonplace.
That's not merely a theory, either: it's a statement of fact.
Source: Mike Adams |Natural News