On the surface, the economic atmosphere of the U.S. has appeared rather calm and uneventful. Stocks are up, employment isn't great but jobs aren't collapsing into the void (at least not openly), and the U.S. dollar seems to be going strong. Peel away the thin veneer, however, and a different financial horror show is revealed.
U.S. stocks have enjoyed unprecedented crash protection due to a steady infusion of fiat money from the Federal Reserve known as quantitative easing. With the advent of the "taper", QE is now swiftly coming to a close (as is evident in the overall reduction in treasury market purchases), and is slated to end by this fall, if not sooner.
Employment has been boosted only in statistical presentation, and not in reality. The Labor Department's creative accounting of job numbers omits numerous factors, the most important being the issue of long term unemployed. Millions of people who have been jobless for so long they no longer qualify for benefits are being removed from the rolls. This quiet catastrophe has the side bonus of making it appear as though unemployment is going down.
U.S. Treasury bonds, and by extension the dollar, have also stayed afloat due to the river of stimulus being introduced by the Federal Reserve. That same river, through QE, is now drying up.
In my article The Final Swindle Of Private American Wealth Has Begun, I outline the data which leads me to believe that the Fed taper is a deliberate action in preparation for an impending market collapse. The effectiveness of QE stimulus has a shelf-life, and that shelf life has come to an end. With debt monetization no longer a useful tool in propping up the ailing U.S. economy, central bankers are publicly stepping back. Why? If a collapse occurs while stimulus is in full swing, the Fed immediately takes full blame for the calamity, while being forced to admit that central banking as a concept serves absolutely no meaningful purpose.
My research over many years has led me to conclude that a collapse of the American system is not only expected by international financiers, but is in fact being engineered by them. The Fed is an entity created by globalists for globalists. These people have no loyalties to any one country or culture. Their only loyalties are to themselves and their private organizations.
While many people assume that the stimulus measures of the Fed are driven by a desire to save our economy and currency, I see instead a concerted program of destabilization which ismeant to bring about the eventual demise of our nation's fiscal infrastructure. What some might call "kicking the can down the road," I call deliberately stretching the country thin over time, so that any indirect crisis can be used as a trigger event to bring the ceiling crashing down.
In the past several months, the Fed taper of QE and subsequently U.S. bond buying has coincided with steep declines in purchases by China, a dump of one-fifth of holdings by Russia, and an overall decline in new purchases of U.S. dollars for FOREX reserves.
With the Ukraine crisis now escalating to fever pitch, BRIC nations are openly discussing the probability of "de-dollarization" in international summits, and the ultimate dumping of the dollaras the world reserve currency.
The U.S. is in desperate need of a benefactor to purchase its ever rising debt and keep the system running. Strangely, a buyer with apparently bottomless pockets has arrived to pick up the slack that the Fed and the BRICS are leaving behind. But, who is this buyer?
At first glance, it appears to be the tiny nation of Belgium.
While foreign investment in the U.S. has sharply declined since March, Belgium has quickly become the third largest buyer of Treasury bonds, just behind China and Japan, purchasing more than $200 billion in securities in the past five months, adding to a total stash of around $340 billion. This development is rather bewildering, primarily because Belgium's GDP as of 2012 was a miniscule $483 billion, meaning, Belgium has spent nearly the entirety of its yearly GDP on our debt.
Clearly, this is impossible, and someone, somewhere, is using Belgium as a proxy in order to prop up the U.S. But who?
Recently, a company based in Belgium called Euroclear has come forward claiming to be the culprit behind the massive purchases of American debt. Euroclear, though, is not a direct buyer. Instead, the bank is a facilitator, using what it calls a "collateral highway" to allow central banks and international banks to move vast amounts of securities around the world faster than ever before.
Euroclear claims to be an administrator for more than $24 trillion in worldwide assets and transactions, but these transactions are not initiated by the company itself. Euroclear is a middleman used by our secret buyer to quickly move U.S. Treasuries into various accounts without ever being identified. So the question remains, who is the true buyer?
My investigation into Euroclear found some interesting facts. Euroclear has financial relationships with more than 90 percent of the world's central banks and was once partly owned and run by 120 of the largest financial institutions back when it was called the "Euroclear System". The organization was consolidated and operated by none other than JP Morgan Bank in 1972. In 2000, Euroclear was officially incorporated and became its own entity. However, one must remember, once a JP Morgan bank, always a JP Morgan bank.
Another interesting fact – Euroclear also has a strong relationship with the Russian government and is a primary broker for Russian debt to foreign investors. This once again proves my ongoing point that Russia is tied to the global banking cabal as much as the United States. The East vs. West paradigm is a sham of the highest order.
Euroclear's ties to the banking elite are obvious; however, we are still no closer to discovering the specific groups or institution responsible for buying up U.S. debt. I think that the use of Euroclear and Belgium may be a key in understanding this mystery.
Belgium is the political center of the EU, with more politicians, diplomats and lobbyists than Washington D.C. It is also, despite its size and economic weakness, a member of an exclusive economic club called the "Group Of Ten" (G10).
The G10 nations have all agreed to participate in a "General Arrangement to Borrow" (GAB) launched in 1962 by the International Monetary Fund (IMF). The GAB is designed as an ever cycling fund which members pay into. In times of emergency, members can ask the IMF's permission for a release of funds. If the IMF agrees, it then injects capital through Treasury purchases and SDR allocations. Essentially, the IMF takes our money, then gives it back to us in times of desperation (with strings attached).  A similar program called 'New Arrangements To Borrow' (NAB) involves 38 member countries.  This fund was boosted to approximately 370 billion SDR (or $575 billion dollars U.S.) as the derivatives crisis struck markets in 2008-2009.  Without a full and independent audit of the IMF, however, it is impossible to know the exact funds it has at its disposal, or how many SDR's it has created.
It should be noted the Bank of International Settlements is also an overseer of the G10. If you want to learn more about the darker nature of globalist groups like the IMF and the BIS, read my articles, Russia Is Dominated By Global Banks, Too, and False East/West Paradigm Hides The Rise Of Global Currency.
The following article from Harpers titled "Ruling The World Of Money," was published in 1983 and boasts about the secrecy and "ingenuity" of the Bank Of International Settlements, an unaccountable body of financiers that dominates the very course of economic life around the world.
It is my belief that Belgium, as a member of the G10 and the GAB/NAB agreements, is being used as a proxy by the BIS and the IMF to purchase U.S. debt, but at a high price. I believe that the banking elite are hiding behind their middleman, Euroclear, because they do not want their purchases of Treasuries revealed too soon. I believe that the IMF in particular is accumulating U.S. debt to be used later as leverage to absorb the dollar and finalize the rise of their SDR currency basket as the world reserve standard.
Imagine what would happen if all foreign creditors abandoned U.S. debt purchases because the dollar was no longer seen as viable as a world reserve currency.  Imagine that the Fed's efforts to stimulate through fiat printing became useless in propping up Treasuries, serving only to devalue the domestic buying power of our currency.  Imagine that the IMF swoops in as the lender of last resort; the only entity willing to service our debt and keep the system running.  Imagine what kind of concessions America would have to make to a global loan shark like the IMF.
Keep in mind, the plan to replace the dollar is not mere "theory".  In fact, IMF head Christine Lagarde has openly called for a "global financial system" to take over in the place of the current dollar based system.
The Bretton Woods System, established in 1944, was used by the United Nations and participating governments to form international rules of economic conduct, including fixed rates for currencies and establishing the dollar as the monetary backbone. The IMF was created during this shift towards globalization as the BIS slithered into the background after its business dealings with the Nazis were exposed. It was the G10, backed by the IMF, that then signed the Smithsonian Agreement in 1971 which ended the Bretton Woods system of fixed currencies, as well as any remnants of the gold standard. This led to the floated currency system we have today, as well as the slow poison of monetary inflation which has now destroyed more than 98 percent of the dollar's purchasing power.
I believe the next and final step in the banker program is to reestablish a new Bretton Woods style system in the wake of an engineered catastrophe. That is to say, we are about to go full circle. Perhaps Ukraine will be the cover event, or tensions in the South China Sea. Just as Bretton Woods was unveiled during World War II, Bretton Woods redux may be unveiled during World War III. In either case, the false East/West paradigm is the most useful ploy the elites have to bring about a controlled decline of the dollar.
The new system will reintroduce the concept of fixed currencies, but this time, all currencies will be fixed or "pegged" to the value of the SDR global basket. The IMF holds a global SDR summit every five years, and the next meeting is set for the beginning of 2015.
If the Chinese yuan is brought into the SDR basket next year, if the BRICS enter into a conjured economic war with the West, and if the dollar is toppled as the world reserve, there will be nothing left in terms of fiscal structure in the way of a global currency system. If the public does not remove the globalist edifice by force, the IMF and the BIS will then achieve their dream – the complete dissolution of economic sovereignty, and the acceptance by the masses of global financial governance. The elites don't want to hide behind the curtain anymore. They want recognition. They want to be worshiped. And, it all begins with the secret buyout of America, the implosion of our debt markets, and the annihilation of our way of life.
Source:  Brandon Smith | Alt-Market
Origin of the Master Model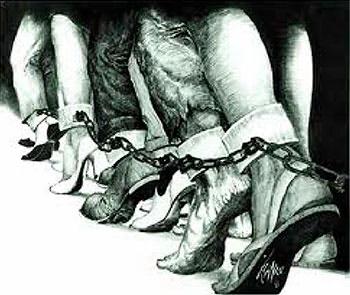 The master plan for world domination we see playing out today was first proposed to the US at the end of World War I. However, there were no takers. People were too war weary. However, when the plan was again proposed at the end of World War II, it was accepted. Consequently, World War II quietly transitioned into the secret "war" to set up what has become known as the "new world order" — an absolute dictatorship over the entire planet.
The United States set up the School of the Americas to train future dictators and terrorists who would be sent out into the world to destroy sovereign nations and place them under US domination by installing puppet governments obedient to the United States. Many conquests were made quietly using clever economic tricks [2]. However, leaders who refused to submit quietly would see their entire country reduced to rubble and the land rendered unlivable by uranium dust scattered by US bombs. The message was clear: Submit to the United States or face total destruction.
A social model based upon the assumption that cleverness and power automatically convey the right to take anything desired from those who are less adept and unable to resist is not a sustainable model for harmonious social interactions. However, this is the chosen model. The mantra for this model, "A man's true worth is measured by the amount of other peoples' happiness that he can possess and destroy" [1], is essentially a call for a class war between the greedy elite and the innocent masses of the world who simply desire a peaceful existence.
Acquisitions
The United States looks at the rest of the world as a "resource". If a country has something — oil, gold, minerals, etc. — that the US covets, it believes it has the right to take those things by whatever means necessary. In many cases the coveted resource is human slave labor. Let's look at some representative examples:
With the cooperation of the dictator, United Fruit Company (US) owned almost half of the country and used the locals as slaves to harvest its Chiquita brand bananas. However, during the period from 1945-1954 new leaders made changes. They helped the poor and set up social security and health care. Then they took land away from United Fruit and gave it to the local people. United fruit complained to the CIA that its business interests were being interfered with by the "communist" government. Any government which shows kindness to the poor and weak is called communist by the US. The US attacked Guatemala — killed the elected leaders and many thousands of citizens — and established a puppet dictatorship which would obey the will of United Fruit. The people were returned to a state of slavery. The CIA trained death squads to make sure the people were crushed into submission.
Strip Mining in Africa [4]
In Africa, the International Monetary Fund — a puppet of the US — destroys a country with strip mining. The original country was self sustaining. People were able to grow lots of food and hunt animals. However, once the land was ruined by US corporations, it was unusable to plant crops and the native animals died. The people had to buy food from other countries with money loaned to them by the IMF which they could never hope to repay. Therefore, a once free and self supporting people were made debt slaves of the IMF. Once all the natural resources have been stolen, the corporations will simply pack up and leave the indigenous people to starve and die.
Countries Used as Trash Dumps [5]
Used computers and associated items are dumped in poor countries where starving barefoot children sift through the mess of hazardous waste and broken obsolete glass computer monitors hoping to find something they can sell to get enough money to stay alive another day. Property stickers show the waste is mainly from the US government and various US state governments.
Corruption of Trusted Sources
Reporters and News Organizations
The masses are conditioned to believe news they receive from establishment sources. In the earlier times, this assumption was often correct. It was considered so important by the founding fathers that freedom of the press was enshrined in the US constitution. However, times have changed.
Walter Cronkite was known as the "trusted voice". No one knew he was also the official announcer at the secret Bohemian Grove meetings. The leaders of the world's news organizations also attend this event. That is why, even though the meetings began over one hundred years ago, until recently no one knew this group even existed. President George W. Bush may have set a new record for bribing journalists to allow their trusted name to be used as the author of material actually written by government propaganda experts. Apparently, everyone has a price and the government, of course, has no problem when it comes to money.
When Ronald Reagan reportedly ordered the death of investigative reporter Jessica Savitch [6], the message to independent journalists was clear: Go against the official party line an you're done!
Today, dedicated journalists face mysterious deaths and strange single car accidents but a few survive long enough to give us a glimpse of truths we would otherwise never know. They are true heroes.
Churches
Churches are everywhere. Unfortunately, legitimate Spiritual teachers are not. People look at churches either as harmless or with some sort of conditioned hypnotic respect. Churches send out "missionaries". However, the "mission" of these missionaries may not be so clear. If you wanted to infiltrate a foreign country, these people would be an ideal asset.
Churches are not Spiritual centers. At best, all they want is your money. At worst, they are Satanic and you are in severe Spiritual danger if you come under their influence and control.
The Catholic Church has been a trusted asset of the US intelligence community for quite some time. Significant information obtained by priests during confessions is routinely passed on to the government.
This agreement predates the internet by many years. Because the church has branches in almost every country, it has great potential for covert activities. For example, if you need to get an operative who is in danger out of a country, they can go to a Catholic church for "confession". Once the door is closed, they can exit through a secret passage, be disguised in robes and spirited safely out of the country. Church secrecy is at least on a par with US secrecy. Also, the Catholic church and the US shadow government share the same Satanic value system and engage in child rape and ritual killings.
Doctors and the Medical Industry
Medicine in the United States is an industry. It is no longer a profession. Its corporate model puts profit above all else. If some patients accidentally benefit they are the lucky ones.
The medical community has a rigid hierarchical structure and effective mechanisms for enforcing secrecy. Essentially, its model closely resembles the military chain of command structure. This makes it a perfect partner for the government in the area of secret human experiments.
For example, when the government was doing radiation experiments on humans, a doctor or someone dressed as a doctor would just walk up to unsuspecting patients and inject them with radioactive material. They were then secretly followed for years to see what would happen. Eventually, some of those who survived were told the truth. Most people used in the MK Ultra and subsequent secret projects were never notified.
Hospitals are set up to protect themselves. Staff may appear to be dedicated, smiling people who truly care about you. However, they are basically prostitutes who are being nice because you are worth money to them. When they make mistakes they have a "loss prevention" department staffed by clever lawyers who are trained to protect the financial interests of the hospital by denying everything and fabricating believable coverups. They are trained to do whatever is necessary. The staff will all agree to support whatever lies are needed. They know their job and their financial future depends upon maintaining strict secrecy.
The only people who receive legitimate medical care are the select elite cleared to accesstop secret medicine. These people always get excellent care because the doctors work for the shadow government and mistakes on their part are simply not tolerated.
Infiltrations
Countries which have the resources to sustain an intelligence community generally try to get operatives (spies) into other countries so they can directly observe activities. When real people gather intelligence, this is called human intelligence or HUMINT. The US, of course, does this too. However, you may not be aware of the extent to which the US also infiltrates itself. The central government really does not trust anyone.
Essentially all local police departments, state offices and state governors have a covert federal agent working close by pretending to be just another employee. Also, every US neighborhood has an informer who reports to the federal government. Large corporations, which tend to behave like "mini governments", need to be infiltrated and kept under observation. Colleges and universities are also monitored.
Here is how this spy network operates: The NSA likes to recruit young kids right out of college. When they are hired and sworn to secrecy they still do not know what their assignment will be. They must agree to do this assignment without first being told what it is.
Some agents, like John Perkins [2], are assigned to work in other countries. However, others are assigned to work inside the US. Their assignment could be to go to some state and apply to join the local police department. They would pretend to be just a regular person looking for a job. They would take the necessary training and spend their life as a local policeman so they could directly observe other local police from the inside and report to the NSA. Since they are actually an employee of the NSA, presumably they get to keep both salaries and, eventually, both retirements. All significant local police forces in the US are infiltrated this way.
Additionally, some agents will be assigned to get a job on the state governor's staff as well as in major local state agencies. A CIA or NSA agent is always on the staff at major colleges and universities. The same goes for major corporations.
Senior level agents are allowed to have special TV receivers in their homes linked to the secret government TV network. This way everyone stays on the same page. The channels on this network actually broadcast the truth. TV channels available to ordinary people contain only government approved propaganda mixed with "bread and circuses" presentations to make sure the sheeple stay asleep and content.
Fronts
The US government is involved in illegal activities internationally and domestically. If it performed these activities overtly in the name of the United States, there would be serious consequences under both international and local laws. To avoid this situation, the US government operates thousands of "front organizations" which appear to be private but are actually shadow operatives of the US.
For example, John Perkins [2] explained that he was recruited, hired and trained by the NSA. He was an NSA agent. However, for his cover as an economic hit man, he "officially" worked for a "private" company called Charles T. Main. This company was a government front to shield the US because the activities the NSA trained Perkins to do were illegal.
This is standard operating procedure for the US as well as other countries and many corporations. It shields them from legal recourse by providing deniability for the crimes they actually direct and commit.
Generally, when the US wants to influence other sovereign countries, it creates harmless looking NGO's which appear to be independent but are actually fronts for covert activities.
Domestically, colleges and universities — especially those with associated medical schools and hospitals — are great places to conceal a variety of covert projects such as the MK Ultra series of human experiments which, reportedly, continue today using new cover names. The US also likes to create non-profit corporations which exist only to provide classified services to the United States. A good example would be the Institutes for Defense Analysis (IDA). The US, reportedly, is its only client.
Programming
Mass media "programming" is actually programming you. It has developed into a subtle form of mind control. Before radio and television, special interests recognized that motion pictures could be used to alter public opinion in their favor. Perhaps, for example, you wanted to attack labor unions. When radio and later television came along providing access to national and international audiences, the temptation to exploit these technologies became irresistible. Originally, the US government recognized this and set up fairness rules to prevent monopolies from taking over the broadcast media and blocking opposing viewpoints. All this ended, unfortunately, when Ronald Regan canceled all the fairness regulations. Today, a handful of powerful corporations own and control essentially all content delivered by radio and television.
Television is the main vehicle for mass indoctrination. It is said that people watching TV actually fall into a light hypnotic trance. The "entertainment" you see on TV does not "just happen to be there". It is very carefully planned and timed to attract and influence targeted audiences. It is said that if some event were to somehow shut down all television broadcasts the government would experience a severe crisis because it would lose control over the minds of the masses.
TV creates sort of a "hive mind" among the masses and keeps everyone coordinated and tuned into the official party line. Without this, people would have no choice but to start thinking for themselves and forming independent opinions. Clearly, this would be a disaster.
The radio broadcast of "War of the Worlds" and the later movie "The Day the Earth Stood Still" are said to be CIA psychological experiments to judge how the general public would react to some type of ET contact.
Today, broadcasting is not just a one way event. Because people react to events and use social media to express these reactions, the effect of specific propaganda can be analyzed in real time. Since the government now intercepts all electronic communications, it is able to see general opinions and then tweak algorithms to maximize the desired effect of propaganda. This ability makes TV a two-way communications system although most people, of course, do not realize this and have no concept of the level of sophistication these technologies have reached.
Information Theory
Information Theory is the name of a relatively new branch of science which became popular in the 1960′s. It covers a broad range of technologies. Basically, it is the science of the flow of information and how that flow can be selectively controlled so that information flows only in desired pathways. As you may have already guessed, governments love this sort of stuff.
ECM
ECM stands for Electronic Counter Measures. In general, these are techniques to disable other electronic devices. Basically, it is electronic warfare. When the secret service is active in an area, for example, they will selectively jam all radio frequencies except for the specific frequencies they are using so that no one else can communicate.
World leaders, who are generally terrified of "threats" materializing from practically anywhere, like to travel with ECM generators running just in case "someone" from "somewhere" was trying to target them for "some reason". Basically, they are paranoid whack jobs.
People familiar with aviation tell the story of how Tony Blair, while traveling to or near a commercial airport, reportedly caused a commercial jet to crash because all the ECM garbage he was transmitting jammed the plane's navigation system. Of course, the British government would never admit this.
Secure Communication With Submarines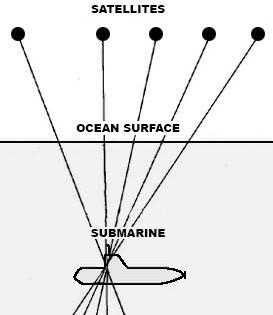 Since submarines were invented, communicating with them has been a problem because conventional radio waves will not travel underwater. Therefore, early submarines had to get close enough to the surface to put up some kind of antenna in the air to send or receive radio messages. Obviously, this could pose a problem if you did not wish to be discovered and located. After all, the motivation to create submarines in the first place was the feeling that they would be able to move about the planet secretly. However, newer technologies now make this impossible.
To solve the problem of reliable secure communication without the need to surface, scientists learned that sea water was essentially transparent to a special type of Argon laser. To set up the current communications network, it was decided to use several satellites with each satellite sending only part of an encrypted communication signal. The complete signal could only be received at a specific point underwater where all the laser beams intersected. Intercepting only one or two beams would prove useless. This communications system is considered to be impossible to intercept.
Quantum Entanglement
Returning to the submarine issue for a moment, before modern communications were perfected, there was a search for some reliable method to send a signal to a submerged submarine that could not be detected. This was considered necessary in a war situation to secretly transmit an attack command. What they originally did was to locate a couple of people who could communicate telepathically. One would be at the command base and the other on the submarine. Doing a bit more research, it was determined that this type of communication is instantaneous and somehow operated outside of time. Radio waves travel at the speed of light.
Quantum entanglement is a process which uses technology to send and receive signals outside of space-time. Now, why would you possibly want to do this? Well, if you had a base or a colony on a planet in some other solar system light years away, you would not want to wait years for messages to be received. Following this thread — and adding some basic common sense — why would you want to dedicate resources to search for habitable planets in distant solar systems when you had already "proven" it would be impossible to ever get there? Could it just be that someone is not coming clean with whole story?
The Separation Barrier
This is a model of the separation barrier which insulates the ruling class from the slave class. It is essentially "intellectual apartheid". The question is, why is it there. It takes considerable effort, money and manpower to maintain this artificial barrier. What is the reasoning behind not having a level playing field for everyone? Why does this idea absolutely terrify the elite? What are they afraid of?
The Pirate Story
This is a summary of a story told years ago on a radio broadcast most likely by Paul Harvey:
Ordinary people were afraid. The Earth was flat so they dare not venture far from home. Periodically, a pirate ship would come. They did not know how it got there or from where it came. It brought treasures they had never seen. The Chief Pirate would encourage the young men to study and specialize in specific skills. He wanted them to become educated but only in one narrow area. The Chief Pirate knew the world was not flat and how to navigate to other lands. However, this knowledge was never discussed. This "top secret" knowledge or the "big picture of the known world" would only be given to the Chief Pirate's son who would inherit his title and someday become the Chief Pirate.
This story is about the origin of the concept we call compartmentalization — the process of controlling the slave masses by only allowing them to know specific bits of the truth while the leaders are allowed to know total truth.
ELITE RULING CLASS
SECURITY CLEARANCES
SECRET POLICE
ASSASSINS
SURVEILLANCE — SIGINT HUMINT COMINT
SPY SATELLITES
SPY DRONES
SMART ELECTRIC METERS
INTERNET SURVEILLANCE
NEIGHBORHOOD SPIES
PLENTIFUL STREET DRUGS
PSYCHIATRIC FORCED DRUGGING
GENETICALLY MODIFIED FOOD
FLUORIDATED WATER
COORDINATED TELEVISION PROPAGANDA
DEGRADED PUBLIC EDUCATION
LOCAL MILITARIZED POLICE
---
SLAVE CLASS
Leaders can only maintain their status if there are slaves. Otherwise, everyone would be equal and operate on a level playing field. This means "leaders" would have to pull their own weight like everyone else. Clearly, this would be intolerable. Leaders love beautiful and exotic things but don't want to do the work needed to create these things. They probably could not even plant a garden much less build the various "ivory towers" where they like to live surrounded by servants. If left on their own they would very likely starve. This is why it is so important to create and maintain the complex separation barrier.
Why don't people who live above the separation barrier ever "come down" and talk to the people below the barrier? Well, other than the obvious fact that they would likely be killed or jailed for espionage or treason, there is another, simpler, reason.
Would you like to spend your days sitting in an open field with kindergarten kids looking for four leaf clovers? Probably not. You have progressed beyond that. The slaves below the separation barrier cannot even imagine the world of those who live above the barrier. In fact, the elite do not even consider the slaves human. They call them "disposable biological units". The United Nations prefers the slang term "the herd". Slaves can be easily bred in quantities needed and programmed to do desired tasks. Then, they can be easily disposed of when no longer useful. That's how they look at you. So, why would they want to make friends with you?
The Mars Example
There is an interesting event playing out today that you may have noticed. This concerns the recruitment and selection of people to be sent to Mars. There are simulation projects where volunteers are locked away to imitate the long voyage to Mars. They are being told that this is a one way trip and they can never hope to return to Earth.
What you are witnessing is the selection process for the "seed people" who will be used to breed the future slave class on Mars. In a situation similar to the period when most believed the Earth was flat and you would fall off if you tried to go to sea, these people are convinced that the only way to get to mars is to ride a rocket on a perilous journey taking years. Because they truly believe this, when they get to Mars, they will teach this crap to their kids along with other misconceptions like it is impossible to go faster than the speed of light and other associated obsolete scientific principles. They will have no
desire to ever return to Earth or go anywhere else because they truly believe it is not possible. They will be contented slaves.
Of course the truth is that there are already secret colonies on Mars. It is not that hard to get there using antigravity and other secret propulsion methods and it is quite likely possible to simply walk through some kind of wormhole device and come out on Mars.
However, the slaves will never know this. Just as it is done on Earth, there will be an artificial separation barrier. The insiders will know the truth and will be physically hidden from the slaves. There will be secret police and other methods — the same as are used on Earth — to make sure no slave ever escapes from the "information prison". Business as usual will continue.
Reinforcement of Ignorance
Governments and their oligarchs love to keep their subjects in a cloud of ignorance. Back in the days when people believed the Earth was flat, the inner circle ruling class knew it was round. Maintaining the deception was convenient because it kept the slaves from developing any desire to travel far from home.
Nothing has changed all that much today. Consider, for example, all the fuss over the missing MH370 plane. You are being played for a sucker. It is impossible for that plane to have "disappeared".
The US DoD spy satellite system reportedly consists of ten constellations of satellites. Each constellation has over seven thousand satellites. They see and record everything that happens on this planet. The floor of the oceans can be seen just as clearly as the land areas. The resolution of the system is better than one square millimeter. Also, everything is recorded so you can go back in time and play past images.

This is a picture of a common electric lamp. Take this lamp and throw it in the ocean — any ocean anywhere on this planet. The spy satellite system will locate it, give you the coordinates and give you a photo at least as good as the one above. That is the capability of the system. So, clearly, it is impossible not to know the location of something as large as a Boeing 777 plane. All the TV publicity is a choreographed play. You are being scammed and you need to wake up and realize this fact.
Murders and Assassinations
To ensure a strong empire, dissent must be crushed. The United States trains assassins and carries out both domestic and foreign murders and assassinations on a regular basis. You may be familiar with the classic movie scenes where a black limousine with tinted windows drives by a target with thugs shooting machine guns. Although this would accomplish the task, it is a bit too obvious in a country that advertises itself to be a free, civilized democracy. Someone might catch on and begin to doubt the party line. Consequently, these things must be done quietly.
Inside the US, murders are reportedly carried out by a group known as "FBI Division Five". Other agencies likely have the responsibility for foreign assassinations. However, the basic techniques used would be similar.
Typically, an agent would wake up every day and connect to the top secret internet to see who he was assigned to kill that day. There would be several options. If it was important to eliminate the target immediately, a fast acting chemical agent would be selected which, for example, would cause the target to die within a few hours of a "natural" heart attack.
However, if time was not critical and the government just wanted the target out of the way, you might want to select one of the cancer causing agents such as those likely used to eliminate Hugo Chavez and Senator Ted Kennedy.
There is also a third possibility. This involves character assassination instead of actual murder. Consider, for example, a person who has gained a lot of public recognition talking about, say, free energy. If you simply kill the person, there could be blowback and talk that he was silenced by the government. In such cases, it is easier to use a chemical agent designed not to kill but, rather, to cause states of mental confusion resulting in obviously strange behavior. This would be coordinated with the government controlled mainstream press to make sure everyone became convinced the person was a nut and would therefore ignore anything said without regard to the truth or validity of the message.
Once the appropriate chemical has been selected, you need to load it into the secret delivery system and locate your target. To find your target you will connect to the top secret internet and pinpoint the location of the target through their cell phone. You can also activate all the cameras and microphones in electronic gadgets connected to the internet associated with the target in case you wish to look around the target's home and hear in real time what is taking place.
Of course, this will not help you locate the target when it is time to actually do the hit. So, you need to get the top secret profile data which will show any predictable habits of the target. Everyone is constantly tracked through their cell phones and profiles are logged and stored. In this case, the profile shows that the target has a favorite restaurant and goes there for lunch every day around 11:30. Now, you know exactly what to do. You go to the restaurant, hang out until you see your target, and get in line behind the target. Now, all you need to do is slightly bump into the target to deliver the chemical. Generally, the targets never even notice.
This mission is now complete. If it is early enough, you can check back in to the top secret system to see who you are supposed to kill next. Just another day. Just a routine job.
Money
Money is an imaginary force. It is used to motivate and control slaves. Real forces effect all life forms. However, only people respond to money. The only reason they do is because they have been artificially programmed to do so.
Money can be created in unlimited quantities by those adept in the use of this force. The physical world is finite, however the world of imagination is not. There is no limit to the quantity of money that can be imagined into existence. Money can also be imagined out of existence.
Let's assume that one day the entire financial system simply disappeared. If you lived in a rural area and had a nice veggie garden, some friendly chickens, collection facilities for rain water and a few photocells for electricity, you would not notice this. The veggies would continue to grow. Rain would periodically fall. The chickens would lay eggs as usual. The sun would continue to shine. However, if you lived in a city environment, you would be devastated.
Before money, people lived in small hunter-gatherer groups. The concept of ownership did not exist. People worked and survived as a group. Men and women were equal. Everyone contributed to the community. Resources were shared equally. The concept of "mine" and "yours" did not exist. Women generally became pregnant only once about every three years although there was no birth control. Later, when the concept of money entered the consciousness, women were seen as having less value because men were paid for work but women were not paid to raise and care for kids. Society has changed, however, the downgraded status of women has not.
Money systems have always been manipulated by clever people. When gold was used as money, people learned they could dilute pure gold with silver or maybe even lead to come up with something that looked like pure gold and had the correct weight but was a fraud. A king suspected he was being scammed but had no way to prove it. He called on the great minds of the time for help. This led to what is known as the Archimedes' principle which is better known today as "specific gravity". This principle made it possible to compare a sample known to be pure gold to a questionable sample and prove the unknown sample was not pure gold. Likely, some clever crook lost his head once this test became known.
There is a general belief that gold is the ultimate reference for all money. However, secrets concerning the exact quantity of gold make this a perilous assumption. Reportedly, the United States stole a tremendous quantity of physical gold from Japan towards the end of World War II. This gold exists off the books. To make matters worse, Japan was not all that concerned. Japan had been using gold bars as ballast on its ships because they were compact and heavy. They thought nothing of throwing the bars overboard as necessary. Japan used platinum as a money reference and the US never got that. This should make one rethink all the hype about the value of gold. It may be a lot more plentiful than we have been led to believe. Also, the secret off the books stashes of gold would allow its relative value to be manipulated at will just like other commodity markets.
The Financial Axis of Evil [3]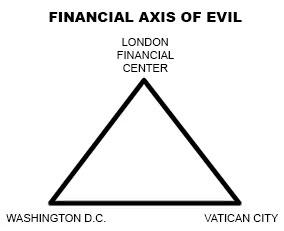 This is the model of the financial axis of evil which rules this planet. It consists of three main branches as shown above. Collectively, they are known as "The Empire of the City". Briefly, here is how this system operates:
The London financial district is in London, Washington D.C. is in the United States and the Vatican is in Italy. However, these three places are not part of the countries where they exist. They are independent "city states" and have their own laws and constitution. They are, effectively, "mini countries" inside of other countries and fly their own flags. The city state of London is a private corporation and pays no taxes to actual London or to Britain. The city state of London is the master power center and is controlled by the Rothschild family which considers itself to be the legal owner of this planet. The Vatican is the largest private land owner in the world and the first true multinational corporation with installations (churches) and secret agents (The Knights of Malta) everywhere. They control through the power of fear of the unknown and practice black magic. Washington D.C. relies upon brute military force. All three closely cooperate combining their specialties of financial trickery, witchcraft and military might. Of course, all three worship Satan as their Master.
Slavery
Slavery is alive and well throughout the world. The US constitution prohibits slavery, however, most americans live in slave-like conditions.
It is said that it will take the average college student until age fifty to pay back their student loan.
The constitutional amendment prohibiting slavery addressed the concept of physically owning another person. However, it did not address the issue of holding another person in bondage as a debt slave. It also did not consider the concept of private for profit prisons who force inmates to work as slaves. These systems exist today and are perfectly legal.
Actually, a recent report from prestigious Princeton University has reclassified the US government as an oligarchy — a country run by and for the rich elite. Former US President Carter has stated that the United States "no longer has a functioning democracy". So much for the Founding Father's dream. Speaking of dreams, check out the free you tube video titled "The American Dream".
Other forms of slavery are illegal but still flourish. Sex slaves are always in demand. Traffickers are sometimes caught but you need to realize that your leaders use sex slaves and also routinely abuse young girls and boys. Sometimes they are also killed during occult rituals. No one ever talks about this and these people are never punished. This has been the normal way of life for Satan worshipers for many years and nothing has changed or is likely to ever change in the future. Stanley Kubrick's last movie, Eyes Wide Shut, covers this subject. Some believe this intense dramatization of how the elite really live may have cost him his life.
People still have some rights left in the United States but other countries are a different story. Qatar is doing construction for the World Cup. The event is not scheduled until the year 2022, however they have already killed 1200 slaves [7] by working them to death. People are lured from poor countries with the promise of jobs and money. When they arrive, their passports are confiscated and they are forced to work until they literally drop dead. If the World Cup is actually held in Qatar in 2022, there will be glamorous TV coverage and no one will remember or care about all the dead slaves. The show must go on.
Qatar, incidentally, sponsors Al Jazeera TV network.
Adaptation Techniques
The status quo of today will never change because the people who created it will never die. Because of top secret medicine, when men like Henry Kissinger, who heads the Bilderberg Group's steering committee, get too feeble to function, they will simply go to one of the secret locations and use the temporal reversal device to regress back to about twenty years old. Their memories will be unaffected. Then they will get new identities and continue on. This process can be repeated indefinitely.
Because you can never change the status quo, your best hope for a lifetime of reasonable quality is to find clever ways to live in this world with as much independence as possible.
One method of adaptation is autonomous and semi-autonomous communities. If the community is registered as a religious institution it is automatically shielded from most government interference by the US constitution. It pays no taxes and can pretty much write its own rules by simply calling whatever it wants to do "religious doctrine". Many small semi-autonomous groups exist where people who share a common set of values find ways to quietly live out their lives pretty much on their own terms. The government does not seem interested in bothering these smaller groups as long as they live peacefully and are not doing anything that the government perceives to be a threat.
The Amish people are a good example of an autonomous group. You would probably not want to live as they do, however, before you completely dismiss them, you may want to look at some definite advantages in their chosen lifestyle.
Remember, these are the people who reject technology. They just might have made the correct choice. Technology, at first, seemed like a good idea. However, now that people are addicted to technology they are also enslaved by technology. Everything they do is monitored and recorded by the government. Privacy no longer exists. It did not have to be this way.
Technology, in itself, is not evil. However, it can be quite evil if you live under a government run by sociopathic control freaks which, unfortunately, you do. In the Amish world, electronic surveillance does not exist because electronic devices do not exist. The constant propaganda from TV has no effect on people who do not have TV. A horse does not report its position to a GPS satellite and is not controlled by a computer.
Also, the people are generally healthy and do not suffer from many diseases common to the mainstream population. They are not being poisoned by fluorinated water or additives found in processed food because they don't use these things. Also, they get lots of physical exercise.
Without totally withdrawing from the world, there are some positive steps you can take. By now you know never to drink fluorinated water or use any personal product containing fluoride such as many brands of toothpaste. To minimize harmful food additives, look for Kosher food which is marked with either the encircled "K" or "U" (Ultra Kosher). These foods have less or no harmful additives. The Jewish community is very protective of its people and the Mossad is widely considered to be the best intelligence service in the world. Therefore, they would have the inside scoop on everything including food and do not want to see their people harmed.
Whatever you decide to do, you definitely do not want to be part of so called mainstream society. These people are doomed. They are sheep (sheeple) slowly walking to the slaughter house. Don't go there!
---
references and credits
[1] DVD "The American Ruling Class". ASIN: B001HM2CE2.
[2] John Perkins. Book: Confessions of an Econemic Hit Man; DVD (free on you tube): "Apology of an Economic Hit Man"; RT interviews.
[3] See the free you tube videos titled "The Red Shield".
[4] DVD: "The Wages of Debt", RT Intl. Also available for purchase.
[5] DVD "Terra Blight", RT Intl. Also available for purchase.
[6] Interview with John Judge of Veterans Against Military Psychiatry.
[7] Also search using the phrase "qatar slaves world cup".
© 2014 W C Vetsch. All rights reserved.
Source: Walter C. Vetsch  |  3108.info | War Is Crime
The phrase "conspiracy theorist" is a derogatory smear phrase thrown at someone in an attempt to paint them as a lunatic. It's a tactic frequently used by modern-day thought police in a desperate attempt to demand "Don't go there!"
But let's step back for a rational moment and ask the commonsense question: Are there really NO conspiracies in our world?
The Attorney General of South Carolina would surely disagree with such a blanket statement. After all, he sued five pharmaceutical companies for conducting a price-fixing conspiracy to defraud the state of Medicaid money.
Similarly, in 2008, a federal judge ruled that three pharmaceutical companies artificially marked up their prices in order to defraud Medicare.
In fact, dozens of U.S. states have filed suit against pharmaceutical companies for actions that are conspiracies: conspiracy to engage in price fixing, conspiracy to bribe doctors, conspiracy to defraud the state and so on.
The massive drug company GlaxoSmithKline, even more, plead guilty to a massive criminal fraud case involving a global conspiracy to bribe doctors into prescribing more GSK drugs.
And this is just the tip of the iceberg. A deeper look into the criminality of just the drug industry alone reveals a widespread pattern of conspiratorial behavior to defraud the public and commit felony crimes in the name of "medicine."
What is a conspiracy, exactly?
As any state or federal prosecutor will gladly tell you, a "conspiracy" is simply when two or more people plot to commit an act of deceit (or a crime).
Thus, when three hoodlums plan to rob the local Quickie Mart, they are engaged in a "conspiracy" and will likely be charged with a "conspiracy to commit armed robbery" in addition to the different crime of "armed robbery." The fact that they planned it with several friends makes it a "conspiracy" worthy of additional felony charges, you see. When these charges are brought up in court, the judge doesn't look at the prosecutor and say, "You are a conspiracy theorist!" That would be absurd.
The idea, then, that there is no such thing as a conspiracy is flatly ludicrous. And people who condemn others as being "conspiracy theorists" only make themselves look mentally impaired.
To live in our modern world which is full of collusion and conspiracy — and yet somehow DENY the existence of any conspiracies at all — is an admission of a damaged brain. Of course there are conspiracies, and when people analyze those conspiracies, they are "theorizing" about what happened. This is, in fact, precisely the job that police detectives and FBI agents carry out almost daily.
Most police detectives are, in reality, "conspiracy investigators" and analysts.
There are endless examples of real conspiracies
Auto manufacturers routinely conspire to cover up mechanical defects that put customer lives at risk. Even National Public Radio lays out the full timeline of the General Motors conspiracy to hide the problem with its faulty ignition switches.
Last year, food corporations conspired with the Grocery Manufacturers of America (the GMA) tocommit money laundering crimes in Washington state in order to funnel money into a campaign to defeat GMO labeling there.
The FDA conspired with a drug manufacturer to keep a deadly diabetes drug called Rezulin on the market in the USA even after safety regulators pulled the product in Europe.
Similarly, the corrupt, criminal-minded operators of mainstream science journals conspired in a particularly evil way to railroad Dr. Andrew Wakefield with provably false accusations about the nature of his research into the side effects of vaccines. The GMO Seralini study has been similarly railroaded by a genuine conspiracy of evil, corrupt science journal editors who routinely conspire to suppress all the science they don't want to be seen by the public. Fortunately, 150 other scientists have come to support Seralini with a global condemnation of the obviously contrived scientific censorship.
We live in a world of such deception and collusion that, frankly stated, it's hard to find a large institution (such as medicine, agriculture or the war industry) which isn't involved in some sort of conspiracy at some level.
What is a "conspiracy theorist?
The pejorative "conspiracy theorist" is meant to demean and ridicule skeptics of official stories.
Most so-called "conspiracy theorists" are really skeptics, by definition. They're skeptical of what the government tells them. They're skeptical of the claim that drug companies are really only interested in helping humankind and have no desire to make money. They're skeptical that food corporations are telling them the truth about what's in their food. And they're also skeptical of anything coming out of Washington D.C., regardless of which party happens to be in power at the time.
People who are not skeptics of "official stories" tend to be dull-minded. To believe everything these institutions tell you is a sign of mental retardation. To ask questions, on the other hand, is a sign of higher intelligence and wisdom.
Skeptics of official stories, it turns out, also have the support of history on their side. How many times has it later been revealed that the American people were lied to by the very institutions we were supposed to trust?
For example, it is an historical fact that 98 million Americans were injected with hidden cancer viruses which were later found in polio vaccines strongly recommended by the CDC. In an effort to cover that up and rewrite history, the CDC later scrubbed all accounts of that history from its website, pretending it never happened.
That's more than a cover-up; it's an Orwellian-style conspiracy to selectively rewrite history and deny Americans any memory of a monumental, deadly error made by the CDC in collusion with the vaccine industry.
According to two former Merck virologists, that company conspired to fake the results of its vaccine tests by spiking test samples with animal antibodies, thereby falsely distorting the results to make the vaccine appear effective. The two virologists filed a False Claims Act with the federal government detailing the conspiracy, saying:
Merck also added animal antibodies to blood samples to achieve more favorable test results, though it knew that the human immune system would never produce such antibodies, and that the antibodies created a laboratory testing scenario that "did not in any way correspond to, correlate with, or represent real life … virus neutralization in vaccinated people…"
Conspiracies of money and big banks
Every month, the Federal Reserve conspires to steal a portion of your wealth through "quantitative easing" — an irresponsible money creation scheme that devalues all the currency already in circulation (i.e. the money in your bank account).
The money the Fed creates is, not surprisingly, handed over to the big Wall Street banks — the same banks that received a jaw-dropping $29 trillion in "bailout money" since the near-collapse of U.S. banking in late 2008.
Why did this bailout money go to the banks instead of the American people? Because powerful people sat in dark rooms and colluded to send the money to the most influential banks. A conspiracy, in other words, by definition.
Had that same amount of money been equally distributed across the U.S. population, the Fed would have distributed nearly $100,000 to each and every citizen in America; man, woman and child. But instead of enriching the population, the banking bailout burdened the population with the debt now owed to the Fed by future taxpayers.
Every $1 trillion created by the Fed, after all, is $1 trillion "loaned" to the U.S. Treasury which must somehow be repaid. In truth, the minute you start to investigate how money is created, why the Federal Reserve is a private banking cartel and why the big banks get all the bailout money, you run head-first into genuine conspiracies almost from the outset. When you look up the word "conspiracy" in a dictionary, it should probably say, "See Banking and Finance."
Our world is full of conspiracies because it's full of people who deceive
The reason conspiracies are real is because humanity is a race capable of extreme deception. As long as there are people whose actions are based in greed, jealousy and a desire to dominate others, there will be real conspiracies plotted and operating across every sector of society.
The correct term for "conspiracy theorist" should really be "conspiracy analyst." Most of the people who are skeptical of official stories are, in fact, analyzing conspiracies in an attempt to understand what really happened and what took place behind closed doors.
A highly-recommended book the delves into this matter in more detail is the five-star-rated masterpiece Official Stories: Counter-Arguments for a Culture in Need by Liam Scheff.
This book will open the minds of those who still have the cognitive capability remaining to grasp it. (Sadly, the injection of mercury into babies in the form of vaccines has damaged so many brains across America that many people are now cognitively incapable of rational thought.)
And remember: the next time someone flings the phrase "conspiracy theorist" in your direction, simply know that they are effectively wearing a DUNCE hat on their heads by admitting they have failed to acknowledge that true conspiracies are rather commonplace.
That's not merely a theory, either: it's a statement of fact.
Source: Mike Adams |Natural News
Imagine: you are dressed up for a night on Broadway, but your neighbours are involved in a vicious quarrel, and you have to gun up and deal with the trouble instead of enjoying a show, and a dinner, and perhaps a date. This was Putin's position regarding the Ukrainian turmoil.
The Russians have readjusted their sights, but they do not intend to bring their troops into the two rebel republics, unless dramatic developments should force them.
It is not much fun to be in Kiev these days. The revolutionary excitement is over, and hopes for new faces, the end of corruption and economic improvement have withered. The Maidan street revolt and the subsequent coup just reshuffled the same marked deck of cards, forever rotating in power.
The new acting President has been an acting prime minister, and a KGB (called "SBU" in Ukrainian) supremo. The new acting prime minister has been a foreign minister. The oligarch most likely to be "elected" President in a few days has been a foreign minister, the head of the state bank, and personal treasurer of two coups, in 2004 (installing Yushchenko) and in 2014 (installing himself). His main competitor, Mme Timoshenko, served as a prime minister for years, until electoral defeat in 2010.
These people had brought Ukraine to its present abject state. In 1991, the Ukraine was richer than Russia, today it is three times poorer because of these people's mismanagement and theft. Now they plan an old trick: to take loans in Ukraine's name, pocket the cash and leave the country indebted. They sell state assets to Western companies and ask for NATO to come in and protect the investment.
They play a hard game, brass knuckles and all. The Black Guard, a new SS-like armed force of the neo-nazi Right Sector, prowls the land. They arrest or kill dissidents, activists, journalists. Hundreds of American soldiers, belonging to the "private" company Academi (formerly Blackwater) are spread out in Novorossia, the pro-Russian provinces in the East and South-East. IMF–dictated reforms slashed pensions by half and doubled the housing rents. In the market, US Army rations took the place of local food.
The new Kiev regime had dropped the last pretence of democracy by expelling the Communists from the parliament. This should endear them to the US even more. Expel Communists, apply for NATO, condemn Russia, arrange a gay parade and you may do anything at all, even fry dozens of citizens alive. And so they did.
The harshest repressions were unleashed on industrial Novorossia, as its working class loathes the whole lot of oligarchs and ultra-nationalists. After the blazing inferno of Odessa and a wanton shooting on the streets of Melitopol the two rebellious provinces of Donetsk and Lugansk took up arms and declared their independence from the Kiev regime. They came under fire, but did not surrender. The other six Russian-speaking industrial provinces of Novorossia were quickly cowed. Dnepropetrovsk and Odessa were terrorised by personal army of Mr Kolomoysky; Kharkov was misled by its tricky governor.
Russia did not interfere and did not support the rebellion, to the great distress of Russian nationalists in Ukraine and Russia who mutter about "betrayal". So much for the warlike rhetoric of McCain and Brzezinski.
Putin's respect for others' sovereignty is exasperating. I understand this sounds like a joke, — you hear so much about Putin as a "new Hitler". As a matter of fact, Putin had legal training before joining the Secret Service. He is a stickler for international law. His Russia has interfered with other states much less than France or England, let alone the US. I asked his senior adviser, Mr Alexei Pushkov, why Russia did not try to influence Ukrainian minds while Kiev buzzed with American and European officials. "We think it is wrong to interfere", he replied like a good Sunday schoolboy. It is rather likely Putin's advisors misjudged public sentiment. « The majority of Novorossia's population does not like the new Kiev regime, but being politically passive and conservative, will submit to its rule", they estimated. "The rebels are a small bunch of firebrands without mass support, and they can't be relied upon", was their view. Accordingly, Putin advised the rebels to postpone the referendum indefinitely, a polite way of saying "drop it".
They disregarded his request with considerable sang froid and convincingly voted en masse for secession from a collapsing Ukraine. The turnout was much higher than expected, the support for the move near total. As I was told by a Kremlin insider, this development was not foreseen by Putin's advisers.
Perhaps the advisors had read it right, but three developments had changed the voters' minds and had sent this placid people to the barricades and the voting booths:
1. The first one was the fiery holocaust of Odessa, where the peaceful and carelessly unarmed demonstrating workers were suddenly attacked by regime's thugs (the Ukrainian equivalent of Mubarak's shabab) and corralled into the Trade Unions Headquarters. The building was set on fire, and the far-right pro-regime Black Guard positioned snipers to efficiently pick off would-be escapees. Some fifty, mainly elderly, Russian-speaking workers were burned alive or shot as they rushed for the windows and the doors. This dreadful event was turned into an occasion of merriment and joy by Ukrainian nationalists who referred to their slain compatriots as "fried beetles". (It is being said that this auto-da-fé was organised by the shock troops of Jewish oligarch and strongman Kolomoysky, who coveted the port of Odessa. Despite his cuddly bear appearance, he is pugnacious and violent person, who offered ten thousand dollars for a captive Russian, dead or alive, and proposed a cool million dollars for the head of Mr Tsarev, a Member of Parliament from Donetsk.)
2. The second was the Mariupol attack on May 9, 2014. This day is commemorated as V-day in Russia and Ukraine (while the West celebrates it on May 8). The Kiev regime forbade all V-day celebrations. In Mariupol, the Black Guard attacked the peaceful and weaponless town, burning down the police headquarters and killing local policemen who had refused to suppress the festive march. Afterwards, Black Guard thugs unleashed armoured vehicles on the streets, killing citizens and destroying property.
The West did not voice any protest; Nuland and Merkel weren't horrified by this mass murder, as they were by Yanukovich's timid attempts to control crowds.
The people of these two provinces felt abandoned; they understood that nobody was going to protect and save them but themselves, and went off to vote.
3. The third development was, bizarrely, the Eurovision jury choice of Austrian transvestite Conchita Wurst for a winner of its song contest.
The sound-minded Novorossians decided they want no part of such a Europe.
Actually, the people of Europe do not want it either:
It transpired that the majority of British viewers preferred a Polish duo, Donatan & Cleo, with its We Are Slavic. Donatan is half Russian, and has courted controversy in the past extolling the virtues of pan-Slavism and the achievements of the Red Army, says the Independent.
The politically correct judges of the jury preferred to "celebrate tolerance", the dominant paradigm imposed upon Europe.
This is the second transvestite to win this very political contest; the first one was Israeli singer Dana International.
Such obsession with re-gendering did not go down well with Russians and/or Ukrainians.
The Russians have readjusted their sights, but they do not intend to bring their troops into the two rebel republics, unless dramatic developments should force them.

RUSSIAN PLANS

Imagine: you are dressed up for a night on Broadway, but your neighbours are involved in a vicious quarrel, and you have to gun up and deal with the trouble instead of enjoying a show, and a dinner, and perhaps a date. This was Putin's position regarding the Ukrainian turmoil.
A few months ago, Russia had made a huge effort to become, and to be seen as, a very civilized European state of the first magnitude. This was the message of the Sochi Olympic games: to re-brand, even re-invent Russia, just as Peter the Great once had, as part of the First World; an amazing country of strong European tradition, of Leo Tolstoy and Malevich, of Tchaikovsky and Diaghilev, the land of arts, of daring social reform, of technical achievements, of modernity and beyond — the Russia of Natasha Rostova riding a Sikorsky 'copter. Putin spent $60 billion to broadcast this image.
The old fox Henry Kissinger wisely said:
Putin spent $60 billion on the Olympics. They had opening and closing ceremonies, trying to show Russia as a normal progressive state. So it isn't possible that he, three days later, would voluntarily start an assault on Ukraine. There is no doubt that… at all times he wanted Ukraine in a subordinate position. And at all times, every senior Russian that I've ever met, including dissidents like Solzhenitsyn and Brodsky, looked at Ukraine as part of the Russian heritage. But I don't think he had planned to bring it to a head now.
However, Washington hawks decided to do whatever it takes to keep Russia out in the cold. They were afraid of this image of "a normal progressive state" as such Russia would render NATO irrelevant and undermine European dependence on the US. They were adamant about retaining their hegemony, shattered as it was by the Syrian confrontation. They attacked Russian positions in the Ukraine and arranged a violent coup, installing a viciously anti-Russian regime supported by football fans and neo-Nazis, paid for by Jewish oligarchs and American taxpayers. The victors banned the Russian language and prepared to void treaties with Russia regarding its Crimean naval base at Sebastopol on the Black Sea. This base was to become a great new NATO base, controlling the Black Sea and threatening Russia.
Putin had to deal quickly and so he did, by accepting the Crimean people's request to join Russian Federation. This dealt with the immediate problem of the base, but the problem of Ukraine remained.
The Ukraine is not a foreign entity to Russians, it is the western half of Russia. It was artificially separated from the rest in 1991, at the collapse of the USSR. The people of the two parts are interconnected by family, culture and blood ties; their economies are intricately connected. While a separate viable Ukrainian state is a possibility, an "independent" Ukrainian state hostile to Russia is not viable and can't be tolerated by any Russian ruler. And this for military as well as for cultural reasons: if Hitler had begun the war against Russia from its present border, he would have taken Stalingrad in two days and would have destroyed Russia in a week.
A more pro-active Russian ruler would have sent troops to Kiev a long time ago. Thus did Czar Alexis when the Poles, Cossacks and Tatars argued for it in 17th century. So also did Czar Peter the Great, when the Swedes occupied it in the 18th century. So did Lenin, when the Germans set up the Protectorate of Ukraine (he called its establishment "the obscene peace"). So did Stalin, when the Germans occupied the Ukraine in 1941.
Putin still hopes to settle the problem by peaceful means, relying upon the popular support of the Ukrainian people. Actually, before the Crimean takeover, the majority of Ukrainians (and near all Novorossians) overwhelmingly supported some sort of union with Russia. Otherwise, the Kiev coup would not have been necessary. The forced Crimean takeover seriously undermined Russian appeal. The people of Ukraine did not like it. This was foreseen by the Kremlin, but they had to accept Crimea for a few reasons. Firstly, a loss of Sevastopol naval base to NATO was a too horrible of an alternative to contemplate. Secondly, the Russian people would not understand if Putin were to refuse the suit of the Crimeans.
The Washington hawks still hope to force Putin to intervene militarily, as it would give them the opportunity to isolate Russia, turn it into a monster pariah state, beef up defence spending and set Europe and Russia against each other. They do not care about Ukraine and Ukrainians, but use them as pretext to attain geopolitical goals.
The Europeans would like to fleece Ukraine; to import its men as "illegal" workers and its women as prostitutes, to strip assets, to colonise. They did it with Moldova, a little sister of Ukraine, the most miserable ex-Soviet Republic. As for Russia, the EU would not mind taking it down a notch, so they would not act so grandly. But the EU is not fervent about it. Hence, the difference in attitudes.
Putin would prefer to continue with his modernisation of Russia. The country needs it badly. The infrastructure lags twenty or thirty years behind the West. Tired by this backwardness, young Russians often prefer to move to the West, and this brain drain causes much damage to Russia while enriching the West. Even Google is a result of this brain drain, for Sergey Brin is a Russian immigrant as well. So are hundreds of thousands of Russian scientists and artists manning every Western lab, theatre and orchestra. Political liberalisation is not enough: the young people want good roads, good schools and a quality of life comparable to the West. This is what Putin intends to deliver.
He is doing a fine job of it. Moscow now has free bikes and Wi-Fi in the parks like every Western European city. Trains have been upgraded. Hundreds of thousands of apartments are being built, even more than during the Soviet era. Salaries and pensions have increased seven-to-tenfold in the past decade. Russia is still shabby, but it is on the right track. Putin wants to continue this modernisation.
As for the Ukraine and other ex-Soviet states, Putin would prefer they retain their independence, be friendly and work at a leisurely pace towards integration a la the European Union.
He does not dream of a new empire. He would reject such a proposal, as it would delay his modernisation plans.
If the beastly neocons would not have forced his hand by expelling the legitimate president of Ukraine and installing their puppets, the world might have enjoyed a long spell of peace.
But then the western military alliance under the US leadership would fall into abeyance, US military industries would lose out, and US hegemony would evaporate. Peace is not good for the US military and hegemony-creating media machine. So dreams of peace in our lifetime are likely to remain just dreams.
What will Putin do?
Putin will try to avoid sending in troops as long as possible. He will have to protect the two splinter provinces, but this can be done with remote support, the way the US supports the rebels in Syria, without 'boots on the ground'. Unless serious bloodshed on a large scale should occur, Russian troops will just stand by, staring down the Black Guard and other pro-regime forces.
Putin will try to find an arrangement with the West for sharing authority, influence and economic involvement in the failed state. This can be done through federalisation, or by means of coalition government, or even partition. The Russian-speaking provinces of Novorossia are those of Kharkov (industry), Nikolayev (ship-building), Odessa (harbour), Donetsk and Lugansk (mines and industry), Dnepropetrovsk (missiles and high-tech), Zaporozhe (steel), Kherson (water for Crimea and ship-building), all of them established, built and populated by Russians. They could secede from Ukraine and form an independent Novorossia, a mid-sized state, but still bigger than some neighbouring states. This state could join the Union State of Russia and Belarus, and/or the Customs Union led by Russia. The rump Ukraine could manage as it sees fit until it decides whether or not to join its Slavic sisters in the East. Such a set up would produce two rather cohesive and homogeneous states.
Another possibility (much less likely at this moment) is a three-way division of the failed Ukraine: Novorossia, Ukraine proper, and Galicia&Volyn. In such a case, Novorossia would be strongly pro-Russian, Ukraine would be neutral, and Galicia strongly pro-Western.
The EU could accept this, but the US probably would not agree to any power-sharing in the Ukraine. In the ensuing tug-of-war, one of two winners will emerge. If Europe and the US drift apart, Russia wins. If Russia accepts a pro-Western positioning of practically all of Ukraine, the US wins. The tug-of-war could snap and cause all-out war, with many participants and a possible use of nuclear weapons. This is a game of chicken; the one with stronger nerves and less imagination will remain on the track.
Pro and Contra
It is too early to predict who will win in the forthcoming confrontation. For the Russian president, it is extremely tempting to take all of Ukraine or at least Novorossia, but it is not an easy task, and one likely to cause much hostility from the Western powers. With Ukraine incorporated, Russian recovery from 1991 would be completed, its strength doubled, its security ensured and a grave danger removed. Russia would become great again. People would venerate Putin as Gatherer of Russian Lands.
However, Russian efforts to appear as a modern peaceful progressive state would have been wasted; it would be seen as an aggressor and expelled from international bodies. Sanctions will bite; high tech imports may be banned, as in the Soviet days. The Russian elites are reluctant to jeopardize their good life. The Russian military just recently began its modernization and is not keen to fight yet, perhaps not for another ten years.
But if they feel cornered, if NATO moves into Eastern Ukraine, they will fight all the same.
Some Russian politicians and observers believe that Ukraine is a basket case; its problems would be too expensive to fix. This assessment has a 'sour grapes' aftertaste, but it is widespread. An interesting new voice on the web, The Saker, promotes this view. "Let the EU and the US provide for the Ukrainians, they will come back to Mother Russia when hungry", he says. The problem is, they will not be allowed to reconsider. The junta did not seize power violently in order to lose it at the ballot box.
Besides, Ukraine is not in such bad shape as some people claim. Yes, it would cost trillions to turn it into a Germany or France, but that's not necessary. Ukraine can reach the Russian level of development very quickly –- in union with Russia. Under the EC-IMF-NATO, Ukraine will become a basket case, if it's not already. The same is true for all East European ex-Soviet states: they can modestly prosper with Russia, as Belarus and Finland do, or suffer depopulation, unemployment, poverty with Europe and NATO and against Russia, vide Latvia, Hungary, Moldova, Georgia. It is in Ukrainian interests to join Russia in some framework; Ukrainians understand that; for this reason they will not be allowed to have democratic elections.
Simmering Novorossia has a potential to change the game. If Russian troops don't come in, Novorossian rebels may beat off the Kiev offensive and embark on a counter-offensive to regain the whole of the country, despite Putin's pacifying entreaties. Then, in a full-blown civil war, the Ukraine will hammer out its destiny.
On a personal level, Putin faces a hard choice. Russian nationalists will not forgive him if he surrenders Ukraine without a fight. The US and EU threaten the very life of the Russian president, as their sanctions are hurting Putin's close associates, encouraging them to get rid of or even assassinate the President and improve their relations with the mighty West. War may come at any time, as it came twice during the last century – though Russia tried to avoid it both times. Putin wants to postpone it, at the very least, but not at any price.
His is not an easy choice. As Russia procrastinates, as the US doubles the risks, the world draws nearer to the nuclear abyss. Who will chicken out?
(Language editing by Ken Freeland)
What does the United States have in common with Japan's economy? Demographics of an aging population have consequences for both countries. As Japan News reports, National debt hits record high.
"Japan's national debt totaled a record-high ¥1.02 quadrillion as of the end of March, up ¥33.36 trillion from a year earlier, the Finance Ministry said.

The central government debt, which increased ¥7.01 trillion from the end of December last year, kept rising mainly due to ballooning social security costs in line with the aging of the population."
Last year Forbes viewed their debt crisis as staggering. "Currently at 240% of GDP, the International Monetary Fund estimates that it will get to 250% by year-end. Why is this an issue? Well, when you have government debt at 24x government revenue and interest expenses taking up 25% of government revenue, it becomes a very big issue."
Around the same time, Matt Phillips wrote that with a quadrillion in debt, there's only one way out for Japan, jumpstart growth.
"So, yes, while Japan does have a ton of debt, the outright level is not the best way to keep track of it. The more important gauge is debt as a percentage of the country's annual economic output, or GDP. And at more than 200%, Japan's debt load is the highest among all developed nations.

But still, how will Japan ever manage to pay it off it's debt? Well, actually, it won't.

The goal for countries isn't paying off debt, it's getting its debt-to-GDP ratio in better shape."
There is a huge problem with growing a GDP when the international economy is still suffering from the global financial meltdown, when your own nation has fewer spending consumers as the population ages. OECD warns Japan's economy may suffer inflation without wage growth. "The Paris-based club of 34 advanced nations said in its biannual report that the world's third-biggest economy would expand 1.2 percent this year, downgraded from its November forecast of 1.5 percent in terms of inflation-adjusted gross domestic product growth."
Added to this sluggish and lackluster forecast, the WSJ article that Japan Current Account Surplus Smallest on Record, indicates a serious downward trend in foreign trade earnings.
"The ¥789.9 billion ($7.76 billion) surplus in the broadest measure of a nation's trade with the rest of the world was sharply lower than the ¥4.2 trillion surplus registered a year earlier, data from the Ministry of Finance showed Monday. Until recently, the country routinely produced a surplus in excess of ¥10 trillion a year."
Is the day on the horizon when Japan will mirror the trade deficits that have so long plagued the American economy? Just look to the practice that many Japanese manufacturers are shifting their production offshore. Besides, the aftermath of the Fukushima nuclear disaster has the country consuming more imported fossil fuels to meet energy needs.
If you are looking for answers, you better read the essay by Alan Gula in Wall Street Daily, Japan's Most Valuable Resource is Vanishing. "Through quantitative easing and large budget deficits, Abenomics has produced currency weakness and higher stock prices… but it's failed to generate real wage growth.Currency weakness has contributed to soaring energy prices, and the recent sales tax increase will effectively exacerbate inflation and crimp consumer spending. So despite an escape from the jaws of deflation, problems persist in Japan.
In fact, it's likely that Japan has stagnated because of 15 years of zero interest rate policy (ZIRP), not in spite of ZIRP."
Finally, Mr. Gula's points to the fact that, "children under 15 make up just 12.8% of the Japanese population, the lowest ratio among nations with populations of at least 40 million people." When you factor in that Japan ranks number eight among developed economies in household debt, the persistent legend that Japanese are the world's savers, is rapidly vanishing.
Over ten years ago Research at Shorenstein APARC, Stanford addressed theCauses of Japan's Economic Stagnation. However, the global economy has changed dramatically after 2008. In many ways, Japan has experienced several major setbacks.
"If Japan's current account surplus turns into a current account deficit, the country will have to attract money into its financial markets in order to pay its bills. That may be difficult given that Japan has some of the lowest interest rates and highest debt in the world. Interest rates would probably have to rise substantially, which would worsen the government's finances and could cause a crisis – causing the yen to weaken even further.

To make matters worse, if the government is successful in its drive to raise the inflation rate, that will only further reduce the real interest rate on Japanese bonds, which is already the lowest of the major bond markets. That's going to be a hard sell and that's why I expect the yen to trend lower over the next several years."
The global financial system, based upon debt fiat money, affects industrial countries the most. Japan was once an island nation, immune from international intervention. The Princeton Press published a paper, Why Study Japanese Political Economy?Most analysis of economic developments in foreign countries only glosses over the political factor that influence and often shape economic policy.
Looking at Japan may well be a valuable mirror on the future of American society. The Japanese tragedy, very easily can turn into the lost decades for our own marketplace. The notion that domestic business or for that matter, the global economy can continue to operate on ever rising debt obligations is paternally absurd. Better, learn this lesson now, before it is too late.
When defending Western Civilization, some confuse that secular humanism, practiced as the current dominate popular culture, represents that lineage. Nothing could be farther from the truth. The decadence and decline in the West is undeniable. Yet the heritage upon which European civilization is based, owes a profound debt of gratitude to the societies that developed out of the brute force of empire and adopted principles of natural law and individual dignity. A direct correlation to the gospel of Christ becomes the centerpiece of this glorious tradition of universal brotherhood, that keeps man's inhumanity to man in check.
The well-documented failures of institutions and regimes would have been far worse if left to the devices of pagan appetites or atheist's hubris. However, the memory of the eternal struggle is short lived in the minds of most people. Confusion reigns because of a lack of knowledge, perspective and especially will, to admit that the New World Order is the invention of satanic factions that lust for control of the entire planet and beyond.
Therefore, the extraordinary essay by Pat Buchanan, Putin vs. Cultural Marxism: Whose Side Is God on Now?, is a required penance for all those who have sinned.
"In his Kremlin defense of Russia's annexation of Crimea, Russia is a Christian country, Putin was saying.This speech recalls last December's address where the former KGB chief spoke of Russia as standing against a decadent West:

"Many Euro-Atlantic countries have moved away from their roots, including Christian values. Policies are being pursued that place on the same level a multi-child family and a same-sex partnership, a faith in God and a belief in Satan. This is the path to degradation."

With Marxism-Leninism a dead faith, Putin is saying the new ideological struggle is between a debauched West led by the United States and a traditionalist world Russia would be proud to lead."
Before dismissing Putin as just a KGB thug, read Vladimir Putin Nemesis of the New World Order. Then do your own research on Marx and Lenin's clan of Khazar Bolsheviks. Finally, transcend the issue just about the motives of Putin and focus on the Christian roots of the Russian population.
The Orthodox Revival in Russia by Fr. Seraphim Rose cites the experiences and significance of Alexander Solzhenitsyn and Father Dimitry Dudko.Solzhenitsyn spoke of Gulag—a secular term; Fr. Dimitry speaks of Golgotha—the Christian understanding of the Soviet experience. The central part of Fr. Dimitry's—and contemporary Russia's—message to us is that all the sufferings inflicted by atheism have a meaning—we can find Christ in them… Here are a few passages of Fr. Dimitry's teaching:
"In our land has occurred Golgotha; the torments of all the martyrs begin gradually to cleanse the air… The present crucifixion of Christ in Russia, the persecutions and mockings only lead to the resurrection of faith in men… This gives us strength, firmness, makes us better than we are now… Let us imagine the state of our martyrs. Did the thought of sinning occur to them at this moment? No matter what kind of sinners they may have been in this minute they become saints… And those who suffer for those condemned to death also become better. How many martyrs there have been in Russia—and therefore, how many holy feelings! Will these holy feelings really give no fruit? And perhaps we live and will live only by the feelings of the holy martyrs, being supported by them… In our country now is Golgotha. Christ is crucified. Golgotha is not merely sufferings, but such sufferings as lead to resurrection and enlighten men… Our time can be compared only with the first three centuries of Christianity, and perhaps then it was even easier; then they did not yet know all the refinements of subtle torture… If one compares the religious state here and in the West, the balance is on our side. Why? Because here we have Golgotha, and there they don't. Does an abundance of material goods give a religious rebirth? … Here we have nothing, but if people believe they are ready to die for their faith."
Fr. Rose provides his assessment:
"His truthfulness and fiery faith have made many enemies—sadly enough, even among Orthodox Christians. Some have found him too emotional, too apocalyptic, too messianic—and it is true that such a fiery, urgent, Orthodox preaching hasn't been heard in Russia and probably the whole Orthodox world since the days of St. John of Kronstadt; many Orthodox people have become self-satisfied with their "correct and proper" Orthodoxy and are somehow offended when Orthodoxy is preached and communicated so warmly to everyone who will listen."
Can you just imagine such a discussion in the western media or even among Dispensationalist Christians, who are preoccupied in taking up the sword to champion Zionism? Any comparison between the West and Mother Russia would be incomplete without the insight of the audacious Brother Nathanael Kapner, Putin's Purge Of The Rothschild Money Changers.In a televised Christmas message on January 7 2008 Putin said:
"The Russian Orthodox Church contributes to the promotion of moral values in society. One should not completely draw a line between the culture and the church. Of course by law in our country the church is separate from the state. But in the soul and the history of our people it's all together. It always has been and always will be." — Here.
Brother Nathanael leaves nothing unsaid in PUTIN VS JEWS OF THE NEW WORLD ORDER.
"By 2006 Putin had paid off Russia's debt to the Rothschilds. Russia's financial dependence on the Jewish financiers was now over. Putin could then establish what became his Russian Unity Party's 2007 campaign slogan: Putin's Plan Means Victory For Russia! This slogan continues to make the New World Order Jews very nervous…Here."
While these sentiments are several years old, make no mistake about it, they are even truer today, with the efforts of the BRICS Development Bank to replace the IMF.
For a more current description, look to Pastor Scott Lively in Report from Moscow, and a summary of a reversal of roles, read on.
"Russia is today experiencing a Christian revival and is decidedly NOT communist. Some 30,000 churches have been built in the last year, and the ones in Moscow are reportedly overflowing with worshippers on Sundays. Most of the church is Orthodox, which is steeped in tradition, but at the same time relevant to the modern society."
"How incredibly ironic it is that Russia is now our best hope for stopping the conquest of the world by the "progressives." On Father Dimitri's television show, I made the point that the Americans and the Soviets both won and both lost the Cold War. The Americans broke the Soviet system through economic strategies and tactics. But before they collapsed, the Soviets poisoned the United States with Cultural Marxism, promoting moral degeneracy and family breakdown through so-called "progressive" ideology. Today, post-Soviet Russia is re-emerging as a Christian nation, while the United States is becoming a "Gay Soviet Union." What a strange turn of events."
Echoing this conclusion is the report In Russia, a religious revival brings new life to Orthodox media. "After 70 years of state-imposed atheism and 20 years that have run the gamut from glasnost to post-Soviet chaos to a revival of Russian pride, Russians have increasingly embraced their Orthodox roots." The video Christianity Grows in Russia & Declines in the West is to the point.The Latin Papacy has lost its spiritual way often over the millenniums and the Scofield Christian-Zionist apostate bible thumpers betray the Gospel of Christ with their devotion to the Talmud perversion of the Old Testament. Both need to seek repentance. Once the enemy of Christianity, when Russia was Rothschild's USSR, today a revival of Christianity has started.
Western Secularism, which encapsulates the immoral ethos that underpins the globalist economic model, based upon a rejection of authentic Christian teaching, is the downfall of humanity.
If Russia can salvage their society from atheist communism, surely the West has the ability to humble themselves and repent for their depraved chutzpah and wicked ways. The Totalitarian Collectivism that has destroyed the Christian culture on both sides of the Atlantic must return to their traditional roots.
Michael Hoffman on 'Usury in Christendom' is essential, '…freedom from interest on money, is essentially the battle for freedom from the Money Power'. The West has become the "Money Changers", because the temple has subverted commerce by heretical destruction of faith and separation from God. By destroying traditional Christian religious belief, the secular body is defenseless. Such a message is radical to most, because it is reactionary to the spiritual non-believer.
Former Russian President Dmitry Medvedev has spoken of the "fruitfulness of cooperation between the Russian Orthodox Church and government and public institutions and called the revival of Orthodox Christianity in Russian in the past two decades a miracle." The West needs a spiritual revival of its own conception. If the Russia Bear can be tamed, what prevents the American eagle from souring once again?
What happens when an institution becomes more important than the cause for which the institution was formed? How long should people who believe in the cause remain loyal to such an institution? And at what point does loyalty to such an institution comprise an abandonment of the cause itself?
I'm afraid the majority of Americans have been institutionalized in a manner not unlike the way prisoners are institutionalized after a long period of confinement. After a point, a prisoner is so conditioned to accepting the circumstances of his confinement that, should he be released from confinement, he truly would be unable to cope. Such seems to be the mentality of a majority of us today.
Christians have been institutionalized. The reason and purpose of the church or Christian organization is no longer relevant. Generations have grown up reciting the same liturgies, regurgitating the same prayers, and rehearsing the same programs until the reason for it all doesn't even matter. But take the institution away from them, and they would not be able to cope.
The Pharisees despised the Lord Jesus because He challenged the religious institutions that had come to govern people's lives. I am convinced if Jesus came to America today, He would be just as despised by the vast majority of our religious leaders as He was by the Pharisees.
The Church that Jesus built in the Book of Acts owned no buildings, was indebted to no lenders, took no tax benefits from the civil government, had no denominational hierarchy, and identified itself with no ecclesiastical brand. And the Church was just as persecuted by the religious establishment as Christ was.
One of the reasons one may know that the modern church is so unlike Christ and the apostles is by the persecution that it never experiences. Just as the Pharisees were bosom buddies with the Roman Empire's governing elite, so are our religious leaders today. Caesar was very generous in sharing the fruit of his tyrannically-extracted bounty with his allies in the Jewish Sanhedrin. And they were happy to return the favor by insisting that the Hebrew people submit to Caesar's harsh rule over their lives.
The Pharisees also enjoyed a cozy relationship with the moneychangers. The moneychangers were descended from a long line of corrupt banking interests that dated all the way back to the Edomites. We are not talking about your friendly local banker here. These were highly organized, well-positioned money-manipulators. Jesus was so incensed with their manipulation and theft within in the Temple that he used physical violence to remove them from the property. He is recorded as doing this twice in the Gospel narratives. Note that after the second time in which it is recorded that He drove out the moneychangers (with a whip, no less), the Pharisees soon had Jesus crucified. There is no question that one of the reasons Pilate ordered Jesus to be scourged with a whip was in direct retaliation for the manner in which Jesus whipped the moneychangers. Remember, the moneychangers were from a very well-ensconced, elitist national (and even international) organization.
And lest you think all of this is irrelevant to today, the moneychangers are still very much with us. The Rothschilds, Rockefellers, and other members of the international banking elite, are the direct descendants of the moneychangers of Jesus' day. And if you ever have an opportunity to ask one of them about it, they will proudly admit it.
Yes, the Pharisees institutionalized religion. This accomplished two things: 1) it helped enslave the people, 2) it helped make them rich. The institutionalized church is accomplishing much the same things today.
The establishment church is doing as much to enslave people as any other institution in the world. Our political institutions and educational institutions have nothing on the church for making good little subjects and serfs to the all-powerful state. And if you don't think that a host of church leaders are not reaping the spoils from assisting our taskmasters, you're not paying attention.
Many, if not most, of these big-name TV evangelists have as many houses and yachts and Swiss bank accounts as any big-name Hollywood actor or politician. In some cases, more. Most of these big-church pastors are bathing in luxury. Many of them take the kinds of vacations that only CEOs of the biggest corporations or presidents could afford. Do you really think that the IRS rules and regulations governing these non-profit corporations, called churches, really bother these church leaders? Get real!
No wonder all of these "successful" preachers are constantly teaching their congregations to always submit to the government. No wonder they have no interest in abandoning their 501c3 tax-exempt status. They are in the exact same position as were the Pharisees of old. And they are just as effective in helping to enslave people today as were the Pharisees.
The institution of the church–along with its programs, formalities, buildings, rituals, etc.,–has become more important than the purpose for which the church was created. Instead of preaching the liberating message of the Cross, which frees men from the fetters of sin–and that includes sinful political and financial fetters–the church is preaching a message of subjugation and enslavement. It is teaching people to submit to all kinds of oppression, including religious oppression.
Some of the most oppressed and subjugated people in the world are religious people. There are churches and Christian colleges that are every bit as tyrannical as anything coming out of East-bloc or Muslim countries. About the only thing missing is physical torture and execution. Spiritually, however, the oppression is the same.
How could real men who love the liberty they have in Christ allow themselves–and especially their wives–to be told how to dress, how to wear their hair, what kind of music to listen to, what kind of vacations to take, what restaurants they may or may not eat at, what forms of entertainment they may or may not participate in, etc., etc., ad infinitum?
I tell you the truth: many Christians in America are already slaves. To talk to them about freedom is a complete waste of time. The chains of tyranny are already clamped around their hearts. Why should it matter to them if chains are clamped around their necks? When they talk about "defending the faith," they are talking about defending the institution. They are slaves to the institution. And the same is true for many unchurched Americans.
What is more important: liberty, or the government that is supposed to secure liberty? To a sizeable number of Americans today, it is more important to preserve the institution than the freedoms that the institution was created to protect.
Our Declaration of Independence states, "That whenever any Form of Government becomes destructive of these ends [the God-given rights of life, liberty, etc.], it is the Right of the People to alter or to abolish it, and to institute new Government, laying its foundation on such principles and organizing its powers in such form, as to them shall seem most likely to effect their Safety and Happiness."
Did you see that: "any form of government"? ANY FORM. The form of government is only as good as its ability to secure liberty.
I hear a lot of politicians and media personalities talking about "American exceptionalism." This is a potentially dangerous mindset. If one means that America is exceptional in our history and the manner in which our Constitution and Bill of Rights were established to protect liberty, well and good. But if it means that America has carte-blanche to do anything it wants–no matter how unconstitutional or tyrannical–because it is "exceptional," it is a bunch of hooey.
What difference does it make if we have a 50-State Union or not? There is a bill in the California legislature that would divide that State into six states. Five counties in Western Maryland are trying to secede from Baltimore. Ten northern counties in Colorado are trying to secede from Denver. If a State refuses to secure the liberties of the people of that State, they have every right under God to separate. The State is not nearly as important as the liberties of the people within the State.
The spirit of secession is actually growing like wildfire all over the world. In recent history, Serbia, Slovenia, Croatia, Bosnia, Montenegro, Macedonia, and Kosovo all separated from Yugoslavia. Transnistria broke free from Moldova. Abkhazia and South Ossetia fought free from Georgia. The Slovaks seceded from Czechoslovakia. And now Crimea is separating from Ukraine.
To be sure, not every country that secedes from another country is motivated purely by the love of liberty. But for those of us in America, the issue that has propelled the desire to separate from one country or one State has always been liberty. It was the love of liberty that created the United States and that created the free and independent states of Maine, Vermont, Kentucky, and West Virginia–all of which seceded from existing U.S. states.
Furthermore, what difference does it make if Washington, D.C., is our federal capital, or, if say, Helena, Montana, would become the federal capital of a mountain state confederation of Montana, Idaho, Wyoming, Northern Colorado, eastern Washington and Oregon, the Dakotas, Alberta and British Columbia, Canada, and Alaska? Or if Austin was the federal capital of an independent Republic of Texas? Preserving some sort of political union (especially if it is a forced and coerced union) is not nearly as important as preserving liberty.
Again, it is not the political institution that is important. What is important is the liberty that the political institution is supposed to secure.
Many great minds in this country are already philosophizing over the possibility that secession is an idea whose time has come–again. A few years ago, Walter Williams wrote, "Like a marriage that has gone bad, I believe there are enough irreconcilable differences between those who want to control and those want to be left alone that divorce is the only peaceable alternative. Just as in a marriage, where vows are broken, our human rights protections guaranteed by the U.S. Constitution have been grossly violated by a government instituted to protect them. Americans who are responsible for and support constitutional abrogation have no intention of mending their ways.
"Americans who wish to live free have two options: We can resist, fight and risk bloodshed to force America's tyrants to respect our liberties and human rights, or we can seek a peaceful resolution of our irreconcilable differences by separating. That can be done by peopling several states, say Texas and Louisiana, control their legislatures and then issue a unilateral declaration of independence just as the Founders did in 1776. You say, 'Williams, nobody has to go that far, just get involved in the political process and vote for the right person.' That's nonsense. Liberty shouldn't require a vote. It's a God-given or natural right.
"Some independence or secessionists movements, such as our 1776 war with England and our 1861 War Between the States, have been violent, but they need not be. In 1905, Norway seceded from Sweden, Panama seceded from Columbia (1903), and West Virginia from Virginia (1863). Nonetheless, violent secession can lead to great friendships. England is probably our greatest ally and we have fought three major wars together. There is no reason why Texiana (Texas and Louisiana) couldn't peaceably secede, be an ally, and have strong economic ties with United States.
"The bottom line question for all of us is should we part company or continue trying to forcibly impose our wills on one another?"
See William's column here:
Hear! Hear!
In the eyes of God, marriage is the most sacred of all unions. It is far more sacred than any political union. If our Creator has authorized the separation of a husband and wife under certain circumstances in which one party violated the sacred terms of the holy contract (and He has), who among us has the audacity to say that political unions may not be abandoned when government commits political adultery by forsaking its oath to the people?
Again, are we more interested in preserving an institution or the liberty that the institution is supposed to secure?
As an institution, the Church at large is apostate. Yet, millions of Christians continue to prop up an institution that has abandoned the purpose for which it was created. They are more interested in preserving the forms and liturgies and tapestries and buildings of the institution. And, all the while, they are being spiritually enslaved by the very institution they are helping to prop up.
And as an institution, the U.S. federal government is apostate. Yet, millions of citizens continue to make excuses for it, justify it, and condone it. They are more interested in preserving the agencies and entities and power of the institution. Yet, all the while, they are being enslaved by the very institution they are helping to prop up.
What happens when an institution becomes more important than the cause for which the institution was formed? When the institution is civil government and the cause is liberty, tyranny is what happens.
At this time, our U.S. Congress rates a nine percent approval rating. It means nine percent of the American public registers "brain-dead."
Those 535 members over the past 40 years deformed our nation from the largest creditor country in the world to the largest debtor nation in the world. We enjoyed less than $1 trillion in national debt to our current $18 trillion debt. That same Congress forced our young men and women into four hopeless, futile and asinine wars that killed tens of thousands of them and sent millions home with Post Traumatic Stress Disorder, drugs and alcoholism. Not to mention dismembered limbs.
That Congress danced to the Military Industrial Complex's tune of contrived wars benefiting the bankers and corporations that outfitted and fed those young soldiers. Those executives made millions while our kids came home in coffins or missing arms and legs and their minds.
That same Congress turned our nation from a rich manufacturing country into a multi-trillion dollar deficit nation where we import everything we once manufactured, to today where we buy everything from China to make their citizens rich. So rich, in fact, that we owe them $1.4 trillion in trade deficits. Ironically, China now owns many U.S. corporations and buys land for its own beachhead here in America, not to mention Vancouver, BC, Canada where it displaced most of the Canadians in the past 30 years. Chinese now dominates the language in once-English speaking Vancouver, BC.
That bunch of hot shot Congressional Critters took our vibrant economy and turned it into 15 million unemployed and 48 million food stamp users. Those same reps allowed 20 million illegal alien migrants to come into our country and work for crooked employers like Chipotle's, Marriot Hotels, Holiday Inns, McDonald's, Hormel, Tyson Chicken, Swift, painting, landscape and construction firms at minimum wages. They and the presidents that headed this country refused to enforce our laws. That's why you MUST press "1" for Spanish and "2" for English.
Today, we face enormous consequences from their actions. Yet, U.S. voters return 96 percent of incumbents—such as Boxer, Feinstein, Hatch, McCain, Kyle, Schumer, Lindsey Graham, Levin, Udall, Bennet, Rangel, Jackson, DeGette and hundreds of other failed Congressional Critters.
So are they stupid or are they corrupt?
One reader named Brad said, "They are not necessarily stupid. It's just that most of these psychopaths are bought. The wealthy buy their services and they get remuneration by jobs when they leave "service", by getting to indulge in insider trading (again – was cut out, but quietly reinstated) etc.
"Just allowing insider trading makes EVERY decision with any economic consequence suspect, as they will have a vested personal income interest in helping corporations increase profits by any means. Thus the repeal of clean air and water regulations. They allow oil fracking to use 2 million gallons of water per well, pour over 530 toxic chemicals into the aquifer to poison and ruin it, and remain exempt from EPA oversight.
"Some may not be bought. Some not all the time. The sad fact is that enough ARE compromised that essentially the damages get done consistently.
"Most in office are so stupid (such as California's Congresswoman Maxine Waters, who is also corrupt in the league with former Congressman Tom Delay of Texas) that they accept stupid, flawed societal paradigms like "what's good for business is good for America" and we can see how well that's working out.
"The parasitic wealthy class is stealing record profits in some of the worst working economy in history – why? Because they have the true entitlement society in which they get tax breaks, tax exemptions, no bid contracts, inflated government costs, subsidizations and most likely a ton of things we never hear about. Simply by allowing industry execs into the alphabet organizations like FDA, USDA, etc., allows them to regulate competition to a ridiculously low level, and to leverage their income, influence, and profits at everyone else's expense."
The greatest flaw facing all U.S. citizens remains "career politicians" that create a "good-old boy" network of cronyism and corruption.
If we citizens fail to press for a maximum of 12-year term limits, we face a downward spiral into poverty and failed government not seen since the 1930s. The majority of Congress remains corrupt. That's why things in the USA don't get better, but continue on the downward path.
Remember: power corrupts; long-term power corrupts absolutely.
The leaders of the U.S. Senate Banking Committee,  Sen. Tim Johnson (D., S.D.) and Sen. Mike Crapo (R., Idaho),  released a draft bill on Sunday that would provide explicit government guarantees on mortgage-backed securities (MBS) generated by privately-owned banks and financial institutions. The gigantic giveaway to Wall Street would put US taxpayers on the hook for 90 percent of the losses on toxic MBS the likes of which crashed the financial system in 2008 plunging the economy into the deepest slump since the Great Depression. Proponents of the bill say that new rules by the Consumer Financial Protection Bureau (CFPB) –which set standards for a "qualified mortgage" (QM)– assure that borrowers will be able to repay their loans thus reducing the chances of a similar meltdown in the future. However, those QE rules were largely shaped by lobbyists and attorneys from the banking industry who eviscerated strict underwriting requirements– like high FICO scores and 20 percent down payments– in order to lend freely to borrowers who may be less able to repay their loans.  Additionally, a particularly lethal clause has been inserted into the bill that would provide blanket coverage for all MBS  (whether they met the CFPB's QE standard or not) in the event of another financial crisis. Here's the paragraph:
"Sec.305. Authority to protect taxpayers in unusual and exigent market conditions….

If the Corporation, the Chairman of the Federal Reserve Board of Governors and the Secretary of the Treasury, in consultation with the Secretary of Housing and Urban Development, determine that unusual and exigent circumstances threaten mortgage credit availability within the U.S. housing market, FMIC may provide insurance on covered securities that do not meet the requirements under section 302 including those for first loss position of private market holders." ("Freddie And Fannie Reform – The Monster Has Arrived", Zero Hedge)
In other words, if the bill passes,  US taxpayers will be responsible for any and all bailouts deemed necessary by the regulators mentioned above.  And, since all of those regulators are in Wall Street's hip-pocket, there's no question what they'll do when the time comes. They'll bailout they're fatcat buddies and dump the losses on John Q. Public.
If you can't believe what you are reading or if you think that the system is so thoroughly corrupt it can't be fixed; you're not alone. This latest outrage just confirms that the Congress, the executive and all the chief regulators are mere marionettes performing whatever task is asked of them by their Wall Street paymasters.
The stated goal of the Johnson-Crapo bill is to "overhaul" mortgage giants Fannie Mae and Freddie Mac so that "private capital can play the central role in home finance." (That's how Barack Obama summed it up.) Of course, that's not really the purpose at all. The real objective is to hand over the profit-generating mechanism to the private banks (Fannie and Freddie have been raking in the dough for the last three years) while the red ink is passed on to the public. That's what's really going on.
According to the Wall Street Journal,  the bill will
"construct an elaborate new platform by which a number of private-sector entities, together with a privately held but federally regulated utility, would replace key roles long played by Fannie and Freddie…."

"The legislation replaces the mortgage-finance giants with a new system in which the government would continue to play a potentially significant role insuring U.S. home loans." ("Plan for Mortgage Giants Takes Shape", Wall Street Journal) 
"Significant role"? What significant role? (Here's where it gets interesting.)
The WSJ:
"The Senate bill would repurpose the firms' existing regulator as a new "Federal Mortgage Insurance Corp." and charge the agency with approving new firms to pool loans into securities. Those firms could then purchase federal insurance to guarantee payments to investors in those bonds. The FMIC would insure mortgage bonds much the way the Federal Deposit Insurance Corp. provides bank-deposit insurance."
Unbelievable. So they want to turn F and F into an insurance company that backs up the garbage mortgages created by the same banks that just ripped us all off for trillions of dollars on the same freaking swindle?
You can't be serious?
More from the WSJ:  "Mortgage guarantors would be required to maintain a 10% capital buffer against losses and to have that capital extinguished before the federal insurance would be triggered."
10 percent? What the hell difference does 10 percent make; that's a drop in the bucket.  If the banks are going to issue mortgages to people who can't repay the debt, then they need to cover the damn losses themselves, otherwise they shouldn't be in the banking biz to begin with, right?
This is such an outrageous, in-your-face ripoff, it shouldn't even require a response. These jokers should be laughed out of the senate. All the same,  the bill is moving forward, and President Twoface has thrown his weigh behind it. Is there sort of illicit, under-the-table, villainous activity this man won't support?
Not when it comes to his big bank buddies, there isn't. Now check out this clip from an article by economist Dean Baker. Baker refers to the Corker-Warner bill, but the Crapo-Johnson fiasco is roughly the same deal. Here's Baker:
"The Corker-Warner bill does much more than just eliminate Fannie and Freddie. In their place, it would establish a system whereby private financial institutions could issue mortgage-backed securities (MBS) that carry a government guarantee. In the event that a large number of mortgages in the MBS went bad, the investors would be on the hook for losses up to 10 percent of its value, after that point the government gets the tab.
If you think that sounds like a reasonable system, then you must not have been around during the housing crash and ensuing financial crisis. At the peak of the crisis in 2008-2009 the worst subprime MBS were selling at 30-40 cents on the dollar. This means the government would have been picking up a large tab under the Corker-Warner system, even if investors had been forced to eat a loss equal to 10 percent of the MBS price.

The pre-crisis financial structure gave banks an enormous incentive to package low quality and even fraudulent mortgages into MBS. The system laid out in the Corker-Warner bill would make these incentives even larger. The biggest difference is that now the banks can tell investors that their MBS come with a government guarantee, so that they most they stand to lose is 10 percent of the purchase price." ("The disastrous idea for privatizing Fannie and Freddie", Dean Baker, Al Jazeera)
Just ponder that last part for a minute: "The bill would make these incentives even larger."
Do you really think we should create bigger incentives for these dirtbags to rip us off? Does that make sense to you? Here's more from Baker:
"The changes in financial regulation are also unlikely to provide much protection. In the immediate wake of the crisis there were demands securitizers keep a substantial stake in the mortgages they put into their pools, to ensure that they had an incentive to only securitize good mortgages. Some reformers were demanding as much as a 20 percent stake in every mortgage.

Over the course of the debate on the Dodd-Frank bill and subsequent rules writing this stake got ever smaller. Instead of being 20 percent, it was decided that securitizers only had to keep a 5 percent stake. And for mortgages meeting certain standards they wouldn't have to keep any stake at all.

Originally only mortgages in which the homeowner had a down payment of 20 percent or more passed this good mortgage standard. That cutoff got lowered to 10 percent and then was lowered further to 5 percent. Even though mortgages with just 5 percent down are four times as likely to default as mortgages with 20 percent or more down, securitizers will not be required to keep any stake in them when they put them into a MBS."
Hold on there, Dean. You mean Dodd Frank didn't "put things right"?  What the heck? I thought that "tough new regulations" assured us that the banks wouldn't blow up the system again in five years or so. Was that all baloney?
Yep, sure was. 100% baloney. Once the banks unleashed their army of attorneys and lobbyists on Capital Hill,  new regulations didn't stand a chance. They turned Dodd Frank into mincemeat and now we're back to square one.
And don't expect the ratings agencies to help out either because they're in the same shape they were before the crash. No changes at all.  They still get paid by the guys who issue the mortgage-backed securities (MBS) which is about the same as if you paid the salary of the guy who grades your midterm exam. Do you think that might cloud his judgment a bit? You're damn right, it would; just like paying the ratings agencies guarantees you'll get the rating you want. The whole system sucks.
And as far as the new Consumer Financial Protection Bureau, well, you guessed it. The banks played a role in drafting the new "Qualified Mortgage" standard too, which is really no standard at all, since no self-respecting lender would ever use the same criteria for issuing a loan or mortgage. For example, no banker is going to say, "Heck, Josh, we don't need your credit scores. We don't need a down-payment. We're all friends here, right? So, how much do you need for that mortgage old buddy, $300,000, $400,000, $500,000.  You name it. The sky's the limit."
No down payment? No credit scores? And they have the audacity to call this a qualified mortgage?
Qualified for what? Qualified for sticking it to the taxpayers?  The real purpose of the qualified mortgage is to protect the banks from their own shifty deals. That's what it's all about. It provides them with "safe harbor" in the event that the borrower defaults. What does that mean?
It means that the government can't get its money back if the loan blows up.   The qualified mortgage actually protects the banks, not the consumer. That's why it's such a farce,  just like Dodd Frank is a farce. Nothing has changed. Nothing. In fact, it's gotten worse. Now we're on the hook for whatever losses the banks run up peddling mortgage credit to anyone who can fog a mirror.
We'll leave the last word for Dean Baker, since he seems like the only guy in America who has figured out what the hell is going on:
"In short, the Corker-Warner plan to privatize Fannie and Freddie is essentially a proposal to reinstitute the structure of incentives that gave us the housing bubble and the financial crisis, but this time with the added fuel of an explicit government guarantee on the subprime MBS. If that doesn't sound like a great idea to you then you haven't spent enough time around powerful people in Washington."
The Johnson-Crapo bill doesn't have anything to do with "winding down" Fannie and Freddie or "overhauling" the mortgage finance industry. It's a bald-face ripoff engineered by two chiseling senators who are putting the country at risk to beef up Wall Street's bottom line.
It's the scam of the century.
It should be obvious that the recent putsch and regime change in the Ukraine inspired and backed by the U.S. shadow government, benefits the international banksters. For the average EU resident, only further economic displacement and diminished prospects can be expected from any inclusion of Ukraine into the EU dictatorial structure. Not so, for the corporatists who expects expanded opportunities as Consortium News analyzes agricultural and energy companies recent involvement within the Ukraine.While corporatists want to extend their monopolies, the appeal of joining the EU with privileges of travel, relocation and better employment, has a very high price tag. So what is really behind the cover that the Brussels technocrats like to provide for the heavy hand treatment, which the banksters always demand? Look to the methods of the IMF for part of the answer.
Michel Chossudovsky of Global Research, in the detailed essay Regime Change in Ukraine and the IMF's Bitter "Economic Medicine", gives a comprehensive account of the handpicked players that are eager to do the bidding of the IMF.
"Shortly after his instatement, the interim (puppet) prime minister Arseny Yatsenyuk casually dismissed the need to negotiate with the IMF. Prior to the conduct of negotiations pertaining to a draft agreement, Yatsenyuk had already called for an unconditional acceptance of the IMF package: "We have no other choice but to accept the IMF offer".
He explains the methods of the standard game plan that the IMF uses to impoverish the peasants and steal assets and resources.
"While the privatization program ensures the transfer of State assets into the hands of foreign investors, the IMF program also includes provisions geared towards the destabilization of the country's privately owned business conglomerates. A concurrent "break up" plan entitled "spin-off" as well as a "bankruptcy program" are often implemented with a view to triggering the liquidation, closing down or restructuring of a large number of nationally owned private and public enterprises."
In addition, the 21th Century Newswire reports that the US Quietly Snatches the Ukraine's Gold Reserves and corroborated by the same Prof Chossudovsky, it becomes clear that economic conquest is a prime component behind the staged coup.
"According to reports out of Kiev, the US has quietly transfers 33 tons of Ukrainian gold out of the country and back to vaults in the US. Presumably, this sovereign wealth transfer would be counted as partial "collateral" for a fresh round of IMF, US FED, and ECB paper debt that is currently being organized for dumping into the Ukraine's economic black hole."
"Later a returned call from a senior official of the former Ministry of Revenue reported that tonight, on the orders of one of the new leaders of Ukraine, the United States had taken custody of all the gold reserves in Ukraine."
Finally, economist Michael Hudson in Who In Ukraine Will Benefit From An IMF Bailout?,
"The objective of IMF loans is to deindustrialize the economy. It is to force the economy–meaning the government when you say the economy–the government has to pay the IMF loan by privatizing whatever remains in the public domain. The Westerners want to buy the Ukrainian farmland. They want to buy the public utilities. They want to buy the roads. They want to buy the ports. And all of this is going to be sold at a very low price to the Westerners, and the price that the Westerners pay will be turned over to the Ukrainian government, that then will turn it back to the Ukraine. So whatever the West gives Ukraine will immediately be taken back."
Watch the informative video, Who In Ukraine Will Benefit From An IMF Bailout?, for the Real News assessment, that clarifies these developments. Now shift to the recent announcement that the EU Signs Association Agreement With Ukraine for a viewpoint reported by Radio Free Europe.
"This deal covers the most existential and most important issues, mainly security and defense cooperation," Yatsenyukd said. "This deal will establish a joint decision-making body, which is to facilitate the process of real reforms in my country. And this deal meets the aspirations of millions of Ukrainians that want to be a part of the European Union."
What exactly can the EU offer by way of defense cooperation? Yes, this is the same central banker stooge, who the Wall Street Journal describes as Washington's Man Yatsenyuk Setting Ukraine Up For Ruin. Without the United States, the EU is a paper tiger. NATO is not an alliance, but a branch of outposts to deploy American troops. How does this phony agreement between the EU and Ukraine help the economic interests of either party?
Such a display of destitution only makes the illegitimate installed Ukraine government look like the vassal state that it has become. Bob Livingston over at Personal Liberty Digest has it correct, "The Ukraine situation is a bankster-orchestrated crisis with the short game more money printing and the end game global governance."The EU governance aspect is the eventual goal, but the immediate economic dislocation that even the talk of sanctions against Russia has, with the trading partners within the EU, surely will experience real pain. These conditions create the perfect storm for the IMF banksters to apply their vile craft.
Now that the Ukraine is reduced to beggar status, the gang of approved corporatist will feast like vultures upon the remains of fire sale assets. Once again the formula imposed upon Ireland, Spain and certainly Greece, will be used to guarantee the billions in EURO credit that will flow into the secret bank accounts of the new junta.
Capturing the Ukraine is more about geopolitical asset thievery than assimilation into the European Union. However, the EU marketed, as a lawful "community of nations" is nothing more than the political front for the money counterfeiters. Fashioning economic distress is the business of the unholy alliance. NATO, the IMF and the EU serve the shyster and shylock central banking system. Ukraine is just the latest victim.
Abenomics has been great for stock speculators and corporate bigwigs, but for everyone else, not so much. The fact is–despite all the media hype and monetary fireworks–Prime Minister Shinzo Abe's three-pronged strategy to end 20 years of deflation has been a total bust. But don't take my word for it, check out this clip from Reuters and see for yourself:
"In the fourth quarter of last year, Japan's economy grew at an annual rate of just 0.7 percent, revised figures show, slower than the initial estimate of 1.0 percent on weaker business investment and consumption…." (Japan fourth-quarter growth, external balance suffer blow in test for Abenomics, Reuters)
See? Japan's economy is dead as a doornail. No sign of life at all. What more proof do you need than that?
And Abenomics won't end deflation either. That's another fiction. The weaker yen is just going to force working people and retirees on fixed income to reduce their consumption which will intensify the slump. Heck, even the IMF has figured that one out. Take a look at this clip from one of their recent pieces:
"The average Japanese worker has been dipping into his savings to finance consumption growth. But there's a limit to how far he can do this. The savings rate as a percent of disposable income has declined from around 5 percent a decade ago to close to zero today, leaving little further room for spending from savings….Looking forward, real wages are set to come under even greater pressure this year and next with higher underlying inflation and successive increases in the consumption-tax rate." (Abenomics—Time for a Push from Higher Wages, IMF-direct)
It sounds to me like the IMF is telling old Shinzo that his plan sucks, doesn't it?
Whoever thought that dumping trillions of dollars into the financial system would end deflation had a couple screws loose. That's not how it works. The Fed loaded up on $4 trillion in financial assets and inflation is still hovering at a measly 1 percent. So if the theory doesn't work in the US, why would it work in Japan?
It won't. The way to generate inflation is by circulating money in the economy and increasing the velocity. That means full employment and higher wages. That means fiscal stimulus and redistributive taxation. That means fixing the damn economy. But Abe's not going to do that because it doesn't jibe with his class war strategy which is what drives the current policy. Now check this out from Roger Arnold at The Street:
"The essential policy tools of Abenomics are massive monetary and fiscal stimulus aimed at forcing the yen lower, which should cause exports to rise and domestic production to increase, leading to increased domestic job production and consumption: the virtuous cycle. In the process, Japan also increased sovereign debt, which must be serviced by the government. The servicing of that debt is supposed to come from an increase in tax receipts to be made available by the increased domestic production and consumption.

But it isn't working.

The failure of Abenomics to stimulate economic activity and raise tax receipts enough to pay for the stimulus is now causing the government to double back on these programs with a counter-cyclical consumer tax increase of about 3%, which will be implemented in April. In other words, Abenomics is making the real economic and fiscal situations in Japan worse, not better. They are digging a bigger sovereign debt hole and accelerating the trajectory toward insolvency…Investors would be wise to avoid Japan altogether now, and probably permanently." (Arnold: Abenomics' Failure Is the Global Canary, The Street)
That's probably good advice, although I think Japan's implosion will take much longer than Arnold seems to believe. But that's beside the point. What matters is the that policy doesn't work. The economy isn't growing, personal consumption is weak, the trade deficit, the current account deficit and the national debt are all ballooning at the same time, and the Japanese people are growing more pessimistic. And on top of it all, a 3 percent sales tax is set to kick in at the beginning of April which is going to send the economy stumbling back into recession. (Abe pushed through the tax hike to placate his right-wing constituents even though the risks to the economy were obvious.)
So, it's all bad, unless you're high-flying stock trader or a money-grubbing corporate CEO, that is. Then things have never been better. Get a load of this in the Wall Street Journal:
"While Japan Inc. may be whistling a happy tune on the back of robust profit growth and a weaker yen thanks to the pro-business agenda of Prime Minister Shinzo Abe, a key survey released Wednesday shows that consumers aren't in a similar Abenomics-induced state of rapture.

The Cabinet Office's monthly Consumer Confidence Index contracted for the third straight month in February to 38.2. That's the worst reading since Mr. Abe entered office in January 2013 and the lowest since September 2011. Respondents were even more pessimistic than during Mr. Abe's year-long term as prime minister between September 2006 and September 2007…

Even though recent data showed the basic earnings of workers in the world's third-largest economy rose for the first time in almost two years in January, respondents in the February survey were less optimistic about their income growth, the value of their assets, and their overall livelihood than they were a month earlier.

The downbeat reading prompted the government to downgrade its assessment, saying it is "on a weak note." (Japanese Consumer Pessimism Hits New High Under Abe, WSJ)
To say the Japanese are depressed, would be an understatement. Your average Joe is "even more pessimistic" than he was when Abe stepped down in 2007 and the economy was on the brink of rigor mortis. Does that sound like the "Happy Days are here again" blabber you've been reading in the media or hearing from liberal pundits like the madcap Dr. Krugman?
Also, according to a Cabinet Office survey that appeared in the Japan Times on Saturday, only 22 percent of respondents "think the economy is headed in the right direction", while 76 percent are worried about the impact the consumption tax will have on the economy.
How's that for a ringing endorsement of Abe's Kamikazenomics? The only people who still believe in Abe's song and dance are the ivory tower set at Princeton and Yale. Everyone else has thrown in the towel.
Abenomics is a public relations scam designed to shift more payola to voracious stock speculators and their thieving corporate counterparts. It's a fraud wrapped in a lie. That's all there is to it. But there are victims, that's for dang-sure. Just check out this article in Bloomberg and you'll see what I mean:
"Japanese Prime Minister Shinzo Abe looks set to drive an indicator of economic hardship to a 33-year high by increasing taxes and prices amid stagnant wages. The misery index, which adds the jobless rate to the level of inflation, will climb to 7 percentage points in the three months starting April 1 when Japan raises its sales levy to 8 percent from 5 percent, based on the median estimates of economists in Bloomberg News surveys of unemployment and consumer prices. That would be the highest level for the measure since June 1981 when Japan was emerging out of depression after the oil shocks in the 1970s.

Bank of Japan monetary stimulus designed to spur economic growth and achieve 2 percent inflation has weakened the yen by 6.8 percent in the past 12 months, eroding the value of wages to a record low. Abe, the son of an ex-foreign minister who grew up in a house with servants, is under fire from the opposition party after the cost of living surged to a five-year high.

"Inflation is really tough," said Kiyoshi Ishigane, a senior strategist at Mitsubishi UFJ Asset Management Co., which oversees more than $77 billion. "Those who speak favorably about inflation might have been born in wealthy families and never experienced the hardship that inflation brought." (Misery Index Rising to 33-Year High on Abenomics: Japan Credit, Bloomberg)
The Misery Index is peaking and all you hear in the US is a bunch of baloney about glorious Abenomics and the miraculous effect of money printing. What a joke. People are hurting big-time in Japan, and shifty Shinzo is only adding to their pain with his monetary Hara-kiri. It's madness. Wages dropped for 19 months in a row before they got a "one-off" bump-up last month of 0.1 percent, which is a big nothingburger. The overall trend is down, down, down. On top of that, roughly 35 percent of Japan's workforce is part-time employment; no pension, no bennies, no job security, no nothing. Things slow down, and you get booted down the stairwell with not as much as a "Goodbye, Charlie!" They probably don't even bother with the perfunctory pink slip. Just grab your lunchbox, and "out you go."
So how does Abe figure he's going to generate inflation when workers are flat on their backs and don't have enough scratch to buy the widgets that Japan Inc produces?
The whole thing is a non starter, which is why I think this "fighting deflation" trope is a big freaking smokescreen to hide what's really going on, which is a massive transfer of wealth to the investor class via asset inflation. That's what's really happening, right? Abenomics is just a way to produce fat returns during extended periods of slow growth and deepening stagnation. The big boys figured out how to overcome the very conditions that they created with their unbounded avarice. I guess they figure that, just because everyone else has to suffer through a goddamn Depression, doesn't mean they have to too.
You got to hand it to these guys, they think of everything.
We are almost 3 months away from the 100th anniversary of the assassination of Archduke Ferdinand. If we are lucky, Wall Street's puppet government in Washington will not blow up the world by June 28, 2014.
I have always despised President Woodrow Wilson for getting America into World War I. I want to cure the world of reoccurring Depressions through Worldwide Debt Cancellation and Monetary Reform. As I have explained before, Depressions in the West are caused by the accumulation of Unpayable Debts. These occur because Bankers have the right to charge us interest on money they created out of nothing. We need a non-interest bearing currency like President Lincoln's Greenbacks. And we also must end fractional reserve banking which allows a bank to lend out ten dollars for every one on deposit. Woodrow Wilson gave us the Federal Reserve bank and WW I. We have had cycles of wars and Depressions ever since.
I would like to compare 1914 to what is happening today. Let me begin by quoting something I wrote about World War I a few years ago.
Edith Cavell made a fatal mistake. She mistakenly believed she lived in a democracy. She was a British nurse working in Belgium in 1915. She saw first hand the horrors of trench warfare. She also saw a quick and easy means for England to end the war with a victory. She wrote a letter to the Nursing Mirror which was published on April 15th, 1915. She said that 'Belgian Relief' efforts were actually being sent to Germany which would have to sue for peace without this aid from the allies. England was quite literally feeding the German army that was killing millions of French and British soldiers. What she did not know was that similar allied war materiel was being sent to Germany via Sweden and other neutral nations so the war could continue for several more years.
Sir William Wiseman heard about her letter. He was the head of British Intelligence in North America for MI6. He was a partner at the Rothschild owned Kuhn and Loeb Investment Bank. He ordered the Germans to arrest Edith Cavell. She was subsequently shot as a spy. Her mistake was to think that she lived in a democracy where the people could vote, write letters to the editor and have a say in the life and death decisions of the nation. She did not live to see what we have seen.
Americans ought not to believe they live in a democracy. Our politicians cannot prove to us that our votes are honestly counted. Every President since 1989 has been a CIA asset. The CIA is allowed to fly heroin and cocaine into America by the plane load. And the CIA is allowed to go into Senate Intelligence Committee computers and erase documents proving the Agency guilty of torture.
The media seems all too willing to cover up every plot against the American people from the assassination of President Kennedy to the controlled demolitions of the Murrah Federal building on April 19, 1995 and World Trade Center Towers 1, 2 and 7 on September 11, 2001. They also were willing to let the previous administration tell us lies to justify the invasions of Iraq and Afghanistan. And now the current administration tells us lies about Crimea. Believing their propaganda could get us all killed.
The US paid the opposition $5 billion to start riots before the May elections could be held. Then they hired snipers from as far away as Israel to shoot both the protesters and the police. They installed a Jewish banker as President without elections because they were not sure the people would vote to join the European Union in May. The coup leaders passed laws making the minority Hungarian and Russian languages sort of illegal. And just as they did in Libya the Americans stole the Ukraine's gold and looted their banks. This plan to seize the Ukraine was mentioned in print by Zbigniew Brzezinski in 2007. He assumed Russia would respond by taking back the Crimea which Khrushchev had given away in 1954.
Barack Obama and his advisers are probably even more incompetent than Woodrow Wilson and his crew. The Obama crowd has announced war game exercises for Poland, the Czech Republic, Hungary, Bulgaria, Romania and the Baltics. Hopefully, Putin understands America cannot do anything militarily against a real Army. Obama's advisers would like to crush Russia with sanctions. That will never happen. Russia has gold, oil, natural gas and other products that people all over the world want to buy. Nobody wants to buy America's Genetically Modified Organisms. Even with retail stores dying America is still importing far more than it exports. And the Government Accounting Office said that the alleged 680 billion 2013 US budget deficit was really a trillion dollars. America by design has a permanently sick economy. America cannot survive sanctions.
Russia intends to announce the Holy Grail of energy deals in May when Putin visits China. China will buy Russian oil and natural gas with yuan. The United States has been occupying Afghanistan, funding Al Qaeda against Syria and killing people in Pakistan and Yemen with drones to prevent pipelines from distributing natural gas to Europe and to China. This restraint of trade has forced the price of natural gas and oil higher. Americans pay what they think are high rates for electricity but their natural gas prices are low. I am not familiar with the details of English utility bills but their utility bills are a lot higher than ours. And their government allows really outrageous gouging. European Union energy rules do not seem to be helping either. Barack's forcing Russia to sell oil and natural gas to China will severely harm our allies in Great Britain and Europe. The economy of the EU cannot survive a 40% rise in their utility bills. They are near collapse anyway you say. Yes. But sanctions if not stopped now will push them over the edge sooner rather than later.
NATO wants to bring the Ukraine into their military alliance. This means if the Ukrainian coup leaders want to start World War III, we are all obligated to die. I once heard a Scotsman say that NATO stands for Not Altogether Thought Out. The Russians as part of that May Summit with China will be selling them Sukhoi SU-35 jet fighters. They can out maneuver the American F-22 and F-35 both of which are not really operational.
Prior to Putin's visit to China in May the Chinese are expected to announce their gold holdings late in April. The last time they announced those holdings was in April of 2009. Sun Tzu in The Art of War said 'when you are many pretend to be few.' As I have said before, China has at least 7,000 tons of gold. They might announce a much lower number or delay the press release if they are not yet ready to reveal a gold backed yuan. They might prefer to do that in May or at least to announce something like the End of the Petrodollar which would be Phase I of the destruction of the US economy. That could take the form of an announcement that oil and natural gas would henceforth be bought and sold only in yuan, rubles and gold. That would send the dollar into a tailspin from which it will never recover.
All of this will come to a head at least a month before the 100th anniversary of the assassination of Archduke Ferdinand on June 28, 2014. This time around I am hopeful that the US military which several times has had to say No to launching World War III by attacking Iran will refuse to get us and themselves killed. Why should we die because Wall Street cannot manage the economy without stealing our money by the tens of trillions, starving people to death by the hundreds of millions and killing people in their wars by the billions?
Source: Vidrebel
Get a load of this chart from DataQuick's National Home Sales Snapshot. It'll tell you everything need to know about housing.
(Note: MSA=metropolitan statistical area)
As you can see, prices are flatlining or drifting lower while sales are sinking like a stone. That's the whole ball of wax, isn't it?
Sure, sales will increase in the spring (as they always do), but judging by the sharp dropoff in last year's hottest markets, this could be the crappiest spring selling season since the crash.
Why?
Because prices are too high, rates are too high, "organic" demand is too weak, credit is too tight, and the pool of potential buyers has shrunk to the size of a walnut, that's why.
The banks have reduced the percentage of distressed homes (foreclosures and short sales) on the market to roughly 11 percent from 59 percent in 2009. Fewer distressed homes mean higher prices, but higher prices mean fewer sales. It's a trade-off. The banks get their money, but the market goes to hell. That's how it works. According to most estimates, there are roughly 4.5 million homes in some stage of foreclosure. That means that –at the present pace–we should get through this Housing Depression a few weeks before Judgment Day. But don't hold me to that.
Did you catch this gem on Bloomberg last week? It's about the big private equity guys exiting the market. Take a look:
"Blackstone Group LP is slowing its purchases of houses to rent amid soaring prices after a buying binge made it the biggest U.S. single-family home landlord. Blackstone's acquisition pace has declined 70 percent from its peak last year, when the private equity firm was spending more than $100 million a week on properties, said Jonathan Gray, global head of real estate for the New York-based firm…

"The institutional wave has passed," Gray, who oversees almost $80 billion in property investments, said in a telephone interview. 'It's at a much lower level than it was 12 or 24 months ago.'

Private-equity firms, hedge funds, real estate investment trusts and other institutional investors have spent more than $20 billion to buy as many as 200,000 rental homes in the last two years. They snapped up properties after prices fell as much as 35 percent from the 2006 peak…

American Homes 4 Rent and Colony American Homes, the second- and third-largest single-family landlords, also have been scaling back as bargains dry up…

"We're going to have to probably slow down a little bit on our acquisition pace until we have a better view or actual certainty of the capital being available," (Chief Executive Officer David ) Singelyn said.

Colony Financial Inc. (CLNY), a REIT that invests in Colony American Homes, slowed its funding for acquisitions last year to focus on improving operations, CEO Richard Saltzman said in a November conference call…

American Residential Properties Inc. (ARPI), a landlord with 6,000 homes, slowed acquisitions by almost half in its latest quarter ending Dec. 31. It invested $104 million in 633 homes compared with $204 million on 1,251 homes in the previous quarter, the Scottsdale, Arizona-based company said in a statement." (Blackstone's Home Buying Binge Ends as Prices Surge, Bloomberg)
Okay, so the speculators are getting out of housing. How's that going to effect the market?
No one really knows yet, but it can't be good, after all, all-cash deals amounted to nearly 50 percent of all homes sales in many of the hotter markets last year. That's why prices went up even though the economy was still in the shitter, because the fatcats were loading up on cheap real estate. Now it looks like they're headed for the hills. That's NOT going to be good for sales.
Did you know that existing home sales have dropped for six months straight, dipping below trend to the same level they were at in 1998?
But how can that be, you ask, when everyone's blabbing about the recovery? How can that be when the Fed has purchased more than $1.4 trillion in mortgage-backed securities (MBS) and rates are a measly 4.5%? How can that be prices have been climbing higher for more than a year?
Sales are dropping because millions of people are underwater on their mortgages and can't afford to move. Millions more are stuck in their homes and aren't paying anything at all. Millions more have student debt up to their eyeballs and will probably never own a home. And millions more still can't find a job. That's why home sales are plunging, because the economy stinks. It's that simple. Sure, the market got a nice little bump from Bernanke's $4 trillion liquidity-surge. Big whoop. Besides, that was 2012-2013. Today things are different. Today the Fed is winding down QE and there's even talk of rate-hike. How do you think that's going to impact sales?
Now get a load of this from Redfin:
"Home sales continued to be sluggish in February, and decreasing affordability is holding back would-be buyers, according to Redfin…. Slow sales have been largely attributed to low inventory for months, but many markets have now seen inventory rise while sales continue to fall. Several markets along the West Coast have seen sharp increases in inventory, yet home sales in the West fell 13.4 percent year over year, hitting their lowest point in five years in the first two months of 2014, while prices rose 19.1 percent year over year…

West Coast Sales Hit Lowest Point in Five Years

– In Redfin's West Coast markets, sales fell 13.4% from February 2013, and hit a five-year low in the first two months of 2014. Sales fell most dramatically in Las Vegas (-22.7%), Sacramento (-21.8%) and Ventura (-20.8%). Across 19 markets, sales fell 10.3%, with markets east of the Rockies taking a less dramatic hit and a few even seeing modest increases." (Redfin)
Did you catch that part about "inventory rising while sales continue to fall"?
For months, the media has been using the "low inventory" excuse for the rotten sales figures. Now they've moved onto "bad weather" to pull the wool over people's eyes. Talk about a lame excuse. It's been in the 70 and 80s in California for most of the winter and sales are down by a whopping 13 percent. Are potential buyers staying at home because they're afraid of getting skin cancer? Is that it? (That'll probably be the next excuse.)
So why ARE home sales tanking?
It's because you can't buy a house if you're working graveyard at Freddie's Burger Bar for $8.50 an hour. It's because you can't put together a 20% down-payment if you're camped out on Mom's sofa in the attic along with Uncle Murray's trombone and your Dad's photo collection of soup cans. It's because you can't qualify for a mortgage when 100 percent of your weekly paycheck goes to paying the VISA, filling the gas-tank, and buying a few groceries at Danny's Discount Foodmart. It can't be done.
That's what's really going on. That's why the share of firsttime homebuyers is currently at its lowest level ever. That's why purchase applications are at an 18-year low. That's why the homeownership rate has slipped to levels not seen since 1995. And that's why mortgage originations were down almost 60 percent year-over-year. It's because the economy sucks. Everyone knows it.
Now take a look at one last chart. It's by Logan Mohtashami at dshort.com. from an article titled,Mortgage Purchase Applications Running Out Of Time.
As you can see, there's a pretty close connection between incomes (the green line) and the mortgage purchase applications index. (The people who can afford to buy homes.)
Surprised?
Of course not, because most people assume there's a relationship between 'what a person earns' and his 'ability to buy a home'. After all, we haven't always lived in this bizarro credit-addled world where anyone who can sit upright in a chair and sign his name on the dotted line can buy a $450,000 rambler in Orchard Hills. That's a fairly new development.
And that brings us to the point of this article, which is to show that all the monetary hocus pocus has achieved nothing. The Fed's Koolaid infusions have been a dead-loss. The market is still flat on its back. Kaput. Which shows, that if you want to fix housing, you have to fix the economy. And if you want to fix the economy; you have to put people back to work and pay them a fair wage. It's that simple.
So why can't anyone in Washington figure it out?
(Note: As this article was going to press, the latest "existing home sales" data was released.) According to USA Today:
"Existing home sales slowed again in February, falling to the lowest pace in 19 months."
So February was even slower than the coldest month of the year, January?
Unbelievable.
Any country that is considering waging war against another country should first consider that the loser is almost always the country that runs out of money first.
Recently, an associate offered the following observation with regard to the likelihood of war in the immediate future:
"The big guys like to play chess with the world. It's the biggest game. The bankers need ups and downs and wars to make money. The military needs wars to exist. The politicians need both to exist."
Whilst he was reiterating a concept we have discussed on many occasions, it occurred to me that I have never seen the subject defined so succinctly, nor so informatively.
Let's break it down:
The bankers need ups and downs and wars to make money
Just as bankers increase their profit as a result of upward and downward economic fluctuations, so, too, do they benefit from war. It is not unusual for a given bank to finance those who would create armed conflict, and indeed, they sometimes bankroll both sides. Whilst banks have other means of making money, war is often more profitable than conventional banking.
The military needs war
The military-industrial complex is in the business of selling armaments to governments. Although armament sales may tick over nicely in peace time, they boom in war time. Therefore, any armament supplier will benefit from war. It matters little whether it is an all-out war or a series of smaller ventures. The object is sales.
The politicians need both banks and war
This is true in the sense that politicians need both bankers and an active military to thrive. Political campaigns depend upon funding. Banks and armament suppliers have long been a major source of campaign funds for candidates of the primary political parties. (If each party is well-paid before the election, favourable treatment towards banks and armament suppliers is assured, regardless of which party wins an election.)
But there is further necessity for armed conflict with regard to politicians. First, it is a truism that a country rarely changes leaders during times of war, and nothing is more imperative to the politician than gaining a further term of office.
Second, nothing distracts the voting public like war. If a politician is receiving increased criticism from the voters, a good war can be counted on to get the voters concentrating more on the war than on the politician's poor stewardship.
Third, governments typically remove the freedoms of a populace over time. Whilst citizens may object to the loss of their freedoms in normal times, they are often more willing to relinquish them "temporarily" in times of war, "for the good of the country." Not surprisingly, lost freedoms are seldom reinstated after a war.
Consider the words of James Madison, the fourth US President:
"Of all the enemies of public liberty, war is, perhaps, the most to be dreaded, because it comprises and develops the germ of every other. War is the parent of armies; from these proceed debts and taxes; and armies and debts and taxes are the known instruments for bringing the many under the dominion of the few. In war, too, the discretionary power of the Executive is extended…. No nation could preserve its freedom in the midst of continual warfare."
Generally speaking, the citizens of most countries would prefer to avoid war. After all, they rarely benefit from it. But then, the impetus for war is almost never generated by the people of a country. Unless a nation is actually attacked, in nearly every case, the people need to be talked into going to war.
Convincing the People
A good example of this is the US, who, since World War I, have needed convincing on almost every occasion when political leaders proposed war. In World War I, the Lusitania incident was created jointly by the UK and the US to motivate them. In World War II, the goading of Japan was needed. In Vietnam, the trumped-up Gulf of Tonkin incident was needed, and so on.
Suffice to say that, when bankers, the military industrial complex, the politicians, or all three decide to instigate war, war will come to pass. Whether it is a conservative government or a liberal government, if a clear threat does not exist, one will be invented.
As Hermann Goering stated in the Nuremburg trials,
"Naturally, the common people don't want war. But after all, it is the leaders of a country who determine the policy, and it is always a simple matter to drag people along, whether it is a democracy or a fascist dictatorship, or a parliament, or a communist dictatorship. Voice or no voice, the people can always be brought to the bidding of the leaders. This is easy. All you have to do is tell them they are being attacked, and denounce the pacifists for lack of patriotism and exposing the country to danger. It works the same in every country."
At the present time in history, the countries of the First World have created the greatest pillaging of the state coffers that has ever occurred. As complacent as the peoples of both the EU and the US have been in recent decades, there does seem to be a growing understanding amongst the peoples that they have been scammed.
Aside from continuing quantitative easing until that scam also fails, the respective governments are running out of rabbits to pull out of the hat to distract the masses. It would therefore seem that there has been no time in history in which war was so neededby national leaders—both as a distraction to the populace and as a last squeeze at the monetary lemon, prior to the inevitable crash.
And so, what does that mean to the reader? Assuming he is not invited to take part, shouldn't the drums of war be of little interest to him? Well, in terms of his own physical safety, that may well be true, but here is an historical fact to consider:
Any country that is considering waging war against another country should first consider that the loser is almost always the country that runs out of money first.
No venture is more costly than warfare. The EU and the US are bankrupt now. Those presently living in those locales may escape actual duty in the military, but they will unquestionably be expected to pick up the tab through taxation.
Those who presently feel that their obligations to their governments are already barely manageable might wish to consider what they will be, both during and after a major war.
Source:  Jeff Thomas  |  International Man
These are an extremely pivotal few days from the standpoint of international political economy and the Ukrainian crisis.
Last minute diplomatic talks in London between Russia and the USSA over the Ukrainian crisis failed on Friday, and USSA Secretary of State, John Kerry,has delivered an ultimatum to Russia — if the outcome of the Crimean referendum on Sunday is not to the liking of the USSA government then Washington, DC and its European allies will take a series of further, serious, unspecified, retaliatory measures on Monday.
These threatened measures are widely expected to include a range of financial sanctions. The whiff of a possible NATO/ USSA war with Russia is also in the air. The negative consequences of a NATO/ USSA military clash with Russia include the very real threat of a nuclear conflict, since both sides are very heavily armed with a full array of nuclear ballistic missiles, cruise missiles, torpedoes and bombs.
China has viewed the rapidly developing crisis with a thoroughly jaundiced eye and has warned against sanctions by the USSA against Russia due to the "unforeseeable consequences" and "retaliatory action" that such sanctions might engender.
Given that China holds $1.3 trillion of the USSA's government debt, which it could willy-nilly dump, with disastrous effects on the American economy, and also has a full brace of nuclear missiles that can reach the USSA mainland and its numerous military bases in the Pacific region, the warning is not an empty threat. Here is a photo of a Chinese "boomer"laden with nuclear missiles headed out to sea.
Indeed, in anticipation of probable anti-Russian sanctions Russian financial institutions have already begun pulling vast sums of money out of the West, including some $105 billion out of the USSA this week alone.
This takes place in the context of Russian carrier-based jets staging war exercises in the eastern Mediterranean, flying from the deck of the aircraft carrier Admiral Kuznetsov, near Cyprus. This is also near Israel, off the coast of Syria. The message could not be clearer that Russia intends to stand by its long-time ally Syria, at the same time that it sends a cautionary message to Israel. It is fair to assume that the Kuznetsov battle group is carrying nuclear weapons, as do USSA aircraft carrier battle groups.
Speaking of which, the Pentagon has announced that the aircraft carrier USS George H.W. Bush will be remaining in the Mediterranean a few more days due to the crisis in Ukraine. Also today, Russian self-defense forces in Crimea announced the capture of an American military drone that was surveiling the peninsula.
On Sunday, the Crimeans will most likely vote to join the Russian Federation. If they do, the following day the USSA government will announce punitive measures against Russia. After that, the Russians and Chinese will take whatever steps they feel are appropriate, and then the USSA government and its allies will take further steps in response.
This entire scenario is fraught with profound peril for the whole world. I don't know what is going to happen, but a hard shock to the global financial system, in the coming days and weeks, appears highly possible.
The more so as financial astrologers are unanimously pointing to April 2014 (next month) as being a period of financial crisis for the USSA economy and its so-called "Federal Reserve Bank." I am not a financial astrologer, but I have to say that their prognostications are right on the money. April is shaping up to be a period of intense crisis for the USSA and its financial system.
I do not presume that in a war with Russia and China, be it a nuclear exchange or a financial showdown, that the USSA and its European allies will necessarily prevail. J.P. Morgan, the early-20th century Robber Baron, famously said that millionaires do not have astrologers, but billionaires do. For millennia, kings, queens, emperors, and now presidents, premiers and prime ministers, have been consulting astrologers. I would be very surprised if the Chinese and Russians do not take full advantage of the propitious astrology of April 2014 to take the USSA government and the U.S. Federal Reserve Bank down a peg.
Though I am not a financial adviser, it does seem prudent to me for people who are aware of the confusion that is coming to use the period of time right now to prepare for future contingencies that may arrive within mere weeks. If the USSA financial system crashes hard, and that possibility realistically exists, then the American dollar is going to lose value, perhaps a great deal of value, and most of the world will feel the effects.
Paper currency, any paper currency, becomes just paper when enough people lose confidence in its value. Historically, silver and gold have held their value across thousands of years. I do not have any gold and silver, or platinum, palladium or rhodium, either. But if I were financially able I would certainly obtain some and take physical possession of it. I would do it this very day. We are entering a period of high uncertainty right now and no one knows how long it will last, or how severe the crisis may become. One thing is certain: those who are least prepared, physically, psychologically, emotionally, spiritually, financially, socially, etc. will fare the worst.
So get ready.
Source: Richard Sauder  |  Event Horizon Chronicle