"In order to survive and preserve its leading role on the international stage, the US desperately needs to plunge Eurasia into chaos, (and) to cut economic ties between Europe and Asia-Pacific Region … Russia is the only (country) within this potential zone of instability that is capable of resistance. It is the only state that is ready to confront the Americans. Undermining Russia's political will for resistance… is a vitally important task for America."

-Nikolai Starikov, Western Financial System Is Driving It to War, Russia Insider

"Our first objective is to prevent the re-emergence of a new rival, either on the territory of the former Soviet Union or elsewhere, that poses a threat on the order of that posed formerly by the Soviet Union. This is a dominant consideration underlying the new regional defense strategy and requires that we endeavor to prevent any hostile power from dominating a region whose resources would, under consolidated control, be sufficient to generate global power."

-The Wolfowitz Doctrine, the original version of the Defense Planning Guidance, authored by Under Secretary of Defense Paul Wolfowitz, leaked to the New York Times on March 7, 1992
The United States does not want a war with Russia, it simply feels that it has no choice. If the State Department hadn't initiated a coup in Ukraine to topple the elected president, Viktor Yanukovych, then the US could not have inserted itself between Russia and the EU, thus, disrupting vital trade routes which were strengthening nations on both continents. The economic integration of Asia and Europe–including plans for high-speed rail from China ("The New Silk Road") to the EU–poses a clear and present danger for the US whose share of global GDP continues to shrink and whose significance in the world economy continues to decline. For the United States to ignore this new rival (EU-Russia) would be the equivalent of throwing in the towel and accepting a future in which the US would face a gradual but persistent erosion of its power and influence in world affairs. No one in Washington is prepared to let that happen, which is why the US launched its proxy-war in Ukraine.
The US wants to separate the continents, "prevent the emergence of a new rival", install a tollbooth between Europe and Asia, and establish itself as the guarantor of regional security. To that end, the US is rebuilding the Iron Curtain along a thousand mile stretch from the Baltic Sea to the Black Sea. Tanks, armored vehicles and artillery are being sent to the region to reinforce a buffer zone around Europe in order to isolate Russia and to create a staging ground for future US aggression. Reports of heavy equipment and weapons deployment appear in the media on nearly a daily basis although the news is typically omitted in the US press. A quick review of some of the recent headlines will help readers to grasp the scale of the conflict that is cropping up below the radar:
"US, Bulgaria to hold Balkans military drills", "NATO Begins Exercises In Black Sea", "Army to send even more troops, tanks to Europe", "Poland requests greater US military presence", "U.S. Army sending armored convoy 1,100 miles through Europe", "Over 120 US tanks, armored vehicles arrive in Latvia", "US, Poland to Conduct Missile Exercise in March – Pentagon"
Get the picture? There's a war going on, a war between the United States and Russia.
Notice how most of the headlines emphasize US involvement, not NATO. In other words, the provocations against Russia originate from Washington not Europe. This is an important point. The EU has supported US-led economic sanctions, but it's not nearly as supportive of the military build up along the perimeter. That's Washington's idea and the cost is borne by the US alone. Naturally, moving tanks, armored vehicles and artillery around the world is an expensive project, but the US is more than willing to make the sacrifice if it helps to achieve its objectives.
And what are Washington's objectives?
Interestingly, even political analysts on the far right seem to agree about that point. For example, check out this quote from STRATFOR CEO George Friedman who summed it up in a recent presentation he delivered at The Chicago Council on Foreign Affairs. He said:
"The primordial interest of the United States, over which for centuries we have fought wars–the First, the Second and Cold Wars–has been the relationship between Germany and Russia, because united there, they're the only force that could threaten us. And to make sure that that doesn't happen." … George Friedman at The Chicago Council on Foreign Affairs, Time 1:40 to 1:57)
Bingo. Ukraine has nothing to do with sovereignty, democracy or (alleged) Russian aggression. That's all propaganda. It's about power. It's about imperial expansion. It's about spheres of influence. It's about staving off irreversible economic decline. It's all part of the smash-mouth, scorched earth, take-no-prisoners geopolitical world in which we live, not the fake Disneyworld created by the western media. The US State Department and CIA toppled the elected-government in Ukraine and ordered the new junta regime to launch a desperate war of annihilation against its own people in the East, because, well, because they felt they had no other option. Had Putin's ambitious plan to create a free trade zone between Lisbon to Vladivostok gone forward, then where would that leave the United States? Out in the cold, that's where. The US would become an isolated island of dwindling significance whose massive account deficits and ballooning national debt would pave the way for years of brutal restructuring, declining standards of living, runaway inflation and burgeoning social unrest. Does anyone really believe that Washington would let that to happen when it has a "brand-spanking" trillion dollar war machine at its disposal?
Heck, no. Besides, Washington believes it has a historic right to rule the world, which is what one would expect when the sense of entitlement and hubris reach their terminal phase. Now check out this clip from an article by economist Jack Rasmus at CounterPunch:
"Behind the sanctions is the USA objective of driving Russia out of the European economy. Europe was becoming too integrated and dependent on Russia. Not only its gas and raw materials, but trade relations and money capital flows were deepening on many fronts between Russia and Europe in general prior to the Ukraine crisis that has provided the cover for the introduction of the sanctions. Russia's growing economic integration with Europe threatened the long term economic interests of US capitalists. Strategically, the US precipitated coup in the Ukraine can be viewed, therefore as a means by which to provoke Russian military intervention, i.e. a necessary event in order to deepen and expand economic sanctions that would ultimately sever the growing economic ties between Europe and Russia long term. That severance in turn would not only ensure US economic interests remain dominant in Europe, but would also open up new opportunities for profit making for US interests in Europe and Ukraine as well…

When the rules of the competition game between capitalists break down altogether, the result is war—i.e. the ultimate form of inter-capitalist competition." (The Global Currency Wars, Jack Rasmus, CounterPunch)
See? Analysts on the right and left agree. Ukraine has nothing to do with sovereignty, democracy or Russian aggression. It's plain-old cutthroat geopolitics, where the last man left standing, wins.
The United States cannot allow Russia reap the benefits of its own vast resources. Oh, no. It has to be chastised, it has to be bullied, it has to be sanctioned, isolated, threatened and intimidated. That's how the system really works. The free market stuff is just horsecrap for the sheeple.
Russia is going to have to deal with chaotic, fratricidal wars on its borders and color-coded regime change turbulence in its capital. It will have to withstand reprisals from its trading partners, attacks on its currency and plots to eviscerate its (oil) revenues. The US will do everything in its power to poison the well, to demonize Putin, to turn Brussels against Moscow, and to sabotage the Russian economy.
Divide and conquer, that's the ticket. Keep them at each others throats at all times. Sunni vs Shia, one ethnic Ukrainian vs the other, Russians vs Europeans. That's Washington's plan, and it's a plan that never fails.
US powerbrokers are convinced that America's economic slide can only be arrested by staking a claim in Central Asia, dismembering Russia, encircling China, and quashing all plans for an economically-integrated EU-Asia. Washington is determined to prevail in this existential conflict, to assert its hegemonic control over the two continents, and to preserve its position as the world's only superpower.
Only Russia can stop the United States and we believe it will.
Common wisdom has China as the future model for the Globalist economy. Also, conventional thinking has the Western financial debt created money system as the backbone of the New World Order. The big question is, are both components of the same intentional plan? When China Has Announced Plans For A 'World Currency', the world is put on notice that a fundamental shift is about to take place.
"What you are about to see is rather startling, but it shouldn't be a surprise.  When it comes to economics and finance, the Chinese have always been playing chess while the western world has been playing checkers.  Sadly, we have gotten to the point where checkmate is on the horizon.
The following comes from CNBC …
The tightly controlled Chinese yuan will eventually supersede the dollar as the top international reserve currency, according to a new poll of institutional investors.
The survey of 200 institutional investors – 100 headquartered in mainland China and 100 outside of it – published by State Street and the Economist Intelligence Unit on Thursday found 53 percent of investors think the renminbi will surpass the U.S. dollar as the world's major reserve currency.
Optimism was higher within China, where 62 percent said they saw a redback world on the horizon, compared with 43 percent outside China."
Before the celebration begins that the game is up for the Federal Reserve mastery from the days of the Bretton Woods Conference, look a little closer. While gold and its fixed price were instrumental to that monitory standard, the freeing from fixed rates has generated the madness of floating currency speculation that now dominates the financial markets.
The cunning and patient Chinese built their export economy on cheap priced goods into their importing customer economies. Saving is a noble objective in the East, while going into debt is the hallmark of Western practices. The Chinese have applied their huge balance of trade surpluses to buying up commodities. Most notable is gold.
The article, Could China actually have 30,000 tonnes of gold in reserves? Makes the strongest argument that China is poised to become the new superior currency is based upon the potential of establishing a convertible relationship between the renminbi and bullion.
"China has much more gold than it is allowing the world to see. As Alasdair Macleod, probably the world's number one analyst of the gold market, wrote that between 1983 and 2002 China probably accumulated 25,000 tons of gold. Thus, its current gold holdings are probably north of 30,000 tons in contrast to the USA which has either sold or leased most of its gold."  Now this statement coming from one of the usual gold megabulls might be ignorable, but Hunt does not fall into this category and has a good track record of insights into China's strategic initiatives as far as metals and minerals are concerned."
Before the rush to the door to dump your U.S. Dollars for whatever store of wealth one believes will maintain its purchasing value, consider what the voice of the global financial establishment, the IMF says. Stating the outlook from the central Bankster's perspective in, Will the Renminbi Rule?, the message is that paper money, burdened by debt, is still firmly in place.
"Given China's size and growth prospects, it is widely seen as inevitable that the renminbi will eventually become a reserve currency. To gauge the likelihood and timing, it is necessary to consider the typical attributes of a reserve currency and evaluate China's progress in each of these dimensions. The factors that generally affect a currency's reserve status includes:
Economic size
Macroeconomic policies
Flexible exchange rate
Open capital account
Financial market development
The IMF concludes:
"The renminbi is unlikely to become a prominent reserve currency—let alone challenge the dollar's dominance—unless it can be freely converted and China adopts an open capital account."
Now for anyone even remotely schooled in the manners and maturations of the financial elites, turning the other cheek to a pretender, is not in the lesson book.
Investment manager, Richard Harris offers in a report, Time to create new Chinese-Hong Kong dollar, an interesting possibility.
"The HK dollar itself is a dead unit having been pegged first to the pound and later to the US dollar, with the current rate fixed in 1983. The prevailing view about depegging is that it would be too dangerous. The unit only floated for a relatively short period from 1974-1983 and, I recall, without much confidence in its success.
The obvious answer is to combine the dead HK dollar with the embryonic CNH. This would be a completely independent, floating currency. The CNY would be used for current account transactions such as exports and imports, whilst the new "Chinese Dollar" (HKD/CNH combined) would cater for capital account financial transactions."
Keeping paper money in place as the international medium of exchange is fundamental to the New World Order. While China may never implement an actual redemption of gold for their renminbi, there is a real possibility that some gold weighted backing for Chinese paper instruments could be introduced.
The U.S. Dollar maintains illusionary worth, only because the central bankers are all in with their dollar dominated derivatives. Moreover, the Chinese are very much dependent upon their exports to keep their economy going. Settlement in Federal Reserve notes is crucial for the American system to keep buying from overseas.
Just the mere threat of payment in the renminbi for all the Chinese goods that Walmart imports     could be devastating. Allowing for a gradual transition into a semi-reserve renminbi status keeps the Bankster's game going.
The prudent analysis suggests that the NWO created China's emergence into an economic power through off-shoring domestic industries in their subject countries. Nonetheless, the international cabal is not about to starve their interest paying indebted nations by letting the Chinese accumulate even greater cash reserves.
Expect a downturn in China's prospects, as soon as any ascendency for their currency begins gaining a reserve acceptance.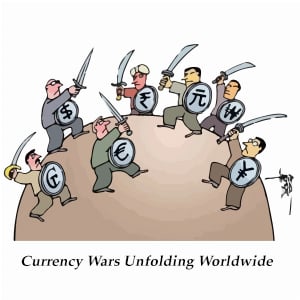 The first two months of 2015 have seen turmoil in the currency markets extend from Russia and Ukraine to the heart of Europe.
"Central Banks Now Open 24/7 Fighting Currency Wars and Deflation," blared a February 12th Bloomberg headline. Against this backdrop, precious metals have been on the rise in terms of all currencies except the Swiss franc and the U.S dollar.
In January, the Swiss National Bank shocked markets by announcing that it would de-link its currency from the euro. The move came one week ahead of the European Central Bank's $1.1 trillion Quantitative Easing announcement. Swiss officials decided it would be too costly to keep accumulating depreciating euros in order to maintain the currency peg. The Swiss franc surged by the most ever in a single day.
With the exception of Switzerland, all other countries in Europe (and many others around the world) are trying to depreciate their currencies.
Since January 1, the following central banks have announced interest rate cuts or other monetary easing measures: European Central Bank, Reserve Bank of Australia, Reserve Bank of New Zealand, Monetary Authority of Singapore, and the central banks of India, Canada, Denmark, and Sweden.
On February 12th, the Swedish Riksbank announced a surprise rate cut from 0% to below 0%. "To ensure that inflation rises towards the target, the Riksbank is prepared to quickly make monetary policy more expansionary, even between the ordinary monetary policy meetings," the world's oldest central bank said in a statement.
Sweden joins the European Central Bank and the central banks of a handful of other countries in pushing benchmark interest rates into negative territory. These central bankers are all aiming to revive inflation. "Investors" who are buying bonds yielding less than nothing (a negative rate) are apparently convinced that central bankers won't succeed in depreciating their currencies.
Insanity! Investors Now Paying for the "Privilege" of Lending to Broke Governments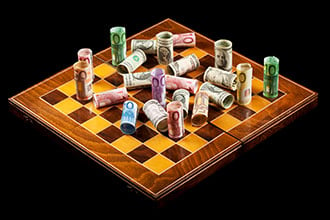 This could go down as one of the oddest, most irrational asset bubbles in history. Trillions of dollars are now tied up in debt instruments that promise to return less than the invested principal. According to a report issued by J.P. Morgan, $3.6 trillion in government bonds around the world now carry negative yields.
It raises the obvious question; why would so many people be willing to accept a negative rate of return?
You'd think that institutional investors would start getting wise to holding gold as a hard-currency alternative to cash instruments that yield less than zero. The fact that gold has no interest rate is actually an advantage in an environment where competing rates are negative! Plus, unlike most of the bonds issued in this upside-down interest rate market, gold has significant appreciation potential.
If inflation rises even modestly to the 2% target of European and U.S. central bankers, then bonds issued at rates of below 2% will all be losers. The two-year Treasury note yields only 0.63%. Even the recent 10-year yield of 1.98% fails to match the Federal Reserve's inflation ambitions.
The fact that gold has no interest rate is actually an advantage in an environment where competing rates are negative!
In this environment of ultra-low nominal yields or even negative real yields, precious metals as a reserve asset look very attractive. Many central bankers around the world agree and are busily accumulating gold. According to a report issued by the World Gold Council in February, governments around the world added 477.2 metric tons of gold to their reserves in 2014. That haul was the second biggest in 50 years.
When inflation fears return to the market, as they eventually will, precious metals will become one of the premier asset classes to hold. Even now, they are performing better than virtually all other world currencies.
The end game of these ongoing currency wars is that all fiat currencies will be debased. And a true flight to quality will accelerate – with assets fleeing depreciating currencies (and debt instruments denominated in them) and piling into gold and silver.
Will the Fed Chicken Out on Rate Hikes?
Of course, right now it's deflation fears that are dominating headlines. But the inflationary policy responses from the European Central Bank and others that have followed the ECB's lead have lifted gold and silver prices markedly in terms of euros and other currencies.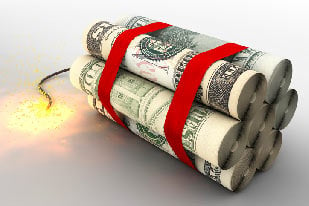 As confidence in European currencies plunges, there's only so much corresponding dollar strength the Federal Reserve is willing to tolerate. There's been much talk of rate hikes coming later this year, and that widespread expectation has been priced into the market. Any rhetorical or policy disappointments from the Fed in the months ahead could cause traders to sell the dollar.
Whether later this year or further down the road, it's only a matter of time before currency turmoil spreads to the United States.
The U.S. has a higher debt-to-GDP ratio than some troubled European countries. It has higher levels of unfunded liabilities (estimated to be in excess of $100 trillion) than any other country. The dollar's status as world reserve currency has allowed the U.S. to become financially overextended. But that vaunted status is slowly deteriorating as Russia, China, and other countries form economic alliances that bypass the dollar.
When these chickens come home to roost, you don't want to be wholly dependent on the U.S. government's promises or its currency. Sizeable holdings in physical precious metals will help make you financially resilient in the face of the spreading global currency crisis.
NATO Lies and Provocations…
"The war has been provoked to destroy the Russian World, to draw Europe into it, and to surround Russia with hostile countries. Unleashing this world war, America is trying to deal with its own internal problems."

– Sergei Glazyev, Advisor to Russian President Vladimir Putin
The fabrications of NATO's top commander in Europe, General Philip Breedlove, have driven a wedge between Germany and the United States that could lead to a collapse of the Atlantic Alliance. According to the German news magazine, Der Spiegel, Breedlove has repeatedly sabotaged Chancellor Angela Merkel's attempts to find a diplomatic solution to the war in Ukraine by spreading "dangerous propaganda" that is misleading the public about Russian "troop advances on the border, (and) the amassing of munitions and alleged columns of Russian tanks." But while the unusually critical article singles out Breedlove for his hyperbolic exaggerations of so-called Russian aggression, the real purpose of the Spiegel piece is to warn Washington that EU leaders will not support a policy of military confrontation with Moscow.
Before we explain what's going on, we need to look at an excerpt from the article. According to Spiegel:
"…for months now, many in the Chancellery simply shake their heads each time NATO, under Breedlove's leadership, goes public with striking announcements about Russian troop or tank movements … it is the tone of Breedlove's announcements that makes Berlin uneasy. False claims and exaggerated accounts, warned a top German official during a recent meeting on Ukraine, have put NATO — and by extension, the entire West — in danger of losing its credibility.

There are plenty of examples….At the beginning of the crisis, General Breedlove announced that the Russians had assembled 40,000 troops on the Ukrainian border and warned that an invasion could take place at any moment. The situation, he said, was "incredibly concerning." But intelligence officials from NATO member states had already excluded the possibility of a Russian invasion. They believed that neither the composition nor the equipment of the troops was consistent with an imminent invasion.

The experts contradicted Breedlove's view in almost every respect. There weren't 40,000 soldiers on the border, they believed, rather there were much less than 30,000 and perhaps even fewer than 20,000. Furthermore, most of the military equipment had not been brought to the border for a possible invasion, but had already been there prior to the beginning of the conflict. Furthermore, there was no evidence of logistical preparation for an invasion, such as a field headquarters.
Breedlove, though, repeatedly made inexact, contradictory or even flat-out inaccurate statements."…

On Nov. 12, during a visit to Sofia, Bulgaria, Breedlove reported that "we have seen columns of Russian equipment — primarily Russian tanks, Russian artillery, Russian air defense systems and Russian combat troops — entering into Ukraine." It was, he noted, "the same thing that OSCE is reporting." But the OSCE had only observed military convoys within eastern Ukraine. OSCE observers had said nothing about troops marching in from Russia.

Breedlove sees no reason to revise his approach. "I stand by all the public statements I have made during the Ukraine crisis," he wrote to SPIEGEL in response to a request for a statement accompanied by a list of his controversial claims."
(Breedlove's Bellicosity: Berlin Alarmed by Aggressive NATO Stance on Ukraine, Der Spiegel)
While it's easy to get swept up in the Spiegel's narrative of a rabid militarist dragging Europe closer to World War 3, the storyline is intentionally misleading. As anyone who's been following the Ukraine fiasco for the last year knows, there's nothing particularly unusual about Breedlove's distortions. Secretary of State John Kerry has made similar claims numerous times as have many others in the major media. The lies about "Russian aggression" are the rule, not the exception. So why has the Spiegel decided to selectively target Breedlove who is no more deceitful than anyone else? What's really going on here?
Clearly, the Spiegel is doing Merkel's work, that is, undermining the credibility of Washington's chief commander in Europe in order to discourage further escalation of the conflict in Ukraine. But while Merkel wants to humiliate Breedlove to show that Germany will not sit on its hands while Washington plunges the region into the abyss; she has also shown considerable restraint in limiting her attack to the General while sparing Kerry and Obama any embarrassment. This is quite an accomplishment given that –as we said earlier–virtually everyone in the political establishment and the media have been lying nonstop about every aspect of the conflict. Merkel doesn't want to discredit these others just yet, although the Spiegel piece infers that she has the power to do so if the "bad behavior" persists.
The Spiegel article is part of a one-two punch designed to force Washington to change its confrontational approach. The second jab appeared late Sunday afternoon when EU Commission President Jean-Claude Juncker announced that Europe needed to field its own army. Here's the story from Reuters:
"The European Union needs its own army to face up to Russia and other threats as well as restore the bloc's foreign policy standing around the world, EU Commission President Jean-Claude Juncker told a German newspaper on Sunday…

"With its own army, Europe could react more credibly to the threat to peace in a member state or in a neighboring state.

"One wouldn't have a European army to deploy it immediately. But a common European army would convey a clear message to Russia that we are serious about defending our European values." (Juncker calls for EU army, says would deter Russia, Reuters)
Can you see what's going on? On the one hand, the Spiegel delivers a hammer-blow to the credibility of NATO's top officer and on the other, the President of the EU Commission blindsides US powerbrokers by announcing a plan to create an independent EU fighting force that will render NATO redundant. These are big developments that have undoubtedly left the Obama troupe reeling. This is a full-blown assault on NATO's role as the primary guarantor of EU regional security. Maybe the European people are gullible enough to accept Junker's absurd claim that an EU army will "send an important message to the world", but you can be damn sure that no one at 1600 Pennsylvania Avenue believes that nonsense. The move is clearly designed to send a message to Washington that Europe is fed up with NATO and wants a change. That means it's "shape up or ship out time" for Breedlove and his ilk.
Ironically, these developments align Merkel with Putin's view of things as stated in his famous Munich speech in 2007 when he said:
"I am convinced that we have reached that decisive moment when we must seriously think about the architecture of global security. And we must proceed by searching for a reasonable balance between the interests of all participants in the international dialogue … The United States, has overstepped its national borders in every way … And of course this is extremely dangerous. It results in the fact that no one feels safe. I want to emphasize this — no one feels safe." (Russian President Vladimir Putin, 43rd Munich Security Conference, 2007)
How can the US possibly cast itself as "steward of the global security system", when its interventions have left a trail of decimated failed states from the southernmost border of Somalia to the northern tip of Ukraine, a chaotic swathe of smoldering ruin and agonizing human suffering that rivals the depredations of the Third Reich.
Europe's security requirements cannot be met by a belligerent, warmongering US-controlled entity that acts solely in Washington's interests. At present, NATO gets 75% of its funding from the US, which is why the alliance is less interested in peacemaking and security than it is in internationalizing its imperial war of aggression across the planet. Prior to the crisis in Ukraine, European leaders didn't see the danger of this idiotic arrangement (even though interventions in Serbia, Libya and Afghanistan should have brought them to their senses) But now that NATO's recklessness could vaporize Europe in a nuclear firestorm, leaders like Merkel and Hollande are starting to change their tune. Keep in mind, the ideal scenario for the US would be a limited war that levels large parts of the European and Asian continents, thus restoring the US to its post WW2 heyday when the "rubblized" world was Washington's oyster. That would be just fine for genocidal maniacs and armchair warriors who rule the globe from the safety of their well-stocked DC bunkers. But for Europe, this is definitely not a winning strategy. Europe doesn't want a war, and it certainly doesn't want to be used as cannon fodder for the greater glory of the dystopian NWO.
Putin advisor, Sergei Glazyev, figured out what Washington was up to long before Kiev launched its wretched "anti terrorism" campaign against federalist rebels in the East. Here's how he summed it up:
"The main task the American puppet masters have set for the (Kiev) junta is to draw Russia into a full-scale war with Ukraine. It is for this purpose that all of these heinous crimes are committed – to force Russia to send troops to Ukraine to protect the civilian population…

The bankruptcy of the US financial system, which is unable to service its foreign debt, the lack of investments to finance a breakthrough to a new technological order and to maintain America's competitiveness, and the potential defeat in the geopolitical competition with China. To resolve these problems, Americans need a new world war." (Sergei Glazyev)
Bingo. The steadily-declining empire, whose share of global GDP continues to shrivel with every passing year, has wanted a war from the get go. That's the only way that the US can reverse its precipitous economic slide and preserve its lofty spot as the world's only superpower. Fortunately, EU leaders are beginning to pull their heads out of the sand long enough to grasp what's going on and change their behavior accordingly.
It's worth noting, that no one in the Merkel administration or anyone else for that matter, has publicly challenged the allegations in the Spiegel article. Why is that, do you think?
Doesn't their silence suggest that they knew all along that all the anti-Putin propaganda hullabaloo was pure bunkum; that "evil" Putin didn't send tanks and soldiers across the border into Ukraine, that Putin didn't shoot down Malaysian Airline 17, that Putin didn't have a political opponent gunned down gangland style just a few hundred yards from the Kremlin? Isn't that what their silence really says?
Of course, it does. The reason no one in power has spoken out is because –as the Spiegel cynically admits–"A mixture of political argumentation and military propaganda is necessary."
"Propaganda is necessary"?
Whoa. Now there's an admission you're not going to see in the media too often. But it's the truth, isn't it? The Euro-leaders have been going along with the lies to keep the public in line. In other words, it's a healthy dose of perception management for the sheeple, but the unvarnished truth for our revered overlords. Sounds about right. Only now these ame elites have decided to share the facts with the lumpen masses. But, why? Why this sudden willingness to share the truth?
It's because they no longer support Washington's policy, that's why. No one in Europe wants the US to arm and train the Ukrainian army. No one wants them to deploy 600 paratroopers to Kiev and increase US logistical support. No one wants further escalation, because no one wants a war with Russia. It's that simple.
For the first time, EU leaders, particularly Merkel, understand that the United States' strategic objectives (the pivot to Asia) do not align with those of the EU, in fact, Washington's geopolitical ambitions pose a serious threat to Europe's security. Regrettably, it's not enough for Merkel to simply understand what is going on. She needs to huddle with her EU colleagues and take positive steps to derail Washington's plan now, otherwise the US will continue its incitements and false flags until Putin is forced to respond. Once that happens, a broader and, perhaps, catastrophic conflagration will be unavoidable.
Varoufakis vs. The Troika…
"Will the United States, Germany, the rest of the European Union, the European Central Bank, and the International Monetary Fund – collectively constituting the International Mafia – allow the new Greek leaders of the Syriza party to dictate the conditions of Greece's rescue and salvation? The answer at the moment is a decided "No".

— William Blum, The Greek Tragedy, Veracity Voice

"The Greek economy is finished…. There is no power, no force within the Greek economy, within Greek society that can avert – it's like – imagine if we were in Ohio in 1931 and we were to ask: What can Ohio politicians do to get Ohio out of the Great Depression? The answer is nothing."

— Yanis Varoufakis, Greek Finance Minister
A disagreement over the terms of a deal to provide a bailout extension for Greece, has set the stage for a final clash between the Eurogroup and members of the Greek ruling party, Syriza.  Although the agreement was approved on Tuesday when a list of reforms were submitted by Greek finance minister Yanis Varoufakis to the Eurogroup, Varoufakis believes that changes to the original program give him greater flexibility to implement policies that will end austerity, reduce the ailing country's primary budget surplus, and ease the humanitarian crisis that has persisted for 6 years.  Regrettably,  no one at the ECB, the European Commission or the IMF shares Varoufakis's views on the subject. The so called "troika" thinks that Greece has signed on to essentially the same program that was in place before the negotiations, give or take a few cosmetic changes in the language. And because the program is the same, they think Varoufakis should stick with the same policies as his predecessor and ignore mounting public opposition to austerity. Given the irreconcilable differences between the two parties, there's bound to be a violent confrontation in the near future that will lead to heated recriminations and, eventually, a Grexit.
To illustrate the widening chasm between Varoufakis and the members of the Eurogroup, consider the fact that, going into the negotiations, Varoufakis was determined to end the bailouts and secure a "bridge" loan that would shield Greece from default for a six month period of adjustment after which basic changes to the current austerity regime would be re-negotiated. While the Eurogroup agreed to change the term "program" to "agreement" and "troika" to "institutions", in the minds of the EU finance minsters, the substance of the original deal, which was laid out in the hated Memorandum of Understanding, remained the same. Take a look at this excerpt from a letter from ECB president Mario Draghi and Eurogroup president Jeroen Dijsselbloem and you'll see how this is playing out:
"I assume that it is clear, that the basis of concluding the current review, and also any future arrangements, will be the existing commitments in the current Memorandum of Understanding and The Memorandum of Economic and Financial Policies  (MEFP). In this context we note that the commitments outlined by the authorities differ from existing programme commitments in a number of areas. In such cases, we will have to assess during the review whether measures which are not accepted by the authorities are replaced with measures of equal or better quality in terms of achieving the objectives of the programme." (Naked Capitalism)
What Draghi is saying is that Varoufakis's changes will be put under a microscope to see if they conform with the memorandum which Varoufakis believes no longer applies. The way this will work on a practical basis, is that additional money will only be meted out incrementally depending on compliance with, you guessed it, the old agreement. In other words, Varoufakis will not have a 4 month grace period to experiment with his pro-growth, anti-austerity economic policies. He'll be expected to toe the line from Day 1.
Varoufakis either doesn't understand what he signed or thinks he can implement his own plan without too much interference from the Eurogroup. Either way, there's probably going to be a confrontation given the vast disparity in the way the agreement is being interpreted. In a Tuesday interview with CNBC, Varoufakis said that the new deal is fundamentally different than the previous agreement. He said:
"Some people have been insisting that the program that we've been under must surely be the program that we shall remain under simply refuse to understand that this has changed. So they keep insisting that that program is still on-going. Let me give you a very simple number. The program that we challenged compelled to the Greek government to extract 4.5% of the primary surplus every year in a depressed economy. We've changed that. Now surely that is not dismissed as simply a non-event and it's business as usual, so it's not business as usual we have a fresh start and now what matters is to use the opportunity of that fresh start in order to build something good on top of it. And we will endeavor to do this." ("CNBC Exclusive Interview: Greek Finance Minister, Yanis Varoufakis", CNBC)
See? He sincerely believes that the old deal is history. But the troika, the Eurogroup, and the majority of people who have analyzed the new arrangement, disagree. They think everything is the same (which explains why critics on the right and left have repudiated the deal as a "climb-down, a capitulation and a sellout.)
In an interview with Nikos Hatzinikolaou on REAL FM, Greece, Varoufakis rejected the Memorandum while claiming that the new agreement represents "a huge success' in ending the "recessionary measures" that are needlessly prolonging Greece's Great Depression. Here's what he said:
Varoufakis: "The current  government (Syriza) wants to say things with their name. I will explain it to you in very simple terms, Mr. Hatzinikolaou. As long as our debt is what it is, as long as Greece was bounded within this iron cage of primary surpluses that were impossible to achieve without killing whatever is left in the private sector, and as long we have a negative sign in investments (essentially, real investments), it was impossible to achieve this exit.
What we are trying to do – and have succeeded in doing so; it was a huge success, I'd say – is to create a four-month bridge during which we achieve the following:

First, the cancelation of the recessionary measures and the implementation of a transitional program we ourselves have made, one the Greek society will be able to withstand. This will help us negotiate during this four-month period a new contract between us and our partners with the goal of solving this system of three equations with three unknowns.

Hatzinikolaou: Thus, we are talking about a new Memorandum? ….

Varoufakis: OK. Let us be careful with the words. What does the Memorandum mean? … Let me remind you of what it comprises. It comprises the logic of continuous domestic [or internal] devaluation, of  huge primary surpluses in an economy that does not have a real credit system, where investments are negative, and at the same time where we have a series of measures that empower this recession.  This is the MoU. It is the automation, the a-politicization, and the subjection to the crisis." ("The juicy interview of Greek Finance Minister, Yanis Varoufakis", Greek Analyst)
Varoufakis  appears to be saying that, in his view, the new agreement constitutes a rejection of the memorandum and, thus, is a de facto repudiation of austerity.  The question is whether Varoufakis is stretching the facts to give himself greater latitude to relieve Greece's humanitarian crisis and to put Greece back on a sound path to growth.  While those are worthy goals, they are not likely to win the Eurogroup's support. Check out this excerpt from a letter from the IMF to Dijsselbloem concerning the vagueness of Varoufakis's reform package:
"In quite a few areas, however, including perhaps the most important ones, the letter is not conveying clear assurances that the Government intends to undertake the reforms envisaged in the Memorandum on Economic and Financial Policies. We note in particular that there are neither clear commitments to design the envisaged comprehensive pension and VAT policy reforms, nor unequivocal undertakings to continue already-agreed policies for opening up closed sectors, for administrative reforms, for privatization, and for labor market reforms. As you know, we consider such commitments and undertakings to be critical for Greece's ability to meet the basic objectives of its Fund-supported program, which is why these are the areas subject to most of the structural benchmarks agreed with the Fund." (Excerpt IMF letter posted at Naked capitalism)
Repeat: "We consider such commitments and undertakings to be critical for Greece's ability to meet the basic objectives of its Fund-supported program."  In other words, Greece should not expect to get its loan extension unless it follows the troika's explicit orders on pensions, VAT (sales taxes), government cutbacks, privatization and labor market reforms.
So, what is Varoufakis's approach to these benchmarks?
Let's take a look at pension reform. In an interview with CNBC's Julia Chatterley on Tuesday, Chatterley asked Varoufakis point blank, "So you're ruling out pension cuts?"
Varoufakis: "Of course over the next four months there will be no such thing." (CNBC)
How about raising the VAT tax?
Same thing. And in the interview on REAL FM Varoufakis covered the other policies that the troika sees as "critical". Listen to this exchange:
Hatzinikolaou: My fundamental question about the e-mail is whether or not it entails layoffs in the public sector …, if it entails pension reductions … if it entails wage reductions?

Varoufakis: I will answer to all these questions, since these are very specific questions, and it is best that we speak forthrightly. My answer to all of these questions is NO, in NO WAY."
Let's summarize: No pension cuts, no higher VAT taxes, no lower wages for public workers, and no layoffs. While I admire what Varoufakis is suggesting, I can't figure out how he's going to convince the troika to give him more money.  Apparently, he thinks that streamlining the government and aggressively pursuing tax cheats will do the trick. Or maybe he has something else up his sleeve, like ignoring the terms of the agreement long enough to generate growth in the economy, lower unemployment, and create an improved environment for foreign investment. He might think that that will force the troika to acknowledge that austerity has failed and that pro-growth Keynesian strategies actually produce positive results. Of course, that's just a guess on my part. It's impossible to know for sure.
Here's more of the interview with CNBC:
Varoufakis:   "The reason why we have this 4 month period is to re-establish bonds of trust between us and our European partners as well as the IMF in order to build a new, we call it, contract between us and our partners so as to put an end to this spiral, the debt inflationary spiral; reform Greece; and make sure that CNBC doesn't care about Greece anymore, because we don't want to be in the headlines for all the wrong reasons." ("CNBC Exclusive Interview: Greek Finance Minister, Yanis Varoufakis", CNBC)
The "bonds of trust" are going to  put to the test if Varoufakis doesn't comply with the troika's diktats, that's for sure.
Varoufakis assumes that the troika doesn't understand the impact of its belt-tightening policies. He seems to think that the punishment that's being inflicted on Greece is just the unfortunate byproduct of debt reduction policy and not a deliberate attempt to crush the unions, roll back progressive reforms, decimate the welfare state, and reduce the country to a condition of "permanent colonial dependency."    But that viewpoint is shockingly naïve, after all, the IMF has been in the looting biz for a long time and has a pretty good grasp of the effects its toxic policies.  They know what they're doing, just like know that austerity is just a refinement of the "shock doctrine" which is the traditional way the elites exploit crises by imposing harsh, economy-demolishing reforms that only benefit themselves and their class. The men who conjure up these thieving schemes aren't likely to be hoodwinked by Varoufakis's vague reforms. They're going to force Varoufakis to jump through all their respective hoops before he gets one dime of their precious money. Here's Varoufakis again:
"There is going to be a great deal of toing and froing between us and the institutions and our partners but what we have established through stubborn refusal to succumb to the notion that elections change nothing over the past couple of months or weeks I should say is the notion that this government deserves to have a degree of room for policy-making that allows us to reform Greece and to carry the great multitude out there with us. This is the government for the first time in Greece that has the people behind it and it would be a terrible waste not just for us but for our partners to allow this wave of support to dissipate through non-action." (CNBC)
Does Varoufakis really think he can pull this off?  Does he really think he can out-fox the slimy, authoritarian brigands and leg-breakers who run these extortionist institutions and who will use every means possible to extract the last drop of blood from their victim be he an aspiring, but penniless student at the university or a destitute pensioner huddling homeless and frozen in an abandoned doorway in downtown Athens?
This isn't going to end well. Varoufakis had one card to play–the threat of leaving the Euro–and he failed to play it. Now his leverage is gone and the roof is about to cave in. Just wait and see.
The troika isn't going to convene another dreary round of negotiations to rehash the same old nonsense. Those days are over.  They're simply going to withhold the money, curtail liquidity assistance, and torpedo the Greek banking system. Kaboom! That's the way this thing is going to go down. The mood among the EZ finance ministers has soured considerably since the last meeting. They want to put this whole thing behind them. They're sick of it.  They want closure. They're not going to quibble over issues they've already gone over and clarified a million times.  Varoufakis will either have to get with the program or face the consequences. That's the way it works in Mafia-land; you either pay the piper or you find yourself in the East River in cement booties.
Who knows: maybe this is what Varoufakis wanted from the beginning, a ferocious clash ending in banishment, a Grexit.  Well, he won't have to wait long now.
Some things not to forget, which the new Greek leaders have not…
American historian D.F. Fleming, writing of the post-World War II period in his eminent history of the Cold War, stated that "Greece was the first of the liberated states to be openly and forcibly compelled to accept the political system of the occupying Great Power. It was Churchill who acted first and Stalin who followed his example, in Bulgaria and then in Rumania, though with less bloodshed."
The British intervened in Greece while World War II was still raging. His Majesty's Army waged war against ELAS, the left-wing guerrillas who had played a major role in forcing the Nazi occupiers to flee. Shortly after the war ended, the United States joined the Brits in this great anti-communist crusade, intervening in what was now a civil war, taking the side of the neo-fascists against the Greek left. The neo-fascists won and instituted a highly brutal regime, for which the CIA created a suitably repressive internal security agency (KYP in Greek).
In 1964, the liberal George Papandreou came to power, but in April 1967 a military coup took place, just before elections which appeared certain to bring Papandreou back as prime minister. The coup had been a joint effort of the Royal Court, the Greek military, the KYP, the CIA, and the American military stationed in Greece, and was followed immediately by the traditional martial law, censorship, arrests, beatings, and killings, the victims totaling some 8,000 in the first month. This was accompanied by the equally traditional declaration that this was all being done to save the nation from a "communist takeover". Torture, inflicted in the most gruesome of ways, often with equipment supplied by the United States, became routine.
George Papandreou was not any kind of radical. He was a liberal anti-communist type. But his son Andreas, the heir-apparent, while only a little to the left of his father, had not disguised his wish to take Greece out of the Cold War, and had questioned remaining in NATO, or at least as a satellite of the United States.
Andreas Papandreou was arrested at the time of the coup and held in prison for eight months. Shortly after his release, he and his wife Margaret visited the American ambassador, Phillips Talbot, in Athens. Papandreou later related the following:
I asked Talbot whether America could have intervened the night of the coup, to prevent the death of democracy in Greece. He denied that they could have done anything about it. Then Margaret asked a critical question: What if the coup had been a Communist or a Leftist coup? Talbot answered without hesitation. Then, of course, they would have intervened, and they would have crushed the coup.
Another charming chapter in US-Greek relations occurred in 2001, when Goldman Sachs, the Wall Street Goliath Lowlife, secretly helped Greece keep billions of dollars of debt off their balance sheet through the use of complex financial instruments like credit default swaps. This allowed Greece to meet the baseline requirements to enter the Eurozone in the first place. But it also helped create a debt bubble that would later explode and bring about the current economic crisis that's drowning the entire continent. Goldman Sachs, however, using its insider knowledge of its Greek client, protected itself from this debt bubble by betting against Greek bonds, expecting that they would eventually fail.
Will the United States, Germany, the rest of the European Union, the European Central Bank, and the International Monetary Fund – collectively constituting the International Mafia – allow the new Greek leaders of the Syriza party to dictate the conditions of Greece's rescue and salvation? The answer at the moment is a decided "No". The fact that Syriza leaders, for some time, have made no secret of their affinity for Russia is reason enough to seal their fate. They should have known how the Cold War works.
I believe Syriza is sincere, and I'm rooting for them, but they may have overestimated their own strength, while forgetting how the Mafia came to occupy its position; it didn't derive from a lot of compromise with left-wing upstarts. Greece may have no choice, eventually, but to default on its debts and leave the Eurozone. The hunger and unemployment of the Greek people may leave them no alternative.
The Twilight Zone of the US State Department
"You are traveling through another dimension, a dimension not only of sight and sound but of mind. A journey into a wondrous land whose boundaries are that of imagination. Your next stop … the Twilight Zone." (American Television series, 1959-1965)
State Department Daily Press Briefing, February 13, 2015. Department Spokesperson Jen Psaki, questioned by Matthew Lee of The Associated Press.
Lee: President Maduro [of Venezuela] last night went on the air and said that they had arrested multiple people who were allegedly behind a coup that was backed by the United States. What is your response?
Psaki: These latest accusations, like all previous such accusations, are ludicrous. As a matter of longstanding policy, the United States does not support political transitions by non-constitutional means. Political transitions must be democratic, constitutional, peaceful, and legal. We have seen many times that the Venezuelan Government tries to distract from its own actions by blaming the United States or other members of the international community for events inside Venezuela. These efforts reflect a lack of seriousness on the part of the Venezuelan Government to deal with the grave situation it faces.
Lee: Sorry. The US has – whoa, whoa, whoa – the US has a longstanding practice of not promoting – What did you say? How longstanding is that? I would – in particular in South and Latin America, that is not a longstanding practice.
Psaki: Well, my point here, Matt, without getting into history –
Lee: Not in this case.
Psaki: – is that we do not support, we have no involvement with, and these are ludicrous accusations.
Lee: In this specific case.
Psaki: Correct.
Lee: But if you go back not that long ago, during your lifetime, even – (laughter)
Psaki: The last 21 years. (Laughter.)
Lee: Well done. Touché. But I mean, does "longstanding" mean 10 years in this case? I mean, what is –
Psaki: Matt, my intention was to speak to the specific reports.
Lee: I understand, but you said it's a longstanding US practice, and I'm not so sure – it depends on what your definition of "longstanding" is.
Psaki: We will – okay.
Lee: Recently in Kyiv, whatever we say about Ukraine, whatever, the change of government at the beginning of last year was unconstitutional, and you supported it. The constitution was –
Psaki: That is also ludicrous, I would say.
Lee: – not observed.
Psaki: That is not accurate, nor is it with the history of the facts that happened at the time.
Lee: The history of the facts. How was it constitutional?
Psaki: Well, I don't think I need to go through the history here, but since you gave me the opportunity –- as you know, the former leader of Ukraine left of his own accord.
………………
Leaving the Twilight Zone … The former Ukrainian leader ran for his life from those who had staged the coup, including a mob of vicious US-supported neo-Nazis.
If you know how to contact Ms. Psaki, tell her to have a look at my list of more than 50 governments the United States has attempted to overthrow since the end of the Second World War. None of the attempts were democratic, constitutional, peaceful, or legal; well, a few were non-violent.
The ideology of the American media is that it believes that it doesn't have any ideology
So NBC's evening news anchor, Brian Williams, has been caught telling untruths about various events in recent years. What could be worse for a reporter? How about not knowing what's going on in the world? In your own country? At your own employer? As a case in point I give you Williams' rival, Scott Pelley, evening news anchor at CBS.
In August 2002, Iraqi Deputy Prime Minister Tariq Aziz told American newscaster Dan Rather on CBS: "We do not possess any nuclear or biological or chemical weapons."
In December, Aziz stated to Ted Koppel on ABC: "The fact is that we don't have weapons of mass destruction. We don't have chemical, biological, or nuclear weaponry."
Iraqi leader Saddam Hussein himself told CBS's Rather in February 2003: "These missiles have been destroyed. There are no missiles that are contrary to the prescription of the United Nations [as to range] in Iraq. They are no longer there."
Moreover, Gen. Hussein Kamel, former head of Iraq's secret weapons program, and a son-in-law of Saddam Hussein, told the UN in 1995 that Iraq had destroyed its banned missiles and chemical and biological weapons soon after the Persian Gulf War of 1991.
There are yet other examples of Iraqi officials telling the world, before the 2003 American invasion, that the WMD were non-existent.
Enter Scott Pelley. In January 2008, as a CBS reporter, Pelley interviewed FBI agent George Piro, who had interviewed Saddam Hussein before he was executed:
PELLEY: And what did he tell you about how his weapons of mass destruction had been destroyed?
PIRO: He told me that most of the WMD had been destroyed by the U.N. inspectors in the '90s, and those that hadn't been destroyed by the inspectors were unilaterally destroyed by Iraq.
PELLEY: He had ordered them destroyed?
PIRO: Yes.
PELLEY: So why keep the secret? Why put your nation at risk? Why put your own life at risk to maintain this charade?
For a journalist there might actually be something as bad as not knowing what's going on in his area of news coverage, even on his own station. After Brian Williams' fall from grace, his former boss at NBC, Bob Wright, defended Williams by pointing to his favorable coverage of the military, saying: "He has been the strongest supporter of the military of any of the news players. He never comes back with negative stories, he wouldn't question if we're spending too much."
I think it's safe to say that members of the American mainstream media are not embarrassed by such a "compliment".
In his acceptance speech for the 2005 Nobel Prize for Literature, Harold Pinter made the following observation:
Everyone knows what happened in the Soviet Union and throughout Eastern Europe during the post-war period: the systematic brutality, the widespread atrocities, the ruthless suppression of independent thought. All this has been fully documented and verified.
But my contention here is that the US crimes in the same period have only been superficially recorded, let alone documented, let alone acknowledged, let alone recognized as crimes at all.
It never happened. Nothing ever happened. Even while it was happening it wasn't happening. It didn't matter. It was of no interest. The crimes of the United States have been systematic, constant, vicious, remorseless, but very few people have actually talked about them. You have to hand it to America. It has exercised a quite clinical manipulation of power worldwide while masquerading as a force for universal good. It's a brilliant, even witty, highly successful act of hypnosis.
Cuba made simple
"The trade embargo can be fully lifted only through legislation – unless Cuba forms a democracy, in which case the president can lift it."
Aha! So that's the problem, according to a Washington Post columnist – Cuba is not a democracy! That would explain why the United States does not maintain an embargo against Saudi Arabia, Honduras, Guatemala, Egypt and other distinguished pillars of freedom. The mainstream media routinely refer to Cuba as a dictatorship. Why is it not uncommon even for people on the left to do the same? I think that many of the latter do so in the belief that to say otherwise runs the risk of not being taken seriously, largely a vestige of the Cold War when Communists all over the world were ridiculed for blindly following Moscow's party line. But what does Cuba do or lack that makes it a dictatorship?
No "free press"? Apart from the question of how free Western media is, if that's to be the standard, what would happen if Cuba announced that from now on anyone in the country could own any kind of media? How long would it be before CIA money – secret and unlimited CIA money financing all kinds of fronts in Cuba – would own or control almost all the media worth owning or controlling?
Is it "free elections" that Cuba lacks? They regularly have elections at municipal, regional and national levels. (They do not have direct election of the president, but neither do Germany or the United Kingdom and many other countries). Money plays virtually no role in these elections; neither does party politics, including the Communist Party, since candidates run as individuals. Again, what is the standard by which Cuban elections are to be judged? Is it that they don't have the Koch Brothers to pour in a billion dollars? Most Americans, if they gave it any thought, might find it difficult to even imagine what a free and democratic election, without great concentrations of corporate money, would look like, or how it would operate. Would Ralph Nader finally be able to get on all 50 state ballots, take part in national television debates, and be able to match the two monopoly parties in media advertising? If that were the case, I think he'd probably win; which is why it's not the case.
Or perhaps what Cuba lacks is our marvelous "electoral college" system, where the presidential candidate with the most votes is not necessarily the winner. If we really think this system is a good example of democracy why don't we use it for local and state elections as well?
Is Cuba not a democracy because it arrests dissidents? Many thousands of anti-war and other protesters have been arrested in the United States in recent years, as in every period in American history. During the Occupy Movement two years ago more than 7,000 people were arrested, many beaten by police and mistreated while in custody. And remember: The United States is to the Cuban government like al Qaeda is to Washington, only much more powerful and much closer; virtually without exception, Cuban dissidents have been financed by and aided in other ways by the United States.
Would Washington ignore a group of Americans receiving funds from al Qaeda and engaging in repeated meetings with known members of that organization? In recent years the United States has arrested a great many people in the US and abroad solely on the basis of alleged ties to al Qaeda, with a lot less evidence to go by than Cuba has had with its dissidents' ties to the United States. Virtually all of Cuba's "political prisoners" are such dissidents. While others may call Cuba's security policies dictatorship, I call it self-defense.
The Ministry of Propaganda has a new Commissar
Last month Andrew Lack became chief executive of the Broadcasting Board of Governors, which oversees US government-supported international news media such as Voice of America, Radio Free Europe/Radio Liberty, the Middle East Broadcasting Networks and Radio Free Asia. In a New York Times interview, Mr. Lack was moved to allow the following to escape his mouth: "We are facing a number of challenges from entities like Russia Today which is out there pushing a point of view, the Islamic State in the Middle East and groups like Boko Haram."
So … this former president of NBC News conflates Russia Today (RT) with the two most despicable groups of "human beings" on the planet. Do mainstream media executives sometimes wonder why so many of their audience has drifted to alternative media, like, for example, RT?
Those of you who have not yet discovered RT, I suggest you go to RT.com to see whether it's available in your city. And there are no commercials.
It should be noted that the Times interviewer, Ron Nixon, expressed no surprise at Lack's remark.
Notes
William Blum, Killing Hope: U.S. Military and C.I.A. Interventions Since World War II, chapters 3 and 35
"Greek Debt Crisis: How Goldman Sachs Helped Greece to Mask its True Debt", Spiegel Online (Germany), February 8, 2010. Google "Goldman Sachs" Greece for other references.
U.S. Department of State Daily Press Briefing, February 13, 2015
CBS Evening News, August 20, 2002
ABC Nightline, December 4, 2002
"60 Minutes II", February 26, 2003
Washington Post, March 1, 2003
"60 Minutes", January 27, 2008
Democracy Now!, February 12, 2015, Wright statement made February 10
Al Kamen, Washington Post, February 18, 2015
Huffington Post, May 3, 2012
New York Times, January 21, 2015
"Though it's happening to a stricken country, on the edge of Europe, the choices presented to Greece are being understood throughout Europe… Obey or leave."

— Paul Mason, Channel 4 News Blog
It's not easy to negotiate with a gun to your head.  Nevertheless, that's the situation Greek finance minister Yanis Varoufakis found himself in on Friday preceding a crucial meeting with the Eurogroup. According to one report, the objective of the last-ditch confab  "was to prepare a consensus text that would be the basis for the discussion" with the EU's finance ministers.  That might sound innocent enough, but it doesn't come close to explaining the real purpose of the meeting which was far more sinister.  Check out this blurb from Costas Efimeros at the Press Project:
"According to a Greek official who doesn't want to be named, the Greek delegation were yesterday subject to outright blackmail. Our 'partners' informed us that if Eurogroup doesn't result in an agreement, on Tuesday the Greek government will be forced to implement capital controls. It seemed that they had taken the decision to strangle the Greek economy by cutting off funding to the banks through the ELA system. Furthermore, it seemed that the big Greek banks already knew this. Leaks from the ECB, after all, had suggested that they were preparing for a GREXIT." ("Europe trashed democracy", Costas Efimeros, The Press Project)
It's nice to know that EU leaders ascribe to the same basic moral code as Don Corleone, isn't it?
The fact is, a slow motion bank run has been underway in Greece for more than a month draining roughly 40 billion euros from the Greek banking system. If a deal hadn't been struck on Friday, the ECB would have pulled the plug on its liquidity assistance program and blown the whole system to kingdom come. That's how the Eurocrats planned to say goodbye to their long-struggling member, Greece, by giving them a sharp jolt to the groin before razing their economy to the ground. That tells you everything you need to know about the Eurogroup.
If Greece got the boot on Friday, it's humanitarian crisis would have deepened overnight while the blow to the capital markets would have paved the way for another financial crisis.  Fortunately, the catastrophe was averted mainly because Varoufakis was able to cobble together a viable plan for meeting the Eurogroup's basic requirements while creating significant opportunities to ease conditions in Greece.  Don't get me wrong; this isn't a perfect deal by any stretch, but it is the best deal that could have been reached given the circumstances and the unbridled hostility from German finance minister Wolfgang Schaeuble who was eager to scuttle the whole project and throw Greece to the wolves.  Varoufakis managed to out maneuver the irascible Schaeuble and get some of what he wanted, but only through stiff-necked resolve and significant compromise.  As a result, Greece is still a member of the Eurozone,  but just barely. A rejection of its reform package today (Monday) could push the beleaguered country out of the 19-member Union for good.
Keep in mind, the Eurogroup made it perfectly clear from the beginning that they weren't going to restructure Greece's debts or end the austerity program. The issues weren't even on the table. So, those who think that Varoufakis should have given the Eurogroup an ultimatum ("Reduce our debts or we'll leave.") simply don't understand the nature of the negotiations.  Varoufakis was forced to operate  within very strict parameters. Given those limitations, he nabbed a very respectable deal. Even so, it's only natural for people to feel let-down, especially since Syriza had promised much more than they could deliver.  But that doesn't mean Varoufakis is a traitor or a sellout. Not at all. It merely means that Syriza's belief that it could end austerity but keep Greece in the Eurozone proved to be unfounded. In fact, German opposition has made it nearly impossible. The larger point is this: Syriza had no mandate to spearhead a Grexit.  That is not what the people voted for or what they want.  Varoufakis's was asked to do the impossible, square the circle. In that regard, he failed. But still, the deal he hammered out should mitigate Greece's slump to some extent, although one should not expect a full-blown economic recovery, not without a healthy dose of fiscal stimulus which is nowhere in sight.
Varoufakis managed to change the terms of the deal which is now referred to as the "existing arrangement" rather than a "program".  According to Norbert Haring, this new "arrangement"…"is not a "technical" extension of the "program" any more, but an extension of the funding arrangement, plus vague conditionality."  ("Was it worth it? Concessions to Greece relative to the rejected draft of 16 February", Nobert Haring)
It all sounds very tedious and legalistic, but the change is significant. You see, the real fight between Varoufakis and the Eurogroup was over this precise issue, that is, changing the inflexible, ironclad austerity "program" into a looser "arrangement" where polices can be altered via–what Varoufakis dubbed –"constructive ambiguity." Varoufakis objective is to create enough gray area for Greece to regain sovereign control over its own economic policies. Constructive ambiguity will help to achieve that, provided the reforms meet the Eurogroup's fiscal targets.
Here's more from Haring's post:  "There is no mention any more of "successful conclusion of the program", nor of "program" in the text. Instead a successful conclusion of the review of the "conditions in the current arrangement"  is the new condition. This allows the Greek government to continue to say that the old program cannot be successful. It also allows for changes in the program, as "conditions of the arrangement" is deliberately more vague."    ("Was it worth it? Concessions to Greece relative to the rejected draft of 16 February", Nobert Haring)
This isn't just legal claptrap. It's a critical change in the way the policy is implemented.  Once again, Varoufakis has loosened the financial straitjacket in which Greece finds itself, which can only be seen as progress.
The new deal also allows Greece to decide its own reform package rather than the troika dictating what government expenses to cut or which publicly owned assets to sell.  Here's another excerpt from Haring's post:   "Most important change of the whole document: Addition of "The institutions will, for the 2015 primary surplus target, take the economic circumstances in 2015 into account." Excessive, self-defeating austerity is off.  Only the target for 2015 is mentioned, because everything further out would have to be part of a new arrangement, still to be negotiated."
So Varoufakis has achieved his goal of reducing austerity. Not only is there greater flexibility operationally but, also, Greece will control the levers of decision-making  in the "field of tax policy, privatisation, labour market reforms, financial sector, and pensions". Naturally, the lower the primary surplus, the more fiscal stimulus is available for economic growth. (Running a surplus during a depression is absolute madness, but this is the lousy hand Varoufakis was dealt.)
Haring's final comments are a good summary of Varoufakis's achievement:
"Was it worth the hassle to reject the draft of 16 February, just to accept the statement four days later? For Athens it most certainly was. It got the promise that no self-defeating, excessive austerity would be asked of it any more, the assurance that it could devise its own economic and social policies, as long as they did not impact negatively on the interests of its partners, rather than having to execute and leaving in place all the measures accepted by the former government and strongly rejected by the people. These are huge improvements for Athens, with no significant counterbalancing downside compared to 16 February."  ("Was it worth it? Concessions to Greece relative to the rejected draft of 16 February", Nobert Haring)
Clearly, this is a good deal for Greece, but let's not go overboard; the basic situation still stinks to high heaven, mainly because the Eurogroup would rather lecture and punish than give a struggling member a helping hand.  Had the Eurozone evolved into a viable political union that distributed fiscal transfers to the weaker states on the periphery, Greece would have emerged from its recession years ago. Instead, the fiasco drags on endlessly punctuated by infrequent outbursts from EU leaders who vehemently defend belt-tightening measures that have only made matters worse.  If anything, this experience should help the Greek people decide whether there's a future for them and their children in the Eurozone or not.  Dealing with authoritarian boneheads (The Eurogroup) may eventually prove to be more trouble than its worth. (A Grexit looks better by the day!)
As for Varoufakis, well, he passed the finance minister's test with flying colors. He distinguished himself as a capable horse trader and managed to squeeze more concessions out of the EU's  austerity-obsessed representatives than anyone thought possible. The man proved that he's neither a "sell out" or a "traitor".(as some claim.) Quite the contrary, he kept his word and did exactly what the Greek people asked of him.
At the very least, he deserves credit for a valiant effort.
When the Negotium essay, Long History of HSBC Money Laundering was written over two years ago, one might think that the Banksters would look to take a lower profile. Forget about it, when you are part of a made criminal syndicate you never have to serve time, just say you are sorry. Bloomberg reports, the "HSBC Holdings Plc Chief Executive Officer Stuart Gulliver offered "sincerest apologies" following fresh details of how the bank's Swiss unit helped customers evade taxes."
The Forbes column, 'Corporate Governance Is The Very Essence Of A Business' presents a half hearted public relations spin from the notorious bank for Drug, Inc.
"As part of its response to the revelations HSBC said: "We acknowledge that the compliance culture and standards of due diligence in HSBC's Swiss private bank, as well as the industry in general, were significantly lower than they are today. At the same time, HSBC was run in a more federated way than it is today and decisions were frequently taken at a country level."
The most chilling feature of the laborious research into the HSBC files is the documentation of the knowing wrong-doing perpetrated by managers at various levels throughout the bank – and the flippancy with which it was undertaken. From 'code names' for clients to widespread collusion, it is clear there is complete contempt for the law."
Arrogance in spades is how the world's number two bank operates. Another example provided by Tom Heneghan, who professes to be an International Intelligence Expert, cites the following.
"Alibaba previously was de-listed on the Hong Kong Exchange for dealing in fraud with the Hong Kong branch of noted bank HSBC.
Alibaba is then simultaneously operating a foreign currency money laundry and ponzi scheme tied once again to HSBC."
The bigger the money the greater the chance you have for just minor pin pricks and fines that are all part of the pay off cycle of international banking.
When it comes to inventing clandestine methods for money laundering, look to the masters in the City of London to perfect the art of double talk. The BBC account, HSBC whistleblower's email to HMRC uncovered, states:
"An email which the whistleblower at the centre of an HSBC tax scandal says he sent to HM Revenue and Customs in 2008 has been uncovered by a French newspaper.
The UK tax authority has been under fire from MPs on the Public Accounts Committee, who accused tax officials of failing to deal with the matter adequately and ignoring Mr Falciani's 2008 email."
No surprise that a years old complaint gets pushed under the rug. HSBC is too big to fail and pays for protections in all the right places.
Reuters adds more accelerants to the firestorm, but the odds that this scandal will suck up all the oxygen to build into an inferno are slim.
"Other countries are already taking action against HSBC based on data leaked by Falciani and previously obtained by tax authorities. In November Argentina charged the bank with helping more than 4,000 clients evade taxes. HSBC Argentina rejected the charge, saying it respected Argentine law."
Hey, the motive to avoid paying taxes is well understood. However, facilitating criminal enterprises under the banner of a fiduciary banking institution crosses the line. The Guardian provides the following in HSBC files: Swiss bank hid money for suspected criminals.
"HSBC also held assets for bankers accused of looting funds from former Soviet states, while alleged crimes by other account holders include bribery at Malta's state oil company, cocaine smuggling from the Dominican Republic and the doping of professional cyclists in Spain.
The Swiss bank also held accounts for "politically exposed people" – defined as senior political figures or their relatives at heightened risk of involvement in corruption, money laundering, or avoiding international sanctions – with little evidence of any extra scrutiny of their activities."
OK, what is the point of citing more horror stories, by now you get the drill that the Globalist interdependent financial extortion system needs a mechanism to keep all the pay offs and ill-gotten gains circulating. The history of HSBC is a case study of all that global corporatists has wrought on the planet.
Governments won't even investigate credible complaints, enact necessary structural oversight and accountability processes, and certainly will not jail the kingpins who flaunt their untouchable status.
Repeating this saga using different circumstances never gets down to the level of approaching solutions. Without a universal outcry against the transnational banking model and the creation of regional and local alternative banking, the big banks will just keep getting larger and more autonomous and above national sovereignty.
What governments these banking house monopolies do not control, matter little in the larger scheme of finance. HSBC along with Goldman Sachs and JP Morgan may be the posters boys of the Banksters cabal, but you will never see their executive faces on a most wanted poster.
Last year Hang the Bankers published 48 suspicious banking deaths asks.
"With the global financial system heading towards a major crash in the near future are these people buckling under the pressure of what they see coming or are they being silenced because of what they know?"
Attempting to answer this question will take insider information of scores of Falciani whistleblowers. Or more probably, those who are considering joining the ranks of informers may well become part of the growing list of the deceased.
For those who doubt the shadow history of debt created banking, watch the video The Rothschild Family – Puppet Masters – World's Only Trillionaires – Full Documentary on the BREAKING ALL THE RULES You Tube Channel, subscribe for future updates.
What people must come to understand is that banking is not really about making money. It uses the fractional reserve and current zero interest rates to further their political influence over nations to achieve global governance. They are the true outlaws, in Armani suits. HSBC just happens to have a longer experience with global thievery than most
Ironman Varoufakis's Revolutionary Plan for Europe…
"The ongoing dispute between the German and Greek governments is nothing less than a democratic revolution against German hegemony and the attempt of the Germans and their paladins in the EU to dictate Greek domestic policy."

–Mathew D. Rose, It's a revolution, Stupid! Naked Capitalism

"Germany is eating itself over Greece. It is eroding its moral authority, and seems prepared to destroy the eurozone's integrity just to make a point."

–Paul Mason, Germany v Greece is a fight to the death, a cultural and economic clash of wills, Guardian
If you haven't been following developments in the Greek-EU standoff, you're really missing out. This might be the best story of the year. And what makes it so riveting, is that no one thought that little Greece could face off with the powerful leaders of the EU and make them blink. But that's exactly what's happened. On Monday, members of the Eurogroup met with Greece's finance minister, Yanis Varoufakis, to decide whether they would accept Greece's terms for an extension of the current loan agreement. There were no real changes to the agreement. The only difference was semantics, that is, the loan would not be seen as a bailout but as "a transitional stage to a new contract for growth for Greece". In other words, a bridge to a different program altogether.
In retrospect, Varoufakis's strategy was pure genius, mainly because it knocked the EU finance ministers off balance and threw the process into turmoil. After all, how could they vote "thumbs down" on loan package that they had previously approved just because the language was slightly different? But if they voted "thumbs up", then what?
Well, then they would be acknowledging (and, tacitly, approving) Greece's determination to make the program less punitive in the future. That means they'd be paving the way for an end to austerity and a rethink on loan repayment. They'd also be conceding that Greece's democratically-elected government had the right to alter the policies of the Eurogroup. How could they let that happen?
But, then again, how could they vote it down, after all, it was basically the same deal. As Varoufakis pointed out in a press conference on Monday:
"We agree to the terms of our loan agreements to all our creditors". And we have "agreed to do nothing to derail the existing budget framework during the interim period."
See? It's the same deal.
This is the conundrum the Eurogroup faced on Monday, but instead of dealing with it head-on, as you would expect any mature person to do, they punted. They put off the loan extension decision for another day and called it quits. Now maybe that was the smart thing to do, but the optics sure looked terrible. It looked like Varoufakis stared them down and sent them fleeing like scared schoolchildren.
Now, remember, Monday was the absolute, drop-dead deadline for deciding whether the Eurogroup would approve or reject the new terms for Greece's loan extension. That means the Eurogroup's task could not have been more straightforward. All they had to do was vote yes or no. That's it.
Instead, they called 'Time Out' and kicked the can a little further down the road. It was not a particularly proud moment for the European Union. But what's even worse, is the subterfuge that preceded the meetings; that's what cast doubt on the character of the people running EU negotiations. Here's the scoop: About 15 minutes before the confab began, Varoufakis was given a draft communique outlining the provisions of the proposed loan extension. He was pleasantly surprised to find that the document met all his requirements and, so, he was prepared to sign it. Unfortunately, the document was switched shortly before the negotiations began with one that backtracked on all the crucial points.
I'm not making this up. The freaking Eurogroup tried to pull the old switcheroo on Varoufakis to get him to sign something that was different than the original. Can you believe it? And it's only because Varoufakis studiously combed through the new memo that he was able to notice the discrepancy and jam on the brakes. As it happens, the final copy was just a rehash of the same agreement that Varoufakis has rejected from the onset. The only difference was the underhanded way the Eurogroup tried to slip it by him.
Now you tell me: Would you consider people who do something like that "trustworthy"?
Of course not. This is how people behave when they don't care about integrity or credibility, when all that matters is winning. If the Eurogroup can trick the Greeks into signing something that's different than what they think they're signing; then tough luck for the Greeks. "Caveat emptor". Buyer beware. The Eurogroup has no problem with that kind of shabby double-dealing. That's just how they play the game.
But their trickery and bullying hasn't worked, mainly because Varoufakis is too smart for them. And he's too charismatic and talented too, which is a problem for the EU bigwigs who resent the fact that this upstart Marxist academic has captured the imaginations of people around the world upsetting their little plan to perpetuate Greece's 6-year long Depression. They never anticipated that public opinion would shift so dramatically against them, nor had they imagined that all of Europe would be focused laserlike on the shady and autocratic workings of the feckless Eurogroup. That's not what they wanted. What they wanted was carte blanche to impose their medieval policies on the profligate Greeks, just like the good old days after Lehman Brothers tanked. After all, that's how a "anti-democratic imperialist project" like the EU is supposed to work, right?
Right, except now Varoufakis and his Marxist troopers have thrown a wrench in the Eurogroup's plans and put the future in doubt. The tide has turned sharply towards reason, solidarity and compassion instead of repression, exploitation and cruelty. In just a few weeks, the entire playing field has changed, and Greece appears to be getting the upper hand. Who would have known?
If you look at the way that Varoufakis has handled the Eurogroup, you have to admire the subtlety, but effectiveness of his strategy. In any battle, one must draw attention to the righteousness of their cause while exposing the flaws in the character of their adversary. The incident on Monday certainly achieved both. While David never really slayed Goliath, Goliath is certainly in retreat. And that's alot better than anyone expected.
As for the "cause", well, that speaks for itself. The Greek bailout was never reasonable because the plan wasn't designed to create a path for Greece to grow its way out of debt and deflation. No. It was basically a public relations smokescreen used to conceal what was really going on behind the scenes, which was a massive giveaway to the banks and bondholders. Everyone knows this. Check this out from Naked Capitalism:
"According to the Jubilee Debt Campaign, 92% of €240 billion Greece has received since the May 2010 bailout went to Greek and European financial institutions." (Naked Capitalism)
Yep, it was all just one big welfare payment to the moocher class. Meanwhile, the Greeks got zilch. And, yet, the Eurogroup wants them to continue with this same program?
No thanks.
As far as Greece's finances are concerned, they've gotten progressively worse every year the bailout has dragged on. For example, Greece's debt-to-GDP ratio has gone from 115 percent in 2010 more than 170 percent today. The country is headed in the wrong direction, which is what makes Varoufakis's remedies so compelling. It's because everyone knows that 'if you are already in a hole, stop digging'. That's the logic behind Varoufakis's position; he simply wants to "stop digging." But that can't be done by borrowing more money to repay debts that only get bigger with each new bailout. And it can't be done by implementing excruciating belt-tightening measures that increase unemployment and shrink the economy. It can only be done by reducing one's debts and initiating programs that help to grow the economy back to health. This isn't rocket science, but it is anathema to the retrograde ideology of the European Union which is one part bonehead economics and one part German sanctimony. Put the two together and you come up with a pre-Keynesian dystopia where one of the wealthiest regions in the world inches ever-closer to anarchy and ruin for the sole purpose of proving that contractionary expansion actually works. Well, guess what? It doesn't, and we now have six years of evidence to prove it.
It's worth noting that the Eurogroup hasn't budged one inch from its original position. In other words, there really haven't been any negotiations, not in any meaningful sense of the word. What there has been is one group of pompous blowhards reiterating the same discredited mantra over and over again, even though austerity has been thoroughly denounced by every reputable economist on the planet. Of course that doesn't matter to the ex-Goldman swindlers at the ECB or their hairshirt counterparts in Berlin. What they want is to extract every last drop of blood from their Greek victims. That's their game. And, of course, ultimately what they want to do is annihilate the entire EU welfare state; crush the unions, eviscerate pensions, wages and health care, and privatize everything they can get their greasy hands on. That's the real objective. Greece's exorbitant debts are just a means to an end, just a way to decimate the middle class in one fell swoop.
Keep in mind, the EU just narrowly avoided a triple-dip recession in the third quarter, which would have been their third slump in less than six years. How do you like that track record? It just illustrates the stunning mismanagement of the Union's economic affairs and the incompetence of the bureaucrats making the decisions. Even so, these same leaders have no qualms about telling Greece to step in line and follow their diktats to the letter.
Can you believe the arrogance?
Fortunately, Greece has broken from the herd and set out on a new course. They've disposed of the mealy-mouth, sellout politicians who used to run the country and put the A-Team in their place. And, boy, are they happy with the results. Syriza's public approval ratings are through the roof while Varoufakis has become the most admired man in Europe. The question is whether this new troupe of committed leftists can deliver the goods or not. So far, there's reason for hope, that is, if we can agree about what Varoufakis's strategy really is.
In earlier writings, Varoufakis said that he wants a New Deal for Greece. He said:
"Unless we have a new deal for Europe, Greece is not going to get a chance….It's a necessary condition that the eurozone finds a rational plan for itself…. until and unless the eurozone finds a rational plan for stopping this train wreck throughout the European Union, throughout the eurozone, Greece has no chance at all." Naked Capitalism)
Okay, so Varoufakis wants to stay in the EU, but he wants a change in policy. (Reducing the debts, ending austerity, and boosting fiscal stimulus.) But he also has more ambitious plans of which no one in Brussels, Frankfurt or Berlin seems to be aware. He wants to change the prevailing culture of the Eurozone; gradually, incrementally, but persistently. He wants a Europe that is more democratic and more responsive to the needs of the member states, but he also wants a Europe that is more united via institutions and programs that will strengthen the union. He believes that success will only be achieved if concrete steps are taken "to unify the banking system", mutualize debt ("the Federal Government having its own debt over and above states.") …"And thirdly we need an investment policy which runs throughout the Eurozone… a recycling mechanism for the whole thing. Unless we have these things,… I'm afraid there is absolutely nothing to avert the continuation of this slow motion derailment." (Naked Capitalism)
So, there you have it. Nationalize the banking system, create a Euro-wide bond market, and establish mechanisms for fiscal transfers to the weaker states like we do in the US via welfare, food stamps, gov contracts, subsidies etc. to create some balance between the very rich and productive states like California and New York and the poorer states like South Dakota and Oklahoma. That's what it's going to take to create a viable United States of Europe and escape these frustratingly recurrent crises. Varoufakis knows this, but of course he's not pushing for this. Not yet at least.
Instead, he's decided to take it slowly, one step at a time. Incremental change, that's the ticket. Just keep plugging away and building support until the edifice cracks and democracy appears.
That's Varoufakis's plan in a nutshell: Revolution from within. Just don't tell anyone in Berlin.
Human consciousness and the ability to understand that which really occurred in the past, is a skill that many people have little experience with mastering. Scholarship and researching the yesteryear relies upon analyzing accounts of others and is usually based on chronicles written centuries ago. Most of the original evidence used in writing the accounts may be lost, based upon oral myths or accurate translations of vanished languages. Even when the original sources are impeccable in their authenticity or go unquestioned in the ivory towers of academic scrutiny, the crucial question still remains, Was It So? Attempts to provide definitive proof, when it comes to explaining political events, relies more often on the art of understanding the connection among factions, based within the context of their intended agendas than smoking gun documents.
At the offset, the axiom that history is written by the victors, applies more to the popular culture then just to stories of military campaigns. Control of the perception of current events is the first stage for formulating the narrative, which will be accepted as the initial draft of history. The means upon which societies are manipulated have more to do with defining acceptable reports, using fictional circumstances and conclusions, then the butt of a rifle.
Yet, the distracted public mostly views history as recounts of war and power politics.  The popularity of television channels like the History Channel, H2, AHC and the subjects that air nearly 24/7, provide a version of past events that go virtually unchallenged. At the least, this method for a primary overview is more accurate, when compared to the common core education being taught in government schools.
However, for the most definitive interpretation of the past, the Hollywood extravaganza defines the memory impressions in the movie epics. The ordinary man and woman are not well educated in the depth and range of the human saga. For every dedicated student of former eras, the multitude is content to get their outlook of a different age as well as their attitudes on current affairs from the scripted culture that serves the interests of the elites that rule.
The deceased broadcaster, Paul Harvey used a signature line, The Rest of the Story. Well, it is one thing to elaborate in detail on the background aspects of a particular incident, but seldom will you find in the mass media accounts that explain the true nature of the institutions and government entities, designed to impose penal governance over the expendable subjects of any country.
With the fulfillment from centuries of consolidation for global power and domination, popularly known as the New World Order, the forces for technological and debt money enslavement are achieving their nightmare for humanity. Coining the term, Nefarious Warrior Organism that more closely explains the NWO cabal, will not be found in the establishment annals.
The canard that condemns inquiry into the core elements of the systematic destruction for the planet uses the slur of "Conspiracy Theorist" as the ultimate jab to discredit. Naïve simpletons refuse to do any inquiry on their own, out of fear that they may be tainted with the stain of being cast into the pit of subversives. Pray tell, the essay, There Is No Conspiracy – Only Official Policy illustrates one example of how the MSM, especially The New York Times, serves the interests of ruling elites.
One need not adopt the speculations of Ancient Aliens presented on H2 to be lumped into the pit of social discontents. Just the notion of questioning the official narrative of the past carries a social risk in the corridors of the global economy.
Our emphasis in investigation of Forbidden History focuses upon the political accounts that make up a distorted viewpoint of the last several centuries. Western Civilization is under an existential attack, not predominantly by foreign cultures but from the betrayal of the primacy principles of our genuine heritage.
All moral and political values stem from the cardinal maxim of the sanctity of all life. As this undeniable dogma is being eliminated from the social order, the replacement of divinely created humans are being prepared to accept the Transhumanism Singularity.
The article, NWO Overman is the Eupraxsophy of Transhumanism concludes with a dare that most probably will turn off those who repel from intellectual inquiry into the past traditions which our world accepted for millenniums.
"The end of this age is rapidly approaching. What follows does not bode well for humanity under the reign of a Transhumanism world. Salvation for our created human beings from the evil transgressions of the Overman's hubris requires our humbling before our Lord and Creator. Faith and belief is the alternative to malevolence and despair. Hope in providential intervention is intellectually founded and sound, when compared to the prospects of the DARPA superman. The Elijah Option challenges you. Whom do you serve?"
Searching to understand the Forbidden History of our age requires the internal fortitude to challenge establishment convention, while maintaining the accuracies of eternal truths. History is often referred to as His Story. The "his" represents the power to invent the chronicle and fabricate meaning of events.
Courage to face the evidence and corroborate alternative explanations to established accounts is not easy. The slings and arrows that target anyone who dares to dispute the ruling order is a given. Demonization of any contrary storyline that conflicts with the comfort of clichés and tales of self-serving accounts is the price one pays for seeking the truth.
Several quotations reveal the components that are valuable to maintain and the methods to achieve this quest.
Remember the portrayal of the Old Gringo in that movie version of Ambrose Bierce? Now read his timeless words.
"History: An account mostly false, of events mostly unimportant, which are brought about by rulers mostly knaves, and soldiers mostly fools." ~Ambrose Bierce, The Devil's Dictionary
This perspective is expanded by none other than the author of the renowned Hegelian dialectic.
"History… is, indeed, little more than the register of the 'crimes, follies, and misfortunes' of mankind. But what experience and history teach is this – that peoples and governments have never learned anything from history, or acted on principles deduced from it." ~Georg Wilhelm Friedrich Hegel, The Philosophy of History, "Introduction," 1807
When an American cynic and a philosopher known for German Idealism share a similar regret for the repeat of corrupt actions of rulers, a pattern for judicious distrust for mainstream stories, should be adopted.
So what approach does a prudent person undertake? Learning the skills of philosophical inquest is the suggestion of George E. Wilson.
"For me there is no greater subject than history. How a man can study it and not be forced to become a philosopher, I cannot tell." ~George E. Wilson
Nevertheless, intellectual inquiry is not enough according to Shailer Mathews who advocated a progressive Social Gospel message.
"When a historian enters into metaphysics he has gone to a far country from whose bourne he will never return a historian." ~Shailer Mathews, The Spiritual Interpretation of History
That far country that Mathews entered into viewed "the clash of civilizations was in reality a clash of different kinds of social experiences and mentalities and the religious ideas that supported them."
Developing the bravery to address the elements of Forbidden History is essential to the growth of both temporal and spiritual awareness. Most people avoid such a journey. They never draw upon the courage to enter that metaphysical world, because they are too scared to buck the system or rescind their own denial morass.
Cognitive dissonance is just too comfortable for most to explore real historic investigation.
British historian George Macaulay Trevelyan offers the reasonable urging, that people pursue their own growth in intellectual authenticity. However, history shows that most will decline the invitation.
"History is the open Bible: we historians are not priests to expound it infallibly: our function is to teach people to read it and to reflect upon it for themselves." ~George Macaulay Trevelyan
BREAKING ALL THE RULES agrees with our fellow Existentialist, Albert Camus. Rebellion is a reoccurring necessity for Camus. When Camus states: "Integrity has no need of rules", we are given an insight that few can digest. Their own lack of honesty, principle and integrity allows them to accept the madness that dominates society.
"The entire history of mankind is, in any case, nothing but a prolonged fight to the death for the conquest of universal prestige and absolute power." ~Albert Camus, The Rebel
This immutable reality is rejected by every media gatekeeper or establishment toady on the payroll of the criminals that rule the globe. Forbidden History will offend the timid and outrage the dishonest. Gauging the onslaughts on this publisher only goes to confirm our motto – "Many seek to become a Syndicated Columnist, while the few strive to be a Vindicated Publisher . . ." Forbidden History reveals that exoneration lies in the truth of real historic accounts. Do you have the courage to judge for yourself?
The resounding victory of Alexis Tsipras in the Greek election was certainly a referendum that rejected the austerity demands placed on Greece by the European Union. The Wall Street Journal says the following, in Syriza Win in Greek Election Sets Up New Europe Clash.
"A Syriza victory marks an astonishing upset of Europe's political order, which decades ago settled into an orthodox centrism while many in Syriza describe themselves as Marxists. It emboldens the challenges of other radical parties, from the right-wing National Front in France to the newly formed left-wing Podemos party in Spain, and it sets Greece on a collision course with Germany and its other eurozone rescuers."
What informed political onlooker did not see this coming? The EU acts as if it was a Holy Roman Empire using some very unholy demands and requirements. Since Greece has a laid back culture, the notion that imposing a rigorous German work ethic on the Mediterranean city-states is about as shortsighted as allowing a popular vote in the cradle of Democracy. If the EU wants to be the seat of the Banksters New World Order, rectifying this oversight needs to be part of any additional rollovers of the debt.
The NYT reports on the German reaction to this election, in Greece Chooses Anti-Austerity Party in Major Shift.
"While Greece sees itself as being punished by creditors' demands, Germany and a host of European officials have argued that Greece and other troubled nations in the eurozone must clean up the high debts and deficits at the root of Europe's crisis . They say Athens has failed to make enough progress on structural reforms seen as necessary to stabilize the economy, and they are pressing Greece to raise billions of euros through more budgetary cutbacks and taxes."
Sounds like NATO Panzer tanks may need to surround the Acropolis. At issue is the next round of payments and exactly how far Tsipras' new coalition government will push back.
From the socialist French press, Greek radical-left leader vows to end 'humiliation and pain', the precedent dispute provides a look at the agenda that will be fought over.
"Greece's bailout deal with the eurozone is due to end on February 28 and Tsipras's immediate challenge will be to settle doubts over the next installment of more than 7 billion euros in international aid. EU finance ministers are due to discuss the issue in Brussels on Monday.
Tsipras has promised to renegotiate agreements with the European Commission, European Central Bank and International Monetary Fund "troika" and write off much of Greece's 320-billion-euro debt, which at more than 175 percent of gross domestic product, is the world's second highest after Japan."
The imposed neocolonialism from Brussels technocrats on Greece after the 2008 financial bubble is A True Greek Tragedy – Odyssey of the EU, concluded that "This tragedy is an existential test. Appreciate the absurdity of compliance with the New World Order, and apply comic relief, to those who follow commends of the EU Poseidon ship of state."
At stake is the ability of the EU to continue their centralization dictates in the face of public resistance. The victory of SYRIZA provides encouragement for similar movements from Spain, Portugal to Italy. However, such self-government enthusiasm flies in the face of the institutional power of the blue-blood aristocracy of financial elites, who in the past have never hesitated waging, war to suppress independence sentiments.
The term Grexit is introduced to forewarn the op-out of the EU option. Further explanation is elaborated in Greece lightning: six things you need to know about Syriza's victory.
Background – the Greek economy
Yesterday's election – and why Syriza wants to stay in the EU
But Germany is more relaxed about a 'Grex
It's now a question of how far Germany will budge
   The Eurozone is (probably) strong enough to withstand Grexit
But still, Grexit would be a risk that no one actively wants to take
Hugo Dixon: Grexit still unlikely after Syriza win takes another viewpoint. His outlook is based on the assumption that "no head of government in the other euro countries wants Greece to leave", so some kind of accommodation will be offered to appease the factions that resist their inordinate debt burden.
"So there might be a way of cutting a deal. The snag is that doing so would involve a massive somersault – or what Greeks call a "kolotoumba". Many of Tsipras' backers would then accuse him of betraying their cause. It is still far from clear whether he is prepared to do that.
But if the Syriza leader is not prepared to compromise, Greece will default and will have to impose capital controls to stop the banks collapsing. If the people then forced the government to backtrack, there would be one final chance to stay in the euro. Otherwise, the drachma would beckon."
Oh the horror of a country leaving the European Union and chucking the EURO. The factual consequences of Greece exiting the EU should not be gauged solely in economic terms. The limits upon which the Bilderberg oligarchy will tolerate liberation dissent become the decisive price and test of brute power in this battle for autonomy.
The Greek version of socialism is surely no model for economic prosperity. Nonetheless, the systematic fleecing of Greek assets by the vultures preying on the misery from the 2008 crash has yet to be put back in balance.
The viability of EU Bonds Rollover Debt with a Chinese Bailout makes the case why the EU is vulnerable to the mountains of their own obligations. The most likely outcome from the election of Alexis Tsipras is that a rescheduling rather than a reduction in the amount of indebtedness will take place. The EU Rothschild band of thieves knows no forgiveness, when it comes to collecting on their phony debt created currency loans.
The brave Spartans saved civilization at Thermopylae. It is doubtful that type of campaign can be fought again by today's Greeks.
In the ridiculous charade that passes for the foreign exchange currency markets, the ease upon which a 39% spike in the Swiss Franc to the EU has most financial journalist puzzled. A flagship of establishment journalism like the Washington Post provides a quaint explanation in Why Switzerland's currency is going historically crazy. The Swiss intend to keep their exchange rate at 1.2 Swiss francs per euro caused unsustainable negative competiveness in Swiss exports to EU customers. How many times have you heard that same old song? Corporatist media consistently spins a yarn that suppressing one's own currency is good for business.
Rely on viewpoints from reliable sources like The Economic Collapse. Their insight should be obvious to anyone with an ounce of common sense left. "The euro is falling apart, and the Swiss did not want to be married to it any longer.  Unfortunately, when any marriage ends the pain can be enormous."
Peter Schiff, who is a major precious metal dealer, is getting a boost in this latest development. The article Switzerland Surrenders the Currency War, but America Still Racing to the Bottom published in the Libertarian and Austrian Economic site, Lewrockwell.com provides an expected response.
"The Swiss are going to be able to get a better deal on all the products that they import from Europe and from other countries, so they won't have to export as much to pay for their imports. So that's positive for the Swiss. I would be worried about the Europeans who are now going to have to spend more money to buy Swiss products. They're the ones that hurt, as are Americans. Swiss products are now going to be more expensive for Americans, but American products… are going to be cheaper for the Swiss. So the Swiss win because they have a stronger currency, and Europeans and Americans lose because we have a weaker currency… "
These conclusions are so basic and correct that when mainline economists preach their financial orthodoxy, the idiocy of the "Free Trade" hoax screams out for a sense of monetary sanity.
Not to spoil the cheers for the Swiss, an important component must be factored in. When the Swiss Voters Reject Initiative on Central-Bank Gold, the hard money advocates expressed great disappointment.
"Swiss voters overwhelmingly rejected an initiative on Sunday that would have forced the country's central bank to hold one-fifth of its assets in gold, a move that would have eroded its ability to conduct monetary policy.
Critics of the initiative feared that the SNB's commitment to the cap would have been challenged because the central bank would have been forced to buy gold every time it intervened in the currency market."
This result seems to reinforce that the gnomes of central banking were once again in control of their gold hoards and refused to share any of its value with the holders of the Swiss Franc.
So how can one account, after rejecting the plebiscite on adopting making the Swiss Franc as a real hard money value currency that the exchange rates raise so sharply?
Fundamentals and measures that favor and protect the wealth of a national currency are not applied as standards, when central Banksters play the money float game. In order to understand why the Swiss Franc surged, one must examine the sickness within the EU and the extreme pressure on the EURO coming from desperate measures to keep the single European currency afloat.
The panic begins as the ECB Stimulation: The Trap Closes. Last week the EU Court of Justice advocate general ruled that the central bank could purchase sovereign debt.
"It referred to an existing ECB program called Outright Monetary Transactions — which isn't quite QE but which does involve purchases of government bonds. The court won't rule for another four to six months, but it's likely to follow the advocate general's guidance. That's good enough for Draghi to act now.
Many in Europe, especially in Germany, remain opposed. They see QE as a ruse by which the richer members of the currency bloc will end up paying for the fiscal misadventures of their neighbors."
Let the race begin and only the quickest will be left sitting tight, when the music stops playing. It seems that Steen Jakobsen writing in Endgame for central bankers agrees.
"Many central banks will envy the SNB (Swiss National Bank) for its move last week, as it at least tries to regain some control of its future, but the conclusion remains: central banks have as a group lost credibility and when the ECB starts QE this week the beginning of the end for central banks is completed. They are running out of time – that's the real real bottom line: the SNB ran out of time, the ECB runs out of time this week, and the Fed, Bank of Japan and the Bank of England ran out of time in 2014.
What comes now is a new reality – the SNB move was true paradigm shift – we can no longer look at central banks, the markets and extend-and-pretend in the same light as we did last Wednesday (the day before the SNB pounced)."
Now for the kicker . . . When a solid financial adviser acknowledges in their financial letter, like Chris Hunter, Editor-in-Chief, Bonner & Partners – Did the Swiss Just Burst the "Central Bank Bubble"?, that the crown prince of collectivist economics condemns the Swiss; you know they were correct in ditching their peg ratio to the EURO.
"We usually don't see eye to eye with economist Paul Krugman. But he's hit the nail on the head about the "Swiss shock." From his New York Times column: "The SNB's wimp-out will make life harder for monetary policy in other countries, because it will leave markets skeptical about whether other supposed commitments to keep up unconventional policy will similarly prove time-limited."
How evil those Swiss must be to actually defend their currency and their own wealth. As the EU implodes, the smart money will sit out the coming grand depression, provided by your friendly central banks, in the charm of the Swiss Alps.
The edifice of world post-1991 order is collapsing right now before our eyes. President Putin's decision to give a miss to the Auschwitz pilgrimage, right after his absence in Paris at the Charlie festival, gave it the last shove. It was good clean fun to troll Russia, as long as it stayed the course. Not anymore. Russia broke the rules.
Until now, Russia, like a country bumpkin in Eton, tried to belong. It attended the gathering of the grandees where it was shunned, paid its dues to European bodies that condemned it, patiently suffered ceaseless hectoring of the great powers and irritating baiting of East European small-timers alike. But something broke down. The lad does not want to belong anymore; he picked up his stuff and went home – just when they needed him to knee in Auschwitz.
Auschwitz gathering is an annual Canossa of Western leaders where they bewail their historic failure to protect the Jews and swear their perennial obedience to them. This is a more important religious rite of our times, the One Ring to rule them all, established in 2001, when the Judeo-American empire had reached the pinnacle of its power. The Russian leader had duly attended the events. This year, they will have to do without him. Israeli ministers already have expressed their deep dissatisfaction for this was Russia's Red Army that saved the Jews in Auschwitz, after all. Russia's absence will turn the Holocaust memorial day into a parochial, West-only, event. Worse, Russia's place will be taken by Ukraine, ruled by unrepentant heirs to Hitler's Bandera.
This comes after the French 'Charlie' demo, also spurned by Russia. The West hinted that Russia's sins would be forgiven, up to a point, if she joined, first the demo, and later, the planned anti-terrorist coalition, but Russia did not take the bait. This was a visible change, for previously, Russian leaders eagerly participated in joint events and voted for West-sponsored resolutions. In 2001, Putin fully supported George Bush's War on Terrorism in the UN and on the ground. As recently as 2011, Russia agreed with sanctions against North Korea and Iran. As for coming for a demonstration, the Russians could always be relied upon. This time, the Russians did not come, except for the token presence of the foreign minister Mr. Lavrov. This indomitable successor of Mr. Nyet left the event almost immediately and went – to pray in the Russian church, in a counter-demonstration, of sorts, against Charlie. By going to the church, he declared that he is not Charlie.
For the Charlie Hebdo magazine was (and probably is) explicitly anti-Christian as well as anti-Muslim. One finds on its pages some very obnoxious cartoons offending the Virgin and Christ, as well as the pope and the Church. (They never offend Jews, somehow).
A Russian blogger who's been exposed to this magazine for the first time, wrote on his page: I am ashamed that the bastards were dealt with by Muslims, not by Christians. This was quite a common feeling in Moscow these days. The Russians could not believe that such smut could be published and defended as a right of free speech. People planned a demo against the Charlie, but City Hall forbade it.
Remember, a few years ago, the Pussy Riot have profaned the St Saviour of Moscow like Femen did in some great European cathedrals, from Notre Dame de Paris to Strasbourg. The Russian government did not wait for vigilante justice to be meted upon the viragos, but sent them for up to two years of prison. At the same time, the Russian criminal law has been changed to include 'sacrilege' among ordinary crimes, by general consent. The Russians do feel about their faith more strongly than the EC rulers prescribe.
In Charlie's France, Hollande's regime frogmarched the unwilling people into a quite unnecessary gay marriage law, notwithstanding one-million-strong protest demonstrations by Catholics. Femen despoiling the churches were never punished; but a church warden who tried to prevent that, was heavily fined. France has a long anti-Christian tradition, usually described as "laic", and its grand anti-Church coalition of Atheists, Huguenots and Jews coalesced in Dreyfus Affair days. Thus Lavrov's escape to the church was a counter-demonstration, saying: Russia is for Christ, and Russia is not against Muslims.
While the present western regime is anti-Christian and anti-Muslim, it is pro-Jewish to an extent that defies a rational explanation. France had sent thousands of soldiers and policemen to defend Jewish institutions, though this defence antagonises their neighbours. While Charlie are glorified for insulting Christians and Muslims, Dieudonné has been sent to jail (just for a day, but with great fanfare) for annoying Jews. Actually, Charlie Hebdo dismissed a journalist for one sentence allegedly disrespectful for Jews. This unfairness is a source of aggravation: Muslims were laughed out of court when they complained against particularly vile Charlie's cartoons, but Jews almost always win when they go to the court against their denigrators. (Full disclosure: I was also sued by LICRA, the French Jewish body, while my French publisher was devastated by their legal attacks).
The Russians don't comprehend the Western infatuation with Jews, for Russian Jews have been well assimilated and integrated in general society. The narrative of Holocaust is not popular in Russia for one simple reason: so many Russians from every ethnic background lost their lives in the war, that there is no reason to single out Jews as supreme victims. Millions died at the siege of Leningrad; Belarus lost a quarter of its population. More importantly, Russians feel no guilt regarding Jews: they treated them fairly and saved them from the Nazis. For them, the Holocaust is a Western narrative, as foreign as JeSuisCharlie. With drifting of Russia out of Western consensus, there is no reason to maintain it.
This does not mean the Jews are discriminated against. The Jews of Russia are doing very well, thank you, without Holocaust worship: they occupy the highest positions in the Forbes list of Russia's rich, with a combined capital of $122 billion, while all rich ethnic Russians own only $165 billion, according to the Jewish-owned source. Jews run the most celebrated media shows in prime time on the state TV; they publish newspapers; they have full and unlimited access to Putin and his ministers; they usually have their way when they want to get a plot of land for their communal purposes. And anti-Semitic propaganda is punishable by law – like anti-Christian or anti-Muslim abuse, but even more severely. Still, it is impossible to imagine a Russian journalist getting sack like CNN anchor Jim Clancy or BBC's Tim Willcox for upsetting a Jew or speaking against Israel.
Russia preserves its plurality, diversity and freedom of opinion. The pro-Western Russian media –Novaya Gazeta of oligarch Lebedev, the owner of the British newspaper Independent – carries the JeSuis slogan and speaks of the Holocaust, as well as demands to restore Crimea to the Ukraine. But the vast majority of Russians do support their President, and his civilizational choice. He expressed it when he went to midnight Christmas mass in a small village church in far-away province, together with orphans and refugees from the Ukraine. And he expressed it by refusing to go to Auschwitz.
Neither willingly nor easily did Russia break ranks. Putin tried to take Western baiting in his stride: be it Olympic games, Syria confrontation, gender politics, Georgian border, even Crimea-related sanctions. The open economic warfare was a game-changer. Russia felt attacked by falling oil prices, by rouble trouble, by credit downgrading. These developments are considered an act of hostility, rather than the result of "the hidden hand of the market".
Russians love conspiracia, as James Bond used to say. They do not believe in chance, coincidence nor natural occurrences, and are likely to consider a falling meteorite or an earthquake – a result of hostile American action, let alone a fall in the rouble/dollar exchange rate. They could be right, too, though it is hard to prove.
Regarding oil price fall, the jury is out. Some say this action by Saudis is aimed at American fracking companies, or alternatively it's a Saudi-American plot against Russia. However, the price of oil is not formed by supply-demand, but by financial instruments, futures and derivatives. This virtual demand-and-supply is much bigger than the real one. When hedge funds stopped to buy oil futures, price downturn became unavoidable, but were the funds directed by politicians, or did they act so as Quantitative Easing ended?
The steep fall of the rouble could be connected to oil price downturn, but not necessarily so. The rouble is not involved in oil price forming. It could be an action by a very big financial institution. Soros broke the back of British pound in 1991; Korean won, Thai bath and Malaysian ringgit suffered similar fate in 1998. In each case, the attacked country lost about 40% of its GDP. It is possible that Russia was attacked by financial weapons directed from New York.
The European punitive sanctions forbade long-term cheap credit to Russian companies. The Russian state does not need loans, but Russian companies do. Combination of these factors put a squeeze on Russian pockets. The rating agencies kept downgrading Russian rating to almost junk level, for political reasons, I was told. As they were deprived of credit, state companies began to hoard dollars to pay later their debts, and they refrained from converting their huge profits to roubles, as they did until now. The rouble fell drastically, probably much lower than it had to.
This is not pinpoint sanctions aimed at Putin's friends. This is a full-blown war. If the initiators expected Russians to be mad at Putin, they miscalculated. The Russian public is angry with the American organisers of the economical warfare, not with its own government. The pro-Western opposition tried to demonstrate against Putin, but very few people joined them.
Ordinary Russians kept a stiff upper lip. They did not notice the sanctions until the rouble staggered, and even then they shopped like mad rather than protested. In the face of shrinking money, they did not buy salt and sugar, as their grandparents would have. Their battle cry against hogging was "Do not take more than two Lexus cars per family, leave something for others!"
Perhaps, the invisible financiers went too far. Instead of being cowed, the Russians are preparing for a real long war, as they and their ancestors have historically fought – and won. It is not like they have a choice: though Americans insist Russia should join their War-on-Terrorism-II, they do not intend to relinquish sanctions.
The Russians do not know how to deal with a financial attack. Without capital restrictions, Russia will be cleaned out. Russian Central bank and Treasury people are strict monetarists, capital restrictions are anathema for them. Putin, being a liberal himself, apparently trusts them. Capital flight has taken huge proportions. Unless Russia uses the measures successfully tried by Mohammad Mahathir of Malaysia, it will continue. At present, however, we do not see sign of change.
This could be the incentive for Putin to advance in Ukraine. If the Russians do not know how to shuffle futures and derivatives, they are expert in armour movements and tank battles. Kiev regime is also spoiling for a fight, apparently pushed by the American neocons. It is possible that the US will get more than what it bargained for in the Ukraine.
One can be certain that Russians will not support the Middle Eastern crusade of NATO, as this military action was prepared at the Charlie demo in Paris. It is far from clear who killed the cartoonists, but Paris and Washington intend to use it for reigniting war in the Middle East. This time, Russia will be in opposition, and probably will use it as an opportunity to change the uncomfortable standoff in the Ukraine. Thus supporters of peace in the Middle East have a good reason to back Russia.
If This Doesn't Make You Mad…
Why is the Fed threatening to raise interest rates when the economy is still in the doldrums? Is it because they want to avoid further asset-price inflation, prevent the economy from overheating, or is it something else altogether? Take a look at the chart below and you'll see why the Fed might want to raise rates prematurely. It all has to do with the sharp decline in petrodollars that are no longer recycling into US financial assets. This is from Reuters:
Petrodollar Exports
Source: Reuters

"Energy-exporting countries are set to pull their 'petrodollars' out of world markets this year for the first time in almost two decades, according to a study by BNP Paribas. Driven by this year's drop in oil prices, the shift is likely to cause global market liquidity to fall, the study showed…

This decline follows years of windfalls for oil exporters such as Russia, Angola, Saudi Arabia and Nigeria. Much of that money found its way into financial markets, helping to boost asset prices and keep the cost of borrowing down, through so-called petrodollar recycling.

This year, however, the oil producers will effectively import capital amounting to $7.6 billion. By comparison, they exported $60 billion in 2013 and $248 billion in 2012, according to the following graphic based on BNP Paribas calculations:

'At its peak, about $500 billion a year was being recycled back into financial markets. This will be the first year in a long time that energy exporters will be sucking capital out,' said David Spegel, global head of emerging market sovereign and corporate Research at BNP.

In other words, oil exporters are now pulling liquidity out of financial markets rather than putting money in. That could result in higher borrowing costs for governments, companies, and ultimately, consumers as money becomes scarcer." (Petrodollars leave world markets for first time in 18 years – BNP, Reuters)
Can you see what's going on?
Now that petrodollar funding has dried up, the Fed needs to find an alternate source of capital to keep the markets bubbly and to shore up the greenback. That's why the Fed has been talking up the dollar ("jawboning") and promising to raise rates even though the economy is still pushing up daisies. According to the Fed's favorite mouthpiece, Jon Hilsenrath:
"Federal Reserve officials are on track to start raising short-term interest rates later this year, even though long-term rates are going in the other direction amid new investor worries about weak global growth, falling oil prices and slowing consumer price inflation…

Many Fed officials have signaled they expect to start lifting their benchmark short-term rate from near zero around the middle of the year. Recent developments in the economy and markets have caused some trepidation among Fed officials and, if sustained, could cause them to delay acting. However several have indicated recently they still expect to move this year and are withholding judgment on delay." (Fed Officials on Track to Raise Short-Term Rates Later in the Year, Jon Hilsenrath, Wall Street Journal)
And we're hearing the same from Reuters: "The Federal Reserve is still on track for a potential mid-year interest-rate increase, a top Fed official said on Friday, citing strong U.S. economic momentum and a falling unemployment rate."
Notice the sudden change in tone from dovish to hawkish? Expect that to intensify in the months ahead as the major media tries to spin the data in a way that serves the Fed's broader objectives. Like this article in Bloomberg titled, "Yellen Signals She Won't Babysit Markets in Turmoil":
"Janet Yellen is leaving the Greenspan 'put"'behind as she charts the first interest-rate increase since 2006 amid growing financial-market volatility.

The Federal Reserve chair has signaled she wants to place the economic outlook at the center of policy making, while looking past short-term market fluctuations. To succeed, she must wean investors from the notion, which gained currency under predecessor Alan Greenspan, that the Fed will bail them out if their bets go bad — just as a put option protects against a drop in stock prices.

"The succession of Fed puts over the years has led to a wide range of distortions in financial markets," said Lawrence Goodman, president of the Center for Financial Stability, a monetary research group in New York. "There have been swollen asset values followed by sharp declines. This is a very good time for the Fed to move away.

"Let me be clear, there is no Fed equity market put," William C. Dudley, president of the New York Fed, the central bank's watchdog on financial markets, said in a Dec. 1 speech in New York." (She's No Greenspan: Yellen Signals She Won't Babysit Markets in Turmoil)
"There's no Fed equity put"?
That's ridiculous. Then how does one explain the way the Fed has launched additional rounds of QE every time stocks have started to sputter? And how does one explain the Fed's $4 trillion balance sheet all of which was spent on financial assets?
Let's face it, Central bank intervention has been the only game in town. It's not just the main driver of stocks. It's the only driver of stocks. Everyone knows that. Yellen is going to do everything in her power to keep stocks in the stratosphere just like her predecessors, Greenspan and Bernanke. The only that's going to change, is her approach.
As for the economy, well, just a glance of the headlines tells the whole story. Like this gem from CNBC last week:
"U.S. consumer prices recorded their biggest decline in six years in December and underlying inflation pressures were benign,…The Labor Department said on Friday its Consumer Price Index fell 0.4 percent last month, the largest drop since December 2008, after sliding 0.3 percent in November. In the 12 months through December, CPI increased 0.8 percent…

Darkening prospects for the global economy could also complicate matters for the U.S. central bank.

Inflation is running below the Fed's 2 percent target, despite a strengthening labor market and overall economy." (Consumer Price Index drops 0.4% in December, in line with estimates, CNBC)
Think about that for a minute: Consumer prices just logged their biggest drop since the freaking slump of 2008 and, yet, the Fed is still babbling about raising rates.
Talk about lunacy. Not only has the Fed not reached its inflation target of 2%, but it's abandoned the project altogether. Why? Why has the Fed suddenly stopped trying to boost inflation when the yields on benchmark 10-year US Treasuries have just plunged to record lows (1.70%) and are blinking red? In other words, the bond market is signaling slow growth and zero inflation for as far as the eye can see, but the Fed wants to raise rates and slash growth even more?? It doesn't make any sense, unless of course, Yellen has something else up her sleeve. Which she does.
Now get a load of this shocker on retail sales in last week's news. This is from Bloomberg:
"The optimism surrounding the outlook for U.S. consumers was taken down a notch as retail sales slumped in December by the most in almost a year, prompting some economists to lower spending and growth forecasts.
The 0.9 percent decline in purchases …. extended beyond any single group as receipts fell in nine of 13 major retail categories.
…
Treasury yields and stocks fell as a deepening commodities rout and the drop in sales spurred concern global growth is slowing…

…average hourly earnings falling 0.2 percent in December from the month before in the first drop since late 2012. That limits the amount of spending consumers can undertake without dipping into savings or racking up debt." (U.S. Retail Sales Down Sharply, Likely Cuts to Growth Forecasts Ahead, Bloomberg)
Remember when everyone thought that low oil prices were going to save the economy? It hasn't worked out that way though, has it? Nor will it. Falling oil prices usually indicate recession, crisis or deflation. Take your pick. They're usually not a sign of green shoots, escape velocity, or sunny uplands.
And did you catch that part about falling wages? How do you expand a consumer-dependent economy, when workers are seeing their wages shrivel every month? In case, you haven't seen the abysmal stagnation of wages in graph-form, here's a chart from American Progress:
Negative real wage growth means the amount of slack in the market is still considerable.
So while stock prices have doubled or tripled in the last 6 years, wages have basically been flatlining. That's a pretty crummy distribution system, don't you think. Unless you're in the 1 percent of course, then everything is just hunky dory.
But at least Yellen can find some comfort in the fact that unemployment continues to improve. In fact, just two weeks ago unemployment dropped to an impressive 5.4%, the lowest since 2007. So if we forget about the fact that wages are stagnating, that management has nabbed all the productivity-gains for the last 40 years, and that another 451,000 workers dropped off the radar altogether in December, then everything looks pretty rosy. But, of course, it's all just a bunch of baloney. Take a look at this from Zero Hedge:
"Another month, another attempt by the BLS to mask the collapse in the US labor force with a seasonally-adjusted surge in waiter, bartender and other low-paying jobs. Case in point… the labor participation rate just slid once more, dropping to 62.7%, or the lowest print since December 1977. This happened because the number of Americans not in the labor forced soared by 451,000 in December, far outpacing the 111,000 jobs added according to the Household Survey, and is the primary reason why the number of uenmployed Americans dropped by 383,000.
(Labor Participation Rate Drops To Fresh 38 Year Low; Record 92.9 Million Americans Not In Labor Force, Zero Hedge)
So, yeah, unemployment looks great until you pick through the data and see it's all a big fraud. Unemployment is only falling because more and more people are throwing in the towel and giving up entirely.
Finally, there's the rapidly-expanding mess in the oil patch where the news on layoffs and cut backs gets worse by the day. This is from Wolf Richter at Naked Capitalism:
"Layoffs are cascading through the oil and gas sector. On Tuesday, the Dallas Fed projected that in Texas alone, 140,000 jobs could be eliminated. Halliburton said that it was axing an undisclosed number of people in Houston. Suncor Energy, Canada's largest oil producer, will dump 1,000 workers in its tar-sands projects. Helmerich & Payne is idling rigs and cutting jobs. Smaller companies are slashing projects and jobs at an even faster pace. And now Slumberger, the world's biggest oilfield-services company, will cut 9,000 jobs." (Money dries up for oil and gas, layoffs spread, write-offs start, Wolf Richter, Naked Capitalism)
And then there's this tidbit from Pam Martens at Wall Street on Parade:
"In a December 15 article by Patrick Jenkins in the Financial Times, readers learned that data from Barclays indicated that "energy bonds now make up nearly 16 per cent of the $1.3 trillion junk bond market — more than three times their proportion 10 years ago," and "Nearly 45 per cent of this year's non-investment grade syndicated loans have been in oil and gas." Raising further alarms, AllianceBernstein has released research suggesting that the deals were not fully subscribed by investors with the potential that "as much as half of the outstanding financing from the past couple of years may be stuck on banks' books." (The perfect storm for Wall Street banks, Russ and Pam Martens, Wall Street on Parade)
How do you like that? So nearly half the toxic energy-related gunk that was bundled up into dodgy junk bonds (and is likely to default in the near future) is sitting on bank balance sheets. Does that sound like a potential trigger for another financial crisis or what?
And, no, I am not trying to ignore the fact that third quarter GDP came in at a whopping 5 percent which vastly exceeded all the analysts estimates. But let's put that into perspective. According to economist Dean Baker, the growth spurt was mainly "an anomaly" …"driven by extraordinary jump in military spending and a big fall in the size of the trade deficit that is unlikely to be repeated." Here's more from Baker:
"As usual, just about everything we've heard about the economy is wrong. To start, the 5.0 percent growth number must be understood against a darker backdrop: The economy actually shrank at a 2.1 percent annual rate in the first quarter. If we take the first three quarters of the year together, the average growth rate was a more modest 2.5 percent." (Don't Believe What You Hear About the US Economy, Dean Baker, CEPR)
So, the economy is growing at a crummy 2.5 percent, but Yellen wants to raise rates. Why? Does she want to shave that number to 2 percent or 1.5 percent? Is that it? She wants to go backwards?
Of course not. The real reason the Fed wants to raise rates, is to attract foreign capital to US markets in order to keep stocks soaring, keep borrowing costs low, and reinforce the dollar's role as the world's reserve currency. That's what's really going on. The petrodollars are drying up, so US markets need a new source of funding. Direct foreign investment, that's the ticket, Ducky. All the Fed needs to do is boost rates by, let's say, 0.5 percent and "Cha-ching", here comes the capital. Works like a charm every time, just ask former Treasury Secretary Robert Rubin whose strong dollar policy sent stock prices into orbit while widening the nation's current account deficit by many orders of magnitude. (We never said the plan didn't have its downside.)
The Fed's sinister plan to raise interest rates (sometime by mid-2015) will push the dollar's exchange rate higher thus triggering capital flight in the emerging markets which are already struggling with plunging commodities prices and an excruciating slowdown. The investment flows from the EMs to US financial assets and Treasuries will offset the loss of petrodollar revenue while expanding Wall Street's ginormous stock market bubble. As for the emerging markets, well, they're going to take it in the shorts bigtime as one would expect. Here's a clip from an article by Ambrose-Evans Pritchard that lays it out in black and white:
"The US Federal Reserve has pulled the trigger. Emerging markets must now brace for their ordeal by fire. They have collectively borrowed $5.7 trillion in US dollars, a currency they cannot print and do not control. This hard-currency debt has tripled in a decade, split between $3.1 trillion in bank loans and $2.6 trillion in bonds. It is comparable in scale and ratio-terms to any of the biggest cross-border lending sprees of the past two centuries…

Officials from the Bank for International Settlements say privately that developing countries may be just as vulnerable to a dollar shock as they were in the Fed tightening cycle of the late 1990s, which culminated in Russia's default and the East Asia Crisis. The difference this time is that emerging markets have grown to be half the world economy. Their aggregate debt levels have reached a record 175pc of GDP, up 30 percentage points since 2009…"

This time the threat does not come from insolvent states. They have learned the lesson of the late 1990s. Few have dollar debts. But their companies and banks most certainly do, some 70pc of GDP in Russia, for example. This amounts to much the same thing in macro-economic terms. " (Fed calls time on $5.7 trillion of emerging market dollar debt, Ambrose-Evans Pritchard, Telegraph)
The Fed has been through this drill so many times before they could do it in their sleep. (" U.S. interest-rate hikes in 1980s and 1990s played a role in financial crises across Latin America and East Asia." Foreign Policy Magazine) They've learned how to profit off every crisis, particularly the one's that they themselves create, which is just about all of them. In this case, most of the loans to foreign businesses and banks were denominated in dollars. So, now that the dollar is soaring, ("The dollar's value has risen about 15 percent relative to the euro and the yen just since the summer." NPR) the debts are going to balloon accordingly (in real terms) which is going to push a lot of businesses off a cliff forcing sovereigns to step in and provide emergency bailouts.
Did someone say "looming financial crisis"?
Indeed. Bernanke's "easy money" has inflated bubbles across the planet. Now these bubbles are about to burst due to the strong dollar and anticipated higher rates. At the same time, the policy-switch will send hundreds of billions of foreign capital flooding into US markets pushing stocks and bonds through the roof while generating mega-profits for JPM, G-Sax and the rest of the Wall Street gang. All according to plan.
Naturally, the stronger dollar will weigh heavily on employment and exports as foreign imports become cheaper and more attractive to US consumers. That will reduce hiring at home. Also the current account deficit will widen significantly, meaning that the US will again be consuming much more than it produces. (This took place under Rubin, too.) But here's what's interesting about that: According to the Bureau of Economic Analysis: "Our current account deficit has narrowed sharply since the crisis…The U.S. current account deficit now stands at 2.5 percent of GDP, down from more than 6 percent in the fourth quarter of 2005." (BEA)
Great. In other words, Obama's obsessive fiscal belt-tightening lowered the deficits enough so that Wall Street can "party on" for the foreseeable future, ignoring the gigantic bubbles they're inflating or the emerging market economies that are about to be decimated in this latest dollar swindle.
If that doesn't make you mad, I don't know what will.
Lt. Col. Dr. Mark Obrtel is a 48 year old officer of the army of the Czech Republic who has served with distinction in his country's missions under NATO command in the former Yugoslavia and Afghanistan. We would never know of him were it not for the fact that on December 30 he returned all his medals awarded for this service, and justified his decision in a letter to the Czech minister of defense that could have been written by Paul Craig Roberts or Patrick Buchanan.
Had a senior officer of an army unsubservient to the Empire (of a major player, such as China or Russia, or a minor one, such as Venezuela, Belarus or Armenia) done something similar, the Western media would have noted it with gusto. Obrtel is a non-person, however, because what he has done and said is equally uncomfortable to Washington and to its European minions. Before considering the implications, here is the text of Lt. Col. Obrtel's letter to the Minister:
Dear Mr. Minister,

"Due to the reasons I elaborate upon on the attached three-page letter which is an attachment to this document, I urge you to deprive me of the badges of honor from the military operations of the Army of the Czech Republic performed under the NATO umbrella.

I thank you for your understanding and assertively request your endorsement of my application.

Reserve Lieutenant Colonel Marek Obrtel MD, with his own hand.

An open letter to the defense minister and the Czech government

I am returning the war decorations because I am deeply ashamed of having served a criminal organization which the U.S.-led NATO is, and to its malformed interests across the world.

By this gesture, I also want to unambiguously express my complete disagreement with the U.S. policies towards Russia, the EU member states, and all free and sovereign countries in the present as well as the past and especially with the consequences of these policies.??

I also want to demonstrate my disapproval of the attitude of the Czech government and other competent institutions when it comes to the misinformation campaigns and the intentional information embargo on key events that are relevant for the current geopolitical and military situation in the world. In this context, I also blame all the responsible organs for the total inactivity in their task to prevent a global conflict (especially) between the U.S. and Russia on the European territory.??

Last but not least, my act is meant as a sign of my support for the Czech president Miloš Zeman and his effort to objectively analyze crucial internal and international political questions and his struggle "against everybody" to protect the sovereignty and identity of the Czech nation and its global security.

I received a degree from the Military Medical Academy and I became a professional army physician with a diploma from the Charles University in Prague, I am a reserve lieutenant colonel of the Czech army, and during my tenure, I have spent years in some of the highest chairs of the army's medical services, always in positions listed in tables with the track of becoming a colonel.

The most important occupations included my job as the commanding officer of the Czech Army Contingent in Afghanistan, the superintendent of the 11th field hospital of the Czech Army in Afghanistan, the vice-commander of the operational commandership of the armed forces' medical service, or important positions within the Section of army's healthcare of the Military headquarters of the Czech Army.

During my career within the military operations, I would get familiar with the Bosnian and Herzegovinian matters as well as issues of other successor states of former Yugoslavia, with Afghanistan, very shortly with the questions surrounding the Iraq conflict, and especially with Kosovo.

I have always fulfilled my duties as well as I could and as my strengths allowed me, in agreement with my opinion that similar activities can't be done at a "50% capacity"…

But already at those places, and especially in Kosovo, I was growing suspicious that our path (actions in units of troops organized by NATO) isn't right…

Whenever I concluded with the feeling that "something isn't right", I was trying to comfort myself by the idea that I was working as a doctor and my mission was to help to the sick and injured ones and those members of the local populations that were affected by the activity of our troops. This comfort has prevented me from seeing the problem in its entirety for several years and to understand that what NATO, and especially the U.S., is doing in numerous countries of the whole world must be ranked as the highest degree of perversity and intoxication by power. But even more importantly, all these conflicts were intentionally fabricated while the excuses to launch such conflicts and the American imperialist policy in these conflicts doesn't seem to have any limits. Everyone who opposes the imperial ambitions of the U.S. in any way, even if he were defending the identity, economy, and sovereignty of his nation, must be "erased off the map of the world".

I cannot identify myself with the international U.S. policies and once I began to be interested in the roots, essence, development, and consequences of the actions led by the organizations and structures of the U.S. after the war everywhere in the world, I turned into an unequivocal opponent of these policies. I must unambiguously classify it as ruthless, profit-seeking, and insatiable imperialism that won't be stopped by anyone or anything. The consequences primarily include the "burned down lands" and millions of casualties in the whole world. The causes are the power interests of the world's hegemony and – more recently – also the desperate attempt to prevent the ultimate collapse of the American empire.

Wherever I served around the world, I have never avoided the contact with the local populaces – both contacts related to my healthcare services, or simple conversations sparked by random encounters with the people or mutual visits. That is why I never depended exclusively on the NATO-related information sources, but I could also analyze and evaluate the situation from all conceivable perspectives. On the former Yugoslav territory, I had the extra advantage of having quickly mastered the local language at a level that has allowed me basic communication. All these events (and others) have allowed me to understand (and convince myself about) the meaninglessness and monstrosity of the NATO and especially U.S. actions in the context of many artificially ignited conflicts whose goal was to destabilize all the countries that did not want to be satisfied with the roles of obedient puppets and vassals of the U.S. Unfortunately, I was becoming a component in this machinery myself.

It has always been a problem for me to respect superiors who are incompetent, uneducated, inconsistent in their opinions, or incapable, if I had to use one word. On the contrary, I greatly respect the "bosses and commanders" who are the "right men on their places". For the latter men, I would be able to work for them until being spent out, as Czechs figuratively say…

During my professional career as a military and later civilian physician, I have also met a large number of incompetent politicians and superiors who have exchanged their personal profit and careerism, mixed with hypocrisy, ignorance, and populism, with honor, education, and desire to honestly work for the society.

This replacement has always had important, and sometimes fatal, consequences at every level. Our top-tier politics is no exception – politicians hired as puppets of the global exponents have created a big debt, sold and stolen our country by parts, internally undermined it, and buried all the moral values and they threw us to the tentacles of power structures such as the U.S.-led NATO. The politicians are leading, or at least tolerating, a massive misinformation campaign, hide many critical facts that sometimes affect the future of our lives as well, kowtow to the American "bosses", and silently tolerate their very strange bloody practices. In this way, they are bringing our country towards an abyss. They are also doing so by their inability to perceive the integrity of Europe including Russia as a counterbalance to the American efforts to enslave the world under its power influence in the times when the economic potential of the U.S. is eroding and it is a matter of when, not if, the whole American system collapses or the U.S. will provoke a fatal war conflict that will exploit Europe as the battleground (for the third time in the history).

How diametrically different is then the attitude and phrases of our president, Miloš Zeman, who – despite a massive wave of outrage in the U.S. and Brussels, and indignation by the pro-American sold "fifth column" – formulates the things as they are, uses the right names to call things, and localizes the genuine culprits and causal relationships and who isn't afraid that Europe also includes Russia but not the U.S… and other facts. I respect Zeman for those reasons and I encourage all those who care about the fate of our country and ourselves to loudly express their lasting support against "the American practices of CIA realized not only by the U.S. Ambassador Andrew Schapiro", against the red cards of the traitors from the Prague cafés, and against the policies of the "sycophants in Brussels". He is a directly elected president of ours, so we shouldn't let anyone take him away from us…

I am not brave enough to go to fight to the East of Ukraine in the new conflict created as a product of the desperate American imperialism – against the self-declared Ukrainian government. Not only do I lack the courage. Such a decision would be meaningless because this conflict is about something completely different than the search and application of the human rights and freedoms, i.e. the values "for which" the U.S. has already devastated so many countries in the world.

But I am able to find enough courage to unambiguously say that in the new cold war and related matters, I am on the side of the current president Russia, a man whom I deeply respect for the detached view, restraint, and balance with which he is responding to the provocations by the West, and for his matter-of-fact, transparent reactions to all the accusations and lies surrounding all the recent events.

One doesn't have to be a great expert in political science, sociology, military matters, politics, or related issues to figure out who is the aggressor and why he is doing it and who is defending himself. Common sense, a modest amount of intelligence, and the ability to connect the dots is, along with hours of the research of available sources and materials from several sources, enough.

I have reached my own conclusion a long time ago and I insist it is the right conclusion.

And that is why I can't and I don't want to wear my medals from the NATO operations anymore because they have been given to me by a criminal organization led by the U.S. As long as the U.S. and similar countries will be leading NATO, there is no room for these medals on the left side of my uniform.

Dear Mr. Defense Minister, I urge you to remove all the awarded NATO medals from me, and I thank you for this act in advance.

Reserve Lieutenant Colonel Marek Obrtel MD
IT IS SIGNIFICANT that, since the publication of this letter, nobody has accused Lt. Col. Obrtel of being a stooge of Putin. Had he been an FSB/GRU asset, it would have been insane to let him blow his cover for no visible benefit. Had he been deemed suspicious or unreliable, Western security services would have produced the goods by now. But because his was a genuine cri de coeur, measured and articulate, the decision was made to ignore it.
The Czechs are right to feel uneasy about Western geopolitical machinations. They were spectacularly stabbed in the back by their "allies" in Munich in September 1938, and they know that NATO security guarantees are not worth much if it comes to risking New York in order to save Prague.
Is Putin Creating A New World Order?
"If undercharging for energy products occurs deliberately, it also effects those who introduce these limitations. Problems will arise and grow, worsening the situation not only for Russia but also for our partners." – Russian President Vladimir Putin
It's hard to know which country is going to suffer the most from falling oil prices. Up to now, of course, Russia, Iran and Venezuela have taken the biggest hit, but that will probably change as time goes on. What the Obama administration should be worried about is the second-order effects that will eventually show up in terms of higher unemployment, market volatility, and wobbly bank balance sheets. That's where the real damage is going to crop up because that's where red ink and bad loans can metastasize into a full-blown financial crisis. Check out this blurb from Nick Cunningham at Oilprice.com and you'll see what I mean:
"According to an assessment from the Federal Reserve Bank of Dallas, an estimated 250,000 jobs across eight U.S. states could be lost in 2015 if oil prices don't rise. More than 50 percent of those job losses would occur in Texas, which leads the nation in oil production.

There are some early signs that a slowdown in drilling could spread to the manufacturing sector in Texas… One executive at a metal manufacturing company said in the survey, "the drop in crude oil prices is going to make things ugly… quickly." Another company that manufactures machinery told the Dallas Fed, "Low oil prices will drive reductions in U.S. drilling rigs, which will in turn reduce the market for our products."

The sentiment was similar for a chemical manufacturer, who said "lower oil prices will adversely impact margins. Energy volatility will cause our customers to keep inventories tight."

States like Texas, North Dakota, Oklahoma, and Louisiana have seen their economies boom over the last few years as oil production surged. But the sector is now deflating, leaving gashes in employment rolls and state budgets." (Low Prices Lead To Layoffs In The Oil Patch, Nick Cunningham, Oilprice.com)
Of course industries lay-off workers all the time and it doesn't always lead to a financial crisis. But unemployment is just one part of the picture, lower personal consumption is another. Take a look:
"Falling oil prices are a bigger drag on economic growth than the incremental "savings" received by the consumer…..Another way to show this graphically is to look at the annual changes in Personal Consumption Expenditures (PCE) in aggregate as compared to the subsection of PCE spent on energy and related products. This is shown in the chart below.

Lower Energy Prices To Lower PCE (Personal Consumption Expenditures):
See? So despite what you might have read in the MSM, lower gas prices do not translate into greater personal consumption or more robust growth. Quiet the contrary, they tend to intensify deflationary pressures and reduce activity which is a damper on growth.
Then there's the knock-on effects that crashing prices and layoffs have on other industries like mining, manufacturing and chemical production. Here's more from Oil Price:
"Oil and gas production makeup a hefty chunk of the "mining and manufacturing" component of the employment rolls. Since 2000, when the oil price boom gained traction, Texas has comprised more than 40% of all jobs in the country according to first quarter data from the Dallas Federal Reserve…

The majority of the jobs "created" since the financial crisis have been lower wage paying jobs in retail, healthcare and other service sectors of the economy. Conversely, the jobs created within the energy space are some of the highest wage paying opportunities available in engineering, technology, accounting, legal, etc. In fact, each job created in energy related areas has had a "ripple effect" of creating 2.8 jobs elsewhere in the economy from piping to coatings, trucking and transportation, restaurants and retail….

The obvious ramification of the plunge in oil prices is that eventually the loss of revenue will lead to cuts in production, declines in capital expenditure plans (which comprise almost 1/4th of all capex expenditures in the S&P 500), freezes and/or reductions in employment, and declines in revenue and profitability…

Simply put, lower oil and gasoline prices may have a bigger detraction on the economy than the "savings" provided to consumers." (The Gasoline Price Myth, Lance Roberts, oilprice.com)
None of this sounds very reassuring, does it? And yet, all we hear from the media is how the economy is going to reach "escape velocity" on the back of cheap oil. Nonsense. This is just more "green shoots" baloney wrapped in public relations hype. The fact is, the economy needs the good-paying jobs more than it needs low-priced energy. But now that prices are tumbling, those jobs are going to disappear which is going to be a drag on growth. Now check out these headlines I picked up on Google News that help to show what's going on off the radar:
"Texas is in danger of a recession", CNN Money.
"Texas Could Be Headed for an Oil-Fueled Recession, JP Morgan Economist Says", Wall Street Journal "Good Times From Texas to North Dakota May Turn Bad on Oil-Price Drop", Bloomberg
"Low Oil Prices in the New Year Are Screwing Petrostates", Vice News
"Top US Oil States Are Taking A Hit From Plunging Crude Prices", Business Insider
Get the picture? If oil prices continue to fall, unemployment is going to spike, activity is going to slow, and the economy is going tank. And the damage won't be limited to the US either. Get a load of this from the UK Telegraph:
"A third of Britain's listed oil and gas companies are in danger of running out of working capital and even going bankrupt amid a slump in the value of crude, according to new research.

Financial risk management group Company Watch believes that 70pc of the UK's publicly listed oil exploration and production companies are now unprofitable, racking up significant losses in the region of £1.8bn.

Such is the extent of the financial pressure now bearing down on highly leveraged drillers in the UK that Company Watch estimates that a third of the 126 quoted oil and gas companies on AIM and the London Stock Exchange are generating no revenues.

The findings are the latest warning to hit the oil and gas industry since a slump in the price of crude accelerated in November when the Organisation of Petroleum Exporting Countries (Opec) decided to keep its output levels unchanged. The decision has caused carnage in oil markets with a barrel of Brent crude falling 45pc since June to around $60 per barrel." (Third of listed UK oil and gas drillers face bankruptcy, Telegraph)
"Carnage in oil markets," you say?
Indeed. Many of the oil-drilling newcomers set up shop to take advantage of the low rates and easy money available in the bond market. Now that prices have crashed, investors are avoiding energy-related junk bonds like the plague which is making it impossible for the smaller companies to roll over their debt or attract fresh capital. When these companies start to default en masse, as they certainly will if prices don't rebound, the blowback will be felt on bank balance sheets across the country creating the possibility of another financial meltdown. (Now we ARE talking about a financial crisis.)
The basic problem is that the banks have bundled a lot of their dodgy debt into financially-engineered products like Collateralized Loan Obligations (CLOs) and Collateralized Debt Obligations (CDOs) that will inevitably fail when borrowers are no longer able to service the loans. The rot can be concealed for a while, but eventually, if prices don't recover, a significant number of these companies are going to go under which will push the perennially-undercapitalized banking system to the brink once again. That's why Washington's plan to push down oil prices (to hurt the Russian economy) might have made sense on a short-term basis (to shock Putin into submission) but as a long-term strategy, it's nuts. And what's even crazier, is that Obama has decided to double-down on the same wacky plan even though Putin hasn't given an inch. Check this out from Reuters on Monday:
"The Obama administration has opened a new front in the global battle for oil market share, effectively clearing the way for the shipment of as much as a million barrels per day of ultra-light U.S. crude to the rest of the world…

The Department of Commerce on Tuesday ended a year-long silence on a contentious, four-decade ban on oil exports, saying it had begun approving a backlog of requests to sell processed light oil abroad.

The action comes at a critical juncture for the global oil market. World prices have halved to less than $60 a barrel since the summer as top exporter Saudi Arabia, once a staunch defender of $100 oil, refused to cut production in the face of surging U.S. shale output and tempered global demand…

With global oil markets in flux, it is far from clear how much U.S. condensate will find a market overseas."
(Analysis – U.S. opening of oil export tap widens battle for global market, Reuters)
Does that make sense to you, dear reader? Why would Obama suddenly opt to change the rules of the game when he knows it will increase supply and push prices down even further? Why would he do that? Certainly, he doesn't want to inflict more pain on domestic producers, does he?
Let's let Obama answer the question for himself. Here's a clip from an NPR interview with the president just last week. About halfway through the interview, NPR's Steve Inskeep asks Obama: "Are you just lucky that the price of oil went down and therefore their currency collapsed or …is it something that you did?
Barack Obama: If you'll recall, their (Russia) economy was already contracting and capital was fleeing even before oil collapsed. And part of our rationale in this process was that the only thing keeping that economy afloat was the price of oil. And if, in fact, we were steady in applying sanction pressure, which we have been, that over time it would make the economy of Russia sufficiently vulnerable that if and when there were disruptions with respect to the price of oil — which, inevitably, there are going to be sometime, if not this year then next year or the year after — that they'd have enormous difficulty managing it." (Transcript: President Obama's Full NPR Interview)
Am I mistaken or did Obama just admit that he wanted "disruptions" in the "price of oil" because he figured Putin would have "enormous difficulty managing it"?
Isn't that the same as saying that it was all part of Washington's plan; that plunging prices were just the icing on the cake for their asymmetrical attack on the Russian economy? It sure sounds like it. And that would also explain why Obama decided to allow domestic producers to dump more oil on the market even though it's going to send prices lower. Apparently, none of that matters as long as the policy hurts Russia.
So maybe the US-Saudi oil collusion theory isn't so far fetched after all. Maybe Salon's Patrick L. Smith was right when he said:
"Less than a week after the Minsk Protocol was signed, Kerry made a little-noted trip to Jeddah to see King Abdullah at his summer residence. When it was reported at all, this was put across as part of Kerry's campaign to secure Arab support in the fight against the Islamic State.

Stop right there. That is not all there was to the visit, my trustworthy sources tell me. The other half of the visit had to do with Washington's unabated desire to ruin the Russian economy. To do this, Kerry told the Saudis 1) to raise production and 2) to cut its crude price. Keep in mind these pertinent numbers: The Saudis produce a barrel of oil for less than $30 as break-even in the national budget; the Russians need $105.

Shortly after Kerry's visit, the Saudis began increasing production, sure enough — by more than 100,000 barrels daily during the rest of September, more apparently to come…

Think about this. Winter is coming, there are serious production outages now in Iraq, Nigeria, Venezuela and Libya, other OPEC members are screaming for relief, and the Saudis make back-to-back moves certain to push falling prices still lower? You do the math, with Kerry's unreported itinerary in mind, and to help you along I offer this from an extremely well-positioned source in the commodities markets: "There are very big hands pushing oil into global supply now," this source wrote in an e-mail note the other day." ("What Really Happened in Beijing: Putin, Obama, Xi And The Back Story The Media Won't Tell You", Patrick L. Smith, Salon)
Vladimir Putin: Public Enemy Number 1
Let's cut to the chase: All these oil shenanigans are really aimed at just one man: Vladimir Putin. There are a number of reasons why Washington wants to get rid of Putin, the first of which is that the Russian president has become an obstacle to US plans to pivot to Asia. That's the main issue. As long as Putin is calling the shots, there's going to be growing resistance to NATO's push eastward and Washington's military expansion across Central Asia which could undermine US plans to encircle China and remain the world's only superpower. Here's an excerpt from Zbigniew Brzezinski's The Grand Chessboard which helps to explain the importance Eurasia is in terms of Washington's global ambitions:
"..how America 'manages' Eurasia is critical. A power that dominates Eurasia would control two of the world's three most advanced and economically productive regions. A mere glance at the map also suggests that control over Eurasia would almost automatically entail Africa's subordination, rendering the Western Hemisphere and Oceania (Australia) geopolitically peripheral to the world's central continent. About 75 per cent of the world's people live in Eurasia, and most of the world's physical wealth is there as well, both in its enterprises and underneath its soil. Eurasia accounts for about three-fourths of the world's known energy resources." (p.31) (Zbigniew Brzezinski, The Grand Chessboard: American Primacy And It's Geostrategic Imperatives, Key Quotes From Zbigniew Brzezinksi's Seminal Book)
Get it? Prevailing in Asia is the administration's top priority, which is why the US is rapidly moving its military assets into place. Check this out from the World Socialist Web Site:
"Under Obama's "pivot to Asia," the Pacific Command will account for more than 60 percent of all US military forces, up from 50 percent under the Bush administration. This includes new US basing arrangements in the Philippines, Singapore and Australia, as well as renewed close military ties to New Zealand, and ongoing US military exercises in Thailand, Malaysia, Indonesia and Taiwan….(as well as) large troop deployments in Japan and South Korea, including nuclear-armed units." (The global scale of US militarism, Patrick Martin, World Socialist Web Site)
The "Big Shift" is already underway, which is why obstacles have to be removed and Putin's got to go.
Second, Putin has made himself a general nuisance vis a vis US strategic objectives in Syria, Iran and Ukraine. In Syria, Putin has thrown his support behind Assad who the US wants to topple in order to redraw the map of the Middle East and build gas pipelines from Qatar to Turkey to access the lucrative EU market.
Third, Putin has strengthened a number of coalitions and alliances –the BRICS bank, the Eurasian Economic Union, and the Shanghai Cooperation Organization–all of which pose a challenge to US dominance in the region as well as a viable alternative to neoliberal financial institutions like the IMF and World Bank. Going back to Brzezinski's "chessboard" once again, we see that the US should not feel threatened by any one nation, but should be constantly on-the-lookout for "regional coalitions" which could derail its plans to rule the world. Here's Brzezinski again:
"…the three grand imperatives of imperial geostrategy are to prevent collusion and maintain security dependence among the vassals, to keep tributaries pliant and protected, and to keep the barbarians from coming together." (p.40)

"Henceforth, the United States may have to determine how to cope with regional coalitions that seek to push America out of Eurasia, thereby threatening America's status as a global power." (p.55) (Zbigniew Brzezinski, The Grand Chessboard: American Primacy And It's Geostrategic Imperatives, Key Quotes From Zbigniew Brzezinksi's Seminal Book)
As a founding member and primary backer of these organizations, (and initiator of giant energy deals with China, India and Turkey) Putin has become Washington's biggest headache and a logical target for regime change.
Finally, Putin is doing whatever he can to circumvent dollar-denominated business and financial transactions. The move away from the buck is a direct attack on the US's greatest source of power, the ability to control the de facto international currency and to require that other nation's stockpile dollars for their energy purchases which are then recycled into US financial assets, stocks bonds and US Treasuries. This petrodollar-recycling scam allows the US to run gigantic current account deficits without raising interest rates or reducing government spending. Putin's anti-dollar policies could diminish the greenback's role as reserve currency and put an end to a system that institutionalizes looting.
This is why Putin is Public Enemy Number 1. It's because he's blocking the US pivot to Asia, strengthening anti-Washington coalitions, sabotaging US foreign policy objectives in the Middle East, creating institutions that rival the IMF and World Bank, transacting massive energy deals with critical US allies, increasing membership in an integrated, single-market Eurasian Economic Union, and attacking the structural foundation upon which the entire US empire rests, the dollar.
Naturally, Washington's powerbrokers are worried about these developments, just as they are worried about the new world order which is gradually taking shape under Putin's guidance. But, so far, they haven't been able to do anything about it. The administration's regime change schemers and fantasists have shown time-and-again that they're no match for Bad Vlad who has beaten them at every turn.
Bravo, Putin.