A 1928 book entitled "Propaganda" by Edward Bernays begins with these words. "The conscious and intelligent manipulation of the organized habits and opinions of the masses is an important element in democratic society.  Those who manipulate this unseen mechanism of society constitute an invisible government which is the true ruling power of our country."
"We are governed, our minds are molded, our tastes formed, our ideas suggested, largely by men we have never heard of. This is a logical result of the way in which our democratic society is organized.  Vast numbers of human beings must cooperate in this manner if they are to live together as a smoothly functioning society."
"Our invisible governors are, in many cases, unaware of the identity of their fellow members in the inner cabinet."  Pg. 9
He continues: "Some of the phenomena of this process are criticized—the manipulation of news, the inflation of personality, and the general ballyhoo by which politicians and commercial products and social ideas are brought to the consciousness of the masses. The instruments by which public opinion is organized and focused may be misused. But such organization and focusing are necessary to orderly life."
"As civilization has become more complex, and as the need for invisible government has been increasingly demonstrated, the technical means have been invented and developed by which opinion may be regimented." Pg. 12
Bernays lived to see a practical application of his ideas in the government of the United States of America.  Born in 1891 he died in 1995 at the age of 103.  His brand of Talmudist humanistic government is the guiding light of our current society.
The Frankfort School enhanced Bernays' totalitarian model with an equally onerous Communism.  With the same geographic German roots Horkheimer, Adorno, Marcuse, Pollock, Fromm, Lowenthal, and others fled Hitler's oppressive regime and sang their song of tyranny in American intellectual circles.
Similar authoritarianism were envisioned by University of Chicago professor Leo Strauss whose students included an array of  movers and shakers (Justice Clarence Thomas; Supreme Court nominee Robert Bork; Deputy Defense Secretary Paul Wolfowitz; former Assistant Secretary of State Alan Keyes; former Secretary of Education William Bennett; Weekly Standard editor and former Quayle Chief of Staff William Kristol; Allan Bloom, former New York Post editorials editor John Podhoretz; and former National Endowment for the Humanities Deputy Chairman John T. Agresto) who often damned Constitutional freedoms in favor of war and conquest.
R. J. Rushdoony's writings emphasize the inevitable development of the tyrannical state as the ultimate authority in humanistic societies.  Instead of deriving order from the immutable dictates of the Creator, humanism leaves the creature with an anarchic, goalless absurdity.  Tyranny is the only solution to mutable human opinion. Governments that evade responsibility to the Creator soon become despotic.
Humanism is not confined to totalitarian governments it is just as prominent and even more deadly in religious organizations.  The Protestant Christian Church began its steep slide with the idea that "free will" allowed the creature to decide whether or not it would accept the Will of the Creator.  Arminianism copies the original sin recorded In Genesis 3. The Bible describes a God Who is sovereign and Who both selects and enables His subjects.  Humanism had grown like a cancer in the Christian Church allowing so called Christians to function as humanists while claiming the Name of Christ.
Several doctrines common in the Catholic Church are equally humanistic.  The Church of Jesus Christ has no authority to forgive sin or to confer salvation; both are reserved to God alone.  The Bible contains no injunction to pray to Mary or to any other human figure the church might designate. This contradicts the Biblical mandate and is blasphemous.
Judaism is rife with human error that began with the Pharisees in the time of Christ and has continued to grow and fester.  God's Word contained in the Torah has been replaced with the words of men in the Talmud where Rabbis override the voice of the Creator with sly rebuttals and ameliorate sin with absurd excuses.  The apartheid Talmud, a humanistic guide to the Torah, rules the behavior of the powerful U. S. Jewish community.
Sincere subjugation to the Living God and attentive obedience to His Word is anathema to the prideful heathens that control the world.  The arrogance that results from human hegemony is forcing dissonant evil on a world of confused and sinful people.  Homosexuality, gay marriage, abortion, porn, imperialistic war, murder, torture, legal theft, judicial injustice, and rampant mendacity have all become entrenched in our society.
R. J. Rushdoony writes: "The alternative to the sovereignty, government, and providence of the triune God is in practice the sovereignty, government, and providence of church state or some agency of man.  It means freedom from God for the slavery of sin and rebellion.  The man who is in revolt against God's reign will soon be the slave, not only of sin, but of apostate institutions, churches, states, families , men, women, and children.  For such a slave, freedom is intolerable.  As a young Nazi boasted before WWII, 'We are free of freedom.' "   "Systematic Theology" Pg. 211-212
The passage reminded me of my estranged daughter who along with her husband and five grandchildren left the family, sold their home and all their possessions and moved into a cult.  They had a fine marriage and were excellent parents but they struggled to make a living and to find an outlet for their Christianity.
They were always happy to receive help but they regularly ignored advice.  Their failure to cope with the responsibilities of freedom was a product of their own rebellion and now they live and work under the control of others.
Slavery has been demonized in our society but it is not always bad.  There are those who prefer to delegate their freedom and will work for those who assume responsibility.
When Bernays refers to "the masses" he uses an impersonal derogation to describe the population that failed to ascend into the elite structure.  Today, that would be the 99 percent who are under the rule of a shadowy elite one percent.
It is an interesting fact that our Constitution was crafted in secret by a group of leading citizens.  It was designed to provide freedom to the population through rule of the people by the people.  It was a sterling concept but it had a fatal flaw:  Authority was vested in citizens who do not have the ability to properly govern themselves
Governments that are not bound to God's Law will always become tyrannical.  Libertarians seek a minimum of government intrusion – some seek none.  They come close to the Christian concept which is miniscule.  But since humans were not created to govern themselves they require an overarching authority.  God's model has the entire creation under His mandates.  His model provides maximum freedom for both the leaders and the people. It offers an absolute legal code that cannot be amended.  Without this immutable anchor for all of God's creatures tyranny will continue.
"The providence of God is little spoken of today, because His powers of government have been transferred to the state and to man, together with His sovereignty.  It is the stare that today preaches providence to willing congregations, calling it cradle to grave for (or womb to tomb) care, social security, and a variety of other names.  Men everywhere believe in providence, and they look to their gods to it. Unhappily, their gods are false gods, and not the living Lord."  R. J. Rushdoony  "Systematic Theology", Vol 1, Pg. 211
Memorial Day is when we commemorate our war dead. Like the Fourth of July, Memorial Day is being turned into a celebration of war.
Those who lose family members and dear friends to war don't want the deaths to have been in vain. Consequently, wars become glorious deeds performed by noble soldiers fighting for truth, justice, and the American way. Patriotic speeches tell us how much we owe to those who gave their lives so that America could remain free.
The speeches are well-intentioned, but the speeches create a false reality that supports ever more wars. None of America's wars had anything to do with keeping America free. To the contrary, the wars swept away our civil liberties, making us unfree.
President Lincoln issued an executive order for the arrest and imprisonment of northern newspaper reporters and editors. He shut down 300 northern newspapers and held 14,000 political prisoners. Lincoln arrested war critic US Representative Clement Vallandigham from Ohio and exiled him to the Confederacy. President Woodrow Wilson used WWI to suppress free speech, and President Franklin D. Roosevelt used WWII to intern 120,000 US citizens of Japanese descent on the grounds that race made them suspect. Professor Samuel Walker concluded that President George W. Bush used the "war on terror" for an across the board assault on US civil liberty, making the Bush regime the greatest danger American liberty has ever faced.
Lincoln forever destroyed states' rights, but the suspension of habeas corpus and free speech that went hand in hand with America's three largest wars was lifted at war's end. However, President George W. Bush's repeal of the Constitution has been expanded by President Obama and codified by Congress and executive orders into law. Far from defending our liberties, our soldiers who died in "the war on terror" died so that the president can indefinitely detain US citizens without due process of law and murder US citizens on suspicion alone without any accountability to law or the Constitution.
The conclusion is unavoidable that America's wars have not protected our liberty but, instead, destroyed liberty. As Alexander Solzhenitsyn said, "A state of war only serves as an excuse for domestic tyranny."
Southern secession did pose a threat to Washington's empire, but not to the American people.Neither the Germans of WWI vintage nor the Germans and Japanese of WWII vintage posed any threat to the US. As historians have made completely clear, Germany did not start WWI and did not go to war for the purpose of territorial expansion. Japan's ambitions were in Asia. Hitler did not want war with England and France. Hitler's territorial ambitions were mainly to restore German provinces stripped from Germany as WWI booty in violation of President Wilson's guarantees. Any other German ambitions were to the East. Neither country had any plans to invade the US. Japan attacked the US fleet at Pearl Harbor hoping to remove an obstacle to its activities in Asia, not as a precursor to an invasion of America.
Certainly the countries ravaged by Bush and Obama in the 21st century–Iraq, Afghanistan, Libya, Somalia, Syria, Pakistan, and Yemen posed no military threat to the US. Indeed, these were wars used by a tyrannical executive branch to establish the basis of the Stasi State that now exists in the US.
The truth is hard to bear, but the facts are clear. America's wars have been fought in order to advance Washington's power, the profits of bankers and armaments industries, and the fortunes of US companies. Marine General Smedley Butler said, " I served in all commissioned ranks from a second Lieutenant to a Major General. And during that time, I spent most of my time being a high-class muscle man for Big Business, for Wall Street, and for the bankers. In short, I was a racketeer for capitalism."
It is more or less impossible to commemorate the war dead without glorifying them, and it is impossible to glorify them without glorifying their wars.
For the entirety of the 21st century the US has been at war, not war against massed armies or threats to American freedom, but wars against civilians, against women, children, and village elders, and wars against our own liberty. Elites with a vested interest in these wars tell us that the wars will have to go on for another 20 to 30 years before we defeat "the terrorist threat."
This, of course, is nonsense. There was no terrorist threat until Washington began trying to create terrorists by military attacks, justified by lies, on Muslim populations.
Washington succeeded with its war lies to the point that Washington's audacity and hubris have outgrown Washington's judgment.
By overthrowing the democratically elected government in Ukraine, Washington has brought the United States into confrontation with Russia. This is a confrontation that could end badly, perhaps for Washington and perhaps for the entire world.
If Gaddafi and Assad would not roll over for Washington, why does Washington think Russia will? Russia is not Libya or Syria. Washington is the bully who having beat up the kindergarden kid, now thinks he can take on the college linebacker.
The Bush and Obama regimes have destroyed America's reputation with their incessant lies and violence against other peoples. The world sees Washington as the prime threat.
Worldwide polls consistently show that people around the world regard the US and Israel as the two countries that pose the greatest threat to peace. http://www.ibtimes.com/gallup-poll-biggest-threat-world-peace-america-1525008 and
http://www.jewishfederations.org/european-poll-israel-biggest-threat-to-world-peace.aspx
The countries that Washington's propaganda declares to be "rogue states" and the "axis of evil," such as Iran and North Korea, are far down the list when the peoples in the world are consulted. It could not be more clear that the world does not believe Washington's self-serving propaganda. The world sees the US and Israel as the rogue states.
The US and Israel are the only two countries in the world that are in the grip of ideologies. The US is in the grip of the Neoconservative ideology which has declared the US to be the "exceptional, indispensable country" chosen by history to exercise hegemony over all others. This ideology is buttressed by the Brzezinski and Wolfowitz doctrines that are the basis of US foreign policy.
The Israeli government is in the grip of the Zionist ideology that declares a "greater Israel" from the Nile to the Euphrates. Many Israelis themselves do not accept this ideology, but it is the ideology of the "settlers" and those who control the Israeli government.
Ideologies are important causes of war. Just as the Hitlerian ideology of German superiority is mirrored in the Neoconservative ideology of US superiority, the Communist ideology that the working class is superior to the capitalist class is mirrored in the Zionist ideology that Israelis are superior to Palestinians. Zionists have never heard of squatters' rights and claim that recent Jewish immigrants into Palestine–invaders really–have the right to land occupied by others for millenniums.
Washington's and Israel's doctrines of superiority over others do not sit very well with the "others." When Obama declared in a speech that Americans are the exceptional people, Russia's President Putin responded, "God created us all equal."
To the detriment of its population, the Israeli government has made endless enemies. Israel has effectively isolated itself in the world. Israel's continued existence depends entirely on the willingness and ability of Washington to protect Israel. This means that Israel's power is derivative of Washington's power.
Washington's power is a different story. As the only economy standing after WWII, the US dollar became the world money. This role for the dollar has given Washington financial hegemony over the world, the main source of Washington's power. As other countries rise, Washington's hegemony is imperiled.
To prevent other countries from rising, Washington invokes the Brzezinski and Wolfowitz doctrines. To be brief, the Brzezinski doctrine says that in order to remain the only superpower, Washington must control the Eurasian land mass. Brzezinski is willing for this to occur peacefully by suborning the Russian government into Washington's empire. "A loosely confederated Russia . . . a decentralized Russia would be less susceptible to imperial mobilization." In other words, break up Russia into associations of semi-autonomous states whose politicians can be suborned by Washington's money.
Brzezinski propounded "a geo-strategy for Eurasia." In Brzezinski's strategy, China and "a confederated Russia" are part of a "transcontinental security framework," managed by Washington in order to perpetuate the role of the US as the world's only superpower.
I once asked my colleague, Brzezinski, that if everyone was allied with us, who were we organized against? My question surprised him, because I think that Brzezinski remains caught up in Cold War strategy even after the demise of the Soviet Union. In Cold War thinking it was important to have the upper hand or else be at risk of being eliminated as a player. The importance of prevailing became all consuming, and this consuming drive survived the Soviet collapse. Prevailing over others is the only foreign policy that Washington knows.
The mindset that America must prevail set the stage for the Neoconservatives and their 21st century wars, which, with Washington's overthrow of the democratically elected government of Ukraine, has resulted in a crisis that has brought Washington into direct conflict with Russia.
I know the strategic institutes that serve Washington. I was the occupant of the William E.Simon Chair in Political Economy, Center for Strategic and International Studies, for a dozen years. The idea is prevalent that Washington must prevail over Russia in Ukraine or Washington will lose prestige and its superpower status.
The idea of prevailing always leads to war once one power thinks it has prevailed.
The path to war is reinforced by the Wolfowitz Doctrine. Paul Wolfowitz, the neoconservative intellectual who formulated US military and foreign policy doctrine, wrote among many similar passages:
"Our first objective is to prevent the re-emergence of a new rival, either on the territory of the former Soviet Union or elsewhere [China], that poses a threat on the order of that posed formerly by the Soviet Union. This is a dominant consideration underlying the new regional defense strategy and requires that we endeavor to prevent any hostile power from dominating a region whose resources would, under consolidated control, be sufficient to generate global power."
In the Wolfowitz Doctrine, any other strong country is defined as a threat and a power hostile to the US regardless of how willing that country is to get along with the US for mutual benefit.
The difference between Brzezinski and the Neoconservatives is that Brzezinski wants to suborn Russia and China by including them in the empire as important elements whose voices would be heard, If only for diplomatic reasons, whereas the Neoconservatives are prepared to rely on military force combined with internal subversion orchestrated with US financed NGOs and even terrorist organizations.
Neither the US nor Israel is embarrassed by their worldwide reputations as the two countries that pose the greatest threat. In fact, both countries are proud to be recognized as the greatest threats. The foreign policy of both countries is devoid of any diplomacy. US and Israeli foreign policy rests on violence alone. Washington tells countries to do as Washington says or be "bombed into the stone age." Israel declares all Palestinians, even women and children, to be "terrorists," and proceeds to shoot them down in the streets, claiming that Israel is merely protecting itself against terrorists. Israel, which does not recognize the existence of Palestine as a country, covers up its crimes with the claim that Palestinians do not accept the existence of Israel.
"We don't need no stinking diplomacy. We got power."
This is the attitude that guarantees war, and that is where the US is taking the world. The prime minister of Britain, the chancellor of Germany, and the president of France are Washington's enablers. They provide the cover for Washington. Instead of war crimes, Washington has "coalitions of the willing" and military invasions that bring "democracy and women's rights" to non-compliant countries.
China gets much the same treatment. A country with four times the US population but a smaller prison population, China is constantly criticized by Washington as an "authoritarian state." China is accused of human rights abuses while US police brutalize the US population.
The problem for humanity is that Russia and China are not Libya and Iraq. These two countries possess strategic nuclear weapons. Their land mass greatly exceeds that of the US. The US, which was unable to successfully occupy Baghdad or Afghanistan, has no prospect of prevailing against Russia and China in conventional warfare. Washington will push the nuclear button. What else can we expect from a government devoid of morality?
The world has never experienced rogue states comparable to Washington and Israel. Both governments are prepared to murder anyone and everyone. Look at the crisis that Washington has created in Ukraine and the dangers thereof. On May 23, 2014, Russia's President Putin spoke to the St. Petersburg International Economic Forum, a three-day gathering of delegations from 62 countries and CEOs from 146 of the largest Western corporations.
Putin did not speak of the billions of dollars in trade deals that were being formalized. Instead Putin spoke of the crisis that Washington had brought to Russia, and he criticized Europe for being Washington's vassals for supporting Washington's propaganda against Russia and Washington's interference in vital Russian interests.
Putin was diplomatic in his language, but the message that powerful economic interests from the US and Europe received is that it will lead to trouble if Washington and European governments continue to ignore Russia's concerns and continue to act as if they can interfere in Russia's vital interests as if Russia did not exist.
The heads of these large corporations will carry this message back to Washington and European capitals. Putin made it clear that the lack of dialogue with Russia could lead to the West making the mistake of putting Ukraine in NATO and establishing missile bases on Russia's border with Ukraine. Putin has learned that Russia cannot rely on good will from the West, and Putin made it clear, short of issuing a threat, that Western military bases in Ukraine are unacceptable.
Washington will continue to ignore Russia. However, European capitals will have to decide whether Washington is pushing them into conflict with Russia that is against European interests. Thus, Putin is testing European politicians to determine if there is sufficient intelligence and independence in Europe for a rapprochement.
If Washington in its overbearing arrogance and hubris forces Putin to write off the West, the Russian/Chinese strategic alliance, which is forming to counteract Washington's hostile policy of surrounding both countries with military bases, will harden into preparation for the inevitable war.
The survivors, if any, can thank the Neoconservatives, the Wolfowitz doctrine, and the Brzezinski strategy for the destruction of life on earth.
The American public contains a large number of misinformed people who think they know everything. These people have been programmed by US and Israeli propaganda to equate Islam with political ideology. They believe that Islam, a religion, is instead a militarist doctrine that calls for the overthrow of Western civilization, as if anything remains of Western civilization.
Many believe this propaganda even in the face of complete proof that the Sunnis and Shi'ites hate one another far more than they hate their Western oppressors and occupiers. The US has departed Iraq, but the carnage today is as high or higher than during the US invasion and occupation. The daily death tolls from the Sunni/Shi'ite conflict are extraordinary. A religion this disunited poses no threat to anyone except Islamists themselves. Washington successfully used Islamist disunity to overthrow Gaddafi, and is currently using Islamist disunity in an effort to overthrow the government of Syria. Islamists cannot even unite to defend themselves against Western aggression. There is no prospect of Islamists uniting in order to overthrow the West.
Even if Islam could do so, it would be pointless for Islam to overthrow the West. The West has overthrown itself. In the US the Constitution has been murdered by the Bush and Obama regimes. Nothing remains. As the US is the Constitution, what was once the United States no longer exists. A different entity has taken its place.
Europe died with the European Union, which requires the termination of sovereignty of all member countries. A few unaccountable bureaucrats in Brussels have become superior to the wills of the French, German, British, Italian, Dutch, Spanish, Greek, and Portuguese peoples.
Western civilization is a skeleton. It still stands, barely, but there is no life in it. The blood of liberty has departed. Western peoples look at their governments and see nothing but enemies. Why else has Washington militarized local police forces, equipping them as if they were occupying armies? Why else has Homeland Security, the Department of Agriculture, and even the Postal Service and Social Security Administration ordered billions of rounds of ammunition and even submachine guns? What is this taxpayer-paid-for arsenal for if not to suppress US citizens?
As the prominent trends forecaster Gerald Celente spells out in the current Trends Journal, "uprisings span four corners of the globe." Throughout Europe angry, desperate and outraged peoples march against EU financial policies that are driving the peoples into the ground. Despite all of Washington's efforts with its well funded fifth columns known as NGOs to destabilize Russia and China, both the Russian and Chinese governments have far more support from their people than do the US and Europe.
In the 20th century Russia and China learned what tyranny is, and they have rejected it.
In the US tyranny has entered under the guise of the "war on terror," a hoax used to scare the sheeple into abandoning their civil liberties, thus freeing Washington from accountability to law and permitting Washington to erect a militarist police state. Ever since WWII Washington has used its financial hegemony and the "Soviet threat," now converted into the "Russian threat," to absorb Europe into Washington's empire.
Putin is hoping that the interests of European countries will prevail over subservience to Washington. This is Putin's current bet. This is the reason Putin remains unprovoked by Washington's provocations in Ukraine.
If Europe fails Russia, Putin and China will prepare for the war that Washington's drive for hegemony makes inevitable.
Paul Craig Roberts was Assistant Secretary of the Treasury for Economic Policy and associate editor of the Wall Street Journal. He was columnist for Business Week, Scripps Howard News Service, and Creators Syndicate. He has had many university appointments. His internet columns have attracted a worldwide following. His latest books are, The Failure of Laissez Faire Capitalism and How America Was Lost. http://www.paulcraigroberts.org/
What is now called the Tea Party began in 2007 as a loosely-organized yet highly-motivated grassroots support effort for Congressman Ron Paul's bid for the White House. Since those early days, a lot has happened to the Tea Party.
For one thing, the Tea Party is now much larger and broader than any one person's political candidacy. And though a Tea Party candidate has not yet obtained the White House (Ron Paul was the lone Tea Party Republican candidate in both the 2008 and 2012 presidential elections), a host of Tea Party candidates have won several elections in the US House and Senate–as well as many State and local races. And to win these elections, Tea Party candidates have had to repel the attacks against them from the Republican establishment. In fact, the GOP establishment is far and away the Tea Party's biggest enemy.
Republican leaders such as John Boehner, John McCain, Lindsey Graham, Peter King, etc., have made one of their missions in life to defeat Republican Tea Party candidates–even if those candidates are incumbents. This is for good reason: the establishment Republican Party is diametrically opposed to the goals and principles of the Tea Party.
Based on the positions of most Tea Party candidates (which is all we have to go on as the Tea Party is not a real political party but only a grassroots activist effort being conducted mainly within the Republican Party), the goals and objectives of the Tea Party can be summarized generally as follows:
They support a non-interventionist foreign policy.
They support the Constitution and recognize the current attacks against the Constitution, especially against the Second, Fourth, and Tenth Amendments.
They oppose the NSA spying on the American citizenry (including the use of drones for such purposes).
They oppose the Patriot Act and the militarization of the Department of Homeland Security as well as local and State law enforcement agencies.
They oppose the Import-Export Bank.
They oppose the Federal Reserve Bank.
They oppose CISPA.
They oppose the indefinite detention provision of the NDAA.
They support ending the 2001 Authorization for the Use of Military Force (AUMF).
They support limited government spending–especially at the federal level.
One can easily see that many, if not most, of these goals and objectives are diametrically opposite the goals and objectives of the establishment Republican machine. And more than anything else, the Republican leadership in Washington, D.C., wants GOP congressmen and senators to be "team players." Of course, by "team players" they mean good little Republican robots that will not buck party leadership.
Since Representative Ron Paul retired, the Tea Party leader in the U.S. House is Justin Amash of Michigan. And working side-by-side Rep. Amash is Congressman Thomas Massie of Kentucky. In the U.S. Senate, the Tea Party is being led by men such as Rand Paul of Kentucky, Mike Lee of Utah, and Ted Cruz of Texas. There are several other Tea Party supporters in both the U.S. House and Senate, of course. It is no accident or coincidence that each of these congressmen and senators has incurred (and continue to incur) the wrath of establishment Republican leaders.
Congressman Peter King (R-NY) reserves his harshest rhetoric, not for any Democrat, but for Senator Rand Paul. King said that Rand Paul "disgraced his office," he "doesn't deserve to be in the U.S. Senate," and he "tells absolute lies." Karl Rove has repeatedly lambasted Justin Amash. House Speaker Boehner has spearheaded well-financed opposition to Amash's reelection campaign this year. Senator John McCain (the GOP standard bearer in 2008) recently called Amash, Paul, and Cruz "wacko birds." So much for Ronald Reagan's 11th Commandment to not speak evil of fellow Republicans. It would appear that commandment only applies to not criticizing the GOP establishment, while Republicans espousing Tea Party convictions are open-season for Republican leaders to lampoon and lambast without mercy.
Earlier this month, the GOP establishment spent over $1 million in a single House district race in an attempt to defeat 20-year Republican incumbent Walter Jones. The reason? Jones has a history of voting against the wishes of the party establishment–especially concerning the freedom issues listed above. Thankfully, they failed.
But all over the country, in national, State, and local elections, the GOP establishment is working feverishly to keep Tea Party candidates out of office or to defeat incumbent Republicans who support the Tea Party agenda. In fact, one way I can tell whether a candidate deserves my support or not is by the support or opposition he or she receives from the GOP establishment. If the Republican establishment supports him or her, I can pretty much know that I should vote for someone else.
The reason that Boehner, Karl Rove, and other big-government Republican leaders are trying so hard to defeat Justin Amash in particular is due to the fact that Amash has quietly but effectively spearheaded the momentum of small-government conservatives on Capitol Hill. Since the retirement of Ron Paul, Amash has successfully formed a potent coalition of constitutionally-minded Republicans within the Tea Party movement. He calls his coalition the "House Liberty Caucus." Of course, most of the framework for this caucus was put together by former Congressman Ron Paul.
Since Justin Amash was elected to the House and Rand Paul was elected to the Senate in 2010, eight of the eleven Ron Paul-endorsed congressional candidates won elections in 2012, including Senator Ted Cruz. All of these folks had significant Tea Party support. Boehner and Rove have reason to be worried. No wonder Amash's establishment-endorsed opponent has over $1 million to spend trying to oust him. No wonder the U.S. Chamber of Commerce (a long-time establishment organization) has unveiled a $50 million war chest designed to defeat Tea Party congressmen nationwide.
And please know this, too: the establishment has done its best to infiltrate the Tea Party so as to dilute its message and weaken its effectiveness. In fact, some Tea Parties around the country are now mostly dominated by establishment neocons. Thank God, many, if not most, of the Tea Parties around the country are still mostly comprised of strong, constitutionally-minded, non-establishment folks who refuse to bow to the GOP hierarchy. But we must be aware of the neocon infiltration that has taken place among many Tea Parties.
In virtually every political race this year–including national, State, county, and city–the establishment will be working tirelessly to elect their hand-picked neocons. When you hear Tea Party-type candidates being lampooned as "wacko" or "far right," etc., when you hear their critics and detractors say, "He can't win," please understand that you are listening to an establishment elitist whose job is to undermine the candidacies of those folks who refuse to go along with the establishment. Many of these critics will call themselves "conservatives." They will say they are simply being "pragmatic" and "reasonable." Hogwash! What they are doing is trying to ensure that non-establishment candidates never get elected.
The future of the Republican Party–or even if there is a Republican Party in the future–depends on the next few elections and whether or not the establishment will be able to bully and buy-off the votes of the American people. When John Boehner, John McCain, Lindsey Graham, Jeb Bush, Karl Rove, etc., demand that Congress provide amnesty for illegal aliens, when they try to ram their elitist, big-government agenda down the throats of congressmen and senators, when they spend hundreds of millions of dollars trying to defeat Tea Party Republicans, you can rest assured that they are not seeking the welfare of the country or even of the Republican Party.
The big-government establishment doesn't give a flip about freedom, the Constitution, or even the constituent back home. What they care about is THEM. They have become part of a wealthy and powerful cabal of miscreants who are going to be well-taken-care-of NO MATTER WHAT. They are themselves the pawns of evil power-brokers; and in order to survive, they must make sure that there are other pawns coming to Washington, D.C., to keep the power base intact.
This is a war. It is not only a political war; it is a spiritual war. It is a war for both the soul of the Republican Party (which at present, there isn't much of one left) and the soul of the country. It would really help if our pastors and churches could awaken to this war and help us fight it. The establishment knows it's a war; and they are fighting it with every ounce of energy in their collective being. And they have declared the Tea Party as public enemy number one.
What started as one congressman's presidential bid back in 2007 has now become a full-blown assault on the big-government establishment in Washington, D.C.–and around the country. The result is there is now a small army of Ron Pauls on Capitol Hill.
I urge you to ignore the shills of the establishment and go to the polls in the primaries this year and elect as many non-establishment candidates as you possibly can. Let's give Karl Rove and John Boehner something to really worry about.
China is an economic powerhouse. It's the world's second largest economy. It's heading for number one status.
Perhaps sooner than most expect. It's growth way outdistances America. It's multiples greater.
Russia matches Washington's military might. It does so in nuclear weapons strength. With sophisticated delivery systems.
Able to strike global targets accurately. With hugely destructive force. Enough to decimate potential adversaries. Perhaps to discourage potential aggression.
Russia is rich in what China needs most. Oil and gas mainly. Technological expertise. Industrial equipment. Sophisticated weapons.
Each nation is significant separately. They're able to challenge America responsibly.
Together they're a powerful combination. A force for world peace. For multi-polarity. For humanity. For weakening Washington's imperium.
Sino-Russian ties stress unity. They're strategically important. They're stronger than ever in modern times.
They're deepening. They expanding. Washington is increasingly concerned. It's going all-out to subvert what weakens its strength.
It's waging political, economic and cyberwar. It's fighting a losing battle. Sino/Russian unity is odds on to prevail.
Especially with committed ties. With deepening ones. With stronger than ever ones.
On Tuesday, Putin arrived in Shanghai. It's China's financial capital. He came to finalize a "Holy Grail" trade deal. It's enormously important.
It bonds both countries more closely together. It does so politically economically, commercially and militarily.
Both countries will trade increasingly in their own currencies. They'll strengthen them. They'll bypass dollar transactions. They'll weaken it.
Russia will supply China with around 38 billion cubic million meters of natural gas annually. For the next 30 years.
It may double in size ahead. Depending on China's internal needs.
Other increased trade was agreed on. In technological, industrial, and commercial sectors. In military hardware.
Growing Sino-Russian trade lessens reliance on increasingly undependable Western sources. It gives them less access to their markets.
Putin and Chinese President Xi Jinping reject irresponsible US-led Western bashing. They called sanctions political tools.
They condemned "encouraging and financing" Washington's regime change agenda.
The President of Russia's web site headlined "Russian-Chinese talks." Both leaders met in Shanghai.
They "signed a Joint Declaration of the Russian Federation and the People's Republic of China on the new stage of comprehensive partnership and strategic cooperation between the two countries."
They "witnessed the signing of a package of intergovernmental, interdepartmental and commercial documents on cooperation in the economy, trade, energy and the humanitarian areas."
They issued a joint statement. "(A)mbitious goals" were agreed on, it said. "(L)ong-term milestones" were established.
"(I)mportant bilateral documents" were signed. "Relations between Russia and the People's Republic of China are developing successfully and have reached a new level of comprehensive partnership and strategic cooperation," it stressed.
"(S)pecial attention (was on) economic issues. China is Russia's leading foreign trade partner."
A Sino/Russian Investment Committee was established. Its mandate is expanding economic and financial ties.
It's "diversifying trade." It's "reducing…dependence on global economic" conditions.
It's promoting cooperation in "technology-intensive areas." They include industrial, commercial, banking and military areas.
They're increasing bilateral ruble/renminbi trade. It bears repeating. Doing so bypasses dollar transactions. It weakens dollar strength.
Putin said "the historical memory of the great heroism of our peoples in World War II brings Russia and China even closer."
Both leaders agreed to hold joint celebrations. They'll commemorate "the 70th anniversary of Victory."
Other international issues were discussed. They include common geopolitical ones. Similar priorities are shared. Closer coordination is planned.
Sino/Russian unity, partnership and friendship were strengthened. It's a "new stage" in "strategic relations."
Strong bilateral relations are a force to be reckoned with. It promises to be more so ahead.
Moscow remains justifiably angry. It's enraged about Washington elevating Kiev putschists to power. Rogue EU partners share blame.
Putin and Xi said crisis conditions can only be resolved diplomatically. They demand dialogue. They reject confrontation.
They "urged all Ukrainian regions and public and political groups to enter in broad nationwide talks…"
They want responsible governance. They want legitimate constitutional development.
They want "universally recognized rights and freedoms of people" observed.
Sergey Lavrov said Russian/EU/US-led NATO relations need fundamental reconsideration.
They require "essential rethinking," he said. Disagreements must be resolved diplomatically, he stressed.
US-led NATO created Ukrainian crisis conditions. Russia targeting followed.
Western forces irresponsibly expand eastward. Encroaching on Russia's borders threatens its heartland.
Bilateral relations are jeopardized. East/West confrontation is risked. So is world peace.
The road to Moscow runs through Kiev. Junta power has no legitimacy. Fundamental freedoms are targeted.
Eliminating them altogether is planned. Hardline rules runs things. Opposition isn't tolerated.
Free expression is verboten. Putschists want their message alone getting out. They want vital truths suppressed.
Independent journalists aren't safe. Russian LifeNews ones were targeted.
Oleg Sidyankin and Marat Saichenk were harassed. They were arrested. They're detained. They're held incommunicado.
Their lives potentially are endangered. They're charged with "aiding terrorist groups."
They released damning video images. They showed Kiev military forces using UN-marked attack helicopters against their own people."
Air and ground assaults murder them in cold blood. Kiev wants this type information buried.
It wants reliable news sources eliminated. RT International's stringer journalist Graham Phillips was arrested.
He explained by phone before silenced incommunicado, saying:
"I'm sitting at a blockade post in a portacabin. The dialogue is quite interrogation oriented."
His car was searched. His laptop, equipment and personal belongings were confiscated.
"At the moment I'm with the Ukrainian forces…near Mariupol," he said. "I've been here for over two hours and I've been described, my status, as being detained in terms of I can't leave."
"I would also say I'm being treated OK…I believe that someone is coming."
"They've done checks on my documentation. They found my reports and clips I've done and they're now looking through them asking me my position on things, asking if I'm a spy, and asking me quite thorough questions."
"They've checked all my documentation and photos, my laptop and the car. So that's who I'm with at the moment."
He was asked about separatism. About working with RT. He "describ(ed) (his) position on Crimea."
He called its referendum legitimate. He stands by his position, he said.
He called Kiev's government illegitimate. It "isn't democratic. I don't support this current situation in the east of Ukraine," he said.
In Donetsk and Lugansk regions. He called attacking Eastern Ukrainians "completely wrong."
At the same time, he "maintains complete objectivity and neutrality as a correspondent."
His bulletproof jacket and helmet were confiscated. He's unharmed so far, he said. Incommunicado since cut off there's no way to know for sure.
Right Sector thugs targeted him. They put a bounty on his head. They offered $10,000 for his capture.
They called him a "Russian spy." His life's endanger in their hands. Or in sight to be shot in cold blood.
Radicalized Kiev elements posted a Facebook comment. He "works for terrorists," it said.
"(H)e photographs and publishes the location of Ukrainian troops…"
He "spreads disinformation. (He publishes) Putin's propaganda in the media."
"He must be immediately detained by Ukrainian forces ad deported from Ukraine." Orders come from "EuroMaidan leaders," it claimed.
Russia's Foreign Ministry condemned his detention. Its human rights commissioner Konstantin Dolgov called it media obstruction.
"This is another step…made by Ukrainian authorities to curb the activities of unwanted journalists," he said.
They "work professionally and show an objective picture, the ugly side of the outrages made by ultranationalists, the results of (Kiev putschists') punitive operation in the southeast," he stressed.
Seizing Phillips constitutes an "unlawful seizure, detention of Russian journalists." Moscow demands all lawlessly detained media representatives be released.
Kiev "continues its vicious line," Dolgov added. Coup-appointed officials spurn their "international obligations concerning freedom of speech."
They target media freedom. They want it eliminated altogether. They want their message alone reported. They want truth buried.
They want fascist putschist power enhanced. They deplore democratic values.
They want ordinary Ukrainians having no say. Polls show their popularity eroding. They risk losing it overwhelmingly.
Perhaps nationwide rebellion will follow. When ruthlessness exceeds levels too great to tolerate, all bets are off.
The only solution is nonviolent revolution. Perhaps just a matter of time. It can't happen a moment too soon.
Stephen Lendman lives in Chicago. He can be reached at lendmanstephen@sbcglobal.net.
His new book as editor and contributor is titled "Flashpoint in Ukraine: US Drive for Hegemony Risks WW III."
http://www.claritypress.com/LendmanIII.html
Visit his blog site at sjlendman.blogspot.com.
Imagine: you are dressed up for a night on Broadway, but your neighbours are involved in a vicious quarrel, and you have to gun up and deal with the trouble instead of enjoying a show, and a dinner, and perhaps a date. This was Putin's position regarding the Ukrainian turmoil.
The Russians have readjusted their sights, but they do not intend to bring their troops into the two rebel republics, unless dramatic developments should force them.
It is not much fun to be in Kiev these days. The revolutionary excitement is over, and hopes for new faces, the end of corruption and economic improvement have withered. The Maidan street revolt and the subsequent coup just reshuffled the same marked deck of cards, forever rotating in power.
The new acting President has been an acting prime minister, and a KGB (called "SBU" in Ukrainian) supremo. The new acting prime minister has been a foreign minister. The oligarch most likely to be "elected" President in a few days has been a foreign minister, the head of the state bank, and personal treasurer of two coups, in 2004 (installing Yushchenko) and in 2014 (installing himself). His main competitor, Mme Timoshenko, served as a prime minister for years, until electoral defeat in 2010.
These people had brought Ukraine to its present abject state. In 1991, the Ukraine was richer than Russia, today it is three times poorer because of these people's mismanagement and theft. Now they plan an old trick: to take loans in Ukraine's name, pocket the cash and leave the country indebted. They sell state assets to Western companies and ask for NATO to come in and protect the investment.
They play a hard game, brass knuckles and all. The Black Guard, a new SS-like armed force of the neo-nazi Right Sector, prowls the land. They arrest or kill dissidents, activists, journalists. Hundreds of American soldiers, belonging to the "private" company Academi (formerly Blackwater) are spread out in Novorossia, the pro-Russian provinces in the East and South-East. IMF–dictated reforms slashed pensions by half and doubled the housing rents. In the market, US Army rations took the place of local food.
The new Kiev regime had dropped the last pretence of democracy by expelling the Communists from the parliament. This should endear them to the US even more. Expel Communists, apply for NATO, condemn Russia, arrange a gay parade and you may do anything at all, even fry dozens of citizens alive. And so they did.
The harshest repressions were unleashed on industrial Novorossia, as its working class loathes the whole lot of oligarchs and ultra-nationalists. After the blazing inferno of Odessa and a wanton shooting on the streets of Melitopol the two rebellious provinces of Donetsk and Lugansk took up arms and declared their independence from the Kiev regime. They came under fire, but did not surrender. The other six Russian-speaking industrial provinces of Novorossia were quickly cowed. Dnepropetrovsk and Odessa were terrorised by personal army of Mr Kolomoysky; Kharkov was misled by its tricky governor.
Russia did not interfere and did not support the rebellion, to the great distress of Russian nationalists in Ukraine and Russia who mutter about "betrayal". So much for the warlike rhetoric of McCain and Brzezinski.
Putin's respect for others' sovereignty is exasperating. I understand this sounds like a joke, — you hear so much about Putin as a "new Hitler". As a matter of fact, Putin had legal training before joining the Secret Service. He is a stickler for international law. His Russia has interfered with other states much less than France or England, let alone the US. I asked his senior adviser, Mr Alexei Pushkov, why Russia did not try to influence Ukrainian minds while Kiev buzzed with American and European officials. "We think it is wrong to interfere", he replied like a good Sunday schoolboy. It is rather likely Putin's advisors misjudged public sentiment. « The majority of Novorossia's population does not like the new Kiev regime, but being politically passive and conservative, will submit to its rule", they estimated. "The rebels are a small bunch of firebrands without mass support, and they can't be relied upon", was their view. Accordingly, Putin advised the rebels to postpone the referendum indefinitely, a polite way of saying "drop it".
They disregarded his request with considerable sang froid and convincingly voted en masse for secession from a collapsing Ukraine. The turnout was much higher than expected, the support for the move near total. As I was told by a Kremlin insider, this development was not foreseen by Putin's advisers.
Perhaps the advisors had read it right, but three developments had changed the voters' minds and had sent this placid people to the barricades and the voting booths:
1. The first one was the fiery holocaust of Odessa, where the peaceful and carelessly unarmed demonstrating workers were suddenly attacked by regime's thugs (the Ukrainian equivalent of Mubarak's shabab) and corralled into the Trade Unions Headquarters. The building was set on fire, and the far-right pro-regime Black Guard positioned snipers to efficiently pick off would-be escapees. Some fifty, mainly elderly, Russian-speaking workers were burned alive or shot as they rushed for the windows and the doors. This dreadful event was turned into an occasion of merriment and joy by Ukrainian nationalists who referred to their slain compatriots as "fried beetles". (It is being said that this auto-da-fé was organised by the shock troops of Jewish oligarch and strongman Kolomoysky, who coveted the port of Odessa. Despite his cuddly bear appearance, he is pugnacious and violent person, who offered ten thousand dollars for a captive Russian, dead or alive, and proposed a cool million dollars for the head of Mr Tsarev, a Member of Parliament from Donetsk.)
2. The second was the Mariupol attack on May 9, 2014. This day is commemorated as V-day in Russia and Ukraine (while the West celebrates it on May 8). The Kiev regime forbade all V-day celebrations. In Mariupol, the Black Guard attacked the peaceful and weaponless town, burning down the police headquarters and killing local policemen who had refused to suppress the festive march. Afterwards, Black Guard thugs unleashed armoured vehicles on the streets, killing citizens and destroying property.
The West did not voice any protest; Nuland and Merkel weren't horrified by this mass murder, as they were by Yanukovich's timid attempts to control crowds.
The people of these two provinces felt abandoned; they understood that nobody was going to protect and save them but themselves, and went off to vote.
3. The third development was, bizarrely, the Eurovision jury choice of Austrian transvestite Conchita Wurst for a winner of its song contest.
The sound-minded Novorossians decided they want no part of such a Europe.
Actually, the people of Europe do not want it either:
It transpired that the majority of British viewers preferred a Polish duo, Donatan & Cleo, with its We Are Slavic. Donatan is half Russian, and has courted controversy in the past extolling the virtues of pan-Slavism and the achievements of the Red Army, says the Independent.
The politically correct judges of the jury preferred to "celebrate tolerance", the dominant paradigm imposed upon Europe.
This is the second transvestite to win this very political contest; the first one was Israeli singer Dana International.
Such obsession with re-gendering did not go down well with Russians and/or Ukrainians.
The Russians have readjusted their sights, but they do not intend to bring their troops into the two rebel republics, unless dramatic developments should force them.

RUSSIAN PLANS

Imagine: you are dressed up for a night on Broadway, but your neighbours are involved in a vicious quarrel, and you have to gun up and deal with the trouble instead of enjoying a show, and a dinner, and perhaps a date. This was Putin's position regarding the Ukrainian turmoil.
A few months ago, Russia had made a huge effort to become, and to be seen as, a very civilized European state of the first magnitude. This was the message of the Sochi Olympic games: to re-brand, even re-invent Russia, just as Peter the Great once had, as part of the First World; an amazing country of strong European tradition, of Leo Tolstoy and Malevich, of Tchaikovsky and Diaghilev, the land of arts, of daring social reform, of technical achievements, of modernity and beyond — the Russia of Natasha Rostova riding a Sikorsky 'copter. Putin spent $60 billion to broadcast this image.
The old fox Henry Kissinger wisely said:
Putin spent $60 billion on the Olympics. They had opening and closing ceremonies, trying to show Russia as a normal progressive state. So it isn't possible that he, three days later, would voluntarily start an assault on Ukraine. There is no doubt that… at all times he wanted Ukraine in a subordinate position. And at all times, every senior Russian that I've ever met, including dissidents like Solzhenitsyn and Brodsky, looked at Ukraine as part of the Russian heritage. But I don't think he had planned to bring it to a head now.
However, Washington hawks decided to do whatever it takes to keep Russia out in the cold. They were afraid of this image of "a normal progressive state" as such Russia would render NATO irrelevant and undermine European dependence on the US. They were adamant about retaining their hegemony, shattered as it was by the Syrian confrontation. They attacked Russian positions in the Ukraine and arranged a violent coup, installing a viciously anti-Russian regime supported by football fans and neo-Nazis, paid for by Jewish oligarchs and American taxpayers. The victors banned the Russian language and prepared to void treaties with Russia regarding its Crimean naval base at Sebastopol on the Black Sea. This base was to become a great new NATO base, controlling the Black Sea and threatening Russia.
Putin had to deal quickly and so he did, by accepting the Crimean people's request to join Russian Federation. This dealt with the immediate problem of the base, but the problem of Ukraine remained.
The Ukraine is not a foreign entity to Russians, it is the western half of Russia. It was artificially separated from the rest in 1991, at the collapse of the USSR. The people of the two parts are interconnected by family, culture and blood ties; their economies are intricately connected. While a separate viable Ukrainian state is a possibility, an "independent" Ukrainian state hostile to Russia is not viable and can't be tolerated by any Russian ruler. And this for military as well as for cultural reasons: if Hitler had begun the war against Russia from its present border, he would have taken Stalingrad in two days and would have destroyed Russia in a week.
A more pro-active Russian ruler would have sent troops to Kiev a long time ago. Thus did Czar Alexis when the Poles, Cossacks and Tatars argued for it in 17th century. So also did Czar Peter the Great, when the Swedes occupied it in the 18th century. So did Lenin, when the Germans set up the Protectorate of Ukraine (he called its establishment "the obscene peace"). So did Stalin, when the Germans occupied the Ukraine in 1941.
Putin still hopes to settle the problem by peaceful means, relying upon the popular support of the Ukrainian people. Actually, before the Crimean takeover, the majority of Ukrainians (and near all Novorossians) overwhelmingly supported some sort of union with Russia. Otherwise, the Kiev coup would not have been necessary. The forced Crimean takeover seriously undermined Russian appeal. The people of Ukraine did not like it. This was foreseen by the Kremlin, but they had to accept Crimea for a few reasons. Firstly, a loss of Sevastopol naval base to NATO was a too horrible of an alternative to contemplate. Secondly, the Russian people would not understand if Putin were to refuse the suit of the Crimeans.
The Washington hawks still hope to force Putin to intervene militarily, as it would give them the opportunity to isolate Russia, turn it into a monster pariah state, beef up defence spending and set Europe and Russia against each other. They do not care about Ukraine and Ukrainians, but use them as pretext to attain geopolitical goals.
The Europeans would like to fleece Ukraine; to import its men as "illegal" workers and its women as prostitutes, to strip assets, to colonise. They did it with Moldova, a little sister of Ukraine, the most miserable ex-Soviet Republic. As for Russia, the EU would not mind taking it down a notch, so they would not act so grandly. But the EU is not fervent about it. Hence, the difference in attitudes.
Putin would prefer to continue with his modernisation of Russia. The country needs it badly. The infrastructure lags twenty or thirty years behind the West. Tired by this backwardness, young Russians often prefer to move to the West, and this brain drain causes much damage to Russia while enriching the West. Even Google is a result of this brain drain, for Sergey Brin is a Russian immigrant as well. So are hundreds of thousands of Russian scientists and artists manning every Western lab, theatre and orchestra. Political liberalisation is not enough: the young people want good roads, good schools and a quality of life comparable to the West. This is what Putin intends to deliver.
He is doing a fine job of it. Moscow now has free bikes and Wi-Fi in the parks like every Western European city. Trains have been upgraded. Hundreds of thousands of apartments are being built, even more than during the Soviet era. Salaries and pensions have increased seven-to-tenfold in the past decade. Russia is still shabby, but it is on the right track. Putin wants to continue this modernisation.
As for the Ukraine and other ex-Soviet states, Putin would prefer they retain their independence, be friendly and work at a leisurely pace towards integration a la the European Union.
He does not dream of a new empire. He would reject such a proposal, as it would delay his modernisation plans.
If the beastly neocons would not have forced his hand by expelling the legitimate president of Ukraine and installing their puppets, the world might have enjoyed a long spell of peace.
But then the western military alliance under the US leadership would fall into abeyance, US military industries would lose out, and US hegemony would evaporate. Peace is not good for the US military and hegemony-creating media machine. So dreams of peace in our lifetime are likely to remain just dreams.
What will Putin do?
Putin will try to avoid sending in troops as long as possible. He will have to protect the two splinter provinces, but this can be done with remote support, the way the US supports the rebels in Syria, without 'boots on the ground'. Unless serious bloodshed on a large scale should occur, Russian troops will just stand by, staring down the Black Guard and other pro-regime forces.
Putin will try to find an arrangement with the West for sharing authority, influence and economic involvement in the failed state. This can be done through federalisation, or by means of coalition government, or even partition. The Russian-speaking provinces of Novorossia are those of Kharkov (industry), Nikolayev (ship-building), Odessa (harbour), Donetsk and Lugansk (mines and industry), Dnepropetrovsk (missiles and high-tech), Zaporozhe (steel), Kherson (water for Crimea and ship-building), all of them established, built and populated by Russians. They could secede from Ukraine and form an independent Novorossia, a mid-sized state, but still bigger than some neighbouring states. This state could join the Union State of Russia and Belarus, and/or the Customs Union led by Russia. The rump Ukraine could manage as it sees fit until it decides whether or not to join its Slavic sisters in the East. Such a set up would produce two rather cohesive and homogeneous states.
Another possibility (much less likely at this moment) is a three-way division of the failed Ukraine: Novorossia, Ukraine proper, and Galicia&Volyn. In such a case, Novorossia would be strongly pro-Russian, Ukraine would be neutral, and Galicia strongly pro-Western.
The EU could accept this, but the US probably would not agree to any power-sharing in the Ukraine. In the ensuing tug-of-war, one of two winners will emerge. If Europe and the US drift apart, Russia wins. If Russia accepts a pro-Western positioning of practically all of Ukraine, the US wins. The tug-of-war could snap and cause all-out war, with many participants and a possible use of nuclear weapons. This is a game of chicken; the one with stronger nerves and less imagination will remain on the track.
Pro and Contra
It is too early to predict who will win in the forthcoming confrontation. For the Russian president, it is extremely tempting to take all of Ukraine or at least Novorossia, but it is not an easy task, and one likely to cause much hostility from the Western powers. With Ukraine incorporated, Russian recovery from 1991 would be completed, its strength doubled, its security ensured and a grave danger removed. Russia would become great again. People would venerate Putin as Gatherer of Russian Lands.
However, Russian efforts to appear as a modern peaceful progressive state would have been wasted; it would be seen as an aggressor and expelled from international bodies. Sanctions will bite; high tech imports may be banned, as in the Soviet days. The Russian elites are reluctant to jeopardize their good life. The Russian military just recently began its modernization and is not keen to fight yet, perhaps not for another ten years.
But if they feel cornered, if NATO moves into Eastern Ukraine, they will fight all the same.
Some Russian politicians and observers believe that Ukraine is a basket case; its problems would be too expensive to fix. This assessment has a 'sour grapes' aftertaste, but it is widespread. An interesting new voice on the web, The Saker, promotes this view. "Let the EU and the US provide for the Ukrainians, they will come back to Mother Russia when hungry", he says. The problem is, they will not be allowed to reconsider. The junta did not seize power violently in order to lose it at the ballot box.
Besides, Ukraine is not in such bad shape as some people claim. Yes, it would cost trillions to turn it into a Germany or France, but that's not necessary. Ukraine can reach the Russian level of development very quickly –- in union with Russia. Under the EC-IMF-NATO, Ukraine will become a basket case, if it's not already. The same is true for all East European ex-Soviet states: they can modestly prosper with Russia, as Belarus and Finland do, or suffer depopulation, unemployment, poverty with Europe and NATO and against Russia, vide Latvia, Hungary, Moldova, Georgia. It is in Ukrainian interests to join Russia in some framework; Ukrainians understand that; for this reason they will not be allowed to have democratic elections.
Simmering Novorossia has a potential to change the game. If Russian troops don't come in, Novorossian rebels may beat off the Kiev offensive and embark on a counter-offensive to regain the whole of the country, despite Putin's pacifying entreaties. Then, in a full-blown civil war, the Ukraine will hammer out its destiny.
On a personal level, Putin faces a hard choice. Russian nationalists will not forgive him if he surrenders Ukraine without a fight. The US and EU threaten the very life of the Russian president, as their sanctions are hurting Putin's close associates, encouraging them to get rid of or even assassinate the President and improve their relations with the mighty West. War may come at any time, as it came twice during the last century – though Russia tried to avoid it both times. Putin wants to postpone it, at the very least, but not at any price.
His is not an easy choice. As Russia procrastinates, as the US doubles the risks, the world draws nearer to the nuclear abyss. Who will chicken out?
(Language editing by Ken Freeland)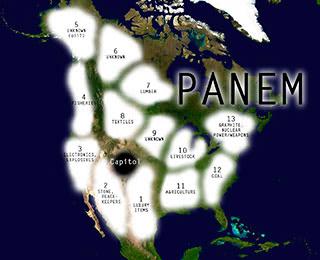 One of the most popular films of 2012 was The Hunger Games which portrayed a post-apocalyptic nation called Panem in which a super-rich, super-pampered, super-callous 'elite' lived in high-tech luxury while the rest of the population daily battled to survive in abject poverty locked away behind prison fences in intensively-populated 'people zones'. Panem comes from the Latin phrase 'panem et circenses' or 'bread and circuses' — a term derived from Rome and meaning to give the people diversions and distractions to hide what is being done to them. Exactly what is happening today.
The Totalitarian Tiptoes to just such a world are happening all around us, although most people can't see this because they don't connect the dots. People tend to live in their own 'little world' and focus on only a few subjects and interests. This gives them a distorted view of what is happening because they are so busy concentrating on the strands that they cannot see the tapestry. The world of The Hunger Games is already well on the way to fruition unless humanity has a fundamental reassessment of reality.
The foundations, structure and 'must haves' of a Hunger Games society are detailed in a plan being imposed through the United Nations called Agenda 21 which encompasses two related themes of 'sustainable development' and 'biodiversity'. Sustainable development — as in don't use more than can be replaced — sounds sensible enough at first until you realize what this and biodiversity really mean in the context of the conspiracy.
Agenda 21 was established at the United Nations Conference on Environment and Development in Rio de Janerio, Brazil, in 1992, hosted by Maurice Strong, a Canadian oil and business billionaire and long-time front man for the Rothschilds and Rockefellers. Strong has been a leader of their exploit-the-environment-to-scam-the-people programme which is now in full flow. Strong is a member of the Club of Rome, the environmental Hidden Hand in the Round Table network that includes the Bilderberg Group, Trilateral Commission and Council on Foreign Relations.
Strong said in support of Agenda 21:
'Isn't the only hope for this planet that the industrialised civilization collapse? Isn't it our responsibility to bring that about?'
This is a man who became mega-rich through the oil industry. He now lives in billionaire luxury in China where carbon-emitting industry is booming and he is a director of the Chicago Climate Exchange (largest shareholder, Goldman Sachs), which is 'the world's first and North America's only legally-binding greenhouse-gas emission registry reduction-system for emission sources and offset projects in North America and Brazil'.
The Exchange was established with funding from the Joyce Foundation where Barack Obama was once a director. Strong and Al Gore make money through the Carbon Exchange and other means from the lies they promote about climate change and the solutions they propose. Kate Johnston wrote on the Globalresearch.cawebsite:
'The same men that sold us the myth of man-made global warming are the same men that sold us the "solution" of a Carbon Tax and Emissions Trading Scheme and now they're profiting off their lucrative investments which are based on lies.' (See "The Climate Change Hoax").
Strong fled to China in 2006 after being accused of corruption with respect to the UN oil for food program.
Climate change propaganda is a No-Problem-Reaction-Solution technique to justify Agenda 21 and its stable-mate the Biodiversity Treaty. This is an internationally-binding document involving nearly 200 countries. The United States signed the treaty, but it was not ratified by the Senate after people like ecologist and ecosystem scientist Dr. Michael Coffman exposed its true consequences and implications. He said that he realized during the 1980s and 1990s that the plan was to use the excuse of protecting the environment to confiscate half the land of the United States.
Similar plans exist for every other country. America may not have ratified the treaty, but it is being implemented by the day. Agenda 21 demands the central global control of all land; all private property; all water sources and distribution; all other resources which includes people in its definition; all energy supplies and distribution and all food production and distribution.
Agenda 21 is called 'the agenda for the 21st century' and that refers to global fascism / communism. This is a summary of what Agenda 21 / Sustainable Development / Biodiversity is seeking to impose:
An end to national sovereignty
State planning and management of all land resources, ecosystems, deserts, forests, mountains, oceans and fresh water; agriculture; rural development; biotechnology; and ensuring 'equity' (equal slavery)
The State to 'define the role' of business and financial resources
Abolition of private property (it's not 'sustainable')
'Restructuring' the family unit
Children raised by the State
People told what their job will be
Major restrictions on movement
Creation of 'human settlement zones'
Mass resettlement as people are forced to vacate land where they currently live
Dumbing down education (achieved)
Mass global depopulation in pursuit of all the above
This horrific plan is being coordinated through the United Nations, the stalking horse for world dictatorship, via a non-governmental network once called the International Council of Local Environmental Initiatives ICLEI), and now known as Local Governments for Sustainability although still using the shortened name ICLEI. The United Nations is now opening 'embassies' around the world called 'UN Houses' under the guise of raising awareness of UN activities, but not the activities that people really need to know about. They have opened one in Hunter Square, Edinburgh, Scotland, for example.
Local Governments for Sustainability (ICLEI) and other organisations are integrating the plan into every village, town, city and region and it is already becoming widespread across the world. The organisational infrastructure of Agenda 21 is already fantastic and involves government agencies, non-governmental organisations (NGOs), think-tanks, trusts, foundations, 'training' (mind control) operations and 'initiatives' which have been building the infrastructure for what they call 'the post-industrial, post-democratic' society while the public go about their daily business oblivious of the prison being built all around them by the hour.
Harvey Ruvin, a vice-chairman of ICLEI, was asked how Agenda 21 would affect liberties with regard to the US Constitution and Bill of Rights, private property and freedom of speech. He replied:
'Individual rights must take a back-seat to the collective.'
The arrogance of these people is breathtaking. The extraordinary network supporting ICLEI and Agenda 21 includes the Rockefeller-sponsored America 2050; United Cities and Local Governments (UCLG); Metropolis; World Economic Forum; United Nations Framework Convention on Climate Change; United Nations International Strategy for Disaster Reduction; World Bank; Clinton Climate Initiative; Climate Group (Tony Blair); World Conservation Union (IUCN); Renewable Energy and Energy Efficiency Partnership; Global Footprint Network; Renewable Energy and Energy Efficiency Partnership; Global Footprint Network; International Centre for Sustainable Cities; Earthquakes and Megacities Initiative and the Stakeholder Forum. These and so many others are working to the same end — Agenda 21 and total human enslavement worldwide, although most of those involved will have no idea that they are building a global prison for themselves and their families.
Another of these front organisations is the World Business Council for Sustainable Development which includes the hideously anti-people Monsanto. Destroying food-growing land, contaminating the countryside with toxins and replacing proper food with deadly and soil-destroying genetically-modified organisms is Monsanto's contribution to 'sustainability'. Agenda 21 is operating in more than 600 towns, cities and counties in the United States and expanding by the day.
A member of the Agenda 21 committees in Santa Cruz, California, in the mid-1990s said that the proposals he heard were so crazy that he laughed at them because they could never happen. These included that 'Mother Earth's surface was not to be scratched'; humans should be concentrated in settlement zones; education should focus on the environment as a central organising principle and all aspects of life covered by Agenda 21, but all of these crazy plans are now being introduced. It's all happy, feely, smiling faces and how we care, when the truth is that Agenda 21 is a vicious, brutal, heartless strategy to impose a global Orwellian state.
Agenda 21 manipulators either create or hijack some local organisation or other, many of them in locations with large populations, and they have their (controlled) leadership to agree the Agenda 21 blueprint for their community together with any uninformed, unwitting idiots who can be sold a human nightmare as saving the planet. This allows them to claim that decisions were made after 'public participation' when that would have been the last thing they wanted, and 99 percent of the 'community' has never heard of Agenda 21 let alone had their say on it. They want no democracy which is why these people talk privately, sometimes even publicly, about the post-democratic, post-industrial society.
They want to control every man, woman and child on the planet — everyone and everywhere and every resource, water source and piece of land. To do this they need a global structure of fascist control that goes right down into every local community with the jackboots at local level enforcing the will of the global centre. This is why there is so much emphasis on local authorities and town and city authorities in Agenda 21.
There is a 'training organisation' called Common Purpose (common purpose, common consensus, everyone the same) which has been paid very large amounts of money by governments and local authorities, police forces and other institutions of state to 'train the leaders' of the post-democratic, post-industrial society. Common Purpose was heavily represented in the Leveson 'inquiry' leading to new media laws in Britain. It is not a training programme; it is a programming programme and turns out unquestioning zombie administrators who serve the god of Agenda 21 and the associated European Union. The theme of 'common' also applies to the ever greater standardisation of laws and regulations and constant reference to 'international law'. This is the unfolding global dictatorship of Agenda 21. What do you need to be a global dictator? Laws that everyone on the planet must obey — international law and the standardisation of global regulation.
You can see The Hunger Games connection when you look at the official Biodiversity wish-for map of the United States in Figure 1. The red areas are designated for no human use and most of the rest of America is confiscated for little and highly-regulated use. The mass of the population would be concentrated in high-rise, densely-packed 'human settlement zones' and denied access to something like 80 percent of present day America. It is without question the world of The Hunger Games with a globally-enforced top-down hierarchy that has a world government using its world army and police force to impose its will at regional and local levels (sectors). The Rockefeller-funded America 2050 has produced a map of the new United States divided into eleven 'megaregions' and includes parts of Canada (Figure 2). Seattle, Portland and Vancouver, British Columbia, become the megaregion known as 'Cascadia' and this regional system comes under the collective name of 'megalopolis' which is Greek for large city or great city. America, Canada and Mexico are due to merge to form the North American Union in line with the European Union blueprint.
The European Union is planned to be broken up into regions and the same structure is in development all over the world. The map of the new Europe has regions from different countries linked up with regions in other countries to end any vestige of national sovereignty or even national existence (Figure 3). This is a global plan with its fierce central control hidden behind its lower elements such as the European Union and local government. What is planned would clearly require a fantastic reduction of the global population and this is indeed what Agenda 21 / Sustainable Development / Biodiversity demand.
The e-book Agenda 21: Your Life In Their Hands can be downloaded here.
reference:
Icke, David. The Perception Deception. Ryde: David Icke Books, 2013.
Julian Websdale is an independent researcher in the fields of esoteric science and metaphysics, and a self-initiate of the Western Esoteric Tradition. His interest in these subjects began in 1988. Julian was born in England, received his education as an electronic and computer engineer from the University of Bolton, served in a Vaishnava monastery during 2010, and has travelled to over 21 countries. Julian is also a member of the Palestinian Solidarity Campaign.
Source: Julian Websdale  |  Waking Times | War Is Crime
The enormous energy spent on analyzing candidates and predicting elections is time wasted when the actual decisions are predetermined before the voting takes place. Even excluding voter fraud from the final count, the party selection process has made the decision. The pretense that primaries reflect the will of the electorate deceives the registered voter, amuses the party insiders and benefits the advertisement and media moguls. Ideas, policy positions and core principles take a back seat to the art of spinning and negatively defining the opponent.
Rivals start within your own party. Therefore, it comes as no surprise that the Republicans Tighten Grip on Debates in 2016 Race.
"Party leaders want to tighten their grip on a presidential primary season they believe has grown unruly and too long. This year, the party moved to set the nominating calendar by scheduling the first four contests — Iowa, New Hampshire, South Carolina and Nevada — for February, allowing other states to begin voting in March and holding winner-take-all primaries starting March 15.

Taken together, these procedural steps could thwart an underfunded insurgent who needs the free exposure of televised debates and would be hurt by a series of rapid-fire contests in March that could be tilted toward an establishment-backed contender.

A few conservative stalwarts on the committee are nervous about the establishment's consolidation of power over the primaries. "Do we want a committee of the national committee, which will surely be controlled by the national chairman, picking which candidates participate in all Republican presidential debates?"
This point is illustrated in the AP report RNC Changes debate Rules for 2016. "The RNC rules panel endorsed the creation of a 13-person committee that would limit how many presidential debates can take place and who can ask the questions. The full committee on Friday went along with that plan to ban candidates who participate in scofflaw debates from future RNC-backed sessions, by a 152-to-7 vote."
Before the usual ceremonial indignation takes hold, ask yourself what is exactly sacrosanct about a stacked primary system that has little to do with an open contest. Patricians that make up the GOP establishment long ago graduated from the country club set.
Nonetheless, the bleeding hearts over at Salon would have you believe that the Democrats operate by different rules. Why Democrats need a primary, too offers advice why the anointed "Queen of Mean" that Rodman woman, would attain a benediction from going through an orchestrated charade before her canonization.
"Clinton would benefit from that input just as all incumbents and other party luminaries do, despite the fact that they would rather not have to have that fight. It is not good for a president to take the office without having taken the temperature of his or her supporters and understanding what they care about and what they expect. During a tempestuous period like this one, it's even more important than usual. It would only be to her advantage to have a challenger who could bring forth those issues and allow the public to see them argued before she goes up against a Republican."
Lost in the fervor of progressive rhetoric is that the Democratic Party is just as elitist as the Republicans are. Both operate as useful idiots and corporatist tools of a system that has long ago abandoned the practice of free enterprise.
Contrast this American version of a Punch and Judy show that has an elephant bully bemoaning the folk hero Robin Hood, who actually resembles an ass, with the exceptional Broadway Play, "The Best Man" by Gore Vidal. Watch the 1964 movie version and consider just how far the political system has collapsed in half a century.
The basic assumption in the play and movie is that the nominee of the Democratic Party will handedly beat their Republican opponent. Characterizing convention ballot voting by delegates as a genuine selection process may be strange to those who were raised on the myth that registered voters in a state primary really has a voice in the inauguration of the next President.
A system of party bosses and smoke room dealmakers, surely must be far worse from the televised mortifying pilgrimage and penitent self-flagellation that goes into winning the party's nomination? Or, is it . . .
Remember the way the primaries served the faithful Democrats in 2008.
"According to news reports, Barack Obama and Hillary Clinton went out of their way to hold their long-awaited private meeting in a very specific location – not at Hillary's mansion in Washington – but in Northern Virginia, which also just happens to be the scene of the 2008 Bilderberg meeting.The neo-liberal website Wonkette, which had previously ridiculed "conspiracy theorists" for ascribing power to Bilderberg, seemed to take a somewhat different tone when it made the connection between Obama and Hillary's meeting and the Bilderberg Group."

Orders from on high or more to the point, international deciders had their "heart to heart" with Hillary, passing her over, and giving her a maybe for 2016. George W. Bush liked to call himself the decider, but we all should know that decisions out of Skull and Bones are not based upon primary results.

Vidal's screenplay portrayed a party convention as a real nomination fight. To whatever slime degree existed in the horse-trading to win delegates back then, the appearance in today's selection makes no pretext of concealing the hidden hands behind picking the next President.

The partisan politics protection racket has but one goal; namely, serve and safeguard establishment interests of the elites, who really command the ultimate power. In addition to the Presidency, Congress shares broad similarities in their version of The Incumbent Protection Racket.

"In the U.S. House of Representatives, over the past five elections, incumbents have been re-elected at an average rate of 96 percent. According to my unscientific calculations, a congressman is more likely to be eaten by a polar bear while panning for gold in Key West than to be voted out of office."

Serious challenges in Congressional district primacies are rare. The exception was in 2010 with the success of Tea Party candidates. However, such expression of the will of the people cannot stand in the polluted Potomac sewer that passes for representative democracy. Just look at the concerted efforts to sabotage populist support to retool the excesses in the federal government. Party Goers – What Do You Take With Your Tea?, indicates that all the sugar in the Caribbean will not prevent the political diabetes disease from going into shock. The bipartisan protection con knows how to close ranks among the political class.

"When main street middle class beleaguered taxpayers resonated that, the system was out of whack, the damage control team went into overdrive. This background helps to explain why the face of unprompted Tea Party individualism must be distorted, maligned and redirected."

Great disappointment among Tea Party activists in the hostile welcome from establishment NeoCons has set in. The alternative to playing the no win beltway game provided in Dissecting U.S. Elections – the People vs. the Pols, best states the rational solution.

"What if a real grassroots national movement emerged that supersedes all ideology with a singular purpose – remove all careerist "pols" from office. Forget about the phony No Labels effort to diffuse popular disgust. The solution is to attract the very citizens who NEVER vote in elections.

A national campaign – No Confidence – would be the clear message that the arrogant confidence game crooks could understand."

Drawing upon a universal appeal to break from the travesties of the two party frauds is necessary to register countrywide outrage. Only through vigorous dissention will The Meaning of Third Parties in America, bring the necessary pressure to collapse both the Democrat and Republican Parties.

"The solution to implement meaningful reform is to defuse the political power that is presently concentrated within the 'Tweedle-dumb and Tweedle Dee' parties. The notion that differences between them are based upon core principles, denies the unending descent into 'collectivism'. The edges have varied shapes, but the centers are formed from the same sponge."
You can always resolve that either party will never nominate "The Best Man". If you are so delusional to believe that a woman is the answer in the oval office, look in a different direction. Elizabeth Warren the self-proclaimed Pinocchio-hontas, is a sorry excuse for an accomplished liar. Flush with law school disingenuous skills, this want-a-be feminine messiah would have you believe that Hillary is the New World Order's favorite grandmother.
Nonetheless, fake opposition simply projects the image that there is a choice in candidates. Noam Scheiber, in the New Republic writes, "A Clinton-Warren matchup would have all sorts of consequences, none of them especially heartwarming. The most immediate is that Warren would probably lose." Well so much for a contest between squaws, better suited for commitment to the Hiawatha Insane Asylum.Partisan politics is mostly a ruse designed to divert attention from service to the substantial interests of establishment globalists. The noise generated around campaigns and media coverage, ignores or conceals the existent deals that serve the real goals and intentions of the master puppeteers. The terminal lesson is that establishment politics treats the public as reservation squatters.
For decades liberals have lobbied against punishment and for rehabilitation. The argument was that a mugger or murderer was just a victim of his environment, someone caught in the crosshairs of bad nurturing and neighborhood. Accountability is unwarranted because the person bears no responsibility: he knew not what he did. And so successful was this movement that our penal system was largely reorganized based on the rehabilitation model. Why, I've even argued with people who insisted that "punishment doesn't work" (apparently, they'd never heard of Singapore, caning and virtually zero crime).
So, question: where are the calls for rehabilitation, as opposed to punishment, for "racists" such as Clippers owner Donald Sterling?
And the rehabilitation mentality's absence isn't just apparent in the social ostracism and career destruction visited on those accused of the One Liberal Deadly Sin of "racism"*.
(*Some exceptions may apply.)
It isn't even just apparent in the social persecution of supposed "haters" in general, from Brendan Eich to the Boy Scouts to devout Christians.
Just consider leftism-disgorged "hate-crime" law. It proves ever so explicitly that, somehow, liberals have discovered the utility of punishment; after all, they will justify this legislation by saying that since some crimes target whole communities, they're so destructive that a message must be sent. It appears that when their own ideological ox is being gored, the people who authored the atheist version of "the Devil made him do it" want Devil's Island.
A good example is Donald Sterling. It's not enough that he has had his reputation destroyed, been fined $2.5 million and been "banned for life" by the National Bolsheviks Association. There are people who want newspapers to stop accepting his ads. And the bigoted Al Sharpton — proving hypocrisy knows no bounds — had actually said that the Clippers should be disbanded. Yes, and maybe we should adopt the North Korean model of purging Sterling's family and friends, too. But how much punishment is enough? How many pounds of flesh will sate the rapacious and blood-stained leftist palate? Would only a gulag and a long, slow, painful death suffice for the world's Sterlings?
None of this is a surprise if you understand that liberals don't operate based on principles, but feelings; in keeping with this, liberalism isn't an ideology. It is a process. Even Marxism has a vision for how society should be (unrealistic though it is), but liberals do not. The only consistent definition of liberalism is "a desire to change the status quo," which means there will always be, without a guiding vision, directionless, unprincipled change and action. Liberals are the children who ever fight the parents simply because that is the nature of the brat, and they do this even when yesterday's liberals have become the parents.
How does this relate to punishment? A person operating on principle, on a vision, will try to tame his emotion and say: here's the crime, here's what justice dictates, so here is the proportionate punishment. But with liberals there is no justice — it's "just us" as they're governed by the shifting sands of convenience. Their feelings tell them that they hate the transgressor and that they want revenge, and it's never enough to satisfy them viscerally. It's as with the feeling of hunger: no matter how much you eat, there's always another appetite mere hours away.
This governance by emotion helps explain why "*Some exceptions may apply." It sheds light on why liberals haven't made a federal case out of Bellville, NJ, Democrat mayoral candidate Marie Strumolo Burke, who lamented proposed tax-rate changes and was caught on audio exclaiming, "This is gonna be a f*****g n****r town!" It illuminates why they did nothing when then NBA owner Jay-Z threw a 2010 party in which no whites were allowed. It even explains why Sterling, whose views were long known, received not only a special dispensation but also acclaim and awards from the left. As part of their political phalanx, liberals don't hate Burke; they don't hate bigoted blacks such as Jay-Z; they don't even hate rich, old white men who pay their dues and pay off the cause. And disconnected from Truth and thus having "situational values," it's easy for libs to live in a world of rationalization. Just give them plausible deniability in their own minds, so, as Mark Cuban once said about Sterling, they can shrug off the sin as the eccentricities of a fellow who "plays by his own rules." But don't you dare out yourself if you're a white guy. Don't become a liability to the cause. It's as if the mistake isn't the act (at least if you're one of the initiated) — the mistake is getting caught.
But with those who aren't part of their phalanx, liberals will hate, hate, hate; they will hunger for vengeance and, since vengeance never eliminates hate (only forgiveness does), there is never an end to their retribution.
To be clear, I'm not saying that outrage over "racism" is always mere artifice. Sometimes it is. Sometimes it's reminiscent of medieval heresy accusations, which could be leveled against an individual by vindictive people with an axe to grind. But much of the time if not most, the anger is real.
It's just selectively triggered.
In rare cases, the transgression itself may be enough to induce the emotional response. Most of the time, however, it's some combination of transgression+transgressor+situation. Transgressor can negate transgression, as when a black person makes a bigoted remark; or transgressor can magnify transgression, as when a white Republican makes a corresponding remark. If a white Democrat or Democrat enabler does, transgressor status plus a situation in which you somehow maintain that plausible deniability gets you by. If it's a wealthy, powerful black man whose success is necessary for the cause, as with Barack Obama, well, then you're bulletproof. Then again, if you're a wealthy, powerful white man whose failure is necessary for the cause, as with George Allen and "macaca," you're history.
This isn't to say that most liberals are fully conscious of what animates them. Self-awareness is often lacking among man, and this is especially true among philosophically dysfunctional men (who we today often call liberals). All most leftists know when spewing venom at a supposedly "racist" conservative is that they hate the person, and they assume it's only because of his transgression. Living situational lives where everything is compartmentalized, they generally don't know what truly drives them or consider, at the moment they're wallowing in hatred, that in the past they've reacted very differently to liberals in the same boat.
Of course, another factor is that liberals don't view these transgressions the way a normal person would. They often "feel" — "think" would be the wrong word because, again, leftists generally operate emotionally — that a black's or liberal's uttering of a racial remark is of a very different moral species than when a white conservative does so. A black has a right to such sentiments because of the "legacy of slavery." As for a white liberal, it was perhaps just a weak moment, a slip of the tongue; after all, the person has proven his credentials with his public face as a good leftist foot soldier. If a white conservative says the same thing, however (which never seems nearly as common), it just reflects the deep-seated bigotry that you have to know resides in his dark soul.
Going even deeper, understand that this accords with liberals' favored reality-denying modern isms. Nominalism states there is nothing that objectively makes both a tiger and a buff tabby "cats," categorically speaking — we just happen to view them that way. Likewise, a normal person may see two bigoted statements or two acts of punishment as occupying the same category, but there is, objectively speaking, no such thing as a category called "bigoted statements" or "acts of punishment." Such classifications only exist in our minds, so we can assign these labels as we see fit. And in deference to relativism, which boils down to the notion that there's no right or wrong, neither punishment nor rehabilitation can be inherently good or bad, and consistency can be no better than inconsistency.
At bottom, this is how devout leftists view the world. Subscribing to the Protagorean proposition "Man is the measure of all things" and the apocryphal one "Might makes right," when they win culture wars and take control, they make themselves the measure of all things. Perhaps the best characterization of their philosophy is occultist Aleister Crowley's formulation, "Do what thou wilt shall be the whole of the law."
And what they wilt do is persecute you. Remember that, nice-guy conservatives, the next time you want to fight them using Queensbury Rules.
"The grimmest dictatorship is the dictatorship of the prevailing orthodoxy" - George Galloway
In a relativism culture of social permissiveness, the non-judgmental attitude, held out as the suitable standard for conduct, has become the politically correct behavior. One might think that anything goes under this mindset. However, the exact opposite practice and enforcement, under the most rigid conditions, is championed as necessary for enlighten and tolerant liberalists. The proliferation of demands that hate speech is the new capital crime, actually is counter iterative in building a civil society. This orthodoxy of the fanatical, proudly presents this illuminated and required deportment, as obligatory for all citizens.
So what exactly is hate for the neo-Jacobins? Obviously, whatever the "Society of the Friends of the LIVING Constitution" deems it to be, because under the color of law, the self-proclaimed pure of heart, are justified to off the heads of anyone who dares speak out in inappropriate terms. Remember "thinking progress" for the greater good, must be imposed on anyone who dare defies the wisdom of the gatekeepers for the collective.
Racism has to go, unless practiced by Negros against whites, or is the mere mention of such a term a slight to African-Americans? Once upon a time cries of anti-Semitism would be heard if Donald Sterling was made a pariah after the NAACP did an about face after awarding him for promoting civil rights. Not in today's world, such a distasteful zealot no longer has the protection of his tribe from the scrutiny of the thought police. The almost total condemnation of his recently private remarks has the entire sports world clambering for his forced sale of the LA Clippers.
Such broad-minded fans in a league that made homies multimillionaires and took them out of the hood, must not be dis. No wonder the attraction of not just the NBA, but sports in general, have serious minded buffs of the Wide World of Sports looking for, "The Thrill of Victory…" in other arenas. Why not demonstrate that sporting enthusiasm and jock celebrity worship, by starting a grassroots campaign to install America's favorite redneck, Phil Robertson and his Duck Dynasty clan, as the new ownership of the team.Surely, good standing Democrats should have no problem supporting a bunch of good old boys from the South. Frances Rice writes in the National Black Republicans Association site that, KKK Terrorist Arm of the Democratic Party. "This ugly fact about the Democrat Party is detailed in the book, A Short History of Reconstruction, (Harper & Row Publishers, Inc., 1990) by Dr. Eric Foner, the renowned liberal historian who is the DeWitt Clinton Professor of History at Columbia University. Dr. Foner in his book explores the history of the origins of Ku Klux Klan and provides a chilling account of the atrocities committed by Democrats against Republicans, black and white."
Carole Emberton, an associate professor of history at the University at Buffalo adds:
"The party lines of the 1860s/1870s are not the party lines of today. Although the names stayed the same, the platforms of the two parties reversed each other in the mid-20th century, due in large part to white 'Dixiecrats' flight out of the Democratic Party and into the Republican Party after the passage of the Civil Rights Act of 1964. By then, the Democratic Party had become the party of 'reform,' supporting a variety of 'liberal' causes, including civil rights, women's rights, etc. whereas this had been the banner of the Republican Party in the nineteenth century."

Fast forward to today's conductor Eric Holder, of selective bigoted racism, when describing "his people", who "seem to get a pass on hate crime charges when they select whites for their blood sport", one needs to question who the real haters are. David Risselada provides a valid assessment in the essay, Hate Crimes Legislation . . . Racial Identity Politics and the Institutional Racism of the Left.
"The institutional racism that is built in our society is the responsibility of the left. Throughout history it has been the democrats who have supported segregation and slavery while continuously voting against civil rights legislation. Today, they attempt to hide their history through racial identity politics, and the creation of a system where inequality is the new equality. By creating laws based on racial preferences, the left is telling minorities that they believe they are not as capable as white men and therefore need their programs in order to stand a chance in the racist United States of America. This does little but reinforce hatred while attempting to justify black on white violence."
Once upon a time and in a place long ago, the Democratic Party defended the rights of the individual to associate with individuals of their choosing and speak their minds openly and without concern of censor. Since the conversion to ecumenical orthodoxy, the authoritarians that gave you the New Deal and the Great Society have a long record of creating their own hatred of Free Speech. The example of the New York Times vicious attack on Cliven Bundy illustrates another trumped-up incident ripe to exploit.The New American, author William F. Jasper makes the point:
"Much of what Mr. Bundy is saying closely parallels what even many black leaders, authors and intellectuals — such as Prof. Walter Williams, Rev. C.L. Bryant, Rev. Jesse Lee Peterson, Bill Cosby, Alveda King, Star Parker, and Alan Keyes — have been saying. But Cliven Bundy's "sin" is that he is an elderly white man who is unschooled in traversing the minefield of political correctness — and he was careless in failing to make important distinctions and clarifications. He "sinned" by being born when he was born, and failing to keep up with the constantly changing terminology for ethnic designations. He still uses the terms "Negro," "colored people," and "Mexican," instead of "black/ African American" or "Hispanic/Latino" — but then, race activists still argue amongst themselves concerning the "proper" ethnic label to apply to their lineage and group identity."
When Senator Ed Markey, D-Mass., introduces legislation called the "Hate Crime Reporting Act of 2014," it is another partisan concerted attempt to silence voices and views entirely protected under the First Amendment, by monitoring radio, television and Internet speech. Can one say arbitrary and capricious, or will Big Brother now prey on any convenient and moving target to label anyone as a hate monger, that does not conform to the "PC" orthodoxy?
The excellent video from Ben Swann identifies in New "Hate Crime" Bill Will Attempt To Control Speech On Internet, Radio and TV, that the real objective is to censor the internet.
Well, this development should concern any student of inquiry, but the real world often fosters political threats that seem to be so implausible, if they were not true. The case of the arrest of Paul Weston should alarm everyone. In the Michael Coren interview or Mr. Weston, the vanguard of British lunacy once again blazes new trails in the annals of hate speech. If quoting Winston Churchill is now a crime, what does that make Winnie?The British Bulldog is his own words:
"How dreadful are the curses which Mohammedanism lays on its votaries! Besides the fanatical frenzy, which is as dangerous in a man as hydrophobia in a dog, there is this fearful fatalistic apathy. The effects are apparent in many countries. Improvident habits, slovenly systems of agriculture, sluggish methods of commerce, and insecurity of property exist wherever the followers of the Prophet rule or live. A degraded sensualism deprives this life of its grace and refinement; the next of its dignity and sanctity. The fact that in Mohammedan law every woman must belong to some man as his absolute property — either as a child, a wife, or a concubine — must delay the final extinction of slavery until the faith of Islam has ceased to be a great power among men. Thousands become the brave and loyal soldiers of the faith: all know how to die but the influence of the religion paralyses the social development of those who follow it. No stronger retrograde force exists in the world. Far from being moribund, Mohammedanism is a militant and proselytizing faith. It has already spread throughout Central Africa, raising fearless warriors at every step; and were it not that Christianity is sheltered in the strong arms of science, the science against which it had vainly struggled, the civilisation of modern Europe might fall, as fell the civilisation of ancient Rome."
Move over denial ridden Americans; the English have a talent in leading the civilized world in false guilt. For the rest of humankind, they are perceptive enough to admit that the normal human condition acknowledges Discrimination as a Virtue.
"Discrimination has been characterized as racism. Quite to the contrary, discrimination is an ally in the struggle to end bigotry and injustice. When Liberty is suppressed in a quest for equality; hatred and revulsion breeds, for different groups, cultures and ideologies. All attempts to force equal treatment are futile, even when severe penalties are imposed."
Condemning a person, solely by his beliefs, bias and predisposition – that fanatical frenzy will surely bring about the fall of our cherished tradition of Free Speech. For those who fear Sharia Law, you had better be more concerned about the progressive despots, who are the model for imposed intolerance through a government, which hates everyone that refuses their Groupthink.
Never let a racial crisis go to waste is, I suppose, the credo of the Machiavellian mainstream media. Since the release of the Don Sterling audio, liberals haven't missed a chance to play the race card for all its worth. One of the worst offenders is a New York Daily News columnist named Harry Siegel, who — in a piece of pablum bearing a picture of NBA owners portrayed as Klansmen — bemoans the lack of Diversity™ in league ownership and management. Unfortunately for Siegy, his points, which start with the Klan hoods, only get worse from there.
A man with a conscience (malformed though it is), Siegel laments that the NBA is "a league where three-quarters of the players are black, but fewer than half the coaches and not even a fifth of the league office staff are black, as of October, 2013, and every majority team owner except Michael Jordan is white." But there's an easy remedy.
Institute a quota ensuring that whites, and other races, get proportionate representation among NBA players.
This would make the league approximately 63 percent white, 17 percent Hispanic, 13 percent black and 6 percent Asian. The remaining one percent can be represented by Clint Eastwood's empty chair on the sidelines, and we can throw in a primordial dwarf if it makes the Diversity™ didacts feel better.
And why not? Why should proportionality go only one way? The bias here lies in self-righteously bloviating about Diversity™ when whites dominate an area while acting as if you don't even notice it when blacks do.
Of course, liberals would say that the players have earned their positions. But how do we know the owners haven't? After all, some individuals definitely seem to have a gift for building financial empires. This isn't to say that every rich person makes his fortune through respectable means. Heck, some people even make millions dribbling a ball around.
But it seems that liberals, prejudiced to the core, only have a problem with it when the "wrong" groups succeed. With the contraception con spent, Barack Obama (PBUH) has used his Teleprompter recently to rail against the male/female wage gap — and he wasn't talking about the one where young urban women earn 8 percent more than their male peers (because they're 50 percent more likely to graduate college; I don't think ol' Barry mentions this gap, either). Libs could also cite how NBA owners are inordinately Jewish, but that narrative won't work yet. And the highest-earning religious group in the nation is Hindus, but, last I heard, colleges weren't schooling mush-head kids in "Hindu privilege."
But talking about those things might be "publicly toxic"; you know, in the sense that Siegel said he's sure that Sterling is "not the only owner whose private thoughts are publicly toxic." No doubt. And I'm certain this is limited to rich white NBA owners, or at least white people in general. It also occurs to me, however, that people can develop a tolerance for certain toxins, such as when black ex-basketball players suggest all-black leagues or black civil-rights hustlers call a city "Hymietown." And, in keeping with the toxicological principle "The dose makes the poison," tolerance for toxins disgorged by whites stands at about .010 parts per million.
Then there are the millions, of dollars, that Siegel laments the NBA players are not getting, writing that theirs is a "league where the 360 or so athletes who, in fact, make the game, split its proceeds about 50-50 with ownership." Note that he also dismissed the owners, who allegedly believe they make the game, as "[w]ealthy men…[who] think highly of their own contributions."
Now, some might say that the fans make the game; after all, you earn zilch without a market. But what is Siegel's point? Wouldn't the proceeds split be much the same in the virtually all-white NHL? And how is that different from any corporation or successful business? A person doesn't invest his heart and soul and risk capital in a venture without the carrot of a possibly handsome return; not even liberals such as Little Big Gulp (a.k.a. Michael Bloomberg), Warren Buffet and Donald Sterling do that.
So it sounds as if Siegel is lamenting economic freedom, as if he'd prefer a Marxist model (this certainly would have the upside of not enriching men who dribble balls and pundits who dribble ideas). Of course, nothing is stopping the players from pooling their resources and trying to buy into their team.
But perhaps most telling about Siegel's article is what could be akin to a Freudian slip. A recurrent theme of his is that "we" can feel good about ourselves for taking the principled stand against Sterling, but there is much work yet to do. He writes, "We can all take a moment and pat ourselves on the back for not being as horrible as this appalling old man," and later, "Once we're done feeling good about not being Sterling…," it's time to beat the Diversity™ drum. But he also self-righteously states that Sterling's "obscene behavior…has been well documented" and asks, "how could this have gone on for so long?"
What this gets at is the phoniness of the left. Let's be clear on something: the "we" here isn't me. It's not most of you readers, the Heritage Foundation, Catholic Church or Southern Baptist Convention.
It is the left.
Notoriously liberal Mark Cuban, who now calls Sterling "abhorrent," said in 2009, "I like Donald. He plays by his own rules." (Translation: a lib who becomes a liability to the cause is "abhorrent." A lib who is getting away with it "plays by his own rules.") Black actor Leon Isaac Kennedy called Sterling "a prince among men." The NAACP gave him an award and was set to bestow another. And ex-NBA commissioner David Stern, who some libs now criticize for not only tolerating the owner but even rewarding him, is, like Sterling, a Democrat donor.
The "we," libs, is you.
It's not conservatives. It's not white people. It's you.
You anointed yourselves arbiters and overseers of acceptable racial commentary; "racism" is your hang-up, your defined One Deadly Sin, your great litmus test. Don't blame "society" — upholding yourprinciples is your responsibility.
So most of the lib outrage over "racism" is, when not downright phony, motivated by selectively triggered emotion. It's a ploy used to tear down tradition and traditionalists on specious grounds and win the culture war. It's not for lib-enablers, such as late Senator Robert Byrd, who'd been in the KKK; blacks such a Jesse Jackson or Al Sharpton; Bill Clinton with his Obama-coffee remark; or fat cats who make big donations — until it's time to throw them under the bus.
As for Siegel, if he's so concerned about Diversity™, perhaps he could turn his columnist slot over to a minority. After all, the vast majority of columnists are white, Siegy, and you wouldn't want some future writer to have to lament, "how could this have gone on for so long?"
America's founders, largely distrustful of centralized power, created several checks and balances into the U.S. Constitution to help insure that one person, or one group of people, would not be able to unilaterally exert his or their will over the American citizenry. First, the federal government itself was divided into three separate and distinct branches–each holding the capability (and responsibility) to check the power of the other. Second, the Bill of Rights was made part of the Constitution for the protection of individual liberties. Third, the "free and independent states" of the nation retained their sovereignty and independence after the central government was created (by the states), with the Tenth Amendment specifically recognizing their authority and jurisdiction over matters not directly delegated to the federal government.
It was also assumed that the freedom of the press and the freedom of religion would help the citizenry be sufficiently informed and inspired to keep the would-be despots at bay. And, of course, "We the People" are recognized as being the ultimate guardians of liberty by the recognition that "to secure these rights, Governments are instituted among Men, deriving their just powers from the consent of the governed." (Declaration) The "consent of the governed" was given teeth by the constitutional recognition of the people's right to wield the power of the voting booth, the jury box, and, as a last resort, the cartridge box.
What has become increasingly obvious to a large segment of the American populace is the complete unwillingness of the national media to hold the federal government accountable. Neither do America's pulpits provide the moral leadership necessary to maintain good government. The freedom of the press and religion accomplish precious little today in the safeguarding of liberty. And it is also absolutely clear that the three branches of government in Washington, D.C., adamantly refuse to use the constitutional obligations placed upon them to hold the federal government in check.
The latter was made crystal clear by a recent decision by the Supreme Court of the United States. Here is the report:
"A decision by the U.S. Supreme Court means the federal government now has an open door to 'detain as a threat to national security anyone viewed as a troublemaker,' according to critics.
"The high court this week refused to review an appeals court decision that said the president and U.S. military can arrest and indefinitely detain individuals.
"The firm of William J. Olson, P.C., which filed a friend-of-the court brief asking the court to step in, noted that not a single justice dissented from the denial of the request for review.
'The court ducked, having no appetite to confront both political parties in order to protect the citizens from military detention,' the legal team said in a statement to WND. 'The government has won, creating a tragic moment for the people–and what will someday be viewed as an embarrassment for the court.'"
The report continues: "The controversial provision authorizes the military, under presidential authority, to arrest, kidnap, detain without trial and hold indefinitely American citizens thought to 'represent an enduring security threat to the United States.'
"Journalist Chris Hedges was among the plaintiffs charging the law could be used to target journalists who report on terror-related issues.
"A friend-of-the-court brief submitted in the case stated: 'The central question now before this court is whether the federal judiciary will stand idly by while Congress and the president establish the legal framework for the establishment of a police state and the subjugation of the American citizenry through the threat of indefinite military arrest and detention, without the right to counsel, the right to confront one's accusers, or the right to trial.'
"The brief was submitted to the Supreme Court by attorneys with the U.S.
Justice Foundation of Ramona, California; Friedman Harfenist Kraut & Perlstein of Lake Success, New York; and William J. Olson, P.C. of Vienna, Virginia."
Amici Curiae of the brief included U.S. Congressman Steve Stockman, Virginia Delegate Bob Marshall, Virginia Senator Dick Black, Gun Owners of America, Downsize DC Foundation, Western Journalism Center, The Lincoln Institute for Research and Education, Tenth Amendment Center, Policy Analysis Center, Constitution Party National Committee, Professor Jerome Aumente, and yours truly, among others.
See the brief here:
The WND report goes on to say: "The 2012 NDAA was fast-tracked through the U.S. Senate, with no time for discussion or amendments, while most Americans were distracted by the scandal surrounding A&E's troubles with 'Duck Dynasty' star Phil Robertson.
"Eighty-five of 100 senators voted in favor of the new version of the NDAA, which had already been quietly passed by the House of Representatives. [Disgustingly, Montana's only U.S. House member, Republican Steve Daines, who purports himself to be a staunch conservative, voted for the indefinite detention provision of the NDAA, as did Montana's two Democrat Senators Max Baucus and Jon Tester. How did your congressman and senators vote? In my opinion, this is a monumentally-important vote, and a vote granting this unconstitutional power to the military and federal police agencies is inexcusable and demonstrates how both Democrats and Republicans will unite together to dismantle the constitutional protections of the American people in the name of "national security."]
"Hedges, a Pulitzer Prize-winning journalist, and others filed a lawsuit in 2012 against the Obama administration to challenge the legality of an earlier version of the NDAA.
"It is Section 1021 of the 2012 NDAA, and its successors, that drew a lawsuit by Hedges, Daniel Ellsberg, Jennifer Bolen, Noam Chomsky, Alex O'Brien, Kai Warg All, Brigitta Jonsottir and the group U.S. Day of Rage. Many of the plaintiffs are authors or reporters who stated that the threat of indefinite detention by the U.S. military already had altered their activities.
"'It's clearly unconstitutional,' Hedges said of the bill. 'It is a huge and egregious assault against our democracy. It overturns over 200 years of law, which has kept the military out of domestic policing.'
"Hedges is a former foreign correspondent for the New York Times and was part of a team of reporters awarded a Pulitzer Prize in 2002 for the paper's coverage of global terrorism."
See the complete WND report here:
Supreme Court Green Lights Detention Of Americans
Remember that it was Republican President George W. Bush and a Republican U.S. House and Senate that shackled the American people with the USA Patriot Act, the Department of Homeland Security–along with the rest of the gargantuan police state apparatus under which the people of the United States are now being forced to live. And it is Democrat President Barack Obama and a Democrat U.S. Senate–along with a Republican U.S. House–that continues to expand the reach of this police state. One thing that both Republicans and Democrats and conservatives and liberals agree on is the construction and implementation of a police state. Under the rubric of "national security" or "law and order," the Bill of Rights is being systematically and deliberately expunged by both sides of the political aisle.
And now we know the judicial branch of government in Washington, D.C., also refuses to hold the executive and legislative branches of government in check–as if we needed more evidence. Both Republican-appointed and Democrat-appointed justices refused to say a word condemning this draconian abuse of power within the NDAA. By so doing, the Supreme Court showed itself unwilling to stand in between the liberties of the American people and an ever-burgeoning police state.
In fact, when it comes to holding the government in DC in check, when does the Supreme Court ever intervene? Hardly ever! If it is a dispute between the states and the federal government or between individuals and the federal government, SCOTUS almost always rules in favor of DC.
Once-in-awhile, one or the other branch of government (including the judicial branch) in DC will be willing to protect constitutional liberties from another branch of government in DC, but such instances are the exception, not the rule.
And since the liberties of the American people have few friends in the national media or in the country's pulpits, the protection of our freedoms has quickly come down to the states, the local media (yes, some local media is still friendly to freedom), county sheriffs, and the people ourselves.
Currently, there is a huge momentum building among State legislatures to begin pushing back against the overreach of Washington, D.C. For example, the State of Texas is squaring off against the BLM over tens of thousands of acres along the Red River border of Texas and Oklahoma, and the State of Utah has already passed legislation claiming more than 30 million acres currently controlled by the federal government. Here is an excerpt from a Breitbart.com report:
"Utah Governor Gary Herbert (R), earlier this year, signed the Transfer of Public Lands Act. This new state law calls upon the federal government to turn over control of more than 30 million acres to the State."
See the complete report at:
Utah Grabbing Land From BLM While Texas Plays Defense
Plus, more and more county sheriffs are beginning to stand against federal encroachments. Read this report:
And, of course, just recently it was "We the People" standing against a brutish, totalitarian-style federal assault against the Bundy family in Bunkerville, Nevada. And among the brave souls at Bunkerville were State and local officials and even county sheriffs. And I was there, too. Here is the video of my message to, and prayer service for, the Oath Keepers and militia on the ground there in Bunkerville:
Sermon & Prayer At Bundy Ranch
As the three branches of government in Washington, D.C., become less and less accountable to the checks and balances assigned them by the Constitution, it is going to require that the states, county sheriffs, and people ourselves become more and more engaged in pushing back against federal overreach and abuse of power.
So, what do we have here? In Libya, in Syria, and elsewhere the United States has been on the same side as the al-Qaeda types. But not in Ukraine. That's the good news. The bad news is that in Ukraine the United States is on the same side as the neo-Nazi types, who – taking time off from parading around with their swastika-like symbols and calling for the death of Jews, Russians and Communists – on May 2 burned down a trade-union building in Odessa, killing scores of people and sending hundreds to hospital; many of the victims were beaten or shot when they tried to flee the flames and smoke; ambulances were blocked from reaching the wounded. Try and find an American mainstream media entity that has made a serious attempt to capture the horror.
And how did this latest example of American foreign-policy exceptionalism come to be? One starting point that can be considered is what former Secretary of Defense and CIA Director Robert Gates says in his recently published memoir: "When the Soviet Union was collapsing in late 1991, [Defense Secretary Dick Cheney] wanted to see the dismemberment not only of the Soviet Union and the Russian empire but of Russia itself, so it could never again be a threat to the rest of the world." That can serve as an early marker for the new cold war while the corpse of the old one was still warm. Soon thereafter, NATO began to surround Russia with military bases, missile sites, and NATO members, while yearning for perhaps the most important part needed to complete the circle – Ukraine.
In February of this year, US State Department officials, undiplomatically, joined anti-government protesters in the capital city of Kiev, handing out encouragement and food, from which emanated the infamous leaked audio tape between the US ambassador to Ukraine, Geoffrey Pyatt, and the State Department's Victoria Nuland, former US ambassador to NATO and former State Department spokesperson for Hillary Clinton. Their conversation dealt with who should be running the new Ukraine government after the government of Viktor Yanukovich was overthrown; their most favored for this position being one Arseniy Yatsenuk.
My dear, and recently departed, Washington friend, John Judge, liked to say that if you want to call him a "conspiracy theorist" you have to call others "coincidence theorists". Thus it was by the most remarkable of coincidences that Arseniy Yatsenuk did indeed become the new prime minister. He could very soon be found in private meetings and public press conferences with the president of the United States and the Secretary-General of NATO, as well as meeting with the soon-to-be new owners of Ukraine, the World Bank and the International Monetary Fund, preparing to impose their standard financial shock therapy. The current protestors in Ukraine don't need PHDs in economics to know what this portends. They know about the impoverishment of Greece, Spain, et al. They also despise the new regime for its overthrow of their democratically-elected government, whatever its shortcomings. But the American media obscures these motivations by almost always referring to them simply as "pro-Russian".
An exception, albeit rather unemphasized, was the April 17 Washington Post which reported from Donetsk that many of the eastern Ukrainians whom the author interviewed said the unrest in their region was driven by fear of "economic hardship" and the IMF austerity plan that will make their lives even harder: "At a most dangerous and delicate time, just as it battles Moscow for hearts and minds across the east, the pro-Western government is set to initiate a shock therapy of economic measures to meet the demands of an emergency bailout from the International Monetary Fund."
Arseniy Yatsenuk, it should be noted, has something called the Arseniy Yatsenuk Foundation. If you go to the foundation's website you will see the logos of the foundation's "partners".  Among these partners we find NATO, the National Endowment for Democracy, the US State Department, Chatham House (Royal Institute of International Affairs in the UK), the German Marshall Fund (a think tank founded by the German government in honor of the US Marshall Plan), as well as a couple of international banks. Is any comment needed?
Getting away with supporting al-Qaeda and Nazi types may be giving US officials the idea that they can say or do anything they want in their foreign policy. In a May 2 press conference, President Obama, referring to Ukraine and the NATO Treaty, said: "We're united in our unwavering Article 5 commitment to the security of our NATO allies". (Article 5 states: "The Parties agree that an armed attack against one or more of them … shall be considered an attack against them all.") Did the president forget that Ukraine is not (yet) a member of NATO? And in the same press conference, the president referred to the "duly elected government in Kyiv (Kiev)", when in fact it had come to power via a coup and then proceeded to establish a new regime in which the vice-premier, minister of defense, minister of agriculture, and minister of environment, all belonged to far-right neo-Nazi parties.
The pure awfulness of the Ukrainian right-wingers can scarcely be exaggerated. In early March, the leader of Pravy Sektor (Right Sector) called upon his comrades, the infamous Chechnyan terrorists, to carry out further terrorist actions in Russia.
There may be one important difference between the old Cold War and the new one. The American people, as well as the world, can not be as easily brainwashed as they were during the earlier period.
Over the course of a decade, in doing the research for my first books and articles on US foreign policy, one of the oddities to me of the Cold War was how often the Soviet Union seemed to know what the United States was really up to, even if the American people didn't. Every once in a while in the 1950s to 70s a careful reader would notice a two- or three-inch story in the New York Times on the bottom of some distant inside page, reporting that Pravda or Izvestia had claimed that a recent coup or political assassination in Africa or Asia or Latin America had been the work of the CIA; theTimes might add that a US State Department official had labeled the story as "absurd". And that was that; no further details were provided; and none were needed, for how many American readers gave it a second thought? It was just more commie propaganda. Who did they think they were fooling? This ignorance/complicity on the part of the mainstream media allowed the United States to get away with all manner of international crimes and mischief.
It was only in the 1980s when I began to do the serious research that resulted in my first book, which later became Killing Hope, that I was able to fill in the details and realize that the United States had indeed masterminded that particular coup or assassination, and many other coups and assassinations, not to mention countless bombings, chemical and biological warfare, perversion of elections, drug dealings, kidnapings, and much more that had not appeared in the American mainstream media or schoolbooks. (And a significant portion of which was apparently unknown to the Soviets as well.)
But there have been countless revelations about US crimes in the past two decades. Many Americans and much of the rest of the planet have become educated. They're much more skeptical of American proclamations and the fawning media.
President Obama recently declared: "The strong condemnation that it's received from around the world indicates the degree to which Russia is on the wrong side of history on this."  Marvelous … coming from the man who partners with jihadists and Nazis and has waged war against seven nations. In the past half century is there any country whose foreign policy has received more bitter condemnation than the United States? If the United States is not on the wrong side of history, it may be only in the history books published by the United States.
Barack Obama, like virtually all Americans, likely believes that the Soviet Union, with perhaps the sole exception of the Second World War, was consistently on the wrong side of history in its foreign policy as well as at home. Yet, in a survey conducted by an independent Russian polling center this past January, and reported in the Washington Post in April, 86 percent of respondents older than 55 expressed regret for the Soviet Union's collapse; 37 percent of those aged 25 to 39 did so. (Similar poll results have been reported regularly since the demise of the Soviet Union. This is fromUSA Today in 1999: "When the Berlin Wall crumbled, East Germans imagined a life of freedom where consumer goods were abundant and hardships would fade. Ten years later, a remarkable 51% say they were happier with communism.")
Or as the new Russian proverb put it: "Everything the Communists said about Communism was a lie, but everything they said about capitalism turned out to be the truth."
A week before the above Post report in April the newspaper printed an article about happiness around the world, which contains the following charming lines: "Worldwide polls show that life seems better to older people – except in Russia." … "Essentially, life under President Vladimir Putin is one continuous downward spiral into despair." … "What's going on in Russia is deep unhappiness." … "In Russia, the only thing to look forward to is death's sweet embrace."
No, I don't think it was meant to be any kind of satire. It appears to be a scientific study, complete with graphs, but it reads like something straight out of the 1950s.
The views Americans hold of themselves and other societies are not necessarily more distorted than the views found amongst people elsewhere in the world, but the Americans' distortion can lead to much more harm. Most Americans and members of Congress have convinced themselves that the US/NATO encirclement of Russia is benign – we are, after all, the Good Guys – and they don't understand why Russia can't see this.
The first Cold War, from Washington's point of view, was often designated as one of "containment", referring to the US policy of preventing the spread of communism around the world, trying to blockthe very idea of communism or socialism. There's still some leftover from that – see Venezuela and Cuba, for example – but the new Cold War can be seen more in terms of a military strategy. Washington thinks in terms of who could pose a barrier to the ever-expanding empire adding to its bases and other military necessities.
Whatever the rationale, it's imperative that the United States suppress any lingering desire to bring Ukraine (and Georgia) into the NATO alliance. Nothing is more likely to bring large numbers of Russian boots onto the Ukrainian ground than the idea that Washington wants to have NATO troops right on the Russian border and in spitting distance of the country's historic Black Sea naval base in Crimea.
The myth of Soviet expansionism
One still comes across references in the mainstream media to Russian "expansionism" and "the Soviet empire", in addition to that old favorite "the evil empire". These terms stem largely from erstwhile Soviet control of Eastern European states. But was the creation of these satellites following World War II an act of imperialism or expansionism? Or did the decisive impetus lie elsewhere?
Within the space of less than 25 years, Western powers had invaded Russia three times – the two world wars and the "Intervention" of 1918-20 – inflicting some 40 million casualties in the two wars alone. To carry out these invasions, the West had used Eastern Europe as a highway. Should it be any cause for wonder that after World War II the Soviets wanted to close this highway down? In almost any other context, Americans would have no problem in seeing this as an act of self defense. But in the context of the Cold War such thinking could not find a home in mainstream discourse.
The Baltic states of the Soviet Union – Estonia, Latvia, and Lithuania – were not part of the highway and were frequently in the news because of their demands for more autonomy from Moscow, a story "natural" for the American media. These articles invariably reminded the reader that the "once independent" Baltic states were invaded in 1939 by the Soviet Union, incorporated as republics of the USSR, and had been "occupied" ever since. Another case of brutal Russian imperialism. Period. History etched in stone.
The three countries, it happens, were part of the Russian empire from 1721 up to the Russian Revolution of 1917, in the midst of World War I. When the war ended in November 1918, and the Germans had been defeated, the victorious Allied nations (US, Great Britain, France, et al.) permitted/encouraged the German forces to remain in the Baltics for a full year to crush the spread of Bolshevism there; this, with ample military assistance from the Allied nations. In each of the three republics, the Germans installed collaborators in power who declared their independence from the new Bolshevik state which, by this time, was so devastated by the World War, the revolution, and the civil war prolonged by the Allies' intervention, that it had no choice but to accept the fait accompli. The rest of the fledgling Soviet Union had to be saved.
To at least win some propaganda points from this unfortunate state of affairs, the Soviets announced that they were relinquishing the Baltic republics "voluntarily" in line with their principles of anti-imperialism and self-determination. But is should not be surprising that the Soviets continued to regard the Baltics as a rightful part of their nation or that they waited until they were powerful enough to reclaim the territory.
Then we had Afghanistan. Surely this was an imperialist grab. But the Soviet Union had lived next door to Afghanistan for more than 60 years without gobbling it up. And when the Russians invaded in 1979, the key motivation was the United States involvement in a movement, largely Islamic, to topple the Afghan government, which was friendly to Moscow. The Soviets could not have been expected to tolerate a pro-US, anti-communist government on its border any more than the United States could have been expected to tolerate a pro-Soviet, communist government in Mexico.
Moreover, if the rebel movement took power it likely would have set up a fundamentalist Islamic government, which would have been in a position to proselytize the numerous Muslims in the Soviet border republics.
Notes
See RT.com (formerly Russia Today) for many stories, images and videos
Robert Gates, Duty (2014), p.97
If this site has gone missing again, a saved version can be found here.
Voice of Russia radio station, Moscow, April 18, 2014; also see Answer Coalition, "Who's who in Ukraine's new [semi-fascist] government", March 11, 2014
RT.com, news report March 5, 2014
CBS News, March 3, 2014
Washington Post, April 11, 2014
USA Today (Virginia), Oct. 11, 1999, page 1
Washington Post print edition, April 2, 2014; online here
"According to the evidence that I've seen …Odessa was a giant false flag operation. It… was one of those staged massacres that the pro-Western forces from Bosnia to Kosovo, now Ukraine, excel at staging, intended to draw Russia to overreact and commit military forces … I believe that the fact that they are willing to stage such a horrendous atrocity shows the depth of their desperation at this point."

– Nebojsa Malic, political analyst, Russia Today

"Not under foreign skies
Nor under foreign wings protected -
I shared all this with my own people
There, where misfortune had abandoned us."

– "Requiem" – Anna Akhmatova
Photos of the victims of the Odessa fire which have been circulating on theInternet have cast doubt on the official version of events. It's now clear that many of the anti-junta activists who occupied the Trade Unions House were neither burned to death nor died of smoke inhalation, but were savagely shot at point-blank range by agents and thugs who had infiltrated the building to kill as many of the occupants as possible, burn the corpses, and then slip away without notice. Some of the victims–like a young woman who was eight months pregnant –were strangled with an electrical chord and left slumped backwards over her desk in a room that shows no sign of fire or smoke damage. In another case, a woman was stripped naked from the waste down, raped, killed, and set ablaze.
In still other cases, victims with bullet-holes through their skulls, had flammable fluid dumped on their heads and were incinerated, leaving a charred head atop a corpse whose clothes were untouched by fire. The sloppily-executed killing-spree proves that the fire was not the result of a spontaneous clash between pro and anti-Kiev demonstrators, but a carefully planned black-op that likely involved foreign Intel agencies working hand-in-hand with the fascist junta government in Kiev. Did we mention that the CIA has taken up residence in the Ukrainian capital? Here's the scoop from the AFP:
"Dozens of specialists from the US Central Intelligence Agency and Federal Bureau of Investigation are advising the Ukrainian government … helping Kiev end the rebellion in the east of Ukraine and set up a functioning security structure…" (CIA, FBI agents 'advising Ukraine government: report, AFP)
We all know about the CIA's energetic efforts to create a "functioning security structure" in nations around the world. The CIA's presence in Ukraine suggests that the US was either actively involved in the Odessa incident or knows who was. Either way, there should be an independent investigation before the case is referred to the ICC for prosecution.
The rampage in Odessa is part a broader strategy to provoke Moscow into a military confrontation. US war planners want to draw Putin into a conflict to justify NATO expansion, block further EU-Russian economic integration, and facilitate the "pivot to Asia." The victims in this tragedy were sacrificed to advance Washington's imperial ambitions and to establish US global hegemony. Obama has repeatedly reiterated his unwavering support for the crackdown on dissidents in the east. In a Rose Garden press conference just days ago, the president applauded the military attack on civilians saying, "The Ukrainian government has shown remarkable restraint throughout this whole process."
Indeed, the Odessa graveyards are now full of people who can attest to the great restraint of the junta government that Obama so admires.
The coverage of the Odessa massacre by the western media is as bad as any in recent memory. The giant news conglomerates no longer make any attempt to pretend they're anything other propaganda organs for the State. Even by that low standard, the coverage has been abysmal. Here's a typical summary from an article on the liberal website, Huffington Post.
"Police said the deadly fire broke out in a trade union building, but did not give details on how it started. Earlier, police said at least three people had died in a clash between the two sides in the city of 1 million.
According to Ukrainian news reports, the pro-Kiev demonstrators broke up an encampment of Moscow supporters outside the trade union building. The latter took refuge in the building, which then caught fire.
Odessa police spokesman Volodymyr Shasbliyenko told AP the fire apparently was caused by Molotov cocktails. He had no further details or identities of the victims." (Odessa Building Fire Kills Dozens, AP)
The author deliberately misleads his readers about what really took place. The fire did not "break out" in a trade union building. It was started. There's no debate about this. There's video footage of the whole incident and tons of eyewitness reports. Right sector goons started the fire by throwing Molotov cocktails through the windows. It's all on tape.
Second, the "pro-Kiev demonstrators" (did not) "break up an encampment of Moscow supporters outside the trade union building…which then caught fire." This is nonsense. The fascist extremists burned down the tent city, chased the activists into the building, barricaded the exits, and then set the building on fire with the obvious intention of killing the people inside. Again, there is no debate about this. It's all on video. The US media is involved in a massive cover up, mainly because a investigation would undoubtedly point to US involvement. This is why none of the major news organizations are covering an incident which would normally be headline news. Odessa is unique blend of Waco and Columbine, a combo that editors typically use to boost sagging ratings by exploiting public empathy and outrage. Only this time, the media has minimized its coverage and refused to report on a story that would probably lead straight to 1600 Pennsylvania Avenue.
While the New York Times has been widely criticized for publishing fake photos of Russian soldiers in Ukraine, the Wall Street Journal wins the trophy for absolute worst coverage. In a piece titled "Deadly Ukraine Fire Likely Sparked by Rebels, Government Says", the WSJ pushes the improbable theory that the anti-coup activists inside the building actually burned the building down themselves, a pathetic attempt to blame the victims of a ruthless government crackdown. Here's an excerpt from the article:
"The fire began from the roof. There were extremists there, we found casings and firearms," Mr. Chebotar said. "But something unexpected happened; their Molotov cocktails fell, and ignited the higher floors of the building." (Deadly Ukraine Fire Likely Sparked by Rebels, Wall Street Journal)
Utterly ridiculous. Are the editors of the WSJ aware of the fact that footage of the Neo Nazis throwing Molotov cocktails at the building are all over the Internet?
The article, of course, fails to explain how many of the people inside the building were either shot or strangled to death. Nor does the author speculate on why the police stood by while people hurled themselves from windows to escape the fire or were savagely beaten by right wing extremists on the pavement in front of the building. Instead, the WSJ tries to provide a plausible excuse for the one part of the story it chooses to focus on as if "who started the fire" can be separated from other important details. The evidence overwhelmingly suggests that the 40 victims of the incident were killed in a homicidal rampage that was perpetrated by Obama's new friends in Kiev. No amount of whitewash is going to hide that one glaring fact. Here's how Serbian historian and political analyst, Nebosja Malic, summed it up:
"According to all the evidence that I have seen, the entire thing in Odessa was a giant false flag operation. It was a provocation, it was one of those stage massacres that the pro-Western forces from Bosnia to Kosovo, now Ukraine excel at staging, intended to draw Russia to overreact…
"We have proof that the West is instigating this. And just the other day, Catherine Ashton, the EU's commissioner for foreign policy, pretty much gave a green light to the extremists from Kiev. She pretty much said they had a right to establish law and order within the borders of the country. I would say that the EU has blood on its hands, especially Catherine Ashton. It's the same thing they did in Yugoslavia in the 90s, when they started encouraging radicals, extremists, secessionists." (Interview with Nebosja Malic, RT)
It's true that Washington supports Neo-Nazi extremists who burned down the Odessa Trade Unions House. If that wasn't the case, then Obama would have spoken out forcefully against the action, which he has not. That implies that things are going according to plan. Malic is also correct when he says the fire was a "giant false flag operation" which refers to a covert military operation where agents disguise themselves as members of their adversary's group to initiate a provocation that will then be blamed on the other side. In this case, pro-regime fascists (and probably agents from the Security Services) disguised themselves as Kiev regime opponents, in order to throw bricks and stones at the police and Right Sector goons. This was the flashpoint that started the melee that ended in a massacre.
Videos on Russia Today show the agents in red arm bands mingled with the pro-Russia activists, initiated a confrontation with the cops, and then quickly switched sides when the fighting broke out. This is classic false flag operation. The police were obviously in on the scam, as they immediately opened their ranks to let the imposters slip by when the street-scrum began. These same imposters were later filmed shooting handguns and automatic weapons in the direction of the building just minutes after they had switched sides. (Take a look at this video from 3:30 minutes to the 6 minute-point and decide for yourself whether this was a false flag operation or not.)
Bottom line: There was nothing spontaneous about the clash that led to the catastrophic fire that killed 40 people in the Trade Unions House. It was a carefully planned and executed operation designed to shock Moscow into sending troops to protect ethnic Russians in Ukraine. If the CIA is working in Kiev –as it is–there is no doubt that they either knew or actively assisted the operation.
In related news: Moscow has announced it will "deploy additional forces in Crimea as part of beefing up the Black Sea fleet…before year's end". According to RT: "The fleet will receive new submarines and surface ships of new generation this year."
The Kremlin is responding to the buildup of NATO forces in Eastern Europe and the Black Sea where additional aircraft, warships and ground troops have been deployed in case war breaks out. Also, according to RT:
"NATO's three-week 'Spring Storm' drills, involving a record-breaking number of 6,000 troops, have begun in Estonia….(bringing) together a record number of allied troops." (Also) around 150 personnel of the US airborne division arrived in a military transport aircraft to Amari airbase (while) the UK and France deployed eight fighter jets to Lithuania and Poland to strengthen NATO air defense over the Baltic regions." (NATO's record 6,000-strong drills kick off in Estonia amid Ukraine tensions, RT)
So while the death toll mounts, the slide to war continues to gain momentum. Odessa was supposed to be the tipping point, the "catalyzing event" that would draw Putin into the fighting. But it hasn't worked out that way. Putin has stayed on the sidelines and refused to take the bait. That means there'll be more provocations to come; more false flags, more bloodshed, more stage-managed terror disguised as civil unrest. Eventually, people will see who's behind all the trouble. But how many will have died by then?
Note: Here's a 12 minute video on Obama's fascist friends in Ukraine. Listen to the last minute of the video to hear neocon Victoria Nuland praise Ukraine's development of "democratic skills and institutions" with the appropriate backdrop of balaclava-clad Nazis and brightly colored swastikas.
"While Russia has been making efforts to de-escalate and resolve the crisis, the Kiev regime has chosen to launch airstrikes on peaceful residential areas, literally destroying the last hope for preserving the Geneva accords." Dmitry Peskov, Putin's spokesman

"The crisis in Ukraine is not the result of 'Russian aggression,' but of a criminal strategy by the US and its European allies to install a hostile regime on Russia's borders in Ukraine and, ultimately, dismember Russia itself." Johannes Stern, NATO boosts military build-up against Russia as protests spread in east Ukraine, WSWS
Fighting broke out on Friday in the eastern Ukrainian city of Slavyansk when Kiev's coup government deployed military helicopters to fire on the city while troops and armored vehicles stormed checkpoints. At the time this article went to press, two helicopters had been shot down killing at least two pilots while one was captured. In an impassioned statement on Russian TV, Kremlin spokesman, Dmitry Peskov, appealed to allies in the EU to do whatever they could to persuade Ukrainian authorities to call off the operation and stop the violence.
"We are calling on the European capitals, the United States of America to give an assessment of the current events and are of course calling on those carrying out airstrikes on residential areas to…immediately end the punitive operation and any violence against its own people…"
So far, there has been no response from Washington although it's clear that the Obama administration had a hand in organizing the crackdown. Not only were the State Department and CIA directly involved in the putsch that removed democratically-elected president Viktor Yanukovych from office, but Washington has also been implicated in punitive operations directed against ethnic Russian protestors in east Ukraine. Both CIA Director John Brennan and Vice President Joe Biden visited Kiev just hours before two previous crackdowns were ordered by imposter-Prime Minister Arseniy Yatsenyuk. As Foreign Minister Sergei Lavrov blandly noted, It's clear that Washington is "calling the shots".
On Thursday, it looked like violence might be avoided when coup-President Oleksandr Turchynov said that he had lost control of the situation. In an exasperated message to the media, Turchnov said, "It is hard to accept but it's the truth, but the majority of law enforcers in the east are incapable of performing their duties."
Turchynov was referring to the fact that Ukrainian troops have refused to attack their own countrymen. The mutiny has reportedly spread from elite airborne units to local police who sympathize with the protestors. The only group that's willing to carry out Washington's proxy war is the Right Sector neo-Nazis who helped topple the Yanukovych government. Just last week, members of this openly fascist party, commemorated "the perpetrators of the massacre of Yanova Dolina," where "600 Poles were murdered by the Ukrainian Insurgent Army (UPA) in what is now Bazaltovoye. The massacre marked the beginning of ethnic cleansing in what is now western Ukraine, where tens of thousands of Poles were killed within a few months." (World Socialist Web Site)
These are Obama's new allies in America's war against Russia. Now check this out from Reuters:
"The International Monetary Fund warned that if Ukraine lost territory in the east it would have to redesign a $17 billion bailout of the country, probably requiring additional financing." (Ukraine attacks rebel city, helicopter shot down, Reuters)
Tell me, dear reader, when was the last time you heard of the IMF threatening to withhold funds if a political leader didn't wage war on his own people? Anyone with half a brain can see that the IMF is just acting on orders from the White House. This is Obama's war. His fingerprints are all over the policy. Obama is determined to draw Russia into a bloody guerilla war that leaves Ukraine in the same condition as Iraq, Afghanistan, Libya, and now Syria.
Here's a clip from the New York Times:
"Through stealth and misdirection, and in defiance of Western sanctions, Russia has managed to achieve its immediate goal of what Western and Ukrainian officials believe is rendering Ukraine so chaotic that it cannot guarantee order, mend its teetering economy or elect new leaders to replace Mr. Turchynov." (Not Getting Through to Mr. Putin, New York Times)
Putin wants a "chaotic" failed state on Russia's border? Have you ever read such nonsense in your life?
Putin didn't topple the Ukrainian government. The US State Department did. (Victoria Nuland's hacked phone calls prove it.) And Putin didn't violate the Geneva agreement less than 24 hours after the deal was signed by launching a crackdown on civilian protestors in the east. That was US-puppet Yatsenyuk. Nor did Putin deploy the military to surround cities, cut off their water supplies and deploy helicopter gunships to fire missiles at civilian infrastructure and terrorize the local population. That was the work of Obama's fascist junta in Kiev. Putin had nothing to do with any of the trouble in Ukraine. It's all part of the US "pivot to Asia" strategy to encircle and (eventually) dismember Russia in order to seize vital resources and control the flow of energy to China. Washington wants to reduce Ukraine to Mad Max-type pandemonium to justify establishing NATO bases on Russia's perimeter. It's all part of the plan to control Central Asia and rule the world.
Putin has acted as peacemaker throughout the crisis, but Obama is determined to provoke the Russian president by attacking and killing ethnic Russians. Consider the statement by Russia's Foreign Ministry following the helicopter incident on Friday morning:
"As we have warned many times before, the use of the army against its own people is a crime and is leading Ukraine to catastrophe…By supporting the organizers of the Kiev coup in their strategy of violently putting down protests, the US and EU are taking on a huge responsibility, essentially closing the door to a peaceful solution to the crisis." (Putin says Geneva agreement no longer viable after Ukrainian military action, Guardian)
It's clear now that Obama merely used the Geneva agreement to buy time to move troops and military hardware to Poland and the Balkans. It's also clear that Obama invited German Chancellor Angela Merkel to Washington so that it would appear that Europe is united behind the US in its proxy war on Russia. But what does Obama hope to achieve by stirring up this hornet's nest? He knows that Putin cannot afford to back down on Crimea, so what's the point? And, more importantly, what is Ukraine going to look like when Washington is finished using it as a staging-ground for its geopolitical landgrab? Here's an insightful piece by Russian academic, Andrei Fursov, who thinks he knows what Obama wants and explains the impact the policy is going to have on Ukraine for years to come.
"The Americans need controlled chaos and civil war…Moreover, it is clear that this country (post-coup Ukraine) is intended to be absolutely anti-Russian, nationalist, Banderite and neo-Nazi. So the dual goal of establishing this anti-Russian state is to constantly apply pressure on the Russian Federation…

As Bismarck (said) 'We must cultivate among the Ukrainians, a people whose consciousness is altered to such an extent, that they begin to hate everything Russian.' …

Thus we are talking about a historical psy-op, an information-psychological sabotage, whose purpose is to establish Russophobic Slavs… They are the means to separate Ukraine from Russia and to oppose Russia as a kind … totalitarian empire. This was all devised under the Galician Project, on which the intelligence services of Austro-Germany and Kaiser German worked, followed by the intelligence service of the Third Reich, later – CIA and BND…

Banderastan, if that's what Ukraine is fated to become, as designed by the puppet-masters across the ocean, is to be an oligarchic, terroristic, Russophobic state…An oligarchic Banderite…oligarchy is the ideal vehicle for external control. Clearly, this will suit both the oligarchs and the West." (Battleground Ukraine: A Comprehensive Summary, Zero Hedge)
So, there it is: Divide and rule. We saw the Bush administration pull it off with the Shia and Sunnis in Iraq, and now Obama wants to do the same with the Ukrainians and Russians. Same strategy, different continent.
This is Obama's plan for the "New Ukraine" a fascist-ruled failed state that follows Washington's directives and puts pressure on Russia thorough endless provocations, belligerence, and war. Ukraine will be Washington's pit bull in the East, separating Moscow from crucial sources of revenue and thwarting efforts at greater EU-Russia economic integration. This is how Washington hopes to insert itself into Eurasia, to improve its prospects in the Great Game, and to establish global hegemony into the next century.
(Note: "Banderite" refers to Stepan Bandera, who was a Ukrainian nationalist leader who collaborated with the Nazis. Bandera headed the Organization of Ukrainian Nationalists (OUN) According to the World Socialist Web Site: "The Ukrainian Insurgent Army (UPA) carried out numerous massacres of the Polish population in western Ukraine…The UPA served as a military executive organ of the OUN. It was founded in the spring of 1943 and recruited primarily from Nazi collaborators who were previously active in the SS.")
History has been made.  But few Americans are aware of it or angry about it.  I say: Wake up Americans.  A war has been waged against US democracy, from the inside.  Time to pick a side and fight back.
If you are not totally brain dead, distracted by pain or pleasure, or consumed by narcissistic obsessions, face the ugly, painful truth.
Republicans with political power in Congress and the states and, even more appallingly, on the Supreme Court have succeeded in turning their beloved republic into a-money-buys-power oligarchy.  One person, one vote was the enemy and it is being defeated.  One dollar, one vote is the new Republican political value.  American democracy is more delusional than ever.  To think otherwise is even more delusional.
I present three arguments supporting the conclusion that there has been a conversion of US democracy into something worse than a plutocracy.  Political power is more dependent on money than ever before.
First, Republicans controlling the House of Representatives and many controlling state governments, together with their rich supporters, have steadily and successfully eroded voting and election laws.  Their goal has been simple: Fight the demographic advantages of Democrats that give them more voters by making it more difficult for those citizens to actually vote.  This has been documented in a New York Times top story and many other places.  Republicans see the obvious.  Namely that their older,-largely rural, white male shrinking proportion of the population is insufficient to win many elections and, even more significant, that many of their policy positions will never prevail with many demographic groups.
As Damon Linker observed about this statistical reality, this is a "tacit acknowledgement by the Republican Party that it's in dire demographic straits — and that one of the key pillars of its ideology over the last half-century is crumbling right before our eyes."  Their solution, besides vicious gerrymandering of House districts, is to make it ever more difficult for groups likely to favor Democrats to vote in all elections.  This direct assault on electoral democracy depends considerably on money coming from the wealthiest people to finance the actions to change election laws.
Second, the Supreme Court is now controlled by a Republican majority that has been successfully producing decisions to remove limits to money dumped into the political system by the richest Americans.  For example, recently the McCutcheon decision  continued the Roberts Court program of gutting campaign-finance laws.  Hard to believe, but this decision came to the aid of just 1,219 people in the US—that's four in every 1,000,000 of our population, who ran up against a contribution limit.  But this is consistent with the insanity that money is the same as free speech, which the Supreme Court has made the law of the land.
As Robert Reich correctly noted: "The court said such spending doesn't corrupt democracy.  That's utter baloney, as anyone who has the faintest familiarity with contemporary American politics well knows."  Political money is used to greatly impact lawmaking and elections.  Political power obtained through political spending is, of course, essential for the richest Americans to maintain and perhaps intensify the economic inequality that now distinguishes American society.  It is how an oligarchy is obtained and sustained.
I hope that Brent Budowsky is correct.  Namely that "Roberts and his four conservative Republican brethren will ultimately be impeached by historians who will condemn, and future courts that will reverse, politically illegitimate and constitutionally deformed rulings that would turn America into a constitutional oligarchy."  But change "would turn" into "have turned."
Third, as still more proof of the profound historic change in the US, a recent study from Princeton University that analyzed considerable data concluded that the US has become an oligarchy. Here is what this important study said: "In the United States, our findings indicate, the majority does not rule — at least not in the causal sense of actually determining policy outcomes. When a majority of citizens disagrees with economic elites and/or with organized interests, they generally lose. Moreover, because of the strong status quo bias built into the U.S. political system, even when fairly large majorities of Americans favor policy change, they generally do not get it."
Furthermore, "Americans do enjoy many features central to democratic governance, such as regular elections, freedom of speech and association, and a widespread (if still contested) franchise. But we believe that if policymaking is dominated by powerful business organizations and a small number of affluent Americans, then America's claims to being a democratic society are seriously threatened."  In other words, it is time for Americans to stop believing delusional truths and recognize that US democracy has become a myth, especially if there are ever to be serious actions by the majority to fix and restore democracy.
Americans, especially younger ones, need to understand the historical path from democracy to plutocracy to oligarchy.  Most Americans are suffering because of economic inequality and they need to understand that the economic system is under the control of the perverted political system.  Anyone who is not in the Upper Class or proverbial top one percent who votes for Republicans is living in some fantasy world.  Such voters have been brainwashed and manipulated by, for example, FOX News and blowhards like Limbaugh.
Republicans want even more power.  And if they get it, what would you expect from those working so hard to make US democracy a joke and replace millions of voters with one percent oligarchs?  What Republicans have been doing is nothing less than domestic political terrorism.  If Republicans and Tea Party loyalists were true patriots, they would rebel against the oligarchy created by Republicans.
Finally, make no mistake and think this condemnation of Republicans equates to advocacy for Democrats.  The ultimate solution if a better, more democratic US system is to be obtained is not to rely on putting Democrats in control who also have some billionaires on their side.  No, what is required is a number of constitutional amendments obtained through an Article V conventionthat are necessary to structurally reform the political system, especially getting rid of the power of political money.  In recent months there has been a historic increase in support from important people for constitutional amendments and greater public support is desperately needed to finally use the constitutional option given by the Founders to the nation.