In case you are a rabid partisan supporter of the Obama administration, or forgot your history, Richard Nixon was charged for ostensibly the same offense, that President Obama's loyal minion Lois Lerner oversaw. Joseph Curl writes in the Washington Times, IRS scandal gets Nixonian: The 18½-minute (or 26-month) gap.Article 2 of the Articles of Impeachment against Nixon charged that he:
"endeavored to obtain from the Internal Revenue Service, in violation of the constitutional rights of citizens, confidential information contained in income tax returns for purposes not authorized by law, and to cause, in violation of the constitutional rights of citizens, income tax audits or other income tax investigation to be initiated or conducted in a discriminatory manner."

That's exactly what the Internal Revenue Service did under President Obama before the 2012 election.

There isn't much dispute there. The IRS sought to delay tax-exempt status for conservative and tea party groups, and succeeded (as the government often does when fighting its foes). So Congress, which has oversight of all things government, asked for all correspondence among the major players."
So when an IRS Source: Lerner's Hard Drive Likely Destroyed, all you can do is ask if any of Rose Mary Woods' relatives are Democrats and still work for the federal government establishment. If Watergate brought the country to the constitutional brink, what exactly would Obama have to do in order for Congressional House impeachment and a Senate trial and removal from office?Just examine some of the most egregious crimes, 25 Violations of Law By President Obama and His Administration. However, in the post Clinton impeachment culture, the career political class does not have the stomach to live by and enforce most provisions of constitutional law.
The press revolving door that Jay Carney used to drop the charade that he was a real journalist at Time to become a Whitehouse Press Secretary lap dog is a good indication that the Fourth Estate just does not has the zeal to do a "Woodward and Bernstein" on Obama. No doubt, media mouthpieces are proficient with deep throat fellatio, but their "PC" ethics require that their trade be applied solely as the serviceof their multiracial POTUS. The notion of conducting serious investigational reporting that could lead to the removal of a treasonous crook is not in their newspeak playbook.By any historic standard the economy is plummeting, the government is despotic, the culture is in denial and the world is collapsing. The Obama presidency has created an administration that is a total failure. Incompetency in purpose, policy and execution is beyond belief. The country is imploding on every level. The only rational conclusion is that Obama's mission has always been the intentional destruction of the nation.
Back in 2011, Charles Krauthammer wrote an essay, Obama's Louis XV budget that received widespread coverage. Louis XV was king of France from 1715 to 1774. The analogy needs a little appreciation of pervasive failures within the French monarchy during this era.Dr. Krauthammer reviews the Obama's budget complexities and the consequences for future administrations.
"Yet for all its gimmicks, this budget leaves the country at decade's end saddled with publicly held debt triple what Obama inherited.

A more cynical budget is hard to imagine. This one ignores the looming debt crisis, shifts all responsibility for serious budget-cutting to the Republicans – for which Democrats are ready with a two-year, full-artillery demagogic assault – and sets Obama up perfectly for reelection in 2012."
Now we all know that the provincial peasants picked "The Beloved" Obama for a second term. Grasp the similarities. "Most scholars believe Louis XV's decisions damaged the power of France, weakened the treasury, discredited the absolute monarchy, and made it more vulnerable to distrust and destruction."
For an outstanding summary from Afterburner with Bill Whittle, view the video, Le Deluge – Obama is Quickly Becoming Louis XV. "Obama is figuring that it doesn't matter what horrendous things he does to this country, because after him will be a deluge anyway. He's becoming entirely comparable to France's Louis XV."
Both Krauthammer and Whittle seem to be describing a society in decay awaiting a day of reckoning. However, the royal rule of Barack Hussein Obama II continues on its merry way with little righteous outrage from the masses, which are too busy SNAP eating "la croûte de pâté" (or the crust of the pâté) their Supplemental Nutrition Assistance Program rations.
Many academics argue that Louis XV was unequal to the high expectations of his subjects. "Historians have depicted this ruler as one of the weakest of the Bourbons, a do-nothing king who left affairs of state to ministers while indulging in his hobbies of hunting and womanizing."

Gossip has it from the lips of Fred DeRuvo that palace intrigue in the Obama court has strange bedfellows.
"Now, all of a sudden, we're to learn that Barack Obama is a closet womanizer, a real flirt? Do you think it's possible that the entire event was created in the labs of "Jarrett Amalgamated" to throw people off the scent, to make us stop talking about the fact that he may very likely be gay?

The idea that Obama likes woman is preposterous! The idea that he's such a flirtatious womanizer is also preposterous. The idea that Michelle Obama is planning on divorcing him is beyond preposterous! It's not going to happen because she has a ton to lose.

Who's going to pay for all of her vacations and birthday bashes once Obama is no longer president? Who's going to pay for her home and lessons to learn to drive a car and then buy a car? Who's going to pay for her god-awful choice in dresses and pantsuits?"
Nonetheless, we all know that the "Big Dog", immunized the Presidency from sex scandals and since Congress will not impeach for serious trespasses of the law, probable expectations are that Obama's weak and ineffective rule will just accelerate the general decline, culminating in a final oppressive oligarchy.
When the deluge hits, the next commander in crime will share similarities with Louis XVI, but do not expect that a fatal sentence for treason is likely. Ending the imperial presidency will never come with a helicopter ride into retirement. Woefully, after Nixon, the legacy of regal executive administrations never subsided, even under the inept Jimmy Carter.Louis XVI indecisiveness led some elements of the people of France to view him as a symbol of the perceived tyranny of the Ancien Régime. Today, the American public has the entire establishment to contend with and overthrowing an aristocracy looks bloody easy in comparison. Dave Hodges, of the Common Sense Show chimes in on a weird and frightening accusation from the now deceased Ted Gunderson, Retired FBI Agent Tells Militias Feds Have Set Up 30,000 Guillotines. Mr. Hodges asks:
"Why in God's good name would this government import 30,000 guillotines as Gunderson claimed? Oh, I know that some of the sheep are now looking up from the ground and have just said "there aren't are any guillotines in the United States." Then please tell me, sheep of America, why did Representative Doug Teper, of the Georgia Legislative Assembly (Democrat) introduced a bill which will supplant the method of execution, the electric chair, with the guillotine?"
The next observation is even more blood chilling.
"Everyone that I have spoken to agrees that the guillotine is highly efficient. Most everyone I have talked with stated that organ harvesting will indeed be even a bigger business and the guillotine is the most efficient killing machine to that end. Some of my sources stated that the next phase of the transhumanism experiments and developments requires a severed human head to facilitate the mixing of humans and animals into one sentient being. Further, futuristic DARPA robots will have human heads after the initial purge and subsequent executions. This makes sense because after the head is severed, the eyes blink and signs of life continue for up to a minute. This would allow a team to "freeze" and to preserve the head for whatever purpose."
The reluctance of impeachment for the current imposter, occupying the oval office, is putting the terminal NWO kismet plot in motion. Popular legend holds that Louis XV said, "After me, the flood" ("Après moi, le déluge"). Well, the tsunami after Obama will make the reign of Louis XVI look tame.
The constitutional republic, long ago buried, shows few signs of resurrection. However, the authoritarians that administer this reign of terror have assigned a cell in a personal Bastille for dissenters. The cry, vive la liberté (long live freedom) has no place in the Totalitarian Collectivism of the globalist worldwide empire. Disassembling the United States is necessary before the New Regime can replace the vestiges of individual liberty and inherent autonomy. Barack Obama is an arrogant buffoon that does the biding of his illuminati elite elders, who are modern day descendants of the same masterminds behind the French Revolution. Ignoring justified impeachment proceedings is capitulation to the slaughter of our way of life. Lop off the cancer of imperious presidencies.
Western civilization lied and people died.
It lied, that is, to itself.
It's a lie that imbues Bushes, Clintons and Obamas, both the left and the right and most everyone in-between. It is the enlightened position of the modern man, a tenet of our times.
It's the idea that all peoples are basically the same.
I wrote about this seven years ago in "The Folly of Deifying Democracy in Iraq," in which I predicted that our "nation-building" would ultimately be fruitless:
While we often view democracy as the terminus of governmental evolution, the stable end of political pursuits, the truth is that civilizations have tended to transition not from tyranny to democracy, but democracy to tyranny (e.g., the ancient Romans). …Benjamin Franklin understood this gravitation toward tyranny well, for when asked what kind of government had been created when he emerged from the constitutional convention, he said, "A republic, madam, if you can keep it."
This brings us to the crux of the matter: Even if we can successfully install democratic republics in countries such as Iraq and Afghanistan, what makes us think they can keep them?
…To average westerners, all groups are essentially the same, despite profound religious and cultural differences. If a civilization — be it Moslem or Christian, Occidental or Oriental — suffers under the yoke of tyranny, it is only due to a twist of fate that has bestowed the wrong system of government upon it. Change that system and "voila!" all live happily ever after.  What eludes these Pollyannas is that politics doesn't emerge in a vacuum but is a reflection of a far deeper realm, the spiritual/moral.  Alluding to this, Ben Franklin observed,
"Only a moral and virtuous people are capable of freedom; the more corrupt and vicious a society becomes, the more it has need of masters."
…[S]piritual [and moral] health must precede the political variety….
A good way to illustrate this point is with Lord of the Flies, William Golding's story about a large group of young British schoolboys who are shipwrecked on an island and who, after an initial effort at democratic governance, quickly descend into brutal autocracy. Being children, they are raw pieces of humanity perfectly illustrative of the "wild man." After all, one thing distinguishing children is that they aren't yet morally and spiritually developed enough to govern themselves. This is why a young child must be watched and controlled, with his life micromanaged by his (usually benign) nanny state, the parents. As he grows and matures, however, the parents can gradually allow an increasing degree of self-governance until, it is hoped, a day comes when he's capable of complete autonomy.
But as our bursting prisons prove, this process isn't always successfully effected; more to the point, as greatly varying levels of criminality among groups evidence, not all of our nation's sub-cultures effect this process with equal success.
If this is true of some sub-cultures in our nation, however, why would it surprise anyone that it would be true of some cultures outside our nation?
In fact, I've long described moral and spiritual growth as movement toward "authentic adulthood," which, at its pinnacle, yields that ethereal combination of innocence (meaning, absence of sin) and wisdom, and the former is actually a prerequisite for the latter. Yet some cultural norms can produce just the opposite: a loss of innocence and lack of wisdom.
However you describe this growth, the fact is that peoples mature very differently. George W. Bush was famous for saying that everybody wanted freedom, but this is an imprecise statement. No nation has complete freedom (to kill, steal, etc.), so what freedoms do the people in question supposedly want? But even if a given people does want freedom in the sense of democratic self-determination, wanting isn't enough. Virtually everyone wants money, but not everyone has the discipline and wherewithal to acquire it; everybody wants health, but some people still can't resist smoking, eating or drinking themselves to death. Ours is a world full of people too wanting to get what they want, which is one reason why unfulfilled desire is man's constant companion.
Ironically, the very modernists who stress how foreign Muslims are "just like us" can easily comprehend culture/system incompatibility when our own culture war is at issue. No small number of liberals have concluded that the last opposition to their agenda won't evaporate until we traditionalists — who, ironically, liberals sometimes liken to the Taliban — die off. Oprah Winfrey said that the old "racists" were just going to have to die; Judge Judy Sheindlin said that those who oppose faux marriage were just going to have to die. What they're really saying is that the culture on the other side of the culture war has to die (and, believe me, I consider their "culture's" demise no less necessary). And they figure that it won't be perpetuated because they're forging a new culture via the media, academia and entertainment.
So why is it so hard to understand that the same principle applies to foreign intransigents?
If certain moderns can resign themselves to this with respect to Western Christian culture, why can't they realize that it's no different with Islamic culture? They don't think for a moment that they can talk us traditionalists out of our deeply held principles, so why do they think they can talk Muslims out of theirs? And they have only succeeded in shaping the younger generations because they have seized control of the aforementioned culture shapers. So why would they think that Muslim civilization could be reshaped without the same Gramscian march through the madrassahs and other Islamic institutions? They act as if their own domestic political opponents are more foreign than foreigners. But I will explain the reason why.
Just as absence makes the heart grow fonder, distance makes dreams grow fanciful.
As with an irritating neighbor who, owing to continual petty annoyances, you despise more than a tyrant an ocean away, liberals are close enough to us for our behavior to have affected them viscerally so that they feel on an emotional level what they're incapable of apprehending intellectually. But Muslims are far enough away — and I don't just mean physically, but, more importantly, psychologically — so that it's easy to ascribe to them whatever qualities one's fantasies may prescribe. It's as with the starry-eyed, naïve young lady who is smitten with an exotic but flawed man and who is just sure (as women so often are) that she'll be able to change him: after 15 years she can be a cynical old jade who will bitterly lament, "He'll never change!" The man, you see, made that transition from theoretical foreign naughty boy to up-close domestic nightmare.
So do you really want to know what it would truly take to transform the 'stan du jour? Alright, but most of you either won't like it or won't believe it:
Go in with massive force and brutality, Roman style.
Execute anyone who offers resistance after dousing him in pig's blood.
Forcibly convert the population to Christianity, and thoroughly infuse their institutions with the faith.
Garrison troops there for several generations, repeating steps one and two as necessary to complete the transformation.
And, by the way, there is precedent for this: It's a version of what the Muslims did when they long ago conquered the old Christian lands of the Mideast and North Africa.
Having said this, I'm not currently recommending such a course. I'm just telling you what would be necessary to effect the kind of change in question. You see, everyone talked about Mideast nation-building when we really just engaged in government-building and what was actually needed was something far grander than both: civilization-building. The moderns thought that if they put sheep's clothing on a wolf it wouldn't bite, that they could put the leaves of liberty on a tree of tyranny and they wouldn't wither and die. We thought we were remedying causes when we were just treating symptoms.
So yesterday's moderns called WWI "the war to end all wars." Then their grandchildren gave us the political system to end all wars — democracy — with George W. Bush once saying that democracies don't go to war with one another. And this is true. After all, when democracy's birthplace, ancient Athens, democratically decided to launch a disastrous imperialistic war that ultimately cost her people their whole empire, the target was autocratic Sparta; there were no other democracies to war against at the time, you see.
So all we can really say is that democracies haven't yet gone to war with one another. Perhaps even more to the point, democracies don't always remain democracies; they often, sometimes quickly and violently, descend into tyranny.
Then they may go to war.
So while some commentators are saying that the current crisis in Iraq vindicates the neo-cons, it only proves that they were better than the liberals at herding cats. A wiser policy was the one we pursued during Cold War days. Understanding that the island boys were going to need a firm hand, we both kept them on their island and tried to ensure a firm hand we could handle: a pro-American dictator, such as Augusto Pinochet or Hosni Mubarak. Oh, the viciously vacuous condemned this as the authoring of tyranny, but they forget that, as Thomas Sowell often points out, in life there often aren't any solutions, only trade-offs. And accepting this can help prevent making the wrongs ones, such as trading off blood and treasure for that fruit of folderol and fantasy — nothing.
Did Obama Know that ISIS Planned to Invade Iraq?
"I think we have to understand first how we got here. We have been arming ISIS (the Islamic State in Iraq and Syria) in Syria.  ISIS, an al Qaeda offshoot, has been collaborating with the Syrian rebels whom the Obama administration has been arming in their efforts to overthrow Syrian President Bashar al-Assad."  - Senator Rand Paul, Interview CNN 
Today's head-scratcher: How could a two-mile long column of jihadi-filled white Toyota Land rovers barrel across the Syrian border into Iraq–sending plumes of dust up into the atmosphere –without US spy satellites detecting their whereabouts when those same satellites can read a damn license plate from outer space? And why has the media failed to inquire about this massive Intelligence failure?
Barack Obama is a big proponent of "inclusive democracy" which is why he wants Iraqi prime minister Nouri al Maliki to either include more Sunnis in the government or resign as PM. In an interview with CNN, Obama said, "We gave Iraq the chance to have an inclusive democracy, to work across sectarian lines to provide a better future for their children and unfortunately what we've seen is a breakdown of trust…There's no doubt that there has been a suspicion for quite some time now amongst Sunnis that they have no access to using the political process to deal with their grievances, and that is in part the reason why a better-armed and larger number of Iraqi security forces melted away when an extremist group, Isis, started rolling through the western portions of Iraq.
"Part of the task now is to see whether Iraqi leaders are prepared to rise above sectarian motivations, come together, and compromise. If they can't there's not going to be a military solution to this problem … There's no amount of American firepower that's going to be able to hold the country together and I've made that very clear to Mr Maliki and all the other leadership inside of Iraq (that) they don't have a lot of time." (New York Times)
Anyone who thinks Obama  gives a rip about sectarian problems in Iraq needs his head examined. That's the lamest excuse for a policy position since the Bush administration announced they were sending troops to Afghanistan to "liberate" women from having to wear headscarves.  If Obama was serious about "inclusive democracy" as he calls it, then he'd withhold the $1.3 billion from his new dictator buddy, Generalissimo al Sisi of Egypt who toppled the democratically-elected government in Cairo, installed himself as top-dog in conspicuously rigged elections, and is now planning to execute 200-plus Egyptians for being members of a party that was legal just a few months ago.   Do you think Obama is pestering al-Sisi to be "more inclusive"?  No way. He doesn't care how many people are executed in Egypt, anymore than he cares whether al Maliki blocks Sunnis from a spot in the government. What matters to Obama and his deep-state puppetmasters is regime change, that is, getting rid of a nuisance who hasn't followed Washington's directives. That's what this is all about. Obama and Co. want to give al Maliki the old heave-ho because he refused to let US troops stay in Iraq past the 2012 deadline and because he's too close to Tehran. Two strikes and you're out, at least that's how Washington plays the game.
So Maliki has got to go, and all the hoopla over sectarian issues is just pabulum for the News Hour. It means nothing. The real goal is regime change. That, and the partitioning of Iraq. In fact, the de facto partitioning of Iraq has already taken place. The Sunnis have basically seized the part of the country where they plan to live. The Kurds have nailed down their own territory, and the Shia will get Baghdad and the rest, including Basra. So, the division of Iraq has already a done deal, just as long as al Maliki doesn't  gum up the works by deploying his army to retake the parts of the country that are now occupied by ISIS. But the Obama team probably won't allow that to happen, mainly because the bigshots in Washington like things the way they are now. They want an Iraq that is broken into smaller chunks and ruled by tribal leaders and warlords. That's what this is all about, splitting up the country along the lines that were laid out in an Israeli plan authored by Oded Yinon 30 years ago.  That plan has already been implemented which means Iraq, as we traditionally think of it, no longer exists. It's kaput. Obama and Co. made sure of that.  They weren't satisfied with just killing a million Iraqis, polluting the environment, poisoning the water, destroying the schools, hospitals, roads, bridges, and leaving them to scrape by on meager rations, foul water and a tattered electrical grid. They had to come back and annihilate the state itself, erase the lines on the map,  and remove any trace of a nation that was once a prosperous Middle East hub. Now the country is gone, vanished overnight. Poof. Now you see it, now you don't.
Of course, al Maliki could try to reverse the situation, but he's got his own problems to deal with. It's going to be hard enough for him just to hold onto power, let alone launch a sustained attack on a disparate band of cutthroats who are bent on wreaking havoc on oil wells, critical infrastructure, pipelines, reservoirs, etc as well as killing as many infidels as humanly possible. No matter how you cut it, al Maliki is going to have his hands full.  Obama has already made it plain, that he's gunning for him and won't rest until he's gone. In fact, Secretary of State John Kerry is in the Middle East right now trying to drum up support for the "Dump Maliki" campaign. His first stopover was Cairo. Here's a wrap-up form the Sunday Times:
"Secretary of State John Kerry arrived in Cairo on Sunday morning on the first leg of a trip that is intended to hasten the formation of a cross-sectarian government in Iraq. In his swing through Middle East capitals, Mr. Kerry plans to send two messages on Iraq. One is that Arab states should use their influence with Iraqi politicians and prod them to quickly form an inclusive government. Another is that they should crack down on funding to the Sunni militants in the Islamic State in Iraq and Syria. The group is largely self-sustaining because of success in extortion and its plundering of banks in Mosul, Iraq. But some funding "has flowed into Iraq from its neighbors," said a senior official on Mr. Kerry's plane." (Kerry Arrives in Cairo on Trip to Push for New Iraqi Government, New York Times)
How's that for priorities? First we get rid of al Maliki, says Kerry, then we move on to less important matters, like that  horde of jihadi desperados who are descending on Baghdad like a swarm of locusts. Doesn't that seem a little backasswards to you, dear reader?
And why isn't Obama worried about a jihadi attack on Baghdad?   Think of it: If they did attack Baghdad and the capital fell into jihadi hands, then what? Well, then the Dems would take the blame, they'd get their butts whooped in the upcoming midterms, and Madame Hillary would have to take up needlepoint because her chances of winning the 2014 presidential balloting would drop to zero.  So, the fallout would be quite grave. Still, Obama's not sweating it, in fact, he's not the least bit worried. Why?
Could it be that he knows something that we don't know?  Could it be that US Intel agents have already made contact with these yahoos and gotten a commitment that they won't attack Baghdad if they are allowed to remain in the predominantly Sunni areas which they already occupy? Is that it? Did Obama offer the Baathists and Takfiris a quid pro quo which they graciously accepted?
It's very likely, mainly because it achieves Obama's strategic objective of establishing a de facto partition that will remain in effect unless al Maliki can whip up an army to retake lost ground which looks doubtful at this point.
But, here's the glitch;  al Maliki is not a quitter, and he's not going anywhere. In fact he's digging in his heels. He's not going to be blackmailed by the likes of Obama. He's going to this fight tooth and nail. And he's going to have help too, because young Shia males are flocking to the recruiting offices to join the army and the militias. And then there's Russia; in a surprise announcement  Russian president Vladimir Putin offered to assist al Maliki in the fight against the terrorists, a move that is bound to enrage Washington. Here's a clip from the Daily Star:
"Russian President Vladimir Putin on Friday offered Iraqi Prime Minister Nuri al-Maliki Moscow's total backing for the fight against jihadist fighters who have swept across the Middle East country.

"Putin confirmed Russia's complete support for the efforts of the Iraqi government to speedily liberate the territory of the republic from terrorists," the Kremlin said in a statement following a phone call between the two leaders…
Russia is one of the staunchest allies of Syrian strongman Bashar al-Assad and has helped prop up his regime during three years of fighting against a hotchpotch of rebel groups, including the ISIL."  ( Putin offers Iraq's Maliki 'complete support' against jihadists, Daily Star)
That makes a third front in which Russia and the US will be on opposite sides. It's just like the good old days, right?  Putin seems to be resigned to the idea that Moscow and Washington are going to be at loggerheads in the future. He's not only opposed to a "unitary world order", he's doing something about it, putting himself and his country's future at risk in order to stop the empire's relentless expansion and vicious wars of aggression.  Needless to say, proxy wars like this can lead to rapid escalation which is always a concern when both parties have nuclear weapons at their disposal.  Now check this out from the Oil Price website:
"Here's why the threat goes beyond Iraq and Syria…Modern Syria is bordered by Turkey to the north, Iraq to the east, Jordan and Israel to the south and Lebanon to the west.

'Greater Syria' incorporates most of the territories of each.

This is what 'Syria' means in the mind of Middle Easterners, says Joshua Landis, director of the Center for Middle East Studies at the University of Oklahoma, and author of the respected blog SyriaComment.com

'If we can teach people that so many Arabs still think of Syria as Greater Syria, they will begin to understand the extent to which Sykes-Picot remains challenged in the region,' said Landis.

Sykes-Picot, of course refers to the secret agreement drawn up by two British and French diplomats — Sir Mark Sykes and Francois George-Picot — at the end of Word War I dividing the spoils of the Ottoman Empires between Britain and France by drawing straight lines in the sand.

To this day, many Arabs refuse to accept that division and think of 'Syria' as 'Greater Syria.' Some go so far as to include the Arab countries of North Africa – which from the Nile to the Euphrates forms 'the Fertile Crescent,' the symbol of many Muslim countries from Tunisia to Turkey. And some even go as far as including the island of Cyprus, saying it represents the star next to the crescent.

Given that, anyone who thinks ISIS will stop with Iraq is delusional."  (Insiders reveal real US aims in redrawing map of ME: Greater Syria, oil price)
Interesting, eh? So, if Mr. Landis is right, then the fracas in Iraq and Syria might just be the tip of the iceberg. It could be that Washington, Tel Aviv and Riyadh –who we think are the driving force behind this current wave of violence–have a much more ambitious plan in mind for the future. If this new method of effecting regime change succeeds,  then the sky's the limit. Maybe they'll try the same stunt in other countries too, like Turkey, Tunisia, Cyprus, and all the way to North Africa. Why not? If the game plan is to Balkanize Arab countries wholesale and transform them into powerless fiefdoms overseen by US proconsuls and local warlords, why not go on a regime change spree?
By the way, according to the Telegraph, Obama and friends knew what ISIS was up to, and knew that the terrorist group was going to launch attacks on cities in the Sunni territories, just as they have. Get a load of this:
"Five months ago, a Kurdish intelligence "asset" walked into a base and said he had information to hand over. The capture by jihadists the month before of two Sunni cities in western Iraq was just the beginning, he said.
There would soon be a major onslaught on Sunni territories.

The Islamic State of Iraq and al-Sham (Isis), a renegade offshoot of al-Qaeda, was about to take its well-known cooperation with leftovers of the regime of Saddam Hussein,  and his former deputy Izzat al-Douri, to a new level.

His handlers knew their source of old, and he had always proved reliable, officials told The Telegraph. So they listened carefully as he said a formal alliance was about to be signed that would lead to the takeover of Mosul, the biggest city north of Baghdad, home to two million people. …

'We had this information then, and we passed it on to your (British) government and the US government,' Rooz Bahjat, a senior lieutenant to Lahur Talabani, head of Kurdish intelligence, said. 'We used our official liaisons.'

'We knew exactly what strategy they were going to use, we knew the military planners. It fell on deaf ears.'  (How US and Britain were warned of Isis advance in Iraq but 'turned a deaf ear, Telegraph)
"Deaf ears"?
I'm not buying it. I think the intelligence went straight to the top, where Obama and his neocon colleagues came up with the plan that is unfolding as we speak. They figured, if they just look the other way and let these homicidal madhatters seize a few cities and raise a little Hell, they'd be able to kill two birds with one stone, that is,  get rid of al Mailiki and partition the country at the same time. But, it's not going to work out like Obama expects, mainly because this is just about the dumbest plan ever conjured up. I would give it an 80 percent chance blowing up in Obama's face in less than a month's time. This turkey has failure written all over it.
As for the sectarian issue, well, Iraq was never a sectarian society until the war.  The problems arose due to a deliberate policy to pit one sect against the other in order to change the narrative of what was really going on the ground. And what was really going on was a very successful guerilla war was being waged by opponents of the US occupation who were launching in excess of 100 attacks per day on US soldiers. To change the storyline–which was causing all kinds of problems at home where support for the war was rapidly eroding–US counterinsurgency masterminds concocted a goofy plan to blow up the Golden Dome Mosque, blame it on the Sunnis, and then unleash the most savage, genocidal counterinsurgency operation of all-time. The western media were instructed to characterize developments in Iraq as part of a bloody civil war between Shia and Sunnis. But it was all a lie. The bloodletting was inevitable result of US policy which the Guardian effectively chronicled in a shocking, but indispensable hour-long video which can be seen here. James Steele: America's mystery man in Iraq - video
The US made every effort to fuel sectarian animosities to divert attention from the attacks on US soldiers. And due to a savage and deceptive counterinsurgency plan that employed death squads, torture, assassinations, and massive ethnic cleansing,  they succeeded in confusing Iraqis as to who was really behind the daily atrocities, the human rights violations and the mountain of carnage.
You'd have to be a fool to blame al-Maliki for any of this. As brutal as he may be, he's not responsible for the divisions in Iraqi society. That's all Washington's doing.  Just as Washington is entirely responsible for the current condition of the country and for the million or so people who were killed in the war.
"It is no longer plausible to argue that ISIS was a result of unintentional screw ups by the US. It is a clear part of a US strategy to break up the Iran-Iraq-Syria-Hezbollah alliance. Now that strategy may prove to be a total failure and end up backfiring, but make no mistake, ISIS IS the strategy." - Lysander, Comments line, Moon of Alabama

"US imperialism has been the principal instigator of sectarianism in the region, from its divide-and-conquer strategy in the war and occupation in Iraq, to the fomenting of sectarian civil war to topple Assad in Syria. Its cynical support for Sunni Islamist insurgents in Syria, while backing a Shiite sectarian regime across the border in Iraq to suppress these very same forces, has brought the entire Middle East to what a United Nations panel on Syria warned Tuesday was the "cusp of a regional war." – Bill Van Auken, Obama orders nearly 300 US troops to Iraq, WSWS
Let cut to the chase: Barack Obama is blackmailing Nouri al-Maliki by withholding military support until the Iraqi Prime Minister agrees to step down. In other words, we are mid-stream in another regime change operation authored by Washington. What's different about this operation, is the fact that Obama is using a small army of jihadi terrorists –who have swept to within 50 miles of Baghdad–to hold the gun to Mr. al Maliki's head. Not surprisingly, al Maliki has refused to cooperate which means the increasingly-tense situation could explode into a civil war. Here's the scoop from the Guardian in an article aptly titled "Iraq's Maliki: I won't quit as condition of US strikes against Isis militants":
"A spokesman for the Iraqi prime minister, Nouri al-Maliki, has said he will not stand down as a condition of US air strikes against Sunni militants who have made a lightning advance across the country.

Iraq's foreign minister, Hoshyar Zebari, on Wednesday made a public call on al-Arabiya television for the US to launch strikes, but Barack Obama has come under pressure from senior US politicians to persuade Maliki… to step down over what they see as failed leadership in the face of an insurgency…

The White House has not called for Maliki to go but its spokesman Jay Carney said that whether Iraq was led by Maliki or a successor, "we will aggressively attempt to impress upon that leader the absolute necessity of rejecting sectarian governance". (Iraq's Maliki: I won't quit as condition of US strikes against Isis militants, Guardian)
Obviously, the White House can't tell al Maliki to leave point-blank or it would affect their credibility as proponents of democracy. But the fix is definitely in and the administration's plan to oust al Maliki is well underway. Check out this clip from the Wall Street Journal:
"A growing number of U.S. lawmakers and Arab allies, particularly Saudi Arabia and the United Arab Emirates, are pressing the White House to pull its support for Mr. Maliki. Some of them are pushing for change in exchange for providing their help in stabilizing Iraq, say U.S. and Arab diplomats." (U.S. Signals Iraq's Maliki Should Go, Wall Street Journal)
Pay special attention to the last sentence: "Some of them are pushing for change in exchange for providing their help in stabilizing Iraq". That sounds a lot like blackmail to me.
This is the crux of what is going on behind the scenes. Barack Obama and his lieutenants are twisting al Maliki 's arm to force him out of office. That's what the Thursday press conference was all about. Obama identified the group called the Isis as terrorists, acknowledged that they posed a grave danger to the government, and then breezily opined that he would not lift a finger to help. Why? Why is Obama so eager to blow up suspected terrorists in Yemen, Pakistan and Afghanistan and yet unwilling to do so in Iraq? Could it be that Obama is not really committed to fighting terrorists at all, that the terror-ruse is just a fig leaf for much grander plans, like global domination?
Of course, it is. In any event, it's plain to see that Obama is not going to help al Maliki if it interferes with Washington's broader strategic objectives. And, at present, those objectives are to get rid of al Maliki, who is "too tight" with Tehran, and who refused to sign Status Of Forces Agreement in 2011 which would have allowed the US to leave 30,000 troops in Iraq. The rejection of SOFA effectively sealed al Maliki's fate and made him an enemy of the United States. It was only a matter of time before Washington took steps to remove him from office. Here's a clip from Obama's press conference on Thursday that illustrates how these things work:
Obama: "The key to both Syria and Iraq is going to be a combination of what happens inside the country, working with moderate Syrian opposition, working with an Iraqi government that is inclusive, and us laying down a more effective counterterrorism platform that gets all the countries in the region pulling in the same direction. Rather than try to play whack-a-mole wherever these terrorist organizations may pop up, what we have to do is to be able to build effective partnerships."
What does this mean in language that we can all understand?
It means that "you're either on the team or you're off the team". If you are on the US team, then you will enjoy the benefits of "partnership" which means the US will help to defend you against the terrorist groups which they arm, fund and provide logistical support for. (through their Gulf State allies) If you are "off the team" –as Mr. al Maliki appears to be, then Washington will look the other way while the hordes of vicious miscreants tear the heads off your soldiers, burn your cities to the ground, and reduce your country to ungovernable anarchy. So, there's a choice to be made. Either you can play along and follow orders and "nobody gets hurt, or go-it-alone and face the consequences.
Capisce? Obama is running a protection racket just like some two-bit Mafia shakedown-artist from the 'hood. And I am not speaking metaphorically here. This is the way it really works. The president of the United States is threatening a democratically-elected leader, who–by the way–was hand-picked and rubber-stamped by the Bush administration–because he has not turned out to be sufficiently servile in kowtowing to their demands. So, now they're going to replace him with another corrupt stooge like Chalabi. That's right, the shifty Ahmed Chalabi has reemerged from his spiderhole and is making a bid to take al Maliki's place. This is from the New York Times:
"Iraq officials said Thursday that political leaders had started intensive jockeying to replace Prime Minister Nuri Kamal al-Maliki and create a government that would span the country's deepening sectarian and ethnic divisions, spurred by what they called encouraging meetings with American officials signaling support for a leadership change…

The names floated so far — Adel Abdul Mahdi, Ahmed Chalabi and Bayan Jaber — are from the Shiite blocs, which have the largest share of the total seats in the Parliament." (With Nod From U.S., Iraqis Seek New Leader, New York Times)
Remember Chalabi? Neocon favorite, Chalabi. The guy who –as Business Insider notes "was a central figure in the U.S.'s decision to remove the Iraqi dictator over a decade ago" and "who helped get the Iraq Liberation Act passed through Congress in 1998, a law that made regime change in Baghdad an official U.S. policy." "Chalabi claimed that Saddam was an imminent threat to the U.S., and was both holding and developing a stockpile of weapons of mass destruction, (which) became the view of the intelligence community and eventually the majority of the U.S. congress. In the first four years of the Bush administration, Chalabi's INC recieved $39 million from the U.S. government." (Business Insider)
You can't make this stuff up.
So, good old Chalabi is on the short-list of candidates to take al Maliki's place. Great. That just illustrates the level of thinking about these matters in the Obama White House. I don't know how anyone can objectively follow these developments and not conclude that the neocons are calling the shots. Of course they're calling the shots. Chalabi's "their guy". In fact, the goals the administration is pursuing, aren't really even in US interests at all.
Bear with me for a minute: Let's assume that we're correct in our belief that the administration has set its sites on four main strategic objectives in Iraq:
1–Removing al Maliki
2–Gaining basing rights via a new Status of Forces Agreement (SOFA)
3–Rolling back Iran's influence in the region
4–Partitioning the country
How does the US benefit from achieving these goals?
The US has plenty of military bases and installations spread around the Middle East. It gains nothing by having another in Iraq. The same goes for removing al Maliki. There's no telling how that could turn out. Maybe good, maybe bad. It's a roll of the dice. Could come up snake-eyes, who knows? But, one thing is certain; it will further erode confidence in the US as a serious supporter of democracy. No one is going to believe that fable anymore. (Al Maliki just won the recent election.)
As for "rolling back Iran's influence in the region": That doesn't even make sense. It was the United States that removed the Sunni Baathists from power and deliberately replaced them with members from the Shia community. As we've shown in earlier articles, shifting power from Sunnis to Shia was a crucial part of the original occupation strategy, which was transparently loony from the get go. It was as if the British invaded the US and decided to replace career politicians and Washington bureaucrats with inexperienced service sector employees from the barrios of LA. Does that make sense? The results turned out to be a disaster, as anyone with half a brain could have predicted. Because the plan was idiotic. No empire has ever operated like that. Of course, there was going to be a tacit alliance between Baghdad and Tehran. The US strategy made that alliance inevitable! Iraq did not move in Iran's direction. That's baloney. Washington pushed Iraq into Iran's arms. Everyone knows this.
So, now what? So now the Obama team wants a "do over"? Is that it?
There are no do overs in history. The sectarian war the US initiated and promoted with its blistering counterinsurgency strategy–which involved massive ethnic cleansing of Sunnis in Baghdad behind the phony "surge" BS– changed the complexion of the country for good. There's no going back. What's done is done. Baghdad is Shia and will remain Shia. And that means there's going to be some connection with Tehran. So, if the Obama people intend to roll back Iran's influence, then they probably have something else in mind. And they DO have something else in mind. They want to partition the country consistent with an Israeli plan that was concocted more than three decades ago. The plan was the brainstorm of Oded Yinon who saw Iraq as a serious threat to Israel's hegemonic aspirations, so he cooked up a plan to remedy the problem. Here's a blurb from Yinon's primary work titled, "A Strategy for Israel in the Nineteen Eighties", which is the roadmap that will be used to divide Iraq:
"Iraq, rich in oil on the one hand and internally torn on the other, is guaranteed as a candidate for Israel's targets. Its dissolution is even more important for us than that of Syria. Iraq is stronger than Syria. In the short run it is Iraqi power which constitutes the greatest threat to Israel. An Iraqi-Iranian war will tear Iraq apart and cause its downfall at home even before it is able to organize a struggle on a wide front against us. Every kind of inter-Arab confrontation will assist us in the short run and will shorten the way to the more important aim of breaking up Iraq into denominations as in Syria and in Lebanon. In Iraq, a division into provinces along ethnic/religious lines as in Syria during Ottoman times is possible. So, three (or more) states will exist around the three major cities: Basra, Baghdad and Mosul, and Shi'ite areas in the south will separate from the Sunni and Kurdish north. It is possible that the present Iranian-Iraqi confrontation will deepen this polarization." (A Strategy for Israel in the Nineteen Eighties, Oded Yinon, monabaker.com)
Repeat: "Every kind of inter-Arab confrontation will assist us in the short run and will shorten the way to the more important aim of breaking up Iraq into denominations as in Syria and in Lebanon."
This is the plan. The United States does not benefit from this plan. The United States does not benefit from a fragmented, Balkanized, broken Iraq. The oil giants are already extracting as much oil as they want. Iraqi oil is, once again, denominated in dollars not euros. Iraq poses no national security threat to the US. US war planners already got what they want. There's no reason to go back and cause more trouble, to restart the war, to tear the country apart, and to split it into pieces. The only reason to dissolve Iraq, is Israel. Israel does not want a unified Iraq. Israel does not want an Iraq that can stand on its own two feet. Israel wants to make sure that Iraq never remerges as a regional power. And there's only one way to achieve that goal, that is, to follow Yinon's prescription of "breaking up Iraq …along ethnic/religious lines …so, three (or more) states will exist around the three major cities: Basra, Baghdad and Mosul."
This is the blueprint the Obama administration is following. The US gains nothing from this plan. It's all for Israel.
What The DHS Is Building Is Indeed A Beast…
One of the great concerns of our Founding Fathers was a large standing army on American soil. James Madison spoke for all of America's founders when he said, "A standing military force, with an overgrown Executive will not long be safe companions to liberty." I wonder what Madison and the rest of our founders would have to say about the Department of Homeland Security (DHS).
John Whitehead, the president of The Rutherford Institute, recently wrote a trenchant summary of the DHS. He began by saying, "If the United States is a police state, then the Department of Homeland Security (DHS) is its national police force, with all the brutality, ineptitude and corruption such a role implies. In fact, although the DHS' governmental bureaucracy may at times appear to be inept and bungling, it is ruthlessly efficient when it comes to building what the Founders feared most–a standing army on American soil."
Whitehead observes that the DHS employs over 240,000 full time workers and has an annual budget of $61 billion. Sub-agencies of the DHS include the Coast Guard, Customs and Border Protection, Secret Service, Transportation Security Administration (TSA), and the Federal Emergency Management Agency (FEMA).
Whitehead states, "In the 12 years since it was established to 'prevent terrorist attacks within the United States,' the DHS has grown from a post-9/11 knee-jerk reaction to a leviathan with tentacles in every aspect of American life. With good reason, a bipartisan bill to provide greater oversight and accountability into the DHS' purchasing process has been making its way through Congress.
"A better plan would be to abolish the DHS altogether. In making the case for shutting down the de facto national police agency, analyst Charles Kenny offers the following six reasons: one, the agency lacks leadership; two, terrorism is far less of a threat than it is made out to be; three, the FBI has actually stopped more alleged terrorist attacks than DHS; four, the agency wastes exorbitant amounts of money with little to show for it; five, 'An overweight DHS gets a free pass to infringe civil liberties without a shred of economic justification'; and six, the agency is just plain bloated."
In addition to Kenny's reasons for shutting down the DHS, Whitehead adds the following indictments:
"Militarizing police and SWAT teams. The DHS routinely hands out six-figure grants to enable local municipalities to purchase military-style vehicles, as well as a veritable war chest of weaponry, ranging from tactical vests, bomb-disarming robots, assault weapons and combat uniforms. This rise in military equipment purchases funded by the DHS has, according to analysts Andrew Becker and G.W. Schulz, 'paralleled an apparent increase in local SWAT teams.' The end result? An explosive growth in the use of SWAT teams for otherwise routine police matters, an increased tendency on the part of police to shoot first and ask questions later, and an overall mindset within police forces that they are at war–and the citizenry are the enemy combatants.
"Stockpiling ammunition. DHS, along with other government agencies, has been stockpiling an alarming amount of ammunition in recent years, which only adds to the discomfort of those already leery of the government. As of 2013, DHS had 260 million rounds of ammo in stock, which averages out to between 1,300 to 1,600 rounds per officer. The US Army, in contrast, has roughly 350 rounds per soldier. DHS has since requisitioned more than 1.6 billion rounds of ammo, 'enough,' concludes Forbes magazine, 'to sustain a hot war for 20+ years.'
"Distributing license plate readers. DHS has already distributed more than $50 million in grants to enable local police agencies to acquire license plate readers, which rely on mobile cameras to photograph and identify cars, match them against a national database, and track their movements. Relying on private contractors to maintain a license plate database allows the DHS and its affiliates to access millions of records without much in the way of oversight.
"Contracting to build detention camps. In 2006, DHS awarded a $385 million contract to a Halliburton subsidiary to build detention centers on American soil. Although the government and Halliburton were not forthcoming about where or when these domestic detention centers would be built, they rationalized the need for them in case of 'an emergency influx of immigrants, or to support the rapid development of new programs' in the event of other emergencies such as 'natural disasters.' Viewed in conjunction with the NDAA provision allowing the military to arrest and indefinitely detain anyone, including American citizens, it would seem the building blocks are already in place for such an eventuality.
"Tracking cell-phones with Stingray devices. Distributed to local police agencies as a result of grants from the DHS, these Stingray devices enable police to track individuals' cell phones–and their owners–without a court warrant or court order. The amount of information conveyed by these devices about one's activities, whereabouts and interactions is considerable. As one attorney explained: 'Because we carry our cellphones with us virtually everywhere we go, stingrays can paint a precise picture of where we are and who we spend time with, including our location in a lover's house, in a psychologist's office or at a political protest.'
"Carrying out military drills and lockdowns in American cities. Each year, DHS funds military-style training drills in cities across the country. These Urban Shield exercises, elaborately staged with their own set of professionally trained Crisis Actors playing the parts of shooters, bystanders and victims, fool law enforcement officials, students, teachers, bystanders and the media into thinking it's a real crisis.
"Using the TSA as an advance guard. The TSA now searches a variety of government and private databases, including things like car registrations and employment information, in order to track travelers' before they ever get near an airport. Other information collected includes 'tax identification number, past travel itineraries, property records, physical characteristics, and law enforcement or intelligence information.'
"Conducting virtual strip searches with full-body scanners. Under the direction of the TSA, American travelers have been subjected to all manner of searches ranging from whole-body scanners and enhanced patdowns at airports to bag searches in train stations. In response to public outrage over what amounted to a virtual strip search, the TSA has begun replacing the scanners with equally costly yet less detailed models. The old scanners will be used by prisons for now.
"Carrying out soft target checkpoints. VIPR task forces, comprised of federal air marshals, surface transportation security inspectors, transportation security officers, behavior detection officers and explosive detection canine teams have laid the groundwork for the government's effort to secure so-called 'soft' targets such as malls, stadiums, bridges, etc. Some security experts predict that checkpoints and screening stations will eventually be established at all soft targets, such as department stores, restaurants, and schools. DHS' Operation Shield, a program which seeks to check up on security protocols around the country with unannounced visits, conducted a surprise security exercise at the Social Security Administration building in Leesburg, Fla., when they subjected people who went to pick up their checks to random ID checks by federal agents armed with semi-automatic weapons.
"Directing government workers to spy on Americans. Terrorism Liaison Officers are firefighters, police officers, and even corporate employees who have received training to spy on and report back to government entities on the day-to-day activities of their fellow citizens. These individuals are authorized to report 'suspicious activity' which can include such innocuous activities as taking pictures with no apparent aesthetic value, making measurements and drawings, taking notes, conversing in code, espousing radical beliefs, and buying items in bulk.
"Conducting widespread spying networks using fusion centers. Data collecting agencies spread throughout the country, aided by the National Security Agency, fusions centers–of which there are at least 78 scattered around the U.S.–constantly monitor our communications, collecting and cataloguing everything from our internet activity and web searches to text messages, phone calls and emails. This data is then fed to government agencies, which are now interconnected: the CIA to the FBI, the FBI to local police. Despite a budget estimated to be somewhere between $289 million and $1.4 billion, these fusion centers have proven to be exercises in incompetence, often producing irrelevant, useless or inappropriate intelligence, while spending millions of dollars on 'flat-screen televisions, sport utility vehicles, hidden cameras and other gadgets.'"
On a personal note, I can testify to Whitehead's warning regarding fusion centers. When I ran as the Constitution Party's candidate for President back in 2008, DHS fusion centers funneled warnings to the State of Missouri law enforcement agencies to be on the look-out for people sporting bumper stickers with my name, Ron Paul's name, and Bob Barr's (the Libertarian Party candidate for President that same year) name. People with these bumper stickers were said to be "potential dangerous militia members," "extremists," etc.
When word of this blatant violation of fundamental liberties publicly surfaced, tens of thousands of outraged Americans inundated the political offices within the State of Missouri. Ron, Bob, and I sent a letter to the governor and MIAC officer in charge demanding an apology and that the statements be removed from Missouri law enforcement memos. Public pressure was so massive that it didn't take long for Missouri officials to apologize to us and remove the libelous statements. However, if you think this kind of conduct is not continuing, you are very mistaken.
I have had several liberty-minded law enforcement officers (in several states) personally show me interoffice memos and computer reports depicting me (and several other liberty-minded public figures) as "extremists," "radicals," "hate-group leaders," etc. Virtually, every such memo or report is being distributed to local police departments and sheriff's offices via DHS fusion centers–in concert with the ultra-liberal Southern Poverty Law Center (SPLC).
Whitehead continues:
"Carrying out Constitution-free border control searches. On orders from the DHS, the government's efforts along the border have become little more than an exercise in police state power, ranging from aggressive checkpoints to the widespread use of drone technology, often used against American citizens traveling within the country. Border patrol operations occur within 100 miles of an international crossing, putting some 200 million Americans within the bounds of aggressive border patrol searches and seizures, as well as increasingly expansive drone surveillance. With 71 checkpoints found along the southwest border of the United States alone, suspicionless search and seizures on the border are rampant. Border patrol agents also search the personal electronic devices of people crossing the border without a warrant.
"Funding city-wide surveillance cameras. As Charlie Savage reports for the Boston Globe, the DHS has funneled 'millions of dollars to local governments nationwide for purchasing high-tech video camera networks, accelerating the rise of a "surveillance society" in which the sense of freedom that stems from being anonymous in public will be lost.' These camera systems, installed on city streets, in parks and transit systems, operating in conjunction with sophisticated computer systems that boast intelligent video analytics, digital biometric identification, military-pedigree software for analyzing and predicting crime and facial recognition software, create a vast surveillance network that can target millions of innocent individuals.
"Utilizing drones and other spybots. The DHS has been at the forefront of funding and deploying surveillance robots and drones for land, sea and air, including robots that resemble fish and tunnel-bots that can travel underground. Despite repeated concerns over the danger surveillance drones used domestically pose to Americans' privacy rights, the DHS has continued to expand its fleet of Predator drones, which come equipped with video cameras, infrared cameras, heat sensors, and radar. DHS also loans its drones out to local, state, and federal law enforcement agencies for a variety of tasks, although the agency refuses to divulge any details as to how, why and in what capacity these drones are being used by police. Incredibly, the DHS has also been handing out millions of dollars in grants to local police agencies to 'accelerate the adoption' of drones in their localities."
Whitehead concludes by saying, "It's not difficult to see why the DHS has been described as a 'wasteful, growing, fear-mongering beast.' If it is a beast, however, it is a beast that is accelerating our nation's transformation into a police state through its establishment of a standing army, a.k.a. national police force."
See John Whitehead's report here:
Has The Dept. of Homeland Security Become America's Standing Army?
When the British government employed such tactics (in their own way, given the lack of technology in the mid-1700s), the pulpits of Colonial America thundered forth the call of liberty. Presbyterians, Baptists, Congregationalists, Separatists, Anglicans: it didn't matter. Pastors from across the denominational spectrum boldly and courageously implored their congregants to resist these tyrannical tactics. And resist they did!
So, what are our pastors and churches doing today in the face of this burgeoning police state? For the most part, they are sitting back mute and dumb. If they are not absolutely apathetic to the rise of this beast, they are actually assisting it. Through the egregiously unbiblical interpretation of Romans 13, whereby pastors are telling their adherents to submit to evil government, or through the fear of losing their precious 501c3 tax-exempt status, pastors are deliberately leading their churches as sheep to the slaughter.
And make no mistake about it: what the DHS is building is indeed a BEAST. And prophecy buffs should be well-acquainted with that word. Does not the Scripture warn us that there are "many" anti-Christs in the world? Is not the word "beast" and "anti-Christ" synonymous? They absolutely are. Prophecy students are also well aware of the fact that the prophetic "beast" is as much a system as it is a person. Without a doubt, this beastly system is being constructed before our very eyes.
Interestingly enough, this beast was created by the professing Christian president, G.W. Bush. Is that why Christian pastors are so complacent? Are they truly that gullible? A "conservative" Republican creates the beast, and a "liberal" Democrat feeds it. Both are equally culpable.
These pastors can talk about following Jesus all they want; they can cry crocodile tears when they sing Amazing Grace all they want; they can preach about Heaven all they want; and they can talk about being "born again" all they want. But if they are not warning their people about this growing beast, and if they are not emphatically imploring their people to resist this beast, they are helping to feed their sheep to the wolves.
Dear Christian friends, get out of these churches! As nice as the pastor seems to be, as sincere as he seems to be, as doctrinally-sound as he appears to be, by his refusal to resist this growing police state he is helping to put the chains of slavery around the necks of your children and grandchildren. He is facilitating the rise of a very dangerous and hungry beast in our land.
Real men of God throughout history have been noted by their courage to resist the evil beasts that have attempted to devour God's people. From Gideon and Samson to Martin Luther and Huldrych Zwingli, and from Dietrich Bonhoeffer and Martin Niemoller to Jonas Clark and James Caldwell, these men of God were indefatigable and heroic champions of liberty.
The "standing military force" and "overgrown Executive" are here! Now, where are the patriot pulpits to resist them?
There's something that doesn't ring-true about the coverage of crisis in Iraq. Maybe it's the way the media reiterates the same, tedious storyline over and over again with only the slightest changes in the narrative. For example, I was reading an article in the Financial Times by Council on Foreign Relations president, Richard Haass, where he says that Maliki's military forces in Mosul "melted away". Interestingly, the Haass op-ed was followed by a piece by David Gardener who used almost the very same language. He said the "army melts away." So, I decided to thumb through the news a bit and see how many other journalists were stung by the "melted away" bug. And, as it happens, there were quite a few, including Politico, NBC News, News Sentinel, Global Post, the National Interest, ABC News etc. Now, the only way an unusual expression like that would pop up with such frequency would be if the authors were getting their talking points from a central authority. (which they probably do.) But the effect, of course, is the exact opposite than what the authors intend, that is, these cookie cutter stories leave readers scratching their heads and feeling like something fishy is going on.
And something fishy IS going on. The whole fable about 1,500 jihadis scaring the pants off 30,000 Iraqi security guards to the point where they threw away their rifles, changed their clothes and headed for the hills, is just not believable. I don't know what happened in Mosul, but, I'll tell you one thing, it wasn't that. That story just doesn't pass the smell test.
And what happened in Mosul matters too, because nearly every journalist and pundit in the MSM is using the story to discredit Maliki and suggest that maybe Iraq would be better off without him. Haass says that it shows that the army's "allegiance to the government is paper thin". Gardener says its a sign of "a fast failing state." Other op-ed writers like Nicolas Kristof attack Maliki for other reasons, like being too sectarian. Here's Kristof:
"The debacle in Iraq isn't President Obama's fault. It's not the Republicans' fault. Both bear some responsibility, but, overwhelmingly, it's the fault of the Iraqi prime minister, Nouri Kamal al-Maliki."
Of course, Kristof is no match for the imperial mouthpiece, Tom Friedman. When it comes to pure boneheaded bluster, Friedman is still numero uno. Here's how the jowly pundit summed it up in an article in the Sunday Times titled "Five Principles for Iraq":
"Iraq's Shiite prime minister, Nuri Kamal al-Maliki, has proved himself not to be a friend of a democratic, pluralistic Iraq either. From Day 1, he has used his office to install Shiites in key security posts, drive out Sunni politicians and generals and direct money to Shiite communities. In a word, Maliki has been a total jerk. Besides being prime minister, he made himself acting minister of defense, minister of the interior and national security adviser, and his cronies also control the Central Bank and the Finance Ministry.

Maliki had a choice — to rule in a sectarian way or in an inclusive way — and he chose sectarianism. We owe him nothing." (Five Principles for Iraq, Tom Freidman, New York Times)
Leave it to Friedman, eh? In other words, the reason Iraq is such a mess, has nothing to do with the invasion, the occupation, the death squads, Abu Ghraib, the Salvador Option, the decimated infrastructure, the polluted environment, or the vicious sectarian war the US ignited with its demented counterinsurgency program. Oh, no. The reason Iraq is a basketcase is because Maliki is a jerk. Maliki is sectarian. Bad Maliki.
Sound familiar? Putin last week. Maliki this week. Who's next?
In any event, there is a rational explanation for what happened in Mosul although I cannot verify its authenticity. Check out this post at Syria Perspectives blog:
"…the Iraqi Ba'ath Party's primary theoretician and Saddam's right-hand man, 'Izzaat Ibraaheem Al-Douri, himself a native of Mosul…was searching out allies in a very hostile post-Saddam Iraq … Still on the run and wanted for execution by the Al-Maliki government, Al-Douri still controlled a vast network of Iraqi Sunni Ba'athists who operated in a manner similar to the old Odessa organization that helped escaped Nazis after WWII … he did not have the support structure needed to oust Al-Maliki, so, he found an odd alliance in ISIS through the offices of Erdoghan and Bandar. Our readers should note that the taking of Mosul was accomplished by former Iraqi Ba'athist officers suspiciously abandoning their posts and leaving a 52,000 man military force without any leadership thereby forcing a complete collapse of the city's defenses. The planning and collaboration cannot be coincidental." (THE INNER CORE OF ISIS – THE INVASIVE SPECIES, Ziad Fadel, Syrian Perspectives)
I've read variations of this same explanation on other blogs, but I have no way of knowing whether they're true or not. But what I do know, is that it's a heckuva a lot more believable than the other explanation mainly because it provides enough background and detail to make the scenario seem plausible. The official version–the "melts away" version– doesn't do that at all. It just lays out this big bogus story expecting people to believe it on faith alone. Why? Because it appeared in all the papers?
That seems like a particularly bad reason for believing anything.
And the "army melting away" story is just one of many inconsistencies in the official media version of events. Another puzzler is why Obama allowed the jihadis to rampage across Iraq without lifting a finger to help. Does that strike anyone else as a bit odd?
When was the last time an acting president failed to respond immediately and forcefully to a similar act of aggression?
Never. The US always responds. And the pattern is always the same. "Stop what you are doing now or we're going to bomb you to smithereens." Isn't that the typical response?
Sure it is. But Obama delivered no such threat this time. Instead, he's qualified his support for al-Maliki saying that the beleaguered president must "begin accommodating Sunni participation in his government" before the US will lend a hand. What kind of lame response is that? Check out this blurb from MNI News:
"President Barack Obama Friday warned Iraqi Prime Minister Nouri al-Maliki that the United States wants him to begin accommodating Sunni participation in his government, or see the United States withhold the help he needs, short of U.S. troops on the ground, to ward off an attack on Baghdad.

Obama added the emphasis of an appearance before TV cameras to his midday message, that while he will be considering options for some military intervention in the days ahead, the next move is up to Maliki."
(Obama Warns Iraq's Maliki,Looking for Sunni-Shia Accommodation, MNI)
Have you ever read such nonsense in your life? Imagine if , let's say, the jihadi hordes had gathered just 50 miles outside of London and were threatening to invade at any minute. Do you think Obama would deliver the same message to UK Prime Minister David Cameron?
"Gee, Dave, we'd really like to help out, but you need to put a couple of these guys in your government first. Would that be okay, Dave? Just think of it as affirmative action for terrorists."
It might sound crazy, but that's what Obama wants Maliki to do. So, what's going on here? Why is Obama delivering ultimatums when he should be helping out? Could it be that Obama has a different agenda than Maliki's and that the present situation actually works to his benefit?
It sure looks that way. Just take a look at what Friedman says further on in the same article. It helps to clarify the point. He says:
"Maybe Iran, and its wily Revolutionary Guards Quds Force commander, Gen. Qassem Suleimani, aren't so smart after all. It was Iran that armed its Iraqi Shiite allies with the specially shaped bombs that killed and wounded many American soldiers. Iran wanted us out. It was Iran that pressured Maliki into not signing an agreement with the U.S. to give our troops legal cover to stay in Iraq. Iran wanted to be the regional hegemon. Well, Suleimani: "This Bud's for you." Now your forces are overextended in Syria, Lebanon and Iraq, and ours are back home. Have a nice day." (5 Principles for Iraq, Tom Friedman, New York Times)
Interesting, eh? Friedman basically admits that this whole fiasco is about Iran who turned out to be the biggest winner in the Iraq War sweepstakes. Naturally, that pisses off people in Washington, Tel Aviv and Riyadh to no end, so they've cooked up this goofy plan to either remove Maliki altogether or significantly trim his wings. Isn't that what's going on? And that's why Obama is holding a gun to Maliki's head and telling him what hoops he has to jump through in order to get US help. Because he's determined to weaken Iran's hegemonic grip on Baghdad.
Friedman also notes the Status of Forces agreement which would have allowed U.S. troops to stay in Iraq. Al Maliki rejected the deal which enraged Washington setting the stage for this latest terrorist farce. Obama intends to reverse that decision by hook or crook. This is just the way Washington does business, by twisting arms and breaking legs. Everybody knows this.
To understand what's going on today in Iraq, we need to know a little history. In 2002, The Bush administration commissioned the Rand Corporation "to develop a Shaping Strategy for pacifying Muslim populations where the US has commercial or strategic interests." The plan they came up with–which was called "US Strategy in the Muslim World after 9-11"– recommended that the US, "Align its policy with Shiite groups who aspire to have more participation in government and greater freedoms of political and religious expression. If this alignment can be brought about, it could erect a barrier against radical Islamic movements and may create a foundation for a stable U.S. position in the Middle East."
The Bushies decided to follow this wacky plan which proved to be a huge tactical error. By throwing their weight behind the Shia, they triggered a massive Sunni rebellion that initiated as many as 100 attacks per day on US soldiers. That, in turn, led to a savage US counterinsurgency that wound up killing tens of thousands of Sunnis while reducing much of the country to ruins. Petraeus' vicious onslaught was concealed behind the misleading PR smokescreen of sectarian civil war. It was actually a genocidal war against the people who Obama now tacitly supports in Mosul and Tikrit.
So there's been a huge change of policy, right? And the fact that the US has taken a hands-off approach to Isis suggests that the Obama administration has abandoned the Rand strategy altogether and is looking for ways to support Sunni-led groups in their effort to topple the Al Assad regime in Damascus, weaken Hezbollah, and curtail Iran's power in the region. While the strategy is ruthless and despicable, at least it makes sense in the perverted logic of imperial expansion, which the Rand plan never did.
What is happening in Iraq today was anticipated in a 2007 Seymour Hersh article titled "The Redirection." Author Tony Cartalucci gives a great summary of the piece in his own article. He says:
"The Redirection," documents…US, Saudi, and Israeli intentions to create and deploy sectarian extremists region-wide to confront Iran, Syria, and Hezbollah in Lebanon. Hersh would note that these "sectarian extremists" were either tied to Al Qaeda, or Al Qaeda itself. The ISIS army moving toward Baghdad is the final manifestation of this conspiracy, a standing army operating with impunity, threatening to topple the Syrian government, purge pro-Iranian forces in Iraq, and even threatening Iran itself by building a bridge from Al Qaeda's NATO safe havens in Turkey, across northern Iraq, and up to Iran's borders directly…

It is a defacto re-invasion of Iraq by Western interests – but this time without Western forces directly participating – rather a proxy force the West is desperately attempting to disavow any knowledge of or any connection to." (America's Covert Re-Invasion of Iraq, Tony Cartalucci, Information Clearinghouse)
So, now we're getting to the crux of the matter, right? Now we should be able to identify the policy that is guiding events. What we know for sure is that the US wants to break Iran's grip on Iraq. But how do they plan to achieve that; that's the question?
Well, they could use their old friends the Baathists who they've been in touch with since 2007. That might work. But then they'd have to add a few jihadis to the mix to make it look believable.
Okay. But does that mean that Obama is actively supporting Isis?
No, not necessarily. Isis is already connected to other Intel agencies and might not need direct support from the US. (Note: Many analysts have stated that the Islamic State of Iraq and al-Sham (ISIS) receives generous donations from Saudi Arabia and Qatar, both of whom are staunch US allies. According to London's Daily Express: "through allies such as Saudi Arabia and Qatar, the West (has) supported militant rebel groups which have since mutated into ISIS and other al‑Qaeda connected militias. ( Daily Telegraph, June 12, 2014)
What's important as far as Obama is concerned, is that the strategic objectives of Isis and those of the United States coincide. Both entities seek greater political representation for Sunnis, both want to minimize Iranian influence in Iraq, and both support a soft partition plan that former president of the Council on Foreign Relations, Leslie H. Gelb, called "The only viable strategy to correct (Iraq 's) historical defect and move in stages toward a three-state solution: Kurds in the north, Sunnis in the center and Shiites in the south." This is why Obama hasn't attacked the militia even though it has marched to within 50 miles of Baghdad. It's because the US benefits from these developments.
Let's summarize:
Does the US Government "support" or "not support" terrorism depending on the situation?
Yes.
Have foreign Intel agencies supplied terrorist organizations in Syria with weapons and logistical support?
Yes.
Has the CIA?
Yes.
Has the Obama administration signaled that they would like to get rid of al Maliki or greatly reduce his power?
Yes.
Is this because they think the present arrangement strengthens Iran's regional influence?
Yes.
Will Isis invade Baghdad?
No. (This is just a guess, but I expect that something has been already worked out between the Obama team and the Baathist leaders. If Baghdad was really in danger, Obama would probably be acting with greater earnestness.)
Will Syria and Iraq be partitioned?
Yes.
Is Isis a CIA creation?
No. According to Ziad Fadel, "ISIS is the creation of the one man who played Alqaeda like a yo-yo. Bandar bin Sultan."
Does Isis take orders from Washington or the CIA?
Probably not, although their actions appear to coincide with US strategic objectives. (which is the point!)
Is Obama's reluctance to launch an attack on Isis indicate that he wants to diminish Iran's power in Iraq, redraw the map of the Middle East, and create politically powerless regions run by warlords and tribal leaders?
Yes, yes and yes.
If millions of soldiers from south of the border were flooding our nation for the purposes of colonizing our land, we would easily recognize the threat. And if some amongst us were aiding and abetting this invasion — purposely lowering border security to facilitate it — we'd know what to call them. And we'd know how they should be dealt with.
This comes to mind when considering the flood of humanity that does continually pour across our border, a phenomenon whose most recent manifestation is the children's crusade (which includes many teens, some of whom are gang members) currently in the news. Oh, the people trespassing on our land aren't wearing uniforms; they aren't wielding cold steel. But this isn't always necessary. As Muammar Gaddafi once pointed out, some invasions are prosecuted "without sword, without gun, without conquest." "We don't need terrorists; we don't need homicide bombers," he said. "The 50 plus million Muslims [in Europe] will turn it into the Muslim Continent within a few decades." Of course, in the waning West, we call this "diversity" and "demographic change."
And as we're being diversified into a country definitely not Western via demographic warfare, as we euphemize from sunrise to the sunset of our demise, something is exactly the same as in my opening example:
There are those amongst us aiding and abetting this invasion.
We can start with the fact that Barack Obama and his fellow travelers have sparked this most recent human wave with promises of amnesty for young illegals. Obama has also hobbled immigration enforcement, which itself is a euphemistic way of saying that he has, like a fifth column, cleared the way for an invading force. Adding insult to injury, not only is there no effort at deportation, but his administration's first response to the children's crusade was to provide lawyers for the illegals — paid for with your tax money — to help make these reinforcements permanent.
In fact, Obama is so intent on aiding the invasion that he has served notice that if Congress won't be complicit in his scheme, he will use an executive order to help the foreign boots on the ground.
Question: what do you call such a person?
Of course, this is nothing new. We have had seven amnesties in recent decades, and all the way through there were promises to secure the border. It never happened. Fool me once, shame on you. And if they can fool you seven times?
You're a doormat.
There's only one thing foreign boots on the ground do to doormats, mind you — and it isn't to show respect and gratitude.
It's obvious why leftists such as Obama have long facilitated immigration: they are importing voters. Upwards of 80 percent of the new arrivals will vote Democrat upon being naturalized. And is this any surprise? Most all illegals — and a majority of legal immigrants — hail from Hispanic nations, which are notoriously socialist (only the degree varies). And people don't suddenly change ideology just because they change location.
This brings us to Republicans who claim that Hispanics are a "natural conservative constituency" and that all the GOP need do is offer the olive branch of amnesty. Theirs is an imagination that could put Gene Roddenberry to shame.
While Hispanics do generally favor amnesty, the main thing the majority of them want is what they voted for in their socialist homelands: big government. Don't believe me, Karl? Just consider recent Pew research (hat tip: American Thinker's Thomas Lifson) showing that only 19 percent of Hispanics favor a smaller government while a whopping 75 percent prefer a bigger one. Of course, assimilation is the answer, right? Take a gander at the rest of the Pew data:
And what does this equate to once Hispanic majority status is reached (along with the leftward drift of non-Hispanic whites)?
19- 75 = government of Venezuela
36-58 = government of Mexico
In other words, modern immigration = death of America.
And to reiterate, this doesn't mean just illegal migration. Ever since Ted Kennedy's immigration act of 1965, 85 percent of our legal immigrants have hailed from the Third World and Asia. So in terms of demographic and ideological change, there is no difference between legal and illegal migration.
Yet it isn't just Hispanic immigrants. One reason I favor a moratorium on all immigration is that we face a largely socialist world. Where would we find immigrants amenable to authentic Americanism? Europe? China? Africa? The Middle East? The only exception may be Russia, but I wouldn't want to bet my culture on that, either.
While I've framed this ideologically, it can be defined culturally and racially (gasp!), too. And I won't shrink from this since it is exactly what the left is doing.
There's an old saying, if you can't get the people to change the government, change the people. Here's a simple fact: what we call traditional conservatism is a phenomenon of Christian, European-descent people (modern Europeans no longer qualify because of their secularism). One can debate the reasons for this, but it is plainly true. It's why almost 90 percent of GOP voters are white and almost 90 percent are Christian; it's why church attendance is one of the best predictors of voting patterns. Mind you, this doesn't mean that other groups won't contain some conservatives, but the fact is that no other major group is majority conservative.
Then there is that uncomfortable truth: Obama and many other leftists hate what they see as "white America"— Obama described white culture as "alien" in his book Dreams from My Father — and they want to destroy it as fast as possible. This is why, while giving the 1998 commencement address at Oregon's Portland State University, Bill Clinton spoke glowingly of the day when whites become a minority in America (to the uproarious cheers of the mostly white students).
Of course, this is where Obama, Clinton and the rest of the fifth column will say that if you're not cheering, you're a bigot.
If the Joneses were somehow gaining access to the Smith's home, squatting there and slowly taking over while the police refused to enforce trespassing laws, no one would wonder if the Smiths objected. The fact that Joneses aren't Smiths would be explanation enough. Or let's say that millions of Chinese were flooding the Ivory Coast, were supplanting African culture and threatening to soon outnumber the Africans. Would we be surprised if the Ivorians were up in arms? Would anthropologists call the transformation anything but cultural genocide?
Again, though, we call this diversity. But there's a funny thing about that oh-so necessary quality:
It's only encouraged in Western lands.
If diversity is such an imperative, why don't we push it in Saudi Arabia, Japan, Tunisia or Rwanda? And don't tell me we're just minding our own business, as Obama thought nothing of parading around Africa last year preaching about homosexual rights.
The truth is that when liberals say "Our strength lies in our diversity," they really mean their strength. They're building a solid socialist majority that won't blink at leftist corruption because these new arrivals are inured to it — corruption is status quo in their native lands.
And what else can we say about these migrants? Most are just coming to the US to make money, while some have criminal designs. But what is certain is that even if they were capable of shedding deep-seated socialist instincts, they're not coming here to become American — in spirit. And they're casting votes Americans won't cast.
Back in 2009, a former Labour (Britain's liberal party) speechwriter created a firestorm by revealing that the UK government had encouraged unfettered immigration "to rub the Right's nose in diversity." This prompted The Telegraph's Ed West to call the leftists' plan "borderline treason."
Borderline? I think that's another border that was brazenly crossed. And does this kind of behavior deserve any less damning a characterization on our side of the pond?
Three Pertinent Observations
*The Las Vegas Shootings
Predictably, the mainstream media is doing its best to try to depict the couple who killed three people (including two police officers) in Las Vegas as right-wing militia-types. No doubt, the Obama administration will try to conjure up more gun-control. The media is already attempting to link the killers to the brave citizens who defended the Bundy family a couple of months ago. But the truth is, the citizen-militia in Bunkerville would not even allow this couple to gain access to that event, as they were concerned about the couple's disconcerting propensities. But, of course, the radical left-wing hate group, the Southern Poverty Law Center (SPLC), won't tell you that.
Watch for Eric Holder and the U.S. Justice Department to use the Las Vegas shootings as an excuse to harass and harangue conservative groups, Tea Party groups, Second Amendment groups, and Patriot groups. And, of course, the media will serve in its typical capacity as propagandists against all things conservative.
Furthermore, the administration's war against freedom-minded people takes on a chilling dimension when one reads this report:
"The Justice Department is resurrecting a program designed to thwart domestic threats to the United States, and Attorney General Eric Holder says those threats include individuals the government deems anti-government or racially prejudiced.
"The Domestic Terrorism Executive Committee was created in the wake of the 1995 Oklahoma City bombing but was scrapped soon after the 2001 terrorist attacks as intelligence and law enforcement officials shifted their focus to threats from outside the country. The committee will be comprised of figures from the FBI, the National Security Division of the Justice Department and the Attorney General's Advisory Committee."
See the report at:
Now Thought Crime Is Terror In U.S.?
However, the fact is, when one examines the political bents of recent mass killers, he or she will find that the majority of them have come from left-wing communities and ideologies. But the media totally ignores that part of the story. They also ignore the common thread of most of these killers being on psychotropic prescription drugs. And they also conveniently overlook the fact that the vast majority of these kinds of killings took place in "gun-free" zones.
On a personal note, I have serious questions about the way in which so many of these mass shootings take place including: witnesses reporting multiple assailants, even when eventually only one shooter is said to have done it; the vast majority of these assailants ultimately killing themselves; the way the media is unwilling to investigate contradicting evidence and testimony; and the way law enforcement seems more inclined to cover up evidence than actually trace it all the way to its source.
*Obama's Dumping of Illegal Aliens in Arizona and Texas
It is now abundantly clear that the Obama administration has chosen to completely ignore federal immigration laws. His administration is mostly refusing to deport illegals–even criminal ones. It is also encouraging the release of thousands of criminal illegals (even violent ones) from America's prisons and jails.
See this report:
U.S. Immigration Officials Released Thousands of Violent Criminals in 2013, Report Says
And, now we learn that the administration is manipulating the "dumping" of thousands of illegals, many of whom are children, in the traditional Republican stronghold states of Arizona and Texas. Through Obama's public statements and comments, the administration has willfully encouraged multiplied thousands of illegals to cross into America's border states, especially the two states mentioned above.
But why isn't the Republican Party challenging President Obama on this egregious and blatant illegal activity? The GOP is already poised to pick up many seats in both the U.S. House and Senate this fall due to the anger and resentment of the country against Obama's dubious and nefarious policies. One would think that Republican leaders on The Hill would pounce on Obama's immigration debacle. Instead, Republican leaders are assisting the administration's pro-illegal alien policy by pushing amnesty for illegals–which only serves to facilitate more illegals pouring over the southern border.
Investors.com reports, "Republicans should take the president to task for unlawfully enticing thousands of 'unaccompanied illegal children' from Latin America to cross the border. Instead, a GOP leader asks for an amnesty deal.
"What is at the top of the Republican wish list? A vibrant economy? An America strong and respected in the world? Capturing the Senate? A Republican elected to the White House in 2016?
"Nah. The GOP wants amnesty for illegal aliens."
The report goes on to say, "Democrats use immigration to smear Republicans as racists. Expanding immigration will give Democrats millions of new votes in the coming decades, destroying forever the political forces that oppose big government.
"The more than 90,000 children who crossed the Mexican border into the U.S. and were apprehended this year, and the more than 140,000 expected next year, could and should turn the immigration issue into a GOP weapon against Democrats.
"Instead of sending them back home to their parents, Attorney General Eric Holder made it a priority to hire taxpayer-funded lawyers for them. Why don't we hear Cantor, Ryan and other GOP leaders shout that Democrats are exploiting children to further their political agenda?"
See the report here:
Child Alien Crisis Is Obama's Fault, But GOP Won't Pounce
Why, indeed?
House Majority Leader Eric Cantor is a major proponent of amnesty for illegals. (Thankfully, Republican voters in Virginia have just thrown Cantor out of Congress and nominated a Tea Party conservative to replace him. More about that in a minute.) So is Republican Speaker of the House, John Boehner. So are republicans John McCain, Lindsey Graham, Marco Rubio, Jeb Bush, Paul Ryan, etc.
If the Republican Party helps Obama pass amnesty for illegals into law, as Boehner and Company say they will do this summer, Arizona and Texas will be inundated with millions of illegals–even more than they already are. Do Republican leaders really believe that illegal aliens are going to vote Republican? If they truly believe this, they are absolutely and positively deluded. So, is Boehner and Company willing to feed Arizona and Texas to the proverbial wolves? Do they think they can win a presidential election without carrying the State of Texas? Again, if they do, they are deluded.
Or, is Boehner and Company really more concerned about appeasing big-money interests at the Chamber of Commerce? Do they even care one whit about GOP victories? As long as they believe themselves to be the personal recipients of the graces of Big Money, why should they care which political party wins an election? At the national level, the differences between the two major parties are negligible, anyway.
*Eric Cantor's Primary Defeat in Virginia
Here is how The New York Times covered the story:
"In one of the most stunning primary election upsets in congressional history, the House majority leader, Eric Cantor, Republican of Virginia, was soundly defeated on Tuesday by a Tea Party-backed economics professor who had hammered him for being insufficiently conservative.
"The result delivered a major jolt to the Republican Party–Mr. Cantor had widely been considered the top candidate to succeed Speaker John A. Boehner–and it has potential to change both the debate in Washington on immigration and, possibly, the midterm elections.
"With just over $200,000, David Brat–a professor at Randolph-Macon College in Ashland, Va.–toppled Mr. Cantor, repeatedly criticizing him for being soft on immigration and contending that he supported what critics call amnesty for immigrants in the country illegally.
"Republicans were so sure that Mr. Cantor would win that most party leaders had been watching for how broad his victory would be. His defeat will reverberate in the capital and could have major implications for any chance of an immigration overhaul."
See the report at:
Eric Cantor Defeated by David Brat, Tea Party Challenger, in G.O.P. Primary Upset
Cantor's defeat offers a glimmer of hope for America's future. It is my studied observation that these neocon Republicans are far more dangerous to our liberties than are Democrats. When forced to choose between a Democrat and a neocon Republican, the "lesser of two evils" vote is for the Democrat. We have such an example here in my home State of Montana.
In the GOP primary for U.S. House of Representatives, a neocon Republican named Ryan Zinke won with just 33% of the vote. That means that some 67% of Montana's Republican voters chose someone else over Zinke–all of whom were decidedly more conservative than Zinke. Unfortunately, Montana does not have a run-off system; otherwise, there is absolutely no question that Zinke would have been trounced in any subsequent run-off.
If Zinke wins in November, his track record in the Montana State Senate demonstrates that he will be the quintessential neocon Republican in Washington, D.C. Any influence he would have in Congress would only serve to take the House leftward. I absolutely refuse to vote for a neocon like Ryan Zinke. A Zinke victory would only serve to counter-balance the defeat of Eric Cantor in Virginia.
And, as The New York Times report observed, Cantor's loss was primarily due to his liberal policies–especially his support for amnesty for illegals. Hopefully, Cantor's historic defeat will shock the GOP leadership into a little bit of political reality.
Now, if we could only clean the GOP house of the likes of Boehner, McCain, Graham, Ryan, etc., and stop nominating neocons like Zinke. And God help us if Republicans nominate someone like Jeb Bush or Chris Christie in 2016.
Edward Snowden…
Is Edward Snowden a radical? The dictionary defines a radical as "an advocate of political and social revolution", the adjective form being "favoring or resulting in extreme or revolutionary changes". That doesn't sound like Snowden as far as what has been publicly revealed. In common usage, the term "radical" usually connotes someone or something that goes beyond the generally accepted boundaries of socio-political thought and policies; often used by the Left simply to denote more extreme than, or to the left of, a "liberal".
In his hour-long interview on NBC, May 28, in Moscow, Snowden never expressed, or even implied, any thought – radical or otherwise – about United States foreign policy or the capitalist economic system under which we live, the two standard areas around which many political discussions in the US revolve. In fact, after reading a great deal by and about Snowden this past year, I have no idea what his views actually are about these matters. To be sure, in the context of the NBC interview, capitalism was not at all relevant, but US foreign policy certainly was.
Snowden was not asked any direct questions about foreign policy, but if I had been in his position I could not have replied to several of the questions without bringing it up. More than once the interview touched upon the question of whether the former NSA contractor's actions had caused "harm to the United States". Snowden said that he's been asking the entire past year to be presented with evidence of such harm and has so far received nothing. I, on the other hand, as a radical, would have used the opportunity to educate the world-wide audience about how the American empire is the greatest threat to the world's peace, prosperity, and environment; that anything to slow down the monster is to be desired; and that throwing a wrench into NSA's surveillance gears is eminently worthwhile toward this end; thus, "harm" indeed should be the goal, not something to apologize for.
Edward added that the NSA has been unfairly "demonized" and that the agency is composed of "good people". I don't know what to make of this.
When the war on terrorism was discussed in the interview, and the question of whether Snowden's actions had hurt that effort, he failed to take the opportunity to point out the obvious and absolutely essential fact – that US foreign policy, by its very nature, regularly and routinely creates anti-American terrorists.
When asked what he'd say to President Obama if given a private meeting, Snowden had no response at all to make. I, on the other hand, would say to Mr. Obama: "Mr. President, in your time in office you've waged war against seven countries – Iraq, Afghanistan, Pakistan, Somalia, Yemen, Libya and Syria. This makes me wonder something. With all due respect, sir: What is wrong with you?"
A radical – one genuine and committed – would not let such a once-in-a-lifetime opportunity pass by unused. Contrary to what his fierce critics at home may believe, Edward Snowden is not seriously at war with America, its government or its society. Does he have a real understanding, analysis, or criticism of capitalism or US foreign policy? Does he think about what people could be like under a better social system? Is he, I wonder, even anti-imperialist?
And he certainly is not a conspiracy theorist, or at least keeps it well hidden. He was asked about 9-11 and replied:
The 9/11 commission … when they looked at all the classified intelligence from all the different intelligence agencies, they found that we had all of the information we needed … to detect this plot. We actually had records of the phone calls from the United States and out. The CIA knew who these guys were. The problem was not that we weren't collecting information, it wasn't that we didn't have enough dots, it wasn't that we didn't have a haystack, it was that we did not understand the haystack that we had.
Whereas I might have pointed out that the Bush administration may have ignored the information because they wanted something bad – perhaps of unknown badness – to happen in order to give them the justification for all manner of foreign and domestic oppression they wished to carry out. And did. (This scenario of course excludes the other common supposition, that it was an "inside job", in which case collecting information on the perpetrators would not have been relevant.)
The entire segment concerning 9/11 was left out of the television broadcast of the interview, although some part of it was shown later during a discussion. This kind of omission is of course the sort of thing that feeds conspiracy theorists.
All of the above notwithstanding, I must make it clear that I have great admiration for the young Mr. Snowden, for what he did and for how he expresses himself. He may not be a radical, but he is a hero. His moral courage, nerve, composure, and technical genius are magnificent. I'm sure the NBC interview won him great respect and a large number of new supporters. I, in Edward's place, would be even more hated by Americans than he is, even if I furthered the radicalization of more of them than he has. However, I of course would never have been invited onto mainstream American television for a long interview in prime time. (Not counting my solitary 15 minutes of fame in 2006 courtesy of Osama bin Laden; a gigantic fluke happening.)
Apropos Snowden's courage and integrity, it appears that something very important has not been emphasized in media reports: In the interview, he took the Russian government to task for a new law requiring bloggers to register – the same government which holds his very fate in their hands.
Who is more exceptional: The United States or Russia?
I was going to write a commentary about President Obama's speech to the graduating class at the US Military Academy (West Point) on May 28. When he speaks to a military audience the president is usually at his most nationalistic, jingoist, militaristic, and American-exceptionalist – wall-to-wall platitudes. But this talk was simply TOO nationalistic, jingoist, militaristic, and American-exceptionalist. ("I believe in American exceptionalism with every fiber of my being.") To go through it line by line in order to make my usual wise-ass remarks, would have been just too painful. However, if you're in a masochistic mood and wish to read it, it can be found here.
Instead I offer you part of a commentary from Mr. Jan Oberg, Danish director of the Transnational Foundation for Peace and Future Research in Lund, Sweden:
What is conspicuously lacking in the President's West Point speech?

Any reasonably accurate appraisal of the world and the role of other nations.
A sense of humility and respect for allies and other countries in this world.
Every element of a grand strategy for America for its foreign and security policy and some kind of vision of what a better world would look like. This speech with all its tired, self-aggrandising rhetoric is a thin cover-up for the fact that there is no such vision or overall strategy.
Some little hint of reforms of existing institutions or new thinking about globalisation and global democratic decision-making.
Ideas and initiatives – stretched-out hands – to help the world move towards conflict-resolution in crisis areas such as Ukraine, Syria, Libya, China-Japan and Iran. Not a trace of creativity.
Ironically, on May 30 the Wall Street Journal published a long essay by Leon Aron, a Russia scholar at the conservative American Enterprise Institute in Washington. The essay took Russian president Vladimir Putin to task for claiming that Russia is exceptional. The piece was headed:
"Why Putin Says Russia Is Exceptional"
"Such claims have often heralded aggression abroad and harsh crackdowns at home."
It states: "To Mr. Putin, in short, Russia was exceptional because it was emphatically not like the modern West – or not, in any event, like his caricature of a corrupt, morally benighted Europe and U.S. This was a bad omen, presaging the foreign policy gambits against Ukraine that now have the whole world guessing about Mr. Putin's intentions."
So the Wall Street Journal has no difficulty in ascertaining that a particular world leader sees his country as "exceptional". And that such a perception can lead that leader or his country to engage in aggression abroad and crackdowns at home. The particular world leader so harshly judged in this manner by the Wall Street Journal is named Vladimir Putin, not Barack Obama. There's a word for this kind of analysis – It's called hypocrisy.
"Hypocrisy is anything whatever may deceive the cleverest and most penetrating man, but the least wide-awake of children recognizes it, and is revolted by it, however ingeniously it may be disguised." – Leo Nikolaevich Tolstoi, (1828-1910) Russian writer
Is hypocrisy a moral failing or a failing of the intellect?
The New Cold War is getting to look more and more like the old one, wherein neither side allows the other to get away with any propaganda point. Just compare any American television network to the Russian station broadcast in the United States – RT (formerly Russia Today). The contrast in coverage of the same news events is remarkable, and the stations attack and make fun of each other by name.
Another, even more important, feature to note is that in Cold War I the United States usually had to consider what the Soviet reaction would be to a planned American intervention in the Third World. This often served as a brake to one extent or another on Washington's imperial adventures. Thus it was that only weeks after the Berlin Wall came down in 1989, the United States bombed and invaded Panama, inflicting thousands of casualties and widespread destruction, for the flimsiest – bordering on the non-existent – of reasons.  The hostile Russian reaction to Washington's clear involvement in the overthrow of the Ukrainian government in February of this year, followed by Washington's significant irritation and defensiveness toward the Russian reaction, indicates that this Cold War brake may have a chance of returning. And for this we should be grateful.
After the "communist threat" had disappeared and the foreign policy of the United States continued absolutely unchanged, it meant that the Cold War revisionists had been vindicated – the conflict had not been about containing an evil called "communism"; it had been about American expansion, imperialism and capitalism. If the collapse of the Soviet Union did not result in any reduction in the American military budget, but rather was followed by large increases, it meant that the Cold War – from Washington's perspective – had not been motivated by a fear of the Russians, but purely by ideology.
Lest we forget: Our present leaders can derive inspiration from other great American leaders.
White House tape recordings, April 25, 1972:
President Nixon: How many did we kill in Laos?
National Security Adviser Henry Kissinger: In the Laotian thing, we killed about ten, fifteen [thousand] …
Nixon: See, the attack in the North [Vietnam] that we have in mind … power plants, whatever's left – POL [petroleum], the docks … And, I still think we ought to take the dikes out now. Will that drown people?
Kissinger: About two hundred thousand people.
Nixon: No, no, no … I'd rather use the nuclear bomb. Have you got that, Henry?
Kissinger: That, I think, would just be too much.
Nixon: The nuclear bomb, does that bother you? … I just want you to think big, Henry, for Christsakes.
May 2, 1972:
Nixon: America is not defeated. We must not lose in Vietnam. … The surgical operation theory is all right, but I want that place bombed to smithereens. If we draw the sword, we're gonna bomb those bastards all over the place. Let it fly, let it fly.
–
"Every ten years or so, the United States needs to pick up some small crappy little country and throw it against the wall, just to show the world we mean business." – Michael Ledeen, former Defense Department consultant and holder of the Freedom Chair at the American Enterprise Institute
Notes
William Blum, Killing Hope, chapter 50
Jonah Goldberg, "Baghdad Delenda Est, Part Two", National Review, April 23, 2002
The experience of humanity is driven and defined by our own consciousness, which is a product of our sophisticated brain functions. We are consciousness in every way shape and form. Control of this miracle of consciousness is sought by a few individuals who are actually suffering from a mental (disconnect) disorder. What psychiatrists sometimes refer to as the psychopathic mind. Unfortunately, one of the characteristics of being a psychopath is that the individual exhibiting the psychopathic behavior has little to no insight into their own actions. In this example, we can say that the "consciousness" is missing from the equation.
This insight to one's own behavior is also a reference for distinguishing who might be considered "normal" and who might be considered schizophrenic "impaired" or "abnormal" This might lend perspective as to why groups of people (as opposed to individuals), such as governments and corporations, are capable of acting and speaking as a group in ways that are destructive to consciousness and mental and spiritual expansionof our species. Ironically, when an individual acts the same way, he may be considered impaired; but groups, however, will get a pass thus allowing (immune) group entities to implement such damage on the species.
One could measure this phenomenon scientifically by documenting physiological body changes that occur when humans are exposed to images or ideas that reflect "non-consciousness" related items (images of war, government oppression) versus measurable body changes seen when exposed to consciousness related items (love, compassion, human rights issues, etc). Basic vital signs such as heart rate, respiratory rate and blood pressure, also brain wave spikes readings, magnetic or tomography images are all factors and signs that might be measured to compare the human physiological responses to the concepts of non-consciousness-related reality versus consciousness and higher purpose.
Government would have us think that it is protecting humanity from itself. This non-conscious force we call government gets its life-force from an artificial set of rules called the legal system which non-conscious government would have you think is the script that your reality is not only based on but controlled entirely by. This is like someone walking into a room and notifying everyone in the room that their consciousness and state of awareness of existence doesn't exist any more. What? You can take someone's money and belongings, and even forcefully do harm to them and imprison them, but how can you steal someone's consciousness? Government's answer to this? By eliminating it or ignoring its existence.
This is one of the prime realities about the concept of government and any group efforts that robs the individual human being of his/her natural state of conscious equilibrium. This is a crime like any other crime, being committed on that individual human being. This can only be appreciated from the standpoint of third party looking down on the species as a whole. When you consider it in this context it is then easy to appreciate this reality. It then becomes easy to see how non-conscious government concepts act as a cancer to the species.
With humanity now swimming in knowledge about itself thanks to technology and the Internet – knowledge which can no longer be ignored – we are only now beginning to see the early results of what happens when truth, awareness and consciousness is triggered by a massive pulse of lies which jolts the consciousness of the species.
Edward Bernays (Propaganda) Effect Now Backfiring?
With the current global awakening now accelerating at speeds that must not be pleasing to the globalist gangsters, it is reasonable to reflect back on the concept of propaganda, groupthink and group manipulation for the purposes of a certain agenda. I would like to suggest that it is possible that the global awakening we are seeing may partially and indirectly have been contributed to by Edward Bernays himself. After all, it was Bernays who admitted openly how these mass mind control techniques were A: Real; B: They worked; C: They worked on the masses because they worked on the individual in a perceived group setting. Bernays showed us that humans responded to clever timing, images and messages that appealed to our subconscious urges, imagination and thoughts. Can it be that we are seeing the culmination of many of these factors backfiring against the original CIA/U.S./NWO plans?
They hoped to continue to fool everyone with their propaganda. They planned and executed false flag operations and reinforced them with their planned propaganda, precisely timed talking points, images and sensationalism. But did they ever consider that the propaganda effect would actually wear out after so many decades of continued obvious lies and hypocrisy? Perhaps they did, and perhaps that is why there is so much talk about depopulation as seen in their own Georgia Guidestones. Perhaps the talk by Zbigniew Brzezinski about how much "easier" it is to kill a million people than control them is an admission that they know humanity will factually wake up as a whole and thus a last resort for the psychopath globalists before they must face their doom.
I believe this is all the end result of hundreds of years of propaganda now fully exposed due to the information age. One thing I'll say about Bernays is that he never hid what he was doing. He told you straight forward what he was doing, even writing several books about it.
The global political events we are seeing exposed in real-time are a first of its kind. Because of all the released information and knowledge, and because of the Internet, we can track globalist mafia crimes in real-time in a rather exciting way which has led to the alternative or "New Media." What started off as a truth movement with many little cousin movements all around the world has morphed into one big freedom and consciousness movement. Thankfully, many of the lines that separated us have blurred as humans recognize that they need to come together more than anything else.
Humanity is responding to this non-consciousness force we call government, by coming together and slowly ignoring our political, religious and philosophical differences and instead focusing on the common enemy which is now emerging as the forces that represent non-consciousness that we call governmental control systems. This is at the root of all of our struggles. We hear TV pundits tell us that humans must be controlled by a federal and global unchallenged government. Many of the script-reading advocates for the big government top-down control system just happen to have significant voices in the mainstream media.
No one at mainstream media dare stands for freedom and individual sovereignty. Anyone who does ends up getting fired or being asked to quit. Hollywood TV shows as well as the educational system are all supporting the paradigm of big government. Obama's primary message to Americans seems to be about not listening to those (lunatics? radicals?) that stand for individual freedoms. Obama may actually be the only U.S. president warning America not of tyranny and the need to stand for the Constitution and Bill of Rights, but instead he's warning his sheep to beware of those warning of tyranny. One of the things the globalists have accomplished is they've made it easy to identify those who are with us and those who are not.
Given the current global awakening in light of all the information and spiraling propaganda mentioned above, we can now simplify the battlefield in such a way that it is easy to identify the enemies of freedom. We can now ask anyone the simple question: Power to the state or power to the people, which one do you choose? Will you side with those that demand freedom and sovereignty from government or will you side with those that feel the people are the property and responsibility of big government, and those who rebel are terrorists? The state or the individual? Choose one and take sides now.
We know where NBC stands, and CNN and all the left-wing Obama supporters. Despite their attempts to sound pro-America, we know where Fox News and the Republicans stand also. When measured with this simple question of State versus Individual it is easy to see that both Democrats and Republicans are exactly the same. They are both controlled by criminal elements in the .1 percent class who want their one world government. It is then easy to see how the human element of humanity that is living and breathing, is now fully awakening to this non-consciousness element we've been calling government.
Now we can observe how humanity will deal with this force that has cycled its way into an over-sized oppressive control mechanism. Humanity is now realizing that freedom is more a realization than anything else. Yes, realizing something is an expression of consciousness and learning or integration of knowledge and the awareness of this newly acquired knowledge.
With humanity now realizing that government is a useless obstacle in the way of human thriving and freedom, I expect we will witness phenomenal things in the coming months and years. I see humanity now actually slowly but surely pulling together in an all-out effort to save itself from government.
I never thought of this concept myself until recently and I don't see any other way to articulate it. This is where we are. We are now seeing the expression of this reality in many freedom lovers world wide. This was essentially the very same spirit behind the founding of America. This was the spirit behind the Constitution and Bill of Rights and the primary meme of those initial years when America was founded. It doesn't mean that the founding fathers were saints or any of that, it means that the spirit of freedom that drove them to do what they did is back, in fact this modern-day rekindling of freedom is and will be much more intense than what the founding fathers imagined. Humanity is now realizing it didn't finish the job. There is already a track record for getting this freedom thing done, and this track record is serving as a precious guideline for those of us who are new at this.
Let freedom ring, and I look forward to witnessing the end result of this focused effort now closing in on government. No, no one was injured in the writing of this article. Not a shot fired. Consciousness knows no violence, and the desire to thrive and be free is a realization. This battle is strictly mental warfare (as Bernays would have told you) and the transition from rooting for big government to control the people, to empathizing with your own species and connecting with other humans in a conscious way to exercise and celebrate your individual freedom from government is seamless.
Awakening from the matrix cannot be measured with blood, bullets, drones or violence. It (the individual's awakening) can only be delayed with fear – external, engineered, artificial, government-crafted fear. This awakening is being triggered by the realization that the fear of tyranny is much greater than any artificial fears the government can come up with.
The human awakening has thus triggered a long-awaited re-prioritizing of fear within the species, which is rendering the globalists primary weapon of mass deception obsolete. To think, we need only overcome their engineered fears to render the concept of over-controlling big government obsolete. Once we reach this point (and we are very close) we can then focus more on officially implementing all the solutions to the new world order at a mass scale. Till then, mass knowledge of solutions are now spreading globally as part of the awakening despite the fact that many of the solutions are still being contained by government using fear and intimidation.
The day is soon coming when these barriers of fear will dwindle as more and more people resort to being the change they want to see in the world. It's already happening and it's a wonderful thing to see.
Bernie Suarez is an activist, critical thinker, radio host, musician, M.D, Veteran, lover of freedom and the Constitution, and creator of the Truth and Art TV project. He also has a background in psychology and highly recommends that everyone watch a documentary titled The Century of the Self. Bernie has concluded that the way to defeat the New World Order is to truly be the change that you want to see. Manifesting the solution and putting truth into action is the very thing that will defeat the globalists.
Source: Bernie Suarez  |  Waking Times
A 1928 book entitled "Propaganda" by Edward Bernays begins with these words. "The conscious and intelligent manipulation of the organized habits and opinions of the masses is an important element in democratic society.  Those who manipulate this unseen mechanism of society constitute an invisible government which is the true ruling power of our country."
"We are governed, our minds are molded, our tastes formed, our ideas suggested, largely by men we have never heard of. This is a logical result of the way in which our democratic society is organized.  Vast numbers of human beings must cooperate in this manner if they are to live together as a smoothly functioning society."
"Our invisible governors are, in many cases, unaware of the identity of their fellow members in the inner cabinet."  Pg. 9
He continues: "Some of the phenomena of this process are criticized—the manipulation of news, the inflation of personality, and the general ballyhoo by which politicians and commercial products and social ideas are brought to the consciousness of the masses. The instruments by which public opinion is organized and focused may be misused. But such organization and focusing are necessary to orderly life."
"As civilization has become more complex, and as the need for invisible government has been increasingly demonstrated, the technical means have been invented and developed by which opinion may be regimented." Pg. 12
Bernays lived to see a practical application of his ideas in the government of the United States of America.  Born in 1891 he died in 1995 at the age of 103.  His brand of Talmudist humanistic government is the guiding light of our current society.
The Frankfort School enhanced Bernays' totalitarian model with an equally onerous Communism.  With the same geographic German roots Horkheimer, Adorno, Marcuse, Pollock, Fromm, Lowenthal, and others fled Hitler's oppressive regime and sang their song of tyranny in American intellectual circles.
Similar authoritarianism were envisioned by University of Chicago professor Leo Strauss whose students included an array of  movers and shakers (Justice Clarence Thomas; Supreme Court nominee Robert Bork; Deputy Defense Secretary Paul Wolfowitz; former Assistant Secretary of State Alan Keyes; former Secretary of Education William Bennett; Weekly Standard editor and former Quayle Chief of Staff William Kristol; Allan Bloom, former New York Post editorials editor John Podhoretz; and former National Endowment for the Humanities Deputy Chairman John T. Agresto) who often damned Constitutional freedoms in favor of war and conquest.
R. J. Rushdoony's writings emphasize the inevitable development of the tyrannical state as the ultimate authority in humanistic societies.  Instead of deriving order from the immutable dictates of the Creator, humanism leaves the creature with an anarchic, goalless absurdity.  Tyranny is the only solution to mutable human opinion. Governments that evade responsibility to the Creator soon become despotic.
Humanism is not confined to totalitarian governments it is just as prominent and even more deadly in religious organizations.  The Protestant Christian Church began its steep slide with the idea that "free will" allowed the creature to decide whether or not it would accept the Will of the Creator.  Arminianism copies the original sin recorded In Genesis 3. The Bible describes a God Who is sovereign and Who both selects and enables His subjects.  Humanism had grown like a cancer in the Christian Church allowing so called Christians to function as humanists while claiming the Name of Christ.
Several doctrines common in the Catholic Church are equally humanistic.  The Church of Jesus Christ has no authority to forgive sin or to confer salvation; both are reserved to God alone.  The Bible contains no injunction to pray to Mary or to any other human figure the church might designate. This contradicts the Biblical mandate and is blasphemous.
Judaism is rife with human error that began with the Pharisees in the time of Christ and has continued to grow and fester.  God's Word contained in the Torah has been replaced with the words of men in the Talmud where Rabbis override the voice of the Creator with sly rebuttals and ameliorate sin with absurd excuses.  The apartheid Talmud, a humanistic guide to the Torah, rules the behavior of the powerful U. S. Jewish community.
Sincere subjugation to the Living God and attentive obedience to His Word is anathema to the prideful heathens that control the world.  The arrogance that results from human hegemony is forcing dissonant evil on a world of confused and sinful people.  Homosexuality, gay marriage, abortion, porn, imperialistic war, murder, torture, legal theft, judicial injustice, and rampant mendacity have all become entrenched in our society.
R. J. Rushdoony writes: "The alternative to the sovereignty, government, and providence of the triune God is in practice the sovereignty, government, and providence of church state or some agency of man.  It means freedom from God for the slavery of sin and rebellion.  The man who is in revolt against God's reign will soon be the slave, not only of sin, but of apostate institutions, churches, states, families , men, women, and children.  For such a slave, freedom is intolerable.  As a young Nazi boasted before WWII, 'We are free of freedom.' "   "Systematic Theology" Pg. 211-212
The passage reminded me of my estranged daughter who along with her husband and five grandchildren left the family, sold their home and all their possessions and moved into a cult.  They had a fine marriage and were excellent parents but they struggled to make a living and to find an outlet for their Christianity.
They were always happy to receive help but they regularly ignored advice.  Their failure to cope with the responsibilities of freedom was a product of their own rebellion and now they live and work under the control of others.
Slavery has been demonized in our society but it is not always bad.  There are those who prefer to delegate their freedom and will work for those who assume responsibility.
When Bernays refers to "the masses" he uses an impersonal derogation to describe the population that failed to ascend into the elite structure.  Today, that would be the 99 percent who are under the rule of a shadowy elite one percent.
It is an interesting fact that our Constitution was crafted in secret by a group of leading citizens.  It was designed to provide freedom to the population through rule of the people by the people.  It was a sterling concept but it had a fatal flaw:  Authority was vested in citizens who do not have the ability to properly govern themselves
Governments that are not bound to God's Law will always become tyrannical.  Libertarians seek a minimum of government intrusion – some seek none.  They come close to the Christian concept which is miniscule.  But since humans were not created to govern themselves they require an overarching authority.  God's model has the entire creation under His mandates.  His model provides maximum freedom for both the leaders and the people. It offers an absolute legal code that cannot be amended.  Without this immutable anchor for all of God's creatures tyranny will continue.
"The providence of God is little spoken of today, because His powers of government have been transferred to the state and to man, together with His sovereignty.  It is the stare that today preaches providence to willing congregations, calling it cradle to grave for (or womb to tomb) care, social security, and a variety of other names.  Men everywhere believe in providence, and they look to their gods to it. Unhappily, their gods are false gods, and not the living Lord."  R. J. Rushdoony  "Systematic Theology", Vol 1, Pg. 211
Memorial Day is when we commemorate our war dead. Like the Fourth of July, Memorial Day is being turned into a celebration of war.
Those who lose family members and dear friends to war don't want the deaths to have been in vain. Consequently, wars become glorious deeds performed by noble soldiers fighting for truth, justice, and the American way. Patriotic speeches tell us how much we owe to those who gave their lives so that America could remain free.
The speeches are well-intentioned, but the speeches create a false reality that supports ever more wars. None of America's wars had anything to do with keeping America free. To the contrary, the wars swept away our civil liberties, making us unfree.
President Lincoln issued an executive order for the arrest and imprisonment of northern newspaper reporters and editors. He shut down 300 northern newspapers and held 14,000 political prisoners. Lincoln arrested war critic US Representative Clement Vallandigham from Ohio and exiled him to the Confederacy. President Woodrow Wilson used WWI to suppress free speech, and President Franklin D. Roosevelt used WWII to intern 120,000 US citizens of Japanese descent on the grounds that race made them suspect. Professor Samuel Walker concluded that President George W. Bush used the "war on terror" for an across the board assault on US civil liberty, making the Bush regime the greatest danger American liberty has ever faced.
Lincoln forever destroyed states' rights, but the suspension of habeas corpus and free speech that went hand in hand with America's three largest wars was lifted at war's end. However, President George W. Bush's repeal of the Constitution has been expanded by President Obama and codified by Congress and executive orders into law. Far from defending our liberties, our soldiers who died in "the war on terror" died so that the president can indefinitely detain US citizens without due process of law and murder US citizens on suspicion alone without any accountability to law or the Constitution.
The conclusion is unavoidable that America's wars have not protected our liberty but, instead, destroyed liberty. As Alexander Solzhenitsyn said, "A state of war only serves as an excuse for domestic tyranny."
Southern secession did pose a threat to Washington's empire, but not to the American people.Neither the Germans of WWI vintage nor the Germans and Japanese of WWII vintage posed any threat to the US. As historians have made completely clear, Germany did not start WWI and did not go to war for the purpose of territorial expansion. Japan's ambitions were in Asia. Hitler did not want war with England and France. Hitler's territorial ambitions were mainly to restore German provinces stripped from Germany as WWI booty in violation of President Wilson's guarantees. Any other German ambitions were to the East. Neither country had any plans to invade the US. Japan attacked the US fleet at Pearl Harbor hoping to remove an obstacle to its activities in Asia, not as a precursor to an invasion of America.
Certainly the countries ravaged by Bush and Obama in the 21st century–Iraq, Afghanistan, Libya, Somalia, Syria, Pakistan, and Yemen posed no military threat to the US. Indeed, these were wars used by a tyrannical executive branch to establish the basis of the Stasi State that now exists in the US.
The truth is hard to bear, but the facts are clear. America's wars have been fought in order to advance Washington's power, the profits of bankers and armaments industries, and the fortunes of US companies. Marine General Smedley Butler said, " I served in all commissioned ranks from a second Lieutenant to a Major General. And during that time, I spent most of my time being a high-class muscle man for Big Business, for Wall Street, and for the bankers. In short, I was a racketeer for capitalism."
It is more or less impossible to commemorate the war dead without glorifying them, and it is impossible to glorify them without glorifying their wars.
For the entirety of the 21st century the US has been at war, not war against massed armies or threats to American freedom, but wars against civilians, against women, children, and village elders, and wars against our own liberty. Elites with a vested interest in these wars tell us that the wars will have to go on for another 20 to 30 years before we defeat "the terrorist threat."
This, of course, is nonsense. There was no terrorist threat until Washington began trying to create terrorists by military attacks, justified by lies, on Muslim populations.
Washington succeeded with its war lies to the point that Washington's audacity and hubris have outgrown Washington's judgment.
By overthrowing the democratically elected government in Ukraine, Washington has brought the United States into confrontation with Russia. This is a confrontation that could end badly, perhaps for Washington and perhaps for the entire world.
If Gaddafi and Assad would not roll over for Washington, why does Washington think Russia will? Russia is not Libya or Syria. Washington is the bully who having beat up the kindergarden kid, now thinks he can take on the college linebacker.
The Bush and Obama regimes have destroyed America's reputation with their incessant lies and violence against other peoples. The world sees Washington as the prime threat.
Worldwide polls consistently show that people around the world regard the US and Israel as the two countries that pose the greatest threat to peace. http://www.ibtimes.com/gallup-poll-biggest-threat-world-peace-america-1525008 and
http://www.jewishfederations.org/european-poll-israel-biggest-threat-to-world-peace.aspx
The countries that Washington's propaganda declares to be "rogue states" and the "axis of evil," such as Iran and North Korea, are far down the list when the peoples in the world are consulted. It could not be more clear that the world does not believe Washington's self-serving propaganda. The world sees the US and Israel as the rogue states.
The US and Israel are the only two countries in the world that are in the grip of ideologies. The US is in the grip of the Neoconservative ideology which has declared the US to be the "exceptional, indispensable country" chosen by history to exercise hegemony over all others. This ideology is buttressed by the Brzezinski and Wolfowitz doctrines that are the basis of US foreign policy.
The Israeli government is in the grip of the Zionist ideology that declares a "greater Israel" from the Nile to the Euphrates. Many Israelis themselves do not accept this ideology, but it is the ideology of the "settlers" and those who control the Israeli government.
Ideologies are important causes of war. Just as the Hitlerian ideology of German superiority is mirrored in the Neoconservative ideology of US superiority, the Communist ideology that the working class is superior to the capitalist class is mirrored in the Zionist ideology that Israelis are superior to Palestinians. Zionists have never heard of squatters' rights and claim that recent Jewish immigrants into Palestine–invaders really–have the right to land occupied by others for millenniums.
Washington's and Israel's doctrines of superiority over others do not sit very well with the "others." When Obama declared in a speech that Americans are the exceptional people, Russia's President Putin responded, "God created us all equal."
To the detriment of its population, the Israeli government has made endless enemies. Israel has effectively isolated itself in the world. Israel's continued existence depends entirely on the willingness and ability of Washington to protect Israel. This means that Israel's power is derivative of Washington's power.
Washington's power is a different story. As the only economy standing after WWII, the US dollar became the world money. This role for the dollar has given Washington financial hegemony over the world, the main source of Washington's power. As other countries rise, Washington's hegemony is imperiled.
To prevent other countries from rising, Washington invokes the Brzezinski and Wolfowitz doctrines. To be brief, the Brzezinski doctrine says that in order to remain the only superpower, Washington must control the Eurasian land mass. Brzezinski is willing for this to occur peacefully by suborning the Russian government into Washington's empire. "A loosely confederated Russia . . . a decentralized Russia would be less susceptible to imperial mobilization." In other words, break up Russia into associations of semi-autonomous states whose politicians can be suborned by Washington's money.
Brzezinski propounded "a geo-strategy for Eurasia." In Brzezinski's strategy, China and "a confederated Russia" are part of a "transcontinental security framework," managed by Washington in order to perpetuate the role of the US as the world's only superpower.
I once asked my colleague, Brzezinski, that if everyone was allied with us, who were we organized against? My question surprised him, because I think that Brzezinski remains caught up in Cold War strategy even after the demise of the Soviet Union. In Cold War thinking it was important to have the upper hand or else be at risk of being eliminated as a player. The importance of prevailing became all consuming, and this consuming drive survived the Soviet collapse. Prevailing over others is the only foreign policy that Washington knows.
The mindset that America must prevail set the stage for the Neoconservatives and their 21st century wars, which, with Washington's overthrow of the democratically elected government of Ukraine, has resulted in a crisis that has brought Washington into direct conflict with Russia.
I know the strategic institutes that serve Washington. I was the occupant of the William E.Simon Chair in Political Economy, Center for Strategic and International Studies, for a dozen years. The idea is prevalent that Washington must prevail over Russia in Ukraine or Washington will lose prestige and its superpower status.
The idea of prevailing always leads to war once one power thinks it has prevailed.
The path to war is reinforced by the Wolfowitz Doctrine. Paul Wolfowitz, the neoconservative intellectual who formulated US military and foreign policy doctrine, wrote among many similar passages:
"Our first objective is to prevent the re-emergence of a new rival, either on the territory of the former Soviet Union or elsewhere [China], that poses a threat on the order of that posed formerly by the Soviet Union. This is a dominant consideration underlying the new regional defense strategy and requires that we endeavor to prevent any hostile power from dominating a region whose resources would, under consolidated control, be sufficient to generate global power."
In the Wolfowitz Doctrine, any other strong country is defined as a threat and a power hostile to the US regardless of how willing that country is to get along with the US for mutual benefit.
The difference between Brzezinski and the Neoconservatives is that Brzezinski wants to suborn Russia and China by including them in the empire as important elements whose voices would be heard, If only for diplomatic reasons, whereas the Neoconservatives are prepared to rely on military force combined with internal subversion orchestrated with US financed NGOs and even terrorist organizations.
Neither the US nor Israel is embarrassed by their worldwide reputations as the two countries that pose the greatest threat. In fact, both countries are proud to be recognized as the greatest threats. The foreign policy of both countries is devoid of any diplomacy. US and Israeli foreign policy rests on violence alone. Washington tells countries to do as Washington says or be "bombed into the stone age." Israel declares all Palestinians, even women and children, to be "terrorists," and proceeds to shoot them down in the streets, claiming that Israel is merely protecting itself against terrorists. Israel, which does not recognize the existence of Palestine as a country, covers up its crimes with the claim that Palestinians do not accept the existence of Israel.
"We don't need no stinking diplomacy. We got power."
This is the attitude that guarantees war, and that is where the US is taking the world. The prime minister of Britain, the chancellor of Germany, and the president of France are Washington's enablers. They provide the cover for Washington. Instead of war crimes, Washington has "coalitions of the willing" and military invasions that bring "democracy and women's rights" to non-compliant countries.
China gets much the same treatment. A country with four times the US population but a smaller prison population, China is constantly criticized by Washington as an "authoritarian state." China is accused of human rights abuses while US police brutalize the US population.
The problem for humanity is that Russia and China are not Libya and Iraq. These two countries possess strategic nuclear weapons. Their land mass greatly exceeds that of the US. The US, which was unable to successfully occupy Baghdad or Afghanistan, has no prospect of prevailing against Russia and China in conventional warfare. Washington will push the nuclear button. What else can we expect from a government devoid of morality?
The world has never experienced rogue states comparable to Washington and Israel. Both governments are prepared to murder anyone and everyone. Look at the crisis that Washington has created in Ukraine and the dangers thereof. On May 23, 2014, Russia's President Putin spoke to the St. Petersburg International Economic Forum, a three-day gathering of delegations from 62 countries and CEOs from 146 of the largest Western corporations.
Putin did not speak of the billions of dollars in trade deals that were being formalized. Instead Putin spoke of the crisis that Washington had brought to Russia, and he criticized Europe for being Washington's vassals for supporting Washington's propaganda against Russia and Washington's interference in vital Russian interests.
Putin was diplomatic in his language, but the message that powerful economic interests from the US and Europe received is that it will lead to trouble if Washington and European governments continue to ignore Russia's concerns and continue to act as if they can interfere in Russia's vital interests as if Russia did not exist.
The heads of these large corporations will carry this message back to Washington and European capitals. Putin made it clear that the lack of dialogue with Russia could lead to the West making the mistake of putting Ukraine in NATO and establishing missile bases on Russia's border with Ukraine. Putin has learned that Russia cannot rely on good will from the West, and Putin made it clear, short of issuing a threat, that Western military bases in Ukraine are unacceptable.
Washington will continue to ignore Russia. However, European capitals will have to decide whether Washington is pushing them into conflict with Russia that is against European interests. Thus, Putin is testing European politicians to determine if there is sufficient intelligence and independence in Europe for a rapprochement.
If Washington in its overbearing arrogance and hubris forces Putin to write off the West, the Russian/Chinese strategic alliance, which is forming to counteract Washington's hostile policy of surrounding both countries with military bases, will harden into preparation for the inevitable war.
The survivors, if any, can thank the Neoconservatives, the Wolfowitz doctrine, and the Brzezinski strategy for the destruction of life on earth.
The American public contains a large number of misinformed people who think they know everything. These people have been programmed by US and Israeli propaganda to equate Islam with political ideology. They believe that Islam, a religion, is instead a militarist doctrine that calls for the overthrow of Western civilization, as if anything remains of Western civilization.
Many believe this propaganda even in the face of complete proof that the Sunnis and Shi'ites hate one another far more than they hate their Western oppressors and occupiers. The US has departed Iraq, but the carnage today is as high or higher than during the US invasion and occupation. The daily death tolls from the Sunni/Shi'ite conflict are extraordinary. A religion this disunited poses no threat to anyone except Islamists themselves. Washington successfully used Islamist disunity to overthrow Gaddafi, and is currently using Islamist disunity in an effort to overthrow the government of Syria. Islamists cannot even unite to defend themselves against Western aggression. There is no prospect of Islamists uniting in order to overthrow the West.
Even if Islam could do so, it would be pointless for Islam to overthrow the West. The West has overthrown itself. In the US the Constitution has been murdered by the Bush and Obama regimes. Nothing remains. As the US is the Constitution, what was once the United States no longer exists. A different entity has taken its place.
Europe died with the European Union, which requires the termination of sovereignty of all member countries. A few unaccountable bureaucrats in Brussels have become superior to the wills of the French, German, British, Italian, Dutch, Spanish, Greek, and Portuguese peoples.
Western civilization is a skeleton. It still stands, barely, but there is no life in it. The blood of liberty has departed. Western peoples look at their governments and see nothing but enemies. Why else has Washington militarized local police forces, equipping them as if they were occupying armies? Why else has Homeland Security, the Department of Agriculture, and even the Postal Service and Social Security Administration ordered billions of rounds of ammunition and even submachine guns? What is this taxpayer-paid-for arsenal for if not to suppress US citizens?
As the prominent trends forecaster Gerald Celente spells out in the current Trends Journal, "uprisings span four corners of the globe." Throughout Europe angry, desperate and outraged peoples march against EU financial policies that are driving the peoples into the ground. Despite all of Washington's efforts with its well funded fifth columns known as NGOs to destabilize Russia and China, both the Russian and Chinese governments have far more support from their people than do the US and Europe.
In the 20th century Russia and China learned what tyranny is, and they have rejected it.
In the US tyranny has entered under the guise of the "war on terror," a hoax used to scare the sheeple into abandoning their civil liberties, thus freeing Washington from accountability to law and permitting Washington to erect a militarist police state. Ever since WWII Washington has used its financial hegemony and the "Soviet threat," now converted into the "Russian threat," to absorb Europe into Washington's empire.
Putin is hoping that the interests of European countries will prevail over subservience to Washington. This is Putin's current bet. This is the reason Putin remains unprovoked by Washington's provocations in Ukraine.
If Europe fails Russia, Putin and China will prepare for the war that Washington's drive for hegemony makes inevitable.
Paul Craig Roberts was Assistant Secretary of the Treasury for Economic Policy and associate editor of the Wall Street Journal. He was columnist for Business Week, Scripps Howard News Service, and Creators Syndicate. He has had many university appointments. His internet columns have attracted a worldwide following. His latest books are, The Failure of Laissez Faire Capitalism and How America Was Lost. http://www.paulcraigroberts.org/
What is now called the Tea Party began in 2007 as a loosely-organized yet highly-motivated grassroots support effort for Congressman Ron Paul's bid for the White House. Since those early days, a lot has happened to the Tea Party.
For one thing, the Tea Party is now much larger and broader than any one person's political candidacy. And though a Tea Party candidate has not yet obtained the White House (Ron Paul was the lone Tea Party Republican candidate in both the 2008 and 2012 presidential elections), a host of Tea Party candidates have won several elections in the US House and Senate–as well as many State and local races. And to win these elections, Tea Party candidates have had to repel the attacks against them from the Republican establishment. In fact, the GOP establishment is far and away the Tea Party's biggest enemy.
Republican leaders such as John Boehner, John McCain, Lindsey Graham, Peter King, etc., have made one of their missions in life to defeat Republican Tea Party candidates–even if those candidates are incumbents. This is for good reason: the establishment Republican Party is diametrically opposed to the goals and principles of the Tea Party.
Based on the positions of most Tea Party candidates (which is all we have to go on as the Tea Party is not a real political party but only a grassroots activist effort being conducted mainly within the Republican Party), the goals and objectives of the Tea Party can be summarized generally as follows:
They support a non-interventionist foreign policy.
They support the Constitution and recognize the current attacks against the Constitution, especially against the Second, Fourth, and Tenth Amendments.
They oppose the NSA spying on the American citizenry (including the use of drones for such purposes).
They oppose the Patriot Act and the militarization of the Department of Homeland Security as well as local and State law enforcement agencies.
They oppose the Import-Export Bank.
They oppose the Federal Reserve Bank.
They oppose CISPA.
They oppose the indefinite detention provision of the NDAA.
They support ending the 2001 Authorization for the Use of Military Force (AUMF).
They support limited government spending–especially at the federal level.
One can easily see that many, if not most, of these goals and objectives are diametrically opposite the goals and objectives of the establishment Republican machine. And more than anything else, the Republican leadership in Washington, D.C., wants GOP congressmen and senators to be "team players." Of course, by "team players" they mean good little Republican robots that will not buck party leadership.
Since Representative Ron Paul retired, the Tea Party leader in the U.S. House is Justin Amash of Michigan. And working side-by-side Rep. Amash is Congressman Thomas Massie of Kentucky. In the U.S. Senate, the Tea Party is being led by men such as Rand Paul of Kentucky, Mike Lee of Utah, and Ted Cruz of Texas. There are several other Tea Party supporters in both the U.S. House and Senate, of course. It is no accident or coincidence that each of these congressmen and senators has incurred (and continue to incur) the wrath of establishment Republican leaders.
Congressman Peter King (R-NY) reserves his harshest rhetoric, not for any Democrat, but for Senator Rand Paul. King said that Rand Paul "disgraced his office," he "doesn't deserve to be in the U.S. Senate," and he "tells absolute lies." Karl Rove has repeatedly lambasted Justin Amash. House Speaker Boehner has spearheaded well-financed opposition to Amash's reelection campaign this year. Senator John McCain (the GOP standard bearer in 2008) recently called Amash, Paul, and Cruz "wacko birds." So much for Ronald Reagan's 11th Commandment to not speak evil of fellow Republicans. It would appear that commandment only applies to not criticizing the GOP establishment, while Republicans espousing Tea Party convictions are open-season for Republican leaders to lampoon and lambast without mercy.
Earlier this month, the GOP establishment spent over $1 million in a single House district race in an attempt to defeat 20-year Republican incumbent Walter Jones. The reason? Jones has a history of voting against the wishes of the party establishment–especially concerning the freedom issues listed above. Thankfully, they failed.
But all over the country, in national, State, and local elections, the GOP establishment is working feverishly to keep Tea Party candidates out of office or to defeat incumbent Republicans who support the Tea Party agenda. In fact, one way I can tell whether a candidate deserves my support or not is by the support or opposition he or she receives from the GOP establishment. If the Republican establishment supports him or her, I can pretty much know that I should vote for someone else.
The reason that Boehner, Karl Rove, and other big-government Republican leaders are trying so hard to defeat Justin Amash in particular is due to the fact that Amash has quietly but effectively spearheaded the momentum of small-government conservatives on Capitol Hill. Since the retirement of Ron Paul, Amash has successfully formed a potent coalition of constitutionally-minded Republicans within the Tea Party movement. He calls his coalition the "House Liberty Caucus." Of course, most of the framework for this caucus was put together by former Congressman Ron Paul.
Since Justin Amash was elected to the House and Rand Paul was elected to the Senate in 2010, eight of the eleven Ron Paul-endorsed congressional candidates won elections in 2012, including Senator Ted Cruz. All of these folks had significant Tea Party support. Boehner and Rove have reason to be worried. No wonder Amash's establishment-endorsed opponent has over $1 million to spend trying to oust him. No wonder the U.S. Chamber of Commerce (a long-time establishment organization) has unveiled a $50 million war chest designed to defeat Tea Party congressmen nationwide.
And please know this, too: the establishment has done its best to infiltrate the Tea Party so as to dilute its message and weaken its effectiveness. In fact, some Tea Parties around the country are now mostly dominated by establishment neocons. Thank God, many, if not most, of the Tea Parties around the country are still mostly comprised of strong, constitutionally-minded, non-establishment folks who refuse to bow to the GOP hierarchy. But we must be aware of the neocon infiltration that has taken place among many Tea Parties.
In virtually every political race this year–including national, State, county, and city–the establishment will be working tirelessly to elect their hand-picked neocons. When you hear Tea Party-type candidates being lampooned as "wacko" or "far right," etc., when you hear their critics and detractors say, "He can't win," please understand that you are listening to an establishment elitist whose job is to undermine the candidacies of those folks who refuse to go along with the establishment. Many of these critics will call themselves "conservatives." They will say they are simply being "pragmatic" and "reasonable." Hogwash! What they are doing is trying to ensure that non-establishment candidates never get elected.
The future of the Republican Party–or even if there is a Republican Party in the future–depends on the next few elections and whether or not the establishment will be able to bully and buy-off the votes of the American people. When John Boehner, John McCain, Lindsey Graham, Jeb Bush, Karl Rove, etc., demand that Congress provide amnesty for illegal aliens, when they try to ram their elitist, big-government agenda down the throats of congressmen and senators, when they spend hundreds of millions of dollars trying to defeat Tea Party Republicans, you can rest assured that they are not seeking the welfare of the country or even of the Republican Party.
The big-government establishment doesn't give a flip about freedom, the Constitution, or even the constituent back home. What they care about is THEM. They have become part of a wealthy and powerful cabal of miscreants who are going to be well-taken-care-of NO MATTER WHAT. They are themselves the pawns of evil power-brokers; and in order to survive, they must make sure that there are other pawns coming to Washington, D.C., to keep the power base intact.
This is a war. It is not only a political war; it is a spiritual war. It is a war for both the soul of the Republican Party (which at present, there isn't much of one left) and the soul of the country. It would really help if our pastors and churches could awaken to this war and help us fight it. The establishment knows it's a war; and they are fighting it with every ounce of energy in their collective being. And they have declared the Tea Party as public enemy number one.
What started as one congressman's presidential bid back in 2007 has now become a full-blown assault on the big-government establishment in Washington, D.C.–and around the country. The result is there is now a small army of Ron Pauls on Capitol Hill.
I urge you to ignore the shills of the establishment and go to the polls in the primaries this year and elect as many non-establishment candidates as you possibly can. Let's give Karl Rove and John Boehner something to really worry about.
China is an economic powerhouse. It's the world's second largest economy. It's heading for number one status.
Perhaps sooner than most expect. It's growth way outdistances America. It's multiples greater.
Russia matches Washington's military might. It does so in nuclear weapons strength. With sophisticated delivery systems.
Able to strike global targets accurately. With hugely destructive force. Enough to decimate potential adversaries. Perhaps to discourage potential aggression.
Russia is rich in what China needs most. Oil and gas mainly. Technological expertise. Industrial equipment. Sophisticated weapons.
Each nation is significant separately. They're able to challenge America responsibly.
Together they're a powerful combination. A force for world peace. For multi-polarity. For humanity. For weakening Washington's imperium.
Sino-Russian ties stress unity. They're strategically important. They're stronger than ever in modern times.
They're deepening. They expanding. Washington is increasingly concerned. It's going all-out to subvert what weakens its strength.
It's waging political, economic and cyberwar. It's fighting a losing battle. Sino/Russian unity is odds on to prevail.
Especially with committed ties. With deepening ones. With stronger than ever ones.
On Tuesday, Putin arrived in Shanghai. It's China's financial capital. He came to finalize a "Holy Grail" trade deal. It's enormously important.
It bonds both countries more closely together. It does so politically economically, commercially and militarily.
Both countries will trade increasingly in their own currencies. They'll strengthen them. They'll bypass dollar transactions. They'll weaken it.
Russia will supply China with around 38 billion cubic million meters of natural gas annually. For the next 30 years.
It may double in size ahead. Depending on China's internal needs.
Other increased trade was agreed on. In technological, industrial, and commercial sectors. In military hardware.
Growing Sino-Russian trade lessens reliance on increasingly undependable Western sources. It gives them less access to their markets.
Putin and Chinese President Xi Jinping reject irresponsible US-led Western bashing. They called sanctions political tools.
They condemned "encouraging and financing" Washington's regime change agenda.
The President of Russia's web site headlined "Russian-Chinese talks." Both leaders met in Shanghai.
They "signed a Joint Declaration of the Russian Federation and the People's Republic of China on the new stage of comprehensive partnership and strategic cooperation between the two countries."
They "witnessed the signing of a package of intergovernmental, interdepartmental and commercial documents on cooperation in the economy, trade, energy and the humanitarian areas."
They issued a joint statement. "(A)mbitious goals" were agreed on, it said. "(L)ong-term milestones" were established.
"(I)mportant bilateral documents" were signed. "Relations between Russia and the People's Republic of China are developing successfully and have reached a new level of comprehensive partnership and strategic cooperation," it stressed.
"(S)pecial attention (was on) economic issues. China is Russia's leading foreign trade partner."
A Sino/Russian Investment Committee was established. Its mandate is expanding economic and financial ties.
It's "diversifying trade." It's "reducing…dependence on global economic" conditions.
It's promoting cooperation in "technology-intensive areas." They include industrial, commercial, banking and military areas.
They're increasing bilateral ruble/renminbi trade. It bears repeating. Doing so bypasses dollar transactions. It weakens dollar strength.
Putin said "the historical memory of the great heroism of our peoples in World War II brings Russia and China even closer."
Both leaders agreed to hold joint celebrations. They'll commemorate "the 70th anniversary of Victory."
Other international issues were discussed. They include common geopolitical ones. Similar priorities are shared. Closer coordination is planned.
Sino/Russian unity, partnership and friendship were strengthened. It's a "new stage" in "strategic relations."
Strong bilateral relations are a force to be reckoned with. It promises to be more so ahead.
Moscow remains justifiably angry. It's enraged about Washington elevating Kiev putschists to power. Rogue EU partners share blame.
Putin and Xi said crisis conditions can only be resolved diplomatically. They demand dialogue. They reject confrontation.
They "urged all Ukrainian regions and public and political groups to enter in broad nationwide talks…"
They want responsible governance. They want legitimate constitutional development.
They want "universally recognized rights and freedoms of people" observed.
Sergey Lavrov said Russian/EU/US-led NATO relations need fundamental reconsideration.
They require "essential rethinking," he said. Disagreements must be resolved diplomatically, he stressed.
US-led NATO created Ukrainian crisis conditions. Russia targeting followed.
Western forces irresponsibly expand eastward. Encroaching on Russia's borders threatens its heartland.
Bilateral relations are jeopardized. East/West confrontation is risked. So is world peace.
The road to Moscow runs through Kiev. Junta power has no legitimacy. Fundamental freedoms are targeted.
Eliminating them altogether is planned. Hardline rules runs things. Opposition isn't tolerated.
Free expression is verboten. Putschists want their message alone getting out. They want vital truths suppressed.
Independent journalists aren't safe. Russian LifeNews ones were targeted.
Oleg Sidyankin and Marat Saichenk were harassed. They were arrested. They're detained. They're held incommunicado.
Their lives potentially are endangered. They're charged with "aiding terrorist groups."
They released damning video images. They showed Kiev military forces using UN-marked attack helicopters against their own people."
Air and ground assaults murder them in cold blood. Kiev wants this type information buried.
It wants reliable news sources eliminated. RT International's stringer journalist Graham Phillips was arrested.
He explained by phone before silenced incommunicado, saying:
"I'm sitting at a blockade post in a portacabin. The dialogue is quite interrogation oriented."
His car was searched. His laptop, equipment and personal belongings were confiscated.
"At the moment I'm with the Ukrainian forces…near Mariupol," he said. "I've been here for over two hours and I've been described, my status, as being detained in terms of I can't leave."
"I would also say I'm being treated OK…I believe that someone is coming."
"They've done checks on my documentation. They found my reports and clips I've done and they're now looking through them asking me my position on things, asking if I'm a spy, and asking me quite thorough questions."
"They've checked all my documentation and photos, my laptop and the car. So that's who I'm with at the moment."
He was asked about separatism. About working with RT. He "describ(ed) (his) position on Crimea."
He called its referendum legitimate. He stands by his position, he said.
He called Kiev's government illegitimate. It "isn't democratic. I don't support this current situation in the east of Ukraine," he said.
In Donetsk and Lugansk regions. He called attacking Eastern Ukrainians "completely wrong."
At the same time, he "maintains complete objectivity and neutrality as a correspondent."
His bulletproof jacket and helmet were confiscated. He's unharmed so far, he said. Incommunicado since cut off there's no way to know for sure.
Right Sector thugs targeted him. They put a bounty on his head. They offered $10,000 for his capture.
They called him a "Russian spy." His life's endanger in their hands. Or in sight to be shot in cold blood.
Radicalized Kiev elements posted a Facebook comment. He "works for terrorists," it said.
"(H)e photographs and publishes the location of Ukrainian troops…"
He "spreads disinformation. (He publishes) Putin's propaganda in the media."
"He must be immediately detained by Ukrainian forces ad deported from Ukraine." Orders come from "EuroMaidan leaders," it claimed.
Russia's Foreign Ministry condemned his detention. Its human rights commissioner Konstantin Dolgov called it media obstruction.
"This is another step…made by Ukrainian authorities to curb the activities of unwanted journalists," he said.
They "work professionally and show an objective picture, the ugly side of the outrages made by ultranationalists, the results of (Kiev putschists') punitive operation in the southeast," he stressed.
Seizing Phillips constitutes an "unlawful seizure, detention of Russian journalists." Moscow demands all lawlessly detained media representatives be released.
Kiev "continues its vicious line," Dolgov added. Coup-appointed officials spurn their "international obligations concerning freedom of speech."
They target media freedom. They want it eliminated altogether. They want their message alone reported. They want truth buried.
They want fascist putschist power enhanced. They deplore democratic values.
They want ordinary Ukrainians having no say. Polls show their popularity eroding. They risk losing it overwhelmingly.
Perhaps nationwide rebellion will follow. When ruthlessness exceeds levels too great to tolerate, all bets are off.
The only solution is nonviolent revolution. Perhaps just a matter of time. It can't happen a moment too soon.
Stephen Lendman lives in Chicago. He can be reached at lendmanstephen@sbcglobal.net.
His new book as editor and contributor is titled "Flashpoint in Ukraine: US Drive for Hegemony Risks WW III."
http://www.claritypress.com/LendmanIII.html
Visit his blog site at sjlendman.blogspot.com.
Imagine: you are dressed up for a night on Broadway, but your neighbours are involved in a vicious quarrel, and you have to gun up and deal with the trouble instead of enjoying a show, and a dinner, and perhaps a date. This was Putin's position regarding the Ukrainian turmoil.
The Russians have readjusted their sights, but they do not intend to bring their troops into the two rebel republics, unless dramatic developments should force them.
It is not much fun to be in Kiev these days. The revolutionary excitement is over, and hopes for new faces, the end of corruption and economic improvement have withered. The Maidan street revolt and the subsequent coup just reshuffled the same marked deck of cards, forever rotating in power.
The new acting President has been an acting prime minister, and a KGB (called "SBU" in Ukrainian) supremo. The new acting prime minister has been a foreign minister. The oligarch most likely to be "elected" President in a few days has been a foreign minister, the head of the state bank, and personal treasurer of two coups, in 2004 (installing Yushchenko) and in 2014 (installing himself). His main competitor, Mme Timoshenko, served as a prime minister for years, until electoral defeat in 2010.
These people had brought Ukraine to its present abject state. In 1991, the Ukraine was richer than Russia, today it is three times poorer because of these people's mismanagement and theft. Now they plan an old trick: to take loans in Ukraine's name, pocket the cash and leave the country indebted. They sell state assets to Western companies and ask for NATO to come in and protect the investment.
They play a hard game, brass knuckles and all. The Black Guard, a new SS-like armed force of the neo-nazi Right Sector, prowls the land. They arrest or kill dissidents, activists, journalists. Hundreds of American soldiers, belonging to the "private" company Academi (formerly Blackwater) are spread out in Novorossia, the pro-Russian provinces in the East and South-East. IMF–dictated reforms slashed pensions by half and doubled the housing rents. In the market, US Army rations took the place of local food.
The new Kiev regime had dropped the last pretence of democracy by expelling the Communists from the parliament. This should endear them to the US even more. Expel Communists, apply for NATO, condemn Russia, arrange a gay parade and you may do anything at all, even fry dozens of citizens alive. And so they did.
The harshest repressions were unleashed on industrial Novorossia, as its working class loathes the whole lot of oligarchs and ultra-nationalists. After the blazing inferno of Odessa and a wanton shooting on the streets of Melitopol the two rebellious provinces of Donetsk and Lugansk took up arms and declared their independence from the Kiev regime. They came under fire, but did not surrender. The other six Russian-speaking industrial provinces of Novorossia were quickly cowed. Dnepropetrovsk and Odessa were terrorised by personal army of Mr Kolomoysky; Kharkov was misled by its tricky governor.
Russia did not interfere and did not support the rebellion, to the great distress of Russian nationalists in Ukraine and Russia who mutter about "betrayal". So much for the warlike rhetoric of McCain and Brzezinski.
Putin's respect for others' sovereignty is exasperating. I understand this sounds like a joke, — you hear so much about Putin as a "new Hitler". As a matter of fact, Putin had legal training before joining the Secret Service. He is a stickler for international law. His Russia has interfered with other states much less than France or England, let alone the US. I asked his senior adviser, Mr Alexei Pushkov, why Russia did not try to influence Ukrainian minds while Kiev buzzed with American and European officials. "We think it is wrong to interfere", he replied like a good Sunday schoolboy. It is rather likely Putin's advisors misjudged public sentiment. « The majority of Novorossia's population does not like the new Kiev regime, but being politically passive and conservative, will submit to its rule", they estimated. "The rebels are a small bunch of firebrands without mass support, and they can't be relied upon", was their view. Accordingly, Putin advised the rebels to postpone the referendum indefinitely, a polite way of saying "drop it".
They disregarded his request with considerable sang froid and convincingly voted en masse for secession from a collapsing Ukraine. The turnout was much higher than expected, the support for the move near total. As I was told by a Kremlin insider, this development was not foreseen by Putin's advisers.
Perhaps the advisors had read it right, but three developments had changed the voters' minds and had sent this placid people to the barricades and the voting booths:
1. The first one was the fiery holocaust of Odessa, where the peaceful and carelessly unarmed demonstrating workers were suddenly attacked by regime's thugs (the Ukrainian equivalent of Mubarak's shabab) and corralled into the Trade Unions Headquarters. The building was set on fire, and the far-right pro-regime Black Guard positioned snipers to efficiently pick off would-be escapees. Some fifty, mainly elderly, Russian-speaking workers were burned alive or shot as they rushed for the windows and the doors. This dreadful event was turned into an occasion of merriment and joy by Ukrainian nationalists who referred to their slain compatriots as "fried beetles". (It is being said that this auto-da-fé was organised by the shock troops of Jewish oligarch and strongman Kolomoysky, who coveted the port of Odessa. Despite his cuddly bear appearance, he is pugnacious and violent person, who offered ten thousand dollars for a captive Russian, dead or alive, and proposed a cool million dollars for the head of Mr Tsarev, a Member of Parliament from Donetsk.)
2. The second was the Mariupol attack on May 9, 2014. This day is commemorated as V-day in Russia and Ukraine (while the West celebrates it on May 8). The Kiev regime forbade all V-day celebrations. In Mariupol, the Black Guard attacked the peaceful and weaponless town, burning down the police headquarters and killing local policemen who had refused to suppress the festive march. Afterwards, Black Guard thugs unleashed armoured vehicles on the streets, killing citizens and destroying property.
The West did not voice any protest; Nuland and Merkel weren't horrified by this mass murder, as they were by Yanukovich's timid attempts to control crowds.
The people of these two provinces felt abandoned; they understood that nobody was going to protect and save them but themselves, and went off to vote.
3. The third development was, bizarrely, the Eurovision jury choice of Austrian transvestite Conchita Wurst for a winner of its song contest.
The sound-minded Novorossians decided they want no part of such a Europe.
Actually, the people of Europe do not want it either:
It transpired that the majority of British viewers preferred a Polish duo, Donatan & Cleo, with its We Are Slavic. Donatan is half Russian, and has courted controversy in the past extolling the virtues of pan-Slavism and the achievements of the Red Army, says the Independent.
The politically correct judges of the jury preferred to "celebrate tolerance", the dominant paradigm imposed upon Europe.
This is the second transvestite to win this very political contest; the first one was Israeli singer Dana International.
Such obsession with re-gendering did not go down well with Russians and/or Ukrainians.
The Russians have readjusted their sights, but they do not intend to bring their troops into the two rebel republics, unless dramatic developments should force them.

RUSSIAN PLANS

Imagine: you are dressed up for a night on Broadway, but your neighbours are involved in a vicious quarrel, and you have to gun up and deal with the trouble instead of enjoying a show, and a dinner, and perhaps a date. This was Putin's position regarding the Ukrainian turmoil.
A few months ago, Russia had made a huge effort to become, and to be seen as, a very civilized European state of the first magnitude. This was the message of the Sochi Olympic games: to re-brand, even re-invent Russia, just as Peter the Great once had, as part of the First World; an amazing country of strong European tradition, of Leo Tolstoy and Malevich, of Tchaikovsky and Diaghilev, the land of arts, of daring social reform, of technical achievements, of modernity and beyond — the Russia of Natasha Rostova riding a Sikorsky 'copter. Putin spent $60 billion to broadcast this image.
The old fox Henry Kissinger wisely said:
Putin spent $60 billion on the Olympics. They had opening and closing ceremonies, trying to show Russia as a normal progressive state. So it isn't possible that he, three days later, would voluntarily start an assault on Ukraine. There is no doubt that… at all times he wanted Ukraine in a subordinate position. And at all times, every senior Russian that I've ever met, including dissidents like Solzhenitsyn and Brodsky, looked at Ukraine as part of the Russian heritage. But I don't think he had planned to bring it to a head now.
However, Washington hawks decided to do whatever it takes to keep Russia out in the cold. They were afraid of this image of "a normal progressive state" as such Russia would render NATO irrelevant and undermine European dependence on the US. They were adamant about retaining their hegemony, shattered as it was by the Syrian confrontation. They attacked Russian positions in the Ukraine and arranged a violent coup, installing a viciously anti-Russian regime supported by football fans and neo-Nazis, paid for by Jewish oligarchs and American taxpayers. The victors banned the Russian language and prepared to void treaties with Russia regarding its Crimean naval base at Sebastopol on the Black Sea. This base was to become a great new NATO base, controlling the Black Sea and threatening Russia.
Putin had to deal quickly and so he did, by accepting the Crimean people's request to join Russian Federation. This dealt with the immediate problem of the base, but the problem of Ukraine remained.
The Ukraine is not a foreign entity to Russians, it is the western half of Russia. It was artificially separated from the rest in 1991, at the collapse of the USSR. The people of the two parts are interconnected by family, culture and blood ties; their economies are intricately connected. While a separate viable Ukrainian state is a possibility, an "independent" Ukrainian state hostile to Russia is not viable and can't be tolerated by any Russian ruler. And this for military as well as for cultural reasons: if Hitler had begun the war against Russia from its present border, he would have taken Stalingrad in two days and would have destroyed Russia in a week.
A more pro-active Russian ruler would have sent troops to Kiev a long time ago. Thus did Czar Alexis when the Poles, Cossacks and Tatars argued for it in 17th century. So also did Czar Peter the Great, when the Swedes occupied it in the 18th century. So did Lenin, when the Germans set up the Protectorate of Ukraine (he called its establishment "the obscene peace"). So did Stalin, when the Germans occupied the Ukraine in 1941.
Putin still hopes to settle the problem by peaceful means, relying upon the popular support of the Ukrainian people. Actually, before the Crimean takeover, the majority of Ukrainians (and near all Novorossians) overwhelmingly supported some sort of union with Russia. Otherwise, the Kiev coup would not have been necessary. The forced Crimean takeover seriously undermined Russian appeal. The people of Ukraine did not like it. This was foreseen by the Kremlin, but they had to accept Crimea for a few reasons. Firstly, a loss of Sevastopol naval base to NATO was a too horrible of an alternative to contemplate. Secondly, the Russian people would not understand if Putin were to refuse the suit of the Crimeans.
The Washington hawks still hope to force Putin to intervene militarily, as it would give them the opportunity to isolate Russia, turn it into a monster pariah state, beef up defence spending and set Europe and Russia against each other. They do not care about Ukraine and Ukrainians, but use them as pretext to attain geopolitical goals.
The Europeans would like to fleece Ukraine; to import its men as "illegal" workers and its women as prostitutes, to strip assets, to colonise. They did it with Moldova, a little sister of Ukraine, the most miserable ex-Soviet Republic. As for Russia, the EU would not mind taking it down a notch, so they would not act so grandly. But the EU is not fervent about it. Hence, the difference in attitudes.
Putin would prefer to continue with his modernisation of Russia. The country needs it badly. The infrastructure lags twenty or thirty years behind the West. Tired by this backwardness, young Russians often prefer to move to the West, and this brain drain causes much damage to Russia while enriching the West. Even Google is a result of this brain drain, for Sergey Brin is a Russian immigrant as well. So are hundreds of thousands of Russian scientists and artists manning every Western lab, theatre and orchestra. Political liberalisation is not enough: the young people want good roads, good schools and a quality of life comparable to the West. This is what Putin intends to deliver.
He is doing a fine job of it. Moscow now has free bikes and Wi-Fi in the parks like every Western European city. Trains have been upgraded. Hundreds of thousands of apartments are being built, even more than during the Soviet era. Salaries and pensions have increased seven-to-tenfold in the past decade. Russia is still shabby, but it is on the right track. Putin wants to continue this modernisation.
As for the Ukraine and other ex-Soviet states, Putin would prefer they retain their independence, be friendly and work at a leisurely pace towards integration a la the European Union.
He does not dream of a new empire. He would reject such a proposal, as it would delay his modernisation plans.
If the beastly neocons would not have forced his hand by expelling the legitimate president of Ukraine and installing their puppets, the world might have enjoyed a long spell of peace.
But then the western military alliance under the US leadership would fall into abeyance, US military industries would lose out, and US hegemony would evaporate. Peace is not good for the US military and hegemony-creating media machine. So dreams of peace in our lifetime are likely to remain just dreams.
What will Putin do?
Putin will try to avoid sending in troops as long as possible. He will have to protect the two splinter provinces, but this can be done with remote support, the way the US supports the rebels in Syria, without 'boots on the ground'. Unless serious bloodshed on a large scale should occur, Russian troops will just stand by, staring down the Black Guard and other pro-regime forces.
Putin will try to find an arrangement with the West for sharing authority, influence and economic involvement in the failed state. This can be done through federalisation, or by means of coalition government, or even partition. The Russian-speaking provinces of Novorossia are those of Kharkov (industry), Nikolayev (ship-building), Odessa (harbour), Donetsk and Lugansk (mines and industry), Dnepropetrovsk (missiles and high-tech), Zaporozhe (steel), Kherson (water for Crimea and ship-building), all of them established, built and populated by Russians. They could secede from Ukraine and form an independent Novorossia, a mid-sized state, but still bigger than some neighbouring states. This state could join the Union State of Russia and Belarus, and/or the Customs Union led by Russia. The rump Ukraine could manage as it sees fit until it decides whether or not to join its Slavic sisters in the East. Such a set up would produce two rather cohesive and homogeneous states.
Another possibility (much less likely at this moment) is a three-way division of the failed Ukraine: Novorossia, Ukraine proper, and Galicia&Volyn. In such a case, Novorossia would be strongly pro-Russian, Ukraine would be neutral, and Galicia strongly pro-Western.
The EU could accept this, but the US probably would not agree to any power-sharing in the Ukraine. In the ensuing tug-of-war, one of two winners will emerge. If Europe and the US drift apart, Russia wins. If Russia accepts a pro-Western positioning of practically all of Ukraine, the US wins. The tug-of-war could snap and cause all-out war, with many participants and a possible use of nuclear weapons. This is a game of chicken; the one with stronger nerves and less imagination will remain on the track.
Pro and Contra
It is too early to predict who will win in the forthcoming confrontation. For the Russian president, it is extremely tempting to take all of Ukraine or at least Novorossia, but it is not an easy task, and one likely to cause much hostility from the Western powers. With Ukraine incorporated, Russian recovery from 1991 would be completed, its strength doubled, its security ensured and a grave danger removed. Russia would become great again. People would venerate Putin as Gatherer of Russian Lands.
However, Russian efforts to appear as a modern peaceful progressive state would have been wasted; it would be seen as an aggressor and expelled from international bodies. Sanctions will bite; high tech imports may be banned, as in the Soviet days. The Russian elites are reluctant to jeopardize their good life. The Russian military just recently began its modernization and is not keen to fight yet, perhaps not for another ten years.
But if they feel cornered, if NATO moves into Eastern Ukraine, they will fight all the same.
Some Russian politicians and observers believe that Ukraine is a basket case; its problems would be too expensive to fix. This assessment has a 'sour grapes' aftertaste, but it is widespread. An interesting new voice on the web, The Saker, promotes this view. "Let the EU and the US provide for the Ukrainians, they will come back to Mother Russia when hungry", he says. The problem is, they will not be allowed to reconsider. The junta did not seize power violently in order to lose it at the ballot box.
Besides, Ukraine is not in such bad shape as some people claim. Yes, it would cost trillions to turn it into a Germany or France, but that's not necessary. Ukraine can reach the Russian level of development very quickly –- in union with Russia. Under the EC-IMF-NATO, Ukraine will become a basket case, if it's not already. The same is true for all East European ex-Soviet states: they can modestly prosper with Russia, as Belarus and Finland do, or suffer depopulation, unemployment, poverty with Europe and NATO and against Russia, vide Latvia, Hungary, Moldova, Georgia. It is in Ukrainian interests to join Russia in some framework; Ukrainians understand that; for this reason they will not be allowed to have democratic elections.
Simmering Novorossia has a potential to change the game. If Russian troops don't come in, Novorossian rebels may beat off the Kiev offensive and embark on a counter-offensive to regain the whole of the country, despite Putin's pacifying entreaties. Then, in a full-blown civil war, the Ukraine will hammer out its destiny.
On a personal level, Putin faces a hard choice. Russian nationalists will not forgive him if he surrenders Ukraine without a fight. The US and EU threaten the very life of the Russian president, as their sanctions are hurting Putin's close associates, encouraging them to get rid of or even assassinate the President and improve their relations with the mighty West. War may come at any time, as it came twice during the last century – though Russia tried to avoid it both times. Putin wants to postpone it, at the very least, but not at any price.
His is not an easy choice. As Russia procrastinates, as the US doubles the risks, the world draws nearer to the nuclear abyss. Who will chicken out?
(Language editing by Ken Freeland)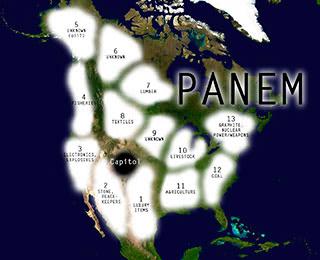 One of the most popular films of 2012 was The Hunger Games which portrayed a post-apocalyptic nation called Panem in which a super-rich, super-pampered, super-callous 'elite' lived in high-tech luxury while the rest of the population daily battled to survive in abject poverty locked away behind prison fences in intensively-populated 'people zones'. Panem comes from the Latin phrase 'panem et circenses' or 'bread and circuses' — a term derived from Rome and meaning to give the people diversions and distractions to hide what is being done to them. Exactly what is happening today.
The Totalitarian Tiptoes to just such a world are happening all around us, although most people can't see this because they don't connect the dots. People tend to live in their own 'little world' and focus on only a few subjects and interests. This gives them a distorted view of what is happening because they are so busy concentrating on the strands that they cannot see the tapestry. The world of The Hunger Games is already well on the way to fruition unless humanity has a fundamental reassessment of reality.
The foundations, structure and 'must haves' of a Hunger Games society are detailed in a plan being imposed through the United Nations called Agenda 21 which encompasses two related themes of 'sustainable development' and 'biodiversity'. Sustainable development — as in don't use more than can be replaced — sounds sensible enough at first until you realize what this and biodiversity really mean in the context of the conspiracy.
Agenda 21 was established at the United Nations Conference on Environment and Development in Rio de Janerio, Brazil, in 1992, hosted by Maurice Strong, a Canadian oil and business billionaire and long-time front man for the Rothschilds and Rockefellers. Strong has been a leader of their exploit-the-environment-to-scam-the-people programme which is now in full flow. Strong is a member of the Club of Rome, the environmental Hidden Hand in the Round Table network that includes the Bilderberg Group, Trilateral Commission and Council on Foreign Relations.
Strong said in support of Agenda 21:
'Isn't the only hope for this planet that the industrialised civilization collapse? Isn't it our responsibility to bring that about?'
This is a man who became mega-rich through the oil industry. He now lives in billionaire luxury in China where carbon-emitting industry is booming and he is a director of the Chicago Climate Exchange (largest shareholder, Goldman Sachs), which is 'the world's first and North America's only legally-binding greenhouse-gas emission registry reduction-system for emission sources and offset projects in North America and Brazil'.
The Exchange was established with funding from the Joyce Foundation where Barack Obama was once a director. Strong and Al Gore make money through the Carbon Exchange and other means from the lies they promote about climate change and the solutions they propose. Kate Johnston wrote on the Globalresearch.cawebsite:
'The same men that sold us the myth of man-made global warming are the same men that sold us the "solution" of a Carbon Tax and Emissions Trading Scheme and now they're profiting off their lucrative investments which are based on lies.' (See "The Climate Change Hoax").
Strong fled to China in 2006 after being accused of corruption with respect to the UN oil for food program.
Climate change propaganda is a No-Problem-Reaction-Solution technique to justify Agenda 21 and its stable-mate the Biodiversity Treaty. This is an internationally-binding document involving nearly 200 countries. The United States signed the treaty, but it was not ratified by the Senate after people like ecologist and ecosystem scientist Dr. Michael Coffman exposed its true consequences and implications. He said that he realized during the 1980s and 1990s that the plan was to use the excuse of protecting the environment to confiscate half the land of the United States.
Similar plans exist for every other country. America may not have ratified the treaty, but it is being implemented by the day. Agenda 21 demands the central global control of all land; all private property; all water sources and distribution; all other resources which includes people in its definition; all energy supplies and distribution and all food production and distribution.
Agenda 21 is called 'the agenda for the 21st century' and that refers to global fascism / communism. This is a summary of what Agenda 21 / Sustainable Development / Biodiversity is seeking to impose:
An end to national sovereignty
State planning and management of all land resources, ecosystems, deserts, forests, mountains, oceans and fresh water; agriculture; rural development; biotechnology; and ensuring 'equity' (equal slavery)
The State to 'define the role' of business and financial resources
Abolition of private property (it's not 'sustainable')
'Restructuring' the family unit
Children raised by the State
People told what their job will be
Major restrictions on movement
Creation of 'human settlement zones'
Mass resettlement as people are forced to vacate land where they currently live
Dumbing down education (achieved)
Mass global depopulation in pursuit of all the above
This horrific plan is being coordinated through the United Nations, the stalking horse for world dictatorship, via a non-governmental network once called the International Council of Local Environmental Initiatives ICLEI), and now known as Local Governments for Sustainability although still using the shortened name ICLEI. The United Nations is now opening 'embassies' around the world called 'UN Houses' under the guise of raising awareness of UN activities, but not the activities that people really need to know about. They have opened one in Hunter Square, Edinburgh, Scotland, for example.
Local Governments for Sustainability (ICLEI) and other organisations are integrating the plan into every village, town, city and region and it is already becoming widespread across the world. The organisational infrastructure of Agenda 21 is already fantastic and involves government agencies, non-governmental organisations (NGOs), think-tanks, trusts, foundations, 'training' (mind control) operations and 'initiatives' which have been building the infrastructure for what they call 'the post-industrial, post-democratic' society while the public go about their daily business oblivious of the prison being built all around them by the hour.
Harvey Ruvin, a vice-chairman of ICLEI, was asked how Agenda 21 would affect liberties with regard to the US Constitution and Bill of Rights, private property and freedom of speech. He replied:
'Individual rights must take a back-seat to the collective.'
The arrogance of these people is breathtaking. The extraordinary network supporting ICLEI and Agenda 21 includes the Rockefeller-sponsored America 2050; United Cities and Local Governments (UCLG); Metropolis; World Economic Forum; United Nations Framework Convention on Climate Change; United Nations International Strategy for Disaster Reduction; World Bank; Clinton Climate Initiative; Climate Group (Tony Blair); World Conservation Union (IUCN); Renewable Energy and Energy Efficiency Partnership; Global Footprint Network; Renewable Energy and Energy Efficiency Partnership; Global Footprint Network; International Centre for Sustainable Cities; Earthquakes and Megacities Initiative and the Stakeholder Forum. These and so many others are working to the same end — Agenda 21 and total human enslavement worldwide, although most of those involved will have no idea that they are building a global prison for themselves and their families.
Another of these front organisations is the World Business Council for Sustainable Development which includes the hideously anti-people Monsanto. Destroying food-growing land, contaminating the countryside with toxins and replacing proper food with deadly and soil-destroying genetically-modified organisms is Monsanto's contribution to 'sustainability'. Agenda 21 is operating in more than 600 towns, cities and counties in the United States and expanding by the day.
A member of the Agenda 21 committees in Santa Cruz, California, in the mid-1990s said that the proposals he heard were so crazy that he laughed at them because they could never happen. These included that 'Mother Earth's surface was not to be scratched'; humans should be concentrated in settlement zones; education should focus on the environment as a central organising principle and all aspects of life covered by Agenda 21, but all of these crazy plans are now being introduced. It's all happy, feely, smiling faces and how we care, when the truth is that Agenda 21 is a vicious, brutal, heartless strategy to impose a global Orwellian state.
Agenda 21 manipulators either create or hijack some local organisation or other, many of them in locations with large populations, and they have their (controlled) leadership to agree the Agenda 21 blueprint for their community together with any uninformed, unwitting idiots who can be sold a human nightmare as saving the planet. This allows them to claim that decisions were made after 'public participation' when that would have been the last thing they wanted, and 99 percent of the 'community' has never heard of Agenda 21 let alone had their say on it. They want no democracy which is why these people talk privately, sometimes even publicly, about the post-democratic, post-industrial society.
They want to control every man, woman and child on the planet — everyone and everywhere and every resource, water source and piece of land. To do this they need a global structure of fascist control that goes right down into every local community with the jackboots at local level enforcing the will of the global centre. This is why there is so much emphasis on local authorities and town and city authorities in Agenda 21.
There is a 'training organisation' called Common Purpose (common purpose, common consensus, everyone the same) which has been paid very large amounts of money by governments and local authorities, police forces and other institutions of state to 'train the leaders' of the post-democratic, post-industrial society. Common Purpose was heavily represented in the Leveson 'inquiry' leading to new media laws in Britain. It is not a training programme; it is a programming programme and turns out unquestioning zombie administrators who serve the god of Agenda 21 and the associated European Union. The theme of 'common' also applies to the ever greater standardisation of laws and regulations and constant reference to 'international law'. This is the unfolding global dictatorship of Agenda 21. What do you need to be a global dictator? Laws that everyone on the planet must obey — international law and the standardisation of global regulation.
You can see The Hunger Games connection when you look at the official Biodiversity wish-for map of the United States in Figure 1. The red areas are designated for no human use and most of the rest of America is confiscated for little and highly-regulated use. The mass of the population would be concentrated in high-rise, densely-packed 'human settlement zones' and denied access to something like 80 percent of present day America. It is without question the world of The Hunger Games with a globally-enforced top-down hierarchy that has a world government using its world army and police force to impose its will at regional and local levels (sectors). The Rockefeller-funded America 2050 has produced a map of the new United States divided into eleven 'megaregions' and includes parts of Canada (Figure 2). Seattle, Portland and Vancouver, British Columbia, become the megaregion known as 'Cascadia' and this regional system comes under the collective name of 'megalopolis' which is Greek for large city or great city. America, Canada and Mexico are due to merge to form the North American Union in line with the European Union blueprint.
The European Union is planned to be broken up into regions and the same structure is in development all over the world. The map of the new Europe has regions from different countries linked up with regions in other countries to end any vestige of national sovereignty or even national existence (Figure 3). This is a global plan with its fierce central control hidden behind its lower elements such as the European Union and local government. What is planned would clearly require a fantastic reduction of the global population and this is indeed what Agenda 21 / Sustainable Development / Biodiversity demand.
The e-book Agenda 21: Your Life In Their Hands can be downloaded here.
reference:
Icke, David. The Perception Deception. Ryde: David Icke Books, 2013.
Julian Websdale is an independent researcher in the fields of esoteric science and metaphysics, and a self-initiate of the Western Esoteric Tradition. His interest in these subjects began in 1988. Julian was born in England, received his education as an electronic and computer engineer from the University of Bolton, served in a Vaishnava monastery during 2010, and has travelled to over 21 countries. Julian is also a member of the Palestinian Solidarity Campaign.
Source: Julian Websdale  |  Waking Times | War Is Crime