Blaming the 1% for diminished prosperity avoids the real reasons for designed poverty. In round terms, the seven billion souls that populate this planet translate into seventy million to be part of the 1%. Well, that amount is still a very large number to blame for the systemic transfer of riches into the hands of the few. A far more relevant approach is to examine the .001% or around seven million that fall into the mover or shakers of asset and possessions. Before targeting this group of mega wealth, that figure includes a very significant number, who are non players when it comes to global politics or transnational finance.
Recent record art sales illustrate the insulated existence that wraps the super rich in a different world from ordinary people. The Washington Post writes, What it looks like when the .001 percent fights over art.
"Welcome to Christie's," Pylkkanen said, without missing a beat.

It was that kind of night, with Christie's selling a record $852.9 million worth of contemporary and post-war art. There were new records for 11 artists, including Twombly, Ed Ruscha, Peter Doig, Martin Kippenberger and Seth Price, according to figures released by Christie's."
Not exactly familiar household art celebrities, this version of trickledown economics is only for the in crowd. A Reuter report, Life continues sweetly for the .001 percent, continues.
"Art envy isn't the only sign that the Occupy Wall Street din isn't being heard on penthouse terraces. Sanford Weill, the former chief executive of Citigroup (C.N), put his 6,700-square-foot, top-floor residence on Central Park West on the market for $88 million. That's twice what he paid for it four years ago and would be a Manhattan record. Weill said he plans to donate proceeds from the sale to charity, but for the time being would still have it as a deduction to apply against his taxable income.

The point is, the besieged banker class is still going about its business — and wielding considerable clout. That's a lesson celebrity chef Mario Batali learned after likening bankers to Adolf Hitler and Josef Stalin at a media event. After news of the comments swept across Wall Street and sparked talk of boycotts among Batali's well-heeled clientele, he apologized. With the 99 percent rallying against them, the rich clearly can't afford to turn on themselves."
While the uber rich are not exactly a monolith, there are certain factors that go unchallenged. List of 80 People With as Much Money as 1/2 of Humanityprovides a starting point. Then examine the growth in their wealth. In 2015, there was a record of 1,826 people on the list with a total net worth of $7.05 trillion, up from $6.4 trillion in 2014. The bible of financial registry is the Forbes billionaire list which is wholly inadequate as a comprehensive tally.  Notwithstanding, the seven trillion figure is but a fraction of the estimated $241 trillion which represents total global combined wealth of all the people in the world.
This disparity just does not compute when compared to the commonly held dogma of the holdings of the 1%. Even the rarified air of the .001% will not account for the difference. The missing link is that people, as individuals, do not control the vast majority of resources, assets, money and wealth.
Governments, financial institutions, corporations, transnational conglomerates, NGO's, trusts, estates and hidden hybrid ownership truly controls the global economy that dictates, who benefits from the consolidation of capital and oversight of natural resources.
The mandates that pass as national laws and international treaty relations share a common composition. Protecting the superstructure that facilitates elite domination over the masses of world population is the object of the game. The rest of us are left with distractions, illusions and misdirect narratives of a false reality that embodies the popular culture.
The mass media message is consistent. It paints the ruling class as benevolent and caring. The collectivist administrations of different regimes are planned as a huge dependence machine. Some countries are more dominant than others, by all practice institutional autocracy as a condition of allowing their citizens the privilege of conditional government sustenance.
Individual liberty is besieged as a frightening threat to the system. Actual free economic markets are destroyed as a matter of course. Cartels, cabals and monopolies rule as cronyism with the decision makers dictate the direction of the technocratic socialism that has engulfed world society.
The reason why human circumstances continue to deteriorate is clear to anyone who has the honesty to admit that the dire consequences are not accidental or unintentional. However, coming to grips with the architectures of international finance is just too painful to endure. A comment from a leaving subscriber of the BATR RealPolitik Newsletter, sums up perfectly a core reason why the world totalitarian system continues with such little opposition. "Your site does an excellent job of exposing the truth but this imposes too high a price on my daily mental attitude and overall health".
Life is seldom fair, and more often painful, but a cop out of unpleasant reality guarantees that the Rothschild manipulated model of world slavery will achieve their ultimate goal of massive population extinction for the dependency populace.
A primary failure of the "Looney Left" is placing their faith into the role of government to correct the punitive excesses of global internationalism. The nature of the contrived interdependency is based upon the power of fiat finance to own and dictated policy to their state sponsored lackeys.
Those brave hearted dissenters to the "international community" are driven from office, discredited by a media assault or killed if they become too much of a threat.
Jack Lessenberry offers this assessment in, Politics and Prejudices: What's really ruining America.
"Income inequality in this nation is not only bad and getting worse, but most of us are either brainwashed, in total denial, or too gutless to even talk about it. Why don't you hear Hillary Clinton or Elizabeth Warren screaming about this, as they should be?

For two simple reasons: First, they're afraid they'll instantly be accused of wanting to start "class warfare," a term that, like socialism, evokes bad nightmares of — shudder — Communist dictatorships.

But more sadly, they probably don't think there's anything they can do about it, other than maybe slow the trend a little bit."
This critique of the "so called" daring progressives actually reveals that both play up to the establishment. Bucking the true world power brokers is very dangerous. Ask JFK, RFK, George Wallace and Ronald Reagan. Satanic megalomaniacs are committed to the impoverishment of the masses and their eventual total demise.
When was the last time that a real populist grassroots movement was able to overthrow the ruling elites? The deplorable answer is never in our lifetime.
The systemic wealth destruction that has rendered former Middle America to borderline poverty came as no accident. Don't blame all those new faces in the billionaire crowd; they only have large bank accounts. Focus on the dynasty families that share the same bloodline and pull the strings on government puppets that administer the all-inclusive enslavement of humanity as their primary goal.
Collectivism is a deadened scheme, originated by the globalists to deceive the struggling "unwashed" to look toward government for a better future. Wow, what a miserable fiasco.
Having money is better than being poor, all other factors relative. However, earning wealth the old fashion way, by working hard is virtually a non starter today. The casino economy is a stacked deck against the industrious.
Only a total reputation of the Free Trade corporatist plantation that has de-industrialized America could remotely turn the tide. But before any boom could begin and restore national hope, the political organized crime syndicates must be recognized as the enemy of the people and driven from their power centers and debt created money schemes.
Just like the burnt out aforementioned BATR reader, the remaining moral participants that do battle with a corrupt system must risk having their head cut off, for any chance of returning to prosperity.
The task is great and little time is left. The NYT reports that a Deal Reached on Fast-Track Authority for Obama on Trade Accord, will expand the globalist fiefdom even more.
"To further sweeten the deal for Democrats, the package includes expanding trade adjustment assistance — aid to workers whose jobs are displaced by global trade — to service workers, not just manufacturing workers. Mr. Wyden also insisted on a four-year extension of a tax credit to help displaced workers purchase health insurance."
This is a clear example of collectivism at play. Government subsidies that replace real employment, does not create wealth for our own people or for the country as a whole. It is high time to admit that the 99.9% is screwed as long as this same old globalist trade fraud continues to impoverish our domestic economy.
Rally against the globalists and refuse any legitimacy to a system that is designed to distract with class warfare, while the central banksters own the vast total wealth and control the power structure.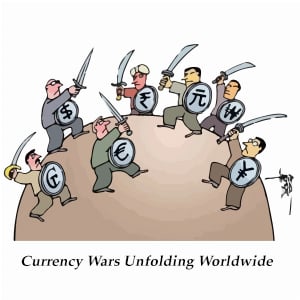 The first two months of 2015 have seen turmoil in the currency markets extend from Russia and Ukraine to the heart of Europe.
"Central Banks Now Open 24/7 Fighting Currency Wars and Deflation," blared a February 12th Bloomberg headline. Against this backdrop, precious metals have been on the rise in terms of all currencies except the Swiss franc and the U.S dollar.
In January, the Swiss National Bank shocked markets by announcing that it would de-link its currency from the euro. The move came one week ahead of the European Central Bank's $1.1 trillion Quantitative Easing announcement. Swiss officials decided it would be too costly to keep accumulating depreciating euros in order to maintain the currency peg. The Swiss franc surged by the most ever in a single day.
With the exception of Switzerland, all other countries in Europe (and many others around the world) are trying to depreciate their currencies.
Since January 1, the following central banks have announced interest rate cuts or other monetary easing measures: European Central Bank, Reserve Bank of Australia, Reserve Bank of New Zealand, Monetary Authority of Singapore, and the central banks of India, Canada, Denmark, and Sweden.
On February 12th, the Swedish Riksbank announced a surprise rate cut from 0% to below 0%. "To ensure that inflation rises towards the target, the Riksbank is prepared to quickly make monetary policy more expansionary, even between the ordinary monetary policy meetings," the world's oldest central bank said in a statement.
Sweden joins the European Central Bank and the central banks of a handful of other countries in pushing benchmark interest rates into negative territory. These central bankers are all aiming to revive inflation. "Investors" who are buying bonds yielding less than nothing (a negative rate) are apparently convinced that central bankers won't succeed in depreciating their currencies.
Insanity! Investors Now Paying for the "Privilege" of Lending to Broke Governments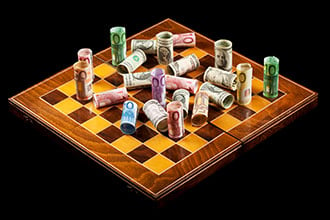 This could go down as one of the oddest, most irrational asset bubbles in history. Trillions of dollars are now tied up in debt instruments that promise to return less than the invested principal. According to a report issued by J.P. Morgan, $3.6 trillion in government bonds around the world now carry negative yields.
It raises the obvious question; why would so many people be willing to accept a negative rate of return?
You'd think that institutional investors would start getting wise to holding gold as a hard-currency alternative to cash instruments that yield less than zero. The fact that gold has no interest rate is actually an advantage in an environment where competing rates are negative! Plus, unlike most of the bonds issued in this upside-down interest rate market, gold has significant appreciation potential.
If inflation rises even modestly to the 2% target of European and U.S. central bankers, then bonds issued at rates of below 2% will all be losers. The two-year Treasury note yields only 0.63%. Even the recent 10-year yield of 1.98% fails to match the Federal Reserve's inflation ambitions.
The fact that gold has no interest rate is actually an advantage in an environment where competing rates are negative!
In this environment of ultra-low nominal yields or even negative real yields, precious metals as a reserve asset look very attractive. Many central bankers around the world agree and are busily accumulating gold. According to a report issued by the World Gold Council in February, governments around the world added 477.2 metric tons of gold to their reserves in 2014. That haul was the second biggest in 50 years.
When inflation fears return to the market, as they eventually will, precious metals will become one of the premier asset classes to hold. Even now, they are performing better than virtually all other world currencies.
The end game of these ongoing currency wars is that all fiat currencies will be debased. And a true flight to quality will accelerate – with assets fleeing depreciating currencies (and debt instruments denominated in them) and piling into gold and silver.
Will the Fed Chicken Out on Rate Hikes?
Of course, right now it's deflation fears that are dominating headlines. But the inflationary policy responses from the European Central Bank and others that have followed the ECB's lead have lifted gold and silver prices markedly in terms of euros and other currencies.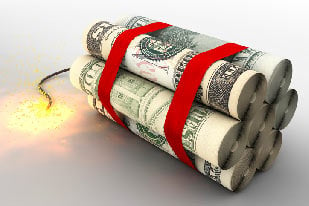 As confidence in European currencies plunges, there's only so much corresponding dollar strength the Federal Reserve is willing to tolerate. There's been much talk of rate hikes coming later this year, and that widespread expectation has been priced into the market. Any rhetorical or policy disappointments from the Fed in the months ahead could cause traders to sell the dollar.
Whether later this year or further down the road, it's only a matter of time before currency turmoil spreads to the United States.
The U.S. has a higher debt-to-GDP ratio than some troubled European countries. It has higher levels of unfunded liabilities (estimated to be in excess of $100 trillion) than any other country. The dollar's status as world reserve currency has allowed the U.S. to become financially overextended. But that vaunted status is slowly deteriorating as Russia, China, and other countries form economic alliances that bypass the dollar.
When these chickens come home to roost, you don't want to be wholly dependent on the U.S. government's promises or its currency. Sizeable holdings in physical precious metals will help make you financially resilient in the face of the spreading global currency crisis.
During the Oscars last Sunday night, winner Patricia Arquette, Boyhood, admonished America to work for women's equal pay. J.K. Simmons, Whiplash, invited Americans to phone their parents and thank them. Michael Keaton, Birdman, told the audience how thankful he felt for his life and his son.
All of the winners and losers spoke eloquently about their fortunes and misfortunes in the American film making business. Ironically, legendary Clint Eastwood's epic film, American Sniper, out-grossed all the other top Oscar winning films combined. The academy ignored his movie.
The movie, Selma, produced by Oprah Winfrey, didn't fare very well. If you remember, back in the era of Dr. Martin Luther King, African-Americans marched from Selma to Montgomery, Alabama to force this nation toward voter rights and Black rights in the American pantheon.
Since that time, America evolved to see African-Americans like Colin Powell become Secretary of State; Clarence Thomas and Thurgood Marshall served on the Supreme Court; Condoleezza Rice became Secretary of State; Barack Obama became president and much more as US Senators, governors, mayors and House of Representatives feature African-Americans from every walk of life.
African-Americans dominate the NBA, NFL and major television shows such as "Scandal" and "How to get away with murder." American Blacks head up Fortune 500 companies.
With all of their success, a black dance group pranced on the stage at the Oscars with a highly racially charged routine depicting their struggles against White America. At one point, they all raised their hands, shouting, "Hands up! Don't shoot!" They referred to 18-year-old Michael Brown in Ferguson, Missouri who lost his life after he robbed a convenience store and charged a police officer.
Six African-American witnesses testified that Brown wrestled the police officer for his gun in the police squad car and they testified that Brown charged the police officer with intent to overpower him. Riots and carnage resulted in burning down a good portion of the city while Al Sharpton and Jesse Jackson charged racism and ruthless police tactics.
In reality, Michael Brown showed up in several videos where he viciously beat an old man senseless and his crime sheet showed a budding criminal who would reach jail or death, whichever came first.
Somehow, major Black leaders lay the blame on White America for all of Black America's problems. Even Barack Obama said that Trayvon Martin, a budding criminal in his own right, could be Obama's son.
Black Americans omit or ignore numerous aspects of Black crime, poverty, illiteracy and prison sentences.
First of all, the latest statistics show that 6,000 Black on Black killings occur annually in the USA via strangling, guns, knifes and beatings. No Black leaders whisper a word about how to solve such horrible numbers. They don't condemn their own actions, but they always condemn Whites.
Second, 73 percent of African-American children arrive out of wedlock and into welfare with a single mother annually. None of the Black community that screams at the Brown and Garner killings, breathes a word about the irresponsible actions of Black teen girls and their boyfriends. They live on welfare provided by the American taxpayer. Is it any wonder that the African-American family devolves into fatherless families, rogue children, violence, illiteracy, shoplifting and cyclical dependency on taxpayers?
Third, figures show that Black American teens quit high school by 50 to 60 percent in our major cities. Millions of African-Americans guarantee their poverty, homelessness, joblessness and fatherless families. They choose their conditions.
Fourth, millions of Black Americans fill our prisons in a response to their choices to deal, consume and transport drugs. Each African-American chooses prison when they choose to break the law.
Fifth, a whopping 48 million Americans failed themselves as to education, personal responsibility and personal accountability as they subsist on food stamps provided by American taxpayers. Millions of Blacks stand in the ranks of those who gain EBT cards (Electronic Benefits Transfers) for food stamps and free housing.
Each person, Black or White, suffering lack of an education and making poor choices, brings a personal tragedy into the fabric of American life. Our inner city projects like Chicago, Detroit, New York City, Atlanta, Houston, Denver and Los Angeles—bear witness that we must change our national priorities.
Instead of massive financial disasters of 13-year wars created and maintained by bankers and the Military Industrial Complex, we need to fund national educational systems that work for our youth. We need all male and all female schools with dress codes to take the sexual intrigues out of the classrooms. We need to teach parents how to parent their children by mandatory classes before marriage. We need to pay teachers and mentors ample money to create discipline and respect for education.
We need to stop endless and massive legal immigration, that injects 1.2 million people annually, who take jobs from our working poor. We need to reduce all immigration to less than 100,000 annually instead of the current 100,000 every 30 days. We must elect Congressional leaders who garrison troops on our Mexican border to stop in excess of 500,000 illegal aliens jumping our borders and into our workforce annually. If not, we cannot and will not solve mass unemployment of Black America. The past five presidents and Congresses did nothing to help Black or White Americans as to jobs. In fact, Congress forces our poorest into more poverty by mass immigration.
We need Black national leaders to lead, guide and inspire African-American youth to participate in the American Way of Life. Whether Black America likes its past or not, it now must deal with living in a highly educated, highly industrialized 21st century country.
We need all the angry Al Sharpton's, all Black entertainers, all sports heroes and political leaders to stand in front of Black audiences and thank their lucky stars for living in America. If Black Americans lived in the unending violence of Africa for a few months, examples—mass murderer Boko Haram, Somalia, Sudan, Congo, millions dying of AIDS, etc., they would change their mantra of "Hands up! Don't Shoot!" to "How lucky I am! Praise the Lord!"
Have Black Americans wondered why all those millions of starving African immigrants clamor to come to America? They die by the millions in Africa from starvation, AIDS, cholera, Malaria, genocide wars and worse.
If we hope to maintain a viable civilization, we all need to buckle down to education, jobs, lawful communities and civil participation. If not, we all face Ferguson, Missouri's in our own towns across the nation, especially in our cities where the cauldrons boil with contempt for law and order. You heard the marches, "Kill cops now!"
Once our nation loses its respect for law and order, we all face what occurs in Africa, the Middle East, Mexico and Paris, France daily. It's not going to be pretty for anyone.
Ferguson, Missouri with its race-riots; Chicago, Illinois with its 50 black on black shootings over the 4th of July weekend and New York City's latest African-American death portend something deeper and much deadlier than a Grand Jury verdict that exonerated a white police officer.
Today in America, a sizeable population of Americans shoplift $25 million daily out of mercantile stores. Millions drive drunk in the face of strict and punishing laws for intoxicated driving. Tens of thousands text while driving at 70 mph, which kills 3,000 people annually. It matters not that it's against the law and against common sense. Thousands of black on white and black on black murders accelerate into the national news. Black on black rapes, black on white rapes and violence toward children in the inner cities continues without causing riots or national concern.
In Detroit, Chicago, New York, Denver, LA, New Orleans and elsewhere across America, black schools suffer 50 to as high as 76 percent flunkout-dropout rates. Result: millions of teens hit the streets illiterate every June. Currently in America today, 42 million people cannot read or write—which equates to functional illiteracy. Note: we feed 48 million people on food stamps because they cannot earn money with a job.
A profoundly disturbing 73 percent of African-American children arrive out of wedlock to single mothers who subsist on welfare. One famous video of an African-American woman in Florida with 15 children living in a motel defies understanding. She screamed at the news reporter, "Somebody's got to take responsibility for all these kids."
A sense of personal responsibility and accountability never occurred to her. It's everyone else's fault that her illegitimate kids don't enjoy a home or three meals a day or a father(s).
In Ferguson, 6'4", 290 pound, 18 year old, African-American Michael Brown robbed a convenience store, and nearly choked the storeowner when the owner tried to stop Brown. A few minutes later, Officer Darren Wilson stopped the giant of a teenager who boasted a rap sheet history of robberies. The teen attacked the officer in his own squad car. Then, minutes later, after being shot in the hand, the teenager ran, but turned back to charge toward the police officer. After many shouts to halt, the officer, fearing for his life, shot the young man dead.
A Grand Jury, including six African-Americans, heard all the facts and all the witnesses to the case. They voted to not indict Officer Wilson because the behemoth of a man charged toward him with the ability to crush the officer, take his gun and kill the officer.
That decision, made by lawful citizens, morphed into the Ferguson riots and burnings. It caused race-baiter Al Sharpton to create the false flag of, "Hands up, don't shoot" motto.
Also, when the 6'4", 350 pound, 45-year-old Eric Garner, died because of an arrest chokehold that cut off his air, more demonstrations raged across the country.
While emotions ran high, Sharpton raced to the head of the crowd to claim his almighty righteousness. Burning buildings and cars costs millions, but settles nothing. Blaming everyone else for personal behavior solves nothing.
When a police officer stops me for a traffic infraction, I say, "Yes sir and yes ma'am." I don't argue. I don't make excuses. I don't attempt to fight them. I don't try to pull their gun. I keep my hands on the wheel and look them in the eye. If I get a ticket, I sign for it and pay for it. Yes, it ruined my day, but I got caught speeding. I am responsible. When a police officer has you in his or her sights, you don't argue because they command you for time being. If you don't want a police officer to stop you, obey the law.
Both Brown and Garner broke the law and fought the police officers. If they chose to put their hands into cuffs and be led away to their day in court, both would be alive today. They didn't so they died. If you break the law, you pay the consequences.
That's why we engage laws to maintain a civil society.
Right now, the African-American community, black on black crime, suffers 6,000 murders annually. You never hear a word about it. With 73 percent of African-American children living with a single mother, the African-American "family" lives in shambles that create more anger, illiteracy, violence, poverty and killings. It's the greatest tragedy since slavery. But in this case, African-Americans do it to themselves. No other ethnic group in America suffers so much death and poverty. Why? My bet: it started with Lyndon Baines Johnson's "War on Poverty" and the "Great Society" that created endless welfare for those who enjoy doing nothing with their lives.
How about this idea? Why doesn't the Congressional Black Caucus investigate the "whys" of black poverty, crime and killings? Then, pass laws to create jobs, fund schooling and vocational training. How about a national network to educate teen African-American girls on the dangers of early pregnancy. Intense-disciplined training and schooling must be introduced into the inner city ghettos. Separate male and female schools to cut down on the sexual intrigue that creates so many fatherless children.
How about the African-American educated leaders like Barack Obama, Eric Holder, Colin Powell and mega-rich black entertainers step up to the plate to solve the problems facing African-Americans in America—rather than ignore them as they have for the past 40 years?
Instead of sending foreign aid over to countries that hate us, why not spend it on our own citizens for their and our benefit? Instead of 10 to 13 year wars overseas that accomplish nothing, why not use the money for jobs and training for African-Americans? And all our poor citizens?
How about a Master Mind Group Think Tank that coordinates to discover the causes of black poverty and crime—then solve it, change it and turn it around?
We cannot endure high school kids marching down the streets of our cities yelling, "F*** the cops."
I think Bill O'Reilly presented America with the best five-minute speech on the African-American predicament.
We need to teach young people personal accountability, personal responsibility and a sense of community. We need to teach respect for law. We need to teach all teens the ramifications of teen pregnancies and how to prevent them. We need to examine ourselves as a society, what means something to us, and how to regain the family unit.
If not, millions of Michael Brown's and Eric Garners will kill each other, steal and cheat, and impregnate endless teen girls into motherhood without fathers. We need to get this done. If not, more Ferguson riots face all of them and all of us.
A recent study by Harvard Business School found that United States corporate executives make over 300 times as much as the average worker.  Based on a $30,000 annual worker income and a 40 hour week the CEO gets $4326.00 an hour while the worker gets $14.42.
In the mid-thirties during the depth of a serious depression executives at General Motors were making 200 times as much as their workers. It was this disparity that helped set the stage for a power shift from the corporate moguls to John L .Lewis  and his CIO (Congress of Industrial Organizations).  John L. Lewis and hundreds of thousands of disgruntled workers succeeded in forcing well-armed and well connected corporate executives to allow collective bargaining which ultimately unionized large portions of the U. S work force.
It was a struggle of epic proportions that bared the fangs of the power elite against the will and leadership of the workers.  It began at the Chevrolet Body Plant in Cleveland, Ohio and spread to Flint, Michigan then to Atlanta, Kansas City, Pontiac, and finally to Detroit itself.  Nearly half a million workers were involved.  At Flint they staged a sit in where the workers sat at their stations day and night.  Machine guns were brought in.  The courts got involved. Finally an injunction was issued.
The strike began on December 28, 1936.  The edict ordered prison sentences and million dollar fines if the strike was not stopped by February 3rd.  Governor Frank Murphy of Michigan called out the National Guard who along with strike breakers armed with clubs and crowbars surround the Flint Plant.
According to William Manchester's account in "The Glory and the Dream" Governor Murphy was ready to send the bayonets of the National Guard against the workers when at the last moment he called John L. Lewis asking what he should do. Lewis replied, "You want my answer, sir?  I shall personally enter General Motors Chevrolet Plant Number Four.  I shall order the men to disregard your order, to stand fast.  I shall walk up to the largest window in the plant, open it, divest myself of my outer raiment, remove my shirt and bare my bosom.  Then when you order your troops to fire, mine will be the first breast that those bullets will strike.  And as my body falls to the ground, you will listen to the voice of your grandfather as he whispers in your ear, 'Frank, are you sure you are doing the right thing?'" (Murphy's grandfather had been hanged in an Irish uprising.)
Fourteen strikers were wounded during the night but Murphy backed down and finally ordered GM not to prevent the strikers from carrying food to the sitting strikers.  With President Roosevelt silent and Governor Murphy aiding the strikers the corporate elites succumbed, signing contracts for collective bargaining.  Unionization spread rapidly into other big corporations.
Globalization was anathema to union workers.  When the rape of United States markets was set in place by our elected officials through ratification of international trade legislation a great burden was placed on unions.  The rush to be competitive in world markets was diametrical to unionism.
Justice is a prerequisite to peace.  When human power is concentrated and not prescribed ghastly actions often result.  God's overarching legal system provides perfect justice and a necessary restraint; when it is cast off the power swings that marked unions and management replace it.
In our time a more insidious power structure threatens our well-being. For at least a century a systematic plan has been in place to bring the nations of the world under international law.  Nation after nation has been subverted by monstrous, opaque centralized power.  Every major nation of the Western world has been subjected to stealth control. Debt is the weapon.  Since Islam forbids most debt, Muslim nations are harder to conquer.   Military force is necessary and the United States is being used as an instrument of conquest.
Corporate mergers have created behemoths that have little competition and are tyrannical in their own rite. The furtive power seekers are not planning a free society.  Their vision appears to be a controlled environment similar to China.  As economic pressure drains wealth from the United States and oppression ramps up, our standard of living falls, eventually bringing us to par with third world labor.  It is like a 007 movie where James Bond has accepted a bribe to join Blofeld.
Globalization is marred by the illegal procedures used to bring it about.  Wealthy and powerful men and women conspired to burglarize, undermine, and tyrannize the entire population of the world. Their methods are bribery and intimidation and the results of their evil intentions are apparent around the globe.
One wonders if an honest, forthright free-will proposition had been presented to the people of Western Civilization they might have voluntarily participated in bringing the Far Eastern Nations into their economic circle and endorsed an international legal code that would guide global trade.  Conspiracies are sometimes successful but they are wicked and harsh.
Recently, the National Press Club hosted a debate on War and the Constitution between Bruce Fein, a Ron Paul adviser and resident scholar at the Turkish Coalition of America, and John Yoo,  a wily Korean born Constitutional Lawyer and prominent Bush II adviser. C-Span carried the debate.  Yoo maintained that the increase in the power of the Executive Branch of our government was a result of congressional acquiescence and Fein maintained that it is up to the people to elect officials that will abide by the Constitution.
The contending positons were logical and convincing but as with all of public discourse the core issues were evaded.  No one mentioned the fact the incumbent elected official have the political clout to codify unconstitutional and tyrannical law while continuing to garner enough votes to stay in office.  Yoo claimed that congressional leaders are regularly consulted on Executive Orders and other major decision.inclosed sessions; no one mentioned that this plotting is inimical to the well-being and health of the nation.
Consider the repercussions if a nuclear bomb had been dropped on the city of Detroit!   Legislation passed by our elected officials has caused similar damage.  In a recent interview a Detroit official said that there are 80,000 derelict homes in the city. They are being demolished in a process that is similar to cleaning up after a major attack.  The destruction of this once great city is a result of the heretical actions of our own government and it has been done without as much as a whimper from our citizens.
Fein was right when he placed responsibility with the people but at this point the statement was mute for not only has the damage been done but our people are still inert and deluded. Because we have forsaken the Creator and cleaved to the creature our delusion has allowed us to sink so far into the quicksand that escape seems improbable.
Rousas Rushdoony writes "To control the god of any system is to control the men within it. The long battle between church and state has this fact at its roots.  Orthodox Christianity gives us a God who is beyond the control of church and state alike.  Hence the God of Scripture has been resented by civil governments, and attempts to subvert orthodox Christianity and its churches have been legion.  The church too often has been restless under so sovereign a God; churchmen too prefer a god who can be put into man's pocket."
The citizens of the United States of America worship humanistic gods.  Our deities are designed and controlled by human beings.  These gods, created in human minds, have been in place for most of United States history.
Now the chickens have come home to roost!
Human beings were not created to govern themselves and when the anarchy of human opinion gains leverage over society, absurdity, chaos, and tyranny soon follow.
In the Harvard survey U. S. citizens guessed that corporate executives were making about 30 times the average worker's wage.   Citizens in other nations made similar errors in estimates.
It is readily apparent that the captain of the ship fills a more important role than a kitchen worker but to accurately measure and quantify that difference is difficult.
What is interesting, however, is that the U. S. tops the world in the size of its wage inequity.  Switzerland is 2nd and Germany is 3rd, both have disparities of about 150 times the average worker or half that of the U. S. Wage inequity is not the only area in which our nation excels:  We incarcerate the larger percentage of our citizens than any other nation in the world (including China and Russia); we have the world's largest army.  We had the world's largest economy before the power barons began to dismantle it.  We are probably the most violent nation.  Violence brought the United States independence, violence freed the slaves and preserved the nation, violence conquered the West, it was the instrument of land acquisition, and of efforts to subdue rebels.  Now it is being used to subdue the Muslim world.
When we are too lethargic to stop voting in elections that are rigged and too lazy to verify that our news is mostly propaganda and lies, we have no chance of helping to bring our profligate nation back under the sovereignty of the One True God.
God's Law provides perfect justice.  Peace is impossible without justice.  When injustice becomes ingrained in a society that society comes under judgment and God's judgment can be grueling.  If Bruce Fein's charge to U. S. citizens ever finds fertile ground it must start with Christians.  Christians are required to be the light of the world.  Light reveals what darkness hides.  It is long past time for Christians to discern and reveal the evil that confronts us.
Norman Rockwell's America carried incredible nostalgia for the way this country once operated.  "Father Knows Best" captured our understanding of "family" in America.  Jackie Gleason on the "Honeymooners" along with Andy Taylor and Barney Fife instilled our mutual belonging.  Bill Cosby brought us together with the "Cosby Show."  Everyone spoke English and everyone enjoyed employment and hope.
From the 50s to the 70s, most people worked a job, our Congress made laws to ensure our well-being along with a viable nationhood.  Even with our racial strife, women's rights, gay rights and battles over Roe vs. Wade—America allowed every citizen the right to pursue "Life, liberty and the pursuit of happiness."
After my latest bicycle journey across America this summer, we unknowingly bear witness to the greatest racial and demographic shift ever self-inflicted on one country in the history of the world.  By 2042, the Pew Research Center reports that the current European-American majority (down from 90 percent in 1960 to 54 percent in 2014) faces the new Latino majority within 28 years.  All of it created by endless legal and illegal immigration.
During the next 36 years, Americans face an added 100 million legal immigrants from 150 countries around the globe.  They stream into America at blinding speed via our invitations, chain migration and birth rates.  How can we equate adding 100 million immigrants?  Answer: that number equates to doubling the size of our 25 most populated cities.  It means New York City jumps from 8.3 million to 16.6 million, Chicago from 5.1 million to 10.2 million and on down the line.
What does such an immigration invasion mean to our communities?  Our way of life?  Our quality of life?  Our standard of living?  Our environment?  Our educational systems?
Answer:  as the numbers rise to that 100 million level, everything in our society degrades, devolves, degenerates and worsens.
You cannot stop a fire by spraying gasoline on it.  You can't solve California's drought or wildfires by adding another 20 million foreigners to that state via immigration.  We cannot EVER catch up to exponential growth because it outruns our ability to solve its endemic and systemic consequences.
And, oxymoronically, we can't solve our predicament by passing S744 Amnesty Bill that doubles legal immigration to 2.0 million annually.
What's the final equation?  Since I traveled through dozens of third world countries in the last 40 years, I noticed they couldn't solve their problems, either.  They face(d) horrific food and water contamination, disease and shortages.  Just look at Ebola in Africa along with AIDS that killed 15 million thus far.  Their citizens face endless illiteracy because they can't install a viable educational system. They face conflict over resources.
As you notice in such areas as Iraq, Afghanistan, Haiti, Mexico, Brazil, China, India, Bangladesh, Indochina, Congo, Ethiopia, Somalia and dozens of other countries—you see continual religious, resource, food and water conflicts.
That's where the United States of America steams.  You can see it in our ethnic conflicts today whether Ferguson, MO riots, Chicago featuring 50 gun fights over the 4th of July weekend, black on black killings into the tens of thousands over the past several decades, 76 percent dropout/flunkout rates for Detroit public schools, which creates over 60 percent illiteracy rates.  Illiteracy remains the key indicator of a third world country.  Once it takes hold, it becomes intractable.
One look at our welfare system shows 68 percent of African-American children reared by a single mother on welfare.  We feed 48 million Americans and non-Americans with EBT or food stamps.  We see a complete breakdown of our middle class with no way to fight joblessness, futility or obesity caused by illiteracy.  Right now, obesity explodes as a national epidemic of health care nightmares for our citizens.
Question: how do you think any of our current sociological, environmental, water, energy, racial and growing religious strife can or will get better.  With those 100 million legal immigrants, you may expect to see an increase of Muslims in our country from 7.5 million to well over 20-30 million by 2050.  Sociologists reported that once Islam reaches 8 percent of the host nation's population, they become violent, arrogant and use the system to back the host country down to agree to Sharia Law. Notice the riots in Sweden and two separate London's. Look at France's nightmare.  Sharia law stands against every Western sensibility for women's rights, gays' rights, free speech, education, marriage choices and religious choice.  Note that hundreds of Muslim-Americans signed up to join terrorists groups in the Middle East.   What happens when they turn their terror toward us?
Australia discovered a major plot fomented by citizen Muslims to commit beheadings in the streets of Sydney this summer. If you think I am kidding, watch this short video:
Published on Sep 18, 2014: More than 800 Police in Australia have carried out anti-terror raids in Sydney (12 suburbs) sparked by intelligence reports that Islamic extremists were planning random killings (beheadings) in Australia:https://www.youtube.com/watch?v=V0ctrDnM__4
Additionally, look for three major languages to create major chaos and loss of our national ethos in the coming decades. Look for linguistic confusion and separation from being a citizen of the United States because you speak Arabic, Spanish or English.  In the end, we face becoming a nation of strangers.
What solutions might we enact to save ourselves?
Immediate reduction of all legal immigration to less than 100,000 annually instead of the current 100,000 every 30 days from 150 countries around the globe.
Immediate enforcement of our current work, rent and transport laws against employers of anyone illegally in the USA.
Immediate discussion on "60 Minutes"; "Face the Nation" ; "Meet the Press" ; Charlie Rose; NBC, CBS, FOX, ABC, CNN, Bill O'Reilly, Wolf Blitzer, Shepard Smith, Megyn Kelley and all talk radio shows on how many people can our country hold and what's the point of adding another 100 million foreigners when we already face enormous problems with what we currently hold.
Millions of Americans need to join www.NumbersUSA.org; www.CapsWeb.org and www.Fairus.org and www.TheSocialContract.com in order to grow you strength via collective empowerment.
Otherwise, we keep heading where we're headed. And, we'll end up just like any third world country.  Crowded, scant opportunities, lack of education, water shortages, energy crisis, religious conflict, environmental degradation and worse.  It's inevitable if we fail to stop mass immigration.  I am amazed that I am the only US journalist who sees this monster so clearly, yet I see no national movement to stop it.  Result: we doom our kids to a very sobering future of a fractured and fragmented civilization that cannot right itself.
When Christians entangle themselves with the kingdoms of the world, they become worldly in the very worst way. — Pastor Gregory Boyd…

When someone becomes director of pediatric neurosurgery at Johns Hopkins at the age of 33, you need to admire such an achievement.
When, at 36, this same man leads a surgical team that separates Siamese twins who were joined at the head, youreally need to admire such as achievement.
And when you learn that this man was raised in poverty by a single mom in the Detroit ghetto, you should simply stand in absolute awe of their life story.
But when this person gets serious about running for president of the United States, you need to start asking serious questions.
This person of such incredible accomplishments is Dr. Ben Carson. And according to this story, he has taken a "major step" toward a run at the White House.
What questions should you ask?
Does Carson understand his job description, i.e. the Constitution?
Does Carson understand the Second Amendment? Read his remarks here about semi-automatic weapons.

Does Carson understand the Ninth and Tenth Amendments? To his credit, Carson supports medical marijuana. However, he is all reefer madness when it comes to recreational marijuana.
And this has nothing to do with whether or not you yourself hit the lettuce. A government that will fine or imprison you for a victimless act like smoking marijuana will intrude on your life without end. And if you would fine or imprison someone for hitting the lettuce, you thereby forfeit your right to complain when an overbearing government intrudes on your life. Drug prohibition has turned the "land of the free" into the nation with the world's highest incarceration rate.
And then there is the question of whether Carson understands constitutional limits on foreign policy and the military. Does he understand that there is absolutely zero constitutional basis for America being a "superpower" with a global troop presence?

Read this 600-word column in which Carson calls Obama's already overly aggressive foreign policy "rudderless". Can anyone interpret this as anything other than a call for endless war and meddling whenever Washington wants wherever Washington wants?
This is from a man who had originally opposed America's invasions of Iraq and Afghanistan. But now, he serves up a lot of pre-election year pabulum to pander to the neoconservative base.
Carson also appears to be much more pro-Second Amendment than before. While I agree with his more recent remarks, I am a concerned about the timing. Can we truly trust a man who changes his positions when he appears poised to run for president?

To be sure, Carson opposes Obamacare. However, he appears to support extensiveunconstitutional federal intrusion in the medical marketplace. And if you are implicitly trusting of what a Carson administration would do with these powers, just ask yourself what would happen with these powers in the hands of some Democratic president some day.
Unlike Carson, Ron Paul had an impeccable pro-Constitution and antiwar voting record throughout his 12 terms in Congress. And he did not change his message when he ran for president.
Back now to the subject of war.
Carson is well known for his Christian beliefs. I will take him at his word. And he appears to have lived a morally exemplary Christian life. Has he now succumbed to the temptations of fame and politics?
He has no problem with America's status as a "superpower". What is Christian about this? When the devil offered Jesus unlimited political power – Matthew 4:8-10 – Jesus declined the offer. Why is it then that so many Americans who claim to follow Jesus are so enamored with America's military might?

He calls the recent sanctions that Obama imposed on Russia "toothless". What would "toothy" sanctions look like in real life? And is there anything Christian about barriers to trade? In the Great Commission – Matthew 28:18-20 – Jesus tells His followers to bringthe Gospel to all nations, regardless of political circumstances. And when products cannot cross borders, bibles and missionaries can't do so either.
And Carson craftily writes this essay without using the word "war" once. Again, what will Carson's foreign policy look like other than global war? And who will be spilling their blood in all these conflicts? Will it be Carson or will it be kids from the South Bronx and the Oklahoma Panhandle whose names he will never know and whose funerals he most probably will not attend?
(Just in case anyone is interested, Carson himself never served a day in the military.)
And can Carson be taken seriously as "pro-life" when he advocates so much militarism?
War is just like Obamacare or any other government program. Those who promote it would rather have their fingernails extracted without anesthesia than talk about its real world implications.
And I know Carson sounds well-intended. Did you ever hear a politician who didn't sound this way?
A government that will act without restraint abroad is just like a government that will interrupt your life for smoking marijuana. It will acknowledge no restraint anywhere.
There is an overwhelming temptation to believe that if we just put "good people" in power, they will wield this power benevolently. The difference between Ron Paul and Ben Carson is that Ron Paul understood the role of government and remained uncorrupted. Ron Paul would not compromise his principles for political gain. Carson, on the other hand, appears to be falling into way too much temptation way too soon. Indeed, it has been said that when you dance with the devil, you don't change him, but he changes you.
Christianity is not about controlling the world from the top down, but influencing the world from the bottom up. Christians are to influence the world with the examples they set in their daily lives – Matthew 5:13-16, Galatians 5:22-23, I Peter 2:12 – rather than through accruing unlimited political power.

Just the other day, I read the following status update on Facebook: "I have heard many warnings about addictive substances and activities. If only there were more warnings and more wariness about the allure and the addictiveness of power. 'If any man desire to be first, the same shall be last of all, and servant of all.' Jesus (Mark 9:35)"
As Christians, we pray "Lead us not into temptation" – Matthew 6:13.
Ben Carson has done way too much good with his life to squander his legacy in one of the most corrupt offices on earth, that of the presidency. (It was unspeakably corrupt LONG before Obama.) He could do so much more to benefit so many more people if he would just stay away from politics.
"But if we don't get someone like Carson, we will wind up with Hillary!"
As Lew Rockwell once so succinctly put it, the right hates the left more than it hates the state. We need to fear God's Judgment far more than we fear Hillary. Empires are the ultimate expression of human arrogance and hubris. As history shows, they all come to an end, and often a very ugly end. And if you are a Christian, read Revelation 18 and tell me who you think it is about.
It will take enormous courage for Ben Carson to eschew the allure of the White House. However, he needs to step aside and do it now if he truly is the genuine article.
During Cold War One those of us in the American radical left were often placed in the position where we had to defend the Soviet Union because the US government was using that country as a battering ram against us. Now we sometimes have to defend Russia because it may be the last best hope of stopping TETATW (The Empire That Ate The World). Yes, during Cold War One we knew enough about Stalin, the show trials, and the gulags. But we also knew about US foreign policy.
E-mail sent to the Washington Post July 23, 2014 about the destruction of Malaysian Airlines Flight 17:
Dear Editor,
Your July 22 editorial was headed: "Russia's barbarism. The West needs a strategy to contain the world's newest rogue state."
Pretty strong language. Vicious, even. Not one word of hard evidence in the editorial to back it up. Then, the next day, the Associated Press reported:
Senior U.S. intelligence officials said Tuesday that Russia was responsible for 'creating the conditions' that led to the shooting down of Malaysia Airlines Flight 17, but they offered no evidence of direct Russian government involvement. … the U.S. had no direct evidence that the missile used to shoot down the passenger jet came from Russia.
Where were these words in the Post? You people are behaving like a rogue newspaper.
– William Blum
I don't have to tell you whether the Post printed my letter. I've been reading the paper for 25 years – six years during Vietnam (1964-1970) and the last 19 years (1995-2014) – usually spending about three hours each day reading it very carefully. And I can say that when it comes to US foreign policy the newspaper is worse now than I can remember it ever was during those 25 years. It's reached the point where, as one example, I don't take at face value a word the Post has to say about Ukraine. Same with the State Department, which makes one accusation after another about Russian military actions in Eastern Ukraine without presenting any kind of satellite imagery or other visual or documentary evidence; or they present something that's wholly inconclusive and/or unsourced or citing "social media"; what we're left with is often no more than just an accusation.  Do they have something to hide?
The State Department's Public Affairs spokespersons making these presentations exhibit little regard or respect for the reporters asking challenging questions. It takes my thoughts back to the Vietnam era and Arthur Sylvester, Assistant Secretary of Defense for Public Affairs, the man most responsible for "giving, controlling and managing the war news from Vietnam". One day in July 1965, Sylvester told American journalists that they had a patriotic duty to disseminate only information that made the United States look good. When one of the reporters exclaimed: "Surely, Arthur, you don't expect the American press to be handmaidens of government," Sylvester replied: "That's exactly what I expect," adding: "Look, if you think any American official is going to tell you the truth, then you're stupid. Did you hear that? – stupid."
Such frankness might be welcomed today as a breath of fresh air compared to the painful-to-observe double-talk of a State Department spokesperson.
My personal breath of fresh air in recent years has been the television station RT (formerly Russia Today). On a daily basis many progressives from around the world (myself included occasionally) are interviewed and out of their mouths come facts and analyses that are rarely heard on CNN, NBC, ABC, CBS, NPR, PBS, Fox News, BBC, etc. The words of these progressives heard on RT are typically labeled by the mainstream media as "Russian propaganda", whereas I, after a long lifetime of American propaganda, can only think: "Of course. What else are they going to call it?"
As for Russia being responsible for "creating the conditions" that led to the shooting down of Flight 17, we should keep in mind that the current series of events in Ukraine was sparked in February when a US-supported coup overthrew the democratically-elected government and replaced it with one that was more receptive to the market-fundamentalism dictates of the World Bank, International Monetary Fund, and the European Union. Were it not for the coup there would have been no eastern rebellion to put down and no dangerous war zone for Flight 17 to be flying over in the first place.
The new regime has had another charming feature: a number of outspoken neo-Nazis in high and low positions, a circumstance embarrassing enough for the US government and mainstream media to turn it into a virtual non-event. US Senator John McCain met and posed for photos with the leader of the neo-Nazi Svoboda Party, Oleh Tyahnybok (photos easily found on the Internet). Ukraine – whose ties to Naziism go back to World War Two when their homegrown fascists supported Germany and opposed the Soviet Union – is on track to becoming the newest part of the US-NATO military encirclement of Russia and possibly the home of the region's newest missile base, target Moscow.
It is indeed possible that Flight 17 was shot down by the pro-Russian rebels in Eastern Ukraine in the mistaken belief that it was the Ukrainian air force returning to carry out another attack. But other explanations are suggested in a series of questions posed by Russia to the the Secretary-General of the UN General Assembly, accompanied by radar information, satellite images, and other technical displays:
"Why was a military aircraft flying in a civil aviation airway at almost the same time and the same altitude as a civilian passenger aircraft? We would like to have this question answered."
"Earlier, Ukrainian officials stated that on the day of the accident no Ukrainian military aircraft were flying in that area. As you can see, that is not true."
"We also have a question for our American colleagues. According to a statement by American officials, the United States has satellite images which show that the missile aimed at the Malaysian aircraft was launched by the militants. But no one has seen these images."
There is also this intriguing speculation, which ties in to the first Russian question above. A published analysis by a retired Lufthansa pilot points out that Flight 17 looked similar in its tricolor design to that of Russian President Putin's plane, whose plane with him on board was at the same time "near" Flight 17. In aviation circles "near" would be considered to be anywhere between 150 to 200 miles.  Could Putin's plane have been the real target?
There is as well other serious and plausible questioning of the official story of Russia and/or Ukrainian anti-Kiev militias being responsible for the shootdown. Is Flight 17 going to become the next JFK Assassination, PanAm 103, or 9-11 conspiracy theory that lingers forever? Will the Iraqi weapons of mass destruction and the Syrian chemical weapons be joined by the Russian anti-aircraft missile? Stay tuned.
Will they EVER leave Cuba alone? No.
The latest exposed plot to overthrow the Cuban government … Oh, pardon me, I mean the latest exposed plot to bring democracy to Cuba …
Our dear friends at the Agency For International Development (USAID), having done so well with their covert sub-contractor Alan Gross, now in his fifth year in Cuban custody … and their "Cuban Twitter" project, known as ZunZuneo, exposed in 2012, aimed at increasing the flow of information amongst the supposedly information-starved Cubans, which drew in subscribers unaware that the service was paid for by the US government … and now, the latest exposure, a project which sent about a dozen Venezuelan, Costa Rican and Peruvian young people to Cuba in hopes of stirring up a rebellion; the travelers worked clandestinely, using the cover of health and civic programs, or posing as tourists, going around the island, on a mission to "identify potential social-change actors" to turn into political activists. Can you believe that? Can you believe the magnitude of naiveté? Was it a conviction that American exceptionalism would somehow work its magic? Do they think the Cuban people are a bunch of children just waiting for a wise adult to come along and show them what to think and how to behave?
One of these latest USAID contracts was signed only days after Gross was detained, thus indicating little concern for the safety of their employees/agents. As part of the preparation of these individuals, USAID informed them: "Although there is never total certainty, trust that the authorities will not try to harm you physically, only frighten you. Remember that the Cuban government prefers to avoid negative media reports abroad, so a beaten foreigner is not convenient for them."
It's most ironic. The US government could not say as much about most of their allies, who frequently make use of physical abuse. Indeed, the statement could not be made in regard to almost any American police force. But it's this Cuba that doesn't beat or torture detainees that is the enemy to be reformed and punished without mercy … 55 years and counting.
The United States and torture
Two of the things that governments tend to cover-up or lie about the most are assassinations and torture, both of which are widely looked upon as exceedingly immoral and unlawful, even uncivilized. Since the end of the Second World War the United States has attempted to assassinate more than 50 foreign leaders and has led the world in torture; not only the torture performed directly by Americans upon foreigners, but providing torture equipment, torture manuals, lists of people to be tortured, and in-person guidance and encouragement by American instructors, particularly in Latin America.
Thus it is somewhat to the credit of President Obama that at his August 1 press conference he declared "We did a whole lot of things that were right, but we tortured some folks. We did some things that were contrary to our values."
And he actually used the word "torture" at that moment, not "enhanced interrogation", which has been the euphemism of preference the past decade, although two minutes later the president used "extraordinary interrogation techniques". And "tortured some folks" makes me wince. The man is clearly uncomfortable with the subject.
But all this is minor. Much more important is the fact that for several years Mr. Obama's supporters have credited him with having put an end to the practice of torture. And they simply have no right to make that claim.
Shortly after Obama's first inauguration, both he and Leon Panetta, the new Director of the CIA, explicitly stated that "rendition" was not being ended. As the Los Angeles Times reported at the time: "Under executive orders issued by Obama recently, the CIA still has authority to carry out what are known as renditions, secret abductions and transfers of prisoners to countries that cooperate with the United States."
The English translation of "cooperate" is "torture". Rendition is simply outsourcing torture. There was no other reason to take prisoners to Lithuania, Poland, Romania, Egypt, Jordan, Kenya, Somalia, Kosovo, or the Indian Ocean island of Diego Garcia, to name some of the known torture centers frequented by the United States. Kosovo and Diego Garcia – both of which house large and very secretive American military bases – if not some of the other locations, may well still be open for torture business. The same for the Guantánamo Base in Cuba.
Moreover, the Executive Order referred to, number 13491, issued January 22, 2009, "Ensuring Lawful Interrogations", leaves a major loophole. It states repeatedly that humane treatment, including the absence of torture, is applicable only to prisoners detained in an "armed conflict". Thus, torture by Americans outside an environment of "armed conflict" is not explicitly prohibited. But what about torture within an environment of "counter-terrorism"?
The Executive Order required the CIA to use only the interrogation methods outlined in a revised Army Field Manual. However, using the Army Field Manual as a guide to prisoner treatment and interrogation still allows solitary confinement, perceptual or sensory deprivation, sensory overload, sleep deprivation, the induction of fear and hopelessness, mind-altering drugs, environmental manipulation such as temperature and noise, and stress positions.
After Panetta was questioned by a Senate panel, the New York Times wrote that he had "left open the possibility that the agency could seek permission to use interrogation methods more aggressive than the limited menu that President Obama authorized under new rules … Mr. Panetta also said the agency would continue the Bush administration practice of 'rendition' – picking terrorism suspects off the street and sending them to a third country. But he said the agency would refuse to deliver a suspect into the hands of a country known for torture or other actions 'that violate our human values'."
The last sentence is of course childishly absurd. The countries chosen to receive rendition prisoners were chosen precisely because they were willing and able to torture them.
No official in the Bush and Obama administrations has been punished in any way for torture or other war crimes in Iraq, Afghanistan and the other countries they waged illegal war against. And, it could be added, no American bankster has been punished for their indispensable role in the world-wide financial torture they inflicted upon us all beginning in 2008. What a marvelously forgiving land is America. This, however, does not apply to Julian Assange, Edward Snowden, or Chelsea Manning.
In the last days of the Bush White House, Michael Ratner, professor at Columbia Law School and former president of the Center for Constitutional Rights, pointed out:
The only way to prevent this from happening again is to make sure that those who were responsible for the torture program pay the price for it. I don't see how we regain our moral stature by allowing those who were intimately involved in the torture programs to simply walk off the stage and lead lives where they are not held accountable.
I'd like at this point to once again remind my dear readers of the words of the "Convention Against Torture and Other Cruel, Inhuman or Degrading Treatment or Punishment", which was drafted by the United Nations in 1984, came into force in 1987, and ratified by the United States in 1994. Article 2, section 2 of the Convention states: "No exceptional circumstances whatsoever, whether a state of war or a threat of war, internal political instability or any other public emergency, may be invoked as a justification of torture."
Such marvelously clear, unequivocal, and principled language, to set a single standard for a world that makes it increasingly difficult for one to feel proud of humanity.
The Convention Against Torture has been and remains the supreme law of the land. It is a cornerstone of international law and a principle on a par with the prohibition against slavery and genocide.
"Mr. Snowden will not be tortured. Torture is unlawful in the United States." – United States Attorney General Eric Holder, July 26, 2013
John Brennan, appointed by President Obama in January 2013 to be Director of the CIA, has defended "rendition" as an "absolutely vital tool"; and stated that torture had produced "life saving" intelligence.
Obama had nominated Brennan for the CIA position in 2008, but there was such an outcry in the human-rights community over Brennan's apparent acceptance of torture, that Brennan withdrew his nomination. Barack Obama evidently learned nothing from this and appointed the man again in 2013.
During Cold War One, a common theme in the rhetoric was that the Soviets tortured people and detained them without cause, extracted phony confessions, and did the unspeakable to detainees who were helpless against the full, heartless weight of the Communist state. As much as any other evil, torture differentiated the bad guys, the Commies, from the good guys, the American people and their government. However imperfect the US system might be – we were all taught – it had civilized standards that the enemy rejected.
Just because you have a right to do something does not make it right.
The city of Detroit in recent months has been shutting off the supply of water to city residents who have not paid their water bills. This action affects more than 40% of the customers of the Detroit Water and Sewage Department, bringing great inconvenience and threats to the health and sanitation of between 200 and 300 thousand residents. Protests have of course sprung up in the city, with "Water is a human right!" as a leading theme.
Who can argue with that? Well, neo-conservatives and other true believers in the capitalist system who maintain that if you receive the benefit of a product or service, you pay for it. What could be simpler? What are you, some kind of socialist?
For those of you who have difficulty believing that an American city could be so insensitive, allow me to remind you of some history.
On December 14, 1981 a resolution was proposed in the United Nations General Assembly which declared that "education, work, health care, proper nourishment, national development are human rights". Notice the "proper nourishment". The resolution was approved by a vote of 135-1. The United States cast the only "No" vote.
A year later, December 18, 1982, an identical resolution was proposed in the General Assembly. It was approved by a vote of 131-1. The United States cast the only "No" vote.
The following year, December 16, 1983, the resolution was again put forth, a common practice at the United Nations. This time it was approved by a vote of 132-1. There's no need to tell you who cast the sole "No" vote.
These votes took place under the Reagan administration.
Under the Clinton administration, in 1996, a United Nations-sponsored World Food Summit affirmed the "right of everyone to have access to safe and nutritious food". The United States took issue with this, insisting that it does not recognize a "right to food". Washington instead championed free trade as the key to ending the poverty at the root of hunger, and expressed fears that recognition of a "right to food" could lead to lawsuits from poor nations seeking aid and special trade provisions.
The situation of course did not improve under the administration of George W. Bush. In 2002, in Rome, world leaders at another UN-sponsored World Food Summit again approved a declaration that everyone had the right to "safe and nutritious food". The United States continued to oppose the clause, again fearing it would leave them open to future legal claims by famine-stricken countries.
I'm waiting for a UN resolution affirming the right to oxygen.
Notes
See various examples at RT.com, such as "Jen Psaki's most embarrassing fails, most entertaining grillings", or simply search the site for "Ukraine Jen Psaki"
Congressional Record (House of Representatives), May 12, 1966, pp. 9977-78, reprint of an article by Morley Safer of CBS News
"Letter dated 22 July 2014 from the Permanent Representative of the Russian Federation to the United Nations addressed to the Secretary-General", released by the UN 24 July, Document No. A/68/954-S/2014/524
"Pre-WWIII German Pilot Shocker, MH17 'Not Hit By Missile'", Before It's News, July 31 2014
Associated Press, August 4, 2014
Los Angeles Times, February 1, 2009
New York Times, February 6, 2009
Associated Press, November 17, 2008
Associated Press, November 26, 2008
Washington Post, November 18, 1996
Reuters news agency, June 10, 2002
Commenting recently on the Elliot Rodger killings, arch-leftist Michael Moore wrote that while "other countries have more violent pasts…more guns per capita in their homes…and the kids in most other countries watch the same violent movies and play the same violent video games that our kids play, no one even comes close to killing as many of its own citizens on a daily basis as we do…." From a man who used to take the simple-minded gun-control position "fewer guns=less homicide," it was surprising evidence of growth. After making his point, however, Moore made a mistake in following up with, "and yet we don't seem to want to ask ourselves this simple question: "Why us? What is it about US?" It's not, however, that we don't want to ask the question.
It's that we don't want to hear the answer.
We can begin seeking it by asking another question: Why is it that Vermont, with approximately the same rate of gun ownership as Louisiana, has less than one-eighth the murder rate? Even more strikingly, why does New Hampshire have both a far higher gun ownership rate and a lower murder rate than England, Piers Morgan's favorite poster-boy nation for gun control?
Professor Thomas Sowell provided more of these seeming contradictions in 2012, writing:
When it comes to the rate of gun ownership, that is higher in rural areas than in urban areas, but the murder rate is higher in urban areas. The rate of gun ownership is higher among whites than among blacks, but the murder rate is higher among blacks.
… [There are also] countries with stronger gun control laws than the United States, such as Russia, Brazil and Mexico. All of these countries have higher murder rates than the United States.
You could compare other sets of countries and get similar results. Gun ownership has been three times as high in Switzerland as in Germany, but the Swiss have had lower murder rates. Other countries with high rates of gun ownership and low murder rates include Israel, New Zealand, and Finland.
So what's the answer we don't want to hear? The critical difference among these regions and nations is explained right in Sowell's title: it's "not guns."
"It's people."
What "people" differences are relevant? Let's start with race and ethnicity. In the cases of homicide in 2012 in which the races of the perpetrators were known, 55 percent were committed by blacks, 62 percent of whom were under 30 years of age. Black youths are 16 percent of the youth population, but constitute 52 percent of those arrested for juvenile violent crime.
The statistics for Hispanics are more difficult to ferret out because, unbeknownst to many, law enforcement agencies tend to lump them in with whites in crime statistics (the FBI has announced that it will finally categorize Hispanic crime — in its report on 2013). However, there is some information available. Examiner's Ken LaRive tells us that "Hispanics commit three times more violent crimes than whites," but that the disparity could be even greater because of their often being classified as white.
The National Youth Gang Survey Analysis reports that gang members are approximately 49 percent Hispanic, 35 percent black and 10 percent white. And while whites are 35 percent of NYC's population, blacks and Hispanics commit 96 percent of all crime in the Big Apple and 98 percent of all gun crime.
Another good indicator is international crime statistics. Hispanic countries dominate the homicide-rate rankings, with Honduras topping the list with a rate eight times as high as that of our worst state, Louisiana. Also note that there are no European/European descent nations in the top 20 and not one Western-tradition nation in the top 30 (Russia and Moldova are 24 and 28, respectively).
And what can we say about these "people" differences? It's much as with the question of why men are more likely to be drunkards than women. You could explore whether the differences were attributable to nature, nurture or both. But it would be silly to wonder if the answer lay in men having greater access to bars, alcohol or shot glasses.
This brings us to why covering up minority criminality encourages gun control:
Americans won't understand that the critical factor is people differences if they aren't told about the people differences.
They will then — especially since most citizens aren't even aware that there are nations with more firearms but less murder — be much more likely to blame guns. Of course, this is precisely what you want if you're a left-wing media propagandist.
There is a question that could now be posed by the other side: if the main difference in criminality is demographics, why not outlaw guns? After all, it won't make a difference one way or the other, right? I'll offer a couple of answers to this question.
First, for a people to maintain just liberties, a freedom must always be considered innocent until proven guilty; the burden of proof is not on those who would retain it, but on those who would take it away.
Second, while private gun ownership and just law enforcement can't turn barbarians into civilized people any more than excellent schools can transform dunces into geniuses, they can act as mitigating factors that minimize criminality as much as possible given the "raw material" with which the particular society has to work. It's much as how you can maximize your personal safety: you may be safer in a great neighborhood with no martial arts training than in a terrible one with that training. Nonetheless, it allows you to be safer than you would be otherwise whatever neighborhood you choose.
And what do the stats show in our fair to middling USA neighborhood? Florida State University criminologist Gary Kleck reported that guns are used by good citizens 2.2 to 2.5 million times per year to deter crime. That likely saves many more innocent lives than are lost in massacres every year, but these unseen non-victims don't make headlines the way Sandy Hook tragedies do. That's why I like to say, using a twist on a Frédéric Bastiat line, a bad social analyst observes only what can be seen. A good social analyst observes what can be seen — and what must be foreseen.
Lastly, one more truth becomes evident upon recognizing that demographics are the main factor in criminality: even if you do believe in gun control, imposing it federally and applying a one-size fits all standard is ridiculous. In terms of people and crime, there's a world of difference between towns in New Hampshire or Vermont, with their England-level murder rates, and cities such as East St. Louis, IL, or Detroit, which rival El Salvador in citizen lethality. You can make gun control the same everywhere, but you can't change the fact that people will be very, very different.
If a famine befell us and you couldn't save everyone, would you withhold the food you had and let every citizen starve rather than endure the inequality of just saving some? If recent history is any guide, certain leftists just might say yes.
A good example of this phenomenon involved a multiple sclerosis patient in Gothenburg, Sweden, who was denied a more effective and expensive medication — even though he was willing to pay for it — because, wrote columnist Walter Williams in 2009, "bureaucrats said it would set a bad precedent and lead to unequal access to medicine." No wonder Winston Churchill said that socialism's "inherent virtue is the equal sharing of misery."
And another example just reared its ugly head in Plymouth, Michigan, where the locality's high school is tearing down newly constructed bleachers in deference to the equality police. MyFoxDetroit.com reports on the issue, writing:
A new set of seating is being torn down outside the Plymouth Wildcats varsity boys' baseball field, not long before the season begins, because the fields for boys' and girls' athletics must be equal.
A group of parents raised money for a raised seating deck by the field, as it was hard to see the games through a chain-link fence. The parents even did the installation themselves, and also paid for a new scoreboard.
So what happened? Some unnamed malcontent lodged a complaint with the feral government, at which point U.S Education Department Office for Civil Rights overlords decreed that the seating must go. Ain't equality grand?
Except that equality is simply a ruse. And think about it with respect to this issue: the principle is that facilities "for boys' and girls' athletics must be equal," but are boys' and girls' athletics equal? The striking contradiction in these male/female sports equality controversies is that calls for "equality" are deferred to within the context of the acceptance and promotion of an inherently unequal system. That is to say, if equality is the guiding principle here, why have separate leagues, teams and tours — protected from the best competition — for girls and women?
The solution, whether it's the Plymouth situation or calls for equal prize money in tennis, is simple. If a lightweight boxer wants the purses the heavyweights get, he needs to fight and succeed in the heavyweight class; likewise, if feminists want what the boys/men have, they should try to compete in their arena. And I do advocate this: eliminate separate categories for women, and let the sexes compete together on a level playing field. After all, to echo what Lincoln said about laws, the best way to eliminate bad social policy is to enforce it strictly. If you believe in equality, practice it.
Live it.
And live with it.
And since the boys' American high-school mile record is considerably faster than the women's world record — and since this gap appears, with some variation, across sports — my proposal would provide some necessary "policy clarification."
The education department's decree is also an attack on charity. The message is that pursuing good works just might be a waste of time because, inevitably, they'll conflict with some government regulation or mandate. It's in addition a quasi-Marxist assault on the market. After all, the Plymouth community's interest in building new baseball bleachers was no doubt driven by there being greater fan turnout for the boys' games. And the market renders such verdicts all the time. It's said that female fashion models earn three times what their male counterparts do, bars may offer women free drinks or entry without a cover charge, and no one troubles over women-only health clubs. It's only when market determinations seem to benefit boys or men that the equality ruse is trotted out.
The truth is that equality dogma is a fiction of modern times. As for the timeless, the word "equality" appears in only 21 biblical verses, mostly referring to matters such as weights and measures. There's good reason for this, and don't blame it on the supposed "backwardness" of religion because a devout evolutionist would have to be the staunchest believer in hierarchies born of natural inequality. As G.K. Chesterton pointed out, "[I]f they [people] were not created equal, they were certainly evolved unequal." Look around you at the world of nature and man, which, if the evolutionists are correct, are certainly one and the same. How much equality do you see? Rams butt heads, and one ram wins and the other loses; wolves have alphas and one male lion dominates and leads a pride. Then, there are 3.1 billion possible combinations when a couple has a child. And, oh, what combinations they can be. How many of us can play golf like Tiger Woods, defy gravity and shoot baskets like Michael Jordan or compose music at four years of age as did Mozart? People have greatly varying IQs, physical capabilities, personalities, inclinations toward virtue and gifts. Equality is a pipe dream.
This variation exists among groups, too. Ashkenazi Jews have the world's highest average IQ, while Asians enjoy that status insofar as major groups go. And disease and conditions have no regard for equality, either: the Pima Indians have the highest rate of diabetes on Earth, breast cancer afflicts mainly women, the incidence of Tay-Sachs disease is highest among Jews, black men suffer from prostate cancer at twice the rate whites do, while sickle-cell anemia is found almost exclusively among blacks. I guess reality is "racist."
Reality is actually this: it's completely illogical and contradictory for a person to claim on one hand that he believes in classical, cosmic-accident evolution, but on the other that all groups somehow, quite accidentally, wound up the same in capacity, inclination and worldly abilities. After all, since evolution holds that groups lived and developed separately for millions of years — subject to different environments, stresses, adaptive requirements and to the luck of the draw — their winding up "equal" was, for all intents and purposes, a mathematical impossibility.
Earlier evolutionists recognized and accepted this reality, mind you, and in fact became eugenicists. Note here that the term "eugenics" was coined by Charles Darwin's cousin Sir Francis Galton. Also note that the concept greatly predates the term: Greek philosopher Plato advocated murdering weak children, and the Spartans had actually done it.
This doesn't mean I embrace eugenics or classical evolution (my views on the latter are found here). The point is that whether you believe we're accidentally different or that, as St. Therese learned, there are even divinely ordained hierarchies in Heaven, equality is certainly not a thing of this world.
This helps explain why entities prescribing "equality" — such as the early French republic and all the Marxist killing-field regimes — become the worst tyrannies. Since equality is wholly unnatural, its mullahs must violate man's nature, must trump it and twist it, in an effort to pound their sinister square peg into the round hole of reality. And woe betide he who defies their self-deified will.
Cries for equality are today the second-to-last refuge of a scoundrel (shouts of "racism" are the absolute last). Contrary to what Churchill said, however, they don't actually visit upon us an equal sharing of misery. Rather, the pigs more equal than others will dispense the ever-diminishing pork to the peons, as they feed at the trough of modern man's sloth, envy and error.
President Assad and Ayatollah Khomeini are keeping their word. Will President Obama keep his?
Recent reports from the Organization for the Prohibition of Chemical Weapons (OPCW), the accuracy of which have been conceded by the White House, but denied in Tel Aviv, have it that slightly less than half of Syria's chemical weapons have already left the country and 100% of the country's stockpiles are believed to have been neutralized. Well along the path to meet the June 30 agreed discard date.
Both Iran and Russia have been credited with helping persuade the Syrian government that it is very much in the interest of Syria as well as the global community to discard its chemical weapons stockpiles which date back to the 1970s. A total of 11 consignments have been recently shipped out of Syria for decontamination and disposal, the latest from Latakia. Included is all of Syria's sulphur mustard gas, a blister agent that was first widely used in WWI.
Captain Clyde Chester Lamb, the father of this observer, was a one of hundreds of victims of the deadly gas while fighting the Germans in front-line trenches in eastern France. Capt. Lamb survived, but never fully recovered, and when he did later speak about his experiences in the war, which was not often, he once told his horrified children at story time that he and his comrades had no gas masks so they used to improvise by urinating on scraps of uniforms which he would distribute to his men with instructions to hold it tightly over their nose and mouth. Somehow their pee seemed to reduce the effects of the poisonous gas.
Despite some delays due to security and logistical issues, few besides the Zionist lobby in the US Congress doubt that Syria's work will be completed. Across Syria, according to information made available to this observer, specialists have accelerated the packing and transporting of the chemical weapons, sometimes even moving them through rebel territory to the Mediterranean port of Latakia.
In cooperation with Iran, Russia has supplied large-capacity containers and armored vehicles for the Latakia loading operation while China has sent 10 ambulances and surveillance cameras and Finland dispatched an emergency response team in case of accidents. Denmark and Norway are providing cargo ships and military escorts to take the chemicals to the container port of Gioia Tauro in Italy and the American government, among others, is also helping.
Despite Iranian cooperation with this major humanitarian project and, according to IAEA spokesmen, "solid progress has been made with the Iranian nuclear file", the White House to date is still waffling on its pledged meager lifting of sanctions which continue to target the people of Iran. US sanctions also continue to compound and increase the nearly unfathomable suffering of the Syrian people all of whom have been targeted by Barack Obama Executive Orders ever tightening their noose of economic sanctions.
The White House has yet to explain its dilatoriness, but Congressional sources report that President Obama is still being targeted by Israel and its Congressional agents and that Obama does not yet want to lift sanctions "for now", more than cosmetically. This applies to medicine and medical equipment. The same source claims that the White House is also signaling Tehran that it should continue to be patient while a sanctions review is getting started in Washington.Meanwhile, US Secretary of State Kerry has just assured Iran's leadership that the White House appreciates the fatwa (religious decree) issued by Supreme Leader Ayatollah Ali Khamenei last month forbidding the production and use of nuclear weapons. Kerry agreed that Iran is entitled to a peaceful nuclear program and he also credited the earlier statement by Iran's Foreign Ministry Spokes Ramin Mehman-Parast that Ayatollah Khamenei's fatwa is binding for Iran, and that "There is nothing more important in defining the framework for our nuclear activities than the Leader's fatwa."
A recent Office of Financial Assets Control (OFAC) prosecution of an American citizen seeking to ship potentially life-saving MRI medical equipment to Iran illustrates the weak knees of the Obama White House by allowing that Zionist dominated Federal agency to ramp up its targeting of the people of Iran.
There are dozens of cases like the one noted below and President Obama is presumably aware of them. The shameful case under review involves a University Medical Researcher who is being targeting with jail time for sending a medical device to Iran which his lawyers argued was completely innocent and clearly legal because medical equipment such as MRI's are exempted by the ' humanitarian exceptions' stated in Obama's relevant Executive Orders imposing US sanctions against Iran.
Mr. Cliff Burns, a lawyer and law professor in Washington DC explained the case of Mr.Mohamad Nazemzadeh, who was a Research Fellow in the Neurology Department of the University of Michigan at the time of his arrest, and who is being federally prosecuted for sending a medical device to the Netherlands. At issue is a coil for a magnetic resonance imaging (MRI) machine. The coil is the assembly of wires that generates the necessary radio signals when electricity flows through them to permit imaging the part of the body within the coil. Mr. Nazemzadeh is currently doing research at the Henry Ford hospital in Detroit and his area of specialty is, not surprisingly, magnetic resonance imaging.
As explained by Mr. Burns, "A part for an MRI machine would, under the Trade Sanctions Reform and Export Enhancement Act of 2000, be eligible for an export license notwithstanding the embargo on Iran. Nazemzadeh's failure to obtain a license would, of course, be a violation of the embargo." Even assuming that it was a technical criminal violation in his case, one has to wonder why, as Burns does, Obama Administration prosecutorial resources are being consumed to prosecute a researcher for trying to send life-saving medical equipment to Iran. As one of the researchers lawyers noted: "Aren't there dangerous people out there with guns and bombs who might warrant the attention instead?"
An affidavit in support of a search warrant for Nazemzadeh's mobile phone casts doubt on whether Nazemzadeh actually had the criminal intent necessary to support an OFAC pushed criminal prosecution in the first place for the attempted export of the MRI part. According to the affidavit, Nazemzadeh was negotiating with the undercover federal agent sent in by OFAC to ship the MRI coil to Iran through a company in the Netherlands. It is not uncommon for people to believe, even if they study the vague wording of the Iranian sanction minutia, that if it is legal to ship an item to a particular country, no laws are broken if the item is then re-exported, without any involvement on their part, to a prohibited destination. Here, according to the affidavit, Mr. Nazemzadeh continued to say to the undercover agent that he believed the transaction was legal and says this is true because the export from the United States is to the Netherlands, not Iran. Mr. Nazemzadeh's good faith legal mistake is not a criminal act. Instead, this is precisely the sort of case that ought to be evaluated, if at all, as an administrative matter by OFAC, were that Muslim targeting agency anywhere near fair-minded and objective. OFAC should have at the maximum issued a fine in this case notwithstanding Mr. Nazemzadeh's mistaken belief that the transaction did not violate U.S. law.
If the White House truly wants to normalize relations with Iran and with Syria as it claims, it needs to do a lot better. A good start would be by calling off OFACs attack dogs who service other than the American people. Also it should honor its oft touted "Humanitarian sanctions against Iran and Syria that exempts medicines and medical equipment". This language has not been implemented and it misleads the global community about the brutal and illegal nature of the White House promulgated civilian targeting, for political purposes, sanctions.
This weekend's White House greetings to the people of the Islamic Republic for Nowruz the Iranian New Year in the Solar Hijri calendar are no doubt sincere and appreciated. But now it's time to give substance to America's New Year's greetings that her citizens can be proud of and, that is accordant and consistent with their values.

"Please don't go to Haiti — it could be dangerous down there!" several worried friends begged me right before I left.  But boy were they wrong.  Haiti is totally fun!  I never had so much fun in my life as I did this past week in Haiti.  And this is my very own tourist guidebook to all the neat stuff that I've done down here.  Not exactly the Lonely Planet.  But boy am I having a good time.
The most frequently asked question before I left was, "Are you going down there to do humanitarian work?"  No no no.  I'm going down there to be a tourist!
To start with, I got a really great bargain deal on Expedia — $800 to fly me from SFO to Port au Prince and five nights in a convenient, clean and quiet hotel called the Diquini Guest House.  This was absolutely the smartest thing that I did on this trip.  Why?  Because the manager of the guest house, a former member of the Haitian diaspora and long-time resident of Washington DC, took me under his wing and for a reasonable fee let me hire his driver, translated for me, kept me fed on nicely-flavored Haitian stew and rice — and then took me off to explore Port au Prince.  www.diquinigh.com.
First we went to the famous Hotel Oloffson where the ghosts of past American ex-pat writers such as Graham Greene and Lillian Hellman roam its gardens, terraces and gingerbread-style balconies; where Mick Jagger and even Jacqueline Kennedy have stayed — and where the famous vudou-inspired RAM band was playing that night. http://hoteloloffson.com/
The next day we explored what is left of the 2010 earthquake ruins, from what was left of the tragically beautiful stone-filigreed huge rose window of the old cathedral and the site of the historic National Palace to various small tent cities dotting Port au Prince that still house earthquake victims today, and the ruined buildings that still have market stalls precariously tucked into whichever concrete slabs are still left standing.
"So, Jane, how is Port au Prince actually doing now, four years after the quake?" you might ask, now that I'm an actual eye-witness to the scene of the crime.  It's not doing super-good, but not doing as badly as I had expected either.  Most of the tent cities are gone now — as a lot of the homeless victims have by now squashed themselves in with relatives, left for the countryside or otherwise made do.
"But what are Haitians really like?" you might ask next.  You can tell what Haitians are really like by the way that they drive.  There are only a handful of traffic signals in Port au Prince and even fewer rules of the road.  And Haitians drive very fast.  But they also drive in a way that is almost polite.  Everyone wants to get where they are going (and to get there fast) — but no one wants to actually hurt anyone else.  I didn't see any road rage there.  Just people trying to get by.
Basically, Haitians are just people trying to get by after having been dealt a very rough hand for a very long time, from the moment they were kidnapped from Africa and sold as slaves here — starting in 1503, just eleven years after Columbus discovered the island.  And those slaves were expendable too, worked to death in a few years at most and then replaced by other new slaves.
Then after having fought for and achieved its freedom in 1804, Haiti was also constantly attacked, exploited and/or invaded for the next 200-plus years by America, Canada and various combinations of European nations.  And now Haiti is one of the poorest countries in the world, resembling the slums of Uganda or the slums of Zimbabwe.  And yet despite their poverty, which is dire and extreme, Haitians still remain stoically polite.
Next we went off to the Iron Market bazaar to buy Haitian stuff to hang on my walls when I get home.  And then we drove all over Port au Prince — the grand tour.  And that night we went off to Carnival in the Carrefour district.  Are you jealous yet?
Carrefour's pre-Lenten carnival was like one gigantic block party and was actually as much fun as Berkeley in the 1960s, the benchmark against I always measure how much fun something is.
I also wanted to go see San Souci and the Citadel, UNESCO world heritage sites up  in Cap Haitien, but it was a seven-hour drive to get there, so we went to Fonds des Negres instead, which was only a three-hour drive, and I met a vodou master there.  "No one is cursing you," he told me.  Not even the NSA?  Good to know.  Then he performed a candlelight ritual to help my knees get better.  Then he pulled out a business card for his son who owns a botanica in SoCal who, for a price, could finish my knee treatment when I got back home .  And then the vodou master pulled out his cell phone and started texting someone.  Guess the ritual was over.
And there's also a cave in the mountains near Fonds des Negres where a "Suzan," a vodou spirit, resides.  But you have to get there by motorcycle and we didn't have time to do all that on this day trip.  So I just bought a sequin-covered vodou flag instead.

"Have you seen any zombies in Haiti?" might be your next question.  Sorry, no.  But on my plane ride down here, we ran into a bunch of really scary turbulence over Chicago and I thought I was going to die.  So I had an epiphany.  "When you are in your mother's womb, the only way out is by going through a whole bunch of pain first — and death is also like that.  First you pass through a whole bunch of pain and then, poof, you are out on the Other Side."  As a zombie?  Let's hope not.
The next day we went out searching for Jean-Bertrand Aristide  and then ended the day in that famous five-star hotel in Petionville — just to see how the other 1% lives.  Trust me, they are living well.
What else have I done down here?  I can't remember exactly.  But I will tell you this:  I have really had fun.  And if you ever want to go to Haiti too, I totally recommend it highly.  And, no, I'm not getting paid to say this.
PS:  While in Haiti, I also watched the winter Olympics on TV — thus getting a chance to compare Port au Prince and Sochi.  One city has far too little city planning and one city had far too much!
According to journalist Roi Tov, "With less than 350,000 denizens, [Sochi] has been occupied by at least 25,000 police officers, 30,000 soldiers, 8,000 special forces, and an undisclosed number of FSB agents."
Port au Prince is nothing like that.  The streets go every which-way like a patchwork quilt.  But it does have one thing in common with Sochi — abuse of its fragile labor force.
And let's also compare Port au Prince with Havana.  I'm currently reading Carlos Eire's autobiography, "Learning to Die in Miami".  Eire appears to believe with all his heart that the Castro experience was a nightmare — and yet just compare Cuba and Haiti today.  Haiti has been under the thumb of American and European corporatists for ages and ages.  And now, despite all its amazingly fertile soil and impressive mineral riches, Haiti is currently one of the poorest countries in the world.  Seven out of ten Haitians live on less than $2 a day, according to the International Red Cross.
But in Havana under the Castro brothers, everyone has a good chance of getting a college education.
But, hell, most Haitians are lucky to have a chance to even get as far as fourth grade!
If Fulgencio Batista and the American corporatists who owned him back in 1959 had remained in power and Castro had never taken over Cuba, Cuba today would more than likely look just like Haiti today.  And does anyone with a working brain really think that having American and European oil companies, bankers, war profiteers and neo-cons in control in Syria, Venezuela and Ukraine are going to help those countries either?  Hell, just look at what those guys did to Afghanistan, Iraq and Libya — and to Detroit!
In 2014, half of American citizens can't stand Mr. Barack Hussein Obama and the other half love him. The first half still work jobs while the other half (about 47 percent) live off welfare in a variety of forms.
On December 4, 2013, Obama gave his "income inequality speech." He expects to fundamentally change America by forcing those of us who work to give up more of our money to those who lack education, refuse to work or simply cannot function intelligently enough to sustain a job.
In early January 2014, Bob Lonsberry, a Rochester talk radio personality on WHAM 1180 AM, said we now encompass two Americas.
"The Democrats are right, there are two Americas," said Lonsberry. "The America that works , and the America that doesn't . The America that contributes , and the America that doesn't.
"It's not the haves and the have not's, it's the do's and the don'ts. Some people do their duty as Americans, obey the law, support themselves, contribute to society, and others don't. That's the divide in America.
"It's not about income inequality , it's about civic irresponsibility. It's about a political party that preaches hatred, greed and victimization in order to win elective office. It's about a political party that loves power more than it loves its country. That's not invective, that's truth, and it's about time someone said it.
"The politics of envy was on proud display a couple weeks ago when President Obama pledged the rest of his term to fighting "income inequality." He noted that some people make more than other people, that some people have higher incomes than others, and he says that's not just.
"That is the rationale of thievery. The other guy has it, you want it, Obama will take it for you . Vote Democrat. That is the philosophy that produced Detroit . It is the electoral philosophy that is destroying America . It conceals a fundamental deviation from American values and common sense because it ends up not benefiting the people who support it, but a betrayal.
"The Democrats have not empowered their followers, they have enslaved them in a culture of dependence and entitlement, of victim-hood and anger instead of ability and hope.
"The president's premise–that you reduce income inequality by debasing the successful–seeks to deny the successful the consequences of their choices and spare the unsuccessful the consequences of their choices. Because, by and large, income variations in society is a result of different choices leading to different consequences. Those who choose wisely and responsibility have a far greater likelihood of success, while those who choose foolishly and irresponsibly have a far greater likelihood of failure.
"Success and failure usually manifest themselves in personal and family income.
You choose to drop out of high school or to skip college–and you are apt to have a different outcome than someone who gets a diploma and pushes on with purposeful education.
"You have your children out of wedlock and life is apt to take one course; you have them within a marriage and life is apt to take another course. Most often in life our destination is determined by the course we take.
"My doctor, for example, makes far more than I do. There is significant income inequality between us. Our lives have had an inequality of outcome, but, our lives also have had an inequality of effort. While my doctor went to college and then devoted his young adulthood to medical school and residency, I got a job in a restaurant.
"He made a choice, I made a choice, and our choices led us to different outcomes. His outcome pays a lot better than mine. Does that mean he cheated and Barack Obama needs to take away his wealth? No, it means we are both free men in a free society where free choices lead to different outcomes.
"It is not inequality Barack Obama intends to take away, it is freedom. The freedom to succeed, and the freedom to fail. There is no true option for success if there is no true option for failure.
"The pursuit of happiness means a whole lot less when you face the punitive hand of government if your pursuit brings you more happiness than the other guy. Even if the other guy sat on his butt and did nothing. Even if the other guy made a lifetime's worth of asinine and shortsighted decisions.
"Barack Obama and the Democrats preach equality of outcome as a right , while completely ignoring inequality of effort .
The simple Law of the Harvest–as ye sow, so shall ye reap–is sometimes applied as, "The harder you work, the more you get." Obama would turn that upside down. Those who achieve are to be punished as enemies of society and those who fail are to be rewarded as wards of society.
"Entitlement will replace effort as the key to upward mobility in American society if Barack Obama gets his way. He seeks a lowest common denominator society in which the government besieges the successful and productive to foster equality through mediocrity.
"He and his party speak of two Americas, and their grip on power is based on using the votes of one to sap the productivity of the other. America is not divided by the differences in our outcomes, it is divided by the differences in our efforts. It is a false philosophy to say one man's success comes about unavoidably as the result of another man."
Lonsberry stated the obvious: 48 million Americans subsisting on food stamps shows they made poor decisions about graduating from high school. They chose to remain stupid. With 68 percent of African-American children growing with a single mother who lives on welfare—shows those women made very poor choices. When 76 percent of high school students in Detroit, Michigan dropout or flunkout, their choices condemn them to a difficult life.
At some point, Barack H. Obama needs to inspire people to remain in school, earn an educated mind, earn a good job and become a parent who marries a spouse and brings up kids with a home, food and responsibilities to contribute to our society.
One way works and the other doesn't. As you know, Obama came from a broken home where the father split, then, the second father split and Barack Obama has never held a job. Someone gave him a free education, free college tuition and a free pass from his life of lying, i.e., birth certificate, Social Security number, Selective Service Card and enrollment in Harvard with non-qualifying grades. Seems like he needs to backtrack on his life to come up with a better speech on "income inequality."
A book review: Who Lost America by Bromwell Ault…
Part 1: How Americans lost their country like having the rug of their republic pulled right out from under them.
"The Americans cannot even conduct a military operation there," said General Salami of Iran's Revolutionary Guard. "The conditions and the factors that facilitate the exercise of military power for them have for years been destroyed and today they (the Americans) are in an erosion of political, cultural, financial and military power."
Military leaders in the Middle East know more about America's weaknesses than we citizens understand about ourselves.  We know we cannot trust anything the president or military tell us that happens in Iraq or Afghanistan. The same thing happened with Vietnam.
Politically—after five years, our president staggers knee deep in quicksand while our U.S. Congress bogs down in muck so deep it can't extricate itself to take meaningful or logical action.
Culturally—we don't know if we represent American citizens or illegal alien migrants or the America Way or Iranian-Americans or Coke's Super Bowl version of our multicultural and multi-lingual morphing into a Muslim nation represented by an Islamic American female covered in a burka to turn her into a non-being.
Financially—we drown in an $18 trillion national debt with no escape. Our third president, John Adams said, "There two ways to conquer a country: by the sword and by debt."
Military Power—We spent trillions of dollars in Iraq and Afghanistan with absolutely nothing to show for it but slaughter for our kids and untold PTSD chaos in our young soldiers that will linger for their lifetimes.  We couldn't defeat a goat-herder nation like Afghanistan for the past 11 years and counting.
Beyond the Iranian general's understanding of our predicament, Americans in the past 45 years relinquished the American Way to the new Multicultural Way that forces us into hyphenated-Americans, confusing languages and lack of the cohesiveness of what an American stood for in this world.
We've become a "schizophrenic or multiple-personality- disorder" country via our immigration system that pumped 100 million immigrants from all over the planet into American from 1965 to 2013 with another 100 million projected to arrive from 150 countries within the next 36 years.
As the Super Bowl Coke advertisement illustrated, we don't know what we stand for as a culture, language or country.  While the Islamic girl wore a headscarf, you see tens of thousands of Muslim women in Detroit, Los Angeles, Philadelphia, Denver and Chicago wearing black burkas with only slits for their eyes to see out.  They remain non-beings with no identity within America.  Their Muslim husbands subjugate them with fear and cultural dominance.  Yet, they represent the beachhead for Islamic conquest in America in the 21st century.   At 7 million Muslims in 2014, we must brace ourselves for their aggressive actions when they reach 20 million within two decades and 50 million soon after.
With one look at the Muslim conquest of Europe, an idiot can see Islam's march, but we think ourselves immune.  Such denial placed the United Kingdom, Norway, Belgium, Holland, Germany, Spain and Sweden reeling from the havoc created by Islamic immigrants.  Lesson: Muslims never integrate into host countries. They create enclaves, which force those countries to tolerate and even adopt Sharia Law, which proves the most barbaric form of subjugation by any religion on the planet.
"Immigrants devoted to their own cultures and religions are not influenced by the secular politically correct façade that dominates academia, news-media, entertainment, education, religious and political thinking today," said James Walsh, former Associate General Counsel of the United States Immigration and Naturalization Service. "They claim the right not to assimilate, and the day is coming when the question will be how can the United States regulate the defiantly unassimilated cultures, religions and mores of foreign lands?  Such immigrants say their traditions trump the U.S. legal system.  Balkanization of the United States has begun."
Whether you stand as a liberal, conservative, libertarian or not-involved in our country's future by your apathy—this multicultural train speeds into America with a load of cargo 100 million immigrants full, that no one understands—thus we face consequences of an overpopulated, fractured and fragmented culture society.  And ultimately our civilization splinters and degrades.
Brilliant historian Bromwell Ault, at 84, and a graduate of Yale University, brings the brunt of what Americans face in his new book:  Who Lost America?  www.centerforpublicconscience.org
He writes, "Can America's democratic identity and government survive our ethical, political and economic failures?"
Ault begins, "During the State of the Union speech, the President declares that the "State of the Union is strong."  This has become a tradition and touches upon several emotions and strength; and it creates a sense of unity that binds us to each other and to our past. The problem is that it is a lie centered on its two key words—"union" and "strong".
Via his extraordinary longevity in America's story, Ault said, "Technology and progress have a way of overwhelming cultures that are not spiritually, geographically, economically or politically resistant. And it is the ever shifting mix of these elements which determines whether different cultures will succumb or survive."
With an added 100 million legal immigrants from 150 countries from around the world about to be injected into the United States in the next three decades, can we survive the clash of civilizations they represent?
Samuel P. Huntington, The Clash of Civilizations said, "It is my hypothesis that the fundamental source of conflict in this new world will not be primarily ideological or primarily economic. The great divisions among humankind and the dominating source of conflict will be cultural. Nation-states will remain the most powerful actors in world affairs, but the principal conflicts of global politics will occur between nations and groups of different civilizations. The clash of civilizations will dominate global politics. The fault lines between civilizations will be the battle lines of the future."
Ault stated the most obvious aspect of an "intact" civilization depended on its culture.  With America scattering into hundreds of cultures within the next three decades, the question arises: can it survive its own lack of a single cohesive culture and people?  Huntington's research as well as Ault's shows that the United States will not survive as a single united people or culture.
Ault asks, "Who lost America? Or, more specifically, who replaced the America we were, with what we have become? And, why? And, how?"
Part 2: How we lost the rule of law.  Institutional failure. Transforming and devolving America via the culprits doing the dirty work.
Who Lost America? By Bromwell Ault
Publisher: Authorhouse
ISBN # 978-1-4634-7446-1
Price: $22.46, 284 pages softcover, Kindle  $3.99
Copies: www.BarnesandNoble.com
Publisher direct copies: 1 888 280 7715
www.CenterforPublicConscience.org
Urban War Zones are now a reality inside many American cities.
It's no longer necessary to go to Iraq, Afghanistan or Africa to enter a real war zone and have to fight for your life.
Thanks to massive CIA drug trafficking and American Free-trade Treaties like NAFTA, CAFTA, GATT & WTO, many American inner cities have been transformed into actual war zones.
These inner city war zones are infested with drug gangs that outnumber police and out gun them too.
At present these gangs are typically competing and battling with each other for turf and making a living selling drugs and running prostitutes, some captive sex-slaves. At some point if the economy worsens and the SHTF, they could easily start looting and attacking anyone and everyone.
However, in every major city in America at present, violent urban predators prey on the unarmed, old, weak, sick or disabled. And while out of control Police Swat Teams battle these predators and drug gangs, they often tyrannize the innocent which include women and young children, using excessive force all too often. There are numerous incidents of such teams murdering innocents after attacking the wrong home.
The massive War on Drugs was designed as a dualistic program. One hand, the top secret part involves the USG bringing in massive amounts of illegal drugs to raise "off the books money" for covert ops. The other hand uses all serious gang crimes arising as a pretext to militarize the police as justify their deployment as Nazi Storm Troopers.
This second part of the War on Drugs is for public disclosure and consumption. In response to all this massive urban breakdown, the worsening economy and increasing government tyranny from the Department of Homeland Security, the TSA and out of control local police, Americans are arming at an astounding rate. Guns are literally flying off the shelves and ammo sales are at an all time high also.
Americans now arming up in mass in order  to protect themselves from and this increasing USG Tyranny of the USG, DHS and their local militarized and Mind-kontrolled local police (1)  and from increasing and spreading urban crime which includes robberies, car-jackings, home burglaries and home invasions.
Also given as an important reason for arming up for the first time when asked, is a fear of possible impending economic collapse with an associated SHTF occurrence. Many express a salient and absolute need to be able to protect themselves and/or their family members from possible looters and armed home invaders which would likely accompany a SHTF urban breakdown situation.
And who should be credited with creating such a foreboding urban environment? It is the Globalist Traitors and infil-Traitors who have hijacked the political process and Banking in America.
These Globalist "enemies within" have rammed through economically disastrous Free-Trade Agreements and forced Diversity, Perversions and Political correctness accompanied by massive immigration, most illegal. All this has been designed to destroy the borders, language and culture of America, to neutralize its Constitution, Bill of Rights and Rule of Law while transforming America into a economically distressed Third World Nation.
These Globalist enemies within the Gates have been working very hard to transform America into a Democracy (Mob rule by the masses) from the Republic which was set up by our Founding Fathers.  Obviously any real enforcement of the US Constitution would assure that American would remain a republic the way it was set up.
Since the imposition of so-called "Free Trade" policies upon the American Republic, urban decay and blight have become epidemic in major American cities. Many cities have turned into Urban Jungles, where only the strongest survive. In these Urban Jungles, violent gangs prevail and the weak are parasitized and consumed, afraid to go out of their homes, especially after dark.
Take Chicago, which has become a "kill or be kill" free fire Urban War Zone in some of its Urban areas. Chicago is the one of the most gun restricted areas ever, but the only ones that do not carry guns to defend themselves are law abiding citizens.
Gang members have all the guns they want, supplied by drug gangs and the CIA and BATF.http://www.cbsnews.com/news/gang-wars-at-the-root-of-chicagos-high-murder-rate/
Some of these areas such as Washington DC have been rated as having a 300% chance of being mugged if out after dark in certain areas, which means you could likely be robbed three times in a single block if you have a victim profile (old, young, weak, disabled, female). The real unemployment rate is 37%, despite phony USG that it is 7% or less.(2)
And now Detroit has been declared Bankrupt. It has been reported that retired police and City workers will now receive approximately 13% of their pensions due.
The Ruins of Detroit:
The ten Most Dangerous American Cities which are truly Urban Jungles at Night:
There are areas in Detroit, South Chicago and St. Louis that are so violent and infested with violent gangs that even the police refuse to enter unless ordered and then do so with major forces.
Until recently parts of Detroit was so violent that police and ambulances refused to provide service during the night hours and often found abandoned dead bodies (murder victims) days later. Detroit, known as "Iron City", the jewel of America, used to be prosperous beyond measure based on the manufacture of the world's finest cars.
Remember what a 1965 Olds Starfire coupe was like, or a mid 60′s Buick Wildcat or Pontiac Bonneville was like.  How about a mid 60′s Chevy with a HP409 engine or a Plymouth Belvedere with a 426 Hemi or 440 Wedge engine?
That all changed in 1971 with the introduction of very extreme anti-pollution "clean air" laws which reduced automotive engine compression ratios from approximately 10.5 to 8.5, required the installation of retarded, goofy extremely inefficient camshafts.  The result was garbage engines that had little power, consumed huge increases in gasoline and a major shift in chassis quality to near complete crap. At that point American automotive quality was gone and is only starting to come back now forty years later.
This is but one symptom of the covert Globalist engineering of American Society on behalf of the City of London zionist Central Banksters.
This of course created a great opportunity for the Japanese Auto manufacturers, secretly owned and controlled by the super-elite American Banking families. When W. Edwards Deming, an astute American engineer approached American Automotive Manufacturers in Detroit and proposed his plan to drastically reduce defects and lemons, he was rebuffed because it was felt his plan was too expensive and too slow.
Deming's plan required 100% quality checks and verification of all parts from every supplier instead of the approximately 1% or less sampling. When Deming approached the Japanese, who had already shown a new coming expertise in motorcycles and quality circles in their electronics manufacturing, his program was accepted and implemented.
The rest is history, and after about 15 years, the American Automotive manufacturers have been playing a catch up game ever since for quality with the Japanese Auto manufacturers.
And now the Korean Automotive Manufacturers have hired retired Japanese automotive engineers as consultants and have adopted many of their same practices and principals to their automotive manufacturing.  The result?
Some Autos manufactured in South Korea have attained the same quality as the Japanese which are considered to currently be the highest quality in the world. As many automotive enthusiasts suggest, if you want the best performance buy German, if you want the highest quality buy Japanese.
It is a fair assumption that Globalism and the Free-Trade Agreements it produced, have resulted in the exportation of most American heavy industry, manufacturing and millions of good paying jobs. This alone has seriously harmed the American economy and set America on a path of destruction, starting first with its Urban Centers which have become urban wastelands and jungles, and now progressively spreading to middle class and upper middle class outlying suburbs.
Fair Trade with suitably adjusted reasonable Tariffs to protect American Jobs are necessary to America's economic survival and prosperity. Free Trade is not Free at all and is an abomination to the American republic and its Sovereignty.
It is a tool of the Globalists to enhance the earnings of their international offshore Globalist corporations at the expense of the American worker.  It is nothing less than a secret war against America's Sovereignty and the Republic itself.
The only other globalist tactic to destroy America that approaches its effectiveness are the policies of unrestricted illegal immigration, forced diversity, cultural programming that perversion is good, required perversion programming in the public schools that it is normal, and political correctness.
Obviously these are all Globalist weapons of covert war waged against America to destroy its borders, language and culture and gut it economically.  These Globalist weapons have been deployed against Americans in order to transform America into a Third World "Democracy" instead of the Republic that it was set up to be by the Founding Fathers.
These Traitors and Infil-Traitors in Congress and the Administration keep financing and running foreign wars for Israel in order to establish Democracy like they keep claiming we have in America. We have never had a democracy but they have been doing their best to kill the Republic on the behalf of their zionist owners and masters This is of course one of the biggest lies ever told.
America has always been a Republic, a democracy is mob rule. Of course bringing in 30-60 million illegal immigrants and millions of legally sanctioned foreign workers has quickly undermined American culture and tradition and established a real base to elect politicians who appeal to the masses. The election of President Obama was the first of such travesties.
Up until recently when American aircraft manufacturers starting buying foreign parts, American aircraft were the best in the world, especially the military aircraft and fighter/interceptors. Now we have an F-22 with a contaminated O2 system from China that causes some pilots to start passing out and a Boeing Dreamliner with a faulty battery system that was imported.
For years St. Louis has been so poor that some of their police radio don't work properly and their squad cars are in disrepair. In East Los Angeles, despite how tough and well armed the LA Police Department is, top police officials know that they are completely outgunned by Mexican drug gangs allowed to enter and do business inside America and also provided arms shipped by the CIA and the BATF.
It's not as if Americans weren't duly warned what such Free-Trade Treaties would produce, because Presidential Candidate Ross Perot went public with what was coming.  He described the effects as a "giant sucking sound" for American jobs as they would leave America in droves.
But despite Perot's grave warnings, President George HW Bush signed NAFTA on Dec. 17, 1992 with full Congressional support. The NAFTA Treaty was ratified after Bill Clinton became President. Soon after the sucking sound started, with shocking support the the US Department of State which provided massive grants to major corporations to move manufacturing to Mexico.  These grants continued at American taxpayer expense under the subsequent Trade Treaties that were subsequently signed and ratified such as CAFTA, GATT, and WTO.
Unbeknownst to most Americans, President Obama is now deeply involved in secret negotiations to pass the Trans Pacific Partnership Treaty (TPP) which experts have described as "NAFTA on Steroids". TPP is far more than just another Free Trade Treaty which continues to lower the value of American wages to the "rock bottom" levels in third world  countries. If signed and ratified by Congress, the TPP would be the complete end to any remaining American Sovereignty.
What established this frenzy for Free-Trade Agreements? It is now known that The last duly elected President of the United States of America was Ronald Reagan.  It is also known by seasoned intel officers that Ronald Reagan distrusted American Intel in general and especially his Vice President George HW Bush.
In fact it has now been discovered that President Reagan distrusted the CIA and American Intel so much, he set up his "Kitchen Cabinet" and brought in Lee Wanta as his Secret Agent under the Totten Doctrine (3).
George HW Bush was illegally elected later as President, since his father Prescott Bush had signed an Immunity Agreement that no future Bushes (Scherfs) would ever run for office after he was arrested for "aiding the enemy" and his Union Bank assets were seized by FDR during WW2.
It is also known that George HW Bush ran his own private CIA inside the CIA which served the specific needs of the zionist City of London Central Banksters and their franchisees, the American private Federal Reserve and major Wall Street Banksters.
Some former top American Intel believe that it was this private GHW Bush Intel organization that tried to assassinate President Reagan, by using their man, a secret service man who fired a high speed plastic disc from a compressed air powered disc-gun, the type displayed by William Colby in Congressional Hearings on the abuses of American Intel.
PBS Judy Woodruff had reported this of seeing the SS man fire a gun from a second story window that night on PBS but the story was quickly squelched and she changed it after a very convincing "not to worry visit" from some very serious American Intel agents. President Reagan, despite a long slow disjointed route to the hospital, survived. This assassination attempt however signaled that the Treasonous Bush Cabal had attained a major power base inside the Military and Congress.
The sad thing is that all the political power and influence  necessary to accomplish this and to transform the American Congress into Traitors was due to the vast money provided to K Street Lobbyists and zionist espionage groups like AIPAC, ADL, B'nai B'brith, and the like by the Central Banksters and the various Judaic groups shaken down and manipulated by zionist for donations.
So the first beach-head of the Globalists (aka zionist City of London Central Banksters and the "Old Black Nobility" they represented) was established with a bought, owned and controlled US Congress.  Once GHW Bush was elected President, the circle of control was complete.
One of George W. Bush's major assignments was to take American further down the Globalist path by fighting more Mideast wars for Israel. Another was to destroy the Republic party by being the worst President ever and fully debasing the Republican, which he did. Now the Republican leaders in Congress are tricking the Republican Party into committing suicide by agreeing to back the Democratic legislation for making illegal immigrants legal and future citizens.
So it is now obvious that the Republic Party is finished and Americans need to rise up and form a new Third Party. Otherwise you can be assured that just like in the last Presidential election, both candidates will be owned by the Bush Cabal.Unless the Bush Cabal has been fully exposed and displaced by then which is now  real possibility.
It has been estimated that there are now approximately 30 million illegal immigrants inside Americaallowed in by a Globalist controlled USG who prevented border enforcement and liberal immigration laws which are not enforced. With the the passage of the currently proposed Democratic plan for legalizing illegal immigrants, this number could easily grow to 60 to 100 million.
In most major American Cities, Police are not allowed to arrest suspected illegal immigrants for minor traffic violations or check their identification for legal status. Not so for those whose license plates are run and show up as actual American Citizens. And this is all due to orders coming down from a few top policy-Makers who operate at the nexus of the Secret Shadow Government (SSG).
GHWB could now institute major efforts to undo all the excellent plans for the economic and industrial reconstruction of America that President Reagan had set in place and activated. As has been disclosed in a previous article (4), President Reagan had brought in Lee Wanta to serve as his Secret Agent because he didn't trust the CIA which had been corrupted and hijacked by GHWB.
It should now be exceedingly clear to those who are well informed about the degradation of the American economy and rule of law accompanied by increasing tyranny, deployment of DHS, TSA and the passage of all the unConstitutional draconian laws (like the so-called Patriot Act, the Military Commissions Act, and NDAA 2014).
All this is being engineered by foreign controlled Globalist traitors and infil-Traitors who have hijacked America and worked hard to export  heavy industry, manufacturing and jobs.
And that they are doing this to asset strip America, destroy it's economy and the Republic itself in order to Balkanize America and prevent it from ever rising in economic strength again and operating as a Republic "of the people, by the people and for the people".
Their motives for all this?  To covertly re-fight the Revolutionary war that was lost and retake America on behalf of the zionist City of London Central Banksters and their Kingpin overlords the Old Black Nobility (OBN).  These hidden masters of the world-wide occult network which runs the IZCS prefer to stay hidden in the background where they can pull all the strings of several top Policy-Makers in America with no personal risk to themselves.
What can be done to turn this around? Obviously the first step is to get rid of all Free-Trade Agreements. In order to do this all the zionist espionage fronts inside America such as AIPAC, ADL, B'nai B'rith and the like must be fully exposed and prosecuted to the fullest extent of the law. In order to do this zionist Israeli-American dual citizens inside Congress and the USG and its Agencies must be exposed as traitors and agents of foreign espionage and routed out of power.
America has to stop fighting Israel's illegal Mideast wars and withdraw all aid and support for Israel as long as it is a criminal, racist apartheid state persecuting and murdering Palestinians and stealing their land incrementally.
Lee Wanta, a great American Heroe that served as President Reagan's Secret Agent under the Totten Doctrine and was instrumental in bringing down the evil Soviet Union
We need to re-institute the Wanta Reconstructing America Plan based on the Maglev High Speed Rail System which has the necessary funding already available. (5)
And it is time to also re-establish the Want Economic Recovery Plan for America that was also set up under President Reagan, but later stopped cold by George HW Bush and his Cabal when they instituted a secret coup to take over the whole USG on behalf of the City of London zionist Central Banksters and their Wall Street and Federal Reserve Franchisees.(6)
In fact it is a reasonable assumption that the massive Free-Trade attack on America's economy was largely a reaction by the Bush Cabal to these amazing economic reconstruction plans President Reagan had put in place through his Secret Agent Lee Wanta, who was the master strategist that took down the Soviet Union for President Reagan.
Recent respected surveys show that a majority of American are disgusted with the current administration and rating of the lowest ever experienced in America in the last century. Congress is also rated at an all time low with only 9% approving of it. Many view the current President as an alien imposter with no traceable past.  Some alternative media writers have stated that he is a sheep-dipped CIA creation just like Bill Clinton. All this is a mute point.  Why?
Because Ronald Reagan was the last duly elected President of the United States of America, the Republic, all presidents since have been fraudulently elected and owned by the Bush Cabal. And this Bush Cabal is the Action Agent of the City of London zionist Central Banksters and their International Zionist Crime Syndicate (IZCS).
The IZCS is centered in Israel where most intel is done by privatized Israeli corporations serving as American Defense and Intel contractors.  It is these private Israeli contactors who control all NSA raw intel and almost all American communications including internal White House phone calls and messaging, as well as all Pentagon and DOD communications.
Obviously the Bush Cabal has been able to install its own Presidential puppets and run a lucrative illegal drug trafficking operations into America.  All done to destabilize and "dirty up" American Cities while absorbing a great deal of the Welfare dollars and capturing vast "off the books" funds for their own covert operations and bribery of Congress. It is a fair conclusion that the Bush Cabal has destroyed the American Rule of Law, debased any true enforcement of the US Constitution and Bill of Rights and has corrupted every institution and agency of the USG.
However there is good news.  A growing force for good has emerged in the Alternative Media now transmitted everywhere instantly on demand by the worldwide Internet, the new Gutenberg Press and the NWO Globalist's Achilles Heel. Yes, the Controlled Mass media (CMMM) has been a propaganda mouthpiece for the Bush Cabal and the IZCS, but is now losing its appeal and credibility. The CMMM keeps feeding lies and crap to the American public that are obviously false, like the Mideast American wars are wars to establish Democracy.  More and more Americans now realize this is complete BS, that we are there to fight Israel's wars and defend British Oil interests.
Compare the articles of Veterans Today and other respected truth media now which are being published and read by millions inside America and all over the world with the CMMM. You will see the gap between the alternative media truth and the CMMM lies is ever widening and we are starting to see Alternative Media's popularity driving stories into the CMMM, even thought the CMMM usually attempts to neutralize their significance.
Many thousands of brave American Soldiers who were lied to and deceived into fighting these illegal, unConstitutional, unprovoked, undeclared wars for Israel and Big Oil, thinking that they were defending America and its freedom. Few greater lies and deceptions has ever been predicated on Americans than this complete lie.  Many thousands of Americans have been killed and horribly wounded and disabled in this war.
If the American Military ever fully realizes that all these wars were phony and based on a lie and that Israel did the 9/11 attacks with the help of a cabal within the USAF and JCS, there will be hell to pay for all those perps involved. And now there is good reason to believe that day is coming in the not too distant future.
As most Americans are beginning to realize, America has been infil-Traited by Traitors and Infil-Traitors in the highest positions of the USG.  The major economic deterioration and loss of assets to the Wall Street Banksters and the private Federal reserve through financial Fraud have been staggering and Americans are catching on the the BLATANTLY OBVIOUS.
When American society reaches a critical mass awakening to this obvious situation that Globalists have been doing everything they can to destroy America, there will be major Blow-back of astounding proportions. When 12% of Americans are awakened, a critical mass and major turning point will be reached and you will begin to see major social change like never conceived, and this will all be due to major Blow-back from awakening.
The elites hate to acknowledge it, but when large numbers of ordinary people are moved to action, it changes the narrow political world where the elites call the shots. Inside accounts reveal the extent to which Johnson and Nixon's conduct of the Vietnam War was constrained by the huge anti-war movement. It was the civil rights movement, not compelling arguments, that convinced members of Congress to end legal racial discrimination. More recently, the townhall meetings, dominated by people opposed to health care reform, have been a serious roadblock for those pushing reform…. A big turnout … can make a real difference….When someone tells you to stop imagining that you are having an impact, ask them to please direct their energy into getting 10 friends to join you in doing what needs to be done. If it has no impact, you'll have gone down trying. If it has an impact, nobody will tell you for many years. (7)
This coming complete awakening will be due to information dispensed and diffused by the Alternative Media and the worldwide Internet as well as word of mouth. it is best viewed as a byproduct of a new and powerful emerging worldwide populism which has now reached the point it is unstoppable. One recent study has established 10% as a critical mass, turning point for Society.(8)
I believe we are already at 11% and when we reach 12%, the days of the Bush cabal will be dated. They know it too and are scared sh*tless. That is why they have been going for broke trying to ram the NWO down our throats and militarize local police and build up DHS to oppress and then mass murder us.
It's time to speak up to all your family, friends and associates that we need to abandon the Republican and Democratic political Parties.  Both parties are owned and controlled by the same Overlord, the IZCS who bought them and can blackmail them with NSA provided intel.
Former Minnesota Governor Jesse Ventura, who is also a Vet and a Navy Seal/UDT man had it right in his book of the Replican and Democrat Political Gangs in America, DemoCRIPS and ReBLOODlicans (9).
Gov. Ventura recommends Americans dump both political Parties which serve the same corrupt masters and start electing alternative candidates only who are not associated with either of the two parties.
Conclusion:
It should now be exceedingly clear to those who are well informed about the degradation of the American economy and rule of law accompanied by increasing tyranny, deployment of DHS, TSA and the passage of all the unConstitutional draconian laws (like the so-called Patriot Act, the Military Commissions Act, and NDAA 2014), that all this is being engineered by foreign controlled Globalist traitors and infil-Traitors who have hijacked America and worked hard to export  heavy industry, manufacturing and jobs.
And that they are doing this to asset strip America, destroy it's economy and the Republic itself in order to Balkanize America and prevent it from ever rising in economic strength again and operating as a Republic "of the people, by the people and for the people".
Their motives for all this?  To covertly re-fight the Revolutionary war that was lost and retake America on behalf of the zionist City of London Central Banksters and their Kingpin overlords the Old Black Nobility (OBN).  These hidden masters of the world-wide occult network which runs the IZCS prefer to stay hidden in the background where they can pull all the strings of several top Policy-Makers in America with no personal risk to themselves.
(1) http://www.veteranstoday.com/2013/02/17/robocops/
(2) http://www.tpnn.com/2014/01/22/actual-unemployment-rate-37-2-not-6-7-says-wall-street-adviser/
(3) TOTTEN DOCTRINE [ 92 U.S. 105, 107 (1875) ]
(4) http://www.veteranstoday.com/2014/01/05/the-wanta-reconstructing-america-plan/
(5) http://www.veteranstoday.com/2013/12/28/high-speed-rail/
(6) http://wantarevelations.com/2014/01/wanta-plan-macro-financial-economic-check-list/
(7) http://www.zerohedge.com/contributed/2014-01-31/powers-be-are-secretly-terrified-people%E2%80%99s-power-%E2%80%A6-and-only-pretend-they%E2%80%99re-fi
(8) http://scienceblog.com/46622/minority-rules-scientists-discover-tipping-point-for-the-spread-of-ideas/
(9) http://www.amazon.com/DemoCRIPS-ReBLOODlicans-More-Gangs-Government/dp/162087587X/ref=sr_1_2?s=books&ie=UTF8&qid=1391327762&sr=1-2&keywords=jesse+ventura+democrips+and+rebloodlicans
Source: Preston James | Veterans Today
A month ago, a student toting a shotgun, machete and 125 rounds of ammunition marched into Arapahoe High School in Denver, Colorado. His target: to kill the debate teacher whom he felt treated him poorly.
On his way to the teacher, he shot a beautiful girl named Claire Davis in the face. She hung on for a week before dying of her wounds. The killer, a regular 17-year-old high school student, tall and lanky, with good looks, shot himself before Swat teams could reach him.
As a former teacher who started teaching in the 1970s, my colleagues and I could not imagine such violence. But here in Denver, we suffered Columbine shootings by Klebold and Harris when they mowed down a dozen kids and teachers. Another killer shot and killed "Emily" in Bailey, Colorado a few years back. Recently, James Holmes marched into a Denver movie theater to unleash his own killing spree on a bunch of innocent movie attendees.
Even more disturbing: bullied teachers–145,100 public-School teachers physically attacked by students and 276,700 threatened with injury every year.
Over 4,800,000 women, both girlfriends and wives, suffering beatings by their men annually in the United States—a beating every 15 seconds.
According to the National Crime Victimization Survey, which includes crimes that were not reported to the police, 232,960 women suffer rape in the U.S. annually. That's more than 600 women everyday.
The United States carried on two ten-year wars in Iraq and Afghanistan where we killed an estimated 250,000 civilians. We killed many more Muslim fighters by the tens of thousands. We destroyed their country with our bombs. Because those third world countries lack birth records, identification and death certificates—the numbers could be much higher.
In most large city in America, such as Denver, newscasters relate killings every night of the week. Chicago, Houston, Detroit and Los Angeles suffer gang killings nightly.
One in four children suffers bullying by a teen thug in high schools across America every day during school terms. In other words, our children cannot attend school without fear of being beat up, harassed, called names and demeaned by meaner, bigger students who have no other purpose in life but to manifest their thuggery.
What bothers me: we promote horrific violence via our continuous wars promoted by bankers and the military industrial complex that profit at the cost of human lives. We promote TV violence such as "Criminal Minds" and "NCIS" where lots of people commit diabolical mayhem. We support social media arcade games for kids like "Doom" and worse. Our movies feature horrific violence that pours into our kids minds and emotions. It's like the 60s movie "Clockwork Orange" seems normal. You can watch television "Cops" where violence becomes normal. Our drones in the Middle East kill any number of humans without identity.
Today, 68 percent of African-American children grow up under the parenting of single mothers and most of them living on welfare and food stamps. Who babysits those kids? Answer: television. What do they see? Answer: violence. How do they respond? Answer: black flash mobs, "knockout" games, shoplifting and gang violence.
Over 2.3 million Americans languish in prison. We spent $1 trillion in the last 43 years on the "War on Drugs", but a pittance for raising healthy kids. Why haven't we spent as much money on discovering peaceful ways to rear our children as we spend on killing other people in contrived wars?
This information bothers me because Claire Davis could have been my daughter. Congresswoman Gabby Gifford could have been my friend. Your kid might be the one being bullied. I suffered bullying and getting beat up as a skinny kid in grade school and high school.
Question: are we a moral and ethical civilization or do we feature immorality and unethical behavior manifested in our wars and violence as stated above?
Today, 2014, one in six Americans faces hunger. That includes one in five children. (Source: www.feedingamerica.org)
What makes for peaceful, happy and contributing citizens? Answer: jobs for parents, homes for kids, excellent schools, playgrounds, after school activities and positive guidance by two parents.
What can we do to change course toward a moral, ethical, peaceful and happy nation?
We need to bring our troops home from Afghanistan and other countries around the world. Let our fathers come back home to be fathers instead of fighting useless wars.
We need to limit imports from China and other nations that take jobs away from our 14 million unemployed and 48 million citizens subsisting on food stamps. We can make all those manufactured products as well as Chinese workers.
We need to stop importing 100,000 legal immigrants every 30 days into America that take jobs away from our own working poor.
We need turn our war machine money into production for alternative energy, conservation and environmental balance.
We need to pay teachers and educational professionals much better salaries in order to educate our children to the highest excellence for competing in the 21st century. We need classes to teach parents how to parent with respect, loving discipline and positive living. (Source: www.LoveandLogic.com)
We need to examine how and why we create so much violence in our society. Then, we must take action to stop it such as stopping violent video games, stopping bullying by parenting peaceful kids, stopping TV violence seen by our young and stop glorifying war, violent movies and violent TV for children.
You can think of a dozen other ideas, but in the end, if we keep doing what we're doing, we will continue to suffer daughters, sons, fathers and mothers involved in violence and death.