Current scandals aside, when the history of the Obama Administration is written the topic of crony capitalism will need a section to itself. From the high profile failures of green energy projects to the bailouts of Wall Street and Detroit, handing out taxpayer dollars to private industry is a hallmark of the president's economic policy. But President Obama is not alone responsible for approving these giveaways. Congress has played a critical role, especially when it comes to subsidies to Hollywood and the recording industry.
Instapundit.com creator, Glenn Reynolds, has done yeoman's work connecting the dots. He has extensively documented how the "content industry" has taken advantage of the tax credits and subsides on the federal, state and local levels, to pad their bottom line. But Hollywood's biggest giveaways don't occur on the tax-writing committees in Congress but the Judiciary Committee — where copyright policy is written.
Using every means at their disposal, Hollywood has attacked the balanced approach inherent in our Constitution. Unfortunately, members of both parties have played the game that has stifled economic growth and competition and given the content lobby their near every demand. In short, Congress continues to look for more draconian ways to help copyright holders enforce their copyrights without regard to the impact on users and consumers.
That's why it was a pleasant surprise to hear House Judiciary Committee Chairman Bob Goodlatte (R-VA) announce a comprehensive review of copyright law. Goodlatte's "Copyright Principles Project," is an effort to build consensus around copyright laws between consumers, the content lobby and technology. Yet supporters of free market reforms viewed the announcement with both optimism and skepticism. There have been few supporters of reform within both parties and Mr. Goodlatte does not have a good track record of support for free market principles on these issues. But one can hope.
There are a number of reforms Mr. Goodlatte can endorse that will benefit consumers and help re-balance the law. Among them:
Unlocking Your Phone — When you buy a phone it is married to a specific wireless carrier. You can't take it and go to another one because the cost of it was subsidized by the carrier with which you signed a contract. If, when that contract expires, you decide to switch to another carrier, or if you decide to pay the penalty and end your contract early for whatever reason, you, as the owner of the phone, become the proud owner of a technologically advanced and expensive paperweight. Your phone won't work with another service provider. It would be like buying a car that you can never paint or change the radio, it has to be kept the same way it was when you bought it or it won't work. You own it, technically, but General Motors controls it. There's really nothing else you can buy that you, as the owner, have so little control over. Millions have been spent on lobbying to create and maintain this system.
Internet Radio — Internet radio is booming in popularity but the royalty scheme makes the model unprofitable. Internet radio websites pay six times the royalty rates of other broadcast mediums because the Copyright Royalty Board imposes price-fixing on the industry with standards created by Congress. Determining what standard applies depends on whether or not the service was "preexisting" in 1998 when the Digital Millennium Copyright Act was enacted. New technologies are subject to a standard that results in much higher rates than those faced by "old" technologies like satellite radio. Rep. Jason Chaffetz (R-Utah) introduced in the last Congress the Internet Radio Fairness Act, which seeks to fix the royalty rate mess. It should be a high priority for the Chairman.
Politicians on both sides of the aisle constantly rail against cronyism, yet both sides engage in it hoping you won't notice. The "safeguards" built into that cronyism to protect the patrons of it are set up in such a way that you, the consumer, will place the blame elsewhere rather than where it ultimately belongs – the government. Companies use government as a weapon against competitors and consumers, companies know it and embrace it, consumers are kept in the dark.
Like how a raise in the gas tax is blamed on "greedy oil companies" for raising the price rather than government because consumers only see the end price at the pump without knowing it's higher because their elected officials want a bigger slice, cronyism impacts you elsewhere. The company that makes your phone isn't keeping you from using it however you want, and if your favorite Internet radio station goes away it won't be because they couldn't compete on a level playing field, an entire system has been set up to make it difficult, if not near impossible for them to exist. It's just the way it is, but it doesn't have to be.
Source: townhall.com
Every so often we come across a secular Jewish 'anti' Zionist'  who argues that Zionism is not Judaism and vice versa. Interestingly enough, I have just come across an invaluable text that illuminates this question from a rabbinical perspective. Apparently back in 1942, 757 American Rabbis added their names to a public pronouncement titled 'Zionism an Affirmation of Judaism'. This Rabbinical rally for Zionism was declared at the time "the largest public pronouncement in all Jewish history."
Today, we tend to believe that world Jewry's transition towards support for Israel followed the 1967 war though some might  argue that already in 1948, American Jews manifested a growing support for Zionism. However, this rabbinical pronouncement proves that as early as 1942, the American Jewish religious establishment was already deeply Zionist. And if this is not enough, the rabbis also regarded Zionism as the 'implementation' of Judaism. Seemingly, already then, the peak of World War two, the overwhelming majority of American Rabbis regarded Zionism, not only as fully consistent with Judaism, but as a "logical expression and implementation of it."
In spite of the fact that early Zionist leaders were largely secular and the East European Jewish settler waves were driven by Jewish socialist ideology, the rabbis contend that "Zionism is not a secularist movement. It has its origins and roots in the authoritative religious texts of Judaism.
Those rabbis were not a bunch of ignoramuses. They were patriotic and nationalistic and they grasped that "universalism is not a contradiction of nationalism." The rabbis tried to differentiate between contemporaneous German Nationalism and other national movements and they definitely wanted to believe that Zionism was categorically different to Nazism. "Nationalism as such, whether it be English, French, American or Jewish, is not in itself evil. It is only militaristic and chauvinistic nationalism, that nationalism which shamelessly flouts all mandates of international morality, which is evil." But as we know, just three years after the liberation of Auschwitz the new Jewish State launched a devastating racially driven ethnic-cleansing campaign. Zionism has proven to be militaristic and chauvinistic.
Shockingly enough, back in 1942 as many as 757 American rabbis were able to predict the outcome of the war and they realised that the suffering of European Jewry would be translated into a Jewish State . "We are not so bold as to predict the nature of the international order which will emerge from the present war. It is altogether likely, and indeed it may be desirable, that all sovereign states shall under the coming peace surrender some of their sovereignty to achieve a just and peaceful world society (a Jewish State)."
Some American patriots today are concerned with Israeli-American dual nationality and the dual aspirations of American Jews. Apparently our rabbis addressed this topic too. According to them, there is no such conflict whatsoever. All American Jews are American patriots and all American decision makers are Zionists. "Every fair-minded American knows that American Jews have only one political allegiance–and that is to America. There is nothing in Zionism to impair this loyalty. Zionism has been endorsed in our generation by every President from Woodrow Wilson to Franklin Delano Roosevelt, and has been approved by the Congress of the United States. The noblest spirits in American life, statesmen, scholars, writers, ministers and leaders of labor and industry, have lent their sympathy and encouragement to the movement."
Back in 1942 our American rabbis were bold enough to state that defeating Hitler was far from sufficient. For them, a full solution of the Jewish question could only take place in Palestine. "Jews, and all non-Jews who are sympathetically interested in the plight of Jewry, should bear in mind that the defeat of Hitler will not of itself normalize Jewish life in Europe. "
But there was one thing the American rabbis failed to mention – the Palestinian people. For some reason, those rabbis who knew much about 'universalism' and in particular Jewish 'universalism' showed very little concern to the people of the land. I guess that after all, chosennss is a form of blindness and rabbis probably know more about this than anyone else.
http://zionistsout.blogspot.com/2008/03/zionism-affirmation-of-judaism.html
ZIONISM AN AFFIRMATION OF JUDAISM A Reply by 757 Orthodox, Conservative and Reform Rabbis of America to a Statement Issued by Ninety Members of the Reform Rabbinate Charging That Zionism Is Incompatible with the Teachings of Judaism
THE SUBJOINED REPLY was prepared at the initiative of the following Rabbis who submitted it to their colleagues throughout the country for signature: Philip S. Bernstein, Barnett R. Brickner, Israel Goldstein, James G. Heller, Mordecai M. Kaplan, B. L. Levinthal, Israel H. Levinthal, Louis M. Levitsky, Joshua Loth Liebman, Joseph H. Lookstein, Jacob R. Marcus, Abraham A. Neuman, Louis I. Newman, David de Sola Pool, Abba Hillel Silver, Milton Steinberg, and Stephen S. Wise.
WE, THE UNDERSIGNED RABBIS of all elements in American Jewish religious life, have noted with concern a statement by ninety of our colleagues in which they repudiate Zionism on the ground that it is inconsistent with Jewish religious and moral doctrine.This statement misrepresents Zionism and misinterprets historic Jewish religious teaching, and we should be derelict in our duty if we did not correct the misapprehensions which it is likely to foster.
We call attention in the first place to the fact that the signatories to this statement, for whom as fellow-Rabbis we have a high regard, represent no more than a very small fraction of the American rabbinate. They constitute a minority even of the rabbinate of Reform Judaism with which they are associated. The overwhelming majority of American Rabbis regard Zionism not only as fully consistent with Judaism but as a logical expression and implementation of it.
Our colleagues concede the need for Jewish immigration into Palestine as contributing towards a solution of the vast tragedy of Jewish homelessness. They profess themselves ready to encourage such settlement. They are aware of the important achievements, social and spiritual, of the Palestinian Jewish community and they pledge to it their unstinted support. And yet, subscribing to every practical accomplishment of Zionism, they have embarked upon a public criticism of it. In explanation of their opposition they advance the consideration that Zionism is nationalistic and secularistic. On both scores they maintain it is incompatible with the Jewish religion and its universalistic outlook. They protest against the political emphasis which, they say, is now paramount in the Zionist program and which, according to them, tends to confuse both Jews and Christians as to the place and function of the Jewish group in American society. They appeal to the prophets of ancient Israel for substantiation of their views.
TREASURING the doctrines and moral principles of our faith no less than they, devoted equally to America and its democratic processes and spirit, we nonetheless find every one of their contentions totally without foundation.
Zionism is not a secularist movement. It has its origins and roots in the authoritative religious texts of Judaism. Scripture and rabbinical literature alike are replete with the promise of the restoration of Israel to its ancestral home. Anti-Zionism, not Zionism, is a departure from the Jewish religion. Nothing in the entire pronouncement of our colleagues is more painful than their appeal to the prophets of Israel—to those very prophets whose inspired and recorded words of national rebirth and restoration nurtured and sustained the hope of Israel throughout the ages.
Nor is Zionism a denial of the universalistic teachings of Judaism. Universalism is not a contradiction of nationalism. Nationalism as such, whether it be English, French, American or Jewish, is not in itself evil. It is only militaristic and chauvinistic nationalism, that nationalism which shamelessly flouts all mandates of international morality, which is evil. The prophets of Israel looked forward to the time not when all national entities would be obliterated, but when all nations would walk in the light of the Lord, live by His law and learn war no more.
Our colleagues find themselves unable to subscribe to the political emphasis "now paramount in the Zionist program." We fail to perceive what it is to which they object. Is it to the fact that there are a regularly constituted Zionist organization and a Jewish Agency which deal with the mandatory government, the Colonial office, the League of Nations and other recognized political bodies? But obviously, even immigration and colonization are practical matters which require political action. The settlement of a half million Jews in Palestine since the last war was made possible by political action which culminated in the Balfour Declaration and the Palestine Mandate. There can be little hope of opening the doors of Palestine for mass Jewish immigration after the war without effective political action. Or is it that they object to the ultimate achievement by the Jewish community of Palestine of some form of Jewish statehood? We are not so bold as to predict the nature of the international order which will emerge from the present war. It is altogether likely, and indeed it may be desirable, that all sovereign states shall under the coming peace surrender some of their sovereignty to achieve a just and peaceful world society.
Certainly our colleagues will allow to the Jews of Palestine the same rights that are allowed to all other peoples resident on their own land. If Jews should ultimately come to constitute a majority of the population of Palestine, would our colleagues suggest that all other peoples in the post-war world shall be entitled to political self-determination, whatever form that may take, but the Jewish people in Palestine shall not have such a right? Or do they mean to suggest that the Jews in Palestine shall forever remain a minority in order not to achieve such political self-determination?
PROTESTING their sympathy both for the homeless Jews of the world and for their brethren in Palestine, our colleagues have by their pronouncement done all these a grave disservice. It may well be that to the degree to which their efforts arc at all effective, Jews who might otherwise have found a haven in Palestine will be denied one. The enemies of the Jewish homeland will be strengthened in their propaganda as a result of the aid which these Rabbis have given them. To the Jews of Palestine, facing the gravest danger in their history and fighting hard to maintain morale and hope in the teeth of the totalitarian menace, this pronouncement comes as a cruel blow.
We do not mean to imply that our colleagues intended it as such. We have no doubt that they are earnest about their fine spun theoretical objections to Zionism. We hold, however, that these objections have no merit, and further that voicing them at this time has been unwise and unkind.
We have not the least fear that our fellow Americans will be led to misconstrue the attitudes of American Jews to America because of their interest in Zionism. Every fair-minded American knows that American Jews have only one political allegiance–and that is to America. There is nothing in Zionism to impair this loyalty. Zionism has been endorsed in our generation by every President from Woodrow Wilson to Franklin Delano Roosevelt, and has been approved by the Congress of the United States. The noblest spirits in American life, statesmen, scholars, writers, ministers and leaders of labor and industry, have lent their sympathy and encouragement to the movement.
Jews, and all non-Jews who are sympathetically interested in the plight of Jewry, should bear in mind that the defeat of Hitler will not of itself normalize Jewish life in Europe.
An Allied peace which will not frankly face the problem of the national homelessness of the Jewish people will leave the age-old tragic status of European Jewry unchanged. The Jewish people is in danger of emerging from this war not only more torn and broken than any other people, but also without any prospects of a better and more secure future and without the hope that such tragedies will not recur again, and again. Following an Allied victory, the Jews of Europe, we are confident, will be restored to their political rights and to equality of citizenship. But they possessed these rights after the last war and yet the past twenty-five years have witnessed a rapid and appalling deterioration in their position. In any case, even after peace is restored Europe will be so ravaged and war-torn that large masses of Jews will elect migration to Palestine as a solution of their personal problems.
 Indeed, for most of these there may be no other substantial hope of economic, social and spiritual rehabilitation.
THE freedom which, we have faith, will come to all men and nations after this war, must come not only to Jews as individuals wherever they live, permitting them to share freedom on a plane of equality with all other men, but also to the Jewish people, as such, restored in its homeland, where at long last it will be a free people within a world federation of free peoples.
Of the 757 Rabbis listed below, 214 are members of the Central Conference of American Rabbis (Reform); 247 are members of the Rabbinical Assembly of America (Conservative); and the rest are affiliated with the Rabbinical Council of America (Orthodox) or the Union of Orthodox Rabbis. The total represents the largest number of rabbis whose signatures are attached to a public pronouncement in all Jewish history.
To see the scanned image in PDF format with the list of signers, click here
Note: A version of the above statement was released to the press on November 20, 1942. By that time 818 rabbis had signed on. It appears in Samuel Halperin's The Political World of American Zionism. (Detroit: Wayne State UP, 1961) 333.
In 1965, as a college student, I felt the U.S. Government and Congress worked for and represented the best interests of the American people.  As I learned more, and later as I understood more as a U.S. Army officer, I discovered presidents and Congress lie.  When I became a math-science teacher in Denver, Colorado, I discovered that superintendents lie when it benefits them.  I discovered people lie.
Lyndon Baines Johnson lied to plunge us into the Vietnam War. Bill Clinton lied from the day of his birth.  George W. Bush lied us into Iraq War.  Barack H. Obama continually lies to us as to immigration, Afghanistan War, Obamacare, his past history and more than we can count.
But the one lie that will go down in history as the beginning of the end of the United States of America goes to the late Senator Teddy Kennedy (D-MA) and his 1965 Immigration Reform Act. He exploded immigration from 175,000 annually to over 1.2 million year after year, decade after decade.  He jumped our population from a reasonable 194 million to its current 316 million on our way to 625 million in this century.
In front of Congress he said, "First, our cities will not be flooded with a million immigrants annually. Under the proposed bill, the present level of immigration remains substantially the same.  Secondly, the ethnic mix of this country will not be upset. Contrary to the charges in some quarters, [the bill] will not inundate America with immigrants from any one country or area, or the most populated and deprived nations of Africa and Asia.
"In the final analysis, the ethnic pattern of immigration under the proposed measure is not expected to change as sharply as the critics seem to think.  The bill will not flood our cities with immigrants.  It will not upset the ethnic mix of our society.   It will not relax the standards of admission. The bill will not place a burden on the legal citizens by increasing taxes to pay the huge costs for care-and-feeding, medical care, education, etc of the "immigrants"… and additional social-services for their family members.  It will not cause American workers to lose their jobs." [Ted Kennedy at Judiciary Committee hearing on Feb. 10, 1965, commenting on the Hart-Celler Act]
Kennedy's bill DID flood the country with another 100 million people. It created intractable poverty and entrenched illiteracy.  It created cultural conflicts being played out across America in 2013, i.e. Mexicans battling African-Americans in Los Angeles, Muslims taking over entire cities like Detroit and running out everyone else; it imported many third world immigrants lost in the morass of this high speed society and unable to assimilate. We feature "Black flash mobs" terrorizing citizens in Philadelphia, Minneapolis and Chicago.  We feature female genital mutilation, arranged marriages and honor killings in America in 2013.  We see exploding illiteracy rates among citizens.  We house 47 million people who cannot secure a job: thus, they exist on food stamps.  Over 14 million Americans cannot secure a job at a living wage.
This new Comprehensive Immigration Bill expects to swamp our country with another 100 million immigrants within 37 years.  From 2050, we face another 200 million beyond that.
In the meantime, Congress, led by a "Gang of Eight" senators expects to unload the gates of hell upon our country.  Not only will Congress give total amnesty to 20 million, they in turn, can and will chain-migrate endless millions of their families into our country.  This thing will become SO ugly on SO many levels, but we will become the victims and no one wins and everyone loses.
Amazingly enough, after the failure of the 1986 amnesty, our borders remain as porous as ever. Nothing in this bill shows any intention of enforcing past or current immigration employment, housing or transporting of illegal migrant laws. Thus, illegals will careen into our country in ever greater numbers.
Senator Chuck Schumer of New York said, "This is not amnesty — amnesty is the forgiveness of something. We're going to create an alternative that says OK, you want to stay here, you'll have to wait more than 10 years, you'll have to pay this fine, you'll have to pay your registration fee, you'll have to be gainfully employed, you won't qualify for any federal benefit, and then after all of that you don't get to apply for anything until the enforcement mechanisms are in place."
Schumer lies like a rug, like Al Capone, like a snake, like the 19 terrorists who flew airplanes into the Twin Towers and elsewhere.
The truth:
When the bill becomes law, every single illegal alien in America becomes legal.
Legal status will never be revoked; it can and will only be expanded with every inevitable subsequent act of Congress.
This amnesty will leader to more amnesties for millions of other aliens crossing our borders or overstaying their visas.
If you expect to save your own rear end and that of your children's future, I implore you to join the following organizations for free and start sending pre-written faxes to your reps to defeat this bill.
If the economy is improving, then why are many of the largest retail chains in America closing hundreds of stores?  When I was growing up, Sears, J.C. Penney, Best Buy and RadioShack were all considered to be unstoppable retail powerhouses.  But now it is being projected that all of them will close hundreds of stores before the end of 2013.  Even Wal-Mart is running into problems.  A recent internal Wal-Mart memo that was leaked to Bloombergdescribed February sales as a "total disaster".  So why is this happening?  Why are major retail chains all over America collapsing?  Is the "retail apocalypse" upon us?  Well, the truth is that this is just another sign that the U.S. economy is falling apart right in front of our eyes.  Incomes are declining, taxes are going up, government dependence is at an all-time high, and according to the Bureau of Labor Statistics the percentage of the U.S. labor force that is employed has been steadily falling since 2006.  The top 10% of all income earners in the U.S. are still doing very well, but most U.S. consumers are either flat broke or are drowning in debt.  The large disposable incomes that the big retail chains have depended upon in the past simply are not there anymore.  So retail chains all over the United States are now closing up unprofitable stores.  This is especially true in low income areas.
When you step back and take a look at the bigger picture, the rapid decline of some of our largest retail chains really is stunning.
It is happening already in some areas, but soon half empty malls and boarded up storefronts will litter the landscapes of cities all over America.
Just check out some of these store closing numbers for 2013.  These numbers are from a recent Yahoo Finance article…
Best Buy
Forecast store closings: 200 to 250
Sears Holding Corp.
Forecast store closings: Kmart 175 to 225, Sears 100 to 125
J.C. Penney
Forecast store closings: 300 to 350
Office Depot
Forecast store closings: 125 to 150
Barnes & Noble
Forecast store closings: 190 to 240, per company comments
Gamestop
Forecast store closings: 500 to 600
OfficeMax
Forecast store closings: 150 to 175
RadioShack
Forecast store closings: 450 to 550
The RadioShack in a nearby town just closed up where I live.  This is all happening so fast that it is hard to believe.
But the truth is that those store closings are not the entire story.  When you dig deeper you find a lot more retailers that are in trouble.
For example, Blockbuster recently announced that this year they will be closing about 300 stores and eliminating about 3,000 jobs.
Toy manufacturer Hasbro recently announced that they will be reducing the size of their workforce by about 10 percent.
Even Wal-Mart is going through a tough stretch right now.  According to documents that were leaked to Bloomberg, Wal-Mart is having an absolutely disastrous February…
Wal-Mart Stores Inc. had the worst sales start to a month in seven years as payroll-tax increases hit shoppers already battling a slow economy, according to internal e-mails obtained by Bloomberg News.

"In case you haven't seen a sales report these days, February MTD sales are a total disaster," Jerry Murray, Wal- Mart's vice president of finance and logistics, said in a Feb. 12 e-mail to other executives, referring to month-to-date sales. "The worst start to a month I have seen in my ~7 years with the company."
So what in the world is going on here?
The mainstream media continues to proclaim that we are experiencing a robust "economic recovery", but at the same time there are a whole host of indications that things are continually getting worse.
Even global cell phone sales actually declined slightly in 2012.  That was the first time that has happened since the last recession.
Perhaps it is time that we faced the truth.  The middle class is shrinking, incomes are declining and there are not nearly as many jobs as there used to be.
Mort Zuckerman pointed this out in a recent article in the Wall Street Journal…
The U.S. labor market, which peaked in November 2007 when there were 139,143,000 jobs, now encompasses only 132,705,000 workers, a drop of 6.4 million jobs from the peak. The only work that has increased is part-time, and that is because it allows employers to reduce costs through a diminished benefit package or none at all.
So how can the mainstream media be talking about how "good" things are if we still have 6.4 million fewer jobs than we had back in November 2007?
And sadly, things may soon be getting a lot worse.  If Congress does not do anything about the "sequester", millions of federal workers may shortly be facing some very painful furloughs according to CNN…
Federal workers could start facing furloughs as early as April, according to federal agencies trying to prepare for the worst.

Unless Congress steps in, some $85 billion in massive spending reductions will hit the federal government, doling out furloughs to much of the nation's 2.1 million federal workforce, experts say.
If you still live in an area of the country where the stores and the restaurants are booming, you should be very thankful because that is not the reality for most of the country.
I often write about the stunning economic decline of major cities such as Detroit, but there are huge sections of rural America that are in even worse shape than Detroit in many ways.
For example, many Indian reservations all over America have been shamefully neglected by the federal government and have become hotbeds for crime, drugs and poverty.
Business Insider recently profiled the Wind River Indian reservation in western Wyoming.  The following is a brief excerpt from thatoutstanding article…
The Wind River Indian Reservation is not an easy place to get to, but I had to see it for myself.

Thirty-five-hundred square miles of prairie and mountains in western Wyoming, the reservation is home to bitter ancestral enemies: the Eastern Shoshone and Northern Arapaho tribes.

Even among reservations, it's renowned for brutal crime, widespread drug use, and legal dumping of toxic waste.
You can see some amazing photos of the Wind River Indian reservationright here.
It is hard to believe that there are places like that in America, but the truth is that conditions like that are spreading to more U.S. communities with each passing day.
We are a nation that is in an advanced state of decline.  But as long as the financial markets are okay, our leaders don't seem too concerned about the suffering that everyone else is going through.
In fact, former Federal Reserve Chairman Alan Greenspan essentially admitted as much during a recent interview with CNBC.  The following is how a Zero Hedge article summarized that interview…
Starting at around 1:50, Greenspan states the odds of sequester occurring are very high – in fact, the playdough-faced ex-Chair-head notes, "I find it very difficult to find a scenario in which [the sequester] doesn't happen" But when asked how this will affect the economy, Awkward Alan is unusually clearly spoken - "the issue is how does it affect the stock market."

While not so many of our leaders have taken the path to direct truthiness, Greenspan somewhat shocks a Botox'd and babbling Bartiromo when he admits "the stock market is the key player in the game of economic growth."

Bartiromo shifts uncomfortably in her seat, strokes her imaginary beard and stares blankly as Greenspan explains that while the sequester will have a real effect on the real economy, "if the stock market can hold up through this, then the effect will be rather minor."
Do you see?
As long as the stock market is moving higher they think that everything is just fine and dandy.
And the Obama administration?
They continue to pursue the same policies that got us into this mess.
Their idea of "economic reform" is to threaten to sue businessesthat do not hire ex-convicts.
And of course now that Obama has been re-elected he is putting a tremendous amount of effort into "stimulating the economy".
For example, he spent this weekend golfing in Florida, and the Obamas recently spent about 20 million taxpayer dollars vacationing in Hawaii.
Meanwhile, the U.S. economy is getting worse with each passing day.
If you doubt that economic conditions are getting worse, please read this article: "Show This To Anyone That Believes That 'Things Are Getting Better' In America".
When you look at the cold, hard numbers, it is undeniable what is happening to America.
And our leaders are not doing anything to fix our problems.  In fact, most of the time they are just making things worse.
So buckle up and get prepared.  We are in for very bumpy ride, and this is only just the beginning.
Source: The Economic Collapse
The current mass legalization of 20 million illegal aliens portends the onward march of displacing American citizens from their own language, their own culture and most certainly, their way of life.
A reader told me that we face "cosmic payback" or "cosmic karma" for doing the same thing to the aborigines of America when we slaughtered them by the hundreds of thousands.  We moved them into permanent internment camps called "Reservations."  We introduced them to alcohol which addled their brains to this day as hundreds of thousands of them suffer permanent alcoholism.   Instead of teepees, they now live in broken down trailers or track housing and watch American TV, which diametrically opposes everything in their ancient cultures.
We subverted their religion.  We stomped out their "Great Spirit" and forced the Bible upon them and our God-fearing ideas of the Creator.  We forced their kids into our schools and we obliterated their languages and cultures.  While savaging some 522 tribes in North America, we called them "savages."
Read Bury My Heart at Wounded Knee, Sand Creek Massacre and Trail of Tears for a gut wrenching history of the white man's slaughter of Indians on his march across America and Manifest Destiny.
However, as we Americans race into the 21st century, we see the march other tribes invading not from Europe, but from Mexico, Brazil, Honduras, Saudi Arabia, Iraq, Pakistan, Russia, China, India, Africa and other disparate locations across the planet.   They vacate their failed societies to come to America for a "better life."  They flee starvation, misery, conflict and suffering.
But they bring everything they fled into America.  We see our English language changing to fit their needs such as, "Push 1 for Arabic" in Detroit, Michigan.  Push "2" for Spanish in most cities in America.  Push "3" for English.  Menus run in Spanish/English.  All Home Depot and Lowe's stores feature everything in Spanish and English.  Banks serve in Spanish and  English.  Soon, Arabic.
We now suffer "Black flash mobs" beating up on American citizens.  We see Mexicans gangs killing Blacks in Los Angeles.  We see honor killings, arranged marriages and female genital mutilation growing in America via our Muslim immigrants.
Yet, no one lifts a finger to stand up and speak out about English being our national language.  No one defends the American way of life, our culture or language.    Exactly the same displacement steamrolls over us as we steamrolled over the Indians. (Same as Canada, Europe and Australia.)
Americans do not realize their fate because they remain asleep at the wheel.  They remain mesmerized by the indolent television and its mindless presentations 24/7.
Reader Mary Boyle wrote, "Again we have our leader(s) destroying our nation and the people are too stupid to realize it.  I will enjoy seeing what happens in the end of this unread-written novel as things are moving so fast.  We are being dismantled so quickly and the people are too stupid to realize what is happening to them."
As the Mexicans become legalized and their numbers become the dominate tribe in 2040, they will change most television and radio into Spanish, just like we forced the Indians out of their own languages and religions.  Immigrants of every stripe grow their power to force their languages and cultures upon us.
Amazingly, whether legal or illegal migrants into  America, they stick one foot into The United States and keep one foot via cell phone, glued to their mother country.  In other words, they never become "Americans."  Hyphenated-Americans, yes! Americans, no!
Does anyone possess any clue as to what will happen when seven million Muslims in America become 20, 30 even 40 million Muslims?    They will use our U.S. Constitution to institute Sharia Law into the foundation of America.  I can see it coming as surely as the dawn.
Yet, our U.S. Congress and our citizens stagger on the side of stupid-street.  We ignore our fate.  We blithely continue in blissful ignorance.  Once Sharia Law takes hold, watch what happens to women's, children's and gay rights.  Watch what happens to free speech. Watch what happens to the foundation of our culture and language.
If I am the only American who sees this "thing" coming, I can say that I spoke up, I wrote up and I yelled loud and clear.  I think very few Americans understand the enormity of  adding 100 million, that's 100,000,000 people to this country from hundreds of cultures and languages from around the world.  That's like creating three more California's  or fifty cities the size of Denver, Colorado.  We face total cultural, sociological and linguistic breakdown of America.  As to quality of life and standard of living, shot to hell!  As to environment: water, energy, resources—exhausted beyond solving.
These two quotes may be the most important of my career:
"Many people, especially ignorant people, want to punish you for speaking the truth, for being correct.  Never apologize for being correct, or for being years ahead of your time. If you're right and you know it, speak your mind.  Even if you are a minority of one, the truth is still the truth."  Gandhi
And the most important quote:
"Most Western elites continue urging the wealthy West not to stem the migrant tide [that adds 80 million net gain annually to the planet], but to absorb our global brothers and sisters until their horrid ordeal has been endured and shared by all—ten billion humans packed onto an ecologically devastated planet." Dr. Otis Graham, Unguarded Gates
Dear reader, within the next 37 years, our Congress will import 100 million immigrants from the third world into America.  Do you think we stand a chance of maintain what it means to be an American?
If you want to stop it, you may join these organizations to create collective power to stop the forthcoming amnesty:  www.CapsWeb.org ; www.NumbersUSA.org ; www.TheSocialContract.com  ; www.Fairus.org
When I've written about our listing mis-education system, my focus has mainly been on rampant political correctness, on how students learn few of the right things partially because of emphasis on teaching the wrong things. Yet there's another problem: in some cases the teachers couldn't teach the right things even if they wanted to — they don't know them.
Professor Walter Williams treated this in his latest syndicated column, "Dishonest Educators." He introduces the topic by talking about the fairly recent cheating scandals in places such as Atlanta, Philadelphia, Houston, New York, Detroit, and other large cities (in areas that, not coincidentally, also have high rates of vote fraud and other criminality). These are shocking instances in which teachers would commit transgressions such as reading answers aloud in class during the National Assessment of Educational Progress test. How did they justify this? Well, Williams quotes one teacher who told a fellow "educator," "I had to give your kids, or your students, the answers because they're dumb as hell."
But it seems the kids aren't the only ones. Now we learn that some teachers in Tennessee, Arkansas, and Mississippi paid surrogates between $1,500 and $3,000 to take the Praxis exam for them, the passing of which is necessary for teacher certification in 40 states. And how challenging is this test that some would fork over a few grand to a ringer sit-in? Williams describes a couple of representative questions, writing:
Here's a practice Praxis I math question: Which of the following is equal to a quarter-million — 40,000, 250,000, 2,500,000, 1/4,000,000 or 4/1,000,000? The test taker is asked to click on the correct answer. A practice writing skills question is to identify the error in the following sentence: "The club members agreed that each would contribute ten days of voluntary work annually each year at the local hospital." The test taker is supposed to point out that "annually each year" is redundant.
Forget about the fact that adults would find such questions challenging; it's a sad statement about our society that we'd set the bar for teacher certification so low in the first place. I had to think: how young was I when I didn't know the answers to the above two questions? Ten? Nine? Maybe even eight? Idiocracy has arrived.
Professor Williams also touches on a third rail of American social commentary, mentioning that most of the teachers hiring the surrogates are likely black — and that most of the surrogates may very well be white. Now, before anyone thinks of "Summerizing" Williams (not as I have. Rather, this refers to application of the kind of politically correct social pressure that drove Larry Summers from Harvard), know that he is black himself. And his point in addressing race is that our leftist mis-educators' tolerance of low-information black teachers puts the lie to their claim that they care about blacks. After all, as he writes in his closing line, "If they [the teachers] manage to get through the mockery of teacher certification, at what schools do you think they will teach?"
But never fear, Dr. Williams. I'm sure these molders of young minds are well versed in afro-centrism, critical-race theory, and the principles of white privilege.
My friend RJ at http://www.topplebush.com/ just sent me a very interesting riddle:  "Why are right-wingers always talking about cutting down on government spending and'red tape' yet never ever try to cut down on military spending?  Aren't the armed forces part of the government too?"  Ya got me stumped there.
Here's another riddle I can't seem to solve:  How come us salt-of-the-earth American types who protest against all the banksters' outrageous crimes get thrown in jail, while the criminals themselves are given "get out of jail free" cards like it was Christmas?  Except, of course, for Martha Stewart.
More riddles:  "Why is it okay for Al Qaeda to be the good guys in Syria and Libya — but are the bad guys in Lower Manhattan?"  I'm all confused.
Why is it okay to tax middle-income Americans for an arm and a leg but not okay to tax rich people?  "I wonder."  https://www.youtube.com/watch?v=fMHdq4jm0oQ
How come everybody bitches and moans about the obesity epidemic and the cancer epidemic and the heart attack epidemic and the autism epidemic and the bi-polar epidemic but still live on junk food, never exercise and watch too much TV?  And still have enough balls left to complain about single-payer healthcare?  Can someone please explain this? http://www.indiegogo.com/SuperFatSeries
How come American taxpayers get to pay for the costs of demolishing Christian and Muslim homes in East Jerusalem yet can't get any tax relief when our own homes are being demolished in Detroit and Cincinnati?
How come statistics (and election results and Fox News) show that Americans are definitely being dumbed down these days, but no one wants to spend any money on improving American kindergartens — let alone on upgrading our colleges.  What ever happened to Sputnik?
Why do people fear climate change so much but still happily drive their gas-hogs around like there's no tomorrow?
How come I can't resist playing free-cell solitaire by the hour when I should be out doing the laundry and saving the world?
How can anybody in their right mind vote for any candidate that spends millions of dollars on getting elected?  You would think that if a politician had that kind of money he (or she) might want to just retire to the Bahamas.  Or give it to us.
"Why does America need to own approximately 800 military bases throughout the 'Free World'?"  Hell, if the freaking world is all that free, surely it doesn't need all those American soldiers to keep it in line?  And why does all this so-called freedom always end up costing us taxpayers trillions of dollars as well?
And how come most of "our" jobs are now located in places like China, Haiti and Burma?  Isn't that a really long commute?
And please explain the riddle of how all the top American industrial jobs here at home are now mostly being performed by prison labor?  While the 1% sucks down Oxycontin and Prozac legally and the rest of us all get busted for using medical marijuana — just to make sure they have a large enough prison labor supply in jails?
And why are American labor unions that help the working class being given such a bum rap, but when Wall Street and War Street form unions that destroy the fabric of America's economy, it's called "Capitalism" and "Showing Initiative" – not welfare for the rich?
And why are the RepubliDems always saying that the fiscal cliff is a bad thing?  If it is spozed to be such a terrible disaster, then why in the freak did they create it in the first place?
And why does 2013 still feel so much like 2012?
How many times do you have to hear that going off the financial cliff is a failure of controlling spending as opposed to a lack of revenue? Systemic deficits exist because government is too big, not because taxpayers are not paying their fair share. This assessment is sacrilege to the Democratic Socialists who make up both political parties. The "so called" debate over cutting back the growth in budgetary increases is void of any real substance or focus. The basic reason that the federal government leviathan instills mass hysteria and fear about cutting back on social welfare programs is that the system preaches a false egalitarian and utopia deliverance from reality.
Contrast this dependency viewpoint with the foundations of America First populism. Thomas Jefferson presents the basis for a healthy economy. "Agriculture, manufactures, commerce, and navigation, the four pillars of our prosperity, are the most thriving when left most free to individual enterprise." The National Center for Constitutional Studies summarizes.
Such a free market economy was, to them, the natural result of liberty, carried out in the economic dimension of life. Their philosophy tended to enlarge individual freedom – not to restrict or diminish the individual's right to make choices and to succeed or fail based on those choices. The economic role of their Constitutional government was simply to secure rights and encourage commerce. Through the Constitution, they granted their government some very limited powers to:
¦assure that the ground rules were fair (a fixed standard of weights and measures)

¦encourage initiative and inventiveness (copyright and patent protection laws)

¦provide a system of sound currency with an established value (gold and silver coin)

¦enforce free trade (free from interfering special interests)

¦protect individuals from the harmful acts of others
The big government legacy from the New Deal destroyed the last vestige of a constitutional central government. A recent illustration of the institutional attitude for the entitlement mentality comes out of that shining example of democratic community; namely, Detroit Michigan. FoxDetroit video and report in We voted for you, now bail us out tells it all.
"City Council member JoAnn Watson said Tuesday the citizens support of Obama in last month's election was enough reason for the president to bailout the struggling the city. (Click the video player to listen)

"Our people in an overwhelming way supported the re-election of this president and there ought to be a quid pro quo and you ought to exercise leadership on that," said Watson. "Of course, not just that, but why not?"
Detroit's former prosperity and manufacturing dominance rose out of the genius of Henry Ford and the companies that grew out of the auto industry. Now, Detroit teetering on the brink of bankruptcy, looks more like a Beirut war zone landscape than the affluence of Gross Point.
"No city Detroit's size has ever gone through federal bankruptcy, and analysts say the experience could easily have negative effects statewide, from Michigan's image to its bond rating."Public officials like JoAnn Watson typify the poverty victimhood constituency. The Democratic Socialists of America is very clear on their vision for the country.

"Democratic Socialists believe that both the economy and society should be run democratically—to meet public needs, not to make profits for a few. To achieve a more just society, many structures of our government and economy must be radically transformed through greater economic and social democracy so that ordinary Americans can participate in the many decisions that affect our lives."
With each passing administration, the federal government exerts more central planning and economic regulations. The middle class is under an unprecedented onslaught from bureaucrats that expand federal dependency programs that the Watson's of this world demand as claims for quid pro quo votes. The earning class is systematically being impoverished for the benefit of crony capitalists that the Democratic Socialists assail. However, their alternative is to grow central government even larger.
"Bring home the bacon" to satisfy JoAnn Watson just puts a coat of paint on a dilapidated ghetto of a failed benefit and dependency Motown community. Her mindset has greatly contributed to the State laying groundwork for managed bankruptcy for Detroit. A step in the right direction for Michigan is the Right-to-work bills pass in Lansing.
True America First populism recognizes that an all powerful and intrusive federal government destroys not only personal liberty, but drastically diminishes economic viability for producing and working individuals. Without the productivity of legitimate commerce, no ceiling on taxes can generate the funds to raise the underclass out of poverty.
Genuine traditional populism is not progressive. While being anti corporatist, the heritage of honest free enterprise and the merchant economy is defended as the alternative to the democratic socialist corporate/state. Yet the like of Chip Berlet and Matthew N. Lyons condemn Right-Wing Populism in America.
"One of the staples of repressive and right-wing populist ideology has been producerism, a doctrine that champions the so-called producers in society against both "unproductive" elites and subordinate groups defined as lazy or immoral."
This criticism of producerism is disingenuous because of the implicit bias that progress ideologues have in the superiority of their democratic socialization mission. The inbred Marxist, contaminant much needed reform activism that America First populism offers to those who understand that a real market economy has the best prospects, for the greatest gains, for the most people.
Earning a return on labor, ingenuity and innovation is the essence of noble work. The common enemy of all non-establishment political persuasions is the debt created fake money system under the Federal Reserve. Without an adequate understanding of the impossibility of taxing yourself into wealth, the democratic socialist just sinks deeper into the debt hole of central bankers.
Deficit spending is inevitable, when the U.S. Treasury borrows funds at interest, from the Federal Reserve to create fiat money. Authentic populism must be based upon a limited federal government, with a separation of shared powers, among sovereign states and local jurisdictions.
The anxiety of a federal government meltdown coming on January 1, 2013 should be no surprise for that same Democratic Socialists of America, in What is the fiscal cliff?
"An inflammatory term used by corporate elites to resist paying higher taxes and to allow them to keep offshoring jobs. Rather than prioritizing job creation and economic recovery as the road to long-term fiscal health, these advocates of austerity are using misguided hysteria about the federal debt level to further drive down the living standards of working people, the poor and the elderly. A more accurate term for the "fiscal cliff" would be "fiscal fake-out."
Apprehension of the corporatist playbook does not necessarily translate into a workable solution, when the DSA advocates more money to feed the government that serves only the globalist elites.
Even the neoconservative flagship, the Weekly Standard feels the need to chime in their counterfeit conservative message in, No 'Drama' Obama–Wants to Raise 'Debt Limit Without Drama or Delay'.
Republicans fighting the debt limit last go around, according to Reuters, is the reason America's credit was downgraded:

It was the reluctance of congressional Republicans to agree to such an increase in 2011 without deep spending cuts that brought the nation to the brink of default. The result was a historic lowering of the U.S. credit rating and a setback to the recovery from a recession that ended in 2009.
The statutory ceiling on U.S. Treasury borrowing is $16.4 trillion. The nation is expected to hit the legal limit near the year's end, although it can tap emergency measures to stave off a default and keep the government running into early 2013.
No Virginia, the real reason for the inevitable credit downgrading is that financing budget deficits with devalued dollars demands a drastic rise in interest rates. All sincere citizens must acknowledge that the Obama administration is committed to destroy Jefferson's vision for a restrictive federal government. Washington's spending problem is self-evident, but for the democratic socialist, the growth of central governance is paramount.
Barack Hussein Obama quoted in Yahoo Finance demonstrates the arrogance of an out of control dictator.
"If Congress in any way suggests that they're going to tie negotiations to debt ceiling votes and take us to the brink of default once again as part of a budget negotiation…I will not play that game," he said. "Because we've got to break that habit before it starts."
Alas, America First populism exponents recognize the absurdity of surrendering constitutional Congressional control over the federal budget, in favor of an imperial tyrant.
"A person can't be a real conservative if he rejects the primary populist message. The government is answerable to the people . . . The responsibility of the individual is to become a knowledgeable and a capable citizen. That means that pledges for a free lunch must be rejected as just another swindle dressed in a pretty package. The performance seldom matches the rhetoric and never attains compatibility with basic conservative principles. Our test is clear; if it harms individual liberty, it can't be conservatism."
Traditional populism realizes that the national debt must be repudiated because the criminal central bankers, the Jackals of Jekyll Island, have been running a banksters scam on all Americans. The fundamental difference between democratic socialists and America First populists is their standpoint on central government tyranny.
Racism raises its ugly head in every multi-ethnic society on this planet.  Wherever you see different races co-existing in places like Canada, Europe, Australia, America, Africa, Asia and Mexico—you see racism.  It's virtually universal wherever races mix throughout human kind.
When you see a majority of blacks, you see racism against whites. When you see a majority of Chinese, you see racism against other races.  When you see a majority of Mexicans or Latinos, you see racism against blacks and whites.   When you see whites in the majority, you see racism against other ethnic groups.  It's not learned; it's biological.
Webster's definition: racism—a belief that race is the primary determinant of human traits and capacities, and that racial differences produce an inherent superiority of a particular race.
Another definition as to biology—racism is not learned, but it is biological.  It stems from millennia of tribal warfare, religious warfare and linguistic warfare throughout humanity's history.  It does not have anything to do with superiority, but it has to do with color, culture and language.  Different races normally do not get along with each other.   Just like the "cat" family, tigers do not get along with lions.  Cheetahs do not get along with leopards.  In the "human" family, Japanese do not get along with Chinese, etc.
In the United States, Canada and European countries, racial unrest colors every aspect of  our (their) history and society.  The charge of "racism" erupts daily in newspapers, radio and TV.  It's been with us since the first slave ship brought blacks to this country.  Racial unrest colors much of Europe and Asia.
No amount of education, integration or wealth has ever erased racism in the United States or any other country.
Today, we see "multicultural" appreciation classes in high schools and colleges.  We see workshops in businesses to promote peace among ethnic groups.  But in the end, most people of similar races leave the workplace, athletic field or other mingling places and go home to their own tribe.
In the raging immigration debate, all of the minorities in the United States scream "racism" against "white" America.  But, they carry on their own "Black Caucus" and "Hispanic Caucus" in Congress. They carry on with Black Entertainment Television. They sponsor "Black Miss America" and other racially segregated events.  Whites are not allowed to sponsor anything of that nature.
If anyone stands up to endless illegal immigration, they automatically become a racist.  Never mind that 20 million illegal migrants inhabit the United States in violation of this nation's laws.  If anyone speaks up, writes up or presents the facts, he or she becomes a racist.
Within the next 38 years, as America remains on course to add 100 million immigrants from all over the world.   They bring incompatible languages, cultures and religions that fail to meld with Western thought and civilization.  Within those 38 years, the current dominant European tribe will become a minority to the new dominant Hispanic tribe coming up from Mexico, Central and South America. (The same thing occurs in Canada, Europe and Australia.)
Writer Sam Francis said, "You cannot separate a culture and its attendant civilization from the genetic endowments of its founding people, nor can you expect to transfer it to another people, i.e. [immigrants.]"
Therefore, America and other Western societies will face enormous racial, religious and cultural predicaments as endless tribes vie for dominance and their share of the American pie.  Those immigrants, as in the case of Muslims, create city-states within the United States that counter every aspect of Western thought.  They will utilize the U.S. Constitution to institute laws for multiple wives, subjugation of women, squelching of free speech, rights taken from gays, religious intolerance, arranged marriages and FGM.  In fact, those practices manifest in places like Detroit, Michigan today.
As this civilization transforms itself into multiple cultures that no one understands or can identify with on any level—future generations will need to overcome their tribal biases.  They will need to learn to respect the confusion, dislocation and loss of American culture.   They will need to transform themselves in light of ever greater shortages of water, food, energy and resources.
The only difference between animals and humans is that humans are animals that think, talk and reason.  Once we are left without food and water, we return to our animal nature.
If you plan on visiting Detroit any time soon, the police have a message for you: "Enter Detroit at your own risk".  That ominous message was actually emblazoned across the top of a flyer that the Detroit Police Officer Association was passing out prior to a rally on Saturday.  The flyer pointed out that Detroit is the most violent city in the nation and that more homicides are committed in Detroit than anywhere else.  Meanwhile, the number of police officers in Detroit has been steadily decreasing.  There are more murders in Detroit today than there were a decade ago, but the number of police officers in the city has decreased by about 1,000 over that time period.  The remaining police officers are overworked and incredibly frustrated.  But Detroit is far from alone.  All over the nation there are major cities that are reporting a spike in crime even as police budgets are being slashed.  Sadly, this is just the beginning.  As the economy gets even worse, budget cuts will become even more severe and crime will become an even bigger problem.
In many areas of the country, police have become little more than report takers.  If you report a crime that is not considered "high priority", you will be lucky to get an officer to come out a few hours later to fill out a report.
In cities such as Detroit, criminals are becoming much bolder and are openly mocking the police.  For example, according to a recent WND article, one gang has literally taken over a convenience store in Detroit and the police literally seem powerless to do anything about it….
Even the old-timers in Detroit never have seen anything like this: A mob of 40 black people moved into a convenience store and will not leave.

They say they now own it. They eat. Smoke. Cuss. Threaten. Spit. Rob. Sell drugs. All on video.

Police, ministers, neighbors, the store owner and just about everyone else seems powerless to stop them.

"It's a Bad Crew gas station," said one of the mob to the local Fox affiliate. "If you don't know what that is, I can't even tell you."

The owner calls police, but nothing happens. The police "come here and then they leave. Two minutes later they (the mob) are back."
What in the world has happened to Detroit?
Once upon a time it was one of the greatest cities in the entire world.
Now it has become a war zone.
As I wrote about a while back, justifiable homicide in the city of Detroit rose by 79 percent in 2011, and the rate of self-defense killings in Detroit is now about 2200 percent above the national average.
But like I said, Detroit is far from alone.
In some ways, what is happening in Chicago is even more frightening.
Many areas of Chicago have essentially been completely taken over by the gangs.  Violent crime has dramatically increased in Chicago so far this year, and nobody seems to know what to do about it.
A USA Today article from last week entitled "Murders in Chicago: What can stop the bloodbath?" painted a very grim picture about what is going on in the city right now….
Driven by gangs, drugs and guns, the bloodshed in President Obama's adopted hometown has resulted in a body count that exceeds the 312 murders this year in New York and 212 in Los Angeles, cities with populations dwarfing that of the Windy City. The toll here is up 25% from 2011: 391 through Sept. 23.
CBS News reporter Walter Jacobson recently sat down with some young gang members in Chicago and asked them some direct questions.  Many of the answers that he got to those questions were quite frightening….
"There's no solution to the violence," one gang member tells him. "Killing, killing is the solution."
When Jacobson asked them how they survive, the following was one of the responses that he received….
"Rob, steal and kill. That's the only way. We didn't grow up in Beverly Hills. We don't get it handed to us"
But what are the police supposed to do about it?
As I noted in another article, there are approximately 200 police officers assigned to Chicago's Gang Enforcement Unit to deal with an estimated 100,000 gang members.
How would you like to be outnumbered 500 to 1?
And the number of gang members in Chicago grows with each passing day.
The violence in Chicago has gotten so bad that it is making headlines all over the globe.  For example, the following is a brief excerpt from an article about the violence in Chicago that appeared in the Telegraph….
"This is a block-to-block war here, a different dynasty on every street," said a dreadlocked young man heavily inked in gang tattoos who calls himself "Killer".

"All the black brothers just want to get rich, but we got no jobs and no hope. We want the violence to stop but you ain't safe if you ain't got your pistol with you. Too many friends, too many men are being killed. We don't even cry at funerals no -more. Nobody expects to live past 21 here."
When young people lose all hope for a better future they become very desperate.
And very desperate people are capable of just about anything.
Sadly, this is just the beginning.
The other day we learned that the number of Americans on food stamps has hit another brand new record high.
Nearly 47 million Americans are on food stamps at this point, and overall more than 100 million Americans are enrolled in at least one welfare program run by the federal government.
But what happens someday if the federal government is forced to cut back significantly on those programs or if food prices increase so much that people can't buy nearly enough food to eat with their food stamps?
When people get really hungry they will do some crazy things.
But the mayor of Costa Mesa, California says that he has an answer to this problem.  He has proposed reducing the homeless population of Costa Mesa by putting all soup kitchens in the city out of business….
The mayor of Costa Mesa proposed to get rid of soup kitchens to deal with the area's homeless problem at a city council meeting on Tuesday.

"My belief is that if we manage to put the soup kitchen out of business that will go a long way to addressing the attractiveness in our city that's creating a huge negative impact," Eric Bever said.
Unfortunately, we are going to see a lot more of this kind of thing in the years ahead.  The number of people that are really hurting is going to continue to increase, and the efforts to remove them from "respectable" areas is going to become more forceful.
Already we have seen feeding the homeless being banned in major cities all over the country.
But no rules, regulations or laws are going to be able to prevent what is coming in the years ahead.  I believe that eventually we are going to see "flash mobs" of poor Americans storm into wealthy neighborhoods and take whatever they want.
Those doing the looting will justify it by saying that they are just taking from the rich and giving to the poor like "'Robin Hood" did, but most other Americans will see it as more evidence that society is breaking down.
And without a doubt our society is starting to break down.  What we are seeing in Detroit and Chicago right now is just the tip of the iceberg.
Things are going to become much, much worse.
Source: The Economic Collapse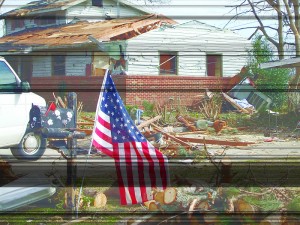 Have you ever wondered why things have been going so badly for the United States in recent years?  Our economy is falling apart, we have been plagued with heat, drought and endless natural disasters, our cities are absolutely crumbling, we just keep getting involved in even more wars and Americans are more anxious and more overweight than ever before.  So why are so many bad things happening to America?  Why do we lead the world in so many bad categories?  Why does nothing seem to be going right?  Are we under some kind of a curse?  It is almost as if we have entered a "perfect storm" that just keeps getting worse.  In the old days it would seem like something bad would happen to the United States every once in a while, but now massive problems seem to be hitting us in rapid fire fashion.  At this point, many Americans have "crisis fatigue" because our problems never seem to end.  Each new crisis just seems to overlap with all of the other problems that are still going on.  So why is this happening, and what is our country going to look like if our problems continue to multiply at this rate?
The following are some of the bad things that are happening to America right now….
Heat And Drought
This summer, thousands of new high temperature records have been set all over the country, and weather conditions are much drier than normal in most of the nation.
In fact, the drought that we are experiencing right now is being called the worst drought in more than 50 years.  More than 1,000 counties in the United States have already been declared to be official disaster areas, and there is no end to the drought in sight.
All over America this drought is killing the corn and this is causing the price of corn to soar.  The following is from a recentFinancial Post article….
Chicago Board of Trade corn for December delivery has soared 54% since mid-June, reaching a contract high of US$7.78 on Monday and approaching its record price near US$8.

Soybeans for November delivery soared to a new contract high of US$15.97 before slipping back a few cents.

Crop watchers were alarmed that corn rated poor-to-very poor jumped to 38%, versus 30% last week and 11% a year ago.
The record high for the price of corn is just $7.99 a bushel.  Many believe that the price of corn will soon blow well past that price and could eventually reach $10 a bushel.
Unfortunately, there is not much hope on the horizon.  It is being projected that these very hot and very dry conditions will persist well into August.
Wildfires
The extreme heat has also been responsible for an unusual number of wildfires in the western United States this year.  The recent horrific wildfires in Colorado made headlines all over the nation.
Sadly, these wildfires are part of a rising trend.  The truth is that the 6 worst years for wildfires in the United States ever recorded have all happened since the year 2000.
So what is causing this to happen?
What is causing so much of the country to go up in flames?
Tornadoes
Earlier this year, many areas of the heartland of America were absolutely ripped to shreds by very powerful tornadoes.
More tornadoes happen in the United States than anywhere else in the world, and unfortunately we have seen a tremendous amount of tornado activity in this country in recent years.
In 2009, there were 1146 tornadoes in the United States.
In 2010, there were 1282 tornadoes in the United States.
In 2011, there were 1691 tornadoes in the United States.
Overall, 2011 was the worst year for natural disasters in U.S. history.
So where will 2012 rank when everything is all said and done?
Fukushima
Radiation from the Fukushima nuclear disaster will be affecting Americans for many years to come.
Most Americans do not think much about Fukushima anymore, but the truth is that Fukushima is still putting out a tremendous amount of radiation, and that radiation travels eastward towards us.
A couple of months ago, one reporter discovered that radiation levels in rain falling on Los Angeles were five times above normal.
But we don't hear about this in the mainstream media, do we?
One recent study concluded that the highest concentration of Fukushima radiation in the Pacific Ocean will eventually be just off the west coast of the United States.
But our "authorities" tell us that there is no reason to be concerned, so most Americans will continue to ignore the incredible tragedy that continues to unfold at Fukushima.
If you are not sure what to think about what is going on at Fukushima, perhaps the following statistic will get your attention….
Recent tests have shown that 36 percent of all children living in the Fukushima Prefecture in Japan have abnormal growths on their thyroid glands.  After the Chernobyl disaster, less than 2 percent of all children living in the area surrounding Chernobyl were found to have abnormal growths on their thyroid glands.
Economic Collapse
The last recession was the worst economic crisis that America has faced since the Great Depression, and our economy has never even come close to recovering from it.
Now we are on the verge of another global financial meltdown that appears likely to be even worse than the last one.
Peter Schiff, the president of Euro Pacific Capital, says that the U.S. economy is headed for a crisis that will make the recession of 2008 and 2009 look like a walk in the park.
So what is going to happen if the economy goes into the toilet and unemployment skyrockets much higher than it is now?
That is frightening to think about.
Poverty Explosion
Even during this "economic recovery", poverty in America continues to soar.
For example, since Barack Obama has been president the number of Americans on food stamps has risen from 32 million to 46 million.
Overall, 49 percent of all Americans live in a home where at least one person receives benefits from the federal government according to the U.S. Census Bureau.  That is an all-time record high.
The Death Of American Cities
The United States once had dozens of great manufacturing cities that were the envy of the entire globe.
Today, many of those cities have degenerated into crime-ridden, drug infested hellholes.
Things have gotten so bad in Detroit that thousands of homes are literally being torn down in an effort to "make the city safer"….
As the next step in an April deal between financially strapped Detroit and the state of Michigan, Governor Rick Snyder is finalizing a plan to tear down thousands of abandoned houses in a bid to make the city safer.

Detroit has been hard-hit over the past four decades by a steep drop in population, a steadily eroding tax base and crippling budget deficits, resulting in countless barren streets punctuated by vacant lots and burned-out buildings.
Increase In Crime
Have you noticed that crime is on the rise in many of our communities?
The murder rate in Chicago is up 38 percent so far this year, and justifiable homicide rose by 79 percent in Detroit during 2011.
Criminals are getting bolder and are doing things that we have not seen before.
For example, on Saturday night a mob of 300 teens invaded a Wal-Mart in Jacksonville, Florida and went absolutely wild.  They started stealing stuff, breaking stuff and throwing food at each other without any concern for what the security guards would do.
When have we ever seen stuff like this happen in America before?
America already has the highest incarceration rate in the world and the largest total prison population on the entire planet by a very wide margin.
How many more people do we plan to lock up?
Meanwhile, even many Americans that are not considered to be "criminals" are becoming very cold-hearted.  Just check out what happened in Arlington, Virginia recently.  A video surveillance camera captured footage of numerous people walking right past a man that had just been hit by a car and was dying on the sidewalk.  He was lying face down and bleeding and nobody even went up to him to see if he was okay.
If you were in a similar situation, would you stop to help that man?
Gang Violence
All over America gangs are taking over local communities.
According to the FBI, there are now a total of 1.4 million gang members living in America.  Just since 2009, that number has risen by 40 percent.
To get an idea of how deeply Mexican drug cartels have infiltrated our cities, just check out the maps on this article.
As I wrote about the other day, there are only 200 police officers in Chicago's Gang Enforcement Unit to go up against an estimated 100,000 gang members living in the city of Chicago right now.
With numbers such as those, it is easy to see how violence in many of our cities could spiral out of control very, very quickly.
War
The United States continues to get pulled into more wars, and the conflicts that we are already involved in never seem to end.
Just today, 22 NATO supply trucks were destroyed in Afghanistan.  The war in Afghanistan has already lasted much longer than World War II did, and there is no end in sight.
Meanwhile, Barack Obama has gotten the U.S. military involved in conflicts in Yemen, Somalia, Pakistan and a whole bunch of other places.  The following is from a recent Wired article….
The center of the US drone war has shifted to Yemen, where 23 American strikes have killed an estimated 155 people so far this year. But you wouldn't know about it — or about the cruise missile attacks, or about the US commando teams in Yemen — by reading the report the White House sent to Congress about US military activities around the globe. Instead, there's only the blandest acknowledgement of "direct action" in Yemen, "against a limited number of [al-Qaida] operatives and senior leaders."

The report, issued late Friday, is the first time the United States has publicly, officially acknowledged the operations in Yemen and in nearby Somalia that anyone with internet access could've told you about years ago. But the report doesn't just fail to admit the extent of the shadow war that America is waging in the region. It's borderline legal — at best. The War Powers Resolution of 1973 requires the president to inform Congress about any armed conflicts America is engaged in. Friday's report isn't just uninformative about Yemen. It doesn't even mention the US campaign in Pakistan, even though the Defense Secretary says America is "at war" there.
So what is next?
Well, there are endless headlines warning that war with Syria is coming.
Other headlines warn that war with Iran is coming.
Where will this all end?
Anxiety Epidemic
Americans today are more unhappy and more anxious than ever before.
The following is from a recent Business Insider article….
According to a recent World Health Organization study, 31 percent of Americans are likely to suffer from an anxiety problem at some point during their lifetimes — compared to 25.3 percent of those in Colombia, and 24.6 percent in New Zealand, the countries that rank second and third. You'd think people in developing or unstable states — those preoccupied with concerns farther down on the Maslow Scale — would be more anxious than we are. Not so. "According to the 2002 World Mental Health Survey, people in developing-world countries such as Nigeria are up to five times less likely to show clinically significant anxiety levels than Americans, despite having more basic life-necessities to worry about," writes Taylor Clark, author of Nerve: Poise Under Pressure, Serenity Under Stress, and the Brave New Science of Fear and Cool. "What's more, when these less-anxious developing-world citizens emigrate to the United States, they tend to get just as anxious as Americans.

"The United States has transformed into the planet's undisputed worry champion," Clark adds.
Obesity Epidemic
Of all the major industrialized nations, the United States is the most obese, and a recent Gallup survey found that Americans are more concerned about our obesity epidemic than ever before.
And nobody can deny that we are getting fatter.
Back in 1962, only 13 percent of all Americans were obese.
Today, approximately 36 percent of all Americans are obese.
Drug Addiction Epidemic
The United States has a higher percentage of drug addicts than any other major industrialized nation does.
We love to escape the pain of our every day lives.
At this point, the United States has the highest rate of illegal drug use in the entire world.
The United States also has a higher percentage of people addicted to prescription drugs than anyone else does.
So what does that say about us exactly?
Child Abuse Epidemic
In the United States, we treat our children very badly.
Sadly, there are more than 3 million reports of child abuse in the United States every single year, and the United States has the highest child abuse death rate on the entire globe.
Teen Pregnancy Epidemic
When our kids grow up they tend to be very sexually active as teens.
Amazingly, the United States has the highest teen pregnancy rate on the entire planet.
And all of this sexual activity is rapidly spreading disease among our teens.  According to one study, one out of every fourteen girls in the United States has at least one sexually transmitted disease.
Divorce Epidemic
We like to make movies and television shows about families, but the truth is that the family structure in the United States has been breaking down for a very long time.
Today, the United States has the highest divorce rate in the world by a very wide margin.
Some example for the rest of the world we are, eh?
16 Trillion Dollar National Debt
Right now the U.S. national debt is $15,884,155,929,632.05.
We will shortly cross the 16 trillion dollar mark.
This is the greatest debt in the history of the world and it is beyond criminal that we plan to pass this debt on to future generations.
Our greed has destroyed the future for our children and our grandchildren and yet we continue to borrow trillions more because we just can't help ourselves.
Political Nightmare
On top of everything else, we have a horrifying lack of leadership here in America.
Our last four presidents have been four of the worst presidents in U.S. history, and in 2012 we are faced with an incredibly depressing choice at the polls.
Is Barack Obama really the best that the Democrats can do?
The American people elected an incompetent con man to the highest office in the land.  Virtually every decision that he makes is wrong and virtually everything that he has tried to do while in office has been a failure.
The Republicans dislike Barack Obama so much that they picked the candidate most like Obama out of the entire Republican field to go up against Obama.
What kind of sense does that make?
Is Mitt Romney really the best that the Republicans can do?
Right now the best selling point that Republicans have for Romney is this….
"You better vote for him or you will get another four years of Obama".
But Mitt Romney would certainly also be a bad president and would lead us down the exact same road that Obama has.
This fall, Americans will either get to vote for the worst president in U.S. history or another guy who will almost certainly be one of the worst presidents in U.S. history.
How depressing is that?
So as this nation continues to fall apart, we are guaranteed to have an absolutely horrible leader in the White House.
Perhaps we are really cursed.
So do you have an opinion about why so many bad things are happening to America?
Source: The American Dream
"The two greater dividers are religion and language." Kant
Thousands of people write me monthly after reading the plain, simple truth that I provide week in and week out, year in and year out as to our beloved country—The United States of America.
With our entire U.S. Congress garnering a 9 percent approval rating and our president running 54 percent disapproval—it doesn't take a New York lawyer to figure out that most Americans are not happy with "hope and change" promised nearly four years ago. Congress remains hopelessly gridlocked and our president resembles a six foot tall man who can't swim, but jumped into a 12 foot swimming pool with no lifeguards. Result: our country is drowning.
After nearly four years, we still run 14 million unemployed Americans and another 7 million underemployed. Our school systems suffer 7,000 high school drop outs every single day of the nine month school year. We suffer an ongoing death and financial spiral in Afghanistan with no end in sight. We run a $15 trillion national debt while the average credit card carries a $9,644.00 balance (debt) according to NBC anchor Brian Williams. The litany of ills grows daily.
"I am an 81 year old grandmother with an 80 year old husband who is still working 12 hours a day to take care of us. We have 10 and 14 year old grandsons. Surely if I can read the hand writing on the wall, those that are half my age should at least be able to do the same. God bless you for the truths you speak. Don't ask me how, but God will find a way top honor you for your work." Grandmother in Texas
This week, CBS's anchor Scott Pelley reported on Scranton, Pennsylvania being flat broke. The town now pays its city workers, fire and police minimum wage of $7.25 an hour because the city is $16 million in debt. Scranton represents one of dozens of municipalities in financial hot water. Yet, Congress gives billions to other countries in foreign aid.
Los Angeles schools dismissed 4,000 teachers this year. Their classrooms skyrocketed from 28 kids to over 40 students per teacher. Educational chaos reigns. They run a $16 billion state deficit in California. Within 20 years, California schools dropped from the highest class system in America to the bottom five states in the nation.
Chicago schools, according to Mayor Rahm Emanuel, cut school days to five hours because they lack enough money to pay for teachers and staff. Last week, several little girls were shot and one died on the streets of Chicago as they sold lemonade. Street gangs rule! Emanuel said, "We can't count on Washington DC because it is dysfunctional."
ABC's anchor Diane Sawyer reported on New York adding two to five million more residents in the coming decades. She said that 300 square foot apartments would be the norm of the future. A 300 square foot apartment equals the size of two car parking spaces. Humans in big cities will be living like bees in a hive.
Last week in Detroit, Michigan, Muslims threw stones, bottles and cans at Christians at a Muslim street festival.
Robert Muise, Co-Founder and Senior Counsel of AFLC, and formerly counsel with the Thomas More Law Center of Ann Arbor Michigan, commented, "Whether you agree or disagree with the Christians' message, there is one issue to which there is no dispute: no citizen should be stoned in a city street in America for exercising his constitutional right to freedom of speech. And what makes this case so egregious is that law enforcement officers were present and made the conscious choice to allow the Muslim mob to silence the Christian speakers through violence. Indeed, the video of the incident looks like something you would see in the Middle East, not in the United States."
Through all those reports, none, I repeat, none of the big anchors said a word about what is causing these massive problems. None spoke a word about what we might do to change course. None of them interviewed "upstream" leaders as to how to prevent the problems by being proactive instead of reactive.
"Unlimited population growth cannot be sustained; you cannot sustain growth in the rates of consumption of resources. No species can overrun the carrying capacity of a finite land mass. This Law cannot be repealed and is not negotiable." Dr. Albert Bartlett, www.albartlett.org , University of Colorado, USA.
The great writer Edward Abbey said, "Unending growth is the modus operandi of a cancer cell and we all know what happens to the host."
Dear reader, every 30 days the U.S. Congress imports 100,000 foreign immigrants with green cards into the United States. This has been going on since 1965. They birth 900,000 children annually. Another 800,000 illegal migrants rush into our country because our employment laws are not enforced. That equals to 3.1 million annually added to our country—give or take a few thousand. (Sources: PEW Hispanic Center, "US Population Projections" Fogel/Martin, US Census Bureau) If not stopped, it will continue to "go on" until our country adds 100 million immigrants within the next 38 years. Such numbers cannot be sustained. Such numbers are and will destroy the American way of life. Such importation of religions, cultures and illiteracy are already manifesting in violence in the cities of America.
"Most Western elites continue urging the wealthy West not to stem the migrant tide [that adds 80 million net gain annually to the planet], but to absorb our global brothers and sisters until their horrid ordeal has been endured and shared by all—ten billion humans packed onto an ecologically devastated planet." Dr. Otis Graham, Unguarded Gates
In the past week, since the Supreme Court upheld a key component of Arizona's anti-illegal immigration law S.B. 1070, millions of illegal alien migrants spoke defiantly against the law and grew more vociferous in their collective voice to break the law.
Over eight million of them work full time jobs in our communities across the nation.  Over 20 million of them reside in our country in violation of our laws.  They siphon our medical, educational, welfare and prison systems out of multiple billions of dollars.
They benefit only rich corporations that hire those illegals, yet the average American taxpayer subsidizes illegals' presence in this country.  The rich benefit while citizens pay their bills.  The U.S. Chamber of Commerce supports illegals and presses for an endless stream of them.  Notice that stream continues year in and year out for the past 30 years.
Nothing has stopped it.  Not our 14 million unemployed nor our seven million underemployed! Not our devastated educational systems faltering beyond repair in California and everywhere illegal alien children collect.
The U.S. Congress continues to kick the can down the road.  Speaker of the House John Boehner nullifies, at every juncture, any attempt to pass E-Verify to force employers to check immigration status.  The House and Senate continue to pump no less than 100,000 legal green card holding foreign workers into this country every 30 days, 12 months of the year.  Corporations force additional H-2B Silicon Valley visas to insource jobs away from millions of Americans.  Farmers and ranchers cheat the H-2A visas that would give them unlimited legal farm labor in favor of illegal alien labor—but cheaper and off the books.  Finally, the past five presidents failed to enforce our immigration employment laws at every intersection.
It's as if, our presidents and Congress want to take this country down to its knees.  No amount of logic, no amount of suffering by our middle class, no amount of poverty will make our leaders stop this massive illegality thriving within our country.
Result: we are losing our national identity.  Last week, Muslims in Detroit stoned peaceful marching Christians and the police arrested the Christians rather than go after the Muslims who were clearly breaking the law.  Mexicans continue their takeover of  Los Angeles, Chicago and other major cities by displacing our language and customs in our own country. Arabic grows in its majority language status in Detroit and even in Washington DC from influx of Middle Eastern immigrants that refuse to meld into the American mosaic.
Legal and illegal immigration constitute the greatest internal issue of our country since slavery at the signing of the U.S. Constitution.
I talked with Bromwell Ault, director of the www.centerforpublicconscience.org  in West Palm Springs, Florida.  He writes and publishes the "Matters of Conscience" quarterly.
He addressed Florida's rampant illegal immigration problem with his local paper.
"Your recent coverage of this topic, like most others, fails to adequately inform the reader of the importance of this issue," Ault said.  "Which could well turn out to be the most threatening internal issue we have faced since slavery.
"Although there are multiple similarities between them, far too many Americans view immigration as a question that should and will be solved by Congress. They are dead right about "should" and tragically wrong about "will", as every congress and president since the Reagan amnesty of 1986 has "kicked the can down the road" by refusing to enforce existing law. This is a deeply flawed choice that destroys the balance between our three branches of government that is spelled out and required by our Constitution.
"Immigration, like slavery, is not just one issue. Both raise serious constitutional, economic, political and social questions which, of course, our political representatives are unwilling to address because it is impossible to discuss immigration sensibly and openly without causing offense or creating opposition to one or more constituencies. As votes are easily lost by having firm opinions, the tactic of choice is to speak as generally as possible and to defer any real action.
"This is not new. Our founding fathers and their successors dodged the slavery bullet for seventy years during which time the money and power that surrounded the issue grew ever larger until it was no longer possible to be contained. We are engaged in the same process today with immigration with the exception that the numbers today (i.e., population, money, votes, taxpayer funding, etc.) are exponentially larger than they were 150 years ago.
"The American voter deserves a better presentation of our growing immigration crisis than has so far been made available from government, the main stream media, both major political parties and our educational and religious institutions."
Ironically, Obama enhances and supports illegal migration.  Congress does everything to continue it.  No matter how bad it gets for Americans, their own leaders will continue import 100,000 legal immigrants every 30 days until our national identity, language, educational systems cannot and will not remain American.
Worse, the American people sit, stand, grow fat and lethargic year after year as their national identity morphs into multiple countries and languages.
America prides itself in being called "the land of the free." But, what, exactly, does it mean to be free? Does it mean owning a car and having a job? People in communist countries own a car and have a job. Does it mean going to a mall to shop. People in communist countries go to a mall to shop. Does it mean going to an amusement park to recreate? People in communist countries go to amusement parks. Does it mean going to the polls and voting? People in communist countries go to the polls and vote. In reality, many, if not most, of the things that most Americans would identify as marks of freedom are commonly practiced in the most oppressed communist countries of the world. So, what does it mean to be free?
Obviously, the freedom of speech is a crucial element of freedom, so much so that it is enshrined in the First Amendment of the Bill of Rights. And the truth is, freedom of speech is not at all what it used to be in this country. If you doubt that, just ask the hundreds and thousands of journalists, news anchors, sportscasters, business executives, religious leaders, non-profit organization heads, teachers, scientists, government employees, etc., who have lost their positions for saying something politically incorrect. If you could, ask the late Howard Cosell or the late Jimmy "The Greek" Snyder. Ask Judge Andrew Napolitano, Glenn Beck, or Lou Dobbs. There are literally millions of people across America who daily "bite their tongues" and refuse to speak for fear of demotion, dismissal, retaliation, persecution, or worse! You call that freedom of speech? Gag!
Another critical element of freedom enshrined in the First Amendment is the right to worship freely. But, this, too, is not what it used to be. Can anyone remember when pastors and church leaders were free to say what they wanted in regard to issues that tread into government? If you do, you are probably over 50 years old or attend a non-501c3 church. On the whole, pastors and church leaders today are literally "scared silly" to broach any topic that might have political overtones, which means a sizeable percentage of the Bible is either ignored or spiritualized away by the vast majority of America's pulpits. You call this freedom of worship? Barf!
Of course, the right of the people to keep and bear arms is one of the most crucial ingredients of a free society. It is this right that, for the most part, separates the United States from the oppressed nations of the world. And, of course, the Powers That Be have been chipping away at this fundamental tenet of liberty for nearly half a century, to the point that there are literally tens of millions of Americans who are forbidden by law from owning or possessing a firearm due to a conviction or plea bargain for some "crime" in which no one—nada–was injured. And in many states, even those who have never run afoul of the law are forbidden from owning–and especially–possessing a firearm. Can anyone say Massachusetts or California?
Government attacks against the Second Amendment notwithstanding, I am absolutely convinced that the ownership and possession of more than 100 million firearms in the hands and homes (and hearts) of the American citizenry is the main thing that has kept the overt forces of tyranny somewhat at bay to this point in our country. I suggest that even you folks who do not really care anything about guns and shooting, but who claim to love liberty, go purchase a firearm and learn the fundamental elements of firearm safety and usage–if for no other reason than because you are an American who believes in freedom and who understands that only free men own guns!
The right to be secure in your homes, papers, effects, etc., is also an essential element of liberty. But this right has been largely expunged in the United States–especially since 9/11/01. The NDAA (and other federal laws and executive orders) suspends the right to a trial by jury and the right to not be subjected to cruel and unusual punishment, among other essential liberties.
But perhaps the most essential element of liberty is the right to be left alone, the right to privacy, the understanding that a man's home is his castle, the right of free people to live their lives without Big Brother looking over their shoulder. Without the right to be left alone, liberty does not exist! And ladies and gentlemen, it is this freedom that is under attack the most in this country.
This is an issue that cuts across all political, social, racial, and religious lines. It doesn't matter to a hill of beans whether one is liberal or conservative, Democrat or Republican, white or black, or Protestant or Catholic. The right of free men to be left alone without government sticking its nose into our personal and private business is the quintessential ingredient of a free society. And in this regard, do you really believe America is still the "land of the free"? You're kidding, right?
America is no longer "one nation under God." Today, America is "one nation under surveillance." Cameras monitoring our every movement, satellites taking pictures of our homes, listening devices being used to record our conversations, hi-tech computers capturing virtually every piece of correspondence, banking institutions forwarding our private financial records to Big Brother, and now armed drones flying over the neighborhoods of the American citizenry all reveal that America is anything but the "land of the free." The following My Way News report is merely another example of this repulsive reality:
"The U.S. intelligence community will now be able to store information about Americans with no ties to terrorism for up to five years under new Obama administration guidelines.
"Until now, the National Counterterrorism Center had to immediately destroy information about Americans that was already stored in other government databases when there were no clear ties to terrorism.
"Giving the NCTC expanded record-retention authority had been called for by members of Congress who said the intelligence community did not connect strands of intelligence held by multiple agencies leading up to the failed bombing attempt on a Detroit-bound airliner on Christmas 2009.
"'Following the failed terrorist attack in December 2009, representatives of the counterterrorism community concluded it is vital for NCTC to be provided with a variety of datasets from various agencies that contain terrorism information,' Director of National Intelligence James Clapper said in a statement late Thursday. 'The ability to search against these datasets for up to five years on a continuing basis as these updated guidelines permit will enable NCTC to accomplish its mission more practically and effectively.'
"The new rules replace guidelines issued in 2008 and have privacy advocates concerned about the potential for data-mining information on innocent Americans.
"'It is a vast expansion of the government's surveillance authority,' Marc Rotenberg, executive director of the Electronic Privacy Information Center, said of the five-year retention period.
"The government put in strong safeguards at the NCTC for the data that would be collected on U.S. citizens for intelligence purposes, Rotenberg said. These new guidelines undercut the Federal Privacy Act, he said.
"'The fact that this data can be retained for five years on U.S. citizens for whom there's no evidence of criminal conduct is very disturbing,' Rotenberg said."
See the report at:
http://apnews.myway.com/article/20120323/D9TLT6VG0.html
Go to any oppressed country, and what will you find? A surveillance society! This is the most glaring characteristic of an Orwellian state. And ladies and gentlemen, Communist China or Red Russia has nothing over the United States when it comes to the development and implementation of a surveillance society. And the truth is the US would have already plummeted into overt oppression if it were not for the fact that there are so many guns in the possession of the American citizenry. But, I say again, without the right to be left alone, liberty does not exist.
Folks, we must start paying attention to this surveillance society that it quickly taking shape in this country. No! Not just start paying attention to it, start RESISTING it! A surveillance society cannot emerge without the cooperation of State governors, attorney generals, legislators, senators, county sheriffs, city mayors, police chiefs, etc. And where are America's pastors to sound the alarm bells from the church houses regarding this attack against our liberty? Where are the college professors? Where are the journalists and reporters? Where are the retired military personnel who were willing to sacrifice their lives on foreign shores? What good is it to fight for freedom overseas, if we are not willing to fight for freedom at home?
So, the next time you hear someone shout out that America is the "land of the free," ask them if they have given any thought to the fact that virtually everything they do, everything they say, everywhere they go, and every financial transaction they make is being monitored, scrutinized, and surveilled by the federal government and the private institutions they control. Ask them what they are doing to resist this sinister surveillance society that is quickly enveloping this country. Ask them what their pastor is doing to resist this burgeoning surveillance society. Ask them what kind of country do they think their children and grandchildren are going to grow up in one day. Then ask them if they truly understand what it means to be free. And maybe more importantly, ask them if they understand what it takes to keep America free, because people who are not left alone are not free!
Postcolonial, feminist and gay studies share many similarities to the extent that some academics regard these fields as theoretically and ideologically complementary. These fields of study are primarily concerned with politics, the structure of hegemony, the oppressed and the mechanism that brings about injustice. It is only natural then, that these realms of thought, primarily concerned with prejudice and injustice, would become key instruments in our understanding of Zionism and Israeli oppression.
Without questioning the intellectual validity and the theoretical substance of the postcolonial spectrum of thought, it is clear that some contemporary leading trends within this realm of studies emphasize the role of 'White male' and the 'phallus' as being at the core of contemporary Western society's malaise. So the next question is almost inevitable –Where does it leave the 'White male'? Or more anecdotally, am I, a person who happens to be wrapped in pale skin and is also attached to a white phallic organ, do I bear responsibility for centuries of European genocides? Would my responsibility lessen once I decide to chop my male organ off?  Am I, or any other White male, left with any authentic ethical role?  Or are we biologically doomed to be the epitome of every wrongdoing of the Western society for generations? The astute postcolonial theorist may suggest that 'Masculinity', 'Whiteness' and the 'Phallus' are mere symbolic representations rather than 'things in themselves'.
Some postcolonial and feminist theoreticians would argue that imperialism, like patriarchy is, after all, a 'phallo-centric', 'supremacist', 'White' ideology that subjugates and dominates its subjects. This is an interesting and even intriguing statement, yet I am not so sure that it is valid or at all relevant to our understanding of Zionism and the crimes committed by the Jewish state. Zionism and Israel are clearly supremacist ideologies, yet is AIPAC's push for a war against Iran 'phallo-centric'? Is the Zionist appetite for Palestinian land 'patriarchal', or inspired by any form of 'phallic' enthusiasm or even 'Whiteness'? Is the 'War against Terror' that left about one and a half million fatalities in Iraq and Afghanistan, 'phallicly' orientated or is it the White male again?
Let's face it, Zionism, Israeli politics and Jewish Lobbying are not particularly 'phallo-centric' or 'patriarchal'. They also have little to do with 'Whiteness'. Zionism, and Israel are actually primarily 'Judeo-centric' to the bone. They are racially driven and fuelled by a particular supremacist culture that is inspired by some aspects of Talmudic Goy hating and some sporadic (and false) Old Testament (false) interpretations. But this is exactly the verdict the postcolonial scholar attempts to prevent us from reaching. It is especially embarrassing because Israelis and Zionists openly draw their inspiration and expansionist enthusiasm from Jewish culture and texts, which they interpret in a very particular self-serving manner.
In spite of the fact that this discourse, in its current form, is pretty much, irrelevant to our understanding of Zionism and Israel, this postcolonial discourse is still, very popular amongst some anti Zionists and in particular, Jewish anti Zionists. The reason is pretty simple; it is effective in diverting attention from the real issues; it disguises the magnitude of Jewish power, Jewish politics, the inherent 'Jewish' nature of the 'Jewish State' and Jewish intellectual hegemony within the west and the Left in particular. Within the realm of the postcolonial discourse we are not even allowed to mention the 'J word', let alone criticise Jewish lobbying or Jewish power structures.
In fact, the postcolonial discourse, allows its acolytes to talk endlessly and passionately about Israel and Zionism without saying anything meaningful. It allows the Left to refer to Zionism as 'settler colonialism' in spite of the embarrassing fact that no one actually knows where or what exactly is the Jewish 'mother state' is[1]. Postcolonial scholars also encourage us to refer to Israel as an Apartheid state in spite of the fact that Apartheid is a racially driven system of exploitation of the indigenous. The Postcolonial enthusiast would obviously turn a blind eye to the fact that Israel is not interested in exploitation of the Palestinians. It prefers to see them gone. Hence, since it aims to get rid of the indigenous, Israel should be realised as an avid follower of the Lebensraum (Living-space) philosophy. From that perspective at least, Israel should be equated with Nazi Germany rather than with South Africa.
The postcolonial discourse, in its current form, allows its anti Zionist enthusiasts to spin endlessly. They can refer to Israel and Zionism without actually disturbing, hurting or even touching Israelis, Zionists and Jewish political structures. The postcolonial theorist is basically engaged in an attack on an imaginary phantasmic construction that has zero relevance to Zionist ideology or Israeli politics whatsoever. It is basically an advanced form of an intellectual onanism.
Like Rabbinical Judaism and Stalinism, the postcolonial discourse is extremely intolerant towards dissent and criticism. It surrounds itself with a defense wall, operates as an intellectual ghetto. In fact, it also invented political correctness just to police and curtail, by means of self-censorship, any freedom of expression.
Arab and Palestinian Postcolonial Scholarship
One of the most influential postcolonial thinkers was Palestinian- American literary theorist Edward Said. Said's polemic, Orientalism (1979) was a deeply profound attempt to grasp the West's vision of the Orient, the colony and Islam. The term Orientalism, as coined by Said, covers three interrelated meanings. First, it names the academic study of the Orient. Secondly, it is a form of deliberation that constitutes the Arab as the 'other'.  Thirdly, it is the structures that maintain Western domination over the Orient.
Being an outstanding creative intellect, Said engaged in a vast examination of a multitude of Orientalist discourse. His writings refer to political and historical texts as well as literature and media. Said obviously realised the immense importance of cultural criticism and cultural studies.
Confusingly, some of Edward Said's Palestinian and Arab successors seem to oppose the very field of study Said championed.  For example, as much as Said was immersed in deep cultural examination and discourse analysis, Palestinian activist and academic Ali Abunimah recently claimed the following."We should be very clear in condemning explanations which try to blame a culture or a religion for a political situation." Abunimah basically believes that culture doesn't explain 'anything at all'. It seems to me that Abunimah, who often integrates the term 'Orientalism' into his political statements and tweets, is apparently unfamiliar with the intellectual core of Edward Said's thought and methodology.
Ali Abunimah is not happy at all with my reading of the conflict. This is understandable and totally legitimate and furthermore, he is not alone. Other exiled Palestinians seem also to be very concerned. Their outrage at my argument that Israel is not a European style colonial state implies that they fear the end to a discourse in which they have invested so much. Some of those Palestinians were very happy to add their names to the list of book burners who demanded my disavowal.  This was indeed a very sad turn – futile, yet, at the same time both revealing and predictable. Though those Arab and Palestinian scholars criticized my work for being 'racist' without providing a single racist comment by me, it was disappointing to discover that, it was in fact their writing that was actually saturated with biological determinist comments and peppered with blunt racism.
Recently we came across a video of cultural BDS leader Omar Barghouti exploring some 'postcolonial' ideas. He for instance, insisted that "the white race is the most violent in the history of mankind." This is an outrageous sweeping generalization especially since , Barghouti surely knows that Zionism is Judeo-centric and has very little to do with Whiteness. It is not the degree of 'Whiteness' that constitutes the racist element within the Israeli legal system, it is rather the 'degree of Jewishness' that makes an Arab Jew privileged in comparison to a Palestinian with a very similar skin colour. Omar Barghouti is studying in a 'Zionist' Tel Aviv university (while asking the rest of us to boycott the same university). Seemingly, he has internalised the Zionist academic postcolonial jargon and has integrated and implemented some biological determinist and racist ideas into his pro-Palestinian political thinking.
And Omar Barghouti is not alone. Assad Abu Khalil, AKA The Angry Arab, is another postcolonial enthusiast who also engages in a similar racially driven approach. In his blog post White Man and Paul Newman, Angry AbuKhalil writes "the White Man is not a racial category–or it is not merely a racial category but also a political and epistemological category." Not only does Angry Arab agree that the 'White Man' is partially a racial category, he even goes as far as linking skin colour with a political stand and even epistemology.[2]
Of course, I realise that being an Arab academic in a Zionised American or British university is a tough mission. I guess that for some time the postcolonial discourse was the only possible template that allowed a criticism of Israel and Zionism. But the time is ripe to move on. We'd better now call a spade a spade.  It is time to call Israel what it is, namely "The Jewish State". The time has come to ask what the Jewish State is all about and what is the true meaning of the Jewish symbols that decorate Israeli tanks and airplanes? The time has come for us to grasp that the Jewish Lobby is a primary threat to world peace.
But can we do it all while being thought-policed by the rigid boundaries of the postcolonial realm?  Can we talk about Jewish identity politics while some prominent Palestinians activists attempt – to block any discussion on Jewish culture & power?  My answer is yes we can, and we'd better make every possible effort to liberate our discourse from the Judeo-centric postcolonial grip.
Whiteness, The Jew & The Queer
In the last few weeks I have wondered why Omar Barghouti attacks the 'White race'? Is it really necessary? Couldn't he just refer to the 'West', America, Orientalism or the 'British Empire'? Why does Angry Arab fight the White man? Is it really an elementary political category?  Does the introduction of racial categories and biological determinism serve the Palestinian cause or Arab liberation?  I decided to jump into the water and immersed myself in some contemporary texts about whiteness and postcolonial theory. I thought that it may help me to understand the emergence of such thoughts.
Following the recommendation of my friend and musical partner Sarah Gillespie, one of the first texts I picked was Richard Dyer's 'White'. Dyer is a respected film scholar and a leading writer on the topic. It didn't take more than five pages before I stumbled upon a very interesting passage that opened my eyes. In the next few lines Dyer speaks about his childhood friendship with a Jewish pal and the impact it had on him.
"The key figure here was a Jewish boy at school, whom I'll call Danny Marker. I used to visit him and his family in Golders Green, a Jewish neighbourhood of London. I knew by then that I was a homosexual and I envied Danny and his family-they too were an oppressed minority, whom, like queers, you could not always spot; but, unlike us, they had this wonderful, warm community and culture and the wrongfulness of their oppression was socially recognised. I now believe that there are intellectual and political problems with making and analogy between Jews and queers, between ethnic and sexual discrimination, but I am trying to say how it felt then. I envied Danny's ethnicity and wanted to be part of it, indeed, felt at home with it."  (White, Richard Dyer,  White Pg 5)
In The Wandering Who, I wrote extensively about the clear ideological and theoretical continuum between Zionism and other marginal thoughts. I explored the deep ideological similarity between Queer theory and the Jewish national aspiration. On the one hand we notice a legitimate and reasonable call against injustice – the Zionist and the Queer theorist demand to become 'people like other people' a call obviously understood and supported by many. But on the other hand, we also detect another forceful demand – to maintain and preserve uniqueness and differentiation. As one can imagine, the humanist call for equality can easily clash with the forceful self-centric, clannish demand for preservation (especially when celebrated on the expense of others).
However, Richard Dyer explores here another special affinity between the queer and the Jew. As a homosexual he expresses a clear and innocent envy of his Jewish schoolmate's social landscape. Dyer notices that in spite of being oppressed, the Jews have managed to form a "warm and wonderful community and culture."  Dyer's feeling at home within the Jewish family nest may explain why Tel Aviv has become a Gay capital. It explains why some prominent Queer activists feel so strongly and positively about the Jewish State, Zionism, Jewish culture and Jewishness in general. But it also may explain why some Arab and exiled Palestinian secular academics, feel some affinity to the Jewish dominated anti Zionist postcolonial nest. Operating as an intellectual ghetto, it may also retain some Jewish characteristics, it is probably a 'warm community' as Dyer describes it. It may even be that some Palestinian postcolonial secular academics would feel more comfortable in Tel Aviv University than in Al-Azhar University in Gaza.
I obviously understand it and I am far from being judgmental. But am I naïve to expect Palestinian activists and intellectuals to ensure that the, 'wrongfulness of Palestinian oppression' be widely and 'socially recognised' by the masses, rather than by a few postcolonial Jewish Anti Zionists? It is time for our discourse to leave the ghetto.
I guess that in order to achieve such a goal, we must transcend the decaying postcolonial discourse or else completely revise it. We must drift away from any form of marginal ideology.  We must be able to deconstruct Jewish texts and Jewish cultural discourse with the same vigor that Edward Said deconstructed the European canon, whether it was Charles Dickens or Lord Balfour. We actually better locate the issue of Palestine at the forefront of the battle for a better world, humanity and humanism.
We should engage in an inclusive, open intellectual debate that welcomes all oppressed (queers, gays, Arabs, Muslims, people of colour and so on) and oppressors too. At the end of the day, with 50 million Americans living in deep poverty watching 30.000 drones fly over their heads, Gaza is now in Detroit, Newark and Philadelphia. Our solidarity with Palestine can now become a true force of genuine empathy. We don't now just put ourselves in the shoes of the Palestinians, we actually wear them. We all strive for the same liberty. We are one.
[1]  If Israel is the Jewish 'Settler State' we better be informed at last where is the Jewish 'mother state' for colonialism is defined by a clear material, cultural and spiritual exchange between a mother and a settler states.
[2] It would be wrong not to mention professor Joseph Massad of Columbia University. Following his Mentor Edward Said, Massad also writes  about the role of colonialism, its structure, its impact  and the scars it left behind. Like Barghouti and Abu Khalil, Massad also refers occasionally to skin colour. Yet, unlike Barghouti and Abu Khalil, Massad seems to be far more careful and astute. Rather than falling into the banal biological determinist trap, he seems to critically refer and examine the role of skin colour from structural, social, cultural and political perspectives.
If Barack Obama strides into the White House for a second term, he will enjoy unfettered ability to destroy our Republic.  He will secure four more years to dismantle our country into the image of his own making: socialistic, overwhelmed by immigrants, probably more Islamic, few jobs, with astronomical debt and endless welfare.
He wants to give everyone who didn't study for an education or trade—everything for free.  Food stamps and assisted housing galore! But you and I pay for it—but we can't obtain jobs.  He wants to give illegal aliens an amnesty. He voted to double legal immigration from one million a year to two million a year when he was a U.S. senator.  He wants to give women with endless babies out of wedlock more money to have more babies.  Instead of creating jobs and enforcing our laws, he punishes states for trying to protect themselves from the debilitating onslaught of illegal alien migrants—which he refuses to stop.
"Socialism is a philosophy of failure, the creed of ignorance, and the gospel of envy, its inherent virtue is the equal sharing of misery." Winston Churchill
I don't care who you vote for as long as it's anyone but Barack Obama.  He is not an All-American guy.  We know for a fact that he is a liar.  He carries a fraudulent Social Security card from Connecticut where he never, ever resided. He carries a bogus Selective Service number.  We are still not sure about the validity of his birth certificate.  He lived his formative years in Islamic Indonesia.  His Muslim father and step father were Africans and he is not a natural born citizen with two American parents.  We do not possess a clue as to his life as all records are sealed by his $2 million attorneys.
In three years, he has kept up two useless and costly wars. We still suffer 15 million unemployed. We still run $700 billion trade deficits.  We see 46 million Americans subsisting on food stamps.  He still imports 1.2 million legal immigrants into our country annually when we cannot take care of our own citizens.  He hired two Muslims into his inner circle to advise him.
President Obama, with an Islamic father and stepfather, said, "…the extraordinary contributions of the Muslim-American community, and how they have been woven into the fabric of our nation in a seamless fashion."
About the only thing the Muslim community in the U.S. has done to America is hatch citizen-terrorists, create arranged marriages, female genital mutilation and honor killings.  Let's not forget Muslim immigrant Atta and his band of plane-jackers along with possibly others inside the Bush administration– bombed the World Trade Towers, Pentagon and drove one plane into the ground.
Obama's declaration may seem a bit premature while 2009 surfaced with Muslim honor killings in many states in the United States of America.  Honor killings by Muslims average 5,000 a year in Islamic countries and now with seven million Muslims in the USA, the rise in honor killings coincides with Islamic immigrants.  The practice, perfectly legal in the Middle East via Sharia Law, allows fathers, husbands or sons to kill wives, daughters and sisters for disgracing the family for such things as wearing western style jeans or being too "Westernized."
Obama's pronouncement appears drastically unrealistic with the Fort Dix Six Muslims that planned to shoot as many U.S. Army soldiers as possible.  In Michigan, Muslims engaged in a shootout with FBI agents in 2009 as they attempted to bring Sharia Law and a new Islamic order to the Wolverine state.  Additionally, states like Colorado created new laws to stop Islamic female genital mutilations.  The Muslim assassin, John Muhammad, executed in 2009, 'snipered' a dozen people from the trunk of his car in the Washington, DC area several years ago.
Two years ago, U.S. Army Muslim Nidal Hasan killed 13 and wounded 28 in a shooting spree for Jihad.  Another Muslim, U.S. Army Sgt. Akbar threw a grenade into a tent of American Army officers at the beginning of the Iraq war.  In the Seattle, Washington area, Muslim convert Maurice Clemmons executed four police officers as they sat at a coffee house enjoying breakfast. Immigrant Najibullah Zazi in Denver, Colorado attempted to blow up either Denver or places in New York, but police capture him before he could carry out his plan.
The stark fact remains that Muslims in America have not woven 'seamlessly' into the American way of life.  They refuse to learn English, enclave in places like Detroit and build mosques, now at 2,100 of them, that lend money and support for jihad.  The FBI closed down four mosques in the New York area for their money laundering to al-Qaeda.
Whether it's Romney, Santorum or Ron Paul, I'll vote for any of them because they are "All-American" candidates.  We cannot afford to let our country be run by scam-master Obama for another four years.  He conned his way into the White House once, shame on him.  If we vote him in again, shame on us.