The desperation of the Anglo-American leadership, guided by the steady corrupt banker hands, has never been more acutely high, nor obvious in full view. The entire Ukraine situation is a travesty. It includes Langley agents killing police and street demonstrators from rooftops, the confirmation coming from the Estonian Embassy (translation of scripts). It includes thefts of official Ukrainian Govt funds, again sent to the Swiss hill sanctuary. It includes sanctions delivered by a US Paper Tiger, sure to cause horrific backlash. It involves the last gasp attempt to obstruct the Gazprom energy pipelines, which will inevitably corner the European market in monopoly. It involves subterfuge with the NATO card (aka Narcotics And Treachery Outlaws) with missiles placed on the Russian borders. Look for NATO members to find a back door to exit the spurious treaty. It involves playing with nitro-glycerine in the Petro-Dollar room. It involves putting tremendous risk for much more clear isolation of the United States. The more the USGovt pushes, the more the US will be isolated. Remember that Nazis steal from their enemy states, de-fraud from their allied states, and force themselves into an isolated state. In Ukraine, the United States has over-played its weak hand. Already, a secret document was leaked in London that the UKGovt would not support the US-led sanctions against Russia.
History repeats itself from the Kremlin phone calls made during the Syrian conflict just a few months ago, when the UKGovt withdrew its support and left the US isolated, looking very weak. Already, Putin has threatened to dump USTreasury Bonds. Putin aptly calls the Anglo-Americans as Mutants. Imagine the lunacy of trying to cut off the only Russian warm water military naval port in the Crimea. Just as stupid as the Trans Pacific Partnership faux pas, trying to cut off China from its Asian neighbors and partners in trade. The intelligence level of the USGovt has never been more stupid, destructive, and in full view. The lost ground for the United States is obvious and glaring in the Persian Gulf, the Mediterranean Sea, and the Caucasus region.
IMMEDIATE PETRO-DOLLAR RISK
If the Kremlin demands Gold bullion (or even Russian Rubles) for oil payments, then the interventions to subvert the Ruble currency by the London and Wall Street houses will backfire and blow up in the bankster faces. Expect any surplus Rubles would be converted quickly to Gold bullion. If the Chinese demand that they are permitted to pay for oil shipments in Yuan currency, then the entire Petro-Dollar platform will be subjected to sledge hammers and wrecking balls. The new Petro-Yuan defacto standard will have been launched from the Shanghai outpost. If the Saudis curry favor to the Russians and Chinese by accepting non-USDollar payments for oil shipments, then the Petro-Dollar is dead and buried. The rise of the Nat Gas Coop run by Gazprom is in progress, its gas pipelines to strangle the OPEC and its bastard Petro-Dollar child. The entire USDollar foundation with the USTreasury Bond bank reserve structure is at risk is collapsing, as consequence to the desperate adventure and criminal activity conducted in Ukraine.Just like with Syria, a hidden giant energy deposit is concealed under the table. Off the Lebanese and Syrian coast, a massive off-shore energy deposit was recently discovered. The US & UK & Israeli oligarchs wish to take it all. Confusion is their game. In the western plains of Ukraine, a massive gas deposit was recently discovered. The US & European oligarchs wish to take it all. Confusion is their game.
The danger level has never been higher. No resolution to the Global Monetary War can come, which we have been seeking, without a climax. It is hardly just a financial crisis amidst a stubborn economic recovery. The nature of the currencies and their underlying sovereign bond foundation is highly toxic, which requires a strong replacement as solution, using an alternative to the USDollar alongside its reserve ledger item the USTreasury Bond. A return to the Gold Standard is coming, but the birth will have loud pangs and possibly broad damage suffered. The Global Currency Reset is better named the Return to the Gold Standard. The United States and London will not give up their control of the Weimar Printing Press easily, used for elite self-dole of extreme wealth. It has served well as the Elite credit card. They will not go quietly, and assume their place in the backwater without taking the world to the brink. No climax can occur without enormous risk and loss. The Global Paradigm Shift is in full gear, with attendant risk huge here and now. My Jackass firm belief is that the US/UK fascist team face a Waterloo event in Ukraine, the victim to be the Imperial Dollar. This bulletin will not be a comprehensive note, as the situation is too vast. The information in the Hat Trick Letter is used to interweave a story of the impending removal of the USDollar from its corrupt throne.
UNITED STATES TRAPPED AND CORNERED
The Anglo Americans have fallen into a carefully designed trap by the Russians and Chinese in a clever designed sequence. More Sun Tzu tactics have been put into practice, which utilize the momentum from the enemy to be thrust back on them. Planning for final steps must have taken place during high level Putin meetings with Xi from the elite Sochi viewing box. The unfolding of events has been more carefully engineered and orchestrated than what appears. The US/UK team has been caught in a vise for months, as the rejection of the USDollar as global reserve currency is in high gear, the refusal of the USTBond a recognized trend in diversifications. The death process is slow and grueling. Much of the American Hemisphere is surrounded and controlled by Russia & China, whether the canal, the port facilities, the oil supply, the mineral deposits, even Yuan Swap facilities. Africa has largely gone under Chinese control, with Russia playing a hidden role as well.
The Persian Gulf is in transition, with the critical protectorate role shifting to China. The Qatar royals have just ordered a dismissal of USGovt ambassadors from their nation. Note that Qatar is the site of a giant USNaval base. To be sure, the Sochi Olympic Games are over, a successful event. The gloves have thus come off. The risks have reached acute levels. The US leadership seems cavalier to the risks that over half the USGovt debt is in foreign hands, over 30% of it in Russian & Chinese hands. A severe backlash cometh. The most vulnerable player in the room is the most aggressive, arrogant, vile, and obnoxious. The instability of the situation is far beyond acute. The victim will be the USDollar and its sidekick the USTreasury Bond. The USTBonds will be kicked out of the global banking system. The Third World awaits the United States, for its domestic betrayals, its financial failures, its criminal deeds, and its war aggression.
THE RUSSIAN BACKLASH TO BE SUDDEN
Russian President Vladimir Putin will slam the West, and very soon. The initial salvo might be a natural gas cutoff by Gazprom, the Russian giant which has fast moved into the global monopoly position. Eventually, Putin might demand gold payment for the natgas in the captured pipelines, that being the plan according to The Voice. Russia supplies one quarter of Western European gas needs. It will be the opening salvo for Gold Trade Settlement, for which the Iran workarounds to the sanctions provided the critical prototype. Combined with a formal announcement of USTreasury Bond sales in volume by Russia & China, the impact would be tremendous, even devastating. The reverberation will be soon seen as the pending demise of the defacto Petro-Dollar Standard, dictated by crude oil sales in USD terms. It will also be soon seen as the end of the USTBond as the global reserve standard in banking systems. Notice for over two years, the primary buyer of USGovt debt (and its refunded rollover) has been the US Federal Reserve via bond monetization, an absolute heresy to central banking. Hyper monetary inflation cannot stand as fixed policy. The world has responded by constructing an alternative to trade settlement. The forum has been the BRICS conferences and the G-20 Meetings of finance ministers. The US & UK will gradually be excluded from both forums, a process well along. Even traditional allies like Japan are buying gold in high volume, with suppressed lowball data so far. This is game over for the USDollar, the direct victim of Ukraine backlash. The war against Russia has been veiled, but the Jackass has exposed it.
VEILED ATTACKS AGAINST RUSSIAN GAZPROM
First was the attack against Russian Gazprom in Cyprus. It was a hidden attack made to look like a bank confiscation event. Notice no bank account confiscations outside the small but important island nation. The entire Russian banking clearance system had been done through Cyprus. Also, Russia was making significant transactions to purchase Gold bullion using Cyprus as clearing house for the purchases. Second was the attack against Russian Gazprom in Syria, another complicated event. The US had used the Libyan Embassy as a weapons running facility (major diplomatic violation), after which the US lost Egypt as a transfer station on the weapons running. The false flag attack in Syria was made to look like a chemical weapons event. However, the Saudis were the guilty party. The motive by the US was to block the advance of Russian Gazprom pipelines, which are to connect to the vast Iran supply centers. Iran has far more oil & gas than Iraq. In fact, Iran is the linchpin nation, which will throw its support toward Russia. Iran will push the Nat Gas Coop certain to eclipse Saudi Arabia and the loud gaggle of OPEC members. With the Russian Gazprom, together Iran and the Nat Gas Coop will usher in the Petro-Yuan Standard and bury the Petro-Dollar, the price set by Russia, the contracts set in Shanghai. Thus the Saudis will be expendable, and their Gold in London to be totally stolen.
Move to the present. Third was the attack against Russia Gazprom in Ukraine, done by the CIA and its partner security agents from the small ally nation on the SouthEast Med corner. The old game of destabilization, popular uprising, bank thefts, and now data files stolen has been put into action. The theft of significant funds in Ukraine has only started, funds gone to Swiss banks. The full betrayal will be seen soon. The US & UK have a lunatic plan to corral the Ukraine pipelines and possibly the vast farmlands of Ukraine. The wrong-footed plan will backfire, when Putin cuts off the natgas supply to Europe, when Putin demands a new type of energy supply payment structure, and when Putin engineers certain other steps. They might execute a Nat Gas Coop double in price, much like the OPEC event in 1973. Witness the upcoming Birth of the Eurasian Trade Zone, the birth pangs heard in Ukraine. The United States and Great Britain will not be included. The Eurasian Trade Zone will span 14 time zones and will settle in gold.
IRAN WORKAROUND AS KEY PROTOTYPE SOLUTION
The Anglo Americans have disrupted a key nation with longstanding historical and religious ties to Russia. The land of Ukraine also contains Russia's only warm water naval port in the Crimea, the site of a recent suspicious earthquake. The response will be swift and firm. The Eastern nations (led by China & Russia) have been making detailed preparations in the last couple years to launch the alternative trade system founded in Gold Settlement. Its launch lacks a potential open door trigger, possibly offered by the Ukraine situation. The Gold Standard could return in a baptism by fire. The open door trigger appears to be the Western interventions into Ukraine, since the Western banking structures will not be permitted to collapse, the ugly reality. The abuse of the central bank monetary expansion and fraudulent bond redemption has gone totally out of control, forcing an endless cycle of alternative preparations and motivated reactions, including the Iran workaround with Turkey as intermediary in gold provision. Other attacks have taken place in the last few months against the Russian Ruble by Wall Street firms. The reaction will possibly be the launch of what could eventually be understood to be a gold-backed Ruble currency, combined with natgas cutoffs to Europe and USTBond dumps. At first it could be perceived as the oil-backed Ruble, but its quick hidden conversion to Gold bullion could be revealed later on. The USDollar will be discarded as obsolete, even toxic. The USDollar debt basis might be widely accepted to be the cause of the global financial crisis, and the USFed Quantitative Easing be widely understood to be the cause of the global financial collapse.
EUROPE AS KEY REGION TO TIP EASTWARD
Events inside Western Europe could unfold rapidly. Behind the scenes, much is happening. The important German-French Axis is breaking down, weakened by each passing month and bailout exercise. The motive for much of the German support of bailouts and rescue plans, as faulty as they have been, is the oversized German ownership of both French Govt debt and big French banks. They will fail, both the French sovereign debt and the big French banks. Germany must undergo a split, with a restructure from the devastating damage due to Southern European sovereign debt and related big bank losses. At the same time, Germany is on the verge of turning East to Russia. Already Russia is a large energy and mineral supplier to Germany, the heavy railway facilities in place. The core of Nordic Europe is firm. Austria and Finland are aligned with the pragmatic forces in Germany and the Netherlands. Italy is being transformed, but Spain might be lost to chaos. Turkey is also undergoing change during chaotic reform. The entire NATO Alliance has never been weaker. The military action in Ukraine is framed as a supposed NATO exercise to honor a treaty. Watch the loose end like Turkey fall off the NATO wagon, while Finland falls off the Euro currency wagon. The Jackass is eager to see the Snowden NSA files reveal key data on the illicit usage of NATO bases for narcotics distribution, the origin being Afghanistan. What a bombshell it would be if Turkey announced that their government would no longer permit heroin shipments from USMilitary aircraft on their Incirlik Airbase.
A key player in the mix is Israel. They have a Tamar floating platform, whose natgas has been pledged under contract to Russian Gazprom. The tiny nation is possibly changing its alliances out of pragmatism, seeing its drained weakened host that has duly served its purpose. The next big step is for Western Ukraine to suffer the drain of remaining resources (financial and agricultural) to the West, using all the diplomatic tools the Euro Elite can muster. The people in the East will realize that they have been betrayed once more by the Western powers. This is the critical final step. Several swing nations will consequently align with Germany, if only to make being integrated by Russia less painful. During all the transitions, China will take care of Asia in this game. The remaining overriding question is whether the US & Britain will go quietly in the night of faded empires, or else to wreck the world with nukes and viruses. The main exports out of the United States and its royal handlers have been fraudulent bonds, military hardware, genetically modified food, fast food with diabetes, pharmaceuticals, surveillance software, computer viruses, and jamming software technology. Such is the nature of the fascist transformation.
RUSSIA CANNOT BE ISOLATED
The West is in for a gigantic surprise in the sequence of events to unfold. They have placed criminal oligarchs into top government positions in Ukraine. Doing so might suit the West but not the Ukrainian people. The political brain trust in Berlin shows extremely errant strategy, still kowtowing to the USGovt and London Elite in an incomprehensible manner. The West cannot isolate Russia, which is the latest absurd bone-headed strategy. They need Russia in vital ways that will become apparent when the West faces energy supply cutoff or forced Gold payments during an open global USDollar rejection. The US will quickly feel the lost Petro-Dollar gear mechanisms. China has already aligned itself beside Russia, which makes isolation impossible. Consider the Russian commodity supply and Chinese industrial power, the new axis to the Eurasian Trade Zone.
The West cannot continue to bully Russia & China. Poking a stick in the bear's face will not work for long. Disrespecting the Chinese creditor is deep folly. The risk that coincides is for the two Asian superpowers to threaten or actually execute a dumping initiative of USTreasury Bonds, and force the United States to use its last card in a grotesque display of hugely amplified monetary expansion. The US would collapse by falling on its own sword, the event occurring in the Weimar chamber. A super high volume bond monetization machine to cover globally dumped USTBonds is a strong likelihood as climax event, with a broken derivative mechanism that is revealed during its fracture. The London banker murders (another Jackass correct forecast, made in mid-2011) indicate a motive to keep covered up the extreme $100 billion JPMorgan derivative losses at the hands of the London Whale Bruno Iksil, first sighted in May 2012. The accelerated hyper monetary inflation in response to Russian & Chinese joint retaliation would finally kill the USDollar. The echo event, born from failure, would be for the USGovt to launch the new split Scheiss Dollar. Then the USGovt could have its domestic currency finally, and then wreck it with an assured painful sequence of devaluations. The fundamentals for the US domestic only currency are truly horrible, typical of a Third World nation. Ukraine is about the last gasp of the USDollar. It has no viable defense.
UKRAINE AS WATERLOO FOR THE US DOLLAR
Ukraine is the Waterloo event for Team Obama and the Wall Street handlers, the true controllers of the White House puppet. Ukraine will lead to wreckage to the USDollar and its USTBond partner in crime. Witness the death of the USDollar and the Birth of both the Gold Trade Standard, on the new Eurasian Trade Zone landscape. Neither Russia nor China will cooperate on the IMF super sovereign reformed currency basket at this point, not during extreme hostility and conflict. Hope and pray for cooler heads to prevail, since already many serious military attacks have occurred with advanced weapons off the Syrian coast. The Western Press prefers to frame the Ukraine situation as one more curious Orange Revolution event staged in Eastern Europe, akin to the other deceptive Arab Spring events. The old Soviet Union was trapped years ago, forced to use hyper monetary inflation in defense, as the nation imploded financially. The United States is now trapped in an ironic parallel manner, and will be exposed for its heretic inflationary response that ramps up to obscene volumes, followed by financial implosion. In fact, the events from here onward are the final hurrah for the USDollar regime and the criminal cabal.
Now has never been a better time to own a big stack of gold & silver coins & bars, stored in a secure place outside the United States, outside England, outside Switzerland, even outside Canada. The people must defend against a climax of systemic failure, led by arrogance, stupidity, desperation, and delusion, even armed aggression. It remains to be seen whether the Kremlin has some secret allies who might emerge in time, from other worlds. But that is an entire other story to be told someday maybe. We earthlings will all find out soon enough. Times are changing fast, and better to be alert than to get hurt. The Global Currency Reset lies directly ahead, complete with its doubled Gold price and doubled Silver price. The Russians & Chinese are motivated to respond to a military prod, poke, and nudge by delivering a financial response. The rejection of the USDollar is near. The rapid diversification away from the USTreasury Bond is near. The arrival of the new Global Gold Standard is imminent.
Source: GoldSeek.com | Jim Willie CB, GoldenJackass.com

"Please don't go to Haiti — it could be dangerous down there!" several worried friends begged me right before I left.  But boy were they wrong.  Haiti is totally fun!  I never had so much fun in my life as I did this past week in Haiti.  And this is my very own tourist guidebook to all the neat stuff that I've done down here.  Not exactly the Lonely Planet.  But boy am I having a good time.
The most frequently asked question before I left was, "Are you going down there to do humanitarian work?"  No no no.  I'm going down there to be a tourist!
To start with, I got a really great bargain deal on Expedia — $800 to fly me from SFO to Port au Prince and five nights in a convenient, clean and quiet hotel called the Diquini Guest House.  This was absolutely the smartest thing that I did on this trip.  Why?  Because the manager of the guest house, a former member of the Haitian diaspora and long-time resident of Washington DC, took me under his wing and for a reasonable fee let me hire his driver, translated for me, kept me fed on nicely-flavored Haitian stew and rice — and then took me off to explore Port au Prince.  www.diquinigh.com.
First we went to the famous Hotel Oloffson where the ghosts of past American ex-pat writers such as Graham Greene and Lillian Hellman roam its gardens, terraces and gingerbread-style balconies; where Mick Jagger and even Jacqueline Kennedy have stayed — and where the famous vudou-inspired RAM band was playing that night. http://hoteloloffson.com/
The next day we explored what is left of the 2010 earthquake ruins, from what was left of the tragically beautiful stone-filigreed huge rose window of the old cathedral and the site of the historic National Palace to various small tent cities dotting Port au Prince that still house earthquake victims today, and the ruined buildings that still have market stalls precariously tucked into whichever concrete slabs are still left standing.
"So, Jane, how is Port au Prince actually doing now, four years after the quake?" you might ask, now that I'm an actual eye-witness to the scene of the crime.  It's not doing super-good, but not doing as badly as I had expected either.  Most of the tent cities are gone now — as a lot of the homeless victims have by now squashed themselves in with relatives, left for the countryside or otherwise made do.
"But what are Haitians really like?" you might ask next.  You can tell what Haitians are really like by the way that they drive.  There are only a handful of traffic signals in Port au Prince and even fewer rules of the road.  And Haitians drive very fast.  But they also drive in a way that is almost polite.  Everyone wants to get where they are going (and to get there fast) — but no one wants to actually hurt anyone else.  I didn't see any road rage there.  Just people trying to get by.
Basically, Haitians are just people trying to get by after having been dealt a very rough hand for a very long time, from the moment they were kidnapped from Africa and sold as slaves here — starting in 1503, just eleven years after Columbus discovered the island.  And those slaves were expendable too, worked to death in a few years at most and then replaced by other new slaves.
Then after having fought for and achieved its freedom in 1804, Haiti was also constantly attacked, exploited and/or invaded for the next 200-plus years by America, Canada and various combinations of European nations.  And now Haiti is one of the poorest countries in the world, resembling the slums of Uganda or the slums of Zimbabwe.  And yet despite their poverty, which is dire and extreme, Haitians still remain stoically polite.
Next we went off to the Iron Market bazaar to buy Haitian stuff to hang on my walls when I get home.  And then we drove all over Port au Prince — the grand tour.  And that night we went off to Carnival in the Carrefour district.  Are you jealous yet?
Carrefour's pre-Lenten carnival was like one gigantic block party and was actually as much fun as Berkeley in the 1960s, the benchmark against I always measure how much fun something is.
I also wanted to go see San Souci and the Citadel, UNESCO world heritage sites up  in Cap Haitien, but it was a seven-hour drive to get there, so we went to Fonds des Negres instead, which was only a three-hour drive, and I met a vodou master there.  "No one is cursing you," he told me.  Not even the NSA?  Good to know.  Then he performed a candlelight ritual to help my knees get better.  Then he pulled out a business card for his son who owns a botanica in SoCal who, for a price, could finish my knee treatment when I got back home .  And then the vodou master pulled out his cell phone and started texting someone.  Guess the ritual was over.
And there's also a cave in the mountains near Fonds des Negres where a "Suzan," a vodou spirit, resides.  But you have to get there by motorcycle and we didn't have time to do all that on this day trip.  So I just bought a sequin-covered vodou flag instead.

"Have you seen any zombies in Haiti?" might be your next question.  Sorry, no.  But on my plane ride down here, we ran into a bunch of really scary turbulence over Chicago and I thought I was going to die.  So I had an epiphany.  "When you are in your mother's womb, the only way out is by going through a whole bunch of pain first — and death is also like that.  First you pass through a whole bunch of pain and then, poof, you are out on the Other Side."  As a zombie?  Let's hope not.
The next day we went out searching for Jean-Bertrand Aristide  and then ended the day in that famous five-star hotel in Petionville — just to see how the other 1% lives.  Trust me, they are living well.
What else have I done down here?  I can't remember exactly.  But I will tell you this:  I have really had fun.  And if you ever want to go to Haiti too, I totally recommend it highly.  And, no, I'm not getting paid to say this.
PS:  While in Haiti, I also watched the winter Olympics on TV — thus getting a chance to compare Port au Prince and Sochi.  One city has far too little city planning and one city had far too much!
According to journalist Roi Tov, "With less than 350,000 denizens, [Sochi] has been occupied by at least 25,000 police officers, 30,000 soldiers, 8,000 special forces, and an undisclosed number of FSB agents."
Port au Prince is nothing like that.  The streets go every which-way like a patchwork quilt.  But it does have one thing in common with Sochi — abuse of its fragile labor force.
And let's also compare Port au Prince with Havana.  I'm currently reading Carlos Eire's autobiography, "Learning to Die in Miami".  Eire appears to believe with all his heart that the Castro experience was a nightmare — and yet just compare Cuba and Haiti today.  Haiti has been under the thumb of American and European corporatists for ages and ages.  And now, despite all its amazingly fertile soil and impressive mineral riches, Haiti is currently one of the poorest countries in the world.  Seven out of ten Haitians live on less than $2 a day, according to the International Red Cross.
But in Havana under the Castro brothers, everyone has a good chance of getting a college education.
But, hell, most Haitians are lucky to have a chance to even get as far as fourth grade!
If Fulgencio Batista and the American corporatists who owned him back in 1959 had remained in power and Castro had never taken over Cuba, Cuba today would more than likely look just like Haiti today.  And does anyone with a working brain really think that having American and European oil companies, bankers, war profiteers and neo-cons in control in Syria, Venezuela and Ukraine are going to help those countries either?  Hell, just look at what those guys did to Afghanistan, Iraq and Libya — and to Detroit!
When thinking about Haiti, a lot of people think first about that terrible earthquake disaster of 2010 — and also about President Jean-Bertrand Aristide.   And I do too.  So on my first day in Port au Prince, I toured most of the earthquake disaster areas.  And on my third day there, it only seemed logical that I also attempt to meet up with the great man himself.  And I actually came THIS close to doing that too!
After recovering from wandering around the Carrefour district's Carnival celebration the night before, I then went over to check out Aristide's house.  "President Aristide is actually here today," said the guard at the door, "but he's not seeing visitors right now.  However, you can always wave to him on our closed-circuit TV camera."  Great idea!  So I smiled and waved and smiled and waved at the CCTV camera like the idiot tourist that I am.
Next I went off to visit Aristide's Foundation Pour la Democratie and looked around there.  Met some interesting diplomats, students, professors and a chicken.
Then I visited UniFA, a medical school established by Aristide in order to create more doctors in Haiti — where the ratio of Haitians to doctors is 10,000 to 1 in urban areas and 20,000 to 1 in the countryside (no wonder vodou cures are so popular here).  "How many students study here?" I asked a bright-eyed first-year physician wannabe, sitting outside eating her lunch between classes.  (Actually all the students here are clearly bright-eyed and diligent and idealistic — all young, gifted and Black.  Go them.)
"About 700," the student replied.
"So can you tell me how cure my sore knees?" I asked.
"No, we haven't gotten that far in our curriculum quite yet."  Rats.
Lastly, I stopped by a large apartment building that had been constructed during Aristide's presidency in order to house some of Port au Prince's homeless population, right before GWB sent in the Marines.  Two things about this apartment building were note-worthy.  First, it was the only building for blocks around that had actually withstood the 2010 earthquake.  And, second, the apartments all had two bedrooms, a bathroom and a kitchen.
In stark contrast, directly across the street one could also see a hundred-odd new U.N. housing units — such as they were.  Each family had been allocated a really really small cube-shaped one-room dwelling with no bathroom, no bedroom, no kitchen and no running water.  And their shared port-a-potties were all way down the street.
So just exactly who is this guy Jean-Bertrand Aristide?  And why do American neo-cons and corporatists all hate him so much?  I don't know.  Maybe because Aristide doesn't want to keep Haiti forever "barefoot and pregnant"?  Maybe because Aristide, a former priest, actually tries to practice the teachings of Jesus?  Your guess is as good as mine.
In any case, here's a bit more about Aristide's back-story for those of you who have never heard of the guy.  In 2001, Aristide was democratically elected as president of Haiti, just one year after George Bush stole the 2000 American election.  But, unlike GWB, Aristide's emphasis was on inclusion and education.
In just the few years that he was president, Aristide built more schools in Haiti than had ever existed in all of its long miserable history of being controlled by U.S. interests.  Aristide also devoted 20% of the nation's budget to healthcare.  Good grief!  No wonder Wall Street and War Street hated him.  And overthrew him too.  Violently.  In favor of deadly U.N. "peacekeepers" and the Marines, who immediately shot everything up and turned UniFA into a military barracks.  That was back in 2004.  

And now, ten years later, Haiti has been stuck with President Michel Martelly, aka the "Neo-Cons' Choice," elected in the same way that the U.S. got stuck with Dubya — illegally.  "He is our guy!" cries Wall Street, War Street and the Deep State.
And now WalMart is once again happily running sweatshops in Haiti, where workers get paid $4.56 a day.
What the freak was Aristide thinking!
Surely Aristide should have known that anybody who denies WalMart access to economic slave labor is naturally gonna be in big trouble — and educating a country's children and providing its citizens with healthcare is also a really bad idea because then countries like Haiti will no longer have a subservient labor force and a really dumb electorate — and that's just not the corporatist way.  Aristide should have known better.  Most Even Americans are clear on this concept, keeping their eyes down and their mouths shut.  Why couldn't Aristide do the same?
And if you still want even more information on Aristide and Haiti, here's a great video to watch:  https://ia700401.us.archive.org/20/items/FreedomIsAConstantStrugglePGMTelvueMPEG2/Freedom%20is%20a%20Constant%20Struggle_PGM-Telvue%20MPEG-2.ogv
There's good propaganda and bad propaganda. Bad propaganda is generally crude, amateurish Judy Miller "mobile weapons lab-type" nonsense that figures that people are so stupid they'll believe anything that appears in "the paper of record." Good propaganda, on the other hand, uses factual, sometimes documented material in a coordinated campaign with the other major media to cobble-together a narrative that is credible, but false.
The so called Fed's transcripts, which were released last week, fall into the latter category. The transcripts (1,865 pages) reveal the details of 14 emergency meetings of the Federal Open Market Committee (FOMC) in 2008, when the financial crisis was at its peak and the Fed braintrust was deliberating on how best to prevent a full-blown meltdown. But while the conversations between the members are accurately recorded, they don't tell the gist of the story or provide the context that's needed to grasp the bigger picture. Instead, they're used to portray the members of the Fed as affable, well-meaning bunglers who did the best they could in 'very trying circumstances'. While this is effective propaganda, it's basically a lie, mainly because it diverts attention from the Fed's role in crashing the financial system, preventing the remedies that were needed from being implemented (nationalizing the giant Wall Street banks), and coercing Congress into approving gigantic, economy-killing bailouts which shifted trillions of dollars to insolvent financial institutions that should have been euthanized.
What I'm saying is that the Fed's transcripts are, perhaps, the greatest propaganda coup of our time. They take advantage of the fact that people simply forget a lot of what happened during the crisis and, as a result, absolve the Fed of any accountability for what is likely the crime of the century. It's an accomplishment that PR-pioneer Edward Bernays would have applauded. After all, it was Bernays who argued that the sheeple need to be constantly bamboozled to keep them in line. Here's a clip from his magnum opus "Propaganda":
"The conscious and intelligent manipulation of the organized habits and opinions of the masses is an important element in democratic society. Those who manipulate this unseen mechanism of society constitute an invisible government which is the true ruling power of our country."
Sound familiar? My guess is that Bernays' maxim probably features prominently in editors offices across the country where "manufacturing consent" is Job 1 and where no story so trivial that it can't be spun in a way that serves the financial interests of the MSM's constituents. (Should I say "clients"?) The Fed's transcripts are just a particularly egregious example. Just look at the coverage in the New York Times and judge for yourself. Here's an excerpt from an article titled "Fed Misread Crisis in 2008, Records Show":
"The hundreds of pages of transcripts, based on recordings made at the time, reveal the ignorance of Fed officials about economic conditions during the climactic months of the financial crisis. Officials repeatedly fretted about overstimulating the economy, only to realize time and again that they needed to redouble efforts to contain the crisis." ("Fed Misread Crisis in 2008, Records Show", New York Times)
This quote is so misleading on so many levels it's hard to know where to begin.
First of all, the New York Times is the ideological wellspring of elite propaganda in the US. They set the tone and the others follow. That's the way the system works. So it always pays to go to the source and try to figure out what really lies behind the words, that is, the motive behind the smokescreen of half-truths, distortions, and lies. How is the Times trying to bend perceptions and steer the public in their corporate-friendly direction, that's the question. In this case, the Times wants its readers to believe that the Fed members "misread the crisis"; that they were 'behind the curve' and stressed-out, but–dad-gum-it–they were trying their level-best to make things work out for everybody.
How believable is that? Not very believable at all.
Keep in mind, the crisis had been going on for a full year before the discussions in these transcripts took place, so it's not like the members were plopped in a room the day before Lehman blew up and had to decide what to do. No. They had plenty of time to figure out the lay of the land, get their bearings and do what was in the best interests of the country. Here's more from the Times:
 "My initial takeaway from these voluminous transcripts is that they paint a disturbing picture of a central bank that was in the dark about each looming disaster throughout 2008. That meant that the nation's top bank regulators were unprepared to deal with the consequences of each new event."
Have you ever read such nonsense in your life? Of course, the Fed knew what was going on. How could they NOT know? Their buddies on Wall Street were taking it in the stern sheets every time their dingy asset pile was downgraded which was every damn day. It was costing them a bundle which means they were probably on the phone 24-7 to (Treasury Secretary) Henry Paulson whining for help. "You gotta give us a hand here, Hank. The whole Street is going toes-up. Please."
Here's more from the NYT:
"Some Fed officials have argued that the Fed was blind in 2008 because it relied, like everyone else, on a standard set of economic indicators. As late as August 2008, "there were no clear signs that many financial firms were about to fail catastrophically," Mr. Bullard said in a November presentation in Arkansas that the St. Louis Fed recirculated on Friday. "There was a reasonable case that the U.S. could continue to 'muddle through.' ("Fed Misread Crisis in 2008, Records Show", New York Times)
There's that same refrain again, "Blind", "In the dark", "Behind the curve", "Misread the crisis".
Notice how the Times only invokes terminology that implies the Fed is blameless. But it's all baloney. Everyone knew what was going on. Check out this excerpt from a post by Nouriel Roubini that was written nearly a full year before Lehman failed:
"The United States has now effectively entered into a serious and painful recession. The debate is not anymore on whether the economy will experience a soft landing or a hard landing; it is rather on how hard the hard landing recession will be. The factors that make the recession inevitable include the nation's worst-ever housing recession, which is still getting worse; a severe liquidity and credit crunch in financial markets that is getting worse than when it started last summer; high oil and gasoline prices; falling capital spending by the corporate sector; a slackening labor market where few jobs are being created and the unemployment rate is sharply up; and shopped-out, savings-less and debt-burdened American consumers who — thanks to falling home prices — can no longer use their homes as ATM machines to allow them to spend more than their income. As private consumption in the US is over 70% of GDP the US consumer now retrenching and cutting spending ensures that a recession is now underway.

On top of this recession there are now serious risks of a systemic financial crisis in the US as the financial losses are spreading from subprime to near prime and prime mortgages, consumer debt (credit cards, auto loans, student loans), commercial real estate loans, leveraged loans and postponed/restructured/canceled LBO and, soon enough, sharply rising default rates on corporate bonds that will lead to a second round of large losses in credit default swaps. The total of all of these financial losses could be above $1 trillion thus triggering a massive credit crunch and a systemic financial sector crisis." ( Nouriel Roubini Global EconoMonitor)
Roubini didn't have some secret source for data that wasn't available to the Fed. The financial system was collapsing and it had been collapsing for a full year. Everyone who followed the markets knew it. Hell, the Fed had already opened its Discount Window and the Term Auction Facility (TAF) in 2007 to prop up the ailing banks–something they'd never done before– so they certainly knew the system was cratering. So, why's the Times prattling this silly fairytale that "the Fed was in the dark" in 2008?
I'll tell you why: It's because this whole transcript business is a big, freaking whitewash to absolve the shysters at the Fed of any legal accountability, that's why. That's why they're stitching together this comical fable that the Fed was simply an innocent victim of circumstances beyond its control. And that's why they want to focus attention on the members of the FOMC quibbling over meaningless technicalities –like non-existent inflation or interest rates–so people think they're just kind-hearted buffoons who bumbled-along as best as they could. It's all designed to deflect blame.
Don't get me wrong; I'm not saying these conversations didn't happen. They did, at least I think they did. I just think that the revisionist media is being employed to spin the facts in a way that minimizes the culpability of the central bank in its dodgy, collaborationist engineering of the bailouts. (You don't hear the Times talking about Hank Paulson's 50 or 60 phone calls to G-Sax headquarters in the week before Lehman kicked the bucket, do you? But, that's where a real reporter would look for the truth.)
The purpose of the NYT article is to create plausible deniability for the perpetrators of the biggest ripoff in world history, a ripoff which continues to this very day since the same policies are in place, the same thieving fraudsters are being protected from prosecution, and the same boundless chasm of private debt is being concealed through accounting flim-flam to prevent losses to the insatiable bondholders who have the country by the balls and who set policy on everything from capital requirements on complex derivatives to toppling democratically-elected governments in Ukraine. These are the big money guys behind the vacillating-hologram poseurs like Obama and Bernanke, who are nothing more than kowtowing sock puppets who jump whenever they're told. Here's more bunkum from the Gray Lady:
 "By early March, the Fed was moving to replace investors as a source of funding for Wall Street.

Financial firms, particularly in the mortgage business, were beginning to fail because they could not borrow money. Investors had lost confidence in their ability to predict which loans would be repaid. Countrywide Financial, the nation's largest mortgage lender, sold itself for a relative pittance to Bank of America. Bear Stearns, one of the largest packagers and sellers of mortgage-backed securities, was teetering toward collapse.

On March 7, the Fed offered companies up to $200 billion in funding. Three days later, Mr. Bernanke secured the Fed policy-making committee's approval to double that amount to $400 billion, telling his colleagues, "We live in a very special time."

Finally, on March 16, the Fed effectively removed any limit on Wall Street funding even as it arranged the Bear Stearns rescue." ("Fed Misread Crisis in 2008, Records Show", New York Times)
This part deserves a little more explanation. The author says "the Fed was moving to replace investors as a source of funding for Wall Street." Uh, yeah; because the whole flimsy house of cards came crashing down when investors figured out Wall Street was peddling toxic assets. So the money dried up. No one buys crap assets after they find out they're crap; it's a simple fact of life. The Times makes this sound like this was some kind of unavoidable natural disaster, like an earthquake or a tornado. It wasn't. It was a crime, a crime for which no one has been indicted or sent to prison. That might have been worth mentioning, don't you think?
More from the NYT: "…on March 16, the Fed effectively removed any limit on Wall Street funding even as it arranged the Bear Stearns rescue."
Yipee! Free money for all the crooks who blew up the financial system and plunged the economy into recession. The Fed assumed blatantly-illegal powers it was never provided under its charter and used them to reward the people who were responsible for the crash, namely, the Fed's moneybags constituents on Wall Street. It was a straightforward transfer of wealth to the Bank Mafia. Don't you think the author should have mentioned something about that, just for the sake of context, maybe?
Again, the Times wants us to believe that the men who made these extraordinary decisions were just ordinary guys like you and me trying to muddle through a rough patch doing the best they could.
Right. I mean, c'mon, this is some pretty impressive propaganda, don't you think? It takes a real talent to come up with this stuff, which is why most of these NYT guys probably got their sheepskin at Harvard or Yale, the establishment's petri-dish for serial liars.
By September 2008, Bernanke and Paulson knew the game was over. The crisis had been raging for more than a year and the nation's biggest banks were broke. (Bernanke even admitted as much in testimony before the Financial Crisis Inquiry Commission in 2011 when he said "only one ….out of maybe the 13 of the most important financial institutions in the United States…was not at serious risk of failure within a period of a week or two." He knew the banks were busted, and so did Paulson.) Their only chance to save their buddies was a Hail Mary pass in the form of Lehman Brothers. In other words, they had to create a "Financial 9-11″, a big enough crisis to blackmail congress into $700 no-strings-attached bailout called the TARP. And it worked too. They pushed Lehman to its death, scared the bejesus out of congress, and walked away with 700 billion smackers for their shifty gangster friends on Wall Street. Chalk up one for Hank and Bennie.
The only good thing to emerge from the Fed's transcripts is that it proves that the people who've been saying all along that Lehman was deliberately snuffed-out in order to swindle money out of congress were right. Here's how economist Dean Baker summed it up the other day on his blog:
"Gretchen Morgensen (NYT financial reporter) picks up an important point in the Fed transcripts from 2008. The discussion around the decision to allow Lehman to go bankrupt makes it very clear that it was a decision. In other words the Fed did not rescue Lehman because it chose not to.

This is important because the key regulators involved in this decision, Ben Bernanke, Hank Paulson, and Timothy Geithner, have been allowed to rewrite history and claim that they didn't rescue Lehman because they lacked the legal authority to rescue it. This is transparent tripe, which should be evident to any knowledgeable observer." ("The Decision to Let Lehman Fail", Dean Baker, CEPR)
Here's the quote from Morgenson's piece to which Baker is alluding:
"In public statements since that time, the Fed has maintained that the government didn't have the tools to save Lehman. These documents appear to tell a different story. Some comments made at the Sept. 16 meeting, directly after Lehman filed for bankruptcy, indicate that letting Lehman fail was more of a policy decision than a passive one." ("A New Light on Regulators in the Dark", Gretchen Morgenson, New York Times)
Ah ha! So it was a planned demolition after all. At least that's settled.
Here's something else you'll want to know: It was always within Bernanke's power to stop the bank run and end to the panic, but if he relieved the pressure in the markets too soon (he figured), then Congress wouldn't cave in to his demands and approve the TARP. Because, at the time, a solid majority of Republicans and Democrats in congress were adamantly opposed to the TARP and even voted it down on the first ballot. Here's a clip from a speech by, Rep Dennis Kucinich (D-Ohio) in September 2008 which sums up the grassroots opposition to the bailouts:
"The $700 bailout bill is being driven by fear not fact. This is too much money, in too short of time, going to too few people, while too many questions remain unanswered. Why aren't we having hearings…Why aren't we considering any other alternatives other than giving $700 billion to Wall Street? Why aren't we passing new laws to stop the speculation which triggered this? Why aren't we putting up new regulatory structures to protect the investors? Why aren't we directly helping homeowners with their debt burdens? Why aren't we helping American families faced with bankruptcy? Isn't time for fundamental change to our debt-based monetary system so we can free ourselves from the manipulation of the Federal Reserve and the banks? Is this the US Congress or the Board of Directors of Goldman Sachs?"
But despite overwhelming public resistance, the TARP was pushed through and Wall Street prevailed. mainly by sabotaging the democratic process the way they always do when it doesn't suit their objectives.)
Of course, as we said earlier, Bernanke never really needed the money from TARP to stop the panic anyway. (Not one penny of the $700 bil was used to shore up the money markets or commercial paper markets where the bank run took place.) All Bernanke needed to do was to provide backstops for those two markets and, Voila, the problem was solved. Here's Dean Baker with the details:
"Bernanke deliberately misled Congress to help pass the Troubled Asset Relief Program (TARP). He told them that the commercial paper market was shutting down, raising the prospect that most of corporate America would be unable to get the short-term credit needed to meet its payroll and pay other bills. Bernanke neglected to mention that he could singlehandedly keep the commercial paper market operating by setting up a special Fed lending facility for this purpose. He announced the establishment of a lending facility to buy commercial paper the weekend after Congress approved TARP." ("Ben Bernanke; Wall Street's Servant", Dean Baker, Guardian)
So, there you have it. The American people were fleeced in broad daylight by the same dissembling cutthroats the NYT is now trying to characterize as well-meaning bunglers who were just trying to save the country from another Great Depression.
I could be wrong, but I think we've reached Peak Propaganda on this one.
(Note: By "good" propaganda, I mean "effective" propaganda. From an ethical point of view, propaganda can never be good because its objective is to intentionally mislead people…..which is bad.)
There comes a time when a coming convergence becomes apparent. But when it spells a very probable major cataclysm people are not too eager to see it.
But see it we must. And sound the alarm we must…as well as prepare.
Funny how that's another thing "they" minimize and belittle. "Conspiracy freak" leads into "gloom and doomer", "fear and hate monger" etc., all being cleverly wrapped into the "terrorist" catch-all these fascist, police state days.
They are the authors and manufacturers of terror, always accusing the very ones they're murdering and manipulating. Sadly, the snooze button has been hit seemingly permanently for some. Nothing rattles them anymore – until the food runs out.
The wake up will hit, one way or another. It's already happened for very many. The key is to be awake, aware and ready.
Our Surreal News
With multiple extremely serious realities striking home from a possible banking shutdown to Fukushima to martial law and beyond there are more and more people who are catching on. But the hour is late.
That's not to mention concurrent massive geo-engineering and weather manipulation.
Shrimping was finally banned off the Gulf of Mexico due to horrific deformities and lesions in specimens being found; the arrival of radioactive Japan tsunami debris and massive radiated levels in the Pacific showing high readings in fish and algae and other samples and now even beach conditions on the US west coast; growing concerns about "fracking" causing earthquakes and severe water pollution around the world; GMO toxins and vaccines now known to not only maim humanity but drastically reduce fertility – are all major ongoing concerns that are adding up and causing people to boil over.
And that doesn't touch on the economic and corporate manipulations, the police state crackdowns, and the massive war machine that's gobbling up the world with hardly a peep of resistance or protest.
Something's seriously amiss. And that's just a sampling.
All of these man made anomalies are outrageous. And of course under or non-reported. And the Fukushima mutation weirdness has hardly begun with the millions of tons of nuclear contaminated water being continually, and dutifully I might add, dumped off of Japan.
The mutations and die-offs have started, but just barely. And as our forests and crops fail from aluminum and barium poisoning from our chemtrail poisoned skies you can be sure it will get very distressing as the days and weeks progress, as evidenced by California's severe drought that will have devastating repercussions.
The World's Been Thoroughly Conned…and Set Up
You'd think everyone would start to realize something serious is actually going down. But most can't begin to fathom the degree to which we're being attacked. It's way too horrific to grasp, never mind fully realize and integrate into their lives.
If just one spent fuel rod pool at Fukushima collapses, there will be so much plutonium-based radiation released it would be called a potential Extinction Level Event (ELE). Just that. And if that doesn't "bake your noodle", do you know how many hundreds of these types of old dangerous fuel rod pool stocked reactors there are around the world?
Over 800! And all those, built in the 60′s and 70′s, are now due for "expiration"! Never mind the plethora of nuclear bomb manufacturing facilities in the US and around the world. We're talking insane, people. And most of us had nothing to do with any of this. At least not consciously.
This planet is one large deliberately bomb-ridden Murrah Building or explosive-laden Twin Tower. Earth has been and is being engineered for demolition, whether a man-made or natural disaster triggers it, the charges have been thoroughly and deliberately set in place.
Waiting around and living "business as usual" are no longer options.
The Virtue of Knowledge
This doesn't have to spell the end of everything, as awful as that sounds. People who love you tell you the Truth.
I'm fully convinced that our number one job here is to wake up, first and foremost, individually, and then wake up everyone around us. It's imperative people see the vast extent of the perfidy of this parasitic force destroying our planet. And that's not an easy task…UNTIL someone wakes up! Once the light gets in all will follow to the True in Heart.
The coming cataclysms, in whatever form they take, will work in Truth's favor. Universe doesn't fail in anything within any of its realms. How it plays out here is only perceived from our small, limited viewpoint. We will learn, come what may.
But the viewpoint from the heart?!….that's where the answers reside. All we have to do is listen. And learn. And do.
False Flag Earth and the Plan of the War gods
Anyone reading this knows false flags have been perpetrated by rulers since time immemorial. It's virtually primordial evil to secretly do some evil deed yourself or have someone do it for you and blame someone else, all for a desired effect.
This huge scam is admittedly off the charts wrong and engineered by the dark side, however you perceive it. The loving and kind-hearted would never consider such acts, which is why many can't conceive them, yet the controllers use these tactics with abandon.
Earth will survive their puny efforts in some form, if need be. Humanity may not, at least here, until the earth recovers or we take off for new horizons. I don't know. But to deliberately bring on such catastrophic conditions is not an easy one for the lay unaware earth man to wrap his head around. Very strange indeed, but that's how they've gotten away with it.
They say mega catastrophes, natural and perhaps otherwise, have wiped out previous civilizations and thousands of animal species on earth. They've even found evidence of a nuclear conflagration in ancient India, and it's theorized Atlantis and Lemuria had it out in some sort of nuclear war and that's how they came to an end.
It seems these warlike "gods" through the ages have a propensity for this type of wanton death-dealing and destruction. They really should find their own already decimated rock somewhere out there and fight it out between themselves and leave us the hell alone.
Wouldn't you say?
Non Cooperation and Resistance is Essential
Our job is to first wake up to the horrific reality that we're being deliberately killed off, and then wake up as many others as possible. I don't know about any cavalry coming to save us but I do know it's a time of energetic change that will help more and more see what's going on and hopefully wake up out of slumber.
And when we activate, Universe activates. And I don't doubt there aren't "agents of good" who help us from other realms. When we put feet to our new found knowledge things on every level activate. But the responsibility is ours. It will always remain ours. That's the cycle we're on. If you don't get it and respond you're doomed to repeat it till you do..in one form or another. To me that makes total sense. But then again, I'm just wondering…
The Universe is intrinsically right and just. If we didn't have free will life would be a drag. And with free will comes a lot of messiness. And responsibility. It's ours to handle responsibly. Our hearts tell us so.
So let's enjoy this anyway! But let's get Love and Truth back in charge here, shall we?
Perspective – They Can't Win Over Truth and Love
You really wonder how these anti-natural freaks can take themselves seriously. Just look at the magnificence of our Universe. It's beyond description. Clearly forces play out that we're only slightly aware of. But one thing we can be sure of…puny man or any other power-crazed entity is nothing to be feared. We're inter connected with Something so much greater and profound we can rest assured all will come out for the better no matter what happens in the short term.
The current awakening is changing the entire dynamic on our planet by the hour. The matrix is coming down, which is why they're so frantically trying to slap up structural supports for it everywhere with more laws and draconian regulations. There's a vibrational change that is exposing the Truth and accelerating drastic life changes all around us. This will no doubt change the course of all of their plans as everyone's perceptions will be changing as well.
Eternity Rules
If we're on to their scam, we should identify it, non-comply and rise up in defiance of it and overcome it. Whatever form we take. Even if the whole place blows, you think that's the end?
Fear of death is possibly the biggest con going. How many parallel dimensional worlds are right now spinning, slipping and sliding around us? Even our so called big brained physicists say at least 11. You think that's all? (And btw, notice no one's calling themconspiracy freaks! Ha!)
The biggest lesson we can all learn: Heart trumps brain trumps programming.
Stick to your convictions, come what may.
And go with the flow – synchronicity leads and confirms and encourages.
A final thought from Lao Tzu…
"A good traveler has no fixed plan, and is not intent on arriving."
Keep wondering.
Love, Zen
Source:  Zen Gardner  |  ZenGardner.com
Does anyone in authority anywhere tell the truth about Fukushima? If there is any government or non-government authority in the world that is addressing the disaster at Fukushima openly, directly, honestly, and effectively, it's not apparent to the outside observer what entity that might be.
There is instead an apparent global conspiracy of authorities of all sorts to deny to the public reliably accurate, comprehensible, independently verifiable (where possible), and comprehensive information about not only the condition of the Fukushima power plant itself and its surrounding communities, but about the unceasing, uncontrolled release of radioactive debris into the air and water, creating a constantly increasing risk of growing harm to the global community.
While the risk may still be miniscule in most places, the range of risk rises to lethal in Fukushima itself. With the radioactive waste of four nuclear reactors (three of them in meltdown) under uncertain control for almost three years now, the risk of lethal exposure is very real for plant workers, and may decrease with distance from the plant, but may be calculable for anyone on the planet. No one seems to know. No one seems to have done the calculation. No one with access to the necessary information (assuming it exists) seems to want to do the calculation.
There is no moral excuse for this international collusion. The excuses are political or economic or social, but none of them excuses any authority for withholding or lying about information that has potentially universal and destructive impact on everyone alive today and everyone to be born for some unknown generations.
Japanese authorities may be the worst current offenders against the truth, as well as the health and safety of their people. Now the Japanese government has passed a harsh state secrets law that threatens to reduce or eliminate reliable information about Fukushima. The U.S. government officially applauded this heightened secrecy, while continuing its own tight control on nuclear information. Japanese authorities are already attacking their own people in defense of nuclear power: not only under-measuring and ignoring varieties of radioactive threat, but even withholding the iodine pills in 2011 that might have mitigated the growing epidemic of thyroid issues today. Failing to confront Fukushima honestly, the Japanese are laying the basis for what could amount to a radiological sneak attack on the rest of the world.
Just because no one seems to know what to do about Fukushima is no excuse to go on lying about and/or denying the dimensions of reality, whatever they might be.
There are hundreds, probably thousands of people with little or no authority who have long struggled to create a realistic, rational perspective on nuclear threats. The fundamental barrier to knowing the scale of the Fukushima disaster is just that: the scale of the Fukushima disaster.
Chernobyl 1986 and Fukushima 2011 are Not Really Comparable
Chernobyl is the closest precedent to Fukushima, and it's not very close. Chernobyl at the time of the 1986 electric failure and explosion had four operating reactors and two more under construction. The Chernobyl accident involved one reactor meltdown. Other reactors kept operating for some time after the accident. The rector meltdown was eventually entombed, containing the meltdown and reducing the risk. Until Fukushima, Chernobyl was considered the worst nuclear power accident in history, and it is still far from over (albeit largely contained for the time being). The Chernobyl Exclusion Zone of roughly 1,000 square miles remains one of the most radioactive areas in the world and the clean-up is not even expected to be complete before 2065.
At the time of the March 11, 2011, earthquake and tsunami, the Fukushima plant had six operating reactors. Three of them went into meltdown and a fourth was left with a heavily laden fuel pool teetering a hundred feet above the ground. Two other reactors were undamaged and have been shut down. Radiation levels remain lethal in each of the melted-down reactors, where the meltdowns appear to be held in check by water that is pumped into the reactors to keep them cool. In the process, the water gets irradiated and that which is not collected on site in leaking tanks flows steadily into the Pacific Ocean. Within the first two weeks, Fukushima radiation was comparable to Chernobyl's and while the levels have gone down, they remain elevated.
The plant's corporate owner, Tokyo Electric Power Company (TEPCO), in turn effectively owned by the Japanese government after a 2012 nationalization, began removing more than 1,500 fuel rod assemblies from the teetering fuel pool in November, a delicate process expected to take a year or more. There are additional fuel pools attached to each of the melted down reactors and a much larger general fuel pool, all of which contain nuclear fuel rod assemblies that are secure only as long as TEPCO continues to cool them. The Fukushima Exclusion Zone, a 12-mile radius around the nuclear plant, is about 500 square miles (much of it ocean); little specific information about the exclusion zone is easily available, but media coverage in the form of disaster tourism is plentiful, including aGoogle Street View interactive display.
Despite their significant differences as disasters, Chernobyl and Fukushima are both rated at 7 — a "major accident" on the International Nuclear Event Scale designed in 1990 by the International Atomic Energy Agency (IAEA). That is the highest rating on the scale, a reflection of the inherent denial that colors most official nuclear thinking. Designed by nuclear "experts" after Chernobyl, the scale can't imagine a worse accident than Chernobyl which, for all its intensity, was effectively over as an accident in a relatively short period of time. At Fukushima, by contrast, the initial set of events was less acute than Chernobyl, but almost three years later they continue without any resolution likely soon. Additionally Fukushima has three reactor meltdowns and thousands of precarious fuel rod assemblies in uncertain pools, any of which could produce a new crisis that would put Fukushima clearly off the scale.
And then there's groundwater. Groundwater was not a problem at Chernobyl. Groundwater is a huge problem at the Fukushima plant that was built at the seashore, on a former riverbed, over an active aquifer. In a short video, nuclear engineer Arnie Gunderson makes clear why groundwater makes Fukushima so hard to clean up, and why radiation levels there will likely remain dangerous for another hundred years.
Fukushima Unit #3 Activity Led to Some Panic-Driven Reporting in 2013
The Japanese government and nuclear power industry have a history of not telling the truth about nuclear accidents dating back at least to 1995, as reported by New Scientistand Rachel Maddow, among others. Despite Japan's history of nuclear dishonesty, Japanese authorities remain in total control of the Fukushima site and most of the information about it, without significant objection from most of the world's governments, media, and other power brokers, whose reputation for honesty in nuclear matters is almost as bad as Japan's. In such a context of no context, the public is vulnerable to reports like this from the Turner Radio Network (TRN) on December 28:
** NEWS FLASH — URGENT ** STEAM SUDDENLY EMANATING FROM FUKUSHIMA REACTOR # 3 — WEST COAST OF NORTH AMERICA SHOULD BEGIN PREPARATIONS FOR POSSIBLE RADIATION CLOUD WITHIN 3 TO 5 DAYS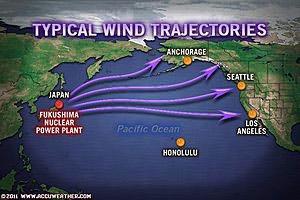 Five days after this story was posted, the "radiation cloud" had not developed despite the story's assertion that: "Experts say this could be the beginning of a spent fuel pool criticality (meltdown)'involving up to 89 TONS of nuclear fuel burning up into the atmosphere and heading to North America." The story named no "experts" and provided links only to TEPCO announcements in Japanese. The bulk of the story reads like an infomercial for "protective" gear of various sorts that TRN makes a point of saying it does NOT sell. Despite such obvious warning signs, others — such as The Ecologist and Gizmodo — reported the threat of "another meltdown" at Fukushima Unit #3 as imminent.
Clarification and reassurance quickly started chasing the "new meltdown" rumor around the Internet. ENENEWS (Energy News) promptly posted the TEPCO reports in English, demonstrating that there was nothing "sudden" about the steam releases, they've been happening more or less daily since 2011, but condensation caused by cold weather makes them visible. At FAIREWINDS (Energy Education), Arnie Gunderson posted on January 1:
"… the Internet has been flooded with conjecture claiming that Fukushima Daiichi Unit 3 is ready to explode… Our research, and discussions with other scientists, confirms that what we are seeing is a phenomenon that has been occurring at the Daiichi site since the March 2011 accident… While the plants are shutdown in nuke speak, there is no method of achieving cold shut down in any nuclear reactor. While the reactor can stop generating the actual nuclear chain reaction, the atoms left over from the original nuclear chain reaction continue to give off heat that is called the decay of the radioactive rubble (fission products)… constantly releasing moisture (steam) and radioactive products into the environment." [emphasis added]
In other words, Fukushima Unit #3 continues to leak radioactivity into both air and water, as Units #1 and #2 presumably do as well. But as Gunderson explains, the level of radioactivity has declined sharply without becoming benign:
"When Unit 3 was operating, it was producing more than 2,000 megawatts of heat from the nuclear fission process (chain reaction in the reactor). Immediately after the earthquake and tsunami, it shut down and the chain reaction stopped, but Unit 3 was still producing about 160 megawatts of decay heat. Now, 30 months later, it is still producing slightly less than 1 megawatt (one million watts) of decay heat… 1 megawatt of decay heat is a lot of heat even today, and it is creating radioactive steam, but it is not a new phenomenon."
Reassurances About Fukushima are As Misleading As Scare Stories
The reassuring aspects of the condition of Unit #3 — radioactive releases are not new, they're less intense than they once were, the nuclear waste is cooling — while true enough, provide only a false sense of comfort. Also true: radiation is released almost continuously, the releases are uncontrolled, no one seems to be measuring the releases, no one seems to be tracking the releases, no one is assessing accumulation of the releases. And while it's true that the waste is cooling and decaying, it's also true that a loss of coolant could lead to another uncontrolled chain reaction. ("Fukushima Daiichi Unit 3 is not going to explode," says Gunderson in a headline, but he can't know that with certainty.)
For the near future, what all that means, in effect, is that the world has to accept chronic radiation releases from Fukushima as the price for avoiding another catastrophic release. And even then, it's not a sure thing.
But there's another aspect of Fukushima Unit #3 that's even less reassuring. Unit #3 is the one Fukushima reactor that was running on Mixed oxide fuel, or MOX fuel, in its fuel rods.MOX fuel typically uses Plutonium mixed with one or more forms of Uranium. UsingPlutonium in fuel rods adds to their toxicity in the event of a meltdown. In part because Plutonium-239 has a half-life of 240,000 years and can be used to make nuclear weapons of "dirty bombs," its use in commercial reactors remains both limited and controversial. Because it contains Plutonium, MOX fuel is more toxic than other nuclear fuel and will burn at lower temperatures. As Natural Resources News reported in 2011:
"The mixed oxide fuel rods used in the compromised number three reactor at the Fukushima Daiichi complex contain enough plutonium to threaten public health with the possibility of inhalation of airborne plutonium particles…. Plutonium is at its most dangerous when it is inhaled and gets into the lungs. The effect on the human body is to vastly increase the chance of developing fatal cancers."
Reportedly, TEPCO plans don't call for the removal of the MOX fuel in Unit #3 for another decade or more. Fuel removal from Units #1, #2, and #3 is complicated by lethal radiation levels at all three reactors, as well as TEPCO's inability so far to locate the three melted cores with any precision.
There is ample reason to hope that Fukushima, despite the complex of uncontrollable and deteriorating factors, will not get worse, because even the Japanese don't want that. But there is little reason to expect anything but worsening conditions, slowly or suddenly, for years and years to come. And there is even less reason to expect anyone in authority anywhere to be more than minimally and belatedly truthful about an industry they continue to protect, no matter how many people it damages or kills.
The perfect paradigm of that ruthlessly cynical nuclear mentality is the current Japanese practice of recruiting homeless people to work at Fukushima in high level radiation areas where someone with something to lose might not be willing to go for minimum wage.
Source: William Boardman  |  Global Research
A top financial advisor, worried that Obamacare, the NSA spying scandal and spiraling national debt is increasing the chances for a fiscal and social disaster, is recommending that Americans prepare a "bug-out bag" that includes food, a gun and ammo to help them stay alive.
David John Marotta, a Wall Street expert and financial advisor and Forbes contributor, said in a note to investors, "Firearms are the last item on the list, but they are on the list. There are some terrible people in this world. And you are safer when your trusted neighbors have firearms."
His memo is part of a series addressing the potential for a "financial apocalypse." His view, however, is that the problems plaguing the country won't result in armageddon. "There is the possibility of a precipitous decline, although a long and drawn out malaise is much more likely," said the Charlottesville, Va.-based president of Marotta Wealth Management.
Marotta said that many clients fear an end-of-the-world scenario. He doesn't agree with that outcome, but does with much of what has people worried.
"I, along with many other economists, agree with many of the concerns expressed in these dire warnings. The growing debt and deficit spending is a tax on those holding dollars. The devaluation in the U.S. dollar risks the dollar's status as the reserve currency of the world. Obamacare was the worst legislation in the past 75 years. Socialism is on the rise and the NSA really is abrogating vast portions of the Constitution. I don't disagree with their concerns," he wrote.
In his latest note, he said that Americans should have a survival kit to take in case of a financial or natural disaster. It should be filled with items that will help them stay alive for the first 72-hours of a crisis, including firearms.
"A bug-out bag is a good idea depending on where you live even if the emergency is just power outages, earthquakes and hurricanes. And with your preparedness you will be equipped to help others who might be in need," he wrote. "Be prepared. Especially because it keeps you from being scared."
He provided a list of items and even a link to bug-out bags on Amazon.
Source:  Paul Bedard | Washington Examiner
While walking through the streets of San Francisco the other day and totally admiring this beautiful city's "painted lady" architectural glory, I suddenly and inexplicably started wondering what this amazing place might look like if it too had been bombed all to crap in the same manner that Damascus has been bombed all to crap by all those missiles and cluster-bombs and Al Qaeda operatives that American taxpayers are paying for — as they happily torture, rape and/or maim women and children in our name.
And this sudden unexpected vision of beautiful San Francisco as a bombed-out ruin has even further strengthened my resolve to do everything that I can to prevent America's ruthless War Street from spending our money on bombing other countries — lest something like this happens to our beloved San Francisco too.  Or to my own beloved Berkeley.
We need to stop all this expensive, bloody and worthless slaughter and seriously consider a far, far better alternative instead: "Do unto Syria what we would have Syria do unto us."
And let's also consider what corporate America's current utter lack of a "Do unto Africa as we would have Africa do unto us" policy would do to us here if it also was reversed?  Can you even imagine what it would be like in America if what happens in Africa today daily was happening here too?  Really?  Would we Americans love to be perpetually in debt to the world bank, have our lands and resources seized by neo-colonialists, our crops polluted with GMOs, millions of our women and children raped and killed, and our pristine forests turned into a dumping ground for nuclear and industrial waste?  Hardly.  http://www.youtube.com/watch?v=yydDBl_UlpQ&feature=youtu.be
And while we're at it, let's also "Do unto Israel as we would have Israel do unto us."  America's relationship to Israel right now sucks eggs for the Israelis.  And what exactly is this relationship?  It might be easier to understand if we look at it from a different perspective and if our roles were reversed.
Imagine, for instance, that some huge gonzo super-power on the other side of the world was pumping billions and billions and billions of dollars into America's economy annually — but with only one stipulation:  That all this gigantic wad of free Moola can only be used for one purpose:  To kill, torture, maim and and jail Native Americans.  And steal their land.  And establish an American Gestapo defense force and fund Settlers to take over what few Indian reservations we have left (after 19 million Native Americans have already been slaughtered here already), and to treat native Americans like animals and to napalm their children.  And to do this all in the name of God.  https://www.youtube.com/watch?v=gTrbVf6SrCc
Would we, as Native Americans — or even as just plain American citizens — see the cruelty and injustice in this?  Or would we just sell out to all those big bucks thrown our way like the Israelis have; and just relax and glorify in the joy of having a vampire-like power over others who are completely at our mercy?
These same choices are the ones that America's War Street is forcing Israelis to make every day.  And so far, most Israelis seem to have chosen blood-money over the Ten Commandments.  What a waste.
And also let's consider another new perspective:  "Do unto nature and the environment what we would have nature and the environment do unto us."  Always remember that Nature bats last.  Think Fukushima.  Think a thousand more hurricanes like Sandy, Haiyan and Katrina.  More fracking earthquakes.  More 140-degree days.  "Admiral Samuel J. Locklear III, the commander of the United States Pacific Command, [stated] that global climate change was the greatest threat the United States faced — more dangerous than terrorism, Chinese hackers and North Korean nuclear missiles."
And America's War Street and Wall Street and related skin-flint tax-dodging huge corporations are obviously not clear on the concept of "Do unto Americans as you would have Americans do unto you" either.
In the 1940s, every American sacrificed their comfort and rationed their goods and went without in order to pay for the "Good War".
But ever since that stupid and useless invasion of Afghanistan in 2001, 99% of Americans are sacrificing and going without in order to pay for some stupid and useless "Endless War" that in no way benefits them — while America's top one percent make no sacrifices at all; dining on caviar, buying cruise-ship-sized yachts with their bloody "war" profits and fiddling like Nero.
And yet most Americans these days do nothing to protect themselves from being cheated, robbed and exploited, but rather spend their last decaying days as citizens of a formerly economically-viable democracy happily watching pseudo-myths and fables on Fox News — as our beloved country slowly slips into third-world status.  "Welcome to Jakarta."
Are we finally getting the Big Picture here yet — that what goes around comes around?  If Americans continue to let Wall Street and War Street run our domestic policies, our foreign policies and our environmental policies, then all we can ever expect to receive is blood and carnage in return.
With over 500 pages and 1,200 footnotes, Ted Flynn's book, "Hope of the Wicked: the Master Plan to Rule the World," details many of the agendas of the global 'elite' community.  With several thousand quotes it uses the words of prime ministers, secretaries of treasury, secretaries of state, philanthropists and global business leaders to describe their NWO vision and their plans to bring it about as well as the convergence, on a global basis, of multinational corporations, foundations and the political and sociological instruments that would form a one-world government designed to bring about a New World Order.
Flynn writes that there is a confluence of events pointing to major changes that for many years have been coming to the world and they appear to be coming toward us more quickly now. Flynn argues that an 1846 heavenly apparition, a prophecy delivered by the Blessed Virgin Mary to two peasant children and approved by the Catholic Church is a stark and terrible summary of the major changes that have been coming to the world in general but the West and America in particular:
"All the civil governments will have one and the same plan, which will be to abolish and do away with every religious principle, to make way for materialism, atheism, spiritualism and vice of all kinds….The mountains and all Nature will tremble in terror, for the disorders and crimes of men have pierced the vault of the heavens…The righteous will suffer greatly.  Their prayers, their penances and their tears will rise up to Heaven and all of God's people will beg for forgiveness and mercy…And then Jesus Christ, in an act of His justice and His great mercy will command His Angels to have all His enemies put to death….and the persecutors of the Church of Jesus Christ and all those given over to sin will perish…"  (p. 445)
In another apparition approved by the Church, the Blessed Virgin Mary warned of the "annihilation of nations." (ibid, p. 445) 
Materialism, Atheism, Communism, & Annihilation of Nations and People
Friedrich Engels (1820-1895), a 19th century German political philosopher figures prominently in Karl Marx's life.  Beginning in 1844, Engels and Marx, a God-hating materialist, collaborated closely in the foundation of modern Communism.  By 1848 they had produced The Communist Manifesto and similar works.
The tragedy of Engels is that before joining forces with Marx he had been a faithful Christian.  After meeting Marx for the first time he described him as a monster subjected to devils.  Marx does not,
"…walk or run, he jumps on his heels full of anger…He stretches his arms far away in the air; the wicked fist is clenched, he rages without ceasing, as if ten thousand devils had caught him by the hair."  (Marx & Satan, Richard Wurmbrand, p. 36)
Engels was very well aware of the dangers of entangling himself with devilish sons of perdition like Marx.  In his book, "Schelling, Philosopher in Christ," he warns that a devilish spirit has entered into a great part of mankind in the heart of Christendom and now there are only two kinds of men, Christians and anti-Christians:
"Since the terrible French Revolution, an entirely new, devilish spirit has entered into a great part of mankind, and godlessness lifts its daring head in such an unashamed and subtle manner that you would think the prophecies of Scripture are fulfilled (Matthew 24:11)..And St. Paul says in II Thes. 2:3: That man of sin shall be revealed, the son of perdition, who opposes and exalts himself above all that is God, or that is worshipped…The coming of the Wicked is after the working of Satan….(therefore we must have)  nothing to do any more with indifference or coldness toward the Lord (for as of now) we have only…Christians and anti-Christians….We see the false prophets among us…They travel throughout Germany and wish to intrude everywhere; they teach their Satanic teachings in the market-places and bear the flag of the Devil from one town to another, seducing the poor youth, in order to throw them in the deepest abyss of hell and death." (ibid, p. 40)
The devilish fleshy spirit responsible for converting Engels to godless Communism was Moses Hess, the same man who had previously converted Marx. After meeting Engels in Cologne Hess wrote:
"He parted from me as an overzealous Communist.  This is how I produce ravages…" (ibid, p. 43)
The spiritual counter-conversion of Engels was striking and hideous.  Like Marx, he no longer cared about the destruction of millions of people on behalf of the Revolution. 
A bloodless Marx writes of the coming genocide of millions of men, women, and children:
"A silent, unavoidable revolution is taking place in society, a revolution that cares as little about the human lives it destroys as an earthquake cares about the houses it ravages.  Classes and races…too weak to dominate the new conditions of existence will be defeated." (ibid, p. 42)
In a similar vein, a cold-hearted Engels speaks of the coming annihilation of millions of Christians, Jews, and other peoples and nations:
"The next world war will make whole reactionary peoples disappear from the face of the earth.  This, too, is progress.  Obviously this cannot be fulfilled without crushing some delicate national flower.   But without violence and without pitilessness nothing can be obtained in history."  (p. 43) 
The Revolution
The Revolution is a movement of spirit having its taproot and energy in the devil, the spirit of hate, murder, atheism, apostasy, and 'this world only' naturalism, materialism, pantheism, and spiritualism.   The Revolution is war against the supernatural Trinity, the Father, Son and Holy Spirit, which in the words of Marx's anarchist comrade Bakunin, are the "cursed and fatal principle of authority."
The sentiment of the Revolution is satanic pride:
"….which spurns subjection to any master whatever, whether of divine or human origin." (Bakunin, Nihilism: The Root of the Revolution of the Modern Age, Fr. Seraphim Rose, p. 63)
The nature of the Revolution is the antithesis of authentic Christian faith. Whereas Christian faith is joy, patience, love, truth, humbleness, perseverance, submission in all things to the Will of God and blessed eternal life in Paradise (earth perfected), the Satanic counterfeit is full of hatred, rebelliousness, burning envy and covetousness against man and God, ingratitude, mockery, doubts, lies, revulsion, blasphemy, thoughts of murder and eternal life in Hell.
Fueled by monstrously inflated pride and dissatisfaction with self, the world, society, and God the Father Almighty, it devotes its' infernal energy toward "change," or as Marx put it, toward the wholesale destruction of the Christian-based Old Order and the establishment of a religiously pantheist, totalitarian world order because:
"The idea of God is the keynote of a perverted civilization. It must be destroyed." (Karl Marx, Marx and Satan, p. 59)  
The New World Religion  
 "(The UN is) a weird and diabolical convergence of New Age mysticism, pantheism, aboriginal animism, Communism, socialism, Luciferian occultism, apostate Christianity, Islam, Taoism, Buddhism, and Hinduism."   (The New World Religion: Teaching God's Children to Worship 'Divine Nature.' William Jasper, 2002)
The Revolution, of which the U.N., Lucis Trust (formerly Lucifer Publishing), the Cathedral of St. John the Divine, the Temple of Understanding and Baca Grande (Colorado based New Age Vatican City) are integral components, intends the complete overturning of Biblical moral and spiritual values enjoyed by Western and American civilization for over a thousand years.  As part of this goal, the Bible must be reinterpreted in terms of evolutionary pantheism, man must be fundamentally remade by eradication of every vestige of Imago Dei from his inner being, and Christian leadership reduced to a non-factor.  Flynn writes that this has largely been accomplished,
"…by placing their own leaders in place where they exert tremendous influence.  Much of this program of revolution was confirmed by Franklin D. Roosevelt in his book, 'Our Way' (which) summed up, the spiritual and immoral goals of world revolution (and how they) are being achieved, and nowhere more so than in the United States." (Flynn, p. 361)
Primary goals are:
a. Destruction of the Christian-based foundation of Western and American civilization;

b. Dissolution of legal government;

c. Destruction of sovereignty and patriotism;

d. Demoralizing, atheitizing and bringing the people of the United States into slavery via liberated sin nature and penury via graduated income taxes, property taxes, inheritance taxes, sales taxes, a massive welfare state and now socialized healthcare;

e. The abolition of God-given right to life via reproductive rights (abortion) and euthanasia and of private property via onerous building codes, zoning regulations and restrictions and by taxing property out of existence and targeting inheritance with bigger and bigger taxes;

f. Destruction of the traditional monogamous family unit via divorce, co-habitation, alternative lifestyles, abortion, pornography, hedonism and homosexuality
Before the top-down spiritually pantheist world order dominated by an occult 'elite' can come into existence, there must be a politically correct philosophy of 'new' thought and a philosophy of pantheist-based natural religion and natural science to usher in the coming political, social, legal and educational aspects of the new order since New Age evolutionary pantheism is a politically communist, ecologically 'sustainable,' sexually androgynous way of living.
In her two books on New Age evolutionary pantheism, 'The Hidden Rainbow,' and 'A Planned Deception,' Constance Cumbey writes that these goals have largely been accomplished:
"The New Age Movement is a religion complete with its own Bibles, prayers and mantras, Vatican City/Jerusalem equivalents, priests and gurus, born again experiences (they call it 'rebirthing'), spiritual laws and commandments, psychics and prophets and nearly every other indicia of a religion." (Flynn, p. 361)
According to Cumbey, the Plan for the new order includes the installation of a New Age messiah, implementation of a New Age totalitarian government and new world religion under Maitreya.  As well, there are plans to implement a universal identification system, universal credit system, universal tax, universal draft, and a world food and water authority that will control all of the world's food and water supplies.  To ensure that all people worship the New Age messiah, authentic Christianity will be completely stamped out along with all faithful Christians.
Toward this end, the evil spirit energizing and directing the Revolution intends to fully possess the Christian faith and refashion it completely.  In furtherance of his goal, the devil has audaciously declared that the supernatural Holy God the Father Almighty has been isolated in His transcendence and is therefore dead, so though the notion of God is retained, the devil proposes a functionless God that perhaps serves to ignite the Big Bang and set evolution in motion.  
 According to the devil, the Revolution is now moving with great force and speed across America nearly unopposed and will not stop until every vestige of faith in the supernatural God has been obliterated in every heart. Every man, woman, and child will experience a counter-conversion—a Satanic Initiation in the words of New Age insider David Spangler—to a 'new' pantheist spiritualism dressed in Christian symbols and terminology, an anti-gospel preached by anti-saints from the void who will assure men of their salvation though they will find only the leering face of the devil.
Japan's apocalypse continues. Emergency conditions persist. No end in sight looms. Fukushima's radioactive discharges can't be stopped. They continue. They're uncontainable.
At issue is by far the worst environmental disaster in history. It's multiples worse than Chernobyl. It's an unprecedented catastrophe. It's reason enough to abolish nuclear power.
According to Japan's Ministry of Economy, Trade and Industry, about 300 tons of radioactive groundwater flow into the Pacific daily.
It's done so since Japan's March earthquake and tsunami triggered Fukushima's meltdown.
Tokyo Electric (TEPCO) says water's getting over and around "chemical walls." It can't be stopped. Three Fukushima reactors suffered meltdowns. A fourth was badly damaged.
The worst fear remains. Unit Four's structural integrity was seriously undermined. It contains hundreds of tons of highly radioactive water.
If an earthquake or other natural disaster occurs, its fuel rods almost certainly will catch fire. Radioactive emissions will follow. They'll compound what's already disastrous.
Emissions will continue longterm. They'll circle the planet. They cause catastrophic harm.
Since March 2011, Tepco estimates around 20 to 40 trillion radioactive tritium becquerels leaked into the Pacific. So have large cesium and strontium discharges. They continue. They're much more dangerous.
According to nuclear expert Arnie Gunderson, "(t)he horse is already out of the barn." Leakage continues since earthquake and tsunami struck.
Radioactive water contaminates the Pacific. Gunderson's "experience with underground water is that – if it is serious at the ocean, it is more serious" on land.
Japanese officials proposed erecting a barrier. At issue is preventing water from reaching the Pacific. Whatever's done "is two years too late and will be too late by the time" construction's finished, said Gunderson.
A barrier's not the solution. It causes another problem. "If the water can't go anywhere into the Pacific Ocean, it is going to build up onsite, which means that the nuclear reactors themselves will become unstable."
"The water can pull underneath the nuclear buildings and if there is an earthquake, in fact the nuclear buildings could topple. So, by solving one problem, they are creating another problem."
Gunderson believes contaminated water will keep discharging for at least 20 to 30 years. It's the most radioactive water he ever experienced.
Cost is another issue. Cleanup involves around half a trillion dollars, says Gunderson. Most important is human health.
Epidemic cancer levels are certain. And not just in Japan. In early July, Fukushima's former chief operator, Masao Yoshida, died of esophogeal cancer.
He was 58. Tepco lied saying his death was unrelated to radiation exposure. Japanese children are experiencing a shocking 40% rise in thyroid irregularities.
Experts expect much higher numbers ahead. Fukushima's an ongoing disaster. It persists. It's not ending. It'll continue for decades.
According to Institute for Energy and Environmental Research (IEER) president Arjun Makhijani:
"Fukushima continues to be an emergency without end – vast amounts of radioactivity, including strontium-90 in the groundwater, evidence of leaks into the sea, the prospect of contaminated seafood."
"Strontium-90, being a calcium analog, bioaccumulates in the food chain. It is likely to be a seaside nightmare for decades."
It's much more dangerous than cesium 137 and 134. It's at levels 30 times higher.
"So to give you an idea of the level of contamination, if somebody drank that water for a year, they would almost certainly get cancer."
"So that's one problem. The other is the defenses to hold back this water from the sea seem to be overcome."
"So now the contaminated waters, 70,000, 80,000 gallons, are flowing into the sea every day."
"(S)ome of it will disperse and dilute. Some of it goes into the sediment, and some of it is taken up by the life in the sea."
"And the unfortunate thing about strontium especially is that it bioaccumulates in algae. It bioaccumulates in fish."
"It targets the bone, because it's like calcium. And so this is a problem. We don't have measurements far out to sea."
"The Woods Hole Institute has done some surveys. And they were surprised by how much continuing radioactivity they found, but no clear explanation yet."
The effect on human health's expected to be devastating. It's already bad. It's getting progressively worse. The genie's out of the bottle. No end in sight looms.
Strontium-90 and cesium are both perilous. "(S)ince strontium-90 is more mobile and also more dangerous biologically, (it) behaves like calcium, so it goes to the bone."
"It also bioaccumulates in the base of the food chain and algae. Ultimately because it does bioaccumulate and there is quite a lot of strontium, you could have a large part of the food chain near Fukushima being contaminated."
If pregnant women ingest contaminated water, fish or other food, "the outcomes could be worse than cancer because then you're talking about a much more compromised child in the sense of having a compromised immune system – it makes you more vulnerable to all kinds of diseases."
Makhijani doesn't know how Tepco can handle the problem. It's uncontrollable.
"It's very, very unclear to me how they are going to be able to get at this molten fuel, extract it from the bottoms of these highly damaged buildings and package it for safer or less dangerous storage or disposal."
"This is an accident that's shockingly not stopping." It's certain to worsen. It's unchartered territory.
It affects the region. It's humanity's worst environmental nightmare. Nuclear rain affects North America and Europe. Obama's an unabashed nuclear power promoter.
He wants more reactors built. He wants licenses for aging poorly maintained plants with poor safety records extended. He wants them operating unregulated.
He's recklessly endangering Americans. He talks clean energy alternatives. Policy measures spurn them. He fronts for corporate favorites.
He's captive to a destructive industry. He risks a Fukushima-type disaster on US soil. He risks millions of American lives. He's mindless of potential dangers.
Nuclear power's inherently unsafe. Einstein called it a hellova way to boil water. It does so through massive heat. It turns it into steam. It powers an electricity generating turbine.
According to anti-nuclear activist Karl Grossman:
Avoiding potentially catastrophic accidents "requires perfection and no acts of God." Humans and technology aren't perfect. Natural and other disasters happen.
"We can't eliminate them. But we can – and must – eliminate atomic energy." Otherwise it'll eliminate us.
Nuclear expert Helen Caldicott's clear and unequivocal, saying:
"As a physician, I contend that nuclear technology threatens life on our planet with extinction."
"If present trends continue, the air we breathe, the food we eat, and the water we drink will soon be contaminated with enough radioactive pollutants to pose a potential health hazard far greater than any plague humanity has ever experienced."
It doesn't get any clearer than that.
A Final Comment
Coverup and denial followed Chernobyl's disaster. Helen Caldicott called doing so "the most monstrous coverup in the history of medicine."
The death toll was many multiples greater than reported. Estimates range up to a million or more.
The New York Academy of Sciences (NYAS) translated thousands of Russian articles and papers. It added "revised and updated contributions."
"Written by leading authorities from Eastern Europe, the volume outlines the history of the health and environmental consequences of the Chernobyl disaster," NYAS said.
"According to the authors, official discussions from the (IAEA) and associated (UN) agencies (e.g. the Chernobyl reports) have largely downplayed or ignored many of the findings reported in the Eastern European scientific literature and consequently have erred by not including these assessments."
Fukushima far exceeds Chernobyl. Millions of lives are threatened. Perhaps future independent studies will explain. They'll be too little to late to help victims.
Stephen Lendman lives in Chicago. He can be reached at lendmanstephen@sbcglobal.net.
His new book is titled "Banker Occupation: Waging Financial War on Humanity."
http://www.claritypress.com/LendmanII.html
Visit his blog site at sjlendman.blogspot.com.
Radiation leaks, steam releases, disease and death continue to spew from Fukushima and a disaster which is far from over. Its most profound threat to the global ecology—a spent fuel fire—is still very much with us.
The latest steam leak has raised fears around the planet. A worst-case scenario of an on-going out-of-control fission reaction was dismissed by the owners, Tokyo Electric, because they didn't find xenon in the plume. The company says the steam likely came from rain water being vaporized by residual heat in one of the plant's stricken reactors.
But independent experts tend to disbelieve anything Tepco says, for good reason. Reactor Units One, Two and Three have exploded at Fukushima despite decades of official assurances that commercial atomic power plants could not explode at all. The company has been unable to clear out enough radioactive debris to allow it to put a cover over the site that might contain further airborne emissions.
Tepco has also been forced to admit that it has been leaking radioactive water into the ocean ever since the disaster began on March 11, 2011. In one instance it admitted to a 90-fold increase of Cesium in a nearby test well over a period of just 3 days.
Earlier this year a rat ate through critical electrical cables, shorting out a critical cooling system. When Tepco workers were dispatched to install metal guards to protect the cabling, they managed to short out the system yet again.
Early this month, Fukushima's former chief operator, Masao Yoshida, died of esophogeal cancer at the age of 58. Masao became a hero during the worst of the disaster by standing firm at his on-site command post as multiple explosions rocked the reactor complex. Tepco claimed his ensuing cancer and death were "unlikely" to have been caused by Fukushima's radiation.
The impact of work in and near the reactors has become a rising concern. Critics have warned that there are not enough skilled technicians willing to sacrifice themselves at the plant. Tepco has worsened the situation by applying to open a number of its shut reactors elsewhere in Japan, straining its already depleted skilled workforce even further.
Meanwhile, a staggering 40% rise in thyroid irregularities among young children in the area has caused a deepening concern about widespread health impacts from Fukushima's fallout within the general public. Because these numbers have come in just two years after the disaster, the percentage of affected children is expected to continue to rise.
And the worst fear of all remains unabated. At Unit Four, which apparently did not actually explode, the building's structural integrity has been seriously undermined. Debate continues to rage over exactly how this happened.
But there's no doubt that a pool containing many tons of highly radioactive used fuel is suspended 100 feet in the air, with little left to support the structure. Should an earthquake or other trauma knock the pool to the ground, there's a high likelihood the fuel rods could catch fire.
In such an event, the radioactive emissions could be catastrophic. Intensely lethal emissions could spew for a very long time, eventually circling the globe many times, wrecking untold havoc.
The Japanese have removed two apparently unused rods from the fuel pool so far. But intense international pressure to clear out the rest of them has thus far been unsuccessful.
So while a depleted, discredited and disorganized nuclear utility moves to restart its other reactors, its stricken units at Fukushima continue to hold the rest of us at the brink of apocalyptic terror.
Harvey Wasserman edits www.nukefree.org and is author of SOLARTOPIA! Our Green-Powered Earth. His SOLARTOPIA GREEN POWER & WELLNESS SHOW is at www.prn.fm. This article was first published at www.progressivemagazine.com.
People often ask where my ideas and where my knowledge comes from. When that happens, I chuckle a bit to myself because just like the person asking, my knowledge comes from a variety of sources: first hand experience, books, online forums and of course, Backdoor Survival readers. So you see, it is not that I am smarter or more clever than everyone else but rather that I have taken my passion for preparedness and made it an active part of my life.
That leads me to the topic for today's article. Following my own article on Five Minute Prepping Projects, I asked readers to submit their own tips – namely something that we all can do to prep that takes 10 minutes or less. There were some really good suggestions and so I thought I would share some of them here so that everyone can learn from them.
THE BEST TEN MINUTE PREPPING TIPS FROM BACKDOOR SURVIVAL READERS
1. There are many times when trouble strikes and we have to deal with only what we have on our person and in our pockets. A BOB is a luxury that might not be with us when the unexpected comes along, so I like to make sure I have a minimum of things on me before I leave the house even for a trip to the grocery.
Here's what I carry, you'll have to adjust for your own needs:
1) A small pocket knife
2) A multi-tool
3) A cigarette lighter
4) A dozen Kleenex
5) Chapstick
6) A one quart Ziploc bag
7) A black sharpie
8) A small bottle of hand sanitizer
9) Wallet with emergency cash and id cards
10) Keys, with small flashlight on keychain
I can carry all of that in jeans or short pockets no problem, and its amazing how handy I find each of those items to be in day to day activities. In an emergency they could really make a difference.
2. The most important thing to have in a survival situation is water. The ten minute thing I did was to buy extensions for the gutter down spout. At the time I put them in I had a back yard above ground pool. Kids all gone now, pool gone, but I now have 10 55 gallon barrels.
3. Check your supplies and rotate them out as the expiration date comes due. Stock the foods you like, because if you don't like a certain food, you won't eat it.
4. I like to can water after using my canning jars in the winter. I then have good water if the electricity goes down and also if there is a drought in the summer, I will have water for canning.
5. My 10 minute prepping tip is to save all of your dryer lint in a zip food bag. Squeeze it down, roll it up and place it in your bug out kit.
6. My very first prepping project was getting a plastic tote box ready for myself for the vehicle.
I went by the list in the book "Survival Mom" so it is packed full with a little extra than a BOB. Then my very next priority was another box fixed up for my mother who is 86 years old. She still drives and either she or someone else will be able to help with this very good vehicle emergency box. Survival is a daily challenge in northern WI.
7. The every three month 10 minute prep activity I do religiously is rotate my prescription meds. I have two weeks in my purse, 3 days in my 72 hour kit, 3 days in my car kit, and 3 days in my comprehensive medical kit. If it takes you longer than ten minutes to do this, you need to practice knowing where all these items are stashed!
8. The 10 min DIY water distillery: Using two, one liter clear soda bottles. Put 1/4 inch holes in both caps, insert 1/4 inch clear tubing thru each cap and down into each bottle (about 5-7 feet of tubing). Secure each cap onto bottles. Fill one 3/4 with water you want to distill, bring tubing about 1/2 inch from top. place in sunlight. Bring the tubing to the bottom of other bottle and place it in shade.
As the sun heats up the water and the water goes into a gas, expanding and going into the bottle in shade, it cools down and turns back into water, filling the bottle in shade, with clear drinkable water. This can also be used to remove salt from saltwater. Place a black band of tape around the input bottle, making sure not to mix them up.
9. Rinse out used soda bottles and fill with water. Save them for when the water is turned off or long term storage.
10. Dip cotton balls in petroleum jelly and put in a baggie or small plastic container (recycle old pill bottles) for your bug out bag. These make great fire starters and they burn long and hot.
11. My 10 minute tip: pack a small 'emergency' kit for your purse/pocket that you carry every day. Items to include *could* be a small flashlight (some LED ones are very tiny & bright), a few bandages, a BIC-type lighter, pocket knife, safety pins, pencil/pen, small notebook/Post-It notepad, paperclip, a paracord 'survival' bracelet, printable pamphlet of survival 'tips' (several available on the internet). Visit your local Red Cross for preparedness tips for your area. Often they have TONS of FREE information specific to your location to help families prepare BEFORE a problem arises.
12. Take quick check of your food supply, once a storm catches you by surprise, it's too late, and it only takes a few minutes to make a quick list of the basic canned goods that you need to replace, better safe than sorry!
13. We all probably think that our BOB has what we need in it and maybe it does. Take a quick look in it and see if there is some place to add a little easy redundancy, remembering that three is one and one is none. I took a Ziploc bag and put in it: a small candle, a pill vial with Vaseline in it, another pill vial stuffed with dryer lint, a disposable lighter and a magnifying glass. Easy to do and now I have several ways to start a fire in addition to the matches and the fire steel already in the bag without adding even a pound to the weight of the bag. I know there are a lot of other easy additions that can increase redundancy in all of our bags.
14. Never be without toilet paper. Put 4 rolls in 2 gallon Ziplocs and put 1 bag in each car, one in the garage, one under each sink in the house. That way, regardless of what disaster occurs – TP will be there.
15. Take ten minutes a day or even a week and learn how to use the things you have been accumulating for emergencies. This month I have been using the solar oven and rocket stove. Much easier to use the fifth time than the first.
16. Buy a large bottle of 5 to 10-percent iodine solution and transfer into those small, handy travel spray containers. Put one in each first aid kit in each bug-out bag. Besides being a disinfectant and medical treatment of cuts, a few drops per liter will purify water as well as keep thyroid function humming along in the absence of iodized salt.
17. Not a total of 10 minutes, but a great prep tip I have is to buy extra lumber, fasteners, nails, whenever you have a DIY project, and save the extra in your new "Mini-Lumberyard"!
18. Arrange to have a prepping partner call you randomly during the week and give you a surprise emergency drill of some kind. You have ten minutes to begin responding. Next week, return the favor.
19. Carry a small bottle of iodine and a small bottle of bleach with you in your bug out bag in the event you have to drink questionable water in your travels. Just add a bit to your canteen, shake it and let it be for a while and you are good to go. They have iodine pills but, take it from me being ex military; they taste bad but with this method it will do the job better and the water will not taste that bad.
20. Weigh your BOB. Put it on and carry it around the house. How long can you go without stopping? If it is too heavy which it is likely to be, here are a couple of things that you might consider doing: 1..Pack a half dozen of those freebie cloth satchels with handles in with the BOB. This way depending on how many people may be with you when you actually need to pack the BOB you can distribute the weight among everyone.
21. Make a list of the most important items to take with you if you are alone and safety pin that to the top of the BOB. In a real emergency you will not have time to think it through and you are likely to be too stressed to make the right choices. If alone, you must keep the weight down to a poundage that you can carry for long term.
22. I think my favorite quick prep is making a waterproof match container out of a mason jar. Glue a piece of sandpaper to the lid, fill the jar with stick matches, add a candle, tighten down the ring and there you have it. I'm sure the same could be done with a plastic jar if you're worried about breakage but I like the decorative little mason jars spread around the house. I took the time to waterproof my matches but I don't believe that's necessary.
23. I take 10 minutes on Mondays to do a quick check of my food storage to make sure I add needed items to the grocery list. This keeps things pretty up-to-date for me.
24. Keep a running inventory of ammunition so you keep a good assortment on hand and track what you use. A little extra can be good for barter.
25. Most of us have items that use batteries. Flashlights, radios, etc. I have a laminated list of the items that I keep in my prep, with a section just for things that need to be rotated. Quarterly, I grab the rotation list and swap out old batteries for new. The batteries I take out of my prep kit are usually still good, so I put them into use in normal, everyday equipment. It takes almost no time, and makes sure I have good batteries everywhere I need them, not just my prep kit.
26. Every time I go to the grocery store, I add an extra $10 of items for my food storage.
27. Make a small fishing kit, cheap and easy. Take a small tin (preferably a round candy mint tin). Add fishing line, hooks, sinkers, small artificial bait and a couple of snubbers. (A snubber is a piece of surgical tubing with fishing line going down the center and clasps on each end to tie your fishing line to. You can pick this up at most any store that sells fishing gear).
If you need to use your fishing kit and do not have a breakdown or telescoping fishing pole you will probably be using a branch. A branch will not have the same flexibility as a fishing pole. Tie your fishing line to the end of your flexible branch (the length of line will be determined by your situation). Tie the other end to your snubber. On the other end of your snubber tie your leader (about 18″ to 24″ of fishing line) then tie on your hook. Add your sinker to the fishing line on the pole / branch side of the snubber about 12″ from the snubber. Add bait and you are set.
I have added the snubbers to my kit, because it acts like a shock absorber when you have a fish on the line. This has helped me to land the fish and not break off the hook or line due to not having the flexibility of a proper fishing pole.
28. I've been through two hurricanes here on the Gulf coast in recent years. Water, all you can reasonably store, is a must, along with some way to purify it if need be. I've carried a pocket knife for more years than I can remember, and in recent years I've started carrying a multi-tool. I always have a roll of toilet paper inside a zip-lock bag under the back seat of my truck. I also save dryer lint to use as tinder.
29. Gather up a few cans of veggies, fruits, and meats along with a jar of peanut butter. Store in your vehicle (under seat, in trunk) Throw in a "good" manual can opener or something strong enough to cut the lid in emergency. Can be eaten without heating or cooking.
30. Freeze and store milk in its container. I have been doing it for years with two pint semi-skimmed milk ones, full fat (cream) is not so good as the fat separates when defrosted. These have been handy already in extended power cuts as the freezer keeps cold, as does the fridge if you put a frozen one on the top shelf. It takes about twelve hours to defrost at 60F and the frozen milk lasts indefinitely in my experience, although I still rotate.
31. Get a caravan size chemical toilet and some Elsan Blue or Eco Green fluid as well for when there's no sanitation or main water to flush the loo. This is one essential that is often overlooked.
32. You can fix up a go-bag a few moments at time by leaving it open in a place you will see it (I myself am an out-of-sight-out-of-mind person), say a corner of the kitchen, and dropping in the things you want to have at the ready. On laundry day, drop in clean socks and undies. On grocery day, buy a few easy to eat nibbles (that you like) – tuna in a pouch, nuts, dry fruit, plus a bottle of water and drop them in the bag. Make a list of other things you need to think about: first aid kit, flashlight, etc. As you go to the hardware store, purchase these things, drop them in the bag when you get home. This is your basic backpack which you can modify according to your needs (weather, for instance).
33. Place a pair of shoes, socks, work gloves, a whistle, and a light stick or flashlight with batteries under your bed for use during or after an emergency. Add to this a mobile phone to call for assistance, spare house and car keys in case you have to get out of the house from an upstairs window and need to get back inside to put out small fires safely with extinguishers you have placed at door exits. I also have a spare set of old clothes, shoes and a blanket packed in a suitcase in the caravan in the garden along with an emergency supply of bottled water and food in pull tab tins. A dry shed or outhouse would suffice for this no doubt.
34. Unless your home is 100% all electric, get a carbon monoxide alarm if you don't already have one. And even then it's not a bad idea as in an emergency you may want to use a propane device, and it'll hopefully keep you from dying from the CO.
35. Stock up on calcium chloride ice melt. Get a 50# bag and fill the empty milk jugs with it. Keep one jug in each car.
36. Hurricane matches. Get a bunch. They aren't cheap, but they're the best.
37. GMRS/FRS radio. Regular CBs can become clogged with radio traffic. A good brand can also provide encryption so you can have private discussion with family. Depending on the make and model, it may come with frequencies that require a license. In emergencies I doubt the FCC will chase you down. And in regular times, I doubt they will chase you down if you're not being obnoxious.
38. In addition to a flash drive, open a free "cloud" service account, many of which will give you 5-10 gigabytes of storage. An alternative to that would be to open up a new e-mail account, on Yahoo/Gmail/etc, and e-mail the documents to yourself. Unsure of what to make for a new username for an e-mail account? Take your first name + "documents" (i.e. "BillDocuments"), and use your last name as the password.
This way, if your house (and flash drive) are lost in a tornado/earthquake/fire/etc, you can still access those documents from, say, a public library computer.
39. Another tip along with freezing jugs with water to place in the freezer, is to fill a 2 liter bottle about 1/3 full. Freeze it upright, then lay it on its side. If you come home from vacation, and the water is frozen at the bottom (sideways) in the bottle then the power was off long enough that the food may have spoiled.
THE FINAL WORD
I have always maintained that Backdoor Survival readers are the most creative and resourceful folks on the internet when it comes to basic, common sense preparedness. No fear mongering types here – just ordinary folks doing their best to take care of themselves, their families and their comfort and safety, no matter what happens down the road.
I tip my hat to you.
Source: Gaye Levy | Backdoor Survival
Many in the precious metals community are eagerly anticipating a complete systemic collapse of the financial system because as "preppers", they expect to not only survive, but to prosper in a SHTF scenario.  We suspect however that the following MUST READ account of surviving the Bosnian war in the midst of a complete collapse of the grid will be eye-opening in just how difficult it is to survive a full-on Mad Max scenario, even if one has spent years preparing for it.
I am from Bosnia. You know, between 1992 and 1995, it was hell. For one year, I lived and survived in a city with 6,000 people without water, electricity, gasoline, medical help, civil defense, distribution service, any kind of traditional service or centralized rule.
Today, me and my family are well-prepared, I am well-armed. I have experience. It does not matter what will happen: an earthquake, a war, a tsunami, aliens, terrorists, economic collapse, uprising. The important part is that something will happen.
The following is my experience:
Our city was blockaded by the army; and for one year, life in the city turned into total crap. We had no army, no police. We only had armed groups; those armed protected their homes and families.
When it all started, some of us were better prepared. But most of the neighbors' families had enough food only for a few days. Some had pistols; a few had AK-47s or shotguns.
After a month or two, gangs started operating, destroying everything. Hospitals, for example, turned into slaughterhouses. There was no more police. About 80 percent of the hospital staff were gone. I got lucky. My family at the time was fairly large (15 people in a large house, six pistols, three AKs), and we survived (most of us, at least).
The Americans dropped MREs every 10 days to help blockaded cities. This was never enough. Some — very few — had gardens. It took three months for the first rumors to spread of men dying from hunger and cold. We removed all the doors, the window frames from abandoned houses, ripped up the floors and burned the furniture for heat. Many died from diseases, especially from the water (two from my own family). We drank mostly rainwater, ate pigeons and even rats.
Money soon became worthless. We returned to an exchange. For a tin can of tushonka (think Soviet spam), you could have a woman. (It is hard to speak of it, but it is true.) Most of the women who sold themselves were desperate mothers.
Arms, ammunition, candles, lighters, antibiotics, gasoline, batteries and food. We fought for these things like animals. In these situations, it all changes. Men become monsters. It was disgusting.
Strength was in numbers. A man living alone getting killed and robbed would be just a matter of time, even if he was armed.
Today, me and my family are well-prepared, I am well-armed. I have experience.
It does not matter what will happen: an earthquake, a war, a tsunami, aliens, terrorists, economic collapse, uprising. The important part is that something will happen.
Here's my experience: You can't make it on your own. Don't stay apart from your family; prepare together, choose reliable friends.
1. How to move safely in a city
The city was divided into communities along streets. Our street (15 to 20 homes) had patrols (five armed men every week) to watch for gangs and for our enemies.
All the exchanges occurred in the street. About 5 kilometers away was an entire street for trading, all well-organized; but going there was too dangerous because of the snipers. You could also get robbed by bandits. I only went there twice, when I needed something really rare (list of medicine, mainly antibiotics, of the French original of the texts).
Nobody used automobiles in the city: The streets were blocked by wreckage and by abandoned cars. Gasoline was very expensive. If one needed to go somewhere, that was done at night. Never travel alone or in groups that were too big — always two to three men. All armed, travel swift, in the shadows, cross streets through ruins, not along open streets.
There were many gangs 10 to 15 men strong, some as large as 50 men. But there were also many normal men, like you and me, fathers and grandfathers, who killed and robbed. There were no "good" and "bad" men. Most were in the middle and ready for the worst.
2. What about wood? Your home city is surrounded by woods; why did you burn doors and furniture?
There were not that many woods around the city. It was very beautiful — restaurants, cinemas, schools, even an airport. Every tree in the city and in the city park was cut down for fuel in the first two months.
Without electricity for cooking and heat, we burned anything that burned. Furniture, doors, flooring: That wood burns swiftly. We had no suburbs or suburban farms. The enemy was in the suburbs. We were surrounded. Even in the city you never knew who was the enemy at any given point.
3. What knowledge was useful to you in that period?
To imagine the situation a bit better, you should know it was practically a return to the Stone Age.
For example, I had a container of cooking gas. But I did not use it for heat. That would be too expensive! I attached a nozzle to it I made myself and used to fill lighters. Lighters were precious.
If a man brought an empty lighter, I would fill it; and he would give me a tin of food or a candle.
I was a paramedic. In these conditions, my knowledge was my wealth. Be curious and skilled. In these conditions, the ability to fix things is more valuable than gold.
Items and supplies will inevitably run out, but your skills will keep you fed.
I wish to say this: Learn to fix things, shoes or people.
My neighbor, for example, knew how to make kerosene for lamps. He never went hungry.
4. If you had three months to prepare now, what would you do?
Three months? Run away from the country? (joking)
Today, I know everything can collapse really fast. I have a stockpile of food, hygiene items, batteries — enough to last me for six months.
I live in a very secure flat and own a home with a shelter in a village 5 kilometers away. Another six-month supply there, too. That's a small village; most people there are well-prepared. The war had taught them.
I have four weapons and 2,000 rounds for each.
I have a garden and have learned gardening. Also, I have a good instinct. You know, when everyone around you keeps telling you it'll all be fine, but I know it will all collapse.
I have strength to do what I need to protect my family. Because when it all collapses, you must be ready to do "bad" things to keep your children alive and protect your family.
Surviving on your own is practically impossible. (That's what I think.) Even you're armed and ready, if you're alone, you'll die. I have seen that happen many times.
Families and groups, well-prepared, with skills and knowledge in various fields: That's much better.
5. What should you stockpile?
That depends. If you plan to live by theft, all you need is weapons and ammo. Lots of ammo.
If not, more food, hygiene items, batteries, accumulators, little trading items (knives, lighters, flints, soap). Also, alcohol of a type that keeps well. The cheapest whiskey is a good trading item.
Many people died from insufficient hygiene. You'll need simple items in great amounts. For example, garbage bags. Lots of them. And toilet papers. Non-reusable dishes and cups: You'll need lots of them. I know that because we didn't have any at all.
As for me, a supply of hygiene items is perhaps more important than food. You can shoot a pigeon. You can find a plant to eat. You can't find or shoot any disinfectant.
Disinfectant, detergents, bleach, soap, gloves, masks.
First aid skills, washing wounds and burns. Perhaps you will find a doctor and will not be able to pay him.
Learn to use antibiotics. It's good to have a stockpile of them.
You should choose the simplest weapons. I carry a Glock .45. I like it, but it's a rare gun here. So I have two TT pistols, too. (Everyone has them and ammo is common.)
I don't like Kalashnikov's, but again, same story. Everyone has them; so do I.
You must own small, unnoticeable items. For example, a generator is good, but 1,000 BIC lighters are better. A generator will attract attention if there's any trouble, but 1,000 lighters are compact, cheap and can always be traded.
We usually collected rainwater into four large barrels and then boiled it. There was a small river, but the water in it became very dirty very fast.
It's also important to have containers for water: barrels and buckets.
6. Were gold and silver useful?
Yes. I personally traded all the gold in the house for ammunition.
Sometimes, we got our hands on money: dollars and Deutschmarks. We bought some things for them, but this was rare and prices were astronomical. For example, a can of beans cost $30 to $40. The local money quickly became worthless. Everything we needed we traded for through barter.
7. Was salt expensive?
Yes, but coffee and cigarettes were even more expensive. I had lots of alcohol and traded it without problems. Alcohol consumption grew over 10 times as compared to peacetime. Perhaps today, it's more useful to keep a stock of cigarettes, lighters and batteries. They take up less space.
At this time, I was not a survivalist. We had no time to prepare — several days before the shit hit the fan. The politicians kept repeating over the TV that everything was going according to plan, there's no reason to be concerned. When the sky fell on our heads, we took what we could.
8. Was it difficult to purchase firearms? What did you trade for arms and ammunition?
After the war, we had guns in every house. The police confiscated lots of guns at the beginning of the war. But most of them we hid. Now I have one legal gun that I have a license for. Under the law, that's called a temporary collection. If there is unrest, the government will seize all the registered guns. Never forget that.
You know, there are many people who have one legal gun, but also illegal guns if that one gets seized. If you have good trade goods, you might be able to get a gun in a tough situation. But remember, the most difficult time is the first days, and perhaps you won't have enough time to find a weapon to protect your family. To be disarmed in a time of chaos and panic is a bad idea.
In my case, there was a man who needed a car battery for his radio. He had shotguns. I traded the accumulator for both of them. Sometimes, I traded ammunition for food, and a few weeks later traded food for ammunition. Never did the trade at home, never in great amounts.
Few people knew how much and what I keep at home.
The most important thing is to keep as many things as possible in terms of space and money. Eventually, you'll understand what is more valuable.
Correction: I'll always value weapons and ammunition the most. Second? Maybe gas masks and filters.
9. What about security?
Our defenses were very primitive. Again, we weren't ready, and we used what we could. The windows were shattered, and the roofs in a horrible state after the bombings. The windows were blocked — some with sandbags, others with rocks.
I blocked the fence gate with wreckage and garbage, and used a ladder to get across the wall. When I came home, I asked someone inside to pass over the ladder. We had a fellow on our street that completely barricaded himself in his house. He broke a hole in the wall, creating a passage for himself into the ruins of the neighbor's house — a sort of secret entrance.
Maybe this would seem strange, but the most protected houses were looted and destroyed first. In my area of the city, there were beautiful houses with walls, dogs, alarms and barred windows. People attacked them first. Some held out; others didn't. It all depended how many hands and guns they had inside.
I think defense is very important, but it must be carried out unobtrusively. If you are in a city and SHTF comes, you need a simple, non-flashy place, with lots of guns and ammo.
How much ammo? As much as possible.
Make your house as unattractive as you can.
Right now, I own a steel door, but that's just against the first wave of chaos. After that passes, I will leave the city to rejoin a larger group of people, my friends and family.
There were some situations during the war. There's no need for details, but we always had superior firepower and a brick wall on our side.
We also constantly kept someone watching the streets. Quality organization is paramount in case of gang attacks.
Shooting was constantly heard in the city.
Our perimeter was defended primitively. All the exits were barricaded and had little firing slits. Inside we had at least five family members ready for battle at any time and one man in the street, hidden in a shelter.
We stayed home through the day to avoid sniper fire.
At first, the weak perish. Then, the rest fight.
During the day, the streets were practically empty due to sniper fire. Defenses were oriented toward short-range combat alone. Many died if they went out to gather information, for example. It's important to remember we had no information, no radio, no TV — only rumors and nothing else.
There was no organized army; every man fought. We had no choice. Everybody was armed, ready to defend themselves.
You should not wear quality items in the city; someone will murder you and take them. Don't even carry a "pretty" long arm, it will attract attention.
Let me tell you something: If SHTF starts tomorrow, I'll be humble. I'll look like everyone else. Desperate, fearful. Maybe I'll even shout and cry a little bit.
Pretty clothing is excluded altogether. I will not go out in my new tactical outfit to shout: "I have come! You're doomed, bad guys!" No, I'll stay aside, well-armed, well-prepared, waiting and evaluating my possibilities, with my best friend or brother.
Super-defenses, super-guns are meaningless. If people think they should steal your things, that you're profitable, they will. It's only a question of time and the amount of guns and hands.
10. How was the situation with toilets?
We used shovels and a patch of earth near the house. Does it seem dirty? It was. We washed with rainwater or in the river, but most of the time the latter was too dangerous. We had no toilet paper; and if we had any, I would have traded it away.
It was a "dirty" business.
Let me give you a piece of advice: You need guns and ammo first — and second, everything else. Literally everything! All depends on the space and money you have.
If you forget something, there will always be someone to trade with for it. But if you forget weapons and ammo, there will be no access to trading for you.
I don't think big families are extra mouths. Big families means both more guns and strength — and from there, everyone prepares on his own.
11. How did people treat the sick and the injured?
Most injuries were from gunfire. Without a specialist and without equipment, if an injured man found a doctor somewhere, he had about a 30 percent chance of survival.
It ain't the movie. People died. Many died from infections of superficial wounds. I had antibiotics for three to four uses — for the family, of course.
People died foolishly quite often. Simple diarrhea will kill you in a few days without medicine, with limited amounts of water.
There were many skin diseases and food poisonings… nothing to it.
Many used local plants and pure alcohol — enough for the short-term, but useless in the long term.
Hygiene is very important, as well as having as much medicine as possible — especially antibiotics.
Source: Silver Doctors
The title of today's column, "There Is A Conspiracy," is a direct quote from Ezekiel 22:25. In this passage, God instructed Ezekiel to blow the whistle on the conspiracy of Israel's prophets to deny people truth, to devour people's souls, to defraud people's substance, and to destroy people's lives. I dare say this conspiracy is still alive and well today. Many pastors and religious leaders in 2013 America are as guilty of Ezekiel's charges as were Israel's ancient prophets.
However, use the word "conspiracy" today and even most Christians will roll their eyes in disbelief. And, of course, the mainstream media is so paranoid of the word conspiracy that one has to speculate that the reason for this aversion to objectively dealing with the subject is simply due to the fact that they are among the co-conspirators.
But once in awhile, someone in the media has the guts to broach the subject of conspiracy. My friends at TruthAlliance.net recently covered a report written by Matt Taibbi of Rolling Stone Magazine. Taibbi begins his report saying, "Conspiracy theorists of the world, believers in the hidden hands of the Rothschilds and the Masons and the Illuminati, we skeptics owe you an apology. You were right. The players may be a little different, but your basic premise is correct: The world is a rigged game. We found this out in recent months, when a series of related corruption stories spilled out of the financial sector, suggesting the world's largest banks may be fixing the prices of, well, just about everything."
Speaking of the LIBOR and other Wall Street scandals, Taibbi goes on to write, "All of these stories collectively pointed to the same thing: These banks, which already possess enormous power just by virtue of their financial holdings–in the United States, the top six banks, many of them the same names you see on the Libor and ISDAfix panels, own assets equivalent to 60 percent of the nation's GDP–are beginning to realize the awesome possibilities for increased profit and political might that would come with colluding instead of competing. Moreover, it's increasingly clear that both the criminal justice system and the civil courts may be impotent to stop them, even when they do get caught working together to game the system.
"If true, that would leave us living in an era of undisguised, real-world conspiracy, in which the prices of currencies, commodities like gold and silver, even interest rates and the value of money itself, can be and may already have been dictated from above. And those who are doing it can get away with it. Forget the Illuminati–this is the real thing, and it's no secret. You can stare right at it, anytime you want."
See the report at:
Hallelujah! Just about everybody with an IQ over 80 knew it; so it's about time someone finally said it: gold and silver prices are "rigged." So is the Petro-Dollar. So is the ammo shortage. So are the headlines on ABC, CBS, NBC, CNN, and MSNBC. And so are many of our national catastrophes.
Back in 2011, Jacqueline Kennedy Onassis was added to the list of "conspiracy nuts" when tapes that were recorded within months of President John F. Kennedy's assassination, which had been sealed in a vault at the Kennedy Library in Boston, were released. In the tapes, former First Lady Jackie Kennedy revealed that she believed Vice President Lyndon Baines Johnson and other "influential individuals" orchestrated the Dallas shooting that killed her husband.
Wow! Jackie Kennedy didn't believe the official government story that her husband was killed by a "lone gunman." She believed there was a conspiracy of "influential individuals" who colluded in killing her husband.
I'm with Jackie! Even though I was only a little boy when President Kennedy was assassinated, I could never wrap my head around the "lone gunman" theory. And the older I got, and the more I studied that tragedy, the more I became convinced there was a giant conspiracy involved in both killing the President and covering it up after he had been killed. I still believe that today.
While we are talking about conspiracies, let's talk about a few more.
TWA Flight 800 "Explosion"
Do you really believe the official story of the crash of TWA flight 800 in 1996? What if an American missile accidentally shot down that jetliner? Do you really think the federal government would come clean about it?
Read this report from The Washington Weekly, if you are willing to be enlightened:
Oklahoma City Bombing
Do readers really believe the official story that Timothy McVeigh acted alone in igniting the explosion that took down the Murrah Federal Building in Oklahoma City, Oklahoma, and that there was no cover-up as to what actually happened? I don't.
Here is where you can get started on this one:
And here:
OK State Representative Charles Key States His Case
9/11 Twin Towers and Pentagon Attacks
There has been so much written on this subject, I will let readers fend for themselves as to personal research on the matter. Without wading too deeply into this discussion (and for the sake of column space), let me ask just one simple question. Pray tell, what took down Building 7? To this good hour, I have not heard one single plausible explanation proffered by any government or media representative that explains why Building 7 collapsed.
Do I know what really happened on 9/11? No. But do I believe that the government is purposefully keeping the American people in the dark as to what really happened on 9/11/01? You bet I do! Do I believe that there is a cover-up of crucial evidence related to 9/11 by both the federal government and the national news media? You bet I do!
Haiti Earthquake
Another event that the official version is just completely unbelievable to me is the earthquake in Haiti in January of 2010. I will always believe that there was so much to this story that we were not being told. It didn't "smell" right to me when it happened; it doesn't "smell" right to me now. If you're interested, try perusing through some of this information:
Iraq, Afghanistan, Libya, Syria Wars
Let me be so blunt as to say I don't believe the official story about any of the wars America is waging in the Middle East. I believe virtually every reason George W. Bush gave the American people for attacking and invading Iraq was a premeditated, bald-faced lie! And I believe every reason Barack Obama gives for staying at war in the Middle East is a premeditated bald-faced lie!
I believe the so-called "War on Terror" which justifies endless wars abroad and endless surveillance at home is completely manufactured by those in government and business for personal economic and political interests. In the name of fighting for freedom overseas, the central government in Washington, D.C., is turning America's homeland into a giant prison-camp. Pray tell, what good does it do to send American troops overseas to fight a war for freedom, then turn around and use the war for freedom overseas as an excuse to expunge the freedoms of the American people here at home? If that doesn't smell of conspiracy, nothing does!
Ron Paul was right! "Blowback" truly is a reality; and America's "War on Terror" is actually making the United States less safe, not more. In fact, if you really want to get sick to your stomach over what this so-called "War on Terror" is accomplishing and why so many people around the world are coming to hate us, take a look at this report:
The Pentagon's New Power Elite: A Secret War in 120 Countries
The Boston Bombings
Noted researcher and analyst, Joel Skousen, recently wrote a detailed and lengthy exposé on the Boston Bombings in his excellent World Affairs Brief (which I highly recommend). Here is just a short clip:
"It seems very suspicious that the FBI would release so many photos and video excerpts (including even partial and grainy shots as if they are presenting everything possible) showing the brothers [accused bombers] in the area, but then they fail to produce the most conclusive evidence that matches what the indictment says.
"This narrative is so specific that it would be very risky for a federal official to make such detailed reference to video evidence if they did not actually possess it–unless they already had a legal strategy worked out where the claimed evidence would be suppressed under the government's habitual use of the State Secrets doctrine or via a compliant judge who has agreed in advance to seal the evidence. The suppression of key evidence has been a central part of every major government cover-up including the JFK and Martin Luther King assassinations, Oklahoma City bombing and both WTC attacks."
To subscribe to Skousen's World Affairs Brief, go to:
Skousen is right to be suspicious. Agencies of the federal government have long-facilitated terrorist plots in this country. Even the New York Times carried an editorial outlining a long list of examples of how the FBI hatches and then "discovers" terrorist plots.
See the Times editorial at:
Terrorist Plots Helped Along By The FBI
Furthermore, writing for Infowars.com, Paul Joseph Watson chronicles the long-established pattern of central governments in creating national terror as a vehicle with which to blame other groups and set in motion whatever predetermined plan had been previously concocted.
See Watson's report at:
Why Government Should Be The First Suspect In Any Terror Attack
The Connecticut School Shootings, The Colorado Theater Shootings, etc.
There are so many inconsistencies, changed stories, and conflicting reports with virtually every official report regarding these mass shootings, so much so that it is difficult for any rationally thinking person to believe them. Unfortunately, the absence of true objective investigative reporting by the national news media means the vast majority of the American people will never have the information they need and, thus, they will never know the truth about any of these mass shootings. All the news media does today is simply regurgitate the official government story, without question. (That's why, if you truly want to be informed, you must abandon the controlled propaganda press corps and research independent sources. But even there, one must be careful. Not every independent source is reliable. Plus, government propagandists are at work planting bogus information on the Internet and elsewhere in an attempt to make government critics appear foolish.) But there is one constant that surrounds every mass shooting: the push for increased gun control by anti-freedom politicians. Yes, I realize we could put this under the "You never want a serious crisis to go to waste" (Rahm Emanuel) category. But I'm so cynical now that I'm seeing the potential for the dark side of government behind every mass shooting.
Speaking of defending the Second Amendment, there is a brand new film being produced entitled, MOLON LABE: How The Second Amendment Guarantees America's Freedom, based on the masterful research of attorney Edwin Vieira, Jr., in his book, The Sword and Sovereignty. The film features people such as Ron Paul, Pat Buchanan, Larry Pratt, G. Edward Griffin, Alex Jones, Stewart Rhodes, and yours truly. This film has the potential to be a "game-changer" in the attacks against the preservation of our right to keep and bear arms. Acclaimed producer James Jaeger is nearing final editing and could really use the support of thousands of freedomists around the country. Your contributions to this project could pay off mightily in helping to preserve the Second Amendment. I highly encourage readers to seriously consider donating to the completion of this terrific film. It is a film that Barack Obama and Dianne Feinstein hope will never be seen. Here is the trailer along with information on how you can contribute:
So, Matt Taibbi at Rolling Stone Magazine, the late Jackie Kennedy Onassis, and the Prophet Ezekiel all agree: "There is a conspiracy." I believe it.
Okay, half-slow laughin' Joe didn't actually say that, but he might as well have. While defending his position this past Thursday that banning the rifles incorrectly called "assault weapons" won't negatively impact upon Americans' safety, he pointed out that you shouldn't trouble yourself: shotguns would still be available — and they're more effective, anyway. He said, reports the Daily Caller:
A shotgun will keep you a lot safer — a double-barreled shotgun — than an assault weapon in somebody's hand who doesn't know how to use it, even one who does know how to use it. You know, it's harder to use an assault weapon to hit something than it is a shotgun.
[…]You want to keep people away in an earthquake? Buy some shotgun shells.
Alright, Joe; if you're talking about close-quarters self-defense, you'll get no argument from me. Now, would you again explain why you want to ban AR-15s?
I mean, if they're so relatively ineffective, if it's so hard to hit a target with one, why are you worried about getting them off the street? What, do you want to put more effective guns in criminals' hands?
And if shotguns are so devastating — so much more formidable than those dreaded assault weapons (that aren't) — shouldn't you endeavor to ban them? Of course, this is on the agenda; as Dianne Crimestein once admitted, if she had her way, all guns would be confiscated (except, presumably, the one she owns).
And I can see it now. Let's say that the anti-Second Amendment folks succeeded in banning assault weapons (that aren't). When another incident such as the Aurora, Colorado massacre occurs — where most of the wounds were inflicted with a shotgun —the media will actually report it accurately. You see, there'll no longer be a reason to lie and place the onus on the AR-15 because it will already be illegal, and the reportage will go something like this: "Experts point out that a shotgun is actually more devastating in close-quarters attacks on soft targets than AR-15s and AK-47s — which are already illegal." And the statist politicians will say, perhaps, "It's a hole in the legislation that 'assault weapons' were criminalized while far more dangerous shotguns were left on the streets. Obviously, if these hand cannons are more devastating than an AR-15, they're assault weapons, too. And we must take action immediately." That's exactly how our assault liberals might play it.
As of now, though, you can still own a gun that is so much more dangerous than an assault weapon (that isn't). In fact, Vice President Biden endorses it. And thank you, Uncle Joe, for explaining firearm facts of life to America. I'm so glad you're on our side.
The markets, as most people reading this should now well know, no longer reflect in any way the true economic health of our country.  If one was to measure the financial "recovery" of this nation by the strength of global stocks alone, he would probably come to the conclusion that the collapse of 2008 was a mere hiccup in the overall success of the worldwide economic system.  However, electronically traded equities with little more to back their value than scraps of receipt paper and numbers on a screen have no bearing on what is going to happen to you, and to me, over the course of the coming year.  The stock market is a sideshow, a popcorn movie, a façade.  The real drama is going on behind the scenes and revealed in fundamentals that mainstream analysts no longer discuss…
The only advantage of a long drawn disintegration of the overall system is that as the years pass, it becomes possible to discover a pattern through which we can gauge where we really stand today and will stand tomorrow, giving us a chance (a narrow chance) to limit the eventual damage.  Unfortunately, the pattern now in motion suggests that the next year will be exactly what we have been predicting over the past several months:  Dismal.
The MSM refuses to discuss it at great length, but all signs show an epic global slowdown in demand and production, especially in the final quarter of 2012.  This slowdown cannot be denied, nor can it be shrugged off as inconsequential.  This development is exactly as I predicted in January of this year using the Baltic Dry Index as a guide.  During that first quarter, the BDI fell to record lows, indicating an extreme decline in shipping demand around the world, which, in turn, indicated a fall in demand for raw goods, which, in turn, indicated a fall in demand for consumer goods.  Mainstream pundits sought to distract the public from this fact by claiming that the BDI was collapsing due to an "oversupply of ships", not rescinding demand.  This disinformation was proven incorrect in the beginning of the third quarter of this year, when export nations from China, to Japan, to Germany all began reporting abysmal manufacturing numbers and steep faltering in overseas purchases.
Of course, we all know what happened next:  The markets began to tank when they caught the scent of a slowdown, losing a thousand points within the span of a week.  Not so unpredictably (since I also predicted it at the beginning of the year) the Federal Reserve leapt into action with its announcement of QE3 (QE Infinity).
QE3 has done little to change the problem of falling global demand, but it has certainly defibrillated stocks.  In fact, I think it is safe to say that a majority of QE fiat funds are flowing (directly or indirectly) into the DOW, and not much else.  International trade and consumption is starting to feel the pain, and respective countries are no longer able to hide it.  Keep in mind that this slowdown is occurring right at the height of the Christmas season, when consumption is usually supposed to reignite.
Despite the sugar coated claims of insane Keynesians who only a few years ago were predicting a "resurgence" of American industry and exports due to the Federal Reserve's ongoing devaluation of the dollar, production in the U.S. has remained pathetically weak, and continues to decline:
http://www.nytimes.com/2012/12/12/business/economy/decline-in-exports-hurts-us-trade-deficit.html
This is of course a direct result of slowing global demand, reducing potential markets all over the world, which is something deflation fear mongers apparently didn't see coming.  The reality is that demand is faltering EVERYWHERE, not just in the U.S., and this begs a particular question:  In an interdependent economic system driven primarily by consumption, who is going to fill the void when all nations are dry of spending cash?  That is to say, who is going to take up the slack, when obviously no one has the wealth to do so?  Without a cultural cash engine, the globalized framework is destined to fail.
China's export growth fell far more than expected in November, something which many Chinese economists are attributing to a complete lack of revival in American markets:
http://www.reuters.com/article/2012/12/10/us-china-economy-idUSBRE8B80FL20121210
Manufacturing in the UK went into steep decline almost simultaneously, showing that sinking demand is striking both the Pacific and the Atlantic:
http://www.bloomberg.com/news/2012-12-07/u-k-manufacturing-drops-more-than-forecast-on-food-alcohol-1-.html
Germany, the largest economy in the EU and the only country still holding the absurd political entity together, has been shocked to discover that its own Bundesbank is forecasting a contraction in growth to near zero in 2013:
http://www.actionforex.com/analysis/daily-forex-fundamentals/germany%27s-bundesbank-revise-lower-2013-outlook-20121207180090/
Japan's economy suffered an annualized decline in GDP in November greater than that which occurred during the Fukushima disaster:

http://www.bloomberg.com/news/2012-11-11/japan-s-economy-shrinks-at-fastest-pace-since-earthquake.html
This contraction has recently caused Japan to install a new revamped government during elections this month, which unfortunately will be instituting almost identical policies to the last regime.
Finally, Brazil, a developing export nation with very important significance as a litmus test for world consumption, posted near zero growth in the third quarter of 2012, far below expectations but in line with the bigger picture.  The global financial machine is grinding to a halt right under our very noses…

http://www.reuters.com/article/2012/11/30/us-brazil-economy-gdp-idUSBRE8AT0KM20121130
At the end of 2012, it is undeniable; the system is running out of steam, and not even constant fiat injections by central banks are reversing our current course.
In order to understand what is happening, I want you to imagine a quickly diminishing cycle.  Imagine that in 2008, America was on the edge of a whirlpool, or a spinning vortex, and was suddenly caught in the outermost current.  Today, we have circled the epicenter several times, each rotation becoming smaller and more volatile than the last.  Eventually, the whirlpool will reach an end, and our economy will be sucked into the destructive funnel.  One can see clear evidence of this decline in the Baltic Dry Index:
Notice how each year since 2008 there is a spike in shipping rates indicating a rise in demand for materials at the onset of the Christmas season, which is the natural progression of things.  Yet, also notice that this spike in demand grows smaller with each passing year.  In 2012, the increase has been almost nonexistent, meaning that we are likely very close to going down the drain.
Some pundits may argue that November's Black Friday sales were tremendous, and this signals a recovery in spending and consumption.  I would point out that such numbers are deceiving.  High sales during the most discounted day of the Christmas buying season is not necessarily a good thing.  What it really reveals is that a majority of shoppers were looking for the lowest prices possible because of a lack of personal savings.  It is a sign of desperation, not revitalization.  Full season numbers have not yet been released, but when they are, I believe we will see a fantastic spike in sales on Black Friday followed by a complete flatline for the rest of the year.  Obviously high consumption has not been sustained, otherwise, worldwide manufacturing and shipping would be in much better shape.
The issue here is one of priorities.  With multiplying distractions going on around the globe, including the fear of recent mass murders at home, will the public be able to keep track of the deadly financial tidal waves just off the coast, or will they even care when distracted by so many sharks in the water?  The next two months will be very revealing.  The so-called "fiscal cliff" is on the way, and the question of whether or not the U.S. government should kick the can down the road or take the sour medicine it needs and move on has arisen once again.  This debate is and always has been an illusion.  Whether we continue to increase government spending, taxation, and inflation, or we cut all spending and shut down the fiat presses, there is still going to be a collapse.
However, the "fiscal cliff" could be very dangerous in an entirely different respect…
The coming collapse will not be due to the indecision or partisan bickering of our politicians.  They are in much closer agreement than the MSM would like to admit.  Instead, the monolithic Catch-22 of our age will be the direct result of the actions of the private Federal Reserve and the peripheral international banking cartel; the engineers who gave birth to the toxic derivatives implosion in the first place.  What I fear most is that the results of the fiscal cliff negotiation along with other triggers around the planet (Syria, Iran, the EU breakdown, etc.) will be used to veil the true weaknesses of our already imploding system, and eventually be exploited as scapegoat events for a disaster that has been in the making for decades, not just a few years.  The omens are not good for 2013, and we can only circle the drain for so long.
Source: Brandon Smith | Alt-Market