The mainstream media covered the inauguration of Barack Obama with breathless anticipation on Monday, but should we really be celebrating another four years of Obama?  The truth is that the first four years of Obama were an absolute train wreck for the U.S. economy.  Over the past four years, the percentage of working age Americans with a job has fallen, median household income has declined by more than $4000, poverty in the U.S. has absolutely exploded and our national debt has ballooned to ridiculous proportions.  Of course all of the blame for the nightmarish performance of the economy should not go to Obama alone.  Certainly much of what we are experiencing today is the direct result of decades of very foolish decisions by Congress and previous presidential administrations.  And of course the Federal Reserve has more influence over the economy than anyone else does.  But Barack Obama steadfastly refuses to criticize anything that the Federal Reserve has done and he even nominated Ben Bernanke for another term as Fed Chairman despite his horrific track record of failure, so at a minimum Barack Obama must be considered to be complicit in the Fed's very foolish policies.  Despite what the Obama administration tells us, the U.S. economy has been in decline for a very long time, and that decline has accelerated in many ways over the past four years.  Just consider the statistics that I have compiled below.  The following are 37 statistics which show how four years of Obama have wrecked the U.S. economy…
1. During Obama's first term, the number of Americans on food stamps increased by an average of about 11,000 per day.
2. At the beginning of the Obama era, 32 million Americans were on food stamps.  Today, more than 47 million Americans are on food stamps.
3. According to one calculation, the number of Americans on food stamps now exceeds the combined populations of "Alaska, Arkansas, Connecticut, Delaware, District of Columbia, Hawaii, Idaho, Iowa, Kansas, Maine, Mississippi, Montana, Nebraska, Nevada, New Hampshire, New Mexico, North Dakota, Oklahoma, Oregon, Rhode Island, South Dakota, Utah, Vermont, West Virginia, and Wyoming."
4. The number of Americans receiving money directly from the federal government each month has grown from 94 million in the year 2000 tomore than 128 million today.
5. According to the U.S. Census Bureau, more than 146 million Americans are either "poor" or "low income" at this point.
6. The unemployment rate in the United States is exactly where it was (7.8 percent) when Barack Obama first entered the White House in January 2009.
7. When Barack Obama first entered the White House, 60.6 percent of all working age Americans had a job.  Today, only 58.6 percent of all working age Americans have a job.
8. During the first four years of Obama, the number of Americans "not in the labor force" soared by an astounding 8,332,000.  That far exceeds any previous four year total.
9. During Obama's first term, the number of Americans collecting federal disability insurance rose by more than 18 percent.
10. The Obama years have been absolutely devastating for small businesses in America.  According to economist Tim Kane, the following is how the number of startup jobs per 1000 Americans breaks down by presidential administration…
Bush Sr.: 11.3
Clinton: 11.2
Bush Jr.: 10.8
Obama: 7.8
11. Median household income in America has fallen for four consecutive years.  Overall, it has declined by over $4000 during that time span.
12. The economy is not producing nearly enough jobs for the hordes of young people now entering the workforce.  Approximately 53 percentof all U.S. college graduates under the age of 25 were either unemployed or underemployed in 2011.
13. According to a report from the National Employment Law Project, 58 percent of the jobs that have been created since the end of the recession have been low paying jobs.
14. Back in 2007, about 28 percent of all working families were considered to be among "the working poor".  Today, that number is up to 32 percent even though our politicians tell us that the economy is supposedly recovering.
15. According to the Center for Economic and Policy Research, only 24.6 percent of all of the jobs in the United States are "good jobs" at this point.
16. According to the U.S. Census Bureau, the middle class is taking home a smaller share of the overall income pie than has ever been recorded before.
17. According to the Economic Policy Institute, the United States is losinghalf a million jobs to China every single year.
18. The United States has fallen in the global economic competitiveness rankings compiled by the World Economic Forum for four years in a row.
19. According to the World Bank, U.S. GDP accounted for 31.8 percentof all global economic activity in 2001.  That number declined steadily over the course of the next decade and was only at 21.6 percent in 2011.
20. The United States actually has plenty of oil and we should not have to import oil from the Middle East.  We need to drill for more oil, but Obama has been very hesitant to do that.  Under Bill Clinton, the number of drilling permits approved rose by 58 percent.  Under George W. Bush, the number of drilling permits approved rose by 116 percent.  Under Barack Obama, the number of drilling permits approved actuallydecreased by 36 percent.
21. When Barack Obama took office, the average price of a gallon of gasoline was $1.84.  Today, the average price of a gallon of gasoline is$3.26.
22. Under Barack Obama, the United States has lost more than 300,000 education jobs.
23. For the first time ever, more than a million public school students in the United States are homeless.  That number has risen by 57 percent since the 2006-2007 school year.
24. Families that have a head of household under the age of 30 now have a poverty rate of 37 percent.
25. More than three times as many new homes were sold in the United States in 2005 as were sold in 2012.
26. Electricity bills in the United States have risen faster than the overall rate of inflation for five years in a row.
27. Health insurance costs have risen by 29 percent since Barack Obama became president.
28. Today, 77 percent of all Americans live paycheck to paycheck at least part of the time.
29. It is being projected that Obamacare will add 16 million more Americans to the Medicaid rolls.
30. The total amount of money that the federal government gives directly to the American people has grown by 32 percent since Barack Obama became president.
31. The Obama administration has been spending money on some of the most insane things imaginable.  For example, in 2011 the Obama administration spent $592,527 on a study that sought to figure out once and for all why chimpanzees throw poop.
32. U.S. taxpayers spend more than 20 times as much on the Obamas as British taxpayers spend on the royal family.
33. The U.S. government has run a budget deficit of well over a trillion dollars every single year under Barack Obama.
34. When Barack Obama was first elected, the U.S. debt to GDP ratio was under 70 percent.  Today, it is up to 103 percent.
35. During Obama's first term, the federal government accumulated more debt than it did under the first 42 U.S presidents combined.
36. As I wrote about yesterday, when you break it down the amount of new debt accumulated by the U.S. government during Obama's first term comes to approximately $50,521 for every single household in the United States.  Are you ready to contribute your share?
37. If you started paying off just the new debt that the U.S. has accumulated during the Obama administration at the rate of one dollar per second, it would take more than 184,000 years to pay it off.
But despite all of these numbers, the mainstream media and the left just continue to shower Barack Obama with worship and praise.  Newsweek recently heralded Obama's second term as "The Second Coming", and at Obama's pre-inauguration church service Reverand Ronald Braxton openly compared Obama to Moses…
At Metropolitan African Methodist Episcopal Church, Braxton reportedly crafted his speech around Obama's personal political slogan: "Forward!"

Obama, said Braxton, was just like Moses facing the Red Sea: "forward is the only option … The people couldn't turn around. The only thing that they could do was to go forward." Obama, said Braxton, would have to overcome all obstacles – like opposition from Republicans, presumably, or the bounds of the Constitution. Braxton continued, "Mr. President, stand on the rock," citing to Moses standing on Mount Horeb as his people camped outside the land of Israel.

But it wasn't enough to compare Obama with the founder of Judaism and the prophet of the Bible. Braxton added that Obama's opponents were like the Biblical enemies of Moses, and that Obama would have to enter the battle because "sometimes enemies insist on doing it the hard way."
So what do you think the next four years of Obama will bring?
Source: The Economic Collapse
While our government still happily continues to peel big bucks off its wad and shower it down on Wall Street, big business and the "war" machine like it was Christmas for banksters and war-mongers all year long whether they need it or not, all too many hard-working tax-paying victims of Hurricane Sandy out in Staten Island and Rockaway are still getting no help at all.  Zero.  Ziltch.  Nada.
Nothing is currently being peeled off our government's endless roll of big bucks for them.
Last week I was riding in a Muni bus over in San Francisco (on my way back from an audition to play a bored office worker in a student film) and on the bus was a very delightful older couple who seemed to have absolutely no cares.
"Where are you from?" I asked them.
"Rockaway," they replied hesitantly.  Rockaway?  OMG!  Not THAT Rockaway?  "Yeah, that's the one.  And, yes, we did live through Hurricane Sandy and, yes, our home was badly damaged and almost destroyed."  http://www.phillipvan.com/filter/PHOTO/BREEZY-POINT
"So what the freak are you doing out here?"
"Having fun!  After having survived a personal visit from Sandy, we realized that life is just too short not to enjoy it.  So we came out here to have fun."
"But did you at least get any help from FEMA?" I asked, figuring that after our government has spent trillions on bailing out Wall Street (where no one hardly ever pays taxes and pretty much lives on Welfare for the Wealthy), then the least that our government could do is send a measly few billion bucks off to bail out afflicted taxpayers in Rockaway. http://www.phillipvan.com/filter/PHOTO/ROCKAWAY-BEACH
"Have we received any help from FEMA?  In a word?  No."
"Not even anything?"  No.
"It's been a whole month after Sandy and parts of Rockaway still don't even have electricity now.  Or places for people to go."
"But did FEMA give you any money to help you out?"  No.
"We got nothing but an avalanche of paperwork."  They didn't even get bottled water.  "A relative in Wisconsin finally ended up bringing us some."  And they can't go back to their home because the wife has asthma and their house is a hell-hole of black mold right now.  Ah, black mold, the bane of asthma sufferers' existence.
"We just took out a 60-day insurance policy from Lloyd's of London on our stuff and left."
I tried to grill the happy couple for more information on what is happening in Rockaway right now — and right in the middle of the Christmas season too — but they weren't interested in being reminded.  All they wanted to do was forget their worst nightmare and celebrate that they, unlike some of their neighbors, were still alive and had survived one of the fiercest mega-storms ever.
And as our bus drove on past Chinatown, the happy couple soon had all us passengers singing "Merry Christmas" — in Chinese.  Brave souls.  I almost cried.
http://vimeo.com/52711779
Avgi Tzenis, 76, is standing in the hall of her small brick row house on Bragg Street in Sheepshead Bay, Brooklyn. She is dressed in a bathrobe and open-toed sandals. The hall is dark and cold. It has been dark and cold since Hurricane Sandy slammed into the East Coast a month ago. Three feet of water and raw sewage flooded and wrecked her home.
"We never had this problem before," she says. "We never had water from the sea come down like this."
Hurricane Sandy, if you are poor, is the Katrina of the North. It has exposed the nation's fragile, dilapidated and shoddy infrastructure, one that crumbles under minimal stress. It has highlighted the inability of utility companies, as well as state and federal agencies, to cope with the looming environmental disasters that because of the climate crisis will soon come in wave after wave. But, most important, it illustrates the depraved mentality of an oligarchic and corporate elite that, as conditions worsen, retreats into self-contained gated communities, guts basic services and abandons the wider population.
Sheepshead Bay, along with Coney Island, the Rockaways, parts of Staten Island and long stretches of the New Jersey coast, is obliterated. Stores, their merchandise destroyed by the water, are boarded up and closed. Rows of derelict cars, with the tires and license plates removed and the windows smashed, line the streets. Food distribution centers, most of them set up by volunteers from Occupy Sandy Recovery, hastily close before dark every day because of the danger of looting and robbery. And storm victims who remain in their damaged homes, often without heat, electricity or running water, clutch knives against the threat of gangs that prowl at night through the wreckage.
This storm—amid freakish weather patterns such storms will become routine—resulted in at least $71.3 billion in property damage in New York and New Jersey. Many of the 305,000 houses in New York destroyed by Sandy will never be rebuilt. New York City says it will have to spend $800 million just to repair its roads. And that is only the start. The next hurricane season will most likely descend on the Eastern Seaboard with even greater destructive fury. A couple of more hurricanes like this one and whole sections of the coast will become uninhabitable.
This is the new America. It is an America where economic and environmental catastrophes converge to trigger systems breakdown and collapse. It is an America divided between corporate predators and their prey. It is an America that, as things unravel, increasingly sacrifices its own.
Rene Merida, 27, is standing on a street corner. His house, on Emmons Avenue, does not have electricity, running water or heat. He and his pregnant wife and two children, ages 7 and 4, huddle in the darkness inside the ruined home or at times flee to live for a few days with relatives. Merida, who recently lost his job as an ironworker, managed to reach his landlord once on the phone. That was three weeks ago. It was the only time the landlord, despite Merida's persistent calls, answered.
"He told me it [the repair] will get done when it gets done," he says. "The temperature inside my house is 15 degrees. I got a thermometer to check."
Lauren Ferebee, originally from Dallas and now living in Greenpoint in Brooklyn, sits behind a table in the chilly basement of the 123-year-old St. Jacobi Evangelical Lutheran Church, founded by German immigrants. On large pieces of cardboard hanging from the ceiling are the words "Occupy Sandy Relief." The basement is filled with donated supplies including pet food, diapers, infant formula, canned goods, cereal and pasta. The church was converted two days after the storm into a food bank and distribution center for the victims of the hurricane. Hundreds of people converge daily on the church to work. Volunteers with cars or vans deliver supplies to distribution points in other parts of New York and in New Jersey.
Ferebee, a playwright, and hundreds of other volunteers instantly resurrected the Occupy movement when the tragedy hit. They built structures of support and community to endure not only the effects of the storm but prepare for the breakdown that appears to lie ahead. As we descend into a world where we can depend less and less on those who hold power, movements like this one will become vital. These movements might not be called Occupy. They might not look like Occupy. But whatever the names and forms of the self-help we create, we will have to find ways to fend for ourselves.
"We have a kitchen about 50 blocks from here where we cook and deliver hot food," Ferebee says. "We take food along with supplies out to distribution hubs. There is a distribution hub about every 30 or 40 blocks. When I first went out I was giving water to people who had not had water for six days."
She sits in front of a pile of paper sheets headed "Occupy Sandy Dispatch." Various sites are listed on the sheets, including Canarsie, Coney Island, Red Hook, the Rockaways, Sheepshead Bay, Staten Island and New Jersey. She is interrupted by Roman Torres, 45, who sings on weekends in a band that plays Mexican folk music. He has pulled his van up in front of the church. He comes two days a week to transport supplies.
"Can you go anywhere?" she asks Torres.
"Yes," he answers.
"Can you do a couple of drop-offs at the Rockaways?" she asks.
"Yes," he says. "If someone comes with me."
As he fixes himself a cup of coffee in the church kitchen, volunteers carry boxes from the basement to his van parked in the rain outside.
"We can't ever get enough electric heaters, cleaning supplies, tools and baby supplies," Ferebee says.
In a small apartment above the church Juan Carlos Ruiz, a former Roman Catholic priest who was born in Mexico, sits at a small wooden table. He is the church's community organizer. It was his decision once the storm hit to open the doors of the church as a relief center. He did not know what to expect.
"It was Tuesday night," he says. "We got three bags of groceries and two jars of water. It was the next morning that volunteers began to appear. By the first weekend we had over 1,300. It was organized chaos. There was all this creative energy and youth. There was an instant infrastructure and solidarity. It is mutual aid that is the most important response to the disasters we are living through. This is how we will retain our humanity. Some members of the church asked me why these [volunteers] did not come to the church service. I told them the work they were doing was church. The commitment I saw was like a conversion experience. It was transformative. It restores your faith in humanity."
The emotional cost of the storm is often as devastating as the physical cost.
Tzenis, who was born in Cyprus and immigrated to the United States with her husband in 1956, lists the mounting bills at her Sheepshead Bay home. Since the storm the septuagenarian has paid a plumber $2,000, and that does not cover all the plumbing work that must be done. A contractor gave her an estimate of $40,000 to $50,000 for repairs, which include ripping out the walls and floors. Tzenis has received a $5,000 check from an insurance company, Allstate, and a $1,000 check from FEMA. But $6,000 won't begin to cover the cost.
"The insurance company told me I didn't have the water insurance," she says. "The contractor said he has to break all the walls and floors to get the mold out. I don't know how I am going to pay for this."
As she speaks, Josh Ehrenberg, 21, an aspiring filmmaker, and Dave Woolner, 31, an electrician with Local 52, both volunteers with Occupy Sandy, haul ruined items out of her garage and put them in green plastic garbage bags.
"My husband had dementia," she says. "I took care of him for six years with these two hands. For a few months the insurance gave me help. Certain medications they pay after six years. They told me once he couldn't swallow no more there was nothing we could do. … He died at home last year."
She begins to sob softly.
She mutters, "Oye, oye, oye."
"I was going to hang myself in the closet," she says, gesturing to the hall closet behind me. "I can't take life anymore. My husband. Now this. I don't sleep good. I jump up every hour watching the clock. I've been through a lot in my life. Every little thing scares me. I'm on different pills. I've come to the age where I ask why doesn't God take me. I pray a lot. I don't want to give my soul to the devil because they would not put me in a church to bury me. But you get to an age where you are only able to take so much."
She falls silent. She begins to reminisce about the bombing of Cyprus during World War II. She says that as a girl she watched a British military airport go up in flames after it was hit by German and Italian bombs. She talks about the 1950s struggle for Cypriot independence that took place between the British and the underground National Organization of Cypriot Fighters, Ethniki Organosis Kyprion Agoniston, known as EOKA. She says she misses strong populist leaders such as the Cypriot Archbishop Makarios III, who openly defied British authorities in the campaign for independence.
"People were hung by the British soldiers," she says. "Women were raped. People had their fingernails pulled out. They were tortured and beaten. My cousin was beaten so badly in jail he was bleeding from his bottom."
The horrors of the past merge with the horrors of the present.
"They say [hurricanes like] this will happen again because the snow is melting off all the mountains," she says. "It never flooded here before. No matter how hard it rained not a drop came through the door. But now it has changed. If it happens again I don't want to be around."
Chris Hedges, whose column is published Mondays on Truthdig, spent nearly two decades as a foreign correspondent in Central America, the Middle East, Africa and the Balkans. He has reported from more than 50 countries and has worked for The Christian Science Monitor, National Public Radio, The Dallas Morning News and The New York Times, for which he was a foreign correspondent for 15 years.
Teaneck,N.J.  — The damage incurred by Hurricane Sandy – the largest Atlantic super-storm on record — is second only to New Orleans' Hurricane Katrina in terms of magnitude and cost.  Occurring just before Halloween and dubbed "Frankenstorm," Sandy demolished coastal communities in the Caribbean, Mid-Atlantic and Northeastern United States.
One hundred-mile winds and powerful high tide waters ripped into coastal barriers and the landscape, causing an estimated $60 billion dollars in damages 1.  Flooding and power outages were commonplace, leaving hundreds of thousands homeless, and millions without electricity, heat and/or provisions.  Others devastated by the storm included the sick, elderly, handicapped, and poor who could not get vital medicines by pharmacy or mail; those who lost life savings because the damage to their homes were not insured against certain eventualities; and those who lost their livelihoods through destruction. And although there was no gas shortage by cause of resource depletion, the lack of electricity prevented filling stations from dispensing fuel, resulting in long lines and rationing.
While the level of distress among storm casualties should not be underestimated, and many Good Samaritans rushed to the aid of the less fortunate and continue to selflessly volunteer right up until today, there were those in the Northeastern United States who were wholly unprepared to be inconvenienced by ensuing power outages. It is to "the inconvenienced" that this article is dedicated.
Following are bona fide statements made by some New Yorkers and New Jersey-ites during the aftermath of Hurricane Sandy.
"I couldn't take living in a cold house, so checked into a hotel."
"The storm has been devastating. No Internet and TV for two days."
"I'm dying to wash my hair, but it's too much work to heat the water on my stove top."
"It was murder waiting in line for three hours this morning for gas."
"How am I supposed to survive without eggs?"
Now let's compare these to comments made by authentic casualties of the super-storm:
"Our house got washed out into theAtlantic, but we're glad to be alive and will make a fresh start."
 "A tree fell on our roof and other neighborhood homes, so we've gathered the downed limbs and hosted an outdoor bonfire to build morale."
 "Winds were whipping through my windows when I heard screams for help. I saw my neighbor clutching a fence as water surged around her. If I didn't open our door and drag her in, she would have been swept out to sea."
"I've stayed behind to chainsaw down a tree that fell on our house, but the worst hasn't happened. The important thing is that my wife and children are out of harm's way."
"Floods displaced almost everyone on the block, so we hosted a Hurricane Party to offer a safe place and serve the food that was going to spoil without refrigeration."
The latter category of commentaries demonstrate that there are many who know the meaning of life-and-death circumstances, and can even uplift others in the wake of hardship.
While surely unintentional, this natural disaster has afforded those affected by it a small taste of how countless others around the rest of the world live – and many not just during a crisis, but on a regular basis. Perhaps the most ironic here is that a great number of the deprived in less fortunate lands have been disenfranchised or "bombed back into the Stone Age" as a result ofUSforeign policy.
According to a 2009 report in Scientific American magazine, more than one quarter of the world's population does not have electricity 2. Obviously, since that estimate was recorded three years ago, it does not include the more recent destruction, sometimes of entire infrastructures, in Afghanistan, Egypt, Iraq, Lebanon, Libya, Syria, or Gaza.  And a World Watch Institute report notes that the United States, with less than five percent of the global population, uses about a quarter of the world's natural resources 3.
Perhaps Americans — especially younger generations who have not experienced war, shortages or poverty — are unaware of the above statistics and the privileged lifestyles that they themselves enjoy. More than 1.5 billion people around the world live in absolute poverty, with scarce access to food, shelter, water or sanitation 4.  In many countries, people customarily wait on lines for the distribution of food and fuel.  Kenyans, among many other nationals around the globe, boil untreated water for cooking and drinking. As Peace Corps volunteers will attest, firewood remains a primary everyday source of heat and method of cooking in many countries where reliable electricity and gas supplies are still not always available 5.  Families in Armenia with the means to do so salt their meats, pickle their vegetables, and preserve their fruits to cope with the absence of refrigeration or food in winter.   According to an Aleppo native who only wanted to be identified as "Takouhi," and who, like her neighbors, roams for food while dodging indiscriminate shelling in Syria, "we eat what ever we can find at this point." The above are where austerity lessons are to be learned.
If Hurricane Sandy has helped those inconvenienced by the storm begin to identify the however temporarily missing privileges they have taken for granted, the storm's damage may provide a 'teachable moment.' But if a college-educated, foreign-born-but-local acquaintance of mine is any barometer (she was nonplussed that her grocery store stocked no bananas in the immediate aftermath of the Hurricane), let us not be surprised if cognitive dissonance persists among some who can't or won't gain insight from adversity.   As such, I welcome the notion of a lawful requirement that every American perform volunteer humanitarian work, particularly abroad, to get a sense of how many others must live.
New York Governor Andrew Cuomo is among those who consider climate change "the new normal," and calls for fresh approaches to protect the environment and public 6. As natural resources continue to deplete and pundits debate the reality of global warming and its effect on the planet, will Americans wake up to the realities and necessities of conservation? Are we prepared to survive amid hardship if and when we cannot simply retreat to the nearest hotel, restaurant or safe house? Do we know how to deal with scarcity, practice self-reliance, and band together?  While municipalities are increasingly on the alert, it would be circumspect for individuals to also prepare for future environmental disasters, and interrupted or altogether eliminated conveniences down the line.
A woman slated to participate in the New York Marathon was interviewed on CBS News Radio, saying, "As soon as Mayor Bloomberg cancelled the Marathon in the face of Sandy, I donated my hotel room to someone displaced by the storm, and volunteered with relief workers to help those in need. 7"  Once electrical power returned to her home in Queens, civic-minded Rocio Duque immediately joined with the "Occupy Sandy" volunteers to help the dispossessed in Staten Island 8.  "We want to teach our children that while there may always be somebody more fortunate in life than they are, there will also be those who are less fortunate, too," said Wendy Loszynski of Bergenfield, New Jersey, who, with her husband and three children, helped out at a hurricane relief center in Moonachie. "Volunteering this way can help our children better appreciate what they have in life, whether possessions or good health, instead of worrying about what they don't have," Loszynski continued.
Particularly as Thanksgiving approaches, may these and other examples of altruism, charity and solidarity in the face of adversity continue to emerge, inspire, and even guide us if and when disaster comes along.
1         http://business.time.com/2012/10/31/hurricane-sandy-estimated-to-cost-60-billion/
2         https://www.scientificamerican.com/article.cfm?id=electricity-gap-developing-countries-energy-wood-charcoal
3         http://www.worldwatch.org/node/810
4         http://www.un.org/News/Press/docs/2011/gaef3313.doc.htm
5         http://www.teachkidspeace.org/the-importance-of-the-work-of-the-peace-corps-volunteers.html
6         http://www.huffingtonpost.com/2012/11/15/cuomo-on-climate-change-extreme-weather-new-york-governor-daily-news-op-ed_n_2137559.html
7         http://www.wtop.com/1211/3105123/NYC-marathon-runners-donate-hotel-rooms-to-Sandy-victims
8         http://interoccupy.net/occupysandy/
Gilad Sharon, son of Ariel Sharon, wrote in the Jerusalem Post that Israel should "Flatten all of Gaza."
"There should be no electricity in Gaza, no gasoline or moving vehicles, nothing. Then they'd really call for a ceasefire," he wrote. "We need to flatten entire neighbourhoods in Gaza. Flatten all of Gaza. The Americans didn't stop with Hiroshima – the Japanese weren't surrendering fast enough, so they hit Nagasaki, too."
Many Israelis and even some Zionists are 'outraged'  but the truth must be told – Sharon's views are fully consistent with Zionism, Israeli thinking and some aspect of Jewish culture.
For example, Sharon's call is fully consistent with some devastating Old Testament's passages:
'You will chase your enemies, and they shall fall by the sword before you. Five of you shall chase a hundred, and a hundred of you shall put ten thousand to flight; your enemies shall fall by the sword before you.' Leviticus, 26:7–8
'When the Lord your God brings you into the land you are entering to possess and drives out before you many nations … you must destroy them totally. Make no treaty with them, and show them no mercy.' Deuteronomy 7:1–2
'Do not leave alive anything that breathes. Completely destroy them … as the Lord your God has commanded you …'Deuteronomy 20:16
So, both like his real father and his spiritual forefathers, the young Sharon wants to destroy the Gazans, he wants to reduce them and their civilization into dust – thoughts unfortunately embedded in the Old Testament. Though religious Jews following the Talmud rather than the Torah and may be critical of literal interpretations of the Holly book, Gilad Sharon, is a secular Israeli and yet he follows here the most banal and literal interpretation of the Biblical text.
Sharon is also in line with ultra-Zionist Vladimir Jabotinsky's Iron Wallphilosophy. Jabotinsky believed that in the erection of an 'iron wall' "which the native (Arab) population cannot break through." Some would argue that by 1948 Jabotinsky's Iron wall, became the backbone of Israeli political pragmatism and though largely performed by his  political enemies, the Nakba could be seen as the materialisation of Jabotinsky's ideology.
Sharon's views are also similar to those expressed this week by Israel's deputy P.M., Eli Yishai, who contended "we must blow Gaza back to the Middle Ages destroying all the infrastructure including roads and water."
The young Sharon is clearly a truth teller. He offers us a genuine glimpse into the murderous Israeli psychosis, and the message to be drawn is obvious. It is now time to admit that we cannot grasp the Israeli collective psychosis and fascination with violence and death without a deep understanding of Jewish culture, Jewish supremacy and Jewish tribalism.
For obvious reasons some Jews and even a few Palestinians do not want us to take this route and insist that we avoid any criticism of the Jewishness of the 'Jewish State'. This bankrupted philosophy would be almost  funny if it weren't so tragic -  Elaborating on the root cause of Zionist barbarism is now an elementary humanist obligation.
I guess that we have reached the point of no return. We must now critically examine Jewish politics, Jewish Lobbying, and Israeli crimes in the context of Jewish culture. Such an approach may save the world and hopefully, it might also save many Jews of the shackles of their own heritage.
An Anecdote
I was actually amused to learn today that the notorious Zionist Jeffrey Goldberg, himself an ex IDF concentration camp guard, was amongst the first to denounce Gilad Sharon. Here is how he referred to Sharon's article on Twitter:
"Gilad Sharon has called on Israel to bomb Gaza to oblivion. I'm semi-surprised the Jerusalem Post published such dreck."
It is not at all clear at all whether Goldberg opposes Sharon's views. However, it is obvious that Goldberg is tormented by the idea that Sharon's view may leak out. 'I'm semi-surprised the Jerusalem Post published such dreck' he says. Goldberg believes that the murderous aspects so intrinsic to tribal supremacy are better kept within the ghetto walls. He doesn't want the Goyim to know. So predictably Goldberg was amongst the first to attack my book, 'The Wandering Who', and pursued my endorsers  for the exact same reasons. He was very concerned about what people read about Israel, Zionism, Jewish identity politics, and the ideology that motivates himself to serve in our midst as a Zionist agent.
Gaza is a window on our coming dystopia. The growing divide between the world's elite and its miserable masses of humanity is maintained through spiraling violence. Many impoverished regions of the world, which have fallen off the economic cliff, are beginning to resemble Gaza, where 1.6 million Palestinians live in the planet's largest internment camp. These sacrifice zones, filled with seas of pitifully poor people trapped in squalid slums or mud-walled villages, are increasingly hemmed in by electronic fences, monitored by surveillance cameras and drones and surrounded by border guards or military units that shoot to kill. These nightmarish dystopias extend from sub-Saharan Africa to Pakistan to China. They are places where targeted assassinations are carried out, where brutal military assaults are pressed against peoples left defenseless, without an army, navy or air force. All attempts at resistance, however ineffective, are met with the indiscriminate slaughter that characterizes modern industrial warfare.
In the new global landscape, as in Israel's occupied territories and the United States' own imperial projects in Iraq, Pakistan, Somalia, Yemen and Afghanistan, massacres of thousands of defenseless innocents are labeled wars. Resistance is called a provocation, terrorism or a crime against humanity. The rule of law, as well as respect for the most basic civil liberties and the right of self-determination, is a public relations fiction used to placate the consciences of those who live in the zones of privilege. Prisoners are routinely tortured and "disappeared." The severance of food and medical supplies is an accepted tactic of control. Lies permeate the airwaves. Religious, racial and ethnic groups are demonized. Missiles rain down on concrete hovels, mechanized units fire on unarmed villagers, gunboats pound refugee camps with heavy shells, and the dead, including children, line the corridors of hospitals that lack electricity and medicine.
The impending collapse of the international economy, the assaults on the climate, the resulting droughts, flooding, precipitous decline in crop yields and rising food prices are creating a universe where power is divided between the narrow elites, who hold in their hands sophisticated instruments of death, and the enraged masses. The crises are fostering a class war that will dwarf anything imagined by Karl Marx. They are establishing a world where most will be hungry and live in fear, while a few will gorge themselves on delicacies in protected compounds. And more and more people will have to be sacrificed to keep this imbalance in place.
Because it has the power to do so, Israel—as does the United States—flouts international law to keep a subject population in misery. The continued presence of Israeli occupation forces defies nearly a hundred U.N. Security Council resolutions calling for them to withdraw. The Israeli blockade of Gaza, established in June 2007, is a brutal form of collective punishment that violates Article 33 of the Fourth 1949 Geneva Convention, which set up rules for the "Protection of Civilian Persons in Time of War." The blockade has turned Gaza into a sliver of hell, an Israeli-administered ghetto where thousands have died, including the 1,400 civilians killed in the Israeli incursion of 2008. With 95 percent of factories shut down, Palestinian industry has virtually ceased functioning. The remaining 5 percent operate at 25 to 50 percent capacity. Even the fishing industry is moribund. Israel refuses to let fishermen travel more than three miles from the coastline, and within the fishing zone boats frequently come under Israeli fire. The Israeli border patrols have seized 35 percent of the agricultural land in Gaza for a buffer zone. The collapsing infrastructure and Israeli seizure of aquifers mean that in many refugee camps, such as Khan Yunis, there is no running water. UNRWA (the United Nations Relief and Works Agency for Palestine Refugees in the Near East) estimates that 80 percent of all Gazans now rely on food aid. And the claim of Israeli self-defense belies the fact that it is Israel that maintains an illegal occupation and violates international law by carrying out collective punishment of Palestinians. It is Israel that chose to escalate the violence when during an incursion into Gaza earlier this month its forces fatally shot a 13-year-old boy. As the world breaks down, this becomes the new paradigm—modern warlords awash in terrifying technologies and weapons murdering whole peoples. We do the same in Afghanistan, Iraq, Pakistan, Yemen and Somalia.
Market forces and the military mechanisms that protect these forces are the sole ideology that governs industrial states and humans' relationship to the natural world. It is an ideology that results in millions of dead and millions more displaced from their homes in the developing world. And the awful algebra of this ideology means that these forces will eventually be unleashed on us, too. Those who cannot be of use to market forces are considered expendable. They have no rights and legitimacy. Their existence, whether in Gaza or blighted postindustrial cities such as Camden, N.J., is considered a drain on efficiency and progress. They are viewed as refuse. And as refuse they not only have no voice and no freedom; they can be and are extinguished or imprisoned at will. This is a world where only corporate power and profit are sacred. It is a world of barbarism.
"In disposing of man's labor power the system would, incidentally, dispose of the physical, psychological, and moral entity 'man' attached to that tag," Karl Polanyi wrote in "The Great Transformation." "Robbed of the protective covering of cultural institutions, human beings would perish from the effects of social exposure; they would die as the victims of acute social dislocation through vice, crime, and starvation. Nature would be reduced to its elements, neighborhoods and landscapes defiled, rivers polluted, military safety jeopardized, the power to produce food and raw materials destroyed. Finally, the market administration of purchasing power would periodically liquidate business enterprise, for shortages and surfeits of money would prove as disastrous to business as floods and droughts in primitive society. Undoubtedly, labor, land, and money markets are essential to a market economy. But no society could stand the effects of such a system of crude fictions even for the shortest stretch of time unless its human and natural substance as well as its business organization was protected against the ravages of this satanic mill."
There are 47.1 million Americans who depend on food stamps to eat. The elites are plotting to take these food stamps away, along with other "entitlement" programs that keep the poor from destitution. The slashing of trillions of dollars from Medicare, Medicaid and other social programs, given the political impasse in Washington and the looming "fiscal cliff," now seems certain. There are 50 million people considered to be living below the poverty line, but because the poverty line is so low—$22,350 for a family of four—this figure means nothing. Add the tens of millions of Americans who live in a category called "near poverty," including all those families attempting to live on less than $45,000 a year, and you have at least 30 percent of the country living in poverty. Once these people figure out that there is no economic recovery, that their standard of living is going to continue to drop, that they are trapped, that hope in the future is an illusion, they will become as angry as protesters in Greece and Spain or the militants in Gaza or Afghanistan. Banks and other financial corporations, handed trillions in interest-free money from the Federal Reserve, meanwhile hoard $5 trillion, much of it looted from the U.S. Treasury. The longer this worldwide disparity and inequality is perpetuated, the more the masses will revolt and the faster we will internally replicate the Israeli model of domestic control—drones overhead, all dissent criminalized, SWAT teams busting through doors, deadly force as an acceptable form of subjugation, food used as a weapon, and constant surveillance.
In Gaza and other blighted parts of the globe we see this new configuration of power. What is happening in Gaza, like what is happening to people of color in marginal communities in the United States, is the model. The techniques of control, whether carried out by the Israelis or militarized police units in our inner-city drug wars, whether employed by military special forces or mercenaries in Pakistan, Afghanistan or Iraq, are tested first and perfected on the weak and the powerless. Our callous indifference to the plight of the Palestinians, and the hundreds of millions of poor packed into urban slums in Asia or Africa, as well as our own underclass, means that the injustices visited on them will be visited on us. In failing them we fail ourselves.
As the U.S. empire implodes, the harsher forms of violence employed on the outer reaches of empire are steadily migrating back to the homeland. At the same time, the internal systems of democratic governance have calcified. Centralized authority has devolved into the hands of an executive branch that slavishly serves global corporate interests. The press and the government's judiciary and legislative branches have become toothless and decorative. The specter of terrorism, as in Israel, is used by the state to divert gargantuan expenditures to homeland security, the military and internal surveillance. Privacy is abolished. Dissent is treason. The military with its mantra of blind obedience and force characterizes the dark ethic of the wider culture. Beauty and truth are abolished. Culture is degraded into kitsch. The emotional and intellectual life of the citizenry is ravaged by spectacle, the tawdry and salacious, as well as by handfuls of painkillers and narcotics. Blind ambition, a lust for power and a grotesque personal vanity—exemplified by David Petraeus and his former mistress—are the engines of advancement. The concept of the common good is no longer part of the lexicon of power. This, as the novelist J.M. Coetzee writes, is "the black flower of civilization." It is Rome under Diocletian. It is us. Empires, in the end, decay into despotic, murderous and corrupt regimes that finally consume themselves. And we, like Israel, are now coughing up blood.
Chris Hedges, whose column is published Mondays on Truthdig, spent nearly two decades as a foreign correspondent in Central America, the Middle East, Africa and the Balkans. He has reported from more than 50 countries and has worked for The Christian Science Monitor, National Public Radio, The Dallas Morning News and The New York Times, for which he was a foreign correspondent for 15 years.
Source: Truthdig
According to Randall Larsen, Executive Director of the WMD Center in Washington, DC, the terrorists' next target may be your peanuts.
Yep, Larsen is staying up at night with the worry beads due to the fact that all the nation's peanuts are processed at one plant, in North or South Carolina…he can't remember which. According to Larsen, the centralization of this facility provides an easy target for terrorists wielding chemical or biological weapons.
Larsen is a former Colonel in the United States Air Force and is a decorated Vietnam vet.  He is a founding member of the WMD center, a not-for- profit research organization, along with former Senators Bob Graham (D-FL) and Jim Talent (R_MO). Larsen is also the national security advisor at the Center for Biosecurity, University of Pittsburgh Medical Center and is a senior fellow at the Homeland Security Policy institute at George Washington University.
In a recent telephone interview, Larsen opined that food terrorism is one the most significant threats faced by the nation.
Larsen also responded to questions about predictions being tendered that we should expect a pandemic by the end of 2013. "Pandemics," declared Larsen, "run in thirty-forty year cycles. We are overdue."
In fact, Larsen may have his numbers screwed up. The Spanish flu, which killed 20-40 million people worldwide, made its debut in 1918.  The Asian flu killed about a million people in 1957-58 and only ten years later the Hong Kong flu killed just under a million.
Facts notwithstanding, the predictions persist that 2013 will be the Big One—either in terms of a terrorist attack or a pandemic. Not only have Larsen's colleagues, Talent and Graham committed to this perception, but Dr. Daniel Gerstein of the Department of Homeland Security made just such a prediction last December at the Biological Weapons Convention, which took place in Geneva, Switzerland at the United Nations. "We expect a pandemic before the end of 2013," stated Gerstein.http://www.activistpost.com/2012/01/dancing-apocalypso-with-microbial.html
A pandemic or a biological weapons attack?  Or are they one and the same?
Larsen pooh- poohed the idea that water systems might be a target for a domestic terrorist attack. He stated that, given the amount of pathogen necessary to contaminate a water system, it was highly unlikely that such an effort would be successful.
However, Larsen's perception is not shared by others in government nor by the scientific community.  Last year, DHS chief Janet Napolitano issued a homeland security warning http://www.news10.net/news/article/146508/2/Homeland-Security-warns-of-insider-threat-to-utilities that dangerous terrorists had infiltrated  utility companies and that the threat to an attack through infrastructure was emergent.
Her concerns were echoed just last week by Leon Panetta, who was reported  in Money Newshttp://www.moneynews.com/StreetTalk/us-panetta-cyber-attack/2012/10/12/id/459732?s=al&promo_code=105C0-1) as declaring that attackers "are targeting the computer control systems that operate chemical, electricity and water plants, and those that guide transportation throughout the country," He went on to say that an aggressor nation or terrorist group could "could contaminate the water supply in major cities, or shut down the power grid across large parts of the country."
The scientific community is also at odds with Larsen's assessment of the threat posed by a waterborne attack. A heavily footnoted report by the Congressional Research Service entitled "Terrorism and Security Issues Facing the Water Infrastructure Sector," declared "Bioterrorism or chemical attacks could deliver widespread contamination with small amounts of microbiological agents or toxic chemicals, and could endanger the public health of thousands." (December 15, 2010)
During the course of our phone interview, this reporter suggested to Larsen that the danger posed by vulnerabilities inherent in the very configuration of water systems countrywide might present a compelling concern to those involved in protecting the United States from a terrorist attack. With his permission, this reporter forwarded a report detailing these vulnerabilities, which was submitted to the Critical Infrastructure unit of the Department of Homeland Security last August. The report is reproduced in its entirety, below.
From: JANET PHELAN <janetcphelan@yahoo.com>
Subject: Per our conversation today–vulnerability to bioterrorism through critical infrastructure
To: nicc@dhs.gov
Date: Friday, August 5, 2011, 3:42 PM
Ray,
I appreciate so much your speaking to me today at the Critical Infrastructure Command Center and taking my verbal report on my concerns as to critical vulnerabilities in the U.S. water systems, as currently configured. It is my understanding that work began sometime in the 1970′s and that double lines were installed in cities across America. This has resulted in a critical vulnerability to insider attack   through the water system. As you requested, I am sending you this email with links to articles on this subject.
As I stated in our call, which took place at approximately 5:45 pm ET on August 5, 2011, DHS Chief Janet Napolitano's concerns that terrorists may have infiltrated utility companies and may intend to launch an attack through water or other utilities may be well founded. In the articles below, you will see where I have interviewed a number of people working in pivotal positions in water systems and have found their responses to be specious and inaccurate. The false and misleading statements made by those named herein clearly attempt to redirect concern away from the very aspects of the water systems which provide the vulnerability to attack–double lines and remote controlled valves, which are currently withholding what can potentially be released into the targeted households.
Here are the links to a number of articles I have authored concerning the possibility of bioterrorism in general and the potential use of the water system as a means of attacking selected portions of the U.S. populace. Some of these articles were published in hard copy newspapers and some were published on the web.  I cannot stress enough the selectivity provided by the system as currently configured.
I will look forward to hearing back from you shortly. I am currently out of the country and you may leave a message for me at 541 603-0514 or you may reach me by email.
Sincerely,
Janet Phelan
http://miami.indymedia.org/news/2007/05/8296.php
 http://www.salem-news.com/articles/february242011/homeward-bound-jp.php
http://www.activistpost.com/2011/06/concerns-continue-to-mount-on-us.html
http://salem-news.com/articles/january282011/bioweapons-treaty-jp.php
Larsen's response was terse and to the point. On September 8, 2012, he sent me this message from his I phone:
"After reading some of your pieces on the Internet about the Patriot Act, I assure you we will have no further conversations or email exchanges. Sorry I wasted your time and mine."
Well, at least he has locked in on the Skippy terrorism. What a relief. I was beginning to think we might have a problem
During the second half of the 20th century the United States was an opportunity society. The ladders of upward mobility were plentiful, and the middle class expanded. Incomes rose, and ordinary people were able to achieve old-age security.
In the 21st century the opportunity society has disappeared. Middle class jobs are scarce. Indeed, jobs of any kind are scarce. To stay even with population growth from 2002 through 2011, the economy needed about 14 million new jobs. However, at the end of 2011 there were only 1 million more jobs than in 2002. http://www.bls.gov/webapps/legacy/cesbtab1.htm 
Only 426,000 of these jobs are in the private sector. The bulk of the net new jobs consist of waitresses and bartenders and health care and social assistance. According to the Bureau of Labor Statistics, over the 9 years, employment for waitresses and bartenders increased by 1,188,000. Employment in health care and social assistance increased 3,087,000. These two categories accounted for 1,000% of the net private sector job growth.
As for manufacturing jobs, they not only did not grow with the population but declined absolutely. During these nine years, 3.5 million middle class manufacturing jobs were lost.
Over the entire nine years, only 48,000 new jobs were created for architects and engineers.
In the 21st century the US economy has been able to create only a few new jobs and these are in lowly paid domestic services that cannot be offshored, such as waitresses and bartenders.
The lack of jobs, especially high value-added, high productivity jobs, is the reason real median household income has declined and the distribution of income has worsened. Without rising real household income, there cannot be a consumer economy.
In the early years of the 21st century, the Federal Reserve substituted a rise in consumer debt to drive the economy in place of the missing rise in consumer incomes. Low interest rates drove up housing prices, and people refinanced their mortgages and spent the equity. The Federal Reserve kept the economy alive by loading up consumers with debt that housing prices and consumer incomes would soon be unable to support.
When debt and real estate prices reached unsustainable levels, the bubble popped, and the ongoing financial crisis was upon us.
The cause of all of the problems is the offshoring of Americans' jobs. When jobs are moved offshore, consumers' careers and incomes, and the GDP and payroll and income tax base associated with those jobs, go with them. When the goods and services produced for American markets by offshored labor are brought into the US to be sold, the trade deficit rises, and downward pressure is put on the dollar, pushing up domestic inflation. (On October 12, statistician John Williams (shadowstats.com) reported that "third-quarter wholesale inflation jumped to an annualized 6.2%.")
Jobs offshoring is driven by Wall Street, "shareholder advocates," the threat of takeovers, and by large retailers, such as Walmart. By cutting labor costs, profits go up.It is that simple. However, as a result of sending American jobs to cheap labor countries, US consumer incomes go down. The end result is to destroy the domestic consumer market. What would have been US consumer income growth becomes instead profit growth for US corporations.
Keynesian economists use in their textbooks the example of how the aggregate effect of individual saving could be the opposite of the effect intended by the individuals. Whereas each saver seeks to improve his position by building wealth, in the aggregate saving could exceed investment, resulting in a decline in aggregate demand and a fall in income for all. Offshoring has the same logic. Each corporation can expect to gain more profits from moving US jobs offshore, but the aggregate effect is a fall in American consumer incomes and a reduction in the American consumer market.
I have told this story many times. But policymakers, the media, and economists seem unable to connect the dots.
Jobs offshoring has substantial implications for Social Security and Medicare. The US has the least adequate social safety net of any developed country. The two major components of the US social safety net are Social Security and Medicare for the elderly. Social Security and Medicare are financed by a payroll tax. The combined tax is 15.3% of payrolls. For the past quarter of a century the Social Security portion of the payroll tax has built up a surplus of over $2 trillion. Recently, the Medicare portion began running in the red.
Right-wing Republicans, free market ideologues, and the left-wing have all indoctrinated themselves with incorrect beliefs about Social Security and Medicare. The right-wing claims that a safety net financed with 15.3% of payrolls is a "Ponzi scheme" and an "unfunded liability." If that is the case, then so are veterans benefits, military pensions, and federal pensions, all of which are financed by the income tax, the basis for the payroll tax.
The left-wing claims that the rich do not pay high enough payroll taxes, because the income subject to Social Security payroll tax is capped at about $110,000. But the benefits are also capped. Social Security is not supposed to be an income redistribution scheme from rich to poor, and it is not supposed to be a pension system for the rich. The pension paid is supposed to correlate with the pre-retirement income level of the retiree. Those who had higher wages or salaries and consequently paid more in payroll taxes receive a larger Social Security check than those who had lower wages and salaries and paid less payroll taxes, although there is favoritism toward the lower income earners who receive proportionally more in respect to their payroll taxes than higher income earners.
There is no cap on income subject to the Medicare portion of the payroll tax. Moreover, Medicare charges a Medicare Part B premium that is deducted from the Social Security monthly check. In addition, there is a further Part B premium based on retirement age income. For example, someone working beyond retirement age and making $250,000 per year pays about $3,800 in Medicare Part B premium in addition to the Medicare portion of the payroll tax of about $7,500. The annual premium he pays for his "free" Medicare for which he has paid all his working life with a payroll tax is about $11,300.
Moreover, Medicare by itself is insufficient coverage. To actually have medical coverage, those covered by Medicare have to purchase a supplementary private policy to cover the large gaps in Medicare. Depending on the range of coverage, a supplementary policy costs approximately $100 to $300 per month.
As the person making $250,000 per year is likely to go for the most coverage, he will be paying about $14,900 (excluding deductions and co-payments) per year for his "free" Medicare. This is despite having paid the Medicare payroll tax each year of his working life. A person who made $250,000 in taxable income per year for 30 years would have paid $217,500 into Medicare at the current Medicare payroll tax rate.
The right-wing's notion that Social Security and Medicare are handouts, part of the welfare state's bread and circuses, and the left-wing's idea that the rich get a free ride are equally untrue.
(Note: $250,000 is the politicians' dividing line between the rich and the rest of us. For a person making $50,000 a year, an income five times larger can seem rich. However, a $250,000 annual income leaves a family or person far distant from the lifestyle of the rich. Upper middle class incomes are generally associated with high-tax, high-cost urban areas in states with high income taxes. After federal income and payroll taxes, state income and sales taxes, and property taxes, what appears to many as a large income disappears. In New York City, the federal income tax will take about 25% of the $250,000, New York state will take about 9%, and New York City will take about 3.65%. The combined city and state sales tax is 8.875%. The property tax is high. The conclusion is that in New York City a $250,000 income is reduced to $125,000 or thereabouts. Those who claim "the rich don't pay taxes" are not talking about $250,000 incomes.)
Social Security and Medicare have served the country well. They protect the individual from his own mistakes, from crooked and incompetent money managers, and from financial crises, and they protect society from the moral dilemma of confronting large numbers of fellow citizens who through fault or no fault of their own cannot provide for their livelihood and medical care. After the financial scandals and crisis of the past five years, it is a stretch to believe that any but the astute can manage their personal wealth, whether small or large, in today's situation of unregulated financial markets, zero interest rates, currency uncertainty, and highly complex investment instruments with computers programmed with mathematical models dominating equity trades.
The argument that conceptually a person could do better by investing his payroll taxes in the stock market is a poor basis for old age security policy. The person can do better as long as he or she doesn't fall into the hands of a Bernie Madoff or a Goldman Sachs, doesn't receive zero interest on his bonds because the Federal Reserve has to bail out the "too big to fail banks," doesn't experience a decline in currency value due to monetization of enormous federal deficits, and doesn't experience a bear market as he approaches retirement.
The right-wing ideologues who try to scare old age security out of existence go on and on about rising medical costs, about an aging population living longer, declining birthrates and a worsening ratio of workers to retirees, about people learning to rely on handouts rather than their own means, and about Washington's rising unfunded liabilities.
Scare projections are designed to scare, and most are untenable. For example, longevity was a product of rising incomes, good diet, and antibiotics. Today only the upper crust have rising incomes. Antibiotics are wearing out from abuse and rising immunity of bacteria. Diet is compromised in ways still poorly understood as a result of GMOs, pesticides, herbicides, pumping chicken, pork, and beef full of antibiotics and hormones and feeding the animals GMO grains and also possibly infected animal byproducts, and pumping our water full of fluoride. A variety of destructive activities and behaviors are causing ecological damage. Longevity might have been a short-term benefit of irreproducible conditions considering the mounting ecological damage and the rise of superbugs, stress, and tainted food and water production.
The projection of an aging population might also be wrong. Clearly, the post-World War II baby boomers are aging, but do the projections take into account the legislated 1965 immigration increases plus the illegal influx from Mexico and points south of young people with high birth rates? How can it be that a country with allegedly 30 million illegal immigrants, whose children born in the US are citizens, has a declining birth rate? How do we know that the illegal population will not continue to increase?
There are so many Spanish speaking people in the US today that if a person calls any of his utility companies, whether telephone, Internet, water, electricity, TV, or any of his credit card companies, or his bank, he has to select English or Spanish. Obviously, as
anti-immigration sites make clear, the US population is changing in its national origin, and there appears to be no sign of an aging Hispanic population. How many old Spanish speaking people do you see in the US compared to the young?
When confronted with this apparent fact, the response is: "why will the Hispanics pay for the aging white population?" The answer is: because they are in the same payroll tax system and the taxes will be withheld from their wages and salaries just as they are from everyone else's.
It is possible that if Hispanics in the US have suffered years of hostility, accusations, and hatred from "the ice people," once Hispanics are sufficiently numerous to control the legislature, assuming one still exists, or to take over the executive branch, the only seat of power, they may in retribution cut off the aging whites. But if so, the whites will have brought it on themselves.
Whatever the scare projections that are mustered to undermine the public provision of old age security, the real financial danger is never mentioned. The only significant financial danger to Social Security and Medicare is the offshoring of American jobs and GDP. A country without a job base is without a payroll tax base. If the only jobs that the 21st century "world's only superpower" economy can create are for waitresses, bartenders, and health care and social assistance (hospital orderlies and practical nurses), payroll tax revenues will be less than if the US still had 20 million workers and rising in well-paid manufacturing jobs instead of 11 million.
Regardless of Medicare's financing, the death knell for the elderly was the legality of abortion. If the yet to be born are an insufferable burden, imagine the cost of the elderly. As far as the state is concerned, once you stop producing income and payroll tax revenues for the state, it is time for you to die. Washington would rather enact euthanasia than to pay back the $2+ trillion in the Social Security trust fund that Washington spent, leaving only non-marketable IOUs in the account.
Readers might think that Americans would never stand for death by injection for the elderly once the qualified age is reached. But why would they not? They have accepted millions of aborted babies, and Americans, including the elderly, have stood for Washington's murder, maiming and displacement of millions of Muslim men, women, and children in 7 countries over the past 11 years and are yet to show any signs of remorse for their complicity in mass murder. Next month tens of millions of Americans will vote for Mitt Romney who believes Obama isn't killing Muslims fast enough.
The new "Obamneycare" health legislation does have "death panels." They are not called that, and they do not make formal decisions to terminate lives. But it comes to almost the same thing. Various panels, committees, or bureaucratic departments are empowered to make decisions about "effective care." It has long been known that most health care costs are associated with the last year of life. Cost and age will be elements in determining standards of care. The greater the weight assigned to cost, the more care will be withheld. In effect, the "effective care" panel is a "death panel."
Prior to the advent of the new "health care" system, Medicare and or hospitals are already shifting costs to Medicare patients. To avoid penalties and fraud allegations for "medically unnecessary hospitalizations," rather than formally admit Medicare patients as inpatients, hospital administrators classify them as outpatients "under observation."
According to a Brown University analysis of Medicare records in 2007, 2008, and 2009, the ratio of Medicare observation patients to those admitted as inpatients rose by 34 percent.
Being classified an outpatient under observation eliminates medicare coverages, especially for post-operative or post-accident rehabilitation care, leaving Medicare patients with bills in the tens of thousands of dollars (AARP Bulletin, October 2012).
Other costs are being shifted to doctors and to hospitals. Medicare pays fixed prices for each covered procedure or test, and these prices can be as low as half of the billed prices. During a period when costs incurred by providers of health care have been rising, Medicare has been cutting the amounts it pays providers.
As the payroll tax is commingled with general tax revenues, Social Security and Medicare payroll tax collections can be diverted to other purposes and, thus, are always subject to competing budgetary demands, such as the previous 11 years of gratuitous wars and the bailouts of "banks too big to fail," or to deficit reduction demands as the government consistently overspends all revenue sources.
A national health service is the only way to control health costs and provide the population with health care coverage. A national health system takes the many levels of profits out of the system and also reams of compliance and liability costs. A national health system can coexist with a private system for those who can afford it or whose employers are sufficiently profitable to provide it.
As Jarad Diamond reveals in his book, Collapse: How Societies Choose to Fail or Succeed, societies fail, if not because of their moral bankruptcy, then because their rulers are only capable of short-term thinking. The future is beyond their interest. The US offshored its economy, because it worked short-term for corporate executives (rewarded with multi-million dollar performance bonuses), Wall Street (rewarded with profits), shareholders (rewarded with capital gains), and politicians (rewarded with corporate and Wall Street campaign contributions).
Incompetent free market economists confused jobs offshoring with free trade. They said the country would and was benefiting by giving its manufacturing, industrial, and tradable professional service jobs to China and India, that the US was ridding itself of "dirty fingernail jobs" and would soon be flush with highly paid high-tech jobs and highly paid financial service jobs.
None of these promises or predictions were true. Nowhere in the government's jobs statistics are there any of these promised replacement jobs. The economists who provided cover for the destruction of the US economy were rewarded by the corporations with speaking fees, grants for their university departments, and newspaper columns paid for by corporate advertisers. Those few who told the truth were expelled from the corporate media that Bill and Hilary Clinton allowed to be monopolized (for campaign contributions, of course).
The future of old age security in the United States has been lost, because the job base has been given away to foreigners in order to maximize incomes in the short-run for the few decision-makers.
The misrepresentation of jobs offshoring as free trade has destroyed the prospects of cities, counties, and states along with those of unions and millions of Americans who once had a secure future. It has destroyed the prospects of class after class of university graduates burdened with student loans who expected to step into the jobs that have been offshored or filled by H-1B visa holders from abroad.
The American work force has been forsaken by the corporations and by Washington, and this means that Social Security and Medicare have also been forsaken.
As I predicted in the early years of this new century, "the United States will be a third world country in 20 years." We might get there even sooner as Washington exhausts what little is left of American wealth in gratuitous wars in service to Israel and the US Military/Security Complex, in unaffordable military buildups in futile hopes of establishing hegemony over China and Russia, and in negative interest rates from the Federal Reserve's effort to drive up the book value of debt instruments on the balance sheets of financial institutions.
In 1817 Percy Bysshe Shelly forecast America's future:
"I met a traveler from an antique land
Who said: "Two vast and trunkless legs of stone
Stand in the desert. Near them, on the sand,
Half sunk, a shattered visage lies, whose frown,
And wrinkled lip and sneer of cold command,
Tell that its sculptor well those passions read,
Which yet survive, stampt on these lifeless things,
The hand that mockt them and the heart that fed:
On the pedestal these words appear:
'My name is Ozymandias, king of kings:
Look on my works, ye Mighty, and despair!'
Nothing beside remains. Round the decay
Of that colossal wreck, boundless and bare
The lone and level sands stretch far away."
Writing in the October 15 online CounterPunch, John V. Walsh, relying on charts prepared by economics professor Mark J. Perry at the University of Michigan and blogger John Hunter, concludes that it is a myth that US manufacturing is in decline.
Walsh says that the loss of US manufacturing jobs is due to automation, not to offshoring. Think about this for a moment. Perry's graph on which Walsh relies shows the sharp drop in US manufacturing employment to be a 21st century experience. However, automation has been around for a long time. The notion that its effect on employment only showed up recently needs an explanation that is not provided. The steep drop in US manufacturing employment that began in 2000 does correspond with the date at which jobs offshoring began to bite hard.
Why does automation not also affect Chinese manufacturing, especially as most of the Chinese manufacturing technology came from the US as US corporations offshored their production for the US market? If Chinese manufacturing is not up to date with automation, like the US is assumed to be, how do the Chinese, even with cheap labor, undersell US automated factories? How did Chinese manufacturing employment increase in a mere four years by an amount equal to the total manufacturing employment in the US?
The US Bureau of Economic Analysis shows only 11.2 million full time US manufacturing jobs in 2010. The US Bureau of Labor Statistics shows 11.7 million US manufacturing jobs in 2011, down from 15.3 million in 2002.
In contrast, China, an industrial and manufacturing backwater for most of my life, had 112 million manufacturing jobs in 2006. In a mere four years (2002-2006), the increase in China's manufacturing employment was as large as today's total employment in US manufacturing. As long ago as 2006, China's manufacturing employment was about 10 times the current US manufacturing employment. The Chinese population is about 4 times larger than the US population, but China's manufacturing population is proportionately greater–10 times larger. Indeed, Chinese manufacturing employees almost equal the total number of employees in all occupations in the US (Manufacturing and Technology News, December 15, 2009).
Obviously, something is wrong with Walsh's article or the graphs on which he relied.
America's manufacturing prowess cannot be found in the statistical data. The US is primarily an exporter of Agricultural commodities. The US imports almost twice the amount of manufactured goods as it exports. Indeed, according to the US Census Bureau Statistical Abstract of the US http://www.census.gov/compendia/statab/2012/tables/12s1308.pdf US imports of manufactured goods are 5.5 times larger than US imports of crude oil and 4 times larger than all imports of mineral fuel. Yet, we hear about energy dependency, not manufacturing dependency.
As of 2010 the "superpower" US economy still had a trade surplus in airplanes and airplane parts and a small $6 billion surplus in scientific instruments, but that is about all.
In ADP equipment and office machinery, the US exported $22.2 billion in 2010 (latest information at time of writing), down from $44.6 billion in 2000. US imports in 2010 of ADP equipment and office machinery were $113.5 billion, or 5.1 times exports.
The US cannot even make its own clothes and shoes. In 2010 footwear imports are 28.7 times exports. Clothing imports are 24.6 times exports.
Electrical machinery exports were $77 billion; imports were $120 billion.
Exports of power generating machinery were $33 billion; imports were $42 billion.
Exports of television, VCRs were $21.5 billion; imports were $137 billion.
US exports of vehicles was $88 billion; imports were $179 billion.
US news reports of thousands upon thousands of discharged US workers never cite their replacement by automation. The news story is always that the plant is being closed and the jobs moved abroad. Any review of America's former manufacturing centers verifies this. Boarded up plants and cities and towns in decline are the remains of America's formerly world dominant manufacturing economy.
The loss of the US post-war trade surplus in manufacturing has left the US with a huge trade deficit. The charts on which Walsh relied left him unaware of the fact that China has a large trade surplus with the US, and the US has a large trade deficit not only with China but with the world.
The fact that the US has to import not only manufactured goods, but also high-technology products from China, an inconceivable outcome during the second half of the 20th century, is powerful testimony to the decline of the US as a manufacturing powerhouse.
It took some doing to obscure the facts and to present the US as a rival to China in manufacturing prowess. How did it happen?
The fault might lie in the way statistical information is collected and presented. Apple, for example, is a US corporation. It reports its worldwide earnings to the IRS. Its manufacturing is counted as US manufacturing as it is a US corporation. However, Apple doesn't produce a single computer in the US. They are produced in China. The employment that Apple reports is in China. The Chinese are employed by an American company, but they are not Americans. The Chinese incomes that Apple provides do not support the American consumer market or provide the tax base for cities and states. The Chinese incomes do not provide ladders of upward mobility or careers for Americans.
The wages Apple pays are in China. The consumer incomes and GDP that it generates are in China. When Apple's computers come back to America to be sold they come in as imports. But Apple's manufacturing and employment are reported as the output and employment of an American company.
When statistics and the methods by which they are compiled were put into effect, countries did not offshore their production for their domestic markets. Foreign investments were made for selling abroad, not for selling in the home market. With the advent of offshoring, counting the employment and output of US firms that are producing abroad for their domestic market as an indication of the strength of US manufacturing is very misleading. Apple, for example, has done more to boost China's GDP than to boost America's GDP. This is true of every US corporation that offshores its production for US consumers.
In recent years the percentage of the work forces of large US corporations that is foreign sourced has risen rapidly. Some of the overseas hiring reflects traditional foreign investment in which a company builds abroad in order to sell abroad, but much of the hiring reflects offshored production for US markets.
The US has been able to survive the large trade deficits produced by jobs offshoring, because the US dollar is the world reserve currency. Being the world reserve currency, the US does not have to earn foreign currencies with exports in order to pay for its imports. However, as these trade deficits persist and the buildup of foreign holdings of dollar paper assets rises, there is a diminishing willingness of foreigners to trade real goods and services for financial assets denominated in a fiat currency whose value is diminishing with the ever-growing supply.
Thus, the basic notion of globalism–that a country's corporations can produce goods and services in any country for home markets–is false.
Walsh is correct that China is not to blame for the decline in US manufacturing. Offshoring is to blame, and, thus, the blame lies with US corporations, policymakers, and the economists and financial media who shill for "globalism." The decision was made to sacrifice the US economy to the short-term profits of the few. A country so poorly led can do nothing but decline.
Source: Paul Craig Roberts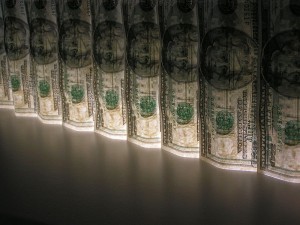 Can we believe any of the economic numbers that the government is feeding us these days?  Most of the focus recently has been on thebizarre jobs report that the government released last Friday, but the truth is that the inflation rate is a lie too.   In fact, the way that the government calculates inflation has changed more than 20 times since 1978.   The government is constantly looking for ways that it can make inflation appear to be even lower.  According to John Williams of shadowstats.com, if inflation was measured the same way that it was back in 1990, the inflation rate would be about 5 percent right now.  If inflation was measured the same way that it was back in 1980, the inflation rate would be about 9 percent right now.  But instead, we are expected to believe that the inflation rate is hovering around 2 percent.  Well, anyone that goes to the supermarket or fills up their vehicle with gasoline knows that prices are going up a lot faster than that.  Just about everything that we buy on a regular basis is steadily becoming more expensive, and so most Americans are not buying it when government officials tell us that there is barely any inflation right now.
John Williams is not the only one doing research into these inflation numbers.  According to the American Institute for Economic Research, the real rate of inflation was about 8 percent last year.  The following is an excerpt from a story that was recently posted on the website of Pittsburgh's NPR news station….
The federal government says that consumer prices rose moderately last year, but if you think the cost of everyday purchases increased more than that, then you're probably right according to the American Institute for Economic Research (AIER).

The Bureau of Labor Statistics' Consumer Price Index (CPI) was up 3.1% in 2011. However, AIER's Everyday Price Index (EPI) indicates most Americans saw their day-to-day costs increase by 8%. That's because the EPI excludes housing, automobiles, furniture, appliances and other items purchased occasionally.
So what are we supposed to believe?
Anyone that buys food on a regular basis knows that food prices have been going up significantly over the past couple of years, and because of the current drought things are about to get a whole lot worse.
In particular, the drought is expected to send meat prices much higher over the next 12 months.  The following is from arecent Reuters article….
The worst drought to hit U.S. cropland in more than half a century could soon leave Americans reaching deeper into their pockets to fund a luxury that people in few other countries enjoy: affordable meat.

Drought-decimated fields have pushed grain prices sky high, and the rising feed costs have prompted some livestock producers to liquidate their herds. This is expected to shrink the long-term U.S. supply of meat and force up prices at the meat counter.
Some analysts are projecting that we could see food prices rise by 14 percent or more over the next year.
So you might want to start clipping more coupons, because a trip to the supermarket is about to become even more painful on the wallet.
Water bills have also been steadily rising all over the country.  According to a study conducted by USA Today, some Americans have seen their water bills triple over the past 12 years….
While most Americans worry about gas and heating oil prices, water rates have surged in the past dozen years, according to a USA TODAY study of 100 municipalities. Prices at least doubled in more than a quarter of the locations and even tripled in a few.
So what is causing water prices to skyrocket?
The following are the reasons given by USA Today….
The trend toward higher bills is being driven by:

– The cost of paying off the debt on bonds municipalities issue to fund expensive repairs or upgrades on aging water systems.

– Increases in the cost of electricity, chemicals and fuel used to supply and treat water.

– Compliance with federal government clean-water mandates.

– Rising pension and health care costs for water agency workers.

– Increased security safeguards for water systems since the 9/11 terror attacks.
Unfortunately, one of the experts USA Today interviewed said that we can expect water bills to rise between 5 percent and 15 percent a year moving forward.
Of course the price of gasoline has also become absolutely outrageous.  It has doubled since Barack Obama entered the White House, and the average American household spent more than $4000 on gas last year.
In California, temporary refinery problems have sent gasoline prices absolutely skyrocketing over the past week.  The average price of a gallon of gasoline hit another brand new record high on Sunday.  According to AAA, the average price of a gallon of regular unleaded gasoline in California is now $4.655, and at some stations it is well over $5.00 a gallon.
Sadly, some analysts are warning that the supply problems in California may last until November.
Hopefully this is a reminder to all of us of just how vulnerable our economic infrastructure can be.  If temporary refinery problems can cause this kind of chaos, what would a major crisis do?
But despite all of the evidence to the contrary, Federal Reserve Chairman Ben Bernanke continues to insist that prices are very stable right now.
In fact, one of the reasons why he says that more money printing ("quantitative easing") is okay is because we are in a "low inflation" environment at the moment.
Sadly, this is exactly the kind of delusional thinking that led to the horrible crisis in the Weimar Republic back in the 1920s.  Quantitative easing did not work for the Weimar Republic, and it is not going to work for us either.
But it will cause the prices of the things that we buy on a regular basis to go up even more.
So what can we do about all of this?
Well, perhaps we can avoid paying higher prices for things by having the government give them to us for free.
That is what some Americans are doing.
There are some Americans out there that have absolutely no shame at all and will squeeze as much free stuff out of the government that they can.  For example, one woman in Baltimore has actually accumulated 30 free "Obamaphones".  Thevideo below explains how she has been able to get 30 free cell phones all paid for by the U.S. government.
Source: The American Dream
It's often overlooked and taken for granted, but it's the most essential of all human resources.
Water.
We're paying 75% more for it today than we were in the year 2000.
According to a recent study by USA Today, which looked at 100 large municipalities across the country, the price increases over the last decade are so significant that many Americans are having to cut other expenses just to keep up:
…the cost of this necessity of life has outpaced the percentage increases of some of these other utilities, carving a larger slice of household budgets in the process.

"I don't know how they expect people to keep paying more for water with the cost of gas and day care and everything else going up," complains Jacquelyn Moncrief, 60, a Philadelphia homeowner who says the price hikes would force her to make food-or-water decisions. She gathered signatures on a petition opposing a proposed water rate increase in her city this year.

USA Today's study of residential water rates over the past 12 years for large and small water agencies nationwide found that monthly costs doubled for more in 29 localities. The unique look at costs for a diverse mix of water suppliers representing every state and Washington, D.C. found that a resource long taken for granted will continue to become more costly for millions of Americans. Indeed, rates haven't crested yet because huge costs to upgrade or repair pipes, reservoirs and treatment plants loom nationwide.

In three municipalities — Atlanta, San Francisco and Wilmington, Del. —water costs tripled or more.

Source: USA Today
According to the report, we can expect rates to continue to rise at a whopping 5% to 15% per year going forward, and for a variety of reasons.
The trend toward higher bills is being driven by:

- The cost of paying off the debt on bonds municipalities issue to fund expensive repairs or upgrades on aging water systems.

- Increases in the cost of electricity, chemicals and fuel used to supply and treat water.

- Compliance with federal government clean-water mandates.

- Rising pension and health care costs for water agency workers.

- Increased security safeguards for water systems since the 9/11 terror attacks
One critical aspect USA Today failed to mention as a reason for higher prices and the adverse effects on our purchasing power is, of course, monetary expansion over this same time period. While water prices are up in the high double digits over the last decade, the same cannot be said for Americans' wages.
Taking that into consideration, we may well see rates go even higher than estimated.
Coupled with an ever expanding global population, the notion that countries will soon be fighting water wars over this critical resource is not out of the question.
The days of endless clean and cheap water are behind us.
Source: SHTFplan.com
Are you better off today than you were four years ago?  This is a question that comes up nearly every election.  This year the Romney campaign has even created a Twitter hashtag for it:#AreYouBetterOff.  The Democrats are making lots of speeches claiming that we are better off, and the Republicans are making lots of speeches claiming that we are not.  So are most Americans actually better off than they were four years ago?  Of course not.  One recent poll found that only 20 percent of Americans believe that they are better off financially than they were four years ago.  But the same thing was true four years ago as well.  Our economy has been in decline and the middle class has been shrinking for a very long time.  The Democrats want to put all of the blame on the Republicans for this, and the Republicans want to put all of the blame on the Democrats for this.  A recent CNN headline defiantly declared the following: "Decline of middle class not Obama's fault", and this is the kind of thing we are going to hear day after day until the election in November.  But obviously something has gone fundamentally wrong with our economy.  So who should we blame?
Sadly, you hear very little on the mainstream news networks or the talk radio shows about the institution that has the most power over our economy.  The Federal Reserve has far more power over our financial system than anyone else does, but the media and both political parties tell us that the Federal Reserve is "above politics" and that their "independence" must never be questioned.
Unfortunately, most Americans have gone along with that.
But the truth is that the debt-based financial system that the Federal Reserve is at the core of is absolutely central to our economic problems.  If you do not understand this, please see this article: "10 Things That Every American Should Know About The Federal Reserve".
The Federal Reserve has done more to mess up our economy than anyone else has.
So shouldn't they be held accountable?
That is a very good question.
Have you ever wondered why financial markets move so dramatically whenever Federal Reserve Chairman Ben Bernanke gives a speech?
The same thing does not happen when Barack Obama gives a speech.
That is because the financial markets know who holds the real power in our financial system.
But during this election season the American people are told to put all of their attention on the "red team" and the "blue team".  We are told that the two major political parties are philosophical opposites and that they want to take the United States is two completely different directions.
The "true believers" on the blue team are completely and totally convinced that Barack Obama will be able to rescue the economy and save America.
The "true believers" on the red team are completely and totally convinced that Mitt Romney will be able to rescue the economy and save America.
Once upon a time I was one of those political activists.  I was fully convinced that America could be turned around if we could just get enough Republicans into office.
But then I noticed that nothing really seemed to change no matter who was in power.  I became disillusioned as I realized that Republicans were doing things pretty much the exact same way that Democrats were doing them when they got into power.
Yes, there are some minor differences between the two parties on taxes and regulations.
If we elect one guy over the other our economy might decline at a slightly different pace.
But in the end both political parties are taking us to the exact same place.
Down the toilet.
I wish that wasn't true.
But we need to be honest with ourselves….
-Both parties fully support the Federal Reserve.
-Both parties supported the nomination of Ben Bernanke to a second term as the head of the Federal Reserve.
-Both parties endlessly push the job-killing "free trade" agenda of the global elite.
-Both parties see nothing wrong with running absolutely enormous trade deficits with the rest of the world.
-Both parties supported TARP.
-Both parties supported the "economic stimulus" packages.
-Both parties supported the auto industry bailouts.
-Both parties have run up massive amounts of federal debt when in power.
-Both parties have greatly expanded the size of the federal government when in power.
-Both parties are full of control freaks and both parties have added more layers of ridiculous regulations to our already overburdened society when in power.
-Neither party supports getting rid of the income tax or the IRS.
-Neither party has any intention of doing anything to prevent the coming derivatives crisis that could bring down the entire global financial system.
-Both parties are absolutely showered with cash from the big Wall Street banks.
-Both parties think that the TSA is doing a great job.
-Both parties supported the NDAA and the renewal of the Patriot Act.
-Both parties have greatly expanded the unconstitutional surveillance of American citizens by government agencies.
-Both parties are extremely soft on illegal immigration.
-Both parties have treated military veterans horribly.
-Both parties are absolutely packed with corrupt politicians that are living the high life at your expense.
-Neither party plans to balance the federal budget in 2013 if their candidate wins the election.
-Neither party has a plan that will fix our deeply broken health care system.
-Neither party has any plans to shut down the Federal Reserve.  In fact, both parties see absolutely nothing wrong with our current system.
Of course this list could go on indefinitely, but hopefully you get the point.
But I can understand those that are deeply frustrated with Barack Obama and that desperately want to avoid another four years of his policies.
I also believe that Barack Obama has been the worst president in U.S. history and that he and his entire cabinet should immediately resign in disgrace.
However, the Republican party foolishly chose to nominate the Republican candidate that was most like Barack Obama to run against him.
That was an enormous mistake.
No matter what the talk radio shows are telling you, the truth is that this country will continue on pretty much the same path no matter who wins the election.
I know that statement is going to make a lot of people angry.  But it is the sad reality of what we are facing.
Even if you focus on just the economy, the truth is that Mitt Romney's "five point plan" is almost exactly the same thing that Barack Obama has been saying.
Many Americans believe that since Mitt Romney made lots of money on Wall Street conducting leveraged buyouts of vulnerable corporations that he understands how to fix our economy.
Sadly, that is not the truth.
I have listened to many Romney speeches about the economy and I keep waiting for some pearls of wisdom, but I have found that he is just as clueless about the economy as our other recent presidents have been.
Look, I know that there are a lot of people out there that have good hearts that want to have someone that they can believe in.
They want to believe that things can get better.
They want to have hope.
And I don't blame them for that.
I just think that it is time to pull our heads out of the sand and realize that things are not going to be getting any better.
A political savior on a white horse is not going to come riding in to save the day.
So by this point in the article a whole lot of Democrats and a whole lot of Republicans are very upset with me.
But I am not against you.  There is way too much hate in our society today.  Even if we disagree with someone else we can still love them.
I just think that it is very important that we understand that there is not going to be a solution to our problems on the national level and that our economy is headed for collapse no matter who gets elected.
The total amount of debt in the United States has risen from less than 2 trillion dollars to nearly 55 trillion dollars over the past 40 years, and there is nothing that Barack Obama or Mitt Romney can do to prevent the "correction" that is coming.
So are Americans better off than they were four years ago?
Of course not.
But things will soon get a whole lot worse no matter how the election turns out.
The following are 40 statistics that will absolutely shock you….
#1 During the time Barack Obama has been in the White House, median household income has fallen by 7.3 percent.
#2 Back in 2007, 19.2 percent of all American families had a net worth of zero or less than zero.  By 2010, that figure had soared to 32.5 percent.
#3 According to the Federal Reserve, the median net worth of American families dropped "from $126,400 in 2007 to $77,300 in 2010".
#4 According to the Pew Research Center, 61 percent of all Americans were "middle income" back in 1971.  Today, only 51 percent of all Americans are "middle income".
#5 Back in 1970, middle income Americans brought home 62 percent of all income in the United States.  In 2010, middle income Americans only brought home 45 percent of all income.
#6 The unemployment rate in the United States has been above 8 percent for 42 straight months.
#7 The percentage of working age Americans with a job has been below 59 percent for 35 months in a row.
#8 In June, the number of Americans added to the food stamp rolls was nearly three times larger than the number of jobs added to the U.S. economy.
#9 Approximately 53 percent of all U.S. college graduates under the age of 25 were either unemployed or underemployed last year.
#10 Since Barack Obama entered the White House, the number of long-term unemployed Americans has risen from 2.7 million to 5.2 million.
#11 Today, the average duration of unemployment in the United States is about three times as long as it was back in the year 2000.
#12 According to a report that has just been released by the National Employment Law Project, 58 percent of the jobs that have been created since the end of the recession have been low paying jobs.
#13 According to the Center for Economic and Policy Research, only 24.6 percent of all of the jobs in the United States are "good jobs".
#14 In 2010, the number of jobs created at new businesses in the United States was less than half of what it was back in the year 2000.
#15 The average pay for self-employed Americans fell by $3,721 between 2006 and 2010.
#16 According to U.S. Representative Betty Sutton, America has lost an average of 15 manufacturing facilities a day over the last 10 years.  During 2010 it got even worse.  That year, an average of 23 manufacturing facilities a day shut down in the United States.
#17 At this point, one out of every four American workers has a job that pays $10 an hour or less.
#18 While Barack Obama has been president the velocity of money has plunged to a post-World War II low.
#19 According to one recent survey, 85 percent of middle class Americans say that it is harder to maintain a middle class standard of living today compared with 10 years ago.
#20 Electricity bills in the United States have risen faster than the overall rate of inflation for five years in a row.
#21 There are now 20.2 million Americans that spend more than half of their incomes on housing.  That represents a 46 percent increase from 2001.
#22 Over the past decade, health insurance premiums have risen three times faster than wages have in the United States.
#23 Health insurance costs have risen by 23 percent since Barack Obama became president.
#24 As I wrote about yesterday, back in 1980 less than 10 percent of U.S. GDP was spent on health care but now about 18 percent of U.S. GDP goes toward health care.
#25 In a previous article, I noted that 62 percent of all middle class Americans say that they have had to reduce household spending over the past year.
#26 Family budgets in America are being stretched to the breaking point.  Today, 77 percent of all Americans live paycheck to paycheck at least part of the time.
#27 While Barack Obama has been president, U.S. home values have fallen by another 11 percent.
#28 More than three times as many new homes were sold in the United States in 2005 as will be sold in 2012.
#29 The United States was once ranked #1 in the world in GDP per capita.  Today we have slipped to #11.
#30 Since Barack Obama became president, the number of Americans living in poverty has risen by 6.4 million.
#31 The number of Americans on food stamps has grown from about 17 million in the year 2000 to 31.9 millionwhen Barack Obama entered the White House to 46.7 million today.
#32 Approximately one-fourth of all U.S. children are enrolled in the food stamp program at this point.
#33 It is being projected that half of all American children will be on food stamps at least once before they turn 18 years of age.
#34 It is estimated that child homelessness in the United States has risen by 33 percent since 2007.
#35 Back in 1965, only one out of every 50 Americans was on Medicaid.  Today, approximately one out of every 6Americans is on Medicaid.
#36 As I wrote about the other day, it is being projected that Obamacare will add 16 million more Americans to the Medicaid rolls.
#37 It is being projected that the number of Americans on Medicare will grow from 50.7 million in 2012 to 73.2 million in 2025.
#38 The number of Americans receiving federal housing assistance increased by a whopping 42 percent between 2006 and 2010.
#39 At this point, well over 100 million Americans are enrolled in at least one welfare program run by the federal government.
#40 Amazingly, more than half of all Americans are now at least partially financially dependent on the government.
So are you better off than you used to be or worse off?
It's once again time for my annual survival list column. One does not have to be a prophet to know that we are on the precipice of some potentially catastrophic–or at the very least, challenging–days. In fact, most of us are already in challenging days, and some are already enduring catastrophic events. That is, if one would call being out of work, losing one's home, facing life-threatening medical conditions without any prospect of medical insurance, several families being forced to live in one house due to homes being foreclosed, etc., catastrophic.
The potential for an escalation of cataclysmic events, however, is very real. Only a "blooming idiot" would call someone who attempts to prepare for "the day of adversity" a Chicken Little now. Anyone who does not see the storm clouds on the horizon isn't paying attention.
For example, can one imagine what would happen if Russia or China launched a nuclear attack against the United States? (Once again, I encourage readers to watch the CBS TV series "Jericho" to get an idea of how quickly life, and even civilization, could change.) Imagine if there was another 9/11-type event. What would happen if some form of Zimbabwe-style inflation hit the US? What would happen if anything disrupted the distribution of Welfare checks, or food to local grocers? Imagine a Hurricane Katrina-style natural disaster in your town. I think people everywhere are beginning to awaken to just how vulnerable we all really are.
As a result, people from virtually every walk of life have asked my thoughts on how they should prepare. Therefore, I will, again, attempt to share with my readers some of the counsel I have given these folks.
First, a disclaimer. I am not an economist; I am not a survival expert; I am not a firearms expert; I am not an attorney; I am not a physician. In fact, I am not an expert in anything! For several years, however, I have tried to learn from others. I am an avid reader. My work has allowed me to travel extensively. In fact, I have logged over 150,000 miles crisscrossing this great country over the last few years. I have had the privilege of sitting at the feet of–and learning from–many of America's most learned, most trained, and most qualified "experts" in a variety of fields. What I write today, I have learned from others. I've formed my own opinions and priorities, of course, but everything I'm sharing has been said, or written about, before. But if I can share something in today's column that will help someone be better prepared for the days to come, then my goal will have been achieved.
Location:
Analyze your living conditions. Where do you live? Do you live in an urban or rural environment? Is it a big city or small town? Do you live in an apartment or condominium? How close are your neighbors? Do you even know your neighbors? Would you trust them if the electricity was off and they were hungry? Could you grow your own food if you had to? How easily could you secure your home? If you live in a cold weather environment, how long could you stay warm without electricity? These are the kinds of questions you need to ask yourself now.
Over the past several decades, masses of people have migrated into large metropolitan areas. More people currently live in urban areas than at any time in American history. While this may be well and good for times of prosperity, it is an absolute nightmare during any kind of disaster. Does anyone remember what New Orleans looked like after Hurricane Katrina came through? Can anyone recall what happened in downtown Los Angeles during the 1992 riots? Needless to say, any inner-city environment could become a powder keg almost instantaneously, given the right (or wrong) circumstances. And the bigger the city, the bigger the potential problems.
If you live in the inner city, I suggest you consider moving to a more rural location. Obviously, now is a very good time to buy property (especially rural property), but the downside is, selling property is not as favorable. If you can afford it, now is a great time to buy a "safe house" outside the city. If you are fortunate enough to have family or some true friends nearby, you may want to put your heads–and some resources–together in preparation for serious upheaval. Obviously, a team of prepared people is much better than being alone.
If you must stay in your urban location, have some common sense plans in hand in the event of a major disaster. Get to know your neighbors: find out whom you can trust and whom you can't. Keep some extra gasoline on hand, in case you need to get in your car quickly and leave. Have several exit routes planned ahead of time, in case roads are blocked. Have a "bug-out" bag containing essential ingredients to live on for three to four days. If leaving is not an option, have a plan to secure your home as best you can. You'll need to think about things such as food, water, medicine, warmth, self-defense, etc. But at this point, to do nothing is absolute lunacy!
Most readers probably know that my entire family and I made the decision two years ago to move 2,600 miles from our home of 35 years in the Florida panhandle to the Flathead Valley of Montana, which is located about 75 miles south of the Canadian border in the Rocky Mountains. I can tell readers without equivocation or hesitation that we are so glad we made this move. We absolutely love it here–all the difficulties and trials associated with such a life-changing move notwithstanding. In fact, I've never lived in a place I love so much!
If readers want to learn more about what prompted our move to Montana, please peruse the information on this web page:
http://chuckbaldwinlive.com/home/?page_id=2243
Provisions:
During a major disaster, food will quickly disappear. Living for over three decades on the Gulf Coast, I can tell you with absolute certainty that whenever disaster strikes (usually an approaching hurricane, for those folks), food and provisions at the store sell completely out in a matter of a few hours. People panic, and within hours, you cannot find food, bottled water, ice, generators, batteries, candles, etc. In a matter of hours, every gas station in the area will be completely out of gas. Not days. Hours!
Furthermore, almost all disasters include a complete loss of electricity. The water supply is compromised. Bottled water becomes more valuable than bank accounts. Dehydration becomes a very real and present danger. I remember witnessing a man offer an ice vendor $100 for an extra bag of ice during Hurricane Ivan. My wife and I went two weeks (14 days) without electricity in the aftermath of that hurricane. Believe me, I got a taste of just how precious bottled water, ice, batteries, generators, fuel, etc., can become.
I suggest you have a supply of food and water to last at least a month. Many survival experts insist that a six-month supply is the minimum. Personally, I can live a long time on tuna fish or peanut butter. You can purchase MREs from a variety of sources, as well as "camp-style" packaged food from many sporting goods stores. Of course, bottled water is available everywhere during normal times. Stock up! Distilled water will store longer than spring water. Plus, I suggest you have some water purification tablets or a Katadyn water filter on hand. And, if you are able, prepare to grow your own food. In cold weather climates such as we have here in Montana, people quickly learn how to construct and utilize greenhouses in which to grow food. Canning food is another very helpful hedge against deprivation. If your parents and grandparents were like mine, this was standard operating procedure.
Get a generator. Keep a supply of fuel on hand. Stay stocked up on batteries, candles, portable lights, first aid supplies, and personal hygiene items–especially toilet paper. Trust me, during times of intense and prolonged disaster, toilet paper could become more valuable than money. I also suggest you never run out of lighters or matches. You never know when you'll need to build a fire–and during a prolonged survival situation, fire could save your life. If you live in a cold weather climate, you probably already have some sort of wood stove or fireplace. And don't overlook the necessity of a good knife.
Obviously, you need to take stock of your clothing. Do you have clothes suitable for extended outdoor activity? What about boots? During a disaster, you would trade your best suit from Neiman Marcus for a good pair of boots. Do you have gloves? Insulated underwear? What about camouflage clothing? These could become essential outerwear in the right conditions. Plus, any "bug-out" bag will need to include spare clothing. And as most folks here in Montana know, "cotton kills." For extended outdoor wear in cold weather, wool is the only way to go!
Communication and medical provisions are also a high priority in any kind of emergency. How will you communicate with your loved ones when the phones (including cell phones) go down? Portable ham radios are a very valuable resource. But the time to buy (and train to use) one is NOW! A preordained rally point (or safe house) might be something to think about. And what about medical supplies? Do you have enough to take care of routine (and not-so-routine) emergencies? What about your prescription drugs? How long could you function if you were cut off from your pharmacist for any length of time? Also, seriously consider learning about natural, herbal medicines. Those plants growing in your "back forty" might just cure a headache, stop bleeding, or even save your life. Think about it now.
And one more suggestion, while we're on this subject: the best resources in the world are of little use if one is physically incapable of making good use of them. In other words, GET IN SHAPE. During any kind of emergency situation, physical exertion and stamina become immensely important.
Commodities:
I suggest you have at least some cash on hand. Just about any and all disasters will result in banks being closed for extended periods of time. That also means credit card purchases being suspended. You need to have enough cash to be able to purchase essential goods (if they are even available) for an undetermined amount of time.
Of course, some survival gurus insist that during any cataclysmic climate, precious metals will become the only reliable currency. A little gold and silver could go a long way in a prolonged emergency. For that matter, with the way our fiat money system is coming unraveled, you may want to seriously consider moving your IRA accounts into precious metals, if for no other reason than to better protect your savings. Ask yourself, how much money have I already lost at the hands of these banksters in the Federal Reserve and their toadies in the stock market?
In fact, in a disaster, what is considered a valuable commodity can change rather quickly, as the barter system takes a life of its own. What is valuable is determined by what you need and how badly you need it. In a prolonged disaster, simple things such as toilet paper, canned goods, ammunition, and clothing could become extremely valuable; while cars, video games, televisions, etc., could be reduced to junk status. In antiquity, wars were fought over things such as salt. You might be surprised to learn that there are already active barter groups in your area. I suggest you establish a relationship with these people now!
Speaking of cars, remember that during a prolonged "national emergency" that might involve some sort of nuclear attack or widespread civil unrest, an Electromagnetic Pulse (EMP) might be employed; in which case, most every late model vehicle would be completely inoperable. Accordingly, if one can keep an older, pre-computer-age vehicle in good working order, he or she might be driving the only non-government vehicle capable of going anywhere. Of course, you might not want to drive it to town!
Self-Defense:
Needless to say, during any kind of disaster, your safety and protection will be completely up to you. If you really think that the police are going to be able to protect you during an upheaval, you are living in a dream world.
In both the New Orleans and Los Angeles disasters, police protection was non-existent. Lawless gangs quickly took control of the streets, and people were left to either defend themselves or swiftly become the helpless prey of violent marauders. In fact, in New Orleans, some of the policemen actually abandoned their oaths to uphold the law and joined with the criminals, turning their weapons upon the public.
Face it, folks: in any kind of disaster, you must be able to defend yourself, or you and your family will be meat for these animals of society that will quickly descend without mercy upon the unprepared, unsuspecting souls around them. This requires that you be armed! It also requires that you be skilled enough to be able to efficiently use your arms. Therefore, I strongly suggest that you purchase firearms sufficient to keep you and your family safe, and also that you practice sufficiently to know how to use them.
Now, when it comes to a discussion of which firearms are preferable for self-defense, the suggestions are as varied as the people who proffer them. These are my suggestions:
I believe every man (along with his wife and children of adequate age) should be proficient with the following weapons: a handgun in .38 caliber or above, a .22 rifle, a center-fire bolt-action hunting rifle, a semi-automatic battle rifle, and a shotgun.
My personal preference for a self-defense handgun is either a .45 ACP 1911 (either Colt or Kimber), a Glock .45, or a .40 S&W. In the .40 caliber, my favorite is a Glock 22 or 23. In the 1911, I like the Commander size configuration. I prefer either the Model 21 or the Model 30 in the Glock .45. And I will also admit to sometimes carrying a 9mm Glock 19 or a Smith & Wesson .357 revolver. My two favorites in this caliber are the Model 66 with a 2 ½-inch barrel and the Model 586 with a 4-inch barrel. My wife prefers to carry a Smith & Wesson .38 caliber revolver in the snub-nose, J-frame configuration. But this is primarily due to the reduced weight of these weapons for carry purposes. If needed, she could make a good accounting of herself with the Glock 19. If you are someone who has never owned and seldom fired a handgun, I recommend you buy a Glock. They are as simple as revolvers to operate, reliable, and almost indestructible. Plus, they provide increased magazine capacity, and are safe. They are also very easy to disassemble and clean. Of course, in dangerous game territory, you will need the power of a 10mm (the Glock 20 shines here), .45 Long Colt, .44 Magnum, or even a .454 Casull. These calibers are not for the limp-wristed, but when one is facing a brown bear or mountain lion, it is what one will need to survive. Plus, when your life is on the line, you'll never feel the recoil.
For a .22 rifle, I really like the Ruger 10/22. A Marlin tube-fed .22 is also very effective. The CZ bolt-action .22 just might be the most accurate .22 on the market. For a hunting rifle, my suggestion is either a .270 or .30-06 caliber bolt-action rifle. I prefer the Remington Model 700 BDL or Browning X-Bolt, but there are several fine weapons in this configuration and caliber by numerous manufacturers. In dangerous game territory, a Marlin .45-70 could be a lifesaver. For a battle rifle, I suggest an AR-15-style weapon in .223 caliber or a .308 Springfield M1A. For a shotgun, I suggest a 12-gauge pump. Here I prefer a Winchester Model 1300, which is not made anymore. So, you'll probably have to choose between Mossberg and Remington. For ladies, however, a 20-gauge shotgun is probably a better choice, and at "bad breath" range (where a shotgun shines, anyway), it is just as lethal.
Whatever you choose, practice with it to the point that you are able to use it proficiently. And be sure you stock up on ammunition. A gun without ammo is reduced to being either an expensive club or a cumbersome paperweight.
Go to your local independent sporting goods store (I don't recommend the large national chain stores to do your firearms shopping.) and get to know your hometown firearms dealer. Most of these people are kind and helpful folks who will be more than happy to assist you in finding exactly what type of firearm is suitable for you and your family.
Spiritual Power:
I firmly believe that man is created to have fellowship with his Creator-God. I really don't know how people can face the uncertain future that we currently face without the spiritual knowledge, wisdom, comfort, and power that is made available through Jesus Christ. I believe the maxim is true: "Wise men still seek Him." I strongly suggest that you seek to possess a personal relationship with God's only begotten Son. In truth, spiritual preparation is far and away the most important preparation of all. Accordingly, be sure to pack a copy of God's Word in your survival gear.
And if you have not been able to find a local church where the pastor isn't afraid to deal with the kind of issues like I am dealing with in this column, I invite you to worship online with us at Liberty Fellowship. People all over America who are tired of these 501c3, establishment churches–who have no clue as to what is going on and who wouldn't take a stand if they did–are tuning in to hear my messages at Liberty Fellowship every Sunday afternoon. To tune in this Sunday, go to:
http://chuckbaldwinlive.com/home/?page_id=2606
That we are facing challenging days is a certainty. Exactly what that means is yet to be determined. I trust that some of my suggestions will help you be better prepared for what lies before us. Plus, here is an excellent online Survival Blog chock-full of great suggestions and resources for all things survival. Check it out:
And if you are considering relocation, please check out Joel Skousen's web site at:
http://joelskousen.com/strategic.html
And if you think you may want to relocate to the Flathead Valley of Montana, George Hudson, a man at Liberty Fellowship who "escaped" from California to locate here–and who is now helping scores of people from all over the country to resettle in our beautiful valley–may be contacted at:
Please give him a few days to email you back, but he will be happy to try to answer any questions you have about moving here.
I am sure that I have left out several items that others more qualified than me would include. I welcome their suggestions, as I am always desirous to learn from those who are wiser and more experienced. In the meantime, remember your Boy Scout motto: "Be Prepared."
The technological miracle that transformed the 20th century into an engine of wealth creation was based upon cheap energy. The role of the electric grid cannot be understated when it comes to enhancing the quality of life for the greatest number of people. The advance of civilization often seems to go in reverse gear. However, the innovation of labor saving devices and productive machinery usually rely upon running on the stream from electric generation.
Even with this laudable accomplishment, the electric grid has fundamental flaws and distribution shortcomings. The challenge for the 21th century requires a re-invention of thinking as much as a technological replacement of the alternative current system of connection to the electric grid.
Peter Fairley reveals an important trend in Edison's Revenge: The Rise of DC Power.
"Anything that uses transistors relies on direct current, the flow of electricity in one direction. That explains why PCs, iPhones, and flat-screen TVs all have converter boxes to turn the alternating current in wall sockets (which reverses direction 120 times a second) into direct current.

Such digital consumer devices account for up to a fifth of total power consumption today, according to Greg Reed, director of the Power & Energy Initiative at the University of Pittsburgh. Reed says the steep growth curve of DC power is due not only to computers but also to the spread of devices such as LEDs and solar panels.

"Within the next 20 years we could definitely see as much as 50 percent of our total loads be made up of DC consumption," he says. "It's accelerating even more than we'd expected."
DC power is a far more practical method of generation if a consumer is determined to severe the cord with your local electric utility. The obvious drawback is that in the United States major appliances are all designed to run on AC. If one is resolute to become independent in electric creation, the practical sources of generating a usable current requires a substantial redesign of a wiring system and a substantial investment of capital for the privilege of telling the electric company to take their bill and stuff it.
Is this emotional determination realistic when most people reside in metropolitan regions? Now if you are an avid "Prepper" and have secured the ideal isolated and rural location to build your dream castle retreat, by all means, do your own thing.The reality is that reliability of consistent power is one of the main advantages of connecting to the grid. Sure power- outages increase as the lack of proper maintenance to the transmission grid deteriorates. But the alternative of a fickle wind turbine in a still sky means you better be lighting with candles. With all the shortcomings and the short life of battery storage systems, the joy of being free of the utility company may well mean converting to a 19th century hand well pump for your water and a wood stove for your heat.
Now many hi-tech inventions allow the self-reliant to enjoy the natural pleasures of a back to nature lifestyle. Thermoelectric generators (TEG) might even work if you can master the technology of generating small amounts of electric current from the energy of your wood or coal furnace. Or, if you did your due diligence in selecting that prime survivalist fortress, with a dependable water flow from a year round stream, you can consider a micro-hydro power systems. If you strike out with your current incompatible location, surely you can sling a few solar panels on your roof to boil your morning cup of coffee.The point is that the actual alternatives to generating a practical level of power independent from a grid connection, can be achieved by few property owners.
Now before you give up and order your PG&E smart meter, the definite scandal has little to do with guaranteeing a cost effective electric utility system. Note the main concern has to do with your health and privacy. "Civil liberties advocates are watching this case and asking if we can't trust the utility industry not to read our e-mails and spy on us, how can we trust them not to share details of our private lives that they acquire from the smart meter?"As the emphasis of the alternative energy debate shifts solely from methods to dominance, one must admit that the electric grid is presently being used to control your household existence. The idea of allowing individual homeowners to live their lives free from Public Service Commission control is only an academic issue. With modern living, in the "Green" politically correct era, the only thing that can be counted on is a move towards a despotic government mandate that forces compliance to the "Cap and Trade" culture.
Going off the grid is far more a political matter than a primitive attempt to supercharge your energy independence by perfecting the recluse way of life. We are all in the same electromagnetic pulse (EMP) matrix that threatens to severe the electric life raft. Reverting to aHobbesian State of Nature in an age of comprehensive surveillance that runs on electric current will not cure the autocratic lightening strike.How can real and viable electric alternatives be developed and brought to market when the entire bureaucratic system rests upon enforcing arbitrary regulations for favored crony relationships? Proponents of "Sustainable Energy" worship a bogus deity. Their doctrine requires the elimination of coal altogether. With the rapid increase of natural gas turbines for electric generation, these zealots demand that every fossil fuel must be abandoned.
Such attitudes directly have a negative impact on the grid. The case of industrial wind makes the point. A dramatic expansion of the current grid would be required to provide an interconnect from scattered wind factory locations. Just ask Boone Pickenswhy he deserted his flirtation with this outdated, unreliable and inefficient wind generation in favor of natural gas.Home fuel cell technology to power your home offers independence from the grid, but any system that requires a cogeneration source of fuel (like propane or natural gas) has obvious economic drawbacks. The promise of producing electricity from magnet generation has a striking appeal. However, where is the practical model that can be tested and marketed at your local Home Depot?
Sorry, the facts all support a conclusion that for a complex society with an aging infrastructure and an authoritarian political culture, the will to invest in a different electrical distribution system does not exist. It is not even a question of developing a better method for connection; it is all about stretching the useful life of old technology. Where is Nikola Tesla when you really need him? Well, the modern day J P Morgan's that control the utility grid have a decisive foreign ownership composition. When the likes of Iberdrola and National Grid are encouraged to buy up our domestic electrical utilities, the prospects for the future mirror the problems of Europe.So if you are not a Prepper and you reside in your urban Florida condominium, be prepared to survive without air conditioning, if you want to cancel your utility account. The regulatory agencies are rubber stamps for the "Corporatists" utilities and citizen groups have an uphill struggle in preventing a wholesale stranglehold on your energy availability.
Organizing community electric cooperatives with citizen utility boards may be the only way to combat the Agenda 21 goal of controlling and rationing energy availability. The grid could be a miracle support line if it was under the stewardship of community interests. Decentralization of the grid, while maintaining access to sources of reliable and cost effective electric generation, should be the goal. Preventing brownouts is a technological issue, not an Enron manufactured by design occurrence.
The prospect of skyrocketing utility bills is a foregone reality if further consolidation is allowed. Without market competition not only in the sale of electricity, but in the delivery system of distribution, the costs of surviving your electric bill may be far more difficult.
Conservation is a logical objective. Notwithstanding such a noble aspiration, the financial requirements for return on equity demand that a reduction in usage demands an increase in electric rates. Only a true and practical energy generation invention that could break the ties of the electric meter, would offer any prospects of getting totally off the grid.
For the foreseeable future, major energy appliances will be manufactured for AC current. Anyone who has experience with portable generators for backup home generation know all too well that the price of gas or propane are excessive and prohibitive as a permanent alternative.
The only way to get the grid to work for you is to place maximum pressure on the political system to promote innovation for individual independence of the end user. DC current is the energy of choice for the greatest autonomy. However, the Washington DC connection is the greatest hurdle to overcome. The physics of Tesla's wireless transmission of electrical energy is child's play, when compared to the enigma of government regulation.
The United States has collapsed economically, socially, politically, legally, constitutionally, and environmentally. The country that exists today is not even a shell of the country into which I was born. In this article I will deal with America's economic collapse. In subsequent articles, i will deal with other aspects of American collapse.
Economically, America has descended into poverty. As Peter Edelman says, "Low-wage work is pandemic." Today in "freedom and democracy" America, "the world's only superpower," one fourth of the work force is employed in jobs that pay less than $22,000, the poverty line for a family of four. Some of these lowly-paid persons are young college graduates, burdened by education loans, who share housing with three or four others in the same desperate situation. Other of these persons are single parents only one medical problem or lost job away from homelessness.
Others might be Ph.D.s teaching at universities as adjunct professors for $10,000 per year or less. Education is still touted as the way out of poverty, but increasingly is a path into poverty or into enlistments into the military services.
Edelman, who studies these issues, reports that 20.5 million Americans have incomes less than $9,500 per year, which is half of the poverty definition for a family of three.
There are six million Americans whose only income is food stamps. That means that there are six million Americans who live on the streets or under bridges or in the homes of relatives or friends. Hard-hearted Republicans continue to rail at welfare, but Edelman says, "basically welfare is gone."
In my opinion as an economist, the official poverty line is long out of date. The prospect of three people living on $19,000 per year is farfetched. Considering the prices of rent, electricity, water, bread and fast food, one person cannot live in the US on $6,333.33 per year. In Thailand, perhaps, until the dollar collapses, it might be done, but not in the US.
As Dan Ariely (Duke University) and Mike Norton (Harvard University) have shown empirically, 40% of the US population, the 40% less well off, own 0.3%, that is, three-tenths of one percent, of America's personal wealth. Who owns the other 99.7%? The top 20% have 84% of the country's wealth. Those Americans in the third and fourth quintiles–essentially America's middle class–have only 15.7% of the nation's wealth. Such an unequal distribution of income is unprecedented in the economically developed world.
In my day, confronted with such disparity in the distribution of income and wealth, a disparity that obviously poses a dramatic problem for economic policy, political stability, and the macro management of the economy, Democrats would have demanded corrections, and Republicans would have reluctantly agreed.
But not today. Both political parties whore for money.
The Republicans believe that the suffering of poor Americans is not helping the rich enough. Paul Ryan and Mitt Romney are committed to abolishing every program that addresses needs of what Republicans deride as "useless eaters."
The "useless eaters" are the working poor and the former middle class whose jobs were offshored so that corporate executives could receive multi-millions of dollars in performance pay compensation and their shareholders could make millions of dollars on capital gains. While a handful of executives enjoy yachts and Playboy playmates, tens of millions of Americans barely get by.
In political propaganda, the "useless eaters" are not merely a burden on society and the rich. They are leeches who force honest taxpayers to pay for their many hours of comfortable leisure enjoying life, watching sports events, and fishing in trout streams, while they push around their belongings in grocery baskets or sell their bodies for the next MacDonald burger.
The concentration of wealth and power in the US today is far beyond anything my graduate economic professors could image in the 1960s. At four of the world's best universities that I attended, the opinion was that competition in the free market would prevent great disparities in the distribution of income and wealth. As I was to learn, this belief was based on an ideology, not on reality.
Congress, acting on this erroneous belief in free market perfection, deregulated the US economy in order to create a free market. The immediate consequence was resort to every previous illegal action to monopolize, to commit financial and other fraud, to destroy the productive basis of American consumer incomes, and to redirect income and wealth to the one percent.
The "democratic" Clinton administration, like the Bush and Obama administrations, was suborned by free market ideology. The Clinton sell-outs to Big Money essentially abolished Aid to Families with Dependent Children. But this sell-out of struggling Americans was not enough to satisfy the Republican Party. Mitt Romney and Paul Ryan want to cut or abolish every program that cushions poverty-stricken Americans from starvation and homelessness.
Republicans claim that the only reason Americans are in need is because the government uses taxpayers' money to subsidize Americans who are unwilling to work. As Republicans see it, while we hard-workers sacrifice our leisure and time with our families, the welfare rabble enjoy the leisure that our tax dollars provide them.
This cock-eyed belief, on top of corporate CEOs maximizing their incomes by offshoring the middle class jobs of millions of Americans, has left Americans in poverty and cities, counties, states, and the federal government without a tax base, resulting in bankruptcies at the state and local level and massive budget deficits at the federal level that threaten the value of the dollar and its role as reserve currency.
The economic destruction of America benefitted the mega-rich with multi-billions of dollars with which to enjoy life and its high-priced accompaniments wherever the mega-rich wish. Meanwhile, away from the French Rivera, Homeland Security is collecting sufficient ammunition to keep dispossessed Americans under control.
Source: Paul Craig Roberts
Remarkably, this Ramadan holiday season in Lebanon designees from both the Shia Higher Islamic Shiites Council and the Sunni Dar el Fatwa, figuratively speaking, pointed their binoculars deep into the eastern sky and in almost unheard of unison, proclaimed that Eid al Fitr this year was to be August 19th.  It was a good omen for many in Lebanon that Shia and Sunni religious leaders agreed of this important event given the internal and external forces at work to further divide the two main denominations of Islam as well as all of Lebanon by sect, confession, geography, region, tribe, clan and neighborhood.
It was also good news for Palestinians living in places like Finland which these days have approximately 20 hours per day of sunlight and many devout Muslims have very long fasts. Mercifully, a majority of Muslims far up North tend to adopt the mere sixteen hours of daylight for seyam (fasting) using Mecca hours for dawn to dusk days without, food, water, sex, or smoking as well as avoiding bad thoughts or acts of incivility as they test and renew their devotion to Islam while engaging in introspective struggle self-criticism.
During the three day Al Fitr holiday, much of Muslim Lebanon becomes less active and many businesses close including Lebanon's largest wholesale fruit and vegetable market which borders Shatila Palestinian refugee camp. Just before closing time on Eid eve, this observer entered the vast produce market now run mainly by Shia who buy agriculture products from Bekaa Valley and southern farmers (minus one of Lebanon's oldest and most important crops, Hashish or " Lebanese Red Bud" as it's known in Amsterdam smoke cafes and elsewhere). With little refrigeration, many of the wholesalers next to Shatila dumped, in time for Iftar and Eid feasts, large quantities of really fine produce at a designated corner of the ten acre market. They have been doing this for more than three years ever since the Palestine Civil Rights Campaign was lucky enough to convince the owners to dump their leftovers or soon to spoil fruit and vegetables in the southeast corner bordering Shatila camp. As a result of this charitable cross-denomination act, rather than disposing of the extra produce in dumpsters, Palestinian refugee families are given the much appreciated chance to collect free produce for their families.  Every day, men women and children from Shatila camp, as well as poor Lebanese and Syrian workers can be seen climbing over and thru hewn holes in the cinderblock wall bordering Shatila and gathering really excellent produce.  This basic humanitarian gesture is an example of how the Shia can, and do, reach out to the largely Sunni Palestinian community. Cross-confessional gestures such as this are among the reasons Palestinians in Lebanon support Hezbollah and the growing regional and international Resistance it leads.
Eid al Fita also coincides  this year with International Quds Day which was introduced from Iran in 1979  by Ayatollah Khomeini  and  which is commemorated on the last Friday of Ramadan,expressing solidarity with the Palestinian people and opposing Zionism and Israel's control of Jerusalem.
In Lebanon's refugee camps this Eid Al Fitr holiday season there is intense heat, little electricity or drinking water, and a paucity of fresh air or breeze available to the jammed populations.  Ein el Helwe, the largest of Lebanon's 12 camps which according to the most recent UNWRA statistics houses 47,500 refugees but in reality now is home to more than 100,000. They like their fellow countrymen temporarily in Lebanon, have few reasons to celebrate.  The competition for breathing space has increased as the camps populations have swelled even more with refugees fleeing the violence in Syria.
This year there are fewer sweets for the children, less food, not many gifts or new clothes and few flowers to place on the graves of deceased love ones, a gesture by custom made during traditional Eid Al Fitr cemetery visits.  In the tightly packed Palestinian cemeteries, of which they are only four in Lebanon, sometimes as many as five layers of bodies are buried on top of one another  due to lack of space.
There is another anniversary that coincides in Lebanon this year with Eid al Fitr and with International Al Quds day but it's no occasion for joy among the Palestinian refugees in Lebanon.
It is the second anniversary of the August 17, 2010 amendment to article 59 of the Lebanese Labor Law which constituted a betrayal of Palestinian refugees by Lebanese politicians.  Before the vote, across the political spectrum were heard promises to enact legislation granting the elementary civil rights to work and to own a home in Lebanon. This country is the only one on earth that denies Palestinian refugees the basic right to work or even to own a home.
The legislation passed was simply a cruel hoax and has not facilitated one Palestinian refugee obtaining a job over the past 24 months. The amendment, while waiving work permit fees which were never a serious problem in obtaining a work permit, left in place numerous restrictions and catch-22 Kafqesque barriers that previously blocked Palestinians from being able to work. Parliament also left in place the racist 2001 law which outlawed any Palestinian from owning a home.
Ministers of Labor over the past two years have willfully failed to implement the new law, such as it is, by refusing the simple act of signing implementation papers. Less than two months ago a Palestinian delegation was promised yet again that a majority party in Parliament would see to it that the Minister of Labor did his job as mandated by the Lebanese constitution. Once more nothing was done.  On this second anniversary of the fake "Palestinian work permit legislation"  most Lebanese politicians who made so many promises to this observer and others  over the past four years to comply with international and Lebanese law and grant basic civil rights to Palestinians in Lebanon remain asleep on this issue.
Nevertheless, the hope of Palestinian refugees to achieve the basic civil right to work and to own a home is not extinguished in the camps this holiday season by the impotence of Lebanon's big talk but do nothing Parliament. One reason for hope comes from the voices of people like Miss Hiba Hajj, a Palestinian princess living in Ein el Helwe camp.  This observer visited with her recently after sneaking into Ein el Helwe camp thru that smelly claustrophobic 30 inch, heavily trafficked sewer conduit at the eastern edge of the camp. The US Embassy here made crawling through the sewer line sort of obligatory for Americans wanting to visit Ein el Helwe camp ever since it directed the Lebanese Armed Force (LAF) not to grant Americans permission to enter the camp out of presumed, but misplaced, concern for their wellbeing.  It was Hiba ("gift from God" in Arabic), then a youngster of 14 years, who proclaimed three years ago when she volunteered to help achieve the right to work and home ownership for "my people" as she referred to them, stated to this observer and friends: "Failure is not an option for the Palestine Civil Rights Campaign, our only choice is success."  And so it remains.
While the most elementary civil rights still have not been granted, Hiba continues to inspire us all with her rapid, charismatic and at times mesmerizing speech outlining what needs to be done and how to do it to achieve dignity for her fellow refugees.  This blooming seventeen year old Jean d'Arc, has zero problem smacking around, verbally at least, some of the toughest looking unkempt wannebe  salafists and jahadists from the eight Islamist groups who periodically show up in Ein el Helwe.  Hiba explains that she definitely wants the help of Usbat al-Ansar, who earlier this month helped resolve the traffic blocking sit-in by the controversial preacher, Sheikh Ahmad Assir in nearby Saida, but she demurs from the fictitious Jund al-Sham, or gangs who claim a spot under the imaginary loose cloak of al-Qaeda.
"I want you to do something worthwhile with your lives so we can get back to Palestine without more delay! Do you want to spend your lives in Lebanon? It's not and will never be our country!" she scolds them as she asks for help to organize a major intifada here in Lebanon to prevent another anniversary from passing without Palestinian refugees attaining the civil rights to work and to own a home.
Hiba is encouraged this holiday season despite the failures of  Lebanon's political parties, international activists, the international community "so very concerned with humanitarian values!" as she lectures her mates, and most especially the failure to date of groups here in Lebanon including the Palestine Civil Rights Campaign to achieve our goals.
This remarkable youngster idealistically reminds her coterie of likeminded teens of last week's words of Hezbollah's Secretary-General who she and her friends admire, trust, and believe.
During his International Al-Quds Day speech, Hassan Nasrallah stated that Imam Khomeini`s declaration of  Al-Quds Day falls within the context of a long continuum of religious and political commitment to "the sacred cause of Palestine" and  that Al-Quds Day  should not be simply a seasonal occasion  to support  the Palestinian people.
Hezbollah's Secretary-General added,
"Unfortunately, today the suffering of the Palestinian people (Hiba thinks he also means within Lebanon's camps)  has become secondary and just ordinary news items in the Arab and Islamic world, even in the entire world which claims to be civilized, the news has become second row even late news. Today, the nation can do much for Palestine and its people. At the very least, the rulers can themselves stop blockading the Palestinians before asking them to assist in lifting the siege off the Palestinians. A Part of the blockade suffered by the Palestinian people is practiced by some Arab regimes. This embargo must be lifted and support must be submitted".
Hiba and her friends interpreted these words to mean Hezbollah will use its power in Parliament and finally grant them the right to work in Lebanon thus delivering to them a less bleak future.  Palestinians in Lebanon, and their international supporters, are acutely aware that Hezbollah still holds majority power in Parliament and will do so at least until next year's Parliamentary elections if they are even held which to this observer appears doubtful.
Hiba particularly liked Hezbollah's Secretary-General's  words which she quoted: "We must help the Palestinians towards this cause to uphold the right of return and to refuse any resettlement as well as to reject assimilation in any country as is happening through their forced migration to countries in Latin America, Europe, Australia and others."
Members of Parliament who support this country granting the right to work and to own a home to Palestinians insist that if the political decision is made by the Parliamentary majority led by Hezbollah, the necessary legislation, still in the legislative hopper from two years ago, can be enacted in an afternoon.
Hiba and Hezbollah's other supporters who share Sayed Hassan Nasrallah's oft expressed views demanding basic human rights for Palestinians in Lebanon believe that the Resistance block will, on this 30th anniversary of the massacre at Sabra-Shatila, finally act on what the late Imam Khomeini declared was  a central "moral, religious, and political" obligation of all people of good will.
And other tales of an empire gone mad…
Afghanistan in the 1980s and 90s … Bosnia and Kosovo in the 1990s … Libya 2011 … Syria 2012 … In military conflicts in each of these countries the United States and al Qaeda (or one of its associates) have been on the same side. 1
What does this tell us about the United States' "War On Terrorism"?
Regime change has been the American goal on each occasion: overthrowing communists (or "communists"), Serbians, Slobodan Milosevic, Moammar Gaddafi, Bashar al-Assad … all heretics or infidels, all non-believers in the empire, all inconvenient to the empire.
Why, if the enemy is Islamic terrorism, has the United States invested so much blood and treasure against the PLO, Iraq, and Libya, and now Syria, all mideast secular governments?
Why are Washington's closest Arab allies in the Middle East the Islamic governments of Saudi Arabia, Qatar, Kuwait, Jordan, and Bahrain? Bahrain being the home of an American naval base; Saudi Arabia and Qatar being conduits to transfer arms to the Syrian rebels.
Why, if democracy means anything to the United States are these same close allies in the Middle East all monarchies?
Why, if the enemy is Islamic terrorism, did the United States shepherd Kosovo — 90% Islamist and perhaps the most gangsterish government in the world — to unilaterally declare independence from Serbia in 2008, an independence so illegitimate and artificial that the majority of the world's nations still have not recognized it?
Why — since Kosovo's ruling Kosovo Liberation Army (KLA) have been known for their trafficking in women, heroin, and human body parts (sic) — has the United States been pushing for Kosovo's membership in NATO and the European Union? (Just what the EU needs: another economic basket case.) Between 1998 and 2002, the KLA appeared on the State Department terrorist list, remaining there until the United States decided to make them an ally, due in no small part to the existence of a major American military base in Kosovo, Camp Bondsteel, well situated in relation to planned international oil and gas pipelines coming from the vast landlocked Caspian Sea area to Europe. In November 2005, following a visit to Bondsteel, Alvaro Gil-Robles, the human rights envoy of the Council of Europe, described the camp as a "smaller version of Guantánamo". 2
Why, if the enemy is Islamic terrorism, did the United States pave the way to power for the Libyan Islamic rebels, who at this very moment are killing other Libyans in order to institute a more fundamentalist Islamic state?
Why do American officials speak endlessly about human rights, yet fully support the Libyan Islamic rebels despite the fact that Doctors Without Borders suspended its work in prisons in the Islamic-rebel city of Misurata because torture was so rampant that some detainees were brought for care only to make them fit for further interrogation? 3
Why is the United States supporting Islamic Terrorists in Libya and Syria who are persecuting Christians?
And why, if the enemy is Islamic terrorism, did US Ambassador to the UN, Susan Rice — who daily attacks the Syrian government on moral grounds — not condemn the assassination of four Syrian high officials on July 18, in all likelihood carried out by al Qaeda types? RT, the Russian television channel broadcast in various parts of the United States, noted her silence in this matter. Does anyone know of any American media that did the same?
So, if you want to understand this thing called United States foreign policy … forget about the War on Terrorism, forget about September 11, forget about democracy, forget about freedom, forget about human rights, forget about religion, forget about the people of Libya and Syria … keep your eyes on the prize … Whatever advances American global domination. Whatever suits their goals at the moment. There is no moral factor built into the DNA of US foreign policy.
Bring back the guillotine
In July, the Canadian corporation Enbridge, Inc. announced that one of its pipelines had leaked and spilled an estimated 1,200 barrels of crude oil in a field in Wisconsin. Two years ago, an Enbridge pipeline spilled more than 19,000 barrels in Michigan. The Michigan spill affected more than 50 kilometers of waterways and wetlands and about 320 people reported medical symptoms from crude oil exposure. The US National Transportation Safety Board said that at $800 million it was the costliest onshore spill cleanup in the nation's history. The NTSB found that Enbridge knew of a defect in the pipeline five years before it burst. According to Enbridge's own reports, the company had 800 spills between 1999 and 2010, releasing close to 7 million gallons of crude oil. 4
No executive or other employee of Enbridge has been charged with any kind of crime. How many environmental murderers of modern times have been punished?
During a period of a few years beginning around 2007, several thousand employees of stock brokers, banks, mortgage companies, insurance companies, credit-rating agencies, and other financial institutions, mainly in New York, had great fun getting obscenely rich while creating and playing with pieces of paper known by names like derivatives, collateralized debt obligations, index funds, credit default swaps, structured investment vehicles, subprime mortgages, and other exotic terms, for which, it must be kept in mind, there had been no public need or demand. The result has been a severe depression, seriously hurting hundreds of millions of lives in the United States and abroad.
No employee of any of these companies has seen the inside of a prison cell for playing such games with our happiness.
For more than half a century members of the United States foreign policy and military establishments have compiled a record of war crimes and crimes against humanity that the infamous beasts and butchers of history could only envy.
Not a single one of these American officials has come any closer to a proper judgment than going to see the movie "Judgment at Nuremberg".
Yet, we live in the United States of Punishment for countless other criminal types; more than two million presently rotting their lives away. No other society comes even close to this, no matter how the statistics are calculated. And many of those in American prisons are there for victimless crimes.
On the other hand, we see the Chinese sentencing their citizens to lengthy prison terms, even execution, for environmental crimes.
We have an Iranian court recently trying 39 people for a $2.6 billion bank loan embezzlement carried out by individuals close to the political elite or with their assent. Of the 39 people tried, four were sentenced to hang, two to life in prison, and others received terms of up to 25 years; in addition to prison time, some were sentenced to flogging, ordered to pay fines, and banned from government jobs. 5
And in Argentina in early July, in the latest of a long series of trials of former Argentine officials, former dictator Jorge Rafael Videla was convicted and sentenced to 50 years for a systematic plan to steal babies from women prisoners who were kidnapped, tortured and killed during the military junta's war on leftist dissenters — the "dirty war" of 1976-83 that claimed 13,000 victims. Many of the women had "disappeared" shortly after giving birth. Argentina's last dictator, Reynaldo Bignone, was also convicted and got 15 years. Outside the courthouse a jubilant crowd watched on a big screen and cheered each sentence. 6
As an American, how I envy the Argentines. Get the big screen ready for The Mall in Washington. We'll have showings of the trials of the Bushes and Cheney and Rumsfeld and Obama. And Henry Kissinger, a strong supporter of the Argentine junta among his many contributions to making the world a better place. And let's not forget the executives of Goldman Sachs, JP Morgan, Bank of America, and Enbridge, Inc. Fining them just money is pointless. We have to fine them years, lots of them.
Without imprisoning these people, nothing will change. That's become a cliché, but we very well see what continues to happen without imprisonment. And it's steadily getting worse, financially and imperially.
Items of interest from a journal I've kept for 40 years, part VII
Bantustanning the aboriginals all over the world: The Indians in America, the aboriginals in Australia, the blacks in South Africa, and the Palestinians in Palestine.
From 1966 tape of President Lyndon Johnson: "I know we oughtn't to be there [in Vietnam], but I can't get out." And he never did. And thousands more troops would die before Johnson left office. (Washington Post, March 12, 2006)
The Germans had Lebensraum. Americans had Manifest Destiny.
chinks, gooks, wogs, towelheads, ragheads — some of the charming terms used by American soldiers to describe their foes in Asia and the Middle East
In June, 2005, Cong. Duncan Hunter (Rep.-CA) held a news conference concerning Guantánamo. Displaying some tasty traditional meals, he said the government spends $12 a day for food for each prisoner. "So the point is that the inmates in Guantánamo have never eaten better, they've never been treated better, and they've never been more comfortable in their lives than in this situation." (Scripps Howard News Service, June 28, 2005, Reg Henry column)
Vice President Dick Cheney: Guantánamo prisoners are well treated. "They're living in the tropics. They're well fed. They've got everything they could possibly want." (CNN.com, June 23, 2005)
"[Defense Secretary Donald] Rumsfeld said Guantánamo's operations have been more open to scrutiny than any military detention facility in history." (Associated Press, June 14, 2005)
"Their 'coalition of the willing' [in Iraq] meant the US, Britain, and the equivalent of a child's imaginary friends." Paul Loeb, Truthout, June 16, 2005
Nobody has ever suggested that Serbia attacked or was preparing to attack a member of NATO, and that is the only event which justifies a military reaction under the NATO treaty, such as the 1999 78-day bombing of Serbia.
Rumsfeld re Chinese military buildup: "Since no nation threatens China, one wonders: Why this growing investment?" (New York Times, June 6, 2005
Rumsfeld re Venezuelan major weapons buildup: "I don't know of anyone threatening Venezuela, anyone in this hemisphere." (Washington Post, October 3, 2006) [Is it possible that the response to both points raised is the same? A country in North America bordering on Mexico?]
The failure of the United Nations — as an institution and its individual members — to unequivocally oppose and prevent the United States invasion of Iraq in 2003 can well be called "appeasement".
The Iraqi Kurds generally sided with Iran during the 1981-88 Iraq-Iran war; helped the United States before and during its bombing of Iraq in 2003 and during its occupation; and most Kurds don't identify with being Iraqi according to polls.
One of the military judges at Guantánamo said: "I don't care about international law. I don't want to hear the words 'international law' again. We are not concerned with international law." (Democracy Now, April 12, 2005)
George W. Bush, re al Qaeda types: "Iraqis are sick of foreign people coming in their country and trying to destabilize their country. And we will help them rid Iraq of these killers." (Baltimore Sun, May 6, 2004)
"I think all foreigners should stop interfering in the internal affairs of Iraq. Those who want to come and help are welcome. Those who come to interfere and destroy are not." Paul Wolfowitz, Deputy Secretary of Defense and unindicted war criminal (Chicago Tribune, July 22, 2003)
Timothy McVeigh, Gulf War veteran who bombed a government building in Oklahoma City in 1995, killing 168 people: "What occurred in Oklahoma City was no different than what Americans rain on the heads of others all the time … The bombing of the Murrah building was not personal, no more than when Air Force, Army, Navy or Marine personnel bomb or launch cruise missiles against government installations and their personnel. … Many foreign nations and peoples hate Americans for the very reasons most Americans loathe me. Think about that." (McVeigh's letter to and interview with Rita Cosby, Fox News Correspondent, April 27 2001)
Douglas Feith, Under Secretary of Defense for Policy and unindicted war criminal: "Defense Department officials don't lie to the public. … The Defense Department doesn't do covert action, period." (Washington Post, February 21, 2002)
The United States will "deal promptly and properly with the terrible abuses" of Iraqi prisoners by U.S. soldiers. "No country in the world upholds the Geneva Conventions on the laws of armed conflict more steadfastly than does the United States." Douglas Feith, Boston Globe, May 5, 2004
"The State Department plans to delay the release of a human rights report that was due out today, partly because of sensitivities over the prison abuse scandal in Iraq, U.S. officials said. One official who asked not to be identified said the release of the report, which describes actions taken by the U.S. government to encourage respect for human rights by other nations, could 'make us look hypocritical'." (Los Angeles Times, May 5, 2004)
In the decades after 1945, as colonial possessions became independent states, it was widely believed that imperialism as a historical phenomenon was coming to an end. However, a new form of imperialism was in fact taking shape, an imperialism not defined by colonial rule but by the global capitalist market. From the outset, the dominant power in this imperialism without colonies was the United States.
Francis Boyle re the capture and public display of Saddam Hussein: "This is the 21st century equivalent of the Roman Emperor parading the defeated barbarian king before the assembled masses so that they might all shout in unison: Hail Caesar!"
The US-provided textbooks in Nicaragua after the US-instigated defeat of the Sandinistas in 1990 carefully excluded all mention of Augustino Sandino as a national hero. (Z magazine, November, 1991)
"Col. David Hogg, commander of the 2nd Brigade of the 4th Infantry Division, said tougher methods are being used to gather the intelligence. On Wednesday night, he said, his troops picked up the wife and daughter of an Iraqi lieutenant general. They left a note: 'If you want your family released, turn yourself in.' Such tactics are justified, he said, because, 'It's an intelligence operation with detainees, and these people have info.' They would have been released in due course, he added later. The tactic worked. On Friday, Hogg said, the lieutenant general appeared at the front gate of the U.S. base and surrendered." (Washington Post, July 28, 2003) [This is illegal under international law; in ordinary parlance we'd call it a kidnapping with ransom; in war, it's the collective punishment of civilians and is forbidden under the Geneva Convention]
"Never forget that everything Hitler did in Germany was legal." — Martin Luther King, Jr.
"Americans, who up until now had been so valued for their pragmatism, have become ideologues, 'Bolsheviks' of the Right, as Daniel Cohn-Bendit once described them." (Jean-Marcel Bouguereau, concerning Iraq, Le Nouvel Observateur, September 8, 2003)
Six months after its invasion of Iraq, the Bush administration defended its policy on the basis of schools and hospitals opening and strides made in providing water and electricity. (Washington Post, September 25, 2003) — These are all things 12 years of US bombing and sanctions had destroyed.
Notes
For a summary of much of this, see: Peter Dale Scott, "Bosnia, Kosovo, and Now Libya: The Human Costs of Washington's Ongoing Collusion With Terrorists", The Asia-Pacific Journal: Japan Focus, August 7, 2011 ↩
Washington Post, January 27, 2012 ↩
Enbridge entry on Wikipedia; Washington Post, July 29, 2012↩
Reuters, July 31, 2012 ↩
Associated Press, July 6, 2012 ↩