With the approval vote in the United Nation Security Council of the P5 + 1 Iranian agreement, a smorgasbord of eager trading partners claw themselves out of the woodwork. The liquid black gold rush is on. With the rescinding of sanctions put into motion, over time the wheels of commerce will be put back on track. No matter what the U.S. Congress does, the flood from international trade will start making deals with Iran.
A sample of some of these activities follows:
1) Even before sanctions are lifted, foreign investors try to tap into Iran
"Multinational mobile phone companies, car makers and hospitality firms are seen as the most primed to benefit from the lifting of sanctions.
Bank of America Merrill Lynch said it sees Turkey and the United Arab Emirates as likely beneficiaries from Iranian foreign trade, which could increase to $200 billion by 2020 from $80 billion now."
2) Corporate winners from the nuclear agreement
"Citi Research analyst Chris Wetherbee said the opening of Iran is a "net positive" for international tanker firms, because Iran's aging fleet won't be able to compete, and more energy supplies will be on the market."
"All of the major banking institutions in the industrial world will try to finance and facilitate increased trade with Iran," Christopher Whalen, senior managing director at Kroll Bond Rating Agency, told CNBC. "It's a big country, (and) they are very Western-focused. Iranians are consumers of everything. You can anticipate anything from industrial equipment to consumer products will definitely be bought, and will definitely be financed."
3) Lifting of Iran sanctions positive for Indian oil refiners: India Ratings
"Lower crude oil prices following the Iran nuclear deal will contribute positively to the Indian economy, across the oil and gas value chain barring domestic upstream players, India Ratings and Research has said.
A decline in oil prices could lower LNG (liquefied natural gas) prices and this is likely to benefit end-consumer industries such as fertilizer and petrochemicals, it said."
4) Pakistan Hopes to Benefit from Iran Deal, With Chinese Help
"Now, with the prospect of sanctions on Iran lifting in the near future, Pakistan is hoping to become one of the early beneficiaries of a nuclear deal between Iran and six world powers by finally completing the Iran-Pakistan pipeline.
But funding for the expensive project, expected to cost about $2 billion, is another problem for cash-strapped Pakistan.   That is why it is trying to piggyback this project on another one funded mostly by its rich neighbor, China.
China will provide 85 percent of the $2 billion required to build a liquid natural gas terminal at Pakistan's southern port city Gwadar.  The project includes a 700 kilometer long pipeline to other areas of the country."
5) Russia may benefit most from West's agreement with Iran
"Washington will live to regret this decision as its once greatest allies in the region, Saudi Arabia, Qatar, the United Arab Emirates, as well as Egypt and even Turkey, start to feel as though they were betrayed by the United States.
Looking to counter what the Gulf Arabs perceive as a genuine threat, logic dictates they are likely to turn to Russia for a fresh alliance and to help them counter the Iranian threat."
6) Lifting of sanctions brings hopes for Iran Air fleet frozen in time
"Trapped in isolation with outdated planes, Iran Air – a carrier dragged down by decades of economic restrictions – finally felt a gust of hope last week thanks to the international nuclear accord and a potential lifting of sanctions.
Once the deal is implemented, the Islamic republic will be able to replace its vintage aircraft, some of which are almost 30 years old."
All these examples share in a common interest that comes from commerce. Nonetheless, buying and selling is seldom a strict barter arrangement. The banking system and currency conversion for payment and settlement becomes a necessary component. The lifting of sanctions is really reducible to reestablishing the financial clearing function.
While the creation of the BRICS trading block provides a workable competing opportunity for Iran to engage, the necessity to transact with Western companies becomes obvious.
Replacement of an airline fleet means buying from Western companies like Boeing and Airbus.  Hoping that Russia or China would be able to construct an alternative is just not practical.
The Asian ship builders like South Korea may be looking for future tanker orders, since competitive fabrication companies are producing the most functional naval transports.
Finally, the consumer electronic sector sees the Iranian market as a prime target long restricted from all the gadgets that facilitate global communication.
The United States will lag behind most other countries from trading with Iran for a simple reason. Iranian unwelcoming attitudes towards America will translate into doing business with anyone but the Yankee devil, whenever possible.
While Iranian youth may be far more open to reinstituting commercial relations with America, the political regime holds fast to fighting the imperial globalization of Western corporatism.
In order to grease the gears of advantageous international commerce, the energy sector will still lead an Iranian economic reintegration. Marking the difference between mutually beneficial business transactions from corporatist exploration and plunder of natural resources, should be the task for going forward.
Set aside the politics of the neo-feudalism version of 21st colonialism and reopen the prospects of reducing tension and hatred by abolishing sanctions as a destructive tool for foreign policy.
All sincere parties benefit and profit from cordial business relations. Iran's desire to have sanctions eliminated offers hope that better relationships and positive interaction can progress.
The overwhelming approval of foreign nations to break the embargo of NeoCon "axis of evil" propaganda demonstrates that promoting "good business" is preferable to detrimental isolation and damaging hostilities.
The proper standard to adopt was established by George Washington in his Farewell Address.
"Harmony, liberal intercourse with all nations, are recommended by policy, humanity, and interest. But even our commercial policy should hold an equal and impartial hand; neither seeking nor granting exclusive favors or preferences; consulting the natural course of things; diffusing and diversifying by gentle means the streams of commerce, but forcing nothing; establishing (with powers so disposed, in order to give trade a stable course, to define the rights of our merchants, and to enable the government to support them) conventional rules of intercourse, the best that present circumstances and mutual opinion will permit, but temporary, and liable to be from time to time abandoned or varied, as experience and circumstances shall dictate; constantly keeping in view that it is folly in one nation to look for disinterested favors from another; that it must pay with a portion of its independence for whatever it may accept under that character; that, by such acceptance, it may place itself in the condition of having given equivalents for nominal favors, and yet of being reproached with ingratitude for not giving more. There can be no greater error than to expect or calculate upon real favors from nation to nation. It is an illusion, which experience must cure, which a just pride ought to discard."
Sanctions violate "conventional rules of intercourse". International affairs never remain constant. Notwithstanding, the wisdom of President Washington, the current political and economic culture is hell bent on breaking the rules for favorable commerce.  Resumed trade with Iran will offer a positive opportunity to lower the antagonistic tension and restart rehabilitative dialogue.
The world is out of control. Well, that seems to be the reaction to the populist. However, for the New World Order, all systems are a go and the ability to manipulate governments is vivid evidence that a global authoritarian force is the actual ruler over the planet. Most people deny this assessment and are fearful to come to grips with the significance that nations no longer matter. The path to domination by Luciferian Technocrats Rule the New World Order is the operative principle underlying social cultures, international affairs and economic activities.
The historic organizational structure of the nation state is in serious decline and verges on extinction in many places. The facade on a map or a vote in a plebiscite exemplifies the lack of real power flowing from the will of the people. Chalk up another casualty in the war against self-determination.
Prof Michel Chossudovsky explains the monetary tactics used for controlling rowdy dissent. The article, Prime Minister Tsipras ' Bailout Reform Package: An Act of Treason against the Greek People, reveals the method.
"What must be understood is that creditors are not necessarily strung on outright reimbursement of sovereign debt. Quite the opposite. Their objective is to make the debt go up through so-called debt rescheduling, which essentially allows them to lend more money to the debtor. This new money then facilitates the process of debt servicing. "We will lend you the money and with the money we lend you, you will pay us back." New loans to pay back old debts.

This procedure has been routinely applied as part of the IMF-World Bank structural adjustment program (SAP) for more than thirty years. The debt burden goes up. The country is increasingly in a straightjacket. The creditors call the shots on macro-economic reform."
So when the Greeks capitulate to austerity and external monitoring to after 17 hours of late night talks end in 'a-Greek-ment', the preeminence of international finance is reaffirmed.
"The Greek PM has this morning defended last night's basis for an agreement, arguing that he managed to resist measures that would have led to a collapse of the banking system."
Note that the objective for the preservation of the banking system was not concerned with keeping Greece functioning, but to guarding the bulwarks of the Rothschild world of a central banking system. This same game plays out in every corner and crack of finance, but now the focus has shifted to commandeer the sovereign debt obligations of every bankrupt regime in trouble.
The video Greece #ThisIsACoup: Banksters Seize Sovereignty & Assets explains exactly what just took place.
When debt created money is created as an accounting entry in the ledgers of a lending banking institution, the risk of recovering future interest payments evaporate since new money will simply be made available for the ubiquitous roll over.
This scheme should be well understood. Nonetheless, the consensus of establishment administrators and gatekeepers ignore or outright deny that the formula for compliance far surpasses lawyerly contracts and pledged collateral.
The basis for a proper understanding of the NWO is to gain the insight that the entire planet operates under the demands and threats streaming out of a Nefarious Warrior Organism.
A state of permanent war is indispensible for global conquest. Applying conditions and instances of instability is essential to force a chaotic volatility upon factions that resist the monocracy of planetary dominance.
Keep the countries in the neo-colonial system docile or instill a perpetual bedlam that destabilizes the very core of the society.
The price for an armistice is defined by the IMF and World Bank. Stripe the assets of the disgruntled masses and requires homage to accompany the repayment funds as the price for temporary relief.
The malicious nature of greater imposed governance, adopts all the brutal properties of an evolving tyrannical mechanism. The trend escalates to inflict higher levels of intrusion, demands and severe penalties for non-compliance.
Examining the organic evolution of the Nefarious Warrior Organism may seem futile since the actual results of this anti-human structure are so obvious for any thinking person to see. However, dismissing the evil character of the New World Order provides ample fuel to spread and grow the reach of the monster.
If resisting evil is not part of your own ethical universe, there is no hope for your salvation. One of the most destructive characteristics of a failed society is the rejection of time honored moral commandments.
Now a commandment is often associated with the Mosaic Law in Exodus 20:1-17, and then at Deuteronomy 5:4-21. Yet, one need not be a believer to comprehend that any commandment, civil or spiritual is based upon some authority.
Within the annals of Western Civilization, usually a Caesar or a Church claimed the authority to define the rules. Now this model of organization is being eliminated in a methodical process of de-constructing traditional human culture. Society is degrading into a global gulag based upon debasing the sacred nature of life itself.
Agents for the Nefarious Warrior Organism will employ any means useful to the further disintegration of independent and individual autonomy. Since this assault on basic humanity has a villainous record, it would be valuable to review The Mattoid Syndrome by Archibald E. Roberts.
This argument and supporting evidence has been made available for decades. However, few are willing or bold enough to confront the global tyrants. The giant leap from a focus on blaming your own government for the decline in social standards and a descent into economic oblivion keeps the discussion confined to class warfare, divide and conquer and political diversion.
The stigma of mass media demonization and smears of being a being labeled a conspiracy theorist, has weak minded and cowards clinging to their muse of justifying their apathy.
However, the greatest contempt is reserved for counterfeit Christians who hang on to their apostate and heresy of scripture. Pastor Chuck Baldwin did seminal work in Romans 13 — Are Christians Required To Submit To Government Edict and Policy 100% of The Time?
"By the same token, a civil magistrate has authority in civil matters, but his authority is limited and defined. Observe that Romans Chapter 13 clearly limits the authority of civil government by strictly defining its purpose: "For rulers are not a terror to good works, but to the evil . . . For he is the minister of God to thee for good . . . for he is the minister of God, a revenger to execute wrath upon him that doeth evil."

Notice that civil government must not be a "terror to good works." It has no power or authority to terrorize good works or good people. God never gave it that authority. And any government that oversteps that divine boundary has no divine authority or protection.

Civil government is a "minister of God to thee for good." It is a not a minister of God for evil. Civil magistrates have a divine duty to "execute wrath upon him that doeth evil." They have no authority to execute wrath upon him that doeth good. None. Zilch. Zero. And anyone who says they do is lying."
Now expand this view of limited civil authority as a restrain on any particular government and seek a proper understanding that the very concept of a global governance conflicts with the reality that supreme authority is embodied in divine providence.
The essay, Can a moral revival happen where God is dead?, asks an existential question. When non believers multiply and dismiss Almighty revelations, the Satanic Nefarious Warrior Organism exerts temporary domination.
Obedience to NWO governance intended to end national sovereignty and dehumanize individuals is the ultimate transgression.
Multiply all the crazed Agenda 21 initiatives, fabricated foreign involvements, international governance and top down control of global affairs is demonic in its essence.
Those who have doubts that God will intercede to defeat the juggernaut of world diabolic slavery should pause and reflect by what other power is possible to defeat the Nefarious Warrior Organism?
History is replete of caustic empire madmen. What is different today is that the planet is consolidating competing blocs under the configuration of a universal despotism.
Actual dissent is in short supply from institutions, politicians and corporations. The system is closer to total mastery because most individuals will just accept their enslavement in the normal course of living their lives.
Regrettably, such people have done little to gain respect from their fellow man.
Politics is inescapable, yet most "citizens of the world" lack the fortitude to become heroes to humanity. With the EU bailout of Greece, the 300 Spartans died at Thermopylae in vain. The Nefarious Warrior Organism won this battle and the prospects for Western society has devolved into the depths of Hades.
The face of the devil wears a designer bankster suit. Start the countdown, the path to the Apocalypse has just moved closer. The necessary moral response is total resistance.
There's been a virtual blackout of news from this year's seventh annual BRICS summit in Ufa, Russia.  None of the mainstream media organizations are covering the meetings or making any attempt to explain what's going on.  As a result, the American people remain largely in the dark about a powerful coalition of nations that are putting in place an alternate system that will greatly reduce US influence in the world and end the current era of superpower rule.
Let's cut to the chase: Leaders of the BRICS (Brazil, Russia, India, China and South Africa) realize that global security cannot be entrusted to a country that sees war as a acceptable means for achieving its geopolitical objectives.  They also realize that they won't be able to achieve financial stability as long as Washington dictates the rules, issues the de facto "international" currency, and controls the main levers of global financial power. This is why the BRICS have decided to chart a different course, to gradually break free from the existing Bretton Woods system, and to create parallel system that better serves their own interests. Logically, they have focused on the foundation blocks which support the current US-led system, that is, the institutions from which the United States derives its extraordinary power; the dollar, the US Treasury market, and the IMF. Replace these, the thinking goes, and the indispensable nation becomes just another country struggling to get by.  This is from the Asia Times:
"Leaders of the BRICS… launched the  New Development Bank, which has taken three years of negotiations to bring to fruition. With about $50 billion in starting capital, the bank is expected to start issuing debt to fund infrastructure projects next year. They also launched a foreign-exchange currency fund of $100 billion.

The two new endeavors are statements that the five largest emerging markets are both looking out for each other and, simultaneously, moving away from the western financing institutions of the World Bank and International Monetary Fund.

"The BRICS states intend to actively use their own resources and internal resources for development," Putin said, according to Reuters. "The New (Development) Bank will help finance joint, large-scale projects in transport and energy infrastructure, industrial development."…..Birthing the two initiatives in Russia had been Putin's top priorities."

("Russia's Putin scores points at Ufa BRICS summit", Asia Times)
Can you see what's going on? Putin has figured out the empire's vulnerabilities and he's going straight for the jugular.  He's saying: 'We're going to issue our own debt, we're going to run our own system, we're going to fund our own projects, and we're going to do it all in our own currency. Kaboom. The only thing you're going to be doing, is managing your own accelerating economic decline. Have a good day.' Isn't that the gist of what he's saying?
So can you see, dear reader, why none of this is appearing on the pages of US newspapers or on US television.   Washington would rather you didn't know how they've bungled everything by alienating the fastest growing countries in the world.
The Ufa conference is a watershed moment. While the Pentagon is rapidly moving troops and military hardware to Russia's borders, and one bigwig after another is bloviating about the "Russian threat"; the BRICS have moved out of Washington's orbit altogether.  They are following the leadership of men who, frankly speaking, are acting exactly like US leaders acted when the US was on the upswing. These are guys who "think big"; who want to connect continents with high-speed rail, lift living standards across the board, and transform themselves into manufacturing dynamos. What do America's leaders dream about: Drone warfare? Balancing the budget? Banning the Confederate flag?
It's a joke. No one in Washington has a plan for the future. It's all just political opportunism and posturing.  Check this out from The Hindu:
"China and Russia have described BRICS, the Shanghai Cooperation Organisation (SCO) and the Eurasian Economic Union (EAEU) as the core of a new international order…

Russian President Vladimir Putin said… "There is no doubt — we have all necessary premises to expand the horizons of mutually beneficial cooperation, to join together our raw material resources, human capital and huge consumer markets for a powerful economic spurt."

Russia's Tass news agency also quoted Mr. Putin as saying that the Eurasian continent had vast transit potential. He pointed to "the construction of new efficient transport and logistics chains, in particular, the implementation of the initiative of the Silk Road economic belt and the development of transportation in the eastern part of Russia and Siberia. This may link the rapidly growing markets in Asia and Europe's economies, mature, rich in industrial and technological achievements. At the same time, this will allow our countries to become more commercially viable in the competition for investors, for creating new jobs, for advanced enterprises," he observed."….

The summit also acknowledged "the potential for expanding the use of our national currencies in transactions between the BRICS countries."   ("BRICS, SCO, EAEU can define new world order: China, Russia", The Hindu)
The dollar is toast. The IMF is toast. The US debt market (US Treasuries) is toast.  The institutions that support US power are crumbling before our very eyes. The BRICS have had enough; enough war, enough Wall Street, enough meddling and hypocrisy and austerity and lecturing. This is farewell. Sure, it will take time, but Ufa marks a fundamental change in thinking, a fundamental change in approach, and a fundamental change in strategic orientation.
The BRICS are not coming back,  they're gone for good, just as Washington's "pivot to Asia" is gone for good. There's just too much resistance. Washington has simply overplayed its hand, worn out its welcome. People are sick of us.
Can you blame them?
Greece is the pearl of Mediterranean, the place generations of foreigners from Lord Byron to Graves to Fowles have fallen in love with. From philosophy to feta, from history to yoghurt, from poetry to honey they provided the example to follow. Their priests preserve the pristine faith; their fighters defeated Mussolini; their Helen is the epitome of female beauty. They also make lousy wine called retsina and listen to loud dreadful music called bouzouki so we would temper our Hellenophilia.
Now they have given us another example to follow: how to beat banksters at their own game. The spectacular victory of the Syriza government in Greece at the national referendum was quite unexpected: the polls wavered between an indecisive result and straightforward support of the EU plans around 51:49. However, the Greeks strongly confirmed the mandate of the government. The main problem was and remains the Syriza's resolve and determination.
The ruling party took an unnecessary risk while calling for referendum, for they had already won the elections under their own slogans just a few months ago. This implied their wobbliness, as if they would prefer to lose and pass the hot potato to somebody else. Moreover, they did not try to win the referendum: no campaign for NO, no media coverage of demos for NO. Did they wish to lose or to win with a slightest possible margin? Possibly. The Greek people rejected the stratagem and called upon them to proceed.
Now it is the business of the government to organise a smooth and fast Grexit from the Eurozone and switch to the new Drachma. A really decisive government would leave the EU and NATO, turning the tables completely. Refusing the bailout is good but not enough.
The Greeks were right to reject paying the debts, for these debts were forced upon them by the giant vampire squid, Goldman Sachs, in words of Matt Taibbi. "The first thing you need to know about Goldman Sachs is that it's everywhere. The world's most powerful investment bank is a great vampire squid wrapped around the face of humanity, relentlessly jamming its blood funnel into anything that smells like money". As we now know, Goldman Sachs (you do not have to be an anti-Semite to hate them) cooked the book,s falsely pretending Greece had a high credit rating though they knew of its huge debts. When the debts snowballed, they pulled the rug and collapsed Greece's rating, bailing out banks at the expense of the European taxpayer.
Out of €320 billion, Greece received and used about €20 billion, while the principal sum went to the banksters. Greece could not pay it off: after five years of trying, the country is in worse shape and in deeper debt than it ever was. Austerity has destroyed lives and infrastructure. The bankers planned to sell all Greek assets: harbours, railways, lands; and you can envisage yourself who would buy it. The negotiations between the EU, IMF and Greece were dishonest, explains Ashoka Modyin widely read and technical essay. That's why the Greeks elected the far-left party Syriza and its far-right counterpart INIL to break the rules of the rigged game.
Greece is a small country and it could not take on the whole EU banking and political establishment on its own. Fortunately, there is a country able and willing to help. That is its sister in faith, Russia. Greece for Russia is like Italy for Catholics, like England for the US: the source of culture and religion. The Greek priests had brought their faith to what was to become Russia. Greece and Russia share the same Byzantine legacy. Arnold Toynbee, the British scholar of history, spoke of few European civilisations, some abortive (Far Western and Scandinavian), and two fully developed: Western European, based on the Church of Rome, and Orthodox Christian, based on the Church of Constantinople. Russia and Greece belong to the last one.
The EU is a reincarnation of the Roman Empire and that of Charlemagne. It is at home in France and Germany, but completely foreign for Swedes and Greeks, for Letts and Bulgars, for Ukrainians and Russians. It has over-extended itself and brought huge calamities upon its people and on their neighbours.
Mind you, this is not the first time the people of the West have colonised the Orthodox Christian East: in 1204, they smashed the Byzantine Empire and established their kingdoms and duchies, eventually erased by the Turks. After Greece was restored in 1821, it went back under the Western tutelage, and remained there. In 1945, the Greeks made a heroic effort to liaise with Russia, but Churchill employed the defeated German troops to smash the Greek independence movement and installed his agents in Athens. Soviet Russia did not object much, as under the Yalta agreement Greece was going to the West, while Poland was going to the East. Now the West has both Poland and Greece. The Greeks were frog-marched to NATO and to EU, and they would have remained forever captive but for the bankers' greed.
Russia is the only part of the Byzantine world that remained independent and adhered to its faith. Russia is a natural partner for Greece and its Balkan neighbours. Now Russia can help Greece: by buying its wine, cheese and olives that do not sell well in the West, by sending pilgrims to venerate shrines under its cruel blue sky, by encouraging its industries, by giving its youth a meaning of life beyond caring for German tourists. And the Greeks are fond of Russians, so their sympathies are mutual.
The Syriza party, and its partner ANEL were famous (some would correct it to 'notorious') for their pro-Russian sympathies. However, since they were elected, they began a game of playing Brussels against Moscow, like a young tease who encourages two suitors to keep both in her thrall. The Greek expert and London Lawyer Alexander Merkoulis listed the Russian attempts to help Greece. They offered five billion euros to build a gas pipeline to Greece, and Greece would be able to sell gas to Europe. Miller of Gazprom went to Athens with prepared documents, and came back empty-handed.
Tsipras promised to come to Moscow for the May 9 celebrations, and failed to show up at the last moment. He agreed to extend anti-Russia sanctions while sitting at the St Petersburg forum. This undermined Russian trust. "The Russians must be getting increasingly fed up with someone who repeatedly takes them to the Church door – and then at the last moment runs away", said Merkoulis.
It appears that the Ukraine story has repeated itself. Russia offered huge credits to the Ukraine in 2013, it could buy its industrial output, invigorate its industry and agriculture, but the then President Yanukovych did not dare. He ended in exile, his country ruined; it will take them 20 years to regain the positions they had in 2013, say the EU experts.
Greece is not likely to go for a civil war: they had it in 1945, but the old wounds may reopen. The most pro-Russian area of 1945 insurgency – the Isle of Crete – heavily (75%) voted against the EU in the recent referendum. The Syriza government will try to renegotiate with the IMF and the EU by bluffing them with the Russian alternative. Even if they will get relief, their economy is not likely to come back to normal.
The problem is not Greece, the problem is the EU. This body has a triple purpose. It is (1) a union of bankers against people, (2) a harness with which the US can drive colonised Europe, and (3) a tool for de-industrialisation and de-education of this most developed continent. Under the EU, masses of beggars from Romania and African refugees descend on the North. Under the EU, once-industrial Latvia and Hungary became basket-cases, their high tech moved elsewhere. Under the EU, the social welfare system has been dismantled, while sexual education of children and gender games have gone into a high drive. That is why nations – from Sweden to Italy, from England to Spain – call to break up the union.
Greece would be better off out of the EU. Everybody would. Distressingly, its Minister of Finance Yanis Varoufakis, a stubborn negotiator, a son of 1945 fighter, who could lead his country to freedom, has been dismissed following the referendum. Alexis Tsipras will try to negotiate himself, and he is a smooth operator, say the Greeks.
There is just one problem, that of guts and their lack thereof. Too many leaders hesitate and contemplate instead of acting. We mentioned Yanukovych, but this is a long list of names, beginning with Allende, a man of peace killed in a coup. The leaders that stood up to the vampire squids – from Nasser to Putin – were branded "a new Hitler", but actually managed better. The US always dares: to conquer Panama and Granada, to attack Afghanistan and Iraq, and this daring is a secret of its success.
Still it is too early for despair. The referendum was a victory, and a victory can do wonders even to wet and wobbling leaders. It would be a shame to cast the pearl of Greece to the banker swine.

This is a test. Will the internationalist banksters force extraction of their ill-gotten interest payments to bail out their reckless derivative trades gone wrong, or will a sovereign country abandon the chains of financial elite coercion and renounce their IMF and ECB debt? Make no mistake about it, Greece has lived high on the hog for decades and has serious internal problems. There is no free ride. However, the pain from the coming default is necessary to shed the yoke of a failed European Union construct.
So when Greece Invokes Nuclear Option: Tsipras Calls For Referendum, ordinary peoples in every sector should have a voice if the financial deal being imposed upon Greece must go forward.
Well, is this not novel? Allowing citizens to voice their agreement or disapproval has the financial establishment in a tizzy. PM Tsipras lashes out, and Lew urges a deal reveals that stamping out any rebellion against the banksters orbit of dominating individual countries, covering counter party losses and keeping the debit enslavement system intact.
So when the NYT reports that Cash Withdrawals and Hoarding as Default Looms Over Greece the hysteria hype is simply designed to scare the daylights out of world markets. Drops in equities have not induced panic at this point since only an ostrich did not see the Greek confrontation with the EU coming.
Still, the WSJ warns about the coming consequences in Greece's Banks Give Eurozone Peers Glimpse Into Abyss.
"Greek banks' emergency funding was frozen at €89 billion by the ECB on Sunday, after having been increased by just €1 billion to €2 billion on an almost daily basis in the week until last Wednesday. That suggests the banks have been operating pretty close to the limits of what they can pay depositors."
The world will not come to an end if Greek voters reject the EU blackmail. Quite to the contrary, an ultimate exit from the European Union would provide real relief to a country, which has been extorted to pay, not just their own government obligations, but an arbitrary quota of derivative wagers gone awry from financial institution as referenced in the essay, 'We Are All Greeks'.
"The refusal to write down unpayable debt, by Europe's bankrupt giant banks and governments, is the fundamental reason the economies of the whole European Union have been dead in the water for seven years. Since the 2008 financial crash, these banks have sat with @eu2 trillion of toxic real estate debt on their books, tangled in tens of trillions in derivatives contracts—unable and unwilling to lend into the European economies, through year after year of economic recession and depression. Anything suggesting bank reorganization to deal with these dead debt securities under Glass-Steagall principles, has been refused, and Europe's bankrupt megabanks lie, like undead monsters, blocking the road to productive credit, investment, and recovery."
Entering the picture is an option that the EU technocrats are hardly equipped to handle. Bring on the default because Russia appears to extend aid hand to Greece.
"We will support any solution on regulating the Greek debt crisis that is suggested by Greece and our European partners," Russian Deputy Prime Minister Arkady Dvorkovich said, according to the state-run TASS news agency. "The most important things for us are investment projects and trade with Greece. If financial support is required, we will consider this question."

Russian President Vladimir Putin's office also said Friday that Russia would consider giving loans to Greece, adding such aid should be considered par for the course for countries that are partners. Putin's office stressed Greece has not yet formally asked for any financial assistance from Moscow."
There is life after a Grexit. The prospect of Greece not only leaving the EU but withdrawing from NATO should have the Brussels New World Order elites taking pause. Imagine the Russian Bear gaining a Mediterranean port as the Greek duly elected regime opts out of the imperial club.
All things possible, in the cradle of Democracy, might just start with a plebiscite to default on the EU shakedown debt.
This should be the real panic among international finance loan sharks.
Then think about the "so called" UK referendum to leave the EU. Such an effort would certainly gain steam after a successful Greek exist.
Those who doubt that the banksters cannot be defeated, just recall that more than 93 percent of voters said "no" in a referendum ballot during the Iceland's rebellion, against the financial manipulators.
Let the great European Union fleecing unravel. With the election of Alexis Tsipras, the Greek Vote Pushes EU to Limit. Now with a public referendum scheduled, will Greeks lose their nerve?
The Guardian reports that Tsipras asks for new two year bailout.
"The Greek government today suggested a two-year agreement from the European Stability Mechanism for the full coverage of financial needs and at the same time restructuring of debt.
'The Greek government until the end will seek a viable solution within the euro. This will be the message of NO to a bad agreement in Sunday's referendum."
Is this a ploy to present a credible image that salvages an about face to stay in the EU? Not likely. But the IMF creditor has no interest in taking a loss on their paper loans. The staged demonstration in favor of remaining in the EU has all the signs of a media managed by the monetary hierarchy.
Less one forget, those bond creditors scream load about default; however, these same bankers never sounded a whimper when the private GM bond holders were bypassed in the rescue of government motors.
The big difference is that the IMF banksters think of themselves as the creditor of primary claims. Now that Greece is in technical default, take the next needed step and exit the EU altogether. Break the strangle hold on the continental loan shark scheme and return to a Greek Drachma free of the illicit debit contrived by financial extortion.
"China is reaching deep within the world island in an attempt to thoroughly reshape the geopolitical fundamentals of global power…… Its two-step plan is designed to build a transcontinental infrastructure for the economic integration of the world island from within, while mobilizing military forces to surgically slice through Washington's encircling containment…….If China succeeds in linking its rising industries to the vast natural resources of the Eurasian heartland, then quite possibly…. "the empire of the world would be in sight."

— Alfred McCoy, The Geopolitics of American Global Decline, The Unz Review

"The future of politics will be decided in Asia, not Afghanistan or Iraq, and the United States will be right at the center of the action."

— Former Secretary of State, Hillary Clinton,  "America's Pacific Century",  Foreign Policy magazine.
June 23, 2015 "Information Clearing House" – "Counterpunch" – China's meteoric rise has Washington worried, not because China is a threat to its neighbors or to US national security, but because China's influence is expanding across the region. It's creating the institutions it needs to finance its own development (AIIB and New BRICS Bank),  it's building the infrastructure needed to connect the continents with state-of-the-art high-speed rail (New Silk Road), and its attracting allies and trading partners who want to participate in its plan for growth and prosperity. This is why Washington is worried; it's because China has transformed itself into an economic powerhouse that doesn't conform to the neoliberal model of punitive austerity, pernicious privatization,  and madcap asset inflation.  China has slipped out of the empire's orbit and charted its own course, which is why Washington wants to provoke Beijing over its negligible land reclamation activities in the South China Sea. Washington thinks it can succeed militarily where it has failed economically and politically. Case in point; check this out from Bloomberg News:
"The U.S. and Japan are conducting separate military drills with the Philippines near the disputed South China Sea,…The annual CARAT Philippines joint exercise started Monday off the east coast of Palawan island and will run until June 26, according to U.S. Navy spokesman Arlo Abrahamson. The Philippine and Japanese navies are holding drills around the same island through June 27, Japan's Maritime Self-Defense Force said last week.

The U.S. has backed Southeast Asian nations including the Philippines as tensions escalate with China over territorial claims in the South China Sea, while Japan is providing patrol vessels to the Philippine coast guard….The drill includes a sea phase with the littoral combat ship USS Fort Worth, diving and salvage ship USNS Safeguard and a P-3 Orion surveillance aircraft and at least one Philippine frigate, according to the U.S. Navy….

Japan's exercises with the Philippines will take place adjacent to the Spratly Islands, where China has created more than 2,000 acres of land in waters also claimed by the Philippines, Vietnam, Brunei, Taiwan and Malaysia. Japan will send a P-3C anti-submarine, maritime surveillance aircraft and 20 personnel."  ("U.S., Japan Join Philippines in Navy Drills Near South China Sea", Bloomberg)
The "show of force" drills are designed to harass and intimidate China. They have no other purpose.  The US wants to force China to succumb to its diktats, to abandon its commitment to new institutions, to open its markets to US corporations and Wall Street, and to allow the US a free-hand in writing trade rules.   That's what Washington really wants and that's why the moderate Chuck Hagel was dumped for the combative Ashton Carter as Secretary of Defense. US powerbrokers wanted a scrappy taskmaster who'd bloody China's nose and show them who's boss. Carter fit the bill to a "T", an icy bureaucratic leg-breaker who fancies himself the "smartest guy in the room".  Peter Lee provides an interesting insight on Carter in a recent blog-post at China Matters. He says:
"…assertive Ash Carter is not playing bad cop to Obama/Kerry's good cop; he's the whole show, which will delight fans of military control of foreign policy everywhere."
We're glad that others are beginning to see that the Pentagon has taken over US foreign policy. Carter is clearly calling the shots in Asia and Europe.
Lee seems to believe that Carter will outlast Obama's time in office if Madame Clinton is elected president. Which is not surprising, since it was Clinton who first introduced "pivot" to the strategic lexicon in a speech she gave in 2010 titled  "America's Pacific Century".  Clinton's presentation laid out the basic themes that would later become America's "top priority", the rebalancing of US power to the Asia Pacific. Here's an excerpt from the speech that appeared in Foreign Policy magazine:
 "As the war in Iraq winds down and America begins to withdraw its forces from Afghanistan, the United States stands at a pivot point. Over the last 10 years, we have allocated immense resources to those two theaters. In the next 10 years, we need to be smart and systematic about where we invest time and energy, so that we put ourselves in the best position to sustain our leadership, secure our interests, and advance our values. One of the most important tasks of American statecraft over the next decade will therefore be to lock in a substantially increased investment — diplomatic, economic, strategic, and otherwise — in the Asia-Pacific region…

Harnessing Asia's growth and dynamism is central to American economic and strategic interests and a key priority for President Obama. Open markets in Asia provide the United States with unprecedented opportunities for investment, trade, and access to cutting-edge technology…..American firms (need) to tap into the vast and growing consumer base of Asia…

The region already generates more than half of global output and nearly half of global trade. As we strive to meet President Obama's goal of doubling exports by 2015, we are looking for opportunities to do even more business in Asia…and our investment opportunities in Asia's dynamic markets." ("America's Pacific Century", Secretary of State Hillary Clinton", Foreign Policy Magazine, 2011)
Repeat: "Harnessing Asia's growth and dynamism is central to American economic and strategic interests…. Open markets in Asia provide the United States with unprecedented opportunities for investment, trade, and access to cutting-edge technology…..American firms (need) to tap into the vast and growing consumer base of Asia."
There it is in a nutshell. Having reduced the great American middle class to a lifeless, rotting corpse incapable of sustaining even meager demand or growth, US elites are packing the boats and heading for China, the shining corporate Valhalla on the hill. Clinton seems to think it should be pretty easy to penetrate these bustling Asian markets provided we back up our crackbrain aspirations with a strong dose of gunboat diplomacy–which is where Boss-man Carter comes in.
It's worth noting that Clinton did not conjure up the pivot on her own, but was briefed on the theory by pivot mastermind Kurt M. Campbell. Campbell is Co-Founder and former CEO of the Center for a New American Security.  According to the Center for a New American Security website: "From 2009 to 2013, he served as the Assistant Secretary of State for East Asian and Pacific Affairs, where he is widely credited as being a key architect of the "pivot to Asia." In this capacity, Dr. Campbell advanced a comprehensive U.S. strategy that took him to every corner of the Asia-Pacific region where he was a tireless advocate for American interests, particularly the promotion of trade and investment."
In a recent video interview with neocon Robert Kagan,  Campbell regurgitates the same rhetoric that appears in Clinton's speech. He opines: "Most of the history of the 21 century is going to be in the Asia Pacific region….It is in our best national interest to show that we are going to play a central role in that drama just as we have in the 20th century….(There is  bipartisan)… recognition that our military presence is our ticket to the big game in the Asia Pacific."  (See entire interview here.)
There seems to be a growing consensus that the US military is the right tool for persuading China to cave in, but is it?
The last thing the Obama administration wants is a shooting war with China, mainly because China has the ability to strike back, and not just militarily either.  Let me explain: According to political scientist Pang Zhongying, "The current relationship between China and the US is one that has never existed in the history of international relations…..The level of interdependence between China and the US is unprecedented in history. Before the 1970s, no one could possibly imagine or predict that these two countries would be interdependent to the extent of today. At that time, interdependence existed only between the US and Europe, or among the G7 at the most. The level of interdependence today did not exist between the US and China."
In other words, the two countries need each other and are bound together in a complex web of economic and financial ties, including China's massive holding of US debt which amounts to an eyewatering $1.3 trillion.  This interdependence means that the US cannot abuse China in the same way it has Russia without putting itself at risk.   So, while the US still maintains the dominant position economically and militarily, it can't simply throw caution to the wind by imposing sanctions or escalating hostilities beyond a certain point without jeopardizing its own security. China knows this, which is why it will continue to pursue its own agenda aggressively while deflecting US belligerence and hostility as best as it can.
The People's Republic of China (PRC) is still committed to "peaceful development". US antagonism is just one of the many hurtles that China will have to overcome to actualize its plan for integrating the Eurasian landmass into the world's largest and most prosperous trading bloc. Check out this excerpt from Alfred McCoy's seminal piece "The Geopolitics of American Global Decline":
"China's leadership began collaborating with surrounding states on a massive project to integrate the country's national rail network into a transcontinental grid. Starting in 2008, the Germans and Russians joined with the Chinese in launching the "Eurasian Land Bridge." Two east-west routes, the old Trans-Siberian in the north and a new southern route along the ancient Silk Road through Kazakhstan are meant to bind all of Eurasia together….

In April, President Xi Jinping announced construction of that massive road-rail-pipeline corridor direct from western China to its new port at Gwadar, Pakistan, creating the logistics for future naval deployments in the energy-rich Arabian Sea….. By building the infrastructure for military bases in the South China and Arabian seas, Beijing is forging the future capacity to surgically and strategically impair U.S. military containment. …

In a decade or two….China will be ready to surgically slice through Washington's continental encirclement at a few strategic points without having to confront the full global might of the U.S. military, potentially rendering the vast American armada of carriers, cruisers, drones, fighters, and submarines redundant….. If China succeeds in linking its rising industries to the vast natural resources of the Eurasian heartland, then quite possibly…. "the empire of the world would be in sight." ("The Geopolitics of American Global Decline", Alfred McCoy, The Unz Review)
There it is, eh? The end of one empire and the beginning of another.
China's leaders aren't going to blow their big chance by getting sucked into a costly and pointless war with the United States.  That's ridiculous. They're going to keep plugging away until the Silk Road becomes a reality.
The Source and the Effect…
Power is a key element in the function of a culture. Its source and the way it is used or controlled determine success or failure.
I am not opposed to scientific advancement or to the comfort and efficiency mechanical and technical minds have provided to humanity.  However, I am opposed to the deification of science and reason to the detriment of the peace and prosperity of the earth's population.
We are born of woman but ultimately our physical bodies return to the earth as dust.  We are tied to the earth for food and water and for the resources we use to create marvelous mechanical and technical devices.  Seeds produce plants and plants sustain both human and animal life.  Without food and water everything would die – humans, animals, plants, and insects.
Designed to rule the earth and all lower forms of life, we are equipped to find water, produce food and reproduce ourselves.  Our minds are capable of creating a proper government over the creation. However, we have a defect that prevents us from properly administering dominion.  Instead of accepting the reality that we are created beings made to live under the authority of our Creator we choose to use our godlike qualities in a quest for unaccountable individual control.  We seek to be like God exerting unauthorized power over ourselves and others.  This defect is the cause of murder, mayhem, and tyranny rather than justice and peace.
We arrived into a world already in existence and a society developed by previous tenants.  Helpless at birth we were fed and nurtured into childhood and on until we are able to care for ourselves. Rather than being humbly thankful for the gift of life we often rebel against source of life and act as if we are beholden to nothing and our existence authorizes us to bring power over it all.
Because we have refused to live under the authority of our Creator, who is our legitimate sovereign, we have allowed power to flow to the state which has now become our sovereign and is accruing absolute power.  We are unwilling to live under the rule of the One True God preferring the rule of our fellows whose evil dominion will begin to teach us the true nature of our fellow human beings.
Through several thousand years of human history the world population has been relatively small and our home on the earth was taken for granted.  Now that the world population has grown exponentially we are beginning to be concerned about its ability to sustain us.  We are even beginning to think we have outgrown our birthplace and must seek additional living quarters elsewhere in the universe.
The Industrial Revolution removed most of us from our land and employed us as cogs in the mass production of products that provide comfort and leisure.   Instead of working to supply food for our families on our own land we sold our land and moved to cities where we traded the independence and pride of ownership for easier work and leisure.
We now work for money instead of food and are subject to the manipulation of the value of the money and the availability of work itself.  Our destiny is in the hands of massive corporations that want to use us as units of production but do not want to know us or care about our welfare.  Children, welcomed as assets in the agrarian society, are now liabilities and our culture is no longer producing babies in quantities that replace the dead putting its continued existence in jeopardy.
Under the auspices of science with no consideration for the ancillary results we have delved into subjects that may be outside our permissions.  We are using our finite minds to tinker with the basic units of life hoping to affect the qualities of the embryo by modifying the DNA that controls it.  Others of us are working at producing robots that can act as human beings by making independent decisions and carrying them out.
As demography warns us that we are in danger of becoming a minority population in a land we and our ancestors founded and developed we ignore the warning, fail to make adjustments, and continue to support small families, abortion, and same sex unions
We are created beings constructed for obedience and humility.   Contrived, illogical theories of evolution provide the arrogance of autonomy and we begin to act like gods.  All humility evaporates and we begin to fight for control over our fellow human beings.   We, to whom life was a gift, who had nothing to do with our existence, seek to act as sovereign lords with the right to determine right and wrong and to live as kings in gifted space.
"Pride goes before destruction and a haughty spirit before stumbling.  It is better to be of a humble spirit with the lowly, than to divide the spoil with the proud."  (Prov. 16:18)  American exceptionalism and national pride have run its course and a stumble is imminent.
Paul Craig Roberts   points out that the boasting about winning WWII is not only impolite but totally wrong.  Russia through tremendous sacrifice of lives and property defeated Germany and Eisenhower invaded Europe after the war had been won.  Roberts claims the U. S. has not won a war since defeating the Japanese and that was more a technical achievement than a military victory. .
Pastor Chuck Baldwin   says that America has been a captive nation for more than a Century; controlled by a cabal of foreign bankers whose identity cannot be verified.  The Federal Reserve removed control of the nation from the people allowing bankers to control our government through manipulation of elections.  No one can win an election to a Federal Government position without supporting neo-Israel.  The neocons have gained enough power over policies to force the American people to finance their wars and their quest for world domination.
The United States of America is indeed a puppet nation inhabited by an insouciant people that are too lazy and gullible to discern reality and fight for righteousness.  While our people have been busy with their jobs and the enjoyment of a hedonistic lifestyle the basic unit of civilization has been dismantled and replaced by unreasonable and unnatural arrangements ineptly described as families; two men are a family, two women are a family, a woman and a child are a family, and a man and a child are a family – an individual and a dog may soon qualify. The conventional family composed of a married man and woman with children has been arbitrarily dismantled by powerful individuals who seek to certify deviant lifestyles.
"America and the World" is a 2008 book containing an interview with Zbigniew Brzezinski and Brent Scowcroft moderated by David Ignatious.  Brzezinski and Scowcroft have been long time advisers to U. S. presidents and other leaders.  On page 242 Brzezinski made this statement. "The president (George W. Bush) said in his latest State of the Union message that the defining character of the Twenty-First Century is going to be the struggle against terrorism.  This is an absurd statement – first of all it is 2008, so we still have 92 years to run.  To define the essence of this century so early on is premature.  What Brent and I are doing today is trying to grope our way towards a more complex and sophisticated definition of the challenges of the century, and to say how, in that context, an American national policy that combines power with principle Is the right response."
Brzezinski and Scowcroft are globalists but they seem to cling to the old fashioned idea of adhering to principles.  On the following page Scowcroft says the when he was in graduate school the bible for students of international politics was a book by Hans Morgenthau entitled "Politics Among Nations".  He describes the book this way: "international politics is a struggle for power and that power is the only thing that matters".
In 2003 I wrote an article entitled "Judeo-Christian Decadence"  (Read it here) it describes the education of many of the Bush II advisors who studied under University of Chicago professor Leo Strauss  The Strauss philosophy lacked principles.  It was Machiavellian, elitist, deceptive, and esoteric.  Out of it came the Project for the New American Century (PNAC), a neocon document that recommended growing our armaments and sending our armed forces into the world to exert American hegemony.  It was enthusiastically accepted by the Bush II Administration and has continued to exert heavy influence on our foreign policy.  Read about it here.  (Note that current presidential candidate Jeb Bush was one of the authors.)
Writing about the cabal that is controlling our world is a conjecture at best but it appears that the recommendations of men like Brzezinski and Scowcroft have lost their influence being replaced by the brutal power and shrewd deception of the neocon cabal.
PNAC was the guiding light of the George W. Bush Administration.  It developed the War on Terror and the ruse that America was in danger from Middle Eastern Muslim nations.  Brzezinski called the idea "absurd".
When the true ruler of the universe is ignored and individual sovereignty begins to create chaos power begins to flow to government.  When government becomes the sovereign the next step is a new world order.  To some a world order is an advancement that would stop war and bring peace.  To others it is considered a fulfillment of destiny for a superior group of people whose elite status entitles them to world hegemony.  This group of neocons whose power came to the fore during the Bush II Administration is in the process of destroying the United States of America by using it in their quest for world tyranny.
The new power brokers are not bound by principle.  Their conduct is both deceptive and cold blooded.  It is characterized by massive propaganda, outright lies, deception, cruel retaliation, and the use of power over law.  Their attempts to destroy the United States has had considerable success during the Twentieth Century and now that their hegemony is almost absolute they have accelerated their efforts during the decade and a half of the new era.
Efforts to bring the world order into existence peacefully using power and principle have been replaced by mass murder, lethal bombers, drones, and assassins.  With the traitorous help of our own elected representatives they have engaged us in an endless war against a nebulous enemy called "Terrorists". By propagandizing the lie that we are in danger they have used our armies to invade nations that could never be a threat to United States creating death and chaos among hundreds of thousands of innocent civilians.
Instituting unnecessary foreign wars and obligating the American people with massive debt without their approval can ultimately result in an aroused citizenry – even in an insouciant people. So the government has passed mountains of restrictive law that could remove all of our rights and bring on a grinding tyranny. . John Whitehead writes about it here.
Concentrations of power are dangerous.  During the late Middle Ages an accumulation of power in the Catholic Church produced a gross distortion of the character of the God it claimed to represent.  Murder, adultery, fornication, and conspiracy were evident in the hierarchy and cupidity resulted in a lucrative business in the sale of indulgences which not only distorted the essence of the Gospel but elevated an arrogant church into the sin of being like God.  Human beings in control of the church were offering forgiveness of sin in exchange for money.
Absolute power results in similar travesties whether vested in kings, in governments, churches, or private homes.  Those who exercise such power revert to the original sin of being like God.  They claim dominion over life and death and demand that their edicts are carried out under the threat of death.  The church had elevated itself into the wicked position of claiming its word was the Word of God.  To defy the church was heresy and heresy was punished with death.
The position of the Catholic Church during the middle ages was similar to that of the United States government under President Barak Obama. Our government seeks to prosecute Edward Snowden for revealing to the people a criminal invasion of the privacy of its citizens in defiance to the Fourth Amendment to our Constitution, the law of the land.  Just as the Catholic Church reserves the right to act as a god by forgiving sin, our government is claims the right to overrule our Constitution by blatant invasions of our privacy.   When exposed, evil being done under the cover of darkness bites like a rattlesnake!
The reformation began by publishing the Bible in languages that the people could understand and using it to preach the gospel and to point to the errors of Rome. In that era many people were blest to receive Biblical truths and began to follow a Reformed Christianity.
The Bible was purposely kept from the people allowing the Catholic Church to become humanistic without accountability.  It was access to the Bible that brought about the Reformation.  Reformers claimed the Word of God should govern the world – the Catholic Church claims that since it collated and put together the Bible, it is subject to the Church allowing the church to tinker with the Word of God..  Protestant Reformers believed.l the church should be subject to God and His Law along with all else.
Attempts to reform flagrant errors in the Catholic Church – errors both human and theological – resulted in charges of heresy and sentences of death.  There were similarities in the tyrannical governments of Stalin and Hitler.  Tyranny is a humanistic evil that echoes the Biblical record of the sin of Adam.  Instead of seeing themselves as created beings in need of the wisdom of the Creator men beguiled by the Devil see themselves as god and with the chaos and cruelty of Godlessness they produce murder and mayhem.
The Church refused to correct it errors and critics were burned at the stake. There is no Biblical support for Papal infallibility, for Baptismal conversion, for confessional forgiveness of sin, for worship and prayer to Mary or to any of the dead icons.  The original church of Jesus Christ continues as a sizeable world force but it is secular, a supporter of the world order, and promoter of heretical, humanistic theology.  Read here.
People who cling to sinful doctrines are often intellectually lazy and unwilling to join the perennial battle against evil by accepting the responsibility of supporting righteousness.  It is easier to maintain the status quo even if it is evil.
Tyranny is the destiny of nations that are too lazy to fight on the side of righteousness.
As right becomes wrong and good becomes bad, as the social structure of our once peaceful and prosperous nation is destroyed, and strife is purposely created, as the press promotes animosity between races and denigrates the basic religion of our nation,  as Hollywood desecrates morality and promotes violence, as our elected officials respond to illegitimate power and choose to believe the existence of ghostly dangers, as the generals who lead our armies accept fantasies and order them carried out, as laws are encoded that destroy our liberty and create a police state, as the legality of our Constitution is ignored, as we amass a debt that will enslave our children for generations, as our armies murder thousands of innocent civilians, as our churches become social clubs and fail to address immorality, as Satan dances gleefully in our nation's capital our citizens go about their daily tasks as if nothing is amiss.  That is what Paul Craig Roberts means by "insouciant".
Hard times are coming.  Death and destruction are hovering over us.  We are a rogue nation that has created the ire of a large portion of the world and we will reap what we have sown.  That is our destiny.  Our people have had access to the truth for decades but have preferred their intractable ignorance to the truth that could have set them free.  We have earned it, we deserve what is coming.
Absolute power is vested in God – legitimate human power is a derivative!
The Skirmish in the Spratlys…
"Washington is not looking for peace or war. They're looking for domination. If they can achieve domination peacefully – that's fine. If they can't, they'll use war. It's that simple."

— William Blum, Interview with Russia Today

"The U.S. is frantically surrounding China with military weapons, advanced aircraft, naval fleets and a multitude of military bases from Japan, South Korea and the Philippines through several nearby smaller Pacific islands to its new and enlarged base in Australia…. The U.S. naval fleet, aircraft carriers and nuclear submarines patrol China's nearby waters. Warplanes, surveillance planes, drones and spying satellites cover the skies, creating a symbolic darkness at noon."

— Jack A. Smith, "Hegemony Games: USA vs. PRC", CounterPunch
The vast build up of military assets in the Asia-Pacific signals a fundamental change in U.S. policy towards China. Washington no longer believes that China can be integrated into the existing US-led system. Recent actions taken by China– particularly the announcement that it planned to launch an Asian Infrastructure Investment Bank (AIIB) that would compete head-to-head with the World Bank and IMF— have set off alarms in the Capital where behind-the-scenes powerbrokers and think tank pundits agree that a more "robust" policy is needed to slow China's ascendency. The current confrontation in the South China Sea–where the US has demanded that China immediately cease all land reclamation activities–indicates that the new policy has already been activated increasing the prospects of a conflagration between the two nuclear-armed adversaries.
There's no need to go over the details of China's land reclamation activities in the Spratly Islands since reasonable people can agree that Washington has no real interest in a few piles of sand heaped up on reefs 10,000 miles from the United States. The man-made islands pose no threat to US national security or to freedom of navigation. The Obama administration is merely using the Spratlys as a pretext to provoke, intimidate and harass Beijing. The Spratly's provide a justification for escalation, for building an anti-China coalition among US allies in the region, for demonizing China in the media, for taking steps to disrupt China's ambitious Silk Roads economic strategy, and for encircling China to the West with US warships that threaten China's access to critical shipping lanes and vital energy supplies. This is the ultimate objective; to bring China to its knees and to force it to comply with Washington's diktats. This is what Washington really wants.
In a recent speech at the Shangri La Dialogue in Singapore, US Secretary of Defense Ashton Carter said that "there is no military solution to the South China Sea disputes." Just moments later, and without a trace of irony, Carter rattled off a long list of military assets the Pentagon plans to deploy to the Asia-Pacific to shore up US offensive capability. The list includes "the latest Virginia-class [nuclear] submarines, the Navy's P-8 Poseidon surveillance aircraft, the newest stealth destroyer, the Zumwalt, and brand-new carrier-based E-2D Hawkeye early-warning-and-control aircraft." The Pentagon is also going to add "new unmanned systems for the air and sea, a new long-range bomber, (an) electromagnetic railgun, lasers, and new systems for space and cyberspace, including a few surprising ones."
For someone who doesn't believe in a military solution, Carter is certainly adding a lot of lethal hardware to his arsenal. The question is: Why? Is Washington preparing for war?
Probably not. The United States does not want a war with China. What Washington wants is to be the dominant player in this century's most promising and prosperous market, Asia. But China's meteoric growth has put Washington's plan at risk, which is why Obama is wheeling out the heavy artillery. The anti-China coalition, the China-excluding trade agreements (TPP) and the unprecedented military build up are all aimed at preserving Washington's dominant role without actually starting a war. The administration thinks that the show of force alone will precipitate a change in behavior. They think China will back down rather than face the awesome military power of the American empire. But will it? Here's another clip from Carter's speech at Shangri La:
The United States will continue to protect freedom of navigation and overflight – principles that have ensured security and prosperity in this region for decades. There should be no mistake: the United States will fly, sail, and operate wherever international law allows, as U.S. forces do all around the world.

America, alongside its allies and partners in the regional architecture, will not be deterred from exercising these rights – the rights of all nations. After all, turning an underwater rock into an airfield simply does not afford the rights of sovereignty or permit restrictions on international air or maritime transit.
Who is Carter kidding? China poses no threat to freedom of navigation or overflight. The real threat is China's participation in the $100 billion BRICS Development Bank which is set to finance some of the "largest projects of the modern history (including) the construction of new Eurasian infrastructure from Moscow to Vladivostok, in South China and India." The so called BRICS (Brazil, Russia, India, China and South Africa) "represent 56% of world economic output, and account for 85% of world population. They control about 70% of the world's foreign exchange reserves. They grow annually by an average of 4% —5%." (Sputnik News) In other words, US-backed institutions are going to lose their exalted role as "underwriter for the global economy" because the world's biggest infrastructure projects are going to be funded by China and its allies. Naturally, this doesn't sit well with Washington where policy bigwigs are worried that US influence will gradually erode as global power inevitably shifts eastward.
US hegemony is also threatened by China's Sino-centric economic policy which author Robert Berke sums up in an article on Oil Price.com titled "New Silk Road Could Change Global Economics Forever". Here's an excerpt from the article:
China is building the world's greatest economic development and construction project ever undertaken: The New Silk Road. The project aims at no less than a revolutionary change in the economic map of the world…The ambitious vision is to resurrect the ancient Silk Road as a modern transit, trade, and economic corridor that runs from Shanghai to Berlin. The 'Road' will traverse China, Mongolia, Russia, Belarus, Poland, and Germany, extending more than 8,000 miles, creating an economic zone that extends over one third the circumference of the earth.

The plan envisions building high-speed railroads, roads and highways, energy transmission and distributions networks, and fiber optic networks. Cities and ports along the route will be targeted for economic development.

An equally essential part of the plan is a sea-based "Maritime Silk Road" (MSR) component, as ambitious as its land-based project, linking China with the Persian Gulf and the Mediterranean Sea through Central Asia and the Indian Ocean. When completed, like the ancient Silk Road, it will connect three continents: Asia, Europe, and Africa. The chain of infrastructure projects will create the world's largest economic corridor, covering a population of 4.4 billion and an economic output of $21 trillion…

For the world at large, its decisions about the Road are nothing less than momentous. The massive project holds the potential for a new renaissance in commerce, industry, discovery, thought, invention, and culture that could well rival the original Silk Road. It is also becoming clearer by the day that geopolitical conflicts over the project could lead to a new cold war between East and West for dominance in Eurasia. The outcome is far from certain. ("New Silk Road Could Change Global Economics Forever", Robert Berke, Oil Price)
China is perfectly situated to take advantage of Asia's explosive growth. They've paid their dues, built up their infrastructure and industrial capability, and now they're in the catbird seat fully prepared to benefit from the fact that "Half of humanity will live in Asia by 2050″ and that "more than half of the global middle class and its accompanying consumption will come from that region." US corporations will be welcome to compete in these new markets, but they won't do nearly as well as businesses located in China. (This is why the Pentagon has been asked to intervene by powerful members of the corporate establishment.)
Washington's gambit in the Spratly's is an attempt to reverse the tide, derail China's current trajectory and insert the US as the regional kingpin who writes the rules and picks the winners. As Sec-Def Carter said in an earlier speech at the McCain Institute in Arizona, "There are already more than 525 million middle class consumers in Asia, and there will be 3.2 billion in the region by 2030." US corporations want the lion's-share of those customers so they can peddle their widgets, goose their stock prices and pump up their quarterly profits. Carter's job is to help them achieve that objective.
Another threat to US global rule is the aforementioned Asian Infrastructure Investment Bank (AIIB). The danger of the AIIB is not simply that it will fund many of the infrastructure projects that will be needed to integrate Europe, Asia and Africa into one giant free trade zone, but that the bank will replace key US-backed financial institutions (The IMF and World Bank) which have helped maintain Washington's iron-grip on the global system. As that grip progressively loosens, there will be less need for cross-border transactions to be carried out in US dollars which, in turn, will threaten the dollar's role as the world's reserve currency. As author Bart Gruzalski notes in his excellent article at Counterpunch, "China and Russia are creating alternatives that threaten the dollar's status as the sole dominant international currency. By instituting trade alternatives to the dollar, they challenge the value of the dollar and so threaten the US economy." ("An Economic Reason for the US vs. China Conflict", Bart Gruzalski, CounterPunch)
Former Treasury Secretary Larry Summers offered a particularly bleak assessment of the AIIB flap in an editorial that appeared in April in the Washington Post. He said:
This past month may be remembered as the moment the United States lost its role as the underwriter of the global economic system. True, there have been any number of periods of frustration for the United States before and multiple times when U.S. behavior was hardly multilateralist, such as the 1971 Nixon shock ending the convertibility of the dollar into gold. But I can think of no event since Bretton Woods comparable to the combination of China's effort to establish a major new institution and the failure of the United States to persuade dozens of its traditional allies, starting with Britain, to stay out. (Washington Post)
Summers goes on to acknowledge the threat that political dysfunction (on Capitol Hill) poses to "the dollar's primary role in the international system". It's clear that Summers grasps the gravity of what has unfolded and the challenge the AIIB poses to US hegemony. Readers should note that Summers ominous warnings were delivered just months before Washington dramatically revamped its China policy which suggests that the announcement of the AIIB was the straw that broke the camel's back. Shortly after, the Obama administration made "crucial changes" to the existing policy. Containment and integration were replaced with the current policy of intimidation, incitement and confrontation. Beijing was elevated to Public Enemy Number 1, America's primary strategic rival.
What happens next, should be fairly obvious to anyone who has followed US meddling in recent years. The US is now at war with China, which means that it will use all of its resources and capabilities, except it's military assets, to defeat the enemy. The United States will not militarily engage an enemy that can fight back or inflict pain on the US. That's the cardinal rule of US military policy. While that precludes a nuclear conflagration, it does not exclude a hyperbolic propaganda campaign demonizing China and its leaders in the media (Sadly, the comparisons to Hitler and the Kaiser have already started), asymmetrical attacks on Chinese markets and currency, excruciating economic sanctions, US-NGO funding for Chinese dissidents, foreign agents and fifth columnists, intrusions into China's territorial waters and airspace, strategic denial of critical energy supplies, (80 percent of China's oil supplies are delivered via the Malacca Strait to the South China Sea) and, finally, covert support for "moderate" jihadis who are committed to toppling the Chinese government and replacing it with an Islamic Caliphate. All of these means and proxies will be employed to defeat Beijing, to derail its ambitious Silk Roads strategy, to curtail its explosive growth, and to sabotage its plan to be the preeminent power in Asia.
Washington has thrown down the gauntlet in the South China Sea. If Beijing wants to preserve its independence and surpass the US as the world's biggest economy, it's going to have to meet the challenge, prepare for a long struggle, and beat Uncle Sam at his own game.
It won't be easy, but it can be done.
Volatility in the currency markets, bond markets, and stock markets likely has a lot of people on Wall Street feeling a bit worn out. Taking a summer vacation in the Hamptons might just be their best idea.
The coming months promise to be anything but quiet and predictable. Here are a couple of items that may yield profound implications for stock, bond and currency investors before summer ends…
The Threat of an Official Recession Is Looming
The next few months are critical for the U.S. economy. The official definition of recession calls for two successive quarters of negative GDP. First quarter GDP came in barely positive, initially estimated at 0.2%, but it will be revised twice before July. Some experts expect it will wind up in negative territory.
The U.S. trade deficit recently came in much larger than expected. The higher deficit will, setting other factors aside, translate to lower GDP. Investors will get a look at 2nd quarter GDP in late July and pessimism among forecasters is growing.
So far U.S. equity investors are hoping for the best, or at least hoping the Fed will reverse course on tightening. Stocks are shrugging off bad news and powering higher with price-to-earnings valuations climbing into the nosebleed section.
It is hard to imagine valuations at these levels holding if investors and high frequency trading algorithms must grapple with an official recession. Of course, should the Fed announce some new form of stimulus in response to bad news then all bets are off.
The End Is Nigh for Greece
The Greek government is running out of tricks to avoid a default. Last week, officials there paid €750 million Greece owed to the IMF by borrowing €650 from the IMF; a last resort gimmick they won't be able to repeat.
Absent finding an agreement with lenders to modify loans and dramatically reduce what is owed, the Greeks will be in outright default as early as next month. This summer should tell the tale on Greece's future within the European Union.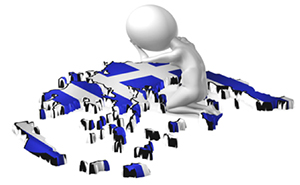 Should Greece default and exit the EU, it will be the first event of its kind, and it has the potential to open a Pandora's Box. There will be bank failures within Greece and pain for anyone holding Greek debt. It could pave the way for bankruptcy and an exit in a number of other nations where finances are also in shambles. And no one can confidently predict the outcome in derivatives markets where banks and hedge funds have been making highly leveraged bets.
Should the Greeks manage to reach an accord with lenders, markets will have to contend with a different set of challenges. You can bet other overly indebted nations including Ireland, Spain, Portugal, and Italy will aggressively pursue similar deals. The pain for bond holders isn't likely to end with Greece.
The EU has a flood of bad debt swirling around its knees, but officials there continue to pretend they stand on solid ground. Regardless of whether Greece defaults outright or manages to cut a deal, it looks like the pretending will have to stop – and soon.
With the enactment of the privately owned central bank, the Bank of England provided the model for the financial enslavement of governments, and their citizens. Well before the conflict for establishing a National Bank in America or the eventual surrender to the money changers with the betrayal in instituting the Federal Reserve, the history of the Bank of England needs to be studied. Relying on British historians may seem to invoke a cultural bias; however, the range and wealth of information on this topic comes from an earlier age. Further research will expand this understanding and many of the sources cited can fulfill this objective.
For purposes of a mainstream account, the official site of the Bank of England provides a flowery version about the background and purported success of the scheme proposed by   "William Paterson, envisaged a loan of £1,200,000 to the Government, in return for which the subscribers would be incorporated as the "Governor and Company of the Bank of England". Although the new bank would have risked its entire capital by lending it to the Government, the subscription proved popular and the money was raised in a few weeks. The Royal Charter was sealed on 27 July 1694, and the Bank started its role as the Government's banker and debt-manager, which it continues today."
"The bank hath benefit of interest on all moneys which it creates out of nothing."

– William Paterson
THE FORMATION OF THE BANK OF ENGLAND by Halley Goodman provides a detailed and well sourced chronicle and background.
"The goldsmiths evolved to become the original private bankers of the time. Since  goldsmiths already had as part of their trade private stores of gold and stout vaults to store them in, entrepreneurs could entrust their own gold to them for safe keeping, for a fee, and receive a paper receipt for the deposit. The goldsmiths could then lend monies against these deposits for an additional fee. Mr. Hartley Winters declares that "some ingenious goldsmith conceived the epock-making notion of giving notes…and so founded modern banking." Merchants would deposit "their money with the goldsmiths and received from them receipts" that "…were payable on demand, and were transferred from one holder to another in payment of debts." These receipts or notes from the goldsmith bankers, often in the form of a letter, are some of the earliest surviving cheques in England. Given the economic realities of the time, although deposits provided the funds for their business, most of the clients of these goldsmith bankers were usually borrowers rather than depositors."
From such humble origins, the foundation was laid to invent a central bank that would create money out of thin air and loan it at interest to the government, who lost it sovereignty for making this Faustian bargain.
Secrets of the Bank of England Revealed at Last!!

The Charter of the Bank of England (1694) with the Great Seal of William and Mary. The first usury central bank to be incorporated in England.
The Bank of England account, published by Cassell, Petter & Galpin cites a rocky start and opposition from the goldsmiths.
"In 1696 (very soon after its birth) the Bank experienced a crisis. There was a want of money in England. The clipped silver had been called in, and the new money was not ready. Even rich people were living on credit, and issued promissory notes. The stock of the Bank of England had gone rapidly down from 110 to 83. The goldsmiths, who detested the corporation that had broken in on their system of private banking, now tried to destroy the new company. They plotted, and on the same day they crowded to Grocers' Hall, where the Bank was located from 1694 to 1734, and insisted on immediate payment—one goldsmith alone demanding £30,000. The directors paid all their honest creditors, but refused to cash the goldsmiths' notes, and left them their remedy in Westminster Hall. The goldsmiths triumphed in scurrilous pasquinades entitled, "The Last Will and Testament," "The Epitaph," "The Inquest on the Bank of England."
It did not take long for the Jewish bankers to set their sights on Paterson's bank and financers for the English regime. Brother Nathanael Kapner adds his audacious viewpoints.
"The new King William III soon got England involved in costly wars against Catholic France which put England deep into debt. Here was the Jewish bankers' chance to collect. So King William, under orders from the Elders of Zion in Amsterdam, persuaded the British Treasury to borrow 1.25 million pounds sterling from the Jewish bankers who had helped him to the throne.

Since the state's debts had risen dramatically, the government had no choice but to accept. But there were conditions attached: The names of the lenders were to be kept secret and that they be granted a Charter to establish a Central Bank of England. Parliament accepted and the Jewish bankers sunk their tentacles into Great Britain."
Actual control of the fiat central bank is discussed in Who owns the Bank of England?
"A very famous story relates to the Bank of England and the infamous Rothschilds, that all powerful banking family. This story was re-told recently in a BBC documentary about the creation of money and the Bank of England.

It revolves around the Battle of Waterloo in which Nathan Rothschild used his inside knowledge of the outcome and his faster horses and couriers to play the market by getting the result of the battle before anyone else knew the outcome.

He quickly sold his English bonds and gave all the traders who looked to him for guidance the impression that the French had won at Waterloo.

The other traders all rushed to sell their bonds before the market crashed thinking that they were now worthless and a massive fire-sale occurred as brokers clamered to get rid of their stock. This massive sell off quickly drove the price of the bonds down to 5% of their original worth.

Once the bottom had dropped out the market Nathan Rothschild then re-bought as many bonds back as he could at hugely discounted prices and in doing so he multiplied his wealth twenty times in 3 days of trading.

At the same time as becoming immensely wealthy he also became the single largest debtor to the English government which ultimately gave him control over the bank of England."
If you are so inclined to do your own research, two sources, HISTORY OF THE BANK OF ENGLAND written by Dr. A. Andreades and Complete Histories: Bank of England to 1694, are worthy of review.
"As you can see by the 250-year chart of Bank of England stock, the shares showed no real trend during the 1700s, rose in price during the Napoleonic Wars as England left the gold standard and suffered inflation, declined in price from around 1818 to 1845 during the deflation that followed, rose in price for the rest of the 1800s as the Bank gradually increased its dividend, plunged until 1920 as inflation occurred without any compensating rise in the dividend, then gradually rose in price until the Bank was nationalized in 1945. The behavior of the Bank of England's stock encapsulates the general behavior of the British stock market over that 250-year period."
Now for most of its history the privately held, Bank of England was extremely profitable to its owners. The method for charging interest on the creation of money has been the prime vehicle for driving both public and private debt throughout modern times.
The Guardian reports in the article, The truth is out: money is just an IOU, and the banks are rolling in it.
"The Bank of England let the cat out of the bag. In a paper called "Money Creation in the Modern Economy", co-authored by three economists from the Bank's Monetary Analysis Directorate, they stated outright that most common assumptions of how banking works are simply wrong, and that the kind of populist, heterodox positions more ordinarily associated with groups such as Occupy Wall Street are correct. In doing so, they have effectively thrown the entire theoretical basis for austerity out of the window."
The entire monitory financial system is based upon charging usury on the creation of national currencies. No larger debtor exists then governments. The perfection of the Rothschild fraud is founded upon charging compound interest on the very medium of exchange that serves as legal tender.
The Bank of England set the stage for the centralization of all banking under the umbrella of banksters control. In order to discover all the secrets of manipulating the financial system, one must comprehend, the first and primary lesson; that central banks do not function as beneficiaries to their host nation, much less the ordinary "little people".
Keeping this deplorable rip-off system extorting their pound of flesh is the principal objective of the financial elites. Interest on government bonds must be paid. More debt needs to be incurred. And the framework for human impoverishment lies at the feet of central banking.
Several people have asked me recently why I always seem to be writing about the Middle East.  "Why don't you ever write about anything else?"
Of course I write about other stuff — but the Middle East is so much more interesting and entertaining than anything else!  The Middle East is definitely more interesting, entertaining and even weirder than any soap opera, reality show or action flick that Hollywood could ever produce.  Fascinating stuff.
I'm always amazed that so few other Americans aren't just totally fascinated by the Middle East too.  Or even that there isn't at least one daytime soap opera devoted solely to the subject — if for no other reason than that the Middle East has some of the greatest villains of all time!
Take America, for instance.  Our very own Wall Street and War Street are currently starring as top-billing major actors in the Middle East, playing in prime-time roles — as the biggest villains in the script so far too.  America practically invented ISIS, for goodness sakes!  You can't get more villainous than that.
Or can you?
According to journalist Daniel Lazare, "After years of hemming and hawing, the Obama administration has finally come clean about its goals in Syria.  In the battle to overthrow Bashar al-Assad, it is siding with Al Qaeda."  War Street, you've been busted as the Bad Guy — and on national television too! 
Or take Saudi Arabia another shining example of epic villain-a-lishious-ness at its best.  That country has been playing the villain since way back in 1930 — when it invaded the Republic of Yemen for the first time after Yemen actually dared to become a democracy.  Then the Saudi regime went on to help America create Osama bin Ladin, finance the Taliban and dirty their hands with 9-11.  And now the Saudi regime is financing and training ISIS.  Doesn't get more juicy than that.
No, wait, yes it does.  The Saudi regime is now using American-supplied cluster bombs on Yemen.  Juicy soap opera at its best, better even than TMZ — unless of course you are living in Yemen.
And then there is Syria.  What is going on there right now is even better than "One Life to Live".  How many Americans even know who Bashar Assad is?  The poor guy has a couple of corrupt, sleazy relatives that the Saudi, American, Turkish and Israeli regimes have spent the last four years trying to put into power.  Why?  Because power corrupts — so Assad's relatives are already trained to be as corrupt as their sponsors.  How "Dallas" can you get?
And of course Turkey is now in the mix too — just can't keep its hands off of ISIS, the designated "fem fatale" in this reality show.  But Turkey had better watch out.  ISIS is a psychopath and Turkish citizens do not like President Erdogan cheating on them and messing around with her instead.
Or take Iraq — the ultimate reality show.  Outwit, outlast and outplay.  Plus all the principle soap opera characters are there in Iraq too.  You got the lying bitch (mostly America), the BFF (mostly Britain and France), the scheming scoundrel who will stop at nothing to get rich (mostly Bibi Netanyahu) and the struggling anti-hero (mostly Syrians trying to chase ISIS out of Syria) trying to thwart the Bad Guys (mostly ISIS, but with ISIS's secret suppliers Saudi Arabia, Israel, America and Turkey thrown in).
You just gotta love all that plotting, counter-plotting and backstabbing now taking place in the Middle East — such as when General Sisi in Egypt overthrew a democratically-elected government in order to be America's date to the prom.  Or when the Saudi Arabian regime, source of 9-11 and Osama bin Ladin, comes out smelling like a rose and being America's BFF.  Or not.
You want action and drama?  No problem there either.  The Middle East has it all!  America, NATO, Britain and France get together and bomb the crap out of Libya (for her own good), put Al Qaeda in charge of Libya for even more raping and pillaging fun (she asked for it) — but then deserts fair Libya in her darkest hour of need.  And even though Libya is not technically actually in the Middle East, you can still just sit back and watch the fun.
And ditto for Afghanistan.  Lots of action, drama, lies and skullduggery there too — even though it also is not technically located in the Middle East.
And now apparently ISIS (that tramp!) is also off having a hot illicit affair with the American-sponsored neo-Nazi Ukraine regime, also not in the Middle East — but this new daytime drama may soon to be playing on European TV instead — as ISIS slips off to gay Paree after dumping her thug boyfriend in Kiev.
Plus who wouldn't want to hear the exciting story about brave and heroic Palestinians fighting for their freedom — only to be called angry sluts by the American media.  Or how the brave and heroic Yemenis, fighting for their freedom, get bombed back to the Stone Age by the despotic Saudis who still somehow manage to come out as the Good Guys — even after training and financing ISIS.  How do they do that?  How do they just keep getting away with that again and again?  Will they ever get their comeuppance?  Apparently not.  But stay tuned.
And then there is the Israeli regime, staring as the "scheming patriarch" character, forcing America to do its dirty work so it can take over the Middle East.  Bibi Netanyahu is like a Mafia don or the villain on "The Bold and the Beautiful" or "Dark Shadows" — always scheming behind the scenes.  He's like Angelique Bouchard or Sheila Carter.  What's not to love about him?
Why would anybody who loves soap operas and/or reality shows, action movies or even murder-mysteries and thrillers even think of ever not keeping up with events in the Middle East?  Entertainment at its best!
Too bad, however, that more than a million lives have been lost so far in these productions — but, for Wall Street and War Street, that's just one of the costs of being in show business.
Why are stocks still flying-high when the smart money has fled overseas and the US economy has ground to a halt?
According to Marketwatch:
"For the eighth week in a row, long-term mutual funds saw more money flowing out of U.S. stocks and into international stocks, according to the Investment Company Institute……For the week ended April 22, U.S. stocks saw $3.4 billion in net outflows from long-term mutual funds…For the year to date, net outflows for U.S. stocks are $13.79 billion, while inflows for international stocks are $41.12 billion.

Those figures, however, don't count exchange-traded funds. In April alone, mutual funds and ETFs that focus on international stocks saw $31.8 billion in net inflows, while U.S.-focused funds and ETFs shed $15.4 billion, according to TrimTabs Investment Research." ("Why U.S. stocks are near highs even as fund investors flee", Marketwatch)
So if retail investors are moving their cash to Europe and Japan (to take advantage of QE), and the US economy is dead-in-the-water, (First Quarter GDP checked in at an abysmal 0.1 percent) then why are stocks still just two percent off their peak?
Answer: Stock buybacks.
The Fed's uber-accommodative monetary policy has created an environment in which corporate bosses can borrow boatloads of money at historic low rates in the bond market which they then use to purchase their own company's shares.  When a company reduces the number of outstanding shares on the market, stock prices move higher which provides lavish rewards for both management and shareholders.  Of course, goosing prices adds nothing to the company's overall productivity or growth prospects, in fact, it undermines future earnings by adding more red ink to the balance sheet. But these "negatives" are never factored into the decision-making which focuses exclusively on short-term profits. Now get a load of this from Morgan Stanley via Zero Hedge:
 "In 2014, the constituents of the S&P 500 on a net basis bought back ~$430Bn worth of common stock and spent a further ~$375Bn on dividend payouts. The total capital returned to shareholders was only slightly less than the annual earnings reported. On the fixed income front, the investment grade corporate bond market saw a record $577Bn of net issuance in 2014. While the equity and bond universes don't overlap 100%, we think these numbers convey a simple yet important story. US corporations have essentially been issuing record levels of debt and using a significant chunk of their earnings and cash reserves to buy back record levels of common stock."  ("Buyback Bonanza, Margin Madness Behind US Equity Rally", Zero Hedge)
So corporations are borrowing hundreds of billions of dollars from investors through the bond market. They're using this cheap capital to repurchase shares in order to boost skyrocketing executive compensation and to line the pockets of their shareholders. At the same time, they are weakening the capital structure of the company by loading on more debt.  (It's worth noting that "highly rated U.S. nonfinancial companies" are now more leveraged than they were in 2007 just before the crash.)
This madcap buyback binge has gotten so crazy, that buybacks actually exceeded profits in two quarters in 2014. Here's the story from Bloomberg:
"Companies in the Standard & Poor's 500 Index really love their shareholders….Money returned to stock owners exceeded profits in the first quarter and may again in the third. The proportion of cash flow used for repurchases has almost doubled over the last decade while it's slipped for capital investments, according to Jonathan Glionna, head of U.S. equity strategy research at Barclays Plc.

Buybacks have helped fuel one of the strongest rallies of the past 50 years as stocks with the most repurchases gained more than 300 percent since March 2009." (Bloomberg)
But maybe we're being too pessimistic here. Maybe stocks would have risen anyway due to record high earnings and improvements in the economy. That's possible, isn't it?
Nope. Not according to Morgan Stanley at least. Check it out:
"Since 2012, more than 50% of EPS growth in the S&P 500 has been driven by buybacks and growth ex-buybacks has been a mere 3.3% annualized. (EPS: Earnings Per Share)
"More than 50% "!  There's your market summary in one damning sentence. No buybacks means no 5-year stock market rally. Period.  If it wasn't for financial engineering and the Fed's easy money, stocks would be in the same general location as the real economy, circling the plughole, that is.
What's so frustrating about the present phenom is that the Fed knows exactly what's going on, but just looks the other way.  So while the stock bubble gets bigger and bigger,  CAPEX –which is investment in future productivity and growth– continues to deteriorate, GDP drops to zero, and demand gets progressively weaker. Shouldn't that warrant a rethinking of the policy?
Heck, no. The Fed is determined to stick with the same lame policy until hell freezes over. Whether it works or not is entirely irrelevant.
Now take a look at this eye-popper from Wolf Street:  "GE, in order to paper over a net loss of $13.6 billion and declining revenues in the first quarter, said on April 10 that it would buy back $50 billion of its own shares." (Wolf Street)
I can't tell you how many times I've read similar stories in the last couple years.  The company's revenues are shrinking, they're losing money hand over fist, and what do they do?
They announce they're going to buy back $50 billion of their own shares.
What a joke. And it doesn't stop there. The Fed's policies have also ignited a flurry of activity in margin borrowing. This is from CNBC:
"NYSE margin debt rose to an all-time high in March, according to recently released data from the stock exchange….NYSE margin debt sat at $476.4 billion, up from $464.9 billion at the end of February..(Note: That's $95 billion more than 2007 at the peak of the bubble.)
Margin debt is created when investors borrow money in order to buy stocks. If an investor buys $100 worth of stocks with $50 in capital, that individual has $50 of margin debt outstanding. Since margin debt provides leverage, it amplifies gains, but also increases the risk to an investor." ("What record-high margin debt means for stocks", CNBC)
More borrowing, more risk taking, more financial instability. And it's all the Fed's doing. If rates were neutral, then prices would normalize and CEOs would not be engaged in this reckless game of Russian roulette. Instead, it's caution to the wind; just keep piling on the debt until the whole market comes crashing down in a heap like it did six years ago. And that's the trajectory we're on today, in fact,  according to TrimTabs Investment Research, February saw buybacks in the amount of $104 billion, " the largest monthly figure since these flows were first tracked 20 years ago. "
So things are getting worse not better. Bottom line: The Fed has led the country to the cliff-edge once again where the slightest uptick in interest rates is going to send the economy into freefall.
But why? Why does the Fed keep steering the country from one financial catastrophe to the next?
That's a question that economists Atif Mian and Amir Sufi answer persuasively with one small chart. Check it out:
"Here is the distribution of financial asset holdings across the wealth distribution. This is from the 2010 Survey of Consumer Finances:
The top 20% of the wealth distribution holds over 85% of the financial assets in the economy. So it is clear that the direct income from capital goes to the wealthiest American households." (Capital Ownership and Inequality, House of Debt)
Why does the Fed create one bubble after the other?
Now you know.
Part I
Saudi Arabia has been dominating the Middle Eastern news recently. Its bombing of the Shia Houthis in Yemen, supported by Washington, and its ambivalent stand on ISIS, concealed in Washington, should raise questions about the nature and long-term ambitions of the desert kingdom. On those key issues there is an apparent conspiracy of silence in the American mainstream media and the policy-making community.
Saudi Arabia, the most authentically Muslim country in the world, is a polity based on a set of religious, legal, and political assumptions rooted in mainstream Sunni Islam. To understand its pernicious role in the ongoing Middle Eastern crisis, and to grasp the magnitude of its ongoing threat to America's long-term strategic interests and security, we should start with the early history of that strange and unpleasant place.
MUHAMMAD IBN ABD AL-WAHHAB was born in central Arabia over three centuries ago, but his legacy is alive and well. Wahhab was a zealous Muslim revivalist who lived in the period of the Ottoman Empire's early decline. He felt that Islam in general, and Arabia in particular, needed to be spiritually and literally re-purified and returned to the true tenets of the faith. Like Islam's prophet he married a wealthy woman much older than himself, whose inheritance enabled him to engage in theological and political pursuits. His Sharia training, combined with a brief encounter with suffism – which he rejected – produced a powerful mix. From the suffis he took the concept of a fraternal religious order, but rejected initiation rituals and music in any form. He also condemned the decorations of mosques, however non-representational, and sinful frivolities such as smoking tobacco. This Muslim anabaptist rejected veneration of saints and sites and objects connected with them, and gave rise to a movement that sees itself as the guardian of true Islamic values. His ideas were espoused in the Book of Unity which gave rise to the name of the movement, al-Muwahhidun, or Unitarians.
By the middle of the 18th century Wahhab, like Muhammad eleven centuries earlier, found a politically powerful backer for his cause. In 1744 he struck a partnership with Muhammad ibn-Saud, leader of a powerful clan in central Arabia, and moved to his "capital," the semi-nomadic settlement of ad-Dir'yah (Riyadh). Since that time the fortunes of the Wahhabis and the Ibn Said family have been intertwined. Under ibn-Saud's successor Abdul-Aziz, the Wahhabis struck out of their desert base at Najd with the fury unseen in a millennium. In what looked for a while like the repetition of Muhammad's and the Four Caliphs' phenomenal early success a millennium earlier, they temporarily captured Mecca and Medina, marched into Mesopotamia – forcing the Ottoman governor to negotiate humiliating terms – and invaded Syria.
This was an unacceptable challenge to the Sultan, the heir to the caliphate and "protector of the holy places." In 1811 he obtained the agreement of Ali Pasha, Egypt's de facto autonomous ruler following Napoleon's withdrawal, to launch a campaign against the Wahhabis. After seven years they were routed. Later in the century, however, the sect revived under Faysal to provide the focus of Arab resistance to the Ottoman Empire, which they considered degenerate and corrupt.
In 1902 a daring and bellicose prince of the ibn-Saud family, named after Abdul-Aziz "the warrior," returned from exile with 40 horsemen and took control of Riyadh. He exploited the terminal weakness of the Ottoman Empire, soon to be embroiled in revolution and beset by external threats to its crumbling empire in the Balkans and Libya. Fired by the spirit of Wahhabism, Abdul Aziz embarked on a campaign to recover control over the whole of Arabia. In 1912 the Wahhabi revival prompted the founding of a religious settlement at Artawiyah, 300 miles north of Riyadh, under the auspices of theIkhwan, the Brotherhood. This was a stern Arabian variety of Plymouth, a Muslim New Jerusalem in which people were dragged from their homes and whipped for failing to attend Friday prayers.
IN THE CHAOTIC YEARS after the demise of the Ottoman Empire the Ikhwan proved to be an able and fanatical fighting force, securing victory for Ibn Saud, their leader and the founder of the present royal dynasty. In 1925 they carried out Ibn Saud's order that all revered burial sites in Mecca and Medina be destroyed, including the "heavenly orchard" in Medina, where relatives and many early companions of Muhammad were buried. In 1926 they proclaimed Abdul-Aziz the King of Hejaz. Within a decade he had united the rest of Arabia and imposed the Wahhabist view of the world, man, law, and Allah, on most of the peninsula.
It is incorrect to say that the Wahhabi movement is to Islam what Puritanism is to Christianity, however. While Puritans could be regarded as Christianity's Islamicists sui generis with their desire to turn Christianity into a druly scriptural, literalist theocracy, Wahhabism is unmistakably "mainstream" in its demand for the return to the original glory of the early Islamic Ummah. Their iconoclastic zeal notwithstanding, the Wahhabis were no more extreme or violent than the models for Islam – the "prophet" and his companions – have been in all ages and to this day.
THE HEIRS OF ABDUL WAHHAB are still heading the Saudi religious establishment. They resisted the introduction of "heathen" contraptions such as radio, cars, and television, and relented only when the King promised to use those suspect mediums to promote the faith. They stopped the importation of all alcohol, previously sold to foreigners (1952), and banned women driving motor vehicles (1957). The Kuran and Sunna are formally the country's constitution and the source of its legal code. The original sources of Islamic orthodoxy – the Kuran and Hadith – provide ample and detailed evidence that Saudi Arabia is as close as we can get to an Islamic state and society. The State Department report on human rights in the Kingdom of Saudi Arabia published 15 years ago offers an accurate glimpse of that vision in action:
Freedom of religion does not exist. Islam is the official religion and all citizens must be Muslims. Neither the Government nor society in general accepts the concepts of separation of religion and state, and such separation does not exist. Under Shari'a conversion by a Muslim to another religion is considered apostasy. Public apostasy is a crime punishable by death -if the accused does not recant. Islamic religious education is mandatory in public schools at all levels. All children receive religious instruction… Citizens do not have the right to change their government. The Council of Senior Islamic Scholars… reviews the Government's public policies for compliance with Shari'a. The Government [views] Islamic law as the only necessary guide to protect human rights. There is legal and systemic discrimination based on sex and religion.
Nothing has changed since: the Kingdom of Saudi Arabia is the most intolerant Islamic regime in the world. While the Saudis continue to build mosques all over the world, tens of thousands of Christians among the millions of foreign workers from Asia, Europe and America must worship in secret, if at all. They are arrested, lashed or deported for public display of their beliefs. The Saudi religious police, known as the Committee to Promote Virtue and Prevent Vice, continues to routinely intimidate, abuse, and detain citizens and foreigners. In 2002 they pushed girls escaping from burning school buildings back into the inferno and certain death because they did not have their heads properly covered. Its detainees are routinely subjected to beatings, sleep deprivation and torture. Punishments include flogging, amputation, and public execution by beheading, stoning, or firing squad – over 50 were performed so far this year.
Women are second class citizens: according to the CIA world factbook, 82.2% of females are literate, in comparison to 90.8% literacy rates in males. The testimony of one man equals that of two women, and female parties to court proceedings must deputize male relatives to speak on their behalf. Women are not admitted to a hospital for medical treatment (often for wounds resulting from domestic violence) without the consent of a male relative. In public a woman is expected to wear an abaya (a black garment that covers the entire body) and to cover her head and face. Daughters receive half the inheritance awarded to their brothers. Women must demonstrate Sharia-specified grounds for divorce, but men may divorce them without giving any cause. In addition women must not drive cars, must not be driven except by an employee, or husband, or a close relative, and even then must not occupy the front seat. Women may study abroad if accompanied by a spouse or an immediate male relative. Women may own a businesses, but they must deputize a male relative to represent it.
Political detainees commonly are held incommunicado in special prisons during the initial phase of an investigation, which may last weeks or months, without access to lawyers. Defendants usually appear without an attorney before a judge, who determines guilt or innocence in accordance with Shari'a standards. Most trials are closed, and crimes against Muslims receive harsher penalties than those against non-Muslims. A sentence may be changed at any stage of review, except for punishments stipulated by the Koran.
The only expanding industry in Saudi Arabia is that of Islamic obscurantism. Some examples are grotesque: in 1966 the Vice-President of the Islamic University of Medina complained that Copernican theory was being taught at Riyadh University; it has been banned ever since. Three hundred years after the Christian theologians had to concede that the Earth went around the Sun, the geocentric theory was reaffirmed in the centers of Saudi learning. Segregation of the sexes at schools is set at age nine, which is the age for girls to start to wear the veil.
The opinions of the ullema are the only internal check and balance on the ruling family. Five Saudi Islamic universities produce thousands of clerics, many more than will ever be hired to work in the country's mosques. Thousands end up spreading and promoting Wahhabism abroad. The King of the Saudis remains their Imam. He and the Wahhabi religious establishment see it as their sacred duty and purpose to evangelize the world. The petro-dollar windfall has paid for the construction of some ten thousand mosques and "Islamic centers" in the United States and other parts of the world. All along, needless to say, no churches (let alone synagogues) can be built in Saudi Arabia, and all non-Muslim religious practice is strictly forbidden.
Read more
Blaming the 1% for diminished prosperity avoids the real reasons for designed poverty. In round terms, the seven billion souls that populate this planet translate into seventy million to be part of the 1%. Well, that amount is still a very large number to blame for the systemic transfer of riches into the hands of the few. A far more relevant approach is to examine the .001% or around seven million that fall into the mover or shakers of asset and possessions. Before targeting this group of mega wealth, that figure includes a very significant number, who are non players when it comes to global politics or transnational finance.
Recent record art sales illustrate the insulated existence that wraps the super rich in a different world from ordinary people. The Washington Post writes, What it looks like when the .001 percent fights over art.
"Welcome to Christie's," Pylkkanen said, without missing a beat.

It was that kind of night, with Christie's selling a record $852.9 million worth of contemporary and post-war art. There were new records for 11 artists, including Twombly, Ed Ruscha, Peter Doig, Martin Kippenberger and Seth Price, according to figures released by Christie's."
Not exactly familiar household art celebrities, this version of trickledown economics is only for the in crowd. A Reuter report, Life continues sweetly for the .001 percent, continues.
"Art envy isn't the only sign that the Occupy Wall Street din isn't being heard on penthouse terraces. Sanford Weill, the former chief executive of Citigroup (C.N), put his 6,700-square-foot, top-floor residence on Central Park West on the market for $88 million. That's twice what he paid for it four years ago and would be a Manhattan record. Weill said he plans to donate proceeds from the sale to charity, but for the time being would still have it as a deduction to apply against his taxable income.

The point is, the besieged banker class is still going about its business — and wielding considerable clout. That's a lesson celebrity chef Mario Batali learned after likening bankers to Adolf Hitler and Josef Stalin at a media event. After news of the comments swept across Wall Street and sparked talk of boycotts among Batali's well-heeled clientele, he apologized. With the 99 percent rallying against them, the rich clearly can't afford to turn on themselves."
While the uber rich are not exactly a monolith, there are certain factors that go unchallenged. List of 80 People With as Much Money as 1/2 of Humanityprovides a starting point. Then examine the growth in their wealth. In 2015, there was a record of 1,826 people on the list with a total net worth of $7.05 trillion, up from $6.4 trillion in 2014. The bible of financial registry is the Forbes billionaire list which is wholly inadequate as a comprehensive tally.  Notwithstanding, the seven trillion figure is but a fraction of the estimated $241 trillion which represents total global combined wealth of all the people in the world.
This disparity just does not compute when compared to the commonly held dogma of the holdings of the 1%. Even the rarified air of the .001% will not account for the difference. The missing link is that people, as individuals, do not control the vast majority of resources, assets, money and wealth.
Governments, financial institutions, corporations, transnational conglomerates, NGO's, trusts, estates and hidden hybrid ownership truly controls the global economy that dictates, who benefits from the consolidation of capital and oversight of natural resources.
The mandates that pass as national laws and international treaty relations share a common composition. Protecting the superstructure that facilitates elite domination over the masses of world population is the object of the game. The rest of us are left with distractions, illusions and misdirect narratives of a false reality that embodies the popular culture.
The mass media message is consistent. It paints the ruling class as benevolent and caring. The collectivist administrations of different regimes are planned as a huge dependence machine. Some countries are more dominant than others, by all practice institutional autocracy as a condition of allowing their citizens the privilege of conditional government sustenance.
Individual liberty is besieged as a frightening threat to the system. Actual free economic markets are destroyed as a matter of course. Cartels, cabals and monopolies rule as cronyism with the decision makers dictate the direction of the technocratic socialism that has engulfed world society.
The reason why human circumstances continue to deteriorate is clear to anyone who has the honesty to admit that the dire consequences are not accidental or unintentional. However, coming to grips with the architectures of international finance is just too painful to endure. A comment from a leaving subscriber of the BATR RealPolitik Newsletter, sums up perfectly a core reason why the world totalitarian system continues with such little opposition. "Your site does an excellent job of exposing the truth but this imposes too high a price on my daily mental attitude and overall health".
Life is seldom fair, and more often painful, but a cop out of unpleasant reality guarantees that the Rothschild manipulated model of world slavery will achieve their ultimate goal of massive population extinction for the dependency populace.
A primary failure of the "Looney Left" is placing their faith into the role of government to correct the punitive excesses of global internationalism. The nature of the contrived interdependency is based upon the power of fiat finance to own and dictated policy to their state sponsored lackeys.
Those brave hearted dissenters to the "international community" are driven from office, discredited by a media assault or killed if they become too much of a threat.
Jack Lessenberry offers this assessment in, Politics and Prejudices: What's really ruining America.
"Income inequality in this nation is not only bad and getting worse, but most of us are either brainwashed, in total denial, or too gutless to even talk about it. Why don't you hear Hillary Clinton or Elizabeth Warren screaming about this, as they should be?

For two simple reasons: First, they're afraid they'll instantly be accused of wanting to start "class warfare," a term that, like socialism, evokes bad nightmares of — shudder — Communist dictatorships.

But more sadly, they probably don't think there's anything they can do about it, other than maybe slow the trend a little bit."
This critique of the "so called" daring progressives actually reveals that both play up to the establishment. Bucking the true world power brokers is very dangerous. Ask JFK, RFK, George Wallace and Ronald Reagan. Satanic megalomaniacs are committed to the impoverishment of the masses and their eventual total demise.
When was the last time that a real populist grassroots movement was able to overthrow the ruling elites? The deplorable answer is never in our lifetime.
The systemic wealth destruction that has rendered former Middle America to borderline poverty came as no accident. Don't blame all those new faces in the billionaire crowd; they only have large bank accounts. Focus on the dynasty families that share the same bloodline and pull the strings on government puppets that administer the all-inclusive enslavement of humanity as their primary goal.
Collectivism is a deadened scheme, originated by the globalists to deceive the struggling "unwashed" to look toward government for a better future. Wow, what a miserable fiasco.
Having money is better than being poor, all other factors relative. However, earning wealth the old fashion way, by working hard is virtually a non starter today. The casino economy is a stacked deck against the industrious.
Only a total reputation of the Free Trade corporatist plantation that has de-industrialized America could remotely turn the tide. But before any boom could begin and restore national hope, the political organized crime syndicates must be recognized as the enemy of the people and driven from their power centers and debt created money schemes.
Just like the burnt out aforementioned BATR reader, the remaining moral participants that do battle with a corrupt system must risk having their head cut off, for any chance of returning to prosperity.
The task is great and little time is left. The NYT reports that a Deal Reached on Fast-Track Authority for Obama on Trade Accord, will expand the globalist fiefdom even more.
"To further sweeten the deal for Democrats, the package includes expanding trade adjustment assistance — aid to workers whose jobs are displaced by global trade — to service workers, not just manufacturing workers. Mr. Wyden also insisted on a four-year extension of a tax credit to help displaced workers purchase health insurance."
This is a clear example of collectivism at play. Government subsidies that replace real employment, does not create wealth for our own people or for the country as a whole. It is high time to admit that the 99.9% is screwed as long as this same old globalist trade fraud continues to impoverish our domestic economy.
Rally against the globalists and refuse any legitimacy to a system that is designed to distract with class warfare, while the central banksters own the vast total wealth and control the power structure.
The Destruction of a Nation…
"we are asked to feel guilty about men in prison.  We are told how many are of particular racial groups, and this is somehow our fault, no matter how many laws these convicts violated."  R. J. Rushdoony, "Systematic Theology", Vol. 1, pg. 464
With substantial support from biased reporting by the media we have experienced social unrest and rioting by Blacks over police infractions that have subsequently been proven false by a jury and by the Federal judicial system.  In the Tryvon Martin case local authorities decided against indictment but deceptive press coverage caused enough Black outrage to force a trial.   George Zimmerman was acquitted by a jury.  In the Michael Brown case in spite of media-fanned riots both Federal and local authorities decided against indicting Darrin Wilson.
In both cases the neocon controlled media provided distorted and incendiary coverage designed to create a violent reaction.  In both cases rather than presenting the evidence as it existed they distorted the evidence to make it seem that an atrocity had been committed. "White policeman kills unarmed Black teen" does not do justice to either event.
In an article in the "Atlantic" TA-Nehisi Coates writes "The investigation concluded that there was no evidence to contradict Wilson's claim that Brown reached for his gun. The investigation concluded that Wilson did not shoot Brown in the back. That he did not shoot Brown as he was running away. That Brown did stop and turn toward Wilson. That in those next moments 'several witnesses stated that Brown appeared to pose a physical threat to Wilson'. That claims that Brown had his hands up 'in an unambiguous sign of surrender'  are not supported by the 'physical and forensic evidence,' and are sometimes, 'materially inconsistent with that witness's own prior statements with no explanation, credible for otherwise, as to why those accounts changed over time.'"
Though slave owners no longer exist in the United States the media and Black leadership is still trying to harness White Americans with guilt over slavery.  Programs on slavery are frequent and any true depiction of current Black society is studiously suppressed.
We have a Black president, there are Blacks in Congress, sports at both the college and professional levels is primarily Black.  Blacks have responsible high paying government jobs, they are frequently seen in all current advertising; they own businesses and many are now solidly ensconced in Middle Class and upper 1% neighborhoods.  There are many loving and supportive Black families that are producing talented and upwardly mobile children.
An honest assessment of Black progress is very positive.  As a race they are doing extremely well.  Sadly, none of this is put forth in the press and media.  Instead, we get a constant ear splitting whine about racial prejudice.
In the first volume of "Sytematic Theology"  R. J. Rushdoony (RJR) writes, "Basic to all non-Christian politics are, first, a false covering, and, second, the cultivation of guilt. By cultivating guilt the state seeks to make its citizenry impotent and enslaved.  A false sense of guilt, moreover, has no solution and no escape is possible from it, as long as it is held.  The state then offers a false covering to that cultivated guilt: a statist program of noble ideas which in practice means the further enslavement of the people, and the increase in statist powers."  Pg. 465
Slavery and the Holocaust are salient examples of the procedure.  Egregious manipulation of our government is allowed by grief over the Holocaust and preferred racial citizenship is accorded by guilt over slavery.  In both cases the guilt is cultivated and in both cases it is bogus.
Christianity is dangerous to the state because Christians are freed from guilt and able to think clearly.  "Guilty men are not free men: they are slaves." (RJR)
In spite of the great progress Blacks have made there are still major problems.   Shootings are part of the evening news for every major city and too often they involve Blacks shooting other Blacks.  Black unemployment is part of the problem and government assistance programs share part of the guilt.  The major culprit, however, is the media which extends their fraudulent news coverage by giving a bully pulpit to self-serving Black leaders with deceitful messages.  The uncontrolled emotional rage, fanned by the press, ignites riots that make matters worse.  Riots destroy the fabric of society.  They work against freedom.  It must be acknowledge that the crime rate in Black inner-city areas is several times that of similar White neighborhoods.  Racial prejudice can no longer be used as an excuse.  We have elected a Black President, twice; a bigoted society would not do that.
A new group of Black realists needs to sit down with their biased leadership and hammer out a just and honest program for Black citizens.  There are some excellent Black pastors that would help with such a project.  Blaming people, places, and things will not provide progress; it must come from the Blacks themselves.
Though they are hardly coming from a position of strength Blacks are right about policing.  Major changes are needed in the behavior law enforcement.  Demands by policemen that innocent citizens submit to personal indignities tarnishes their reputation; policepersons who cannot determine who needs to be handcuffed and who does not do not belong on the street.   Law enforcement needs to earn a better reputation in both White and Black neighborhoods.  When respect is restored compliance will follow.
It is frightening to see a line of almost automated, black garbed, heavily armored police with loaded guns marching toward a residence where civilians will be surprised by a paralyzing no-knock raid.  The object is to shock with massive impregnable force and demand acquiescence.  These Swat team operations grew from a small number to over 40,000 per year by the beginning of the Twenty-First Century.  Read here.    Policing has morphed from protecting society to considering almost everyone to be an enemy.
Bad laws, too many laws, the war on drugs, and war as a way of life are all part of the problem.  The Neocon hate for Christianity and their success in purging it from U. S. society has had devastating effects on behavior.  We are considered a Christian nation with a population that overwhelmingly claims to be Christian but our flaccid pseudo-Christian population is governed by a satanic pagan power structure that exploits their naivety.  Freedom cannot exist under devilish tyranny.
The confiscation of cash from vehicles stopped for any or no particular reason is pandemic.  In some states the victims are predominantly Black but in others race is not a factor.  In one county in Texas in a two year period 200 citizens were victims of confiscations.  Fifty of the 200 were charged with drug possession but the remainder was never charged with a crime.  In many cases the threat of being charged with a crime which would require lawyers and trips back to the area caused victims to leave the money and go free.  Cash confiscations are common in many of our states.
In a small town in Northern Florida the city budget was almost entirely financed by speeding tickets issued to motorists traveling a main state highway that runs through the town.  That municipal thievery has how been stopped but it continued for years.
There are times when a lawless, recalcitrant citizen must be subdued and taken into custody and there are times when such a procedure is not warranted; policepersons should know the difference.
We have allowed our police departments to become sources of revenue that is used by local politicians.  Forfeiture laws and heavy fines are income streams rather than retribution for crimes.  This is fraudulent; it perverts the duties of the police force and cultivates cynicism.  Police are to be enforces of justice and should be filled with pride in that vocation.
The Black struggle for equality in a White society has now become a struggle for power.  They have more than equal legal status but now as a minority population they seek power over the entire government by calling for the resignation of the entire leadership of Ferguson.  Black riots have regularly resulted in concessions and as long as these concessions continue Black riots will continue. It is a dangerous situation when an errant press and media can create riots almost at will. The quest for power without reference to immutable justice is another form of tyranny.
American citizens are allowing manufactured guilt to be used as an excuse to create revolutionary chaos in our nation.
At the end of the "Atlantic" article TA-Nehisi Coates writes "I do not favor lowering the standard of justice offered Officer Wilson. I favor raising the standard of justice offered to the rest of us."
Even a seasoned cynic sometimes gasps in disbelief. "President Putin misinterprets much of what the U.S. is doing or trying to do," U.S. Secretary of State John Kerry told a press conference in Geneva on March 2. "We are not involved in 'numerous color revolutions' as he asserts. In the case of Ukraine, such assumptions are also wrong. The United States support international law with respect to the sovereignty and integrity of other people."
This is akin to Count Dracula asserting his strict adherence to a vegan diet and his principled respect for the integrity of blood banks worldwide.
Various quasi-NGOs funded by American taxpayers and funneled through organizations such as the National Endowment for Democracy, Freedom House and the National Democratic Institute, not to mention George Soros's Open Society Foundations (partly funded by U.S. and other Western governments), have been actively engaged in dozens of "regime-change" operations for a decade and a half. Their work is conducted in disregard of international law and in violation of the sovereignty and integrity of the people whose governments are thus targeted.
The overthrow of Slobodan Milosevic in Belgrade (October 2000) provided the blueprint, in strict accordance with Gene Sharp's manual. Widespread popular discontent was manipulated by the U.S./Soros funded and trained Otpor! network to bring to power a government subservient to Western political and economic interests. The moderately patriotic yet hapless new president, constitutional lawyer Vojislav Kostunica, was used as a battering ram to bring Milosevic down. Once that goal was achieved, Kostunica was promptly marginalized by Prime Minister Zoran Djindjic and his successors – Serbia's two-term president Boris Tadic in particular – who turned the country into a pliant tool of foreign interests. Wholesale robbery of Serbia's state and public assets promptly followed the 2000 coup, resulting in the Balkan country's comprehensive de-industrialization. Official Belgrade was forced to accept Kosovo's de facto "independence" in the name of the elusive goal of joining the European Union.
Georgia's 2003 "Rose Revolution" was carried out by the Kmara ("Enough") network, a carbon copy of Serbia's "Otpor," including the clenched fist logo. Its activists were trained and advised by the U.S.-affiliated Liberty Institute and funded by the Open Society Institute. It brought to power Mikhel Saakashvili, a corrupt "pro-Western" politician currently wanted by Georgia's government on multiple criminal charges. The coup was largely financed by Soros's network, which spent $42 million in the three months before the coup preparing the overthrow of the government of Eduard Shevardnadze. The most important geopolitical result was Georgia's NATO candidacy, supported by Washington, which is currently stalled but which has the potential to be as perniciously destabilizing as the crisis in Ukraine.
Speaking in Tblisi in June 2005, Soros said: "I am very pleased and proud of the work of the Foundation in preparing Georgian society for what became a Rose Revolution, but the role of the Foundation and me personally has been greatly exaggerated." The new government, as it happens, included Alexander Lomaia, former Secretary of the Georgian Security Council and minister of education and science, who at the time of the coup was Executive Director of the Open Society Georgia Foundation. David Darchiashvili, ex-chairman of the Committee for European Integration in the Georgian parliament, was also an executive director of the Foundation. As former Georgian foreign minister Salomé Zourabichvili wrote in 2008, "all the NGO's which gravitate around the Soros Foundation undeniably carried the revolution… [A]fterwards, the Soros Foundation and the NGOs were integrated into power." Interestingly, the U.S. Ambassador in Georgia at the time of the 2003 regime-change operation, Richard Miles, was the Ambassador in Belgrade at the time of Milosevic's downfall three years earlier.
The march of history continued with the 2004 "Orange Revolution" in Ukraine – that grand rehearsal for the Maidan coup a decade later – and the 2005 "Cedar Revolution" in Lebanon, which was given its name by then-U.S. Under Secretary of State for Global Affairs Paula J. Dobriansky. Also in 2005 the "Tulip Revolution" in Kyrgyzstan had as its chief foreign advisor Givi Targamadze, an official of Georgia's aforementioned Liberty Institute, who at the time chaired Saakashvili's parliamentary committee on defense and security.
In 2006 Congress passed the Iran Freedom and Support Act which provided taxpayer funding for groups opposed to the Iranian government, and then-Under Secretary of State for Political Affairs R. Nicholas Burns said the administration was "taking a page from the playbook" on Ukraine and Georgia. A year later the George W. Bush administration authorized a $400 million covert operation budget to foment unrest in Iran. In 2012 Seymor M. Hersh wrote that the U.S. has provided funding and training to the People's Mojahedin Organization of Iran, a militant group which had been listed by the U.S. State Department as a terrorist organization,
In 2012 President Obama authorized U.S. government agencies to support violent regime change in Syria. By early 2013 the Administration was helping the "moderate" rebels – i.e. jihadists with no overt links to al-Qaeda – to the tune of $250 million, and that figure has been at least doubled since. The result has been disastrous for the Syrian people (Christians in particular), and hugely detrimental to U.S. security interests in the region. The insurgency against Bashar al-Assad has directly contributed to the rise of ISIS, with no end to the latest war in sight.
Last month Venezuelan President Nicolas Maduro gave a televised speech in which he alleged systematic U.S. involvement in destabilization attempts against his government. The U.S. Department of State called his claims "baseless" and "false."  "The United States does not support political transitions by non-constitutional means," read the statement from Department spokesperson, Jen Psaki. Indeed. One of the leaders of the failed anti-Chavez coup d'etat in 2002, Rear Admiral Carlos Molina, has stated that he was acting with US support. Ditto the CIA-supported regime-change operation in Nicaragua in 2009.
As for the Maidan Revolution, crowned by "political transition by non-constitutional means" par excellence, Victoria Nuland readily admitted that its preparation cost the U.S. taxpayers some $5 billion over the preceding decade. The result is the most dangerous geopolitical crisis of the post-Cold War era, systematically engineered and conducted by the regime-changing exceptionalists in Washington D.C. who believe that they are exempt from historical forces and legal restraints that apply to merely mortal countries.
Former U.S. Ambassador in Moscow Michael McFaul boasted to The New York Times a week after taking duty in January 2012 that he would make his "pro-democracy" mark in Moscow "in a very, very aggressive way." Some months earlier, McFaul declared that "even while working closely with Putin on matters of mutual interest, Western leaders must recommit to the objective of creating the conditions for a democratic leader to emerge in the long term." This was a regime-change agenda expressed with brutal bluntness: we need to "de-Putinize" Russia, he declared. It would be interesting to see the U.S. reaction if a similar statement ("We need to to de-Obamanize America!") were to be made by an incoming Russian ambassador in Washington.
In Russia the regime-change program did not work, however. First and foremost, there was no popular support: hundreds of "activists" demonstrating against Putin in 2012 could be turned into "thousands" in Western post-election media reports, but that was still far below the tens, let alone hundreds, of thousands needed to kick-start a regime-change op. Infuriatingly for the planners, Russia simultaneously enacted a law regulating foreign "NGO" activities which was patterned directly on the American Foreign Agents Registration Act (FARA), which regulates activities of the agents of foreign governments in the United States. Enacted in the 1930's to require disclosure of Americans working on behalf of Nazi Germany, and used to control Soviet agents thereafter, FARA requires full public disclosure of those same activities that the U.S. government had tried to fund in Russia. The Federal Election Campaign Act flatly prohibits foreign involvement in American elections – yet it was touted as legitimate when conducted in Russia by Washington's protégés under the guise of promoting democracy.
The regime-change mania will go on and on. It is inseparable from the psychotic belief in one's indispensability and exceptionalism. It is a form of self-defeating grandomania that can only stop with America's long-overdue abandonment of the global hegemony experiment.
And yes, John Kerry is a liar.