Chuck Pierce claims he's a "prophet" in the New Apostolic Reformation (NAR) or what many refer to as Dominionism.  Because of Pierce's elevated status, he recently bestowed a "new mantle for the future" on Glenn Beck, popular TV/radio host, author and speaker.  "Prophet" Pierce presented the mantle to Beck at Global Spheres Center in Corinth, Texas as Mrs. Beck looked on.
Beck's fans often hear him boast that he's a Christian.  But let me assure you that nothing could be further from the truth.  Substantiation for this statement, if for no other reason, lies in the fact that he's a proud member of the Church of Jesus Christ of Latter-day Saints (LDS).  When former Mormon Ed Decker of Saints Alive got wind of Beck's mantle ceremony, he remarked:
For Chuck Pierce to claim that he was instructed of God to lay hands and [bestow] a holy mantle … for a man who claims a false priesthood, who sits under an exalted man-god who lives on a planet near the great star Kolob with his many goddess wives—that claim is of the father of lies, coming from the mouth of a very false prophet.
This is Mormon theology in a nutshell, brethren.  And no true Mormon will deny it.   (I don't have the space to address specific concerns on Mormon theology so I'm providing alink for those who wish to learn more.)  My point is that by choosing someone who's not a Christian, Chuck Pierce had to have received his "mantle bestowing instructions" from someone other than God, if he got them at all.  In his books, Beck clearly lays out his beliefs.  He's not a cookie cutter Mormon by any stretch.  In fact, the beliefs he holds are a blend of Mormonism, New Age, New Thought, and occult!  Which begs the question: If Chuck Pierce is a true prophet of God, how could he have missed this?
Before I expand on the mantle presentation and its significance, I must point out that many people believe that the NAR is a theological cult even though its movers and shakers (I mean this quite literally) insist that it's not.
So, what exactly is a cult?  Noted Bible scholar and founder of the Christian Research Institute, Walter Martin, described the cult of liberalism thusly:
It is a cult because it follows every outlined structure of cultism; its own revelations; its own gurus, and its denial–systematically–of all sound systematic Christian theology. It is a cult because it passes its leadership on to the next group that takes over–either modifying, expanding or contracting–the same heresies; dressing them up in different language, and passing them on. It is theologically corrupt because it is bibliologically corrupt; it denies the authority of Scripture, it ruins its own theology. And it ends in immorality; because the only way you could have gotten to this homosexual, morally relativistic garbage–which is today in our denominational structures–is if the leadership of those denominations denied the authority of the Scriptures and Jesus Christ as Lord. (Walter Martin, The Cult of Liberalism, CD Rom, 1985)
Dr. Martin had strong opinions on the cults and the occult.  In the above discussion he expressed his concern over liberalism, which had infiltrated the visible Church.  Some of the NAR's teaching fits Dr. Martin's definition.  Besides denying the authority of Scripture and relying on new revelations, NAR promotes Dominionism.  Three  quick examples: 1) Satan usurped man's dominion over the earth through the temptation of Adam and Eve; 2) The Church is God's instrument to take dominion back from Satan; 3) Jesus cannot or will not return until the Church has taken dominion by gaining control of the earth's governmental and social institutions. (Source)
Other unbiblical beliefs are:
God is restoring the lost offices of church governance, namely the offices of Prophet and Apostle.
Leading figures in this seemingly loosely organized movement claim that these prophets and apostles alone have the power and authority to execute God's plans and purposes on earth. They believe they are laying the foundation for a global church, governed by them. (Source)
So now that you understand a bit about the NAR, I'll move on to the mantle ceremony.
It's not often we're given the opportunity to witness a couple of high ranking false prophets, one NAR the other LDS, sharing a stage together …except at the "Reclaim America" events.  Because Beck was involved, the ceremony caught the attention of the press and the news quickly spread throughout the blogosphere.  Not surprisingly, there were NAR folk who were not happy when they learned that their second in command (for now C. Peter Wagner is the self-professed "Presiding Apostle") had mantled a Mormon.  What's the significance of receiving a "mantle"?:
Anyone who is deeply involved in the NAR understands what it means when a prophet presents a "mantle" to someone. This practice is an allusion to a story in 1 Kings 19:19, when the prophet Elijah gives to the prophet Elisha his cloak–or "mantle," as the word is rendered in the King James Version. This biblical story is interpreted by people in the NAR as a symbolic action, showing that the prophet Elijah was naming the prophet Elisha as his prophetic successor.
So when Pierce presented a mantle to Beck, people in the audience–who regard Pierce as a prophet–understood that their prophet was conferring some type of prophetic status on Beck. This should trouble Christians. Why? Because a leading prophet in the NAR is recognizing a member of the Mormon church–a cult of Christianity, which rejects essential doctrines of the Christian faith– as a true messenger of God. A true prophet of God would do no such thing.
Pierce apparently felt the need to offer a further justification for his action. Yesterday he posted a lengthier comment in which he acknowledged that Beck is a Mormon–though he also hinted that Beck may be on the path to becoming fully Christian. (And take notice that he referred to Beck as a specific individual's "son in the Lord"–language that is typically used by Christians to describe a true Christian believer.) Certainly, many of Pierce's followers have interpreted Pierce's action to mean that he recognizes Beck as a fellow Christian. (Source)
First off, when Glenn Beck repents of his sins and puts his faith in the Jesus Christ of the Bible and leaves his church, we'll know he's sincere.  But at the moment he has placed his faith in the Jesus Mormon founder and "prophet" Joseph Smith dreamed up, the Jesus who, according to Smith's writings, is the spirit brother of Lucifer.
What's so amusing about what went on at the Global Spheres Center is that both of these men are false prophets.  Since there's no denying this, we can safely say that neither one of them is saved.  All we need do is look at the fruit.  Their fruit's so rotten that Smuckers would reject it.
Who do we have to thank for mainstreaming the NAR?  Pro-family leaders! They've made a concerted effort to team up with apostates in their all out effort to "save America." As a result, a whole host of undiscerning Christians, who trust evangelical leaders, think that anyone involved in pro-family causes are true believers.  No doubt some of them are.  But many are false converts.  The Fact is, anyone who buys into NAR's unscriptural beliefs is extremely weak in discerning truth from fiction.
Unbeknownst to many people in the Church, the religious and/or Christian Right (CR) and other leaders in the evangelical community have joined together with NAR and LDS folks in order to fight the culture war.  Ecumenicism, anyone?  And until recently very few Christians even realized this was going on.  I reported on the CR's penchant for joining forces with apostates here.
"The NAR is powerful," says author and speaker John Lanagan, "and thankfully does not rule the entire Body of Christ. But what have NAR leaders brought us? False eschatology, false visions, contemplative prayer (IHOP-KC and Bethel Redding), twisted doctrine, introduction to quantum mysticism (Bill Johnson, Mark Chironna), occult Kabbalah (Pierce), and mantles to nowhere." (Source)
Lanagan's reference to "Kabbalah" caught my attention.  So I decided to investigate.  Although I don't always agree with The Berean Call, I'm going to include an excerpt from a piece they wrote on Pierce's infatuation with Kabbalah:
Chuck Pierce, along with his partner, Robert Heidler, teaches much more than keeping the Old Testament feasts. Indeed, they have gone far beyond keeping such celebrations as Passover and have delved into "Christianized" forms of astrology, numerology, etc., and the kabbalah(embraced by celebrities Rosie O'Donnell, Madonna, et al.)
An infatuation with mysticism will always take one away from the Scriptures and now takes Pierce and Heidler into Jewishmysticism. For example, consider the following statement from Kabbalah 365, "Daily Fruit from the Tree of Life," Day 131: "Although the air of the earthly atmosphere is thick in volume and mass, the mystery wisdom of the spirit realm still manages to enter this world because of the birds. For when the birds are in flight, their flapping wings cut through the thickness of the atmosphere, enabling in the moment for the mystery wisdom of the spirit realm to come through to our world."
On May 2, 2008, Pierce issued what he calls "A Key Prophetic Word!" that parallels the kaballah: "I have come to make room for you to ascend to a new height. Extend your wings. Then extend them again. Stretch them to the left and the right. It is time for you to take flight!" (http://www.glory-of-zion.org/outmail/5-2-08_EuropeTripLetterOnline.htm).
Here's another example: "I am sorting out those situations that are presently confining you. I am coming in with a sorting instrument to begin to sort that which has kept evil in your midst, working against My best purpose for your life. I will sort out the confusion that is around you. I am sending help now. What you need will be sorted out and your path will be rearranged. I AM coming down and cutting through the atmosphere that has been too thick for your vision to progress" (Ibid.).
That's another parallel to kabbalah: "Your mind serves as a mail sorting room, where thousands of pieces of mail flow in to be sorted. The items that cannot be 'sorted' are swept into a pile, which we call the subconscious. Kabbalah gives you ten slots (Sephiroth) to sort the incoming mind processes in to, and making things manageable!" (http://www.thelivinglightfoundation.com/classesKabbalah.php).
(Links are BC's — Source)
First of all, doesn't God tell His people in no uncertain terms to stay away from occult practices?  (Leviticus 18:1-5) Jewish mysticism is all about the occult.  And besides that, Kabbalah's considered a cult!  Obviously Prophet Pierce is aware of this fact and has chosen to disobey God by immersing himself in occult practices.  And the sheep follow the wolf into the woods…
Even though I found nothing to link Glenn Beck to Jewish mysticism, John Lanagan pointed me to a Youtube video produced by discerners over at Psalm 86 that links Mormonism to the Kabbalah. View the video here.
So – if NAR and LDS are truly Christian, as they claim, how can they possibly be involved in Jewish mysticism?  Moreover, if NAR and LDS are truly Christian, as they claim, which of them is the real deal?  Inquiring minds want to know.
Be Bereans
Anyone who wishes to know the truth must go to the scriptures to find it.  "The best way to guard yourself against falsehood and false teachers," says Charles Ryrie, "is to know the truth. To spot a counterfeit, study the real thing. Any believer who "correctly handles the word of truth" (2 Timothy 2:15) and who makes a careful study of the Bible can identify false doctrine. For example, a believer who has read the activities of the Father, Son, and Holy Spirit in Matthew 3:16-17 will immediately question any doctrine that denies the Trinity. Therefore, step one is to study the Bible and judge all teaching by what the Scripture says." (Source)
If a professing Christian holds fast to what the Bible teaches, the conclusion he will come to is that NAR and LDS theology is decidedlyunbiblical.  And if their beliefs don't line up with Scripture (reject what God expressly says in His Word) then it matters not that they're "good people" or "good deed doers," or really good looking, in reality they're the enemy of God.  In other words, they're not with Him, they're in cahoots with Satan.  "Whoever is not with me is against me…" (Matthew 12:30)
There's a stark divide between historic orthodox Christianity and the New Apostolic Reformation, Church of Jesus Christ of Latter-day Saints, Kabbalah, Word of Faith,Jehovah's Witnesses, Hebrew Roots, and a whole host of equally dangerous counterfeits that spread a false gospel that saves no one. (1 Cor. 15:1-6)
I'll close with a reminder from Peter:
Be sober-minded; be watchful.  Your adversary the devil prowls around like a roaring lion, seeking someone to devour.  (1 Peter 5:8)
Recommended:
Controversy Stirs as 'Prophet' Chuck Pierce Bestows 'Mantle' on Mormon Glenn Beck—Christian News Network
What is Kabbalah?—Got Questions
Grave sucking, prayers/baptism of the dead, and Kabbalah—video produced by Psalm 86 lays out "connection of modern heresy to Kabbalah. Via the adoration of the dead from NAR (hyper-charismatics) to Mormons to Catholics. It all stems from Jewish Mysticism thus Kabbalah"
For those who have concerns about the NAR, Diana Lesperance of Narrow Way Apologetics offers her advice:
keep an eye on two organizations: the International Coalition of Apostolic Leaders, led by "Convening Apostle" John P. Kelly, and its daughter structure, the European Coalition of Apostolic Leaders, led by "convener" Jan-Aage Torp. These two networks are energetically working "to build apostolic government in all cities and regions." You may be surprised to learn just how extensively apostles in many nations are networking to promote NAR teachings. Here are links to their websites.
International Coalition of Apostolic Leaders (ICAL)
European Coalition of Apostolic Leaders (ECAL)
(Source)
That America is spiraling on a collision course with calamity seems certain. We seem to be ignoring virtually all of the lessons of history, and, well, you know what one fellow said about the folly of doing that. I join the consensus of patriots and freedom-lovers throughout the country who believe America's future is filled with all sorts of stormy weather. As a matter of fact, the storms are all around us already.
For one thing, most of the people who should be helping us in the freedom fight cannot see past the end of their ballot. They think, as long as they elect "conservatives" to public office, all is well with the world. And since the GOP now controls both houses of Congress in Washington, D.C., the vast majority of our good brothers and sisters are already all tucked in for extended hibernation. They will reemerge from under their blankets about three months before the general election in 2016 and start screaming their support for whomever the neocon candidate happens to be. Why, they are already ignoring the fact that the precious Republicans they just elected to the House and Senate a few weeks ago are already signaling that they will to do NOTHING to thwart Barack Obama's executive amnesty, which was the single most defining issue that helped give the Congress to the GOP. Republicans on Capitol Hill are famous for doing NOTHING to fulfill the promises they made on the campaign trail to their constituents. And Republican voters are famous for reelecting them anyway. Good grief! Republicans in South Carolina can't even get rid of Lindsey Graham; and Republicans in Arizona can't even get rid of John McCain.
Even the great Republican "conservative," Mitt Romney, is now on record saying that the GOP should "swallow hard" and pass a PERMANENT amnesty bill. And even though he says he is not running for President in two years, he continues to be the frontrunner in most of the GOP preference polls. What does that tell you?
See the report here:
Mitt Romney: Republicans Should 'Swallow Hard' And Pass 'Permanent' Amnesty Bill
Congresswoman Michele Bachmann had the guts to tell the truth about what the GOP plans to do regarding Obama's blatantly illegal executive amnesty decision. Bachmann told Breitbart.com that House Speaker John Boehner and the GOP leadership have "no intention" of resisting Obama's executive amnesty. And she is right.
See the report here:
'We Will Not Engage': Michele Bachmann Reveals GOP Plans To Ignore Executive Amnesty
Staunch anti-amnesty senator, Jeff Sessions, said this past Tuesday that the GOP House was about to break their 2014 campaign promises to stop Obama's executive amnesty. Also on Tuesday, Breitbart.com reported that House Speaker Boehner appears ready to deal with Democrats in order to cut a deal to SAVE amnesty. See the report here:
Boehner Poised To Deal With The Devil To Avoid Shut-Down?
Oh, we can expect Boehner and Company to blow a lot of smoke and pass some frivolous and toothless legislation or resolutions that will be designed to placate a gullible and naïve Republican constituency, but that will do absolutely NOTHING to stop Obama's amnesty. The only thing John Boehner and his ilk in Congress don't like is Obama beat them to the punch by issuing executive amnesty to illegals. GOP leaders were hoping to pass legislative amnesty. So, now that Obama has beaten them to the punch, Boehner and his fellow establishment Republicans will quickly fall in line.
But what the U.S. House of Representatives ought to do (if they had any guts, which they don't) is impeach this President for his executive amnesty.
Barack Obama's executive amnesty is the worst kind of abuse of power and illegal conduct. The President of the United States is charged with "executing" the laws of our country. He has no lawful authority to set those laws aside with an Executive Order, which is exactly what he did. Compared to the crimes of Barack Obama, the impeachment charges against Bill Clinton look pale. Then again, compared to the Congress of 1994, this Congress looks pale.
The effect of our government's refusal to respect our nation's borders and laws over the next several years will be devastating consequences to the very fiber and fabric of this once great republic. The toll on State and local budgets, education quality, crime rates, employment opportunities, and quality of life will be incalculable. And this is just one menace that the miscreants in Washington, D.C., are inflicting upon us.
For much of the Twentieth Century (and now into the Twenty-First Century), Americans repeatedly choose to elect irresponsible, power-hungry, egotistical, self-centered sycophants (from both major parties) to public office. In addition, most of our churches are little more than glorified social clubs, entertainment centers, playgrounds, and government corporations. Our major media, in both the national and most local markets, are largely government propaganda outlets–as are most of our educational institutions. Furthermore, Christians and unbelievers, pastors of all stripes, Republicans and Democrats, and conservatives and liberals alike, are sitting back passively and indifferently as our country is being turned into a humongous Police State. Absent a significant shift in the hearts and minds of the American people, our liberties cannot long endure.
However, with all of the above said, I still refuse to join the ranks of Chicken Little.
For some reason, known only to God, we still have a semblance of freedom in this land. Granted, it's only a semblance, but the curtain has not yet fully fallen on liberty. God knows we don't deserve even the semblance of freedom that we still enjoy. Over the last sixty-plus years, we have been doing our best to throw America into the garbage heap of history. But, for some reason, the curtain has not yet fallen completely.
I would like to proffer five suggestions as to why the curtain has not yet fallen on liberty.
1. I believe God is still honoring the faith, courage, commitment, and sacrifice of America's Founding Fathers. If God would bless Old Testament Israel for the sake of Abraham, Moses, and David, I believe He would bless the United States for the sake of George Washington, Patrick Henry, and Samuel Adams.
From the days of the Pilgrims through the days of the Patriots, several generations of men and women were willing to pay, many times, a horrific price for liberty. There is no doubt in my mind that these modern generations of Americans are still clipping the coupons from the extraordinary faith and courage of our forebears.
2. More than one hundred million American citizens possess over three hundred million firearms. And a good percentage of these people not only possess a gun; they possess the mental, emotional, and spiritual resolve to use those weapons against any government that would seek to take them. There is absolutely no doubt in my mind that the deeply-rooted heritage of the American people to keep and bear arms has been largely responsible for the preservation of whatever liberties we have left. Without a heavily-armed populace within this country, there is absolutely no doubt that America (and the rest of the "free world") would have been totally enslaved decades ago.
3. The Internet. For all of the baloney, malarkey, and rubbish that can be found on the Internet, there is absolutely no question that the Internet has very successfully circumvented and shattered the monopoly of the government shills of the mainstream media. For all intents and purposes, the Internet is to America today what the "Committees of Correspondence" were to Colonial America.
Many are even predicting that the major television news networks will be out of business within the next couple or three decades–as will many of America's newspapers. CNN was once a cable dynasty; now it is barely broadcasting. MSNBC's ratings are so poor that its days are also numbered. And while FOX NEWS is currently enjoying the zenith of its existence, more people are getting their news and newsworthy information from the Internet than from all of the above combined. For all of its negatives, the Internet is a huge net positive for freedom.
4. There is still a host, and I mean a huge host, of liberty-loving people in this country who have not (and will never) accept the shackles of tyranny around their hearts. Big-Government toadies can impugn them all they want, but people such as Ron Paul, Judge Andrew Napolitano, Senator Mike Lee, Congressman Justin Amash, and millions like them, are keeping the torch of liberty burning.
The media would have us believe that old-fashioned, red-blooded freedomists have gone the way of the Brontosaurus. Or, that if any do yet exist, their numbers are so small as to be placed on the list of endangered species. Don't you believe it!
In every occupation and vocation–including in our U.S. military and federal police agencies–in virtually every village and hamlet dotted across the fruited plain, and in every age bracket, reside innumerable freedom-loving Americans in whose hearts the love of liberty reigns. Before the chains of tyranny can be placed around a person's neck, they must first be placed around their hearts. And the people I'm talking about will NEVER allow those chains to be placed around their hearts.
5. I believe the curtain has not completely dropped on liberty in this country because of the grace and sovereignty of our Creator-God. Thomas Jefferson (himself an unbeliever in the traditional sense) was exactly right when he said that liberty is the gift of God. That we still enjoy a semblance of freedom in this land indicates that His divine protection still rests upon us.
Those of us who have a Christian perspective realize that Holy Writ tells us: "For it is God which worketh in you both to will and to do of his good pleasure." (Philippians 2:13) This means that the deeply-seeded love of liberty in our hearts was planted there by our Creator. Our WILL for liberty is God-breathed. That fact, by itself, demonstrates that it's not over.
There is a line from the 2012 version of the movie "Red Dawn" that I really love. A U.S. Marine fighting with the "Wolverines," said, "I'm still breathing, so, it's not over." Indeed. You and are still breathing, folks, so, IT'S NOT OVER.
Here we go again.
Last week, the country's biggest mortgage lenders scored a couple of key victories that will allow them to ease lending standards, crank out more toxic assets, and inflate another housing bubble.  Here's what's going on.
On Monday,  the head of the Federal Housing Finance Agency (FHFA), Mel Watt, announced that Fannie and Freddie would slash the minimum down-payment requirement on mortgages from 5 percent to 3 percent while making loans more available to people with spotty credit. If this all sounds hauntingly familiar, it should. It was less than 7 years ago that shoddy lending practices blew up the financial system precipitating the deepest slump since the Great Depression. Now Watt wants to repeat that catastrophe by pumping up another credit bubble. Here's the story from the Washington Post:
"When it comes to taking out a mortgage, two factors can stand in the way: the price of the mortgage,…and the borrower's credit profile."
On Monday, the head of the agency that oversees the mortgage giants Fannie Mae and Freddie Mac outlined … how he plans to make it easier for borrowers on both fronts. Mel Watt, director of the Federal Housing Finance Agency, did not give exact timing on the initiatives. But most of them are designed to encourage the industry to extend mortgages to a broader swath of borrowers.
Here's what Watt said about his plans in a speech at the Mortgage Bankers Association annual convention in Las Vegas:
Saving enough money for a downpayment is often cited as the toughest hurdle for first-time buyers in particular. Watt said that Fannie and Freddie are working to develop "sensible and responsible" guidelines that will allow them to buy mortgages with down payments as low as 3 percent, instead of the 5 percent minimum that both institutions currently require."

Does Watt really want to "encourage the industry to extend mortgages to a broader swath of borrowers" or is this just another scam to enrich bankers at the expense of the public?  It might be worth noting at this point that Watt's political history casts doubt on his real objectives.   According to Open Secrets, among the Top 20 contributors to Watt's 2009-2010 campaign were Goldman Sachs, Bank of America, Citigroup Inc., Bank of New York Mellon, American bankers Association, US Bancorp, and The National Association of Realtors. ("Top 20 Contributors, 2009-2010", Open Secrets)
Man oh man,  this guy's got all of Wall Street rooting for him. Why is that, I wonder? Is it because he's faithfully executing his office and defending the public's interests or is it because he's a reliable stooge who brings home the bacon for fatcat bankers and their brood?
This is such a farce, isn't it? I mean, c'mon, do you really think that the big banks make political contributions out of the kindness of their heart or because they want something in return?  And do you really think that a guy who is supported by Goldman Sachs has your "best interests" in mind?  Don't make me laugh.
The reason that Obama picked Watt was because he knew he could be trusted to do whatever Wall Street wanted, and that's precisely what he's doing. Smaller down payments and looser underwriting are just the beginning; teaser rates, balloon payments, and liars loans are bound to follow. In fact, there's a funny story about credit scores in the Washington Post that explains what's really going on behind the scenes. See if you can figure it out:
"Most housing advocates agree that a bigger bang for the buck would come from having lenders lower the unusually high credit scores that they're now demanding from borrowers.

After the housing market tanked, Fannie and Freddie forced the industry to buy back billions of dollars in loans. In a bid to protect themselves from further financial penalties, lenders reacted by imposing credit scores that exceed what Fannie and Freddie require. Housing experts say the push to hold lenders accountable for loose lending practices of the past steered the industry toward the highest-quality borrowers, undermining the mission of Fannie and Freddie to serve the broader population, including low- to moderate- income borrowers.

Today, the average credit score on a loan backed by Fannie and Freddie is close to 745, versus about 710 in the early 2000s, according to Moody's Analytics. And lenders say they won't ease up until the government clarifies rules that dictate when Fannie and Freddie can take action against them." (Washington Post)
Can you see what's going on? The banks have been requiring higher credit scores than Fannie or Freddie.
But why? After all, the banks are in the lending business, so the more loans they issue the more money they make, right?
Right. But the banks don't care about the short-term dough. They'd rather withhold credit and slow the economy in order to blackmail the government into doing what they want.
And what do they want?
They want looser regulations and they want to know that Fannie and Freddie aren't going to demand their money back ("put backs") when they sell them crappy mortgages that won't get repaid. You see, the banks figure that once they've off-loaded a loan to Fannie and Freddie, their job is done.  So, if the mortgage blows up two months later, they don't think they should have to pay for it. They want the taxpayer to pay for it. That's what they've been whining about for the last 5 years. And that's what Watt is trying to fix for them. Here's the story from Dave Dayen:
"Watt signaled to mortgage bankers that they can loosen their underwriting standards, and that Fannie and Freddie will purchase the loans anyway, without much recourse if they turn sour. The lending industry welcomed the announcement as a way to ease uncertainty and boost home purchases, a key indicator for the economy. But it's actually a surrender to the incorrect idea that expanding risky lending can create economic growth.

Watt's remarks come amid a concerted effort by the mortgage industry to roll back regulations meant to prevent the type of housing market that nearly obliterated the economy in 2008. Bankers have complained to the media that the oppressive hand of government prevents them from lending to anyone with less-than-perfect credit. Average borrower credit scores are historically high, and lenders make even eligible borrowers jump through enough hoops to garner publicity. Why, even Ben Bernanke can't get a refinance done! (Actually, he could, and fairly easily, but the anecdote serves the industry's argument.)

("The Mortgage Industry Is Strangling the Housing Market and Blaming the Government", Dave Dayen, The New Republic)
Can you see what a fraud this is?  6 years have passed since Lehman crashed and the scum-sucking bankers are still  fighting tooth-and-nail to unwind the meager provisions that have been put in place to avoid another system-shattering disaster. It's crazy. These guys should all be in Gitmo pounding rocks and instead they're setting the regulatory agenda. Explain that to me? And this whole thing about blackmailing the government because they don't want to be held responsible for the bad mortgages they sold to the GSE's is particularly irritating. Here's more from Dave Dayen:
"After the housing market tanked, Fannie and Freddie forced the industry to buy back billions of dollars in loans. In a bid to protect themselves from further financial penalties, lenders reacted by imposing credit scores that exceed what Fannie and Freddie require. ….And lenders say they won't ease up until the government clarifies rules that dictate when Fannie and Freddie can take action against them."
So the industry has engaged in an insidious tactic: tightening lending well beyond required standards, and then claiming the GSEs make it impossible for them to do business. For example, Fannie and Freddie require a minimum 680 credit score to purchase most loans, but lenders are setting their targets at 740. They are rejecting eligible borrowers….so they can profit much more from a regulation-free zone down the line.
So, I ask you, dear reader; is that blackmail or is it blackmail?
And what does Watt mean when he talks about "developing sensible and responsible guidelines' that will allow them (borrowers) to buy mortgages with down payments as low as 3 percent"?
What a joke.  Using traditional underwriting standards, (the likes of which had been used for  the entire post-war period until we handed the system over to the banks) a lender would require a 10 or 20 percent down, decent credit scores, and a job. The only reason Watt wants to wave those requirements is so the banks can fire-up the old credit engine and dump more crap-ass mortgages on Uncle Sam.  That's the whole thing in a nutshell. It's infuriating!
Let me fill you in on a little secret: Down payments matter! In fact, people who put more down on a home (who have "more skin in the game") are much less likely to default.  According to David Battany, executive vice president of PennyMac, "there is a strong correlation between down payments to mortgage default. The risk of default almost doubles with every 1%."
Economist Dean Baker says the same thing in a recent blog post:
"The delinquency rate, which closely follows the default rate, is several times higher for people who put 5 percent or less down on a house than for people who put 20 percent or more down.

Contrary to what some folks seem to believe, getting moderate income people into a home that they subsequently lose to foreclosure or a distressed sale is not an effective way for them to build wealth, even if it does help build the wealth of the banks."

("Low Down Payment Mortgages Have Much Higher Default Rates", Dean Baker, CEPR)
Now take a look at this chart from Dr. Housing Bubble which helps to illustrate the dangers of low down payments in terms of increased delinquencies:
Data on mortgage delinquencies by downpayment. Source:  Felix Salmon 
"When the mortgage industry starts complaining about the 14 million people who would be denied the chance to buy a qualified mortgage if they don't have a 5% downpayment, it's worth remembering that qualified mortgages for people who don't have a 5% downpayment have a delinquency rate of 16% over the course of the whole housing cycle." ("Why a sizable down payment is important", Dr. Housing Bubble)
So despite what Watt thinks,  higher down payments mean fewer defaults, fewer foreclosures, fewer shocks to the market, and greater financial stability.
And here's something else that Watt should mull over:  The housing market isn't broken and doesn't need to be fixed.  It's doing just fine, thank you very much. First of all, sales and prices are already above their historic trend. Check it out from economist Dean Baker:
"If we compare total sales (new and existing homes) with sales in the pre-bubble years 1993-1995, they would actually be somewhat higher today, even after adjusting for population growth. While there may be an issue of many people being unable to qualify for mortgages because of their credit history, this does not appear to be having a negative effect on the state of market. Prices are already about 20 percent above their trend levels." ("Total Home Sales Are At or Above Trend", Dean Baker, CEPR)
Got it? Sales and prices are ALREADY where they should be, so there's no need to lower down payments and ease credit to start another orgy of speculation. We don't need that.
Second, the quality of today's mortgages ARE BETTER THAN EVER, so why mess with success? Take a look at this from Black Knight Financial Services and you'll see what I mean:
"Today, the Data and Analytics division of Black Knight Financial Services … released its November Mortgage Monitor Report, which found that loans originated in 2013 are proving to be the best-performing mortgages on record…..

"Looking at the most current mortgage origination data, several points become clear," said Herb Blecher, senior vice president of Black Knight Financial Services' Data & Analytics division. "First is that heightened credit standards have resulted in this year being the best-performing vintage on record. Even adjusting for some of these changes, such as credit scores and loan-to-values, we are seeing total delinquencies for 2013 loans at extremely low levels across every product category."

("Black Knight Financial Services' Mortgage Performance Data Shows 2013 Loans Best Performing on Record", LPS)
Okay, so sales and prices are fine and mortgage quality is excellent. So why not leave the bloody system alone? As the saying goes: If it ain't broke, don't fix it.
But you know why they're going to keep tinkering with the housing market. Everyone knows why. It's because the banks can't inflate another big-honking credit bubble unless they churn out zillions of shi**y mortgages that they offload onto Fannie and Freddie. That's just the name of the game: Grind out the product (mortgages), pack it into sausages (securities and bonds), leverage up to your eyeballs (borrow as much as humanly possible), and dump the junk-paper on yield-chasing baboons who think they're buying triple A "risk free" bonds.
Garbage in, garbage out.  Isn't this how the banks make their money?
You bet it is, and in that regard things have gotten a helluva a lot scarier since last Wednesday's announcement that the banks are NOT going to be required to hold any capital against the securities they create from bundles of mortgages.
Huh?
You read that right. According to the New York Times:  "there will be no risk retention to speak of, at least on residential mortgage loans that are securitized."
But how can that be, after all, it wasn't subprime mortgages that blew up the financial system (subprime mortgages only totaled $1.5 at their peak), but the nearly $10 trillion in subprime infected mortgage-backed securities (MBS) that stopped trading in the secondary market after a French Bank stopped taking redemptions in July 2007. (a full year before the crisis brought down Lehman Brothers) . That's what brought the whole rattling financial system to a grinding halt. Clearly, if the banks had had a stake in those shabby MBS— that is, if they were required to set aside 5 or 10 percent capital as insurance in the event that some of these toxic assets went south– then the whole financial collapse could have been avoided, right?
Right. It could have been avoided. But the banks don't want to hold any capital against their stockpile of rancid assets, in fact, they don't want to use their own freaking money at all, which is why 90 percent of all mortgages are financed by Uncle Sugar. It's because the banks are just as broke as they were in 2008 when the system went off the cliff. Here's a summary from the New York Times:
"Once upon a time, those who made loans would profit only if the loan were paid back. If the borrower defaulted, the lender would suffer.

That idea must have seemed quaint in 2005, as the mortgage lending boom reached a peak on the back of mushrooming private securitizations of mortgages, which were intended to transfer the risk away from those who made the loans to investors with no real knowledge of what was going on.

Less well remembered is that there was a raft of real estate securitizations once before, in the 1920s. The securities were not as complicated, but they had the same goal — making it possible for lenders to profit without risking capital.

The Dodd-Frank Act of 2010 set out to clean that up. Now, there would be "risk retention." Lenders would have to have "skin in the game." Not 100 percent of the risk, as in the old days when banks made mortgage loans and retained them until they were paid back, but enough to make the banks care whether the loans were repaid.

At least that was the idea. The details were left to regulators, and it took more than four years for them to settle on the details, which they did this week.

The result is that there will be no risk retention to speak of, at least on residential mortgage loans that are securitized.

"…..Under Dodd-Frank, the general rule was to be that if a lender wanted to securitize mortgages, that lender had to keep at least 5 percent of the risk…….But when the final rule was adopted this week, that idea was dropped."  ("Banks Again Avoid Having Any Skin in the Game", New York Times)
No skin in the game, you say?
That means the taxpayer is accepting 100 percent of the risk. How fair is that?
Let's review: The banks used to lend money to creditworthy borrowers and keep the loans on their books.
They don't do that anymore, in fact, they're not really banks at all, they're just intermediaries who sell their loans to the USG or investors.
This arrangement has changed the incentives structure. Now the goal is quantity not quality.  "How many loans can I churn-out and dump on Uncle Sam or mutual funds etc." That's how bankers think now.  That's the objective.
Regulations are bad because regulations stipulate that loans must be of a certain quality, which reduces the volume of loans and shrinks profits. (Can't have that!) Therefore, the banks must use their money to hand-pick their own regulators  ("You're doin' a heckuva job, Mel") and ferociously lobby against any rules that limit their ability to issue credit to anyone who can fog a mirror. Now you understand how modern-day banking works.
It would be hard to imagine a more corrupt system.
Well lookie here.  Joyce Meyer, popular women's conference speaker; health and wealth author; radio & TV teacher (whew!) has been invited to speak at the Onething Conference that will be held this December.  The 4 day weekend supposedly draws 25,000 young adults.  Visit Onething and you will find that the conference is "a gathering of believers who are setting their hearts to live with passion for Jesus."  Sounds like a conference most Christians would love to attend.  What sincere believer wouldn't want to share his/her passion for Jesus?
Not so fast.  The group behind the event is none other than the International House of Prayer (IHOP) an evangelical mission organization that has its home base in Kansas City. IHOP-KC's founder, Mike Bickle, has ties to the New Apostolic Reformation aka Dominionists; Kingdom Now; Latter Rain; Joel's Army; Manifest Sons of God – the name has been changed to protect the guilty.  Their aim is to transform society into the kingdom of God on earth.  How?  By controlling various aspects of society.
Before I fill you in on Meyer, you'll need a bit of background on Bickle.  A couple of decades ago he was in a heretical group known as the Kansas City Prophets,
who brought grandiose claims that a "new breed" of super prophets were beginning to arrive on planet earth who would change the world forever. These so-called prophets were a group of men that coalesced around a church known as the Kansas City Fellowship, pastored by Mike Bickle, that attracted a following of other likeminded churches in that region. (H/T Pastor Ken Silva)
So it's not surprising that this self-professed "prophet" has been under scrutiny for his false teaching.  Google his name and you'll discover that he believes God speaks to him in an audible voice and claims that he's been to heaven twice.
It's important to note that last year Reformed pastor; author; conference speaker Francis Chan spoke at Onething where he declared "I love Mike Bickle."  Chan took a lot of heat for agreeing to speak at the conference.  When friends and fans urged him to decline the invite, he admitted that he didn't know much about Mike Bickle and IHOP so,
I kinda went on the Internet and started looking things up. 
Whatever he found caused him to fall in love:
I go, man, there's a lot of great things going on [at IHOP]. And today was the first time I ever met Mike Bickle. And, I love that guy. I do. And Mike knows—we talked about this—you know, there's people who told me not to hang out with him.
Like, you know, words like "creepy" came up. And yet, I get to know this guy and I'm going, "Man, I love his heart. And I just want to publicly say I love Mike Bickle. (Source)
As you can see, Chan professed his love for the sort of person Jesus referred to as a ravenous wolf. (Mat. 7:15)
What Francis Chan failed to turn up in his investigation is that Mike Bickle has led countless young people astray.  He's a sort of a Pied Piper to those who journey to Kansas City from all over the globe to be a part of something "significant." Once there, they stay for days, months…even years.  You'll find them in the prayer room praying.  Prayer "led from a stage full of musicians and readers chanting repetitive phrasings of faith" goes on 'round the clock.
The false prophet has filled the young sojourners' heads with untruths such as "an elite end-time church defeats God's enemies, and Jesus is 'held in the heavens' until it happens." So they most "go forth and make ready."
Apologist Matt Slick tells us that the major draw of IHOP is experience:
People often come to me citing their experience and go back again and again to experience "God" and the "Spirit" – [which is] no different than an emotional high.  This is analogous to mysticism, which is defined as "the pursuit of deeper or higher subjective religious experience," and "that spiritual reality is perceived apart from the human intellect and natural senses."
Slick goes on to say:
One of the highest criticisms would be IHOP's insidious Gnosticism.  Gnosticism is derived from the Greek word gnosis, meaning "knowledge."  The hallmark of Gnosticism is the idea of having "hidden knowledge" of the spiritual realm that is unavailable to others.  This knowledge comes via prophecies, visions, and dreams that God specifically gives to a certain privileged group of people  – in this case IHOP.  In fact, IHOP has their own "prophecy rooms" where one can receive "prophecies," and they used to have a practice of mailing out recorded tapes, of which I was asked by my friend's mother to translate! (Source)
One last comment about Francis Chan.  The name may not be familiar but he's without question a popular speaker and author whose books sell like hot cakes.  Sadly, when it comes to the questionable goings on at IHOP, Chan has shown an astonishing lack of discernment. It goes without saying that: (1) He must change direction and move away from those who involve themselves with the metaphysical cults.  (2)  He must spend more time researching the people he associates with.
More On Meyer
For decades Joyce Meyer has been called a false teacher.  Why?  Because she holds to Word of Faith/prosperity/health and wealth heresy.  She mixes error with good practical information for women, which is why she's so popular.  There's plenty of proof for those who wish to know the truth (see the links at the end), and still many women choose to believe that those who say she's a false teacher are wrong.
Some of her fans know what's going on at IHOP-KC, so she's bound to get blow back both before and after her appearance at Onething.  People will wonder: If I know about Mike Bickle and IHOP, how could Joyce not know?  They may even conclude that it's a sign that her ministry is about to align with the modern day "apostles and prophets" movement.
So why in heaven's name is she hitching herself to a wagon loaded with theological garbage.  As I pointed out earlier, "prophet" Mike Bickle is heavily into the New Apostolic Reformation (NAR).  That group's theology is a load of garbage that should be hauled to the trash dump and burned.
But before I address the reasons Meyer has chosen to put her name on the marquee with Bickle's, let's follow the example set by the Bereans and compare her teaching to what Scripture says.
Truth Or Error, That Is The Question
One of the reasons Joyce Meyer is considered a false teacher is because she has taught that Jesus Christ atoned for our sins in hell:
The following quote is from her 1991 booklet, The Most Important Decision You Will Ever Make, she teaches a hallmark doctrine of Faith theology, namely, that Christ had to suffer in hell to atone for our sins and be born again:
"During that time He entered hell, where you and I deserved to go (legally) because of our sin…He paid the price there.…no plan was too extreme…Jesus paid on the cross and in hell….God rose up from His throne and said to demon powers tormenting the sinless Son of God, "Let Him go." Then the resurrection power of Almighty God went through hell and filled Jesus…He was resurrected from the dead ¾ the first born-again man." (Source)
What she said here is not the view traditional orthodox Christianity holds to.   The Bible says that Jesus atoned for our sins on the cross.  Listen to John 19:30:
When Jesus had received the sour wine, he said, 'It is finished,' and he bowed his head and gave up his spirit.
Orthodox Christianity teaches that Jesus' shed blood was sufficient for the atonement of our sins. The moment Jesus uttered the words "It is finished" our sin debt was paid in full.
As to her teaching on prosperity and success, listen to Joshua 1:8:
This Book of the Law shall not depart from your mouth, but you shall meditate on it day and night, so that you may be careful to do according to all that is written in it. For then you will make your way prosperous, and then you will have good success.
So, does being prosperous mean Christians will be influential and financially secure?  According to one commentary:
Many people think that prosperity and success come from having power, influential personal contacts, and a relentless desire to get ahead.  But the strategy for gaining prosperity that God taught Joshua goes against such criteria.  He said that to succeed Joshua must (1) be strong and courageous because the task ahead would not be easy, (2) obey God's law, and (3) constantly read and study the Book of the Law – God's Word.  To be successful, follow God's words to Joshua.  You may not succeed by the world's standards, but you will be a success in God's eyes – and his opinion lasts forever.
For all you scoffers – it's an undeniable fact that Joyce Meyer is a prosperity preacher, thus she's a false teacher, a ravenous wolf.
Lifestyle Of The Rich And Famous
It's no secret that she has been criticized for many things but first and foremost for her "conspicuously prosperous lifestyle."  The money her ministry rakes in doesn't bother her fans in the least which is obvious as scores of them purchase her books, tune into her TV/radio shows, and flock to her conferences.  They say her message is "uplifting."  For them doctrine isn't important –hearing a positive message is what counts.  And Joyce is all about making her fans feel good.  She knows that they prefer a feel-good message over hearing the gospel.  I mean, isn't Christianity all about feeling good?  Doesn't becoming a believer mean we'll be happy, healthy and wealthy?  God loves us, yes He does.  And because of His great love for His kids, He's going to provide us with several homes—Joyce has several homes– and perhaps our own private jet so that we can fly all over the globe like she does.
Joyce Meyer's prosperity preaching is right out of the Word of Faith (WoF) play book.  That a person can create his/her own reality is the fairy tale Christianity she teaches and with no apology.  So, it's not helpful when a prominent Christian leader joins her on her TV show and instead of pointing out errors in her teaching he tells her (and the audience) that she's a "great Bible teacher."
Well, nothing could be further from the truth, and Ravi Zacharias, who gave her the compliment, should have known better.  He of all people should know that she holds to WoF heresy.  The compliment he gave her made it clear that he was oblivious to the fact that he was sitting next to a heretic.  So, Ravi did for her what she's doing for Mike Bickle, lending creditability when none is deserved.
Like Chan, if he would have done his homework before agreeing to the interview, it would have been patently obvious that he was going to be the guest of the Prosperity Priestess. It's shocking that high-profile celebs such as Francis Chan and Ravi Zacharias don't know who the wolves in the hen house are.  Moreover, how could men of their stature not be aware that the NAR and WoF movements are at best aberrant and at worst cults?
Cults? you say with steam coming out of your ears.  Let there be no doubt.  These movements are viewed by some as cults for the reason that they're "false, unorthodox, extremist" sects of Christianity (dictionary.com). In a word:  counterfeit.
Now getting back the primary purpose for this article, why would Joyce Meyer agree to speak at a hugely controversial event with a notorious false teacher?  Perhaps it's because the Prosperity Priestess and the Pied Piper hold the same unbiblical theology, thus they're birds of a feather.  So it's no big deal when they sit on a wire together.
Or perhaps it's all about prosperity – hers!  After hearing Joyce's "uplifting" message people will flock to the book table to purchase her merchandise.
But that's speculation.  The point I want to drive home is this.  More and more professing Christians are uniting with wolves in sheep's clothing.  Likewise, wolves and wolverines are joining forces with wolves from different wolf packs.  The pack is growing.  It's getting stronger — and they're cunning!  False teachers now play a major role in the Christian community.  As I mentioned above, in order to transform society into the kingdom of God on earth, wolves and wolverines must control things, such as entertainment; government; education; business/economy; media; and family — they're heavily involved in pro-family organizations.
I'll close with the words of a wise man, Pastor Ray Stedman:
So in this day of confusion, of uncertainty, which voice will you listen to?  The voices of the occult world around us? The false prophets who are telling visions which they claim to be coming from the voice of God? The secular voices which tell us that things are not the way the Bible says they are? Which voice will you listen to? Whom will you follow? What will be the guideline for your actions?
Research Mike Bickle:
The Dangers of the International House of Prayer (IHOP)–By John Park
Stand Up For The Truth wrote a piece entitled Is IHOP a cult? One intern's story and shared the story of Arial, a young woman who was an IHOP intern.
Mike Bickle Acknowledges Catholic Contemplative Influence on IHOP-KC—My Word Like Fire
Mike Bickle/IHOP research links–Apostasy Watch
New Apostolic Reformation research links—On Solid Rock Resources
Research Joyce Meyer:
In her own words…listen to Meyer preach the prosperity gospel.  Hank Hanegraaff plays the clip and responds.
Joyce Meyer—Let Us Reason Ministries
The True Origins of the Prosperity Gospel AKA Word of Faith Theology—By Anton Bosch
Word of Faith/Televangelists research links—On Solid Rock Resources
Francis Chan:
Francis Chan Is Wrong for Endorsing NAR teacher Mike Bickle—By Ken Silva
Why the Real Target is Assad Not ISIS…
Invoking the same ominous language as his predecessor, Barack Obama used a prime time presidential address on Wednesday to announce the beginning of a war on Syria. And while there's no doubt that many Americans will be confused by Obama's misleading focus on the terrorist organization named ISIL, the real purpose of the speech was to garner support for another decade of homicidal conflicts in the Middle East. The administration is as determined as ever to plunge the region into chaos, erase existing borders, and install its puppets wherever it can.  ISIL–which is mainly an invention of western Intel agencies and their treacherous counterparts in the Gulf– conveniently creates the justification for another bloody invasion followed by years of occupation, subjugation, and revolt.
Barack Obama:
My fellow Americans — tonight, I want to speak to you about what the United States will do with our friends and allies to degrade and ultimately destroy the terrorist group known as ISIL. As commander-in-chief, my highest priority is the security of the American people…..

Thanks to our military and counterterrorism professionals, America is safer.

Still, we continue to face a terrorist threat. We cannot erase every trace of evil from the world, and small groups of killers have the capacity to do great harm. That was the case before 9/11, and that remains true today. That's why we must remain vigilant as threats emerge.
Get it? We are all in great peril and only our loving father, Obama, can save us. Where have we heard that before?
Obama: "In a region that has known so much bloodshed, these terrorists are unique in their brutality. They execute prisoners. They kill children. They enslave, rape, and force women into marriage…..If left unchecked, these terrorists could pose a growing threat beyond that region — including to the United States."
This is pure demagoguery, the likes of which we haven't heard since Bush's "The Axis of Evil" speech.  The truth is, ISIL poses NO threat to US national security at all. It's a joke.  Readers should mull that over before they throw their support behind Obama's proposed crusade in Syria..
More Obama:  "First, we will conduct a systematic campaign of airstrikes against these terrorists…..I will not hesitate to take action against ISIL in Syria, as well as Iraq. This is a core principle of my presidency: if you threaten America, you will find no safe haven….."
Okay, so borders don't matter, international law doesn't matter, national sovereignty doesn't matter. What matters is oil, money and power. Isn't that what he's saying? He's asking the American people to support another millennia of killing so he can pad the bank accounts of corrupt US oil magnates while strengthening America's tenuous grip on global power.  Would you be willing to sacrifice your son's life for such a cause?
Obama: "Across the border, in Syria, we have ramped up our military assistance to the Syrian opposition. Tonight, I again call on Congress to give us additional authorities and resources to train and equip these fighters."
So, now Obama wants to arm and train the same terrorists which the CIA and our enlightened friends in the Gulf States recruited from around the world. Sounds like a good plan, doesn't it? What could go wrong?
Obama:  "This is our strategy….. Secretary Kerry was in Iraq today meeting with the new government and supporting their efforts to promote unity, and in the coming days he will travel across the Middle East and Europe to enlist more partners in this fight."
So, Senator Botox and his gaggle of neocons are going to fix everything, just like they did in Kiev.  Now I am worried.
Obama: "But I want the American people to understand how this effort will be different from the wars in Iraq and Afghanistan. It will not involve American combat troops fighting on foreign soil. This counter-terrorism campaign will be waged through a steady, relentless effort to take out ISIL wherever they exist, using our air power and our support for partner forces on the ground."
No American "boots on the ground"?? Is that what he said? What he meant to say was no boots on the ground until after the midterms. After that, the sky's the limit!
Don't kid yourself, the Obama claque is as determined to topple Assad as Bush was determined to remove Saddam. That's why Obama's public relations team decided to use the prestige of a primetime presidential speech –with all the pompous trappings of high-office–to make their case. It's because their real target is the American people who are being led by the nose into another hellish bloodbath.
Obama: "American leadership is the one constant in an uncertain world. It is America that has the capacity and the will to mobilize the world against terrorists."
Oh boy. American troublemaking is the "one constant" in this world, even death and taxes take a back seat to that.  America started the war on terror. (Blowback) America perpetuated the war on terror. (check the globe. The US is fighting wars everywhere.) And America is entirely responsible for the war on terror. (Afghanistan, Mujahedin) And now–after 13 years of unlawful detentions, black sites, Abu Ghraib, Gitmo, death squads, waterboarding, illegal surveillance, drone attacks, and a mountain of carnage that stretches halfway to the moon– Obama is re-launching the  War on Terror under the opaque sobriquet "ISIL".  Haven't we had enough of this garbage yet?
As always, the media seems entirely mystified as to the administration's real intentions. In contrast, analyst Patrick Martin at the World Socialist Web Site sees through the hoax and sums it up like this in an article  titled "Obama announces open-ended war in Iraq and Syria". Here's an excerpt:
"It was only 12 months ago that Obama tried and failed to create the political conditions for US air strikes against the Assad regime, making allegations of the use of nerve gas weapons that were later discredited. Now Obama is seeking to achieve the same goal by a different route, using ISIS as a pretext to get American military forces into Syria, where they will become the spearhead of the campaign to oust Assad and install a pro-US stooge regime in Damascus."
Bingo. The ISIL canard is nothing but a pretext for war.
Write to your Senators and Congressmen: NO WAR IN SYRIA.
"Prior to the 2003 invasion and occupation of Iraq, US and other western oil companies were all but completely shut out of Iraq's oil market. But thanks to the invasion and occupation, the companies are now back inside Iraq and producing oil there for the first time since being forced out of the country in 1973."

– Antonia Juhasz, oil industry analyst,  Al Jazeera.
These are the 'best of times' for the oil giants in Iraq.  Production is up, profits are soaring, and big oil is rolling in dough.  Here's the story from the Wall Street Journal:
"Iraq's oil production surged to its highest level in over 30 years last month, surprising skeptics of the country's efforts to restore its oil industry after decades of war and neglect."  (Wall Street Journal)
Mission accomplished?
You bet.  But for those who still cling to the idea that the US was serious about promoting democracy or removing a vicious dictator or  eliminating WMD or any of the other kooky excuses, consider what we've learned in the last couple weeks. Here's the story from Aljazeera:
"While the US military has formally ended its occupation of Iraq, some of the largest western oil companies, ExxonMobil, BP and Shell, remain.

On November 27, 38 months after Royal Dutch Shell announced its pursuit of a massive gas deal in southern Iraq, the oil giant had its contract signed for a $17bn flared gas deal. Three days later, the US-based energy firm Emerson submitted a bid for a contract to operate at Iraq's giant Zubair oil field, which reportedly holds some eight million barrels of oil.

Earlier this year, Emerson was awarded a contract to provide crude oil metering systems and other technology for a new oil terminal in Basra, currently under construction in the Persian Gulf, and the company is installing control systems in the power stations in Hilla and Kerbala. Iraq's supergiant Rumaila oil field is already being developed by BP, and the other supergiant reserve, Majnoon oil field, is being developed by Royal Dutch Shell. Both fields are in southern Iraq." ("Western oil firms remain as US exits Iraq", Dahr Jamail, Aljazeera.)
If it sounds like the big boys are dividing the spoils among themselves; it's because they are. Exxon, BP, Shell; they're all here. They all have their contracts in hand, and they're all drilling their brains out thanks to the American servicemen and women who gave their lives for some trumped up baloney about WMD. Isn't that what's going on?
Sure it is. And even now–after all the reasons for going to war have been exposed as lies–the farce continues. Nothing has changed. Nothing. There's still no talk of reparations, no official investigation, no indictments, no prosecutions, no trials, no penalties, no nothing. Not even a stinking apology. Just a big "up yours" Iraq. We're way too important to apologize for killing a million of your people and reducing your five thousand year old civilization to a pile of rubble.  Instead, we'll just screw you some more and paper it over with a little public relations, like Obama did a couple weeks ago when he promised to "leave behind a sovereign, stable and self-reliant Iraq, with a representative government that was elected by its people".
Oh yeah. Obama's all about sovereignty and stability, everyone knows that.  That's why Baghdad is the terror capital of the world, because Obama's so committed to security.
These PR blurbs are effective though, they provide the necessary cover for leaving enough troops behind to protect the oil installations and pipelines.  That's the kind of security Obama cares about. Security for the oiligarchs and their stolen property.  Everyone else can fend for themselves, which is why Baghdad is such a bloody mess.  Here's more from Aljazeera:
"Prior to the 2003 invasion and occupation of Iraq, US and other western oil companies were all but completely shut out of Iraq's oil market," oil industry analyst Antonia Juhasz told Al Jazeera. "But thanks to the invasion and occupation, the companies are now back inside Iraq and producing oil there for the first time since being forced out of the country in 1973." (Aljazeera)
Yeah, thanks for that invasion, Mr. Bush. We couldn't have done it without you, guy. Hope you have a great retirement painting pictures of poodles and stuff while people continue to get blown to pieces in the terrorist Hellhole you created. Here's more Al Jazeera:
"Juhasz, author of the books The Tyranny of Oil and The Bush Agenda, said that while US and other western oil companies have not yet received all they had hoped the US-led invasion of Iraq would bring them, "They've certainly done quite well for themselves, landing production contracts for some of the world's largest remaining oil fields under some of the world's most lucrative terms."
Dr Abdulhay Yahya Zalloum, an international oil consultant and economist …(said) he believes western oil companies have successfully acquired the lions' share of Iraq's oil, "but they gave a little piece of the cake for China and some of the other countries and companies to keep them silent". (Aljazeera)
How do you like that? These guys operate just like the Mafia. The Bossman pays off China with a few million barrels, and China keeps its mouth shut. Nice. Everyone gets "their cut" so they don't go blabbing to the media about the ripoff that's taking place in broad daylight. The stench of corruption is overpowering.
And here's something else you won't see in the media. In a White House press release,  the Obama administration announced that they would continue to support Iraq's "efforts to develop the energy sector" in order  to "help boost Iraq's oil production."….
According to Assim Jihad, spokesman for Iraq's ministry of oil, "Iraq has a goal of raising its oil production capacity to 12m bpd by 2017, which would place it in the top echelon of global producers." (Aljazeera)
"12 million barrels-per-day by 2017″?
That makes this the biggest petroleum heist in history. And we're supposed to believe that the oil bigwigs didn't know anything about this before the war? What a crock! I'll bet you even money the CEOs and their lackeys figured out that Saudi Arabia was running out of gas, so they decided to pick up stakes and move their operations to good old Mesopotamia. That's why they put their money on Bush and Cheney, because they knew that two former oil men would do the heavy lifting once they got shoehorned into the White House.  The whole thing was a set-up from the get-go, right down to the 5 shady Supremes who suspended the voting in Florida and crowned Bush emperor in 2000. The whole thing was probably mapped out years in advance.
Big oil runs everything in America. People talk about the power of Wall Street and Israel, but oil is still king. They run it all, and they own it all. And "what they say, goes."  Here's more:
"Juhasz explained that ExxonMobil, BP and Shell were among the oil companies that "played the most aggressive roles in lobbying their governments to ensure that the invasion would result in an Iraq open to foreign oil companies".

They succeeded," she added. "They are all back in." (Aljazeera)
Hooray. Big oil wins again, and all it cost was a million or so Iraqis who got blown to bits air raids or shot up at checkpoints, or beaten to death with a rubber hose at Abu Ghraib or any of the other democracy reeducation centers that dot the countryside. But, hey, look at the bright side: At least production is up, right? Can you see how sick this is? Here's more:
"Under the current circumstances, the possibility of a withdrawal of western oil companies from Iraq appears remote, and the Obama administration continues to pressure Baghdad to pass the Iraq Oil Law." (Aljazeera)
And what is the "Iraq Oil Law", you ask?
It's a way to privatize the oil market using Production Sharing Agreements (PSAs) which disproportionately benefit the corporations.  Obama's a big backer of the law since it means even heftier profits for his thieving  friends.  In other words, the humongous profits they're already skimming off aren't quite good enough. They want more. They want to own the whole shooting match lock, stock and barrel.
This is really an outrage. What other country behaves like this?
No one. No other country in the world goes out and kills a million people, destroys their country, and leaves them to scrape by on next to nothing just so they can pad the bank accounts of voracious plutocrats have more dough than they know what to do with. No one else would even dare to act like that for fear that they'd get bombed into annihilation by the world's biggest bullyboy, the US of A.  Only the US can get away with this type of crap, because the US is a law unto itself.
Iraq was the Cradle of Civilization. Now it's the cradle of shit. The US decimated Iraq; blew it to bits, bombed its industries, its bridges, its schools, its hospitals, leveled its cities, polluted its water, spread diseases everywhere, killed its kids,  pitted brother against brother,   and transformed a vibrant, unique country into a dysfunctional cesspit run by opportunists, gangsters, and fanatics.
And, here's the corker:  No one gives a rip. Face it: No one gives a flying fu** about Iraq. The American people lost interest long ago, the politicians can't be bothered, and the UN is too afraid of the US to lift a finger to help. They'd rather stamp their feet and scold Putin over Crimea than utter a peep about the genocide in Iraq.  That's the state of things today, right?  No accountability for the men who started the war, and no justice for the victims. Just the infrequent (phony) pronouncement of support from the White House or the all-too-frequent sectarian bombing that leaves an untold number of civilians dead or wounded. This is all the US leaves behind; hatred, death and destruction.
Here's a clip from a poem by Iraqi writer who wants readers to take a minute and think about all the suffering the United States has created. The poem is titled "Flying Kites":
"Come and see our overflowing morgues and find our little ones for us…

You may find them in this corner or the other, a little hand poking out, pointing out at you…

Come and search for them in the rubble of your "surgical" air raids, you may find a little leg or a little head…pleading for your attention.

Come and see them amassed in the garbage dumps, scavenging morsels of food…

Come and see  our little ones, under-nourished or dying from disease. Cholera, dysentery, infections…

Come and see, come…."  ("Flying Kites" Layla Anwar)
A million people were killed so a few rich fu**ers could get even richer. That's a hell of a legacy.
Origin of the Master Model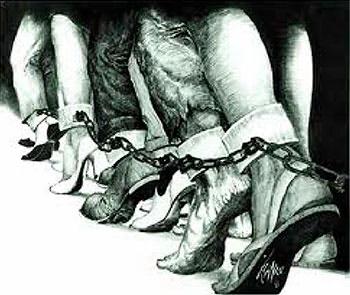 The master plan for world domination we see playing out today was first proposed to the US at the end of World War I. However, there were no takers. People were too war weary. However, when the plan was again proposed at the end of World War II, it was accepted. Consequently, World War II quietly transitioned into the secret "war" to set up what has become known as the "new world order" — an absolute dictatorship over the entire planet.
The United States set up the School of the Americas to train future dictators and terrorists who would be sent out into the world to destroy sovereign nations and place them under US domination by installing puppet governments obedient to the United States. Many conquests were made quietly using clever economic tricks [2]. However, leaders who refused to submit quietly would see their entire country reduced to rubble and the land rendered unlivable by uranium dust scattered by US bombs. The message was clear: Submit to the United States or face total destruction.
A social model based upon the assumption that cleverness and power automatically convey the right to take anything desired from those who are less adept and unable to resist is not a sustainable model for harmonious social interactions. However, this is the chosen model. The mantra for this model, "A man's true worth is measured by the amount of other peoples' happiness that he can possess and destroy" [1], is essentially a call for a class war between the greedy elite and the innocent masses of the world who simply desire a peaceful existence.
Acquisitions
The United States looks at the rest of the world as a "resource". If a country has something — oil, gold, minerals, etc. — that the US covets, it believes it has the right to take those things by whatever means necessary. In many cases the coveted resource is human slave labor. Let's look at some representative examples:
With the cooperation of the dictator, United Fruit Company (US) owned almost half of the country and used the locals as slaves to harvest its Chiquita brand bananas. However, during the period from 1945-1954 new leaders made changes. They helped the poor and set up social security and health care. Then they took land away from United Fruit and gave it to the local people. United fruit complained to the CIA that its business interests were being interfered with by the "communist" government. Any government which shows kindness to the poor and weak is called communist by the US. The US attacked Guatemala — killed the elected leaders and many thousands of citizens — and established a puppet dictatorship which would obey the will of United Fruit. The people were returned to a state of slavery. The CIA trained death squads to make sure the people were crushed into submission.
Strip Mining in Africa [4]
In Africa, the International Monetary Fund — a puppet of the US — destroys a country with strip mining. The original country was self sustaining. People were able to grow lots of food and hunt animals. However, once the land was ruined by US corporations, it was unusable to plant crops and the native animals died. The people had to buy food from other countries with money loaned to them by the IMF which they could never hope to repay. Therefore, a once free and self supporting people were made debt slaves of the IMF. Once all the natural resources have been stolen, the corporations will simply pack up and leave the indigenous people to starve and die.
Countries Used as Trash Dumps [5]
Used computers and associated items are dumped in poor countries where starving barefoot children sift through the mess of hazardous waste and broken obsolete glass computer monitors hoping to find something they can sell to get enough money to stay alive another day. Property stickers show the waste is mainly from the US government and various US state governments.
Corruption of Trusted Sources
Reporters and News Organizations
The masses are conditioned to believe news they receive from establishment sources. In the earlier times, this assumption was often correct. It was considered so important by the founding fathers that freedom of the press was enshrined in the US constitution. However, times have changed.
Walter Cronkite was known as the "trusted voice". No one knew he was also the official announcer at the secret Bohemian Grove meetings. The leaders of the world's news organizations also attend this event. That is why, even though the meetings began over one hundred years ago, until recently no one knew this group even existed. President George W. Bush may have set a new record for bribing journalists to allow their trusted name to be used as the author of material actually written by government propaganda experts. Apparently, everyone has a price and the government, of course, has no problem when it comes to money.
When Ronald Reagan reportedly ordered the death of investigative reporter Jessica Savitch [6], the message to independent journalists was clear: Go against the official party line an you're done!
Today, dedicated journalists face mysterious deaths and strange single car accidents but a few survive long enough to give us a glimpse of truths we would otherwise never know. They are true heroes.
Churches
Churches are everywhere. Unfortunately, legitimate Spiritual teachers are not. People look at churches either as harmless or with some sort of conditioned hypnotic respect. Churches send out "missionaries". However, the "mission" of these missionaries may not be so clear. If you wanted to infiltrate a foreign country, these people would be an ideal asset.
Churches are not Spiritual centers. At best, all they want is your money. At worst, they are Satanic and you are in severe Spiritual danger if you come under their influence and control.
The Catholic Church has been a trusted asset of the US intelligence community for quite some time. Significant information obtained by priests during confessions is routinely passed on to the government.
This agreement predates the internet by many years. Because the church has branches in almost every country, it has great potential for covert activities. For example, if you need to get an operative who is in danger out of a country, they can go to a Catholic church for "confession". Once the door is closed, they can exit through a secret passage, be disguised in robes and spirited safely out of the country. Church secrecy is at least on a par with US secrecy. Also, the Catholic church and the US shadow government share the same Satanic value system and engage in child rape and ritual killings.
Doctors and the Medical Industry
Medicine in the United States is an industry. It is no longer a profession. Its corporate model puts profit above all else. If some patients accidentally benefit they are the lucky ones.
The medical community has a rigid hierarchical structure and effective mechanisms for enforcing secrecy. Essentially, its model closely resembles the military chain of command structure. This makes it a perfect partner for the government in the area of secret human experiments.
For example, when the government was doing radiation experiments on humans, a doctor or someone dressed as a doctor would just walk up to unsuspecting patients and inject them with radioactive material. They were then secretly followed for years to see what would happen. Eventually, some of those who survived were told the truth. Most people used in the MK Ultra and subsequent secret projects were never notified.
Hospitals are set up to protect themselves. Staff may appear to be dedicated, smiling people who truly care about you. However, they are basically prostitutes who are being nice because you are worth money to them. When they make mistakes they have a "loss prevention" department staffed by clever lawyers who are trained to protect the financial interests of the hospital by denying everything and fabricating believable coverups. They are trained to do whatever is necessary. The staff will all agree to support whatever lies are needed. They know their job and their financial future depends upon maintaining strict secrecy.
The only people who receive legitimate medical care are the select elite cleared to accesstop secret medicine. These people always get excellent care because the doctors work for the shadow government and mistakes on their part are simply not tolerated.
Infiltrations
Countries which have the resources to sustain an intelligence community generally try to get operatives (spies) into other countries so they can directly observe activities. When real people gather intelligence, this is called human intelligence or HUMINT. The US, of course, does this too. However, you may not be aware of the extent to which the US also infiltrates itself. The central government really does not trust anyone.
Essentially all local police departments, state offices and state governors have a covert federal agent working close by pretending to be just another employee. Also, every US neighborhood has an informer who reports to the federal government. Large corporations, which tend to behave like "mini governments", need to be infiltrated and kept under observation. Colleges and universities are also monitored.
Here is how this spy network operates: The NSA likes to recruit young kids right out of college. When they are hired and sworn to secrecy they still do not know what their assignment will be. They must agree to do this assignment without first being told what it is.
Some agents, like John Perkins [2], are assigned to work in other countries. However, others are assigned to work inside the US. Their assignment could be to go to some state and apply to join the local police department. They would pretend to be just a regular person looking for a job. They would take the necessary training and spend their life as a local policeman so they could directly observe other local police from the inside and report to the NSA. Since they are actually an employee of the NSA, presumably they get to keep both salaries and, eventually, both retirements. All significant local police forces in the US are infiltrated this way.
Additionally, some agents will be assigned to get a job on the state governor's staff as well as in major local state agencies. A CIA or NSA agent is always on the staff at major colleges and universities. The same goes for major corporations.
Senior level agents are allowed to have special TV receivers in their homes linked to the secret government TV network. This way everyone stays on the same page. The channels on this network actually broadcast the truth. TV channels available to ordinary people contain only government approved propaganda mixed with "bread and circuses" presentations to make sure the sheeple stay asleep and content.
Fronts
The US government is involved in illegal activities internationally and domestically. If it performed these activities overtly in the name of the United States, there would be serious consequences under both international and local laws. To avoid this situation, the US government operates thousands of "front organizations" which appear to be private but are actually shadow operatives of the US.
For example, John Perkins [2] explained that he was recruited, hired and trained by the NSA. He was an NSA agent. However, for his cover as an economic hit man, he "officially" worked for a "private" company called Charles T. Main. This company was a government front to shield the US because the activities the NSA trained Perkins to do were illegal.
This is standard operating procedure for the US as well as other countries and many corporations. It shields them from legal recourse by providing deniability for the crimes they actually direct and commit.
Generally, when the US wants to influence other sovereign countries, it creates harmless looking NGO's which appear to be independent but are actually fronts for covert activities.
Domestically, colleges and universities — especially those with associated medical schools and hospitals — are great places to conceal a variety of covert projects such as the MK Ultra series of human experiments which, reportedly, continue today using new cover names. The US also likes to create non-profit corporations which exist only to provide classified services to the United States. A good example would be the Institutes for Defense Analysis (IDA). The US, reportedly, is its only client.
Programming
Mass media "programming" is actually programming you. It has developed into a subtle form of mind control. Before radio and television, special interests recognized that motion pictures could be used to alter public opinion in their favor. Perhaps, for example, you wanted to attack labor unions. When radio and later television came along providing access to national and international audiences, the temptation to exploit these technologies became irresistible. Originally, the US government recognized this and set up fairness rules to prevent monopolies from taking over the broadcast media and blocking opposing viewpoints. All this ended, unfortunately, when Ronald Regan canceled all the fairness regulations. Today, a handful of powerful corporations own and control essentially all content delivered by radio and television.
Television is the main vehicle for mass indoctrination. It is said that people watching TV actually fall into a light hypnotic trance. The "entertainment" you see on TV does not "just happen to be there". It is very carefully planned and timed to attract and influence targeted audiences. It is said that if some event were to somehow shut down all television broadcasts the government would experience a severe crisis because it would lose control over the minds of the masses.
TV creates sort of a "hive mind" among the masses and keeps everyone coordinated and tuned into the official party line. Without this, people would have no choice but to start thinking for themselves and forming independent opinions. Clearly, this would be a disaster.
The radio broadcast of "War of the Worlds" and the later movie "The Day the Earth Stood Still" are said to be CIA psychological experiments to judge how the general public would react to some type of ET contact.
Today, broadcasting is not just a one way event. Because people react to events and use social media to express these reactions, the effect of specific propaganda can be analyzed in real time. Since the government now intercepts all electronic communications, it is able to see general opinions and then tweak algorithms to maximize the desired effect of propaganda. This ability makes TV a two-way communications system although most people, of course, do not realize this and have no concept of the level of sophistication these technologies have reached.
Information Theory
Information Theory is the name of a relatively new branch of science which became popular in the 1960′s. It covers a broad range of technologies. Basically, it is the science of the flow of information and how that flow can be selectively controlled so that information flows only in desired pathways. As you may have already guessed, governments love this sort of stuff.
ECM
ECM stands for Electronic Counter Measures. In general, these are techniques to disable other electronic devices. Basically, it is electronic warfare. When the secret service is active in an area, for example, they will selectively jam all radio frequencies except for the specific frequencies they are using so that no one else can communicate.
World leaders, who are generally terrified of "threats" materializing from practically anywhere, like to travel with ECM generators running just in case "someone" from "somewhere" was trying to target them for "some reason". Basically, they are paranoid whack jobs.
People familiar with aviation tell the story of how Tony Blair, while traveling to or near a commercial airport, reportedly caused a commercial jet to crash because all the ECM garbage he was transmitting jammed the plane's navigation system. Of course, the British government would never admit this.
Secure Communication With Submarines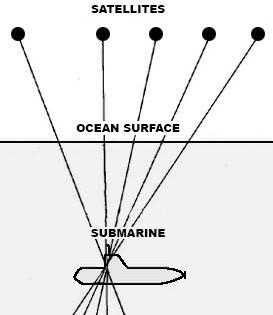 Since submarines were invented, communicating with them has been a problem because conventional radio waves will not travel underwater. Therefore, early submarines had to get close enough to the surface to put up some kind of antenna in the air to send or receive radio messages. Obviously, this could pose a problem if you did not wish to be discovered and located. After all, the motivation to create submarines in the first place was the feeling that they would be able to move about the planet secretly. However, newer technologies now make this impossible.
To solve the problem of reliable secure communication without the need to surface, scientists learned that sea water was essentially transparent to a special type of Argon laser. To set up the current communications network, it was decided to use several satellites with each satellite sending only part of an encrypted communication signal. The complete signal could only be received at a specific point underwater where all the laser beams intersected. Intercepting only one or two beams would prove useless. This communications system is considered to be impossible to intercept.
Quantum Entanglement
Returning to the submarine issue for a moment, before modern communications were perfected, there was a search for some reliable method to send a signal to a submerged submarine that could not be detected. This was considered necessary in a war situation to secretly transmit an attack command. What they originally did was to locate a couple of people who could communicate telepathically. One would be at the command base and the other on the submarine. Doing a bit more research, it was determined that this type of communication is instantaneous and somehow operated outside of time. Radio waves travel at the speed of light.
Quantum entanglement is a process which uses technology to send and receive signals outside of space-time. Now, why would you possibly want to do this? Well, if you had a base or a colony on a planet in some other solar system light years away, you would not want to wait years for messages to be received. Following this thread — and adding some basic common sense — why would you want to dedicate resources to search for habitable planets in distant solar systems when you had already "proven" it would be impossible to ever get there? Could it just be that someone is not coming clean with whole story?
The Separation Barrier
This is a model of the separation barrier which insulates the ruling class from the slave class. It is essentially "intellectual apartheid". The question is, why is it there. It takes considerable effort, money and manpower to maintain this artificial barrier. What is the reasoning behind not having a level playing field for everyone? Why does this idea absolutely terrify the elite? What are they afraid of?
The Pirate Story
This is a summary of a story told years ago on a radio broadcast most likely by Paul Harvey:
Ordinary people were afraid. The Earth was flat so they dare not venture far from home. Periodically, a pirate ship would come. They did not know how it got there or from where it came. It brought treasures they had never seen. The Chief Pirate would encourage the young men to study and specialize in specific skills. He wanted them to become educated but only in one narrow area. The Chief Pirate knew the world was not flat and how to navigate to other lands. However, this knowledge was never discussed. This "top secret" knowledge or the "big picture of the known world" would only be given to the Chief Pirate's son who would inherit his title and someday become the Chief Pirate.
This story is about the origin of the concept we call compartmentalization — the process of controlling the slave masses by only allowing them to know specific bits of the truth while the leaders are allowed to know total truth.
ELITE RULING CLASS
SECURITY CLEARANCES
SECRET POLICE
ASSASSINS
SURVEILLANCE — SIGINT HUMINT COMINT
SPY SATELLITES
SPY DRONES
SMART ELECTRIC METERS
INTERNET SURVEILLANCE
NEIGHBORHOOD SPIES
PLENTIFUL STREET DRUGS
PSYCHIATRIC FORCED DRUGGING
GENETICALLY MODIFIED FOOD
FLUORIDATED WATER
COORDINATED TELEVISION PROPAGANDA
DEGRADED PUBLIC EDUCATION
LOCAL MILITARIZED POLICE
---
SLAVE CLASS
Leaders can only maintain their status if there are slaves. Otherwise, everyone would be equal and operate on a level playing field. This means "leaders" would have to pull their own weight like everyone else. Clearly, this would be intolerable. Leaders love beautiful and exotic things but don't want to do the work needed to create these things. They probably could not even plant a garden much less build the various "ivory towers" where they like to live surrounded by servants. If left on their own they would very likely starve. This is why it is so important to create and maintain the complex separation barrier.
Why don't people who live above the separation barrier ever "come down" and talk to the people below the barrier? Well, other than the obvious fact that they would likely be killed or jailed for espionage or treason, there is another, simpler, reason.
Would you like to spend your days sitting in an open field with kindergarten kids looking for four leaf clovers? Probably not. You have progressed beyond that. The slaves below the separation barrier cannot even imagine the world of those who live above the barrier. In fact, the elite do not even consider the slaves human. They call them "disposable biological units". The United Nations prefers the slang term "the herd". Slaves can be easily bred in quantities needed and programmed to do desired tasks. Then, they can be easily disposed of when no longer useful. That's how they look at you. So, why would they want to make friends with you?
The Mars Example
There is an interesting event playing out today that you may have noticed. This concerns the recruitment and selection of people to be sent to Mars. There are simulation projects where volunteers are locked away to imitate the long voyage to Mars. They are being told that this is a one way trip and they can never hope to return to Earth.
What you are witnessing is the selection process for the "seed people" who will be used to breed the future slave class on Mars. In a situation similar to the period when most believed the Earth was flat and you would fall off if you tried to go to sea, these people are convinced that the only way to get to mars is to ride a rocket on a perilous journey taking years. Because they truly believe this, when they get to Mars, they will teach this crap to their kids along with other misconceptions like it is impossible to go faster than the speed of light and other associated obsolete scientific principles. They will have no
desire to ever return to Earth or go anywhere else because they truly believe it is not possible. They will be contented slaves.
Of course the truth is that there are already secret colonies on Mars. It is not that hard to get there using antigravity and other secret propulsion methods and it is quite likely possible to simply walk through some kind of wormhole device and come out on Mars.
However, the slaves will never know this. Just as it is done on Earth, there will be an artificial separation barrier. The insiders will know the truth and will be physically hidden from the slaves. There will be secret police and other methods — the same as are used on Earth — to make sure no slave ever escapes from the "information prison". Business as usual will continue.
Reinforcement of Ignorance
Governments and their oligarchs love to keep their subjects in a cloud of ignorance. Back in the days when people believed the Earth was flat, the inner circle ruling class knew it was round. Maintaining the deception was convenient because it kept the slaves from developing any desire to travel far from home.
Nothing has changed all that much today. Consider, for example, all the fuss over the missing MH370 plane. You are being played for a sucker. It is impossible for that plane to have "disappeared".
The US DoD spy satellite system reportedly consists of ten constellations of satellites. Each constellation has over seven thousand satellites. They see and record everything that happens on this planet. The floor of the oceans can be seen just as clearly as the land areas. The resolution of the system is better than one square millimeter. Also, everything is recorded so you can go back in time and play past images.

This is a picture of a common electric lamp. Take this lamp and throw it in the ocean — any ocean anywhere on this planet. The spy satellite system will locate it, give you the coordinates and give you a photo at least as good as the one above. That is the capability of the system. So, clearly, it is impossible not to know the location of something as large as a Boeing 777 plane. All the TV publicity is a choreographed play. You are being scammed and you need to wake up and realize this fact.
Murders and Assassinations
To ensure a strong empire, dissent must be crushed. The United States trains assassins and carries out both domestic and foreign murders and assassinations on a regular basis. You may be familiar with the classic movie scenes where a black limousine with tinted windows drives by a target with thugs shooting machine guns. Although this would accomplish the task, it is a bit too obvious in a country that advertises itself to be a free, civilized democracy. Someone might catch on and begin to doubt the party line. Consequently, these things must be done quietly.
Inside the US, murders are reportedly carried out by a group known as "FBI Division Five". Other agencies likely have the responsibility for foreign assassinations. However, the basic techniques used would be similar.
Typically, an agent would wake up every day and connect to the top secret internet to see who he was assigned to kill that day. There would be several options. If it was important to eliminate the target immediately, a fast acting chemical agent would be selected which, for example, would cause the target to die within a few hours of a "natural" heart attack.
However, if time was not critical and the government just wanted the target out of the way, you might want to select one of the cancer causing agents such as those likely used to eliminate Hugo Chavez and Senator Ted Kennedy.
There is also a third possibility. This involves character assassination instead of actual murder. Consider, for example, a person who has gained a lot of public recognition talking about, say, free energy. If you simply kill the person, there could be blowback and talk that he was silenced by the government. In such cases, it is easier to use a chemical agent designed not to kill but, rather, to cause states of mental confusion resulting in obviously strange behavior. This would be coordinated with the government controlled mainstream press to make sure everyone became convinced the person was a nut and would therefore ignore anything said without regard to the truth or validity of the message.
Once the appropriate chemical has been selected, you need to load it into the secret delivery system and locate your target. To find your target you will connect to the top secret internet and pinpoint the location of the target through their cell phone. You can also activate all the cameras and microphones in electronic gadgets connected to the internet associated with the target in case you wish to look around the target's home and hear in real time what is taking place.
Of course, this will not help you locate the target when it is time to actually do the hit. So, you need to get the top secret profile data which will show any predictable habits of the target. Everyone is constantly tracked through their cell phones and profiles are logged and stored. In this case, the profile shows that the target has a favorite restaurant and goes there for lunch every day around 11:30. Now, you know exactly what to do. You go to the restaurant, hang out until you see your target, and get in line behind the target. Now, all you need to do is slightly bump into the target to deliver the chemical. Generally, the targets never even notice.
This mission is now complete. If it is early enough, you can check back in to the top secret system to see who you are supposed to kill next. Just another day. Just a routine job.
Money
Money is an imaginary force. It is used to motivate and control slaves. Real forces effect all life forms. However, only people respond to money. The only reason they do is because they have been artificially programmed to do so.
Money can be created in unlimited quantities by those adept in the use of this force. The physical world is finite, however the world of imagination is not. There is no limit to the quantity of money that can be imagined into existence. Money can also be imagined out of existence.
Let's assume that one day the entire financial system simply disappeared. If you lived in a rural area and had a nice veggie garden, some friendly chickens, collection facilities for rain water and a few photocells for electricity, you would not notice this. The veggies would continue to grow. Rain would periodically fall. The chickens would lay eggs as usual. The sun would continue to shine. However, if you lived in a city environment, you would be devastated.
Before money, people lived in small hunter-gatherer groups. The concept of ownership did not exist. People worked and survived as a group. Men and women were equal. Everyone contributed to the community. Resources were shared equally. The concept of "mine" and "yours" did not exist. Women generally became pregnant only once about every three years although there was no birth control. Later, when the concept of money entered the consciousness, women were seen as having less value because men were paid for work but women were not paid to raise and care for kids. Society has changed, however, the downgraded status of women has not.
Money systems have always been manipulated by clever people. When gold was used as money, people learned they could dilute pure gold with silver or maybe even lead to come up with something that looked like pure gold and had the correct weight but was a fraud. A king suspected he was being scammed but had no way to prove it. He called on the great minds of the time for help. This led to what is known as the Archimedes' principle which is better known today as "specific gravity". This principle made it possible to compare a sample known to be pure gold to a questionable sample and prove the unknown sample was not pure gold. Likely, some clever crook lost his head once this test became known.
There is a general belief that gold is the ultimate reference for all money. However, secrets concerning the exact quantity of gold make this a perilous assumption. Reportedly, the United States stole a tremendous quantity of physical gold from Japan towards the end of World War II. This gold exists off the books. To make matters worse, Japan was not all that concerned. Japan had been using gold bars as ballast on its ships because they were compact and heavy. They thought nothing of throwing the bars overboard as necessary. Japan used platinum as a money reference and the US never got that. This should make one rethink all the hype about the value of gold. It may be a lot more plentiful than we have been led to believe. Also, the secret off the books stashes of gold would allow its relative value to be manipulated at will just like other commodity markets.
The Financial Axis of Evil [3]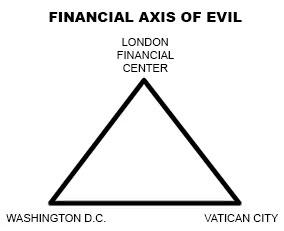 This is the model of the financial axis of evil which rules this planet. It consists of three main branches as shown above. Collectively, they are known as "The Empire of the City". Briefly, here is how this system operates:
The London financial district is in London, Washington D.C. is in the United States and the Vatican is in Italy. However, these three places are not part of the countries where they exist. They are independent "city states" and have their own laws and constitution. They are, effectively, "mini countries" inside of other countries and fly their own flags. The city state of London is a private corporation and pays no taxes to actual London or to Britain. The city state of London is the master power center and is controlled by the Rothschild family which considers itself to be the legal owner of this planet. The Vatican is the largest private land owner in the world and the first true multinational corporation with installations (churches) and secret agents (The Knights of Malta) everywhere. They control through the power of fear of the unknown and practice black magic. Washington D.C. relies upon brute military force. All three closely cooperate combining their specialties of financial trickery, witchcraft and military might. Of course, all three worship Satan as their Master.
Slavery
Slavery is alive and well throughout the world. The US constitution prohibits slavery, however, most americans live in slave-like conditions.
It is said that it will take the average college student until age fifty to pay back their student loan.
The constitutional amendment prohibiting slavery addressed the concept of physically owning another person. However, it did not address the issue of holding another person in bondage as a debt slave. It also did not consider the concept of private for profit prisons who force inmates to work as slaves. These systems exist today and are perfectly legal.
Actually, a recent report from prestigious Princeton University has reclassified the US government as an oligarchy — a country run by and for the rich elite. Former US President Carter has stated that the United States "no longer has a functioning democracy". So much for the Founding Father's dream. Speaking of dreams, check out the free you tube video titled "The American Dream".
Other forms of slavery are illegal but still flourish. Sex slaves are always in demand. Traffickers are sometimes caught but you need to realize that your leaders use sex slaves and also routinely abuse young girls and boys. Sometimes they are also killed during occult rituals. No one ever talks about this and these people are never punished. This has been the normal way of life for Satan worshipers for many years and nothing has changed or is likely to ever change in the future. Stanley Kubrick's last movie, Eyes Wide Shut, covers this subject. Some believe this intense dramatization of how the elite really live may have cost him his life.
People still have some rights left in the United States but other countries are a different story. Qatar is doing construction for the World Cup. The event is not scheduled until the year 2022, however they have already killed 1200 slaves [7] by working them to death. People are lured from poor countries with the promise of jobs and money. When they arrive, their passports are confiscated and they are forced to work until they literally drop dead. If the World Cup is actually held in Qatar in 2022, there will be glamorous TV coverage and no one will remember or care about all the dead slaves. The show must go on.
Qatar, incidentally, sponsors Al Jazeera TV network.
Adaptation Techniques
The status quo of today will never change because the people who created it will never die. Because of top secret medicine, when men like Henry Kissinger, who heads the Bilderberg Group's steering committee, get too feeble to function, they will simply go to one of the secret locations and use the temporal reversal device to regress back to about twenty years old. Their memories will be unaffected. Then they will get new identities and continue on. This process can be repeated indefinitely.
Because you can never change the status quo, your best hope for a lifetime of reasonable quality is to find clever ways to live in this world with as much independence as possible.
One method of adaptation is autonomous and semi-autonomous communities. If the community is registered as a religious institution it is automatically shielded from most government interference by the US constitution. It pays no taxes and can pretty much write its own rules by simply calling whatever it wants to do "religious doctrine". Many small semi-autonomous groups exist where people who share a common set of values find ways to quietly live out their lives pretty much on their own terms. The government does not seem interested in bothering these smaller groups as long as they live peacefully and are not doing anything that the government perceives to be a threat.
The Amish people are a good example of an autonomous group. You would probably not want to live as they do, however, before you completely dismiss them, you may want to look at some definite advantages in their chosen lifestyle.
Remember, these are the people who reject technology. They just might have made the correct choice. Technology, at first, seemed like a good idea. However, now that people are addicted to technology they are also enslaved by technology. Everything they do is monitored and recorded by the government. Privacy no longer exists. It did not have to be this way.
Technology, in itself, is not evil. However, it can be quite evil if you live under a government run by sociopathic control freaks which, unfortunately, you do. In the Amish world, electronic surveillance does not exist because electronic devices do not exist. The constant propaganda from TV has no effect on people who do not have TV. A horse does not report its position to a GPS satellite and is not controlled by a computer.
Also, the people are generally healthy and do not suffer from many diseases common to the mainstream population. They are not being poisoned by fluorinated water or additives found in processed food because they don't use these things. Also, they get lots of physical exercise.
Without totally withdrawing from the world, there are some positive steps you can take. By now you know never to drink fluorinated water or use any personal product containing fluoride such as many brands of toothpaste. To minimize harmful food additives, look for Kosher food which is marked with either the encircled "K" or "U" (Ultra Kosher). These foods have less or no harmful additives. The Jewish community is very protective of its people and the Mossad is widely considered to be the best intelligence service in the world. Therefore, they would have the inside scoop on everything including food and do not want to see their people harmed.
Whatever you decide to do, you definitely do not want to be part of so called mainstream society. These people are doomed. They are sheep (sheeple) slowly walking to the slaughter house. Don't go there!
---
references and credits
[1] DVD "The American Ruling Class". ASIN: B001HM2CE2.
[2] John Perkins. Book: Confessions of an Econemic Hit Man; DVD (free on you tube): "Apology of an Economic Hit Man"; RT interviews.
[3] See the free you tube videos titled "The Red Shield".
[4] DVD: "The Wages of Debt", RT Intl. Also available for purchase.
[5] DVD "Terra Blight", RT Intl. Also available for purchase.
[6] Interview with John Judge of Veterans Against Military Psychiatry.
[7] Also search using the phrase "qatar slaves world cup".
© 2014 W C Vetsch. All rights reserved.
Source: Walter C. Vetsch  |  3108.info | War Is Crime
The leaders of the U.S. Senate Banking Committee,  Sen. Tim Johnson (D., S.D.) and Sen. Mike Crapo (R., Idaho),  released a draft bill on Sunday that would provide explicit government guarantees on mortgage-backed securities (MBS) generated by privately-owned banks and financial institutions. The gigantic giveaway to Wall Street would put US taxpayers on the hook for 90 percent of the losses on toxic MBS the likes of which crashed the financial system in 2008 plunging the economy into the deepest slump since the Great Depression. Proponents of the bill say that new rules by the Consumer Financial Protection Bureau (CFPB) –which set standards for a "qualified mortgage" (QM)– assure that borrowers will be able to repay their loans thus reducing the chances of a similar meltdown in the future. However, those QE rules were largely shaped by lobbyists and attorneys from the banking industry who eviscerated strict underwriting requirements– like high FICO scores and 20 percent down payments– in order to lend freely to borrowers who may be less able to repay their loans.  Additionally, a particularly lethal clause has been inserted into the bill that would provide blanket coverage for all MBS  (whether they met the CFPB's QE standard or not) in the event of another financial crisis. Here's the paragraph:
"Sec.305. Authority to protect taxpayers in unusual and exigent market conditions….

If the Corporation, the Chairman of the Federal Reserve Board of Governors and the Secretary of the Treasury, in consultation with the Secretary of Housing and Urban Development, determine that unusual and exigent circumstances threaten mortgage credit availability within the U.S. housing market, FMIC may provide insurance on covered securities that do not meet the requirements under section 302 including those for first loss position of private market holders." ("Freddie And Fannie Reform – The Monster Has Arrived", Zero Hedge)
In other words, if the bill passes,  US taxpayers will be responsible for any and all bailouts deemed necessary by the regulators mentioned above.  And, since all of those regulators are in Wall Street's hip-pocket, there's no question what they'll do when the time comes. They'll bailout they're fatcat buddies and dump the losses on John Q. Public.
If you can't believe what you are reading or if you think that the system is so thoroughly corrupt it can't be fixed; you're not alone. This latest outrage just confirms that the Congress, the executive and all the chief regulators are mere marionettes performing whatever task is asked of them by their Wall Street paymasters.
The stated goal of the Johnson-Crapo bill is to "overhaul" mortgage giants Fannie Mae and Freddie Mac so that "private capital can play the central role in home finance." (That's how Barack Obama summed it up.) Of course, that's not really the purpose at all. The real objective is to hand over the profit-generating mechanism to the private banks (Fannie and Freddie have been raking in the dough for the last three years) while the red ink is passed on to the public. That's what's really going on.
According to the Wall Street Journal,  the bill will
"construct an elaborate new platform by which a number of private-sector entities, together with a privately held but federally regulated utility, would replace key roles long played by Fannie and Freddie…."

"The legislation replaces the mortgage-finance giants with a new system in which the government would continue to play a potentially significant role insuring U.S. home loans." ("Plan for Mortgage Giants Takes Shape", Wall Street Journal) 
"Significant role"? What significant role? (Here's where it gets interesting.)
The WSJ:
"The Senate bill would repurpose the firms' existing regulator as a new "Federal Mortgage Insurance Corp." and charge the agency with approving new firms to pool loans into securities. Those firms could then purchase federal insurance to guarantee payments to investors in those bonds. The FMIC would insure mortgage bonds much the way the Federal Deposit Insurance Corp. provides bank-deposit insurance."
Unbelievable. So they want to turn F and F into an insurance company that backs up the garbage mortgages created by the same banks that just ripped us all off for trillions of dollars on the same freaking swindle?
You can't be serious?
More from the WSJ:  "Mortgage guarantors would be required to maintain a 10% capital buffer against losses and to have that capital extinguished before the federal insurance would be triggered."
10 percent? What the hell difference does 10 percent make; that's a drop in the bucket.  If the banks are going to issue mortgages to people who can't repay the debt, then they need to cover the damn losses themselves, otherwise they shouldn't be in the banking biz to begin with, right?
This is such an outrageous, in-your-face ripoff, it shouldn't even require a response. These jokers should be laughed out of the senate. All the same,  the bill is moving forward, and President Twoface has thrown his weigh behind it. Is there sort of illicit, under-the-table, villainous activity this man won't support?
Not when it comes to his big bank buddies, there isn't. Now check out this clip from an article by economist Dean Baker. Baker refers to the Corker-Warner bill, but the Crapo-Johnson fiasco is roughly the same deal. Here's Baker:
"The Corker-Warner bill does much more than just eliminate Fannie and Freddie. In their place, it would establish a system whereby private financial institutions could issue mortgage-backed securities (MBS) that carry a government guarantee. In the event that a large number of mortgages in the MBS went bad, the investors would be on the hook for losses up to 10 percent of its value, after that point the government gets the tab.
If you think that sounds like a reasonable system, then you must not have been around during the housing crash and ensuing financial crisis. At the peak of the crisis in 2008-2009 the worst subprime MBS were selling at 30-40 cents on the dollar. This means the government would have been picking up a large tab under the Corker-Warner system, even if investors had been forced to eat a loss equal to 10 percent of the MBS price.

The pre-crisis financial structure gave banks an enormous incentive to package low quality and even fraudulent mortgages into MBS. The system laid out in the Corker-Warner bill would make these incentives even larger. The biggest difference is that now the banks can tell investors that their MBS come with a government guarantee, so that they most they stand to lose is 10 percent of the purchase price." ("The disastrous idea for privatizing Fannie and Freddie", Dean Baker, Al Jazeera)
Just ponder that last part for a minute: "The bill would make these incentives even larger."
Do you really think we should create bigger incentives for these dirtbags to rip us off? Does that make sense to you? Here's more from Baker:
"The changes in financial regulation are also unlikely to provide much protection. In the immediate wake of the crisis there were demands securitizers keep a substantial stake in the mortgages they put into their pools, to ensure that they had an incentive to only securitize good mortgages. Some reformers were demanding as much as a 20 percent stake in every mortgage.

Over the course of the debate on the Dodd-Frank bill and subsequent rules writing this stake got ever smaller. Instead of being 20 percent, it was decided that securitizers only had to keep a 5 percent stake. And for mortgages meeting certain standards they wouldn't have to keep any stake at all.

Originally only mortgages in which the homeowner had a down payment of 20 percent or more passed this good mortgage standard. That cutoff got lowered to 10 percent and then was lowered further to 5 percent. Even though mortgages with just 5 percent down are four times as likely to default as mortgages with 20 percent or more down, securitizers will not be required to keep any stake in them when they put them into a MBS."
Hold on there, Dean. You mean Dodd Frank didn't "put things right"?  What the heck? I thought that "tough new regulations" assured us that the banks wouldn't blow up the system again in five years or so. Was that all baloney?
Yep, sure was. 100% baloney. Once the banks unleashed their army of attorneys and lobbyists on Capital Hill,  new regulations didn't stand a chance. They turned Dodd Frank into mincemeat and now we're back to square one.
And don't expect the ratings agencies to help out either because they're in the same shape they were before the crash. No changes at all.  They still get paid by the guys who issue the mortgage-backed securities (MBS) which is about the same as if you paid the salary of the guy who grades your midterm exam. Do you think that might cloud his judgment a bit? You're damn right, it would; just like paying the ratings agencies guarantees you'll get the rating you want. The whole system sucks.
And as far as the new Consumer Financial Protection Bureau, well, you guessed it. The banks played a role in drafting the new "Qualified Mortgage" standard too, which is really no standard at all, since no self-respecting lender would ever use the same criteria for issuing a loan or mortgage. For example, no banker is going to say, "Heck, Josh, we don't need your credit scores. We don't need a down-payment. We're all friends here, right? So, how much do you need for that mortgage old buddy, $300,000, $400,000, $500,000.  You name it. The sky's the limit."
No down payment? No credit scores? And they have the audacity to call this a qualified mortgage?
Qualified for what? Qualified for sticking it to the taxpayers?  The real purpose of the qualified mortgage is to protect the banks from their own shifty deals. That's what it's all about. It provides them with "safe harbor" in the event that the borrower defaults. What does that mean?
It means that the government can't get its money back if the loan blows up.   The qualified mortgage actually protects the banks, not the consumer. That's why it's such a farce,  just like Dodd Frank is a farce. Nothing has changed. Nothing. In fact, it's gotten worse. Now we're on the hook for whatever losses the banks run up peddling mortgage credit to anyone who can fog a mirror.
We'll leave the last word for Dean Baker, since he seems like the only guy in America who has figured out what the hell is going on:
"In short, the Corker-Warner plan to privatize Fannie and Freddie is essentially a proposal to reinstitute the structure of incentives that gave us the housing bubble and the financial crisis, but this time with the added fuel of an explicit government guarantee on the subprime MBS. If that doesn't sound like a great idea to you then you haven't spent enough time around powerful people in Washington."
The Johnson-Crapo bill doesn't have anything to do with "winding down" Fannie and Freddie or "overhauling" the mortgage finance industry. It's a bald-face ripoff engineered by two chiseling senators who are putting the country at risk to beef up Wall Street's bottom line.
It's the scam of the century.
Humanity needs sleep and we quickly realize how much we need it after a night of no sleep. Sleep is vital for health, mood, memory, better thinking, stronger immunity, weight, sex and stress.
Dreams are also important to allow our subconscious to express. Science is now uncovering that dreams play a central role in our emotional health, psychological health, our memory, our learning and as a way to help us to find solutions to our problems. If we are seriously sleep deprived, we actually start to dream while awake.
Sleep also may help the human brain get better organized by filing away important memories and discarding unwanted information.
Scientists at the University of Rochester have found one of the reasons our brain needs sleep to survive. Turns out, when we sleep, our brain takes that time to clean out the build-up of brain junk we accumulate during our waking hours. When cells do their daily cell-type work, they produce waste product. The brain has its own garbage men, carried on the waves of cerebrospinal fluid, who surf the leftovers straight down to your liver for elimination. As it turns out, the brain's garbage men move twice as fast when you're sleeping, because your neurons shrink by half, making the fluid channels wider.
You spend 1/3 of your life on a mattress. You are drooling, sweating, having sex, lounging around and holding children on a mattress. You are making direct contact with a mattress and if you didn't know this already, the vast majority of today's mattresses are made from highly toxic volatile chemicals compounds that are linked to serious health problems. You breathe in these chemicals while you sleep and you absorb them when you sweat through a process of osmosis.
Sleeping disorders in the U.S. are growing at an alarming rate, and have been labeled as epidemic. Is the problem literally staring them in the face at night?
Most people aren't sleeping well and research shows that 95% will go undiagnosed, and 70 million people in the U.S. report that they suffer from sleep-related pain (Time Magazine). And recent studies have linked poor sleep with the growth of many disease states, specifically: diabetes, obesity, stroke, heart disease, allergies, and fibromyalgia.
Since the mid- to late '60s, most mattresses have been made of polyurethane foam, a petroleum-based material that emits volatile organic compounds. Most mattresses sold today contain some polyurethane foam and many contain specialty foams such as latex or memory foam, which consistently break down and release chemicals. The most common toxic materials used in making a mattress include petrochemicals, polyurethane, polyvinyl chloride (PVC), formaldehyde, antimony trioxide, phthalates, and boric acid. These chemicals are used for the foam fillers, material adhesives, and for water-resistance. Most are used to make the mattress flame retardant, per federal law, causing mattress toxicity to increase. All these chemicals individually give off their own noxious fumes, commonly referred to as off-gassing.
Sleepers may report smelling the fumes when the mattress is first bought, which eventually ceases; however, although the off-gas smell no longer is detectable, toxins are still continuously being released and inhaled by the sleeper. Studies show that when a person is sleeping on a mattress with such chemicals, the toxins can seep into the body through the skin. This is supported through scientific research that has shown PCDE's to be found in women's breast milk in the U.S., a fact that has led many to fear that children are more likely to suffer greater than adults from mattress toxicity.
In 2005, Walter Bader, author of the book Toxic Bedrooms, sent several mattresses to an Atlanta-based lab. A memory-foam model was found to emit 61 chemicals, including the carcinogens benzene and naphthalene. But hey, it's ok because its government approved? Right.
But there is another troublemaker in your mattress that you should be aware of and that is pesticide residue lurking in the cotton components of your mattress. Non-organic cotton is grown with pesticides, which are neurotoxins and endocrine disruptors that can cancer and nervous-system disorders. There are 107 active ingredients in pesticides still used in the U.S. that are carcinogenic, and 14 are known to cause reproductive problems in animals, according to the U.S. Environmental Protection Agency. Not "in the mood?" Your mattress may be contributing.
Also, most mattress covers are made with synthetic fabrics that pose more health risks. Man made synthetic fabrics are made of toxic petrochemicals and then sprayed with flame retardants and other dangerous chemical finishes. Using synthetic, non-organic bedding and blankets also contributes to toxicity.
Researchers are questioning the origin of the increased incidences in pediatric respiratory issues, such as asthma, learning disabilities (specifically Attention Deficit Hyperactivity Disorder), and lower IQ levels. Some have speculated there is a strong correlation between these issues and the materials used in children's mattress and bedding items. Infants, children and pregnant women require more sleep per day in order to develop and function properly, resulting in an increased amount of exposure time.
Another study, utilizing mice, was conducted to measure the effect of breathing the emission (off-gassing) of four types of mattresses on the respiratory system. This study revealed that all mattresses containing synthetic materials caused upper airways irritation in up to 57% of the breaths measured, and saw decreased air flow by 17-23%.
Taking this information into account, it is then no surprise for many who wake up feeling, sick, tired and stuffy. Chemicals in your mattress and bedding are the culprit and they are also interfering with your much needed rest.
Compound mattress toxicity, with environmental toxins, household toxins, toiletry toxins, synthetic fabric toxins and pesticide ridden foods, it is no wonder people are getting cancer at alarming rates! We are drowning in a toxic soup and a "safe amount" every day soon becomes a heavy burden taking its toll.
But organic mattresses and organic mattress pads do exist! They are made with organic cotton, organic wool, organic latex (comes from rubber trees), with no chemicals of any kind. There are companies that sell mattresses that are completely natural and toxin-free, not just a little bit organic. The best companies will provide you with transparency from harvest to factory to showroom.
A sleep study conducted by Peter R. Dickson (1984) examined sleep quality of participants when sleeping on natural wool (participants slept on a wool pad that was placed under their sheet). He found that participants moved (tossed and turned) significantly less in the night. Additionally, participants in the study reported that they had slept better and that they felt better the next day when sleeping on the wool. Wool is hypothesized to increase sleep quality and reduce tossing and turning because 1) it reduces pressure points; and 2) it regulates body temperature.
Wool has an abundance of air spaces between the fibers that cushion the body and alleviate pressure points. This helps to support the spine and eventually distribute pressure to allow for a night free of tension and full of REM sleep. You will feel the difference.
Wools natural ability to wick away moisture and regulate temperature results in calmer heart rates due to lower humidity next to the skin. This provides for an optimal skin temperature that allows for a great nights' rest.
Wool is the only fiber that is naturally flame resistant. Its main component, a protein called keratin, coupled with the moisture collected in its fibers, make it difficult to ignite.
The benefits of an organic, natural fiber mattress include: chemical free, hypoallergenic, provides ventilation, sustainable, biodegradable, durable, safe for children and adults, alleviates pressure, itch free, non toxic, absolute comfort, long lasting and coil free. Coils act as cancer-causing radiation antenna.
Don't trust your government to protect your health. Take control of your own health. Research. Buy wisely.
Source:  Lana Lokteff | Red Ice Creations
The Fed's easy money policies have pushed margin debt on the New York Stock Exchange (NYSE) to record levels laying the groundwork for a severe correction or another violent market crash.
In December, margin debt rose by $21 billion to an all-time high of $445 billion.
Buying equities on margin, that is, with loads of borrowed cash, is a sign of excessive risk taking the likes of which invariably takes place whenever the Central Bank creates subsidies for speculation by keeping interest rates pegged below the rate of inflation or by pumping trillions of dollars into the bloated financial system through misguided liquidity programs like QE.
Investors have shrugged off dismal earnings reports, abnormally-high unemployment, flagging demand, droopy incomes, stagnant wages and swollen P/E ratios and loaded up on stocks confident that the Fed's infusions of liquidity will keep prices going higher. It's only a matter of time before they see the mistake they've made.
The chart below illustrates how zero rates and QE lead to excessive risk taking. The correlation between the stratospheric rise of margin debt and the Fed's destabilizing monetary policy is hard to avoid. This is what bubblemaking looks like in real time.
Chart: Seeking Alpha.
In the minutes of the FOMC's December meeting, FOMC officials acknowledge the froth they've created in financial assets which is why they've begun to scale back their asset purchases. The Fed hopes that by gradually winding down QE they'll be able to stage a soft landing rather than a full-blown crash. Here's an excerpt from the FOMC's minutes:
"In their discussion of potential risks, several participants commented on the rise in forward price-to-earnings ratios for some smallcap stocks, the increased level of equity repurchases, or the rise in margin credit. One pointed to the increase in issuance of leveraged loans this year and the apparent decline in the average quality of such loans."
There you have it, the Fed sees the results of its work; the distortions in P/E ratios, the exuberant stock buybacks ("equity repurchases"), the deterioration in the quality of leveraged loans, and the steady rise in margin debt. They see it all, all the bubbles they've created with their gargantuan $3 trillion surge of liquidity. Now they have started to reverse the policy by reducing their asset purchase from $85 bil to $65 bil per month, the effects of which can already be seen in the Emerging Markets.
The bubble in Emerging Markets has burst sending foreign currencies plunging and triggering a sharp reversal in capital flows. The hot money that flooded the EMs,–(which lowered the cost of borrowing for businesses and consumers)–is entirely attributable to the Fed's policy. QE pushes down long-term interest rates forcing investors to search for higher yield in other markets. Thus, the cost of money drops in EMs creating a boom that abruptly ends when the policy changes (as it has).
Capital is fleeing EMs at an unprecedented pace precipitating a dramatic slowdown in economic activity, higher consumer prices and widespread public distress. The Fed is 100% responsible for the turmoil in emerging markets, a fact which even mainstream news outlets blandly admit. Here's an excerpt from an article in Bloomberg just this week:
"Investors are pulling money from exchange-traded funds that track emerging markets at the fastest rate on record…More than $7 billion flowed from ETFs investing in developing-nation assets in January, the most since the securities were created, data compiled by Bloomberg show…

Emerging economies have benefited from cheap money as three rounds of Fed bond buying pushed capital into their borders in search of higher returns…

The Fed's asset purchases had helped fuel a credit boom in developing nations from Turkey to Brazil. Accumulated capital inflows to developing-country's debt markets since 2008 reached $1.1 trillion, or $470 billion more than their long-term trend, according to a study by the International Monetary Fund in October." ("Record Cash Leaves Emerging Market ETFs on Lira Drop", Bloomberg)
The Fed doesn't care if other countries are hurt by its policies. What the Fed worries about is how the taper is going to effect Wall Street. If the slightest reduction in asset purchases causes this much turbulence abroad, then what's it going to do to US stock and bond markets?
The answer, of course, is that stocks are going to fall…hard. It can't be avoided. And while the amount of margin debt is not a reliable tool for calling a top; it's safe to say that the recent spike in investor leverage has moved the arrow well into the red zone. Investors are going to cash out long before the Fed ends QE altogether, which means the selloff could persist for some time to come much like after the dot.com bubble popped and stocks drifted lower for a full year. Now check out this clip from Alhambra Investment Partners newsletter titled "The Year of Leverage":
"For the year, total margin debt usage jumped by an almost incomprehensible $123 billion, while cash balances declined by $19 billion. That $142 billion leveraged bet on stocks far surpasses any twelve month period in history. The only times that were even close to as leveraged were the year leading up to June 2007 (-$89 billion) and the twelve months preceding February and March 2000 (-$77 billion). Both of those marked significant tops in the market." ( Alhambra Investment Partners newsletter titled "The Year of Leverage")
Repeat: "The $142 billion leveraged bet on stocks far surpasses any twelve month period in history."
Investors are "all-in" because they think that the Fed has their back. They think that Bernanke (or Yellen) will not allow stocks to fall too far without intervening. (This is called the "Bernanke Put") So far, that's been a winning strategy, but that might be changing. The Fed's determination to taper suggests that it wants to withdraw its stimulus to avoid being blamed for the bursting bubble. ("Plausible deniability"?) That's what's driving the current policy. Here's more on margin debt from Wolf Richter at Testosterone Pit:
"On the New York Stock Exchange, margin credit has been hitting new records for months. All three mega-crashes in my investing lifetime have been accompanied by record-setting peaks in margin debt. In September 1987, a month before the crash, margin credit peaked at 0.88% of GDP. In March 2000, when the crash began, margin credit peaked at 2.7% of GDP. In July 2007, three months before the downdraft started, margin credit peaked at 2.6% of GDP. Now, margin credit has already reached 2.5% of GDP." ("Plagued By Indigestion, Fed Issues Asset-Bubble Warning", Testosterone Pit)
Stock market crashes are always connected to massive leverage, loosey-goosey monetary policy and irrational exuberance ("excessive risk taking"), the toxic combo that presently rules the markets. The Federal Reserve is invariably the source of all bubblemaking and financial instability.
As we noted earlier, equity repurchases or stock buybacks are another sign of froth. Here's an excellent summary on the topic by Alhambra Investment Partners:
"In the third quarter of 2013, share repurchases totaled $128.2 billion, the highest level since Q4 2007. For the twelve months ended in September 2013, aggregate share repurchases were an astounding $445.3 billion; the only twelve-month period greater than that total was the calendar year of 2007 and its $589 billion.

The common argument advanced in favor of such share repurchases is that companies are using cash to recognize undervalued stocks, but that is total hogwash…

…corporate managers are no different than the reviled stereotypical retail investor. Both leverage themselves further and further as the market goes higher, not in recognizing undervalued stocks or companies but in full froth of chasing obscene values via rationalizations." ( Alhambra Investment Partners newsletter titled "The Year of Leverage")
In other words, corporate managers are doing the same thing as your average margin investor. They are loading up on financial assets–not because they think they are a good value or because they expect higher earnings –but because Fed policy supports artificially-high prices. That's what's driving the bull market, the Fed's thumb on the scale. Remove the thumb, and you have a whole new ballgame (as we see in the EMs). There's also a bubble in high yield "junk" bonds which just had their second biggest year on record (Total issuance $324 billion) Investors are only too happy to dump their money into high-risk debt believing that companies never default or that the Fed will save the day again credit tightens and the dominoes start tumbling through the debt markets. According to Testosterone Pit:
"The cost of a high-yield bond on an absolute coupon basis is as low as it's ever been," explained Baratta, king of Blackstone's $53 billion in private equity assets. Even the riskiest companies are selling the riskiest bonds at low yields… Why would anyone buy this crap?" ("Bubble Trouble: Record Junk Bond Issuance, A Barrage Of IPOs, "Out Of Whack" Valuations, And Grim Earnings Growth", Testosterone Pit)
Why, indeed? Of course, the author is just being rhetorical, after all, he knows why people are piling into junk. It's because the Fed has kept a gun to their heads for 5 years, forcing them to grab higher yield wherever they can find it. That's how Bernanke's dogwhistle monetary policy works. By slashing rates to zero, the Fed coerces investors to speculate on any type of garbage that's available. That why junk "just had its second biggest year on record." You can thank Bernanke.
Housing is also in a bubble due to the Fed's zero rates, withheld inventory, government modification programs, and an unprecedented uptick in all-cash investors. Clearly, there's never been a market more manipulated than housing. It's a joke.
The surge of Wall Street liquidity has spilled over into housing distorting prices and reducing the number of first time homebuyers to an all-time low. The homeownership rate is actually falling even while prices climb higher, which is just one of many anomalies created by the Fed's policy. (Who's ever heard of a housing boom, where the number of firsttime homebuyers is dropping?)
Also, the Central Bank has purchased more than $1 trillion in mortgage-backed securities (MBS) via QE, which begs the question: How can housing prices NOT be in a bubble?
As we noted earlier, the Fed understands the impact its policies have had. They know the markets are overheated and they're determined to do something about it. A recent article in Bloomberg explains the Fed's plan for winding down QE "without doing damage to the economy". Here's a short excerpt from the piece:
"Janet Yellen probably will confront a test during her tenure as Federal Reserve chairman that both of her predecessors flunked: defusing asset bubbles without doing damage to the economy…

Yellen is 'going to be trying to do something that no one has ever done,' said Stephen Cecchetti, former economic adviser for the Bank for International Settlements, the Basel, Switzerland-based central bank for monetary authorities. She needs 'to ensure that accommodative monetary policy doesn't create significant financial stability risks,' he said in an interview…

The Fed's 'first, second and third lines of defense" for dealing with such imbalances is to rely on supervision, regulation and so-called macro-prudential policies, such as mortgage loan-to-value restrictions, Bernanke told the Brookings Institution in Washington on Jan. 16. ….Only as a last resort would it consider raising interest rates.' ("Yellen Faces Test Bernanke Failed: Ease Bubbles", Bloomberg)
You got that?
So the Fed is going into the "bubble-deflating" biz.
Check.
And uber-dove Yellen is going to put things right. She's going to eliminate the price distortions and gradually return the markets to normalcy.
Right, again.
She's going to wind down QE and start to reduce the Fed's $4 trillion balance sheet.
Oakie dokie.
And she's going to do all of this without raising interest rates or sending stocks into freefall?
Right. It's a pipedream. The first sign of trouble and old Yellen will be scuttling across the floor of the New York Stock Exchange with a punch bowl the size of Yankee Stadium.
You can bet on it.
Urban War Zones are now a reality inside many American cities.
It's no longer necessary to go to Iraq, Afghanistan or Africa to enter a real war zone and have to fight for your life.
Thanks to massive CIA drug trafficking and American Free-trade Treaties like NAFTA, CAFTA, GATT & WTO, many American inner cities have been transformed into actual war zones.
These inner city war zones are infested with drug gangs that outnumber police and out gun them too.
At present these gangs are typically competing and battling with each other for turf and making a living selling drugs and running prostitutes, some captive sex-slaves. At some point if the economy worsens and the SHTF, they could easily start looting and attacking anyone and everyone.
However, in every major city in America at present, violent urban predators prey on the unarmed, old, weak, sick or disabled. And while out of control Police Swat Teams battle these predators and drug gangs, they often tyrannize the innocent which include women and young children, using excessive force all too often. There are numerous incidents of such teams murdering innocents after attacking the wrong home.
The massive War on Drugs was designed as a dualistic program. One hand, the top secret part involves the USG bringing in massive amounts of illegal drugs to raise "off the books money" for covert ops. The other hand uses all serious gang crimes arising as a pretext to militarize the police as justify their deployment as Nazi Storm Troopers.
This second part of the War on Drugs is for public disclosure and consumption. In response to all this massive urban breakdown, the worsening economy and increasing government tyranny from the Department of Homeland Security, the TSA and out of control local police, Americans are arming at an astounding rate. Guns are literally flying off the shelves and ammo sales are at an all time high also.
Americans now arming up in mass in order  to protect themselves from and this increasing USG Tyranny of the USG, DHS and their local militarized and Mind-kontrolled local police (1)  and from increasing and spreading urban crime which includes robberies, car-jackings, home burglaries and home invasions.
Also given as an important reason for arming up for the first time when asked, is a fear of possible impending economic collapse with an associated SHTF occurrence. Many express a salient and absolute need to be able to protect themselves and/or their family members from possible looters and armed home invaders which would likely accompany a SHTF urban breakdown situation.
And who should be credited with creating such a foreboding urban environment? It is the Globalist Traitors and infil-Traitors who have hijacked the political process and Banking in America.
These Globalist "enemies within" have rammed through economically disastrous Free-Trade Agreements and forced Diversity, Perversions and Political correctness accompanied by massive immigration, most illegal. All this has been designed to destroy the borders, language and culture of America, to neutralize its Constitution, Bill of Rights and Rule of Law while transforming America into a economically distressed Third World Nation.
These Globalist enemies within the Gates have been working very hard to transform America into a Democracy (Mob rule by the masses) from the Republic which was set up by our Founding Fathers.  Obviously any real enforcement of the US Constitution would assure that American would remain a republic the way it was set up.
Since the imposition of so-called "Free Trade" policies upon the American Republic, urban decay and blight have become epidemic in major American cities. Many cities have turned into Urban Jungles, where only the strongest survive. In these Urban Jungles, violent gangs prevail and the weak are parasitized and consumed, afraid to go out of their homes, especially after dark.
Take Chicago, which has become a "kill or be kill" free fire Urban War Zone in some of its Urban areas. Chicago is the one of the most gun restricted areas ever, but the only ones that do not carry guns to defend themselves are law abiding citizens.
Gang members have all the guns they want, supplied by drug gangs and the CIA and BATF.http://www.cbsnews.com/news/gang-wars-at-the-root-of-chicagos-high-murder-rate/
Some of these areas such as Washington DC have been rated as having a 300% chance of being mugged if out after dark in certain areas, which means you could likely be robbed three times in a single block if you have a victim profile (old, young, weak, disabled, female). The real unemployment rate is 37%, despite phony USG that it is 7% or less.(2)
And now Detroit has been declared Bankrupt. It has been reported that retired police and City workers will now receive approximately 13% of their pensions due.
The Ruins of Detroit:
The ten Most Dangerous American Cities which are truly Urban Jungles at Night:
There are areas in Detroit, South Chicago and St. Louis that are so violent and infested with violent gangs that even the police refuse to enter unless ordered and then do so with major forces.
Until recently parts of Detroit was so violent that police and ambulances refused to provide service during the night hours and often found abandoned dead bodies (murder victims) days later. Detroit, known as "Iron City", the jewel of America, used to be prosperous beyond measure based on the manufacture of the world's finest cars.
Remember what a 1965 Olds Starfire coupe was like, or a mid 60′s Buick Wildcat or Pontiac Bonneville was like.  How about a mid 60′s Chevy with a HP409 engine or a Plymouth Belvedere with a 426 Hemi or 440 Wedge engine?
That all changed in 1971 with the introduction of very extreme anti-pollution "clean air" laws which reduced automotive engine compression ratios from approximately 10.5 to 8.5, required the installation of retarded, goofy extremely inefficient camshafts.  The result was garbage engines that had little power, consumed huge increases in gasoline and a major shift in chassis quality to near complete crap. At that point American automotive quality was gone and is only starting to come back now forty years later.
This is but one symptom of the covert Globalist engineering of American Society on behalf of the City of London zionist Central Banksters.
This of course created a great opportunity for the Japanese Auto manufacturers, secretly owned and controlled by the super-elite American Banking families. When W. Edwards Deming, an astute American engineer approached American Automotive Manufacturers in Detroit and proposed his plan to drastically reduce defects and lemons, he was rebuffed because it was felt his plan was too expensive and too slow.
Deming's plan required 100% quality checks and verification of all parts from every supplier instead of the approximately 1% or less sampling. When Deming approached the Japanese, who had already shown a new coming expertise in motorcycles and quality circles in their electronics manufacturing, his program was accepted and implemented.
The rest is history, and after about 15 years, the American Automotive manufacturers have been playing a catch up game ever since for quality with the Japanese Auto manufacturers.
And now the Korean Automotive Manufacturers have hired retired Japanese automotive engineers as consultants and have adopted many of their same practices and principals to their automotive manufacturing.  The result?
Some Autos manufactured in South Korea have attained the same quality as the Japanese which are considered to currently be the highest quality in the world. As many automotive enthusiasts suggest, if you want the best performance buy German, if you want the highest quality buy Japanese.
It is a fair assumption that Globalism and the Free-Trade Agreements it produced, have resulted in the exportation of most American heavy industry, manufacturing and millions of good paying jobs. This alone has seriously harmed the American economy and set America on a path of destruction, starting first with its Urban Centers which have become urban wastelands and jungles, and now progressively spreading to middle class and upper middle class outlying suburbs.
Fair Trade with suitably adjusted reasonable Tariffs to protect American Jobs are necessary to America's economic survival and prosperity. Free Trade is not Free at all and is an abomination to the American republic and its Sovereignty.
It is a tool of the Globalists to enhance the earnings of their international offshore Globalist corporations at the expense of the American worker.  It is nothing less than a secret war against America's Sovereignty and the Republic itself.
The only other globalist tactic to destroy America that approaches its effectiveness are the policies of unrestricted illegal immigration, forced diversity, cultural programming that perversion is good, required perversion programming in the public schools that it is normal, and political correctness.
Obviously these are all Globalist weapons of covert war waged against America to destroy its borders, language and culture and gut it economically.  These Globalist weapons have been deployed against Americans in order to transform America into a Third World "Democracy" instead of the Republic that it was set up to be by the Founding Fathers.
These Traitors and Infil-Traitors in Congress and the Administration keep financing and running foreign wars for Israel in order to establish Democracy like they keep claiming we have in America. We have never had a democracy but they have been doing their best to kill the Republic on the behalf of their zionist owners and masters This is of course one of the biggest lies ever told.
America has always been a Republic, a democracy is mob rule. Of course bringing in 30-60 million illegal immigrants and millions of legally sanctioned foreign workers has quickly undermined American culture and tradition and established a real base to elect politicians who appeal to the masses. The election of President Obama was the first of such travesties.
Up until recently when American aircraft manufacturers starting buying foreign parts, American aircraft were the best in the world, especially the military aircraft and fighter/interceptors. Now we have an F-22 with a contaminated O2 system from China that causes some pilots to start passing out and a Boeing Dreamliner with a faulty battery system that was imported.
For years St. Louis has been so poor that some of their police radio don't work properly and their squad cars are in disrepair. In East Los Angeles, despite how tough and well armed the LA Police Department is, top police officials know that they are completely outgunned by Mexican drug gangs allowed to enter and do business inside America and also provided arms shipped by the CIA and the BATF.
It's not as if Americans weren't duly warned what such Free-Trade Treaties would produce, because Presidential Candidate Ross Perot went public with what was coming.  He described the effects as a "giant sucking sound" for American jobs as they would leave America in droves.
But despite Perot's grave warnings, President George HW Bush signed NAFTA on Dec. 17, 1992 with full Congressional support. The NAFTA Treaty was ratified after Bill Clinton became President. Soon after the sucking sound started, with shocking support the the US Department of State which provided massive grants to major corporations to move manufacturing to Mexico.  These grants continued at American taxpayer expense under the subsequent Trade Treaties that were subsequently signed and ratified such as CAFTA, GATT, and WTO.
Unbeknownst to most Americans, President Obama is now deeply involved in secret negotiations to pass the Trans Pacific Partnership Treaty (TPP) which experts have described as "NAFTA on Steroids". TPP is far more than just another Free Trade Treaty which continues to lower the value of American wages to the "rock bottom" levels in third world  countries. If signed and ratified by Congress, the TPP would be the complete end to any remaining American Sovereignty.
What established this frenzy for Free-Trade Agreements? It is now known that The last duly elected President of the United States of America was Ronald Reagan.  It is also known by seasoned intel officers that Ronald Reagan distrusted American Intel in general and especially his Vice President George HW Bush.
In fact it has now been discovered that President Reagan distrusted the CIA and American Intel so much, he set up his "Kitchen Cabinet" and brought in Lee Wanta as his Secret Agent under the Totten Doctrine (3).
George HW Bush was illegally elected later as President, since his father Prescott Bush had signed an Immunity Agreement that no future Bushes (Scherfs) would ever run for office after he was arrested for "aiding the enemy" and his Union Bank assets were seized by FDR during WW2.
It is also known that George HW Bush ran his own private CIA inside the CIA which served the specific needs of the zionist City of London Central Banksters and their franchisees, the American private Federal Reserve and major Wall Street Banksters.
Some former top American Intel believe that it was this private GHW Bush Intel organization that tried to assassinate President Reagan, by using their man, a secret service man who fired a high speed plastic disc from a compressed air powered disc-gun, the type displayed by William Colby in Congressional Hearings on the abuses of American Intel.
PBS Judy Woodruff had reported this of seeing the SS man fire a gun from a second story window that night on PBS but the story was quickly squelched and she changed it after a very convincing "not to worry visit" from some very serious American Intel agents. President Reagan, despite a long slow disjointed route to the hospital, survived. This assassination attempt however signaled that the Treasonous Bush Cabal had attained a major power base inside the Military and Congress.
The sad thing is that all the political power and influence  necessary to accomplish this and to transform the American Congress into Traitors was due to the vast money provided to K Street Lobbyists and zionist espionage groups like AIPAC, ADL, B'nai B'brith, and the like by the Central Banksters and the various Judaic groups shaken down and manipulated by zionist for donations.
So the first beach-head of the Globalists (aka zionist City of London Central Banksters and the "Old Black Nobility" they represented) was established with a bought, owned and controlled US Congress.  Once GHW Bush was elected President, the circle of control was complete.
One of George W. Bush's major assignments was to take American further down the Globalist path by fighting more Mideast wars for Israel. Another was to destroy the Republic party by being the worst President ever and fully debasing the Republican, which he did. Now the Republican leaders in Congress are tricking the Republican Party into committing suicide by agreeing to back the Democratic legislation for making illegal immigrants legal and future citizens.
So it is now obvious that the Republic Party is finished and Americans need to rise up and form a new Third Party. Otherwise you can be assured that just like in the last Presidential election, both candidates will be owned by the Bush Cabal.Unless the Bush Cabal has been fully exposed and displaced by then which is now  real possibility.
It has been estimated that there are now approximately 30 million illegal immigrants inside Americaallowed in by a Globalist controlled USG who prevented border enforcement and liberal immigration laws which are not enforced. With the the passage of the currently proposed Democratic plan for legalizing illegal immigrants, this number could easily grow to 60 to 100 million.
In most major American Cities, Police are not allowed to arrest suspected illegal immigrants for minor traffic violations or check their identification for legal status. Not so for those whose license plates are run and show up as actual American Citizens. And this is all due to orders coming down from a few top policy-Makers who operate at the nexus of the Secret Shadow Government (SSG).
GHWB could now institute major efforts to undo all the excellent plans for the economic and industrial reconstruction of America that President Reagan had set in place and activated. As has been disclosed in a previous article (4), President Reagan had brought in Lee Wanta to serve as his Secret Agent because he didn't trust the CIA which had been corrupted and hijacked by GHWB.
It should now be exceedingly clear to those who are well informed about the degradation of the American economy and rule of law accompanied by increasing tyranny, deployment of DHS, TSA and the passage of all the unConstitutional draconian laws (like the so-called Patriot Act, the Military Commissions Act, and NDAA 2014).
All this is being engineered by foreign controlled Globalist traitors and infil-Traitors who have hijacked America and worked hard to export  heavy industry, manufacturing and jobs.
And that they are doing this to asset strip America, destroy it's economy and the Republic itself in order to Balkanize America and prevent it from ever rising in economic strength again and operating as a Republic "of the people, by the people and for the people".
Their motives for all this?  To covertly re-fight the Revolutionary war that was lost and retake America on behalf of the zionist City of London Central Banksters and their Kingpin overlords the Old Black Nobility (OBN).  These hidden masters of the world-wide occult network which runs the IZCS prefer to stay hidden in the background where they can pull all the strings of several top Policy-Makers in America with no personal risk to themselves.
What can be done to turn this around? Obviously the first step is to get rid of all Free-Trade Agreements. In order to do this all the zionist espionage fronts inside America such as AIPAC, ADL, B'nai B'rith and the like must be fully exposed and prosecuted to the fullest extent of the law. In order to do this zionist Israeli-American dual citizens inside Congress and the USG and its Agencies must be exposed as traitors and agents of foreign espionage and routed out of power.
America has to stop fighting Israel's illegal Mideast wars and withdraw all aid and support for Israel as long as it is a criminal, racist apartheid state persecuting and murdering Palestinians and stealing their land incrementally.
Lee Wanta, a great American Heroe that served as President Reagan's Secret Agent under the Totten Doctrine and was instrumental in bringing down the evil Soviet Union
We need to re-institute the Wanta Reconstructing America Plan based on the Maglev High Speed Rail System which has the necessary funding already available. (5)
And it is time to also re-establish the Want Economic Recovery Plan for America that was also set up under President Reagan, but later stopped cold by George HW Bush and his Cabal when they instituted a secret coup to take over the whole USG on behalf of the City of London zionist Central Banksters and their Wall Street and Federal Reserve Franchisees.(6)
In fact it is a reasonable assumption that the massive Free-Trade attack on America's economy was largely a reaction by the Bush Cabal to these amazing economic reconstruction plans President Reagan had put in place through his Secret Agent Lee Wanta, who was the master strategist that took down the Soviet Union for President Reagan.
Recent respected surveys show that a majority of American are disgusted with the current administration and rating of the lowest ever experienced in America in the last century. Congress is also rated at an all time low with only 9% approving of it. Many view the current President as an alien imposter with no traceable past.  Some alternative media writers have stated that he is a sheep-dipped CIA creation just like Bill Clinton. All this is a mute point.  Why?
Because Ronald Reagan was the last duly elected President of the United States of America, the Republic, all presidents since have been fraudulently elected and owned by the Bush Cabal. And this Bush Cabal is the Action Agent of the City of London zionist Central Banksters and their International Zionist Crime Syndicate (IZCS).
The IZCS is centered in Israel where most intel is done by privatized Israeli corporations serving as American Defense and Intel contractors.  It is these private Israeli contactors who control all NSA raw intel and almost all American communications including internal White House phone calls and messaging, as well as all Pentagon and DOD communications.
Obviously the Bush Cabal has been able to install its own Presidential puppets and run a lucrative illegal drug trafficking operations into America.  All done to destabilize and "dirty up" American Cities while absorbing a great deal of the Welfare dollars and capturing vast "off the books" funds for their own covert operations and bribery of Congress. It is a fair conclusion that the Bush Cabal has destroyed the American Rule of Law, debased any true enforcement of the US Constitution and Bill of Rights and has corrupted every institution and agency of the USG.
However there is good news.  A growing force for good has emerged in the Alternative Media now transmitted everywhere instantly on demand by the worldwide Internet, the new Gutenberg Press and the NWO Globalist's Achilles Heel. Yes, the Controlled Mass media (CMMM) has been a propaganda mouthpiece for the Bush Cabal and the IZCS, but is now losing its appeal and credibility. The CMMM keeps feeding lies and crap to the American public that are obviously false, like the Mideast American wars are wars to establish Democracy.  More and more Americans now realize this is complete BS, that we are there to fight Israel's wars and defend British Oil interests.
Compare the articles of Veterans Today and other respected truth media now which are being published and read by millions inside America and all over the world with the CMMM. You will see the gap between the alternative media truth and the CMMM lies is ever widening and we are starting to see Alternative Media's popularity driving stories into the CMMM, even thought the CMMM usually attempts to neutralize their significance.
Many thousands of brave American Soldiers who were lied to and deceived into fighting these illegal, unConstitutional, unprovoked, undeclared wars for Israel and Big Oil, thinking that they were defending America and its freedom. Few greater lies and deceptions has ever been predicated on Americans than this complete lie.  Many thousands of Americans have been killed and horribly wounded and disabled in this war.
If the American Military ever fully realizes that all these wars were phony and based on a lie and that Israel did the 9/11 attacks with the help of a cabal within the USAF and JCS, there will be hell to pay for all those perps involved. And now there is good reason to believe that day is coming in the not too distant future.
As most Americans are beginning to realize, America has been infil-Traited by Traitors and Infil-Traitors in the highest positions of the USG.  The major economic deterioration and loss of assets to the Wall Street Banksters and the private Federal reserve through financial Fraud have been staggering and Americans are catching on the the BLATANTLY OBVIOUS.
When American society reaches a critical mass awakening to this obvious situation that Globalists have been doing everything they can to destroy America, there will be major Blow-back of astounding proportions. When 12% of Americans are awakened, a critical mass and major turning point will be reached and you will begin to see major social change like never conceived, and this will all be due to major Blow-back from awakening.
The elites hate to acknowledge it, but when large numbers of ordinary people are moved to action, it changes the narrow political world where the elites call the shots. Inside accounts reveal the extent to which Johnson and Nixon's conduct of the Vietnam War was constrained by the huge anti-war movement. It was the civil rights movement, not compelling arguments, that convinced members of Congress to end legal racial discrimination. More recently, the townhall meetings, dominated by people opposed to health care reform, have been a serious roadblock for those pushing reform…. A big turnout … can make a real difference….When someone tells you to stop imagining that you are having an impact, ask them to please direct their energy into getting 10 friends to join you in doing what needs to be done. If it has no impact, you'll have gone down trying. If it has an impact, nobody will tell you for many years. (7)
This coming complete awakening will be due to information dispensed and diffused by the Alternative Media and the worldwide Internet as well as word of mouth. it is best viewed as a byproduct of a new and powerful emerging worldwide populism which has now reached the point it is unstoppable. One recent study has established 10% as a critical mass, turning point for Society.(8)
I believe we are already at 11% and when we reach 12%, the days of the Bush cabal will be dated. They know it too and are scared sh*tless. That is why they have been going for broke trying to ram the NWO down our throats and militarize local police and build up DHS to oppress and then mass murder us.
It's time to speak up to all your family, friends and associates that we need to abandon the Republican and Democratic political Parties.  Both parties are owned and controlled by the same Overlord, the IZCS who bought them and can blackmail them with NSA provided intel.
Former Minnesota Governor Jesse Ventura, who is also a Vet and a Navy Seal/UDT man had it right in his book of the Replican and Democrat Political Gangs in America, DemoCRIPS and ReBLOODlicans (9).
Gov. Ventura recommends Americans dump both political Parties which serve the same corrupt masters and start electing alternative candidates only who are not associated with either of the two parties.
Conclusion:
It should now be exceedingly clear to those who are well informed about the degradation of the American economy and rule of law accompanied by increasing tyranny, deployment of DHS, TSA and the passage of all the unConstitutional draconian laws (like the so-called Patriot Act, the Military Commissions Act, and NDAA 2014), that all this is being engineered by foreign controlled Globalist traitors and infil-Traitors who have hijacked America and worked hard to export  heavy industry, manufacturing and jobs.
And that they are doing this to asset strip America, destroy it's economy and the Republic itself in order to Balkanize America and prevent it from ever rising in economic strength again and operating as a Republic "of the people, by the people and for the people".
Their motives for all this?  To covertly re-fight the Revolutionary war that was lost and retake America on behalf of the zionist City of London Central Banksters and their Kingpin overlords the Old Black Nobility (OBN).  These hidden masters of the world-wide occult network which runs the IZCS prefer to stay hidden in the background where they can pull all the strings of several top Policy-Makers in America with no personal risk to themselves.
(1) http://www.veteranstoday.com/2013/02/17/robocops/
(2) http://www.tpnn.com/2014/01/22/actual-unemployment-rate-37-2-not-6-7-says-wall-street-adviser/
(3) TOTTEN DOCTRINE [ 92 U.S. 105, 107 (1875) ]
(4) http://www.veteranstoday.com/2014/01/05/the-wanta-reconstructing-america-plan/
(5) http://www.veteranstoday.com/2013/12/28/high-speed-rail/
(6) http://wantarevelations.com/2014/01/wanta-plan-macro-financial-economic-check-list/
(7) http://www.zerohedge.com/contributed/2014-01-31/powers-be-are-secretly-terrified-people%E2%80%99s-power-%E2%80%A6-and-only-pretend-they%E2%80%99re-fi
(8) http://scienceblog.com/46622/minority-rules-scientists-discover-tipping-point-for-the-spread-of-ideas/
(9) http://www.amazon.com/DemoCRIPS-ReBLOODlicans-More-Gangs-Government/dp/162087587X/ref=sr_1_2?s=books&ie=UTF8&qid=1391327762&sr=1-2&keywords=jesse+ventura+democrips+and+rebloodlicans
Source: Preston James | Veterans Today
They never taught this in history class…
In October 1944, at age eighteen, I was drafted into the U.S. army. Largely because of the "Battle of the Bulge," my training was cut short, my furlough was halved, and I was sent overseas immediately. Upon arrival in Le Havre, France, we were quickly loaded into box cars and shipped to the front. When we got there, I was suffering increasingly severe symptoms of mononucleosis, and was sent to a hospital in Belgium. Since mononucleosis was then known as the "kissing disease," I mailed a letter of thanks to my girlfriend.
By the time I left the hospital, the outfit I had trained with in Spartanburg, South Carolina, was deep inside Germany, so, despite my protests, I was placed in a "repo depot" (replacement depot). I lost interest in the units to which I was assigned, and don't recall all of them: non-combat units were ridiculed at that time. My separation qualification record states I was mostly with Company C, 14th Infantry Regiment, during my seventeen-month stay in Germany, but I remember being transferred to other outfits also.
In late March or early April 1945, I was sent to guard a POW camp near Andernach along the Rhine. I had four years of high school German, so I was able to talk to the prisoners, although this was forbidden. Gradually, however, I was used as an interpreter and asked to ferret out members of the S.S. (I found none.)
In Andernach about 50,000 prisoners of all ages were held in an open field surrounded by barbed wire. The women were kept in a separate enclosure that I did not see until later. The men I guarded had no shelter and no blankets. Many had no coats. They slept in the mud, wet and cold, with inadequate slit trenches for excrement. It was a cold, wet spring, and their misery from exposure alone was evident.
Even more shocking was to see the prisoners throwing grass and weeds into a tin can containing a thin soup. They told me they did this to help ease their hunger pains. Quickly they grew emaciated. Dysentery raged, and soon they were sleeping in their own excrement, too weak and crowded to reach the slit trenches. Many were begging for food, sickening and dying before our eyes. We had ample food and supplies, but did nothing to help them, including no medical assistance.
Outraged, I protested to my officers and was met with hostility or bland indifference. When pressed, they explained they were under strict orders from "higher up." No officer would dare do this to 50,000 men if he felt that it was "out of line," leaving him open to charges. Realizing my protests were useless, I asked a friend working in the kitchen if he could slip me some extra food for the prisoners. He too said they were under strict orders to severely ration the prisoners' food, and that these orders came from "higher up." But he said they had more food than they knew what to do with, and would sneak me some.
When I threw this food over the barbed wire to the prisoners, I was caught and threatened with imprisonment. I repeated the "offense," and one officer angrily threatened to shoot me. I assumed this was a bluff until I encountered a captain on a hill above the Rhine shooting down at a group of German civilian women with his .45 caliber pistol. When I asked, "Why?," he mumbled, "Target practice," and fired until his pistol was empty. I saw the women running for cover, but, at that distance, couldn't tell if any had been hit.
This is when I realized I was dealing with cold-blooded killers filled with moralistic hatred. They considered the Germans subhuman and worthy of extermination; another expression of the downward spiral of racism. Articles in the G.I. newspaper, Stars and Stripes, played up the German concentration camps, complete with photos of emaciated bodies. This amplified our self-righteous cruelty, and made it easier to imitate behavior we were supposed to oppose. Also, I think, soldiers not exposed to combat were trying to prove how tough they were by taking it out on the prisoners and civilians.
These prisoners, I found out, were mostly farmers and workingmen, as simple and ignorant as many of our own troops. As time went on, more of them lapsed into a zombie-like state of listlessness, while others tried to escape in a demented or suicidal fashion, running through open fields in broad daylight towards the Rhine to quench their thirst. They were mowed down.
Some prisoners were as eager for cigarettes as for food, saying they took the edge off their hunger. Accordingly, enterprising G.I. "Yankee traders" were acquiring hordes of watches and rings in exchange for handfuls of cigarettes or less. When I began throwing cartons of cigarettes to the prisoners to ruin this trade, I was threatened by rank-and-file G.I.s too.
The only bright spot in this gloomy picture came one night when. I was put on the "graveyard shift," from two to four a.m. Actually, there was a graveyard on the uphill side of this enclosure, not many yards away. My superiors had forgotten to give me a flashlight and I hadn't bothered to ask for one, disgusted as I was with the whole situation by that time. It was a fairly bright night and I soon became aware of a prisoner crawling under the wires towards the graveyard. We were supposed to shoot escapees on sight, so I started to get up from the ground to warn him to get back. Suddenly I noticed another prisoner crawling from the graveyard back to the enclosure. They were risking their lives to get to the graveyard for something. I had to investigate.
When I entered the gloom of this shrubby, tree-shaded cemetery, I felt completely vulnerable, but somehow curiosity kept me moving. Despite my caution, I tripped over the legs of someone in a prone position. Whipping my rifle around while stumbling and trying to regain composure of mind and body, I soon was relieved I hadn't reflexively fired. The figure sat up. Gradually, I could see the beautiful but terror-stricken face of a woman with a picnic basket nearby. German civilians were not allowed to feed, nor even come near the prisoners, so I quickly assured her I approved of what she was doing, not to be afraid, and that I would leave the graveyard to get out of the way.
I did so immediately and sat down, leaning against a tree at the edge of the cemetery to be inconspicuous and not frighten the prisoners. I imagined then, and still do now, what it would be like to meet a beautiful woman with a picnic basket under those conditions as a prisoner. I have never forgotten her face.
Eventually, more prisoners crawled back to the enclosure. I saw they were dragging food to their comrades, and could only admire their courage and devotion.
On May 8, V.E. Day [1945], I decided to celebrate with some prisoners I was guarding who were baking bread the other prisoners occasionally received. This group had all the bread they could eat, and shared the jovial mood generated by the end of the war. We all thought we were going home soon, a pathetic hope on their part. We were in what was to become the French zone [of occupation], where I soon would witness the brutality of the French soldiers when we transferred our prisoners to them for their slave labor camps.
On this day, however, we were happy.
As a gesture of friendliness, I emptied my rifle and stood it in the corner, even allowing them to play with it at their request. This thoroughly "broke the ice," and soon we were singing songs we taught each other, or that I had learned in high school German class ("Du, du, liegst mir im Herzen"). Out of gratitude, they baked me a special small loaf of sweet bread, the only possible present they had left to offer. I stuffed it in my "Eisenhower jacket," and snuck it back to my barracks, eating it when I had privacy. I have never tasted more delicious bread, nor felt a deeper sense of communion while eating it. I believe a cosmic sense of Christ (the Oneness of all Being) revealed its normally hidden presence to me on that occasion, influencing my later decision to major in philosophy and religion.
Shortly afterwards, some of our weak and sickly prisoners were marched off by French soldiers to their camp. We were riding on a truck behind this column. Temporarily, it slowed down and dropped back, perhaps because the driver was as shocked as I was. Whenever a German prisoner staggered or dropped back, he was hit on the head with a club and killed. The bodies were rolled to the side of the road to be picked up by another truck. For many, this quick death might have been preferable to slow starvation in our "killing fields."
When I finally saw the German women held in a separate enclosure, I asked why we were holding them prisoner. I was told they were "camp followers," selected as breeding stock for the S.S. to create a super-race. I spoke to some, and must say I never met a more spirited or attractive group of women. I certainly didn't think they deserved imprisonment.
More and more I was used as an interpreter, and was able to prevent some particularly unfortunate arrests. One somewhat amusing incident involved an old farmer who was being dragged away by several M.P.s. I was told he had a "fancy Nazi medal," which they showed me. Fortunately, I had a chart identifying such medals. He'd been awarded it for having five children! Perhaps his wife was somewhat relieved to get him "off her back," but I didn't think one of our death camps was a fair punishment for his contribution to Germany. The M.P.s agreed and released him to continue his "dirty work."
Famine began to spread among the German civilians also. It was a common sight to see German women up to their elbows in our garbage cans looking for something edible — that is, if they weren't chased away.
When I interviewed mayors of small towns and villages, I was told that their supply of food had been taken away by "displaced persons" (foreigners who had worked in Germany), who packed the food on trucks and drove away. When I reported this, the response was a shrug. I never saw any Red Cross at the camp or helping civilians, although their coffee and doughnut stands were available everywhere else for us. In the meantime, the Germans had to rely on the sharing of hidden stores until the next harvest.
Hunger made German women more "available," but despite this, rape was prevalent and often accompanied by additional violence. In particular I remember an eighteen-year old woman who had the side of her faced smashed with a rifle butt, and was then raped by two G.I.s. Even the French complained that the rapes, looting and drunken destructiveness on the part of our troops was excessive. In Le Havre, we'd been given booklets warning us that the German soldiers had maintained a high standard of behavior with French civilians who were peaceful, and that we should do the same. In this we failed miserably.
"So what?" some would say. "The enemy's atrocities were worse than ours." It is true that I experienced only the end of the war, when we were already the victors. The German opportunity for atrocities had faded, while ours was at hand. But two wrongs don't make a right. Rather than copying our enemy's crimes, we should aim once and for all to break the cycle of hatred and vengeance that has plagued and distorted human history. This is why I am speaking out now, 45 years after the crime. We can never prevent individual war crimes, but we can, if enough of us speak out, influence government policy. We can reject government propaganda that depicts our enemies as subhuman and encourages the kind of outrages I witnessed. We can protest the bombing of civilian targets, which still goes on today. And we can refuse ever to condone our government's murder of unarmed and defeated prisoners of war.
I realize it's difficult for the average citizen to admit witnessing a crime of this magnitude, especially if implicated himself. Even G.I.s sympathetic to the victims were afraid to complain and get into trouble, they told me. And the danger has not ceased. Since I spoke out a few weeks ago, I have received threatening calls and had my mailbox smashed. But its been worth it. Writing about these atrocities has been a catharsis of feelings suppressed too long, a liberation, that perhaps will remind other witnesses that "the truth will make us free, have no fear." We may even learn a supreme lesson from all this: only love can conquer all.
About the author
Martin Brech lives in Mahopac, New York. When he wrote this memoir essay in 1990, he was an Adjunct Professor of Philosophy and Religion at Mercy College in Dobbs Ferry, New York. Brech holds a master's degree in theology from Columbia University, and is a Unitarian-Universalist minister.
Source:  Martin Brech | Truthstream Media
Collectivism is alive and well within the party apparatus of the Republican jellyfish tax cutters. This loathsome game of surrender is the hallmark of phony conservatives. The article, Why the GOP are cowards, needs to be read again, since its application has proven once again that big government is in actuality, the default position of the party of double talk.
"Republicanism is not equivalent with the GOP political party. Genuine conservatism has had fleeting representation within that party. Examine the history and the principles of each. A real conservative stands for the principles of individual civil liberty and personal responsibility, limited government, states rights, separation of powers – federalism, minimal taxes, honest money, bonafide free enterprise, defense of borders, an American First foreign policy, lawful statues and traditional values. A true conservative believes in the righteousness of the 1776 Revolution. Republicans that are authentic conservatives have a serious dilemma, how do you justify the record of the GOP?"
Review the House of Representative totals, as Roll Call provides in the Breaking Down the Budget Vote, with a link how each member voted. Mark the weasels and prepare for the primary season.
When the august Cato Institute challenges the credibility of the GOP in How Serious Are Republicans?, the rank and file conservatives better face up to the fact that voting Republican is akin to blacks casting their ballot for Democrats. Both parties take for granted their core constituencies, while selling them out for the authoritarian supra government that never improves the lives of regular citizens.
"More of it is just political cowardice, out of fear of cutting something that might offend some voter, somewhere. Notice how quickly the FAA's sequester issues were resolved once potential voters (and campaign donors) squawked. The furloughs of air-traffic controllers were unnecessary, resulting from union contract issues and the deliberate decision of the Obama administration to make the sequester as painful as possible, and should have been fixed. But it's clear that Republicans moved so fast in part because it was largely upper-middle-class voters who were affected.

Similar meekness is pushing other Republicans to suggest that the party should move away from "austerity" to support a "growth agenda." House majority leader Eric Cantor, for example, has expressed a desire to "focus on what lies beyond these fiscal debates." And, Louisiana governor Bobby Jindal exhorts Republicans, "We seem to have an obsession with government bookkeeping … We as Republicans have to accept that government number-crunching – even conservative number-crunching – is not the answer to our nation's problems."

It is easy to cut spending that you don't like. But if Republicans are serious about cutting spending, lowering our debt, and reducing the size of government, they are going to have to cut spending that they like. They are going to have to make cuts that affect their districts and their constituents. They are going to have to accept cuts in defense. And, they are going to have to structurally reform entitlements, even at the risk of angering seniors."
This budget deal breaks the Sequestration agreement, PERIOD. Leaving aside country club pleasantries, the Tea Party Patriots mailing of Dec. 12, 2013 hits the mark dead center.
This new "bipartisan budget deal" cobbled together by Paul Ryan and Patty Murray behind closed doors smells like the rotten garbage we have become accustomed to see coming out of DC.

When DC reaches a bipartisan compromise on spending, taxpayers always lose. Compromise means, "Democrats get the spending they want AND Republicans get the spending they want."

Heritage Foundation points out three simple facts about this deal:

It busts through the so-called "spending caps" set in place by the sequester.
It taxes and spends more.
It spends now with supposed savings coming later.
Wait before panic sets in, the media wants you to believe that Republican Senators are coming to the rescue. A silver bullet (supplied by DHS) and voted for by GOP "career politicians", killed the lone ranger a long time ago.
Even in the UK, the Mail identifies the essential disconnect in the GOP, It's war! Senate gears up for epic battle as ZERO Republicans line up to support budget agreement (and Democrats need to find at least five); "The GOP's Senate leaders plan to launch a procedural effort to kill the plan over a laundry list of objections – including a claim that it short-changes military veterans and other government retirees."
Sure looks like Big Government by any standard is the admitted GOP platform.
The Tea Party Patriot notice continues.
Here are our predictions about what is going to happen next.

The House will pass this budget deal.
 In the Senate, Republicans like Mitch McConnell, Lindsay Graham, and John Cornyn will all vote no because they have primary challengers, knowing that it will pass anyway because the Democrats and other squishy Republicans will vote for it.
They will use this deal to grease the wheels for amnesty, making amnesty that much easier to pass.
The increase in taxes and fees will remain while the spending restraint will never happen because they will simply do what they are doing now, which is change the law to eliminate the spending cuts.
With this deal they are pushing the next round of budget talks out to 2015 so that they can focus on what's important to them – reelection. Instead of tackling budget issues again in 2014, this deal allows them to avoid those talks during an election year.
They will use the extra time this gives them to co-opt new members that are elected in 2014.
Finally, the next budget, whenever that happens, won't even keep these new higher levels of spending. We predict spending will increase again.
Remember the war against fiscal conservatives and small government libertarians, waged by establishment Republicans. The Republican Convention and the Ron Paul Revolution is a clear example of the ultimate policy objectives of GOP party collectivists.
"The Grand Old Party produced a scripted appeal to the faithful. The 2012 Republican Party convention in Tampa, designed to sell a filtered image of a country club version of conservatism, begs the historic substance of a traditional embodiment of true timeless values. Hitting a range of obligatory themes is not equivalent to standing for the principles of a constitutional republic. Appealing to the estranged elements of the GOP needs more than words to restore faith and hope. Reasoned policy stands require a refutation of the failure of the Neoconservative agenda. So do not be duped by the language in the platform."
Will you lobby Congressional Representatives in 2014?

---

Would you support and vote for a third party candidate?

---
Take the polls, Lobby, Third Party, GOP RINO and Ideology. Provide feedback register your degree of involvement.
Would you vote for a GOP RINO candidate?

---

What ideology do you want in a candidate?

---

| | |
| --- | --- |
| | Conservative |
| | Liberal |
| | Libertarian |
| | Moderate |
| | Progressive |

The Irrelevance of the Republican Party essay argues that the same old false choice is nothing but a hoax. "The only rational option is to create a true grass roots party that encompasses the disaffected middle class. NeoCons are traitors. Establishment proponents loyal to the two party farce, do not allow genuine conservative doctrines into public policy."
With that said, the revulsion of the Obama presidency is demonstrated with every administrative action. The Big Government era is back in force under the self-absorbed Pied Piper of statist executive rule. With each note from the flute of this imposter, the government plagues spread wider and causes the death of representative democracy. Yet, the Republican doctrine accepts the "compromise" and act as a befuddled facilitator.
Carrying the fight to the enemy is not part of the GOP script. The emergence of the Tea Party movement is in direct correlation to the fiscal irresponsibility out of the beltway brigade in the army of the district of criminals. Spineless Republicans are closet Federalists or worse, latent potentates. The corporatists that direct both parties ravel in the enjoyment of phony party squabbles. With every new charade, the course of policy continues to advance the fascist state.
Once upon a time Congressional Resistance against Presidential Despotism was normal. "The primacy of the legislature over the executive branch was always the intent of our founding fathers. Unfortunately, the exact reverse has taken hold in the den of inequity that holds court in Washington, DC."
The John Boehner speakership is synonymous with capitulation. In many ways, the combat against federal tyrants intensifies and gathers more recruits, when the face of the enemy is a pure progressive police state. Cooperative captivity is no more tolerable then peaceful coexistence.
Citizens unwilling to take the battle to the government with forceful lobbying of their viewpoints deserve enslavement. Third party activism is imperative so that the electorate can compare a liberty directed, small government manifesto to the bipartisan state-controlled platform pushed by both major parties.
How many times do you need to be kicked in the face before you stop turning the other cheek? Obama and Boehner share the same bathhouse. Both keep sticking it in the derrière of the taxpayer. That Republican "Big Tent" now covers the socialists that pretend to be representing the people, while empowering the big government nightmare.
"Men (people) are rarely aware of the real reasons which motivate their actions." — Edward Bernays, Propaganda, 1928
The winter holidays are traditionally supposed to embody a certain ideal of that which is best in the hearts of human beings. As the world around us retreats into ice and snow and the Earth's northern cycle returns to death once again, the holidays represent a time of contemplation, as well as an opportunity to shine a light in an otherwise dark and dreary period. This heritage is as old as history, dating back to an era in which agriculture was paramount and men garnered far more respect for the tides of nature. The parallel relationship between social "renewal" and seasonal renewal has served the collective psyche of Western society, in my view, for the better. Unfortunately, this process has all but vanished today, twisted and mutilated into something sinister and poisonous.
Those of us who pay attention are well aware of a trend of cultural decline within our nation, and this problem is disturbingly visible from Thanksgiving to Christmas. It's not just the highly publicized Black Friday (now Black Thursday) riots over semi-cheap Chinese-made garbage. Those are certainly vile examples:
Rather, it's the behavior of people throughout the season on a daily basis that is most disconcerting. I have personally witnessed, as I'm sure many people have, a magnified and astonishing disregard for conscience and basic decency growing worse each year for at least the past decade. That which is most unsettling about our society today is somehow unleashed with wild abandon every year at this time.
The idiocy and barbarism seems to span all economic "classes" — from the upper-middle-class snob screaming at bewildered cashiers over a coupon worth 50 cents, to the middle-class suburbanites brawling on the sticky floors of Wal-Mart over flat-screen TVs, to the part-time employee who sold her soul for minimum wage and who now yells at people on Thanksgiving eve to stop filming the mindless brawls that her corporate masters encourage because such videos might "reflect badly" on the company image. The dark side truly knows no social or financial bounds.
Every year, we see this behavior, shake our heads in dismay and look forward to the beginning of January, when Americans go back to being only moderately disdainful toward each other. This time, however, instead of merely gawking in disbelief at the circus sideshow, I would like to challenge people to explore more deeply the true motivations of the mob itself, as well as the motivations of the elitists who manipulate the mob for their own purposes. Let's take a look at the fundamental dynamics of the psychology of mobs and the madness of crowds.
Filling The Emptiness
In my recent article 'You Should Feel Sorry For Sheeple; Here's Why', I outline the inner life, or rather the lack of inner life, common to the average sheeple. Many of my compatriots find it increasingly difficult to muster any pity for the sheeple subculture, and I can see why. When given ample opportunity, sheeple always sink toward the worst humanity has to offer usually in an effort to aggrandize themselves.
But let's set aside that sick feeling in our stomachs when thinking of sheeple and really consider what their existence is like. What does a sheeple's daily life consist of?
In most cases I've observed, he lives what he believes to be the American dream. He wakes up in the morning swelling with superficial concerns of personal gain, scheming ways in which he can raise his perceived stature among the other sheeple around him. He then then travels to his place of employment, usually a job he hates, in order to accumulate enough wealth (scraps from the plates of government and corporate financiers) to buy all the "things" he assumes everyone else wants. In the process, he pawns off his children to state-run schools designed to crush their spirits; and he becomes estranged from his spouse, who begins to forget why they ever got married in the first place. He returns home physically and emotionally drained, knowing that he did nothing worthwhile with his time, only to sit apathetically in front of his television for a few hours being bombarded with cancerous marketing propaganda and barely talking with the family he tells himself he works so hard for.
Think about it. Think of the pitch-black void that his life has become. Think of all the abandoned dreams, all the missed opportunities for experience and joy, all the moments of reflection and self-education that were missed because he was "too busy" trying to elevate himself within the ranks of a heartless collective.
Now, for one frightening moment, imagine this is your life. No sense of legitimate pride or individualism. No understanding of the underlying events that affect your environment or the high-placed people who determine your future. No thoughts outside the mainstream box. No recognition of possible alternative ways to live or how to break free. No hope for tomorrow but the endless drudgery of today's mediocrity. Think of the unconscious rage you would have brewing inside like a putrid ball of sulfur and magma.
This rage is what sheeple use to fill the emptiness inside themselves once they subconsciously realize that no amount of frivolous consumerism will make them whole. Typically, they are on constant lookout for opportunities to vent their anger at unsuspecting victims in drive-by fashion.
Somehow, the holidays appear to have become a prime period of opportunity during which society opens the door for the dark side to come out and for sheeple to passively or not-so-passively project their failings onto others. For now, we might presume that this behavior is somewhat contained and relegated to particular moments of seasonal insanity, but the consequences of the willfully ignorant strata of American culture could go far beyond what most morally conscious people want to predict.
The Psychopath Next Door
"If thirty years ago anyone had dared to predict that our psychological development was tending towards a revival of the medieval persecutions of the Jews, that Europe would again tremble before the Roman fasces and the tramp of legions, that people would once more give the Roman salute, as two thousand years ago, and that instead of the Christian Cross an archaic swastika would lure onward millions of warriors ready for death — why, that man would have been hooted at as a mystical fool." — Carl Jung, Archetypes And The Collective Unconscious, 1938
In his book, The Undiscovered Self, one of the fathers of modern psychology, Carl Gustav Jung, discusses the tension-filled relationship between the individual versus the collective and the state. In particular, he studies how individuals become swallowed up in the actions of the collective mob and how this momentum invariably leads to mass atrocities that defy imagination. A point of primary importance in Jung's work is his discovery that at least 10 percent of any population at any given time is made up of individuals with latent psychopathic or sociopathic tendencies. Meaning, at least one out of every 10 random people around you today was born with the capacity for psychopathic behavior, including the ability to completely ignore inherent conscience.
The idea that one out of every 10 people near you might suddenly burst into an overwhelming animalistic blood fever is, of course, terrifying to many people. But generally, latent psychopathy in a person does not surface in immediately recognizable ways; and many people with that potential live their entire lives without ever acting on it. Some even come to terms with it through self-awareness and dispel it altogether. Problems arise, though, as Jung warned, when a society creates an environment in which emotionally or physically violent psychopathic acts become "acceptable" to the collective. That is to say, individual latent psychopaths and sociopaths are not so much a danger on their own; but when they get together in an organization or mob, the terrible floodgates open.
During national crisis, or during great ideological shifts towards collectivism, the 10 percent are given ample opportunity to act out their inner impulses. The corrupt state will often give latent psychopaths free reign or seek them out for positions of petty authority, leaving the gates to hell ajar, as it were.
Another dangerous reality is that these same people tend to pursue positions of authority, or they unconsciously gravitate toward events and situations that allow them to act on their darker side without facing consequences. One might even suggest that there will always be a potential for despotic regimes exactly because the 10 percent will likely always be around to be used as a weapon by dictatorships.
The mass rage and self-absorption we witness during the holidays feels ominous to us because it is just a glimpse of the greater shadow side of the American public. It is a glimpse of the kind of mentality that makes all human catastrophe possible. Like the tip of a shark fin cutting the surface of the water, we swim fearing not the dorsal, but the monster we KNOW it is connected to.
The Magicians Of Manufactured Consent

Jung, once a favorite of Sigmund Freud's, broke sharply with Freud's analytical school when he realized Freud would not accept the idea of inherent psychological properties beyond base instincts. Freud believed that conscience, morality, artistic ability, reason, etc. were all extensions of environment and experience. Freud's theories on psychology focused on the idea that man was driven by base animal urges at his core, that people have no complex inborn contents and that all one needed to do was manipulate his environment to make himself "healthy." Jung's studies proved otherwise, finding that there are vast layers of inborn knowledge and personality in every individual.
It was not until Freud was near death that he admitted the merit of Jung's work. Jung was shunned by the mainstream and labeled everything from a "charlatan" to an "anti-Semite" because of his opposition to the Freudian method.
Some industrious elites did find Freud's notions of environmental manipulation useful, though, including his nephew, Edward Bernays, who saw it not as a way to make people healthy, but rather, to make them unhealthy. Bernays wrote extensively on the use of propaganda to control what he called "herd instinct," believing (as most elitists believe) that self-governance of common people was "dangerous" and that the irrational public had to be controlled for their own good and the good of the nation. His entire philosophy is summed up in this quote:
"The conscious and intelligent manipulation of the organized habits and opinions of the masses is an important element in democratic society. Those who manipulate this unseen mechanism of society constitute an invisible government which is the true ruling power of our country. … We are governed, our minds are molded, our tastes formed, our ideas suggested, largely by men we have never heard of. This is a logical result of the way in which our democratic society is organized. Vast numbers of human beings must cooperate in this manner if they are to live together as a smoothly functioning society. … In almost every act of our daily lives, whether in the sphere of politics or business, in our social conduct or our ethical thinking, we are dominated by the relatively small number of persons… who understand the mental processes and social patterns of the masses. It is they who pull the wires which control the public mind."
Bernays was instrumental in promoting Freudian psychology in the United States, where it became the mainstay of universities across the country. He helped establish the Tavistock Institute, a globalist think-tank much like the Council On Foreign Relations, focused on molding public opinion. He was also instrumental in promoting psychological propaganda models in everyday corporate marketing and political campaigns. He called this "engineering consent."
It was Bernays who taught the marketing world how to appeal to the basest instincts of human beings and to use those instinctual desires to covertly control them. Corporations used Bernays' strategies to create an atmosphere of decadent consumption in America that has lasted since the end of World War II. The idea was simple: Convince the public that buying corporate products will satisfy their animal urges. All commercialism to this day revolves around this method (which is why almost every beer commercial for several decades has included scantily clad women or sexual innuendo, for example).
But Bernays was not only teaching corporations how to tap into existing human impulses, he was also teaching corporations and governments how to use psychological trickery to manipulate the citizenry to RELY on their basest impulses. Essentially, Bernays taught the establishment how to convince people, or shame people, into ignoring their greater selves and indulging their psychopathic and sociopathic urges. Bernays taught the establishment how to turn people into zombies.
We see the clear results today all around us as we enter into the absurdity that Christmas has become. The ramifications are dire. The holidays have come to represent not hope, but despair; not reflection, but callowness; not compassion, but narcissism and selfishness. They have become a yearly measure of our Nation's sharp fall into something more or less horrific, something ironically inhuman.
The only solution is to strive with everything we have to remind others, and ourselves, that we are more than the sum of our darker instincts. That we have been living in the midst of a carefully crafted lie meant to make us impotent and non-threatening to the establishment. That there are greater and more meaningful contents at our core, and these elements of our being can only be satisfied by one thing: the truth.
Source: Brandon Smith | Alt-Market
With all that is being written about the national economic collapse, people seem to be waiting for some huge event.
However, for many North Americans, the collapse is here. This isn't relegated to only lower income neighborhoods. As an article from a Cincinnati new station stated, "Hunger doesn't know a zip code."
For many people who were formerly financially comfortable, the economic collapse has already happened in the form of a job loss, hours that have been cut back due to Obamacare requirements for employers, an exorbitant medical bill or other crushing debt, or simply an inflation rate that has outstripped your pay increases. Despite all of the warnings, many people are still going to be absolutely blindsided.
For many families, personal finances have reached a catastrophic level – they are left to make terrible choices:
Which utility can I live without?
Should I walk away from my mortgage?
Should I eat something so I can work harder or should I skip meals so my kids have food?
Should I use the grocery money to take my child to the doctor or should I wait and hope he/she improves without medical intervention?
Do I risk the IRS-enforced penalties by forgoing enrollment in Obamacare or should I skip that whole grocery shopping thing so I can pay the monthly premiums and enormous deductibles in order to stay in the government's good graces?
These are the kind of decisions that people across the nation are grappling with every day.
I'm talking about good people, hardworking men and women who have always been employed and paid their bills. A personal financial crisis does not just strike those stereotypical "welfare queens" with the long manicured nails, Gucci knock-off purse, and a grocery cart full of EBT-funded lobster.
I'm talking about the person next door, who seems to have it all together. I'm talking about that quiet family that sits two rows in front of you at church. I'm talking about that two-income family with two children and a car in the driveway that takes them to work and school 5 days a week. I'm talking about people just like you and me.
What is a personal economic collapse?
A personal economic collapse is a little different than the major crises you see all over Europe right now, where huge segments of the population can't feed their children or stay employed. It is a crisis that just hits your family due to a given set of circumstances. (In actuality North Americans are on the brink of the kind of collapse that is occurring in Europe, but because of easy access to credit and a buy-now, pay-later society, many of us still have the appearance of prosperity.)
Here are some signs that you may be in the midst of a personal economic collapse:
You can only afford to pay the minimum payment on most of your bills.
The same dollar amount you used to spend on groceries doesn't buy enough food to feed your family for the week.
You can't afford to go to the doctor when you're sick.
You are taking dangerous steps to "stretch" needed medications because you can't afford the prescriptions.
Your utility bills are past due and your power is in danger of being cut off.
You skip meals in order to save money or to have enough food for your kids.
You've lost your job or had your hours cut.
You have lost property due to foreclosure or repossession (such as your home or your vehicle).
Surviving the crisis
Times are tough but you can survive this.
1.) First you have to see exactly where you are.
It's time for a brutally honest assessment of your finances. If you use your debit card or credit card for most expenditures, you'll easily be able to see what you're spending and bringing in.
Print off your bank account statements for the past 2 months. On a piece of paper, track where your money is going. List the following
Rent/Mortgage
Utilities
Car payments
Vehicle operating expenses (fuel, repairs)
Insurances
Credit card and other debt payments
Telephone/Cell phone
Cable/Satellite
Internet
Extracurricular activities for the kids
Extracurricular activities for the adults
Dining out
Groceries
School expenses
Clothing
Recreational spending
Gifts
Miscellaneous (anything that doesn't fall into the above categories gets its own category or goes here)
Don't say to yourself, "Well, I usually don't spend $400 on clothing so that isn't realistic." If you spent it, then it's realistic. You are averaging together two months, which should account for those less common expenses. Brutal honesty isn't fun, but it's vital for this exercise.
So . . . what do you see when you look at your piece of paper with your average monthly expenditures for the past two months? Are there any surprises? Did you actually realize how much you've been spending? Most of us will immediately see places that we can trim the budget. Those $1-$5 purchases can really add up. Reining them in may just allow you to take care of an important need that you thought you could not meet.
It can't continue like this. The economy will not withstand it. Step one is to see where you can cut things out right now from the above expenditures. Can you reduce your grocery bill? Slash meals out? Budget more carefully for gift-giving and school clothes?
2.) Rethink necessities.
If your finances are out of control, the best possible reality check is a stark look at what necessities really are. It is not necessary to life to have an iPhone, a vehicle in both stalls of your two-car garage, or for your children to all have separate bedrooms. People in Southern and Eastern Europe right now will tell you, as they scramble for food, basic over-the-counter medications like aspirin, and shelter, that necessities are those things essential to life:
Water
Food (and the ability to cook it)
Medicine and medical supplies
Basic hygiene supplies
Shelter (including sanitation, lights, heat)
Simple tools
Seeds
Defense items
Absolutely everything above those basic necessities is a luxury.
So, by this definition, what luxuries do you have?
3.) Reduce your monthly output
Reduce your monthly payments by cutting frivolous expenses. Look at every single monthly payment that comes out of your bank account and slash relentlessly. Consider cutting the following:
Cable
Cell phones
Home phones
Gym memberships
Restaurant meals
Unnecessary driving
Entertainment such as trips to the movies, the skating rink, or the mall
4.) Waste not, want not.
We live in a disposable society. Food comes in throw-away containers. People replace things instead of repairing them. If you throw out more than a couple of bags of garbage each week, that's a very good sign that you may be wasting resources.
Before throwing anything away, pause and think about how it might be able to be reused.
Food: Many times small amounts of leftovers can be recycled into a brand new meal. Meat bones can be used to make broth or stock. Small amounts of veggies or grains can be frozen and added to a future soup or casserole. Leftovers can be frozen in meal-sized portions to take to work for a brown-bag lunch. (Learn more about repurposing leftovers HERE.)
Clothing: Clothing that is torn or damaged can often be repaired with only rudimentary sewing skills. If it has been outgrown or cannot be repaired, often the fabric or yarn can be reused for other purposes, from cleaning rags to fashionable accessories like scarves and headbands, or home items like throw pillows, potholders or rag rugs. When all else fails, the fabric can be used for cleaning rags or patches to repair other items. Keep jars full of buttons, elastic, and other notions that can easily be removed before you throw a clothing item away or relegate it to the rag bag.
Electronics: Obviously, initially you should attempt to repair (or have repaired) electronic items that are not working. If this is not feasible, are there components of the item that can be reused, either now or in the future? What about hardware such as screws or fasteners?
Containers: Most food comes in a container of some sort. Before throwing the container away, consider whether or not it might be useful. Glass jars, plastic tubs, and plastic bags can often be reused to store food in your refrigerator or to contain food in brown bag lunches. Clean aluminum cans can hold all manner of items, from hardware and tools in a workshop to sewing and craft supplies. Use your imagination.
5.) Take control of your food budget.
The price of food is skyrocketing. Who hasn't been to the grocery store recently and been shocked at the high price of that cart full of groceries or at the mysterious shrinking food packages that are the same price as yesterday's larger ones?
Stockpile: Create a stockpile of nutritious, healthy staples at today's prices to enjoy when the cost goes even higher tomorrow. (Learn how to create a frugal food stockpile HERE.)
Preserve: Learn to preserve food yourself when you come across a windfall. Pressure canning,waterbath canning, freezing, and dehydrating can allow you to take advantage of great sales or end-of-season scores.
Eat less: This suggestion isn't for everyone, but many of us could stand to shed a few pounds. Perhaps now would be a good time to cut back a little and shrink both your waistline and your weekly food bill. Lots of people eat for the sheer entertainment of it or out of habit. Next time you're watching TV, grab some mending or a crossword puzzle instead of a bag of potato chips. Dish out slightly smaller servings at dinnertime to leave enough to stretch the leftovers for a brown bag meal the next day.
Drink water: Skip the beverages and drink water instead. At less than $1 per gallon for purchased water you simply can't beat the price. It's better for you, also, than sugary drinks. If you are lucky enough to have well water or access to spring water, your drinks don't have to cost you a penny.
Focus on nutrition instead of convenience: Buy the best quality of food you can, and skip the processed, nutritionless convenience foods.
Grow your own. In the summer, grow the biggest garden you can. In the winter, or if you are an apartment dweller, put some sprouts and greens in a sunny windowsill to add some fresh produce for pennies.
6.) Reduce your dependence on utilities.
Energy rates are skyrocketing. As the prices begin to rise, more and more people will be unable to pay their bills and eventually their power will be shut off. Check your bill each month and as prices increase, use less power. Try some of these ideas to reduce your reliance and drop your bills.
Hand wash your clothing
Hang clothes to dry
Cook on a woodstove or outdoor grill
Can foods to preserve them instead of relying on a large chest freezer
Turn the heat down a few degrees and use non-grid methods to keep warm
Use rain barrels to collect water
Direct the gray water from your washing machines to reservoirs
Turn off the lights and open the blinds
Use solar lighting whenever possible
How do you intend to weather the storm?
There are bleak days ahead. Have you planned for this? What strategies do you intend to use to weather the financial crisis that is coming for all of us? What suggestions do you have for families who are undergoing their own economic collapses? Please post questions and ideas in the comments section below.
Source: The Organic Prepper
It is often said there only two kinds of people in this world: those who know, and those who don't. I would expand on this and say that there are actually three kinds of people: those who know, those who don't know, and those who don't care to know. Members of the last group are the kind of people I would characterize as "sheeple."
Sheeple are members of a culture or society who are not necessarily oblivious to the reality of their surroundings; they may have been exposed to valuable truths on numerous occasions. However, when confronted with facts contrary to their conditioned viewpoint, they become aggressive and antagonistic in their behavior, seeking to dismiss and attack the truth by attacking the messenger and denying reason.  Sheeple exist on both sides of America's false political paradigm, and they exist in all social "classes".  In fact, the "professional class" and the hierarchy of academia are rampant breeding grounds for sheeple; who I sometimes refer to as "intellectual idiots".  Doctors and lawyers, scientists and politicians are all just as prone to the sheeple plague as anyone else; the only difference is that they have a bureaucratic apparatus behind them which gives them a false sense of importance.  All they have to do is tow the establishment line, and promote the establishment view.
Of course the common argument made by sheeple is that EVERYONE thinks everyone else is blind to the truth, which in their minds, somehow vindicates their behavior.  However, the characteristic that absolutely defines a sheeple is not necessarily a lack of knowledge, but an unwillingness to consider or embrace obvious logic or truth in order to protect their egos and biases from harm.  A sheeple's mindset is driven by self centered motives.
So-called mainstream media outlets go out of their way to reinforce this aggressive mindset by establishing the illusion that sheeple are the "majority" and that the majority perception (which has been constructed by the MSM) is the only correct perception.
Many liberty movement activists have noted recently that there has been a surge in media propaganda aimed at painting the survival, preparedness and liberty cultures as "fringe," "reactionary," "extremist," "conspiracy-minded," etc. National Geographic's television show "Doomsday Preppers" appears to have been designed specifically to seek out the worst possible representatives of the movement and parade their failings like a carnival sideshow. Rarely do they give focus to the logical arguments regarding why their subjects become preppers, nor do they normally choose subjects who can explain as much in a coherent manner. This is a very similar tactic used by the establishment media at large-scale protests; they generally attempt to interview the least-eloquent and easiest-to-ridicule person present and make that person a momentary mascot for the entire group and the philosophy they hold dear.
The goal is to give sheeple comfort that they are "normal" and that anyone who steps outside the bounds of the mainstream is "abnormal" and a welcome target for the collective.
It would appear that the life of a sheeple is a life of relative bliss. The whole of the establishment machine seems engineered to make them happy and the rest of us miserable. But is a sheeple's existence the ideal? Are they actually happy in their ignorance? Are they truly safe within the confines of the system? Here a just a few reasons why you should feel sorry for them.
Sheeple Are Nothing Without The Collective
A sheeple gathers his entire identity from the group. He acts the way he believes the group wants him to act. He thinks the way he believes the group wants him to think. All of his "ideas" are notions pre-approved by the mainstream. All of his arguments and talking points are positions he heard from the media, or academia, and he has never formed an original opinion in his life. Without the group telling him what to do, the average sheeple is lost and disoriented. When cast into a crisis situation requiring individual initiative, he panics or becomes apathetic, waiting for the system to come and save him rather than taking care of himself. Sheeple are so dependent on others for every aspect of their personality and their survival that when faced with disaster, they are the most likely people to curl up and die.
Sheeple Crave Constant Approval From Others
Sheeple are not only reliant on the collective for their identity and their survival; they also need a steady supplement of approval from others in order to function day to day. When a sheeple leaves his home, he is worried about how his appearance is perceived, how his attitude is perceived, how his lifestyle is perceived and how his opinions are perceived. Everything he does from the moment his day begins revolves around ensuring that the collective approves of him. Even his acts of "rebellion" are often merely approved forms of superficial "individualism" reliant on style rather than substance. This approval becomes a kind of emotional drug to which the sheeple is addicted. He will never make waves among the herd or stand out against any aspect of the herd worldview, because their approval sustains and cements his very existence. To take collective approval away from him would be like cutting off a heroin junky's supplier. To be shunned by the group would destroy him psychologically.
Sheeple Are Incapable Of Original Creativity
Because sheeple spend most of their waking moments trying to appease the collective, they rarely, if ever, have the energy or inclination to create something of their own. Sheeple do not make astonishing works of art. They do not achieve scientific discovery. They do not make history through philosophical or ideological innovation.  Instead, they regurgitate the words of others and hijack ideas from greater minds.  They remain constant spectators in life, watching change from the bleachers, caught in the tides of time and tossed about like congealed satellites of Pacific Ocean garbage from the after-wash of Fukushima. The destiny of the common sheeple is entirely determined by the outcome of wars and restorations waged by small groups of aware individuals — some of them good, some of them evil.
Sheeple Have No Passion
If you draw all of your beliefs from what the collective deems acceptable, then it is difficult, if not impossible, to become legitimately passionate about them. Sheeple have little to no personal connection to their ideals or principles; so they become mutable, empty and uninspired. They tend to turn toward cynicism as a way to compensate, making fun of everything, especially those who ARE passionate about something. The only ideal that they will fight for is the collective itself, because who they are is so intertwined with the survival of the system. To threaten the concept of the collective is to threaten the sheeple's existence by extension.
Sheeple Are Useless
The average sheeple does not learn how to be self-reliant because it is considered "abnormal" by the mainstream to be self-reliant. The collective and the state are the provider. They are mother and father. Sheeple have full faith that the system will protect them from any and all harm. When violence erupts, they cower and hide instead of defending themselves and others. When large-scale catastrophe strikes, they either sit idle waiting for the state to save them or they join yet another irrational mob. They do not take proactive measures, because they never felt the need to learn how.
Consider this: Why do the mainstream and the people subject to it care if others prepare for disaster or end their dependency on the establishment? Why are they so desperate to attack those of us who find our own path? If the system is so effective and the collective so correct in its methodology, then individualists are hurting only themselves by walking away, right? But for the sheeple, successfully self-reliant individuals become a constant reminder of their own inadequacies. They feel that if they cannot survive without the system, NO ONE can survive without the system; and they will make sure that individualists never prove otherwise. "You didn't build that" becomes the sheeple motto, as they scratch and scrape like spoiled children, trying to dismantle the momentum of independent movements and ventures in non-participation.
Sheeple Are Easily Forgotten
To live a life of endless acceptance is to live a life of meaningless obscurity. When one arrives at his deathbed, does he want to reflect on all of his regrets or all of his accomplishments? Most of us would rather find joy than sadness when looking back over our past. For sheeple, though, this will not be possible — for what have they ever done besides conform? What will they have left behind except a world worse off than when they were born? What will they have accomplished, but more pain and struggle for future generations? In the end, what have their lives really been worth?
I cannot imagine a torture more vicious and terrifying than to realize in the face of one's final days that one wasted his entire life trying to please the plethora of idiots around him, instead of educating them and himself and molding tomorrow for the better. I cannot imagine a punishment more severe than to spend the majority of one's years as a slave without even knowing it. I cannot imagine an existence more deserving of pity and remorse than that of the sheeple.
Source: Brandon Smith | Alt-Market