"I liken the economy to a car on a flat road that has no momentum. When you take your foot off the gas, the car just stops moving." — Stephanie Pomboy, Interview Barron's
If you follow the stock market, you probably think the economy is sizzling. But if bonds are your thing, then you probably think we're still in recession.
So which is the better gauge of what's going on in the real economy; stocks or bonds?
The bond market is more accurate. And recently, long-term yields have been dropping like a stone which is not a good sign for the economy. Investors seem to think that slow growth and low inflation are here to stay, and they could be right. According to Bloomberg, "Falling yields on longer-term Treasuries historically reflect periods of lackluster growth. Since 1960, they have predicted seven of the last eight recessions when 10-year yields fell below 3-month bill rates." As of today, the benchmark 10-year UST is a dismal 2.44 percent.
The reason investors have been piling back into Treasuries is because is the labor market is weak and there's no sign of inflation anywhere. When wages stagnate and incomes drop–as they have since the slump ended– then there's no upward pressure on prices because everyone is making less dough, so there's less demand, less growth and, hence, less inflation. Of course, Obama could have fixed the situation by holding off on slashing the deficits or by increasing the amount of stimulus in his fiscal package. That would have circulated more money into the economy boosting employment and revving up growth. But that would have put the economy back on its feet again which was not what he wanted. What he wanted was to grind working people into the ground by keeping the economy on life-support while his chiseling Wall Street buddies made out like bandits on the latest stock market bubble. The Wall Street Journal explains what's going on:
"Bond yields are – once again – plunging worldwide. The reason for this revived buying among fixed-income investors is that central banks are – once again – signaling their intent to ease monetary conditions in yet another bid to kick-start sluggish economies and forestall a downward spiral in prices, or deflation. The prospect that central banks will continue to inject money into the world's bond markets…has acted as a green light for the world's bond buyers."
So investors think the Fed will have to taper the "Taper" and start buying more government paper. But why?
Because they have no choice. Many of the usual buyers of US Treasuries have cut back on their monthly purchases or stopped buying altogether. That means that rates will have to rise to attract more buyers unless the Fed makes up the difference. Check out this blurb from Barron's interview with Stephanie Pomboy:
"Foreigners are buying about $10 billion a month of Treasuries. This compares with deficit financing needs for the U.S. government of roughly $40 billion a month, based on this year's deficit. So the Fed needs to pick up roughly $30 billion a month in slack. When the Fed slashed its buying to $25 billion, effective this month, it for the first time opened up a demand deficit for Treasuries. If they continue to taper, that gap will expand, and things could get bumpy in the Treasury market. Rates won't go up five basis points before the Fed would start talking about more QE." (Barrons Interview Posits Weak US Economy, Barron's)
It'll get bumpy alright, real bumpy. Higher rates will send housing and stocks into freefall. The Fed will have no choice but to step in to stop the bleeding.
The economy is already suffering from chronic lack of demand. Add higher rates to the mix, and cost-conscious consumers are going to cut back on everything from auto loans to nights-on-the-town. Yellen's not going to let that happen. She's going to come up with some cockamamie excuse for buying more USTs and hope-like-hell that wages and incomes rebound so she can start tapering again.
This illustrates the conceptual flaw in Central Bank policy. QE and zero rates are supposed to reduce the price of money, thereby enticing consumers to take out loans and spend like crazy. That, in turn, is supposed to generate more activity and stronger growth. But there's a slight glitch to this theory, that is, consumers aren't the brain-dead lab rats the Fed thinks they are. Most people don't base their spending decisions on price alone. Sometimes, for example, it doesn't make sense to borrow money no matter how cheap it is. The average working stiff doesn't give a rip if he can get a loan at 3.5 percent when his credit card is already maxed out and the only job he can find is working graveyard at Jack in the Box. That guy doesn't need more debt, he needs a decent paying job. Here's how the managing partner of MBMG Group, Paul Gambles explained the phenom in an interview on CNBC:
"People and businesses are not inclined to borrow money during a downturn purely because it is made cheaper to do so. Consumers also need a feeling of job security and confidence in the economy before taking on additional borrowing commitments." (Washington's blog via Zero Hedge)
Bingo. Of course, the members of the Fed know that this whole "cheap money" thing is bogus, but they keep reiterating the same blather so they can keep the wampum flowing to their crooked friends on Wall Street. It's worth noting that: since the end of the recession, "one-third of all income increases in this country went to just 16,000 households, 95 percent of it went to the top 1 percent, and the bottom 90 percent's incomes fell, and they fell by 15 percent."
In other words, the Fed knows exactly how QE works, (and who benefits) and it has nothing to do with extending credit to working people. That's malarkey. It's all about providing limitless liquidity for financial speculators so they can send stocks into the stratosphere and rake in record profits. Here's a blurb from a piece by Zero Hedge that helps to illustrate what's going on:
"According to the most recent CapitalIQ data, the single biggest buyer of stocks in the first quarter were none other than the companies of the S&P500 itself, which cumulatively repurchased a whopping $160 billion of their own stock in the first quarter!
Should the Q1 pace of buybacks persist into Q2 which has just one month left before it too enters the history books, the LTM period as of June 30, 2014 will be the greatest annual buyback tally in market history." (Here Is The Mystery, And Completely Indiscriminate, Buyer Of Stocks In The First Quarter, Zero Hedge)
Why are companies buying shares of their own stock, you ask, when buybacks add no productive value to a company at all?
It's because it gooses stock prices which makes shareholders happy. It's a complete scam. And it's a huge scam, too. Currently, total stock buybacks represent a whopping $4 trillion or 20 percent of the total stock market value. Just think of the walloping prices are going to take when these same shareholders decide it's time to bail out? Look out below!
Now get a load of this clip from Action Forex:
"Disappointment over the pace of economic growth explains at least some of the downturn in yields. The U.S. economy very likely contracted in the first quarter of the year, perhaps by as much as 1.0% annualized … Even with a strong bounce back in the second quarter … – the average pace of growth in the first half of the year will be a tepid 2.0%, about the pace it's been since the end of the recession…
The retrenchment in yields also reflects events abroad … However, there is perhaps another reason for the decline in yields that is more pernicious. There is the realization that even after the recovery has run its course, economic growth is likely to be slower than it has been in the past. Slower growth means that as the fed funds rate eventually moves off the floor, it will not go back to the 5.25% it was prior to the Great Recession or even the 4.0% it averaged over the quarter of a decade prior. Expectations of "lower forever"…increasingly appear to be built into longer-term interest rates." (A year in the bond market, Action Forex)
Did you catch that part about "lower forever"?
What the author means is that the economy has reset at a lower level of activity and will not return to normal. This is an admission that the managers of the system have no intention of fixing what's wrong; cleaning up the banks, writing down the debts, regulating the system, increasing workers buying power (boosting demand) or providing sustained fiscal stimulus until unemployment and growth are back where they should be. Instead, basic macro has been replaced with public relations, that is, a swindle that's spearheaded by faux-liberal icons Krugman and Summers who are pushing the "secular stagnation" folderol which is just a lame excuse for maintaining the status quo plus a few anemic add-ons, like infrastructure projects. Big whoop. It's all a fig leaf for maintaining the same wealth shifting monetary policies that are in place today.
So this is it? Are we really doomed to a future of high unemployment and slow growth?
The IMF seems to think so. Here's an excerpt from an article by Nick Beams which gives a rundown on a recent IMF report that was ignored by the media. The article is titled "No end to economic breakdown":
"Almost six years after the eruption of the global financial crisis, the International Monetary Fund has effectively ruled out any return to the economic growth rates that preceded September 2008.
Two major chapters of the IMF's World Economic Outlook … provide a gloomy assessment of the state of the world economy. In the advanced economies, investment is falling as a proportion of gross domestic product (GDP), while in the "emerging markets," there is no prospect for growth rates to return to pre-2007 levels.
The IMF notes that real interest rates have been declining since the 1980s and are "now in slightly negative territory." But this has failed to boost productive investment. On the contrary, what it calls "scars" from the global financial crisis "have resulted in a sharp and persistent decline in investment in advanced economies." Between 2008 and 2013, there was a two-and-a-half percentage point decline in the investment to GDP ratio in these countries. The report adds that ratios "in many advanced economies are unlikely to recover to pre-crisis levels in the next five years."
This conclusion is of immense significance given the critical role of investment in the functioning of the capitalist economy … Investment…is the key driving force of capitalist economic growth … But if investment stagnates or declines, the circle turns vicious. This is what is now taking place." IMF report: No end to economic breakdown (april), wsws
So no return to normal, after all. The American people are now facing a long period of high unemployment and slow growth that will shrink the middle class and change the country in ways we can hardly imagine. It's unavoidable. It's the policy.
NOTE: As this piece was going to press, the Wall Street Journal announced that "revised" First Quarter GDP contracted at a 0.6% annual rate. So while stocks have been setting records almost daily due to the massive injections of money from the Fed, the economy is steadily sliding towards recession.
"Prior to the 2003 invasion and occupation of Iraq, US and other western oil companies were all but completely shut out of Iraq's oil market. But thanks to the invasion and occupation, the companies are now back inside Iraq and producing oil there for the first time since being forced out of the country in 1973."

– Antonia Juhasz, oil industry analyst,  Al Jazeera.
These are the 'best of times' for the oil giants in Iraq.  Production is up, profits are soaring, and big oil is rolling in dough.  Here's the story from the Wall Street Journal:
"Iraq's oil production surged to its highest level in over 30 years last month, surprising skeptics of the country's efforts to restore its oil industry after decades of war and neglect."  (Wall Street Journal)
Mission accomplished?
You bet.  But for those who still cling to the idea that the US was serious about promoting democracy or removing a vicious dictator or  eliminating WMD or any of the other kooky excuses, consider what we've learned in the last couple weeks. Here's the story from Aljazeera:
"While the US military has formally ended its occupation of Iraq, some of the largest western oil companies, ExxonMobil, BP and Shell, remain.

On November 27, 38 months after Royal Dutch Shell announced its pursuit of a massive gas deal in southern Iraq, the oil giant had its contract signed for a $17bn flared gas deal. Three days later, the US-based energy firm Emerson submitted a bid for a contract to operate at Iraq's giant Zubair oil field, which reportedly holds some eight million barrels of oil.

Earlier this year, Emerson was awarded a contract to provide crude oil metering systems and other technology for a new oil terminal in Basra, currently under construction in the Persian Gulf, and the company is installing control systems in the power stations in Hilla and Kerbala. Iraq's supergiant Rumaila oil field is already being developed by BP, and the other supergiant reserve, Majnoon oil field, is being developed by Royal Dutch Shell. Both fields are in southern Iraq." ("Western oil firms remain as US exits Iraq", Dahr Jamail, Aljazeera.)
If it sounds like the big boys are dividing the spoils among themselves; it's because they are. Exxon, BP, Shell; they're all here. They all have their contracts in hand, and they're all drilling their brains out thanks to the American servicemen and women who gave their lives for some trumped up baloney about WMD. Isn't that what's going on?
Sure it is. And even now–after all the reasons for going to war have been exposed as lies–the farce continues. Nothing has changed. Nothing. There's still no talk of reparations, no official investigation, no indictments, no prosecutions, no trials, no penalties, no nothing. Not even a stinking apology. Just a big "up yours" Iraq. We're way too important to apologize for killing a million of your people and reducing your five thousand year old civilization to a pile of rubble.  Instead, we'll just screw you some more and paper it over with a little public relations, like Obama did a couple weeks ago when he promised to "leave behind a sovereign, stable and self-reliant Iraq, with a representative government that was elected by its people".
Oh yeah. Obama's all about sovereignty and stability, everyone knows that.  That's why Baghdad is the terror capital of the world, because Obama's so committed to security.
These PR blurbs are effective though, they provide the necessary cover for leaving enough troops behind to protect the oil installations and pipelines.  That's the kind of security Obama cares about. Security for the oiligarchs and their stolen property.  Everyone else can fend for themselves, which is why Baghdad is such a bloody mess.  Here's more from Aljazeera:
"Prior to the 2003 invasion and occupation of Iraq, US and other western oil companies were all but completely shut out of Iraq's oil market," oil industry analyst Antonia Juhasz told Al Jazeera. "But thanks to the invasion and occupation, the companies are now back inside Iraq and producing oil there for the first time since being forced out of the country in 1973." (Aljazeera)
Yeah, thanks for that invasion, Mr. Bush. We couldn't have done it without you, guy. Hope you have a great retirement painting pictures of poodles and stuff while people continue to get blown to pieces in the terrorist Hellhole you created. Here's more Al Jazeera:
"Juhasz, author of the books The Tyranny of Oil and The Bush Agenda, said that while US and other western oil companies have not yet received all they had hoped the US-led invasion of Iraq would bring them, "They've certainly done quite well for themselves, landing production contracts for some of the world's largest remaining oil fields under some of the world's most lucrative terms."
Dr Abdulhay Yahya Zalloum, an international oil consultant and economist …(said) he believes western oil companies have successfully acquired the lions' share of Iraq's oil, "but they gave a little piece of the cake for China and some of the other countries and companies to keep them silent". (Aljazeera)
How do you like that? These guys operate just like the Mafia. The Bossman pays off China with a few million barrels, and China keeps its mouth shut. Nice. Everyone gets "their cut" so they don't go blabbing to the media about the ripoff that's taking place in broad daylight. The stench of corruption is overpowering.
And here's something else you won't see in the media. In a White House press release,  the Obama administration announced that they would continue to support Iraq's "efforts to develop the energy sector" in order  to "help boost Iraq's oil production."….
According to Assim Jihad, spokesman for Iraq's ministry of oil, "Iraq has a goal of raising its oil production capacity to 12m bpd by 2017, which would place it in the top echelon of global producers." (Aljazeera)
"12 million barrels-per-day by 2017″?
That makes this the biggest petroleum heist in history. And we're supposed to believe that the oil bigwigs didn't know anything about this before the war? What a crock! I'll bet you even money the CEOs and their lackeys figured out that Saudi Arabia was running out of gas, so they decided to pick up stakes and move their operations to good old Mesopotamia. That's why they put their money on Bush and Cheney, because they knew that two former oil men would do the heavy lifting once they got shoehorned into the White House.  The whole thing was a set-up from the get-go, right down to the 5 shady Supremes who suspended the voting in Florida and crowned Bush emperor in 2000. The whole thing was probably mapped out years in advance.
Big oil runs everything in America. People talk about the power of Wall Street and Israel, but oil is still king. They run it all, and they own it all. And "what they say, goes."  Here's more:
"Juhasz explained that ExxonMobil, BP and Shell were among the oil companies that "played the most aggressive roles in lobbying their governments to ensure that the invasion would result in an Iraq open to foreign oil companies".

They succeeded," she added. "They are all back in." (Aljazeera)
Hooray. Big oil wins again, and all it cost was a million or so Iraqis who got blown to bits air raids or shot up at checkpoints, or beaten to death with a rubber hose at Abu Ghraib or any of the other democracy reeducation centers that dot the countryside. But, hey, look at the bright side: At least production is up, right? Can you see how sick this is? Here's more:
"Under the current circumstances, the possibility of a withdrawal of western oil companies from Iraq appears remote, and the Obama administration continues to pressure Baghdad to pass the Iraq Oil Law." (Aljazeera)
And what is the "Iraq Oil Law", you ask?
It's a way to privatize the oil market using Production Sharing Agreements (PSAs) which disproportionately benefit the corporations.  Obama's a big backer of the law since it means even heftier profits for his thieving  friends.  In other words, the humongous profits they're already skimming off aren't quite good enough. They want more. They want to own the whole shooting match lock, stock and barrel.
This is really an outrage. What other country behaves like this?
No one. No other country in the world goes out and kills a million people, destroys their country, and leaves them to scrape by on next to nothing just so they can pad the bank accounts of voracious plutocrats have more dough than they know what to do with. No one else would even dare to act like that for fear that they'd get bombed into annihilation by the world's biggest bullyboy, the US of A.  Only the US can get away with this type of crap, because the US is a law unto itself.
Iraq was the Cradle of Civilization. Now it's the cradle of shit. The US decimated Iraq; blew it to bits, bombed its industries, its bridges, its schools, its hospitals, leveled its cities, polluted its water, spread diseases everywhere, killed its kids,  pitted brother against brother,   and transformed a vibrant, unique country into a dysfunctional cesspit run by opportunists, gangsters, and fanatics.
And, here's the corker:  No one gives a rip. Face it: No one gives a flying fu** about Iraq. The American people lost interest long ago, the politicians can't be bothered, and the UN is too afraid of the US to lift a finger to help. They'd rather stamp their feet and scold Putin over Crimea than utter a peep about the genocide in Iraq.  That's the state of things today, right?  No accountability for the men who started the war, and no justice for the victims. Just the infrequent (phony) pronouncement of support from the White House or the all-too-frequent sectarian bombing that leaves an untold number of civilians dead or wounded. This is all the US leaves behind; hatred, death and destruction.
Here's a clip from a poem by Iraqi writer who wants readers to take a minute and think about all the suffering the United States has created. The poem is titled "Flying Kites":
"Come and see our overflowing morgues and find our little ones for us…

You may find them in this corner or the other, a little hand poking out, pointing out at you…

Come and search for them in the rubble of your "surgical" air raids, you may find a little leg or a little head…pleading for your attention.

Come and see them amassed in the garbage dumps, scavenging morsels of food…

Come and see  our little ones, under-nourished or dying from disease. Cholera, dysentery, infections…

Come and see, come…."  ("Flying Kites" Layla Anwar)
A million people were killed so a few rich fu**ers could get even richer. That's a hell of a legacy.
"Aliens visiting Earth would report back to their superiors: 'It's quite amazing, those people worship images. They know it and they pretend not to know it.'" — Hypnotherapist Jack True.
This is a backgrounder for my mega-collection, Exit From The Matrix, which contains many exercises designed to liberate an individual from the standardized perception of reality—and usher in his own creative reality.
Mass mind control focuses on two elements: image and feeling.
By linking the two primary elements, it is possible to short-circuit thought and "cut to the chase," when it comes to enlisting the allegiance of huge populations.
Two seemingly unrelated events spurred my interest in mass mind control.
On the evening of April 12, 1945, I listened to a radio report on the death of Franklin D Roosevelt. I was seven years old.
I became upset. I didn't know why. I was angry at my own reaction.
Forty years later, I pulled into a gas station near my apartment in West Los Angeles. I got out of my car and took the cap off my gas tank. I looked to my right and saw Tony Curtis sitting in his car. I was shocked.
A few days later, I began making notes under the heading of "image-emotion cues." At the time, I was working as a reporter, writing articles for LA Weekly. I knew next to nothing about mind control, MKULTRA, Soviet psychiatric gulags, Chinese re-education programs, or US psychological warfare operations.
But because I had been painting for 25 years, I knew something about the power of images.
I remembered my first exhibition of paintings in LA, at my friend Hadidjah Lamas' house. We had hung my work in her large living room and dining room. Hadidjah had enlisted the services of a friend who had videotaped me painting in my studio, and at the exhibition she set up a television set out on her patio and continuously played the videocassette.
People came through her front door, almost automatically walked through the house to the patio, as if guided by an unseen hand, and watched the video; then they came back inside and looked at the paintings.
They would stop at a painting and say: "That picture was in the video!" It excited them.
My first note on "image-emotion cues" was, "Investing an image with importance. Projecting emotion into an image."
Projecting emotion into a newspaper image of the president, FDR. Projecting emotion into the screen image of Tony Curtis. Projecting emotion into a video of a painter working in his studio.
When people encounter an image, when they invest it with importance, they project feeling into the image—and this all happens in a private sphere, a private space.
If this didn't happen, there would be no way to control populations through images. It wouldn't work. It all starts with a person setting up his own personal feedback loop that travels from him to an image and back again.
Coming out of World War 2, US psychological warfare operatives knew they could turn their skills to political purposes. They had just succeeded in making Americans believe that all Japanese and German people were horribly evil. They had been able to manipulate imagery successfully in that area. Why couldn't they shape America's view of a whole planet that lay beyond personal experience?
They could and they did. But the power to do that emanated from the fact that every person invests images with feeling. That's where it really starts.
I had seen the 1957 film, Sweet Smell of Success, a number of times. I admired it. Burt Lancaster and Tony Curtis gave tremendous performances. When, decades later, I saw Curtis sitting in his car at that gas station, I was "working from" the emotion I had invested in his onscreen image. It produced a sense of shock and paralysis for a few seconds.
Other people might have rushed up to Curtis and asked for his autograph. With me, it was shock, cognitive dissonance. Ditto for the death of FDR. I was working off newspaper pictures I'd seen of him, and the feeling I'd invested in those presidential images. Other people, when FDR died, went out into the street and hugged their neighbors and wept openly. For me, it was upset and shock and anger.
There's nothing intrinsically wrong with investing emotion in images. It can be exhilarating. It can be uplifting. As a painter, I know this in spades. Putting emotion into images can, in fact, vault you into a different perception of reality.
But on the downside, it can also take you into lockstep with what media/propaganda operatives want you to experience, second-hand.
We focus to such a degree on how we are being manipulated that we don't stop to consider how we are participating in the operation. And our own role is clear and stark: we invest images with feeling.
So how does one individual's projection of feeling into an image become a uniform projection of the same feeling into one image, by millions of people? How does what one person invests privately become mass mind control?
Through external instruction or cues. And also, by engendering the idea that there is only a limited palette of emotions to work with in the first place.
Why do millions of people fall into line?
Because they don't realize they started the whole ball rolling themselves. All they know is: images are connected to feelings.
If they knew they were the real power in the whole operation, if they knew they were investing feelings into images all day long, if they could actually slow down enough to see how they do this….then they would be far less prone to taking instruction about what feelings they "ought to" invest in second-hand images.
Hypnotherapist Jack True unceremoniously put it to me this way: "If a dog could analyze how he got from eating meat to drooling at the sound of a bell that came at feeding time, he could stop drooling."
(If Chris Matthews could analyze how his own voluntary investment of feeling in the image of Barack Obama sends a tingle up his leg, he could stop tingling.)
We see images of people rioting all over the Middle East. We see burning flags and crowds outside embassies. We're supposed to invest our own anger and resentment into those images. Unless we're suddenly told those rioters are actually "the good rebels," in which case we're supposed to invest our joy in the images.
We see a picture of miles of flat farmland and (GMO) corn waving in the breeze. We're supposed to invest that image with feelings of happiness and pride.
Nowhere are we told we can back up a step and realize that we are the ones who begin the whole process, by projecting feelings into images. Any images.
When I was 19, I was sent to a trained expert in New York to take a Rorschach (ink-blot) Test. I was displaying signs of what would now be called Oppositional Defiance Disorder.
The expert said he wanted me to tell him everything I saw in each ink-blot. I took him at his word.
An hour later, I was still working on the first blot. I was describing everything from bats and owls and chickens to space ships and buckets of hidden treasure in caves.
Well, I was cheating a little. I wasn't really describing what I saw. I was imagining. I was taking off from what was on the page and improvising. This was outside the bounds of the Test.
The expert was seething. He was sweating, because he had many other blots to show me, and it was late in the afternoon, and he was looking at spending the entire evening with me. Finally, he held up his hand and put an end to the Test.
I wasn't playing his game. Among other sins, I wasn't investing a limited palette of feelings in the images. Therefore, my choices of "what to see" in the blots expanded greatly.
When I go to a museum, I like to watch people stand in front of abstract paintings. Many of them are stumped. They're trying to figure out what feelings they "are supposed to" project into the painting. They're looking for "instruction," and there isn't any. They're asking for mind control, and they're not getting it.
Fanaticism of any kind begins with individuals projecting feelings into images. This is harnessed by leaders, who then choose the images and direct which feelings are permitted. The tempting prospect for the follower is: participation in a drama that goes beyond what he would ordinarily experience in life. This is bolstered by the idea that what he is doing is moral.
In an election season, people on the left are urged to project messianic feelings into images of X. People on the right are cued to invest feelings of pride, hope, and "tradition" into images of Y. The real candidates aren't actually experienced.
Since Vietnam, shooting wars have been more difficult to sustain among soldiers. "In the old days," feelings of hatred could be projected into images of enemies that included civilians, so overtly killing everybody on foreign soil was easier to accept. Now, soldiers are taught "enemy combatant" and "civilian" are two different images that require the injection of two different feelings.
Here at home, police and military are taught, more and more, to invest feelings of suspicion into images of American civilians. This is an acceleration of mass mind control for law enforcement.
The astonishing number of civilians who participate in government and corporate surveillance of the public, through technological means, learn to invest "dead empty feelings" into images of citizens, as if these targets are nothing more than ciphers, units.
Bizarre instances of police detaining and questioning parents who allow their children to play unsupervised reveal another accelerating trend. These confrontations start with neighbors snitching on the parents. The neighbors have learned to invest feelings of panic, suspicion, and anger in images of "free children."
In all these cases, there is no real experience. It's all second-hand. It's all feeling-projected-into-image.
In the medical arena, countless advertisements and news stories are geared to convince people to invest feelings of trust in images of doctors. The suggestion, "Ask your doctor if X is right for you," is framed as the solution to a little problem. The problem is set this way: Drug X is wonderful; drug X has serious adverse effects; what to do? Solution: ask your doctor; trust him; he knows.
As the class of victims in society has grown by leaps and bounds, including any group that can organize and promote itself as needing help or justice—going miles beyond the people who really do need assistance—citizens have been trained to invest feelings of sympathy and concern for all images of victims everywhere, real or imagined. This, too, is mass mind control.
Pick an image; invest feelings in it. Facts don't matter. Evidence doesn't matter.
You've heard people say, So-and-so (a celebrity) has become a caricature of himself. Well, that's what it means. The celebrity has projected massive feelings of approval into a concocted, cartoonish image of himself.
As a society, we can go on this way until we become a horrific cartoon of a cartoon (well, we're already there), or we can step back and discover how we invest emotion into images, and then use that process to pour feelings into visions of our own choosing and invent better futures.
Since the dawn of time, leaders have portrayed themselves as gods. They've assembled teams to promote that image, so their followers could project powerful emotion into the image and thereby cement the leaders' control and power.
The game isn't new. Understanding the roots of it within each individual could, however, break the trance of mass mind control.
During the first West Nile fake outbreak of 1999, I spoke with a student who had just dropped out of medical school. He told me he'd been looking at electron-microscope photos of the West Nile Virus, and he suddenly realized he was "supposed to" invest feelings of "great concern" in those images.
Somehow, he broke free from the image-feeling link. He was rather stunned at the experience. His entire conditioning as a medical student evaporated.
Parents all over the world are having the same experience vis-a-vis vaccines. They realize they're supposed to invest fear in images of germs and disease, and they're also supposed to invest feelings of hope and confidence in images of needles and vaccines. They see the game. They're supposed to remain victims of mass mind control.
But they've awakened.
We've all been taught that what we feel is always and everywhere out of our control. These feelings are simply part of us, and we have to act on them. The alternative would be to sit on them and repress them and turn into androids, robots.
This is simply not true. There are an infinite number of feelings, and as strange as it may sound, we can literally invent them.
This, it is said, is inhuman. It's a bad idea. It's wrong. It would lead us to "deserting the human community."
Nonsense. That's part of the propaganda of mind control. If the controllers can convince us that we're working from a limited map of emotions and we have to stay within that territory, they can manipulate that limited set of feelings and trap us.
The power of art is that it shows us there are so many more emotions than we had previously imagined. We can be much freer than we supposed.
The synthetic world of mind control and the handful of feelings that are linked to images is what keeps us in thrall.
The world—the world of what we can be—is so much wider and more thrilling and revealing.
The author of three explosive collections, THE MATRIX REVEALED, EXIT FROM THE MATRIX, and POWER OUTSIDE THE MATRIX, Jon Rappoport was a candidate for a US Congressional seat in the 29th District of California. He maintains a consulting practice for private clients, the purpose of which is the expansion of personal creative power. Nominated for a Pulitzer Prize, he has worked as an investigative reporter for 30 years, writing articles on politics, medicine, and health for CBS Healthwatch, LA Weekly, Spin Magazine, Stern, and other newspapers and magazines in the US and Europe. Jon has delivered lectures and seminars on global politics, health, logic, and creative power to audiences around the world. You can sign up for his free emails atwww.nomorefakenews.com
Source: Jon Rappoport  |  No More Fake News
It is easy to stand up and cheer for your favorite government activity. It is quite another to acknowledge what it means in the real world.
I almost never try to speak for other people. However, I think it is fairly safe to say that the average military recruit firmly believes that he joins the military so that you and I can live and breathe in freedom. To be sure, he had other reasons for joining, but I think the defense of liberty is a fairly common characteristic.
That is certainly what I thought when I was in Navy boot camp in Orlando, Florida, in 1983. After all, this is what I had been told all my life: sailors, soldiers, airmen and marines defend freedom.
But is this actually what they do?
Consider the following:
This Marine lost both legs in an IED blast in Iraq. He claims he was forced by TSA to remove both prosthetic legs before he could board an airplane in Phoenix.
This Vietnam veteran in Spicewood, Texas, had flashbacks to his combat experience during a marijuana raid at a friend's house. What police claimed was marijuana turned out to be ragweed.
Jared Goering, who served 19 years in the Army, including tours in Iraq and Afghanistan, was kicked off the boardwalk in Wildwood, N.J. for walking with his service dog, Gator.
Emily Yates, who served two tours with the Army in Iraq, was violently arrested by park police in Philadelphia for asking why she couldn't play her banjo under some shade trees.
Dimitrios Karras is a Marine Corps veteran of Iraq and Afghanistan. Read about the ATF raid on his business in National City, California.
Martin Goldberg of Brooklyn is a World War II veteran whose apartment was subject to a drug raid. Later, the cops realized they had raided the wrong apartment. His 83-year-old wife was hospitalized with an irregular heartbeat as a result of the raid.

In 1997, four sailors from the USS Saipan (LHA-2) were falsely accused of the rape and murder of a Norfolk, Virginia, woman. One spent eight-and-one-half years in prison while the other three were sentenced to life in prison. These three were pardoned in 2009. Even though the actual killer is serving a life sentence, four innocent men are still required to register as sex offenders and are still fighting to clear their names.
Charles Loeks was 18 and fresh out of Marine boot camp. On a trip home to Covina, California, he was hanging out with a few friends when he was arrested for resisting arrest and nothing else. He spent 21 days in Los Angeles County jail, even though he had harmed no one.
Carlos Jaramillo is a former Marine combat instructor who lives in Onslow County, North Carolina. Watch what happened when he recorded a sheriff's deputy who arrested him for no apparent reason.
Noel Polanco was an unarmed 22-year-old National Guardsman who was shot and killed by New York City police at a traffic stop near LaGuardia Airport.
John Laigaie, a retired Army master sergeant, was threatened at gunpoint by police while legally carrying a gun in a park in Bellingham, Washington.
Homer Wright is an 80-year-old Army veteran who was charged with felony gun use after he shot a burglar who entered his home in Englewood, Illinois.

Mark Schmidter, a Vietnam veteran who lives in Orlando, is currently serving 145 days in a cage for passing out jurors' rights information on the steps of a local courthouse.
Justin Ross of Ankeny, Iowa, was recently discharged from the Army. Police used a battering ram to enter his home executing a warrant for some items purchased with stolen credit cards. They did not find any of these items.
Saadiq Long is an Air Force veteran who was placed on a TSA no-fly list. He had to battle for months to be removed from this list just so he could fly home from Qatar to visit his ailing mother.
Chuck Benton of Long Grove, Iowa, served 22 years in the Army. He was arrested and charged simply for living in the same house with his son who was growing medical marijuana.
Cody Donovan is a former Marine MP who lives in New Milford, N.J. He was charged with unlawful possession of a weapon after carrying a loaded gun into the Garden State Plaza mall when he attempted to help police apprehend the shooter.

In 1932, 17,000 veterans marched on Washington to demand payment of bonuses they had been promised as a result of their service in World War I. Two were shot and killed by police. 55 were arrested and 135 were injured when the United States Army became an instrument of domestic law enforcement. Two of the chief enforcers were named MacArthur and Patton. Yes, those two.
Mark England, an Army combat medic who saw action in Iraq and Kosovo was beaten and tasered by police at McCarran Airport in Las Vegas.
Air Force Staff Sergeant Matt Pinkerton of Glen Burnie, Maryland, faces second degree murder charges after fatally shooting a home intruder in September.
Leo Hendrick, an army veteran who lives in Northwood, Iowa, faces up to 30 days in jail and a $600 fine for raising chickens in his yard.
Yes, the cops had a search warrant. However that in no way excuses their vandalizing the home of Army veteran Dan Neary of Lakewood, Washington.
These World War II veterans were threatened with arrest for visiting a closed war memorial in Washington, D.C. during the October "shutdown."

These Vietnam veterans actually were arrested for visiting a New York City war memorial after curfew.
Denis Reynoso was a disabled veteran who saw action with the Marines in Iraq. He was shot dead by police in his Lynn, Massachusetts, apartment.
Nick Morgan, an Iraq veteran, was pulled out of a crowd by police in Hempstead, New York, and trampled by their horses.
Gary Shepherd of Broadhead, Kentucky was a Vietnam veteran. He used medical cannabis to relieve the pain in his left arm, which was crippled during the war. Shepherd was shot dead by a SWAT team, after they had threatened to cut down his cannabis plants.
Valente and Manuel Valenzuela of San Antonio produced sufficient documentation to enlist, respectively, in the Army and Marine Corps. Both fought in Vietnam, where Valente won a Bronze Star. Now they are facing deportation to Mexico because of erroneous entries on their birth certificates.
Jerome Murdough, a homeless Marine Corps veteran, died in a jail cell on New York's Rikers Island after being arrested for trespassing. A heating malfunction caused the temperature in the cell to soar to 100 degrees.
Kenneth Chamberlain was a retired Marine and Vietnam veteran living in White Plains, New York. Early one morning he set off his medical alert device. The first responders in this case were not medics, but rather police, who proceeded to kill Mr. Chamberlain.

This group of combat veterans in Colorado organized to help legalize marijuana during the 2012 elections. They claim – and I believe them – that marijuana helps mitigate PTSD. If you support any punishment whatsoever for a combat veteran who heals himself with a plant that grows wild in some form within a few miles of you, I don't care what you tell me. YOU DON'T BELIEVE IN FREEDOM!
Stanley Gibson, a 43-year-old Gulf War veteran was shot dead over a total non-crime by Las Vegas police in December, 2011.
Army Specialist Michael Sharkey returned home from deployment in Afghanistan to find his home in New Port Richey, Florida, unlawfully occupied by two squatters. The local sheriff says that Sharkey has no grounds upon which to evict them.
These veterans say they are being required to prove they are worthy of gun rights. Our rights are gifts from God that are inherent in our very humanity. We never have to prove to anybody that we have them.
Dwight Edwards, a disabled Marine veteran of Afghanistan, says that cops in Queens brutally beat him for no reason.
Army Staff Sgt. C.J. Grisham, who won the Bronze Star with Valor, was forcibly disarmed for no good reason by a policeman while on a hike with his son not far from Fort Hood, Texas.

Brandon Raub, a Marine who was decorated for bravery in Iraq and Afghanistan, was forced to spend a week in a Virginia mental hospital over some "anti-government" Facebook posts. (His interviewer here, John Whitehead, is a constitutional attorney, Vietnam infantry veteran and superlative anti-police state blogger.)
Operation Vigilant Eagle is a project of the Department of Homeland Security that has led to numerous Iraq and Afghanistan veterans "finding themselves under surveillance, threatened with incarceration or involuntary commitment, or arrested, all for daring to voice their concerns about the alarming state of our union and the erosion of our freedoms." Indeed, merely being a "returning veteran" can have you designated as a potential terrorist.

We will never know the whole truth about Navy veteran and former Los Angeles cop Christopher Dorner, who was the subject of a police manhunt and media witch hunt in 2013. He never got the chance to tell his story in court.
Hector Barrios came to America in 1961. He was drafted and served as an infantry soldier in Vietnam. In 1996, he was busted for possessing marijuana, which he used to treat his PTSD. As a result, he was deported to his native Mexico where he died.
Matthew Corrigan of Washington, D.C. was a first sergeant in the Army Reserve and a veteran of Iraq. His home was destroyed in a SWAT rampage because it was reported to the police that Corrigan had a gun.
Jamie Dean was an Army veteran of Afghanistan was diagnosed with PTSD. Upset about his impending deployment to Iraq, Dean had an intense emotional outburst at his Maryland home in December 2006. Even though he neither harmed nor threatened anyone, he was shot and killed by a local SWAT team.


Bennie Coleman, 76, is a retired Marine who lost his Washington, D.C., home because of a $134 tax lien that District authorities had sold to an investor.
Jeremy Usher is a former Navy hospital corpsman who lives in Greeley, Colorado. He faces jail time for using medical marijuana to treat his PTSD.
Brittany Ball, a 23-year-old soldier at Fort Jackson, S.C., was manhandled by a cop at a local bar, even though she had done nothing wrong.
Air Force Airman First Class Michael Davidson was shot in the stomach by police in Opelika, Alabama, at the scene of a traffic accident.
Benjamin Wassell sustained traumatic brain injuries while with the Marines in Iraq. The Buffalo-area resident was the first person charged with illegal gun sales under New York's new SAFE Act.

Erik Scott graduated from West Point in 1994 and served as a tank platoon leader. In 2010, he was gunned down and killed by police as he peacefully walked out of a Las Vegas Costco.
Scott Olsen saw action with the Marines in Iraq. Later, he would join the Occupy Oakland movement. In October, 2011, suffered a fractured skull after being hit in the head with a projectile fired by police.
Derek Hale served honorably with the Marines in Iraq. Although, he had committed no crime, he died after being tasered three times and then shot three times by police in Wilmington, Delaware.
Roderick King, an Iraq war veteran, was arrested in Philadelphia after he and his friends had criticized a cop's driving.
Howard Dean Bailey, a Navy veteran, was deported to his native Jamaica when immigration authorities discovered he had taken a plea bargain in a marijuana case in Norfolk, Virginia.

To be sure, the recently deceased folk singer Pete Seeger could not have been more of a leftist. However, he did serve three years in the Army after being drafted during World War II. He was sentenced to one year in jail after refusing to reveal his political connections to the House Un-American Activities Committee in 1956. He appealed this sentence, citing the First Amendment, and ultimately spent only four hours behind bars.
Larry Kirschenman of Nogales, Arizona, served 22 years in the Army and was decorated for bravery in Vietnam. Learn how he was brutalized by Border Patrol agents when asking why he was subjected to a warrantless search.
We will never know for sure what happened in Army veteran Matthew Stewart's Ogden, Utah, apartment one night in January 2012, as he will never have his day in court. He was in prison awaiting trial on charges of shooting and killing one of the police officers who raided his apartment searching for marijuana. Stewart, whose guilt was never proven, committed suicide in his cell.
Sergio Arreola is a cop in Los Angeles who served with the Marines in Iraq. He was beaten by the police in suburban Pomona for no good reason whatsoever.
This former Army paratrooper is appealing to the New York state legislature to legalize medical marijuana. He has severe multiple sclerosis and is "forced to break the law to have some semblance of a bearable existence."


On May 5, 2011, a Tucson SWAT team approached the home of Jose Guerena, who had served two tours with the Marines in Iraq. Guerena grabbed his AR-15 as is his right, but did not fire. The SWAT team let loose with 71 rounds, 60 of which perforated Guerena's body.
Marty Maiden lived a few blocks from Guerena in Tucson. and saw action with the Army in Afghanistan. He posted a suicidal note on Facebook which prompted a call to the police, who shot him dead.
Steve Lefemine is a West Point graduate who was arrested for protesting against abortion in a "no-demonstration zone" outside the Republican National Convention in New York in 2004. The 2nd Circuit U.S. Circuit Court justified the arrest based on a "compelling state interest in security".

Eileen Erickson's husband Sid served in Vietnam and died of Agent Orange exposure. Erickson is now in the crosshairs of authorities in Venice, California, who want to tear down the tree house Sid built before he died.
Listen to this disabled Navy veteran plead with then-Senate candidate Kelly Ayotte (R-NH) about the benefits of medical marijuana. Listen to the totalitarian response.
John Wrana, a 95-year-old Army Air Corps veteran of World War II, was tasered and then shot to death by police in Forest Park, Illinois. His "crime"? Refusing medical attention.
John Colaprete saw action in Vietnam as a Marine Corps officer. In 1994, his Virginia Beach home and restaurants were the object of paramilitary-style raids by the IRS. The raid was prompted by a false accusation by a former employee. While you need to watch this documentary in its entirety some time, for now just pick it up for a few minutes starting at the 55:40 mark.

Boxing legend Joe Louis was also tyrannized by the IRS. The Brown Bomber enlisted in the Army in 1942 saying "Let us at them Japs." Louis never saw combat, as he was assigned to the Special Services Division. While still a civilian, Louis fought some charity bouts and donated the proceeds to the Navy Relief Society. The IRS, however, viewed these proceeds as taxable income. IRS problems would plague him all his life. Please watch this video starting at the 53:17 mark.
Adam Arroyo is a Hispanic veteran of the Iraq war who lives in Buffalo. Police shot and killed his dog while executing a drug warrant for a black man.
Henry Taylor was a retired Air Force veteran in Louisville, Tennessee, who was shot dead by a local sheriff's deputy while investigating a burglary at a rental property he owned.
This is a fascinating article: When Johnny Comes Marching Home … He Goes to Jail. It is absolutely tragic how we chew up and spit out so many of those we send to "fight for our freedom."

Radio talk host Adam Kokesh won the Navy Commendation Medal as a Marine in Iraq. In recent years, he has been arrested several times for various non-violent protests. His most recent arrest happened after he loaded a shotgun in public in Washington, D.C. on July 4, 2013. On July 10, police violently raided his home and arrested him. He was incarcerated for four months without bond, bail or trial. He is currently on probation for two years. You may not like Kokesh's demeanor or approve of all of his antics, but he has been very courageous when so many of his critics can't be bothered to put down the remote.

James Moore, my brothah from anothah mothah, walked away from a very lucrative engineering position in San Jose to re-enlist in the Army following 9/11. He sustained significant physical injuries as well as PTSD while serving in the Special Forces in Afghanistan. On the afternoon of March 25, 2008, Moore, who had done absolutely nothing wrong, was beaten to the point of flat lining by Denver police.
One of the coolest people I have never met is Antonio Buehler. Buehler graduated from West Point in 1999, earned his Ranger tab, and saw action in Kosovo and Iraq. (He also sports a Stanford MBA.) Early in the morning on January 1, 2012, Buehler was arrested for taking a few pictures of Austin police manhandling a young woman outside a 7-11. Buehler has been arrested four times since. He heads the Peaceful Streets Project, whose members work to expose abuse, brutality and overreach both in Austin and across the nation.

There are no doubt numerous other injustices against veterans that I do not know about. Enough to fill a book. None of these things would have happened if America were a free society. As Kokesh puts it, "The greatest enemies to the Constitution are not to be found in the sands of some far off land but rather right here at home."
I cannot speak to the specific political beliefs of most of the veterans I have mentioned here. Some may be pacifists, while others may make John McCain look like a hippie in Haight-Ashbury. No matter what their individual views may be, the freedom they risked their lives for was flagrantly violated on the streets of the land they fought to protect.
Society endlessly applauds sailors, soldiers, airmen and Marines for "fighting for our freedom". It is in no way disrespectful to say that this is not what they do. No foreign government or terrorist group poses any threat to our liberty. America accounts for about half of the world's military spending. We have 300 ships in our Navy, plus thousands of planes, tanks and nuclear warheads as well as 300 million firearms in private hands. Nobody is going to invade us.
In a constitutional country, which America ceased to be 100 years ago, the job of the military – a vital and most noble one – is to defend the borders, shores and airspace. It cannot protect you from being tyrannized domestically. Indeed, throughout history, armies have been instruments of domestic tyranny. Our Constitution forbids a standing army for just this reason.
Nazi Germany and Soviet Russia had enormous military establishments. How did things work out in these countries?
I am a Christian who believes liberty is a gift from God – Leviticus 25:10; II Corinthians 3:17; Galatians 5:1. To quote Jefferson, liberty is preserved not by military might, but by "eternal vigilance" against one's own government at all levels. It is the grossest form of disrespect to send young men around the world to "fight for freedom" while relinquishing that freedom on the home front.
For several years, America has had the world's highest incarceration rate. Since 2001, Americans have gladly accepted previously unthinkable intrusions on their freedom in the name of "safety" and "security". These include, but are not limited to: warrantless searches and spying, the suspension of habeas corpus, sexual assault as a condition of travel, rampant police brutality, indefinite detention without any semblance of due process, severe restrictions on peaceful protest, massive ammunition purchases by DHS and surveillance drones in our skies watching our every move. Can predator drones be far behind?
And in every election 98 percent of voters put their stamp of approval on perpetuating this monstrosity.
On April 20, 2013, Boston and several surrounding towns got a serious taste of martial law. How many military veterans were on the receiving end of this? Is this what they signed up to fight for?
Stop thinking in clichés. Have a good hard look at everything your media and government tell you. This includes media outlets and parts of the government that you like. Study. Read. Ask questions. And learn that the defense of liberty is not the duty of the military. Rather, it is your duty and mine.
~~~~~~~~~~~~~~~~~~~~~~~~~~~~~~~~~~~~~~~~~~~~~~~~~~~~~~~~~~~~~
"Comrade Wolf knows who to eat, and he eats without listening to anyone." – Russian President Vladimir Putin referring to the United States…
The Ukraine crisis has its roots in a policy that dates back nearly 20 years. The origins of the policy can be traced to a 1997 article in Foreign Policy magazine by Zbigniew Brzezinski, titled "A Geostrategy for Eurasia." The article makes the case that the United States needs to forcefully establish itself in Central Asia in order to maintain its position as the world's only superpower. While many readers may be familiar with Brzezinski's thinking on these matters, they might not know what he has to say about Russia, which is particularly illuminating given that the recent uptick in violence has less to do with Ukraine than it does with Washington's proxy-war on Russia. Here's what Brzezinski says:
"Russia's longer-term role in Eurasia will depend largely on its self-definition…Russia's first priority should be to modernize itself rather than to engage in a futile effort to regain its status as a global power. Given the country's size and diversity, a decentralized political system and free-market economics would be most likely to unleash the creative potential of the Russian people and Russia's vast natural resources. A loosely confederated Russia — composed of a European Russia, a Siberian Republic, and a Far Eastern Republic — would also find it easier to cultivate closer economic relations with its neighbors. Each of the confederated entitles would be able to tap its local creative potential, stifled for centuries by Moscow's heavy bureaucratic hand. In turn, a decentralized Russia would be less susceptible to imperial mobilization." Zbigniew Brzezinski, A Geostrategy for Eurasia, Foreign Affairs, 76:5, September/October 1997.
So is this the goal of US policy, to create "A loosely confederated Russia" whose economy can be subsumed into America's market-based system?
Notice how easily Brzezinski chops Russia into smaller, bite-size statelets that pose no threat to US imperial expansion. Brzezinski undoubtedly envisions a Russia that will sell its vast resources in petrodollars and recycle them into US Treasuries further enriching the corrupt rent-skimmers in Washington and Wall Street. He foresees a Russia that will abdicate its historic role in the world and have no say-so in shaping global policy. He imagines a compliant Russia that will help facilitate US imperial ambitions in Asia, even to the point where it will pay to police its own people on behalf of US oligarchs, weapons manufacturers, oil magnates, and 1 percenters. Here's the paragraph in Brzezinski's piece that sums up Washington's objectives in Ukraine, Russia and beyond. It is fittingly headlined with the following words in bold print:
TRANSCONTINENTAL SECURITY
"Defining the substance and institutionalizing the form of a trans-Eurasian security system could become the major architectural initiative of the next century. The core of the new transcontinental security framework could be a standing committee composed of the major Eurasian powers, with America, Europe, China, Japan, a confederated Russia, and India collectively addressing critical issues for Eurasia's stability. The emergence of such a transcontinental system could gradually relieve America of some of its burdens, while perpetuating beyond a generation its decisive role as Eurasia's arbitrator. Geostrategic success in that venture would be a fitting legacy to America's role as the first and only global superpower." Zbigniew Brzezinski, "A Geostrategy for Eurasia," Foreign Affairs
Translation: The United States will police the world, dispatch troublemakers, and eliminate potential threats wherever it finds them. It will impose its neoliberal dogma (Austerity, privatization, structural adjustment, anti labor reforms, etc) across-the-board and on all participants. Also, minor partners–"Europe, China, Japan, a confederated Russia, and India"–will be expected to provide security for their own people at their own expense in order to "relieve America of some of its burdens."
Nice, eh? So you even have to pay for your own jailers.
And what is "Transcontinental Security" anyway? Isn't it just a fancy way of saying "one world government"?
Indeed, it is. It's the very same thing. Here's more from Brzezinski:
"Failure to widen NATO…would shatter the concept of an expanding Europe… Worse, it could reignite dormant Russian political aspirations in Central Europe."
This is an oddly convoluted statement. In the first sentence, Brzezinski supports the idea of an "expanding Europe", and then in the next breath, he worries that Russia might want to do the same thing. It's another case of the pot calling the kettle black.
What's clear, is that –in Brzezinski's mind– EU and NATO expansion will help Washington achieve its hegemonic aspirations. That's all that matters. Here's what he says:
"Europe is America's essential geopolitical bridgehead in Eurasia…A wider Europe and an enlarged NATO will serve the short-term and longer-term interests of U.S. policy… A politically defined Europe is also essential to Russia's assimilation into a system of global cooperation."
"Bridgehead"? In other words, Europe is just a means to an end. But what would that "end" be?
Global domination. Isn't that what he's talking about?
Of course, it is.
What makes the Ukrainian crisis so hard to understand, is that the media conceals the policy behind the impenetrable fog of daily events. Once the fog lifts though, it's easy to see who's causing all the trouble. It's the party that's calling the shots from abroad, the good old US of A.
Putin doesn't want this war and neither do most Ukrainians. The whole thing was conjured up by Uncle Sam and his minions to stop the flow of Russian gas to Europe, to push NATO further eastward, and to break the Russian Federation into little pieces. That's what it's really all about. And these madmen are willing to raze Ukraine to the ground and kill every living organism within a 3,000 mile radius of Kiev to get their way. After all, isn't that what they did in Iraq? They sure did. And did I mention that, according to this week's Wall Street Journal, "Iraq's Oil Output Surged to Highest Level in Over 30 Years" with all the usual suspects raking in hefty profits.
The point is, if they'd did it in Iraq, they'll do it in Ukraine too. Because what Washington cares about is constituents not carnage. Carnage they can handle.
Brzezinski is not the only one supporting the current policy either. There's also fellow traveler, Hillary Clinton. In fact, it was Secretary of State Clinton who first used the term "pivot" in a 2011 article in Foreign Policy Magazine titled "America's Pacific Century". Clinton's op-ed described a "rebalancing" plan that would open up new markets to US corporations and Wall Street, control the flow of vital resources, and "forge a broad-based military presence" across the continent. Here's an excerpt from the text of Clinton's seminal speech:
"The future of politics will be decided in Asia, not Afghanistan or Iraq, and the United States will be right at the center of the action.
As the war in Iraq winds down and America begins to withdraw its forces from Afghanistan, the United States stands at a pivot point. Over the last 10 years, we have allocated immense resources to those two theaters. In the next 10 years, we need to be smart and systematic about where we invest time and energy, so that we put ourselves in the best position to sustain our leadership, secure our interests, and advance our values. One of the most important tasks of American statecraft over the next decade will therefore be to lock in a substantially increased investment — diplomatic, economic, strategic, and otherwise — in the Asia-Pacific region…
Harnessing Asia's growth and dynamism is central to American economic and strategic interests and a key priority for President Obama. Open markets in Asia provide the United States with unprecedented opportunities for investment, trade, and access to cutting-edge technology…..American firms (need) to tap into the vast and growing consumer base of Asia…The region already generates more than half of global output and nearly half of global trade. As we strive to meet President Obama's goal of doubling exports by 2015, we are looking for opportunities to do even more business in Asia…
…as I talk with business leaders across our own nation, I hear how important it is for the United States to expand our exports and our investment opportunities in Asia's dynamic markets." ("America's Pacific Century", Secretary of State Hillary Clinton", Foreign Policy Magazine, 2011)
"Harnessing Asia's growth and dynamism is central to American economic and strategic interests and a key priority for President Obama"?
Does that sound like someone who wants to cultivate a mutually-beneficial relationship with their trading partners or someone who wants to move in, take over and run the show?
Washington's plan to shift its attention from the Middle East to Asia is all about money. Clinton even says so herself. She says, "The region generates more than half of global output and nearly half of global trade…Asia's markets … provide the United States with unprecedented opportunities for investment, trade, and…a vast and growing consumer base."
Money, money, money. The upside-profit potential is limitless which is why Madame Clinton wants to plant Old Glory right in "the center of the action", so US corporations can rake in the dough without fear of reprisal.
Brzezinski says the same thing in his magnum opus "The Grand Chessboard" Here's an excerpt:
"A power that dominates Eurasia would control two of the world's three most advanced and economically productive regions. A mere glance at the map also suggests that control over Eurasia would almost automatically entail Africa's subordination, rendering the Western Hemisphere and Oceania (Australia) geopolitically peripheral to the world's central continent. About 75 per cent of the world's people live in Eurasia, and most of the world's physical wealth is there as well, both in its enterprises and underneath its soil. Eurasia accounts for about three-fourths of the world's known energy resources." (Zbigniew Brzezinski, "The Grand Chessboard: American Primacy And It's Geostrategic Imperatives", page 31)
Get the picture? It's a gold rush! Having successfully looted every last farthing from the battered US middle class and left the economy in a ghastly shambles, Brzezinski, Clinton and Co. are headed for greener pastures in Central Asia, home of the world's largest oil producing nation, boundless reserves in the Caspian Basin, and zillions of voracious consumers who'll need everything from I Pads to leisure wear, all graciously provided by US-owned corporations. Cha-ching!
So don't get tripped up on the daily events in Ukraine. This isn't a clash between pro-government forces and anti-government activists. This is the next big phase of Washington's plan to conquer the world, a plan that will inevitably pit Moscow against the amassed military power of the United States of America. This is David vs. Goliath, Mother Russia vs. the Great Satan, Vladie Putin vs. Comrade Wolf.
Ukraine is just Round 1.
China is an economic powerhouse. It's the world's second largest economy. It's heading for number one status.
Perhaps sooner than most expect. It's growth way outdistances America. It's multiples greater.
Russia matches Washington's military might. It does so in nuclear weapons strength. With sophisticated delivery systems.
Able to strike global targets accurately. With hugely destructive force. Enough to decimate potential adversaries. Perhaps to discourage potential aggression.
Russia is rich in what China needs most. Oil and gas mainly. Technological expertise. Industrial equipment. Sophisticated weapons.
Each nation is significant separately. They're able to challenge America responsibly.
Together they're a powerful combination. A force for world peace. For multi-polarity. For humanity. For weakening Washington's imperium.
Sino-Russian ties stress unity. They're strategically important. They're stronger than ever in modern times.
They're deepening. They expanding. Washington is increasingly concerned. It's going all-out to subvert what weakens its strength.
It's waging political, economic and cyberwar. It's fighting a losing battle. Sino/Russian unity is odds on to prevail.
Especially with committed ties. With deepening ones. With stronger than ever ones.
On Tuesday, Putin arrived in Shanghai. It's China's financial capital. He came to finalize a "Holy Grail" trade deal. It's enormously important.
It bonds both countries more closely together. It does so politically economically, commercially and militarily.
Both countries will trade increasingly in their own currencies. They'll strengthen them. They'll bypass dollar transactions. They'll weaken it.
Russia will supply China with around 38 billion cubic million meters of natural gas annually. For the next 30 years.
It may double in size ahead. Depending on China's internal needs.
Other increased trade was agreed on. In technological, industrial, and commercial sectors. In military hardware.
Growing Sino-Russian trade lessens reliance on increasingly undependable Western sources. It gives them less access to their markets.
Putin and Chinese President Xi Jinping reject irresponsible US-led Western bashing. They called sanctions political tools.
They condemned "encouraging and financing" Washington's regime change agenda.
The President of Russia's web site headlined "Russian-Chinese talks." Both leaders met in Shanghai.
They "signed a Joint Declaration of the Russian Federation and the People's Republic of China on the new stage of comprehensive partnership and strategic cooperation between the two countries."
They "witnessed the signing of a package of intergovernmental, interdepartmental and commercial documents on cooperation in the economy, trade, energy and the humanitarian areas."
They issued a joint statement. "(A)mbitious goals" were agreed on, it said. "(L)ong-term milestones" were established.
"(I)mportant bilateral documents" were signed. "Relations between Russia and the People's Republic of China are developing successfully and have reached a new level of comprehensive partnership and strategic cooperation," it stressed.
"(S)pecial attention (was on) economic issues. China is Russia's leading foreign trade partner."
A Sino/Russian Investment Committee was established. Its mandate is expanding economic and financial ties.
It's "diversifying trade." It's "reducing…dependence on global economic" conditions.
It's promoting cooperation in "technology-intensive areas." They include industrial, commercial, banking and military areas.
They're increasing bilateral ruble/renminbi trade. It bears repeating. Doing so bypasses dollar transactions. It weakens dollar strength.
Putin said "the historical memory of the great heroism of our peoples in World War II brings Russia and China even closer."
Both leaders agreed to hold joint celebrations. They'll commemorate "the 70th anniversary of Victory."
Other international issues were discussed. They include common geopolitical ones. Similar priorities are shared. Closer coordination is planned.
Sino/Russian unity, partnership and friendship were strengthened. It's a "new stage" in "strategic relations."
Strong bilateral relations are a force to be reckoned with. It promises to be more so ahead.
Moscow remains justifiably angry. It's enraged about Washington elevating Kiev putschists to power. Rogue EU partners share blame.
Putin and Xi said crisis conditions can only be resolved diplomatically. They demand dialogue. They reject confrontation.
They "urged all Ukrainian regions and public and political groups to enter in broad nationwide talks…"
They want responsible governance. They want legitimate constitutional development.
They want "universally recognized rights and freedoms of people" observed.
Sergey Lavrov said Russian/EU/US-led NATO relations need fundamental reconsideration.
They require "essential rethinking," he said. Disagreements must be resolved diplomatically, he stressed.
US-led NATO created Ukrainian crisis conditions. Russia targeting followed.
Western forces irresponsibly expand eastward. Encroaching on Russia's borders threatens its heartland.
Bilateral relations are jeopardized. East/West confrontation is risked. So is world peace.
The road to Moscow runs through Kiev. Junta power has no legitimacy. Fundamental freedoms are targeted.
Eliminating them altogether is planned. Hardline rules runs things. Opposition isn't tolerated.
Free expression is verboten. Putschists want their message alone getting out. They want vital truths suppressed.
Independent journalists aren't safe. Russian LifeNews ones were targeted.
Oleg Sidyankin and Marat Saichenk were harassed. They were arrested. They're detained. They're held incommunicado.
Their lives potentially are endangered. They're charged with "aiding terrorist groups."
They released damning video images. They showed Kiev military forces using UN-marked attack helicopters against their own people."
Air and ground assaults murder them in cold blood. Kiev wants this type information buried.
It wants reliable news sources eliminated. RT International's stringer journalist Graham Phillips was arrested.
He explained by phone before silenced incommunicado, saying:
"I'm sitting at a blockade post in a portacabin. The dialogue is quite interrogation oriented."
His car was searched. His laptop, equipment and personal belongings were confiscated.
"At the moment I'm with the Ukrainian forces…near Mariupol," he said. "I've been here for over two hours and I've been described, my status, as being detained in terms of I can't leave."
"I would also say I'm being treated OK…I believe that someone is coming."
"They've done checks on my documentation. They found my reports and clips I've done and they're now looking through them asking me my position on things, asking if I'm a spy, and asking me quite thorough questions."
"They've checked all my documentation and photos, my laptop and the car. So that's who I'm with at the moment."
He was asked about separatism. About working with RT. He "describ(ed) (his) position on Crimea."
He called its referendum legitimate. He stands by his position, he said.
He called Kiev's government illegitimate. It "isn't democratic. I don't support this current situation in the east of Ukraine," he said.
In Donetsk and Lugansk regions. He called attacking Eastern Ukrainians "completely wrong."
At the same time, he "maintains complete objectivity and neutrality as a correspondent."
His bulletproof jacket and helmet were confiscated. He's unharmed so far, he said. Incommunicado since cut off there's no way to know for sure.
Right Sector thugs targeted him. They put a bounty on his head. They offered $10,000 for his capture.
They called him a "Russian spy." His life's endanger in their hands. Or in sight to be shot in cold blood.
Radicalized Kiev elements posted a Facebook comment. He "works for terrorists," it said.
"(H)e photographs and publishes the location of Ukrainian troops…"
He "spreads disinformation. (He publishes) Putin's propaganda in the media."
"He must be immediately detained by Ukrainian forces ad deported from Ukraine." Orders come from "EuroMaidan leaders," it claimed.
Russia's Foreign Ministry condemned his detention. Its human rights commissioner Konstantin Dolgov called it media obstruction.
"This is another step…made by Ukrainian authorities to curb the activities of unwanted journalists," he said.
They "work professionally and show an objective picture, the ugly side of the outrages made by ultranationalists, the results of (Kiev putschists') punitive operation in the southeast," he stressed.
Seizing Phillips constitutes an "unlawful seizure, detention of Russian journalists." Moscow demands all lawlessly detained media representatives be released.
Kiev "continues its vicious line," Dolgov added. Coup-appointed officials spurn their "international obligations concerning freedom of speech."
They target media freedom. They want it eliminated altogether. They want their message alone reported. They want truth buried.
They want fascist putschist power enhanced. They deplore democratic values.
They want ordinary Ukrainians having no say. Polls show their popularity eroding. They risk losing it overwhelmingly.
Perhaps nationwide rebellion will follow. When ruthlessness exceeds levels too great to tolerate, all bets are off.
The only solution is nonviolent revolution. Perhaps just a matter of time. It can't happen a moment too soon.
Stephen Lendman lives in Chicago. He can be reached at lendmanstephen@sbcglobal.net.
His new book as editor and contributor is titled "Flashpoint in Ukraine: US Drive for Hegemony Risks WW III."
http://www.claritypress.com/LendmanIII.html
Visit his blog site at sjlendman.blogspot.com.
The Koch's Secret Sauce – The Profit is in the Poisons 
(Sort of like those special spices in your Indian food!)
Of course, it is not likely Charles himself was hunkered down in the secret laboratory under his mansion in Wichita, Kansas.  But he certainly knew the formula.
Koch Truths and Green Fields Renewal will now reveal the actual content of the ugly substance which bubbled out of the broken pipe in Mayflower a little over a year ago. Notice, this information has been carefully sequestered by ExxonMobil.
Believe us, they have their reasons for this.
This sample of Wabasca Heavy was taken at the Suspected Source, (the pump station about 20 miles upstream from the Pegasus pipeline rupture). From there, it was sent by the USCG for analysis in Canada in June 2013, a few months after the Mayflower disaster. This is typical of what was in the pipe just before it ruptured.
Gas Chromatogram of Mayflower Suspected Source  - These are the fingerprints, what ExxonMobil has worked so hard to hide from the public and their victims.
Source: EPA/ ESTS
Above we see a hybrid Dilbit mixture, with virtually identical distribution of heavy hydrocarbon molecules (on the right) as we saw in the Wabasca Heavy sample in Part 1.
But this Secret Sauce has special additions. These new additions include the toxic BTEXs like benzene, a virulent carcinogen, and toluene, a neurotoxin.
And the concentration levels were very, very high in the Secret Sauce.
Would having know about this made a difference in treating the victims? Absolutely.
But then the evidence would also have been presented in court, an eventuality to be avoided at all costs, especially if those costs can be externalized to small children and other victims.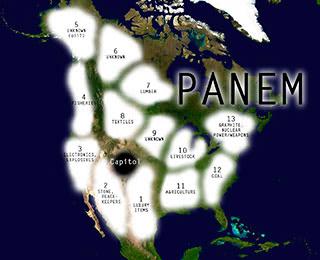 One of the most popular films of 2012 was The Hunger Games which portrayed a post-apocalyptic nation called Panem in which a super-rich, super-pampered, super-callous 'elite' lived in high-tech luxury while the rest of the population daily battled to survive in abject poverty locked away behind prison fences in intensively-populated 'people zones'. Panem comes from the Latin phrase 'panem et circenses' or 'bread and circuses' — a term derived from Rome and meaning to give the people diversions and distractions to hide what is being done to them. Exactly what is happening today.
The Totalitarian Tiptoes to just such a world are happening all around us, although most people can't see this because they don't connect the dots. People tend to live in their own 'little world' and focus on only a few subjects and interests. This gives them a distorted view of what is happening because they are so busy concentrating on the strands that they cannot see the tapestry. The world of The Hunger Games is already well on the way to fruition unless humanity has a fundamental reassessment of reality.
The foundations, structure and 'must haves' of a Hunger Games society are detailed in a plan being imposed through the United Nations called Agenda 21 which encompasses two related themes of 'sustainable development' and 'biodiversity'. Sustainable development — as in don't use more than can be replaced — sounds sensible enough at first until you realize what this and biodiversity really mean in the context of the conspiracy.
Agenda 21 was established at the United Nations Conference on Environment and Development in Rio de Janerio, Brazil, in 1992, hosted by Maurice Strong, a Canadian oil and business billionaire and long-time front man for the Rothschilds and Rockefellers. Strong has been a leader of their exploit-the-environment-to-scam-the-people programme which is now in full flow. Strong is a member of the Club of Rome, the environmental Hidden Hand in the Round Table network that includes the Bilderberg Group, Trilateral Commission and Council on Foreign Relations.
Strong said in support of Agenda 21:
'Isn't the only hope for this planet that the industrialised civilization collapse? Isn't it our responsibility to bring that about?'
This is a man who became mega-rich through the oil industry. He now lives in billionaire luxury in China where carbon-emitting industry is booming and he is a director of the Chicago Climate Exchange (largest shareholder, Goldman Sachs), which is 'the world's first and North America's only legally-binding greenhouse-gas emission registry reduction-system for emission sources and offset projects in North America and Brazil'.
The Exchange was established with funding from the Joyce Foundation where Barack Obama was once a director. Strong and Al Gore make money through the Carbon Exchange and other means from the lies they promote about climate change and the solutions they propose. Kate Johnston wrote on the Globalresearch.cawebsite:
'The same men that sold us the myth of man-made global warming are the same men that sold us the "solution" of a Carbon Tax and Emissions Trading Scheme and now they're profiting off their lucrative investments which are based on lies.' (See "The Climate Change Hoax").
Strong fled to China in 2006 after being accused of corruption with respect to the UN oil for food program.
Climate change propaganda is a No-Problem-Reaction-Solution technique to justify Agenda 21 and its stable-mate the Biodiversity Treaty. This is an internationally-binding document involving nearly 200 countries. The United States signed the treaty, but it was not ratified by the Senate after people like ecologist and ecosystem scientist Dr. Michael Coffman exposed its true consequences and implications. He said that he realized during the 1980s and 1990s that the plan was to use the excuse of protecting the environment to confiscate half the land of the United States.
Similar plans exist for every other country. America may not have ratified the treaty, but it is being implemented by the day. Agenda 21 demands the central global control of all land; all private property; all water sources and distribution; all other resources which includes people in its definition; all energy supplies and distribution and all food production and distribution.
Agenda 21 is called 'the agenda for the 21st century' and that refers to global fascism / communism. This is a summary of what Agenda 21 / Sustainable Development / Biodiversity is seeking to impose:
An end to national sovereignty
State planning and management of all land resources, ecosystems, deserts, forests, mountains, oceans and fresh water; agriculture; rural development; biotechnology; and ensuring 'equity' (equal slavery)
The State to 'define the role' of business and financial resources
Abolition of private property (it's not 'sustainable')
'Restructuring' the family unit
Children raised by the State
People told what their job will be
Major restrictions on movement
Creation of 'human settlement zones'
Mass resettlement as people are forced to vacate land where they currently live
Dumbing down education (achieved)
Mass global depopulation in pursuit of all the above
This horrific plan is being coordinated through the United Nations, the stalking horse for world dictatorship, via a non-governmental network once called the International Council of Local Environmental Initiatives ICLEI), and now known as Local Governments for Sustainability although still using the shortened name ICLEI. The United Nations is now opening 'embassies' around the world called 'UN Houses' under the guise of raising awareness of UN activities, but not the activities that people really need to know about. They have opened one in Hunter Square, Edinburgh, Scotland, for example.
Local Governments for Sustainability (ICLEI) and other organisations are integrating the plan into every village, town, city and region and it is already becoming widespread across the world. The organisational infrastructure of Agenda 21 is already fantastic and involves government agencies, non-governmental organisations (NGOs), think-tanks, trusts, foundations, 'training' (mind control) operations and 'initiatives' which have been building the infrastructure for what they call 'the post-industrial, post-democratic' society while the public go about their daily business oblivious of the prison being built all around them by the hour.
Harvey Ruvin, a vice-chairman of ICLEI, was asked how Agenda 21 would affect liberties with regard to the US Constitution and Bill of Rights, private property and freedom of speech. He replied:
'Individual rights must take a back-seat to the collective.'
The arrogance of these people is breathtaking. The extraordinary network supporting ICLEI and Agenda 21 includes the Rockefeller-sponsored America 2050; United Cities and Local Governments (UCLG); Metropolis; World Economic Forum; United Nations Framework Convention on Climate Change; United Nations International Strategy for Disaster Reduction; World Bank; Clinton Climate Initiative; Climate Group (Tony Blair); World Conservation Union (IUCN); Renewable Energy and Energy Efficiency Partnership; Global Footprint Network; Renewable Energy and Energy Efficiency Partnership; Global Footprint Network; International Centre for Sustainable Cities; Earthquakes and Megacities Initiative and the Stakeholder Forum. These and so many others are working to the same end — Agenda 21 and total human enslavement worldwide, although most of those involved will have no idea that they are building a global prison for themselves and their families.
Another of these front organisations is the World Business Council for Sustainable Development which includes the hideously anti-people Monsanto. Destroying food-growing land, contaminating the countryside with toxins and replacing proper food with deadly and soil-destroying genetically-modified organisms is Monsanto's contribution to 'sustainability'. Agenda 21 is operating in more than 600 towns, cities and counties in the United States and expanding by the day.
A member of the Agenda 21 committees in Santa Cruz, California, in the mid-1990s said that the proposals he heard were so crazy that he laughed at them because they could never happen. These included that 'Mother Earth's surface was not to be scratched'; humans should be concentrated in settlement zones; education should focus on the environment as a central organising principle and all aspects of life covered by Agenda 21, but all of these crazy plans are now being introduced. It's all happy, feely, smiling faces and how we care, when the truth is that Agenda 21 is a vicious, brutal, heartless strategy to impose a global Orwellian state.
Agenda 21 manipulators either create or hijack some local organisation or other, many of them in locations with large populations, and they have their (controlled) leadership to agree the Agenda 21 blueprint for their community together with any uninformed, unwitting idiots who can be sold a human nightmare as saving the planet. This allows them to claim that decisions were made after 'public participation' when that would have been the last thing they wanted, and 99 percent of the 'community' has never heard of Agenda 21 let alone had their say on it. They want no democracy which is why these people talk privately, sometimes even publicly, about the post-democratic, post-industrial society.
They want to control every man, woman and child on the planet — everyone and everywhere and every resource, water source and piece of land. To do this they need a global structure of fascist control that goes right down into every local community with the jackboots at local level enforcing the will of the global centre. This is why there is so much emphasis on local authorities and town and city authorities in Agenda 21.
There is a 'training organisation' called Common Purpose (common purpose, common consensus, everyone the same) which has been paid very large amounts of money by governments and local authorities, police forces and other institutions of state to 'train the leaders' of the post-democratic, post-industrial society. Common Purpose was heavily represented in the Leveson 'inquiry' leading to new media laws in Britain. It is not a training programme; it is a programming programme and turns out unquestioning zombie administrators who serve the god of Agenda 21 and the associated European Union. The theme of 'common' also applies to the ever greater standardisation of laws and regulations and constant reference to 'international law'. This is the unfolding global dictatorship of Agenda 21. What do you need to be a global dictator? Laws that everyone on the planet must obey — international law and the standardisation of global regulation.
You can see The Hunger Games connection when you look at the official Biodiversity wish-for map of the United States in Figure 1. The red areas are designated for no human use and most of the rest of America is confiscated for little and highly-regulated use. The mass of the population would be concentrated in high-rise, densely-packed 'human settlement zones' and denied access to something like 80 percent of present day America. It is without question the world of The Hunger Games with a globally-enforced top-down hierarchy that has a world government using its world army and police force to impose its will at regional and local levels (sectors). The Rockefeller-funded America 2050 has produced a map of the new United States divided into eleven 'megaregions' and includes parts of Canada (Figure 2). Seattle, Portland and Vancouver, British Columbia, become the megaregion known as 'Cascadia' and this regional system comes under the collective name of 'megalopolis' which is Greek for large city or great city. America, Canada and Mexico are due to merge to form the North American Union in line with the European Union blueprint.
The European Union is planned to be broken up into regions and the same structure is in development all over the world. The map of the new Europe has regions from different countries linked up with regions in other countries to end any vestige of national sovereignty or even national existence (Figure 3). This is a global plan with its fierce central control hidden behind its lower elements such as the European Union and local government. What is planned would clearly require a fantastic reduction of the global population and this is indeed what Agenda 21 / Sustainable Development / Biodiversity demand.
The e-book Agenda 21: Your Life In Their Hands can be downloaded here.
reference:
Icke, David. The Perception Deception. Ryde: David Icke Books, 2013.
Julian Websdale is an independent researcher in the fields of esoteric science and metaphysics, and a self-initiate of the Western Esoteric Tradition. His interest in these subjects began in 1988. Julian was born in England, received his education as an electronic and computer engineer from the University of Bolton, served in a Vaishnava monastery during 2010, and has travelled to over 21 countries. Julian is also a member of the Palestinian Solidarity Campaign.
Source: Julian Websdale  |  Waking Times | War Is Crime
Sometimes I just want to pimp slap people.
Last summer, I was at dinner during a sales convention. The conversation didn't get political until someone mentioned the NSA.
There is one in every crowd. Someone piped up and said, "They can spy on me all they want. I am not doing anything wrong."
They sang this song in Germany in 1933. And they sang it with unprecedented gusto in the months following 9/11, all in the name of  "security" and "keeping us safe".
We were at the MGM Grand in Las Vegas, the world's second largest hotel. Nothing in the post-9/11 "national security" apparatus would prevent a terrorist from walking in, setting off a bomb, and killing hundreds or even thousands of people.
The more important questions are: How do you know you are doing nothing that could be construed as wrong by some state functionary? How do you know you are not breaking some law somewhere? And why are you so implicitly trusting that your government would never do anything evil with the information it has collected on you?
This is not purely an academic matter. The practical implications are profound.
I give you several examples.
1. Niakea Williams went to her son's St. Louis-area elementary school one day to pick up her son, who has Asperger's. The school was put on lockdown and Mrs. Williams was escorted out in handcuffs.
2. Adrionna Harris was almost expelled from her middle school in Virginia Beach after taking a razor blade away from a fellow student who was trying to harm himself.
3. Read what Houston police did to this man who gave 75 cents to a homeless person.
4. A little known Denver parking ordinance can get you a $25 fine even if you haven't exceeded the two-hour limit.
5. Police in Iowa City, Iowa, seized $50,000 from this couple without charging them with a crime.
6. Alberto Willmore lost his teaching job in Manhattan over a totally bogus marijuana arrest. Even though he was never convicted of anything, he was unable to get his job back.
7. Norman Gurley was arrested in Lorain County, Ohio, because a compartment in his car could have been used to transport drugs.
8. Los Angeles County sheriff's deputies shot and killed 80-year-old Eugene Mallory in his own bed during a meth raid. No meth, or any other illegal drugs, was discovered.
9. Paul Valin contacted police to report that he found a backpack full of what he believed to be meth-making equipment 15 miles from his home near Des Moines. As a result, the DEA placed his house on its list of meth labs.
10. Ryan Holle of Pensacola, Florida, lent his roommate his car on night in 2004. As a result, Holle is currently serving a life sentence without possibility of parole for pre-meditated murder.
11. New York police seized Gerald Bryan's cash in a nighttime raid in 2012. Even though Bryan was cleared of any wrongdoing, the stolen cash was deposited in the NYPD pension fund.
12. Robert Duncan is currently serving two years in a California prison, even though the business in which he worked was legal in California.
13. Jordan Wiser spent 13 days in jail after Jefferson, Ohio, police found a pocketknife during a warrantless search of his car.
14. During a school lockdown in Clarksville, Tennessee, David Duren-Sanner gave police permission to search his car as he had "nothing to hide". Police found a fishing knife. Duren-Sanner, who previously had never been to the principal's office, was suspended for 10 days and then sent to an alternative school for 90 days.
15. Look what happened to these parents in Napa, California, even though the medical marijuana prescriptions they had were completely legal.
16. Eileen Ann Bower of suburban Pittsburgh had her newborn child taken from her for 75 days because of a false positive drug test.
17. Jerry Hartfield of Bay City, Texas, has spent the majority of his life in prison, even though hisconviction was overturned in 1980.
18. Jason Dewing of update New York was found guilty of violating a law that did not exist.
19. Don Miller of Waldron, Indiana, had his home raided by FBI agents who seized hundreds of cultural artifacts from around the world. Miller was neither arrested nor charged with anything.
20. This San Diego couple was pepper-sprayed and tasered by police who had erroneously identified their vehicle after being stolen.
21. The good news is that Brian Aitken of Mount Laurel, New Jersey, had his prison sentence commuted.The bad news is that he was originally sentenced to seven years behind bars for possessing two legally purchased guns.
22. This special needs student in McDonald, Pennsylvania, was charged with felony wiretapping for recording other students who were bullying him mercilessly.
23. Abner Schoenwetter of Miami served over six years in prison for – you can't make this stuff up – violating Honduran fisheries law.
24. Read what happened to John Filippidis of Hudson, Florida, when he was pulled over by state policewhile driving unarmed through Maryland.
25. In a case of mistaken identity, Lewis James of Durham, North Carolina, "was handcuffed and later jailed under a $1.425 million bond" after he had contacted the police to notify them of a dead body in the middle of the road. As someone put it on Facebook, "Don't call the cops. Ever. Even if you find a dead body. Just don't ever call the cops."
26. Read what happened to Diane Avera of Meridian, Mississippi, when she went to Alabama to buy Sudafed, even though she did not know that this was illegal.
27. Andy Johnson of Uinta County, Wyoming, faces EPA fines of $75,000 per day for building a pond on land that he owns.
28. Douglas Zerby of Long Beach was shot and killed by police while watering his lawn because some idiot neighbor thought the hose nozzle was a gun.
29. Darien Roseen was arrested and had his vehicle searched by sheriff's deputies in Payette County, Idaho, simply because his Colorado license plates led them to believe that he could have been carrying marijuana.
30. Brian Banks of Long Beach spent five years in prison and five more years as a registered sex offenderas a result of a rape conviction. And then his accuser changed her story.
These are not "isolated incidents." There are no doubt countless other examples of people who were doing nothing wrong, yet were harshly punished.
Also, consider the following:
• The Internal Revenue Code is 73,955 pages and millions of words long. No one has read it cover-to-cover and no one knows every aspect of it. Yet if anyone violates any of its provisions it can mean fines, prison or even death.
• We are often told that "ignorance of the law is no defense." To the right is a picture of the Yale Law Library. Do you know every law contained within these tomes?
Read what various emissaries of the Amerikan police state have done to these veterans who went all over the world to "fight for our freedom."
• Seventy-two types of Americans are classified as terrorists in various government documents. Senator Harry Reid has now added a seventy-third category.
• Read how police have used asset forfeiture laws to seize millions of dollars from people without charging them with any crimes.
• Read this article and pay special attention to these words from former NSA official William Binney: "The problem is, if they think they're not doing anything that's wrong, they don't get to define that. The central government does."
• Read how the Innocence Project has helped exonerate over 300 wrongfully imprisoned people, many of whom were on death row.
• Attorney Harvey Silverglate argues that the average American commits three felonies a day without even knowing it.
• This Ford executive claims that, thanks to GPS, "we know everyone who breaks the law."
• Although it has been estimated that there are over 3000 types of federal criminal offenses, no one knows the exact number for sure.
So, do you still feel you have nothing to fear?
"Let me repeat again, that in Russia's view, the blame for the crisis in Ukraine lies with those who organized the coup d'etat in Kiev on February 22-23… But whatever the case, we must look for a way to solve the situation as it is today….And, as I said, what is needed is direct, full-fledged and equal dialogue between the Kiev authorities and the representatives of people in southeast Ukraine….I don't know whether a Geneva-2 round of talks.. is realistic. (But) I believe that if we want to find a long-term solution to the crisis, there must be an open, honest and equal dialogue . That is our only option."

-Russian President Vladimir Putin, press statement, OCSE meeting, Moscow, May 7, 2014

So many lie beneath the eternal granite
But of those honored by this stone
Let no one be forgotten
Let nothing be forgotten.

-Olga Berggolts, "Leningrad"
On Wednesday, Russian President Vladimir Putin made a proposal for ending the violence in Ukraine at an OCSE (Organization for the Cooperation and Security in Europe) in Moscow. Unfortunately, most Americans never heard what he had to say because the media failed to publish his statement. The reason for the omission is fairly obvious, the media doesn't want people to know that Putin is not the ghoulish, authoritarian caricature he's portrayed to be, but a levelheaded pragmatist who wants a swift and peaceful resolution to the crisis. Here is what he said:
"We think the most important thing now is to launch direct dialogue, genuine, full-fledged dialogue between the Kiev authorities and representatives of southeast Ukraine. This dialogue could give people from southeast Ukraine the chance to see that their lawful rights in Ukraine really will be guaranteed."
Does that sound like a bloodthirsty "KGB thug" who's driven by dreams of territorial expansion and empire-building or does it sound like a responsible leader who wants to facilitate a cease-fire until cooler heads prevail?
Did you know that Putin called for a "genuine…dialogue between the Kiev… and representatives of southeast Ukraine"? Don't you think the media should publish critical information like that so people can decide for themselves how they feel about Putin? Or do you think the media is entitled to withhold whatever information they choose as long as it benefits their corporate bosses? Is that how a free press is supposed to work?
Putin made a number of concessions in his speech that are worth noting. For example, he agreed to move his troops away from the Ukrainian border which has been a bone of contention with the Obama administration since the Kiev crackdown began more than two weeks ago. Putin agreed to withdraw his army even though he may have weakened Russia's defenses in the process. This is no small matter, in fact, it's a question national security which is a president's primary responsibility and one that Putin does not take lightly, especially now that neo Nazi-crackpots are roaming the countryside armed to the teeth and threatening to kill ethnic Russians wherever they find them. But Putin made the concession anyway hoping that his good-faith gesture would help put an end to the violence. Here's what he said:
"We have withdrawn our forces and they are now not on the Ukrainian border but are carrying out their regular exercises at the test grounds. This can be easily verified using modern intelligence techniques, including from space, where everything can be seen. We helped to secure the OSCE military observers' release and I think also made a contribution to defusing the situation."
Does that sound like a man who's lying?
Of course not, which is why the media doesn't want you to hear what he has to say. Because it doesn't jibe with the "Putin is Satan" trope.
Putin is a plain-speaking guy who shoots from the hip and says what he means. He's not a bullshitter. People know that, which is why the media won't publish what he says. It's because they're afraid that people will believe him and all their jingoistic, pro-war propaganda will be for naught. The fact is, people have a sense of what the truth sounds like. Call it intuition, call it whatever you like. But people know the difference between a guy like Putin and a dissembling fraud like Kerry. That's just the way it is.
Putin also asked representatives of the southeastern regions of Ukraine to postpone the referendum scheduled for May 11.
Why would he do that? After all, if he really wanted to rebuild the Russian Empire, as his critics say, then he'd want the balloting to take place so he could show the world that the people in the East reject the junta government and demand greater autonomy from Kiev. But that's not what Putin wants. What he wants is an end to the carnage, which is why he asked the people to postpone the voting so the government wouldn't have an excuse for launching another bloody crackdown. Putin doesn't want to see Ukraine ripped to shreds and reduced to Iraq-type anarchy by external enemies who are using it as a staging-ground for their own geopolitical ambitions. He wants to restore stability and security. He wants the hostilities to stop. Here's what he said:
"We are asking representatives of the southeastern regions of Ukraine and federalization supporters to reschedule the referendum scheduled for May 11."
Okay, so he moved his troops back from the border and called on pro-Russian activists to put off the vote on greater political autonomy. That's two significant concessions, right? But, why is Putin doing this?
Does he have something up his sleeve? Is he trying to lull his enemies to sleep before he orders a full-blown blitz on Kiev?
Be serious. Putin doesn't want to take over Ukraine, that's just neocon hogwash. He has his own problems to deal with. He's not going to add to them by annexing a broken, basket-case failed state that's rapidly sliding into a major Depression. Why would he do that?
Then why is he so eager to make concessions? Is it because he's scared? Maybe he's afraid of a confrontation with NATO and the US so he's caving in before war breaks out on his western flank?
Is that it? Is Putin a coward?
According to the western media he is, but that's because the coverage has focused exclusively on his willingness to move his troops which makes it look like Washington's hardline policies (sanctions, threats, saber-rattling) are actually working instead making things worse. Which they are. What's been left out of the reporting is Putin's plan to end the violence. That never gets mentioned because the media doesn't want Putin to look like a peacemaker. That doesn't serve their interests at all.
Putin's not afraid. He's not going to end up like Gadhafi or Saddam. But he is worried. He's worried that the US is going block access to his biggest market, the European Union. Russia can't simply reroute its gas from west (EU) to east (China) as many of the pundits seem to think. That's nonsense. Russia needs Europe, just as Europe needs Russia. There is a strong, natural business/trade relationship between the two that Washington wants to sabotage so it can be the big cheese in Central Asia. That's what this is all about, right? The pivot to Asia.
So, yes, Putin's interest in peace is not entirely altruistic. It's also about money too. Big money. But, so what? What difference does that make? So Putin is not as pure as the driven snow. Big deal. The fact is, he's still pushing for peace, which is not only beneficial for Moscow, but Europe and Ukraine as well. The only one that doesn't benefit from peace is Washington, which is why the media is suppressing information that promotes de-escalation. It's because Washington wants a war. War is the vehicle for breaking up the Russian Federation into tiny statelets that pose no threat to US military bases spread throughout Asia. War is the means by which Washington can make its pivot, surround China, and control its future growth. War paves the way for establishing US outposts in Ukraine and subverting greater economic integration between Russia and Europe. War is US policy because war advances US interests. Period.
Washington cannot achieve its strategic or economic objectives without a confrontation. That's why the present situation so worrisome, because –judging by the scalding rhetoric emerging from the White House, the US State Department, and all the major media– Obama is going to continue to provoke Moscow until he gets the reaction he wants. If 40 dead in Odessa doesn't do the trick, then the next provocation will be 400, or 4,000, or 400,000. Whatever it takes. It doesn't matter. As Madeleine Albright noted some time ago when she was asked if the sanctions on Iraq were worth the half million lives they cost, she answered without the slightest hesitation, "We think the price is worth it."
Whatever it takes. That's US foreign policy in a nutshell.
Here's more from Putin:
"The responsibility for what is happening in Ukraine now lies with the people who carried out an anti-constitutional seizure of power,.. and with those who supported these actions and gave them financial, political, information and other kinds of support and pushed the situation to the tragic events that took place in Odessa. It's simply blood-chilling to watch the footage of those events."
Try to imagine Obama saying something like that. Try to imagine Obama even caring about the people who died in Odessa. It's a bit of a stretch, isn't it? By now, Obama has seen the same videos as Putin. He's seen the people hurtling themselves out of windows to escape the flames. He's seen the victims being pummeled to death on the streets by neo Nazi goons. He's seen the charred remains of the people who were incinerated in the fire. But he's said nothing. He hasn't even offered his condolences to the families who lost loved ones. He's remained stone silent since the incident took place believing that any reference to the massacre would only undermine US policy. His callousness is all part of a political calculation. People don't matter, what matters is the policy. Obama is no different than Albright or any other high-ranking member of the US political establishment in that regard. They're all the same. Life means nothing to any of them. All that matters is the objectives of their constituents.
So, what does Putin really want?
Here's what he says: "Russia urgently appeals to the authorities in Kiev to cease immediately all military and punitive operations in southeast Ukraine. This is not an effective means of resolving internal political conflicts and, on the contrary, will only deepen the divisions."
"Cease all military and punitive operations"? In other words, he wants peace.
Unfortunately, Obama's crew strangled Putin's peace plan before it ever left the cradle. Just yesterday, the US-backed puppet regime in Kiev promised to step up attacks on protestors in the east. According to Defense Secretary Andriy Parubiy:
"The counter-terrorist operation will continue unhindered, despite the presence of terrorist and insurgent groups in the Donetsk region."
As for Putin's appeal for peace, puppet-PM Arseniy Yatsenyuk swiftly dismissed it as "hot air."
So, there you have it. The threat of peace has been skillfully avoided giving Obama's fascist friends the green light to pursue their strategy of tearing Ukraine apart, killing untold thousands of civilians, and deploying NATO to Russian's western perimeter.
And that's why Putin's speech was blacked out by the media, because it conflicted with Washington's plan to launch another war.
"If manufacturers are so sure there is nothing wrong with genetically modified foods, pesticides and cloned meats, they should have no problems labeling them as such. "After all, cancer will kill one in every two men and one in every three women now alive," reports Samuel Epstein, chairman of the Cancer Prevention Coalition. Like our ancestors, we act in ways that will bemuse future societies. The military-industrial complex lubricates the mass-agriculture system with fossil fuels. Tons of heavy metals and other hazardous waste is sprayed on American agricultural soil." – Adam Leith Gollne, The Fruit Hunters: A Story of Nature, Adventure, Commerce and Obsession
During WWII, chemical companies like Chevron manufactured Mustard gas to kill enemies by disrupting troops' nervous systems.  They changed their focus to continue their profits. They decided that crops growing in the fields of America needed poisons to stop the insects that nurtured them like bees, wasps and bats—all pollinators that make crops multiply and thrive.
They campaigned with "higher crop yields" and paid off a lot of U.S. Congressmen who "okayed" the poisons via legislation.  Chevron and other companies amassed a fortune with DDT and other nerve gases that crippled mosquitoes, flies and gnats, but quickly killed birds, rodents, hawks, eagles and countless other species living on the ground floor of Earth.
Why did those companies do that? Answer: billions upon billions of dollars.  You could call them financial terrorists because that's how they must be defined.  They kill anyone for a few billion bucks.
Today, every single American faces cancers affecting himself, herself or a friend.  I lost four friends to cancer last year and two already this year with one more hanging on for another 30 days.  A doctor cut cancer out of my sister (melanoma) and me 19 years ago.  Terror gripped me until I cleared that drama.  To this day, I eat only organic, only filtered water, only non-GMOs, live in the country and eat nothing in a can, package or box.
The fact remains:  The American Cancer Society solicits funds to eradicate cancer, but they will not "touch" the fact that we poison our foods to such an extent that our bodies respond with aberrant cell behavior, i.e., cancers in all their forms.
Every fruit and vegetable suffers chemical sprays that become part of the produce that enters your stores and you buy it. And, you eat it.
Jeffrey Smith, www.organicconsumers.org, said, "Did you know GMO plants such as soybean, corn, cottonseed and canola have had foreign genes forced into their DNA. And the inserted genes come from species, such as bacteria and viruses that have never been in the human food supply.
"Did you know genetically modified organisms (GMOs) are not safe? They have been linked to thousands of toxic and allergenic reactions, thousands of sick, sterile and dead livestock, and damage to virtually every organ and system studied in lab animals."
Why isn't the FDA protecting us?
"In 1992, the Food and Drug Administration claimed that they had no information showing that GMO foods were substantially different from conventionally grown foods and therefore were safe to eat," said Smith.  "But internal memos made public by a lawsuit reveal that their position was staged by political appointees under orders from the White House to promote GMOs.  FDA scientists, on the other hand, warned that GMOs can create unpredictable, hard-to-detect side effects, including allergies, toxins, new diseases, and nutritional problems.
"They urged long-term safety studies, but were ignored. The FDA does not require any safety evaluations for GMOs. Instead, biotech companies, who have been found guilty of hiding toxic effects of their chemical products, are now in charge of determining whether their GMO foods are safe." (The FDA official in charge of creating this policy was Michael Taylor, Monsanto's former attorney and later their vice president.)
From everything I have studied, the worst men of humanity run Monsanto and ADM.  They create synthetic sugars like Aspartame, High Fructose Corn Syrup and other chemicals that you see in "Diet Coke" and in your sugar packets at every lunch counter and restaurant in America.   Top scientists implicated Aspartame as a precursor to Lupus and Fibromyalgia along with a growing list of deleterious human conditions.
Same with the tobacco barons:  do you think they care that 450,000 Americans die of tobacco-induced lung cancer annually for the past 50 years?  Answer: they laugh during their golf games.
While GMO barons live in luxury, Lear jets and country mansions, Americans suffer diseases by the millions.  And, we die for it by the millions.
Widespread, unpredictable changes of GMOs
During GMO "Frankensteinization", natural genes suffer deletion or become permanently turned on or off, and hundreds may change their levels of expression.
In addition:
*The inserted gene is often rearranged.
*It may transfer from the food into our body's cells or into the DNA of bacteria inside us
*The GMO protein produced by the gene may have unintended properties or effects.
Why do they do it?
The primary reason companies genetically engineer plants: to make them tolerant to their brand of herbicide. The four major GMO plants, soy, corn, canola, and cotton, are designed to survive an otherwise deadly dose of weed killer like Round-up or Weed-B-Gone. The second GM trait: built-in pesticide.
In other words, kill the insects that allow the world to thrive.  It becomes more insane the more I research this series.
GM food supplement caused deadly epidemic
In the 1980s, a contaminated brand of a food supplement called L-tryptophan killed about 100 Americans and caused sickness and disability in another 5,000-10,000 people. If GMO foods on the market cause common diseases or if their effects appear only after long-term exposure, we may not be able to identify the source of the problem for decades.  No one monitors GMO-related problems and no long-term animal studies. Heavily invested biotech corporations gamble away the health of our nation for profit.
Go to www.responsibletechnology.org to get involved and learn how to avoid GMOs. Look for Non-GMO Shopping Guide.
Start buying non-GMO today.
Help stop the genetic engineering of our food supply.
You may become involved:
By mail: Institute For Responsible Technology, P.O. Box 469, Fairfield, IA 52556 Online: www.responsibletechnology.org by phone:(641) 209-1765
Read the book—Genetic Roulette: The Documented Health Risk of Genetically Engineered Foods by Jeffrey M. Smith.
As the US and EU apply sanctions on Russia over its annexation' of Crimea, JP Sottile reveals the corporate annexation of Ukraine. For Cargill, Chevron, Monsanto, there's a gold mine of profits to be made from agri-business and energy exploitation.
On 12th January 2014, a reported 50,000 "pro-Western" Ukrainiansdescended upon Kiev's Independence Square to protest against the government of President Viktor Yanukovych.
Stoked in part by an attack on opposition leader Yuriy Lutsenko, the protest marked the beginning of the end of Yanukovych's four year-long government.
That same day, the Financial Timesreported a major deal for US agribusiness titan Cargill.
Business confidence never faltered
Despite the turmoil within Ukrainian politics after Yanukovych rejected a major trade deal with the European Union just seven weeks earlier, Cargill was confident enough about the future to fork over $200 million to buy a stake in Ukraine's UkrLandFarming.
According to the Financial Times, UkrLandFarming is the world's eighth-largest land cultivator and second biggest egg producer. And those aren't the only eggs in Cargill's increasingly ample basket.
On 13th December 2013, Cargill announced the purchase of a stake in a Black Sea grain terminal at Novorossiysk on Russia's Black Sea coast.
The port — to the east of Russia's strategically and historically important Crimean naval base — gives them a major entry-point to Russian markets and adds them to the list of Big Ag companies investing in ports around the Black Sea, both in Russia and Ukraine.
Cargill has been in Ukraine for over two decades, investing in grain elevators and acquiring a major Ukrainian animal feed company in 2011. And, based on its investment in UkrLandFarming, Cargill was decidedly confident amidst the post-EU deal chaos.
It's a stark juxtaposition to the alarm bells ringing out from the US media, bellicose politicians on Capitol Hill and perplexed policymakers in the White House.
Instability?… What Instablility?
It's even starker when compared to the anxiety expressed by Morgan Williams, President and CEO of the US-Ukraine Business Council — which, according to its website, has been"promoting US-Ukraine business relations since 1995."
Williams was interviewed by the International Business Times on March 13 and, despite Cargill's demonstrated willingness to spend, he said, "The instability has forced businesses to just go about their daily business and not make future plans for investment, expansion and hiring more employees."
In fact, Williams, who does double-duty as Director of Government Affairs at the private equity firm SigmaBleyzer, claimed, "Business plans have been at a standstill."
Apparently, he wasn't aware of Cargill's investment, which is odd given the fact that he could've simply called Van A. Yeutter, Vice President for Corporate Affairs at Cargill, and asked him about his company's quite active business plan.
There is little doubt Williams has the phone number because Mr. Yuetter serves on the Executive Committee of the selfsame US-Ukraine Business Council. It's quite a cozy investment club, too.
According to his SigmaBleyzer profile, Williams "started his work regarding Ukraine in 1992″ and has since advised American agribusinesses "investing in the former Soviet Union." As an experienced fixer for Big Ag, he must be fairly friendly with the folks on the Executive Committee.
Big Ag Luminaries — Monsanto, Eli Lilly, Dupont, John Deere…
And what a committee it is — it's a veritable who's who of Big Ag. Among the luminaries working tirelessly and no doubt selflessly for a better, freer Ukraine are:
Melissa Agustin, Director, International Government Affairs & Trade for Monsanto;
Brigitte Dias Ferreira, Counsel, International Affairs for John Deere;
Steven Nadherny, Director, Institutional Relations for agriculture equipment-makerCNH Industrial;
Jeff Rowe, Regional Director for DuPont Pioneer;
John F. Steele, Director, International Affairs for Eli Lilly & Company.
And, of course, Cargill's Van A. Yeutter. But Cargill isn't alone in their warm feelings toward Ukraine. As Reuters reported in May 2013, Monsanto — the largest seed company in the world — plans to build a $140 million "non-GM (genetically modified) corn seed plant in Ukraine."
And right after the decision on the EU trade deal, Jesus Madrazo, Monsanto's Vice President for Corporate Engagement, reaffirmed his company's "commitment to Ukraine"and "the importance of creating a favorable environment that encourages innovation and fosters the continued development of agriculture."
Monsanto's strategy includes a little "hearts and minds" public relations, too. On the heels of Mr. Madrazo's reaffirmation, Monsanto announced "a social development program titled 'Grain Basket of the Future' to help rural villagers in the country improve their quality of life."
The initiative will dole out grants of up to $25,000 to develop programs providing"educational opportunities, community empowerment, or small business development."
Immense Economic Importance
The well-crafted moniker 'Grain Basket of the Future' is telling because, once upon a time, Ukraine was known as 'the breadbasket' of the Soviet Union. The CIA ranks Soviet-era Ukraine second only to Mother Russia as the "most economically important component of the former Soviet Union."
In many ways, the farmland of Ukraine was the backbone of the USSR. Its fertile black soil generated over a quarter of the USSR's agriculture. It exported substantial quantities of food to other republics and its farms generated four times the output of the next-ranking republic.
Although Ukraine's agricultural output plummeted in the first decade after the break-up of the Soviet Union, the farming sector has been growing spectacularly in recent years.
While Europe struggled to shake-off the Great Recession, Ukraine's agriculture sector grew 13.7% in 2013.
Ukraine's agriculture economy is hot. Russia's is not. Hampered by the effects of climate change and 25 million hectares of uncultivated agricultural land, Russia lags behind its former breadbasket.
According to the Centre for Eastern Studies, Ukraine's agricultural exports rose from $4.3 billion in 2005 to $17.9 billion in 2012 and, harkening the heyday of the USSR, farming currently accounts for 25% of its total exports. Ukraine is also the world's third-largest exporter of wheat and of corn. And corn is not just food. It is also ethanol.
Feeding Europe
But people gotta eat — particularly in Europe. As Frank Holmes of US Global Investorsassessed in 2011, Ukraine is poised to become Europe's butcher. Meat is difficult to ship, but Ukraine is perfectly located to satiate Europe's hunger.
Just two days after Cargill bought into UkrLandFarming, Global Meat News reported a huge forecasted spike in "all kinds" of Ukrainian meat exports, with an increase of 8.1% overall and staggering 71.4% spike in pork exports.
No wonder Eli Lilly is represented on the US-Ukraine Business Council's Executive Committee. Its Elanco Animal Health unit is a major manufacturer of feed supplements.
And it is also notable that Monsanto's planned seed plant is non-GMO, perhaps anticipating an emerging GMO-unfriendly European market and Europe's growing appetite for organic foods. When it comes to Big Ag's profitable future in Europe, the stakes couldn't be higher.
A Long String of Russian Losses
For Russia and its hampered farming economy, it's another in a long string of losses to US encroachment — from NATO expansion into Eastern Europe to US military presence to its south and onto a major shale gas development deal recently signed by Chevron in Ukraine.
So, why was Big Ag so bullish on Ukraine, even in the face of so much uncertainty and the predictable reaction by Russia?
The answer is that the seeds of Ukraine's turn from Russia have been sown for the last two decades by the persistent Cold War alliance between corporations and foreign policy. It's a version of the 'Deep State' that is usually associated with the oil and defense industries, but also exists in America's other heavily subsidized industry — agriculture.
Morgan Williams is at the nexus of Big Ag's alliance with US foreign policy. To wit,SigmaBleyzer touts Mr. Williams' work with "various agencies of the US government, members of Congress, congressional committees, the Embassy of Ukraine to the US, international financial institutions, think tanks and other organizations on US-Ukraine business, trade, investment and economic development issues."
Freedom — For US Business
As President of the US-Ukraine Business Council, Williams has access to Council cohort — David Kramer, President of Freedom House. Officially a non-governmental organization, it has been linked with overt and covert 'democracy' efforts in places where the door isn't open to American interests — aka US corporations.
Freedom House, the National Endowment for Democracy and National Democratic Institute helped fund and support the Ukrainian 'Orange Revolution' in 2004. Freedom House is funded directly by the US Government, the National Endowment for Democracy and the US Department of State.
David Kramer is a former Deputy Assistant Secretary of State for European and Eurasian Affairs and, according to his Freedom House bio page, formerly a Senior Fellow at the Project for the New American Century.
Nuland's $5 Billion For Ukrainian 'Democracy'
That puts Kramer and, by one degree of separation, Big Ag fixer Morgan Williams in the company of PNAC co-founder Robert Kagan who, as coincidence would have it, is married to Victoria "F*ck the EU" Nuland, the current Assistant Secretary of State for European and Eurasian Affairs.
Interestingly enough, Ms. Nuland spoke to the US-Ukrainian Foundation last 13th December, extolling the virtues of the Euromaidan movement as the embodiment of "the principles and values that are the cornerstones for all free democracies."
Nuland also told the group that the United States had invested more than $5 billion in support of Ukraine's "European aspirations" — meaning pulling Ukraine away from Russia. She made her remarks on a dais featuring a backdrop emblazoned with a Chevron logo.
Also, her colleague and phone call buddy US Ambassador to Ukraine Geoffrey Pyatt helped Chevron cook up their 50-year shale gas deal right in Russia's kitchen.
Coca-Cola, Exxon-Mobil, Raytheon
Although Chevron sponsored that event, it is not listed as a supporter of the Foundation. But the Foundation does list the Coca-Cola Company, ExxonMobil and Raytheon as major sponsors. And, to close the circle of influence, the US-Ukraine Business Council is also listed as a supporter.
Which brings the story back to Big Ag's fixer — Morgan Williams.
Although he was glum about the current state of investment in Ukraine, he's gotta wear shades when he looks into the future. He told the International Business Times:
"The potential here for agriculture / agribusiness is amazing … Production here could double. The world needs the food Ukraine could produce in the future. Ukraine's agriculture could be a real gold mine."
Of course, his priority is to ensure that the bread of well-connected businesses gets lavishly buttered in Russia's former breadbasket. And there is no better connected group of Ukraine-interested corporations than American agribusiness.
Given the extent of US official involvement in Ukrainian politics — including the interesting fact that Ambassador Pyatt pledged US assistance to the new government in investigating and rooting-out corruption — Cargill's seemingly risky investment strategy probably wasn't that risky, after all.
J P Sottile is a freelance journalist, radio co-host, documentary filmmaker and former broadcast news producer in Washington, D.C. His weekly show, Inside the Headlines w/ The Newsvandal, co-hosted by James Moore, airs every Friday on KRUU-FM in Fairfield, Iowa. He blogs at Newsvandal.com.
Source: JP Sottile | Ecologist
We are almost 3 months away from the 100th anniversary of the assassination of Archduke Ferdinand. If we are lucky, Wall Street's puppet government in Washington will not blow up the world by June 28, 2014.
I have always despised President Woodrow Wilson for getting America into World War I. I want to cure the world of reoccurring Depressions through Worldwide Debt Cancellation and Monetary Reform. As I have explained before, Depressions in the West are caused by the accumulation of Unpayable Debts. These occur because Bankers have the right to charge us interest on money they created out of nothing. We need a non-interest bearing currency like President Lincoln's Greenbacks. And we also must end fractional reserve banking which allows a bank to lend out ten dollars for every one on deposit. Woodrow Wilson gave us the Federal Reserve bank and WW I. We have had cycles of wars and Depressions ever since.
I would like to compare 1914 to what is happening today. Let me begin by quoting something I wrote about World War I a few years ago.
Edith Cavell made a fatal mistake. She mistakenly believed she lived in a democracy. She was a British nurse working in Belgium in 1915. She saw first hand the horrors of trench warfare. She also saw a quick and easy means for England to end the war with a victory. She wrote a letter to the Nursing Mirror which was published on April 15th, 1915. She said that 'Belgian Relief' efforts were actually being sent to Germany which would have to sue for peace without this aid from the allies. England was quite literally feeding the German army that was killing millions of French and British soldiers. What she did not know was that similar allied war materiel was being sent to Germany via Sweden and other neutral nations so the war could continue for several more years.
Sir William Wiseman heard about her letter. He was the head of British Intelligence in North America for MI6. He was a partner at the Rothschild owned Kuhn and Loeb Investment Bank. He ordered the Germans to arrest Edith Cavell. She was subsequently shot as a spy. Her mistake was to think that she lived in a democracy where the people could vote, write letters to the editor and have a say in the life and death decisions of the nation. She did not live to see what we have seen.
Americans ought not to believe they live in a democracy. Our politicians cannot prove to us that our votes are honestly counted. Every President since 1989 has been a CIA asset. The CIA is allowed to fly heroin and cocaine into America by the plane load. And the CIA is allowed to go into Senate Intelligence Committee computers and erase documents proving the Agency guilty of torture.
The media seems all too willing to cover up every plot against the American people from the assassination of President Kennedy to the controlled demolitions of the Murrah Federal building on April 19, 1995 and World Trade Center Towers 1, 2 and 7 on September 11, 2001. They also were willing to let the previous administration tell us lies to justify the invasions of Iraq and Afghanistan. And now the current administration tells us lies about Crimea. Believing their propaganda could get us all killed.
The US paid the opposition $5 billion to start riots before the May elections could be held. Then they hired snipers from as far away as Israel to shoot both the protesters and the police. They installed a Jewish banker as President without elections because they were not sure the people would vote to join the European Union in May. The coup leaders passed laws making the minority Hungarian and Russian languages sort of illegal. And just as they did in Libya the Americans stole the Ukraine's gold and looted their banks. This plan to seize the Ukraine was mentioned in print by Zbigniew Brzezinski in 2007. He assumed Russia would respond by taking back the Crimea which Khrushchev had given away in 1954.
Barack Obama and his advisers are probably even more incompetent than Woodrow Wilson and his crew. The Obama crowd has announced war game exercises for Poland, the Czech Republic, Hungary, Bulgaria, Romania and the Baltics. Hopefully, Putin understands America cannot do anything militarily against a real Army. Obama's advisers would like to crush Russia with sanctions. That will never happen. Russia has gold, oil, natural gas and other products that people all over the world want to buy. Nobody wants to buy America's Genetically Modified Organisms. Even with retail stores dying America is still importing far more than it exports. And the Government Accounting Office said that the alleged 680 billion 2013 US budget deficit was really a trillion dollars. America by design has a permanently sick economy. America cannot survive sanctions.
Russia intends to announce the Holy Grail of energy deals in May when Putin visits China. China will buy Russian oil and natural gas with yuan. The United States has been occupying Afghanistan, funding Al Qaeda against Syria and killing people in Pakistan and Yemen with drones to prevent pipelines from distributing natural gas to Europe and to China. This restraint of trade has forced the price of natural gas and oil higher. Americans pay what they think are high rates for electricity but their natural gas prices are low. I am not familiar with the details of English utility bills but their utility bills are a lot higher than ours. And their government allows really outrageous gouging. European Union energy rules do not seem to be helping either. Barack's forcing Russia to sell oil and natural gas to China will severely harm our allies in Great Britain and Europe. The economy of the EU cannot survive a 40% rise in their utility bills. They are near collapse anyway you say. Yes. But sanctions if not stopped now will push them over the edge sooner rather than later.
NATO wants to bring the Ukraine into their military alliance. This means if the Ukrainian coup leaders want to start World War III, we are all obligated to die. I once heard a Scotsman say that NATO stands for Not Altogether Thought Out. The Russians as part of that May Summit with China will be selling them Sukhoi SU-35 jet fighters. They can out maneuver the American F-22 and F-35 both of which are not really operational.
Prior to Putin's visit to China in May the Chinese are expected to announce their gold holdings late in April. The last time they announced those holdings was in April of 2009. Sun Tzu in The Art of War said 'when you are many pretend to be few.' As I have said before, China has at least 7,000 tons of gold. They might announce a much lower number or delay the press release if they are not yet ready to reveal a gold backed yuan. They might prefer to do that in May or at least to announce something like the End of the Petrodollar which would be Phase I of the destruction of the US economy. That could take the form of an announcement that oil and natural gas would henceforth be bought and sold only in yuan, rubles and gold. That would send the dollar into a tailspin from which it will never recover.
All of this will come to a head at least a month before the 100th anniversary of the assassination of Archduke Ferdinand on June 28, 2014. This time around I am hopeful that the US military which several times has had to say No to launching World War III by attacking Iran will refuse to get us and themselves killed. Why should we die because Wall Street cannot manage the economy without stealing our money by the tens of trillions, starving people to death by the hundreds of millions and killing people in their wars by the billions?
Source: Vidrebel
President Assad and Ayatollah Khomeini are keeping their word. Will President Obama keep his?
Recent reports from the Organization for the Prohibition of Chemical Weapons (OPCW), the accuracy of which have been conceded by the White House, but denied in Tel Aviv, have it that slightly less than half of Syria's chemical weapons have already left the country and 100% of the country's stockpiles are believed to have been neutralized. Well along the path to meet the June 30 agreed discard date.
Both Iran and Russia have been credited with helping persuade the Syrian government that it is very much in the interest of Syria as well as the global community to discard its chemical weapons stockpiles which date back to the 1970s. A total of 11 consignments have been recently shipped out of Syria for decontamination and disposal, the latest from Latakia. Included is all of Syria's sulphur mustard gas, a blister agent that was first widely used in WWI.
Captain Clyde Chester Lamb, the father of this observer, was a one of hundreds of victims of the deadly gas while fighting the Germans in front-line trenches in eastern France. Capt. Lamb survived, but never fully recovered, and when he did later speak about his experiences in the war, which was not often, he once told his horrified children at story time that he and his comrades had no gas masks so they used to improvise by urinating on scraps of uniforms which he would distribute to his men with instructions to hold it tightly over their nose and mouth. Somehow their pee seemed to reduce the effects of the poisonous gas.
Despite some delays due to security and logistical issues, few besides the Zionist lobby in the US Congress doubt that Syria's work will be completed. Across Syria, according to information made available to this observer, specialists have accelerated the packing and transporting of the chemical weapons, sometimes even moving them through rebel territory to the Mediterranean port of Latakia.
In cooperation with Iran, Russia has supplied large-capacity containers and armored vehicles for the Latakia loading operation while China has sent 10 ambulances and surveillance cameras and Finland dispatched an emergency response team in case of accidents. Denmark and Norway are providing cargo ships and military escorts to take the chemicals to the container port of Gioia Tauro in Italy and the American government, among others, is also helping.
Despite Iranian cooperation with this major humanitarian project and, according to IAEA spokesmen, "solid progress has been made with the Iranian nuclear file", the White House to date is still waffling on its pledged meager lifting of sanctions which continue to target the people of Iran. US sanctions also continue to compound and increase the nearly unfathomable suffering of the Syrian people all of whom have been targeted by Barack Obama Executive Orders ever tightening their noose of economic sanctions.
The White House has yet to explain its dilatoriness, but Congressional sources report that President Obama is still being targeted by Israel and its Congressional agents and that Obama does not yet want to lift sanctions "for now", more than cosmetically. This applies to medicine and medical equipment. The same source claims that the White House is also signaling Tehran that it should continue to be patient while a sanctions review is getting started in Washington.Meanwhile, US Secretary of State Kerry has just assured Iran's leadership that the White House appreciates the fatwa (religious decree) issued by Supreme Leader Ayatollah Ali Khamenei last month forbidding the production and use of nuclear weapons. Kerry agreed that Iran is entitled to a peaceful nuclear program and he also credited the earlier statement by Iran's Foreign Ministry Spokes Ramin Mehman-Parast that Ayatollah Khamenei's fatwa is binding for Iran, and that "There is nothing more important in defining the framework for our nuclear activities than the Leader's fatwa."
A recent Office of Financial Assets Control (OFAC) prosecution of an American citizen seeking to ship potentially life-saving MRI medical equipment to Iran illustrates the weak knees of the Obama White House by allowing that Zionist dominated Federal agency to ramp up its targeting of the people of Iran.
There are dozens of cases like the one noted below and President Obama is presumably aware of them. The shameful case under review involves a University Medical Researcher who is being targeting with jail time for sending a medical device to Iran which his lawyers argued was completely innocent and clearly legal because medical equipment such as MRI's are exempted by the ' humanitarian exceptions' stated in Obama's relevant Executive Orders imposing US sanctions against Iran.
Mr. Cliff Burns, a lawyer and law professor in Washington DC explained the case of Mr.Mohamad Nazemzadeh, who was a Research Fellow in the Neurology Department of the University of Michigan at the time of his arrest, and who is being federally prosecuted for sending a medical device to the Netherlands. At issue is a coil for a magnetic resonance imaging (MRI) machine. The coil is the assembly of wires that generates the necessary radio signals when electricity flows through them to permit imaging the part of the body within the coil. Mr. Nazemzadeh is currently doing research at the Henry Ford hospital in Detroit and his area of specialty is, not surprisingly, magnetic resonance imaging.
As explained by Mr. Burns, "A part for an MRI machine would, under the Trade Sanctions Reform and Export Enhancement Act of 2000, be eligible for an export license notwithstanding the embargo on Iran. Nazemzadeh's failure to obtain a license would, of course, be a violation of the embargo." Even assuming that it was a technical criminal violation in his case, one has to wonder why, as Burns does, Obama Administration prosecutorial resources are being consumed to prosecute a researcher for trying to send life-saving medical equipment to Iran. As one of the researchers lawyers noted: "Aren't there dangerous people out there with guns and bombs who might warrant the attention instead?"
An affidavit in support of a search warrant for Nazemzadeh's mobile phone casts doubt on whether Nazemzadeh actually had the criminal intent necessary to support an OFAC pushed criminal prosecution in the first place for the attempted export of the MRI part. According to the affidavit, Nazemzadeh was negotiating with the undercover federal agent sent in by OFAC to ship the MRI coil to Iran through a company in the Netherlands. It is not uncommon for people to believe, even if they study the vague wording of the Iranian sanction minutia, that if it is legal to ship an item to a particular country, no laws are broken if the item is then re-exported, without any involvement on their part, to a prohibited destination. Here, according to the affidavit, Mr. Nazemzadeh continued to say to the undercover agent that he believed the transaction was legal and says this is true because the export from the United States is to the Netherlands, not Iran. Mr. Nazemzadeh's good faith legal mistake is not a criminal act. Instead, this is precisely the sort of case that ought to be evaluated, if at all, as an administrative matter by OFAC, were that Muslim targeting agency anywhere near fair-minded and objective. OFAC should have at the maximum issued a fine in this case notwithstanding Mr. Nazemzadeh's mistaken belief that the transaction did not violate U.S. law.
If the White House truly wants to normalize relations with Iran and with Syria as it claims, it needs to do a lot better. A good start would be by calling off OFACs attack dogs who service other than the American people. Also it should honor its oft touted "Humanitarian sanctions against Iran and Syria that exempts medicines and medical equipment". This language has not been implemented and it misleads the global community about the brutal and illegal nature of the White House promulgated civilian targeting, for political purposes, sanctions.
This weekend's White House greetings to the people of the Islamic Republic for Nowruz the Iranian New Year in the Solar Hijri calendar are no doubt sincere and appreciated. But now it's time to give substance to America's New Year's greetings that her citizens can be proud of and, that is accordant and consistent with their values.
Get a load of this chart from DataQuick's National Home Sales Snapshot. It'll tell you everything need to know about housing.
(Note: MSA=metropolitan statistical area)
As you can see, prices are flatlining or drifting lower while sales are sinking like a stone. That's the whole ball of wax, isn't it?
Sure, sales will increase in the spring (as they always do), but judging by the sharp dropoff in last year's hottest markets, this could be the crappiest spring selling season since the crash.
Why?
Because prices are too high, rates are too high, "organic" demand is too weak, credit is too tight, and the pool of potential buyers has shrunk to the size of a walnut, that's why.
The banks have reduced the percentage of distressed homes (foreclosures and short sales) on the market to roughly 11 percent from 59 percent in 2009. Fewer distressed homes mean higher prices, but higher prices mean fewer sales. It's a trade-off. The banks get their money, but the market goes to hell. That's how it works. According to most estimates, there are roughly 4.5 million homes in some stage of foreclosure. That means that –at the present pace–we should get through this Housing Depression a few weeks before Judgment Day. But don't hold me to that.
Did you catch this gem on Bloomberg last week? It's about the big private equity guys exiting the market. Take a look:
"Blackstone Group LP is slowing its purchases of houses to rent amid soaring prices after a buying binge made it the biggest U.S. single-family home landlord. Blackstone's acquisition pace has declined 70 percent from its peak last year, when the private equity firm was spending more than $100 million a week on properties, said Jonathan Gray, global head of real estate for the New York-based firm…

"The institutional wave has passed," Gray, who oversees almost $80 billion in property investments, said in a telephone interview. 'It's at a much lower level than it was 12 or 24 months ago.'

Private-equity firms, hedge funds, real estate investment trusts and other institutional investors have spent more than $20 billion to buy as many as 200,000 rental homes in the last two years. They snapped up properties after prices fell as much as 35 percent from the 2006 peak…

American Homes 4 Rent and Colony American Homes, the second- and third-largest single-family landlords, also have been scaling back as bargains dry up…

"We're going to have to probably slow down a little bit on our acquisition pace until we have a better view or actual certainty of the capital being available," (Chief Executive Officer David ) Singelyn said.

Colony Financial Inc. (CLNY), a REIT that invests in Colony American Homes, slowed its funding for acquisitions last year to focus on improving operations, CEO Richard Saltzman said in a November conference call…

American Residential Properties Inc. (ARPI), a landlord with 6,000 homes, slowed acquisitions by almost half in its latest quarter ending Dec. 31. It invested $104 million in 633 homes compared with $204 million on 1,251 homes in the previous quarter, the Scottsdale, Arizona-based company said in a statement." (Blackstone's Home Buying Binge Ends as Prices Surge, Bloomberg)
Okay, so the speculators are getting out of housing. How's that going to effect the market?
No one really knows yet, but it can't be good, after all, all-cash deals amounted to nearly 50 percent of all homes sales in many of the hotter markets last year. That's why prices went up even though the economy was still in the shitter, because the fatcats were loading up on cheap real estate. Now it looks like they're headed for the hills. That's NOT going to be good for sales.
Did you know that existing home sales have dropped for six months straight, dipping below trend to the same level they were at in 1998?
But how can that be, you ask, when everyone's blabbing about the recovery? How can that be when the Fed has purchased more than $1.4 trillion in mortgage-backed securities (MBS) and rates are a measly 4.5%? How can that be prices have been climbing higher for more than a year?
Sales are dropping because millions of people are underwater on their mortgages and can't afford to move. Millions more are stuck in their homes and aren't paying anything at all. Millions more have student debt up to their eyeballs and will probably never own a home. And millions more still can't find a job. That's why home sales are plunging, because the economy stinks. It's that simple. Sure, the market got a nice little bump from Bernanke's $4 trillion liquidity-surge. Big whoop. Besides, that was 2012-2013. Today things are different. Today the Fed is winding down QE and there's even talk of rate-hike. How do you think that's going to impact sales?
Now get a load of this from Redfin:
"Home sales continued to be sluggish in February, and decreasing affordability is holding back would-be buyers, according to Redfin…. Slow sales have been largely attributed to low inventory for months, but many markets have now seen inventory rise while sales continue to fall. Several markets along the West Coast have seen sharp increases in inventory, yet home sales in the West fell 13.4 percent year over year, hitting their lowest point in five years in the first two months of 2014, while prices rose 19.1 percent year over year…

West Coast Sales Hit Lowest Point in Five Years

– In Redfin's West Coast markets, sales fell 13.4% from February 2013, and hit a five-year low in the first two months of 2014. Sales fell most dramatically in Las Vegas (-22.7%), Sacramento (-21.8%) and Ventura (-20.8%). Across 19 markets, sales fell 10.3%, with markets east of the Rockies taking a less dramatic hit and a few even seeing modest increases." (Redfin)
Did you catch that part about "inventory rising while sales continue to fall"?
For months, the media has been using the "low inventory" excuse for the rotten sales figures. Now they've moved onto "bad weather" to pull the wool over people's eyes. Talk about a lame excuse. It's been in the 70 and 80s in California for most of the winter and sales are down by a whopping 13 percent. Are potential buyers staying at home because they're afraid of getting skin cancer? Is that it? (That'll probably be the next excuse.)
So why ARE home sales tanking?
It's because you can't buy a house if you're working graveyard at Freddie's Burger Bar for $8.50 an hour. It's because you can't put together a 20% down-payment if you're camped out on Mom's sofa in the attic along with Uncle Murray's trombone and your Dad's photo collection of soup cans. It's because you can't qualify for a mortgage when 100 percent of your weekly paycheck goes to paying the VISA, filling the gas-tank, and buying a few groceries at Danny's Discount Foodmart. It can't be done.
That's what's really going on. That's why the share of firsttime homebuyers is currently at its lowest level ever. That's why purchase applications are at an 18-year low. That's why the homeownership rate has slipped to levels not seen since 1995. And that's why mortgage originations were down almost 60 percent year-over-year. It's because the economy sucks. Everyone knows it.
Now take a look at one last chart. It's by Logan Mohtashami at dshort.com. from an article titled,Mortgage Purchase Applications Running Out Of Time.
As you can see, there's a pretty close connection between incomes (the green line) and the mortgage purchase applications index. (The people who can afford to buy homes.)
Surprised?
Of course not, because most people assume there's a relationship between 'what a person earns' and his 'ability to buy a home'. After all, we haven't always lived in this bizarro credit-addled world where anyone who can sit upright in a chair and sign his name on the dotted line can buy a $450,000 rambler in Orchard Hills. That's a fairly new development.
And that brings us to the point of this article, which is to show that all the monetary hocus pocus has achieved nothing. The Fed's Koolaid infusions have been a dead-loss. The market is still flat on its back. Kaput. Which shows, that if you want to fix housing, you have to fix the economy. And if you want to fix the economy; you have to put people back to work and pay them a fair wage. It's that simple.
So why can't anyone in Washington figure it out?
(Note: As this article was going to press, the latest "existing home sales" data was released.) According to USA Today:
"Existing home sales slowed again in February, falling to the lowest pace in 19 months."
So February was even slower than the coldest month of the year, January?
Unbelievable.
The vast gulf between corporate economic interests and political gamesmanship is vividly made clear with the calls for sanctions against Russia. Now that the Crimea referendum has resulted in a ninety-six plus desire to join the Russian Federation, the politico chess players in the West are eager to make Putin suffer. Former Soviet chess master Garry Kasparov, anti-Putin critic and activist said, "even if the West doesn't want to be in a fight with Russia, Putin has already decided to start one."
"I would be warning against using a chess analogy because in chess we have rules, and clearly Putin doesn't care about rules because what he's been doing now in Ukraine, it violates international law and international treaties Russia has signed before," Kasparov said on CNN's "The Lead."
Kasparov should stick to playing his board gambit and leave the governance combat to the warhorse oligarchs. One such instigator of social unrest is the infamous and unremorseful Nazi collaborator, George Soros. The Daily Bell in the report, As Predicted, Ukraine Crisis Used to Argue for a Centralized Europe, cites that "The billionaire financier told The Daily Beast that European governments should have seized on Russia's land grab in Crimea to breathe new life into a union that is disintegrating and stumbling towards oblivion." Further into the article,
"It is interesting as well that Soros has a new book out on the very issues that he is now championing. Did Soros have some special, "insider" information that such a crisis was looming? This would certainly correspond to our suspicions about what we call directed history."
This is the same clandestine manipulator who "backed the "so called" liberation thugs that engaged in street warfare as part of a western inspired scheme that used George Soros operative fronts as cover." Such a paradox should not escape the transnational companies that bear the ultimate financial loss from a speculator who extracts ill-gotten gain from shorting the fortunes of such enterprises.
Here lies the political push back from the corporatists that want to protect their economic business with Russia. The old cold war byword, attributed to preventing global annihilation, known as MAD is now a new confrontation of MAED – mutual assured economic destruction.
Sanctions against Russia will blowback against the EU in ways that the technocrats in Brussels and the fools in Washington DC are unable to envision. The Washington Post states in the article, As talk of sanctions on Russia heats up, business groups draw cautionary line:
"What we've been hearing from our members is a lot of concern that there are two ways America gets hurt in a game like this. One is by American sanctions, that put them out of business, and the other is by Russian retaliation, regardless of what we do," said William Reinsch, president of the National Foreign Trade Council. In meetings with the administration and members of Congress, "we have not been shy about telling them . . . if it is not multilateral, it is not going to work," he said.
However, even this notion tragically lacks a sense of much needed economic consistency for any meaningful rebound in economic prosperity. The Wall Street Journal article, Ukraine Tensions Hit Global Companies, illustrates this concern with several examples.
PepsiCo Inc., has billions of dollars at stake in Russia, its second-largest market by revenue after the U.S.
Renault SA and other global automakers have invested heavily in Russia, a relative bright spot in an otherwise-dismal European car market.Russia is the largest market for French dairy group Danone SA, accounting for 11% of sales in 2013.
Shares in Danish brewer Carlsberg AS, which generates more than a fifth of its sales in Russia, fell more than 5% Monday.
Archer Daniels Midland Co., runs a crushing plant in Ukraine, alongside eight grain-handling facilities, making the country ADM's second-biggest base in Eastern Europe, after Romania.
Germany's E.ON AG owns a fleet of Russian gas and coal-fired power plants across key industrial regions of Russia, and is one of Gazprom's single largest customers.
Italy's Enel SpA controls Russian power company OGK5. Shares in both companies fell Monday.
Exxon Mobil Corp, one of the biggest foreign investors in Russia, has raised its bet on the country in recent years.
Now consider the Trade Picture between the EU and Russia.
Russia is the third trading partner of the EU and the EU is the first trading partner of Russia.
Trade between the two economies showed steep growth rates until mid-2008 when the trend was interrupted by the economic crisis and unilateral measures adopted by Russia, which had a negative impact on EU-Russia trade. Since 2010 mutual trade has resumed its growth reaching record levels in 2012.
EU exports to Russia are dominated by machinery and transport equipment, chemicals, medicines and agricultural products.
EU imports from Russia are dominated by raw materials, in particular, oil (crude and refined) and gas. For these products, as well as for other important raw materials, Russia has committed in the WTO to freeze or reduce its export duties.
The EU is the most important investor in Russia. It is estimated that up to 75% of Foreign Direct Investment stocks in Russia come from EU Member States (including Cyprus).
The economic stakes are very high and all factions will be major losers in a reciprocating sanction trade war. Transnational corporations reflect the following sentiment. "We in the business community do not want to be caught in the crossfire," said Myron Brilliant, executive vice president of the US Chamber of Commerce.
Corporatocracy opposition to a deliberate sacrifice strategy invented by geopolitical theorists may well be the best move for stopping, this lame attempt to gain a questionable tactical or positional compensation in some other form. This chess game has no winner among nations. A loss of economic commerce only helps the vile Soros maneuvers that seek to destroy productive business.