Imagine: you are dressed up for a night on Broadway, but your neighbours are involved in a vicious quarrel, and you have to gun up and deal with the trouble instead of enjoying a show, and a dinner, and perhaps a date. This was Putin's position regarding the Ukrainian turmoil.
The Russians have readjusted their sights, but they do not intend to bring their troops into the two rebel republics, unless dramatic developments should force them.
It is not much fun to be in Kiev these days. The revolutionary excitement is over, and hopes for new faces, the end of corruption and economic improvement have withered. The Maidan street revolt and the subsequent coup just reshuffled the same marked deck of cards, forever rotating in power.
The new acting President has been an acting prime minister, and a KGB (called "SBU" in Ukrainian) supremo. The new acting prime minister has been a foreign minister. The oligarch most likely to be "elected" President in a few days has been a foreign minister, the head of the state bank, and personal treasurer of two coups, in 2004 (installing Yushchenko) and in 2014 (installing himself). His main competitor, Mme Timoshenko, served as a prime minister for years, until electoral defeat in 2010.
These people had brought Ukraine to its present abject state. In 1991, the Ukraine was richer than Russia, today it is three times poorer because of these people's mismanagement and theft. Now they plan an old trick: to take loans in Ukraine's name, pocket the cash and leave the country indebted. They sell state assets to Western companies and ask for NATO to come in and protect the investment.
They play a hard game, brass knuckles and all. The Black Guard, a new SS-like armed force of the neo-nazi Right Sector, prowls the land. They arrest or kill dissidents, activists, journalists. Hundreds of American soldiers, belonging to the "private" company Academi (formerly Blackwater) are spread out in Novorossia, the pro-Russian provinces in the East and South-East. IMF–dictated reforms slashed pensions by half and doubled the housing rents. In the market, US Army rations took the place of local food.
The new Kiev regime had dropped the last pretence of democracy by expelling the Communists from the parliament. This should endear them to the US even more. Expel Communists, apply for NATO, condemn Russia, arrange a gay parade and you may do anything at all, even fry dozens of citizens alive. And so they did.
The harshest repressions were unleashed on industrial Novorossia, as its working class loathes the whole lot of oligarchs and ultra-nationalists. After the blazing inferno of Odessa and a wanton shooting on the streets of Melitopol the two rebellious provinces of Donetsk and Lugansk took up arms and declared their independence from the Kiev regime. They came under fire, but did not surrender. The other six Russian-speaking industrial provinces of Novorossia were quickly cowed. Dnepropetrovsk and Odessa were terrorised by personal army of Mr Kolomoysky; Kharkov was misled by its tricky governor.
Russia did not interfere and did not support the rebellion, to the great distress of Russian nationalists in Ukraine and Russia who mutter about "betrayal". So much for the warlike rhetoric of McCain and Brzezinski.
Putin's respect for others' sovereignty is exasperating. I understand this sounds like a joke, — you hear so much about Putin as a "new Hitler". As a matter of fact, Putin had legal training before joining the Secret Service. He is a stickler for international law. His Russia has interfered with other states much less than France or England, let alone the US. I asked his senior adviser, Mr Alexei Pushkov, why Russia did not try to influence Ukrainian minds while Kiev buzzed with American and European officials. "We think it is wrong to interfere", he replied like a good Sunday schoolboy. It is rather likely Putin's advisors misjudged public sentiment. « The majority of Novorossia's population does not like the new Kiev regime, but being politically passive and conservative, will submit to its rule", they estimated. "The rebels are a small bunch of firebrands without mass support, and they can't be relied upon", was their view. Accordingly, Putin advised the rebels to postpone the referendum indefinitely, a polite way of saying "drop it".
They disregarded his request with considerable sang froid and convincingly voted en masse for secession from a collapsing Ukraine. The turnout was much higher than expected, the support for the move near total. As I was told by a Kremlin insider, this development was not foreseen by Putin's advisers.
Perhaps the advisors had read it right, but three developments had changed the voters' minds and had sent this placid people to the barricades and the voting booths:
1. The first one was the fiery holocaust of Odessa, where the peaceful and carelessly unarmed demonstrating workers were suddenly attacked by regime's thugs (the Ukrainian equivalent of Mubarak's shabab) and corralled into the Trade Unions Headquarters. The building was set on fire, and the far-right pro-regime Black Guard positioned snipers to efficiently pick off would-be escapees. Some fifty, mainly elderly, Russian-speaking workers were burned alive or shot as they rushed for the windows and the doors. This dreadful event was turned into an occasion of merriment and joy by Ukrainian nationalists who referred to their slain compatriots as "fried beetles". (It is being said that this auto-da-fé was organised by the shock troops of Jewish oligarch and strongman Kolomoysky, who coveted the port of Odessa. Despite his cuddly bear appearance, he is pugnacious and violent person, who offered ten thousand dollars for a captive Russian, dead or alive, and proposed a cool million dollars for the head of Mr Tsarev, a Member of Parliament from Donetsk.)
2. The second was the Mariupol attack on May 9, 2014. This day is commemorated as V-day in Russia and Ukraine (while the West celebrates it on May 8). The Kiev regime forbade all V-day celebrations. In Mariupol, the Black Guard attacked the peaceful and weaponless town, burning down the police headquarters and killing local policemen who had refused to suppress the festive march. Afterwards, Black Guard thugs unleashed armoured vehicles on the streets, killing citizens and destroying property.
The West did not voice any protest; Nuland and Merkel weren't horrified by this mass murder, as they were by Yanukovich's timid attempts to control crowds.
The people of these two provinces felt abandoned; they understood that nobody was going to protect and save them but themselves, and went off to vote.
3. The third development was, bizarrely, the Eurovision jury choice of Austrian transvestite Conchita Wurst for a winner of its song contest.
The sound-minded Novorossians decided they want no part of such a Europe.
Actually, the people of Europe do not want it either:
It transpired that the majority of British viewers preferred a Polish duo, Donatan & Cleo, with its We Are Slavic. Donatan is half Russian, and has courted controversy in the past extolling the virtues of pan-Slavism and the achievements of the Red Army, says the Independent.
The politically correct judges of the jury preferred to "celebrate tolerance", the dominant paradigm imposed upon Europe.
This is the second transvestite to win this very political contest; the first one was Israeli singer Dana International.
Such obsession with re-gendering did not go down well with Russians and/or Ukrainians.
The Russians have readjusted their sights, but they do not intend to bring their troops into the two rebel republics, unless dramatic developments should force them.

RUSSIAN PLANS

Imagine: you are dressed up for a night on Broadway, but your neighbours are involved in a vicious quarrel, and you have to gun up and deal with the trouble instead of enjoying a show, and a dinner, and perhaps a date. This was Putin's position regarding the Ukrainian turmoil.
A few months ago, Russia had made a huge effort to become, and to be seen as, a very civilized European state of the first magnitude. This was the message of the Sochi Olympic games: to re-brand, even re-invent Russia, just as Peter the Great once had, as part of the First World; an amazing country of strong European tradition, of Leo Tolstoy and Malevich, of Tchaikovsky and Diaghilev, the land of arts, of daring social reform, of technical achievements, of modernity and beyond — the Russia of Natasha Rostova riding a Sikorsky 'copter. Putin spent $60 billion to broadcast this image.
The old fox Henry Kissinger wisely said:
Putin spent $60 billion on the Olympics. They had opening and closing ceremonies, trying to show Russia as a normal progressive state. So it isn't possible that he, three days later, would voluntarily start an assault on Ukraine. There is no doubt that… at all times he wanted Ukraine in a subordinate position. And at all times, every senior Russian that I've ever met, including dissidents like Solzhenitsyn and Brodsky, looked at Ukraine as part of the Russian heritage. But I don't think he had planned to bring it to a head now.
However, Washington hawks decided to do whatever it takes to keep Russia out in the cold. They were afraid of this image of "a normal progressive state" as such Russia would render NATO irrelevant and undermine European dependence on the US. They were adamant about retaining their hegemony, shattered as it was by the Syrian confrontation. They attacked Russian positions in the Ukraine and arranged a violent coup, installing a viciously anti-Russian regime supported by football fans and neo-Nazis, paid for by Jewish oligarchs and American taxpayers. The victors banned the Russian language and prepared to void treaties with Russia regarding its Crimean naval base at Sebastopol on the Black Sea. This base was to become a great new NATO base, controlling the Black Sea and threatening Russia.
Putin had to deal quickly and so he did, by accepting the Crimean people's request to join Russian Federation. This dealt with the immediate problem of the base, but the problem of Ukraine remained.
The Ukraine is not a foreign entity to Russians, it is the western half of Russia. It was artificially separated from the rest in 1991, at the collapse of the USSR. The people of the two parts are interconnected by family, culture and blood ties; their economies are intricately connected. While a separate viable Ukrainian state is a possibility, an "independent" Ukrainian state hostile to Russia is not viable and can't be tolerated by any Russian ruler. And this for military as well as for cultural reasons: if Hitler had begun the war against Russia from its present border, he would have taken Stalingrad in two days and would have destroyed Russia in a week.
A more pro-active Russian ruler would have sent troops to Kiev a long time ago. Thus did Czar Alexis when the Poles, Cossacks and Tatars argued for it in 17th century. So also did Czar Peter the Great, when the Swedes occupied it in the 18th century. So did Lenin, when the Germans set up the Protectorate of Ukraine (he called its establishment "the obscene peace"). So did Stalin, when the Germans occupied the Ukraine in 1941.
Putin still hopes to settle the problem by peaceful means, relying upon the popular support of the Ukrainian people. Actually, before the Crimean takeover, the majority of Ukrainians (and near all Novorossians) overwhelmingly supported some sort of union with Russia. Otherwise, the Kiev coup would not have been necessary. The forced Crimean takeover seriously undermined Russian appeal. The people of Ukraine did not like it. This was foreseen by the Kremlin, but they had to accept Crimea for a few reasons. Firstly, a loss of Sevastopol naval base to NATO was a too horrible of an alternative to contemplate. Secondly, the Russian people would not understand if Putin were to refuse the suit of the Crimeans.
The Washington hawks still hope to force Putin to intervene militarily, as it would give them the opportunity to isolate Russia, turn it into a monster pariah state, beef up defence spending and set Europe and Russia against each other. They do not care about Ukraine and Ukrainians, but use them as pretext to attain geopolitical goals.
The Europeans would like to fleece Ukraine; to import its men as "illegal" workers and its women as prostitutes, to strip assets, to colonise. They did it with Moldova, a little sister of Ukraine, the most miserable ex-Soviet Republic. As for Russia, the EU would not mind taking it down a notch, so they would not act so grandly. But the EU is not fervent about it. Hence, the difference in attitudes.
Putin would prefer to continue with his modernisation of Russia. The country needs it badly. The infrastructure lags twenty or thirty years behind the West. Tired by this backwardness, young Russians often prefer to move to the West, and this brain drain causes much damage to Russia while enriching the West. Even Google is a result of this brain drain, for Sergey Brin is a Russian immigrant as well. So are hundreds of thousands of Russian scientists and artists manning every Western lab, theatre and orchestra. Political liberalisation is not enough: the young people want good roads, good schools and a quality of life comparable to the West. This is what Putin intends to deliver.
He is doing a fine job of it. Moscow now has free bikes and Wi-Fi in the parks like every Western European city. Trains have been upgraded. Hundreds of thousands of apartments are being built, even more than during the Soviet era. Salaries and pensions have increased seven-to-tenfold in the past decade. Russia is still shabby, but it is on the right track. Putin wants to continue this modernisation.
As for the Ukraine and other ex-Soviet states, Putin would prefer they retain their independence, be friendly and work at a leisurely pace towards integration a la the European Union.
He does not dream of a new empire. He would reject such a proposal, as it would delay his modernisation plans.
If the beastly neocons would not have forced his hand by expelling the legitimate president of Ukraine and installing their puppets, the world might have enjoyed a long spell of peace.
But then the western military alliance under the US leadership would fall into abeyance, US military industries would lose out, and US hegemony would evaporate. Peace is not good for the US military and hegemony-creating media machine. So dreams of peace in our lifetime are likely to remain just dreams.
What will Putin do?
Putin will try to avoid sending in troops as long as possible. He will have to protect the two splinter provinces, but this can be done with remote support, the way the US supports the rebels in Syria, without 'boots on the ground'. Unless serious bloodshed on a large scale should occur, Russian troops will just stand by, staring down the Black Guard and other pro-regime forces.
Putin will try to find an arrangement with the West for sharing authority, influence and economic involvement in the failed state. This can be done through federalisation, or by means of coalition government, or even partition. The Russian-speaking provinces of Novorossia are those of Kharkov (industry), Nikolayev (ship-building), Odessa (harbour), Donetsk and Lugansk (mines and industry), Dnepropetrovsk (missiles and high-tech), Zaporozhe (steel), Kherson (water for Crimea and ship-building), all of them established, built and populated by Russians. They could secede from Ukraine and form an independent Novorossia, a mid-sized state, but still bigger than some neighbouring states. This state could join the Union State of Russia and Belarus, and/or the Customs Union led by Russia. The rump Ukraine could manage as it sees fit until it decides whether or not to join its Slavic sisters in the East. Such a set up would produce two rather cohesive and homogeneous states.
Another possibility (much less likely at this moment) is a three-way division of the failed Ukraine: Novorossia, Ukraine proper, and Galicia&Volyn. In such a case, Novorossia would be strongly pro-Russian, Ukraine would be neutral, and Galicia strongly pro-Western.
The EU could accept this, but the US probably would not agree to any power-sharing in the Ukraine. In the ensuing tug-of-war, one of two winners will emerge. If Europe and the US drift apart, Russia wins. If Russia accepts a pro-Western positioning of practically all of Ukraine, the US wins. The tug-of-war could snap and cause all-out war, with many participants and a possible use of nuclear weapons. This is a game of chicken; the one with stronger nerves and less imagination will remain on the track.
Pro and Contra
It is too early to predict who will win in the forthcoming confrontation. For the Russian president, it is extremely tempting to take all of Ukraine or at least Novorossia, but it is not an easy task, and one likely to cause much hostility from the Western powers. With Ukraine incorporated, Russian recovery from 1991 would be completed, its strength doubled, its security ensured and a grave danger removed. Russia would become great again. People would venerate Putin as Gatherer of Russian Lands.
However, Russian efforts to appear as a modern peaceful progressive state would have been wasted; it would be seen as an aggressor and expelled from international bodies. Sanctions will bite; high tech imports may be banned, as in the Soviet days. The Russian elites are reluctant to jeopardize their good life. The Russian military just recently began its modernization and is not keen to fight yet, perhaps not for another ten years.
But if they feel cornered, if NATO moves into Eastern Ukraine, they will fight all the same.
Some Russian politicians and observers believe that Ukraine is a basket case; its problems would be too expensive to fix. This assessment has a 'sour grapes' aftertaste, but it is widespread. An interesting new voice on the web, The Saker, promotes this view. "Let the EU and the US provide for the Ukrainians, they will come back to Mother Russia when hungry", he says. The problem is, they will not be allowed to reconsider. The junta did not seize power violently in order to lose it at the ballot box.
Besides, Ukraine is not in such bad shape as some people claim. Yes, it would cost trillions to turn it into a Germany or France, but that's not necessary. Ukraine can reach the Russian level of development very quickly –- in union with Russia. Under the EC-IMF-NATO, Ukraine will become a basket case, if it's not already. The same is true for all East European ex-Soviet states: they can modestly prosper with Russia, as Belarus and Finland do, or suffer depopulation, unemployment, poverty with Europe and NATO and against Russia, vide Latvia, Hungary, Moldova, Georgia. It is in Ukrainian interests to join Russia in some framework; Ukrainians understand that; for this reason they will not be allowed to have democratic elections.
Simmering Novorossia has a potential to change the game. If Russian troops don't come in, Novorossian rebels may beat off the Kiev offensive and embark on a counter-offensive to regain the whole of the country, despite Putin's pacifying entreaties. Then, in a full-blown civil war, the Ukraine will hammer out its destiny.
On a personal level, Putin faces a hard choice. Russian nationalists will not forgive him if he surrenders Ukraine without a fight. The US and EU threaten the very life of the Russian president, as their sanctions are hurting Putin's close associates, encouraging them to get rid of or even assassinate the President and improve their relations with the mighty West. War may come at any time, as it came twice during the last century – though Russia tried to avoid it both times. Putin wants to postpone it, at the very least, but not at any price.
His is not an easy choice. As Russia procrastinates, as the US doubles the risks, the world draws nearer to the nuclear abyss. Who will chicken out?
(Language editing by Ken Freeland)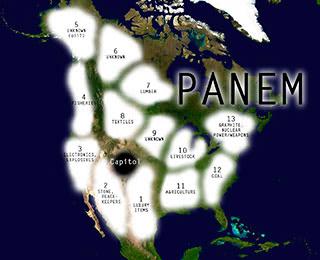 One of the most popular films of 2012 was The Hunger Games which portrayed a post-apocalyptic nation called Panem in which a super-rich, super-pampered, super-callous 'elite' lived in high-tech luxury while the rest of the population daily battled to survive in abject poverty locked away behind prison fences in intensively-populated 'people zones'. Panem comes from the Latin phrase 'panem et circenses' or 'bread and circuses' — a term derived from Rome and meaning to give the people diversions and distractions to hide what is being done to them. Exactly what is happening today.
The Totalitarian Tiptoes to just such a world are happening all around us, although most people can't see this because they don't connect the dots. People tend to live in their own 'little world' and focus on only a few subjects and interests. This gives them a distorted view of what is happening because they are so busy concentrating on the strands that they cannot see the tapestry. The world of The Hunger Games is already well on the way to fruition unless humanity has a fundamental reassessment of reality.
The foundations, structure and 'must haves' of a Hunger Games society are detailed in a plan being imposed through the United Nations called Agenda 21 which encompasses two related themes of 'sustainable development' and 'biodiversity'. Sustainable development — as in don't use more than can be replaced — sounds sensible enough at first until you realize what this and biodiversity really mean in the context of the conspiracy.
Agenda 21 was established at the United Nations Conference on Environment and Development in Rio de Janerio, Brazil, in 1992, hosted by Maurice Strong, a Canadian oil and business billionaire and long-time front man for the Rothschilds and Rockefellers. Strong has been a leader of their exploit-the-environment-to-scam-the-people programme which is now in full flow. Strong is a member of the Club of Rome, the environmental Hidden Hand in the Round Table network that includes the Bilderberg Group, Trilateral Commission and Council on Foreign Relations.
Strong said in support of Agenda 21:
'Isn't the only hope for this planet that the industrialised civilization collapse? Isn't it our responsibility to bring that about?'
This is a man who became mega-rich through the oil industry. He now lives in billionaire luxury in China where carbon-emitting industry is booming and he is a director of the Chicago Climate Exchange (largest shareholder, Goldman Sachs), which is 'the world's first and North America's only legally-binding greenhouse-gas emission registry reduction-system for emission sources and offset projects in North America and Brazil'.
The Exchange was established with funding from the Joyce Foundation where Barack Obama was once a director. Strong and Al Gore make money through the Carbon Exchange and other means from the lies they promote about climate change and the solutions they propose. Kate Johnston wrote on the Globalresearch.cawebsite:
'The same men that sold us the myth of man-made global warming are the same men that sold us the "solution" of a Carbon Tax and Emissions Trading Scheme and now they're profiting off their lucrative investments which are based on lies.' (See "The Climate Change Hoax").
Strong fled to China in 2006 after being accused of corruption with respect to the UN oil for food program.
Climate change propaganda is a No-Problem-Reaction-Solution technique to justify Agenda 21 and its stable-mate the Biodiversity Treaty. This is an internationally-binding document involving nearly 200 countries. The United States signed the treaty, but it was not ratified by the Senate after people like ecologist and ecosystem scientist Dr. Michael Coffman exposed its true consequences and implications. He said that he realized during the 1980s and 1990s that the plan was to use the excuse of protecting the environment to confiscate half the land of the United States.
Similar plans exist for every other country. America may not have ratified the treaty, but it is being implemented by the day. Agenda 21 demands the central global control of all land; all private property; all water sources and distribution; all other resources which includes people in its definition; all energy supplies and distribution and all food production and distribution.
Agenda 21 is called 'the agenda for the 21st century' and that refers to global fascism / communism. This is a summary of what Agenda 21 / Sustainable Development / Biodiversity is seeking to impose:
An end to national sovereignty
State planning and management of all land resources, ecosystems, deserts, forests, mountains, oceans and fresh water; agriculture; rural development; biotechnology; and ensuring 'equity' (equal slavery)
The State to 'define the role' of business and financial resources
Abolition of private property (it's not 'sustainable')
'Restructuring' the family unit
Children raised by the State
People told what their job will be
Major restrictions on movement
Creation of 'human settlement zones'
Mass resettlement as people are forced to vacate land where they currently live
Dumbing down education (achieved)
Mass global depopulation in pursuit of all the above
This horrific plan is being coordinated through the United Nations, the stalking horse for world dictatorship, via a non-governmental network once called the International Council of Local Environmental Initiatives ICLEI), and now known as Local Governments for Sustainability although still using the shortened name ICLEI. The United Nations is now opening 'embassies' around the world called 'UN Houses' under the guise of raising awareness of UN activities, but not the activities that people really need to know about. They have opened one in Hunter Square, Edinburgh, Scotland, for example.
Local Governments for Sustainability (ICLEI) and other organisations are integrating the plan into every village, town, city and region and it is already becoming widespread across the world. The organisational infrastructure of Agenda 21 is already fantastic and involves government agencies, non-governmental organisations (NGOs), think-tanks, trusts, foundations, 'training' (mind control) operations and 'initiatives' which have been building the infrastructure for what they call 'the post-industrial, post-democratic' society while the public go about their daily business oblivious of the prison being built all around them by the hour.
Harvey Ruvin, a vice-chairman of ICLEI, was asked how Agenda 21 would affect liberties with regard to the US Constitution and Bill of Rights, private property and freedom of speech. He replied:
'Individual rights must take a back-seat to the collective.'
The arrogance of these people is breathtaking. The extraordinary network supporting ICLEI and Agenda 21 includes the Rockefeller-sponsored America 2050; United Cities and Local Governments (UCLG); Metropolis; World Economic Forum; United Nations Framework Convention on Climate Change; United Nations International Strategy for Disaster Reduction; World Bank; Clinton Climate Initiative; Climate Group (Tony Blair); World Conservation Union (IUCN); Renewable Energy and Energy Efficiency Partnership; Global Footprint Network; Renewable Energy and Energy Efficiency Partnership; Global Footprint Network; International Centre for Sustainable Cities; Earthquakes and Megacities Initiative and the Stakeholder Forum. These and so many others are working to the same end — Agenda 21 and total human enslavement worldwide, although most of those involved will have no idea that they are building a global prison for themselves and their families.
Another of these front organisations is the World Business Council for Sustainable Development which includes the hideously anti-people Monsanto. Destroying food-growing land, contaminating the countryside with toxins and replacing proper food with deadly and soil-destroying genetically-modified organisms is Monsanto's contribution to 'sustainability'. Agenda 21 is operating in more than 600 towns, cities and counties in the United States and expanding by the day.
A member of the Agenda 21 committees in Santa Cruz, California, in the mid-1990s said that the proposals he heard were so crazy that he laughed at them because they could never happen. These included that 'Mother Earth's surface was not to be scratched'; humans should be concentrated in settlement zones; education should focus on the environment as a central organising principle and all aspects of life covered by Agenda 21, but all of these crazy plans are now being introduced. It's all happy, feely, smiling faces and how we care, when the truth is that Agenda 21 is a vicious, brutal, heartless strategy to impose a global Orwellian state.
Agenda 21 manipulators either create or hijack some local organisation or other, many of them in locations with large populations, and they have their (controlled) leadership to agree the Agenda 21 blueprint for their community together with any uninformed, unwitting idiots who can be sold a human nightmare as saving the planet. This allows them to claim that decisions were made after 'public participation' when that would have been the last thing they wanted, and 99 percent of the 'community' has never heard of Agenda 21 let alone had their say on it. They want no democracy which is why these people talk privately, sometimes even publicly, about the post-democratic, post-industrial society.
They want to control every man, woman and child on the planet — everyone and everywhere and every resource, water source and piece of land. To do this they need a global structure of fascist control that goes right down into every local community with the jackboots at local level enforcing the will of the global centre. This is why there is so much emphasis on local authorities and town and city authorities in Agenda 21.
There is a 'training organisation' called Common Purpose (common purpose, common consensus, everyone the same) which has been paid very large amounts of money by governments and local authorities, police forces and other institutions of state to 'train the leaders' of the post-democratic, post-industrial society. Common Purpose was heavily represented in the Leveson 'inquiry' leading to new media laws in Britain. It is not a training programme; it is a programming programme and turns out unquestioning zombie administrators who serve the god of Agenda 21 and the associated European Union. The theme of 'common' also applies to the ever greater standardisation of laws and regulations and constant reference to 'international law'. This is the unfolding global dictatorship of Agenda 21. What do you need to be a global dictator? Laws that everyone on the planet must obey — international law and the standardisation of global regulation.
You can see The Hunger Games connection when you look at the official Biodiversity wish-for map of the United States in Figure 1. The red areas are designated for no human use and most of the rest of America is confiscated for little and highly-regulated use. The mass of the population would be concentrated in high-rise, densely-packed 'human settlement zones' and denied access to something like 80 percent of present day America. It is without question the world of The Hunger Games with a globally-enforced top-down hierarchy that has a world government using its world army and police force to impose its will at regional and local levels (sectors). The Rockefeller-funded America 2050 has produced a map of the new United States divided into eleven 'megaregions' and includes parts of Canada (Figure 2). Seattle, Portland and Vancouver, British Columbia, become the megaregion known as 'Cascadia' and this regional system comes under the collective name of 'megalopolis' which is Greek for large city or great city. America, Canada and Mexico are due to merge to form the North American Union in line with the European Union blueprint.
The European Union is planned to be broken up into regions and the same structure is in development all over the world. The map of the new Europe has regions from different countries linked up with regions in other countries to end any vestige of national sovereignty or even national existence (Figure 3). This is a global plan with its fierce central control hidden behind its lower elements such as the European Union and local government. What is planned would clearly require a fantastic reduction of the global population and this is indeed what Agenda 21 / Sustainable Development / Biodiversity demand.
The e-book Agenda 21: Your Life In Their Hands can be downloaded here.
reference:
Icke, David. The Perception Deception. Ryde: David Icke Books, 2013.
Julian Websdale is an independent researcher in the fields of esoteric science and metaphysics, and a self-initiate of the Western Esoteric Tradition. His interest in these subjects began in 1988. Julian was born in England, received his education as an electronic and computer engineer from the University of Bolton, served in a Vaishnava monastery during 2010, and has travelled to over 21 countries. Julian is also a member of the Palestinian Solidarity Campaign.
Source: Julian Websdale  |  Waking Times | War Is Crime
The enormous energy spent on analyzing candidates and predicting elections is time wasted when the actual decisions are predetermined before the voting takes place. Even excluding voter fraud from the final count, the party selection process has made the decision. The pretense that primaries reflect the will of the electorate deceives the registered voter, amuses the party insiders and benefits the advertisement and media moguls. Ideas, policy positions and core principles take a back seat to the art of spinning and negatively defining the opponent.
Rivals start within your own party. Therefore, it comes as no surprise that the Republicans Tighten Grip on Debates in 2016 Race.
"Party leaders want to tighten their grip on a presidential primary season they believe has grown unruly and too long. This year, the party moved to set the nominating calendar by scheduling the first four contests — Iowa, New Hampshire, South Carolina and Nevada — for February, allowing other states to begin voting in March and holding winner-take-all primaries starting March 15.

Taken together, these procedural steps could thwart an underfunded insurgent who needs the free exposure of televised debates and would be hurt by a series of rapid-fire contests in March that could be tilted toward an establishment-backed contender.

A few conservative stalwarts on the committee are nervous about the establishment's consolidation of power over the primaries. "Do we want a committee of the national committee, which will surely be controlled by the national chairman, picking which candidates participate in all Republican presidential debates?"
This point is illustrated in the AP report RNC Changes debate Rules for 2016. "The RNC rules panel endorsed the creation of a 13-person committee that would limit how many presidential debates can take place and who can ask the questions. The full committee on Friday went along with that plan to ban candidates who participate in scofflaw debates from future RNC-backed sessions, by a 152-to-7 vote."
Before the usual ceremonial indignation takes hold, ask yourself what is exactly sacrosanct about a stacked primary system that has little to do with an open contest. Patricians that make up the GOP establishment long ago graduated from the country club set.
Nonetheless, the bleeding hearts over at Salon would have you believe that the Democrats operate by different rules. Why Democrats need a primary, too offers advice why the anointed "Queen of Mean" that Rodman woman, would attain a benediction from going through an orchestrated charade before her canonization.
"Clinton would benefit from that input just as all incumbents and other party luminaries do, despite the fact that they would rather not have to have that fight. It is not good for a president to take the office without having taken the temperature of his or her supporters and understanding what they care about and what they expect. During a tempestuous period like this one, it's even more important than usual. It would only be to her advantage to have a challenger who could bring forth those issues and allow the public to see them argued before she goes up against a Republican."
Lost in the fervor of progressive rhetoric is that the Democratic Party is just as elitist as the Republicans are. Both operate as useful idiots and corporatist tools of a system that has long ago abandoned the practice of free enterprise.
Contrast this American version of a Punch and Judy show that has an elephant bully bemoaning the folk hero Robin Hood, who actually resembles an ass, with the exceptional Broadway Play, "The Best Man" by Gore Vidal. Watch the 1964 movie version and consider just how far the political system has collapsed in half a century.
The basic assumption in the play and movie is that the nominee of the Democratic Party will handedly beat their Republican opponent. Characterizing convention ballot voting by delegates as a genuine selection process may be strange to those who were raised on the myth that registered voters in a state primary really has a voice in the inauguration of the next President.
A system of party bosses and smoke room dealmakers, surely must be far worse from the televised mortifying pilgrimage and penitent self-flagellation that goes into winning the party's nomination? Or, is it . . .
Remember the way the primaries served the faithful Democrats in 2008.
"According to news reports, Barack Obama and Hillary Clinton went out of their way to hold their long-awaited private meeting in a very specific location – not at Hillary's mansion in Washington – but in Northern Virginia, which also just happens to be the scene of the 2008 Bilderberg meeting.The neo-liberal website Wonkette, which had previously ridiculed "conspiracy theorists" for ascribing power to Bilderberg, seemed to take a somewhat different tone when it made the connection between Obama and Hillary's meeting and the Bilderberg Group."

Orders from on high or more to the point, international deciders had their "heart to heart" with Hillary, passing her over, and giving her a maybe for 2016. George W. Bush liked to call himself the decider, but we all should know that decisions out of Skull and Bones are not based upon primary results.

Vidal's screenplay portrayed a party convention as a real nomination fight. To whatever slime degree existed in the horse-trading to win delegates back then, the appearance in today's selection makes no pretext of concealing the hidden hands behind picking the next President.

The partisan politics protection racket has but one goal; namely, serve and safeguard establishment interests of the elites, who really command the ultimate power. In addition to the Presidency, Congress shares broad similarities in their version of The Incumbent Protection Racket.

"In the U.S. House of Representatives, over the past five elections, incumbents have been re-elected at an average rate of 96 percent. According to my unscientific calculations, a congressman is more likely to be eaten by a polar bear while panning for gold in Key West than to be voted out of office."

Serious challenges in Congressional district primacies are rare. The exception was in 2010 with the success of Tea Party candidates. However, such expression of the will of the people cannot stand in the polluted Potomac sewer that passes for representative democracy. Just look at the concerted efforts to sabotage populist support to retool the excesses in the federal government. Party Goers – What Do You Take With Your Tea?, indicates that all the sugar in the Caribbean will not prevent the political diabetes disease from going into shock. The bipartisan protection con knows how to close ranks among the political class.

"When main street middle class beleaguered taxpayers resonated that, the system was out of whack, the damage control team went into overdrive. This background helps to explain why the face of unprompted Tea Party individualism must be distorted, maligned and redirected."

Great disappointment among Tea Party activists in the hostile welcome from establishment NeoCons has set in. The alternative to playing the no win beltway game provided in Dissecting U.S. Elections – the People vs. the Pols, best states the rational solution.

"What if a real grassroots national movement emerged that supersedes all ideology with a singular purpose – remove all careerist "pols" from office. Forget about the phony No Labels effort to diffuse popular disgust. The solution is to attract the very citizens who NEVER vote in elections.

A national campaign – No Confidence – would be the clear message that the arrogant confidence game crooks could understand."

Drawing upon a universal appeal to break from the travesties of the two party frauds is necessary to register countrywide outrage. Only through vigorous dissention will The Meaning of Third Parties in America, bring the necessary pressure to collapse both the Democrat and Republican Parties.

"The solution to implement meaningful reform is to defuse the political power that is presently concentrated within the 'Tweedle-dumb and Tweedle Dee' parties. The notion that differences between them are based upon core principles, denies the unending descent into 'collectivism'. The edges have varied shapes, but the centers are formed from the same sponge."
You can always resolve that either party will never nominate "The Best Man". If you are so delusional to believe that a woman is the answer in the oval office, look in a different direction. Elizabeth Warren the self-proclaimed Pinocchio-hontas, is a sorry excuse for an accomplished liar. Flush with law school disingenuous skills, this want-a-be feminine messiah would have you believe that Hillary is the New World Order's favorite grandmother.
Nonetheless, fake opposition simply projects the image that there is a choice in candidates. Noam Scheiber, in the New Republic writes, "A Clinton-Warren matchup would have all sorts of consequences, none of them especially heartwarming. The most immediate is that Warren would probably lose." Well so much for a contest between squaws, better suited for commitment to the Hiawatha Insane Asylum.Partisan politics is mostly a ruse designed to divert attention from service to the substantial interests of establishment globalists. The noise generated around campaigns and media coverage, ignores or conceals the existent deals that serve the real goals and intentions of the master puppeteers. The terminal lesson is that establishment politics treats the public as reservation squatters.
No one has ever claimed that the financial markets are a level playing field. Equities, bonds, currencies, options and futures are not arenas that operate by equivalent standards for all parties. Great fortunes were built not by chance, but on superior information, known to the few. Professional traders are not risk gamblers, but operate on the premise of special advantage. Through advance and proprietary techniques that reduce exposure hazards and provide exclusive head start triggers, which virtually guarantee profits, the elite firms dominate Wall Street.
Business Week states in the article, Is High-Frequency Trading Insider Trading?, that
"Classically defined, insider trading means having access to material, non-public information before it reaches the rest of the market; it's like getting a heads-up about a merger before it's announced, or maybe a phone call from a Goldman Sachs (GS) board member saying that Warren Buffett is about to invest $5 billion in the bank."
With the introduction of super computers and Financial Algorithmic Trading, the era of generated trading strategies emerged that fill automatically, when predetermined prices are reached. Some would argue that exchanges were simply applying the latest technology to the time honored system of flipping positions.
Now we live in the High-Frequency matrix, based upon millisecond reactions, which activates on information that is not offered to everyone at the same time. Forbes explains accordingly in High Frequency Insider Trading – And It's Completely Legal!
"According to a team of Wall Street Journal reporters from an article on June 12, the practice works to the advantage of professional traders. "Economic reports from public universities, trade groups and other nongovernmental organizations can move markets as surely as official data from the U.S. government," according to the Journal's team of four reporters: Brody Mullins, Michael Rothfeld, Tom McGinty, Jenny Strasburg. "But unlike government reports, where pains are taken to make certain no one gets them ahead of time, few rules control release of nongovernmental economic reports. Unknown to many investors, selling early access is routine."
Access to this highly valuable information is the key. And such access comes at a price. Rapid traders pay information companies like Thomson Reuters thousands of dollars each month for a look at such reports, moments before they are widely disseminated. And it's in those few key seconds, that they make their killing."
Seemingly, this high-tech access to supercharged information is the newest version of insider information. The following assessment is also from the same Business Week account.
"New York Attorney General Eric Schneiderman has called HFT "insider trading 2.0″ on a number of occasions. His office is looking into the relationships between traders, brokers and exchanges and asking whether it all needs to be reformed. The FBI spent the last year looking to uncover manipulative trading practices among HFT firms; the federal agency is now asking speed traders to come forward as whistleblowers."
Chicago is not much different from their Wall Street exchange cousins. Litigation over this practice is referenced in the report, CME Sued For Giving "High-Frequency Traders Peek At Market" Since 2007.
"In a lawsuit that was just filed by lead plaintiff William Charles Braman, seeking class-action status, and filed on behalf of all users of real-time futures market data and futures contracts listed on the CBOT and CME from 2007 to now, the CME is alleged to have sold order information to high-frequency traders ahead of other market participants.
Apparently it took the general public a Michael Lewis book to reread out post from October 2012 in which we showed that an estimated over 30% of CME revenues were made from HFT – in other words from selling proprietary data in direct feeds to high-paying subscribers, that hits collocated servers ahead of the consolidated tape."
Well, what the layman would see as obvious, influential security lawyers see as neat ambiguity. The Forbes story continues.
"But it is legal, and so is trading on the advance peeks," the Journal reported. "Even as securities rules bar companies from selective data disclosure, and as authorities vigorously pursue insider trading in all its forms, no law prevents investors from trading on nonpublic information they have legally purchased from other private entities. Trading would be illegal only if the information was passed through a breach of trust, said securities lawyers."
It should be clear that the financial system is designed to accommodate creative and innovative methods of price manipulation. The defenders of "Crony Capitalism" see such stratagems as a 21th century sophisticated version of robber baron corporatism, in the fine tradition of Jay Gould and James Fisk. Clipping an ensured few cents on billions of transactions is surely a slick system.
Fabricating automatic returns is bad enough, but what is the public risk of producing a real panic when High-Frequency momentum turns into a full propelled blow off?
When a robot computer generates buy or sell orders, the difference between winning and losing is based upon the speed of the information used to place and execute orders. If your algobots taps into info, not available to the entire market, the game is rigged.
Matthew O'Brien in Everything You Need to Know About High-Frequency Trading, makes a valid point.
"Every HFT strategy depends on not only being faster than ordinary investors, but being faster than each other too. Anytime somebody comes up with a new way to cut a few microseconds—that is, a millionth of a second—off of trading time, they have to spend whatever it takes to do it. Otherwise, they'll lose out to their competitors who do."
Imagine this disconnect with real economic reality that place trades, with little concern if it is a long or short. Only the speed matters. The conclusion from the Negotium essay Financial Algorithmic Trading, holds true. "Banning the interconnect of proprietary programs that amalgamate directly into the systems on the floor of the exchanges is the only way to prevent the integration of systemic collusion among the 1 and 0 computer programs."
It should be obvious that the recent putsch and regime change in the Ukraine inspired and backed by the U.S. shadow government, benefits the international banksters. For the average EU resident, only further economic displacement and diminished prospects can be expected from any inclusion of Ukraine into the EU dictatorial structure. Not so, for the corporatists who expects expanded opportunities as Consortium News analyzes agricultural and energy companies recent involvement within the Ukraine.While corporatists want to extend their monopolies, the appeal of joining the EU with privileges of travel, relocation and better employment, has a very high price tag. So what is really behind the cover that the Brussels technocrats like to provide for the heavy hand treatment, which the banksters always demand? Look to the methods of the IMF for part of the answer.
Michel Chossudovsky of Global Research, in the detailed essay Regime Change in Ukraine and the IMF's Bitter "Economic Medicine", gives a comprehensive account of the handpicked players that are eager to do the bidding of the IMF.
"Shortly after his instatement, the interim (puppet) prime minister Arseny Yatsenyuk casually dismissed the need to negotiate with the IMF. Prior to the conduct of negotiations pertaining to a draft agreement, Yatsenyuk had already called for an unconditional acceptance of the IMF package: "We have no other choice but to accept the IMF offer".
He explains the methods of the standard game plan that the IMF uses to impoverish the peasants and steal assets and resources.
"While the privatization program ensures the transfer of State assets into the hands of foreign investors, the IMF program also includes provisions geared towards the destabilization of the country's privately owned business conglomerates. A concurrent "break up" plan entitled "spin-off" as well as a "bankruptcy program" are often implemented with a view to triggering the liquidation, closing down or restructuring of a large number of nationally owned private and public enterprises."
In addition, the 21th Century Newswire reports that the US Quietly Snatches the Ukraine's Gold Reserves and corroborated by the same Prof Chossudovsky, it becomes clear that economic conquest is a prime component behind the staged coup.
"According to reports out of Kiev, the US has quietly transfers 33 tons of Ukrainian gold out of the country and back to vaults in the US. Presumably, this sovereign wealth transfer would be counted as partial "collateral" for a fresh round of IMF, US FED, and ECB paper debt that is currently being organized for dumping into the Ukraine's economic black hole."
"Later a returned call from a senior official of the former Ministry of Revenue reported that tonight, on the orders of one of the new leaders of Ukraine, the United States had taken custody of all the gold reserves in Ukraine."
Finally, economist Michael Hudson in Who In Ukraine Will Benefit From An IMF Bailout?,
"The objective of IMF loans is to deindustrialize the economy. It is to force the economy–meaning the government when you say the economy–the government has to pay the IMF loan by privatizing whatever remains in the public domain. The Westerners want to buy the Ukrainian farmland. They want to buy the public utilities. They want to buy the roads. They want to buy the ports. And all of this is going to be sold at a very low price to the Westerners, and the price that the Westerners pay will be turned over to the Ukrainian government, that then will turn it back to the Ukraine. So whatever the West gives Ukraine will immediately be taken back."
Watch the informative video, Who In Ukraine Will Benefit From An IMF Bailout?, for the Real News assessment, that clarifies these developments. Now shift to the recent announcement that the EU Signs Association Agreement With Ukraine for a viewpoint reported by Radio Free Europe.
"This deal covers the most existential and most important issues, mainly security and defense cooperation," Yatsenyukd said. "This deal will establish a joint decision-making body, which is to facilitate the process of real reforms in my country. And this deal meets the aspirations of millions of Ukrainians that want to be a part of the European Union."
What exactly can the EU offer by way of defense cooperation? Yes, this is the same central banker stooge, who the Wall Street Journal describes as Washington's Man Yatsenyuk Setting Ukraine Up For Ruin. Without the United States, the EU is a paper tiger. NATO is not an alliance, but a branch of outposts to deploy American troops. How does this phony agreement between the EU and Ukraine help the economic interests of either party?
Such a display of destitution only makes the illegitimate installed Ukraine government look like the vassal state that it has become. Bob Livingston over at Personal Liberty Digest has it correct, "The Ukraine situation is a bankster-orchestrated crisis with the short game more money printing and the end game global governance."The EU governance aspect is the eventual goal, but the immediate economic dislocation that even the talk of sanctions against Russia has, with the trading partners within the EU, surely will experience real pain. These conditions create the perfect storm for the IMF banksters to apply their vile craft.
Now that the Ukraine is reduced to beggar status, the gang of approved corporatist will feast like vultures upon the remains of fire sale assets. Once again the formula imposed upon Ireland, Spain and certainly Greece, will be used to guarantee the billions in EURO credit that will flow into the secret bank accounts of the new junta.
Capturing the Ukraine is more about geopolitical asset thievery than assimilation into the European Union. However, the EU marketed, as a lawful "community of nations" is nothing more than the political front for the money counterfeiters. Fashioning economic distress is the business of the unholy alliance. NATO, the IMF and the EU serve the shyster and shylock central banking system. Ukraine is just the latest victim.
As the US and EU apply sanctions on Russia over its annexation' of Crimea, JP Sottile reveals the corporate annexation of Ukraine. For Cargill, Chevron, Monsanto, there's a gold mine of profits to be made from agri-business and energy exploitation.
On 12th January 2014, a reported 50,000 "pro-Western" Ukrainiansdescended upon Kiev's Independence Square to protest against the government of President Viktor Yanukovych.
Stoked in part by an attack on opposition leader Yuriy Lutsenko, the protest marked the beginning of the end of Yanukovych's four year-long government.
That same day, the Financial Timesreported a major deal for US agribusiness titan Cargill.
Business confidence never faltered
Despite the turmoil within Ukrainian politics after Yanukovych rejected a major trade deal with the European Union just seven weeks earlier, Cargill was confident enough about the future to fork over $200 million to buy a stake in Ukraine's UkrLandFarming.
According to the Financial Times, UkrLandFarming is the world's eighth-largest land cultivator and second biggest egg producer. And those aren't the only eggs in Cargill's increasingly ample basket.
On 13th December 2013, Cargill announced the purchase of a stake in a Black Sea grain terminal at Novorossiysk on Russia's Black Sea coast.
The port — to the east of Russia's strategically and historically important Crimean naval base — gives them a major entry-point to Russian markets and adds them to the list of Big Ag companies investing in ports around the Black Sea, both in Russia and Ukraine.
Cargill has been in Ukraine for over two decades, investing in grain elevators and acquiring a major Ukrainian animal feed company in 2011. And, based on its investment in UkrLandFarming, Cargill was decidedly confident amidst the post-EU deal chaos.
It's a stark juxtaposition to the alarm bells ringing out from the US media, bellicose politicians on Capitol Hill and perplexed policymakers in the White House.
Instability?… What Instablility?
It's even starker when compared to the anxiety expressed by Morgan Williams, President and CEO of the US-Ukraine Business Council — which, according to its website, has been"promoting US-Ukraine business relations since 1995."
Williams was interviewed by the International Business Times on March 13 and, despite Cargill's demonstrated willingness to spend, he said, "The instability has forced businesses to just go about their daily business and not make future plans for investment, expansion and hiring more employees."
In fact, Williams, who does double-duty as Director of Government Affairs at the private equity firm SigmaBleyzer, claimed, "Business plans have been at a standstill."
Apparently, he wasn't aware of Cargill's investment, which is odd given the fact that he could've simply called Van A. Yeutter, Vice President for Corporate Affairs at Cargill, and asked him about his company's quite active business plan.
There is little doubt Williams has the phone number because Mr. Yuetter serves on the Executive Committee of the selfsame US-Ukraine Business Council. It's quite a cozy investment club, too.
According to his SigmaBleyzer profile, Williams "started his work regarding Ukraine in 1992″ and has since advised American agribusinesses "investing in the former Soviet Union." As an experienced fixer for Big Ag, he must be fairly friendly with the folks on the Executive Committee.
Big Ag Luminaries — Monsanto, Eli Lilly, Dupont, John Deere…
And what a committee it is — it's a veritable who's who of Big Ag. Among the luminaries working tirelessly and no doubt selflessly for a better, freer Ukraine are:
Melissa Agustin, Director, International Government Affairs & Trade for Monsanto;
Brigitte Dias Ferreira, Counsel, International Affairs for John Deere;
Steven Nadherny, Director, Institutional Relations for agriculture equipment-makerCNH Industrial;
Jeff Rowe, Regional Director for DuPont Pioneer;
John F. Steele, Director, International Affairs for Eli Lilly & Company.
And, of course, Cargill's Van A. Yeutter. But Cargill isn't alone in their warm feelings toward Ukraine. As Reuters reported in May 2013, Monsanto — the largest seed company in the world — plans to build a $140 million "non-GM (genetically modified) corn seed plant in Ukraine."
And right after the decision on the EU trade deal, Jesus Madrazo, Monsanto's Vice President for Corporate Engagement, reaffirmed his company's "commitment to Ukraine"and "the importance of creating a favorable environment that encourages innovation and fosters the continued development of agriculture."
Monsanto's strategy includes a little "hearts and minds" public relations, too. On the heels of Mr. Madrazo's reaffirmation, Monsanto announced "a social development program titled 'Grain Basket of the Future' to help rural villagers in the country improve their quality of life."
The initiative will dole out grants of up to $25,000 to develop programs providing"educational opportunities, community empowerment, or small business development."
Immense Economic Importance
The well-crafted moniker 'Grain Basket of the Future' is telling because, once upon a time, Ukraine was known as 'the breadbasket' of the Soviet Union. The CIA ranks Soviet-era Ukraine second only to Mother Russia as the "most economically important component of the former Soviet Union."
In many ways, the farmland of Ukraine was the backbone of the USSR. Its fertile black soil generated over a quarter of the USSR's agriculture. It exported substantial quantities of food to other republics and its farms generated four times the output of the next-ranking republic.
Although Ukraine's agricultural output plummeted in the first decade after the break-up of the Soviet Union, the farming sector has been growing spectacularly in recent years.
While Europe struggled to shake-off the Great Recession, Ukraine's agriculture sector grew 13.7% in 2013.
Ukraine's agriculture economy is hot. Russia's is not. Hampered by the effects of climate change and 25 million hectares of uncultivated agricultural land, Russia lags behind its former breadbasket.
According to the Centre for Eastern Studies, Ukraine's agricultural exports rose from $4.3 billion in 2005 to $17.9 billion in 2012 and, harkening the heyday of the USSR, farming currently accounts for 25% of its total exports. Ukraine is also the world's third-largest exporter of wheat and of corn. And corn is not just food. It is also ethanol.
Feeding Europe
But people gotta eat — particularly in Europe. As Frank Holmes of US Global Investorsassessed in 2011, Ukraine is poised to become Europe's butcher. Meat is difficult to ship, but Ukraine is perfectly located to satiate Europe's hunger.
Just two days after Cargill bought into UkrLandFarming, Global Meat News reported a huge forecasted spike in "all kinds" of Ukrainian meat exports, with an increase of 8.1% overall and staggering 71.4% spike in pork exports.
No wonder Eli Lilly is represented on the US-Ukraine Business Council's Executive Committee. Its Elanco Animal Health unit is a major manufacturer of feed supplements.
And it is also notable that Monsanto's planned seed plant is non-GMO, perhaps anticipating an emerging GMO-unfriendly European market and Europe's growing appetite for organic foods. When it comes to Big Ag's profitable future in Europe, the stakes couldn't be higher.
A Long String of Russian Losses
For Russia and its hampered farming economy, it's another in a long string of losses to US encroachment — from NATO expansion into Eastern Europe to US military presence to its south and onto a major shale gas development deal recently signed by Chevron in Ukraine.
So, why was Big Ag so bullish on Ukraine, even in the face of so much uncertainty and the predictable reaction by Russia?
The answer is that the seeds of Ukraine's turn from Russia have been sown for the last two decades by the persistent Cold War alliance between corporations and foreign policy. It's a version of the 'Deep State' that is usually associated with the oil and defense industries, but also exists in America's other heavily subsidized industry — agriculture.
Morgan Williams is at the nexus of Big Ag's alliance with US foreign policy. To wit,SigmaBleyzer touts Mr. Williams' work with "various agencies of the US government, members of Congress, congressional committees, the Embassy of Ukraine to the US, international financial institutions, think tanks and other organizations on US-Ukraine business, trade, investment and economic development issues."
Freedom — For US Business
As President of the US-Ukraine Business Council, Williams has access to Council cohort — David Kramer, President of Freedom House. Officially a non-governmental organization, it has been linked with overt and covert 'democracy' efforts in places where the door isn't open to American interests — aka US corporations.
Freedom House, the National Endowment for Democracy and National Democratic Institute helped fund and support the Ukrainian 'Orange Revolution' in 2004. Freedom House is funded directly by the US Government, the National Endowment for Democracy and the US Department of State.
David Kramer is a former Deputy Assistant Secretary of State for European and Eurasian Affairs and, according to his Freedom House bio page, formerly a Senior Fellow at the Project for the New American Century.
Nuland's $5 Billion For Ukrainian 'Democracy'
That puts Kramer and, by one degree of separation, Big Ag fixer Morgan Williams in the company of PNAC co-founder Robert Kagan who, as coincidence would have it, is married to Victoria "F*ck the EU" Nuland, the current Assistant Secretary of State for European and Eurasian Affairs.
Interestingly enough, Ms. Nuland spoke to the US-Ukrainian Foundation last 13th December, extolling the virtues of the Euromaidan movement as the embodiment of "the principles and values that are the cornerstones for all free democracies."
Nuland also told the group that the United States had invested more than $5 billion in support of Ukraine's "European aspirations" — meaning pulling Ukraine away from Russia. She made her remarks on a dais featuring a backdrop emblazoned with a Chevron logo.
Also, her colleague and phone call buddy US Ambassador to Ukraine Geoffrey Pyatt helped Chevron cook up their 50-year shale gas deal right in Russia's kitchen.
Coca-Cola, Exxon-Mobil, Raytheon
Although Chevron sponsored that event, it is not listed as a supporter of the Foundation. But the Foundation does list the Coca-Cola Company, ExxonMobil and Raytheon as major sponsors. And, to close the circle of influence, the US-Ukraine Business Council is also listed as a supporter.
Which brings the story back to Big Ag's fixer — Morgan Williams.
Although he was glum about the current state of investment in Ukraine, he's gotta wear shades when he looks into the future. He told the International Business Times:
"The potential here for agriculture / agribusiness is amazing … Production here could double. The world needs the food Ukraine could produce in the future. Ukraine's agriculture could be a real gold mine."
Of course, his priority is to ensure that the bread of well-connected businesses gets lavishly buttered in Russia's former breadbasket. And there is no better connected group of Ukraine-interested corporations than American agribusiness.
Given the extent of US official involvement in Ukrainian politics — including the interesting fact that Ambassador Pyatt pledged US assistance to the new government in investigating and rooting-out corruption — Cargill's seemingly risky investment strategy probably wasn't that risky, after all.
J P Sottile is a freelance journalist, radio co-host, documentary filmmaker and former broadcast news producer in Washington, D.C. His weekly show, Inside the Headlines w/ The Newsvandal, co-hosted by James Moore, airs every Friday on KRUU-FM in Fairfield, Iowa. He blogs at Newsvandal.com.
Source: JP Sottile | Ecologist
For the last half century, the American population, subjected to the greatest dumbing down experiment of psychological manipulation in all of history, has resulted in the adoption of a cultural separation from realty and true self-interest. With all the glorious aspirations, that celebrate a diverse society, the fact that humankind shares the same planet usually is not enough to resolve disparities. While DNA similarities are the basis of the specie, the genetic differences among races, put aside and banished from polite conversation, still are true and significant. Yet the civilizations that make up this world function as if the tribal differences are often paramount in the social order.The intentional indoctrination that all races are equal rests upon a specious supposition that the goals, objectives and ambitions assign a uniform desire. Once upon a time immigration to the New World came from a European heritage. That influx of settlers provided a similar experience if not an identical cultural attitude. With the introduction of the slave trade economy, the forced transplanting of African captives, initiated a road to social dissolution as demonstrated in today's racial conflicts.
The notion that this country is a harmonious society fails because of a very basic element that few people will admit. Blacks, Caucasians, Oriental, Native Americans and any combination of mixed races all have an opportunity to interact and grow in moral character and intellectual honesty as the sins of the past are put to rest, in the reciprocal objective of creating a mature society based upon mutual respect.
However, respect needs to be earned and is not an intrinsic ingredient automatically granted to every cultural social mind-set.
Individuals have the ability to make choices. Choosing civilization over barbarianism is within the grasps of any sincere and ethically committed person.
This object of civilized unity builds a future for the greatest numbers. Recognizing that deliberate induced racial animosity has a profound political purpose is essential to understand the motives behind distorted news reporting and the progressive policy agenda that seeks to conquer by dividing the different factions, which populate the country.
Reformist activism, usually portrayed as shaping government programs that provide for "so called" well-intentioned coercive laws and regulations, is the media narrative that insults the intelligence of any thinking person.

No better example of this televised psychosomatic pollution that inflicts a national disease of artificial guilt is MSNBC. The notorious medicine-man dispenser of this kind of poison is Al Sharpton. The Reverend has a long record of demeaning his own brothers and sisters by bring new meaning to the term, Kaffir.
In The Daily Caller, political reporter Caroline May cites Sharpton's consistent race baiting tirades.
"MSNBC host Reverend Al Sharpton invoked race over 200 times last year, according to a new tally by the conservative Media Research Center.

According to the analysis by Katie Yoder the liberal host said "race," "racism," or "racist" 215 times in 2013 during his MSNBC show PoliticsNation.

"From opposition to the Obama agenda to guns and even into fashion and food, Sharpton's finely tuned nose for racism rarely took a day off last year," Yoder wrote.

In an example the MRC notes that Sharpton was able to invoke race five times in a single paragraph about Republican attacks on Barack Obama and Attorney General Eric Holder."
Back in January, John Daly on bernardgoldberg.com, publishes the account, MSNBC Twitterer Fired for Race Baiting.
"On Wednesday night, conservatives honed in on offensive tweet that appeared on MSNBC's official Twitter feed. The full tweet read, "Maybe the rightwing will hate it, but everyone else will go awww: the adorable new #Cheerios ad w/biracial family."
The comment was in reference a new television commercial for Cheerios entitled "Gracie" that features a biracial family enjoying a breakfast conversation at their kitchen table. The implication by the MSNBC employee behind the tweet, of course, was that the rightwing in this country is racist, and therefore they would surely be disgusted by the visual scene of a family with one white parent and one black parent."
Part of the story included that other mainstay of race politics and self-reproach apologist, Chris Mathews. The Hardball video, Matthews To Black Guest On Race: "I'm Speaking Now For All White People… I'm Sorry", is a pitiful testimony.
"We got to continue this conversation, gentlemen, privately and on television. I mean a lot of people out there — I'll just tell you one thing. And I'm speaking now for all white people, but especially people who have had to try to change the last 50 or 60 years. And they — a lot of them have really tried to change, and I'm sorry for this stuff. That's all I'm saying."

Tom Borelli, writes in the Liberty Alliance - MSNBC Chris Matthews Wild Race Card Attack Against Conservatives, more from this self-anointed supporter and barker for liberal delusional bigotry.
"In his foaming rant, Matthews claims voter I.D. laws are like poll taxes with the goal to suppress black voters and he adds Obama's political opposition are the enemy that gain from hate:
"Obama's true enemies are those who back the three dozen states now pushing voter suppression laws to make damn sure the country doesn't go and elect another black president, or a progressive white president. You know this generation's equivalent of poll taxes and those discredited literacy tests anything to keep minorities from their voting rights. And to this crowd the Obama haters add to them those who gnaw on the president's health care bill with the hunger of starving rats but offer nothing in its place except their crazed notions about bringing down the government and destroying the county's economic stature even as they deny even a penny of credit to the president for the zooming American stock market right now. These are the enemies those who stand and benefit from all the anger and hatred and indecency of the nasty right…"
Matthews is once again proving MSNBC is not a news organization but a cable outlet for political operatives whose goal is to spread progressive propaganda."
So does this party line programming, emphasizing a racially slanted mantra, which drives wedges among the viewing public, actually help ratings? The TVNewser lists that MSNBC was down across the board compared to Nov. 2012. However, MSNBC ranked #1 among African-American viewers in both A25-54 and total viewers in all key dayparts and MSNBC ranked #1 among Hispanic viewers A25-54 in M-F primetime and M-Su primetime.Mediaite lists Sharpton #1 in Demo on MSNBC. Especially review the chart TV NEWS RATINGS: 25-54 DEMOGRAPHIC comparing with the other cable news networks.
PoliticsNation with Al Sharpton was the highest-rated show in the 25-54 demo across MSNBC's evening schedule Monday with 214K viewers. Sharpton beat fellow MSNBC hosts Chris Matthews, who had 209K viewers and Ed Schultz, who had 170K.

Matthews was #1 in total viewers on MSNBC with 844K, followed by Rachel Maddow with 729K and Schultz with 717K.
A Pew Study Finds MSNBC the Most Opinionated Cable News Channel By Far, "A full 85% of the Comcast-owned network's coverage can be classified as opinion or commentary rather than straight news, according to the authors of the Pew Research Center's annual State of the News Media report."
The significance of this data is that the gap between minority identified and 25-54 viewers and all America is increasing even wider. With the 2013 Cable News Ratings: Fox News Sees Sharp Demo Decline, CNN Suffers In Primetime. The race baiters at MSNBC seems to have consolidated their niche among targeted minorities and the products of the more recent government school educated and MTV generation.Decades of liberalizing news distortion and manufactured false re-invention of history has produced a total disconnect from reality. MSNBC is used as a poster boy network for shutting out serious journalism from the medium, but it is almost impossible to find any mainstream broadcasts that are worthy of viewership.
There is a profound reason why the stuck on stupid culture is all around us. Open and rational political debate and discourse is slated for complete removal from television. Anyone who can seriously admit being a MSNBC viewer has deep seeded issues of reckoning sane behavior.
Those limousine liberals love to champion abortion as a well-tested solution of reducing population. Minorities, particularly targeted for marginalization, need to rebel against the democratic politicians and liberal class perversion, whereby NYC: More Black Babies Killed by Abortion Than Born. For those who gain a foothold on life, the media brainwashing of the likes of Rev. Al await.Fools who drink from the cup of their own racial genocide are their own worst enemy. The national interest demands that exploitation of race as a substitute for intelligent co-existence end. Compulsory Integration or miscegenation leveling has proven a massive failure. Is it not time that all tribes start a respectful dialogue and abandon the shackles of blaming race discrimination for the general failure of society? Separation by race is natural. This fact is a news topic that serious media and journalists need to address.
We are almost 3 months away from the 100th anniversary of the assassination of Archduke Ferdinand. If we are lucky, Wall Street's puppet government in Washington will not blow up the world by June 28, 2014.
I have always despised President Woodrow Wilson for getting America into World War I. I want to cure the world of reoccurring Depressions through Worldwide Debt Cancellation and Monetary Reform. As I have explained before, Depressions in the West are caused by the accumulation of Unpayable Debts. These occur because Bankers have the right to charge us interest on money they created out of nothing. We need a non-interest bearing currency like President Lincoln's Greenbacks. And we also must end fractional reserve banking which allows a bank to lend out ten dollars for every one on deposit. Woodrow Wilson gave us the Federal Reserve bank and WW I. We have had cycles of wars and Depressions ever since.
I would like to compare 1914 to what is happening today. Let me begin by quoting something I wrote about World War I a few years ago.
Edith Cavell made a fatal mistake. She mistakenly believed she lived in a democracy. She was a British nurse working in Belgium in 1915. She saw first hand the horrors of trench warfare. She also saw a quick and easy means for England to end the war with a victory. She wrote a letter to the Nursing Mirror which was published on April 15th, 1915. She said that 'Belgian Relief' efforts were actually being sent to Germany which would have to sue for peace without this aid from the allies. England was quite literally feeding the German army that was killing millions of French and British soldiers. What she did not know was that similar allied war materiel was being sent to Germany via Sweden and other neutral nations so the war could continue for several more years.
Sir William Wiseman heard about her letter. He was the head of British Intelligence in North America for MI6. He was a partner at the Rothschild owned Kuhn and Loeb Investment Bank. He ordered the Germans to arrest Edith Cavell. She was subsequently shot as a spy. Her mistake was to think that she lived in a democracy where the people could vote, write letters to the editor and have a say in the life and death decisions of the nation. She did not live to see what we have seen.
Americans ought not to believe they live in a democracy. Our politicians cannot prove to us that our votes are honestly counted. Every President since 1989 has been a CIA asset. The CIA is allowed to fly heroin and cocaine into America by the plane load. And the CIA is allowed to go into Senate Intelligence Committee computers and erase documents proving the Agency guilty of torture.
The media seems all too willing to cover up every plot against the American people from the assassination of President Kennedy to the controlled demolitions of the Murrah Federal building on April 19, 1995 and World Trade Center Towers 1, 2 and 7 on September 11, 2001. They also were willing to let the previous administration tell us lies to justify the invasions of Iraq and Afghanistan. And now the current administration tells us lies about Crimea. Believing their propaganda could get us all killed.
The US paid the opposition $5 billion to start riots before the May elections could be held. Then they hired snipers from as far away as Israel to shoot both the protesters and the police. They installed a Jewish banker as President without elections because they were not sure the people would vote to join the European Union in May. The coup leaders passed laws making the minority Hungarian and Russian languages sort of illegal. And just as they did in Libya the Americans stole the Ukraine's gold and looted their banks. This plan to seize the Ukraine was mentioned in print by Zbigniew Brzezinski in 2007. He assumed Russia would respond by taking back the Crimea which Khrushchev had given away in 1954.
Barack Obama and his advisers are probably even more incompetent than Woodrow Wilson and his crew. The Obama crowd has announced war game exercises for Poland, the Czech Republic, Hungary, Bulgaria, Romania and the Baltics. Hopefully, Putin understands America cannot do anything militarily against a real Army. Obama's advisers would like to crush Russia with sanctions. That will never happen. Russia has gold, oil, natural gas and other products that people all over the world want to buy. Nobody wants to buy America's Genetically Modified Organisms. Even with retail stores dying America is still importing far more than it exports. And the Government Accounting Office said that the alleged 680 billion 2013 US budget deficit was really a trillion dollars. America by design has a permanently sick economy. America cannot survive sanctions.
Russia intends to announce the Holy Grail of energy deals in May when Putin visits China. China will buy Russian oil and natural gas with yuan. The United States has been occupying Afghanistan, funding Al Qaeda against Syria and killing people in Pakistan and Yemen with drones to prevent pipelines from distributing natural gas to Europe and to China. This restraint of trade has forced the price of natural gas and oil higher. Americans pay what they think are high rates for electricity but their natural gas prices are low. I am not familiar with the details of English utility bills but their utility bills are a lot higher than ours. And their government allows really outrageous gouging. European Union energy rules do not seem to be helping either. Barack's forcing Russia to sell oil and natural gas to China will severely harm our allies in Great Britain and Europe. The economy of the EU cannot survive a 40% rise in their utility bills. They are near collapse anyway you say. Yes. But sanctions if not stopped now will push them over the edge sooner rather than later.
NATO wants to bring the Ukraine into their military alliance. This means if the Ukrainian coup leaders want to start World War III, we are all obligated to die. I once heard a Scotsman say that NATO stands for Not Altogether Thought Out. The Russians as part of that May Summit with China will be selling them Sukhoi SU-35 jet fighters. They can out maneuver the American F-22 and F-35 both of which are not really operational.
Prior to Putin's visit to China in May the Chinese are expected to announce their gold holdings late in April. The last time they announced those holdings was in April of 2009. Sun Tzu in The Art of War said 'when you are many pretend to be few.' As I have said before, China has at least 7,000 tons of gold. They might announce a much lower number or delay the press release if they are not yet ready to reveal a gold backed yuan. They might prefer to do that in May or at least to announce something like the End of the Petrodollar which would be Phase I of the destruction of the US economy. That could take the form of an announcement that oil and natural gas would henceforth be bought and sold only in yuan, rubles and gold. That would send the dollar into a tailspin from which it will never recover.
All of this will come to a head at least a month before the 100th anniversary of the assassination of Archduke Ferdinand on June 28, 2014. This time around I am hopeful that the US military which several times has had to say No to launching World War III by attacking Iran will refuse to get us and themselves killed. Why should we die because Wall Street cannot manage the economy without stealing our money by the tens of trillions, starving people to death by the hundreds of millions and killing people in their wars by the billions?
Source: Vidrebel
These are an extremely pivotal few days from the standpoint of international political economy and the Ukrainian crisis.
Last minute diplomatic talks in London between Russia and the USSA over the Ukrainian crisis failed on Friday, and USSA Secretary of State, John Kerry,has delivered an ultimatum to Russia — if the outcome of the Crimean referendum on Sunday is not to the liking of the USSA government then Washington, DC and its European allies will take a series of further, serious, unspecified, retaliatory measures on Monday.
These threatened measures are widely expected to include a range of financial sanctions. The whiff of a possible NATO/ USSA war with Russia is also in the air. The negative consequences of a NATO/ USSA military clash with Russia include the very real threat of a nuclear conflict, since both sides are very heavily armed with a full array of nuclear ballistic missiles, cruise missiles, torpedoes and bombs.
China has viewed the rapidly developing crisis with a thoroughly jaundiced eye and has warned against sanctions by the USSA against Russia due to the "unforeseeable consequences" and "retaliatory action" that such sanctions might engender.
Given that China holds $1.3 trillion of the USSA's government debt, which it could willy-nilly dump, with disastrous effects on the American economy, and also has a full brace of nuclear missiles that can reach the USSA mainland and its numerous military bases in the Pacific region, the warning is not an empty threat. Here is a photo of a Chinese "boomer"laden with nuclear missiles headed out to sea.
Indeed, in anticipation of probable anti-Russian sanctions Russian financial institutions have already begun pulling vast sums of money out of the West, including some $105 billion out of the USSA this week alone.
This takes place in the context of Russian carrier-based jets staging war exercises in the eastern Mediterranean, flying from the deck of the aircraft carrier Admiral Kuznetsov, near Cyprus. This is also near Israel, off the coast of Syria. The message could not be clearer that Russia intends to stand by its long-time ally Syria, at the same time that it sends a cautionary message to Israel. It is fair to assume that the Kuznetsov battle group is carrying nuclear weapons, as do USSA aircraft carrier battle groups.
Speaking of which, the Pentagon has announced that the aircraft carrier USS George H.W. Bush will be remaining in the Mediterranean a few more days due to the crisis in Ukraine. Also today, Russian self-defense forces in Crimea announced the capture of an American military drone that was surveiling the peninsula.
On Sunday, the Crimeans will most likely vote to join the Russian Federation. If they do, the following day the USSA government will announce punitive measures against Russia. After that, the Russians and Chinese will take whatever steps they feel are appropriate, and then the USSA government and its allies will take further steps in response.
This entire scenario is fraught with profound peril for the whole world. I don't know what is going to happen, but a hard shock to the global financial system, in the coming days and weeks, appears highly possible.
The more so as financial astrologers are unanimously pointing to April 2014 (next month) as being a period of financial crisis for the USSA economy and its so-called "Federal Reserve Bank." I am not a financial astrologer, but I have to say that their prognostications are right on the money. April is shaping up to be a period of intense crisis for the USSA and its financial system.
I do not presume that in a war with Russia and China, be it a nuclear exchange or a financial showdown, that the USSA and its European allies will necessarily prevail. J.P. Morgan, the early-20th century Robber Baron, famously said that millionaires do not have astrologers, but billionaires do. For millennia, kings, queens, emperors, and now presidents, premiers and prime ministers, have been consulting astrologers. I would be very surprised if the Chinese and Russians do not take full advantage of the propitious astrology of April 2014 to take the USSA government and the U.S. Federal Reserve Bank down a peg.
Though I am not a financial adviser, it does seem prudent to me for people who are aware of the confusion that is coming to use the period of time right now to prepare for future contingencies that may arrive within mere weeks. If the USSA financial system crashes hard, and that possibility realistically exists, then the American dollar is going to lose value, perhaps a great deal of value, and most of the world will feel the effects.
Paper currency, any paper currency, becomes just paper when enough people lose confidence in its value. Historically, silver and gold have held their value across thousands of years. I do not have any gold and silver, or platinum, palladium or rhodium, either. But if I were financially able I would certainly obtain some and take physical possession of it. I would do it this very day. We are entering a period of high uncertainty right now and no one knows how long it will last, or how severe the crisis may become. One thing is certain: those who are least prepared, physically, psychologically, emotionally, spiritually, financially, socially, etc. will fare the worst.
So get ready.
Source: Richard Sauder  |  Event Horizon Chronicle
Large numbers of people today believe that modern secular science has proven the earth and cosmos to be billions of years old, and that every living thing, from fish to dogs, apes and humans, evolved from a single cell which itself is the result of chance combination of chemicals. Most believe that primordial matter resulted from the Big Bang. Certain high profile Christians like Hugh Ross and the influential Evangelical theologians and scholars who support him, teach that God is both the energizing force behind the Big Bang and the director of evolutionary process.
Against this way of thinking, the Word of God authoritatively teaches a six day historical creation, which today is vastly unpopular with and downright offensive to scientifically enlightened theologians and their followers.
The rejection of the literal six day creation is an aberration of modernism, meaning liberal (pantheist) Protestantism and its' openly hostile 'secular' antitheist and atheist counterparts such as Marxist Communism and Secular Humanism.
Of the many early Church Fathers who wrote on Genesis, all but Augustine, who erred by teaching instantaneous creation, affirmed a literal, historic six day account of creation.
For instance, St. Cyril of Alexandria argued that higher theological, spiritual meaning is founded upon humble, simple faith in the literal and historic meaning of Genesis and one cannot apprehend rightly the Scriptures without believing in the historical reality of the events and people they describe. (Genesis, Creation, and Early Man, Fr. Seraphim Rose, p. 40)
In the integral worldview teachings of the Fathers, neither the literal nor historical meaning of the Revelations of the pre-incarnate Jesus, the Angel who spoke to Moses, can be regarded as expendable. There are at least four critically important reasons why. First, to wrest and distort Genesis so as to conform it to Big Bang and other secular scientific assumptions is to contradict and usurp the authority of God, ultimately deny the deity of Jesus Christ; twist, distort, add to and subtract from the entire Bible and finally, to imperil the salvation of believers.
It's important that we understand that the Church Fathers weren't primitive, unscientific goat-herders as dishonest modernists have made them out to be, but rather highly intelligent, well-educated men.  Many came from backgrounds of evolutionary pantheism, occultism and pagan animism thus were intimately familiar with much of what passes for contemporary secular science such as Big Bang and Steady State theories (evolutionary cosmogonies), inflationary models, vast ages, chance, the universal life force (serpent power, Zoë, evolution) and much more, even though by other designations.
Long before Darwin, Greek nature philosophers (600–100BC) were teaching primitive evolutionary conceptions, abiogenesis, chance, determinism, natural selection, transmigration, reincarnation and vast ages together with many other modern assumptions.
The fragments of Anaximander's (c. 610–546 BC) evolutionary speculations show he taught that 'humans originally resembled another type of animal, namely fish' while Democritus (c.460–370BC) taught that primitive people began to speak with 'confused' and 'unintelligible' sounds but 'gradually they articulated words.' (Evolution: An Ancient Pagan Idea, Paul James Griffith, creation.com)
The Greek Atomist Epicurus (341–270BC), the father of contemporary materialism and many of its' secular scientific assumptions, taught there was no need of a God or gods, for the Universe came about by a chance movement of atoms. (ibid)
Darwinism affirms the claim made by Epicurus that living beings created themselves, while modern evolutionary biology affirms Anaximander's claim that humans evolved from lower order life-forms.
With respect to old earth or vast ages, Plato and many other Greek philosophers taught that the present universe came about millions of years ago. Writing in the fourth century AD, Lactantius said:
"Plato and many others of the philosophers, since they were ignorant of the origin of all things, and of that primal period at which the world was made, said that many thousands of ages had passed since this beautiful arrangement of the world was completed … ." (ibid)
After the Greeks, the Roman naturalist Pliny the Elder (AD23–79) said we are so subject to chance,
"….that Chance herself takes the place of God; she proves that God is uncertain." (ibid)
Greek and Roman philosophers received these ideas from ancient Sumerians (Babylonians), Egyptians and Hindus whose Mysteries, nature philosophies and evolutionary cosmogonies extended back centuries before Greek and Roman civilization. For example, one Hindu belief was that Brahman (the Void or Universe) spontaneously generated itself (the modern theory of abiogenesis) as something like a seed or singularity (Cosmic Egg or Big Bang) about 4.3 billion years ago and then evolved under its' own power by which it expanded and formed all that exists:
"These Hindus believed in an eternal Universe that had cycles of rebirth, destruction and dormancy, known as 'kalpas', rather like oscilla­ting big bang theories. We also read in the Hindu Bhagavad Gita that the god Krishna says, 'I am the source from which all creatures evolve." (ibid, Griffith)
In India the doctrines of evolution/reincarnation/karma were thoroughly established from ancient times. They were expounded first in the Upanishads (c. 1000 BC – AD 4), the philosophical-mystical texts held to be the essence of the Vedas.
Representing the young earth view and resurrection of the dead (Acts 17: 16-34) the Apostle Paul contended against the Greek Epicureans (materialists) and Stoics (pantheists), representatives of Cosmic Egg theories (Big Bang), vast ages (old earth view), universal life force (evolution), void, atoms, animism (i.e. Karl Marx's animated 'divine thinking' matter), fate, determinism, and reabsorption after death.
Speaking to the nature sages, Paul said "this is what I'm going to proclaim to you,"
"The God who made the world and everything in it is the Lord of heaven and earth… he himself gives everyone life and breath and everything else. From one man he made all the nations, that they should inhabit the whole earth; and he marked out their appointed times in history and the boundaries of their lands. God did this so that they would seek him and perhaps reach out for him and find him, though he is not far from any one of us. 'For in him we live and move and have our being.' Therefore since we are God's offspring, we should not think that the divine being is like gold or silver or stone—an image made by human design and skill. In the past God overlooked such ignorance, but now he commands all people everywhere to repent. For he has set a day when he will judge the world with justice by the man he has appointed. He has given proof of this to everyone by raising him from the dead."
When Greek sages heard about the resurrection of the dead, many of them sneered due to their belief that the body is a rotting tomb within which their souls were trapped.   Since they believed that the fall consisted of an inexplicable plunge from being as one with the impersonal One Substance, then salvation was reabsorption of soul into the One Substance, therefore the idea of bodily resurrection was repulsive. In "Adversus nationes" (2:37) Arnobius complains,
"If souls were of the Lord's race…They would never come to these terrestrial places (and) inhabit opaque bodies and (be) mixed with humors and blood, in receptacles of excrement, in vases of urine." (The Pagan Temptation, Thomas Molnar, p. 27)
The framework behind the way of thinking which Paul contended against is naturalism, the ancient idea that living beings make themselves. Naturalism is like a leopard, meaning its' spots cannot be changed even by defiant Scriptural retrofitters like Teilhard de Chardin, Leonard Sweet, Hugh Ross and other natural science and evolution compromisers.
As Solomon said, there is nothing new under the sun.   What once was will be again.  In this light, when Peter prophesied about the "scoffers" in "the last days" who claim that"everything goes on as it has since the beginning of creation" (2 Peter 3:4) he is speaking of this generation of God-haters and theological compromisers, who being wise in their own wisdom, willingly reject the Authority of God and six day special creation in preference of ancient ways of thinking revised and revamped for our own age.
The real issue behind objections to literal six day special creation is what kind of God progressive creationists and evolutionary theists believe in and peddle to unsuspecting believers.  This is a question that needs to be addressed because by espousing Big Bang and old earth views theological compromisers have elevated naturalism in the guise of secular science and evolution above the Word and Authority of God resulting in an upside-down exegesis consisting  of abundant mind-boggling inconsistencies.
Their inverted creation account is in the claim of a six day creation that occurred at the end of billions of years of evolutionary process.  Logically, this means that billions of creatures lived and died long before man arrived on the scene, making the Word (John 1:1), our Lord and Savior Jesus Christ the cause of death and suffering rather than the fall of Adam.  By making the fossil record the measure of a sequence of long ages, God becomes the cause of death and suffering because the history of life appears to be a record of ineptitude, extinctions and constant brutality for billions of years.  In the words of the atheist astronomer and evolution promoter Carl Sagan (1934-1996), if God,
"….is omnipotent and omniscient, why didn't he start the universe out in the first place so it would come out the way he wants?  Why is he constantly repairing and complaining?  No, there's one thing the Bible makes clear:  The biblical God is a sloppy manufacturer.   He's not good at design, he's not good at execution.  He'd be out of business if there was any competition."  (Refuting Compromise, Jonathan Sarfati, Ph.D., F.M., p. 220)
The Big Bang, old earth view also leads to a philosophy of moral relativism because if men were once something else, a genderless blob of matter and then later on lizards and even later still some kind of ape-like creature, then not only are we going to become something else–maybe divine supermen, god-men, super robots or cosmic beings—but nothing can be said about transgender, 'gay,' and lesbianism since all life forms ascended from a genderless blob of matter generated by the inexplicable explosion of a Cosmic Egg which may or may not involve a stumbling God shaped and molded by theologians who require Him to ignite the Big Bang.
With regard to soul/spirit, if life arose from chemicals and then billions of years later man evolved from lower life-forms, then his rational nature, his soul, differs not qualitatively but only quantitatively from the beasts.  Like beasts, man is not a person but a creature of the earth.  Like them he has no spirit—free will, higher mental faculties, and conscience.  He is a fleshy androgynous robot or hominid whose brain is organized by the genome and the genome shaped by natural selection.
Dr. Sarfati argues that denial of the literal and historic meaning of Genesis (young earth view) is foundationally the result of 'imposing outside ideas upon the Bible.' Thus, it has'baneful consequences which don't just stop with Genesis,' but adversely affect many areas.  The atheist Frank Zindler enthusiastically agrees:
"The most devastating thing that biology did to Christianity was the discovery of biological evolution. Now that we know that Adam and Eve never were real people the central myth of Christianity is destroyed. If there never was an Adam and Eve, there never was an original sin. If there never was an original sin there is no need of salvation. If there is no need of salvation there is no need of a savior. And I submit that puts Jesus…into the ranks of the unemployed. I think evolution absolutely is the death knell of Christianity." ("Atheism vs. Christianity," 1996, Lita Cosner, creation.com, June 13, 2013)
The faith of the Christian Church and of the average Christian has had its foundation as much in the literal and historic meaning of Genesis as in that of the person and deity of Jesus Christ. Belief in a six day creation period about 6,000 years ago has been the authoritative teaching of the Church for most of its history and is essential for consistency in doctrine and apologetics.  Only with a firm, unshakable foundation in Genesis are Christians able to stand strong in their faith.
"In the beginning was the Word, and the Word was with God, and the Word was God. He was in the beginning with God…" "The Word became flesh and made his dwelling among us. We have seen his glory, the glory of the one and only Son, who came from the Father, full of grace and truth."  John 1: 1-2, 14
"Very truly I tell you," Jesus answered, "before Abraham was born, I am!"  "And now, Father, glorify me in your presence with the glory I had with you before the world began." John 8:58 & 17:5
If God is really Who He said He is, if He is the God Who revealed Himself to man through Jesus Christ (Messiah), then He can call everything into existence in six literal days (Gen. 1), bring about a virgin birth (Isaiah 7:14; Matthew 1:23), be both God and man (Gen. 3:15; Isaiah 7:14; Zechariah 12:10 & 13:7; 1 Chron. 17:1014), remove the curse due to Adam's fall (Gen 5:21-29), resurrect Himself from the dead and ascend unto Heaven (1 Pet. 1:3; Romans 1:4; Matthew 27:53) because for the Word Who became flesh, all of these things are very simple matters.
So what kind of God do you believe in?  The limited, bumbling God of death and suffering, the incompetent 'sloppy manufacturer' peddled by evolutionary theists and progressive creationists or the all-powerful personal loving God Who called everything into existence in six literal days?   The first one is an untrustworthy deity that cannot save you.  The second one is the God of eternal life.  Only He can resurrect the faithful unto eternal physical life in a physical paradise.
What will paradise be like? C.S. Lewis describes paradise as a place of matter, of weight and mass, and the blessed inhabitants in their resurrected bodies are the beautiful "bright solid people." N.T. Wright explains,
"…there will be a new mode of physicality, which stands in relation to our present body as our present body does to a ghost….a Christian in the present life is a mere shadow of his or her future self, the self that person will be when the body that God has waiting in his heavenly storeroom is brought out…and put on…over the self that will still exist after bodily death." (Eternal Perspectives, Randy Alcorn, p. 154-155)
A curious story, and one which should be taken with a mine of salt, has surfaced out of the pro-Russian newspaper Iskra, which reports – so far on an entirely unsubstantiated basis – that last Friday, in a mysterious operation under the cover of night, Ukraine's gold reserves were promptly loaded onboard an unmarked plane, which subsequently took the gold to the US.
From the source:
Tonight, around at 2:00 am, an unregistered transport plane took off took off from Boryspil airport.

According to Boryspil staff, prior to the plane's appearance, four trucks and two cargo minibuses arrived at the airport all with their license plates missing. Fifteen people in black uniforms, masks and body armor stepped out, some armed with machine guns. These people loaded the plane with more than forty heavy boxes.

After this, several mysterious men arrived and also entered the plane. The loading was carried out in a hurry. After unloading, the plateless cars immediately left the runway, and the plane took off on an emergency basis.

Airport officials who saw this mysterious "special operation" immediately notified the administration of the airport, which however strongly advised them "not to meddle in other people's business."

Later, the editors were called by one of the senior officials of the former Ministry of Income and Fees, who reported that, according to him, tonight on the orders of one of the "new leaders" of Ukraine, all the gold reserves of the Ukraine were taken to the United States.
Indicatively, according to the latest IMF figures, Ukraine's official gold holdings are just over 40 tons, having doubled in the past decade:
So just more disinformation and propaganda surrounding the Ukraine, or something more? GATA has submitted an inquiry into the New York Fed to get official denial (because it certainly won't get a confirmation) from the Liberty 33 folks.
Of course, the best source of validation, and refutation, of this story would be the people of Ukraine, alas since not even Americans are entitled to observe how much gold is in Fort Knox, somehow we doubt that the Central Bank of Ukraine will be any more lenient in providing visiting and viewing hours for its much more compact gold inventory. Especially since the local population is far more busy celebrating its "liberation" by western powers.
We hope, for their sake, they weren't also just "liberated" of all their gold, which after a brief stay 80 feet below the surface at 33 Liberty, will promptly find its way either to the Bundesbank, or to the billionaire oligarchs, based either in London or elsewhere, and currently in charge of "post-liberation" Ukraine.
Finally, putting this into perspective, 40 tons of gold is roughly what China imports every ten days.
Source: Tyler Durden | Zero Hedge
At the onset of the derivatives collapse in 2007/2008 it would have been easy to assume that most of America was receiving a valuable education in normalcy bias.
In 2006, the amount of ego on display surrounding mortgage investment was so disturbingly grotesque anyone with any true understanding of the situation felt like projectile vomiting. To watch the smug righteousness of MSNBC and FOX economic pundits as they predicted the infinite rise of American property markets despite all evidence to the contrary was truly mind blowing. When the whole system imploded, it was difficult to know whether one should laugh, or cry.
The saddest aspect of the credit crisis of 2008 was not the massive chain reaction of bankruptcies or the threat of institutional insolvency. Rather, it was the delusional assumptions of the public that the grand mortgage casino was going to go on forever. There is nothing worse than witnessing the victim of a Ponzi scheme defend the lie which has ultimately destroyed him. As much as I am for people waking up to the nature of the crisis, there comes a point when those who are going to figure it out will figure it out, and the rest are essentially hopeless.
The cultism surrounding the U.S. economy and the U.S. dollar is truly mind boggling, and by "cultism" I mean a blind faith in the fiat currency mechanism that goes beyond all logic, reason and evidence.
In recent weeks it has become more visible as global financiers play both sides of the Ukrainian conflict, luring Americans into a frenzy of false patriotism and an anti-Russo-sports-team-mentality. My personal distaste for Vladimir Putin revolves around my understanding that he is just as much a puppet of the International Monetary Fund and international banks as Barack Obama, but many Americans hate him simply because the mainstream media has designated him the next villain in the fantasy tale of U.S. foreign policy.
Open threats from Russia that they will dump U.S. treasury bond holdings and the dollar's world reserve status if NATO interferes in the Ukraine have been met with wildly naive chest beating from dollar cultists.  I am beginning to see the talking points everywhere.
"Let them dump the dollar, Russia's holdings are minimal!" Or, "Let them throw out Treasuries, they'll just be shooting themselves in the foot!" are the battle cries heard across the web. I wish I could convey how insane this viewpoint is, especially in light of the fact that many alternative economic analysts, including myself, have been predicting just such a scenario for years.
Despite the childish boastings of the dollar devout, there is an extraordinarily good possibility that the life of the greenback will be snuffed out in the near term. Here are the facts…
1) Russia will not be alone in its decouple from the dollar system. China, our largest foreign creditor, and India (a supposed ally) have clearly sided with Russia on the Ukranian issue. China has stated that it will back Russia's play in the event that sanctions are brought to bear by NATO, or if a shooting conflict erupts.
2) China has already been slowly dumping the dollar as a world reserve currency using bilateral trade agreements with numerous countries, including Russia, India, Australia, Brazil, Germany, Japan, etc. These agreements allow FOREX currency swaps and export/import purchases to be made with China without the use of the dollar. China has been preparing itself for a divorce from U.S. economic dependence for at least a decade. The idea that they would actually follow through over political tensions should NOT surprise anyone if they have beenpaying attention.
3) A total drop of the dollar or U.S. treasury bonds by Russia and China would send shock waves through global markets. Russia is a major energy supplier for most of Europe. China is the largest export/import nation in the world. If they refuse to accept dollars as a trade mechanism, numerous countries will fall in line to abandon the greenback as well. The fact that so many Americans refuse to acknowledge this reality is a recipe for disaster.
The only advantage the U.S. has traditionally offered in terms of international trade has been the American consumer, whose unchecked debt spending partly fueled the rise of the industrialized East, not to mention the biggest credit bubble in history. The role of America as a consumer market is collapsing today, however. The mainstream media and the Federal Reserve can blame the steady decline in retail sales on the "weather" all they want, but negative indicators in global manufacturing often take many months to register in the statistics, meaning, this destabilization began long before the days turned cold.
4) China has been shifting away from export dependency since at least 2008, calling for a larger consumer based market at home. This process of enriching the Chinese consumer has almost been completed. The lie that China "needs the U.S." in order to survive economically needs to be thrown out like the utter propaganda it is.
5) China (and most of the world) has ended new dollar purchases for their FOREX reserves, and has no plans to make new purchases in the future.
6) China executed the second largest dump of U.S. Treasury bonds in history in the past month.
7) Russia, China, and numerous other countries, including U.S. "allies", have been calling for the end of the dollar's world reserve status and the institution of a new global basket currencyusing the IMF's Special Drawing Rights (SDR). Even Putin has suggested that the IMF take over administration of the global economy and issue the SDR as a world currency system. This flies in the face of those who argue that the IMF is somehow "American run". The truth is, the IMF is run by global banks and no more answers to the U.S. government than the Federal Reserve answers to the U.S. government.
8) The Federal Reserve has been creating trillions of dollars in fiat just to prop up U.S. markets since 2008, and we are still seeing a considerable decline in global manufacturing, retail, personal home sales, and a general malaise in consumer demand. Without a full audit, there is no way to know exactly how much currency has been generated or how much is floating around in foreign markets. Any loss of world reserve status would send that flood of dollars back into the U.S., most likely ending in a hyperinflationary environment.
9) Another rather dubious argument I see often is the claim that the Federal Reserve and the U.S. Treasury could simply "negate" a Treasury dump by refusing to acknowledge creditor liabilities. Or, that they could simply print what they need to snap up the bonds, much like the German government tried to do during the Weimar collapse. Unfortunately, this plan did not work out so well for the Germans, nor has it worked for any other nation in history, so I'm not sure why people think the U.S. could pull it off. However, this is the kind of cultism we are surrounded by. These folks think the U.S. economy and the dollar are untouchable.
Yes, the Fed and the Treasury could hypothetically erase existing liabilities, but what dollar cultists do not seem to grasp is that the dollar's value is not built on Treasury purchases. The dollar's value is built on faith and reputation. If a nation refuses to pay out on its debts, this is called default. A default by the U.S. would immediately damage the reputation of bonds and dollars as a good investment. Global markets will refuse to purchase or hold any mechanism that they think will not earn them a profit. How many investors today are anxious to jump into Greek treasury bonds, for instance?
Finally, it is unwise to operate on the assumption that foreign creditors will accept dollars as payment on U.S. Treasury bonds if they believe the Federal Reserve is monetizing the debt. When Weimar imploded under the weight of currency devaluation, many foreign governments refused to accept the German mark as payment. Instead, they demanded payment in raw commodities, like coal, lumber and ore. Expect that China and other debt holders will demand payment in U.S. goods, infrastructure, or perhaps even land.
10) Most treasury holdings in foreign coffers are not long term bonds. Rather, they are short term bonds which mature in weeks or months, instead of years. Dollar proponents constantly cite the continued accumulation of treasury bonds by other governments as a sign that the dollar is still desirable as ever. Unfortunately, they have failed to look at the nature of these bond purchases. When China rolls over millions in short term bonds and replaces them with other short term bonds, this does not suggest they have much faith in America's long term ability to service its debt. It would also make sense that if China had plans to remove itself from the dollar system, they would move into short term bonds which can be liquidated quickly.
11) China is on the fast track to becoming the largest holder of physical gold in the world. Russia has also greatly expanded its gold purchases. Whatever losses they might suffer from a dump of their Treasury bond investments; it will be more than made up in the incredible explosion in precious metals prices that would follow.
12) The most common argument against the dollar losing world reserve status has been that such a shift would be "impossible" because no other currency in the world has the adequate liquidity needed to replace the dollar in global trade. These people have apparently not been paying attention to the Chinese yuan. China has been quietly issuing trillions in yuan denominated bonds, securities and currency around the world. Current estimates calculate around $24 trillion created by the PBOC and the banks under its control.
Mainstream talking heads are calling this a "debt bubble." However, this debt creation makes perfect sense if China's plan is to create enough liquidity in its currency in order to offer a viable alternative to the U.S. dollar. Linking the yuan to the IMF's basket currency would complete the picture, forming a perfect dollar replacement while dollar cheerleading-economists stand dumbstruck.
13) China's retreat away from dollar denominated investments has left a hole in the U.S. bond market.  Recently, that negative space was filled by an unexpected source; namely Belgium.  A country whose GDP represents less than 1% of total global GDP buying more U.S. bonds than China?  The whole concept sounds bizarre.  Here is the capital coming from?
Think about it this way – Belgium is the political center of the European Union and a haven for international financiers.  There are more corporate cronies, lobbyists, bureaucrats, and foreign dignitaries in Belgium than in all of Washington D.C.  But more importantly, Belgium struck a deal with the IMF in 2012 to begin pumping SDR denominated funds into "low income economies".  I would suggest that this funding flows both ways, and that now, the IMF is feeding capital into Belgium in order to buy U.S. Treasury Bonds.  That is to say, the IMF is going to start using smaller member countries with limited savings as proxies to purchase U.S. debt using IMF money.
The ultimate danger of the IMF (run by internationalists, not the U.S. government) pre-positioning itself as the primary buyer of U.S. debt is that when the U.S. finally defaults (and it will), the IMF is likely to become the "guardian angel" of the U.S. economy, offering aid in exchange for total administrative control of our financial system, and the institution of the SDR as a world reserve replacement for the dollar.
14) The serious prospect of regional conflict or world war over tensions between the Ukraine and Russia, Japan and China, the U.S. and Syria, the U.S. and Iran, the U.S. and North Korea, etc., could make the effort of exposing the plan to shift economic power into a one world system centralized under the IMF almost meaningless.  How many people will truly care about the financial power grab by banking elites if it drifts under the surface of catastrophic engineered wars?  They'll be too busy hating and fighting artificially created boogeymen to pay attention to the real globalist culprits.
I have been pointing out for quite a long time that globalists need a "cover event"; a disaster, an economic war or a shooting war, in order to provide a smokescreen for the collapse of the dollar. Alternative analysts have been consistently correct in predicting the trend towards the dump of the dollar. Years ago, we were laughed at for suggesting China would shift towards a consumer based economy and away from U.S. dependence. Today, it is mainstream news. We were laughed at for suggesting that nations like Russia and China would drop the dollar as a reserve currency. Today, they are already in the process of doing it. And, we were laughed at for suggesting that Russia or China would use their debt holdings as leverage against the U.S. in the event of a geopolitical conflict. Today, they are openly making threats.
I have to say, I've grown tired of the dollar cultists. How many times can a group of people be wrong and still argue with those who have been consistently right? The answer is that zealots never actually escape their own delusions, even when their delusions lead them and those around them to ruin. I suspect that in the face of complete dollar collapse, they will still be rationalizing the chaos and pontificating on our "lack of understanding" while the theater burns down around them.
Source: Brandon Smith | Alt-Market
The desperation of the Anglo-American leadership, guided by the steady corrupt banker hands, has never been more acutely high, nor obvious in full view. The entire Ukraine situation is a travesty. It includes Langley agents killing police and street demonstrators from rooftops, the confirmation coming from the Estonian Embassy (translation of scripts). It includes thefts of official Ukrainian Govt funds, again sent to the Swiss hill sanctuary. It includes sanctions delivered by a US Paper Tiger, sure to cause horrific backlash. It involves the last gasp attempt to obstruct the Gazprom energy pipelines, which will inevitably corner the European market in monopoly. It involves subterfuge with the NATO card (aka Narcotics And Treachery Outlaws) with missiles placed on the Russian borders. Look for NATO members to find a back door to exit the spurious treaty. It involves playing with nitro-glycerine in the Petro-Dollar room. It involves putting tremendous risk for much more clear isolation of the United States. The more the USGovt pushes, the more the US will be isolated. Remember that Nazis steal from their enemy states, de-fraud from their allied states, and force themselves into an isolated state. In Ukraine, the United States has over-played its weak hand. Already, a secret document was leaked in London that the UKGovt would not support the US-led sanctions against Russia.
History repeats itself from the Kremlin phone calls made during the Syrian conflict just a few months ago, when the UKGovt withdrew its support and left the US isolated, looking very weak. Already, Putin has threatened to dump USTreasury Bonds. Putin aptly calls the Anglo-Americans as Mutants. Imagine the lunacy of trying to cut off the only Russian warm water military naval port in the Crimea. Just as stupid as the Trans Pacific Partnership faux pas, trying to cut off China from its Asian neighbors and partners in trade. The intelligence level of the USGovt has never been more stupid, destructive, and in full view. The lost ground for the United States is obvious and glaring in the Persian Gulf, the Mediterranean Sea, and the Caucasus region.
IMMEDIATE PETRO-DOLLAR RISK
If the Kremlin demands Gold bullion (or even Russian Rubles) for oil payments, then the interventions to subvert the Ruble currency by the London and Wall Street houses will backfire and blow up in the bankster faces. Expect any surplus Rubles would be converted quickly to Gold bullion. If the Chinese demand that they are permitted to pay for oil shipments in Yuan currency, then the entire Petro-Dollar platform will be subjected to sledge hammers and wrecking balls. The new Petro-Yuan defacto standard will have been launched from the Shanghai outpost. If the Saudis curry favor to the Russians and Chinese by accepting non-USDollar payments for oil shipments, then the Petro-Dollar is dead and buried. The rise of the Nat Gas Coop run by Gazprom is in progress, its gas pipelines to strangle the OPEC and its bastard Petro-Dollar child. The entire USDollar foundation with the USTreasury Bond bank reserve structure is at risk is collapsing, as consequence to the desperate adventure and criminal activity conducted in Ukraine.Just like with Syria, a hidden giant energy deposit is concealed under the table. Off the Lebanese and Syrian coast, a massive off-shore energy deposit was recently discovered. The US & UK & Israeli oligarchs wish to take it all. Confusion is their game. In the western plains of Ukraine, a massive gas deposit was recently discovered. The US & European oligarchs wish to take it all. Confusion is their game.
The danger level has never been higher. No resolution to the Global Monetary War can come, which we have been seeking, without a climax. It is hardly just a financial crisis amidst a stubborn economic recovery. The nature of the currencies and their underlying sovereign bond foundation is highly toxic, which requires a strong replacement as solution, using an alternative to the USDollar alongside its reserve ledger item the USTreasury Bond. A return to the Gold Standard is coming, but the birth will have loud pangs and possibly broad damage suffered. The Global Currency Reset is better named the Return to the Gold Standard. The United States and London will not give up their control of the Weimar Printing Press easily, used for elite self-dole of extreme wealth. It has served well as the Elite credit card. They will not go quietly, and assume their place in the backwater without taking the world to the brink. No climax can occur without enormous risk and loss. The Global Paradigm Shift is in full gear, with attendant risk huge here and now. My Jackass firm belief is that the US/UK fascist team face a Waterloo event in Ukraine, the victim to be the Imperial Dollar. This bulletin will not be a comprehensive note, as the situation is too vast. The information in the Hat Trick Letter is used to interweave a story of the impending removal of the USDollar from its corrupt throne.
UNITED STATES TRAPPED AND CORNERED
The Anglo Americans have fallen into a carefully designed trap by the Russians and Chinese in a clever designed sequence. More Sun Tzu tactics have been put into practice, which utilize the momentum from the enemy to be thrust back on them. Planning for final steps must have taken place during high level Putin meetings with Xi from the elite Sochi viewing box. The unfolding of events has been more carefully engineered and orchestrated than what appears. The US/UK team has been caught in a vise for months, as the rejection of the USDollar as global reserve currency is in high gear, the refusal of the USTBond a recognized trend in diversifications. The death process is slow and grueling. Much of the American Hemisphere is surrounded and controlled by Russia & China, whether the canal, the port facilities, the oil supply, the mineral deposits, even Yuan Swap facilities. Africa has largely gone under Chinese control, with Russia playing a hidden role as well.
The Persian Gulf is in transition, with the critical protectorate role shifting to China. The Qatar royals have just ordered a dismissal of USGovt ambassadors from their nation. Note that Qatar is the site of a giant USNaval base. To be sure, the Sochi Olympic Games are over, a successful event. The gloves have thus come off. The risks have reached acute levels. The US leadership seems cavalier to the risks that over half the USGovt debt is in foreign hands, over 30% of it in Russian & Chinese hands. A severe backlash cometh. The most vulnerable player in the room is the most aggressive, arrogant, vile, and obnoxious. The instability of the situation is far beyond acute. The victim will be the USDollar and its sidekick the USTreasury Bond. The USTBonds will be kicked out of the global banking system. The Third World awaits the United States, for its domestic betrayals, its financial failures, its criminal deeds, and its war aggression.
THE RUSSIAN BACKLASH TO BE SUDDEN
Russian President Vladimir Putin will slam the West, and very soon. The initial salvo might be a natural gas cutoff by Gazprom, the Russian giant which has fast moved into the global monopoly position. Eventually, Putin might demand gold payment for the natgas in the captured pipelines, that being the plan according to The Voice. Russia supplies one quarter of Western European gas needs. It will be the opening salvo for Gold Trade Settlement, for which the Iran workarounds to the sanctions provided the critical prototype. Combined with a formal announcement of USTreasury Bond sales in volume by Russia & China, the impact would be tremendous, even devastating. The reverberation will be soon seen as the pending demise of the defacto Petro-Dollar Standard, dictated by crude oil sales in USD terms. It will also be soon seen as the end of the USTBond as the global reserve standard in banking systems. Notice for over two years, the primary buyer of USGovt debt (and its refunded rollover) has been the US Federal Reserve via bond monetization, an absolute heresy to central banking. Hyper monetary inflation cannot stand as fixed policy. The world has responded by constructing an alternative to trade settlement. The forum has been the BRICS conferences and the G-20 Meetings of finance ministers. The US & UK will gradually be excluded from both forums, a process well along. Even traditional allies like Japan are buying gold in high volume, with suppressed lowball data so far. This is game over for the USDollar, the direct victim of Ukraine backlash. The war against Russia has been veiled, but the Jackass has exposed it.
VEILED ATTACKS AGAINST RUSSIAN GAZPROM
First was the attack against Russian Gazprom in Cyprus. It was a hidden attack made to look like a bank confiscation event. Notice no bank account confiscations outside the small but important island nation. The entire Russian banking clearance system had been done through Cyprus. Also, Russia was making significant transactions to purchase Gold bullion using Cyprus as clearing house for the purchases. Second was the attack against Russian Gazprom in Syria, another complicated event. The US had used the Libyan Embassy as a weapons running facility (major diplomatic violation), after which the US lost Egypt as a transfer station on the weapons running. The false flag attack in Syria was made to look like a chemical weapons event. However, the Saudis were the guilty party. The motive by the US was to block the advance of Russian Gazprom pipelines, which are to connect to the vast Iran supply centers. Iran has far more oil & gas than Iraq. In fact, Iran is the linchpin nation, which will throw its support toward Russia. Iran will push the Nat Gas Coop certain to eclipse Saudi Arabia and the loud gaggle of OPEC members. With the Russian Gazprom, together Iran and the Nat Gas Coop will usher in the Petro-Yuan Standard and bury the Petro-Dollar, the price set by Russia, the contracts set in Shanghai. Thus the Saudis will be expendable, and their Gold in London to be totally stolen.
Move to the present. Third was the attack against Russia Gazprom in Ukraine, done by the CIA and its partner security agents from the small ally nation on the SouthEast Med corner. The old game of destabilization, popular uprising, bank thefts, and now data files stolen has been put into action. The theft of significant funds in Ukraine has only started, funds gone to Swiss banks. The full betrayal will be seen soon. The US & UK have a lunatic plan to corral the Ukraine pipelines and possibly the vast farmlands of Ukraine. The wrong-footed plan will backfire, when Putin cuts off the natgas supply to Europe, when Putin demands a new type of energy supply payment structure, and when Putin engineers certain other steps. They might execute a Nat Gas Coop double in price, much like the OPEC event in 1973. Witness the upcoming Birth of the Eurasian Trade Zone, the birth pangs heard in Ukraine. The United States and Great Britain will not be included. The Eurasian Trade Zone will span 14 time zones and will settle in gold.
IRAN WORKAROUND AS KEY PROTOTYPE SOLUTION
The Anglo Americans have disrupted a key nation with longstanding historical and religious ties to Russia. The land of Ukraine also contains Russia's only warm water naval port in the Crimea, the site of a recent suspicious earthquake. The response will be swift and firm. The Eastern nations (led by China & Russia) have been making detailed preparations in the last couple years to launch the alternative trade system founded in Gold Settlement. Its launch lacks a potential open door trigger, possibly offered by the Ukraine situation. The Gold Standard could return in a baptism by fire. The open door trigger appears to be the Western interventions into Ukraine, since the Western banking structures will not be permitted to collapse, the ugly reality. The abuse of the central bank monetary expansion and fraudulent bond redemption has gone totally out of control, forcing an endless cycle of alternative preparations and motivated reactions, including the Iran workaround with Turkey as intermediary in gold provision. Other attacks have taken place in the last few months against the Russian Ruble by Wall Street firms. The reaction will possibly be the launch of what could eventually be understood to be a gold-backed Ruble currency, combined with natgas cutoffs to Europe and USTBond dumps. At first it could be perceived as the oil-backed Ruble, but its quick hidden conversion to Gold bullion could be revealed later on. The USDollar will be discarded as obsolete, even toxic. The USDollar debt basis might be widely accepted to be the cause of the global financial crisis, and the USFed Quantitative Easing be widely understood to be the cause of the global financial collapse.
EUROPE AS KEY REGION TO TIP EASTWARD
Events inside Western Europe could unfold rapidly. Behind the scenes, much is happening. The important German-French Axis is breaking down, weakened by each passing month and bailout exercise. The motive for much of the German support of bailouts and rescue plans, as faulty as they have been, is the oversized German ownership of both French Govt debt and big French banks. They will fail, both the French sovereign debt and the big French banks. Germany must undergo a split, with a restructure from the devastating damage due to Southern European sovereign debt and related big bank losses. At the same time, Germany is on the verge of turning East to Russia. Already Russia is a large energy and mineral supplier to Germany, the heavy railway facilities in place. The core of Nordic Europe is firm. Austria and Finland are aligned with the pragmatic forces in Germany and the Netherlands. Italy is being transformed, but Spain might be lost to chaos. Turkey is also undergoing change during chaotic reform. The entire NATO Alliance has never been weaker. The military action in Ukraine is framed as a supposed NATO exercise to honor a treaty. Watch the loose end like Turkey fall off the NATO wagon, while Finland falls off the Euro currency wagon. The Jackass is eager to see the Snowden NSA files reveal key data on the illicit usage of NATO bases for narcotics distribution, the origin being Afghanistan. What a bombshell it would be if Turkey announced that their government would no longer permit heroin shipments from USMilitary aircraft on their Incirlik Airbase.
A key player in the mix is Israel. They have a Tamar floating platform, whose natgas has been pledged under contract to Russian Gazprom. The tiny nation is possibly changing its alliances out of pragmatism, seeing its drained weakened host that has duly served its purpose. The next big step is for Western Ukraine to suffer the drain of remaining resources (financial and agricultural) to the West, using all the diplomatic tools the Euro Elite can muster. The people in the East will realize that they have been betrayed once more by the Western powers. This is the critical final step. Several swing nations will consequently align with Germany, if only to make being integrated by Russia less painful. During all the transitions, China will take care of Asia in this game. The remaining overriding question is whether the US & Britain will go quietly in the night of faded empires, or else to wreck the world with nukes and viruses. The main exports out of the United States and its royal handlers have been fraudulent bonds, military hardware, genetically modified food, fast food with diabetes, pharmaceuticals, surveillance software, computer viruses, and jamming software technology. Such is the nature of the fascist transformation.
RUSSIA CANNOT BE ISOLATED
The West is in for a gigantic surprise in the sequence of events to unfold. They have placed criminal oligarchs into top government positions in Ukraine. Doing so might suit the West but not the Ukrainian people. The political brain trust in Berlin shows extremely errant strategy, still kowtowing to the USGovt and London Elite in an incomprehensible manner. The West cannot isolate Russia, which is the latest absurd bone-headed strategy. They need Russia in vital ways that will become apparent when the West faces energy supply cutoff or forced Gold payments during an open global USDollar rejection. The US will quickly feel the lost Petro-Dollar gear mechanisms. China has already aligned itself beside Russia, which makes isolation impossible. Consider the Russian commodity supply and Chinese industrial power, the new axis to the Eurasian Trade Zone.
The West cannot continue to bully Russia & China. Poking a stick in the bear's face will not work for long. Disrespecting the Chinese creditor is deep folly. The risk that coincides is for the two Asian superpowers to threaten or actually execute a dumping initiative of USTreasury Bonds, and force the United States to use its last card in a grotesque display of hugely amplified monetary expansion. The US would collapse by falling on its own sword, the event occurring in the Weimar chamber. A super high volume bond monetization machine to cover globally dumped USTBonds is a strong likelihood as climax event, with a broken derivative mechanism that is revealed during its fracture. The London banker murders (another Jackass correct forecast, made in mid-2011) indicate a motive to keep covered up the extreme $100 billion JPMorgan derivative losses at the hands of the London Whale Bruno Iksil, first sighted in May 2012. The accelerated hyper monetary inflation in response to Russian & Chinese joint retaliation would finally kill the USDollar. The echo event, born from failure, would be for the USGovt to launch the new split Scheiss Dollar. Then the USGovt could have its domestic currency finally, and then wreck it with an assured painful sequence of devaluations. The fundamentals for the US domestic only currency are truly horrible, typical of a Third World nation. Ukraine is about the last gasp of the USDollar. It has no viable defense.
UKRAINE AS WATERLOO FOR THE US DOLLAR
Ukraine is the Waterloo event for Team Obama and the Wall Street handlers, the true controllers of the White House puppet. Ukraine will lead to wreckage to the USDollar and its USTBond partner in crime. Witness the death of the USDollar and the Birth of both the Gold Trade Standard, on the new Eurasian Trade Zone landscape. Neither Russia nor China will cooperate on the IMF super sovereign reformed currency basket at this point, not during extreme hostility and conflict. Hope and pray for cooler heads to prevail, since already many serious military attacks have occurred with advanced weapons off the Syrian coast. The Western Press prefers to frame the Ukraine situation as one more curious Orange Revolution event staged in Eastern Europe, akin to the other deceptive Arab Spring events. The old Soviet Union was trapped years ago, forced to use hyper monetary inflation in defense, as the nation imploded financially. The United States is now trapped in an ironic parallel manner, and will be exposed for its heretic inflationary response that ramps up to obscene volumes, followed by financial implosion. In fact, the events from here onward are the final hurrah for the USDollar regime and the criminal cabal.
Now has never been a better time to own a big stack of gold & silver coins & bars, stored in a secure place outside the United States, outside England, outside Switzerland, even outside Canada. The people must defend against a climax of systemic failure, led by arrogance, stupidity, desperation, and delusion, even armed aggression. It remains to be seen whether the Kremlin has some secret allies who might emerge in time, from other worlds. But that is an entire other story to be told someday maybe. We earthlings will all find out soon enough. Times are changing fast, and better to be alert than to get hurt. The Global Currency Reset lies directly ahead, complete with its doubled Gold price and doubled Silver price. The Russians & Chinese are motivated to respond to a military prod, poke, and nudge by delivering a financial response. The rejection of the USDollar is near. The rapid diversification away from the USTreasury Bond is near. The arrival of the new Global Gold Standard is imminent.
Source: GoldSeek.com | Jim Willie CB, GoldenJackass.com
Cast your mind back to the fall of 2008. Lehman Bros. had just failed, and for those in Washington, it was thought all the banks were about to go up in smoke.
Of all the radical policies that were enacted in response to the crisis, one of the stealthiest was the Fed's decision to begin paying banks interest on their "excess reserves."
This change, begun in October 2008, has netted the banking industry billions of risk-free dollars over the last five years. It's been nothing more than a pure government subsidy. And the majority of the public has been blissfully unaware.
There are signs, however, that the Fed's gift to the banks may be coming to an end. Below, we discuss the implications of such a move on you and your savings.
Before we do that, we must first explain what "excess reserves" are.
Commercial banks are required a keep a certain amount of money on deposit at the Fed based on how much a bank holds in customer deposits. Bankers normally keep as little money at the Fed as possible. They prefer to use those funds to make loans or buy securities and earn interest.
Any extra cash held at the Fed over and above what they're required to hold is known as excess reserves.
Up until the fall of Lehman Bros. in September 2008, banks' excess reserves at the Fed were essentially zero. Back then, lending money as fast as possible was the name of the game.
But a month later, the central bank began paying 0.25% interest to banks on any excess reserves. The result? Five years later, banks have $2.5 trillion in excess reserves sitting at the Fed.
This means the Fed pays banks $6.25 billion a year in interest courtesy of a policy change made in a panic.
But this policy may be about to change.
In October, the minutes of the Federal Open Market Committee meeting included a discussion of excess reserves. Specifically, it was noted that "Most participants thought that a reduction by the Board of Governors in the interest rate paid on excess reserves could be worth considering at some stage."
Alan Blinder, though, who was once the vice chairman at the Fed, wrote in The Wall Street Journal that he interpreted the minutes' tea leaves to really mean the voting members "love the idea" of reducing the rate being paid on these reserves.
Changing this policy would be significant and it has the potential to unleash a torrent of liquidity through the commercial banking system.
When the Fed quits paying this interest, the banks will have no reason to leave their cash at the Fed. The most reasonable option is to lend the $2.5 trillion instead. And through the power of fractionalized banking, the money supply could then be increased by up to 10 times that amount.
Needless to say, $25 trillion is a gargantuan quantity of money. The total money supply as measured by M2, for example, was just short of $11 trillion in December. Now, it's unlikely to see the money supply triple if the Fed were to stop paying interest on these reserves. But it's easy to imagine a significant jump in money creation if it were lent out into the economy instead of sitting idle at the central bank.
And if that happens, inflation will follow.
Watching the Fed, however, is only part of the inflation story. Investors who want to protect themselves must also keep a close eye on what the commercial banks are doing. And we're beginning to see that bankers, after five years of licking their wounds, are starting to say yes again after turning potential borrowers away en masse since the crash. In other words, the commercial banking system is also beginning to light the fuse to ignite the inflationary tinder created by the Federal Reserve.
This is important because, according to Steve Hanke, professor of applied economics at John Hopkins University, commercial banks create 85% of the money supply, while the remaining 15% is created by the Fed.
And there's evidence that commercial bank lending is heating up. In December, bank credit was up 5.9% according to the latest H.8 numbers from the Federal Reserve. This is the largest increase we've seen since the crash. Just as a reminder, bank credit fell 6.7% in 2009. The big December increases were in the commercial and industrial loan category, which jumped 14.1%, and consumer loans, which increased 6.4%.
Commercial real estate lending is also making a comeback. "More banks are now on the offense, not on defense anymore, when it comes to commercial real estate," said bank analyst Anthony Polini.
Compass Point Research & Trading analyst Kevin Barker says that commercial real estate is "definitely becoming a significant driver of loan growth [and] to the extent that the banks can take advantage, it could be a tail wind to earnings."
While investors worry about Fed tapering and rising interest rates, it's exactly what banks need. Higher rates provide banks the incentive to lend, which will spur money creation in the commercial banking system.
Meaning as banks start to lend and rates begin to rise, the money supply could begin to grow, and in turn, price inflation could rear its ugly head.
While gold and silver are the traditional hedges to central bank inflation, it helps to think outside those metallic boxes. This can be as simple as stocking up on items that you know you'll need in the future. Last month in The Daily Reckoning, for example, Addison Wiggin, made the case for buying five years' worth of razor blades. (See "3 Ways to Make Your Portfolio Inflation-Proof")
At last year's Agora Financial Symposium in Vancouver, I mentioned stocking up on real things like cigarettes and liquor too. You may not smoke, drink, or shoot — but you can always sell or trade cigarettes, booze, and ammunition.
There are currently shortages of ammo (.22 caliber rounds sell out in minutes in my town each week), and bullet prices have exploded. Cigarettes and liquor are demonized, taxed, and seem to always increase in price.
All of these physical goods should be on your "buy" list.
Source: The Daily Reckoning
There's good propaganda and bad propaganda. Bad propaganda is generally crude, amateurish Judy Miller "mobile weapons lab-type" nonsense that figures that people are so stupid they'll believe anything that appears in "the paper of record." Good propaganda, on the other hand, uses factual, sometimes documented material in a coordinated campaign with the other major media to cobble-together a narrative that is credible, but false.
The so called Fed's transcripts, which were released last week, fall into the latter category. The transcripts (1,865 pages) reveal the details of 14 emergency meetings of the Federal Open Market Committee (FOMC) in 2008, when the financial crisis was at its peak and the Fed braintrust was deliberating on how best to prevent a full-blown meltdown. But while the conversations between the members are accurately recorded, they don't tell the gist of the story or provide the context that's needed to grasp the bigger picture. Instead, they're used to portray the members of the Fed as affable, well-meaning bunglers who did the best they could in 'very trying circumstances'. While this is effective propaganda, it's basically a lie, mainly because it diverts attention from the Fed's role in crashing the financial system, preventing the remedies that were needed from being implemented (nationalizing the giant Wall Street banks), and coercing Congress into approving gigantic, economy-killing bailouts which shifted trillions of dollars to insolvent financial institutions that should have been euthanized.
What I'm saying is that the Fed's transcripts are, perhaps, the greatest propaganda coup of our time. They take advantage of the fact that people simply forget a lot of what happened during the crisis and, as a result, absolve the Fed of any accountability for what is likely the crime of the century. It's an accomplishment that PR-pioneer Edward Bernays would have applauded. After all, it was Bernays who argued that the sheeple need to be constantly bamboozled to keep them in line. Here's a clip from his magnum opus "Propaganda":
"The conscious and intelligent manipulation of the organized habits and opinions of the masses is an important element in democratic society. Those who manipulate this unseen mechanism of society constitute an invisible government which is the true ruling power of our country."
Sound familiar? My guess is that Bernays' maxim probably features prominently in editors offices across the country where "manufacturing consent" is Job 1 and where no story so trivial that it can't be spun in a way that serves the financial interests of the MSM's constituents. (Should I say "clients"?) The Fed's transcripts are just a particularly egregious example. Just look at the coverage in the New York Times and judge for yourself. Here's an excerpt from an article titled "Fed Misread Crisis in 2008, Records Show":
"The hundreds of pages of transcripts, based on recordings made at the time, reveal the ignorance of Fed officials about economic conditions during the climactic months of the financial crisis. Officials repeatedly fretted about overstimulating the economy, only to realize time and again that they needed to redouble efforts to contain the crisis." ("Fed Misread Crisis in 2008, Records Show", New York Times)
This quote is so misleading on so many levels it's hard to know where to begin.
First of all, the New York Times is the ideological wellspring of elite propaganda in the US. They set the tone and the others follow. That's the way the system works. So it always pays to go to the source and try to figure out what really lies behind the words, that is, the motive behind the smokescreen of half-truths, distortions, and lies. How is the Times trying to bend perceptions and steer the public in their corporate-friendly direction, that's the question. In this case, the Times wants its readers to believe that the Fed members "misread the crisis"; that they were 'behind the curve' and stressed-out, but–dad-gum-it–they were trying their level-best to make things work out for everybody.
How believable is that? Not very believable at all.
Keep in mind, the crisis had been going on for a full year before the discussions in these transcripts took place, so it's not like the members were plopped in a room the day before Lehman blew up and had to decide what to do. No. They had plenty of time to figure out the lay of the land, get their bearings and do what was in the best interests of the country. Here's more from the Times:
 "My initial takeaway from these voluminous transcripts is that they paint a disturbing picture of a central bank that was in the dark about each looming disaster throughout 2008. That meant that the nation's top bank regulators were unprepared to deal with the consequences of each new event."
Have you ever read such nonsense in your life? Of course, the Fed knew what was going on. How could they NOT know? Their buddies on Wall Street were taking it in the stern sheets every time their dingy asset pile was downgraded which was every damn day. It was costing them a bundle which means they were probably on the phone 24-7 to (Treasury Secretary) Henry Paulson whining for help. "You gotta give us a hand here, Hank. The whole Street is going toes-up. Please."
Here's more from the NYT:
"Some Fed officials have argued that the Fed was blind in 2008 because it relied, like everyone else, on a standard set of economic indicators. As late as August 2008, "there were no clear signs that many financial firms were about to fail catastrophically," Mr. Bullard said in a November presentation in Arkansas that the St. Louis Fed recirculated on Friday. "There was a reasonable case that the U.S. could continue to 'muddle through.' ("Fed Misread Crisis in 2008, Records Show", New York Times)
There's that same refrain again, "Blind", "In the dark", "Behind the curve", "Misread the crisis".
Notice how the Times only invokes terminology that implies the Fed is blameless. But it's all baloney. Everyone knew what was going on. Check out this excerpt from a post by Nouriel Roubini that was written nearly a full year before Lehman failed:
"The United States has now effectively entered into a serious and painful recession. The debate is not anymore on whether the economy will experience a soft landing or a hard landing; it is rather on how hard the hard landing recession will be. The factors that make the recession inevitable include the nation's worst-ever housing recession, which is still getting worse; a severe liquidity and credit crunch in financial markets that is getting worse than when it started last summer; high oil and gasoline prices; falling capital spending by the corporate sector; a slackening labor market where few jobs are being created and the unemployment rate is sharply up; and shopped-out, savings-less and debt-burdened American consumers who — thanks to falling home prices — can no longer use their homes as ATM machines to allow them to spend more than their income. As private consumption in the US is over 70% of GDP the US consumer now retrenching and cutting spending ensures that a recession is now underway.

On top of this recession there are now serious risks of a systemic financial crisis in the US as the financial losses are spreading from subprime to near prime and prime mortgages, consumer debt (credit cards, auto loans, student loans), commercial real estate loans, leveraged loans and postponed/restructured/canceled LBO and, soon enough, sharply rising default rates on corporate bonds that will lead to a second round of large losses in credit default swaps. The total of all of these financial losses could be above $1 trillion thus triggering a massive credit crunch and a systemic financial sector crisis." ( Nouriel Roubini Global EconoMonitor)
Roubini didn't have some secret source for data that wasn't available to the Fed. The financial system was collapsing and it had been collapsing for a full year. Everyone who followed the markets knew it. Hell, the Fed had already opened its Discount Window and the Term Auction Facility (TAF) in 2007 to prop up the ailing banks–something they'd never done before– so they certainly knew the system was cratering. So, why's the Times prattling this silly fairytale that "the Fed was in the dark" in 2008?
I'll tell you why: It's because this whole transcript business is a big, freaking whitewash to absolve the shysters at the Fed of any legal accountability, that's why. That's why they're stitching together this comical fable that the Fed was simply an innocent victim of circumstances beyond its control. And that's why they want to focus attention on the members of the FOMC quibbling over meaningless technicalities –like non-existent inflation or interest rates–so people think they're just kind-hearted buffoons who bumbled-along as best as they could. It's all designed to deflect blame.
Don't get me wrong; I'm not saying these conversations didn't happen. They did, at least I think they did. I just think that the revisionist media is being employed to spin the facts in a way that minimizes the culpability of the central bank in its dodgy, collaborationist engineering of the bailouts. (You don't hear the Times talking about Hank Paulson's 50 or 60 phone calls to G-Sax headquarters in the week before Lehman kicked the bucket, do you? But, that's where a real reporter would look for the truth.)
The purpose of the NYT article is to create plausible deniability for the perpetrators of the biggest ripoff in world history, a ripoff which continues to this very day since the same policies are in place, the same thieving fraudsters are being protected from prosecution, and the same boundless chasm of private debt is being concealed through accounting flim-flam to prevent losses to the insatiable bondholders who have the country by the balls and who set policy on everything from capital requirements on complex derivatives to toppling democratically-elected governments in Ukraine. These are the big money guys behind the vacillating-hologram poseurs like Obama and Bernanke, who are nothing more than kowtowing sock puppets who jump whenever they're told. Here's more bunkum from the Gray Lady:
 "By early March, the Fed was moving to replace investors as a source of funding for Wall Street.

Financial firms, particularly in the mortgage business, were beginning to fail because they could not borrow money. Investors had lost confidence in their ability to predict which loans would be repaid. Countrywide Financial, the nation's largest mortgage lender, sold itself for a relative pittance to Bank of America. Bear Stearns, one of the largest packagers and sellers of mortgage-backed securities, was teetering toward collapse.

On March 7, the Fed offered companies up to $200 billion in funding. Three days later, Mr. Bernanke secured the Fed policy-making committee's approval to double that amount to $400 billion, telling his colleagues, "We live in a very special time."

Finally, on March 16, the Fed effectively removed any limit on Wall Street funding even as it arranged the Bear Stearns rescue." ("Fed Misread Crisis in 2008, Records Show", New York Times)
This part deserves a little more explanation. The author says "the Fed was moving to replace investors as a source of funding for Wall Street." Uh, yeah; because the whole flimsy house of cards came crashing down when investors figured out Wall Street was peddling toxic assets. So the money dried up. No one buys crap assets after they find out they're crap; it's a simple fact of life. The Times makes this sound like this was some kind of unavoidable natural disaster, like an earthquake or a tornado. It wasn't. It was a crime, a crime for which no one has been indicted or sent to prison. That might have been worth mentioning, don't you think?
More from the NYT: "…on March 16, the Fed effectively removed any limit on Wall Street funding even as it arranged the Bear Stearns rescue."
Yipee! Free money for all the crooks who blew up the financial system and plunged the economy into recession. The Fed assumed blatantly-illegal powers it was never provided under its charter and used them to reward the people who were responsible for the crash, namely, the Fed's moneybags constituents on Wall Street. It was a straightforward transfer of wealth to the Bank Mafia. Don't you think the author should have mentioned something about that, just for the sake of context, maybe?
Again, the Times wants us to believe that the men who made these extraordinary decisions were just ordinary guys like you and me trying to muddle through a rough patch doing the best they could.
Right. I mean, c'mon, this is some pretty impressive propaganda, don't you think? It takes a real talent to come up with this stuff, which is why most of these NYT guys probably got their sheepskin at Harvard or Yale, the establishment's petri-dish for serial liars.
By September 2008, Bernanke and Paulson knew the game was over. The crisis had been raging for more than a year and the nation's biggest banks were broke. (Bernanke even admitted as much in testimony before the Financial Crisis Inquiry Commission in 2011 when he said "only one ….out of maybe the 13 of the most important financial institutions in the United States…was not at serious risk of failure within a period of a week or two." He knew the banks were busted, and so did Paulson.) Their only chance to save their buddies was a Hail Mary pass in the form of Lehman Brothers. In other words, they had to create a "Financial 9-11″, a big enough crisis to blackmail congress into $700 no-strings-attached bailout called the TARP. And it worked too. They pushed Lehman to its death, scared the bejesus out of congress, and walked away with 700 billion smackers for their shifty gangster friends on Wall Street. Chalk up one for Hank and Bennie.
The only good thing to emerge from the Fed's transcripts is that it proves that the people who've been saying all along that Lehman was deliberately snuffed-out in order to swindle money out of congress were right. Here's how economist Dean Baker summed it up the other day on his blog:
"Gretchen Morgensen (NYT financial reporter) picks up an important point in the Fed transcripts from 2008. The discussion around the decision to allow Lehman to go bankrupt makes it very clear that it was a decision. In other words the Fed did not rescue Lehman because it chose not to.

This is important because the key regulators involved in this decision, Ben Bernanke, Hank Paulson, and Timothy Geithner, have been allowed to rewrite history and claim that they didn't rescue Lehman because they lacked the legal authority to rescue it. This is transparent tripe, which should be evident to any knowledgeable observer." ("The Decision to Let Lehman Fail", Dean Baker, CEPR)
Here's the quote from Morgenson's piece to which Baker is alluding:
"In public statements since that time, the Fed has maintained that the government didn't have the tools to save Lehman. These documents appear to tell a different story. Some comments made at the Sept. 16 meeting, directly after Lehman filed for bankruptcy, indicate that letting Lehman fail was more of a policy decision than a passive one." ("A New Light on Regulators in the Dark", Gretchen Morgenson, New York Times)
Ah ha! So it was a planned demolition after all. At least that's settled.
Here's something else you'll want to know: It was always within Bernanke's power to stop the bank run and end to the panic, but if he relieved the pressure in the markets too soon (he figured), then Congress wouldn't cave in to his demands and approve the TARP. Because, at the time, a solid majority of Republicans and Democrats in congress were adamantly opposed to the TARP and even voted it down on the first ballot. Here's a clip from a speech by, Rep Dennis Kucinich (D-Ohio) in September 2008 which sums up the grassroots opposition to the bailouts:
"The $700 bailout bill is being driven by fear not fact. This is too much money, in too short of time, going to too few people, while too many questions remain unanswered. Why aren't we having hearings…Why aren't we considering any other alternatives other than giving $700 billion to Wall Street? Why aren't we passing new laws to stop the speculation which triggered this? Why aren't we putting up new regulatory structures to protect the investors? Why aren't we directly helping homeowners with their debt burdens? Why aren't we helping American families faced with bankruptcy? Isn't time for fundamental change to our debt-based monetary system so we can free ourselves from the manipulation of the Federal Reserve and the banks? Is this the US Congress or the Board of Directors of Goldman Sachs?"
But despite overwhelming public resistance, the TARP was pushed through and Wall Street prevailed. mainly by sabotaging the democratic process the way they always do when it doesn't suit their objectives.)
Of course, as we said earlier, Bernanke never really needed the money from TARP to stop the panic anyway. (Not one penny of the $700 bil was used to shore up the money markets or commercial paper markets where the bank run took place.) All Bernanke needed to do was to provide backstops for those two markets and, Voila, the problem was solved. Here's Dean Baker with the details:
"Bernanke deliberately misled Congress to help pass the Troubled Asset Relief Program (TARP). He told them that the commercial paper market was shutting down, raising the prospect that most of corporate America would be unable to get the short-term credit needed to meet its payroll and pay other bills. Bernanke neglected to mention that he could singlehandedly keep the commercial paper market operating by setting up a special Fed lending facility for this purpose. He announced the establishment of a lending facility to buy commercial paper the weekend after Congress approved TARP." ("Ben Bernanke; Wall Street's Servant", Dean Baker, Guardian)
So, there you have it. The American people were fleeced in broad daylight by the same dissembling cutthroats the NYT is now trying to characterize as well-meaning bunglers who were just trying to save the country from another Great Depression.
I could be wrong, but I think we've reached Peak Propaganda on this one.
(Note: By "good" propaganda, I mean "effective" propaganda. From an ethical point of view, propaganda can never be good because its objective is to intentionally mislead people…..which is bad.)
Seyeda Zeinab, Syria - During a meeting at the Dama Rose hotel in Damascus the other morning, this observer was briefed by 'Abu Modar," a reputedly battle-honed field commander of the "Death Brigade," a unit based in the northern Syria Eskanderoun region, north of Latakia. Abu Modar explained that he personally had chosen the rather peculiar name for his outfit to symbolize the willingness of its members to die for their cause—protecting Syria.
"Before each battle or each mission I ask my God to let me die defending Syria", he explained. "If we are involved with a joint operation with Hezbollah, who are much admired because of their honesty and trustworthiness, I lead my men to the front line and ahead of Hezbollah troops out of respect for them and because we Syrians believe that as their grateful hosts we have this duty."

The gentleman began explaining the history of his militia, one of thousands (both pro-and anti-government) operating in Syria these troubled days. It is a history that included some of his predecessors fighting with the PLO in Beirut during the summer of 1982, but as he was relating all this, his phone rang. The conversation was not long. The caller, he informed this observer upon ringing off, was his "contact," advising him that certain intelligence sources had received information overnight that an individual had been observed in the vicinity of Zeinab's shrine placing a parcel of explosives into a vehicle, presumably with the intention to detonate it near her resting place. This riveted my attention, in part because this observer was scheduled by chance to join an army escort the next day and visit the historic site, located about 40 minutes south of Damascus. Nearly two months ago the government regained control of the area, but there are still some snipers around, I had been apprised by friends. Abu Modar's specific mission was to take some of his commandos and kick in the door of the suspect's house sometime during the night, arrest him, and turn him over to someone for interrogation. His mission struck me as simple enough and he was matter of fact in outlining his plan.
"We do this sort of mission often. This is part of our expertise, and we do it whenever we are asked by Resistance friends and Syrian authorities. It spares the army for their normal work on battlefields, and our unit is specialized, and from long experience we have acquired certain useful skills."
I demurred when he invited me to join him, explaining I was a bit out of shape and did not want to get in the way of his men's work or potentially hamper their operation. But he insisted, saying that I could stay in his jeep and just observe, and he doubted that I would be in any serious danger. I was tempted to accept his invitation, and agreed to his proposal to meet after lunch to finalize our plans for that night's outing. At this point, however, I called a trusted and knowledgeable Syrian friend, who knows a lot about these matters, and she seemed exasperated I would even consider tagging along with the Death Brigade.
"Absolutely not Franklin! Khalas! (finish!) You are visiting Seyeda Zeinab bokra with the army and you are not going with anyone else!"
Frankly, I was a bit relieved by my friend's unequivocal counsel, and my new pal from the "Death" militia (who is acquainted with her) sportively understood. An interesting anecdote was at this point related by my interpreter: that Abu Modor had laughed and claimed a badge of honor upon recently being shown YouTube videos regarding his macho, George-Patton-style exploits in Qusayr, and in villages around Qalamoun, and rebel claims that he and his brigade were "the number one pro-regime murderers in Syria." I might also mention that the "Death" unit is part of the not-well-known-in-the-West Popular Front for the Liberation of Iskanderun (PFLI), currently fighting rebels north of Latakia, in the mountains bordering Turkey, and whose forces have also periodically spent time guarding the resting place of Zeinab.
The geographical place name "Seyeda Zeinab" can be confusing for an untutored foreigner, the reason being that it may refer to a group of five small cities in the governorate of Damascus—Al Zeyabeya, Hujayr, Husseiniya, Akraba and Babila—or, alternately, to the sacred burial place and shrine for Zeinab bint Ali, the daughter of Ali, the first Shia Imam, and his first wife Fatima. Zeinab was also the granddaughter of the Prophet Mohammad (PBUH) and the sister of Husayn and Hassan. Her shrine and pilgrimage destination are located in the small town of Seyeda (Lady) Zeinab, but given its fame, the name also refers to a wider area. As a holy shrine and place of prayer and scholarship, one imagines this place to be in the category of perhaps Qoms in Iran, and Najaf in Iraq. All three attract thousands of pilgrims and tourists, and since the area surrounding Seyeda Zeinab was liberated and essentially pacified by the Syrian Army recently, visitors are again arriving daily from countries including Yemen, Bahrain, Iraq, Iran, India, Pakistan and Lebanon, among others.
The Mayor of Seyeda Zeinab, this observer's gracious host, is Mohammad Barakat, a Sunni engineer from Homs, roughly in his early 50's. His staff is of mixed religious backgrounds, and, as with most Syrian citizens I have met over the past three years, was essentially blind to and uninterested in sectarian differences in existence before the current crisis. All the mayor's staff members are working long hours these days, responding to numerous requests for post-liberation help, appeals which they try their best to accommodate with their limited available resources. My three-hour discussion with Mayor Barakat was interrupted perhaps as many as a couple of dozen times by the appearance of an aid often seeking his signature or mayoral stamp on citizen petitions covering anything from requests for food stuffs, problems with housing, or attempts to find employment with a municipal project now getting started.
In his bee hive of an office, the mayor used a pointer to highlight locations on a large wall map hanging next to his desk, the map illustrating areas where repair and construction projects are being readied. Mr. Barakat enthusiastically proclaimed, "2014 is the year we intend to start and finish area restoration work, and we take pride in the prospect that what we achieve here in Seyeda Zeinab can be a model for restoration work all over Syria that hopefully can begin soon."
Barakat and three of his staff members accompanied this observer on an informative and inspiring tour of the Mosque and Shrine of Saeyda Zeinab. The shrine, our hosts informed us, is an example of Shia architecture, and the dome is made of pure gold. The grave of Zeinab is enclosed within a raised, crypt-like structure centered directly beneath the massive golden dome. The doors of the shrine are apparently also made of pure gold, with mirror works on the roof and walls. The minarets and the entrance gate of the holy shrine are covered with Iranian moarrahg tile designed by the famous Iranian architect and tile artist Ali Panjehpour. My colleague from the mayor's office allowed me to finger one and explained that each 4 x 4 inch tile, of which there were hundreds of thousands in the complex, cost more than $100 USD. There is also a large mosque adjoining the shrine which this observer was advised can accommodate more than 1,300 people and a further 150 in the attached courtyards. The two tall minarets, one of which was damaged by a rebel mortar, dominate the architecture of the mosque as well as a large souk on the other side of a newly-built security wall.
In the cavernous nave of the Seyeda Zeinab, just next to the beautifully inlaid, elevated crypt holding her remains, approximately 50 men were performing mid-day Salat al Duhr prayers. Some were in camouflage uniforms and appeared to be on military leave or from the security units guarding the inside and perimeter of Zeinab's Shrine.
This observer did not want to awkwardly press his hosts for details regarding the identities of the armed men guarding Seyeda Zeinab or where they are from. Some Western media sources have speculated that Shia fighters from Iraq and Lebanon came to Syria to protect Seyeda Zeinab following the desecration in Iraq of the tomb of Hajar Bin Aday. Several sites on the Internet published reports claiming that a takfiri group exhumed the tomb of Bin Aday, who was one of the most prominent Muslim leaders at the time of the Prophet Muhammad and who was loyal to Imam Ali bin Abi Talib. Bin Aday's remains were reportedly taken to an unknown location. This observer infers that Hezbollah is currently a prominent presence guarding Seyeda Zeinab, and my Syrian companion noted Lebanese accents in the guard station at the entrance.
At the entrance to the women's area, several women were praying and others appeared to be part of the shrine's Women's Auxiliary, or Guild, as they directed visitors while graciously assisting and providing female visitors with black chadors upon entering the sanctuary. One charming middle age woman, who appeared to be Iranian, smiled knowingly at me, and with a twinkle in her eyes jokingly offered this visiting American a chador as "a gift and souvenir from our Holy Shrine and from our community—to take back to your country, in appreciation of you not bombing us…yet!" And she laughed at her own joke, as did all who heard it, including the mayor, some nearby soldiers, and teen-aged visiting students.
Update on the capture of the bad person sought by Abu Modar
Well, did Abu Modar and his "Death Brigade" get their man?
They did indeed, and it was the night before this observer's arrival at Seyeda Zeinab. Abu Modar detailed to this observer and a few of his militia guys the evening's events as we made plans to leave the next morning for the Iskandroun region and an interview the PFLI President, Ali Kyali. The capture, it seems, came about not by kicking in the alleged bad guy's door, American SWAT team-style. Rather, the suspect was stealthily followed and, during the early morning of 2/25/14, apprehended at one of the Syrian army checkpoints that surround the village of Seyeda Zeinab.
Such incidents make it clear that Seyeda Zeinab is still a target of some jihadist types given its great importance to Syria, the region, and among Muslims globally. Yet across sectarian divides here there are growing signs of the great majority of the exhausted populations being ready, to a degree, to forgive and forget at least some of the events of the past nearly 36 months.
Visiting Seyeda Zeinab is a wonderful, solemn, exhilarating and inspiring ecumenical experience—one highly recommended to all tourists planning to come to the Syrian Arab Republic as improving security conditions begin to allow for the return of international visitors.
May the Sainted Martyr, Zeinab bint Ali, whose life was devoted to charity and to nursing others, and who is a model for all humanity of resistance and defiance against oppression and all forms of injustice, forever rest in peace.