Jewish Quarter, the Old City, Damascus…
It's always encouraging when one comes upon some inspiring human enterprise, here in Syria or elsewhere, that refutes the worn shibboleths and clichés about how this or that group, or this or that religion, hates others and won't cease targeting them until they are destroyed and burning in Hell.
In Syria today there is much evidence to refute the claims, often politically motivated, that Jewish cultural heritage sites are being singled out for destruction by rabid anti-Semites. One example of this is the Eliyahu Hanabi Synagogue in the neighborhood of Jobar, on the outskirts of Damascus. For centuries, Jobar has been inhabited by a peaceful, mixed community of Muslims, Christians, and Jews, many of whom often attended events together at the synagogue.
Reports this week in Zionist media about the destruction of the 400-year-old (not 2000-year-old, as claimed, erroneously, by one report in Israeli media) synagogue, along with the loss of all its contents, are similar to reports over the past three years which turned out to be patently false. This observer has been waiting for clearance to visit the site, to learn exactly what happened there this week, to assess its current condition and inventory its religious artifacts, which comprise part of Syria's, and humanity's, collective heritage.
One of the more virulent charges to come forth this week, particularly from the colonial Zionist regime occupying Palestine, is the mantra of 'see what the hatred of those Arabs for the Jewish people has done.' Admittedly it's an effective fund-raising mechanism—as well as a handy intimidation tool—for the Zionist lobby, as it scrabbles to retain control of the US government and American public sentiment, a public which seems to be growing increasingly vexed by the lobby's actions and which are finally pulling back from rubber-stamping the crimes of the apartheid regime.
Jobar is a suburb of Damascus, and location-wise the Eliyahu Hanabi Synagogue (measuring approximately 17 meters long by 15.7 meters wide) sits undeniably at a crossroads, in an area that has been occupied by rebel forces since the beginning of the Syrian conflict—which means it was sure to get damaged. With each shelling of the district over the past three years, claims were made that the synagogue had been destroyed by government forces. One such report, published on April fool's day in 2013 by the Times of Israel and widely circulated by Zionist media outlets, claimed that, "The 2,000-year-old Jobar Synagogue in the Syrian capital of Damascus—the country's holiest Jewish site—was looted and burned to the ground by government forces." The report was patently false but got spread far and wide, despite the fact that there have been no government forces in Jobar since the conflict began. Two copy-cat reports followed later in 2013, but they were equally false. Nearly a year later, however, in March of 2014, media reports conceded that the synagogue was still standing, with only minor damage, and that its contents appeared to be in good condition.
This observer has received credible reports about certain stolen artifacts, including gold chandeliers, from the Eliyahu Hanabi Synagogue being offered for sale. It is well known in Syria that certain militia and other opportunists have been financing themselves by selling this country's cultural heritage whenever and wherever they get the opportunity. There is in fact a multi-million-dollar black market in this type of illicit trade. Security agencies in Syria, in coordination with INTERPOL, have been alerted to the thefts of Jewish property, just as with thefts of other antiquities, and they periodically issue what are referred to as "watch for and confiscate" lists of stolen artifacts.
It is not true…based upon this observer's many personal experiences in Syria…that Arabs hate Jews, although they would have plenty of reasons to, or that animosities between the two peoples are irreversible and irretrievable, and the reason I say this is that increasingly, in the Middle East as well as globally, people are beginning to distinguish between Jews as individuals (as "people of the book" and basically more or less like the rest of us) and fascist Zionism—an ideology being exposed as the greatest enemy and threat to Jews everywhere.
The latest, but so far unverified, information received by this observer from rebel sources claiming to have "contacts" in the Jobar Synagogue indicate that some early 20th century artifacts, including gold chandeliers and icons, were stolen early on in the conflict, and also that the area surrounding the synagogue has been shelled sporadically over the past nearly two years, resulting in modest damage to the exterior walls. This information was obtained as of last month. Conditions may well have changed this week. Other Syrian sources indicate that there has been interior damage with some scattered rubble in the nave and prayer rooms of the temple. But there has been no confirmation to claims of thousands of manuscripts, including Bibles, being looted from Jobar. On the contrary, many documents, including Bibles and other artifacts, were transferred by the local Jobar Council, with the full cooperation of the Syrian government, to an Ottoman-era synagogue in the Old City of Damascus for safe keeping. The location, which this observer has visited and where many Jobar Synagogue artifacts are today in storage, is one of six areas in Syria currently listed on the World Heritage List of the UN Educational, Scientific and Cultural Organization (UNESCO). The site currently has round-the-clock government security that continues to guard the Old City of Damascus. It is also one of the 11 synagogues that President Assad had promised in 2011 to repair and restore, but alas that's a project that the rebellion has put on hold.
In light of all the unverified claims about the synagogue in Jobar, one is reminded again of the decade-long US/UK War against Iraq and the false reporting about what happened at certain archaeological sites in that country. Specifically we might recall the Iraqi Jewish artifacts that Ahmad Chalabi claimed he was able to 'rescue' for the Coalition Provisional Authority. Chalabi, of the ill-fated Iraqi National Congress, along with the Bush administration's Coalition Provisional Authority, sought to gain some much needed good press for himself and pals Richard Perle, Nathan Sharansky, Dick Cheney and Donald Rumsfeld, this after April 2003 reports of thousands of priceless ancient artifacts being looted from Iraqi museums. The war planners were being castigated for their failure to protect Iraq's cultural treasures, and it soon became clear that some of Chalabi's pronouncements regarding the fate of Jewish artifacts were false and politically self-serving. Discredited, Chalabi's party did not win any seats in the December 2005 election.
Some suspect similar political grandstanding motives in the current reports about Jobar, and it may be a while before credible eyewitness accounts from the scene are gathered. At that point we will we know the truth about the fate of the Eliyahu Hanabi Synagogue and the whole of Jobar. A delegation, including a Jewish representative from Damascus as well as this observer, has been trying to visit the area, but armed conflict and the continued occupation of the synagogue by rebels has prevented us so far from gaining entry.
What's important to note, though, is that the people of Syria and their government have made herculean efforts to avoid what happened in Iraq, and to assure the preservation of their global cultural heritage, of which Jewish antiquities is an important pillar. One example of these efforts is the fascinating case of the Dura-Europos Synagogue, discovered in 1932.
The synagogue in Dura Europos had survived in such good condition because of its location, near a small Roman garrison on the Euphrates River. Parts of the building, which abutted the main city wall, were requisitioned by the Roman army and filled with sand as a defensive measure against northern and eastern marauders. The city was abandoned after Rome's fall, never to be resettled, and the lower walls of the rooms remained buried and largely intact until excavated. The archaeological dig discovered many Jewish wall-paintings and also Christian texts written in Hebrew. Especially interesting perhaps was the discovery of paintings in the synagogue depicting limited aspects of Mithraism, a religion practiced in the Roman Empire between the first and 4th centuries and that was especially popular within the ranks of the Roman legions. Named for the Persian god Mithra, many Syrians followed the cult, as did some Roman senators who resisted the 'new' Christianity.
Itemized in the list below are specific Jewish-Syrian antiquities, including Old-Testament-themed paintings, this observer has verified as being under protection. Keep in mind, these are only a few examples, among many thousands, that I have been advised appear to be in excellent condition as of late May 2014:
The Torah niche from the ancient Synagogue of Dura Europos on which are drawings of the Prophet Abraham, including the scene of his offering his son. Also beside them a drawing of the candle stick and the temple façade.
A drawing featuring the Prophet Ezra reading a papyrus, Prophet Moses in the flames of boxthorn, the Ark of the Covenant in the hands of Philistines, and David anointed as a king by Samuel.
A number of paintings with themes from the Old Testament
A drawing of the pharaoh and Moses as a child, and a beautiful painting of Abraham between the two symbols of the sun and the moon.
A drawing representing the story of Mordechai and Esther and Elijah bringing life back to a baby.
Despite the current and legitimate focus on Jobar, the record of the Syrian people on preserving their cultural heritage, especially during the current crisis, is admirable. Two weeks ago this observer visited the old city of Homs, and spent a fair bit of time at the Um Al-Zenar Church of Saint Mary, Church of the Holy Belt, which dates from 52 AD. Tradition has it that this seat of the Syriac Orthodox archbishopric contains a venerated relic, and indeed the Bishop spoke to me about it one day as he shoveled rubble from around the altar. The relic is claimed to be a section of the belt of St. Mary, the mother of Jesus, and is said to be hidden near a below-ground spring. One arrives at the spring by walking down a long, very narrow, pitch black set of stone steps. The Holy Water that can be found there, a small pond in essence, is filled with fragments of stone and wood chunks from the fighting, yet supposedly this water has curative powers. I scooped up a couple of handfuls, and it was indeed very refreshing, but did nothing, so far, to cure my leg problem.
Be that as it may, this observer was struck by the number of parishioners, along with volunteers from the neighborhood, mostly Muslims, covered in dust and soot as they worked at cleaning out the rubble. In the courtyard in front of the church this observer stoked a still smoldering heap of burned bibles and other church documents and icons which I was told rebels had torched as they prepared to vacate the compound earlier this month. Two days after I departed Homs, the Um Al-Zenar Church, though a partially burned out shell devoid of pews and religious artifacts, held its first Holy Communion since the conflict began.
From my experience, Syrians, without exception, are deeply connected with their cultural heritage and do not distinguish all that much among its origins. Many Syrians are proud to help others protect and rebuild their damaged religious and cultural sites, and in fact it seems to be a unifying factor among this besieged population. People this observer speaks with as he travels around Syria to visit archeological sites seem to blame both sides for the damage, but they tend to focus more on the task of restoring their heritage sites. Space does not allow me to enumerate the countless examples of this, but I will mention one.
This observer was served tea one day by some members of the Jewish community in the old City of Damascus, including my friend Saul, who claims to be the last Jewish tailor in Syria, as well as the lovely elderly ladies known as 'the Jewish sisters' and whose apartment is near where St. Paul, according to tradition, converted to Christianity. The view expressed by my hosts that day—and I believe them—is that Jewish cultural heritage in Syria is being respected, protected and preserved with the same care as Muslim, Christian, and pagan antiquities.
It is easy to stand up and cheer for your favorite government activity. It is quite another to acknowledge what it means in the real world.
I almost never try to speak for other people. However, I think it is fairly safe to say that the average military recruit firmly believes that he joins the military so that you and I can live and breathe in freedom. To be sure, he had other reasons for joining, but I think the defense of liberty is a fairly common characteristic.
That is certainly what I thought when I was in Navy boot camp in Orlando, Florida, in 1983. After all, this is what I had been told all my life: sailors, soldiers, airmen and marines defend freedom.
But is this actually what they do?
Consider the following:
This Marine lost both legs in an IED blast in Iraq. He claims he was forced by TSA to remove both prosthetic legs before he could board an airplane in Phoenix.
This Vietnam veteran in Spicewood, Texas, had flashbacks to his combat experience during a marijuana raid at a friend's house. What police claimed was marijuana turned out to be ragweed.
Jared Goering, who served 19 years in the Army, including tours in Iraq and Afghanistan, was kicked off the boardwalk in Wildwood, N.J. for walking with his service dog, Gator.
Emily Yates, who served two tours with the Army in Iraq, was violently arrested by park police in Philadelphia for asking why she couldn't play her banjo under some shade trees.
Dimitrios Karras is a Marine Corps veteran of Iraq and Afghanistan. Read about the ATF raid on his business in National City, California.
Martin Goldberg of Brooklyn is a World War II veteran whose apartment was subject to a drug raid. Later, the cops realized they had raided the wrong apartment. His 83-year-old wife was hospitalized with an irregular heartbeat as a result of the raid.

In 1997, four sailors from the USS Saipan (LHA-2) were falsely accused of the rape and murder of a Norfolk, Virginia, woman. One spent eight-and-one-half years in prison while the other three were sentenced to life in prison. These three were pardoned in 2009. Even though the actual killer is serving a life sentence, four innocent men are still required to register as sex offenders and are still fighting to clear their names.
Charles Loeks was 18 and fresh out of Marine boot camp. On a trip home to Covina, California, he was hanging out with a few friends when he was arrested for resisting arrest and nothing else. He spent 21 days in Los Angeles County jail, even though he had harmed no one.
Carlos Jaramillo is a former Marine combat instructor who lives in Onslow County, North Carolina. Watch what happened when he recorded a sheriff's deputy who arrested him for no apparent reason.
Noel Polanco was an unarmed 22-year-old National Guardsman who was shot and killed by New York City police at a traffic stop near LaGuardia Airport.
John Laigaie, a retired Army master sergeant, was threatened at gunpoint by police while legally carrying a gun in a park in Bellingham, Washington.
Homer Wright is an 80-year-old Army veteran who was charged with felony gun use after he shot a burglar who entered his home in Englewood, Illinois.

Mark Schmidter, a Vietnam veteran who lives in Orlando, is currently serving 145 days in a cage for passing out jurors' rights information on the steps of a local courthouse.
Justin Ross of Ankeny, Iowa, was recently discharged from the Army. Police used a battering ram to enter his home executing a warrant for some items purchased with stolen credit cards. They did not find any of these items.
Saadiq Long is an Air Force veteran who was placed on a TSA no-fly list. He had to battle for months to be removed from this list just so he could fly home from Qatar to visit his ailing mother.
Chuck Benton of Long Grove, Iowa, served 22 years in the Army. He was arrested and charged simply for living in the same house with his son who was growing medical marijuana.
Cody Donovan is a former Marine MP who lives in New Milford, N.J. He was charged with unlawful possession of a weapon after carrying a loaded gun into the Garden State Plaza mall when he attempted to help police apprehend the shooter.

In 1932, 17,000 veterans marched on Washington to demand payment of bonuses they had been promised as a result of their service in World War I. Two were shot and killed by police. 55 were arrested and 135 were injured when the United States Army became an instrument of domestic law enforcement. Two of the chief enforcers were named MacArthur and Patton. Yes, those two.
Mark England, an Army combat medic who saw action in Iraq and Kosovo was beaten and tasered by police at McCarran Airport in Las Vegas.
Air Force Staff Sergeant Matt Pinkerton of Glen Burnie, Maryland, faces second degree murder charges after fatally shooting a home intruder in September.
Leo Hendrick, an army veteran who lives in Northwood, Iowa, faces up to 30 days in jail and a $600 fine for raising chickens in his yard.
Yes, the cops had a search warrant. However that in no way excuses their vandalizing the home of Army veteran Dan Neary of Lakewood, Washington.
These World War II veterans were threatened with arrest for visiting a closed war memorial in Washington, D.C. during the October "shutdown."

These Vietnam veterans actually were arrested for visiting a New York City war memorial after curfew.
Denis Reynoso was a disabled veteran who saw action with the Marines in Iraq. He was shot dead by police in his Lynn, Massachusetts, apartment.
Nick Morgan, an Iraq veteran, was pulled out of a crowd by police in Hempstead, New York, and trampled by their horses.
Gary Shepherd of Broadhead, Kentucky was a Vietnam veteran. He used medical cannabis to relieve the pain in his left arm, which was crippled during the war. Shepherd was shot dead by a SWAT team, after they had threatened to cut down his cannabis plants.
Valente and Manuel Valenzuela of San Antonio produced sufficient documentation to enlist, respectively, in the Army and Marine Corps. Both fought in Vietnam, where Valente won a Bronze Star. Now they are facing deportation to Mexico because of erroneous entries on their birth certificates.
Jerome Murdough, a homeless Marine Corps veteran, died in a jail cell on New York's Rikers Island after being arrested for trespassing. A heating malfunction caused the temperature in the cell to soar to 100 degrees.
Kenneth Chamberlain was a retired Marine and Vietnam veteran living in White Plains, New York. Early one morning he set off his medical alert device. The first responders in this case were not medics, but rather police, who proceeded to kill Mr. Chamberlain.

This group of combat veterans in Colorado organized to help legalize marijuana during the 2012 elections. They claim – and I believe them – that marijuana helps mitigate PTSD. If you support any punishment whatsoever for a combat veteran who heals himself with a plant that grows wild in some form within a few miles of you, I don't care what you tell me. YOU DON'T BELIEVE IN FREEDOM!
Stanley Gibson, a 43-year-old Gulf War veteran was shot dead over a total non-crime by Las Vegas police in December, 2011.
Army Specialist Michael Sharkey returned home from deployment in Afghanistan to find his home in New Port Richey, Florida, unlawfully occupied by two squatters. The local sheriff says that Sharkey has no grounds upon which to evict them.
These veterans say they are being required to prove they are worthy of gun rights. Our rights are gifts from God that are inherent in our very humanity. We never have to prove to anybody that we have them.
Dwight Edwards, a disabled Marine veteran of Afghanistan, says that cops in Queens brutally beat him for no reason.
Army Staff Sgt. C.J. Grisham, who won the Bronze Star with Valor, was forcibly disarmed for no good reason by a policeman while on a hike with his son not far from Fort Hood, Texas.

Brandon Raub, a Marine who was decorated for bravery in Iraq and Afghanistan, was forced to spend a week in a Virginia mental hospital over some "anti-government" Facebook posts. (His interviewer here, John Whitehead, is a constitutional attorney, Vietnam infantry veteran and superlative anti-police state blogger.)
Operation Vigilant Eagle is a project of the Department of Homeland Security that has led to numerous Iraq and Afghanistan veterans "finding themselves under surveillance, threatened with incarceration or involuntary commitment, or arrested, all for daring to voice their concerns about the alarming state of our union and the erosion of our freedoms." Indeed, merely being a "returning veteran" can have you designated as a potential terrorist.

We will never know the whole truth about Navy veteran and former Los Angeles cop Christopher Dorner, who was the subject of a police manhunt and media witch hunt in 2013. He never got the chance to tell his story in court.
Hector Barrios came to America in 1961. He was drafted and served as an infantry soldier in Vietnam. In 1996, he was busted for possessing marijuana, which he used to treat his PTSD. As a result, he was deported to his native Mexico where he died.
Matthew Corrigan of Washington, D.C. was a first sergeant in the Army Reserve and a veteran of Iraq. His home was destroyed in a SWAT rampage because it was reported to the police that Corrigan had a gun.
Jamie Dean was an Army veteran of Afghanistan was diagnosed with PTSD. Upset about his impending deployment to Iraq, Dean had an intense emotional outburst at his Maryland home in December 2006. Even though he neither harmed nor threatened anyone, he was shot and killed by a local SWAT team.


Bennie Coleman, 76, is a retired Marine who lost his Washington, D.C., home because of a $134 tax lien that District authorities had sold to an investor.
Jeremy Usher is a former Navy hospital corpsman who lives in Greeley, Colorado. He faces jail time for using medical marijuana to treat his PTSD.
Brittany Ball, a 23-year-old soldier at Fort Jackson, S.C., was manhandled by a cop at a local bar, even though she had done nothing wrong.
Air Force Airman First Class Michael Davidson was shot in the stomach by police in Opelika, Alabama, at the scene of a traffic accident.
Benjamin Wassell sustained traumatic brain injuries while with the Marines in Iraq. The Buffalo-area resident was the first person charged with illegal gun sales under New York's new SAFE Act.

Erik Scott graduated from West Point in 1994 and served as a tank platoon leader. In 2010, he was gunned down and killed by police as he peacefully walked out of a Las Vegas Costco.
Scott Olsen saw action with the Marines in Iraq. Later, he would join the Occupy Oakland movement. In October, 2011, suffered a fractured skull after being hit in the head with a projectile fired by police.
Derek Hale served honorably with the Marines in Iraq. Although, he had committed no crime, he died after being tasered three times and then shot three times by police in Wilmington, Delaware.
Roderick King, an Iraq war veteran, was arrested in Philadelphia after he and his friends had criticized a cop's driving.
Howard Dean Bailey, a Navy veteran, was deported to his native Jamaica when immigration authorities discovered he had taken a plea bargain in a marijuana case in Norfolk, Virginia.

To be sure, the recently deceased folk singer Pete Seeger could not have been more of a leftist. However, he did serve three years in the Army after being drafted during World War II. He was sentenced to one year in jail after refusing to reveal his political connections to the House Un-American Activities Committee in 1956. He appealed this sentence, citing the First Amendment, and ultimately spent only four hours behind bars.
Larry Kirschenman of Nogales, Arizona, served 22 years in the Army and was decorated for bravery in Vietnam. Learn how he was brutalized by Border Patrol agents when asking why he was subjected to a warrantless search.
We will never know for sure what happened in Army veteran Matthew Stewart's Ogden, Utah, apartment one night in January 2012, as he will never have his day in court. He was in prison awaiting trial on charges of shooting and killing one of the police officers who raided his apartment searching for marijuana. Stewart, whose guilt was never proven, committed suicide in his cell.
Sergio Arreola is a cop in Los Angeles who served with the Marines in Iraq. He was beaten by the police in suburban Pomona for no good reason whatsoever.
This former Army paratrooper is appealing to the New York state legislature to legalize medical marijuana. He has severe multiple sclerosis and is "forced to break the law to have some semblance of a bearable existence."


On May 5, 2011, a Tucson SWAT team approached the home of Jose Guerena, who had served two tours with the Marines in Iraq. Guerena grabbed his AR-15 as is his right, but did not fire. The SWAT team let loose with 71 rounds, 60 of which perforated Guerena's body.
Marty Maiden lived a few blocks from Guerena in Tucson. and saw action with the Army in Afghanistan. He posted a suicidal note on Facebook which prompted a call to the police, who shot him dead.
Steve Lefemine is a West Point graduate who was arrested for protesting against abortion in a "no-demonstration zone" outside the Republican National Convention in New York in 2004. The 2nd Circuit U.S. Circuit Court justified the arrest based on a "compelling state interest in security".

Eileen Erickson's husband Sid served in Vietnam and died of Agent Orange exposure. Erickson is now in the crosshairs of authorities in Venice, California, who want to tear down the tree house Sid built before he died.
Listen to this disabled Navy veteran plead with then-Senate candidate Kelly Ayotte (R-NH) about the benefits of medical marijuana. Listen to the totalitarian response.
John Wrana, a 95-year-old Army Air Corps veteran of World War II, was tasered and then shot to death by police in Forest Park, Illinois. His "crime"? Refusing medical attention.
John Colaprete saw action in Vietnam as a Marine Corps officer. In 1994, his Virginia Beach home and restaurants were the object of paramilitary-style raids by the IRS. The raid was prompted by a false accusation by a former employee. While you need to watch this documentary in its entirety some time, for now just pick it up for a few minutes starting at the 55:40 mark.

Boxing legend Joe Louis was also tyrannized by the IRS. The Brown Bomber enlisted in the Army in 1942 saying "Let us at them Japs." Louis never saw combat, as he was assigned to the Special Services Division. While still a civilian, Louis fought some charity bouts and donated the proceeds to the Navy Relief Society. The IRS, however, viewed these proceeds as taxable income. IRS problems would plague him all his life. Please watch this video starting at the 53:17 mark.
Adam Arroyo is a Hispanic veteran of the Iraq war who lives in Buffalo. Police shot and killed his dog while executing a drug warrant for a black man.
Henry Taylor was a retired Air Force veteran in Louisville, Tennessee, who was shot dead by a local sheriff's deputy while investigating a burglary at a rental property he owned.
This is a fascinating article: When Johnny Comes Marching Home … He Goes to Jail. It is absolutely tragic how we chew up and spit out so many of those we send to "fight for our freedom."

Radio talk host Adam Kokesh won the Navy Commendation Medal as a Marine in Iraq. In recent years, he has been arrested several times for various non-violent protests. His most recent arrest happened after he loaded a shotgun in public in Washington, D.C. on July 4, 2013. On July 10, police violently raided his home and arrested him. He was incarcerated for four months without bond, bail or trial. He is currently on probation for two years. You may not like Kokesh's demeanor or approve of all of his antics, but he has been very courageous when so many of his critics can't be bothered to put down the remote.

James Moore, my brothah from anothah mothah, walked away from a very lucrative engineering position in San Jose to re-enlist in the Army following 9/11. He sustained significant physical injuries as well as PTSD while serving in the Special Forces in Afghanistan. On the afternoon of March 25, 2008, Moore, who had done absolutely nothing wrong, was beaten to the point of flat lining by Denver police.
One of the coolest people I have never met is Antonio Buehler. Buehler graduated from West Point in 1999, earned his Ranger tab, and saw action in Kosovo and Iraq. (He also sports a Stanford MBA.) Early in the morning on January 1, 2012, Buehler was arrested for taking a few pictures of Austin police manhandling a young woman outside a 7-11. Buehler has been arrested four times since. He heads the Peaceful Streets Project, whose members work to expose abuse, brutality and overreach both in Austin and across the nation.

There are no doubt numerous other injustices against veterans that I do not know about. Enough to fill a book. None of these things would have happened if America were a free society. As Kokesh puts it, "The greatest enemies to the Constitution are not to be found in the sands of some far off land but rather right here at home."
I cannot speak to the specific political beliefs of most of the veterans I have mentioned here. Some may be pacifists, while others may make John McCain look like a hippie in Haight-Ashbury. No matter what their individual views may be, the freedom they risked their lives for was flagrantly violated on the streets of the land they fought to protect.
Society endlessly applauds sailors, soldiers, airmen and Marines for "fighting for our freedom". It is in no way disrespectful to say that this is not what they do. No foreign government or terrorist group poses any threat to our liberty. America accounts for about half of the world's military spending. We have 300 ships in our Navy, plus thousands of planes, tanks and nuclear warheads as well as 300 million firearms in private hands. Nobody is going to invade us.
In a constitutional country, which America ceased to be 100 years ago, the job of the military – a vital and most noble one – is to defend the borders, shores and airspace. It cannot protect you from being tyrannized domestically. Indeed, throughout history, armies have been instruments of domestic tyranny. Our Constitution forbids a standing army for just this reason.
Nazi Germany and Soviet Russia had enormous military establishments. How did things work out in these countries?
I am a Christian who believes liberty is a gift from God – Leviticus 25:10; II Corinthians 3:17; Galatians 5:1. To quote Jefferson, liberty is preserved not by military might, but by "eternal vigilance" against one's own government at all levels. It is the grossest form of disrespect to send young men around the world to "fight for freedom" while relinquishing that freedom on the home front.
For several years, America has had the world's highest incarceration rate. Since 2001, Americans have gladly accepted previously unthinkable intrusions on their freedom in the name of "safety" and "security". These include, but are not limited to: warrantless searches and spying, the suspension of habeas corpus, sexual assault as a condition of travel, rampant police brutality, indefinite detention without any semblance of due process, severe restrictions on peaceful protest, massive ammunition purchases by DHS and surveillance drones in our skies watching our every move. Can predator drones be far behind?
And in every election 98 percent of voters put their stamp of approval on perpetuating this monstrosity.
On April 20, 2013, Boston and several surrounding towns got a serious taste of martial law. How many military veterans were on the receiving end of this? Is this what they signed up to fight for?
Stop thinking in clichés. Have a good hard look at everything your media and government tell you. This includes media outlets and parts of the government that you like. Study. Read. Ask questions. And learn that the defense of liberty is not the duty of the military. Rather, it is your duty and mine.
~~~~~~~~~~~~~~~~~~~~~~~~~~~~~~~~~~~~~~~~~~~~~~~~~~~~~~~~~~~~~
In 2008, Houston police pulled over CIA agent Roland Carnaby on what appeared to be a routine traffic stop. A few seconds later, Carnaby was dead.
It is illegal to detain a CIA agent under any circumstances. They may carry any weapon, anywhere, anytime, and request assistance from any law enforcement official with more than certainty.
Why then would this incident be part of a highly classified Russian intelligence report? Could it, perhaps, be that Carnaby, answering directly to former President and CIA Director, George H.W. Bush, was murdered to silence his participation in the theft and sale of American nuclear warheads?
Carnaby was holding a trove of documents outlining the theft and transfer of hundreds of nuclear warheads from the Pantex Plant near Amarillo, Texas. Weapons sent there for disassembly were transshipped to Israel and, from there, refurbished, their cores remachined and then sold around the world or stored in Israeli embassies and consulates around the world.
The Russian report outlines a very different view of the past 30 years, a "view" that "fits like a glove."
DIMONA OUT OF ACTION
The report not only confirms Israel's nuclear weapon inventory but outlines the program of subterfuge and piracy required to keep Israel as a nuclear power after their facility at Dimona suffered a critical "event" in 1988.
"Dimona is a standard 75-megawatt thermal open top reactor as used in France for their plutonium weapons production program, their version of Stanford (Editor's note: Probably "Hanford").

Due to overuse as a fast breeder reactor by the Israelis, Dimona suffered a "steam explosion" IE a flash over indecent due to neutron criticality back in the late 1980's under Bush 1. This shut down its operation for many years until repairs could be made.

It know only operates at very low power levels due to neutron absorption damage to the containment vessel. Now mainly use for isotope production. This forced the Israelis to turn to stolen nuclear stockpiles from the US for the continuation of their nuclear program."
The highly classified Russian report, released, experts believe, to demonstrate American hypocrisy over recent events in the Ukraine, is a litany of horror stories. If this is a "first shot over the bow" by Russian intelligence, American officials can only dread what may be to come.
BACKGROUND

48 hours ago, the retired chief of Russia's counter-intelligence effort for the Middle East released a highly classified report designed to embarrass the United States and demonstrate their servitude to Israel and complicity in broad acts of nuclear proliferation.
The report, loaded with "shock value" intelligence and backed by reams of supporting documents including classified nuclear weapons plans demonstrated that Russia has been able to maintain a high level of penetration of not just American nuclear weapons labs but security agencies as well.
ROUND ONE, 9/11
The report, carefully structured for maximum shock value, begins with 9/11, the watershed event of our era:
"The type of nuclear devices used on 911 were a modified version of the W-54 nuclear artillery shells that were covertly provided to the Israelis between 1988 and 1998 from US surplus stockpiles illegally exported during the Bush/Clinton era.
Chemical analysis done by DOE Sandi was able to identify the chemical/radiation footprint or fingerprint of the warheads based on samples taken after 911 of the fallout at ground zero."
According to the report, 911 was an Israeli operation facilitated by blackmail of Bush 41 and 43, threatening them with "outing" for their personal financial involvement in the sale of 350 primarily w54 nuclear artillery rounds, sold through Israel but distributed to a number of nations.
The Russian report further outlines that NATO partners, particularly Britain and France, were involved every step of the way. 911 was cover for stolen gold, stock fraud and the looting of the American economy. The "wars for profit" were the Bush boys cashing in on their own.
THE "HOW" OF 911
A number of theories have been introduced to explain the mysterious effects seen at ground zero on 9/11. In an article on the Press TV website, evidence of a widespread cover-up of an epidemic of radiation exposure-related cancers tied to 9/11, was presented.
Not only has Russia confirmed the Press TV findings, they present evidence of nuclear weapons use, evidence from a suppressed report based on findings by the Department of Energy's Sandia Laboratories.
"Only a 2 kiloton device was needed to drop the buildings. A 2 kiloton device will produce a fireball of apx 150 to 200 feet in diameter at over 4000 degrees Centigrade. Just large enough to melt the I beams of the central core of the building and drop them in place. The light flash would last less than 1 second and primarily be in the UV light range. Overpressure would only be at 60PSI max and directed upwards with the blast.
Fallout would be minimal and located to within ground zero range only. Radiation would drop to acceptable levels within 72 hrs. after the blast. Most fall out was trapped in the cement dust thus causing all of the recent cancer deaths that we are now seeing in NYC amongst first responders."
The report continues with details that close the door on speculation about 9/11, putting an end to conspiracy theories and, in particular, the wildest one of all, the pseudo-science fairy tale broadly rejected by the 9/11 Commission but allowed to stand as America descended into an Islamophobic frenzy.
"Fallout would be minimal and located to within ground zero range only. Radiation would drop to acceptable levels within 72 hrs. after the blast. Most fall out was trapped in the cement dust thus causing all of the recent cancer deaths that we are now seeing in NYC amongst first responders.

Melted steel and iron oxide or "nano thermite" is a byproduct of the very high gamma ray / Neutron flux induced into the central steel core. The radiation dissolves the steel into iron oxide consuming the carbon and silicone in the steel."
This explains the missing steel columns and the very important clue of the "vaporized" 20 ton antenna tower atop the south tower. The upward blast of radiation literally vaporized it. Video evidence proves this to be true.
The total (redacted) data file from DOE Sandia on the 911 event is well over 72 MB. "P.S. Snowden didn't have a Q clearance so he missed this one."
The scope of the Bush/Cheney/Israeli nuclear proliferation operation, according to the report, is well beyond anything imagined. Here, Russia places the blame, naming not only Vice President Dick Cheney and former White House Chief of Staff Ram Emanuel but Tom Countryman, tasked, according to Russian sources, with actually managing the program that spread nuclear weapons to Brazil, North and South Korea, Saudi Arabia and a number of other nations.
"Illegal distribution of US nuclear material to foreign allies was not limited to Israel. Virtually all NATO allies were in on this scam too. Dick Cheney was the bad guy on this one. Bush2/Cheney traded nuclear pits to foreign country as IOU's in order to get what they wanted. Tom Countryman a well-known Israeli operative is curiously now in charge of N.N.P. at the State Department under Obama. He was put there by Ram Emanuel."
REACTIVATING "DEAD NUKES"
Only nuclear weapons that had deteriorated but could be recommissioned were of use to Israel. The Russian report outlines the basis for selecting the W-54 warhead and exacting details on how weapons were created out of America's "nuclear scrap heap."
"A total of over 350 pits were transferred to the Israelis over a 10 to 20 year period of time. The W-54 type of pit design were the most desirable due to the 2 point implosion pit design. This is the easiest to re manufacture and modify as compared to other circular pit designs.
The pill shaped design of the W-54 type weapon contains over 1.5 times more plutonium than a standard pit. This would allow enough Plutonium to be recovered that was still of weapons grade use even after 32 plus years of age. Americium build up in the pit over time eventually makes the Pit unusable as a weapon so they have a limited shelf life based on how fast or slow the Plutonium was produce in the reactor at Stanford.
Usually it was about 150 days max. Irradiation time in the reactor during production determines the shelf life of the pit as weapons grade material. All of the micro nukes used by the Israelis are re-manufactured W-54 type series devices."
CONCLUSION
According to the Russian report, Israel used remanufactured W-54 warheads, reconfigured as micro-nukes, for terror bombings in Bali, London and to destroy the Fukashima nuclear reaction site in Japan.
With weapons around the world, stored in embassies and consulates, and their powerful friends in the American "right," Israel has managed to maintain nuclear superpower status without a real production facility, using only pirates and traitors, something America, according to our Russian sources, seems to have no shortage of.
Gordon Duff is a Marine Vietnam veteran, a combat infantryman, and Senior Editor at Veterans Today. His career has included extensive experience in international banking along with such diverse areas as consulting on counter insurgency, defense technologies or acting as diplomatic representative for UN humanitarian and economic development efforts. Gordon Duff has traveled to over 80 nations. His articles are published around the world and translated into a number of languages. He is regularly on TV and radio, a popular and sometimes controversial guest. 
Source: Veterans Today | Press TV
"Comrade Wolf knows who to eat, and he eats without listening to anyone." – Russian President Vladimir Putin referring to the United States…
The Ukraine crisis has its roots in a policy that dates back nearly 20 years. The origins of the policy can be traced to a 1997 article in Foreign Policy magazine by Zbigniew Brzezinski, titled "A Geostrategy for Eurasia." The article makes the case that the United States needs to forcefully establish itself in Central Asia in order to maintain its position as the world's only superpower. While many readers may be familiar with Brzezinski's thinking on these matters, they might not know what he has to say about Russia, which is particularly illuminating given that the recent uptick in violence has less to do with Ukraine than it does with Washington's proxy-war on Russia. Here's what Brzezinski says:
"Russia's longer-term role in Eurasia will depend largely on its self-definition…Russia's first priority should be to modernize itself rather than to engage in a futile effort to regain its status as a global power. Given the country's size and diversity, a decentralized political system and free-market economics would be most likely to unleash the creative potential of the Russian people and Russia's vast natural resources. A loosely confederated Russia — composed of a European Russia, a Siberian Republic, and a Far Eastern Republic — would also find it easier to cultivate closer economic relations with its neighbors. Each of the confederated entitles would be able to tap its local creative potential, stifled for centuries by Moscow's heavy bureaucratic hand. In turn, a decentralized Russia would be less susceptible to imperial mobilization." Zbigniew Brzezinski, A Geostrategy for Eurasia, Foreign Affairs, 76:5, September/October 1997.
So is this the goal of US policy, to create "A loosely confederated Russia" whose economy can be subsumed into America's market-based system?
Notice how easily Brzezinski chops Russia into smaller, bite-size statelets that pose no threat to US imperial expansion. Brzezinski undoubtedly envisions a Russia that will sell its vast resources in petrodollars and recycle them into US Treasuries further enriching the corrupt rent-skimmers in Washington and Wall Street. He foresees a Russia that will abdicate its historic role in the world and have no say-so in shaping global policy. He imagines a compliant Russia that will help facilitate US imperial ambitions in Asia, even to the point where it will pay to police its own people on behalf of US oligarchs, weapons manufacturers, oil magnates, and 1 percenters. Here's the paragraph in Brzezinski's piece that sums up Washington's objectives in Ukraine, Russia and beyond. It is fittingly headlined with the following words in bold print:
TRANSCONTINENTAL SECURITY
"Defining the substance and institutionalizing the form of a trans-Eurasian security system could become the major architectural initiative of the next century. The core of the new transcontinental security framework could be a standing committee composed of the major Eurasian powers, with America, Europe, China, Japan, a confederated Russia, and India collectively addressing critical issues for Eurasia's stability. The emergence of such a transcontinental system could gradually relieve America of some of its burdens, while perpetuating beyond a generation its decisive role as Eurasia's arbitrator. Geostrategic success in that venture would be a fitting legacy to America's role as the first and only global superpower." Zbigniew Brzezinski, "A Geostrategy for Eurasia," Foreign Affairs
Translation: The United States will police the world, dispatch troublemakers, and eliminate potential threats wherever it finds them. It will impose its neoliberal dogma (Austerity, privatization, structural adjustment, anti labor reforms, etc) across-the-board and on all participants. Also, minor partners–"Europe, China, Japan, a confederated Russia, and India"–will be expected to provide security for their own people at their own expense in order to "relieve America of some of its burdens."
Nice, eh? So you even have to pay for your own jailers.
And what is "Transcontinental Security" anyway? Isn't it just a fancy way of saying "one world government"?
Indeed, it is. It's the very same thing. Here's more from Brzezinski:
"Failure to widen NATO…would shatter the concept of an expanding Europe… Worse, it could reignite dormant Russian political aspirations in Central Europe."
This is an oddly convoluted statement. In the first sentence, Brzezinski supports the idea of an "expanding Europe", and then in the next breath, he worries that Russia might want to do the same thing. It's another case of the pot calling the kettle black.
What's clear, is that –in Brzezinski's mind– EU and NATO expansion will help Washington achieve its hegemonic aspirations. That's all that matters. Here's what he says:
"Europe is America's essential geopolitical bridgehead in Eurasia…A wider Europe and an enlarged NATO will serve the short-term and longer-term interests of U.S. policy… A politically defined Europe is also essential to Russia's assimilation into a system of global cooperation."
"Bridgehead"? In other words, Europe is just a means to an end. But what would that "end" be?
Global domination. Isn't that what he's talking about?
Of course, it is.
What makes the Ukrainian crisis so hard to understand, is that the media conceals the policy behind the impenetrable fog of daily events. Once the fog lifts though, it's easy to see who's causing all the trouble. It's the party that's calling the shots from abroad, the good old US of A.
Putin doesn't want this war and neither do most Ukrainians. The whole thing was conjured up by Uncle Sam and his minions to stop the flow of Russian gas to Europe, to push NATO further eastward, and to break the Russian Federation into little pieces. That's what it's really all about. And these madmen are willing to raze Ukraine to the ground and kill every living organism within a 3,000 mile radius of Kiev to get their way. After all, isn't that what they did in Iraq? They sure did. And did I mention that, according to this week's Wall Street Journal, "Iraq's Oil Output Surged to Highest Level in Over 30 Years" with all the usual suspects raking in hefty profits.
The point is, if they'd did it in Iraq, they'll do it in Ukraine too. Because what Washington cares about is constituents not carnage. Carnage they can handle.
Brzezinski is not the only one supporting the current policy either. There's also fellow traveler, Hillary Clinton. In fact, it was Secretary of State Clinton who first used the term "pivot" in a 2011 article in Foreign Policy Magazine titled "America's Pacific Century". Clinton's op-ed described a "rebalancing" plan that would open up new markets to US corporations and Wall Street, control the flow of vital resources, and "forge a broad-based military presence" across the continent. Here's an excerpt from the text of Clinton's seminal speech:
"The future of politics will be decided in Asia, not Afghanistan or Iraq, and the United States will be right at the center of the action.
As the war in Iraq winds down and America begins to withdraw its forces from Afghanistan, the United States stands at a pivot point. Over the last 10 years, we have allocated immense resources to those two theaters. In the next 10 years, we need to be smart and systematic about where we invest time and energy, so that we put ourselves in the best position to sustain our leadership, secure our interests, and advance our values. One of the most important tasks of American statecraft over the next decade will therefore be to lock in a substantially increased investment — diplomatic, economic, strategic, and otherwise — in the Asia-Pacific region…
Harnessing Asia's growth and dynamism is central to American economic and strategic interests and a key priority for President Obama. Open markets in Asia provide the United States with unprecedented opportunities for investment, trade, and access to cutting-edge technology…..American firms (need) to tap into the vast and growing consumer base of Asia…The region already generates more than half of global output and nearly half of global trade. As we strive to meet President Obama's goal of doubling exports by 2015, we are looking for opportunities to do even more business in Asia…
…as I talk with business leaders across our own nation, I hear how important it is for the United States to expand our exports and our investment opportunities in Asia's dynamic markets." ("America's Pacific Century", Secretary of State Hillary Clinton", Foreign Policy Magazine, 2011)
"Harnessing Asia's growth and dynamism is central to American economic and strategic interests and a key priority for President Obama"?
Does that sound like someone who wants to cultivate a mutually-beneficial relationship with their trading partners or someone who wants to move in, take over and run the show?
Washington's plan to shift its attention from the Middle East to Asia is all about money. Clinton even says so herself. She says, "The region generates more than half of global output and nearly half of global trade…Asia's markets … provide the United States with unprecedented opportunities for investment, trade, and…a vast and growing consumer base."
Money, money, money. The upside-profit potential is limitless which is why Madame Clinton wants to plant Old Glory right in "the center of the action", so US corporations can rake in the dough without fear of reprisal.
Brzezinski says the same thing in his magnum opus "The Grand Chessboard" Here's an excerpt:
"A power that dominates Eurasia would control two of the world's three most advanced and economically productive regions. A mere glance at the map also suggests that control over Eurasia would almost automatically entail Africa's subordination, rendering the Western Hemisphere and Oceania (Australia) geopolitically peripheral to the world's central continent. About 75 per cent of the world's people live in Eurasia, and most of the world's physical wealth is there as well, both in its enterprises and underneath its soil. Eurasia accounts for about three-fourths of the world's known energy resources." (Zbigniew Brzezinski, "The Grand Chessboard: American Primacy And It's Geostrategic Imperatives", page 31)
Get the picture? It's a gold rush! Having successfully looted every last farthing from the battered US middle class and left the economy in a ghastly shambles, Brzezinski, Clinton and Co. are headed for greener pastures in Central Asia, home of the world's largest oil producing nation, boundless reserves in the Caspian Basin, and zillions of voracious consumers who'll need everything from I Pads to leisure wear, all graciously provided by US-owned corporations. Cha-ching!
So don't get tripped up on the daily events in Ukraine. This isn't a clash between pro-government forces and anti-government activists. This is the next big phase of Washington's plan to conquer the world, a plan that will inevitably pit Moscow against the amassed military power of the United States of America. This is David vs. Goliath, Mother Russia vs. the Great Satan, Vladie Putin vs. Comrade Wolf.
Ukraine is just Round 1.
On the surface, the economic atmosphere of the U.S. has appeared rather calm and uneventful. Stocks are up, employment isn't great but jobs aren't collapsing into the void (at least not openly), and the U.S. dollar seems to be going strong. Peel away the thin veneer, however, and a different financial horror show is revealed.
U.S. stocks have enjoyed unprecedented crash protection due to a steady infusion of fiat money from the Federal Reserve known as quantitative easing. With the advent of the "taper", QE is now swiftly coming to a close (as is evident in the overall reduction in treasury market purchases), and is slated to end by this fall, if not sooner.
Employment has been boosted only in statistical presentation, and not in reality. The Labor Department's creative accounting of job numbers omits numerous factors, the most important being the issue of long term unemployed. Millions of people who have been jobless for so long they no longer qualify for benefits are being removed from the rolls. This quiet catastrophe has the side bonus of making it appear as though unemployment is going down.
U.S. Treasury bonds, and by extension the dollar, have also stayed afloat due to the river of stimulus being introduced by the Federal Reserve. That same river, through QE, is now drying up.
In my article The Final Swindle Of Private American Wealth Has Begun, I outline the data which leads me to believe that the Fed taper is a deliberate action in preparation for an impending market collapse. The effectiveness of QE stimulus has a shelf-life, and that shelf life has come to an end. With debt monetization no longer a useful tool in propping up the ailing U.S. economy, central bankers are publicly stepping back. Why? If a collapse occurs while stimulus is in full swing, the Fed immediately takes full blame for the calamity, while being forced to admit that central banking as a concept serves absolutely no meaningful purpose.
My research over many years has led me to conclude that a collapse of the American system is not only expected by international financiers, but is in fact being engineered by them. The Fed is an entity created by globalists for globalists. These people have no loyalties to any one country or culture. Their only loyalties are to themselves and their private organizations.
While many people assume that the stimulus measures of the Fed are driven by a desire to save our economy and currency, I see instead a concerted program of destabilization which ismeant to bring about the eventual demise of our nation's fiscal infrastructure. What some might call "kicking the can down the road," I call deliberately stretching the country thin over time, so that any indirect crisis can be used as a trigger event to bring the ceiling crashing down.
In the past several months, the Fed taper of QE and subsequently U.S. bond buying has coincided with steep declines in purchases by China, a dump of one-fifth of holdings by Russia, and an overall decline in new purchases of U.S. dollars for FOREX reserves.
With the Ukraine crisis now escalating to fever pitch, BRIC nations are openly discussing the probability of "de-dollarization" in international summits, and the ultimate dumping of the dollaras the world reserve currency.
The U.S. is in desperate need of a benefactor to purchase its ever rising debt and keep the system running. Strangely, a buyer with apparently bottomless pockets has arrived to pick up the slack that the Fed and the BRICS are leaving behind. But, who is this buyer?
At first glance, it appears to be the tiny nation of Belgium.
While foreign investment in the U.S. has sharply declined since March, Belgium has quickly become the third largest buyer of Treasury bonds, just behind China and Japan, purchasing more than $200 billion in securities in the past five months, adding to a total stash of around $340 billion. This development is rather bewildering, primarily because Belgium's GDP as of 2012 was a miniscule $483 billion, meaning, Belgium has spent nearly the entirety of its yearly GDP on our debt.
Clearly, this is impossible, and someone, somewhere, is using Belgium as a proxy in order to prop up the U.S. But who?
Recently, a company based in Belgium called Euroclear has come forward claiming to be the culprit behind the massive purchases of American debt. Euroclear, though, is not a direct buyer. Instead, the bank is a facilitator, using what it calls a "collateral highway" to allow central banks and international banks to move vast amounts of securities around the world faster than ever before.
Euroclear claims to be an administrator for more than $24 trillion in worldwide assets and transactions, but these transactions are not initiated by the company itself. Euroclear is a middleman used by our secret buyer to quickly move U.S. Treasuries into various accounts without ever being identified. So the question remains, who is the true buyer?
My investigation into Euroclear found some interesting facts. Euroclear has financial relationships with more than 90 percent of the world's central banks and was once partly owned and run by 120 of the largest financial institutions back when it was called the "Euroclear System". The organization was consolidated and operated by none other than JP Morgan Bank in 1972. In 2000, Euroclear was officially incorporated and became its own entity. However, one must remember, once a JP Morgan bank, always a JP Morgan bank.
Another interesting fact – Euroclear also has a strong relationship with the Russian government and is a primary broker for Russian debt to foreign investors. This once again proves my ongoing point that Russia is tied to the global banking cabal as much as the United States. The East vs. West paradigm is a sham of the highest order.
Euroclear's ties to the banking elite are obvious; however, we are still no closer to discovering the specific groups or institution responsible for buying up U.S. debt. I think that the use of Euroclear and Belgium may be a key in understanding this mystery.
Belgium is the political center of the EU, with more politicians, diplomats and lobbyists than Washington D.C. It is also, despite its size and economic weakness, a member of an exclusive economic club called the "Group Of Ten" (G10).
The G10 nations have all agreed to participate in a "General Arrangement to Borrow" (GAB) launched in 1962 by the International Monetary Fund (IMF). The GAB is designed as an ever cycling fund which members pay into. In times of emergency, members can ask the IMF's permission for a release of funds. If the IMF agrees, it then injects capital through Treasury purchases and SDR allocations. Essentially, the IMF takes our money, then gives it back to us in times of desperation (with strings attached).  A similar program called 'New Arrangements To Borrow' (NAB) involves 38 member countries.  This fund was boosted to approximately 370 billion SDR (or $575 billion dollars U.S.) as the derivatives crisis struck markets in 2008-2009.  Without a full and independent audit of the IMF, however, it is impossible to know the exact funds it has at its disposal, or how many SDR's it has created.
It should be noted the Bank of International Settlements is also an overseer of the G10. If you want to learn more about the darker nature of globalist groups like the IMF and the BIS, read my articles, Russia Is Dominated By Global Banks, Too, and False East/West Paradigm Hides The Rise Of Global Currency.
The following article from Harpers titled "Ruling The World Of Money," was published in 1983 and boasts about the secrecy and "ingenuity" of the Bank Of International Settlements, an unaccountable body of financiers that dominates the very course of economic life around the world.
It is my belief that Belgium, as a member of the G10 and the GAB/NAB agreements, is being used as a proxy by the BIS and the IMF to purchase U.S. debt, but at a high price. I believe that the banking elite are hiding behind their middleman, Euroclear, because they do not want their purchases of Treasuries revealed too soon. I believe that the IMF in particular is accumulating U.S. debt to be used later as leverage to absorb the dollar and finalize the rise of their SDR currency basket as the world reserve standard.
Imagine what would happen if all foreign creditors abandoned U.S. debt purchases because the dollar was no longer seen as viable as a world reserve currency.  Imagine that the Fed's efforts to stimulate through fiat printing became useless in propping up Treasuries, serving only to devalue the domestic buying power of our currency.  Imagine that the IMF swoops in as the lender of last resort; the only entity willing to service our debt and keep the system running.  Imagine what kind of concessions America would have to make to a global loan shark like the IMF.
Keep in mind, the plan to replace the dollar is not mere "theory".  In fact, IMF head Christine Lagarde has openly called for a "global financial system" to take over in the place of the current dollar based system.
The Bretton Woods System, established in 1944, was used by the United Nations and participating governments to form international rules of economic conduct, including fixed rates for currencies and establishing the dollar as the monetary backbone. The IMF was created during this shift towards globalization as the BIS slithered into the background after its business dealings with the Nazis were exposed. It was the G10, backed by the IMF, that then signed the Smithsonian Agreement in 1971 which ended the Bretton Woods system of fixed currencies, as well as any remnants of the gold standard. This led to the floated currency system we have today, as well as the slow poison of monetary inflation which has now destroyed more than 98 percent of the dollar's purchasing power.
I believe the next and final step in the banker program is to reestablish a new Bretton Woods style system in the wake of an engineered catastrophe. That is to say, we are about to go full circle. Perhaps Ukraine will be the cover event, or tensions in the South China Sea. Just as Bretton Woods was unveiled during World War II, Bretton Woods redux may be unveiled during World War III. In either case, the false East/West paradigm is the most useful ploy the elites have to bring about a controlled decline of the dollar.
The new system will reintroduce the concept of fixed currencies, but this time, all currencies will be fixed or "pegged" to the value of the SDR global basket. The IMF holds a global SDR summit every five years, and the next meeting is set for the beginning of 2015.
If the Chinese yuan is brought into the SDR basket next year, if the BRICS enter into a conjured economic war with the West, and if the dollar is toppled as the world reserve, there will be nothing left in terms of fiscal structure in the way of a global currency system. If the public does not remove the globalist edifice by force, the IMF and the BIS will then achieve their dream – the complete dissolution of economic sovereignty, and the acceptance by the masses of global financial governance. The elites don't want to hide behind the curtain anymore. They want recognition. They want to be worshiped. And, it all begins with the secret buyout of America, the implosion of our debt markets, and the annihilation of our way of life.
Source:  Brandon Smith | Alt-Market
Origin of the Master Model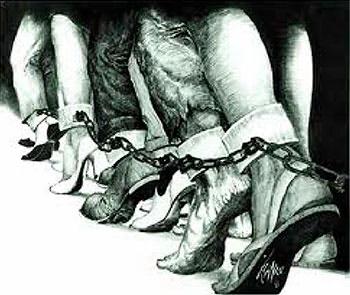 The master plan for world domination we see playing out today was first proposed to the US at the end of World War I. However, there were no takers. People were too war weary. However, when the plan was again proposed at the end of World War II, it was accepted. Consequently, World War II quietly transitioned into the secret "war" to set up what has become known as the "new world order" — an absolute dictatorship over the entire planet.
The United States set up the School of the Americas to train future dictators and terrorists who would be sent out into the world to destroy sovereign nations and place them under US domination by installing puppet governments obedient to the United States. Many conquests were made quietly using clever economic tricks [2]. However, leaders who refused to submit quietly would see their entire country reduced to rubble and the land rendered unlivable by uranium dust scattered by US bombs. The message was clear: Submit to the United States or face total destruction.
A social model based upon the assumption that cleverness and power automatically convey the right to take anything desired from those who are less adept and unable to resist is not a sustainable model for harmonious social interactions. However, this is the chosen model. The mantra for this model, "A man's true worth is measured by the amount of other peoples' happiness that he can possess and destroy" [1], is essentially a call for a class war between the greedy elite and the innocent masses of the world who simply desire a peaceful existence.
Acquisitions
The United States looks at the rest of the world as a "resource". If a country has something — oil, gold, minerals, etc. — that the US covets, it believes it has the right to take those things by whatever means necessary. In many cases the coveted resource is human slave labor. Let's look at some representative examples:
With the cooperation of the dictator, United Fruit Company (US) owned almost half of the country and used the locals as slaves to harvest its Chiquita brand bananas. However, during the period from 1945-1954 new leaders made changes. They helped the poor and set up social security and health care. Then they took land away from United Fruit and gave it to the local people. United fruit complained to the CIA that its business interests were being interfered with by the "communist" government. Any government which shows kindness to the poor and weak is called communist by the US. The US attacked Guatemala — killed the elected leaders and many thousands of citizens — and established a puppet dictatorship which would obey the will of United Fruit. The people were returned to a state of slavery. The CIA trained death squads to make sure the people were crushed into submission.
Strip Mining in Africa [4]
In Africa, the International Monetary Fund — a puppet of the US — destroys a country with strip mining. The original country was self sustaining. People were able to grow lots of food and hunt animals. However, once the land was ruined by US corporations, it was unusable to plant crops and the native animals died. The people had to buy food from other countries with money loaned to them by the IMF which they could never hope to repay. Therefore, a once free and self supporting people were made debt slaves of the IMF. Once all the natural resources have been stolen, the corporations will simply pack up and leave the indigenous people to starve and die.
Countries Used as Trash Dumps [5]
Used computers and associated items are dumped in poor countries where starving barefoot children sift through the mess of hazardous waste and broken obsolete glass computer monitors hoping to find something they can sell to get enough money to stay alive another day. Property stickers show the waste is mainly from the US government and various US state governments.
Corruption of Trusted Sources
Reporters and News Organizations
The masses are conditioned to believe news they receive from establishment sources. In the earlier times, this assumption was often correct. It was considered so important by the founding fathers that freedom of the press was enshrined in the US constitution. However, times have changed.
Walter Cronkite was known as the "trusted voice". No one knew he was also the official announcer at the secret Bohemian Grove meetings. The leaders of the world's news organizations also attend this event. That is why, even though the meetings began over one hundred years ago, until recently no one knew this group even existed. President George W. Bush may have set a new record for bribing journalists to allow their trusted name to be used as the author of material actually written by government propaganda experts. Apparently, everyone has a price and the government, of course, has no problem when it comes to money.
When Ronald Reagan reportedly ordered the death of investigative reporter Jessica Savitch [6], the message to independent journalists was clear: Go against the official party line an you're done!
Today, dedicated journalists face mysterious deaths and strange single car accidents but a few survive long enough to give us a glimpse of truths we would otherwise never know. They are true heroes.
Churches
Churches are everywhere. Unfortunately, legitimate Spiritual teachers are not. People look at churches either as harmless or with some sort of conditioned hypnotic respect. Churches send out "missionaries". However, the "mission" of these missionaries may not be so clear. If you wanted to infiltrate a foreign country, these people would be an ideal asset.
Churches are not Spiritual centers. At best, all they want is your money. At worst, they are Satanic and you are in severe Spiritual danger if you come under their influence and control.
The Catholic Church has been a trusted asset of the US intelligence community for quite some time. Significant information obtained by priests during confessions is routinely passed on to the government.
This agreement predates the internet by many years. Because the church has branches in almost every country, it has great potential for covert activities. For example, if you need to get an operative who is in danger out of a country, they can go to a Catholic church for "confession". Once the door is closed, they can exit through a secret passage, be disguised in robes and spirited safely out of the country. Church secrecy is at least on a par with US secrecy. Also, the Catholic church and the US shadow government share the same Satanic value system and engage in child rape and ritual killings.
Doctors and the Medical Industry
Medicine in the United States is an industry. It is no longer a profession. Its corporate model puts profit above all else. If some patients accidentally benefit they are the lucky ones.
The medical community has a rigid hierarchical structure and effective mechanisms for enforcing secrecy. Essentially, its model closely resembles the military chain of command structure. This makes it a perfect partner for the government in the area of secret human experiments.
For example, when the government was doing radiation experiments on humans, a doctor or someone dressed as a doctor would just walk up to unsuspecting patients and inject them with radioactive material. They were then secretly followed for years to see what would happen. Eventually, some of those who survived were told the truth. Most people used in the MK Ultra and subsequent secret projects were never notified.
Hospitals are set up to protect themselves. Staff may appear to be dedicated, smiling people who truly care about you. However, they are basically prostitutes who are being nice because you are worth money to them. When they make mistakes they have a "loss prevention" department staffed by clever lawyers who are trained to protect the financial interests of the hospital by denying everything and fabricating believable coverups. They are trained to do whatever is necessary. The staff will all agree to support whatever lies are needed. They know their job and their financial future depends upon maintaining strict secrecy.
The only people who receive legitimate medical care are the select elite cleared to accesstop secret medicine. These people always get excellent care because the doctors work for the shadow government and mistakes on their part are simply not tolerated.
Infiltrations
Countries which have the resources to sustain an intelligence community generally try to get operatives (spies) into other countries so they can directly observe activities. When real people gather intelligence, this is called human intelligence or HUMINT. The US, of course, does this too. However, you may not be aware of the extent to which the US also infiltrates itself. The central government really does not trust anyone.
Essentially all local police departments, state offices and state governors have a covert federal agent working close by pretending to be just another employee. Also, every US neighborhood has an informer who reports to the federal government. Large corporations, which tend to behave like "mini governments", need to be infiltrated and kept under observation. Colleges and universities are also monitored.
Here is how this spy network operates: The NSA likes to recruit young kids right out of college. When they are hired and sworn to secrecy they still do not know what their assignment will be. They must agree to do this assignment without first being told what it is.
Some agents, like John Perkins [2], are assigned to work in other countries. However, others are assigned to work inside the US. Their assignment could be to go to some state and apply to join the local police department. They would pretend to be just a regular person looking for a job. They would take the necessary training and spend their life as a local policeman so they could directly observe other local police from the inside and report to the NSA. Since they are actually an employee of the NSA, presumably they get to keep both salaries and, eventually, both retirements. All significant local police forces in the US are infiltrated this way.
Additionally, some agents will be assigned to get a job on the state governor's staff as well as in major local state agencies. A CIA or NSA agent is always on the staff at major colleges and universities. The same goes for major corporations.
Senior level agents are allowed to have special TV receivers in their homes linked to the secret government TV network. This way everyone stays on the same page. The channels on this network actually broadcast the truth. TV channels available to ordinary people contain only government approved propaganda mixed with "bread and circuses" presentations to make sure the sheeple stay asleep and content.
Fronts
The US government is involved in illegal activities internationally and domestically. If it performed these activities overtly in the name of the United States, there would be serious consequences under both international and local laws. To avoid this situation, the US government operates thousands of "front organizations" which appear to be private but are actually shadow operatives of the US.
For example, John Perkins [2] explained that he was recruited, hired and trained by the NSA. He was an NSA agent. However, for his cover as an economic hit man, he "officially" worked for a "private" company called Charles T. Main. This company was a government front to shield the US because the activities the NSA trained Perkins to do were illegal.
This is standard operating procedure for the US as well as other countries and many corporations. It shields them from legal recourse by providing deniability for the crimes they actually direct and commit.
Generally, when the US wants to influence other sovereign countries, it creates harmless looking NGO's which appear to be independent but are actually fronts for covert activities.
Domestically, colleges and universities — especially those with associated medical schools and hospitals — are great places to conceal a variety of covert projects such as the MK Ultra series of human experiments which, reportedly, continue today using new cover names. The US also likes to create non-profit corporations which exist only to provide classified services to the United States. A good example would be the Institutes for Defense Analysis (IDA). The US, reportedly, is its only client.
Programming
Mass media "programming" is actually programming you. It has developed into a subtle form of mind control. Before radio and television, special interests recognized that motion pictures could be used to alter public opinion in their favor. Perhaps, for example, you wanted to attack labor unions. When radio and later television came along providing access to national and international audiences, the temptation to exploit these technologies became irresistible. Originally, the US government recognized this and set up fairness rules to prevent monopolies from taking over the broadcast media and blocking opposing viewpoints. All this ended, unfortunately, when Ronald Regan canceled all the fairness regulations. Today, a handful of powerful corporations own and control essentially all content delivered by radio and television.
Television is the main vehicle for mass indoctrination. It is said that people watching TV actually fall into a light hypnotic trance. The "entertainment" you see on TV does not "just happen to be there". It is very carefully planned and timed to attract and influence targeted audiences. It is said that if some event were to somehow shut down all television broadcasts the government would experience a severe crisis because it would lose control over the minds of the masses.
TV creates sort of a "hive mind" among the masses and keeps everyone coordinated and tuned into the official party line. Without this, people would have no choice but to start thinking for themselves and forming independent opinions. Clearly, this would be a disaster.
The radio broadcast of "War of the Worlds" and the later movie "The Day the Earth Stood Still" are said to be CIA psychological experiments to judge how the general public would react to some type of ET contact.
Today, broadcasting is not just a one way event. Because people react to events and use social media to express these reactions, the effect of specific propaganda can be analyzed in real time. Since the government now intercepts all electronic communications, it is able to see general opinions and then tweak algorithms to maximize the desired effect of propaganda. This ability makes TV a two-way communications system although most people, of course, do not realize this and have no concept of the level of sophistication these technologies have reached.
Information Theory
Information Theory is the name of a relatively new branch of science which became popular in the 1960′s. It covers a broad range of technologies. Basically, it is the science of the flow of information and how that flow can be selectively controlled so that information flows only in desired pathways. As you may have already guessed, governments love this sort of stuff.
ECM
ECM stands for Electronic Counter Measures. In general, these are techniques to disable other electronic devices. Basically, it is electronic warfare. When the secret service is active in an area, for example, they will selectively jam all radio frequencies except for the specific frequencies they are using so that no one else can communicate.
World leaders, who are generally terrified of "threats" materializing from practically anywhere, like to travel with ECM generators running just in case "someone" from "somewhere" was trying to target them for "some reason". Basically, they are paranoid whack jobs.
People familiar with aviation tell the story of how Tony Blair, while traveling to or near a commercial airport, reportedly caused a commercial jet to crash because all the ECM garbage he was transmitting jammed the plane's navigation system. Of course, the British government would never admit this.
Secure Communication With Submarines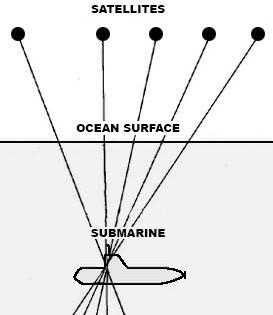 Since submarines were invented, communicating with them has been a problem because conventional radio waves will not travel underwater. Therefore, early submarines had to get close enough to the surface to put up some kind of antenna in the air to send or receive radio messages. Obviously, this could pose a problem if you did not wish to be discovered and located. After all, the motivation to create submarines in the first place was the feeling that they would be able to move about the planet secretly. However, newer technologies now make this impossible.
To solve the problem of reliable secure communication without the need to surface, scientists learned that sea water was essentially transparent to a special type of Argon laser. To set up the current communications network, it was decided to use several satellites with each satellite sending only part of an encrypted communication signal. The complete signal could only be received at a specific point underwater where all the laser beams intersected. Intercepting only one or two beams would prove useless. This communications system is considered to be impossible to intercept.
Quantum Entanglement
Returning to the submarine issue for a moment, before modern communications were perfected, there was a search for some reliable method to send a signal to a submerged submarine that could not be detected. This was considered necessary in a war situation to secretly transmit an attack command. What they originally did was to locate a couple of people who could communicate telepathically. One would be at the command base and the other on the submarine. Doing a bit more research, it was determined that this type of communication is instantaneous and somehow operated outside of time. Radio waves travel at the speed of light.
Quantum entanglement is a process which uses technology to send and receive signals outside of space-time. Now, why would you possibly want to do this? Well, if you had a base or a colony on a planet in some other solar system light years away, you would not want to wait years for messages to be received. Following this thread — and adding some basic common sense — why would you want to dedicate resources to search for habitable planets in distant solar systems when you had already "proven" it would be impossible to ever get there? Could it just be that someone is not coming clean with whole story?
The Separation Barrier
This is a model of the separation barrier which insulates the ruling class from the slave class. It is essentially "intellectual apartheid". The question is, why is it there. It takes considerable effort, money and manpower to maintain this artificial barrier. What is the reasoning behind not having a level playing field for everyone? Why does this idea absolutely terrify the elite? What are they afraid of?
The Pirate Story
This is a summary of a story told years ago on a radio broadcast most likely by Paul Harvey:
Ordinary people were afraid. The Earth was flat so they dare not venture far from home. Periodically, a pirate ship would come. They did not know how it got there or from where it came. It brought treasures they had never seen. The Chief Pirate would encourage the young men to study and specialize in specific skills. He wanted them to become educated but only in one narrow area. The Chief Pirate knew the world was not flat and how to navigate to other lands. However, this knowledge was never discussed. This "top secret" knowledge or the "big picture of the known world" would only be given to the Chief Pirate's son who would inherit his title and someday become the Chief Pirate.
This story is about the origin of the concept we call compartmentalization — the process of controlling the slave masses by only allowing them to know specific bits of the truth while the leaders are allowed to know total truth.
ELITE RULING CLASS
SECURITY CLEARANCES
SECRET POLICE
ASSASSINS
SURVEILLANCE — SIGINT HUMINT COMINT
SPY SATELLITES
SPY DRONES
SMART ELECTRIC METERS
INTERNET SURVEILLANCE
NEIGHBORHOOD SPIES
PLENTIFUL STREET DRUGS
PSYCHIATRIC FORCED DRUGGING
GENETICALLY MODIFIED FOOD
FLUORIDATED WATER
COORDINATED TELEVISION PROPAGANDA
DEGRADED PUBLIC EDUCATION
LOCAL MILITARIZED POLICE
---
SLAVE CLASS
Leaders can only maintain their status if there are slaves. Otherwise, everyone would be equal and operate on a level playing field. This means "leaders" would have to pull their own weight like everyone else. Clearly, this would be intolerable. Leaders love beautiful and exotic things but don't want to do the work needed to create these things. They probably could not even plant a garden much less build the various "ivory towers" where they like to live surrounded by servants. If left on their own they would very likely starve. This is why it is so important to create and maintain the complex separation barrier.
Why don't people who live above the separation barrier ever "come down" and talk to the people below the barrier? Well, other than the obvious fact that they would likely be killed or jailed for espionage or treason, there is another, simpler, reason.
Would you like to spend your days sitting in an open field with kindergarten kids looking for four leaf clovers? Probably not. You have progressed beyond that. The slaves below the separation barrier cannot even imagine the world of those who live above the barrier. In fact, the elite do not even consider the slaves human. They call them "disposable biological units". The United Nations prefers the slang term "the herd". Slaves can be easily bred in quantities needed and programmed to do desired tasks. Then, they can be easily disposed of when no longer useful. That's how they look at you. So, why would they want to make friends with you?
The Mars Example
There is an interesting event playing out today that you may have noticed. This concerns the recruitment and selection of people to be sent to Mars. There are simulation projects where volunteers are locked away to imitate the long voyage to Mars. They are being told that this is a one way trip and they can never hope to return to Earth.
What you are witnessing is the selection process for the "seed people" who will be used to breed the future slave class on Mars. In a situation similar to the period when most believed the Earth was flat and you would fall off if you tried to go to sea, these people are convinced that the only way to get to mars is to ride a rocket on a perilous journey taking years. Because they truly believe this, when they get to Mars, they will teach this crap to their kids along with other misconceptions like it is impossible to go faster than the speed of light and other associated obsolete scientific principles. They will have no
desire to ever return to Earth or go anywhere else because they truly believe it is not possible. They will be contented slaves.
Of course the truth is that there are already secret colonies on Mars. It is not that hard to get there using antigravity and other secret propulsion methods and it is quite likely possible to simply walk through some kind of wormhole device and come out on Mars.
However, the slaves will never know this. Just as it is done on Earth, there will be an artificial separation barrier. The insiders will know the truth and will be physically hidden from the slaves. There will be secret police and other methods — the same as are used on Earth — to make sure no slave ever escapes from the "information prison". Business as usual will continue.
Reinforcement of Ignorance
Governments and their oligarchs love to keep their subjects in a cloud of ignorance. Back in the days when people believed the Earth was flat, the inner circle ruling class knew it was round. Maintaining the deception was convenient because it kept the slaves from developing any desire to travel far from home.
Nothing has changed all that much today. Consider, for example, all the fuss over the missing MH370 plane. You are being played for a sucker. It is impossible for that plane to have "disappeared".
The US DoD spy satellite system reportedly consists of ten constellations of satellites. Each constellation has over seven thousand satellites. They see and record everything that happens on this planet. The floor of the oceans can be seen just as clearly as the land areas. The resolution of the system is better than one square millimeter. Also, everything is recorded so you can go back in time and play past images.

This is a picture of a common electric lamp. Take this lamp and throw it in the ocean — any ocean anywhere on this planet. The spy satellite system will locate it, give you the coordinates and give you a photo at least as good as the one above. That is the capability of the system. So, clearly, it is impossible not to know the location of something as large as a Boeing 777 plane. All the TV publicity is a choreographed play. You are being scammed and you need to wake up and realize this fact.
Murders and Assassinations
To ensure a strong empire, dissent must be crushed. The United States trains assassins and carries out both domestic and foreign murders and assassinations on a regular basis. You may be familiar with the classic movie scenes where a black limousine with tinted windows drives by a target with thugs shooting machine guns. Although this would accomplish the task, it is a bit too obvious in a country that advertises itself to be a free, civilized democracy. Someone might catch on and begin to doubt the party line. Consequently, these things must be done quietly.
Inside the US, murders are reportedly carried out by a group known as "FBI Division Five". Other agencies likely have the responsibility for foreign assassinations. However, the basic techniques used would be similar.
Typically, an agent would wake up every day and connect to the top secret internet to see who he was assigned to kill that day. There would be several options. If it was important to eliminate the target immediately, a fast acting chemical agent would be selected which, for example, would cause the target to die within a few hours of a "natural" heart attack.
However, if time was not critical and the government just wanted the target out of the way, you might want to select one of the cancer causing agents such as those likely used to eliminate Hugo Chavez and Senator Ted Kennedy.
There is also a third possibility. This involves character assassination instead of actual murder. Consider, for example, a person who has gained a lot of public recognition talking about, say, free energy. If you simply kill the person, there could be blowback and talk that he was silenced by the government. In such cases, it is easier to use a chemical agent designed not to kill but, rather, to cause states of mental confusion resulting in obviously strange behavior. This would be coordinated with the government controlled mainstream press to make sure everyone became convinced the person was a nut and would therefore ignore anything said without regard to the truth or validity of the message.
Once the appropriate chemical has been selected, you need to load it into the secret delivery system and locate your target. To find your target you will connect to the top secret internet and pinpoint the location of the target through their cell phone. You can also activate all the cameras and microphones in electronic gadgets connected to the internet associated with the target in case you wish to look around the target's home and hear in real time what is taking place.
Of course, this will not help you locate the target when it is time to actually do the hit. So, you need to get the top secret profile data which will show any predictable habits of the target. Everyone is constantly tracked through their cell phones and profiles are logged and stored. In this case, the profile shows that the target has a favorite restaurant and goes there for lunch every day around 11:30. Now, you know exactly what to do. You go to the restaurant, hang out until you see your target, and get in line behind the target. Now, all you need to do is slightly bump into the target to deliver the chemical. Generally, the targets never even notice.
This mission is now complete. If it is early enough, you can check back in to the top secret system to see who you are supposed to kill next. Just another day. Just a routine job.
Money
Money is an imaginary force. It is used to motivate and control slaves. Real forces effect all life forms. However, only people respond to money. The only reason they do is because they have been artificially programmed to do so.
Money can be created in unlimited quantities by those adept in the use of this force. The physical world is finite, however the world of imagination is not. There is no limit to the quantity of money that can be imagined into existence. Money can also be imagined out of existence.
Let's assume that one day the entire financial system simply disappeared. If you lived in a rural area and had a nice veggie garden, some friendly chickens, collection facilities for rain water and a few photocells for electricity, you would not notice this. The veggies would continue to grow. Rain would periodically fall. The chickens would lay eggs as usual. The sun would continue to shine. However, if you lived in a city environment, you would be devastated.
Before money, people lived in small hunter-gatherer groups. The concept of ownership did not exist. People worked and survived as a group. Men and women were equal. Everyone contributed to the community. Resources were shared equally. The concept of "mine" and "yours" did not exist. Women generally became pregnant only once about every three years although there was no birth control. Later, when the concept of money entered the consciousness, women were seen as having less value because men were paid for work but women were not paid to raise and care for kids. Society has changed, however, the downgraded status of women has not.
Money systems have always been manipulated by clever people. When gold was used as money, people learned they could dilute pure gold with silver or maybe even lead to come up with something that looked like pure gold and had the correct weight but was a fraud. A king suspected he was being scammed but had no way to prove it. He called on the great minds of the time for help. This led to what is known as the Archimedes' principle which is better known today as "specific gravity". This principle made it possible to compare a sample known to be pure gold to a questionable sample and prove the unknown sample was not pure gold. Likely, some clever crook lost his head once this test became known.
There is a general belief that gold is the ultimate reference for all money. However, secrets concerning the exact quantity of gold make this a perilous assumption. Reportedly, the United States stole a tremendous quantity of physical gold from Japan towards the end of World War II. This gold exists off the books. To make matters worse, Japan was not all that concerned. Japan had been using gold bars as ballast on its ships because they were compact and heavy. They thought nothing of throwing the bars overboard as necessary. Japan used platinum as a money reference and the US never got that. This should make one rethink all the hype about the value of gold. It may be a lot more plentiful than we have been led to believe. Also, the secret off the books stashes of gold would allow its relative value to be manipulated at will just like other commodity markets.
The Financial Axis of Evil [3]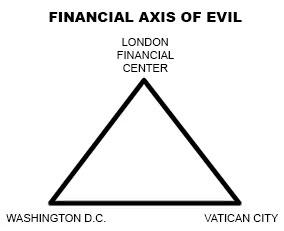 This is the model of the financial axis of evil which rules this planet. It consists of three main branches as shown above. Collectively, they are known as "The Empire of the City". Briefly, here is how this system operates:
The London financial district is in London, Washington D.C. is in the United States and the Vatican is in Italy. However, these three places are not part of the countries where they exist. They are independent "city states" and have their own laws and constitution. They are, effectively, "mini countries" inside of other countries and fly their own flags. The city state of London is a private corporation and pays no taxes to actual London or to Britain. The city state of London is the master power center and is controlled by the Rothschild family which considers itself to be the legal owner of this planet. The Vatican is the largest private land owner in the world and the first true multinational corporation with installations (churches) and secret agents (The Knights of Malta) everywhere. They control through the power of fear of the unknown and practice black magic. Washington D.C. relies upon brute military force. All three closely cooperate combining their specialties of financial trickery, witchcraft and military might. Of course, all three worship Satan as their Master.
Slavery
Slavery is alive and well throughout the world. The US constitution prohibits slavery, however, most americans live in slave-like conditions.
It is said that it will take the average college student until age fifty to pay back their student loan.
The constitutional amendment prohibiting slavery addressed the concept of physically owning another person. However, it did not address the issue of holding another person in bondage as a debt slave. It also did not consider the concept of private for profit prisons who force inmates to work as slaves. These systems exist today and are perfectly legal.
Actually, a recent report from prestigious Princeton University has reclassified the US government as an oligarchy — a country run by and for the rich elite. Former US President Carter has stated that the United States "no longer has a functioning democracy". So much for the Founding Father's dream. Speaking of dreams, check out the free you tube video titled "The American Dream".
Other forms of slavery are illegal but still flourish. Sex slaves are always in demand. Traffickers are sometimes caught but you need to realize that your leaders use sex slaves and also routinely abuse young girls and boys. Sometimes they are also killed during occult rituals. No one ever talks about this and these people are never punished. This has been the normal way of life for Satan worshipers for many years and nothing has changed or is likely to ever change in the future. Stanley Kubrick's last movie, Eyes Wide Shut, covers this subject. Some believe this intense dramatization of how the elite really live may have cost him his life.
People still have some rights left in the United States but other countries are a different story. Qatar is doing construction for the World Cup. The event is not scheduled until the year 2022, however they have already killed 1200 slaves [7] by working them to death. People are lured from poor countries with the promise of jobs and money. When they arrive, their passports are confiscated and they are forced to work until they literally drop dead. If the World Cup is actually held in Qatar in 2022, there will be glamorous TV coverage and no one will remember or care about all the dead slaves. The show must go on.
Qatar, incidentally, sponsors Al Jazeera TV network.
Adaptation Techniques
The status quo of today will never change because the people who created it will never die. Because of top secret medicine, when men like Henry Kissinger, who heads the Bilderberg Group's steering committee, get too feeble to function, they will simply go to one of the secret locations and use the temporal reversal device to regress back to about twenty years old. Their memories will be unaffected. Then they will get new identities and continue on. This process can be repeated indefinitely.
Because you can never change the status quo, your best hope for a lifetime of reasonable quality is to find clever ways to live in this world with as much independence as possible.
One method of adaptation is autonomous and semi-autonomous communities. If the community is registered as a religious institution it is automatically shielded from most government interference by the US constitution. It pays no taxes and can pretty much write its own rules by simply calling whatever it wants to do "religious doctrine". Many small semi-autonomous groups exist where people who share a common set of values find ways to quietly live out their lives pretty much on their own terms. The government does not seem interested in bothering these smaller groups as long as they live peacefully and are not doing anything that the government perceives to be a threat.
The Amish people are a good example of an autonomous group. You would probably not want to live as they do, however, before you completely dismiss them, you may want to look at some definite advantages in their chosen lifestyle.
Remember, these are the people who reject technology. They just might have made the correct choice. Technology, at first, seemed like a good idea. However, now that people are addicted to technology they are also enslaved by technology. Everything they do is monitored and recorded by the government. Privacy no longer exists. It did not have to be this way.
Technology, in itself, is not evil. However, it can be quite evil if you live under a government run by sociopathic control freaks which, unfortunately, you do. In the Amish world, electronic surveillance does not exist because electronic devices do not exist. The constant propaganda from TV has no effect on people who do not have TV. A horse does not report its position to a GPS satellite and is not controlled by a computer.
Also, the people are generally healthy and do not suffer from many diseases common to the mainstream population. They are not being poisoned by fluorinated water or additives found in processed food because they don't use these things. Also, they get lots of physical exercise.
Without totally withdrawing from the world, there are some positive steps you can take. By now you know never to drink fluorinated water or use any personal product containing fluoride such as many brands of toothpaste. To minimize harmful food additives, look for Kosher food which is marked with either the encircled "K" or "U" (Ultra Kosher). These foods have less or no harmful additives. The Jewish community is very protective of its people and the Mossad is widely considered to be the best intelligence service in the world. Therefore, they would have the inside scoop on everything including food and do not want to see their people harmed.
Whatever you decide to do, you definitely do not want to be part of so called mainstream society. These people are doomed. They are sheep (sheeple) slowly walking to the slaughter house. Don't go there!
---
references and credits
[1] DVD "The American Ruling Class". ASIN: B001HM2CE2.
[2] John Perkins. Book: Confessions of an Econemic Hit Man; DVD (free on you tube): "Apology of an Economic Hit Man"; RT interviews.
[3] See the free you tube videos titled "The Red Shield".
[4] DVD: "The Wages of Debt", RT Intl. Also available for purchase.
[5] DVD "Terra Blight", RT Intl. Also available for purchase.
[6] Interview with John Judge of Veterans Against Military Psychiatry.
[7] Also search using the phrase "qatar slaves world cup".
© 2014 W C Vetsch. All rights reserved.
Source: Walter C. Vetsch  |  3108.info | War Is Crime
Imagine: you are dressed up for a night on Broadway, but your neighbours are involved in a vicious quarrel, and you have to gun up and deal with the trouble instead of enjoying a show, and a dinner, and perhaps a date. This was Putin's position regarding the Ukrainian turmoil.
The Russians have readjusted their sights, but they do not intend to bring their troops into the two rebel republics, unless dramatic developments should force them.
It is not much fun to be in Kiev these days. The revolutionary excitement is over, and hopes for new faces, the end of corruption and economic improvement have withered. The Maidan street revolt and the subsequent coup just reshuffled the same marked deck of cards, forever rotating in power.
The new acting President has been an acting prime minister, and a KGB (called "SBU" in Ukrainian) supremo. The new acting prime minister has been a foreign minister. The oligarch most likely to be "elected" President in a few days has been a foreign minister, the head of the state bank, and personal treasurer of two coups, in 2004 (installing Yushchenko) and in 2014 (installing himself). His main competitor, Mme Timoshenko, served as a prime minister for years, until electoral defeat in 2010.
These people had brought Ukraine to its present abject state. In 1991, the Ukraine was richer than Russia, today it is three times poorer because of these people's mismanagement and theft. Now they plan an old trick: to take loans in Ukraine's name, pocket the cash and leave the country indebted. They sell state assets to Western companies and ask for NATO to come in and protect the investment.
They play a hard game, brass knuckles and all. The Black Guard, a new SS-like armed force of the neo-nazi Right Sector, prowls the land. They arrest or kill dissidents, activists, journalists. Hundreds of American soldiers, belonging to the "private" company Academi (formerly Blackwater) are spread out in Novorossia, the pro-Russian provinces in the East and South-East. IMF–dictated reforms slashed pensions by half and doubled the housing rents. In the market, US Army rations took the place of local food.
The new Kiev regime had dropped the last pretence of democracy by expelling the Communists from the parliament. This should endear them to the US even more. Expel Communists, apply for NATO, condemn Russia, arrange a gay parade and you may do anything at all, even fry dozens of citizens alive. And so they did.
The harshest repressions were unleashed on industrial Novorossia, as its working class loathes the whole lot of oligarchs and ultra-nationalists. After the blazing inferno of Odessa and a wanton shooting on the streets of Melitopol the two rebellious provinces of Donetsk and Lugansk took up arms and declared their independence from the Kiev regime. They came under fire, but did not surrender. The other six Russian-speaking industrial provinces of Novorossia were quickly cowed. Dnepropetrovsk and Odessa were terrorised by personal army of Mr Kolomoysky; Kharkov was misled by its tricky governor.
Russia did not interfere and did not support the rebellion, to the great distress of Russian nationalists in Ukraine and Russia who mutter about "betrayal". So much for the warlike rhetoric of McCain and Brzezinski.
Putin's respect for others' sovereignty is exasperating. I understand this sounds like a joke, — you hear so much about Putin as a "new Hitler". As a matter of fact, Putin had legal training before joining the Secret Service. He is a stickler for international law. His Russia has interfered with other states much less than France or England, let alone the US. I asked his senior adviser, Mr Alexei Pushkov, why Russia did not try to influence Ukrainian minds while Kiev buzzed with American and European officials. "We think it is wrong to interfere", he replied like a good Sunday schoolboy. It is rather likely Putin's advisors misjudged public sentiment. « The majority of Novorossia's population does not like the new Kiev regime, but being politically passive and conservative, will submit to its rule", they estimated. "The rebels are a small bunch of firebrands without mass support, and they can't be relied upon", was their view. Accordingly, Putin advised the rebels to postpone the referendum indefinitely, a polite way of saying "drop it".
They disregarded his request with considerable sang froid and convincingly voted en masse for secession from a collapsing Ukraine. The turnout was much higher than expected, the support for the move near total. As I was told by a Kremlin insider, this development was not foreseen by Putin's advisers.
Perhaps the advisors had read it right, but three developments had changed the voters' minds and had sent this placid people to the barricades and the voting booths:
1. The first one was the fiery holocaust of Odessa, where the peaceful and carelessly unarmed demonstrating workers were suddenly attacked by regime's thugs (the Ukrainian equivalent of Mubarak's shabab) and corralled into the Trade Unions Headquarters. The building was set on fire, and the far-right pro-regime Black Guard positioned snipers to efficiently pick off would-be escapees. Some fifty, mainly elderly, Russian-speaking workers were burned alive or shot as they rushed for the windows and the doors. This dreadful event was turned into an occasion of merriment and joy by Ukrainian nationalists who referred to their slain compatriots as "fried beetles". (It is being said that this auto-da-fé was organised by the shock troops of Jewish oligarch and strongman Kolomoysky, who coveted the port of Odessa. Despite his cuddly bear appearance, he is pugnacious and violent person, who offered ten thousand dollars for a captive Russian, dead or alive, and proposed a cool million dollars for the head of Mr Tsarev, a Member of Parliament from Donetsk.)
2. The second was the Mariupol attack on May 9, 2014. This day is commemorated as V-day in Russia and Ukraine (while the West celebrates it on May 8). The Kiev regime forbade all V-day celebrations. In Mariupol, the Black Guard attacked the peaceful and weaponless town, burning down the police headquarters and killing local policemen who had refused to suppress the festive march. Afterwards, Black Guard thugs unleashed armoured vehicles on the streets, killing citizens and destroying property.
The West did not voice any protest; Nuland and Merkel weren't horrified by this mass murder, as they were by Yanukovich's timid attempts to control crowds.
The people of these two provinces felt abandoned; they understood that nobody was going to protect and save them but themselves, and went off to vote.
3. The third development was, bizarrely, the Eurovision jury choice of Austrian transvestite Conchita Wurst for a winner of its song contest.
The sound-minded Novorossians decided they want no part of such a Europe.
Actually, the people of Europe do not want it either:
It transpired that the majority of British viewers preferred a Polish duo, Donatan & Cleo, with its We Are Slavic. Donatan is half Russian, and has courted controversy in the past extolling the virtues of pan-Slavism and the achievements of the Red Army, says the Independent.
The politically correct judges of the jury preferred to "celebrate tolerance", the dominant paradigm imposed upon Europe.
This is the second transvestite to win this very political contest; the first one was Israeli singer Dana International.
Such obsession with re-gendering did not go down well with Russians and/or Ukrainians.
The Russians have readjusted their sights, but they do not intend to bring their troops into the two rebel republics, unless dramatic developments should force them.

RUSSIAN PLANS

Imagine: you are dressed up for a night on Broadway, but your neighbours are involved in a vicious quarrel, and you have to gun up and deal with the trouble instead of enjoying a show, and a dinner, and perhaps a date. This was Putin's position regarding the Ukrainian turmoil.
A few months ago, Russia had made a huge effort to become, and to be seen as, a very civilized European state of the first magnitude. This was the message of the Sochi Olympic games: to re-brand, even re-invent Russia, just as Peter the Great once had, as part of the First World; an amazing country of strong European tradition, of Leo Tolstoy and Malevich, of Tchaikovsky and Diaghilev, the land of arts, of daring social reform, of technical achievements, of modernity and beyond — the Russia of Natasha Rostova riding a Sikorsky 'copter. Putin spent $60 billion to broadcast this image.
The old fox Henry Kissinger wisely said:
Putin spent $60 billion on the Olympics. They had opening and closing ceremonies, trying to show Russia as a normal progressive state. So it isn't possible that he, three days later, would voluntarily start an assault on Ukraine. There is no doubt that… at all times he wanted Ukraine in a subordinate position. And at all times, every senior Russian that I've ever met, including dissidents like Solzhenitsyn and Brodsky, looked at Ukraine as part of the Russian heritage. But I don't think he had planned to bring it to a head now.
However, Washington hawks decided to do whatever it takes to keep Russia out in the cold. They were afraid of this image of "a normal progressive state" as such Russia would render NATO irrelevant and undermine European dependence on the US. They were adamant about retaining their hegemony, shattered as it was by the Syrian confrontation. They attacked Russian positions in the Ukraine and arranged a violent coup, installing a viciously anti-Russian regime supported by football fans and neo-Nazis, paid for by Jewish oligarchs and American taxpayers. The victors banned the Russian language and prepared to void treaties with Russia regarding its Crimean naval base at Sebastopol on the Black Sea. This base was to become a great new NATO base, controlling the Black Sea and threatening Russia.
Putin had to deal quickly and so he did, by accepting the Crimean people's request to join Russian Federation. This dealt with the immediate problem of the base, but the problem of Ukraine remained.
The Ukraine is not a foreign entity to Russians, it is the western half of Russia. It was artificially separated from the rest in 1991, at the collapse of the USSR. The people of the two parts are interconnected by family, culture and blood ties; their economies are intricately connected. While a separate viable Ukrainian state is a possibility, an "independent" Ukrainian state hostile to Russia is not viable and can't be tolerated by any Russian ruler. And this for military as well as for cultural reasons: if Hitler had begun the war against Russia from its present border, he would have taken Stalingrad in two days and would have destroyed Russia in a week.
A more pro-active Russian ruler would have sent troops to Kiev a long time ago. Thus did Czar Alexis when the Poles, Cossacks and Tatars argued for it in 17th century. So also did Czar Peter the Great, when the Swedes occupied it in the 18th century. So did Lenin, when the Germans set up the Protectorate of Ukraine (he called its establishment "the obscene peace"). So did Stalin, when the Germans occupied the Ukraine in 1941.
Putin still hopes to settle the problem by peaceful means, relying upon the popular support of the Ukrainian people. Actually, before the Crimean takeover, the majority of Ukrainians (and near all Novorossians) overwhelmingly supported some sort of union with Russia. Otherwise, the Kiev coup would not have been necessary. The forced Crimean takeover seriously undermined Russian appeal. The people of Ukraine did not like it. This was foreseen by the Kremlin, but they had to accept Crimea for a few reasons. Firstly, a loss of Sevastopol naval base to NATO was a too horrible of an alternative to contemplate. Secondly, the Russian people would not understand if Putin were to refuse the suit of the Crimeans.
The Washington hawks still hope to force Putin to intervene militarily, as it would give them the opportunity to isolate Russia, turn it into a monster pariah state, beef up defence spending and set Europe and Russia against each other. They do not care about Ukraine and Ukrainians, but use them as pretext to attain geopolitical goals.
The Europeans would like to fleece Ukraine; to import its men as "illegal" workers and its women as prostitutes, to strip assets, to colonise. They did it with Moldova, a little sister of Ukraine, the most miserable ex-Soviet Republic. As for Russia, the EU would not mind taking it down a notch, so they would not act so grandly. But the EU is not fervent about it. Hence, the difference in attitudes.
Putin would prefer to continue with his modernisation of Russia. The country needs it badly. The infrastructure lags twenty or thirty years behind the West. Tired by this backwardness, young Russians often prefer to move to the West, and this brain drain causes much damage to Russia while enriching the West. Even Google is a result of this brain drain, for Sergey Brin is a Russian immigrant as well. So are hundreds of thousands of Russian scientists and artists manning every Western lab, theatre and orchestra. Political liberalisation is not enough: the young people want good roads, good schools and a quality of life comparable to the West. This is what Putin intends to deliver.
He is doing a fine job of it. Moscow now has free bikes and Wi-Fi in the parks like every Western European city. Trains have been upgraded. Hundreds of thousands of apartments are being built, even more than during the Soviet era. Salaries and pensions have increased seven-to-tenfold in the past decade. Russia is still shabby, but it is on the right track. Putin wants to continue this modernisation.
As for the Ukraine and other ex-Soviet states, Putin would prefer they retain their independence, be friendly and work at a leisurely pace towards integration a la the European Union.
He does not dream of a new empire. He would reject such a proposal, as it would delay his modernisation plans.
If the beastly neocons would not have forced his hand by expelling the legitimate president of Ukraine and installing their puppets, the world might have enjoyed a long spell of peace.
But then the western military alliance under the US leadership would fall into abeyance, US military industries would lose out, and US hegemony would evaporate. Peace is not good for the US military and hegemony-creating media machine. So dreams of peace in our lifetime are likely to remain just dreams.
What will Putin do?
Putin will try to avoid sending in troops as long as possible. He will have to protect the two splinter provinces, but this can be done with remote support, the way the US supports the rebels in Syria, without 'boots on the ground'. Unless serious bloodshed on a large scale should occur, Russian troops will just stand by, staring down the Black Guard and other pro-regime forces.
Putin will try to find an arrangement with the West for sharing authority, influence and economic involvement in the failed state. This can be done through federalisation, or by means of coalition government, or even partition. The Russian-speaking provinces of Novorossia are those of Kharkov (industry), Nikolayev (ship-building), Odessa (harbour), Donetsk and Lugansk (mines and industry), Dnepropetrovsk (missiles and high-tech), Zaporozhe (steel), Kherson (water for Crimea and ship-building), all of them established, built and populated by Russians. They could secede from Ukraine and form an independent Novorossia, a mid-sized state, but still bigger than some neighbouring states. This state could join the Union State of Russia and Belarus, and/or the Customs Union led by Russia. The rump Ukraine could manage as it sees fit until it decides whether or not to join its Slavic sisters in the East. Such a set up would produce two rather cohesive and homogeneous states.
Another possibility (much less likely at this moment) is a three-way division of the failed Ukraine: Novorossia, Ukraine proper, and Galicia&Volyn. In such a case, Novorossia would be strongly pro-Russian, Ukraine would be neutral, and Galicia strongly pro-Western.
The EU could accept this, but the US probably would not agree to any power-sharing in the Ukraine. In the ensuing tug-of-war, one of two winners will emerge. If Europe and the US drift apart, Russia wins. If Russia accepts a pro-Western positioning of practically all of Ukraine, the US wins. The tug-of-war could snap and cause all-out war, with many participants and a possible use of nuclear weapons. This is a game of chicken; the one with stronger nerves and less imagination will remain on the track.
Pro and Contra
It is too early to predict who will win in the forthcoming confrontation. For the Russian president, it is extremely tempting to take all of Ukraine or at least Novorossia, but it is not an easy task, and one likely to cause much hostility from the Western powers. With Ukraine incorporated, Russian recovery from 1991 would be completed, its strength doubled, its security ensured and a grave danger removed. Russia would become great again. People would venerate Putin as Gatherer of Russian Lands.
However, Russian efforts to appear as a modern peaceful progressive state would have been wasted; it would be seen as an aggressor and expelled from international bodies. Sanctions will bite; high tech imports may be banned, as in the Soviet days. The Russian elites are reluctant to jeopardize their good life. The Russian military just recently began its modernization and is not keen to fight yet, perhaps not for another ten years.
But if they feel cornered, if NATO moves into Eastern Ukraine, they will fight all the same.
Some Russian politicians and observers believe that Ukraine is a basket case; its problems would be too expensive to fix. This assessment has a 'sour grapes' aftertaste, but it is widespread. An interesting new voice on the web, The Saker, promotes this view. "Let the EU and the US provide for the Ukrainians, they will come back to Mother Russia when hungry", he says. The problem is, they will not be allowed to reconsider. The junta did not seize power violently in order to lose it at the ballot box.
Besides, Ukraine is not in such bad shape as some people claim. Yes, it would cost trillions to turn it into a Germany or France, but that's not necessary. Ukraine can reach the Russian level of development very quickly –- in union with Russia. Under the EC-IMF-NATO, Ukraine will become a basket case, if it's not already. The same is true for all East European ex-Soviet states: they can modestly prosper with Russia, as Belarus and Finland do, or suffer depopulation, unemployment, poverty with Europe and NATO and against Russia, vide Latvia, Hungary, Moldova, Georgia. It is in Ukrainian interests to join Russia in some framework; Ukrainians understand that; for this reason they will not be allowed to have democratic elections.
Simmering Novorossia has a potential to change the game. If Russian troops don't come in, Novorossian rebels may beat off the Kiev offensive and embark on a counter-offensive to regain the whole of the country, despite Putin's pacifying entreaties. Then, in a full-blown civil war, the Ukraine will hammer out its destiny.
On a personal level, Putin faces a hard choice. Russian nationalists will not forgive him if he surrenders Ukraine without a fight. The US and EU threaten the very life of the Russian president, as their sanctions are hurting Putin's close associates, encouraging them to get rid of or even assassinate the President and improve their relations with the mighty West. War may come at any time, as it came twice during the last century – though Russia tried to avoid it both times. Putin wants to postpone it, at the very least, but not at any price.
His is not an easy choice. As Russia procrastinates, as the US doubles the risks, the world draws nearer to the nuclear abyss. Who will chicken out?
(Language editing by Ken Freeland)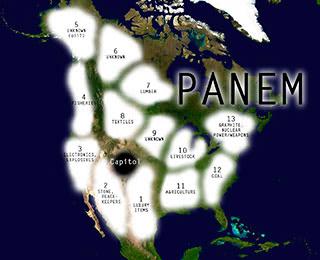 One of the most popular films of 2012 was The Hunger Games which portrayed a post-apocalyptic nation called Panem in which a super-rich, super-pampered, super-callous 'elite' lived in high-tech luxury while the rest of the population daily battled to survive in abject poverty locked away behind prison fences in intensively-populated 'people zones'. Panem comes from the Latin phrase 'panem et circenses' or 'bread and circuses' — a term derived from Rome and meaning to give the people diversions and distractions to hide what is being done to them. Exactly what is happening today.
The Totalitarian Tiptoes to just such a world are happening all around us, although most people can't see this because they don't connect the dots. People tend to live in their own 'little world' and focus on only a few subjects and interests. This gives them a distorted view of what is happening because they are so busy concentrating on the strands that they cannot see the tapestry. The world of The Hunger Games is already well on the way to fruition unless humanity has a fundamental reassessment of reality.
The foundations, structure and 'must haves' of a Hunger Games society are detailed in a plan being imposed through the United Nations called Agenda 21 which encompasses two related themes of 'sustainable development' and 'biodiversity'. Sustainable development — as in don't use more than can be replaced — sounds sensible enough at first until you realize what this and biodiversity really mean in the context of the conspiracy.
Agenda 21 was established at the United Nations Conference on Environment and Development in Rio de Janerio, Brazil, in 1992, hosted by Maurice Strong, a Canadian oil and business billionaire and long-time front man for the Rothschilds and Rockefellers. Strong has been a leader of their exploit-the-environment-to-scam-the-people programme which is now in full flow. Strong is a member of the Club of Rome, the environmental Hidden Hand in the Round Table network that includes the Bilderberg Group, Trilateral Commission and Council on Foreign Relations.
Strong said in support of Agenda 21:
'Isn't the only hope for this planet that the industrialised civilization collapse? Isn't it our responsibility to bring that about?'
This is a man who became mega-rich through the oil industry. He now lives in billionaire luxury in China where carbon-emitting industry is booming and he is a director of the Chicago Climate Exchange (largest shareholder, Goldman Sachs), which is 'the world's first and North America's only legally-binding greenhouse-gas emission registry reduction-system for emission sources and offset projects in North America and Brazil'.
The Exchange was established with funding from the Joyce Foundation where Barack Obama was once a director. Strong and Al Gore make money through the Carbon Exchange and other means from the lies they promote about climate change and the solutions they propose. Kate Johnston wrote on the Globalresearch.cawebsite:
'The same men that sold us the myth of man-made global warming are the same men that sold us the "solution" of a Carbon Tax and Emissions Trading Scheme and now they're profiting off their lucrative investments which are based on lies.' (See "The Climate Change Hoax").
Strong fled to China in 2006 after being accused of corruption with respect to the UN oil for food program.
Climate change propaganda is a No-Problem-Reaction-Solution technique to justify Agenda 21 and its stable-mate the Biodiversity Treaty. This is an internationally-binding document involving nearly 200 countries. The United States signed the treaty, but it was not ratified by the Senate after people like ecologist and ecosystem scientist Dr. Michael Coffman exposed its true consequences and implications. He said that he realized during the 1980s and 1990s that the plan was to use the excuse of protecting the environment to confiscate half the land of the United States.
Similar plans exist for every other country. America may not have ratified the treaty, but it is being implemented by the day. Agenda 21 demands the central global control of all land; all private property; all water sources and distribution; all other resources which includes people in its definition; all energy supplies and distribution and all food production and distribution.
Agenda 21 is called 'the agenda for the 21st century' and that refers to global fascism / communism. This is a summary of what Agenda 21 / Sustainable Development / Biodiversity is seeking to impose:
An end to national sovereignty
State planning and management of all land resources, ecosystems, deserts, forests, mountains, oceans and fresh water; agriculture; rural development; biotechnology; and ensuring 'equity' (equal slavery)
The State to 'define the role' of business and financial resources
Abolition of private property (it's not 'sustainable')
'Restructuring' the family unit
Children raised by the State
People told what their job will be
Major restrictions on movement
Creation of 'human settlement zones'
Mass resettlement as people are forced to vacate land where they currently live
Dumbing down education (achieved)
Mass global depopulation in pursuit of all the above
This horrific plan is being coordinated through the United Nations, the stalking horse for world dictatorship, via a non-governmental network once called the International Council of Local Environmental Initiatives ICLEI), and now known as Local Governments for Sustainability although still using the shortened name ICLEI. The United Nations is now opening 'embassies' around the world called 'UN Houses' under the guise of raising awareness of UN activities, but not the activities that people really need to know about. They have opened one in Hunter Square, Edinburgh, Scotland, for example.
Local Governments for Sustainability (ICLEI) and other organisations are integrating the plan into every village, town, city and region and it is already becoming widespread across the world. The organisational infrastructure of Agenda 21 is already fantastic and involves government agencies, non-governmental organisations (NGOs), think-tanks, trusts, foundations, 'training' (mind control) operations and 'initiatives' which have been building the infrastructure for what they call 'the post-industrial, post-democratic' society while the public go about their daily business oblivious of the prison being built all around them by the hour.
Harvey Ruvin, a vice-chairman of ICLEI, was asked how Agenda 21 would affect liberties with regard to the US Constitution and Bill of Rights, private property and freedom of speech. He replied:
'Individual rights must take a back-seat to the collective.'
The arrogance of these people is breathtaking. The extraordinary network supporting ICLEI and Agenda 21 includes the Rockefeller-sponsored America 2050; United Cities and Local Governments (UCLG); Metropolis; World Economic Forum; United Nations Framework Convention on Climate Change; United Nations International Strategy for Disaster Reduction; World Bank; Clinton Climate Initiative; Climate Group (Tony Blair); World Conservation Union (IUCN); Renewable Energy and Energy Efficiency Partnership; Global Footprint Network; Renewable Energy and Energy Efficiency Partnership; Global Footprint Network; International Centre for Sustainable Cities; Earthquakes and Megacities Initiative and the Stakeholder Forum. These and so many others are working to the same end — Agenda 21 and total human enslavement worldwide, although most of those involved will have no idea that they are building a global prison for themselves and their families.
Another of these front organisations is the World Business Council for Sustainable Development which includes the hideously anti-people Monsanto. Destroying food-growing land, contaminating the countryside with toxins and replacing proper food with deadly and soil-destroying genetically-modified organisms is Monsanto's contribution to 'sustainability'. Agenda 21 is operating in more than 600 towns, cities and counties in the United States and expanding by the day.
A member of the Agenda 21 committees in Santa Cruz, California, in the mid-1990s said that the proposals he heard were so crazy that he laughed at them because they could never happen. These included that 'Mother Earth's surface was not to be scratched'; humans should be concentrated in settlement zones; education should focus on the environment as a central organising principle and all aspects of life covered by Agenda 21, but all of these crazy plans are now being introduced. It's all happy, feely, smiling faces and how we care, when the truth is that Agenda 21 is a vicious, brutal, heartless strategy to impose a global Orwellian state.
Agenda 21 manipulators either create or hijack some local organisation or other, many of them in locations with large populations, and they have their (controlled) leadership to agree the Agenda 21 blueprint for their community together with any uninformed, unwitting idiots who can be sold a human nightmare as saving the planet. This allows them to claim that decisions were made after 'public participation' when that would have been the last thing they wanted, and 99 percent of the 'community' has never heard of Agenda 21 let alone had their say on it. They want no democracy which is why these people talk privately, sometimes even publicly, about the post-democratic, post-industrial society.
They want to control every man, woman and child on the planet — everyone and everywhere and every resource, water source and piece of land. To do this they need a global structure of fascist control that goes right down into every local community with the jackboots at local level enforcing the will of the global centre. This is why there is so much emphasis on local authorities and town and city authorities in Agenda 21.
There is a 'training organisation' called Common Purpose (common purpose, common consensus, everyone the same) which has been paid very large amounts of money by governments and local authorities, police forces and other institutions of state to 'train the leaders' of the post-democratic, post-industrial society. Common Purpose was heavily represented in the Leveson 'inquiry' leading to new media laws in Britain. It is not a training programme; it is a programming programme and turns out unquestioning zombie administrators who serve the god of Agenda 21 and the associated European Union. The theme of 'common' also applies to the ever greater standardisation of laws and regulations and constant reference to 'international law'. This is the unfolding global dictatorship of Agenda 21. What do you need to be a global dictator? Laws that everyone on the planet must obey — international law and the standardisation of global regulation.
You can see The Hunger Games connection when you look at the official Biodiversity wish-for map of the United States in Figure 1. The red areas are designated for no human use and most of the rest of America is confiscated for little and highly-regulated use. The mass of the population would be concentrated in high-rise, densely-packed 'human settlement zones' and denied access to something like 80 percent of present day America. It is without question the world of The Hunger Games with a globally-enforced top-down hierarchy that has a world government using its world army and police force to impose its will at regional and local levels (sectors). The Rockefeller-funded America 2050 has produced a map of the new United States divided into eleven 'megaregions' and includes parts of Canada (Figure 2). Seattle, Portland and Vancouver, British Columbia, become the megaregion known as 'Cascadia' and this regional system comes under the collective name of 'megalopolis' which is Greek for large city or great city. America, Canada and Mexico are due to merge to form the North American Union in line with the European Union blueprint.
The European Union is planned to be broken up into regions and the same structure is in development all over the world. The map of the new Europe has regions from different countries linked up with regions in other countries to end any vestige of national sovereignty or even national existence (Figure 3). This is a global plan with its fierce central control hidden behind its lower elements such as the European Union and local government. What is planned would clearly require a fantastic reduction of the global population and this is indeed what Agenda 21 / Sustainable Development / Biodiversity demand.
The e-book Agenda 21: Your Life In Their Hands can be downloaded here.
reference:
Icke, David. The Perception Deception. Ryde: David Icke Books, 2013.
Julian Websdale is an independent researcher in the fields of esoteric science and metaphysics, and a self-initiate of the Western Esoteric Tradition. His interest in these subjects began in 1988. Julian was born in England, received his education as an electronic and computer engineer from the University of Bolton, served in a Vaishnava monastery during 2010, and has travelled to over 21 countries. Julian is also a member of the Palestinian Solidarity Campaign.
Source: Julian Websdale  |  Waking Times | War Is Crime
The enormous energy spent on analyzing candidates and predicting elections is time wasted when the actual decisions are predetermined before the voting takes place. Even excluding voter fraud from the final count, the party selection process has made the decision. The pretense that primaries reflect the will of the electorate deceives the registered voter, amuses the party insiders and benefits the advertisement and media moguls. Ideas, policy positions and core principles take a back seat to the art of spinning and negatively defining the opponent.
Rivals start within your own party. Therefore, it comes as no surprise that the Republicans Tighten Grip on Debates in 2016 Race.
"Party leaders want to tighten their grip on a presidential primary season they believe has grown unruly and too long. This year, the party moved to set the nominating calendar by scheduling the first four contests — Iowa, New Hampshire, South Carolina and Nevada — for February, allowing other states to begin voting in March and holding winner-take-all primaries starting March 15.

Taken together, these procedural steps could thwart an underfunded insurgent who needs the free exposure of televised debates and would be hurt by a series of rapid-fire contests in March that could be tilted toward an establishment-backed contender.

A few conservative stalwarts on the committee are nervous about the establishment's consolidation of power over the primaries. "Do we want a committee of the national committee, which will surely be controlled by the national chairman, picking which candidates participate in all Republican presidential debates?"
This point is illustrated in the AP report RNC Changes debate Rules for 2016. "The RNC rules panel endorsed the creation of a 13-person committee that would limit how many presidential debates can take place and who can ask the questions. The full committee on Friday went along with that plan to ban candidates who participate in scofflaw debates from future RNC-backed sessions, by a 152-to-7 vote."
Before the usual ceremonial indignation takes hold, ask yourself what is exactly sacrosanct about a stacked primary system that has little to do with an open contest. Patricians that make up the GOP establishment long ago graduated from the country club set.
Nonetheless, the bleeding hearts over at Salon would have you believe that the Democrats operate by different rules. Why Democrats need a primary, too offers advice why the anointed "Queen of Mean" that Rodman woman, would attain a benediction from going through an orchestrated charade before her canonization.
"Clinton would benefit from that input just as all incumbents and other party luminaries do, despite the fact that they would rather not have to have that fight. It is not good for a president to take the office without having taken the temperature of his or her supporters and understanding what they care about and what they expect. During a tempestuous period like this one, it's even more important than usual. It would only be to her advantage to have a challenger who could bring forth those issues and allow the public to see them argued before she goes up against a Republican."
Lost in the fervor of progressive rhetoric is that the Democratic Party is just as elitist as the Republicans are. Both operate as useful idiots and corporatist tools of a system that has long ago abandoned the practice of free enterprise.
Contrast this American version of a Punch and Judy show that has an elephant bully bemoaning the folk hero Robin Hood, who actually resembles an ass, with the exceptional Broadway Play, "The Best Man" by Gore Vidal. Watch the 1964 movie version and consider just how far the political system has collapsed in half a century.
The basic assumption in the play and movie is that the nominee of the Democratic Party will handedly beat their Republican opponent. Characterizing convention ballot voting by delegates as a genuine selection process may be strange to those who were raised on the myth that registered voters in a state primary really has a voice in the inauguration of the next President.
A system of party bosses and smoke room dealmakers, surely must be far worse from the televised mortifying pilgrimage and penitent self-flagellation that goes into winning the party's nomination? Or, is it . . .
Remember the way the primaries served the faithful Democrats in 2008.
"According to news reports, Barack Obama and Hillary Clinton went out of their way to hold their long-awaited private meeting in a very specific location – not at Hillary's mansion in Washington – but in Northern Virginia, which also just happens to be the scene of the 2008 Bilderberg meeting.The neo-liberal website Wonkette, which had previously ridiculed "conspiracy theorists" for ascribing power to Bilderberg, seemed to take a somewhat different tone when it made the connection between Obama and Hillary's meeting and the Bilderberg Group."

Orders from on high or more to the point, international deciders had their "heart to heart" with Hillary, passing her over, and giving her a maybe for 2016. George W. Bush liked to call himself the decider, but we all should know that decisions out of Skull and Bones are not based upon primary results.

Vidal's screenplay portrayed a party convention as a real nomination fight. To whatever slime degree existed in the horse-trading to win delegates back then, the appearance in today's selection makes no pretext of concealing the hidden hands behind picking the next President.

The partisan politics protection racket has but one goal; namely, serve and safeguard establishment interests of the elites, who really command the ultimate power. In addition to the Presidency, Congress shares broad similarities in their version of The Incumbent Protection Racket.

"In the U.S. House of Representatives, over the past five elections, incumbents have been re-elected at an average rate of 96 percent. According to my unscientific calculations, a congressman is more likely to be eaten by a polar bear while panning for gold in Key West than to be voted out of office."

Serious challenges in Congressional district primacies are rare. The exception was in 2010 with the success of Tea Party candidates. However, such expression of the will of the people cannot stand in the polluted Potomac sewer that passes for representative democracy. Just look at the concerted efforts to sabotage populist support to retool the excesses in the federal government. Party Goers – What Do You Take With Your Tea?, indicates that all the sugar in the Caribbean will not prevent the political diabetes disease from going into shock. The bipartisan protection con knows how to close ranks among the political class.

"When main street middle class beleaguered taxpayers resonated that, the system was out of whack, the damage control team went into overdrive. This background helps to explain why the face of unprompted Tea Party individualism must be distorted, maligned and redirected."

Great disappointment among Tea Party activists in the hostile welcome from establishment NeoCons has set in. The alternative to playing the no win beltway game provided in Dissecting U.S. Elections – the People vs. the Pols, best states the rational solution.

"What if a real grassroots national movement emerged that supersedes all ideology with a singular purpose – remove all careerist "pols" from office. Forget about the phony No Labels effort to diffuse popular disgust. The solution is to attract the very citizens who NEVER vote in elections.

A national campaign – No Confidence – would be the clear message that the arrogant confidence game crooks could understand."

Drawing upon a universal appeal to break from the travesties of the two party frauds is necessary to register countrywide outrage. Only through vigorous dissention will The Meaning of Third Parties in America, bring the necessary pressure to collapse both the Democrat and Republican Parties.

"The solution to implement meaningful reform is to defuse the political power that is presently concentrated within the 'Tweedle-dumb and Tweedle Dee' parties. The notion that differences between them are based upon core principles, denies the unending descent into 'collectivism'. The edges have varied shapes, but the centers are formed from the same sponge."
You can always resolve that either party will never nominate "The Best Man". If you are so delusional to believe that a woman is the answer in the oval office, look in a different direction. Elizabeth Warren the self-proclaimed Pinocchio-hontas, is a sorry excuse for an accomplished liar. Flush with law school disingenuous skills, this want-a-be feminine messiah would have you believe that Hillary is the New World Order's favorite grandmother.
Nonetheless, fake opposition simply projects the image that there is a choice in candidates. Noam Scheiber, in the New Republic writes, "A Clinton-Warren matchup would have all sorts of consequences, none of them especially heartwarming. The most immediate is that Warren would probably lose." Well so much for a contest between squaws, better suited for commitment to the Hiawatha Insane Asylum.Partisan politics is mostly a ruse designed to divert attention from service to the substantial interests of establishment globalists. The noise generated around campaigns and media coverage, ignores or conceals the existent deals that serve the real goals and intentions of the master puppeteers. The terminal lesson is that establishment politics treats the public as reservation squatters.
No one has ever claimed that the financial markets are a level playing field. Equities, bonds, currencies, options and futures are not arenas that operate by equivalent standards for all parties. Great fortunes were built not by chance, but on superior information, known to the few. Professional traders are not risk gamblers, but operate on the premise of special advantage. Through advance and proprietary techniques that reduce exposure hazards and provide exclusive head start triggers, which virtually guarantee profits, the elite firms dominate Wall Street.
Business Week states in the article, Is High-Frequency Trading Insider Trading?, that
"Classically defined, insider trading means having access to material, non-public information before it reaches the rest of the market; it's like getting a heads-up about a merger before it's announced, or maybe a phone call from a Goldman Sachs (GS) board member saying that Warren Buffett is about to invest $5 billion in the bank."
With the introduction of super computers and Financial Algorithmic Trading, the era of generated trading strategies emerged that fill automatically, when predetermined prices are reached. Some would argue that exchanges were simply applying the latest technology to the time honored system of flipping positions.
Now we live in the High-Frequency matrix, based upon millisecond reactions, which activates on information that is not offered to everyone at the same time. Forbes explains accordingly in High Frequency Insider Trading – And It's Completely Legal!
"According to a team of Wall Street Journal reporters from an article on June 12, the practice works to the advantage of professional traders. "Economic reports from public universities, trade groups and other nongovernmental organizations can move markets as surely as official data from the U.S. government," according to the Journal's team of four reporters: Brody Mullins, Michael Rothfeld, Tom McGinty, Jenny Strasburg. "But unlike government reports, where pains are taken to make certain no one gets them ahead of time, few rules control release of nongovernmental economic reports. Unknown to many investors, selling early access is routine."
Access to this highly valuable information is the key. And such access comes at a price. Rapid traders pay information companies like Thomson Reuters thousands of dollars each month for a look at such reports, moments before they are widely disseminated. And it's in those few key seconds, that they make their killing."
Seemingly, this high-tech access to supercharged information is the newest version of insider information. The following assessment is also from the same Business Week account.
"New York Attorney General Eric Schneiderman has called HFT "insider trading 2.0″ on a number of occasions. His office is looking into the relationships between traders, brokers and exchanges and asking whether it all needs to be reformed. The FBI spent the last year looking to uncover manipulative trading practices among HFT firms; the federal agency is now asking speed traders to come forward as whistleblowers."
Chicago is not much different from their Wall Street exchange cousins. Litigation over this practice is referenced in the report, CME Sued For Giving "High-Frequency Traders Peek At Market" Since 2007.
"In a lawsuit that was just filed by lead plaintiff William Charles Braman, seeking class-action status, and filed on behalf of all users of real-time futures market data and futures contracts listed on the CBOT and CME from 2007 to now, the CME is alleged to have sold order information to high-frequency traders ahead of other market participants.
Apparently it took the general public a Michael Lewis book to reread out post from October 2012 in which we showed that an estimated over 30% of CME revenues were made from HFT – in other words from selling proprietary data in direct feeds to high-paying subscribers, that hits collocated servers ahead of the consolidated tape."
Well, what the layman would see as obvious, influential security lawyers see as neat ambiguity. The Forbes story continues.
"But it is legal, and so is trading on the advance peeks," the Journal reported. "Even as securities rules bar companies from selective data disclosure, and as authorities vigorously pursue insider trading in all its forms, no law prevents investors from trading on nonpublic information they have legally purchased from other private entities. Trading would be illegal only if the information was passed through a breach of trust, said securities lawyers."
It should be clear that the financial system is designed to accommodate creative and innovative methods of price manipulation. The defenders of "Crony Capitalism" see such stratagems as a 21th century sophisticated version of robber baron corporatism, in the fine tradition of Jay Gould and James Fisk. Clipping an ensured few cents on billions of transactions is surely a slick system.
Fabricating automatic returns is bad enough, but what is the public risk of producing a real panic when High-Frequency momentum turns into a full propelled blow off?
When a robot computer generates buy or sell orders, the difference between winning and losing is based upon the speed of the information used to place and execute orders. If your algobots taps into info, not available to the entire market, the game is rigged.
Matthew O'Brien in Everything You Need to Know About High-Frequency Trading, makes a valid point.
"Every HFT strategy depends on not only being faster than ordinary investors, but being faster than each other too. Anytime somebody comes up with a new way to cut a few microseconds—that is, a millionth of a second—off of trading time, they have to spend whatever it takes to do it. Otherwise, they'll lose out to their competitors who do."
Imagine this disconnect with real economic reality that place trades, with little concern if it is a long or short. Only the speed matters. The conclusion from the Negotium essay Financial Algorithmic Trading, holds true. "Banning the interconnect of proprietary programs that amalgamate directly into the systems on the floor of the exchanges is the only way to prevent the integration of systemic collusion among the 1 and 0 computer programs."
It should be obvious that the recent putsch and regime change in the Ukraine inspired and backed by the U.S. shadow government, benefits the international banksters. For the average EU resident, only further economic displacement and diminished prospects can be expected from any inclusion of Ukraine into the EU dictatorial structure. Not so, for the corporatists who expects expanded opportunities as Consortium News analyzes agricultural and energy companies recent involvement within the Ukraine.While corporatists want to extend their monopolies, the appeal of joining the EU with privileges of travel, relocation and better employment, has a very high price tag. So what is really behind the cover that the Brussels technocrats like to provide for the heavy hand treatment, which the banksters always demand? Look to the methods of the IMF for part of the answer.
Michel Chossudovsky of Global Research, in the detailed essay Regime Change in Ukraine and the IMF's Bitter "Economic Medicine", gives a comprehensive account of the handpicked players that are eager to do the bidding of the IMF.
"Shortly after his instatement, the interim (puppet) prime minister Arseny Yatsenyuk casually dismissed the need to negotiate with the IMF. Prior to the conduct of negotiations pertaining to a draft agreement, Yatsenyuk had already called for an unconditional acceptance of the IMF package: "We have no other choice but to accept the IMF offer".
He explains the methods of the standard game plan that the IMF uses to impoverish the peasants and steal assets and resources.
"While the privatization program ensures the transfer of State assets into the hands of foreign investors, the IMF program also includes provisions geared towards the destabilization of the country's privately owned business conglomerates. A concurrent "break up" plan entitled "spin-off" as well as a "bankruptcy program" are often implemented with a view to triggering the liquidation, closing down or restructuring of a large number of nationally owned private and public enterprises."
In addition, the 21th Century Newswire reports that the US Quietly Snatches the Ukraine's Gold Reserves and corroborated by the same Prof Chossudovsky, it becomes clear that economic conquest is a prime component behind the staged coup.
"According to reports out of Kiev, the US has quietly transfers 33 tons of Ukrainian gold out of the country and back to vaults in the US. Presumably, this sovereign wealth transfer would be counted as partial "collateral" for a fresh round of IMF, US FED, and ECB paper debt that is currently being organized for dumping into the Ukraine's economic black hole."
"Later a returned call from a senior official of the former Ministry of Revenue reported that tonight, on the orders of one of the new leaders of Ukraine, the United States had taken custody of all the gold reserves in Ukraine."
Finally, economist Michael Hudson in Who In Ukraine Will Benefit From An IMF Bailout?,
"The objective of IMF loans is to deindustrialize the economy. It is to force the economy–meaning the government when you say the economy–the government has to pay the IMF loan by privatizing whatever remains in the public domain. The Westerners want to buy the Ukrainian farmland. They want to buy the public utilities. They want to buy the roads. They want to buy the ports. And all of this is going to be sold at a very low price to the Westerners, and the price that the Westerners pay will be turned over to the Ukrainian government, that then will turn it back to the Ukraine. So whatever the West gives Ukraine will immediately be taken back."
Watch the informative video, Who In Ukraine Will Benefit From An IMF Bailout?, for the Real News assessment, that clarifies these developments. Now shift to the recent announcement that the EU Signs Association Agreement With Ukraine for a viewpoint reported by Radio Free Europe.
"This deal covers the most existential and most important issues, mainly security and defense cooperation," Yatsenyukd said. "This deal will establish a joint decision-making body, which is to facilitate the process of real reforms in my country. And this deal meets the aspirations of millions of Ukrainians that want to be a part of the European Union."
What exactly can the EU offer by way of defense cooperation? Yes, this is the same central banker stooge, who the Wall Street Journal describes as Washington's Man Yatsenyuk Setting Ukraine Up For Ruin. Without the United States, the EU is a paper tiger. NATO is not an alliance, but a branch of outposts to deploy American troops. How does this phony agreement between the EU and Ukraine help the economic interests of either party?
Such a display of destitution only makes the illegitimate installed Ukraine government look like the vassal state that it has become. Bob Livingston over at Personal Liberty Digest has it correct, "The Ukraine situation is a bankster-orchestrated crisis with the short game more money printing and the end game global governance."The EU governance aspect is the eventual goal, but the immediate economic dislocation that even the talk of sanctions against Russia has, with the trading partners within the EU, surely will experience real pain. These conditions create the perfect storm for the IMF banksters to apply their vile craft.
Now that the Ukraine is reduced to beggar status, the gang of approved corporatist will feast like vultures upon the remains of fire sale assets. Once again the formula imposed upon Ireland, Spain and certainly Greece, will be used to guarantee the billions in EURO credit that will flow into the secret bank accounts of the new junta.
Capturing the Ukraine is more about geopolitical asset thievery than assimilation into the European Union. However, the EU marketed, as a lawful "community of nations" is nothing more than the political front for the money counterfeiters. Fashioning economic distress is the business of the unholy alliance. NATO, the IMF and the EU serve the shyster and shylock central banking system. Ukraine is just the latest victim.
As the US and EU apply sanctions on Russia over its annexation' of Crimea, JP Sottile reveals the corporate annexation of Ukraine. For Cargill, Chevron, Monsanto, there's a gold mine of profits to be made from agri-business and energy exploitation.
On 12th January 2014, a reported 50,000 "pro-Western" Ukrainiansdescended upon Kiev's Independence Square to protest against the government of President Viktor Yanukovych.
Stoked in part by an attack on opposition leader Yuriy Lutsenko, the protest marked the beginning of the end of Yanukovych's four year-long government.
That same day, the Financial Timesreported a major deal for US agribusiness titan Cargill.
Business confidence never faltered
Despite the turmoil within Ukrainian politics after Yanukovych rejected a major trade deal with the European Union just seven weeks earlier, Cargill was confident enough about the future to fork over $200 million to buy a stake in Ukraine's UkrLandFarming.
According to the Financial Times, UkrLandFarming is the world's eighth-largest land cultivator and second biggest egg producer. And those aren't the only eggs in Cargill's increasingly ample basket.
On 13th December 2013, Cargill announced the purchase of a stake in a Black Sea grain terminal at Novorossiysk on Russia's Black Sea coast.
The port — to the east of Russia's strategically and historically important Crimean naval base — gives them a major entry-point to Russian markets and adds them to the list of Big Ag companies investing in ports around the Black Sea, both in Russia and Ukraine.
Cargill has been in Ukraine for over two decades, investing in grain elevators and acquiring a major Ukrainian animal feed company in 2011. And, based on its investment in UkrLandFarming, Cargill was decidedly confident amidst the post-EU deal chaos.
It's a stark juxtaposition to the alarm bells ringing out from the US media, bellicose politicians on Capitol Hill and perplexed policymakers in the White House.
Instability?… What Instablility?
It's even starker when compared to the anxiety expressed by Morgan Williams, President and CEO of the US-Ukraine Business Council — which, according to its website, has been"promoting US-Ukraine business relations since 1995."
Williams was interviewed by the International Business Times on March 13 and, despite Cargill's demonstrated willingness to spend, he said, "The instability has forced businesses to just go about their daily business and not make future plans for investment, expansion and hiring more employees."
In fact, Williams, who does double-duty as Director of Government Affairs at the private equity firm SigmaBleyzer, claimed, "Business plans have been at a standstill."
Apparently, he wasn't aware of Cargill's investment, which is odd given the fact that he could've simply called Van A. Yeutter, Vice President for Corporate Affairs at Cargill, and asked him about his company's quite active business plan.
There is little doubt Williams has the phone number because Mr. Yuetter serves on the Executive Committee of the selfsame US-Ukraine Business Council. It's quite a cozy investment club, too.
According to his SigmaBleyzer profile, Williams "started his work regarding Ukraine in 1992″ and has since advised American agribusinesses "investing in the former Soviet Union." As an experienced fixer for Big Ag, he must be fairly friendly with the folks on the Executive Committee.
Big Ag Luminaries — Monsanto, Eli Lilly, Dupont, John Deere…
And what a committee it is — it's a veritable who's who of Big Ag. Among the luminaries working tirelessly and no doubt selflessly for a better, freer Ukraine are:
Melissa Agustin, Director, International Government Affairs & Trade for Monsanto;
Brigitte Dias Ferreira, Counsel, International Affairs for John Deere;
Steven Nadherny, Director, Institutional Relations for agriculture equipment-makerCNH Industrial;
Jeff Rowe, Regional Director for DuPont Pioneer;
John F. Steele, Director, International Affairs for Eli Lilly & Company.
And, of course, Cargill's Van A. Yeutter. But Cargill isn't alone in their warm feelings toward Ukraine. As Reuters reported in May 2013, Monsanto — the largest seed company in the world — plans to build a $140 million "non-GM (genetically modified) corn seed plant in Ukraine."
And right after the decision on the EU trade deal, Jesus Madrazo, Monsanto's Vice President for Corporate Engagement, reaffirmed his company's "commitment to Ukraine"and "the importance of creating a favorable environment that encourages innovation and fosters the continued development of agriculture."
Monsanto's strategy includes a little "hearts and minds" public relations, too. On the heels of Mr. Madrazo's reaffirmation, Monsanto announced "a social development program titled 'Grain Basket of the Future' to help rural villagers in the country improve their quality of life."
The initiative will dole out grants of up to $25,000 to develop programs providing"educational opportunities, community empowerment, or small business development."
Immense Economic Importance
The well-crafted moniker 'Grain Basket of the Future' is telling because, once upon a time, Ukraine was known as 'the breadbasket' of the Soviet Union. The CIA ranks Soviet-era Ukraine second only to Mother Russia as the "most economically important component of the former Soviet Union."
In many ways, the farmland of Ukraine was the backbone of the USSR. Its fertile black soil generated over a quarter of the USSR's agriculture. It exported substantial quantities of food to other republics and its farms generated four times the output of the next-ranking republic.
Although Ukraine's agricultural output plummeted in the first decade after the break-up of the Soviet Union, the farming sector has been growing spectacularly in recent years.
While Europe struggled to shake-off the Great Recession, Ukraine's agriculture sector grew 13.7% in 2013.
Ukraine's agriculture economy is hot. Russia's is not. Hampered by the effects of climate change and 25 million hectares of uncultivated agricultural land, Russia lags behind its former breadbasket.
According to the Centre for Eastern Studies, Ukraine's agricultural exports rose from $4.3 billion in 2005 to $17.9 billion in 2012 and, harkening the heyday of the USSR, farming currently accounts for 25% of its total exports. Ukraine is also the world's third-largest exporter of wheat and of corn. And corn is not just food. It is also ethanol.
Feeding Europe
But people gotta eat — particularly in Europe. As Frank Holmes of US Global Investorsassessed in 2011, Ukraine is poised to become Europe's butcher. Meat is difficult to ship, but Ukraine is perfectly located to satiate Europe's hunger.
Just two days after Cargill bought into UkrLandFarming, Global Meat News reported a huge forecasted spike in "all kinds" of Ukrainian meat exports, with an increase of 8.1% overall and staggering 71.4% spike in pork exports.
No wonder Eli Lilly is represented on the US-Ukraine Business Council's Executive Committee. Its Elanco Animal Health unit is a major manufacturer of feed supplements.
And it is also notable that Monsanto's planned seed plant is non-GMO, perhaps anticipating an emerging GMO-unfriendly European market and Europe's growing appetite for organic foods. When it comes to Big Ag's profitable future in Europe, the stakes couldn't be higher.
A Long String of Russian Losses
For Russia and its hampered farming economy, it's another in a long string of losses to US encroachment — from NATO expansion into Eastern Europe to US military presence to its south and onto a major shale gas development deal recently signed by Chevron in Ukraine.
So, why was Big Ag so bullish on Ukraine, even in the face of so much uncertainty and the predictable reaction by Russia?
The answer is that the seeds of Ukraine's turn from Russia have been sown for the last two decades by the persistent Cold War alliance between corporations and foreign policy. It's a version of the 'Deep State' that is usually associated with the oil and defense industries, but also exists in America's other heavily subsidized industry — agriculture.
Morgan Williams is at the nexus of Big Ag's alliance with US foreign policy. To wit,SigmaBleyzer touts Mr. Williams' work with "various agencies of the US government, members of Congress, congressional committees, the Embassy of Ukraine to the US, international financial institutions, think tanks and other organizations on US-Ukraine business, trade, investment and economic development issues."
Freedom — For US Business
As President of the US-Ukraine Business Council, Williams has access to Council cohort — David Kramer, President of Freedom House. Officially a non-governmental organization, it has been linked with overt and covert 'democracy' efforts in places where the door isn't open to American interests — aka US corporations.
Freedom House, the National Endowment for Democracy and National Democratic Institute helped fund and support the Ukrainian 'Orange Revolution' in 2004. Freedom House is funded directly by the US Government, the National Endowment for Democracy and the US Department of State.
David Kramer is a former Deputy Assistant Secretary of State for European and Eurasian Affairs and, according to his Freedom House bio page, formerly a Senior Fellow at the Project for the New American Century.
Nuland's $5 Billion For Ukrainian 'Democracy'
That puts Kramer and, by one degree of separation, Big Ag fixer Morgan Williams in the company of PNAC co-founder Robert Kagan who, as coincidence would have it, is married to Victoria "F*ck the EU" Nuland, the current Assistant Secretary of State for European and Eurasian Affairs.
Interestingly enough, Ms. Nuland spoke to the US-Ukrainian Foundation last 13th December, extolling the virtues of the Euromaidan movement as the embodiment of "the principles and values that are the cornerstones for all free democracies."
Nuland also told the group that the United States had invested more than $5 billion in support of Ukraine's "European aspirations" — meaning pulling Ukraine away from Russia. She made her remarks on a dais featuring a backdrop emblazoned with a Chevron logo.
Also, her colleague and phone call buddy US Ambassador to Ukraine Geoffrey Pyatt helped Chevron cook up their 50-year shale gas deal right in Russia's kitchen.
Coca-Cola, Exxon-Mobil, Raytheon
Although Chevron sponsored that event, it is not listed as a supporter of the Foundation. But the Foundation does list the Coca-Cola Company, ExxonMobil and Raytheon as major sponsors. And, to close the circle of influence, the US-Ukraine Business Council is also listed as a supporter.
Which brings the story back to Big Ag's fixer — Morgan Williams.
Although he was glum about the current state of investment in Ukraine, he's gotta wear shades when he looks into the future. He told the International Business Times:
"The potential here for agriculture / agribusiness is amazing … Production here could double. The world needs the food Ukraine could produce in the future. Ukraine's agriculture could be a real gold mine."
Of course, his priority is to ensure that the bread of well-connected businesses gets lavishly buttered in Russia's former breadbasket. And there is no better connected group of Ukraine-interested corporations than American agribusiness.
Given the extent of US official involvement in Ukrainian politics — including the interesting fact that Ambassador Pyatt pledged US assistance to the new government in investigating and rooting-out corruption — Cargill's seemingly risky investment strategy probably wasn't that risky, after all.
J P Sottile is a freelance journalist, radio co-host, documentary filmmaker and former broadcast news producer in Washington, D.C. His weekly show, Inside the Headlines w/ The Newsvandal, co-hosted by James Moore, airs every Friday on KRUU-FM in Fairfield, Iowa. He blogs at Newsvandal.com.
Source: JP Sottile | Ecologist
For the last half century, the American population, subjected to the greatest dumbing down experiment of psychological manipulation in all of history, has resulted in the adoption of a cultural separation from realty and true self-interest. With all the glorious aspirations, that celebrate a diverse society, the fact that humankind shares the same planet usually is not enough to resolve disparities. While DNA similarities are the basis of the specie, the genetic differences among races, put aside and banished from polite conversation, still are true and significant. Yet the civilizations that make up this world function as if the tribal differences are often paramount in the social order.The intentional indoctrination that all races are equal rests upon a specious supposition that the goals, objectives and ambitions assign a uniform desire. Once upon a time immigration to the New World came from a European heritage. That influx of settlers provided a similar experience if not an identical cultural attitude. With the introduction of the slave trade economy, the forced transplanting of African captives, initiated a road to social dissolution as demonstrated in today's racial conflicts.
The notion that this country is a harmonious society fails because of a very basic element that few people will admit. Blacks, Caucasians, Oriental, Native Americans and any combination of mixed races all have an opportunity to interact and grow in moral character and intellectual honesty as the sins of the past are put to rest, in the reciprocal objective of creating a mature society based upon mutual respect.
However, respect needs to be earned and is not an intrinsic ingredient automatically granted to every cultural social mind-set.
Individuals have the ability to make choices. Choosing civilization over barbarianism is within the grasps of any sincere and ethically committed person.
This object of civilized unity builds a future for the greatest numbers. Recognizing that deliberate induced racial animosity has a profound political purpose is essential to understand the motives behind distorted news reporting and the progressive policy agenda that seeks to conquer by dividing the different factions, which populate the country.
Reformist activism, usually portrayed as shaping government programs that provide for "so called" well-intentioned coercive laws and regulations, is the media narrative that insults the intelligence of any thinking person.

No better example of this televised psychosomatic pollution that inflicts a national disease of artificial guilt is MSNBC. The notorious medicine-man dispenser of this kind of poison is Al Sharpton. The Reverend has a long record of demeaning his own brothers and sisters by bring new meaning to the term, Kaffir.
In The Daily Caller, political reporter Caroline May cites Sharpton's consistent race baiting tirades.
"MSNBC host Reverend Al Sharpton invoked race over 200 times last year, according to a new tally by the conservative Media Research Center.

According to the analysis by Katie Yoder the liberal host said "race," "racism," or "racist" 215 times in 2013 during his MSNBC show PoliticsNation.

"From opposition to the Obama agenda to guns and even into fashion and food, Sharpton's finely tuned nose for racism rarely took a day off last year," Yoder wrote.

In an example the MRC notes that Sharpton was able to invoke race five times in a single paragraph about Republican attacks on Barack Obama and Attorney General Eric Holder."
Back in January, John Daly on bernardgoldberg.com, publishes the account, MSNBC Twitterer Fired for Race Baiting.
"On Wednesday night, conservatives honed in on offensive tweet that appeared on MSNBC's official Twitter feed. The full tweet read, "Maybe the rightwing will hate it, but everyone else will go awww: the adorable new #Cheerios ad w/biracial family."
The comment was in reference a new television commercial for Cheerios entitled "Gracie" that features a biracial family enjoying a breakfast conversation at their kitchen table. The implication by the MSNBC employee behind the tweet, of course, was that the rightwing in this country is racist, and therefore they would surely be disgusted by the visual scene of a family with one white parent and one black parent."
Part of the story included that other mainstay of race politics and self-reproach apologist, Chris Mathews. The Hardball video, Matthews To Black Guest On Race: "I'm Speaking Now For All White People… I'm Sorry", is a pitiful testimony.
"We got to continue this conversation, gentlemen, privately and on television. I mean a lot of people out there — I'll just tell you one thing. And I'm speaking now for all white people, but especially people who have had to try to change the last 50 or 60 years. And they — a lot of them have really tried to change, and I'm sorry for this stuff. That's all I'm saying."

Tom Borelli, writes in the Liberty Alliance – MSNBC Chris Matthews Wild Race Card Attack Against Conservatives, more from this self-anointed supporter and barker for liberal delusional bigotry.
"In his foaming rant, Matthews claims voter I.D. laws are like poll taxes with the goal to suppress black voters and he adds Obama's political opposition are the enemy that gain from hate:
"Obama's true enemies are those who back the three dozen states now pushing voter suppression laws to make damn sure the country doesn't go and elect another black president, or a progressive white president. You know this generation's equivalent of poll taxes and those discredited literacy tests anything to keep minorities from their voting rights. And to this crowd the Obama haters add to them those who gnaw on the president's health care bill with the hunger of starving rats but offer nothing in its place except their crazed notions about bringing down the government and destroying the county's economic stature even as they deny even a penny of credit to the president for the zooming American stock market right now. These are the enemies those who stand and benefit from all the anger and hatred and indecency of the nasty right…"
Matthews is once again proving MSNBC is not a news organization but a cable outlet for political operatives whose goal is to spread progressive propaganda."
So does this party line programming, emphasizing a racially slanted mantra, which drives wedges among the viewing public, actually help ratings? The TVNewser lists that MSNBC was down across the board compared to Nov. 2012. However, MSNBC ranked #1 among African-American viewers in both A25-54 and total viewers in all key dayparts and MSNBC ranked #1 among Hispanic viewers A25-54 in M-F primetime and M-Su primetime.Mediaite lists Sharpton #1 in Demo on MSNBC. Especially review the chart TV NEWS RATINGS: 25-54 DEMOGRAPHIC comparing with the other cable news networks.
PoliticsNation with Al Sharpton was the highest-rated show in the 25-54 demo across MSNBC's evening schedule Monday with 214K viewers. Sharpton beat fellow MSNBC hosts Chris Matthews, who had 209K viewers and Ed Schultz, who had 170K.

Matthews was #1 in total viewers on MSNBC with 844K, followed by Rachel Maddow with 729K and Schultz with 717K.
A Pew Study Finds MSNBC the Most Opinionated Cable News Channel By Far, "A full 85% of the Comcast-owned network's coverage can be classified as opinion or commentary rather than straight news, according to the authors of the Pew Research Center's annual State of the News Media report."
The significance of this data is that the gap between minority identified and 25-54 viewers and all America is increasing even wider. With the 2013 Cable News Ratings: Fox News Sees Sharp Demo Decline, CNN Suffers In Primetime. The race baiters at MSNBC seems to have consolidated their niche among targeted minorities and the products of the more recent government school educated and MTV generation.Decades of liberalizing news distortion and manufactured false re-invention of history has produced a total disconnect from reality. MSNBC is used as a poster boy network for shutting out serious journalism from the medium, but it is almost impossible to find any mainstream broadcasts that are worthy of viewership.
There is a profound reason why the stuck on stupid culture is all around us. Open and rational political debate and discourse is slated for complete removal from television. Anyone who can seriously admit being a MSNBC viewer has deep seeded issues of reckoning sane behavior.
Those limousine liberals love to champion abortion as a well-tested solution of reducing population. Minorities, particularly targeted for marginalization, need to rebel against the democratic politicians and liberal class perversion, whereby NYC: More Black Babies Killed by Abortion Than Born. For those who gain a foothold on life, the media brainwashing of the likes of Rev. Al await.Fools who drink from the cup of their own racial genocide are their own worst enemy. The national interest demands that exploitation of race as a substitute for intelligent co-existence end. Compulsory Integration or miscegenation leveling has proven a massive failure. Is it not time that all tribes start a respectful dialogue and abandon the shackles of blaming race discrimination for the general failure of society? Separation by race is natural. This fact is a news topic that serious media and journalists need to address.
We are almost 3 months away from the 100th anniversary of the assassination of Archduke Ferdinand. If we are lucky, Wall Street's puppet government in Washington will not blow up the world by June 28, 2014.
I have always despised President Woodrow Wilson for getting America into World War I. I want to cure the world of reoccurring Depressions through Worldwide Debt Cancellation and Monetary Reform. As I have explained before, Depressions in the West are caused by the accumulation of Unpayable Debts. These occur because Bankers have the right to charge us interest on money they created out of nothing. We need a non-interest bearing currency like President Lincoln's Greenbacks. And we also must end fractional reserve banking which allows a bank to lend out ten dollars for every one on deposit. Woodrow Wilson gave us the Federal Reserve bank and WW I. We have had cycles of wars and Depressions ever since.
I would like to compare 1914 to what is happening today. Let me begin by quoting something I wrote about World War I a few years ago.
Edith Cavell made a fatal mistake. She mistakenly believed she lived in a democracy. She was a British nurse working in Belgium in 1915. She saw first hand the horrors of trench warfare. She also saw a quick and easy means for England to end the war with a victory. She wrote a letter to the Nursing Mirror which was published on April 15th, 1915. She said that 'Belgian Relief' efforts were actually being sent to Germany which would have to sue for peace without this aid from the allies. England was quite literally feeding the German army that was killing millions of French and British soldiers. What she did not know was that similar allied war materiel was being sent to Germany via Sweden and other neutral nations so the war could continue for several more years.
Sir William Wiseman heard about her letter. He was the head of British Intelligence in North America for MI6. He was a partner at the Rothschild owned Kuhn and Loeb Investment Bank. He ordered the Germans to arrest Edith Cavell. She was subsequently shot as a spy. Her mistake was to think that she lived in a democracy where the people could vote, write letters to the editor and have a say in the life and death decisions of the nation. She did not live to see what we have seen.
Americans ought not to believe they live in a democracy. Our politicians cannot prove to us that our votes are honestly counted. Every President since 1989 has been a CIA asset. The CIA is allowed to fly heroin and cocaine into America by the plane load. And the CIA is allowed to go into Senate Intelligence Committee computers and erase documents proving the Agency guilty of torture.
The media seems all too willing to cover up every plot against the American people from the assassination of President Kennedy to the controlled demolitions of the Murrah Federal building on April 19, 1995 and World Trade Center Towers 1, 2 and 7 on September 11, 2001. They also were willing to let the previous administration tell us lies to justify the invasions of Iraq and Afghanistan. And now the current administration tells us lies about Crimea. Believing their propaganda could get us all killed.
The US paid the opposition $5 billion to start riots before the May elections could be held. Then they hired snipers from as far away as Israel to shoot both the protesters and the police. They installed a Jewish banker as President without elections because they were not sure the people would vote to join the European Union in May. The coup leaders passed laws making the minority Hungarian and Russian languages sort of illegal. And just as they did in Libya the Americans stole the Ukraine's gold and looted their banks. This plan to seize the Ukraine was mentioned in print by Zbigniew Brzezinski in 2007. He assumed Russia would respond by taking back the Crimea which Khrushchev had given away in 1954.
Barack Obama and his advisers are probably even more incompetent than Woodrow Wilson and his crew. The Obama crowd has announced war game exercises for Poland, the Czech Republic, Hungary, Bulgaria, Romania and the Baltics. Hopefully, Putin understands America cannot do anything militarily against a real Army. Obama's advisers would like to crush Russia with sanctions. That will never happen. Russia has gold, oil, natural gas and other products that people all over the world want to buy. Nobody wants to buy America's Genetically Modified Organisms. Even with retail stores dying America is still importing far more than it exports. And the Government Accounting Office said that the alleged 680 billion 2013 US budget deficit was really a trillion dollars. America by design has a permanently sick economy. America cannot survive sanctions.
Russia intends to announce the Holy Grail of energy deals in May when Putin visits China. China will buy Russian oil and natural gas with yuan. The United States has been occupying Afghanistan, funding Al Qaeda against Syria and killing people in Pakistan and Yemen with drones to prevent pipelines from distributing natural gas to Europe and to China. This restraint of trade has forced the price of natural gas and oil higher. Americans pay what they think are high rates for electricity but their natural gas prices are low. I am not familiar with the details of English utility bills but their utility bills are a lot higher than ours. And their government allows really outrageous gouging. European Union energy rules do not seem to be helping either. Barack's forcing Russia to sell oil and natural gas to China will severely harm our allies in Great Britain and Europe. The economy of the EU cannot survive a 40% rise in their utility bills. They are near collapse anyway you say. Yes. But sanctions if not stopped now will push them over the edge sooner rather than later.
NATO wants to bring the Ukraine into their military alliance. This means if the Ukrainian coup leaders want to start World War III, we are all obligated to die. I once heard a Scotsman say that NATO stands for Not Altogether Thought Out. The Russians as part of that May Summit with China will be selling them Sukhoi SU-35 jet fighters. They can out maneuver the American F-22 and F-35 both of which are not really operational.
Prior to Putin's visit to China in May the Chinese are expected to announce their gold holdings late in April. The last time they announced those holdings was in April of 2009. Sun Tzu in The Art of War said 'when you are many pretend to be few.' As I have said before, China has at least 7,000 tons of gold. They might announce a much lower number or delay the press release if they are not yet ready to reveal a gold backed yuan. They might prefer to do that in May or at least to announce something like the End of the Petrodollar which would be Phase I of the destruction of the US economy. That could take the form of an announcement that oil and natural gas would henceforth be bought and sold only in yuan, rubles and gold. That would send the dollar into a tailspin from which it will never recover.
All of this will come to a head at least a month before the 100th anniversary of the assassination of Archduke Ferdinand on June 28, 2014. This time around I am hopeful that the US military which several times has had to say No to launching World War III by attacking Iran will refuse to get us and themselves killed. Why should we die because Wall Street cannot manage the economy without stealing our money by the tens of trillions, starving people to death by the hundreds of millions and killing people in their wars by the billions?
Source: Vidrebel
These are an extremely pivotal few days from the standpoint of international political economy and the Ukrainian crisis.
Last minute diplomatic talks in London between Russia and the USSA over the Ukrainian crisis failed on Friday, and USSA Secretary of State, John Kerry,has delivered an ultimatum to Russia — if the outcome of the Crimean referendum on Sunday is not to the liking of the USSA government then Washington, DC and its European allies will take a series of further, serious, unspecified, retaliatory measures on Monday.
These threatened measures are widely expected to include a range of financial sanctions. The whiff of a possible NATO/ USSA war with Russia is also in the air. The negative consequences of a NATO/ USSA military clash with Russia include the very real threat of a nuclear conflict, since both sides are very heavily armed with a full array of nuclear ballistic missiles, cruise missiles, torpedoes and bombs.
China has viewed the rapidly developing crisis with a thoroughly jaundiced eye and has warned against sanctions by the USSA against Russia due to the "unforeseeable consequences" and "retaliatory action" that such sanctions might engender.
Given that China holds $1.3 trillion of the USSA's government debt, which it could willy-nilly dump, with disastrous effects on the American economy, and also has a full brace of nuclear missiles that can reach the USSA mainland and its numerous military bases in the Pacific region, the warning is not an empty threat. Here is a photo of a Chinese "boomer"laden with nuclear missiles headed out to sea.
Indeed, in anticipation of probable anti-Russian sanctions Russian financial institutions have already begun pulling vast sums of money out of the West, including some $105 billion out of the USSA this week alone.
This takes place in the context of Russian carrier-based jets staging war exercises in the eastern Mediterranean, flying from the deck of the aircraft carrier Admiral Kuznetsov, near Cyprus. This is also near Israel, off the coast of Syria. The message could not be clearer that Russia intends to stand by its long-time ally Syria, at the same time that it sends a cautionary message to Israel. It is fair to assume that the Kuznetsov battle group is carrying nuclear weapons, as do USSA aircraft carrier battle groups.
Speaking of which, the Pentagon has announced that the aircraft carrier USS George H.W. Bush will be remaining in the Mediterranean a few more days due to the crisis in Ukraine. Also today, Russian self-defense forces in Crimea announced the capture of an American military drone that was surveiling the peninsula.
On Sunday, the Crimeans will most likely vote to join the Russian Federation. If they do, the following day the USSA government will announce punitive measures against Russia. After that, the Russians and Chinese will take whatever steps they feel are appropriate, and then the USSA government and its allies will take further steps in response.
This entire scenario is fraught with profound peril for the whole world. I don't know what is going to happen, but a hard shock to the global financial system, in the coming days and weeks, appears highly possible.
The more so as financial astrologers are unanimously pointing to April 2014 (next month) as being a period of financial crisis for the USSA economy and its so-called "Federal Reserve Bank." I am not a financial astrologer, but I have to say that their prognostications are right on the money. April is shaping up to be a period of intense crisis for the USSA and its financial system.
I do not presume that in a war with Russia and China, be it a nuclear exchange or a financial showdown, that the USSA and its European allies will necessarily prevail. J.P. Morgan, the early-20th century Robber Baron, famously said that millionaires do not have astrologers, but billionaires do. For millennia, kings, queens, emperors, and now presidents, premiers and prime ministers, have been consulting astrologers. I would be very surprised if the Chinese and Russians do not take full advantage of the propitious astrology of April 2014 to take the USSA government and the U.S. Federal Reserve Bank down a peg.
Though I am not a financial adviser, it does seem prudent to me for people who are aware of the confusion that is coming to use the period of time right now to prepare for future contingencies that may arrive within mere weeks. If the USSA financial system crashes hard, and that possibility realistically exists, then the American dollar is going to lose value, perhaps a great deal of value, and most of the world will feel the effects.
Paper currency, any paper currency, becomes just paper when enough people lose confidence in its value. Historically, silver and gold have held their value across thousands of years. I do not have any gold and silver, or platinum, palladium or rhodium, either. But if I were financially able I would certainly obtain some and take physical possession of it. I would do it this very day. We are entering a period of high uncertainty right now and no one knows how long it will last, or how severe the crisis may become. One thing is certain: those who are least prepared, physically, psychologically, emotionally, spiritually, financially, socially, etc. will fare the worst.
So get ready.
Source: Richard Sauder  |  Event Horizon Chronicle
Large numbers of people today believe that modern secular science has proven the earth and cosmos to be billions of years old, and that every living thing, from fish to dogs, apes and humans, evolved from a single cell which itself is the result of chance combination of chemicals. Most believe that primordial matter resulted from the Big Bang. Certain high profile Christians like Hugh Ross and the influential Evangelical theologians and scholars who support him, teach that God is both the energizing force behind the Big Bang and the director of evolutionary process.
Against this way of thinking, the Word of God authoritatively teaches a six day historical creation, which today is vastly unpopular with and downright offensive to scientifically enlightened theologians and their followers.
The rejection of the literal six day creation is an aberration of modernism, meaning liberal (pantheist) Protestantism and its' openly hostile 'secular' antitheist and atheist counterparts such as Marxist Communism and Secular Humanism.
Of the many early Church Fathers who wrote on Genesis, all but Augustine, who erred by teaching instantaneous creation, affirmed a literal, historic six day account of creation.
For instance, St. Cyril of Alexandria argued that higher theological, spiritual meaning is founded upon humble, simple faith in the literal and historic meaning of Genesis and one cannot apprehend rightly the Scriptures without believing in the historical reality of the events and people they describe. (Genesis, Creation, and Early Man, Fr. Seraphim Rose, p. 40)
In the integral worldview teachings of the Fathers, neither the literal nor historical meaning of the Revelations of the pre-incarnate Jesus, the Angel who spoke to Moses, can be regarded as expendable. There are at least four critically important reasons why. First, to wrest and distort Genesis so as to conform it to Big Bang and other secular scientific assumptions is to contradict and usurp the authority of God, ultimately deny the deity of Jesus Christ; twist, distort, add to and subtract from the entire Bible and finally, to imperil the salvation of believers.
It's important that we understand that the Church Fathers weren't primitive, unscientific goat-herders as dishonest modernists have made them out to be, but rather highly intelligent, well-educated men.  Many came from backgrounds of evolutionary pantheism, occultism and pagan animism thus were intimately familiar with much of what passes for contemporary secular science such as Big Bang and Steady State theories (evolutionary cosmogonies), inflationary models, vast ages, chance, the universal life force (serpent power, Zoë, evolution) and much more, even though by other designations.
Long before Darwin, Greek nature philosophers (600–100BC) were teaching primitive evolutionary conceptions, abiogenesis, chance, determinism, natural selection, transmigration, reincarnation and vast ages together with many other modern assumptions.
The fragments of Anaximander's (c. 610–546 BC) evolutionary speculations show he taught that 'humans originally resembled another type of animal, namely fish' while Democritus (c.460–370BC) taught that primitive people began to speak with 'confused' and 'unintelligible' sounds but 'gradually they articulated words.' (Evolution: An Ancient Pagan Idea, Paul James Griffith, creation.com)
The Greek Atomist Epicurus (341–270BC), the father of contemporary materialism and many of its' secular scientific assumptions, taught there was no need of a God or gods, for the Universe came about by a chance movement of atoms. (ibid)
Darwinism affirms the claim made by Epicurus that living beings created themselves, while modern evolutionary biology affirms Anaximander's claim that humans evolved from lower order life-forms.
With respect to old earth or vast ages, Plato and many other Greek philosophers taught that the present universe came about millions of years ago. Writing in the fourth century AD, Lactantius said:
"Plato and many others of the philosophers, since they were ignorant of the origin of all things, and of that primal period at which the world was made, said that many thousands of ages had passed since this beautiful arrangement of the world was completed … ." (ibid)
After the Greeks, the Roman naturalist Pliny the Elder (AD23–79) said we are so subject to chance,
"….that Chance herself takes the place of God; she proves that God is uncertain." (ibid)
Greek and Roman philosophers received these ideas from ancient Sumerians (Babylonians), Egyptians and Hindus whose Mysteries, nature philosophies and evolutionary cosmogonies extended back centuries before Greek and Roman civilization. For example, one Hindu belief was that Brahman (the Void or Universe) spontaneously generated itself (the modern theory of abiogenesis) as something like a seed or singularity (Cosmic Egg or Big Bang) about 4.3 billion years ago and then evolved under its' own power by which it expanded and formed all that exists:
"These Hindus believed in an eternal Universe that had cycles of rebirth, destruction and dormancy, known as 'kalpas', rather like oscilla­ting big bang theories. We also read in the Hindu Bhagavad Gita that the god Krishna says, 'I am the source from which all creatures evolve." (ibid, Griffith)
In India the doctrines of evolution/reincarnation/karma were thoroughly established from ancient times. They were expounded first in the Upanishads (c. 1000 BC – AD 4), the philosophical-mystical texts held to be the essence of the Vedas.
Representing the young earth view and resurrection of the dead (Acts 17: 16-34) the Apostle Paul contended against the Greek Epicureans (materialists) and Stoics (pantheists), representatives of Cosmic Egg theories (Big Bang), vast ages (old earth view), universal life force (evolution), void, atoms, animism (i.e. Karl Marx's animated 'divine thinking' matter), fate, determinism, and reabsorption after death.
Speaking to the nature sages, Paul said "this is what I'm going to proclaim to you,"
"The God who made the world and everything in it is the Lord of heaven and earth… he himself gives everyone life and breath and everything else. From one man he made all the nations, that they should inhabit the whole earth; and he marked out their appointed times in history and the boundaries of their lands. God did this so that they would seek him and perhaps reach out for him and find him, though he is not far from any one of us. 'For in him we live and move and have our being.' Therefore since we are God's offspring, we should not think that the divine being is like gold or silver or stone—an image made by human design and skill. In the past God overlooked such ignorance, but now he commands all people everywhere to repent. For he has set a day when he will judge the world with justice by the man he has appointed. He has given proof of this to everyone by raising him from the dead."
When Greek sages heard about the resurrection of the dead, many of them sneered due to their belief that the body is a rotting tomb within which their souls were trapped.   Since they believed that the fall consisted of an inexplicable plunge from being as one with the impersonal One Substance, then salvation was reabsorption of soul into the One Substance, therefore the idea of bodily resurrection was repulsive. In "Adversus nationes" (2:37) Arnobius complains,
"If souls were of the Lord's race…They would never come to these terrestrial places (and) inhabit opaque bodies and (be) mixed with humors and blood, in receptacles of excrement, in vases of urine." (The Pagan Temptation, Thomas Molnar, p. 27)
The framework behind the way of thinking which Paul contended against is naturalism, the ancient idea that living beings make themselves. Naturalism is like a leopard, meaning its' spots cannot be changed even by defiant Scriptural retrofitters like Teilhard de Chardin, Leonard Sweet, Hugh Ross and other natural science and evolution compromisers.
As Solomon said, there is nothing new under the sun.   What once was will be again.  In this light, when Peter prophesied about the "scoffers" in "the last days" who claim that"everything goes on as it has since the beginning of creation" (2 Peter 3:4) he is speaking of this generation of God-haters and theological compromisers, who being wise in their own wisdom, willingly reject the Authority of God and six day special creation in preference of ancient ways of thinking revised and revamped for our own age.
The real issue behind objections to literal six day special creation is what kind of God progressive creationists and evolutionary theists believe in and peddle to unsuspecting believers.  This is a question that needs to be addressed because by espousing Big Bang and old earth views theological compromisers have elevated naturalism in the guise of secular science and evolution above the Word and Authority of God resulting in an upside-down exegesis consisting  of abundant mind-boggling inconsistencies.
Their inverted creation account is in the claim of a six day creation that occurred at the end of billions of years of evolutionary process.  Logically, this means that billions of creatures lived and died long before man arrived on the scene, making the Word (John 1:1), our Lord and Savior Jesus Christ the cause of death and suffering rather than the fall of Adam.  By making the fossil record the measure of a sequence of long ages, God becomes the cause of death and suffering because the history of life appears to be a record of ineptitude, extinctions and constant brutality for billions of years.  In the words of the atheist astronomer and evolution promoter Carl Sagan (1934-1996), if God,
"….is omnipotent and omniscient, why didn't he start the universe out in the first place so it would come out the way he wants?  Why is he constantly repairing and complaining?  No, there's one thing the Bible makes clear:  The biblical God is a sloppy manufacturer.   He's not good at design, he's not good at execution.  He'd be out of business if there was any competition."  (Refuting Compromise, Jonathan Sarfati, Ph.D., F.M., p. 220)
The Big Bang, old earth view also leads to a philosophy of moral relativism because if men were once something else, a genderless blob of matter and then later on lizards and even later still some kind of ape-like creature, then not only are we going to become something else–maybe divine supermen, god-men, super robots or cosmic beings—but nothing can be said about transgender, 'gay,' and lesbianism since all life forms ascended from a genderless blob of matter generated by the inexplicable explosion of a Cosmic Egg which may or may not involve a stumbling God shaped and molded by theologians who require Him to ignite the Big Bang.
With regard to soul/spirit, if life arose from chemicals and then billions of years later man evolved from lower life-forms, then his rational nature, his soul, differs not qualitatively but only quantitatively from the beasts.  Like beasts, man is not a person but a creature of the earth.  Like them he has no spirit—free will, higher mental faculties, and conscience.  He is a fleshy androgynous robot or hominid whose brain is organized by the genome and the genome shaped by natural selection.
Dr. Sarfati argues that denial of the literal and historic meaning of Genesis (young earth view) is foundationally the result of 'imposing outside ideas upon the Bible.' Thus, it has'baneful consequences which don't just stop with Genesis,' but adversely affect many areas.  The atheist Frank Zindler enthusiastically agrees:
"The most devastating thing that biology did to Christianity was the discovery of biological evolution. Now that we know that Adam and Eve never were real people the central myth of Christianity is destroyed. If there never was an Adam and Eve, there never was an original sin. If there never was an original sin there is no need of salvation. If there is no need of salvation there is no need of a savior. And I submit that puts Jesus…into the ranks of the unemployed. I think evolution absolutely is the death knell of Christianity." ("Atheism vs. Christianity," 1996, Lita Cosner, creation.com, June 13, 2013)
The faith of the Christian Church and of the average Christian has had its foundation as much in the literal and historic meaning of Genesis as in that of the person and deity of Jesus Christ. Belief in a six day creation period about 6,000 years ago has been the authoritative teaching of the Church for most of its history and is essential for consistency in doctrine and apologetics.  Only with a firm, unshakable foundation in Genesis are Christians able to stand strong in their faith.
"In the beginning was the Word, and the Word was with God, and the Word was God. He was in the beginning with God…" "The Word became flesh and made his dwelling among us. We have seen his glory, the glory of the one and only Son, who came from the Father, full of grace and truth."  John 1: 1-2, 14
"Very truly I tell you," Jesus answered, "before Abraham was born, I am!"  "And now, Father, glorify me in your presence with the glory I had with you before the world began." John 8:58 & 17:5
If God is really Who He said He is, if He is the God Who revealed Himself to man through Jesus Christ (Messiah), then He can call everything into existence in six literal days (Gen. 1), bring about a virgin birth (Isaiah 7:14; Matthew 1:23), be both God and man (Gen. 3:15; Isaiah 7:14; Zechariah 12:10 & 13:7; 1 Chron. 17:1014), remove the curse due to Adam's fall (Gen 5:21-29), resurrect Himself from the dead and ascend unto Heaven (1 Pet. 1:3; Romans 1:4; Matthew 27:53) because for the Word Who became flesh, all of these things are very simple matters.
So what kind of God do you believe in?  The limited, bumbling God of death and suffering, the incompetent 'sloppy manufacturer' peddled by evolutionary theists and progressive creationists or the all-powerful personal loving God Who called everything into existence in six literal days?   The first one is an untrustworthy deity that cannot save you.  The second one is the God of eternal life.  Only He can resurrect the faithful unto eternal physical life in a physical paradise.
What will paradise be like? C.S. Lewis describes paradise as a place of matter, of weight and mass, and the blessed inhabitants in their resurrected bodies are the beautiful "bright solid people." N.T. Wright explains,
"…there will be a new mode of physicality, which stands in relation to our present body as our present body does to a ghost….a Christian in the present life is a mere shadow of his or her future self, the self that person will be when the body that God has waiting in his heavenly storeroom is brought out…and put on…over the self that will still exist after bodily death." (Eternal Perspectives, Randy Alcorn, p. 154-155)