Greece is the pearl of Mediterranean, the place generations of foreigners from Lord Byron to Graves to Fowles have fallen in love with. From philosophy to feta, from history to yoghurt, from poetry to honey they provided the example to follow. Their priests preserve the pristine faith; their fighters defeated Mussolini; their Helen is the epitome of female beauty. They also make lousy wine called retsina and listen to loud dreadful music called bouzouki so we would temper our Hellenophilia.
Now they have given us another example to follow: how to beat banksters at their own game. The spectacular victory of the Syriza government in Greece at the national referendum was quite unexpected: the polls wavered between an indecisive result and straightforward support of the EU plans around 51:49. However, the Greeks strongly confirmed the mandate of the government. The main problem was and remains the Syriza's resolve and determination.
The ruling party took an unnecessary risk while calling for referendum, for they had already won the elections under their own slogans just a few months ago. This implied their wobbliness, as if they would prefer to lose and pass the hot potato to somebody else. Moreover, they did not try to win the referendum: no campaign for NO, no media coverage of demos for NO. Did they wish to lose or to win with a slightest possible margin? Possibly. The Greek people rejected the stratagem and called upon them to proceed.
Now it is the business of the government to organise a smooth and fast Grexit from the Eurozone and switch to the new Drachma. A really decisive government would leave the EU and NATO, turning the tables completely. Refusing the bailout is good but not enough.
The Greeks were right to reject paying the debts, for these debts were forced upon them by the giant vampire squid, Goldman Sachs, in words of Matt Taibbi. "The first thing you need to know about Goldman Sachs is that it's everywhere. The world's most powerful investment bank is a great vampire squid wrapped around the face of humanity, relentlessly jamming its blood funnel into anything that smells like money". As we now know, Goldman Sachs (you do not have to be an anti-Semite to hate them) cooked the book,s falsely pretending Greece had a high credit rating though they knew of its huge debts. When the debts snowballed, they pulled the rug and collapsed Greece's rating, bailing out banks at the expense of the European taxpayer.
Out of €320 billion, Greece received and used about €20 billion, while the principal sum went to the banksters. Greece could not pay it off: after five years of trying, the country is in worse shape and in deeper debt than it ever was. Austerity has destroyed lives and infrastructure. The bankers planned to sell all Greek assets: harbours, railways, lands; and you can envisage yourself who would buy it. The negotiations between the EU, IMF and Greece were dishonest, explains Ashoka Modyin widely read and technical essay. That's why the Greeks elected the far-left party Syriza and its far-right counterpart INIL to break the rules of the rigged game.
Greece is a small country and it could not take on the whole EU banking and political establishment on its own. Fortunately, there is a country able and willing to help. That is its sister in faith, Russia. Greece for Russia is like Italy for Catholics, like England for the US: the source of culture and religion. The Greek priests had brought their faith to what was to become Russia. Greece and Russia share the same Byzantine legacy. Arnold Toynbee, the British scholar of history, spoke of few European civilisations, some abortive (Far Western and Scandinavian), and two fully developed: Western European, based on the Church of Rome, and Orthodox Christian, based on the Church of Constantinople. Russia and Greece belong to the last one.
The EU is a reincarnation of the Roman Empire and that of Charlemagne. It is at home in France and Germany, but completely foreign for Swedes and Greeks, for Letts and Bulgars, for Ukrainians and Russians. It has over-extended itself and brought huge calamities upon its people and on their neighbours.
Mind you, this is not the first time the people of the West have colonised the Orthodox Christian East: in 1204, they smashed the Byzantine Empire and established their kingdoms and duchies, eventually erased by the Turks. After Greece was restored in 1821, it went back under the Western tutelage, and remained there. In 1945, the Greeks made a heroic effort to liaise with Russia, but Churchill employed the defeated German troops to smash the Greek independence movement and installed his agents in Athens. Soviet Russia did not object much, as under the Yalta agreement Greece was going to the West, while Poland was going to the East. Now the West has both Poland and Greece. The Greeks were frog-marched to NATO and to EU, and they would have remained forever captive but for the bankers' greed.
Russia is the only part of the Byzantine world that remained independent and adhered to its faith. Russia is a natural partner for Greece and its Balkan neighbours. Now Russia can help Greece: by buying its wine, cheese and olives that do not sell well in the West, by sending pilgrims to venerate shrines under its cruel blue sky, by encouraging its industries, by giving its youth a meaning of life beyond caring for German tourists. And the Greeks are fond of Russians, so their sympathies are mutual.
The Syriza party, and its partner ANEL were famous (some would correct it to 'notorious') for their pro-Russian sympathies. However, since they were elected, they began a game of playing Brussels against Moscow, like a young tease who encourages two suitors to keep both in her thrall. The Greek expert and London Lawyer Alexander Merkoulis listed the Russian attempts to help Greece. They offered five billion euros to build a gas pipeline to Greece, and Greece would be able to sell gas to Europe. Miller of Gazprom went to Athens with prepared documents, and came back empty-handed.
Tsipras promised to come to Moscow for the May 9 celebrations, and failed to show up at the last moment. He agreed to extend anti-Russia sanctions while sitting at the St Petersburg forum. This undermined Russian trust. "The Russians must be getting increasingly fed up with someone who repeatedly takes them to the Church door – and then at the last moment runs away", said Merkoulis.
It appears that the Ukraine story has repeated itself. Russia offered huge credits to the Ukraine in 2013, it could buy its industrial output, invigorate its industry and agriculture, but the then President Yanukovych did not dare. He ended in exile, his country ruined; it will take them 20 years to regain the positions they had in 2013, say the EU experts.
Greece is not likely to go for a civil war: they had it in 1945, but the old wounds may reopen. The most pro-Russian area of 1945 insurgency – the Isle of Crete – heavily (75%) voted against the EU in the recent referendum. The Syriza government will try to renegotiate with the IMF and the EU by bluffing them with the Russian alternative. Even if they will get relief, their economy is not likely to come back to normal.
The problem is not Greece, the problem is the EU. This body has a triple purpose. It is (1) a union of bankers against people, (2) a harness with which the US can drive colonised Europe, and (3) a tool for de-industrialisation and de-education of this most developed continent. Under the EU, masses of beggars from Romania and African refugees descend on the North. Under the EU, once-industrial Latvia and Hungary became basket-cases, their high tech moved elsewhere. Under the EU, the social welfare system has been dismantled, while sexual education of children and gender games have gone into a high drive. That is why nations – from Sweden to Italy, from England to Spain – call to break up the union.
Greece would be better off out of the EU. Everybody would. Distressingly, its Minister of Finance Yanis Varoufakis, a stubborn negotiator, a son of 1945 fighter, who could lead his country to freedom, has been dismissed following the referendum. Alexis Tsipras will try to negotiate himself, and he is a smooth operator, say the Greeks.
There is just one problem, that of guts and their lack thereof. Too many leaders hesitate and contemplate instead of acting. We mentioned Yanukovych, but this is a long list of names, beginning with Allende, a man of peace killed in a coup. The leaders that stood up to the vampire squids – from Nasser to Putin – were branded "a new Hitler", but actually managed better. The US always dares: to conquer Panama and Granada, to attack Afghanistan and Iraq, and this daring is a secret of its success.
Still it is too early for despair. The referendum was a victory, and a victory can do wonders even to wet and wobbling leaders. It would be a shame to cast the pearl of Greece to the banker swine.
"We shall have world government, whether or not we like it. The question is only whether world government will be achieved by consent or by conquest"   Paul Warburg at U. S, Senate Committee on Foreign Relations, February 17, 1950.
"The tumultuous noise of the nations, their rejoicings and lamentation, the pleadings of their prayer, the groans of their despair, the cry of their imprecations, their wrath, their love, their hate!" Henry Wadsworth Longfellow, Introduction, "Christus: A  Mystery"
The world that is presented to every current inhabitant is a world of extensive diversity; a vast array of different languages, cultures, and values.  No living creature had anything to do with creating this tiny planet or with the vast universe that surrounds it.  All are temporary residents of space they do not and cannot entirely understand.
Amy Chua is a brilliant, American born, Chinese woman; educated at Harvard, employed for a time at Duke and now a Law Professor at Yale. Her husband, Jeff Rubenfeld, is also a Law Professor at the same institution..  She has authored four books: "World on Fire", "Day of Empire", "Battle Hymn of the Tiger Mother", and, "The Triple Package".
Her writing is legible and wears well.  Each book provides interesting, and extensive coverage.  The books are distinctly different but they have a strong common theme.
The subtitle of the 2002 book, "World on Fire", is "How exporting Free Market Democracy Breeds Ethnic hatred and Global Instability".  The book describes in detail nation after nation that is dominated by a small minority who live in luxury off the labor of poor, uneducated minions that have no hope of progress.  Invariably the massive poor minority hates the wealthy owners who are often not indigenous to the nation.
Chua contends that Democracy exacerbates the problem.  She writes, "—in the numerous countries around the world with a market dominated minority, the simultaneous pursuit of free markets and democracy has led not to widespread peace and prosperity, but to confiscation, autocracy, and mass slaughter.  Outside the industrialized West, these have been the wages of globalization."  (Pg. 125)
In 2007 "Day of Empire" used detailed descriptions of historic empires to promote the theory that tolerance was the glue that allowed empires to flourish and remain intact.  In 344 pages the book begins by delving into the Persian Empire, 559 – 330 BC, it continues through the Chinese Qin (212 BC) andTang (618-907 AD) dynasties and records the Great Mongol Empire during the 13th and 14th centuries AD, then  Rome, the Dutch, the British and finally the United States of America, a "hyperpower".  In each tyranny Chua carefully describes tolerance as the glue that held the empire together and intolerance as responsible for its demise..
In 2011 she published "Battle Hymn of the Tiger Mother", a description of her determination to produce exceptionalism in her two daughters.  Her methods reminded me of Vince Lombardi's quintessential coaching career at Green Bay.  She insisted on excellence and would not accept failure.  Her daughters hated her during the process but loved her for the result.  Reviews of the content in this book were often negative.
In 2013 came "The Triple Package" an attempt to define the components of success in the United States.  Chua and her husband came up with the following traits: a superiority complex, insecurity, and impulse control. They listed the following ethnic groups that have enjoyed success: Chinese, Jewish, Indian, Iranian, Lebanese, Nigerians, Cuban exiles, and Mormons.
Race and power flow through all of Chua's writing.  She assents to globalism but her books belie its implementation by describing racial, cultural, and social distinctions that run deep and are intransigent.  Over and over again they document the universal existence of predator classes that tyrannize the masses and exploit them for their own benefit.  The injustices that allow alien overlords to exploit an entire race often result in a resentment-filled overthrow that is brutal, anarchic and an affront to humanity itself.
In "World on Fire" Chua describes the Rwanda genocide.  The Tutsis though they were only 14 percent of the population were the ruling class.  Though the two races married, lived side by side and the Hutus were allowed to achieve Tutsi status there was resentment when a Tutsi become king. Then the Belgian colonists, as a method of control, declared the Tutsis superior to the Hutus and began providing Tutsis with better educations and promoting them to positions of authority over the Hutu.  Eventually the Hutus were forced into permanent servitude.
Buoyed by the rhetoric of political leaders in the spring and summer of 1994, the Hutus rose up and in just a hundred days used machetes to hack to death some eight hundred thousand Tutsi.  Chua quotes Philip Gourevitch, "Neighbors hacked neighbors to death in their homes, and colleagues hacked colleagues to death in their workplaces.  Doctors killed their patients, and schoolteachers killed their pupils.  Within days, the Tutsi population of many villages was all but eliminated…." (Pg. 169)
The Chinese in the Philippines, the Jews in Russia, the Indians and Lebanese in Africa, and so on, "World on Fire" documents the exploitation of nations and their citizens often by better educated foreigners who siphon off both labor and resources.  She believes that free market democracy, the medium of globalism, exacerbates this travesty.
In The Day of Empire the fascinating detailed description of past empires is used as a backdrop to assess the ability of the United States of America to create a world empire.  The book is critical of the Iraq War and dubious that USA will be able to find a "glue" that will allow large scale hegemony.
The collapse of the Soviet Union could have made the world ready for U. S. leadership but, "Instead, the ironic result of the United States "democratic world dominance" has been rampant, raging anti-Americanism.  Today, America faces billions of people around the world, most of them poor, who know that the American Dollar is the world's dominant currency, that English is the world's dominant language, that American corporations are the most powerful and visible in the world, and that American brands are the most pervasive and coveted.…  In short, large numbers of people all over the world feel dominated by – but no connection or allegiance to – the United States." (Pg. 328)
"The Triple Package" digs out the motivations that produce success in the United States.  Chua's husband, Jeb Rosenfeld, is Jewish and her two daughters are being raised in the religion of Judaism.  Although both the Chinese and Jewish races are dominant and both are adroit at becoming market dominant minorities in other nations Chua makes the Jews the standard by using them to describe other tyrannical races:  i.e. Indians as the "Jews of East Africa".  (Pg. 115)
Dominance is an underlying theme in all four of Chua's books.  She is conflicted by her excellent description of the intense resentment that results from the numerous market dominated minorities and her support for Globalization which takes the form of a critique of the U. S. go-it-alone policy and questions its decisions.  She seems to want dominance to succeed while her research shows that it is failing.  In the Acknowledgements at the beginning of "World on Fire" Chua cites Strobe Talbot as a contributor to the book.  In 1992, Talbot was quoted by Time Magazine, "In the next century, nations as we know it will be obsolete; all states will recognize a single, global authority. National sovereignty wasn't such a great idea after all."
In the "Battle Hymn of the Tiger Mother", Chua describes the stout discipline she used to produce top one percent children.  While she wants her girls to be cream her writing shows sympathy for the milk.
On Page 189 of "World on Fire" Chua writes, "Take the United States.  While some ethnic minorities have outperformed others, the United States economy is absolutely not controlled by any ethnic minority.  On the contrary, if any group can be said to dominate our economy, it is the White majority.
Jeb Rosenfeld's "genius and kindness" (cited in the Acknowledgements for "World on Fire") has over whelmed Chua's research.  Jews may not be the wealthiest Americans but they are by far the most powerful.  It is power, not wealth per se that allows minority market dominance and Jewish power in United States comes through almost total dominance of the press, media, and publishing.  Add total control of the Federal Reserve, the World Bank, Goldman Sachs, and other commercial banks; plus dominance over scores of major corporations and hegemony over many of our institutions of higher learning and you have market dominant minority of distinction.
Without Jewish backing no one can be elected to the U. S. Presidency or to the House or Senate.  From the book reviews aired on C-Span it seems that eighty percent of the books published in the United States are by Jewish authors. Now even C-Span's iconic Brian Lamb's guest interviews seem to favor Jewish authors.
There are two major factors that allow Jews to sustain a successful market dominate minority in the United States:  One, motion pictures and the media have allow them to create ample amounts of sympathy by dramatizing the Holocaust, and two, they enjoy the total support of hundreds of thousands of severely deluded Dispensational Christians.
It is ironic that Chua denies Jewish dominance in one book and acknowledges it in another ("The Triple Package").
Several years ago my wife and I had a very enjoyable min-vacation in San Francisco.  One of the highlight of our visit was riding the city bus through China Town.  This section of the city houses one of the largest and most authentic Chinese settlements in the nation…Our hotel was new, well appointed, and comfortable.  It was Chinese owned.  I remember saying to my wife that in another decade or so the Chinese will dominate the city – maybe they already do.
We have several market dominate minorities in the United States.  The Jews have been here longest and have accumulated major hegemony.  Indians have cornered the motel business, and the ubiquitous gasoline stations and convenience stores.  The Chinese are quietly successful and their wealth is seldom publicized.  Iranian Muslims are newcomers but they are already making waves in Michigan.  Mexicans have become the majority population in parts of the West and are talking annexation. Whites and Blacks who have lived here longest are destined to minority status.
Chua's extensive research provides ample evidence that Globalism is in trouble.  Various races around the Globe seek to maintain their own culture.  They want to live in their own unique ways and enjoy their possessions as they see fit.  They do not want to be dictated to or tyrannized.  They may accept foreigners but they quickly resent state tyranny and non-indigenous dominance.
Chua gropes for solutions and lists some possibilities:  Redistribution through tax and transfer programs, give the poor legally defendable property rights,         give or provide a way for the underprivileged to own stock in international corporations, and finally, government intervention with affirmative action programs.
She describes reality with extensive research to support her conclusions.  I concur with her summations but contend with her intent.  She is a globalist and her search for ways to bring the world's array of languages and cultures under the globalist tent is the same spirit that is creating the malevolent resentment her research describes.
Most of the world's cultures are made up of people that want to be left alone.  Many are satisfied with lives that sophisticated Westerners would consider deprived but, nevertheless, still want to solve their own problems.  United States is promoting globalism and democracy by force and Chua is on target when she describes the resentment it causes.
Missing in all of the books is the fact that Globalism is being foisted on the world by a global dominate minority which is creating a global resentment larger and more virulent than the national problem she describes. Chua writes, "If global free market democracy is to be peaceably sustainable, then the problem of market dominant minorities, however unsettling, must be confronted head on." (Pg. 164 "World on Fire") It is globalism itself that should be confronted head on.  Since Chua's research clearly shows the fervent desire of most of the world's population to live without outside interference, globalism will not come peacefully.  Many of the world's nations will fight foreign domination.
In "Systematic Theology" R. J. Rushdoony quotes George Orwell, "We know that no one ever seizes power with the intention of relinquishing it.  Power is not a means; it is an end.  One does not establish a dictatorship in order to safeguard a revolution; one makes the revolution in order to establish the dictatorship"….. (RJR writes) "Fallen men are bramble men; their expression of the will to power varies only in terms of the courage and opportunities. Fallen man thus becomes more unproductive as he becomes more powerful in his role over others."   Pg. 1032
If the Global Dominate Minority would begin to use their God-given grey matter to study the Law God gave to His sin ridden people they would understand that the problems of the world can be alleviated without force in any nation that freely accepts and enforces it.  Eugenics is a dirty word in most civilized society but there are rumors that the Global Dominate Minority thinks in that realm.
Humanistic eugenics is evil but the eugenics incorporated into God's Law is a righteous method of creating a peaceful society.  Freedom is impossible in anarchic societies.  Our Founders understood that the government they set up was designed for an obedient people; that wide spread disobedience would quickly destroy freedom.
We are not created equal and there will always be those that are smarter and stronger.  The Bible even contains instructions on how to periodically reset the playing field.  God's Law is wiser than man's law – peace in our world waits for men to realize it.
"False centers will not hold.  Things fly apart, confusion reigns, and only taxes hold the state together.  Powers now do lie within oppressor's hands, and men are cold toward virtue, prone to sin and treason." R. J. Rushdoony, "The Luxury of Words", Pg. 127
What can be written about Hillary Clinton that has not already been said? HilLIARy fatigue is natural, but ignoring all the lies and sleaze becomes the first goal of her 2016 presidential campaign. What is clear during the preliminary posturing is that hubby "Big Dog" Bill's practice of trolling for bitches in heat will dominate the coverage. Poor old Hillary, a pureblood victim among mix breeds. The pretense that she continues in a loving marriage is about as insulting to the voters as the perverse behavior of either of the Clintons.
OK, forget the sex allegations no one cares, right? But what about continuing in a relationship with a certified criminal? Oh yes, that is the easy part, since being married to a crook is the part that Bill loves, and "Big Mama" takes no back seat to her partner outlaw in political offense.
From the ancient history files, the article Proof Hillary isn't fit to be president by Larry Klayman reminds such past hits.
Whitewater scandal
Travelgate
Filegate
Chinagate
You can hear the cat calls now, "that's old news, "we need to move forward", but the best one comes from Hillary herself", what difference at this point does it make"?
Well, maybe the monarch of deceit is correct. Who even remembers the scandal years under the "get two for the price of one" regime? Bygone days need to let sleeping dogs lie, but the past is screaming out as a warning for exactly what citizens should fairly expect if she was coroneted as Mister President.
Yet in the instant social media climate that will dominate the next Presidential campaign, both in the primaries and in the general election, 2016 will be all hyped up to report on the next Bill's libido threatens to derail Hillary — again. A sample like this only forecasts the disclosures that will come out of the secretive cabinet recordings.
"And that is to say nothing of Bill's solicitation of mystery donors, the concerns about financial malfeasance at the Bill, Hillary & Chelsea Clinton Foundation, Bill's racially charged verbal gaffes during Hillary's 2008 bid and the alleged longtime, serious mistress who diverted Hillary's presidential campaign from larger problems."
Further background from Hillary Clinton's Skeleton Closet claims that "she has some significant and troubling scandals that get overlooked with all the foo-farah over crazy conspiracy theories."
Now that this ugly aspect is out of the way, what "exactly are the compelling reasons for Hillary to become President? The answer is reducible to one simple motive; she wants to be the Big Kahuna.
Eric Golub on Communities Digital News responds accordingly. "Can anyone name a single significant thing she has ever done that qualifies her to be president? The presidency is too important to be given to another celebrity heavy on cultish devotees but light on substantive successful accomplishments."
Her qualifications as a superstar luminary and passed over by the Democratic power brokers in favor of Barack Obama in 2008, seems to be the basic argument why 2016 is now her turn. Such inevitability out of the GOP playbook just does not play well with the most fanatical of the loony left.
The NYT reveals that Hillary Clinton, Privately, Seeks the Favor of Elizabeth Warren. Their description of some lesson learned from the 2008 campaign seems to point that defusing the competition is her primary platform concern.
"Some of Mrs. Clinton's supporters, frustrated by the attention and adulation generated by Ms. Warren, noted Tuesday that the two actually hold similar positions on a range of economic issues, though Ms. Warren's rhetoric has been more fiery. Mrs. Clinton, hoping to delay formally starting her candidacy for as long as possible, has refrained from detailed discussions of economic policy. In recent weeks, though, she has become more vocal, using Twitter to offer support for the Dodd-Frank financial overhaul, for instance."
Hit the ground running with a splash. ARE YOU READY? So asks to take the Pledge to Support Hillary for President Site. Before you register, a little investigation is in order.
3 Problems Standing in the Way of a Hillary Clinton Presidency starts with the following:
Politics and Experience
Hillary definitely has a legacy problem to overcome. More importantly, she has to talk up her record as Secretary of State. A sizable share of Democrats polled by YouGov, 79%, said earlier this year that they approved of her performance, but only 21% of Republicans and 45% of independents shared that assessment. And public opinion split along the same ideological lines when respondents were asked about her qualifications for office. More to the point, most Republicans are not as concerned with her experience as they are with her politics; although Republicans and independent voters cite her role in the Benghazi terrorist attack as one of her major errors in the State Department.
The Competition
Hillary Clinton could be too establishment. Of course, possible contenders who would fit this progressive and insurgent role do not have the same weight as the former Secretary of State. But they are worth examining, if for nothing else than the fresh perspective and debate they will bring to the presidential primaries.
Money
According to the Wall Street Journal, Wall Street has provided the largest source of campaign funds for the Clintons since 1992, with Goldman Sachs as the largest single contributor, giving close to $5 million. "Clinton Inc. is going to be the most formidable fundraising operation for the Democrats in the history of the country. Period. Exclamation point," Rick Hohlt, a lobbyist and fundraiser for Republican Party presidential candidates, told the Journal, "It sure causes concern." Plus, both Clintons earn massive speaking fees.
How does the public react with something positive about a Hillary Presidency? A Gallop poll reveals that 49% answers nothing or has no opinion.
So much for grassroots popular enthusiasm . . .
With any run-up to the primary season and supporting media barrage of electing the first woman President, a viewpoint that Hillary Clinton Shouldn't Be President: A Feminist Perspective is insightful. "Any woman can become president. It feels like a slap to the face of America that so many of our politicians stem from the same family, or that our first female president appears to require a husband who came before her. It reminds us just how limited access is."
Hillary's retort to such an argument reeks of elitist privilege. Politico reports that Hillary Clinton: Other women qualified for White House.
"A lot of the women senators, we have a couple of women governors — I'm talking on the Democratic side — we have a good bench, so to speak," Clinton says in a video clip posted Monday. "But they haven't gone through the fire. Part of the reason why there's a big drumbeat for me to run is because I've done it."
And in 2008 the Wall Street king makers decided on Obama. In the flip flop composition of Tweedledum and Tweedledee politics, a Republican establishment candidate may well get the nod as the safer capitalist tool.
The real wall that Hillary faces is to massage the Occupy Wall Street wing of the progressive primary activities, while keeping and confirming her true symbiotic identification to the money wing of influence Banksters, who actually decide the direction of the government.
For in the end, the only qualifications that Hillary Clinton has for holding the office of the Presidency is that her hubby will occupy the distractions of a Clinton II kingdom. What a great country that elevates a Hill Billy couple to the highest pinnacle of the scandal sheets, while conducting diplomatic relations with the Davos set.
Can Hillary win in 2016? Hermene Hartman in the Huffington Post thinks so in the article, 10 Reasons Why Hillary Clinton Will Be the Next President. Read her list and consider just how far this nation has fallen.
1)    The Republicans don't have a viable candidate and probably won't.

2)    The Hillary Papers have been released.

3)    Hillary should not and cannot take blame for Bill's poor judgments.

4)    The Clintons are the ultimate Power Couple.

5)    Hillary is ruthless.

6)    Hillary learned valuable lessons from the 2008 election.

7)    She is not a quitter or a loser.

8)    The health bill has passed.

9)    Hillary is a smart politician.

10)   America is ready for the leadership of a Hillary Clinton.
If this list of excited imbecility does not give you pause, you must be part of the Hildebeest groupie crowd and better sign-up for, ARE YOU READY? alerts.
Hillary Klinton has all the worst attributes and moral depravity of her more infamous partner in corruption. Moreover, she lacks the political skills and rogue charm of her flimflam significant other. The brick wall in front of the electorate is that a vote for Hillary is a ballot cast for continuation of the decent into enslavement of the last 25 + years. Knowing the way the selection system for Presidents works, the next guests in the Lincoln bedroom may well be friends of the late Marc Rich.
Some things not to forget, which the new Greek leaders have not…
American historian D.F. Fleming, writing of the post-World War II period in his eminent history of the Cold War, stated that "Greece was the first of the liberated states to be openly and forcibly compelled to accept the political system of the occupying Great Power. It was Churchill who acted first and Stalin who followed his example, in Bulgaria and then in Rumania, though with less bloodshed."
The British intervened in Greece while World War II was still raging. His Majesty's Army waged war against ELAS, the left-wing guerrillas who had played a major role in forcing the Nazi occupiers to flee. Shortly after the war ended, the United States joined the Brits in this great anti-communist crusade, intervening in what was now a civil war, taking the side of the neo-fascists against the Greek left. The neo-fascists won and instituted a highly brutal regime, for which the CIA created a suitably repressive internal security agency (KYP in Greek).
In 1964, the liberal George Papandreou came to power, but in April 1967 a military coup took place, just before elections which appeared certain to bring Papandreou back as prime minister. The coup had been a joint effort of the Royal Court, the Greek military, the KYP, the CIA, and the American military stationed in Greece, and was followed immediately by the traditional martial law, censorship, arrests, beatings, and killings, the victims totaling some 8,000 in the first month. This was accompanied by the equally traditional declaration that this was all being done to save the nation from a "communist takeover". Torture, inflicted in the most gruesome of ways, often with equipment supplied by the United States, became routine.
George Papandreou was not any kind of radical. He was a liberal anti-communist type. But his son Andreas, the heir-apparent, while only a little to the left of his father, had not disguised his wish to take Greece out of the Cold War, and had questioned remaining in NATO, or at least as a satellite of the United States.
Andreas Papandreou was arrested at the time of the coup and held in prison for eight months. Shortly after his release, he and his wife Margaret visited the American ambassador, Phillips Talbot, in Athens. Papandreou later related the following:
I asked Talbot whether America could have intervened the night of the coup, to prevent the death of democracy in Greece. He denied that they could have done anything about it. Then Margaret asked a critical question: What if the coup had been a Communist or a Leftist coup? Talbot answered without hesitation. Then, of course, they would have intervened, and they would have crushed the coup.
Another charming chapter in US-Greek relations occurred in 2001, when Goldman Sachs, the Wall Street Goliath Lowlife, secretly helped Greece keep billions of dollars of debt off their balance sheet through the use of complex financial instruments like credit default swaps. This allowed Greece to meet the baseline requirements to enter the Eurozone in the first place. But it also helped create a debt bubble that would later explode and bring about the current economic crisis that's drowning the entire continent. Goldman Sachs, however, using its insider knowledge of its Greek client, protected itself from this debt bubble by betting against Greek bonds, expecting that they would eventually fail.
Will the United States, Germany, the rest of the European Union, the European Central Bank, and the International Monetary Fund – collectively constituting the International Mafia – allow the new Greek leaders of the Syriza party to dictate the conditions of Greece's rescue and salvation? The answer at the moment is a decided "No". The fact that Syriza leaders, for some time, have made no secret of their affinity for Russia is reason enough to seal their fate. They should have known how the Cold War works.
I believe Syriza is sincere, and I'm rooting for them, but they may have overestimated their own strength, while forgetting how the Mafia came to occupy its position; it didn't derive from a lot of compromise with left-wing upstarts. Greece may have no choice, eventually, but to default on its debts and leave the Eurozone. The hunger and unemployment of the Greek people may leave them no alternative.
The Twilight Zone of the US State Department
"You are traveling through another dimension, a dimension not only of sight and sound but of mind. A journey into a wondrous land whose boundaries are that of imagination. Your next stop … the Twilight Zone." (American Television series, 1959-1965)
State Department Daily Press Briefing, February 13, 2015. Department Spokesperson Jen Psaki, questioned by Matthew Lee of The Associated Press.
Lee: President Maduro [of Venezuela] last night went on the air and said that they had arrested multiple people who were allegedly behind a coup that was backed by the United States. What is your response?
Psaki: These latest accusations, like all previous such accusations, are ludicrous. As a matter of longstanding policy, the United States does not support political transitions by non-constitutional means. Political transitions must be democratic, constitutional, peaceful, and legal. We have seen many times that the Venezuelan Government tries to distract from its own actions by blaming the United States or other members of the international community for events inside Venezuela. These efforts reflect a lack of seriousness on the part of the Venezuelan Government to deal with the grave situation it faces.
Lee: Sorry. The US has – whoa, whoa, whoa – the US has a longstanding practice of not promoting – What did you say? How longstanding is that? I would – in particular in South and Latin America, that is not a longstanding practice.
Psaki: Well, my point here, Matt, without getting into history –
Lee: Not in this case.
Psaki: – is that we do not support, we have no involvement with, and these are ludicrous accusations.
Lee: In this specific case.
Psaki: Correct.
Lee: But if you go back not that long ago, during your lifetime, even – (laughter)
Psaki: The last 21 years. (Laughter.)
Lee: Well done. Touché. But I mean, does "longstanding" mean 10 years in this case? I mean, what is –
Psaki: Matt, my intention was to speak to the specific reports.
Lee: I understand, but you said it's a longstanding US practice, and I'm not so sure – it depends on what your definition of "longstanding" is.
Psaki: We will – okay.
Lee: Recently in Kyiv, whatever we say about Ukraine, whatever, the change of government at the beginning of last year was unconstitutional, and you supported it. The constitution was –
Psaki: That is also ludicrous, I would say.
Lee: – not observed.
Psaki: That is not accurate, nor is it with the history of the facts that happened at the time.
Lee: The history of the facts. How was it constitutional?
Psaki: Well, I don't think I need to go through the history here, but since you gave me the opportunity –- as you know, the former leader of Ukraine left of his own accord.
………………
Leaving the Twilight Zone … The former Ukrainian leader ran for his life from those who had staged the coup, including a mob of vicious US-supported neo-Nazis.
If you know how to contact Ms. Psaki, tell her to have a look at my list of more than 50 governments the United States has attempted to overthrow since the end of the Second World War. None of the attempts were democratic, constitutional, peaceful, or legal; well, a few were non-violent.
The ideology of the American media is that it believes that it doesn't have any ideology
So NBC's evening news anchor, Brian Williams, has been caught telling untruths about various events in recent years. What could be worse for a reporter? How about not knowing what's going on in the world? In your own country? At your own employer? As a case in point I give you Williams' rival, Scott Pelley, evening news anchor at CBS.
In August 2002, Iraqi Deputy Prime Minister Tariq Aziz told American newscaster Dan Rather on CBS: "We do not possess any nuclear or biological or chemical weapons."
In December, Aziz stated to Ted Koppel on ABC: "The fact is that we don't have weapons of mass destruction. We don't have chemical, biological, or nuclear weaponry."
Iraqi leader Saddam Hussein himself told CBS's Rather in February 2003: "These missiles have been destroyed. There are no missiles that are contrary to the prescription of the United Nations [as to range] in Iraq. They are no longer there."
Moreover, Gen. Hussein Kamel, former head of Iraq's secret weapons program, and a son-in-law of Saddam Hussein, told the UN in 1995 that Iraq had destroyed its banned missiles and chemical and biological weapons soon after the Persian Gulf War of 1991.
There are yet other examples of Iraqi officials telling the world, before the 2003 American invasion, that the WMD were non-existent.
Enter Scott Pelley. In January 2008, as a CBS reporter, Pelley interviewed FBI agent George Piro, who had interviewed Saddam Hussein before he was executed:
PELLEY: And what did he tell you about how his weapons of mass destruction had been destroyed?
PIRO: He told me that most of the WMD had been destroyed by the U.N. inspectors in the '90s, and those that hadn't been destroyed by the inspectors were unilaterally destroyed by Iraq.
PELLEY: He had ordered them destroyed?
PIRO: Yes.
PELLEY: So why keep the secret? Why put your nation at risk? Why put your own life at risk to maintain this charade?
For a journalist there might actually be something as bad as not knowing what's going on in his area of news coverage, even on his own station. After Brian Williams' fall from grace, his former boss at NBC, Bob Wright, defended Williams by pointing to his favorable coverage of the military, saying: "He has been the strongest supporter of the military of any of the news players. He never comes back with negative stories, he wouldn't question if we're spending too much."
I think it's safe to say that members of the American mainstream media are not embarrassed by such a "compliment".
In his acceptance speech for the 2005 Nobel Prize for Literature, Harold Pinter made the following observation:
Everyone knows what happened in the Soviet Union and throughout Eastern Europe during the post-war period: the systematic brutality, the widespread atrocities, the ruthless suppression of independent thought. All this has been fully documented and verified.
But my contention here is that the US crimes in the same period have only been superficially recorded, let alone documented, let alone acknowledged, let alone recognized as crimes at all.
It never happened. Nothing ever happened. Even while it was happening it wasn't happening. It didn't matter. It was of no interest. The crimes of the United States have been systematic, constant, vicious, remorseless, but very few people have actually talked about them. You have to hand it to America. It has exercised a quite clinical manipulation of power worldwide while masquerading as a force for universal good. It's a brilliant, even witty, highly successful act of hypnosis.
Cuba made simple
"The trade embargo can be fully lifted only through legislation – unless Cuba forms a democracy, in which case the president can lift it."
Aha! So that's the problem, according to a Washington Post columnist – Cuba is not a democracy! That would explain why the United States does not maintain an embargo against Saudi Arabia, Honduras, Guatemala, Egypt and other distinguished pillars of freedom. The mainstream media routinely refer to Cuba as a dictatorship. Why is it not uncommon even for people on the left to do the same? I think that many of the latter do so in the belief that to say otherwise runs the risk of not being taken seriously, largely a vestige of the Cold War when Communists all over the world were ridiculed for blindly following Moscow's party line. But what does Cuba do or lack that makes it a dictatorship?
No "free press"? Apart from the question of how free Western media is, if that's to be the standard, what would happen if Cuba announced that from now on anyone in the country could own any kind of media? How long would it be before CIA money – secret and unlimited CIA money financing all kinds of fronts in Cuba – would own or control almost all the media worth owning or controlling?
Is it "free elections" that Cuba lacks? They regularly have elections at municipal, regional and national levels. (They do not have direct election of the president, but neither do Germany or the United Kingdom and many other countries). Money plays virtually no role in these elections; neither does party politics, including the Communist Party, since candidates run as individuals. Again, what is the standard by which Cuban elections are to be judged? Is it that they don't have the Koch Brothers to pour in a billion dollars? Most Americans, if they gave it any thought, might find it difficult to even imagine what a free and democratic election, without great concentrations of corporate money, would look like, or how it would operate. Would Ralph Nader finally be able to get on all 50 state ballots, take part in national television debates, and be able to match the two monopoly parties in media advertising? If that were the case, I think he'd probably win; which is why it's not the case.
Or perhaps what Cuba lacks is our marvelous "electoral college" system, where the presidential candidate with the most votes is not necessarily the winner. If we really think this system is a good example of democracy why don't we use it for local and state elections as well?
Is Cuba not a democracy because it arrests dissidents? Many thousands of anti-war and other protesters have been arrested in the United States in recent years, as in every period in American history. During the Occupy Movement two years ago more than 7,000 people were arrested, many beaten by police and mistreated while in custody. And remember: The United States is to the Cuban government like al Qaeda is to Washington, only much more powerful and much closer; virtually without exception, Cuban dissidents have been financed by and aided in other ways by the United States.
Would Washington ignore a group of Americans receiving funds from al Qaeda and engaging in repeated meetings with known members of that organization? In recent years the United States has arrested a great many people in the US and abroad solely on the basis of alleged ties to al Qaeda, with a lot less evidence to go by than Cuba has had with its dissidents' ties to the United States. Virtually all of Cuba's "political prisoners" are such dissidents. While others may call Cuba's security policies dictatorship, I call it self-defense.
The Ministry of Propaganda has a new Commissar
Last month Andrew Lack became chief executive of the Broadcasting Board of Governors, which oversees US government-supported international news media such as Voice of America, Radio Free Europe/Radio Liberty, the Middle East Broadcasting Networks and Radio Free Asia. In a New York Times interview, Mr. Lack was moved to allow the following to escape his mouth: "We are facing a number of challenges from entities like Russia Today which is out there pushing a point of view, the Islamic State in the Middle East and groups like Boko Haram."
So … this former president of NBC News conflates Russia Today (RT) with the two most despicable groups of "human beings" on the planet. Do mainstream media executives sometimes wonder why so many of their audience has drifted to alternative media, like, for example, RT?
Those of you who have not yet discovered RT, I suggest you go to RT.com to see whether it's available in your city. And there are no commercials.
It should be noted that the Times interviewer, Ron Nixon, expressed no surprise at Lack's remark.
Notes
William Blum, Killing Hope: U.S. Military and C.I.A. Interventions Since World War II, chapters 3 and 35
"Greek Debt Crisis: How Goldman Sachs Helped Greece to Mask its True Debt", Spiegel Online (Germany), February 8, 2010. Google "Goldman Sachs" Greece for other references.
U.S. Department of State Daily Press Briefing, February 13, 2015
CBS Evening News, August 20, 2002
ABC Nightline, December 4, 2002
"60 Minutes II", February 26, 2003
Washington Post, March 1, 2003
"60 Minutes", January 27, 2008
Democracy Now!, February 12, 2015, Wright statement made February 10
Al Kamen, Washington Post, February 18, 2015
Huffington Post, May 3, 2012
New York Times, January 21, 2015
When the Negotium essay, Long History of HSBC Money Laundering was written over two years ago, one might think that the Banksters would look to take a lower profile. Forget about it, when you are part of a made criminal syndicate you never have to serve time, just say you are sorry. Bloomberg reports, the "HSBC Holdings Plc Chief Executive Officer Stuart Gulliver offered "sincerest apologies" following fresh details of how the bank's Swiss unit helped customers evade taxes."
The Forbes column, 'Corporate Governance Is The Very Essence Of A Business' presents a half hearted public relations spin from the notorious bank for Drug, Inc.
"As part of its response to the revelations HSBC said: "We acknowledge that the compliance culture and standards of due diligence in HSBC's Swiss private bank, as well as the industry in general, were significantly lower than they are today. At the same time, HSBC was run in a more federated way than it is today and decisions were frequently taken at a country level."
The most chilling feature of the laborious research into the HSBC files is the documentation of the knowing wrong-doing perpetrated by managers at various levels throughout the bank – and the flippancy with which it was undertaken. From 'code names' for clients to widespread collusion, it is clear there is complete contempt for the law."
Arrogance in spades is how the world's number two bank operates. Another example provided by Tom Heneghan, who professes to be an International Intelligence Expert, cites the following.
"Alibaba previously was de-listed on the Hong Kong Exchange for dealing in fraud with the Hong Kong branch of noted bank HSBC.
Alibaba is then simultaneously operating a foreign currency money laundry and ponzi scheme tied once again to HSBC."
The bigger the money the greater the chance you have for just minor pin pricks and fines that are all part of the pay off cycle of international banking.
When it comes to inventing clandestine methods for money laundering, look to the masters in the City of London to perfect the art of double talk. The BBC account, HSBC whistleblower's email to HMRC uncovered, states:
"An email which the whistleblower at the centre of an HSBC tax scandal says he sent to HM Revenue and Customs in 2008 has been uncovered by a French newspaper.
The UK tax authority has been under fire from MPs on the Public Accounts Committee, who accused tax officials of failing to deal with the matter adequately and ignoring Mr Falciani's 2008 email."
No surprise that a years old complaint gets pushed under the rug. HSBC is too big to fail and pays for protections in all the right places.
Reuters adds more accelerants to the firestorm, but the odds that this scandal will suck up all the oxygen to build into an inferno are slim.
"Other countries are already taking action against HSBC based on data leaked by Falciani and previously obtained by tax authorities. In November Argentina charged the bank with helping more than 4,000 clients evade taxes. HSBC Argentina rejected the charge, saying it respected Argentine law."
Hey, the motive to avoid paying taxes is well understood. However, facilitating criminal enterprises under the banner of a fiduciary banking institution crosses the line. The Guardian provides the following in HSBC files: Swiss bank hid money for suspected criminals.
"HSBC also held assets for bankers accused of looting funds from former Soviet states, while alleged crimes by other account holders include bribery at Malta's state oil company, cocaine smuggling from the Dominican Republic and the doping of professional cyclists in Spain.
The Swiss bank also held accounts for "politically exposed people" – defined as senior political figures or their relatives at heightened risk of involvement in corruption, money laundering, or avoiding international sanctions – with little evidence of any extra scrutiny of their activities."
OK, what is the point of citing more horror stories, by now you get the drill that the Globalist interdependent financial extortion system needs a mechanism to keep all the pay offs and ill-gotten gains circulating. The history of HSBC is a case study of all that global corporatists has wrought on the planet.
Governments won't even investigate credible complaints, enact necessary structural oversight and accountability processes, and certainly will not jail the kingpins who flaunt their untouchable status.
Repeating this saga using different circumstances never gets down to the level of approaching solutions. Without a universal outcry against the transnational banking model and the creation of regional and local alternative banking, the big banks will just keep getting larger and more autonomous and above national sovereignty.
What governments these banking house monopolies do not control, matter little in the larger scheme of finance. HSBC along with Goldman Sachs and JP Morgan may be the posters boys of the Banksters cabal, but you will never see their executive faces on a most wanted poster.
Last year Hang the Bankers published 48 suspicious banking deaths asks.
"With the global financial system heading towards a major crash in the near future are these people buckling under the pressure of what they see coming or are they being silenced because of what they know?"
Attempting to answer this question will take insider information of scores of Falciani whistleblowers. Or more probably, those who are considering joining the ranks of informers may well become part of the growing list of the deceased.
For those who doubt the shadow history of debt created banking, watch the video The Rothschild Family – Puppet Masters – World's Only Trillionaires – Full Documentary on the BREAKING ALL THE RULES You Tube Channel, subscribe for future updates.
What people must come to understand is that banking is not really about making money. It uses the fractional reserve and current zero interest rates to further their political influence over nations to achieve global governance. They are the true outlaws, in Armani suits. HSBC just happens to have a longer experience with global thievery than most
Here we go again.
Last week, the country's biggest mortgage lenders scored a couple of key victories that will allow them to ease lending standards, crank out more toxic assets, and inflate another housing bubble.  Here's what's going on.
On Monday,  the head of the Federal Housing Finance Agency (FHFA), Mel Watt, announced that Fannie and Freddie would slash the minimum down-payment requirement on mortgages from 5 percent to 3 percent while making loans more available to people with spotty credit. If this all sounds hauntingly familiar, it should. It was less than 7 years ago that shoddy lending practices blew up the financial system precipitating the deepest slump since the Great Depression. Now Watt wants to repeat that catastrophe by pumping up another credit bubble. Here's the story from the Washington Post:
"When it comes to taking out a mortgage, two factors can stand in the way: the price of the mortgage,…and the borrower's credit profile."
On Monday, the head of the agency that oversees the mortgage giants Fannie Mae and Freddie Mac outlined … how he plans to make it easier for borrowers on both fronts. Mel Watt, director of the Federal Housing Finance Agency, did not give exact timing on the initiatives. But most of them are designed to encourage the industry to extend mortgages to a broader swath of borrowers.
Here's what Watt said about his plans in a speech at the Mortgage Bankers Association annual convention in Las Vegas:
Saving enough money for a downpayment is often cited as the toughest hurdle for first-time buyers in particular. Watt said that Fannie and Freddie are working to develop "sensible and responsible" guidelines that will allow them to buy mortgages with down payments as low as 3 percent, instead of the 5 percent minimum that both institutions currently require."

Does Watt really want to "encourage the industry to extend mortgages to a broader swath of borrowers" or is this just another scam to enrich bankers at the expense of the public?  It might be worth noting at this point that Watt's political history casts doubt on his real objectives.   According to Open Secrets, among the Top 20 contributors to Watt's 2009-2010 campaign were Goldman Sachs, Bank of America, Citigroup Inc., Bank of New York Mellon, American bankers Association, US Bancorp, and The National Association of Realtors. ("Top 20 Contributors, 2009-2010", Open Secrets)
Man oh man,  this guy's got all of Wall Street rooting for him. Why is that, I wonder? Is it because he's faithfully executing his office and defending the public's interests or is it because he's a reliable stooge who brings home the bacon for fatcat bankers and their brood?
This is such a farce, isn't it? I mean, c'mon, do you really think that the big banks make political contributions out of the kindness of their heart or because they want something in return?  And do you really think that a guy who is supported by Goldman Sachs has your "best interests" in mind?  Don't make me laugh.
The reason that Obama picked Watt was because he knew he could be trusted to do whatever Wall Street wanted, and that's precisely what he's doing. Smaller down payments and looser underwriting are just the beginning; teaser rates, balloon payments, and liars loans are bound to follow. In fact, there's a funny story about credit scores in the Washington Post that explains what's really going on behind the scenes. See if you can figure it out:
"Most housing advocates agree that a bigger bang for the buck would come from having lenders lower the unusually high credit scores that they're now demanding from borrowers.

After the housing market tanked, Fannie and Freddie forced the industry to buy back billions of dollars in loans. In a bid to protect themselves from further financial penalties, lenders reacted by imposing credit scores that exceed what Fannie and Freddie require. Housing experts say the push to hold lenders accountable for loose lending practices of the past steered the industry toward the highest-quality borrowers, undermining the mission of Fannie and Freddie to serve the broader population, including low- to moderate- income borrowers.

Today, the average credit score on a loan backed by Fannie and Freddie is close to 745, versus about 710 in the early 2000s, according to Moody's Analytics. And lenders say they won't ease up until the government clarifies rules that dictate when Fannie and Freddie can take action against them." (Washington Post)
Can you see what's going on? The banks have been requiring higher credit scores than Fannie or Freddie.
But why? After all, the banks are in the lending business, so the more loans they issue the more money they make, right?
Right. But the banks don't care about the short-term dough. They'd rather withhold credit and slow the economy in order to blackmail the government into doing what they want.
And what do they want?
They want looser regulations and they want to know that Fannie and Freddie aren't going to demand their money back ("put backs") when they sell them crappy mortgages that won't get repaid. You see, the banks figure that once they've off-loaded a loan to Fannie and Freddie, their job is done.  So, if the mortgage blows up two months later, they don't think they should have to pay for it. They want the taxpayer to pay for it. That's what they've been whining about for the last 5 years. And that's what Watt is trying to fix for them. Here's the story from Dave Dayen:
"Watt signaled to mortgage bankers that they can loosen their underwriting standards, and that Fannie and Freddie will purchase the loans anyway, without much recourse if they turn sour. The lending industry welcomed the announcement as a way to ease uncertainty and boost home purchases, a key indicator for the economy. But it's actually a surrender to the incorrect idea that expanding risky lending can create economic growth.

Watt's remarks come amid a concerted effort by the mortgage industry to roll back regulations meant to prevent the type of housing market that nearly obliterated the economy in 2008. Bankers have complained to the media that the oppressive hand of government prevents them from lending to anyone with less-than-perfect credit. Average borrower credit scores are historically high, and lenders make even eligible borrowers jump through enough hoops to garner publicity. Why, even Ben Bernanke can't get a refinance done! (Actually, he could, and fairly easily, but the anecdote serves the industry's argument.)

("The Mortgage Industry Is Strangling the Housing Market and Blaming the Government", Dave Dayen, The New Republic)
Can you see what a fraud this is?  6 years have passed since Lehman crashed and the scum-sucking bankers are still  fighting tooth-and-nail to unwind the meager provisions that have been put in place to avoid another system-shattering disaster. It's crazy. These guys should all be in Gitmo pounding rocks and instead they're setting the regulatory agenda. Explain that to me? And this whole thing about blackmailing the government because they don't want to be held responsible for the bad mortgages they sold to the GSE's is particularly irritating. Here's more from Dave Dayen:
"After the housing market tanked, Fannie and Freddie forced the industry to buy back billions of dollars in loans. In a bid to protect themselves from further financial penalties, lenders reacted by imposing credit scores that exceed what Fannie and Freddie require. ….And lenders say they won't ease up until the government clarifies rules that dictate when Fannie and Freddie can take action against them."
So the industry has engaged in an insidious tactic: tightening lending well beyond required standards, and then claiming the GSEs make it impossible for them to do business. For example, Fannie and Freddie require a minimum 680 credit score to purchase most loans, but lenders are setting their targets at 740. They are rejecting eligible borrowers….so they can profit much more from a regulation-free zone down the line.
So, I ask you, dear reader; is that blackmail or is it blackmail?
And what does Watt mean when he talks about "developing sensible and responsible guidelines' that will allow them (borrowers) to buy mortgages with down payments as low as 3 percent"?
What a joke.  Using traditional underwriting standards, (the likes of which had been used for  the entire post-war period until we handed the system over to the banks) a lender would require a 10 or 20 percent down, decent credit scores, and a job. The only reason Watt wants to wave those requirements is so the banks can fire-up the old credit engine and dump more crap-ass mortgages on Uncle Sam.  That's the whole thing in a nutshell. It's infuriating!
Let me fill you in on a little secret: Down payments matter! In fact, people who put more down on a home (who have "more skin in the game") are much less likely to default.  According to David Battany, executive vice president of PennyMac, "there is a strong correlation between down payments to mortgage default. The risk of default almost doubles with every 1%."
Economist Dean Baker says the same thing in a recent blog post:
"The delinquency rate, which closely follows the default rate, is several times higher for people who put 5 percent or less down on a house than for people who put 20 percent or more down.

Contrary to what some folks seem to believe, getting moderate income people into a home that they subsequently lose to foreclosure or a distressed sale is not an effective way for them to build wealth, even if it does help build the wealth of the banks."

("Low Down Payment Mortgages Have Much Higher Default Rates", Dean Baker, CEPR)
Now take a look at this chart from Dr. Housing Bubble which helps to illustrate the dangers of low down payments in terms of increased delinquencies:
Data on mortgage delinquencies by downpayment. Source:  Felix Salmon 
"When the mortgage industry starts complaining about the 14 million people who would be denied the chance to buy a qualified mortgage if they don't have a 5% downpayment, it's worth remembering that qualified mortgages for people who don't have a 5% downpayment have a delinquency rate of 16% over the course of the whole housing cycle." ("Why a sizable down payment is important", Dr. Housing Bubble)
So despite what Watt thinks,  higher down payments mean fewer defaults, fewer foreclosures, fewer shocks to the market, and greater financial stability.
And here's something else that Watt should mull over:  The housing market isn't broken and doesn't need to be fixed.  It's doing just fine, thank you very much. First of all, sales and prices are already above their historic trend. Check it out from economist Dean Baker:
"If we compare total sales (new and existing homes) with sales in the pre-bubble years 1993-1995, they would actually be somewhat higher today, even after adjusting for population growth. While there may be an issue of many people being unable to qualify for mortgages because of their credit history, this does not appear to be having a negative effect on the state of market. Prices are already about 20 percent above their trend levels." ("Total Home Sales Are At or Above Trend", Dean Baker, CEPR)
Got it? Sales and prices are ALREADY where they should be, so there's no need to lower down payments and ease credit to start another orgy of speculation. We don't need that.
Second, the quality of today's mortgages ARE BETTER THAN EVER, so why mess with success? Take a look at this from Black Knight Financial Services and you'll see what I mean:
"Today, the Data and Analytics division of Black Knight Financial Services … released its November Mortgage Monitor Report, which found that loans originated in 2013 are proving to be the best-performing mortgages on record…..

"Looking at the most current mortgage origination data, several points become clear," said Herb Blecher, senior vice president of Black Knight Financial Services' Data & Analytics division. "First is that heightened credit standards have resulted in this year being the best-performing vintage on record. Even adjusting for some of these changes, such as credit scores and loan-to-values, we are seeing total delinquencies for 2013 loans at extremely low levels across every product category."

("Black Knight Financial Services' Mortgage Performance Data Shows 2013 Loans Best Performing on Record", LPS)
Okay, so sales and prices are fine and mortgage quality is excellent. So why not leave the bloody system alone? As the saying goes: If it ain't broke, don't fix it.
But you know why they're going to keep tinkering with the housing market. Everyone knows why. It's because the banks can't inflate another big-honking credit bubble unless they churn out zillions of shi**y mortgages that they offload onto Fannie and Freddie. That's just the name of the game: Grind out the product (mortgages), pack it into sausages (securities and bonds), leverage up to your eyeballs (borrow as much as humanly possible), and dump the junk-paper on yield-chasing baboons who think they're buying triple A "risk free" bonds.
Garbage in, garbage out.  Isn't this how the banks make their money?
You bet it is, and in that regard things have gotten a helluva a lot scarier since last Wednesday's announcement that the banks are NOT going to be required to hold any capital against the securities they create from bundles of mortgages.
Huh?
You read that right. According to the New York Times:  "there will be no risk retention to speak of, at least on residential mortgage loans that are securitized."
But how can that be, after all, it wasn't subprime mortgages that blew up the financial system (subprime mortgages only totaled $1.5 at their peak), but the nearly $10 trillion in subprime infected mortgage-backed securities (MBS) that stopped trading in the secondary market after a French Bank stopped taking redemptions in July 2007. (a full year before the crisis brought down Lehman Brothers) . That's what brought the whole rattling financial system to a grinding halt. Clearly, if the banks had had a stake in those shabby MBS— that is, if they were required to set aside 5 or 10 percent capital as insurance in the event that some of these toxic assets went south– then the whole financial collapse could have been avoided, right?
Right. It could have been avoided. But the banks don't want to hold any capital against their stockpile of rancid assets, in fact, they don't want to use their own freaking money at all, which is why 90 percent of all mortgages are financed by Uncle Sugar. It's because the banks are just as broke as they were in 2008 when the system went off the cliff. Here's a summary from the New York Times:
"Once upon a time, those who made loans would profit only if the loan were paid back. If the borrower defaulted, the lender would suffer.

That idea must have seemed quaint in 2005, as the mortgage lending boom reached a peak on the back of mushrooming private securitizations of mortgages, which were intended to transfer the risk away from those who made the loans to investors with no real knowledge of what was going on.

Less well remembered is that there was a raft of real estate securitizations once before, in the 1920s. The securities were not as complicated, but they had the same goal — making it possible for lenders to profit without risking capital.

The Dodd-Frank Act of 2010 set out to clean that up. Now, there would be "risk retention." Lenders would have to have "skin in the game." Not 100 percent of the risk, as in the old days when banks made mortgage loans and retained them until they were paid back, but enough to make the banks care whether the loans were repaid.

At least that was the idea. The details were left to regulators, and it took more than four years for them to settle on the details, which they did this week.

The result is that there will be no risk retention to speak of, at least on residential mortgage loans that are securitized.

"…..Under Dodd-Frank, the general rule was to be that if a lender wanted to securitize mortgages, that lender had to keep at least 5 percent of the risk…….But when the final rule was adopted this week, that idea was dropped."  ("Banks Again Avoid Having Any Skin in the Game", New York Times)
No skin in the game, you say?
That means the taxpayer is accepting 100 percent of the risk. How fair is that?
Let's review: The banks used to lend money to creditworthy borrowers and keep the loans on their books.
They don't do that anymore, in fact, they're not really banks at all, they're just intermediaries who sell their loans to the USG or investors.
This arrangement has changed the incentives structure. Now the goal is quantity not quality.  "How many loans can I churn-out and dump on Uncle Sam or mutual funds etc." That's how bankers think now.  That's the objective.
Regulations are bad because regulations stipulate that loans must be of a certain quality, which reduces the volume of loans and shrinks profits. (Can't have that!) Therefore, the banks must use their money to hand-pick their own regulators  ("You're doin' a heckuva job, Mel") and ferociously lobby against any rules that limit their ability to issue credit to anyone who can fog a mirror. Now you understand how modern-day banking works.
It would be hard to imagine a more corrupt system.
When I saw the movie "Saving Mr. Banks" during one of my interminably-long plane rides back from Syria, I liked it so much that I actually went out and bought a copy of the 1964 "Mary Poppins" Disney classic it was based on — the one with Julie Andrews and Dick Van Dyke frolicking across the rooftops of London.
And much to my surprise, I discovered that Mary Poppins might have been one of the world's first hippies.  Who woulda thought!  And what was even more amazing is that Mary Poppins was one of the first people to warn us about the dangers and perfidy of big bankers and big banks.
And fortunately for those of us living here in America one hundred years later, Elizabeth Warren has now become the new Mary Poppins — also warning us about the dangers and perfidy of big bankers and big banks.
If only Americans would start paying attention to Elizabeth Warren as much as they paid attention to Julie Andrews!
"Hey, Elizabeth!" I also want to shout on the rooftops like Dick VanDyke, "voters aren't listening to you!"  Maybe if Disney studios made a movie about you too?  Then maybe voters would finally start to listen.
According to Warren, the American middle class has been absolutely decimated by the banking and credit-card lobbies.
And yet voters still keep falling for all those glossy ads and happy lies that still keep getting pro-big-bank candidates elected to the White House and Congress even though voters can clearly see that they themselves are losing their jobs, having their homes repossessed, becoming slaves to their student loans and getting ripped off bigtime by credit-card debt.  But then I guess that those syrupy ads actually do prove that "A spoonful of sugar helps the medicine go down" after all.
In the heroic country of Iceland, their well-informed voters have vigorously fought back against bankster greed and have even re-written their constitution in order to make lending-bubbles and bank fraud illegal.
But in America, the opposite happens.  Here in America our very own government, the very one that bank lobbyists have chosen for us to elect, is handing over billions of our very own hard-earned dollars to big banks just as fast as it can.  And Congress is always writing new bankruptcy laws that favor banksters over the middle class every time.  Mary Poppins would be livid, of course, but nobody else seems to even notice these days — except for Elizabeth Warren.
And even the Federal Reserve is dancing over the rooftops in glee as it too gives away our money to the banksters just as fast as it possibly can, singing "Step in Time" as gleefully hands over giant bags of taxpayers' money to Chase, Bank of America, CitiBank and Goldman Sachs.
And the Federal Reserve's chim chem cher-ee chummy coverups are going through the roof too.
Plus the Senate just vetoed a bill that would have given students a break from paying up to 12% interest on their college loans too.  According to Warren, "This isn't complicated.  It's a choice – a choice that raises a fundamental question about who the United States Senate works for.  Does it work for those who can hire armies of lawyers and lobbyists to protect tax loopholes for billionaires and profits for the big banks?  Or does it work for those who work hard, play by the rules, and are trying to build a future for themselves and their families?"
Not to mention the hidden (and not-so-hidden) fees that banks gleefully charge us customers for no reason at all.
To try to completely understand how banksters and their toadies in Congress and the Department of Justice are robbing the rest of us blind, you just gotta watch this video of Bill Moyers interviewing bank-fraud expert Thomas K. Black.  Seriously.   You really should watch this:  http://vimeo.com/107916659
In this video, Black describes how Obama was elected by the banking industry and how Obama has totally paid back his debt to the banksters by handing them all "get out of jail free" cards.  Is being elected president really worth selling us Americans out to the banksters?  Apparently so.
"There's no threat to capitalism like capitalists," continues Black.  "They are destroying its underpinnings.  And when dishonest people gain an advantage in the marketplace, bad ethics drive good ethics out.  This is why we need the rule of law."  Doesn't Thomas K. Black sound just like Dick VanDyke, er, I mean Burt the Chimney Sweep here — as Black proposes that it's high time to sweep clean our banks.
And now let's talk about America's ratings on the so-called "Misery Index".  Apparently America rates higher on the misery charts now than it ever has, even back in the Great Depression — and probably even as high as did Mary Poppins's 1910 London.  Thanks a lot, banksters.
Isn't it time that American voters finally join up with Elizabeth Warren and Mary Poppins — and tell big banks and banksters to go "fly a kite!"
PS:  Speaking of money, look how much of it is being spent in the Middle East — and not here at home where it is needed!
According to a recent blog-post at thehill.com, the first official estimates of the ISIS price tag from the Pentagon showed that, "the costs of intervention between mid-June and late-August was $7.5 million per day.  At that rate, the U.S. has spent $850 million on operations against ISIS as of October 8, adding up to about $2.74 billion per year.  The Pentagon has since revised the estimate up to as high as $10 million per day, or $3.65 billion per year.  In reality, both of those numbers are quite likely to be underestimates of what's to come."
Looks like the US military is just as bad as the US banksters when it comes to cleaning out America's pocketbooks — after they both have put us to sleep with false promises and false news https://www.youtube.com/watch?v=ZewopnA6H7E.
What we Americans really need to do these days is to once again take Mary Poppins's advice and "Stay Awake"!  https://www.youtube.com/watch?v=8yC_voMY6kY
The cozy relationship between financial institutions and their respective regulators has long been known. Concern from reformers and activists comes from all stripes of ideological perspectives. With the attention that Carmen Segarra, the whistleblower of Wall Street, has gained, the noise from the banking establishment pushes back. Here comes the expected spin from the Fed, The New York Fed Slams Tape-Recording Whistleblower, Says She Was Fired After Just 7 Months Over Performance. Read their Statement Regarding New York Fed Supervision. So what is this controversy all about?
How dare a mere low level regulator document the goings on within the financial establishment, Inside the New York Fed: Secret Recordings and a Culture Clash, writes.
"As ProPublica reported last year, Segarra sued the New York Fed and her bosses, claiming she was retaliated against for refusing to back down from a negative finding about Goldman Sachs. A judge threw out the case this year without ruling on the merits, saying the facts didn't fit the statute under which she sued.

At the bottom of a document filed in the case, however, her lawyer disclosed a stunning fact: Segarra had made a series of audio recordings while at the New York Fed. Worried about what she was witnessing, Segarra wanted a record in case events were disputed. So she had purchased a tiny recorder at the Spy Store and began capturing what took place at Goldman and with her bosses.

Segarra ultimately recorded about 46 hours of meetings and conversations with her colleagues. Many of these events document key moments leading to her firing. But against the backdrop of the Beim report, they also offer an intimate study of the New York Fed's culture at a pivotal moment in its effort to become a more forceful financial supervisor. Fed deliberations, confidential by regulation, rarely become public."
In an attempt at damage control, the Fed was looking for a favorable review. What they got was not what they wanted, N.Y. Fed Staff Afraid to Speak Up, Secret Review Found.
"The investigation, conducted by Columbia University finance professor David Beim, was initially confidential but was later released by the Financial Crisis Inquiry Commission.

Mr. Beim's report called on the New York Fed to demand that its regulatory staffers maintain a "more distanced, high-level and skeptical view" of how the banks they oversee make money."
A Short History of the Breathtaking Cluelessness of U.S. Financial Regulators, is outlined by the Motley Fool analysis. Any serious observer of the cozy relationships that permeate the financial community knows all too well, that the revolving door turns when favorable regulation decisions spin in the right direction.
The significance of this latest scandal, points out just how the regulation process is conducted in the suites of money manipulation. This next account is most telling; You Should Listen To The Goldman New York Fed Story.
"This American Life has a banking supervision story that turns on secret recordings made by a former employee of the New York Fed, Carmen Segarra, and it's pretty good, because it shows how regulators basically do a lot of their regulating of banks through meetings, with no action items after. That's weird, and it's instructive to see how intertwined banking and supervision are. There's a killer meeting after a meeting with Goldman Sachs where Fed employees talk about what happened, and – though we don't know what was left on the cutting room floor – the modesty of the regulatory options being considered is fascinating. Nothing about fines, stopping certain sorts of deals, stern letters, or anything else. The talk is self-congratulation (for having that meeting with Goldman) and "let's not get too judgmental, here, guys."

The takeaway of the story, which is blessedly not an example of the "me mad, banksters bad!" genre, is that this kind of regulation isn't very effective. It clearly hasn't prevented banks from being insanely profitable until recently, in a way that you'd think would get competed away in open markets."
Why is Goldman exempt from any meaningful oversight? William D. Cohen over at Politico provides an answer to the question, Why the Fed Will Always Wimp Out on Goldman.
"Although Michael Silva, Segarra's superior, didn't doubt that the Goldman-Santander transaction was legal, he didn't think it passed the smell test. "It's pretty apparent when you think this thing through that it's basically window dressing that's designed to help Banco Santander artificially enhance its capital position," he told his New York Fed team before a meeting on the topic with Goldman executives."

Segarra thought her boss's pre-occupation with whether Goldman "should" have done the deal, or been allowed to do the deal, was all just a big waste of time and obfuscated the larger issue that Goldman, and other Wall Street banks, were busy pushing around a key regulator – the New York Fed – rather than the other way around. She worried that her bosses were focusing on "fuzzy" and "esoteric" issues such as Goldman's "reputational risk." Silva also shared with Segarra that it was all moot anyway, because Tom Baxter, the New York Fed's general counsel, had, he said, "reined him in" on the subject. "I was all fired up, and he doesn't want me getting the Fed to assert powers it doesn't have," Silva tells Segarra, according to the tape recording."
Breaking down all the details and dialogues that transpire in the normal course of banking reviews comes down to the undeniable fact that Goldman is in charge of the process. The ownership of the Federal Reserve, a private entity, is ultimately owned by the shadow families that control the major financial institutions. Only a very naïve analysis or a compromised minion of the financial elite Plutocracy would dispute the power and clout that is applied to the political nature of regulatory oversight.
Bankster's earn this graphic title by the way they conduct their protection racket. Courageous regulators like Carmen Segarra are treated as traitors to a system that is designed to facilitate every abuse that firms like Goldman can devise. Now you know who really owns the gold, because they make up whatever rules that foster their financial corruption.
Seldom does the enormous bond market turn on the fate of a single trader. Well, the news that Bill Gross was leaving Pimco under suspicious circumstances did not go unnoticed. The WSJ writes:
"The yield on the 10-year benchmark Treasury note was hovering around 2.506% immediately before the disclosure that Mr. Gross was leaving the hundreds-of-billions of dollars in Treasurys and other debt he oversaw at Pimco to go to rival firm Janus Capital Group Inc.

Within a half-hour, the yield jumped to 2.546%. While a move of 0.04 percentage point    may not seem like much in that period of time, it was perceptible enough in the $12 trillion Treasury market that several traders and strategists attributed it to the news about Mr. Gross."
Attempting to explain the reasons for his departure, The Economist speculates in the essay, Overthrowing the Bond King. "There appear to be three main reasons behind Mr Gross's abrupt exit. The immediate cause was his abrasive management style . . . Moreover, Mr. Gross's public behavior has grown increasingly peculiar of late . . . Such mis-steps might have been forgiven had Mr. Gross's charmed streak as an investor continued. But over the past three years, several misjudgments have caused his funds to lag."
At this point What You Need to Know About SEC's Investigation of Pimco, centers on a relatively small $3.6 billion ETF, exchange-traded fund.
"Apparently, Pimco went around buying up small blocks of bonds, known as "odd lots," at discounts. Pimco then marked their prices upwards using estimates of their values derived from larger blocks of bonds.

If Pimco really couldn't resell the bonds at the new, higher prices it seems off base. But it also seems plausible the bonds might genuinely be worth more in Pimco's hands than they were in the hands of whoever sold them."
The mystic that Pimco enjoyed in bond trading may have sunk from the implications of SEC snooping. Gross seems like he is sprinting for the exit, but is this all that is in play? Investor's Business Daily paints a smiley face on the open door that Gross' transfer of loyalties as a positive for Janus Capital Group.
Now step back from these headlines and examine the concerns that have been floated about the bond market for a very long time. Money Beat in an account suggests that aBond Bubble Will Burst in a 'Very Bad Way' and reports on the recent Bloomberg's Markets Most Influential Summit.
"Bonds are at ridiculous levels," Julian Robertson, founder of one of the earliest hedge funds in Tiger Management Corp., said on a panel at the Bloomberg Markets Most Influential Summit. "It's a world-wide phenomenon that governments are buying bonds to keep their countries moving along economically."

Howard Marks, the chairman of Oaktree Capital Group LLC, said interest rates are "unnaturally low today." Leon Cooperman, founder of Omega Advisors Inc. and former partner at Goldman Sachs, said bonds are "very overvalued."
Forecasting the direction of government bonds usually focuses on predicting what central banks will do to drive interest rates, either up or down. Since consensus in market watchers has long announced that U.S. Bonds yields are unnaturally low, the calls for a turn upward in interest rates seem ridiculously overdue in coming.
All that seems reasonable; however, the Federal Reserve is playing a much different game from the responding to the normal business cycle.
Since the financial meltdown of 2008-2009, the charts and metric gauges for predicting market movements require a complete overhaul. Betting on U.S. Bonds no longer is based solely on domestic factors.
ZeroHedge cites David Tepper Is Back, Sees "Beginning Of The End" Of Bond Bubble.
"Empirically, Tepper may be right: in the past every time a central bank has launched a massive easing program (think QE1, QE2, Twist, QE3, etc.) it resulted in aggressive stock buying offset by bond selling. The issue is when said programs came to an end, and led to major selloffs in equities, pushing bonds to newer and lower record low yields. So perhaps for the time being, we may have seen the lows in the 10Year and in the periphery. The question is what happens when Europe's latest "Private QE" operation comes to an end: just how massive will the bond bid be when all the money currently invested in risk assets decided to shift out all in one move.

More importantly, it also explains why central banks now have to work in a constant, staggered basis when easing, as the global capital markets simply cannot exist in a world in which every single central bank stops cold turkey with the "market" manipulation and/or liquidity injections."
Within this context, why all the hullabaloo over Bill Gross jumping ship? While price inflation is real and grossly underreported, currency deflation still persists over the last six years. Now some may claim this phenomenon proves that stability in the bond market exists. Conversely, if this measure is acceptable to institutional bondholders, are they not accepting very low returns out of fear that the economy still hangs on a precipice.
Always remember that bonds are loans that have an obligation for repayment. Stability is maintained in the core indebtedness with the reimbursement settlement of the principal. Most governments are able to string along the unavoidable roll over so that new funds are raised to refinance.
Not so in every case from private or corporate debt. Just ask the bond holders from GM, better known as "Government Motors".
Government bonds make up the essential float in the paper trade. As long as the global collateralization of bonds is honored, the planet may be able to avoid the fate of Greece. Pimco is but a pimple when compared to the Federal Reserve's monetization of U.S. Treasury debt.
Bond professional traders look for an edge. Firms may risk their own capital, but most brokers look to skim an easy commission. It's the institutions who have the most at stake and need a stable bond market. When not if, the bubble busts or deflates, the air is going to escape and blow over average investors.
With election time almost upon us, here's a rather sobering thought:  By spending as little as a mere two billion dollars, anyone with that amount of money can now afford to buy an entire American election — Congress, the White House, governorships and all.
"But Jane," you might ask, "why would anyone even want to do that?"  Why?  Just look at all the immense amount of loot you can score with just this tiny investment.  Access to national park land, bank deregulation, profits from weapons production, corporate monopoly status, pro-pollution laws, judges' rulings in your favor…need I go on?
For instance, eleven trillion dollars has been recently spent on escalating and pursuing fake wars.  So if you "invest" in American elections and still only receive, say, just ten percent of those eleven trillion singles for your weapons-manufacturing services or whatever the heck else companies like Halliburton do, you still have just grown your measly two-billion-buck investment at least a thousand times over.  Forever War really pays off!
Or if you are guys like Obama, Bush and Cheney — and can't resist playing with war toys?  Then you get to buy your very own wars!  Lots and lots of wars.  You get to play with actual life-sized GI Joe dolls and call yourself "Commander in Chief".  You get to bomb Libya and Ukraine and Iraq and Syria.  What fun!  Two billion dollars can buy you a hecka lot of war toys — eleven trillion dollars worth to be exact.
Or let's say that your net worth is approximately 100 billion dollars, like, say, the Koch brothers' worth is.  You spend less than three percent of that money on buying elections — and voila!  You too get over a thousand percent return on every dollar you spend.  What kind of crazy-good investment is that!
Or let's say you are a member of the notorious WalMart family, worth hundreds of billions of dollars.  You spend just a few paltry billion on election buyouts — and suddenly us taxpayers are paying for all of your employees' healthcare.  And we're throwing food stamps into the bargain too.  Brilliant idea!
Or what if you own a giant coal company, oil company, car company, power company or some other major polluter?  Common sense tells us voters that we need to cut down on polluting the atmosphere so as to avoid drastic climate change that even now threatens to kill off the whole human race.
We could have been using solar power all this time for instance — and also cleaned up our rivers and even eliminated the need for fossil fuel.  But no.  For a few (billion) dollars more at election time, you can potentially doom the entire human race.  America, are we having fun yet?
Or let's say for instance that you are AIPAC, that Israeli political action committee.  Spend just two billion dollars to buy every election in America — up to and including the dog catcher?  What a deal!  And since Israel is already receiving three billion dollars every year from America, guaranteed, voted by Congress, you don't even have to risk using your own moolah.  You can use ours.  Fabulous investment.  http://www.counterpunch.org/2014/09/12/how-the-west-created-the-islamic-state/
Plus you also get permission to bomb Gaza, take over the West Bank, design America's stupid "Bomb Syria" policy, have red-carpet access to the entire Middle East (as in red carpets of blood) and get away with committing all kinds of other violations of the Nuremberg precedents and Geneva war crime conventions too.  
According to Middle East expert Paul Larudee, "Israeli prime minister Benjamin Netanyahu infamously bragged that 'America is a thing you can move very easily'."  Apparently all you need is just two billion bucks.   Hell, Attila the Hun never even had that kind of power.  Or even Josef Stalin.  All he ever got out his American investments was the freaking Cold War.
But don't worry, Josef!  The Cold War is about to heat up again, thanks to AIPAC.  Hell, now AIPAC is even an unofficial member of NATO (and apparently its most influential member too).  And, as such, Israeli war hawks seem hell-bent on fomenting World War III.  Does the American public really want to go there?  I think not.
Or you could invest your capital in running America's prison-industrial complex?  Just think of all the cheap labor you'll get!  For much less than two billion in folding money, you don't even have to ship your goods over from China any more.  Plus you get to have them stamped "Made in America" too.  Definitely a win-win for you.
Or what if you are Monsanto or Big Pharma or Bank of America or CitiCorp or Goldman Sachs or General Electric?  For far less than two billion dollars, you can get rid of unions, create your own monopolies, write your own "regulations", appoint your own "regulators" and rake in the profits.  And if you are Big Media, our publicly-owned airwaves now belong to you.  Think Rupert Murdock.  Or net neutrality up in smoke.  Think AT&T.  Boo-yah!
Yep, America is for sale for really cheap these days.  The total assets of the United States of America is currently 188 trillion dollars.  And just think.  For just a mere two billion simoleons, all that can be yours!  Buy a little false advertizing, do a bit of voter-suppression, get your hands on a few electronic voting machines, tell a few lies on Fox News and CNN and, boom shake the room, you can own all of that.  All $188,000,000,000,000.00 worth.  "Worth playing for?"  Yeah.
My country these days has become like some aging cheap whore, selling herself on street corners to the first two-bit John who comes along and offers her a couple of dollars.
America these days isn't even a high-priced call girl any more.
When the billionaire tech jet set decides to let down their hair, what do they talk about around the campfire? According to the New Your Times, "Google is sponsoring an elite conference this week at a golf resort in Sicily, with a guest list of chief executives, investors and celebrities, all of whom were invited to bring their families. On the agenda are high-minded discussions of global issues — along with relaxation by the Mediterranean Sea." How quaint! . . . For the real scoop, Here's What Went On At Google's Exclusive Conference For The Rich And Famous In Sicily.
"Sicilian blogger Tony Siino talked to an attendee about what went on, and told Business Insider via email that the conference, dubbed "The Camp," was three-days of intellectual discussions, relaxation, and sight-seeing.According to Siino's source, morning discussions included a wide range of topics, including how to extend human life and the design of cities of the future."
Reported by NBC local TV channel in the Bay Area has "guests include Goldman Sachs chief executive Lloyd C. Blankfein, executives from German and Spanish banks, Uber chief Travis Kalanick, Tesla boss Elon Musk, Comcast CEO Brian L. Roberts and Snapchat boss Evan Spiegel. Also on hand is Ben Horowitz, venture capitalist with Marc Andreessen at make-or-break Silicon Valley fund Andreessen Horowitz."
Spending quality time with the family between sessions in the next round of tech discoveries hardly seems to be the best use of time. Yet, time may well be the ultimate objective if you can uncover the mysteries of anti-aging research. Life Extension Magazine reports that Google Life Extension is investing in a venture called California Life Company, or Calico for short, and its goal is to extend human life by 20 to 100 years.
At this point, Google is being highly secretive about their plans for Calico. All Google would reveal is that Calico will focus "in particular on the challenge of aging and associated diseases."
Calico could produce startlingly counterintuitive breakthroughs, as a result, of Google's strengths in the following areas:
Non-commercial dedication — rather than a focus on commercial marketing of mediocre drugs as pharmaceutical companies now do.
Vast consumer access and core data-handling skills — with unprecedented data gathering, pattern-matching, and causal-relationship detection.
Ability to attract the brightest minds — potentially preferring to work on life-and-death problems instead of cutesy apps and games.
Further speculation in an essay – How's Google Dabbling in Health, Life, DNA, and Immortality? – cites areas of research has cutting-edge technology pushing the limits of the wheel of life itself.
"A CNN article listed a few common subjects, like cryonics (a process where the body is preserved in liquid nitrogen), cryotherapy (which exposes injured patients to very low temperatures for short periods of time), cloning and body part replacement, nanotechnology (deploying small robots to overcome the problem of incorrect DNA replication, one cause of aging), and even research into telomeres, the ends of a chromosome that protect cells against degradation."
Hidden within a "feel good" sentiment behind the altruism to elevate the life span of the human race is an unconvincing skepticism. In an article like Google Wants You to Live 170 Years, just does not seem believable to a rational observer.
"What Google brings to the table is data. "Not just one set of data, multiple forms," says Harry Glorikian, founder of life sciences consulting firm Scientia Advisors. "Search data, GPS data, all sorts of other pieces, electronic breadcrumbs that you produce all out there to get a picture of you."This data could be paired with each person's genome — a partial genome can be mapped today for $99 via 23andMe (another Google investment), but many are hoping a full genome will cost as much in the next few years."
Even if such ambitious projections that life extension might become common-place for the masses, it does not guarantee that everyone will be a candidate for future "Camp" invitations. Google hardly needs to market the secrets of the gods in order to maintain or enhance their cash flow. The Globe and Mail describes the gathering, "Like the World Economic Forum in Davos, Switzerland – an annual gathering of the elite at a snowy ski resort – the upstart conference from Google projects an aura of exclusivity. Its existence has not previously been disclosed."
Following the example of other enigmatic elitist stratagems, "The Camp" shows no signs of a charitable motivation when the onion is peeled. Michael Downey in the account, Google Wants To Extend Your Life laments that not enough is being done to achieve the holy grail of Ponce de Leon's Fountain of Youth.
"Tragically, while the government spends over $3 billion annually on "health concerns" of the elderly, it operates on the assumption that aging is not a disease. Corporations lack the longer-term view needed. And extremely few of the world's 1,426 billionaires, with a total net worth of $5.4 trillion, have included anti-aging research in their charities."
Do you really believe that the beautiful people, much less, the corporatist return on assets crowd, or the great democracies of the planet are eager to share any medical, genetic or nanotech leap forwards with the chattel serfs? Attending boot camp for the peasants is quite different from rubbing elbows with these Nouveau riche Sicilian Dons in the global technocratic mafia. The blueblood patricians of the banksters' families will enlighten their newly made men into the rules and ways of the global syndicate.
The Calico family franchise promises to be more alluring than the temporary ecstasy of a drug high. Most godless souls want to live forever, since rejecting an afterlife is automatic to such atheistic masters of the universe. Google has proven to be a "New Age" android. Hence, it is natural for apps, developed to manage the life cycle, become part of the smart set. The key question is will the source code become available to the masses, or will the elites maintain the restricted knowledge only for their devil witch coven.
As if globalist scheming had not yet caused enough death and destruction in the Middle East, the global government-promoting Council on Foreign Relations and various outfits associated with the secretive Bilderberg group are now pushing a radical new plot for the region: a European Union-style regional regime to rule over the Arab, Turkish, Kurdish, and other peoples who live there. The sought-after "Middle Eastern Union" would put populations ranging from Turkey and Jordan to Libya and Egypt under a single authority.
If the plot moves forward, like in other areas, it would usurp from the peoples of the region their right to self-government and national sovereignty. It would also advance the longtime establishment goal of setting up regional regimes on the path to a more formal system of "global governance." Already, the peoples of Europe, Africa, South America, Asia, and other regions have had self-styled regional "authorities" imposed on them against their will. In the Middle East, numerous similar efforts such as the Gulf Cooperation Council and the Arab League have been making progress, too.
A true "union" to rule over the broader Middle East and North Africa, though, would represent a major step forward in the ongoing regionalization of power around the world. Using a wide range of pretexts to advance the scheme, top globalist outfits and mouthpieces claim such a regional government would solve myriad real and imagined problems. However, with the plot being pushed hard by the CFR and various globalist propaganda organs such as the Financial Times, a U.K. newspaper that is always well represented at the shadowy Bilderberg summits, there is good reason to be skeptical at the very least.
"Just as a warring [European] continent found peace through unity by creating what became the EU, Arabs, Turks, Kurds and other groups in the region could find relative peace in ever closer union," claimed Mohamed "Ed" Husain, an "adjunct senior fellow for Middle Eastern studies" at the CFR, in a piece published in the Financial Times and on the CFR website last month. "After all, most of its problems — terrorism, poverty, unemployment, sectarianism, refugee crises, water shortages — require regional answers. No country can solve its problems on its own."
Of course, the notion that Europe "found peace through unity" — in reality it was globalists surreptitiously crushing national sovereignty and foisting an unaccountable regime on the peoples — is fashionable among establishment types. In truth, though, "peace" hardly requires giving up self-government. Plus, many of the wars in Europe over the last century were actually fomented by the very same forces that imposed the EU on the continent. Prince Bernhard of the Netherlands, for example, was a member of the National Socialist (Nazi) party before going on to create Bilderberg, which attendees openly boast has played a crucial role in imposing the Brussels-based super-state that now dominates Europe.
Plenty of actual examples also refute Husain's claims about the supposed necessity of a regional regime to solve national problems. The Swiss, for instance, have had peace for centuries, yet they have consistently and overwhelmingly refused to surrender their sovereignty to the EU or any other outfit. Switzerland also has virtually no terrorism, poverty, unemployment, sectarianism, refugee crises, or water shortages, yet it never sought "regional answers." In fact, contrary to Husain's factually challenged argument, the Swiss have done better than virtually any other people in solving their problems on their own. Perhaps Husain views Middle Easterners as less capable, but more likely, he knows full well that a country could solve its problems on its own.
"Most in the Middle East no longer feel the dignity of their ancestors," continued the CFR's Husain without citing any data or surveys. "What Plato called thymos is desperately missing: the political desire for recognition and respect as dignified peoples. A Middle Eastern Union could recreate it." How being ruled by an unaccountable and autocratic EU-style leviathan would give the peoples of the Middle East "dignity" or "thymos" was not immediately clear. Plato, of course, like bigwigs at the CFR and their fellow travelers, believed the masses should be lorded over by their superiors — Plato called them "philosopher kings."
Rather than allowing Middle Easterners to create their own union, Husain makes clear that Western globalists should take the lead. "Will the west wait until Islamists and radicals are powerful enough to create their own Middle East, one opposed to us?" he asked, conveniently failing to mention the gigantic role of the Western and globalist establishment in fomenting Islamic extremism and terror. "Or will we help our partners in government harness this momentum? This is the moment to create multilateral institutions that could implant pluralism across the region." Husain also called for the EU and the U.S. government to lend "bureaucratic experience" to "voices in the region who want greater integration."
"A complete change of psychology is needed," he added without elaborating on how such a transformation in people's views and beliefs would be achieved.
Of course, Husain at the CFR is not alone. In 2011, the Islamist president of Turkey, Abdullah Gül, also called for an EU-style regime to rule the Middle East. Speaking in the United Kingdom, Gül claimed "an efficient regional economic cooperation and integration mechanism" was needed for the region. "We all saw the role played by the European Union in facilitating the democratic transition in central and Eastern Europe after the fall of the Berlin Wall," he claimed. Islamic Turkey is also working to join the EU.
Various Middle Eastern tyrants have echoed the calls for a regional regime, too — the kings of Saudi Arabia and Jordan, for example. As Husain pointed out, the radical Muslim Brotherhood and the terrorist group Hamas are also working to unify the Middle East under one single tyrannical government of gargantuan proportions.
Already, AstroTurf groups working toward such a union are popping up across the region, too. "We dream of a Middle East that is empowered, free, and governs for all it's [sic] peoples at the highest level of being in a new world where the Middle East Union is an important integral part of a greater global community that pledges its allegiance to the earth and every human on it," declares the newly created "Middle East Union Congress" on its website.
By 2050, the new Congress aims to shackle some 800 million people from Pakistan in Asia to Morocco in Northwest Africa under a single regime with a single euro-style currency. The outfit also wants to create a new capital city for the union named aftercommunist revolutionary Nelson Mandela, whom it described as "the 20th century's greatest global citizen." From "Nelson Mandela City," the new regime would "eco-govern" all of the nations and peoples of the union as "a model for the new global paradigm that honors and respects mother earth."
One of the primary selling points for the "union" plot is the notion it would help rein in radicals — most of whose organizations were either created, armed, trained, financed, or all of the above by Western governments and the Soviet Union. Ironically, though, just a few years ago, Husain was touting al-Qaeda's key role in furthering the globalist plan to oust Syrian dictator Bashar al Assad. "The influx of jihadis brings discipline, religious fervor, battle experience from Iraq, funding from Sunni sympathizers in the Gulf, and most importantly, deadly results," gushed Husain, a Sunni Muslim, in a 2012 piece for the CFR. "In short, the [Obama/CFR/Bilderberg/Goldman Sachs-backed Free Syrian Army] needs al-Qaeda now."
Before joining the CFR, meanwhile, Husain spent years working with Hizb ut-Tahrir, a radical Islamist group pushing for an Islamic Caliphate — a vast, totalitarian "Middle Eastern Union" of sorts — based on sharia law. The outfit also promotes the death penalty for apostates and has been accused by various governments of involvement in jihad terrorism. Husain, though, is hardly the only figure at the globalist outfit with a history of extremism. CFR Latin America boss and Castro apologist Julia Sweig has even been identified by a senior U.S. intelligence officer as a probable "agent of influence" for the terror-sponsoring communist regime enslaving Cuba.
All over the world, globalists are quietly but quickly foisting supranational regimes on hapless populations. In Africa, for instance, the African Union is now sending its troops all across the continent. In Latin America, the socialist-dominated Union of South American Nations (UNASUR) is working to "integrate" the region, alongside various other transnational outfits. Even in North America, top CFR and Bilderberg globalists are doing the same. "After America comes North America," boasted ex-general and CFR/Bilderberg bigwig David Petraeus this year.
Of course, the Council on Foreign Relations, despite its operatives' anti-sovereignty extremism, remains immensely influential in terms of U.S. foreign policy. "We get a lot of advice from the Council, so this will mean I won't have as far to go to be told what we should be doing and how we should think about the future," then-Secretary of State Hillary Clinton told CFR bosses in Washington. The CFR's affiliates around the world hold similar influence. Bilderberg, meanwhile, brings together many of the world's top globalists, communists, government officials, media barons, and more.
For the sake of liberty, peace, self-government, national sovereignty, and prosperity, humanity should resist the globalist regionalization agenda from Europe to the Middle East and beyond. The alternative is literally global tyranny.
Alex Newman, a foreign correspondent for The New American, is currently based in Europe. He can be reached atanewman@thenewamerican.com. Follow him on Twitter @ALEXNEWMAN_JOU.
Source: Alex Newman | The New American
The Robber Barons of the 19th and 20th century had nothing over the elites of today's globalist transnational financial conglomerates. The Richest Americans, listed in Forbes conceals the real power that controls the economy. Net worth is deficient in gauging dominance in financial commercialism and monetary preeminence. The Top 50 Highest-Paid CEOs as reported by ABC News ties into Michael Hiltzik's account that CEO-to-worker pay gap is obscene, "The average CEO-to-worker pay ratio in 2012 was about 350 to 1." Yet the divide in pay does not exemplify the exact lose in a livable standard of living for the ordinary staffer.If corporate multinationals were really about creating actual wealth, the pay of inspirational leadership and senior management talent, that executes the business plan, would be incidental if the employees were sharing in affluence. Those who demand higher minimum wage compensation do not understand how business works. The inordinate wealth divide, cannot and will not be reduced, until genuine economic prosperity is achieved.
Analyze the idiocy of a naive Undergraduate Research Fellow, Brian Chesley in 3 Ways to Reduce the Wealth Gap.
1. Open higher education to everyone.

2. Increase the minimum wage.

3. Increase taxes on the rich.
Such ignorant and illiterate attitudes demonstrate that institutions of higher learning encourage an atmosphere of social collectivism that plays directly into the hands of the new tyrannical tycoons.
The New York Times OP-ED piece by Daniel Altman (an adjunct associate professor of economics at the New York University Stern School of Business and a former member of the New York Times editorial board), proposes a foolish mindset and proposal in To Reduce Inequality, Tax Wealth, Not Income.
"In 1992, the top tenth of the population controlled 20 times the wealth controlled by the bottom half. By 2010, it was 65 times. Our graduated income-tax system redistributes a small amount of money every year but does little to slow the polarization of wealth."

American household wealth totaled more than $58 trillion in 2010. A flat wealth tax of just 1.5 percent on financial assets and other wealth like housing, cars and business ownership would have been more than enough to replace all the revenue of the income, estate and gift taxes, which amounted to about $833 billion after refunds. Brackets of, say, zero percent up to $500,000 in wealth, 1 percent for wealth between $500,000 and $1 million, and 2 percent for wealth above $1 million would probably have done the trick as well."
Absent in redistribution of wealth schemes is that the method of authentic free enterprise is never understood. Nor is there ever an effort to reestablish the principles of real business competition. The marketplace of voluntary and mutually beneficial commercial transactions, destroyed by the systemic Corporatocracy model, is the ultimate reason why wealth disparity is so great. The literal legacy of the Robber Barons is the internationalist financial system of central banking that predetermines the outcomes of selective patrons from calculating crony capitalism.
Public companies, once established to develop, produce and sell innovative goods or services are rare in an environment where financial manipulation is the primary vehicle to riches. Equity exchanges, based upon raising capital for industrious and constructive ventures, seldom function for this utilitarian purpose. The global economy, in reality, has perfected an anti-free enterprise filter that stamps out initiative and penalties upstarts that are not part of the cartels.
With the insolvency of the world-banking system an inescapable fact, the prospects for even more concentration of real assets into the hands of the financial elites, posed for the final wealth confiscation, of resources not already in their hands, is upon us.
When the internationalist financial system implodes and business screeches to a halt, a populist movement to clawback century long fraudulent gains of the hidden stashes from the interlocked illuminati families is the only coherent alternative to establish a fiscally sound financial future.
"The 2014 Bilderberg meeting is another example of those "blurred lines" between government, big oil and the financial sector, the three pillars of war. According to some reports, the topics of discussion at this year's meeting will include the situation in Ukraine and the Russia-NATO relationship, as well as the Transatlantic Trade and Investment Partnership (TTIP), an agreement which, according to Stop TTIP, "is in fact a corporate coup that will take us to a 'corporatocracy', a corporate-run world."
The mental confusion that blocks out the way the world fundamentally functions prevents focusing upon any essential debate as to substitute economic parameters for an equitable stake and remuneration for productive contributions to the success of any commercial venture.
The term Robber Barons, should not be substituted for every prosperous risk taker or self-made entrepreneur. The corruption within the cabal economy is rooted in the very nature of the favorable treatment given to participants in the criminal corporatist syndicate.
As Ms. Lévesque correctly describes the methods and operations of this New World Order neo-feudalism, the only structure that offers any prospects for an economic renaissance must target and strip the political influence of the globalists as much as the confiscation of their vast holdings.
Do not be deceived, by communist or socialist newspeak. Sharing the wealth is not the objective. The goal is imposing an unconditionally surrender upon the banksters, which is serious business. Start with the elimination of the Rehypothecation of Collateral. Lawful business has no room for coexistence with derivatives and swaps.Holding the body politic accountable and committed to breaking up the banksters' monopoly requires compliance regulatory resistance from within the business community. It is just as important as customer and buyer rejection of the corporate induced consumer society. Sadly, most people simply are uninformed about the principles of sound business.
Most CEO's are not businesspersons, but are globalist enablers and often are outright thieves. The needed business revolution will not be lead by their ilk.
Real competition can never be encouraged until inventive and audacious risk-takers have practical alternatives to fund their enterprises. Only then, will the wealth ratio narrow as affluence, that is more tangible, expands and the fortunes of the oligarchy diminish.
"Actually, as Winston well knew, it was only four years since Oceania had been at war with Eastasia and in alliance with Eurasia. But that was merely a piece of furtive knowledge, which he happened to possess because his memory was not satisfactorily under control. Officially the change of partners had never happened. Oceania was at war with Eurasia: therefore Oceania had always been at war with Eurasia. The enemy of the moment always represented absolute evil, and it followed that any past or future agreement with him was impossible…" – George Orwell, 1984
Nations, cultures and populations are best controlled through the use of false paradigms. This is a historically proven tactic exploited for centuries by oligarchs around the world. Under the Hegelian dialectic (the very foundation of the Marxist and collectivist ideology), one could summarize the trap of false paradigms as follows:
If (A) my idea of freedom conflicts with (B) your idea of freedom, then (C) neither of us can be free until everyone agrees to be a slave.
In other words: problem, reaction, solution. Two sides are pitted against each other in an engineered contest. Each side is led to believe that its position is the good and right position. Neither side questions the legitimacy of the conflict, because each side fears this will lead to ideological weakness and disunity.
The two sides go to war, sometimes economically, sometimes militarily. Both governments demand that individuals relinquish freedom, independence and self-reliance, a sacrifice that "must be made" so that victory can be achieved. In the end, neither nation nor society has truly won. The only winners are the oligarchs, who sing words of loyalty to their respective camps, while acting in league from the very beginning. The oligarchs, who never intended to target each other in the first place. Their target, their ONLY target, was the citizenry itself — the dumbfounded masses now mesmerized with shock, awe and terror.
The false paradigm method and the Hegelian dialectic are in full force today. Only a few years ago, Russia, China and the United States were considered close economic and political allies. Today, those alliances are being quickly scrapped in order to make room for conflict, a conflict useful only to a select international elite. As I have outlined in numerous articles, includingRussia Is Dominated By Global Banks, Too and False East/West Paradigm Hides The Rise Of Global Currency, when one looks beyond all the theatrical rhetoric being thrown around between Barack Obama and Vladimir Putin, the ultimate reality is that the relationship of both governments to the global banking elite is the same.
During both of Obama's Presidential terms, he has flooded his cabinet with current and formeremployees of Goldman Sachs, a longtime proving ground for elitist financiers with globalist aspirations.
And who is the primary economic adviser to Vladimir Putin and the Russian state? WhyGoldman Sachs, of course!
U.S. and European elites have been calling for a centralization of economic power under the control of the International Monetary Fund, as a well as a new global currency.
Not surprisingly, Putin also wants a new global currency under the control of the IMF.
Obama is closely advised by globalists like Zbigniew Brzezinski, a member of the Council on Foreign Relations and cofounder of the Trilateral Commission, who in his book Between Two Ages: America's Role In The Technetronic Era states:
"The nation-state is gradually yielding its sovereignty …[F]urther progress will require greater American sacrifices. More intensive efforts to shape a new world monetary structure will have to be undertaken, with some consequent risk to the present relatively favorable American position…"
As long as he has been in power, Putin has been closely advised by Henry Kissinger, yet another member of the CFR and proponent of the Trilateral Commission, who has said:
"In the end, the political and economic systems can be harmonized in only one of two ways: by creating an international political regulatory system with the same reach as that of the economic world; or by shrinking the economic units to a size manageable by existing political structures, which is likely to lead to a new mercantilism, perhaps of regional units. A new Bretton Woods kind of global agreement is by far the preferable outcome…"
Both Kissinger and Brzezinski refer to this harmonized global economic and political structure as the "New World Order." The fact that the political leaders of Russia and the United States are clearly being directed by such men should not be taken lightly.
China, too, has made demands for a restructuring of the global monetary system into acentralized currency basket under the dominance of the IMF.
China's ties to the banking elite of London are well documented.
The call on both sides for a new monetary system and the end of the dollar as world reserve seems to greatly contradict the fantasy that the East and West are fundamentally at odds.  The progression towards a world currency and/or economic governance also appears to be growing along with the consolidation of economic and military ties between Eastern nations. This would suggest that the rise of the East and the crippling of Western elements is actually advantageous to global bankers in the long term.
While disinformation agents and media shills have attempted to downplay any danger to the strength of America and the dollar, Eastern governments have been swiftly establishing alliances and decoupling from U.S. influence.
The historic 30-year Russia/China gas deal has, of course, been finalized. This deal is already eating up market space and influencing the way in which the energy trade traditionally behaves.
China and Russia have also expanded on their bilateral agreements made in 2010, which remove the dollar as the reserve currency in transactions between the two nations.
China's thirst for gold continues, while the country is now building its own gold exchange to rival the U.S. Comex.
Russia has recently established what Putin calls the "Eurasian Economic Union," a deal which includes Kazakhstan and Belarus, two countries that hold large, freshly discovered oil fields.
In response to the engineered conflict over Ukraine, as well as the "Asian-Pacific Pivot" by the U.S., China has openly called for a new security pact with Russia and Iran.
Let's also not forget that China is set to surpass the U.S. as the world's largest economy by 2016, according to the Organization for Economic Co-operation and Development (OECD).
While the rise of the East is being painted in Western circles as a threat to U.S. and NATO dominance, the bigger picture is being hidden from view. Yes, indeed, the consolidation of the East is a considerable threat to the dollar and the U.S. economy — most importantly in the event that China refuses to accept dollars as payment on exports and debts. With the world's largest exporter/importer refusing to take dollars as a reserve, most nations will inevitably follow their lead.  The argument against this development is, of course, that there is no rational trigger for such a violent fiscal attack. I would remind skeptics that there was no rational trigger for the current strengthened relations between Russia and China until the Ukraine crisis. Is anyone really foolish enough to bet against another direct or indirect conflict between NATO and the East? And is anyone really ignorant enough to assume that said event would not be used as an excuse to cut the legs out from under the dollar completely?
The New World Order players have positioned the East and West for just such a scenario. Why? In my article Who Is The New Secret Buyer Of U.S. Debt?, I give evidence indicating that the Bank of International Settlements and the IMF are preparing the financial world for a new global monetary system, brought into existence by a second Bretton Woods conference. The debasement of the dollar and the rise of the East are NOT obstacles to this plan.  Rather, they are required factors. There can be no truly global economic system without "harmonization", the demise of the dollar's world reserve status, and the end of sovereign economic governance.
For those who doubt this scenario, read Paul Volcker's latest statement, as reported by Zero Hedge.
Volcker, the same man who was directly involved in the destruction of the first Bretton Woods agreement and the final death rattle of the gold standard, is now promoting a NEW Bretton Woods-style agreement in which currencies are pegged to a controlled market system — in essence, a centralized international monetary system. Volcker also suggests that a single nation-based reserve currency like the dollar may be a danger to overall fiscal health.
Volcker is right. The dollar-dominated forex casino and fiat fraud is a danger to the world. Volcker helped make it that way! And what a surprise, the former Federal Reserve chairman has a solution on a silver platter for the American people — all we need is GLOBALcentralization and bureaucratic oversight.
The propaganda is being carefully planted within the mainstream. Christine Lagarde of the IMF now spends the whole of her media interviews inserting the phrase "global economic reset" without explaining exactly what that would entail, while central banking elites like Volcker suggest a Bretton Woods II conference leading to a global monetary authority. In the meantime, Russian government-funded media outlets like RT produce pieces accusing the U.S. of being a nuclear menace while we Americans get to watch manipulative Hollywood films like "Jack Ryan: Shadow Recruit," which depicts a Russian plot to collapse the U.S. economy.  China and U.S. representatives squabble with each other at geopolitical meetings fueling fears of diplomatic breakdown, while the Pentagon "suggests" they may have to revamp their military strategies in consideration of yet another World War.  Just as in Orwell's book, 1984, old enemies become allies and then enemies once again, and at the top of the pyramid, it's all a farce.
The best lies contain elements of truth. The truth here is that the East is forming alliances in opposition to the West, the West is involved in underhanded covert operations all over the planet, and both "sides" are in fact on the verge of a catastrophic battle for supremacy. The great lie is that important details have been left out of our little story. Both sides are merely puppet pieces in a grand game of global chess, and any conflict will ultimately benefit the small group of men standing over the board. They include the international financiers who have influenced the very policy fabric of each government toward a climactic crisis which they hope will finally give them the "New World Order" they have always dreamed of.
Source: Brandon Smith | Alt-Market
Ever wonder why nobody (except Kareem Serageldin) went to jail for all the crimes committed during the financial bubble that popped in 2008?
If you think back to the 2000-era bubble, lots of people went to jail for the fraud perpetuated at Enron, Tyco, Adelphia, and other firms. Plus, the law back then destroyed a whole accounting firm — Arthur Andersen, you may remember — and 28,000 jobs along with it, in the wake of the bust.
Yet post-2000, firms with far more brazen crimes got off by paying a mere fine.
Take HSBC.
Its U.S. subsidiary committed, as Taibbi writes, "an astonishing list of crimes — a laundry list that included pretty much every kind of crime a bank can possibly be charged with."
Such as:
Laundering billions of dollars for drug cartels in Mexico and Colombia
Washing money for terrorist-connected organizations in the Middle East
Allowing "rogue states" under formal sanctions by the U.S. to move billions freely through the bank
Helping Russian mobsters wash money under an elaborate traveler's check scheme
Etc.
And what was the penalty for all this?
$1.9 billion.
At the time, it was the biggest fine in history. But in context, for a firm that made $22 billion per year, it was not much at all. In fact, looked at in a cold calculating light, the message clearly is: Crime pays.
Note there was no jail time for anybody. Everybody at HSBC got paid. Well, HSBC agreed to partially — partially, mind you – defer (!) bonus payments to its top executives.
Oh, and HSBC had to say it was sorry. "We are profoundly sorry," said CEO Stuart Gulliver.
But how did we get here?
Matt Taibbi explores the reasons in his book The Divide. Taibbi used to write for Rolling Stone. He was the guy who famously called Goldman Sachs a "great vampire squid wrapped around the face of humanity, relentlessly jamming its blood funnel into anything that smells like money." (I wish I had written that line.)
He's a very good investigative reporter and a fine writer. He's mellowed out a bit in this book and you won't find much of the usual Taibbi name-calling and profanity. Taibbi, for good or ill, plays this one straight.
He covers a lot of ground, but the central thesis is one most people will intuitively grasp: If you are rich and powerful, you can get away with almost anything. Rights exist on a sliding scale. And if you are on the bottom, you can do time for loitering.
Taibbi writes:
"The cleaving of the country into two completely different states — one a small archipelago of hyper acquisitive untouchables, the other a vast ghetto of expendables with only theoretical rights — has been in the works a long time."
But to answer the question posed up top about why nobody's going to jail, there's more to the story. You have to go back to a memo written by Eric Holder, the current attorney general, back in 1999, when he was an official in the Clinton White House.
He articulated a concept called "collateral consequences."
It meant, in essence, that the government could take into account all kinds of factors like job losses and such in deciding whether to press criminal charges against a big company. "If the math isn't there," Taibbi writes summing things up, "hold the charges. Seek other forms of justice instead. Fines. Civil sanctions. Cease and desist orders. Deferred prosecutions. There are other ways, Holder wrote, to get the job done."
In other words, there would never be another Arthur Andersen. Firms had new ways to wiggle out of criminal charges. Hence, we have the monster we have today. Companies too big to jail.
Meanwhile, in other aspects of life, a culture approximating a police state grows apace. Taibbi points to the record levels of incarcerations in the U.S. "Our prison population, in fact, is now the biggest in the history of human civilization," Taibbi writes. The U.S. has more people behind bars today "than there were at any time in Stalin's gulags."
The story here is nasty. He tells the story of private prisons, such as those of Corrections Corp. of America. They get, "depending on whom you believe," upward of $166 per day from the federal government per inmate. This is four times what it cost back when the government took care of its own detainees.
"The big influx of cash impressed investors on Wall Street," Taibbi writes. From 2000-2011, CCA's stock went up 34-fold. Sales went from $300 million to $1.7 billion by 2011. "Overall, the corrections industry is one of the soundest stock/equity bets in the world, with soaring revenues — the industry as a whole pulled in more than $5 billion in America in 2011."
Needless to say, that didn't just happen. CCA and others donate generously to politicians. They support anything that might lead to more people spending time in their cells. They particularly like anti-immigrant bills. And Taibbi has harrowing tales about the mistreatment of immigrants in this country. He calls Hispanic immigrants "one of America's last great cash crops."
"And someone else wins, too," Taibbi writes. "Wall Street. Some of the biggest investors in private prison companies are, you guessed it, the too-big-to-fail banks."
Taibbi writes about an analysis from Zacks that gleefully revels in the lack of economic sensitivity in the business. And then cites a chart with shows a hockey stick increase in the number of incarcerated Americans.
So the country is turning more and more into a dragnet… but only for the poorest. There is no HSBC banker sitting in a CCA cell. It is symbolic of the kind of economy we have today:
"Like too-big-to-fail banking itself, private prisons are an industry that depends not on the unpredictable economy but upon political connections. It's the perfect kind of business in the oligarchical capitalism age, with guaranteed profits to provide a low-cost public insurance against the vagaries of the market."
The economy is riddled with corruption like this, a marriage between big business and Big Government. And a recurring theme in this book is the offspring this marriage creates: a relentless, insatiable bureaucratic force that grinds up individuals fed into its maw.
"These bureaucracies accomplish just two things," Taibbi writes. "They make small piles of money smaller and big piles of money bigger… It just relentlessly creates and punishes losers, who get to sit beneath an ever-narrowing group of winners, who may or may not stay on top for long."
Legal rights are not absolute. Those with money who can tirelessly throw lawyers and lawsuits and counterlawsuits at any problem can survive almost anything. For the rest, it's a matter of attrition. And those at the bottom have no chance.
I can't do justice to all the journalistic fieldwork and stories Taibbi has put in his 416-page book. It is a gripping read and will infuriate you and frighten you, and maybe even make you sad for what's happened to the "Land of the Free."
The book does not have a happy ending. The good guys don't win in the end. But I encourage you give it a read. What it describes is life in these United States. Those of us who cherish liberty have quite a job ahead of us.
Sincerely,
Chris Mayer
Chris Mayer studied finance at the University of Maryland, graduating magna cum laude. He went on to earn his MBA while embarking on a decade-long career in corporate banking. Chris is the editor of Capital and Crisis and Mayer's Special Situations, a monthly report that unearths unique and unconventional opportunities in smaller-cap stocks. In 2008, Chris authored Invest Like a Dealmaker: Secrets From a Former Banking Insider.
Source: Laissez Faire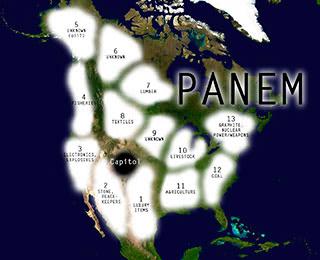 One of the most popular films of 2012 was The Hunger Games which portrayed a post-apocalyptic nation called Panem in which a super-rich, super-pampered, super-callous 'elite' lived in high-tech luxury while the rest of the population daily battled to survive in abject poverty locked away behind prison fences in intensively-populated 'people zones'. Panem comes from the Latin phrase 'panem et circenses' or 'bread and circuses' — a term derived from Rome and meaning to give the people diversions and distractions to hide what is being done to them. Exactly what is happening today.
The Totalitarian Tiptoes to just such a world are happening all around us, although most people can't see this because they don't connect the dots. People tend to live in their own 'little world' and focus on only a few subjects and interests. This gives them a distorted view of what is happening because they are so busy concentrating on the strands that they cannot see the tapestry. The world of The Hunger Games is already well on the way to fruition unless humanity has a fundamental reassessment of reality.
The foundations, structure and 'must haves' of a Hunger Games society are detailed in a plan being imposed through the United Nations called Agenda 21 which encompasses two related themes of 'sustainable development' and 'biodiversity'. Sustainable development — as in don't use more than can be replaced — sounds sensible enough at first until you realize what this and biodiversity really mean in the context of the conspiracy.
Agenda 21 was established at the United Nations Conference on Environment and Development in Rio de Janerio, Brazil, in 1992, hosted by Maurice Strong, a Canadian oil and business billionaire and long-time front man for the Rothschilds and Rockefellers. Strong has been a leader of their exploit-the-environment-to-scam-the-people programme which is now in full flow. Strong is a member of the Club of Rome, the environmental Hidden Hand in the Round Table network that includes the Bilderberg Group, Trilateral Commission and Council on Foreign Relations.
Strong said in support of Agenda 21:
'Isn't the only hope for this planet that the industrialised civilization collapse? Isn't it our responsibility to bring that about?'
This is a man who became mega-rich through the oil industry. He now lives in billionaire luxury in China where carbon-emitting industry is booming and he is a director of the Chicago Climate Exchange (largest shareholder, Goldman Sachs), which is 'the world's first and North America's only legally-binding greenhouse-gas emission registry reduction-system for emission sources and offset projects in North America and Brazil'.
The Exchange was established with funding from the Joyce Foundation where Barack Obama was once a director. Strong and Al Gore make money through the Carbon Exchange and other means from the lies they promote about climate change and the solutions they propose. Kate Johnston wrote on the Globalresearch.cawebsite:
'The same men that sold us the myth of man-made global warming are the same men that sold us the "solution" of a Carbon Tax and Emissions Trading Scheme and now they're profiting off their lucrative investments which are based on lies.' (See "The Climate Change Hoax").
Strong fled to China in 2006 after being accused of corruption with respect to the UN oil for food program.
Climate change propaganda is a No-Problem-Reaction-Solution technique to justify Agenda 21 and its stable-mate the Biodiversity Treaty. This is an internationally-binding document involving nearly 200 countries. The United States signed the treaty, but it was not ratified by the Senate after people like ecologist and ecosystem scientist Dr. Michael Coffman exposed its true consequences and implications. He said that he realized during the 1980s and 1990s that the plan was to use the excuse of protecting the environment to confiscate half the land of the United States.
Similar plans exist for every other country. America may not have ratified the treaty, but it is being implemented by the day. Agenda 21 demands the central global control of all land; all private property; all water sources and distribution; all other resources which includes people in its definition; all energy supplies and distribution and all food production and distribution.
Agenda 21 is called 'the agenda for the 21st century' and that refers to global fascism / communism. This is a summary of what Agenda 21 / Sustainable Development / Biodiversity is seeking to impose:
An end to national sovereignty
State planning and management of all land resources, ecosystems, deserts, forests, mountains, oceans and fresh water; agriculture; rural development; biotechnology; and ensuring 'equity' (equal slavery)
The State to 'define the role' of business and financial resources
Abolition of private property (it's not 'sustainable')
'Restructuring' the family unit
Children raised by the State
People told what their job will be
Major restrictions on movement
Creation of 'human settlement zones'
Mass resettlement as people are forced to vacate land where they currently live
Dumbing down education (achieved)
Mass global depopulation in pursuit of all the above
This horrific plan is being coordinated through the United Nations, the stalking horse for world dictatorship, via a non-governmental network once called the International Council of Local Environmental Initiatives ICLEI), and now known as Local Governments for Sustainability although still using the shortened name ICLEI. The United Nations is now opening 'embassies' around the world called 'UN Houses' under the guise of raising awareness of UN activities, but not the activities that people really need to know about. They have opened one in Hunter Square, Edinburgh, Scotland, for example.
Local Governments for Sustainability (ICLEI) and other organisations are integrating the plan into every village, town, city and region and it is already becoming widespread across the world. The organisational infrastructure of Agenda 21 is already fantastic and involves government agencies, non-governmental organisations (NGOs), think-tanks, trusts, foundations, 'training' (mind control) operations and 'initiatives' which have been building the infrastructure for what they call 'the post-industrial, post-democratic' society while the public go about their daily business oblivious of the prison being built all around them by the hour.
Harvey Ruvin, a vice-chairman of ICLEI, was asked how Agenda 21 would affect liberties with regard to the US Constitution and Bill of Rights, private property and freedom of speech. He replied:
'Individual rights must take a back-seat to the collective.'
The arrogance of these people is breathtaking. The extraordinary network supporting ICLEI and Agenda 21 includes the Rockefeller-sponsored America 2050; United Cities and Local Governments (UCLG); Metropolis; World Economic Forum; United Nations Framework Convention on Climate Change; United Nations International Strategy for Disaster Reduction; World Bank; Clinton Climate Initiative; Climate Group (Tony Blair); World Conservation Union (IUCN); Renewable Energy and Energy Efficiency Partnership; Global Footprint Network; Renewable Energy and Energy Efficiency Partnership; Global Footprint Network; International Centre for Sustainable Cities; Earthquakes and Megacities Initiative and the Stakeholder Forum. These and so many others are working to the same end — Agenda 21 and total human enslavement worldwide, although most of those involved will have no idea that they are building a global prison for themselves and their families.
Another of these front organisations is the World Business Council for Sustainable Development which includes the hideously anti-people Monsanto. Destroying food-growing land, contaminating the countryside with toxins and replacing proper food with deadly and soil-destroying genetically-modified organisms is Monsanto's contribution to 'sustainability'. Agenda 21 is operating in more than 600 towns, cities and counties in the United States and expanding by the day.
A member of the Agenda 21 committees in Santa Cruz, California, in the mid-1990s said that the proposals he heard were so crazy that he laughed at them because they could never happen. These included that 'Mother Earth's surface was not to be scratched'; humans should be concentrated in settlement zones; education should focus on the environment as a central organising principle and all aspects of life covered by Agenda 21, but all of these crazy plans are now being introduced. It's all happy, feely, smiling faces and how we care, when the truth is that Agenda 21 is a vicious, brutal, heartless strategy to impose a global Orwellian state.
Agenda 21 manipulators either create or hijack some local organisation or other, many of them in locations with large populations, and they have their (controlled) leadership to agree the Agenda 21 blueprint for their community together with any uninformed, unwitting idiots who can be sold a human nightmare as saving the planet. This allows them to claim that decisions were made after 'public participation' when that would have been the last thing they wanted, and 99 percent of the 'community' has never heard of Agenda 21 let alone had their say on it. They want no democracy which is why these people talk privately, sometimes even publicly, about the post-democratic, post-industrial society.
They want to control every man, woman and child on the planet — everyone and everywhere and every resource, water source and piece of land. To do this they need a global structure of fascist control that goes right down into every local community with the jackboots at local level enforcing the will of the global centre. This is why there is so much emphasis on local authorities and town and city authorities in Agenda 21.
There is a 'training organisation' called Common Purpose (common purpose, common consensus, everyone the same) which has been paid very large amounts of money by governments and local authorities, police forces and other institutions of state to 'train the leaders' of the post-democratic, post-industrial society. Common Purpose was heavily represented in the Leveson 'inquiry' leading to new media laws in Britain. It is not a training programme; it is a programming programme and turns out unquestioning zombie administrators who serve the god of Agenda 21 and the associated European Union. The theme of 'common' also applies to the ever greater standardisation of laws and regulations and constant reference to 'international law'. This is the unfolding global dictatorship of Agenda 21. What do you need to be a global dictator? Laws that everyone on the planet must obey — international law and the standardisation of global regulation.
You can see The Hunger Games connection when you look at the official Biodiversity wish-for map of the United States in Figure 1. The red areas are designated for no human use and most of the rest of America is confiscated for little and highly-regulated use. The mass of the population would be concentrated in high-rise, densely-packed 'human settlement zones' and denied access to something like 80 percent of present day America. It is without question the world of The Hunger Games with a globally-enforced top-down hierarchy that has a world government using its world army and police force to impose its will at regional and local levels (sectors). The Rockefeller-funded America 2050 has produced a map of the new United States divided into eleven 'megaregions' and includes parts of Canada (Figure 2). Seattle, Portland and Vancouver, British Columbia, become the megaregion known as 'Cascadia' and this regional system comes under the collective name of 'megalopolis' which is Greek for large city or great city. America, Canada and Mexico are due to merge to form the North American Union in line with the European Union blueprint.
The European Union is planned to be broken up into regions and the same structure is in development all over the world. The map of the new Europe has regions from different countries linked up with regions in other countries to end any vestige of national sovereignty or even national existence (Figure 3). This is a global plan with its fierce central control hidden behind its lower elements such as the European Union and local government. What is planned would clearly require a fantastic reduction of the global population and this is indeed what Agenda 21 / Sustainable Development / Biodiversity demand.
The e-book Agenda 21: Your Life In Their Hands can be downloaded here.
reference:
Icke, David. The Perception Deception. Ryde: David Icke Books, 2013.
Julian Websdale is an independent researcher in the fields of esoteric science and metaphysics, and a self-initiate of the Western Esoteric Tradition. His interest in these subjects began in 1988. Julian was born in England, received his education as an electronic and computer engineer from the University of Bolton, served in a Vaishnava monastery during 2010, and has travelled to over 21 countries. Julian is also a member of the Palestinian Solidarity Campaign.
Source: Julian Websdale  |  Waking Times | War Is Crime