When the billionaire tech jet set decides to let down their hair, what do they talk about around the campfire? According to the New Your Times, "Google is sponsoring an elite conference this week at a golf resort in Sicily, with a guest list of chief executives, investors and celebrities, all of whom were invited to bring their families. On the agenda are high-minded discussions of global issues — along with relaxation by the Mediterranean Sea." How quaint! . . . For the real scoop, Here's What Went On At Google's Exclusive Conference For The Rich And Famous In Sicily.
"Sicilian blogger Tony Siino talked to an attendee about what went on, and told Business Insider via email that the conference, dubbed "The Camp," was three-days of intellectual discussions, relaxation, and sight-seeing.According to Siino's source, morning discussions included a wide range of topics, including how to extend human life and the design of cities of the future."
Reported by NBC local TV channel in the Bay Area has "guests include Goldman Sachs chief executive Lloyd C. Blankfein, executives from German and Spanish banks, Uber chief Travis Kalanick, Tesla boss Elon Musk, Comcast CEO Brian L. Roberts and Snapchat boss Evan Spiegel. Also on hand is Ben Horowitz, venture capitalist with Marc Andreessen at make-or-break Silicon Valley fund Andreessen Horowitz."
Spending quality time with the family between sessions in the next round of tech discoveries hardly seems to be the best use of time. Yet, time may well be the ultimate objective if you can uncover the mysteries of anti-aging research. Life Extension Magazine reports that Google Life Extension is investing in a venture called California Life Company, or Calico for short, and its goal is to extend human life by 20 to 100 years.
At this point, Google is being highly secretive about their plans for Calico. All Google would reveal is that Calico will focus "in particular on the challenge of aging and associated diseases."
Calico could produce startlingly counterintuitive breakthroughs, as a result, of Google's strengths in the following areas:
Non-commercial dedication — rather than a focus on commercial marketing of mediocre drugs as pharmaceutical companies now do.
Vast consumer access and core data-handling skills — with unprecedented data gathering, pattern-matching, and causal-relationship detection.
Ability to attract the brightest minds — potentially preferring to work on life-and-death problems instead of cutesy apps and games.
Further speculation in an essay – How's Google Dabbling in Health, Life, DNA, and Immortality? – cites areas of research has cutting-edge technology pushing the limits of the wheel of life itself.
"A CNN article listed a few common subjects, like cryonics (a process where the body is preserved in liquid nitrogen), cryotherapy (which exposes injured patients to very low temperatures for short periods of time), cloning and body part replacement, nanotechnology (deploying small robots to overcome the problem of incorrect DNA replication, one cause of aging), and even research into telomeres, the ends of a chromosome that protect cells against degradation."
Hidden within a "feel good" sentiment behind the altruism to elevate the life span of the human race is an unconvincing skepticism. In an article like Google Wants You to Live 170 Years, just does not seem believable to a rational observer.
"What Google brings to the table is data. "Not just one set of data, multiple forms," says Harry Glorikian, founder of life sciences consulting firm Scientia Advisors. "Search data, GPS data, all sorts of other pieces, electronic breadcrumbs that you produce all out there to get a picture of you."This data could be paired with each person's genome — a partial genome can be mapped today for $99 via 23andMe (another Google investment), but many are hoping a full genome will cost as much in the next few years."
Even if such ambitious projections that life extension might become common-place for the masses, it does not guarantee that everyone will be a candidate for future "Camp" invitations. Google hardly needs to market the secrets of the gods in order to maintain or enhance their cash flow. The Globe and Mail describes the gathering, "Like the World Economic Forum in Davos, Switzerland – an annual gathering of the elite at a snowy ski resort – the upstart conference from Google projects an aura of exclusivity. Its existence has not previously been disclosed."
Following the example of other enigmatic elitist stratagems, "The Camp" shows no signs of a charitable motivation when the onion is peeled. Michael Downey in the account, Google Wants To Extend Your Life laments that not enough is being done to achieve the holy grail of Ponce de Leon's Fountain of Youth.
"Tragically, while the government spends over $3 billion annually on "health concerns" of the elderly, it operates on the assumption that aging is not a disease. Corporations lack the longer-term view needed. And extremely few of the world's 1,426 billionaires, with a total net worth of $5.4 trillion, have included anti-aging research in their charities."
Do you really believe that the beautiful people, much less, the corporatist return on assets crowd, or the great democracies of the planet are eager to share any medical, genetic or nanotech leap forwards with the chattel serfs? Attending boot camp for the peasants is quite different from rubbing elbows with these Nouveau riche Sicilian Dons in the global technocratic mafia. The blueblood patricians of the banksters' families will enlighten their newly made men into the rules and ways of the global syndicate.
The Calico family franchise promises to be more alluring than the temporary ecstasy of a drug high. Most godless souls want to live forever, since rejecting an afterlife is automatic to such atheistic masters of the universe. Google has proven to be a "New Age" android. Hence, it is natural for apps, developed to manage the life cycle, become part of the smart set. The key question is will the source code become available to the masses, or will the elites maintain the restricted knowledge only for their devil witch coven.
As if globalist scheming had not yet caused enough death and destruction in the Middle East, the global government-promoting Council on Foreign Relations and various outfits associated with the secretive Bilderberg group are now pushing a radical new plot for the region: a European Union-style regional regime to rule over the Arab, Turkish, Kurdish, and other peoples who live there. The sought-after "Middle Eastern Union" would put populations ranging from Turkey and Jordan to Libya and Egypt under a single authority.
If the plot moves forward, like in other areas, it would usurp from the peoples of the region their right to self-government and national sovereignty. It would also advance the longtime establishment goal of setting up regional regimes on the path to a more formal system of "global governance." Already, the peoples of Europe, Africa, South America, Asia, and other regions have had self-styled regional "authorities" imposed on them against their will. In the Middle East, numerous similar efforts such as the Gulf Cooperation Council and the Arab League have been making progress, too.
A true "union" to rule over the broader Middle East and North Africa, though, would represent a major step forward in the ongoing regionalization of power around the world. Using a wide range of pretexts to advance the scheme, top globalist outfits and mouthpieces claim such a regional government would solve myriad real and imagined problems. However, with the plot being pushed hard by the CFR and various globalist propaganda organs such as the Financial Times, a U.K. newspaper that is always well represented at the shadowy Bilderberg summits, there is good reason to be skeptical at the very least.
"Just as a warring [European] continent found peace through unity by creating what became the EU, Arabs, Turks, Kurds and other groups in the region could find relative peace in ever closer union," claimed Mohamed "Ed" Husain, an "adjunct senior fellow for Middle Eastern studies" at the CFR, in a piece published in the Financial Times and on the CFR website last month. "After all, most of its problems — terrorism, poverty, unemployment, sectarianism, refugee crises, water shortages — require regional answers. No country can solve its problems on its own."
Of course, the notion that Europe "found peace through unity" — in reality it was globalists surreptitiously crushing national sovereignty and foisting an unaccountable regime on the peoples — is fashionable among establishment types. In truth, though, "peace" hardly requires giving up self-government. Plus, many of the wars in Europe over the last century were actually fomented by the very same forces that imposed the EU on the continent. Prince Bernhard of the Netherlands, for example, was a member of the National Socialist (Nazi) party before going on to create Bilderberg, which attendees openly boast has played a crucial role in imposing the Brussels-based super-state that now dominates Europe.
Plenty of actual examples also refute Husain's claims about the supposed necessity of a regional regime to solve national problems. The Swiss, for instance, have had peace for centuries, yet they have consistently and overwhelmingly refused to surrender their sovereignty to the EU or any other outfit. Switzerland also has virtually no terrorism, poverty, unemployment, sectarianism, refugee crises, or water shortages, yet it never sought "regional answers." In fact, contrary to Husain's factually challenged argument, the Swiss have done better than virtually any other people in solving their problems on their own. Perhaps Husain views Middle Easterners as less capable, but more likely, he knows full well that a country could solve its problems on its own.
"Most in the Middle East no longer feel the dignity of their ancestors," continued the CFR's Husain without citing any data or surveys. "What Plato called thymos is desperately missing: the political desire for recognition and respect as dignified peoples. A Middle Eastern Union could recreate it." How being ruled by an unaccountable and autocratic EU-style leviathan would give the peoples of the Middle East "dignity" or "thymos" was not immediately clear. Plato, of course, like bigwigs at the CFR and their fellow travelers, believed the masses should be lorded over by their superiors — Plato called them "philosopher kings."
Rather than allowing Middle Easterners to create their own union, Husain makes clear that Western globalists should take the lead. "Will the west wait until Islamists and radicals are powerful enough to create their own Middle East, one opposed to us?" he asked, conveniently failing to mention the gigantic role of the Western and globalist establishment in fomenting Islamic extremism and terror. "Or will we help our partners in government harness this momentum? This is the moment to create multilateral institutions that could implant pluralism across the region." Husain also called for the EU and the U.S. government to lend "bureaucratic experience" to "voices in the region who want greater integration."
"A complete change of psychology is needed," he added without elaborating on how such a transformation in people's views and beliefs would be achieved.
Of course, Husain at the CFR is not alone. In 2011, the Islamist president of Turkey, Abdullah Gül, also called for an EU-style regime to rule the Middle East. Speaking in the United Kingdom, Gül claimed "an efficient regional economic cooperation and integration mechanism" was needed for the region. "We all saw the role played by the European Union in facilitating the democratic transition in central and Eastern Europe after the fall of the Berlin Wall," he claimed. Islamic Turkey is also working to join the EU.
Various Middle Eastern tyrants have echoed the calls for a regional regime, too — the kings of Saudi Arabia and Jordan, for example. As Husain pointed out, the radical Muslim Brotherhood and the terrorist group Hamas are also working to unify the Middle East under one single tyrannical government of gargantuan proportions.
Already, AstroTurf groups working toward such a union are popping up across the region, too. "We dream of a Middle East that is empowered, free, and governs for all it's [sic] peoples at the highest level of being in a new world where the Middle East Union is an important integral part of a greater global community that pledges its allegiance to the earth and every human on it," declares the newly created "Middle East Union Congress" on its website.
By 2050, the new Congress aims to shackle some 800 million people from Pakistan in Asia to Morocco in Northwest Africa under a single regime with a single euro-style currency. The outfit also wants to create a new capital city for the union named aftercommunist revolutionary Nelson Mandela, whom it described as "the 20th century's greatest global citizen." From "Nelson Mandela City," the new regime would "eco-govern" all of the nations and peoples of the union as "a model for the new global paradigm that honors and respects mother earth."
One of the primary selling points for the "union" plot is the notion it would help rein in radicals — most of whose organizations were either created, armed, trained, financed, or all of the above by Western governments and the Soviet Union. Ironically, though, just a few years ago, Husain was touting al-Qaeda's key role in furthering the globalist plan to oust Syrian dictator Bashar al Assad. "The influx of jihadis brings discipline, religious fervor, battle experience from Iraq, funding from Sunni sympathizers in the Gulf, and most importantly, deadly results," gushed Husain, a Sunni Muslim, in a 2012 piece for the CFR. "In short, the [Obama/CFR/Bilderberg/Goldman Sachs-backed Free Syrian Army] needs al-Qaeda now."
Before joining the CFR, meanwhile, Husain spent years working with Hizb ut-Tahrir, a radical Islamist group pushing for an Islamic Caliphate — a vast, totalitarian "Middle Eastern Union" of sorts — based on sharia law. The outfit also promotes the death penalty for apostates and has been accused by various governments of involvement in jihad terrorism. Husain, though, is hardly the only figure at the globalist outfit with a history of extremism. CFR Latin America boss and Castro apologist Julia Sweig has even been identified by a senior U.S. intelligence officer as a probable "agent of influence" for the terror-sponsoring communist regime enslaving Cuba.
All over the world, globalists are quietly but quickly foisting supranational regimes on hapless populations. In Africa, for instance, the African Union is now sending its troops all across the continent. In Latin America, the socialist-dominated Union of South American Nations (UNASUR) is working to "integrate" the region, alongside various other transnational outfits. Even in North America, top CFR and Bilderberg globalists are doing the same. "After America comes North America," boasted ex-general and CFR/Bilderberg bigwig David Petraeus this year.
Of course, the Council on Foreign Relations, despite its operatives' anti-sovereignty extremism, remains immensely influential in terms of U.S. foreign policy. "We get a lot of advice from the Council, so this will mean I won't have as far to go to be told what we should be doing and how we should think about the future," then-Secretary of State Hillary Clinton told CFR bosses in Washington. The CFR's affiliates around the world hold similar influence. Bilderberg, meanwhile, brings together many of the world's top globalists, communists, government officials, media barons, and more.
For the sake of liberty, peace, self-government, national sovereignty, and prosperity, humanity should resist the globalist regionalization agenda from Europe to the Middle East and beyond. The alternative is literally global tyranny.
Alex Newman, a foreign correspondent for The New American, is currently based in Europe. He can be reached atanewman@thenewamerican.com. Follow him on Twitter @ALEXNEWMAN_JOU.
Source: Alex Newman | The New American
The Robber Barons of the 19th and 20th century had nothing over the elites of today's globalist transnational financial conglomerates. The Richest Americans, listed in Forbes conceals the real power that controls the economy. Net worth is deficient in gauging dominance in financial commercialism and monetary preeminence. The Top 50 Highest-Paid CEOs as reported by ABC News ties into Michael Hiltzik's account that CEO-to-worker pay gap is obscene, "The average CEO-to-worker pay ratio in 2012 was about 350 to 1." Yet the divide in pay does not exemplify the exact lose in a livable standard of living for the ordinary staffer.If corporate multinationals were really about creating actual wealth, the pay of inspirational leadership and senior management talent, that executes the business plan, would be incidental if the employees were sharing in affluence. Those who demand higher minimum wage compensation do not understand how business works. The inordinate wealth divide, cannot and will not be reduced, until genuine economic prosperity is achieved.
Analyze the idiocy of a naive Undergraduate Research Fellow, Brian Chesley in 3 Ways to Reduce the Wealth Gap.
1. Open higher education to everyone.

2. Increase the minimum wage.

3. Increase taxes on the rich.
Such ignorant and illiterate attitudes demonstrate that institutions of higher learning encourage an atmosphere of social collectivism that plays directly into the hands of the new tyrannical tycoons.
The New York Times OP-ED piece by Daniel Altman (an adjunct associate professor of economics at the New York University Stern School of Business and a former member of the New York Times editorial board), proposes a foolish mindset and proposal in To Reduce Inequality, Tax Wealth, Not Income.
"In 1992, the top tenth of the population controlled 20 times the wealth controlled by the bottom half. By 2010, it was 65 times. Our graduated income-tax system redistributes a small amount of money every year but does little to slow the polarization of wealth."

American household wealth totaled more than $58 trillion in 2010. A flat wealth tax of just 1.5 percent on financial assets and other wealth like housing, cars and business ownership would have been more than enough to replace all the revenue of the income, estate and gift taxes, which amounted to about $833 billion after refunds. Brackets of, say, zero percent up to $500,000 in wealth, 1 percent for wealth between $500,000 and $1 million, and 2 percent for wealth above $1 million would probably have done the trick as well."
Absent in redistribution of wealth schemes is that the method of authentic free enterprise is never understood. Nor is there ever an effort to reestablish the principles of real business competition. The marketplace of voluntary and mutually beneficial commercial transactions, destroyed by the systemic Corporatocracy model, is the ultimate reason why wealth disparity is so great. The literal legacy of the Robber Barons is the internationalist financial system of central banking that predetermines the outcomes of selective patrons from calculating crony capitalism.
Public companies, once established to develop, produce and sell innovative goods or services are rare in an environment where financial manipulation is the primary vehicle to riches. Equity exchanges, based upon raising capital for industrious and constructive ventures, seldom function for this utilitarian purpose. The global economy, in reality, has perfected an anti-free enterprise filter that stamps out initiative and penalties upstarts that are not part of the cartels.
With the insolvency of the world-banking system an inescapable fact, the prospects for even more concentration of real assets into the hands of the financial elites, posed for the final wealth confiscation, of resources not already in their hands, is upon us.
When the internationalist financial system implodes and business screeches to a halt, a populist movement to clawback century long fraudulent gains of the hidden stashes from the interlocked illuminati families is the only coherent alternative to establish a fiscally sound financial future.
"The 2014 Bilderberg meeting is another example of those "blurred lines" between government, big oil and the financial sector, the three pillars of war. According to some reports, the topics of discussion at this year's meeting will include the situation in Ukraine and the Russia-NATO relationship, as well as the Transatlantic Trade and Investment Partnership (TTIP), an agreement which, according to Stop TTIP, "is in fact a corporate coup that will take us to a 'corporatocracy', a corporate-run world."
The mental confusion that blocks out the way the world fundamentally functions prevents focusing upon any essential debate as to substitute economic parameters for an equitable stake and remuneration for productive contributions to the success of any commercial venture.
The term Robber Barons, should not be substituted for every prosperous risk taker or self-made entrepreneur. The corruption within the cabal economy is rooted in the very nature of the favorable treatment given to participants in the criminal corporatist syndicate.
As Ms. Lévesque correctly describes the methods and operations of this New World Order neo-feudalism, the only structure that offers any prospects for an economic renaissance must target and strip the political influence of the globalists as much as the confiscation of their vast holdings.
Do not be deceived, by communist or socialist newspeak. Sharing the wealth is not the objective. The goal is imposing an unconditionally surrender upon the banksters, which is serious business. Start with the elimination of the Rehypothecation of Collateral. Lawful business has no room for coexistence with derivatives and swaps.Holding the body politic accountable and committed to breaking up the banksters' monopoly requires compliance regulatory resistance from within the business community. It is just as important as customer and buyer rejection of the corporate induced consumer society. Sadly, most people simply are uninformed about the principles of sound business.
Most CEO's are not businesspersons, but are globalist enablers and often are outright thieves. The needed business revolution will not be lead by their ilk.
Real competition can never be encouraged until inventive and audacious risk-takers have practical alternatives to fund their enterprises. Only then, will the wealth ratio narrow as affluence, that is more tangible, expands and the fortunes of the oligarchy diminish.
"Actually, as Winston well knew, it was only four years since Oceania had been at war with Eastasia and in alliance with Eurasia. But that was merely a piece of furtive knowledge, which he happened to possess because his memory was not satisfactorily under control. Officially the change of partners had never happened. Oceania was at war with Eurasia: therefore Oceania had always been at war with Eurasia. The enemy of the moment always represented absolute evil, and it followed that any past or future agreement with him was impossible…" – George Orwell, 1984
Nations, cultures and populations are best controlled through the use of false paradigms. This is a historically proven tactic exploited for centuries by oligarchs around the world. Under the Hegelian dialectic (the very foundation of the Marxist and collectivist ideology), one could summarize the trap of false paradigms as follows:
If (A) my idea of freedom conflicts with (B) your idea of freedom, then (C) neither of us can be free until everyone agrees to be a slave.
In other words: problem, reaction, solution. Two sides are pitted against each other in an engineered contest. Each side is led to believe that its position is the good and right position. Neither side questions the legitimacy of the conflict, because each side fears this will lead to ideological weakness and disunity.
The two sides go to war, sometimes economically, sometimes militarily. Both governments demand that individuals relinquish freedom, independence and self-reliance, a sacrifice that "must be made" so that victory can be achieved. In the end, neither nation nor society has truly won. The only winners are the oligarchs, who sing words of loyalty to their respective camps, while acting in league from the very beginning. The oligarchs, who never intended to target each other in the first place. Their target, their ONLY target, was the citizenry itself — the dumbfounded masses now mesmerized with shock, awe and terror.
The false paradigm method and the Hegelian dialectic are in full force today. Only a few years ago, Russia, China and the United States were considered close economic and political allies. Today, those alliances are being quickly scrapped in order to make room for conflict, a conflict useful only to a select international elite. As I have outlined in numerous articles, includingRussia Is Dominated By Global Banks, Too and False East/West Paradigm Hides The Rise Of Global Currency, when one looks beyond all the theatrical rhetoric being thrown around between Barack Obama and Vladimir Putin, the ultimate reality is that the relationship of both governments to the global banking elite is the same.
During both of Obama's Presidential terms, he has flooded his cabinet with current and formeremployees of Goldman Sachs, a longtime proving ground for elitist financiers with globalist aspirations.
And who is the primary economic adviser to Vladimir Putin and the Russian state? WhyGoldman Sachs, of course!
U.S. and European elites have been calling for a centralization of economic power under the control of the International Monetary Fund, as a well as a new global currency.
Not surprisingly, Putin also wants a new global currency under the control of the IMF.
Obama is closely advised by globalists like Zbigniew Brzezinski, a member of the Council on Foreign Relations and cofounder of the Trilateral Commission, who in his book Between Two Ages: America's Role In The Technetronic Era states:
"The nation-state is gradually yielding its sovereignty …[F]urther progress will require greater American sacrifices. More intensive efforts to shape a new world monetary structure will have to be undertaken, with some consequent risk to the present relatively favorable American position…"
As long as he has been in power, Putin has been closely advised by Henry Kissinger, yet another member of the CFR and proponent of the Trilateral Commission, who has said:
"In the end, the political and economic systems can be harmonized in only one of two ways: by creating an international political regulatory system with the same reach as that of the economic world; or by shrinking the economic units to a size manageable by existing political structures, which is likely to lead to a new mercantilism, perhaps of regional units. A new Bretton Woods kind of global agreement is by far the preferable outcome…"
Both Kissinger and Brzezinski refer to this harmonized global economic and political structure as the "New World Order." The fact that the political leaders of Russia and the United States are clearly being directed by such men should not be taken lightly.
China, too, has made demands for a restructuring of the global monetary system into acentralized currency basket under the dominance of the IMF.
China's ties to the banking elite of London are well documented.
The call on both sides for a new monetary system and the end of the dollar as world reserve seems to greatly contradict the fantasy that the East and West are fundamentally at odds.  The progression towards a world currency and/or economic governance also appears to be growing along with the consolidation of economic and military ties between Eastern nations. This would suggest that the rise of the East and the crippling of Western elements is actually advantageous to global bankers in the long term.
While disinformation agents and media shills have attempted to downplay any danger to the strength of America and the dollar, Eastern governments have been swiftly establishing alliances and decoupling from U.S. influence.
The historic 30-year Russia/China gas deal has, of course, been finalized. This deal is already eating up market space and influencing the way in which the energy trade traditionally behaves.
China and Russia have also expanded on their bilateral agreements made in 2010, which remove the dollar as the reserve currency in transactions between the two nations.
China's thirst for gold continues, while the country is now building its own gold exchange to rival the U.S. Comex.
Russia has recently established what Putin calls the "Eurasian Economic Union," a deal which includes Kazakhstan and Belarus, two countries that hold large, freshly discovered oil fields.
In response to the engineered conflict over Ukraine, as well as the "Asian-Pacific Pivot" by the U.S., China has openly called for a new security pact with Russia and Iran.
Let's also not forget that China is set to surpass the U.S. as the world's largest economy by 2016, according to the Organization for Economic Co-operation and Development (OECD).
While the rise of the East is being painted in Western circles as a threat to U.S. and NATO dominance, the bigger picture is being hidden from view. Yes, indeed, the consolidation of the East is a considerable threat to the dollar and the U.S. economy — most importantly in the event that China refuses to accept dollars as payment on exports and debts. With the world's largest exporter/importer refusing to take dollars as a reserve, most nations will inevitably follow their lead.  The argument against this development is, of course, that there is no rational trigger for such a violent fiscal attack. I would remind skeptics that there was no rational trigger for the current strengthened relations between Russia and China until the Ukraine crisis. Is anyone really foolish enough to bet against another direct or indirect conflict between NATO and the East? And is anyone really ignorant enough to assume that said event would not be used as an excuse to cut the legs out from under the dollar completely?
The New World Order players have positioned the East and West for just such a scenario. Why? In my article Who Is The New Secret Buyer Of U.S. Debt?, I give evidence indicating that the Bank of International Settlements and the IMF are preparing the financial world for a new global monetary system, brought into existence by a second Bretton Woods conference. The debasement of the dollar and the rise of the East are NOT obstacles to this plan.  Rather, they are required factors. There can be no truly global economic system without "harmonization", the demise of the dollar's world reserve status, and the end of sovereign economic governance.
For those who doubt this scenario, read Paul Volcker's latest statement, as reported by Zero Hedge.
Volcker, the same man who was directly involved in the destruction of the first Bretton Woods agreement and the final death rattle of the gold standard, is now promoting a NEW Bretton Woods-style agreement in which currencies are pegged to a controlled market system — in essence, a centralized international monetary system. Volcker also suggests that a single nation-based reserve currency like the dollar may be a danger to overall fiscal health.
Volcker is right. The dollar-dominated forex casino and fiat fraud is a danger to the world. Volcker helped make it that way! And what a surprise, the former Federal Reserve chairman has a solution on a silver platter for the American people — all we need is GLOBALcentralization and bureaucratic oversight.
The propaganda is being carefully planted within the mainstream. Christine Lagarde of the IMF now spends the whole of her media interviews inserting the phrase "global economic reset" without explaining exactly what that would entail, while central banking elites like Volcker suggest a Bretton Woods II conference leading to a global monetary authority. In the meantime, Russian government-funded media outlets like RT produce pieces accusing the U.S. of being a nuclear menace while we Americans get to watch manipulative Hollywood films like "Jack Ryan: Shadow Recruit," which depicts a Russian plot to collapse the U.S. economy.  China and U.S. representatives squabble with each other at geopolitical meetings fueling fears of diplomatic breakdown, while the Pentagon "suggests" they may have to revamp their military strategies in consideration of yet another World War.  Just as in Orwell's book, 1984, old enemies become allies and then enemies once again, and at the top of the pyramid, it's all a farce.
The best lies contain elements of truth. The truth here is that the East is forming alliances in opposition to the West, the West is involved in underhanded covert operations all over the planet, and both "sides" are in fact on the verge of a catastrophic battle for supremacy. The great lie is that important details have been left out of our little story. Both sides are merely puppet pieces in a grand game of global chess, and any conflict will ultimately benefit the small group of men standing over the board. They include the international financiers who have influenced the very policy fabric of each government toward a climactic crisis which they hope will finally give them the "New World Order" they have always dreamed of.
Source: Brandon Smith | Alt-Market
Ever wonder why nobody (except Kareem Serageldin) went to jail for all the crimes committed during the financial bubble that popped in 2008?
If you think back to the 2000-era bubble, lots of people went to jail for the fraud perpetuated at Enron, Tyco, Adelphia, and other firms. Plus, the law back then destroyed a whole accounting firm — Arthur Andersen, you may remember — and 28,000 jobs along with it, in the wake of the bust.
Yet post-2000, firms with far more brazen crimes got off by paying a mere fine.
Take HSBC.
Its U.S. subsidiary committed, as Taibbi writes, "an astonishing list of crimes — a laundry list that included pretty much every kind of crime a bank can possibly be charged with."
Such as:
Laundering billions of dollars for drug cartels in Mexico and Colombia
Washing money for terrorist-connected organizations in the Middle East
Allowing "rogue states" under formal sanctions by the U.S. to move billions freely through the bank
Helping Russian mobsters wash money under an elaborate traveler's check scheme
Etc.
And what was the penalty for all this?
$1.9 billion.
At the time, it was the biggest fine in history. But in context, for a firm that made $22 billion per year, it was not much at all. In fact, looked at in a cold calculating light, the message clearly is: Crime pays.
Note there was no jail time for anybody. Everybody at HSBC got paid. Well, HSBC agreed to partially — partially, mind you – defer (!) bonus payments to its top executives.
Oh, and HSBC had to say it was sorry. "We are profoundly sorry," said CEO Stuart Gulliver.
But how did we get here?
Matt Taibbi explores the reasons in his book The Divide. Taibbi used to write for Rolling Stone. He was the guy who famously called Goldman Sachs a "great vampire squid wrapped around the face of humanity, relentlessly jamming its blood funnel into anything that smells like money." (I wish I had written that line.)
He's a very good investigative reporter and a fine writer. He's mellowed out a bit in this book and you won't find much of the usual Taibbi name-calling and profanity. Taibbi, for good or ill, plays this one straight.
He covers a lot of ground, but the central thesis is one most people will intuitively grasp: If you are rich and powerful, you can get away with almost anything. Rights exist on a sliding scale. And if you are on the bottom, you can do time for loitering.
Taibbi writes:
"The cleaving of the country into two completely different states — one a small archipelago of hyper acquisitive untouchables, the other a vast ghetto of expendables with only theoretical rights — has been in the works a long time."
But to answer the question posed up top about why nobody's going to jail, there's more to the story. You have to go back to a memo written by Eric Holder, the current attorney general, back in 1999, when he was an official in the Clinton White House.
He articulated a concept called "collateral consequences."
It meant, in essence, that the government could take into account all kinds of factors like job losses and such in deciding whether to press criminal charges against a big company. "If the math isn't there," Taibbi writes summing things up, "hold the charges. Seek other forms of justice instead. Fines. Civil sanctions. Cease and desist orders. Deferred prosecutions. There are other ways, Holder wrote, to get the job done."
In other words, there would never be another Arthur Andersen. Firms had new ways to wiggle out of criminal charges. Hence, we have the monster we have today. Companies too big to jail.
Meanwhile, in other aspects of life, a culture approximating a police state grows apace. Taibbi points to the record levels of incarcerations in the U.S. "Our prison population, in fact, is now the biggest in the history of human civilization," Taibbi writes. The U.S. has more people behind bars today "than there were at any time in Stalin's gulags."
The story here is nasty. He tells the story of private prisons, such as those of Corrections Corp. of America. They get, "depending on whom you believe," upward of $166 per day from the federal government per inmate. This is four times what it cost back when the government took care of its own detainees.
"The big influx of cash impressed investors on Wall Street," Taibbi writes. From 2000-2011, CCA's stock went up 34-fold. Sales went from $300 million to $1.7 billion by 2011. "Overall, the corrections industry is one of the soundest stock/equity bets in the world, with soaring revenues — the industry as a whole pulled in more than $5 billion in America in 2011."
Needless to say, that didn't just happen. CCA and others donate generously to politicians. They support anything that might lead to more people spending time in their cells. They particularly like anti-immigrant bills. And Taibbi has harrowing tales about the mistreatment of immigrants in this country. He calls Hispanic immigrants "one of America's last great cash crops."
"And someone else wins, too," Taibbi writes. "Wall Street. Some of the biggest investors in private prison companies are, you guessed it, the too-big-to-fail banks."
Taibbi writes about an analysis from Zacks that gleefully revels in the lack of economic sensitivity in the business. And then cites a chart with shows a hockey stick increase in the number of incarcerated Americans.
So the country is turning more and more into a dragnet… but only for the poorest. There is no HSBC banker sitting in a CCA cell. It is symbolic of the kind of economy we have today:
"Like too-big-to-fail banking itself, private prisons are an industry that depends not on the unpredictable economy but upon political connections. It's the perfect kind of business in the oligarchical capitalism age, with guaranteed profits to provide a low-cost public insurance against the vagaries of the market."
The economy is riddled with corruption like this, a marriage between big business and Big Government. And a recurring theme in this book is the offspring this marriage creates: a relentless, insatiable bureaucratic force that grinds up individuals fed into its maw.
"These bureaucracies accomplish just two things," Taibbi writes. "They make small piles of money smaller and big piles of money bigger… It just relentlessly creates and punishes losers, who get to sit beneath an ever-narrowing group of winners, who may or may not stay on top for long."
Legal rights are not absolute. Those with money who can tirelessly throw lawyers and lawsuits and counterlawsuits at any problem can survive almost anything. For the rest, it's a matter of attrition. And those at the bottom have no chance.
I can't do justice to all the journalistic fieldwork and stories Taibbi has put in his 416-page book. It is a gripping read and will infuriate you and frighten you, and maybe even make you sad for what's happened to the "Land of the Free."
The book does not have a happy ending. The good guys don't win in the end. But I encourage you give it a read. What it describes is life in these United States. Those of us who cherish liberty have quite a job ahead of us.
Sincerely,
Chris Mayer
Chris Mayer studied finance at the University of Maryland, graduating magna cum laude. He went on to earn his MBA while embarking on a decade-long career in corporate banking. Chris is the editor of Capital and Crisis and Mayer's Special Situations, a monthly report that unearths unique and unconventional opportunities in smaller-cap stocks. In 2008, Chris authored Invest Like a Dealmaker: Secrets From a Former Banking Insider.
Source: Laissez Faire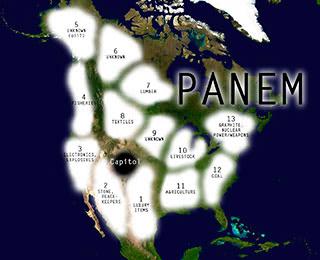 One of the most popular films of 2012 was The Hunger Games which portrayed a post-apocalyptic nation called Panem in which a super-rich, super-pampered, super-callous 'elite' lived in high-tech luxury while the rest of the population daily battled to survive in abject poverty locked away behind prison fences in intensively-populated 'people zones'. Panem comes from the Latin phrase 'panem et circenses' or 'bread and circuses' — a term derived from Rome and meaning to give the people diversions and distractions to hide what is being done to them. Exactly what is happening today.
The Totalitarian Tiptoes to just such a world are happening all around us, although most people can't see this because they don't connect the dots. People tend to live in their own 'little world' and focus on only a few subjects and interests. This gives them a distorted view of what is happening because they are so busy concentrating on the strands that they cannot see the tapestry. The world of The Hunger Games is already well on the way to fruition unless humanity has a fundamental reassessment of reality.
The foundations, structure and 'must haves' of a Hunger Games society are detailed in a plan being imposed through the United Nations called Agenda 21 which encompasses two related themes of 'sustainable development' and 'biodiversity'. Sustainable development — as in don't use more than can be replaced — sounds sensible enough at first until you realize what this and biodiversity really mean in the context of the conspiracy.
Agenda 21 was established at the United Nations Conference on Environment and Development in Rio de Janerio, Brazil, in 1992, hosted by Maurice Strong, a Canadian oil and business billionaire and long-time front man for the Rothschilds and Rockefellers. Strong has been a leader of their exploit-the-environment-to-scam-the-people programme which is now in full flow. Strong is a member of the Club of Rome, the environmental Hidden Hand in the Round Table network that includes the Bilderberg Group, Trilateral Commission and Council on Foreign Relations.
Strong said in support of Agenda 21:
'Isn't the only hope for this planet that the industrialised civilization collapse? Isn't it our responsibility to bring that about?'
This is a man who became mega-rich through the oil industry. He now lives in billionaire luxury in China where carbon-emitting industry is booming and he is a director of the Chicago Climate Exchange (largest shareholder, Goldman Sachs), which is 'the world's first and North America's only legally-binding greenhouse-gas emission registry reduction-system for emission sources and offset projects in North America and Brazil'.
The Exchange was established with funding from the Joyce Foundation where Barack Obama was once a director. Strong and Al Gore make money through the Carbon Exchange and other means from the lies they promote about climate change and the solutions they propose. Kate Johnston wrote on the Globalresearch.cawebsite:
'The same men that sold us the myth of man-made global warming are the same men that sold us the "solution" of a Carbon Tax and Emissions Trading Scheme and now they're profiting off their lucrative investments which are based on lies.' (See "The Climate Change Hoax").
Strong fled to China in 2006 after being accused of corruption with respect to the UN oil for food program.
Climate change propaganda is a No-Problem-Reaction-Solution technique to justify Agenda 21 and its stable-mate the Biodiversity Treaty. This is an internationally-binding document involving nearly 200 countries. The United States signed the treaty, but it was not ratified by the Senate after people like ecologist and ecosystem scientist Dr. Michael Coffman exposed its true consequences and implications. He said that he realized during the 1980s and 1990s that the plan was to use the excuse of protecting the environment to confiscate half the land of the United States.
Similar plans exist for every other country. America may not have ratified the treaty, but it is being implemented by the day. Agenda 21 demands the central global control of all land; all private property; all water sources and distribution; all other resources which includes people in its definition; all energy supplies and distribution and all food production and distribution.
Agenda 21 is called 'the agenda for the 21st century' and that refers to global fascism / communism. This is a summary of what Agenda 21 / Sustainable Development / Biodiversity is seeking to impose:
An end to national sovereignty
State planning and management of all land resources, ecosystems, deserts, forests, mountains, oceans and fresh water; agriculture; rural development; biotechnology; and ensuring 'equity' (equal slavery)
The State to 'define the role' of business and financial resources
Abolition of private property (it's not 'sustainable')
'Restructuring' the family unit
Children raised by the State
People told what their job will be
Major restrictions on movement
Creation of 'human settlement zones'
Mass resettlement as people are forced to vacate land where they currently live
Dumbing down education (achieved)
Mass global depopulation in pursuit of all the above
This horrific plan is being coordinated through the United Nations, the stalking horse for world dictatorship, via a non-governmental network once called the International Council of Local Environmental Initiatives ICLEI), and now known as Local Governments for Sustainability although still using the shortened name ICLEI. The United Nations is now opening 'embassies' around the world called 'UN Houses' under the guise of raising awareness of UN activities, but not the activities that people really need to know about. They have opened one in Hunter Square, Edinburgh, Scotland, for example.
Local Governments for Sustainability (ICLEI) and other organisations are integrating the plan into every village, town, city and region and it is already becoming widespread across the world. The organisational infrastructure of Agenda 21 is already fantastic and involves government agencies, non-governmental organisations (NGOs), think-tanks, trusts, foundations, 'training' (mind control) operations and 'initiatives' which have been building the infrastructure for what they call 'the post-industrial, post-democratic' society while the public go about their daily business oblivious of the prison being built all around them by the hour.
Harvey Ruvin, a vice-chairman of ICLEI, was asked how Agenda 21 would affect liberties with regard to the US Constitution and Bill of Rights, private property and freedom of speech. He replied:
'Individual rights must take a back-seat to the collective.'
The arrogance of these people is breathtaking. The extraordinary network supporting ICLEI and Agenda 21 includes the Rockefeller-sponsored America 2050; United Cities and Local Governments (UCLG); Metropolis; World Economic Forum; United Nations Framework Convention on Climate Change; United Nations International Strategy for Disaster Reduction; World Bank; Clinton Climate Initiative; Climate Group (Tony Blair); World Conservation Union (IUCN); Renewable Energy and Energy Efficiency Partnership; Global Footprint Network; Renewable Energy and Energy Efficiency Partnership; Global Footprint Network; International Centre for Sustainable Cities; Earthquakes and Megacities Initiative and the Stakeholder Forum. These and so many others are working to the same end — Agenda 21 and total human enslavement worldwide, although most of those involved will have no idea that they are building a global prison for themselves and their families.
Another of these front organisations is the World Business Council for Sustainable Development which includes the hideously anti-people Monsanto. Destroying food-growing land, contaminating the countryside with toxins and replacing proper food with deadly and soil-destroying genetically-modified organisms is Monsanto's contribution to 'sustainability'. Agenda 21 is operating in more than 600 towns, cities and counties in the United States and expanding by the day.
A member of the Agenda 21 committees in Santa Cruz, California, in the mid-1990s said that the proposals he heard were so crazy that he laughed at them because they could never happen. These included that 'Mother Earth's surface was not to be scratched'; humans should be concentrated in settlement zones; education should focus on the environment as a central organising principle and all aspects of life covered by Agenda 21, but all of these crazy plans are now being introduced. It's all happy, feely, smiling faces and how we care, when the truth is that Agenda 21 is a vicious, brutal, heartless strategy to impose a global Orwellian state.
Agenda 21 manipulators either create or hijack some local organisation or other, many of them in locations with large populations, and they have their (controlled) leadership to agree the Agenda 21 blueprint for their community together with any uninformed, unwitting idiots who can be sold a human nightmare as saving the planet. This allows them to claim that decisions were made after 'public participation' when that would have been the last thing they wanted, and 99 percent of the 'community' has never heard of Agenda 21 let alone had their say on it. They want no democracy which is why these people talk privately, sometimes even publicly, about the post-democratic, post-industrial society.
They want to control every man, woman and child on the planet — everyone and everywhere and every resource, water source and piece of land. To do this they need a global structure of fascist control that goes right down into every local community with the jackboots at local level enforcing the will of the global centre. This is why there is so much emphasis on local authorities and town and city authorities in Agenda 21.
There is a 'training organisation' called Common Purpose (common purpose, common consensus, everyone the same) which has been paid very large amounts of money by governments and local authorities, police forces and other institutions of state to 'train the leaders' of the post-democratic, post-industrial society. Common Purpose was heavily represented in the Leveson 'inquiry' leading to new media laws in Britain. It is not a training programme; it is a programming programme and turns out unquestioning zombie administrators who serve the god of Agenda 21 and the associated European Union. The theme of 'common' also applies to the ever greater standardisation of laws and regulations and constant reference to 'international law'. This is the unfolding global dictatorship of Agenda 21. What do you need to be a global dictator? Laws that everyone on the planet must obey — international law and the standardisation of global regulation.
You can see The Hunger Games connection when you look at the official Biodiversity wish-for map of the United States in Figure 1. The red areas are designated for no human use and most of the rest of America is confiscated for little and highly-regulated use. The mass of the population would be concentrated in high-rise, densely-packed 'human settlement zones' and denied access to something like 80 percent of present day America. It is without question the world of The Hunger Games with a globally-enforced top-down hierarchy that has a world government using its world army and police force to impose its will at regional and local levels (sectors). The Rockefeller-funded America 2050 has produced a map of the new United States divided into eleven 'megaregions' and includes parts of Canada (Figure 2). Seattle, Portland and Vancouver, British Columbia, become the megaregion known as 'Cascadia' and this regional system comes under the collective name of 'megalopolis' which is Greek for large city or great city. America, Canada and Mexico are due to merge to form the North American Union in line with the European Union blueprint.
The European Union is planned to be broken up into regions and the same structure is in development all over the world. The map of the new Europe has regions from different countries linked up with regions in other countries to end any vestige of national sovereignty or even national existence (Figure 3). This is a global plan with its fierce central control hidden behind its lower elements such as the European Union and local government. What is planned would clearly require a fantastic reduction of the global population and this is indeed what Agenda 21 / Sustainable Development / Biodiversity demand.
The e-book Agenda 21: Your Life In Their Hands can be downloaded here.
reference:
Icke, David. The Perception Deception. Ryde: David Icke Books, 2013.
Julian Websdale is an independent researcher in the fields of esoteric science and metaphysics, and a self-initiate of the Western Esoteric Tradition. His interest in these subjects began in 1988. Julian was born in England, received his education as an electronic and computer engineer from the University of Bolton, served in a Vaishnava monastery during 2010, and has travelled to over 21 countries. Julian is also a member of the Palestinian Solidarity Campaign.
Source: Julian Websdale  |  Waking Times | War Is Crime
No one has ever claimed that the financial markets are a level playing field. Equities, bonds, currencies, options and futures are not arenas that operate by equivalent standards for all parties. Great fortunes were built not by chance, but on superior information, known to the few. Professional traders are not risk gamblers, but operate on the premise of special advantage. Through advance and proprietary techniques that reduce exposure hazards and provide exclusive head start triggers, which virtually guarantee profits, the elite firms dominate Wall Street.
Business Week states in the article, Is High-Frequency Trading Insider Trading?, that
"Classically defined, insider trading means having access to material, non-public information before it reaches the rest of the market; it's like getting a heads-up about a merger before it's announced, or maybe a phone call from a Goldman Sachs (GS) board member saying that Warren Buffett is about to invest $5 billion in the bank."
With the introduction of super computers and Financial Algorithmic Trading, the era of generated trading strategies emerged that fill automatically, when predetermined prices are reached. Some would argue that exchanges were simply applying the latest technology to the time honored system of flipping positions.
Now we live in the High-Frequency matrix, based upon millisecond reactions, which activates on information that is not offered to everyone at the same time. Forbes explains accordingly in High Frequency Insider Trading – And It's Completely Legal!
"According to a team of Wall Street Journal reporters from an article on June 12, the practice works to the advantage of professional traders. "Economic reports from public universities, trade groups and other nongovernmental organizations can move markets as surely as official data from the U.S. government," according to the Journal's team of four reporters: Brody Mullins, Michael Rothfeld, Tom McGinty, Jenny Strasburg. "But unlike government reports, where pains are taken to make certain no one gets them ahead of time, few rules control release of nongovernmental economic reports. Unknown to many investors, selling early access is routine."
Access to this highly valuable information is the key. And such access comes at a price. Rapid traders pay information companies like Thomson Reuters thousands of dollars each month for a look at such reports, moments before they are widely disseminated. And it's in those few key seconds, that they make their killing."
Seemingly, this high-tech access to supercharged information is the newest version of insider information. The following assessment is also from the same Business Week account.
"New York Attorney General Eric Schneiderman has called HFT "insider trading 2.0″ on a number of occasions. His office is looking into the relationships between traders, brokers and exchanges and asking whether it all needs to be reformed. The FBI spent the last year looking to uncover manipulative trading practices among HFT firms; the federal agency is now asking speed traders to come forward as whistleblowers."
Chicago is not much different from their Wall Street exchange cousins. Litigation over this practice is referenced in the report, CME Sued For Giving "High-Frequency Traders Peek At Market" Since 2007.
"In a lawsuit that was just filed by lead plaintiff William Charles Braman, seeking class-action status, and filed on behalf of all users of real-time futures market data and futures contracts listed on the CBOT and CME from 2007 to now, the CME is alleged to have sold order information to high-frequency traders ahead of other market participants.
Apparently it took the general public a Michael Lewis book to reread out post from October 2012 in which we showed that an estimated over 30% of CME revenues were made from HFT – in other words from selling proprietary data in direct feeds to high-paying subscribers, that hits collocated servers ahead of the consolidated tape."
Well, what the layman would see as obvious, influential security lawyers see as neat ambiguity. The Forbes story continues.
"But it is legal, and so is trading on the advance peeks," the Journal reported. "Even as securities rules bar companies from selective data disclosure, and as authorities vigorously pursue insider trading in all its forms, no law prevents investors from trading on nonpublic information they have legally purchased from other private entities. Trading would be illegal only if the information was passed through a breach of trust, said securities lawyers."
It should be clear that the financial system is designed to accommodate creative and innovative methods of price manipulation. The defenders of "Crony Capitalism" see such stratagems as a 21th century sophisticated version of robber baron corporatism, in the fine tradition of Jay Gould and James Fisk. Clipping an ensured few cents on billions of transactions is surely a slick system.
Fabricating automatic returns is bad enough, but what is the public risk of producing a real panic when High-Frequency momentum turns into a full propelled blow off?
When a robot computer generates buy or sell orders, the difference between winning and losing is based upon the speed of the information used to place and execute orders. If your algobots taps into info, not available to the entire market, the game is rigged.
Matthew O'Brien in Everything You Need to Know About High-Frequency Trading, makes a valid point.
"Every HFT strategy depends on not only being faster than ordinary investors, but being faster than each other too. Anytime somebody comes up with a new way to cut a few microseconds—that is, a millionth of a second—off of trading time, they have to spend whatever it takes to do it. Otherwise, they'll lose out to their competitors who do."
Imagine this disconnect with real economic reality that place trades, with little concern if it is a long or short. Only the speed matters. The conclusion from the Negotium essay Financial Algorithmic Trading, holds true. "Banning the interconnect of proprietary programs that amalgamate directly into the systems on the floor of the exchanges is the only way to prevent the integration of systemic collusion among the 1 and 0 computer programs."
There's good propaganda and bad propaganda. Bad propaganda is generally crude, amateurish Judy Miller "mobile weapons lab-type" nonsense that figures that people are so stupid they'll believe anything that appears in "the paper of record." Good propaganda, on the other hand, uses factual, sometimes documented material in a coordinated campaign with the other major media to cobble-together a narrative that is credible, but false.
The so called Fed's transcripts, which were released last week, fall into the latter category. The transcripts (1,865 pages) reveal the details of 14 emergency meetings of the Federal Open Market Committee (FOMC) in 2008, when the financial crisis was at its peak and the Fed braintrust was deliberating on how best to prevent a full-blown meltdown. But while the conversations between the members are accurately recorded, they don't tell the gist of the story or provide the context that's needed to grasp the bigger picture. Instead, they're used to portray the members of the Fed as affable, well-meaning bunglers who did the best they could in 'very trying circumstances'. While this is effective propaganda, it's basically a lie, mainly because it diverts attention from the Fed's role in crashing the financial system, preventing the remedies that were needed from being implemented (nationalizing the giant Wall Street banks), and coercing Congress into approving gigantic, economy-killing bailouts which shifted trillions of dollars to insolvent financial institutions that should have been euthanized.
What I'm saying is that the Fed's transcripts are, perhaps, the greatest propaganda coup of our time. They take advantage of the fact that people simply forget a lot of what happened during the crisis and, as a result, absolve the Fed of any accountability for what is likely the crime of the century. It's an accomplishment that PR-pioneer Edward Bernays would have applauded. After all, it was Bernays who argued that the sheeple need to be constantly bamboozled to keep them in line. Here's a clip from his magnum opus "Propaganda":
"The conscious and intelligent manipulation of the organized habits and opinions of the masses is an important element in democratic society. Those who manipulate this unseen mechanism of society constitute an invisible government which is the true ruling power of our country."
Sound familiar? My guess is that Bernays' maxim probably features prominently in editors offices across the country where "manufacturing consent" is Job 1 and where no story so trivial that it can't be spun in a way that serves the financial interests of the MSM's constituents. (Should I say "clients"?) The Fed's transcripts are just a particularly egregious example. Just look at the coverage in the New York Times and judge for yourself. Here's an excerpt from an article titled "Fed Misread Crisis in 2008, Records Show":
"The hundreds of pages of transcripts, based on recordings made at the time, reveal the ignorance of Fed officials about economic conditions during the climactic months of the financial crisis. Officials repeatedly fretted about overstimulating the economy, only to realize time and again that they needed to redouble efforts to contain the crisis." ("Fed Misread Crisis in 2008, Records Show", New York Times)
This quote is so misleading on so many levels it's hard to know where to begin.
First of all, the New York Times is the ideological wellspring of elite propaganda in the US. They set the tone and the others follow. That's the way the system works. So it always pays to go to the source and try to figure out what really lies behind the words, that is, the motive behind the smokescreen of half-truths, distortions, and lies. How is the Times trying to bend perceptions and steer the public in their corporate-friendly direction, that's the question. In this case, the Times wants its readers to believe that the Fed members "misread the crisis"; that they were 'behind the curve' and stressed-out, but–dad-gum-it–they were trying their level-best to make things work out for everybody.
How believable is that? Not very believable at all.
Keep in mind, the crisis had been going on for a full year before the discussions in these transcripts took place, so it's not like the members were plopped in a room the day before Lehman blew up and had to decide what to do. No. They had plenty of time to figure out the lay of the land, get their bearings and do what was in the best interests of the country. Here's more from the Times:
 "My initial takeaway from these voluminous transcripts is that they paint a disturbing picture of a central bank that was in the dark about each looming disaster throughout 2008. That meant that the nation's top bank regulators were unprepared to deal with the consequences of each new event."
Have you ever read such nonsense in your life? Of course, the Fed knew what was going on. How could they NOT know? Their buddies on Wall Street were taking it in the stern sheets every time their dingy asset pile was downgraded which was every damn day. It was costing them a bundle which means they were probably on the phone 24-7 to (Treasury Secretary) Henry Paulson whining for help. "You gotta give us a hand here, Hank. The whole Street is going toes-up. Please."
Here's more from the NYT:
"Some Fed officials have argued that the Fed was blind in 2008 because it relied, like everyone else, on a standard set of economic indicators. As late as August 2008, "there were no clear signs that many financial firms were about to fail catastrophically," Mr. Bullard said in a November presentation in Arkansas that the St. Louis Fed recirculated on Friday. "There was a reasonable case that the U.S. could continue to 'muddle through.' ("Fed Misread Crisis in 2008, Records Show", New York Times)
There's that same refrain again, "Blind", "In the dark", "Behind the curve", "Misread the crisis".
Notice how the Times only invokes terminology that implies the Fed is blameless. But it's all baloney. Everyone knew what was going on. Check out this excerpt from a post by Nouriel Roubini that was written nearly a full year before Lehman failed:
"The United States has now effectively entered into a serious and painful recession. The debate is not anymore on whether the economy will experience a soft landing or a hard landing; it is rather on how hard the hard landing recession will be. The factors that make the recession inevitable include the nation's worst-ever housing recession, which is still getting worse; a severe liquidity and credit crunch in financial markets that is getting worse than when it started last summer; high oil and gasoline prices; falling capital spending by the corporate sector; a slackening labor market where few jobs are being created and the unemployment rate is sharply up; and shopped-out, savings-less and debt-burdened American consumers who — thanks to falling home prices — can no longer use their homes as ATM machines to allow them to spend more than their income. As private consumption in the US is over 70% of GDP the US consumer now retrenching and cutting spending ensures that a recession is now underway.

On top of this recession there are now serious risks of a systemic financial crisis in the US as the financial losses are spreading from subprime to near prime and prime mortgages, consumer debt (credit cards, auto loans, student loans), commercial real estate loans, leveraged loans and postponed/restructured/canceled LBO and, soon enough, sharply rising default rates on corporate bonds that will lead to a second round of large losses in credit default swaps. The total of all of these financial losses could be above $1 trillion thus triggering a massive credit crunch and a systemic financial sector crisis." ( Nouriel Roubini Global EconoMonitor)
Roubini didn't have some secret source for data that wasn't available to the Fed. The financial system was collapsing and it had been collapsing for a full year. Everyone who followed the markets knew it. Hell, the Fed had already opened its Discount Window and the Term Auction Facility (TAF) in 2007 to prop up the ailing banks–something they'd never done before– so they certainly knew the system was cratering. So, why's the Times prattling this silly fairytale that "the Fed was in the dark" in 2008?
I'll tell you why: It's because this whole transcript business is a big, freaking whitewash to absolve the shysters at the Fed of any legal accountability, that's why. That's why they're stitching together this comical fable that the Fed was simply an innocent victim of circumstances beyond its control. And that's why they want to focus attention on the members of the FOMC quibbling over meaningless technicalities –like non-existent inflation or interest rates–so people think they're just kind-hearted buffoons who bumbled-along as best as they could. It's all designed to deflect blame.
Don't get me wrong; I'm not saying these conversations didn't happen. They did, at least I think they did. I just think that the revisionist media is being employed to spin the facts in a way that minimizes the culpability of the central bank in its dodgy, collaborationist engineering of the bailouts. (You don't hear the Times talking about Hank Paulson's 50 or 60 phone calls to G-Sax headquarters in the week before Lehman kicked the bucket, do you? But, that's where a real reporter would look for the truth.)
The purpose of the NYT article is to create plausible deniability for the perpetrators of the biggest ripoff in world history, a ripoff which continues to this very day since the same policies are in place, the same thieving fraudsters are being protected from prosecution, and the same boundless chasm of private debt is being concealed through accounting flim-flam to prevent losses to the insatiable bondholders who have the country by the balls and who set policy on everything from capital requirements on complex derivatives to toppling democratically-elected governments in Ukraine. These are the big money guys behind the vacillating-hologram poseurs like Obama and Bernanke, who are nothing more than kowtowing sock puppets who jump whenever they're told. Here's more bunkum from the Gray Lady:
 "By early March, the Fed was moving to replace investors as a source of funding for Wall Street.

Financial firms, particularly in the mortgage business, were beginning to fail because they could not borrow money. Investors had lost confidence in their ability to predict which loans would be repaid. Countrywide Financial, the nation's largest mortgage lender, sold itself for a relative pittance to Bank of America. Bear Stearns, one of the largest packagers and sellers of mortgage-backed securities, was teetering toward collapse.

On March 7, the Fed offered companies up to $200 billion in funding. Three days later, Mr. Bernanke secured the Fed policy-making committee's approval to double that amount to $400 billion, telling his colleagues, "We live in a very special time."

Finally, on March 16, the Fed effectively removed any limit on Wall Street funding even as it arranged the Bear Stearns rescue." ("Fed Misread Crisis in 2008, Records Show", New York Times)
This part deserves a little more explanation. The author says "the Fed was moving to replace investors as a source of funding for Wall Street." Uh, yeah; because the whole flimsy house of cards came crashing down when investors figured out Wall Street was peddling toxic assets. So the money dried up. No one buys crap assets after they find out they're crap; it's a simple fact of life. The Times makes this sound like this was some kind of unavoidable natural disaster, like an earthquake or a tornado. It wasn't. It was a crime, a crime for which no one has been indicted or sent to prison. That might have been worth mentioning, don't you think?
More from the NYT: "…on March 16, the Fed effectively removed any limit on Wall Street funding even as it arranged the Bear Stearns rescue."
Yipee! Free money for all the crooks who blew up the financial system and plunged the economy into recession. The Fed assumed blatantly-illegal powers it was never provided under its charter and used them to reward the people who were responsible for the crash, namely, the Fed's moneybags constituents on Wall Street. It was a straightforward transfer of wealth to the Bank Mafia. Don't you think the author should have mentioned something about that, just for the sake of context, maybe?
Again, the Times wants us to believe that the men who made these extraordinary decisions were just ordinary guys like you and me trying to muddle through a rough patch doing the best they could.
Right. I mean, c'mon, this is some pretty impressive propaganda, don't you think? It takes a real talent to come up with this stuff, which is why most of these NYT guys probably got their sheepskin at Harvard or Yale, the establishment's petri-dish for serial liars.
By September 2008, Bernanke and Paulson knew the game was over. The crisis had been raging for more than a year and the nation's biggest banks were broke. (Bernanke even admitted as much in testimony before the Financial Crisis Inquiry Commission in 2011 when he said "only one ….out of maybe the 13 of the most important financial institutions in the United States…was not at serious risk of failure within a period of a week or two." He knew the banks were busted, and so did Paulson.) Their only chance to save their buddies was a Hail Mary pass in the form of Lehman Brothers. In other words, they had to create a "Financial 9-11″, a big enough crisis to blackmail congress into $700 no-strings-attached bailout called the TARP. And it worked too. They pushed Lehman to its death, scared the bejesus out of congress, and walked away with 700 billion smackers for their shifty gangster friends on Wall Street. Chalk up one for Hank and Bennie.
The only good thing to emerge from the Fed's transcripts is that it proves that the people who've been saying all along that Lehman was deliberately snuffed-out in order to swindle money out of congress were right. Here's how economist Dean Baker summed it up the other day on his blog:
"Gretchen Morgensen (NYT financial reporter) picks up an important point in the Fed transcripts from 2008. The discussion around the decision to allow Lehman to go bankrupt makes it very clear that it was a decision. In other words the Fed did not rescue Lehman because it chose not to.

This is important because the key regulators involved in this decision, Ben Bernanke, Hank Paulson, and Timothy Geithner, have been allowed to rewrite history and claim that they didn't rescue Lehman because they lacked the legal authority to rescue it. This is transparent tripe, which should be evident to any knowledgeable observer." ("The Decision to Let Lehman Fail", Dean Baker, CEPR)
Here's the quote from Morgenson's piece to which Baker is alluding:
"In public statements since that time, the Fed has maintained that the government didn't have the tools to save Lehman. These documents appear to tell a different story. Some comments made at the Sept. 16 meeting, directly after Lehman filed for bankruptcy, indicate that letting Lehman fail was more of a policy decision than a passive one." ("A New Light on Regulators in the Dark", Gretchen Morgenson, New York Times)
Ah ha! So it was a planned demolition after all. At least that's settled.
Here's something else you'll want to know: It was always within Bernanke's power to stop the bank run and end to the panic, but if he relieved the pressure in the markets too soon (he figured), then Congress wouldn't cave in to his demands and approve the TARP. Because, at the time, a solid majority of Republicans and Democrats in congress were adamantly opposed to the TARP and even voted it down on the first ballot. Here's a clip from a speech by, Rep Dennis Kucinich (D-Ohio) in September 2008 which sums up the grassroots opposition to the bailouts:
"The $700 bailout bill is being driven by fear not fact. This is too much money, in too short of time, going to too few people, while too many questions remain unanswered. Why aren't we having hearings…Why aren't we considering any other alternatives other than giving $700 billion to Wall Street? Why aren't we passing new laws to stop the speculation which triggered this? Why aren't we putting up new regulatory structures to protect the investors? Why aren't we directly helping homeowners with their debt burdens? Why aren't we helping American families faced with bankruptcy? Isn't time for fundamental change to our debt-based monetary system so we can free ourselves from the manipulation of the Federal Reserve and the banks? Is this the US Congress or the Board of Directors of Goldman Sachs?"
But despite overwhelming public resistance, the TARP was pushed through and Wall Street prevailed. mainly by sabotaging the democratic process the way they always do when it doesn't suit their objectives.)
Of course, as we said earlier, Bernanke never really needed the money from TARP to stop the panic anyway. (Not one penny of the $700 bil was used to shore up the money markets or commercial paper markets where the bank run took place.) All Bernanke needed to do was to provide backstops for those two markets and, Voila, the problem was solved. Here's Dean Baker with the details:
"Bernanke deliberately misled Congress to help pass the Troubled Asset Relief Program (TARP). He told them that the commercial paper market was shutting down, raising the prospect that most of corporate America would be unable to get the short-term credit needed to meet its payroll and pay other bills. Bernanke neglected to mention that he could singlehandedly keep the commercial paper market operating by setting up a special Fed lending facility for this purpose. He announced the establishment of a lending facility to buy commercial paper the weekend after Congress approved TARP." ("Ben Bernanke; Wall Street's Servant", Dean Baker, Guardian)
So, there you have it. The American people were fleeced in broad daylight by the same dissembling cutthroats the NYT is now trying to characterize as well-meaning bunglers who were just trying to save the country from another Great Depression.
I could be wrong, but I think we've reached Peak Propaganda on this one.
(Note: By "good" propaganda, I mean "effective" propaganda. From an ethical point of view, propaganda can never be good because its objective is to intentionally mislead people…..which is bad.)
Sickcare/ObamaCare is fundamentally broken at every level.
The incremental nature of change makes it difficult for us to notice how systems that once worked well with modest costs have transmogrified into broken systems that cost a fortune. Exhibit # 1 is higher education: 40 years ago, four-year public universities were affordable and two-year community colleges were almost free. Now students have to borrow $1 trillion to pay for the exorbitant privilege of higher education.
And no, the difference isn't that states don't provide the same funding–the difference is costs have soared while the yield on the investment has plummeted. Please read:
Our Two Most Onerous Taxes: College Tuition and Healthcare Insurance
Our Middleman-Skimming Economy
America's Make-Work Sectors (Healthcare and Higher Education) Have Run Out of Oxygen
Longtime correspondent Ishabaka (an M.D. with 30+ years experience in primary care and as an emergency room physician) responded to this article with an insider's account of what happens when greed and cartels take over healthcare.After reading What's wrong with American hospitals?, a scathing deconstruction of for-profit healthcare, Ishabaka submitted this commentary:
I could have told you what was wrong with our hospital system by 1989 – nobody would listen to me back then.

Up til the '70's, almost all hospitals in the United States were not for profit COMMUNITY HOSPITALS. They were LOCAL. The Board of Directors was made up of some senior doctors, maybe the head nurse, and various other prominent local businessmen and professionals. Others (mostly Catholic), were run as non-profits by religious orders. A very few, mostly very small hospitals were for profit, usually owned by a group of doctors, or even one doctor.

The mission of these community hospitals was to provide for the LOCAL COMMUNITY – one and all. Payment was various – private insurance, Medicare, Medicaid, self pay – and the idea was to collect just enough money to keep the hospital going, and provide care for the poor who had no money to pay. If your grandma got bad care – you could go – in person – to the local, say, banker, on the Board of Directors, and tell him – and he would CARE.

THIS SYSTEM WORKED, and kept costs DOWN. Remember, the hospital just needed enough money to stay in the black. Often local wealthy people would will money to the hospital in which they had been cared for.

In the '80's – there was the arrival of the for-profit cartels – and I use the world cartels specifically – these were run by people with the sociopathic Goldman Sachs type mentality – their sole goal was to acquire huge sums of money for themselves, their hospital directors, and their SHAREHOLDERS. They used a typical sneaky technique – they'd come into town, and tell the locals they could run the hospital much cheaper, because of their economy of scale. People believed this, and the cartels bought out most of the community hospitals.

I worked at one such for-profit hospital and had a 21-year old indigent man come in who'd been struck by a car while walking, and was rapidly bleeding to death. The hospital administrator refused to open the operating room, even though I had a surgeon right there, willing and able to operate for free to save this young man's life. The surgeon threw a fit, and he was a big wheel at the hospital and the administrator backed down – otherwise I firmly believe the young man would have died. This was LEGAL back then, before the EMTLA law was passed because similar abuses were rampant NATIONWIDE.

Around this time, the administrators of the remaining community hospitals found out the administrators of the for-profit hospitals were making tens of times their salaries – and bonuses based on profits – and started demanding similar salaries and bonuses based on PROFITS – a contradiction of the old concept of community hospitals (the article does touch on this).

How do you increase hospital profits? Number one – avoid any care for the poor you can weasel out of. Number two – cut staff to the bone and beyond (one of hospital's biggest expenses). Most American hospitals now have UNSAFE nurse to patient ratios because of this.

As far as patient care goes, nurses are the most important people in hospitals. I know of one lady who DIED while in a monitored bed, and wasn't found dead until several hours later due to the criminally low nursing staff ratio in a hospital I worked in. I HAD complained about the dearth of nurses, and was threatened with the loss of my job. Another side effect of this is, nursing in hospitals has become unbearable for nurses who really cared about their patients – many good hospital nurses have left hospital work for other fields. The results are appalling.

I saved the life of a patient an unqualified, under-educated nurse gave the wrong medicine to – a medicine that IMMEDIATELY MAKES YOU STOP BREATHING, because it was cheaper for the hospital to hire her than a knowledgeable and experienced nurse. The medicine is pancuronium bromide, if you want to Google it. The nurse didn't know one of the effects was cessation of breathing – this is Pharmacology for Nurses 101, this drug is used all day long in every operating room in America (where doctors WANT patients under anesthesia to stop breathing, and put them on breathing machines during the surgery – which is very safe if done correctly).

I could go on and on. Simple things, like the instruments you use to suture cuts – community hospitals used to buy Swiss or German made ones that were of the finest quality, sterilize and re-use them over and over. This changed to disposable instruments that sometimes literally fell apart in my hands. Bandage tape that didn't stick, instead of quality Johnson and Johnson tape – anything to save a buck.

It is not getting better, it is getting worse. The nurses I know tell me hospitals are cutting staff even MORE now in preparation for Obamacare.

I will end with a story that illustrates the difference between Old School and New School hospital administrators.

I had the pleasure of working five years in a real community hospital. One of the senior administrators (R.I.P.) was a gentleman who'd made his fortune in the grocery business. In his late 80's, he would arrive at the emergency department entrance every morning between seven and eight am, and proceed to walk throughout the hospital. He would ask various and sundry staff how they were getting along – everyone from janitors to senior physicians. If something was amiss – HE RECTIFIED THE SITUATION. Tragically, this hospital was bought out, and is now part of a chain.

I had the displeasure of working in a "community" (really for-profit) hospital with a middle aged administrator who NEVER set foot outside his office or conference rooms – he NEVER appeared in the (very large and busy) emergency department once. This was in the early 90's, and one year it was revealed that his compensation was $600,000 – and a brand new Lexus as a "performance bonus". He was on the golf course by three pm every single day. That was the hospital where the woman who was being "monitored" (alarms and all that) was found very cold and dead after a delay of who knows how many hours.

Thank you, Ishabaka, for telling it like it really is. Needless to say, ObamaCare (the Orwellian-named Affordable Care Act–ACA) purposefully ignores everything that is fundamentally broken with U.S. sickcare and extends the soaring-cost cartel system, essentially promising to stripmine the taxpayers of however many trillions of dollars are needed to generate outsized profits for the cartels.
Only those with no exposure to the real costs of ObamaCare approve of the current sickcare system. Government employees who have no idea how much their coverage costs, well-paid shills and toadies like Paul Krugman, academics with tenure and lifetime healthcare coverage–all these people swallow the fraud whole and declare it delicious.
Only those of us who are paying the real, unsubsidized cost know how unsustainable the system is, and only those inside the machine know how broken it is at every level. Greed + cartels = Sickcare/ObamaCare. Love your servitude, baby–it's affordable, really, really, really it is.
Source: Blacklisted News
I receive many emails from well-intentioned and intelligent readers who hold up Iceland as a shining example of what America must do in order to save herself. I agree, in principle with the people who wrote to me that we should emulate Iceland. The Icelanders have demonstrated tremendous resilience, courage and vision to overcome and, at least temporarily, defeat the banksters while restoring their economy.
The people of Iceland have more courage in their little finger than America has in its entire being. Iceland's financial failure forced its government to resign or be removed, and it also caused citizens to re-evaluate the merits of their reckless spending, borrowing and consumption. Just how did Iceland do it?
Iceland's President Olafur Ragnar Grimmson was interviewed earlier this year at the World Economic Forum in Davos on why Iceland has enjoyed such a strong recovery after it's complete financial collapse in 2008, while the rest of the West is still mired in debt, poverty and hopelessness to go with empty promises of an economic recovery.
When asked whether Iceland's policy of letting the banks fail would have worked in the rest of Europe, Grimsson stated:
"… Why are the banks considered to be the holy churches of the modern economy? Why are private banks not like airlines and telecommunication companies and allowed to go bankrupt if they have been run in an irresponsible way? The theory that you have to bail-out banks is a theory that you allow bankers enjoy for their own profit their success, and then let ordinary people bear their failure through taxes and austerity. 
People in enlightened democracies are not going to accept that in the long run. …"
Imagine that, let the banks fail! Let the criminal bankers take the same risk as any other business venture. Can we imagine Obama ever speaking this way in public? In fact, if the United States was Iceland, President Obama, John McCain, Diane Feinstein, Nancy Pelosi, Harry Reid, Lindsay Graham, Hillary Clinton, Valerie Jarrett, G.W. Bush, G. H. W. Bush, Lloyd Blankfein, Tim Geithner, Hank Paulson, Jon Corzine, Peter Sutherland, Ben Bernanke, et al., would all be in prison.
And nearly six years later, where is Iceland at today? In just the first year following the repudiation of the debt, the Icelanders economy grew by 2.6%. Banks failed, bankers and politicians were jailed and these brave people wrestled control of their lives back.
If the Icelanders could get their hands on Goldman Sachs officials they would. They impeached and convicted corrupt politicians who were in league with Wall Street, many of whom are serving prison sentences. Iceland is on its way to a full economic recovery while still saying no to the corrupt Goldman Sachs influences in Europe. Iceland is saying no to the Bank of International Settlement. Iceland is a beacon of hope for the rest of the G20 nations including the United States. Yet, the courage on display by the Icelanders will never be on display in the United States.
Americans Aren't Icelanders
There are a number reasons that America will never throw off the shackles of the Bastards from Basel. First and foremost, we, as a country, are just too plain stupid. Through repeated and failed education programs, such as Goals 2000, No Child Left Behind and now the substandard Common Core, Americans lack the basic sense to organize against anything, much less a virulent pack of banksters.
Additionally, at the end of the day, the Icelanders victory will prove to be inconsequential and very temporary. When the international forces align against Iceland for some contrived excuse, their government will collapse like a house of cards and the banksters will be back in control. We have seen it in Egypt, Libya and soon it will be Iceland's turn.
The Duck Dynasty worshiping, American Idol watching country can't even find England on a map 65% of the time. A whopping 80% cannot find Iraq on a map, 55% cannot name the Vice President and America reads nearly two whole grade levels lower than they did only a 40 years ago. In short, the rank and file of our citizenry lacks the intelligence to organize their collective shoes in the closet.
Change can be painful and America has become a soft nation. We are not only an ignorant nation, we are the most obese nation on the planet. Most of the people in this country could not fight their way out of a wet paper bag. My military sources tell me that there have been serious discussions among the military leadership about how they would fight a guerrilla war against the bankster occupation forces which will consist mostly of the Chinese and the Russians. What is holding them back is that they do not feel that they can count on the support from the rank and file of this population. The military believes that maybe, on a good day, 2-3% of the adult males would stand with dissident military forces. I never thought I would write this, but the American people are no tougher than the French and the French haven't won a war in over 200 years.
I do expect that the factions of the military are going to rise and put up some resistance. However, no revolution can be successful without the support of the people.
Conclusion
Well-intentioned people write to me and tell me how 250 million gun owners are going to throw off the chains of slavery. If that were going to happen, it would have happened nearly six years ago. In 2008, the banksters, led by Hank Paulson, helped themselves to our nation's money and our economy went into free fall. And what did we do to stop the greatest bank robbery in world history? We did nothing!!! Subsequently, we are a defeated nation. With the growing foreign troop presence and the rise of America's version of the East German Stasi (aka the  DHS), we are also an occupied nation. Americans have lost the war and most are unaware that anything has even happened. Hillary Clinton is selling off the assets of this country to the Chinese. The EPA is stealing a million acres of land at a time. Your retirements, IRA's and bank account will soon be gone. And what will most of America do, change the channel and open another beer.
This is why my analyses and subsequently my writing style changed to more of an adaptation approach. Americans need to be worried about having enough resources to survive the induced social chaos that is coming. Our people must also be able to defend their resources. And finally, you and your family need to develop strategies on how to avoid being induced or forced to into a detention camp. These events are not far away.If you do not know how to pray, now is the time to learn.
Source: The Common Sense Show
With Ben Shalom Bernanke set to depart on the last day of January 2014, the critique and speculation of his tenure as Chairman of the Federal Reserve begins. The mainstream financial press is giving mostly favorable accounts. Heretofore, such praiseworthy acclamations strike a shape contrast with the actual record of the state of the economy. However, the admirers of the Fed and his specific enactments live in a time warp that only masters of the universe encounter. For the remaining population, an intense struggle for survival is the actual experience, remembered from the Bernanke years.
Investopedia expresses a complimentary score of The Legacy Of Ben Bernanke, and cites distinguished highlights and concludes that "Under Bernanke's stewardship, the Fed became the most transparent it has ever been in its history."
Yet, they are compelled to mention that from 2008 onward, Bernanke and the Fed embarked on a series of unparalleled – and often unconventional – rescue programs and stimulus measures. These included:
ratcheting interest rates down to the lowest levels in American history;
force-feeding the U.S. economy with trillions of dollars through successive rounds of "quantitative easing";
bailing out troubled Wall Street firms and institutions;
orchestrating the rescue of other troubled financial institutions through shotgun weddings; and
lending funds to diverse sectors of the U.S. economy to revive stalled credit markets.
Ben Bernanke's Great Inflation Coverup, is an assessment that one would expect from the Mother Jones publication.
"Bernanke's problem is pretty simple here: he almost certainly wants higher inflation . . . Once the Fed has reduced interest rates to zero, it can't go any further. But what if the economy is so bad that all the standard models suggest you need negative interest rates to get the economy back on track? The only answer is higher inflation. If inflation is running at 2% and interest rates are at zero, the real interest rate is -2%. If you borrow money, you're effectively being allowed to pay back less than you borrowed."
Then there is the valid point made by Bill Sardi in LewRockwell.com. "The Fed been printing new money at the rate of $85 billion a month which is being distributed to close member banks who are gambling it on the Wall Street stock market to recapitalize themselves rather than lending it out into the economy so citizens can buy new homes, automobiles."
The example of Paying back retirees with cheaper dollars illustrates the real costs of built in systemic inflation, not just for citizens on a fix income, but for everyone. This lost in purchasing value of the currency is obvious to any honest person.
"The average social security check was $321 in 1980 and in 2011 it was $1183 (adjusted for inflation). But if that $321 pension check were to be fully adjusted for inflation according to way inflation was calculated in 1980 (cost of gasoline and food included), then that $321 should be $3636 to have the same purchasing power today."
The severity of income disparity has reached staggering levels. Elite insiders game the system with insider speculation certainty, while the constructive producers that keep the real components of the economy functioning, are pushed to the margins.
Bernanke's real legacy produced the following outcomes. The always-reliable ZeroHedge site states some undeniable facts under Bernanke's watch.
 The US has never experienced 3% GDP growth.
 The labor participation rate has fallen to levels not seen since the '70s.
 Inflation-adjusted median incomes have fallen 7%.
 The US's debt load has risen from $8.4 trillion to over $16 trillion.
 The Fed's balance sheet has increased from $800 billion to over $4 trillion (larger than the economies of Brazil, France and even Germany).
 Food prices have hit record highs fomenting revolutions in the Middle East and untold suffering around the globe.
 The Fed has funneled trillions of Dollars into both US banks and European banks.
 The Fed has allowed fraud, insider trading, and corruption.
The banksters demanded a bailed out because their derivative greed exacted losses that required an immense infusion of liquidity to rescue their balance sheets. Under Bernanke, the titans of finance have an unlimited line of near zero rate interest of new credit. When the establishment financial press applauds the savior of the economy, their loyalty towards corporatist governance, dictates that the economic interests and the public welfare of ordinary people is expendable.
Look to a prime example of this concentration of wealth and control. The Global 1%: Exposing the Transnational Ruling Class by Peter Phillips and Kimberly Soeiro, focus on BlackRock.
"BlackRock is one of the most concentrated power networks among the global 1 percent. The eighteen members of the board of directors are connected to a significant part of the world's core financial assets. Their decisions can change empires, destroy currencies, and impoverish millions. Some of the top financial giants of the capitalist world are connected by interlocking boards of directors at BlackRock, including Bank of America, Merrill Lynch, Goldman Sachs, PNC Bank, Barclays, Swiss Reinsurance Company, American International Group (AIG), UBS A.G., Arab Fund for Economic and Social Development, J. P. Morgan Chase & Co., and Morgan Stanley."
These crony capitalists are the prototypes that benefited from Bernanke decisions.
During the Bernanke era, the debt bubble entered the point of no return to solvency. His place in the history of shame sets the stage for further economic turmoil. The Federal Reserve after Ben Bernanke article indicates that the Fed is boxed into a pattern that is likely to escalate out of control.
"With the uninterrupted, increase in federal debt, much of which is held by the Federal Reserve, the prospects of achieving prosperity by growing the economy, when interests rates have been near zero, failed miserably. It becomes almost absurd to believe that higher rates on Treasury Bonds will succeed. The new chair of the Fed will be hard pressed shutting down Quantitative Easing."
A depression in the real economy is foreordained with the retraction of credit to most enterprises. This starving of access to funding is a conscious and deliberate strategy to force competition out of business. The grand scale that the banksters operate on has little room for upstarts or hanger-on's. At the end of this very destructive Bernanke term, the rich got fabulous more wealthy, as the country sinks into decline on so many levels.
A poll last year showed that trust in the mainstream media is increasing, which should worry all of us who value truth, integrity and press freedom. Why? Here are 10 disturbing things everyone needs to know about the global media giants who control our supply of information, wielding immense power over the people- and even over the government.
1. Mainstream media exists solely to make profit

What´s the purpose of the mainstream media? Saying that the press exists to inform, educate or entertain is like saying Apple corporation´s primary function is to make technology which will enrich our lives. Actually, the mass media industry is the same as any other in a capitalist society: it exists to make profit. Medialens, a British campaigning site which critiques mainstream (or corporate) journalism, quotedbusiness journalist Marjorie Kelly as saying that all corporations, including those dealing with media, exist only to maximize returns to their shareholders. This is, she said,  ´the law of the land…universally accepted as a kind of divine, unchallengeable truth´. Without pleasing shareholders and a board of directors, mass media enterprises simply would not exist. And once you understand this, you´ll never watch the news in the same way again.
2. Advertisers dictate content
So how does the pursuit of profit affect the news we consume? Media corporations make the vast majority (typically around 75%) of their profit from advertising, meaning it´s advertisers themselves that dictate content- not journalists, and certainly not consumers. Imagine you are editor of a successful newspaper or TV channel with high circulation or viewing figures. You attract revenue from big brands and multinational corporations such as BP, Monsanto and UAE airlines. How could you then tackle important topics such as climate change, GM food or disastrous oil spills in a way that is both honest to your audience and favorable to your clients? The simple answer is you can´t. This might explain why Andrew Ross Sorkin of the New York Times-  sponsored by Goldman Sachs-  is so keen todefend the crooked corporation. Andrew Marr, a political correspondent for the BBC, sums up the dilemma in his autobiography: ´The biggest question is whether advertising limits and reshapes the news agenda. It does, of course. It's hard to make the sums add up when you are kicking the people who write the cheques.´ Enough said…
3. Billionaire tycoons & media monopolies threaten real journalism


The monopolization of the press (fewer individuals or organizations controlling increasing shares of the mass media) is growingyear by year, and this is a grave danger to press ethics and diversity. Media mogul RupertMurdoch´s  neo-liberal personal politics are reflected in his 175 newspapers and endorsed by pundits (see Fox news) on the 123 TV channels he owns in the USA alone. Anyone who isn´t worried by this one man´s view of the world being consumed by millions of people across the globe- from the USA to the UK, New Zealand to Asia, Europe to Australia- isn´t thinking hard enough about the consequences. It´s a grotesquely all-encompassing monopoly, leaving no doubt that Murdoch is one of the most powerful men in the world. But as the News International phone hacking scandal  showed, he´s certainly not the most honorable or ethical. Neither is AlexanderLebedev, a former KGB spy and politician who bought British newspaper The Independent  in 2010.  With Lebedev´s fingers in so many pies (the billionaire oligarch is into everything from investment banking to airlines), can we really expect news coverage from this once well-respected publication to continue in the same vein? Obviously not: the paper had always carried a banner on its front page declaring itself  ´free from party political bias, free from proprietorial influence´, but interestingly this was dropped in September 2011.
4. Corporate press is in bed with the government

Aside from the obvious, one of the most disturbing facts to emerge from Murdoch´s News International phone hacking scandal (background information here ) was the exposure of shady connections  between top government officials and press tycoons. During the scandal, and throughout the subsequent Leveson inquiry into British press ethics (or lack of them), we learned of secret meetings, threatsby Murdoch to politicians who didn´t do as he wanted, and that Prime Minister David Cameron has a very close friendship with The Sun´s then editor-in-chief (and CEO of News International) Rebekah Brooks. How can journalists do their job of holding politicians to account when they are vacationing together or rubbing shoulders at private dinner parties? Clearly, they don´t intend to. But the support works both ways- Cameron´s government tried to help Murdoch´s son win a bid for BSkyB, while bizarrely,  warmongering ex Prime Minister Tony Blair is godfather to Murdoch´s daughter Grace. As well as ensuring an overwhelming bias in news coverage and election campaigns, flooding newspapers with cheap and easy articles from unquestioned government sources, and gagging writers from criticizing those in power, these secret connections also account for much of the corporate media´s incessant peddling of the patriotism lie-  especially in the lead-up to attacks on other countries. Here´s an interestinganalysis of The New York Times´s coverage of the current Syria situation for example, demonstrating how corporate journalists are failing to reflect public feeling on the issue of a full-scale attack on Assad by the US and its allies. 

5. Important stories are overshadowed by trivia

You could be forgiven for assuming that the most interesting part of Edward Snowden´s status as a whistleblower was his plane ride from Hong Kong to Russia, or his lengthy stint waiting in Moscow airport for someone- anyone- to offer him asylum. Because with the exception of The Guardian who published the leaks (read them in fullhere), the media has generally preferred not to focus on Snowden´s damning revelations about freedom and tyranny, but rather on banaltrivia – his personality and background, whether his girlfriend misses him, whether he is actually a Chinese spy, and ahhh, didn´t he remind us all of Where´s Waldo as he flitted across the globe as a wanted fugitive? The same could be said of Bradley Manning´s gender re-assignment, which conveniently overshadowed the enormous injustice of his sentence. And what of Julian Assange? His profile on the globally-respected BBC is dedicated almost entirely to a subtle smearing of character, rather than detailing Wikileaks´s profound impact on our view of the world. In every case, the principal stories are forgotten as our attention, lost in a sea of trivia, is expertly diverted from the real issues at hand: those which invariably, the government wants us to forget.
6. Mainstream media doesn´t ask questions

´Check your sources, check your facts´ are golden rules in journalism 101, but you wouldn´t guess that from reading the mainstream press or watching corporate TV channels. At the time of writing, Obama is beating the war drums over Syria. Following accusations by the US and Britain that Assad was responsible for a nerve gas attack on his own civilians last month, most mainstream newspapers- like the afore-mentioned New York Times- have failed to demand evidence or call for restraint on a full-scale attack. But there are several good reasons why journalists should question the official story. Firstly, British right-wing newspaper The Daily Mail actually ran a news piece back in January this year, publishing leaked emails from a British arms company showing the US was planning a false flag chemical attack on Syria´s civilians. They would then blame it on Assad to gain public support for a subsequent full-scale invasion. The article was hastily deleted but a cached version still exists. Other recent evidence lends support to the unthinkable. It has emerged that the chemicals used to make the nerve gas were indeed shipped from Britain, and German intelligenceinsists Assad was not responsible for the chemical attack. Meanwhile, a hacktivist has come forward with alleged evidence of US intelligence agencies´ involvement in the massacre (download it for yourself here ), with a growing body of evidence suggesting this vile plot was hatched by Western powers. Never overlook the corporate media´s ties to big business and big government before accepting what you are told- because if journalism is dead, you have a right and a duty to ask your own questions.
7. Corporate journalists hate real journalists

Sirota rightly points out the irony of this: ´Here we have a reporter expressing excitement at the prospect of the government executing the publisher of information that became the basis for some of the most important journalism in the last decade.´ Sirota goes on to note various examples of what he calls the ´Journalists against Journalism club´, and gives severalexamples of how The Guardian columnist Glenn Greenwald has been attacked by the corporate press for publishing Snowden´s leaks. The New York Times' Andrew Ross Sorkin called for Greenwald's arrest, while NBC's David Gregory´s declared that Greenwald has ´aided and abetted Snowden´. As for the question of whether journalists can indeed be outspoken, Sirota accurately notes that it all depends on whether their opinions serve or challenge the status quo, and goes on to list the hypocrisy of Greenwald´s critics in depth: ´Grunwald has saber-rattling opinions that proudly support the government's drone strikes and surveillance. Sorkin's opinions promote Wall Street's interests. (The Washington Post´s David) Broder had opinions that supported, among other things, the government's corporate-serving "free" trade agenda. (The Washington Post´s Bob) Woodward has opinions backing an ever-bigger Pentagon budget that enriches defense contractors. (The Atlantic´s Jeffrey) Goldberg promotes the Military-Industrial Complex's generally pro-war opinions. (The New York Times´s Thomas) Friedman is all of them combined, promoting both "free" trade and "suck on this" militarism. Because these voices loyally promote the unstated assumptions that serve the power structure and that dominate American politics, all of their particular opinions aren't even typically portrayed as opinions; they are usually portrayed as noncontroversial objectivity.´
8. Bad news sells, good news is censored, and celebrity gossip trumps important issues

It´s sad but true: bad news really does sell more newspapers. But why? Are we really so pessimistic? Do we relish the suffering of others? Are we secretly glad that something terrible happened to someone else, not us? Reading the corporate press as an alien visiting Earth you might assume so. Generally, news coverage is sensationalist and depressing as hell, with so many pages dedicated to murder, rape and pedophilia and yet none to the billions of good deeds and amazingly inspirational movements taking place every minute of every day all over the planet. But the reasons we consume bad news are perfectly logical. In times of harmony and peace, people simply don´t feel the need to educate themselves as much as they do in times of crises. That´s good news for anyone beginning to despair that humans are apathetic, hateful and dumb, and it could even be argued that this sobering and simple fact is a great incentive for the mass media industry to do something worthwhile. They could start offering the positive and hopeful angle for a change. They could use dark periods of increased public interest to convey a message of peace and justice. They could reflect humanity´s desire for solutions and our urgent concerns for the environment. They could act as the voice of a global population who has had enough of violence and lies to campaign for transparency, equality, freedom, truth, and real democracy. Would that sell newspapers? I think so. They could even hold a few politicians to account on behalf of the people, wouldn´t that be something? But for the foreseeable future, it´s likely the corporate press will just distract our attention with another picture of Rhianna´s butt, another rumor about Justin Bieber´s coke habit, or another article about Kim Kardashian (who is she again?) wearing perspex heels with swollen ankles while pregnant. Who cares about the missing$21 trillion, what was she thinking?
9. Whoever controls language controls the population

Have you read George Orwell´s classic novel1984 yet? It´s become a clichéd reference in today´s dystopia, that´s true, but with good reason. There are many- too many- parallels between Orwell´s dark imaginary future and our current reality, but one important part of his vision concerned language. Orwell coined the word ´Newspeak´  to describe a simplistic version of the English language with the aim of limiting free thought on issues that would challenge the status quo (creativity, peace, and individualism for example). The concept of Newspeak includes what Orwell called ´DoubleThink´-  how language is made ambiguous or even inverted to convey the opposite of what is true. In his book, the Ministry of War is known as the Ministry of Love, for example, while the Ministry of Truth deals with propaganda and entertainment. Sound familiar yet? Another book that delves into this topic deeper is Unspeak, a must-read for anyone interested in language and power and specifically how words are distorted for political ends. Terms such as ´peace keeping missiles´, ´extremists´ and ´no-fly zones´, weapons being referred to as ´assets´, or misleading business euphemisms such as ´downsizing´ for redundancy and ´sunset´ for termination- these, and hundreds of other examples, demonstrate how powerful language can be. In a world of growing corporate media monopolization, those who wield this power can manipulate words and therefore public reaction, to encourage compliance, uphold the status quo, or provoke fear.
10. Freedom of the press no longer exists

The only press that is currently free (at least for now) is the independent publication with no corporate advertisers, board of directors, shareholders or CEOs. Details of how the state has redefined journalism are noted here and are mentioned in #7, but the best recent example would be the government´s treatment of The Guardian over its publication of the Snowden leaks. As a side note, it´s possible this paper plays us as well as any other- The Guardian Media Group isn´t small fry, after all. But on the other hand- bearing in mind points 1 to 9- why should we find it hard to believe that after the NSA files were published, editor Alan Rusbridge wastold by the powers that be ´you´ve had your fun, now return the files´, that government officials stormed his newsroom and smashed up hard drives, or that Greenwald´s partner David Miranda wasdetained for 9 hours in a London airport under the Terrorism Act as he delivered documents related to the columnist´s story? Journalism, Alan Rusbridge lamented, ´may be facing a kind of existential threat.´ As CBS Evening News anchor Dan Rather wrote: 'We have few princes and earls today, but we surely have their modern-day equivalents in the very wealthy who seek to manage the news, make unsavory facts disappear and elect representatives who are in service to their own economic and social agenda… The "free press" is no longer a check on power. It has instead become part of the power apparatus itself.'
Sophie is a staff writer for True Activist and a freelance feature writer for various publications on society, activism and other topics. You can read more of her stuff here.
Source: True Activist
"The powers of financial capitalism had (a) far-reaching aim, nothing less than to create a world system of financial control in private hands able to dominate the political system of each country and the economy of the world as a whole. This system was to be controlled in a feudalist fashion by the central banks of the world acting in concert, by secret agreements arrived at in frequent meetings and conferences. The apex of the systems was to be the Bank for International Settlements in Basel, Switzerland; a private bank owned and controlled by the world's central banks which were themselves private corporations. Each central bank… sought to dominate its government by its ability to control Treasury loans, to manipulate foreign exchanges, to influence the level of economic activity in the country, and to influence cooperative politicians by subsequent economic rewards in the business world." – Carroll Quigley, member of the Council on Foreign Relations
If one wishes to truly understand the actions behind private Federal Reserve policy, one must come to terms with a fundamental reality – everything the Fed does it does for a reason, and the most apparent reasons are not always the primary reasons. If you think that the Fed simply acts on impulsive stupidity or hubris, then you haven't a clue what is going on. If you think the Fed only does what it does in order to hide the numerous negative aspects of our current economy, then you only know half the story. If you think the Fed does not have a plan, then you are sorely mistaken…
Central Bankers and their political proponents espouse a globalist ideology, meaning, they are internationalists in their orientation and motivations. They do not have loyalties to any particular country. They do not take an oath to any particular constitution. They do not have empathy for any particular culture or social experiment. They have their own subculture, with their own "values", and their own social hierarchy. They are a kind of "tribe" or "sect"; a cult,if you will, that views itself as superior to all others. This means that when the central bankers that run the Fed act, they only act with the intention to support and promote globalization, not the best interests of America and Americans.
The process of globalization REQUIRES the dissolution of the U.S. economy as it exists today. Period. There is no way around it. America can no longer remain a superpower in the face of what globalists call "harmonization". The dollar can no longer maintain its petro-currency status or its world reserve status if total centralization under a new global currency is to be achieved. Globalists believe that America must be sacrificed on the altar of "progress", and diminished into a mere enclave, a feudal colony of a greater global system. The globalists at the Fed are no different.
Once this driving philosophy is understood, the final conclusion is obvious – the Fed exists to destroy the U.S. financial system and the U.S. currency mechanism. That is what they are here for.
This is why the dollar has lost 98% of its value since the Fed was established in 1913. This is why the Fed deliberately engineered the derivatives bubble crisis through the implementation of artificially low interest rates. This is why their response to the crisis was to create yet another massive bubble in stocks and bonds through QE stimulus. This is why the Fed is cutting stimulus today.
How does the taper play into the long running program of dollar destruction and globalization? Let's take a look…
The Multifaceted Taper Strategy
In my article 'Is The Fed Ready To Cut America's Fiat Life Support', and my article 'Expect Devastating Global Economic Changes In 2014′, I predicted that a Fed taper was highly likely. Central banks almost always implant policy shift rumors into the mainstream media a few months before they implement them. They did this for TARP, for QE1, QE2, QE3, and the Taper. In fact, the Fed spent the better part of the past quarter conditioning investors to the idea of stimulus cuts, so I was not at all surprised when they followed through.
The Fed has, of course, now announced a $10 billion QE reduction just in time for Christmas and the 100th anniversary of the privately run institution. In the past, I have pointed out the tendency of central banks to enforce detrimental policy changes while the government, the economy and/or the bank itself is in the midst of a major transition. The Fed's taper announcement comes just in time for the end of Ben Bernanke's term as chairman, and the expected nomination of Janet Yellen.
This is done, I believe, because it provides an opportunity to divert blame for a crisis event they know is on the horizon. If attention is ever focused on the Fed specifically for a market downturn or bond disaster triggered by the ever present dollar bubble, Yellen can simply blame the QE policies of Bernanke (who will be long gone), while promising that her "new" policies will surely repair the damage. This placates the public and buys the central bankers time to do even MORE damage.
The taper itself is not just a "head fake", however. It is a far more complex action. Tapering provides a method of psychologically distancing the Federal Reserve from the consequences of market movements. The banksters are essentially proclaiming to the public that their work is done, they have saved the economy, and now they are moving on, be it only $10 billion at a time. Whatever happens from here on is "not their fault".
Most alternative analysts expected no taper of QE, and for good reason. While the mainstream touts the propaganda of economic recovery, independent financial experts understand that little to nothing was actually accomplished by the bailouts. Virtually no stimulus was absorbed in a localized way by mainstreet business. Real unemployment counting U-6 measurements still stands at around 20%. Real estate markets and home prices have a received a small boost, which at first glance appears positive until one examines who is actually buying; namely big banks and international investment firms snapping up properties only to reissue them on the market as rentals:
http://dealbook.nytimes.com/2013/06/03/behind-the-rise-in-house-prices-wall-street-buyers/?_r=0
U.S. holiday retail sales and annual retail sales have been the weakest since 2009:
http://www.bloomberg.com/news/2013-11-30/black-friday-traffic-seen-thinning-as-stores-open-early.html
The only thing that QE ultimately accomplished was a spectacular rise in stocks through direct manipulation, which Fed agents like Alan Greenspan and Richard Fisher now openly admit to. The problem is, while gamblers in equities proudly boast about the Fed induced bull run in the Dow and how much money they have made, they remain oblivious to the underlying cost of the charade. Market investors have been enriched, yes, but little do they know that stock legitimacy is about to be sacrificed.
The price to earnings ratio of stocks (the market value of stocks versus what they SHOULD be valued according to the actual earnings of the companies listed) in the S&P 500 today stands at around 15, which is the highest it has been since before the 2008 market crash. Mainstream economists attempt to dismiss the issue by using a 15 year average while claiming that the P/E ratio in 2013 is mild compared to the tech bubble of the late 90's. What they don't seem to grasp is that the market of the past four to five years is an entirely different animal compared to 15 years ago.
Stocks in general have received considerable support through purchases by Fed bolstered banks and the Fed itself, creating an atmosphere of artificial demand for equities using QE fiat injections. Though no full audit of the bailouts exists (TARP is the only measure audited so far), it is projected that the banking sector alone has garnered tens of trillions in Fed fiat, which they have used to bolster their otherwise debt ridden holdings. It is only logical to expect that this capital tsunami has been used by numerous companies as a way to present false earnings.Goldman Sachs, JP Morgan, and Morgan Stanley all reported substantial profits for 2009 while at the same time reporting massive liabilities caused by the derivatives crash so that they could collect on the bailout bonanza.
So which one is it? Are companies making profits, or are they wallowing in insurmountable debt while presenting government stimulus as a form of profit?
What the Fed and corporate banks have done is create a market in which neither earnings, nor stock values can be trusted. The fact that the P/E ratio is higher than it has been since 2008 despite this manipulation should concern anyone with any sense.
Worst of all, the Fed's monetization of U.S. Treasury debt has only expanded while foreign investment in long term debt has contracted. With our official national debt growing by at least $1 trillion per year, our country cannot continue to function without an ever increasing amount of foreign investment, or, Federal Reserve printing. The Fed cannot make cuts to QE if our system is to survive (if you want to call it survival), the Fed must expand QE forever, or at least until the dollar implodes due to hyperinflation.
So then, why has the taper been introduced at all? No one wants it. The government shouldn't want it. Investors certainly don't want it. Our economy is utterly dependent on the opposite. What purpose does it serve?
The assumption has always been that the Fed wants to keep the system afloat. I submit that things have changed. I submit that the Fed no longer wishes to prop up our fiscal structure, or at least, no longer wishes to be seen as propping it up. I submit that the Fed is not pursuing dollar destruction through standard hyperinflation, but rather, they are preparing the U.S. for default, which also will result in currency implosion.
The Taper Parallels
"It must not be felt that the heads of the world's chief central banks were themselves substantive powers in world finance. They were not. Rather they were the technicians and agents of the dominant investment bankers of their own countries, who had raised them up, and who were perfectly capable of throwing them down. The substantive financial powers of the world were in the hands of these investment bankers who remained largely behind the scenes in their own unincorporated private banks. These formed a system of international cooperation and national dominance which was more private, more powerful, and more secret than that of their agents in the central banks. " – Carroll Quigley, Tragedy And Hope
Initial shock over the taper scenario has not sunk into the markets yet (as Zero Hedge points out, the last time a major central bank cut stimulus measures to a dependent country, stocks rallied, then crashed within months). Few people see much difference between $75 billion per month and $85 billion per month, but the size of the cuts is not really the issue. Rather, it is the Fed's act of fading into the background that should concern us.
The taper announcement parallels perfectly with the accelerating debate over the U.S. debt ceiling, and I do not think this is at all a coincidence. Tapering seems inconceivable to many, but for the Fed it makes perfect sense if the goal of the globalists is to generate a default scenario while diverting blame. I believe that Americans are being prepared psychologically for just such an event. Already, the White House is warning that government funding will essentially disappear by the end of February:
http://www.reuters.com/article/2013/12/19/us-usa-fiscal-idUSBRE9BF1FW20131219
The expectation fostered by the mainstream media is that a debt fight similar to the October theater will not happen again. I agree. I believe the next debate will be much worse. The vast majority will assume that the "can" will be kicked down the road again, and they may be right, but given the Fed's behavior, and given that they have begun to taper despite what appears logical, many people may be in for a shock when our government also suddenly decides one day soon to buck assumptions and default rather than prolong the pain.
The full spectrum failure of Obamacare only adds excuse and incentive. There is no longer a legislative centerpiece rationale for further spending. Obama's approval rating is at historic lows for any president. The stage has been set for the most epic of fake political battles.
The Left and Right leadership, at the top of the pyramid, are nothing more than flunkies for the global elite. If globalists have decided that it is time to apply the final death blows to the dollar, default would be the quickest and most efficient way, and political puppetry can easily make it happen. The calamity would be blamed on "partisan bickering" and "government gridlock", or even the inefficiency of "democracy". The Fed, with its taper in place and its fake recovery established, would be presented as the only "sane" institution at America's disposal.
Perhaps at this point even more pervasive QE programs would recommence, perhaps not. At bottom, though, the taper is not a peripheral issue. It is an action at the center of a much more elaborate process, an action that seems to have been undertaken in preparation for a larger event. The next year is shaping up to be the most chaotic since the debt crisis began in 2008, and as the situation progresses, the subtleties of the Federal Reserve and the international banks that back it must not go unnoticed, or in the end, unpunished.
Source: Brandon Smith | Alt-Market
Researching economic publications on the first century of the Federal Reserve System provides a wealth of financial information that attempts to explain the way the central bank works. Rarely will the academic studies and official reports address the raw nature of a money creation by a private banking monopoly. The common practice of disparaging sources outside government or corporatist business circles, attempts to avoid addressing, much less confronting the plutocracy that controls the debt created money system.
One such source list of the ownership of the Federal Reserve, compiled by Thomas D. Schauf appears on The Federal Reserve Scam! However, before getting to the particulars of the actual families behind the central banking cabal, it is important to go directly to the source of the primary chronicler who investigated and exposed the scheme. The late, Eustace Mullins – Secrets of The Federal Reserve, video reveals the entire sordid background.
Now review 25 Fast Facts About The Federal Reserve You Need To Know, from ETF Daily News that advises investors. The way these items play into the central banking model practiced by all 187 nations that belong to the IMF, demonstrates that banksters of the most select rank, are behind continued debt bubbles that are strangling the world.
On the Left Hook site by Dean Henderson, a five part series on the Federal Reserve provides added documentation. Mr. Henderson cites from Part 1 in this series, The Federal Reserve Cartel: The Eight Families, "They are the Goldman Sachs, Rockefellers, Lehmans and Kuhn Loebs of New York; the Rothschilds of Paris and London; the Warburgs of Hamburg; the Lazards of Paris; and the Israel Moses Seifs of Rome."
Finally, watch the video by G Edward Griffin Creature From Jekyll Island A Second Look at the Federal Reserve. Mr. Griffin explains the broad picture in simple and clear terms.
With such definitive information available and widely known within financial circles, why is the public so content to remain in the dark? They live under the aftermaths of the Federal Reserve is a Cache of Stolen Assets, but resign themselves to the oblivion of lost expectations and the burden of diminished opportunities.
"Think about who really owns the land, the buildings and the resources in our country. In order to really understand the scope and extent of the economy, the differential between actual Main Street enterprise, that feeds, clothes and shelters the population, is minuscule when compared to the financial assets, both liquid and real property, that is under the command and control of the central bank."
The political class and the business establishment simply refuse to buck the controllers of the currency. Attempts for a Jackals of Jekyll Island – Federal Reserve Audit, are pushed aside because any accountability for the Fed would ripple throughout the entire world fiat paper banking system. "The FED's grip on the global moneychangers' racket is based upon maintaining the U.S. Federal Reserve funny money, as the reserve currency for the planet. The value and worth of Treasury Bills and Bonds are on the path to have the value of
Reichsbank marks. Recognize the enemy that is destroying the country and world economy."The Cato Institute provides a working paper, Has the Fed Been a Failure?, that traces the history, avowed mission and actual results of the Federal Reserve System. This scholarly approach acknowledges that other financial frameworks are "relatively easy to identify viable alternatives to the adoption of the Federal Reserve Act in 1913."
"However, recent work suggests that there has been no substantial overall improvement in the volatility of real output since the end of World War II compared to before World War I . . . the Fed cannot be credited with having reduced the frequency of banking panics or with having wielded its last-resort lending powers responsibly. In short, the Federal Reserve System, as presently constituted, is no more worthy of being regarded as the last word in monetary management than the National Currency System it replaced almost a century ago."
Lastly, the essay, Who Owns The Federal Reserve?, by Ellen Brown, substantiates that the "Fed is privately owned, and its shareholders are private banks. In fact, 100% of its shareholders are private banks. None of its stock is owned by the government."
Since the adoption of a private banking, money creation venture, the dollar has lost virtually its entire store of value. The currency has lost its universal acceptance, as multiple alternatives circulate to replace its reserve status.
The Federal Reserve's First 100 Years: A Dismal Record by Dan Ferris, identifies the ultimate consequence of the stewardship under a central bank. "The century prior to the Fed, despite setbacks, was a century of improvement in the dollar's value. The century after it, despite enormous gains in productivity, was a century of rampant Federal Reserve destruction of the dollar's value."This failure to maintain and preserve the integrity of the dollar is no accident. The actual purpose of the architects of the Federal Reserve System has never changed. Consolidate the control of money into a concealed cartel of banking houses that ultimately decide economic and political policy.
Dispensing of credit to corporatist projects, owned or run by reliable operatives of the cabal is the objective. The only beneficiaries are the original stockholders.
"Under the terms of the Federal Reserve Act, public stock was only to be sold in the event the sale of stock to member banks did not raise the minimum of $4 million of initial capital for each Federal Reserve Bank when they were organized in 1913 (12 USCA 281). Each Bank was able to raise the necessary amount through member stock sales, and no public stock was ever sold to the non-bank public."
For the rest of Americans, the Federal Reserve conspiracy is an ongoing theft syndicate. It only takes the will to admit the undeniable. Without the courage to abolish this usury monster, the next century will witness the total destruction of the country.
Former Treasury Secretary Timothy Geithner, a protege of Treasury Secretaries Rubin and Summers, has received his reward for continuing the Rubin-Summers-Paulson policy of supporting the "banks too big to fail" at the expense of the economy and American people. For his service to the handful of gigantic banks, whose existence attests to the fact that the Anti-Trust Act is a dead-letter law, Geithner has been appointed president and managing director of the private equity firm, Warburg Pincus and is on his way to his fortune.
A Warburg in-law financed Woodrow Wilson's presidential campaign. Part of the reward was Wilson's appointment of Paul Warburg to the first Federal Reserve Board. The symbiotic relationship between presidents and bankers has continued ever since. The same small clique continues to wield financial power.
Geithner's career is illustrative. In the 1980s, Geithner worked for Kissinger Associates. In the mid to late 1990s, Geithner served as a deputy assistant Treasury secretary. Under Rubin and Summers he moved up to undersecretary of the Treasury.
From the Treasury he went to the Council on Foreign Relations and from there to the International Monetary Fund (IMF). From there he was appointed president of the Federal Reserve Bank of New York, where he worked to make banks more profitable by allowing higher ratios of debt to capital, thus contributing to the financial crisis.
Geithner arranged the sale of the failed Wall Street firm of Bear Stearns, helped with the taxpayer bailout of AIG, and rejected saving Lehman Brothers from bankruptcy in order to create the crisis atmosphere needed to more fully subordinate US economic policy to the needs of the few large banks.
Rubin, a 26-year veteran of Goldman Sachs, was rewarded by Citibank for his service to the banks while Treasury Secretary with a $50 million compensation package in 2008 and $126,000,000 between 1999 and 2009.
When a person becomes a Treasury official it is made clear that the choice is between serving the banks and becoming rich or trying to serve the public and becoming poor. Few make the latter choice.
As MIchael Hudson has informed us, the goal of the financial sector has always been to convert all income, from corporate profits to government tax revenues, to the service of debt. From the bankers standpoint, the more debt the richer the bankers. Rubin, Summers, Paulson, Geithner, and now banker Treasury Secretary Jack Lew faithfully serve this goal.
The Federal Reserve describes its policy of Quantitative Easing — the creation of new money with which the Fed purchases Treasury debt and mortgage backed securities — as a low interest rate policy in order to stimulate employment and economic growth. Economists and the financial media have parroted this cover story.
In contrast, I have exposed QE as a scheme for pumping profits into the banks and boosting their balance sheets. The real purpose of QE is to drive up the prices of the debt-related derivatives on the banks' books, thus keeping the banks with solvent balance sheets.
Writing in the Wall Street Journal ("Confessions of a Quantitative Easer," November 11, 2013), Andrew Huszar confirms my explanation to be the correct one. Huszar is the Federal Reserve official who implemented the policy of QE. He resigned when he realized that the real purposes of QE was to drive up the prices of the banks' holdings of debt instruments, to provide the banks with trillions of dollars at zero cost with which to lend and speculate, and to provide the banks with "fat commissions from brokering most of the Fed's QE transactions." (See: www.paulcraigroberts.org )
This vast con game remains unrecognized by Congress and the public. At the IMF Research Conference on November 8, 2013, former Treasury Secretary Larry Summers presented a plan to expand the con game.
Summers says that it is not enough merely to give the banks interest free money. More should be done for the banks. Instead of being paid interest on their bank deposits, people should be penalized for keeping their money in banks instead of spending it.
To sell this new rip-off scheme, Summers has conjured up an explanation based on the crude and discredited Keynesianism of the 1940s that explained the Great Depression as a problem caused by too much savings. Instead of spending their money, people hoarded it, thus causing aggregate demand and employment to fall.
Summers says that today the problem of too much saving has reappeared. The centerpiece of his argument is "the natural interest rate," defined as the interest rate at which full employment is established by the equality of saving with investment. If people save more than investors invest, the saved money will not find its way back into the economy, and output and employment will fall.
Summers notes that despite a zero real rate of interest, there is still substantial unemployment. In other words, not even a zero rate of interest can reduce saving to the level of investment, thus frustrating a full employment recovery. Summers concludes that the natural rate of interest has become negative and is stuck below zero.
How to fix this? The way to fix it, Summers says, is to charge people for saving money. To avoid the charges, people would spend the money, thus reducing savings to the level of investment and restoring full employment.
Summers acknowledges that the problem with his solution is that people would take their money out of banks and hoard it in cash holdings. In other words, the cash form of money provides consumers with a freedom to save that holds down consumption and prevents full employment.
Summers has a fix for this: eliminate the freedom by imposing a cashless society where the only money is electronic. As electronic money cannot be hoarded except in bank deposits, penalties can be imposed that force unproductive savings into consumption.
Summers' scheme, of course, is a harebrained one. With governments running huge deficits, who would purchase bonds at negative interest rates? How would pension and retirement funds operate? Would they also be subject to an annual percentage confiscation?
We know that the response of consumers to the long term decline in real median family income, to the loss of jobs from labor arbitrage across national borders (jobs offshoring), to rising homelessness, to cuts in the social safety net, to the transformation of their full time jobs to part time jobs (employers' response to Obamacare), has been to reduce their savings rate. Indeed, few have any savings at all. The US personal saving rate is currently 2 percentage points, about 30%, below the long term average. Retired people, unable to earn any interest on their savings from the Fed's zero interest rate policy, are being forced to draw down their savings in order to pay their bills.
Moreover, it is unclear whether the savings rate is an accurate measure or merely a residual of other calculations. With so many people having to draw down their savings, I wouldn't be surprised if an accurate measure showed the personal savings rate to be negative.
But for Summers the plight of the consumer is not the problem. The problem is the profits of the banks. Summers has the solution, and the establishment, including Paul Krugman, is applauding it. Once the economy officially turns down again, watch out.
This column first appeared as a Trend Alert, Trends Research Institute
Source: Paul Craig Roberts