The pressing question of this commentary: what are we doing to ourselves and why do we keep doing it?
In the past 50 years, scientists and chemists from all over the world created 80,000 different chemicals to work all sorts of havoc on Mother Nature.  You can find pharmaceuticals and pesticides in Polar bears as well as seals and fish in the Southern Oceans of Antarctica.
Guess what?  You can find many of the same chemicals in human beings.  If you look across America's landscape, 30 years ago, Autism affected 1 in 110,000 births. Today, it affects 1 in 110. (Source: CDC report)
When we poison the plants and animals of the food chain around the planet, we ultimately poison ourselves.  Witness cancer rates skyrocketing around the world.  Witness Parkinson's disease, fibromyalgia, lupus and other neurological maladies affecting millions of Americans.
Fukushima reactors spill billions of gallons of radioactive wastewater into the Pacific Ocean.  It circulates to all corners of the planet.  But closer to home, we continue injecting drugs and chemicals into our own Great Lakes.
An International Joint Commission report, conducted by scientists from both the US and Canada, discovered that the Great Lakes region suffers severely contaminated waters replete with chemicals and prescription drugs that slipped past treatment methods at sewage treatment plants.
"The commission found that about half of all prescription drug and other chemical contaminants remain in sewage waste after it is treated," said a Natural News report. "The situation is so dire that the commission is calling out for new water treatment methods, warning residents of the area of "chemicals of emerging concern" that may affect the health of both aquatic life and humans in negative ways."
The Great Lakes – becoming a cocktail of pharmaceutical and chemical compounds
Antonette Arvai, physical scientist of the International Joint Commission, said, "It is hard to tell how one contaminate may affect the human body, let alone a whole mix of chemicals and pharmaceuticals. The compounds, which can't be seen, are showing up in mixed proportions at parts per billion or parts per trillion. As compounds combine randomly and in different proportions, water from the Great Lakes is becoming a wicked cocktail travesty of science."
According to the commission, "A chemical flood of 4.8 billion gallons of waste water is treated and discharged into the Great Lakes basin every day. All the intermingling, parts per billion of untreated waste chemicals add up. The Great Lakes are basically becoming a pharmaceutical stew, a melting pot of side effects waiting to be drunk."
This list shows chemicals and pharmaceuticals that accumulate in the Great Lakes region.
A couple of antibiotics drugs and commercial antibacterial triclosan - Triclosan, the antibacterial compound found in commercial soaps, toothpastes and other body care products is a known toxin to algae and has been shown to be a hormone disruptor to fish. How might triclosan and other antibiotics spawn the creation of dangerous and evolved bacteria strains?

Diana Aga, chemistry professor and chemical researcher of the Great Lakes region said, "Even at low levels you don't want to have people ingest antibiotics regularly because it will promote resistance."
An herbicide - How might this destroy nutritional algae and other beneficial plants, which are needed for a thriving ecosystem?
Acetaminophen and an anti-inflammatory drug called diclofenac. Dicolfenac accumulates in fish. How might continual dosing through water sources accumulate in the cells of humans and tax the liver over time?
 An estrogen, estriol - How might hormones in the water affect mating patterns in wildlife and in humans?
An anti-seizure drug - How might drugs like these, with side effects including suicidal thoughts and behaviors, effect people over time?
Do you filter your water?  Start today!
Commission board member and scientist for the National Wildlife Federation's Great Lakes Regional Center Michael Murray said, "Wastewater plants weren't designed to handle these types of chemicals."
As wastewater treatment plants fail to keep up with high levels of pharmaceuticals and chemical compounds, obtaining clean water will become the responsibility of the individual family.
Most municipal water sources suffer contaminating with fluoride, chlorine and other chemicals. You must filter your own water. Gravity-fed activated charcoal filtration devices are becoming more popular for their ability to eliminate pharmaceuticals and herbicides from tap water. Other filters that use reverse osmosis help eliminate fluoride and arsenic. Some water filtration systems utilize both methods to free water of practically all contaminates.
Finally, a friend of mine said that my quest to educate all Americans as to the ramifications of adding 138 million people within 36 years fails from the git-go.  Most Americans and certainly our Main Stream Media cannot grasp the enormity of it, or if they do, they flee the subject because it proves extremely unsettling. Better to deny it today and deal with it tomorrow.
Unfortunately, that's like driving a car toward a cliff at 100 miles per hour and start braking within 100 feet of the edge.  You certainly know what happens to anyone in that car.
That's why we need to take action today.  We must stop mass immigration into America. We don't want to become a "refugee nation" and we don't want our civilization overwhelmed and unsustainable.
Call Speaker of the House John Boehner and demand he not pass S744 amnesty that will flood the country with two million immigrants annually and give amnesty to 20 million plus. The reasonable solution: enforce our current laws against employers.  Call him: 202 225 0600.
Concerns about an imminent bank crash were further fuelled today at news that HSBC are restricting the amount of cash that customers can withdraw from their own bank accounts. Customers were told that without proof of the intended use of their own money, HSBC would refuse to release it. This, and other worrying signs point to a possible financial crash in the near future.
HSBC is scrambling to manage a seemingly terminal liquidity crisis (a lack of hard cash) that could see the bank become the next Northern Rock – and trigger a bank crash.  The analyst's advice is for shareholders to sell HSBC investments, and customers to move their accounts elsewhere before the crash.
This from the Telegraph:
Forensic Asia on Tuesday began its coverage of Britain's largest banking group with a 'sell' recommendation, warning the lender had between $63.6bn (£38.7bn) and $92.3bn of "questionable assets" on its balance sheet, ranging from loan loss reserves and accrued interest to deferred tax assets, defined benefit pension schemes and opaque Level 3 assets.
According a report by the BBC's MoneyBox Programme, HSBC customers have gone to withdraw cash from their accounts, only to find HSBC would not release the funds.  Customers were told to make a bank transfer instead, unless they provided documentation proving the intended use of the money. Stephen Cotton attempted a withdrawal and told the programme:
"When we presented them with the withdrawal slip, they declined to give us the money because we could not provide them with a satisfactory explanation for what the money was for. They wanted a letter from the person involved."
Mr Cotton says the staff refused to tell him how much he could have: "So I wrote out a few slips. I said, 'Can I have £5,000?' They said no. I said, 'Can I have £4,000?' They said no. And then I wrote one out for £3,000 and they said, 'OK, we'll give you that.' "
He asked if he could return later that day to withdraw another £3,000, but he was told he could not do the same thing twice in one day.
As this was not a change to the Terms and Conditions of your bank account we had no need to pre-notify customers of the change"
He wrote to complain to HSBC about the new rules and also that he had not been informed of any change.
The bank said it did not have to tell him. "As this was not a change to the Terms and Conditions of your bank account, we had no need to pre-notify customers of the change," HSBC wrote.
Mr Cotton is not alone, with other customers seeking to withdraw cash amounts over £3,000 facing the same obstacles.  While HSBC argue there is comes customer security interest here, the story simply doesn't add up.  Customer identification is required for large withdrawals, not customer intentions – a person's cash is theirs to withdraw and place wherever they so wish.  Instead, HSBC has been found to have a capitalization black hole (gap between actual cash and obligations) of$80bn.  The message is simple, get your money out now.
The major banks and states appear to be preparing for impending crisis, while pretending to the public that the economic situation is improving.
There is a gold rush underway, with Banks and States frantically buying up as much gold reserve as they can, stoking fears that confidence in currency is at an all-time low.  In recent months and weeks, banks like HSBC and JP Morgan, and states such as the US, Germany and China have joined the gold rush, making vast purchases of stocks.
Investment analysts at Seeking Alpha have been monitoring the strange activity on the COMEX, stating:
"keeping track of COMEX inventories is something that is recommended for all serious investors who own physical gold and the gold ETFs (SPDR Gold Shares (GLD), PHYS, and CEF) because any abnormal inventory declines may signify extraordinary events behind the scenes."
The crash is in some ways a replay of the last one.  The US dollar is a fiat currency (as is the pound sterling, the euro and most other major currencies).  This means, it is monopoly money.  There is no gold reserve that its values are pegged to.  It is simply made up.  So how does money get made? A private, for profit central bank prints it and lends it to the government (or other banks) at an interest rate.  So the Central Bank prints $100, and gives it to the government on the basis that it returns $101.  You may have already spotted the first flaw in this process.  The additional $1 can only ever come from the Central Bank.  There is never enough money. The second issue is that all money is debt.
This used to be the way pretty much all of the money in circulation came to be.  That is, until Investment and Retail Banks got tired of this monopoly on debt based currency, and kicked off thecommercial money supply.  You might assume that when you take out a loan or other form of credit, a bank gives you that money from its reserves, and you then pay back that loan to the Bank at a given interest rate – the Bank making its profit on the interest rate.  You would be wrong. The Bank simply creates that loan on a computer screen.  Let's say you are granted a loan for $100,000.  The moment that loan is approved and $100k is entered on the computer – that promise from you to the bank creates $100k for the bank, in that instant.  This ledger entry alone creates the $100k, from nothing. Today, over 97% of all money that exists, is made this way.
This is what drove the dodgy lending practises that created the last crisis.  But since then, the failure to regulate the markets means that while bailouts hit public services and the real economy – banks were free to continue the same behaviour, bringing the next crash.
The world's second richest man, Warren Buffet warned us in 2003 that the derivatives market was 'devised by madmen' and a 'weapon of mass destruction' and we have only seen the first blast in this debt apocalypse.
The news that should have us all worried is: the derivatives market contains $700trn of these debts yet to implode.
Global GDP stands at $69.4trn a year.  This means that (primarily) Wall Street and the City of London have run up phantom paper debts of more than ten times of the annual earnings of the entire planet.
Not only can the Bankers not pay it back, the combined earning power of the earth could not pay it back in less than ten years if every last cent of our productive power went solely to pay off this debt.
This is why answering the issues with our currencies, our banking practices and economic system are not theoretical or academic – they are a matter of our very survival.
Source:  http://iacknowledge.net/hsbc-bank-on-verge-of-collapse-second-major-banking-crash-imminent/
he media spin machine is again kicking into high gear, perfectly timed to accompany the "Geneva II" Syria peace talks. The lies are necessary to give the Obama administration an upper hand in the peace negotiations, which are not being used to pursue peace, but instead, to accomplish the Obama administration's longstanding goal of Syrian regime change. Here are the top three Western media lies about the Syrian peace talks.
1) The removal of Syrian Bashar al-Assad was an agreed upon "precondition" for the Geneva II peace talks.
This lie has been repeated over and over by government and media alike. It has zero basis. The Obama administration claims that this precondition was expressed in the "Geneva communiqué," which was a road map agreement meant to guide the Geneva II peace talks, agreed upon by some of the major parties of the negotiations, including Russia.
The communiqué does indeed call for a negotiated political transition, but nowhere does it state that such a transition cannot include President Assad. Such a condition would have been outright rejected by Russia.
In fact, the Geneva communiqué includes this crucial statement:
"[a transition government] could include members of the present [Syrian] government and the opposition and other groups and shall be formed on the basis of mutual consent." Nowhere does it specifically mention or imply President Assad would have to leave power first.
The Los Angeles Times recently stepped out of line and exposed this lie:
"[John] Kerry regularly cites the "Geneva communiqué," a kind of peace road map hammered out in June 2012 during a United Nations-organized summit. But the document does not explicitly call for Assad's ouster."
The Obama administration's constant repeating of this lie only causes divisions in the peace process, undermining the chances that the peace process will succeed.
The Obama administration is especially adamant about this "Assad must go" precondition because it knows that, if free and fair elections were held tomorrow in Syria – as part of a UN-backed "transitional process" – President Assad would likely win. This is the result of the ethnic and religious minorities in Syria that have rallied behind President Assad, since they've witnessed the consistent religious sectarian atrocities committed by the U.S.-backed rebels (which the U.S. media loves to ignore or minimize).
Assad would probably win an election since there is also simply no one else on the government side or the opposition side with his name recognition or popularity. The U.S.-backed rebel war in Syria has vastly strengthened Assad's political hand, but you wouldn't know it from the Western, anti-Syrian media.
Demanding Assad's ouster also does not reflect the situation on the ground. The U.S.-backed rebels have never controlled more than one Syrian city, namely Raqaa, which is dominated by al-Qaeda and is governed under a Taliban-style interpretation of Islamic law, which includes a strict ban on music. Thus, the rebels don't have the ground power that would even enable them to make the demand that "Assad must go".
2) The U.S.-backed rebel militias are "moderate" Islamic groups.
The fact that this lie can even be uttered publicly without encountering ridicule is a major success of Western media propaganda. The media narrative paints the U.S.-backed "good" rebels fighting both the Syrian government and the "bad" al-Qaeda linked rebels.
But the "good" rebels in the U.S.-backed Islamic Front share the same vision for Syria's future as the al-Qaeda rebels: a fundamentalist version of Sharia law, where women live in virtual house arrest and where religious minorities are second class citizens (non-Sunni Muslims would simply be butchered, as they are on a regular basis in Syria, which is again minimized or ignored in the Western media.)
The "moderate rebel" lie was further exposed recently when a top leader in the most powerful militia, Ahrar al Sham, within the Islamic Front declared Ahrar al Sham to be the "real" representative of al-Qaeda in Syria, as opposed to the rival al-Qaeda faction that the Islamic Front had recently begun fighting.
Ahrar al Sham has long been known to be an al-Qaeda type Islamist extremist group; the Western media simply chose to ignore it. But when it was recently made official, the US media chose to continue its ignoring stance, since actually reporting on it would destroy their "moderate rebel" lie. The Western media also continues to ignore the fact that the "moderate" U.S.-backed Islamic Frontissued a joint statement that aligned itself to the extremist views of Ahrar al Sham, the "real" al-Qaeda.
3) New Evidence of Syrian government "industrial scale" torture.
The Western media recently blasted the "breaking news" of brand new evidence showing massive "Nazi-like" torture and murder by the Syrian government, released at the beginning of the Syrian peace talks. This may or may not be true, but the lie here is that the Western media promoted the "evidence" as being unquestionably true, when the story doesn't reach first base when it comes to evidence-based journalism.
All we really know is that there are hundreds of pictures of dead people that a "trusted source" says were killed by the Syrian government. The trusted source was designated as such by pro-Western intellectuals, who have earned professional "credibility" by helping convict war criminals in the International Criminal Court [ICC]. But as author Diane Johnstone pointed out in her excellent book "Fools Crusade," about the war against Yugoslavia – as well as in other articles – the ICC has long been used by western powers as a tool to create a pretext for war, or a tool to justify a war after the fact.
The evidence of the "NAZI-like" atrocities was written in a study paid for by the government of Qatar, which has long funneled cash, guns, and Jihadis to Syria in aid of the anti-government rebels.
Again, we don't know if the story is true or not. But such an important investigation should be conducted by the UN or another more objective institution. The same biased dynamic occurred in relation to the infamous chemical weapons attack, where no real evidence was provided, though an unending string of "experts" were quoted in the Western media, testifying to the guilt of the Syrian Government. But when Pulitzer prizewinning journalist Seymour Hersh reported that the Obama administration lied about the rebels not having the capacity to perform such an attack, the Western media simply ignored the legend of journalism. The wrench in the propaganda machine was simply dislodged.
How do these lies become such permanent fixtures in the Western media? An excellent article in the Guardian newspaper recently discussed in depth the principal sources the Western media has used to understand the Syrian conflict.
The article exposed the incredible bias of some of the most important Western media sources on Syria, which is why they were handpicked in the first place to be "expert" sources: they had political agendas that were aligned with the US government's foreign policy decisions. The other side of the conflict was completely ignored, except when it was targeted for ridicule. Thus, Americans and Europeans have a completely one-sided, if not fantasy-based perspective of what is happening in Syria. This has been systematic since the beginning of the conflict, as happened with the Yugoslav, Afghan, Iraq, and Libya wars.
The result of this media-led ignorance could result in yet more unnecessary deaths in a country that now has millions of refugees and over a 100,000 dead. Obama seems like he intends to exploit these peace talks with the intention of blaming the Syrian government for their failure. Having failed to defeat Assad on the battlefield in a proxy war, the Obama administration is trying to win the propaganda war. And once peace talks have failed, talk of war will resume, since "all other options have failed."
I used to really really hate housework but don't hate it so much any more — ever since I developed my fabulous new housecleaning system wherein I just do 15 minutes of housework a day, but do it each day consistently, using a timer so as not to cheat.
You'd be surprised how much you can get done in just 15 minutes, but you gotta do it daily, no matter what — even if some newbee student dentist has just finished scraping all those extra bone fragments out of the socket of your recently-pulled (phantom) tooth and then practiced her rusty stitching techniques on your poor bleeding gums.
And here's another added bonus to my housecleaning system:  After having spent approximately 5,475 minutes a year for the past six years on trying to keep this damn place clean, I have actually sort of started to bond with my home.
So.  A few days ago I was cleaning stuff out of an old filing cabinet, and came across a whole bunch of articles that I had written way back in the day — back before we had all kinds of self-publishing apps available online; and even back before there was FaceBook or blogs or Kindle or Twitter or even Instagram and YouTube.
And, way back in those old paleo days, writers such as myself had actually been forced to photocopy our articles, write up a cover letter and then send them all off to magazine editors with self-addressed stamped envelopes enclosed.  Totally old school.  Can you even imagine doing that now?
And there at the very bottom of one of those file drawers, I found over two hundred rejection letters from various editors and publishers.  Amazing.
Dontcha just love publishing over the internet instead?  (And thank goodness for net neutrality too — which is currently being threatened.  Shouldn't we start boycotting Verizon, AT&T and Comcast over this?  C'mon, all you independent bloggers, Tweeters and self-publishers, let's get off our butts and fight for less intervention and more high-speed!) http://www.latimes.com/business/hiltzik/la-fi-mh-net-neutrality-20140114,0,522106.story
And speaking of the internet, those huge and powerful corporations which now own our government are still using it to spy on all of us — and not just us writers.   Now why would corporations want to do that?  Because they are paranoid.  And greedy.  And afraid.
I used to be paranoid and greedy and afraid too — but am now here to tell you that, in the long run, paranoia and greed and fear are just too damn much hard work.  Wisdom and kindness are better.  And easier too.  Just ask Jesus.  And Gandhi.  And Martin Luther King Jr.
"But Jane," you might say, "that kind of slacker attitude could get you killed."  True.  It certainly got King and Gandhi and Jesus killed.  But at least I would die while feeling all proud of myself as I cross over — not huddled up in some miserable isolated Midas-like earthly fortress while watching the rest of the world end before my very eyes and with only my black, ice-cold-hearted evil soul (that nobody else would ever want to spend time with, ev-ah) to keep me company.  Yuck.
Anyway, back at the filing cabinet, I began reading through some of my old articles again — and some of them were really actually quite good.  The one about my struggles to get my aging father into an assisted-care home was particularly poignant — and how my mean sister had dragged me through probate court after he died, just when I was grieving the most.  I later published it on the internet, entitled "Probating the Family Feud" — and a lot of people actually read it there too.  http://veracityvoice.com/?p=1158
And I also found something I had written back in 2005 — back when Fallujah was a horrible war-crime-induced hot mess; about all my efforts to embed with the Army there.  And how I finally did embed with the Marines in Heet and Haditha two years later http://jpstillwater.blogspot.com/2007_10_01_archive.html.
But apparently Fallujah is still a war-torn hot mess even today; the only difference being that Iraqis, not Americans, are now doing most of the killing in Al Anbar province.  So does that make all this current senseless slaughter of civilians less of a war crime — because civilians are now being senselessly slaughtered by local hordes instead of by American hordes?   http://www.globalresearch.ca/the-third-battle-of-fallujah/5364369

Ten years later, I still want to go to Fallujah.
Or as one friend in Iraq calls it, "Fallujahpaloooza".  Laughter through tears.  http://www.youtube.com/watch?v=Dt5qaMHQDfw&desktop_uri=%2Fwatch%3Fv%3DDt5qaMHQDfw&app=desktop
And then I discovered, hidden back at the very bottom of my filing cabinet, a rough draft of my first novel.  I loved that novel so much!  But NOBODY would publish it.  Nobody.  That novel had everything — love, death, war, peace, history, philosophy, drama, even intergalactic travel — and even one fast-moving chapter on how wisdom and kindness always trumps greed, paranoia and fear.  "Pictures of a Future World" was the title.  I may get around to publishing it yet — but this time I'll try Kindle.
PS:  Here's an excerpt from my old unpublished novel, "Pictures of a Future World":
All eyes turn to the Shaman, who continues to speak from his deep trance.

The atmosphere in the sandstone kiva comes alive.  The Shaman moves his mind to a new point of consciousness.  Another one of his emanations begins to speak, this time in an intensely penetrating tone.  "There is a tree on the mesa top," the deep voice slowly intones.  "It has watched the raider warriors kill our people one by one.  It has seen us begin to build our houses here in the dark shadows of the canyon walls instead of up on the sunny mesa tops where they belong…so that we might be safe…from the raider warriors.

"They are killers.

"We are prey.

"So has it always been.  So shall it always be.

"There is no place that we can go on the face of this earth that is safe from them…either now or in the far distant future… when even our mesa-top trees are dead.

"Raiders will always hunt peaceful men.

"They will find us, and they will kill our bodies just as the coyote kills the hare."

Absolute silence falls like a black shroud inside the kiva.

Everyone waits for the Shaman to speak again.  Even the Shaman himself waits.  Is this all that he is going to say?  By now the ceremonial kiva is as bright as day, the elders rigid with attention.

"Of these things we must never be afraid, ever," the Shaman continues.  "The raiders may search us out, the barbarians may chase us down and trap us and corner us like rats…from now until the end of time.

"The needy ones, the greedy ones will hunt us in order to make our wisdom and our abundance their own.  They will act out of evil caused by envy, jealousy or need.  Whatever their reasons — that is the way of it.  No place is safe.  We must be prepared to give up our bodies at any time, willingly and without fear or regret.

"Because our bodies are not us."

The Shaman breathes slowly now, and the clan members sense that he is struggling within himself, trying to clarify what he alone is seeing, forcing himself to go on.  A moment passes.  The mask presses heavily upon him.  Finally he continues:  "We of the pueblo all know this.  We are all made brave because of this knowledge.  This we know:  That always men of peace will die bravely.  That always barbarians will try to kill us and to take our spirits.

"All of us know that the spirit of a man of peace can never belong to a barbarian and can never be harmed.  Ever. It is this knowledge that gives us the courage to continue to live without fear in a world exploding with enemies, enemies gone mad with their own anger and need and violence and lust for our blood."

The air inside the womb-like kiva begins to take on a life of its own; humid, dense, and pulsing.

Inside the ponderous deer-head mask, the Shaman tries to refocus his energy.  He watches his body and his mind divide into a series of complex grids.  Each one of these grids contains an image of himself.  A part of him wonders which grid is his real self.  A part of him knows that his real self is all of them — or none.

More chanting fills the air.  The Shaman forgets about the raider warriors.  They are a part of life.  They will always be there…like the trees. Like the mesa.
Can the sharing economy movement address the root causes of the world's converging crises? Unless the sharing of resources is promoted in relation to human rights and concerns for equity, democracy, social justice and sustainability, then such claims are without substantiation – although there are many hopeful signs that the conversation is slowly moving in the right direction. 
In recent years, the concept and practice of sharing resources is fast becoming a mainstream phenomenon across North America, Western Europe and other world regions. The internet is awash with articles and websites that celebrate the vast potential of sharing human and physical assets, in everything from cars and bicycles to housing, workplaces, food, household items, and even time or expertise. According to most general definitions that are widely available online, the sharing economy leverages information technology to empower individuals or organisations to distribute, share and re-use excess capacity in goods and services. The business icons of the new sharing economy include the likes of Airbnb, Zipcar, Lyft, Taskrabbit and Poshmark, although hundreds of other for-profit as well as non-profit organisations are associated with this burgeoning movement that is predicated, in one way or another, on the age-old principle of sharing.
As the sharing economy receives increasing attention from the media, a debate is beginning to emerge around its overall importance and future direction. There is no doubt that the emergent paradigm of sharing resources is set to expand and further flourish in coming years, especially in the face of continuing economic recession, government austerity and environmental concerns. As a result of the concerted advocacy work and mobilisation of sharing groups in the US, fifteen city mayors have now signed the Shareable Cities Resolution in which they officially recognise the importance of economic sharing for both the public and private sectors. Seoul in South Korea has also adopted a city-funded project called Sharing City in which it plans to expand its 'sharing infrastructure', promote existing sharing enterprises and incubate sharing economy start-ups as a partial solution to problems in housing, transportation, job creation and community cohesion. Furthermore, Medellin in Colombia is embracing transport-sharing schemes and reimagining the use of its shared public spaces, while Ecuador is the first country in the world to commit itself to becoming a 'shared knowledge'-based society, under an official strategy named 'buen saber'.
Many proponents of the sharing economy therefore have great hopes for a future based on sharing as the new modus operandi. Almost everyone recognises that drastic change is needed in the wake of a collapsed economy and an overstretched planet, and the old idea of the American dream – in which a culture that promotes excessive consumerism and commercialisation leads us to see the 'good life' as the 'goods life', as described by the psychologist Tim Kasser - is no longer tenable in a world of rising affluence among possibly 9.6 billion people by 2050. Hence more and more people are rejecting the materialistic attitudes that defined recent decades, and are gradually shifting towards a different way of living that is based on connectedness and sharing rather than ownership and conspicuous consumption. 'Sharing more and owning less' is the ethic that underlies a discernible change in attitudes among affluent society that is being led by today's young, tech-savvy generation known as Generation Y or the Millennials.
However, many entrepreneurial sharing pioneers also profess a big picture vision of what sharing can achieve in relation to the world's most pressing issues, such as population growth, environmental degradation and food security. As Ryan Gourley of A2Share posits, for example, a network of cities that embrace the sharing economy could mount up into a Sharing Regions Network, then Sharing Nations, and finally a Sharing World: "A globally networked sharing economy would be a whole new paradigm, a game-changer for humanity and the planet". Neal Gorenflo, the co-founder and publisher of Shareable, also argues that peer-to-peer collaboration can form the basis of a new social contract, with an extensive sharing movement acting as the catalyst for systemic changesthat can address the root causes of both poverty and climate change. Or to quote the words of Benita Matofska, founder of The People Who Share, we are going to have to "share to survive" if we want to face up to a sustainable future. In such a light, it behoves us all to investigate the potential of sharing to effect a social and economic transformation that is sufficient to meet the grave challenges of the 21st century.
Two sides of a debate on sharing
There is no doubt that sharing resources can contribute to the greater good in a number of ways, from economic as well as environmental and social perspectives. A number of studies show the environmental benefits that are common to many sharing schemes, such as the resource efficiency and potential energy savings that could result from car sharing and bike sharing in cities. Almost all forms of localised sharing are economical, and can lead to significant cost savings or earnings for individuals and enterprises. In terms of subjective well-being and social impacts, common experience demonstrates how sharing can also help us to feel connected to neighbours or co-workers, and even build community and make us feel happier.
Few could disagree on these beneficial aspects of sharing resources within communities or across municipalities, but some controversy surrounds the broader vision of how the sharing economy movement can contribute to a fair and sustainable world. For many advocates of the burgeoning trend towards economic sharing in modern cities, it is about much more than couch-surfing, car sharing or tool libraries, and holds the potential to disrupt the individualist and materialistic assumptions of neoliberal capitalism. For example, Juliet Schor in her book Plenitude perceives that a new economics based on sharing could be an antidote to the hyper-individualised, hyper-consumer culture of today, and could help rebuild the social ties that have been lost through market culture. Annie Leonard of the Story of Stuff project, in her latest short video on how to move society in an environmentally sustainable and just direction, also considers sharing as a key 'game changing' solution that could help to transform the basic goals of the economy.
Many other proponents see the sharing economy as a path towards achieving widespread prosperity within the earth's natural limits, and an essential first step on the road to more localised economies and egalitarian societies. But far from everyone perceives that participating in the sharing economy, at least in its existing form and praxis, is a 'political act' that can realistically challenge consumption-driven economics and the culture of individualism – a question that is raised (although not yet comprehensively answered) in a valuable think piece from Friends of the Earth, as discussed further below. Various commentators argue that the proliferation of new business ventures under the umbrella of sharing are nothing more than "supply and demand continuing its perpetual adjustment to new technologies and fresh opportunities", and that the concept of the sharing economy is being co-opted by purely commercial interests – a debate that was given impetus when the car sharing pioneers, Zipcar, were bought up by the established rental firm Avis.
Recently, Slate magazine's business and economics correspondent controversially reiterated the observation that making money from new modes of consumption is not really 'sharing' per se, asserting that the sharing economy is therefore a "dumb term" that "deserves to die". Other journalists have criticised the superficial treatment that the sharing economy typically receives from financial pundits and tech reporters, especially the claims that small business start-ups based on monetised forms of sharing are a solution to the jobs crisis – regardless of drastic cutbacks in welfare and public services, unprecedented rates of income inequality, and the dangerous rise of the precariat. The author Evgeny Morozov, writing an op-ed in the Financial Times, has gone as far as saying that the sharing economy is having a pernicious effect on equality and basic working conditions, in that it is fully compliant with market logic, is far from valuing human relationships over profit, and is even amplifying the worst excesses of the dominant economic model. In the context of the erosion of full-time employment, the assault on trade unions and the disappearance of healthcare and insurance benefits, he argues that the sharing economy is accelerating the transformation of workers into "always-on self-employed entrepreneurs who must think like brands", leading him to dub it "neoliberalism on steroids".
Problems of definition
Although it is impossible to reconcile these polarised views, part of the problem in assessing the true potential of economic sharing is one of vagueness in definition and wide differences in understanding. The conventional interpretation of the sharing economy is at present focused on its financial and commercial aspects, with continuous news reports proclaiming its rapidly growing market size and potential as a "co-commerce revolution". Rachel Botsman, a leading entrepreneurial thinker on the potential of collaboration and sharing through digital technologies to change our lives, has attempted to clarify what the sharing economy actually is in order to prevent further confusion over the different terms in general use. In her latest typology, she notes how the term 'sharing economy' is often muddled with other new ideas and is in fact a subset of 'collaborative consumption' within the entire 'collaborative economy' movement, and has a rather restricted meaning in terms of "sharing underutilized assets from spaces to skills to stuff for monetary or non-monetary benefits" [see slide 9 of the presentation]. This interpretation of changing consumer behaviours and lifestyles revolves around the "maximum utilization of assets through efficient models of redistribution and shared access", which isn't necessarily predicated on an ethic of 'sharing' by any strict definition.
Other interpretations of the sharing economy are far broader and less constrained by capitalistic assumptions, as demonstrated in the Friends of the Earth briefing paper on Sharing Cities written by Professor Julian Agyeman et al. In their estimation, what's missing from most of these current definitions and categorisations of economic sharing is a consideration of "the communal, collective production that characterises the collective commons". A broadened 'sharing spectrum' that they propose therefore not only focuses on goods and services within the mainstream economy (which is almost always considered in relation to affluent, middle-class lifestyles), but also includes the non-material or intangible aspects of sharing such as well-being and capability [see page 6 of the brief]. From this wider perspective, they assert that the cutting edge of the sharing economy is often not commercial and includes informal behaviours like the unpaid care, support and nurturing that we provide for one another, as well as the shared use of infrastructure and shared public services.
This sheds a new light on governments as the "ultimate level of sharing", and suggests that the history of the welfare state in Europe and other forms of social protection is, in fact, also integral to the evolution of shared resources in cities and within different countries. Yet an understanding of sharing from this more holistic viewpoint doesn't have to be limited to the state provision of healthcare, education, and other public services. As Agyeman et al elucidate, cooperatives of all kinds (from worker to housing to retailer and consumer co-ops) also offer alternative models for shared service provision and a different perspective on economic sharing, one in which equity and collective ownership is prioritised. Access to natural common resources such as air and water can also be understood in terms of sharing, which may then prioritise the common good of all people over commercial or private interests and market mechanisms. This would include controversial issues of land ownership and land use, raising questions over how best to share land and urban space more equitably – such as through community land trusts, or through new policies and incentives such as land value taxation.
The politics of sharing
Furthermore, Agyeman et al argue that an understanding of sharing in relation to the collective commons gives rise to explicitly political questions concerning the shared public realm and participatory democracy. This is central to the many countercultural movements of recent years (such as the Occupy movement and Middle East protests since 2011, and the Taksim Gezi Park protests in 2013) that have reclaimed public space to symbolically challenge unjust power dynamics and the increasing trend toward privatisation that is central to neoliberal hegemony. Sharing is also directly related to the functioning of a healthy democracy, the authors reason, in that a vibrant sharing economy (when interpreted in this light) can counter the political apathy that characterises modern consumer society. By reinforcing values of community and collaboration over the individualism and consumerism that defines our present-day cultures and identities, they argue that participation in sharing could ultimately be reflected in the political domain. They also argue that a shared public realm is essential for the expression of participatory democracy and the development of a good society, not least as this provides a necessary venue for popular debate and public reasoning that can influence political decisions. Indeed the "emerging shareability paradigm", as they describe it, is said to reflect the basic tenets of the Right to the City (RTTC) – an international urban movement that fights for democracy, justice and sustainability in cities and mobilises against the privatisation of common goods and public spaces.
The intention in briefly outlining some of these differing interpretations of sharing is to demonstrate how considerations of politics, justice, ethics and sustainability are slowly being allied with the sharing economy concept. A paramount example is the Friends of the Earth briefing paper outlined above, which was written as part of FOEI's Big Ideas to Change the World series on cities that promoted sharing as "a political force to be reckoned with" and a "call to action for environmentalists". Yet many further examples could also be mentioned, such as the New Economics Foundation's 'Manifesto for the New Materialism' which promotes the old-fashioned ethic of sharing as part of a new way of living to replace the collapsed model of debt-fuelled overconsumption. There are also signs that many influential proponents of the sharing economy – as generally understood today in terms of new economic models driven by peer-to-peer technology that enable access to rather than ownership of resources – are beginning to query the commercial direction that the movement is taking, and are instead promoting more politicised forms of social change that are not merely based on micro-enterprise or the monetisation/branding of high-tech innovations.
Janelle Orsi, a California-based 'sharing lawyer' and author of The Sharing Solution, is particularly inspirational in this regard; for her, the sharing economy encompasses such a broad range of activities that it is hard to define, although she suggests that all its activities are tied together in how they harness the existing resources of a community and grow its wealth. This is in contradistinction to the mainstream economy that mostly generates wealth for people outside of people's communities, and inherently generates extreme inequalities and ecological destruction – which Orsi contends that the sharing economy can help reverse. The problem she recognises is that the so-called sharing economy we usually hear about in the media is built upon a business-as-usual foundation, which is privately owned and often funded by venture capital (as is the case with Airbnb, Lyft, Zipcar, Taskrabbit et cetera). As a result, the same business structures that created the economic problems of today are buying up new sharing economy companies and turning them into ever larger, more centralised enterprises that are not concerned about people's well-being, community cohesion, local economic diversity, sustainable job creation and so on (not to mention the risk of re-creating stock valuation bubbles that overshadowed the earlier generation of dot.com enterprises). The only way to ensure that new sharing economy companies fulfil their potential to create economic empowerment for users and their communities, Orsi argues, is through cooperative conversion – and she makes a compelling case for the democratic, non-exploitative, redistributive and truly 'sharing' potential of worker and consumer cooperatives in all their guises.
Sharing as a path to systemic change
There are important reasons to query which direction this emerging movement for sharing will take in the years ahead. As prominent supporters of the sharing economy recognise, like Janelle Orsi and Juliet Schor, it offers both opportunities and reasons for optimism as well as pitfalls and some serious concerns. On the one hand, it reflects a growing shift in our values and social identities as 'citizens vs consumers', and is helping us to rethink notions of ownership and prosperity in a world of finite resources, scandalous waste and massive wealth disparities. Perhaps its many proponents are right, and the sharing economy represents the first step towards transitioning away from the over-consumptive, materially-intense and hoarding lifestyles of North American, Western European and other rich societies. Perhaps sharing really is fast becoming a counter-cultural movement that can help us to value relationships more than things, and offer us the possibility of re-imagining politics and constructing a more participative democracy, which could ultimately pose a challenge to the global capitalist/consumerist model of development that is built on private interests and debt at the cost of shared interests and true wealth.
On the other hand, critics are right to point out that the sharing economy in its present form is hardly a threat to existing power structures or a movement that represents the kind of radical changes we need to make the world a better place. Far from reorienting the economy towards greater equity and a better quality of life, as proposed by writers such as Richard Wilkinson and Kate Pickett, Tim Jackson, Herman Daly and John Cobb, it is arguable that most forms of sharing via peer-to-peer networks are at risk of being subverted by conventional business practices. There is a perverse irony in trying to imagine the logical conclusion of these trends: new models of collaborative consumption and co-production that are co-opted by private interests and venture capitalists, and increasingly geared towards affluent middle-class types or so-called bourgeois bohemians (the 'bobos'), to the exclusion of those on low incomes and therefore to the detriment of a more equal society. Or new sharing technology platforms that enable governments and corporations to collaborate in pursuing more intrusive controls over and greater surveillance of citizens. Or new social relationships based on sharing in the context of increasingly privatised and enclosed public spaces, such as gated communities within which private facilities and resources are shared.
This is by no means an inevitable outcome, but what is clear from this brief analysis is that the commercialisation and depoliticisation of economic sharing poses risks and contradictions that call into question its potential to transform society for the benefit of everyone. Unless the sharing of resources is promoted in relation to human rights and concerns for equity, democracy, social justice and sound environmental stewardship, then the various claims that sharing is a new paradigm that can address the world's interrelated crises is indeed empty rhetoric or utopian thinking without any substantiation. Sharing our skills through Hackerspaces, our unused stuff through GoodShuffle or a community potluck through mealshare is, in and of itself, a generally positive phenomenon that deserves to be enjoyed and fully participated in, but let's not pretend that car shares, clothes swaps, co-housing, shared vacation homes and so on are going to seriously address economic and climate chaos, unjust power dynamics or inequitable wealth distribution.
Sharing from the local to the global
If we look at sharing through the lens of just sustainability, however, as civil society organisations and others are now beginning to do, then the true possibilities of sharing resources within and among the world's nations are vast and all-encompassing: to enhance equity, rebuild community, improve well-being, democratise national and global governance, defend and promote the global commons, even to point the way towards a more cooperative international framework to replace the present stage of competitive neoliberal globalisation. We are not there yet, of course, and the popular understanding of economic sharing today is clearly focused on the more personal forms of giving and exchange among individuals or through online business ventures, which is mainly for the benefit of high-income groups in the world's most economically advanced nations. But the fact that this conversation is now being broadened to include the role of governments in sharing public infrastructure, political power and economic resources within countries is a hopeful indication that the emerging sharing movement is slowly moving in the right direction.
Already, questions are being raised as to what sharing resources means for the poorest people in the developing world, and how a revival of economic sharing in the richest countries can be spread globally as a solution to converging crises. It may not be long until the idea of economic sharing on a planetary scale - driven by an awareness of impending ecological catastrophe, life-threatening extremes of inequality, and escalating conflict over natural resources – is the subject of every dinner party and kitchen table conversation.
References:
Agyeman, Julian, Duncan McLaren and Adrianne Schaefer-Borrego, Sharing Cities, Friends of the Earth briefing paper, September 2013.
Agyeman, Julian, Just sustainabilities, julianagyeman.com, 21st September 2012.
Bollier, David, Bauwens Joins Ecuador in Planning a Commons-based, Peer Production Economy, 20th September 2013, bollier.org
Botsman, Rachel, The Sharing Economy Lacks A Shared Definition, fastcoexist.com, 21st November 2013.
Botsman, Rachel, The Sharing Economy Lacks a Shared Definition: Giving Meaning to the Terms, Collaborative Lab on Slideshare.net, 19th November 2013.
Childs, Mike, The Power of Sharing: A Call to Action for Environmentalists, Shareable.net, 5th November 2013.
Collaborativeconsumption.com, Shareable Cities Resolution: Passed, 26th June 2013.
Daly, Herman and John Cobb, For the Common Good: Redirecting the Economy toward Community, the Environment, and a Sustainable Future, Beacon Press, 1991.
Eberlein, Sven, Sharing for Profit – I'm Not Buying it Anymore, Shareable.net, 20th February 2013.
Enright, Michael in interview with Benita Matofska and Aidan Enns, Sharing, Not Buying at Christmas (Hr. 1), CBC Radio, 16th December 2012.
Friends of the Earth, Big Idea 2: Sharing – a political force to be reckoned with?, 26th September 2013.
Gaskins, Kim, The New Sharing Economy, Latitude, 1st June 2010.
Gorenflo, Neal, What's Next for the Sharing Movement?, Shareable.net, 31st July 2013.
Grahl, Jodi (trans.), World Charter for the Right to the City, International Alliance of Inhabitants et al, May 2005.
Griffiths, Rachel, The Great Sharing Economy, Co-operatives UK, London UK, 2011.
Grigg, Kat, Sharing As Part of the New Economy: An Interview with Lauren Anderson, The Solutions Journal, 20th September 2013.
Heinberg, Richard, Who knew that Seoul was a leader in the sharing economy?, Post Carbon Institute, 12th November 2013.
Herbst, Moira, Let's get real: the 'sharing economy' won't solve our jobs crisis, The Guardian, 7th January 2014.
Jackson, Tim, Prosperity without Growth: Economics for a Finite Planet, Routeledge, 2011.
Johnson, Cat, From Consumers to Citizens: Welcome to the Sharing Cities Network, Shareable.net, 9th January 2014.
Kasser, Tim, The High Price of Materialism, MIT Press, 2003.
Kisner, Corinne, Integrating Bike Share Programs into a Sustainable Transportation System, National League of Cities, City Practice Brief, Washington D.C., 2011.
Leonard, Annie, The Story of Solutions, The Story of Stuff Project, October 2013, storyofstuff.org
Martin, Elliot and Susan Shaheen, The Impact of Carsharing on Household Vehicle Ownership, Access (UCTC magazine), No. 38 Spring 2011.
Matofska, Benita, Facing the future: share to survive, Friends of the Earth blog, 4th January 2013.
Morozov, Evgeny, The 'sharing economy' undermines workers' rights, Financial Times, 14th October 2013.
Olson. Michael J. and Andrew D. Connor, The Disruption of Sharing: An Overview of the New Peer-to-Peer 'Sharing Economy' and The Impact on Established Internet Companies, Piper Jaffray, November 2013.
Opinium Research and Marke2ing, The Sharing Economy An overview with special focus on Peer-to-Peer Lending, 14th November 2012.
Orsi, Janelle and Doskow, Emily, The Sharing Solution: How to Save Money, Simplify Your Life and Build Community, Nolo, May 2009.
Orsi, Janelle et al, Policies for Shareable Cities: A Sharing Economy Policy Primer for Urban Leaders, Shareable / The sustainable Economics Law Centre, September 2013.
Orsi, Janelle, The Sharing Economy Just Got Real, Shareable.net, 16th September 2013.
Quilligan, James B., People Sharing Resources: Toward a New Multilateralism of the Global Commons, Kosmos Journal, Fall/Winter 2009.
Schifferes, Jonathan, Sharing our way to prosperity (Part 1), rsablogs.org.uk, 6th August 2013.
Schifferes, Jonathan, Profiting from sharing (Part 2), rsablogs.org.uk, 6th August 2013.
Schor, Juliet, Plenitude: The New Economics of True Wealth, Tantor Media, 2010.
Simms, Andrew and Ruth Potts, The New Materialism: How our relationship with the material world can change for the better, New Economics Foundation, November 2012.
Standing, Guy, The Precariat: The New Dangerous Class, Bloomsbury Academic, 2011.
Tennant, Ian, What's in it for me? Do you dare to share?, Friends of the Earth blog, 8th January 2014.
Wiesmann, Thorsten, Living by the Principle of Sharing – an interview with Raphael Fellmer, Oiushare.net, February 2013.
Wilkinson, Richard and Kate Pickett, The Spirit Level: Why Equality is Better for Everyone, Penguin, 2010.
Yglesias, Matthew, There Is No "Sharing Economy", Slate.com, 26th December 2013.
The worst fears of all free speech proponents are upon us. The Verizon suit against the Federal Communications Commission, appellate decision sets the stage for a Supreme Court review. The Wall Street Journal portrays the ruling in financial terms: "A federal court has tossed out the FCC's "open internet" rules, and now internet service providers are free to charge companies like Google and Netflix higher fees to deliver content faster."In essence, this is the corporate spin that the decision is about the future cost for being connected.
"The ruling was a blow to the Obama administration, which has pushed the idea of "net neutrality." And it sharpened the struggle by the nation's big entertainment and telecommunications companies to shape the regulation of broadband, now a vital pipeline for tens of millions of Americans to view video and other media.

For consumers, the ruling could usher in an era of tiered Internet service, in which they get some content at full speed while other websites appear slower because their owners chose not to pay up.

"It takes the Internet into completely uncharted territory," said Tim Wu, a Columbia University law professor who coined the term net neutrality."
What the Journal is not telling you is that this "uncharted territory" is easy to project. If ISP's will be able to charge varied rates or decide to vary internet speed, it is a very short step towards selectively discriminate against sites based upon content. Do not get lulled into thinking that constitutional protective political speech is guaranteed.
Once again, the world according to the communication giants paint a very different interpretation as the article, Verizon called hypocritical for equating net neutrality to censorship illustrates.
"Verizon's argument that network neutrality regulations violated the firm's First Amendment rights. In Verizon's view, slowing or blocking packets on a broadband network is little different from a newspaper editor choosing which articles to publish, and should enjoy the same constitutional protection."
The response from advocates of the Net Neutrality standard, that is about to vanish, sums up correctly.
"The First Amendment does not apply, however, when Verizon is merely transmitting the content of third parties. Moreover, these groups point out, Verizon itself has disclaimed responsibility for its users' content when it was convenient to do so, making its free speech arguments ring hollow."
Prepare for the worst. The video, Prepare To Be Robbed. Net Neutrality Is Dead!, which includes frank language and expletives, provides details that place the use of internet access into question coming out of this appellate decision.Analyze the implications logically. It is one thing to charge a for profit service like Netflix a higher fee to transverse the electronic bandwidth of a communication network. Selling a membership to an end user is the source of their cash flow. However, most activist political sites usually provide internet users free access to their particular viewpoint and source links.
Your internet service provider controls the pipeline that feeds your devices and data connection. No matter which company you pay for this service, you are dependent upon this union. A free WiFi link may well become a memory. Beaming a satellite signal, mostly is an alternative, when DSL, cable or other broadband is not available.
No matter what method is used to surf the net, this decision clearly implies that internet access is now a privilege, at the effective discretion, if not mercy; of a provider that allow an account for service.
Next, consider the implication that search engines will use this decision to re-work their algorithms lowering their spider bots selection of sites that challenge the "PC" culture. Restrictive categorization used for years by Google, Yahoo and Bing can use this decision as cover to purge dissenting sites even more from their result rankings.
It is common knowledge that YouTube censors and targets certain uploads. One particular subject that experiences technical glitches is Fukushima. The video You Tube Censoring Truther Channels explains the drill. Add to the frustration are the ads, especially the ones with no skip option and imagine future requirements for uploading approval. What is next, a paid subscription to use and upload to the service?
Yes, the Ending Net Neutrality Signals A Digital Paradigm Shift. It also means that they could unfairly push sites like (add the name of your favorite sites) out of the way of users if they (the "PC" protectors) didn't like them, acting as effective censors.Stephen Lendman writes in Digital Democracy vs. Corporate Dominance: R.I.P. Internet Neutrality?
"Without Net Neutrality, ISPs will be able to devise new schemes to charge users more for access and services, making it harder for us to communicate online – and easier for companies to censor our speech."

Corporate gatekeepers will control "where you go and what you see."

Verizon, AT&T, Comcast and Time Warner Cable "will be able to block content and speech they don't like, reject apps that compete with their own offerings, and prioritize Web traffic…"

They'll be able to "reserve the fastest loading speeds for the highest bidders (while) sticking everyone else with the slowest."

Doing so prohibits free and open communications. Censorship will become policy. Net Neutrality is too important to lose."
Ready yourself for the inevitable results! According to Michael Hiltzik, Net neutrality is dead. Bow to Comcast and Verizon, your overlords.
"In the U.S., there's no practical competition. The vast majority of households essentially have a single broadband option, their local cable provider. Verizon and AT&T provide Internet service, too, but for most customers they're slower than the cable service. Some neighborhoods get telephone fiber services, but Verizon and AT&T have ceased the rollout of their FiOs and U-verse services–if you don't have it now, you're not getting it.

Who deserves the blame for this wretched combination of monopolization and profiteering by ever-larger cable and phone companies? The FCC, that's who. The agency's dereliction dates back to 2002, when under Chairman Michael Powell it reclassified cable modem services as "information services" rather than "telecommunications services," eliminating its own authority to regulate them broadly. Powell, by the way, is now the chief lobbyist in Washington for the cable TV industry, so the payoff wasn't long in coming."
In a digital environment, access to an internet that provides uncensored content at the lowest costs is a direct threat to the corporate economy. Innovation and creative cutting-edge services are clearly marked as competing challenges to the Amazon jungle of merchandising. The big will just get bigger.
Then the unavoidable effects from the "all the news fit to report" mass medium, intensifies their suppression of honest investigative journalism. Filtering out the alternative and truth media is the prime objective of this ruling. Eliminating political dissent from the internet is the ultimate implication. What would the net be like without access to the Drudge Report?
When the cable or satellite services bundle their programming into a "take it or leave it" format, the choices for the consumer becomes a major financial burden just to watch the few channels that have interest. Applying this pattern to the internet will cause even greater resentment.
Just look at the disaster from the Yahoo retooling. That Ms. "wicked witch" MM have pushed up the stock price, but ask any yahoo group member what they think of the new format. This is a classic example of how to turn off users and ruin your product.
Subscription services are playing with fire. With the collapse of the main street economy, the added fees to access content that is mediocre at best, is the actual fallout. Like the dinosaur TV networks, the corporatist sites risk total rejection from internet visitors.
Totalitarian culturalists are rejoicing with this latest damper on free speech. News by way of government press releases is pure propaganda. How did this happen?
For a short explanation history, Nilay Patel writes in The Wrong Words: How The FCC Lost Neutrality And Could Kill The Internet.
"The FCC tried to appease the out-of-control corporate egos of behemoths like Verizon and Comcast by pretending internet providers were special and classifying them as "information service providers" and not "telecommunications carriers." The wrong words. Then, once everyone was wearing the nametag they wanted, the FCC tried to impose common carrier-style telecommunications regulations on them anyway."
Credo Action believes that "FCC Chairman Tom Wheeler can undo the Bush-era decision to deregulate broadband Internet providers and allow them to operate outside of the legal framework that has traditionally applied to companies that offer two-way communication services."Such optimism seems naive in light of the real controllers of policy, much the same, for the Supreme Court coming to the rescue. Mark this court decision as the strategic destruction of the internet as a beacon of unfeigned free expression of information and open political speech. The programmers will be working overtime to set up layers of tasks, restrictions and huddlers to jump over. If you think Facebook censorship is bad, get ready for a purely governmental approved net along the Chinese model.
Just sit right back
And you'll hear a tale,
A tale of a fateful trip…
(Theme song from the TV show "Gilligan's Island")
You're probably familiar with the "scientific" expedition from Australia which got stuck in the ice in Antarctica last Christmas Eve, but you may not be aware what a rollicking good tale it is. "You're sure to get a smile," as the show's theme song promises, but I promise you more than just a chuckle. There's a moral to the story as well.
The first comic relief – other than the fact it's summer down under, mate – comes with the introduction of the organizer of the "Australasian Antarctic Expedition (AAE)", Chris Turney, self-described "scientist, explorer, writer" and ardent global warmist. Christened "The Spirit of Mawson" after an Australian scientist who led an expedition to Antarctica in 1911, the expedition's purpose was to "meld science and adventure, repeating century old measurements to discover and communicate the changes taking place in this remote and pristine environment". Despite the scientific veneer, the make-up of the 50-odd person crew resembled more the complement of the good ship Minnow ("The millionaire and his wife; The movie star; The professor and Mary Ann") than that of Mawson's S. Y. Aurora. The pseudo-scientific antics of this menage a trois of scientists, journalists, and tourists made the voyage look more like Winter Carnival at Dartmouth than Darwin aboard the Beagle.
Comments on Turney's website ("marked shift in westerly winds… melting large sections of the Antarctic ice sheet" ) suggest he expected to find more open water than had Mawson a century earlier. Why Turney hoped to find open water when it was well known sea ice in the Antarctic was setting records is a mystery. I suspect he'd been led astray by fellow warmists like Al Gore, who predicted in 2008 "the entire North Polar ice cap may well be completely gone in five years" . Gore almost achieved prophet status in 2012 when Arctic ice shrank to its smallest extent since modern recordkeeping began, but last year the ice made a huge comeback and is now almost back to normal.
Whatever the case, the expedition's Russian ship, the Akademik Shokalskiy, got stuck in the ice. The Australian government sent out its ice breaker, the Aurora Australis, to rescue the ship, but they could come no closer than 10 miles from their fellow countrymen. A larger icebreaker, the Chinese Xue Long, got within six miles but could get no further. The decision was made to helicopter the stranded Aussies to the Chinese ship, leaving the Russians to their fate. But for days bad weather forced postponement of the airlift.
Meanwhile, aboard the Shokalskiy it wasn't exactly "No phone, no lights, no motor car; Not a single luxury; Like Robinson Crusoe; It's primitive as can be", but then our castaways weren't exactly basking in the tropics, either. The first mate and his Skipper too, will do their very best to make the others comf'terble in their tropic island nest (make that "antipodal mess"). Courageously ignoring their life-threatening predicament (or too drunk to remember they were in one), the boozy explorers partied as if there were no tomorrow (which might be true if the weather didn't break and the heat ran out). On New Year's Eve the ice-olated penguin-huggers celebrated with a concerned world through
YouTube (a bit nerdy, almost makes them look like scientists).
Unable to get a good weather forecast, the expedition contacted a San Diego TV station and asked if they could help. The station's weatherman, John Coleman, contacted some colleagues knowledgeable on the Antarctic, who came up with a
forecast which held out the hope the wind might shift to offshore, causing the ice to break up and free the vessel. But before that could happen, the expedition opted for evacuation by helicopter when the weather improved sufficiently a day or two later.
From the Xue Long, the now world-infamous Australasian Antarctic Expedition was transferred to the Aurora Australis, which then continued on its original mission to re-supply an Australian Antarctic base. Meanwhile, the Xue Long now became stuck in the ice. Fortunately, the wind shift postulated by the weathermen came to pass, and both stuck ships, the Xue Long and the Akademik Shokalskiy, were able to free themselves. As it turns out, our intrepid explorers would have gotten home sooner had they not abandoned ship as the Shokalskiyarrived back in Australia while our parka-clad party animals were still stuck in Antarctica waiting for a ride home.
If all this hasn't given you a chuckle, you're a diehard warmist with no sense of humor. One last attempt to tickle your funny bone. The meteorologists who predicted the weather might improve sufficiently for the Akademik Shokalskiy to free itself are global warming skeptics, or, as the still unbowed leader of the AAE might say, deniers.
Not so funny (even by my warped standards) is the hundreds of thousands, maybe millions, of dollars someone, maybe the Australian taxpayer, is going to have to ante up to cover the cost of the rescue. The AAE vowed prior to departure to plant trees in New Zealand to offset the carbon emissions resulting from their expedition. Adding in the emissions spewed out by the fossil fuel-guzzling icebreakers, this should result in a forest of taigan proportions, which, like its Siberian counterpart, will be a tribute to the awesome, fear-inspiring forces of nature.
On the bright side, the expedition fared better than Mawson's in one respect: they all came back alive. Mawson and two companions were forced to make a 300-mile trek across the ice back to their base camp. Losing his companions to the harsh conditions along the way, Mawson stumbled into the camp after a months-long trek only to see the S. Y. Aurora steaming away in the distance. Living off the provisions left behind, Mawson spent the winter alone on Terra Australis, dreaming of that other "Land of the South" from whence he came and to which he would belatedly return the next summer.
The moral of the story? Global warming is real. Just kidding. The true moral is not to defy settled science, the science that is settled being that there is a lot about the climate we don't understand. To see everything through the prism of a still young, still baffling warming trend is to risk, to put it ironically, snow blindness. The attribution of the recent Polar Vortex-induced cold wave in the United States to
global warming is a case in point. An obsessively global warming-centric view of the world can lead to errors of the fatal variety, as almost befell our Gilliganesque lot, but perhaps even more dangerous in the long run, to errors of science.
I wrote previously about our cultural fantasy that forgets we are totally dependent on soil and water.  At the end of his Commentary on the Book of Numbers R. J. Rushdoony writes as follows: "For modern man land has become a commodity and an investment, not essentially a faith inheritance.  Our modern outlook thus warps our perspective.  For this reason, our federal government thinks nothing of allowing in as immigrants an increasing number of people who are religiously and racially hostile to us.  They see no relationship between faith and land.  As a result the United States and the Western world have embarked on a suicidal course.  They reject the concept of Christendom and embrace instead the humanistic "family of man" and thus immigration policies in the U.S. and Europe are based on myths and illusions of a destructive nature.  Because neither land nor inheritance is now seen from the perspective of faith, we have problems in these spheres.  The modern state sees itself as the primary owner, and hence eminent domain is basic to its life, and it therefore views itself as the primary heir with death taxes.  Both a tax on the land and death taxes are anti-Biblical."
I am not sure that linking our immigration problem to a lack of understanding of the relationship between land and faith is entirely true.  Immigration in America is Balkanizing the nation and destroying the culture.  It is satanic in nature and is being promoted by powerful forces that seek world government without national borders. The Christian religion itself is a target for destruction.
Nevertheless, human beings are land based creatures and Christianity is a land based religion. We are but sojourners in a world that God created.  We are vested with the responsibility of passing God's land to the next generation in an untainted condition.
When we hear of conversations in elite circles about the need to exterminate millions of useless eaters because the world is overpopulated we can, in part, attribute this arrogant discussion to our inattention to our earthly umbilical cord.
This separation from terra firma has been enhanced by modern farm machinery which allows planting and reaping with very little contact with the media.  Farmers with soil on their clothing and on their persons were ever aware of the element that grew their crops. Now air conditioned tractors provide comforts on a par with the offices of business executives.
Please understand, I am not advocating a return to the horse and buggy.  Mechanical inventions are a boon to mankind and we are blest to have them.  The problem is with the egomania these marvelous inventions have created, making gods of men and enhancing the humanism that is responsible for creeping despotism.
Without the absolute legal standards of the God of the Bible human beings with their diverse opinions and desires are incapable of peaceful existence.  We are more like devils than gods and when we give in to the sinful desire to be like God we inevitably create confusion and misery.  We were made to be obedient to our Maker and are unable to live in freedom without adhering to His commandments.
The terrifying dangers of men beginning to act as gods are becoming apparent in our manipulation of our soil and seeds.  We started by ignoring God's Sabbath for the land.  The practice of allowing land to lie fallow for one year in every seven was abandoned and fertilizers and chemicals were added to allow the production of continuous annual crops.  Now we are manipulating seeds creating mutations that are designed to produce beneficial protections.  We have appropriated the right to manipulate the creation as if it belonged to us.  The results of this arbitrary manipulation can be catastrophic.
Social sophisticates often view farmers with disdain.  Farming is considered an occupation of dull, dirt tainted, bumpkins that do not fit into the upper classes of our culture. This Pharisaical spirit elevates urban life and bears responsibility for the detrimental error of forgetting the source of our sustenance.
My mother was born and raised on a farm.  She walking four miles each way to attend a school that housed 8 grades. She graduated from University of Illinois in the early years of the Twentieth Century and her sister, who was educated in that same humble classroom, was a Phi Beta Kappa graduate from Northwestern University.  There were two boys in that Irish led family.  The boys remained with the land but the two girls married professional men.  The two boys were my uncles.  One died early without progeny the other had one son who with a college degree in Agriculture remained in farming.  He produced a girl and a boy.  The son remained on the farm and produced a son who has no interest in agriculture.  All of the land my Grandfather homesteaded will soon be leased out.
Mother's family was Methodist.  She dominated my father.  Methodism stressed human control of behavior rather than obedience to God and His Law.  Land was a commodity rather than an intricate part of the Christian religion.
Government has been busy acquiring land in the United States.  Estimates place the total U. S. land at about 2.25 billion acres and the total federal and states ownership at close to 45 percent; The Federal Government owns about 700 million acres and rising.  In thirteen Western states two thirds of the entire land mass is Government property; 87.5 percent of the State of Arizona and over 90 percent of the State of Nevada.  The United States Government owns a larger percentage of the nation's land than do the Communist regimes in Russia and China.
A Google search on "city is more competitive" produced over a hundred thousand results.  The elite pagans who currently control our world would like to herd people into cities where an intercity economic competition would keep everyone striving.   More and more of the land is falling under government control and hundreds of thousands of homes have been repossessed.  The intent seems to be for wealthy lords to live handsomely on the labor of the world's serfs who would exist in tiny cubicles in crowded cities.
In ancient Israel God allowed the permanent sales of urban properties but had rural lands returned to their original owners in the year of Jubilee.  Stability was vested in the families that owned and cultivated land.  Though the processing, packaging, and merchandising of food has blurred the connection it is still the same today; the cultivation of land remains the source of sustenance for the world's population..
In one of his daily messages in "A Word in Season" Rushdoony relates the early American practice of Rogation Sunday.  In the evening following Sunday prayer for the harvest "each farmer and his family walked the boundaries of their property and gave thanks for the good earth.  As they walked, the boy of the family was 'bumped' against the landmarks, the boundary stone, or against a boundary tree.  If a pond or stream marked the boundary he was ducked into it.  Then the boy who was bumped or ducked was given a small gift.  The purpose of the 'bumping' and of the gift was to make the boy remember the boundaries of the land he would someday fall heir to."
We are prone to forget that the One True God is still sovereign over His creation.  His perspective is infinite and ours is miniscule it is often difficult to see His participation. Nevertheless, He does not change and He still punishes those who presume on His authority.  Human control of His creation will ultimately fail and the ravages of Hell await the perpetrators.
Wicked, ungodly men and women have risen to positions of power in our time.  These "sons of
Belial" are attempting to turn God's creation into a vicious police state; a hell on earth designed by evil minds to accommodate deviant lusts.
Extensive, mysterious efforts to control the weather are being conducted in our skies.  Though they are visible to everyone, thousands of weather forecasters never acknowledge their existence.  Our citizens, too, are frightened and often reluctant to comment on these brazen experiments. It is frightening to see such a massive manipulation play out above us. The beautiful deep blue of space and the billowy, floating clouds that have treated our views for millenniums have been replaced by man-made lines haphazardly drawn over God's creation.
God's Word is full of promises of favorable weather in return for diligent obedience and men who attempt to control what God has claimed as His own are at war with God.
Though we common folk appear to be the victims of the new world order's Procrustean bed we too are culpable. We have failed to abide by God's law concerning His creation. Farmers willingly till their soil without giving it rest.  Local authorities levy taxes against farm land interfering with the ownership and stability God intends.  We have broken God's Law and have elected rulers that do so as well. Captivity is God's punishment for intractable sin and the solution is to return to a proper relationship with our Creator.  Repentance involves understanding that we are servants and He is our Master and our King.  It is our duty to worship and obey Him.  Attempts to manipulate God will fail.  The Bible is not an instrument for discussion but for obedience.  We are appointed to judge the world by the yardstick of God's Law.  First we ourselves obey then seek to bring our nation into obedience.
It is foolhardy to pray for a nation of sinners who disregard God's sovereignty and ignore His commandments.   God is bringing captivity on the world because His people made in His image, sin against Him by living their lives independent of His Will.  The world falls deeper into sin as each day passes. Instead of hearing and obeying every word that comes from the mouth of God, we insult Him by picking apart His Word and deciding what we will believe and what we will ignore.  We treat the Christian religion like a toy that is fun for a season but that we can put aside whenever we wish.
Two rather interesting things have happened to me lately.  First, I had one of my teeth pulled this week — totally not a fun experience.  And, second, while still oozing pain and eating Hydrocodone and climbing the walls, I started reading a book about plants by Michael Pollan, entitled "The Botany of Desire".  So now I have suddenly become an expert on both pain-killers and gardens.
Having one's tooth pulled is like, er, pulling teeth.  It really hurts.  So from now on I plan to brush and floss constantly and do whatever it takes to keep my remaining teeth healthy and clean.  Someone recommended gargling with Bombay Sapphire twice a day.  I'd try even that.
Even though the student doctor who pulled my tooth at the UCSF School of Dentistry was an angel of mercy combined with Dr. McDreamy, having one's tooth extracted is never pretty.  I kept reciting that mantra "Challenges make me stronger" in the dental chair and silently doing jin shin jyutzu – but even that didn't work.  I'm a wimp.  And not only that but once the tooth was out, they wouldn't even give it back to me to give to the Tooth Fairy.  Rats.
Then, once finally back home and safely collapsed into bed, I took some of those "opioid" pain-killers they gave me — and dreamed that I was an escaped convict running a funeral parlor in my childhood hometown (Millbrae) and hiding under my daughter Ashley's bed (probably from NSA).  Forget that.  No more weird Kubla-Khan dreams for me.  I'm sticking with aspirin.
Now I'm wishing there was something I could do to replace my poor sweet little lost tooth, but there doesn't seem to be anything.  Getting a dental implant is expensive — $3,000 per tooth, even done by a dental student.  Who can afford that?  Not me.  So now I've got a big gap in my teeth.  How ugly is that!  However, I won't be alone for long.  Two-thirds of America will soon be joining me in being gap-toothed as well unless affordable dental insurance becomes available reasonably soon.  But if not, then we'll all be totally ugly together, not just me.  America goes third-world.  Who would have thought.
I also have a postage-stamp sized garden attached to my apartment, which grows nothing.  According to Michael Pollan, this shouldn't be happening — unless there has been some really heavy-duty weed killer sprayed there at one time.  Yes, there was.  But not by me.  So, apparently, what I need now is all new dirt.  And at the rate that American agribusiness keeps using millions of tons of herbicides and pesticides each year, all of America will soon be needing all new dirt too.
"Actually, it's not the heavy use of herbicides and pesticides that is causing the most problems on huge agribusiness farms," to summarize one of Pollan's chapters on the potato, "but rather the monoculture nature of their crops.  Organic farmers can vary and rotate what they plant and thus stave off insect and fungal infestations — but if your main customer for potatoes is McDonalds, then you have to plant Burbank russets and only Burbank russets all of the time.  So it is Americans themselves that are causing the major use of [stuff] like Roundup and Roundup-Ready GMOs."
So if I promise to plant a huge variety of everything in my garden, from fingerling potatoes to roses to dandelions, then will at least SOMETHING finally grow?
And will I also be able to grow a new tooth?
Aside from Michael Pollan, why else have my thoughts been turning to gardening lately?  In the middle of freaking January?  Because this winter has been the sunniest one in Berkeley that I have ever seen.  It's like freaking summer here now, like July, every day — even going beyond April or May.  www.weather.com even declared Berkeley a drought area the other day.  Time to bust out the seeds.
Michael Pollan also wrote about cannabis in his book on plants.  "Marijuana doesn't make you forgetful of everything.  It just makes you forget [stuff] that's not important."  Interesting.  I always forget names.  So I guess names aren't all that important or necessary for me to remember.  Whew.  I'm off the hook then.  Am not getting senile dementia after all, just sorting out my priorities.
And maybe that's why Alzheimer sufferers forget so much mental stuff too — they might be shutting down everything that won't immediately help them to cope with this devastating disease (yes, I know that Alzheimers also rots its victims' brains — but isn't that just one more good reason for them to shut said brains down?)
With regard to raising the minimum wage here in soon-to-be-toothless America, wouldn't it make more sense to just cut the rate of inflation instead?  Starting by eliminating the Federal Reserve and its tendencies to print meaningless Monopoly money and to finance Endless War?  And, while we're at it, let's stop giving out billions in "food stamps" to corporate welfare queens like Bank of America, BP, WalMart, Halliburton and Monsanto.  Works for me.  And can we also please bring our millions of jobs back from overseas too?
Back in 1963, I made $1.75 an hour while working in the post office on weekends and during summers.  With this money plus some help from my parents (yes, they could also afford to help me back then), I was able to graduate from San Jose State College without requiring any student loans.  And in 1966, when I got a big salary-bump to $3.50 an hour for working the stamp window instead of sorting mail, I was able put myself through graduate school at UC Berkeley, just by working during summer vacations.  Can you even imagine staying alive and not homeless in Berkeley today on that kind of salary — let alone paying for your tuition at Cal as well.
What has happened to all of America's jobs and wealth since the 1960s, back when we were the richest country in the world?  That's a no-brainer.  It's all flown away into the pockets of Wall Street mega-bankers, the numbered Cayman accounts of war profiteers and the fat wallets of all those corporate welfare queens who currently own and run our government.
While it's always a good idea to raise America's minimum wage a few dollars, it's also important to stop runaway inflation — and to also start lowering a certain type of maximum wage as well:  The maximum amount that rich guys can steal from us before they get sent to jail.And we need to put some teeth into these new regulations too.
Ever since Ariel Sharon began rising up through the ranks of Israeli neo-con politics by hook or by crook, I've always viewed him as a Bad Guy.  But maybe he wasn't all that bad after all — at least not within the time-frame right before his sudden stroke.  According to former IGF officer Roi Tov, Sharon might have finally seen the light and started actually implementing some of the few hopeful features of GWB's ill-conceived "Road Map," now a document as long-forgotten as Mr. Bush himself.
Tov is an Israeli journalist who I always love to read because he always seems to have juicy insider knowledge of all the latest hot gossip about what is going on in the highest Israeli neo-con circles.  And according to Tov, Sharon had been taking the Peace Process a little bit too seriously right before his sudden stroke and, like Rabin, needed to be stopped.  http://www.roitov.com/articles/sharonmahriv.htm
Sharon himself must have constantly been aware, like all good neo-cons everywhere have known since way back in JFK's day, that when you play in neo-con Big Leagues, you gotta toe the current party line or else.  But at least Sharon, there toward the end, might possibly have tried at long last to do the Right Thing toward establishing peace with Palestine — perhaps knowing full well that doing so would cause him to tangle with the Shin Beth.  Perhaps I should give Sharon snaps for that.  Taking on the Shin Beth is not for the timid of heart.
Perhaps Sharon finally wanted to atone for being the Butcher of Sabra and Shatila.  Hey, it could happen.
But, if so, Sharon must have also forgotten the Number One neo-con rule:  "Cross us and you are a dead man.  We eat our young."  Sucks to be you, Ariel Sharon!
Anyway.  We may never know the whole story.  Neither Sharon nor Rabin are talking.  And neither is the Shin Beth.
Israeli politics are so much fun to watch — almost as much fun as watching American politics.  Which brings me to the subject of Chris Christie.  "What did he know and when did he know it?" seems to be the big question on everyone's lips.  But, for me, the real question here should be, "Why the freak do Americans continue to passively put up with all of America's constant and soul-killing traffic jams in the first place?"
If Christie and/or his loyal staff hadn't caused the Fort Lee traffic jam, then something else would have caused it.
There are traffic jams all over America right now, night and day.  24/7.  And nobody seems to even notice or care.  We all just passively endure wasting hours and hours of our life each day that we will never get back.
For instance, the new San Francisco bay bridge is awesome to look at, but as a vehicle-mover, it sadly fails.  The old bridge handled up to one-third more cars-per-hour than this new, spectacular one.
But all these new bridges and old bridges and freeways and rush-hour traffic jams all beg the huge major question, which is:  "What kind of harsh air-pollution hazards are all these idling, gridlocked vehicles creating?  And when are we going to finally take climate change seriously and start eliminating the use of pollution-causing motor vehicles entirely?"
This new scandal regarding Governor Christie and Fort Lee might be offering us a really good opportunity to start a national dialogue with regard to, first, the development of more public transportation options in order to alleviate traffic jams and save the air, and, second, finally doing something about the limited safety and diminishing returns of using cars themselves in this disastrous day and age of life-threatening climate change.
Everywhere I go, I meet people who seem to believe that it's all over, that there is no hope, that freedom is forever doomed. The doom and gloomers are omnipresent. But there is a great line in the newest version of the movie "Red Dawn" that should help put it all in perspective. One of the freedom fighters says, "I'm still breathing so, it's not over." I love that line. I feel exactly the same way.
There is no question that the forces of globalism and socialism have pretty much had their way over the past few decades. And with very few exceptions, we don't have a lot of allies in Washington, D.C., and in most State capitals. For that matter, we don't have a lot of allies on Wall Street or in most classrooms. But that doesn't mean that it's over: not by a long shot.
Freedom didn't have a majority in 1775 and 1776, either. I doubt that one could find any time in history when the proponents of liberty were ever in a majority. Sam Adams may have said it best when he said, "It does not take a majority to prevail…but rather an irate, tireless minority, keen on setting brushfires of freedom in the minds of men."
However, there is one thing that Colonial America had that modern America doesn't have: a patriot pulpit. The pulpits of Colonial America were ablaze with the fire of liberty. Colonial clergymen of every Christian denomination explained, extolled, enlightened, expounded, and elucidated the Natural Biblical principles of liberty from their pulpits continuously. Remember that it was mostly the men of Pastor Jonas Clark's congregation at the Church of Lexington that stood armed on Lexington Green against British troops in the wee morning hours of April 19, 1775, and fired the shot heard 'round the world.
Publisher and historian Gerald Nordskog writes these words about Jonas Clark: "As the pastor of the church at Lexington, he typically gave four sermons a week, written out and orally presented–nearly 2200 sermons in his lifetime. His preaching was vigorous in style, animated in manner, instructive in matter, and delivered with uncommon energy and zeal, with an agreeable and powerful voice. His sermons were rarely less than an hour, often more."
Nordskog continues, "It can be regarded only as a singularly happy circumstance that, as Lexington was to be the place where resistance to the power of England was first to occur, and the great act of a declaration of war first to be made by the act of the people in the blood to be there shed, making the place forever famous in history, the minister of Lexington should have been a man of the principles, character, courage, and energy of Mr. Clark.
"It can be regarded he was eminently a man produced by the times–more than equal to them; rather a guide and leader. All his previous life, his preaching, his intercourse and conversation among his people had been but a continued and most effectual preparation for the noble stand taken by his people on the morning of the 19th of April, 1775. The militia on the Common that morning were the same who filled the pews of the meetinghouse on the Sunday morning before, and the same who hung upon the rear of the retreating enemy in the forenoon and throughout the day. They were only carrying the preaching of many previous years into practice.
"It would not be beyond the truth to assert that there was no person at that time and in that vicinity–not only no clergyman but no other person of whatever calling or profession, who took a firmer stand for the liberties of the country or was more ready to perform the duties and endure the sacrifices of a patriot, than the minister of Lexington.
"When the struggle actually commenced, the people were ready for it, thoroughly acquainted with the reasons on which the duty of resistance was founded, and prepared to discharge the duty at every hazard. No population within the compass of the Colonies were better prepared for the events of the 19th of April, than the people of Lexington; no people to whom the events of that day could more safely have been entrusted; none more worthy of the duties that fell to their lot; or who better deserved the honours which have followed the faithful performance of them. No single individual probably did so much to educate the people up to that point of intelligence, firmness, and courage, as their honoured and beloved pastor." (Nordskog, Gerald Christian; The Battle of Lexington; Nordskog Publishing; 2007; Print.)
Can one imagine how history would have been changed had the Church of Lexington, Massachusetts, and all of the churches of Colonial America for that matter, been occupied with the kinds of ministers we have today? I can tell you this: there would have been no Lexington Green and Concord Bridge; no Bunker Hill; no Valley Forge; no Declaration of Independence; no U.S. Constitution; and no United States of America. And that is an absolute fact. The erroneous interpretation of Romans 13, so prevalent today among pastors and churches, would have instructed the colonists that it would be a sin against God to rebel against King George. Pastors would have taught their congregations to be good little slaves to the Crown. Without a doubt, had Colonial America had the kinds of ministers we have today, we would still be a subjected colony of Great Britain to this very hour.
And if you think Jonas Clark was the exception to the rule in Colonial America, you haven't studied history. Men such as John Witherspoon, James Caldwell, John Peter Muhlenberg, Joab Houghton, Ebenezer Baldwin, Elisha Williams, Charles Chauncy, Jonathan Mayhew, Isaac Backus, Samuel Sherwood, John Fletcher, John Leland, etc., etc, inspired and instructed Christians of all denominations regarding their duties and responsibilities as free men and women under God–including the duty to free themselves from the yoke of bondage.
So prominent was the role that Presbyterian pastors played in the American Revolution that as news of the rebellion spread throughout England, Horace Walpole told his fellow members of the British Parliament, "There is no use crying about it. Cousin America has run off with a Presbyterian parson, and that is the end of it." And Presbyterian ministers were not the only ones to rally the church for the cause of independence.
So many Baptist preachers participated in America's War for Independence that at the conclusion of the war, President George Washington wrote a personal letter to the Baptist people saying, "I recollect with satisfaction that the religious societies of which you are a member have been, throughout America, uniformly and almost unanimously, the firm friends to civil liberty, and the preserving promoters of our glorious Revolution." It also explains how Thomas Jefferson could write to a Baptist congregation and say, "We have acted together from the origin to the end of a memorable Revolution." (McDaniel, George White. The People Called Baptists. The Sunday School Board of the Southern Baptist Convention, 1918. Print.)
But it was ministers from all of the Christian denominations who sounded the clarion call for freedom from their pulpits. Writing in the mid-1800s, noted attorney and historian John Wingate Thornton said, "To the Pulpit, the Puritan Pulpit, we owe the moral force which won our independence."
The patriot pulpit is what Colonial America had that modern America doesn't have. We lack the "moral force" of that patriot pulpit. For the most part, America's pastors today are shy, sheepish servants of the state. For the American people to once again muster the courage and conviction to reclaim their liberties requires a revival of the patriot pulpit. As long as Christian people stay seated in the padded pews of these passive pulpits, our nation will continue to plummet into the pit. But this is where the good news begins.
All over the country, tens of thousands of Christians are leaving these timid and cowardly ministers–even pastors are leaving their timid congregations behind and joining up with freedom-minded believers in brand new independent fellowships.
For example, we have over 800 patriot pastors listed on our Black Regiment web page. These are ministers who are not afraid to identify themselves as a patriot pastor and have asked to be included in the list. I invite you to search the list and see if there is a Black Regiment pastor near you. See it here:
Furthermore, there are thousands of Christians who are leaving these say-nothing churches and starting home churches or are meeting with small groups of believers who also share their love of liberty. In addition, we have hundreds of believers who, because they cannot find a patriot pastor in their community, are tuning into the service at Liberty Fellowship each Sunday afternoon at 2:30 Mountain Time and listening to our messages.
Going offline or off the grid is not easy for everyone. Modern society has come to repudiate the very elements that make civilization possible. Living in cyber space is existence on life support at best. Until now, people had idiosyncratic relations, with intimate experiences and personal memories. Thoughts were internal and private conduct was confidential. Under a hi-tech environment, the system moves closer to an all knowing eye. But what happens, when the public becomes enlightened to the bondage of the tech prison, thanks to all the whistleblowers?
The irony befits the hypocrite techie class of privacy violators. Lamenting that their fiefdom of intrusive surveillance and data mining might be compromised, the high priests of SPY, Inc. are flustered. With the disclosure of a synergistic relationship of an intertwined nature, the high-tech prophets lay exposed. NSA Spying Risks $35 Billion in U.S. Technology Sales has the flagship government front companies in full damage control.
"News about U.S. surveillance disclosed by former NSA contractor Edward Snowden has "the great potential for doing serious damage to the competitiveness" of U.S. companies such as Cupertino, California-based Apple, Facebook Inc., and Microsoft Corp., Richard Salgado, Google's director for law enforcement and information security, told a U.S. Senate panel Nov. 13. "The trust that's threatened is essential to these businesses."
With the announcement that Facebook faces lawsuit for allegedly scanning private messages, the diminutive privacy on this social network just got smaller. "Facebook was one of the Web Services that was caught scanning URLs despite such activity remaining undisclosed to the user," according to the complaint.Can your personal persona remain your own business? What exactly can be attempted to protect your identity and privacy?
Woodrow Hartzog and Evan Selinger propose in Obscurity: A Better Way to Think About Your Data Than 'Privacy', adding layers of complexity guards against most of the ordinary risks of scrutinized personal data. However, this argument is trite since the cyber world of digital transmission uses the technological routing and coding systems, engineered as part of the total government retrieval society.
"Obscurity is the idea that when information is hard to obtain or understand, it is, to some degree, safe. Safety, here, doesn't mean inaccessible. Competent and determined data hunters armed with the right tools can always find a way to get it. Less committed folks, however, experience great effort as a deterrent.

Online, obscurity is created through a combination of factors. Being invisible to search engines increases obscurity. So does using privacy settings and pseudonyms. Disclosing information in coded ways that only a limited audience will grasp enhances obscurity, too. Since few online disclosures are truly confidential or highly publicized, the lion's share of communication on the social web falls along the expansive continuum of obscurity: a range that runs from completely hidden to totally obvious."
Privacy is a hindrance to corporate marketing, while secrecy is a threat to the national security establishment that observes the basic rule of all technology. Use the optimum scientific hi-tech enhancement to maintain and further the interests of the ruling elites. Any technological development is viewed as a useful advancement if it works to expand control over the economy or social structure.
Supporting this conclusion is an article from the master of facture awareness. Michael Snyder provides an impactful list of 32 Privacy Destroying Technologies That Are Systematically Transforming America Into A Giant Prison.
"Many people speak of this as being the "Information Age", but most Americans don't really stop and think about what that really means. Most of the information that is considered to be so "valuable" is actually about all of us. Businesses want to know as much about all of us as possible so that they can sell us stuff. Government officials want to know as much about all of us as possible so that they can make sure that we are not doing anything that they don't like."
If you need more convincing, examine the 10 Privacy-Destroying Technologies That Are Turning America Into A Police State, by Daniel Jennings. How many of these devices or practices are monitoring your every move and thought?
Electric meters
Telematic devices on cars
Smartphones
RFID chips in drivers' licenses, credit cards and other cards that allow the tracking of individuals
Data mining by local and federal government
Voice recognition. Russian scientists have invented software called Voice Grid Nation that can identify the voices of millions of different people
Fingerprint recognition
Chips that monitor your body functions
Behavior monitoring software
Next Generation surveillance systems such as Trapwire and Intellistreet
Popular consensus would have you believe that this infringement into your most personal behavior is inevitable and it is futile to resist. From an institutional perspective that viewpoint seems correct. Nonetheless, the preservation of your human dignity demands a vigorous reassessment of the numerous ways you have the ability to influence, if not, protect against this tech assault.
Before assuming that tech is great, reflect upon the culture of expected progress. Proponents of applied science automatically assume that advancement comes from such evolution. Conversely, the actual function of various innovations often brings the loss of personal solitude. Tech is not neutral. By definition new or different technology changes the landscape.
What does not change is human nature. Supercharging the velocity and speed of functions and the distribution of information, without guarding the integrity of personal consent is intrinsically immoral. While that statement may seem obsolete as the NSA constructs the largest digital computer memory center in the history of the world in Utah with the capability of storing 5 zettabytes of data, the principle of inherent autonomy still remains.Amitai Etzioni presents an academic postulation, attempting to answer the question, Are New Technologies the Enemy of Privacy?
"Privacy is one good among other goods and should be weighed as such. The relationship between technology and privacy is best viewed as an arms race between advancements that diminish privacy and those that better protect it, rather than the semi-Luddite view which sees technology as one-sided development enabling those who seek to invade privacy to overrun those who seek to protect it. The merits or defects of particular technologies are not inherent to the technologies, but rather, depend on how they are used and above all, on how closely their use is monitored and accounted for by the parties involved. In order to reassure the public and to ensure accountability and oversight, a civilian review board should be created to monitor the government's use of surveillance and related technologies. Proper accountability requires multiple layers of oversight, and should not be left solely in the hands of the government."
The problem with this arms race is that it is waged among equally corrupt globalist factions. When Mr. Etzioni asserts "How they are used" he interjects the moral imperative. The record of Microsoft, Google, Facebook, Apple and Amazon, etc. respect and protection of personal confidentially is not exactly reassuring. Their government parent partner agencies in data mining use the telecommunication corporations like Verizon, AT&T and ISP providers as giant sucking machines that feed the secretive intelligence community.Understanding the drill is simple, secrecy resides within the ruling class, while all personal privacy is relegated to the museum of family archives. Just how can such a relationship be monitored by some kind of nebulous civil board to ensure non consensual privacy?
With the overwhelming wherewithal, increasing technological capacities allow, even greater levels of abuse and evil applications. If no other lesson is internalized from the Edward Snowden disclosures, society better admit that trust in the secure use of communication technology is near zero.
When privacy is surrendered so willingly, especially with no consequences for the offending government agencies or complicit corporatist associates, the future of civilized life comes into question. Yet, people are so easily induced to acclimate into using the next wizard device.
Life is a beach no longer. Now Disney Can Track Your Every Move with NSA-Style Wristbands, is using the "Magic Bands" — which are currently optional — are part of a new MyMagic+ "vacation management system" that can track guests as they move throughout the park..Efficient? Perhaps. But post-Snowden, some worry that Magic Bands are nothing more than NSA-esque tracking devices."
Oh, that voluntary choice lasts only as long as it is offered. This culture of "personal space" invasion is meant to indoctrinate the friendly likes into a sleeping death from poison apples. Being buried alive, in a snow job of tech that promises you will be the fairest in the land, will not make you a queen.That prince charming kiss only comes with resisting any snooping gear that diminishes the innate right for privacy. Taking protective measure against technological enslavement is the real national security mandate. The enemy is not some fairy tale monster; just look no further than to your own government. You have the right to your secrets. Dump the smart devices and go as low-tech as possible.
The War Is Against Paganism…
Crowns and thrones may perish.
Kingdoms rise and wane
But the Church of Jesus constant will remain
Gates of Hell can never
'Gainst the Church prevail
We have Christ's own promise
And that cannot fail
"To gain this victory, we must wage the war.  Too many want victory without the war, as though eloquence, patriotic or religious gush, ever overcame an enemy."  R. J.  Rushdoony," Numbers" Pg. 270
Patty and I spent Christmas in Destin, Florida.  Destin is an upscale resort town named from a Yankee fisherman who settled there in the mid-Nineteenth Century.  It is home to one of the nation's largest outlet malls.
In one of the shoe outlets we met a clerk from Maine.  Her story is typical of many who have been victimized by the massive changes that have been foisted on the world.  Born, raised, and married in a shoe prosperous Maine town, she and her husband had two children and were living lavishly.  He was a manager at a shoe manufacturing plant where she also worked.  Their combined income was in the high six figures providing them a luxurious lifestyle.
As the inexorable Asian labor monster invaded the shoe industry her husband lost his job. The entire industry shrunk and he was unable to find work.   She became the sole wage earner under a company promise that there would be no additional lay-offs.  The promise was broken and shortly her job was also moved offshore.   They lost everything: their home, their car, and their ability to support two children.  Without prospects of employment in Maine they moved to Florida where they are now working at dramatically lower incomes.  They have re-established their family and, though far less affluent, are again living an orderly life.  Since many employees of Maine factories are still struggling, they consider themselves fortunate.
Their story can be multiplied hundreds-of -thousands of times as industry after industry has been devastated by the planned economic reorganization of the world.
Maine is one of a number of areas that have been severely affected.  The Northeast quadrant has been hardest hit with factory closings and the accompanying disruption of the social order.  Some attempt to cite automation as a culprit but automation provides a social benefit while wholesale robbery is a devastating crime.
The current economic disaster was preceded by an earlier mini-disaster when the Japanese were given free access to our markets.  Now, Asians in several countries have entered the fray and despite efforts by the compliant media to cover it up debilitating disruption is clearly evident.
Since 1950 into the first decade of the Twenty-First Century Detroit, Michigan has lost over 61 percent of its population, Gary, Indiana 55 percent, Youngstown, Ohio over 60, Flint, Michigan over 43, Cleveland, Ohio over 56, Dayton, Ohio over 46, Canton, Ohio over 37, and Pittsburgh, Pennsylvania over 54.  Though it is growing in income Chicago has still lost over 25 percent of its population.
The kettle holding the United States population was put over very low heat in the 1950s.  The drum beat of women's liberation began and continued relentlessly until after several decades single income homes became archaic being replaced by a household income that included two working adults.  This malicious manipulation was imposed without adequate confrontation.
Then we began to hear about the competitive nature of the American work force and how they could successfully compete in the new world market.  Soon the Japanese had usurped a major percentage of the automotive industry forcing the irascibly persuasive Lee Iacocca to shame the congress into loaning Chrysler enough money to keep it afloat.
But the bloody Japanese axe that struck the auto industry was only the beginning.  The Chinese horde soon followed and suddenly every "Made in USA" product disappeared from our stores.  Faced with labor costs a fraction of U. S. standards, industry after industry moved manufacturing to Asia.
The competition was not over the ability of American workers to produce goods as efficiently as Asian labor, as it had been framed.  It was instead over the standard of living Americans had enjoyed compared to the standard of living of Chinese peasants.  As the Twenty-First Century arrived, a multitude of Americans were like the family from Maine working in retail, health-care or fast food for wages of half or less than their previous employment.
Current propaganda tells us our economy is improving and new jobs are being created.  It is all propaganda; don't believe it!   In the new world order competition will force labor costs to parity and parity is lower still.
Though they have prepared for an uprising the powers behind centralization want to maintain peace as long as they can continue extending world domination.  The media, a propaganda arm of world government, will continue to report improvement as long as people can be convinced.
Human efforts are useless in stopping this onslaught.  The battle is between Christianity and paganism.  The only effective weapon against paganism is the God of the Bible and His Law.
Rousas Rushdoony explains, "When men forsake God, they forsake all truth, because for them there is no difference between good and evil, nor between truth and lies".  "Numbers" Pg.316
The Bible, Old and New Testament, Law and Grace, comprise the full gospel.  The full gospel would have stopped tyranny in its infancy, but we have forsaken the full gospel and replaced it with the "creative word" of men.   I received an email today from my kid sister entitled "What a Church Service"; a video of Andre Rieu leading a musical worship service for a large congregation. Beautiful it is, but an appropriate church service it is not.  It is a secular multicultural extravaganza with beautiful music.
Christians who seek to be entertained with music and praise and do not have ears to hear what God requires of His people are useless in stopping the advance of Satan.  It is truth and justice and the seating of King Jesus at the throne of power that should be the objective of every Christian congregation.  Lies, fantasy, and all the manipulations of arrogant men should be confronted from our pulpits and by our congregations.  It is our Christian duty to counter the evil establishment bringing their wrath against the power of the Church of Jesus Christ.  When the Christian religion fails to create wrath in God's enemies there is a serious problem in the Christian religion.
We are being overrun by the minions of evil.  We should be fighting a war.  We need preachers whose intrepid denouncements will inspire us to enter the battle on the side of the God of the Bible.
The enemy controls our television stations, our newspapers, our government, and, sadly, most of our churches.  The voices of dissent are few.  Wake up Christians and hear the call to battle!
When a newspaper erroneously contends our economy is improving our pulpits must present Christians with the statistics that prove otherwise.  Christians are truth-tellers!  When the Media promotes homosexuality our pulpits must denounce it with God's Words from the Bible.  Christian duty requires that we confront evil.
Muslims are busy fighting for control of the Middle East.  They appear to be overcoming the secular tyrants.  Islam is a false religion and an enemy to Christianity but it is not the core danger to world freedom. In that battle Islam is an ally against the wicked forces of the new world order.
It is time to stop playing church.  It is time for every Christian minister to disregard reputation and directly confront the secular forces that threaten peace and order God intends for His creation.
Churches that concentrate on the end times, on tongues and prophecy, evangelism, or on being theologically reformed should forsake their niche religions and confront the secular minions with the full gospel.  The size of a church or its growth is of no importance; what is important is its strength against the forces of evil.  Reputations must be sacrificed; our God and King is being threatened and we are His soldiers.  It is our duty to fight for the elevation of His government– both civilians and rulers are subject to the rule of King Jesus.
As Patty and I exited a restaurant in Destin late in the afternoon on Christmas day we noticed a table of 8 young men with their heads bowed.  We thought it wonderful that all these young people were honoring the One True God.  However, on second look they were honoring the IPhone god instead.
Marriane Williamson, author of the book A Return to Love, announced this past fall her plan to run for Congress in the 33rddistrict of California to stop the "Culture of Corruption" in our nation's capital.
Without a doubt, deep, systemic corruption thrives in our U.S. Congress. It flourishes in our White House.  Thomas Jefferson, our third president, tried to pass term limits, but failed in the face of those who love power and expect to maintain it.
Judicial Watch, the public interest group that investigates and prosecutes government corruption, released its 2013
List of Washington's "Ten Most Wanted Corrupt Politicians." www.JudicialWatch.org , the list, in alphabetical order, includes:
 Speaker of the House John Boehner (R-OH)
CIA Director John Brennan
Senator Saxby Chambliss
Former Secretary of State Hillary Clinton
Attorney General Eric Holder
Former IRS Commissioner Steven T. Miller / Former IRS Official Lois Lerner
Former DHS Secretary Janet Napolitano
President Barack Obama
Senator Harry Reid (D-NV)
Health Secretary Kathleen Sebelius
Dishonorable Mentions for 2013 include:
Former New York Mayor Michael Bloomberg
Outgoing Virginia Gov. Bob McDonnell (R) / Incoming Virginia Gov. Terry McAuliffe (D)
Former Rep. Rick Renzi (R-AZ)
National Security Adviser Susan Rice
As a 27 year old staff attorney for the House Judiciary Committee, Ms. Hillary Clinton suffered firing by her supervisor, lifelong democrat Jerry Zeifman who said, "She is a liar. She was unethical and dishonest.  She conspired to violate the Constitution, the rules of the House, the rules of the committee and the rules of confidentiality."
If you remember the murders at the U.S. embassy in Benghazi that suffered a terrorist attack that killed four people, her reply, "What difference does it matter?"
Mr. Barack Obama continues his cover-up of his incompetence in fortifying the embassy and ignoring all calls for help.  Good men died because of malfeasance and ineptitude.
Let's start with Speaker of the House John Boehner (R-OH):
House Speaker John Boehner became a master at what Government Accountability Institute President Peter Schweizer calls the "Tollbooth Strategy." As Schweizer explains in his new book, Extortion: How Politicians Extract Your Money, Buy Votes, and Line Their Own Pockets:
"You pay money at a tollbooth in order to use a road or bridge. The methodology in Washington is similar: if someone wants a bill passed, charge them money to allow the bill to move down the legislative highway."
According to Schweizer, Boehner used the "Tollbooth Strategy" to collect more than $200,000 in political donations from executives just days before holding votes on bills critically important to their industries.  Reference:http://www.breitbart.com/Big-Government/2013/10/24/EXTORTION-Speaker-Boehner-Collected-Tollbooth-Fee-Before-Key-Votes
Additionally, Boehner continues his blockade of the E-Verify Bill to force employers to check legal status of anyone seeking employment.  I suspect the U.S. Chamber of Commerce, up to its eyeballs in promoting illegal immigration cheap labor, paid big bucks to keep E-Verify from passing into law.  No doubt Marriott, Holiday Inn, Tyson Chicken, McDonald's, Chipotle's, Hormel, La Quinta, endless restaurant chains, construction, painting, landscape and other huge companies paid huge bribes to make sure they continue to hire illegal aliens rather than American citizens at a living wage.
Speaker Boehner does not stand-alone.
Attorney General Eric Holder lies so much, hides so much, aka, Fast and Furious, that he cannot tell the truth from a lie.
Senator Saxby Chambliss (R-GA) makes the "Ten Worst" list for what he actually did in 2012, but which was finally exposed in 2013. Just as with House Speaker Boehner, Chambliss's misdeeds were revealed in Peter Schweizer's book, Extortion: How Politicians Extract Your Money, Buy Votes, and Line Their Own Pockets.
Judicial Watch said, "Chambliss is highlighted as one of the key abusers who used leadership PAC loopholes to convert campaign cash into lavish lifestyle upgrades for themselves and their family members.
The New York Times reported, "The book details the extravagant expenses of Senator Saxby Chambliss, Republican of Georgia, for instance, whose leadership PAC spent $10,000 on golf at Pebble Beach, nearly $27,000 at Ruth's Chris Steakhouse, and $107,752 at the exclusive Breakers resort in Palm Beach, Fla. The amount Mr. Chambliss spent at the Breakers in the 2012 election cycle, the book reports, is three times what the senator gave to the National Republican Senatorial Committee during the same period."
Former DHS Secretary Janet Napolitano may be one of the biggest liars of all. In August 2013 Department of Homeland Security Secretary Janet Napolitano stepped down from her post with "pride and regret" stemming from her failure to help push through the so-called "Development, Relief, and Education for Alien Minors (DREAM) Act." The truth: Napolitano played a major role in doing an end run around existing immigration law by helping President Obama implement his Deferred Action for Childhood Arrivals (DACA) directive in lieu of DREAM Act passage.
Documents obtained by Judicial Watch in June 2013 revealed that Napolitano's Department of Homeland Security (DHS) U.S. Citizenship & Immigration Services (USCIS) "Abandoned required background checks in 2012, adopting, instead, costly "lean and lite" procedures in effort to keep up with the flood of amnesty applications resulting from the DACA directive."
The granddaddy liar of them all: Barack Hussein Obama.
President Barack Obama actually tops this "Top Ten Most Wanted Corrupt Politicians" list for 2013 as the driving force behind so many of the misdeeds.
This is Obama's seventh straight year on the list, dating back all the way to 2007 (in 2006, he earned a "Dishonorable Mention"). He is a master at catch-me-if-you-can, corrupt politics.
"This year, he has again acted as a one-man Congress, rewriting entire sections of federal law on his own," said Judicial Watch.  "Not only is his administration secretive and dishonest; its callous disregard for the rule of law undermines our constitutional republic. Examples include:
Perhaps Obama's most outrageous actions over the past year were his continual lies about the ability of Americans to keep their own health insurance under Obamacare. According the Free Beacon, Obama misled the American people a total of 36 times between 2008 and 2013 with his promise, "If you like your health insurance, you can keep it." And according to NBC News, Obama knew, even as he repeated his lie, that "more than 40 to 67 percent of those in the individual market would not be able to keep their plans, even if they liked them."
Let us not forget Nevada Senator Harry Reid and all the senators that voted for the S744 Amnesty Bill that legalizes 20 to 25 million illegal aliens.  They and he never stood up for enforcement of internal employment laws against employers of illegal aliens, or our borders, but they bend over for big business' cheap labor interests—against American workers.
Last year, Harry Reid made the Judicial Watch Ten Worst list for his influence-peddling scandal involving ENN Energy Group, a Chinese "green energy" company for which Reid "applied his political muscle" – and which happened to be a major client of the Nevada law firm in which Reid's son, Rory, is a principal.
Power corrupts and absolute power corrupts totally.  As Marriane Williams said, "We face a culture of corruption" in Washington DC that works against the interests of all Americans—but we continue voting them back into their power positions to screw all of us.  Then we wonder why our country continues an 11-year useless war, $18 trillion debt, 14 million unemployed, 48 million subsisting on food stamps, endless immigration, falling wages and vanishing Middle Class.
Does anyone in authority anywhere tell the truth about Fukushima? If there is any government or non-government authority in the world that is addressing the disaster at Fukushima openly, directly, honestly, and effectively, it's not apparent to the outside observer what entity that might be.
There is instead an apparent global conspiracy of authorities of all sorts to deny to the public reliably accurate, comprehensible, independently verifiable (where possible), and comprehensive information about not only the condition of the Fukushima power plant itself and its surrounding communities, but about the unceasing, uncontrolled release of radioactive debris into the air and water, creating a constantly increasing risk of growing harm to the global community.
While the risk may still be miniscule in most places, the range of risk rises to lethal in Fukushima itself. With the radioactive waste of four nuclear reactors (three of them in meltdown) under uncertain control for almost three years now, the risk of lethal exposure is very real for plant workers, and may decrease with distance from the plant, but may be calculable for anyone on the planet. No one seems to know. No one seems to have done the calculation. No one with access to the necessary information (assuming it exists) seems to want to do the calculation.
There is no moral excuse for this international collusion. The excuses are political or economic or social, but none of them excuses any authority for withholding or lying about information that has potentially universal and destructive impact on everyone alive today and everyone to be born for some unknown generations.
Japanese authorities may be the worst current offenders against the truth, as well as the health and safety of their people. Now the Japanese government has passed a harsh state secrets law that threatens to reduce or eliminate reliable information about Fukushima. The U.S. government officially applauded this heightened secrecy, while continuing its own tight control on nuclear information. Japanese authorities are already attacking their own people in defense of nuclear power: not only under-measuring and ignoring varieties of radioactive threat, but even withholding the iodine pills in 2011 that might have mitigated the growing epidemic of thyroid issues today. Failing to confront Fukushima honestly, the Japanese are laying the basis for what could amount to a radiological sneak attack on the rest of the world.
Just because no one seems to know what to do about Fukushima is no excuse to go on lying about and/or denying the dimensions of reality, whatever they might be.
There are hundreds, probably thousands of people with little or no authority who have long struggled to create a realistic, rational perspective on nuclear threats. The fundamental barrier to knowing the scale of the Fukushima disaster is just that: the scale of the Fukushima disaster.
Chernobyl 1986 and Fukushima 2011 are Not Really Comparable
Chernobyl is the closest precedent to Fukushima, and it's not very close. Chernobyl at the time of the 1986 electric failure and explosion had four operating reactors and two more under construction. The Chernobyl accident involved one reactor meltdown. Other reactors kept operating for some time after the accident. The rector meltdown was eventually entombed, containing the meltdown and reducing the risk. Until Fukushima, Chernobyl was considered the worst nuclear power accident in history, and it is still far from over (albeit largely contained for the time being). The Chernobyl Exclusion Zone of roughly 1,000 square miles remains one of the most radioactive areas in the world and the clean-up is not even expected to be complete before 2065.
At the time of the March 11, 2011, earthquake and tsunami, the Fukushima plant had six operating reactors. Three of them went into meltdown and a fourth was left with a heavily laden fuel pool teetering a hundred feet above the ground. Two other reactors were undamaged and have been shut down. Radiation levels remain lethal in each of the melted-down reactors, where the meltdowns appear to be held in check by water that is pumped into the reactors to keep them cool. In the process, the water gets irradiated and that which is not collected on site in leaking tanks flows steadily into the Pacific Ocean. Within the first two weeks, Fukushima radiation was comparable to Chernobyl's and while the levels have gone down, they remain elevated.
The plant's corporate owner, Tokyo Electric Power Company (TEPCO), in turn effectively owned by the Japanese government after a 2012 nationalization, began removing more than 1,500 fuel rod assemblies from the teetering fuel pool in November, a delicate process expected to take a year or more. There are additional fuel pools attached to each of the melted down reactors and a much larger general fuel pool, all of which contain nuclear fuel rod assemblies that are secure only as long as TEPCO continues to cool them. The Fukushima Exclusion Zone, a 12-mile radius around the nuclear plant, is about 500 square miles (much of it ocean); little specific information about the exclusion zone is easily available, but media coverage in the form of disaster tourism is plentiful, including aGoogle Street View interactive display.
Despite their significant differences as disasters, Chernobyl and Fukushima are both rated at 7 — a "major accident" on the International Nuclear Event Scale designed in 1990 by the International Atomic Energy Agency (IAEA). That is the highest rating on the scale, a reflection of the inherent denial that colors most official nuclear thinking. Designed by nuclear "experts" after Chernobyl, the scale can't imagine a worse accident than Chernobyl which, for all its intensity, was effectively over as an accident in a relatively short period of time. At Fukushima, by contrast, the initial set of events was less acute than Chernobyl, but almost three years later they continue without any resolution likely soon. Additionally Fukushima has three reactor meltdowns and thousands of precarious fuel rod assemblies in uncertain pools, any of which could produce a new crisis that would put Fukushima clearly off the scale.
And then there's groundwater. Groundwater was not a problem at Chernobyl. Groundwater is a huge problem at the Fukushima plant that was built at the seashore, on a former riverbed, over an active aquifer. In a short video, nuclear engineer Arnie Gunderson makes clear why groundwater makes Fukushima so hard to clean up, and why radiation levels there will likely remain dangerous for another hundred years.
Fukushima Unit #3 Activity Led to Some Panic-Driven Reporting in 2013
The Japanese government and nuclear power industry have a history of not telling the truth about nuclear accidents dating back at least to 1995, as reported by New Scientistand Rachel Maddow, among others. Despite Japan's history of nuclear dishonesty, Japanese authorities remain in total control of the Fukushima site and most of the information about it, without significant objection from most of the world's governments, media, and other power brokers, whose reputation for honesty in nuclear matters is almost as bad as Japan's. In such a context of no context, the public is vulnerable to reports like this from the Turner Radio Network (TRN) on December 28:
** NEWS FLASH — URGENT ** STEAM SUDDENLY EMANATING FROM FUKUSHIMA REACTOR # 3 — WEST COAST OF NORTH AMERICA SHOULD BEGIN PREPARATIONS FOR POSSIBLE RADIATION CLOUD WITHIN 3 TO 5 DAYS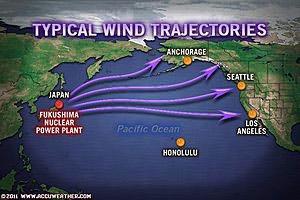 Five days after this story was posted, the "radiation cloud" had not developed despite the story's assertion that: "Experts say this could be the beginning of a spent fuel pool criticality (meltdown)'involving up to 89 TONS of nuclear fuel burning up into the atmosphere and heading to North America." The story named no "experts" and provided links only to TEPCO announcements in Japanese. The bulk of the story reads like an infomercial for "protective" gear of various sorts that TRN makes a point of saying it does NOT sell. Despite such obvious warning signs, others — such as The Ecologist and Gizmodo — reported the threat of "another meltdown" at Fukushima Unit #3 as imminent.
Clarification and reassurance quickly started chasing the "new meltdown" rumor around the Internet. ENENEWS (Energy News) promptly posted the TEPCO reports in English, demonstrating that there was nothing "sudden" about the steam releases, they've been happening more or less daily since 2011, but condensation caused by cold weather makes them visible. At FAIREWINDS (Energy Education), Arnie Gunderson posted on January 1:
"… the Internet has been flooded with conjecture claiming that Fukushima Daiichi Unit 3 is ready to explode… Our research, and discussions with other scientists, confirms that what we are seeing is a phenomenon that has been occurring at the Daiichi site since the March 2011 accident… While the plants are shutdown in nuke speak, there is no method of achieving cold shut down in any nuclear reactor. While the reactor can stop generating the actual nuclear chain reaction, the atoms left over from the original nuclear chain reaction continue to give off heat that is called the decay of the radioactive rubble (fission products)… constantly releasing moisture (steam) and radioactive products into the environment." [emphasis added]
In other words, Fukushima Unit #3 continues to leak radioactivity into both air and water, as Units #1 and #2 presumably do as well. But as Gunderson explains, the level of radioactivity has declined sharply without becoming benign:
"When Unit 3 was operating, it was producing more than 2,000 megawatts of heat from the nuclear fission process (chain reaction in the reactor). Immediately after the earthquake and tsunami, it shut down and the chain reaction stopped, but Unit 3 was still producing about 160 megawatts of decay heat. Now, 30 months later, it is still producing slightly less than 1 megawatt (one million watts) of decay heat… 1 megawatt of decay heat is a lot of heat even today, and it is creating radioactive steam, but it is not a new phenomenon."
Reassurances About Fukushima are As Misleading As Scare Stories
The reassuring aspects of the condition of Unit #3 — radioactive releases are not new, they're less intense than they once were, the nuclear waste is cooling — while true enough, provide only a false sense of comfort. Also true: radiation is released almost continuously, the releases are uncontrolled, no one seems to be measuring the releases, no one seems to be tracking the releases, no one is assessing accumulation of the releases. And while it's true that the waste is cooling and decaying, it's also true that a loss of coolant could lead to another uncontrolled chain reaction. ("Fukushima Daiichi Unit 3 is not going to explode," says Gunderson in a headline, but he can't know that with certainty.)
For the near future, what all that means, in effect, is that the world has to accept chronic radiation releases from Fukushima as the price for avoiding another catastrophic release. And even then, it's not a sure thing.
But there's another aspect of Fukushima Unit #3 that's even less reassuring. Unit #3 is the one Fukushima reactor that was running on Mixed oxide fuel, or MOX fuel, in its fuel rods.MOX fuel typically uses Plutonium mixed with one or more forms of Uranium. UsingPlutonium in fuel rods adds to their toxicity in the event of a meltdown. In part because Plutonium-239 has a half-life of 240,000 years and can be used to make nuclear weapons of "dirty bombs," its use in commercial reactors remains both limited and controversial. Because it contains Plutonium, MOX fuel is more toxic than other nuclear fuel and will burn at lower temperatures. As Natural Resources News reported in 2011:
"The mixed oxide fuel rods used in the compromised number three reactor at the Fukushima Daiichi complex contain enough plutonium to threaten public health with the possibility of inhalation of airborne plutonium particles…. Plutonium is at its most dangerous when it is inhaled and gets into the lungs. The effect on the human body is to vastly increase the chance of developing fatal cancers."
Reportedly, TEPCO plans don't call for the removal of the MOX fuel in Unit #3 for another decade or more. Fuel removal from Units #1, #2, and #3 is complicated by lethal radiation levels at all three reactors, as well as TEPCO's inability so far to locate the three melted cores with any precision.
There is ample reason to hope that Fukushima, despite the complex of uncontrollable and deteriorating factors, will not get worse, because even the Japanese don't want that. But there is little reason to expect anything but worsening conditions, slowly or suddenly, for years and years to come. And there is even less reason to expect anyone in authority anywhere to be more than minimally and belatedly truthful about an industry they continue to protect, no matter how many people it damages or kills.
The perfect paradigm of that ruthlessly cynical nuclear mentality is the current Japanese practice of recruiting homeless people to work at Fukushima in high level radiation areas where someone with something to lose might not be willing to go for minimum wage.
Source: William Boardman  |  Global Research
One thing about the ongoing crisis in Syria almost never mentioned in our media – even the alternative media – is the role of the nonviolent opposition to the Baathist regime. After the uprising began in the spring of 2011, the government engaged this opposition in discussions about reform of the Syrian political system. Out of these discussions came a new constitution, approved in February 2012 by 90% of the electorate in a popular referendum with a 57% turnout rate.
Prior to the new constitution, Syria was officially a one-party state: the Baathist party, to which the current and former president belonged, being that party. In 2007 the nomination by the Syrian parliament of Bashar al-Assad as President of Syria was approved by 98% of the electorate with a 96% turnout rate – just the sort of mandate you would expect of an authoritarian regime. Under the new constitution Syria became a multiparty state; elections to parliament were open to any political party.
In May of last year parliamentary elections under the new constitution were held. There were two blocs contending for the vote: the pro-government National Progressive Front, comprised of 6 parties, and the oppositional Popular Front for Change and Liberation, which included two parties. Of the 250 seats in the assembly, the Baathists won 134 seats with 34 seats distributed among the other parties in the National Front, including 6 seats for the two factions of the Communist Party. The opposition shared 5 seats. Seventy-seven members of the new parliament were not affiliated with any party. The constitution stipulates that at least half of the members of the assembly must be workers or farmers.
In other words, the Syrian parliament encompasses a diversity of opinion we can only dream of seeing in our own Congress – quite a coup for the nonviolent opposition. An election for President is scheduled for next May, quite a concession for a man our media labels a "thug", "dictator", "tyrant", especially as most governments, including our own, when facing a stressful situation become more authoritarian (e.g., Lincoln's suspension of habeas corpus, Palmer Raids of the 1920s, the Patriot Act, etc.) . It can be argued that the Syrian peaceful revolution is the most successful transition to democracy of the Arab Spring. What more does the violent opposition want? No wonder they have to rely on foreign Jihadists to do their fighting!
Critics of the Syrian regime will claim the elections were fraudulent, or, as the Obama administration put it, "ludicrous". I have no idea whether this is the case and would welcome the views of those better informed than me. I suspect critics of the elections seldom offer any supporting evidence for their claims. Every country grapples with seeing that their elections are fair (cf. Voter ID laws). Before we dismiss the newfound democracy in Syria as a sham, maybe we should give it a chance, especially as the lives of thousands of people – mostly Syrian but perhaps some of our own – are at risk. If the administration's goal in Syria is regime change, maybe it should wait and see whether the Syrian people effect it in a peaceful manner next spring or, if the incumbent is re-elected, accept the fact that democracy doesn't always work out the way we would like.
Postscript: If you didn't know about recent political developments in Syria, don't feel bad. I attended an event the other day where none of the speakers – neither Cole Bockenfeld and Stephen McInerney of the Project on Middle East Democracy (POMED) nor Shadi Hamid, Fellow at the Saban Center for Middle East Policy at the Brookings Institution – were aware of the elections held under the new Syrian constitution.