The epidemic of stupidity in the USA has risen to new heights with the widespread public, political and media support for the tens of thousands of illegal immigrants from Central America invading the country from Mexico. Those protesting the way the government is behaving are being attacked.
The narrative goes like this: Oh those poor children and mothers escaping incredibly awful conditions want nothing more than a decent life in the USA, and why not? After all we are a nation of immigrants. How could we deny giving these suffering kids and mothers a place in our nation? Never mind the legitimate sanctity of our borders.
A sure sign of disgraceful and all too frequent media bias is use of the terms "migrants" and "undocumented immigrants" instead of illegal immigrants.
But here is where the real stupidity comes in. What could amount to from 50,000 to 100,000 of these illegal immigrants crashing into our nation at considerable expense is nothing compared to the many millions of kids and mothers in many places globally also suffering admittedly terrible conditions. What about all those in Africa, the Middle East and the desperately poor in India, for example? Sadly, in all too many places, children with or without their parents are plagued by disease, violence, starvation, exploitation and abandonment.
So it is rational to ask: What if millions of people, both parents and children, seeking nothing more than a better life in the USA were to make it across any of our borders? Should we not also let them come in and stay? Are those from a few Central American countries intrinsically deserving of better treatment? Are some illegal immigrants more deserving than others?
Can any nation maintain sovereign self respect and ensure its own economic future by allowing huge numbers of illegal immigrants to enter and stay in its country? I say absolutely NO!
I want to see a nationwide grassroots uprising that vigorously protests what is now happening. More Americans need to envision a lifeboat that sinks into the ocean because more and more floundering, desperate people beg to be let into the lifeboat and the idiots already in the lifeboat acquiesce. So they all sink and perish. Welcome to Lifeboat America.
Here is an idea for the insanely barbaric Islamic radicals filled with hatred for the USA: Start to replace your many ideas on how to use violence to defeat the USA with plans to ship suffering kids and mothers by any means across any of our borders. Think big. Think in terms of sending a few million sufferers to the USA. Get them on boats and airplanes. Don't use explosives on airplanes. Use the worst off kids and mothers instead. Finance their transport to the USA. Then sit back and watch Lifeboat USA sink.
Wake up Americans. This illegal immigration situation is not about compassion and humanitarian assistance. It is sheer illogical stupidity. If we do not rationally and intelligently control illegal immigration, we have no future for most Americans. Our political system is clearly dysfunctional. Too many politicians seek an advantage by being illegal immigrant friendly; too many people in the business sector want to ensure low cost labor.
We cannot expect immediate rational action from the two-party duopoly and greed driven oligarchy. Not unless many millions of Americans understand that illegal immigration is a life or death issue for the country they profess to love. A big picture, longer term perspective supports government policy that requires all new illegal immigrants be immediately sent back to their country of origin. Anything other than this creates widespread motivation in foreign countries and among those making money from transporting illegal immigrants to keep sending more and more illegal immigrants across our borders. What would stop this madness? The longer it goes on, the more difficult it becomes to stop it.
As the memory of fireworks fade the day after the 4th of July, remember the date for declaring Independence from England was actually July 2nd.. A final version of the Declaration took two more days. It was the 2nd which John Adams believed would become, "the most memorable epocha in the history of America." He was wrong.
July 4th was the date Congress approved the finalized text of the Declaration produced by the five man committee assigned to give final form and substance to the ideas and causes which had compelled the Continental Congress to action. But not all agreed. One of the committee members, Robert Livingston, believed was a far too drastic step at that time and refused to sign.
Thomas Jefferson, who we remember as the Father of the Declaration, watched his final draft undergo 86 changes, shortening the overall length by more than a fourth. Many of these changes, including his inclusion of anti-slavery language, were made over his strong objections.
Jefferson had drawn on two primary sources for his own draft. The first a preamble to the Virginia Constitution and George Mason's draft of Virginia's Declaration of Rights. Jefferson's document is a restatement of John Locke's contract theory of government, stating that governments derived "their just Powers from the consent of the people."
On July 5th around 200 copies of the Declaration were typeset and printed in John Dunlap's Philadelphia print shop. Copies were dispatched to various committees, assemblies, military commanders and foreign nations.
On July 6th the Pennsylvania Evening Post became the first newspaper to reprint the whole Declaration.
The first public reading of the Declaration occurred on July 8, 1776 in Philadelphia.
Getting the news out to the world, especially to King George and the rest of the colonies, proceeded as rapidly as possible. News of the Declaration reached London the second week of August via the Mercury packet ship.
The London Gazette, the official Crown organ, broke the news in its Saturday, August 10 edition.
The official ceremony of signing took place a month later, on August 2. But the text of the Declaration had already been published and republished in newspapers in a minimum of twenty-nine American newspapers and one magazine.
Jefferson later said he did not intend to say things that "had never been said before." But this is exactly what had transpired and because of these events the world changed.
During an interview with The Independent last year, country western star Carrie Underwood, a professing Christian, got the media's full attention when she decided to come out in support of gay "marriage."  "As a married person myself," she chirped, "I don't know what it's like to be told I can't marry somebody I love, and want to marry.  I can't imagine how that must feel. I definitely think we should all have the right to love, and love publicly, the people that we want to love."  Underwood also noted that she attends a gay-friendly church.
Four years ago another popular "Christian" singer, Jennifer Knapp, came out as a lesbian.  In an interview Knapp stated that she wasn't interested in becoming another spokesperson for the gay agenda because she wasn't equipped for that.  "I'm in no way capable of leading a charge for some kind of activist movement," she bluntly told "Christianity Today" in 2010, adding, "I'm not capable of getting into the theological argument as to whether or not we should or shouldn't allow homosexuals within our church." (Source)  Four years later we learn that Jennifer has boned up on theology 101 and now feels she's capable of arguing her view on what the Bible teaches on homosexuality.  Purchase her soon to be released book where she tells the story of her troubled life and you'll discover Jennifer's liberal theology.   And, not surprisingly, on her book publisher's website we learn that she has become an "advocate for LGBT issues in the church."
The gay agenda has weaseled its way into all aspects of society, including religious institutions, corporations, politics, the media, education, the arts, the entertainment industry and so on.  As a result, there's a great divide in this country.  Even though the Bible clearly opposes homosexuality, a growing number of professing Christians have no problem with it. Far be it from a Christian to hurt someone's feelings or to be thought of as – gasp – homophobic.  Anyone who dares oppose sodomy is said to be intolerant, even bigoted.  Well, the fact of the matter is that society has been indoctrinated to believe that homosexuality is normal and natural despite the fact that the scriptures teach just the opposite.  Not only is sodomy deemed unnatural, the Apostle Paul uses the term unseemly:
For this reason God gave them up to dishonorable passions. For their women exchanged natural relations for those that are contrary to nature; and the men likewise gave up natural relations with women and were consumed with passion for one another, men committing shameless acts with men and receiving in themselves the due penalty for their error. (Rom 1:26-27)
With all the health risks involved in homosexual behavior why are Christians expected to be tolerant instead of outraged?
The vast majority of highly respected, published, biblical scholars agree that Scripture clearly teaches that homosexuality is sin.  Therefore practicing same-sex sex is unacceptable to God…to Jesus…to the Holy Spirit…in other words, to the holy Trinity.
Pastor Larry Tomczak said of so-called Christian entertainers who seem more concerned about their careers than with what the Bible teaches, "To say we genuinely care about our fellow man, yet not "speak the truth in love" is cowardice."
Amy Grant and Dan Haseltine are the most recent Christian entertainers to take a stance on gay "marriage." They're for it.  Thus, Amy and Dan are cowards.
Amy Grant is a singer-songwriter, musician, author and actor.  This accomplished woman also has dozens of Dove awards, six Grammys and a star on the Hollywood Walk of Fame.  Dan is the lead singer of popular Christian singing group Jars of Clay and "tweeter" extraordinaire.
Recently Grant agreed to do an interview with the gay press.  According to Chris Azzopardi:
During her first gay press interview, and for an entire hour, the Grammy winner reflected – with her usual sincerity and thoughtfulness – on her loyal gay fan base, how she reconciles Christianity and homosexuality, her "compassion" for gay marriage…
Azzopardi was curious to know if she was invited to perform at the wedding of one of her gay fans and couldn't do it because of a conflict in her schedule.  She replied:
I was invited. I was honored to be invited. (Source)
Honored?  Why would Amy, who proclaims her love for Jesus, feel that it's an honor to be invited to sing Christian music at a gay "marriage" ceremony?
The answer is obvious. She has rejected Sola Scriptura in favor of following her feelings.  As I already pointed out, homosexuality is diametrically opposed to Scripture.
Equally concerning is Grant's 2010 interview with the world's largest Catholic network, Catholic Online.  Has she not heard of the Protestant Reformation?  By doing the interview she as much as endorsed a religious system that has led billions of people down a path that ends at the Gates of Hell.
Reformer Martin Luther made it clear what Protestants must believe about the Roman Catholic Church:
What kind of a church is the pope's church?" asked Martin Luther.  "It is an uncertain, vacillating and tottering church. Indeed, it is a deceitful, lying church, doubting and unbelieving, without God's Word. For the pope with his wrong keys teaches his church to doubt and to be uncertain.
If it is a vacillating church, then it is not the church of faith, for the latter is founded upon a rock, and the gates of hell cannot prevail against it (Matthew.16:18). If it is not the church of faith, then it is not the Christian church, but it must be an unchristian, anti-Christian, and faithless church which destroys and ruins the real, holy, Christian church.3 (H/T Ken Silva)
It doesn't require a degree in theology to know that the RCC has for centuries been spreading a false gospel, a gospel that does not save and intends to keep men blinded from the truth.  (2 Corinthians 4:4). That Ms Grant—or any other professing Christian–would agree to sit down with a representative of a false religious system shows how little discernment she has.  Sadly, it appears that she is not concerned that her fans understand authentic Christian doctrine that will help them mature and grow in their faith.  Amy must know that,
There is a way that seems right to a man, but its end is the way to death.  (Proverbs 16:25)
Likewise:
Whoever has my commandments and keeps them, he it is who loves me. And he who loves me will be loved by my Father, and I will love him and manifest myself to him." (John 14:21)
Dan Haseltine is not a household name.   But many believers are familiar with the popular Christian band Jars of Clay.  In April Dan tweeted his support for gay "marriage" and claimed that Scripture has nothing to say on morality.  When Christians objected to his unbiblical stance, he tweeted this stunning rebuke:
I don't particularly care about Scriptures stance on what is "wrong" I care more about how it says we should treat people.
On biblical morality he tweeted:
Because most people read and interpret scripture wrong. I don't think scripture "clearly" states much about morality.
The following day Metro Weekly reported Haseltine's response to the uproar:
"Not meaning to stir things up BUT… is there a non-speculative or non 'slippery slope' reason why gays shouldn't marry? I don't hear one." He went on to write "I'm trying to make sense of the conservative argument. But it doesn't hold up to basic scrutiny. Feels akin to women's suffrage. I just don't see a negative effect to allowing gay marriage. No societal breakdown, no war on traditional marriage. ?? Anyone?" (Source)
By not taking a strong stance against gay "marriage" Amy and Dan have surrendered to three enemies: the world, the flesh and the devil.  And let's be clear.  From their "progressive" vantage point, their brothers and sisters in Christ who oppose same-sex "marriage" (for biblical reasons) are homophobes, hate mongers and bigots.
But this is not only about Christian entertainers that have gone the way of progressive Christianity.  It is equally about the so-called Bible believing Christian who has chosen to ignore what God's Word says on homosexuality; the one who puts his tail between his legs and cowers rather than to stand up for the Truth.  God's people are commanded to "contend for the faith that was once for all delivered to the saints."  (Jude 1:3)  And by the way, the discerning Christian knows perfectly well that same-sex sex is prohibited in Scripture.  Moreover, a spiritual person (1 Cor. 2:15) will understand that every sin is ultimately a sin against God.  "For all have sinned and fall short of the glory of God." (Romans 3:23)
I'll end this with a lengthy quote from Walter Martin, apologist and founder of the Christian Research Institute.  Over two decades ago Dr. Martin gave us fair warning:
I don't think it needs blackboard diagram; or any amount of sophisticated logical presentation a fortiori. I think you can be a fifth-grader and understand that if God says "cursed" is something He takes an extremely dim view of it. I think that's a rational approach. So the homosexual theologians who are attempting today to defend homosexuality on the basis of Biblical theology are in the same position as the Sadducees, to whom Jesus addressed this remark: "You do err. Not knowing the Scriptures or the power of God."
That's exactly where they are. They are trying to put Christianity and homosexuality in the same bed; and you're not gonna do it because Jesus Christ very forcibly condemned it. And you say, "Where in the New Testament did Jesus ever mention homosexuality?" Open your Bibles and find out; because contrary to what the gay church says, He not only spoke against it—He went out of His way to make it very clear [so] nobody'd misunderstand Him.
Of course, you do have to study your Greek New Testament to come up with it. Most homosexual theologians, so-called, that I have talked to don't even know the Greek alphabet, much less their Greek exegesis so they miss it completely—but it's here in the passage and it should be looked at. Matthew, chapter 15, Christ is speaking, verse 19, "For out of the heart proceeds evil thoughts, murders," notice the differentiation, "adulteries, fornications," plural, "thefts, false witness, blasphemies."
"These are the things which defile a man, but to eat with unwashed hands does not defile." "The word homosexual is not there; what are you arguing about?" I'm arguing about the use of the word porneus, which was found written over the wall, and the doorway, and the arches, in excavations [by] archaeologists of Roman brothels. And the word porneus did not mean "sex before marriage" alone.
It meant homosexuality, bestiality, and all forms of degraded sex. And it became well known to everybody in the culture, if any of them ever did their homework, that porneus referred to anything goes. Jesus well knew the Roman brothels. He well knew the culture of His time; and when He said adulteries and fornications—plural—He was making a direct reference to the practices of the Romans and the Greeks and the pagans of the time who prostituted themselves to all forms of evil.
He knew it; He condemned it. It's not just the matter of the word, it's a matter of the culture; and Jesus certainly understood the culture of His time—if He didn't, nobody did. And therefore, when He used the word fornications, He obviously was making reference to all forms—all forms, inclusive forms—of that which was the deviation from the norm of Jewish law.
And the reason I can say that with such dogmatism is because He was a rabbi. And if a rabbi didn't know Jewish law on the subject of homosexuality, nobody on earth knew it. … (Source)
Additional Resources
Homosexuality–On Solid Rock Resources
Answering the Gay Christian Position—Joe Dallas
The Bible and Homosexual Practice: Texts and Hermeneutics–By Robert Gagnon.  Dr. Gagnon  is Associate Professor of New Testament at Pittsburgh Theological Seminary.  "Gagnon offers the most thorough analysis to date of the biblical texts relating to homosexuality."
The erotic reliefs of Hindu temples with their gravity-defying and anatomy-challenging positions have found a new modern competitor in the Ukrainian crisis. Each party wants to get the Jews on their side, while claiming that the other side is anti-Jewish and a Jewish puppet at once. This impossible, Kama-Sutraesque position is the result of extremely confusing alliances: the Kiev regime lists devout Jews and fiery antisemites among its mainstays. The leading figures of the regime (including the president-elect) are of Jewish origin; strongman and chief financier Mr. Igor (Benya) Kolomoysky is a prominent Jewish public figure, the builder of many synagogues and a supporter of Israel. The most derring-do and pro-active force of the regime, the ultra-nationalists of the Svoboda party and the Right Sector, admire Hitler and his Ukrainian Quisling, Stepan Bandera, "liberators of Ukraine from the Judeo-Muscovite yoke". Jews are ambivalent, and the sides are ambivalent about them, and a most entertaining intrigue has been hatched.
The Russians tried to pull Israel and American Jews to their side, with little success. President Putin condemned the antisemitism of the Svoboda party; he mentioned the desecration of the Odessa Jewish cemetery in his important talk. The Russians re-vitalised the World War Two narrative, fully identifying the Kiev regime with the Bandera gangs and the Nazi enemy. Still, this rhetoric is not taken seriously by Jews who refuse to feel threatened by cuddly Kolomoysky. "These Nazis are not against Jews, they are against Russians, so it is not a Jewish problem", they say.
The Kiev regime mirrored the Russian attitude, if not Russia's tactics. Being rather short of facts to brandish, they faked a leaflet from Donetsk rebels to local Jews calling upon them to register and pay a special poll tax "for the Jews support the Kiev regime". This rude and improbable hoax was immediately and convincingly disproved, but not before it was used by, no less, Barak Obama and John Kerry. The American Jewish newspaper of record, The Forward, obfuscated the issue by saying that Russians and Ukrainians are antisemites by birth and their denials are to be taken with a grain of salt. This mud-slinging was effective – the hoax has made the front pages, while its debunking was published on the back pages.
The Russians had the facts on their side, and the West knew that: the US refused entry to Oleg Tyagnibok and other Svoboda leaders (now members of Kiev government) because of their antisemitism as recently as in 2013. But Russian appeals to Jewish and American sensitivities failed to make an impact. They know when to feign indignation and when to hush. Pro-Hitler commemorations are frequent in Estonia, Latvia, Croatia, and cause no lifting of a censorious brow, for these countries are solidly anti-Russian. In March of this year, the Obama administration's special envoy on anti-Semitism, Ira Forman, flatly denied everything and said to the Forward that Putin's assertions of Svoboda's antisemitism "were not credible". The US wants to decide who is an antisemite and who is not; like Hermann Goering wanted to decide who is a Jew and who is not in the Luftwaffe. In the Ukrainian crisis, the Jews remain divided, and follow their countries' preferences.
Israel is neutral
Recently Prime Minister Netanyahu called President Putin. Putin is always available for and always courteous to Netanyahu, as opposed to President Obama, who shows signs of irritation. (Admittedly Obama has to listen to Netanyahu much more often and for hours.) Netanyahu apologised that he wouldn't be able to come to St Petersburg for Israeli Culture Week; instead, old reliable Shimon Peres, Israel's President, will make the trip. He apologised for leaking the news of this visit cancellation to the media, as well.
This is quite typical for the Israeli PM: at first, he asks for an invitation, Russia extends it, then he cancels his visit and leaks it to the press, thus earning brownie points with the Americans. He did it at the Sochi Olympic games, and now again, in St Petersburg. This is his way of expressing Israeli neutrality.
Israel is explicitly neutral in the Ukrainian crisis. Israelis walked out and did not vote on the UN GA Crimea resolution at all, annoying its American sponsors. The Israelis had a flimsy excuse: their Foreign Office was on strike. The Americans weren't satisfied with this explanation. Strike or not, vote you must!
We learned from our Israeli colleagues the details of the Putin-Netanyahu phone conversation, which elaborated the reasons for Israeli neutrality. Israel is worried that as an asymmetric response to the US sanctions, Russia would deliver its potent air defence systems to Iran and Syria. Iran and Russia had signed a weapons supply contract a few years ago, Iran duly paid; then the shipment was suspended. Iran went to court demanding a massive compensation for the breach of contract. Likewise, the Syrians were supposed to get the S-300 surface-to-air missile system, able to protect its skies from Israeli raids. The deliveries commenced; PM Netanyahu beseeched Putin to put it on hold. Initially Putin objected, stressing the defensive nature of the system. Netanyahu told the Russian president that the S-300 would allow the Syrians to cover the whole North of Israel, at least all the way to Haifa, rendering important airfields unusable and endangering civil aviation as well. Putin agreed to stop the deliveries.
Vladimir Putin is friendly to Israel. He promised he would not allow the destruction of Israel; he promised to save its population if the situation should become truly dangerous. During the recent visit of PM Netanyahu to Moscow, Putin was not carried away by Netanyahu and Liberman's hints of possible Israeli re-alliance with Moscow instead of Washington. He told the Israelis that their ties with the US are too strong for such a re-alliance being conceivable. Putin said that Russia is satisfied with the present level of friendship and does not demand that Tel Aviv weaken its ties with Washington. Putin visited Israel a few times, he received the Israeli PM in Kremlin. The Israeli ambassador Mme Golender sees Putin more often than do her American or French counterparts.
This friendly attitude has a down-to-earth reason: Putin is not fluent in English or French, while Mme Ambassador speaks Russian to him, eliminating the bothersome need of an interpreter. A deeper reason is Putin's background: a scion of liberal elites, brought up in St Petersburg, schooled by ultra-liberal Mayor Sobchack, anointed by Boris Yeltsin, Putin is naturally friendly to Jews and to Israel. This friendly attitude annoyed some Russian ultra-patriots, who excitedly circulated his photo taken in the obligatory kippahnear the Wailing Wall. They also counted and recounted the names of Jewish oligarchs in Moscow.
True, some of them – Berezovsky, Gusinsky, Hodorkovsky – had to flee their Russian homeland, but the Russian president is surely not the Jewish-tycoons-Nemesis and the-new-Hitler he is sometimes made out to be. Abramovich and Friedman, to name just two, retain his trust and access. Putin does not mind any oligarch (Jewish or Gentile) – as long as he stays out of politics.
Putin is also friendly with Jewish intellectuals and gentlemen-of-the-media, even if they are outright hostile to him. Masha Gessen, Jewish Lesbian Putin-hater and magazine editor; Alexey Venediktov, Jewish chief editor of Echo Moskvy, a popular liberal medium that attacks Putin every day; many others enjoy access to Putin, – while no Russian nationalist including Dr Alexander Dugin can boast of having met with the president privately.
Putin's affability does not turn him into a bountiful source for every Jewish initiative. He stopped S-300 deliveries to Iran, but rejected all Israeli overtures asking him to ditch Iran, or Syria, or Hamas. In the course of their last phone conversation, Netanyahu claimed the Israelis discovered proofs of Iranian nukes. Putin politely expressed his doubts and re-addressed him to IAEA. He agreed to receive the Israeli "experts" with their proofs in Moscow, but nothing came of it. Russia's support for Palestine is unwavering, – there is a Palestinian embassy in Moscow, too.
Putin supported building of a spacious Jewish museum in Moscow and personally contributed to its budget – but Russian street advertising proclaims the Resurrection of Christ, Eastertide, and His Nativity at Christmas. No "season's greetings", but open affirmation of Christianity. Russia is not like the US or EU, where external signs of Christian faith are forbidden, Easter and Christmas can't be mentioned and whatever Jews request must be done immediately. Western Jews are annoyed (so their organisations claim) by public displays of Christian faith, but Russian Jews do not mind; moreover, they intermarry, convert and enter the Church in previously unheard of numbers. They are not strongly pro-Israeli, those that were already left for Israel.
So the Jews of Russia are not an influential factor to the Russian President. Putin will do what is right according to the Christian faith, and what is good for Russia, as he understands it — and he can't be convinced to give up really important points. Other considerations – such as friendship with Israel – would normally take a much lower place in his priorities. However, in the midst of the Ukrainian crisis, as the Russians are worried by sanctions and by threats of isolation, they try to pull Jews to their side. This makes them increasingly susceptible to Israeli manipulation, whether state-authorised or a private venture.
Last week, Israeli military historian Martin van Creveld visited Moscow. In 2003, he famously threatened Europe with nuclear destruction (the "Samson Option"), saying "Israel has the capability to take the world down with us, and that will happen before Israel goes under". Now he has explained to Russians Israel's new policy: While the US enters the period of its decline, Israel must diversify and hedge its bets by drawing close to Moscow, Beijing and Delhi, he wrote in Izvestia daily. Perhaps, but without going too far. A flirt – yes, switching sides – not yet.
Israel prefers to stick to its neutrality. This is easy, as the Israeli populace (excepting its Russians) is not interested in Russian/Ukrainian affairs, does not know the difference between Russia and the Ukraine and is rather unfriendly to Russians/Ukrainians. This goes for both the Left and Right; the Israeli Left is even more pro-American than the Israeli Right. As for Russian Israelis, they are equally divided between supporters of Russia and supporters of Kiev regime. While observing niceties towards Russia, Israel does not intend to side with Moscow. The Jewish oligarchs of Ukraine – Kolomoysky, Pinchuk, Rabinovich – are integrated within the Kiev regime, and they support Israeli right-wing on a large scale. Israeli businessmen are invested in the Ukraine, and the oligarchs are invested in Israel. Kolomoysky controls YuzhMash, the famed missile construction complex in Dnepropetrovsk, and holds the secrets of the Satan ballistic missile, the most powerful Russian strategic weapon. He allegedly intends to share these secrets with the Israelis. If Israel were to side with Moscow regarding Ukraine, the breach with Washington would be unavoidable, and Israel does not intend to provoke it.
Some marginal Israeli right-wingers support Russia; they claim that they represent Israeli public opinion and government. They try to collect on their promises before they deliver. However, this is not an ordinary scam: they are trying to turn Russia into a supporter of right-wing Zionism.
Consider Russian-Israeli far right activist Avigdor Eskin. He impossibly claims that the Israeli government has already decided to jump from the US train to join the Russian one, that Israeli commandos are on their way to fight for the Russians in Donetsk, that Israeli authorities intend to strip Mr Kolomoysky of his Israeli citizenship. Naturally, all that is a load of bunkum, but Russians swallow it hook, line and sinker.
Avigdor Eskin is a colourful personality: a convert to Jewish faith (his mother is not Jewish), an observant Jew, an ex-Kahanist who was arrested in Israel for an alleged attempt to desecrate Al Aqsa mosque and a Muslim cemetery, and who served two or three years in Israeli jail; he styles himself a "Rabbi" and wears a full beard. After serving his time in jail, he moved to Russia and built a network of Israel supporters among the Russian far right. His message is "Israel is a true friend of Russia, while Muslims are Russia's enemies". He also adds that Israeli settlers are anti-American and pro-Russian. (If you believe that, the tooth fairy is the next step.)
Recently he claimed that the Aliya Battalion of "experienced Israeli commandos and sharpshooters" came to warring Donbass to fight on the Russian side against the Kiev regime troops. The Aliya Battalion is a battalion in the sense Salvation Army is an army. This is an Israeli NGO, established by Russian Israelis of far-right Zionist persuasion and of some Russian military background. It is not a part of Israeli Army. For a short while, the NGO provided guards for Jewish settlements in Gaza and the West Bank, but the settlements stopped using them as they were extremely unreliable. They boasted of murdering Palestinian civilians, of torturing and killing children, but this was just a sick sadist and racist fantasy, people say. Afterwards, the Battalion leaders turned its name into a profitable scam, roaming American Jewish communities and collecting donations for their supposedly secret activities. As this scam was exposed by Israeli TV (RTVI network; it is available on the YouTube), they had disappeared from the public eye. Now Avigdor Eskin resurrected the old scam, and made a lot of headlines in the Russian media.
Eskin found a soulmate in prominent Russian media man Vladimir Solovyev. The Solovyev is of partly Jewish origin, lived abroad, then returned to Russia; he runs an important political show Sunday Eveningon Russian TV. The Saker (a well-known blogger) described him as follows: "This show is hosted by a famous personality, Vladimir Solovyev, who is a very interesting guy. Solovyev is a Jew, and he is not shy about reminding his audience about it, who was even elected as a member of the Russian Jewish Congress. He is also a Russian patriot, and he is an outspoken supporter of Putin and his policies. His position on the Ukraine is simple: he as a Jew and as a Russian has zero tolerance for Ukrainian nationalism, neo-Nazism or Banderism. He is a determined and total enemy of the new Kiev regime."
It is possible Solovyev is going through some personal identity crisis: from celebrating his Russian roots, he moved to proclaiming his Jewish origin. Alternatively, it is possible (and more likely) that the Russian decision-makers want to pull Jews on their side, and Solovyev is acting with US Jews in mind. Stalin did it, so Putin could repeat the trick. In 1942, as Nazi onslaught threatened Russia, Stalin had sent some Russian Jews to the US, to speak Yiddish to Jewish communities and lobby for the USSR. The American Jewish community surely carries some clout… Now Solovyev and others are trying to influence Jews abroad; or at least to show to their superiors they are trying.
The price Eskin extracts for his fantasy stories is high. In Solovyev's prime time programme, he called for the destruction of al Aqsa mosque and for the building of the Jewish temple on its place. He called Palestinians "the people of Antichrist". Even in Israel such statements can't be voiced on public TV. In confused Moscow, Eskin was feted and given a place in another important political programme, that of Arcady Mamontov. Who is conning whom: is Eskin conning his Russian hosts, or are his media hosts using him to con their superiors, or are their superiors trying to con the Russian people? Or is Israel hedging its bets? Who knows?
Ukrainian Jews beg to differ
Jews came to the Ukraine a thousand years ago, perhaps from Khazaria. This is not a homogeneous community; rather, they represent several communities. A lot of them emigrated to Israel; even more moved to Russia. They speak Russian and usually do not speak Ukrainian, though they picked up the vernacular over last twenty years. Normally, they wouldn't care about Ukraine's independence, as Jews  traditionally side with the strong, be it Poles under Polish rule, with Russians under Moscow rule, or with Germans under Vienna or Berlin. Now many of them have decided to side with the US or EU. One of the reasons why so many people of Jewish origin do well is that the ruling ethnic groups trust the Jews and rely upon their loyalty to the powerful and lack of compassion for their Gentile neighbours.
Another reason is the vague definitions. For last three or four generations, Jews have intermarried freely; children of these mixed marriages are often considered 'Jews'. These are the 'Jews' to the present regime; often they have only one Jewish grandparent.
Ukraine, following its independence in 1991, moved into the Western sphere of influence, but Eastern Ukraine (Novorossia) retained its Russian character and links. Jews did well in both parts. Mr Kolomoysky is a prominent member of the Jewish community, and a mainstay of the Kiev regime.  He is a ruthless businessman, famous for his raiding of others'properties and for his Mafia connections. Rumours connect him with many killings of business adversaries.
On the other side, in Kharkov, the Mayor and the district Governor (nicknamed Dopah and Gepah) are Jewish, and they can be considered pro-Russian. It was thought that Kharkov would become the centre of rising Novorossia; president Yanukovich fled to Kharkov hoping to find allies and supporters. But Dopa and Gepa disabused him, so he continued his flight all the way to the Russian city of Rostov. Their decision to remain loyal to Kiev did not work well for them: one was shot, and the second one has been imprisoned and his attempt to run for president thwarted.
Kharkov is also home to Mr. Hodos, a wealthy and prominent Jew who fought most valiantly against Habad, the Jewish spiritual movement of which Mr Kolomoysky is a prominent member. The Jews of Novorossia apparently support the general pro-Russian trend, though there are exceptions. Practically all Ukrainian Jews have relatives in Russia, and had Russian education.
Israel has a strong network of agents in the Ukraine. They snatched a Palestinian engineer and flew him to an Israeli dungeon, and that could not be done without support of Ukrainian security services. However, the stories of Israeli soldiers fighting in Ukraine are somewhat exaggerated: these are individuals of dual citizenship who act at their own will, not a state representatives.
US Jews are divided
US Jews are divided on the Ukraine, as they were divided on Palestine. Friends of Palestine, people with a strong anti-imperialist record and sound knowledge of East European history – Noam Chomsky and Stephen F. Cohen — recognised and renounced the US attempt to sustain their hegemony by keeping brazen Russia down. A subset of people, Gilad Atzmon aptly called AZZ (anti-zionist zionists), Trots and other faux-Leftist shills for NATO like Louis Proyect – called for American intervention and brayed for Russian blood.
The notorious Israel Lobby is strictly anti-Russian. The State Dept. official Victoria ("Fuck EU") Nuland personally directed the Kiev coup; she handpicked the government and the president of the new American colony on the Dnieper River. Her husband, Robert Kagan, is a founder of FPI, the successor of infamous PNAC, the extremist Zionist think tank which promoted wars in Iraq, Afghanistan and pushed for a war with Iran. Now they attack Russia, but they do not forget about their support for Israel.
Consider a young American gender activist and journalist, James Kirchick. He entered the Neocon network by shilling for the Lobby. He pink-washed Israel ("Israel as the best friend of gays on earth, while the Palestinians are homophobes who deserve to be bombed"). After doing the Israeli stint, he moved on to fighting Russia. He worked for the CIA-owned and US Congress-funded Radio Free Europe; stage-managed the sensational Liz Wahl's on-air resignation from the RT and protested alleged mistreatment of gays in Russia. His dirty tricks were revealed by Max Blumenthal, a Jewish American journalist, a known anti-Zionist (working together with a Palestinian Rania Khalek).
While Israel is neutral re Ukraine, Israeli friends in EU and US are hostile to Russia and supportive of American hegemony, while friends of Palestine stand for Russia's challenge to the Empire. The French Zionist media philosopher Bernard Henri Levy is an example of the former, while Michel Chossudovsky of Global Research is a representative of the latter. Leading critical ("anti-Zionist") websites Counterpunch, Antiwar, Global Research sympathise with Russia, while pro-Israeli sites are hostile to Russia.
Zionists are nasty and vicious enemies, but they make even worse friends. Edward N. Luttwak is friendly to Russia; he called upon the US to make up with Russia. Strategic union of Russia and America is necessary, he says. Who cares about Ukraine? And here is his pitch line: Russia should fight China for the US benefit. Another Zionist friend, Tony Blair, also calls for peace with Russia – so Russia can fight the Muslim world for Israel. Quite similar to Eskin who offers his pathetic support to Russia in order to neutralise her positive influence and defence of Palestine.
The bottom line: Israel remains neutral for its own reasons. While Jews as individuals differ on Ukraine, there is a correlation with their stand on Palestine and on Syria. Enemies of Putin in Russia, Ukraine, Europe and US do support Israel and are hostile to Palestine, to Syria of Bashar, to Venezuela of Chavez. And the most dangerous lot are those who support Israel and Russia, as they are surely plotting some mischief.
Thanatos hangs over America, a death-wish based on the inner rotting of conscience predicated on the constant need for supremacy in the world as a test, indeed validation, of the nation's moral virtue, to be achieved through military power—a greatness no longer assumed and, because of inner decay setting in, cause for fatalistic entropic reaction. Circa 1950: Better dead than red. Circa 2014: Better dead than descend from the pinnacle of global hegemony—and why not bring everyone else with us? Paul Craig Roberts's article in CounterPunch, Are You Ready For Nuclear War?, (June 3), may perhaps seem unduly alarmist to the uninitiated, but even without Obama-Team national security advisers thoroughly capable of and attuned to such planning, there are indications inhering in Obama's studied moves aimed toward direct confrontation with Russia and China that carry intentionally the eventuality of a nuclear showdown.
Both on the Pacific Rim and European trips, closely integrated in time and purpose, Obama sounds like—and is scripted to be—the Avenger against a doubting world, not sufficiently appreciative of America the Land of Freedom (subtext throughout, of course, capitalism the sole legitimate world system replicating America's own political-economic structure and ideological values). Comparing his statements wherever he appeared on those journeys of confidence-building, all to the end of confrontation with China and Russia, respectively, yet tacitly as though enemies-joined-at-the-hip, he sounded like nothing so much as a broken 78 rpm recording, stand shoulder to shoulder, stand shoulder to shoulder, stand shoulder… ad infinitum. Poland, South Korea, Latvia and Lithuania, Philippines—the more the merrier, coupled with checks (the monetary kind) for military hardware, promises of American protection, assurances, backed by military bases, training programs, joint exercises, membership in the extant alliance system (an attack on one is an attack on all), the foregoing packaged with the ascription of Russia and China as expansion-minded and out to do harm to its neighbors (i.e., our "friends and allies"). Chuck Hagel, interviewed on BBC, invoked Article 5 of the NATO treaty, the one for all, all for one provision, stating that "Russia was a threat" to Europe (June 5). Nothing could be clearer.
And then we have Obama in Brussels, same day, demanding of Putin, in a time frame "over the next two, three, four weeks," complete disengagement—in Peter Baker's words, from his New York Times article, "With Group of 7 Backing, Obama Gives Russia One-Month Ukraine Deadline, " (June 5)—from Ukraine, that is, "to reverse its intervention…and help quash a pro-Russian separatist uprising or else…it would face international sanctions far more severe than anything it had endured so far." Beyond a time frame, actually an ultimatum, Obama stated that "if Russia's provocations continue, it's clear from our discussions here that the G-7 nations are ready to impose additional costs on Russia." No compliance after the time period ("and if he remains on the current course"), watch out Putin, for "we've already indicated what kinds of actions that we're prepared to take."
G-7 on banners, rostrums, a deliberate flaunting of exclusion, along with D-Day Observance plans to prevent an Obama-Putin head-to-head, calculated further to enhance antagonism, this choreographed trip is a prelude to bolder demands directed to the EU itself to speak with one voice, that of America's, in viewing Russia as an enemy bent on invasion of the West. Rather than hysteria, the mood favors an incremental rise in tensions, at each step, the concretization of war readiness, naval forces in the Black Sea, a larger US troop presence in Poland, the steady movement eastward to the Russian border of NATO troops, anti-ballistic missile installations ringing Russia, a hostile environment, to say the least, for a peaceful accommodation, one the US and the EU, by their actions, appears not to want.
I am tempted to explain these developments as the psychopathology of capitalism as a system, thanatos the upshot of the desensitization of human feeling when the commodity structure defines the individual as alienated from social relations of equality and justice, in favor of a pervasive solipsism, driven by fear, introjecting the values of ruling groups as compensation for empty lives, turning on one another to rise in the social hierarchy, in the last analysis, killing without compunction, as in Obama's signature, drone assassination vaporizing a fellow human being so that no reminder of his/her existence remains. But such an explanation is too simple by half; policy trumps psychology, or rather invites a particular mental-set in order to reach fruition. Thanatos is consequence, not cause. Policy is about market penetration, market fundamentalism, market hegemony, to which must be appended the full-scale militarization of political economy, value system, how order is maintained and reinforced.
Mass surveillance in America is less if at all about counterterrorism than about the artificial props which are necessary to keep society from disintegrating in the face of animalistic greed (apologies to animals for the reference), ethnocentric and racial assumptions, the uneven structure of wealth, an underlying repression insinuated into the fabric of status, power, and wealth for purposes of the stabilization of privilege and recognition. America enjoyed world prestige for so long that a decline of any sort is catastrophic. My way or the highway works only so long; as this realization sinks in, America becomes more dangerous. These provocative moves to mount a massive counterrevolution are failing, whether Putin or Xi or both, the counterweight is fast forming its leadership coming from the people themselves with Russia and China the historical vanguard for creating a world system where no single power is able to dominate and unilaterally shape the destinies of humankind.
My New York Times Comment on the Baker article, same date, follows:
I am delighted by Obama's rhetoric emanating out of Warsaw and Brussels. It confirms my sense of him as global WARMONGER No. 1. His threats, boasts, needling are an accurate reflection of his and the US's character. We hear rumors now of a veritable cottage industry in Washington of policy wonks working out nuclear first-strike paradigms against Russia and China. Fitting, because the impulse for destruction is present. Obama is far more dangerous with or without preemptive war than any POTUS perhaps ever.
Does saying that make me a red-pinko-commie? No. Until America puts its own house in order, which may well be never again, criticism is justified without necessarily praising those declared to be adversaries and worse.
How square peace with massive domestic surveillance? with the largest military budget in the world? with the use of counterterrorism to violate civil liberties at home, mount unjustified aggression abroad?
Times readers may scream (one yesterday said of my post on Warsaw, Go back to Russia–I'll donate to your travel)! That's perfect, the ratcheting up of Reaction, frighteningly similar to McCarthyism–even more pervasive–that I remember in my youth.
As for a Putin-Poroshenko meeting, it will come about soon. As for Obama's threat of sectoral sanctions, this will backfire, as Germany and France will not go along. It is fitting Obama has Cameron as his new pal–two peas in a pod. Others however will resent the crass bullying. We deserve Obama.
Norman Pollack has written on Populism. His interests are social theory and the structural analysis of capitalism and fascism. He can be reached at pollackn@msu.edu.
Source: Counterpunch
Ever wonder why nobody (except Kareem Serageldin) went to jail for all the crimes committed during the financial bubble that popped in 2008?
If you think back to the 2000-era bubble, lots of people went to jail for the fraud perpetuated at Enron, Tyco, Adelphia, and other firms. Plus, the law back then destroyed a whole accounting firm — Arthur Andersen, you may remember — and 28,000 jobs along with it, in the wake of the bust.
Yet post-2000, firms with far more brazen crimes got off by paying a mere fine.
Take HSBC.
Its U.S. subsidiary committed, as Taibbi writes, "an astonishing list of crimes — a laundry list that included pretty much every kind of crime a bank can possibly be charged with."
Such as:
Laundering billions of dollars for drug cartels in Mexico and Colombia
Washing money for terrorist-connected organizations in the Middle East
Allowing "rogue states" under formal sanctions by the U.S. to move billions freely through the bank
Helping Russian mobsters wash money under an elaborate traveler's check scheme
Etc.
And what was the penalty for all this?
$1.9 billion.
At the time, it was the biggest fine in history. But in context, for a firm that made $22 billion per year, it was not much at all. In fact, looked at in a cold calculating light, the message clearly is: Crime pays.
Note there was no jail time for anybody. Everybody at HSBC got paid. Well, HSBC agreed to partially — partially, mind you – defer (!) bonus payments to its top executives.
Oh, and HSBC had to say it was sorry. "We are profoundly sorry," said CEO Stuart Gulliver.
But how did we get here?
Matt Taibbi explores the reasons in his book The Divide. Taibbi used to write for Rolling Stone. He was the guy who famously called Goldman Sachs a "great vampire squid wrapped around the face of humanity, relentlessly jamming its blood funnel into anything that smells like money." (I wish I had written that line.)
He's a very good investigative reporter and a fine writer. He's mellowed out a bit in this book and you won't find much of the usual Taibbi name-calling and profanity. Taibbi, for good or ill, plays this one straight.
He covers a lot of ground, but the central thesis is one most people will intuitively grasp: If you are rich and powerful, you can get away with almost anything. Rights exist on a sliding scale. And if you are on the bottom, you can do time for loitering.
Taibbi writes:
"The cleaving of the country into two completely different states — one a small archipelago of hyper acquisitive untouchables, the other a vast ghetto of expendables with only theoretical rights — has been in the works a long time."
But to answer the question posed up top about why nobody's going to jail, there's more to the story. You have to go back to a memo written by Eric Holder, the current attorney general, back in 1999, when he was an official in the Clinton White House.
He articulated a concept called "collateral consequences."
It meant, in essence, that the government could take into account all kinds of factors like job losses and such in deciding whether to press criminal charges against a big company. "If the math isn't there," Taibbi writes summing things up, "hold the charges. Seek other forms of justice instead. Fines. Civil sanctions. Cease and desist orders. Deferred prosecutions. There are other ways, Holder wrote, to get the job done."
In other words, there would never be another Arthur Andersen. Firms had new ways to wiggle out of criminal charges. Hence, we have the monster we have today. Companies too big to jail.
Meanwhile, in other aspects of life, a culture approximating a police state grows apace. Taibbi points to the record levels of incarcerations in the U.S. "Our prison population, in fact, is now the biggest in the history of human civilization," Taibbi writes. The U.S. has more people behind bars today "than there were at any time in Stalin's gulags."
The story here is nasty. He tells the story of private prisons, such as those of Corrections Corp. of America. They get, "depending on whom you believe," upward of $166 per day from the federal government per inmate. This is four times what it cost back when the government took care of its own detainees.
"The big influx of cash impressed investors on Wall Street," Taibbi writes. From 2000-2011, CCA's stock went up 34-fold. Sales went from $300 million to $1.7 billion by 2011. "Overall, the corrections industry is one of the soundest stock/equity bets in the world, with soaring revenues — the industry as a whole pulled in more than $5 billion in America in 2011."
Needless to say, that didn't just happen. CCA and others donate generously to politicians. They support anything that might lead to more people spending time in their cells. They particularly like anti-immigrant bills. And Taibbi has harrowing tales about the mistreatment of immigrants in this country. He calls Hispanic immigrants "one of America's last great cash crops."
"And someone else wins, too," Taibbi writes. "Wall Street. Some of the biggest investors in private prison companies are, you guessed it, the too-big-to-fail banks."
Taibbi writes about an analysis from Zacks that gleefully revels in the lack of economic sensitivity in the business. And then cites a chart with shows a hockey stick increase in the number of incarcerated Americans.
So the country is turning more and more into a dragnet… but only for the poorest. There is no HSBC banker sitting in a CCA cell. It is symbolic of the kind of economy we have today:
"Like too-big-to-fail banking itself, private prisons are an industry that depends not on the unpredictable economy but upon political connections. It's the perfect kind of business in the oligarchical capitalism age, with guaranteed profits to provide a low-cost public insurance against the vagaries of the market."
The economy is riddled with corruption like this, a marriage between big business and Big Government. And a recurring theme in this book is the offspring this marriage creates: a relentless, insatiable bureaucratic force that grinds up individuals fed into its maw.
"These bureaucracies accomplish just two things," Taibbi writes. "They make small piles of money smaller and big piles of money bigger… It just relentlessly creates and punishes losers, who get to sit beneath an ever-narrowing group of winners, who may or may not stay on top for long."
Legal rights are not absolute. Those with money who can tirelessly throw lawyers and lawsuits and counterlawsuits at any problem can survive almost anything. For the rest, it's a matter of attrition. And those at the bottom have no chance.
I can't do justice to all the journalistic fieldwork and stories Taibbi has put in his 416-page book. It is a gripping read and will infuriate you and frighten you, and maybe even make you sad for what's happened to the "Land of the Free."
The book does not have a happy ending. The good guys don't win in the end. But I encourage you give it a read. What it describes is life in these United States. Those of us who cherish liberty have quite a job ahead of us.
Sincerely,
Chris Mayer
Chris Mayer studied finance at the University of Maryland, graduating magna cum laude. He went on to earn his MBA while embarking on a decade-long career in corporate banking. Chris is the editor of Capital and Crisis and Mayer's Special Situations, a monthly report that unearths unique and unconventional opportunities in smaller-cap stocks. In 2008, Chris authored Invest Like a Dealmaker: Secrets From a Former Banking Insider.
Source: Laissez Faire
How corrupt has America become? It has become as corrupt as globalism itself, a byproduct in international greed, where the gutting of good paying jobs has relegated the United States to being nothing more than a third rate country with a first rate war machine. An essential aspect to what we regard as the American economy today is its reliance on fraud and corruption, from the banking sector to corporations exporting and outsourcing good jobs with the help of a political class that is not only fraudulent but treasonous to the extreme, they are driving America towards an abyss that it will not come back from.
Waging international war for resources under false pretenses is a globalists wet dream, and under the cloak of the nefarious "war on terror," multinational defense and security firms have made trillions of dollars over the last decade. They destroy so they can rebuild, and all the human collateral damage is just an unsightly part of doing business.
Another perverse aspect to globalism is massive illegal immigration under the disreputable banner of multiculturalism, for some shady businesses in America the profit margins can increase exponentially by hiring illegal workers over Americans.
Corporations hire illegal workers to keep wages low, and benefits to an absolute minimum. Americans are shunned for unquestioning cheep labor, and governments allow and foster this fraud to the detriment of many Americans. Some Americans, if you can still call them Americans, profit greatly in this perverse atmosphere of fraud.  The Federal government consistently places the interests of illegal aliens and businesses who hire them over and above American workers and the 'rule of law'.
A case in point is Oklahoma, specifically Tulsa, Oklahoma, which has become a hotbed of greed and corruption. Tulsa is what some call a sanctuary city, where tens of thousands of illegal workers are in jobs that Americans are obviously not occupying. This ugly fact is good for some corporations and businesses, expanding their profits by paying undocumented workers low wages with no real benefits. What does it cost the American tax payers when these illegal workers have babies and use the medical industry with false identities, who foots the medical bills?  It defiantly is not businesses or the governments.
Another case in point is a company called Name Brand Clothing; based in Tulsa, it has stores in six states, the company sells salvage clothing at 75 percent off retail and it prefers to hire illegal workers instead of Americans. It is the proverbial 'poster child' for corporate greed and corruption in Tulsa, Oklahoma.
Why does it hire illegal workers? Well, first of all, it is about greed, making some people rich at the expense of everyone else. The managers at Name Brand Clothing generate outrageous bonuses by essentially suppressing wages on all hourly paid employees year after year. They choose illegal workers because illegal's do not complain about being stuck on minimum wage for years on end with no real medical benefits and no paid holidays.
The owners and managers of Name Brand Clothing knowingly and willingly submit false identifications and Social Security Numbers to the IRS and to the Oklahoma Tax Commission, which is of course contrary to both federal and state laws. They have been doing this for over a decade, and they can commit these criminal acts because Federal and State governments are currently as corrupt and dishonest as companies like Name Brand Clothing.
Veracity Voice interviewed a long time worker at Name Brands Clothing for an inside examination into the workings of corporate greed and corruption that currently plagues corporate America.
We are protecting the person's identity because the person is still currently employed by the company. We will refer to that person as the 'Employee'.
Veracity Voice: How long have you been working for Name Brands?
Employee: I rather not say exactly since I still work for them, lets just say that I have been employed at Name Brands for about 10 years, give or take a couple of years.
Veracity Voice: What do you do there?
Employee: Again, I rather not say exactly, lets just say I worked in the head office, and have seen the corruption first hand.
Veracity Voice: Why have you decided to speak out at this time, and not before?
Employee: Actually I did in a way speak about this before; I wrote a letter to the Sheriff's department, and the FBI about 4 years ago. I also wrote letters too FOX 23 and Channel Six News, concerning the outlandish fraud and corruption happening at Name Brands, and absolutely nothing came of it. It seems that it is not PC to talk about this issue in Tulsa; the mainstream media won't touch it. That is why I am talking with Veracity Voice; the only outlet whistleblowers have today in America is in the alternative media.
Veracity Voice: Are you saying that the mainstream media is covering it up?
Employee: In a way they are by not reporting all the law breaking going around Tulsa as far as hiring illegal workers by businesses, they certainly seem to be part of the club, and will not rock the boat.
Veracity Voice: What Club?
Employee: Corrupt businesses, Local, State and Federal governments that allow the criminal behavior, the police departments that will not enforce the law and mainstream media that will not report any of it. It is one big corrupt club.
Veracity Voice: What kind of fraud and corruption have you seen at Name Brands?
Employee: Well, you can compare the greed and corruption at Name Brands along the lines of what's happening in Wall Street and the financial system, some people are profiting greatly through outright fraud and thievery at the expense of everyone else, and government is engaged in helping the criminality.
At Name Brands, the fraud is done by submitting false ID's and Social Security Numbers (SSN) to the IRS. I've seen with my own eyes management turn away American workers seeking work then turn around and hire illegals. The main reason they do this, Is because the illegals are content to work for minimum wage with no real benefits. Essentially, they keep everyone's wages stagnant except for management.
Veracity Voice: What do you mean except for management?
Employee: The lower the costs for running the business, the higher the bonuses for management, its classic corporate greed. Management at Name Brands make large sums of money in the form of bonuses while all other workers do not receive real medical benefits or paid holidays except for two, Thanksgiving and Christmas, and those two paid holidays are highly conditional.
Veracity Voice: Highly conditional?
Employee: Yes, two weeks prior to Thanksgiving and Christmas if an employee is late for work for any reason Name Brands will not pay you for the holiday.
Veracity Voice: You're kidding right?
Employee: No, unfortunately I'm not kidding. At Name Brands it's a culture of nepotism and greed, like the saying goes "there is no honor among thieves" there is no honesty, no real integrity, just godless corruption. There is one woman, who has worked for the company for 17 years, and she has only received one 5 cent raise not counting minimum wage increases. It's outright disgusting how they treat workers.
Veracity Voice: Why does she stay?
Employee: Well, some people have problems, and finding other employment can be difficult.
Veracity Voice: What kind of problems?
Employee: All sorts of problems like emotional and mental problems, in some cases drug problems, other cases workers being ex-convicts, finding employment can be difficult. Like some parasite, companies like Name Brands like to take advantage of the most vulnerable and disadvantaged in society, that's why they like illegals; they can thieve from them without any complaint, protected by corrupt governments. Most self-respecting Americans will not work for a company that treats hourly workers like trash.
Veracity Voice: Let's get back to the fraud, how many illegals are they employing?
Employee: At TPC which is Name Brands production center in North Tulsa, they usually have around 80 illegals working there, and at their store in South Tulsa there are about 10.
Veracity Voice: That many?
Employee: Yes, it's absolutely incredulous and in your face. It is both frustrating and depressing at the same time to see this traitorous conduct on a daily basis. It is time for Americans to take a stand against these globalists that are profiting through corruption.
Veracity Voice: Who are the people that run Name Brands Clothing in Tulsa?
Employee: As far as I know, Rusty Gaddy is the CEO, Jim Stevenson and Jim Breese are VP's. At TPC there is Reid Lewellin and Jason Garman, both managers, and Brent Daily is the manager at the Tulsa Store, they all commit fraud on a daily bases. They do not care for America or Americans, all they care about is increasing their bonuses at the expense of everyone else, and what really bothers me is that the governments, both at the local and federal level engage in the same fraud, they do absolutely nothing about it. The Federal government knows very well that Name Brands has for well over a decade submitted thousands of false ID's and SSN's. This is criminal behavior at both the local and Federal level when the government chooses not to enforce its own laws.
Veracity Voice: What do you think should be done with these people?
Employee: These people are more than thieving fraudsters, they are traitors to the country and its people, so I say arrest Rusty Gaddy, arrest Jim Breese, arrest Jason Garman and Reid Lewellin, and arrest all of the crooks that run the criminal enterprise called Name Brands Clothing. These people are also very cowardly, if they find out that any employee is against their corruption they will slander him or her with false accusations, they will make up stuff to make that employee look bad. The two most egregious slanderers at Name Brands are Jason Garman and Jim Breese, they will slander and harass you to the point of desperation, and people will quit their jobs because of the continual harassment.
Veracity Voice: Job harassment is a crime.
Employee: Yes, and they get away with that too.
Veracity Voice: Talk a little bit about the one man that has used more than one ID to work at Name Brands.
Employee: Ya, he has three different aliases. I do not know which one is his real name, all I know is that Name Brands went out and got him a new fake ID, when they found out that the old ID the man was using belonged to a another man.
Veracity Voice: Where did they get the fake ID?
Employee: I do not know for sure, I heard that they went to some website run by the Federal government, and it provided Name Brands with a fake ID.
Veracity Voice: What do you think should be done with companies that choose to break the law as a regular part of doing business?
Employee: Again, arrest and prosecute the criminals, if law enforcement will not do their jobs, then Americans need to start fighting back by boycotting corporations like Name Brands that fragrantly and openly break the law. I mean these people act like it's the turn of the 20th century or something; these anti-American globalists – at the end of the day that's what these people really are – Name Brands conducts business like multinationals that run sweatshops all over the third world. They help create the culture of illegal behavior, by giving employment to illegals, which allows the illegals to stay in the city, drive vehicles without drivers licenses and insurance, use emergency Heath Services at taxpayer cost, they currently function 'above the law' and all accountability. Real Americans need to stand up against these criminals before they completely destroy this country.
Veracity Voice: Many in the business sector and in the political establishment will argue that the illegals fill jobs that Americans will not do, this reasoning is also pushed by the mainstream media, what do you say to this reasoning?
Employee: I think it is a false argument, I've seen with my own eyes Name Brands turn away Americans willing to work, in some cases desperate for a job, they are turned away in favor of hiring illegals. So, that kind of reasoning is nothing more than an illusion.
Veracity Voice: Some will charge you with racism for holding these views, how do you respond to this kind of slander?
Employee: It has been my experience that those that accuse people of being racist are in fact racists themselves. They falsely accuse others of being racist so they could push their nefarious agenda by smearing the reputations of those that are opposed to their mendacity and corruption. The charge of racism holds no water in the case of illegal immigration.
Veracity Voice: Why don't you look for another job?
Employee: I am its not easy finding work these days. And if I quit, I probably will not be able to collect unemployment benefits if I can't find a job.
Veracity Voice: Why?
Employee: Because Name Brands will fight against your right to obtain unemployment insurance, its company policy. They will send their managers to testify against your eligibility for unemployment benefits, and they will without any hesitation, lie and malign anyone applying for the benefits.
Veracity Voice: They have done this before, entered false information against former employees to the Unemployment Bureau?
Employee: Yes, many times, and they get away with that too, companies like Name Brands function 'above the law,' and it must stop now.
Veracity Voice: Thank you for your time.
Employee: You're welcome.
The massive unrestrained flux in illegal immigration has changed the demographics of Tulsa, forcing many businesses to provide bilingual services, including city and state government services at great cost to the taxpayer. It is the ongoing balkanization of the city where east Tulsa is now known as little Mexico, a criminal and negative phenomenon that is currently occurring in many cities across the nation.
One Archeological Site At A Time…
Krac des Chevaliers, Between Homs and the Lebanese border.
Visiting archeological sites in Syria can arouse within one a rather sharp and distinct feeling of trekking along the same paths traveled a century ago by the field archaeologist, and later colonel in the British Army, T.E. Lawrence. Indeed there are a number of still-visible "Lawrence of Arabia" footprints to be found here—both in Damascus as well as deep in the Syrian countryside.
In Damascus, for instance, one may marvel at the Khan As'ad Pasha, the majestic 18th century residence of the Ottoman governor of Damascus—As'ad Pasha al-Azem—whose palatial domicile today houses the Museum of Arts and Popular Traditions. Most foreigners like to spend time at Azem, and Lawrence was frequently there as a guest of Emir Faisal, a son of Sharif Hussein, of Mecca. It was Faisal's irregular troops that Lawrence fought alongside while sabotaging the railway lines of the overstretched Ottoman forces and significantly contributing to their defeat.
As Ottoman domination crumbled, in no small measure due to the Arab revolt around Damascus, Lawrence tried in vain to salvage something for the Arabs, whom he loved and admired even if he sometimes expressed his affection for them in an elitist English orientalist turn of phrase. By the summer of 1917, it had become clear to both Lawrence and Faisal that the four-century rule over Arabia by the Ottoman Turks was about to collapse, thanks in no small part to the revolt and the bravery and sacrifices of those who joined it. Also clear to Lawrence, if not to his friend Faisal, who was a bit naïve on the subject of Western history, was that his country, England, a pillar of the "Big Four" at the Versailles Peace Conference, conference which included the President Woodrow Wilson, British Prime Minister David Lloyd George, France's Georges Clemenceau and the Prime Minister of Italy, Vittorio Orlando was planning once again, and not for the last time, to stab the Arabs in the back and renege on the very promises that Lawrence had been commanded to deliver.
Photos of Lawrence and Faisal hang today on the walls of what was Lawrence's bedroom and office at the Azem Palace—and it is clear from his facial expressions that Lawrence sensed what was coming to Syria and Palestine. Before he died, in a motorcycle accident shortly after his return to England at the age of 46, Lawrence increasingly discussed what he regarded as his personal failure, during the closing years of the war, when he told friends and family that he had failed to convince his superiors in the British government that Arab independence was in their interests. The secret Sykes-Picot Agreement between France and Britain, according to Lawrence, was an abject betrayal of the promises of independence he had made to the Arabs and for which he felt personally responsible.
This observer crossed paths with Lawrence, in a manner of speaking, once again a few weeks ago, at Palmyra, the archeological and UNESCO World Heritage site which lies across the Syrian desert to the northeast of Damascus. The area was recently liberated from Islamist jihadists, and it was here I came across the words of Lawrence himself, inscribed on a plaque: "Nothing in this scorching, desolate land could look so refreshing…Moslem story-tellers ascribe the building of Palmyra to the Jinn commandeered by Soloman…"
Frankly, this observer is reluctant to demure from Lawrence's description, but in the many years since he spoke those words, it has become clear that the "Tadmor" (Arabic and Hebrew name for Palmyra) referred to in the Torah is not the Tadmor of Syria, but rather refers to a different site, one now lost to the sands of Palestine, if it ever existed at all. Lawrence in fact would probably be sorely vexed to learn that his words linking Palmyra to Soloman are today being misused by cheap, tawdry, Zionist land seekers prowling to assert a bogus claim over Palmyra in Syria as part of God's putative philanthropy, with the expectation, undoubtedly, of swallowing more Arab land for the ever-expanding Eretz Israel. But the misuse of Lawrence's quote at Palmyra for political purposes is a subject for another Syrian update.
Lawrence and Lamb also crossed paths (again in a manner of speaking that is) on 5/15/14 in the course of this observer's six-hour excursion up and around the medieval fortress known as Krak des Chevaliers (Castle of the Kurds—who reportedly first inhabited the area in the 11th century). The Syrian Arab Army recaptured the castle and the nearby village of al-Hosn from rebel forces on March 20, 2014. Both the castle as well as the village of 10,000 had been seized by rebels (aka 'takfiri terrorists'), with the "Krak" sustaining extensive damage from especially violent clashes in 2012 and again in July and August of 2013. My excellent companion and government guide during my day at the Krak was "Mohammad," a Syrian army security commander with 40 troops under his command. The detachment has been stationed inside the fortress, this so as to keep anyone from attempting to retake it "by a nighttime sneak attack," I was told.
Apparently a history buff, Mohammad's first comment, as we began to ascend the steep three floors of medieval steps, was to quote—who else?—T.E. Lawrence.
"We are walking in the footsteps of Lawrence," he informed me as we made our way, gazing from time to time at the marvelous, gothic ceilings. "He called this fortress—" then, to my surprise, reciting from memory: 'perhaps the best preserved and most wholly admirable castle in the world, and a castle which forms a fitting commentary on any account of the Crusading buildings of Syria."
Many historians have agreed with that assessment by Lawrence, including Hugh Kennedy, who wrote that "the defenses of the outer wall were the most elaborate and developed anywhere in the Latin east…the whole structure is a brilliantly-designed and superbly-built fighting machine."
Indeed, Krak des Chevaliers is considered one of the greatest and best preserved castles in the world due to its unique architecture in terms of its defense facilities, building materials and decorations. In 2006, the castle was inscribed on the UNESCO List of World Heritage sites along with its "sister fort," the Citadel of Saladin, further north in Lattakia.
Among the approximately 400 damaged or destroyed antiquity sites that are now back under government control, Krak des Chevaliers is viewed by locals as a sort of "success story" because, for sure, it is still standing! A major restoration project was begun in April, and is now well underway, with the effort being directed by fifteen fulltime restoration specialists, who in turn are assisted by volunteers. Government officials, including the Ministers of Culture and of Tourism, drop by from time to time and praise their work, and a "Krak des Chevaliers reopens to the public" event is scheduled for 6/1/14. Whether many foreign tourists (or any at all) will be able to attend the gala happening is dubitable.
But hopefully conditions will allow for the return of tourists to the country at some point soon. One of my traveling companions the day I feasted my eyes on the Krak was a Syrian tour operator who pronounces himself more than willing to pitch in and help rebuild the tourist industry, Syria's second largest foreign-exchange earner, which in 2010, prior to the outbreak of the conflict, brought in more than $1.5 billion.
Less fortunate than the castle is the formerly picturesque village of al-Hosn, which too was packed with rebels, and where current conditions now rival those in some parts of the cities of Aleppo and Homs for complete and total destruction. This observer did not see one bird, one feral cat, or even a fly in what locals call "the village of death." Two weeks ago, a four man unit from Mohammed's battalion at Krak did discover two hold-over rebels hiding out in the rubble. They killed them on the spot.
After 12 centuries of invaders trying to conquer this land, and a number succeeding—such as when the Muslims took it from the Christians in the seventh century employing the time tested 'surrender or starve' tactic—things have a way of getting rebuilt and repaired. And this time will likely be no different.
This observer's purpose in visiting Krak was to detail the damage caused by 18 months of fighting over the fortress. The notes I made on my trip on 5/15/14 include the following:
Complete destruction of the staircase and halls in front of the internal building of the fort.
Partial damage in the façade of the Hall of the Knights, including some damage to the decorations and arches inside the Hall.
Traces of fire behind the church and damage to the library hall, opposite the leader's tower, and a part of the staircase leading to the roof of the library hall.
Damage in the façade of the King's Daughter's Tower and partial destruction in the wall between the tower and the roof of the church.
Partial destruction in the entrance to the stairs in front of Qalawun Tower; damage and destruction in some parts of the tower itself.
Damage to one wall of the warehouse adjacent to the main offices of the castles overlooking the courtyard.
Destruction of a part of the pillar supporting the ceiling of the library tower opposite the tower of the knights.
Severe damage in the office of the Ottoman House, as well as the administration offices.
Partial damage and destruction of some walls in several places of the castle, including minor damage in the outer wall of the castle.
Surface damage caused by domestic fires built by rebels for heating and cooking, this by the dozens of rebel families that occupied different areas of the vast fortress.
​
To this observer it is clear that the Syrian public and their officials, in all 14 of the country's governorates, are committed to the complete restoration of their nation's peerless and incomparable archeological heritage sites as soon as security conditions permit.
China is an economic powerhouse. It's the world's second largest economy. It's heading for number one status.
Perhaps sooner than most expect. It's growth way outdistances America. It's multiples greater.
Russia matches Washington's military might. It does so in nuclear weapons strength. With sophisticated delivery systems.
Able to strike global targets accurately. With hugely destructive force. Enough to decimate potential adversaries. Perhaps to discourage potential aggression.
Russia is rich in what China needs most. Oil and gas mainly. Technological expertise. Industrial equipment. Sophisticated weapons.
Each nation is significant separately. They're able to challenge America responsibly.
Together they're a powerful combination. A force for world peace. For multi-polarity. For humanity. For weakening Washington's imperium.
Sino-Russian ties stress unity. They're strategically important. They're stronger than ever in modern times.
They're deepening. They expanding. Washington is increasingly concerned. It's going all-out to subvert what weakens its strength.
It's waging political, economic and cyberwar. It's fighting a losing battle. Sino/Russian unity is odds on to prevail.
Especially with committed ties. With deepening ones. With stronger than ever ones.
On Tuesday, Putin arrived in Shanghai. It's China's financial capital. He came to finalize a "Holy Grail" trade deal. It's enormously important.
It bonds both countries more closely together. It does so politically economically, commercially and militarily.
Both countries will trade increasingly in their own currencies. They'll strengthen them. They'll bypass dollar transactions. They'll weaken it.
Russia will supply China with around 38 billion cubic million meters of natural gas annually. For the next 30 years.
It may double in size ahead. Depending on China's internal needs.
Other increased trade was agreed on. In technological, industrial, and commercial sectors. In military hardware.
Growing Sino-Russian trade lessens reliance on increasingly undependable Western sources. It gives them less access to their markets.
Putin and Chinese President Xi Jinping reject irresponsible US-led Western bashing. They called sanctions political tools.
They condemned "encouraging and financing" Washington's regime change agenda.
The President of Russia's web site headlined "Russian-Chinese talks." Both leaders met in Shanghai.
They "signed a Joint Declaration of the Russian Federation and the People's Republic of China on the new stage of comprehensive partnership and strategic cooperation between the two countries."
They "witnessed the signing of a package of intergovernmental, interdepartmental and commercial documents on cooperation in the economy, trade, energy and the humanitarian areas."
They issued a joint statement. "(A)mbitious goals" were agreed on, it said. "(L)ong-term milestones" were established.
"(I)mportant bilateral documents" were signed. "Relations between Russia and the People's Republic of China are developing successfully and have reached a new level of comprehensive partnership and strategic cooperation," it stressed.
"(S)pecial attention (was on) economic issues. China is Russia's leading foreign trade partner."
A Sino/Russian Investment Committee was established. Its mandate is expanding economic and financial ties.
It's "diversifying trade." It's "reducing…dependence on global economic" conditions.
It's promoting cooperation in "technology-intensive areas." They include industrial, commercial, banking and military areas.
They're increasing bilateral ruble/renminbi trade. It bears repeating. Doing so bypasses dollar transactions. It weakens dollar strength.
Putin said "the historical memory of the great heroism of our peoples in World War II brings Russia and China even closer."
Both leaders agreed to hold joint celebrations. They'll commemorate "the 70th anniversary of Victory."
Other international issues were discussed. They include common geopolitical ones. Similar priorities are shared. Closer coordination is planned.
Sino/Russian unity, partnership and friendship were strengthened. It's a "new stage" in "strategic relations."
Strong bilateral relations are a force to be reckoned with. It promises to be more so ahead.
Moscow remains justifiably angry. It's enraged about Washington elevating Kiev putschists to power. Rogue EU partners share blame.
Putin and Xi said crisis conditions can only be resolved diplomatically. They demand dialogue. They reject confrontation.
They "urged all Ukrainian regions and public and political groups to enter in broad nationwide talks…"
They want responsible governance. They want legitimate constitutional development.
They want "universally recognized rights and freedoms of people" observed.
Sergey Lavrov said Russian/EU/US-led NATO relations need fundamental reconsideration.
They require "essential rethinking," he said. Disagreements must be resolved diplomatically, he stressed.
US-led NATO created Ukrainian crisis conditions. Russia targeting followed.
Western forces irresponsibly expand eastward. Encroaching on Russia's borders threatens its heartland.
Bilateral relations are jeopardized. East/West confrontation is risked. So is world peace.
The road to Moscow runs through Kiev. Junta power has no legitimacy. Fundamental freedoms are targeted.
Eliminating them altogether is planned. Hardline rules runs things. Opposition isn't tolerated.
Free expression is verboten. Putschists want their message alone getting out. They want vital truths suppressed.
Independent journalists aren't safe. Russian LifeNews ones were targeted.
Oleg Sidyankin and Marat Saichenk were harassed. They were arrested. They're detained. They're held incommunicado.
Their lives potentially are endangered. They're charged with "aiding terrorist groups."
They released damning video images. They showed Kiev military forces using UN-marked attack helicopters against their own people."
Air and ground assaults murder them in cold blood. Kiev wants this type information buried.
It wants reliable news sources eliminated. RT International's stringer journalist Graham Phillips was arrested.
He explained by phone before silenced incommunicado, saying:
"I'm sitting at a blockade post in a portacabin. The dialogue is quite interrogation oriented."
His car was searched. His laptop, equipment and personal belongings were confiscated.
"At the moment I'm with the Ukrainian forces…near Mariupol," he said. "I've been here for over two hours and I've been described, my status, as being detained in terms of I can't leave."
"I would also say I'm being treated OK…I believe that someone is coming."
"They've done checks on my documentation. They found my reports and clips I've done and they're now looking through them asking me my position on things, asking if I'm a spy, and asking me quite thorough questions."
"They've checked all my documentation and photos, my laptop and the car. So that's who I'm with at the moment."
He was asked about separatism. About working with RT. He "describ(ed) (his) position on Crimea."
He called its referendum legitimate. He stands by his position, he said.
He called Kiev's government illegitimate. It "isn't democratic. I don't support this current situation in the east of Ukraine," he said.
In Donetsk and Lugansk regions. He called attacking Eastern Ukrainians "completely wrong."
At the same time, he "maintains complete objectivity and neutrality as a correspondent."
His bulletproof jacket and helmet were confiscated. He's unharmed so far, he said. Incommunicado since cut off there's no way to know for sure.
Right Sector thugs targeted him. They put a bounty on his head. They offered $10,000 for his capture.
They called him a "Russian spy." His life's endanger in their hands. Or in sight to be shot in cold blood.
Radicalized Kiev elements posted a Facebook comment. He "works for terrorists," it said.
"(H)e photographs and publishes the location of Ukrainian troops…"
He "spreads disinformation. (He publishes) Putin's propaganda in the media."
"He must be immediately detained by Ukrainian forces ad deported from Ukraine." Orders come from "EuroMaidan leaders," it claimed.
Russia's Foreign Ministry condemned his detention. Its human rights commissioner Konstantin Dolgov called it media obstruction.
"This is another step…made by Ukrainian authorities to curb the activities of unwanted journalists," he said.
They "work professionally and show an objective picture, the ugly side of the outrages made by ultranationalists, the results of (Kiev putschists') punitive operation in the southeast," he stressed.
Seizing Phillips constitutes an "unlawful seizure, detention of Russian journalists." Moscow demands all lawlessly detained media representatives be released.
Kiev "continues its vicious line," Dolgov added. Coup-appointed officials spurn their "international obligations concerning freedom of speech."
They target media freedom. They want it eliminated altogether. They want their message alone reported. They want truth buried.
They want fascist putschist power enhanced. They deplore democratic values.
They want ordinary Ukrainians having no say. Polls show their popularity eroding. They risk losing it overwhelmingly.
Perhaps nationwide rebellion will follow. When ruthlessness exceeds levels too great to tolerate, all bets are off.
The only solution is nonviolent revolution. Perhaps just a matter of time. It can't happen a moment too soon.
Stephen Lendman lives in Chicago. He can be reached at lendmanstephen@sbcglobal.net.
His new book as editor and contributor is titled "Flashpoint in Ukraine: US Drive for Hegemony Risks WW III."
http://www.claritypress.com/LendmanIII.html
Visit his blog site at sjlendman.blogspot.com.
On the surface, the economic atmosphere of the U.S. has appeared rather calm and uneventful. Stocks are up, employment isn't great but jobs aren't collapsing into the void (at least not openly), and the U.S. dollar seems to be going strong. Peel away the thin veneer, however, and a different financial horror show is revealed.
U.S. stocks have enjoyed unprecedented crash protection due to a steady infusion of fiat money from the Federal Reserve known as quantitative easing. With the advent of the "taper", QE is now swiftly coming to a close (as is evident in the overall reduction in treasury market purchases), and is slated to end by this fall, if not sooner.
Employment has been boosted only in statistical presentation, and not in reality. The Labor Department's creative accounting of job numbers omits numerous factors, the most important being the issue of long term unemployed. Millions of people who have been jobless for so long they no longer qualify for benefits are being removed from the rolls. This quiet catastrophe has the side bonus of making it appear as though unemployment is going down.
U.S. Treasury bonds, and by extension the dollar, have also stayed afloat due to the river of stimulus being introduced by the Federal Reserve. That same river, through QE, is now drying up.
In my article The Final Swindle Of Private American Wealth Has Begun, I outline the data which leads me to believe that the Fed taper is a deliberate action in preparation for an impending market collapse. The effectiveness of QE stimulus has a shelf-life, and that shelf life has come to an end. With debt monetization no longer a useful tool in propping up the ailing U.S. economy, central bankers are publicly stepping back. Why? If a collapse occurs while stimulus is in full swing, the Fed immediately takes full blame for the calamity, while being forced to admit that central banking as a concept serves absolutely no meaningful purpose.
My research over many years has led me to conclude that a collapse of the American system is not only expected by international financiers, but is in fact being engineered by them. The Fed is an entity created by globalists for globalists. These people have no loyalties to any one country or culture. Their only loyalties are to themselves and their private organizations.
While many people assume that the stimulus measures of the Fed are driven by a desire to save our economy and currency, I see instead a concerted program of destabilization which ismeant to bring about the eventual demise of our nation's fiscal infrastructure. What some might call "kicking the can down the road," I call deliberately stretching the country thin over time, so that any indirect crisis can be used as a trigger event to bring the ceiling crashing down.
In the past several months, the Fed taper of QE and subsequently U.S. bond buying has coincided with steep declines in purchases by China, a dump of one-fifth of holdings by Russia, and an overall decline in new purchases of U.S. dollars for FOREX reserves.
With the Ukraine crisis now escalating to fever pitch, BRIC nations are openly discussing the probability of "de-dollarization" in international summits, and the ultimate dumping of the dollaras the world reserve currency.
The U.S. is in desperate need of a benefactor to purchase its ever rising debt and keep the system running. Strangely, a buyer with apparently bottomless pockets has arrived to pick up the slack that the Fed and the BRICS are leaving behind. But, who is this buyer?
At first glance, it appears to be the tiny nation of Belgium.
While foreign investment in the U.S. has sharply declined since March, Belgium has quickly become the third largest buyer of Treasury bonds, just behind China and Japan, purchasing more than $200 billion in securities in the past five months, adding to a total stash of around $340 billion. This development is rather bewildering, primarily because Belgium's GDP as of 2012 was a miniscule $483 billion, meaning, Belgium has spent nearly the entirety of its yearly GDP on our debt.
Clearly, this is impossible, and someone, somewhere, is using Belgium as a proxy in order to prop up the U.S. But who?
Recently, a company based in Belgium called Euroclear has come forward claiming to be the culprit behind the massive purchases of American debt. Euroclear, though, is not a direct buyer. Instead, the bank is a facilitator, using what it calls a "collateral highway" to allow central banks and international banks to move vast amounts of securities around the world faster than ever before.
Euroclear claims to be an administrator for more than $24 trillion in worldwide assets and transactions, but these transactions are not initiated by the company itself. Euroclear is a middleman used by our secret buyer to quickly move U.S. Treasuries into various accounts without ever being identified. So the question remains, who is the true buyer?
My investigation into Euroclear found some interesting facts. Euroclear has financial relationships with more than 90 percent of the world's central banks and was once partly owned and run by 120 of the largest financial institutions back when it was called the "Euroclear System". The organization was consolidated and operated by none other than JP Morgan Bank in 1972. In 2000, Euroclear was officially incorporated and became its own entity. However, one must remember, once a JP Morgan bank, always a JP Morgan bank.
Another interesting fact – Euroclear also has a strong relationship with the Russian government and is a primary broker for Russian debt to foreign investors. This once again proves my ongoing point that Russia is tied to the global banking cabal as much as the United States. The East vs. West paradigm is a sham of the highest order.
Euroclear's ties to the banking elite are obvious; however, we are still no closer to discovering the specific groups or institution responsible for buying up U.S. debt. I think that the use of Euroclear and Belgium may be a key in understanding this mystery.
Belgium is the political center of the EU, with more politicians, diplomats and lobbyists than Washington D.C. It is also, despite its size and economic weakness, a member of an exclusive economic club called the "Group Of Ten" (G10).
The G10 nations have all agreed to participate in a "General Arrangement to Borrow" (GAB) launched in 1962 by the International Monetary Fund (IMF). The GAB is designed as an ever cycling fund which members pay into. In times of emergency, members can ask the IMF's permission for a release of funds. If the IMF agrees, it then injects capital through Treasury purchases and SDR allocations. Essentially, the IMF takes our money, then gives it back to us in times of desperation (with strings attached).  A similar program called 'New Arrangements To Borrow' (NAB) involves 38 member countries.  This fund was boosted to approximately 370 billion SDR (or $575 billion dollars U.S.) as the derivatives crisis struck markets in 2008-2009.  Without a full and independent audit of the IMF, however, it is impossible to know the exact funds it has at its disposal, or how many SDR's it has created.
It should be noted the Bank of International Settlements is also an overseer of the G10. If you want to learn more about the darker nature of globalist groups like the IMF and the BIS, read my articles, Russia Is Dominated By Global Banks, Too, and False East/West Paradigm Hides The Rise Of Global Currency.
The following article from Harpers titled "Ruling The World Of Money," was published in 1983 and boasts about the secrecy and "ingenuity" of the Bank Of International Settlements, an unaccountable body of financiers that dominates the very course of economic life around the world.
It is my belief that Belgium, as a member of the G10 and the GAB/NAB agreements, is being used as a proxy by the BIS and the IMF to purchase U.S. debt, but at a high price. I believe that the banking elite are hiding behind their middleman, Euroclear, because they do not want their purchases of Treasuries revealed too soon. I believe that the IMF in particular is accumulating U.S. debt to be used later as leverage to absorb the dollar and finalize the rise of their SDR currency basket as the world reserve standard.
Imagine what would happen if all foreign creditors abandoned U.S. debt purchases because the dollar was no longer seen as viable as a world reserve currency.  Imagine that the Fed's efforts to stimulate through fiat printing became useless in propping up Treasuries, serving only to devalue the domestic buying power of our currency.  Imagine that the IMF swoops in as the lender of last resort; the only entity willing to service our debt and keep the system running.  Imagine what kind of concessions America would have to make to a global loan shark like the IMF.
Keep in mind, the plan to replace the dollar is not mere "theory".  In fact, IMF head Christine Lagarde has openly called for a "global financial system" to take over in the place of the current dollar based system.
The Bretton Woods System, established in 1944, was used by the United Nations and participating governments to form international rules of economic conduct, including fixed rates for currencies and establishing the dollar as the monetary backbone. The IMF was created during this shift towards globalization as the BIS slithered into the background after its business dealings with the Nazis were exposed. It was the G10, backed by the IMF, that then signed the Smithsonian Agreement in 1971 which ended the Bretton Woods system of fixed currencies, as well as any remnants of the gold standard. This led to the floated currency system we have today, as well as the slow poison of monetary inflation which has now destroyed more than 98 percent of the dollar's purchasing power.
I believe the next and final step in the banker program is to reestablish a new Bretton Woods style system in the wake of an engineered catastrophe. That is to say, we are about to go full circle. Perhaps Ukraine will be the cover event, or tensions in the South China Sea. Just as Bretton Woods was unveiled during World War II, Bretton Woods redux may be unveiled during World War III. In either case, the false East/West paradigm is the most useful ploy the elites have to bring about a controlled decline of the dollar.
The new system will reintroduce the concept of fixed currencies, but this time, all currencies will be fixed or "pegged" to the value of the SDR global basket. The IMF holds a global SDR summit every five years, and the next meeting is set for the beginning of 2015.
If the Chinese yuan is brought into the SDR basket next year, if the BRICS enter into a conjured economic war with the West, and if the dollar is toppled as the world reserve, there will be nothing left in terms of fiscal structure in the way of a global currency system. If the public does not remove the globalist edifice by force, the IMF and the BIS will then achieve their dream – the complete dissolution of economic sovereignty, and the acceptance by the masses of global financial governance. The elites don't want to hide behind the curtain anymore. They want recognition. They want to be worshiped. And, it all begins with the secret buyout of America, the implosion of our debt markets, and the annihilation of our way of life.
Source:  Brandon Smith | Alt-Market
Tony Bennett left his heart in San Francisco — and Michelle Obama left her brain in 1954.
Addressing graduating high-school students the other day in the Topeka, Kansas, school district, the federal lunch lady said, referring to the Brown v. Board of Education decision, "[Y]our experience here in Topeka would have been unimaginable back in 1954…." And perhaps this is true.
It also would have been unimaginable back in 1554 or 954. After all, the institutions making that experience possible hadn't been birthed yet.
You know, those institutions created by European/ European-descent civilization.
That civilization that Darth Vegan is tacitly impugning with her racial agitation.
The point is that if you're going to talk about the past, don't tendentiously cherry-pick it for destructive ideological purposes. It's much as discussion about slavery. Not only is the focus always on the less than one percent of the history of slavery that was written in the US (it's one of the world's oldest institutions), but the most significant point is missed: Whites were not the first to practice slavery.
But they were the first to abolish it.
If some take offense at this, they can pound sand. I take offense at the constant derision aimed at my civilization by critics who should get down on their knees, kiss the ground trod by our ancestors and thank God for our civilization's existence. Where else could effete ne'er do wells complain about injustice while living a life of silk, satin and Sidwell Friends and dining on Kobe beef?
Really, this all reminds me of how no good deed goes unpunished. This focus on a group's sins to the exclusion of its triumphs is much like trying to epitomize a cracker-jack golfer by some of his three-putts while ignoring his many championships; it's like condemning a great rocket engineer over a few failed trial launches and ignoring that he got you to the moon.
M. Obama also said to the students, "We know that today in America, too many folks are still stopped on the street because of the color of their skin…." This is absolutely true. Just this past Mother's Day weekend a white family was stopped and beaten by a black mob because of the color of their skin.
Of course, these black-on-white racial attacks — already a frequent but largely unreported phenomenon — will only worsen with racial hustlers such as the Obamas peddling their "series of agreed-upon myths," to use Napoleon's characterization of history.
And this agitation has its effect. Just consider the testimonial Reverend Jesse Lee Peterson, president of the Brotherhood Organization for a New Destiny (BOND), gave about how race-hustling affected his attitude prior to his religious conversion. He said in a 2013 Los Angeles Times interview, "I believed the lie that because I was black, I wasn't going to be able to make it because of the white man…. I was listening to people like Jackson and Louis Farrakhan…. He talked about the blue-eyed devil, and I believed him. I started hating white people." And since most people don't experience religious conversions, what's the result of this brainwashing?
It's that now, "not all but most black people are so racist toward white people," Peterson explained.
And this explains the Obamas. They are obsessed with race.
Obsessed.
And what, America, did you expect when electing a far-left, radical, black-liberation-theology-church-attending, Marxist-leaning, terrorist-consorting ex-socialist-party member who cut his political teeth in the Chicago machine? Mr. Smith goes to Washington?
Well, it was actually Uncle Sam goes to Hell.
Origin of the Master Model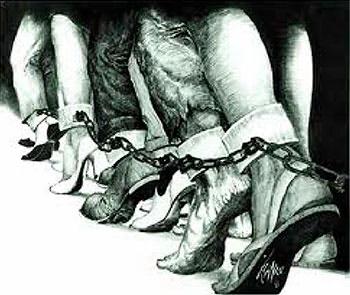 The master plan for world domination we see playing out today was first proposed to the US at the end of World War I. However, there were no takers. People were too war weary. However, when the plan was again proposed at the end of World War II, it was accepted. Consequently, World War II quietly transitioned into the secret "war" to set up what has become known as the "new world order" — an absolute dictatorship over the entire planet.
The United States set up the School of the Americas to train future dictators and terrorists who would be sent out into the world to destroy sovereign nations and place them under US domination by installing puppet governments obedient to the United States. Many conquests were made quietly using clever economic tricks [2]. However, leaders who refused to submit quietly would see their entire country reduced to rubble and the land rendered unlivable by uranium dust scattered by US bombs. The message was clear: Submit to the United States or face total destruction.
A social model based upon the assumption that cleverness and power automatically convey the right to take anything desired from those who are less adept and unable to resist is not a sustainable model for harmonious social interactions. However, this is the chosen model. The mantra for this model, "A man's true worth is measured by the amount of other peoples' happiness that he can possess and destroy" [1], is essentially a call for a class war between the greedy elite and the innocent masses of the world who simply desire a peaceful existence.
Acquisitions
The United States looks at the rest of the world as a "resource". If a country has something — oil, gold, minerals, etc. — that the US covets, it believes it has the right to take those things by whatever means necessary. In many cases the coveted resource is human slave labor. Let's look at some representative examples:
With the cooperation of the dictator, United Fruit Company (US) owned almost half of the country and used the locals as slaves to harvest its Chiquita brand bananas. However, during the period from 1945-1954 new leaders made changes. They helped the poor and set up social security and health care. Then they took land away from United Fruit and gave it to the local people. United fruit complained to the CIA that its business interests were being interfered with by the "communist" government. Any government which shows kindness to the poor and weak is called communist by the US. The US attacked Guatemala — killed the elected leaders and many thousands of citizens — and established a puppet dictatorship which would obey the will of United Fruit. The people were returned to a state of slavery. The CIA trained death squads to make sure the people were crushed into submission.
Strip Mining in Africa [4]
In Africa, the International Monetary Fund — a puppet of the US — destroys a country with strip mining. The original country was self sustaining. People were able to grow lots of food and hunt animals. However, once the land was ruined by US corporations, it was unusable to plant crops and the native animals died. The people had to buy food from other countries with money loaned to them by the IMF which they could never hope to repay. Therefore, a once free and self supporting people were made debt slaves of the IMF. Once all the natural resources have been stolen, the corporations will simply pack up and leave the indigenous people to starve and die.
Countries Used as Trash Dumps [5]
Used computers and associated items are dumped in poor countries where starving barefoot children sift through the mess of hazardous waste and broken obsolete glass computer monitors hoping to find something they can sell to get enough money to stay alive another day. Property stickers show the waste is mainly from the US government and various US state governments.
Corruption of Trusted Sources
Reporters and News Organizations
The masses are conditioned to believe news they receive from establishment sources. In the earlier times, this assumption was often correct. It was considered so important by the founding fathers that freedom of the press was enshrined in the US constitution. However, times have changed.
Walter Cronkite was known as the "trusted voice". No one knew he was also the official announcer at the secret Bohemian Grove meetings. The leaders of the world's news organizations also attend this event. That is why, even though the meetings began over one hundred years ago, until recently no one knew this group even existed. President George W. Bush may have set a new record for bribing journalists to allow their trusted name to be used as the author of material actually written by government propaganda experts. Apparently, everyone has a price and the government, of course, has no problem when it comes to money.
When Ronald Reagan reportedly ordered the death of investigative reporter Jessica Savitch [6], the message to independent journalists was clear: Go against the official party line an you're done!
Today, dedicated journalists face mysterious deaths and strange single car accidents but a few survive long enough to give us a glimpse of truths we would otherwise never know. They are true heroes.
Churches
Churches are everywhere. Unfortunately, legitimate Spiritual teachers are not. People look at churches either as harmless or with some sort of conditioned hypnotic respect. Churches send out "missionaries". However, the "mission" of these missionaries may not be so clear. If you wanted to infiltrate a foreign country, these people would be an ideal asset.
Churches are not Spiritual centers. At best, all they want is your money. At worst, they are Satanic and you are in severe Spiritual danger if you come under their influence and control.
The Catholic Church has been a trusted asset of the US intelligence community for quite some time. Significant information obtained by priests during confessions is routinely passed on to the government.
This agreement predates the internet by many years. Because the church has branches in almost every country, it has great potential for covert activities. For example, if you need to get an operative who is in danger out of a country, they can go to a Catholic church for "confession". Once the door is closed, they can exit through a secret passage, be disguised in robes and spirited safely out of the country. Church secrecy is at least on a par with US secrecy. Also, the Catholic church and the US shadow government share the same Satanic value system and engage in child rape and ritual killings.
Doctors and the Medical Industry
Medicine in the United States is an industry. It is no longer a profession. Its corporate model puts profit above all else. If some patients accidentally benefit they are the lucky ones.
The medical community has a rigid hierarchical structure and effective mechanisms for enforcing secrecy. Essentially, its model closely resembles the military chain of command structure. This makes it a perfect partner for the government in the area of secret human experiments.
For example, when the government was doing radiation experiments on humans, a doctor or someone dressed as a doctor would just walk up to unsuspecting patients and inject them with radioactive material. They were then secretly followed for years to see what would happen. Eventually, some of those who survived were told the truth. Most people used in the MK Ultra and subsequent secret projects were never notified.
Hospitals are set up to protect themselves. Staff may appear to be dedicated, smiling people who truly care about you. However, they are basically prostitutes who are being nice because you are worth money to them. When they make mistakes they have a "loss prevention" department staffed by clever lawyers who are trained to protect the financial interests of the hospital by denying everything and fabricating believable coverups. They are trained to do whatever is necessary. The staff will all agree to support whatever lies are needed. They know their job and their financial future depends upon maintaining strict secrecy.
The only people who receive legitimate medical care are the select elite cleared to accesstop secret medicine. These people always get excellent care because the doctors work for the shadow government and mistakes on their part are simply not tolerated.
Infiltrations
Countries which have the resources to sustain an intelligence community generally try to get operatives (spies) into other countries so they can directly observe activities. When real people gather intelligence, this is called human intelligence or HUMINT. The US, of course, does this too. However, you may not be aware of the extent to which the US also infiltrates itself. The central government really does not trust anyone.
Essentially all local police departments, state offices and state governors have a covert federal agent working close by pretending to be just another employee. Also, every US neighborhood has an informer who reports to the federal government. Large corporations, which tend to behave like "mini governments", need to be infiltrated and kept under observation. Colleges and universities are also monitored.
Here is how this spy network operates: The NSA likes to recruit young kids right out of college. When they are hired and sworn to secrecy they still do not know what their assignment will be. They must agree to do this assignment without first being told what it is.
Some agents, like John Perkins [2], are assigned to work in other countries. However, others are assigned to work inside the US. Their assignment could be to go to some state and apply to join the local police department. They would pretend to be just a regular person looking for a job. They would take the necessary training and spend their life as a local policeman so they could directly observe other local police from the inside and report to the NSA. Since they are actually an employee of the NSA, presumably they get to keep both salaries and, eventually, both retirements. All significant local police forces in the US are infiltrated this way.
Additionally, some agents will be assigned to get a job on the state governor's staff as well as in major local state agencies. A CIA or NSA agent is always on the staff at major colleges and universities. The same goes for major corporations.
Senior level agents are allowed to have special TV receivers in their homes linked to the secret government TV network. This way everyone stays on the same page. The channels on this network actually broadcast the truth. TV channels available to ordinary people contain only government approved propaganda mixed with "bread and circuses" presentations to make sure the sheeple stay asleep and content.
Fronts
The US government is involved in illegal activities internationally and domestically. If it performed these activities overtly in the name of the United States, there would be serious consequences under both international and local laws. To avoid this situation, the US government operates thousands of "front organizations" which appear to be private but are actually shadow operatives of the US.
For example, John Perkins [2] explained that he was recruited, hired and trained by the NSA. He was an NSA agent. However, for his cover as an economic hit man, he "officially" worked for a "private" company called Charles T. Main. This company was a government front to shield the US because the activities the NSA trained Perkins to do were illegal.
This is standard operating procedure for the US as well as other countries and many corporations. It shields them from legal recourse by providing deniability for the crimes they actually direct and commit.
Generally, when the US wants to influence other sovereign countries, it creates harmless looking NGO's which appear to be independent but are actually fronts for covert activities.
Domestically, colleges and universities — especially those with associated medical schools and hospitals — are great places to conceal a variety of covert projects such as the MK Ultra series of human experiments which, reportedly, continue today using new cover names. The US also likes to create non-profit corporations which exist only to provide classified services to the United States. A good example would be the Institutes for Defense Analysis (IDA). The US, reportedly, is its only client.
Programming
Mass media "programming" is actually programming you. It has developed into a subtle form of mind control. Before radio and television, special interests recognized that motion pictures could be used to alter public opinion in their favor. Perhaps, for example, you wanted to attack labor unions. When radio and later television came along providing access to national and international audiences, the temptation to exploit these technologies became irresistible. Originally, the US government recognized this and set up fairness rules to prevent monopolies from taking over the broadcast media and blocking opposing viewpoints. All this ended, unfortunately, when Ronald Regan canceled all the fairness regulations. Today, a handful of powerful corporations own and control essentially all content delivered by radio and television.
Television is the main vehicle for mass indoctrination. It is said that people watching TV actually fall into a light hypnotic trance. The "entertainment" you see on TV does not "just happen to be there". It is very carefully planned and timed to attract and influence targeted audiences. It is said that if some event were to somehow shut down all television broadcasts the government would experience a severe crisis because it would lose control over the minds of the masses.
TV creates sort of a "hive mind" among the masses and keeps everyone coordinated and tuned into the official party line. Without this, people would have no choice but to start thinking for themselves and forming independent opinions. Clearly, this would be a disaster.
The radio broadcast of "War of the Worlds" and the later movie "The Day the Earth Stood Still" are said to be CIA psychological experiments to judge how the general public would react to some type of ET contact.
Today, broadcasting is not just a one way event. Because people react to events and use social media to express these reactions, the effect of specific propaganda can be analyzed in real time. Since the government now intercepts all electronic communications, it is able to see general opinions and then tweak algorithms to maximize the desired effect of propaganda. This ability makes TV a two-way communications system although most people, of course, do not realize this and have no concept of the level of sophistication these technologies have reached.
Information Theory
Information Theory is the name of a relatively new branch of science which became popular in the 1960′s. It covers a broad range of technologies. Basically, it is the science of the flow of information and how that flow can be selectively controlled so that information flows only in desired pathways. As you may have already guessed, governments love this sort of stuff.
ECM
ECM stands for Electronic Counter Measures. In general, these are techniques to disable other electronic devices. Basically, it is electronic warfare. When the secret service is active in an area, for example, they will selectively jam all radio frequencies except for the specific frequencies they are using so that no one else can communicate.
World leaders, who are generally terrified of "threats" materializing from practically anywhere, like to travel with ECM generators running just in case "someone" from "somewhere" was trying to target them for "some reason". Basically, they are paranoid whack jobs.
People familiar with aviation tell the story of how Tony Blair, while traveling to or near a commercial airport, reportedly caused a commercial jet to crash because all the ECM garbage he was transmitting jammed the plane's navigation system. Of course, the British government would never admit this.
Secure Communication With Submarines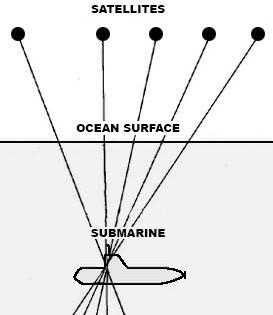 Since submarines were invented, communicating with them has been a problem because conventional radio waves will not travel underwater. Therefore, early submarines had to get close enough to the surface to put up some kind of antenna in the air to send or receive radio messages. Obviously, this could pose a problem if you did not wish to be discovered and located. After all, the motivation to create submarines in the first place was the feeling that they would be able to move about the planet secretly. However, newer technologies now make this impossible.
To solve the problem of reliable secure communication without the need to surface, scientists learned that sea water was essentially transparent to a special type of Argon laser. To set up the current communications network, it was decided to use several satellites with each satellite sending only part of an encrypted communication signal. The complete signal could only be received at a specific point underwater where all the laser beams intersected. Intercepting only one or two beams would prove useless. This communications system is considered to be impossible to intercept.
Quantum Entanglement
Returning to the submarine issue for a moment, before modern communications were perfected, there was a search for some reliable method to send a signal to a submerged submarine that could not be detected. This was considered necessary in a war situation to secretly transmit an attack command. What they originally did was to locate a couple of people who could communicate telepathically. One would be at the command base and the other on the submarine. Doing a bit more research, it was determined that this type of communication is instantaneous and somehow operated outside of time. Radio waves travel at the speed of light.
Quantum entanglement is a process which uses technology to send and receive signals outside of space-time. Now, why would you possibly want to do this? Well, if you had a base or a colony on a planet in some other solar system light years away, you would not want to wait years for messages to be received. Following this thread — and adding some basic common sense — why would you want to dedicate resources to search for habitable planets in distant solar systems when you had already "proven" it would be impossible to ever get there? Could it just be that someone is not coming clean with whole story?
The Separation Barrier
This is a model of the separation barrier which insulates the ruling class from the slave class. It is essentially "intellectual apartheid". The question is, why is it there. It takes considerable effort, money and manpower to maintain this artificial barrier. What is the reasoning behind not having a level playing field for everyone? Why does this idea absolutely terrify the elite? What are they afraid of?
The Pirate Story
This is a summary of a story told years ago on a radio broadcast most likely by Paul Harvey:
Ordinary people were afraid. The Earth was flat so they dare not venture far from home. Periodically, a pirate ship would come. They did not know how it got there or from where it came. It brought treasures they had never seen. The Chief Pirate would encourage the young men to study and specialize in specific skills. He wanted them to become educated but only in one narrow area. The Chief Pirate knew the world was not flat and how to navigate to other lands. However, this knowledge was never discussed. This "top secret" knowledge or the "big picture of the known world" would only be given to the Chief Pirate's son who would inherit his title and someday become the Chief Pirate.
This story is about the origin of the concept we call compartmentalization — the process of controlling the slave masses by only allowing them to know specific bits of the truth while the leaders are allowed to know total truth.
ELITE RULING CLASS
SECURITY CLEARANCES
SECRET POLICE
ASSASSINS
SURVEILLANCE — SIGINT HUMINT COMINT
SPY SATELLITES
SPY DRONES
SMART ELECTRIC METERS
INTERNET SURVEILLANCE
NEIGHBORHOOD SPIES
PLENTIFUL STREET DRUGS
PSYCHIATRIC FORCED DRUGGING
GENETICALLY MODIFIED FOOD
FLUORIDATED WATER
COORDINATED TELEVISION PROPAGANDA
DEGRADED PUBLIC EDUCATION
LOCAL MILITARIZED POLICE
---
SLAVE CLASS
Leaders can only maintain their status if there are slaves. Otherwise, everyone would be equal and operate on a level playing field. This means "leaders" would have to pull their own weight like everyone else. Clearly, this would be intolerable. Leaders love beautiful and exotic things but don't want to do the work needed to create these things. They probably could not even plant a garden much less build the various "ivory towers" where they like to live surrounded by servants. If left on their own they would very likely starve. This is why it is so important to create and maintain the complex separation barrier.
Why don't people who live above the separation barrier ever "come down" and talk to the people below the barrier? Well, other than the obvious fact that they would likely be killed or jailed for espionage or treason, there is another, simpler, reason.
Would you like to spend your days sitting in an open field with kindergarten kids looking for four leaf clovers? Probably not. You have progressed beyond that. The slaves below the separation barrier cannot even imagine the world of those who live above the barrier. In fact, the elite do not even consider the slaves human. They call them "disposable biological units". The United Nations prefers the slang term "the herd". Slaves can be easily bred in quantities needed and programmed to do desired tasks. Then, they can be easily disposed of when no longer useful. That's how they look at you. So, why would they want to make friends with you?
The Mars Example
There is an interesting event playing out today that you may have noticed. This concerns the recruitment and selection of people to be sent to Mars. There are simulation projects where volunteers are locked away to imitate the long voyage to Mars. They are being told that this is a one way trip and they can never hope to return to Earth.
What you are witnessing is the selection process for the "seed people" who will be used to breed the future slave class on Mars. In a situation similar to the period when most believed the Earth was flat and you would fall off if you tried to go to sea, these people are convinced that the only way to get to mars is to ride a rocket on a perilous journey taking years. Because they truly believe this, when they get to Mars, they will teach this crap to their kids along with other misconceptions like it is impossible to go faster than the speed of light and other associated obsolete scientific principles. They will have no
desire to ever return to Earth or go anywhere else because they truly believe it is not possible. They will be contented slaves.
Of course the truth is that there are already secret colonies on Mars. It is not that hard to get there using antigravity and other secret propulsion methods and it is quite likely possible to simply walk through some kind of wormhole device and come out on Mars.
However, the slaves will never know this. Just as it is done on Earth, there will be an artificial separation barrier. The insiders will know the truth and will be physically hidden from the slaves. There will be secret police and other methods — the same as are used on Earth — to make sure no slave ever escapes from the "information prison". Business as usual will continue.
Reinforcement of Ignorance
Governments and their oligarchs love to keep their subjects in a cloud of ignorance. Back in the days when people believed the Earth was flat, the inner circle ruling class knew it was round. Maintaining the deception was convenient because it kept the slaves from developing any desire to travel far from home.
Nothing has changed all that much today. Consider, for example, all the fuss over the missing MH370 plane. You are being played for a sucker. It is impossible for that plane to have "disappeared".
The US DoD spy satellite system reportedly consists of ten constellations of satellites. Each constellation has over seven thousand satellites. They see and record everything that happens on this planet. The floor of the oceans can be seen just as clearly as the land areas. The resolution of the system is better than one square millimeter. Also, everything is recorded so you can go back in time and play past images.

This is a picture of a common electric lamp. Take this lamp and throw it in the ocean — any ocean anywhere on this planet. The spy satellite system will locate it, give you the coordinates and give you a photo at least as good as the one above. That is the capability of the system. So, clearly, it is impossible not to know the location of something as large as a Boeing 777 plane. All the TV publicity is a choreographed play. You are being scammed and you need to wake up and realize this fact.
Murders and Assassinations
To ensure a strong empire, dissent must be crushed. The United States trains assassins and carries out both domestic and foreign murders and assassinations on a regular basis. You may be familiar with the classic movie scenes where a black limousine with tinted windows drives by a target with thugs shooting machine guns. Although this would accomplish the task, it is a bit too obvious in a country that advertises itself to be a free, civilized democracy. Someone might catch on and begin to doubt the party line. Consequently, these things must be done quietly.
Inside the US, murders are reportedly carried out by a group known as "FBI Division Five". Other agencies likely have the responsibility for foreign assassinations. However, the basic techniques used would be similar.
Typically, an agent would wake up every day and connect to the top secret internet to see who he was assigned to kill that day. There would be several options. If it was important to eliminate the target immediately, a fast acting chemical agent would be selected which, for example, would cause the target to die within a few hours of a "natural" heart attack.
However, if time was not critical and the government just wanted the target out of the way, you might want to select one of the cancer causing agents such as those likely used to eliminate Hugo Chavez and Senator Ted Kennedy.
There is also a third possibility. This involves character assassination instead of actual murder. Consider, for example, a person who has gained a lot of public recognition talking about, say, free energy. If you simply kill the person, there could be blowback and talk that he was silenced by the government. In such cases, it is easier to use a chemical agent designed not to kill but, rather, to cause states of mental confusion resulting in obviously strange behavior. This would be coordinated with the government controlled mainstream press to make sure everyone became convinced the person was a nut and would therefore ignore anything said without regard to the truth or validity of the message.
Once the appropriate chemical has been selected, you need to load it into the secret delivery system and locate your target. To find your target you will connect to the top secret internet and pinpoint the location of the target through their cell phone. You can also activate all the cameras and microphones in electronic gadgets connected to the internet associated with the target in case you wish to look around the target's home and hear in real time what is taking place.
Of course, this will not help you locate the target when it is time to actually do the hit. So, you need to get the top secret profile data which will show any predictable habits of the target. Everyone is constantly tracked through their cell phones and profiles are logged and stored. In this case, the profile shows that the target has a favorite restaurant and goes there for lunch every day around 11:30. Now, you know exactly what to do. You go to the restaurant, hang out until you see your target, and get in line behind the target. Now, all you need to do is slightly bump into the target to deliver the chemical. Generally, the targets never even notice.
This mission is now complete. If it is early enough, you can check back in to the top secret system to see who you are supposed to kill next. Just another day. Just a routine job.
Money
Money is an imaginary force. It is used to motivate and control slaves. Real forces effect all life forms. However, only people respond to money. The only reason they do is because they have been artificially programmed to do so.
Money can be created in unlimited quantities by those adept in the use of this force. The physical world is finite, however the world of imagination is not. There is no limit to the quantity of money that can be imagined into existence. Money can also be imagined out of existence.
Let's assume that one day the entire financial system simply disappeared. If you lived in a rural area and had a nice veggie garden, some friendly chickens, collection facilities for rain water and a few photocells for electricity, you would not notice this. The veggies would continue to grow. Rain would periodically fall. The chickens would lay eggs as usual. The sun would continue to shine. However, if you lived in a city environment, you would be devastated.
Before money, people lived in small hunter-gatherer groups. The concept of ownership did not exist. People worked and survived as a group. Men and women were equal. Everyone contributed to the community. Resources were shared equally. The concept of "mine" and "yours" did not exist. Women generally became pregnant only once about every three years although there was no birth control. Later, when the concept of money entered the consciousness, women were seen as having less value because men were paid for work but women were not paid to raise and care for kids. Society has changed, however, the downgraded status of women has not.
Money systems have always been manipulated by clever people. When gold was used as money, people learned they could dilute pure gold with silver or maybe even lead to come up with something that looked like pure gold and had the correct weight but was a fraud. A king suspected he was being scammed but had no way to prove it. He called on the great minds of the time for help. This led to what is known as the Archimedes' principle which is better known today as "specific gravity". This principle made it possible to compare a sample known to be pure gold to a questionable sample and prove the unknown sample was not pure gold. Likely, some clever crook lost his head once this test became known.
There is a general belief that gold is the ultimate reference for all money. However, secrets concerning the exact quantity of gold make this a perilous assumption. Reportedly, the United States stole a tremendous quantity of physical gold from Japan towards the end of World War II. This gold exists off the books. To make matters worse, Japan was not all that concerned. Japan had been using gold bars as ballast on its ships because they were compact and heavy. They thought nothing of throwing the bars overboard as necessary. Japan used platinum as a money reference and the US never got that. This should make one rethink all the hype about the value of gold. It may be a lot more plentiful than we have been led to believe. Also, the secret off the books stashes of gold would allow its relative value to be manipulated at will just like other commodity markets.
The Financial Axis of Evil [3]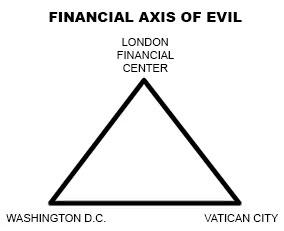 This is the model of the financial axis of evil which rules this planet. It consists of three main branches as shown above. Collectively, they are known as "The Empire of the City". Briefly, here is how this system operates:
The London financial district is in London, Washington D.C. is in the United States and the Vatican is in Italy. However, these three places are not part of the countries where they exist. They are independent "city states" and have their own laws and constitution. They are, effectively, "mini countries" inside of other countries and fly their own flags. The city state of London is a private corporation and pays no taxes to actual London or to Britain. The city state of London is the master power center and is controlled by the Rothschild family which considers itself to be the legal owner of this planet. The Vatican is the largest private land owner in the world and the first true multinational corporation with installations (churches) and secret agents (The Knights of Malta) everywhere. They control through the power of fear of the unknown and practice black magic. Washington D.C. relies upon brute military force. All three closely cooperate combining their specialties of financial trickery, witchcraft and military might. Of course, all three worship Satan as their Master.
Slavery
Slavery is alive and well throughout the world. The US constitution prohibits slavery, however, most americans live in slave-like conditions.
It is said that it will take the average college student until age fifty to pay back their student loan.
The constitutional amendment prohibiting slavery addressed the concept of physically owning another person. However, it did not address the issue of holding another person in bondage as a debt slave. It also did not consider the concept of private for profit prisons who force inmates to work as slaves. These systems exist today and are perfectly legal.
Actually, a recent report from prestigious Princeton University has reclassified the US government as an oligarchy — a country run by and for the rich elite. Former US President Carter has stated that the United States "no longer has a functioning democracy". So much for the Founding Father's dream. Speaking of dreams, check out the free you tube video titled "The American Dream".
Other forms of slavery are illegal but still flourish. Sex slaves are always in demand. Traffickers are sometimes caught but you need to realize that your leaders use sex slaves and also routinely abuse young girls and boys. Sometimes they are also killed during occult rituals. No one ever talks about this and these people are never punished. This has been the normal way of life for Satan worshipers for many years and nothing has changed or is likely to ever change in the future. Stanley Kubrick's last movie, Eyes Wide Shut, covers this subject. Some believe this intense dramatization of how the elite really live may have cost him his life.
People still have some rights left in the United States but other countries are a different story. Qatar is doing construction for the World Cup. The event is not scheduled until the year 2022, however they have already killed 1200 slaves [7] by working them to death. People are lured from poor countries with the promise of jobs and money. When they arrive, their passports are confiscated and they are forced to work until they literally drop dead. If the World Cup is actually held in Qatar in 2022, there will be glamorous TV coverage and no one will remember or care about all the dead slaves. The show must go on.
Qatar, incidentally, sponsors Al Jazeera TV network.
Adaptation Techniques
The status quo of today will never change because the people who created it will never die. Because of top secret medicine, when men like Henry Kissinger, who heads the Bilderberg Group's steering committee, get too feeble to function, they will simply go to one of the secret locations and use the temporal reversal device to regress back to about twenty years old. Their memories will be unaffected. Then they will get new identities and continue on. This process can be repeated indefinitely.
Because you can never change the status quo, your best hope for a lifetime of reasonable quality is to find clever ways to live in this world with as much independence as possible.
One method of adaptation is autonomous and semi-autonomous communities. If the community is registered as a religious institution it is automatically shielded from most government interference by the US constitution. It pays no taxes and can pretty much write its own rules by simply calling whatever it wants to do "religious doctrine". Many small semi-autonomous groups exist where people who share a common set of values find ways to quietly live out their lives pretty much on their own terms. The government does not seem interested in bothering these smaller groups as long as they live peacefully and are not doing anything that the government perceives to be a threat.
The Amish people are a good example of an autonomous group. You would probably not want to live as they do, however, before you completely dismiss them, you may want to look at some definite advantages in their chosen lifestyle.
Remember, these are the people who reject technology. They just might have made the correct choice. Technology, at first, seemed like a good idea. However, now that people are addicted to technology they are also enslaved by technology. Everything they do is monitored and recorded by the government. Privacy no longer exists. It did not have to be this way.
Technology, in itself, is not evil. However, it can be quite evil if you live under a government run by sociopathic control freaks which, unfortunately, you do. In the Amish world, electronic surveillance does not exist because electronic devices do not exist. The constant propaganda from TV has no effect on people who do not have TV. A horse does not report its position to a GPS satellite and is not controlled by a computer.
Also, the people are generally healthy and do not suffer from many diseases common to the mainstream population. They are not being poisoned by fluorinated water or additives found in processed food because they don't use these things. Also, they get lots of physical exercise.
Without totally withdrawing from the world, there are some positive steps you can take. By now you know never to drink fluorinated water or use any personal product containing fluoride such as many brands of toothpaste. To minimize harmful food additives, look for Kosher food which is marked with either the encircled "K" or "U" (Ultra Kosher). These foods have less or no harmful additives. The Jewish community is very protective of its people and the Mossad is widely considered to be the best intelligence service in the world. Therefore, they would have the inside scoop on everything including food and do not want to see their people harmed.
Whatever you decide to do, you definitely do not want to be part of so called mainstream society. These people are doomed. They are sheep (sheeple) slowly walking to the slaughter house. Don't go there!
---
references and credits
[1] DVD "The American Ruling Class". ASIN: B001HM2CE2.
[2] John Perkins. Book: Confessions of an Econemic Hit Man; DVD (free on you tube): "Apology of an Economic Hit Man"; RT interviews.
[3] See the free you tube videos titled "The Red Shield".
[4] DVD: "The Wages of Debt", RT Intl. Also available for purchase.
[5] DVD "Terra Blight", RT Intl. Also available for purchase.
[6] Interview with John Judge of Veterans Against Military Psychiatry.
[7] Also search using the phrase "qatar slaves world cup".
© 2014 W C Vetsch. All rights reserved.
Source: Walter C. Vetsch  |  3108.info | War Is Crime
The phrase "conspiracy theorist" is a derogatory smear phrase thrown at someone in an attempt to paint them as a lunatic. It's a tactic frequently used by modern-day thought police in a desperate attempt to demand "Don't go there!"
But let's step back for a rational moment and ask the commonsense question: Are there really NO conspiracies in our world?
The Attorney General of South Carolina would surely disagree with such a blanket statement. After all, he sued five pharmaceutical companies for conducting a price-fixing conspiracy to defraud the state of Medicaid money.
Similarly, in 2008, a federal judge ruled that three pharmaceutical companies artificially marked up their prices in order to defraud Medicare.
In fact, dozens of U.S. states have filed suit against pharmaceutical companies for actions that are conspiracies: conspiracy to engage in price fixing, conspiracy to bribe doctors, conspiracy to defraud the state and so on.
The massive drug company GlaxoSmithKline, even more, plead guilty to a massive criminal fraud case involving a global conspiracy to bribe doctors into prescribing more GSK drugs.
And this is just the tip of the iceberg. A deeper look into the criminality of just the drug industry alone reveals a widespread pattern of conspiratorial behavior to defraud the public and commit felony crimes in the name of "medicine."
What is a conspiracy, exactly?
As any state or federal prosecutor will gladly tell you, a "conspiracy" is simply when two or more people plot to commit an act of deceit (or a crime).
Thus, when three hoodlums plan to rob the local Quickie Mart, they are engaged in a "conspiracy" and will likely be charged with a "conspiracy to commit armed robbery" in addition to the different crime of "armed robbery." The fact that they planned it with several friends makes it a "conspiracy" worthy of additional felony charges, you see. When these charges are brought up in court, the judge doesn't look at the prosecutor and say, "You are a conspiracy theorist!" That would be absurd.
The idea, then, that there is no such thing as a conspiracy is flatly ludicrous. And people who condemn others as being "conspiracy theorists" only make themselves look mentally impaired.
To live in our modern world which is full of collusion and conspiracy — and yet somehow DENY the existence of any conspiracies at all — is an admission of a damaged brain. Of course there are conspiracies, and when people analyze those conspiracies, they are "theorizing" about what happened. This is, in fact, precisely the job that police detectives and FBI agents carry out almost daily.
Most police detectives are, in reality, "conspiracy investigators" and analysts.
There are endless examples of real conspiracies
Auto manufacturers routinely conspire to cover up mechanical defects that put customer lives at risk. Even National Public Radio lays out the full timeline of the General Motors conspiracy to hide the problem with its faulty ignition switches.
Last year, food corporations conspired with the Grocery Manufacturers of America (the GMA) tocommit money laundering crimes in Washington state in order to funnel money into a campaign to defeat GMO labeling there.
The FDA conspired with a drug manufacturer to keep a deadly diabetes drug called Rezulin on the market in the USA even after safety regulators pulled the product in Europe.
Similarly, the corrupt, criminal-minded operators of mainstream science journals conspired in a particularly evil way to railroad Dr. Andrew Wakefield with provably false accusations about the nature of his research into the side effects of vaccines. The GMO Seralini study has been similarly railroaded by a genuine conspiracy of evil, corrupt science journal editors who routinely conspire to suppress all the science they don't want to be seen by the public. Fortunately, 150 other scientists have come to support Seralini with a global condemnation of the obviously contrived scientific censorship.
We live in a world of such deception and collusion that, frankly stated, it's hard to find a large institution (such as medicine, agriculture or the war industry) which isn't involved in some sort of conspiracy at some level.
What is a "conspiracy theorist?
The pejorative "conspiracy theorist" is meant to demean and ridicule skeptics of official stories.
Most so-called "conspiracy theorists" are really skeptics, by definition. They're skeptical of what the government tells them. They're skeptical of the claim that drug companies are really only interested in helping humankind and have no desire to make money. They're skeptical that food corporations are telling them the truth about what's in their food. And they're also skeptical of anything coming out of Washington D.C., regardless of which party happens to be in power at the time.
People who are not skeptics of "official stories" tend to be dull-minded. To believe everything these institutions tell you is a sign of mental retardation. To ask questions, on the other hand, is a sign of higher intelligence and wisdom.
Skeptics of official stories, it turns out, also have the support of history on their side. How many times has it later been revealed that the American people were lied to by the very institutions we were supposed to trust?
For example, it is an historical fact that 98 million Americans were injected with hidden cancer viruses which were later found in polio vaccines strongly recommended by the CDC. In an effort to cover that up and rewrite history, the CDC later scrubbed all accounts of that history from its website, pretending it never happened.
That's more than a cover-up; it's an Orwellian-style conspiracy to selectively rewrite history and deny Americans any memory of a monumental, deadly error made by the CDC in collusion with the vaccine industry.
According to two former Merck virologists, that company conspired to fake the results of its vaccine tests by spiking test samples with animal antibodies, thereby falsely distorting the results to make the vaccine appear effective. The two virologists filed a False Claims Act with the federal government detailing the conspiracy, saying:
Merck also added animal antibodies to blood samples to achieve more favorable test results, though it knew that the human immune system would never produce such antibodies, and that the antibodies created a laboratory testing scenario that "did not in any way correspond to, correlate with, or represent real life … virus neutralization in vaccinated people…"
Conspiracies of money and big banks
Every month, the Federal Reserve conspires to steal a portion of your wealth through "quantitative easing" — an irresponsible money creation scheme that devalues all the currency already in circulation (i.e. the money in your bank account).
The money the Fed creates is, not surprisingly, handed over to the big Wall Street banks — the same banks that received a jaw-dropping $29 trillion in "bailout money" since the near-collapse of U.S. banking in late 2008.
Why did this bailout money go to the banks instead of the American people? Because powerful people sat in dark rooms and colluded to send the money to the most influential banks. A conspiracy, in other words, by definition.
Had that same amount of money been equally distributed across the U.S. population, the Fed would have distributed nearly $100,000 to each and every citizen in America; man, woman and child. But instead of enriching the population, the banking bailout burdened the population with the debt now owed to the Fed by future taxpayers.
Every $1 trillion created by the Fed, after all, is $1 trillion "loaned" to the U.S. Treasury which must somehow be repaid. In truth, the minute you start to investigate how money is created, why the Federal Reserve is a private banking cartel and why the big banks get all the bailout money, you run head-first into genuine conspiracies almost from the outset. When you look up the word "conspiracy" in a dictionary, it should probably say, "See Banking and Finance."
Our world is full of conspiracies because it's full of people who deceive
The reason conspiracies are real is because humanity is a race capable of extreme deception. As long as there are people whose actions are based in greed, jealousy and a desire to dominate others, there will be real conspiracies plotted and operating across every sector of society.
The correct term for "conspiracy theorist" should really be "conspiracy analyst." Most of the people who are skeptical of official stories are, in fact, analyzing conspiracies in an attempt to understand what really happened and what took place behind closed doors.
A highly-recommended book the delves into this matter in more detail is the five-star-rated masterpiece Official Stories: Counter-Arguments for a Culture in Need by Liam Scheff.
This book will open the minds of those who still have the cognitive capability remaining to grasp it. (Sadly, the injection of mercury into babies in the form of vaccines has damaged so many brains across America that many people are now cognitively incapable of rational thought.)
And remember: the next time someone flings the phrase "conspiracy theorist" in your direction, simply know that they are effectively wearing a DUNCE hat on their heads by admitting they have failed to acknowledge that true conspiracies are rather commonplace.
That's not merely a theory, either: it's a statement of fact.
Source: Mike Adams |Natural News
For the record, I don't believe Cliven Bundy is a "racist."
For the record, I don't even care.
Such indifference to that damnable failing, that thing we all know is the worst thing one can be, must make me a damnable man. But I am flexible. I just want equality. I'm perfectly willing to demonize "racists," provided we give other sinners equal time.
I just want to hear, for example, "Forget the facts of the matter! The man is lustful!" or "Don't listen to that miscreant. He's guilty of sloth!" Or let's say a fellow posits an opinion on, oh, taxation. Our very intellectual response could be, "Hey, didn't I hear you talkin' to your girlfriend about how you scarfed down four cheeseburgers at the barbecue and binged on ice cream in your easy chair? Look, everyone, he's a glutton!"
This isn't to say that being a bigot — the word "racist" is in quotation marks because it's an invention of leftist language manipulators — is a good thing. Not at all. But neither is being lustful, slothful or gluttonous. Yet people who couldn't name three of the Seven Deadly Sins and are thoroughly guilty of at least six, will claim they can disqualify a person, and his point of view, from debate based on their assessment of his moral state. What blindness — and hubris.
Bigotry is simply a sub-category of wrath, one part of one-seventh, not the moral end-all and be-all. And even if Bundy did have racial hang-ups, would it follow that he was wrong about his case or on federal power in general? Can a man be flawed, and even sinful, but yet right on a matter? Can he still have virtues? Albert Einstein could be lewd and lascivious, Galileo an irascible jerk, Ernest Hemingway was a drunkard.
This isn't to say, as certain people with poor character once averred, that character doesn't matter. It's not to say a person's vices can't speak to motivations; it's valid to point it out if a judge who rules that pornography has First Amendment protections habitually views porn himself. But it's not valid to fixate on the allegedly "racist" tendencies of a judge who rules that racial commentary enjoys such protections (at least not within the context of analyzing the ruling). The difference is that since the former is wrong, there's good reason to believe that his personal inclinations corrupted his judgment on the matter; with the latter judge, however, dwelling on the supposed flaw in question would only serve to discredit a legitimate ruling.
The point is that we all have flaws, yet all can be correct about a whole host of things. I wouldn't have wanted Einstein to care for a teenage daughter or be president, but I wouldn't deny that E=mc2.
Of course, it really is true that some flaws are more unequal than others — there is a hierarchy of sin — but moderns' sense of proportion is highly askew. G.K. Chesterton said that a "Puritan is a person who pours righteous indignation into the wrong things." Today we have Impuritans, complete reprobates worshipping at hedonism's altar, who pour their indignation onto others in a vain attempt to wash their own souls clean of sin. But there is much more to being a "good" person than simply not being bigoted.
To further illustrate this askew sense of proportion, consider again the gluttony example. Gluttony is a sin, no doubt. But now let's say that our society considered it the ultimate disqualifier. Let's say we might scrutinize a person, asking "What are his food bills?" "Do cookbooks figure too prominently in his library?" "Does he wile away excessive time watching Emeril Live?" "Is he the one who cleared the buffet table like a hurdler?" And imagine we visited pariah status on the person after deeming him guilty.
Would you think this society's greater fault was gluttony — or being hung-up about it? I'd think it exhibited a gluttonous zeal for eradicating gluttony.
The problem is that man always swings from one extreme to another. The early to mid 20th century saw the embrace of eugenics and racial-superiority dogma, which was then discredited by the loathsome Nazis. But now we just as zealously impose a dogma denying the reality of group differences and mandating equality of outcome among races.
This tendency toward true extremism — meaning, extreme deviation from Truth — brings to mind C.S. Lewis' observation that evil always tries to persuade us to exaggerate our flaws, telling the militant he's too pacifistic and the pacifist that he's too militant. As an example, today we have Impuritans who, awash in the Great Sexual Heresy, will still lament how "Puritan" America is so sexually "repressed." Evil tells the pervert he's too prudish, just as it tells self-hating whites that they're too anti-black.
But what we should be is anti-"racism." I don't mean what you think. We need to oppose both the word and the concept — at least how the latter is often conceptualized.
Bigotry is bad by definition, and that definition is commonly agreed upon. But "racism" often has a different meaning, one whose influence is readily apparent in the reaction to Los Angeles Clippers owner Donald Sterling's much reported comments. Al Sharpton, who once used the term "white interlopers" and once said, "White folks was in caves while we were building empires…," called for a boycott of the NBA. Former hoop star Larry Johnson reacted to a man who didn't want blacks around by saying he didn't want whites around, as he suggested creating an all-black basketball league. Spike Lee told CNN he wished that white NBA players would speak out against Sterling, which is a bit like John Gotti having wished that someone would speak out against racketeering. And Barack Obama took time away from destroying our world standing, healthcare system, social policy and economy to say that "comments reportedly made by Sterling are 'incredibly offensive racist statements,' before casting them as part of a continuing legacy of slavery and segregation that Americans must confront," wrote CBS DC. He then opined, "When ignorant folks want to advertise their ignorance, you don't really have to do anything; you just let them talk" (you don't have to do anything except, I suppose, "confront" a "legacy of slavery and segregation"). But, okay, I'll just let Obama talk.
Now, opportunism is often a factor in such hypocrisy, but there is something else: a striking sense of entitlement. This is why many black people will condemn a white person for making a bigoted comment with an equally bigoted comment without batting an eye; when whites are bigoted, it's "racist"; when blacks are, it's something else. And, in fact, this idea is encapsulated in the definition of "racism" I alluded to earlier. It's one you've probably heard:
Only whites can be "racist" because a prerequisite for "racism" is not only bigoted intent, but the power to act upon it.
And, actually, they'll get no argument from me. As I've said before, the left originated the word "racism," so they may define it. They may have it.
And if they ask, I'll tell them where they can stick it.
The problem is that conservatives, being conservative — meaning, conserving yesterday's liberals' social victories — parrot the word. It's another example of how, forgetting that the side defining the vocabulary of a debate, wins the debate, conservatives slavishly use the Lexicon of the Left.
Of course, eventually this will all be left in the dustbin of history. Movements, peoples and civilizations come and go, and we'll get over our fixation with one part of one-seventh of the Deadly Sins. And then man will swing to another extreme, as he goes on to the next great mistake.
"Let me repeat again, that in Russia's view, the blame for the crisis in Ukraine lies with those who organized the coup d'etat in Kiev on February 22-23… But whatever the case, we must look for a way to solve the situation as it is today….And, as I said, what is needed is direct, full-fledged and equal dialogue between the Kiev authorities and the representatives of people in southeast Ukraine….I don't know whether a Geneva-2 round of talks.. is realistic. (But) I believe that if we want to find a long-term solution to the crisis, there must be an open, honest and equal dialogue . That is our only option."

-Russian President Vladimir Putin, press statement, OCSE meeting, Moscow, May 7, 2014

So many lie beneath the eternal granite
But of those honored by this stone
Let no one be forgotten
Let nothing be forgotten.

-Olga Berggolts, "Leningrad"
On Wednesday, Russian President Vladimir Putin made a proposal for ending the violence in Ukraine at an OCSE (Organization for the Cooperation and Security in Europe) in Moscow. Unfortunately, most Americans never heard what he had to say because the media failed to publish his statement. The reason for the omission is fairly obvious, the media doesn't want people to know that Putin is not the ghoulish, authoritarian caricature he's portrayed to be, but a levelheaded pragmatist who wants a swift and peaceful resolution to the crisis. Here is what he said:
"We think the most important thing now is to launch direct dialogue, genuine, full-fledged dialogue between the Kiev authorities and representatives of southeast Ukraine. This dialogue could give people from southeast Ukraine the chance to see that their lawful rights in Ukraine really will be guaranteed."
Does that sound like a bloodthirsty "KGB thug" who's driven by dreams of territorial expansion and empire-building or does it sound like a responsible leader who wants to facilitate a cease-fire until cooler heads prevail?
Did you know that Putin called for a "genuine…dialogue between the Kiev… and representatives of southeast Ukraine"? Don't you think the media should publish critical information like that so people can decide for themselves how they feel about Putin? Or do you think the media is entitled to withhold whatever information they choose as long as it benefits their corporate bosses? Is that how a free press is supposed to work?
Putin made a number of concessions in his speech that are worth noting. For example, he agreed to move his troops away from the Ukrainian border which has been a bone of contention with the Obama administration since the Kiev crackdown began more than two weeks ago. Putin agreed to withdraw his army even though he may have weakened Russia's defenses in the process. This is no small matter, in fact, it's a question national security which is a president's primary responsibility and one that Putin does not take lightly, especially now that neo Nazi-crackpots are roaming the countryside armed to the teeth and threatening to kill ethnic Russians wherever they find them. But Putin made the concession anyway hoping that his good-faith gesture would help put an end to the violence. Here's what he said:
"We have withdrawn our forces and they are now not on the Ukrainian border but are carrying out their regular exercises at the test grounds. This can be easily verified using modern intelligence techniques, including from space, where everything can be seen. We helped to secure the OSCE military observers' release and I think also made a contribution to defusing the situation."
Does that sound like a man who's lying?
Of course not, which is why the media doesn't want you to hear what he has to say. Because it doesn't jibe with the "Putin is Satan" trope.
Putin is a plain-speaking guy who shoots from the hip and says what he means. He's not a bullshitter. People know that, which is why the media won't publish what he says. It's because they're afraid that people will believe him and all their jingoistic, pro-war propaganda will be for naught. The fact is, people have a sense of what the truth sounds like. Call it intuition, call it whatever you like. But people know the difference between a guy like Putin and a dissembling fraud like Kerry. That's just the way it is.
Putin also asked representatives of the southeastern regions of Ukraine to postpone the referendum scheduled for May 11.
Why would he do that? After all, if he really wanted to rebuild the Russian Empire, as his critics say, then he'd want the balloting to take place so he could show the world that the people in the East reject the junta government and demand greater autonomy from Kiev. But that's not what Putin wants. What he wants is an end to the carnage, which is why he asked the people to postpone the voting so the government wouldn't have an excuse for launching another bloody crackdown. Putin doesn't want to see Ukraine ripped to shreds and reduced to Iraq-type anarchy by external enemies who are using it as a staging-ground for their own geopolitical ambitions. He wants to restore stability and security. He wants the hostilities to stop. Here's what he said:
"We are asking representatives of the southeastern regions of Ukraine and federalization supporters to reschedule the referendum scheduled for May 11."
Okay, so he moved his troops back from the border and called on pro-Russian activists to put off the vote on greater political autonomy. That's two significant concessions, right? But, why is Putin doing this?
Does he have something up his sleeve? Is he trying to lull his enemies to sleep before he orders a full-blown blitz on Kiev?
Be serious. Putin doesn't want to take over Ukraine, that's just neocon hogwash. He has his own problems to deal with. He's not going to add to them by annexing a broken, basket-case failed state that's rapidly sliding into a major Depression. Why would he do that?
Then why is he so eager to make concessions? Is it because he's scared? Maybe he's afraid of a confrontation with NATO and the US so he's caving in before war breaks out on his western flank?
Is that it? Is Putin a coward?
According to the western media he is, but that's because the coverage has focused exclusively on his willingness to move his troops which makes it look like Washington's hardline policies (sanctions, threats, saber-rattling) are actually working instead making things worse. Which they are. What's been left out of the reporting is Putin's plan to end the violence. That never gets mentioned because the media doesn't want Putin to look like a peacemaker. That doesn't serve their interests at all.
Putin's not afraid. He's not going to end up like Gadhafi or Saddam. But he is worried. He's worried that the US is going block access to his biggest market, the European Union. Russia can't simply reroute its gas from west (EU) to east (China) as many of the pundits seem to think. That's nonsense. Russia needs Europe, just as Europe needs Russia. There is a strong, natural business/trade relationship between the two that Washington wants to sabotage so it can be the big cheese in Central Asia. That's what this is all about, right? The pivot to Asia.
So, yes, Putin's interest in peace is not entirely altruistic. It's also about money too. Big money. But, so what? What difference does that make? So Putin is not as pure as the driven snow. Big deal. The fact is, he's still pushing for peace, which is not only beneficial for Moscow, but Europe and Ukraine as well. The only one that doesn't benefit from peace is Washington, which is why the media is suppressing information that promotes de-escalation. It's because Washington wants a war. War is the vehicle for breaking up the Russian Federation into tiny statelets that pose no threat to US military bases spread throughout Asia. War is the means by which Washington can make its pivot, surround China, and control its future growth. War paves the way for establishing US outposts in Ukraine and subverting greater economic integration between Russia and Europe. War is US policy because war advances US interests. Period.
Washington cannot achieve its strategic or economic objectives without a confrontation. That's why the present situation so worrisome, because –judging by the scalding rhetoric emerging from the White House, the US State Department, and all the major media– Obama is going to continue to provoke Moscow until he gets the reaction he wants. If 40 dead in Odessa doesn't do the trick, then the next provocation will be 400, or 4,000, or 400,000. Whatever it takes. It doesn't matter. As Madeleine Albright noted some time ago when she was asked if the sanctions on Iraq were worth the half million lives they cost, she answered without the slightest hesitation, "We think the price is worth it."
Whatever it takes. That's US foreign policy in a nutshell.
Here's more from Putin:
"The responsibility for what is happening in Ukraine now lies with the people who carried out an anti-constitutional seizure of power,.. and with those who supported these actions and gave them financial, political, information and other kinds of support and pushed the situation to the tragic events that took place in Odessa. It's simply blood-chilling to watch the footage of those events."
Try to imagine Obama saying something like that. Try to imagine Obama even caring about the people who died in Odessa. It's a bit of a stretch, isn't it? By now, Obama has seen the same videos as Putin. He's seen the people hurtling themselves out of windows to escape the flames. He's seen the victims being pummeled to death on the streets by neo Nazi goons. He's seen the charred remains of the people who were incinerated in the fire. But he's said nothing. He hasn't even offered his condolences to the families who lost loved ones. He's remained stone silent since the incident took place believing that any reference to the massacre would only undermine US policy. His callousness is all part of a political calculation. People don't matter, what matters is the policy. Obama is no different than Albright or any other high-ranking member of the US political establishment in that regard. They're all the same. Life means nothing to any of them. All that matters is the objectives of their constituents.
So, what does Putin really want?
Here's what he says: "Russia urgently appeals to the authorities in Kiev to cease immediately all military and punitive operations in southeast Ukraine. This is not an effective means of resolving internal political conflicts and, on the contrary, will only deepen the divisions."
"Cease all military and punitive operations"? In other words, he wants peace.
Unfortunately, Obama's crew strangled Putin's peace plan before it ever left the cradle. Just yesterday, the US-backed puppet regime in Kiev promised to step up attacks on protestors in the east. According to Defense Secretary Andriy Parubiy:
"The counter-terrorist operation will continue unhindered, despite the presence of terrorist and insurgent groups in the Donetsk region."
As for Putin's appeal for peace, puppet-PM Arseniy Yatsenyuk swiftly dismissed it as "hot air."
So, there you have it. The threat of peace has been skillfully avoided giving Obama's fascist friends the green light to pursue their strategy of tearing Ukraine apart, killing untold thousands of civilians, and deploying NATO to Russian's western perimeter.
And that's why Putin's speech was blacked out by the media, because it conflicted with Washington's plan to launch another war.
I wrote about the controversy swirling around the so-called Christian organization World Vision here.  For those who are unaware of what occurred on March 24, WV announced that they had plans to hire "married" homosexuals.
The backlash was fast and furious. Christian leaders, Roman Catholics, the pro-family movement and others in the faith community made it abundantly clear that they opposed WV's decision to hire people in counterfeit marriages on the grounds that the Bible teaches that homosexuality's a sin.  It's no secret that Bible-believers hold to the teaching that God established the marriagesacrament for the purpose of bringing Him glory; thus marriage other than that which He designed does not bring glory and honor to Him. One would assume that WV's president and board members had an understanding of what the Bible teaches on marriage – but maybe not.
They learn fast, though.  The board noticed a storm brewing when donors began to withdraw their financial support and they quickly changed course.  The public's reaction was so strong that they reversed their decision faster than greased lightning.
In part 2 we will examine whether or not World Vision's truly a Christian organization.  I mean, that's the burning question, isn't it?   One way to find out is to take a look at its website.  On the homepage they make the claim that they are a,
Christian humanitarian organization dedicated to working with children, families, and their communities worldwide to reach their full potential by tackling the causes of poverty and injustice.
Perhaps because I've spent a number of years exposing false teaching in the Church, likewise the cults and the occult, when I read the phrase "full potential" Anthony Robbins immediately came to mind.  Robbins is one of many Human Potential magnets.  He has taken on the trendy title "life coach."  The life coach's aim is to get you to a place where you can tap into your full potential.  Robbins' beliefs are rooted in the New Thought movement.  (Those who wish to know more about New Thought can do so here.)  In essence "Syncretism between Christianity and early New Thought was a hallmark of this movement," says cult expert Marcia Montenegro.
So – why would a "Christian humanitarian organization" choose to define itself using anti-Christian language inspired by New Thought rubbish?
Any organization that calls itself Christian should have as its main goal reaching families and communities around the globe with the gospel of Christ.  And if that's not its stated goal then how is it any different from other secular organizations such as the American Red Cross or the World Food Programme. What sets Christian relief organizations apart from all the others is that they have a biblical mandate to evangelize the lost.  Jesus commanded His followers to:
Go into all the world and proclaim the gospel to the whole creation. Whoever believes and is baptized will be saved, but whoever does not believe will be condemned.  (Mark 16:15-16)
For many years my husband and I sponsored children through WV.  Because it calls itself a Christian organization we just assumed that those in the field would be about the business of providing relief as well as evangelizing lost souls bound for hell.  When it became apparent to us that WV was moving more toward what is deemed a "social justice" organization, we wrote to express our concerns.  No response was forthcoming.  Eventually we stopped sponsoring children through WV and chose another organization.
The social gospel is a false gospel. (Discover more about social justice here.)   What does Scripture tell us about spreading a false gospel?
I am astonished that you are so quickly deserting him who called you in the grace of Christ and are turning to a different gospel— not that there is another one, but there are some who trouble you and want to distort the gospel of Christ. But even if we or an angel from heaven should preach to you a gospel contrary to the one we preached to you, let him be accursed. As we have said before, so now I say again: If anyone is preaching to you a gospel contrary to the one you received, let him be accursed. (Galatians 1:6-9)
I fully expect WV's supporters will want me to demonstrate that WF prohibits proselytizing (sharing the gospel of Christ.)  In the process of researching for this piece I discovered all the proof doubters will need — and it comes right from the horse's mouth.   I visited the homepage…clicked on Our-Impact…clicked on Faith-in-action and unearthed their goals and accomplishments:
Our faith in Jesus is central to who we are, and we follow His example in working alongside the poor and oppressed. We serve every child in need that we possibly can, of any faith, or none. We partner with churches throughout the world, equipping them to meet the needs of their communities.
Scroll down the page to Our Approach and here's what you'll find:
Do You Talk To People About Jesus?
In all ways appropriate for a local context, we seek to witness to Christ — through our deeds of love and mercy, the character and conduct of our staff, and through our words of testimony. As we demonstrate the unconditional love of God to others, we are ready to give the reason for the hope within us, but expect people to evaluate the truth of our message by our actions.
God created men and women in His image, giving each of us a free will. Therefore, we respect individuals — including their culture, faith, and beliefs. We respect the dignity and the right of all people to maintain and change their religious beliefs. We seek in every instance to be faithful ambassadors of the good news of Jesus through our actions (2 Corinthians 5:20) and hope that our lives will reflect God's generous love for people, ultimately bringing glory and praise to Him.
Do you expect the people you help to share your beliefs?
We serve all people, regardless of religion, race, ethnicity, or gender. We do not proselytize, and we pledge never to exploit vulnerability to obtain a profession of faith. We do not feed the hungry as a means to an end. We feed the hungry because God cares about people who are hungry, and He wants them to be fed (Psalm 145:13-17).
Insisting that people hear a certain message or affirm a specific belief as a prerequisite to receiving our assistance violates codes of conduct established for disaster, relief, and humanitarian groups of which we are a member. However, our hope is that our work and lives would contribute to people becoming followers of Christ.
How does being a Christian organization impact your work?
Our faith in Jesus Christ is core to who we are. As an expression of God's unconditional love for all people, especially vulnerable children, we serve alongside the poor and oppressed. We hope to live as followers of Christ by being active, visible bearers of God's love.
Relying on God's grace and Spirit, we affirm the truth of the gospel and our hope in Christ through our character, speech, actions, and in the signs of God's power at work in individual lives, in the communities where we work, and in all creation. (emphasis added — Source)
By its very words WV is a Christian organization that professes a belief in the gospel.  On its website it states that "Jesus is core of who we are."  Yet its policy is not to proselytize?
Romans1:16-17 says:
For I am not ashamed of the gospel, for it is the power of God for salvation to everyone who believes, to the Jew first and also to the Greek. For in it the righteousness of God is revealed from faith for faith, as it is written, "The righteous shall live by faith."
Instead of sharing the good news with those who are perishing, WV is all about doing "good works."  Now don't get me wrong.  I'm not saying Christians shouldn't do good deeds and be "active, visible bearers of God's love."  But good works and sharing Christ with the lost go hand in hand.  Romans 10:17 tells us that "Faith comes from hearing, and hearing through the word of Christ."
In Barnes' Notes on the Bible, the meaning of "hearing" is explained:
When it is said that faith cometh by hearing, it is not meant that all who hear actually believe, for that is not true; but that faith does not exist unless there is a message, or report, to be heard or believed. It cannot come otherwise than by such a message; in other words, unless there is something made known to be believed. And this shows us at once the importance of the message, and the fact that people are converted by the instrumentality of truth, and of truth only. (Source)
Just prior to WV doing an about face, Albert Mohler, president of Southern Baptist Theological Seminary, slammed the organization over its plans to hire unrepentant homosexuals.  Perhaps his, and articles like it, is the reason Richard Stearns and the board reversed their decision and decided to repent.  The question many people are asking at this juncture is how do we know that the leadership has sincerely repented of their willingness to mollify the radical homosexual lobby's demand for them to hire gay people?  Time will tell.  However, it's evident that at least for the time being, board members have decided it's not in WV's best interest to go against Bible believers and faith groups because they're the ones who pay the bills!
I'm out of room so I'll end with an excerpt from Albert Mohler's stinging rebuke – before WV repented:
Writing to the Corinthian Christians, the Apostle Paul stated: "Or do you not know that the unrighteous will not inherit the kingdom of God? Do not be deceived: neither the sexually immoral, nor idolaters, nor adulterers, nor men who practice homosexuality, nor thieves, nor the greedy, nor drunkards, nor revilers, nor swindlers will inherit the kingdom of God." [1 Corinthians 6:9-10]
The leader of World Vision U.S. now claims that the Bible is not sufficiently clear on the sinfulness of same-sex sexuality and relationships, but he also claims a "mission of building the kingdom."  The Apostle Paul makes homosexuality a kingdom issue, and he does so in the clearest of terms.
Of course, Paul's point is not that homosexuals are uniquely sinful, but that all of us are sinners in need of the grace and mercy of God that come to us in the gift of salvation. Thanks be to God, Paul follows those words with these: "And such were some of you. But you were washed, you were sanctified, you were justified in the name of the Lord Jesus Christ and by the Spirit of our God." [1 Corinthians 6:11]
The worst aspect of the World Vision U.S. policy shift is the fact that it will mislead the world about the reality of sin and the urgent need of salvation. Willingly recognizing same-sex marriage and validating openly homosexual employees in their homosexuality is a grave and tragic act that confirms sinners in their sin — and that is an act that violates the gospel of Christ. (Source)
Recommended:
Short list of Christian Leaders who have rebuked World Vision:
http://standupforthetruth.com/2014/03/short-list-christian-leaders-whove-rebuked-world-vision/