Ever wonder why nobody (except Kareem Serageldin) went to jail for all the crimes committed during the financial bubble that popped in 2008?
If you think back to the 2000-era bubble, lots of people went to jail for the fraud perpetuated at Enron, Tyco, Adelphia, and other firms. Plus, the law back then destroyed a whole accounting firm — Arthur Andersen, you may remember — and 28,000 jobs along with it, in the wake of the bust.
Yet post-2000, firms with far more brazen crimes got off by paying a mere fine.
Take HSBC.
Its U.S. subsidiary committed, as Taibbi writes, "an astonishing list of crimes — a laundry list that included pretty much every kind of crime a bank can possibly be charged with."
Such as:
Laundering billions of dollars for drug cartels in Mexico and Colombia
Washing money for terrorist-connected organizations in the Middle East
Allowing "rogue states" under formal sanctions by the U.S. to move billions freely through the bank
Helping Russian mobsters wash money under an elaborate traveler's check scheme
Etc.
And what was the penalty for all this?
$1.9 billion.
At the time, it was the biggest fine in history. But in context, for a firm that made $22 billion per year, it was not much at all. In fact, looked at in a cold calculating light, the message clearly is: Crime pays.
Note there was no jail time for anybody. Everybody at HSBC got paid. Well, HSBC agreed to partially — partially, mind you – defer (!) bonus payments to its top executives.
Oh, and HSBC had to say it was sorry. "We are profoundly sorry," said CEO Stuart Gulliver.
But how did we get here?
Matt Taibbi explores the reasons in his book The Divide. Taibbi used to write for Rolling Stone. He was the guy who famously called Goldman Sachs a "great vampire squid wrapped around the face of humanity, relentlessly jamming its blood funnel into anything that smells like money." (I wish I had written that line.)
He's a very good investigative reporter and a fine writer. He's mellowed out a bit in this book and you won't find much of the usual Taibbi name-calling and profanity. Taibbi, for good or ill, plays this one straight.
He covers a lot of ground, but the central thesis is one most people will intuitively grasp: If you are rich and powerful, you can get away with almost anything. Rights exist on a sliding scale. And if you are on the bottom, you can do time for loitering.
Taibbi writes:
"The cleaving of the country into two completely different states — one a small archipelago of hyper acquisitive untouchables, the other a vast ghetto of expendables with only theoretical rights — has been in the works a long time."
But to answer the question posed up top about why nobody's going to jail, there's more to the story. You have to go back to a memo written by Eric Holder, the current attorney general, back in 1999, when he was an official in the Clinton White House.
He articulated a concept called "collateral consequences."
It meant, in essence, that the government could take into account all kinds of factors like job losses and such in deciding whether to press criminal charges against a big company. "If the math isn't there," Taibbi writes summing things up, "hold the charges. Seek other forms of justice instead. Fines. Civil sanctions. Cease and desist orders. Deferred prosecutions. There are other ways, Holder wrote, to get the job done."
In other words, there would never be another Arthur Andersen. Firms had new ways to wiggle out of criminal charges. Hence, we have the monster we have today. Companies too big to jail.
Meanwhile, in other aspects of life, a culture approximating a police state grows apace. Taibbi points to the record levels of incarcerations in the U.S. "Our prison population, in fact, is now the biggest in the history of human civilization," Taibbi writes. The U.S. has more people behind bars today "than there were at any time in Stalin's gulags."
The story here is nasty. He tells the story of private prisons, such as those of Corrections Corp. of America. They get, "depending on whom you believe," upward of $166 per day from the federal government per inmate. This is four times what it cost back when the government took care of its own detainees.
"The big influx of cash impressed investors on Wall Street," Taibbi writes. From 2000-2011, CCA's stock went up 34-fold. Sales went from $300 million to $1.7 billion by 2011. "Overall, the corrections industry is one of the soundest stock/equity bets in the world, with soaring revenues — the industry as a whole pulled in more than $5 billion in America in 2011."
Needless to say, that didn't just happen. CCA and others donate generously to politicians. They support anything that might lead to more people spending time in their cells. They particularly like anti-immigrant bills. And Taibbi has harrowing tales about the mistreatment of immigrants in this country. He calls Hispanic immigrants "one of America's last great cash crops."
"And someone else wins, too," Taibbi writes. "Wall Street. Some of the biggest investors in private prison companies are, you guessed it, the too-big-to-fail banks."
Taibbi writes about an analysis from Zacks that gleefully revels in the lack of economic sensitivity in the business. And then cites a chart with shows a hockey stick increase in the number of incarcerated Americans.
So the country is turning more and more into a dragnet… but only for the poorest. There is no HSBC banker sitting in a CCA cell. It is symbolic of the kind of economy we have today:
"Like too-big-to-fail banking itself, private prisons are an industry that depends not on the unpredictable economy but upon political connections. It's the perfect kind of business in the oligarchical capitalism age, with guaranteed profits to provide a low-cost public insurance against the vagaries of the market."
The economy is riddled with corruption like this, a marriage between big business and Big Government. And a recurring theme in this book is the offspring this marriage creates: a relentless, insatiable bureaucratic force that grinds up individuals fed into its maw.
"These bureaucracies accomplish just two things," Taibbi writes. "They make small piles of money smaller and big piles of money bigger… It just relentlessly creates and punishes losers, who get to sit beneath an ever-narrowing group of winners, who may or may not stay on top for long."
Legal rights are not absolute. Those with money who can tirelessly throw lawyers and lawsuits and counterlawsuits at any problem can survive almost anything. For the rest, it's a matter of attrition. And those at the bottom have no chance.
I can't do justice to all the journalistic fieldwork and stories Taibbi has put in his 416-page book. It is a gripping read and will infuriate you and frighten you, and maybe even make you sad for what's happened to the "Land of the Free."
The book does not have a happy ending. The good guys don't win in the end. But I encourage you give it a read. What it describes is life in these United States. Those of us who cherish liberty have quite a job ahead of us.
Sincerely,
Chris Mayer
Chris Mayer studied finance at the University of Maryland, graduating magna cum laude. He went on to earn his MBA while embarking on a decade-long career in corporate banking. Chris is the editor of Capital and Crisis and Mayer's Special Situations, a monthly report that unearths unique and unconventional opportunities in smaller-cap stocks. In 2008, Chris authored Invest Like a Dealmaker: Secrets From a Former Banking Insider.
Source: Laissez Faire
How corrupt has America become? It has become as corrupt as globalism itself, a byproduct in international greed, where the gutting of good paying jobs has relegated the United States to being nothing more than a third rate country with a first rate war machine. An essential aspect to what we regard as the American economy today is its reliance on fraud and corruption, from the banking sector to corporations exporting and outsourcing good jobs with the help of a political class that is not only fraudulent but treasonous to the extreme, they are driving America towards an abyss that it will not come back from.
Waging international war for resources under false pretenses is a globalists wet dream, and under the cloak of the nefarious "war on terror," multinational defense and security firms have made trillions of dollars over the last decade. They destroy so they can rebuild, and all the human collateral damage is just an unsightly part of doing business.
Another perverse aspect to globalism is massive illegal immigration under the disreputable banner of multiculturalism, for some shady businesses in America the profit margins can increase exponentially by hiring illegal workers over Americans.
Corporations hire illegal workers to keep wages low, and benefits to an absolute minimum. Americans are shunned for unquestioning cheep labor, and governments allow and foster this fraud to the detriment of many Americans. Some Americans, if you can still call them Americans, profit greatly in this perverse atmosphere of fraud.  The Federal government consistently places the interests of illegal aliens and businesses who hire them over and above American workers and the 'rule of law'.
A case in point is Oklahoma, specifically Tulsa, Oklahoma, which has become a hotbed of greed and corruption. Tulsa is what some call a sanctuary city, where tens of thousands of illegal workers are in jobs that Americans are obviously not occupying. This ugly fact is good for some corporations and businesses, expanding their profits by paying undocumented workers low wages with no real benefits. What does it cost the American tax payers when these illegal workers have babies and use the medical industry with false identities, who foots the medical bills?  It defiantly is not businesses or the governments.
Another case in point is a company called Name Brand Clothing; based in Tulsa, it has stores in six states, the company sells salvage clothing at 75 percent off retail and it prefers to hire illegal workers instead of Americans. It is the proverbial 'poster child' for corporate greed and corruption in Tulsa, Oklahoma.
Why does it hire illegal workers? Well, first of all, it is about greed, making some people rich at the expense of everyone else. The managers at Name Brand Clothing generate outrageous bonuses by essentially suppressing wages on all hourly paid employees year after year. They choose illegal workers because illegal's do not complain about being stuck on minimum wage for years on end with no real medical benefits and no paid holidays.
The owners and managers of Name Brand Clothing knowingly and willingly submit false identifications and Social Security Numbers to the IRS and to the Oklahoma Tax Commission, which is of course contrary to both federal and state laws. They have been doing this for over a decade, and they can commit these criminal acts because Federal and State governments are currently as corrupt and dishonest as companies like Name Brand Clothing.
Veracity Voice interviewed a long time worker at Name Brands Clothing for an inside examination into the workings of corporate greed and corruption that currently plagues corporate America.
We are protecting the person's identity because the person is still currently employed by the company. We will refer to that person as the 'Employee'.
Veracity Voice: How long have you been working for Name Brands?
Employee: I rather not say exactly since I still work for them, lets just say that I have been employed at Name Brands for about 10 years, give or take a couple of years.
Veracity Voice: What do you do there?
Employee: Again, I rather not say exactly, lets just say I worked in the head office, and have seen the corruption first hand.
Veracity Voice: Why have you decided to speak out at this time, and not before?
Employee: Actually I did in a way speak about this before; I wrote a letter to the Sheriff's department, and the FBI about 4 years ago. I also wrote letters too FOX 23 and Channel Six News, concerning the outlandish fraud and corruption happening at Name Brands, and absolutely nothing came of it. It seems that it is not PC to talk about this issue in Tulsa; the mainstream media won't touch it. That is why I am talking with Veracity Voice; the only outlet whistleblowers have today in America is in the alternative media.
Veracity Voice: Are you saying that the mainstream media is covering it up?
Employee: In a way they are by not reporting all the law breaking going around Tulsa as far as hiring illegal workers by businesses, they certainly seem to be part of the club, and will not rock the boat.
Veracity Voice: What Club?
Employee: Corrupt businesses, Local, State and Federal governments that allow the criminal behavior, the police departments that will not enforce the law and mainstream media that will not report any of it. It is one big corrupt club.
Veracity Voice: What kind of fraud and corruption have you seen at Name Brands?
Employee: Well, you can compare the greed and corruption at Name Brands along the lines of what's happening in Wall Street and the financial system, some people are profiting greatly through outright fraud and thievery at the expense of everyone else, and government is engaged in helping the criminality.
At Name Brands, the fraud is done by submitting false ID's and Social Security Numbers (SSN) to the IRS. I've seen with my own eyes management turn away American workers seeking work then turn around and hire illegals. The main reason they do this, Is because the illegals are content to work for minimum wage with no real benefits. Essentially, they keep everyone's wages stagnant except for management.
Veracity Voice: What do you mean except for management?
Employee: The lower the costs for running the business, the higher the bonuses for management, its classic corporate greed. Management at Name Brands make large sums of money in the form of bonuses while all other workers do not receive real medical benefits or paid holidays except for two, Thanksgiving and Christmas, and those two paid holidays are highly conditional.
Veracity Voice: Highly conditional?
Employee: Yes, two weeks prior to Thanksgiving and Christmas if an employee is late for work for any reason Name Brands will not pay you for the holiday.
Veracity Voice: You're kidding right?
Employee: No, unfortunately I'm not kidding. At Name Brands it's a culture of nepotism and greed, like the saying goes "there is no honor among thieves" there is no honesty, no real integrity, just godless corruption. There is one woman, who has worked for the company for 17 years, and she has only received one 5 cent raise not counting minimum wage increases. It's outright disgusting how they treat workers.
Veracity Voice: Why does she stay?
Employee: Well, some people have problems, and finding other employment can be difficult.
Veracity Voice: What kind of problems?
Employee: All sorts of problems like emotional and mental problems, in some cases drug problems, other cases workers being ex-convicts, finding employment can be difficult. Like some parasite, companies like Name Brands like to take advantage of the most vulnerable and disadvantaged in society, that's why they like illegals; they can thieve from them without any complaint, protected by corrupt governments. Most self-respecting Americans will not work for a company that treats hourly workers like trash.
Veracity Voice: Let's get back to the fraud, how many illegals are they employing?
Employee: At TPC which is Name Brands production center in North Tulsa, they usually have around 80 illegals working there, and at their store in South Tulsa there are about 10.
Veracity Voice: That many?
Employee: Yes, it's absolutely incredulous and in your face. It is both frustrating and depressing at the same time to see this traitorous conduct on a daily basis. It is time for Americans to take a stand against these globalists that are profiting through corruption.
Veracity Voice: Who are the people that run Name Brands Clothing in Tulsa?
Employee: As far as I know, Rusty Gaddy is the CEO, Jim Stevenson and Jim Breese are VP's. At TPC there is Reid Lewellin and Jason Garman, both managers, and Brent Daily is the manager at the Tulsa Store, they all commit fraud on a daily bases. They do not care for America or Americans, all they care about is increasing their bonuses at the expense of everyone else, and what really bothers me is that the governments, both at the local and federal level engage in the same fraud, they do absolutely nothing about it. The Federal government knows very well that Name Brands has for well over a decade submitted thousands of false ID's and SSN's. This is criminal behavior at both the local and Federal level when the government chooses not to enforce its own laws.
Veracity Voice: What do you think should be done with these people?
Employee: These people are more than thieving fraudsters, they are traitors to the country and its people, so I say arrest Rusty Gaddy, arrest Jim Breese, arrest Jason Garman and Reid Lewellin, and arrest all of the crooks that run the criminal enterprise called Name Brands Clothing. These people are also very cowardly, if they find out that any employee is against their corruption they will slander him or her with false accusations, they will make up stuff to make that employee look bad. The two most egregious slanderers at Name Brands are Jason Garman and Jim Breese, they will slander and harass you to the point of desperation, and people will quit their jobs because of the continual harassment.
Veracity Voice: Job harassment is a crime.
Employee: Yes, and they get away with that too.
Veracity Voice: Talk a little bit about the one man that has used more than one ID to work at Name Brands.
Employee: Ya, he has three different aliases. I do not know which one is his real name, all I know is that Name Brands went out and got him a new fake ID, when they found out that the old ID the man was using belonged to a another man.
Veracity Voice: Where did they get the fake ID?
Employee: I do not know for sure, I heard that they went to some website run by the Federal government, and it provided Name Brands with a fake ID.
Veracity Voice: What do you think should be done with companies that choose to break the law as a regular part of doing business?
Employee: Again, arrest and prosecute the criminals, if law enforcement will not do their jobs, then Americans need to start fighting back by boycotting corporations like Name Brands that fragrantly and openly break the law. I mean these people act like it's the turn of the 20th century or something; these anti-American globalists – at the end of the day that's what these people really are – Name Brands conducts business like multinationals that run sweatshops all over the third world. They help create the culture of illegal behavior, by giving employment to illegals, which allows the illegals to stay in the city, drive vehicles without drivers licenses and insurance, use emergency Heath Services at taxpayer cost, they currently function 'above the law' and all accountability. Real Americans need to stand up against these criminals before they completely destroy this country.
Veracity Voice: Many in the business sector and in the political establishment will argue that the illegals fill jobs that Americans will not do, this reasoning is also pushed by the mainstream media, what do you say to this reasoning?
Employee: I think it is a false argument, I've seen with my own eyes Name Brands turn away Americans willing to work, in some cases desperate for a job, they are turned away in favor of hiring illegals. So, that kind of reasoning is nothing more than an illusion.
Veracity Voice: Some will charge you with racism for holding these views, how do you respond to this kind of slander?
Employee: It has been my experience that those that accuse people of being racist are in fact racists themselves. They falsely accuse others of being racist so they could push their nefarious agenda by smearing the reputations of those that are opposed to their mendacity and corruption. The charge of racism holds no water in the case of illegal immigration.
Veracity Voice: Why don't you look for another job?
Employee: I am its not easy finding work these days. And if I quit, I probably will not be able to collect unemployment benefits if I can't find a job.
Veracity Voice: Why?
Employee: Because Name Brands will fight against your right to obtain unemployment insurance, its company policy. They will send their managers to testify against your eligibility for unemployment benefits, and they will without any hesitation, lie and malign anyone applying for the benefits.
Veracity Voice: They have done this before, entered false information against former employees to the Unemployment Bureau?
Employee: Yes, many times, and they get away with that too, companies like Name Brands function 'above the law,' and it must stop now.
Veracity Voice: Thank you for your time.
Employee: You're welcome.
The massive unrestrained flux in illegal immigration has changed the demographics of Tulsa, forcing many businesses to provide bilingual services, including city and state government services at great cost to the taxpayer. It is the ongoing balkanization of the city where east Tulsa is now known as little Mexico, a criminal and negative phenomenon that is currently occurring in many cities across the nation.
One Archeological Site At A Time…
Krac des Chevaliers, Between Homs and the Lebanese border.
Visiting archeological sites in Syria can arouse within one a rather sharp and distinct feeling of trekking along the same paths traveled a century ago by the field archaeologist, and later colonel in the British Army, T.E. Lawrence. Indeed there are a number of still-visible "Lawrence of Arabia" footprints to be found here—both in Damascus as well as deep in the Syrian countryside.
In Damascus, for instance, one may marvel at the Khan As'ad Pasha, the majestic 18th century residence of the Ottoman governor of Damascus—As'ad Pasha al-Azem—whose palatial domicile today houses the Museum of Arts and Popular Traditions. Most foreigners like to spend time at Azem, and Lawrence was frequently there as a guest of Emir Faisal, a son of Sharif Hussein, of Mecca. It was Faisal's irregular troops that Lawrence fought alongside while sabotaging the railway lines of the overstretched Ottoman forces and significantly contributing to their defeat.
As Ottoman domination crumbled, in no small measure due to the Arab revolt around Damascus, Lawrence tried in vain to salvage something for the Arabs, whom he loved and admired even if he sometimes expressed his affection for them in an elitist English orientalist turn of phrase. By the summer of 1917, it had become clear to both Lawrence and Faisal that the four-century rule over Arabia by the Ottoman Turks was about to collapse, thanks in no small part to the revolt and the bravery and sacrifices of those who joined it. Also clear to Lawrence, if not to his friend Faisal, who was a bit naïve on the subject of Western history, was that his country, England, a pillar of the "Big Four" at the Versailles Peace Conference, conference which included the President Woodrow Wilson, British Prime Minister David Lloyd George, France's Georges Clemenceau and the Prime Minister of Italy, Vittorio Orlando was planning once again, and not for the last time, to stab the Arabs in the back and renege on the very promises that Lawrence had been commanded to deliver.
Photos of Lawrence and Faisal hang today on the walls of what was Lawrence's bedroom and office at the Azem Palace—and it is clear from his facial expressions that Lawrence sensed what was coming to Syria and Palestine. Before he died, in a motorcycle accident shortly after his return to England at the age of 46, Lawrence increasingly discussed what he regarded as his personal failure, during the closing years of the war, when he told friends and family that he had failed to convince his superiors in the British government that Arab independence was in their interests. The secret Sykes-Picot Agreement between France and Britain, according to Lawrence, was an abject betrayal of the promises of independence he had made to the Arabs and for which he felt personally responsible.
This observer crossed paths with Lawrence, in a manner of speaking, once again a few weeks ago, at Palmyra, the archeological and UNESCO World Heritage site which lies across the Syrian desert to the northeast of Damascus. The area was recently liberated from Islamist jihadists, and it was here I came across the words of Lawrence himself, inscribed on a plaque: "Nothing in this scorching, desolate land could look so refreshing…Moslem story-tellers ascribe the building of Palmyra to the Jinn commandeered by Soloman…"
Frankly, this observer is reluctant to demure from Lawrence's description, but in the many years since he spoke those words, it has become clear that the "Tadmor" (Arabic and Hebrew name for Palmyra) referred to in the Torah is not the Tadmor of Syria, but rather refers to a different site, one now lost to the sands of Palestine, if it ever existed at all. Lawrence in fact would probably be sorely vexed to learn that his words linking Palmyra to Soloman are today being misused by cheap, tawdry, Zionist land seekers prowling to assert a bogus claim over Palmyra in Syria as part of God's putative philanthropy, with the expectation, undoubtedly, of swallowing more Arab land for the ever-expanding Eretz Israel. But the misuse of Lawrence's quote at Palmyra for political purposes is a subject for another Syrian update.
Lawrence and Lamb also crossed paths (again in a manner of speaking that is) on 5/15/14 in the course of this observer's six-hour excursion up and around the medieval fortress known as Krak des Chevaliers (Castle of the Kurds—who reportedly first inhabited the area in the 11th century). The Syrian Arab Army recaptured the castle and the nearby village of al-Hosn from rebel forces on March 20, 2014. Both the castle as well as the village of 10,000 had been seized by rebels (aka 'takfiri terrorists'), with the "Krak" sustaining extensive damage from especially violent clashes in 2012 and again in July and August of 2013. My excellent companion and government guide during my day at the Krak was "Mohammad," a Syrian army security commander with 40 troops under his command. The detachment has been stationed inside the fortress, this so as to keep anyone from attempting to retake it "by a nighttime sneak attack," I was told.
Apparently a history buff, Mohammad's first comment, as we began to ascend the steep three floors of medieval steps, was to quote—who else?—T.E. Lawrence.
"We are walking in the footsteps of Lawrence," he informed me as we made our way, gazing from time to time at the marvelous, gothic ceilings. "He called this fortress—" then, to my surprise, reciting from memory: 'perhaps the best preserved and most wholly admirable castle in the world, and a castle which forms a fitting commentary on any account of the Crusading buildings of Syria."
Many historians have agreed with that assessment by Lawrence, including Hugh Kennedy, who wrote that "the defenses of the outer wall were the most elaborate and developed anywhere in the Latin east…the whole structure is a brilliantly-designed and superbly-built fighting machine."
Indeed, Krak des Chevaliers is considered one of the greatest and best preserved castles in the world due to its unique architecture in terms of its defense facilities, building materials and decorations. In 2006, the castle was inscribed on the UNESCO List of World Heritage sites along with its "sister fort," the Citadel of Saladin, further north in Lattakia.
Among the approximately 400 damaged or destroyed antiquity sites that are now back under government control, Krak des Chevaliers is viewed by locals as a sort of "success story" because, for sure, it is still standing! A major restoration project was begun in April, and is now well underway, with the effort being directed by fifteen fulltime restoration specialists, who in turn are assisted by volunteers. Government officials, including the Ministers of Culture and of Tourism, drop by from time to time and praise their work, and a "Krak des Chevaliers reopens to the public" event is scheduled for 6/1/14. Whether many foreign tourists (or any at all) will be able to attend the gala happening is dubitable.
But hopefully conditions will allow for the return of tourists to the country at some point soon. One of my traveling companions the day I feasted my eyes on the Krak was a Syrian tour operator who pronounces himself more than willing to pitch in and help rebuild the tourist industry, Syria's second largest foreign-exchange earner, which in 2010, prior to the outbreak of the conflict, brought in more than $1.5 billion.
Less fortunate than the castle is the formerly picturesque village of al-Hosn, which too was packed with rebels, and where current conditions now rival those in some parts of the cities of Aleppo and Homs for complete and total destruction. This observer did not see one bird, one feral cat, or even a fly in what locals call "the village of death." Two weeks ago, a four man unit from Mohammed's battalion at Krak did discover two hold-over rebels hiding out in the rubble. They killed them on the spot.
After 12 centuries of invaders trying to conquer this land, and a number succeeding—such as when the Muslims took it from the Christians in the seventh century employing the time tested 'surrender or starve' tactic—things have a way of getting rebuilt and repaired. And this time will likely be no different.
This observer's purpose in visiting Krak was to detail the damage caused by 18 months of fighting over the fortress. The notes I made on my trip on 5/15/14 include the following:
Complete destruction of the staircase and halls in front of the internal building of the fort.
Partial damage in the façade of the Hall of the Knights, including some damage to the decorations and arches inside the Hall.
Traces of fire behind the church and damage to the library hall, opposite the leader's tower, and a part of the staircase leading to the roof of the library hall.
Damage in the façade of the King's Daughter's Tower and partial destruction in the wall between the tower and the roof of the church.
Partial destruction in the entrance to the stairs in front of Qalawun Tower; damage and destruction in some parts of the tower itself.
Damage to one wall of the warehouse adjacent to the main offices of the castles overlooking the courtyard.
Destruction of a part of the pillar supporting the ceiling of the library tower opposite the tower of the knights.
Severe damage in the office of the Ottoman House, as well as the administration offices.
Partial damage and destruction of some walls in several places of the castle, including minor damage in the outer wall of the castle.
Surface damage caused by domestic fires built by rebels for heating and cooking, this by the dozens of rebel families that occupied different areas of the vast fortress.
​
To this observer it is clear that the Syrian public and their officials, in all 14 of the country's governorates, are committed to the complete restoration of their nation's peerless and incomparable archeological heritage sites as soon as security conditions permit.
China is an economic powerhouse. It's the world's second largest economy. It's heading for number one status.
Perhaps sooner than most expect. It's growth way outdistances America. It's multiples greater.
Russia matches Washington's military might. It does so in nuclear weapons strength. With sophisticated delivery systems.
Able to strike global targets accurately. With hugely destructive force. Enough to decimate potential adversaries. Perhaps to discourage potential aggression.
Russia is rich in what China needs most. Oil and gas mainly. Technological expertise. Industrial equipment. Sophisticated weapons.
Each nation is significant separately. They're able to challenge America responsibly.
Together they're a powerful combination. A force for world peace. For multi-polarity. For humanity. For weakening Washington's imperium.
Sino-Russian ties stress unity. They're strategically important. They're stronger than ever in modern times.
They're deepening. They expanding. Washington is increasingly concerned. It's going all-out to subvert what weakens its strength.
It's waging political, economic and cyberwar. It's fighting a losing battle. Sino/Russian unity is odds on to prevail.
Especially with committed ties. With deepening ones. With stronger than ever ones.
On Tuesday, Putin arrived in Shanghai. It's China's financial capital. He came to finalize a "Holy Grail" trade deal. It's enormously important.
It bonds both countries more closely together. It does so politically economically, commercially and militarily.
Both countries will trade increasingly in their own currencies. They'll strengthen them. They'll bypass dollar transactions. They'll weaken it.
Russia will supply China with around 38 billion cubic million meters of natural gas annually. For the next 30 years.
It may double in size ahead. Depending on China's internal needs.
Other increased trade was agreed on. In technological, industrial, and commercial sectors. In military hardware.
Growing Sino-Russian trade lessens reliance on increasingly undependable Western sources. It gives them less access to their markets.
Putin and Chinese President Xi Jinping reject irresponsible US-led Western bashing. They called sanctions political tools.
They condemned "encouraging and financing" Washington's regime change agenda.
The President of Russia's web site headlined "Russian-Chinese talks." Both leaders met in Shanghai.
They "signed a Joint Declaration of the Russian Federation and the People's Republic of China on the new stage of comprehensive partnership and strategic cooperation between the two countries."
They "witnessed the signing of a package of intergovernmental, interdepartmental and commercial documents on cooperation in the economy, trade, energy and the humanitarian areas."
They issued a joint statement. "(A)mbitious goals" were agreed on, it said. "(L)ong-term milestones" were established.
"(I)mportant bilateral documents" were signed. "Relations between Russia and the People's Republic of China are developing successfully and have reached a new level of comprehensive partnership and strategic cooperation," it stressed.
"(S)pecial attention (was on) economic issues. China is Russia's leading foreign trade partner."
A Sino/Russian Investment Committee was established. Its mandate is expanding economic and financial ties.
It's "diversifying trade." It's "reducing…dependence on global economic" conditions.
It's promoting cooperation in "technology-intensive areas." They include industrial, commercial, banking and military areas.
They're increasing bilateral ruble/renminbi trade. It bears repeating. Doing so bypasses dollar transactions. It weakens dollar strength.
Putin said "the historical memory of the great heroism of our peoples in World War II brings Russia and China even closer."
Both leaders agreed to hold joint celebrations. They'll commemorate "the 70th anniversary of Victory."
Other international issues were discussed. They include common geopolitical ones. Similar priorities are shared. Closer coordination is planned.
Sino/Russian unity, partnership and friendship were strengthened. It's a "new stage" in "strategic relations."
Strong bilateral relations are a force to be reckoned with. It promises to be more so ahead.
Moscow remains justifiably angry. It's enraged about Washington elevating Kiev putschists to power. Rogue EU partners share blame.
Putin and Xi said crisis conditions can only be resolved diplomatically. They demand dialogue. They reject confrontation.
They "urged all Ukrainian regions and public and political groups to enter in broad nationwide talks…"
They want responsible governance. They want legitimate constitutional development.
They want "universally recognized rights and freedoms of people" observed.
Sergey Lavrov said Russian/EU/US-led NATO relations need fundamental reconsideration.
They require "essential rethinking," he said. Disagreements must be resolved diplomatically, he stressed.
US-led NATO created Ukrainian crisis conditions. Russia targeting followed.
Western forces irresponsibly expand eastward. Encroaching on Russia's borders threatens its heartland.
Bilateral relations are jeopardized. East/West confrontation is risked. So is world peace.
The road to Moscow runs through Kiev. Junta power has no legitimacy. Fundamental freedoms are targeted.
Eliminating them altogether is planned. Hardline rules runs things. Opposition isn't tolerated.
Free expression is verboten. Putschists want their message alone getting out. They want vital truths suppressed.
Independent journalists aren't safe. Russian LifeNews ones were targeted.
Oleg Sidyankin and Marat Saichenk were harassed. They were arrested. They're detained. They're held incommunicado.
Their lives potentially are endangered. They're charged with "aiding terrorist groups."
They released damning video images. They showed Kiev military forces using UN-marked attack helicopters against their own people."
Air and ground assaults murder them in cold blood. Kiev wants this type information buried.
It wants reliable news sources eliminated. RT International's stringer journalist Graham Phillips was arrested.
He explained by phone before silenced incommunicado, saying:
"I'm sitting at a blockade post in a portacabin. The dialogue is quite interrogation oriented."
His car was searched. His laptop, equipment and personal belongings were confiscated.
"At the moment I'm with the Ukrainian forces…near Mariupol," he said. "I've been here for over two hours and I've been described, my status, as being detained in terms of I can't leave."
"I would also say I'm being treated OK…I believe that someone is coming."
"They've done checks on my documentation. They found my reports and clips I've done and they're now looking through them asking me my position on things, asking if I'm a spy, and asking me quite thorough questions."
"They've checked all my documentation and photos, my laptop and the car. So that's who I'm with at the moment."
He was asked about separatism. About working with RT. He "describ(ed) (his) position on Crimea."
He called its referendum legitimate. He stands by his position, he said.
He called Kiev's government illegitimate. It "isn't democratic. I don't support this current situation in the east of Ukraine," he said.
In Donetsk and Lugansk regions. He called attacking Eastern Ukrainians "completely wrong."
At the same time, he "maintains complete objectivity and neutrality as a correspondent."
His bulletproof jacket and helmet were confiscated. He's unharmed so far, he said. Incommunicado since cut off there's no way to know for sure.
Right Sector thugs targeted him. They put a bounty on his head. They offered $10,000 for his capture.
They called him a "Russian spy." His life's endanger in their hands. Or in sight to be shot in cold blood.
Radicalized Kiev elements posted a Facebook comment. He "works for terrorists," it said.
"(H)e photographs and publishes the location of Ukrainian troops…"
He "spreads disinformation. (He publishes) Putin's propaganda in the media."
"He must be immediately detained by Ukrainian forces ad deported from Ukraine." Orders come from "EuroMaidan leaders," it claimed.
Russia's Foreign Ministry condemned his detention. Its human rights commissioner Konstantin Dolgov called it media obstruction.
"This is another step…made by Ukrainian authorities to curb the activities of unwanted journalists," he said.
They "work professionally and show an objective picture, the ugly side of the outrages made by ultranationalists, the results of (Kiev putschists') punitive operation in the southeast," he stressed.
Seizing Phillips constitutes an "unlawful seizure, detention of Russian journalists." Moscow demands all lawlessly detained media representatives be released.
Kiev "continues its vicious line," Dolgov added. Coup-appointed officials spurn their "international obligations concerning freedom of speech."
They target media freedom. They want it eliminated altogether. They want their message alone reported. They want truth buried.
They want fascist putschist power enhanced. They deplore democratic values.
They want ordinary Ukrainians having no say. Polls show their popularity eroding. They risk losing it overwhelmingly.
Perhaps nationwide rebellion will follow. When ruthlessness exceeds levels too great to tolerate, all bets are off.
The only solution is nonviolent revolution. Perhaps just a matter of time. It can't happen a moment too soon.
Stephen Lendman lives in Chicago. He can be reached at lendmanstephen@sbcglobal.net.
His new book as editor and contributor is titled "Flashpoint in Ukraine: US Drive for Hegemony Risks WW III."
http://www.claritypress.com/LendmanIII.html
Visit his blog site at sjlendman.blogspot.com.
On the surface, the economic atmosphere of the U.S. has appeared rather calm and uneventful. Stocks are up, employment isn't great but jobs aren't collapsing into the void (at least not openly), and the U.S. dollar seems to be going strong. Peel away the thin veneer, however, and a different financial horror show is revealed.
U.S. stocks have enjoyed unprecedented crash protection due to a steady infusion of fiat money from the Federal Reserve known as quantitative easing. With the advent of the "taper", QE is now swiftly coming to a close (as is evident in the overall reduction in treasury market purchases), and is slated to end by this fall, if not sooner.
Employment has been boosted only in statistical presentation, and not in reality. The Labor Department's creative accounting of job numbers omits numerous factors, the most important being the issue of long term unemployed. Millions of people who have been jobless for so long they no longer qualify for benefits are being removed from the rolls. This quiet catastrophe has the side bonus of making it appear as though unemployment is going down.
U.S. Treasury bonds, and by extension the dollar, have also stayed afloat due to the river of stimulus being introduced by the Federal Reserve. That same river, through QE, is now drying up.
In my article The Final Swindle Of Private American Wealth Has Begun, I outline the data which leads me to believe that the Fed taper is a deliberate action in preparation for an impending market collapse. The effectiveness of QE stimulus has a shelf-life, and that shelf life has come to an end. With debt monetization no longer a useful tool in propping up the ailing U.S. economy, central bankers are publicly stepping back. Why? If a collapse occurs while stimulus is in full swing, the Fed immediately takes full blame for the calamity, while being forced to admit that central banking as a concept serves absolutely no meaningful purpose.
My research over many years has led me to conclude that a collapse of the American system is not only expected by international financiers, but is in fact being engineered by them. The Fed is an entity created by globalists for globalists. These people have no loyalties to any one country or culture. Their only loyalties are to themselves and their private organizations.
While many people assume that the stimulus measures of the Fed are driven by a desire to save our economy and currency, I see instead a concerted program of destabilization which ismeant to bring about the eventual demise of our nation's fiscal infrastructure. What some might call "kicking the can down the road," I call deliberately stretching the country thin over time, so that any indirect crisis can be used as a trigger event to bring the ceiling crashing down.
In the past several months, the Fed taper of QE and subsequently U.S. bond buying has coincided with steep declines in purchases by China, a dump of one-fifth of holdings by Russia, and an overall decline in new purchases of U.S. dollars for FOREX reserves.
With the Ukraine crisis now escalating to fever pitch, BRIC nations are openly discussing the probability of "de-dollarization" in international summits, and the ultimate dumping of the dollaras the world reserve currency.
The U.S. is in desperate need of a benefactor to purchase its ever rising debt and keep the system running. Strangely, a buyer with apparently bottomless pockets has arrived to pick up the slack that the Fed and the BRICS are leaving behind. But, who is this buyer?
At first glance, it appears to be the tiny nation of Belgium.
While foreign investment in the U.S. has sharply declined since March, Belgium has quickly become the third largest buyer of Treasury bonds, just behind China and Japan, purchasing more than $200 billion in securities in the past five months, adding to a total stash of around $340 billion. This development is rather bewildering, primarily because Belgium's GDP as of 2012 was a miniscule $483 billion, meaning, Belgium has spent nearly the entirety of its yearly GDP on our debt.
Clearly, this is impossible, and someone, somewhere, is using Belgium as a proxy in order to prop up the U.S. But who?
Recently, a company based in Belgium called Euroclear has come forward claiming to be the culprit behind the massive purchases of American debt. Euroclear, though, is not a direct buyer. Instead, the bank is a facilitator, using what it calls a "collateral highway" to allow central banks and international banks to move vast amounts of securities around the world faster than ever before.
Euroclear claims to be an administrator for more than $24 trillion in worldwide assets and transactions, but these transactions are not initiated by the company itself. Euroclear is a middleman used by our secret buyer to quickly move U.S. Treasuries into various accounts without ever being identified. So the question remains, who is the true buyer?
My investigation into Euroclear found some interesting facts. Euroclear has financial relationships with more than 90 percent of the world's central banks and was once partly owned and run by 120 of the largest financial institutions back when it was called the "Euroclear System". The organization was consolidated and operated by none other than JP Morgan Bank in 1972. In 2000, Euroclear was officially incorporated and became its own entity. However, one must remember, once a JP Morgan bank, always a JP Morgan bank.
Another interesting fact – Euroclear also has a strong relationship with the Russian government and is a primary broker for Russian debt to foreign investors. This once again proves my ongoing point that Russia is tied to the global banking cabal as much as the United States. The East vs. West paradigm is a sham of the highest order.
Euroclear's ties to the banking elite are obvious; however, we are still no closer to discovering the specific groups or institution responsible for buying up U.S. debt. I think that the use of Euroclear and Belgium may be a key in understanding this mystery.
Belgium is the political center of the EU, with more politicians, diplomats and lobbyists than Washington D.C. It is also, despite its size and economic weakness, a member of an exclusive economic club called the "Group Of Ten" (G10).
The G10 nations have all agreed to participate in a "General Arrangement to Borrow" (GAB) launched in 1962 by the International Monetary Fund (IMF). The GAB is designed as an ever cycling fund which members pay into. In times of emergency, members can ask the IMF's permission for a release of funds. If the IMF agrees, it then injects capital through Treasury purchases and SDR allocations. Essentially, the IMF takes our money, then gives it back to us in times of desperation (with strings attached).  A similar program called 'New Arrangements To Borrow' (NAB) involves 38 member countries.  This fund was boosted to approximately 370 billion SDR (or $575 billion dollars U.S.) as the derivatives crisis struck markets in 2008-2009.  Without a full and independent audit of the IMF, however, it is impossible to know the exact funds it has at its disposal, or how many SDR's it has created.
It should be noted the Bank of International Settlements is also an overseer of the G10. If you want to learn more about the darker nature of globalist groups like the IMF and the BIS, read my articles, Russia Is Dominated By Global Banks, Too, and False East/West Paradigm Hides The Rise Of Global Currency.
The following article from Harpers titled "Ruling The World Of Money," was published in 1983 and boasts about the secrecy and "ingenuity" of the Bank Of International Settlements, an unaccountable body of financiers that dominates the very course of economic life around the world.
It is my belief that Belgium, as a member of the G10 and the GAB/NAB agreements, is being used as a proxy by the BIS and the IMF to purchase U.S. debt, but at a high price. I believe that the banking elite are hiding behind their middleman, Euroclear, because they do not want their purchases of Treasuries revealed too soon. I believe that the IMF in particular is accumulating U.S. debt to be used later as leverage to absorb the dollar and finalize the rise of their SDR currency basket as the world reserve standard.
Imagine what would happen if all foreign creditors abandoned U.S. debt purchases because the dollar was no longer seen as viable as a world reserve currency.  Imagine that the Fed's efforts to stimulate through fiat printing became useless in propping up Treasuries, serving only to devalue the domestic buying power of our currency.  Imagine that the IMF swoops in as the lender of last resort; the only entity willing to service our debt and keep the system running.  Imagine what kind of concessions America would have to make to a global loan shark like the IMF.
Keep in mind, the plan to replace the dollar is not mere "theory".  In fact, IMF head Christine Lagarde has openly called for a "global financial system" to take over in the place of the current dollar based system.
The Bretton Woods System, established in 1944, was used by the United Nations and participating governments to form international rules of economic conduct, including fixed rates for currencies and establishing the dollar as the monetary backbone. The IMF was created during this shift towards globalization as the BIS slithered into the background after its business dealings with the Nazis were exposed. It was the G10, backed by the IMF, that then signed the Smithsonian Agreement in 1971 which ended the Bretton Woods system of fixed currencies, as well as any remnants of the gold standard. This led to the floated currency system we have today, as well as the slow poison of monetary inflation which has now destroyed more than 98 percent of the dollar's purchasing power.
I believe the next and final step in the banker program is to reestablish a new Bretton Woods style system in the wake of an engineered catastrophe. That is to say, we are about to go full circle. Perhaps Ukraine will be the cover event, or tensions in the South China Sea. Just as Bretton Woods was unveiled during World War II, Bretton Woods redux may be unveiled during World War III. In either case, the false East/West paradigm is the most useful ploy the elites have to bring about a controlled decline of the dollar.
The new system will reintroduce the concept of fixed currencies, but this time, all currencies will be fixed or "pegged" to the value of the SDR global basket. The IMF holds a global SDR summit every five years, and the next meeting is set for the beginning of 2015.
If the Chinese yuan is brought into the SDR basket next year, if the BRICS enter into a conjured economic war with the West, and if the dollar is toppled as the world reserve, there will be nothing left in terms of fiscal structure in the way of a global currency system. If the public does not remove the globalist edifice by force, the IMF and the BIS will then achieve their dream – the complete dissolution of economic sovereignty, and the acceptance by the masses of global financial governance. The elites don't want to hide behind the curtain anymore. They want recognition. They want to be worshiped. And, it all begins with the secret buyout of America, the implosion of our debt markets, and the annihilation of our way of life.
Source:  Brandon Smith | Alt-Market
Tony Bennett left his heart in San Francisco — and Michelle Obama left her brain in 1954.
Addressing graduating high-school students the other day in the Topeka, Kansas, school district, the federal lunch lady said, referring to the Brown v. Board of Education decision, "[Y]our experience here in Topeka would have been unimaginable back in 1954…." And perhaps this is true.
It also would have been unimaginable back in 1554 or 954. After all, the institutions making that experience possible hadn't been birthed yet.
You know, those institutions created by European/ European-descent civilization.
That civilization that Darth Vegan is tacitly impugning with her racial agitation.
The point is that if you're going to talk about the past, don't tendentiously cherry-pick it for destructive ideological purposes. It's much as discussion about slavery. Not only is the focus always on the less than one percent of the history of slavery that was written in the US (it's one of the world's oldest institutions), but the most significant point is missed: Whites were not the first to practice slavery.
But they were the first to abolish it.
If some take offense at this, they can pound sand. I take offense at the constant derision aimed at my civilization by critics who should get down on their knees, kiss the ground trod by our ancestors and thank God for our civilization's existence. Where else could effete ne'er do wells complain about injustice while living a life of silk, satin and Sidwell Friends and dining on Kobe beef?
Really, this all reminds me of how no good deed goes unpunished. This focus on a group's sins to the exclusion of its triumphs is much like trying to epitomize a cracker-jack golfer by some of his three-putts while ignoring his many championships; it's like condemning a great rocket engineer over a few failed trial launches and ignoring that he got you to the moon.
M. Obama also said to the students, "We know that today in America, too many folks are still stopped on the street because of the color of their skin…." This is absolutely true. Just this past Mother's Day weekend a white family was stopped and beaten by a black mob because of the color of their skin.
Of course, these black-on-white racial attacks — already a frequent but largely unreported phenomenon — will only worsen with racial hustlers such as the Obamas peddling their "series of agreed-upon myths," to use Napoleon's characterization of history.
And this agitation has its effect. Just consider the testimonial Reverend Jesse Lee Peterson, president of the Brotherhood Organization for a New Destiny (BOND), gave about how race-hustling affected his attitude prior to his religious conversion. He said in a 2013 Los Angeles Times interview, "I believed the lie that because I was black, I wasn't going to be able to make it because of the white man…. I was listening to people like Jackson and Louis Farrakhan…. He talked about the blue-eyed devil, and I believed him. I started hating white people." And since most people don't experience religious conversions, what's the result of this brainwashing?
It's that now, "not all but most black people are so racist toward white people," Peterson explained.
And this explains the Obamas. They are obsessed with race.
Obsessed.
And what, America, did you expect when electing a far-left, radical, black-liberation-theology-church-attending, Marxist-leaning, terrorist-consorting ex-socialist-party member who cut his political teeth in the Chicago machine? Mr. Smith goes to Washington?
Well, it was actually Uncle Sam goes to Hell.
Origin of the Master Model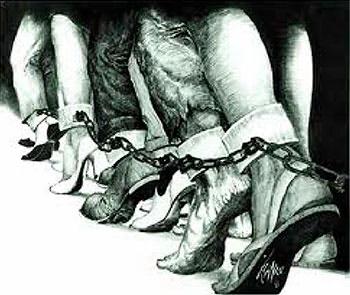 The master plan for world domination we see playing out today was first proposed to the US at the end of World War I. However, there were no takers. People were too war weary. However, when the plan was again proposed at the end of World War II, it was accepted. Consequently, World War II quietly transitioned into the secret "war" to set up what has become known as the "new world order" — an absolute dictatorship over the entire planet.
The United States set up the School of the Americas to train future dictators and terrorists who would be sent out into the world to destroy sovereign nations and place them under US domination by installing puppet governments obedient to the United States. Many conquests were made quietly using clever economic tricks [2]. However, leaders who refused to submit quietly would see their entire country reduced to rubble and the land rendered unlivable by uranium dust scattered by US bombs. The message was clear: Submit to the United States or face total destruction.
A social model based upon the assumption that cleverness and power automatically convey the right to take anything desired from those who are less adept and unable to resist is not a sustainable model for harmonious social interactions. However, this is the chosen model. The mantra for this model, "A man's true worth is measured by the amount of other peoples' happiness that he can possess and destroy" [1], is essentially a call for a class war between the greedy elite and the innocent masses of the world who simply desire a peaceful existence.
Acquisitions
The United States looks at the rest of the world as a "resource". If a country has something — oil, gold, minerals, etc. — that the US covets, it believes it has the right to take those things by whatever means necessary. In many cases the coveted resource is human slave labor. Let's look at some representative examples:
With the cooperation of the dictator, United Fruit Company (US) owned almost half of the country and used the locals as slaves to harvest its Chiquita brand bananas. However, during the period from 1945-1954 new leaders made changes. They helped the poor and set up social security and health care. Then they took land away from United Fruit and gave it to the local people. United fruit complained to the CIA that its business interests were being interfered with by the "communist" government. Any government which shows kindness to the poor and weak is called communist by the US. The US attacked Guatemala — killed the elected leaders and many thousands of citizens — and established a puppet dictatorship which would obey the will of United Fruit. The people were returned to a state of slavery. The CIA trained death squads to make sure the people were crushed into submission.
Strip Mining in Africa [4]
In Africa, the International Monetary Fund — a puppet of the US — destroys a country with strip mining. The original country was self sustaining. People were able to grow lots of food and hunt animals. However, once the land was ruined by US corporations, it was unusable to plant crops and the native animals died. The people had to buy food from other countries with money loaned to them by the IMF which they could never hope to repay. Therefore, a once free and self supporting people were made debt slaves of the IMF. Once all the natural resources have been stolen, the corporations will simply pack up and leave the indigenous people to starve and die.
Countries Used as Trash Dumps [5]
Used computers and associated items are dumped in poor countries where starving barefoot children sift through the mess of hazardous waste and broken obsolete glass computer monitors hoping to find something they can sell to get enough money to stay alive another day. Property stickers show the waste is mainly from the US government and various US state governments.
Corruption of Trusted Sources
Reporters and News Organizations
The masses are conditioned to believe news they receive from establishment sources. In the earlier times, this assumption was often correct. It was considered so important by the founding fathers that freedom of the press was enshrined in the US constitution. However, times have changed.
Walter Cronkite was known as the "trusted voice". No one knew he was also the official announcer at the secret Bohemian Grove meetings. The leaders of the world's news organizations also attend this event. That is why, even though the meetings began over one hundred years ago, until recently no one knew this group even existed. President George W. Bush may have set a new record for bribing journalists to allow their trusted name to be used as the author of material actually written by government propaganda experts. Apparently, everyone has a price and the government, of course, has no problem when it comes to money.
When Ronald Reagan reportedly ordered the death of investigative reporter Jessica Savitch [6], the message to independent journalists was clear: Go against the official party line an you're done!
Today, dedicated journalists face mysterious deaths and strange single car accidents but a few survive long enough to give us a glimpse of truths we would otherwise never know. They are true heroes.
Churches
Churches are everywhere. Unfortunately, legitimate Spiritual teachers are not. People look at churches either as harmless or with some sort of conditioned hypnotic respect. Churches send out "missionaries". However, the "mission" of these missionaries may not be so clear. If you wanted to infiltrate a foreign country, these people would be an ideal asset.
Churches are not Spiritual centers. At best, all they want is your money. At worst, they are Satanic and you are in severe Spiritual danger if you come under their influence and control.
The Catholic Church has been a trusted asset of the US intelligence community for quite some time. Significant information obtained by priests during confessions is routinely passed on to the government.
This agreement predates the internet by many years. Because the church has branches in almost every country, it has great potential for covert activities. For example, if you need to get an operative who is in danger out of a country, they can go to a Catholic church for "confession". Once the door is closed, they can exit through a secret passage, be disguised in robes and spirited safely out of the country. Church secrecy is at least on a par with US secrecy. Also, the Catholic church and the US shadow government share the same Satanic value system and engage in child rape and ritual killings.
Doctors and the Medical Industry
Medicine in the United States is an industry. It is no longer a profession. Its corporate model puts profit above all else. If some patients accidentally benefit they are the lucky ones.
The medical community has a rigid hierarchical structure and effective mechanisms for enforcing secrecy. Essentially, its model closely resembles the military chain of command structure. This makes it a perfect partner for the government in the area of secret human experiments.
For example, when the government was doing radiation experiments on humans, a doctor or someone dressed as a doctor would just walk up to unsuspecting patients and inject them with radioactive material. They were then secretly followed for years to see what would happen. Eventually, some of those who survived were told the truth. Most people used in the MK Ultra and subsequent secret projects were never notified.
Hospitals are set up to protect themselves. Staff may appear to be dedicated, smiling people who truly care about you. However, they are basically prostitutes who are being nice because you are worth money to them. When they make mistakes they have a "loss prevention" department staffed by clever lawyers who are trained to protect the financial interests of the hospital by denying everything and fabricating believable coverups. They are trained to do whatever is necessary. The staff will all agree to support whatever lies are needed. They know their job and their financial future depends upon maintaining strict secrecy.
The only people who receive legitimate medical care are the select elite cleared to accesstop secret medicine. These people always get excellent care because the doctors work for the shadow government and mistakes on their part are simply not tolerated.
Infiltrations
Countries which have the resources to sustain an intelligence community generally try to get operatives (spies) into other countries so they can directly observe activities. When real people gather intelligence, this is called human intelligence or HUMINT. The US, of course, does this too. However, you may not be aware of the extent to which the US also infiltrates itself. The central government really does not trust anyone.
Essentially all local police departments, state offices and state governors have a covert federal agent working close by pretending to be just another employee. Also, every US neighborhood has an informer who reports to the federal government. Large corporations, which tend to behave like "mini governments", need to be infiltrated and kept under observation. Colleges and universities are also monitored.
Here is how this spy network operates: The NSA likes to recruit young kids right out of college. When they are hired and sworn to secrecy they still do not know what their assignment will be. They must agree to do this assignment without first being told what it is.
Some agents, like John Perkins [2], are assigned to work in other countries. However, others are assigned to work inside the US. Their assignment could be to go to some state and apply to join the local police department. They would pretend to be just a regular person looking for a job. They would take the necessary training and spend their life as a local policeman so they could directly observe other local police from the inside and report to the NSA. Since they are actually an employee of the NSA, presumably they get to keep both salaries and, eventually, both retirements. All significant local police forces in the US are infiltrated this way.
Additionally, some agents will be assigned to get a job on the state governor's staff as well as in major local state agencies. A CIA or NSA agent is always on the staff at major colleges and universities. The same goes for major corporations.
Senior level agents are allowed to have special TV receivers in their homes linked to the secret government TV network. This way everyone stays on the same page. The channels on this network actually broadcast the truth. TV channels available to ordinary people contain only government approved propaganda mixed with "bread and circuses" presentations to make sure the sheeple stay asleep and content.
Fronts
The US government is involved in illegal activities internationally and domestically. If it performed these activities overtly in the name of the United States, there would be serious consequences under both international and local laws. To avoid this situation, the US government operates thousands of "front organizations" which appear to be private but are actually shadow operatives of the US.
For example, John Perkins [2] explained that he was recruited, hired and trained by the NSA. He was an NSA agent. However, for his cover as an economic hit man, he "officially" worked for a "private" company called Charles T. Main. This company was a government front to shield the US because the activities the NSA trained Perkins to do were illegal.
This is standard operating procedure for the US as well as other countries and many corporations. It shields them from legal recourse by providing deniability for the crimes they actually direct and commit.
Generally, when the US wants to influence other sovereign countries, it creates harmless looking NGO's which appear to be independent but are actually fronts for covert activities.
Domestically, colleges and universities — especially those with associated medical schools and hospitals — are great places to conceal a variety of covert projects such as the MK Ultra series of human experiments which, reportedly, continue today using new cover names. The US also likes to create non-profit corporations which exist only to provide classified services to the United States. A good example would be the Institutes for Defense Analysis (IDA). The US, reportedly, is its only client.
Programming
Mass media "programming" is actually programming you. It has developed into a subtle form of mind control. Before radio and television, special interests recognized that motion pictures could be used to alter public opinion in their favor. Perhaps, for example, you wanted to attack labor unions. When radio and later television came along providing access to national and international audiences, the temptation to exploit these technologies became irresistible. Originally, the US government recognized this and set up fairness rules to prevent monopolies from taking over the broadcast media and blocking opposing viewpoints. All this ended, unfortunately, when Ronald Regan canceled all the fairness regulations. Today, a handful of powerful corporations own and control essentially all content delivered by radio and television.
Television is the main vehicle for mass indoctrination. It is said that people watching TV actually fall into a light hypnotic trance. The "entertainment" you see on TV does not "just happen to be there". It is very carefully planned and timed to attract and influence targeted audiences. It is said that if some event were to somehow shut down all television broadcasts the government would experience a severe crisis because it would lose control over the minds of the masses.
TV creates sort of a "hive mind" among the masses and keeps everyone coordinated and tuned into the official party line. Without this, people would have no choice but to start thinking for themselves and forming independent opinions. Clearly, this would be a disaster.
The radio broadcast of "War of the Worlds" and the later movie "The Day the Earth Stood Still" are said to be CIA psychological experiments to judge how the general public would react to some type of ET contact.
Today, broadcasting is not just a one way event. Because people react to events and use social media to express these reactions, the effect of specific propaganda can be analyzed in real time. Since the government now intercepts all electronic communications, it is able to see general opinions and then tweak algorithms to maximize the desired effect of propaganda. This ability makes TV a two-way communications system although most people, of course, do not realize this and have no concept of the level of sophistication these technologies have reached.
Information Theory
Information Theory is the name of a relatively new branch of science which became popular in the 1960′s. It covers a broad range of technologies. Basically, it is the science of the flow of information and how that flow can be selectively controlled so that information flows only in desired pathways. As you may have already guessed, governments love this sort of stuff.
ECM
ECM stands for Electronic Counter Measures. In general, these are techniques to disable other electronic devices. Basically, it is electronic warfare. When the secret service is active in an area, for example, they will selectively jam all radio frequencies except for the specific frequencies they are using so that no one else can communicate.
World leaders, who are generally terrified of "threats" materializing from practically anywhere, like to travel with ECM generators running just in case "someone" from "somewhere" was trying to target them for "some reason". Basically, they are paranoid whack jobs.
People familiar with aviation tell the story of how Tony Blair, while traveling to or near a commercial airport, reportedly caused a commercial jet to crash because all the ECM garbage he was transmitting jammed the plane's navigation system. Of course, the British government would never admit this.
Secure Communication With Submarines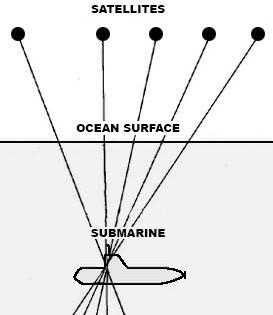 Since submarines were invented, communicating with them has been a problem because conventional radio waves will not travel underwater. Therefore, early submarines had to get close enough to the surface to put up some kind of antenna in the air to send or receive radio messages. Obviously, this could pose a problem if you did not wish to be discovered and located. After all, the motivation to create submarines in the first place was the feeling that they would be able to move about the planet secretly. However, newer technologies now make this impossible.
To solve the problem of reliable secure communication without the need to surface, scientists learned that sea water was essentially transparent to a special type of Argon laser. To set up the current communications network, it was decided to use several satellites with each satellite sending only part of an encrypted communication signal. The complete signal could only be received at a specific point underwater where all the laser beams intersected. Intercepting only one or two beams would prove useless. This communications system is considered to be impossible to intercept.
Quantum Entanglement
Returning to the submarine issue for a moment, before modern communications were perfected, there was a search for some reliable method to send a signal to a submerged submarine that could not be detected. This was considered necessary in a war situation to secretly transmit an attack command. What they originally did was to locate a couple of people who could communicate telepathically. One would be at the command base and the other on the submarine. Doing a bit more research, it was determined that this type of communication is instantaneous and somehow operated outside of time. Radio waves travel at the speed of light.
Quantum entanglement is a process which uses technology to send and receive signals outside of space-time. Now, why would you possibly want to do this? Well, if you had a base or a colony on a planet in some other solar system light years away, you would not want to wait years for messages to be received. Following this thread — and adding some basic common sense — why would you want to dedicate resources to search for habitable planets in distant solar systems when you had already "proven" it would be impossible to ever get there? Could it just be that someone is not coming clean with whole story?
The Separation Barrier
This is a model of the separation barrier which insulates the ruling class from the slave class. It is essentially "intellectual apartheid". The question is, why is it there. It takes considerable effort, money and manpower to maintain this artificial barrier. What is the reasoning behind not having a level playing field for everyone? Why does this idea absolutely terrify the elite? What are they afraid of?
The Pirate Story
This is a summary of a story told years ago on a radio broadcast most likely by Paul Harvey:
Ordinary people were afraid. The Earth was flat so they dare not venture far from home. Periodically, a pirate ship would come. They did not know how it got there or from where it came. It brought treasures they had never seen. The Chief Pirate would encourage the young men to study and specialize in specific skills. He wanted them to become educated but only in one narrow area. The Chief Pirate knew the world was not flat and how to navigate to other lands. However, this knowledge was never discussed. This "top secret" knowledge or the "big picture of the known world" would only be given to the Chief Pirate's son who would inherit his title and someday become the Chief Pirate.
This story is about the origin of the concept we call compartmentalization — the process of controlling the slave masses by only allowing them to know specific bits of the truth while the leaders are allowed to know total truth.
ELITE RULING CLASS
SECURITY CLEARANCES
SECRET POLICE
ASSASSINS
SURVEILLANCE — SIGINT HUMINT COMINT
SPY SATELLITES
SPY DRONES
SMART ELECTRIC METERS
INTERNET SURVEILLANCE
NEIGHBORHOOD SPIES
PLENTIFUL STREET DRUGS
PSYCHIATRIC FORCED DRUGGING
GENETICALLY MODIFIED FOOD
FLUORIDATED WATER
COORDINATED TELEVISION PROPAGANDA
DEGRADED PUBLIC EDUCATION
LOCAL MILITARIZED POLICE
---
SLAVE CLASS
Leaders can only maintain their status if there are slaves. Otherwise, everyone would be equal and operate on a level playing field. This means "leaders" would have to pull their own weight like everyone else. Clearly, this would be intolerable. Leaders love beautiful and exotic things but don't want to do the work needed to create these things. They probably could not even plant a garden much less build the various "ivory towers" where they like to live surrounded by servants. If left on their own they would very likely starve. This is why it is so important to create and maintain the complex separation barrier.
Why don't people who live above the separation barrier ever "come down" and talk to the people below the barrier? Well, other than the obvious fact that they would likely be killed or jailed for espionage or treason, there is another, simpler, reason.
Would you like to spend your days sitting in an open field with kindergarten kids looking for four leaf clovers? Probably not. You have progressed beyond that. The slaves below the separation barrier cannot even imagine the world of those who live above the barrier. In fact, the elite do not even consider the slaves human. They call them "disposable biological units". The United Nations prefers the slang term "the herd". Slaves can be easily bred in quantities needed and programmed to do desired tasks. Then, they can be easily disposed of when no longer useful. That's how they look at you. So, why would they want to make friends with you?
The Mars Example
There is an interesting event playing out today that you may have noticed. This concerns the recruitment and selection of people to be sent to Mars. There are simulation projects where volunteers are locked away to imitate the long voyage to Mars. They are being told that this is a one way trip and they can never hope to return to Earth.
What you are witnessing is the selection process for the "seed people" who will be used to breed the future slave class on Mars. In a situation similar to the period when most believed the Earth was flat and you would fall off if you tried to go to sea, these people are convinced that the only way to get to mars is to ride a rocket on a perilous journey taking years. Because they truly believe this, when they get to Mars, they will teach this crap to their kids along with other misconceptions like it is impossible to go faster than the speed of light and other associated obsolete scientific principles. They will have no
desire to ever return to Earth or go anywhere else because they truly believe it is not possible. They will be contented slaves.
Of course the truth is that there are already secret colonies on Mars. It is not that hard to get there using antigravity and other secret propulsion methods and it is quite likely possible to simply walk through some kind of wormhole device and come out on Mars.
However, the slaves will never know this. Just as it is done on Earth, there will be an artificial separation barrier. The insiders will know the truth and will be physically hidden from the slaves. There will be secret police and other methods — the same as are used on Earth — to make sure no slave ever escapes from the "information prison". Business as usual will continue.
Reinforcement of Ignorance
Governments and their oligarchs love to keep their subjects in a cloud of ignorance. Back in the days when people believed the Earth was flat, the inner circle ruling class knew it was round. Maintaining the deception was convenient because it kept the slaves from developing any desire to travel far from home.
Nothing has changed all that much today. Consider, for example, all the fuss over the missing MH370 plane. You are being played for a sucker. It is impossible for that plane to have "disappeared".
The US DoD spy satellite system reportedly consists of ten constellations of satellites. Each constellation has over seven thousand satellites. They see and record everything that happens on this planet. The floor of the oceans can be seen just as clearly as the land areas. The resolution of the system is better than one square millimeter. Also, everything is recorded so you can go back in time and play past images.

This is a picture of a common electric lamp. Take this lamp and throw it in the ocean — any ocean anywhere on this planet. The spy satellite system will locate it, give you the coordinates and give you a photo at least as good as the one above. That is the capability of the system. So, clearly, it is impossible not to know the location of something as large as a Boeing 777 plane. All the TV publicity is a choreographed play. You are being scammed and you need to wake up and realize this fact.
Murders and Assassinations
To ensure a strong empire, dissent must be crushed. The United States trains assassins and carries out both domestic and foreign murders and assassinations on a regular basis. You may be familiar with the classic movie scenes where a black limousine with tinted windows drives by a target with thugs shooting machine guns. Although this would accomplish the task, it is a bit too obvious in a country that advertises itself to be a free, civilized democracy. Someone might catch on and begin to doubt the party line. Consequently, these things must be done quietly.
Inside the US, murders are reportedly carried out by a group known as "FBI Division Five". Other agencies likely have the responsibility for foreign assassinations. However, the basic techniques used would be similar.
Typically, an agent would wake up every day and connect to the top secret internet to see who he was assigned to kill that day. There would be several options. If it was important to eliminate the target immediately, a fast acting chemical agent would be selected which, for example, would cause the target to die within a few hours of a "natural" heart attack.
However, if time was not critical and the government just wanted the target out of the way, you might want to select one of the cancer causing agents such as those likely used to eliminate Hugo Chavez and Senator Ted Kennedy.
There is also a third possibility. This involves character assassination instead of actual murder. Consider, for example, a person who has gained a lot of public recognition talking about, say, free energy. If you simply kill the person, there could be blowback and talk that he was silenced by the government. In such cases, it is easier to use a chemical agent designed not to kill but, rather, to cause states of mental confusion resulting in obviously strange behavior. This would be coordinated with the government controlled mainstream press to make sure everyone became convinced the person was a nut and would therefore ignore anything said without regard to the truth or validity of the message.
Once the appropriate chemical has been selected, you need to load it into the secret delivery system and locate your target. To find your target you will connect to the top secret internet and pinpoint the location of the target through their cell phone. You can also activate all the cameras and microphones in electronic gadgets connected to the internet associated with the target in case you wish to look around the target's home and hear in real time what is taking place.
Of course, this will not help you locate the target when it is time to actually do the hit. So, you need to get the top secret profile data which will show any predictable habits of the target. Everyone is constantly tracked through their cell phones and profiles are logged and stored. In this case, the profile shows that the target has a favorite restaurant and goes there for lunch every day around 11:30. Now, you know exactly what to do. You go to the restaurant, hang out until you see your target, and get in line behind the target. Now, all you need to do is slightly bump into the target to deliver the chemical. Generally, the targets never even notice.
This mission is now complete. If it is early enough, you can check back in to the top secret system to see who you are supposed to kill next. Just another day. Just a routine job.
Money
Money is an imaginary force. It is used to motivate and control slaves. Real forces effect all life forms. However, only people respond to money. The only reason they do is because they have been artificially programmed to do so.
Money can be created in unlimited quantities by those adept in the use of this force. The physical world is finite, however the world of imagination is not. There is no limit to the quantity of money that can be imagined into existence. Money can also be imagined out of existence.
Let's assume that one day the entire financial system simply disappeared. If you lived in a rural area and had a nice veggie garden, some friendly chickens, collection facilities for rain water and a few photocells for electricity, you would not notice this. The veggies would continue to grow. Rain would periodically fall. The chickens would lay eggs as usual. The sun would continue to shine. However, if you lived in a city environment, you would be devastated.
Before money, people lived in small hunter-gatherer groups. The concept of ownership did not exist. People worked and survived as a group. Men and women were equal. Everyone contributed to the community. Resources were shared equally. The concept of "mine" and "yours" did not exist. Women generally became pregnant only once about every three years although there was no birth control. Later, when the concept of money entered the consciousness, women were seen as having less value because men were paid for work but women were not paid to raise and care for kids. Society has changed, however, the downgraded status of women has not.
Money systems have always been manipulated by clever people. When gold was used as money, people learned they could dilute pure gold with silver or maybe even lead to come up with something that looked like pure gold and had the correct weight but was a fraud. A king suspected he was being scammed but had no way to prove it. He called on the great minds of the time for help. This led to what is known as the Archimedes' principle which is better known today as "specific gravity". This principle made it possible to compare a sample known to be pure gold to a questionable sample and prove the unknown sample was not pure gold. Likely, some clever crook lost his head once this test became known.
There is a general belief that gold is the ultimate reference for all money. However, secrets concerning the exact quantity of gold make this a perilous assumption. Reportedly, the United States stole a tremendous quantity of physical gold from Japan towards the end of World War II. This gold exists off the books. To make matters worse, Japan was not all that concerned. Japan had been using gold bars as ballast on its ships because they were compact and heavy. They thought nothing of throwing the bars overboard as necessary. Japan used platinum as a money reference and the US never got that. This should make one rethink all the hype about the value of gold. It may be a lot more plentiful than we have been led to believe. Also, the secret off the books stashes of gold would allow its relative value to be manipulated at will just like other commodity markets.
The Financial Axis of Evil [3]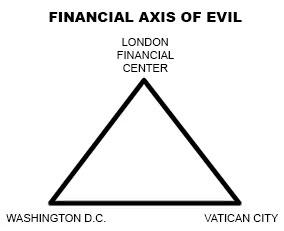 This is the model of the financial axis of evil which rules this planet. It consists of three main branches as shown above. Collectively, they are known as "The Empire of the City". Briefly, here is how this system operates:
The London financial district is in London, Washington D.C. is in the United States and the Vatican is in Italy. However, these three places are not part of the countries where they exist. They are independent "city states" and have their own laws and constitution. They are, effectively, "mini countries" inside of other countries and fly their own flags. The city state of London is a private corporation and pays no taxes to actual London or to Britain. The city state of London is the master power center and is controlled by the Rothschild family which considers itself to be the legal owner of this planet. The Vatican is the largest private land owner in the world and the first true multinational corporation with installations (churches) and secret agents (The Knights of Malta) everywhere. They control through the power of fear of the unknown and practice black magic. Washington D.C. relies upon brute military force. All three closely cooperate combining their specialties of financial trickery, witchcraft and military might. Of course, all three worship Satan as their Master.
Slavery
Slavery is alive and well throughout the world. The US constitution prohibits slavery, however, most americans live in slave-like conditions.
It is said that it will take the average college student until age fifty to pay back their student loan.
The constitutional amendment prohibiting slavery addressed the concept of physically owning another person. However, it did not address the issue of holding another person in bondage as a debt slave. It also did not consider the concept of private for profit prisons who force inmates to work as slaves. These systems exist today and are perfectly legal.
Actually, a recent report from prestigious Princeton University has reclassified the US government as an oligarchy — a country run by and for the rich elite. Former US President Carter has stated that the United States "no longer has a functioning democracy". So much for the Founding Father's dream. Speaking of dreams, check out the free you tube video titled "The American Dream".
Other forms of slavery are illegal but still flourish. Sex slaves are always in demand. Traffickers are sometimes caught but you need to realize that your leaders use sex slaves and also routinely abuse young girls and boys. Sometimes they are also killed during occult rituals. No one ever talks about this and these people are never punished. This has been the normal way of life for Satan worshipers for many years and nothing has changed or is likely to ever change in the future. Stanley Kubrick's last movie, Eyes Wide Shut, covers this subject. Some believe this intense dramatization of how the elite really live may have cost him his life.
People still have some rights left in the United States but other countries are a different story. Qatar is doing construction for the World Cup. The event is not scheduled until the year 2022, however they have already killed 1200 slaves [7] by working them to death. People are lured from poor countries with the promise of jobs and money. When they arrive, their passports are confiscated and they are forced to work until they literally drop dead. If the World Cup is actually held in Qatar in 2022, there will be glamorous TV coverage and no one will remember or care about all the dead slaves. The show must go on.
Qatar, incidentally, sponsors Al Jazeera TV network.
Adaptation Techniques
The status quo of today will never change because the people who created it will never die. Because of top secret medicine, when men like Henry Kissinger, who heads the Bilderberg Group's steering committee, get too feeble to function, they will simply go to one of the secret locations and use the temporal reversal device to regress back to about twenty years old. Their memories will be unaffected. Then they will get new identities and continue on. This process can be repeated indefinitely.
Because you can never change the status quo, your best hope for a lifetime of reasonable quality is to find clever ways to live in this world with as much independence as possible.
One method of adaptation is autonomous and semi-autonomous communities. If the community is registered as a religious institution it is automatically shielded from most government interference by the US constitution. It pays no taxes and can pretty much write its own rules by simply calling whatever it wants to do "religious doctrine". Many small semi-autonomous groups exist where people who share a common set of values find ways to quietly live out their lives pretty much on their own terms. The government does not seem interested in bothering these smaller groups as long as they live peacefully and are not doing anything that the government perceives to be a threat.
The Amish people are a good example of an autonomous group. You would probably not want to live as they do, however, before you completely dismiss them, you may want to look at some definite advantages in their chosen lifestyle.
Remember, these are the people who reject technology. They just might have made the correct choice. Technology, at first, seemed like a good idea. However, now that people are addicted to technology they are also enslaved by technology. Everything they do is monitored and recorded by the government. Privacy no longer exists. It did not have to be this way.
Technology, in itself, is not evil. However, it can be quite evil if you live under a government run by sociopathic control freaks which, unfortunately, you do. In the Amish world, electronic surveillance does not exist because electronic devices do not exist. The constant propaganda from TV has no effect on people who do not have TV. A horse does not report its position to a GPS satellite and is not controlled by a computer.
Also, the people are generally healthy and do not suffer from many diseases common to the mainstream population. They are not being poisoned by fluorinated water or additives found in processed food because they don't use these things. Also, they get lots of physical exercise.
Without totally withdrawing from the world, there are some positive steps you can take. By now you know never to drink fluorinated water or use any personal product containing fluoride such as many brands of toothpaste. To minimize harmful food additives, look for Kosher food which is marked with either the encircled "K" or "U" (Ultra Kosher). These foods have less or no harmful additives. The Jewish community is very protective of its people and the Mossad is widely considered to be the best intelligence service in the world. Therefore, they would have the inside scoop on everything including food and do not want to see their people harmed.
Whatever you decide to do, you definitely do not want to be part of so called mainstream society. These people are doomed. They are sheep (sheeple) slowly walking to the slaughter house. Don't go there!
---
references and credits
[1] DVD "The American Ruling Class". ASIN: B001HM2CE2.
[2] John Perkins. Book: Confessions of an Econemic Hit Man; DVD (free on you tube): "Apology of an Economic Hit Man"; RT interviews.
[3] See the free you tube videos titled "The Red Shield".
[4] DVD: "The Wages of Debt", RT Intl. Also available for purchase.
[5] DVD "Terra Blight", RT Intl. Also available for purchase.
[6] Interview with John Judge of Veterans Against Military Psychiatry.
[7] Also search using the phrase "qatar slaves world cup".
© 2014 W C Vetsch. All rights reserved.
Source: Walter C. Vetsch  |  3108.info | War Is Crime
The phrase "conspiracy theorist" is a derogatory smear phrase thrown at someone in an attempt to paint them as a lunatic. It's a tactic frequently used by modern-day thought police in a desperate attempt to demand "Don't go there!"
But let's step back for a rational moment and ask the commonsense question: Are there really NO conspiracies in our world?
The Attorney General of South Carolina would surely disagree with such a blanket statement. After all, he sued five pharmaceutical companies for conducting a price-fixing conspiracy to defraud the state of Medicaid money.
Similarly, in 2008, a federal judge ruled that three pharmaceutical companies artificially marked up their prices in order to defraud Medicare.
In fact, dozens of U.S. states have filed suit against pharmaceutical companies for actions that are conspiracies: conspiracy to engage in price fixing, conspiracy to bribe doctors, conspiracy to defraud the state and so on.
The massive drug company GlaxoSmithKline, even more, plead guilty to a massive criminal fraud case involving a global conspiracy to bribe doctors into prescribing more GSK drugs.
And this is just the tip of the iceberg. A deeper look into the criminality of just the drug industry alone reveals a widespread pattern of conspiratorial behavior to defraud the public and commit felony crimes in the name of "medicine."
What is a conspiracy, exactly?
As any state or federal prosecutor will gladly tell you, a "conspiracy" is simply when two or more people plot to commit an act of deceit (or a crime).
Thus, when three hoodlums plan to rob the local Quickie Mart, they are engaged in a "conspiracy" and will likely be charged with a "conspiracy to commit armed robbery" in addition to the different crime of "armed robbery." The fact that they planned it with several friends makes it a "conspiracy" worthy of additional felony charges, you see. When these charges are brought up in court, the judge doesn't look at the prosecutor and say, "You are a conspiracy theorist!" That would be absurd.
The idea, then, that there is no such thing as a conspiracy is flatly ludicrous. And people who condemn others as being "conspiracy theorists" only make themselves look mentally impaired.
To live in our modern world which is full of collusion and conspiracy — and yet somehow DENY the existence of any conspiracies at all — is an admission of a damaged brain. Of course there are conspiracies, and when people analyze those conspiracies, they are "theorizing" about what happened. This is, in fact, precisely the job that police detectives and FBI agents carry out almost daily.
Most police detectives are, in reality, "conspiracy investigators" and analysts.
There are endless examples of real conspiracies
Auto manufacturers routinely conspire to cover up mechanical defects that put customer lives at risk. Even National Public Radio lays out the full timeline of the General Motors conspiracy to hide the problem with its faulty ignition switches.
Last year, food corporations conspired with the Grocery Manufacturers of America (the GMA) tocommit money laundering crimes in Washington state in order to funnel money into a campaign to defeat GMO labeling there.
The FDA conspired with a drug manufacturer to keep a deadly diabetes drug called Rezulin on the market in the USA even after safety regulators pulled the product in Europe.
Similarly, the corrupt, criminal-minded operators of mainstream science journals conspired in a particularly evil way to railroad Dr. Andrew Wakefield with provably false accusations about the nature of his research into the side effects of vaccines. The GMO Seralini study has been similarly railroaded by a genuine conspiracy of evil, corrupt science journal editors who routinely conspire to suppress all the science they don't want to be seen by the public. Fortunately, 150 other scientists have come to support Seralini with a global condemnation of the obviously contrived scientific censorship.
We live in a world of such deception and collusion that, frankly stated, it's hard to find a large institution (such as medicine, agriculture or the war industry) which isn't involved in some sort of conspiracy at some level.
What is a "conspiracy theorist?
The pejorative "conspiracy theorist" is meant to demean and ridicule skeptics of official stories.
Most so-called "conspiracy theorists" are really skeptics, by definition. They're skeptical of what the government tells them. They're skeptical of the claim that drug companies are really only interested in helping humankind and have no desire to make money. They're skeptical that food corporations are telling them the truth about what's in their food. And they're also skeptical of anything coming out of Washington D.C., regardless of which party happens to be in power at the time.
People who are not skeptics of "official stories" tend to be dull-minded. To believe everything these institutions tell you is a sign of mental retardation. To ask questions, on the other hand, is a sign of higher intelligence and wisdom.
Skeptics of official stories, it turns out, also have the support of history on their side. How many times has it later been revealed that the American people were lied to by the very institutions we were supposed to trust?
For example, it is an historical fact that 98 million Americans were injected with hidden cancer viruses which were later found in polio vaccines strongly recommended by the CDC. In an effort to cover that up and rewrite history, the CDC later scrubbed all accounts of that history from its website, pretending it never happened.
That's more than a cover-up; it's an Orwellian-style conspiracy to selectively rewrite history and deny Americans any memory of a monumental, deadly error made by the CDC in collusion with the vaccine industry.
According to two former Merck virologists, that company conspired to fake the results of its vaccine tests by spiking test samples with animal antibodies, thereby falsely distorting the results to make the vaccine appear effective. The two virologists filed a False Claims Act with the federal government detailing the conspiracy, saying:
Merck also added animal antibodies to blood samples to achieve more favorable test results, though it knew that the human immune system would never produce such antibodies, and that the antibodies created a laboratory testing scenario that "did not in any way correspond to, correlate with, or represent real life … virus neutralization in vaccinated people…"
Conspiracies of money and big banks
Every month, the Federal Reserve conspires to steal a portion of your wealth through "quantitative easing" — an irresponsible money creation scheme that devalues all the currency already in circulation (i.e. the money in your bank account).
The money the Fed creates is, not surprisingly, handed over to the big Wall Street banks — the same banks that received a jaw-dropping $29 trillion in "bailout money" since the near-collapse of U.S. banking in late 2008.
Why did this bailout money go to the banks instead of the American people? Because powerful people sat in dark rooms and colluded to send the money to the most influential banks. A conspiracy, in other words, by definition.
Had that same amount of money been equally distributed across the U.S. population, the Fed would have distributed nearly $100,000 to each and every citizen in America; man, woman and child. But instead of enriching the population, the banking bailout burdened the population with the debt now owed to the Fed by future taxpayers.
Every $1 trillion created by the Fed, after all, is $1 trillion "loaned" to the U.S. Treasury which must somehow be repaid. In truth, the minute you start to investigate how money is created, why the Federal Reserve is a private banking cartel and why the big banks get all the bailout money, you run head-first into genuine conspiracies almost from the outset. When you look up the word "conspiracy" in a dictionary, it should probably say, "See Banking and Finance."
Our world is full of conspiracies because it's full of people who deceive
The reason conspiracies are real is because humanity is a race capable of extreme deception. As long as there are people whose actions are based in greed, jealousy and a desire to dominate others, there will be real conspiracies plotted and operating across every sector of society.
The correct term for "conspiracy theorist" should really be "conspiracy analyst." Most of the people who are skeptical of official stories are, in fact, analyzing conspiracies in an attempt to understand what really happened and what took place behind closed doors.
A highly-recommended book the delves into this matter in more detail is the five-star-rated masterpiece Official Stories: Counter-Arguments for a Culture in Need by Liam Scheff.
This book will open the minds of those who still have the cognitive capability remaining to grasp it. (Sadly, the injection of mercury into babies in the form of vaccines has damaged so many brains across America that many people are now cognitively incapable of rational thought.)
And remember: the next time someone flings the phrase "conspiracy theorist" in your direction, simply know that they are effectively wearing a DUNCE hat on their heads by admitting they have failed to acknowledge that true conspiracies are rather commonplace.
That's not merely a theory, either: it's a statement of fact.
Source: Mike Adams |Natural News
For the record, I don't believe Cliven Bundy is a "racist."
For the record, I don't even care.
Such indifference to that damnable failing, that thing we all know is the worst thing one can be, must make me a damnable man. But I am flexible. I just want equality. I'm perfectly willing to demonize "racists," provided we give other sinners equal time.
I just want to hear, for example, "Forget the facts of the matter! The man is lustful!" or "Don't listen to that miscreant. He's guilty of sloth!" Or let's say a fellow posits an opinion on, oh, taxation. Our very intellectual response could be, "Hey, didn't I hear you talkin' to your girlfriend about how you scarfed down four cheeseburgers at the barbecue and binged on ice cream in your easy chair? Look, everyone, he's a glutton!"
This isn't to say that being a bigot — the word "racist" is in quotation marks because it's an invention of leftist language manipulators — is a good thing. Not at all. But neither is being lustful, slothful or gluttonous. Yet people who couldn't name three of the Seven Deadly Sins and are thoroughly guilty of at least six, will claim they can disqualify a person, and his point of view, from debate based on their assessment of his moral state. What blindness — and hubris.
Bigotry is simply a sub-category of wrath, one part of one-seventh, not the moral end-all and be-all. And even if Bundy did have racial hang-ups, would it follow that he was wrong about his case or on federal power in general? Can a man be flawed, and even sinful, but yet right on a matter? Can he still have virtues? Albert Einstein could be lewd and lascivious, Galileo an irascible jerk, Ernest Hemingway was a drunkard.
This isn't to say, as certain people with poor character once averred, that character doesn't matter. It's not to say a person's vices can't speak to motivations; it's valid to point it out if a judge who rules that pornography has First Amendment protections habitually views porn himself. But it's not valid to fixate on the allegedly "racist" tendencies of a judge who rules that racial commentary enjoys such protections (at least not within the context of analyzing the ruling). The difference is that since the former is wrong, there's good reason to believe that his personal inclinations corrupted his judgment on the matter; with the latter judge, however, dwelling on the supposed flaw in question would only serve to discredit a legitimate ruling.
The point is that we all have flaws, yet all can be correct about a whole host of things. I wouldn't have wanted Einstein to care for a teenage daughter or be president, but I wouldn't deny that E=mc2.
Of course, it really is true that some flaws are more unequal than others — there is a hierarchy of sin — but moderns' sense of proportion is highly askew. G.K. Chesterton said that a "Puritan is a person who pours righteous indignation into the wrong things." Today we have Impuritans, complete reprobates worshipping at hedonism's altar, who pour their indignation onto others in a vain attempt to wash their own souls clean of sin. But there is much more to being a "good" person than simply not being bigoted.
To further illustrate this askew sense of proportion, consider again the gluttony example. Gluttony is a sin, no doubt. But now let's say that our society considered it the ultimate disqualifier. Let's say we might scrutinize a person, asking "What are his food bills?" "Do cookbooks figure too prominently in his library?" "Does he wile away excessive time watching Emeril Live?" "Is he the one who cleared the buffet table like a hurdler?" And imagine we visited pariah status on the person after deeming him guilty.
Would you think this society's greater fault was gluttony — or being hung-up about it? I'd think it exhibited a gluttonous zeal for eradicating gluttony.
The problem is that man always swings from one extreme to another. The early to mid 20th century saw the embrace of eugenics and racial-superiority dogma, which was then discredited by the loathsome Nazis. But now we just as zealously impose a dogma denying the reality of group differences and mandating equality of outcome among races.
This tendency toward true extremism — meaning, extreme deviation from Truth — brings to mind C.S. Lewis' observation that evil always tries to persuade us to exaggerate our flaws, telling the militant he's too pacifistic and the pacifist that he's too militant. As an example, today we have Impuritans who, awash in the Great Sexual Heresy, will still lament how "Puritan" America is so sexually "repressed." Evil tells the pervert he's too prudish, just as it tells self-hating whites that they're too anti-black.
But what we should be is anti-"racism." I don't mean what you think. We need to oppose both the word and the concept — at least how the latter is often conceptualized.
Bigotry is bad by definition, and that definition is commonly agreed upon. But "racism" often has a different meaning, one whose influence is readily apparent in the reaction to Los Angeles Clippers owner Donald Sterling's much reported comments. Al Sharpton, who once used the term "white interlopers" and once said, "White folks was in caves while we were building empires…," called for a boycott of the NBA. Former hoop star Larry Johnson reacted to a man who didn't want blacks around by saying he didn't want whites around, as he suggested creating an all-black basketball league. Spike Lee told CNN he wished that white NBA players would speak out against Sterling, which is a bit like John Gotti having wished that someone would speak out against racketeering. And Barack Obama took time away from destroying our world standing, healthcare system, social policy and economy to say that "comments reportedly made by Sterling are 'incredibly offensive racist statements,' before casting them as part of a continuing legacy of slavery and segregation that Americans must confront," wrote CBS DC. He then opined, "When ignorant folks want to advertise their ignorance, you don't really have to do anything; you just let them talk" (you don't have to do anything except, I suppose, "confront" a "legacy of slavery and segregation"). But, okay, I'll just let Obama talk.
Now, opportunism is often a factor in such hypocrisy, but there is something else: a striking sense of entitlement. This is why many black people will condemn a white person for making a bigoted comment with an equally bigoted comment without batting an eye; when whites are bigoted, it's "racist"; when blacks are, it's something else. And, in fact, this idea is encapsulated in the definition of "racism" I alluded to earlier. It's one you've probably heard:
Only whites can be "racist" because a prerequisite for "racism" is not only bigoted intent, but the power to act upon it.
And, actually, they'll get no argument from me. As I've said before, the left originated the word "racism," so they may define it. They may have it.
And if they ask, I'll tell them where they can stick it.
The problem is that conservatives, being conservative — meaning, conserving yesterday's liberals' social victories — parrot the word. It's another example of how, forgetting that the side defining the vocabulary of a debate, wins the debate, conservatives slavishly use the Lexicon of the Left.
Of course, eventually this will all be left in the dustbin of history. Movements, peoples and civilizations come and go, and we'll get over our fixation with one part of one-seventh of the Deadly Sins. And then man will swing to another extreme, as he goes on to the next great mistake.
"Let me repeat again, that in Russia's view, the blame for the crisis in Ukraine lies with those who organized the coup d'etat in Kiev on February 22-23… But whatever the case, we must look for a way to solve the situation as it is today….And, as I said, what is needed is direct, full-fledged and equal dialogue between the Kiev authorities and the representatives of people in southeast Ukraine….I don't know whether a Geneva-2 round of talks.. is realistic. (But) I believe that if we want to find a long-term solution to the crisis, there must be an open, honest and equal dialogue . That is our only option."

-Russian President Vladimir Putin, press statement, OCSE meeting, Moscow, May 7, 2014

So many lie beneath the eternal granite
But of those honored by this stone
Let no one be forgotten
Let nothing be forgotten.

-Olga Berggolts, "Leningrad"
On Wednesday, Russian President Vladimir Putin made a proposal for ending the violence in Ukraine at an OCSE (Organization for the Cooperation and Security in Europe) in Moscow. Unfortunately, most Americans never heard what he had to say because the media failed to publish his statement. The reason for the omission is fairly obvious, the media doesn't want people to know that Putin is not the ghoulish, authoritarian caricature he's portrayed to be, but a levelheaded pragmatist who wants a swift and peaceful resolution to the crisis. Here is what he said:
"We think the most important thing now is to launch direct dialogue, genuine, full-fledged dialogue between the Kiev authorities and representatives of southeast Ukraine. This dialogue could give people from southeast Ukraine the chance to see that their lawful rights in Ukraine really will be guaranteed."
Does that sound like a bloodthirsty "KGB thug" who's driven by dreams of territorial expansion and empire-building or does it sound like a responsible leader who wants to facilitate a cease-fire until cooler heads prevail?
Did you know that Putin called for a "genuine…dialogue between the Kiev… and representatives of southeast Ukraine"? Don't you think the media should publish critical information like that so people can decide for themselves how they feel about Putin? Or do you think the media is entitled to withhold whatever information they choose as long as it benefits their corporate bosses? Is that how a free press is supposed to work?
Putin made a number of concessions in his speech that are worth noting. For example, he agreed to move his troops away from the Ukrainian border which has been a bone of contention with the Obama administration since the Kiev crackdown began more than two weeks ago. Putin agreed to withdraw his army even though he may have weakened Russia's defenses in the process. This is no small matter, in fact, it's a question national security which is a president's primary responsibility and one that Putin does not take lightly, especially now that neo Nazi-crackpots are roaming the countryside armed to the teeth and threatening to kill ethnic Russians wherever they find them. But Putin made the concession anyway hoping that his good-faith gesture would help put an end to the violence. Here's what he said:
"We have withdrawn our forces and they are now not on the Ukrainian border but are carrying out their regular exercises at the test grounds. This can be easily verified using modern intelligence techniques, including from space, where everything can be seen. We helped to secure the OSCE military observers' release and I think also made a contribution to defusing the situation."
Does that sound like a man who's lying?
Of course not, which is why the media doesn't want you to hear what he has to say. Because it doesn't jibe with the "Putin is Satan" trope.
Putin is a plain-speaking guy who shoots from the hip and says what he means. He's not a bullshitter. People know that, which is why the media won't publish what he says. It's because they're afraid that people will believe him and all their jingoistic, pro-war propaganda will be for naught. The fact is, people have a sense of what the truth sounds like. Call it intuition, call it whatever you like. But people know the difference between a guy like Putin and a dissembling fraud like Kerry. That's just the way it is.
Putin also asked representatives of the southeastern regions of Ukraine to postpone the referendum scheduled for May 11.
Why would he do that? After all, if he really wanted to rebuild the Russian Empire, as his critics say, then he'd want the balloting to take place so he could show the world that the people in the East reject the junta government and demand greater autonomy from Kiev. But that's not what Putin wants. What he wants is an end to the carnage, which is why he asked the people to postpone the voting so the government wouldn't have an excuse for launching another bloody crackdown. Putin doesn't want to see Ukraine ripped to shreds and reduced to Iraq-type anarchy by external enemies who are using it as a staging-ground for their own geopolitical ambitions. He wants to restore stability and security. He wants the hostilities to stop. Here's what he said:
"We are asking representatives of the southeastern regions of Ukraine and federalization supporters to reschedule the referendum scheduled for May 11."
Okay, so he moved his troops back from the border and called on pro-Russian activists to put off the vote on greater political autonomy. That's two significant concessions, right? But, why is Putin doing this?
Does he have something up his sleeve? Is he trying to lull his enemies to sleep before he orders a full-blown blitz on Kiev?
Be serious. Putin doesn't want to take over Ukraine, that's just neocon hogwash. He has his own problems to deal with. He's not going to add to them by annexing a broken, basket-case failed state that's rapidly sliding into a major Depression. Why would he do that?
Then why is he so eager to make concessions? Is it because he's scared? Maybe he's afraid of a confrontation with NATO and the US so he's caving in before war breaks out on his western flank?
Is that it? Is Putin a coward?
According to the western media he is, but that's because the coverage has focused exclusively on his willingness to move his troops which makes it look like Washington's hardline policies (sanctions, threats, saber-rattling) are actually working instead making things worse. Which they are. What's been left out of the reporting is Putin's plan to end the violence. That never gets mentioned because the media doesn't want Putin to look like a peacemaker. That doesn't serve their interests at all.
Putin's not afraid. He's not going to end up like Gadhafi or Saddam. But he is worried. He's worried that the US is going block access to his biggest market, the European Union. Russia can't simply reroute its gas from west (EU) to east (China) as many of the pundits seem to think. That's nonsense. Russia needs Europe, just as Europe needs Russia. There is a strong, natural business/trade relationship between the two that Washington wants to sabotage so it can be the big cheese in Central Asia. That's what this is all about, right? The pivot to Asia.
So, yes, Putin's interest in peace is not entirely altruistic. It's also about money too. Big money. But, so what? What difference does that make? So Putin is not as pure as the driven snow. Big deal. The fact is, he's still pushing for peace, which is not only beneficial for Moscow, but Europe and Ukraine as well. The only one that doesn't benefit from peace is Washington, which is why the media is suppressing information that promotes de-escalation. It's because Washington wants a war. War is the vehicle for breaking up the Russian Federation into tiny statelets that pose no threat to US military bases spread throughout Asia. War is the means by which Washington can make its pivot, surround China, and control its future growth. War paves the way for establishing US outposts in Ukraine and subverting greater economic integration between Russia and Europe. War is US policy because war advances US interests. Period.
Washington cannot achieve its strategic or economic objectives without a confrontation. That's why the present situation so worrisome, because –judging by the scalding rhetoric emerging from the White House, the US State Department, and all the major media– Obama is going to continue to provoke Moscow until he gets the reaction he wants. If 40 dead in Odessa doesn't do the trick, then the next provocation will be 400, or 4,000, or 400,000. Whatever it takes. It doesn't matter. As Madeleine Albright noted some time ago when she was asked if the sanctions on Iraq were worth the half million lives they cost, she answered without the slightest hesitation, "We think the price is worth it."
Whatever it takes. That's US foreign policy in a nutshell.
Here's more from Putin:
"The responsibility for what is happening in Ukraine now lies with the people who carried out an anti-constitutional seizure of power,.. and with those who supported these actions and gave them financial, political, information and other kinds of support and pushed the situation to the tragic events that took place in Odessa. It's simply blood-chilling to watch the footage of those events."
Try to imagine Obama saying something like that. Try to imagine Obama even caring about the people who died in Odessa. It's a bit of a stretch, isn't it? By now, Obama has seen the same videos as Putin. He's seen the people hurtling themselves out of windows to escape the flames. He's seen the victims being pummeled to death on the streets by neo Nazi goons. He's seen the charred remains of the people who were incinerated in the fire. But he's said nothing. He hasn't even offered his condolences to the families who lost loved ones. He's remained stone silent since the incident took place believing that any reference to the massacre would only undermine US policy. His callousness is all part of a political calculation. People don't matter, what matters is the policy. Obama is no different than Albright or any other high-ranking member of the US political establishment in that regard. They're all the same. Life means nothing to any of them. All that matters is the objectives of their constituents.
So, what does Putin really want?
Here's what he says: "Russia urgently appeals to the authorities in Kiev to cease immediately all military and punitive operations in southeast Ukraine. This is not an effective means of resolving internal political conflicts and, on the contrary, will only deepen the divisions."
"Cease all military and punitive operations"? In other words, he wants peace.
Unfortunately, Obama's crew strangled Putin's peace plan before it ever left the cradle. Just yesterday, the US-backed puppet regime in Kiev promised to step up attacks on protestors in the east. According to Defense Secretary Andriy Parubiy:
"The counter-terrorist operation will continue unhindered, despite the presence of terrorist and insurgent groups in the Donetsk region."
As for Putin's appeal for peace, puppet-PM Arseniy Yatsenyuk swiftly dismissed it as "hot air."
So, there you have it. The threat of peace has been skillfully avoided giving Obama's fascist friends the green light to pursue their strategy of tearing Ukraine apart, killing untold thousands of civilians, and deploying NATO to Russian's western perimeter.
And that's why Putin's speech was blacked out by the media, because it conflicted with Washington's plan to launch another war.
I wrote about the controversy swirling around the so-called Christian organization World Vision here.  For those who are unaware of what occurred on March 24, WV announced that they had plans to hire "married" homosexuals.
The backlash was fast and furious. Christian leaders, Roman Catholics, the pro-family movement and others in the faith community made it abundantly clear that they opposed WV's decision to hire people in counterfeit marriages on the grounds that the Bible teaches that homosexuality's a sin.  It's no secret that Bible-believers hold to the teaching that God established the marriagesacrament for the purpose of bringing Him glory; thus marriage other than that which He designed does not bring glory and honor to Him. One would assume that WV's president and board members had an understanding of what the Bible teaches on marriage – but maybe not.
They learn fast, though.  The board noticed a storm brewing when donors began to withdraw their financial support and they quickly changed course.  The public's reaction was so strong that they reversed their decision faster than greased lightning.
In part 2 we will examine whether or not World Vision's truly a Christian organization.  I mean, that's the burning question, isn't it?   One way to find out is to take a look at its website.  On the homepage they make the claim that they are a,
Christian humanitarian organization dedicated to working with children, families, and their communities worldwide to reach their full potential by tackling the causes of poverty and injustice.
Perhaps because I've spent a number of years exposing false teaching in the Church, likewise the cults and the occult, when I read the phrase "full potential" Anthony Robbins immediately came to mind.  Robbins is one of many Human Potential magnets.  He has taken on the trendy title "life coach."  The life coach's aim is to get you to a place where you can tap into your full potential.  Robbins' beliefs are rooted in the New Thought movement.  (Those who wish to know more about New Thought can do so here.)  In essence "Syncretism between Christianity and early New Thought was a hallmark of this movement," says cult expert Marcia Montenegro.
So – why would a "Christian humanitarian organization" choose to define itself using anti-Christian language inspired by New Thought rubbish?
Any organization that calls itself Christian should have as its main goal reaching families and communities around the globe with the gospel of Christ.  And if that's not its stated goal then how is it any different from other secular organizations such as the American Red Cross or the World Food Programme. What sets Christian relief organizations apart from all the others is that they have a biblical mandate to evangelize the lost.  Jesus commanded His followers to:
Go into all the world and proclaim the gospel to the whole creation. Whoever believes and is baptized will be saved, but whoever does not believe will be condemned.  (Mark 16:15-16)
For many years my husband and I sponsored children through WV.  Because it calls itself a Christian organization we just assumed that those in the field would be about the business of providing relief as well as evangelizing lost souls bound for hell.  When it became apparent to us that WV was moving more toward what is deemed a "social justice" organization, we wrote to express our concerns.  No response was forthcoming.  Eventually we stopped sponsoring children through WV and chose another organization.
The social gospel is a false gospel. (Discover more about social justice here.)   What does Scripture tell us about spreading a false gospel?
I am astonished that you are so quickly deserting him who called you in the grace of Christ and are turning to a different gospel— not that there is another one, but there are some who trouble you and want to distort the gospel of Christ. But even if we or an angel from heaven should preach to you a gospel contrary to the one we preached to you, let him be accursed. As we have said before, so now I say again: If anyone is preaching to you a gospel contrary to the one you received, let him be accursed. (Galatians 1:6-9)
I fully expect WV's supporters will want me to demonstrate that WF prohibits proselytizing (sharing the gospel of Christ.)  In the process of researching for this piece I discovered all the proof doubters will need — and it comes right from the horse's mouth.   I visited the homepage…clicked on Our-Impact…clicked on Faith-in-action and unearthed their goals and accomplishments:
Our faith in Jesus is central to who we are, and we follow His example in working alongside the poor and oppressed. We serve every child in need that we possibly can, of any faith, or none. We partner with churches throughout the world, equipping them to meet the needs of their communities.
Scroll down the page to Our Approach and here's what you'll find:
Do You Talk To People About Jesus?
In all ways appropriate for a local context, we seek to witness to Christ — through our deeds of love and mercy, the character and conduct of our staff, and through our words of testimony. As we demonstrate the unconditional love of God to others, we are ready to give the reason for the hope within us, but expect people to evaluate the truth of our message by our actions.
God created men and women in His image, giving each of us a free will. Therefore, we respect individuals — including their culture, faith, and beliefs. We respect the dignity and the right of all people to maintain and change their religious beliefs. We seek in every instance to be faithful ambassadors of the good news of Jesus through our actions (2 Corinthians 5:20) and hope that our lives will reflect God's generous love for people, ultimately bringing glory and praise to Him.
Do you expect the people you help to share your beliefs?
We serve all people, regardless of religion, race, ethnicity, or gender. We do not proselytize, and we pledge never to exploit vulnerability to obtain a profession of faith. We do not feed the hungry as a means to an end. We feed the hungry because God cares about people who are hungry, and He wants them to be fed (Psalm 145:13-17).
Insisting that people hear a certain message or affirm a specific belief as a prerequisite to receiving our assistance violates codes of conduct established for disaster, relief, and humanitarian groups of which we are a member. However, our hope is that our work and lives would contribute to people becoming followers of Christ.
How does being a Christian organization impact your work?
Our faith in Jesus Christ is core to who we are. As an expression of God's unconditional love for all people, especially vulnerable children, we serve alongside the poor and oppressed. We hope to live as followers of Christ by being active, visible bearers of God's love.
Relying on God's grace and Spirit, we affirm the truth of the gospel and our hope in Christ through our character, speech, actions, and in the signs of God's power at work in individual lives, in the communities where we work, and in all creation. (emphasis added — Source)
By its very words WV is a Christian organization that professes a belief in the gospel.  On its website it states that "Jesus is core of who we are."  Yet its policy is not to proselytize?
Romans1:16-17 says:
For I am not ashamed of the gospel, for it is the power of God for salvation to everyone who believes, to the Jew first and also to the Greek. For in it the righteousness of God is revealed from faith for faith, as it is written, "The righteous shall live by faith."
Instead of sharing the good news with those who are perishing, WV is all about doing "good works."  Now don't get me wrong.  I'm not saying Christians shouldn't do good deeds and be "active, visible bearers of God's love."  But good works and sharing Christ with the lost go hand in hand.  Romans 10:17 tells us that "Faith comes from hearing, and hearing through the word of Christ."
In Barnes' Notes on the Bible, the meaning of "hearing" is explained:
When it is said that faith cometh by hearing, it is not meant that all who hear actually believe, for that is not true; but that faith does not exist unless there is a message, or report, to be heard or believed. It cannot come otherwise than by such a message; in other words, unless there is something made known to be believed. And this shows us at once the importance of the message, and the fact that people are converted by the instrumentality of truth, and of truth only. (Source)
Just prior to WV doing an about face, Albert Mohler, president of Southern Baptist Theological Seminary, slammed the organization over its plans to hire unrepentant homosexuals.  Perhaps his, and articles like it, is the reason Richard Stearns and the board reversed their decision and decided to repent.  The question many people are asking at this juncture is how do we know that the leadership has sincerely repented of their willingness to mollify the radical homosexual lobby's demand for them to hire gay people?  Time will tell.  However, it's evident that at least for the time being, board members have decided it's not in WV's best interest to go against Bible believers and faith groups because they're the ones who pay the bills!
I'm out of room so I'll end with an excerpt from Albert Mohler's stinging rebuke – before WV repented:
Writing to the Corinthian Christians, the Apostle Paul stated: "Or do you not know that the unrighteous will not inherit the kingdom of God? Do not be deceived: neither the sexually immoral, nor idolaters, nor adulterers, nor men who practice homosexuality, nor thieves, nor the greedy, nor drunkards, nor revilers, nor swindlers will inherit the kingdom of God." [1 Corinthians 6:9-10]
The leader of World Vision U.S. now claims that the Bible is not sufficiently clear on the sinfulness of same-sex sexuality and relationships, but he also claims a "mission of building the kingdom."  The Apostle Paul makes homosexuality a kingdom issue, and he does so in the clearest of terms.
Of course, Paul's point is not that homosexuals are uniquely sinful, but that all of us are sinners in need of the grace and mercy of God that come to us in the gift of salvation. Thanks be to God, Paul follows those words with these: "And such were some of you. But you were washed, you were sanctified, you were justified in the name of the Lord Jesus Christ and by the Spirit of our God." [1 Corinthians 6:11]
The worst aspect of the World Vision U.S. policy shift is the fact that it will mislead the world about the reality of sin and the urgent need of salvation. Willingly recognizing same-sex marriage and validating openly homosexual employees in their homosexuality is a grave and tragic act that confirms sinners in their sin — and that is an act that violates the gospel of Christ. (Source)
Recommended:
Short list of Christian Leaders who have rebuked World Vision:
http://standupforthetruth.com/2014/03/short-list-christian-leaders-whove-rebuked-world-vision/
Part 1: Changing the DNA structure of the Mother Nature…
In the 20st century, the human mob re-arranged rivers, deserts, rainforests and the oceans to suit its voracious appetite for dominance over the Natural World. Stemming from that 100-year epic onslaught, we humans created communities around the globe featuring 10 million, 20 million to 36 million people piled up in mega-cities around the world.
We contaminated rivers with our poisons, the air with our fossil fuel exhaust and clear cut rainforests by the millions of acres. Our onslaught of the Natural World continues with 80 to 100 species of our fellow travelers losing their existence 24/7 to our encroachment upon their habitat. (Source: Norman Myers, Oxford University)
One of our most prolific acts continues on the bees and other pollinators around the world. In the past 50 years, we poisoned every crop with hundreds of chemical herbicides, pesticides and chemical fertilizers, which, in turn, caused trillions of bees to suffer "Colony Collapse" throughout the world. Without the bees, which I wrote about earlier this year, our species cannot feed itself.
To add insult to injury, in the 21st century, in order to feed our 7.2 billion in numbers, we began tinkering with the structural DNA of plants and animals.
Today, our scientists change the DNA patterns of fish and plants in order to make them bigger, grow faster and yield more harvest: genetically modified organisms.
But we forgot to ask Mother Nature if our meddling in her business would cause any harm. Amazingly, we allow governments, scientists on the payroll of companies like ADM and Monsanto, to tell us that such activities work to make our lives better with no harm to the natural world.
With my research on GMOs connecting their horrific harm to the Natural World and ultimately to we humans, this series will show you the "GMO Frankenstein" being foisted upon us by ugly businessmen in high places to could care less about you, your family or the rest of the species sharing this planet with us.
My intention in writing this series: to educate you to the incredible damage GMO foods cause you along with your family and more important: the horrific destruction to the Natural World.
If you look at human cancers spreading like wildfire across America and the world and every physical ailment we face in America, along the accelerating damage to bees, other pollinators and to the fish in our oceans—you will become appalled at this onslaught and its final consequences.
Investigative reporter Jeremy Siefert said, "When people first hear about just the basic facts concerning Genetically Modified Organisms (GMOs or Genetically Engineered Foods) – the DNA of seeds altered with genes from other organisms like bacteria so food crops can withstand herbicides that will kill all other plants, patented by giant chemical companies and found in 80% of processed foods – the standard response is "Oh, my God." For some, it's just an exclamation, but for others, it's the beginnings of a prayer. There's a mixture of horror and disbelief, as if finding out we're living inside a very strange sci-fi novel. Beyond that, it's the sting of humiliation from being ignorant about something so big, mixed with the anger that comes from feeling like you've been duped.
"Even without understanding what a GMO is or why it matters, most of us believe as citizens of a supposedly free and democratic society that we have the right to know if GMOs are in the food we eat. The fact we don't know, and that our right to know has been taken away by corporate greed and government collusion, should upset and mobilize people. When all the food and seed and water and air is owned and patented by giant multinational corporations, will we even protest? Do we have the wakefulness and willpower to take that first step and stand up for this basic right?" (Source: www.fairworldproject.org)
What I discovered in my research: ADM and Monsanto do not want you to know, along with high government officials, the deleterious effects on the Natural World that GMO food production causes in the long run. These mega-giant corporations "own" regulatory agencies, government officials (bribes or dandy trips to anywhere in the world), and other complicit chemical companies around the world.
Be warned, you will not like the kind of treachery being foisted upon you by your U.S. Congress and officials who should present a moral and ethical stance against GMOs, but fail us because of one item: money.
Thus, as we move through this series, you may choose to save yourself and your family by buying "Certified Organic Foods" along with "Certified Non-Genetically Modified Organism" foods that give you the nutrients of Mother Nature without the "Frankenization" of your food supply and of the planet's natural systems. Additionally, Monsanto and other HUGE corporations work every angle to stop any "GMO" labeling of their poisonous foods. Why do you think the do that?
If this information educates you enough, you may take action provided in the organizations and leaders trying to rid the world of GMOs. Help them and ultimately, you will help your family.
Otherwise, if these "monsters" of Monsanto and ADM get their way, they will cripple this world, all living creatures and the structural systems that allow all life on Earth to remain in balance and allow us all to thrive.
Part 1
The dust has settled a bit since Christian humanitarian aid organization World Vision's March 24 announcement that it would hire gay couples who are legally married in the state in which they reside.  Since "World Vision-gate" remains a hot topic, it's time for some introspection; likewise to do some digging to find out if WV truly is a Christian organization, as it claims.
When WV announced its decision to hire gay people, not surprisingly Bible believing Christians found the decision unsettling.  Clearly WV's Board of Directors chose to ignore the plain teaching of Scripture regarding homosexuality.   As a result, a large number of believers, including some high-profile evangelical leaders, took to the blogosphere in protest and thousands stormed WV's website.  Board members hadn't counted on the huge uproar their unbiblical decision would cause.   Certainly they expected WV's financial support to take a minor hit from unhappy sponsors. But evidently no one anticipated just how big the hit would be.  According one source 10,000 sponsors pulled out. (More on this in a moment.)
Within 2 days the board reversed its decision.  Immediately Richard Stearns, president of World Vision issued a public apology.  The following is an excerpt of his apology from Christianity Today:
"The last couple of days have been very painful," organization president Rich Stearns told reporters this evening. "We feel pain and a broken heart for the confusion we caused for many friends who saw this policy change as a strong reversal of World Vision's commitment to biblical authority, which it was not intended to be."
"Rather than creating more unity [among Christians], we created more division, and that was not the intent. … Our board acknowledged that the policy change we made was a mistake … and we believe that [World Vision supporters] helped us to see that with more clarity … and we're asking you to forgive us for that mistake." 
"We listened to [our] friends, we listened to their counsel. They tried to point out in loving ways that the conduct policy change was simply not consistent … with the authority of Scripture and how we apply Scripture to our lives. … We did inadequate consultation with our supporters. If I could have a do-over on one thing, I would have done much more consultation with Christian leaders."
"What we are affirming today is there are certain beliefs that are so core to our Trinitarian faith that we must take a strong stand on those beliefs. … We cannot defer to a small minority of churches and denominations that have taken a different position."
"Yes, we will certainly defer on many issues that are not so central to our understanding of the Christian faith. … But on the authority of Scripture in our organization's work [and employee conduct] … and on marriage as an institution ordained by God between a man and a woman—those are age-old and fundamental Christian beliefs. We cannot defer on things that are that central to the faith."  
Here's what Stearns said about the large number of child sponsorships that were cancelled:
"That grieves us, because the children we serve will suffer because of that.  … But our choice is not about money or income. It's a sincere desire for us to do the right thing. To be consistent with our core values and to respond to the legitimate feedback and counsel we have received from supporters and friends of World Vision." (Source)
Doing the right thing meant WV had to throw gay people under the bus.
Stearns now wants us to believe that the organization needed feedback and counsel from supporters and friends to help them realize that homosexuality is a sin and as such practicing homosexuals must repent and turn to God.
As previously stated, it was alleged that10,000 kids lost their sponsorship in those 2 short days after the original announcement. Who made this claim?   Far left blogger Matthew Paul Turner. And who did Turner blame for the loss of support?  "So-called born again Christians."  In a blog post Turner grumbled:
Last Monday, the day of the announcement, World Vision's call center received 7000 calls and a loss of 2000 child sponsorships. That's just in 12 hours on Monday! The following day those numbers swelled. And then on Wednesday, within minutes of World Vision announcing that it was reversing its decision, the calls stopped and, according to Stearns, "the bleeding stopped." …  It took several days to count the total loss of sponsorships, a number that eventually rose to "just about 10,000 children," according to Stearns. A handful of people did call back, hoping to start up their sponsorships again. But the majority did not.
Later in his piece Turner cuts lose on the born again believers who dared to withdraw their sponsorship:
There's nothing "moral" about using a kid as a bargaining chip to punish a Christian organization for making a decision that you don't agree with. There's nothing honoring about using children to force an organization's hand. There's nothing "pro life" about that. There's nothing remotely "Christlike" about that. It's downright disgusting, manipulative, and sad. If I was a Pentecostal, I might even call it demonic.  (Source)
Demonic?  No!  What really happened here is that Bible believing Christians sent a message to World Vision:  We will not sponsor organizations that compromise biblical truth.
Amy Spreeman of  Stand Up For the Truth who's been closely following World Vision-gate isn't buying Turner's allegations.  She brings to light two things we need to ask and consider:
1. Is there proof that 10,000 kids are now abandoned?
2. Do "sponsorship fees" really go to the kids?
Nope and nope. First, WV president Richard Stearns this week gave out this figure via phone conference to a small group of hand-picked bloggers who are pro-gay marriage. The blogger with the biggest audience is Matthew Paul Turner. He works for World Vision. 'Nuff said. (emphasis added — Source)
When it comes to the Bible's clear teaches on homosexuality and marriage, WV board member Jacqueline Fuller appears to be as biblically ignorant as Matthew Paul Turner is.  On April 3 she resigned from the organization "because she disagreed with the agency backtracking on a policy that would have recognized employees' same-sex spouses." (Source)
Here's the crux of the matter as stated by The Cripplegate's Jesse Johnson:
The homosexual agenda continues to advance and Christians really ought to come to terms with the fact that it is only a matter of time when our view of marriage will be plainly illegal. As has been said elsewhere, as that agenda moves forward in our country at breakneck speed, ambivalence is not an option; you will be made to care. As World Vision's recent announcements illustrates, it will soon not be practically possible to simply love others and preach the gospel, without having a clear explanation about what the Bible says about homosexuality. (emphasis and link in original — Source)
Spenser vs. World Vision
In 2007 WV found itself in Federal court defending its right to hire only those who shared in its Christian beliefs.  The lawsuit went on for four years.  Then in October 2011 the decision came down on the side of World Vision.  The headline in Christian Headline News read:
VICTORY FOR RELIGIOUS HIRING IN WORLD VISION CASE
According to the report:
As a requirement for employment, Silvia Spencer, Ted Youngberg and Vicki Hulse had acknowledged their agreement and compliance with World Vision's statement of faith upon being hired. In November 2006, however, the three were terminated by World Vision after an internal investigation determined Spencer, Youngberg and Hulse did not believe in the deity of Jesus Christ and denied the doctrine of the Trinity ("There is one God, eternally existent in three persons: Father, Son and the Holy Spirit), a fundamental tenant of the organization's core values.
Claiming discrimination, the disgruntled employees filed a complaint against the Federal Way-based humanitarian aid organization in 2007. The lower court granted World Vision a summary judgment and, in 2009, the plaintiffs appealed the district court's decision.
Judges found the reason for firing was not in dispute. On August 23, however, the U.S. Court of Appeals for the Ninth Circuit ruled 2-1 that World Vision was a "religious organization" and therefore exempt from Title VII of the Civil Rights Act of 1964, which bars religious discrimination in hiring.
From the same article:
"I am pleased, relieved and gratified with the court's action," said World Vision's U.S. president, Richard Stearns, in a statement. "After four years of litigation, we at World Vision U.S. may now put this matter behind us, and continue our policy of hiring only Christians." (Source)
Reading this statement from Sterns makes one wonder why, after battling for four years to have the right and freedom to hire only those who cling to WV's supposed biblical views and values, would this professed Christian organization decide to hire "married" homosexuals?
Stay tuned for Part 2.
Is there anyone out there who still believes that Barack Obama, when he's speaking about American foreign policy, is capable of being anything like an honest man? In a March 26 talk in Belgium to "European youth", the president fed his audience one falsehood, half-truth, blatant omission, or hypocrisy after another. If George W. Bush had made some of these statements, Obama supporters would not hesitate to shake their head, roll their eyes, or smirk. Here's a sample:
– "In defending its actions, Russian leaders have further claimed Kosovo as a precedent – an example they say of the West interfering in the affairs of a smaller country, just as they're doing now. But NATO only intervened after the people of Kosovo were systematically brutalized and killed for years."
Most people who follow such things are convinced that the 1999 US/NATO bombing of the Serbian province of Kosovo took place only after the Serbian-forced deportation of ethnic Albanians from Kosovo was well underway; which is to say that the bombing was launched to stop this "ethnic cleansing". In actuality, the systematic deportations of large numbers of people did not begin until a few days after the bombing began, and was clearly a reaction to it, born of Serbia's extreme anger and powerlessness over the bombing. This is easily verified by looking at a daily newspaper for the few days before the bombing began the night of March 23/24, 1999, and the few days following. Or simply look at the New York Times of March 26, page 1, which reads:
… with the NATO bombing already begun, a deepening sense of fear took hold in Pristina [the main city of Kosovo] that the Serbs would now vent their rage against ethnic Albanian civilians in retaliation. [emphasis added]
On March 27, we find the first reference to a "forced march" or anything of that nature.
But the propaganda version is already set in marble.
– "And Kosovo only left Serbia after a referendum was organized, not outside the boundaries of international law, but in careful cooperation with the United Nations and with Kosovo's neighbors. None of that even came close to happening in Crimea."
None of that even came close to happening in Kosovo either. The story is false. The referendum the president speaks of never happened. Did the mainstream media pick up on this or on the previous example? If any reader comes across such I'd appreciate being informed.
Crimea, by the way, did have a referendum. A real one.
– "Workers and engineers gave life to the Marshall Plan … As the Iron Curtain fell here in Europe, the iron fist of apartheid was unclenched, and Nelson Mandela emerged upright, proud, from prison to lead a multiracial democracy. Latin American nations rejected dictatorship and built new democracies … "
The president might have mentioned that the main beneficiary of the Marshall Plan was US corporations  , that the United States played an indispensable role in Mandela being caught and imprisoned, and that virtually all the Latin American dictatorships owed their very existence to Washington. Instead, the European youth were fed the same party line that their parents were fed, as were all Americans.
– "Yes, we believe in democracy – with elections that are free and fair."
In this talk, the main purpose of which was to lambaste the Russians for their actions concerning Ukraine, there was no mention that the government overthrown in that country with the clear support of the United States had been democratically elected.
– "Moreover, Russia has pointed to America's decision to go into Iraq as an example of Western hypocrisy. … But even in Iraq, America sought to work within the international system. We did not claim or annex Iraq's territory. We did not grab its resources for our own gain. Instead, we ended our war and left Iraq to its people and a fully sovereign Iraqi state that could make decisions about its own future."
The US did not get UN Security Council approval for its invasion, the only approval that could legitimize the action. It occupied Iraq from one end of the country to the other for 8 years, forcing the government to privatize the oil industry and accept multinational – largely U.S.-based, oil companies' – ownership. This endeavor was less than successful because of the violence unleashed by the invasion. The US military finally was forced to leave because the Iraqi government refused to give immunity to American soldiers for their many crimes.
Here is a brief summary of what Barack Obama is attempting to present as America's moral superiority to the Russians:
The modern, educated, advanced nation of Iraq was reduced to a quasi failed state … the Americans, beginning in 1991, bombed for 12 years, with one dubious excuse or another; then invaded, then occupied, overthrew the government, tortured without inhibition, killed wantonly … the people of that unhappy land lost everything – their homes, their schools, their electricity, their clean water, their environment, their neighborhoods, their mosques, their archaeology, their jobs, their careers, their professionals, their state-run enterprises, their physical health, their mental health, their health care, their welfare state, their women's rights, their religious tolerance, their safety, their security, their children, their parents, their past, their present, their future, their lives … More than half the population either dead, wounded, traumatized, in prison, internally displaced, or in foreign exile … The air, soil, water, blood, and genes drenched with depleted uranium … the most awful birth defects … unexploded cluster bombs lying in wait for children to pick them up … a river of blood running alongside the Euphrates and Tigris … through a country that may never be put back together again. … "It is a common refrain among war-weary Iraqis that things were better before the U.S.-led invasion in 2003," reported the Washington Post. (May 5, 2007)
How can all these mistakes, such arrogance, hypocrisy and absurdity find their way into a single international speech by the president of the United States? Is the White House budget not sufficient to hire a decent fact checker? Someone with an intellect and a social conscience? Or does the desire to score propaganda points trump everything else? Is this another symptom of the Banana-Republicization of America?
Long live the Cold War
In 1933 US President Franklin D. Roosevelt recognized the Soviet Union after some 15 years of severed relations following the Bolshevik Revolution. On a day in December of that year, a train was passing through Poland carrying the first American diplomats dispatched to Moscow. Amongst their number was a 29 year-old Foreign Service Officer, later to become famous as a diplomat and scholar, George Kennan. Though he was already deemed a government expert on Russia, the train provided Kennan's first actual exposure to the Soviet Union. As he listened to his group's escort, Russian Foreign Minister Maxim Litvinov, reminisce about growing up in a village the train was passing close by, and his dreams of becoming a librarian, the Princeton-educated Kennan was astonished: "We suddenly realized, or at least I did, that these people we were dealing with were human beings like ourselves, that they had been born somewhere, that they had their childhood ambitions as we had. It seemed for a brief moment we could break through and embrace these people."
It hasn't happened yet.
One would think that the absence in Russia of communism, of socialism, of the basic threat or challenge to the capitalist system, would be sufficient to write finis to the 70-year Cold War mentality. But the United States is virtually as hostile to 21st-century Russia as it was to 20th-century Soviet Union, surrounding Moscow with military bases, missile sites, and NATO members. Why should that be? Ideology is no longer a factor. But power remains one, specifically America's perpetual lust for world hegemony. Russia is the only nation that (a) is a military powerhouse, and (b) doesn't believe that the United States has a god-given-American-exceptionalism right to rule the world, and says so. By these criteria, China might qualify as a poor second. But there are no others.
Washington pretends that it doesn't understand why Moscow should be upset by Western military encroachment, but it has no such problem when roles are reversed. Secretary of State John Kerry recently stated that Russian troops poised near eastern Ukraine are "creating a climate of fear and intimidation in Ukraine" and raising questions about Russia's next moves and its commitment to diplomacy.
NATO – ever in need of finding a raison d'être – has now issued a declaration of [cold] war, which reads in part:
"NATO foreign ministers on Tuesday [April 1, 2014] reaffirmed their commitment to enhance the Alliance's collective defence, agreed to further support Ukraine and to suspend NATO's practical cooperation with Russia. 'NATO's greatest responsibility is to protect and defend our territory and our people. And make no mistake, this is what we will do,' NATO Secretary General Anders Fogh Rasmussen said. … Ministers directed Allied military authorities to develop additional measures to strengthen collective defence and deterrence against any threat of aggression against the Alliance, Mr. Fogh Rasmussen said. 'We will make sure we have updated military plans, enhanced exercises and appropriate deployments,' he said. NATO has already reinforced its presence on the eastern border of the Alliance, including surveillance patrols over Poland and Romania and increased numbers of fighter aircraft allocated to the NATO air policing mission in the Baltic States. … NATO Foreign Ministers also agreed to suspend all of NATO's practical cooperation with Russia."
Does anyone recall what NATO said in 2003 when the United States bombed and invaded Iraq with "shock and awe", compared to the Russians now not firing a single known shot at anyone? And neither Russia nor Ukraine is even a member of NATO. Does NATO have a word to say about the right-wing coup in Ukraine, openly supported by the United States, overthrowing the elected government? Did the hypocrisy get any worse during the Cold War? Imagine that NATO had not been created in 1949. Imagine that it has never existed. What reason could one give today for its creation? Other than to provide a multi-national cover for Washington's interventions.
One of the main differences between now and the Cold War period is that Americans at home are (not yet) persecuted or prosecuted for supporting Russia or things Russian.
But don't worry, folks, there won't be a big US-Russian war. For the same reason there wasn't one during the Cold War. The United States doesn't pick on any country which can defend itself.
Cuba … Again … Still … Forever
Is there actually a limit? Will the United States ever stop trying to overthrow the Cuban government? Entire books have been written documenting the unrelenting ways Washington has tried to get rid of tiny Cuba's horrid socialism – from military invasion to repeated assassination attempts to an embargo that President Clinton's National Security Advisor called "the most pervasive sanctions ever imposed on a nation in the history of mankind".  But nothing has ever come even close to succeeding. The horrid socialism keeps on inspiring people all over the world. It's the darnedest thing. Can providing people free or remarkably affordable health care, education, housing, food and culture be all that important?
And now it's "Cuban Twitter" – an elaborately complex system set up by the US Agency for International Development (USAID) to disguise its American origins and financing, aiming to bring about a "Cuban Spring" uprising. USAID sought to first "build a Cuban audience, mostly young people; then the plan was to push them toward dissent", hoping the messaging network "would reach critical mass so that dissidents could organize 'smart mobs' – mass gatherings called at a moment's notice – that might trigger political demonstrations or 'renegotiate the balance of power between the state and society'."  It's too bad it's now been exposed, because we all know how wonderful the Egyptian, Syrian, Libyan, and other "Arab Springs" have turned out.
Here's USAID speaking after their scheme was revealed on April 3: "Cubans were able to talk among themselves, and we are proud of that."  We are thus asked to believe that normally the poor downtrodden Cubans have no good or safe way to communicate with each other. Is the US National Security Agency working for the Cuban government now?
The Associated Press, which broke the story, asks us further to believe that the "truth" about most things important in the world is being kept from the Cuban people by the Castro regime, and that the "Cuban Twitter" would have opened people's eyes. But what information might a Cuban citizen discover online that the government would not want him to know about? I can't imagine. Cubans are in constant touch with relatives in the US, by mail and in person. They get US television programs from Miami and other southern cities; both CNN and Telesur (Venezuela, covering Latin America) are seen regularly on Cuban television"; international conferences on all manner of political, economic and social issues are held regularly in Cuba. I've spoken at more than one myself. What – it must be asked – does USAID, as well as the American media, think are the great dark secrets being kept from the Cuban people by the nasty commie government?
Those who push this line sometimes point to the serious difficulty of using the Internet in Cuba. The problem is that it's extremely slow, making certain desired usages often impractical. From an American friend living in Havana: "It's not a question of getting or not getting internet. I get internet here. The problem is downloading something or connecting to a link takes too long on the very slow connection that exists here, so usually I/we get 'timed out'." But the USAID's "Cuban Twitter", after all, could not have functioned at all without the Internet.
Places like universities, upscale hotels, and Internet cafés get better connections, at least some of the time; however, it's rather expensive to use at the hotels and cafés.
In any event, this isn't a government plot to hide dangerous information. It's a matter of technical availability and prohibitive cost, both things at least partly in the hands of the United States and American corporations. Microsoft, for example, at one point, if not at present, barred Cuba from using its Messenger instant messaging service.
Cuba and Venezuela have jointly built a fiber optic underwater cable connection that they hope will make them less reliant on the gringos; the outcome of this has not yet been reported in much detail.
The grandly named Agency for International Development does not have an honorable history; this can perhaps be captured by a couple of examples: In 1981, the agency's director, John Gilligan, stated: "At one time, many AID field offices were infiltrated from top to bottom with CIA people. The idea was to plant operatives in every kind of activity we had overseas, government, volunteer, religious, every kind."
On June 21, 2012, the Bolivarian Alliance for the Peoples of Our America (ALBA) issued a resolution calling for the immediate expulsion of USAID from their nine member countries, "due to the fact that we consider their presence and actions to constitute an interference which threatens the sovereignty and stability of our nations."
USAID, the CIA, the National Endowment for Democracy (and the latter's subsidiaries), together or singly, continue to be present at regime changes, or attempts at same, favorable to Washington, from "color revolutions" to "spring" uprisings, producing a large measure of chaos and suffering for our tired old world.
Notes
William Blum, America's Deadliest Export – Democracy: The Truth About US Foreign Policy and Everything Else, p.22-5
Walter Isaacson & Evan Thomas, The Wise Men (1986), p.158
Washington Post, March 31, 2014
"NATO takes measures to reinforce collective defence, agrees on support for Ukraine", NATO website, April 1, 2014
Sandy Berger, White House press briefing, November 14, 1997, US Newswire transcript
Associated Press, April 3 & 4, 2014
Washington Post, April 4, 2014
Associated Press, June 2, 2009
George Cotter, "Spies, strings and missionaries", The Christian Century (Chicago), March 25, 1981, p.321
President Assad and Ayatollah Khomeini are keeping their word. Will President Obama keep his?
Recent reports from the Organization for the Prohibition of Chemical Weapons (OPCW), the accuracy of which have been conceded by the White House, but denied in Tel Aviv, have it that slightly less than half of Syria's chemical weapons have already left the country and 100% of the country's stockpiles are believed to have been neutralized. Well along the path to meet the June 30 agreed discard date.
Both Iran and Russia have been credited with helping persuade the Syrian government that it is very much in the interest of Syria as well as the global community to discard its chemical weapons stockpiles which date back to the 1970s. A total of 11 consignments have been recently shipped out of Syria for decontamination and disposal, the latest from Latakia. Included is all of Syria's sulphur mustard gas, a blister agent that was first widely used in WWI.
Captain Clyde Chester Lamb, the father of this observer, was a one of hundreds of victims of the deadly gas while fighting the Germans in front-line trenches in eastern France. Capt. Lamb survived, but never fully recovered, and when he did later speak about his experiences in the war, which was not often, he once told his horrified children at story time that he and his comrades had no gas masks so they used to improvise by urinating on scraps of uniforms which he would distribute to his men with instructions to hold it tightly over their nose and mouth. Somehow their pee seemed to reduce the effects of the poisonous gas.
Despite some delays due to security and logistical issues, few besides the Zionist lobby in the US Congress doubt that Syria's work will be completed. Across Syria, according to information made available to this observer, specialists have accelerated the packing and transporting of the chemical weapons, sometimes even moving them through rebel territory to the Mediterranean port of Latakia.
In cooperation with Iran, Russia has supplied large-capacity containers and armored vehicles for the Latakia loading operation while China has sent 10 ambulances and surveillance cameras and Finland dispatched an emergency response team in case of accidents. Denmark and Norway are providing cargo ships and military escorts to take the chemicals to the container port of Gioia Tauro in Italy and the American government, among others, is also helping.
Despite Iranian cooperation with this major humanitarian project and, according to IAEA spokesmen, "solid progress has been made with the Iranian nuclear file", the White House to date is still waffling on its pledged meager lifting of sanctions which continue to target the people of Iran. US sanctions also continue to compound and increase the nearly unfathomable suffering of the Syrian people all of whom have been targeted by Barack Obama Executive Orders ever tightening their noose of economic sanctions.
The White House has yet to explain its dilatoriness, but Congressional sources report that President Obama is still being targeted by Israel and its Congressional agents and that Obama does not yet want to lift sanctions "for now", more than cosmetically. This applies to medicine and medical equipment. The same source claims that the White House is also signaling Tehran that it should continue to be patient while a sanctions review is getting started in Washington.Meanwhile, US Secretary of State Kerry has just assured Iran's leadership that the White House appreciates the fatwa (religious decree) issued by Supreme Leader Ayatollah Ali Khamenei last month forbidding the production and use of nuclear weapons. Kerry agreed that Iran is entitled to a peaceful nuclear program and he also credited the earlier statement by Iran's Foreign Ministry Spokes Ramin Mehman-Parast that Ayatollah Khamenei's fatwa is binding for Iran, and that "There is nothing more important in defining the framework for our nuclear activities than the Leader's fatwa."
A recent Office of Financial Assets Control (OFAC) prosecution of an American citizen seeking to ship potentially life-saving MRI medical equipment to Iran illustrates the weak knees of the Obama White House by allowing that Zionist dominated Federal agency to ramp up its targeting of the people of Iran.
There are dozens of cases like the one noted below and President Obama is presumably aware of them. The shameful case under review involves a University Medical Researcher who is being targeting with jail time for sending a medical device to Iran which his lawyers argued was completely innocent and clearly legal because medical equipment such as MRI's are exempted by the ' humanitarian exceptions' stated in Obama's relevant Executive Orders imposing US sanctions against Iran.
Mr. Cliff Burns, a lawyer and law professor in Washington DC explained the case of Mr.Mohamad Nazemzadeh, who was a Research Fellow in the Neurology Department of the University of Michigan at the time of his arrest, and who is being federally prosecuted for sending a medical device to the Netherlands. At issue is a coil for a magnetic resonance imaging (MRI) machine. The coil is the assembly of wires that generates the necessary radio signals when electricity flows through them to permit imaging the part of the body within the coil. Mr. Nazemzadeh is currently doing research at the Henry Ford hospital in Detroit and his area of specialty is, not surprisingly, magnetic resonance imaging.
As explained by Mr. Burns, "A part for an MRI machine would, under the Trade Sanctions Reform and Export Enhancement Act of 2000, be eligible for an export license notwithstanding the embargo on Iran. Nazemzadeh's failure to obtain a license would, of course, be a violation of the embargo." Even assuming that it was a technical criminal violation in his case, one has to wonder why, as Burns does, Obama Administration prosecutorial resources are being consumed to prosecute a researcher for trying to send life-saving medical equipment to Iran. As one of the researchers lawyers noted: "Aren't there dangerous people out there with guns and bombs who might warrant the attention instead?"
An affidavit in support of a search warrant for Nazemzadeh's mobile phone casts doubt on whether Nazemzadeh actually had the criminal intent necessary to support an OFAC pushed criminal prosecution in the first place for the attempted export of the MRI part. According to the affidavit, Nazemzadeh was negotiating with the undercover federal agent sent in by OFAC to ship the MRI coil to Iran through a company in the Netherlands. It is not uncommon for people to believe, even if they study the vague wording of the Iranian sanction minutia, that if it is legal to ship an item to a particular country, no laws are broken if the item is then re-exported, without any involvement on their part, to a prohibited destination. Here, according to the affidavit, Mr. Nazemzadeh continued to say to the undercover agent that he believed the transaction was legal and says this is true because the export from the United States is to the Netherlands, not Iran. Mr. Nazemzadeh's good faith legal mistake is not a criminal act. Instead, this is precisely the sort of case that ought to be evaluated, if at all, as an administrative matter by OFAC, were that Muslim targeting agency anywhere near fair-minded and objective. OFAC should have at the maximum issued a fine in this case notwithstanding Mr. Nazemzadeh's mistaken belief that the transaction did not violate U.S. law.
If the White House truly wants to normalize relations with Iran and with Syria as it claims, it needs to do a lot better. A good start would be by calling off OFACs attack dogs who service other than the American people. Also it should honor its oft touted "Humanitarian sanctions against Iran and Syria that exempts medicines and medical equipment". This language has not been implemented and it misleads the global community about the brutal and illegal nature of the White House promulgated civilian targeting, for political purposes, sanctions.
This weekend's White House greetings to the people of the Islamic Republic for Nowruz the Iranian New Year in the Solar Hijri calendar are no doubt sincere and appreciated. But now it's time to give substance to America's New Year's greetings that her citizens can be proud of and, that is accordant and consistent with their values.
Nobody expected events to move on with such a breath-taking speed. The Russians took their time; they sat on the fence and watched while the Brown storm-troopers conquered Kiev, and they watched while Mrs Victoria Nuland of the State Department and her pal Yatsenyuk ("Yats") slapped each other's backs and congratulated themselves on their quick victory. They watched when President Yanukovych escaped to Russia to save his skin. They watched when the Brown bands moved eastwards to threaten the Russian-speaking South East. They patiently listened while Mme Timoshenko, fresh out of gaol, swore to void treaties with Russia and to expel the Russian Black Sea Fleet from its main harbour in Sevastopol. They paid no heed when the new government appointed oligarchs to rule Eastern provinces. Nor did they react when children in Ukrainian schools were ordered to sing "Hang a Russian on a thick branch" and the oligarch-governor's deputy promised to hang dissatisfied Russians of the East as soon as Crimea is pacified. While these fateful events unravelled, Putin kept silent.
He is a cool cucumber, Mr Putin. Everybody, including this writer, thought he was too nonchalant about Ukraine's collapse. He waited patiently. The Russians made a few slow and hesitant, almost stealthy moves. The marines Russia had based in Crimea by virtue of an international agreement (just as the US has marines in Bahrain) secured Crimea's airports and roadblocks, provided necessary support to the volunteers of the Crimean militia (called Self-Defence Forces), but remained under cover. The Crimean parliament asserted its autonomy and promised a plebiscite in a month time. And all of a sudden things started to move real fast!
The poll was moved up to Sunday, March 16. Even before it could take place, the Crimean Parliament declared Crimea's independence. The poll's results were spectacular: 96% of the votes were for joining Russia; the level of participation was unusually high – over 84%. Not only ethnic Russians, but ethnic Ukrainians and Tatars voted for reunification with Russia as well. A symmetrical poll in Russia showed over 90% popular support for reunification with Crimea, despite liberals' fear-mongering ("this will be too costly, the sanctions will destroy Russian economy, the US will bomb Moscow", they said).
Even then, the majority of experts and talking heads expected the situation to remain suspended for a long while. Some thought Putin would eventually recognise Crimean independence, while stalling on final status, as he did with Ossetia and Abkhazia after the August 2008 war with Tbilisi. Others, especially Russian liberals, were convinced Putin would surrender Crimea in order to save Russian assets in the Ukraine.
But Putin justified the Russian proverb: the Russians take time to saddle their horses, but they ride awfully fast. He recognised Crimea's independence on Monday, before the ink on the poll's results dried.  The next day, on Tuesday, he gathered all of Russia's senior statesmen and parliamentarians in the biggest, most glorious and elegant St George state hall in the Kremlin, lavishly restored to its Imperial glory, and declared Russia's acceptance of Crimea's reunification bid. Immediately after his speech, the treaty between Crimea and Russia was signed, and the peninsula reverted to Russia as it was before 1954, when Communist Party leader Khrushchev passed it to the Ukrainian Soviet Republic.
This was an event of supreme elation for the gathered politicians and for people at home watching it live on their tellies. The vast St George Hall applauded Putin as never before, almost as loudly and intensely as the US Congress had applauded Netanyahu. The Russians felt immense pride: they still remember the stinging defeat of 1991, when their country was taken apart. Regaining Crimea was a wonderful reverse for them. There were public festivities in honour of this reunification all over Russia and especially in joyous Crimea.
Historians have compared the event with the restoration of Russian sovereignty over Crimea in 1870, almost twenty years after the Crimean War had ended with Russia's defeat, when severe limitations on Russian rights in Crimea were imposed by victorious France and Britain. Now the Black Sea Fleet will be able to develop and sail freely again, enabling it to defend Syria in the next round. Though Ukrainians ran down the naval facilities and turned the most advanced submarine harbour of Balaclava into shambles, the potential is there.
Besides the pleasure of getting this lost bit of land back, there was the additional joy of outwitting the adversary. The American neocons arranged the coup in Ukraine and sent the unhappy country crashing down, but the first tangible fruit of this break up went to Russia.
A new Jewish joke was coined at that time:
Israeli President Peres asks the Russian President:
       
Vladimir, are you of Jewish ancestry?

      

Putin: What makes you think so, Shimon?

       

Peres: You made the US pay five billion dollars to deliver Crimea to Russia. Even for a Jew, that is audacious!
Five billion dollars is a reference to Victoria Nuland's admission of having spent that much for democratisation (read: destabilisation) of the Ukraine. President Putin snatched victory from the jaws of defeat, and US hegemony suffered a set-back.
The Russians enjoyed the sight of their UN representative Vitaly Churkin coping with a near-assault by Samantha Power. The Irish-born US rep came close to bodily attacking the elderly grey-headed Russian diplomat telling him that "Russia was defeated (presumably in 1991 – ISH) and should bear the consequences… Russia is blackmailing the US with its nuclear weapons," while Churkin asked her to keep her hands off him and stop foaming at the mouth. This was not the first hostile encounter between these twain: a month ago, Samantha entertained a Pussy Riot duo, and Churkin said she should join the group and embark on a concert tour.
The US Neocons' role in the Kiev coup was clarified by two independent exposures. Wonderful Max Blumenthal and Rania Khalek showed that the anti-Russian campaign of recent months (gay protests, Wahl affair, etc.) was organised by the Zionist Neocon PNAC (now renamed FPI) led by Mr Robert Kagan, husband of Victoria "Fuck EC" Nuland. It seems that the Neocons are hell-bent to undermine Russia by all means, while the Europeans are much more flexible. (True, the US troops are still stationed in Europe, and the old continent is not as free to act as it might like).
The second exposé was an interview with Alexander Yakimenko, the head of Ukrainian Secret Services (SBU) who had escaped to Russia like his president. Yakimenko accused Andriy Parubiy, the present security czar, of making a deal with the Americans. On American instructions, he delivered weapons and brought snipers who killed some 70 persons within few hours. They killed the riot police and the protesters as well.
The US Neocon-led conspiracy in Kiev was aimed against the European attempt to reach a compromise with President Yanukovych, said the SBU chief. They almost agreed on all points, but Ms Nuland wanted to derail the agreement, and so she did – with the help of a few snipers.
These snipers were used again in Crimea: a sniper shot and killed a Ukrainian soldier. When the Crimean self-defence forces began their pursuit, the sniper shot at them, killed one and wounded one. It is the same pattern: snipers are used to provoke response and hopefully to jump-start a shootout.
Novorossia
While Crimea was a walkover, the Russians are far from being home and dry. Now, the confrontation moved to the Eastern and South-Eastern provinces of mainland Ukraine, called Novorossia (New Russia) before the Communist Revolution of 1917. Alexander Solzhenitsyn in his later years predicted that Ukraine's undoing would come from its being overburdened by industrial provinces that never belonged to the Ukraine before Lenin, – by Russian-speaking Novorossia. This prediction is likely to be fulfilled.
Who fights whom over there? It is a great error to consider the conflict a tribal one, between Russians and Ukrainians. Good old Pat Buchanan made this error saying that "Vladimir Putin is a blood-and-soil, altar-and-throne ethno-nationalist who sees himself as Protector of Russia and looks on Russians abroad the way Israelis look upon Jews abroad, as people whose security is his legitimate concern." Nothing could be farther away from truth: perhaps only the outlandish claim that Putin is keen on restoring the Russian Empire can compete.
Putin is not an empire-builder at all (to great regret of Russia's communists and nationalists). Even his quick takeover of Crimea was an action forced upon him by the strong-willed people of Crimea and by the brazen aggression of the Kiev regime. I have it on a good authority that Putin hoped he would not have to make this decision. But when he decided he acted.
The ethno-nationalist assertion of Buchanan is even more misleading. Ethno-nationalists of Russia are Putin's enemies; they support the Ukrainian ethno-nationalists and march together with Jewish liberals on Moscow street demos. Ethno-nationalism is as foreign to Russians as it is foreign to the English. You can expect to meet a Welsh or Scots nationalist, but an English nationalist is an unnatural rarity. Even the English Defence League was set up by a Zionist Jew. Likewise, you can find a Ukrainian or a Belarusian or a Cossack nationalist, but practically never a Russian one.
Putin is a proponent and advocate of non-nationalist Russian world. What is the Russian world?
Russian World
Russians populate their own vast universe embracing many ethnic units of various background, from Mongols and Karels to Jews and Tatars. Until 1991, they populated an even greater land mass (called the Soviet Union, and before that, the Russian Empire) where Russian was the lingua franca and the language of daily usage for majority of citizens. Russians could amass this huge empire because they did not discriminate and did not hog the blanket. Russians are amazingly non-tribal, to an extent unknown in smaller East European countries, but similar to other great Eastern Imperial nations, the Han Chinese and the Turks before the advent of Young Turks and Ataturk. The Russians did not assimilate but partly acculturated their neighbours for whom Russian language and culture became the gateway to the world. The Russians protected and supported local cultures, as well, at their expense, for they enjoy this diversity.
Before 1991, the Russians promoted a universalist humanist world-view; nationalism was practically banned, and first of all, Russian nationalism. No one was persecuted or discriminated because of his ethnic origin (yes, Jews complained, but they always complain). There was some positive discrimination in the Soviet republics, for instance a Tajik would have priority to study medicine in the Tajik republic, before a Russian or a Jew; and he would be able to move faster up the ladder in the Party and politics. Still the gap was small.
After 1991, this universalist world-view was challenged by a parochial and ethno-nationalist one in all ex-Soviet republics save Russia and Belarus. Though Russia ceased to be Soviet, it retained its universalism. In the republics, people of Russian culture were severely discriminated against, often fired from their working places, in worst cases they were expelled or killed. Millions of Russians, natives of the republics, became refugees; together with them, millions of non-Russians who preferred Russian universalist culture to "their own" nationalist and parochial one fled to Russia. That is why modern Russia has millions of Azeris, Armenians, Georgians, Tajiks, Latvians and of smaller ethnic groups from the republics. Still, despite discrimination, millions of Russians and people of Russian culture remained in the republics, where their ancestors lived for generations, and the Russian language became a common ground for all non-nationalist forces.
If one wants to compare with Israel, as Pat Buchanan did, it is the republics, such as Ukraine, Georgia, Uzbekistan, Estonia do follow Israeli model of discriminating and persecuting their "ethnic minorities", while Russia follows the West European model of equality.
France vs Occitania
In order to understand the Russia-Ukraine problem, compare it with France. Imagine it divided into North and South France, the North retaining the name of France, while the South of France calling itself "Occitania", and its people "Occitans", their language "Occitan". The government of Occitania would force the people to speak Provençal, learn Frederic Mistral's poems by rote and teach children to hate the French, who had devastated their beautiful land in the Albigensian Crusade of 1220. France would just gnash its teeth. Now imagine that after twenty years, the power in Occitania were violently seized by some romantic southern fascists who were keen to eradicate "800 years of Frank domination" and intend to discriminate against people who prefer to speak the language of Victor Hugo and Albert Camus. Eventually France would be forced to intervene and defend francophones, at least in order to stem the refugee influx. Probably the Southern francophones of Marseilles and Toulon would support the North against "their own" government, though they are not migrants from Normandy.
Putin defends all Russian-speakers, all ethnic minorities, such as Gagauz or Abkhaz, not only ethnic Russians. He defends the Russian World, all those russophones who want and need his protection. This Russian World definitely includes many, perhaps majority of people in the Ukraine, ethnic Russians, Jews, small ethnic groups and ethnic Ukrainians, in Novorossia and in Kiev.
Indeed Russian world was and is attractive. The Jews were happy to forget their schtetl and Yiddish; their best poets Pasternak and Brodsky wrote in Russian and considered themselves Russian. Still, some minor poets used Yiddish for their self-expression. The Ukrainians, as well, used Russian for literature, though they spoke their dialect at home for long time. Nikolai Gogol, the great Russian writer of Ukrainian origin, wrote Russian, and he was dead set against literary usage of the Ukrainian dialect. There were a few minor Romantic figures who used the dialect for creative art, like Taras Shevchenko and Lesya Ukrainka.
Solzhenitsyn wrote: "Even ethnic-Ukrainians do not use and do not know Ukrainian. In order to promote its use, the Ukrainian government bans Russian schools, forbids Russian TV, even librarians are not allowed to speak Russian with their readers. This anti-Russian position of Ukraine is exactly what the US wants in order to weaken Russia."
Putin in his speech on Crimea stressed that he wants to secure the Russian world – everywhere in the Ukraine. In Novorossia the need is acute, for there are daily confrontations between the people and the gangs sent by the Kiev regime. While Putin does not yet want (as opposed to Solzhenitsyn and against general Russian feeling) to take over Novorossia, he may be forced to it, as he was in Crimea. There is a way to avoid this major shift: the Ukraine must rejoin the Russian world. While keeping its independence, Ukraine must grant full equality to its Russian language speakers. They should be able to have Russian-language schools, newspapers, TV, be entitled to use Russian everywhere. Anti-Russian propaganda must cease. And fantasies of joining NATO, too.
This is not an extraordinary demand: Latinos in the US are allowed to use Spanish. In Europe, equality of languages and cultures is a sine qua non. Only in the ex-Soviet republics are these rights trampled – not only in Ukraine, but in the Baltic republics as well. For twenty years, Russia made do with weak objections, when Russian-speakers (the majority of them are not ethnic Russians) in the Baltic states were discriminated against. This is likely to change. Lithuania and Latvia have already paid for their anti-Russian position by losing their profitable transit trade with Russia. Ukraine is much more important for Russia. Unless the present regime is able to change (not very likely), this illegitimate regime will be changed by people of Ukraine, and Russia will use R2P against the criminal elements in power.
The majority of people of Ukraine would probably agree with Putin, irrespective of their ethnicity. Indeed, in the Crimean referendum, Ukrainians and Tatars voted en masse together with Russians. This is a positive sign: there will be no ethnic strife in the Ukraine's East, despite US efforts to the contrary. The decision time is coming up fast: some experts presume that by end of May the Ukrainian crisis will be behind us.
English language editing by Ken Freeland.