Volatility in the currency markets, bond markets, and stock markets likely has a lot of people on Wall Street feeling a bit worn out. Taking a summer vacation in the Hamptons might just be their best idea.
The coming months promise to be anything but quiet and predictable. Here are a couple of items that may yield profound implications for stock, bond and currency investors before summer ends…
The Threat of an Official Recession Is Looming
The next few months are critical for the U.S. economy. The official definition of recession calls for two successive quarters of negative GDP. First quarter GDP came in barely positive, initially estimated at 0.2%, but it will be revised twice before July. Some experts expect it will wind up in negative territory.
The U.S. trade deficit recently came in much larger than expected. The higher deficit will, setting other factors aside, translate to lower GDP. Investors will get a look at 2nd quarter GDP in late July and pessimism among forecasters is growing.
So far U.S. equity investors are hoping for the best, or at least hoping the Fed will reverse course on tightening. Stocks are shrugging off bad news and powering higher with price-to-earnings valuations climbing into the nosebleed section.
It is hard to imagine valuations at these levels holding if investors and high frequency trading algorithms must grapple with an official recession. Of course, should the Fed announce some new form of stimulus in response to bad news then all bets are off.
The End Is Nigh for Greece
The Greek government is running out of tricks to avoid a default. Last week, officials there paid €750 million Greece owed to the IMF by borrowing €650 from the IMF; a last resort gimmick they won't be able to repeat.
Absent finding an agreement with lenders to modify loans and dramatically reduce what is owed, the Greeks will be in outright default as early as next month. This summer should tell the tale on Greece's future within the European Union.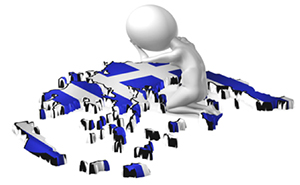 Should Greece default and exit the EU, it will be the first event of its kind, and it has the potential to open a Pandora's Box. There will be bank failures within Greece and pain for anyone holding Greek debt. It could pave the way for bankruptcy and an exit in a number of other nations where finances are also in shambles. And no one can confidently predict the outcome in derivatives markets where banks and hedge funds have been making highly leveraged bets.
Should the Greeks manage to reach an accord with lenders, markets will have to contend with a different set of challenges. You can bet other overly indebted nations including Ireland, Spain, Portugal, and Italy will aggressively pursue similar deals. The pain for bond holders isn't likely to end with Greece.
The EU has a flood of bad debt swirling around its knees, but officials there continue to pretend they stand on solid ground. Regardless of whether Greece defaults outright or manages to cut a deal, it looks like the pretending will have to stop – and soon.
Hedge Fund schemers are the modern version of robber barons. At the top of the list of unscrupulous manipulators is the Nazi collaborator, George Soros. With reports like in Forbes that George Soros May Owe Billions In Taxes, an alarm should go off to all investors.
"By the early 2000s, hedge funds were considered de rigeur for sophisticated investors willing to take a risk in exchange for potential wealth. As that potential wealth grew, so did the potential tax bill, and managers began looking at other options. The solution? Investing in offshore hedge funds. Hedge fund managers are generally taxed on income in the country where the fund is located making relocating to the usual offshore suspects such as the Caymans, Bermuda and Ireland attractive. Tax was essentially deferred on fees from these funds until it landed in the hands of those in the U.S."
The 2008 financial meltdown had all the Wall Street elites scrambling to protect their investment, while avoiding the day of reckoning with the tax man. One such effort as Forbes cites allowed for another deferred work around.
The change was inserted into the Emergency Economic Stabilization Act of 2008 (Public Law 110-343) – and if that sounds familiar, you're not imagining it. That law was also instrumental in the administration of the Troubled Assets Relief Program, or TARP. The new law essentially banned the deferral of fees and compensation by these offshore hedge funds.
Moving the domicile for the Soros fund to Ireland was an attempt to circumvent the intent of an ill-written law.
The Street lays out the basis for the enormous tax bill coming due.
"At the end of 2013, Soros—through Soros Fund Management—had amassed $13.3 billion through the use of deferrals, according to Irish regulatory filings by Soros.

Congress closed the loophole in 2008 and ordered hedge fund managers who used it to pay the accumulated taxes by 2017. A New York-based money manager such as Soros would be subject to a federal rate of 39.6 percent, combined state and city levies totaling 12 percent, and an additional 3.8 percent tax on investment income to pay for Obamacare, according to Andrew Needham, a tax partner at Cravath, Swaine & Moore. Applying those rates to Soros's deferred income would create a tax bill of $6.7 billion."
Now this background provides the business analysis but far more important is the relevance of the political clout that Soros has wheeled for decades and how that influence will effect if he will actually pay his tax bill.
Review the long laundry list of Organizations Funded Directly by George Soros and his Open Society Institute that have received direct funding and assistance from George Soros.
Note that the deadline for payment is 2017, just after the next election. Image the next puppet taking office using an executive order to further delay or water down the actual collection of the Soros tax obligation.
It should be self-evident that the weight of Wall Street influence will be enormous in the 2016 Presidential coronation.
Dismiss the obvious hypocrisy of advocating for higher taxes while avoiding your own tax payment and focus on the actual results.
"A manager with Soros's track record who started with $12 million from investors, took 20 percent of the profits, and reinvested that money tax-free over 40 years, would end up with $15.9 billion. If that same manager paid federal, state, and local taxes on the fees and related investment gains before reinvesting them, the figure would shrink to $2.4 billion…"
This strategy is not unique but it is symbolic of the way the financial elites benefit from their extraordinary influence over the biased tax regulations that favors the politically well connected.
The difficulty for leftist supporters of the Soros mind numbing collectivist culture is that they are unable to separate between the rhetoric and the reality of actual actions.
Soros is a pied piper for the naïve and misguided. All the millions he spends on altering the political landscape have a financial component to protect his own fortune.
Restructuring tax law and regulations never reforms the system. This one example, how hedge funds circumvent taxes, should illustrate that inserting loopholes into statutes is the function of lobbying and providing campaign contributions.
George Soros has a long record of avoiding paying taxes, while undermining political regimes. But he is not alone in avoiding taxes. Bankers Anonymous outlines how the game is played.
"If you set up a traditional hedge fund, first things first: you'll want to charge the traditional "2/20."Embedded in this short-hand lingo of "2/20" for hedge fund fees are two types of income.

With the two types of income, you need the two entities to keep the income tracked separately.  Entity #1 collects the "2," which is taxed like regular business income, and Entity #2 collects the "20," which collects your totally awesome income at a lower tax rate.

The "2" refers to an annual management fee of 2% of assets under management.  On a small/medium-sized hedge fund of, for example, $500 million under management, you will collect $10 million in management fees per year."
Since the standard format for a hedge fund treats fees as different tax rates, the hidden deception is why such hedge funds go unregulated by the SEC? The sweet heart tax treatment deal that allows circumvention of normal rates is a profound offence. Moving the venture offshore just adds to the outrage. Targeting 2017 for final settle up will be forgotten as the next deferment exception is adopted.
Unless people admit the elite as the real power behind the political charade, there will never be equitable tax accountability. Soros plots to overthrow governments. Ignoring the tax bill should be a cake walk. A better solution is to institute serious and comprehensive oversight over the 2-20 tax dodge and apply the same rules to the financial privileged that ordinary citizens must observe. If you agree, keep the pressure on Soros and demand a long overdue resolution.
The edifice of world post-1991 order is collapsing right now before our eyes. President Putin's decision to give a miss to the Auschwitz pilgrimage, right after his absence in Paris at the Charlie festival, gave it the last shove. It was good clean fun to troll Russia, as long as it stayed the course. Not anymore. Russia broke the rules.
Until now, Russia, like a country bumpkin in Eton, tried to belong. It attended the gathering of the grandees where it was shunned, paid its dues to European bodies that condemned it, patiently suffered ceaseless hectoring of the great powers and irritating baiting of East European small-timers alike. But something broke down. The lad does not want to belong anymore; he picked up his stuff and went home – just when they needed him to knee in Auschwitz.
Auschwitz gathering is an annual Canossa of Western leaders where they bewail their historic failure to protect the Jews and swear their perennial obedience to them. This is a more important religious rite of our times, the One Ring to rule them all, established in 2001, when the Judeo-American empire had reached the pinnacle of its power. The Russian leader had duly attended the events. This year, they will have to do without him. Israeli ministers already have expressed their deep dissatisfaction for this was Russia's Red Army that saved the Jews in Auschwitz, after all. Russia's absence will turn the Holocaust memorial day into a parochial, West-only, event. Worse, Russia's place will be taken by Ukraine, ruled by unrepentant heirs to Hitler's Bandera.
This comes after the French 'Charlie' demo, also spurned by Russia. The West hinted that Russia's sins would be forgiven, up to a point, if she joined, first the demo, and later, the planned anti-terrorist coalition, but Russia did not take the bait. This was a visible change, for previously, Russian leaders eagerly participated in joint events and voted for West-sponsored resolutions. In 2001, Putin fully supported George Bush's War on Terrorism in the UN and on the ground. As recently as 2011, Russia agreed with sanctions against North Korea and Iran. As for coming for a demonstration, the Russians could always be relied upon. This time, the Russians did not come, except for the token presence of the foreign minister Mr. Lavrov. This indomitable successor of Mr. Nyet left the event almost immediately and went – to pray in the Russian church, in a counter-demonstration, of sorts, against Charlie. By going to the church, he declared that he is not Charlie.
For the Charlie Hebdo magazine was (and probably is) explicitly anti-Christian as well as anti-Muslim. One finds on its pages some very obnoxious cartoons offending the Virgin and Christ, as well as the pope and the Church. (They never offend Jews, somehow).
A Russian blogger who's been exposed to this magazine for the first time, wrote on his page: I am ashamed that the bastards were dealt with by Muslims, not by Christians. This was quite a common feeling in Moscow these days. The Russians could not believe that such smut could be published and defended as a right of free speech. People planned a demo against the Charlie, but City Hall forbade it.
Remember, a few years ago, the Pussy Riot have profaned the St Saviour of Moscow like Femen did in some great European cathedrals, from Notre Dame de Paris to Strasbourg. The Russian government did not wait for vigilante justice to be meted upon the viragos, but sent them for up to two years of prison. At the same time, the Russian criminal law has been changed to include 'sacrilege' among ordinary crimes, by general consent. The Russians do feel about their faith more strongly than the EC rulers prescribe.
In Charlie's France, Hollande's regime frogmarched the unwilling people into a quite unnecessary gay marriage law, notwithstanding one-million-strong protest demonstrations by Catholics. Femen despoiling the churches were never punished; but a church warden who tried to prevent that, was heavily fined. France has a long anti-Christian tradition, usually described as "laic", and its grand anti-Church coalition of Atheists, Huguenots and Jews coalesced in Dreyfus Affair days. Thus Lavrov's escape to the church was a counter-demonstration, saying: Russia is for Christ, and Russia is not against Muslims.
While the present western regime is anti-Christian and anti-Muslim, it is pro-Jewish to an extent that defies a rational explanation. France had sent thousands of soldiers and policemen to defend Jewish institutions, though this defence antagonises their neighbours. While Charlie are glorified for insulting Christians and Muslims, Dieudonné has been sent to jail (just for a day, but with great fanfare) for annoying Jews. Actually, Charlie Hebdo dismissed a journalist for one sentence allegedly disrespectful for Jews. This unfairness is a source of aggravation: Muslims were laughed out of court when they complained against particularly vile Charlie's cartoons, but Jews almost always win when they go to the court against their denigrators. (Full disclosure: I was also sued by LICRA, the French Jewish body, while my French publisher was devastated by their legal attacks).
The Russians don't comprehend the Western infatuation with Jews, for Russian Jews have been well assimilated and integrated in general society. The narrative of Holocaust is not popular in Russia for one simple reason: so many Russians from every ethnic background lost their lives in the war, that there is no reason to single out Jews as supreme victims. Millions died at the siege of Leningrad; Belarus lost a quarter of its population. More importantly, Russians feel no guilt regarding Jews: they treated them fairly and saved them from the Nazis. For them, the Holocaust is a Western narrative, as foreign as JeSuisCharlie. With drifting of Russia out of Western consensus, there is no reason to maintain it.
This does not mean the Jews are discriminated against. The Jews of Russia are doing very well, thank you, without Holocaust worship: they occupy the highest positions in the Forbes list of Russia's rich, with a combined capital of $122 billion, while all rich ethnic Russians own only $165 billion, according to the Jewish-owned source. Jews run the most celebrated media shows in prime time on the state TV; they publish newspapers; they have full and unlimited access to Putin and his ministers; they usually have their way when they want to get a plot of land for their communal purposes. And anti-Semitic propaganda is punishable by law – like anti-Christian or anti-Muslim abuse, but even more severely. Still, it is impossible to imagine a Russian journalist getting sack like CNN anchor Jim Clancy or BBC's Tim Willcox for upsetting a Jew or speaking against Israel.
Russia preserves its plurality, diversity and freedom of opinion. The pro-Western Russian media –Novaya Gazeta of oligarch Lebedev, the owner of the British newspaper Independent – carries the JeSuis slogan and speaks of the Holocaust, as well as demands to restore Crimea to the Ukraine. But the vast majority of Russians do support their President, and his civilizational choice. He expressed it when he went to midnight Christmas mass in a small village church in far-away province, together with orphans and refugees from the Ukraine. And he expressed it by refusing to go to Auschwitz.
Neither willingly nor easily did Russia break ranks. Putin tried to take Western baiting in his stride: be it Olympic games, Syria confrontation, gender politics, Georgian border, even Crimea-related sanctions. The open economic warfare was a game-changer. Russia felt attacked by falling oil prices, by rouble trouble, by credit downgrading. These developments are considered an act of hostility, rather than the result of "the hidden hand of the market".
Russians love conspiracia, as James Bond used to say. They do not believe in chance, coincidence nor natural occurrences, and are likely to consider a falling meteorite or an earthquake – a result of hostile American action, let alone a fall in the rouble/dollar exchange rate. They could be right, too, though it is hard to prove.
Regarding oil price fall, the jury is out. Some say this action by Saudis is aimed at American fracking companies, or alternatively it's a Saudi-American plot against Russia. However, the price of oil is not formed by supply-demand, but by financial instruments, futures and derivatives. This virtual demand-and-supply is much bigger than the real one. When hedge funds stopped to buy oil futures, price downturn became unavoidable, but were the funds directed by politicians, or did they act so as Quantitative Easing ended?
The steep fall of the rouble could be connected to oil price downturn, but not necessarily so. The rouble is not involved in oil price forming. It could be an action by a very big financial institution. Soros broke the back of British pound in 1991; Korean won, Thai bath and Malaysian ringgit suffered similar fate in 1998. In each case, the attacked country lost about 40% of its GDP. It is possible that Russia was attacked by financial weapons directed from New York.
The European punitive sanctions forbade long-term cheap credit to Russian companies. The Russian state does not need loans, but Russian companies do. Combination of these factors put a squeeze on Russian pockets. The rating agencies kept downgrading Russian rating to almost junk level, for political reasons, I was told. As they were deprived of credit, state companies began to hoard dollars to pay later their debts, and they refrained from converting their huge profits to roubles, as they did until now. The rouble fell drastically, probably much lower than it had to.
This is not pinpoint sanctions aimed at Putin's friends. This is a full-blown war. If the initiators expected Russians to be mad at Putin, they miscalculated. The Russian public is angry with the American organisers of the economical warfare, not with its own government. The pro-Western opposition tried to demonstrate against Putin, but very few people joined them.
Ordinary Russians kept a stiff upper lip. They did not notice the sanctions until the rouble staggered, and even then they shopped like mad rather than protested. In the face of shrinking money, they did not buy salt and sugar, as their grandparents would have. Their battle cry against hogging was "Do not take more than two Lexus cars per family, leave something for others!"
Perhaps, the invisible financiers went too far. Instead of being cowed, the Russians are preparing for a real long war, as they and their ancestors have historically fought – and won. It is not like they have a choice: though Americans insist Russia should join their War-on-Terrorism-II, they do not intend to relinquish sanctions.
The Russians do not know how to deal with a financial attack. Without capital restrictions, Russia will be cleaned out. Russian Central bank and Treasury people are strict monetarists, capital restrictions are anathema for them. Putin, being a liberal himself, apparently trusts them. Capital flight has taken huge proportions. Unless Russia uses the measures successfully tried by Mohammad Mahathir of Malaysia, it will continue. At present, however, we do not see sign of change.
This could be the incentive for Putin to advance in Ukraine. If the Russians do not know how to shuffle futures and derivatives, they are expert in armour movements and tank battles. Kiev regime is also spoiling for a fight, apparently pushed by the American neocons. It is possible that the US will get more than what it bargained for in the Ukraine.
One can be certain that Russians will not support the Middle Eastern crusade of NATO, as this military action was prepared at the Charlie demo in Paris. It is far from clear who killed the cartoonists, but Paris and Washington intend to use it for reigniting war in the Middle East. This time, Russia will be in opposition, and probably will use it as an opportunity to change the uncomfortable standoff in the Ukraine. Thus supporters of peace in the Middle East have a good reason to back Russia.
"Financial markets are faced with uncertainty that isn't going away. The slowdown in Europe is probably in the early innings, the Fed hasn't begun to raise interest rates, and geopolitical crises seem to pop up by the day." Jeff Cox, Finance editor, CNBC
Six years of zero rates and trillions of dollars of asset purchases couldn't stop stocks from falling sharply on Wednesday. All three major indices moved deep into the red, with the Dow Jones leading the pack, dropping an eye-watering 460 points before rebounding nearly 300 points by the end of the session. Risk-free assets, particularly US Treasuries, rallied hard on the flight-to-safety move with the benchmark 10-year Treasury yield slipping to a Depression era 1.87 percent before climbing back above the 2 percent mark. US financials were the worst hit sector, taking it on the chin for 9 percent by mid-day, while Brent crude was soundly walloped, falling to a 47-month low on oversupply and deflation fears. Stock market gains for the year had nearly been wiped out before a miraculous about-face turned Armageddon into a so-so day with survivable losses. Even so, analysts have already started paring back their estimates for 4th quarter growth while traders stocked up on antacid for Thursday's opening bell.
The proximate cause of Wednesday's bloodbath was weaker than expected economic data from Europe–which is sliding towards its third recession in five years– droopy retail sales in the US, and a report from Department of Labor showing that wholesale prices for producers are edging closer towards deflation, the opposite of what the Fed is trying to achieve via its aggressive monetary policy.
But the real trigger for the selloff was not the dismal data, but the policies that have been in place since the Financial Crisis of 2008. While the Obama administration has steadily decreased demand by shaving the deficits which provide vital fiscal stimulus for the economy, (On Wednesday, the USG announced the budget deficit fell to $483 billion, the lowest since 2008) the Federal Reserve has been providing trillions of dollars of cheap money to the banks and brokerages. The result of this one-two combo has not only been the biggest transfer of wealth in human history, but also "a fundamental breakdown in the functioning of the global capitalist economy." As the International Monetary Fund (IMF) noted in a recent paper on the global recovery: "a pickup in investment has not yet materialized…reflecting concerns about low medium-term growth potential and subdued private consumption." Demand shortfalls in the advanced countries "could lead to sustained global economic weakness over a five-year period." (IMF report records global economic breakdown, Nick Beams, World Socialist Web Site)
Simply put: The Fed's policies have made investors richer, but they haven't created opportunities for recycling profits, which is a critical part of capitalism's so called virtuous circle. Anemic investment, means less hiring, less spending, weaker demand and slower growth, all of which are visible in today's sluggish, underperforming economy. Pumping money into financial assets (QE) can fatten the bank accounts of rich speculators, but it doesn't do jack for the economy. It just creates bubbles that burst in a flurry of panic selling. Here's more from Larry Elliot at the Guardian:
"Six years after the global banking system had its near-death experience, interest rates are still at emergency levels. Even attaining the mediocre levels of activity expected by the IMF in the developed countries requires central banks to continue providing large amounts of stimulus. The hope has been that copious amounts of dirt-cheap money will find its way into productive uses, with private investment leading to stronger and better balanced growth.

It hasn't happened like that. Instead, as the IMF rightly pointed out, the money has not gone into economic risk-taking but into financial risk-taking. Animal spirits of entrepreneurs have remained weak but asset prices have been strong. Tighter controls on banks have been accompanied by the emergence of a powerful and largely unchecked shadow banking system. Investors have been piling into all sorts of dodgy-looking schemes, just as they did pre-2007. Recovery, such as it is, is once again reliant on rising debt levels. Central bankers know this but also know that jacking up interest rates would push their economies back into recession. They cross their fingers and hope for the best." (World leaders play war games as the next financial crisis looms, Larry Elliot, Guardian)
The policies implemented by the Obama administration and Fed have achieved precisely what they were designed to achieve; they've enriched the voracious plutocrats who run the system but left everyone else scraping by on less and less. An article in the Washington Post explains what's going on in greater detail. Here's a short excerpt from the piece titled "Why is the recovery so weak? It's the austerity, stupid":
"Welcome to Austerity U.S.A., where the deficit is back below 3 percent of GDP and growth is still disappointing—which aren't unrelated facts.
It started when the stimulus ran out. Then state and local governments had to balance their budgets amidst a still-weak economy. And finally, there was the debt ceiling deal with its staggered $2.1 trillion of cuts over the next decade. Add it all up, and there's been a big fiscal tightening the past few years, something like 4 percent of potential GDP. Indeed, as Paul Krugman points out, real government spending per capita has been falling faster now than any time since the Korean War demobilization. (chart)
And, as you can see above, all this austerity has been hurting GDP growth since 2011. It shows the Hutchins Center's new "fiscal impact measure," which looks at how much total government tax-and-spending decisions have helped or harmed growth. The dark blue line is what policy has actually done, and the light blue one is what a neutral policy would have done. So, in other words, if the dark blue line is below the light blue one, like it has the last three years, then policy has subtracted from growth." (Why is the recovery so weak? It's the austerity, stupid. Washington Post)
By cutting the deficits, Obama reduced the blood flow to the real economy and weakened demand. That's what torpedoed the recovery. In contrast, stocks and bonds have done remarkably well, mainly because the Fed pumped $4 trillion into financial assets which was a taken as a greenlight by risk takers everywhere to load up on everything from overpriced equities to low-yield junk. Now, after more than three years without as much as a 10 percent correction, the momentum has shifted, volatility has returned, earnings are looking wobbly, and the fear is palpable. Stocks appear to be headed for a major repricing event. Here's how investment guru John Hussman sums it up in his Weekly Market Comment:
"Our concerns at present mirror those that we expressed at the 2000 and 2007 peaks, as we again observe an overvalued, overbought, overbullish extreme that is now coupled with a clear deterioration in market internals, a widening of credit spreads, and a breakdown in our measures of trend uniformity…

…it has become urgent for investors to carefully examine all risk exposures. When extreme valuations on historically reliable measures, lopsided bullishness, and compressed risk premiums are joined by deteriorating market internals, widening credit spreads, and a breakdown in trend uniformity, it's advisable to make certain that the long position you have is the long position you want over the remainder of the market cycle. As conditions stand, we currently observe the ingredients of a market crash." (The Ingredients of a Market Crash, John P. Hussman, Ph.D., Hussman Funds)
Sounds ominous, doesn't it? And Hussman is not alone either. The bearish mood on Wall Street is gaining pace even among those who focus more on geopolitical issues than fundamentals, like the Bank for International Settlements' Guy Debelle who said in an interview on CNBC on Tuesday that he was concerned about the possibility of a "violent" market drop, particularly in bonds.
"If I had told you that there were heightened tensions in the Middle East and Eastern Europe, uncertainty about the turning point in U.S. monetary policy, a succession of strong U.S. job numbers, uncertainty about the future direction of policy in Europe and Japan, as well as increased concern about the strength of the Chinese economy, you would not be expecting that to make for a benign time in financial markets," Guy Debelle of the BIS said. "But that is what we have seen for much of this year." (CNBC)
But stocks aren't cratering because of tensions in the Middle East or Eastern Europe. That's baloney. And they're not falling because of decelerating global growth, plunging oil prices or Ebola. They're falling because no one knows what the heck is going to happen when QE stops at the end of October. That's what has everyone in a lather.
Keep in mind, that 20 percent of the current market cap (more than $4 trillion) is stock buybacks, that is, corporations that have bought their own shares to juice prices. Do you really think that corporate bosses are going to play as fast and loose after the Fed stops its liquidity injections?
Not on your life. They're going to pull in their horns and see what happens next. And if things go sideways, (which they very well could) they're going to cash in and call it a day. That's going to drive down stock prices and send markets reeling.
Stocks have nearly tripled since March 2009 when the Fed started this "credit easing" fiasco. So if stocks rode higher on an ocean of Fed liquidity, then how low are they going to go when the spigot is turned off? There are some, like technical strategist Abigail Doolittle, who think the S and P 500 could suffer a major heart attack, dropping as much as 60 percent before equities touch down. Check it out from CNBC:
"(Abigail) Doolittle, founder of Peak Theories Research, has made headlines lately suggesting a market correction worse than anyone thinks is ahead. The long-term possibility, she has said, is a 60 percent collapse for the S&P 500.

In early August, Doolittle was warning both of a looming "super spike" in the CBOE Volatility Index as well as a "death cross" in the 10-year Treasury note.

And so it's come to pass at least for the VIX, which has jumped 74 percent over the past three months and crossed the 20 threshold that historically has served as a dividing line between complacency and fear. That's its highest level in nearly two years. From Doolittle's perspective, the spike represents a bad-news/bad-news scenario … that the near-term selling action is likely to continue and even accelerate…

…she thinks "violent waves of selling action" could send the VIX all the way to 90—even beyond its peak during the financial crisis." (CNBC)
Now maybe Doolittle is just exaggerating or paranoid, but her conclusions do seem to square with CNN Money. Here's a clip from yesterday's article:
"CNNMoney's Fear & Greed Index is a good indicator of market momentum. Today it hit zero. That's a huge red flag and showcases extreme fear in the stock market. The only other time the index ever touched that low point is in August 2011 — shortly after Standard & Poor's downgraded the U.S. debt.

Volatility — or what some are calling "market whiplash" — is clearly back in the market. The VIX, an index that measures volatility and is one of the factors that goes into the Fear & Greed Index — spiked again today. It's up a whopping 60% in the past week alone." (Extreme Fear in stock market, CNN Money)
So fear and volatility are back, but liquidity has suddenly gone missing. That sounds like a prescription for disaster to me. So what can we expect in the weeks to come?
Well, more of the same, at least that's how Pimco's former chief executive officer Mohamed El Erian sees it. Here's how he summed it up on Wednesday in a Bloomberg editorial:
"Though unlikely to be as dramatic as today, market volatility can be expected to continue in the days and weeks to come as two forces compete: first, the forced deleveraging of certain investors, particularly overstretched hedge funds registering big October losses; second, central banks scrambling to say all sorts of reassuring things. All of this will serve to reinforce October's longstanding reputation as a threatening month for investors around the world." (October's Wild Ride Isn't Over Yet, Mohamed A. El-Erian, Bloomberg)
Did he say "forced deleveraging"?
Uh huh. So, after a 6 year bacchanal, the Fed is finally going to take away the punch bowl and force the revelers to pay down their debts, clean up their balance sheets, and take a few less risks. Is that it?
Yep. It sure looks like it. But, that could change in the blink of an eye, after all, the Fed has its friends to think of. Which means that Ms. Yellen could announce QE4 any day now.
Seldom does the enormous bond market turn on the fate of a single trader. Well, the news that Bill Gross was leaving Pimco under suspicious circumstances did not go unnoticed. The WSJ writes:
"The yield on the 10-year benchmark Treasury note was hovering around 2.506% immediately before the disclosure that Mr. Gross was leaving the hundreds-of-billions of dollars in Treasurys and other debt he oversaw at Pimco to go to rival firm Janus Capital Group Inc.

Within a half-hour, the yield jumped to 2.546%. While a move of 0.04 percentage point    may not seem like much in that period of time, it was perceptible enough in the $12 trillion Treasury market that several traders and strategists attributed it to the news about Mr. Gross."
Attempting to explain the reasons for his departure, The Economist speculates in the essay, Overthrowing the Bond King. "There appear to be three main reasons behind Mr Gross's abrupt exit. The immediate cause was his abrasive management style . . . Moreover, Mr. Gross's public behavior has grown increasingly peculiar of late . . . Such mis-steps might have been forgiven had Mr. Gross's charmed streak as an investor continued. But over the past three years, several misjudgments have caused his funds to lag."
At this point What You Need to Know About SEC's Investigation of Pimco, centers on a relatively small $3.6 billion ETF, exchange-traded fund.
"Apparently, Pimco went around buying up small blocks of bonds, known as "odd lots," at discounts. Pimco then marked their prices upwards using estimates of their values derived from larger blocks of bonds.

If Pimco really couldn't resell the bonds at the new, higher prices it seems off base. But it also seems plausible the bonds might genuinely be worth more in Pimco's hands than they were in the hands of whoever sold them."
The mystic that Pimco enjoyed in bond trading may have sunk from the implications of SEC snooping. Gross seems like he is sprinting for the exit, but is this all that is in play? Investor's Business Daily paints a smiley face on the open door that Gross' transfer of loyalties as a positive for Janus Capital Group.
Now step back from these headlines and examine the concerns that have been floated about the bond market for a very long time. Money Beat in an account suggests that aBond Bubble Will Burst in a 'Very Bad Way' and reports on the recent Bloomberg's Markets Most Influential Summit.
"Bonds are at ridiculous levels," Julian Robertson, founder of one of the earliest hedge funds in Tiger Management Corp., said on a panel at the Bloomberg Markets Most Influential Summit. "It's a world-wide phenomenon that governments are buying bonds to keep their countries moving along economically."

Howard Marks, the chairman of Oaktree Capital Group LLC, said interest rates are "unnaturally low today." Leon Cooperman, founder of Omega Advisors Inc. and former partner at Goldman Sachs, said bonds are "very overvalued."
Forecasting the direction of government bonds usually focuses on predicting what central banks will do to drive interest rates, either up or down. Since consensus in market watchers has long announced that U.S. Bonds yields are unnaturally low, the calls for a turn upward in interest rates seem ridiculously overdue in coming.
All that seems reasonable; however, the Federal Reserve is playing a much different game from the responding to the normal business cycle.
Since the financial meltdown of 2008-2009, the charts and metric gauges for predicting market movements require a complete overhaul. Betting on U.S. Bonds no longer is based solely on domestic factors.
ZeroHedge cites David Tepper Is Back, Sees "Beginning Of The End" Of Bond Bubble.
"Empirically, Tepper may be right: in the past every time a central bank has launched a massive easing program (think QE1, QE2, Twist, QE3, etc.) it resulted in aggressive stock buying offset by bond selling. The issue is when said programs came to an end, and led to major selloffs in equities, pushing bonds to newer and lower record low yields. So perhaps for the time being, we may have seen the lows in the 10Year and in the periphery. The question is what happens when Europe's latest "Private QE" operation comes to an end: just how massive will the bond bid be when all the money currently invested in risk assets decided to shift out all in one move.

More importantly, it also explains why central banks now have to work in a constant, staggered basis when easing, as the global capital markets simply cannot exist in a world in which every single central bank stops cold turkey with the "market" manipulation and/or liquidity injections."
Within this context, why all the hullabaloo over Bill Gross jumping ship? While price inflation is real and grossly underreported, currency deflation still persists over the last six years. Now some may claim this phenomenon proves that stability in the bond market exists. Conversely, if this measure is acceptable to institutional bondholders, are they not accepting very low returns out of fear that the economy still hangs on a precipice.
Always remember that bonds are loans that have an obligation for repayment. Stability is maintained in the core indebtedness with the reimbursement settlement of the principal. Most governments are able to string along the unavoidable roll over so that new funds are raised to refinance.
Not so in every case from private or corporate debt. Just ask the bond holders from GM, better known as "Government Motors".
Government bonds make up the essential float in the paper trade. As long as the global collateralization of bonds is honored, the planet may be able to avoid the fate of Greece. Pimco is but a pimple when compared to the Federal Reserve's monetization of U.S. Treasury debt.
Bond professional traders look for an edge. Firms may risk their own capital, but most brokers look to skim an easy commission. It's the institutions who have the most at stake and need a stable bond market. When not if, the bubble busts or deflates, the air is going to escape and blow over average investors.
Remember the days when an entrepreneur would perfect their whiz kid ideas in a garage and bring them to market? Did Steve Wozniak ever envision the behemoth that Apple would become and the cult camp that worships every new product that flows from their robotic coolie assembly lines? Riots Over Rotten Apple Mania describes an example of the forbidding underbelly of corporatist business model that Apple exemplifies so dramatically. Notwithstanding this record of 21th century sweat factories, do the venture vulture capitalists of Silicon Valley interject added value in the products and services they fund or do this culture of touting IPO offerings simply game a system to print money based upon imaginary dreams?
The Economic Policy Journal article, Silicon Valley Investor Joins The Corporatism March, cites Ron Conway, a Silicon Valley angel investor, who has backed many of the tech companies that we know and love."
"Conway wrote a piece for Techcrunch where he's calling for the other Fascism. Remember the Fascist Mussolini from Italy. It was he who said, "Fascism should more appropriately be called Corporatism because it is a merger of state and corporate power."
"Gone are the days when the tech community can innovate and run their businesses in spite of government. As we saw with the SOPA/PIPA debate, public policy has a direct and significant impact on startups and the investors who support them.
Whether it is regulations that stifle innovation or tax policies that hinder job creation, government has a major role in the success or failure of a startup. It is critically important for the tech community to engage in public policy."
Silicon Valley companies are not limited to IT development, just as much as investment funding is not wholly occupied from Wall Street firms. The principle is the same wherever the money comes from, as the Rise of the "venture corporatists" explores in an account about John Doerr of Kleiner Perkins Caufield & Byers.
"None of the alternative energy sources being developed today – solar, wind, geothermal, or biomass–is close to financial sustainability, which means that the supersize returns V.C. funds depend on will require massive government subsidies, regulations, and mandates… So Doerr has launched an audacious campaign to invest millions in handpicked political candidates and influential political action committees, to push for subsidies and pro-greentech policies and require the government to purchase the kinds of fuels and technologies his startups will be marketing. Since 2000, Doerr and his wife, Ann, have contributed more than $31 million to political candidates and causes.
In essence, Doerr is helping to create the biggest new market the world has seen since the dawn of the oil industry–and asking for taxpayer dollars to do it."
"Green" alternative energy has more to do with replicating money than producing sustainable energy. Instead of writing code for computer-generated speech, the paradigm at play buys the ambassadors of government policy, circuitously as part of the business plan.
Lachlan Markay sums up the paradox for investors and the public in The Venture Corporatists. "As long as green technology remains not simply an economic venture but a moral one, taxpayers will continue to nobly lose money as politically connected "social entrepreneurs" reap a windfall."
Here lies the rub. What exactly is the moral imperative? The lament of Alex Shud Bayley in No, I still don't want to work for Google makes a universal point.
"Since I've been out of the Silicon-Valley-centred tech industry, I've become increasingly convinced that it's morally bankrupt and essentially toxic to our society. Companies like Google and Facebook — in common with most public companies — have interests that are frequently in conflict with the wellbeing of — I was going to say their customers or their users, but I'll say "people" in general, since it's wider than that. People who use their systems directly, people who don't — we're all affected by it, and although some of the outcomes are positive a disturbingly high number of them are negative: the erosion of privacy, of consumer rights, of the public domain and fair use, of meaningful connections between people and a sense of true community, of beauty and care taken in craftsmanship, of our very physical wellbeing. No amount of employee benefits or underfunded Google.org projects can counteract that."
The notion that Silicon Valley business enterprises automatically advance civilization and improve the human condition is one of the most disturbing viewpoints that have infected the smart phone sect. Placing the blame solely on tech executives avoids the reprehensible relationship that Ron Conway is so eager to exploit.
The article, Why DC And Silicon Valley Don't Mix Well seems to agree.
"The thing that DC should be most focused on is "fixes to previous government efforts that tried but failed to fix a problem that turned out not to need a regulatory solution." Other industries seem to want handouts and investments and the like, but you don't see that much in Silicon Valley."
REALLY ???
However, some executives excel in screwing up a once reliable service.  Silicon Valley corporatist companies often fail. The next likely candidate for a downfall is Yahoo.  Marissa Mayer's tenure as CEO may be numbered according to Eric Jackson, founder and managing partner of hedge fund Ironfire Capital.
"Jackson says that since Mayer took over she has spent $2 billion buying companies and that most of those acquisitions have been for naught.
"Can you name any other acquisition Yahoo has made besides Tumblr? If not, what does that say about them?" Jackson writes at Forbes. "If these small acquisitions were mostly talent-driven as characterized by management, why was it necessary to spend, say, $30 million to hire 3 people from a dying company? Was this really the best use of shareholder capital? Yahoo should not [be] responsible for bailing out VCs from their failed investments. This isn't TARP."
Deplorably, many tech corporatists are mismanaged like Yahoo. Divesting a significant portion of Yahoo's stake at the Alibaba IPO, raises a much needed current valuation, but what does this transaction do to improve the service? The Corporatists only care about tapping the rigged markets for immediate gain.
The ultimate and final goal of evil is to obscure and destroy our very conception of evil itself, to change the inherent moral fiber of all humanity until people can no longer recognize what is right and what is wrong. Evil is not a wisp of theological myth or a simplistic explanation for the aberrant behaviors of the criminal underbelly; rather, it is a tangible and ever present force in our world. It exists in each and every one of us. All men do battle with this force for the entirety of our lives in the hope that when we leave this Earth, we will leave it better and not worse.
When evil manifests among organized groups of people in the halls of power, power by itself is not always considered the greatest prize. The true prize is to mold society until it reflects the psychopathy that rots at the core of their being. That is to say, the elites, the oligarchy, the mad philosopher kings want to make us just like they are: proudly soulless. Only then can they rule, because only then will they be totally unopposed.
The problem is humanity is not only hardwired with a dark side; we are also hardwired with a conscience — at least, most of us are.
The vast studies of psychiatrist Carl Gustav Jung prove an in-depth and intricate inborn set of principles common to every person, regardless of time or place of birth and regardless of environmental circumstances. In some circles we refer to this as "natural law." All people are born with a shared moral compass that is often expressed in various religious works throughout the ages. It is a universal voice, or guide, that we can choose to listen to or to ignore. Organized psychopaths have struggled with the existence of this inborn compass for centuries.
They have tried using force and fear. They have tried abusing our natural inclinations toward family and tribalism. They have tried corrupting the very religious institutions that are supposed to reinforce our consciences and teach us nobility. They have tried psychotropic substances and medications to paralyze our emotional center and make us malleable. They have tried everything, and they have failed so far. How do I know they have failed? Because you are able to read this article today.
Two methods remain prominent in the arsenal of elites.
Convince Good People To Do Evil In The Name Of 'Good'
This strategy is still effective, depending on the scenario encountered. Elitists are very fond of presenting mind games to the public (in TV, cinema, books, etc.), which I call "no-win scenarios." These games are hypothetical dilemmas that require the participant or viewer to make a forced choice with only two options: The participant can strictly follow his conscience, which usually means assured destruction for himself and others; or he can bend or break the rules of conscience in order to save lives and achieve a "greater good."
Watch the propaganda tsunami in the show "24," for example, and tally how many times the hero is faced with a no-win scenario. Then tally how many times he ignores his moral imperative in order to succeed. The message being sent is clear: Solid morality is not logical. Morality is a luxury for those who do not have to concern themselves with immediate survival. In other words, the world needs bad men to fight other bad men.
Of course, real life is not television; and there has never been nor will there ever be a legitimate example of a no-win scenario. There are no dilemmas that require good people to knowingly sacrifice conscience or destroy innocent lives in order to succeed. There are no dilemmas with only two available solutions. All social dilemmas are fluid, which means that solutions are shifting, but infinite. Just because you cannot see the way out does not mean the way out does not exist. To fight monsters, we do not need to become monsters. Survival is meaningless unless we can prove ourselves worthy of life. This does not mean one should not fight back against evil. On the contrary, one should always fight back. But if we fight without a code of principles and honor, then we will have lost before the battle begins.
Convince Good People That There Is No Such Thing As 'Evil' People
Any action, no matter how horrifying, can be rationalized by the intellectual mind or the mathematical mind. This is why we are born with an emotional and empathic side to our natures. Those who embrace evil often seek to soften their image through the use of cold rationalization. They appeal to our desire to feel logically responsible and to boost our intelligent self-image.
Some people might argue that the machinations of evil are self-evident, and that philosophical examinations such as this are unnecessary.  They would say that there is no need to reassert that the works of psychopathy and elitism are fundamentally destructive, but they would be wrong.  I was recently sifting through some mainstream articles when I came across this jewel entitled "Why Psychopaths Are More Successful."
The article summarizes the theories behind a new "science self-help book" entitled The Good Psychopath's Guide To Success. Co-author and Oxford psychology professor, Kevin Dutton, states that he "wanted to debunk the myth that all psychopaths are bad." He wrote:
"I'd done research with the special forces, with surgeons, with top hedge fund managers and barristers. Almost all of them had psychopathic traits, but they'd harnessed them in ways to make them better at what they do."
Now, three important questions need to be asked of Dutton. First, what exactly is his definition of success? Second, if such people are "better" at what they do because of their psychopathic traits, who exactly are they "better" than? Is he suggesting that a non-psychopath could not be just as good a surgeon? Wouldn't it be preferable to be good surgeon without psychopathy, one who still cares about the well-being of his patients rather than just his own success? And third, if a person can be accomplished in a field without abandoning his conscience as a psychopath does, what good is psychopathy to anyone?
You see, elitist academics like Dutton are not interested in answering such questions in an honest way because their goal is not necessarily to outline a legitimate argument for the usefulness of psychopaths. What they really want is to make psychopathy a morally acceptable ideal in the mainstream.
Dutton does this by asserting the false notion that there are such things as good psychopaths and bad psychopaths, thereby creating a superficial dichotomy he essentially pulled from thin air. Dutton cites several character traits he defines as being common to good psychopaths.
Psychopath Volume Control: Dutton argues that a good psychopath has the ability to turn up or turn down his level of perceived empathy in order to avoid burning bridges with those around him. What Dutton fails to mention (or just doesn't understand) is that this "volume control" is very common to the average psychopath. In fact, psychopaths tend to be quite adept at reading the emotional states of others and adapting to their moods to appear more human. This is how psychopaths end up in marriages, with families and in positions of respect in a community. This is how psychopaths become leaders. Catastrophes arise, however, when the psychopath decides he is comfortable enough that he no longer needs to hide his inability to feel conscience or remorse. There is nothing special or good about a morally bankrupt person who happens to be good at disguise.
Fearlessness: Dutton's claim that psychopaths are fearless is simply absurd and is not based in any practical psychology that I know of. Psychopaths are afraid all of the time. What they fear most is losing what they believe belongs to them. This could be money, power or even unlucky people caught in their web. This fear might drive them to take risks in order to accomplish certain goals. But let's be clear: Only those who take risks because they love what they do have truly overcome fear. Psychopaths are incapable of true love.
Lack Of Empathy: This is the root of the movement toward rationalized moral relativism — the argument that empathy gets in the way of success and sometimes gets in the way of the "greater good." Dutton claims that lack of empathy gives the psychopath focus, making him skilled in high-pressure situations. In a hostage situation, he says, he would much rather have a psychopath as his negotiator. Of course, he does not consider that his captors would likely be the same kinds of psychopaths he so praises in his book.
One would conclude by reading Dutton's position that high-pressure jobs require a lack of empathy. And of course, the jobs with the highest pressure are those in political and military leadership. The philosophy of applying positive assumptions to psychopathic qualities is the highest dream of the elite. If you and I could be convinced to see their gruesome behavior as fully necessary to the greater good, then they will have ascended to a place beyond accountability. They become like the old gods of Olympus, dealing death and destruction above the judgment of mere mortals; and we will have handed them that godhood.
Self-Confidence: I think Dutton is confused over the difference between confidence and narcissism. The average psychopath is often self-obsessed, which means he is willing to do anything to get what he wants. This drive might be impressive, but it is not a product of the kind of self-awareness required to gain real self-confidence. A parasitic tick is not necessarily self-confident when he digs into the flesh of a dog; all he knows is that he desperately wants the blood underneath.
A Kingdom Of Psychopaths
In his collected writings entitled "The Undiscovered Self," Jung theorized according to his work with hundreds of patients that some 10 percent of the human population at any given time has latent psychopathic characteristics, with a much smaller percentage living as full-fledged psychopaths. He surmised that this latent psychopathy will often stay hidden or unconscious for most people, unless their social environment becomes unstable enough to bring out their darker side.
The purges in the early days of communist Russia and Stalinism, for example, brought out the very worst in many normally harmless citizens. Neighbor turned against neighbor, and betrayal for personal gain became the norm. The collectivist hive became an incubator for psychopaths. What Dutton's psychopathic success theory does not take into account is the fact that America, and much of the world today, is becoming a breeding ground for morally bankrupt people. That is to say, our society is now designed by psychopaths for psychopaths, and only psychopaths could succeed in such an environment. We are all being encouraged to become more psychopathic, more evil, in order to survive and thrive.
The destruction unleashed by the psychopathy of elitism far outweighs any potential benefits that might arise from their uncompromising brand of ingenuity. Anything these freaks of the psyche might accomplish can be accomplished with far less physical and moral cost by those with self-discipline and a love of their fellow man. I would be willing to wager any power monger that if he and his miscreant organizations were to disappear, humanity would leap forward in strides never before seen. Ultimately, those who embrace evil and those who elevate psychopathy are not the key to the betterment of the world; they are obstacles to the betterment of the world.
Source: Brandon Smith | Alt-Market
Get a load of this chart from DataQuick's National Home Sales Snapshot. It'll tell you everything need to know about housing.
(Note: MSA=metropolitan statistical area)
As you can see, prices are flatlining or drifting lower while sales are sinking like a stone. That's the whole ball of wax, isn't it?
Sure, sales will increase in the spring (as they always do), but judging by the sharp dropoff in last year's hottest markets, this could be the crappiest spring selling season since the crash.
Why?
Because prices are too high, rates are too high, "organic" demand is too weak, credit is too tight, and the pool of potential buyers has shrunk to the size of a walnut, that's why.
The banks have reduced the percentage of distressed homes (foreclosures and short sales) on the market to roughly 11 percent from 59 percent in 2009. Fewer distressed homes mean higher prices, but higher prices mean fewer sales. It's a trade-off. The banks get their money, but the market goes to hell. That's how it works. According to most estimates, there are roughly 4.5 million homes in some stage of foreclosure. That means that –at the present pace–we should get through this Housing Depression a few weeks before Judgment Day. But don't hold me to that.
Did you catch this gem on Bloomberg last week? It's about the big private equity guys exiting the market. Take a look:
"Blackstone Group LP is slowing its purchases of houses to rent amid soaring prices after a buying binge made it the biggest U.S. single-family home landlord. Blackstone's acquisition pace has declined 70 percent from its peak last year, when the private equity firm was spending more than $100 million a week on properties, said Jonathan Gray, global head of real estate for the New York-based firm…

"The institutional wave has passed," Gray, who oversees almost $80 billion in property investments, said in a telephone interview. 'It's at a much lower level than it was 12 or 24 months ago.'

Private-equity firms, hedge funds, real estate investment trusts and other institutional investors have spent more than $20 billion to buy as many as 200,000 rental homes in the last two years. They snapped up properties after prices fell as much as 35 percent from the 2006 peak…

American Homes 4 Rent and Colony American Homes, the second- and third-largest single-family landlords, also have been scaling back as bargains dry up…

"We're going to have to probably slow down a little bit on our acquisition pace until we have a better view or actual certainty of the capital being available," (Chief Executive Officer David ) Singelyn said.

Colony Financial Inc. (CLNY), a REIT that invests in Colony American Homes, slowed its funding for acquisitions last year to focus on improving operations, CEO Richard Saltzman said in a November conference call…

American Residential Properties Inc. (ARPI), a landlord with 6,000 homes, slowed acquisitions by almost half in its latest quarter ending Dec. 31. It invested $104 million in 633 homes compared with $204 million on 1,251 homes in the previous quarter, the Scottsdale, Arizona-based company said in a statement." (Blackstone's Home Buying Binge Ends as Prices Surge, Bloomberg)
Okay, so the speculators are getting out of housing. How's that going to effect the market?
No one really knows yet, but it can't be good, after all, all-cash deals amounted to nearly 50 percent of all homes sales in many of the hotter markets last year. That's why prices went up even though the economy was still in the shitter, because the fatcats were loading up on cheap real estate. Now it looks like they're headed for the hills. That's NOT going to be good for sales.
Did you know that existing home sales have dropped for six months straight, dipping below trend to the same level they were at in 1998?
But how can that be, you ask, when everyone's blabbing about the recovery? How can that be when the Fed has purchased more than $1.4 trillion in mortgage-backed securities (MBS) and rates are a measly 4.5%? How can that be prices have been climbing higher for more than a year?
Sales are dropping because millions of people are underwater on their mortgages and can't afford to move. Millions more are stuck in their homes and aren't paying anything at all. Millions more have student debt up to their eyeballs and will probably never own a home. And millions more still can't find a job. That's why home sales are plunging, because the economy stinks. It's that simple. Sure, the market got a nice little bump from Bernanke's $4 trillion liquidity-surge. Big whoop. Besides, that was 2012-2013. Today things are different. Today the Fed is winding down QE and there's even talk of rate-hike. How do you think that's going to impact sales?
Now get a load of this from Redfin:
"Home sales continued to be sluggish in February, and decreasing affordability is holding back would-be buyers, according to Redfin…. Slow sales have been largely attributed to low inventory for months, but many markets have now seen inventory rise while sales continue to fall. Several markets along the West Coast have seen sharp increases in inventory, yet home sales in the West fell 13.4 percent year over year, hitting their lowest point in five years in the first two months of 2014, while prices rose 19.1 percent year over year…

West Coast Sales Hit Lowest Point in Five Years

– In Redfin's West Coast markets, sales fell 13.4% from February 2013, and hit a five-year low in the first two months of 2014. Sales fell most dramatically in Las Vegas (-22.7%), Sacramento (-21.8%) and Ventura (-20.8%). Across 19 markets, sales fell 10.3%, with markets east of the Rockies taking a less dramatic hit and a few even seeing modest increases." (Redfin)
Did you catch that part about "inventory rising while sales continue to fall"?
For months, the media has been using the "low inventory" excuse for the rotten sales figures. Now they've moved onto "bad weather" to pull the wool over people's eyes. Talk about a lame excuse. It's been in the 70 and 80s in California for most of the winter and sales are down by a whopping 13 percent. Are potential buyers staying at home because they're afraid of getting skin cancer? Is that it? (That'll probably be the next excuse.)
So why ARE home sales tanking?
It's because you can't buy a house if you're working graveyard at Freddie's Burger Bar for $8.50 an hour. It's because you can't put together a 20% down-payment if you're camped out on Mom's sofa in the attic along with Uncle Murray's trombone and your Dad's photo collection of soup cans. It's because you can't qualify for a mortgage when 100 percent of your weekly paycheck goes to paying the VISA, filling the gas-tank, and buying a few groceries at Danny's Discount Foodmart. It can't be done.
That's what's really going on. That's why the share of firsttime homebuyers is currently at its lowest level ever. That's why purchase applications are at an 18-year low. That's why the homeownership rate has slipped to levels not seen since 1995. And that's why mortgage originations were down almost 60 percent year-over-year. It's because the economy sucks. Everyone knows it.
Now take a look at one last chart. It's by Logan Mohtashami at dshort.com. from an article titled,Mortgage Purchase Applications Running Out Of Time.
As you can see, there's a pretty close connection between incomes (the green line) and the mortgage purchase applications index. (The people who can afford to buy homes.)
Surprised?
Of course not, because most people assume there's a relationship between 'what a person earns' and his 'ability to buy a home'. After all, we haven't always lived in this bizarro credit-addled world where anyone who can sit upright in a chair and sign his name on the dotted line can buy a $450,000 rambler in Orchard Hills. That's a fairly new development.
And that brings us to the point of this article, which is to show that all the monetary hocus pocus has achieved nothing. The Fed's Koolaid infusions have been a dead-loss. The market is still flat on its back. Kaput. Which shows, that if you want to fix housing, you have to fix the economy. And if you want to fix the economy; you have to put people back to work and pay them a fair wage. It's that simple.
So why can't anyone in Washington figure it out?
(Note: As this article was going to press, the latest "existing home sales" data was released.) According to USA Today:
"Existing home sales slowed again in February, falling to the lowest pace in 19 months."
So February was even slower than the coldest month of the year, January?
Unbelievable.
The tradeoff for cheap goods and financial cronyism is coming back in a big way…
There is always a tradeoff in economics.  The adage about a free lunch comes to mind to the rise of low wage capitalism in America.  It is a complicated web driven by financial cronyism and a system largely driven by ignoring the plight of the working class.  The story of US manufacturing is probably one tiny example of how we exported our middle class in exchange for cheaper goods and a massive amount of income inequality at the top.  Yet there is a winner here as well.  While the US middle class is shrinking the middle classes of China and India are growing and so is ourincome inequality.  This trend tends to grow the economies overseas bus has placed a large burden on the unskilled and working class in the US.  This is possibly an inevitably given the global nature of our markets.  When you get addicted to low cost goods, you may find yourself in a race to low wage capitalism.  In the US and Europe people would not take on the jobs that pay near wage-slave levels and have terrible working conditions in countries that are now booming.  While the top wage earners in the US are doing fantastic protected by Wall Street and Washington D.C. (many are diversified across the world), those who get paid in US dollars and come from the working and middle class are having a tough time adapting.  The tradeoff has been coming home to roost in a big way.
A low wage bias     
While the recession ended in the summer of 2009, the jobs that have been added since then have largely tended to favor low wage employment.  Hard to export cashiers and food service workers (although the industry is getting closer to automating those jobs as well).  Nothing happens at once.  The gradual erosion of the working and middle class goes back a generation.  So it is no surprise that this recovery has largely been one of low wage employment.  This is why young American workers are in such a tough position with student debt, wages, and being able to purchase a home.
The low wage hiring bias is evident:
A large amount of hiring has come in the form of lower paying and temporary work.  You might say this is simply the modern way of things.  Yet the massive financial bailouts during the crisis have protected the financiers of Wall Street to the point that they are fully recovered.  The crisis occurred largely because they systematically gambled America away by creating instruments of debt to implode the economy.  Some hedge funds actually made wealth by betting America's economy would fail and encouraged the pushing of additional bad mortgage debt to increase their gains when things went bust.
The problem of course is that we have a system where austerity is the new game in town for working and middle class Americans while the financially connected get to fail and put the bill on those who least can afford it.  Take a look at the drop in manufacturing jobs and the growth of our financial sector:
In 1960 you had roughly 8 manufacturing jobs for each one in finance.  Today this is less than 2 manufacturing jobs per each job in finance.  In the real economy, we still purchase goods that have to be made (i.e., cars, real estate, etc).  Yet we have a giant industry that for the most part, is rent seeking.  Is high frequency trading making things better?  What about the crazy unrestricted derivatives market? With real estate most of the recent sales are going to investors.  In other words, the shifting of current real assets in the world into the hands of fewer people.
Even in the once stable construction field, we see weak job growth in spite of a booming real estate market.
Why?  Because most of the trading is going to investors looking for deals, not new families pushing for new demand on new homes.  New home sales are still weak.  Of course that should be expected when the typical American worker is making something like $27,000 a year and the median household income is $50,000 a year.  Adjusting for inflation, this is now back to levels last seen in the 1980s:
The tradeoff has been tough but people like cheap goods.  It is easy to offshore this development and have workers on the other side of the world work for menial wages so people can buy cheap goods. Yet at a certain point, the market hits an equilibrium and the pain comes back home.  Once this happens it can be very quickly as we are seeing now with the middle class being hollowed out.  At least we've done a good job exporting our middle class outside of the US.
Source: My Budget 360
"I've gotten some of my best light from bridges I've burned."– Don Henley
What does it take, in an era dominated by progressive identity politics, to be accepted as a fully qualified member of the Left?
Jane is a London lawyer who identifies politically 'as a woman,' and marches enthusiastically for human rights. Can she join? I think the answer is yes, she can.
George is a medical doctor who happens also to be a black man and identifies as 'Black middle class.' Can he subscribe to a progressive email group and contribute to the discussion? I hope and suspect that he can.
And what about Julie? She runs an estate agency on the posh side of town but she also identifies as a 'gay lesbian,' can she join the parade? What a question! Of course she can.
Now Abe is an accountant and very attached to his Jewish heritage. Abe identifies as a 'secular Jew,' can he join the anti-war movement? More than likely he can, in fact he may even, within hours of his joining, find himself in a position of leadership.
But what about Hammed, a metal worker from Birmingham? Hammed identifies as a 'Muslim' — can he join a Left demonstration against the War in Syria? It's a good question and the answer is not immediately obvious at all because it's no secret that many of those who subscribe to 'progressive' ideology and indeed, activism, are rather troubled by religion in general and Islam in particular.
So, while Hammed is identifying with a universal and humanist precept, Jane, 'the woman', Julie 'the Gay Lesbian' and George 'the Black' openly subscribe to biologically-determined political identities. Furthermore, Abe, Identifying as a secular Jew, affiliates himself with a blood-based ethnocentric tribal identity. Clearly, the Left has no problem with such marginal and exclusivist political identities.
So, how is it possible that the contemporary Left discourse is sustained by people who, themselves subscribe to biologically-determined identity politics, yet so often reject similar, though often working class folk, who actually support equality and human rights issues? Could it be that the Left has in fact, drifted away from working class politics into some vague and inconsistent pseudo-empathic discourse primarily engaged in sectarian battles?
And there's more.
Uri is an Israeli peace activist and writer who also identifies as an Israeli Leftist. Is Uri welcome within the progressive network? The answer is unreservedly, yes. But John Smith, an English bus driver from Liverpool is proud to be English and 'as an Englishman' he opposes the war because John actually believes that peace is patriotic. Can he join an anti-war protest and, while he's at it, carry a Union Jack to demonstrations? I leave the answer to you.
Tony is a 'Jewish Socialist' – certainly not religious but an ethnic Jew who identifies 'as a Jew' racially and ethnically. And by the way, Tony also operates politically within Jews-only anti-Zionist groups. Now Tony is hugely welcome at most Left and progressive gathering. But can the same be said for Franz who identifies as an 'Aryan socialist'? Again, I leave the answer to you.
The point is that yet again we detect a critical discrepancy in Left or progressive thinking. While Jewish ethnocentrism and even Jewish racial exclusivity is accepted, other forms of ethnocentrism are bluntly rejected. Is this a contradiction? You judge.
And, while we're at it, what about Laura? She's a Muslim convert who often hides her face behind the veil. Does she feel comfortable in 'progressive' gatherings? Not really. But Laura certainly supports human rights and equality almost as much as she loves Allah. But the Left's  and progressives' tolerance towards Allah worshippers is particularly limited while, on the other hand,  worshippers of the Talmud who are willing to oppose Israel are, not only tolerated, they are positively welcomed. Torah Jews, for instance, are often invited to progressive gatherings though, it must be said, they also encounter some resentment, especially from Jewish activists (This surely is because progressive Jews don't like to be associated with people in caftans).
So it seems that membership of a progressive club is no straightforward matter because here we are here dealing with a discourse that is far from being open or inclusive. On the contrary, it is a pretty selective operation and far from being principled, coherent or universal. No longer is it committed to 'members' of the 'working class' –  unless they first demonstrate adherence  to a predetermined tablet of  'correct politics'.
So what are these 'correct politics'? Where are they defined and by whom?
In order to address this question we have to first delve into the peculiar 'progressive'  threshold that leaves the Muslim and the nationalist out yet happily embraces other biologically-determined political, and even racial categories. Strangely enough, the mix that forms the Left alliance is suspiciously similar to the mix that sustains Liberal Zionist political power.
Is this a coincidence? Is it really that surprising that the Left, traditionally defined as a universal humanist discourse, is now supported politically and financially by a mixture of political identities that also lend their support to Israel and its rabidly nationalist, capitalist and ethnocentric ideology? No, it's not, so I guess that the growing similarity between the Left and Liberal Zionism alliance demands some explanation. I've managed to come with three possible answers.
1.     The Spin – The similarity between the Liberal Zionist alliance and the Left compound is a complete coincidence and reveals nothing about either Zionism or Left ideology.
2.     The Observant – The Left and Liberal Zionism are basically two faces of the same coin.
3.     The Forensic – By following the money trail, we see that most Left groups and liberal Zionism (a la J-Street and practically the entire progressive network) are funded by the same organizations, leading amongst them being George Soros' Open Society Institute.  
If the last is true (and I think it is) it may as well mean that a large part of the 'dissident' network is sustained by….wait for it… a Wall Street hedge fund. In other words we are dealing here with an institutional and well-funded controlled opposition apparatus. This may explain, what so often seems on the part of the Left and Progressive discourse generally, like complete dysfunction and utter impotence – whether in labour matters, domestic politics, foreign affairs, global wars and, of course, Palestine.
If the Left sees any reason to rescue itself — and this is indeed a big 'if' —  it would first have to redeem itself from its greed and attachment to 'big money.' It may have to redefine for itself exactly what labour and 'working class politics' means for the workless.
Of course, it may just be that the Left has ended its political and ideological role, that basically, it belongs to the past. In other words, our capacity to think universally and ethically is now completely liberated from dialectical materialism or class division.
In the end, I doubt whether anyone within the progressive network possesses the intellectual capacity and ideological stamina  to endure such a serious discussion.
I guess we'd just better move on.
"Repo has a flaw: It is vulnerable to panic, that is, 'depositors' may 'withdraw' their money at any time, forcing the system into massive deleveraging. We saw this over and over again with demand deposits in all of U.S. history prior to deposit insurance. This problem has not been addressed by the Dodd-Frank legislation. So, it could happen again." – Gary B. Gorton, Professor of Management and Finance, Yale School of Management (lifted from Repowatch)
Subprime mortgages did not cause the financial crisis, nor did the housing bubble or Lehman Brothers. The financial crisis originated in a corner of the shadow banking system called the repo market. That's where the bank run occurred that froze the secondary market, sent prices on mortgage-backed assets plunging, and pushed the financial system into a death spiral. In the Great Crash of 2008, repo was ground zero, the epicenter of the global catastrophe. As analyst David Weidner noted in the Wall Street Journal, "The repo market wasn't just a part of the meltdown. It was the meltdown."
Regrettably, the Federal Reserve's nontraditional monetary policies (ZIRP and QE) have succeeded in restoring the repo market to it's precrisis level of activity, but without implementing any of the changes that would have made the system safer. Repo is as vulnerable and crisis-prone today as it was when the French bank PNB Paribas stopped redemptions in its off-balance sheet operations in 2007 kicking off the tumultuous bank run that would eventually implode the entire system and push the economy into the deepest slump since the Great Depression. By failing to rein in repo, the Fed has ensured that financial crises will be a regular feature in the future occurring every 15 or 20 years as was the case before banks were more strictly regulated and government backstops were put in place. Repo returns us to Wild West "anything goes" banking.
Why would the Fed be so reckless and pave the way for another disaster? We'll get to that in a minute, but first, let's give a brief explanation of repo and how the system works.
Repo is short for repurchase agreement. The repo market is where primary dealers sell securities with an agreement for the seller to buy back the securities at a later date. This sounds more complicated than it is. What's really going on is the seller (primary dealers) are getting short-term loans from money market funds, securities firms, banks etc in order to maintain a position in securities in which they're suppose to make markets. So, repo is like a loan that's secured with collateral. (ie–the securities) It is a "funding mechanism".
What touched off the Crash of 2008, was the discovery that the collateral that was being used for repo funding was "toxic", that is, the securities were not Triple A after all, but subprime mortgage-backed gunk that would only fetch pennies on the dollar. So, when PNB Paribas stopped redemptions in its off-balance sheet operations on August 9, 2007, the rout began. Cash-heavy investors (like money markets) turned off the lending spigot, which reduced trillions of dollars of MBS to junk-status, precipitated massive fire sales of distressed assets that were dumped on the market pushing prices further and further down wiping out trillions in equity and reducing the financial system to a smoldering pile of rubble. That's why the Fed stepped in, backstopped the system with explicit guarantees for both regulated and unregulated financial institutions and set about to reflate financial asset prices to their precrisis highs.
Newly appointed Fed chairman Janet Yellen summarized what happened in the panic in a speech she gave earlier this year. She said:
"The trigger for the acute phase of the financial crisis was the rapid unwinding of large amounts of short-term wholesale funding that had been made available to highly leveraged and/or maturity-transforming financial firms."
In other words, the crisis began in repo. Unfortunately, Wall Street has fended off all attempts to fix the system, because repo is a particularly lucrative area of activity. And we are talking serious money here, too. Tri-party repo alone–which is a small subset of the larger repo market–represents "about $1.6 trillion in outstanding repos daily." That means that the prospect of a big dealer dumping his portfolio of securities on the market at a moment's notice igniting another panic, is never far away.
Why do banks borrow in the unregulated, shadow system instead of conducting their business in the light of day where regulators can check the quality of the underlying collateral, oversee the various transactions on public trading platforms, and make sure that capital requirements are maintained?
It's because the banks want to deploy all their capital, leverage up to their eyeballs and play fast-and-loose with the rules. Here's what the New York Fed has to say on the topic:
"One clear motivation for intermediation outside of the traditional banking system is for private actors to evade regulation and taxes. The academic literature documents that motivation explains part of the growth and collapse of shadow banking over the past decade…

Regulation typically forces private actors to do something which they would otherwise not do: pay taxes to the official sector, disclose additional information to investors, or hold more capital against financial exposures. Financial activity which has been re-structured to avoid taxes, disclosure, and/or capital requirements, is referred to as arbitrage activity." ("Shadow Bank Monitoring", Federal Reserve Bank of New York Staff Reports, September, 2013)
In other words, the banks are conducting their operations in the shadows because it's cheaper. That's what this is all about. Here's more from the same report:
"While the fundamental reason for commercial bank runs is the sequential servicing constraint, for shadow banks the effective constraint is the presence of fire sale externalities. In a run, shadow banking entities have to sell assets at a discount, which depresses market pricing. This provides incentives to withdraw funding—before other shadow banking depositors arrive."
Okay, so when there's a run on the local bank, the bank may have to offload some of its illiquid assets (real estate, commercial property, etc) to meet the increased demand of depositors who want their money, but they can also rely on government backing. (deposit insurance). But with shadow banking–like repo– it's a bit different; the problem is fire sales. For example, when repo lenders–like the big money markets–demanded more collateral from the banks in exchange for short-term funding; the banks were forced to dump more of their assets en masse pushing prices lower, eroding their equity and leaving many of the banks deep in the red. This is how the panic wiped out Wall Street and cleared the way for the $700 TARP bailout. It all started in repo.
The point is, had the system been adequately regulated with the appropriate safeguards in place, there would have been no fire sales, no panic, and no crisis. Regulators would have made sure that the underlying collateral was legit, that is, they would have made sure that the subprime borrowers were creditworthy and able to repay their loans. They would have made sure that repo borrowers (the banks) had sufficient capital to meet redemptions if problems arose. And regulators would have limited excessive leveraging of the securitized assets.
Regulation works. It provides safety, stability, and security as opposed to panic, bankruptcy and severe recession which is the scenario that Wall Street's profiteers seem to prefer. Now check this out from the NY Fed:
"While leveraged lending collapsed in 2008 from a peak of $680 billion in 2007, it has rebounded very quickly, and is now at record levels of volume, projected to be larger than $1 trillion in 2013…" (NY Fed)
How's that for progress, eh? So, Bernanke's reflation efforts have effectively restored the same shabby, poorly designed system to its former glory putting all of us at risk again. Here's more:
"One area of concern, however, is the significant increase in the fraction of covenant lite loans, which have increased dramatically from 0 percent in 2010 to 60 percent in 2013. This deterioration in loan underwriting has come hand-in-hand with an increased presence of retail investors in the leveraged loan market, through both CLOs and prime funds, as relatively sophisticated investors, like banks and hedge funds, are exiting the asset class." (New York Fed)
Great. So now we are seeing the same problems that emerged in 2004 and 2005 with subprime mortgages, that is, there's so much liquidity in the system–thanks to the Fed's zero rates and QE– that investors are dabbling in all-types of risky garbage that you wouldn't normally touch with a 10 foot dungpole. Check this out from Testosterone Pit:
"Shadow banking loans are estimated to have reached $15 trillion in the US. And among them is a particularly hot category: lending to highly leveraged companies with junk credit ratings. … the NY Fed found that these loans are increasingly issued in a loosey-goosey manner, with low underwriting standards. And issuance has soared…

Layered into these crappy and risky loans are the crappiest and riskiest of all loans, namely "covenant-lite" loans. Their covenants are so watered down and so full of holes that investors have few if any protections in case of default. If the Fed ever allows reality to set, and these companies stumble under their load of debt or can't refinance it at ridiculously low rates, investors can kiss their money goodbye." …

these desperate small investors…have unknowingly made a quantum leap in risk – allowing the smart money, which hears the hot air hissing from the credit bubble, to bail out. This must be one of the proudest moments in Chairman Bernanke's glorious tenure." ("Fed: Hedge Funds, Banks Sell Crappiest Debt To Small Investors (Before Credit Bubble Blows Up) " Testosterone Pit)
Nice, eh? So the big boys are planning to vamoose before the whole house of cards comes tumbling down. Meanwhile, Mom and Pop are about to get reamed for the umpteenth time when the Fed "tapers" and these covenant lite IEDs blow up in their face taking another sizable chunk out of their retirement savings. Way to go, Bernanke. Here's more from the NY Fed report:
"Shadow credit transformation increased from only 5 percent of total credit transformation in 1945 to a peak amount of 60 percent in 2008 before declining to 55 percent in 2011."
So now the shadow players are generating more than half of all the nation's credit via their dodgy, unregulated operations. Why? So a handful of ravenous banks can make bigger profits.
According to the Financial Stability Board (FSB) "credit intermediation that takes place in an environment where prudential regulatory standards and supervisory oversight are either not applied or are applied to a materially lesser or different degree than is the case for regular banks engaged in similar activities." (FSB, 2011).
Read that over again. What they're saying is that it's a completely ridiculous, insane system. We've given the banks this outrageous privilege of creating private money out of thin air, (credit) and they spit in our face. They won't even follow a few simple rules that would make the process safer for everyone. Keep in mind, that Dodd Frank does nothing to remedy the problems in repo.
One last thing (from the NY Fed):
"Intermediaries create liquidity in the shadow banking system by levering up the collateral value of their assets. However, the liquidity creation comes at the cost of financial fragility as fluctuations in uncertainty cause a flight to quality from shadow liabilities to safe assets. The collapse of shadow banking liquidity has real effects via the pricing of credit and generates prolonged slumps after adverse shocks."
Repeat: "liquidity creation comes at the cost of financial fragility as fluctuations in uncertainty cause a flight to quality from shadow liabilities to safe assets."
Can you believe it? The Fed doesn't even try to deny what's going on. They admit that letting the banks ratchet up their leverage increases "financial fragility " which could precipitate another crash. ("flight to quality from shadow liabilities to safe assets.") In other words, the Fed KNOWS the system is nuts, just like they know that it's only a matter of time before the whole bloody thing blows up again and the economy goes off the cliff. Still, they're not going to lift a finger to change the system.
Why?
You know why.
Because a few fatcats at the top like the way things are now, that's why.
If that doesn't make your blood boil, I don't know what will.
The Federal Reserve presently lends money at a lower rate than anytime in history. In fact, the rate at which the Fed lends money is more than a full percentage point below the current rate of inflation. That means the Fed is subsidizing borrowing. Naturally, zero rates create price distortions which are greatly amplified by the Fed's asset purchase program called Quantitative Easing. During its three rounds of QE, the Fed has ballooned its balance sheet by more than $2.8 trillion inflating the prices of financial assets across-the-board while establishing itself as the world's biggest buyer of US Treasuries, the benchmark asset class upon which every financial asset in the world is priced. Those prices are now grossly distorted due to the Fed's presence in the market. (Note: Fed chairman Ben Bernanke set the Federal funds rate in the range of zero to 0.25% in December, 2008 and has kept it there ever since. The policy is called zero-interest-rate-policy or ZIRP.)
When rates are cut to zero, it means that the demand for credit is weak. If the economy was growing at a faster clip, then the demand for funds would increase and the Fed would raise rates so they were closer to their normal range. But the Crash of '08 triggered deflationary pressures (particularly massive deleveraging by homeowners who saw their home equity go up in smoke during the downturn) unlike anything experienced since the Great Depression. For the Fed to adequately address the sharp drop in demand, it would have had to set its target Fed funds rate at minus 6 percent which is impossible since the Fed cannot set rates below zero. (This is called ZLB or zero lower bound problem.) Thus, the Fed has implemented other strategies which are supposed to achieve the same thing.
Bernanke's asset purchase program, QE, is an attempt to push rates below zero by reducing the supply of risk-free assets. By loading up on US Treasuries (USTs) and agency mortgage-backed securities (MBS), the Fed tries to lure investors into stocks and bonds hoping to push prices higher. Higher prices create the so called "wealth effect" which paves the way for more consumption and investment. Hence, soaring stock prices create a virtuous circle which boosts demand and jump-starts the flagging economy. That's the theory, at least. In practice, it doesn't work so well. Five years after the policies were first implemented, the economy is still sluggish and underperforming (GDP is below 2 percent for the last 12 months), the output gap is still roughly $1 trillion per year, and unemployment is still sky-high. (Unemployment would be 14 percent if the people who have dropped off the unemployment rolls and who are no longer actively looking for work were counted.) For all practical purposes, ZIRP and QE have been a bust .
The traditional antidote for a "liquidity trap" (that is, when normal monetary policy doesn't work because rates are already at zero) is fiscal stimulus. In other words, when monetary policy can't gain traction because consumers and businesses refuse to borrow, then the government must use its balance sheet to keep the economy growing. That means widening the budget deficits and spending like crazy to increase demand until consumers and businesses are in a position to resume their spending. Bernanke's monetary policy is the polar opposite of this time-tested remedy. The Fed's policy provides zero-cost reserves to poorly run zombie banks who refuse to pass on the savings to their customers via credit cards or mortgage rates. If the Fed was serious about expanding credit and strengthening growth, it would require the banks to cut their credit card rates and mortgage rates so that consumers benefit equally from the Fed's cheap money. (In other words, if the Feds funds rate dropped from 6% to 0% then credit card rates should be slashed from 18% to 12%. That would stimulate more consumer spending.) But the Fed has made no demands on the banks. Instead, all of the gains from the wider spreads have gone to the banks, which is why ZIRP and QE have had virtually no impact on lending at all.
The main beneficiary of the Fed's policies has been the investor class. While low rates have helped households reduce their debtload more easily, low interest lending coupled with the ocean of liquidity provided via QE has triggered a long-term stock market rally that has increased equities funds inflows to new records, boosted margin debt to precrisis levels, quadrupled stock buybacks from their 2008 lows, buoyed covenant-lite loan sales to $188.7 billion ("far surpassing the record of 2007″), and sent all three major indices to new highs. Unable to find profitable outlets for investment in the real economy, investors have taken their lead from hedge fund manager Ben Bernanke, snatching up stocks and bonds in a ravenous, yield-crazed flurry of speculation. Indeed, they have done quite well too, raking in sizable profits even while the real economy is still flat on its back. The bottom line: All the gains from ZIRP and QE have gone to Wall Street with precious little trickling down to the workerbees.
After 5 years of monetary policy that has failed to produce a strong, sustainable recovery, reasonable people have begun to wonder if Bernanke's real objectives are different than those in his official pronouncements. After all, the Dow Jones and S & P 500 have more than doubled in the last 4 years, corporate earnings just hit an all-time high of $2.1 trillion, the banks announced record profits of $42 billion in Q2, and–according to a new study by Emmanuel Saez, an economics professor at UC Berkeley— the top 10% of earners in the US captured 50.4% of total income in 2012, a level higher than any other year since 1917." (LA Times) Meanwhile, 47 million people are scraping by on food stamps, labor's share of productivity gains have never been smaller, median household income has plummeted by 7.3 percent since the end of the recession, (Sentier Research), and 46.5 million Americans now live in poverty. (US Census Bureau). Inequality– which is already at levels not seen since the Gilded Age–continues to widen at an accelerating pace while the battered and rudderless economy drifts from one crisis to another.
To pretend that the objectives of ZIRP and QE are different than the results they've produced (ie–greater concentration of wealth and political power, and the crushing of the middle class) is laughable given the fact that they've been in place for more than 5 years without any significant change. This suggests that the Fed's policies are doing what they were designed to do, shift more wealth upwards to the uber-rich while political leaders dismantle vital safteynet programs which protect ordinary working people from the ravages of unregulated capitalism. The Central Bank and the political establishment in Washington are working hand-in-hand to restructure the economy along the same lines as they would any third world banana republic. And that's the real goal of the current policy.
Fed chairman Ben Bernanke shocked the world on Wednesday when he announced there would be no change in the Fed's $85 billion-per-month asset purchase program dubbed QE. The announcement sparked a buying frenzy on Wall Street where all three major indices shot to record highs. The Dow Jones Industrial Average (DJIA) climbed 146 points to 15,676 while the S & P 500 logged another 38 points to 1,725 on the day. Bonds and gold also rallied big on the news with the yield on the benchmark 10-year US Treasury dipping sharply to 2.69 percent (from 2.85 percent the day before) while gold rose more than 4.1 percent to $1,364. The US dollar was hammered savagely on the news, dropping to a seven-month low against a basket of major currencies. According to Reuters, the buck "saw its biggest one-day slide in more than two months" and "has fallen to levels not seen since well before Fed Chief Ben Bernanke first floated the idea of reducing the stimulus in May."
Bernanke attempted to justify his reversal (some are calling it a "head fake") on continuing weakness in the economy, particularly high unemployment and tightening in the financial markets. He also implied he was worried about the possibility of a government shutdown and the impact that would have on the anemic recovery.
While Bernanke presented a rational defense for his pet program, he was not convincing. The truth is, the Princeton professor is out on a limb and doesn't know how to get down. That's why he didn't trim his bond buying by even a measly $5 billion per month, because he's afraid the announcement would trigger a selloff that would unravel his $2.8 trillion reflation effort. So he decided to stand pat and do nothing.
But standing pat is not a long-term option, eventually the Fed will have to end the program and wind down its balance sheet. Investors know this, which is why Thursday's giddiness quickly morphed into somber reflection and head scratching on Friday. Everyone wants to know "what's next", especially since QE's impact is diminishing, financial markets are getting frothy, and improvements in the economy are marginal at best. Can the Fed really inflate its balance sheet by another 1 or $2 trillion hoping that the economy picks up in the meantime, or will Bernanke simply call it quits and let the chips fall where they may? Who really knows? This is the problem with unconventional policies; it's impossible to predict the downside risks because they're, well, unconventional, and haven't been thoroughly tested before.
In the case of QE, we can see now that Bernanke forged ahead without developing a coherent exit strategy. That's a big no-no; you never want to paint yourself into a corner especially when trillions of dollars and the stability of the financial system are at stake. But that's where Bernanke finds himself today four years after embarking on a policy path that has boosted corporate profits to all-time highs, widened income inequality to levels not seen since the Gilded Age, and pushed Dow Jones Industrial Average up by 146% since its March 2009 low.
And that's what made QE such an irresistible policy, because the upside rewards were so great. QE created a vehicle for transferring incalculable wealth to the investor class while concealing its real purpose behind public relations blather about lowering unemployment and strengthening the recovery.
As we have pointed out before in this column, QE has no effect on unemployment. The swapping of Treasuries for bank reserves does not create a transmission mechanism for increasing demand that leads to additional hiring. As Lee Adler of the Wall Street Examiner says:
"Job growth has not accelerated as a response to the flood of money printing…The growth rates were actually stronger before the Fed started pumping money into the economy in November when it settled its first MBS purchases in QE3…Money printing works to inflate asset prices, but it does nothing to stimulate job growth…

House prices and stock prices have inflated, thanks to too many dollars chasing too few assets. But job growth has been slow–steady, but slow, growing at slightly above the rate of population growth….." ("Here's How BLS Data Proves QE Has Had Zero Effect As Jobs Growth Plods Along", Wall Street Examiner)
QE does not lower long-term interest rates either, in fact, long-term rates have edged higher during QE1, QE2 and now QE3. (Presently, rates are a full percentage point above what they were when the program was first announced on 13 September 2012) Similarly, rates should fall again when Bernanke finally settles on an exit strategy and stock holders pile back into Treasuries acknowledging the feeble state of the economy. Long-term yields will fall because the demand for funds remains weak. When the demand for money is weak, the price of money decreases which means that rates fall. It's another sign that we are in a Depression. Now check this out from Reuters:
"Since the bottom of the recession just over four years ago, commercial bank loans and leases have grown 4.0 percent, one of the weakest post-recession recoveries in terms of borrowing since the 1960s, according to Paul Kasriel, the former chief economist of Northern Trust Company. For comparison, over the same period after the July 1990-March 1991 recession, loans and leases grew over four times faster….." ("Time to taper? Not if you look at bank loans", Reuters)
Once again, credit expansion is weak, because the economy is still on the ropes.
Consumers and households aren't borrowing because they are still deleveraging from the big bust of '08 that wiped out their home equity and a good part of their retirement savings. They're not borrowing because their wages have stagnated and their income is falling. Also, they're not borrowing because they've lost confidence in the institutions which they used to think were governed by regulations and the rule of law. They know now that that's not how things work, so they have become more cautious in their spending.
QE doesn't even increase inflation which is why the Fed is still unable to hit its target rate of 2 percent. The fact that inflation has stayed so low (The Consumer Price Index was up just 0.1% in August) while stock prices have more than doubled at the same time, proves that Bernanke's nearly $3 trillion in liquidity has not "trickled down" to the real economy at all. The injections have merely boosted profits on inflated asset prices for financial parasites and speculators.
Even hedge fund managers like Duquesne Capital's Stanley Druckenmiller are now willing to admit that QE is a farce. Here's what Druckenmiller said in an interview with CNBC following Bernanke's announcement on Wednesday:
"This is fantastic for every rich person. This is the biggest redistribution of wealth from the middle class and the poor to the rich ever."

Indeed, while the dwindling middle class faces deeper budget cuts and tattered safety net programs, the rich have never had it so good. And much of the credit goes to Ben Bernanke and his bond buying program, QE.

As economist Anthony Randazzo of the Reason Foundation wrote last year QE "is fundamentally a regressive redistribution program that has been boosting wealth for those already engaged in the financial sector or those who already own homes, but passing little along to the rest of the economy. It is a primary driver of income inequality." ("Druckenmiller: Fed robbing poor to pay rich", CNBC)
Morality is a highly misunderstood component of human nature. Some people believe they can create moral guidelines from thin air based on their personal biases and prejudices. Some people believe that morality comes from the force of bureaucracy and government law. Still, others believe that there is no such thing; that morality is a facade created by men in order to better grease the wheels of society.
All of these world views discount the powerful scientific and psychological evidence surrounding Natural Law — the laws that human beings form internally due to inherent conscience regardless of environmental circumstances. When a person finally grasps inborn morality, the whole of the world comes into focus. The reality is that we are not born "good" or "evil." Rather, we are all born with the capacity for good AND evil, and this internal battle stays with us until the end of our days.
Every waking moment we are given a choice, a test of our free will, to be ruled by desire and fear, or to do what we know at our very core is right. When a man silences his inner voice, the results can be terrible for him and those around him. When an entire culture silences its inner voice, the results can be catastrophic. Such a shift in the moral compass of a society rarely takes place in a vacuum. There is always a false shepherd, a corrupt leadership that seeks to rule. Rulership, though, is difficult in the face of an awake population that respects integrity and honor. Therefore criminals must follow these specific steps in order to take power:
Pretend To Be Righteous: They must first sell the public on the idea that they hold the exact same values of natural law as everyone else. The public must at first believe that the criminal leaders are pure in their motives and have the best interests of the nation at heart, even if they secretly do not.
Pretend To Be Patriotic: Despots often proclaim an untarnished love of their homeland and the values that it was founded upon. However, what they really seek is to become a living symbol of the homeland. They insist first that they are the embodiment of the national legacy, and then they attempt to change that national legacy entirely. A corrupt government uses the ideals of a society to acquire a foothold, and when they have gained sufficient control, they dictate to that society a new set of ideals that are totally contrary to the original.
Offer To "Fix" The Economy: Tyrants do not like it when the citizens under them are self sufficient or economically independent. They will use whatever methods are at their disposal including subversive legislation, fiat currency creation, corporate monopoly and even engineered financial collapse in order to remove the public's ability to function autonomously. They will begin this process under the guise that the current less-controlled and less-centralized system is "not safe enough," and that they have a better way to ensure prosperity.
Offer To Lend A Hand: Once the population has been removed from its own survival imperative and is for the most part helpless, the criminal leadership moves in and offers to "help" using taxation and money creation, slowly siphoning the wealth from the middle class and raising prices through inflation. Eventually, everyone will be "equal"; equally poor that is. In the end, the whole nation will see the rulership as indispensable, for without them, the economy would no longer exist and tragedy would ensue.
Create External Fear: Once in place, the criminal leadership then conjures an enemy for the people, or multiple enemies for the people. The goal here is to create a catalyst for mass fear. When the majority of people are afraid of an external threat, they will embrace the establishment as a vital safeguard. When a society becomes convinced that it cannot take care of itself economically, little coaxing is required to convince them that they are also not competent enough to take care of their own defense. The government not only becomes caregiver and nanny, but also bodyguard.  At this point, the establishment has free reign to dissolve long cherished liberties while the masses are distracted by a mysterious threat hiding somewhere over the horizon.
Create Internal Fear: They move the threat from over the horizon, right to the public's front door, or even within their own home. The enemy is no longer a foreigner. Now, the enemy is the average looking guy two houses over, or an outspoken friend, or even a dissenting family member. The enemy is all around them, according to the establishment. The public is sold on the idea that the sacrifice needed in order to combat such a pervasive "threat" is necessarily high.
Sell The People On The Virtues Of Moral Relativism: Now that the populace is willing to forgo certain liberties for the sake of security, they have been softened up enough for reprogramming to begin. The establishment will tell the people that the principles they used to hold so dear are actually weaknesses that make them vulnerable to the enemy. In order to defeat an enemy so monstrous, they claim, we must become monstrous ourselves. We must be willing to do ANYTHING, no matter how vile or contrary to natural law, in order to win.
Honesty must be replaced with deceit. Dissent must be replaced with silence. Peace must be replaced with violence. The independent should be treated with suspicion. The outspoken treated with contempt. Women and children are no longer people to be protected, but targets to be eliminated. The innocent dead become collateral damage. The innocent living become informants to be tortured and exploited. Good men are labeled cowards because they refuse to "do what needs to be done," while evil men are labeled heroes for having the "strength of will" to abandon their conscience.
Thus, the criminal leadership makes once honorable citizens accomplices in the crime. The more disgusting the crime, the more apt the people will be to defend it and the system in general, simply because they have been inducted into the dark ceremony of moral ambiguity.
The actions of the state become the actions of all society. A single minded collectivist culture is born, one in which every person is a small piece of the greater machine. And, that which the machine is guilty of, every man is guilty of. Therefore, it becomes the ultimate and absurd purpose of each person within the system to DENY the crime, deny the guilt, and make certain that the machine continues to function for generations to come.
Though we have already passed though most of the above stages, Americans are still not yet quite indoctrinated into the realm of moral relativism. This, though, is swiftly changing.
The Current Sales Pitch
Just take a look at the attitude of the Obama Administration and the mainstream media towards Edward Snowden and his recent asylum approved by Russia.
The White House, rather than admitting wrongdoing in its support for the NSA's mass surveillance of American citizens without warrant, or even attempting to deny the existence of the PRISM program, is now instead trying to promote NSA spying as essential to our well being while wagging a finger of shame at Snowden and the Russian government for damaging their domestic spy network. Obama has lamented on Russia's stance, stating that their thinking is "backwards."
Did I miss something here? I'm no fan of the Russian oligarchy, but shouldn't Obama and most of the NSA (let alone every other Federal alphabet agency) be sitting in a dark hole somewhere awaiting trial for violating the Constitution on almost every level? Yet, we are instead supposed to despise Snowden for exposing the crime they committed and distrust any country that happens to give him shelter?
Due to public outcry, Obama has attempted to pacify critics by announcing plans to make NSA mass surveillance "more transparent". First, I would like to point out that he did NOT offer to end NSA spying on Americans without warrant, which is what a President with any ounce of integrity would have done. Second, Obama's calls for more transparency have come at the exact same time as the NSA announces its plans to remove 90 percent of its systems administrators to make sure another "Snowden incident" does not occur.
Finally, when the public called for an investigation into the NSA and the Director of National Intelligence in the handling of the Snowden affair and the PRISM program, the White House appointed none other than James Clapper, the Director of National Intelligence, as part of the team that would "investigate" any wrongdoing.  The Obama Administration insists that Clapper, a documented liar who told Congress that the NSA was not involved in mass domestic spying, was not going to "head" the panel of investigators, even though a White House memo specifically named Clapper as the man who would form the so-called "independent group".  The White House still admits that Clapper will be involved in the process.
So, just to reiterate, the people who perpetrated the criminal act of warrant-less surveillance on hundreds of millions of Americans, and who were caught red-handed lying about it, are now appointed to investigate their own crime.
Does this sound like a government that plans on becoming "more transparent"?
Ask yourself, would Obama have called for ANY transparency over the NSA whatsoever if Snowden had never come forward? Of course not! The exposure of the crime has led to lies and empty placation, nothing more.
In the meantime, numerous other political miscreants have hit the media trail, campaigning for the NSA as well as other surveillance methods, bellowing to the rafters over the absolute necessity of domestic spy programs. Fifteen years ago, the government would have tried to sweep all of this under the rug. Today, they want to acclimate us to the inevitability of the crime, stating that we had better get used to it.
Their position? That Snowden's whistleblowing put America at risk. My questions is, how? How did Snowden's exposure of an unConstitutional and at bottom illegal surveillance program used against hundreds of millions of innocent Americans do our country harm? Is it the position of the White House that the truth is dangerous, and deceit is safety?
I suspect this is the case considering the recent treatment of military whistleblower Bradley Manning, who has been accused by some to have "aided Al Qaeda's recruiting efforts" through his actions.  How did Manning do this? By releasing information, including battlefield videos, that were hidden from the public containing proof of U.S. war crimes in Iraq and Afghanistan.
Perhaps I'm just a traditionalist and not hip to modern diplomatic strategy, but I would think that if you don't want to be blamed for war crimes, then you probably shouldn't commit war crimes. And, if you don't want the enemy to gain new recruits, you should probably avoid killing innocent civilians and pissing off their families (there is also ample evidence suggesting that the CIA has done FAR more deliberate recruiting for Al Qaeda than Bradley Manning could have ever accomplished on accident). Just a thought.
So, to keep track – U.S. government funds and trains Al Qaeda, but is the good guy. U.S. government commits war crimes, but is the good guy. U.S. government hides the truth from the American people, but is the good guy. Bradley Manning exposes war crimes, and is the bad guy. Moral relativism at its finest. Moving on…
The shift towards moral bankruptcy is being implemented in the financial world as well. Investors, hedge funds, and major banks now surge into the stock market every time the private Federal Reserve hints that it may continue fiat stimulus. When bad news hits the mainstream feeds, people playing the Dow casino actually cheer with glee exactly because bad economic news means more QE from the Fed. They know that the Fed is artificially propping up the markets. The Fed openly admits that it does this. And, they know that our fiscal system is hanging by a thin thread. And you know what, very few of them care.
The Fed created the collapse with easy money and manipulated interest rates, and now, some people cheer them as the heroes of the U.S. financial structure.
The American narrative is quickly changing. There has long been criminality and degeneracy within our government (Democrat and Republican) and the corporate cartels surrounding it, but I believe what we are witnessing today is the final step in the metamorphosis that is totalitarianism. The last stage accelerates when the average citizen is not just complicit in the deeds of devils, but when he becomes a devil himself. When Americans froth and stomp in excitement for the carnival of death, and treat the truth as poison, then the transformation will be complete.
Source: Brandon Smith | Alt-Market
Wall Street is cooking up another crisis—making shoddy loans and selling worthless securities to investors hungry for higher yields than CDs and government bonds offer.
Dodd-Frank banking reforms imposed very costly regulations on mortgage and commercial lending. Regional banks, which have solid knowledge of smaller businesses, could not bear these costs and sold out to large Wall Street institutions. Now a handful of money center banks control more than half the deposits and lendable money.
Although big banks have branches everywhere and are flush with funds, they don't know much about which businesses are likely to repay what they borrow.
Banks aren't carrying many mortgages on their books—they are merely conduits for Fannie Mae—but business loans have recovered to pre-financial crisis levels. And the bank examiners at the Office of the Comptroller of the Currency, the FDIC, and Federal Reserve are alarmed about their lending standards.
Too often loans are made to businesses with inadequate cash flow—paper profits are important to stock investors but banks focus on cash flow to evaluate whether an enterprise can pay up each month. Also, many loans carry weak covenants and collateral.
Banks are lending at today's low interest rates with alarmingly long maturities. That is troublesome because banks' cost of funds go up and down as the Federal Reserve tightens and loosens monetary policy.
Many economists expect GDP growth to pick up the latter half of this year and next, and for the Federal Reserve to start pushing up interest rates. Then banks will lose money—lots of it—on 5- and 10-year loans made today. If the economy doesn't pick up—economists have been known to be wrong—then loans made on questionable cash flow and weak collateral will fail.
Either way, banks are at the casino again!
But alas banks are shunting off a lot of their risky bets onto witless investors—thanks to the new boom in derivatives trading. Remember those nifty bonus generating contraptions that made 28-year-old MBAs millionaires and wrecked AIG and Citigroup.
Manhattan financiers are once again bundling questionable corporate bonds and bank loans into investment securities—Collateralized Debt Obligations—for sale to wealthy individuals and retirees through hedge funds and unethical brokers.
When the losses on shaky bonds and loans come, big banks, bless their generosity, will spread the headaches around. Wrecked personal finances and broken dreams will follow, and consumer spending will slow, taking the economic recovery into the drink.
Not to be out done by their predecessors, today's modern bankers are also writing lots of "synthetic securities." Those generate returns to investors, not from the cash flow on loan repayments, but rather from bets made by third parties about whether loans will succeed or fail. Those have as much place in sound banking as nepotism does in government employment.
As in pre-crisis days, the total value of derivatives outstanding is many multiples of the actual value of the U.S. economy. When the loans and derivatives fail, many who have made promises to pay up won't have the cash—just like 2008.
Look for bank balance sheets to be rocked, lots of wealthy folks to file for bankruptcy, and the economy to suffer another migraine.
Depressing? They don't call economics the dismal science for nothing.
Peter Morici is an economist and professor at the Smith School of Business, University of Maryland, and widely published columnist.
Source: Epoch Times
Soon the Foreclosure Floodgates Will Open and Prices Will Plunge…
Anyone who buys a house in today's market should be aware of the risks. They should know that current prices are not supported by fundamentals, but by unprecedented manipulation by the Fed, the Obama administration, Wall Street Private Equity investors, and the nation's biggest banks. If any of these main-players withdraws or even reduces their support for the market (in other words, if the banks release more of their distressed inventory, if rates rise, if PE firms buy fewer homes, or if the Congress curtails current mortgage modification programs), housing prices will fall. Given the increasing volatility in global stock and bond markets in recent weeks–which is likely to intensify as the Fed  implements its exit strategy from QE– interest rates will continue to fluctuate putting downward pressure on housing sales and prices. The impact the Fed's policy will have on markets and the economy is unknown. The Central Bank is in uncharted water. That makes it a particularly bad time to buy a home. Caveat emptor.
When we say that fundamentals are weak, it means that the factors that typically drive the market are not strong enough to boost sales or push up prices. In a normal market, "first-time homebuyers" and "move up" buyers would represent the vast majority of sales. In today's market, these two "demand cohorts" are actually quite weak, which is to say that current prices are not sustainable. Consider this: According to Lender Processing Services (LPS) Mortgage Monitor for April, there are  "4,699,000, or 9.76% of home loans delinquent or in foreclosure as of April 30th"…" ("Mortgage Delinquencies Down….But a Record 843 Days to Foreclose", Naked Capitalism)
So, nearly 5 million homes are either seriously delinquent or in some stage of foreclosure. This unseen backlog of distressed homes makes up the so called "shadow inventory" which is still big enough to send prices plunging if even a small portion was released onto the market.   In other words, supply vastly exceeds demand in real terms. Now check this out from Zillow:
"13 million homeowners with a mortgage remain underwater. Moreover, the effective negative equity rate nationally —where the loan-to-value ratio is more than 80%, making it difficult for a homeowner to afford the down payment on another home — is 43.6% of homeowners with a mortgage." (Zillow)
This might sound a bit confusing, but it's crucial to understanding what's really going on. While many people know that 13 million homeowners are underwater on their mortgages,  they probably don't know that nearly half (43.6%) of the potential "move up" buyers (who represent the bulk of organic sales) don't have enough equity in their homes to buy another house.  Think about that. Like we said,  housing sales depend almost entirely on two groups of buyers; firsttime homebuyers and move up buyers. Unfortunately, the number of potential move up buyers has been effectively cut in half.  It's simply impossible for prices to keep rising with so many move up buyers on the ropes.
So, if "repeat" buyers cannot support current prices, then what about the other "demand cohort",  that is, firsttime home buyers?
It looks like demand is weak there, too. According to housing analyst Mark Hanson: "First-timer home volume hit a fresh 4-year lows last month and distressed sales 6-year lows".
So, no help there either. Firsttime homebuyers are vanishing due to a number of factors, the biggest of which is the $1 trillion in student loans which is preventing debt-hobbled young people from filling the ranks of the firsttime homebuyers. Given the onerous nature of these loans, which cannot be discharged through bankruptcy, many of these people will never own a home which, of course, means that demand will continue to weaken, sales will drop and prices will fall.
The banks have countered this weakness in demand by withholding distressed inventory. According to Realty Trac, foreclosures are down 33 percent in May year-over-year. There's no reason for this reduction in foreclosures because there are nearly 5 million homes that are either seriously delinquent or in some stage of foreclosure. The banks are simply manipulating distressed supply to push up prices and avoid losses. To better understand what the banks are up to, check out this article on Marketwatch666:
"As of April, the average seriously delinquent homeowner has not paid on their mortgage for 503 days, and that the typical home in foreclosure has been delinquent for 843 days; in general, those who are seriously delinquent (more than 90 days past due) are not being foreclosed on, and those who are in the foreclosure process are not having their homes seized. Since this metric seems to be increasing an average of ten days a month, and new foreclosure starts are being added each month which should be bringing the average days down, we can only conclude that the foreclosure process is damn near frozen." ("Mortgage Delinquencies Down….But a Record 843 Days to Foreclose", Naked Capitalism)
"843 days"! That's a new record, which means that the banks are actually dragging the process out longer today then ever before. This has had profound effect on prices which have soared by more than 10 percent in the last 12 months creating the illusion of a sustainable recovery.  Keep in mind, that the banks have little choice in the matter. They are still sitting on  more-than one trillion dollars worth of  non performing loans leftover from the recession.  If they simply dumped their backlog of distressed homes onto the market all at once, the deluge would push prices below their 2009-lows leaving bank balance sheets in tatters. That's the scenario they want to avoid at all costs.   Now get a load of this article in last week's Reuters:
"Well over a million U.S. homeowners are months behind on payments on government-backed mortgages, raising the risk federal housing agencies will end up facing the cost of managing a fresh flood of foreclosed homes, two government watchdogs said on Thursday.

Some 1.7 million borrowers have missed several payments on mortgages backed by the U.S. government, the inspectors general of the Federal Housing Finance Agency and Department of Housing and Urban Development said in a joint report.

These loan delinquencies represent a "shadow inventory" of homes that could hit the market if foreclosed on, which would need be managed by government-run Fannie Mae (FNMA.OB) or Freddie Mac (FMCC.OB), or some other federal housing agency." ("Shadow' homes could burden U.S. housing agencies", Reuters)
Actually, the numbers are much larger that Reuters indicates, but it's good to see someone in the MSM finally acknowledging the magnitude of the problem.
It would be interesting to know how many of these 1.7 million non-performing loans were shunted off to Fannie and Freddie in 2009 and 2010 by cagey banksters who knew that they were essentially worthless.  We'll probably never know for sure. The fact is, the vast majority of toxic mortgages weren't created by the GSE's but by crooked bankers who pooled the dreck into private label securities and sold them to gullible investors around the world.  Now, much of that securitized sewage is festering on the Fed's bloated balance sheet. The Fed has replaced the shadow banking system as the place where bad loans go to die.   Here's more from Reuters:
"Once seized, these so-called real estate owned properties, or REOs, present significant financial challenges to these government agencies, the report said.

"Not only are current REO inventory levels elevated … they may rise over the next several years depending on the number of shadow inventory properties that are ultimately foreclosed on," the report stated….

The report said the shadow inventory, which is made up of loans that have been delinquent for at least 90 days, is more than seven times the inventory of REOs that Fannie Mae, Freddie Mac and HUD currently own." (Reuters)
So, the number of seriously delinquent mortgages IS MORE THAN SEVEN TIMES  the inventory of REOs that Fannie Mae, Freddie Mac and HUD currently own?!? What the hell kind of shell-game are these guys playing?  Do you get the impression, dear reader, that the government is pulling the wool over your eyes? 7X is a bit more than a rounding error, I'd say.
Okay, so the government has been fudging the numbers to make things look better than they really are. (What a surprise) But why would the GSE's try to hide what's going on, after all, Fannie and Freddie have implicit government guarantees, so they don't really have to worry about falling prices.  And, as far as the red ink, well, Uncle Sugar will take care of that, right?
Not exactly. It looks to me like Fannie and Freddie are tailoring their policies to meet the needs of the banks.  As Reuters reluctantly admits, "Even a fraction of the shadow inventory falling into foreclosure could considerably swell … inventories of REO properties."
It's simple, really; more foreclosures mean lower prices. Lower prices, in turn, mean heavier losses for the banks. That's why Fannie and Freddie are playing hide-n-seek; it's another giveaway to the banks.
Reuters again: "Fannie Mae and Freddie Mac owned about 158,000 REO properties at the end of September 2012, while HUD had about 37,000." (Reuters)
Huh?  The author has already admitted that the real number is at least 7 times that amount ("Well over a million."), so why the sudden reversal? Is he trying to downplay the bad news to slip it past his editor?
Many of the experts still anticipate between 3 to 6 million foreclosures in the next few years, so it is doubtful that the current strategy will work. Eventually, the floodgates will open, distressed supply will be released, and prices will drop.
And distressed inventory is just one of many headwinds facing the housing industry today. There's also this: "Rising Prices Lead to Fewer Investor Purchases, Longer Holding Times", DS News:
"Close to half—48 percent—of the investors surveyed in May said they will purchase fewer properties in the next 12 months than they did in the past year." (DS News)
And this from CNN Money:
"Say goodbye to ultra-low mortgage rates.

In the past month, rates have been on the rise and they are expected to continue to climb. This week, the average rate on a 30-year fixed-rate mortgage jumped another 10 percentage points to 4.07% and are up from 3.3% in early May, according to mortgage giant Freddie Mac.

"It's unlikely that rates will ever be that low again," said Doug Duncan, Fannie Mae's chief economist. "Those who didn't take advantage of record-low rates have missed the boat — at least for now." ("Why 3% Mortgage Rates Are a Thing of the Past", CNN Money)
And this:
Application Volume Stumbles, Sales to Suffer, OC Housing News

"Mortgage application data for May lends credence to analysts' predictions of a slowdown in the year's second half, Capital Economics says in its latest US Housing Data Response.  According to Capital Economics' data—compiled from statistics offered by the Mortgage Bankers Association (MBA)—total mortgage application volume fell 2.0 percent from April to May, the first monthly drop since February and the biggest decline since January."  ("Application Volume Stumbles, Sales to Suffer", OC Housing News)
And, finally, this from BusinessWeek:
"Hedge fund manager Bruce Rose was among the first investors to coax institutional money into the mom and pop business of single-family home rentals, raising $450 million last year from Oaktree Capital Group LLC.

Now, with house prices climbing at the fastest pace in seven years and investors swamping the rental market, Rose says it no longer makes sense to be a buyer.

"We just don't see the returns there that are adequate to incentivize us to continue to invest….There's a lot of — bluntly — stupid money that jumped into the trade without any infrastructure, without any real capabilities and a kind of build-it-as-you-go mentality that we think is somewhat irresponsible."  ("Carrington Stops Buying U.S. Rentals as Blackstone Adding",  BusinessWeek)
I could go on, but why bother? You get the point. The fact is, is that this is a uniquely bad time to buy a house.  There's too much uncertainty about rates, inventory, demand and investors. The risks far outweigh the rewards. Anxious buyers should hold-their-horses and wait for the market to normalize instead of chaining themselves to sinking asset that will cost them a bundle.  Remember, patience is a virtue. It can also save you a lot of dough.