It is often said there only two kinds of people in this world: those who know, and those who don't. I would expand on this and say that there are actually three kinds of people: those who know, those who don't know, and those who don't care to know. Members of the last group are the kind of people I would characterize as "sheeple."
Sheeple are members of a culture or society who are not necessarily oblivious to the reality of their surroundings; they may have been exposed to valuable truths on numerous occasions. However, when confronted with facts contrary to their conditioned viewpoint, they become aggressive and antagonistic in their behavior, seeking to dismiss and attack the truth by attacking the messenger and denying reason.  Sheeple exist on both sides of America's false political paradigm, and they exist in all social "classes".  In fact, the "professional class" and the hierarchy of academia are rampant breeding grounds for sheeple; who I sometimes refer to as "intellectual idiots".  Doctors and lawyers, scientists and politicians are all just as prone to the sheeple plague as anyone else; the only difference is that they have a bureaucratic apparatus behind them which gives them a false sense of importance.  All they have to do is tow the establishment line, and promote the establishment view.
Of course the common argument made by sheeple is that EVERYONE thinks everyone else is blind to the truth, which in their minds, somehow vindicates their behavior.  However, the characteristic that absolutely defines a sheeple is not necessarily a lack of knowledge, but an unwillingness to consider or embrace obvious logic or truth in order to protect their egos and biases from harm.  A sheeple's mindset is driven by self centered motives.
So-called mainstream media outlets go out of their way to reinforce this aggressive mindset by establishing the illusion that sheeple are the "majority" and that the majority perception (which has been constructed by the MSM) is the only correct perception.
Many liberty movement activists have noted recently that there has been a surge in media propaganda aimed at painting the survival, preparedness and liberty cultures as "fringe," "reactionary," "extremist," "conspiracy-minded," etc. National Geographic's television show "Doomsday Preppers" appears to have been designed specifically to seek out the worst possible representatives of the movement and parade their failings like a carnival sideshow. Rarely do they give focus to the logical arguments regarding why their subjects become preppers, nor do they normally choose subjects who can explain as much in a coherent manner. This is a very similar tactic used by the establishment media at large-scale protests; they generally attempt to interview the least-eloquent and easiest-to-ridicule person present and make that person a momentary mascot for the entire group and the philosophy they hold dear.
The goal is to give sheeple comfort that they are "normal" and that anyone who steps outside the bounds of the mainstream is "abnormal" and a welcome target for the collective.
It would appear that the life of a sheeple is a life of relative bliss. The whole of the establishment machine seems engineered to make them happy and the rest of us miserable. But is a sheeple's existence the ideal? Are they actually happy in their ignorance? Are they truly safe within the confines of the system? Here a just a few reasons why you should feel sorry for them.
Sheeple Are Nothing Without The Collective
A sheeple gathers his entire identity from the group. He acts the way he believes the group wants him to act. He thinks the way he believes the group wants him to think. All of his "ideas" are notions pre-approved by the mainstream. All of his arguments and talking points are positions he heard from the media, or academia, and he has never formed an original opinion in his life. Without the group telling him what to do, the average sheeple is lost and disoriented. When cast into a crisis situation requiring individual initiative, he panics or becomes apathetic, waiting for the system to come and save him rather than taking care of himself. Sheeple are so dependent on others for every aspect of their personality and their survival that when faced with disaster, they are the most likely people to curl up and die.
Sheeple Crave Constant Approval From Others
Sheeple are not only reliant on the collective for their identity and their survival; they also need a steady supplement of approval from others in order to function day to day. When a sheeple leaves his home, he is worried about how his appearance is perceived, how his attitude is perceived, how his lifestyle is perceived and how his opinions are perceived. Everything he does from the moment his day begins revolves around ensuring that the collective approves of him. Even his acts of "rebellion" are often merely approved forms of superficial "individualism" reliant on style rather than substance. This approval becomes a kind of emotional drug to which the sheeple is addicted. He will never make waves among the herd or stand out against any aspect of the herd worldview, because their approval sustains and cements his very existence. To take collective approval away from him would be like cutting off a heroin junky's supplier. To be shunned by the group would destroy him psychologically.
Sheeple Are Incapable Of Original Creativity
Because sheeple spend most of their waking moments trying to appease the collective, they rarely, if ever, have the energy or inclination to create something of their own. Sheeple do not make astonishing works of art. They do not achieve scientific discovery. They do not make history through philosophical or ideological innovation.  Instead, they regurgitate the words of others and hijack ideas from greater minds.  They remain constant spectators in life, watching change from the bleachers, caught in the tides of time and tossed about like congealed satellites of Pacific Ocean garbage from the after-wash of Fukushima. The destiny of the common sheeple is entirely determined by the outcome of wars and restorations waged by small groups of aware individuals — some of them good, some of them evil.
Sheeple Have No Passion
If you draw all of your beliefs from what the collective deems acceptable, then it is difficult, if not impossible, to become legitimately passionate about them. Sheeple have little to no personal connection to their ideals or principles; so they become mutable, empty and uninspired. They tend to turn toward cynicism as a way to compensate, making fun of everything, especially those who ARE passionate about something. The only ideal that they will fight for is the collective itself, because who they are is so intertwined with the survival of the system. To threaten the concept of the collective is to threaten the sheeple's existence by extension.
Sheeple Are Useless
The average sheeple does not learn how to be self-reliant because it is considered "abnormal" by the mainstream to be self-reliant. The collective and the state are the provider. They are mother and father. Sheeple have full faith that the system will protect them from any and all harm. When violence erupts, they cower and hide instead of defending themselves and others. When large-scale catastrophe strikes, they either sit idle waiting for the state to save them or they join yet another irrational mob. They do not take proactive measures, because they never felt the need to learn how.
Consider this: Why do the mainstream and the people subject to it care if others prepare for disaster or end their dependency on the establishment? Why are they so desperate to attack those of us who find our own path? If the system is so effective and the collective so correct in its methodology, then individualists are hurting only themselves by walking away, right? But for the sheeple, successfully self-reliant individuals become a constant reminder of their own inadequacies. They feel that if they cannot survive without the system, NO ONE can survive without the system; and they will make sure that individualists never prove otherwise. "You didn't build that" becomes the sheeple motto, as they scratch and scrape like spoiled children, trying to dismantle the momentum of independent movements and ventures in non-participation.
Sheeple Are Easily Forgotten
To live a life of endless acceptance is to live a life of meaningless obscurity. When one arrives at his deathbed, does he want to reflect on all of his regrets or all of his accomplishments? Most of us would rather find joy than sadness when looking back over our past. For sheeple, though, this will not be possible — for what have they ever done besides conform? What will they have left behind except a world worse off than when they were born? What will they have accomplished, but more pain and struggle for future generations? In the end, what have their lives really been worth?
I cannot imagine a torture more vicious and terrifying than to realize in the face of one's final days that one wasted his entire life trying to please the plethora of idiots around him, instead of educating them and himself and molding tomorrow for the better. I cannot imagine a punishment more severe than to spend the majority of one's years as a slave without even knowing it. I cannot imagine an existence more deserving of pity and remorse than that of the sheeple.
Source: Brandon Smith | Alt-Market
It must be really exciting being a kid today. Denied the strength that "lies in our diversity," youngsters languishing in the unenlightened 1960s had to content themselves with banal white male superheroes such as Superman, Spiderman and Ironman. But not only has affirmative action created a Hispanic Spiderman (perhaps a white Hispanic?); a homosexual Pink…I mean, Green Lantern; and a Batwoman reintroduced in 2006 as a lesbian (the irony is that she was originally introduced in 1956 as a romantic interest designed to dispel rumors about Batman's homosexuality); now Marvel Comics is giving us a female Muslim superheroine. Writes The Telegraph:
Marvel Comics is bringing Ms. Marvel back as a 16-year-old daughter of Pakistani immigrants living in Jersey City named Kamala Khan.
The character – among the first to be a series protagonist who is both a woman and Muslim – is part of Marvel Entertainment's efforts to reflect a growing diversity among its readers while keeping ahold of the contemporary relevance that have underlined its foundation since the creation of Spider-Man and the X-Men in the early 1960s.
Writer G. Willow Wilson and artist Adrian Alphona, working with editor Sana Amanat, say the series reflects Khan's vibrant but kinetic world, learning to deal with superpowers, family expectations and adolescence.
But the really exciting part involves Kamala Khan's unique superpowers. According to my sources, she can:
leap tall bacon-processing plants in a single bound;
turn a slave-owning warlord into a prophet;
crush ancient Buddhist statues with her bare hands;
turn back time to the eighth century;
don an x-ray impermeable burka;
be 72 virgins all by herself;
use the I slam Ray to turn Western dummies into dhimmis in double time;
straighten out the homosexual superheroes;
be sexually attacked and not be charged with adultery; and
avoid getting married to a man 35 years her elder until she's at least 12.
The one thing she cannot do, however, is obtain a driver's license.
"U.S. hopes of winning more influence over Syria's divided rebel movement faded Wednesday after 11 of the biggest armed factions repudiated the Western-backed political opposition coalition and announced the formation of an alliance dedicated to creating an Islamist state. The al-Qaeda-affiliated Jabhat al-Nusra, designated a terrorist organization by the United States, is the lead signatory of the new group." 1
Pity the poor American who wants to be a good citizen, wants to understand the world and his country's role in it, wants to believe in the War on Terrorism, wants to believe that his government seeks to do good … What is he to make of all this?
For about two years, his dear American government has been supporting the same anti-government side as the jihadists in the Syrian civil war; not total, all-out support, but enough military hardware, logistics support, intelligence information, international political, diplomatic and propaganda assistance (including the crucial alleged-chemical-weapons story), to keep the jihadists in the ball game. Washington and its main Mideast allies in the conflict – Turkey, Jordan, Qatar and Saudi Arabia – have not impeded the movement to Syria of jihadists coming to join the rebels, recruited from the ranks of Sunni extremist veterans of the wars in Chechnya, Iraq, Afghanistan, and Libya, while Qatar and the Saudis have supplied the rebels with weapons, most likely bought in large measure from the United States, as well as lots of of what they have lots of – money.
This widespread international support has been provided despite the many atrocities carried out by the jihadists – truck and car suicide bombings (with numerous civilian casualties), planting roadside bombs à la Iraq, gruesome massacres of Christians and Kurds, grotesque beheadings and other dissections of victims' bodies (most charming of all: a Youtube video of a rebel leader cutting out an organ from the chest of a victim and biting into it as it drips with blood). All this barbarity piled on top of a greater absurdity – these Western-backed, anti-government forces are often engaged in battle with other Western-backed, anti-government forces, non-jihadist. It has become increasingly difficult to sell this war to the American public as one of pro-democracy "moderates" locked in a good-guy-versus-bad-guy struggle with an evil dictator, although in actuality the United States has fought on the same side as al Qaeda on repeated occasions before Syria. Here's a brief survey:
Afghanistan, 1980-early 1990s: In support of the Islamic Moujahedeen ("holy warriors"), the CIA orchestrated a war against the Afghan government and their Soviet allies, pouring in several billions of dollars of arms and extensive military training; hitting up Middle-Eastern countries for donations, notably Saudi Arabia which gave hundreds of millions of dollars in aid each year; pressuring and bribing Pakistan to rent out its country as a military staging area and sanctuary.
It worked. And out of the victorious Moujahedeen came al Qaeda.
Bosnia, 1992-5: In 2001 the Wall Street Journal declared:
It is safe to say that the birth of al-Qaeda as a force on the world stage can be traced directly back to 1992, when the Bosnian Muslim government of Alija Izetbegovic issued a passport in their Vienna embassy to Osama bin Laden. … for the past 10 years, the most senior leaders of al Qaeda have visited the Balkans, including bin Laden himself on three occasions between 1994 and 1996. The Egyptian surgeon turned terrorist leader Ayman Al-Zawahiri has operated terrorist training camps, weapons of mass destruction factories and money-laundering and drug-trading networks throughout Albania, Kosovo, Macedonia, Bulgaria, Turkey and Bosnia. This has gone on for a decade. 2
A few months later, The Guardian reported on "the full story of the secret alliance between the Pentagon and radical Islamist groups from the Middle East designed to assist the Bosnian Muslims – some of the same groups that the Pentagon is now fighting in "the war against terrorism". 3
In 1994 and 1995 US/NATO forces carried out bombing campaigns over Bosnia aimed at damaging the military capability of the Serbs and enhancing that of the Bosnian Muslims. In the decade-long civil wars in the Balkans, the Serbs, regarded by Washington as the "the last communist government in Europe", were always the main enemy.
Kosovo, 1998-99: Kosovo, overwhelmingly Muslim, was a province of Serbia, the main republic of the former Yugoslavia. In 1998, Kosovo separatists – The Kosovo Liberation Army (KLA) – began an armed conflict with Belgrade to split Kosovo from Serbia. The KLA was considered a terrorist organization by the US, the UK and France for years, with numerous reports of the KLA having contact with al-Qaeda, getting arms from them, having its militants trained in al-Qaeda camps in Pakistan, and even having members of al-Qaeda in KLA ranks fighting against the Serbs. 4
However, when US-NATO forces began military action against the Serbs the KLA was taken off the US terrorist list, it "received official US-NATO arms and training support" 5 , and the 1999 US-NATO bombing campaign eventually focused on driving Serbian forces from Kosovo.
In 2008 Kosovo unilaterally declared independence from Serbia, an independence so illegitimate and artificial that the majority of the world's nations still have not recognized it. But the United States was the first to do so, the very next day, thus affirming the unilateral declaration of independence of a part of another country's territory.
The KLA have been known for their trafficking in women, heroin, and human body parts (sic). The United States has naturally been pushing for Kosovo's membership in NATO and the European Union.
Nota bene: In 1992 the Bosnian Muslims, Croats, and Serbs reached agreement in Lisbon for a unified state. The continuation of a peaceful multi-ethnic Bosnia seemed assured. But the United States sabotaged the agreement. 6
Libya, 2011: The US and NATO to the rescue again. For more than six months, almost daily missile attacks against the government and forces of Muammar Gaddafi as assorted Middle East jihadists assembled in Libya and battled the government on the ground. The predictable outcome came to be – the jihadists now in control of parts of the country and fighting for the remaining parts. The wartime allies showed their gratitude to Washington by assassinating the US ambassador and three other Americans, presumably CIA, in the city of Benghazi.
Caucasus (Russia), mid-2000s to present: The National Endowment for Democracy and Freedom House have for many years been the leading American "non-government" institutions tasked with destabilizing, if not overthrowing, foreign governments which refuse to be subservient to the desires of US foreign policy. Both NGOs have backed militants in the Russian Caucasus area, one that has seen more than its share of terror stretching back to the Chechnyan actions of the 1990s. 7
"Omission is the most powerful form of lie." – George Orwell
I am asked occasionally why I am so critical of the mainstream media when I quote from them repeatedly in my writings. The answer is simple. The American media's gravest shortcoming is much more their errors of omission than their errors of commission. It's what they leave out that distorts the news more than any factual errors or out-and-out lies. So I can make good use of the facts they report, which a large, rich organization can easier provide than the alternative media.
A case in point is a New York Times article of October 5 on the Greek financial crisis and the Greeks' claim for World War Two reparations from Germany.
"Germany may be Greece's stern banker now, say those who are seeking reparations," writes theTimes, but Germany "should pay off its own debts to Greece. … It is not just aging victims of the Nazi occupation who are demanding a full accounting. Prime Minister Antonis Samarass government has compiled an 80-page report on reparations and a huge, never-repaid loan the nation was forced to make under Nazi occupation from 1941 to 1945. … The call for reparations has elicited an emotional outpouring in Greece, where six years of brutal recession and harsh austerity measures have left many Greeks hostile toward Germany. Rarely does a week go by without another report in the news about, as one newspaper put it in a headline, 'What Germany Owes Us'."
"The figure most often discussed is $220 billion, an estimate for infrastructure damage alone put forward by Manolis Glezos, a member of Parliament and a former resistance fighter who is pressing for reparations. That amount equals about half the country's debt. … Some members of the National Council on Reparations, an advocacy group, are calling for more than $677 billion to cover stolen artifacts, damage to the economy and to the infrastructure, as well as the bank loan and individual claims."
So there we have the morality play: The evil Germans who occupied Greece and in addition to carrying out a lot of violence and repression shamelessly exploited the Greek people economically.
Would it be appropriate for such a story, or an accompanying or follow-up story, to mention the civil war that broke out in Greece shortly after the close of the world war? On one side were the neo-fascists, many of whom had cooperated with the occupying Germans during the war, some even fighting for the Nazis. Indeed, the British Foreign Secretary, Ernest Bevin, acknowledged in August 1946 that there were 228 ex-members of the Nazi Security Battalions – whose main task had been to track down Greek resistance fighters and Jews – on active service in the new Greek army. 8
On the other side was the Greek left who had fought the Nazis courageously, even forcing the German army to flee the country in 1944.
So guess which side of the civil war our favorite military took? … That's right, the United States supported the neo-fascists. After all, an important component of the Greek left was the Communist Party, although it wouldn't have mattered at all if the Greek left had not included any Communists. Support of the left (not to be confused with liberals of course) anywhere in the world, during and since the Cold War, has been verboten in US foreign policy.
The neo-fascists won the civil war and instituted a highly brutal regime, for which the CIA created a suitably repressive internal security agency, named and modeled after itself, the KYP. For the next 15 years, Greece was looked upon much as a piece of real estate to be developed according to Washington's political and economic needs. One document should suffice to capture the beauty of Washington's relationship to Athens – a 1947 letter from US Secretary of State George Marshall to Dwight Griswold, the head of the American Mission to Aid Greece, said:
During the course of your work you and the members of your Mission will from time to time find that certain Greek officials are not, because of incompetence, disagreement with your policies, or for some other reason, extending the type of cooperation which is necessary if the objectives of your Mission are to be achieved. You will find it necessary to effect the removal of these officials. 9
Where is the present-day Greek headline: "What The United States Owes Us"? Where is the New York Times obligation to enlighten its readers?
The latest step in the evolution of America's Police State
"If you've got nothing to hide, you've got nothing to fear."
So say many Americans. And many Germans as well.
But one German, Ilija Trojanow, would disagree. He has lent his name to published documents denouncing the National Security Agency (NSA), and was one of several prominent German authors who signed a letter to Chancellor Angela Merkel urging her to take a firm stance against the mass online surveillance conducted by the NSA. Trojanow and the other authors had nothing to hide, which is why the letter was published for the public to read. What happened after that, however, was that Trojanow was refused permission to board a flight from Salvador da Bahia, Brazil, to Miami on Monday, September 30. Without any explanation.
Trojanow, who was on his way to speak at a literary conference in Denver, told the Spiegel magazine online website that the denial of entry might be linked to his criticism of the NSA. Germany's Foreign Ministry says it has contacted US authorities "to resolve this issue". 10
In an article published in a German newspaper, Trojanow voiced his frustration with the incident: "It is more than ironic if an author who raises his voice against the dangers of surveillance and the secret state within a state for years, will be denied entry into the 'land of the brave and the free'."11
Further irony can be found in the title of a book by Trojanow: "Attack on freedom. Obsession with security, the surveillance state and the dismantling of civil rights."
Director of National Intelligence James R. Clapper Jr., who oversees the NSA and other intelligence agencies, said recently that the intelligence community "is only interested in communication related to valid foreign intelligence and counterintelligence purposes." 12
It's difficult in the extreme to see how this criterion would apply in any way to Ilija Trojanow.
The story is a poignant caveat on how fragile is Americans' freedom to criticize their Security State. If a foreigner can be barred from boarding a flight merely for peaceful, intellectual criticism of America's Big Brother (nay, Giant Brother), who amongst us does not need to pay careful attention to anything they say or write.
Very few Americans, however, will even be aware of this story. A thorough search of the Lexis-Nexis media database revealed a single mention in an American daily newspaper (The St. Louis Post-Dispatch), out of 1400 daily papers in the US. No mention on any broadcast media. A single one-time mention in a news agency (Associated Press), and one mention in a foreign English-language newspaper (New Zealand Herald).
Notes
Washington Post, September 26, 2013 ↩
Wall Street Journal, November 1, 2001 ↩
The Guardian (London), April 22, 2002 ↩
RT TV (Moscow), May 4, 2012 ↩
Wall Street Journal, November 1, 2001 ↩
New York Times, June 17, 1993, buried at the very end of the article on an inside page ↩
Sibel Edmonds' Boiling Frogs Post, "Barbarians at the Gate: Terrorism, the US, and the Subversion of Russia", August 30, 2012 ↩
Parliamentary Debates, House of Commons, October 16, 1946, column 887 (reference is made here to Bevin's statement of August 10, 1946) ↩
Foreign Relations of the United States, 1947, Vol. V (U.S. Government Printing Office, 1971), pp. 222-3. See William Blum, Killing Hope: US Military and CIA Interventions Since World War II, chapter 3 for further details of the US role in postwar Greece. ↩
Associated Press, October 2, 2013 ↩
Huffington Post, "Ilija Trojanow, German Writer, Banned From US For Criticizing NSA", October 1, 2013 ↩
Washington Post, October 5, 2013 ↩
When the world's present troubles surfaced about five years' ago, I recall reading articles whose central theme was: "there is excessive debt in the world. The amount of debt in the world exceeds the capacity of the world's economies to service it and pay it down."
To address the excess of debt in the world, four courses for action were mentioned:
The debt burden could be reduced by paying it down, via a policy of increased taxation.
The debt burden could be reduced by a policy of allowing mass bankruptcies to take place, which would write off substantial portions of the debt.
The debt burden could be reduced by a policy of massive monetary inflation which would devalue all debts and make them payable.
Alternatively, the intolerable debt burden and its absolutely inevitable reduction, nolens volens,would probably be achieved by a combination of all three policies.
In the intervening five years, the world's excessive debt burden has not been reduced; on the contrary, it has increased. The governments of the world have behaved ostrich-like, burying their heads in the sand to ignore the problem, adopting infantile "extend and pretend" policy to debt and allowing further increases in debt in the hopes of spending their way out of difficulties by adding more debt to existing debt.
What can we expect of all governments in the world, today?
Not one single government is going to raise taxes to pay off debt. Such policy is contrary to the prevailing Keynesian religion. Besides, the debt burden is so gigantic that the idea of paying it down is out of the question. Governments are not even capable of raising taxes to prevent increases in debt, let alone to pay it down. So the first policy mentioned above, is out.
A drastic reduction of the world's debt burden by cancellation of debt would require its cancellation at national, state, municipal, corporate and individual levels. Cancelling debts means simultaneous cancellation of assets, because every debt is someone's asset. Massive cancellation of debt would be extremely painful and the last thing that democratic governments want is to inflict pain. Therefore, a process of reducing world debt could not come about by any plan or agreement; it would have to be ignited by some financial fire breaking out, and governments are quite alert to the least signal of fire and will proceed to extinguish any such accident by all means. We may as well forget about cancellation of debt as a remedy for the excessive debt burden weighing on the world -though accidents do happen.
The fact remains: the world's excessive, un-serviceable and un-payable debt shall be reduced; this is an unavoidable event, as unavoidable as the force of Gravity.
Therefore, what we will see, from here on, is the world's great slide into the third avenue for policy: massive inflation of the money supply. We are given notice that the slide is now seen as imperative policy: it is announced as "Whatever It Takes". See zerohedge.com (click here). Now, inflation is not painful like paying taxes or seeing your financial assets go up in smoke. For the majorities, inflation is downright pleasant, like sniffing cocaine or shooting heroin. It is only in the advanced stages of inflation that its painful effects become apparent. So this is unquestionably the policy that will be implemented to deal with excessive debt in the world.
Take Mexico as an example. In 1970 Mexico began an inflationary party that only ended twenty years later; in the meantime, the rate of exchange went from $12.50 pesos to the dollar, to $3,100 pesos to the dollar. Consequently, by 1990 Mexico was quite free of internal debt. When the US applies such a program, the effect will be to cancel world debt, since all debt in the world is tied to the dollar as the reserve currency of the world.
We have only limited knowledge regarding what massive monetary inflation really means. Those who are going to apply it know only some of the effects, not all of them. There remain the known-unknowns, and besides these, the unknown-unknowns. Thus the hand that will implement massive inflation trembles in doubt. Yet, there is no other recourse.
The world will plunge into the darkness of massive world inflation. There is no other alternative. It must take place, but what will happen then is obscure. We are going into uncharted waters.
CODA
Massive monetary inflation in the world will cause massive social disruption, which will give rise to political revolution. The inflation will end at some point. We can only conjecture about what sort of political organizations will prevail when the inflation ends. It is not likely that "Democracy" as we have known it will survive. More likely, Democracy as the present touch-stone for legitimate government will give place to Dictatorship, under the force of circumstances.
When the Barbarians invaded the Roman Empire, frightened Romans hid away their treasure in the form of silver and gold. These treasures are still being discovered today.
In the coming world-uncertainty and fear, humans will adopt the same measures spontaneously, and a flight into gold and silver will take place.
Perhaps some investments in some parts of the world may survive the great purge which is to take place. But, which investments, and where? Nobody can tell us this, with any certainty.
The ruins of the Roman city of Volubilis are situated in what was once the Roman province of Morocco; 1,300 years ago, when the then Christian citizens of Volubilis perceived the imminent menace of Muslim conquest, those who could do so buried their silver. Their little treasures are still being dug up amid the ruins of Volubilis. Alas, their foresight was of no avail to those good citizens of long ago.
To store away gold and silver is one of the important things that humans can do to face the upheavals of the coming New Barbarism. Such foresight provides no certainty, but at least it is a reasonable attempt to prepare for the future with some instrument for survival.
Source: Hugo Salinas Price |  Plata.com
I am constantly asked, "Chuck, why don't pastors take a stand and speak out?" I've been a pastor most of my adult life. I believe I am qualified to answer that question. Here is the stark reality: the vast majority of pastors today are "success" oriented. Beginning in Bible College or seminary, and continuing throughout a pastor's ministerial life, the emphasis is success. And that means church growth, larger congregations, bigger buildings, bigger offerings, burgeoning statistics, greater notoriety, denominational praise, invitations to speak at conferences, applause from fellow ministers, not to mention the financial perks and benefits that come with pastoring a "successful" church.
And the way to learn how to build a successful church is to learn from those who have done it. Pastors regularly attend church growth conferences to learn from the "big" church pastors on how it's done. They purchase books, magazines, newsletters, etc., that are all geared towards telling pastors how to build a successful church. They are constantly being schooled in the latest and greatest "how to" strategies of church growth and success. This usually entails more and more sophisticated programs, music, sound, lighting, atmosphere, classes, seminars, organization, etc. Everything, and I mean everything, is geared toward success as described in the aforementioned paragraph.
Most pastors today are in reality not spiritual shepherds as much as they are corporate CEOs. The same mentality, philosophy, and strategy that drive corporate boardrooms also drive the boardrooms of modern churches–to a tee. Pastors act like CEOs, dress like CEOs, talk like CEOs, manage like CEOs, and think like CEOs.
Dare I say that even the way pastors and churches cater, and "reach out," and "minister," etc., has mostly to do with "good business." Church members are babied and pacified and stroked and petted and fawned-over because it is "good business." Today's Christians are so spoiled and petted that any dereliction or lack of attention by a pastor, church, or staff usually results in them "moving their letter" down the street to a place that will more readily cater to their temperamental demands.
Have you not noticed how most pastors spiritualize away the great examples of Bible heroism and defiance against tyranny and despotism? Ask them point blank about Daniel and the lion's den or the three Hebrew children in the burning fiery furnace or Queen Esther or scores and scores of other acts of defiance lauded in Holy Writ and they will say, "That was another time." Or, they might say, "This shows God's great deliverance and protection." But the overriding principle that drove the great heroes of the faith to challenge and defy evil government is never even acknowledged, much less addressed.
The great lesson of the above-mentioned heroes and heroines is not that God delivered them, because many of them were NOT delivered. As Paul notes in Hebrews 11: "Others were tortured, not accepting deliverance…And others had trial of cruel mockings and scourgings, yea, moreover of bonds and imprisonment: they were stoned, they were sawn asunder, were tempted, were slain with the sword: they wandered about in sheepskins and goatskins; being destitute, afflicted, tormented…they wandered in deserts, and in mountains, and in caves of the earth." (Hebrews 11:35-38 KJV). The great lesson of the above-mentioned heroes and heroines is their willingness to defy evil authority–regardless of outcome. Listen to the three Hebrew children:
"Shadrach, Meshach, and Abednego, answered and said to the king, O Nebuchadnezzar, we are not careful to answer thee in this matter. If it be so, our God whom we serve is able to deliver us from the burning fiery furnace, and he will deliver us out of thine hand, O king. But if not, be it known unto thee, O king, that we will not serve thy gods, nor worship the golden calf which thou hast set up." (Daniel 3:16-18 KJV)
These men knew that God COULD deliver them, but they did not know if He WOULD deliver them. And to them, it didn't matter: they were willing to defy the tyranny of King Nebuchadnezzar regardless. They were not going to bow to the unlawful, illegitimate authority of the state (in whatever form it appeared). That is the glaring lesson of every single one of these great stories of defiance.
Furthermore, most pastors and teachers absolutely refuse to tell the truth of Hebrews 11:34: "[They] waxed valiant in fight, turned to flight the armies of the aliens." This Biblical passage lauds the courage of past believers who took up the sword against tyrants and despots. In the same breath that Paul extolled the sacrifice of believers who were willing to die for their faith, he also extolled the bravery of believers who were willing to fight for their faith. But you NEVER hear that from the vast majority of pastors today.
If you hear any mention of, say, America's Founding Fathers from today's pastors, it is that the founders were wrong, that they violated Romans 13, that God did not lead them to declare independence and revolt against the British Crown. Such is the ignorance and cowardice of today's ministers.
And while we are on the subject, the misinterpretation of Romans 13 is one of the chief reasons why most pastors and churches are so utterly indifferent or nonplussed about resisting evil government. This is why my son and I coauthored the book, "Romans 13: The True Meaning of Submission." I encourage readers to get this book and share it with as many of your Christian friends as possible. In the book, Tim and prove from the entire Bible–including Romans 13–that nowhere does God expect (much less demand) believers to submit to evil, wicked authority.
Order the Romans 13 book here:
Tim (a constitutional attorney) and I coauthored a second book that is also relevant to this discussion. It is called, "To Keep or Not To Keep: Why Christians Should Not Give Up Their Guns." This book searches the entire Bible and conclusively proves that self-defense is not only a God-ordained right; it is a God-ordained DUTY–and that Christians are totally justified in NOT surrendering their means of self-defense to any civil authority.
Order "To Keep or Not To Keep: Why Christians Should Not Give Up Their Guns" here:
The fact is that all of these great Bible stories of lawful, God-ordained defiance of unjust authority are totally ignored by the vast majority of today's pastors and churches. None of these great Bible truths are made relevant to attempted acts of tyranny in today's America. None of them.
Again, it is all about success. To the average pastor, nothing is as anathema as controversy. And nothing is more controversial than politics. Therefore, pastors are taught to avoid politics like the plague. Of course, they won't tell you that the controversial nature of politics is the reason they avoid it; they will tell you that "God has not called me to get involved in politics," or, "I'm trying to build a church," or, "That's not our mission," or any number of other pious-sounding clichés. But the reality is they are trying to be successful, and they believe controversy hinders success.
That's also why you seldom, if ever, hear "hard" sermons from the modern pulpit–even though that is exactly the kind of sermons that Jesus Himself preached. (See John 6:60) To the success-driven, religious CEO, people must always feel good; they must be permanently ensconced in their comfort zone; and they must never be rebuked or informed of misconduct or irresponsibility. And as far as freedom goes, the shallowness of the average pulpit refuses to acknowledge the responsibility of the church to do anything to preserve it. All they talk about is praying for your political leaders and being good little subjects of the state.
Plus, don't forget that most churches are up to their eyeballs in debt. Therefore, pastors are afraid if they offend people offerings will go down and they might not be able to pay for all of those fancy buildings and exorbitant staff–not to mention their own personal financial perks might be endangered.
And, yes, I must also add that the 501c3 non-profit tax-exempt status most churches operate under poses a serious intimidation against the pastor and church, which keeps them from taking a stand or speaking out on issues that might be construed as political.
But here is the bottom line: as long as Christians in the pews continue to attend and financially support these stand-for-nothing churches, the churches will continue to languish in their indifference. After all, by the attendance and offerings of all of these people in the pews, pastors are being continually convinced that everything they have been taught is working: their churches are successful.
The ONLY WAY Christians can start making a difference in their country is to GET OUT of these clueless, cowardly churches and find a pastor who is not afraid to be politically-incorrect, who is not afraid to preach and teach the Biblical principles of liberty, and who is not afraid to preach and teach the principles of righteous defiance against any act of tyranny. Find a pastor who is not trying to be successful. You don't need a successful pastor; you need a truthful pastor.
But this means that people in the pews must truly WANT to be in a church that takes a stand, doesn't it? We have the kind of pastors and churches that we are willing to support. If that's the case, Christians should stop complaining about the indifference of their pastors and simply accept the imminent slavery to which they are being led.
On 28 November 1953, at 2 am, a man crashed through a closed window and fell to his death from the 10th floor of the Statler Hotel in New York City. He was identified as Frank Olson, a bacteriologist with the US Army Research Center at Fort Detrick, Maryland. He had fallen from a room he shared with another scientist, Robert Lashbrook. It was ruled a suicide.
Twenty-two years later, in 1975, William Colby, then CIA director, declassified documents that changed the complexion of the case. It was revealed that Olson had actually been an undercover CIA operative at Fort Detrick, and that one week prior to his death, he had been drinking Cointreau at a high-level meeting with scientists at Deep Creek Lodge in rural Maryland. The Cointreau was laced with a large dose of LSD administered by his CIA boss, Sidney Gottlieb. He was then sent to New York with Lashbrook, also with the CIA, to see a psychiatrist because the LSD had induced a psychosis.
It was also revealed that Olson had been part of the top secret CIA program that was known as Project MK-ULTRA, exploring the use of chemicals and drugs for purposes of mind control, and bacteriological agents for covert assassination. Olson had been working on ways to deliver anthrax in aerosol form, for use as a weapon. New evidence that came to light, through the persistent efforts of Olson's son Eric, made the suicide ruling highly suspect.
It turned out that Olson had been labelled a security risk by British intelligence after getting upset witnessing human experimentation on a trip to Frankfurt, Germany the previous summer. Eric Olson now believes that his father was drugged and then murdered to make sure that he didn't reveal the secrets of the MK-ULTRA project. Following the 1975 revelations, the government must have felt more than a little guilt about the affair because Olson's family was given a 17 minute audience with US President Ford, who apologised to them, and they were awarded damages in the amount of $750,000.
Controlling Human Behaviour
The MK-ULTRA program was instituted on 13 April 1953 by CIA Director Allen Dulles, ostensibly to counter the brainwashing techniques of American prisoners being held by the North Koreans during the Korean War, and to duplicate those techniques on enemy prisoners, i.e. the creation of "Manchurian Candidates." This was the claim used to obtain funding for the project. However, the Prisoner of War brainwashing program was just the tip of the iceberg, and the CIA-sponsored experiments ventured far and wide into areas of Mind Control under the aegis of MK-ULTRA that had little or nothing to do with methods of interrogation.
The Colby revelations were part of a sweeping investigation of the CIA in January 1975 by the "Commission on CIA Activities Within the United States," chaired by Vice-President Nelson Rockefeller. The subsequent June 1975 Report to the President said: "The drug program was part of a much larger CIA program to study possible means for controlling human behaviour. Other studies explored the effects of radiation, electric-shock, psychology, psychiatry, sociology and harassment substances."
Even though the program got off to a rocky start with the Olson affair, it recovered quickly and became an umbrella project with 149 sub-projects. The overall guiding principal was succinctly stated in an internal CIA memo dated January 1952: "Can we get control of an individual to the point where he will do our bidding against his will and even against fundamental laws of nature such as self-preservation?" 
The drug program came under the aegis of the Chemical Division of the Technical Services Staff headed up by Sidney Gottlieb from 1951 to 1956. Gottlieb was a highly intelligent eccentric who drank goat's milk, enjoyed folk-dancing, and raised Christmas trees on his farm outside Washington.
The Agency funded LSD research programs at major medical centres and universities including Boston Psychopathic, Mt. Sinai Hospital at Columbia University, University of Illinois Medical School, University of Oklahoma and others. The funding was carried out secretly through the Josiah Macy Foundation, and the Geschickter Fund for Medical Research in Washington, D.C. The CIA claimed the secrecy was necessary to keep it from the Russians, but we have already seen that it was part of much larger project to learn how to control human behaviour in general, so this is not credible.
Gottlieb told Dr. Harold Abramson at Mt. Sinai (who just happened to be the psychiatrist that Olson was supposed to see!) that he wanted "operationally pertinent materials [about]: a. Disturbance of Memory; b. Discrediting by Aberrant Behaviour; c. Alteration of Sex Patterns; d. Eliciting of Information; e. Suggestibility; f. Creation of Dependence." That sounds like pretty deep stuff for the spy game. They were really afraid of public reaction and congressional condemnation, especially since the CIA charter did not allow domestic operations, and certainly prohibited experimentation on US citizens.
The callousness of the research is best exemplified by the CIA-funded work of Dr. Harris Isbell, the Director of the Addiction Research Center in Lexington, Kentucky. The drug addict hospital inmates, who were mostly black, were encouraged to volunteer for LSD research in return for hard drugs of their choice or time off their sentences. In most cases, they were given pure morphine or heroin. At one point Isbell kept seven men on LSD for 77 straight days. Many others were on it for up to 42 days.
Concerning extended LSD usage, John Marks in his landmark book The Search for the Manchurian Candidate: The CIA and Mind Control says about writer Hunter S. Thompson (recently deceased) that he "frightened his readers with accounts of drug (LSD) binges lasting a few days, during which Thompson felt his brain boiling away in the sun, his nerves wrapping around enormous barbed wire forts, and his remaining faculties reduced to their reptilian antecedents." The recent movie The Rum Diary, starring Johnny Depp, based on the autobiographical book by Hunter S. Thompson, presents an imaginative re-enactment of his LSD adventures.
The CIA Turns On the Counter-Culture
Not satisfied with university research, Gottlieb recruited New York narcotics agent George White to distribute LSD surreptitiously to the "borderline underworld." Operating through safe houses in Greenwich Village, Haight-Ashbury and Marin County, White gave doses to prostitutes, pimps, drug addicts and other "marginal people" and then observed the results and reported to Gottlieb.
John Marks says they were people "who would be powerless to seek any sort of revenge if they ever found out what the CIA had done to them. In addition to their being unlikely whistle-blowers, such people lived in a world where an unwitting dose of some drug… was an occupational hazard anyway."
Eventually, White started using it randomly all over New York and San Francisco. Regarding the results, Marks says, "The MKULTRA scientists reaped little but disaster, mischief, and disappointment from their efforts to use LSD as a miracle weapon against the minds of their opponents." Yet, they continued this program for 10 years until 1963.
Ironically, since the CIA had pretty much cornered the market on LSD internationally, buying up all the product of Sandoz and Eli Lilly, the spread of the drug to the counter-culture was through the Agency.Timothy Leary, Ken Kesey, Allen Ginsburg and Tom Wolfe were first "turned on" thanks to the CIA, and that's how the "flower children" became psychedelic.
But, the LSD experiments may have been more successful than Marks realised. They were carefully noting the precise effects on brain chemistry, and in the six areas that Gottlieb was concerned with: memory disturbance, aberrant behaviour, altered sexual patterns, eliciting information, suggestibility and creation of dependence. This became evident when they started using LSD as an adjunct in hypnotic and electronic experiments.
Re-Patterning the Brain
Perhaps the most notorious and nefarious MK-ULTRA sub-project was carried out at the Allan Memorial Institute in Montreal, Canada under the directorship of Dr. Donald Ewen Cameron, an American from Albany, New York. Cameron had trained at the Royal Mental Hospital in Glasgow, Scotland, under eugenicist Sir David Henderson, and founded the Canadian branch of the World Federation for Mental Health. At various times, he was elected president of the Canadian, American, and World psychiatric associations. In other words, Cameron was no renegade but had the full faith and endorsement of the world psychiatric establishment.
The CIA wanted Cameron to "depattern" the contents of the brain to make it receptive to new patterning. David Remnick in a Washington Post article on 28 July 1985 said:
"The…. heart of the laboratory was the Grid Room…. The subject was strapped into a chair involuntarily, by force, his head bristling with electrodes and transducers. Any resistance was met with a paralysing dose of curare. The subject's brainwaves were beamed to a nearby reception room crammed with voice analysers, a wire recorder and radio receivers cobbled together… The systematic annihilation or 'depatterning' of a subject's mind and memory was accomplished with overdoses of LSD, barbiturate sleep for 65 days at a stretch and ECT shocks at 75 times the recommended dosage. Psychic driving, the repetition of a recorded message for 16 hours a day, programmed the empty mind. Fragile patients referred to Allan Memorial for help were thus turned into carbuncular jellyfish."
Anton Chaitkin in his essay, 'British Psychiatry: From Eugenics to Assassination', says:
"Patients lost all or part of their memories, and some lost the ability to control their bodily functions and to speak. At least one patient was reduced almost to a vegetable; then Cameron had the cognitive centres of her brain surgically cut apart, while keeping her alive. Some subjects were deposited permanently in institutions for the hopelessly insane."
The CIA funded these horrors through a front called "The Society for the Investigation of Human Ecology." Other supporters of the Allan Institute were the Rockefeller Foundation, the Geschickter Foundation, and the Canadian government.
About Cameron's work, Wikipedia says: "Naomi Klein states, in her book The Shock Doctrine, that Cameron's research and his contribution to the MKUltra project was actually not about mind control and brainwashing, but 'to design a scientifically based system for extracting information from "resistant sources." In other words, torture'. And citing a book from Alfred W. McCoy it further says that 'Stripped of its bizarre excesses, Cameron's experiments, building upon Donald O. Hebb's earlier breakthrough, laid the scientific foundation for the CIA's two-stage psychological torture method'." This method was codified in the infamous "KUBARK Counterintelligence Interrogation Manual" published by the CIA in July 1963, and in the Human Resources Exploitation Training Manual – 1983 that was used in CIA training courses in Latin American countries up until 1987. These manuals describe methods of psychological torture, far more potent than physical torture, to elicit information from "resistant sources."
An Orwellian Nightmare
As one would expect, the technologies now available to the mind-controllers have zoomed off the chart to the point where George Orwell's world of omni-surveillance now seems almost quaint. Of course, it is true that 1984 was 28 years ago. But even as far back as 1970, US congressman James Scheur was able to say:
"As a result of spinoffs from medical, military aerospace and industrial research, we are now in the process of developing devices and products capable of controlling violent mobs without injury. We can tranquillise, impede, immobilise, harass, shock, upset, stupefy, nauseate, chill, temporarily blind, deafen or just plain scare the wits out of anyone the police have a proper need to control and restrain."
A brief survey of some of the scariest products known to be in the arsenal of the secretive alphabet agencies arrayed against John Q. Public are such devices as the Neurophone, patented by Dr. Patrick Flanagan in 1968. It converts sound to electrical impulses which can be delivered from satellites. When aimed at individuals, the impulses travel directly to the brain where the sounds are re-assembled and appear to be voices inside the head, which can be perceived as coming from God, or telepathic aliens, or whatever. Or the sounds can come out of a turned-off TV or radio. Through software, the device can mimic anyone's voice and translate into any language.
It is believed that the CIA, DIA, NSA et al use the Neurophone to deliver threats and propaganda to selected targets, or just to torment someone they don't like. One can imagine the possibilities. Could this explain some of the killings by "psychopaths" who say they were instructed by God, such as Mark David Chapman, David Berkowitz, or Sirhan Sirhan? If they had been previously evaluated through sophisticated personality assessments and groomed by LSD or hypnosis, such voices could easily tip the balance and convince them to kill.
We've all heard about the "Thought Police" and laughed because it seemed so implausible. Well, the joke is on us. Brain scanning technology is now well-advanced. In 1974, Lawrence Pinneo, a neurophysiologist and electronic engineer with the Stanford Research Institute succeeded in correlating brain wave patterns from EEGs with specific words. In 1994, the brain wave patterns of 40 subjects were officially correlated with both spoken words and silent thought at the University of Missouri. It is believed that US intelligence agencies now have a brain wave vocabulary of over 60,000 words in most common languages.
Brain waves constitute a magnetic field around the head (the aura), each person having a unique, identifiable electromagnetic signature which becomes visible through Kirlian photography, and these fields can be monitored by satellites. The translated results are then fed back to ground-side super computers at speeds of up to 20 gigabytes/second. Neurophone messages can then be beamed to selected individuals based on their thoughts. It is believed that about one million people around the globe are now monitored on a regular basis. As these numbers increase, as they certainly will, to include most educated and important people in the world, the New World Order will definitely have arrived.
As Australian writer Paul Baird has observed, "no-one will ever be able to even think about expressing an opinion contrary to those forced on us by the New World Order. There will literally be no intellectual property that cannot be stolen, no writing that cannot be censored, no thought that cannot be suppressed (by the most oppressive/invasive means)." Baird also claims that ex-military/intelligence whistle-blowers have reported that experiments in controlling voters with these techniques have been tried in several foreign countries. So much for democracy.
Other technologies, such as microwave bombardment to confuse and disorient field personnel, microchip implantation, silently delivered acoustical subliminal messages, widespread population control through psychiatric drugs, and extreme close-up satellite-based viewing able to read documents indoors, are all well-developed and in use by military and intelligence agencies. This doesn't even address the monitoring of overt spoken and written material. Under Project ECHELON, the NSA monitors every call, fax, e-mail and computer data message in and out of the US, Canada and several other countries. Their computers then search for key words and phrases. Anything or anyone of interest draws the attention of agency operatives, who can then commence surveillance operations by the NSA or other intelligence agencies.
Novel Capabilities
We conclude with a chilling vision of the future from the US Air Force Scientific Advisory Board. It is from New World Vistas of Air and Space Power for the 21st Century.
"Prior to the mid-21st century, there will be a virtual explosion of knowledge in the field of neuroscience. We will have achieved a clear understanding of how the human brain works, how it really controls the various functions of the body, and how it can be manipulated (both positively and negatively). One can envision the development of electromagnetic energy sources, the output of which can be pulsed, shaped, and focused, that can couple with the human body in a fashion that will allow one to prevent voluntary muscular movements, control emotions (and thus actions), produce sleep, transmit suggestions, interfere with both short-term and long-term memory, produce an experience set, and delete an experience set. This will open the door for the development of some novel capabilities that can be used in armed conflict, in terrorist/hostage situations, and in training…"
And based on the past clandestine abuses of MK-ULTRA reviewed above, one can predict with relative certainty that these capabilities will be used on civilians, with or without their knowledge or acquiescence, in the service of the New World Order.
If you appreciated this article, please consider a digital subscription to New Dawn.
About the Author
LEN KASTEN has been involved in metaphysical and UFO/ET studies, research and writing for over thirty years. A graduate of Cornell University, he is a former member of NICAP and MUFON. He has written over fifty published articles for Atlantis Rising magazine. His book,The Secret History of Extraterrestrials, published by Inner Traditions, went to number sixteen on the publisher's Top Fifty list, in four months.
The above article appeared in New Dawn Special Issue Vol 6 No 3.
© New Dawn Magazine and the respective author.
© Copyright New Dawn Magazine, http://www.newdawnmagazine.com. Permission granted to freely distribute this article for non-commercial purposes if unedited and copied in full, including this notice.
© Copyright New Dawn Magazine, http://www.newdawnmagazine.com. Permission to re-send, post and place on web sites for non-commercial purposes, and if shown only in its entirety with no changes or additions. This notice must accompany all re-posting.
There is no plant on Earth more condemned than marijuana. We're talking about a living organism which governments have taken upon themselves to designate as an illegal substance. Despite no existing evidence of anyone ever dying of a marijuana overdose, possession of this plant is still illegal in many parts. Marijuana has been found to suppress cancer, reduce blood pressure, treat glaucoma, alleviate pain and even inhibit HIV. It is an antioxidant, anti-inflammatory and neuroprotective. Can you understand more now why it's illegal?
No Independent Study Has Ever Linked Marijuana To Psychosocial Problems
Cannabis is one of the most powerful healing plants on the planet. Dozens of studies have made pseudoscientific attempts to indicate that young people who use cannabis tend to experience psychological, social problems and mental decline. However, there is no evidence that marijuana use is directly linked with such problems, according to the results of a study published in The Lancet.
"Currently, there is no strong evidence that use of cannabis of itself causes psychological or social problems," such as mental illness or school failure, lead study author Dr. John Macleod of the University of Birmingham in the UK told Reuters Health.
"There is a great deal of evidence that cannabis use is associated with these things, but this association could have several explanations," he said, citing factors such as adversity in early life, which may itself be associated with cannabis use and psychosocial problems.
Macleod and his team reviewed 48 long-term studies, 16 of which provided the highest quality information about the association between illicit drug use reported by people 25 years old or younger and later psychological or social problems. Most of the drug-specific results involved cannabis use.
Cannabis use was not consistently associated with violent or antisocial behavior, or with psychological problems.
In another study, Scientists from King's College, London, found occasional pot use could actually improve concentration levels.
The study, carried in the American Journal of Epidemiology, tested the mental function and memory of nearly 9,000 Britons at age 50 and found that those who had used illegal drugs as recently as in their 40s did just as well, or slightly better, on the tests than peers who had never used drugs.
'Overall, at the population level, the results seem to suggest that past or even current illicit drug use is not necessarily associated with impaired cognitive functioning in early middle age,' said lead researcher Dr Alex Dregan.
Dr Dregan's team used data on 8,992 42-year-olds participating in a UK national health study, who were asked if they had ever used any of 12 illegal drugs. Then, at the age of 50, they took standard tests of memory, attention and other cognitive abilities.
Overall, the study found, there was no evidence that current or past drug users had poorer mental performance. In fact, when current and past users were lumped together, their test scores tended to be higher.

The Age of Deception is Ending 
In 2003, the U.S. Government as represented by the Department of Health and Human Services filed for, and was awarded a patent on cannabinoids. The reason? Because research into cannabinoids allowed pharmaceutical companies to acquire practical knowledge on one of the most powerful antioxidants and neuroprotectants known to the natural world.
The U.S. Patent 6630507 was specifically initiated when researchers found that cannabinoids had specific antioxidant properties making them useful in the treatment and prophylaxis of wide variety of oxidation associated diseases, such as ischemic, age-related, inflammatory and autoimmune diseases. The cannabinoids are found to have particular application as neuroprotectants, for example in limiting neurological damage following ischemic insults, such as stroke and trauma, or in the treatment of neurodegenerative diseases, such as Alzheimer's disease, Parkinson's disease and HIV dementia. Nonpsychoactive cannabinoids, such as cannabidoil, are particularly advantageous to use because they avoid toxicity that is encountered with psychoactive cannabinoids at high doses useful in the method of the present invention.
In a historic and significant moment in American history, last November, Colorado became the first US state to legalize marijuana for recreational use. The impact of the decision could ripple across the entire country with vast opportunities to educate millions on the top health benefits of marijuana.
With the passage of I-502 in the 2012 Washington State election, marijuana also became legal in Washington–not just for medical use, but also for recreational use. Weed is still illegal as far as the United States government is concerned, but Washington and Colorado both have yet to figure out how that will work. It's certain that this issue will continue to evolve and smooth out as time goes by, but the remaining states will eventually follow suit or be left behind with outdated laws.
Top Health Benefits
It's no surprise that the United States has decreed that marijuana has no accepted medical use use and should remain classified as a highly dangerous drug like heroin. Accepting and promoting the powerful health benefits of marijuana would instantly cut huge profits geared towards cancer treatment and the U.S. would have to admit it imprisons the population for no cause. Nearly half of all drug arrests in the United States are for marijuana.
According to MarijuanaNews.com editor Richard Cowan, the answer is because it is a threat to cannabis prohibition "…there really is massive proof that the suppression of medical cannabis represents the greatest failure of the institutions of a free society, medicine, journalism, science, and our fundamental values," Cowan notes.
Besides the top 10 health benefits below, findings published in the journalPLoS ONE, researchers have now have now discovered that marijuana-like chemicals trigger receptors on human immune cells that can directly inhibit a type of human immuno-deficiency virus (HIV) found in late-stage AIDS.
Recent studies have even shown it to be an effective atypical anti-psychotic in treating schizophrenia, a disease many other studies have inconsistently found it causing.
1. Cancer
Cannabinoids, the active components of marijuana, inhibit tumor growth in laboratory animals and also kill cancer cells. Western governments have known this for a long time yet they continued to suppress the information so that cannabis prohibition and the profits generated by the drug industry proliferated.
THC that targets cannabinoid receptors CB1 and CB2 is similar in function to endocannabinoids, which are cannabinoids that are naturally produced in the body and activate these receptors. The researchers suggest that THC or other designer agents that activate these receptors might be used in a targeted fashion to treat lung cancer.
2. Tourette's Syndrome
Tourette's syndrome is a neurological condition characterized by uncontrollable facial grimaces, tics, and involuntary grunts, snorts and shouts.
Dr. Kirsten Mueller-Vahl of the Hanover Medical College in Germany led a team that investigated the effects of chemicals called cannabinols in 12 adult Tourette's patients. A single dose of the cannabinol produced a significant reduction in symptoms for several hours compared to placebo, the researchers reported.
3. Seizures
Marijuana is a muscle relaxant and has "antispasmodic" qualities that have proven to be a very effective treatment for seizures. There are actually countless cases of people suffering from seizures that have only been able to function better through the use of marijuana.
4. Migraines
Since medicinal marijuana was legalized in California, doctors have reported that they have been able to treat more than 300,000 cases of migraines that conventional medicine couldn't through marijuana.
5. Glaucoma
Marijuana's treatment of glaucoma has been one of the best documented. There isn't a single valid study that exists that disproves marijuana's very powerful and popular effects on glaucoma patients.
6. Multiple Sclerosis
Marijuana's effects on multiple sclerosis patients became better documented when former talk-show host, Montel Williams began to use pot to treat his MS. Marijuana works to stop the neurological effects and muscle spasms that come from the fatal disease.
7. ADD and ADHD A well documented USC study done about a year ago showed that marijuana is not only a perfect alternative for Ritalin but treats the disorder without any of the negative side effects of the pharmaceutical.
8. IBS and Crohn's
Marijuana has shown that it can help with symptoms of the chronic diseases as it stops nausea, abdominal pain, and diarrhea.
9. Alzheimer's
Despite what you may have heard about marijuana's effects on the brain, the Scripps Institute, in 2006, proved that the THC found in marijuana works to prevent Alzheimer's by blocking the deposits in the brain that cause the disease.
10. Premenstrual Syndrome
Just like marijuana is used to treat IBS, it can be used to treat the cramps and discomfort that causes PMS symptoms. Using marijuana for PMS actually goes all the way back to Queen Victoria.
Mounting Evidence Suggests Raw Cannabis is Best
Cannabinoids can prevent cancer, reduce heart attacks by 66% and insulin dependent diabetes by 58%. Cannabis clinician Dr. William Courtney recommends drinking 4 – 8 ounces of raw flower and leaf juice from any Hemp plant, 5 mg of Cannabidiol (CBD) per kg of body weight, a salad of Hemp seed sprouts and 50 mg of THC taken in 5 daily doses.
Why raw? Heat destroys certain enzymes and nutrients in plants. Incorporating raw cannabis allows for a greater availability of those elements. Those who require large amounts of cannabinoids without the psychoactive effects need to look no further than raw cannabis. In this capacity, it can be used at 60 times more tolerance than if it were heated.
Raw cannabis is considered by many experts as a dietary essential. As a powerful anti-inflammatory and antioxidant, raw cannabis may be right u there with garlic and tumeric.
About the Author
Marco Torres is a research specialist, writer and consumer advocate for healthy lifestyles. He holds degrees in Public Health and Environmental Science and is a professional speaker on topics such as disease prevention, environmental toxins and health policy. 
Sources: 
scribd.com
bigbudsmag.com
berkeleypatientscare.com
washingtonpost.com
about.com
safeaccess.ca
Source: Waking Times
Victoria's Secret (VS) has sunk to a new low – and I didn't think that was possible. Recently the retailer introduced a line of intimate apparel that they're calling "Bright, Young Things." The new line is designed to appeal to teen and tween girls. Get a load of this:
In the spring line, you'll find an array of panties, from lace back cheeksters with the word "Wild" on the back, to a lace trim thong with "Call Me" on the front, to green-and-white polka-dot hipsters reading "Feeling Lucky? (Source)
So – the decision makers at VS see nothing wrong with targeting middle and high school girls for the purpose of purchasing lace trimmed thongs with "Call me" emblazoned on the front? Do these people not comprehend that this new line exploits girls? Have they no sense of decency?
Apparently not.
Because the company is in business to make money it appears every decision is strictly about the bottom (pardon the pun) line: "Sales of lingerie for younger women are a $1.5 billion-a-year business for Victoria's Secret's Pink line, which also woos girls." If making a profit means the company has to hyper-sexualize girls – because that's what they're doing – so be it. Dads, how do you feel about your 12-year-old wearing hipster panties that ask the question: "Feeling lucky?" Would you think it cute? This is what I was referring to when I said that Victoria's Secret has sunk to a new low. One can only hope that parents will have the good sense to shop elsewhere for their precious daughter's undergarments.
But VS is not the only organization pushing sleazy undergarments to young girls. According to Bloomberg Business Week, retailers of top name brands such as Hot Topic and Urban Outfitters present their garments as cute vs. sexy. Marcie Merriman, founder of consulting firm PrimalGrowth, candidly reveals that retailers are "all going to say they're targeting 18- to 22-year-olds, but the reality is you're going to get the younger customer."
The Bloomberg article maintains that intimate apparel for girls generates big bucks for retailers – more than $11.1 billion in annual sales! Limited Brands has done even better – its VS Pink brand has done $1.5 billion and expects to do even better in the coming years.
Bloomberg also reports this sad fact:
A decade ago girls had little choice in underwear; a training bra was often a plain garment bought at Target (TGT). No longer. "Sensuality and body image continues to be a message that young girls are seeing and are being exposed to in a much less controlled fashion perhaps than even 10, 12 years ago," says Dan Stanek, executive vice president at consultancy Big Red Rooster. They're aiming to imitate the lingerie styles worn by celebrities seen on the Web, he says.
Even worse:
Lingerie makers have to be careful adjusting their messaging for a younger audience so it's more about the girl and less about dressing in a way that's appealing for men…" Moreover, "Merchandisers must "use the word 'pretty' more than 'sexy'…. (Source)
Sly devils, aren't they?
Teen Girl Magazine "Seventeen"
While I'm on the subject of hyper-sexualizing teens and tweens, according to a March 11 Fox News report:
Ashley Benson, 23, knows what sells to America's 12-year-old girls: sex, including threesomes. Together with Seventeen magazine, the actress is promoting her new movie "Spring Breakers" on the magazine's cover, despite the fact that the movie is being hyped elsewhere for its steamy sex scene between Benson, actress Vanessa Hudgens, 24, and actor James Franco. The movie is rated R for strong sexual content, language, nudity, drug use and violence. Seventeen targets an audience of females, aged 12 to 19.
What, no cannibalism?
From the Media Research Center:
"Seventeen" Entertainment Director, Carissa Rosenberg Tozzi, introduced the interview with Benson by asking girls, "Ever feel like you want to try something different, but everyone else wants you to stay exactly the same?" The article sought empathy, relating how "It's super-frustrating to be pigeon-holed like that – and Ashley Benson knows exactly how it feels."
According to Tozzi, Benson desired to "branch out and try something edgier" in her new "Spring Breakers" role. She wanted to be "bold" because, in Benson's words, "as long as you're happy, that's what's important."
In an effort to be viewd as bold and edgy, the Disney star happily cast off her wholesome image, much the same as teen idol Miley Cyrus did a few years ago when she decided to change her wholesome image to sultry seductress. In a column I wrote entitled America's Moral Implosion I disclosed what young Miley was up to:
In her raunchy new music video single "Who Owns My Heart" fans won't recognize the cute teenage girl who plays the title role of Hanna Montana on the Disney channel. Miley is17-years-old and apparently thinks she's all grown up. If appearances are any indication, she seems quite comfortable in her new role. Watching the video makes one think that writhing on a bed wearing only underwear and grinding with males and females on the dance floor wearing short shorts and a reveling top is old hat for Lady Miley. One thing's for sure: Miley Cyrus is no longer the Disney darling she once was. Watch her video. See the new Barbarella do her thing.
I also pointed out that ever since the early sixties secularists have done their best to denigrate and coarsen the culture. Five decades later most adults don't bat an eye when they see "teenage girls parade around in public, scantily dressed, wearing getups that 20 years ago only prostitutes turning tricks on street corners would dare dress in." And I warned that, "unbridled immorality is part and parcel of the secular worldview." Moreover:
Young people abuse drugs and alcohol. They lie, cheat and steal without remorse. They do not flinch at brutality. Instead of portraying vampires and witches as villains, they are the new heroes and heroines. Coarse language spews forth from the mouths of preteens…there is little or no respect for authority or for adults…selfishness and narcissism has become the rule, not the exception. What more proof do we need that liberalism brings destruction to a nation?
Dysfunctional Hollywood Liberals
To a great extent, the entertainment industry (EI) is to blame for sexualizing girls. It's a well known fact that liberals are the movers and shakers in the EI. And those who work in entertainment, especially celebrities, are largely to blame for corrupting society.
Pro-family and religious conservatives are not the ones that have brought us the culture of death and destruction – liberals have. Liberals, aka progressives, insist that all mention of God and the scriptures be removed from the public square through their misinterpretation of the First Amendment. Was the First Amendment really intended to rid public education of prayer and the Bible, while at the same time giving license to pornography that has introduced society to every sort of evil imaginable?
Track the increase of gruesome crimes against children such as rape, sodomy and abductions since 1947 and you'll find a huge spike. No one can blame Bible reading and prayer for the upswing in crime against children. No. The blame must be laid squarely upon the shoulders of hedonist "progressives" for the simple reason that they are the ones to blame for our nation's descent onto moral relativism – the belief that there is no right or wrong and that morality does not exist – and if everyone's doing it then it must be okay.
A large number of Americans worry that society is experiencing a moral meltdown. They point to Hollywood as the main culprit for this. Yet Hollywood's elites choose to ignore the obvious. Instead of producing wholesome entertainment, which many people seem to want, the EI continually turns out filth – and the more twisted the better. Sex, violence and occult themes have increased in movies, on TV programs, video games, board games, and so on. Sex sells in magazines. Clothing manufactures sell sex. Even so-called Christian retailers are selling sex! (I reported on this in depth in my columnThe "New Breed" of Christian Fashion.)
A July 2012 study suggests that children who watch sex on TV programs and movies will be more promiscuous and sexually active from a younger age. "Psychologists concluded that teenagers exposed to more sex on screen in popular films are likely to have sexual relations with more people and without using condoms."
Dr. Ross O'Hara, who led the study, cautioned:
This study, and its confluence with other work, strongly suggests that parents need to restrict their children from seeing sexual content in movies at young ages. (Source)
What To Do?
I'll close with an excerpt from a column I wrote entitled Liberals Created the Culture of Evil and Death, Part 1 where I offered the following advice on ways to turn the clock back to a time when children were allowed to be children, before America took a very dark turn:
First, Bible believing Christians must share the Gospel of Jesus Christ with the lost. "For I am not ashamed of the gospel of Christ: for it is the power of God unto salvation to every one that believeth; to the Jew first, and also to the Greek. For therein is the righteousness of God revealed from faith to faith: as it is written, the just shall live by faith" (Rom 1:15-7).
We must make disciples of all nations. (Mat. 28:19) This is a command not a suggestion. People will not change unless hearts and minds are changed. It is men and women who need changing, not just the system (but the system needs changing too). There's a Holy Spirit filled power in the gospel that can change the most hardened criminal into a saint.
Second, Christian parents must instill in their children a Christian worldview on a variety of moral issues such as premarital sex, bearing babies out of wedlock, abortion, homosexuality, biblical marriage, gambling and drug use.
Third, parents must address what's going on in the government-run-schools they send their children to, where individual thinking is discouraged and group-think is rewarded. What kids are being exposed to is humanistic education. A large number of our public school teachers and counselors are radical liberals. Their aim is to persuade students to reject their parent's values and instill their own leftist ideology. In her book "Total Truth," Nancy Pearcey warns parents that they're youngsters "must be equipped to analyze and critique the competing worldviews they will encounter when they leave home" and she explains how to equip them. In short, young people must have the confidence to stand up for what they believe, both in college and the workplace. Turning the other cheek has never deterred a liberal.
Fourth, "Preach the word; be instant in season, out of season; reprove, rebuke, exhort with all longsuffering and doctrine." Why is this important? "For the time will come when they will not endure sound doctrine; but after their own lusts shall they heap to themselves teachers, having itching ears; And they shall turn away their ears from the truth, and shall be turned unto fables. But watch thou in all things, endure afflictions, do the work of an evangelist, make full proof of thy ministry" (2 Tim 4:2-5).
Fifth, pray! "Elias was a man subject to like passions as we are, and he prayed earnestly that it might not rain: and it rained not on the earth by the space of three years and six months. And he prayed again, and the heaven gave rain, and the earth brought forth her fruit" (James 5:17, 18). When you pray you must pray to the only true God.
Senseless advice and nothing nice; that's what little-girls-in-combat policy is made of.
The obvious has already been said about placing women in front-line combat positions. Their presence will reduce unit cohesiveness; male soldiers' natural instinct to protect women will influence battlefield decisions; there will be the problem of sexual impropriety within the ranks and of rape when women are captured; women will have more trouble measuring up to the physical and psychological demands of battle; special accommodations will no doubt be made so that women may tend to feminine concerns; and, as the high pregnancy rate aboard naval vessels has proven, having young men and women operate in close quarters is folly. Yet the truth is that it was just a matter of time before women were allowed in combat; it's a piece that fits seamlessly into the modern sex-role puzzle. And it's not surprising if a majority of Americans support the policy; they are sex-role puzzled.
When I worked with children years ago, one of my students, an 11-year-old boy, guessed that the women's world record for the mile would be faster than the men's when a question about the matter was put to him. In the same vein, a respondent to one of my articles mentioned a young man she knew who opined that women and men should compete together in sports. When she informed him that this would eliminate athletic opportunities for women — boys' American high school records surpass women's world records — he was surprised that the gap between the sexes was so great. You may be surprised at a knowledge gap so great. Don't be.
For a few decades now, children have been raised seeing women in combat. Movies and television shows have long featured masculinized female characters who talk, act, and fight like men — except when they're shown fighting even better and vanquishing men. If a show features a male hero, he almost invariably has to be balanced with a tough(er?) heroine. Professional wrestling will now occasionally even show women grappling with men (yes, it's fake, but not to a seven-year-old). Kids also have equality dogma drummed into them; equality this and equality that, and the only departure from it is when they're exposed to entertainment that makes men appear weak or to specious science indicating female superiority. It is another example of how the left presents the young with a distorted picture of reality.
It's thus no surprise that people make poor decisions on policy affecting the sexes. We better understand the different roles of horses and dogs because we perceive their characteristic strengths and weaknesses; likewise, how can we understand what roles are suggested by the sexes' characteristic qualities if we blind ourselves to them?
Ah, dare I speak of "roles"? Some will now accuse me of fostering sex stereotyping, the very thing the left has been combating with the agenda outlined earlier. (This, by the way, is one of the main reasons Hollywood mainstreamed masculinized female characters: they wanted to change how people think. It worked.) All right, let's discuss stereotypes.
One of these stereotype opponents would be Beck Laxton, a British mother who strives to raises "gender neutral" children and has said, "Stereotypes seem fundamentally stupid. Why would you want to slot people into boxes?" Thus, Laxton believes in allowing her son to find his own sex-role path; as Shine's Piper Weiss tells us, she is on a quest to "let her kid just be a kid." But this raises a question: if putting people in boxes is such an imposition, why put your kid in a kid box?
In other words, why impose species-oriented norms on a child and put him in a human box? After all, we instill ideas about identity and innumerable other things when we put children in clothing; cut their hair; teach them to wash and brush their teeth; teach them language, manners, a conception of virtue, and social norms; and laugh at some behaviors while frowning at others. But do we consider that, like self-professed canine "Wolfie Blackheart," the child may later decide that homo-sapiens status isn't for him?
The point is that it isn't a matter of whether we'll put children in boxes; that is unavoidable.
It's a matter of putting them in the correct boxes.
And we put a little human in a human box not because we've been brainwashed with some arbitrary social construct but because he was born in a human body, and it's better for everyone if is he is socialized as a human than trained as a ferret. His human status involves unique abilities and relative physical weaknesses; thus do we apply "species stereotyping" when raising him. Of course, he may announce when he is 18 that he is a ferret, or something slightly larger, such as Robert Reich. That's what mental institutions are for.
The truth is that we only hear complaints about stereotypes when those stereotypes are out of fashion — or out of favor with the "fashionable" set. For example, it's now common to scoff at traditional female portrayals such as that of devoted housewife June Cleaver in Leave it to Beaver. But what of her husband, Ward? Do little boys dream of growing up, wearing a suit, and working 9 to 5 at a job that is probably drudgery? Yet what would have been better? Should Ward Cleaver have been cast as a layabout Beat Generation type who some nights never came home, drank like a fish, mainlined heroin, and frequented bathhouses? Would it have been healthy to destroy the Cleaver stereotype and institute a new one such as that reflected in the now cancelled All My Babies' Mommas? I think men should be pushed toward the box of gainfully employed, loving, responsible father — that's the only way civilization can survive. And women have their boxes, too.
This is where "sex stereotyping" (the term gender is misused today) comes into play. Sure, we've heard that it places children in a potential-stifling straitjacket. But there is another theory, one considered self-evident truth not long ago. It goes like this: at issue here isn't negatively connoted "stereotyping." Rather, just as we give humans a species-specific upbringing, we should give a boy a sex-specific upbringing; this is not because we've fallen victim to some arbitrary social construct but because he was born in a boy's body (that's called a clue). Is this stifling? On the contrary, just as you may provide art-specific opportunities to help a child with a proclivity for art exploit his potential, sex-specific childrearing helps the sexes cultivate and augment their unique potential. That is how boys and girls come to full flower as men and women.
I haven't said much here about women in combat, and for good reason. It's just a branch on the feminist tree, a branch whose appearance was just a matter of time. And now I'll be the hatchet man.
Even science, which often eventually catches up with common sense, tells us that the sexes have different characteristic qualities and strengths. And since "male" and "female" are real and different statuses, also real are the adjectives that describe what is characteristic of each one, "masculine" and "feminine." It also then follows that the verbs "masculinize" and "feminize" describe actual changes that really can be effected.
Taking it further, the sexes' different proclivities imply different roles, which we call masculine and feminine roles. Two of these, "mother" and "father," are of inestimable importance because they constitute the nucleus of civilization's central building block: the family. Thus, anything that diminishes the chances of the sexes successfully performing those roles threatens to destroy the family — and, hence, civilization.
Given this, should we accept any social norm that discourages the cultivation of a sex's respective qualities or serves to masculinize women or feminize men? Does it behoove us to steer girls toward masculine endeavors? Those are the big questions — and they get at the big picture.
And this answers the little-picture question of women in combat. If warfare isn't a masculine endeavor, what is? And if putting women in military uniforms, giving them weaponry, and teaching them to be warriors doesn't masculinize them, what does? And what does it say about our society that the masculinization of women has reached this advanced stage?
It says that the feminist tree is deep-rooted and tall, with a canopy that blocks out the light of common sense. The sooner that tree is burnt to ashes with the world's fiercest accelerant, the better.
Thursday morning was the dawn of a new era for pot-smoking Washingtonians, as state law finally approved the personal possession of up to one ounce – or roughly 28g – of marijuana, making it the first US state to fully legalize the drug.
Washington voters shocked the nation last month by voting for Initiative 502 (I-502), which legalizes the possession of up to one ounce (28g) of marijuana for personal use. Under the initiative, all penalties for marijuana possession and use have also been abolished.
Many users said they would be gathering around various public areas across the state to celebrate the landmark ruling – by breaking the law. Public marijuana use is still illegal, but the fine for smoking weed in public carries the same fine as publicly consuming alcohol.
I-502, approved by a 55.5 percent majority, will make Washington the first US state to officially legalize recreational marijuana use in the US. State penalties for possession will be eliminated, and excise taxes like those applied to alcohol and tobacco sales will be enacted.
A similar measure passed in Colorado will be implemented no later than January 6.
Although Washington's new law legalizes possession of up to an ounce for those over 21, selling marijuana remains illegal.
I-502 gives Washington a year to come up with a system of state-licensed growers, processors and retail stores. It plans to tax every stage at 25 percent. Analysts say it could bring Washington hundreds of millions of dollars annually in new tax revenue.
But I-502 also puts Washington at loggerheads with the federal government: Despite record levels of support for nationwide legalization, it is still illegal under federal law to carry or use any amount of marijuana.
Pot is considered a 'Schedule I' narcotic under the Federal Controlled Substances Act, putting it in the same category as heroin. This means federal agents can still arrest people for it, and it remains banned from federal properties, including military bases and national parks
But I-502 is going into effect at a time when national support for legalization is at an all-time high.
A national poll conducted by Public Policy Polling (PPP) from November 30 to December 2 showed that 59 percent of US voters believe marijuana should be legalized, while only 39 percent do not. Half of respondents also expected that marijuana will become legal under federal law within a decade's time.
The Obama administration has thus far made no mention of how it will react to the measure, though the White House has repeated on numerous occasions that it remains "firmly committed to enforcing the Controlled Substances Act."
Washington Governor Chris Gregoire recently met with Deputy Attorney General James Cole at the Justice Department, though he came away with no answers.
"They said they were reviewing it," the Washington Post cites Gregoire's spokesperson Cory Curtis as saying Friday."They didn't give us a timeline when they would provide clarity."
Steve Fox, director of government relations for the Marijuana Policy Project, argued that Obama would be working against the popular will and the greater good if the federal government attempted to continue with its "failed policy of marijuana prohibition."
"The increasingly strong national support for making marijuana legal demonstrates that the writing is on the wall," Fox said. "Marijuana prohibition's days are numbered. The Obama administration cannot stop history. If it interferes in the implementation of these new laws, it will only unnecessarily prolong the chaos of an uncontrolled market. The time for state-regulated systems of marijuana cultivation and sales is here."
Source: RT
The New York Times (and liberal media generally) have two ways of dealing with news they don't like.
Stories can be ingeniously "spun" so their significance is dimmed. The  main facts might be mentioned; but the emphasis is expertly shifted and important details are placed toward the end. Opposing testimony is featured throughout. The "spun" story, a murmur of its prior self, is then buried on a back page.
A more radical, more Orwellian technique is to pretend that the story never happened. News is thus "disappeared." Savor the irony. A vast organization–allegedly set up to find news–ends up functioning as a screening device to identify undesirable stories and hide them.
This second technique seems more commonplace and reckless in the Obama era. Previously, the Times could ignore a story, confident that few people would realize it hadn't been covered. In the age of the internet and the New Media, the Times has to know that a big portion of the population will hear about significant stories. Bizarrely, the Times doesn't seem to care about its own declining prestige.
Here then are three big stories NOT reported in the New York Times.
1) Hollywood Heroine. During the 2008 primary season, Bettina Viviano, a producer with serious film credits, was deeply involved in the campaign to nominate Hillary Clinton. She was typical of thousands of smart professional women who assumed that Hillary would be the nominee; and they wanted to be part of the process. Shockingly, they discovered that politics is a rough game indeed when played by the gang from Chicago.
Bettina Viviano witnessed intimidation, fraud, anything you can think of that gangster politicians have done throughout history. Viviano and colleague Gigi Gaston decided to make a documentary about this tainted primary. The title is "We Will Not Be Silenced." Two things happened: lots of people had grim stories to tell; and great pressure was brought to shut down the project. Indeed, it was put on hold during 2009.
In the spring of 2012, Viviano decided she couldn't remain silent. She wrote some articles, gave some interviews. She's an impressive witness and tells a fascinating story. She argues that had the primary been conducted legally, Hillary would have been the candidate. More surprising to many is Viviano's comment that everyone in the campaign assumed Obama was ineligible, and that Bill Clinton would step forward at the proper time to dismiss Obama's legitimacy. He didn't do this, Viviano said, because he was threatened. Anyway, at risk to her career (at least), Viviano told a detailed story that unfolds over months and now years. This is not some little anecdote but a big slice of American political history that should have been served up on the front page of every paper in America: INSIDERS SAY OBAMA MACHINE STOLE NOMINATION.
It's far more significant than anything we heard about Herman Cain; but the Times covered Herman Cain in scores of stories, smirking, scorning, chortling (in a tone the Times would call "racist" if the subject were Obama.)
But if you go to the New York Times now to learn about a far more important chapter in our history, here's what the search engine says: "Your search - bettina viviano, hillary clinton - did not match any documents."
2) "America's Sheriff." This nickname tells you that Joe Arpaio is a national figure, and that probably millions of people know about his activities. He held a press conference on March 1, 2012, to announce that Obama's newest birth certificate was most likely a forgery. Later in the year, July 17, he held a second press conference to announce there's no doubt: the official White House birth certificate is a digital forgery. This is a huge story with many unique features, just what journalists used to hunger for. There's only one investigation by a law enforcement group into this birth certificate, and only one nationally famous sheriff. Not to mention, somebody in the White House is committing forgery.
The Times touched on this story a few times fleetingly, with no detail or forensic curiosity. At present there is a long biographical sketch of Arpaio, about 1500 words, on the Times website, with this single reference: "Mr. Arpaio has waged an increasingly bitter dispute with the Obama administration, including questioning the president's birth certificate and portraying the civil rights investigation as politicized."
This is almost comedy journalism. As Arpaio himself has mentioned, if a reporter wants to win a Pulitzer, all he has to do is refute the sheriff's investigation.
3) Handicapper. Wayne Allyn Root is, according to his August 6 article and video, "one of the most accurate Las Vegas oddsmakers and prognosticators." Furthermore, Root was in Columbia's Class of '83, the president's class. Root notes that virtually nobody  remembers seeing this guy. But the real question is how does a student with mediocre grades, a fondness for reefer, and not much money manage to attend several Ivy League schools? Root plays the biggest hunch of his career, claiming that Obama had all his records sealed because he most likely attended Columbia as a "foreign exchange student." In that classification, Obama did not need good grades, money, or even to attend class.
Rush Limbaugh read the entire column on the air. Root's prognostications went viral. At that point, the Times should at least report the story. If they could refute Root's analysis, why not do it?
This story, of course occurred a few months after another equally huge story that Obama, on his literary agent's website, said he was from Kenya. This claim remained on the web for more than 10 years. Meanwhile, the president's birth certificate has been denounced as a fake. A Republican politician would not survive two days with these convergent accusations hanging in the air. The Times would report them in banner headlines.
Times search engine reports: "Your search [last 12 months] - wayne allyn root - did not match any documents.
Where the president is concerned, the Times sees no evil, hears no evil, and reports no evil. The wider tragedy is that this faux-newspaper dictates what all the lesser papers will bother to report. Check your local paper: did it report these stories?
People should be asking when did "media whore" become a tautology? Once upon a time, media whore referred to people who would do anything to be mentioned in the news. Now the phrase better refers to media that will do anything to avoid mentioning the news.
Education is my main beat; I think of this as an education story. The media won't report facts. Schools try not to teach facts. There almost seems to be, throughout our society, what Martin Gross called "a conspiracy of ignorance."
And other tales of an empire gone mad…
Afghanistan in the 1980s and 90s … Bosnia and Kosovo in the 1990s … Libya 2011 … Syria 2012 … In military conflicts in each of these countries the United States and al Qaeda (or one of its associates) have been on the same side. 1
What does this tell us about the United States' "War On Terrorism"?
Regime change has been the American goal on each occasion: overthrowing communists (or "communists"), Serbians, Slobodan Milosevic, Moammar Gaddafi, Bashar al-Assad … all heretics or infidels, all non-believers in the empire, all inconvenient to the empire.
Why, if the enemy is Islamic terrorism, has the United States invested so much blood and treasure against the PLO, Iraq, and Libya, and now Syria, all mideast secular governments?
Why are Washington's closest Arab allies in the Middle East the Islamic governments of Saudi Arabia, Qatar, Kuwait, Jordan, and Bahrain? Bahrain being the home of an American naval base; Saudi Arabia and Qatar being conduits to transfer arms to the Syrian rebels.
Why, if democracy means anything to the United States are these same close allies in the Middle East all monarchies?
Why, if the enemy is Islamic terrorism, did the United States shepherd Kosovo — 90% Islamist and perhaps the most gangsterish government in the world — to unilaterally declare independence from Serbia in 2008, an independence so illegitimate and artificial that the majority of the world's nations still have not recognized it?
Why — since Kosovo's ruling Kosovo Liberation Army (KLA) have been known for their trafficking in women, heroin, and human body parts (sic) — has the United States been pushing for Kosovo's membership in NATO and the European Union? (Just what the EU needs: another economic basket case.) Between 1998 and 2002, the KLA appeared on the State Department terrorist list, remaining there until the United States decided to make them an ally, due in no small part to the existence of a major American military base in Kosovo, Camp Bondsteel, well situated in relation to planned international oil and gas pipelines coming from the vast landlocked Caspian Sea area to Europe. In November 2005, following a visit to Bondsteel, Alvaro Gil-Robles, the human rights envoy of the Council of Europe, described the camp as a "smaller version of Guantánamo". 2
Why, if the enemy is Islamic terrorism, did the United States pave the way to power for the Libyan Islamic rebels, who at this very moment are killing other Libyans in order to institute a more fundamentalist Islamic state?
Why do American officials speak endlessly about human rights, yet fully support the Libyan Islamic rebels despite the fact that Doctors Without Borders suspended its work in prisons in the Islamic-rebel city of Misurata because torture was so rampant that some detainees were brought for care only to make them fit for further interrogation? 3
Why is the United States supporting Islamic Terrorists in Libya and Syria who are persecuting Christians?
And why, if the enemy is Islamic terrorism, did US Ambassador to the UN, Susan Rice — who daily attacks the Syrian government on moral grounds — not condemn the assassination of four Syrian high officials on July 18, in all likelihood carried out by al Qaeda types? RT, the Russian television channel broadcast in various parts of the United States, noted her silence in this matter. Does anyone know of any American media that did the same?
So, if you want to understand this thing called United States foreign policy … forget about the War on Terrorism, forget about September 11, forget about democracy, forget about freedom, forget about human rights, forget about religion, forget about the people of Libya and Syria … keep your eyes on the prize … Whatever advances American global domination. Whatever suits their goals at the moment. There is no moral factor built into the DNA of US foreign policy.
Bring back the guillotine
In July, the Canadian corporation Enbridge, Inc. announced that one of its pipelines had leaked and spilled an estimated 1,200 barrels of crude oil in a field in Wisconsin. Two years ago, an Enbridge pipeline spilled more than 19,000 barrels in Michigan. The Michigan spill affected more than 50 kilometers of waterways and wetlands and about 320 people reported medical symptoms from crude oil exposure. The US National Transportation Safety Board said that at $800 million it was the costliest onshore spill cleanup in the nation's history. The NTSB found that Enbridge knew of a defect in the pipeline five years before it burst. According to Enbridge's own reports, the company had 800 spills between 1999 and 2010, releasing close to 7 million gallons of crude oil. 4
No executive or other employee of Enbridge has been charged with any kind of crime. How many environmental murderers of modern times have been punished?
During a period of a few years beginning around 2007, several thousand employees of stock brokers, banks, mortgage companies, insurance companies, credit-rating agencies, and other financial institutions, mainly in New York, had great fun getting obscenely rich while creating and playing with pieces of paper known by names like derivatives, collateralized debt obligations, index funds, credit default swaps, structured investment vehicles, subprime mortgages, and other exotic terms, for which, it must be kept in mind, there had been no public need or demand. The result has been a severe depression, seriously hurting hundreds of millions of lives in the United States and abroad.
No employee of any of these companies has seen the inside of a prison cell for playing such games with our happiness.
For more than half a century members of the United States foreign policy and military establishments have compiled a record of war crimes and crimes against humanity that the infamous beasts and butchers of history could only envy.
Not a single one of these American officials has come any closer to a proper judgment than going to see the movie "Judgment at Nuremberg".
Yet, we live in the United States of Punishment for countless other criminal types; more than two million presently rotting their lives away. No other society comes even close to this, no matter how the statistics are calculated. And many of those in American prisons are there for victimless crimes.
On the other hand, we see the Chinese sentencing their citizens to lengthy prison terms, even execution, for environmental crimes.
We have an Iranian court recently trying 39 people for a $2.6 billion bank loan embezzlement carried out by individuals close to the political elite or with their assent. Of the 39 people tried, four were sentenced to hang, two to life in prison, and others received terms of up to 25 years; in addition to prison time, some were sentenced to flogging, ordered to pay fines, and banned from government jobs. 5
And in Argentina in early July, in the latest of a long series of trials of former Argentine officials, former dictator Jorge Rafael Videla was convicted and sentenced to 50 years for a systematic plan to steal babies from women prisoners who were kidnapped, tortured and killed during the military junta's war on leftist dissenters — the "dirty war" of 1976-83 that claimed 13,000 victims. Many of the women had "disappeared" shortly after giving birth. Argentina's last dictator, Reynaldo Bignone, was also convicted and got 15 years. Outside the courthouse a jubilant crowd watched on a big screen and cheered each sentence. 6
As an American, how I envy the Argentines. Get the big screen ready for The Mall in Washington. We'll have showings of the trials of the Bushes and Cheney and Rumsfeld and Obama. And Henry Kissinger, a strong supporter of the Argentine junta among his many contributions to making the world a better place. And let's not forget the executives of Goldman Sachs, JP Morgan, Bank of America, and Enbridge, Inc. Fining them just money is pointless. We have to fine them years, lots of them.
Without imprisoning these people, nothing will change. That's become a cliché, but we very well see what continues to happen without imprisonment. And it's steadily getting worse, financially and imperially.
Items of interest from a journal I've kept for 40 years, part VII
Bantustanning the aboriginals all over the world: The Indians in America, the aboriginals in Australia, the blacks in South Africa, and the Palestinians in Palestine.
From 1966 tape of President Lyndon Johnson: "I know we oughtn't to be there [in Vietnam], but I can't get out." And he never did. And thousands more troops would die before Johnson left office. (Washington Post, March 12, 2006)
The Germans had Lebensraum. Americans had Manifest Destiny.
chinks, gooks, wogs, towelheads, ragheads — some of the charming terms used by American soldiers to describe their foes in Asia and the Middle East
In June, 2005, Cong. Duncan Hunter (Rep.-CA) held a news conference concerning Guantánamo. Displaying some tasty traditional meals, he said the government spends $12 a day for food for each prisoner. "So the point is that the inmates in Guantánamo have never eaten better, they've never been treated better, and they've never been more comfortable in their lives than in this situation." (Scripps Howard News Service, June 28, 2005, Reg Henry column)
Vice President Dick Cheney: Guantánamo prisoners are well treated. "They're living in the tropics. They're well fed. They've got everything they could possibly want." (CNN.com, June 23, 2005)
"[Defense Secretary Donald] Rumsfeld said Guantánamo's operations have been more open to scrutiny than any military detention facility in history." (Associated Press, June 14, 2005)
"Their 'coalition of the willing' [in Iraq] meant the US, Britain, and the equivalent of a child's imaginary friends." Paul Loeb, Truthout, June 16, 2005
Nobody has ever suggested that Serbia attacked or was preparing to attack a member of NATO, and that is the only event which justifies a military reaction under the NATO treaty, such as the 1999 78-day bombing of Serbia.
Rumsfeld re Chinese military buildup: "Since no nation threatens China, one wonders: Why this growing investment?" (New York Times, June 6, 2005
Rumsfeld re Venezuelan major weapons buildup: "I don't know of anyone threatening Venezuela, anyone in this hemisphere." (Washington Post, October 3, 2006) [Is it possible that the response to both points raised is the same? A country in North America bordering on Mexico?]
The failure of the United Nations — as an institution and its individual members — to unequivocally oppose and prevent the United States invasion of Iraq in 2003 can well be called "appeasement".
The Iraqi Kurds generally sided with Iran during the 1981-88 Iraq-Iran war; helped the United States before and during its bombing of Iraq in 2003 and during its occupation; and most Kurds don't identify with being Iraqi according to polls.
One of the military judges at Guantánamo said: "I don't care about international law. I don't want to hear the words 'international law' again. We are not concerned with international law." (Democracy Now, April 12, 2005)
George W. Bush, re al Qaeda types: "Iraqis are sick of foreign people coming in their country and trying to destabilize their country. And we will help them rid Iraq of these killers." (Baltimore Sun, May 6, 2004)
"I think all foreigners should stop interfering in the internal affairs of Iraq. Those who want to come and help are welcome. Those who come to interfere and destroy are not." Paul Wolfowitz, Deputy Secretary of Defense and unindicted war criminal (Chicago Tribune, July 22, 2003)
Timothy McVeigh, Gulf War veteran who bombed a government building in Oklahoma City in 1995, killing 168 people: "What occurred in Oklahoma City was no different than what Americans rain on the heads of others all the time … The bombing of the Murrah building was not personal, no more than when Air Force, Army, Navy or Marine personnel bomb or launch cruise missiles against government installations and their personnel. … Many foreign nations and peoples hate Americans for the very reasons most Americans loathe me. Think about that." (McVeigh's letter to and interview with Rita Cosby, Fox News Correspondent, April 27 2001)
Douglas Feith, Under Secretary of Defense for Policy and unindicted war criminal: "Defense Department officials don't lie to the public. … The Defense Department doesn't do covert action, period." (Washington Post, February 21, 2002)
The United States will "deal promptly and properly with the terrible abuses" of Iraqi prisoners by U.S. soldiers. "No country in the world upholds the Geneva Conventions on the laws of armed conflict more steadfastly than does the United States." Douglas Feith, Boston Globe, May 5, 2004
"The State Department plans to delay the release of a human rights report that was due out today, partly because of sensitivities over the prison abuse scandal in Iraq, U.S. officials said. One official who asked not to be identified said the release of the report, which describes actions taken by the U.S. government to encourage respect for human rights by other nations, could 'make us look hypocritical'." (Los Angeles Times, May 5, 2004)
In the decades after 1945, as colonial possessions became independent states, it was widely believed that imperialism as a historical phenomenon was coming to an end. However, a new form of imperialism was in fact taking shape, an imperialism not defined by colonial rule but by the global capitalist market. From the outset, the dominant power in this imperialism without colonies was the United States.
Francis Boyle re the capture and public display of Saddam Hussein: "This is the 21st century equivalent of the Roman Emperor parading the defeated barbarian king before the assembled masses so that they might all shout in unison: Hail Caesar!"
The US-provided textbooks in Nicaragua after the US-instigated defeat of the Sandinistas in 1990 carefully excluded all mention of Augustino Sandino as a national hero. (Z magazine, November, 1991)
"Col. David Hogg, commander of the 2nd Brigade of the 4th Infantry Division, said tougher methods are being used to gather the intelligence. On Wednesday night, he said, his troops picked up the wife and daughter of an Iraqi lieutenant general. They left a note: 'If you want your family released, turn yourself in.' Such tactics are justified, he said, because, 'It's an intelligence operation with detainees, and these people have info.' They would have been released in due course, he added later. The tactic worked. On Friday, Hogg said, the lieutenant general appeared at the front gate of the U.S. base and surrendered." (Washington Post, July 28, 2003) [This is illegal under international law; in ordinary parlance we'd call it a kidnapping with ransom; in war, it's the collective punishment of civilians and is forbidden under the Geneva Convention]
"Never forget that everything Hitler did in Germany was legal." — Martin Luther King, Jr.
"Americans, who up until now had been so valued for their pragmatism, have become ideologues, 'Bolsheviks' of the Right, as Daniel Cohn-Bendit once described them." (Jean-Marcel Bouguereau, concerning Iraq, Le Nouvel Observateur, September 8, 2003)
Six months after its invasion of Iraq, the Bush administration defended its policy on the basis of schools and hospitals opening and strides made in providing water and electricity. (Washington Post, September 25, 2003) — These are all things 12 years of US bombing and sanctions had destroyed.
Notes
For a summary of much of this, see: Peter Dale Scott, "Bosnia, Kosovo, and Now Libya: The Human Costs of Washington's Ongoing Collusion With Terrorists", The Asia-Pacific Journal: Japan Focus, August 7, 2011 ↩
Washington Post, January 27, 2012 ↩
Enbridge entry on Wikipedia; Washington Post, July 29, 2012↩
Reuters, July 31, 2012 ↩
Associated Press, July 6, 2012 ↩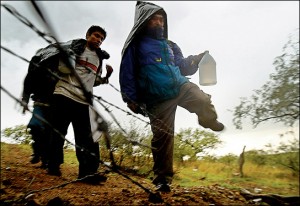 Barack Obama seems completely obsessed with systematically legalizing illegal immigration.  The United States borders a failed narco-state that is one of the most crime-ridden nations on the entire planet, but Barack Obama refuses to secure the border and the consequences for the American people have been absolutely catastrophic.  Right now it is already costing us tens of billions of dollars a year to provide welfare for illegal immigrants and to educate their children in our public schools.  Right now illegal immigrants are already working millions of jobs that should belong to American workers.  Right now Mexican drug cartels are already active in more than 1,000 U.S. cities.  But apparently that is not good enough for Barack Obama.  He wants to roll out the red carpet and give the green light to tens of millions more illegal immigrants.  Last year, Obama issued a list of 19 factors for government officials to use when deciding whether to use "prosecutorial discretion" in deportation cases.  In essence, under that new set of rules criminals and "national security threats" were to be deported and virtually everyone else was to be allowed to stay.  But now Barack Obama has taken things to a whole new level.  Now, if you are under the age of 30, came to the United States under the age of 16 and have lived here for at least five years you will be able to apply for legal status and a work permit.  With the election less than 6 months away it is obvious that Barack Obama is pandering for votes.   But this kind of "banana republic politics" is only going to divide America even more deeply and is going to result in some very serious pain for this nation in the years ahead.
How close do you think officials are going to check to see if people applying for this new amnesty are really under the age of 30 or really have been in this country for at least five years?
As I have written about previously, illegal immigrants lie to the IRS all the time.  Every year they file hordes of fraudulent tax returns that result in them receiving 4 billion dollars in tax refunds that they are not entitled to.
So if they are willing to even lie to the IRS, then why wouldn't they lie about when they came to the U.S. or about how long they have been here?
For a long time Barack Obama has supported "sanctuary cities" for illegal immigrants, but now he has essentially turned the entire country into a "sanctuary city".  Our immigration laws are still on the books, but everyone knows that Obama is not going to enforce the vast majority of them.
And that is really sad.  The United States will always need immigration, but the way that we do things today is really stupid.  We make legal immigration an absolute nightmare, but we leave the back door completely wide open for anyone that wants to break the rules and come in illegally.  So those that would like to come in legally and do things the right way are greatly discouraged from doing so while criminals, drug dealers, gang members, welfare parasites and those willing to survive in the underground economy are given the green light to come on over any time they would like.
Our immigration system makes no sense whatsoever and now Obama has just made things a whole lot worse.
The following are 10 things that will happen if Barack Obama continues to systematically legalize illegal immigration….
#1 There Will Be Fewer Jobs For American Workers
In the United States today, 53 percent of all college graduates under the age of 25 are either unemployed or underemployed.  Many of them are absolutely desperate for work.
Overall, there are more than 100 million working age Americans that do not have jobs right now.
Meanwhile, millions of illegal immigrants are occupying jobs that could otherwise be held by American citizens.  Many employers prefer to hire illegals because they work for a lot less money.
Sadly, many prominent politicians actually support the "right" of these "undocumented workers" to steal our jobs as a recent article by Devvy Kidd pointed out….
In April 2008, the very popular, New Jersey Gov. Chris Christie, prostituted himself during a speech for votes at an event sponsored by the Latino Leadership Alliance of New Jersey by assuring his audience illegal aliens were not really here illegally, but were simply "undocumented."

The 'unofficial' number of unemployed Americans is close to 25 MILLION. Those "undocumented" criminals Gov. Christie refers to are illegally holding 11.5 MILLION jobs that belong to Americans and naturalized citizens. Shame on you, Gov. Christie for thumbing your nose at our federal immigration laws and encouraging even more criminals to break into our country. Roll out the welcome mat. Unemployment in New Jersey is holding at a steady 9.3%. Gov. Christie apparently doesn't care if jobs go to illegal aliens instead of legal citizens in his state. After all, they're simply "undocumented".
#2 Wages For American Workers Will Continue To Decline
When you have a lot more workers competing for the same number of jobs, what happens?
That is right – wages go down.
We are seeing this happen in industry after industry.
For example, several decades ago a roofer could live a nice middle class lifestyle and support an entire family on one income.
But today that is no longer the case.
So what has changed?
A flood of illegal labor has entered the marketplace.
#3 Illegal Immigrants Will Overwhelm Our Welfare System
Every year, illegal immigrants receive tens of billions of dollars in welfare payments.  They get free food assistance, free housing assistance, free health care benefits and free education for their children.  Life is good if you are an illegal immigrant and you know how to game the system.
In fact, many cities in United States now openly advertise that they will help illegal immigrants with these things.
Unfortunately, according to Devvy Kidd the cost to taxpayers is getting to be astronomical….
Last year alone, the cost to taxpayers of LA County was whopping $600 MILLION dollars in welfare for children of illegal aliens. I guess it doesn't bother the people there getting fleeced in taxes to pay for all that welfare because they continue to elect governors who refuse to lock down the border and sympathizers of the invasion across the southern border of California to their legislature.
Overall, it has been estimated that U.S. taxpayers spend $12,000,000,000 a year on primary and secondary school education for the children of illegal immigrants.
#4 Mexican Drug Cartels Will Establish A Presence In Nearly Every City In The United States
Mexican drug cartels continue to expand their influence inside the United States at a frightening pace.  They are slowly taking over our communities.  How far do things have to go before we say enough is enough?
The amount of money that Mexican drug cartels bring in from selling drugs inside the United States is absolutely staggering….
In the sober reckoning of the RAND Corporation, for instance, the gross revenue that all Mexican cartels derive from exporting drugs to the United States amounts to only $6.6 billion. By most estimates, though, Sinaloa has achieved a market share of at least 40 percent and perhaps as much as 60 percent, which means that Chapo Guzmán's organization would appear to enjoy annual revenues of some $3 billion — comparable in terms of earnings to Netflix or, for that matter, to Facebook.
Can you imagine that?
We are talking about serious money.
And Mexican drug cartels are not just operating in huge cities such as Los Angeles, Chicago and New York.  The truth is that they have become deeply embedded in many rural communities as well….
News of cartel machinations are common in cities near the border, such as Phoenix, and the far-flung drug hubs of New York, Chicago or Atlanta, but smaller towns bring business, too. In unsuspecting suburbs and rural areas, police are increasingly finding drugs, guns and money they can trace back to Mexican drug organizations.

The numbers could rise in coming years. The Justice Department's National Drug Intelligence Center estimates Mexican cartels control distribution of most of the methamphetamine, heroin and marijuana coming into the country, and they're increasingly producing the drugs themselves.

In 2009 and 2010, the center reported, cartels operated in 1,286 U.S. cities, more than five times the number reported in 2008. The center named only 50 cities in 2006.
#5 There Will Be Increasing "Anti-American Violence" Inside The United States
These days a lot of Americans are being attacked (and sometimes killed) down in Mexico.
The following is from a recent ABC News article….
American travelers to Mexico should beware of possible violent retaliation for this week's arrest of alleged Zetas drug cartel associates and family members inside the U.S., the U.S. State Department has warned.

Though the warning does not specify which "Transnational Criminal Organization" might engage in "anti-American" violence, on Tuesday federal authorities arrested seven alleged associates of the powerful Zetas drug cartel in New Mexico and Oklahoma for allegedly laundering millions in drug profits through breeding and racing quarterhorses in the U.S. Those arrested included Jose Trevino Morales, the brother of Zetas leaders Miguel Angel and Oscar Omar Trevino Morales, who were also indicted but remain at large in Mexico.
As Mexican drug cartels and criminal gangs expand north, it is inevitable that "anti-American violence" will spread deeper and deeper into the U.S. itself.
The level of violence that we are seeing down in Mexico right now is absolutely frightening.  These drug cartels can beabsolutely brutal….
Fourteen dismembered bodies were found in a truck in the center of a town in northern Mexico on Thursday in what appeared to be the latest atrocity committed by rival gangs battling over drug-smuggling routes, local media said.


The bodies of 11 men and three women were discovered in the sugar-cane farming town of Ciudad Mante in the south of Tamaulipas state, which borders on Texas, daily Milenio reported on its website.
Overall, more than 55,000 people have been killed in drug-related violence in Mexico since 2006.
Is that the kind of violence we want in this country?
Already the region along the U.S./Mexico border is an open war zone.
Just across the U.S. border, the city of Juarez, Mexico is considered to be one of the most dangerous cities on the face of the earth.  In fact, Juarez is now the murder capital of the western hemisphere.
But instead of strengthening security along the border, Barack Obama wants to make the border meaningless.
#6 Massive Bribes Will Corrupt Our Judicial System
When there are billions of dollars involved, it is inevitable that some members of the police and some members of the judiciary will take bribes.
Just look at what has happened down in Mexico.  The following is from a recent article in the New York Times….
When you tally it all up, bribery may be the single largest line item on a cartel's balance sheet. In 2008, President Felipe Calderón's own drug czar, Noe Ramirez, was charged with accepting $450,000 each month. Presumably, such gargantuan bribes to senior officials cascade down, securing the allegiance of their subordinates. "You have to recruit the high commands, so they can issue the information to lower ranks and order whatever they want," the corrupt cop, Fierro Méndez, testified. But in key jurisdictions, the cartel most likely makes payments up and down the chain of command. In a 2010 speech, Genaro García Luna, Mexico's secretary of public security, speculated that together, the cartels spend more than a billion dollars each year just to bribe the municipal police.
What would you do if you were offered a bribe of $450,000 a month?
Don't assume that Americans are so much more "moral" than the Mexicans are.
#7 Gang Activity Will Continue To Grow In The United States By Leaps And Bounds
Gang activity is absolutely exploding inside the United States.
According to the FBI, there are now 1.4 million gang members involved in the 33,000 different gangs that are active inside the United States.
The number of gang members in America has increased by 40 percent since 2009.
Those stats should be very alarming to all of us.
What are we going to do if gangs keep growing at this rate?
According to federal statistics, gang members are responsible for up to 80 percent of all violent crimes committed in the United States every year.
A very large percentage of these gang members have entered the United States from Mexico, but the federal government refuses to do anything to stop it.
#8 The Decline Of Our Health Care System Will Continue To Accelerate
Illegal immigrants are overwhelming emergency rooms all over the country.  They walk in, receive high quality treatment and often never pay after they leave.
Things have gotten so bad in many areas of the nation that it is causing entire hospitals to go bankrupt and shut down.
In a previous article, I described what unchecked illegal immigration is doing to the health care system in California….
Thanks to illegal immigration, California's overstretched health care system is on the verge of collapse.  Dozens of California hospitals and emergency rooms have shut down over the last decade because they could not afford to stay open after being endlessly swamped by illegal immigrants who were simply not able to pay for the services that they were receiving.  As a result, the remainder of the health care system in the state of California is now beyond overloaded.  This had led to brutally long waits, diverted ambulances and even unnecessary patient deaths.  Sadly, the state of California now ranks dead last out of all 50 states in the number of emergency rooms per million people.
#9 Legalizing Illegal Immigrants Will Cause A Huge Shift In Voting Patterns
Instead of looking out for the American people, many Democrats support legalizing illegal immigration because it will give the Democratic Party more support at the polls.
This is incredibly selfish and self-serving, but this is the way that the political game is played in 2012.
#10 There Will Be A Flood Of New Illegal Immigrants
Amazingly, far more people move into the United States illegally than come in through the legal immigration process.
As word spreads of the "Obama amnesty", millions more will come on over.  After all, what would they have to lose?  If they get caught crossing over they will just get nicely sent back and can try again in a few days.
If they make it they can take advantage of all the free goodies here in the United States.  Thanks to Obama, the odds of deportation are now very slim.  And they can often make significantly more money in the "underground economy" in the U.S. than they can back home.
So what is the downside for illegal immigrants?
Where is the pain?
If you do get deported, you can always sneak back in.  Security along the U.S. border with Mexico is a total joke.
Sadly, many politicians on both sides of the border seem very pleased that the United States and Mexico are slowly but surely being integrated through illegal immigration.
In fact, one gets the impression that Barack Obama would be quite pleased if the border between the United States and Mexico were to disappear completely.
Politicians like Barack Obama don't seem to care about the catastrophic impact that illegal immigration is having on this country.  They are absolutely obsessed with their social and political agendas and they aren't going to allow a few inconvenient "details" to derail them.
Unfortunately, there is not much hope for significant change any time soon.  Mexico is already a "failed state" and we are freely allowing millions of their bad guys to pour into our country.
In the end, we will pay a very great price for our foolishness.
Source: The American Dream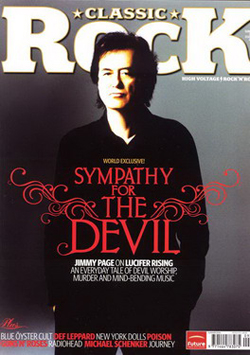 It was popularly believed in the 1930s that the legendary bluesman Robert Johnson, who inspired Muddy Waters, Bob Dylan, the Rolling Stones and Eric Clapton, sold his soul to the Devil in exchange for his musical gifts. It was believed Johnson had the 'Evil Eye' and was murdered because of his alleged power over women. He seduced the wife of a beer hall owner who in revenge laced the musician's whisky with arsenic. Many moralists saw his fate as a punishment for dealing with the powers of darkness.
Johnson is said to have sold his soul to Old Nick during a midnight ceremony at a crossroads. However, that story did not originate with him. In the 1920s and 1930s there are numerous tales of black musicians and gamblers signing a pact with a mysterious 'man in black' at the crossroads. Famous examples are the black singer Clara Smith and Robert Johnson's namesake Tommy Johnston, a decade before him. The dark stranger has been identified by some writers as either the Christian Devil or the West African trickster god Eshu, worshipped in voodoo and taken to the southern states of America by black slaves.
While there is little evidence of modern pop and rock musicians actually 'selling their souls' to the 'Devil', the link between popular music and the occult is a strong one. Christian fundamentalists have predictably seen the widespread use of magical and occult symbols in rock music as evidence it is the work of Satan, but the truth is far stranger than their religious fantasies.
Sometimes the alleged connections of famous rock musicians with occultism surfaced in apocryphal showbiz gossip or rumour. For example, everyone knows that ill-fated glam rock star Marc Bolan studied as a sorcerer's apprentice with a magician in a French chateau (in fact he actually admitted it), that the late pop diva Dusty Springfield allegedly belonged to a satanic group called the Temple of the Prince in Manchester, and that Jim Morrison of The Doors married a Wiccan high priestess (which was true).
Then there was the 1970s British musician Graham Bond, accused by his fellow R & B artist Long John Baldry of sacrificing his pet cat in a magical ritual. Bond told his groupies he was one of the illegitimate sons of the infamous 'black magician' Aleister Crowley, and that his musical output was designed to contact "higher forces." Bond also believed he had been cursed by a fellow occultist. When in 1974 the musician fell in front of a train on the London Underground in mysterious circumstances, many thought the curse had worked.
The Beatles & the Rolling Stones
The Beatles are well known for flirting with Eastern mysticism and transcendental meditation during their psychedelic hippy stage in the late 1960s. They may also have had darker interests. For instance, the Great Beast 666, Aleister Crowley, is featured (top left corner above) in the photomontage of "people we most admire" on the cover of the Fab Four's famous album Sergeant Pepper's Lonely Hearts Club Band.
Antiquarian bookseller and Crowley bibliographer Timothy D'Arch Smith relates how the Beatles attended an exhibition of rare books on witchcraft and the occult he held in Swinging London. Jane Asher, Paul McCartney's then girlfriend, had suggested the visit to him and, according to D'Arch Smith, encouraged him to buy rare books as an investment.
If the Beatles were mildly interested in the occult, then their main rivals for the pocket money and affection of teenage girls, the Rolling Stones, were definitely involved in a more dramatic way. Despite their respectable middle-class backgrounds, in the Sixties the Stones were deliberately promoted as the 'bad boys of pop'. It now seems this was a marketing ploy by their then manager Andrew Oldham, and is summed up in the famous newspaper headline, 'Would you let your daughter marry a Rolling Stone?' If the parents of Middle England had known about their dabbling in the occult, the answer may have been in the negative.
Lucifer Rising
The so-called 'satanic' influence on the Stones was through the avant-garde filmmaker, Luciferian and Tinseltown gossip-queen Kenneth Anger. He had become interested in the band's career and particularly in guitarist Brian Jones and his girlfriend Anita Pallenberg, a German film actress and model. Jones had some unusual interests, and both he and the pop singer Robert Palmer were fascinated by the master musicians of Joujouka in the Atlas Mountains of Morocco in North Africa. These musicians claimed to be still practising the ancient rites of the goat-footed god Pan. Jones went so far as to travel to North Africa to record an album of the tribal music performed by this pre-Islamic cult.
In an interview with Rolling Stone magazine Robert Palmer described how he had witnessed one of these rites to Pan. He said the dancing tribesmen appeared to be in an ecstatic trance with their eyes rolled back in their heads. Palmer said that when "the power came down" the dancer was suddenly "not there." In fact "something else" was looking out of his eyes, which began to "glow like ruby lasers" (Rolling Stone, 23 March 1989).
Kenneth Anger believed that Anita Pallenberg and Brian Jones, who was to drown in mysterious circumstances in the swimming pool of his Sussex mansion, were witches. Allegedly, Jones showed the filmmaker an extra nipple he had on his inner thigh and told him: "In another time they would have burned me [as a witch]." Extra nipples were regarded by witch-hunters as a sign of the Devil's Mark. A friend of Anita Pallenberg, Tony Sanchez, believed she kept her drug stash hidden in an old carved wooden chest in her flat. One day he looked inside. Instead of drugs he found it contained bones and pieces of fur and skin from "strange animals." Mick Jagger's one time girlfriend Marianne Faithfull described how she and Pallenberg used to sit for hours reading aloud passages from Robert Graves' book The White Goddess and studying the ancient Celtic tree alphabet.
In her autobiography Marianne Faithfull claims the gay Anger had a crush on the bisexual Stones' singer which was not reciprocated. When the filmmaker's sexual overtures were rejected he became a bit of a nuisance. One day he turned up at the couple's house in Cheyne Walk, Chelsea and bizarrely threw several books by the 18th century poet and mystic William Blake through the window. Jagger responded in disgust at this stunt by burning all the copies of the occult works that Anger had given him by Crowley and the French occultist Eliphas Levi.
Despite this, Marianne Faithfull got involved in Anger's experimental movie Lucifer Rising, allegedly financially sponsored by Anita Pallenberg, and with a score originally to be composed by Mick Jagger. Initially the Stones' singer was to play the leading role in the film, but he got cold feet and backed out of the project altogether. In the first version, made in 1967, the lead was taken by his brother Chris Jagger. Marianne Faithfull became involved in the second version filmed in 1972 and she agreed to take the part of the demon-goddess Lilith.
Faithfull described the baby-slaying Lilith as one of the classic female archetypes and compared her with pagan goddesses such as Diana, Astarte, Ishtar, Aphrodite and Demeter. However, she added: "From the view of patriarchy, of course, she was the pure incarnation of evil" (Faithfull by Marianne Faithfull with David Datton, 224). Interestingly, the part of the ancient Egyptian god Osiris in the film was played by Donald Cammell, son of Charles Cammell, a friend and biographer of Crowley. The younger Cammell made his own films including the controversial Performance in co-operation with Nic Roeg. It starred Mick Jagger, Anita Pallenberg and the archetypal English actor Edward Fox. Donald Cammell committed suicide in the 1990s.
The shooting of Lucifer Rising took place in Egypt and Faithfull claims that as soon as the crew and cast arrived in the country it was obvious Anger did not know what he was doing as either a film director or a magician. At that stage in her life Faithfull was seriously addicted to heroin and admits she did not know what she was doing on the set either. The whole thing was a recipe for disaster. The last sequence of the film was a winter solstice rite shot at a Neolithic site in Germany. During it, Faithfull managed to fall off a mountain. She somersaulted and landed on her feet without sustaining any injury. This convinced her that her magic was stronger than Anger's. In her autobiography she dismissed him as a "kitsch occultist" and "a witch out of a Hollywood tabloid."
Marianne Faithfull claims that both Mick Jagger and the Stones' lead guitarist Keith Richards were also sceptical about Anger's "satanic hocus-pocus" and did not take any of it seriously. However, after an incident involving the magician at the house in London now shared by Richards and Anita Pallenberg, Faithfull became seriously spooked out. As a result, she believed she was under psychic attack. Allegedly, she wore a clove of garlic around her neck and slept in a circle of lit candles for protection. Whether this paranoid behaviour was connected to her heroin addiction is not known.
One of Marianne Faithfull's tracks on her comeback album Broken English is called 'Witches Song'. She dedicates it as "my ode to the wild pagan woman I know and have always around me." Faithfull says she got the idea for the song after she and Mick Jagger visited an exhibition in Madrid of paintings on the theme of the Witches Sabbath by the Spanish artist Goya. Her autobiography also describes an incident when she and Jagger took LSD before visiting Primrose Hill in North London "where the ancient ley lines are supposed to run" and where modern neo-druids hold their seasonal ceremonies. Under the influence of the acid the couple saw "a great face in the sky" they were convinced was the head of the Celtic giant god Bran. This seems to fit with Faithfull's professed pagan beliefs. In her autobiography she says she believes not in God the Father, but in the Great Goddess and her consort Pan.
Jimmy Page & Aleister Crowley
In 1969 the satanic aura around the rock mega-group Led Zeppelin reached such a pitch that, in echoes of Robert Johnson, rumours circulated in the Los Angeles music scene that its members had signed a pact in their own blood with the Devil to gain fame.
James Patrick 'Jimmy' Page's well-known interest in the occult fuelled these rumours of the group's alleged satanic activities. Described by the magazine AllMusic as "one of the all-time most influential, important and versatile [rock] guitarist and songwriters," Page had been interested in alternative religions since childhood. While a member of the Yardbirds, he had hung out with Brian Jones and Anita Pallenberg at their studio flat in South Kensington. Page has never hidden his interest in Aleister Crowley, and Led Zeppelin's famous album Rune has a photograph of the Great Beast on its cover. In an interview with Sounds magazine in 1976 Page is quoted as saying that Crowley was "a misunderstood genius of the twentieth-century."
Jimmy Page purchased as many artefacts and first edition books belonging to Crowley that he could find. In 1969, Kenneth Anger rented Crowley's old (seriously haunted) house Boleskine on the shores of Loch Ness where he lived in the 1900s for a few months. When it came on the market for sale, Anger suggested to Page he should buy it. This he did and hired an occult artist called Charles Pace to paint suitable atmospheric magical murals in each room. The Led Zeppelin guitarist could be seen driving around the area like a Scottish laird in a Land Rover with a stack of stag's antlers on the bonnet. Page also visited Sicily and contemplated buying the old villa where Crowley established his 'Abbey of Thelema' in the 1920s.
In the early 1970s Page opened an occult bookshop in Kensington called The Equinox. It was done out in a futuristic style with glass bookshelves and display cabinets and chrome steel pillars. Under its auspices, Page published a facsimile of Crowley's 1904 edition of the medieval grimoire Goetia.
Kenneth Anger approached Jimmy Page and asked him to provide a soundtrack for his ongoing film project Lucifer Rising. Unfortunately, the two men fell out when Page only managed to produce 23 minutes of music and Anger wanted 28 minutes. The filmmaker accused Page of being a mere dabbler in the occult and a drug addict so out of his mind he could not finish the film score. However, in 1976 Page lent Anger the basement of his London house for film editing purposes. Again, the two men did not see eye to eye and Page allegedly cursed the filmmaker. Page later branded the incident as "silly and pathetic" and said he still respected Anger as an occultist.
There has been a lot of debate about whether Jimmy Page ever belonged to one of the modern versions of Crowley's magical group the OTO (Ordo Templis Orientis or Order of the Eastern Temple). In fact, the jury seems to be out on whether Page is an actual magical practitioner at all. In this respect New Musical Express journalist Nick Kent dismisses rumours the guitarist spends his time with "his head in a cowl ritually slaughtering various species of livestock." Kent instead says from his experience Page is "just another seeker after esoteric knowledge, a collector of dusty old books, and committed student of the 'magical' information that was supposedly contained in their yellowed pages."
Although Jimmy Page's interest in Crowley and the occult is well known, his Led Zeppelin colleague Robert Plant also has esoteric interests. These manifest in a study of folklore, Norse and Germanic mythology, and reading 'sword and sorcery' novels. Plant spent most of his life living on the Welsh Border and in an interview with the rock music magazine Kerrang! he said he often visited the Black Mountains in South Wales. There he rediscovered his roots in the local Celtic culture. Using an ordnance survey map, he wandered the hills visiting Bronze Age sites and places where the Welsh had battled with the Saxons.
David Bowie
Another famous rock star who openly admits an interest in the occult, magic and Crowley is David Bowie (born David Robert Jones). In the 1970s he says he studied the Kabbalah and "Crowleyism" and more recently became interested in Gnosticism. On a practical level the singer used Tarot cards and a crystal ball for divination, an ouija board to contact spirits, and performed magical rituals for exorcism and psychic protection. His early album Hunky-Dory features a song called 'Quicksand' that references both Crowley and the Victorian magical group Hermetic Order of the Golden Dawn.
According to David Bowie's wife Angie in her autobiography, her husband's interest in the occult was due to his desire to outdo Jimmy Page. Allegedly, he saw the Led Zeppelin guitarist as a magical rival. Bowie eventually decided, possibly because of Page's interest in him, that Crowley and his works were "small shit." For that reason he began studying Tibetan magic which he claimed was far more powerful than anything the Great Beast or Page had ever done.
In an interview with New Musical Express (February 1997) David Bowie admits he had been into "old fashioned magic" in the 1970s, and said he always believed Crowley was a charlatan. He reveals that Arthur Edward Waite, a member of the Order of the Golden Dawn, and the Welsh-born occultist Dion Fortune, author of Psychic Self-Defence, have been important to him. In fact, Bowie used Fortune's book extensively when he believed he was under psychic attack. Talking of a house he rented in Los Angeles in 1975, Bowie said he decorated it with ancient Egyptian artefacts. This was because, "I had this more than passing interest in Egyptian mysticism and the Kabbalah…" (Stage Fascination: David Bowie the Definite Story by David Buckley, 235).
Angie Bowie says the musician was heavily involved with occult activities in 1975-76. This coincides with a period when he used cocaine and she believed this made him paranoid. Apparently, Bowie stored bottles of his own urine in the fridge and carefully disposed of his nail and hair clippings. This was in case magical practitioners obtained these personal items in order to cast spells on him. He also set up an altar in his sitting room with black candles on it, painted occult symbols on the walls, and performed magical banishing rituals for protection. Angie Bowie once witnessed him exorcise a swimming pool he believed was haunted.
When the couple were viewing properties to rent or buy in Hollywood they came across an old house with a pentagram of five-pointed star painted on the floor. Bowie freaked out and said he could not live there as the building had been used for black magic rites. One day he phoned his wife and told her witches were trying to steal his semen. Allegedly they wanted to create a test-tube baby and then sacrifice it in a satanic rite. It turned out the 'witches' were just some innocent groupies he met in a bar.
At this difficult point in his life Bowie also flirted with neo-Nazism. He explained in an interview with the British rock music journalist Tony Parsons in 1993 that this was only because he was fascinated by the use of occult symbols like the swastika by the original Nazi Party in Germany. He was interested in their quest for the Holy Grail because he was also searching for its meaning (Stage Fascination: David Bowie the Definite Story by David Buckley, 235-236). Bowie once said that it might be a good idea to have a fascist dictatorship in Britain, although he later denied he was serious and claimed it was a joke.
Black Sabbath & Heavy Metal
Partly as a reaction to the hippy 'flower power' and 'peace and love' movement of the late Sixties, heavy metal bands began to appear using violent satanic imagery and playing loud over-amplified rock music. Groups such as Warlock, Saxon, Venom, Motley Crue, W.A.S.P., Slayer, Iron Maiden, Incubus and Bathory put out albums with covers decorated with human skulls, pentagrams, hooded figures, gravestones, goat-headed demons and vampires. One of the most famous and pioneering heavy metal bands Black Sabbath came out of Birmingham in the industrial Midlands of England in 1969. They combined heavy guitar riffs with satanic inspired lyrics and an obsession with the gothic dark side that soon gave them a dedicated, if rather odd, fan base.
The band's distinctive name was taken from an old horror movie starring English actor Boris Karloff, famous for his movie interpretation of Dr. Frankenstien's monster. Originally, Black Sabbath started out as a jazz-blues band until they became influenced by the 'black magic' novels of the thriller writer Dennis Wheatley and books by Aleister Crowley. Their leader 'Geezer' Butler was lent a 16th century grimoire or book of magic. Its contents so freaked him out that he locked it in a cupboard before going to bed. During the night he had a spectral visitation from a dark shadowy figure who stood at the end of his bed. In the morning when Butler opened the cupboard the grimoire had vanished and it was never seen again.
Butler claims the band was invited to play a gig at a Witches Sabbath at Stonehenge, which sounds like something out of a Dennis Wheatley novel. When the boys refused the chief "warlock" of the coven ritually cursed the band. Geezer says he consulted a "white witch" to get the curse lifted and was told the band had to wear crosses to ward off the evil forces directed at them. Apparently, lead singer Ozzy Osbourne's father, who was a bit of a handyman, made the crosses for each of the band members to wear.
Ozzy Osbourne always denies he was seriously into the occult, although he did have his Tarot cards read – twice. Famously he said the only evil spirits that interest him are whisky, gin and vodka! He describes the strange people attracted to the band, who habitually wear white face make-up and black hooded robes, as "freaks." Ozzy says the only good thing about all the satanic stuff is it gave the band free publicity increasing their record sales and bank accounts.
Some of the heavy metal bands took their interest in witchcraft and magic more seriously. One of these, for a while, was Black Widow who played a mixture of progressive rock and folk music and used demonic imagery in their act based on serious research. In 1968 the group's manager approached Maxine and Alex Sanders, the so-called 'King and Queen of the Witches'. He wanted to know if the couple could recommend a nubile young witch with dancing skills to take part in their new stage act. This featured a magician played by one of the band's members conjuring up a demon who was once an ancient goddess called Ashtaroth.
Several professional dancers auditioned for the part of the demon-goddess. Each one suffered fainting fits during rehearsals and felt they were being possessed by an evil spirit. In desperation the band wanted to hire a real witch who would not be fazed by the magical goings-on. Black Widow's manager said the Sanders were happy to help and he described them as "clever business people" only interested in making money in any way they could.
A member of the Sanders' coven volunteered for the role and the rehearsals were successful. Unfortunately, on the day of the first performance at the Lyceum Theatre in London, she fell ill. Alex Sanders volunteered his wife and the high priestess of the coven Maxine as a suitable stand-in. When the lead singer of Black Widow playing the sorcerer invoked the demon-goddess and accidentally stepped out of the protective magical circle, she was supposed to attack him. In her autobiography Maxine Sanders says the singer complained afterwards about the bruises he suffered from the physical assault by the 'Queen of the Witches'.
Danny Carey
Another more contemporary band called Tool and its lead singer Danny Carey are well known for their interest in all things magical. Carey collects rare limited edition publications by such modern occult practitioners as Crowley, Kenneth Grant, Austin Osman Spare and Andrew D. Chumbley. During their recordings of albums, Tool use magical banishing rituals to get rid of unwelcome influences left in the studio by previous performers. They have also been known to employ talismans and occult sigils used by the Elizabethan magician and astrologer Dr. John Dee in their gigs. During a South American tour, local Christian workers refused to handle the band's equipment because it was "satanic."
The 1990s saw a sinister link established between rock music and Satanism with the rise of the so-called 'black metal' or 'death metal' groups. These new bands were committed to an anti-Christian philosophy of anarchism, nihilism, violence and an obsession with death that made Black Sabbath stage appearances look like a vicar's tea party. Possibly the most dramatic and violent manifestation of this new trend was in Scandinavia. A new cultural trend united satanic beliefs with atavistic forms of neo-paganism and extreme nationalist right-wing politics promoting racism and white supremacy. This deadly combination was to lead to arson and murder.
In 1992 an ancient wooden stave church was burnt down in a firebomb attack. Rumours began circulating that hard-core black metal fans were responsible for the outrage. It was alleged they were pagan Viking revivalists who expressed neo-Nazi views. Further church burnings and graveyard desecrations took place followed by murders involving rival groups of black metal fans and biker gangs. Media reports said that self-styled teenage satanists saw neo-Nazism and rock music as cultural stepping stones to a revival of Aryan-based paganism. Because the historic Christian churches were built on the site of pagan temples, they had to be destroyed before the heathen 'old religion' could be established again.
Today the number of rock bands using satanic and occult imagery is increasing. The new 'high priest' of the Church of Satan in the USA, Boyd Rice, is himself a musician. Critics have dubbed his musical output as "sonic terrorism as an art form." Strangely enough, his satanic master, Anton LaVey, who found the Church of Satan in the 1960s, preferred Gershwin and Cole Porter with his bedtime cocoa.
It seems certain that in the future wherever and however rock music is played, there will always be those who claim, quite literally, the Devil has the best tunes.
Bibliography
Heavy Metal Thunder by Neil Aldis and James Sherry, Mitchell Beazley, 2006
Backstage Passes: Life on the Wild Side with David Bowie by Angie Bowie and Patrick Carr, Orion, 1993
Stage Fascination: David Bowie the Definite Story by David Buckley, Virgin Books, 1999
Robert Plant: Led Zeppelin, Jimmy Page & the Solo Years by Neil Daniels, Independent Music Press, 2008
The Lives of John Lennon and the Beatles by Hunter Davies, McGraw Hill Books USA, 1985
Hammer of the Gods: Led Zeppelin Unauthorised by Stephen Davies, Pan Books, 1995
The Book of the Beast by Timothy D'Arch-Smith, Mandrake Press 2010
Faithfull by Marianne Faithfull with David Datton, Michael Joseph, 1994
No One Gets Out of Here Alive: Jim Morrison and the Doors by Danny Hopkins and Sugarman, Warner Books USA, 1980
Apathy for the Devil: A 1970's Memoir by Nick Kent, Faber and Faber Limited, 2010
I Am Ozzy by Ozzie Osbourne with Chris Agnes, Sphere, 2009
Firechild: The Life and Magic of Maxine Sanders 'Witch Queen' by Maxine Sanders, Mandrake Press, 2008
Bowie: Loving the Alien by Christopher Sandford, Little, Brown and Company, 1996
When Giants Walked the Earth: A Biography of Led Zeppelin by Mick Wall, Orion Books, 2008
Led Zeppelin: From Early Days to Page and Plant by Ritchie Yorke, Virgin Books, 1999.
MICHAEL HOWARD became interested in the connections between rock music and the occult while working for a major record company in London in the 1970s. He is the author ofSecret Societies (Destiny Books, 2009) and Modern Wicca: from Gerald Gardner to the Present (Llewellyn, USA 2010). He can be contacted by email at mike@the-cauldron.fsnet.co.uk.
Source: New Dawn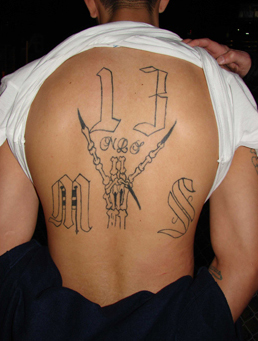 A vast army of heavily armed criminals has embedded itself in every major city in the United States.  In fact, nearly every community in America is now affected by these thugs.  Drugs, theft and brutal violence are all part of the every day lifestyle of the members of this army.  They aggressively recruit our young people and floods of illegal immigrants are joining their ranks.  Once civil unrest erupts in America, they will go on a crime spree that will be absolutely unprecedented and they will burn large areas of some U.S. cities to the ground.  So who am I talking about?  I am talking about the rapidly growing gangs that are terrorizing cities all over the nation.  The FBI tells us that there are now 1.4 million gang members involved in the 33,000 different gangs that are active inside the United States.  The number of gang members in the U.S. has increased by 40 percent since 2009.  Just think about that.  That is absolutely astounding.  Just since 2009, the number of gang members has increased by 40 percent.  The FBI says that 48 percent of all violent crime in this country can be directly traced to gangs and that this is a national crisis that is progressively getting worse.  Unfortunately, the federal government refuses to secure our borders and is allowing new waves of illegal immigrants to enter the United States every single day.  A substantial number of those illegal immigrants end up involved in these gangs.  Yet the federal government just stands by and allows it to keep happening.  One day, the foolishness of this policy will be evident to all.
In many areas of America today, families live behind windows that have bars on them and they won't ever go out at night because it is just too dangerous.  There are some communities that have pretty much been entirely taken over by the gangs, but instead of addressing the problem the federal government continues to spend a massive amount of resources checking out what might be in our underwear at U.S. airports.
Meanwhile, criminal gangs are thriving.  They are becoming incredibly powerful and increasingly sophisticated.  The following is from an FBI press release….
Gangs are increasingly engaging in non-traditional gang-related crime such as alien smuggling, human trafficking, and prostitution. Gangs are also engaging in white-collar crime such as counterfeiting, identity theft, and mortgage fraud.
You can find much more background information about gang activity in the United States from the FBI right here.
You have probably heard of some of the largest of these gangs.
For example, the 18th Street Gang is the largest gang in the state of California.  It is said that they have 15,000 members in California alone, and that on average they are responsible for at least one major crime in Los Angeles County every single day.
It has been reported that police in Los Angeles are extremely hesitant to ever venture into the areas most heavily controlled by the 18th Street gang.  They are absolutely brutal and they do not back down to anyone.  The following is whatWikipedia has to say about the 18th Street Gang….
A US Justice Department report from 2009 estimates that the 18th Street gang has a membership of some 30,000 to 50,000 with 80% of them being illegal aliens from Mexico and Central America and is active in 44 cities in 20 states. Its main source of income is street-level distribution of cocaine and marijuana and, to a lesser extent, heroin and methamphetamine. Gang members also commit assault, auto theft, carjacking, drive-by shootings, extortion, homicide, identification fraud, and robbery.
Another very prominent gang that you may have heard of is the Latin Kings.  It is reported that they have 18,000 members in the city of Chicago alone.  They are believed to be the largest Hispanic gang in the entire nation.
One of the gangs that has law enforcement authorities the most concerned is MS-13.  There are chapters of MS-13 in 42 states now, and if you cross a member of MS-13 there is a good chance that you will lose a limb or be hacked to death with a machete.
This tough economic environment has made it even easier for these gangs to recruit new members.  Today, there are way too many young people sitting around with nothing to do.
Back in the year 2000, more than 50 percent of all Americans teens had a job.  This past summer, only 29.6% of all American teens had a job.
When you have lots of teens and young adults sitting around with nothing but time on their hands, bad things are prone to happen.
As the family unit continues to decline in America, young people are looking for a sense of belonging.  For many youths, a gang becomes a new "family" for them.
But unfortunately, these new "families" do not exactly teach "family values".  Instead, they teach our young people about how to be brutal and violent.
And we are seeing evidence of this out on the streets every single day.  For example, a group of 6 young thugs recently attacked a 64-year-old Vietnam veteran in Philadelphia and beat him up so badly that he almost died….
Kate Schaefer, the victim's wife, told Eyewitness News, 'They just smashed every bone in his face. I can't tell you the words. I guess I was just happy that he was alive.'
During 2011, we saw a large increase in "group crime" behavior.  Some of the incidents have been absolutely horrific.  For example, the following is how one local ABC News affiliate described the "flash mob" attacks that took place at the Wisconsin state fair earlier this year….
Milwaukee police said that around 11:10 p.m., squads were sent to the area for reports of battery, fighting and property damage being caused by an unruly crowd of "hundreds" of people. One officer described it as a "mob beating."

Police said the group of young people attacked fair goers who were leaving the fair grounds. Police said that some victims were attacked while walking. They said others were pulled out of cars and off of motorcycles before being beaten.
Can you imagine taking your kids to the state fair and having them witness that?
But this is just the beginning.
These gangs are becoming very organized and they are becoming very heavily armed.
The FBI says that rifles, machine guns, grenades and even artillery rounds are being found in the possession of gangs more frequently than ever.
Some examples of this were recently posted on military.com.  These gangs seem to have a particular affection for AK-47s….
In late July, 27 AK-47s were stolen from a Fort Irwin warehouse, officials said. Those close to the case, who would speak only under the condition of anonymity because they were not authorized to discuss the subject, said investigators believe gang members were involved in the theft.
Sadly, that same article noted that members of the U.S. military have even been arrested for trying to sell weapons to these gangs….
In November 2010, three former Marines were arrested in Los Angeles for selling assault weapons to members of the violent street gang, Florencia 13, according to the NGIC report. That same month, a Navy Seal from San Diego and two others were arrested in Colorado for smuggling about 18 military-issued machine guns from Iraq and Afghanistan to be sold and shipped to buyers in Mexico.
Those that want to steal guns are becoming increasingly bold.  For example, 21 machine guns were stolen a while back right out of an LAPD training facility.
Down in Miami, thieves have become so bold that they have actually beenbreaking into parked police cruisers and stealing guns and ammo out of them.
When people are stealing guns directly from the police, that is a sign that it is very late in the game.
Our politicians spend so much time talking about the violence in Afghanistan and Iraq, but the truth is that the area right along the U.S./Mexico border is far more dangerous.
Just check out the following information from CNSNews.com….
According to the Mexican government, from January through September 2011 2,276 deaths were recorded in the Mexican state of Chihuahua, which borders Texas and New Mexico.

A Nov. 2011 Congressional Research Service (CRS) reportstates that over nearly the same period – January through October 2011 – 2,177 civilians were killed in Afghanistan, where a U.S.-led war against the Taliban is underway. It did not provide a breakdown of responsibility for that period, but said that in 2010, 75 percent of civilian deaths were attributed to the Taliban and other "anti-government elements."

Per capita, a person was at least nine times more likely to be murdered in Chihuahua last year than in Afghanistan.
Many of the areas along our border with Mexico are open war zones.
But do we hear about this much in the mainstream media?
Of course not.
Just across the U.S. border lies the city of Juarez, Mexico.  Juarez is considered to be one of the most dangerous cities on the entire planet because of the brutal drug war being waged there. In fact, Juarez is the murder capital of the western hemisphere.
But most Americans have never even heard of Juarez.
Complete and total chaos reigns in vast areas of northern Mexico, and yet most Americans don't even realize that there is a problem.
Overall, more than 35,000 people have been killed since the Mexican government declared war on the drug cartels back in 2006.
You would think that would warrant some significant news coverage.
But no, the mainstream media can't talk much about that because then the people might actually start demanding that we secure our borders.
Amazingly, instead of securing our borders the Obama administration has been busy sending guns down to the drug cartels in Mexico.
That is what this whole "Fast and Furious" scandal is all about.  As I have written about previously, ATF agents purposely allowed thousands of guns to be sold to individuals that they believed would get them into the hands of Mexican drug cartels.
But so far, nobody in the Obama administration has been held accountable for this.
During 2009 and 2010, 70 percent of the 30,000 guns that were recovered by authorities in Mexico were determined to have come from inside the United States.
That is a major problem.
These Mexican drug cartels and the gangs that work with them have become very heavily armed and they have become very bold.
It has been reported that Mexican drug cartels are now openly conducting military operations inside the United States. Scouts for the cartels maintain strategic lookout bases in the hills of southern Arizona, and the federal government has even put up signs that warn tourists to say out of certain areas.  The cartels very much try to avoid any confrontations with our border patrol or with our local police, but once they are approached they are not afraid to open fire.
One very frustrated border patrol agent told Fox News the following about what is going on in his area….
"To say that this area is out of control is an understatement."
So how in the world can the federal government allow this to go on?
Well, a big part of it is that Barack Obama does not want to do anything that could scare away his Hispanic voters.
In fact, he is doing just about everything that he can to portray himself as "Hispanic-friendly".
A few months ago, I wrote about how the Obama administration has announced that there will now be a case-by-case review of all deportation cases involving illegal immigrants.  Those involving "criminals" will be prioritized and almost all the rest will be thrown out.
Yes, you read that correctly.
If you are an illegal immigrant and you have not been convicted of a crime that means that you almost certainly get to stay in this country.
So that is basically a big green light for even larger waves of illegal immigrants to enter this country.
That means that the ranks of the gangs will swell even more.
The chaotic drug war that is going on in northern Mexico has spread into many areas of Texas, New Mexico, Arizona and California.  With each passing day, the gangs that are embedded in all of our major cities are getting stronger.  They are a ticking time bomb that eventually will go off.
One day, when mass civil unrest erupts in the United States, the gangs will have a field day.  Given the opportunity, most gangs will gleefully indulge in brutal violence, looting, arson, rape and mindless property destruction.
Sadly, this all could have been avoided.
Instead of strip-searching old women at airports, this is what we should have been dedicating our law enforcement resources to.
Instead of spending billions of dollars spying on the American people, the federal government should have spent billions of dollars on securing our borders.
Unfortunately, we made the wrong choices as a nation and so now we are going to pay the price.
Source: The American Dream