Yesterday marked the 41st anniversary of the infamous US Supreme Court Roe v. Wade decision, which, in effect, legalized abortion-on-demand nationwide. The aftermath of this tragic ruling is the deaths of over 55 million innocent unborn babies. It is no hyperbole to say abortion-on-demand is America's national holocaust. Think about it, every American citizen today, 41 years old or younger, has never known a country that respected and protected innocent human life in the womb.
Consider this, too: when Hitler's Third Reich was at its zenith, the abortion rate in Germany was 40%. Guess what? The abortion rate in America today is right at 40%. In fact, statistically speaking, the most dangerous place to be in America is not in an automobile without wearing a seat belt, or on a commercial airliner with a potential terrorist on board, but in the womb of one's mother.
Dr. Bernard Nathanson once headed America's largest abortion clinic in New York City. He admitted superintending over the killing of 75,000 unborn babies. He later recanted his pro-abortion activity and wrote what may be the quintessential book defending an unborn child's right to life, "Aborting America." Dr. Nathanson said, "There is no longer serious doubt in my mind that human life exists within the womb from the very onset of pregnancy."
Dr. Mildred Jefferson was a surgeon at Boston University Medical Center, a diplomate of the American Board of Surgery with many honors and awards. She said, "Many people try to hide behind the confusion of not knowing what happens before a baby is born. But we do not have to be confused. We in medicine and science have a different name for every stage of the development of the baby, but it does not matter at all whether you know those names or not. When a young woman has not had much opportunity to go to school and she becomes pregnant, no one has to tell her that she is going to have a baby.
"I became a doctor in the tradition that is represented in the Bible of looking upon medicine as a high calling. I will not stand aside and have this great profession of mine, of the doctor, give up the designation of healer to become that of the social executioner. The Supreme Court Justices only had to hand down an order. Social workers only have to make arrangements, but it has been given to my profession to destroy the life of the innocent and the helpless.
"Today it is the unborn child; tomorrow it is likely to be the elderly or those who are incurably ill. Who knows but that a little later it may be anyone who has political or moral views that do not fit into the distorted new order? To that question, 'Am I my brother's keeper?' I answer 'Yes.' It is everyone's responsibility to safeguard and preserve life. A child is a member of the human family and deserves care and concern."
How many physicians, scientists, teachers, artists, musicians, pastors, missionaries, statesmen, musicians, businessmen, tradesmen, engineers, and notable contributors to society have been murdered in the womb since abortion-on-demand was legalized in this country? Millions, I'm sure.
At this point, I can hear someone interrupting, "What about cases involving rape or incest?"
While these cases number less than 1% of pregnancies, consider this case history: a 12-year-old girl was raped and became pregnant. "Get an abortion," you say? Congratulations! You just killed Ethel Waters. The manner in which a baby was conceived in no way diminishes the human worth of the baby. Since when do we kill children for the sins of one parent?
And as Dr. Jefferson said, just where does the acceptance of abortion lead? Does anyone remember Baby Doe in Bloomington, Indiana?
A little baby was born April 9, 1982, with Down's syndrome in a Bloomington, Indiana, hospital. The parents refused to allow a doctor to correct a defect in the esophagus that prevented eating, because the child was born with Down's. The Indiana Supreme Court upheld the parents' right to make this decision. When news of this atrocity got out, adoption offers came in from all over America. Several members of the medical staff who were aghast that such a thing could happen in their hospital resigned over the incident. An appeal was quickly started, but Baby Doe died of starvation on April 15, 1982. There is no doubt that this case, and many others similar to it, are directly related to the Roe v Wade decision that, in effect, makes babies nothing more than the property of the state with no human rights ascribed to them.
Add to this blatant disrespect for human life the new socialized, mandated government-run health care system now in effect–complete with cost-related rationing of medical treatments–and one can only imagine how the value of human life will continue to decline in this country. We are already hearing multiple reports of people who are not able to have surgical procedures because of all of the government red-tape and the uncertainty of physicians and hospitals as to whether the government will authorize payment.
I suggest that everyone start taking care of themselves and trying to stay healthy, because, under Obamacare, illness could become a death sentence–not because of the illness, but because of the lack of proper medical treatment due to the rationing of health care by government-imposed financial stipulations.
Plus, if you want to do some personal research that will really send chills up your spine, start investigating the fact that many scientists and researchers are seriously discussing genetic manipulation and genetic engineering. Our own government and military are already culpable in grotesque medical experimentation on both civilian and military personnel.
Our own Central Intelligence Agency (CIA) has admitted to using military personnel as human guinea pigs for medical, biological, and mental experimentation under various programs associated with the now-infamous title, MK-ULTRA. CIA officials say the programs have all been scrapped. Don't you believe it.
In addition, consider the testimony of Dr. Carolyn Gerster, a physician specializing in internal medicine and cardiopulmonary diseases. She obtained her medical degree from the University Of Oregon Medical School in Portland.
Dr. Gerster told Phyllis Schlafly's Eagle Forum, "I was asked to become a member of the American College of Physicians many years ago. It's an honorary society of internal medicine. I was very proud right up until the day that the society gave the James D. Bruce Award for Medical Research to Dr. Saul Krugman for the following experiment. Dr. Krugman had taken living hepatitis virus MS2 and injected this living virus into 25 retarded children in Willowbrook Home for the Retarded in upstate New York. This was defended on the basis that they would probably get the hepatitis virus anyway."
Consider, too, that contrary to what most people assume, the vast majority of physicians graduating from medical school today no longer take a Hippocratic-type oath–an oath that binds physicians to the following: "I will prescribe regimens for the good of my patients according to my ability and my judgment and never do harm to anyone. I will not give a lethal drug to anyone if I am asked, nor will I advise such a plan; and similarly I will not give a woman a pessary [medical device] to cause an abortion."
As Schaeffer and Koop pointed out in their book, "Whatever Happened to the Human Race?" "The Declaration of Geneva (adopted in September 1948 by the General Assembly of the World Medical Organization and modeled closely on the Hippocratic Oath) became used as the graduation oath by more and more medical schools. It includes: 'I will maintain the utmost respect for human life from the time of conception.' This concept of the preservation of human life has been the basis of the medical profession and society in general. It is significant that when the University of Pittsburgh changed from the Hippocratic Oath to the Declaration of Geneva in 1971, the students deleted 'from the time of conception' from the clause."
Today, the ageless principles that had guided the medical profession throughout Western Civilization have been expunged from a majority of our physicians' training and practice. And the Roe Supreme Court decision had much to do with it.
What is especially irritating about the whole abortion debate is the way the subject has been used as a political football by those on both the right and the left of the political aisle. While the national Democratic Party proudly touts itself as being "pro-choice," it has been the so-called "pro-life" Republican Party that is mostly to blame for legalized abortion being left as the law of the land for over four decades.
Think of it: the GOP has dominated US Supreme Court appointments for the 41 years since the Roe decision. In fact, the 1973 court that released the Roe decision was a Republican-appointed court by a 6-3 margin. The same GOP-dominated court also rendered the Doe v. Bolton Supreme Court decision reaffirming Roe.
Consider still: the "pro-life" Republican Party controlled the entire federal government from the election of 2000 to the election of 2006: six long years of GOP domination of both houses of Congress, the White House, and the US Supreme Court. And in all of that time, not one single unborn baby's life was saved. Not one!
And, yet, each year, former Congressman Ron Paul (R-TX) would introduce the Sanctity of Life Act. And each year, the bill would sit in the document room of the Capitol Building and gather dust. What would Rep. Paul's bill have done? (1) It would have defined unborn babies as persons under the law. (2) Under the authority of Article. III. Section. 2. of the US Constitution, it would have removed abortion from the jurisdiction of the court. Had the "pro-life" Republican congress passed Dr. Paul's bill, and the "pro-life" President, G. W. Bush, signed it into law, Roe v. Wade would have been effectively overturned.
So, why didn't President Bush trumpet the bill? Where was the Republican leader in the Senate? Where was the Republican Speaker of the House? Where was Orrin Hatch? Where was John McCain? Where was Lindsey Graham? Where was the National Right to Life Committee? Where were the tens of thousands of "pro-life" pastors and Christians?
Not only that: these same "pro-life" pastors, church members, and conservatives refused to support Congressman Ron Paul for President in 2008, and again in 2012, because he was not "conservative" enough. Actually, they opposed him because he opposed the war in Iraq, which means they would rather support a politician who promotes taking America into unconstitutional wars–and who will do nothing to overturn Roe v Wade and save the lives of unborn babies–than support a man who insisted that the Constitution be followed, and actually had a constitutional plan to overturn Roe v Wade and end abortion-on-demand as a national "right." No wonder Jesus noted that unbelievers often have it over believers in the brains department. (See Luke 16:8.)
I remind you that securing life and liberty is the primary purpose of government (read the Declaration of Independence). Should it surprise us that the same government that feels no responsibility to protect the lives of innocent unborn children would feel any responsibility to protect our liberties? No wonder this government seems hell-bent on destroying our personal liberties: the wanton slaughter of 55 million unborn babies has seared its conscience.
Worse yet is the manner in which our pastors and churches seem completely unsympathetic to the silent screams of the slaughtered unborn. How many pastors will even mention Roe v Wade in their pulpits this week? Most Christians will go through this week and never even give a second thought to the plight of the millions of unborn babies being legally murdered in this country. And, furthermore, their conscience will certainly not be pricked by anything they hear from the pastors in their pulpits this week–or any other week, for that matter.
Legalized abortion is a national holocaust; an affront to our national character; a contradiction of established principles subscribed to from the beginning of Western Civilization; an insult to the principles of our Declaration of Independence; a bane of our national spirit; and a stench in the nostrils of Almighty God. That we have allowed it to continue for 41 years now stands as an indictment against this generation of Americans (especially America's Christians) and bodes ominously for the well-being of our posterity.
There is a certain level of dishonesty in the common study of history. We look back at the tyrannies of the past, the monstrous governments, the devastating wars and the unimaginable crimes, and we wonder how it could have been possible. How could the people of that particular generation let such atrocities come to pass? Why didn't they do something? Why didn't they protest? Why didn't they fight back?
We wonder all of this as we absorb the lists of dates, names and actions in books written by other men who memorized other lists of dates, names and actions. We are taught to study and wonder without ever actually applying the lessons of the past to the developments of today. We are conditioned to assert our own narrow spin on yesterday, instead of placing ourselves in the shoes of our ancestors or recognizing that their struggles remain our struggles. The modern method of viewing history detaches us from it, making it seem distant, alien or surreal.
Perhaps many societies fail to prepare or act in the face of tyranny because they had forgotten their own histories, making the demise of their culture appear so schizophrenic they would not believe what their eyes were telling them.
Often, the only way to grasp the more complete truth of the present is to examine it through the lens of the absurd. Sadly, our Nation, our culture and most of the world around us have become so backward, ugly, feeble and twisted that the only adequate comparison is to the nightmares of surrealists.
When I examine recent U.S. legislation, the exposure of classified documents, and the openly admitted criminality of political leadership, I am consistently reminded of Franz Kafka's The Trial.
Kafka was a self-styled socialist back in the days when socialism was thought to be the next revolutionary movement for the downtrodden masses. It was, of course, controlled opposition created by global elitists attempting to exploit the natural rebellious tendencies of the general public within a false paradigm — using the masses to achieve greater power for a select few, while making the people think that they had won. It is ironic that Kafka would write The Trial, one of the greatest condemnations of totalitarian surveillance society, while at the same time supporting the socialist political vehicle that would eventually be used to implement unrelenting bureaucratic despotism.
The Trial is commonly labeled a "surrealist" piece of fiction, but I wonder now if it was actually far more literal than the academics of the past actually gave it credit for. The problem is that most of America, and much of the Western world, has forgotten what it is like to experience true danger and true suffering. We read about it now and watch movies about it like it's entertainment, but few people have the slightest inkling how to deal with the real thing. We don't even know how to recognize it. Because of this, Americans tend to pay more attention to fictional representations of tyranny rather than legitimate tyranny taking place right under their noses.
With that sad fact in mind, watch this clip from Orson Welles' cinematic version of The Trial. See if you recognize your own world in this work of "fantasy":
The main character of The Trial, Josef K., finds his apartment invaded by police in the early hours of the morning. Josef responds with anger but also fear, attempting to defend his character without actually understanding the nature of the police visit. The police answer his questions with more accusatory questions, only later warning him that he is being watched and that he is under arrest. The police do not, however, take him immediately into custody; nor do they ever tell him what his crime was. It is implied, in fact, that Josef is not allowed to know what he is being charged with.
This episode in The Trial has been played out in the real world over and over again, from the Soviet Cheka, to Adolf Hitler's SS and Brownshirts, to Benito Mussolini's Organization for Vigilance and Repression of Anti-Fascism (OVRA), to the German Stasi, to Mao Zedong's Central Security Bureau, etc. In the United States, the culture of surveillance and intrusion has (for now) taken a more subtle approach through the use of technology. We do not yet have agents physically rummaging through all our homes and asking for our papers (though we are not far away from this). Rather, we have the National Security Agency, which rummages through our electronic communications while using our own computer cameras and cellphones to watch us, listen to us and track us. All of this, mind you, is done on a massive scale without warrant.
We have the Authorization for Use of Military Force and the National Defense Authorization Act, which give the President the centralized authority to detain and even kill those Americans designated as "enemy combatants" without trial, without due process and without public oversight.
Our government now uses secret evidence to charge citizens with crimes they are not allowed to discuss with the public on the argument that to do so would "threaten national security."That's right; the government can arrest you or assassinate you based on evidence they never have to disclose to you, your family, your lawyer or the citizenry.
In the U.S. today, the kind of establishment terror Kafka imagined is indeed a reality. We are not on the verge of a total surveillance state, we are there. It exists. And if we do not accept that this is our social condition, there may be no historians tomorrow to look back on our era and wonder: "Why didn't they do something? Why didn't they fight back?"
The revelations brought by Edward Snowden on the NSA and its PRISM mass surveillance program are still only partially understood by the public. Even many self-proclaimed "cypherpunks" and "techno-warriors" don't really grasp the pervasiveness of the all-seeing NSA eye. Recent documents leaked to German news source Der Spiegel by Snowden reveal an Internet almost completely dominated by the NSA, where even total encryption would be a mere temporary stopgap, according to tech researcher and journalist Jacob Appelbaum. The TAO group, sanctioned by the NSA, has been using technologies for years that startle even the most avid tech experts. To make matters worse, many of the intrusive mechanisms have been implemented — likely with the direct aid of American software and computer companies.
With NSA access to the backbone or core of the Internet, there is no digital privacy anywhere. The cypherpunks lost the war for the Web a long time ago, and they don't seem to know it yet.
Beyond the undeniable prevalence of government surveillance, what would our American Kafkaesque experience be like without kangaroo courts designed to defend the criminal establishment instead of the victimized population? The latest Federal court decision on the NSA's methods is that they are perfectly legal and "necessary" to protect Americans from national security threats. If you are a student of Constitutional law, this decision truly boggles the mind.
One of the most powerful incidents in The Trial is Josef's speech to his court of accusers. In this moment, Josef argues with concrete logic and impassioned reason. His position is supported with beautifully crafted merit and truth. But what he does not realize is that the court he is trying to convince does not exist to discover the truth. The court is a sideshow, a piece of elaborate theater. The participants are there to make Josef, and the society at large, feel as though justice has been given a fair chance. Josef's pleas are met with fake cheers, scripted jeers and even engineered distractions. Finally, he comes to understand that the system's purpose is to destroy him. Everything else is an illusion.
The Web cannot be made free or private from within; our courts cannot be made fair and just from within; neither political party can be forced to represent the common man from within; and our government cannot be made honest or transparent from within. To play games of activism within establishment dominated systems is to play make-believe within a surrealist nightmare; a piece of "Alice in Wonderland" political quackery. Like the audience at Josef's trial, the elites simply laugh at such activists, or feign applause, while continuing forever with the same corruption and the criminal status quo.
America has long presented itself as the ultimate alternative to the torturous mechanisms of oligarchs; and a long time ago, it was certainly a noble effort. However, our heritage of liberty — the faint memory of it — is all that's left today.  There is a contingent of men and women in our country, millions of us, that steward over this memory and seek to make whole once again, but the road ahead is long, with struggles beyond all reckoning.
Some people may ask how this could have occurred. How did we become the monster we were supposed to fight against? What happened to the good side and the bad side? Have they become exactly the same?
Those of us who have looked beyond the standardized veil of history know that this is not by accident. Those of us who decipher the surreal know that there is a method to the madness and an ultimate goal. To explain further, I leave you with another piece of fiction, a clip from the British TV series "The Prisoner." While not written by Kafka, it was definitely inspired by him. It carries a message I would have liked to have warned him about concerning the disturbing path of duality, the mask with multiple faces that tyranny uses to subvert and enslave…
Source: Brandon Smith | Alt-Market
What really happened in the Ukrainian crisis?
It is freezing cold in Kiev, legendary city of golden domes on the banks of Dnieper River – cradle of ancient Russian civilisation and the most charming of East European capitals. It is a comfortable and rather prosperous place, with hundreds of small and cosy restaurants, neat streets, sundry parks and that magnificent river. The girls are pretty and the men are sturdy. Kiev is more relaxed than Moscow, and easier on the wallet. Though statistics say the Ukraine is broke and its people should be as poor as Africans, in reality they aren't doing too badly, thanks to their fiscal imprudence. The government borrowed and spent freely, heavily subsidised housing and heating, and they brazenly avoided devaluation of the national currency and the austerity program prescribed by the IMF. This living on credit can go only so far: the Ukraine was doomed to default on its debts next month or sooner, and this is one of the reasons for the present commotion.
A tug-of-war between the East and the West for the future of Ukraine lasted over a month, and has ended for all practical purposes in a resounding victory for Vladimir Putin, adding to his previous successes in Syria and Iran. The trouble began when the administration of President Yanukovich went looking for credits to reschedule its loans and avoid default. There were no offers. They turned to the EC for help; the EC, chiefly Poland and Germany, seeing that the Ukrainian administration was desperate, prepared an association agreement of unusual severity.
The EC is quite hard on its new East European members, Latvia, Romania, Bulgaria et al.: these countries had their industry and agriculture decimated, their young people working menial jobs in Western Europe, their population drop exceeded that of the WWII.
But the association agreement offered to the Ukraine was even worse. It would turn the Ukraine into an impoverished colony of the EC without giving it even the dubious advantages of membership (such as freedom of work and travel in the EC). In desperation, Yanukovich agreed to sign on the dotted line, in vain hopes of getting a large enough loan to avoid collapse. But the EC has no money to spare – it has to provide for Greece, Italy, Spain. Now Russia entered the picture. At the time, relations of the Ukraine and Russia were far from good. Russians had become snotty with their oil money, the Ukrainians blamed their troubles on Russians, but Russia was still the biggest market for Ukrainian products.
For Russia, the EC agreement meant trouble: currently the Ukraine sells its output in Russia with very little customs protection; the borders are porous; people move freely across the border, without even a passport. If the EC association agreement were signed, the EC products would flood Russia through the Ukrainian window of opportunity. So Putin spelled out the rules to Yanukovich: if you sign with the EC, Russian tariffs will rise. This would put some 400,000 Ukrainians out of work right away. Yanukovich balked and refused to sign the EC agreement at the last minute. (I predicted this in my report from Kiev full three weeks before it happened, when nobody believed it – a source of pride).
The EC, and the US standing behind it, were quite upset. Besides the loss of potential economic profit, they had another important reason: they wanted to keep Russia farther away from Europe, and they wanted to keep Russia weak. Russia is not the Soviet Union, but some of the Soviet disobedience to Western imperial designs still lingers in Moscow: be it in Syria, Egypt, Vietnam, Cuba, Angola, Venezuela or Zimbabwe, the Empire can't have its way while the Russian bear is relatively strong. Russia without the Ukraine can't be really powerful: it would be like the US with its Mid-western and Pacific states chopped away. The West does not want the Ukraine to prosper, or to become a stable and strong state either, so it cannot join Russia and make it stronger. A weak, poor and destabilised Ukraine in semi-colonial dependence to the West with some NATO bases is the best future for the country, as perceived by Washington or Brussels.
Angered by this last-moment-escape of Yanukovich, the West activated its supporters. For over a month, Kiev has been besieged by huge crowds bussed from all over the Ukraine, bearing a local strain of the Arab Spring in the far north. Less violent than Tahrir, their Maidan Square became a symbol of struggle for the European strategic future of the country. The Ukraine was turned into the latest battle ground between the US-led alliance and a rising Russia. Would it be a revanche for Obama's Syria debacle, or another heavy strike at fading American hegemony?
The simple division into "pro-East" and "pro-West" has been complicated by the heterogeneity of the Ukraine. The loosely knit country of differing regions is quite similar in its makeup to the Yugoslavia of old. It is another post-Versailles hotchpotch of a country made up after the First World War of bits and pieces, and made independent after the Soviet collapse in 1991. Some parts of this "Ukraine" were incorporated by Russia 500 years ago, the Ukraine proper (a much smaller parcel of land, bearing this name) joined Russia 350 years ago, whilst the Western Ukraine (called the "Eastern Regions") was acquired by Stalin in 1939, and the Crimea was incorporated in the Ukrainian Soviet Republic by Khrushchev in 1954.
The Ukraine is as Russian as the South-of-France is French and as Texas and California are American. Yes, some hundreds years ago, Provence was independent from Paris, – it had its own language and art; while Nice and Savoy became French rather recently. Yes, California and Texas joined the Union rather late too. Still, we understand that they are – by now – parts of those larger countries, ifs and buts notwithstanding. But if they were forced to secede, they would probably evolve a new historic narrative stressing the French ill treatment of the South in the Cathar Crusade, or dispossession of Spanish and Russian residents of California.
Accordingly, since the Ukraine's independence, the authorities have been busy nation-building, enforcing a single official language and creating a new national myth for its 45 million inhabitants. The crowds milling about the Maidan were predominantly (though not exclusively) arrivals from Galicia, a mountainous county bordering with Poland and Hungary, 500 km (300 miles) away from Kiev, and natives of the capital refer to the Maidan gathering as a "Galician occupation".
Like the fiery Bretons, the Galicians are fierce nationalists, bearers of a true Ukrainian spirit (whatever that means). Under Polish and Austrian rule for centuries, whilst the Jews were economically powerful, they are a strongly anti-Jewish and anti-Polish lot, and their modern identity centred around their support for Hitler during the WWII, accompanied by the ethnic cleansing of their Polish and Jewish neighbours. After the WWII, the remainder of pro-Hitler Galician SS fighters were adopted by US Intelligence, re-armed and turned into a guerrilla force against the Soviets. They added an anti-Russian line to their two ancient hatreds and kept fighting the "forest war" until 1956, and these ties between the Cold Warriors have survived the thaw.
After 1991, when the independent Ukraine was created, in the void of state-building traditions, the Galicians were lauded as 'true Ukrainians', as they were the only Ukrainians who ever wanted independence. Their language was used as the basis of a new national state language, their traditions became enshrined on the state level. Memorials of Galician Nazi collaborators and mass murderers Stepan Bandera and Roman Shukhevych peppered the land, often provoking the indignation of other Ukrainians. The Galicians played an important part in the 2004 Orange Revolution as well, when the results of presidential elections were declared void and the pro-Western candidate Mr Yuschenko got the upper hand in the re-run.
However, in 2004, many Kievans also supported Yuschenko, hoping for the Western alliance and a bright new future. Now, in 2013, the city's support for the Maidan was quite low, and the people of Kiev complained loudly about the mess created by the invading throngs: felled trees, burned benches, despoiled buildings and a lot of biological waste. Still, Kiev is home to many NGOs; city intellectuals receive generous help from the US and EC. The old comprador spirit is always strongest in the capitals.
For the East and Southeast of the Ukraine, the populous and heavily industrialised regions, the proposal of association with the EC is a no-go, with no ifs, ands or buts. They produce coal, steel, machinery, cars, missiles, tanks and aircraft. Western imports would erase Ukrainian industry right off the map, as the EC officials freely admit. Even the Poles, hardly a paragon of industrial development, had the audacity to say to the Ukraine: we'll do the technical stuff, you'd better invest in agriculture. This is easier to say than to do: the EC has a lot of regulations that make Ukrainian products unfit for sale and consumption in Europe. Ukrainian experts estimated their expected losses for entering into association with the EC at anything from 20 to 150 billion euros.
For Galicians, the association would work fine. Their speaker at the Maidan called on the youth to 'go where you can get money' and do not give a damn for industry. They make their income in two ways: providing bed-and breakfast rooms for Western tourists and working in Poland and Germany as maids and menials. They hoped they would get visa-free access to Europe and make a decent income for themselves. Meanwhile, nobody offered them a visa-waiver arrangement. The Brits mull over leaving the EC, because of the Poles who flooded their country; the Ukrainians would be too much for London. Only the Americans, always generous at somebody's else expense, demanded the EC drop its visa requirement for them.
While the Maidan was boiling, the West sent its emissaries, ministers and members of parliament to cheer the Maidan crowd, to call for President Yanukovich to resign and for a revolution to install pro-Western rule. Senator McCain went there and made a few firebrand speeches. The EC declared Yanukovich "illegitimate" because so many of his citizens demonstrated against him. But when millions of French citizens demonstrated against their president, when Occupy Wall Street was violently dispersed, nobody thought the government of France or the US president had lost legitimacy…
Victoria Nuland, the Assistant Secretary of State, shared her biscuits with the demonstrators, and demanded from the oligarchs support for the "European cause" or their businesses would suffer. The Ukrainian oligarchs are very wealthy, and they prefer the Ukraine as it is, sitting on the fence between the East and the West. They are afraid that the Russian companies will strip their assets should the Ukraine join the Customs Union, and they know that they are not competitive enough to compete with the EC. Pushed now by Nuland, they were close to falling on the EC side.
Yanukovich was in big trouble. The default was rapidly approaching. He annoyed the pro-Western populace, and he irritated his own supporters, the people of the East and Southeast. The Ukraine had a real chance of collapsing into anarchy. A far-right nationalist party, Svoboda (Liberty), probably the nearest thing to the Nazi party to arise in Europe since 1945, made a bid for power. The EC politicians accused Russia of pressurising the Ukraine; Russian missiles suddenly emerged in the western-most tip of Russia, a few minutes flight from Berlin. The Russian armed forces discussed the US strategy of a "disarming first strike". The tension was very high.
Edward Lucas, the Economist's international editor and author of The New Cold War, is a hawk of the Churchill and Reagan variety. For him, Russia is an enemy, whether ruled by Tsar, by Stalin or by Putin. He wrote: "It is no exaggeration to say that the [Ukraine] determines the long-term future of the entire former Soviet Union. If Ukraine adopts a Euro-Atlantic orientation, then the Putin regime and its satrapies are finished… But if Ukraine falls into Russia's grip, then the outlook is bleak and dangerous… Europe's own security will also be endangered. NATO is already struggling to protect the Baltic states and Poland from the integrated and increasingly impressive military forces of Russia and Belarus. Add Ukraine to that alliance, and a headache turns into a nightmare."
In this cliff-hanging situation, Putin made his pre-emptive strike. At a meeting in the Kremlin, he agreed to buy fifteen billion euros worth of Ukrainian Eurobonds and cut the natural gas price by a third. This meant there would be no default; no massive unemployment; no happy hunting ground for the neo-Nazi thugs of Svoboda; no cheap and plentiful Ukrainian prostitutes and menials for the Germans and Poles; and Ukrainian homes will be warm this Christmas. Better yet, the presidents agreed to reforge their industrial cooperation. When Russia and Ukraine formed a single country, they built spaceships; apart, they can hardly launch a naval ship. Though unification isn't on the map yet, it would make sense for both partners. This artificially divided country can be united, and it would do a lot of good for both of their populaces, and for all people seeking freedom from US hegemony.
There are a lot of difficulties ahead: Putin and Yanukovich are not friends, Ukrainian leaders are prone to renege, the US and the EC have a lot of resources. But meanwhile, it is a victory to celebrate this Christmas tide. Such victories keep Iran safe from US bombardment, inspire the Japanese to demand removal of Okinawa base, encourage those seeking closure of Guantanamo jail, cheer up Palestinian prisoners in Israeli prisons, frighten the NSA and CIA and allow French Catholics to march against Hollande's child-trade laws.
***
What is the secret of Putin's success? Edward Lucas said, in an interview to the pro-Western Ekho Moskvy radio: "Putin had a great year – Snowden, Syria, Ukraine. He checkmated Europe. He is a great player: he notices our weaknesses and turns them into his victories. He is good in diplomatic bluff, and in the game of Divide and Rule. He makes the Europeans think that the US is weak, and he convinced the US that Europeans are useless".
I would offer an alternative explanation. The winds and hidden currents of history respond to those who feel their way. Putin is no less likely a roguish leader of global resistance than Princess Leia or Captain Solo were in Star Wars. Just the time for such a man is ripe.
Unlike Solo, he is not an adventurer. He is a prudent man. He does not try his luck, he waits, even procrastinates. He did not try to change regime in Tbilisi in 2008, when his troops were already on the outskirts of the city. He did not try his luck in Kiev, either. He has spent many hours in many meetings with Yanukovich whom he supposedly personally dislikes.
Like Captain Solo, Putin is a man who is ready to pay his way, full price, and such politicians are rare. "Do you know what is the proudest word you will ever hear from an Englishman's mouth?", asked a James Joyce character, and answered: "His proudest boast is I paid my way." Those were Englishmen of another era, long before the likes of Blair, et al.
While McCain and Nuland, Merkel and Bildt speak of the European choice for the Ukraine, none of them is ready to pay for it. Only Russia is ready to pay her way, in the Joycean sense, whether in cash, as now, or in blood, as in WWII.
Putin is also a magnanimous man. He celebrated his Ukrainian victory and forthcoming Christmas by forgiving his personal and political enemies and setting them free: the Pussy Riot punks, Khodorkovsky the murderous oligarch, rioters… And his last press conference he carried out in Captain Solo self-deprecating mode, and this, for a man in his position, is a very good sign.
It is the responsibility of intellectuals to speak the Truth and expose lies. — Noam Chomsky.
My book, The Wizards of Ozymandias, was dedicated "To the memory and spirit of Sophie and Hans Scholl and the White Rose, who reminded us what it means to be civilized." These wonderful young people — most in their teens or twenties — lived in Germany during the Hitler regime, and spent much of their time writing and distributing leaflets exposing and criticizing the policies and practices of the Nazi state. They were found out; brought to trial; found guilty of treason, the demoralization of the troops, and abetting the enemy, and summarily beheaded. Sophie's Gestapo interrogator raises the same arguments one hears directed against such modern speakers of truth as Chelsea Manning, Ed Snowden, Julian Assange, Glenn Greenwald, and others. Those whose moral and intellectual standards can rise no higher than to whine "the law is the law," would do well to consider the exchange between Sophie and her prosecutor. The Nazi functionary declares: "Without law, there is no order. What can we rely on if not the law?" Sophie responds: "Your conscience. Laws change. Conscience doesn't."
Our Western culture is in a state of total collapse. Our institutionalized world is increasingly hostile to any utterances of truth that would be upsetting to the status quo. The mainstream media and most of academia long ago gave themselves over to propagandizing on behalf of defending and/or enhancing the coercive power structure of the state. When war policies are under discussion, retired Army generals or officials from "think-tanks" funded by the national defense industry, are trotted out to "debate" such non-issues as how many troops to send in, who to attack, etc., etc., all to maintain the pretense of having a "fully-informed" public. But when was the last time you saw a Robert Higgs, Noam Chomsky, Lew Rockwell, Amy Goodman, Justin Raimondo, Angela Keaton, Karen Kwiatkowski, Chris Hedges, or other critic of the war system allowed to raise the kinds of questions that are not supposed to be asked in this best of all possible worlds? Do you recall the insult to human intelligence perpetrated by the GOP (Grand Old Pettifoggers) in its efforts to prevent Ron Paul from expressing his contrary views?
Noam Chomsky's above quote doesn't go far enough: it is the responsibility of all thinking people — not just so-called "intellectuals" — to speak the truth and to expose lies! To this end, increasing numbers of people understand that the sources to whom they have been conditioned to look for truth, analysis, and understanding, have largely failed in their roles. To put the proposition more frankly: more and more people have grasped the fact that the free flow of information is disruptive of the interests of the institutional order, whose established position depends upon suppressing or destroying all evidence of the lies, conflicts, contradictions, and destructive nature upon which its primacy depends. This is why so much of the media and academia are peopled with those unable or unwilling to shed light on the dysfunctional nature of the well-ordered madness of the world; men and women who remain content to tread water at the shallow end of the human gene pool!
The political establishment has implicitly embraced the mindset of Hitler's Propaganda Minister, Dr. Joseph Goebbels:
The lie can be maintained only for such time as the State can shield the people from the political, economic and/or military consequences of the lie. It thus becomes vitally important for the State to use all of its powers to repress dissent, for the truth is the mortal enemy of the lie, and thus by extension the truth becomes the greatest enemy of the State.
This is why the state is so threatened by such modern technologies as the Internet, as well as by the "whistleblowers" who insist on exposing the state's embarrassing truths to the general public. It is also why the classic The Emperor's New Clothes needs to be read to every child — as well, perhaps, to adults.
Cable news channels continue providing platforms for those who remind us that the whistleblowers "broke the law," and need to be punished. They recite their bromides with the kind of self-assurance that comes from the delusion that they are actually saying something profound. I find it particularly amusing to hear such babbling coming from lawyers who ought to know that all laws are meant to be broken. Imagine what would happen if every legal dictate were to be obeyed by everyone: no speeding or reckless driving; no illegal drug use; no murders, rapes, or robberies; no discriminatory hiring practices; no zoning violations; etc. What would be the likely consequences? Men and women might then begin to ask the kinds of questions the state could not afford to have asked: why do we need the police, or courts, or prisons? In the world of realpolitik, those who are driven not by a need for social order, but by the ambition for coercive power over their neighbors, would have to dream up new "wrongs" to be policed. The mania that underlies political programs based on "climate change" is just one example of how those who want power over others must invent more and more "conflicts" with which to rationalize their coercive ambitions. It is this sense that Edmund Burke had in mind when he characterized lawyers as "the fomenters and conductors of the petty wars of village vexation." The habit is not confined to lawyers!
This also explains Randolph Bourne's observation that "war is the health of the state." The war system — whose schemes and chicanery the whistleblowers have been exposing — depends upon the kinds of endless conflicts with the rest of the world that will cause Boobus Americanus to part with his liberty, wealth, and life.
Sophie and Hans Scholl and their White Rose friends had minds capable of distinguishing what was legal and what was right, a skill that depends upon separating what is popular from what is true. Sophie's insights were reflected, years later, in Hannah Arendt's observation: "The aim of totalitarian education has never been to instill convictions, but to destroy the capacity to form any."
Butler Shaffer teaches at the Southwestern University School of Law. He is the author of the newly-released In Restraint of Trade: The Business Campaign Against Competition, 1918–1938, Calculated Chaos: Institutional Threats to Peace and Human Survival, andBoundaries of Order. His latest book is The Wizards of Ozymandias.
Source: Butler Shaffer  |  LewRockwell.com
The events in Volgograd are part of a much larger body of events and a multi-faceted struggle that has been going on for decades as part of a cold war after the Cold War—the post-Cold War cold war, if you please—that was a result of two predominately Eurocentric world wars. When George Orwell wrote his book 1984 and talked about a perpetual war between the fictional entities of Oceania and Eurasia, he may have had a general idea about the current events that are going on in mind or he may have just been thinking of the struggle between the Soviet Union and, surrounded by two great oceans, the United States of America.
So what does Volgograd have to do with the dizzying notion presented? Firstly, it is not schizophrenic to tie the events in Volgograd to either the conflict in the North Caucasus and to the fighting in Syria or to tie Syria to the decades of fighting in the post-Soviet North Caucasus. The fighting in Syria and the North Caucuses are part of a broader struggle for the mastery over Eurasia. The conflicts in the Middle East are part of this very grand narrative, which to many seems to be so far from the reality of day to day life.
 "Bandar Bush" goes to Mother Russia
For the purposes of supporting such an assertion we will have to start with the not-so-secret visit of a shadowy Saudi regime official to Moscow. Prince Bandar bin Sultan bin Abdulaziz Al-Saud, the infamous Saudi terrorist kingpin and former House of Saud envoy to Washington turned intelligence guru, last visited the Russian Federation in early-December 2013. Bandar bin Sultan was sent by King Abdullah to solicit the Russian government into abandoning the Syrians. The goal of Prince Bandar was to make a deal with the Kremlin to let Damascus be overtaken by the Saudi-supported brigades that were besieging the Syrian government forces from Syria's countryside and border regions since 2011. Bandar met with Russian President Vladimir Putin and the two held closed-door discussions about both Syria and Iran at Putin's official residence in Novo-Ogaryovo.
The last meeting that Bandar had with Putin was a few months earlier in July 2013. That meeting was also held in Russia. The July talks between Prince Bandar and President Putin also included Secretary Nikolai Patrushev, the head of the Security Council of the Russian Federation. One would also imagine that discussion about the Iranians increased with each visit too, as Bandar certainly tried to get the Russians on bad terms with their Iranian allies.
After Bandar's first meeting with President Putin, it was widely reported that the House of Saud wanted to buy Russia off. Agence France-Presse and Reuters both cited the unnamed diplomats of the Arab petro-monarchies, their March 14 lackeys in Lebanon, and their Syrian opposition puppets as saying that Saudi Arabia offered to sign a lucrative arms contract with Moscow and give the Kremlin a guarantee that the Arab petro-sheikdoms would not threaten the Russian gas market in Europe or use Syria for a gas pipeline to Europe.
Russia knew better than to do business with the House of Saud. It had been offered a lucrative arms deal by the Saudi regime much earlier, in 2008, to make some backdoor compromises at the expense of Iran. After the compromises were made by Moscow the House of Saud put the deal on ice. If the media leaks in AFP and Reuters were not tactics or lies in the first place aimed at creating tensions between the Syrian and Russian governments, the purportedly extravagant bribes to betray Syria were wasted on the ears of Russian officials.
The House of Saud and the undemocratic club of Arab petro-monarchies that form the Gulf Cooperation Council (GCC) have always talked large about money. The actions of these self portrayed lords of the Arabia Peninsula have almost never matched their words and promises. To anyone who deals with them, the House of Saud and company are known for habitually making grand promises that they will never keep, especially when it comes to money. Even when money is delivered, the full amount committed is never given and much of it is stolen by their corrupt partners and cronies. Whether it is the unfulfilled 2008 arms contract with Russia that was facilitated with the involvement of Iraqi former CIA asset Iyad Allawi or the overabundant commitments of financial and logistical aid to the Lebanese and Palestinian peoples that never materialized, the Arab petro-sheikhdoms have never done more than talk grandly and then get their propagandist to write articles about their generosity and splendor. Underneath all the grandeur and sparkles there has always been bankruptcy, insecurity, and emptiness.
A week after the first meeting with Bandar, the Kremlin responded to the media buzz about the attempted bribe by Saudi Arabia. Yury Ushakov, one of Putin's top aides and the former Russian ambassador to the US, categorically rejected the notion that any deal was accepted or even entertained by the Kremlin. Ushakov avowed that not even bilateral cooperation was discussed between the Saudis and Russia. According to the Kremlin official, the talks between Bandar and Putin were simply about the policies of Moscow and Riyadh on Syria and the second international peace conference being planned about Syria in Geneva, Switzerland.
More Leaks: Fighting Fire with Fire?
If his objective was to get the Russians to abandon Syria, Prince Bandar left both meetings in Russia empty-handed. Nevertheless, his visit left a trail of unverifiable reports and speculation. Discretion is always needed when analyzing these accounts which are part of the information war about Syria being waged on all sides by the media. The planted story from the Saudi side about trying to buy the Russians was not the only account of what took place in the Russian-Saudi talks. There was also a purported diplomatic leak which most likely surfaced as a counter-move to the planted story about Bandar's proposal. This leak elaborated even further on the meeting between Bandar and Putin. Threats were made according to the second leak that was published in Arabic by the Lebanese newspaper As-Safir on August 21, 2013.
According to the Lebanese newspaper, not only did Prince Bandar tell the Russians during their first July meeting that the regimes of the GCC would not threaten the Russian gas monopoly in Europe, but he made promises to the Russians that they could keep their naval facility on the Mediterranean coast of Syria and that he would give the House of Saud's guarantee to protect the 2014 Winter Olympics being held in the North Caucasian resort city of Sochi, on the eastern coast of the Black Sea, from the Chechen separatist militias under Saudi control. If Moscow cooperated with Riyadh and Washington against Damascus, the leak discloses that Bandar also stated that the same Chechen militants fighting inside Syria to topple the Syrian government would not be given a role in Syria's political future.
When the Russians refused to betray their Syrian allies, Prince Bandar then threatened Russia with the cancellation of the second planned peace conference in Geneva and with the unleashing of the military option against the Syrians the leak imparts.
This leak, which presents a veiled Saudi threat about the intended attacks on the Winter Olympics in Sochi, led to a frenzy of speculations internationally until the end of August 2013, amid the high tensions arising from the US threats to attack Syria and the threats coming from Iran to intervene on the side of their Syrians allies against the United States. Originating from the same politically affiliated media circle in Lebanon, reports about Russian military preparations to attack Saudi Arabia in response to a war against Syria began to circulate from the newspaper Al-Ahed also, further fueling the chain of speculations.
A House of Saud Spin on the Neo-Con "Redirection"
Seymour Hersh wrote in 2007 that after the 2006 defeat of Israel in Lebanon that the US government had a new strategy called the "redirection." According to Hersh, the "redirection" had "brought the United States closer to an open confrontation with Iran and, in parts of the region, propelled it into a widening sectarian conflict between Shiite and Sunni Muslims." With the cooperation of Saudi Arabia and all the same players that helped launch Osama bin Ladin's career in Afghanistan, the US government took "part in clandestine operations aimed at Iran and its ally Syria." The most important thing to note is what Hersh says next: "A by-product of these activities has been the bolstering of Sunni extremist groups that espouse a militant vision of Islam and are hostile to America and sympathetic to Al Qaeda."
A new House of Saud spin on the "redirection" has begun. If there is anything the House of Saud knows well, it is rounding up fanatics as tools at the service of Saudi Arabia's patrons in Washington. They did it in Afghanistan, they did it Bosnia, they have done it in Russia's North Caucasus, they did it in Libya, and they are doing it in both Lebanon and Syria. It does not take the British newspaperThe Independent to publish an article titled "Mass murder in the Middle East is funded by our friends the Saudis" for the well-informed to realize this.
The terrorist bombings in Lebanon mark a new phase of the conflict in Syria, which is aimed at forcing Hezbollah to retreat from Syria by fighting in a civil war on its home turf. The attacks are part of the "redirection." The House of Saud has accented this new phase through its ties to the terrorist attacks on the Iranian Embassy in Beirut on November 19, 2013. The attacks were carried out by individuals linked to the notorious Ahmed Al-Assir who waged a reckless battle against the Lebanese military from the Lebanese city of Sidon as part of an effort to ignite a sectarian civil war in Lebanon.
Al-Assir's rise, however, was politically and logistically aided by the House of Saud and its shameless Hariri clients in Lebanon. He is also part of the same "redirection" policy and current that brought Fatah Al-Islam to Lebanon. This is why it is no surprise to see Hariri's Future Party flag flying alongside Al-Qaeda flags in Lebanon. After Al-Assir's failed attempt to start a sectarian Lebanese civil war, he went into hiding and it was even alleged that he was taken in by one of the GCC embassies.
In regard to the House of Saud's roles in the bombings in Lebanon, Hezbollah would confirm that the attack on the Iranian Embassy in Beirut was linked to the House of Saud. Hezbollah's leadership would report that the Abdullah Izzam Brigade, which is affiliated to Al-Qaeda and tied to the bombings, is directly linked to the intelligence services of Saudi Arabia.
Moreover, the Saudi agent, Majed Al-Majed, responsible for the attack would be apprehended by Lebanese security forces in late-December 2013. He had entered Lebanon after working with Al-Nusra in Syria. Fars News Agency, an Iranian media outlet, would report on January 2, 2014 that unnamed Lebanese sources had also confirmed that they had discovered that the attack was linked to Prince Bandar.
Wrath of the House of Saud Unleashed?
A lot changed between the first and second meetings that Prince Bandar and Vladimir Putin had, respectively in July 2013 and December 2013. The House of Saud expected its US patron to get the Pentagon involved in a conventional bombing campaign against Syria in the month of September. It is more than likely that Riyadh was in the dark about the nature of secret negotiations that the US and Iran were holding through the backchannel of Oman in the backdrop of what appeared to be an escalation towards open war.
Bandar's threat to reassess the House of Saud's ties with Washington is probably a direct result of the US government keeping the House of Saud in the dark about using Syria as a means of negotiating with the Iranian government. US officials may have instigated the House of Saud to intensify its offensive against Syria to catalyze the Iranians into making a deal to avoid an attack on Syria and a regional war. Moreover, not only did the situation between the US and Iran change, Russia would eventually sign an important energy contract for Syrian natural gas in the Mediterranean Sea. The House of Saud has been undermined heavily in multiple ways and it is beginning to assess its own expendability.
If one scratches deep enough, they will find that the same ilk that attacked the Iranian Embassy in Beirut also attacked the Russian Embassy in Damascus. Both terrorist attacks were gifts to Iran and Russia, which served as reprisals for the Iranian and Russian roles in protecting Syria from regime change and a destructive war. It should, however, be discerned if the House of Saud is genuinely lashing out at Iran and Russia or if it being manipulated to further the goals of Washington in the US negotiations with Tehran, Moscow, and Damascus.
In the same manner, the House of Saud wants to generously reward Hezbollah too for its role in protecting Syria by crippling Hezbollah domestically in Lebanon. Riyadh may possibly not want a full scale war in Lebanon like the Israelis do, but it does want to neutralize and eliminate Hezbollah from the Lebanese landscape. In this regard, Saudi Arabia has earnestly been scheming to recruit Lebanon's President Michel Suleiman and the Lebanese military against Hezbollah and its supporters.
The Saud grant of three billion dollars to the Lebanese Armed Forces is not only blood money being given to Lebanon as a means of exonerating Saudi Arabia for its role in the terrorist bombings that have gripped the Lebanese Republic since 2013, the Saudi money is also aimed at wishfully restructuring the Lebanese military as a means of using it to neutralize Hezbollah. In line with the House of Saud's efforts, pledges from the United Arab Emirates and reports that NATO countries are also planning on donating money and arms to the Lebanese military started.
In addition to the terrorists bombings in Lebanon and the attack on the Russian Embassy in Damascus, Russia has also been attacked. Since the Syrian conflict intensified there has been a flaring of tensions in Russia's North Caucasus and a breakout of terrorist attacks. Russian Muslim clerics, known for their views on co-existence between Russia's Christian and Muslim communities and anti-separatist views, have been murdered. The bombings in Volgograd are just the most recent cases and an expansion into the Volga of what is happening in the North Caucasus, but they come disturbingly close to the start of the Winter Olympics that Prince Bandar was saying would be "protected" if Moscow betrayed Syria.
Can the House of Saud Stand on its Own Feet?
It is a widely believed that you will find the US and Israelis pulling a lot of the strings if you look behind the dealings of the House of Saud. That view is being somewhat challenged now. Prince Mohammed bin Nawaf bin Abdulaziz Al-Saud, Saudi Arabia's ambassador to the UK, threatened that Saudi Arabia will go it alone against Syria and Iran in a December 2013 article. The letter, like the Saudi rejection of their UN Security Council seat, was airing the House of Saud's rage against the realists running US foreign policy.
In this same context, it should also be noted for those that think that Saudi Arabia has zero freedom of action that Israeli leaders have stressed for many years that Tel Aviv needs to cooperate secretly with Saudi Arabia to manipulate the US against Iran. This is epitomized by the words of Israeli Brigadier-General Oded Tira: "We must clandestinely cooperate with Saudi Arabia so that it also persuades the US to strike Iran."
Along similar lines, some may point out that together the House of Saud and Israel got France to delay an interim nuclear agreement between the Iranians and the P5+1 in Geneva. The House of Saud rewarded Paris through lucrative deals, which includes making sure that the grant it gives to the Lebanese military is spent on French military hardware. Saad Hariri, the main Saudi client in Lebanon, even met Francois Hollande and French officials in Saudi Arabia in context of the deal. Appeasing the House of Saud and Israel, French President Hollande has replicated France's stonewalling of the P5+1 interim nuclear deal with Iran by trying to spoil the second Syria peace conference in Geneva by saying that there can be no political solution inside Syria if President Bashar Al-Assad stays in power.
Again, however, it has to be asked, is enraging Saudi Arabia part of a US strategy to make the Saudis exert maximum pressure on Tehran, Moscow, and Damascus so that the United States can optimize its gains in negotiations? After all, it did turn out that the US was in league with France in Geneva and that the US used the French stonewalling of an agreement with Iran to make additional demands from the Iranians during the negotiations. Russian Foreign Minister Sergey Lavrov revealed that the US negotiation team had actually circulated a draft agreement that had been amended in response to France's demands before Iran and the other world powers even had a chance to study them. The draft by the US team was passed around, in Foreign Minister Lavrov's own words, "literally at the last moment, when we were about to leave Geneva."
Instead of debating on the level of independence that the House of Saud possesses, it is important to ask if Saudi Arabia can act on its own and to what degree can the House of Saud act as an independent actor. This looks like a far easier question to answer. It is highly unlikely that Saudi Arabia can act on its own in most instances or even remain an intact state. This is why Israeli strategists very clearly state that Saudi Arabia is destined to fall apart. "The entire Arabian Peninsula is a natural candidate for dissolution due to internal and external pressures, and the matter is inevitable especially in Saudi Arabia," the Israeli Yinon Plan deems. Strategists in Washington are also aware of this and this is also why they have replicated models of a fragmented Saudi Arabia. This gives rise to another important question: if they US assess that the Kingdom of Saudi Arabia is not a sustainable entity, will it use it until the burns out like a flame? Is this what is happening and is Saudi Arabia being sacrificed or setup to take the blame as the "fall guy" by the United States?
Who is Hiding Behind the House of Saud?
Looking back at Lebanon, the messages from international media outlets via their headlines is that the bombings in Lebanon highlight or reflect a power struggle between the House of Saud and Tehran in Lebanon and the rest of the region. Saying nothing about the major roles of the US, Israel, and their European allies, these misleading reports by the likes of journalists like Anne Barnard casually blame everything in Syria and Lebanon on a rivalry between Saudi Arabia and Iran, erasing the entire history behind what has happened and casually sweeping all the interests behind the conflict(s) under the rug. This is dishonest and painting a twisted Orientalist narrative.
The outlets trying to make it sound like all the Middle East's problems are gravitating around some sort of Iranian and Saudi rivalry might as well write that "the Saudis and Iranians are the sources behind the Israeli occupation of Palestine, the sources behind the Anglo-American invasion of Iraq that crippled the most advanced Arab country, the ones that are blockading medication from reaching Gaza due to their rivalry, the ones who enforced a no-fly zone over Libya, the ones that are launching killer drone attacks on Yemen, and the ones that are responsible for the billions of dollars that disappeared from the Iraqi Treasury in 2003 after Washington and London invaded that country and controlled its finances." These outlets and reports are tacitly washing the hands of  actors like Washington, Tel Aviv, Paris, and London clean of blood by trying to construct a series of false narratives that either blame everything on a regional rivalry between Tehran and Riyadh or the premise that the Sunni Muslims and Shia Muslims are fighting an eternal war that they are biologically programmed to wage against one another.
Arabs and Iranians and Shias and Sunnis are tacitly painted as un-human creatures that cannot be understood and savages to audiences. The New York Times even dishonestly implies that the Sunni Muslims and Shiite Muslims in Lebanon are killing one another in tit-for-tat attacks. It sneakily implies that Hezbollah and its Lebanese rivals are assassinating one another. Bernard, its reporter in Lebanon who was mentioned earlier, along with another colleague write:
In what have been seen as tit-for-tat attacks, car bombs have targeted Hezbollah-dominated neighborhoods in the southern suburbs of Beirut and Sunni mosques in the northern city of Tripoli.

On Friday, a powerful car bomb killed Mohamad B. Chatah, a former Lebanese finance minister who was a major figure in the Future bloc, a political group that is Hezbollah's main Sunni rival.
The New York Times is cunningly trying to make its readers think that Hezbollah was responsible for the bombing as part of a Shiite-Sunni sectarian conflict by concluding with an explanation that the slain former Lebanese finance minister belonged to "Hezbollah's main Sunni rival" after saying that the bombings in Lebanon "have been seen as tit-for-tat attacks" between the areas that support Hezbollah and "Sunni mosques" in Tripoli
The US and Israel wish that a Shiite-Sunni sectarian conflict was occurring in Lebanon and the rest of the Middle East. They have been working for this. It has been them that have been manipulating Saudi Arabia to instigate sectarianism. The US and Israel have been prodding the House of Saud—which does not represent the Sunni Muslims, let alone the people of Saudi Arabia which are under its occupation—against Iran, all the while trying to conceal and justify the conflict being instigated as some sort of "natural" rivalry between Shiites and Sunnis that is being played out across the Middle East. 
It has been assessed with high confidence by outsiders concerned by the House of Saud's inner dealings that Prince Bandar is one of the three Al-Saud princes managing Saudi Arabia's security and foreign policy; the other two being Prince Abdulaziz bin Abdullah bin Abdulaziz Al-Saud, the Saudi deputy foreign minister and one of King Abdullah's point men on Syria due to his ties to Syria from his maternal side, and Prince Mohammed bin Nayef bin Abdulaziz Al-Saud, the interior minister. All three of them are tied to the United States more than any of their predecessors. Prince Bandar himself has a long history of working closely with the United States, which explains the endearing moniker of "Bandar Bush" that he is widely called by. "Chemical Bandar" can be added to the list too, because of the reports about his ties to the Syrian chemical weapon attacks in Ghouta.
As a US client, Saudi Arabia is a source of instability because it has been conditioned hence by Washington. Fighting the terrorist and extremist threat is now being used by the US as a point of convergence with Iran, which coincidently has authored the World Against Violence and Extremism (WAVE) motion at the United Nations. In reality, the author of the regional problems and instability has been Washington itself. In a masterstroke, the realists now at the helm of foreign policy are pushing American-Iranian rapprochement on the basis of what Zbigniew Brzezinski, the former national security advisor of the US, said would be based on Tehran and Washington working together to secure Iran's "volatile regional environment." "Any eventual reconciliation [between the US and Iranian governments] should be based on the recognition of a mutual strategic interest in stabilizing what currently is a very volatile regional environment for Iran," he explains. The point should not be lost either that Brzezinski is the man who worked with the Saudis to arm the Afghan Mujahedeen against the Soviets after he organized an intelligence operation to fool the Soviets into militarily entering Afghanistan in the first place.
The House of Saud did not work alone in Afghanistan during the Cold War either. It was rigorously backed by Washington. The United States was even more involved in the fighting. It is the same in Syria. If the diplomatic leak is to be believed about the meeting between Bandar and Putin, it is of merit to note that "Bandar Bush" told Putin that any "Saudi-Russian understanding" would also be part of an "American-Russian understanding."
Has the "Redirection" Seen its Stalingrad?
Volgograd was called Stalingrad for a part of Soviet history, in honour of the Republic of Georgia's most famous son and Soviet leader Joseph Stalin. It was Volgograd, back then called Stalingrad, where the Germans were stopped and the tide of war in Europe was turned against Hitler and his Axis allies in Europe. The Battle of Stalingrad was where the Nazis were defeated and it was in the Soviet Union and Eastern Europe where the bulk of the fighting against the Germans was conducted. Nor is it any exaggeration to credit the Soviets—Russian, Kazakh, Uzbek, Tajik, Tartar, Georgian, Armenian, Ukrainian, Belarusian, Chechen, and all—for doing most of the fighting to defeat the Germans in the Second World War.
Judging by the bellicose 2013 New Years Eve speech of Russian President Vladimir Putin, the terrorist attacks in Volgograd will be the start of another Battle of Stalingrad of some sorts and the launch of another Russian "war on terror." Many of the terrorists that Russia will go after are in Syria and supported by the House of Saud.
The opponents of the Resistance Bloc that Iran, Syria, Hezbollah, and the Palestinian resistance groups form have called the battlefields in Syria the Stalingrad of Iran and its regional allies. Syria has been a Stalingrad of some sorts too, but not for the Resistance Bloc. The alliance formed by the US, Britain, France, Saudi Arabia, Qatar, Turkey, and Israel has begun to unravel in its efforts to enforce regime change in Syria. The last few years have marked the beginning of a humiliating defeat for those funding extremism, separatism, and terrorism against countries like Russia, China, Iran, and Syria as a means of preventing Eurasian cohesion. Another front of this same battle is being politically waged by the US and the EU in the Ukraine in a move to prevent the Ukrainians from integrating with Belarus, Russia, and Kazakhstan.
Volgograd and the Conquest of Eurasia
While speculation has been entertained with warning in this text, most of what has been explained has not been speculative. The House of Saud has had a role in destabilizing the Russian Federation and organizing terrorist attacks inside Russia. Support or oppose the separatist movements in the North Caucasus, the point is that they have been opportunistically aided and used by the House of Saud and Washington. Despite the authenticity of the narrative about Bandar's threats against Russia, Volgograd is about Syria and Syria is about Volgograd. Both are events taking place as part of the same struggle. The US has been trying to encroach into Syria as a means of targeting Russia and encroaching deeper in the heart of Eurasia.
When George Orwell wrote 1984 he saw the world divided into several entities at constant or "eternal" war with one another. His fictitious superstates police language, use total surveillance, and utterly manipulate mass communication to indoctrinate and deceive their peoples. Roughly speaking, Orwell's Oceania is formed by the US and its formal and informal territories in the Western Hemisphere, which the Monroe Doctrine has essentially declared are US colonies, confederated with Britain and the settler colonies-cum-dominions of the former British Empire (Australia, Canada, Ireland, New Zealand, and South Africa). The Orwellian concept of Eurasia is an amalgamation of the Soviet Union with continental Europe. The entity of Eastasia on the other hand is formed around China. Southeast Asia, India, and the parts of Africa that do not fall under the influence of Oceanic South Africa are disputed territory that is constantly fought for. Although not specifically mentioned, it can be extrapolated that Southwest Asia, where Syria is located, or parts of it are probably part of this fictional disputed territory, which includes North Africa.
If we try to fit Orwellian terms onto the present set of global relations, we can say that Oceania has made its moves against Eurasia/Eastasia for control of disputed territory (in the Middle East and North Africa).
1984 is not just a novel, it is a warning from the farseeing Orwell. Nonetheless, never did he imagine that his Eurasia would make cause with or include Eastasia through a core triple alliance and coalition comprised of Russia, China, and Iran. Eurasia will finish, in one way or another, whatOceania has started. All the while, as the House of Saud and the other rulers of the Arab petro-sheikhdoms continue to compete with one another in building fancy towers, the Sword of Damocles is getting heavier over their heads.
Source: Global Research
It was the winter of 1939, only a few months earlier the Soviet Union and Hitler's Third Reich had signed a partially secret accord known as the Molotov-Ribbentrop Pact; essentially a non-aggression treaty which divided Europe down the middle between the fascists and the communists. Hitler would take the West, and Stalin would take the East. Stalin's war machine had already steamrolled into Latvia. Lithuania, and Estonia. The soviets used unprecedented social and political purges, rigged elections, and genocide, while the rest of the world was distracted by the Nazi blitzkrieg in Poland. In the midst of this mechanized power grab was the relatively tiny nation of Finland, which had been apportioned to the communists.
Apologists for Stalinist history (propagandists) have attempted to argue that the subsequent attack on Finland was merely about "border territories" which the communists claimed were stolen by the Finns when they seceded from Russia during the Bolshevik Revolution. The assertion that the soviets were not seeking total dominance of the Finns is a common one. However, given the vicious criminal behavior of Russia in nearby pacified regions, and their posture towards Finland, it is safe to assume their intentions were similar. The Finns knew what they had to look forward to if they fell victim to the iron hand of Stalin, and the soviet propensity for subjugation was already legendary.
The Russian military was vastly superior to Finland's in every way a common tactician would deem important. They had far greater numbers, far better logistical capability, far better technology, etc, etc. Over 1 million troops, thousands of planes, thousands of tanks, versus Finland's 32 antiquated tanks, 114 planes which were virtually useless against more modern weapons, and 340,000 men, most of whom were reservists rallied from surrounding farmlands. Finland had little to no logistical support from the West until the conflict was almost over, though FDR would later pay lip service to the event, "condemning" soviet actions while brokering deals with them behind the scenes. Russian military leadership boasted that the Finns would run at the sound of harsh words, let alone gun fire. The invasion would be a cakewalk.
The battle that followed would later be known as the "Winter War"; an unmitigated embarrassment for the Soviets, and a perfect example of a small but courageous indigenous guerrilla army repelling a technologically advanced foe.
To Fight, Or Pretend To Fight?
Fast forward about seven decades or so, and you will discover multiple countries around the globe, including the U.S., on the verge of the same centralized and collectivized socialist occupation that the Finnish faced in 1939. The only difference is that while their invasion came from without, our invasion arose from within. The specific methods may have changed, but the underlying face of tyranny remains the same.
In America, the only existing organization of people with the slightest chance of disrupting and defeating the march towards totalitarianism is what we often refer to as the "Liberty Movement"; a large collection of activist and survival groups tied together by the inexorable principles of freedom, natural law, and constitutionalism. The size of this movement is difficult to gauge, but its social and political presence is now too large to be ignored. We are prevalent enough to present a threat, and prevalent enough to be attacked, and that is all that matters. That said, though we are beginning to understand the truly vital nature of our role in America's path, and find solidarity in the inherent values of liberty that support our core, when it comes to solutions to the dilemma of globalization and elitism, we are sharply divided.
While most activist movements suffer from a complete lack of solutions to the problems they claim to recognize, constitutional conservatives tend to have TOO MANY conceptual solutions to the ailments of the world. Many of these solutions rely upon unrealistic assumptions and methods that avoid certain inevitable outcomes. Such strategies center mostly on the concepts of "non-aggression" or pacifism idealized and romanticized by proponents of Gandhi, Martin Luther King Jr, and the anti-war movements of the 1960′s and 1970′s. The post-baby boomer generations in particular have grown up with an incessant bombardment of the "higher nature" of non-violence as a cure-all for every conceivable cultural ailment.
We have been taught since childhood that fighting solves nothing, but is this really true?
I can understand the allure of the philosophy. After all, physical confrontation is mentally and emotionally terrifying to anyone who is not used to experiencing it. The average "reasonable" person goes far out of their way on every occasion to avoid it. Most of the activists that I have met personally who deride the use of force against tyrannical government have never actually been in an outright confrontation of any kind in their lives, or if they have, it ended in a failure that scarred them. They have never trained for the eventuality. Many of them have never owned a firearm. The focus of their existence has been to hide from pain, rather than overcome their fears to achieve something greater.
There is nothing necessarily wrong with becoming an "intellectual warrior", unless that person lives under the fantasy that this alone will be enough to defeat the kind of evil we face today.
Non-aggression methods rely on very specific circumstances in order to be effective. Most of all, they rely on a system of government that is forced to at least PRETEND as if it cares what the masses think of it. Gandhi's Indian Independence Movement, for example, only witnessed noticeable success because the British government at that time was required to present a semblance of dignity and rule of law. But what happens if a particular tyranny reaches a point where the facade of benevolence disappears? What happens when the establishment turns to the use of the purge as a tool for consolidation? What happens when the mask comes completely off?
How many logical arguments or digital stashes of ethereal Bitcoins will it take to save one's life or one's freedom then?
Arguments For And Against Violent Action
The position against the use of "violence" (or self defense) to obstruct corrupt systems depends on three basic debate points:
1) Violence only feeds the system and makes it stronger.
2) We need a "majority" movement in order to be successful.
3) The system is too technologically powerful – to fight it through force of arms is "futile", and our chances are slim to none.
First, violence does indeed feed the system, if it is driven by mindless retribution rather than strategic self defense. This is why despotic governments often resort to false flag events; the engineering of terrorist actions blamed on scapegoats creates fear within the unaware portions of the population, which generates public support for further erosion of freedoms. However, there is such a thing as diminishing returns when it comes to the "reach, teach, and inspire" method.
The escalation of totalitarianism will eventually overtake the speed at which the movement can awaken the masses, if it has not done so already. There will come a time, probably sooner rather than later, when outreach will no longer be effective, and self defense will have to take precedence, even if that means subsections of the public will be shocked and disturbed by it. The sad fact is, the faster we wake people up, the faster the establishment will degrade social stability and destroy constitutional liberties. A physical fight is inevitable exactly because they MAKE it inevitable. Worrying about staying in the good graces of the general populace or getting honest representatives elected is, at a certain point, meaningless. I find it rather foolish to presume that Americans over the next decade or two or three have the time needed to somehow inoculate the system from within. In fact, I'm starting to doubt that strategy has any merit whatsoever.
Second, the idea that a movement needs a "majority" of public backing to shift the path of a society is an old wives tale. Ultimately, most people throughout history are nothing more than spectators in life, watching from the sidelines while smaller, ideologically dedicated groups battle for superiority. Global developments are decided by true believers; never by ineffectual gawkers. Some of these groups are honorable, and some of them are not so honorable. Almost all of them have been in the minority, yet they wield the power to change the destiny of the whole of the nation because most people do not participate in their own futures. They merely place their heads between their legs and wait for the storm to pass.
All revolutions begin in the minds and hearts of so-called "outsiders". To expect any different is to deny the past, and to assume that a majority is needed to achieve change is to deny reality.
Third, I'm not sure why non-aggression champions see the argument of statistical chance as relevant. When all is said and done, the "odds" of success in any fight against oligarchy DO NOT MATTER. Either you fight, or you are enslaved. The question of victory is an afterthought.
Technological advantage, superior numbers, advanced training, all of these things pale in comparison to force of will, as the Finnish proved during the Winter War. Some battles during that conflict consisted of less than a hundred Finns versus tens-of-thousands of soviets. Yet, at the end of the war, the Russians lost 3500 tanks, 500 aircraft, and had sustained over 125,000 dead (official numbers). The Finns lost 25,000 men. For every dead Finn, the soviets lost at least five. This is the cold hard reality behind guerrilla and attrition warfare, and such tactics are not to be taken lightly.
Do we go to the Finnish and tell them that standing against a larger, more well armed foe is "futile"? Do we tell them that their knives and bolt action rifles are no match for tanks and fighter planes? And by extension, do we go to East Asia today and tell the Taliban that their 30 year old AK-47′s are no match for predator drones and cruise missiles? Obviously, victory in war is not as simple as having the biggest gun and only the uneducated believe otherwise.
The Virtues Of Violence
The word "violence" comes with numerous negative connotations. I believe this is due to the fact that in most cases violence is used by the worst of men to get what they want from the weak. Meeting violence with violence, though, is often the only way to stop such abuses from continuing.
At Alt-Market, we tend to discuss measures of non-participation (not non-aggression) because all resistance requires self-sustainability. Americans cannot fight the criminal establishment if they rely on the criminal establishment. Independence is more about providing one's own necessities than it is about pulling a trigger. But, we have no illusions about what it will take to keep the independence that we build. This is where many conceptual solutions are severely lacking.
If the system refuses to let you walk away, what do you do? If the tyrants would rather make the public suffer than admit that your social or economic methodology is better for all, how do you remove them? When faced with a cabal of psychopaths with deluded aspirations of godhood, what amount of reason will convince them to step down from their thrones?
I'm sorry to say, but these questions are only answered with violence.
The Liberty Movement doesn't need to agree on the "usefulness" of physical action because it is coming regardless. The only things left to discern are when and how. Make no mistake, one day each and every one of us will be faced with a choice – to fight, or to throw our hands in the air and pray they don't shoot us anyway. I certainly can't speak for the rest of the movement, but in my opinion only those who truly believe in liberty will stand with rifle in hand when that time comes. A freedom fighter is measured by how much of himself he is willing to sacrifice, and how much of his humanity he holds onto in the process. Fear, death, discomfort; none of this matters. There is no conundrum. There is no uncertainty. There are only the chains of self-defeat, or the determination of the gun. The sooner we all embrace this simple fact, the sooner we can move on and deal with the dark problem before us.
Source: Brandon Smith | Alt-Market
A fellow pastor wrote a Facebook response to my column last week, which was entitled, "Our Friends Are Killing Us." In the column I wrote, "By the same token, how long are Christians today who say they believe in the Second Amendment (and the rest of the Bill of Rights) going to keep sending their tithes and offerings to these churches where the pastors refuse to publicly resist these draconian gun control bills such as were recently introduced by Obama and Feinstein? How long are they going to keep filling the pews of these do-nothing churches? As long as these say-nothing pastors see their pews and offering plates full, don't expect anything to change.
"I will say it plainly: if you attend a church and didn't hear your pastor oppose the Obama/Feinstein gun control bills from the pulpit earlier this year, YOU NEED TO GET OUT OF THAT CHURCH. The only thing holding this republic together is the people's right to keep and bear arms–especially semi-automatic rifles with large-capacity magazines. By refusing to resist evil, your pastor has become an enemy of liberty. Wittingly or not, he is helping to put the chains of slavery around the necks of your children and grandchildren. Why would you stay and support such a pastor and church?"
See the column here:
In response to my column, the pastor posted these remarks on a friend's Facebook page: "A pastor's call from God has nothing to do with fighting for any liberty guaranteed by any human government or document. I will fight and die for our Constitution, but that has nothing to do with my call as a pastor, that is my responsibility as an American, not a pastor. Nor is it the responsibility of any pastor in that calling. We are called to only one form of liberty, and it is not so frail as that offered by any human government. The liberty we are called to proclaim is the liberty that was purchased by the shed blood of our Lord and Savior, Christ Jesus, at Calvary, the only liberty which can never be taken nor infringed. While I support the author's passion and personally speak out defending the second amendment, he is absolutely wrong to accuse men of God of being enemies of liberty simply because they do not engage publicly in the fight for the second amendment. He clearly does not understand the spiritual calling responsibility of a pastor."
Readers should readily recognize that this pastor demonstrates he is totally ignorant of Natural Law or he could not have said what he did. Unfortunately, it has been the better part of a century since seminaries, Christian colleges or universities (not to mention State schools and colleges) have taught the principles of Natural Law. Therefore, it is not surprising that most of today's pastors share the sentiments of the pastor above.
The pastor suggests that, except for the soul's spiritual freedom at salvation, all liberty is something given by government. He is wrong. Liberty (including the Natural right of self-defense) is given by God.
While most of America's founders were Christians, not all were; but to a man, they understood the basic God-ordained principles of Natural Law. According to University of Houston political science professor, researcher, and historian, Don Lutz, the four most quoted sources of the Founding Fathers were (in order):
1. The Bible
2. Montesquieu
3. Sir William Blackstone
4. John Locke
Sir William Blackstone's Commentaries on the Laws of England were, without a doubt, among the most influential writings upon America's founders. In his commentaries (second section), Blackstone said, "Man, considered as a creature, must necessarily be subject to the laws of his creator, for he is entirely a dependent being. A being, independent of any other, has no rule to pursue, but such as he prescribes to himself; but a state of dependence will inevitably oblige the inferior to take the will of him, on whom he depends, as the rule of his conduct: not indeed in every particular, but in all those points wherein his dependence consists. This principle therefore has more or less extent and effect, in proportion as the superiority of the one and the dependence of the other is greater or less, absolute or limited. And consequently, as man depends absolutely upon his maker for every thing, it is necessary that he should in all points conform to his maker's will.
"This will of his maker is called the law of nature. For as God, when he created matter, and endued it with a principle of mobility, established certain rules for the perpetual direction of that motion; so, when he created man, and endued him with freewill to conduct himself in all parts of life, he laid down certain immutable laws of human nature, whereby that freewill is in some degree regulated and restrained, and gave him also the faculty of reason to discover the purport of those laws."
In that same second section of his commentaries, Blackstone further said, "This law of nature, being coeval with mankind and dictated by God himself, is of course superior in obligation to any other–It is binding over all the globe in all countries, and at all times; no human laws are of any validity, if contrary to this: and such of them as are valid derive all their force, and all their authority, mediately or immediately, from this original."
One can easily discern the influence of men such as Blackstone upon the men who penned our Declaration of Independence: Thomas Jefferson (the principal author), Benjamin Franklin, John Adams, Roger Sherman, and Robert Livingston. Listen to the Declaration:
"When, in the course of human events, it becomes necessary for one people to dissolve the political bands which have connected them with another, and to assume among the powers of the earth, the separate and equal station to which the laws of nature and of nature's God entitle them, a decent respect to the opinions of mankind requires that they should declare the causes which impel them to the separation.
"We hold these truths to be self-evident, that all men are created equal, that they are endowed by their Creator with certain unalienable rights, that among these are life, liberty and the pursuit of happiness."
See how Jefferson founded the Declaration of Independence upon "the laws of nature and of nature's God." Furthermore, America's Bill of Rights is simply a foundational treatise respecting the Natural liberties that God breathed into man at Creation. Virtually every amendment in the Bill of Rights has its root in Holy Scripture–and that includes the Second Amendment.
Please understand that every "right" granted by God also entails a sacred duty. If God has granted men the right to life and liberty, He has also demanded of them a duty to protect life and liberty. From the earliest examples of Holy Scripture we see these fundamental tenets of Natural Law.
Before human government existed, God cursed the world's first murderer. God then commanded the progenitor of the human race following the Flood (Noah) to protect human life by the pronouncement, "Whoso sheddeth man's blood, by man shall his blood be shed: for in the image of God made he man." (Genesis 9:6) Then again, hundreds of years before Moses, the man Abram rallied to the defense of his family in Genesis 14 by taking up arms against the "kings of the nations," after which he brought the tithes of the spoils of war to the High Priest Melchizedek, who in turn blessed Abram for what he had done. And the Book of Hebrews tells us that Melchizedek was a type of Jesus Christ. If one were to remove from the Scriptures the examples of men and women of faith who fought for the Natural right of life and liberty–and who resisted those that tried to deny it–I dare say he or she would delete at least half of the entire Bible.
I must assume that this pastor has never read Blackstone or Locke or Hugo Grotius, et al. Listen to Grotius, "[Natural Law] may be called Divine also. And here may take Place that which Anaxarchus said, as Plutarch relates in the Life of Alexander, (but too generally) that GOD does not will a Thing because it is just; but it is just, that is, it lays on under an indispensable Obligation, because GOD wills it. And this Law was given wither to all Mankind, or to one People only: We find that GOD gave it to all Mankind at three different Times. First, Immediately after the Creation of Man, Secondly, Upon the Restoration of Mankind after the Flood, And thirdly, Under the Gospel, in that more perfect re-establishment by Christ. These three Laws do certainly oblige all Mankind, as soon as they are sufficiently made known to them." (Grotius, Hugo, The Rights of War and Peace, Book One, Print, Liberty Fund, Pages 164-166)
The pastor said he was willing to "fight and die for our Constitution," but he is unwilling to preach the divine Natural Law principles upon which our Constitution (including the Second Amendment) are based? Such is the height of ignorance and inconsistency.
Furthermore, whether he realizes it or not, the pastor's stated philosophy is identical to that of the doctrine of "two spheres," which was commonly taught in Germany's churches under the Nazi regime. Hitler's government instructed Germany's pastors and churches to teach Romans 13 as requiring Christians to always submit to civil authority. It was taught that Christ has sovereignty over men's hearts in the spiritual realm, but civil government has authority over everything else. This is exactly what the pastor is saying when he says, "We are called to only one form of liberty, and it is not so frail as that offered by any human government. The liberty we are called to proclaim is the liberty that was purchased by the shed blood of our Lord and Savior, Christ Jesus, at Calvary, the only liberty which can never be taken nor infringed."
To say that we are only called to "one form of liberty," meaning the spiritual liberty of the heart produced by a soul's spiritual redemption, the pastor is relegating all other forms of liberty to the dominion of civil government. Whether he realizes it or not, the pastor is preaching the Hitlerian doctrine of "two spheres."
Ladies and gentlemen, the doctrine of "two spheres" is blasphemous and heretical. "All authority is given unto me," Jesus said. That means all human authority is subservient to His authority. When men (even pastors) cede to human government the sovereign authority of Jesus Christ, they have become idolaters–whether they realize it or not.
God's men throughout history (Biblical and Ecclesiastical) have been the most outspoken opponents of the evils of civil government at every level. One cannot read virtually any book of the Old Testament without reading the stories of courageous champions of God who defied and resisted civil authority when that authority became oppressive and illegitimate. And, remember, the New Testament says that the Old Testament was written for our "learning." (Romans 15:4) Are we New Testament believers to learn nothing from over 4,000 years of Biblical Natural Law teaching in the Old Testament? Do you mean to say that today's passive and compliant pastors are more spiritual than the prophets Micaiah, Jeremiah, and Daniel? Are they more spiritual than Shadrach, Meshach, and Abednego? More spiritual than Gideon, Barak, and Jephthah? Are today's pastors who refuse to say anything controversial in the pulpit, who delight in offending no one, who have, for the most part, become the pathetic pawns of government more spiritual than Martin Luther, Huldrych Zwingli, John Calvin, John Robinson, John Peter Muhlenberg, James Caldwell, or Jonas Clark?
And I also must assume that the pastor doesn't take Jesus literally when he COMMANDED His disciples to buy a sword even if it meant selling one's clothes in order to afford it. (Luke 22:36) If that doesn't make the right and duty to keep and bear arms a divine mandate, I don't know what does.
And remember, too, that the sword Jesus told His disciples to buy was the same sword that the Apostle Paul said that civil government bore in Romans 13. Jesus was not talking about a pocketknife, folks. He was talking about the most sophisticated, efficient self-defense tool known to man at the time: the Roman sword. For us in modern times that would be the equivalent of an AR-15-style semi-automatic rifle. Yes, ladies and gentlemen, the gift of liberty (in all of its forms) is as spiritual and godly as the gift of physical life or the gift of spiritual salvation.
Besides, does not the New Testament teach that everything a Christian does is spiritual in nature? Is a Christian not performing a spiritual work when he or she gets a job to provide for his or her family? Is he or she not performing a spiritual work when they sit around a table and partake of the provision and fellowship of the home? Is a Christian not performing a spiritual work when he or she protects their little ones by locking the doors at night or installing an alarm system or arming themselves against an intruder? Are we only spiritual when we are at church or when we are reading the Bible? Is not everything a Christian does thought to be spiritual? How then can pastors omit the Natural Law duties and responsibilities that God intends to govern our entire lives from their preaching and teaching? Does not the Scripture say, "But if any provide not for his own, and specially for those of his own house, he hath denied the faith, and is worse than an infidel"? (I Timothy 5:8 KJV) The Apostle was speaking specifically about children providing for a widowed mother, but does not providing in the general sense include protection as much as it does provision? Therefore, can we not say that being capable and willing to protect our families against harm and danger is just as spiritual as putting food on the table or clothes on their backs? Regarding this verse, the famed Bible scholar, Albert Barnes, said, "According to our measure, we are to anticipate what will be the probable needs of our families, and to make arrangements to meet them." Certainly, the "probable needs of our families" includes physical protection. You mean to tell me that this pastor is not going to preach this truth of the Gospel from his pulpit? How dare he not? Pastors MUST preach the Natural Law principles of liberty in order to fulfill their divine calling.
In my column last week I said, "If you attend a church and didn't hear your pastor oppose the Obama/Feinstein gun control bills from the pulpit earlier this year, YOU NEED TO GET OUT OF THAT CHURCH. The only thing holding this republic together is the people's right to keep and bear arms–especially semi-automatic rifles with large-capacity magazines. By refusing to resist evil, your pastor has become an enemy of liberty. Wittingly or not, he is helping to put the chains of slavery around the necks of your children and grandchildren." I think this pastor proves my point.
Many years ago I knew a couple who adopted the habit of being gratuitously defensive about one another. If you made even the slightest comment questioning one of them in the other's presence, that party would say something such as "Watch it!" The admonition, however, would lack a certain conviction.
Not long after they were divorced.
Their earlier behavior then made sense: They couldn't accept that their marriage was in trouble. And each spouse would react defensively to even mildly negative feedback about the other not because he knew it was false, but because he feared it was true. It validated feelings each was having about the other but desperately wanted to keep repressed.
I'm reminded of this when considering the intellectual contortions of liberals who defend Barack Obama. No, it's not perfectly analogous: liberals are driven more by political ambitions and ego than by a desire to make their "marriage" work. But the denial is similar.
A good example is a Vanity Fair piece by someone named Todd S. Purdum. Titled "The Lonely Guy: He's a community organizer who works alone. What was once his greatest strength — he kept his cool and didn't need feedback — is now a liability," the subtitle says it all. The article is a somewhat tedious apologia, providing this or that example of how Obama doesn't engage people, of how Daddy Big-Guv thinks he knows best.
In justifying Obama's attitude, Purdum writes:
Self-containment is not simply Obama's political default mode. Self-possession is the core of his being, and a central part of the secret of his success. It is Obama's unwavering discipline to keep his cool when others are losing theirs….
But this quality, perhaps Obama's greatest strength in gaining office, is his greatest weakness in conducting it.
Nonsense. First, keeping your cool (at least publicly) isn't unusual for aspirants to higher office. The few thought lacking in this area, such as Bob Dole and John McCain, found it a liability come election time.
Second, Obama's greatest strength in gaining office was a servile media that suppressed every scandal and ugly truth, every sordid association, every risible mistake and radical position. It's easy being cool when nine wide phalanxes of fawning human shields stand between you and the flak, but one wonders how cool Obama would've been had he not benefitted from the regular affirmative action that got him established and the cultural affirmative action that got him elected. Of course, we'd never have known because his coolness would have been confined to passing the bong with the Choom Gang. We never would've heard of him.
Moreover, many forget that in 2008 his campaign was sometimes faulted for amateurish stumbling. The myth of Obama the Great Campaigner was manufactured after the fact.
But the myth of Obama the Nice Guy is only being questioned after the fact. As to this, Purdum writes, "Five years into their tenure, the [First] couple has a social reputation few would have envisioned when they came to town: more standoffish than the Bushes, and ruder than the Clintons."
Let me correct you, Mr. Purdum: few in your echo chamber of fawning fellow travelers would have envisioned it. Millions of people, however, had Obama's number all along. Perhaps you've heard of them. They're called traditionalists.
Cutting through the nonsense, the real explanation for Obama's "self-containment" was provided by former Obama aide Neera Tanden. Explaining her boss's refusal to call Bill Clinton she said, "The truth is, Obama doesn't call anyone, and he's not close to almost anyone. It's stunning that he's in politics, because he really doesn't like people."
He doesn't like people.
Ponder that for a moment. It's sort of a problem because people are exactly who a leader has to govern. But Tanden is wrong on one point: It's not at all stunning Obama is in politics, as few politicians enter the field because they "like people." Oh, liking people — or at least being able to fake it — helps you succeed, and if Obama prevailed despite visible misanthropy, it is again a testimonial to the power of media manipulation. But an individual is more likely to enter politics to be lauded by people (glory), or to control people (power), or because he hates the people's handiwork (society) and wants to punish them and/or reshape them in his own image. Leaders thus disposed have had names such as Robespierre, Lenin, Hitler, Stalin, Mao and Pol Pot.
Returning to Vanity Fair writer Purdum, the reality about Obama he's struggling to reconcile is explained well by the first part of his magazine's name. After all, he also wrote, "'I think that I'm a better speechwriter than my speechwriters,' Obama told his 2008 campaign political director, Patrick Gaspard…. 'I know more about policies on any particular issue than my policy directors. And I'll tell you right now that I'm going to think I'm a better political director than my political director.'" As per his subtitle, Purdum sloughs this attitude off by claiming Obama "didn't need feedback." The correct explanation is a bit different.
Obama is a self-centered, arrogant, and quite probably megalomaniacal and narcissistic — and possibly sociopathic — jerk.
Truth: everyone needs feedback. A good leader knows this and is wise enough to both surround himself with competent people and to separate good counsel from bad. He exhibits what Confucius spoke of when saying, "Wisdom is, when you know something, knowing that you know it; and when you do not know something, knowing that you do not know it." And Obama? He's not dumb, as some suggest, though his intelligence is overrated. It's that he doesn't know much that is true — and, more significantly, he doesn't know what he doesn't know.
This is when even intelligent people can do profoundly stupid things. For example, Adolf Hitler, a master manipulator who could mesmerize masses, thought he knew better than his generals and was best suited to choose battlefields, strategies and tactics on the Soviet front. Evil people, you see, tend to be ridden with that intellect-occluding thing called pride; they consequently make bad decisions and eventually sink their own ship. And if at the helm of a nation, it can be a mighty big ship they sink.
Speaking of pride, G.K. Chesterton once said, "[A] great man knows he is not God, and the greater he is the better he knows it." This is brought to mind by an interview Obama gave to Chicago Sun-Times religion reporter Cathleen Falsani in 2004. When asked if he prayed often, Obama offered this curious response: "It's not formal, me getting on my knees. I have an ongoing conversation with God. Throughout the day I'm constantly asking myself questions…."
So a "conversation with God" = "asking [himself] questions"? Literally interpreted, this means Obama considers himself God. Of course, allowing for loose talk, there's no saying the president is like an Egyptian pharaoh and actually believes he is a deity. But was his comment akin to a Freudian slip? Did it reflect not only how he is at the center of his own world, but how he naturally assumes he should be the center of the world?
Purdum, seeking to explain Obama's dysfunction — for which he euphemistically uses terms such as "self-sufficiency" — points out that due to parental neglect, Obama has "always been alone." But this warrants elaboration.
Children have a strong need to bond with their parents, so strong, in fact, that if a mother to whom a toddler is attached must leave him even for a time, he may cry in distress. And when a child is continually abandoned — as Obama was by his father and, to an extent, by a mother who left him with grandparents — the pain can be so severe that to ensure he won't be hurt again, he will keep people at arm's length and avoid bonding in the first place. In addition, he can become distrustful of others and even develop a dislike for them; after all, those who should have cared about him most broke his heart. First impressions are powerful, and this child's first experiences with "people" were bad ones.
Therapist Peter Gerlach, who specializes in "bonding wounds," had this to say about such individuals:
Such children increasingly depend on themselves to get key needs met. This becomes normal, reflexive, and unremarkable. They neither expect [n]or ask for help.
They observe how loving adults and kids behave, and become skilled at sounding and acting just like them — but they don't feel attached, empathic, or committed.
These wounded people are often very attractive socially and professionally.
Sound familiar?
Of course, this is psycho-analysis from a distance, but it certainly would explain why Obama "really doesn't like people."
It may sound old-fashioned today, but this is why parents in ages past would try to ensure that a child's prospective spouse came from a "good family." But five years ago millions of Americans refused to look beneath the wrapper and married their nation to damaged goods. And he turned out to be an abuser who will leave nothing but damaged goods in his wake.
Then-Senator Lyndon Baines Johnson devised what has proven to be a brilliant strategy in which to silence and neuter America's churches. His bill, which created the 501c3 tax-exempt corporation status for churches back in 1954, has, over the decades, effectively muted America's pulpits. The vast majority of churches today are thoroughly and completely intimidated by the threat of losing their tax-exempt status under the 501c3 section of the Internal Revenue Code (IRC). As a result, the vast majority of pastors are unwilling to address virtually any issue from the pulpit that could be deemed as political.
Add to the fear of losing tax-exempt status the egregiously slavish interpretation of Romans 13–that Christians and churches must submit to civil government no matter what–and a very legitimate argument can be made that Mr. Johnson not only silenced and neutered America's churches, but that he has, in effect, turned them into agents of the state. More and more, the federal government is using pastors and churches to promote its big-government agenda.
Most readers are familiar with how FEMA created a program called "Clergy Response Teams" several years ago. Under this program, tens of thousands of pastors were instructed on how to assist the federal government in the event of a "national emergency." Pastors were encouraged to teach Bible lessons from Romans 13 in which church members were told that God instructs them to always submit to civil authority unconditionally. They were taught to encourage their congregants to turn in their firearms and to be willing to relocate to government-provided shelters if that is what the government told them to do. The last report I read noted that these Clergy Response Teams have been established in over 1,300 counties in the United States. For those readers who are even casually acquainted with history, is this straight out of the Nazi handbook, or what? Now we learn that churches are being used to help the federal government promote and sell Obamacare.
According to TheBlaze.com, "Community organizers are joining pastors across the country to educate and help parishioners sign up for Obamacare. The coordinated initiative, called 'Health Care from the Pulpit,' is being implemented by Enroll America, a non-profit with the goal of maximizing 'the number of uninsured Americans who enroll in health coverage made available by the Affordable Care Act.'
"The program has already reached a number of churches across the nation. In Jacksonville, Fla, Pastor John Newman is among those who invited community organizers from the group to his church to talk about the cost of Obamacare and the enrollment process.
"During the event, Enroll America invited congregants to fill out cards with basic information about themselves or people they knew who might be in need of health care, WJXT-TV [Jacksonville, Florida] reports.
"'Our pastor, he keeps us real informed and grounded in what's going on in the community, and he's always bringing stuff to help us, so I love him for that,' said one parishioner named Michelle Fletcher.
"Enroll America knows that pastors are trusted members of the community, which is why churches are a focus for education and information on the health care law.
"Through 'Health Care from the Pulpit,' the organization is working with faith leaders to ensure that people hear about availability–and with a captive audience in the pews, the move makes logistical sense.
"'Pastors are trusted messengers. They'll be able to get the story across, they'll be able to relate to that story and they'll be able to ask people to enroll in health insurance,' Enroll America organizer Anthony Penna told WJXT.
"From Oct. 25-27, the organization launched its pulpit program as part of the Get Covered America campaign. Enroll America pledged to help churches who wish to enroll congregants or provide people in the community with information and resources.
"A press release from Oct. 22 on the Get Covered America website further explains the purpose of the in-church events.
"'The "Treat Yourself to Coverage Weekend" will also engage dozens of faith groups for the first nationwide push of "Health Care in the Pulpit," GetCovered America's faith engagement program,' it reads. "Working with a diverse group of faith and lay leaders, Get Covered America will host over 50 events across the country to further engage the faith community in education about enrollment in the marketplace."
"Other initiatives are bringing churches into the Obamacare fold as well. Dr. Michael Minor, pastor of Oak Hill Missionary Baptist Church in Hernando, Miss., was recently given a federal grant to help enroll individuals in the health care program.
"Through the $317,742 fund, Minor will work with Cover Mississippi, a cohort of advocacy groups organized by the Mississippi Health Advocacy Program. He has already put together a group of 75 to 100 'navigators' (trainers) around the state to provide information and access to Obamacare. While his efforts are unaffiliated with Enroll America, they serve as another example of a church getting involved in the health care roll-out."
See the report here: 'Health Care From the Pulpit': Here's How Some Churches Are Spreading the Word About Obamacare
Think about it: before a bill becomes law, pastors are forbidden to address it from the pulpit, because it would be "interfering in politics–a violation of the separation of church and state;" but after a bill becomes law it is now the obligation and duty of pastors to support (and promote) it, because it is now the Biblical thing to do, per Romans 13. Was Johnson a diabolical genius, or what?
By the way, I strongly urge readers to purchase the book on Romans 13 that was co-authored by me and my constitutional attorney son, entitled, "Romans 13: The True Meaning of Submission." This book shatters the misinterpretation of Romans 13: that Christians are commanded by God to submit to the state no matter what. The Apostle Paul was not introducing a new topic in Romans 13–not at all. The subject is covered throughout the scriptures. This book needs to be read by every pastor and Christian in the country. Order Romans 13: The True Meaning of Submission here:
Romans 13: The True Meaning of Submission
Or order my 4-message video series on "The True Meaning of Romans 13″(on one DVD)
In the same manner that the Nazi government co-opted the churches of Germany, the federal government in Washington, D.C., is co-opting the churches of America today. During the rise of the Third Reich, Germany's pastors and churches were taught the same misinterpretation of Romans 13 that pastors and churches in America are now being taught. And in the same way that Hitler used Germany's pastors and churches to promote his big-government socialist agenda, America's pastors and churches today are being used to promote the big-government socialist agenda emanating from Washington, D.C. Mr. Bush used the churches to promote the FEMA Clergy Response Teams, and now Mr. Obama is using the churches to promote the federal government's socialized health care system.
I remind readers that during the Hitler years, the vast majority of German pastors and churches enthusiastically embraced the Nazi agenda even to the point of flying Nazi flags and giving the Nazi salute during the worship services in Germany's churches. But who among us remembers the names of any of these pathetic pastors? Yet, we do remember (as does history itself) the names of plucky pastors such as Dietrich Bonhoeffer and Martin Niemoller who led the spiritual opposition to Hitler's encroachment into the church.
Instead of the federal government's draconian "Clergy Response Teams," we need to resurrect Bonhoeffer's band of heroes, which was known as the "Pastors' Emergency League." This was a group of German pastors dedicated to resisting the Nazi agenda–especially inside the church. The creed of Bonhoeffer's Pastors' Emergency League was:
1. To renew their allegiance to the Scriptures.
2. To resist those who attack the Scriptures.
3. To give material and financial aid to those who suffered through repressive laws or violence.
4. To repudiate the Nazi cause.
Bonhoeffer's Pastors' Emergency League soon became a nationwide movement called, the "Confessing Church." In his masterful book, "Hitler's Cross," Erwin Lutzer summarizes the creed of the Confessing Church as being, "No human sovereign should rule over the church; it must be under the Word of God to fulfill its role." (Page134)
Lutzer also noted that the Confessing Church soon realized that "blind obedience, even in matters that belong to the state, might be a violation of the Christian mandate." (Ibid)
Lutzer further wrote, "Many of our Christian heroes were lawbreakers. Whether it was John Bunyan, who sat in a Bedford jail for his preaching, Richard Wurmbrand, who was beaten for teaching the Bible in Communist Romania, Christians have always insisted that there is a law higher than that of the state." (Ibid)
And, again, to quote Lutzer: "[I]f we say that we will always obey the state, the state becomes our God." (Ibid)
The brave Bonhoeffer rightly said, "Silence in the face of evil is itself evil: God will not hold us guiltless. Not to speak is to speak. Not to act is to act." He also said, "We are not to simply bandage the wounds of victims beneath the wheels of injustice, we are to drive a spoke into the
wheel."
The names of the cowardly and compliant pastors who succumbed to Hitler's ignominious intimidation are forever lost, while the names of Dietrich Bonhoeffer and Martin Niemoller will live forever.
In fact, are not the vast majority of highly revered Hebrew and Christian heroes the ones who RESISTED the power of the state when it became tyrannical? From Abram who resisted the "kings of the nations;" to Gideon; to Samson; to Queen Esther; to the prophet Micaiah; to Daniel; to Shadrach Meshach, and Abednego; to Simon Peter, who told civil leaders, "We ought to obey God rather than men;" to William Tyndale; to John Hus; to John Wycliffe; to John Bunyan; to Savonarola; to Martin Luther; to Dietrich Bonhoeffer; and to Jonas Clark, the names history regards most fondly are the names of men who RESISTED the power of the state when it attempted to interfere with man's duty and devotion to God.
However, what do we see today? We see pastors and churches once again becoming the pawns of evil men in government. Pastors are not so much messengers of God and watchmen on the wall as much as they are agents of the state. They are not so much shepherds who fight and give their lives for the sheep as much as they are facilitators of the wolves who seek to prey on the sheep. And in modern history, the seed of this compromise and complacency began in 1954 when Lyndon Johnson introduced the devilish 501c3 tax-exempt corporation status for churches.
I am absolutely convinced–now more than ever–that America will never experience any sort of spiritual awakening until pastors and Christians abandon the 501c3 government churches and repudiate the devilish doctrine of unlimited obedience to Caesar. Until we return the Church to its rightful owner, Jesus Christ, the tentacles of oppression and tyranny will continue to strangle our land and our liberties.
No doubt you have heard about the War on Drugs, the War on Terror and the War on Happiness. However, you may not be familiar with the War on God, possibly because it would be an unpopular war to discuss publicly. By the "War on God" (definition) we mean the collection of strategies, methods and techniques which have the combined effect of preventing or seriously hampering the efforts of individuals to seek or achieve legitimate Spiritual enlightenment and the Soul's eventual return to God.
The War on God is an ancient war. While the United States and other countries play an active role in this war today, they definitely did not initiate the war. If you want to use the Christian bible as a reference, you could argue that the War on God began shortly after man was created and rejected God in favor of Satan. Clearly, in some form, the War on God has existed throughout human history.
Today, the United States has effectively broken off diplomatic relations with God. The oligarchs who run the country never physically die and so their souls stay on Earth. Apparently, the United States actually believes that its technology, occult knowledge and black magic skills place it in a position which is superior to God.
We know from whistleblowers like David Morehouse that the United States sponsors and trains a cult of psychics to carry out psychic espionage (remote viewing) and also assassinations using psychic black magic techniques. According to clips of his various interviews on YouTube, it was the training in psychic assassinations which caused Morehouse to become disillusioned, quit the secret program and blow the whistle on the operation. Other countries may well operate similar programs but the details will remain unknown until someone defects and exposes them.
The leaders of the United States have always worshiped Satan. The United States was founded by a cult of Satanists known as the Masons and remains under control of that cult today. By rebranding their cult as a nation state, the cult created the appearance of legitimacy. Cult secrets simply transitioned to state secrets. Cult threats to kill anyone telling their secrets transitioned to the crimes of treason and espionage.
Nothing really changed except for the rebranding from a cult to a government. Today, essentially all members of the CIA, NSA and NASA are Masons. All US presidents have been Masons with the two exceptions of Abraham Lincoln and John Kennedy who were both assassinated.
The term "national security" refers to the security of the cult and not to the security of the general population. The Masonic motto is "If you are not one of us, you are nothing". The cult exists only to enrich itself.
The Masons study and practice the occult. Serious study begins after they take a formal oath of allegiance to Satan at the 30th degree initiation. Basic occult knowledge is neutral and everyone who advances Spiritually learns it. However, Masons seek this knowledge to gain power and control over others as opposed to knowledge for personal advancement. This choice, commonly called the Left Hand Path, places them in opposition to the will of God.
If the Satanists simply wanted to sell their Souls to Satan and mind their own business, one could argue that they had that right because they had free choice. However, the situation is not that simple. The Satanic oligarchs did freely choose to worship Satan. However, they also desire a comfortable life. They don't want to do any "grunt" work. Therefore, they have enslaved the remainder of humanity and are holding their Souls prisoner on this planet to service their needs. Therefore, if you, as an innocent Soul, ever plan to escape from this place and return to God, it is in your interest to investigate and gain an understanding of this war so that you will have an opportunity to Spiritually evolve. Otherwise, your Soul will remain a prisoner here — lifetime after lifetime — serving the Satanic overlords essentially forever.
Earth Based Religions
The phrase Earth Based Religions (definition) refers to religious schools which seek and use knowledge, including occult knowledge, to enhance their experiences during their human lifetimes as opposed to using the same knowledge to foster Spiritual development with the ultimate goal of achieving a stable non-physical Spiritual existence.
Although Pagan religions are usually grouped into this category, a more careful examination would reveal that essentially all mainstream religions are Earth based religions. Mainstream religions make constant references to God and Heaven but never explain exactly what they are talking about. Their books concentrate on historical narratives concerning how people in the past lived and coped with the basic problems of human physical existence. They never give details of any level of Spiritual existence or even any specific hints about what life beyond death will be.
Let's try an example. Suppose you have never seen a motor vehicle. You have heard vague stories that they exist, but that is all. Then, suddenly, you find yourself behind the wheel of a car on a high speed road like the US interstate system or the A roads in Britain. What would you guess would be your chance of survival? Try less than zero.
Now suppose you physically die. Suddenly, you find yourself in your Astral body. However, no one ever told you that you have an Astral body. It does not operate under the same rules as a physical body does. It is a very pliant and nimble body. It can travel in time to the past or future, access any plane and subplane in the Astral universe and research the absolute accurate and incorruptible records system known as the Akashic Records to name just a few. But, as in the previous example, you never learned how to "drive" it.
You would have done fine on the highway if you had gradually learned to drive a motor vehicle. You would do fine after death if you had some experience and training with your Astral body. However, no one ever taught you. What practical use is any religion that constantly rants about Heaven but offers no practical advice about your life after this life?
This information may have been a guarded secret in the past, but those days are gone. You can research this information to your heart's content on the internet, locate legitimate Spiritual groups and learn from those who can leave their physical body and explore the non-physical dimensions. But, don't expect any help from a mainstream church.
You might do well to recall the famous quote attributed to Jesus, "The truth will set you free". Mainstream churches are large, rich institutions. They did not get that way by "setting people free". They got that way by terrifying their followers with ridiculous horror stories of what will happen to them if they do not obey their crazy doctrines, stay with them and give them all their money.
Gnostic and other "non-traditional" religions may be Spiritual based as opposed to Earth based. Jesus always reminded everyone that he represented a kingdom "not of this world". If we had accurate records of his true lectures we would no doubt find practical instructions and information about this "other world". We don't have this information because any practical Spiritual teachings he might have given were censored out to create the simplified — but Spiritually sterile — mainstream religions we have today. They are simple to comprehend and follow but will not lead you anywhere except another physical lifetime somewhere on Earth.
Life Before Technology
Before technology life was simple. Although existence was hard, the opportunity for Spiritual experiences was greater than today. Consider, for example, all the empty time you would have as, say, a sheep herder. Nothing to do except make sure the sheep kept moving. In this situation, there was ample opportunity for the mind to wander and perhaps contemplate and glimpse other realities.
Also, and perhaps most important, no electric grid existed on the planet. Electric fields appear as solid "matter" in the Astral dimension and so can affect Astral experiences — generally in a negative way. Artificially created electromagnetic waves which blanket the planet today also have subtle and generally negative effects on living creatures.
Pagan groups generally conduct occult rituals outdoors and away from high population areas. When buildings are used, it is desirable that they be made only of wood and assembled without any metal (nails) and, of course, have no electrical wires.
Both good and evil existed before technology as they always have. It was possible to use psychological propaganda to influence and control susceptible masses of people. However, the positive and negative forces were more in balance. It was not possible for a single group to successfully dominate the planet.
Drugs existed in the form of various plants. Adepts learned how to use them to help or harm others. People with developed psychic abilities existed as they always have and white and black occult schools existed. Legitimate Spiritual masters existed.
Some techniques that thrived have essentially become extinct because the population of the planet has devolved. It is next to impossible to successfully teach Tantra (sex yoga), because today's generation is incapable of the required level of self control. Classic Tibetan yoga techniques are still taught in isolated areas, but the masters — for good reason — will no longer consider trusting outsiders.
Information Control Techniques
Information control is essential for protecting the integrity of a compartment. People are held as slaves by constructing an information box which holds the slaves in an information prison. As long as the "walls" of the compartment remain impenetrable, the compartment — or belief system — will be stable and no slave will escape.
Considerable energy is required to achieve this. Those assigned to protect the walls obviously know that the compartment is an intellectual illusion. Therefore, they must be sworn to secrecy and intimidated in such a way that they will not compromise the integrity of the compartment. It only takes one "leak" to initiate a chain of events which could collapse the compartment and so allow the slaves to escape.
Consider, for example, the Snowden leaks. One person sharing knowledge has totally destroyed the illusion of privacy that most people had accepted as fact. It will not be possible to reconstruct this illusion. The compartment has collapsed.
Similar principles apply in the Spiritual spectrum. Because of the characteristics of the human bodies in use on this planet, most people do not retain any conscious memory of events before they were born. This is not universally true. Life forms on many other planets retain the memories of previous existences. Because humans generally do not have this recall, they are easily enslaved and can be conditioned to believe most anything.
To maintain a state of Spiritual ignorance it is important to institute methods which will prevent people from realizing that they are actually Souls experiencing a constructed illusion. People somehow reaching this state, sometimes referred to as "self realization", will no longer respond to establishment propaganda and are generally considered a threat to the current social order.
The easiest and most direct method to achieve a stable slave population is simply not to talk about anything even vaguely esoteric. For example, how often have you heard the words astral, chakra or aura mentioned on a mainstream TV channel?
Most people will then likely "remain asleep" throughout their entire lifetime and will be no problem. Unfortunately, people have a natural desire — even though it may be an unconscious desire — to Spiritually evolve. It is, after all, the true purpose of human existence.
When someone tries to break away from the contrived illusions more direct methods are needed to return the slave to a state of ignorance. Today, various methods which cause brain damage — generally performed by psychiatrists — are used to negate any success in Spiritual evolution and return the slave to a state of vacant contentment.
Diversions and Techniques Promoting Inaction
The simplest and most effective diversionary technique is to promote scientific atheismand darwinian evolutionary philosophy as established fact. If you can get someone to buy into this philosophy, their fate is sealed. Even if they experience some contact with another dimension, such as an out-of-body experience, they will follow their programming, dismiss the experience as a delusion and refuse to investigate further. When they die, they will be totally lost and confused, flounder around on some lower Astral plane and eventually reincarnate just as Spiritually ignorant as before.
A side effect of accepting scientific atheism, which totally cripples Spiritual progress, is the acceptance of suicide as a way out of life's problems. Suicide becomes a learned reaction. Consequently, when the Soul is sent back into another physical lifetime, it is likely to commit suicide again when faced with some unpleasant event. It never learns, and this cycle can repeat essentially indefinitely. Dealing with this is one of the most difficult problems faced by the administrators who work on the Astral planes.
For those who want more than scientific atheism, there is mainstream garden variety religion. Mainstream Christianity has developed a clever stonewalling technique that has worked to promote inaction for thousands of years. This technique is centered upon the argument that no one can make any progress until Jesus returns to show the way. In the meantime, people should just do nothing and wait. The effect of this is essentially the same as scientific atheism. No Spiritual progress is made.
Schemes designed to waste time are common. One really off the wall example is the decision in Syria to prohibit vacuum cleaners and standard flat brooms in homes. "Witch type" brooms consisting of a circular straw bundle are allowed. Surely there must be a good reason to keep these terrorist weapons out of the reach of the typical Syrian housewife. The official reason is to make basic housework as difficult and time consuming as possible so as to prevent the woman from having any free idle time which, if allowed, could lead to the emergence of "immoral thoughts". Perfectly logical!
In the western world, complex bureaucracies seem to be deliberately designed to make the path to whatever you want as difficult as possible. Here the apparent motive is to prevent the acquisition of enough free time for any independent thought process. There are just not enough hours in a day to allow for any quiet contemplation of anything.
"Blank time" is always reported as a factor in the development of Spiritual figures. Time alone in the wilderness, time spent meditating alone in some isolated cave or at least periods of dedicated quiet time somewhere figure prominently in historical accounts of these people.
You may know or have heard of kids who spend all their waking hours playing interactive role model video games with other kids on the internet. They eat meals by the computer and never leave except to briefly sleep before returning to the all important game. Their entire life is spent in an imaginary reality. You may want to consider that your "real" life may not be all that different. You play a role. Your attributes are fixed by what society expects based upon that role. You can't change, because others would notice. Your concept of the world beyond your little world is determined by what you see on TV. Daily, you receive your "fix" of carefully choreographed "programming" which appears unusually coherent because, as you may not know or fully comprehend, everything on TV is controlled by a few corporations and all of them are loyal to the official government party line. If you somehow had the opportunity to break from this structured "game" you play from day to day — say, the opportunity to visit other countries and see other cultures — you would likely realize that your existence has not been that much different from the kid addicted to a computer game. You would find that the actual "real" world had very little relationship to the world you had been conditioned to believe existed.
Chemical Control Techniques
"With the use of chemical brain-control agents it may be possible to control the individual and the masses and to do this unobtrusively and without the active cooperation of the victims — not a question for the future — it is here".
This is a quote from the book by Edgar Cayce titled Edgar Cayce on Atlantis. There are references to Dr. Robert Galbraith Heath, and this book bears a copyright date of 1968. The book cites an interview that Heath gave to a newspaper called The Virginia Lighthouse and cites the above statement made by him on November 20, 1966. Heath founded the Department of Psychiatry and Neurology at Tulane University, New Orleans, in 1949 and remained its Chairman until 1980.
During this period, Tulane University actively participated in the CIA mind control project known as MK Ultra [1]. Also, during this period, Tulane became an active member of the secret Institute for Defense Analyses, or IDA, a corporation whose only client is the US government. Heath reportedly performed many experiments there involving electrical stimulation of the brain via surgically implanted electrodes. This work was reportedly partially financed by the CIA and the US military. Heath is now "officially" [11] deceased.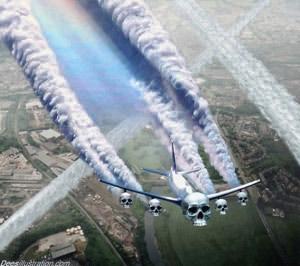 You have been drugged since you were conceived — before you were even born. Your mother was drugged. Soon after birth, you were injected with mercury containing vaccines. And the systematic process of poisoning you never stopped.
By some estimates at least eighty percent of the food in the average supermarket is poison either because it is genetically modified or laced with pesticides and other additives. Even the air is poison now because of geoengineering chemicals sprayed into the upper atmosphere.
It should be noted that things are different in the separate but parallel world of the elite. The Max Keiser show [12] discussed the secret gardens in Japan. These gardens are surrounded by high walls and guarded by the military. They produce the food for the ruling elite. Every plant in the garden has its own health certificate certifying that is pure, healthy and not genetically modified. Obviously, every developed country must have a similar secret supply chain of legitimate food for its ruling class. Certainly the elite know better than anyone that the food supply for the ordinary people is poison. They're not fools. They wouldn't touch the stuff.
Vaccines used for the elite are prepared without the mercury and other toxic additives found in vaccines given to the ordinary people.
Various agents — mainly from plants — have always existed which could be used by those aware of them to harm others or control people by altering their state of consciousness. However, only recently has it become practical to wreck the health of essentially everyone on the planet at the same time. Genetic modification of plants and other life forms used for food has made this possible. Now, quietly, people throughout the world can be sterilized, crippled with serious health problems or even killed by altering the genetic makeup of the food supply. Ordinary people remain generally ignorant of the fact that this awesome power exists and is presently being used against them.
Mind control has become a science. You can't major in it in college because this science is essentially entirely secret. The United States and other countries have spent the equivalent of billions of US dollars investigating and perfecting mind control.
Many secret research projects using unsuspecting or perhaps kidnapped people — some of whom were killed — have been conducted in the past and continue today. We only know about a very few of these projects such as MK Ultra, MK Naomi and Project Other. Even in these projects, specific details are sketchy. From these experiments, practical techniques for creating manchurian candidates and implanting created false personalities and identities have been developed and are in common use today within the secret communities.
Everyone has likely been the victim of some degree of mind control to some extent. Chemical weapons designed to mentally cripple people and render them drooling idiots are freely sold as prescription drugs in drugstores and are available to doctors to use as they please.
The lives of many kids are destroyed by these "drugs" because they have no ability to resist and their parents are ignorant and believe doctors can "do no harm". Actually, today's doctors are agents of the state. Many have top secret clearances and embrace classic Nazi philosophies such as eugenics. Their function is to watch you and make sure you "die appropriately" so as not to burden society. Anything they learn about you and anything you tell them is freely available to anyone in the intelligence community who is curious about you.
Only members of the super elite who are entitled to access top secret medicine will receive legitimate supportive medical care. Ordinary people will be deliberately allowed to die even though doctors with top secret clearances know of effective treatments which would cure them but which are classified and reserved for the chosen elite.
There is no such thing as an incurable disease any more. All the cures have been discovered. If you die, it is because you are not considered important enough to live and not because the cure does not exist.
Common sense should suggest to you that the lives of the elite have statistically different characteristics. For example, members of congress do not live sheltered lives. They work in close quarters and travel extensively both locally and internationally. They are always hanging out with prostitutes as well as playing with the young congressional pages.
Washington D.C. is reported to have more brothels than fast food joints. Strangely, however, these people do not get sick. Have you ever heard that congress had to shut down because everyone was coming down with some infection. It happens in other close populations, so what would make them exempt?
Understanding Astral Damage
Living things have an Astral component. For example, when you cut a leaf and then see the complete leaf on a Kirlian photo you are viewing the Astral component which was unaffected by cutting the physical component because it does not exist in the physical dimension.
Over one hundred years ago, practical techniques for viewing the human Aura were developed by Walter J. Kilner [4]. The original technique used dicyanin dye and a later technique used special glasses. You can't find either one today. In his research, Kilner was able to demonstrate that defects in the human Aura appeared before some corresponding disease manifested in the physical body.
Therefore, he was able to detect and prevent an adverse physical condition before it ever physically materialized. So, you ask, why don't we have this marvelous medical technique available today? Well, we do. It is in use in top secret medicine. However, only the approved elite now have access to it. The information has been removed from public knowledge and classified.
In conventional allopathic medicine, which is based upon scientific atheism and sold to the general public, there is officially no such thing as an Astral body. Conventional medicine denies the existence of anything beyond the physical dimension. Since the Astral body officially does not exist, it is not recognized as a crime to deliberately harm it.
Damage to the Astral body can be compared to damage to the physical body. If you punch holes in the physical body by cutting it, shooting bullets at it or whatever, blood runs out and germs get in. If you cause enough damage, the body dies. Astral bodies do not die, but can suffer critical energy losses. Similar to physical bodies, punching holes in the Astral body allows essential energy to escape and harmful energies to enter.
There are many events which can harm your Astral body. It is in your interest to understand these events because your Astral body will be your primary body when your physical body dies. If it has been damaged, you will be at a severe disadvantage. The chosen elite have perfect Auras because they can use the Aura balancing machines available to them at any top secret medicine provider. However, you cannot.
Also, the ruling elite seem to take some delight in causing harm to the "ordinary" people. Consequently, many drugs, food additives, GMO foods and industrial chemicals found in the environment cause Astral damage. Chemicals recognized as poisons and banned in other countries can be freely added to foods given to ordinary people in the US.
Obviously, there must exist a secret supply chain of safe food and water which is available to the chosen since they know of the contamination and certainly would not want to harm themselves or their friends.
There are ways to closely duplicate the secret techniques available only to the elite. If you can see auras or can find a reputable psychic who can, you can approximate the techniques developed by Kilner and available to everyone over a hundred years ago. Although the secret aura balancing machines are more accurate, a competent psychic healer can do the same thing. Actually, since psychics have always existed, similar techniques have been available throughout the ages to those who were aware.
Fluoride
The concept of adding fluoride to drinking water for the purpose of mind control is said to have originated in the 1930′s as a result of collaboration between German and Russian scientists [2]. Sodium fluoride was originally used and was found to cause a "mild lobotomy" in people who consumed small quantities. The effects were considered to be non reversible after one year of continuous use of the tainted water. Hitler added sodium fluoride to the water in his concentration camps to make the prisoners docile and cooperative as they waited for death.
Sodium fluoride (NaF) is used today in personal products like toothpaste. To poison the water supply of an entire country with sodium fluoride would be expensive. However, it just so happens that there is a waste product created during the manufacture of phosphate fertilizers, Fluorosilicic acid (H2SiF6), which is classified as hazardous waste and would be expensive to dispose of under EPA guidelines.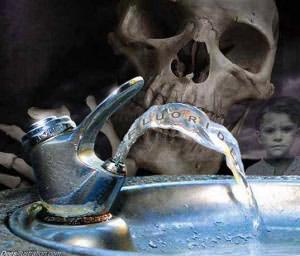 There is lots of this stuff available. This is the poison added to the public water supply in the US and some other countries. It is actually economical for industry because they don't have to pay for hazardous waste disposal. They just pump it into the public water supply.
In the human body, fluoride has an affinity for the pineal gland in the brain. The pineal gland is associated with the "third eye". Everyone has this third eye, but few are aware of it or know how to activate and use it.
Although the pineal gland is part of the physical body, the associated third eye is part of the Astral body and so is invisible in the physical dimension. The third eye allows you to see and communicate with the non-physical dimensions while fully awake and functioning in the physical dimension. So, you could see and carry on a conversation with someone in the physical dimension while invisibly also viewing and communicating with some entity on another plane of existence.
The standard Christian bible refers to the third eye with the phrase, "If thy eye be single thy whole body will be filled with light". However, only students of mysticism would recognize the true meaning of this quote.
Obviously, having this ability would be a threat to the security of any totalitarian society. Poisoning with fluoride destroys this ability and so solves that problem. Literature is available if you wish more detailed information. Simply search using the phrase "fluoride third eye".
On the chance that fluoride in the water is not sufficient to destroy any psychic abilities you may have, there are more aggressive ways to get fluoride into your brain. Here are some structural models of popular psychiatric drugs:
Notice that the element Fluorine (symbolized by its standard chemical symbol "F") figures prominently in all these compounds.
These drugs are used to cause "chemical lobotomy". By blocking communication channels with the higher levels of the human brain, they effectively convert the victim into a lower form of animal. Lower animals do not have the frontal lobes possessed by humans. That is what makes humans special. Disabling the frontal lobes effectively transforms a natural human being into, basically, a docile and obedient house pet which can be trained like a dog.
Incidentally, Fluorine also figures prominently in Sarin nerve gas.
For a more in depth study search YouTube for the free documentary Flouridegate — An American Tragedy by David Kennedy.
They All Drink From the Same Trough
If you casually look out upon the institutions of the world, it may appear to you that they are independent, discrete entities. However, they are not. They are all components of a collective which has successfully hidden its existence and true nature from the general population for generations.
Let's begin with the media in the US. Although it may appear to you that there are thousands of independent sources reporting "news", 90% of all media is controlled by six corporations. They are General Electric, News-Corp, Disney, Viacom, Time-Warner and CBS.
In the US, people believe they are protected from tyranny by the concept of "separation of powers" — that the executive, legislative and judicial branches of government are staffed by independent thinkers who "check and balance" each other. This is also a deception.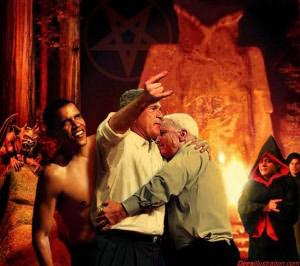 Once a year, at the end of July, there is a secret gathering on private property in the redwood forest of California called the Bohemian Grove. Although this annual meeting has been going on for over one hundred years, it is only during the last several years that outsiders have begun to learn of its existence. The only reason they have is because of the internet and independent journalism. Leaders from the mainstream media are all members of this secret club and so never even report its existence.
Who else goes to this annual secret "party"? Well, for want of a better name, we will call them the "Trusted Satanists". They are the leaders of all the major corporations, banks and representatives from all the major branches of the US government as well as foreign governments.
Although these men outwardly support the concept of capitalism for the masses, this elite group, among themselves, are perhaps best described as "rich socialists". Only men are allowed. For recreation, a stable of prostitutes — both male and female — are kept nearby off-site. The male prostitutes could theoretically enter the Grove.
The "party" begins with a Satanic ritual called "Cremation of Care" (i.e., "we don't care") which features the burning of a coffin at the base of a huge statue of an owl. Walter Cronkite reportedly was the official announcer at the grove until his death.
A secretly filmed video of this event is available on YouTube. It is supposed to be a "simulated" child sacrifice. However, since the CIA, FBI and NSA attend the ritual, who is going to complain on the chance it is a real sacrifice of a human child? After all, they are all trusted Satanists.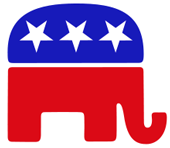 Most attendees from the United States are members of the Republican party. This is completely predictable in view of the fact that the US Republican party flaunts its affiliation with the "dark side" by prominently using the inverted star symbol on its official logo.
During the two week period, corporate leaders, the "independent" government regulators who supposedly keep corporations honest, the leaders from the executive, legislative and judicial branches of US government who are supposed to be "checking and balancing" each other, as well as the media moguls who we "trust" to report the truth, are all running around naked in the woods — pissing on the trees, playing with each other, and the male prostitutes as well as the off-site female prostitutes, and "having discussions".
Well, what are they "having discussions" about? They are discussing what they plan to do with "their world". The Manhattan Project to develop the first atomic bomb was reportedly planned at one of these discussions years ago. What about you? What about your future? What about any expectation of happiness you may have? Well, you see, you "don't need to know". Remember, "If you are not one of us, you are nothing".
Blueprints For the New World
Overview
If this link [7] is still active, it would be in your interest to read through it. This document is a transcript of a speech given by one of the insiders in the year 1969. He boldly states,"Everything is in place and no one can stop us now".
The article details how people ("people" means the slave class who are "nothing"; recall: "If you are not one of us, you are nothing") will just have to get used to changes such needing permission to have children, accepting mandated euthanasia as the law and total surveillance. Essentially all goals are now achieved, although some still remain guarded secrets.
The 1960′s was the period when physical death was eliminated. Of course, this "privilege" is only available to the select Satanic oligarchs. Effective cures for all diseases were also developed. The speaker [7] states that the cures are on file in the Rockefeller Institute. Of course, most are classified and only available to the chosen elite.
Infrastructure
The PBS documentary, Top Secret America [8], presents a good overview of the secret world of the elite. You may think no one is paying attention to the infrastructure in America because streets are in disrepair and bridges are falling down. However, you would be wrong. A tremendous amount of money is being spent on infrastructure in America — for the chosen elite. You will never see it and you will have no need for the decaying bridges and streets because you won't be around to use them. You, as well as 90+ percent of the current population, will be killed in the "Great Culling".
The new infrastructure is quite elaborate as the documentary explains. It consists of thousands of buildings which have a few stories visible above ground but which then extend for 90+ stories underground. All amenities are available within these secret structures which are basically self-sufficient.
It is important for the buildings to reach deep underground so that the lower levels can connect to the secret underground transport network. This network is global and provides safe high speed transport for the elite. Whenever the network crosses a tectonic plate, massive amounts of silicone are used to allow the transport tunnel to flex as needed. The network has access points in all countries. However, these points remain secret in countries which have yet to be subdued and co-opted into the new world order.
NWO Enabling Documents
The treaty known as the Trans-Pacific Partnership appears to be the formal enabling document for the new world. The actual document is secret and only high level corporate executives and politicians are allowed to see it.
Even after the treaty goes into force, its contents will remain secret. Because, in the United States, treaties must be openly debated in congress, the treaty is being called an "agreement" to circumvent the law and keep its contents secret. However, some details have become known.
Although the planet is officially divided into "sovereign" countries, it is overlaid with a network of transnational corporations. This network basically forms a parallel government which encircles the globe. The Trans-Pacific Partnership is designed to cause any country which signs on to surrender its national sovereignty to a secret committee composed of corporate executives. This committee can then alter the constitution and laws of any country which has accepted the treaty as suits their whim. There will be no appeal against this.
Under the treaty, there will be only one purpose to human life. That purpose will be to maximize the profits of the cabal of transnational corporations which will now be essentially a single global corporation in absolute control of the world. This effectively institutionalizes the new world order.
What does this mean for you? Well, to begin with, there can be no retirement. Paying for retirement would negatively impact corporate profits. So, if you can't work, you will be killed. Taking care of sick people would also drain corporate profits. It would be more profitable just to kill the sick and replace them with young, healthy slaves. Disabilities — forget it — disabled kids will never make it out of the womb alive.
Reeducation
To come into compliance with the philosophy of the new world, people will need to be reeducated. Military instruction documents [6] are already teaching that the Founding Fathers of the United States were extremists and anyone who thinks like them would not be suited for today's military.
Well, what did these radical extremists think?
"We hold these truths to be self-evident, that all men are created equal, that they are endowed by their Creator with certain unalienable Rights, that among these are Life, Liberty and the pursuit of Happiness."
Obviously, these principles are not compatible with the new world. The idea of a "Creator" conflicts with the official doctrine of Evolution. We can't have that. People must accept that they and the universe they live in is simply an "accident".
People are already realizing that Liberty and Happiness are gone. They know now that they live under constant surveillance and their lives get worse year after year. How about the right to Life? Can't have that. People need to be reeducated to believe that it is their "duty to die" when they are no longer useful to the state (which is now the global corporation).
Of course, the global elite will live physically forever but ordinary people will not know this.
If a world where people are conditioned to want to die and do not want kids but just sleep around for fun sounds vaguely familiar to you, you might recall that this is the future society described in Huxley's classic novel, Brave New World.
Population Modification
Please refer to [9] as a reference source. Today's "great thinkers" seem to be coming into agreement that most people are unnecessary and need to be exterminated for the convenience of the elite. Bill Gates, who has now been accepted into the super exclusive Bilderberg group, has reportedly taken the task of exterminating the third world population by giving them "free" vaccinations which will render them sterile.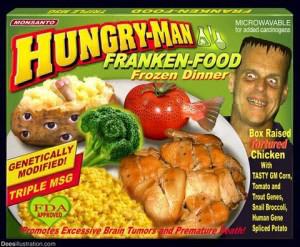 Lots of groups are working on secret sterilization methods. European tests of Monsanto's GM soybeans on hamsters showed the animals became sterile by the third generation [12]. A new gene known as Epicyte [9] is planned to be added to GM corn which will cause immediate sterilization.
Additionally, people are being "eased into" accepting the concept of "after birth abortion". Intellectuals are trying to get people to accept the argument that living human children under three or perhaps even five years old are really "not people but advanced feotuses". Since abortion is already legal, a simple change in the definition of "feotus" would allow young kids to be killed at will for any reason.
Another "new thought" gradually being programmed into the young is the pleasure of the "childless lifestyle". This propaganda seeks to convince people that having kids is too much trouble and they will be happier if they just get sterilized and then run around having lots of sex purely for fun.
These "evolutionary" population control techniques are already in effect. However, the elite likely are not willing to wait several generations to get rid of those they do not need. This brings us to the more direct method commonly called "The Great Culling" which will allow the elite to kill off most of the world's population quickly.
The most likely method will be the release of new designer viruses for which no one will have any natural immunity. Of course, the elite will all get the classified antidote. Preparations for the disposal of the bodies is already complete and stockpiles of plastic coffins — each designed to hold three bodies and manufactured under government contract by Halliburton — have been photographed and documented. Everything is now in place awaiting the "go" command.
Designer Children
Some types of designer children have already been approved for "production". Britain has approved three parent babies [10] and China has proposed a process to artificially fertilize most of a woman's eggs and then examine them to determine which is likely to produce a child with the highest IQ. This will be the only selected egg because Chinese women are only allowed to have one child and must then be sterilized.
In the new world where the only purpose of people will be to do slave labor to serve the elite corporate masters, the concept of allowing the existence of children conceived naturally clearly cannot be allowed. There would be an unexceptable chance for some kind of error that could result, for example, in the creation of a being capable of independent thought who might challenge the establishment.
A man's true worth is measured by the amount of other people's happiness that he can possess and destroy
This is a quote from the docudrama The American Ruling Class [5]. It is worthy of discussion because it is so prophetic.
The Satanic oligarchs who run this world basically exist and thrive on the misery of others. It is not enough just to use and abuse you — they want to consume your Soul. Your misery and suffering is, essentially, their "food". It is the source of their energy.
Ordinary innocent Souls are sustained by the life energy which flows from the Creator. However, since the oligarchs hate God, this energy flow is not available to them. So, they essentially survive by consuming the life energy of the innocent Souls they have captured and enslaved.
Ordinary people do not naturally choose to spend their lives in a state of constant war. They have to be somehow coerced into this behavior. Otherwise, they would likely seek a quiet, peaceful life. The atrocities the US and other warmonger nations force their citizens to commit are so contrary to basic human nature that the US loses more soldiers to suicide than it does to the enemy. The once innocent soldiers find that they simply cannot continue to live with what they have become and the memories of the horrors they have caused to others. The Satanic rulers who create wars, of course, have no problem with this.
Promotions within the inner circles of power are based upon how much evil one has done. The more harm you cause to others the greater your respect. You may have noticed that the stock market, which is a measure of the success of the elite, shows gains during periods when the average person is suffering and losses during periods when, somehow, life for the ordinary person seems to improve. The stock market set a new all time high, for example, during the Vietnam War when innocent young kids were being drafted and slaughtered in Vietnam while peaceful protesters at Penn State were executed by government forces for daring to dissent.
Why You Should Care
On the low Astral planes you will find people — Souls — who are totally lost and confused and seem to move in slow motion. They do not realize they have died. These "people" are not there because they tore up the Bible or burned the Koran or some other offensive act. They are there simply because it is the best they can do. They are using all of the Spiritual energy they have just to maintain this miserable existence. Whatever activities they engaged in while alive had no Spiritual merit and had no effect on developing or increasing their Spiritual energy level. Since the opportunity to do this ended when they died, they will remain strung out in this condition until they reincarnate again at which point they will have another chance to choose activities which enhance Spiritual energies.
You should care because the things you do and the things you fail to do during your brief life here will affect your existence for millions of years in the future.
The other dimensions operate under exact scientific rules just like this dimension. However, the rules are not the same. Because alternate sources of information are available today — mainly because of the internet — it is in your interest to at least investigate the available literature on Spirituality, energy raising techniques and various first-hand reports from people who have successfully visited the neighboring dimensions.
Source:  Walter C. Vetsch   |   3108.info  |  War Is Crime
There is a new normal in America: our government may shut down, but our wars continue.  Congress may not be able to pass a budget, but the U.S. military can still launch commando raids in Libya and Somalia, the Afghan War can still be prosecuted, Italy can be garrisoned by American troops (putting the "empire" back in Rome), Africa can be used as an imperial playground (as in the late nineteenth century "scramble for Africa," but with the U.S. and China doing the scrambling this time around), and the military-industrial complex can still dominate the world's arms trade.
In the halls of Congress and the Pentagon, it's business as usual, if your definition of "business" is the power and profits you get from constantly preparing for and prosecuting wars around the world.  "War is a racket," General Smedley Butler famously declared in 1935, and even now it's hard to disagree with a man who had two Congressional Medals of Honor to his credit and was intimately familiar with American imperialism.
War Is Politics, Right?
Once upon a time, as a serving officer in the U.S. Air Force, I was taught that Carl von Clausewitz had defined war as a continuation of politics by other means.  This definition is, in fact, a simplification of his classic and complex book, On War, written after his experiences fighting Napoleon in the early nineteenth century.
"Forever war is forever profitable."
The idea of war as a continuation of politics is both moderately interesting and dangerously misleading: interesting because it connects war to political processes and suggests that they should be fought for political goals; misleading because it suggests that war is essentially rational and so controllable.  The fault here is not Clausewitz's, but the American military's for misreading and oversimplifying him.
Perhaps another "Carl" might lend a hand when it comes to helping Americans understand what war is really all about.  I'm referring to Karl Marx, who admired Clausewitz, notably for his idea that combat is to war what a cash payment is to commerce.  However seldom combat (or such payments) may happen, they are the culmination and so the ultimate arbiters of the process.
War, in other words, is settled by killing, a bloody transaction that echoes the exploitative exchanges of capitalism.  Marx found this idea to be both suggestive and pregnant with meaning. So should we all.
Following Marx, Americans ought to think about war not just as an extreme exercise of politics, but also as a continuation of exploitative commerce by other means.  Combat as commerce: there's more in that than simple alliteration.
In the history of war, such commercial transactions took many forms, whether as territory conquered, spoils carted away, raw materials appropriated, or market share gained.  Consider American wars.  The War of 1812 is sometimes portrayed as a minor dust-up with Britain, involving the temporary occupation and burning of our capital, but it really was about crushing Indians on the frontier and grabbing their land.  The Mexican-American War was another land grab, this time for the benefit of slaveholders.  The Spanish-American War was a land grab for those seeking an American empire overseas, while World War I was for making the world "safe for democracy" — and for American business interests globally.
Even World War II, a war necessary to stop Hitler and Imperial Japan, witnessed the emergence of the U.S. as the arsenal of democracy, the world's dominant power, and the new imperial stand-in for a bankrupt British Empire.
Korea?  Vietnam?  Lots of profit for the military-industrial complex and plenty of power for the Pentagon establishment.  Iraq, the Middle East, current adventures in Africa?  Oil, markets, natural resources, global dominance.
In societal calamities like war, there will always be winners and losers.  But the clearest winners are often companies like Boeing and Dow Chemical, which provided B-52 bombers and Agent Orange, respectively, to the U.S. military in Vietnam.  Such "arms merchants" — an older, more honest term than today's "defense contractor" — don't have to pursue the hard sell, not when war and preparations for it have become so permanently, inseparably intertwined with the American economy, foreign policy, and our nation's identity as a rugged land of "warriors" and "heroes" (more on that in a moment).
War as Disaster Capitalism
Consider one more definition of war: not as politics or even as commerce, but as societal catastrophe.  Thinking this way, we can apply Naomi Klein's concepts of the "shock doctrine" and "disaster capitalism" to it.  When such disasters occur, there are always those who seek to turn a profit.
Most Americans are, however, discouraged from thinking about war this way thanks to the power of what we call "patriotism" or, at an extreme, "superpatriotism" when it applies to us, and the significantly more negative "nationalism" or "ultra-nationalism" when it appears in other countries.  During wars, we're told to "support our troops," to wave the flag, to put country first, to respect the patriotic ideal of selfless service and redemptive sacrifice (even if all but 1% of us are never expected to serve or sacrifice).
We're discouraged from reflecting on the uncomfortable fact that, as "our" troops sacrifice and suffer, others in society are profiting big time.  Such thoughts are considered unseemly and unpatriotic.  Pay no attention to the war profiteers, who pass as perfectly respectable companies.  After all, any price is worth paying (or profits worth offering up) to contain the enemy — not so long ago, the red menace, but in the twenty-first century, the murderous terrorist.
Forever war is forever profitable.  Think of the Lockheed Martins of the world.  In their commerce with the Pentagon, as well as the militaries of other nations, they ultimately seek cash payment for their weapons and a world in which such weaponry will be eternally needed.  In the pursuit of security or victory, political leaders willingly pay their price.
Call it a Clausewitzian/Marxian feedback loop or the dialectic of Carl and Karl.  It also represents the eternal marriage of combat and commerce.  If it doesn't catch all of what war is about, it should at least remind us of the degree to which war as disaster capitalism is driven by profit and power.
For a synthesis, we need only turn from Carl or Karl to Cal — President Calvin Coolidge, that is.  "The business of America is business," he declared in the Roaring Twenties.  Almost a century later, the business of America is war, even if today's presidents are too polite to mention that the business is booming.
America's War Heroes as Commodities
Many young people today are, in fact, looking for a release from consumerism.  In seeking new identities, quite a few turn to the military.  And it provides.  Recruits are hailed as warriors and warfighters, as heroes, and not just within the military either, but by society at large.
Yet in joining the military and being celebrated for that act, our troops paradoxically become yet another commodity, another consumable of the state.  Indeed, they become consumed by war and its violence.  Their compensation?  To be packaged and marketed as the heroes of our militarized moment. Steven Gardiner, a cultural anthropologist and U.S. Army veteran, has written eloquently about what he calls the "heroic masochism" of militarized settings and their allure for America's youth.  Put succinctly, in seeking to escape a consumerism that has lost its meaning and find a release from dead-end jobs, many volunteers are transformed into celebrants of violence, seekers and givers of pain, a harsh reality Americans ignore as long as that violence is acted out overseas against our enemies and local populations.
Such "heroic" identities, tied so closely to violence in war, often prove poorly suited to peacetime settings.  Frustration and demoralization devolve into domestic violence and suicide.  In an American society with ever fewer meaningful peacetime jobs, exhibiting greater and greater polarization of wealth and opportunity, the decisions of some veterans to turn to or return to mind-numbing drugs of various sorts and soul-stirring violence is tragically predictable.  That it stems from their exploitative commodification as so many heroic inflictors of violence in our name is a reality most Americans are content to forget.
You May Not Be Interested in War, but War Is Interested in You
As Russian revolutionary Leon Trotsky pithily observed, "You may not be interested in war, but war is interested in you."  If war is combat and commerce, calamity and commodity, it cannot be left to our political leaders alone — and certainly not to our generals.  When it comes to war, however far from it we may seem to be, we're all in our own ways customers and consumers.  Some pay a high price.  Many pay a little.  A few gain a lot.  Keep an eye on those few and you'll end up with a keener appreciation of what war is actually all about.
No wonder our leaders tell us not to worry our little heads about our wars — just support those troops, go shopping, and keep waving that flag.  If patriotism is famously the last refuge of the scoundrel, it's also the first recourse of those seeking to mobilize customers for the latest bloodletting exercise in combat as commerce.
Just remember: in the grand bargain that is war, it's their product and their profit.  And that's no bargain for America, or for that matter for the world.
Source: William Astore  |  Common Dreams
These Dates Forever Changed America For The Worse…
Well, Obamacare is now in effect. The decision by Congress to pass Obamacare into law back in 2010 ranks among the most draconian, most egregious, most horrific actions ever taken by the central government in Washington, D.C. This bill rocks the principles of liberty and constitutional government to the core. It changes fundamental foundations; it repudiates historic values. The same flag may fly on our flagpoles, the same monuments may grace our landscape, and the same National Anthem may be sung during our public ceremonies, but it is not the same America. For all intents and purposes, our nation now more resembles the socialist countries of the old communist East Bloc than it does the constitutional republic of the old land of the free.
I was honored to have been invited to be the keynote speaker at the annual meeting of the Association of American Physicians and Surgeons recently in Denver. It was a very large gathering of physicians from all over the country. And I can tell you that the doctors I spoke with are all very, very concerned about the future of healthcare in the United States. Take a peek at the condition of healthcare in socialist countries throughout the world or take a peek at the condition of healthcare in our VA clinics and hospitals, and you will get a little feel for what healthcare is going to quickly look like in America.
On March 21, 2010, Congress passed, and on March 23, 2010, President Barack Obama signed the dreaded national health care bill into law, and as such, these dates join a list of dates that have contributed to the destruction of a free America. Of course, there are several such dates, but, in my opinion, the following are the most draconian.
April 9, 1865
This is the date when General Robert E. Lee surrendered the Army of Northern Virginia to U.S. Grant at Appomattox Court House, Virginia. Regardless of where one comes down on the subject of the War Between the States, one fact is undeniable: Abraham Lincoln seriously dismantled the Jeffersonian model of federalism in America. Ever since, virtually every battle that free men have fought for the principles of limited government, State sovereignty, personal liberty, etc., has stemmed directly from Lincoln's usurpation of power, which resulted in the subjugation and forced union of what used to be "Free and Independent States" (the Declaration of Independence). In fact, the philosophical battles being waged today regarding the current health care debacle (and every other encroachment upon liberty and State autonomy by the central government) have their roots in Lincoln's autocracy.
July 9, 1868
This is the date when the 14th Amendment was ratified. This amendment codified into law what Lincoln had forced at bayonet point. Until then, people were only deemed citizens of their respective states. The Constitution nowhere referred to people as "US citizens." It only recognized "the Citizens of each State." Notice also that citizenship was only recognized among the "several States," not among people living in non-State territories. Until the 14th Amendment, people were "Citizens of each State." (Article. IV. Section. 2. Paragraph. 1.) The 14th Amendment created a whole new class of persons: "citizens of the United States." This false notion of "one nation" overturned the Jeffersonian principle that our nation was a confederated republic, a voluntary union of states.
February 3, 1913
This is the date when the 16th Amendment was ratified, and the direct income tax and IRS were instituted. This was a flagrant repudiation of freedom principles. What began as a temporary measure to support the War of Northern Aggression became a permanent income revenue stream for an unconstitutional–and ever-growing–central government.
April 8, 1913
This is the date when the 17th Amendment was ratified. This amendment overturned the power of the State legislatures to elect their own senators and replaced it with a direct, popular vote. This was another serious blow against State sovereignty. The framers of the Constitution desired that the influence and power in Washington, D.C., be kept as close to the people and states as possible. For example, the number of representatives in the House of Representatives was to be decided by a limited number of voters. In the original Constitution, the ratio of "people of the several States" deciding their House member could not exceed "one for every thirty thousand." (Article. I. Section. 2. Paragraph. 3.) And when it came to the US Senate, the framers also recognized the authority of each State legislature to select its own senators, thereby keeping power and influence from aggregating in Washington, D.C. The 17th Amendment seriously damaged the influence and power of the states by forcing them to elect their US senators by popular vote. The bigger the State, the less influence the State legislature has in determining its US senator. Senators who answered to State legislators, each answering to a limited number of voters, were much more accountable to the "citizens of the several States" than those who were elected by a large number (many times numbering into the millions) of people. For all intents and purposes (at least in the larger states), US Senators are more like "mini-Presidents" than representatives of sovereign states.
December 23, 1913
This is the date when the Federal Reserve Act was passed. This Act placed oversight of America's financial matters into the hands of a cabal of private international bankers, who have completely destroyed the constitutional principles of sound money and (for the most part) free enterprise. No longer would the marketplace (private consumption, thrift, growth, etc.) be the determinant of the US economy (which is what freedom is all about), but now a private, unaccountable international banking cartel would have total power and authority to micromanage (for their own private, parochial purposes) America's financial sector. Virtually every recession, depression, and downturn (including the one we are now experiencing) has been the direct result of the Fed's manipulation of the market. 1913 was not a good year for the United States.
June 26, 1945
This is the date when the United Nations Charter was signed and America joined the push for global government. Ever since, US forces have spilled untold amounts of blood and sacrificed thousands of lives promoting the UN's agenda. Since the end of World War II, in virtually every war in which US military forces have been engaged, it has been at the behest of the UN. And it is also no accident that America has not fought a constitutionally declared war since we entered the UN–and neither have we won one.
Furthermore, it is America's involvement in the United Nations that has spearheaded this devilish push for a New World Order that George H. W. Bush, Henry Kissinger, Tony Blair, Walter Cronkite, et al., have talked so much about. The United Nations is an evil institution that has completely co-opted our US State Department and much of our Defense Department. It is an anti-American institution that works aggressively and constantly against the interests and principles of the United States. But it is an institution that is ensconced in the American political infrastructure. Like a cancer, the UN eats away at our liberties and values, and both major political parties in Washington, D.C., are culpable in allowing it to exert so much influence over our country.
June 25, 1962, and June 17, 1963
These are the dates when the US Supreme Court removed prayer ('62) and Bible reading ('63) from public schools. At this point, these two Supreme Court decisions were the most serious affront to the First Amendment in US history. Think of it: from before a union of states was established in 1787, children had been free to pray and read the Scriptures in school. We're talking about a period of more than 300 years! Of course, the various State legislatures–and myriad city and county governmental meetings–still open their sessions in prayer, as do the US House and Senate, and even the US Supreme Court. But this same liberty is denied the children of America. There is no question that America has not recovered from these two horrific Supreme Court decisions. In effect, the federal government has expelled God not only from our public schools, but also from our public life. And America has not been the same since.
October 22, 1968
This is the date when President Lyndon Baines Johnson signed the Gun Control Act of 1968. Before this Act, the 2ndAmendment was alive and well in the United States. The Gun Control Act of 1968 turned a right into a privilege and forever forced the American people to bow at the altar of government when seeking to arm themselves. Interestingly enough, this Gun Control Act mirrored Nazi Germany's Gun Control Act of 1938. In fact, the Gun Control Act of 1968 is almost a verbatim copy of Hitler's Gun Control Act of 1938.
Our Founding Fathers could never have imagined that the American people would ever allow their right to keep and bear arms be infringed. In fact, it was the attempted confiscation of the firearms stored at Concord, Massachusetts, that triggered the War of Independence in 1775. That the people of Massachusetts would be denied their right to keep and bear arms, as they are today, could not have been foreseen–and would never have been tolerated–by America's founders.
The hundreds and hundreds of draconian gun control laws that have been inflicted upon the American people have all come about as a result of the Gun Control Act of 1968.
January 22, 1973
This is the date when the US Supreme Court issued the Roe v. Wade and Doe v. Bolton decisions, which, in effect, legalized abortion-on-demand. These two decisions expunged the Jeffersonian principle that all men are endowed by their Creator with the unalienable right to life (Declaration). Since then, more than 50 million unborn babies have been legally murdered in their mothers' wombs. Abortion is, without a doubt, America's national holocaust. It has opened the door to a host of Big Government programs and policies that have resulted in the wanton destruction of human life both in the United States and overseas. It has created an entire industry whose express purpose for existing is the destruction of human life. It has desensitized the conscience and soul of America. Furthermore, it has forced men of decency and good will to finance–with their tax dollars–the unconscionable act of killing unborn children.
And once again, another Jeffersonian principle was eviscerated. He said, "To compel a man to furnish contributions of money for the propagation of ideas which he disbelieves and abhors is sinful and tyrannical." The Roe and Doe decisions violate this principle in the most egregious manner possible.
October 26, 2001
This is the date when President George W. Bush signed the USA Patriot Act, and the federal government's war against individual liberty began in earnest. Most of the unconstitutional eavesdropping, snooping, wiretapping, phone call intercepting, email reading, prying, financial records tracking, travel watching, ad infinitum, ad nauseam, by federal police agencies began with the implementation of the Patriot Act. The Department of Homeland Security and the "war on terrorism," which have resulted in the deaths of tens of thousands of innocent people worldwide, and the usurpation of federal power at home, have all come about as an outgrowth of the Patriot Act. The Patriot Act has forever shifted the focus of American law and jurisprudence against constitutional government and individual liberty, toward a police-state mentality.
October 17, 2006, and October 9, 2009
These are the dates when President G.W. Bush signed and President Barack Obama re-signed the Military Commissions Act. This Act is the outgrowth of the Patriot Act and has, in effect, terminated the fundamental protections of individual liberty, which are found in the US Constitution and Bill of Rights. For all intents and purposes, the Patriot Act and Military Commissions Act (along with the NDAA) eviscerated the 4th and 5th Amendments, and do serious injury to several others. The Military Commissions Act also expunges the constitutional right of Habeas Corpus.
March 21 and 23, 2010
These are the dates when Congress passed and President Obama signed into law the "Patient Protection and Affordable Care Act," the so-called "health care reform" bill that we spoke about at the beginning of this column. While Social Security and various Welfare programs have toyed with socialism in the United States, this bill is the largest and most expansive endorsement of socialism in American history. This bill socializes some 18% of the US economy by socializing the health care industry in America. The fallout and ramifications of this bill are going to be horrific.
When future historians review the demise of our once-great republic, they will observe that the above dates were the dates that destroyed America. The American people have been far too tolerant for far too long.
In this column last week, I stated the salient reasons why pastors will not take a public stand on issues regarded as controversial or political. I believe every point I made are the real reasons pastors refuse to stand for much of anything–or even objectively study anything outside their comfort zone. To read this column, go to:
Why Pastors Won't Take A Stand
To review, most pastors refuse to take a stand because:
1. They are success oriented and have an innate aversion to anything that is considered to be controversial. And, to them, there is nothing more controversial than politics.
2. They are afraid that if they take a controversial stand, they will lose members–and more importantly, tithes and offerings. Most churches are neck-deep in debt and are heavy-laden with staff and overhead. The thought of losing even a few giving families is enough intimidation to make sure that they do nothing to offend the people of the congregation. And since the pastor never addresses controversial issues or preaches "hard" sermons, his congregation is filled with people who harbor myriads of big-government, socialist ideas and would immediately bolt at any mention of Biblical Natural Law principles that ran counter to their leftist ideologies.
3. They have an erroneous interpretation of Romans 13 that civil government must be submitted to regardless of how evil or immoral its laws might be. This fallacious interpretation of Romans 13 (which is taught in practically every Christian school and college in America) has made them de facto slaves and worshippers of the state. As did Germany's pastors and Christians in the 1920s, 30s, and 40s, America's pastors and Christians suffer from national "exceptionalism." This fallacy leads them to believe that by serving the state, they are serving God. In their minds, one cannot be "right with God" if they are not totally submissive to the state.
4. The 501c3 non-profit corporation status of the Internal Revenue Code under which the vast majority of churches throughout America operate has intimidated pastors and church leaders to the point that they will do–or not do–almost anything to stay in the good graces of the IRS. To most pastors, this means staying absolutely as far away from political issues as possible–even if those issues were moral and spiritual in nature a long time before they were considered political.
5. Most pastors are ignorant of the Biblical Natural Law principles of liberty. In the same way that many attorneys are completely ignorant of constitutional government, pastors are completely ignorant of Biblical Natural Law principles. Attorneys are not taught constitutional principles in law school, and pastors are not taught Biblical Natural Law principles in Bible school.
But there is one more reason why many pastors will not take a stand that I did not address in the aforementioned column: their belief in a pre-tribulation rapture.
The word "rapture" does not appear in the Bible. The English word "rapture" is taken from the Latin word "rapere" and means to "catch away." Theologically, it means that Christians will be caught away or taken to Heaven while they are still alive. There are several scriptural passages that Christians believe relate to this event, but the most cited is I Thessalonians 4:16, 17: "For the Lord himself shall descend from heaven with a shout, with the voice of the archangel, and with the trump of God: and the dead in Christ shall rise first: Then we which are alive and remain shall be caught up (Greek word "harpazo") together with them in the clouds, to meet the Lord in the air: and so shall we ever be with the Lord."
Of course, Christians throughout the centuries have taught and believed a variety of nuances of eschatology. The various interpretations of The Second Coming of Christ are almost limitless. There are pre-tribulational, pre-millennialists; mid-tribulational, pre-millennialists; post-tribulational, pre-millennialists; partial-rapture, pre-tribulational, pre-millennialists; post-millennialists; pre-wrath, (almost) post-millennialists; amillennialists, etc. And to each of these interpretations there is a plethora of sub-divisions and schisms.
Christians have historically believed that they will be resurrected to be with Christ. However, that conviction–historically and by itself–did not prevent Christians from being engaged in whatever the political, social, or cultural battles of the time might have been. From the earliest days of Christianity, believers were politically and socially engaged in their communities and countries. During the Roman Empire, a baby was not protected by law until the father granted it official human status. Until then, babies could be legally killed or allowed to die. Christians by the thousands would go out into the streets at night and rescue babies that had been "thrown away" and left to die. During the Dark Ages, when the Bible was banned, Christians continued to widely copy and distribute the scriptures. Reformers such as Ulrich Zwingli died defending Switzerland's Protestant Reformation on the battlefield. Colonial Christians (including pastors) in great numbers participated in America's War for Independence. The great German theologian, Dietrich Bonhoeffer, joined a Nazi resistance movement. Each of these Christian believers held their individual, respective views of the Lord's coming and personal resurrection, but this did not keep them from being politically, socially, and culturally–and sometimes militarily–involved in their communities and countries.
However, with the broad acceptance of what has become known as Dispensationalism, many pastors and churches in America have almost totally removed themselves from political affairs. Except for voting (which is mostly kept private), pastors avoid politics like the plague. A few will talk in very broad and general terms about America "turning back to God," etc., but what that means specifically is seldom addressed. And if pressed for an explanation, most pastors will piously say, "God has not called me to get involved in politics." I'm not sure that God has called them to play golf either, but that doesn't prevent a host of them from engaging regularly in that worldly activity.
Dispensationalism, as it is called today, was popularized by John Darby, C. I. Scofield, and Lewis Sperry Chafer. In more modern times, John Walvoord, J. Dwight Pentecost, Charles Ryrie, Tim LaHaye, and Hal Lindsey contributed immensely to Dispensationalism's theological acceptance. The key element of Dispensationalism, as it relates to eschatology, is the doctrine of a pre-tribulation rapture of Christians. The idea is that the world is going to continue to get worse and worse until finally the Anti-Christ will arise as a global leader and will usher in seven years of "Great Tribulation," wherein a sizeable portion of the world's population will be destroyed. But before "The Great Tribulation" begins, Christian believers will be raptured into Heaven. Dispensationalists further believe that following the seven year Tribulation period, Christ will physically return to Jerusalem and establish a 1,000 year reign (called The Millennium) in which the Davidic Kingdom will be restored to Israel.
Now, let me state plainly that it is not my intention at this point to disparage the sincerity of faith and belief of the vast numbers of pastors and Christians who subscribe to Dispensationalism. Whether the pre-tribulation rapture is a correct Biblical interpretation or not is NOT the focus of this discussion. I find a sizeable number of pastors and Christians who subscribe to post-millennialism and other forms of eschatology to be just as disengaged from speaking out and engaging the political process as pre-tribulationists.
That being said, I believe it is an absolute fact that many pastors and Christians are using the doctrine of a pre-tribulation rapture to justify sitting back and doing nothing to actively resist evil and wickedness. In their minds, there is no need to be politically involved because everything is going to get worse anyway–but they are going to be raptured to Heaven before it all falls apart. I have actually had pastors say to me, "Chuck, by resisting evil government, you are fighting against God, because it is God's will that government gets worse and worse so that Jesus can come back."
The wretchedness of this kind of thinking should be obvious to any rational person. In the first place, how arrogant are these American Christians to think that they are so special that God would have to rapture them before any real tribulation began? Think of the millions of Christians in oppressed nations throughout history–and even today–who have already been, and continue to be, IN GREAT TRIBULATION. The tribulation of Christian martyrs throughout church history is legendary. Have they never read Foxe's Book of Martyrs? Do they not know what has taken place in southern Sudan over the last 20 years? Have they not read the history of Christians in Mao's China, Amin's Uganda, Pol Pot's Cambodia, Hitler's Germany, Stalin's Russia, etc. Who do they think they are? Why should Christians in America be spared what Christians throughout the world have endured and are enduring? Even if their interpretation of a pre-tribulation rapture is correct, that doesn't mean for one moment that Christians in America would not be called on to suffer great tribulation at the hands of a wicked and oppressive government–especially considering that the vast majority of pastors are doing almost nothing to resist our government from becoming wicked and oppressive. For the doctrine of a pre-tribulation rapture to be used as some kind of sit-back-and-do-nothing-because-a-divine-Seventh-Cavalry-is-coming-to-rescue-us attitude is the height of absurdity. Dare I say it borders on blasphemy?
Secondly, people who use the pre-tribulation rapture doctrine as an excuse to justify being disconnected from political involvement by saying things like, "Jesus is coming soon, so it doesn't matter!" are demonstrating either acute cowardice or immeasurable ignorance."
Christians throughout the millennia have looked for the return of Jesus. The doctrine of the Second Coming of Christ has been held sacred by Christians of every generation for over two thousand years. That Jesus is coming soon doesn't stop us from going to school and getting an education; it doesn't stop us from going to work every day to earn a living; it doesn't stop us from planning our financial futures or saving for retirement; it doesn't stop us from teaching and training our children; it doesn't stop us from learning and exercising personal skills; it doesn't stop us from locking our doors or buying expensive alarm systems to protect us from the bad guys; and it doesn't stop these disconnected pastors from spending years trying to perfect their golf game. Neither should it stop us from preserving the liberties and freedoms of our nation.
I am reminded of the Old Testament king of Judah, Hezekiah. He was told by the prophet that God was going to judge his country with great oppression, but that it would not happen until after he expired, some 15 years later. Hearing that, Hezekiah said (paraphrase), "Oh goodie! At least it won't happen while I'm alive."
I ask you, what kind of father and grandfather would rather see his own children and grandchildren endure persecution and oppression than him do something in his lifetime to prevent it? What kind of uncaring, hard-hearted, pleasure-mad sorry-excuses-for-manhood are we that we would not want to sacrifice our own comfort, our own possessions, our own lives, in order to provide something better for our children and grandchildren?
These stand-for-nothing pastors do NOT know when Jesus is coming. And they do not know what kind of tribulation their children and grandchildren are going to endure at the hands of future tyrants and despots because they refused to do something that could have prevented it.
Our Christian forebears believed in the return of Christ and in personal resurrection. Whether they were pre-millennial, post-millennial, pre-tribulational, mid-tribulational, post-tribulational, etc., they didn't allow their personal interpretation of Bible prophecy keep them from doing what was the right thing to do when it was in their power to do it. They were statesmen, leaders, and even warriors. They worked; they dug; they studied; they taught; they led; and they fought. And when needed, they risked their lives, their fortunes, and their sacred honor.
Are we really more spiritual than were they? Are we really more studied? More intelligent? More dedicated? More sincere? More courageous? Or more Christ-like?
How dare this generation of spoiled, lazy, comfort-laden, cowardly, sheepish, success-motivated, passive pulpits sit in judgment on the Christian men and women of history who, regardless of their personal interpretation of eschatology, actively engaged in the social, cultural, and, yes, political affairs of their countries–and helped bequeath to us, their posterity, a free and independent land? How dare they use the doctrine of the rapture as an excuse to justify their own indifference? And more importantly, how dare Christians tolerate such cowardice and carnality?
Thirdly, Dispensationalists allow their interpretation of Bible prophecy relating to future Israel to obfuscate the divine principles of liberty as it relates to present America. Preachers such as John Hagee have twisted the scriptures to support almost unlimited wars of aggression against Middle Eastern countries in the name of befriending Israel. In reality, unconstitutional war, nation-building, foreign interventionism, etc., is no friend to Israel, the United States, or any other country.
America's foreign policy is a global nightmare. It has made enemies where none existed. It has made it increasingly difficult for American missionaries to give the Gospel to people in foreign countries. In many countries, it has inflamed the persecution of Christians. It has greatly contributed to the economic bankruptcy of the United States. It has turned the affections of the world against us. It has turned many American Christians from peacemakers to warmongers. Under the rubric of the "war on terror," America is being turned into a giant police state. In truth, the Warfare State that has been created in this country is not a blessing to Israel (or any other country), but a curse. But the Dispensationalists' interpretation of prophecy tends to blind them to these maladies.
Yes, many pastors and Christians have a rapture problem. But the problem is not really the doctrine itself but the way it is misapplied. I know pastors of all theological and eschatological backgrounds who are actively engaged in the freedom fight; and I know pastors of all theological and eschatological backgrounds who are disengaged from the freedom fight. It's up to the man. If men want to, they can hide behind anything. And when pastors choose to hide behind the rapture, it becomes a problem for all of us.
JoAnne Denison has made a very big mistake, it appears. Denison, who has been a licensed attorney in the State of Illinois for twenty seven years, has been writing about corruption in the courts.
That appears to be a career-killing No- No.
Denison first became concerned as to the hanky panky going on in State Probate courts via her involvement in the adult guardianship of Mary G. Sykes. Sykes was put under an adult guardianship, without apparent legal jurisdiction by the Cook County Court. Neither Mary Sykes nor her adult daughter, Gloria, were served with notice of the proceedings. The court- appointed guardians have subsequently isolated the elderly woman from family and friends for roughly four years.
This is sadly not unusual in guardianship/conservatorship cases. When a concerned family member or friend attempts to intervene in what is often abuse of the "protected person" by the court- appointed guardian, the protesting party often gets treated most severely by the court. Restraining orders are passed out in these cases like salt water taffy, and more often than not there is a lack of due process involved in the restraining order hearings.
Meaning, in lay terms, that the restrained person does not get a hearing.
There also appears to be questionable financial actions taken by the guardians, Adam Stern and Cynthia Farenga, in the Mary Sykes matter. Over a million dollars in gold coins have been unaccounted for by the guardians. Once again, this is– unfortunately– business as usual in probate court. While one of the primary functions of a guardian is to conserve the estate, many guardians tend to look at OPM–"Other People's Money" as a free pass to whoopee it up on someone else's dime. Guardians "forget" to do inventories, "lose" valuable artwork and antiques and in some cases "misplace" entire bank accounts.
Denison, however, found all this abuse and embezzlement to be…..inappropriate. She began a blog, marygsykes.com, which has featured articles by attorneys, award-winning journalists and bloggers as well as her own commentary on what is happening on a widespread basis in probate courts across the country. She has faithfully posted the legal documents relevant to the Sykes case.
And for this public service, Denison may lose her license to practice law.
Going into the complaint, which was filed by Jerome Larkin of the Illinois Attorney Registration & Disciplinary Commission (IARDC), one finds that Denison is being tried for exercising her right to informed free speech. Larkin cites a number of quotes from Denison on her blog as evidence of the following:
a) Making a statement which a lawyer knows to be false or with reckless disregard to its truth or falsity concerning the qualifications or integrity of a judge…..
b) conduct involving dishonesty, fraud, deceit or misrepresentation….
c) conduct that is prejudicial to the administration of justice…
d) presenting, participating in presenting, or threatening to present criminal charges to obtain an advantage in a civil matter….
e) conduct which tends to defeat the administration of justice or to bring the courts or the legal profession into disrepute.
I happen to think that Mr. Larkin over extended himself when he constructed this list. I have personally been reading the marygsykes blog for some time and am unaware of JoAnne Denison making any false statements. I am aware, however, that her criticisms of the malfunction of justice in these proceedings could well be considered in the category of someone declaring that the Emperor is not wearing any clothes….
In other words, JoAnne Denison speaks politically inconvenient truths.
The complaint details some of the posts by Ms. Denison concerning the failures of the court to honor Mary Sykes' constitutional rights as well as concerns about the dispensation of her funds. Here are a couple of the posts which Larkin found objectionable:
A July 28,2012 blog entry entitled "My fax to Diane Saltoun, Executive Director
at the Illinois Atty General," stating:
While the above case has a long, long history, much of which is
documented on a blog to be found at www.marygsykes.com. the
reality of the situation is that this probate proceeding boils down to
garden variety theft, embezzlement, malpractice and mal feasance by
attorneys and the court. ..
Please look at the attached and all the information I will fax you
shortly. This is a case that could be bigger than Greylord-what is
being done to deprive grandma and grandpa of their civil rights and
how the Probate court (routinely) operates."
Yep, them is fighting words, you can bet your booty on that. The fact that Ms. Denison's post references concerns that have been brought to the attention of the court—a million missing dollars in gold coins, for starters–must have gotten Mr. Larkin all worked up. Because look at what else he has found objectionable in Ms. Denison's blog:
An April 19,2012 blog entry entitled "Ken Ditkowsky's answer to the complaint
filed against him by the ARDC via Cynthia Farenga," wherein Respondent suggests
that the GALs and the Guardian ad Litem stole Mary Sykes' money by stating:
Kend (sic) Ditkowsky and I have been caught up in all of this because
we have been working tirelessly on this blog and to inform others of
this situation–and those attorneys who will churn fees at hundreds of
dollars per hour-want us silenced. They apparently have a lot of clout
in Probate and even with the ARDC …

Jumping Jehosophat!! You mean an attorney can now be cited for misconduct for reporting that a guardian and attorneys have committed embezzlement and are exercising what is commonly called "undue influence"? Isn't that what courts and the media are supposed to do? Provide a forum (a public one, to remind the reading audience) wherein acts of criminal misconduct and corruption can be ferreted out?
Or was Larkin's real concern that Denison discussed the clout that miscreant attorneys have with both the Court and his employer, the IARDC? Was Denison hitting too close to home for his comfort?
Attorney Ken Ditkowsky has also been subject to IARDC proceedings for his involvement in the Sykes case. Ditkowsky, who has been sending out emails to Attorney General Eric Holder and others, requesting an honest and complete investigation of the Sykes case, has been recommended for four years suspension from the practice of law. Ken Ditkowsky has been licensed to practice law since the early 1960′s.
The IARDC complaint against Ditkowsky references the attorney's efforts to investigate the Sykes matter and also his efforts to represent Mary Sykes, as requested by Mary (the court had previously declined to appoint her counsel). In addition, the complaint also references statements Ditkowsky has made relating to the integrity and qualification of judicial officers.
Since the IARDC has recommended his suspension, Ditkowsky has continued to contact federal officials with his concerns about the Sykes case. If anything, he has become louder and more insistent concerning the deprivation of rights inflicted upon Mary Sykes and others.
Ditkowsky is now referring to these cases as "elder cleansing," a clear reference to what happened in another genocide, the first launched under Hitler, which cleansed Germany of hundreds of thousands of elderly and disabled ethnic Germans. Ditkowsky has also coined the phrase "ethics cleansing," to refer to the removal from the Bar register attorneys who object to the abuses being administered via probate guardianships.
A letter from Guardian ad Litem Cynthia Farenga to the IARDC has since surfaced. In the letter, dated November 20, 2011, Farenga asks the IARDC for an investigation of Ditkowsky and Denison due to a blog post which appeared on Probate Sharks in 2011. In the blog post, Ditkowsky and Denison call for a State and Federal investigation of the Sykes case.
The Farenga letter confirms the very perception, memorialized on her blog, for which Denison is now under disciplinary proceedings. The fact that Farenga and others in the probate cabal do have torque with the ARDC should exonerate Denison from prosecution for saying so. But it has not.
It is of interest that the judge in the Sykes case, Judge Jane Louise Stuart, has deep financial ties to President Obama. http://citizenwells.wordpress.com/2011/04/21/obama-mansion-rezko-william-miceli-probate-judge-jane-l-stuart-harvey-wineberg-kenneth-j-conner-fired/
Given that Ditkowsky has repeatedly emailed officers in the Obama administration concerning this case, one must ask if favors were requested by Stuart, who appears to own Obama's mansion.
The website for the State of Illinois states that:
The Elder Abuse and Neglect Act provides that people – who in good faith report suspected abuse or cooperate with an investigation – are immune from criminal or civil liability or professional disciplinary action. It further provides that the identity of the reporter shall not be disclosed except with the written permission of the reporter or by order of a court.
This should exonerate both Denison and Ditkowsky from disciplinary action for the reasons stated by the IARDC. Possibly the law does not apply when the judge is a financial supporter of President Obama.
In any event, the word is getting out: Ethical lawyering has gone the way of the Stegosaurus.
And the First Amendment? It doesn't specify who has free speech and who does not. One more Constitutional protection is being thrown under the bus.
James Grogan, Deputy Director for the IARDC, declined to comment on whether the Elder Abuse and Neglect Act offered protection for Denison and Ditkowsky, stating he cannot comment on pending cases. When asked if, given the fact that the judge in question appears to own President Obama's home, there might have been some federal directives issued in these two cases, Grogan also declined to comment.
Other lawyers who have been under the gun due to their attempted defense of conservatees include Grant Goodman, AZ; Margie Mikels, California; Jim Reiss, California.
The high priests of academic and "official" history love a good villain for two reasons:  First, because good official villains make the struggles and accomplishments of good official heroes even more awe-inspiring.  And, second, because nothing teaches (or propagandizes) the masses more thoroughly than the social or political lessons inherent in the documented rise and fall of the world's most despicable inhabitants.  We get shivers of fear and excitement when we discuss the evils and the follies of ancient monsters like Nero, Attila the Hun, Caligula, etc, or more modern monsters, like Mussolini, Stalin Hitler, Goebbels, Mao, Pol Pot, Idi Amin, and so on.  We take solace in the idea that "we are nothing like them", and our nation has "moved beyond" such animalistic behavior.
But even more fascinating popcorn-style history is found not in the destruction of tyrants, but the destruction of empires.
When an entire culture steps off the edge of the abyss into the realm of societal psychosis, the world often changes forever and in ways that, at least on the surface, seem to bring humanity a little closer together.  The fall of Rome led to the eventual rise of a dominant Catholic theocracy and the rulership of royal blood lineage that lasted for centuries in Europe.  The flames of World War I and the destabilization of the Kaiser's Germany led to the formation of the League Of Nations; a first attempt at a global governing authority designed to "maintain world peace".  World War II and the fall of the Third Reich resulted in considerable horrors, which the establishment of the United Nations was supposedly meant to prevent from ever occurring again.  The decline of the British Empire saw the implosion of cultural colonialism, and the rise of corporate colonialism, which centralized immense power into the hands of the banking class as the new official oligarchs of our modern era.  The collapse of the Berlin Wall and the abandonment of the Soviet Union was lauded by then U.S. President George Bush as the beginnings of a "New World Order" – an ideological concept which heralds the final deterioration of the idea of economic and political sovereignty as a mainstay of human civilization.
When examining the approved version of historical conflict, one gets the overwhelming impression that the villains of our past, through their hubris, their greed, and their insanity, seem to inspire a sudden surge of unification as their ashes are cleared from the air.  One might even come to believe that the "natural progression" of conflict is leading us towards a future in which the only solution is the dissolution of all boundaries and the adoption of a one world narrative.  Wouldn't it be glorious if the deaths of these malevolent tyrants and societies finally inspired the birth of a single human system in which no conflict is possible because we are all on the same side?
Perhaps it would be glorious, if you have adopted the childish notions of history common to the mainstream.  For those who have not, the story, and the ultimate solutions to the ills of mankind, become a little more complicated…
America's Villainous Mustache 
Mainstream history tends to follow the motions of a play or film, in that archetypes and symbolic figures are consistently created in order to satisfy the natural flow of a particular fiction.  The bad guy wears a mustache (not always, but it is strange and disturbing to see how often this archetype materializes in the mainstream world view.  Just look at Hitler, Stalin, Fidel Castro, Saddam Hussein, Osama bin Laden, Muammar Gaddafi, Bashar al-Assad, etc.  We love mustached villains).  His criminal successes make him imposing and frightening.  He acts without conscience, or, he wrongly believes his terrible actions are justified in the name of the "greater good".  His inevitable mistakes make his final failure ironic and satisfying in the face of the iconic hero, who defeats the enemy while the citizenry stands back and watches in awe and wonder as helpless spectators.
The villain is indeed evil, and deserves to be dethroned, but the assumption many people make is that the other side is diametrically good.  This is not always the case…
America is used to playing the role of the hero in the epic tale of modern Earth.  Our nation began with an act of defiance and victory so unexpected and so poetic, it cemented our cultural identity as freedom fighters for centuries to come.  Over time, our government, turning progressively corrupt, has exploited this cultural identity in order to lure Americans into committing atrocities in the name of our traditional sense of "heroism".  We have, in fact, become the very antagonists we thought we were fighting against (there's the delicious irony needed to round out our fairytale).
Our government's actions surrounding Syria, for instance, have made America appear not just bloodthirsty, but also ridiculous.  The Obama Administration has taken us to the brink of World War III and left us there to stare out over the chasm.  The slightest breeze could send us plummeting.  All to generate military support for Al-Qaeda, the same organization designated by the establishment as our mortal enemy.
In the meantime, our economic system now survives solely on the whims of the Federal Reserve, a private central bank that answers to NO ONE, and writes fiscal policy without oversight.  The government is not only seeking to trigger world war, it also wants to pay for that war with money we do not have, riding debts we cannot pay, to foreign creditors we will piss off in the process of unleashing our unfunded laser guided hell.
Never has the U.S. been slathered in so much absurdity all at once.  Now, we wear the mustache…
Most of us in the Liberty Movement would agree that our country is being poisoned from within, and that our government for many decades has become an enemy of all free peoples.  But there is a very important question that we seem to have overlooked:
If America has been written as the villain, then who is meant to be the hero?
Putin Is Not Your Buddy
Lets step back from the global stage for a moment and examine the situation from a different perspective.  What if the U.S. is not just a product of corruption for corruption's sake?  What if our new identity as the next historical evil-doer is part of a greater script, and America's fall from grace is meant to be used to foment the success of fantastic (but fake) protagonists in an engineered fight for a "better and more centralized world"?
How many of us in the Liberty Movement cheered the diplomatic and strategic prowess of Vladimir Putin, for example, in the days leading to Obama's "red line" attack on Syria?  We cheered because his position was correct, and his demeanor made our government look homicidal by comparison.  We cheered his letter to TIME Magazine because we are tired of being the only people pointing out the vicious parasite our political body has become, and it was exciting to be vindicated by an outside source.  We cheered his protection of Edward Snowden, a truly courageous whistle blower that exposed the terrifying Orwellian nature of the NSA.  We watch video reports from Russia Today (RT) because they give a far more accurate accounting of the facts in the U.S. than all American media entities combined.  It is easy for us to get caught up in the idea that since the West has become the bad guy, the East must now be the good guy.
The problem is, we are being played yet again.
Putin has long called for the end of the dollar's world reserve status and the creation of a new "global structure" and a "global currency" revolving around the IMF's Special Drawing Rights:
http://www.themoscowtimes.com/business/article/at-g20-kremlin-to-pitch-new-currency/375364.html
http://www.telegraph.co.uk/finance/financetopics/davos/4376315/Russian-prime-minister-Vladimir-Putin-calls-for-end-of-dollar-stranglehold.html
Is it just coincidence that Putin wants the same centralized global economy and global governance that the IMF and multiple banking elites have been calling for for years?  The same elites who created the debt crisis and currency crisis we now face in America?  Is it just coincidence that Eastern economic and political dominance over issues like Syria perfectly benefits the IMF plan for an financial shift to the BRICS nations and away from the U.S. greenback?  The same plan promoted by many American financial moguls?
Russia is a model for despotic socialized society posing as "civilized society", and yet, our government has made America so ugly that Russia looks noble by comparison.  Putin is placed on the cover of TIME magazine everywhere in the world except the U.S., and the Washington Times responds by stating that such behavior is a sign of "America's downward spiral in the global community", as if we are about to be shunned from the world at large:
http://communities.washingtontimes.com/neighborhood/conscience-realist/2013/sep/18/time-puts-vladimir-putin-its-front-cover-everywher/
While RT produces fantastic journalistic pieces that are critical of American government, rarely if ever do they turn a discerning eye to Russia, and this is not just oversight.
Look carefully at the narrative that is being constructed here.  Putin is NOT our buddy.  He represents exactly what our own government now represents; globalism and naked centralized government aggression against the individual.  However, as mainstream history is being written, the story will be told that it was nations like Russia and China, and organizations like the IMF, that tried to hold back the tide of catastrophe while America, the last empire, steamrolled into thick-skulled oblivion surfing on a shockwave of fiat money and brute military vanity.

The Washington Aristocracy Is Scum, But Don't Let That Fool You…
Most people with an extensive Liberty Movement education are well aware that false paradigms are used in politics by establishment elites in order to control social discussion and to divide the population against each other.  The Left/Right debate has been and always will be a farce, being that the leadership on both sides of the aisle have identical goals when it comes to the most important aspects of the American structure.  The elites of the Democratic and Republican parties, regardless of rhetoric, will BOTH strive for greater government power, less individual liberty, the erasure of economic sovereignty and free markets, and a dependent and enslaved public.  On these pursuits, they completely agree.
In one week, our faux leadership is to decide once AGAIN on the possibility of a debt ceiling increase that will bring us ever closer to a debt and currency avalanche event.  During past debates, much fanfare is given to the supposed conflict between the interests of the Democrats and the GOP, up until the last moment when the GOP caves in completely and allows the debt ceiling to be vaulted.  Will the same happen again in this case?  It depends on how quickly the establishment wants to bring entire roof down on our heads.
A freeze of the debt ceiling would eventually mean default on our Treasury Bonds, since our government must take on exponential debt in order to receive the benefits of the Federal Reserve's printing press, as well as pay off our foreign creditors.
A government shutdown could slow the growth of some liabilities, but it does not account for the liabilities already in circulation, thus, we can still default.  Not to mention, our debt and currency standing could easily come into question, resulting in a bond dump or loss of reserve status.
The only option that does not result in a fast moving firestorm through our financial system is a debt ceiling increase, and how much longer can we get away with kicking the can down the road?  In any case, America is about to change for the worse, and the decision on when this is to happen was made a long time ago.  The Washington aristocracy is blatantly guilty in the instigation of our current dilemma, and my theory is, they want you to know they are the culprit, as long as you continue believing they are the ONLY culprit.  They want you to forget all about the IMF, the corporate elites, and Vladimir Putin's involvement in the larger plan.  They want you to cheer when international banks and what's left of the G20 rescue us after years of fiscal disaster and institute centralized global economic governance.  They want to be the only authors of this story, and what author doesn't want to see himself placed in the role of the champion?
Just as there are false political paradigms, there are also false international paradigms.  The Liberty Movement is the wild card; an unknown quantity.  We aren't fighting for one side or the other – we are fighting for particular principles and beliefs.  The establishment's best strategy is to co-opt our momentum by convincing us to focus on alternative opposition, or place our trust in fabricated advocates.  No matter how epically monstrous our government becomes, and no matter how satisfying their ultimate demise will be, our battle does not end with them.  It only begins with them.
Source: Brandon Smith | Alt-Market