President Obama seems to inspire a historically high level of criticism and suspicion, for example:
Thomas Sowell, author and columnist, says: "Barack Obama is one of those people who are often wrong but never in doubt."
Headline on European Union Times site says: "French Leader Sarkozy Slams Obama, Warns He Might Be Insane." ad for $40?
Bettina Viviano, Hollywood producer who worked for Hillary in 2008 campaign, says, "We were always told that Bill was going to tell the truth [about Obama's ineligibility]… Fours years later, I'm actually shocked that anybody thinks he is legit."
Donald Trump describes Obama: "[P]robably in the history of presidents of the United States, he's our worst at foreign policy….I think the economy is a disaster. Foreign policy is a disaster."
Adam Carolla, entertainer, says that Obama is like a bad Adam Sandler movie, and that Americans are smart enough to know they don't want a sequel.
Burgess Owens, former NFL star, calls Obama an "empathy-free president" and urges blacks not to vote for him.
Pat Boone, famous crooner, says, "I was in Kenya a year and a half ago and everybody said, 'You know, he was born here.'…Esteemed experts have dubbed the certificate a fake. Why else would he be hiding all of his records?"
Victoria Jackson, once an SNL regular, has a famous song on YouTube titled "There's A Communist Living in the White House!!"
Bill Clinton, while attempting to cajole Ted Kennedy into supporting Hillary in 2008, insisted that Obama was too young and inexperienced. Clinton said, "You know, Ted, a few years ago, this guy would have been carrying our bags."
KISS star Gene Simmons, discussing Isreal's situation, says: "President Obama has no fuckin' idea what the world is like….I'm sorry I voted for him."
Clint Eastwood calls Obama "the biggest hoax ever perpetrated on the American people."
Israeli science site agrees with "America's Sheriff" Joe Arpaio: birth certificate is "a blatantly fake document."
Alan Keyes, who ran unsuccessfully against Obama for the state's open Senate seat in 2004. said in 2008: "Obama is a radical communist…He is going to destroy this country, and we are either going to stop him or the United States of America is going to cease to exist."
Kevin DuJan, blogger and former Chicago gossip columnist, says: "It was preposterous to the people I knew then to think Obama was going [to be able] to keep his gay life secret."
Michael Savage, talk show host, says: "This is a very dangerous man…. This man is the most dangerous, most divisive, most evil – I'll use the word evil – president in the history of America."
Ted Nugent, musician, speaks of "this vile, evil, America hating administration."
Casino magnate Steve Wynn says: "I'm telling you that the business community in this country is frightened to death of the weird political philosophy of the President of the United States. And until he's gone, everybody's going to be sitting on their thumbs."
Dave Mustaine, Megadeth star, says he suspects that Fast and Furious, Aurora mass murder, and Sikh killings are Obama Administration schemes to suppress Second Amendment.
Reverend James David Manning, Harlem minister, says "Obama is not a US citizen….Obama is pure, unadulterated evil… He has disrespected black people to the Nth degree."
Jay Leno jokes: "President Obama will begin a three-state bus tour. I believe the three states are confusion, delusion, and desperation. "
Hillary Clinton declared in 2008, "Shame on you, Barack Obama!"
(Add your favorite celebrity criticisms of Obama in COMMENTS.)
Fourteen centuries of Islam have fatally undermined Christianity in the land of its birth. The decline of the Christian remnant in the Middle East has been accelerated in recent decades, and accompanied by the indifference of the post-Christian West to its impending demise. Once-thriving Christian communities are now tiny minorities, and in most countries of the region their percentages have been reduced to single digits. Whether they disappear completely will partly depend on Western leaders belatedly taking an interest in Christian plight and persecution. This seems most unlikely, as the examples of Iraq, Egypt and Syria demonstrate.
In Syria the Obama administration is fully committed to supporting the rebels, although it should be well aware of the ideological outlook and long-term objectives of Bashar al-Assad's foes. They are Sunni fundamentalists. The partnerships forged thus far are ominous. The New York Times reported last June that CIA officers are operating secretly in southern Turkey, deciding which Syrian opposition fighters across the border will receive arms. The weapons are being funneled across the Turkish border "by way of a shadowy network of intermediaries including Syria's Muslim Brotherhood."
Syria is the region's only remaining country where Christians live effectively as equals with their Muslim neighbors. It has the second largest Christian community in the region (after Egypt), some 2.5 million strong. Most of them are supporting President Bashar Al Assad amidst ongoing rebellion in the country because they prefer a dictator who guarantees the rights as a religious minority to the grim future that Assad's departure might bring. According to George Ajjan, an American political strategist of Syrian origin, an existential fear about a bloody fate awaiting them—should the Assad regime fall in Syria—is the main driver behind the Christian community's almost unanimous support of its policies:
"The secular regime of the Baath Party dominated over the past four decades by the Alawites, a heterodox Shiite sect to which the Assad family belongs, undoubtedly secured life and liberty for the Christians— although dire economic circumstances resulting from the regime's failure to provide growth have driven many middle-class Christians to emigrate, seeking a better standard of living abroad. Taking that into account, the commonly-cited figure of 10% Christians is perhaps close to double the real number living in Syria at the start of the uprising."
It is not to be doubted that if the Obama Administration is successful in its stated objective of bringing Assad down, the Christians in Syria will follow their Iraqi brethren into exile. The predictable consequences of Assad's fall and the Brotherhood's victory would be the creation of a Shari'a-based Islamic state.
According to political analyst James Jatras, it sometimes appears as if Washington's policy toward the unrest sweeping the Middle East is impacted by a network of Muslim Brotherhood agents working in cohorts with Obama who is only pretending to have strayed from his Islamic birth (as defined by Sharia). If this scenario is even only partly correct, Jatras says, then it would be hard to see how the result would be different from the one we have:
"If the conscious goal of the policy were the final uprooting of Christ's followers from the region of His birth and earthly ministry, it could not have been better crafted. No one can doubt that should the regime of Bashar al-Assad fall, Syria's Christians (primarily Orthodox), already singled out for attack by the 'democratic' opposition, would be subject to a full-scale campaign of elimination that they (unlike the Alawites, who at least can try to defend themselves in mountain areas in which they predominate) are unlikely to survive as a living community. It is thus not too strong to accuse, in so many words, those bipartisan champions of 'Free Syria' who urge outside intervention of advocating Christian genocide, whether or not that is their conscious intention."
That this scenario seems acceptable to the Obama Administration became obvious in October 2011 when Dalia Mogahed, Obama's adviser on Muslim affairs, blocked a delegation of Middle Eastern Christians led by Lebanon's Maronite Patriarch Bechara Rai from meeting with Obama and members of his national security team at the White House. Mogahed reportedly cancelled the meeting at the request of the Muslim Brotherhood in her native Egypt. Rai has warned repeatedly that a Brotherhood-led regime would be a disaster for Syria's Christian minority, but his admonitions are unwelcome in Washington.
Last July, the Department of State vigorously lobbied against bipartisan Congressional legislation to send "protection envoys" to the Middle East to examine the position of the Christian minorities. The State Department called the protection envoy role "unnecessary, duplicative and likely counter-productive." In the meantime, tens of thousands of Syria's Christians have already fled rebel-controlled areas as Islamists who dominate in the rebel ranks target them for murder, extortion and kidnapping. As George Ajjan concludes, this gradual downward demographic pressure of recent years will explode with the exodus of Christians from Syria that is occurring and will accelerate without an end to the current armed conflict:
"Should the uprising continue, with the regime losing control of more and more territory to armed rebels and law and order further breaking down, Christians will increasingly become the targets of intimidation tactics, kidnapping, and overt hostility—if not ethnic cleansing from mixed areas."
At the same time, Administration officials pressed Egyptian generals into gradual surrender to the Muslim Brotherhood's takeover of the country. The decision to treat the Muslim Brotherhood as a strategic partner has been on the cards at least since February 10 of last year—one day before Hosni Mubarak's resignation— when President Obama's Director of National Intelligence James Clapper made an astounding statement. He told the House of Representatives Select Committee on Intelligence that the Brotherhood "is an umbrella term for a variety of movements… a very heterogeneous group, largely secular, which has eschewed violence and has decried al-Qaida as a perversion of Islam."
The assertion by a top-ranking member of Obama's team that the Muslim Brotherhood is "largely secular" defies belief. It came into being in 1928 as an outright reaction against secularism, which the Egyptian elites had largely embraced during the British dominance in the country. To this day the Brotherhood's simple credo remains the same: "Allah is our objective. The Prophet is our leader. Qur'an is our law. Jihad is our way. Dying in the way of Allah is our highest hope." Contrary to Clapper's assurances, the Brotherhood is an archetypical Islamic revivalist movement that opposes the ascendancy of secular ideas and advocates a return to integral Islam as a solution to the ills that had befallen Muslim societies. Today it has branches in every traditionally Muslim country and all over the world, including the United States. Its members share the same long-term goal: the establishment of a world-wide Islamic state based on Sharia law. As is to be expected, they believe that the Koran and the Tradition justify violence to overthrow un-Islamic governments, and they look upon America as a sworn enemy.
During the Cold War, Washington routinely pandered to various Islamists as a means of weakening secular Arab nationalist regimes. In the mid 1950s, the Americans even promoted the idea of forming an Islamic bloc—led by Saudi Arabia—to counter the Nasserist movement. That approach may have made some sense during the Cold War, but it certainly makes none today. The strategy of effective support for Islamic ambitions against the Soviets in Afghanistan has helped turn Islamic radicalism into a truly global phenomenon detrimental to U.S. security interests. The ridiculous notion that the Muslim Brotherhood can become America's user-friendly partner merely proves that the architects of our Middle Eastern policy have learned nothing and forgotten nothing.
Egypt's dwindling Copts have seen their position deteriorate over the past year from precarious to perilous. Already facing discrimination and harassment from Mubarak's secular regime, they now see that things could get a lot worse under the Islamists who are now poised to take complete power. Their annus horribilis started on New Year's Day 2011, when a powerful car bomb targeted a Coptic church in Alexandria, killing 25 parishioners and wounding nearly 100 just as they were finishing midnight liturgy. The next turning point was the Maspero massacre on October 9, 2011, when 27 unarmed Christian protesters were killed and hundreds more injured, not by some shadowy Islamic extremists but by the military.  An official commission—established by the Army—has unsurprisingly absolved the Army of all responsibility for the killings.
Egypt shows that the prospect of the end of Christianity in Syria as a direct consequence of American policy is not unique, nor limited to one party or administration. The almost complete Muslim Brotherhood takeover of Egypt already is accompanied by an accelerating Coptic exodus, as church attacks and kidnappings (mainly of girls, who after rape and supposed "conversion" to Islam are denied return to their families).
The process is accelerating. On August 1 Sherif Gadallah, a prominent lawyer from Alexandria, submitted a report to the public prosecutor demanding the exclusion of Copts from the committee in charge of forming Egypt's constitution. That same week a sectarian crisis escalated in the village of Dahshur, only 25 miles south of Cairo, where hundreds of Muslims torched and looted Coptic businesses and homes. "As 120 families had already fled the village … the businesses and homes were an easy game for the mob to make a complete clean-up of everything that could be looted," said Coptic activist Wagih Jacob. "The security forces were at the scene of the crime while it was taking place and did nothing at all." The Coptic Orthodox Church issued a statement criticizing officials "for not dealing firmly with the events, demanding the speedy arrest of the perpetrators, the provision of security to the village Copts, their return to their homes, and monetary compensation for all those affected." Its adherents see the Dahshur incident as a continuation of the Mubarak-era policy of collective punishment of Copts. Renowned Egyptian novelist Alaa Al-Aswany said, "What if the Americans acted the same way as the extremists of Dahshur; would you accept the expulsion of Muslims of America in response to Bin Laden's terrorism?"
Egypt's ongoing transition to what passes for democracy in the Muslim world is going to make matters far worse for the Copts, who are fearful the army and courts will not shield them from ever-greater discrimination and harassment. The Freedom and Justice Party, a wholly-owned subsidiary of the Muslim Brotherhood, now controls the country's parliament, and the president is a Brotherhood disciple. The adherents of political Islam are in charge. Their spiritual leader is Sheikh Ali Gomaa, the Grand Mufti of Egypt, who in a recent video reminded the faithful that Christians are infidels. The Sheikh's position is in line with orthodox Islamic teaching, which may explain the fact that he is still hailed in the West as a moderate. Five years ago, a U.S. News article described him as "a highly promoted champion of moderate Islam." As a result, according to an August 14 report in El Fegr, jihadi organizations openly distribute leaflets inciting for the killing of Copts and promising them "a tragic end if they do not return to the truth" (Islam). The letter even names contact points and a location, Sheikh Ahmed Mosque in Kasfrit, where those supportive of such goals should rally after Friday prayers and join forces.
"Liberation" of Iraq from Saddam Hussein's secular dictatorship has devastated that country's Christian community, with many taking refuge in Syria, where they are now again under threat. "At least proponents of Muslim liberation in the Middle East can claim, however implausibly, that the negative impact on local Christians is an unintended and regrettable consequence of a fundamentally humane and progressive program," James Jatras says.
"But in the Balkans, specifically in Kosovo and in Muslim-controlled areas of Bosnia, no crocodile tears are required. The victims are Serbs, and of course they deserve everything they get. But excuses and window-dressing aside, the bottom line is the same: Washington—supposedly the great global opponent of jihad terror—in fact is the consistent supporter of militant Islamization of one country after another, with the predictable result of streams of Christian refugees, burned churches, murdered clergy, and enslaved girls. Given the collusion between our government and media, not one American in ten has a clue what our government is doing in our name and with our money."
Iraq's dwindling Christian population marked Christmas 2011 with bomb attacks across Baghdad that killed dozens of them. After U.S. forces completed their withdrawal from the country, Christian exodus from Iraq accelerated. "Our faithful in Iraq live in fear," Chaldean Bishop Shlemon Warduni complained, "they feel there is no peace, no security, so they go where they can live in peace… The government cannot ensure their lives."
The Christian community in Iraq was some two million strong before the US-led invasion of 2003. Up to four-fifths is estimated to have left the country in recent years following a series of attacks by Muslim extremists. While they were still there, the U.S. forces did little to protect them, leaving the task to the Iraqis. On October 31, 2010, an assault on a Baghdad church left 44 worshippers, two priests and seven security force members dead. According to Louis Sako, Chaldean archbishop of Kirkuk, "the security forces are not sufficiently prepared to ensure the protection of Christians." He says that 57 churches and houses of worship in Iraq have been attacked since the invasion with a thousand Christians killed and more than 6 000 wounded.
At the outset of the Islamic conquests under Muhammad's successors all of these lands were 100 percent Christian. By the time the Ottomans took over they had a Christian plurality, and in Palestine and Lebanon the outright majority. Under the British Mandate (1919-1947), Palestine officially was a Christian country. Bethlehem, for instance, had a population that was 90 percent Christian. Today, they are disappearing: Bethlehem is now less than 10 percent Christian. Among almost three million Palestinians in the West Bank, Gaza, and East Jerusalem, only 50,000 Christians remain. Within the pre-1967 borders of Israel there are six million people; only two percent are Christians. In the city of Jerusalem the Christian population has declined from 45,000 in 1940 to a few thousand today. At the current rate of decline, the Christian population will be a fraction of one percent in the year 2020, and there will be no living church in the land of Christ
If the Jewish or Muslim population of America or Western Europe were to start declining at a similar rate, there would be an outcry from their co-religionists all over the world. There would be government-funded programs to establish the causes and provide remedies, and heart-rendering Hollywood movies. The endangered minority would be awarded instant victim status and be celebrated as such by the media and academia. But the disappearing Middle Eastern Christians, or their remnant, remain invisible to the Western world. It is evidently hard to be "post-Christian" without becoming anti-Christian.
The world did not become a different place because of the Second Amendment.  It became a different place because of the perverted and evil philosophies that have been sown into our culture consistently for the last 40 or 50 years through pornography and mass media. –-Christian J. Pinto
Liberals would have us believe that the Second Amendment bears the responsibility for the mass murder that took place inside an Aurora Colo. theater during the screening of The Dark Knight Rises.  But when we examine the evidence it becomes apparent that much of the blame goes to the entertainment industry (EI).  That's right, Hollywood is partly responsible.
It is no secret that a large number of liberals are the movers and shakers in the EI.  The people who work in entertainment have had a hand in corrupting old and young alike.
Liberals, not pro-family and religious conservatives, have brought us the culture of death and destruction.  They are the ones who insist that all mention of God and the scriptures be removed from the public square through their misinterpretation of the First Amendment.
How did liberals accomplish this?  Judd W. Patton explains:
[I]n the 1947 Supreme Court case of Everson vs. Board of Education, a major conceptual change occurred. Citing only Jefferson's eight words ("a wall of separation between Church and State") and not their context or previous Supreme Court interpretations, it declared a new meaning: a separation of basic religious principles from public life. Indeed, Jefferson's eight words became the catch phrase for this new concept. (Source)
Was the First Amendment really intended to push prayer and the Bible out of our schools, while at the same time giving license to pornography that brings with it every sort of evil imaginable?
When we track the increase of heinous crimes against children such as rape, sodomy and abductions since 1947, we see a huge spike.  Is this a result of the values that flow from the Bible?
Those who are unclear as to why there was a spike in child abuse need only to ask:
Who sat on the Supreme Court in 1947?
Answer: 5 liberal justices
Who are the big dogs in the entertainment industry?
Answer: Liberal elites.
Even though the culture is experiencing a moral meltdown the EI chooses to ignore it and instead continues to produce vile, disgusting, and increasingly violent movies, TV programs, video games, board games – many with occult themes.
Ever noticed that some of the music the EI turns out is awash in race bating?  Likewise much of today's music is sexually explicit…contains filthy profanity…glorifies violence — even against women! And much of this repugnant music is aimed at children!
In an interview with the Hollywood Reporter, famed film director Peter Bogdanovich remarked: "What if movies are part of the problem?"
Well, duh!
In 1968 Bogdanovich produced Targets.  The movie ends with an angry Vietnam War vet randomly shooting teenagers at a drive-in movie theater.  The movie, which did not do well at the box-office, was released with a pro-gun control message – of course! 
When asked about the same sort of random shootings during The Dark Knight Rises, Bogdanovich lamented:
 At first, some of the people … thought it was part of the movie. That's very telling.
He believes,
Violence on the screen has increased tenfold. It's almost pornographic. In fact, it is pornographic. Video games are violent, too. It's all out of control. I can see where it would drive somebody crazy.
Later he observes:
Today, there's a general numbing of the audience. There's too much murder and killing. You make people insensitive by showing it all the time. The body count in pictures is huge. It numbs the audience into thinking it's not so terrible. Back in the '70s, I asked [Academy Award winning actor] Orson Welles what he thought was happening to pictures, and he said, "We're brutalizing the audience. We're going to end up like the Roman circus, live at the Coliseum."  The respect for human life seems to be eroding. (Source) (emphasis added)
If only other Hollywood elites shared Peter Bogdanovich's concern over the lack of respect for human life.
Since this article is not about gun control I'll add something Selwyn Duke said regarding the liberal's fib that gun control is about saving lives and then I'll move on:
For the sake of argument, let's accept the supposition that outlawing firearms would save lives. Does it logically follow from this that guns should be restricted or banned?
Well, it would certainly save lives and countless injuries if people didn't engage in mountain-climbing, hang-gliding, motorcycle-racing, trampolining, big-wave surfing, cave-diving, heli-skiing and a host of other dangerous activities. And, like guns, knives and baseball bats are common murder weapons. Does it logically follow that these items and activities should be banned?
The point is that we never treat saving lives as the only imperative when devising policy. If we did, we'd perhaps consider reducing speed limits on highways to 5 mph, since this might save most of the 43,000 lives lost on the road each year. Speaking of which, since 40 percent of those deaths are alcohol related, we can consider resurrecting Prohibition, too. (Source)
LOOK WHAT LIBERALS HAVE DONE TO CHILDREN
A newly released study suggests that children that watch sex on movies and TV will be more promiscuous and sexually active from a younger age. The Telegraph reported that,
Psychologists concluded that teenagers exposed to more sex on screen in popular films are likely to have sexual relations with more people and without using condoms.
And,
for every hour of exposure to sexual content on-screen, participants were more than five times more likely to lose their virginity within six years.
Later we learn that Dr. Ross O'Hara, who led the study, cautioned:
"This study, and its confluence with other work, strongly suggests that parents need to restrict their children from seeing sexual content in movies at young ages." (Source)
Even more bad news for parents from Live Science.  In "Why 6-Year-Old Girls Want to Be Sexy" Jennifer Abbasi reported that,
Psychologists at Knox College in Galesburg, Ill., used paper dolls to assess self-sexualization in 6- to 9-year-old girls. Sixty girls were shown two dolls, one dressed in tight and revealing "sexy" clothes and the other wearing a trendy but covered-up, loose outfit.
Using a different set of dolls for each question, the researchers then asked each girl to choose the doll that: looked like herself, looked how she wanted to look, was the popular girl in school, she wanted to play with.
Across-the-board, girls chose the "sexy" doll most often. The results were significant in two categories: 68 percent of the girls said the doll looked how she wanted to look, and 72 percent said she was more popular than the non-sexy doll.
Here is an interesting tidbit from Abbasi's piece that hopefully will garner the attention of a few moms.  It seems religious moms may be a blessing to their children:
Mothers' religious beliefs also emerged as an important factor in how girls see themselves. Girls who consumed a lot of media but who had religious mothers were protected against self-sexualizing, perhaps because these moms "may be more likely to model higher body-esteem and communicate values such as modesty," the authors wrote, which could mitigate the images portrayed on TV or in the movies.  (Source)
From these studies we see that Hollywood films do have an impact on our children.
TURNING BACK THE CLOCK
Spiritual forces of evil gained control over America in the 1960s with the hippie drug culture that gave us "sex, drugs, and rock and roll" and the self-absorbed "Me" culture.  Young people rebelled against authority, including parental authority.  Biblical morality was discarded like an old worn out shoe.  They latched on to the slogan "do your own thing" and immersed themselves in every sort of immorality one can imagine – and they did it with gusto!  If we look at how the actions of that day have impacted our society today we recognize that there are dire consequences when morality goes by the wayside.
So – is it too late to turn back the clock to a time when people weren't immune to wickedness?  Is it possible to have a society where children are protected rather than exploited?
In past articles I've made the case that children have been robbed of their innocence because godless secularists see the younger generation as fair game in their indefatigable struggle to advance an anti-Christian agenda in America.  "The Barbarians are no longer at the door; they've kicked it down and have taken over the house!"
How do we turn back the clock to a time when children were allowed to be children, before America took a very dark turn?
First, Bible believing Christians must share the Gospel of Jesus Christ with the lost. "For I am not ashamed of the gospel of Christ: for it is the power of God unto salvation to every one that believeth; to the Jew first, and also to the Greek. For therein is the righteousness of God revealed from faith to faith: as it is written, the just shall live by faith" (Rom 1:15-7).
We must make disciples of all nations. (Mat. 28:19) This is a command not a suggestion.  People will not change unless hearts and minds are changed.  It is men and women who need changing, not just the system (but the system needs changing too).  There's a Holy Spirit filled power in the gospel that can change the most hardened criminal into a saint.
Second, Christian parents must instill in their children a Christian worldview on a variety of moral issues such as premarital sex, bearing babies out of wedlock, abortion, homosexuality, biblical marriage, gambling and drug use.
Third, parents must address what's going on in the government-run-schools they send their children to, where individual thinking is discouraged and group-think is rewarded. What kids are being exposed to is humanistic education.  A large number of our public school teachers and counselors are radical liberals.  Their aim is to persuade students to reject their parent's values and instill their own leftist ideology.  In her book "Total Truth," Nancy Pearcey warns parents that they're youngsters "must be equipped to analyze and critique the competing worldviews they will encounter when they leave home" and she explains how to equip them.  In short, young people must have the confidence to stand up for what they believe, both in college and the workplace. Turning the other cheek has never deterred a liberal.
Fourth, "Preach the word; be instant in season, out of season; reprove, rebuke, exhort with all longsuffering and doctrine." Why is this important?  "For the time will come when they will not endure sound doctrine; but after their own lusts shall they heap to themselves teachers, having itching ears; And they shall turn away their ears from the truth, and shall be turned unto fables. But watch thou in all things, endure afflictions, do the work of an evangelist, make full proof of thy ministry" (2 Tim 4:2-5).
Fifth, pray! "Elias was a man subject to like passions as we are, and he prayed earnestly that it might not rain: and it rained not on the earth by the space of three years and six months.  And he prayed again, and the heaven gave rain, and the earth brought forth her fruit" (James 5:17, 18). When you pray you must pray to  the only true God.
Part 2 coming soon!
The idea of "collapse", social and financial, comes with an incredible array of hypothetical consequences ranging from public dissent and martial law, to the complete disintegration of infrastructure and the devolution of mankind into a swarm of mindless arm chewing cannibals.  In an age of television nirvana and cinema overload, I have found that the collective unconscious of our culture has now defined what collapse is based only on the most narrow of extremes.  If they aren't being hunted down by machete wielding looters or swastika wearing jackboots, then the average American dupe figures that the country is not in much danger.  Hollywood fantasy has blinded us to the tangible crises at our doorstep.
The reality is that collapse is not a singular event, but a process.  It is a symphony of doom, composed of a series of exponentially more powerful crescendos.  If the past four years since the implosion of the derivatives bubble have proven anything, it is that catastrophe has the ability to drown a nation slowly like a river of molasses, rather than sweep it away like a flash flood.  That said, almost every recorded collapse of modern societies in the past century has been preceded by a primary trigger event; a moment in which the mathematical certainty of failure becomes clear, even if the psychological certainty is muddled.
In 2012, we still await that trigger event, which I believe will be the announcement of QE3 (or any unlimited stimulus program regardless of title), and the final debasement of the dollar.  At the beginning of this year, I pointed out that we were likely to see such an announcement before 2012 was out, and it would seem that the private Federal Reserve is right on track.
Last month, the Fed announced that it was formulating a plan to "expand its tool kit".  This includes an openly admitted possibility of a third round of quantitative easing starting as early as September:
http://www.reuters.com/article/2012/07/24/us-usa-fed-tools-idUSBRE86N1G120120724
This timeline appears to coincide perfectly with the breakdown of the EU, which may also see a climax event in September.  In that month, EU policymakers will return from summer holiday.  German courts will make a ruling which could put an end to any chance that the country will support a eurozone rescue fund.  The Dutch, which are anti-bailout, will vote in elections.  Greece will be attempting to renegotiate its financial lifeline.  And, the ECB will have to assess the impending chaos in Spain and Italy:
http://www.reuters.com/article/2012/07/29/us-eurozone-crisis-idUSBRE86S05J20120729
As far as the Fed's ability to remedy the fiscal situation goes, let's clear something up right here; the Fed has NO TOOLKIT.  Sorry, but central banks have only two options when attempting to shift the tide of the economy:  They can lower interest rates to zero, and, they can print-print-print.  That is it.  We've had TARP, numerous bailouts, QE1 and QE2, Operation Twist, and interests rates have been kept near zero for years!  These so called solutions have been strapped like millstones around our necks and absolutely nothing has been accomplished since 2008.
Real unemployment still stands at over 20%.  The housing crisis remains an unstoppable juggernaut.  Europe is on the verge of meltdown (despite the trillions in American taxpayer dollars handed to EU banks).  The national debt continues to grow at a pace far beyond what the Obama Administration and mainstream economists (who should have been fired long ago) predicted in 2010.  There are no secret magic tricks up the sleeve of Ben Bernanke.  Even if the Fed actually wanted to save our financial system, and our currency (which they don't), there is nothing they can do except make the situation worse.  Central banks are perhaps the most useless institutions ever devised, unless, of course, their true purpose is to diminish the financial health of a country and siphon away its economic sovereignty…
Enter the death of the dollar.
The IMF has been consistently calling for the end of the dollar as the world's reserve currency, and for its replacement by the SDR (Special Drawing Rights):
http://money.cnn.com/2011/02/10/markets/dollar/index.htm
http://www.imf.org/external/np/pp/eng/2011/010711.pdf 
The new president of France, Francois Hollande, has recommended the expulsion of the dollar as the go-to reserve, a deeper relationship between France and the BRIC nations:
http://www.atimes.com/atimes/Global_Economy/NE08Dj06.html
China has been demanding an end to dollar primacy for years:
http://online.wsj.com/article/SB123780272456212885.html
And so has Russia…
http://news.xinhuanet.com/english/2009-04/01/content_11109506.htm
And so has the UN…
http://www.telegraph.co.uk/finance/currency/6152204/UN-wants-new-global-currency-to-replace-dollar.html
It's not as if it's a big secret that the dollar is on everyone's hit list.  Until recently, alternative economists could only point out circumstantial evidence that this sentiment was a product of collusion between the world's central banks and elements of various governments.  Suggesting that China, Russia, the UN, the IMF, and the Federal Reserve were working in tandem to devalue the dollar and replace it with a global currency has always elicited at least a few jeers and the ever present standby catch-all accusation of "conspiracy theory".  However, the times they are a' changen'…
With the exposure of the Libor Scandal, we now have definitive proof and even open confessions from international banks, the Federal Reserve, and the Treasury, admitting that the true debt problems of major institutions have been hidden, deliberately, in tandem with multiple agencies in multiple countries, from the general public, with the full knowledge of numerous governments.  The most vital and shocking element of the Libor Scandal is that it shows, beyond a shadow of a doubt, that there is indeed a conspiracy which has melded the corporate world and the political world into a single ominous creature.
The collusion has become so brazen, central banks around the globe now institute policy initiatives within the same hour of each other:

http://www.reuters.com/article/2012/07/05/us-centralbanks-action-idUSBRE8640RN20120705
Years back, I wrote an article about the most important signs to watch for when facing a heightened state of collapse.  One of those signs was the advent of openly admitted corruption on the part of the banks.  When criminals become absolutely transparent and nonchalant about their criminality, it is usually because they no longer fear the threat of justice or reprisal.  This is exactly the atmosphere we have in 2012.  But, what could possibly have made the banksters so confident that they are willing to flaunt their racket to the world?  I can only surmise that an event is on the horizon.  One so distracting that the hucksters believe we will forget all about them.
Looking at it from another perspective; if I was a globalist hell bent on undercutting the dollar as the world reserve and replacing it with a centralized standard while turning the U.S. into a third world pit in the process, I would probably pull the plug soon.  Here are some reasons why:
Drought Crisis Provides Inflationary Cover
The drought which has struck half of the U.S. agricultural centers and which has also hit Russian production is the perfect cover event for dollar devaluation.  The full view of crop production and yields will be revealed this autumn, and according to the mainstream, the numbers will be dismal.  Maybe they will be, maybe they won't, but the likelihood of inflation in food prices all over the planet is high.  If the Fed announces QE3 and sets an implosion of the dollar in motion, the price spikes this will cause in commodities, especially grains and other foodstuffs, can be easily blamed on drought, rather than the destruction of the greenback.  At least for a time.

Syria And Iran Theater
If the UN pulls observers from Syria, expect an attack by either the U.S., Israel, or both is on the way.  Expect Russia to be quite unhappy.  Expect China to respond with financial warfare.  Expect Iran to fulfill its mutual defense pact with Syria and come to their aid.  Expect hard core catastrophe.  I have been warning about Syria as a catalyst for global crisis for quite some time.  Long before anyone ever heard the name "Assad":
http://www.alt-market.com/neithercorp/press/2010/01/will-globalists-trigger-yet-another-world-war/
Every time I catch a glimpse of the MSM, whether it be MSNBC, CNN, or FOX, they are all spewing the same rhetoric:  The U.S. should have invaded Syria months ago.  It would seem that the American people are being psychologically prepped for a new war, but in reality, they are being prepped to be distracted from the banking sector's primacy in the economic calamity that is about to unfold.
European Seesaw Of Destruction
With the EU in shambles, and only getting worse, the ECB has been attempting to work around the rules of its own charter which forbid the infusion of capital directly into governments.  The latest weapon in the fight against the financial stupidity of EU member countries?  European stimulus!  That's right folks, the U.S. is not the only country that will be raping its own currency this year!  Be sure to catch the euro-sized version of QE:

http://www.washingtonpost.com/blogs/ezra-klein/wp/2012/08/03/maybe-draghis-speech-wasnt-a-disaster-after-all/
http://www.bloomberg.com/news/2012-06-01/berlusconi-says-ecb-must-print-euros-or-italy-may-say-ciao-1-.html
I believe, in keeping with the collusion central banks have already shown, that the Federal Reserve and the ECB will announce new stimulus measures very close to each other, if not in tandem.  The continued devaluation of the Euro will help to hide the effect of the falling dollar as the two currencies seesaw back and forth, allowing for a delayed reaction from the public as well as investment markets.  Investors looking for a safe haven currency will be scrambling in confusion.
Stocks Ready To Bust
Finally, it is very likely that the Fed will wait for markets to dive in the wake of faltering demand for goods and raw materials in all major economies, as well as declines in manufacturing.  As I have said in the past, the Fed wants us to beg for QE3.  The only reason this decline has not occurred yet is because investors that are still participating are salivating for new stimulus and expect it shower them with riches soon.  So, to put this in perspective, the Dow is above 13,000 right now because investors have already priced in a QE package not just in the U.S., but in the EU as well.  If they do not get it fast, they will pull out, and stocks will plummet.  The market addiction to fiat injection is so pervasive now, I cannot imagine how they would react if the pipeline was cut off.  It would probably induce a fiscal bloodbath.
What Will Collapse Really Be Like?
I expect the event will be spectacular in some ways, but subdued and subversive in many other ways.  Triggers may be swift and startling, but the reactions of the populace slow, uncertain, and presumptive.  There will be fissures in our foundation, but the complete extent of the danger may take a few more years to become evident.  While the public continues to maintain its fixation on some Mad Max nightmare scenario, the real collapse will be taking place right under their noses in the form of 25%-50% increases in food and fuel, tightened job availability with pensions swallowed by austerity, food lines hidden by food stamps until the government finally defaults and pulls the rug out from under entitlement programs, etc.  For a time, it will look and feel like a slightly darker version of today, and not the cinematic melodrama that we have come to envision.  The worst of times that we often find extolled in the pages of history books come at the cost of years of almost equal disparity, and usually, the lead up is far more difficult to handle than the finale…
Source: Brandon Smith | Alt-Market
The New York Daily News.  Hands down.
The winning entry is an anti-Second Amendment Rights piece written in the wake of the Colorado tragedy, one in which virtually every line contains a callow, melodramatic appeal to emotion or an outright falsehood.
The article's only saving grace, if you can call it that, is that it's mostly non-partisan, bearing the title, "Blood on hands of Obama, Mitt and NRA!"  This summarizes its thesis, which is that the Aurora police chief was wrong when he said that Colorado shooter James Holmes acted alone.  "Standing at Holmes' side as he unleashed" his carnage, writes the paper, were Wayne LaPierre of the NRA, Barack Obama, Mitt Romney and "millions of zealots," meaning, supporters of the Second Amendment.  And if you think that's laying it on thick, try the line following these indictments on for size: "In a vain claim of innocence, the fanatics will say Holmes is a monster and a maniac, that he fired and fired and fired as a man possessed.  Each protestation clamps their fingers with his around the trigger."
But the editors then continued, writing and writing and writing as a pen possessed.  Exhibiting what I'll now dub "AR-15 Derangement Syndrome," they embedded a composite picture of the weapon in their editorial with the caption, "RESTRICTED TO USE IN MOVIE THEATERS, SHOPPING MALLS, HIGH SCHOOLS, UNIVERSITIES…"  Really?  I think the News ought to lobby to get that law changed.
The paper, of course, correctly identifies the AR-15 (although the actual name varies depending on manufacturer) as one of the firearms Holmes wielded during his crime, but that's where its accuracy ends. The News, like someone else, labels the AR "heavy weaponry," obviously ignorant of the fact that such armaments would have to be, well, heavy.
An AR-15 weighs approximately seven and a half pounds.
Like a handgun, it is known as a "light weapon" and is in fact one of the lighter rifles in its class.
Oh, for the News's information, "heavy weaponry" would be something like a howitzer.
The News did, however, accomplish in its editorial what is no mean feat: it managed to be outshone by The New York Times.  Adding some perspective to AR-15 Derangement Syndrome (ADS), the Gay Lady mentioned how Aurora shooter James Holmes also wielded a 12-gauge shotgun during his rampage and wrote, "If anything, the experts said, a shotgun in that situation might have been the most lethal, since every shell can spray a half-dozen or more pellets, each capable of killing or maiming a person."  Except there's no "if" about it; in close-quarter firing against soft targets, a shotgun is a far more formidable weapon.  This could be why Holmes used it before either the AR or his .40 caliber handgun.
So why all the focus on the AR-15?  Its looks, which may be described as cool or menacing, depending on whether you're a gun aficionado or an ADS patient.  You see, journalists watch violent Hollywood movies in which such weapons are fired fully automatic and magically never run out of ammo, and they assume that any firearm with the same appearance is a machine gun.  But the AR-15s (and AK-47s) readily available to the public—and the one possessed by Holmes—fire only semi-automatic, just like most firearms sold today.  This means that one round is released with every trigger pull.
Next, further making its case that Second Amendment supporters have blood on their hands, the News spoke of the "body count" during heinous crimes: Columbine, 13; Virginia Tech, 32; and numerous smaller shootings that claimed 3 or 4 lives.  Let's talk about body count.
On the day of Columbine, 3,332 children were murdered through abortion.
On the day of Virginia Tech, 3,332 children were murdered through abortion.
And on the day of each smaller shooting, 3,332 children were murdered through abortion.
The total is approximately 1.21 million a year.
It's clear what kind of legislation would save lives—and it has nothing to do with gun-control.
The News then punctuates its feckless commentary by proving that even five minutes of research is too much trouble for the sake of accuracy (or the editors were just lying).  The paper writes, "Once, federal law would have kept Holmes' hands off a superdeadly [sic] weapon like the AR-15.  In 1994, under President Bill Clinton, Congress outlawed the manufacture and possession of assault weapons, but the statute had a 10-year expiration date."  This is a deceptive statement.
First, the "ban" did nothing to prevent the sale of AR-15s or any other such weapon.  In fact, I was present when one was purchased, legally, in a gun store during that period.   How could this be?  Because the ban only applied to weapons that had certain combinations of relatively inconsequential features, such as a bayonet mount and a pistol grip, or a folding stock and a flash suppressor.  You could still by an AR-15 that was functionally the same as it had ever been.
Second, even weapons meeting the ridiculous definition the government applied were not illegal to possess or even sell, as long as they'd been manufactured prior to 1994.  So the News was wrong on that count, too.
Lastly, the guns in question aren't even really "assault weapons," which had always been understood to be fully-automatic firearms.  What the government did was duplicitous: it redefined the term so as to include semi-automatic guns, thus giving itself a boogeyman to fight.  But this redefinition was extremely narrow, so that little of substance would actually be outlawed.  Thus, it was able to make it appear to liberals that it was doing something to get dangerous "assault weapons" (a term designed to manipulate emotion) off the streets, while not denying gun owners too much of what they want, thereby avoiding their full-bore wrath.  It was a clever ploy: Clinton and Co. manufactured a dragon whose funeral wouldn't sway elections, slew him, and then pretended to be white knights.
So, my leftist friends, you'd been had.  How does it feel to be conned by your own people?
Anyway, the New York Daily News could learn something from the Times, which at least understands the importance of subtlety in propaganda.  I'd say that the News's staff had taken a stupid pill, but in their case such medication could only yield improvement.
Here I am in Rome, the Eternal City. And you can usually find a fabulous monument or church or historical ruin on almost every corner. Or a gelato shop.
First I scored a cheap-but-nice room at the Hollywood Hotel near the main railway station (using www.HostelWorld.com) and then settled in to see the sights. Rome is amazing. You should go there. Everyone here speaks English. Bring a map.
Of course the first thing I did while in Rome was visit the Coliseum and the Forum. And must I state the obvious here? After running a thousand-year-old eternal empire that stretched from Britain to Palestine and beyond, now nothing is left of that empire but a bunch of scenic rocks. Hint hint.
Or as President Eisenhower used to say, "Every gun that is made, every warship launched, every rocket fired signifies, in the final sense, a theft from those who hunger and are not fed, those who are cold and not clothed. This world in arms is not spending money alone. It is spending the sweat of its laborers, the genius of its scientists, the hopes of its children. This is not a way of life at all in any true sense. Under the cloud of threatening war, it is humanity hanging from a cross of iron."
Enough said. A word to the wise is sufficient. A priori, the American Empire is doomed. 1000 years from now? Nothing but rocks. Let's just hope that they also are scenic rocks. What future tourist would ever consider paying 12 euros to see the ruins of strip malls?
Next I went off to the Vatican to try to give Pope Benedict some advice regarding his recent War on Nuns. "Don't go there."
Visiting the Vatican involves standing out in the hot sun for three hours while waiting to get in to see the Sistine Chapel. So much for paying extra to "Skip the Line".
There is a great Roman-built wall around the inner city here, built by Emperor Constantine to keep out the barbarian hoards lapping at Rome's door. So. From a vast military complex with over 400 military outposts scattered across the known world, the Roman Empire had finally been reduced to just as few miles of real estate.
Perhaps America might consider Rome's plight as well and spend its money (our money) defending America rather than trying to seize all of the known world too. We can now see in advance how that's gonna go.
Right now, thousands of foreign emigrants are trying to come to the United States — but in a good way. They are only following the trail of booty that has been looted from their own countries by America's One Percent. They don't want to destroy us. They just want to join us.
But. Sooner or later, there are going to be true barbarians at our gates — just like there were at the gates back in ancient Rome. And all our armies will be out there in Nowhereastan trying to steal oil for Exxon instead of here at home minding the battlements where they belong.
History will repeat itself. Just look at all these ruined walls.
Citizens of Rome see these ruins every single day — and learn from them. No wonder Italians don't like to seek empires. They are constantly reminded of its futility. It's a wonder that Mussolini was able to scratch up any conscripts at all or even get to first base.
Then I went off to the catacombs of San Callisto. Amazing. 16 miles of underground tunnels built by early Christians in order to secretly bury their dead. Roman emperors hated Christians. Why? Because Christians were tired of centuries of war and wanted peace and love instead. And so they were persecuted for their craving for peace in a militaristic world — much like peace-loving people are persecuted by the military-industrial hierarchy today. That's another analogy we could learn from.
But will we? Er, no.
Zombies have shuffled their way into a resurgence in pop culture over the last decade, but nothing has come close to the fever pitch produced in the news over recent weeks.
First, there was the frightening yet strange 'zombie' case in Miami, Florida, where Rudy Eugene was shot and killed by police when they found him gnawing the face off another man. The particulars of the case are still somewhat unclear, although that hasn't stopped mainstream news from being 'apocalyptic' in their reporting.
Eugene was reportedly acting as if he was on drugs prior to the horrific attack, although the exact drug has not been verified (so the press has been cycling through them all). His girlfriend and mother claim he would never have voluntarily done such a thing, and thus he must have been drugged by persons unknown, or was a victim of a voodoo curse.
"Everybody says that he was a zombie, but I know he's not a zombie; he's my son," she said.
She said the man who ate another human being's face was just not the son she knew.
"I don't know what they injected in him to turn him into the person who did what he did," she said, making the motion of someone putting a syringe into the crook of her arm.
A grieving mother's denial? Probably. But it's not outside the realm of possibility, as it's well documented that government agencies publicly, and secretly, test biological agents against unsuspecting civilians, without public consent or knowledge. The US military has engaged in dark medical experiments as well:
Experiments included administering LSD to CIA employees, military personnel, doctors, other government agents, prostitutes, mentally ill patients, and members of the general public in order to study their reactions. LSD and other drugs were usually administered without the subject's knowledge and informed consent, a violation of the Nuremberg Code that the U.S. agreed to follow after WWII.
Next came a story from Maryland, where a college student was arrested for killing a man, dismembering him, and eating his heart and part of his brain. More cannibalism.
Then an incident in New Jersey, where a man stabbed himself 50 times and threw bits of his own intestines at police. Police tasered him, but he was allegedly not subdued easily. 'Zombie-like' strength and disassociation.
All on the back of this, was an international incident that seemed to heighten the 'zombie/cannibal' phenomenon.
A man hunt just ended last week after authorities in Germany arrested a young Canadian man, Luka Rocco Magnotta, who is accused of killing and dismembering Jun Lin, a 33-year-old undergraduate student at Montreal's Concordia University. Magnotta was dubbed the "Canadian Psycho" by international press.
Not only was much of the horror of the killing and dismemberment filmed and uploaded to the internet, but Magnotta then allegedly, after eating parts of his victim, packaged up the various body parts and sent them through the post to conservative and liberal Canadian political party offices, as well as two elementary schools.
Jun Lin's head and several limbs are still unaccounted for.
These cases, which would have traditionally been attributed to severe mental illness, are now being completely sensationalized, and described as zombie killings. The public has become very used to violence. We're almost completely desensitized to violence. But cannibalism seems to strike at something different within us. For some, it's compelling – for others, it's a sign of end-times.
For all that they bemoan the tragedy, the media also embraces this sort of story to fuel their sales and ratings, and the public tunes in.
And why wouldn't they? The very authority figures that the public look to for guidance and a voice of reason, like the Center for Disease Control (CDC), ran a campaign in 2011 to heighten awareness of the inevitable zombie apocalypse!
In a May 16th blog entry on the CDC.gov website called: Preparedness 101: Zombie Apocalypse, author Ali S. Khan asks the question, "Where do zombies come from and why do they love eating brains so much?" The article then goes on to suppose that "zombies would take over entire countries, roaming city streets eating anything living that got in their way. The proliferation of this idea has led many people to wonder – How do I prepare for a zombie apocalypse?"

CDC would provide technical assistance to cities, states, or international partners dealing with a zombie infestation. This assistance might include consultation, lab testing and analysis, patient management and care, tracking of contacts, and infection control (including isolation and quarantine).
But now the CDC is reversing its stance on an undead holocaust, and has denied the existence of zombies. 
With the media hyping zombies, government agencies considering zombies, and corporations pushing any products they can associate with zombies, it should come as no surprise that scammers now are getting in on the action.
Whatever the cause of the macabre and grisly cannibalism of these recent reports, there was no doubt that although viewers were sickened, they were also intrigued. To many, it felt like the unfolding plot of a horror movie, and the media seemed all too willing to provide all the gory details.
…there is surveillance footage of Eugene's May 26 attack, but the 18-minute video, embedded in articles from local Miami news sources including the Miami Herald, is partially obscured by a bridge. There is no other video, no "exclusive" footage or "never-before-seen" angle. This is important to remember, as online scammers, in a plea to get you to click on possibly harmful links, often promise to show you the "real" videos or photos you haven't seen.
The audience's "thirst for gore" is what makes the scammers successful. It's what drives the press to publish continuous updates (even the irrelevant minutiae) on these horrific, real life tragedies. The gruesome 'infotainment' stretches the boundaries of credulity and traps the viewer in a dissonance, a mental conflict where it's necessary to sort out what is real and what is unreal from a source that is supposed to tell the truth but seldom does.
——
Zombies and ghoulish creatures might be mainstream fare right now, but like many myths they have a history that stretches back through the ages. Before you become convinced that the 'zombie apocalypse' is upon us because the reporting is reaching saturation, keep in mind:
Though many people treat the current "zombie apocalypse" as a fun pop culture meme, it's important to realize that some people believe zombies are very real. Haitian culture — like many African cultures — is heavily steeped in belief in magic and witchcraft. Belief in zombies is related to the Voodoo religion, and has been widespread throughout Haiti for decades. The existence of zombies is not questioned, though believers would not recognize the sensational, Hollywood brain-eating version that most Americans are familiar with.

Unlike today's malevolent movie zombies, the original Haitian zombies were not villains but victims. They are corpses who have been re-animated and controlled by magical means for some specific purpose (usually labor). Historically, fear of zombies was used as a method of political and social control in Haiti. Those people believed to have the magical power to zombify a person — mainly witch doctors called bokors — were widely feared and respected.
For a 'History of Zombies', visit Discovery.com
Source: Elizabeth Leafloor | RedIceCreations.com
Many people hype "the coming economic collapse" as if it is some kind of big summer Hollywood blockbuster.  Many people out there write about it as if it is something that will happen in a single day or over a few weeks and that it will suddenly change how the entire world functions.  But that is not how the financial world works.  The financial world is like a game of chess – very slow and methodical.  Yes, there are times when things happen very quickly (like back in 2008), but even that crisis played out over a number of months.  Sadly, most Americans are not used to thinking in terms of months or years.  These days, most Americans have the attention span of a goldfish and most Americans have been trained to expect instant gratification.  They are simply not accustomed to being patient and to wait for things.  Well, despite what you may have read, the economic collapse is not going to be a single event.  It is going to play out over quite a few years.  In some ways we are experiencing an economic collapse right now.  When the next major financial crisis occurs, many will be calling that "an economic collapse".  But if you really want to grasp what is happening to us, you need to think long-term.  We are heading for a complete and total nightmare, but it is going to take some time to get to the end of the story.
Yes, there will certainly be times of great chaos.  The financial crisis of 2008 was one of those moments.
But the financial crisis of 2008 did not completely destroy us.
Neither will the next crisis.
I think it is helpful to think of what is happening to us as a series of waves.
When you build a beautiful sand castle on the beach, the first wave that comes in does not totally destroy it.
Rather, the first wave weakens the castle and it is destroyed by subsequent waves.
Well, that is what is happening to us.
The financial crisis of 2008 was a wave.
The epicenter of the next great financial crisis will be in Europe and that will be another wave.
For many, the next financial crisis will feel like "the end of the world" but it won't be.
There will be waves after that one that will be even worse.
Yes, the waves are going to start coming more rapidly and will start becoming more intense.
In that way, they will kind of be like birth pains.
But these problems did not build up overnight and they are not going to disappear overnight either.
A lot of people that write about the coming economic collapse seem to suggest that we should just let it happen so that the "recovery" can begin.
Unfortunately, it is not going to be so simple.
It took decades to build up a national debt of almost 16 trillion dollars.
It took decades for American consumers to build up the greatest consumer debt bubble in the history of the world.
It took decades to gut the economic infrastructure of the United States and ship millions of our jobs overseas.
These problems are going to plague us for a very long time.
Sadly, a lot of people out there seem to wish for an economic apocalypse.  They seem to think that if the global financial system crashes that the government is going to disappear and we are going to start fighting with each other using sharp pointed sticks.
Well, it simply is not going to happen.
The U.S. government is not going to help you survive when things hit the fan, but it is not going to disappear either.
In fact, the federal government will probably try to grab more power than ever in an attempt to "restore order".
The governments of Europe are not going to disappear either.  In fact, in the long run Europe is probably going to end up more "federalized" than ever even if the euro breaks up in the short run.
A lot of people out there seem to think that when the old system collapses that it will give them an opportunity to help put in a new system.
Sorry, but that is not going to happen either.
The powers that be are going to have their own ideas about what needs to happen.
They never like to let a good crisis go to waste, and they will certainly try to use every crisis to shape the world even more in their own image.
The coming economic collapse is going to play out over a number of years and it is going to be absolutely horrible.
Billions of people will deeply suffer because of it.
It will be unlike anything any of us have ever seen.
Personally, I believe that it will eventually be much worse than the Great Depression of the 1930s.
The United States is going to get hit particularly hard.  The United States is going to lose its position as the leading economic power on the globe and the U.S. dollar is going to lose its position as the default reserve currency of the world.
If you thought that the unemployment crisis during the last recession was bad, just wait until you see what is coming.
We are heading for a complete and total unemployment nightmare in the United States.  Unemployment is eventually going to soar well up into the double digits.
The U.S. government will try a wide variety of measures to try to "fix" things, and some will likely have some limited success.
But the debt-fueled prosperity that we are all enjoying now is going to come to an end.
Many communities all over America will degenerate into rotting cesspools.
There are going to be riots in our major cities, crime and looting will be absolutely rampant and it will seem like society is coming apart at the seams.
The U.S. government will likely respond by becoming more authoritarian than ever, and that will truly be frightening.
But all of this is going to play out over time.
Right now, things are not as good as they were five years ago.
A couple of years from now, things will be even worse.  Many of us will look back and wish that we could return to the "good old days" of 2011 and 2012.
We are on a decline that is not going to stop.  There will be little false bubbles of hope like we are in now, but they won't last long.
But just because the economy is falling apart does not mean that your life is over.  Many that are busy preparing right now will be greatly blessed even in the middle of all the chaos.
And it is when things are the darkest that the greatest lights are needed.
Make the decision right now to be a light during the times ahead.
You can choose to let the times that are coming destroy you, or you can choose to make them the greatest adventure of your life.
The choice is up to you.
Source: The Economic Collapse
I objected to Roe v. Wade the moment it was decided, not because of any doubts about abortion, but because the decision was a radical deformation of the Constitution. The Constitution has nothing to say about abortion, leaving it, like most subjects, to the judgment and moral sense of the American people and their elected representatives. – Judge Robert Bork
Those opposed to abortion on demand warned of a slippery slope when Roe v. Wade became the law of the land in 1973. The U.S. Supreme Court's decision gave women the right to eliminate an unborn child for practically any reason. Since 1973, over 50 million American lives have been terminated – some through the barbaric practice of partial-birth abortion (PBA). I'll explain the procedure in a moment.
Now we are faced with sex-selected abortion, the procedure based on the sex or gender of the child. Sex-selected abortions are common in countries such as India and China. The Washington Times reports on this atrocity:
Worldwide, more than 100 million girls are estimated to be "missing," and a first-of-its kind study by University of Texas economics professor Jason Abrevaya estimated that more than 2,000 girls were "missing" among Asian women who gave birth in California between 1991 and 2004. (Source)
The Prenatal Nondiscrimination Act (PRENDA) was introduced in the House of Representatives and would have banned sex-selection abortions in this country but the bill was shot down. Pro-aborts argued that PRENDA is another attempt by pro-life advocates to halt the right to an abortion.
According to Life News:
The legislation needed a two-thirds vote and Democrats voted overwhelmingly against the legislation after President Barack Obama and Planned Parenthood came out in opposition.
With a 246-168 vote, the bill did not obtain the two-thirds majority necessary to pass. Republicans voted for the bill on a 226-7 margin while Democrats opposed banning sex-selection abortions on 161-20 vote margin.
Because the bill failed to pass, gender-based abortion is legal in America.
Further on in the report:
Among the organizations that warned House members not to vote for the bill was the Planned Parenthood Federation of America (PPFA). PPFA sent an email memo to House members on May 29 warning of its "intent to score" a vote for the bill as a vote against "women's health." Also on May 29, the Huffington Post reported that "no Planned Parenthood clinic will deny a woman an abortion based on her reasons for wanting one, except in those states that explicitly prohibit sex-selective abortions (Arizona, Oklahoma, Pennsylvania and Illinois)." (Source)
How ironic that Planned Parenthood feigns concern over the health of women, yet there's zero concern for the health of a baby girl in her mother's womb! I smell hypocrisy.
President Obama's opposition to the bill came after pro-live group Live Action, an organization headed by Lila Rose, came out with a video exposing a Planned Parenthood employee encouraging a woman to have a sex-selection abortion. In the Live Action video a woman who was part of the sting says she and her husband have decided to abort the baby if it's a girl. The employee answers questions and offers advice. At one point she says, "I'm just trying to, you know, help you as much as possible with this." She ends their discussion with, "Well, good luck, and I hope that you do get your boy." Shortly thereafter a second video emerged showing a New York clinic approving sex-selection abortions. The employee said this: "And so, if you decide that, even if you find out that it's a girl, and you decide that, what you would prefer is to terminate the pregnancy then that's just your decision. I can tell you that, you know, here at Planned Parenthood we believe that it's not up to us to decide what is a good or a bad reason for somebody to terminate a pregnancy."
Anyone familiar with the radical feminist agenda and the women behind it aren't the least bit surprised by the power PPFA wields. In 2007 David Kupelian wrote "Lies and Fraud of Roe v. Wade." I borrowed the above quote from David. In his piece he presents Judge Bork's view of radical feminism, which he shares:
"[Robert] Bork offers a disturbing insight into the radical feminist-inspired pro-abortion worldview behind Roe v. Wade. 'No amount of discussion, no citation of evidence, can alter the opinions of radical feminists about abortion,' Bork states, illustrating his point with a story. 'One evening I naively remarked in a talk that those who favor the right to abort would likely change their minds if they could be convinced that a human being was being killed. I was startled at the anger that statement provoked in several women present. One of them informed me in no uncertain terms that the issue had nothing to do with the humanity of the fetus but was entirely about the woman's freedom.'
"Such a supremely selfish brand of 'freedom' is chilling enough, but Bork then explained what 'equality' meant to Roe's backers, including those on the Supreme Court. 'Justice Harry Blackmun, who wrote Roe and who never offered the slightest constitutional defense of it, simply remarked that the decision was a landmark on women's march to equality,' explains Bork. 'Equality, in this view, means that if men do not bear children, women should not have to either. Abortion is seen as a way for women to escape the idea that biology is destiny, and from the tyranny of the family role.'" (Source)
In an article entitled "Hang 'Em High" I explained the gruesome PBA procedure mentioned above. Read it and weep:
The procedure known as partial-birth abortion is immoral. Every American should be outraged that this procedure was ever allowed in a civilized country such as ours. If you've been in a coma and haven't heard about this grizzly procedure allow me explain. To "save the life of the mother," a living, breathing, baby is partially delivered, then scissors are jammed into its skull to make a hole large enough for a suction tube. The tube is inserted into the hole and the baby's brains are sucked out causing the skull to collapse. Sounds like something right out of a Hollywood horror flick, doesn't it? I doubt that even Hollywood would go this far to shock their audience.
If someone tries to tell you that the PBA procedure was not done in this country, that person is misinformed. Until Congress passed the Partial-Birth Abortion Ban Act of 2003 it was a legal procedure, it was done to thousands of babies, and that is a disgrace! Indefatigable pro-life activists fought long and hard to put a stop to this barbaric procedure.
But I digress.
Not surprisingly the PRENDA vote received scant coverage in the mainstream media. "There is nothing more predictable than networks burying negative news about Planned Parenthood" wrote the Media Research Center. MRC did some checking and found that ABC, NBC and CBS skipped the Live Action videos. "Left-wing outlets have gone into damage control, spinning the Live Action sting as a manufactured controversy."
Now that two videos have surfaced we know that this isn't a manufactured controversy any more than the PBA procedure was right-wing propaganda as so many leftists claimed. No doubt pro-life groups such as Live Action will be down in the trenches fighting for the rights of the unborn who cannot speak for themselves. During a discussion with Bill O'Reilly, conservative talk show host Laura Ingraham pointed out what is at stake in the gender-selection debate:
This is about basic human decency and whether we are going to choose to go down the road of barbarism or humanity.
Debating the virtues and morality of accepting gay marriage unions is like discussing the merits of pedophiles catering head start parties for children. How one comes down on the comparison, usually depends upon your own personal value system and culture of acceptable conduct. The red herring of committing a "Hate Crime" for even having the cojones to raise the issue, exemplifies just how far society has sunk to abandon valid intellectual scrutiny. Audacity in the defense of Western Civilization traditions, ethics and, much less religious principles, is rapidly becoming a ubiquitous bias-motivated offense. Celebrating diversity has become accepting depravity.
Obama's attempt to clinch his ideological base by pandering to the gay community, bought an immediate inflow of political contributions. However, the fall out in swing states will haunt his re-election prospects. That is the popular analysis from his endorsement of a perverted legalization of marriage. The social issues run deep and clarify why the country is poised for ruin. If evolving to accept progressive perversion is advancement, the country is truly doomed.
The Associated Press provides international reaction in their report, Obama gay marriage support seen as world precedent. The culture war churns into a soufflé of burnt cuisine. Now that Obama has opened the door, the calls for what is in the closet, commence. The Religious Right Slams Obama for Backing Marriage Equality has all sides upset.
"Religious Right Slams Obama for Backing Marriage Equality While gay conservative groups have come out attacking President Obama for endorsing marriage equality today, Religious Right groups have also started to berate Obama on the issue."
One of the most articulate and consistent spokespersons for authentic family values is Bill Donohue of the Catholic League. He claims that Obama "has fully broken with his Christian moorings" and suggests he also favors polygamy:
"In 1996, when Barack Obama was up for a state senate post in Illinois, he said he supported gay marriage. Eight years later, when he set his sights on the U.S. Senate, he discovered his Christian roots and said he was against it. In 2008, he said he was opposed to homosexuals marrying, but he also opposed a ballot initiative in California, Proposition 8, that affirmed marriage as being exclusively between a man and a woman. In other words, his Christian roots were losing their grip. Since then he's been "evolving." Now the evolution is over and he has fully broken with his Christian moorings."
A devotee dances as Obama prances in the video, Barack Hussein Obama for Homosexual Marriage, which provides a long history of spoiled sentiments. Finally, the POTUS makes it official. Seldom spoken or never admitted, but known to the insiders, goes public.
"The Me" ethnicity plagues every aspect of postmodern life. Self-absorbed with egocentric conceit, President Obama is unable to utter a pronouncement without the personal pronoun I. The first-person singular succumbs to the twisted appetites that resemble the decadence of Greek debaucheries and Roman orgies. No wonder the secular humanistic "end days" empire draws near with a stand-in Gaius (Caligula) on the throne. See any similarities in Obama's conduct – "Gaius's military activities on the northern frontier, and his vehement demand for divine honors. His military activities are portrayed as ludicrous, with Gauls dressed up as Germans at his triumph and Roman troops ordered to collect sea-shells as "spoils of the sea."Accepting a fabricated "rock star" celebrity as the leader of the free world is a destructive result of the "Me Value Culture". If the polls are correct that the public is equally divided about gay marriage, what will be the next indignation that the remaining 50% will be forced to suffer? The country continues to implode because cultural restraint is an unknown commodity.
The demise of national character coincides with the abandonment of moral values. Nature has rules for survival. When society departs from inborn constraints, the consequences are terminal. Thus, the newest dilemma is how to combat a president that lacks the character and internal righteousness of moral conviction.
It should be clear that Barry Soetoro has always been a lover of homosexual practices. If you have doubts, examine the account, Mom of Murdered Obama Gay Lover Speaks Up
"In late May, Wash. DC-based investigative journalist Wayne Madsen had a bombshell revelation about Obama's membership in a Chicago gay club, Man's Country. Madsen also reported on Obama's sexual relationships with other men, including named D.C. politicians and Donald Young, the openly-gay choir-director of the church in Chicago of which Obama was a member for some 20 years — Jeremy Wright's Trinity United Church of Christ black liberation theology. Obama's relationship with Young was confirmed by Larry Sinclair, who claims to have had two sex-cocaine trysts with Obama.Now, in an exclusive interview with The Globe, Norma Jean Young, the 76-year old mother of the late Trinity United Church of Christ choir director Donald Young, has spoken out and declared that persons trying to protect Obama murdered her son at the height of the 2007 Democratic presidential primary to protect Obama from embarrassing revelations about his homosexual relationship with her son. Donald Young's bullet-ridden body was found in his Chicago apartment on December 23, 2007, in what appeared to be an assassination-style slaying."
The video Larry Sinclair Talks About Obama's Homosexual and Crack Cocaine Use! adds context and testimony to the allegations. The fact that such chronicles, seldom reported in the press or investigated in the media, is consistent with the cloak of protection that clothes the mysterious man with no verifiable history. The rumors circulate under the radar, as the evidence develops in a sealed tomb of silence. Yet the uninformed and worldly cripples that lack an astute ability to learn and face the cruel grueling facts of politics, lumber on with the delusion that their leader is trustworthy.
Gay marriage is symbolic of a cultural meltdown. In How to Destroy a Culture in 5 Easy Steps, cites the Overton Window, developed in the mid-1990s by the late Joseph P. Overton, which is useful to understand the adverse impact of the demise of the traditional family.
Step #1: From Unthinkable to Radical — The first step is the easiest—provided the issue can become a fetish or the topic of an academic symposium. Since both the professoriate and the perverts have a fascination with the faux-transgressive (the truly transgressive [i.e., Christianity] tends to terrify them) all you need to do is get the attention of one of these groups. It doesn't matter which you start with since the politics of the bedroom and the classroom inevitably overlap.

Step #2: From Radical to Acceptable — This shift requires the creation and employment of euphemism. Want to kill a child exiting the womb? Call it "dilation and extraction" and infanticide becomes a medical procedure. Want to include sodomitic unions under the banner of "marriage?" Redefine the term "marriage" to mean the state-endorsed copulation of any two(?) people who want to share a bed and a tax form. Be sure to say it is about "love"—in our culture, eros excuses everything.

Step #3: From Acceptable to Sensible — There is nothing more sensible than to submit to one's god. And while Americans may profess to worship Allah, Jehovah, or Jesus, we mostly worship an American Idol—ourselves. That is why social libertarianism has become our country's fastest-growing cult. It has tapped into this self-idolatry by preaching a gospel of the Individual. It's a pragmatic and accepting message. You were, as its chief evangelist Lady Gaga says, "born this way": "It doesn't matter if you love him, or capital H-I-M / Just put your paws up /'Cause you were born this way, baby."

Step #4: From Sensible to Popular — This step merely requires personalizing the issue. Do you know someone who is LGBT? Divorced? Had an abortion? Sure you do, they are in your family, in your school, at your church.

Step #5: From Popular to Policy — Commission a public opinion poll. Show it to a politician. They'll do the rest.
The United State is not united, nor will cultural multiplicity ever agree on a common political order. However, for the nation to heal itself, it must seek forgiveness for transgressing the laws of nature. Any civil authority must respect universal precepts to be legitimate. Granting legal status for gay unions is bad enough. But, compelling religious faiths to trespass their doctrine and swallow sinful conduct as acceptable, is Satanic.
"President Barack Obama drew cheers and applause for his endorsement of same-sex marriage during a fundraising spree on Thursday that will culminate in a multimillion-dollar extravaganza at the home of Hollywood movie star George Clooney." The jet set festivities that contribute more than money to the sin city culture epitomizes the decay within the national consciousness.The relativism behavior that lionizes same-sex unions is the same cultural perversion that denies that natural core principles are sacred. Obama fosters the demise of a civil society by supporting the practices of a depraved community. The end-result is a country irrevocably divided and poised for an ultimate demise.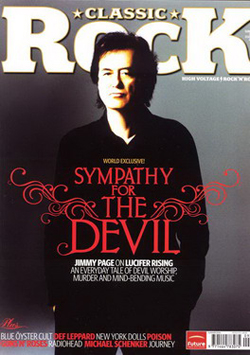 It was popularly believed in the 1930s that the legendary bluesman Robert Johnson, who inspired Muddy Waters, Bob Dylan, the Rolling Stones and Eric Clapton, sold his soul to the Devil in exchange for his musical gifts. It was believed Johnson had the 'Evil Eye' and was murdered because of his alleged power over women. He seduced the wife of a beer hall owner who in revenge laced the musician's whisky with arsenic. Many moralists saw his fate as a punishment for dealing with the powers of darkness.
Johnson is said to have sold his soul to Old Nick during a midnight ceremony at a crossroads. However, that story did not originate with him. In the 1920s and 1930s there are numerous tales of black musicians and gamblers signing a pact with a mysterious 'man in black' at the crossroads. Famous examples are the black singer Clara Smith and Robert Johnson's namesake Tommy Johnston, a decade before him. The dark stranger has been identified by some writers as either the Christian Devil or the West African trickster god Eshu, worshipped in voodoo and taken to the southern states of America by black slaves.
While there is little evidence of modern pop and rock musicians actually 'selling their souls' to the 'Devil', the link between popular music and the occult is a strong one. Christian fundamentalists have predictably seen the widespread use of magical and occult symbols in rock music as evidence it is the work of Satan, but the truth is far stranger than their religious fantasies.
Sometimes the alleged connections of famous rock musicians with occultism surfaced in apocryphal showbiz gossip or rumour. For example, everyone knows that ill-fated glam rock star Marc Bolan studied as a sorcerer's apprentice with a magician in a French chateau (in fact he actually admitted it), that the late pop diva Dusty Springfield allegedly belonged to a satanic group called the Temple of the Prince in Manchester, and that Jim Morrison of The Doors married a Wiccan high priestess (which was true).
Then there was the 1970s British musician Graham Bond, accused by his fellow R & B artist Long John Baldry of sacrificing his pet cat in a magical ritual. Bond told his groupies he was one of the illegitimate sons of the infamous 'black magician' Aleister Crowley, and that his musical output was designed to contact "higher forces." Bond also believed he had been cursed by a fellow occultist. When in 1974 the musician fell in front of a train on the London Underground in mysterious circumstances, many thought the curse had worked.
The Beatles & the Rolling Stones
The Beatles are well known for flirting with Eastern mysticism and transcendental meditation during their psychedelic hippy stage in the late 1960s. They may also have had darker interests. For instance, the Great Beast 666, Aleister Crowley, is featured (top left corner above) in the photomontage of "people we most admire" on the cover of the Fab Four's famous album Sergeant Pepper's Lonely Hearts Club Band.
Antiquarian bookseller and Crowley bibliographer Timothy D'Arch Smith relates how the Beatles attended an exhibition of rare books on witchcraft and the occult he held in Swinging London. Jane Asher, Paul McCartney's then girlfriend, had suggested the visit to him and, according to D'Arch Smith, encouraged him to buy rare books as an investment.
If the Beatles were mildly interested in the occult, then their main rivals for the pocket money and affection of teenage girls, the Rolling Stones, were definitely involved in a more dramatic way. Despite their respectable middle-class backgrounds, in the Sixties the Stones were deliberately promoted as the 'bad boys of pop'. It now seems this was a marketing ploy by their then manager Andrew Oldham, and is summed up in the famous newspaper headline, 'Would you let your daughter marry a Rolling Stone?' If the parents of Middle England had known about their dabbling in the occult, the answer may have been in the negative.
Lucifer Rising
The so-called 'satanic' influence on the Stones was through the avant-garde filmmaker, Luciferian and Tinseltown gossip-queen Kenneth Anger. He had become interested in the band's career and particularly in guitarist Brian Jones and his girlfriend Anita Pallenberg, a German film actress and model. Jones had some unusual interests, and both he and the pop singer Robert Palmer were fascinated by the master musicians of Joujouka in the Atlas Mountains of Morocco in North Africa. These musicians claimed to be still practising the ancient rites of the goat-footed god Pan. Jones went so far as to travel to North Africa to record an album of the tribal music performed by this pre-Islamic cult.
In an interview with Rolling Stone magazine Robert Palmer described how he had witnessed one of these rites to Pan. He said the dancing tribesmen appeared to be in an ecstatic trance with their eyes rolled back in their heads. Palmer said that when "the power came down" the dancer was suddenly "not there." In fact "something else" was looking out of his eyes, which began to "glow like ruby lasers" (Rolling Stone, 23 March 1989).
Kenneth Anger believed that Anita Pallenberg and Brian Jones, who was to drown in mysterious circumstances in the swimming pool of his Sussex mansion, were witches. Allegedly, Jones showed the filmmaker an extra nipple he had on his inner thigh and told him: "In another time they would have burned me [as a witch]." Extra nipples were regarded by witch-hunters as a sign of the Devil's Mark. A friend of Anita Pallenberg, Tony Sanchez, believed she kept her drug stash hidden in an old carved wooden chest in her flat. One day he looked inside. Instead of drugs he found it contained bones and pieces of fur and skin from "strange animals." Mick Jagger's one time girlfriend Marianne Faithfull described how she and Pallenberg used to sit for hours reading aloud passages from Robert Graves' book The White Goddess and studying the ancient Celtic tree alphabet.
In her autobiography Marianne Faithfull claims the gay Anger had a crush on the bisexual Stones' singer which was not reciprocated. When the filmmaker's sexual overtures were rejected he became a bit of a nuisance. One day he turned up at the couple's house in Cheyne Walk, Chelsea and bizarrely threw several books by the 18th century poet and mystic William Blake through the window. Jagger responded in disgust at this stunt by burning all the copies of the occult works that Anger had given him by Crowley and the French occultist Eliphas Levi.
Despite this, Marianne Faithfull got involved in Anger's experimental movie Lucifer Rising, allegedly financially sponsored by Anita Pallenberg, and with a score originally to be composed by Mick Jagger. Initially the Stones' singer was to play the leading role in the film, but he got cold feet and backed out of the project altogether. In the first version, made in 1967, the lead was taken by his brother Chris Jagger. Marianne Faithfull became involved in the second version filmed in 1972 and she agreed to take the part of the demon-goddess Lilith.
Faithfull described the baby-slaying Lilith as one of the classic female archetypes and compared her with pagan goddesses such as Diana, Astarte, Ishtar, Aphrodite and Demeter. However, she added: "From the view of patriarchy, of course, she was the pure incarnation of evil" (Faithfull by Marianne Faithfull with David Datton, 224). Interestingly, the part of the ancient Egyptian god Osiris in the film was played by Donald Cammell, son of Charles Cammell, a friend and biographer of Crowley. The younger Cammell made his own films including the controversial Performance in co-operation with Nic Roeg. It starred Mick Jagger, Anita Pallenberg and the archetypal English actor Edward Fox. Donald Cammell committed suicide in the 1990s.
The shooting of Lucifer Rising took place in Egypt and Faithfull claims that as soon as the crew and cast arrived in the country it was obvious Anger did not know what he was doing as either a film director or a magician. At that stage in her life Faithfull was seriously addicted to heroin and admits she did not know what she was doing on the set either. The whole thing was a recipe for disaster. The last sequence of the film was a winter solstice rite shot at a Neolithic site in Germany. During it, Faithfull managed to fall off a mountain. She somersaulted and landed on her feet without sustaining any injury. This convinced her that her magic was stronger than Anger's. In her autobiography she dismissed him as a "kitsch occultist" and "a witch out of a Hollywood tabloid."
Marianne Faithfull claims that both Mick Jagger and the Stones' lead guitarist Keith Richards were also sceptical about Anger's "satanic hocus-pocus" and did not take any of it seriously. However, after an incident involving the magician at the house in London now shared by Richards and Anita Pallenberg, Faithfull became seriously spooked out. As a result, she believed she was under psychic attack. Allegedly, she wore a clove of garlic around her neck and slept in a circle of lit candles for protection. Whether this paranoid behaviour was connected to her heroin addiction is not known.
One of Marianne Faithfull's tracks on her comeback album Broken English is called 'Witches Song'. She dedicates it as "my ode to the wild pagan woman I know and have always around me." Faithfull says she got the idea for the song after she and Mick Jagger visited an exhibition in Madrid of paintings on the theme of the Witches Sabbath by the Spanish artist Goya. Her autobiography also describes an incident when she and Jagger took LSD before visiting Primrose Hill in North London "where the ancient ley lines are supposed to run" and where modern neo-druids hold their seasonal ceremonies. Under the influence of the acid the couple saw "a great face in the sky" they were convinced was the head of the Celtic giant god Bran. This seems to fit with Faithfull's professed pagan beliefs. In her autobiography she says she believes not in God the Father, but in the Great Goddess and her consort Pan.
Jimmy Page & Aleister Crowley
In 1969 the satanic aura around the rock mega-group Led Zeppelin reached such a pitch that, in echoes of Robert Johnson, rumours circulated in the Los Angeles music scene that its members had signed a pact in their own blood with the Devil to gain fame.
James Patrick 'Jimmy' Page's well-known interest in the occult fuelled these rumours of the group's alleged satanic activities. Described by the magazine AllMusic as "one of the all-time most influential, important and versatile [rock] guitarist and songwriters," Page had been interested in alternative religions since childhood. While a member of the Yardbirds, he had hung out with Brian Jones and Anita Pallenberg at their studio flat in South Kensington. Page has never hidden his interest in Aleister Crowley, and Led Zeppelin's famous album Rune has a photograph of the Great Beast on its cover. In an interview with Sounds magazine in 1976 Page is quoted as saying that Crowley was "a misunderstood genius of the twentieth-century."
Jimmy Page purchased as many artefacts and first edition books belonging to Crowley that he could find. In 1969, Kenneth Anger rented Crowley's old (seriously haunted) house Boleskine on the shores of Loch Ness where he lived in the 1900s for a few months. When it came on the market for sale, Anger suggested to Page he should buy it. This he did and hired an occult artist called Charles Pace to paint suitable atmospheric magical murals in each room. The Led Zeppelin guitarist could be seen driving around the area like a Scottish laird in a Land Rover with a stack of stag's antlers on the bonnet. Page also visited Sicily and contemplated buying the old villa where Crowley established his 'Abbey of Thelema' in the 1920s.
In the early 1970s Page opened an occult bookshop in Kensington called The Equinox. It was done out in a futuristic style with glass bookshelves and display cabinets and chrome steel pillars. Under its auspices, Page published a facsimile of Crowley's 1904 edition of the medieval grimoire Goetia.
Kenneth Anger approached Jimmy Page and asked him to provide a soundtrack for his ongoing film project Lucifer Rising. Unfortunately, the two men fell out when Page only managed to produce 23 minutes of music and Anger wanted 28 minutes. The filmmaker accused Page of being a mere dabbler in the occult and a drug addict so out of his mind he could not finish the film score. However, in 1976 Page lent Anger the basement of his London house for film editing purposes. Again, the two men did not see eye to eye and Page allegedly cursed the filmmaker. Page later branded the incident as "silly and pathetic" and said he still respected Anger as an occultist.
There has been a lot of debate about whether Jimmy Page ever belonged to one of the modern versions of Crowley's magical group the OTO (Ordo Templis Orientis or Order of the Eastern Temple). In fact, the jury seems to be out on whether Page is an actual magical practitioner at all. In this respect New Musical Express journalist Nick Kent dismisses rumours the guitarist spends his time with "his head in a cowl ritually slaughtering various species of livestock." Kent instead says from his experience Page is "just another seeker after esoteric knowledge, a collector of dusty old books, and committed student of the 'magical' information that was supposedly contained in their yellowed pages."
Although Jimmy Page's interest in Crowley and the occult is well known, his Led Zeppelin colleague Robert Plant also has esoteric interests. These manifest in a study of folklore, Norse and Germanic mythology, and reading 'sword and sorcery' novels. Plant spent most of his life living on the Welsh Border and in an interview with the rock music magazine Kerrang! he said he often visited the Black Mountains in South Wales. There he rediscovered his roots in the local Celtic culture. Using an ordnance survey map, he wandered the hills visiting Bronze Age sites and places where the Welsh had battled with the Saxons.
David Bowie
Another famous rock star who openly admits an interest in the occult, magic and Crowley is David Bowie (born David Robert Jones). In the 1970s he says he studied the Kabbalah and "Crowleyism" and more recently became interested in Gnosticism. On a practical level the singer used Tarot cards and a crystal ball for divination, an ouija board to contact spirits, and performed magical rituals for exorcism and psychic protection. His early album Hunky-Dory features a song called 'Quicksand' that references both Crowley and the Victorian magical group Hermetic Order of the Golden Dawn.
According to David Bowie's wife Angie in her autobiography, her husband's interest in the occult was due to his desire to outdo Jimmy Page. Allegedly, he saw the Led Zeppelin guitarist as a magical rival. Bowie eventually decided, possibly because of Page's interest in him, that Crowley and his works were "small shit." For that reason he began studying Tibetan magic which he claimed was far more powerful than anything the Great Beast or Page had ever done.
In an interview with New Musical Express (February 1997) David Bowie admits he had been into "old fashioned magic" in the 1970s, and said he always believed Crowley was a charlatan. He reveals that Arthur Edward Waite, a member of the Order of the Golden Dawn, and the Welsh-born occultist Dion Fortune, author of Psychic Self-Defence, have been important to him. In fact, Bowie used Fortune's book extensively when he believed he was under psychic attack. Talking of a house he rented in Los Angeles in 1975, Bowie said he decorated it with ancient Egyptian artefacts. This was because, "I had this more than passing interest in Egyptian mysticism and the Kabbalah…" (Stage Fascination: David Bowie the Definite Story by David Buckley, 235).
Angie Bowie says the musician was heavily involved with occult activities in 1975-76. This coincides with a period when he used cocaine and she believed this made him paranoid. Apparently, Bowie stored bottles of his own urine in the fridge and carefully disposed of his nail and hair clippings. This was in case magical practitioners obtained these personal items in order to cast spells on him. He also set up an altar in his sitting room with black candles on it, painted occult symbols on the walls, and performed magical banishing rituals for protection. Angie Bowie once witnessed him exorcise a swimming pool he believed was haunted.
When the couple were viewing properties to rent or buy in Hollywood they came across an old house with a pentagram of five-pointed star painted on the floor. Bowie freaked out and said he could not live there as the building had been used for black magic rites. One day he phoned his wife and told her witches were trying to steal his semen. Allegedly they wanted to create a test-tube baby and then sacrifice it in a satanic rite. It turned out the 'witches' were just some innocent groupies he met in a bar.
At this difficult point in his life Bowie also flirted with neo-Nazism. He explained in an interview with the British rock music journalist Tony Parsons in 1993 that this was only because he was fascinated by the use of occult symbols like the swastika by the original Nazi Party in Germany. He was interested in their quest for the Holy Grail because he was also searching for its meaning (Stage Fascination: David Bowie the Definite Story by David Buckley, 235-236). Bowie once said that it might be a good idea to have a fascist dictatorship in Britain, although he later denied he was serious and claimed it was a joke.
Black Sabbath & Heavy Metal
Partly as a reaction to the hippy 'flower power' and 'peace and love' movement of the late Sixties, heavy metal bands began to appear using violent satanic imagery and playing loud over-amplified rock music. Groups such as Warlock, Saxon, Venom, Motley Crue, W.A.S.P., Slayer, Iron Maiden, Incubus and Bathory put out albums with covers decorated with human skulls, pentagrams, hooded figures, gravestones, goat-headed demons and vampires. One of the most famous and pioneering heavy metal bands Black Sabbath came out of Birmingham in the industrial Midlands of England in 1969. They combined heavy guitar riffs with satanic inspired lyrics and an obsession with the gothic dark side that soon gave them a dedicated, if rather odd, fan base.
The band's distinctive name was taken from an old horror movie starring English actor Boris Karloff, famous for his movie interpretation of Dr. Frankenstien's monster. Originally, Black Sabbath started out as a jazz-blues band until they became influenced by the 'black magic' novels of the thriller writer Dennis Wheatley and books by Aleister Crowley. Their leader 'Geezer' Butler was lent a 16th century grimoire or book of magic. Its contents so freaked him out that he locked it in a cupboard before going to bed. During the night he had a spectral visitation from a dark shadowy figure who stood at the end of his bed. In the morning when Butler opened the cupboard the grimoire had vanished and it was never seen again.
Butler claims the band was invited to play a gig at a Witches Sabbath at Stonehenge, which sounds like something out of a Dennis Wheatley novel. When the boys refused the chief "warlock" of the coven ritually cursed the band. Geezer says he consulted a "white witch" to get the curse lifted and was told the band had to wear crosses to ward off the evil forces directed at them. Apparently, lead singer Ozzy Osbourne's father, who was a bit of a handyman, made the crosses for each of the band members to wear.
Ozzy Osbourne always denies he was seriously into the occult, although he did have his Tarot cards read – twice. Famously he said the only evil spirits that interest him are whisky, gin and vodka! He describes the strange people attracted to the band, who habitually wear white face make-up and black hooded robes, as "freaks." Ozzy says the only good thing about all the satanic stuff is it gave the band free publicity increasing their record sales and bank accounts.
Some of the heavy metal bands took their interest in witchcraft and magic more seriously. One of these, for a while, was Black Widow who played a mixture of progressive rock and folk music and used demonic imagery in their act based on serious research. In 1968 the group's manager approached Maxine and Alex Sanders, the so-called 'King and Queen of the Witches'. He wanted to know if the couple could recommend a nubile young witch with dancing skills to take part in their new stage act. This featured a magician played by one of the band's members conjuring up a demon who was once an ancient goddess called Ashtaroth.
Several professional dancers auditioned for the part of the demon-goddess. Each one suffered fainting fits during rehearsals and felt they were being possessed by an evil spirit. In desperation the band wanted to hire a real witch who would not be fazed by the magical goings-on. Black Widow's manager said the Sanders were happy to help and he described them as "clever business people" only interested in making money in any way they could.
A member of the Sanders' coven volunteered for the role and the rehearsals were successful. Unfortunately, on the day of the first performance at the Lyceum Theatre in London, she fell ill. Alex Sanders volunteered his wife and the high priestess of the coven Maxine as a suitable stand-in. When the lead singer of Black Widow playing the sorcerer invoked the demon-goddess and accidentally stepped out of the protective magical circle, she was supposed to attack him. In her autobiography Maxine Sanders says the singer complained afterwards about the bruises he suffered from the physical assault by the 'Queen of the Witches'.
Danny Carey
Another more contemporary band called Tool and its lead singer Danny Carey are well known for their interest in all things magical. Carey collects rare limited edition publications by such modern occult practitioners as Crowley, Kenneth Grant, Austin Osman Spare and Andrew D. Chumbley. During their recordings of albums, Tool use magical banishing rituals to get rid of unwelcome influences left in the studio by previous performers. They have also been known to employ talismans and occult sigils used by the Elizabethan magician and astrologer Dr. John Dee in their gigs. During a South American tour, local Christian workers refused to handle the band's equipment because it was "satanic."
The 1990s saw a sinister link established between rock music and Satanism with the rise of the so-called 'black metal' or 'death metal' groups. These new bands were committed to an anti-Christian philosophy of anarchism, nihilism, violence and an obsession with death that made Black Sabbath stage appearances look like a vicar's tea party. Possibly the most dramatic and violent manifestation of this new trend was in Scandinavia. A new cultural trend united satanic beliefs with atavistic forms of neo-paganism and extreme nationalist right-wing politics promoting racism and white supremacy. This deadly combination was to lead to arson and murder.
In 1992 an ancient wooden stave church was burnt down in a firebomb attack. Rumours began circulating that hard-core black metal fans were responsible for the outrage. It was alleged they were pagan Viking revivalists who expressed neo-Nazi views. Further church burnings and graveyard desecrations took place followed by murders involving rival groups of black metal fans and biker gangs. Media reports said that self-styled teenage satanists saw neo-Nazism and rock music as cultural stepping stones to a revival of Aryan-based paganism. Because the historic Christian churches were built on the site of pagan temples, they had to be destroyed before the heathen 'old religion' could be established again.
Today the number of rock bands using satanic and occult imagery is increasing. The new 'high priest' of the Church of Satan in the USA, Boyd Rice, is himself a musician. Critics have dubbed his musical output as "sonic terrorism as an art form." Strangely enough, his satanic master, Anton LaVey, who found the Church of Satan in the 1960s, preferred Gershwin and Cole Porter with his bedtime cocoa.
It seems certain that in the future wherever and however rock music is played, there will always be those who claim, quite literally, the Devil has the best tunes.
Bibliography
Heavy Metal Thunder by Neil Aldis and James Sherry, Mitchell Beazley, 2006
Backstage Passes: Life on the Wild Side with David Bowie by Angie Bowie and Patrick Carr, Orion, 1993
Stage Fascination: David Bowie the Definite Story by David Buckley, Virgin Books, 1999
Robert Plant: Led Zeppelin, Jimmy Page & the Solo Years by Neil Daniels, Independent Music Press, 2008
The Lives of John Lennon and the Beatles by Hunter Davies, McGraw Hill Books USA, 1985
Hammer of the Gods: Led Zeppelin Unauthorised by Stephen Davies, Pan Books, 1995
The Book of the Beast by Timothy D'Arch-Smith, Mandrake Press 2010
Faithfull by Marianne Faithfull with David Datton, Michael Joseph, 1994
No One Gets Out of Here Alive: Jim Morrison and the Doors by Danny Hopkins and Sugarman, Warner Books USA, 1980
Apathy for the Devil: A 1970's Memoir by Nick Kent, Faber and Faber Limited, 2010
I Am Ozzy by Ozzie Osbourne with Chris Agnes, Sphere, 2009
Firechild: The Life and Magic of Maxine Sanders 'Witch Queen' by Maxine Sanders, Mandrake Press, 2008
Bowie: Loving the Alien by Christopher Sandford, Little, Brown and Company, 1996
When Giants Walked the Earth: A Biography of Led Zeppelin by Mick Wall, Orion Books, 2008
Led Zeppelin: From Early Days to Page and Plant by Ritchie Yorke, Virgin Books, 1999.
MICHAEL HOWARD became interested in the connections between rock music and the occult while working for a major record company in London in the 1970s. He is the author ofSecret Societies (Destiny Books, 2009) and Modern Wicca: from Gerald Gardner to the Present (Llewellyn, USA 2010). He can be contacted by email at mike@the-cauldron.fsnet.co.uk.
Source: New Dawn
The hit movie "The Hunger Games" takes place in a dystopian future where the poor and wretched masses live under the high tech tyranny of a wealthy elite. Is the movie depicting the kind of society the elite is trying to establish for the New World Order? We'll look at characteristics of the world presented in "The Hunger Games" and how they relate to plans for a New World Order.

Pushed by a gigantic marketing campaign, The Hunger Games did not take long to become a world-wide sensation, especially among teenagers and young adults. Sometimes referred to as the new Twilight, The Hunger Games has similar components to the previous book-to-movie craze (i.e. a young girl torn between two guys) but takes place in a very different context.
Set in a dystopian future (why is the future always "dystopian"?), The Hunger Games paints a rather grim picture of the world of tomorrow, whether it be from a social, economical or political point of view. In short, it is a big-brotherish nightmare where a rich elite thrives on the backs of a starving population. Meanwhile, the perversity and voyeurism of mass media is taken to absurd levels and is used by the government as a glue to keep its unjust social order intact. Is The Hunger Games giving teenagers a glimpse of a not-too-distant future? It doesn't take a crystal ball to see the elite are trying to take the world in that direction. Is the author Suzanne Collins communicating a strong anti-NWO message to the youth by showing its dangers or is it getting the youth used to the idea? Let's look at the fictional, yet possible, future world of The Hunger Games.
Note: This article is about the movie and not the book series. The movie has been formatted in a different way and conveys a slightly different message.
The NWO for Teenagers
The Hunger Games takes place in a context that is strikingly on-par with descriptions of the New World Order as planned by today's global elite. One of the main characteristics of the New World Order is the dissolving of regular nation-states to form a single world government to be ruled by a central power. In The Hunger Games, this concept is fully represented as the action takes place in Panem, a totalitarian nation that encompasses the entire North-American territory. The United States and Canada have therefore merged into a single entity, a step that many predict that will happen before the full-on creation of the NWO.
In Panem, the concepts of democracy and freedom have disappeared from America to be replaced by a high-tech dictatorship based on surveillance, monitoring, mass-media indoctrination, police oppression and a radical division of social classes. The vast majority of the citizens of Panem live in third-world country conditions and are constantly subjected poverty, famine and sickness. These difficult living conditions are apparently the result of a devastating event that engendered the complete economic collapse of North America. In District 12, home of the hero Katniss Everdeen, the locals live in conditions similar to the pre-industrial era where families of coal miners lived makeshift in shacks and eat rodents as meals.
While the masses look as if they are living in the 1800s, they are nevertheless subjugated to the high-tech rule of the Capitol, which uses technology to monitor, control and indoctrinate the masses. Surveillance cameras, RFID chips and 3D holograms are abundantly used by the government to manipulate the will of a weak and uneducated population (although there are signs of solidarity and rebelliousness among the peasants). To preserve the fragile social order, the Capitol relies on a massive police force that is always ready repress any kind of uprising. The workers are often rounded up in civilian camps where they are shown state-sponsored propaganda videos. Panem is therefore a high-tech police state ruled by a powerful elite that seeks to keep the masses in poverty and subjugation. As we've seen in previous articles on this site, all of these concepts are also thoroughly represented in other forms of media as there appears to be a conscious effort to normalize the ideas of a high-tech police state as the only normal evolution of the current political system.
Living in sharp contrast to the proletariat, the elite in The Hunger Games inhabits the glistening Capitol city and indulges in all sorts of extravagances and fashion trends. This upper-echelon of society perceives the rest of the population as an inferior race to be ridiculed, tamed and controlled. All valuable resources have been vacuumed from the people living in the districts to profit the Capitol, creating a clear and insurmountable divide between Regular People and The Elite. The concept of an opulent elite ruling over the dumbed-down and impoverished masses (thus making them easily manageable) is an important aspect of the New World Order and it is clearly depicted in The Hunger Games. The government's reliance on high-tech surveillance and mass media to keep the population in check is something we are already seeing and, if we keep going in that direction, the world of The Hunger Games will soon become reality. There is another concept important to the occult elite that is at the heart of The Hunger Games, however: Blood sacrifices to strike fear and gain power.
Blood Sacrifices for the Elite
The government of Panem created the Hunger Games in order to remind the masses of the "great treason" they have committed by engaging in a rebellion. As punishment for their insubordination, the twelve districts of Panem must offer to the Capitol one boy and one girl between the ages of 12 and 18 to be part of The Hunger Games. The teenagers must fight to the death in an outdoor arena in a Roman Gladiator-like event that is televised across the nation. The rules of the Games reflect the elite's contempt and total lack of respect for the masses. The name of the Games itself is a reminder of the state of perpetual starvation the lower class is purposely kept in by the rulers in order to better control it.
The boys and girls that are selected to take part in The Hunger Games are called "tributes", a term that usually describes a payment rendered by a vassal to his lord and thus even reflects the servitude of the mass to its rulers. Since time immemorial, blood sacrifices were considered to be the highest form of "tribute" to gods and, on an occult level, were said to wield the most potent power to be tapped by rulers and sorcerers. The same way ancient Carthaginians sacrificed infants to the god Moloch, inhabitants of Panem sacrifice their children to the Capitol. The Hunger Games are therefore a modern version of these ancient rituals that the masses had to participate in to avoid the wrath of their superiors. The entire nation of Panem is forced to watch the sacrificial ritual that takes place in the Capitol, stirring up fear, anger and blood lust within them, amplifying the power of the ritual. We've seen in previous articles that the deaths of specific people (Whitney Houston, Heath Ledger, Amy Winehouse) become such a media event that they are, in fact, mega-rituals that entire nations participate in. The Hunger Games reflect this concept of highly publicized mega-rituals.
In The Hunger Games, the ritualistic death of young people chosen from the mass is sold as a sporting event, a nation-wide celebration that is packaged as a reality show. Not only do the poor people participate in these demeaning events, they even cheer for their favorites. Why do they accept all of this? One of the reasons is that mass media can get people to accept anything … if it is entertaining.
Appealing to the Basest Instincts
The games are broadcast to the nation in the form of a reality-show, complete with TV hosts who analyze the action, interview the tributes and judge their performance. The tributes are so indoctrinated in this culture that they readily accept the rules of the game and turn are fully willing to start killing to win the Games. The masses also actively participate in the event, cheering for their district's representatives, even though the entire event celebrates the sacrifice of their own. This reflects a sad but true fact concerning mass media: Any kind of message can reach people if it manages to capture their attention. There are two things that automatically, almost irresistibly, grab our attention: Blood and sex, the remnants of our primal instincts. The sheer violence of the event grabs the attention of the masses, who forget that the Games serve as a reminder of the people's servitude to its elite. This concept is already well-known and fully exploited in today's mass media, as elite-sponsored messages are constantly sold to consumers as being "entertainment". The Hunger Games therefore aptly portray the role of media in the manipulation of public opinion. Will the movie help young people realize this fact?
At one point in The Hunger Games, the death of a little girl shocked the people to a point that it brought a brief moment of lucidity and solidarity as the kill highlighted the atrocity of the Games. The live broadcasting of the death lead to a violent uprising in her district as the locals realized that they were willing participants in something terrible. The uprising was quickly quelled however, by the ever-present police force of the state. Furthermore, in order to prevent further social trouble, the producers of the show introduced a new element to the show: Love between Katniss Everdeen and Peeta Mellark, the girl and the boy from District 12. By introducing love (and, by extension, sex) into the show, the producers managed to quell the masses and brought them back to their usual state of silent stupor. This part of the movie reflects how mass media is used by the powers that be today. The worldwide reach of The Hunger Games series itself proves that stories that cleverly feature the ingredients of sex and violence are bound to get people hooked. And, even though The Hunger Games seems to be denouncing the perversity of violence in mass media, it sure brings more of it into movie theatres.
Desensitizing to a New Type of Violence
While there is no shortage of violence in Hollywood, The Hunger Games movie crosses a boundary that is rarely seen in movies: Violence by minors and towards minors. In this PG-13 movie we see kids aged between 12 and 18 violently stabbing, slashing, strangling, shooting and breaking the necks of other children – scenes that are seldom seen in Hollywood movies. While it is surely a way for the movie the grab the attention of the movie's target audience (which happens to be teenagers aged 12 to 18) The Hunger Games brings to the forefront a new form of violence that was previously deemed too disturbing to portray in movies. But in the particular kill-or-be-killed scenario of The Hunger Games, the viewers easily go beyond this psychological barrier and find themselves yelling stuff at the movie like "Come on, Katniss, take your bow and shoot that vicious little f**cker in the head!".
In Conclusion
The Hunger Games is set in world that is exactly what is described to be the New World Order: A rich and powerful elite, an exploited and dumbed-down mass of people, the dissolving of democracies into a police state entities, high-tech surveillance, mass media used for propaganda and a whole lot of blood rituals. There is indeed nothing optimistic in the dystopian future described in The Hunger Games. Even human dignity is revoked as the masses are forced to watch their own children killing each others as if they were caged animals. That being said, there is little to no difference between movie goers who watch the movie The Hunger Games and the masses in the movie that witness the cruelty of the Games. Both are willing participants in an event that portrays the sacrifice of their own under the amused eye of the elite. Furthermore, one can argue that the movie accomplishes the same functions as the Games in the movie: Distracting the masses with blood and sex while reminding it of the elite's power.
Is The Hunger Games attempting to warn an apathetic youth of the danger of allowing the current system to devolve into a totalitarian nightmare? Or is it simply programming it to perceive the coming of a New World Order as an inevitability? That question is up for debate. But reading what is being said in the mass media about The Hunger Games, it seems there is an even more important question up for debate: Are you Team Peeta or Team Gale?
Source: The Vigilant Citizen
Once the fabrication of all four of  the alleged 9/11 crash sites (which I have documented in "9/11: Planes/No Planes and 'Video Fakery") begins to sink in, the question which invariably arises is, "But what happened to the passengers?"  Since Flights 11 and 77 were not even in the air that day, it seems no stretch to infer that the identities of the passengers on non-existent flights were just as phony as the flights themselves:  no planes, no passengers.  But we also know that Flights 93 and 175 were in the air that day, even though–astonishingly enough, for those who have never taken a close look at the evidence–they were not de-registered by the FAA until  28 September 2005, which raises the double-questions of how planes that were not in the air could have crashed or how planes that crashed could still have been in the air four years later?
Pilots for 9/11 Truth has confirmed that Flight 93 was in the air, but over Urbana, IL, far from the location of its alleged "crash" in Shanksville, PA; just as Flight 175 was also in the air, but over Pittsburgh, PA, removed from the South Tower at the time it was purportedly entering the building, which–unless the same plane can be in two places at the same time–established that some kind of "video fakery" was taking place in New York, as I have explained in many places. As a complement to the new study of the Pentagon attack by Dennis Cimino, "9/11: The official account of the Pentagon attack is a fantasy", Dean Hartwell, J.D., has considerably expanded our understanding of questions about the passengers, where the manifests may include a mix of the dead and the non-existent, as well as some who may have been killed by the government to make their Hollywood-style event a bit more realistic and emotional. In the methodical fashion of an attorney presenting his case, Dean outlines the crucial questions and the most likely answers, where problems nevertheless abound.  My opinion is that these three studies constitute a "one-two-three punch" from which the "official account" can never recover.  From beginning to end, 9/11 was a fabricated event.
And, in case anyone entertains any lingering doubts, two of the most powerful indications of fakery and fraud are to be found in the punishment trial of Zacharias Moussaoui, the alleged "20th hijacker", in Arlington, VA, in April 2006, which Scholars wrote about at the time.  He was convicted in April 2005 of having been involved in the 1993 attack on the Twin Towers, but in April 2006 he was being punished for having been involved in the 2001 attack–a federal judicial "shell game" of immense proportions.  The trial was used to introduce emotional testimony about the passengers aboard Flight 93 plotting to use a drink cart to break through the cabin door, which was picked up by the Cockpit Voice Recorder.  But, as Allan Green, a member of Scholars, noted, CVRs do not record voices in the passenger compartment.  A second blunder was noticed by a Muslim member of Scholars, Muhammad Columbo.  The last words the "hijackers" on the tape are recorded as having said are "Allah akbar!  Allah akbar!" ("God is great! God is great!").  But as he explained, "The last words of a Muslim cannot be these!  They are used in the call to prayer or in an attack at war.  On the moment of death, a Muslim must confirm that 'There is but one God, Allah, and Mohammed is his prophet!"  Which means that those who were composing this script did not know enough to get it right.
The most telling indication that the Shanksville crash site was faked, in my opinion, is what was not done as opposed to what was. Flight 93 is supposed to have completely disappeared because the ground was very soft from past mining operations.  Indeed, on some versions, the plane completely disappeared into an abandoned mine shaft.  But we know what to do with miners who are trapped in mine shafts.  We bring out the bright lights and heavy equipment and dig, 24/7, in the hope that, by some miracle, someone might have survived.  That it was not done in this instance tells us that there was no point in even faking such an op, which would have exposed that there was no plane there and no passengers to rescue. Think of the spectacular television coverage had such a "rescue attempt" been undertaken.  They even trimmed the burnt trees and shrubs to make sure that they could not be subjected to chemical analysis to determine whether the damage had been caused by jet-fuel based fires.  Such were the efforts of the "first responders" to save the lives or recover the bodies of the passengers.  Subsequent studies by the EPA of the crash site have confirmed that there was no residue from the jet fuel that would have been pervasive had a Boeing 757 actually crashed there.  Research on the "crash sites" thus appears to be pure dynamite in blowing the "official account" of 9/11 out of the water.
DEAN HARTWELL: The 9/11 Passenger Paradox
According to the official version of events, forty-three people, including the crew members, boarded United 93 on the morning of September 11, 2001.  The flight took off from Newark airport with San Francisco as its destination.
During the flight, four hijackers took over the aircraft.  After making calls from the airplane to relatives, several passengers rushed the hijackers in an attempt to wrest control of the plane back.  Ultimately, the plane crashed in a field in Shanksville, Pennsylvania, killing everyone on board.
Investigators found human remains in Shanksville and declared that the remains matched DNA samples given by the passengers' families.  Copies of the manifest and boarding passes show the names of passengers who took the flight.
Facts That Contradict the Official Story
The flight was airborne over the Midwest after the alleged crash in Shanksville (see below).
Wallace Miller, Coroner of Somerset County (which includes Shanksville) and one of the first to arrive at the "crash" scene, said of the area, "This is the most eerie thing," he says. "I have not, to this day, seen a single drop of blood. Not a drop."
Miller also reportedly said that it "looked like someone took a scrap truck, dug a 10-foot ditch and dumped all this trash into it…I stopped being coroner after about 20 minutes, because there were no bodies there. It became like a giant funeral service."
No independent source has identified remains of any of the flight's passengers.
Did the alleged hijackers use their real names?
David Ray Griffin speaks of the "hijackers" (whose names appear on the manifest available) in his first point in his book The 9/11 Commission: Omissions and Distortions.  He states that at least six of the hijackers showed up alive and well after 9/11!  Do we need any further reason to believe that anyone took over planes and used them in suicidal attacks that day?
MOST LIKELY SCENARIO:  The fact that several of the "hijackers" turned up alive makes it obvious that some passengers boarded using the "hijacker" names.  Instead of relatives saying that the "hijackers" called them, some of them said their relative was alive!
How Do We Know Who Boarded This Plane?  
Jack White quotes expert pilot John Lear, who shared information that calls into question whether the manifest available for Flight 93 is the final one.  He says that passenger flights have, as required by the Federal Aviation Administration, what is called "The Envelope."  The Envelope contains "the final passenger manifest, the destination, the amount of fuel on board, the names of the pilot and flight attendants, etc., and the time the DOOR OF THE AIRCRAFT WAS CLOSED."  According to Lear, the chief pilot signs the document.
Could changes in the flight manifest have been made between the time of the generation of the publicly available manifest, noted above, and the time of the aircraft door's final closing?
White continues his recitation of Lear's words:
The passenger manifest (a printout of pre-ticketed passengers) may be augmented by the chief flight attendant if passengers do not show up, or late arrivals are added. The manifest in THE ENVELOPE would include the names of hijackers, if pre-ticketed, or their written in aliases if added at the last moment by hand. In any event, every person on board would be accounted for.
Was there a second boarding or deplaning of any passengers before take-off?
This becomes a realistic possibility because there were two departure times for the flight – 8:28 AM (ACARS) and 8:42 AM (BTS).  Phil Jayhan of the Internet forum, Let's Roll Forums, explains why the BTS, the official record, only shows one:
"Why not two different times in the BTS database? We have two separate groups of passengers. One group of people that boarded flight 93 at the terminal boarding ramp. And another group of people which boarded on the tarmac. The way that the **ACARS system works in an airplane is that when the brake is released, whether there is movement to the aircraft or not, it records an away time. The morning of 9/11, there were two of these recorded for flight 93, which might simply be another confirmation that flight 93 picked up two groups of people on 9/11 at two separate locations at Newark International Airport."
Hypothesis:  After the passengers boarded the plane at the terminal (gate 17), the plane moved forward a short distance and then stopped at the tarmac.  The passengers who would make calls deplaned at the tarmac.  The pilot then released the brake at 8:28 AM (setting the departure time under ACARS) and moved to taxi, taking off (aka "wheels off") at 8:42 AM, setting the BTS departure time then.  The people remaining on the plane continued in flight after the "crash" in Shanksville.
The callers used cell phones from a ground location, which had a much greater chance of working than calls from the airplane.  Some of these calls were recorded and provide proof that calls were made.  Alternatively, the calls could have been recorded prior to the flight and played to relatives.
This hypothesis explains the long gap in time between the scheduled departure time of 8:01 AM and the BTS departure time of 8:42 AM.  It also explains the other departure time frequently given for this departure (8:28 AM).  The passengers likely boarded in anticipation of an 8:01 take-off.  The callers then likely got up to leave.
The usual boarding issues and their explanation for leaving (perhaps illness) and the resulting shuffle to get them out the door on the tarmac stalled some of the time.  According to media reports, a witness (NY Giant football player Clayton White who took flight to New Jersey after Monday Night Football in Denver the prior night), saw passengers on the tarmac during this time.
MOST LIKELY SCENARIO:  Passengers boarded the plane but some of them deplaned from United 93 at 8:28 AM.  The manifest and copies of boarding passes show the names passengers gave to the airline.  Lear's assertions on manifests and flight policy show the opportunity of how passengers could have boarded under false names and how names could have been altered.
Who allegedly made phone calls, what types of phones were used and were the calls recorded?
Todd Beamer (air phone)

Mark Bingham (cell to aunt and air phone to mother)
Sandy Bradshaw (cell)
Marion Britton (cell)
Thomas Burnett (cell, recorded?)
Joseph DeLuca (?)
Edward Felt (cell)
Jeremy Glick (recorded?)
Lauren Grandcolas (air phone, recorded)
Linda Grunland (?)
Cee Cee Lyles (cell, recorded)
Honor Wainio (?)
Were Calls Possible from United 93?
David Ray Griffin explains the utter lack of consistency in the official explanations of phone calls on the planes associated with 9/11.  He does a great job explaining how the FBI at first remained silent as to what phones were used from the planes.
He then shows the chronology of A.K. Dewdney's report (which made it clear that cell phone calls at that time in history were only reasonably possible at altitudes of less than 2,000 feet) to the subsequent FBI report which changed many of the calls from cell to air phone.
From Griffin's analysis of the work of researchers like Dewdney, we can easily surmise that the official story on the number of cell phones (now given by the FBI as mostly air phone) changed drastically after it became known publicly the difficulty in getting cell phones to work at typical airplane altitudes.
More issues about the alleged phone calls from United 93 arise upon inspection of information provided by the government at the Moussaoui trial in 2006:
(1) One call allegedly went past the time of the Shanksville "crash", Todd Beamer's last call on United 93.  Furthermore, Beamer's call could not have happened when it purportedly did because the government's own records show him making this call and another call from the same phone AT THE SAME SECOND!
(2) No records of calls are sourced to the companies that provided them.  This fact calls into question the authenticity of the calls.
(3) Lisa Jefferson, who reportedly took Beamer's call, failed to mention the phrase "Let's roll" in an interview with the Pittsburgh Post-Gazette which introduced the heroics of Beamer and others on the flight.  She also had never before heard Beamer's voice.
(4) In fact, the FBI delayed bringing out the story of "Let's Roll" and the passengers "fighting back" and apparently only did so to stop the story of a flight shoot-down from gaining momentum.
(5) The government, without saying as much, switched several calls in the official account from cell to air.
MOST LIKELY SCENARIO: There were no cell phone calls from the airplane of United 93.  And air phones were not available on Boeing 757s in 2001. The additional consideration, even if one were to believe those calls were possible, regardless of type or where they came from, is in the substance of the statements alleged and their inconsistencies.  The callers, whoever they were, whatever phones they used and wherever they called from, gave false information to passenger relatives at the behest of the plotters.  No reliable records show any calls having gone to Lisa Jefferson.  It is likely that Jefferson was persuaded or coerced to give false reports to the media.
Who are the Relatives?
The reaction of the relatives of the passengers to the news of the plane crashes can best be described as perplexing.  None of the passenger's relatives arrived at San Francisco airport, as is common when plane crashes take place. In an accident that took place in Taipei involving a plane that was destined for Los Angeles, the airport set up a Counseling Center for the relatives of the victims.
What then were the relatives' roles?
If the passengers used real names and made calls, they had to:
a)    deceive the relatives OR
b)   participate in a simulation or otherwise work with the relatives in holding conversations under false pretenses
Deception of the relatives could have taken place.  However, with all of the information out about the details of the phone calls, it would seem likely that at least one of the deceived relatives would question the 9/11 matter publicly.  If the relatives had been deceived, they would have believed the passenger calls were real.  Under this scenario, it is hard to believe that none of the relatives in the San Francisco area would show up as bereaved relatives usually do.
As there were many simulations on 9/11, the plotters may well have planned one for United 93 passengers.  Knowledge on the part of the relatives of the plot could explain how this part of the plot worked easily (none of the relatives apparently questioned what they said or who they were).  Of course, it adds to the number of people who must be paid off or killed.
The callers may have been asked to participate in a simulation of a plane hijacking.  It would have required some acting skills.  This challenge would explain several questionable statements allegedly made by some of them.  Here are some examples that do not by themselves prove the calls were fraudulent, but certainly suggest it:
A caller claiming to be passenger Mark Bingham said:
Caller: "Mom? This is Mark Bingham.  I want you to know that I love you. I'm on a flight from Newark to San Francisco and there are three guys who have taken over the plane and they say they have a bomb."
Alice: "Who are these guys?
Caller: (after a pause) "You believe me, don't you?
Alice: "Yes, Mark. I believe you. But who are these guys?
Another supposed caller, Jeremy Glick said, when asked if he and others were going to fight back against the hijackers, "I have my butter knife from breakfast."  According to Dewdney:
"This is strange because it implies that the caller had already finished breakfast, whereas meals are not normally served until the aircraft reaches cruising altitude, about the time that the alleged hijacking began."
A caller who said he was Todd Beamer talked to a Verizon operator, Lisa Jefferson, for fifteen minutes instead of preparing to take on the "terrorists" with other passengers.
MOST LIKELY SCENARIO:  The callers more likely made the calls as part of a simulation than as a flat-out deception of relatives.  To believe in the theory of the use of deception, one would have to believe that (a) none of the relatives discovered they had been lied to and (b) the same relatives would agree to keep silent about the deception.
Why were the calls so important?
If the hijackings and plane crashes never happened, then what were the phone calls all about?
The calls were used to advance the "fact" that the hijackings and crashes happened.  Of secondary importance are what phones were used and where the calls were made from.
These calls are part of what holds the official theory together.  The plotters needed to make sure the calls got through and the information about hijackers was conveyed.
Whose Remains Were at Shanksville?
Here are the most relevant facts about the "crash scene" : There were no traces of the United 93 plane at that location.
Officials claimed there were sufficient human remains to match with DNA samples even though UA93 and UA175 were airborne after the times of their alleged "crashes".
Several news articles report human remains identified at the scene of Shanksville.
We also know that the FBI was in charge of the area, giving the agency the authority to declare who could and who could not either approach or photograph the "crash scene".
How were the victims at the Shanksville "crash" scene "identified"?

DNA testing requires a sample from a victim at the "scene" and a sample from the victim or a close relative from somewhere else (usually given by family).
An agent (of the plot) would likely retrieve sample from the "scene" of the victim's death.
The Agent would give samples to the tester.  (The tester, as one who would follow standard procedures, would not have any reason to go to the scene nor to question the Agent).
The agent would also go to the family to ask for samples (ex: hair, toothbrush, etc.)
The agent would then give the family sample to the tester.
If the tester were in on plot, the tests could be easily rigged.  But the tester's statements to the media are needed.  If something "happened" to the tester, it would cause too much suspicion.  The tester would be suspicious if "scene" samples did not have appearance of involvement in plane crash.
Elias Davidsson points to a lack of a "chain of custody." This is a legal principle which directs those who investigate a crime to document (1) how and where they find evidence and (2) how the evidence got to the point of the hearing.
He states that "there is no indication that a proper chain of custody between the crash sites and the final disposition of bodily remains had been established by the FBI, as required in criminal cases. The 9/11 Commission did not refer to any such documentation."
With no solid chain of custody, a prosecutor (the state) can conceivably bring just about any piece of evidence to the attention of the jury.  And when the public is the jury with no judge to referee, the state can use this opportunity to perpetuate a false story.
Davidsson names the evidence that the government should have shown to us if it really had a case that could be proven as to the people that boarded the planes:
In order to prove that particular individuals actually boarded the aircraft and died at the known crash sites, at least three types of evidence could and should have been produced: Authenticated passenger lists (or flight manifests) displaying their names, identification of the suspects as they boarded the aircraft and identification of their bodily remains from the crash sites.
What appearance did the remains at Shanksville have?
Miller said it took several days to get good samples (i.e. body parts not recognizable) and that the passengers were "essentially cremated upon impact."
The cremated remains could have been distributed around the Shanksville site with some FBI agents allowing the plotters onto the land.
Could the United 93 passengers have been killed and cremated for this purpose?
Probably not.  Cremation by law must be done one body at a time and each body takes several hours.  Even an unofficial "cremation" would take too long for the plotters, considering the number of bodies (43) needed.
Hypothesis:  The plotters used cremation remains of those who died before 9/11.
Issue:  How would plotters get the DNA "samples" of the same deceased persons?
Answer:  The plotters could have run a phony company that provides or cleans ceremonial caskets for the deceased prior to cremation.  The company could have collected "hair samples" that would match those recently cremated:
"Many funeral homes offer a hardwood ceremonial casket for viewing or funeral services prior to cremation. The ceremonial (or rental) casket is specifically designed to provide a very aesthetically pleasing, affordable and environmentally prudent alternative to purchasing a casket for a cremation service."
MOST LIKELY SCENARIO:  The remains were planted at Shanksville.  The remains could not have been those of the passengers.  No plane with passengers crashed at Shanksville.  It would also be hard to deceive the DNA testers.
What happened to United 93?
What if we could find out if messages were sent to the planes that flew and pinpoint when they were sent?  What if we could ascertain whether the plane corresponding to this flight received any of these messages?  What if any of the messages were AFTER the time the plane allegedly crashed?
We can do that!  There is a device used to send messages to and from an aircraft.  It is called ACARS, the Aircraft Communications Addressing and Reporting System.
Thanks to the work of Pilots for 9/11 Truth and others, we know that the ACARS messages sent to Flight 93 indicate that the plane was heading west over Illinois several minutes after it supposedly "crashed" in Pennsylvania!  Pilots for 9/11 Truth found that messages sent after the time of the crash were received by United 93 at ground stations far away from Shanksville.  They said that the aircraft would not have had messages routed through the ground stations that were actually used "if it were en route to crash in Shanksville, PA."
For that reason alone, we know that United 93 did not crash in Pennsylvania.  For that reason alone, we know that  43 people were not killed in a Shanksville crash.  For that reason alone, we can call off the official story and continue our search for the real history of this day's event.
There are other reasons to disbelieve the crash story.  In the words of Col. George Nelson, USAF (ret.), had United 93 crashed in Shanksville "there would have [been] literally hundreds of serially-controlled time-change parts within the hole that would have proved beyond any shadow of doubt the precise tail-number or identity of the aircraft."  Yet, as with identification of the passengers, our government has not shown what would be easily understood and conclusive evidence.
MOST LIKELY SCENARIO:  The evidence proves that United 93 flew to the Midwest and was last positively traced over Illinois minutes after the "crash" in Shanksville.  The "footprints" of the plane and passenger ends here.
Where did United 93 and its passengers land?
From here on it is speculation.  The best guess is Cleveland due to its proximity to United 93's last known position and evidence of irregular activity there.
What happened?  Plotters needed to make sure about 30 people did not get away.  The passengers may not have been aware of what had happened during the time of the flight as they did not make calls.
They would have left the plane about 11:00 AM and may have been led to a NASA building.  The plotters had to keep them away from their cell phones and the news for as long as possible.  The plotters knew that the passengers would eventually find out that they had traveled on a flight that would be tied to the official story.  At that point, the passengers would no longer have felt safe.
Can anyone tell us what happened to the passengers?
The passengers have not spoken and the plotters will not speak.  That leaves the relatives as the only group of people who may know what happened.
Hypothesis I:  The relatives received no notice before receiving the calls from the passengers.
If that is the case, then the relatives were left out of the plan and thus had no leverage as to the fate of the passengers.  Most likely, the passengers are dead.
Hypothesis II: The relatives received notice about the calls before receiving them.
If that is the case, then the relatives may have been (coerced?) into a deal: for their silence, they would receive assurances that the passengers would not be harmed.
MOST LIKELY SCENARIO:  Unknown.  Only the relatives can tell us anything about this topic.
Conclusion: The Passenger Paradox
IF the passengers took the flights under their true identities, THEN: a) they were killed in Cleveland or b) they received new identities.
Problem with a) The relatives would be furious that the government lied to them about what happened and would be responsible for the deaths of the passengers.  But the families appear to stand with the government.
Problem with b) The relatives would demand contact with the passengers, which could create difficulties in keeping what would be a secret.  It would only take one "outed" passenger to ruin the whole cover story.
IF the passengers took the flights under assumed identities, THEN they could return to society in their old or different identities.
Problem: Close friends and family would know the old identities.  In an era of the Internet and the availability of records, this might not be too hard for the public to discover.
IF the passengers deplaned United 93 at the tarmac, THEN they could return to society quickly provided that their identity as a passenger be different than their commonly used name AND the pictures shown of them are faked.
Problem: This would mean a lot of false passenger names and a lot of false relatives, though it does not foreclose the possibility of some real passengers who go to Cleveland (see the first paradox).  The key for the plotters would be to make sure the fake pictures of "passengers" get to the public quickly to create images of people who do not exist.  So the public would look in all the wrong places.
Jim Fetzer, a former Marine Corps officer, is the founder of Scholars for 9/11 Truth and McKnight Professor Emeritus at the University of Minnesota Duluth.
Dean Hartwell, J.D., is the author of PLANES WITHOUT PASSENGERS: THE FAKED HIJACKINGS OF 9/11(2011) and DEAD MEN TALKING (2009) on JFK, RFK and 9/11.
Source: Veterans Today
The early 21st century is addicted to war porn, a prime spectator sport consumed by global couch and digital potatoes. War porn took the limelight on the evening of September 11, 2001, when the George W Bush administration launched the "war on terror" – which was interpreted by many of its practitioners as a subtle legitimization of United States state terror against, predominantly, Muslims.
This was also a war OF terror – as in a manifestation of state terror pitting urban high-tech might against basically rural, low-tech cunning. The US did not exercise this monopoly; Beijing practiced it in Xinjiang, its far west, and Russia practiced it in Chechnya.
Like porn, war porn cannot exist without being based on a lie – a crude representation. But unlike porn, war porn is the real thing; unlike crude, cheap snuff movies, people in war porn actually die – in droves.
The lie to finish all lies at the center of this representation was definitely established with the leak of the 2005 Downing Street memo, in which the head of the British MI6 confirmed that the Bush administration wanted to take out Iraq's Saddam Hussein by linking Islamic terrorism with (non-existent) weapons of mass destruction (WMD). So, as the memo put it, "The intelligence and facts were being fixed around the policy."
In the end, George "you're either with us or against us" Bush did star in his own, larger-than-life snuff movie – that happened to double as the invasion and destruction of the eastern flank of the Arab nation.
The New Guernica
Iraq may indeed be seen as the Star Wars of war porn – an apotheosis of sequels. Take the (second) Fallujah offensive in late 2004. At the time I described it as the new Guernica. I also took the liberty of paraphrasing Jean-Paul Sartre, writing about the Algerian War; after Fallujah no two Americans shall meet without a corpse lying between them. To quote Coppola's Apocalypse Now, there were bodies, bodies everywhere.
The Francisco Franco in Fallujah was Iyad Allawi, the US-installed interim premier. It was Allawi who "asked" the Pentagon to bomb Fallujah. In Guernica – as in Fallujah – there was no distinction between civilians and guerrillas: it was the rule of "Viva la muerte!"
United States Marine Corps commanders said on the record that Fallujah was the house of Satan. Franco denied the massacre in Guernica and blamed the local population – just as Allawi and the Pentagon denied any civilian deaths and insisted "insurgents" were guilty.
Fallujah was reduced to rubble, at least 200,000 residents became refugees, and thousands of civilians were killed, in order to "save it" (echoes of Vietnam). No one in Western corporate media had the guts to say that in fact Fallujah was the American Halabja.
Fifteen years before Fallujah, in Halabja, Washington was a very enthusiastic supplier of chemical weapons to Saddam, who used them to gas thousands of Kurds. The Central Intelligence Agency (CIA) at the time said it was not Saddam; it was Khomeinist Iran. Yet Saddam did it, and did it deliberately, just like the US in Fallujah.
Fallujah doctors identified swollen and yellowish corpses without any injuries, as well as "melted bodies" – victims of napalm, the cocktail of polystyrene and jet fuel. Residents who managed to escape told of bombing by "poisonous gases" and "weird bombs that smoke like a mushroom cloud … and then small pieces fall from the air with long tails of smoke behind them. The pieces of these strange bombs explode into large fires that burn the skin even when you throw water over them."
That's exactly what happens to people bombed with napalm or white phosphorus. The United Nations banned the bombing of civilians with napalm in 1980. The US is the only country in the world still using napalm.
Fallujah also provided a mini-snuff movie hit; the summary execution of a wounded, defenseless Iraqi man inside a mosque by a US Marine. The execution, caught on tape, and watched by millions on YouTube, graphically spelled out the "special" rules of engagement. US Marine commanders at the time were telling their soldiers to "shoot everything that moves and everything that doesn't move"; to fire "two bullets in every body"; in case of seeing any military-aged men in the streets of Fallujah, to "drop 'em"; and to spray every home with machine-gun and tank fire before entering them.
The rules of engagement in Iraq were codified in a 182-page field manual distributed to each and every soldier and issued in October 2004 by the Pentagon. This counter-insurgency manual stressed five rules; "protect the population; establish local political institutions; reinforce local governments; eliminate insurgent capabilities; and exploit information from local sources."
Now back to reality. Fallujah's population was not protected: it was bombed out of the city and turned into a mass of thousands of refugees. Political institutions were already in place: the Fallujah Shura was running the city. No local government can possibly run a pile of rubble to be recovered by seething citizens, not to mention be "reinforced". "Insurgent capabilities" were not eliminated; the resistance dispersed around the 22 other cities out of control by the US occupation, and spread up north all the way to Mosul; and the Americans remained without intelligence "from local sources" because they antagonized every possible heart and mind.
Meanwhile, in the US, most of the population was already immune to war porn. When the Abu Ghraib scandal broke out in the spring of 2004, I was driving through Texas, exploring Bushland. Virtually everybody I spoke to either attributed the humiliation of Iraqi prisoners to "a few bad apples", or defended it on patriotic grounds ("we must teach a lesson to "terrorists").
I Love A Man In Uniform
In thesis, there is an approved mechanism in the 21st century to defend civilians from war porn. It's the R2P – "responsibility to protect" doctrine. This was an idea floated already in 2001 – a few weeks after the war on terror was unleashed, in fact – by the Canadian government and a few foundations. The idea was that the concert of nations had a "moral duty" to deploy a humanitarian intervention in cases such as Halabja, not to mention the Khmer Rouge in Cambodia in the mid-1970s or the genocide in Rwanda in the mid-1990s.
In 2004, a panel at the UN codified the idea – crucially with the Security Council being able to authorize a "military intervention" only "as a last resort". Then, in 2005, the UN General Assembly endorsed a resolution supporting R2P, and in 2006 the UN Security Council passed resolution 1674 about "the protection of civilians in armed conflict"; they should be protected against "genocide, war crimes, ethnic cleansing and crimes against humanity".
Now fast-forward to the end of 2008, early 2009, when Israel – using American fighter jets to raise hell – unleashed a large-scale attack on the civilian population of the Gaza strip.
Look at the official US reaction; "Israel has obviously decided to protect herself and her people," said then-president Bush. The US Congress voted by a staggering 390-to-5 to recognize "Israel's right to defend itself against attacks from Gaza". The incoming Barack Obama administration was thunderously silent. Only future Secretary of State Hillary Clinton said, "We support Israel's right to self-defense."
At least 1,300 civilians – including scores of women and children – were killed by state terror in Gaza. Nobody invoked R2P. Nobody pointed to Israel's graphic failure in its "responsibility to protect" Palestinians. Nobody called for a "humanitarian intervention" targeting Israel.
The mere notion that a superpower – and other lesser powers – make their foreign policy decisions based on humanitarian grounds, such as protecting people under siege, is an absolute joke. So already at the time we learned how R2P was to be instrumentalized. It did not apply to the US in Iraq or Afghanistan. It did not apply to Israel in Palestine. It would eventually apply only to frame "rogue" rulers that are not "our bastards" – as in Muammar Gaddafi in Libya in 2011. "Humanitarian" intervention, yes; but only to get rid of "the bad guys."
And the beauty of R2P was that it could be turned upside down anytime. Bush pleaded for the "liberation" of suffering Afghans – and especially burqa-clad Afghan women – from the "evil" Taliban, in fact configuring Afghanistan as a humanitarian intervention.
And when the bogus links between al-Qaeda and the non-existent WMDs were debunked, Washington began to justify the invasion, occupation and destruction of Iraq via … R2P; "responsibility to protect" Iraqis from Saddam, and then to protect Iraqis from themselves.
The Killer Awoke Before Dawn
The most recent installment in serial episodes of war porn is the Kandahar massacre, when, according to the official Pentagon version (or cover up) an American army sergeant, a sniper and Iraqi war veteran – a highly trained assassin – shot 17 Afghan civilians, including nine women and four children, in two villages two miles apart, and burned some of their bodies.
Like with Abu Ghraib, there was the usual torrent of denials from the Pentagon – as in "this is not us" or "we don't do things these way"; not to mention a tsunami of stories in US corporate media humanizing the hero-turned-mass killer, as in "he's such a good guy, a family man". In contrast, not a single word about The Other – the Afghan victims. They are faceless; and nobody knows their names.
A – serious – Afghan enquiry established that some 20 soldiers may have been part of the massacre – as in My Lai in Vietnam; and that included the rape of two of the women. It does make sense. War porn is a lethal, group subculture – complete with targeted assassinations, revenge killings, desecration of bodies, harvesting of trophies (severed fingers or ears), burning of Korans and pissing on dead bodies. It's essentially a collective sport.
US "kill teams" have deliberately executed random, innocent Afghan civilians, mostly teenagers, for sport, planted weapons on their bodies, and then posed with their corpses as trophies. Not by accident they had been operating out of a base in the same area of the Kandahar massacre.
And we should not forget former top US commander in Afghanistan, General Stanley McChrystal, who in April 10, 2010, admitted, bluntly, "We've shot an amazing number of people" who were not a threat to the US or Western civilization.
The Pentagon spins and sells in Afghanistan what it sold in Iraq (and even way back in Vietnam for that matter); the idea that this is a "population-centric counter-insurgency" – or COIN, to "win hearts and minds", and part of a great nation building project.
This is a monumental lie. The Obama surge in Afghanistan – based on COIN – was a total failure. What replaced it was hardcore, covert, dark war, led by "kill teams" of Special Forces. That implies an inflation of air strikes and night raids. No to mention drone strikes, both in Afghanistan and in Pakistan's tribal areas, whose favorite targets seem to be Pashtun wedding parties.
Incidentally, the CIA claims that since May 2010, ultra-smart drones have killed more than 600 "carefully selected" human targets – and, miraculously, not a single civilian.
Expect to see this war porn extravaganza celebrated in an orgy of upcoming, joint Pentagon-Hollywood blockbusters. In real life, this is spun by people such as John Nagl, who was on General David Petraeus' staff in Iraq and now runs the pro-Pentagon think-tank Center for New American Security.
The new stellar macho, macho men may be the commandos under the Joint Special Operations Command (JSOC). But this a Pentagon production, which has created, according to Nagl, an "industrial strength counter-terrorism killing machine".
Reality, though, is much more prosaic. COIN techniques, applied by McChrystal, relied on only three components; 24-hour surveillance by drones; monitoring of mobile phones; and pinpointing the physical location of the phones from their signals.
This implies that anyone in an area under a drone watch using a cell phone was branded as a "terrorist", or at least "terrorist sympathizer". And then the focus of the night raids in Afghanistan shifted from "high value targets" – high-level and mid-level al-Qaeda and Taliban – to anyone who was branded as helping the Taliban.
In May 2009, before McChrystal arrived, US Special Forces were carrying 20 raids a month. By November, they were 90 a month. By the spring of 2010, they were 250 a month. When McChrystal was fired – because of a story in Rolling Stone (he was competing with Lady Gaga for the cover; Lady Gaga won) – and Obama replaced him with Petraeus in the summer of 2010, there were 600 a month. By April 2011, they were more than 1,000 a month.
So this is how it works. Don't even think of using a cell phone in Kandahar and other Afghan provinces. Otherwise, the "eyes in the sky" are going to get you. At the very least you will be sent to jail, along with thousands of other civilians branded as "terrorist sympathizers"; and intelligence analysts will use your data to compile their "kill/capture list" and catch even more civilians in their net.
As for the civilian "collateral damage" of the night raids, they were always presented by the Pentagon as "terrorists". Example; in a raid in Gardez on February 12, 2010, two men were killed; a local government prosecutor and an Afghan intelligence official, as well as three women (two of them pregnant). The killers told the US-North Atlantic Treaty Organization (NATO) command in Kabul that the two men were "terrorists" and the women had been found tied up and gagged. Then the actual target of the raid turned himself in for questioning a few days later, and was released without any charges.
That's just the beginning. Targeted assassination – as practiced in Afghanistan – will be the Pentagon's tactic of choice in all future US wars.
Pass The Condom, Darling
Libya was a major war porn atrocity exhibition – complete with a nifty Roman touch of the defeated "barbarian" chief sodomized in the streets and then executed, straight on YouTube.
This, by the way, is exactly what Secretary of State Hillary Clinton, in a lightning visit to Tripoli, had announced less than 48 hours before the fact. Gaddafi should be "captured or killed". When she watched it in the screen of her BlackBerry she could only react with the semantic earthquake "Wow!"
From the minute a UN resolution imposed a no-fly zone over Libya under the cover of R2P, it became a green card to regime change. Plan A was always to capture and kill Gaddafi – as in an Afghan-style targeted assassination. That was the Obama administration official policy. There was no plan B.
Obama said the death of Gaddafi meant, "the strength of American leadership across the world". That was as "We got him" (echoes of Saddam captured by the Bush administration) as one could possibly expect.
With an extra bonus. Even though Washington paid no less than 80% of the operating costs of those dimwits at NATO (roughly $2 billion), it was still pocket money. Anyway, it was still awkward to say, "We did it", because the White House always said this was not a war; it was a "kinetic" something. And they were not in charge.
Only the hopelessly naïve may have swallowed the propaganda of NATO's "humanitarian" 40,000-plus bombing which devastated Libya's infrastructure back to the Stone Age as a Shock and Awe in slow motion. This never had anything to do with R2P.
This was R2P as safe sex – and the "international community" was the condom. The "international community", as everyone knows, is composed of Washington, a few washed-up NATO members, and the democratic Persian Gulf powerhouses of Qatar and the United Arab Emirates (UAE), plus the House of Saud in the shade. The EU, which up to extra time was caressing the helm of Gaddafi's gowns, took no time to fall over themselves in editorials about the 42-year reign of a "buffoon".
As for the concept of international law, it was left lying in a drain as filthy as the one Gaddafi was holed up in. Saddam at least got a fake trial in a kangaroo court before meeting the executioner (he ended up on YouTube as well). Osama bin Laden was simply snuffed out, assassination-style, after a territorial invasion of Pakistan (no YouTube – so many don't believe it). Gaddafi went one up, snuffed out with a mix of air war and assassination. They are The Three Graceful Scalps of War Porn.
Sweet Emotion 
Syria is yet another declination of war porn narrative. If you can't R2P it, fake it.
And to think that all this was codified such a long time ago. Already in 1997, the US Army War College Quarterly was defining what they called "the future of warfare". They framed it as "the conflict between information masters and information victims".
They were sure "we are already masters of information warfare … Hollywood is 'preparing the battlefield' … Information destroys traditional jobs and traditional cultures; it seduces, betrays, yet remains invulnerable … Our sophistication in handling it will enable us to outlast and outperform all hierarchical cultures … Societies that fear or otherwise cannot manage the flow of information simply will not be competitive. They might master the technological wherewithal to watch the videos, but we will be writing the scripts, producing them, and collecting the royalties. Our creativity is devastating."
Post-everything information warfare has nothing to do with geopolitics. Just like the proverbial Hollywood product, it is to be "spawned" out of raw emotions; "hatred, jealousy, and greed – emotions, rather than strategy".
In Syria this is exactly how Western corporate media has scripted the whole movie; the War College "information warfare" tactics in practice. The Syrian government never had much of a chance against those "writing the scripts, producing them, and collecting the royalties".
For example, the armed opposition, the so-called Free Syrian Army (a nasty cocktail of defectors, opportunists, jihadis and foreign mercenaries) brought Western journalists to Homs and then insisted to extract them, in extremely dangerous condition, and with people being killed, via Lebanon, rather than through the Red Crescent. They were nothing else than writing the script for a foreign-imposed "humanitarian corridor" to be opened to Homs. This was pure theater – or war porn packaged as a Hollywood drama.
The problem is Western public opinion is now hostage to this brand of information warfare. Forget about even the possibility of peaceful negotiations among adult parties. What's left is a binary good guys versus bad guys plot, where the Big Bad Guy must be destroyed at all costs (and on top of it his wife is a snob bitch who loves shopping!)
Only the terminally naïve may believe that jihadis – including Libya's NATO rebels – financed by the Gulf Counter-revolution Club, also know as Gulf Cooperation Council (GCC) are a bunch of democratic reformists burning with good intentions. Even Human Rights Watch was finally forced to acknowledge that these armed "activists" were responsible for "kidnapping, detention, and torture", after receiving reports of "executions by armed opposition groups of security force members and civilians".
What this (soft and hard) war porn narrative veils, in the end, is the real Syrian tragedy; the impossibility for the much-lauded "Syrian people" to get rid of all these crooks – the Assad system, the Muslim Brotherhood-controlled Syrian National Council, and the mercenary-infested Free Syrian Army.
Listen To The Sound of Chaos 
This – very partial – catalogue of sorrows inevitably brings us to the current supreme war porn blockbuster – the Iran psychodrama.
2012 is the new 2002; Iran is the new Iraq; and whatever the highway, to evoke the neo-con motto, real men go to Tehran via Damascus, or real men go to Tehran non-stop.
Perhaps only underwater in the Arctic we would be able to escape the cacophonous cortege of American right-wingers – and their respective European poodles – salivating for blood and deploying the usual festival of fallacies like "Iran wants to wipe Israel off the map", "diplomacy has run its course", "the sanctions are too late", or "Iran is within a year, six months, a week, a day, or a minute of assembling a bomb". Of course these dogs of war would never bother to follow what the International Atomic Energy Agency is actually doing, not to mention the National Intelligence Estimates released by the 17 US intelligence agencies.
Because they, to a great extent, are "writing the scripts, producing them, and collecting the royalties" in terms of corporate media, they can get away with an astonishingly toxic fusion of arrogance and ignorance – about the Middle East, about Persian culture, about Asian integration, about the nuclear issue, about the oil industry, about the global economy, about "the Rest" as compared to "the West".
Just like with Iraq in 2002, Iran is always dehumanized. The relentless, totally hysterical, fear-inducing "narrative" of "should we bomb now or should we bomb later" is always about oh so very smart bunker buster bombs and precision missiles that will accomplish an ultra clean large-scale devastation job without producing a single "collateral damage". Just like safe sex.
And even when the voice of the establishment itself – the New York Times – admits that neither US nor Israeli intelligence believe Iran has decided to build a bomb (a 5-year-old could reach the same conclusion), the hysteria remains inter-galactic.
Meanwhile, while it gets ready – "all options are on the table", Obama himself keeps repeating – for yet another war in what it used to call "arc of instability", the Pentagon also found time to repackage war porn. It took only a 60-second video now on YouTube, titled Toward the Sound of Chaos, released only a few days after the Kandahar massacre. Just look at its key target audience: the very large market of poor, unemployed and politically very naïve young Americans.
Let's listen to the mini-movie voice over: "Where chaos looms, the Few emerge. Marines move toward the sounds of tyranny, injustice and despair – with the courage and resolve to silence them. By ending conflict, instilling order and helping those who can't help themselves, Marines face down the threats of our time."
Maybe, in this Orwellian universe, we should ask the dead Afghans urinated upon by US Marines, or the thousands of dead in Fallujah, to write a movie review. Well, dead men don't write. Maybe we could think about the day NATO enforces a no-fly one over Saudi Arabia to protect the Shi'ites in the eastern province, while Pentagon drones launch a carpet of Hellfire missiles over those thousands of arrogant, medieval, corrupt House of Saud princes. No, it's not going to happen.
Over a decade after the beginning of the war on terror, this is what the world is coming to; a lazy, virtually worldwide audience, jaded, dazed and distracted from distraction by distraction, helplessly hooked on the shabby atrocity exhibition of war porn.
Source: Asia Times
A Conversation of Tyranny…
The "Daily Bell" is a Libertarian internet site that provides news and commentary.  Anthony Wile is editor and the page has an impressive list of Libertarian advisors.  DB is a foundation that solicits donations.
Libertarian Pages like "Freedom Phoenix", "Lou Rockwell", "The Daily Bell" and others provide sources for monitoring the advancement of tyranny in America and throughout the world.  I am a Christian, I am not a Libertarian, but the common quest for truth often brings us together.
Some of the DB editorials are marked "Staff report" and although they speak for the site are not signed by a particular writer.  DB frequently presents their opinion on the Jewish phenomenon; one article was entitled "The Conversation of Freedom is Not Jewish".
The writer takes issue with Henry Makow's opinion that Libertarianism has a Jewish character.  DB gives the Philosophy an umbrella that would cover Ayn Rand at one end and Gary North at the other.  The DB model is described with a small "L", different from the formal Libertarian Party.  To the accusation that Libertarians eschew social justice DB sites a previous article where they recommended a return to private justice where "people avenge their own via duels, feuds and the like" and "organize around various forms of private theology".  It goes on to chide the antediluvian nature of some of the Jewish conspiracy theories.
However, DB makes a huge error at the outset by labeling Jewish conspiracy theories as "anti-Semitic".  The a-S label squelches all attempts to bring veracity to the Jewish phenomenon allowing the truth to remain hidden.  If we allow the a-S label to censor truth we fertilize the common contemporary practice of allowing fantasy to pose as reality.  Attempts to squelch free speech by refusing to acknowledge truth creates insoluble problems by making proper understanding impossible.
That said consider this:  Jews are a very small minority in the United States.  They make up less than 3 percent of our population.  However, if I shop at Home Depot I am shopping at a Jewish owned store; if I go to Lowes it is also Jewish owned; Walgreens is Jewish owned as is CVS; every department store carries several product lines that are Jewish owned; Google was a Jewish brainchild; Facebook was developed by a Jewish Harvard student; Jewish interests control money worldwide; education, particularly higher education, has been co-opted by Jewish intellectuals; from the beginning of the Twentieth Century to the present every U. S. president has been surrounded by Jewish advisors; congressmen cannot get elected without supporting Israel and Jewish interests; T. V. commentators, movie actors, producers, consultants etc. are predominately Jewish; book reviews on C-Span are mostly by Jewish authors; the book publishing industry is controlled by Jews; the media – newspapers, movies, TV, radio, and records – are under Jewish control; and, the intellectual base for classic Libertarianism is Jewish,  Rothbard, Mises, and Rand were all Jewish and Mise's student, Hayek, had Jewish blood through the Wittgensteins. According to one source 87 percent of Jewish children attend college while the United States average is about 40 percent.  A third or more of the students at Harvard are Jewish and in my current favorite TV drama the two major characters are played by Jewish actors and all positions of power are held by Blacks or women or both.  The facts are astounding – only severe myopia could obscure them.    Read more here.
Dr. Stephen Steinlight a respected Jewish thinker has been pilloried by militant Jewish partisans for attempting to ameliorate the immigration debate.  In one of his monographs he describes his upbringing: "I'll confess it, at least: like thousands of other typical Jewish kids of my generation, I was reared as a Jewish nationalist, even a quasi-separatist. Every summer for two months for 10 formative years during my childhood and adolescence I attended Jewish summer camp. There, each morning, I saluted a foreign flag, dressed in a uniform reflecting its colors, sang a foreign national anthem, learned a foreign language, learned foreign folk songs and dances, and was taught that Israel was the true homeland. Emigration to Israel was considered the highest virtue, and, like many other Jewish teens of my generation, I spent two summers working in Israel on a collective farm while I contemplated that possibility. More tacitly and subconsciously, I was taught the superiority of my people to the gentiles who had oppressed us. We were taught to view non-Jews as untrustworthy outsiders, people from whom sudden gusts of hatred might be anticipated, people less sensitive, intelligent, and moral than ourselves. We were also taught that the lesson of our dark history is that we could rely on no one."
Part of the problem is that many Jews among us tend to think of themselves this way: "I am not anAmerican citizen of the Jewish faith, I am a Jew. I have been an American for sixty-three sixty-fourths ofmy life, but I have been a Jew for 4000 years."  Quote from Rabbi Stephen S. Wise, speaking before a rally in New York in 1938.
In our Jewish dominated society complicity with Jewish interests is often a successful business strategy.  World Net Daily has become popular and successful supporting Zionism while truthtellers Pat Buchanan and the team of John Mearsheimer and Stephen Walt have dropped from prominence.  The erstwhile anti-Zionist publication "Spotlight", assiduously exposed Jewish shenanigans. It was forced into bankruptcy and silenced.  There is tremendous pressure from powerful Jewish quarters to suppress the truth.
Wealth and power are usually products of consistent work to obtain knowledge and to conduct ones affairs in an orderly and profitable manner.  Jews have worked hard to get where they are.  There is diversity in their ranks but there is also cohesion.  They have extensive control of the world's money supply.  From outsiders they extract interest but to their fellow Jews loans are free.  Individually they are knowledgeable and interesting to know and claim as friends.  If they vested their power in the One True God and were obedience to His Commandments the world would be a far better place.  But instead there is a huge downside to their astounding racial success.
Dr. Kevin MacDonald, Professor of Psychology at California State University–Long Beach, is a prolific author who has suffered some nasty episodes for carefully compiling a trilogy of books on the Jewish phenomenon.  For anyone interested in studying Jewish history his books are excellent.  The Webpage is here.  In "The Culture of Critique" MacDonald quotes Walter Kerr, "The literate American mind has come in some measure to think Jewishly.  It has been taught to, and it was ready to.  After the entertainers and novelists came the Jewish critics, politicians, and theologians.  Critics and politicians and theologians are by profession molders: they form ways of seeing." MacDonald goes on to describe Jews as being ambitious, persistent, cohesive, and group oriented; he cites their "dazzling verbal skills", their high level of energy, and their strength of conviction, claiming "these traits have been central to Judaism as a group evolutionary strategy throughout history".
Henry Makow's use of the word "Illuminate" is an apt description but is meaningless to most Americans.  Evangelical Christians imbued with the cultish Dispensational theology consider Jews to be God's Chosen People.  With gossamer piety they proclaim the Second Coming using the man-made nation of Israel as an impetus.  With no understanding of Judaism and a tiny, often distorted, knowledge of the Bible they frantically support the theology Jesus condemned.  It is the Talmud (Satanic theology) with its hate for the Goyum, its Jewish racial superiority, its promotion of deception, and its gross immorality that guides Zionist leadership.
The impact of Jewish hegemony is not overtly evident in the everyday life of American citizens.  It is not understood that the agendas for the major segments of our society are always set by the Jewish mind. No one seems upset that we are never exposed of the genocide of neo-Israel's Palestinian captives. We have been so thoroughly brain washed that our sympathies automatically go to the Holocaust and the suffering inflicted on Jews by the Third Reich.  While neo-Israel steals their land, imprisons them in a gulag, and kills them at will, most Americans believe it is the Palestinians that are culpable.
The brain washing has been so successful that we are not aware that more Christians than Jews were murdered during WWII.  There is no lament for the millions of Christians murdered by a mostly Jewish cadre in Russian and by Hitler's regime in Germany.  No movies have been made about the suffering of Christians and few, if any, books have been published on this subject.  The emphasis has always been on the Jews.  Movies have been presented, a museum has been erected, and a constant bombardment of propaganda has accompanied the Holocaust while Christians and Russian Jewish involvement in their murder has been completely erased from the minds of the public and removed from current history.
Our universities have experienced a similar Jewish brain washing.  Multiculturalism, racial factions, sexual liberation, feminism, homosexuality, socialist politics, and politically correct speech have become part of University life.  Free speech and freedom of association have been curtailed disallowing the discussion of forbidden subjects.  Brain washing in colleges has resulted in a politically correct environment that distorts justice, vies with reality, and fails to provide a full orbed education. MacDonald writes that John Dewey, who was a major influence in forming the American educational system, was "promoted by Jewish intellectuals" and helped establish the New School of Social Research and the America Civil Liberties Union "both essentially Jewish organizations".
The Christian Church has been the bulls eye of the Jewish target in America. Since the Church forsook its duty to censor the products of Hollywood motion pictures have become progressively more immoral and attacks on Christianity more frequent and severe.   Practices forbidden in the Bible are favorably depicted on movie screens; adultery, fornication, infidelity, divorce, and homosexuality are routine. Christian ministers are shown as lustful charlatans, wimps, or fools while secular characters are compassionate, long suffering, and altruistic.  The legal attack on the Church has been devastating. Christianity and all of its symbols have been banned from the public square and shoved into captivity behind church walls.  One Jewish atheist can destroy Christian traditions that have existed for centuries.
The United States is not the first nation to be overcome by Jewish power.  Before WWII Jews were a powerful faction in Germany.  Dr. MacDonald quotes I. Deak: "Jews were responsible for a great part of the German culture.  The owners of three of Germany's greatest newspaper publishing houses; the editors of the "Vossische Zeitung" and the Berliner Tageblatt; most book publishers; the owners and editors of the Neue Rundschau and other distinguished literary magazines; the owners of Germany's greatest art galleries were all Jews.  Jews played a major part in theater and in the film industry as producers, directors, and actors.  Many of Germany's best composers, musicians, artists, sculptors, and architects were Jews.  Their participation in literary criticism and in literature was enormous: practically all of the great critics and many novelists, poets, dramatists, essayists of Weimar Germany were Jews.  A recent American study has shown that thirty-one of the sixty-five leading German 'expressionists' and "neo-objectivists' were Jews."
The Russian writer Igor Shafarevich writes "that Jews were critically involved in actions that destroyed traditional Russian institutions, particularly in their role of dominating the secret police and the OGPU (Unified State Political Directorate).  He stresses the Jewish role in liquidating Russian nationalists and undermining Russian patriotism, murdering the Czar and his family, dispossessing the kulaks, and destroying the Orthodox Church."  Kevin MacDonald says of Shafarevich, "He views Jewish 'Russophobia' not as a unique phenomenon, but as resulting from traditional Jewish hostility towards the Gentile world considered as "tref" (unclean) and toward Gentiles themselves considered as sub-human and as worthy of destruction —."
It is not difficult to relate the results of Jewish domination in Russia and Germany with what is happening in the United States.  The arts and the media is under complete Jewish domination and our culture is being decimated with multiculturalism and massive immigration both promoted by Jewish intellectuals and the organizations they have created.  Jews control our government and foreign policies as well as the Federal Reserve which is swimming in profits while our nation faces bankruptcy. America's moral columns have been destroyed with the banning of social Christianity and the enforced legal status for abortion, homosexuality, and gay marriage.  Jews have decimated America!
In 2002 Aleksandr Solzhenitsyn published his last major work "Two Hundred Years Together".   It has been translated and published in Europe but has been blocked by Jewish partisans in America. Solzhenitsyn was a hero.  He died in 2008 but during his life he was an ardent seeker and purveyor of truth.  I suspect his book would corroborate the work of Dr. MacDonald.
Americans tend to think these highly talented people are close to the God of Abraham, Isaac, and Jacob, The One True God, and to think of them as intrinsic in His plans for His creation.  Evangelical Christians provide Jews with substantial monetary and spiritual support.
Michael Hoffman's book "Judaism's Strange Gods" shatters this illusion by delving deeply into the beliefs that are promoted by the Rabbis.  It liberates "the reader from the accumulated shackles of decades of misinformation and shows that Judaism's god is not the God of Israel, but the strange gods of Talmud and Kabbalah, and the racial self-worship they inculcate"; in the process it shatters the DB opinion that the Talmud and Kabbalah are paper tigers.
Keeping these facts under wrap and destroying honest critiques is not good for our nation nor is it good for Jews.  Vishal Mangalwadi, an East Indian Christian, has written a book entitled "Truth and Transformation", a "Manifesto for Ailing Nations".  His examples of the contagious nature of dishonesty and the devastating results of institutionalized theft on the prosperity of societies breaks new ground in support of God's overarching moral code.  The moral code God gave to those who enjoyed His first love should be their gift to His creation but instead it has been forsaken and replaced with the clandestine cloak of Devilish, Talmudic lies.
Vishal Mangalwadi begins his book by relating a story about his own experience with honesty. Someone told him that a particular country was a good place to do business because its people trusted each other.  At first he did not understand why trust was important but later, in Holland, a friend took him to a dairy farm where milk was sold on the honor system with the customer trusted to put the required cost into a bowl;  there was not attendant.   Vishal said to his friend  "if you were an Indian, you would take the milk and the money".  Later Vishal told this story at a meeting in Indonesia where and Egyptian gentleman laughed and said, "We are cleverer than Indians.  We would take the milk, the money, and the cows."
Vishal then began to understand that if people took the milk and the money the owner would need to hire an attendant and the cost of the milk would then go up to cover the cost of the attendant.  Further, he concluded "if customers are dishonest, why should the supplier be honest?  He would add water to the milk to increase the volume.  Being an activist, I would protest that the milk was adulterated; the government must appoint milk inspectors.  But who would pay for the inspectors?  Me, the taxpayer."
"If the consumer and the suppliers are dishonest, why would the inspectors be honest?  They would extract bribes from the suppliers.  If they didn't get the bribes, they would use one law or another to make sure the sales is delayed enough to make the nonrefrigerated milk curdle.  Who would pay for the bribes?  Initially the supplier, but ultimately the consumer."
"You can fool some of the people all of the time, and all of the people some of the time, but you cannot fool all of the people all of the time." – attributed to Abraham Lincoln, a hero for many Jews.  The historic results of Jewish illegitimate hegemony, subterfuge, manipulation, apartheid, and racial arrogance have always been disastrous.  It would be a great blessing to world Jewry as well as to Gentiles if Jewish leaders would squelch the self pity, learn humility, and begin to use their considerable talents to bring the world peace, justice, and personal freedom by obeying the Commandments of the God that created them and without Whom they would never have existed as a people. It was the God of Abraham, Isaac, and Jacob that fulfilled His promise to make them a great nation and it was the same long suffering and merciful God that scattered them at the Diaspora because of their disobedience.  Obedience would bring reconciliation, the Talmud and the Kabbalah will not.
DB is right the conversation of freedom is not Jewish; however, it is often tyrannical.
"Give me control of a nation's money and I care not who makes the laws."
Mayer Amschel Rothschild   Does DB understand who controls the money and the results of that control?
Dog Poet Transmitting…….
May your noses always be cold and wet.
Putin is president of Russia again. Iran just had a legal and successful election. Israel is completely out of control. The American system is entirely corrupt and owned by the central banks and multinational corporations. What does it all mean? It means that this world we live in is being scripted like a Hollywood movie. The big question is; who is the director? It stands to reason, metaphysically, that everything is moving toward a destined conclusion. In a purely material sense, none of it makes any sense. I'm going to go with the concept that those setting us up and tormenting the world for their own sick enjoyments, are being setup themselves and are going to stand as a lasting lesson about what happens when you overstep yourself; when your grasp exceeds your reach.
We are seeing and experiencing what we are seeing and experiencing because the satanic bankers have gotten themselves into big trouble because the fire of their greed has outstripped their good sense. They are desperate to create a world war in order to take the public's attention off of the magnitude of their crimes. Mr Apocalypse is banging on the judgment drum and he's pointing his finger at them through the eyes of all awakening souls. It's a contagion of awakening and it will be brimming with payback. It's not as if everyone is as vengeful and violent as they are. What it is is that there can be no balance or harmony until the bankers have been dealt with one way or another. They are behind all of the chaos and harm of our times. Yes, the boys from Filthy Lucre LTD have been very bad. They have maimed, crippled and killed millions. They've poisoned the landscape of both foreign and domestic lands. The magnitude and scope of their crimes is off the charts.
It's only natural for people to fear the possibilities of what might happen. We have the historical record, as twisted and altered as it may be, it still reads like a blood soaked litany of relentless abuse; the pyramid of skulls at Pnom Phen, Tamerlane's concrete wall of living men, Zionism's murder of tens of millions in Russia and many more throughout the centuries, Genghis Khan, the massacres of indigenous peoples, Mao and his countless victims. The list runs around the corner, into the bodego and on out into the back alley to God knows where; pursued by the restless ghosts of forever damned conquistadors. So, it's natural to expect terrible things out of the conditions of the moment. It might be that terrible circumstances will come about in select locations. It's like there being nothing accidental about all those people getting on the same airplane that's scheduled to go down in a mountain range.
It is a most difficult art for the mind to be able to come to grips with. The storm is raging, while the certifiably insane have seeming control of the world around us. Only within do I gain any comfort from the world of nightmare appearances. Something inside tells me that it's all under control for the purposes of demonstration. The birds of Spring arrived from somewhere last evening. All you hear through the winter are the harsh cries of the ravens. Suddenly songbirds have landed in the trees outside my window; at night? Well, these aren't the usual times are they?
There were all sorts of good reasons for us to come here in this time. The cosmos is designed like a magic watch. Countless cogs turn according to their own mysterious nature. Some don't turn at all, except in certain periods and they are connected to doorways and portals that resonate with the possibilities of special configurations. It stands to reason that there would be forces of resistance at work. It's not difficult to see in the world around us the effect of these resistances. Certainly the burning fever of the material realm, dispenses strange intoxications that cause people to see garbage as an object of desire and to view the world through the lens of appetite. It's a no brainer that most of the dead animals by the side of the road are there because of food and sex. These powerful instinctive magnetisms are no less present in the less than human majority of bi-pedal delusion bots. They march on like hungry ghosts in an endless swamp. They believe the lights of St. Elmos fire is a neon cocktail glass, signifying the presence of the pub at the end of the universe. And you can't tell them a damn thing. It might be good sense not to be too close to any large congregation of them, because ignorance is highly flammable and when it gets concentrated it can definitely heat up under the suffocating press of all those filthy rags from the manipulated scriptures.
I look at the tragic-comic absurdity of the movers and shakers in the world and it seems patently clear to me that there has to be some kind of metaphysical mechanism that is making the strings move and the puppets dance. It just doesn't make sense to me any other way. It's too classic and cinematic. The hubristic ridiculous is a cartoon. Things couldn't get this crazy unless some higher sanity was trying to get someone's attention. Well, it isn't working apparently. I am absolutely flat out amazed at the brush fire psychosis that is sweeping through the minds of those who have lost their capacity to reason or to think. There has to be more going on than what the bandwidth of the senses reports. I can feel it. I can't interpret it. I'm trying to align but someone saddle-soaped my surfboard instead of using Mr. Zog's Sex Wax and… how come he's called 'Zog'?
Balance has to be the key, given the degree of difficulty in maintaining it. Every time you think you've figured out the break, it goes sideways on you again and of course, riptides and undertows are the big guns below the surface. I keep trying to let go but there comes a point where you need some kind of official approval. For someone who knows the fickle realities of surf, some period of surrender can be helpful, once you find yourself at the mercy of strange tides and attractions. Undertows can pull you out to a point where you can reconnoiter. Rip tides have to wind up somewhere, hopefully not on the reef at the far end of the cove. Sometimes it seems you have worse odds than a crap-shoot. I've never been a fan of dice. I always like to feel as if I have some say in how the game goes. The only way that applies to dice is if they happen to be loaded. Some games of poker are more user friendly and that's why I have little use for Blackjack. It takes a specialized mind to come out ahead at that table. It's okay for the house to set the odds in their favor. They've got all the lawyers, documents and guns; "calling it your job don't make it right, Boss".
The stupidest game in the house is the slot machines, that's why there are so many of them. People sit there with coffee cups filled with coins and just crank away, wishing and hoping and dying by inches. There are more people at the slots than anywhere else and that applies literally and metaphorically. I was in a European casino a few years ago. It's the one where all the Russian expats go. They pretty much own the town. It's interesting to watch their faces. They look like kids at a Punch and Judy show. It was a little crowded for me so I went downstairs to the slots. There were plenty of those. I had about fifty Euro on me and I went over to one of the machines and started putting one Euro pieces in. I'd put about ten of them in when I said to myself, "What the Hell am I doing"? I realized there was all kinds of fun and useful things I could do with 40 Euro and otherwise, I might as well just pitch the money into the street. I walked out of there and went and did something else; can't remember what that was but I am sure I enjoyed it more than where I'd been previously. Sure, on any given evening you can walk away a winner but you'll lose and lose big over the long haul. Only very few people have the particular gift needed to surf those waters, if it is a gift.
That's what people are doing now. They're gambling against the inevitable and they're losing. The ugly indifference of their kind to anything happening to other people, due to their indifference, is despicable. Nature is sending tornadoes across the land but they don't make the connection. The various theaters of human endeavor are all in chaos. It's the birth pangs of the age and nothing wants to go easy into the compost. It's undertows and rip tides. It's shaking the foundations and infrastructures and everything people used to have faith in no longer has any faith in them.
There has to be more going on. When you move high enough and far enough away to see it, you're too far away to be able to identify it. When the very worst among us, finally does their worst, the entire dynamic will shift overnight and there is no telling what will happen when you can't get the things that made your former life function. There's no telling what happens when the price of oil is suddenly ten times higher. We are walking on a cliff edge in a hard rain. I'm not going to think about it too much. I generally don't, except when I have to write about it. I'm just watching and waiting because what is important to me is quite different from what seems to be important to most people.
I'd say the that the greater the draw and attraction of the mind to external conditions, the more important it is to look at what is going on inside you. That's the key area where your useful tools are stored and you never know when something new is going to show up or how important it is to know that it is there. I figure if the whole thing is scripted then the prop department is definitely on the set.
End Transmission…….
Source: Les Visible