With the approval vote in the United Nation Security Council of the P5 + 1 Iranian agreement, a smorgasbord of eager trading partners claw themselves out of the woodwork. The liquid black gold rush is on. With the rescinding of sanctions put into motion, over time the wheels of commerce will be put back on track. No matter what the U.S. Congress does, the flood from international trade will start making deals with Iran.
A sample of some of these activities follows:
1) Even before sanctions are lifted, foreign investors try to tap into Iran
"Multinational mobile phone companies, car makers and hospitality firms are seen as the most primed to benefit from the lifting of sanctions.
Bank of America Merrill Lynch said it sees Turkey and the United Arab Emirates as likely beneficiaries from Iranian foreign trade, which could increase to $200 billion by 2020 from $80 billion now."
2) Corporate winners from the nuclear agreement
"Citi Research analyst Chris Wetherbee said the opening of Iran is a "net positive" for international tanker firms, because Iran's aging fleet won't be able to compete, and more energy supplies will be on the market."
"All of the major banking institutions in the industrial world will try to finance and facilitate increased trade with Iran," Christopher Whalen, senior managing director at Kroll Bond Rating Agency, told CNBC. "It's a big country, (and) they are very Western-focused. Iranians are consumers of everything. You can anticipate anything from industrial equipment to consumer products will definitely be bought, and will definitely be financed."
3) Lifting of Iran sanctions positive for Indian oil refiners: India Ratings
"Lower crude oil prices following the Iran nuclear deal will contribute positively to the Indian economy, across the oil and gas value chain barring domestic upstream players, India Ratings and Research has said.
A decline in oil prices could lower LNG (liquefied natural gas) prices and this is likely to benefit end-consumer industries such as fertilizer and petrochemicals, it said."
4) Pakistan Hopes to Benefit from Iran Deal, With Chinese Help
"Now, with the prospect of sanctions on Iran lifting in the near future, Pakistan is hoping to become one of the early beneficiaries of a nuclear deal between Iran and six world powers by finally completing the Iran-Pakistan pipeline.
But funding for the expensive project, expected to cost about $2 billion, is another problem for cash-strapped Pakistan.   That is why it is trying to piggyback this project on another one funded mostly by its rich neighbor, China.
China will provide 85 percent of the $2 billion required to build a liquid natural gas terminal at Pakistan's southern port city Gwadar.  The project includes a 700 kilometer long pipeline to other areas of the country."
5) Russia may benefit most from West's agreement with Iran
"Washington will live to regret this decision as its once greatest allies in the region, Saudi Arabia, Qatar, the United Arab Emirates, as well as Egypt and even Turkey, start to feel as though they were betrayed by the United States.
Looking to counter what the Gulf Arabs perceive as a genuine threat, logic dictates they are likely to turn to Russia for a fresh alliance and to help them counter the Iranian threat."
6) Lifting of sanctions brings hopes for Iran Air fleet frozen in time
"Trapped in isolation with outdated planes, Iran Air – a carrier dragged down by decades of economic restrictions – finally felt a gust of hope last week thanks to the international nuclear accord and a potential lifting of sanctions.
Once the deal is implemented, the Islamic republic will be able to replace its vintage aircraft, some of which are almost 30 years old."
All these examples share in a common interest that comes from commerce. Nonetheless, buying and selling is seldom a strict barter arrangement. The banking system and currency conversion for payment and settlement becomes a necessary component. The lifting of sanctions is really reducible to reestablishing the financial clearing function.
While the creation of the BRICS trading block provides a workable competing opportunity for Iran to engage, the necessity to transact with Western companies becomes obvious.
Replacement of an airline fleet means buying from Western companies like Boeing and Airbus.  Hoping that Russia or China would be able to construct an alternative is just not practical.
The Asian ship builders like South Korea may be looking for future tanker orders, since competitive fabrication companies are producing the most functional naval transports.
Finally, the consumer electronic sector sees the Iranian market as a prime target long restricted from all the gadgets that facilitate global communication.
The United States will lag behind most other countries from trading with Iran for a simple reason. Iranian unwelcoming attitudes towards America will translate into doing business with anyone but the Yankee devil, whenever possible.
While Iranian youth may be far more open to reinstituting commercial relations with America, the political regime holds fast to fighting the imperial globalization of Western corporatism.
In order to grease the gears of advantageous international commerce, the energy sector will still lead an Iranian economic reintegration. Marking the difference between mutually beneficial business transactions from corporatist exploration and plunder of natural resources, should be the task for going forward.
Set aside the politics of the neo-feudalism version of 21st colonialism and reopen the prospects of reducing tension and hatred by abolishing sanctions as a destructive tool for foreign policy.
All sincere parties benefit and profit from cordial business relations. Iran's desire to have sanctions eliminated offers hope that better relationships and positive interaction can progress.
The overwhelming approval of foreign nations to break the embargo of NeoCon "axis of evil" propaganda demonstrates that promoting "good business" is preferable to detrimental isolation and damaging hostilities.
The proper standard to adopt was established by George Washington in his Farewell Address.
"Harmony, liberal intercourse with all nations, are recommended by policy, humanity, and interest. But even our commercial policy should hold an equal and impartial hand; neither seeking nor granting exclusive favors or preferences; consulting the natural course of things; diffusing and diversifying by gentle means the streams of commerce, but forcing nothing; establishing (with powers so disposed, in order to give trade a stable course, to define the rights of our merchants, and to enable the government to support them) conventional rules of intercourse, the best that present circumstances and mutual opinion will permit, but temporary, and liable to be from time to time abandoned or varied, as experience and circumstances shall dictate; constantly keeping in view that it is folly in one nation to look for disinterested favors from another; that it must pay with a portion of its independence for whatever it may accept under that character; that, by such acceptance, it may place itself in the condition of having given equivalents for nominal favors, and yet of being reproached with ingratitude for not giving more. There can be no greater error than to expect or calculate upon real favors from nation to nation. It is an illusion, which experience must cure, which a just pride ought to discard."
Sanctions violate "conventional rules of intercourse". International affairs never remain constant. Notwithstanding, the wisdom of President Washington, the current political and economic culture is hell bent on breaking the rules for favorable commerce.  Resumed trade with Iran will offer a positive opportunity to lower the antagonistic tension and restart rehabilitative dialogue.
There's been a virtual blackout of news from this year's seventh annual BRICS summit in Ufa, Russia.  None of the mainstream media organizations are covering the meetings or making any attempt to explain what's going on.  As a result, the American people remain largely in the dark about a powerful coalition of nations that are putting in place an alternate system that will greatly reduce US influence in the world and end the current era of superpower rule.
Let's cut to the chase: Leaders of the BRICS (Brazil, Russia, India, China and South Africa) realize that global security cannot be entrusted to a country that sees war as a acceptable means for achieving its geopolitical objectives.  They also realize that they won't be able to achieve financial stability as long as Washington dictates the rules, issues the de facto "international" currency, and controls the main levers of global financial power. This is why the BRICS have decided to chart a different course, to gradually break free from the existing Bretton Woods system, and to create parallel system that better serves their own interests. Logically, they have focused on the foundation blocks which support the current US-led system, that is, the institutions from which the United States derives its extraordinary power; the dollar, the US Treasury market, and the IMF. Replace these, the thinking goes, and the indispensable nation becomes just another country struggling to get by.  This is from the Asia Times:
"Leaders of the BRICS… launched the  New Development Bank, which has taken three years of negotiations to bring to fruition. With about $50 billion in starting capital, the bank is expected to start issuing debt to fund infrastructure projects next year. They also launched a foreign-exchange currency fund of $100 billion.

The two new endeavors are statements that the five largest emerging markets are both looking out for each other and, simultaneously, moving away from the western financing institutions of the World Bank and International Monetary Fund.

"The BRICS states intend to actively use their own resources and internal resources for development," Putin said, according to Reuters. "The New (Development) Bank will help finance joint, large-scale projects in transport and energy infrastructure, industrial development."…..Birthing the two initiatives in Russia had been Putin's top priorities."

("Russia's Putin scores points at Ufa BRICS summit", Asia Times)
Can you see what's going on? Putin has figured out the empire's vulnerabilities and he's going straight for the jugular.  He's saying: 'We're going to issue our own debt, we're going to run our own system, we're going to fund our own projects, and we're going to do it all in our own currency. Kaboom. The only thing you're going to be doing, is managing your own accelerating economic decline. Have a good day.' Isn't that the gist of what he's saying?
So can you see, dear reader, why none of this is appearing on the pages of US newspapers or on US television.   Washington would rather you didn't know how they've bungled everything by alienating the fastest growing countries in the world.
The Ufa conference is a watershed moment. While the Pentagon is rapidly moving troops and military hardware to Russia's borders, and one bigwig after another is bloviating about the "Russian threat"; the BRICS have moved out of Washington's orbit altogether.  They are following the leadership of men who, frankly speaking, are acting exactly like US leaders acted when the US was on the upswing. These are guys who "think big"; who want to connect continents with high-speed rail, lift living standards across the board, and transform themselves into manufacturing dynamos. What do America's leaders dream about: Drone warfare? Balancing the budget? Banning the Confederate flag?
It's a joke. No one in Washington has a plan for the future. It's all just political opportunism and posturing.  Check this out from The Hindu:
"China and Russia have described BRICS, the Shanghai Cooperation Organisation (SCO) and the Eurasian Economic Union (EAEU) as the core of a new international order…

Russian President Vladimir Putin said… "There is no doubt — we have all necessary premises to expand the horizons of mutually beneficial cooperation, to join together our raw material resources, human capital and huge consumer markets for a powerful economic spurt."

Russia's Tass news agency also quoted Mr. Putin as saying that the Eurasian continent had vast transit potential. He pointed to "the construction of new efficient transport and logistics chains, in particular, the implementation of the initiative of the Silk Road economic belt and the development of transportation in the eastern part of Russia and Siberia. This may link the rapidly growing markets in Asia and Europe's economies, mature, rich in industrial and technological achievements. At the same time, this will allow our countries to become more commercially viable in the competition for investors, for creating new jobs, for advanced enterprises," he observed."….

The summit also acknowledged "the potential for expanding the use of our national currencies in transactions between the BRICS countries."   ("BRICS, SCO, EAEU can define new world order: China, Russia", The Hindu)
The dollar is toast. The IMF is toast. The US debt market (US Treasuries) is toast.  The institutions that support US power are crumbling before our very eyes. The BRICS have had enough; enough war, enough Wall Street, enough meddling and hypocrisy and austerity and lecturing. This is farewell. Sure, it will take time, but Ufa marks a fundamental change in thinking, a fundamental change in approach, and a fundamental change in strategic orientation.
The BRICS are not coming back,  they're gone for good, just as Washington's "pivot to Asia" is gone for good. There's just too much resistance. Washington has simply overplayed its hand, worn out its welcome. People are sick of us.
Can you blame them?
Even as an old man, my father was as strong as an ox and built a log cabin from scratch with his bare hands when he was 70 years old.  But then he suffered a heart attack.  And his doctor put him on all kinds of medications, at least ten pills a day.  And a year later he had shrunk from standing over six feet tall to being only 5′ 7″ — and from weighing 200 pounds to weighing only 125.  And a month after that he was dead.  Geez Louise!  What the freak was in those pills anyway?  Couldn't he have just eaten more bananas instead?
And, yes, I really am aware that modern medicine does save a whole bunch of lives.  And, yes, I do watch Gray's Anatomy and know that modern medicine can and does perform miracles.  But still.  106,00 Americans a year die from "adverse drug reactions".  Side effects, side effects, side effects — just like the ads on TV say.
And I used to really resent Big Pharma for that — especially when my own father was one of those statistics.
And I also used to really hate the idea that American children are being overdosed on vaccines too.  Our kids will be given 71 different batches of vaccinations before they reach age 17 — and 26 of these vaccines will be given to babies under one and a half years of age.  But it's not the vaccines themselves that I used to resent.  Hell, bring them on — in the hundreds if that's what it takes to save little kids' lives.
It is the fillers, additives and preservatives such as mercury, formaldehyde, MSG, detergents, aluminum and yellow dye #6 that make up approximately 99.99% of each shot that I used to hate.  I used to really hate that Big Pharma would shoot all that junk into the bloodstreams of our very own little darlings — just to save a buck on extending their drugs' shelf-life.
Apparently there are now a few drug-company start-ups working on creating DNA-based vaccines that no longer need fillers.  Others are working on vaccine-based "tattoos" that don't need fillers either.  Hurray for them.
But I still used to shudder with dread for my three-month-old granddaughter at the thought of her callously being used as fodder for Big Pharma profiteering.  Because of baby Sofia, I used to study up and read everything I could lay my hands on with regard to the pros and cons of vaccines.  With a tiny and vulnerable small baby in my family, I used to worry night and day about the fillers, additives and preservatives in her vaccines.
But not any more.
Now I've finally learned to relax and love Big Pharma.  I've finally become philosophical on the subject.  I've finally learned to just reflect on the Spartans of ancient Greece and how they put their weaker babies and old folks out to die in the snow — for the good of the tribe.  Or was it Sarah Palin who did that?
And then I remembered that the presence of lions in Africa are actually good for the gazelle population there — because they cull the herd.  On the plains of the Serengeti, only the strong survive.
And then I learned to cogitate upon the African slaves who survived the dread Middle Passage — only the strongest made it through that ordeal too, right?  So that only the most healthy slaves arrived in the New World?  Or I'd think about the small-pox-laden blankets that European immigrants used to give Native Americans so that the weaker ones would die off and stop hogging up all the good land.
And now, like some heroic latter-day Spartan or Indian-killer or human trafficker, Big Pharma is also culling our modern American herd of weaker babies and seniors — making sure that only the strong survive.  How philosophical of them is that!
A recent study has shown that America is ranked way down at Number 34 in the list of countries with regard to infant mortality rates — and is also the highest in the world regarding vaccines given to babies in their first year.  So what does that tell us?  That we should all immediately move to Singapore as soon as we get preggers?
No, this tells us that we Americans should stop bitching all the time about how Big Government (under pressure from the Big Pharma lobby of course) is taking away our very right to chose whether or not to have our babies inundated with huge doses of preservatives and fillers before they are even out of diapers, and about how over-selling drugs to our elders has become such a profitable racket — and instead just be grateful that now only our strongest babies and most viable old people survive, and that Big Pharma is culling our herd.
I mean really.  Who the freak wants a weak baby or an old person who can no longer produce and will retire or be hospitalized before reaching age 90?  "Man up, babies.  Old guys, stop being wimps."
The Skirmish in the Spratlys…
"Washington is not looking for peace or war. They're looking for domination. If they can achieve domination peacefully – that's fine. If they can't, they'll use war. It's that simple."

— William Blum, Interview with Russia Today

"The U.S. is frantically surrounding China with military weapons, advanced aircraft, naval fleets and a multitude of military bases from Japan, South Korea and the Philippines through several nearby smaller Pacific islands to its new and enlarged base in Australia…. The U.S. naval fleet, aircraft carriers and nuclear submarines patrol China's nearby waters. Warplanes, surveillance planes, drones and spying satellites cover the skies, creating a symbolic darkness at noon."

— Jack A. Smith, "Hegemony Games: USA vs. PRC", CounterPunch
The vast build up of military assets in the Asia-Pacific signals a fundamental change in U.S. policy towards China. Washington no longer believes that China can be integrated into the existing US-led system. Recent actions taken by China– particularly the announcement that it planned to launch an Asian Infrastructure Investment Bank (AIIB) that would compete head-to-head with the World Bank and IMF— have set off alarms in the Capital where behind-the-scenes powerbrokers and think tank pundits agree that a more "robust" policy is needed to slow China's ascendency. The current confrontation in the South China Sea–where the US has demanded that China immediately cease all land reclamation activities–indicates that the new policy has already been activated increasing the prospects of a conflagration between the two nuclear-armed adversaries.
There's no need to go over the details of China's land reclamation activities in the Spratly Islands since reasonable people can agree that Washington has no real interest in a few piles of sand heaped up on reefs 10,000 miles from the United States. The man-made islands pose no threat to US national security or to freedom of navigation. The Obama administration is merely using the Spratlys as a pretext to provoke, intimidate and harass Beijing. The Spratly's provide a justification for escalation, for building an anti-China coalition among US allies in the region, for demonizing China in the media, for taking steps to disrupt China's ambitious Silk Roads economic strategy, and for encircling China to the West with US warships that threaten China's access to critical shipping lanes and vital energy supplies. This is the ultimate objective; to bring China to its knees and to force it to comply with Washington's diktats. This is what Washington really wants.
In a recent speech at the Shangri La Dialogue in Singapore, US Secretary of Defense Ashton Carter said that "there is no military solution to the South China Sea disputes." Just moments later, and without a trace of irony, Carter rattled off a long list of military assets the Pentagon plans to deploy to the Asia-Pacific to shore up US offensive capability. The list includes "the latest Virginia-class [nuclear] submarines, the Navy's P-8 Poseidon surveillance aircraft, the newest stealth destroyer, the Zumwalt, and brand-new carrier-based E-2D Hawkeye early-warning-and-control aircraft." The Pentagon is also going to add "new unmanned systems for the air and sea, a new long-range bomber, (an) electromagnetic railgun, lasers, and new systems for space and cyberspace, including a few surprising ones."
For someone who doesn't believe in a military solution, Carter is certainly adding a lot of lethal hardware to his arsenal. The question is: Why? Is Washington preparing for war?
Probably not. The United States does not want a war with China. What Washington wants is to be the dominant player in this century's most promising and prosperous market, Asia. But China's meteoric growth has put Washington's plan at risk, which is why Obama is wheeling out the heavy artillery. The anti-China coalition, the China-excluding trade agreements (TPP) and the unprecedented military build up are all aimed at preserving Washington's dominant role without actually starting a war. The administration thinks that the show of force alone will precipitate a change in behavior. They think China will back down rather than face the awesome military power of the American empire. But will it? Here's another clip from Carter's speech at Shangri La:
The United States will continue to protect freedom of navigation and overflight – principles that have ensured security and prosperity in this region for decades. There should be no mistake: the United States will fly, sail, and operate wherever international law allows, as U.S. forces do all around the world.

America, alongside its allies and partners in the regional architecture, will not be deterred from exercising these rights – the rights of all nations. After all, turning an underwater rock into an airfield simply does not afford the rights of sovereignty or permit restrictions on international air or maritime transit.
Who is Carter kidding? China poses no threat to freedom of navigation or overflight. The real threat is China's participation in the $100 billion BRICS Development Bank which is set to finance some of the "largest projects of the modern history (including) the construction of new Eurasian infrastructure from Moscow to Vladivostok, in South China and India." The so called BRICS (Brazil, Russia, India, China and South Africa) "represent 56% of world economic output, and account for 85% of world population. They control about 70% of the world's foreign exchange reserves. They grow annually by an average of 4% —5%." (Sputnik News) In other words, US-backed institutions are going to lose their exalted role as "underwriter for the global economy" because the world's biggest infrastructure projects are going to be funded by China and its allies. Naturally, this doesn't sit well with Washington where policy bigwigs are worried that US influence will gradually erode as global power inevitably shifts eastward.
US hegemony is also threatened by China's Sino-centric economic policy which author Robert Berke sums up in an article on Oil Price.com titled "New Silk Road Could Change Global Economics Forever". Here's an excerpt from the article:
China is building the world's greatest economic development and construction project ever undertaken: The New Silk Road. The project aims at no less than a revolutionary change in the economic map of the world…The ambitious vision is to resurrect the ancient Silk Road as a modern transit, trade, and economic corridor that runs from Shanghai to Berlin. The 'Road' will traverse China, Mongolia, Russia, Belarus, Poland, and Germany, extending more than 8,000 miles, creating an economic zone that extends over one third the circumference of the earth.

The plan envisions building high-speed railroads, roads and highways, energy transmission and distributions networks, and fiber optic networks. Cities and ports along the route will be targeted for economic development.

An equally essential part of the plan is a sea-based "Maritime Silk Road" (MSR) component, as ambitious as its land-based project, linking China with the Persian Gulf and the Mediterranean Sea through Central Asia and the Indian Ocean. When completed, like the ancient Silk Road, it will connect three continents: Asia, Europe, and Africa. The chain of infrastructure projects will create the world's largest economic corridor, covering a population of 4.4 billion and an economic output of $21 trillion…

For the world at large, its decisions about the Road are nothing less than momentous. The massive project holds the potential for a new renaissance in commerce, industry, discovery, thought, invention, and culture that could well rival the original Silk Road. It is also becoming clearer by the day that geopolitical conflicts over the project could lead to a new cold war between East and West for dominance in Eurasia. The outcome is far from certain. ("New Silk Road Could Change Global Economics Forever", Robert Berke, Oil Price)
China is perfectly situated to take advantage of Asia's explosive growth. They've paid their dues, built up their infrastructure and industrial capability, and now they're in the catbird seat fully prepared to benefit from the fact that "Half of humanity will live in Asia by 2050″ and that "more than half of the global middle class and its accompanying consumption will come from that region." US corporations will be welcome to compete in these new markets, but they won't do nearly as well as businesses located in China. (This is why the Pentagon has been asked to intervene by powerful members of the corporate establishment.)
Washington's gambit in the Spratly's is an attempt to reverse the tide, derail China's current trajectory and insert the US as the regional kingpin who writes the rules and picks the winners. As Sec-Def Carter said in an earlier speech at the McCain Institute in Arizona, "There are already more than 525 million middle class consumers in Asia, and there will be 3.2 billion in the region by 2030." US corporations want the lion's-share of those customers so they can peddle their widgets, goose their stock prices and pump up their quarterly profits. Carter's job is to help them achieve that objective.
Another threat to US global rule is the aforementioned Asian Infrastructure Investment Bank (AIIB). The danger of the AIIB is not simply that it will fund many of the infrastructure projects that will be needed to integrate Europe, Asia and Africa into one giant free trade zone, but that the bank will replace key US-backed financial institutions (The IMF and World Bank) which have helped maintain Washington's iron-grip on the global system. As that grip progressively loosens, there will be less need for cross-border transactions to be carried out in US dollars which, in turn, will threaten the dollar's role as the world's reserve currency. As author Bart Gruzalski notes in his excellent article at Counterpunch, "China and Russia are creating alternatives that threaten the dollar's status as the sole dominant international currency. By instituting trade alternatives to the dollar, they challenge the value of the dollar and so threaten the US economy." ("An Economic Reason for the US vs. China Conflict", Bart Gruzalski, CounterPunch)
Former Treasury Secretary Larry Summers offered a particularly bleak assessment of the AIIB flap in an editorial that appeared in April in the Washington Post. He said:
This past month may be remembered as the moment the United States lost its role as the underwriter of the global economic system. True, there have been any number of periods of frustration for the United States before and multiple times when U.S. behavior was hardly multilateralist, such as the 1971 Nixon shock ending the convertibility of the dollar into gold. But I can think of no event since Bretton Woods comparable to the combination of China's effort to establish a major new institution and the failure of the United States to persuade dozens of its traditional allies, starting with Britain, to stay out. (Washington Post)
Summers goes on to acknowledge the threat that political dysfunction (on Capitol Hill) poses to "the dollar's primary role in the international system". It's clear that Summers grasps the gravity of what has unfolded and the challenge the AIIB poses to US hegemony. Readers should note that Summers ominous warnings were delivered just months before Washington dramatically revamped its China policy which suggests that the announcement of the AIIB was the straw that broke the camel's back. Shortly after, the Obama administration made "crucial changes" to the existing policy. Containment and integration were replaced with the current policy of intimidation, incitement and confrontation. Beijing was elevated to Public Enemy Number 1, America's primary strategic rival.
What happens next, should be fairly obvious to anyone who has followed US meddling in recent years. The US is now at war with China, which means that it will use all of its resources and capabilities, except it's military assets, to defeat the enemy. The United States will not militarily engage an enemy that can fight back or inflict pain on the US. That's the cardinal rule of US military policy. While that precludes a nuclear conflagration, it does not exclude a hyperbolic propaganda campaign demonizing China and its leaders in the media (Sadly, the comparisons to Hitler and the Kaiser have already started), asymmetrical attacks on Chinese markets and currency, excruciating economic sanctions, US-NGO funding for Chinese dissidents, foreign agents and fifth columnists, intrusions into China's territorial waters and airspace, strategic denial of critical energy supplies, (80 percent of China's oil supplies are delivered via the Malacca Strait to the South China Sea) and, finally, covert support for "moderate" jihadis who are committed to toppling the Chinese government and replacing it with an Islamic Caliphate. All of these means and proxies will be employed to defeat Beijing, to derail its ambitious Silk Roads strategy, to curtail its explosive growth, and to sabotage its plan to be the preeminent power in Asia.
Washington has thrown down the gauntlet in the South China Sea. If Beijing wants to preserve its independence and surpass the US as the world's biggest economy, it's going to have to meet the challenge, prepare for a long struggle, and beat Uncle Sam at his own game.
It won't be easy, but it can be done.
The South China Sea (SCS) is fast becoming one of the key geopolitical battlegrounds of our time. China's systematic, rapid and large-scale island-building campaign has suddenly altered the strategic equation in "Asia's Mediterranean." It has also presented Washington with a long-term strategic dilemma in the Western Pacific.
There are literally dozens of disputed islands, atolls, submerged banks, reefs, rocks and shoals in the SCS. Incompatible territorial claims involving China, Vietnam, Malaysia and the Philippines have been the subject of legal wrangling and rhetorical bickering for years. In recent months China has suddenly upped the ante with its Spratly Island building expansion on the Johnson, Cuarteron, and Gaven reefs. Over Fiery Cross Reef and, more recently, Mischief Reef, fleets of dozens of dredgers have been continually sucking sand off the bottom of the sea and blowing it in huge plumes to create new land above the surface, while simultaneously digging deep harbors. What used to be reefs barely visible above the waves are now massive building projects which already house permanent air and naval facilities. Since early last year China has expanded these islands by 2,000 acres – and the work of its engineering teams appears to be far from over. Future likely flashpoints are the Scarborough Shoals (claimed by Philippines and China), and the Paracel Islands, already occupied by China but still claimed by Vietnam.
For China, asserting control over the disputed zone is seen as a near-existential issue. The UN Environmental Program (UNEP) estimates that the South China Sea currently accounts for as much as one tenth of global fish catches. China will have no more than 20 percent of the world's population by 2030, but she will account for 38 percent of global fish consumption by that time. Energy-hungry China is also hoping to exploit massive likely deposits of oil and gas below the SCS surface, if and when its fait accompli is accepted as irreversible.
The series of man-made islands and the massive Chinese military build-up on them have alarmed Washington, with the U.S. Navy carrying out P8-A Poseidon surveillance flights over the new islands. Ten days ago former CIA Deputy Director Michael Morell told CNN's Erin Burnett Wednesday night that the confrontation indicates there is "absolutely" a risk of the U.S. and China going to war sometime in the future. "China is a rising power. We're a status quo power. We're the big dog on the block . . . They want more influence," Morell said. "Are we going to move a little bit? Are they going to push? How is that dance going to work out? This is a significant issue for the next President of the United States."
It is indeed. The challenge that the rise of China presents to the United States global strategy ascurrently concieved is more pressing than any other global issue except for the ever-present threat ofjihad. Beijing is rapidly becoming a regional power of the first order, the potential Asian hegemon that will need to be contained and confronted, or in some way appeased. Its ruling party still calls itself "communist," but the ethos of the nomenklatura is eminently traditional: nationalist, xenophobic, and authoritarian. The sacro egoismo has been China's guiding light in foreign affairs for over two millennia.
With the demise of Maoism, Han nationalism is the only ideological cement that binds the nation under CPC rule, granting it legitimacy. Nurtured by the collective memory of humiliations, invasions and massacres that started with the First Opium War in 1839, it is a potent force. Taiwan epitomizes the legacy of past shame. She was taken by force by Japan and ruled as a colony for 50 years (1895-1945). To condone her separation, under whatever name, would be tantamount to accepting the status of a second-class power. Furthermore, a soft line on Taiwan would have serious implications for the future status of Tibet and – even more significantly – for the restive Muslim-populated Sinkiang-Uigur province in the far west of the country.
The choice facing the United States is fairly clear. China is an ancient power, studiedly contemptuous of outsiders, steeped in Realpolitik. If she is to be treated as a rival and potential enemy, it is necessary to halt further American investment in the Chinese economy, to reverse massive outsourcing of the past quarter-century, and to erect effective trade barriers against the continuing deluge of Chinese-made consumer products in American stores. It is also necessary to improve defense capabilities of China's regional foes – from Japan and South Korea in the north to the Philippines and (yes) Vietnam in the south – who are not necessarily on friendly terms with each other. The geopolitical equation of containing and confronting China also demands an alliance, informal or otherwise, between the United States and India, which is, in the long term, China's sole natural rival in Asia.
If the list is unappetizing or even impossible to fulfill (India), then the alternative is to accept the rise of China as a first-order power, and to do so with the best possible grace. Exactly ten years ago I wrote in these pages that "a reigning power is naturally disinclined to look on benignly as another rises, but the middle road would be based on the notion that a conflict between America and China is not inevitable. The relationship will need to be managed skillfully – with more reciprocity in the field of trade and exchange rates – but its essential ingredient will be to accept that Taiwan is part of China and that she will eventually be reintegrated . . . "
The diagnosis still stands, and China is in no hurry. She is the fastest growing among the world's major economies; per capita basis, her growth over the past two decades was the highest in the world. That Western-style political liberties have not kept pace with China's increasing economic freedom is true but irrelevant. A decade from now she will be a great power of the first order. In foreign affairs, her leaders will continue to trust China's wealth and power as a means of achieving diplomatic objectives and treating a strong defense as an outgrowth of a strong economy.
The current tension in the SCS notwithstanding, countries of the region will be hard pressed to negotiate the terms and conditions of an acceptable relationship with Beijing that would fall short of China's outright hegemony. At the same time, it is self-defeating for the U.S. to assume that anychange of the status quo in Asia is detrimental to American interests. As China continues to transform herself into a global economic power, her interests, security concerns, and aspirations will be asserted with ever-greater self-confidence. The task of U.S. policy in East and Southeast Asia should be to consider whether, and to what extent, those aspirations are compatible with American interests and security. Ultimately the American interest demands a pragmatic acceptance of the emerging redistribution of power in Asia, and – on the global scale – policies that will seek to manage, rather than resist, the emerging multipolar structure.
"The sand beneath our feet is saturate with blood of martyrs; and these rifted stones are awful witnesses against a people whose pleasure was the pain of dying men." Cavalieri, in "Michael Angelo: A Fragment",  Henry Wadsworth Longfellow
The Mayweather-Pacquiao fight is coming up and regardless of the result Mayweather will be millions of dollars richer than he is today.  Tickets printed at prices of $1,500 to $7,500 and are being scalped in the six figure range.  Mayweather recently voiced a typical Black attitude when he complained that his current net worth of $275 million would be in the billions if he was White. Read here. It is very difficult to please people who are void of gratitude.
America's Black population has been primed for resentment for the past several decades.  Slavery has been publicized with the same vigor as the Holocaust and has been used to indict succeeding generations for prejudices and actions they neither harbor nor approve.
Invariably missing in the racial dialogue is the inordinate statistical difference in the Black crime rate which is about 7 times higher than the White population.  The American press never publishes the correct figures instead it presents the public with a destructive distortion.
For every Black killed by a White person 18 Whites are killed by Blacks.  When the Black crime rate Is adjusted for population the figure 7 times higher rises to an astounding 50 times higher. Read here.
The Neocon owners of the American press and media seem devoted to inciting Black citizens to riot. See current unrest in Baltimore here.  Their coverage is not only biased but blatantly fosters a view of the Black condition that is false.  Pat Buchanan writes, "We are now half a century on from the Civil Rights Act of 1964. African Americans have risen out of poverty and the working class to become successes as actors, artists, athletes, executives, politicians, TV anchors, journalists, scholars, generals, authors, etc."
In spite of the tyrannical legislation that mandated Black equality the Black race has steadily progressed.  The progress is never recognized because the press and Black leaders falsely create the impression that prejudice is keeping then from realizing success.
Sadly, a larger portion of American Blacks remain convinced that the White population is their enemy.  Instead of gratitude they harbor a feeling that killing or stealing from a White person is a badge of honor.  As long as their leaders and the powerful American press cultivate this attitude peace will be impossible.
Society views Jewish Americans and Black Americans sympathetically as oppressed and suffering races – the Jews from the Holocaust and the Blacks from Slavery. Both of these archaic tragedies have been used to create sacrosanctity.  This eminence makes honest discourse impossible and allows racial problems to fester. That this attitude has been created with ulterior motives by our press and media and power hungry Black and Jewish leaders does not alter reality.  The hatred for American society is very real.
Blacks and Jews are pragmatic and they use their power despitefully against a system that has been their benefactor.  Until truth begins to permeate the current scene personal threats and riots will be used to further bleed a benevolent system.
As America continues to digest the riots in Ferguson, Missouri, and the current riots in Baltimore it is interesting to note that our nation has a history of violent behavior that goes back to the founding era!
In the mid-Seventeenth Century before the America Revolution, Britain claimed ownership of the colonies and the right to levy taxes ostensibly to cover the cost of protecting the colonies.
The right to tax was upheld by most of the members of Parliament and by some colonial leaders; but to the citizens, who had created civilization in the New World, taxation without representation was anathema.
There were strong feelings involved in this conflict.  Colonial citizens wanted and thought they deserved some independence while in Britain the Parliament was affronted that their dominion was being challenged.
With help from a stirring oratory by young Patrick Henry an angry resistance developed against a British tax called the Stamp Act.  Though the potential taxes collected under the act would probably have been insignificant the act of levying this tax created suspicions of tyranny that aroused freedom-loving citizens.  British troops had been left in the colonies following the Seven Year War . and the presence of these troops contributed to as barrage of conspiracy theories that swept through the colonies.
According to Robert Middlekauff's  book "The Glorious Cause"  fighting between factions in Massachusetts had already been vicious before the passage of the Stamp Act; "clubs, bricks, stones, and fists" were instruments of warfare. The new affront to their freedom solidified these mobs against the common enemy and put British agents in the colonies in danger.  Andrew Oliver supposedly appointed as a Distributor of Stamps in Massachusetts was one of these men.
It was rumored that Oliver stood to profit from the Stamp Act this incensed the mob which created an image of Oliver and beheaded it in front of his house.  They burned the beheaded image and proceeded to break all of the windows in the house.  There was a call to find Oliver and kill him.  They searched his house but he had already fled.  Frustrated, they broke up his furniture.  It turned out that Oliver's appointment had not yet arrived from Britain and he promised to resign as soon as it did.
A few day later another British agent, Thomas Hutchinson, came under the ire of the mob.  He was related to Oliver and was considered brave and proud.  His house was big and luxurious.  Seeking to humble him the mob patiently destroyed his beautiful home.  Middlekauff writes, "Virtually everything moveable within was destroyed or stolen – papers, plate, furniture, clothing, and sterling – and what could not be moved – walls, partitions, and roof – were severely battered.  The handsome cupola was cut off, a demolition that took three hours, and much of the slate roof was pulled down."  The wrecking crew worked until dawn and when they were finished a part of the roof and several brick walls were all that survived.
United States of America was founded by immigrants coming from tyrannical regimes in Europe.  They found freedom in the new world.  Freedom was the object of the great sacrifice necessary to travel to the new world.  It was the ultimate jewel.  The loss of freedom was fresh in the minds of these hardy people and when any sign of superiority reared its ugly head they were quick to react in violence.
Though the government was often dishonest with the Indian population it was the citizens themselves who often defied the proscribed borders and settled land that was designated for the Indians.
Policemen played a minor role in Colonial culture.  This, coupled with an action oriented populace allowed frequent rioting.  In his book "Rioting in America" Paul Gilje records a litany of colonial riots.
In 1677 a group of fishermen in Marblehead, Massachusetts captured two Indians they planned to barter for property the tribe had stolen from them while they fished off the shores of Maine.  When they brought the Indians into Marblehead Indian hating housewives stoned them to death and cut off their heads.
War and violent behavior has been common to every civilization.   When opposing perspectives meet each finds truth and justice in their view. Humanistic atheism has a perspective that conflicts with Theonomic Christianity.  This battle is currently raging in the world
Human beings are maligned by sin.  Sin causes us to make improper decisions and to react with anger when our ideas and plans are challenged.  We really do not want to obey God, instead we want to be God and decide for ourselves what is right and wrong.  Sin is ubiquitous; it can be seen in Christians as well as pagans.  Sin leads to the creation of opposing religions and plants the seed for war and strife.
Our hope is in the progress of Christianity in the world; more and more people must view the world from a Christian perspective.  When God brings in His harvest and Christians begin to obey Him by making His Law the basis for civil behavior the world will have a chance at peace.  There are encouraging signs in China where a Christian revival is challenging the Communist government.  Read here.
As the Twenty-First Century progresses the White population of the United States of America is surprisingly placid.  Violence seems to be the domain of American imperialism, of Blacks, and of the nation's local police forces.
War has resulted in a serious potential loss of freedom but neither the loss of freedom nor the wars have had much effect on our way of life.  While are military forces are killing thousands of civilians, destroying property, and creating chaos in the Middle East, life at home goes on with little notice.
Both the Black and the White population suffer from the absolute authority now vested in our police.  It is more noticeable in Black communities because crime is more common.  Blacks protest but Whites remain silent.  Black citizens are a danger to White Americans and most are willing to put up with police despots for protection.
From being keepers of the peace policemen have become unequivocal enforcers of the law.  They are no longer responsible for using reasonable judgment.  A mere traffic violation can escalate into an arrest and even a death.  Innocent civilians are unnecessarily ordered about by policemen and charged with crimes if they disobey.  This kind of arrogance produces resentment.
Our problem with police officers comes from the basic rules that govern their behavior.  In another era they were called peace officers and were vested with the responsibility of maintaining a just and peaceful society.  Today they are law enforcement officers vested with the responsibility of enforcing the law.  The difference is quite substantial: enforcement has a strong arm connotation while peace is conciliatory.
In the presence of a police officer citizens have no rights. They are the consummate dictators whose every word must be immediately obeyed.  Failure to obey results in arrest and handcuffs.  This attitude comes from their leadership.  The police are taught to demand acquiescence.
It is no longer the duty of police to protect citizens; their duty is to arrest law breakers.  This is the reason savvy lawyers advise us to call the police only under the most dire conditions.
Suicide by police has become a recognized procedure.  Police will shoot first and ask questions later.  Point a gun at a policeman and you will be killed in a hail of bullets.
When policemen enter your home they may make a note of a theft or a burglary but they will also arrest you if they find any breach of current legal standards and since they know more about the law than most citizens you are at a disadvantage.
Policemen are paid to be public servants and it is time they are taught to respect innocent civilians.  Convicted criminals have lost their right to be free but innocent civilians have not; Black or White, they should be treated with respect even when minor violations are involved.
They are public servants they are not dictators.  Even though we have so many laws there can be reason to arrest almost anyone, the general public should always be treated with respect.  Necessary instructions should be obeyed but requests should be courteous and reasonable.
If law and order is ever to return to our society the police must regain the respect of the general public.
Does anyone in the country want to see another Bush vs. Clinton presidential race? If they do, they have a death wish for America.
It is not uncommon these days to hear people refer to Jeb and Hillary as the "royals." And, while I'm glad that a lot of people seem to have a natural revulsion to having another Bush or Clinton in the White House, the fact is, the Bushes and Clintons are not two "royals." They are one CRIME FAMILY.
One of the greatest hoaxes of modern times was the façade that the Bush and Clinton families were political adversaries, when the truth is, they have all been "best buds" for most (if not all) of their political careers. For anyone who wants to research the veracity of what I am saying (with an honest and open mind), it will take almost no time to be convinced. The recent reports about foreign influence and money that have poured into the Clinton coffers are nothing new and are just the tip of the iceberg.
While there is no way that we can know the totality of all that this international Crime Family is guilty of, there is enough evidence and eyewitness testimony out there to convince even the most stubborn skeptic that these people are among the most despicable trolls in the world. If we had a semblance of a free and independent national news media, the Bushes and Clintons would have already been exposed as the miscreants they are and would be serving life sentences in prison–which is where they all belong. (Of course, that could be said for a bunch of those criminals in Washington, D.C.)
We hear much talk about the "lesser of two evils." Well, folks, I'm here to tell you that Jeb Bush and Hillary Clinton are the worst of evils. Both of these people are owned lock, stock, and barrel by the international elite who are hell-bent on destroying capitalism, free enterprise, constitutional government, and yes, the sovereignty and independence of the United States. There is no substantial difference between them. They may have two different last names, and claim to represent two different political parties and ideologies, but, again, they are members of the same cabal of international gangsters. And between the two, Jeb is probably more dangerous.
Despite the best attempts by the propaganda press to keep Hillary's crimes under wraps, the skeletons are starting to fall out of the closet. It will be virtually impossible to keep them from developing into full-fledged scandals in forthcoming months. Hillary is damaged goods. In fact, Hillary is NOT even electable. I repeat: Hillary is NOT electable. The only way that Hillary will even obtain the Democratic nomination is if the power elite want to offer her up as a political sacrifice so Jeb (or another controlled Republican) can be the next President. The fact that New York newspapers are already breaking the foreign-cash scandal against Hillary is illustrative of what I'm saying. But if it looks like they cannot cram Jeb Bush down the throat of the Republican Party, and there is too much popular resistance to Bush, they might decide to let so many skeletons out of the closet that Hillary would not be able to even win the nomination.
As for Jeb Bush, he is the quintessential neocon: he loves Big Business, the U.S. Chamber of Commerce, and, especially, Big Banks and the Federal Reserve. He loves perpetual war; he loves the military-industrial complex; he loves open borders; he loves the DHS, the Patriot Act, and a domestic Police State. And Jeb Bush knows where the bodies are buried. He knows virtually every skeleton in every closet in Washington, D.C.–and in foreign capitals.
Jeb and his fellow globalist robot, Benjamin Netanyahu, are international gangsters of the highest (or lowest, depending on how one looks at it) order. With the two of them in power at the same time, WATCH OUT! The Warfare State and Police State would grow exponentially. War in the Middle East would become as hot as hot can be. Jeb and Bibi would take the world to the precipice of, or into, World War III.
Skull & Bones, the Rothschilds, Bohemian Grove, CFR, Trilateral Commission, Bilderbergs: Jeb is in the shadow of all of it. Jeb Bush is the Darth Vader of 2016. And with virtually unlimited money and a questionable voting system–not to mention the support of virtually the entire international banking system, military-industrial system, and corrupt foreign leaders in his pocket–he is going to be a most formidable candidate. The media is already skewing poll numbers to make it appear that Jeb Bush is popular with grassroots Republicans. Media manipulation of opinion in favor of Bush has only begun. It will proliferate tremendously in the months to come.
If Jeb Bush is elected President of the United States, he will make Barack Obama's terms in office look downright benign by comparison.
However, the global elite do not always get their way. Jeb's nomination is far from locked up. He is almost universally despised among grassroots conservatives. They know he is a Big Government neocon. His support for Obama's executive amnesty for illegals, his support for Common Core, his support for Loretta Lynch, his infatuation with Lyndon Johnson, etc., have raised major red flags with genuine conservatives. It is yet to be seen if GOP grassroots conservatives can rise up against Bush in sufficient numbers to derail his candidacy–but they might.
Of course, the second scenario is that the power elite might use Bush as a smokescreen to pave the way for someone equally controlled. The field of GOP contenders is littered with neocons: Chris Christie, Marco Rubio, Scott Walker, Mike Huckabee, Lindsey Graham, Ben Carson, Carly Fiorina, John Kasich, Bobby Jindal, Bob Sasse, etc. (Forget about Mike Pence; he killed any presidential aspirations he may have had with his embarrassing flip flop over the religious freedom issue in his home State of Indiana.) If conservatives derail Jeb Bush in the primaries–and if the media keeps Hillary Clinton in the race–you can know that this second scenario is the one the elites are using.
Again, if the elites plan on a Democrat taking the White House next year, they will remove Hillary from the race. Otherwise, they plan to play the same old "throw-the-bums-out" game and replace a controlled establishment Democrat with a controlled establishment Republican in 2016. In like manner, they replaced a controlled establishment Republican with a controlled establishment Democrat in 2008. In that race, John McCain was the sacrificial lamb. If this is the same game plan for 2016, Hillary Clinton will be the sacrificial lamb. This two party charade has been going on forever. One would think that sooner or later the American people would catch on; but they seem to never do.
Thus far, the only two Republican candidates who are outside the blessing of the global elite are Ted Cruz and Rand Paul. So, you can mark this down and take it to the bank: the Republican establishment and propaganda media will do everything in their power (which is substantial) to make sure that neither of these men obtain the nomination.
I have written preliminary reviews of both Ted Cruz and Rand Paul.
My review of Ted Cruz is here:
My review of Rand Paul is here:
Without a doubt, New World Order globalists have been active in many presidential administrations, beginning with the man who started it all: Abraham Lincoln. Of course, some administrations have been worse than others: Woodrow Wilson, Franklin Roosevelt, Lyndon Johnson, for example. But in the modern era, George H.W. Bush introduced America to the neocon agenda–complete with perpetual war and a burgeoning Police State. And every single presidential administration since Bush I (Clinton, Bush II, and Obama) has merely continued and escalated this agenda. For all intents and purposes, America has had only one continuous presidential administration since Bush I. And the globalists will do their very best to insure that this agenda continues unabated into the next presidential administration, be it Republican or Democrat.
But Jeb Bush and Hillary Clinton represent the very pinnacle of the ideal globalist-controlled candidate. If you value your liberties at all, you better pray to God that neither of these people is elected President next year. As I said, anyone who would want to see a Jeb Bush vs. Hillary Clinton presidential race in 2016 has a death wish for America.
"The U.S. must show the leadership necessary to establish and protect a new order that holds the promise of convincing potential competitors that they need not aspire to a greater role or pursue a more aggressive posture to protect their legitimate interests…..We must, however, be mindful that…Russia will remain the strongest military power in Eurasia and the only power in the world with the capability of destroying the United States."

–The Wolfowitz Doctrine, the original version of the Defense Planning Guidance, authored by Under Secretary of Defense Paul Wolfowitz, leaked to the New York Times on March 7, 1992

"For America, the chief geopolitical prize is Eurasia…and America's global primacy is directly dependent on how long and how effectively its preponderance on the Eurasian continent is sustained."

-THE GRAND CHESSBOARD – American Primacy And It's Geostrategic Imperatives, Zbigniew Brzezinski, page 30, Basic Books, 1997
The Laussanne negotiations between Iran and the so called P5+1 group (the United States, Russia, China, France, Britain, and Germany) have nothing to do with nuclear proliferation. They are, in fact, another attempt to weaken and isolate Russia by easing sanctions, thus allowing Iranian gas to replace Russian gas in Europe. Laussanne shows that Washington still thinks that the greatest threat to its dominance is the further economic integration of Russia and Europe, a massive two-continent free trade zone from Lisbon to Vladivostok that would eventually dwarf dwindling US GDP while decisively shifting the balance of global power to Asia. To counter that threat, the Obama administration toppled the elected government of Ukraine in a violent coup, launched a speculative attack on the ruble, forced down global oil prices, and is presently arming and training neo-Nazi extremists in the Ukrainian army. Washington has done everything in its power to undermine relations between the EU and Russia risking even nuclear war in its effort to separate the natural trading partners and to strategically situate itself in a location where it can control the flow of vital resources from East to West.
Laussanne was about strategic priorities not nukes. The Obama administration realizes that if it can't find an alternate source of gas for Europe, then its blockade of Russia will fail and the EU-Russia alliance will grow stronger. And if the EU-Russia alliance grows stronger, then US attempts to extend its tentacles into Asia and become a major player in the world's most prosperous region will also fail leaving Washington to face a dismal future in which the steady erosion of its power and prestige is a near certainty. This is from an article titled "Removing sanctions against Iran to have unfavorable influence on Turkey and Azerbaijan":
"If Washington removes energy sanctions on Iran…then a new geopolitical configuration will emerge in the region. Connecting with Nabucco will be enough for Iran to fully supply Europe with gas…

Iran takes the floor with inexhaustible oil and gas reserves and as a key transit country. Iran disposes of the 10% of the reported global oil reserves and is the second country in the world after Russia with its natural gas reserves (15%). The official representatives of Iran do not hide that they strive to enter the European market of oil and gas, as in the olden days. Let's remember that the deputy Minister of Oil in Iran, Ali Majedi, offered to revive project of Nabucco pipeline during his European tour and said that his country is ready to supply gas to Europe through it…

"Some months earlier the same Ali Majedi reported sensational news: 'two invited European delegations' discussed the potential routes of Iranian gas supply to Europe," the article reads." … It is also noted that the West quite materially reacted to the possibility of the Iranian gas to join Nabucco." (Removing sanctions against Iran to have unfavorable influence on Turkey and Azerbaijan, Panorama)
So, is this the plan, to provide "energy security" to Europe by replacing Russian gas with Iranian gas?
It sure looks like it. But that suggests that the sanctions really had nothing to do with Iran's fictitious nuclear weapons program but were merely used to humiliate Iran while keeping as much of its oil and gas offline until western-backed multinationals could get their greasy mitts on it.
Indeed, that's exactly how the sanctions were used even though the nuclear issue was a transparent fake from the get go. Get a load of this from the New York Times:
"Recent assessments by American spy agencies are broadly consistent with a 2007 intelligence finding that concluded that Iran had abandoned its nuclear weapons program years earlier, according to current and former American officials. The officials said that assessment was largely reaffirmed in a 2010 National Intelligence Estimate, and that it remains the consensus view of America's 16 intelligence agencies." (U.S. Agencies See No Move by Iran to Build a Bomb, James Risen, New York Times, February 24, 2012)
See? The entire US intelligence establishment has been saying the same thing from the onset: No Iranian nukes. Nor has Iran ever been caught diverting nuclear fuel to other purposes. Never. Also, as nuclear weapons physicist, Gordon Prather stated many times before his death, "After almost three years of go-anywhere see-anything interview-anyone inspections, IAEA inspectors have yet to find any indication that Iran has — or ever had — a nuclear weapons program."
The inspectors were on the ground for three freaking years. They interviewed everyone and went wherever they wanted. They searched every cave and hideaway, every nook and cranny, and they found nothing.
Get it? No nukes, not now, not ever. Period.
The case against Iran is built on propaganda, brainwashing and bullshit, in that order. But, still, that doesn't tell us why the US is suddenly changing course. For that, we turn to an article from The Brookings Institute titled "Why the details of the Iran deal don't matter" which sums it up quite well. Here's a clip:
"At heart, this is a fight over what to do about Iran's challenge to U.S. leadership in the Middle East and the threat that Iranian geopolitical ambitions pose to U.S. allies, particularly Israel and Saudi Arabia. Proponents of the deal believe that the best way for the United States to deal with the Iranian regional challenge is to seek to integrate Iran into the regional order, even while remaining wary of its ambitions. A nuclear deal is an important first step in that regard, but its details matter little because the ultimate goal is to change Iranian intentions rather destroy Iranian capability." (Why the details of the Iran deal don't matter, Brookings)
Notice how carefully the author avoids mentioning Israel by name although he alludes to "the threat that Iranian geopolitical ambitions pose to U.S. allies". Does he think he's talking to idiots?
But his point is well taken; the real issue is not "Iranian capability", but "Iran's challenge to U.S. leadership in the Middle East". In other words, the nuclear issue is baloney. What Washington doesn't like is that Iran has an independent foreign policy that conflicts with the US goal of controlling the Middle East. That's what's really going on. Washington wants a compliant Iran that clicks its heals and does what its told.
The problem is, the strategy hasn't worked and now the US is embroiled in a confrontation with Moscow that is a higher priority than the Middle East project. (The split between US elites on this matter has been interesting to watch, with the Obama-Brzezinski crowd on one side and the McCain-neocon crowd on the other.) This is why the author thinks that easing sanctions and integrating Iran into the predominantly US system would be the preferable remedy for at least the short term.
Repeat: "The best way for the United States to deal with the Iranian regional challenge is to integrate Iran into the regional order." In other words, if you can't beat 'em, then join 'em. Iran is going to be given enough freedom to fulfill its role within the imperial order, that is, to provide gas to Europe in order to inflict more economic pain on Russia. Isn't that what's going on?
But what effect will that have on Iran-Russia relations? Will it poison the well and turn one ally against the other?
Probably not, mainly because the ties between Iran and Russia are growing stronger by the day. Check this out from the Unz Review by Philip Giraldi:
"Moscow and Tehran are moving towards a de-facto strategic partnership, which can be easily seen by the two groundbreaking announcements from earlier this week. It's now been confirmed by the Russian government that the rumored oil-for-goods program between Russia and Iran is actually a real policy that's already been implemented, showing that Moscow has wasted no time in trying to court the Iranian market after the proto-deal was agreed to a week earlier. Providing goods in exchange for resources is a strategic decision that creates valuable return customers in Iran, who will then be in need of maintenance and spare parts for their products. It's also a sign of deep friendship between the two Caspian neighbors and sets the groundwork for the tentative North-South economic corridor between Russia and India via Iran." (A Shifting Narrative on Iran, Unz Review)
But here's the glitch: Iran can't just turn on the spigot and start pumping gas to Europe. It doesn't work that way. It's going to take massive pipeline and infrastructure upgrades that could take years to develop. That means there will be plenty of hefty contracts awarded to friends of Tehran –mostly Russian and Chinese–who will perform their tasks without interfering in domestic politics. Check this out from Pepe Escobar:
"Russia and China are deeply committed to integrating Iran into their Eurasian vision. Iran may finally be admitted as a full member of the Shanghai Cooperation Organization (SCO) at the upcoming summer summit in Russia. That implies a full-fledged security/commercial/political partnership involving Russia, China, Iran and most Central Asian 'stans'.
Iran is already a founding member of the Chinese-led Asian Infrastructure Investment Bank (AIIB); that means financing for an array of New Silk Road-related projects bound to benefit the Iranian economy. AIIB funding will certainly merge with loans and other assistance for infrastructure development related to the Chinese-established Silk Road Fund…" (Russia, China, Iran: In sync, Pepe Escobar, Russia Today)
Get the picture? Eurasian integration is already done-deal and there's nothing the US can do to stop it.
Washington needs to rethink its approach. Stop the meddling and antagonism, rebuild relations through trade and mutual trust, and accept the inevitability of imperial decline.
Asia's star is rising just as America's is setting. Deal with it.
Regular readers of this Corporatocracy series should have a firm grasp on the concept of Corporatism. However, the uninitiated might presume that a corporation is merely a vehicle for protecting the owners of the enterprise from the liability risks of conducting business. Much attention has been devoted to the economic conditions and aspects when examining the corporate structure. But modest effort is found in business journals that discuss the social consequences of consolidating the entire hierarchy of political favoritism, access to capital and protection from competition that is at the heart of the corporatist model.
Corporatism as Theory and Practice by Joseph R. Stromberg offers a historic perspective.
"Corporatism and corporations are not yet the same subject. The key word is "yet." If there is a relationship, it is historical. Very briefly, corporations — legally privileged from birth, pampered by courts, subsidized by Congress, with a social "in" with the most important state personnel — were likely, as ideal engines for accumulating capital, to produce unbalanced economic outcomes, mass discontent, and political unrest. Combine those engines with inherited dysfunctional institutions such as fractional-reserve banking, eminent domain, primitive military accumulation (e.g., the Indian wars), governmental distribution of resources, a venal party system, and a mighty executive, and you have a recipe for crisis. American elites recognized the danger fairly early. By trial and error they put together "corporate syndicalism" (Williams), "political capitalism" (Kolko), corporatism (varii), or "interest-group liberalism" (Lowi). It remained to be seen who (business or state?) would dominate the partnership. Hoover himself reflected in 1922 on the danger of "a syndicalist nation on a gigantic scale."
Out of such a context the 21th century version of corporatism maintains little effort to satisfy mass discontent of the populace, because the will to achieve an independent livelihood has been stamped out so wholly by the merged state/corporate system. Viewing this alliance as a partnership vying for dominance is a false outlook. In this new millennium, the globalist economy is under total control by a financial dictate that makes laws, writes regulations, enforces compliance, bankrupts companies not in the club, subsidizes crony ventures, and imposes access to capital as a reward for playing ball.
This is not Capitalism, it is demented Corporatocracy.
Don Quijones writes in Crunch Time for the Global Corporatocracy about the closed door negotiations for the Trans Pacific Partnership (TPP), the US-EU trade deal (TIPP) and TISA.
"The hyper-secret Trade in Services Act (TiSA), which seeks to bind together the U.S., the EU and 22 other Western-aligned nations under a new system of laws and regulations covering telecoms, water, gas, electricity, transport, financial and legal services, software design, electronic data, tourism, healthcare and a whole lot more, is infinitely worse. The treaty's text is designed to be almost impossible to repeal, and is to be "considered confidential" for at least five years after being signed."
Basically, the nature of all these destructive trade agreements is reducible to "The fact that we now live in a world dominated by highly undemocratic and unaccountable supranational organizations (the IMF, World Bank, WTO, EU…) is no mere accident."
Corporatism 101 is not taught in school or even debated in the mass media. It falls to online publications like Naked Capitalism to feature another persuasive argument by Mr. Quijones, which concludes.
"The rise of investor-state dispute settlements and the broad application of arbitration procedures are the ultimate victory in the global corporatocracy's decades-long coup d'état. If allowed to take universal effect, the system will impose above you, me, and our governments a rigid framework of international corporate law designed to exclusively protect the interests of corporations, relieving them of all financial risk and social and environmental responsibility. From then on, every investment they make will effectively be backstopped by our governments (and by extension, you and me); it will be too-big-to-fail writ on an unimaginable scale."
It seems that all the attention provided in business news is diverted away from the totality of integration under the auspices of a pseudo and hostile legal framework that only deepen the aggregate control over the social, political, economic and global functions, is silent by design.
So when Suarez-Villa, Luis, publishes in Globalization and Technocapitalism: the political economy of corporate power and technological domination, page 203, we all should take notice.
"It should not surprise, therefore, that a major objective of the fast neo-imperialism is to establish corporatocratic governance whenever and wherever campaigns of conquest happen to be carried out. Fast militarism thereby comes into the scene, whenever aggression is executive. Military conquest for its own sake is pointless, and the fast neo-imperialism has no real reason for being, unless the imposition of corporatocracy is part of the end game of conquest."
The re-establishment of a neo-feudalism is not a function of privatization, when market forces are unleashed from the choke hold that keeps real competition at bay. Allowing businesses to vie for consumer favor is healthy under a free market economy. Today, there are few examples where the corporatocracy allows for free trading in goods and services.
This is the important lesson that techno corporatism refuses to accept. As the bondage economy expands, the serfs become expendable. Since the consumer economy is shifting into a financial speculation arena, the elites see little reason for continued subsistence of the bottom feeders, since they are not needed to till their estates.
Knowing this object lesson is the actual answer to the Corporatism 101 studies.
Maybe Bruce E. Levine PhD should be teaching class. Get Up, Stand Up: Uniting Populists, Energizing the Defeated, and Battling the Corporate Elite, argues that "individuals must recover self-respect, and a people must regain collective confidence that they can succeed at eliminating top-down controls. Get Up, Stand Up describes how we can recover dignity, confidence, and the energy to do battle."
It all starts with a required understanding that the Corporatocracy economy is inherently destructive to individual liberty. If people are unable to learn this fact, life on earth will sink into oblivion.
Today many intellectuals and modern theologians slavishly follow after whatever passes for current trends in scientific and evolutionary theory, thus they believe the Genesis account ex nihilo, the supernatural, the fall, miracles, the Resurrection of Christ, hell, angels, demons and possession are out dated concepts.  Despite this, in 1967 Mortimer J. Adler, the guiding genius behind The Encyclopedia Britannica and Great Books of the Western World, predicted that belief in a spiritual reality would not only return but be considered orthodox science.  His prediction has come true, for today, Eastern-oriented occult pantheism (evolutionary New Age cosmic humanism (1) and esoteric neo-pagan materialism (evolutionary secular humanism) have nearly merged, making it difficult to distinguish one from the other.
Over the past three hundred years, the Western Christian tradition has slowly but steadily been eclipsed, first by scientific evolutionary materialism, now by Eastern-oriented scientific cosmic humanism which has infused and spiritualized the former, transforming it into an agency for the transmission of the naturalistic structure of the evolving universe of matter and psychic energy and other revelations from fallen angels and evil spirits.  This legion of disembodied beings call themselves everything from Transcended Masters to Maitreya, Semjase, the Council of Nine, Space Brothers and ancient Ennead of Egypt together with evil spirits going by such names as god, christ and jesus.  All of this has led Martin Lloyd-Jones to declare:
"The modern world, and especially the history of the present century, can only be understood in terms of the unusual activity of the devil and the "principalities and powers" of darkness…In a world of collapsing institutions, moral chaos, and increasing violence, never was it more important to trace the hand of the "prince of the power of the air."  If we cannot discern the chief cause of our ills, how can we hope to cure them?"  The Christian Warfare
In the space of a few short decades occult New Age spirituality (2) has made profound inroads. Its upsurge manifests itself in the form of everything from obsession with the paranormal, channeling cults, ghost-hunting, necromancy, light-bearers, spirit guides (3), goddess worship, shamanism, transcendental meditation and visualization (4), 'new' contemplative or centering prayer (5), the enneagram (6), labyrinth walking (7), yoga (8), Wicca (9), revitalized Norse paganism, transformational festivals (10), vampires (11), Ouija boards (12), poltergeists (13), the proliferation of 'new' religions and Lucifer as the Angel of Light:
"Medium and psychic Sylvia Browne admits there are dark entities that choose from the beginning to be this way, but she denies the devil. According to Browne, God sent Lucifer down to watch over people when God saw they had chosen "the dark side." According to Browne, "Lucifer is neither dark nor fallen. He wasn't rejected by God or banished from the light."  (The Dark Side: Beyond Good and Evil, Marcia Montenegro, Christian Answers for the New Age)
The hugely popular "new" contemplative or centering prayer (5) is a hybrid drawn from prayer practices of the Christian contemplative heritage fused with Eastern mysticism. The hybrid version,
"…originated in St Joseph's Abbey, a Trappist monastery in Spencer, Massachusetts. During the twenty years (1961-1981) when Keating was abbot, St Joseph's held dialogues with Buddhist and Hindu representatives, and a Zen master gave a week-long retreat to the monks. A former Trappist monk who had become a Transcendental Meditation teacher also gave a session to the monks. ….Centering prayer is essentially a form of self-hypnosis. It makes use of a "mantra," a word repeated over and over to focus the mind while striving by one's will to go deep within oneself. The effects are a hypnotic-like state…" (The Danger of Centering Prayer, Rev. John D. Dreher, Catholic Education Resource Center)
In the foreword to Philip St. Romains book, "Kundalini Energy and Christian Spirituality," Keating acknowledges that kundalini energy is the focus of the "new" Christian contemplative prayer. He states:
"Since this energy [kundalini] is also at work today in numerous persons who are devoting themselves to contemplative prayer, this book is an important contribution to the renewal of the Christian contemplative tradition. It will be a great consolation to those who have experienced physical symptoms arising from the awakening of kundalini in the course of their spiritual journey … Most spiritual disciplines world-wide insist on some kind of serious discipline before techniques of awakening kundalini are communicated. In Christian tradition … the regular practice of the stages of Christian prayer … contemplation are the essential disciplines…"  (Kundalini Energy (Serpent Power) Same as Contemplative Silence, lighthousetrailsresearch)
Psychical researcher J.D. Pearce-Higgins, vice chairman of the Churches Fellowship for Psychical and Spiritual Studies (Great Britain) writes of the hazards of Ouija board (11) use and automatic writing:
"These apparently simple methods of attempting contact…are extremely dangerous. (People will become) obsessed or possessed by some…damaging spirit who has got control of them and won't let go.  They are compelled to go on with automatic writing—at all hours of day and night (and) may begin to hear…voices telling them to do stupid and filthy things; they are no longer master in the house of their own minds and souls."  (ibid, pp. 129-130)
From England to Australia and New Zealand, from South America to E. Europe, Canada and the United States, occult  spirituality is quickly becoming the West's dominant orthodoxy, leading America's mainstream media to report:
"Neopaganism Growing Quickly: Numbers Roughly Double Every 18 Months in United States, Canada, and Europe." (Denver Post, June 26, 2008; How Evil Works, David Kupelian, p. 115)
"Sorcery Sells, and the Young are Buying" Atlanta Journal-Constitution, June 10, 2007 (ibid)
"Wicca is Believed to be One of the Fastest-Growing Religions Among High School and College Students" National Public Radio, May 13, 2004 (ibid)
In his book, "America's Schools: The Battleground for Freedom," Allen Quist warns:
"New Age religion is now aggressively being taught in our nation's public schools." A model curriculum has been developed that "is clearly centered on pantheism." "Much of what passes for environmental education and multiculturalism is really indoctrination in pantheistic/New Age theology. The ACLU and other similar organizations have no objections to (pantheistic indoctrination). It is only Christianity that these organizations object to." (p. 51)
Today millions of Westerners are risking everything to seek the occult world and its' alluring power. In "One or Two?" Dr. Peter Jones, Director of truthXchange and Adjunct Professor of New Testament at Westminster Seminary California writes that a wide variety of occult spirituality is now available.
There is something for everyone:
"A Course in Miracles, Alchemy, American Indian Quest, Ancient Mythology, Arkashic Record, Aryuvedic Medicine, Astrology, Bahai'i Unity, Buddhism, Buddhist/Christian Dialogue, Chakras, Channeling, Christian Monastic Mysticism, Crystals, Divination, Dream work, Druidism, Eastern Meditation, Eckankar (soul travel), Ecofeminism, Enneagram, EST, Feng Shui, Gnosticism (ancient and modern), Goddess worship, Hare Krishna, Hermeticism, Higher Self, Hinduism, Holism, Human Potential Movement, Hypnosis, I Ching, Iridology, Jungian Transpersonal Psychology, Kabbalah, Karma, Mandalas, Mantras, Mind-altering drugs, Parapsychology, Past Life Regressions, Reiki, Re-incarnation, Religious syncretism, Rolfing, Sacred Technologies, Santeria, Scientology, Shamanism, Sufism, T'ai Chi, Tantrism, Tarot Cards, Teilhardism, Therapeutic Touch, Tikkun, Transcendental Meditation, Ufology, Urantia Book, Visualization, Wicca, Yoga, Zen."  (pp. 40-41)
It is well documented that perversions, murder, possession and other evils, including human sacrifice, occur in Western witchcraft, Satanism and Eastern mysticism (e.g., tantric yoga) as well as pagan and pantheist occult religion in general.  In his "Occultism, Witchcraft and Cultural Fashions," the noted cultural anthropologist Mircea Eliade of the University of Chicago refers to the interconnections between European witchcraft and Hindu Tantric yoga.  He argues that "even a rapid perusal of the Hindu and Tibetan documents" reveals the connection:
"As a matter of fact, all the features associated with European witches are—with the exception of Satan and the Sabbath—claimed also by Indo-Tibetan yogis and magicians.  They too are supposed to fly through the air, render themselves invisible, kill at a distance, master demons and ghosts, and so on.  Moreover, some of(them) boast that they break all the religious taboos and social rules; that they practice human sacrifice, cannibalism, and all manner of orgies, including incestuous intercourse, and that they eat excrement, nauseating animals, and devour human corpses.  In other words, they proudly claim all the crimes and horrible ceremonies cited ad nauseum in the western European witch trials."  (Psychic Forces, Chapter 22, "The Occult History of Parapsychology," Clifford Wilson and John Weldon, pp. 341-49)
The very popular Tantra Kundalini yoga is based on the occultic chakra system which teaches that a universal evolutionary energy (Kundalini Shakti, the Supreme Power; serpent power) coiled at the base of the spine flows through human beings and through all of creation, uniting everything above and everything below, thus acknowledging divinity in all things and all people. Through strenuous yoga and other occult techniques outlined in ancient and modern texts, Kundalini Shakti uncoils and rises through seven "chakras" or power centers within the human body.  During so-called kundalini arousal, which may last for months or even years, protracted insanity and/or demonization must be endured.  In the words of power yogi Muktananda:
"I was assailed by all sorts of perverse and defiling emotions….my breathing (became) disturbed…my abdomen would swell with air…my mind was sick with fear (my)thoughts became confused, meaningless.   My limbs and body got hotter and hotter….Then I felt a searing pain…I wanted to run away, but my legs were locked tight in the lotus posture…..Then…a moonlike sphere…came floating in (it) struck against my eyes and…passed inside me…I was terrified (but) still locked in the lotus posture(with) my head forced down and glued to the ground….I started to make a sound like a camel, which alternated with the roaring of a tiger (I went) completely insane(and jumped and hopped) like a frog (while) my limbs (shook) violently. (Later) I learned that this was a Hatha Yoga process effected by the Goddess Kundalini in order for Her to move up through the spinal column into the sahasrana (upper psychic center.)"  (Play of Consciousness, Swami Muktananda, pp. 75-81, 84-85, 88-89)
With continued practice, surrender, and preparation, one day the kundalini current will reach full voltage and there will no longer be 'anybody home' but an unholy spirit residing in an empty shell of a body:
"The moment of power transfer had come….Muktananda (adept of Nityananda) was about to make the timeless journey….of the power yogi (the Siddha), but it required the catalytic power of the master guru, Nityananda…who was God to Muktananda, therefore worthy of worship as the supreme Deity.  The voyage of consciousness, prized by the ancients, would split Muktananda into fragments…Sometimes (his) body would writhe and twist like a snake's while a hissing sound would come from inside (him)."   Finally it happened—explosion, the point of no return where Muktananda "as an individual would be obliterated.  Superconscious states would take control of him, and his consciousness would be kicked out to more and more remote levels."   "In place of the former person was the walking void, the Unself, the hollow shell filled with the soul of the universe…"   (Riders of the Cosmic Circuit, Tal Brooke, pp. 36-45)
Like "new" contemplative prayer and other occultisms, yoga does not liberate; it enslaves and binds.  It does not enlighten but brings confusion and insanity.  It makes people immune to redemption through Christ,
"Yoga does not open the door for the Holy Spirit, but for spiritist spirits."  (Occult ABC: Exposing Occult Practices and Ideologies, Kurt E. Koch, p. 259)
Occult (Demonic) Bondage
According to Dr. Kurt Koch (1913-1987), a noted German theologian and minister with extensive personal experience in counseling and delivering thousands of people held in occult bondage, modern theologians who follow current scientific trends would be shocked by how many of the so-called scientists and intellectuals they slavishly follow have turned to occultism and spiritism (sorcery) and become demonized as a result.  Be they scientist or otherwise, all who trespass into Satan's domain by committing sins of sorcery will be harassed by the powers of darkness, irrespective of whether they take the step consciously or unconsciously.   Every sin of sorcery (occultism) cuts a person off from the Holy God and opens the door to demonic bondage.  Any person who serves the devil (occult), will receive the devil's wages (Exod. 7:11-12; Lev. 19: 26, 32; Zech. 12:2; Mal. 3:5; Acts 8:16; Acts 16:16; 1 Sam. 28; 2 Chron. 10:13-14; Isaiah 2:6; 8:19; Jer. 27:9, 10; Gal. 5:20; 2 Tim. 3:8; Rev. 21:8; Rev. 22:15).   Thus when a person abandons the Holy Triune God through sins of sorcery, he abandons his inner person (mind, will, conscience) at the same time as seen in relation to psychological disturbances having the following predominant characteristics:
(1) Warped, distorted character: hard-edged egoism; uncongenial, dark nature.
(2) Extreme passions: hard-edged egoism, abnormal sexuality (sodomy, lesbianism, sadomasochism, bestiality, pedophilia, pederasty, zoophiles); violent temper, belligerence; tendencies to addiction; meanness and kleptomania; compulsive lying.
(3) Emotional disturbances; compulsive thoughts of murder and suicide, anxiety states.
(4) Possession with destructive urges, fits of mania; tendency to violent acts and crime
(5) Insanity.
(6) Bigoted attitude against Christ and God; conscious atheism; simulated piety; indifference to God's word and to prayer; blasphemous thoughts; religious delusions.
The ultimate goal of fallen angels and evil spirits is degradation and desecration of mans' inner person, the spiritual part of him created in the image of the Holy God. So what are systematically defaced and desecrated are the mind, will, conscience and sense of good and evil.
Demonic Darkness: America's Invisible Wave of Evil
Carl A. Raschke is Professor of Religious Studies at the University of Denver specializing in Continental philosophy and the philosophy and theory of religion.  He is also America's leading authority on subcultures of demonic darkness.  In his fully-documented work, "Painted Black" he puts together a terrifying puzzle to reveal the chilling facts and cases behind an invisible wave of evil working through the minds of children and adults and subsequently sweeping over and across our nation outwardly manifest in an alarming epidemic of violence and madness that Western therapeutic science explains away as hallucinations, genetic influences and chemical disturbances.   Such a posture, said Raschke, hinges on the most incredible delusion that the "symbol of the Devil does not at all mean what the symbol of the Devil has always meant…" (Painted Black, p.404).
According to Rashcke, demonic bondage does not always manifest itself in a will to do evil:
"Many of today's young satanists (are characterized) by a metaphysics of exhaustion and despair.  A culture of despair becomes ever easier pickings for the…child pornographers (and the) professional (satanic) terrorists themselves.  Satanism has already yielded a climate of fear in middle-class quarters where fear had never flourished before." (p. 406)
A culture of "exhaustion and despair" also welcomes demonized perverse 'sex-educators' (14) and professional satanic terrorists like the 9/11 murderers and ISIS.
Where occult bondage manifests itself in a will to do evil it is seen in the recent Dark Knight movie murders (15) and in the following chilling account:
"In a chilling 911 call, Texas teen Jake Evans spent 20 minutes calmly recounting how he shot and killed his mother and sister, calling himself "evil." (Texas Teen Tells 911 It Was Weird to Kill His Mother and Sister, abcnews, Oct. 5, 2012)
"It's weird," an even-voiced Evans told the 911 dispatcher. "I wasn't even really angry with them. It just kind of happened. I've been kind of planning on killing for a while now."  "I'll never forget this. My sister, she came down the stairs and she was screaming and I was telling her that I'm sorry but to just hold still–that, you know, I was just going to make it go away," he said. "But she just kept on freaking out, but finally she fell down, and I got her in the head about, probably, three times." "Just to let you know, I hate the feeling of killing someone. I'm going to be messed up," he told the operator." "I'm really worried about nightmares and stuff like that. Are there any type of medications for that and stuff?"
America's secularized culture is a spiritual vacuum into which innumerable dark psychic forces have flooded.  Most of the present destructive generation is sick, lawless, narcissistic, and undisciplined.   America, the dying leader of the world, bleeds from thousands of self-inflicted wounds as she marches toward her own destruction to the beat of unseen drummers.
The clearest answer to the evil conditions of our times is found in the Bible.   We are living in the Last Days.  The final pages of history are now being read.  Our time,
"…can only be understood aright in the light of the prophetic word.  Satan is mobilizing all his forces for an all-out attack.  The demonic world has entered the final lap….To fail, therefore, to take our stand at the foot of the cross, to fail to build our house upon the Rock, is to be swept away by the turmoil of the End-Times.  We are living in days of a demonic nature!"  (Demonology Past and Present, Kurt E. Koch, p. 37)
The Difference of Man and the Difference It Makes, Adler, p. 294
The New Age. What is it? Marcia Montenegro, Christian Answers for the New Age
SPIRIT CONTACT: WHO IS ON THE OTHER SIDE? ibid
OUT OF YOUR MIND: MEDITATION AND VISUALIZATION, ibid
Centering Prayer, Matt Slick, CARM; The Danger of Centering Prayer, Rev. John D. Dreher, Catholic Education Resource Center; Contemplating Contemplative Prayer: Is It Really Prayer? Montenegro
The enneagram gps: gnostic path to self, Montenegro;  National Pastor's Convention Using Occultic Enneagram, lighthousetrailsresearch.com, Dec. 12, 2006
THE LABYRINTH: A WALK BY FAITH? Montenegro
Christian yoga: an oxymoron? Marcia Montenegro
WITCHCRAFT, WICCA AND NEOPAGANISM, ibid
Transformational Festivals, The Freedom Report
THE VAMPYRE UNDERGROUND, Montenegro
THE OUIJA BOARD — JUST A GAME???, ibid
Poltergeists—An Evaluation of a Demonic Phenomenon, inplainsite.org
The Little Black Book http://www.article8.net/downloads/LittleBlackBook.pdf
James Holmes Charged With 24 Counts of Murder in Dark Knight Rises Massacre, usmagazine.com
"We shall have world government, whether or not we like it. The question is only whether world government will be achieved by consent or by conquest"   Paul Warburg at U. S, Senate Committee on Foreign Relations, February 17, 1950.
"The tumultuous noise of the nations, their rejoicings and lamentation, the pleadings of their prayer, the groans of their despair, the cry of their imprecations, their wrath, their love, their hate!" Henry Wadsworth Longfellow, Introduction, "Christus: A  Mystery"
The world that is presented to every current inhabitant is a world of extensive diversity; a vast array of different languages, cultures, and values.  No living creature had anything to do with creating this tiny planet or with the vast universe that surrounds it.  All are temporary residents of space they do not and cannot entirely understand.
Amy Chua is a brilliant, American born, Chinese woman; educated at Harvard, employed for a time at Duke and now a Law Professor at Yale. Her husband, Jeff Rubenfeld, is also a Law Professor at the same institution..  She has authored four books: "World on Fire", "Day of Empire", "Battle Hymn of the Tiger Mother", and, "The Triple Package".
Her writing is legible and wears well.  Each book provides interesting, and extensive coverage.  The books are distinctly different but they have a strong common theme.
The subtitle of the 2002 book, "World on Fire", is "How exporting Free Market Democracy Breeds Ethnic hatred and Global Instability".  The book describes in detail nation after nation that is dominated by a small minority who live in luxury off the labor of poor, uneducated minions that have no hope of progress.  Invariably the massive poor minority hates the wealthy owners who are often not indigenous to the nation.
Chua contends that Democracy exacerbates the problem.  She writes, "—in the numerous countries around the world with a market dominated minority, the simultaneous pursuit of free markets and democracy has led not to widespread peace and prosperity, but to confiscation, autocracy, and mass slaughter.  Outside the industrialized West, these have been the wages of globalization."  (Pg. 125)
In 2007 "Day of Empire" used detailed descriptions of historic empires to promote the theory that tolerance was the glue that allowed empires to flourish and remain intact.  In 344 pages the book begins by delving into the Persian Empire, 559 – 330 BC, it continues through the Chinese Qin (212 BC) andTang (618-907 AD) dynasties and records the Great Mongol Empire during the 13th and 14th centuries AD, then  Rome, the Dutch, the British and finally the United States of America, a "hyperpower".  In each tyranny Chua carefully describes tolerance as the glue that held the empire together and intolerance as responsible for its demise..
In 2011 she published "Battle Hymn of the Tiger Mother", a description of her determination to produce exceptionalism in her two daughters.  Her methods reminded me of Vince Lombardi's quintessential coaching career at Green Bay.  She insisted on excellence and would not accept failure.  Her daughters hated her during the process but loved her for the result.  Reviews of the content in this book were often negative.
In 2013 came "The Triple Package" an attempt to define the components of success in the United States.  Chua and her husband came up with the following traits: a superiority complex, insecurity, and impulse control. They listed the following ethnic groups that have enjoyed success: Chinese, Jewish, Indian, Iranian, Lebanese, Nigerians, Cuban exiles, and Mormons.
Race and power flow through all of Chua's writing.  She assents to globalism but her books belie its implementation by describing racial, cultural, and social distinctions that run deep and are intransigent.  Over and over again they document the universal existence of predator classes that tyrannize the masses and exploit them for their own benefit.  The injustices that allow alien overlords to exploit an entire race often result in a resentment-filled overthrow that is brutal, anarchic and an affront to humanity itself.
In "World on Fire" Chua describes the Rwanda genocide.  The Tutsis though they were only 14 percent of the population were the ruling class.  Though the two races married, lived side by side and the Hutus were allowed to achieve Tutsi status there was resentment when a Tutsi become king. Then the Belgian colonists, as a method of control, declared the Tutsis superior to the Hutus and began providing Tutsis with better educations and promoting them to positions of authority over the Hutu.  Eventually the Hutus were forced into permanent servitude.
Buoyed by the rhetoric of political leaders in the spring and summer of 1994, the Hutus rose up and in just a hundred days used machetes to hack to death some eight hundred thousand Tutsi.  Chua quotes Philip Gourevitch, "Neighbors hacked neighbors to death in their homes, and colleagues hacked colleagues to death in their workplaces.  Doctors killed their patients, and schoolteachers killed their pupils.  Within days, the Tutsi population of many villages was all but eliminated…." (Pg. 169)
The Chinese in the Philippines, the Jews in Russia, the Indians and Lebanese in Africa, and so on, "World on Fire" documents the exploitation of nations and their citizens often by better educated foreigners who siphon off both labor and resources.  She believes that free market democracy, the medium of globalism, exacerbates this travesty.
In The Day of Empire the fascinating detailed description of past empires is used as a backdrop to assess the ability of the United States of America to create a world empire.  The book is critical of the Iraq War and dubious that USA will be able to find a "glue" that will allow large scale hegemony.
The collapse of the Soviet Union could have made the world ready for U. S. leadership but, "Instead, the ironic result of the United States "democratic world dominance" has been rampant, raging anti-Americanism.  Today, America faces billions of people around the world, most of them poor, who know that the American Dollar is the world's dominant currency, that English is the world's dominant language, that American corporations are the most powerful and visible in the world, and that American brands are the most pervasive and coveted.…  In short, large numbers of people all over the world feel dominated by – but no connection or allegiance to – the United States." (Pg. 328)
"The Triple Package" digs out the motivations that produce success in the United States.  Chua's husband, Jeb Rosenfeld, is Jewish and her two daughters are being raised in the religion of Judaism.  Although both the Chinese and Jewish races are dominant and both are adroit at becoming market dominant minorities in other nations Chua makes the Jews the standard by using them to describe other tyrannical races:  i.e. Indians as the "Jews of East Africa".  (Pg. 115)
Dominance is an underlying theme in all four of Chua's books.  She is conflicted by her excellent description of the intense resentment that results from the numerous market dominated minorities and her support for Globalization which takes the form of a critique of the U. S. go-it-alone policy and questions its decisions.  She seems to want dominance to succeed while her research shows that it is failing.  In the Acknowledgements at the beginning of "World on Fire" Chua cites Strobe Talbot as a contributor to the book.  In 1992, Talbot was quoted by Time Magazine, "In the next century, nations as we know it will be obsolete; all states will recognize a single, global authority. National sovereignty wasn't such a great idea after all."
In the "Battle Hymn of the Tiger Mother", Chua describes the stout discipline she used to produce top one percent children.  While she wants her girls to be cream her writing shows sympathy for the milk.
On Page 189 of "World on Fire" Chua writes, "Take the United States.  While some ethnic minorities have outperformed others, the United States economy is absolutely not controlled by any ethnic minority.  On the contrary, if any group can be said to dominate our economy, it is the White majority.
Jeb Rosenfeld's "genius and kindness" (cited in the Acknowledgements for "World on Fire") has over whelmed Chua's research.  Jews may not be the wealthiest Americans but they are by far the most powerful.  It is power, not wealth per se that allows minority market dominance and Jewish power in United States comes through almost total dominance of the press, media, and publishing.  Add total control of the Federal Reserve, the World Bank, Goldman Sachs, and other commercial banks; plus dominance over scores of major corporations and hegemony over many of our institutions of higher learning and you have market dominant minority of distinction.
Without Jewish backing no one can be elected to the U. S. Presidency or to the House or Senate.  From the book reviews aired on C-Span it seems that eighty percent of the books published in the United States are by Jewish authors. Now even C-Span's iconic Brian Lamb's guest interviews seem to favor Jewish authors.
There are two major factors that allow Jews to sustain a successful market dominate minority in the United States:  One, motion pictures and the media have allow them to create ample amounts of sympathy by dramatizing the Holocaust, and two, they enjoy the total support of hundreds of thousands of severely deluded Dispensational Christians.
It is ironic that Chua denies Jewish dominance in one book and acknowledges it in another ("The Triple Package").
Several years ago my wife and I had a very enjoyable min-vacation in San Francisco.  One of the highlight of our visit was riding the city bus through China Town.  This section of the city houses one of the largest and most authentic Chinese settlements in the nation…Our hotel was new, well appointed, and comfortable.  It was Chinese owned.  I remember saying to my wife that in another decade or so the Chinese will dominate the city – maybe they already do.
We have several market dominate minorities in the United States.  The Jews have been here longest and have accumulated major hegemony.  Indians have cornered the motel business, and the ubiquitous gasoline stations and convenience stores.  The Chinese are quietly successful and their wealth is seldom publicized.  Iranian Muslims are newcomers but they are already making waves in Michigan.  Mexicans have become the majority population in parts of the West and are talking annexation. Whites and Blacks who have lived here longest are destined to minority status.
Chua's extensive research provides ample evidence that Globalism is in trouble.  Various races around the Globe seek to maintain their own culture.  They want to live in their own unique ways and enjoy their possessions as they see fit.  They do not want to be dictated to or tyrannized.  They may accept foreigners but they quickly resent state tyranny and non-indigenous dominance.
Chua gropes for solutions and lists some possibilities:  Redistribution through tax and transfer programs, give the poor legally defendable property rights,         give or provide a way for the underprivileged to own stock in international corporations, and finally, government intervention with affirmative action programs.
She describes reality with extensive research to support her conclusions.  I concur with her summations but contend with her intent.  She is a globalist and her search for ways to bring the world's array of languages and cultures under the globalist tent is the same spirit that is creating the malevolent resentment her research describes.
Most of the world's cultures are made up of people that want to be left alone.  Many are satisfied with lives that sophisticated Westerners would consider deprived but, nevertheless, still want to solve their own problems.  United States is promoting globalism and democracy by force and Chua is on target when she describes the resentment it causes.
Missing in all of the books is the fact that Globalism is being foisted on the world by a global dominate minority which is creating a global resentment larger and more virulent than the national problem she describes. Chua writes, "If global free market democracy is to be peaceably sustainable, then the problem of market dominant minorities, however unsettling, must be confronted head on." (Pg. 164 "World on Fire") It is globalism itself that should be confronted head on.  Since Chua's research clearly shows the fervent desire of most of the world's population to live without outside interference, globalism will not come peacefully.  Many of the world's nations will fight foreign domination.
In "Systematic Theology" R. J. Rushdoony quotes George Orwell, "We know that no one ever seizes power with the intention of relinquishing it.  Power is not a means; it is an end.  One does not establish a dictatorship in order to safeguard a revolution; one makes the revolution in order to establish the dictatorship"….. (RJR writes) "Fallen men are bramble men; their expression of the will to power varies only in terms of the courage and opportunities. Fallen man thus becomes more unproductive as he becomes more powerful in his role over others."   Pg. 1032
If the Global Dominate Minority would begin to use their God-given grey matter to study the Law God gave to His sin ridden people they would understand that the problems of the world can be alleviated without force in any nation that freely accepts and enforces it.  Eugenics is a dirty word in most civilized society but there are rumors that the Global Dominate Minority thinks in that realm.
Humanistic eugenics is evil but the eugenics incorporated into God's Law is a righteous method of creating a peaceful society.  Freedom is impossible in anarchic societies.  Our Founders understood that the government they set up was designed for an obedient people; that wide spread disobedience would quickly destroy freedom.
We are not created equal and there will always be those that are smarter and stronger.  The Bible even contains instructions on how to periodically reset the playing field.  God's Law is wiser than man's law – peace in our world waits for men to realize it.
"False centers will not hold.  Things fly apart, confusion reigns, and only taxes hold the state together.  Powers now do lie within oppressor's hands, and men are cold toward virtue, prone to sin and treason." R. J. Rushdoony, "The Luxury of Words", Pg. 127
The misplaced reverence to the ill formulated U.S Constitution and hidden subjugation back to the City of London is one aspect of history that is not taught in government schools or discussed in institutes of higher education. This subject is probably new to most observers of the legacy from the Founding Father's biggest mistake. Regular readers of BREAKING ALL THE RULES are familiar with the arguments made in the essays, In the beginning: Let there be the Articles of Confederation and Articles of Confederation was Preferable. Now the case for the betrayal of the purpose of the American Revolution needs to be explored.
Cited on the US Constitution Gave Legal Ownership and Control of the United States to London site is an assessment by Michael Edward.
"Neither the American people nor the Queen of Britain own America. The Crown Temple owns America through the deception of those who have worn their allegiance by oath to the Middle Templar Bar. The Crown Bankers and their Middle Templar Attorneys rule America through unlawful contracts, unlawful taxes, and, contract documents of false equity through debt deceit, all strictly enforced by their completely unlawful, but 'legal,' Orders, Rules and Codes of the Crown Temple Courts Our so-called 'judiciary' in America. This is because the Crown Temple holds the land titles and estate deeds to all of North America."
An examination of The Templars of the Crown provides elaboration on this appraisal. For an even more in-depth analysis, review the material that probes AMERICAN LAND OWNERSHIP, A TRUE OXYMORON, which deals with the work of James Montgomery.
"Many of you are aware that the laws of this nation and it's states, were made to be in compliance and submission to the laws of England, only modified by state and federal law. You will see in this last Chapter state statutes from just a few of the original colonies, that this is the case. Are these what are called ancient statutes? Yes. However, since the king's Corporation is alive and well as are his heirs, so is his Trust and the law used to create and govern it. The law that governs his Trust can only be amended, no law could be enacted contrary to the king's will and cestui que trust, the main corporate sole where office is always found, the Crown. The king's practice of granting lands in this country to those loyal to him continues, along with their land grants being protected by state ancient statutes which are still on the books. We are governed by the king's nobles just as in times of old England, self proclaimed nobles, and corporate trusts. They rule this country and the world. The huge corporations have been granted power and liberty not known by the common man. The nobles, real and the created, occupy their possessions as fiduciaries and trustees of the king's grants; only if they remain loyal to the system, their privilege and life style are their reward."
Invest the time in discovering all the historic accounts, legal rulings and linkages that go back to the Crown, AKA, the City of London.
If you are unfamiliar with The (British) Crown Empire and the City of London Corporation take a quick refresher course on the actual nature of the financial foundation and codified sanction that purports to be lawful. Jurisprudence may be legal by the definition and formulations of the judicious barrister class, but it certainly is not founded on the basic principles of natural law.
Julian Websdale concludes: "The whole Earth is governed by The Crown, through Crown Colonies which belong to The City – The Crown Empire. It governs Africa and still governs China and India. The colonies of the Earth are really just Crown Colonies – The United States of America are states of The Crown."
Now this interpretation may seem bizarre to most and the plot thickens in the The construe Powers – Behind the Global Empire piecing together a long account of legalized equity mandates.
"The signed treaties and charters between Britain and the United States reveals that King James the 1st was not only famous for translating the Bible, but for signing the first charter of Virginia in 1606. That charter granted America's British forefathers a license to settle and colonize America and guaranteed future kings and queens of England to have sovereign authority over citizens and colonized land in America. The treaty of 1783 identifies the king of England as the prince of the United States. King George the 3rd gave up most of his claims over American colonies, but he kept his right to continue receiving payment for his business venture of colonizing America."
The next element to consider has The Top of the Pyramid: The Rothschilds, the British Crown and the Vatican Rule the World. Read this account and trace back the historic lineage of  some of the Englishmen who founded America.
"To have the Declaration of Independence recognized internationally, Middle Templar King George III agreed in the Treaty of Paris of 1783 to establish the legal Crown entity of the incorporated United States, referred to internally as the Crown Temple States (Colonies). States spelled with a capital letter 'S,' denotes a legal entity of the Crown.
At least five Templar Bar Attorneys under solemn oath to the Crown, signed the American Declaration of Independence. This means that both parties were agents of the Crown."
As time proceeds, the sell out of the "shot heard around the world" revolution deepens.Two Constitutions in the United States. 1st was illegally suspended in favor of a Vatican "Crown" corporation in 1871. This approving assessment of the Federal Constitution views a Shadow Government in place since 1871.
"Since 1871 the United States president and the United States Congress has been playing politics under a different set of rules and policies.  The American people do not know that there are two Constitutions in the United States.  The first penned by the leaders of the newly independent states of the United States in 1776.  On July 4, 1776, the people claimed their independence from the Crown (temporal authority of the Roman Catholic Pope) and Democracy was born.  And for 95 years the United States people were free and independent.  That freedom ended in 1871 when the original "Constitution for the United States for America" was changed to the "THE CONSTITUTION OF THE UNITED STATES OF AMERICA".
The Congress realized that the country was in dire financial straits, so they made  a financial deal with the devil –  the Crown (a.k.a. City of London Corporation – est. by the Catholic Church on Jan 1, 1855 ) thereby incurring a DEBT to the Pope.  The conniving Pope and his bankers were not about to lend the floundering nation any money without some serious stipulations. So, they devised a way of taking back control of the United States and thus, the Act of 1871 was passed.  With no constitutional authority to do so, Congress created a separate form of government for the District of Columbia.
With the passage of  "the Act of 1871" a city state (a state within a state) called the District of Columbia located on 10 sq miles of land in the heart of Washington was formed with its own flag and its own independent constitution – the United States' secret second constitution."
Lastly, Three Corporations run the world: City of London, Washington DC and Vatican City list the City of London houses as including:
Rothschild controlled 'Bank of England'
Lloyds of London
The London Stock Exchange
All British Banks
The Branch offices of 384 Foreign Banks
70 USA Banks
Fleet Streets Newspaper and Publishing Monopolies
Headquarters for Worldwide Freemasonry
Headquarters for the worldwide money cartel known as 'THE CROWN'
Conclusion: "City of London directly and indirectly controls all mayors, councils, regional councils, multi-national and trans-national banks, corporations, judicial systems (through Old Bailey, Temple Bar and the Royal Courts of Justice in London), the IMF, World Bank, Vatican Bank (through N. M. Rothschild & Sons London Italian subsidiary Torlonia), European Central Bank, United States Federal Reserve (which is privately owned and secretly controlled by eight British-controlled shareholding banks), the Bank for International Settlements in Switzerland (which is also British-controlled and oversees all of the Reserve Banks around the world including our own) and the European Union and the United Nations Organization."
This introduction to the actual influence and pompous legal authority that underpins the financial hierarchy is based upon a historic explanation that is foreign to most Americans. The implications are staggering and for this reason alone, most are not willing to do their own research. Do not get caught up in the uncanny departure from the usual rendering of reality. Remember that the City of London's coat-of-arms reads in Latin – Domine Dirige Nos – which translates, Lord, direct us. The true question, asks just which deity do the soldiers of the Crown adore?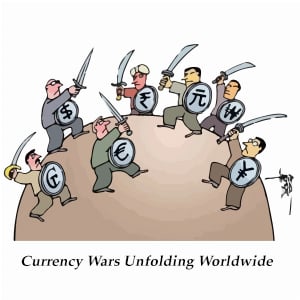 The first two months of 2015 have seen turmoil in the currency markets extend from Russia and Ukraine to the heart of Europe.
"Central Banks Now Open 24/7 Fighting Currency Wars and Deflation," blared a February 12th Bloomberg headline. Against this backdrop, precious metals have been on the rise in terms of all currencies except the Swiss franc and the U.S dollar.
In January, the Swiss National Bank shocked markets by announcing that it would de-link its currency from the euro. The move came one week ahead of the European Central Bank's $1.1 trillion Quantitative Easing announcement. Swiss officials decided it would be too costly to keep accumulating depreciating euros in order to maintain the currency peg. The Swiss franc surged by the most ever in a single day.
With the exception of Switzerland, all other countries in Europe (and many others around the world) are trying to depreciate their currencies.
Since January 1, the following central banks have announced interest rate cuts or other monetary easing measures: European Central Bank, Reserve Bank of Australia, Reserve Bank of New Zealand, Monetary Authority of Singapore, and the central banks of India, Canada, Denmark, and Sweden.
On February 12th, the Swedish Riksbank announced a surprise rate cut from 0% to below 0%. "To ensure that inflation rises towards the target, the Riksbank is prepared to quickly make monetary policy more expansionary, even between the ordinary monetary policy meetings," the world's oldest central bank said in a statement.
Sweden joins the European Central Bank and the central banks of a handful of other countries in pushing benchmark interest rates into negative territory. These central bankers are all aiming to revive inflation. "Investors" who are buying bonds yielding less than nothing (a negative rate) are apparently convinced that central bankers won't succeed in depreciating their currencies.
Insanity! Investors Now Paying for the "Privilege" of Lending to Broke Governments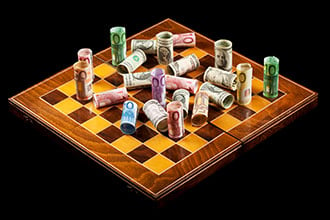 This could go down as one of the oddest, most irrational asset bubbles in history. Trillions of dollars are now tied up in debt instruments that promise to return less than the invested principal. According to a report issued by J.P. Morgan, $3.6 trillion in government bonds around the world now carry negative yields.
It raises the obvious question; why would so many people be willing to accept a negative rate of return?
You'd think that institutional investors would start getting wise to holding gold as a hard-currency alternative to cash instruments that yield less than zero. The fact that gold has no interest rate is actually an advantage in an environment where competing rates are negative! Plus, unlike most of the bonds issued in this upside-down interest rate market, gold has significant appreciation potential.
If inflation rises even modestly to the 2% target of European and U.S. central bankers, then bonds issued at rates of below 2% will all be losers. The two-year Treasury note yields only 0.63%. Even the recent 10-year yield of 1.98% fails to match the Federal Reserve's inflation ambitions.
The fact that gold has no interest rate is actually an advantage in an environment where competing rates are negative!
In this environment of ultra-low nominal yields or even negative real yields, precious metals as a reserve asset look very attractive. Many central bankers around the world agree and are busily accumulating gold. According to a report issued by the World Gold Council in February, governments around the world added 477.2 metric tons of gold to their reserves in 2014. That haul was the second biggest in 50 years.
When inflation fears return to the market, as they eventually will, precious metals will become one of the premier asset classes to hold. Even now, they are performing better than virtually all other world currencies.
The end game of these ongoing currency wars is that all fiat currencies will be debased. And a true flight to quality will accelerate – with assets fleeing depreciating currencies (and debt instruments denominated in them) and piling into gold and silver.
Will the Fed Chicken Out on Rate Hikes?
Of course, right now it's deflation fears that are dominating headlines. But the inflationary policy responses from the European Central Bank and others that have followed the ECB's lead have lifted gold and silver prices markedly in terms of euros and other currencies.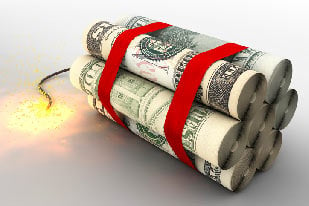 As confidence in European currencies plunges, there's only so much corresponding dollar strength the Federal Reserve is willing to tolerate. There's been much talk of rate hikes coming later this year, and that widespread expectation has been priced into the market. Any rhetorical or policy disappointments from the Fed in the months ahead could cause traders to sell the dollar.
Whether later this year or further down the road, it's only a matter of time before currency turmoil spreads to the United States.
The U.S. has a higher debt-to-GDP ratio than some troubled European countries. It has higher levels of unfunded liabilities (estimated to be in excess of $100 trillion) than any other country. The dollar's status as world reserve currency has allowed the U.S. to become financially overextended. But that vaunted status is slowly deteriorating as Russia, China, and other countries form economic alliances that bypass the dollar.
When these chickens come home to roost, you don't want to be wholly dependent on the U.S. government's promises or its currency. Sizeable holdings in physical precious metals will help make you financially resilient in the face of the spreading global currency crisis.
As much as we liberty-loving, Constitution-loving, America-loving patriots hate to admit it, the government in Washington, D.C., is NOT fixable. The elitist power structure in D.C. is too ensconced and too powerful. They will never cede power to folks, such as Justin Amash, Thomas Massie, etc., who truly believe in limited government. Nor will they permit the states to reclaim ANY of their constitutionally recognized powers. And neither party in D.C. has enough Ron Paul-types to thwart the evil machinations of the power-drunk leviathan that is Washington, D.C.
Furthermore, the same forces of darkness that control the political establishment in Washington, D.C., also control the media and financial establishments in New York City. The voters of America have too often rejected the presidential and congressional candidates who had the potential to help lead our ship of state to safer waters (if we even have untainted elections). The warnings of the prophets and porters have fallen on deaf ears. For the most part, Americans refuse to dislodge themselves from their addiction to government handouts. In addition, America's pastors have largely abandoned their calling to be watchmen on the wall, which has left our ship of state without a moral compass or a spiritual rudder.
As much as I hate to say it, it is becoming more and more clear that Washington, D.C., may not be fixable. If that's the case, it is only a matter of time before freedomists will be forced to do what freedomists have always been forced to do when facing a tyrannical juggernaut: declare independence.
The closest thing America has had in modern times to Patrick Henry or Thomas Jefferson is former Congressman Ron Paul. In late January, Dr. Paul brought a speech before the Mises Institute. The theme of the event was "Breaking Away: The Case For Secession."
In his address, Ron said, "'And it's [secession] not gonna be because there will be enough people in the U.S. Congress to legislate it. It won't happen. It will be de facto. You know, you'll have a gold standard when the paper standard fails, and we're getting awfully close to that. And people will have to resort to taking care of themselves. So when conditions break down, you know, there's gonna be an alternative. And I think that's what we're witnessing.'
"Later, Paul said the Federal Reserve would end and the states would stop listening to federal laws they didn't agree with.
"'The Fed is gonna end. There is going to be a de facto secession movement going on. The states are going to refuse to listen to some of the laws. We've seen tremendous success already with states saying to the federal government, "We're not gonna listen to you anymore about the drug laws." And they're getting out of it, and I think the American people are waking up to that, and as far as I'm concerned, the more the merrier.'"
See the report here:
Ron Paul: "Good News" That Secession Is Happening
I believe Dr. Paul is right. Secession ("de facto" or otherwise) is inevitable. How it will come and when it will come is debatable. That it will come is not. The only question is, do we wait for a national or international crisis of apocalyptical proportions or do we begin the debate now in the relative tranquility of peace and order? I say we should begin the debate NOW.
The assaults against our liberties are rooted and grounded inside The Beltway. The federal government in Washington, D.C., has been attacking our Natural rights for decades, to the point that it is almost insufferable. It is fomenting war and aggression all over the world; it is turning people around the globe into the enemies of the American people; it is training its own officers to enslave the American citizenry; it has set up a domestic military command that is nothing less than an occupation force; it has passed laws and policies stripping the American people of virtually every freedom protected in our Bill of Rights; it has set the world's most sophisticated spy system against its own citizens; it has freely allowed violent criminals and gang members from foreign nations to have unfettered access to America's heartland; it has dictated policies to the sovereign states to the point that our states more resemble national provinces; it has taken liberty to the precipice of destruction.
The powers of darkness manipulating the politicians in Washington, D.C., are leading us to financial collapse and global war. They are manipulating the east and west against each other; they are facilitating the military build-up of China; they are goading Russia into war; they are manipulating the collapse of the U.S. dollar; and they are declaring patriotic, God-fearing Americans as "homegrown terrorists," while creating real terrorists abroad.
I propose that the People of the several states begin calling for The Third Continental Congress to the intent that this Congress proposes, debates, and eventually votes on the decision to declare independence from the government in Washington, D.C.
Delegates to such a Congress would by necessity be sent by the People of the states, not by the State legislatures. The focus of the Congress would be singular in purpose: to debate and eventually vote on a resolution of independence. I think the resolution of The Third Continental Congress should mirror Richard Henry Lee's resolution during The Second Continental Congress in 1776:
"Resolved, that these United Colonies are, and of right ought to be, free and independent States, that they are absolved from all allegiance to the British Crown, and that all political connection between them and the State of Great Britain is, and ought to be, totally dissolved."
I am fully aware that this is a bitter thought to contemplate. It is for me, too. But, ladies and gentlemen, there may be no other way to preserve liberty in our land.
Granted, if Ron Paul (or perhaps his son, Rand) could obtain the White House–and providing he could stay alive–substantial victories could probably be wrought over the Beast. We should NOT stop fighting for the principles of liberty. No one is more engaged in the liberty fight than I. And I will continue to be engaged.
Furthermore, I continue to believe if America's pastors and churches would collectively awaken to the principles of liberty, see "the man behind the curtain," and aggressively preach and teach the principles of Natural Law regarding government, a certain amount of time might be able to be purchased. That's what I'm trying to accomplish with my Liberty Church Project. It's yet to be seen how quickly we will be able to restore patriot pulpits to America.
Yet, many patriotic folks mistakenly believe that we must preserve the Union at all costs. This is NOT the case. We must preserve LIBERTY at all costs. Our loyalty to the Union should only be up and unto the point that it "becomes destructive" to the security of our liberties. Our original Declaration says it plainly:
"That to secure these rights, Governments are instituted among Men, deriving their just powers from the consent of the governed, –That whenever any Form of Government becomes destructive of these ends, it is the Right of the People to alter or to abolish it, and to institute new Government, laying its foundation on such principles and organizing its powers in such form, as to them shall seem most likely to effect their Safety and Happiness."
The mood for such a declaration is already growing. I believe if such a Congress were convened, several of our sovereign states would vote in the affirmative. I think states such as Texas, Arizona, Oklahoma, Missouri, Idaho, Montana, Wyoming, New Hampshire, Michigan, Indiana, Kentucky, Tennessee, Alabama, Mississippi, Louisiana, Arkansas, West Virginia, Virginia, Alaska, and even Hawaii, would seriously entertain such a resolution. The actual number of states who might be inclined to vote in the affirmative could potentially number at least half (or more) of the total states in the Union.
The idea that we will be able to maintain the Union under the growing tentacles of Washington, D.C., while maintaining liberty at the same time is now an utterly irreconcilable notion. As did our Founding Fathers before us, we have made–and continue to make–repeated redresses, we have convened conferences, we have repeatedly petitioned, and we have "voted the bums out" over and over again. No matter! The Beast in Washington, D.C., only gets more and more insatiable in its hunger to eat away our liberties. At some point, the American people must take their principles of liberty to The Third Continental Congress and vote on a Twenty-First Century declaration of independence.
And, no, a modern declaration of independence does not have to be bloody. Had Scotland voted for independence a few months ago, would London have sent troops to stop them? Absolutely not. World opinion would not tolerate it. Plus, the need for peaceful trade, commerce, and mutual self-defense would demand cooperation between neighboring governments. This would equally apply in North America.
What separation would likely accomplish is to take the teeth out of a ravenous Beast. It would accomplish what our separation from Great Britain accomplished two hundred years ago. The Beast would not be able to subjugate the free people of a new nation. No longer would it be able to play the world's policeman. No longer would it be able to freely foment hatred and war between nations. Plus, it would give the new republic that would likely form the opportunity to export the ideas of liberty, free enterprise, peaceful trade and diplomacy, etc., around the world. You know, the ideas and principles that the United States USED to export. Separation might actually save, not just the liberties of the American people, but the lives of people around the world from a global catastrophe.
The worst scenario is that the American people wait until the powers of darkness controlling Washington, D.C., bring about a global apocalypse before they realize what they must inevitably do. That is the scenario that Dr. Paul alluded to in his remarks referenced above. The better scenario is that the American people have the sagacity and foresight to see the storm clouds on the horizon and put in motion NOW the remedy for their–and their children's–survival.
Unfortunately, the established track record of the American electorate seems to favor Ron Paul's scenario. I much prefer that liberty-loving patriots begin broaching this subject NOW, before times are desperate.
Either way, sooner or later, in my lifetime or not, in a time of relative peace or extreme chaos, separation is inevitable, because unless the patriot pulpit quickly returns to America, or a Ron Paul-type leader be elected President, the government in Washington, D.C., is not fixable. And as such, we desperately need The Third Continental Congress. It just might be liberty's last chance.
America's Founding Fathers wisely instituted a federal government with three separate branches with the intention of creating built-in checks and balances designed to protect the liberties of the American people and the independence of the sovereign states. Each branch of government was given authority to check the other branches when they became oppressive or unconstitutional. In addition to the checks and balances built in to the federal government, they assumed that additional checks to power outside the federal government would serve to protect the people's liberties. Namely, our founders expected that free and independent states, a free and independent press, and free and courageous pulpits would further serve as diligent watchdogs of liberty.
However, only the most naïve among us do not recognize that, for all intents and purposes, the governmental checks and balances in Washington, D.C., are virtually non-existent. For the most part, the three branches of the federal government and the two major political parties in Washington simply facilitate the decisions of the existing power base–especially when it comes to the expansion of federal intrusion and oversight.
All of the political wrangling over the differences between Republicans and Democrats notwithstanding, when it comes to increasing the size and scope of the federal government, the two parties inside the Beltway are practically identical twins. And nowhere is this more clearly observed than in all things said to be for the sake of "national security."
With very few exceptions, America's newspapers regurgitate the federal government's solutions for "national security." With very few exceptions, a majority of the talking heads on television from both the left and the right embrace America's military interventionism in the Middle East and the burgeoning Police State currently mushrooming inside the United States. And, again, the banner flying high above all of this warmongering and domestic enslavement is "national security."
For the sake of "national security," the Church, too, enthusiastically embraces a domestic Police State and wars of aggression abroad–especially in the Middle East.
Anything that falls under the rubric of "national security" is enthusiastically embraced by most Republicans and Democrats, conservatives and liberals, and Christians and unbelievers. This almost always translates into more global intervention by the U.S. military and increased power by federal, State, and local police agencies in America's heartland.
The shadows of power that have mostly controlled the federal government (with rare exceptions) since at least the Woodrow Wilson administration are experts at creating Boogeymen for America to hate. And, of course, fighting these Boogeymen serves as a justifiable reason for the federal government to expunge more and more liberties; it's in the interest of "national security." But since 9/11, the American people have been more manipulated since perhaps any other time in our nation's history.
Take a look at this recent report:
"A church hosting a law enforcement appreciation sermon asked its followers to pledge their allegiance to government this weekend, arguing that all state authorities throughout history have been ordained by God.
"According to an anonymous visitor of the Gold Creek Community Church in Mill Creek, Washington, who provided exclusive photos to Infowars, attendees were ordered to submit to the state without question. 'They had police worship today and last week was military worship where they played clips of American Sniper…' the source said. 'They were telling people to basically worship government and worship police no matter what. No mention of police brutality, no mention of the stingray systems grabbing our data…'
"Near the end of the sermon, members of the congregation were asked to raise their right hands and make a pledge, which included the promise to call 911 on 'suspicious' neighbors."
Of course, the justification that the pastor used for this type of state worship was Romans 13. This devilish misinterpretation of Romans 13 has done more to enslave the minds of America's pastors and Christians than anything I can think of. That's why my son and I co-authored the book, "Romans 13: The True Meaning of Submission."
Romans 13: The True Meaning of Submission
In addition, I delivered a four-message series on Romans 13 that is available on DVD. Find it here:
The True Meaning of Romans 13 Series-DVD
The infowars report also included a local television news report on how pastors and churches are conditioning their parishioners to become sheepish slaves of the state under the rubric of Romans 13:
Clergy Response Teams To Help Government Enforce Martial Law
See the infowars report here:
Church Asks Followers To Submit To Government, Call 911 On Suspicious Neighbors
Ladies and gentlemen, this kind of report could have been repeated throughout the entire country of Germany during the rise of the Third Reich.
Of course, many of the pastors who are regurgitating this form of state worship are not conscience of what they are doing. They have been indoctrinated in our nation's seminaries, Bible colleges, Christian universities, etc., to the point that they actually believe they are being both patriotic and spiritual. They are completely blind to the fact that they have become puppets for the New World Order power elite.
Our pastors are in the same boat as many of our military personnel and police officers. They believe that by being willing to submit to any order, no matter how unconstitutional or unrighteous, they are "serving God and country." Remember, without this ongoing "war on terror" overseas, America's growing domestic Police State would come crashing down. A domestic Police State is TOTALLY dependent upon the international "war on terror." And ever since 9/11, the big, bad Boogeymen that are being used to frighten the American people (especially Christians) out of their senses are Muslims–ALL Muslims.
How many times have I heard some well-intentioned (I think they are well-intentioned) Christian say, "There is no such thing as a moderate Muslim." Or, "There is no such thing as a peaceful Muslim." Really?
Why is it that we rarely heard such ludicrous statements before the events of 9/11? There have been millions of Muslims living among us Americans for as long as any of us can remember. There were doubtless thousands of Muslims in the United States at the time of our Revolutionary War. Where was the holy Jihad in this nation? Where were the mass beheadings or genocide against Christians in this country? For the most part, these millions of Muslim Americans have lived peacefully among us for all of our lives. But, now all of a sudden, they are the greatest threat to our country's very existence? Get real.
The warmongers and international nation builders who desire to drown the United States under the deluge of a global New World Order found the perfect Boogeyman in the form of Islam. If the official report on 9/11 is true (almost half of the American people do NOT believe it is true, including this writer), all the perpetrators of the attacks were men from Saudi Arabia. Yet, we couldn't invade Saudi Arabia. We need their oil too much. Besides, the Muslim nation of Saudi Arabia is deemed to be a U.S. ally. And we couldn't attack Iraq on the basis of Saddam Hussein's alleged atrocities alone. The world just wouldn't buy it.
Did Hussein kill hundreds of Muslim Kurds (most Muslim violence is perpetrated against other Muslims) during his regime? Probably so. Does anyone want to know why? THEY WERE TRYING TO OVERTHROW HIS GOVERNMENT. Am I justifying what Hussein did against his enemies? No. But the same people who are so quick to condemn Hussein for defending his government with violence seem to pay no attention to the atrocities committed by George H.W. Bush and Bill Clinton against U.S. citizens who posed absolutely NO THREAT to the government in Washington, D.C.
I am talking about Ruby Ridge, Idaho, when our own federal government accused ONE MAN, Randy Weaver, of threatening the United States government, and it sent federal agents to murder both him and his wife, Vicki. A federal sniper murdered Vicki and shot Randy (he survived his wounds). Federal agents also shot their young son, Sammy, in the back and killed him.  But Vicki was not holding a rocket launcher or hand grenade; she was holding her little baby in her arms.
I recall that the federal government accused a small splinter group of Seventh Day Adventists (the Branch Davidians) of threatening the U.S. government; and it sent federal agents and combat military personnel to burn them out and machine-gun them to death.
Where was the outrage of all of these patriotic Americans and righteous Christians over the atrocities committed by our own government at Ruby Ridge, Idaho, and Waco, Texas? Neither the Weaver family nor the Branch Davidians posed ANY threat to the U.S. government. Heck! They didn't even pose a threat to their neighbors. But our federal government murdered them, nonetheless.
One more thing to think about: the U.S. war in Iraq is estimated to have killed over 500,000 Iraqi children. That is more people (men, women, and children) than were killed when we dropped the atomic bombs on Hiroshima and Nagasaki. Of course, then-Secretary of State Madeleine Albright testified before Congress and said the deaths of all of those Iraqi children were "worth it." (And by the way many of our Christian brethren in the United States are acting, I suppose they think it was worth it, too.)
So, needing something more than just Saddam Hussein's alleged atrocities against the Kurds to justify a full-scale war in the Middle East, we invented a brand new threat: Al Qaeda. Now, the globalists had their Boogeyman. But after more than a decade of war, and with the American people becoming numb to an Al Qaeda threat, they invented a new Boogeyman: ISIS (IS; ISIL, etc.).
Think of it: OVERNIGHT, ISIS has advanced, sophisticated weapons; OVERNIGHT, it has millions of dollars to spend; OVERNIGHT it has become the greatest threat to, not only the security of the Middle East, but the United States of America. In the name of the threat of ISIS, the surveillance state must be expanded in America. In the name of the threat of ISIS, our local and State police must become more and more militarized. In the name of the threat of ISIS, Americans must be willing to surrender more and more of their liberties.
Neither Al Qaeda nor ISIS could have become the powerful force they have become WITHOUT THE DIRECT ASSISTANCE OF DARK OPS AND DIRTY MONEY FROM THE UNITED STATES. It is just not humanly possible.
Am I suggesting that ISIS is not comprised of radical, militant Muslims who are very violent and dangerous people? Of course not! But I am suggesting, no I am saying, that not every Muslim is a radical, violent Jihadist. I am saying that our country is filled with peaceful, non-violent Muslims who pose absolutely NO THREAT to the people of the United States. And I am saying that the kind of hatred and bigotry that many Christians are demonstrating against the Muslim people in general is a sin against Jehovah God and a contradiction of everything our Savior, the Lord Jesus Christ, taught us. And I am further saying that ISIS could not exist without major assistance from the United States and probably Israel.
Ask yourself, since when do revolutionaries broadcast their atrocities for the entire world to see and for the entire world to become enraged against them? Even surrounding Muslim nations are incensed with the conduct of ISIS. A Jordanian government official just recently stated that members of ISIS are NOT Muslims. Many, if not most, of the Muslim states totally reject ISIS as part of the Muslim brotherhood. Why would ISIS seek to alienate its own brethren? Why would it risk becoming the most hated group of people in the world–even the Muslim world?
It's because ISIS is a contrivance of U.S. and Israeli Dark Ops who have created and attracted the most radical, hate-filled people of the region and set them up in opposition to the laws of decency in order to incite the American public into accepting more war and more abridgments of their liberties. And whether these master manipulators realized it would happen the way it has or not (they probably did), their biggest assets have turned out to be zealous Christians who see themselves as fighting their own holy war against the Muslim infidels.
Yet, America's Founding Fathers did not categorize all Muslim people as Jihadists or militant extremists. Yes, Thomas Jefferson had to deal with violent Muslims during his administration. And he did it constitutionally, by the way. He didn't invade Muslim nations with the U.S. military; he invoked the constitutional solution of asking Congress for letters of marque and reprisal. Ron Paul introduced just such a bill after 9/11, but, of course, George W. Bush and Dick Cheney were already determined to invade Iraq. Invasion plans were in place long before the attacks on 9/11.
That Thomas Jefferson didn't hate Muslims or regard all of them as being violent Jihadists is plain. The man that Jefferson admired–and copied from–most, John Locke, insisted that Muslims be tolerated in England. Campaigning for religious freedom in Virginia, Jefferson demanded recognition for the religious rights of the "Mahamdan [Muslim], the Jew and the pagan." In his autobiography, Thomas Jefferson recounted his satisfaction at the passage of his landmark Bill for Establishing Religious Freedom (1786) and the effort by some in the legislature to limit the bill's scope "in proof that they meant to comprehend, within the mantle of its protection, the Jew and the Gentile, the Christian and Mahometan [Muslim]." Jefferson's perception of Muslims as peaceful people generally was shared by other Founding Fathers.
Richard Henry Lee, who made the motion for independence at the Continental Congress, declared, "True freedom embraces the Mahomitan [Muslim] and the Gentoo [Hindu] as well as the Christian religion."
George Washington proposed an exemption for Muslims in Virginia regarding a proposed law that would have demanded citizens to support the Christian religion with their tax dollars. Washington further welcomed "Mohometans" [Muslims] to Mount Vernon. And think of it: Washington didn't have a company of Secret Service agents protecting him, either.
Of course, men of influence throughout the course of Western Civilization have noted the danger posed by violence-prone Muslims. Rightly so. But I remind you that for many decades, white Americans were the targets of Indian savagery. And the warnings against the Indian tribes were numerous and often justified. I also remind you that much savagery was committed AGAINST the Indians by whites. I further remind you that much of the savagery of the Indians was CREATED by the whites by acts of injustice, deceit, and downright barbarism. It was not all one-sided.
Neither is it all one-sided in the Middle East. America's CIA and illegal Dark Ops are often INCITING the Muslim people of the Middle East against us. This is deliberate and intentional. It foments war and hatred–on both sides. And when people are filled with fear, and war, and hatred, it is much easier to strip them of their liberties and manipulate them into accepting usurpations of their freedoms that they would otherwise never be inclined to do.
Think about it: if our government truly believed we were at war with Al Qaeda or ISIS, why would it insist on keeping our southern border wide open? If the "war on terror" were legitimate, securing our border would be the FIRST thing our government would do. That it doesn't proves the duplicitous nature of our so-called "war on terror."
It's time for Americans (and especially Christians) to understand that there is a war alright: it is a war against our liberties, and the primary enemy is the New World Order globalists who are using elements of our own government (as well as other governments) against us.
Frankly, if the United States would GET OUT of the Middle East and GET OUT of the United Nations, most of this international conflict that we are mired in today would go away.
When pastors and churches succumb to the notion of submitting to a domestic Police State, when they succumb to the fear and paranoia created by a "war on terror," and when they succumb to the sins of hate and bigotry against one group of people, they unwittingly become puppets for the New World Order.
A roundtable, held last week at the Institute of African Studies reports that the Nigerian government's "…campaigns have not addressed their plans for combating the growing insecurity that has left Nigerians living in fear, and paralyzed educational and economic activities in large swaths of Northeastern Nigeria." A string of terrorist attacks have occurred as Nigeria has struggled to build a functional and coherent response. Fortunately, there is a science-based approach to create societal coherence that can protect Nigeria from both internal and external threats. It is called Invincible Defense Technology (IDT) because it assures invincibility, peace, and even economic progress, to the nation and the military that employ it.
Invincible Defense Technology (IDT), a Proven, State-of-the-Art, Non-violent Military Solution
The IDT approach to defense has its basis in a radically new preventive model that has been thoroughly field-tested in numerous world battlegrounds. This approach results in rapid reduction of individual, societal and national collective stress. Its methods have been proven and adopted as part of the training of America's future commanders at Norwich University, a nationally respected and oldest military academy in the USA (see also the YouTube video "Meditation Improves Performance at Military University" and the Official Homepage of the US Army). IDT is further validated by 23 peer-reviewed studies carried out in both developed and developing nations. Its coherence-creating effect has also been documented on a global scale in a study published in the Journal of Offender Rehabilitation. When large assemblies of civilian IDT experts gathered during the years 1983 – 1985, international conflict decreased 32%, terrorism-related casualties decreased 72%, and overall violence was reduced in nations without intrusion by other governments.
IDT is totally unlike any other defense technology because it does not use violence in an attempt to quell violence. It is a more civilized approach, one especially worthy of nations that abhor violence as a means to power. IDT uniquely goes to the root cause of violence – the built-up stress in the individual and collective consciousness. Scientists have evidence that high levels of collective societal stress are the underlying cause of war, violence, crime and terrorism. When the IDT methodology is applied, stress levels throughout the population are rapidly reduced.
In an environment of lowered stress even staunch adversaries find ways to cooperate and overcome long-standing differences.
IDT Reduces Societal Stress
IDT uniquely neutralizes the underlying power base of contending groups, which is the stress, frustration and civil dissatisfaction prevailing in the general population. By eliminating the root cause of insurgency, violent outbreaks are pre-empted and prevented. IDT is effective because it gets to the heart of the matter. Terrorism often thrives in nations in which decades or even centuries of under-employment, poverty, and hunger have created a huge societal weight of stress, frustration and endemic unhappiness. This inevitably finds expression in acts of terrorism, civil unrest, social violence, and a downward spiral of economic degradation.
A specially trained military unit, an "IDT Prevention Wing of the Military," uses IDT to reduce stress in the national collective consciousness. IDT could also be introduced into other large groups such as the police forces, or militias. As the stress and frustration ease, the population is more capable of finding orderly and constructive solutions to their problems.
Experience with IDT in other war-torn nations demonstrated increases in economic incentive and growth. Entrepreneurship and individual creativity also increased. With increased civic calm, people's aspirations are raised and a more productive and balanced society emerges. Such a society abhors violence as a means for change or as an expression of discontent. With this, the ground for terrorism is eliminated. What is more fascinating, this change takes place within a few days or weeks after IDT is introduced. The changes are measurable from such statistics as crime rates, accidents, hospital admissions, infant mortality, etc.
Rapid Transformation Through IDT
The daily routine for the IDT military personnel includes the nonreligious practice of the Transcendental Meditation® program along with its advanced form, the TM-Sidhi program. As a societal coherence-creating military unit, they practice these programs twice a day, seven days a week, preferably in a secure location near the targeted population.
Such coherence-creating groups have achieved positive benefits in society, shown statistically, in a short time. Modern statistical methods used in this research show a low probability of any explanation other than a causal influence of the technology. The IDT approach has been used during wartime resulting in the reduction of fighting, a decreased number of deaths and casualties, and an improvement in progress toward resolving the conflict peacefully. The war in Lebanon in 1983 was dramatically impacted in a peaceful way by an IDT Intervention Group. A thoroughly documented study of this phenomenon was published in the Journal of Conflict Resolution, and summaries of follow-up studies were published in the Journal of Social Behavior and Personalityand the Journal of Scientific Exploration.
Summary
IDT works by utilizing our natural human brain mechanics, the most powerful natural resource possessed by every nation on earth. The beneficial transformational effects of IDT have been statistically proven numerous times to decrease and prevent violence and terrorism, and boost the economy.
IDT defense technology supersedes all other known defense technologies (which are based on electronic, chemical, and/or nuclear forces). These old, fear-based modalities are ultimately self-destructive for any nation, and for the human race as a whole, and must be replaced with IDT. So far, IDT is the only known, proven constructive approach.
The military that deploys this powerful, human-resource-based technology disallows negative trends and prevents enemies from arising, and as a result, it has no enemies. No enemies means no war, terrorism and no insurgency.
The Time for Action is Now
IDT is the twenty-first century's leading-edge defense system. If Nigeria establishes IDT Prevention Wings of the Military, they will ease high tensions, reverse mistrust, crush hatred, create stability and permanently prevent war and terrorism. Extensive scientific research objectively says, "Yes, the system works." Why not use it in Nigeria? Time is running out. The best time to act is now, before Nigeria's perilous situation worsens.
References
1. Dr. David R. Leffler (Fall 2009). A New Role for the Military: Preventing Enemies from Arising-Reviving an Ancient Approach to Peace. Journal of Management & Social Science (JMSS), Vol. 5, No. 2., pp. 153-162. This peer-reviewed journal is published by the Institute of Business & Technology BIZTEK in Pakistan. The abstract was published in Session 6, p. 44 of the proceeding of the "International Sociological Association Research Committee 01 Seoul National University & Korea Military Academy International Conference on Armed Forces & Conflict Resolution in a Globalized World." July 14 – 17, 2008, Seoul, Korea. The paper was also presented at KIDA, the Korea Institute of Defense Analyses.
2. Col. (Retd) S. P. Bakshi, Gerald Geer, and Dr. David Leffler (Special Issue May, 2013). Defense Personnel Worldwide Find Transcendental Meditation To be an Effective Tool in Combating Stress. Defence and Security Alert. Vol. 4, Issue No. 8, pages 34-39. PDF available online at: http://davidleffler.com/2013/defence-security-alert-magazine
3. Dr. David R. Leffler (2008, February). An Overlooked, Proven Solution to Terrorism. In "55 Trends Now Shaping the Future of Terrorism." Edited by Dr. Marvin J. Cetron and Owen Davies: The Proteus Trends Series, Volume 1, Issue 2 (pp. 18, 79, 176, C-13 through C-16). Dr. Leffler served as an Associate of the Proteus Management Group at the Center for Strategic Leadership, US Army War College where he was published in this US government-sponsored report aimed at governmental and military leaders. Excerpts about Invincible Defense Technology taken from the 254 page report are available online at: http://www.DavidLeffler.com/terrorism-trends.html Note: The entire paper version of the report is available online at:http://www.amazon.com/Trends-Now-Shaping-Future-Terrorism/dp/1441451412
4. Maj. Gen. (Ret.) Kulwant Singh and Dr. David Leffler (July 2014). Preventing Future Boko Haram Attacks. CBRNE-Terrorism Newsletter (CBRNE is an acronym that stands for "Chemical, Biological, Radiological, Nuclear, and Explosive"). PDF available online at:
http://www.cbrne-terrorism-newsletter.com/resources/JULY_2014_Part_C.pdf
5. Lieutenant General Jose Villamil (Ret.) with Dr. David Leffler (2003, January 29). Project: Coherence. India Defence Consultants. Available online at:http://www.indiadefence.com/proj_cohere.htm