America's 'New' Reality of Non-Self and Madness…
In the wake of the insurrection against the living, personal God of Revelation that began during the Renaissance eventuating in the proclamation of the death of God and cataclysmic eruptions of fire, brimstone and rivers of blood during the 20th century, ex-atheist Alexander Solzhenitsyn said the world had never before known,
"…godlessness as organized, militarized, and tenaciously malevolent as that practiced by Marxism. Within the philosophical system of Marx and Lenin, and at the heart of their psychology, hatred of God is the principal driving force, more fundamental than all their political and economic pretensions. Militant atheism is not merely incidental or marginal to Communist policy; it is not a side effect, but the central pivot." (goodreads.com)
In his analysis of Marxist Communism and its' alter ego, scientific materialism, Frank Meyers, an early conservative intellectual concluded that Communism is the state form,
"….taken by a materialist faith determined to rule the world."  Godless Communism is the "final synthesis of all heretical tendencies that have pervaded Western civilization for many centuries."  It is materialist scientism of which, "Communism is the culminating hubris of the Promethean man who reaches out for the world and means to remake creation.  It is scientism gone political." (The Conservative Intellectual Movement in America, George H. Nash, pp. 251-252)
Both scientific evolutionary materialism and its new age evolutionary pantheist counterpart belong to the family of 'new' pagan or modern naturalism.  Modern naturalism refers to a one-dimensional view of reality grounded in a monist pagan philosophy holding that only void, matter and evolutionary (developmental and change-making) energies exist.  Therefore void, matter and energy are the Ultimate One Substance of which the universe consists and with which all life is in continuity, thus "all is one" and "everything is perpetually evolving and ascending."
The main difference between these two views resides in whether matter is thought to be physical (i.e., Greek Atomism) or spiritual (Hinduism). However, both views share in common the following:
Hatred of the supernatural God of Revelation and of man as His spiritual image-bearer
One dimensional views of reality
An inverted account of  origins and history lending itself to the notion that since there was no fall then Lucifer is not the devil and men are not sinful but rather evolving into gods
Scientific materialism or its' New Age spiritual science counterpart
Evolutionary conceptions.  These serve two main functions. First, as a mechanical process of development and second, as a mechanism for purification of matter
The nihilism of Buddha
Jesus Christ to Buddha,
"…you took God away (and) your espousal of an absence of self is the most unique and fearsome claim you made." (The Lotus and the Cross: Jesus Talks with Buddha, Ravi Zacharias, pp. 59, 67)
Life is only with the living God of Revelation, the creator and upholder of the life and being (soul/spirit) of men.  But if He does not exist, it logically follows that there is no ultimate source for life, conscious being, meaning and purpose; or for the sanctity of human life, worth, dignity, individual liberty and personal property.  Without God the Father Almighty unalienable (God given) human rights are as meaningless as America's founding documents have become in our Godless pagan society.
If man is not God's spiritual image-bearer then he is less than nothing, a conclusion Buddha reached long before Jesus Christ God Incarnate walked this earth:
"Six centuries before Jesus Christ, the Buddha already knew that if God does not exist, then the human self cannot exist either…Therefore, he deconstructed the Hindu idea of the soul.  When one starts peeling the onion skin of one's psyche, he discovers that there is no solid core at the center of one's being."  Thus your sense of self becomes illusion, "Reality is nonself…You don't exist. Liberation, the Buddha taught, is realizing the unreality of your existence." (The Book that Made Your World: How the Bible Created the Soul of Western Civilization, Vishal Mangalwadi, p. 6)
Naturalism: the Antithesis
Modern naturalism is in every way the antithesis of God's Revelations and Christianity, the spiritual and moral foundation of Western civilization.   For fifteen hundred years, Christendom and then later Protestant America had affirmed the biblical view of total reality. In this historically unique view total reality consists of two interfacing, interactive halves: the seen (natural) and the unseen (supernatural).
According to this view, man faces both unseen and seen and interprets truth against these two interfacing halves of reality.  Thus Paul declares that as men live out their lives they are spectacles, "unto the world, and to angels and men." (1 Cor. 4:9)
In opposition to modern naturalism's one dimensional view, Paul affirms that total reality consists of two halves, hence this earth (the seen) is really a theater and men are actors on its stage observed not only by other men (the seen) but by the Spirit of God and angels (the unseen).
Though men cannot see the Spirit of God and very rarely see angels they can see, hear and interact with men.  The Spirit of God opens our eyes to understanding (Ps. 118: 34, 125, 144), tests our hearts, knows out secrets, motives, and thoughts (Psa. 17:3; 44:21; 139:1-4).
Both holy and unholy angels are all around us, watching, listening, helping and protecting if holy, if unholy then binding the disobedient to their power.   Just as the Lord of Hosts gives His Holy Spirit to those who love and obey Him, He can send evil spirits upon those who are rebellious, live in persistent sin, practice occult arts or men who in their pride, covetousness and envy reject and hate Him as was the case with Karl Marx and Nietzsche, the apostate Christian philosopher who proclaimed the death of God.  Unto these men the Lord of Hosts sent evil spirits just as He sent one to King Saul (1 Sam. 16:14).   The evil spirit influenced and disordered Saul's thinking, afflicted him with obsessions and paranoia, befouled his conscience, and inflated his disordered passions thereby, "filling him with unrest, anger, fear and murderous intent."  (Occult Bondage and Deliverance, Kurt E. Koch, p. 137)
Dr. Kurt Koch (1913-1987) was a highly respected German minister who pastored, counseled and delivered in excess of twenty thousand people suffering from demonic subjection. According to Koch, demonic subjection is an increasingly common occurrence in post-Christian Western and American society.  Most people have little or no clue that they are in fact demonically subjected while some people, such as Marx, Nietzsche, Hitler and Stalin seem to possess a limitless supply of demonic energy, especially when engaged in imposing their will over the wills of others.
There are many underlying causes of demonic subjection.  Koch delineates some of the leading ones common to apostatizing America:
"If a person blatantly lives a life of sin and persistently resists the Spirit of God and remains completely unrepentant, or…carries the sin of murder or abortion on his conscience, or has committed perjury or practical incest, if he has cursed his fellow men or blasphemed against the cross or against Christ, the Holy Spirit, or God, then he will have laid himself open to the devil's attacks.  Every curse is in fact a cry to the devil, and can…lead a person into bondage." (Koch, p. 138)
"….God created man in his own image…..male and female created he them." Gen. 1:27
According to the uniquely Christian view of total reality, the essence of the human is not the body and brain (the seen) but the unseen…the soul/spirit:
"It is the soul alone that God made in his own image and the soul that he loves…For the sake of the soul…the Son of God came into the world…" (Incomplete Work on Matthew, Homily 25, Ancient Christian Devotional, Oden and Crosby, p. 153)
Building off of the view of man as embodied spirit, St. Augustine (AD 354-430) affirmed that as all men are the spiritual image bearers of the supernatural Triune God in three Persons, then it logically follows that each man is a person; a trinity of being comprised of soul/spirit (unseen), and body, brain (seen).
The citadel of the soul is spirit (heart).  Spirit is immortal and self-aware.  It can will and think and is responsible for what it wills, thinks, speaks, and acts on while in this world.
Spirit is the unique property that distinguishes soul from the material body in which it is fully embedded.  In Biblical thought, spirit allows man to spiritually transcend the natural dimension in order to access the third Heaven.  By way of prayer and petitions the spirit of man's mind allows him to enter into a personal relationship with the Spirit of God.  Through this relationship, spirit is renewed over time, thus enabling man to more perfectly orient the manner of his thoughts, passions, words and actions in this world in preparation for eternity in Paradise.
In Christian thought, a person is a spirit (self) and personality is the total individuality of the spirit.  Without spirit there is no 'self,' hence no person.
The key to personal liberty in the natural or sensory half of reality is man's spiritual liberty contrasted against a genetically pre-programmed animal-like orientation.  Animals have souls but not spirits, the basis of intelligence, sensitivity, imagination, self-consciousness, reflection back and forward into time, and the capacity for truth and moral goodness.
A person is uniquely free because he can spiritually transcend his material brain to access the Spirit of the Lord as Paul affirms:
"Now the Lord is Spirit, and where the Spirit of the Lord is, there is freedom." (2 Cor. 3:17)
Vishal Mangalwadi, India's foremost Christian intellectual observes that this historically unique concept of man as God's spiritual image-bearer gave birth to the "belief in the unique dignity of human beings," and this is the force,
"…that created Western civilization, where citizens do not exist for the state but the state exists for the individual.  Even kings, presidents, prime ministers, and army generals cannot be allowed to trample upon an individual and his or her rights." (Truth and Transformation: A Manifesto for Ailing Nations, Mangalwadi, pp. 12-13)

One-Dimensional Godless Naturalism: the Reality of Non-Self
Modern naturalism, whether of materialist or pantheist permutation positing a non-existent immanent conception of deity (i.e. Omega, Gaia) is at bottom Godless, and said Ravi Zacharias,  absolutely nothing,
"… has a more direct bearing on the moral choices made by individuals or the purposes pursued by society than belief or disbelief in God." Key issues of the day "whether it be…sexual orientation and practice, or life in the fetal stage, sooner or later filter down to whether there is a God, and if so, has he spoken?" (The Real Face of Atheism, Zacharias, p. 21)
In "The Gnostic Religion," Hans Jonas provides a full-scale study of the heretical world of pre-Christian and Christian era pagan Gnostic nihilism together with its modern variants:  materialist and pantheist naturalism.
Jonas writes that while ancient Gnostic pagan man was thrown,
"…into an antagonistic, anti-divine, and therefore anti-human nature, modern man (is thrown) into an indifferent one." (p. 338)
The ancient gnostic conception was still anthropomorphic despite the nihilism, hostility and demonic.  But its' modern counterpart with its' indifferent nature, its' completely godless, soulless, anti-human, demonic nature, represents the "absolute vacuum, the really bottomless pit."
At least the ancient Gnostic dualism, as fantastic as it was, was at least self-consistent, as there was the illusion of a source for 'self' (being).   Not so for its' modern counterpart:
"So radically has anthropomorphism been banned from….nature that even man must cease to be conceived anthropomorphically if he is just an accident of nature.  As the product of the indifferent, his being, too, must be indifferent.  Then the facing of his mortality would simply warrant the reaction, 'Let us eat and drink for tomorrow we die." (ibid, p. 339)
In conclusion:
"…modern nihilism (is) infinitely more radical and more desperate than gnostic nihilism ever could be for all its panic terror of the world and its defiant contempt of its laws.  That nature does not care, one way or the other, is the true abyss.  That only man cares, in his finitude facing nothing but death, alone with….the objective meaninglessness of his projected meanings, is a truly unprecedented situation." (Jonas, p. 339)
In other words, the death of the living God of Revelation means there is neither source for life and 'self' (soul/spirit) nor for higher truth and morality, purpose, meaning, salvation and eternity.   For depersonalized man, the evolved ape or bag of chemicals, there is nothing—no heaven above, no hell below and no,
"…. vast mind behind the framing of the world; no transcending voice giving counsel to this world…no light at the end of the tunnel (hence only) the loneliness of existence in its most desolate form."  (Zacharias, p. 27)
The determined assault against the living Holy God that began during the Renaissance gained speed and force with the materialist implications of Darwin's neo-pagan theory.  The idea that humans evolved by chance and natural selection from non-life bearing chemicals lay the axe at the very foundation of the Genesis account of creation ex nihilo.  On the heels of Darwin's theory Christianity came under forceful attack allowing a one-dimensional worldview draining into nihilism to be declared a scientifically supported reality.
Darwin's "Origin of Species" was published in 1859 and instantly and uncritically accepted by people such as Karl Marx, T.H. Huxley, Herbert Spencer, Ernst Haeckel in Germany and large numbers of clergy more eager to be thought scientific and modern than to defend the faith once given.
For materialist and pantheist alike, Darwin's theory was a wish come true and so became the center of their respective one-dimensional worldviews.
The demonized Karl Marx hated the God of Revelation and his exuberance for Darwin's idea prompted him to consider dedicating his Das Kapital to Darwin, an honor which he declined.  Since Marx favored scientific materialism the rationale behind his invitation to Darwin was that he saw how Darwin's materialist theory provided a scientific framework to support the economic infrastructure on which Marx could build his godless communist utopia.
Darwin's materialist theory and Marxist materialist presuppositions (economic theory based on envy and hatred of God) together with Freud's materialist-based analysis of religion and human sexuality threw faith in God and Christianity "over the wall of civilization,' said Zacharias:
"With such abusive attacks directed at religious belief coming from so many directions, it was left for someone to cast this creature called theism completely out, and exorcise the world of all such influence.  The one who did that was the German philosopher Friedrich Nietzsche." (p. 25)
By the time of Nietzsche, perceptive thinkers had already been expressing apprehension at the prospect of multitudes of unsuspecting Westerners who would eventually be cruelly exploited by anti-human haters of God.
With Nietzsche, dreadful apprehension deepened into certainty, for Nietzsche despised religion in general, but upon Christianity he poured his unbridled fury:
"I call Christianity the one great curse, the one enormous and innermost perversion, the one great instinct of 
revenge, for which no means are too venomous, too underhanded, too underground, and too petty." (Nietzsche in "The Life of Nietzsche," Faru Forster Nietzsche, 1921, p. 656)
However, rather than mindless infatuation for Darwin's idea, Nietzsche (1844–1900) harshly criticized it:
"What surprises me most when I survey the broad destinies of man is that I always see before me the opposite of that which Darwin and his school see or want to see today: selection in favor of the stronger, better-constituted, and the progress of the species. Precisely the opposite is palpable … I incline to the prejudice that the school of Darwin has been deluded everywhere…" (Nietzsche: The evolutionist who was anti-God and anti-Darwin, Russell Grigg, creation.com)
Nietzsche was not anti-evolution but rather had his own evolutionary conception which he called "the will to power."
While Darwin received his idea from his pantheist grandfather Erasmus Darwin, Nietzsche's conception was preceded by mystical ecstasy.  Nietzsche experienced two mystical encounters with the first one taking place in August, 1881.
Charles Andler writes that previous to his scientific reasoning, Nietzsche received revelations during mystical encounters just as Spinoza did.  Mystical ecstasy,
"…. preceded (Spinoza's) system and his geometric form, thus, with Nietzsche mystical ecstasy preceded his scientific reasoning." (Charles Andler cited by Henri De Lubac, "The Drama of Atheist Humanism," p. 481)
According to Henri De Lubac, secret knowledge was revealed to Nietzsche that he was "….the first of men to know.'   The shock of it was sudden and profound.  Though no direct document relates his experience sure evidence is found in an agitated page of Ecce Homo where Nietzsche wrote:
"Suddenly, with sureness, with indescribable delicacy, a thing makes itself seen, makes itself heard.  It shakes you, it overwhelms you right to your innermost depths.  You hear it…You let it fill you….A thought blazes forth like a flash of lightening…It imposes itself as a necessity…I never had to choose it.  It is an ecstasy….You are enraptured, taken outside of yourself…All of this…is accompanied by a tumultuous feeling of liberty, of independence, of divinity…There you have my experience of the inspiration." (Lubac, p. 472)
In the months that followed he remained silent about the knowledge he received.  But in August of 1882 he discussed his experience with Lou Salome.  Salome writes that Nietzsche spoke of his encounter only in obscure words and with hushed voice.  Giving "every indication of the most profound horror" Nietzsche described the terrible and marvelous revelation he had received with two words: Eternal Return. (ibid, p. 473)
In the autumn of 1882 he experienced his second encounter which he described in the poem Sils Maria:
"I was sitting and waiting, without waiting for anything/Beyond good and evil, tasting Light sometimes and sometimes shade/Absorbed by this brew…When suddenly…what was one became two, And Zarathustra passed before me…" (ibid, p. 475)
It was a vision without a doubt, precise and sudden:
"I could tell you the day and the hour….Zarathustra has fallen on me, he assaults me.."  (ibid)
Zarathustra was an evil spirit who confirmed to Nietzsche the 'truth' of the revelations already received, which included man's evolution from worms:
"You [mankind] have made your way from worm to human, and much in you is still worm. Once you were apes, and even now the human being is still more of an ape than any ape is." (Nietzsche, Thus Spake Zarathustra, Zarathustra's Prologue section 3, trans. by G. Parkes, Oxford University Press, New York, 2005, p. 11)
Henceforth, Nietzsche is an inspired prophet who knows for certain that the God of Revelation is dead, that man's evolution from worms is absolutely true, and that he is Jesus Christ's successor, the 'new' Christ.  Within ten days he drafted by way of automatic writing the whole first book of his prophecy.  He called his finished work Zarathustra, the new Bible of scientific evolutionary naturalism, and told the world to throw away all other books, for now you have my Zarathustra, "a new Holy Book." 
It was Nietzsche, the 'new' Christ, who saw that the death of the personal God had already begun to cast its first dark shadows over Europe, and though,
"the event itself is far too great, too remote, too much beyond most people's power of apprehension, for one to suppose that so much as the report of it could have reached them," still its advent was certain, and it was men like Nietzsche, the 'new' Christ who were "the firstlings and premature children of the coming century," the century of the "triumph of Nihilism." (Nihilism: The Root of the Revolution of the Modern Age, Eugene Rose, p. 44)
Nietzsche was the first apostate Christian to gaze fully upon man's loss of faith and its terrifying consequences.  With no living God 'up there' to obstruct his vision, the nihilism he saw was agonizing.  As there was no longer any Light from God above, there was only darkness in the hermetically sealed world below.  The paralyzing darkness that overtook the mind of the 'new' Christ was spiritual.  It was not so much,
"….an exterior phenomenon crowding inward but rather an inner blinding that spread outward." (Ravi Zacharias, p. 27)
This was precisely Nietzsche's point.  With the death of the personal God of Revelation the darkness of objective meaninglessness would penetrate every avenue of thought and life, making life itself unbearable with the consequence of hedonism, abortion, euthanasia, sodomy, suicide, drugs, crime and murder becoming virtues.
Speaking through the writings of the 'new' Christ, Zarathustra went on to say that because God had died in the 19th century there would follow two terrible consequences beginning in the 20th century. (Romans 1:18)
First, the 20th century would become one of the most evil century's in history, and second, a universal madness (Romans 1:21, 22) would break out and turn the once glorious W. Europe and America upside-down.
Though apostates and the apostatizing professed themselves wise, their cognitive thought processes would become darkened (vain) and with their conscience dead to sin they would become fools, meaning they would accept and publicly profess incredibly stupid conceptions of themselves (i.e., man is an evolved worm, ape or robot; man is evolving into god).
"And I will give children to be their princes, and the effeminate shall rule over them." Isaiah 3:4
In turning away from the Spirit of God and the truth He has given, 'wise' males will become effeminate cowards and females mannish.  They will be adolescent emotional-tyrants in adult-size bodies: sinister, greedy, spiteful, vindictive, treacherous, back-stabbing sophists.  They will celebrate Lucifer (the devil) and in their madness actively seek the way of Luciferian initiation because they will be spiritually blind in regard to total reality.  Like demons they will flee from the cross of Jesus but exalt the devil as the first free thinker, the genetic creator of man, the seething energy and angel of evolution.  Truth will be lies, evil will be good, unfaithfulness will be faith and the 'wise' will preach and blaspheme from pulpits, exercise political power, enact legislation, and wield broken law to plunder, punish, and ruin.
Zarathustra has been right on both counts.  First, apostatizing W. Europe and America, though dotted here and there by small islands of Light, decency and sanity, are becoming darkened, satanically inverted places ruled by the 'wise,' hence boiling over with madness, particularly Hollywood, academia, mainstream media and the highest, most powerful political offices in the land.   Second, Nietzsche was made to show the 'wise' what is in store for them by spending the last eleven years of his life insane.
For the past several years, America finds itself fragmenting at the seams. We suffer a gridlocked Congress that watches problems grow and grow—but it fails to take action to solve anything. It continues endless wars abroad. It watches our educational systems disintegrate, but does nothing. Endless millions of minorities and the Middle Class cannot secure jobs, but Congress continues to import 100,000 green card holding immigrants every 30 days.
A mind-blowing 47 million Americans subsist on food stamps, but our U.S. Congress continues to offshore jobs, insource jobs and outsource jobs. Those 535 congressional critters do everything in their power to subvert the Middle Class of America.
Across America, illiteracy grows as 7,000 kids quit high school every day of the nine-month school cycle. CBS anchor Scott Pelley said, "Our educational results cannot sustain America."
In other words, we cannot keep kicking illiterate kids into the job market and hope they can read, write and perform simple math—when they can't.
We suffer Black-America revolting with marches over Latino-American Zimmerman killing African-American Martin with calls of racism, when, at the same time, 1,300 blacks killed 1,300 blacks from the Martin killing to the trial date. Black on black crime killed 1,299 black kids while blacks protested over one shooting of a Latino killing a black. It never occurs to them that black on black and black on white crime runs 1,000 to 1.
The Main Stream Media censors the phenomenon known as "Black Flash Mobs" where young blacks in cities like Philadelphia, Detroit, Chicago and Minneapolis—run wild in streets beating up white people and looting stores.
Why? Those kids don't enjoy fathers to mentor them toward responsible adulthood as 68 percent of all black kids in America are raised by single mothers. About 99 percent of them live on welfare and in poverty. (Source: Denver Post, Dottie Lamm) Yet, the Congress sits and knits, picks its nose and yawns and scratches its rear-end, but won't get off its collective butt to solve the problems.
Our nation faces $16.5 trillion debt, entrenched poverty class, growing illiteracy, accelerating killings, intractable crime, drugs and unemployment.
Yet, it imports 100,000 legal Third World immigrants every 30 days. In 2013, we feature over 40 million people not born in this country. As they continue to bring in their families and birth their babies, whole communities in cities like Chicago, Miami, Houston and LA do not resemble America or speak our language.
Every American sees the mess exploding, but most remain clueless as to its origins.
On a recent radio show where I interview weekly, www.KGAB.com with Dave Chaffin on the "Morning Zone," a caller asked a poignant question: "Will we ever get back to the America that I knew growing up as a kid?"
First of all, the America of 50 years ago with Norman Rockwell paintings of paper boys throwing papers onto the steps of nicely painted houses with picket fences—will not be seen again. Instead, we see violent mega-cities exploding beyond the sky line with air pollution and gridlock.
Since 1965, we imported 100 million third world immigrants because of Teddy Kennedy's Immigration Reform Act. That bill continues today as it adds 1.2 million third world people annually.
We contorted America from three major ethnic tribal groups with the same Christian religion to over a dozen tribal groups with aggressive religions like Islam. If the current amnesty bill passes, it will import 1.5 million third world immigrants annually, or, about 125,000 new comers each month. Total: 100 million by 2050.
Where are they coming from? This two-minute video on Bangladesh will stun you, but this will be our end result: http://safeshare.tv/w/vwncRciSFb
That video probably shocked the daylights out of you, but that's what all of China, India, Bangladesh, Indochina and many other parts of the world face with their population loads. I've witnessed it first hand on my world bicycle travels. Worse, they come to America for a better life, but they continue propagating beyond reason.
Back to the question: Can we return America back to the way it was before this mass immigration juggernaut?
If we don't reduce all immigration to less than 100,000 annually, instead of 100,000 monthly—we will never, ever return to what it meant to be an unhyphenated American. We will never enjoy religious civility as the Muslims grow their numbers and aggressively push for Sharia Law within America. We will never again enjoy a flourishing Middle Class. We will never again enjoy clean air and plenty of water.
We will not enjoy a single language or culture. We will never again enjoy unlimited freedom as we compact ourselves into cities and begin to resemble China, India and even Bangladesh before this century expires.
What to do? How to take action?
1.    Do everything in your power to stop S744 amnesty bill. Call, write, visit your Senators and House reps. Write letters to the editor, call your radio shows and push the issue to stop mass immigration.
2.    Join every organization you see on my website: www.frostywooldridge.com in order to make collective impact to stop passage of S744.
3.    Vote out any senator or congressman that thinks importing the entire third world or the projected 100 million new immigrants to this country within 37 years.
4.    Call or email Charlie Rose CharlieRose@pbs.org and ask him to interview top environmental/population experts as to our future if we allow another 100 million people to be imported via mass immigration.  Write Matt Lauer, Katie Couric, Diane Sawyer, 60 Minutes, Dateline, Primetime, and ask them to interview top speakers as to our survival prospects of an America that grew from 316 million to 625 million people within this century.
5.    Join www.CapsWeb.org, www.NumbersUSA.org, www.FairUS.org, www.alipacus.com in order to join over 1.5 million Americans of all persuasions who collectively possess the power to stop mass immigration into America and work toward a viable and sustainable future for our civilization.  It's free and powerful because you can send in pre-written faxes to your reps to enlighten them as to the consequences of a mass amnesty and jumping legal immigration to two million annually.  You will become part of an armada of parents, grandparents, citizens and more to change course toward a positive future.
6.    Send me your thoughts on more ideas I can share with Americans in order to regain or at least not lose any more of America than we have already.
The inability of the media and politicians to focus on the real issues never ceases to amaze.
The real crisis is not the "debt ceiling crisis." The government shutdown is merely a result of the Republicans using the debt limit ceiling to attempt to block the implementation of Obamacare. If the shutdown persists and becomes a problem, Obama has enough power under the various "war on terror" rulings to declare a national emergency and raise the debt ceiling by executive order. An executive branch that has the power to inter citizens indefinitely and to murder them without due process of law, can certainly set aside a ceiling on debt that jeopardizes the government.
The real crisis is that jobs offshoring by US corporations has permanently lowered US tax revenues by shifting what would have been consumer income, US GDP, and tax base to China, India, and other countries where wages and the cost of living are relatively low. On the spending side, twelve years of wars have inflated annual expenditures. The consequence is a wide deficit gap between revenues and expenditures.
Under the present circumstances, the deficit is too large to be closed. The Federal Reserve covers the deficit by printing $1,000 billion annually with which to purchase Treasury debt and mortgage-backed financial instruments. The use of the printing press on such a large scale undermines the US dollar's role as reserve currency, the basis for US power. Raising the debt limit simply allows the real crisis to continue. More money will be printed with which to purchase more new debt issues needed to close the gap between revenues and expenditures.
The supply of dollars or dollar denominated assets in foreign hands is vast. (The Social Security system's large surplus accumulated over a quarter century was borrowed by the Treasury and spent. In its place are non-marketable Treasury IOUs. Consequently, Social Security is one of the largest creditors to the US government.)
If foreigners lose confidence in the dollar, the drop in the dollar's exchange value would mean high inflation and the Federal Reserve's loss of control over interest rates. It is possible that a drop in the dollar's exchange value could initiate hyperinflation in the US.
The real crisis is the absence of intelligence among economists and policymakers who told us for 20 years not to worry about the offshoring of US jobs, because we were going to have a "New Economy" with better jobs.
As I report each month, not a single one of these "New Economy" jobs has appeared in the payroll jobs statistics or in the Labor Department's projections of future jobs. Economists and policymakers simply gave away a good chunk of the US economy in order to enhance corporate profits. One result has been to create in the US the worst distribution of income of all developed countries and of many undeveloped ones.
In the scheme of things, the enhanced profits are a short-run thing, because by halting the growth in consumer income, jobs offshoring has destroyed the US consumer market. As I noted in a recent column, on September 19 the New York Times reported what I have reported for years: that US median family income has not increased for a quarter of a century. The lack of consumer income growth is why 5 years of massive monetary and fiscal stimulus have not brought economic recovery.
The real crisis cannot be addressed unless the jobs are brought back home and the wars are stopped. As powerful organized interests oppose any such measures, Congress will pass a new debt ceiling and the real crisis will continue.
Do you hear any mention of the real crisis in the media? Today I was on an international TV program for 25 minutes with the chief financial editor of one of England's major newspapers. Little doubt but that he was a good-hearted and intelligent fellow, but he had no capability of thinking outside the box. He was unable to comprehend my explanations, and resorted to regurgitations of the media's ignorance or subservience to Washington's propaganda.
Among his regurgitations was the "solution" of cutting Social Security. The chief financial editor of a major UK newspaper did not know that for the past quarter of a century Social Security revenues exceeded Social Security payments, and that the Treasury spent the surplus to fund the annual operating expenses of the government, issuing non-marketable IOUs to the Social Security Trust Funds.
The chief financial editor also did not comprehend that cutting Social Security payments also cuts consumer spending or aggregate demand, and sends the economy down further, thus magnifying the deficit/debt problem.
Because of the serious decline in the US economy caused by jobs offshoring and financial deregulation, Social Security no longer adds to its surplus. Social Security payments need the supplement to the annual payroll revenues of repayments by the Treasury of the borrowed funds.
The only reasons that Social Security is in trouble is that jobs offshoring and wars have constrained the US Treasury's ability to make good on its debts except by having the Federal Reserve print money. Every job that is sent abroad does not contribute payroll taxes to Social Security and Medicare.
Insouciant American economists say that manufacturing is an outmoded source of employment, but Chinese manufacturing employment is almost equal to the total US labor force in all occupations, including waitresses and bartenders and hospital orderlies. China's economy is growing at a rate of 7.5% in real terms, while Western economies cannot move forward and some are regressing.
In order to appease Wall Street, the most corrupt institution in human history, and to prevent Wall Street-financed takeovers of their corporations, executives destroyed the American consumer market by offshoring American incomes in order to enhance profits by substituting cheap foreign labor for US labor.
In my opinion, the US economy is not salvageable in its present form. The economy is running out of water resources. The supply that remains is being decimated by fracking. The soil is depleted by glysophate, a requirement of GMO agriculture. The external costs of production are rising (the costs that the corporations impose on the environment and third parties) and possibly exceed the value of the increase in corporate output. Economists are incapable of independent thought, and elected representatives are dependent on the private interests that finance their campaigns.
It is difficult to imagine a more discouraging situation.
At this time, collapse seems the most likely forecast.
Perhaps out of the ruins, a new, intelligent beginning might occur.
If there are any leaders.
Paul Craig Roberts was Assistant Secretary of the Treasury for Economic Policy and associate editor of the Wall Street Journal. He was columnist for Business Week, Scripps Howard News Service, and Creators Syndicate. He has had many university appointments. His internet columns have attracted a worldwide following. His latest book, The Failure of Laissez Faire Capitalism and Economic Dissolution of the West is now available.
Source: Paul Craig Roberts
Goldman Sachs is the epitome of the word "evil." If one wants to know what the evil central bankers are up to, one only needs to pay attention to the actions of Goldman Sachs. The power elite residing inside of this country does not begin and end with the Federal Reserve, that privilege is reserved for the interrelationship between Goldman Sachs, the Federal Reserve, the corrupt World Bank and the IMF. And now, Goldman Sachs is running the European financial system into the ground as another Goldman Sachs boy, "Super" Mario Monti, has taken over Italy to finish off what is left of the Italian financial system. Monti is also the head of the European Trilateral Commission as well as a Bilderberg member. And yet another Goldman Sachs boy is finishing off the job in Greece. It is the mission of Goldman Sachs to implode the global economy with massive debt arising from the failed derivatives market, in which the debt totals 16 times the total GDP of the planet and that debt has been passed on to the governments of the world. There is no way that any country will ever pay off this debt. The world's financial system will be collapsed and then reorganized under the Bank of International Settlement. Goldman Sachs is merely the grim reaper in this unholy process.
The Goals of Goldman Sachs
The purpose of this article is to expose the three pronged attack, directed at the American people, by Goldman Sachs, and its partners at the Federal Reserve, the US Treasury Department, the IMF and the World Bank. These central banker controlled institutions are engaged in a plot which is designed to accomplish the following:
The destruction of America's domestic economy through the introduction of derivative debt which is 16 times greater than the world's GDP. This goal has been accomplished as evidenced by the fact that America now has more workers on welfare (101 million) as opposed to actual full time workers (97 million).
Setting the chessboard in such a way that WWIII is a foregone conclusion. This is near completion as the US and Israel are poised to go to war with China and Russia, over Syria and Iran, in order to preserve the Petrodollar.
Initiating a false flag event which will culminate in martial law and the elimination to all opposition to both the coming WWIII and the imposition of a tyrannical world government as well as a one world economic system.
It is no secret that Goldman Sachs runs Wall Street. After the first bail out, Goldman Sachs cut the head off of Shearson Lehman and several other Wall Street competitors when they used their undue influence to determine winners and losers after the first round of TARP. Even Ray Charles could see that Goldman Sachs is in near complete control of our government as evidenced by the former Goldman Sachs gangsters who have run our economy into the ground (e.g., Clinton's Secretary of Treasury Goldman Sachs' Rubin, Bush's Secretary of Treasury Goldman Sachs' "too big to fail" Hank Paulson, etc.). Make no mistake about it, the introduction of the massive derivatives debt was a power consolidation move designed to collapse the economy and hand over essential control to Goldman Sachs and its partners.
History Repeats Itself
Today's events parallel the imperialists of the early 2oth Century which resulted in World War I. The Wall Street led depression of the 1930's led to the rise of political extremism and ultimately to World War II. Today, Goldman Sachs and their fellow Wall Street cronies are currently running, or dare I say ruining the global economy and the consequences are going to result in the culmination of World War III from which these same gangster bankster's will profit from the buildup, the death and destruction of billions of innocent people as well as profiting from the lucrative clean up which follows every war.
The ultimate prize for the coming war will be the ruination of the planet in order that the power structure of the earth can be reinvented in a manner that not even George Orwell could imagine. Remember, as the globalists like to say in reference to their favorite Hegelian Dialectic quote, "Out of chaos comes order." Of course, it won't be Goldman Sachs' money that pays for the destruction of humanity in the coming world war. This coming war and its subsequent blood money will be your money and my money. It goes without saying that it won't be the executives of Goldman Sachs children who are pressed into military service and will be eventually sacrificed on the battlefields of WWIII. It will be your children and my children who will be sacrificed in the name of furthering the bottom line of the Goldman Sachs Mafia and their masters at the Bank of International Settlement. Meanwhile, the Goldman Sachs children who will be safely tucked away as the world's final chapter plays out as we know it.
 Goldman Sachs Destroying the American Middle Class
This swath of international destruction being promulgated by Goldman Sachs is also being visited upon the daily lives of the American public here at home. Courtesy of the Goldman Sachs gangsters, there are no more safe financial havens for American citizens. Your bank account, your pension fund, your investment accounts and your home mortgages are no longer safe. These collective funds are not in jeopardy because of the risk of falling victim to the failing economy as much as these funds are subject to confiscation by Goldman Sachs and its shell corporations along with the complicit support of the federal government. Most of these public officials are former Goldman Sachs employees. A clear case in point lies in what happened with MF Global.
MF Global, a shell corporation beholding to Goldman Sachs, was led to the slaughter by the former Goldman Sachs executive and former New Jersey Governor and senator, John Corzine. Corzine's criminal actions directly victimized 150,000 Americans by stealing an estimated $900 million dollars of his clients' money from their supposedly secure private accounts. There is also another $600 million missing dollars from MF Global which is still unaccounted for today.  Meanwhile, Corzine avoids sharing a prison cell with Bernie Madoff by purchasing a "get-out-of-jail card" through the sponsorship of a $35,000 per plate fundraiser for that great Wall Street puppet, Barack Hussein Obama. And what are the government watch dogs doing to protect our money from this new generation of robber barons? The short answer is that key federal officials are actually partners with Goldman Sachs in this monumental violation of the public trust. Take Gary Gensler, a former Goldman Sachs executive partner, who like so many other Goldman Sachs gangsters, have been placed into key governmental oversight positions in order to protect the Goldman Sachs co-conspirators from prosecution as they continue their reign of terror upon the global economy.
…but a Goldman Sachs cop on the take.
Gary "the gangster" Gensler is the former Undersecretary of the Treasury(1999-2001) and Assistant Secretary of the Treasury (1997-1999) and the current director of the Commodity Futures Trading Commission. In his position at the time of the MF Global debacle, Gensler had the authority to go after Corzine for his role in the MF Global theft of customer funds and order restitution. However, Gensler has decided to protect a fellow member of the Goldman Sachs Mafia by not looking into the massive fraud and theft by Corzine and his cronies. Your tax dollars, paying the salary of federal officials, are overseeing the most massive illegal private transfer of wealth in the history of the planet. And this debt is payable to Goldman Sachs and their criminal enterprise partners.
You may not be one of the current 150,000 Goldman Sachs/MF Global victims. However, this Robin Hood-in-reverse-scenario, in which the rich are plundering what's left of the middle class, will soon be visited upon your bank account, your home mortgages and your pensions. Whether it is the MERS mortgage fraud or the theft being perpetrated upon Federal employee retirement accounts, these criminal banksters are in the process of stealing it all and what are you going to do about it? Our nation of entrenched sheep will do nothing. The American citizens are going to lie down and take their beating in the face of the largest unfolding criminal syndicate in human history.
While you and the rest of America are trying to collectively remove your "deer in the headlight" glaze, you, as an American, have far more serious issues to concern yourself with and you are not going to have to wait long to have your worst fears to be born out.
 Something Wicked This Way Comes
Some, who have heard my expressed sense of outrage, have asked me if I favor a violent overthrow the United States Government. To that question, I answer in the negative. However, show me a way to be involved in the overthrow of the gangsters who have hijacked my country's government, and I will be the first in line. However, before that day arrives, we have some very formidable obstacles to face with regard to what is looming just around the corner.
Goldman Sachs Is the Financial Kingpin of False Flag Attacks
If one wants to predict the next false flag attack, one merely has to watch the actions and the money movements of Goldman Sachs.
In the days leading up to the attacks on 9/11, Goldman Sachs "shorted" the sale of airline stocks which plummeted in the aftermath of the attacks. Just a coincidence you say?
In the days leading up to the housing bubble, Goldman Sachs shorted housing stocks which ignited the bubble. The Federal government fined Goldman Sachs, but in typical fashion, nobody went to jail. Just another coincidence you say?
As I documented in my seven part series, The Great Gulf Coast Holocaust, Goldman Sachs executed a "put option" for preferred insiders invested in Transocean stock, thus protecting the profits of these preferred insiders on the morning of the explosion. Transocean was the owner of the ill-fated oil rig. Goldman Sachs also sold the lion's share of its stock less than two weeks before that fateful day on April 20, 2010. Nalco was the subsidiary of Goldman Sachs and BP at the time of the explosion. Who is Nalco? Nalco was the exclusive manufacturer of the deadly oil dispersant, Corexit. Corexit has done more to wreck the ecology of the Gulf as well as the health of the Gulf Coast residents than the oil spill itself. Again, this is all documented in my seven part series. By the way, I count another three coincidences in this paragraph alone and if you are keeping score, we are looking at a total of five amazing coincidences. But wait, there is more!
The moral of this story is clear, if there is to be a significant false flag event, the financial actions of Goldman Sachs will prove to be the key. And Goldman Sachs' actions have signaled yet another oncoming false flag. As I reported on in April, Goldman Sachs instructed its brokers to sell short on gold stocks. And then after the bulk of the gold market panicked and the price of gold plummeted in a massive sell off, the Goldman Sachs boys did it again. The Goldman Sachs brokers began to purchase gold in massive amounts, for its elite clients, at a greatly depressed price. By the way, Goldman Sachs employed the EXACT same strategy with regard to the Gulf Oil tragedy. When Goldman Sachs sold off BP stock in the days before the explosion, they purchased massive amounts of BP stock at a greatly reduced price in June of 2010. The coincidence meter is now up to seven.
Why Goldman Sachs Cornered the Gold Market
The global elite would only want massive amounts of gold because something bad is about to happen to the dollar. When the dollar collapses, the elite, courtesy of the Goldman Sachs brokers will be sitting in a great position in which they hold the only sustainable medium of exchange following the collapse. But when will the collapse come? What form will it take?
As I reported, less than two weeks ago, the Bank of International Settlement ordered the central banks, including the Federal Reserve, to greatly decrease loans as a protection to the coming bad financial times. So, now we are getting warned and the narrowing down of where this is leading, is getting easier to predict.
It is important to remember that Goldman Sachs and the rest of the international banking community desperately want to wage war in Syria and eventually Iran over the demise of the Petrodollar caused by Iran in which they are selling oil for gold to India, China and Russia. There is also big money to be made by the banks in an upcoming global conflict. More importantly, and just as the world witnessed in the aftermath of WWII, consolidation of power can be achieved following a major war. Additionally, Goldman Sachs and the rest of the international bankers are not about to let China and Russia thumb their noses at the prevailing economic system. Gold will not be allowed to be used as a medium of exchange for nation states, because a nation on the gold standard, is a nation that controls its debt levels and financial security. This is unacceptable to the central bankers who kill national leaders, such as Gadaffi and Sadam Hussein, for daring to break from the plan and achieve financial independence. What the globalists also need is a game changing event which will destroy all opposition to the coming war. And the financial intentions of Goldman Sachs clearly speaks to the fact that a false flag attack is imminent which will implicate Syria and Iran and provide the pretext for the US and Israel to attack.
The Nature of the Coming False Flag Attack
The coming false flag attack which will plunge America into martial law, for our own protection of course, will result in WWIII. The false flag event could take two forms. It was reported two weeks ago, that the US was missing a nuclear weapon from a military base in Texas. This prompted Senator Lindsay Graham to state that the harbor in Charleston, SC. would be nuked if the US did not attack Syria. This is the first scenario.
The other scenario, and the far more likely one, has the power grid going down on November 13th. The Grid Ex II drill being conducted by DHS, FEMA, 150 corporations and the 50 governors, will simulate a power grid take down by terrorists on that same date. How many times have we witnessed a drill which turns into a false flag attack? This happened with 9/11, the 7/7 bombings and the Boston Marathon. There is a good chance it is going to happen here
In this scenario, once the grid is taken down, a banking collapse can be instituted and most will not notice because by the third day of a blackout, total chaos will ensue and nobody will be paying attention to the banks. Martial law will be imposed and Syria and Iran will be blamed.
The CEO of Goldman Sachs, Llloyd Blankfein, is on the record stating that an economic collapse is imminent. Need I say more?
Conclusion
Regardless of the form that an upcoming false flag event will follow, Goldman Sachs has tipped their false flag hand. A false flag event is coming and it is a safe bet that it will culminate in martial law. This would certainly explain DHS' collecting of 2.6 billion rounds of ammunition and 2700 armored personnel carriers. There is also going to be a resulting third world war. The globalists know humanity is waking up. They are running out time and they are desperate. This could all be over in a few months. Do you not feel the collective sense of dreaded anticipation that has overtaken the country? At the unconscious level, we all know what is coming.
The November power grid drill is worth watching and I predict in the upcoming weeks, there will be many articles written about how to survive the coming events. I would advise all to pay attention, but most of all, I would advise people to get their spiritual affairs in order. We come into the world with nothing and all we leave with is the sum total of our spiritual experiences. It is time to attend to that detail in the present time frame.
Source: The Common Sense Show
The goon thug psychopaths no longer only brutalize minorities–it is open season on all of us –the latest victim is a petite young white mother of two small children.
The worse threat every American faces comes from his/her own government.
At the federal level the threat is a seventh war (Syria) in 12 years, leading on to the eighth and ninth (Iran and Lebanon) and then on to nuclear war with Russia and China.
The criminal psychopaths in Washington have squandered trillions of dollars on their wars, killing and dispossessing millions of Muslims while millions of American citizens have been dispossessed of their homes and careers. Now the entire social safety net is on the chopping bloc so that Washington can finance more wars.
At the state and local level every American faces brutal, armed psychopaths known as the police. The "law and order" conservatives and the "compassionate" liberals stand silent while police psychopaths brutalize children and grandmothers, murder double amputees in wheel chairs, break into the wrong homes, murder the family dogs, and terrify the occupants, pointing their automatic assault weapons in the faces of small children.
The American police perform no positive function. They pose a much larger threat to citizens than do the criminals who operate without a police badge. Americans would be safer if the police forces were abolished.
The police have been militarized and largely federalized by the Pentagon and the gestapo Homeland Security. The role of the federal government in equipping state and local police with military weapons, including tanks, and training in their use has essentially removed the police from state and local control. No matter how brutal any police officer, it is rare that any suffer more than a few months suspension, usually with full pay, while a report is concocted that clears them of any wrong doing.
In America today, police murder with impunity. All the psychopaths have to say is, "I thought his wallet was a gun," or "we had to taser the unconscious guy we found lying on the ground, because he wouldn't obey our commands to get up."
There are innumerable cases of 240 pound cop psychopaths beating a 115 pound woman black and blue. Or handcuffing and carting off to jail 6 and 7 year old boys for having a dispute on the school playground.
Many Americans take solace in their erroneous belief that this only happens to minorities who they believe deserve it, but psychopaths use their unaccountable power against everyone. The American police are a brutal criminal gang free of civilian control.
Unaccountable power, which the police have, always attracts psychopaths. You are lucky if you only get bullies, but mainly police forces attract people who enjoy hurting people and tyrannizing them. To inflict harm on the public is why psychopaths join police forces.
Calling the police is a risky thing to do. Often it is the person who calls for help or some innocent person who ends up brutalized or murdered by the police. For example, on September 15 CNN reported a case of a young man who wrecked his car and went to a nearby house for help. The woman, made paranoid by the "war on crime," imagined that she was in danger and called police. When the police arrived, the young man ran up to them, and the police shot him dead.http://www.cnn.com/2013/09/15/justice/north-carolina-police-shooting/
People who say the solution is better police training are unaware of how the police are trained. Police are trained to perceive the public as the enemy and to use maximum force. I have watched local police forces train. Two or three dozen officers will simultaneously empty their high-capacity magazines at the same target, a minimum of 300 bullets fired at one target. The purpose is to completely destroy whatever is on the receiving end of police fire.
US prosecutors seem to be the equal to police in terms of the psychopaths in their ranks. The United States, "the light unto the world," not only has the highest percentage of its population in prison of every other country in the world, but also has the largest absolute number of people in prison. The US prison population is much larger in absolute numbers that the prison populations of China and India, countries with four times the US population.
Just try to find a prosecutor who gives a hoot about the innocence or guilt of the accused who is in his clutches. All the prosecutor cares about is his conviction rate. The higher his conviction rate, the greater his success even if every person convicted is innocent. The higher his conviction rate, the more likely he can run for public office.
Many prosecutors, such as Rudy Giuliani, target well known people so that they can gain name recognition via the names of their victims.
The American justice (sic) system serves the political ambitions of prosecutors and the murderous lusts of police psychopaths. It serves the profit motives of the privatized prisons who need high occupancy rates for their balance sheets.
But you can bet your life that the American justice (sic) system does not serve justice.
While writing this article, I googled "police brutality," and google delivered 4,100,000 results. If a person googles "police brutality videos," he will discover that there are more videos than could be watched in a lifetime. And these are only those acts of police brutality that are witnessed and caught on camera.
It would take thousands of pages just to compile the information available.
The facts seem to support the case that police in the US commit more crimes and acts of violence against the public than do the criminals who do not wear badges. According to the FBI crime Statistics http://www.fbi.gov/about-us/cjis/ucr/crime-in-the-u.s/2010/crime-in-the-u.s.-2010/summaryin 2010 there were 1,246,248 violent crimes committed by people without police badges. Keep in mind that the definition of violent crime can be an expansive definition. For example, simply to push someone is considered assault. If two people come to blows in an argument, both have committed assault. However, even with this expansive definition of violent crimes, police assaults are both more numerous and more dangerous, as it is usually a half dozen overweight goon thugs beating and tasering one person.
Reports of police brutality are commonplace, but hardly anything is ever done about them. For example, on September 10, AlterNet reported that Houston, Texas, police routinely beat and murder local citizens. http://www.alternet.org/investigations/cops-are-beating-unarmed-suspect-nearly-every-day-houston?akid=10911.81835.yRJa7d&rd=1&src=newsletter894783&t=9&paging=off
The threat posed to the public by police psychopaths is growing rapidly. Last July 19 the Wall Street Journal reported: "Driven by martial rhetoric and the availability of military-style equipment–from bayonets and M-16 rifles to armored personnel carriers–American police forces have often adopted a mind-set previously reserved for the battlefield. The war on drugs and, more recently, post-9/11 antiterrorism efforts have created a new figure on the US scene: the warrior cop–armed to the teeth, ready to deal harshly with targeted wrongdoers, and a growing threat to familiar American liberties."
The Wall Street Journal, being an establishment newspaper, has to put it as nicely as possible. The bald fact is that today's cop in body armor with assault weapons, grenades, and tanks is not there to make arrests of suspected criminals. He is there in anticipation of protests to beat down the public for exercising constitutional rights.
To suppress public protests is also the purpose of the Department of Homeland Security Police, a federal para-military police force that is a new development for the United States. No one in their right mind could possibly think that the vast militarized police have been created because of "the terrorist threat." Terrorists are so rare that the FBI has to round up demented people and talk them into a plot so that the "terrorist threat" can be kept alive in the public's mind.
The American public is too brainwashed to be able to defend itself. Consider the factthat cops seldom face any consequence when they murder citizens. We never hear cops called "citizen killer." But if a citizen kills some overbearing cop bully, the media go ballistic: "Cop killer, cop killer." The screaming doesn't stop until the cop killer is executed.
As long as a brainwashed public continues to accept that cop lives are more precious than their own, citizens will continue to be brutalized and murdered by police psychopaths.
I can remember when the police were different. If there was a fight, the police broke it up. If it was a case of people coming to blows over a dispute, charges were not filed. If it was a clear case of assault, unless it was brutal or done with use of a weapon, the police usually left it up to the victim to file charges.
When I lived in England, the police walked their beats armed only with their billysticks.
When and why did it all go wrong? Among the collection of probable causes are the growth or urban populations, the onslaught of heavy immigration on formerly stable and predictable neighborhoods, the war on drugs, and management consultants called in to improve efficiency who focused police on quantitative results, such as the number of arrests, and away from such traditional goals as keeping the peace and investigating reported crimes.
Each step of the way accountability was removed in order to more easily apprehend criminals and drug dealers. The "war on terror" was another step, resulting in the militarization of the police.
The replacement of jury trials with plea bargains meant that police investigations ceased to be tested in court or even to support the plea, usually a fictitious crime reached by negotiation in order to obtain a guilty plea. Police learned that all prosecutors needed was a charge and that little depended on police investigations. Police work became sloppy. It was easier simply to pick up a suspect who had a record of having committed a similar crime.
As justice receded as the goal, the quality of people drawn into police work changed. Idealistic people found that their motivations were not compatible with the process, while bullies and psychopaths were attracted by largely unaccountable power.
Much of the blame can be attributed to "law and order" conservatives. Years ago when New York liberals began to observe the growing high-handed behavior of police, they called for civilian police review boards. Conservatives, such as National Review's William F. Buckley, went berserk, claiming that any oversight over the police would hamstring the police and cause crime to explode.
The conservatives could see no threat in the police, only in an effort to hold police accountable. As far as I can tell, this is still the mindset.
What we observed in the police response to the Boston Marathon bombing suggests that the situation is irretrievable. One of the country's largest cities and its suburbs–100 square miles–was tightly locked down with no one permitted to leave their homes, while 10,000 heavily armed police, essentially combat soldiers armed with tanks, forced their way into people's homes, ordering them out at gunpoint. The excuse given for this unprecedented gestapo police action was a search for one wounded 19-year old kid.
That such a completely unnecessary and unconstitutional event could occur in Boston without the responsible officials being removed from office indicates that "the land of the free" no longer exists. The American population of the past, suspicious of government and jealous of its liberty, has been replaced by a brainwashed and fearful people, who are increasingly referred to as "the sheeple."
Paul Craig Roberts was Assistant Secretary of the Treasury for Economic Policy and associate editor of the Wall Street Journal. He was columnist for Business Week, Scripps Howard News Service, and Creators Syndicate. He has had many university appointments. His internet columns have attracted a worldwide following. His latest book, The Failure of Laissez Faire Capitalism and Economic Dissolution of the West is now available. http://www.paulcraigroberts.org/
Source: Paul Craig Roberts
"The European race's last three hundred years of evolutionary progress have all come down to nothing but four words: selfishness, slaughter, shamelessness and corruption."
Yan Fu
It only took the rest of the world 300 years to catch on to the evil that masquerades as "western civilization," or perhaps it only took the rise of new powers with the confidence to state the obvious. Anyone doubtful of America's responsibility for the evil needs to read The Untold History of the United States by Oliver Stone and Peter Kuznick.
The "New American Century" proclaimed by the neoconservatives came to an abrupt end on September 6 at the G20 meeting in Russia. The leaders of most of the world's peoples told Obama that they do not believe him and that it is a violation of international law if the US government attacks Syria without UN authorization.
Putin told the assembled world leaders that the chemical weapons attack was "a provocation on behalf of the armed insurgents in hope of the help from the outside, from the countries which supported them from day one." In other words, Israel, Saudi Arabia, and Washington–the axis of evil.
China, India, South Africa, Brazil, Indonesia, and Argentina joined Putin in affirming that a leader who commits military aggression without the approval of the UN Security Council puts himself "outside of law."
In other words, if you defy the world, obama, you are a war criminal.
The entire world is waiting to see if the Israel Lobby can push obama into the role of war criminal. Many are betting that Israel will prevail over the weak american president, a cipher devoid of all principle. A couple of decades ago before the advent of the american sheeple, one of the last tough Americans, Admiral Tom Moorer, Chief of Naval Operations and Chairman of the Joint Chiefs of Staff, publicly declared that "no US president can stand up to Israel." America's highest ranking military officer could not get an honest investigation of the Israeli attack on the USS Liberty.
We are yet to see an american president who can stand up to Israel. Or, for that matter, a Congress that can. Or a media.
The obama regime tried to counter its smashing defeat at the G20 Summit by forcing its puppet states to sign a joint statement condemning Syria. However the puppet states qualified their position by stating that they opposed military action and awaited the UN report.
Most of obama's bought-and-paid-for "supporters" are impotent, powerless. For example obama counts the UK as a supporting country because of the personal support of the discredited UK prime minister, david cameron, despite the fact that cameron was repudiated by the British Parliament in a vote that prohibits British participation in another of Washington's war crimes. So, although cameron cannot bring the British people and the British government with him, obama counts the UK as a supporter of obama's attack on Syria. Clearly, this is a desperate count of "supporting countries."
The Turkish puppet government, which has been shooting its peacefully demonstrating citizens down in the streets, with no protest from obama or the Israel Lobby, supports "holding Syria accountable," but not itself, of course, or Washington.
The puppet states of Canada and Australia, powerless countries, neither of which carry one ounce of world influence, have lined up to do the bidding of their Washington master. The entire point of having the top government job in Canada and Australia is the payoff from Washington.
The obama cipher also claims the support of Japan and the Republic of Korea, another two countries devoid of all diplomatic influence and power of any kind. Helpless Japan is on the verge of being destroyed by the Fukushima nuclear disaster, for which it has no solution. As the radiation leaks spread into the aquifer upon which Tokyo and surrounding areas rely, Japan is faced with the possibility of having to relocate 40 million people.
Saudi Arabia, implicated in the transfer to al-Nusra rebels of the chemical weapons used in the attack, supports Washington, knowing that otherwise its tyranny is toast. Even the neoconservatives headed by obama's shrill National Security Advisor, Susan Rice, want to overthrow the Saudis.
Obama claims also to have support from France and Germany. However both Hollande and Merkel have stated clearly that a diplomatic solution, not war, is their first choice and that the outcome rests on the UN.
As for Italy and Spain's support, both governments are hoping to be rewarded with the Federal Reserve printing enough dollars to bail out their indebted economies so that both governments are not overthrown in the streets for their acquiescence to the looting of their countries by international banksters. Like so many Western governments, those of Italy and Spain, and, of course, Greece, support the international banksters, not their own citizens.
The president of the European Commission has declared that the European Union, the central overlord over Britain, France, Germany, Italy, and Spain, does not support a military solution to the Syrian Crisis. "The European Union is certain that the efforts should be aimed at a political settlement," Jose Manuel Barroso told reporters at the G20 meeting. The EU has the power to issue arrest warrants for the heads of EU governments that participate in war crimes.
What this reveals is that the support behind the liar obama is feeble and limited. The ability of the Western countries to dominate international politics came to an end at the G20 meeting. The moral authority of the West is completely gone, shattered and eroded by countless lies and shameless acts of aggression based on nothing but lies and self-interests. Nothing remains of the West's "moral authority," which was never anything but a cover for self-interest, murder, and genocide.
The West has been destroyed by its own governments, who have told too many self-serving lies, and by its capitalist corporations, who offshored the West's jobs and technology to China, India, Indonesia, and Brazil, depriving the Western governments of a tax base and the support of its citizens.
It is difficult to know whether citizens in the West hate their corrupt governments any less than do Muslims, whose lives and countries have been devastated by Western aggression, or than do citizens of third world countries who have been impoverished by being looted by predatory First World financial organizations.
The idiot Western governments have pissed away their clout. There is no prospect whatsoever of the neoconservative fantasy of US hegemony being exercised over Russia, China, India, Brazil, South Africa, South America, Iran. These countries can establish their own system of international payments and finance and leave the dollar standard whenever they wish. One wonders why they wait. The US dollar is being printed in unbelievable quantities and is no longer qualified to be the world reserve currency. The US dollar is on the verge of total worthlessness.
The G20 Summit made it clear that the world is no longer willing to go along with the West's lies and murderous ways. The world has caught on to the West. Every country now understands that the bailouts offered by the West are merely mechanisms for looting the bailed-out countries and impoverishing the people.
In the 21st century Washington has treated its own citizens the way it treats citizens of third world countries. Untold trillions of dollars have been lavished on a handful of banks, while the banks threw millions of Americans out of their homes and seized any remaining assets of the broken families.
US corporations had their taxes cut to practically nothing, with few paying any taxes at all, while the corporations gave the jobs and careers of millions of Americans to the Chinese and Indians. With those jobs went US GDP, tax base, and economic power, leaving Americans with massive budget deficits, a debased currency, and bankrupt cities, such as Detroit, which once was the manufacturing powerhouse of the world.
How long before Washington shoots down its own homeless, hungry, and protesting citizens in the streets?
Washington represents Israel and a handful of powerful organized private interests. Washington represents no one else. Washington is a plague upon the American people and a plague upon the world.
Source: Paul Craig Roberts
In the classic work, "Earth's Earliest Ages" English theologian G.H. Pember (1837-1910) examines the role of satanic forces in the first destruction of earth under God's judgment and compares them to the explosion of spiritism (open intercourse with evil spirits), ancient Egyptian Hermetic magic, Theosophy, Buddhism, reincarnation, karma, the Mysteries, astrology and mesmeric healings sweeping across Christendom.  
It was during the Renaissance that many influential Christians at the highest levels of Church and society had returned to the occult Wisdom Teachings that originated in ancient Egypt with Hermes Trismegistus.  In his own time, Pember observes that ancient occult traditions are no longer veiled in mystery but boldly presented by the powerful occult brotherhood as the fruit of modern science, especially evolutionary philosophy, which  the brotherhood assert was included in the instructions given,
 "…to the initiates of the Hermetic, Orphic, Eleusinian, and Cabbalistic mysteries, and were familiar to Chaldean Magi, Egyptian Priests, Hindu Occultists, Essenes, Therapeutae Gnostics, and Theurgic Neo-Platonists." (Pember, pp.243-244) 
 In the impeccably researched "Scientific Analysis of the Writings of Alice A. Bailey and their Applications," Robert A. Hermann Ph.D. affirms Pembers claim with respect to the occult origins of the evolutionary science so widespread in our time.   Herrmann traces modern evolutionary thinking–which has infiltrated the whole body of the Church–back to 1750 and the Spanish-French occultist the Martine's de Pasqually (1715?-1779) whose biological conception predates Darwin's theory and held that an adept spiritually evolves into higher and higher forms on various evolutionary levels.  (raherrmann.com)
Pember knows that occult teachings are grounded in knowledge received from evil spirits, thus he particularly connects evolutionary philosophy to spiritism.   This teaching said Pember, made the world ready for the deeper teachings of the Brotherhood (fallen angels):
 "…..the Brotherhood decided that the time had come to communicate with it, and openly influence its religion and philosophy. They have, however, become so etherealized by their practices that they are unable to endure contact with coarse human nature; it was, therefore, necessary to employ intermediaries.  The first person known to have been chosen for this purpose was a Madame Blavatsky."  (pp. 243-246)
 In affirmation, Corinne McLaughlin and Gordon Davidson, the politically influential co-authors of "Spiritual Politics: Changing the World from the Inside Out," admit that their book is based on the Ageless Wisdom teachings preserved by occultists since the Egyptian pantheon (27th-30th centuries B.C) and handed down over the ages to modern occultists in the time of the Renaissance, the Enlightenment and on into our own time:
 "For centuries, the Ageless Wisdom in the West was shielded from an unprepared public…. The unveiled truths were handed down only orally by individual teachers to tested disciples or by certain religious groups and secret societies, such as the Cabbalists, Druids, Essenes, Sufis, Knights Templar, Rosicrucian's, Freemasons, and others who carefully guarded the teachings down through the centuries. A study of these secret societies would reveal powerful influences on the history of nations…."  (Spiritual Politics, McLaughlin, Davidson from "Reinventing Jesus Christ: The New Gospel,"Warren Smith, crossroad.to)
 Beginning with the work of the Brotherhood and/or Masters acting through Blavatsky, Ageless Wisdom has succeeded in over-spreading W. Europe and America and made deep inroads into the whole body of the Church over the last one hundred years. Blavatsky's important book, 'The Secret Doctrine' (1888) paved the way by synthesizing,
 "…..Christian, Jewish, and Islamic mysticism with the Eastern teachings of Hinduism, Taoism, and Buddhism, showing their common roots and comparing their sacred texts…."
 The next development came through the teachings of Alice Bailey, an apostate Evangelical:
"…. In 1919 Bailey was contacted by a Tibetan master, Djwhal Khul, who asked her to write a series of books with him telepathically that would continue Blavatsky's work. Over a period of thirty years, Bailey received eighteen books from him on the nature of the cosmos and the human being, outlining principles for individual spiritual growth and humanity's next evolutionary steps. In 1923 Bailey founded Lucis Trust [originally called Lucifer Publishing, ed.] to bring the teachings in her books to the public. A year later she began the Arcane School. The books were written to apply to several levels of consciousness at once and thus can be read by both beginners and advanced students. Her works have been especially helpful to the two of us in our own spiritual growth and have provided much of the inspiration for Spiritual Politics."
Central to ancient Egyptian and modern Hermetic orders such as the Order of the Golden Dawn, Theosophy and New Age is ophiolatry (worship of serpents/Lucifer) and the theme of a pantheon of nine Sun Gods or with modern orders, an occult Hierarchy of nine evolved Brothers or Masters: god-men who have finished their cycles of reincarnation and material evolution but have chosen to remain here on the earth (Gaia) to serve people in their own conscious evolution as well as guide Gaia's spiritual evolution:
"(The solar deity Kneph was pictured as a serpent in a fiery circle and Osiris) was essentially identical with Kneph…The worship of Isis, the moon-goddess, was equally entwined with ophiolatry.  Her emblem was the horned viper…The Egyptians often represented Isis and Osiris together, as two serpents."  (The Cult of the All-Seeing Eye, Robert Keith Spenser, p. 35)
Depending on who they are speaking to, the nine Masters variously call themselves the Brotherhood, Space Brothers, Ascended Masters, the ancient Ennead of Egypt (the nine Sun Gods), Nine Principles of God, the Deep Space Nine, the Group, Sirians and Council of Nine.  Today there is a vast and growing network of channelers purporting to receive messages from the Nine and still others calling themselves Light Workers who claim to have presented briefings from the Group five times at the United Nations.  
Another important theme connecting all ancient and modern Hermetic Orders and Mystery religions is the Sirius star system.  From the time of the Egyptians, Sumerians and Babylonians occult teachings have invariably attributed to Sirius a special status in connection with Isis (Sirius A), Osiris (Sirius B), astrology, Hermeticism, the Mysteries, secret initiations, conceptions of transmigration, reincarnation, astral plane travels and other forms of occult evolutionary philosophy.
Hermetic Mystery schools and orders teach that Sirius is the divine "sun behind the sun" that is both the true source of the sun's energy which keeps the physical world alive, as well as the divine substance that keeps the spiritual world alive.  Whereas the sun illuminates the physical world, which is considered to be an illusion, Sirius is the "real light," the Great Dragon, Cosmic Serpent, Chaos, Abraxas, Star Maker, Ground of Being, or Essence of material phenomena, meaning that the material universe exists only as a grand illusion or mental construction as it does for example in the mind of Brahman:
 "Brahman is real, the world is unreal." (swamij.com/mahavakyas) 
 The two most important figures associated with Hermetic Theosophy, Madame Blavatsky and Alice Bailey, considered Sirius to be the source of mystical serpent power: the seething energies of Lucifer that exert a spiritual influence over the entire Sephiroth or cosmic tree of life and therefore directly link with every great religion of antiquity because these energies extend into the psyche of mankind.
Bailey taught that Sirius is the "Great White Lodge" and believed it to be the spiritual home of the "Spiritual Hierarchy." For this reason she considered Sirius as the star of initiation:
 "This is the great star of initiation because our Hierarchy (an expression of the second aspect of divinity) is under the supervision or spiritual magnetic control of the Hierarchy of Sirius. These are the major controlling influences whereby the cosmic Christ works upon the Christ principle in the solar system, in the planet, in man and in the lower forms of life expression. It is esoterically called the "brilliant star of sensitivity."   (The Mysterious Connection Between Sirius and Human History, vigilantcitizen.com, Dec. 12, 2012)
Baily also taught that Luciferian energy emanating from Sirius is the energy of thought: a mind force that reaches the solar system from a distant cosmic center via Sirius. Sirius acts as the transmitter,
 "…or the focalising centre, whence emanate those influences which produce self-consciousness in man."  (ibid)
 The Hermetic Way of the Dragon
The Hermetic way of psychic power and self-salvation is the antithesis of the Way of Jesus Christ God Incarnate (Romans3:24; 6:23; 10:9-10; Eph. 1:7; 2:8-9) and began with a mysterious man known as Hermes Trismegistus.  
The ancients identified Hermes with Mercury and Anubis (brother to Osiris).   His emblem, the caduceus, was a talismanic serpent representing the power of Mercury as a Sun-god. Speculations abound on exactly when and where Hermes lived.  Some modern New Age occultists believe he was a contemporary of Noah in the pre-flood world which they call Atlantis.  Others believe he lived in ancient Egypt during the time of Moses.  
In "Biographa Antiqua" the English occultist Frances Barret writes that Hermes "communicated the sum of the Abyss, and divine knowledge to all posterity." The word "Abyss" refers to ancient and modern pantheist and/or panentheist conceptions such as the Watery Abyss, Divine One Substance, Primordial Matter, or with Hermes, the Universal Life personified by the Great Serpent or Dragon from whose body and wings stream illuminating serpent power, or with Bailey, 'those influences which produce self-consciousness in man.'
 Bailey is expressing the Hermetic principle which speaks of the correlation between the substance of the Great Serpent and the mind of man expressed in the world famous magic formula: "As above, so below."
The substance (body) and seething powers of the Great Dragon or Serpent are symbolized by the Oroboros, a powerful occult symbol also known as the Sephiroth, great chain of being, cosmic tree of life, and with Darwin the tree of life. The Oroboros 'above' corresponds to a number of different evolutionary levels and realms comprising the habitation of all supernatural entities and various heavens and hells such as the Black Lodge.  Thus the substance of the Great Dragon's body  with its supposed multiple dimensions and life and thought-giving serpent energies not only powers the Divine Substance above but reaches down into the psyche, capturing the imagination, stunting and befouling the conscience, causing evolutionary change, and conferring psychic powers and divinity (you can be as God).
The Luciferian Manly P. Hall (1901-1990) concurs.  According to Manly, Hermetic Freemasonry is an occult science of the soul,
 "…a divine symbolic language perpetuating (by) certain concrete symbols the sacred mysteries of the ancients."  When a Masonry adept has learned the "mystery of his Craft (then the) seething energies of Lucifer are in his hands and before he may step onward and upward, he must prove his ability to properly apply energy."  (New World Order: The Ancient Plan of Secret Societies, William T. Still, p. 30) 
The foundation of Hermes occult way is forbidden knowledge revealed to him during self-induced trance and/or meditation states resulting in altered states of consciousness that opened his mind to contact with the Great Dragon:
 "Meditation is the doorway between worlds….the pathway between dimensions." (The Layman's Guide to Enlightenment,Celeste G. Graham, 1980, p. 13) 
 The Dragon revealed to Hermes that his own nature is divine, meaning that God and psychic power is "within."   The Divine Pymander of Hermes Trismegistus relates Hermes mystical encounter with the Great Dragon who called itself Poimandres, the Mind of the Universe that is within Hermes. (themystica.com) 
 Upon transforming itself into a glorious being of Light the Dragon proceeded to enlighten Hermes with the forbidden knowledge that over time found its' way into Christendom during the Renaissance giving birth to an array of Secret Societies as well as to pantheist theological liberalism and its' primary doctrine evolution, William James theory of the subconscious, the demon-haunted Carl Jung's transpersonal and depth psychology, occult New Age, Phillip Pullman's dark Gnosticism, Mind Science, New Thought, the Alpha Course, Silva Method, Word of Faith, Positive Imaging, Visualization/Dreaming, and the multi-million dollar best-sellers "A Course in Miracles" and "The Secret."  The common denominator of these societies, theories, books and techniques is "God and psychic power is within:"
 "People go through their whole lives chasing everything in the material world, and they fail to discover the greatest treasure of all, which is within them.  Shut your eyes to the outside world.  Direct your thoughts and words inside of you.  The Master within you is the key to all the treasures in the world." (Rhonda Byrne, "The Secret Daily Teachings")
 "Since the unconscious is God all along, we may further define the goal of spiritual growth to be the attainment of godhood by the conscious self."  (A Different Drum, M. Scott Peck)
 "….all is mind and…everything is governed by law (thus man) can create, or have created for him from his own thinking.  He can create such a strong mental atmosphere of success that its power of attraction will be irresistible.  He can send his thoughts throughout the world and have it bring back to him whatever he wants." (Creative Mind and Success, Ernest Holmes, New Thought practitioner)
 "Your unconscious mind (has a) power that turns wishes into realities when the wishes are strong enough." ("Positive Imaging," Norman Vincent Peale, 1982, p. 77)
 Word Faith teacher Kenneth Copeland tells people to visualize any image,
 "…that you get down inside you that is so vivid when you close your eyes you see it, it'll come to pass.  When God came at the Tower of Babel, He said, 'Anything they can imagine, they can do." (Inner Image of the Covenant, side 2, Copeland)
 Yonggi Cho similarly teaches that through visualizing and dreaming you will,
 "….incubate that which we want God to do for us….If you have not visualized clearly in your heart exactly what you hope for, it cannot become a reality to you…"  (The Fourth Dimension, Vol. 1, Yonggi Cho, 1979, 9-35, vol. 2, 18-33)
Believing the Lie
 "And for this cause God shall send them strong delusion, that they should believe a lie." (2 Thessalonians 2:11)
 In "The Spiritist Fallacy," a penetrating analysis of the Hermetic Theosophy, Buddhism and Spiritism that emerged out of the Renaissance taking hold of the minds of modernist priests and intellectuals, the highly respected French traditionalist metaphysician Rene Guenon (1886-1951) describes deluded "enlightened" theologians and intellectuals as those who cannot speak of the devil,
 "….without a smile of disdain, or an even more contemptuous shrug of the shoulders." (p. 252)
Their smug contempt is due to the fact that they believed the spiritist lie that Lucifer is not the devil but rather the "light-bearer."  After all, if evolution is true, as enlightened sophisticates believe, then there was no fall, hence man is not fallen and Lucifer is not the devil but the first free-thinker, the emancipator of man and the angel of evolution.  Modern sophisticates even go so far as to call him 'the Great Creative Intelligence.'  Thus they invoke Lucifer and perform his cult, but in fact these people,
 "…though in fact Satanists, are only unconsciously so, for they are mistaken as to the nature of the entity to whom they address their worship….It goes without saying that these 'enlightened' priests are all plainly modernists and that the spirit animating them is strangely similar to that affirmed in these lines." (p. 254)
 With respect to "modern" spiritist doctrine Guenon notes its' peculiar agreement with the esoteric religion of the Brahmins:
 "Now this….has been taught to lower grade initiates in Himalayan temples for perhaps more than a thousand years!  This similarity is curious at the very least, and one can say without paradox that spiritism is only esoteric Brahmanism in broad daylight."  (p. 41)
Guenon also argues that every "modern" conception that notably disfigures the living God as evolution does is Satanic, and in this sense, all theories of a limited God and of an immanent (pantheist) God who evolves must be placed in the front rank.
Turning to the theories of William James (1842-1910), the father of American psychology, Guenon describes them as examples of unconscious Satanism for two reasons.   First, James theory of "religious experience" as a manifestation of the"subconscious" by which man communicates with the pantheist Divine "within" is only one step away from "condoning the practices of spiritism" with the further consequences of conferring on evil spirits an eminently religious character and being initiated into experiences of the psychic and spirit realm. Initiation involves one in something far beyond the conscious control of the human will, thus once a person has been initiated their spirit/soul is open to bondage, harassment and madness.
 Second, the notion that the subconscious puts man in contact with the Divine "within" puts God,
 "…in the inferior states of being, in feris in the literal sense of this expression.  This then is a properly 'infernal' doctrine, a reversal of universal order, which is precisely what we call 'Satanism.'  Guenon adds, "The devil is not only terrible, he is often grotesque…" (pp. 258-262)
 Building off of James serpent-animated theories, the demon-haunted psychiatrist Carl Jung (1875-1961) taught that the psyche (spirit/soul) consists of two main systems:  a personal unconscious and a deeper more significant layer which he called the collective unconscious with archetypes.  
 Jung's system incorporates Hermetic magic, biological and spiritual theories of evolution, reincarnation, pantheist conceptions of a Gnostic pleroma (divine substance) and various other occult doctrines and psycho-spiritual technologies from around the world.
Jung delved deeply into the occult, practiced necromancy and had daily contact with familiar spirits which he called archetypes because he believed they were manifestations of powers innate in the collective unconscious (substance of the Great Dragon).  
 Much of Jung's psychological insight was acquired from his familiar spirits, particularly Philemon and Basilides.  Philemon appeared to Jung in a grotesque humanoid body with wings and the head of a horned bull. At first Jung thought his spirit familiars were manifestations of his own psyche, but toward the end of his life he realized with horror that Philemon, Basilides, and the many other spirit entities that were a common feature of his life were in fact highly intelligent hostile beings independent of human consciousness.   Speaking of Philemon, Jung said:
 "Philemon represented a force which was not myself…..I held conversations with him, and he said things which I had not consciously thought.    For I observed clearly that it was he who spoke, not I….Psychologically, Philemon represented superior insight.  He was a mysterious figure to me.   At times he seemed to me quite real, as if he were a living personality.  I went walking up and down the garden with him, and to me he was what the Indians call a guru."  (Memories, Dreams, Reflections, Carl Jung, p. 183, cited from PsychoHeresy: C.G. Jung's Legacy to the Church, PsychoHeresy Awareness Ministries)
 Jung uses the name Abraxas to describe the impersonal Gnostic pleroma  (substance of the Great Dragon) out of which mind and then other mental powers emerged.  The word Abraxas is found in esoteric Gnostic texts such as the "Holy Book of the Great Invisible Spirit" and also in the Greek "Magical Papyri."
 In 1916 Jung received further revelations from his demon familiars, this time by way of automatic writing as he recorded a Gnostic treatise called "The Seven Sermons to the Dead."   Labeled a core text in depth psychology the treatise describes Abraxas as a "God" higher than the living, personal Holy God in Three Persons that combines all opposites into a single androgynous Being. 
As with all Ageless Wisdom teachings, underlying Jung's demon-derived "transpersonal and depth psychology" is the Hermetic correlation of the substance of Abraxas (collective unconscious and archetypes) with the personal unconscious of man, hence, "As above, so below."  
 According to the Apostle Paul fallen angels cast down from heaven together with demons are dispersed in a multitude throughout the whole expanse of sky (Eph. 2:2; 6:12).  This means that William James 'subconscious' and Jung's 'collective unconscious' with its archetypes are actually the expanse of sky under the heavens which supposedly connects the substance of the Great Dragon to the psyche of man. Thus to "go within" the "subconscious" (James) or "personal unconscious" (Jung) so as to channel the Divine "within," is to perform the cult of Satan which opens the spirit/soul to contact with powers and principalities and their chief, the devil.    
Though there are increasing numbers of psychologists and psychiatrists who now affirm their belief in evil spirits and their ability to harass, influence and possess human beings, the majority are still heavily influenced by Jung's demon-derived theories, thus they insist that what they call "paranormal experiences"are perhaps hallucinations caused by the innate powers of human imagination or representations of interplay between the left and right hemispheres of the brain and/or the therapeutic release of unconscious repressions.
 Unlike most modern psychiatrists and psychologists, Nanci Des Gerlaise, a Cree Native American woman raised on a Metis settlement, needs no convincing. Almost from birth her life consisted of occult bondage and terrifying demonic harassment until she found deliverance through Jesus Christ.
 Nanci knows without the least bit of doubt that demons exist and can even take the shape of animals, birds and other more frightening creatures.   She knows that medicine men still engage in symbolic baby sacrifices to Satan in return for more spiritual power.   She knows because her own father offered her to Satan.  Her life then belonged to the devil and became filled night and day with all kinds of evil: 
"This is what happened to me and one reason why I had such a struggle when I became a Christian.   Satan still claimed ownership of me.  The tug of war first started when I accepted the Lord Jesus Christ as my Lord and Savior….He set me free from occult bondages and demonic harassment….Christianity (is) God's way of salvation.  Colossians 1:12-14 made perfect sense to me…" (Muddy Waters, Gerlaise, pp. 51, 79-80)
 Nanci's book, "Muddy Waters" is far more than a biography.  It is a clear and compelling warning to all Christians living in sin, apostatizing churches, practitioners of occult psycho-spiritual technologies, advocates for interfaith/interspirituality and spiritual formation (occult techniques dressed in Christian motifs) that forces of darkness really do exist and will make your life a living nightmare of disembodied voices, terrifying encounters with demonic entities, thoughts of suicide and murder, and even possession.
 "Now the Spirit manifestly saith, that in the last times some shall depart from the faith, giving heed to spirits of error, and doctrines of devils." 1 Tim. 4:1
 From the time of Hermes, ancient and modern occult pagan adepts have been employing a variety of occult psycho-spiritual techniques to "go within" in search of psychic powers and immortality:    
 "…..I can be saved only by becoming one with the universe.  Thereby, too, my deepest 'pantheist' aspirations.  It was especially the image of God which Teilhard saw in need of urgent redefinition.   Modern man has not yet found the God he can adore, A God commensurate to the newly discovered dimensions of the universe." (Towards a New Mysticism, Teilhard de Chardin and Eastern Religions, Ursula King, p. 172)
The corollary to our age of lawless Christians and spreading apostasy is an explosive revival of ancient Hermetic spiritism.  A major reason is that modern psychology allegedly provides us with a "scientific" explanation that ascribes whatever frightening entities encountered while on brain-altering substances or through centering, yogic trance, visualizing and dreaming or other occult techniques to archetypal images from the collective unconscious.
The common thread running through all of this is the diabolical mind of the serpent, the same fallen angel who tempted Adam and Eve in the Garden with the words, "Ye shall be as Gods" (Gen. 3:5) but now seduces with the words, "go within."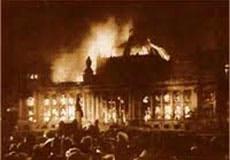 All historians are familiar with how Hitler was able to seize and consolidate power within the German Reichstag. He simply had his henchmen burn the German legislative building to the ground and then blame the Communists, one of the Nazi's chief rivals. Subsequently, Hitler assumed total dictatorial power, as a pretense to protect the German people, and he was able to eliminate the Communists and the rest, as they say, was history.
Obama Is Under Immense Pressure
Obama is under enormous pressure, from the Banksters to take out the Iranian regime. The need to take down Iran is necessitated because the Petrodollar is in real trouble because of Iran's insistence on selling oil to India, China and Russia in exchange for gold.
Gold is a four letter word to the Banksters. The Banksters must maintain their fiat currency schemes. Subsequently, the Banksters must dominate the purchase of oil and the distribution of gold for three reasons:
The Banksters thrive on fiat currency which is backed by virtually nothing and this is coupled with fractional reserve practices in order to acquire real material wealth based on their creation of worthless paper and the introduction of gold threatens this Ponzi scheme;
Since Breton Woods, the world has been forced by the Banksters to play in their Ponzi scheme game by first purchasing Federal Reserve dollars which is in turn used to purchase oil. Saddam Hussein failed to play by the Petrodollar rules by selling oil for Euros and paid for his disobedience with his life; and,
Once the Banksters collapse the currencies of the world, they want to be the ones controlling gold, the only remaining currency, in a post economic Armageddon.
Obama Is In Deep Trouble
If Obama wants to complete his second term, he must get help from the globalists in managing the enormous Watergate type of scenarios which surfaced in May of 2013 that included (1) The Ed Snowden NSA spy revelations; (2) The IRS harassing the Tea Party members at the behest of Obama; (3) The administration's spying on AP reporters; (4) the Michael Hastings murder (June 2013); and, (5) The Benghazi Affair which refuses to go away. Any of these five events provides sufficient cause for Obama's removal from office as they dwarf Nixon's misdeeds in the Watergate Scandal.
The country is three months removed from the near simultaneous revelations, the likes, never seen in this quantity and severity in American history. I stopped believing in coincidences a long time ago. The release of the scandalous information related to these events is being orchestrated and controlled by the overlords and their media minions. Why?
Obama is dragging his feet on Middle East intervention and the globalists are attempting to move him off of the mark with some friendly blackmail.
As previously stated, Iran is undermining the Petrodollar. Iran must be taken down. Sadly America, if the Banksters do not get their way and conduct a regime change in Iran, the dollar will collapse and America will witness its darkest days ever. Conversely, China and Russia have threatened to "nuke" the United States if they invade Syria and Iran over the issue of gold for oil. Make no mistake about it. Iran is the chief prize. Egypt is a tragic, but useful distraction because of the loss of life. The events in Syria are merely a means to an end and only serves as the preliminary event in preparation for the main event, the destruction of Iran. Syria must be taken down first, then Iran will surely follow. Mark my words, Assad will be hanging from a noose, Saddam style, in a few short months.
Why Attack Syria Before Iran?
If Iran is the prize, then why is the United States on the precipice of attacking Syria? Simple, all roads to Teheran run through Damsacus. Syria is one of Iran's few remaining allies and controlling Syria is the key to a successful invasion of Iran. Most importantly, capturing Syria largely blocks a Russian land force military incursion into Syria so long as the U.S. is successful in quickly setting up its short and medium range missile batteries inside of Syria. These batteries are a crucial element in blocking Russian military troop movements into Syria.
For Obama to take out Syria, he has to neutralize their command and control structure. This means taking out their aerial surveillance capabilities, its Air Force, controlling the movement of their tanks and other heavy military equipment as well as isolating Syrian military units from the air and preventing them from reinforcing Damascus. This leaves Assad vulnerable.
Once the Syrian military is isolated and divided, the CIA backed al-Qaeda forces will turn the tide of the CIA backed Syrian civil war and this will effectively take care of Assad in the same manner that they took care of Gaddafi in Libya.
In order to launch a successful air campaign, the U.S. needs a pretext so horrific, so terrible that global opinion will demand a military incursion to "save the innocent Syrian people." To accomplish this goal, Obama has already done what he does best, create a Reichstag moment (i.e. false flag).
The CIA Backed al-Qaeda Lights the Fuse
Syria has just experienced its Reichstag moment. Three Damascus hospitals supported byDoctors Without Borders state that they are treating 3,600 patients who are exhibiting neurotoxic symptoms, which occurred in one brief, three hour period on August 21, 2013. Of the 3,600 patients, 355 have died. This is Syria's Reichstag moment as Assad is being framed for this chemical weapons attack.
The Assad forces have been widely accused for perpetrating this crime against humanity through the purposeful release of neurotoxic agents. However, only a fool with no common sense would believe that Assad is behind the chemical weapons attacks. Assad would avoid at all costs doing that one thing that could invite U.S. or NATO intervention into Syria. The use of chemical weapons by Assad would provide NATO with the pretext to launch airstrikes which would tip the balance of power in Syria in the same manner as it did in Libya.
As I write these words, Defense Secretary Chuck Hagel is moving American attack forces into range of Syria and these forces are awaiting a "presidential decision." Russia is showing signs of backing down as they have encouraged Assad to allow UN inspectors into Syria. My assessment is that Russia and China will stand down with regard to American airstrikes into Syria because they know that this chemical weapons false flag attack, perpetrated by the CIA backed al-Qaeda forces, has proven successful and these two nations cannot be seen as supporting such a criminal regime.
China and Russia have one main objective, save Iran and they can still stand down in Syria and be able to discourage an American led invasion of Iran. The Chinese and Russians will also still possess the nuclear option at their disposal in protecting their "gold for oil" investment in Iran. Subsequently, the U.S. will continue to support al-Qaeda backed Syrian rebels as they overthrow Assad and consolidate their gains over the next few weeks. As in Iraq, look for BP and EXXON to control Syrian oil and prevent any further undermining of the Petrodollar in Syria as in Iran.
Think Like a Genocidal Maniac
Once one covers the establishment's game plan related to a multitude of issues, their next moves become relatively simple to predict because the Banksters predictably use the same playbook time after time. In order to predict their next moves, we have to, God forbid, think like the genocidal maniac banksters.
As the United States consolidates its holdings in Syria, negates Russian land force incursions and begins to bring money into the Federal Reserve and the Bank of International Settlement through their soon-to-be Syrian holdings, plans will be implemented to manipulate an excuse for an invasion of Iran.
Ask yourself, what could be the one thing that Iran could be accused of doing that would gather the support of the world for invading Iran and force the Chinese and the Russians to stand down? The answer is undoubtedly a false flag operation, the likes that the world has never seen. What could be so horrific, so terrible that Iran could be framed as the perpetrator? The globalists have already set the stage for the next false flag event. What has Iran been repeatedly accused of? They have been accused of attempting to develop nuclear weapons. The American public has already been conditioned to associate nuclear weapons with Iran, even though many legitimately question this association.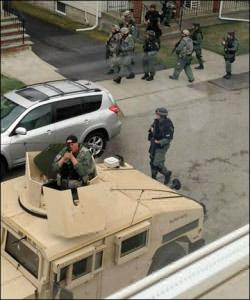 If you are still thinking like a genocidal maniac, there are two variables to consider, a nuclear detonation on American soil and/or a massive and virulent chemical weapons attack launched against America citizens. I believe it is likely that the Boston Marathon bombing was the dress rehearsal for what is coming. As in Boston, we will see quick apprehensions of alleged Iranian terrorists. Summary execution of the so-called perpetrators will follow an imaginary standoff and evidence will be planted so there is no question of Iranian guilt. Look for a group of U.S. veterans to be implicated as well as it will solidify the justification for the imposition of martial law. DHS will then take to the streets in their new 2700 armored vehicles.
Predicting Dates Is Normally a Fool's Errand
Syria will fall in September. A false flag event would likely happen in October and it will be game over in Iran by Thanksgiving. I do not predict dates, ever. However, in this instance, I am going to make an exception.
There are two dates that loom large in our future over the next four months that have the globalists highly concerned. The globalists do not want to raise conscious awareness of the Bankster controlled organized crime syndicate which hijacked our government in 2008.
The first date that the globalists are concerned about is the lead up to November 22nd. This is the 50th anniversary of the JFK assassination. The forces behind the JFK assassination were big oil, the military industrial complex and radical fringe elements of the military and Secret Service. The plot was organized by the CIA and facilitated by the Operation Mongoose forces of the CIA and the Mafia backed forces seeking to overthrow Castro. A whole new generation, who has never looked at the JFK assassination, will be awakened to the undue influence of some of the aforementioned forces who still yield in their perverse influence over America in 2013.
The second date that must be very troubling to the globalists is the 100th anniversary of the creation of the Federal Reserve. Talk shows and websites will be abuzz with revelations about these criminal bankers and the fact that the dollar is actually worth about 3 cents. People who have never heard of fractional reserve currency and a fiat currency will hear about it from November 22-December 23. The Banskters do not want to contend with an increasingly awake America. This would make the subjugation of this country much more difficult.
These are the reasons that the globalists are expediting their timetable for subjugation of this country. This is why Obama's hand is being forced by holding five Watergate type scandals over his head at the same time. Following the coming false flag attacks, the country will be in lockdown and against these tyrants will be increasingly difficult and November 23rd and December 23rd will be dates that will come and pass without much fanfare.
Conclusion
These events are only possible if we have a psychopathic, genocidal set of maniacs calling the shots. The more awake among us know are fully aware that this is the case.
America presently has some very disturbing variables which have been simultaneously put into play. World War III is a definite possibility. False flag attacks on American soil is a likely event over the next 60 days. These are times of unparalleled danger in America.
Source: Dave Hodges  |  The Common Sense Show | War Is Crime
Americans will soon be locked into an unaccountable police state unless US Representatives and Senators find the courage to ask questions and to sanction the executive branch officials who break the law, violate the Constitution, withhold information from Congress, and give false information about their crimes against law, the Constitution, the American people and those in Afghanistan, Pakistan, Yemen, Iraq, Libya, Syria, Somalia, Guantanamo, and elsewhere. Congress needs to use the impeachment power that the Constitution provides and cease being subservient to the lawless executive branch. The US faces no threat that justifies the lawlessness and abuse of police powers that characterize the executive branch in the 21st century.
Impeachment is the most important power of Congress. Impeachment is what protects the citizens, the Constitution, and the other branches of government from abuse by the executive branch. If the power to remove abusive executive branch officials is not used, the power ceases to exist. An unused power is like a dead letter law. Its authority disappears. By acquiescing to executive branch lawlessness, Congress has allowed the executive branch to place itself above law and to escape accountability for its violations of law and the Constitution.
National Intelligence Director James R. Clapper blatantly lied to Congress and remains in office. Keith B. Alexander, Director of the National Security Agency, has also misled Congress, and he remains in office. Attorney General Holder avoids telling Congress the truth on just about every subject, and he also remains in office. The same can be said for President Obama, one of the great deceivers of our time, who is so adverse to truth that truth seldom finds its way out of his mouth.
If an American citizen lies to a federal investigator, even if not under oath, the citizen can be arrested, prosecuted, and sent to prison. Yet, these same federal personnel can lie to Congress and to citizens with impunity. Whatever the American political system is, it has nothing whatsoever to do with accountable government. In Amerika no one is accountable but citizens, who are accountable not only to law but also to unaccountable charges for which no evidence is required.
Congress has the power to impeach any presidential appointee as well as the president. In the 1970s Congress was going to impeach President Richard Nixon simply because he lied about when he learned of the Watergate burglary. To avoid impeachment, Nixon resigned. In the 1990s, the House impeached President Bill Clinton for lying about his sexual affair with a White House intern. The Senate failed to convict, no doubt as many had sexual affairs of their own and didn't want to be held accountable themselves.
In the 1970s when I was on the Senate staff, corporate lobbyists would send attractive women to seduce Senators so that the interest groups could blackmail the Senators to do their bidding. Don't be surprised if the NSA has adopted this corporate practice.
The improprieties of Nixon and Clinton were minor, indeed of little consequence, when compared to the crimes of George W. Bush and Obama, their vice presidents, and the bulk of their presidential appointees. Yet, impeachment is "off the table," as Nancy Pelosi infamously declared. http://www.nytimes.com/cq/2006/11/08/cq_1916.html Why do Californian voters send a person to Congress who refuses to protect them from an unaccountable executive branch? Who does Nancy Pelosi serve? Certainly not the people of California. Most certainly not the US Constitution. Pelosi is in total violation of her oath of office. Will Californians re-elect her yet again? Little wonder America is failing.
The question demanding to be asked is: What is the purpose of the domestic surveillance of all Americans? This is surveillance out of all proportion to the alleged terrorist threat. The US Constitution is being ignored and domestic law violated. Why? Does the US government have an undeclared agenda for which the "terrorist threat" is a cover?
What is this agenda? Whose agenda is more important than the US Constitution and the accountability of government to law? No citizen is secure unless government is accountable to the Constitution and to law. It is an absurd idea that any American is more threatened by terrorism than by unaccountable government that can execute them, torture them, and throw them in prison for life without due process or any accountability whatsoever. Under Bush/Obama, the US has returned to the unaccountable power of caesars, czars, and autocrats.
In the famous play, "A Man For All Seasons," Sir Thomas More, Chancellor of England, asks: So, you would have me to cut down the law in order to chase after devils? And what will we do, with the law cut down, when the devil turns on us?
This is the most important legal question ever asked, and it is seldom asked today, not in our law schools, not by our bar associations, and most certainly not by the Justice (sic) Department or US Attorneys.
American conservatives regard civil liberties as mere excuses for liberal judges to coddle criminals and terrorists. Never expect a conservative Republican, or more than two or three of them, to defend your civil liberty. Republicans simply do not believe in civil liberty. Democrats cannot conceive that Obama–the first black president in office, a member of an oppressed minority–would not defend civil liberty. This combination of disinterest and denial is why the US has become a police state.
Civil liberty has few friends in government, the political parties, law schools, bar associations, or the federal judiciary. Consequently, no citizen is secure. Recently, a housewife researched online for pressure cookers looking for the best deal. Her husband was searching for a backpack. The result was that a fully armed SWAT team appeared at the door demanding to search the premises and to have questions answered. http://www.theatlanticwire.com/national/2013/08/government-knocking-doors-because-google-searches/67864/ 
I am always amazed when someone says: "I haven't done anything wrong. I have nothing to fear." If you have nothing to fear from the government, why did the Founding Fathers put the protections in the Constitution that Bush and Obama have stripped out? Unlike the Founding Fathers who designed our government to protect the citizens, the American sheeple trust the government to their own demise.
Glenn Greenwald recently explained how the mass of data that is being accumulated on every American is being mined for any signs of non-terrorist-related criminal behavior. As such warrantless searches are illegal evidence in a criminal trial, the authorities disguise the illegal way in which the evidence is obtained in order to secure conviction based on illegally obtained evidence.http://www.informationclearinghouse.info/article35773.htm
In other words, the use of the surveillance justified by the "war on terror" has already spread into prosecutions of ordinary criminals where it has corrupted legal safeguards and the integrity, if any, of the criminal court system, prosecutors and judges.
This is just one of the many ways in which you have much to fear, whether you think you are doing anything wrong or not. You can be framed for crimes based on inferences drawn from your Internet activity and jokes with friends on social media. Jurors made paranoid by the "terrorist threat" will convict you.
We should be very suspicious of the motive behind the universal spying on US citizens. The authorities are aware that the terrorist threat does not justify the unconstitutional and illegal spying. There have been hardly any real terrorist events in the US, which is why the FBI has to find clueless people around whom to organize an FBI orchestrated plot in order to keep the "terrorist threat" alive in the public's mind. At last count, there have been 150 "sting operations" in which the FBI recruits people, who are out of touch with reality, to engage in a well-paid FBI designed plot. Once the dupes agree, they are arrested as terrorists and the plot revealed, always with the accompanying statement that the public was never in any danger as the FBI was in control.
When 99 percent of all terrorism is organized by the FBI, why do we need NSA spying on every communication of every American and people in the rest of the world?
Terrorism seldom comes from outside. The source almost always is the government in power. The Czarist secret police set off bombs in order to blame and arrest labor agitators. The Nazis burned down the Reichstag in order to decimate the communists and assume unaccountable power in the name of "public safety." An alleged terrorist threat is a way of using fear to block popular objection to the exercise of arbitrary government power.
In order to be "safe from terrorists," the US population, with few objections, has accepted the demise of their civil liberties, such as habeas corpus, which reaches back centuries to Magna Carta as a constraint on government power. How, then, are they safe from their government? Americans today are in the same position as the English prior to the Great Charter of 1215. Americans are no longer protected by law and the Constitution from government tyranny.
The reason the Founding Fathers wrote the Constitution was to make citizens safe from their government. If citizens allow the government to take away the Constitution, they might be safe from foreign terrorists, but they are no longer safe from their government.
Who do you think has more power over you, foreign terrorists or "your" government?
Washington defines all resistance to its imperialism and tyranny as "terrorism." Thus, Americans who defend the environment, who defend wildlife, who defend civil liberties and human rights, who protest Washington's wars and robbery of the people in behalf of special interests, all become "domestic extremists," the term Homeland Security has substituted for "terrorist." Those who are out of step with Washington and the powerful private interests that exploit us, other peoples, and the earth for their profits and power fall into the wrong side of Bush's black and white division of the world: "you are for us or against us."
In the United States independent thought is on the verge of being criminalized as are constitutionally guaranteed protests and the freedom of the press. http://www.theguardian.com/commentisfree/2013/aug/10/james-risen-prison-journalism-criminalised The constitutional principle of freedom of speech is being redefined as treason, as aiding an undefined enemy, and as seeking to overthrow the government by casting aspersions on its motives and revealing its secret misdeeds. The power-mad inhabitants of Washington have brought the US so close to Gestapo Germany and Stalinist Russia that it is no longer funny. Indeed, it is sometimes difficult to see the difference.
The neoconservatives have declared that Americans are the "exceptional" and "indispensable people." Yet, the civil liberties of Americans have declined the more "exceptional" and "indispensable" that Americans become. We are now so exceptional and indispensable that we no longer have any rights.
And neither does the rest of the world. Neoconservatism has created a new dangerous American nationalism. Neoconservatives have given Washington a monopoly on right and endowed its military aggressions with a morality that supersedes the Geneva Conventions and human rights. Washington, justified by its "exceptionalism," has the right to attack populations in countries with which Washington is not at war, such as Pakistan and Yemen. Washington is using the cover of its "exceptionalism" to murder people in many countries. http://news.antiwar.com/2013/08/11/us-drones-pound-yemen-but-targets-arent-all-militants/print/ Hitler tried to market the exceptionalism of the German people, but he lacked Washington's Madison Avenue skills.
Washington is always morally right, whatever it does, and those who report its crimes are traitors who, stripped of their coddling by civil liberties, are locked away and abused until they confess to their crimes against the state. Anyone who tells the truth, such as Bradley Manning, Julian Assange, and Edward Snowden, are branded enemies of the state and are ruthlessly persecuted.
How does the "indispensable, exceptional nation" have a diplomatic policy? How can a neoconized State Department be based on anything except coercion? It can't. That is why Washington produces nothing but war and threats of war.
Wherever a person looks, whatever a person hears, it is Washington's threat–"we are going to bomb you into the stone age" if you don't do what we want and agree to what we require. We are going to impose "sanctions," Washington's euphemism for embargoes, and starve your women and children to death, permit no medical supplies, ban you from the international payments system unless you relent and consent to being Washington's puppet, and ban you from posting your news broadcasts on the Internet.
This is the face that Washington presents to the world: the hard, mean face of a tyrant.
Washington's power will survive a bit longer, because there are still politicians in Europe, the Middle East, Africa, Asia, Latin America and in Canada, Australia, New Zealand, and the NGOs in Russia, who are paid off by the almighty dollar. In exchange for Washington's money, they endorse Washington's immorality and murderous destruction of law and life.
But the dollar is being destroyed by Quantitative Easing, and the domestic US economy is being destroyed by jobs offshoring.http://www.manufacturingnews.com/news/TAA0731131.html 
Rome was powerful until the Germans ceased to believe it. Then the rotten edifice collapsed. Washington faces sooner or later the same fate. An inhumane, illegal, unconstitutional regime based on violence alone, devoid of all morality and all human compassion, is not acceptable to China, Russia, India, Iran, and Brazil, or to readers of this column.
The evil that is Washington cannot last forever. The criminals might destroy the world in nuclear war, but the lawlessness and lack of humanity in Washington, which murders more people as I write, is no longer acceptable to the rest of the world, not even to its European puppet states, despite the leaders being on Washington's payroll.
Gorbachev is correct. The collapse of the Soviet Union was a debacle for the entire world. It transformed the US from the "city upon the hill," the "beacon for humanity," into an aggressive militarist state. Consequently, Amerika has become despised by everyone who has a moral conscience and a sense of justice.
Paul Craig Roberts was Assistant Secretary of the Treasury for Economic Policy and associate editor of the Wall Street Journal. He was columnist for Business Week, Scripps Howard News Service, and Creators Syndicate. He has had many university appointments. His internet columns have attracted a worldwide following. His latest book, The Failure of Laissez Faire Capitalism and Economic Dissolution of the West is now available.
Source: Paul Craig Roberts
A report from CNN's Jake Tapper has reintroduced "Benghazi-Gate" to the US media spotlight. The report claims that "dozens" of CIA operatives were on the ground in Benghazi on the night of the attack, and the CIA is going to great lengths to suppress details of them and their whereabouts being released. The report alleges that the CIA is engaged in "unprecedented" attempts to stifle employee leaks, and "intimidation" to keep the secrets of Benghazi hidden, allegedly going as far as changing the names of CIA operatives and "dispersing" them around the country.
One suspects this has a single and defined purpose – to hide the CIA's culpability in supplying arms to known extremists in Libya and Syria. Moreover, the CNN report alludes to the CIA supplying "surface-to-air missiles" from Benghazi to rebels in Syria, but this may only be the tip of the iceberg. The report goes on to state: (my emphasis)
Sources now tell CNN dozens of people working for the CIA were on the ground that night, and that the agency is going to great lengths to make sure whatever it was doing, remains a secret. CNN has learned the CIA is involved in what one source calls an unprecedented attempt to keep the spy agency's Benghazi secrets from ever leaking out.

Since January, some CIA operatives involved in the agency's missions in Libya, have been subjected to frequent, even monthly polygraph examinations,according to a source with deep inside knowledge of the agency's workings. The goal of the questioning, according to sources, is to find out if anyone is talking to the media or Congress. It is being described as pure intimidation, with the threat that any unauthorized CIA employee who leaks information could face the end of his or her career.
Speculation on Capitol Hill has included the possibility the U.S. agencies operating in Benghazi were secretly helping to move surface-to-air missiles out of Libya, through Turkey, and into the hands of Syrian rebels.
Although Saudi Arabia have recently been kindly given "the Syrian card" by the United States – with Prince Bandar once again becoming "Prince of the Jihad"; it has become common knowledge that since the onset of the Syrian crisis, it was Qatar at the forefront of supplying arms and funds to both the political and militant elements of the so-called "opposition". This has undoubtedly included tacit support of the dominant radical elements among the plethora of brigades on the ground in Syria; with Jabhat al Nusra being the most obvious beneficiary of Qatari largesse. Earlier this year it wasreported that the CIA had been in direct "consultation" with the Qatari Monarchys' network of arms smugglers – run primarily from the Emir's palace in Doha. Accordingly, it seems certain that both the CIA and Qatari intelligence were involved in an operation to ship arms stockpiles from "rebels" in Libya; to the "rebels" in Syria: both varieties of which are inextricably linked to Al Qaeda affiliates and radical Salafi-Jihadi militants.
A New York Times report from 30th March 2011 reveals that the CIA had been active in Libya "for weeks", to "gather information for [NATO] airstrikes, and to contact and 'vet' the rebels battling "Gaddafi's forces". The New York Times report also states that Obama had signed a presidential finding in the weeks previous, which gave authority to the CIA to arm and fund the rebels. Furthermore, the Independent revealed in March 2011 that Obama had requested Saudi Arabia supply arms to the Libyan militants. Obama had also given his blessing for Qatar and the United Arab Emirates to ship arms into Benghazi, urging them to supply non-US manufactured arms to avert suspicion – in violation of the No-Fly Zone and arms embargo he helped to enforce, and all in total violation of the US Constitution and International Law.
The current Libyan authorities have made little effort to disassociate themselves from reports of large-scale arms shipments bound for Syria, leaving from the port of Benghazi. As stated in a UN Security Council report; the sheer size, monetary and logistical requirement to organise such delivery would almost certainly require at least some local government knowledge and assistance, one Libyan congress-member has openly admitted as such. Moreover, in a Telegraph report from November 2011, it is noted that the post-Gaddafi Libyan military commander Abdel Hakim Belhadj – widely regarded as the former leader of Al Qaeda affiliate: the Libyan Islamic Fighting Group (LIFG) and a lead figure in the militant uprising against Gaddafi – visited members of the Syrian opposition "Free Syrian Army" (FSA) in Turkey to discuss sending "money and weapons", and also discussed "Libyan fighters to train troops".
In a Fox News report from December 2012  an "International Cargo-Shipper" candidly revealed that arms shipments from Libya to Syria commenced "almost immediately after the fall of Muammar Qaddafi" (Oct 2011) and had continued on a weekly basis from multiple ports including Misrata and Benghazi. Some of the "sources" shipments were reported to be in excess of 600 tons. The report goes on to quote anonymous "sources" on the ground in Benghazi as alleging that: "Weapons and fighters were absolutely going to Syria, and the U.S. absolutely knew all about it – though most shipments have stopped since the attack on the American Consulate,"
Furthermore, an extensive UN report from the Security Council group of experts, from April 2013, also highlights the rife lawless proliferation of arms throughout Libya, and seeping beyond its borders. The report stated that arms were fueling conflicts from Syria to Mali, and arms were spreading from Libya at an "alarming rate". Qatar and the United Arab Emirates were singled out in the UN report for blatant violations of the arms embargo during the 2011 "uprising" against Gaddafi; the report revealed that multiple Qatari arms shipments had been allowed to flow into Libya with the full knowledge and acquiescence of NATO – in much the same way they have been allowed to flow into Turkey from Qatar, with Syria being the final destination.
Elements of the Libyan "military" leadership undoubtedly have strong links to former Al Qaeda affiliates, and were brought to power via Qatari largesse and special forces, CIA coordination, and a NATO airforce. Considering this, it is not hard to imagine the same actors would be willing to at least "turn a blind eye" to what has become an overt and unabated Libyan arms-smuggling route into Syria, as is once again demonstrated in this June 18th 2013 report from Reuters, titled: "The adventures of a Libyan weapons dealer in Syria:
Abdul Basit Haroun (former comander of "February 17th brigade") says he is behind some of the biggest shipments of weapons from Libya to Syria, which he delivers on chartered flights to neighboring countries and then smuggles over the border….  A Reuters reporter was taken to an undisclosed location in Benghazi to see a container of weapons being prepared for delivery to Syria. It was stacked with boxes of ammunition, rocket launchers and various types of light and medium weapons.

Haroun says he can collect weapons from around the country and arrange for them to be delivered to the Syrian rebels because of his contacts in Libya and abroad. "They know we are sending guns to Syria," Haroun said. "Everyone knows." His weapon dealing activities appear to be well-known, at least in Libya's east. Senior officials in Libya's army and government told Reuters they backed supplying weapons to the Syrian opposition, while a member of Libya's congress said Haroun was doing a great job of helping the Syrian rebels.
Furthermore, according to a recent New York Times report from June 29th 2013, Qatar have been carrying out arms shipments to "rebels" in Syria from Libya, since at least the same time they "stepped up efforts" to oust Colonel Gaddafi. Consequently, this can only be interpreted as Qatar commencing shipments of arms to Syria – from Benghazi – before Gaddafi had been killed, which means before October 2011.
It is highly plausible that Benghazi was indeed a CIA-run, arms "buy-back" program – with the further "possible" intent of forwarding those arms to Syria. As the State Department has confirmed, it allocated $40 million dollars for the purchase and "collection" of arms used during the conflict in Libya, including a "missing" stockpile of up to 20,000 MANPADS – which at least 15,000 are still unaccounted for. A report written by former US special forces operatives who served in Libya titled "Benghazi: the definitive report", alleges that the "consulate" and weapons stockpile program was entirely run by John Brennan – Obama's National Security Advisor at the time and now Director of the CIA – and outside the usual CIA chain of command with the sole purpose of "moving the stockpiled weapons to the another conflict – possibly Syria". Furthermore, it should also be noted that several prominent US government figures (Clinton, Brennan, Patreaus, et al) were openly lobbying for that precise policy; this adds the possiblity that certain players within the government or the many factions of the Military Industrial Complex may have been acting outside of the Obama administrations specific consent – or building the logistics to fulfill such policy in the future. Thus, a possible explanation of the attack on the "consulate" – which we can now assume was a CIA operated arms cache – was the Obama administrations' public reluctance to supply MANPADS or other specific heavy weaponry to the rebels fighting in Syria. Moreover, the authors of "Benghazi: the definitive report" claim that John Brennnan was targetting hardline Islamist militia in Libya via drone strikes and special operations, which may provide another pretext for the attack. Certain rebel factions, their regional donors, or their Libyan affiliates may have felt aggrieved and decided to act against the CIA and attempt to seize the weapons under their own volition.
The Libyan weapons route to Syria has quite possibly been ongoing since Qatari (and Western) special forces and their Libyan Al Qaeda affiliated proxies took a hold of Benghazi. In turn the shipments to Syria have gradually increased as Gaddafi's stockpiles became available and the lawless possibilities inside Libya expanded. These developments could also explain fighters of Libyan origin representing a large percentage of foreign fighters within the oppositions ranks; with a recent study finding Libyan fighters making up over twenty percent of foreign fatalities. If Qatar were indeed coordinating arms shipments from Libya to Syria during the early stages of the Syrian crisis in 2011, and the CIA have also been "consulting" the Qatari shipments and their follow-on transit points through Turkey; then the simplistic mainstream narrative and timeline of the conflict in Syria merely erupting from the suppression of peaceful protesters, and in turn spiralling into full-blown civil-war, is again brought into doubt.
Uncovering the chain of events that led to the attack on the US "consulate", and the variety of militia the US and its allies were arming in Libya; could in turn reveal the full extent of the Obama administrations' support of extremist proxy-forces in Syria. Which may explain the administrations' zealous attempts to stifle any debate or serious questioning of the events that surround Benghazi.
Source: Global Research
Clarksville High School in Arkansas will be the first high school to utilize state laws that allow armed security guards in schools to arm teachers.
Training is underway now that will facilitate teachers carrying concealed weapons when classes resume.
David Hopkins, superintendent for Clarksville explained: "The plan we've been given in the past is, 'Well, lock your doors, turn off your lights and hope for the best.' That's not a plan."
Twenty teachers, including volunteers and other facility are training with a private security firm to turn them into licensed guards. Those in the program will receive 9-mm Walter PPS and holster; including $1,100 for a total of $50,000 the school in spending.
To make sure these participants are full trained, they will receive 53 hours which is 5 times the requirements for security guards in Arkansas.
Hopkins said : "They're not gonna be in a uniform, and they're not gonna be wagging their gun on their side. We're going to be very discrete about it, but yet we're going to be trained professionals, and we're going to be able to provide security for our kids in a matter of seconds instead of minutes."
Instead of hiring an independent security firm, Hopkins asserts : "We're not tying our money up in a guard 24/7 that we won't have to have unless something happens. We've got these people who are already hired and using them in other areas. Hopefully we'll never have to use them as a security guard."
Students will not know which teachers are armed and which are not to ensure that Community Emergency Response Teams (CERT) are able to assist at a moment's notice.
CERT is part of the Federal Emergency Management Agency (FEMA). These are trained members of each community educated in "disaster preparedness for hazards that may impact their area and trains them in basic disaster response skills, such as fire safety, light search and rescue, team organization, and disaster medical operations."
Donna Morey, former president of the Arkansas Education Association (AEA) said: "We just think educators should be in the business of educating students, not carrying a weapon."
Arkansas and 6 other states; such as Ohio, Colorado, New Jersey, Pennsylvania, Connecticut and Washington State have adopted measures to place armed guards in public schools.
School districts in Florida, Rhode Island, Pennsylvania, Alabama and New Jersey have hired armed police officers to patrol and protect their campuses based on Vice President Joe Biden's national recommendations last January.
Like those other schools, Sidwell Friends School, where President Obama's two daughters attend, have 11 security officers and is seeking tohire armed police officers to patrol the campus.
The Department of Justice (DoJ) School Resource Officer program offers government certified law enforcement officers to patrol campuses as part of a national initiative.
Sheriff Douglas Harp of Nobile County, Indiana suggested deputizing teachers in order to carry handguns in classrooms just after the shooting in Newtown, Connecticut.
Last January, a scheduled Code Red lockdown was performed at Cary-Grove High School in Illinois.
This drill was complete with the firing of blanks into a hallway to give the students the very real impression that they were being attacked. Officialsclaimed that this exercise would help teachers and students "recognize the sound and react quickly should an active gunman situation occur."
According the school website: "The drill will begin with a public address announcement about the lockdown. After staff have secured their rooms, Cary police and administrators will sweep the building to ensure all students made it into secure locations and assess any potential issues that may become apparent from the practice. Following this, a second PA announcement will be made informing students and staff that gunfire will be simulated so that they might be able to recognize the sound and react quickly, should an active gunman situation occur."
They went on to explain: "Following the drill, a discussion will ensue between the students and their classroom teacher. We will utilize this feedback as a building and police department to assess our security and make any necessary adjustments to our building plan. Our sole purpose for utilizing the blanks is to fully prepare our students and staff."
Parents whose children attend the school were concerned that the simulated gunfire was going beyond necessities. One parent said: "If you need to run a drill, you run a drill. They run fire drills all the time, but they don't run up and down the hallway with a flamethrower."
Students were upset by the crassness of the drill. Some participants pointed out that not all guns sound the same when fired. And a substitute teacher suggested that there be proactive training on what do to in such a situation instead of the terrifying drill that was conducted by school officials.
Jeff Puma, spokesperson for the high school explained that the administration is working with the Cary Police Department who recommended that this drill take place. Puma said: "It was their recommendation that we do this in order to create the knowledge necessary to keep our students safe in an active crisis situation."
Puma said that the police referred to the students as "sitting ducks" while in their classrooms should a shooter enter the building. The police intimated that the students remain in their classrooms for "safety reasons" rather than try to escape through a window or run out a door.
Source:  Susanne Posel | Occupy Corporatism
Mohamed Morsi's removal from power is not a "massive blow" to political Islam, much less the proof of its failure. It is the result of the Muslim Brotherhood's attempt to monopolize all power, coupled with the MB government's gross economic and social mismanagement. The Army intervened because the stability of the state was threatened, and Egypt's generals have a vested interest in maintaining order which guarantees their enormous economic privileges. Their quarrel with Morsi is not ideological. The support for Abdel Fatah Al-Sissi's coup from Saudi Arabia and the Emirates is a sign that those regimes do not expect the new government to re-impose the secular-nationalist agenda that had characterized the Nasser-Sadat-Mubarak decades. Their Salafist protégés in Egypt, Younis Makhyoun and his al-Nour Party, supported Morsi's removal and are now poised to play a key role by capitalizing on the Brotherhood's declining popularity. Al-Nour has already shown its strength by preventing Mohamed El-Baradei's appointment as prime minister. The party has distanced itself from the generals in recent days, and its leaders say that they will insist on keeping the Islamic law as the basis of Egypt's constitution.
Equally fallacious is some Western liberals' lament that Morsi's overthrow has been "disastrous" for the prospects of democracy in the Muslim world. Those prospects had always been nil. The notion that Egypt has "mutated from poster boy for free elections to a ballot-failed nation" is ridiculous: Morsi's victory in the presidential election in June of last year was marked by serious irregularities which have never been properly investigated, and he has wantonly abused power during his year in office. All opposition was crudely demonized, and the Mubarak-era oppressive apparatus retooled to serve the Brotherhood. Last November he issued a decree granting him dictatorial authority, including immunity to any judicial oversight. In December he staged a bogus referendum that rubber-stamped a new, Sharia-based constitution which was drafted solely by the MB-dominated Shura Council with Salafist support. The rhetoric of "democracy" was used by Morsi strictly in line with Turkish Prime Minister Recep Tayyip Erdogan's dictum that "democracy is a train: you can get off when you reach your destination." Morsi's desired destination was always crystal clear: ikhwanat al-daula, Ikhwanisation of the state.
Egypt's problems are staggering, possibly insoluble. It has few natural resources. Its situation is considered "critical" by the Foreign Policy's Failed_States_Index, on par with Mauritania, Sierra Leone and Burkina Fasso. The country of 85 million under-educated people has to import one-half of its food. A quarter of the population is unemployed; among the young—the majority—that figure is estimated to be over 50 percent. Two-fifths of its people survive on two dollars a day; a quarter on one. The tourist industry, the only reliable source of foreign exchange under Mubarak, has collapsed. In 2011 Egypt's GDP grew by the measly 1.8 percent—exactly equal to its population growth. In June 1979 the population of Egypt was forty-one million, and it has more than doubled since. The share of investments in GDP declined from 21 percent in 2011 to 13 percent last year. Some three million Egyptian workers in the oil-rich Persian Gulf states provide a key source of revenue, but their status is uncertain. If Egypt is forced to reabsorb some or most of them in the years to come, the perfect storm scenario will be complete.
Occasional injections of foreign liquidity can postpone the disaster, but they resolve nothing. A long-term solution demands fundamental restructuring, primarily in agriculture, which requires political stability. This is possible only with the generals firmly overseeing a government of appointed experts for many years to come. This may be Egypt's only chance to rebuild investor confidence and avoid mass starvation, civil war, and a fresh deluge of destitute and desperate immigrants hitting Europe.
Let's do a little thought exercise here. Imagine that some force was flooding an indigenous people's lands with millions of unassimilable foreigners, and it was understood that this influx would irretrievably change that land's culture and replace the population. What would anthropologists call this phenomenon? Cultural genocide comes to mind.
Of course, in America we call it "immigration policy."
Now, when King Edward I "Longshanks" said about dominating the Scots in the film Braveheart, "If we can't get them out, we'll breed them out," it was to be expected from an enemy of Scotland. And how should we characterize America's immigrationists, who have long been washing American culture away with endless waves of unassimilable foreigners?
Before answering, let's first consider the testimony of Fredo Arias-King, ex-aide to former Mexican president-elect Vicente Fox (hat tip: Timothy Birdnow). About how he and his colleagues spoke to 50 US congressmen and senators back in 1999 and 2000 he writes:
Of those 50 legislators, 45 were unambiguously pro-immigration, even asking us at times to "send more." This was true of both Democrats and Republicans.
…[Moreover] [m]ost of them seemed to be aware of the negative or at least doubtful consequences of mass immigration from Latin America, while still advocating mass immigration.
… [The Democrat legislators] seemed more interested in those immigrants and their offspring as a tool to increase the role of the government in society and the economy. Several of them tended to see Latin American immigrants and even Latino constituents as both more dependent on and accepting of active government programs and the political class guaranteeing those programs, a point they emphasized more than the voting per se. Moreover, they saw Latinos as more loyal and "dependable" in supporting a patron-client system and in building reliable patronage networks to circumvent the exigencies of political life as devised by the Founding Fathers….
Republican lawmakers we spoke with knew…that they may not now receive their [the naturalized Mexicans'] votes, [but] they believed that these immigrants are more malleable than the existing American: That with enough care, convincing, and "teaching," they could be converted, be grateful, and become dependent on them. Republicans seemed to idealize the patron-client relation with Hispanics as much as their Democratic competitors did.
…Also curiously, the Republican enthusiasm for increased immigration also was not so much about voting in the end, even with "converted" Latinos. Instead, these legislators seemingly believed that they could weaken the restraining and frustrating straightjacket devised by the Founding Fathers and abetted by American norms. In that idealized "new" United States, political uncertainty, demanding constituents, difficult elections, and accountability in general would "go away" after tinkering with the People….
…I remember few instances when a legislator spoke well of his or her white constituents. One even called them "rednecks," and apologized to us on their behalf for their incorrect attitude on immigration. Most of them seemed to advocate changing the ethnic composition of the United Statesas an end in itself.
This isn't unusual in the West, either. In fact, it was revealed in 2009 that the UK's immigrationists sought to socially engineer a "multicultural" Britain because they wanted to "rub the Right's nose in diversity and render their arguments out of date" but didn't want to divulge the scheme lest they lose their "core working class vote." With friends like that….
Now, what would you call people who visit such a thing upon their own culture solely to gain power? And what fate do they deserve?
G.K. Chesterton's comment, "It is terrible to contemplate how few politicians are hanged," comes to mind.
In fairness, Mr. Arias-King's experiences predate the Tea Party revolution, and the House GOP did defeat John McCain's shamnesty bill in 2007. I also suspect that it was legislators partial to immigration who were inclined to meet with him in the first place. And while I don't doubt that closeted culturally genocidal maniacs still exist (in abundance), there are also those who genuinely believe that diversity should be "an end in itself." Unfortunately, bad policy is equally destructive whether implemented out of malice or stupidity.
Speaking of which, multiculturalism can only ever be what it is, an ideology; it can never be a workable reality. Having many different cultures within the same borders is actually called balkanization, and its consequences have been repeatedly observed throughout history. If the differences among the disparate peoples become great enough, the nation may be partitioned so they can go their separate ways. And there are only two possibilities for avoiding this. One is if an iron fist of tyranny holds the competing cultures together, as Marshall Tito did in the former Yugoslavia (and we all know why it's "former"); the other is if one group prevails over and subsumes the rest, as the Japanese have largely done with the Ainus, an aboriginal people who once dominated the island of Hokkaido.
This is absolutely the norm. Do the names, Saxons, Alans, Franks, Visigoths, Vandals, Avars, Alemanni and Frisians sound at all familiar? They were once distinct groups that occupied early medieval Europe, but they are no more, having been subsumed into a wider culture. This may be good thing if it's a superior culture, it may be a bad thing if beauty was lost, or it may be a mixed bag. But it is an undeniable thing.
This brings us to the myth of diversity. All it can ever be is a liability to, hopefully, be overcome; it can never be the "strength" it's billed as (without even a shred of evidence in support of the notion). And, interestingly, here's what the Online Etymology Dictionary tells us about the origin of the term "diversity": "mid-14c., from O.Fr. diversité (12c.) 'difference, oddness, wickedness, perversity,' from L. diversitatem 'contrariety, disagreement, difference . . . .'" "Contrariety" and "disagreement"…. It certainly worked out that way in Yugoslavia, in the Soviet Union, in Czechoslovakia, in India (when two regions broke away and became Pakistan and Bangladesh). Why, even in Canada, where Quebecois and other Canadians are racially identical, there has often been talk of secession.
So how much more of a problem it is when a group not only has a different language, but is different racially, economically, culturally and ideologically? And what about when that group of diversifiers supposes it has a rightful claim to your territory (a poll showed a majority of Mexicans believing that the Southwest belongs to Mexico and that they have a "right to enter the U.S. without U.S. permission")? What about when you try to teach these newcomers American history and they say, as a teacher respondent reported to me some years ago, "We don't care about this — we're Mexican." When people have come to your land mainly to make money and have loyalty lying elsewhere, it doesn't bode well for assimilation.
The kicker here is that flooding a nation with unassimilable foreigners may do no more for diversity over the long term than pythons in the Everglades. Sure, the swamp is currently more diverse — with tens of thousands of fascinating non-indigenous creatures added to the mix — but how diverse will the ecosystem be when they decimate native species? Thus have Florida authorities decided that amnesty for the snakes probably isn't the best idea.
So it is with a cultural ecosystem. Harking back to my earlier point, the introduction of new cultural elements isn't always just a matter of simple addition; subtraction and division can be factors as well. When worlds collide, when there is an incongruence of cultural elements, there may be mixing as with the wolf and coyote. Or there may be an extinction, as with how the Dodo on Mauritius was wiped out by rats. Of course, a new equilibrium is always established, but it may very well be less diverse. And, for sure, it will be different.
The good news here, if one can call it that, is embedded within the bad. The history of social engineers is that they possess no clearer a crystal ball than do futurists or science-fiction writers. If the immigrationist traitors simply want to destroy America, they will certainly get their way. But they will never have Mexico Norte, a republic they can comfortably rule as patrons of complacent clients. Because nature — in this case man's — takes it course, and some people will likely realize that less is more — and that only divided we stand.
In "Why Some Scientists Embrace the 'Multiverse," Dennis Prager reports that he recently participated, along with 30 scholars, mostly scientists and mathematicians, in a conference on the question of whether the universe was designed, or at least fine-tuned to make life possible, especially intelligent life. Participants — from Yale, Princeton, Harvard, Berkeley and Columbia among other American and European universities — included agnostics, atheists and believers in God.  (Prager, Jewish World Review, June 18, 2013)
Though the clear scientific consensus was that, at the very least, the universe is exquisitely fine-tuned to allow for the possibility of life said Prager, many atheist scientists and fellow-travelers who insist there be no Creator God put forward the notion of a multiverse despite there being not a shred of evidence for the existence of these universes.  
The multiverse hypothesis is a desperate grasp at the fantasy theory first proposed by David Deutsch in his book, "The Fabric of Reality."  Deutsch's theory posits the existence of an infinite number of parallel universes in the vain hope that in at least one of them, conscious life and order arose by pure chance, meaning that living beings created themselves.
 Eminent quantum theorist John Polkinghorne utterly rejects the multiverse nonsense:
 "Let us recognize these speculations for what they are.  They are not physics, but….metaphysics.  There is no purely scientific reason to believe in an ensemble of universes….To my mind greater economy and elegance would be that this one world is the way it is because it is the creation of the will of a Creator who purposes that it should be so." (Cosmos, Creator and Human Destiny, Dave Hunt, p. 209)
 Multiverse speculations, as Polkinghorne pointed out, are not physics but metaphysics, and in fact are grounded in a two-fold neo-Gnostic vision.  First, that living beings created themselves from pre-existing or spontaneously generated matter, and second, the age-old technology of alchemy and its magical meaning: the ancient Egyptian Hermetic principle of the macrocosm's correlation with the microcosm, "As above, so below" symbolized by the Ouroboros—the great chain of being, cosmic tree of life or with Darwin the tree of life.
In modern Luciferian theosophical thought for example, the Ouroboros 'above' corresponds to a number of different astral planes and sub-planes comprising the habitations,
"(of all) supernatural entities, the locale of gods and demons, the void where the thoughtforms dwell, the region inhabited by spirits of the air and other elements, and the various heavens and hells with their angelic and demonic hosts….With the help of ritual procedures, trained persons believe that they can 'rise on the planes,' and experience these regions in full awareness." ("Beyond the Body: The Human Double and the Astral planes, Benjamin Walker, 1974, pp. 117-8)
The Ouroboros with its astral planes is well-known around the world in its' many esoteric traditions:
"References to this reality are the Dreaming of the Australian Aborigines, the Spirit-world of Shamanism, the Duart of the ancient Egyptians, the Bardo (Intermediate State) of the Tibetans, the Imaginal world of Islamic Esotericism – e.g. the Barzakh (Interworld) or of Suhrawardi and the Mithal (Imaginal realm) of Ibn Arabi – the Universe of Asiyah of some Kabbalists, or of Yetzirah according to others.  Other descriptions are the Nervo degree of the Physical State of Theon, the Astral or 2nd Prakritic plane (corresponding to the Linga Sharira or Subtle or Astral body) and the Kama (Desire-Plane) of Blavatsky, the Astral Plane of the Adyar school of Theosophy and of popular occultism, Rudolf Steiner's "Soul World"; and the Vital and Subtle Physical described by Sri Aurobindo and Mirra.  These are just a few of the innumerable descriptions of this plane of existence." (The Astral Plane, kheper.net)
The Apostle Paul speaks not of cosmic trees, astral planes and the beings supposedly existing there but of fallen angels, the "spirits of wickedness under the heavens" (Eph. 6:12) and their chief, "the prince of the powers of the air." (Eph. 2:2)  
According to Paul, fallen angels are dispersed in a multitude throughout the whole blue expanse of sky which is visible to us—the dwelling place for the host of fallen angels who have been cast down from heaven.    This means that in esoteric multiverse theories and occult cosmic tree of life conceptions, the whole blue expanse of sky under the heavens where fallen angels dwell is the Ouroboros/cosmic tree 'above' consisting of astral planes and sub-planes connected by the great chain of being up which the initiate spiritually ascends (evolves) by way of ritual (i.e., transcendental meditation, mind-altering drugs) as he traverses the occult Path of Life or Western Magical Way to reach divine status and gain psychic powers.  
Royal Astronomer Lord Martin Rees champions multiverse conceptions in the hope that in at least one or more of them living beings created themselves who are far more advanced than our own life-forms.  Rees believes that if this is the case, then super-intelligent aliens might be capable of simulating in their brains or in a super-computer the complex history of our universe, meaning the universe we inhabit is a simulation lacking real substance and existing only as a mental construction, a matrix, in the minds of highly evolved aliens who seeded our world with life and travel through time in order to control man's evolutionary progress. (Scientific Mythologies, James A. Herrick, p. 216)
The idea that the universe we inhabit exists only as a mental construction is very similar to Hinduism's Brahman. Brahman is the Great Cosmic Spirit— the Ultimate One Substance (prakriti matter) or Essence of material phenomena, meaning that the universe exists only as a mental construction in the mind of Brahman: brahma satyam jagan mithya, or "Brahman is real, the world is unreal." (swamij.com/mahavakyas)
Rees proposal is also similar to the hypothesis presented by Olaf Stapledon, a scientist who has always kept one foot firmly planted in neo-Gnostic science fiction accounts and imagines our universe to be an artifact of the Star Maker.  Building off of Stapledon's fantasy Carl Sagan suggests that we are "star folk" made of "star stuff."    (Herrick, pp. 216-217)
Replace Star Maker with Brahman and "star stuff" with sarvam khalvidam brahma, or "All is truly Brahman" (swamij.com) and we have ayam atma brahmam: "The Self is Brahman." (Brihadaranyaka Upanishad 4.4.5)
In the caption of his book, "Just Six Numbers," Rees reveals the ancient occult basis of his propositions:
"The ouraboros. There are links between the microworld of particles, nuclei and atoms and the cosmos." (Rees M., Just Six Numbers, P. 9)
"Now the serpent was more cunning than any beast of the field…" — Genesis 3:1
As a powerful occult symbol, the Ouroboros or Uroboros means the seething power, creative and/or evolutionary impulse or energy of the serpent figuratively depicted as either a serpent or dragon eating its own tail.  The serpent's body is often depicted as the Great Chain of Being, Cosmic Tree of Life, or with Darwin, the Tree of Life.  
 The occult Tree of Life with its' multiple dimensions and life-giving energy systems not only powers the universe but reaches into the psyche, stirring imagination, bringing psychic powers and even awakening pre-human memories of when the scientifically "enlightened occult elite," the Gnostikoi, were fish:
"Remember when you were a fish…." suggested Jean Houston, the prophet of the possible, in a workshop to awaken ancient pre-human memories.  Nearly a thousand evolved life-forms (people) dropped to the floor and began moving their 'fins' as if to propel themselves through water.  "Notice your perception as you roll like a fish. How does your world look, feel, sound, smell, taste?"  Then you crawled up on land said Houston, so now you must, "Allow yourself to fully remember being a reptile….Then some of you flew. Others climbed trees."   A zoo of beastly sounds erupted from the herd of pre-human birds, reptiles and apes. (America: The Sorcerer's New Apprentice, Hunt and McMahon, p. 218)
From the time of the ancients serpent power has been important to religious and mythological symbolism all around the world. Within the Egyptian mysteries, serpent power was associated with,
…"the elemental forces that were in play before the creation of the world." (Carl Teichrib, Gods of Ancient Egypt, p. 182)
 In China serpents were spiritually linked with earth and water while in Scandinavian myth a world serpent protected man from cosmic forces of chaos.  The self-described Gnostic Carl Jung interpreted the Ouroboros as having archetypal consubstantiality to the human psyche.    Serpent power is also associated with today's occult New Age spirituality as well as Gnosticism, occult Hermetic Kabbalah, Roisicrucianism, Illuminati, Freemasonry and its' blatantly Luciferian sister, Theosophy, where according to Helena Blavatsky, serpent power representsself-generation and evolution through its own creative power. 
In his book, "The Sign of the Serpent," Mark Balfour relates how pervasive serpent symbols are within India and the Hindu religion:
 "Any observant traveler who moves from the snow-tipped Himalayas in the North to the sun-soaked sands of Cape Comorin at India's southern tip, will encounter—particularly in the rural areas and at sacred centres of pilgrimage wherever Siva, God of both Divine Wisdom and regeneration, is the presiding Deity—the serpent motif sculptured within shrines, impressed on myriads of stone implants in the ground and depicted in art." (A Short Guide to Occult Symbols: Serpent Power, Carl Teichrib, 2005, Kjos Ministries)  
Balfour elaborates on this belief:
"In Hinduism, the Cosmic Serpent—Ananta Sesha—symbolic of timeless eternity, carries the world on his 1000-fold [Cobra] hood…As the creative impulse stirs within the great Serpent in the Sky—when passive idea becomes active thought—the forces of attraction and repulsion come into play as 'spirit' begins its involution into "matter." (ibid, Teichrib)
Moreover, Kundalini yoga, a discipline within Hinduism, teaches that latent serpent energy lies at the base of the etheric human spine, 
"…like a coiled serpent, ready to spring." (Harper's Dictionary of Hinduism, p. 156, ibid, Teichrib)  
Through strenuous yoga techniques, this Kundalini serpent power uncoils and rises through seven "chakras" or power centers within the human body. The Kundalini serpent force is considered,
"(to be a) concentrated field of intelligent cosmic, invisible energy absolutely vital to life beginning in the base of the spine as a man or a woman begins to evolve in their first incarnation." (The Donning International Encyclopedic Psychic Dictionary, p. 343, ibid, Teichrib)
The serpent power/Masonry connection is revealed by occultist Mason Manly Hall who says that when the Mason learns how to properly channel the power of the serpent he has learned the mystery of his Craft: 
"The seething energies of Lucifer are in his hands and before he may step onward and upward, he must prove his ability to properly apply energy." (New World Order: The Ancient Plan of Secret Societies,William T. Still, p. 30)
In "Occult Theocracy," Edith Starr Miller elaborates on the serpent power/Masonry connection:
"Luciferian Occultism controls Freemasonry (and) is therefore not a novelty, but it bore a different name in the early days of Christianity.  It was called Gnosticism…" (Occult Theocracy, p. 198, 1933)
 Free Masonry is grounded in occult Hermetic Kabbalah, the non-Jewish version of Kabbalah, a syncretic system that draws on Gnosticism, Western astrology, alchemy, ancient Egyptian drom which the alahnry connectionntherefore not a novelty, but it bore a different name in the early days of Chhermeticism, Greco-Roman nature religions, Eastern mysticism/reincarnation/karma, spiritual and biological evolutionary conceptions, neoplatonism, the Enochian system of angelic magic of John Dee and Edward Kelley, rosicrucianism, tantra, and tarot cards, which are seen as keys to the Tree of Life.  
Occult Hermetic Kabbalah is also the underlying philosophy and framework for Western magical societies such as the Golden Dawn, Thelemic orders, mystical-religious societies such as the Builders of the Adytum and is the precursor to the Wiccan, Neopagan and Luciferian New Age spirituality over-taking Western and American civilization.
Regarding the importance of occult Hermetic Kabbalah to Freemasonry, Albert Pike–the most influential Freemason that has lived—has this to say in his Morals and Dogma:
"The Kabalah is the key to the occult sciences; and the Gnostics were born of the Kabalists. (Morals and Dogma, p. 626) 
The famous scientist, engineer, religious writer and mystic, Emanuel Swedenborg (1688-1772) claimed to have been instructed by beings on other planets as well as by angels during his astral plane travels.  Swedenborg has influenced a long line of scientists, philosophers, modern science fiction writers and movie producers as well as Joseph Smith.  
Swedenborg described Masonry as a search after Light said Pike:
"That search leads us directly back, as you see, to the Kabbalah. In that ancient and little understood medley of absurdity and philosophy, the Initiate will find the source of many doctrines; and may in time come to understand the Hermetic philosophers, the Alchemists, all the Anti-papal Thinkers of the Middle Age, and Emanuel Swedenborg. (Morals and Dogma, p. 741)
The Gnostic Hermetic Kabbalah holds to the neoplatonic conception that the manifest universe (One Substance) of which material creation is a part, arose as a series of emanations or evolutions from the godhead or divine Cosmic Spirit. 
In his Dictionary of Mysticism and the Occult, Nevill Drury writes that the Hermetic Kabbalah's Tree of Life consists of ten spheres, 
"…or sephiroth, through which—according to mystical tradition—the creation of the world came about. The sephiroth are aligned in three columns headed by the supernals and together symbolize the process by which the Infinite Light…becomes manifest in the universe." (A Short Guide to Occult Symbols: The Tree of Life, Carl Teichrib)
 The sephiroth also have a role resembling that of the "…charkas [sic] in yoga."
In other words, the sephiroth symbolize the consubstantiality or oneness of the initiate's intellect with the Divine Substance (i.e., ancient Egyptian Nu, Chaos, Brahman, Omega Point, Singularity) as well as the seething evolutionary energies of Lucifer (Moshiach/Nachash/Gematria) while chakras refer to psychic centers that lie along the spine of the etheric body that awaken
by way of kundalini serpent power yoga.
For the initiate, the deeper meaning of the Hermetic Kabbalah is the Tree of Life (snake's body) 'above' as well as the inward path 'below' in which the adept who has mastered the seething energies of Lucifer discovers and experiences the "inner light" (also called the divine spark and inner Christ). 
In short, Hermetic Kabbalah is a system of Luciferian teachings and evolutionary conceptions which open up the mind and the soul to a new level of understanding from the snake: salvation comes from within.
From the Renaissance to our own time, Gnostic Hermetic science packaged as biological and spiritual theories of evolution, various Tree of Life conceptions together with pre-existing or spontaneously generated matter theories, multiverse conceptions, Teilhard's Omega Point and trans-humanism's Technological Singularity for example, has swept the post-Christian West and America, even entering into the whole body of the Church.


Luciferian Occultism: Serpent Power
In "God and the Knowledge of Reality," the Catholic philosopher and historian, Thomas Molnar (1921–2010), writes that during the Renaissance Christian mystics and scholars such as Emanuel Swedenborg discovered Hermetic magic and esoteric Jewish Kabbalah texts which they studied and translated resulting in Hermetic Kabbalah.  Then like Pico della Mirandola, they argued that occult hermetic science—the divine technology or Magic Way of reaching divine status and powers through ritual procedures (and for Swedenborg astral plane traveling) is the best proof of the divinity of Christ.    In other words said Molnar,
"…..by the time of the Renaissance the esoteric texts of the first centuries A.D. had acquired in scholarly and humanist circles an unparalleled prestige, confronting as equals the texts held sacred by the church.  In Pico's estimation, 'nulla est scientia que nos magis certificet de divinitate Christ quam magia et Cabala' (there is no science that would prove for us Christ's divinity better than magic and the Cabala.)"  (pp. 78-79)
From then till now, Luciferian occult science has been working steadily toward its' goal to invert, pervert, and replace the living word of God (Matthew 4:4) beginning with the book of Genesis, the book of beginnings divinely revealed to Moses for our edification and salvation.   As a result, the majority of contemporary Christians no longer know that Genesis is the living Word of God because they have lost contact with the early Church Fathers, the living link between the ancient texts containing God's revelation and today's esoteric evolutionary imperative.
In their day, just as in our own, many people erroneously interpreted Genesis, especially the first three chapters, as an allegory, denying it has any literal and historic meaning.  Therefore the Church Fathers who wrote on Genesis made a specific point in saying it has literal meaning that we must understand correctly even while explaining that anthropomorphic statements about God describing Him as a man who sits on thrones for example, are to be understood symbolically.
Church Fathers regarded Genesis, especially the first three chapters, as divinely inspired text that tells of actual, historical events and people. St. Cyril of Alexandria for example, wrote that Genesis is divinely inspired and cannot be apprehended rightly without respect for its' historical meaning:
"Those who reject the historical meaning in the God-inspired Scriptures as something obsolete are avoiding the ability to apprehend rightly, according to the proper manner, the things written in them…whenever some historical events are presented to us by the Holy Scriptures (a) useful search into the historical meaning is appropriate, in order that the God-inspired Scripture be revealed as salvific and beneficial to us in every way." (St. Cyril, "Commentary on the Prophet Isaiah 1,4, PG 70, 192AB)
Church Fathers make the point that the whole of creation, including the soul of man, was brought into existence from non-existence (ex nihilo), not from eternally existing or spontaneously generated matter as ancient and modern evolutionary adherents and Luciferian occultists believe.
On the miraculous creation of the first man Church Father John Chrysostom writes:
"And God formed man of dust from the earth, and breathed into his face the breath of life, and man became a living soul….the inbreathing communicated to the one created out of earth the power of life, and thus the nature of the soul was formed.  What does a living soul mean?  An active soul, which has the members of the body as the implements of its activities, submissive to its will." (Genesis, Creation, and Early Man, Seraphim Rose, p.215)
Gregory of Nyssa adds:
"The body and the soul were formed at the same time—not one before and the other afterwards…" (ibid, p. 218)
Jesus Christ, the "angel" who spoke with Moses at Sinai, is the Creator.  Foremost of His miracles is creation out of nothing—six acts or days of creation rather than the billions of years of evolutionary alchemical process out of matter:
"The first moment of time is the moment of God's creative act and of creation's simultaneous coming to be." (Philosopher and New Testament scholar William Lane Craig quoted in "If God created the universe, then who created God?' by Jonathan Sarfati, Creation Ministries International)
With Irenaeus, the doctrine of creatio ex nihilo was well established. He also argued that the world (matter) was not coeternal with God:
"But the things established are distinct from Him who has established them, and what [things] have been made from Him who has made them. For He is Himself uncreated, both without beginning and end, and lacking nothing. He is Himself sufficient for this very thing, existence; but the things which have been made by Him have received a beginning… He indeed who made all things can alone, together with His Word, properly be termed God and Lord; but the things which have been made cannot have this term applied to them, neither should they justly assume that appellation which belongs to the Creator." ("Is Creatio Ex Nihilo A Post-Biblical Invention? An Examination Of Gerhard May's Proposal," Paul Copan, Trinity Journal 17.1; Spring 1996)
The Fourth Lateran Council of 1215 affirms creation ex nihilo:
"We firmly believe and simply confess that there is only one true God … the Creator of all things visible and invisible, spiritual and corporeal; who from the very beginning of time by His omnipotent power created out of nothing [de nihilo condidit] both the spiritual beings and the corporeal." (ibid, Copan)
On creation ex nihilo, the Westminster Confession of Faith (1646) asserts:
"It pleased God … in the beginning, to create or make of nothing the world, and all things therein" (IV.I; ibid)
The divinely inspired Genesis account of creation ex nihilo is a great stumbling block for contemporary Westerners and Americans—including great numbers of Christian theologians— brought up with an evolutionary outlook, an antihuman, occult Luciferian/Gnostic materialistic worldview that has left them spiritually and morally impoverished.
"But in his estate shall (Antichrist) honour the God of forces." Dan. 11:38
Today the Nachash, the occult planetary-elites God of forces has confused, deluded and mesmerized vast numbers of Westerners and Americans.  As the animated seething energy called evolution the God of forces is the principle miracle-producing power of the cosmos. Having transformed the consciousness of his followers, they are no longer the spiritual image-bearers of the living Triune God but evolution's conscious products who can achieve ever higher levels of consciousness by directing their own evolution.
So complete has the transformation of consciousness been that the God of forces has successfully inverted the order of creation and for increasing numbers of deluded Christians, reversed the direction of Biblical theism. With creation ex nihilo virtually replaced by evolution, it is now believed that men have not fallen from perfection but instead are gradually evolving upward from their ape beginnings toward greater and greater spiritual perfection. Self-perfecting man no longer needs the living, supernatural God as the idea of "conscious evolution" means he can save himself, and perhaps even attain god-hood.
As the 'Christ' of the hugely popular "A Course in Miracles" the God of forces states that there is an "irresistible Force" within each person, a universal Force that when activated grants unimaginable psychic powers, even immortality.  The 'Christ' tells New Age leader Barbara Marx Hubbard that on the day of Planetary Pentecost a Planetary Smile will flash across the faces of all people who have accepted the Luciferian Initiation.  There will be "uncontrollable joy" that the 'Christ' describes as the "joy of Force" that will "ripple"through the one body of humanity.  ("False Christ Coming: Does Anybody Care? Warren B. Smith, p. 120)
The God of forces who is the serpent power worshipped by mankind from antiquity, the god of Gnostic Masonry, the seething energies of Lucifer, the serpent power of Kundalini yoga, the body of the occult Tree of Life, the Cosmic Spirit of the universe, the Singularity and the Collective who represents self-generation and evolution through its own creative power poses a question to his enthralled worshippers, 
"What if I am not a 'man' at all, but rather a Force, an 'Energy" in the universe, that IS the universe, and that is, in fact, All That Is. What if I am The Collective?" ("God" in Conversations with God: Book 3, p. 125, Neale Donald Walsh, ibid Warren B. Smith, p. 122) 
Tragically, many people today, including growing numbers of Christians, are being seduced by an occult planetary mythology that grew out of the Renaissance and maintains that man is not fallen, that he is ultimately perfectible through a process of evolution and that through leaps of consciousness he can realize that he is God.   The common thread among all occult Hermetic science, secret societies and esoteric teachings since the Renaissance is a single mind directing the formation of the new religious consciousness.   It is the mind of the same fallen angel who tempted Adam and Eve in the Garden with the words, "Ye shall be as Gods." (Gen. 3:5)
When finally the man of lawlessness arrives and appears to triumph for a time, in the end it is he whom the Lord Jesus,
"….shall kill with the spirit of his mouth; and shall destroy with the brightness of his coming, him," (2 Thes. 2:8)
Speaking at the end of the meeting of the EU-Ukraine Cooperation Council in Luxembourg on June 24, European Enlargement Commissioner Štefan Füle warned Ukraine that "time is running preciously short" for the government in Kiev to meet all European Union conditions in time to sign a free trade and association agreement in November. "Ukraine has made good progress in some areas," Füle said, but added that "more needs to be done for Ukraine to achieve tangible progress on all the benchmarks," including "increased determination and reinforced action"—an obvious reference to the case of Yulia Tymoshenko.
While stressing that closer links with the EU remain its priority, in recent weeks the Ukrainian government has also probed the possibilities of strengthening its ties with the Customs Union formed in 2010 by Russia, Belarus and Kazakhstan. Moscow would like to see Ukraine in the "Common Economic Space," but it is reluctant to grant it a half-way status that would fall short of full membership. Kiev would prefer that option in order not to sever its EU connection.
The dilemma has received scant attention in the Western media. Considering its size and strategic importance, it is curious how underreported Ukraine remains 22 years after independence. The second largest country in Europe—the true link (and a key energy corridor) between Russia and the Old Continent's heartland west of the Carpathian Mountains—has just under fifty million people, a rich agricultural base, and a long Black Sea shoreline which includes the all-important naval bases in the Crimea. Its geopolitical significance cannot be overstated.
Kiev's current quandary is real, but it should not overshadow Ukraine's promise as a pivotal player in the development of regional cooperation with its EU neighbors to the West, former CIS countries to the north and east, and emerging regional powers further afield. On my recent visits to Ukraine—most recently as an election observer last October – I was struck by the tendency of some local analysts to focus on the role of their country as an object of geopolitical rivalry of others, and to neglect its potential as a significant actor in its own right.
That potential is real. The importance of food as a key strategic commodity will continue to grow in the decades ahead, and Ukraine has an enormous, still untapped capability to become a global-scale producer. In 2012 Ukrainian agricultural sector raised $2bn in capital investments, which is 11 percent higher than in 2011 but still short of what is needed to unleash its potential. If and when Ukraine's farmers gain reliable and affordable access to finance, they will be able to compete with, and perhaps out-produce, their peers in the American Midwest or Canada. Cooperation with key EU agricultural producers, such as France, is proceeding apace and should continue regardless of what happens in Vilnius next November. The same applies to Kiev's cooperation with the EU in the energy sector in 2013—an important step in making Ukraine's role as a key energy conduit more stable, predictable and transparent.
Bilateral cooperation can flourish even in the absence of speedy integrations, as recent experience suggests. Ukraine's merchandise trade deficit narrowed to $608.5 million in April, which is markedly less than a year ago. Exports increased 4.7% year-on-year, while imports declined 8.1%. Most of its minerals, steel, coal, petroleum products and grains go to other former Soviet republics, but Germany and Poland have been gaining importance in recent years. Trade with Hungary, Sweden, and other smaller EU members has also recorded significant increases. Outside the EU and the former Soviet Union, Ukraine's key partners are Turkey (second-largest overall, after Russia) and China. Ukraine will sign an agreement on a free tradearea (FTA) with Turkey in October, and its trade with China is expected to double to $20bn in the next few years.
Regardless of its hoped-for integrations, Ukraine can and should project more resolutely its "soft power" in the region. Its rich cultural heritage and still underdeveloped tourist industry are by no means the only assets. The 2012 UEFA European Football Championship, commonly referred to as Euro 2012—jointly hosted by Poland and Ukraine—was an expensive but useful step in the right direction. There are still too few foreign students, researchers and guest-lecturers in Kiev, Kharkov, Lvov or Odessa, considering the quality of their institutions of higher learning.
The perennial issue of Ukraine's geopolitical strategy—should it lean to the East or to the West—is on the whole somewhat artificial. Experts note that recent trends in the country's foreign trade have created preconditions for growth even if it joins neither the European Union nor the Moscow-led customs union. It is noteworthy that even some EU leaders take the view that Ukraine should follow a two-track approach.
Stability in Europe and the continent's long-term integration devoid of the Cold War, zero-sum-game mentality, requires a new paradigm in Kiev. It should be based on further diversification of political and economic options, which is not incompatible with Ukraine's quest for optimal forms of association with its eastern and western neighbors.
This is where we are:
The antagonistic, mendacious, gangster like character of American politics has at times caused citizens to avoid it entirely and as the frantic pursuit of pleasure has become the core of life, the nation's health is too often ignored.  A spate of detrimental occurrences and a wide spread feeling of impotence has wounded the electorate.  Recently a survey found that only 10 percent of Americans trust our congress to act in the best interests of the nation.
Though I believe it is futile to argue that our Constitution is a Christian document, in a world where freedom is scarce it is an outstanding and unique construct that has serve the nation well.  Americans have enjoyed two centuries of liberty and prosperity unequalled in the civilized world.
This is where we were:
The taste of freedom that our ancestors experienced when they entered the hard life of pioneer America created a ferocious will to defend it.  When Patrick Henry said "Give me liberty or give me death" he spoke for thousands of immigrants who had been living in European bondage for centuries. Feudalism was a form of slavery.  Vassals could not own land.  They spent their lives working and fighting for wealthy Lords.  In America they could clear, till, harvest and own their land.  The contrast was stark and of great value.
Unfortunately freedom was like a new car that had been driven a few thousand miles, lost its new smell, and acquired a few dents. In our time it has lost some of its value and is no longer washed, shined, inspected, and admired.
A number of factors have worked together to bring down the United States of America.  The American Indians who were the rightful owners of the new found continent soon became enemies of the European immigrants who began settling land that Indians had historically hunted, fished, and occupied.  The Indians were the first terrorists.  Their ways of war were inferior and their weaponry was archaic.  Justice was on their side but power overcomes justice and injustice wears a righteous cloak.
England became the next enemy seeking to enslave the new freedom addicts with taxes and oppressive troops.  The settlers would have none of it.  Freedom was seen as a religious right and Christian ministers urged their congregants to fight for it   Though the nation was divided in its loyalty there were enough who believed liberty was worth fighting for to produce a rag tag army that was able to defeat the distance impaired British troops.
The next challenge to freedom came when Abraham Lincoln confirmed the odiferous fears of Patrick Henry (He smelled a rat!) by determining to preserve the Union by force.  The Southern States who seceded for both economic and social reasons through ignominious defeat became prisoners in a union they deplored.  The Union was preserved but freedom was dealt a serious blow.
As wealth and independence increased an omnipotent spirit began to overcome the America populace; the Indians were slaughtered, the continent was either purchase on the cheap or won by force.  Florida; the Philippines and Cuba came from Spain; California, a part of Mexico, was won by the army; and Louisiana http://en.wikipedia.org/wiki/Louisiana_Purchase  was purchased from France (Included in this purchase were parts of Arkansas, Missouri, Iowa, Oklahoma, Kansas, Nebraska, Minnesota, North and South Dakota, New Mexico, Texas, Montana, Wyoming, Colorado and some of the Canadian provinces of Alberta and Saskatchewan).  It was an unconstitutional purchase but pragmatism started early in the new nation.
Through what many settlers thought was "Manifest Destiny" https://en.wikipedia.org/wiki/Manifest_destiny  the United States of America soon reached across the North American Continent from the Atlantic to the Pacific.  It was a rich, virgin land that was overflowing in industrial potential. Freedom allowed a competitive, unhindered economy to grow and a sort of Libertarian culture developed.  A handful of avaricious businessmen made vast fortunes.  Business practices were not always ethical.  Covetousness and unscrupulous guile were common.  Nevertheless, as unions developed the process employed enough laborers to create a prosperous society.
This is how we got to where we are:
 Itinerant Jews became wise in banking and the use of money.  They accumulated fortunes that could bail out nations and finance empires.  They not only understand banking and money but also the need of nations for unlimited funds.  They understand war and its potential for profit and became adept at manipulating nations into conflicts.  They pull the power strings in the majority of nations throughout the world and are today a strategic force in the implementation of world government.  Though not widely known Jewish financier, Hayman Solomon, was instrumental in providing funds to finance the American Revolution.  https://en.wikipedia.org/wiki/Haym_Solomon
The United States of America has succumbed to the persistent debilitation caused by powerful, amoral bankers.  They and their Talmudist kin occupy all of the power centers of our nation.  They control the news you hear and do not hear, they control the movies you watch, the books and newspapers you read, they control our elections, they are responsible for persistent war and the suffocating quantity of immigrants that are destroying our culture.  They are consistent promoters of conflicts and have defeated our Christian institutions and destroyed morality.   The Federal Reserve banking system is controlled by the moneychangers.  They create inflation and depression and then at the expense of the American taxpayer provide solutions to both.  International banking is controlled by the same wise bankers who use debt to enslave nations throughout the world.  They are a powerful and wily bunch..
This is where we are going:
Wholesale immigration will soon result in the indigenous White inhabitants becoming a minority in their own nation.  Our European Christian based culture is being replaced by a secular legal system that is diametrical to the Law of the Bible.  Obedience to these new legal codes is being actively enforced. We have been hijacked into a perpetual war that benefits a new world order program that is inimical to the best interests of the nation and threatens to start a much larger world conflict.  The perpetual war and the social give away programs are creating a debt that even if the nation is fortunate enough to survive will saddle future generations with an insurmountable obligation. This is particularly true since the wealth producing manufacturing engine that used to eradicate our debt has been shipped overseas leaving us unable to satisfy even small obligations.
The astounding thing about all this is that many Americans are not only unaware of what is happening but unwilling to learn.  They would rather not know.
Little by little the choices that have created freedom in United States are being lost.  The tsunami of corporate mergers has driven out small businesses and severely reduced the choices of consumers who now are forced to deal with a small number of remote suppliers who give no heed to the individual. The depression has forced numerous retail establishments out of business reducing consumer choices.  Chinese goods are being forced on American consumers because there is nothing else available.  It has been decades since we had competitive daily newspapers and magazines have now become archaic.  There is no longer a popular choice of political candidates which are preselected and promoted by a unified media owned by a handful of like minded oligarchs.  The choices prosperity availed us are no longer there for the average American the work week has increased while his pay has decreased.  Both husbands and wives are now working to sustain a standard of living that is inferior to a single wage family a half century ago.
Someone asked in today's Letters to the Editor if the rape of the middle class was over.  It is not over. 
"To learn who rules over you, simply find out who you are not allowed to criticize."  - – Voltaire (1694-1778)