Urban War Zones are now a reality inside many American cities.
It's no longer necessary to go to Iraq, Afghanistan or Africa to enter a real war zone and have to fight for your life.
Thanks to massive CIA drug trafficking and American Free-trade Treaties like NAFTA, CAFTA, GATT & WTO, many American inner cities have been transformed into actual war zones.
These inner city war zones are infested with drug gangs that outnumber police and out gun them too.
At present these gangs are typically competing and battling with each other for turf and making a living selling drugs and running prostitutes, some captive sex-slaves. At some point if the economy worsens and the SHTF, they could easily start looting and attacking anyone and everyone.
However, in every major city in America at present, violent urban predators prey on the unarmed, old, weak, sick or disabled. And while out of control Police Swat Teams battle these predators and drug gangs, they often tyrannize the innocent which include women and young children, using excessive force all too often. There are numerous incidents of such teams murdering innocents after attacking the wrong home.
The massive War on Drugs was designed as a dualistic program. One hand, the top secret part involves the USG bringing in massive amounts of illegal drugs to raise "off the books money" for covert ops. The other hand uses all serious gang crimes arising as a pretext to militarize the police as justify their deployment as Nazi Storm Troopers.
This second part of the War on Drugs is for public disclosure and consumption. In response to all this massive urban breakdown, the worsening economy and increasing government tyranny from the Department of Homeland Security, the TSA and out of control local police, Americans are arming at an astounding rate. Guns are literally flying off the shelves and ammo sales are at an all time high also.
Americans now arming up in mass in order  to protect themselves from and this increasing USG Tyranny of the USG, DHS and their local militarized and Mind-kontrolled local police (1)  and from increasing and spreading urban crime which includes robberies, car-jackings, home burglaries and home invasions.
Also given as an important reason for arming up for the first time when asked, is a fear of possible impending economic collapse with an associated SHTF occurrence. Many express a salient and absolute need to be able to protect themselves and/or their family members from possible looters and armed home invaders which would likely accompany a SHTF urban breakdown situation.
And who should be credited with creating such a foreboding urban environment? It is the Globalist Traitors and infil-Traitors who have hijacked the political process and Banking in America.
These Globalist "enemies within" have rammed through economically disastrous Free-Trade Agreements and forced Diversity, Perversions and Political correctness accompanied by massive immigration, most illegal. All this has been designed to destroy the borders, language and culture of America, to neutralize its Constitution, Bill of Rights and Rule of Law while transforming America into a economically distressed Third World Nation.
These Globalist enemies within the Gates have been working very hard to transform America into a Democracy (Mob rule by the masses) from the Republic which was set up by our Founding Fathers.  Obviously any real enforcement of the US Constitution would assure that American would remain a republic the way it was set up.
Since the imposition of so-called "Free Trade" policies upon the American Republic, urban decay and blight have become epidemic in major American cities. Many cities have turned into Urban Jungles, where only the strongest survive. In these Urban Jungles, violent gangs prevail and the weak are parasitized and consumed, afraid to go out of their homes, especially after dark.
Take Chicago, which has become a "kill or be kill" free fire Urban War Zone in some of its Urban areas. Chicago is the one of the most gun restricted areas ever, but the only ones that do not carry guns to defend themselves are law abiding citizens.
Gang members have all the guns they want, supplied by drug gangs and the CIA and BATF.http://www.cbsnews.com/news/gang-wars-at-the-root-of-chicagos-high-murder-rate/
Some of these areas such as Washington DC have been rated as having a 300% chance of being mugged if out after dark in certain areas, which means you could likely be robbed three times in a single block if you have a victim profile (old, young, weak, disabled, female). The real unemployment rate is 37%, despite phony USG that it is 7% or less.(2)
And now Detroit has been declared Bankrupt. It has been reported that retired police and City workers will now receive approximately 13% of their pensions due.
The Ruins of Detroit:
The ten Most Dangerous American Cities which are truly Urban Jungles at Night:
There are areas in Detroit, South Chicago and St. Louis that are so violent and infested with violent gangs that even the police refuse to enter unless ordered and then do so with major forces.
Until recently parts of Detroit was so violent that police and ambulances refused to provide service during the night hours and often found abandoned dead bodies (murder victims) days later. Detroit, known as "Iron City", the jewel of America, used to be prosperous beyond measure based on the manufacture of the world's finest cars.
Remember what a 1965 Olds Starfire coupe was like, or a mid 60′s Buick Wildcat or Pontiac Bonneville was like.  How about a mid 60′s Chevy with a HP409 engine or a Plymouth Belvedere with a 426 Hemi or 440 Wedge engine?
That all changed in 1971 with the introduction of very extreme anti-pollution "clean air" laws which reduced automotive engine compression ratios from approximately 10.5 to 8.5, required the installation of retarded, goofy extremely inefficient camshafts.  The result was garbage engines that had little power, consumed huge increases in gasoline and a major shift in chassis quality to near complete crap. At that point American automotive quality was gone and is only starting to come back now forty years later.
This is but one symptom of the covert Globalist engineering of American Society on behalf of the City of London zionist Central Banksters.
This of course created a great opportunity for the Japanese Auto manufacturers, secretly owned and controlled by the super-elite American Banking families. When W. Edwards Deming, an astute American engineer approached American Automotive Manufacturers in Detroit and proposed his plan to drastically reduce defects and lemons, he was rebuffed because it was felt his plan was too expensive and too slow.
Deming's plan required 100% quality checks and verification of all parts from every supplier instead of the approximately 1% or less sampling. When Deming approached the Japanese, who had already shown a new coming expertise in motorcycles and quality circles in their electronics manufacturing, his program was accepted and implemented.
The rest is history, and after about 15 years, the American Automotive manufacturers have been playing a catch up game ever since for quality with the Japanese Auto manufacturers.
And now the Korean Automotive Manufacturers have hired retired Japanese automotive engineers as consultants and have adopted many of their same practices and principals to their automotive manufacturing.  The result?
Some Autos manufactured in South Korea have attained the same quality as the Japanese which are considered to currently be the highest quality in the world. As many automotive enthusiasts suggest, if you want the best performance buy German, if you want the highest quality buy Japanese.
It is a fair assumption that Globalism and the Free-Trade Agreements it produced, have resulted in the exportation of most American heavy industry, manufacturing and millions of good paying jobs. This alone has seriously harmed the American economy and set America on a path of destruction, starting first with its Urban Centers which have become urban wastelands and jungles, and now progressively spreading to middle class and upper middle class outlying suburbs.
Fair Trade with suitably adjusted reasonable Tariffs to protect American Jobs are necessary to America's economic survival and prosperity. Free Trade is not Free at all and is an abomination to the American republic and its Sovereignty.
It is a tool of the Globalists to enhance the earnings of their international offshore Globalist corporations at the expense of the American worker.  It is nothing less than a secret war against America's Sovereignty and the Republic itself.
The only other globalist tactic to destroy America that approaches its effectiveness are the policies of unrestricted illegal immigration, forced diversity, cultural programming that perversion is good, required perversion programming in the public schools that it is normal, and political correctness.
Obviously these are all Globalist weapons of covert war waged against America to destroy its borders, language and culture and gut it economically.  These Globalist weapons have been deployed against Americans in order to transform America into a Third World "Democracy" instead of the Republic that it was set up to be by the Founding Fathers.
These Traitors and Infil-Traitors in Congress and the Administration keep financing and running foreign wars for Israel in order to establish Democracy like they keep claiming we have in America. We have never had a democracy but they have been doing their best to kill the Republic on the behalf of their zionist owners and masters This is of course one of the biggest lies ever told.
America has always been a Republic, a democracy is mob rule. Of course bringing in 30-60 million illegal immigrants and millions of legally sanctioned foreign workers has quickly undermined American culture and tradition and established a real base to elect politicians who appeal to the masses. The election of President Obama was the first of such travesties.
Up until recently when American aircraft manufacturers starting buying foreign parts, American aircraft were the best in the world, especially the military aircraft and fighter/interceptors. Now we have an F-22 with a contaminated O2 system from China that causes some pilots to start passing out and a Boeing Dreamliner with a faulty battery system that was imported.
For years St. Louis has been so poor that some of their police radio don't work properly and their squad cars are in disrepair. In East Los Angeles, despite how tough and well armed the LA Police Department is, top police officials know that they are completely outgunned by Mexican drug gangs allowed to enter and do business inside America and also provided arms shipped by the CIA and the BATF.
It's not as if Americans weren't duly warned what such Free-Trade Treaties would produce, because Presidential Candidate Ross Perot went public with what was coming.  He described the effects as a "giant sucking sound" for American jobs as they would leave America in droves.
But despite Perot's grave warnings, President George HW Bush signed NAFTA on Dec. 17, 1992 with full Congressional support. The NAFTA Treaty was ratified after Bill Clinton became President. Soon after the sucking sound started, with shocking support the the US Department of State which provided massive grants to major corporations to move manufacturing to Mexico.  These grants continued at American taxpayer expense under the subsequent Trade Treaties that were subsequently signed and ratified such as CAFTA, GATT, and WTO.
Unbeknownst to most Americans, President Obama is now deeply involved in secret negotiations to pass the Trans Pacific Partnership Treaty (TPP) which experts have described as "NAFTA on Steroids". TPP is far more than just another Free Trade Treaty which continues to lower the value of American wages to the "rock bottom" levels in third world  countries. If signed and ratified by Congress, the TPP would be the complete end to any remaining American Sovereignty.
What established this frenzy for Free-Trade Agreements? It is now known that The last duly elected President of the United States of America was Ronald Reagan.  It is also known by seasoned intel officers that Ronald Reagan distrusted American Intel in general and especially his Vice President George HW Bush.
In fact it has now been discovered that President Reagan distrusted the CIA and American Intel so much, he set up his "Kitchen Cabinet" and brought in Lee Wanta as his Secret Agent under the Totten Doctrine (3).
George HW Bush was illegally elected later as President, since his father Prescott Bush had signed an Immunity Agreement that no future Bushes (Scherfs) would ever run for office after he was arrested for "aiding the enemy" and his Union Bank assets were seized by FDR during WW2.
It is also known that George HW Bush ran his own private CIA inside the CIA which served the specific needs of the zionist City of London Central Banksters and their franchisees, the American private Federal Reserve and major Wall Street Banksters.
Some former top American Intel believe that it was this private GHW Bush Intel organization that tried to assassinate President Reagan, by using their man, a secret service man who fired a high speed plastic disc from a compressed air powered disc-gun, the type displayed by William Colby in Congressional Hearings on the abuses of American Intel.
PBS Judy Woodruff had reported this of seeing the SS man fire a gun from a second story window that night on PBS but the story was quickly squelched and she changed it after a very convincing "not to worry visit" from some very serious American Intel agents. President Reagan, despite a long slow disjointed route to the hospital, survived. This assassination attempt however signaled that the Treasonous Bush Cabal had attained a major power base inside the Military and Congress.
The sad thing is that all the political power and influence  necessary to accomplish this and to transform the American Congress into Traitors was due to the vast money provided to K Street Lobbyists and zionist espionage groups like AIPAC, ADL, B'nai B'brith, and the like by the Central Banksters and the various Judaic groups shaken down and manipulated by zionist for donations.
So the first beach-head of the Globalists (aka zionist City of London Central Banksters and the "Old Black Nobility" they represented) was established with a bought, owned and controlled US Congress.  Once GHW Bush was elected President, the circle of control was complete.
One of George W. Bush's major assignments was to take American further down the Globalist path by fighting more Mideast wars for Israel. Another was to destroy the Republic party by being the worst President ever and fully debasing the Republican, which he did. Now the Republican leaders in Congress are tricking the Republican Party into committing suicide by agreeing to back the Democratic legislation for making illegal immigrants legal and future citizens.
So it is now obvious that the Republic Party is finished and Americans need to rise up and form a new Third Party. Otherwise you can be assured that just like in the last Presidential election, both candidates will be owned by the Bush Cabal.Unless the Bush Cabal has been fully exposed and displaced by then which is now  real possibility.
It has been estimated that there are now approximately 30 million illegal immigrants inside Americaallowed in by a Globalist controlled USG who prevented border enforcement and liberal immigration laws which are not enforced. With the the passage of the currently proposed Democratic plan for legalizing illegal immigrants, this number could easily grow to 60 to 100 million.
In most major American Cities, Police are not allowed to arrest suspected illegal immigrants for minor traffic violations or check their identification for legal status. Not so for those whose license plates are run and show up as actual American Citizens. And this is all due to orders coming down from a few top policy-Makers who operate at the nexus of the Secret Shadow Government (SSG).
GHWB could now institute major efforts to undo all the excellent plans for the economic and industrial reconstruction of America that President Reagan had set in place and activated. As has been disclosed in a previous article (4), President Reagan had brought in Lee Wanta to serve as his Secret Agent because he didn't trust the CIA which had been corrupted and hijacked by GHWB.
It should now be exceedingly clear to those who are well informed about the degradation of the American economy and rule of law accompanied by increasing tyranny, deployment of DHS, TSA and the passage of all the unConstitutional draconian laws (like the so-called Patriot Act, the Military Commissions Act, and NDAA 2014).
All this is being engineered by foreign controlled Globalist traitors and infil-Traitors who have hijacked America and worked hard to export  heavy industry, manufacturing and jobs.
And that they are doing this to asset strip America, destroy it's economy and the Republic itself in order to Balkanize America and prevent it from ever rising in economic strength again and operating as a Republic "of the people, by the people and for the people".
Their motives for all this?  To covertly re-fight the Revolutionary war that was lost and retake America on behalf of the zionist City of London Central Banksters and their Kingpin overlords the Old Black Nobility (OBN).  These hidden masters of the world-wide occult network which runs the IZCS prefer to stay hidden in the background where they can pull all the strings of several top Policy-Makers in America with no personal risk to themselves.
What can be done to turn this around? Obviously the first step is to get rid of all Free-Trade Agreements. In order to do this all the zionist espionage fronts inside America such as AIPAC, ADL, B'nai B'rith and the like must be fully exposed and prosecuted to the fullest extent of the law. In order to do this zionist Israeli-American dual citizens inside Congress and the USG and its Agencies must be exposed as traitors and agents of foreign espionage and routed out of power.
America has to stop fighting Israel's illegal Mideast wars and withdraw all aid and support for Israel as long as it is a criminal, racist apartheid state persecuting and murdering Palestinians and stealing their land incrementally.
Lee Wanta, a great American Heroe that served as President Reagan's Secret Agent under the Totten Doctrine and was instrumental in bringing down the evil Soviet Union
We need to re-institute the Wanta Reconstructing America Plan based on the Maglev High Speed Rail System which has the necessary funding already available. (5)
And it is time to also re-establish the Want Economic Recovery Plan for America that was also set up under President Reagan, but later stopped cold by George HW Bush and his Cabal when they instituted a secret coup to take over the whole USG on behalf of the City of London zionist Central Banksters and their Wall Street and Federal Reserve Franchisees.(6)
In fact it is a reasonable assumption that the massive Free-Trade attack on America's economy was largely a reaction by the Bush Cabal to these amazing economic reconstruction plans President Reagan had put in place through his Secret Agent Lee Wanta, who was the master strategist that took down the Soviet Union for President Reagan.
Recent respected surveys show that a majority of American are disgusted with the current administration and rating of the lowest ever experienced in America in the last century. Congress is also rated at an all time low with only 9% approving of it. Many view the current President as an alien imposter with no traceable past.  Some alternative media writers have stated that he is a sheep-dipped CIA creation just like Bill Clinton. All this is a mute point.  Why?
Because Ronald Reagan was the last duly elected President of the United States of America, the Republic, all presidents since have been fraudulently elected and owned by the Bush Cabal. And this Bush Cabal is the Action Agent of the City of London zionist Central Banksters and their International Zionist Crime Syndicate (IZCS).
The IZCS is centered in Israel where most intel is done by privatized Israeli corporations serving as American Defense and Intel contractors.  It is these private Israeli contactors who control all NSA raw intel and almost all American communications including internal White House phone calls and messaging, as well as all Pentagon and DOD communications.
Obviously the Bush Cabal has been able to install its own Presidential puppets and run a lucrative illegal drug trafficking operations into America.  All done to destabilize and "dirty up" American Cities while absorbing a great deal of the Welfare dollars and capturing vast "off the books" funds for their own covert operations and bribery of Congress. It is a fair conclusion that the Bush Cabal has destroyed the American Rule of Law, debased any true enforcement of the US Constitution and Bill of Rights and has corrupted every institution and agency of the USG.
However there is good news.  A growing force for good has emerged in the Alternative Media now transmitted everywhere instantly on demand by the worldwide Internet, the new Gutenberg Press and the NWO Globalist's Achilles Heel. Yes, the Controlled Mass media (CMMM) has been a propaganda mouthpiece for the Bush Cabal and the IZCS, but is now losing its appeal and credibility. The CMMM keeps feeding lies and crap to the American public that are obviously false, like the Mideast American wars are wars to establish Democracy.  More and more Americans now realize this is complete BS, that we are there to fight Israel's wars and defend British Oil interests.
Compare the articles of Veterans Today and other respected truth media now which are being published and read by millions inside America and all over the world with the CMMM. You will see the gap between the alternative media truth and the CMMM lies is ever widening and we are starting to see Alternative Media's popularity driving stories into the CMMM, even thought the CMMM usually attempts to neutralize their significance.
Many thousands of brave American Soldiers who were lied to and deceived into fighting these illegal, unConstitutional, unprovoked, undeclared wars for Israel and Big Oil, thinking that they were defending America and its freedom. Few greater lies and deceptions has ever been predicated on Americans than this complete lie.  Many thousands of Americans have been killed and horribly wounded and disabled in this war.
If the American Military ever fully realizes that all these wars were phony and based on a lie and that Israel did the 9/11 attacks with the help of a cabal within the USAF and JCS, there will be hell to pay for all those perps involved. And now there is good reason to believe that day is coming in the not too distant future.
As most Americans are beginning to realize, America has been infil-Traited by Traitors and Infil-Traitors in the highest positions of the USG.  The major economic deterioration and loss of assets to the Wall Street Banksters and the private Federal reserve through financial Fraud have been staggering and Americans are catching on the the BLATANTLY OBVIOUS.
When American society reaches a critical mass awakening to this obvious situation that Globalists have been doing everything they can to destroy America, there will be major Blow-back of astounding proportions. When 12% of Americans are awakened, a critical mass and major turning point will be reached and you will begin to see major social change like never conceived, and this will all be due to major Blow-back from awakening.
The elites hate to acknowledge it, but when large numbers of ordinary people are moved to action, it changes the narrow political world where the elites call the shots. Inside accounts reveal the extent to which Johnson and Nixon's conduct of the Vietnam War was constrained by the huge anti-war movement. It was the civil rights movement, not compelling arguments, that convinced members of Congress to end legal racial discrimination. More recently, the townhall meetings, dominated by people opposed to health care reform, have been a serious roadblock for those pushing reform…. A big turnout … can make a real difference….When someone tells you to stop imagining that you are having an impact, ask them to please direct their energy into getting 10 friends to join you in doing what needs to be done. If it has no impact, you'll have gone down trying. If it has an impact, nobody will tell you for many years. (7)
This coming complete awakening will be due to information dispensed and diffused by the Alternative Media and the worldwide Internet as well as word of mouth. it is best viewed as a byproduct of a new and powerful emerging worldwide populism which has now reached the point it is unstoppable. One recent study has established 10% as a critical mass, turning point for Society.(8)
I believe we are already at 11% and when we reach 12%, the days of the Bush cabal will be dated. They know it too and are scared sh*tless. That is why they have been going for broke trying to ram the NWO down our throats and militarize local police and build up DHS to oppress and then mass murder us.
It's time to speak up to all your family, friends and associates that we need to abandon the Republican and Democratic political Parties.  Both parties are owned and controlled by the same Overlord, the IZCS who bought them and can blackmail them with NSA provided intel.
Former Minnesota Governor Jesse Ventura, who is also a Vet and a Navy Seal/UDT man had it right in his book of the Replican and Democrat Political Gangs in America, DemoCRIPS and ReBLOODlicans (9).
Gov. Ventura recommends Americans dump both political Parties which serve the same corrupt masters and start electing alternative candidates only who are not associated with either of the two parties.
Conclusion:
It should now be exceedingly clear to those who are well informed about the degradation of the American economy and rule of law accompanied by increasing tyranny, deployment of DHS, TSA and the passage of all the unConstitutional draconian laws (like the so-called Patriot Act, the Military Commissions Act, and NDAA 2014), that all this is being engineered by foreign controlled Globalist traitors and infil-Traitors who have hijacked America and worked hard to export  heavy industry, manufacturing and jobs.
And that they are doing this to asset strip America, destroy it's economy and the Republic itself in order to Balkanize America and prevent it from ever rising in economic strength again and operating as a Republic "of the people, by the people and for the people".
Their motives for all this?  To covertly re-fight the Revolutionary war that was lost and retake America on behalf of the zionist City of London Central Banksters and their Kingpin overlords the Old Black Nobility (OBN).  These hidden masters of the world-wide occult network which runs the IZCS prefer to stay hidden in the background where they can pull all the strings of several top Policy-Makers in America with no personal risk to themselves.
(1) http://www.veteranstoday.com/2013/02/17/robocops/
(2) http://www.tpnn.com/2014/01/22/actual-unemployment-rate-37-2-not-6-7-says-wall-street-adviser/
(3) TOTTEN DOCTRINE [ 92 U.S. 105, 107 (1875) ]
(4) http://www.veteranstoday.com/2014/01/05/the-wanta-reconstructing-america-plan/
(5) http://www.veteranstoday.com/2013/12/28/high-speed-rail/
(6) http://wantarevelations.com/2014/01/wanta-plan-macro-financial-economic-check-list/
(7) http://www.zerohedge.com/contributed/2014-01-31/powers-be-are-secretly-terrified-people%E2%80%99s-power-%E2%80%A6-and-only-pretend-they%E2%80%99re-fi
(8) http://scienceblog.com/46622/minority-rules-scientists-discover-tipping-point-for-the-spread-of-ideas/
(9) http://www.amazon.com/DemoCRIPS-ReBLOODlicans-More-Gangs-Government/dp/162087587X/ref=sr_1_2?s=books&ie=UTF8&qid=1391327762&sr=1-2&keywords=jesse+ventura+democrips+and+rebloodlicans
Source: Preston James | Veterans Today
The economy has been debilitated by the offshoring of middle class jobs for the benefit of corporate profits and by the Federal Reserve's policy of Quantitative Easing in order to support a few oversized banks that the government protects from market discipline. Not only does QE distort bond and stock markets, it threatens the value of the dollar and has resulted in manipulation of the gold price.
See http://www.paulcraigroberts.org/2014/01/17/hows-whys-gold-price-manipulation/
When US corporations send jobs offshore, the GDP, consumer income, tax base, and careers associated with the jobs go abroad with the jobs. Corporations gain the additional profits at large costs to the economy in terms of less employment, less economic growth, reduced state, local and federal tax revenues, wider deficits, and impairments of social services.
When policymakers permitted banks to become independent of market discipline, they made the banks an unresolved burden on the economy. Authorities have provided no honest report on the condition of the banks. It remains to be seen if the Federal Reserve can create enough money to monetize enough debt to rescue the banks without collapsing the US dollar. It would have been far cheaper to let the banks fail and be reorganized.
US policymakers and their echo chamber in the economics profession have let the country down badly. They claimed that there was a "New Economy" to take the place of the "old economy" jobs that were moved offshore. As I have pointed out for a decade, US jobs statistics show no sign of the promised "New Economy."
The same policymakers and economists who told us that "markets are self-regulating" and that the financial sector could safely be deregulated also confused jobs offshoring with free trade. Hyped "studies" were put together designed to prove that jobs offshoring was good for the US economy. It is difficult to fathom how such destructive errors could consistently be made by policymakers and economists for more than a decade. Were these mistakes or cover for a narrow and selfish agenda?
In June, 2009 happy talk appeared about "the recovery," now 4.5 years old. As John Williams (shadowstats.com) has made clear, "the recovery" is entirely the artifact of the understated measure of inflation used to deflate nominal GDP. By under-measuring inflation, the government can show low, but positive, rates of real GDP growth. No other indicator supports the claim of economic recovery.
John Williams writes that consumer inflation, if properly measured, is running around 9%, far above the 2% figure that is the Fed's target and more in line with what consumers are actually experiencing. We have just had a 6.5% annual increase in the cost of a postage stamp.
The Fed's target inflation rate is said to be low, but Simon Black points out that the result of a lifetime of 2% annual inflation is the loss of 75% of the purchasing power of the currency. He uses the cost of sending a postcard to illustrate the decline in the purchasing power of median household income today compared to 1951. That year it cost one cent to send a post card. As household income was $4,237, the household could send 423,700 postcards. Today the comparable income figure is $51,017. As it costs 34 cents to send one postcard, today's household can only afford to send 150,050 postcards. Nominal income rose 12 times, and the cost of sending a postcard rose 34 times.
Just as the American people know that there is more inflation than is reported, they know that there is no recovery. The Gallup Poll reported this month that only 28% of Americans are satisfied with the economy. http://www.gallup.com/poll/166871/americans-satisfaction-economy-sours-2001.aspx?version=print
From hard experience, Americans have also caught on that "free trade agreements" are nothing but vehicles for moving their jobs abroad. The latest effort by the corporations to loot and defraud the public is known as the "Trans-Pacific Partnership." "Fast-tracking" the bill allowed the corporations to write the bill in secret without congressional input. Some research shows that 90% of Americans will suffer income losses under TPP, while wealth becomes even more concentrated at the top.
TPP affects every aspect of our lives from what we eat to the Internet to the environment. According to Kevin Zeese in Alternet, "the leak of the [TPP] Intellectual Property Chapter revealed that it created a path to patent everything imaginable, including plants and animals, to turn everything into a commodity for profit."
The secretly drafted TPP also creates authority for the executive branch to change existing US law to make the laws that were not passed in secret compatible with the secretly written trade bill. Buy American requirements and any attempt to curtail jobs offshoring would become illegal "restraints on trade."
If the House and Senate are willing to turn over their legislative function to the executive branch, they might as well abolish themselves.
The financial media has been helping the Federal Reserve and the banks to cover up festering problems with rosy hype, but realization that there are serious unresolved problems might be spreading. Last week interest rates on 30-day T-bills turned negative. That means people were paying more for a bond than it would return at maturity. Dave Kranzler sees this as a sign of rising uncertainty about banks. Reminiscent of the Cyprus banks' limits on withdrawals, last Friday (January 24) the BBC reported that the large UK bank HSBC is preventing customers from withdrawing cash from their accounts in excess of several thousand pounds.http://www.bbc.co.uk/news/business-25861717 
If and when uncertainty spreads to the dollar, the real crisis will arrive, likely followed by high inflation, exchange controls, pension confiscations, and resurrected illegality of owning gold and silver. Capitalist greed aided and abetted by economists and policymakers will have destroyed America.
Paul Craig Roberts was Assistant Secretary of the Treasury for Economic Policy and associate editor of the Wall Street Journal. He was columnist for Business Week, Scripps Howard News Service, and Creators Syndicate. He has had many university appointments. His internet columns have attracted a worldwide following. His latest book, The Failure of Laissez Faire Capitalism and Economic Dissolution of the West is now available.
Source: Paul Craig Roberts
I used to really really hate housework but don't hate it so much any more — ever since I developed my fabulous new housecleaning system wherein I just do 15 minutes of housework a day, but do it each day consistently, using a timer so as not to cheat.
You'd be surprised how much you can get done in just 15 minutes, but you gotta do it daily, no matter what — even if some newbee student dentist has just finished scraping all those extra bone fragments out of the socket of your recently-pulled (phantom) tooth and then practiced her rusty stitching techniques on your poor bleeding gums.
And here's another added bonus to my housecleaning system:  After having spent approximately 5,475 minutes a year for the past six years on trying to keep this damn place clean, I have actually sort of started to bond with my home.
So.  A few days ago I was cleaning stuff out of an old filing cabinet, and came across a whole bunch of articles that I had written way back in the day — back before we had all kinds of self-publishing apps available online; and even back before there was FaceBook or blogs or Kindle or Twitter or even Instagram and YouTube.
And, way back in those old paleo days, writers such as myself had actually been forced to photocopy our articles, write up a cover letter and then send them all off to magazine editors with self-addressed stamped envelopes enclosed.  Totally old school.  Can you even imagine doing that now?
And there at the very bottom of one of those file drawers, I found over two hundred rejection letters from various editors and publishers.  Amazing.
Dontcha just love publishing over the internet instead?  (And thank goodness for net neutrality too — which is currently being threatened.  Shouldn't we start boycotting Verizon, AT&T and Comcast over this?  C'mon, all you independent bloggers, Tweeters and self-publishers, let's get off our butts and fight for less intervention and more high-speed!) http://www.latimes.com/business/hiltzik/la-fi-mh-net-neutrality-20140114,0,522106.story
And speaking of the internet, those huge and powerful corporations which now own our government are still using it to spy on all of us — and not just us writers.   Now why would corporations want to do that?  Because they are paranoid.  And greedy.  And afraid.
I used to be paranoid and greedy and afraid too — but am now here to tell you that, in the long run, paranoia and greed and fear are just too damn much hard work.  Wisdom and kindness are better.  And easier too.  Just ask Jesus.  And Gandhi.  And Martin Luther King Jr.
"But Jane," you might say, "that kind of slacker attitude could get you killed."  True.  It certainly got King and Gandhi and Jesus killed.  But at least I would die while feeling all proud of myself as I cross over — not huddled up in some miserable isolated Midas-like earthly fortress while watching the rest of the world end before my very eyes and with only my black, ice-cold-hearted evil soul (that nobody else would ever want to spend time with, ev-ah) to keep me company.  Yuck.
Anyway, back at the filing cabinet, I began reading through some of my old articles again — and some of them were really actually quite good.  The one about my struggles to get my aging father into an assisted-care home was particularly poignant — and how my mean sister had dragged me through probate court after he died, just when I was grieving the most.  I later published it on the internet, entitled "Probating the Family Feud" — and a lot of people actually read it there too.  http://veracityvoice.com/?p=1158
And I also found something I had written back in 2005 — back when Fallujah was a horrible war-crime-induced hot mess; about all my efforts to embed with the Army there.  And how I finally did embed with the Marines in Heet and Haditha two years later http://jpstillwater.blogspot.com/2007_10_01_archive.html.
But apparently Fallujah is still a war-torn hot mess even today; the only difference being that Iraqis, not Americans, are now doing most of the killing in Al Anbar province.  So does that make all this current senseless slaughter of civilians less of a war crime — because civilians are now being senselessly slaughtered by local hordes instead of by American hordes?   http://www.globalresearch.ca/the-third-battle-of-fallujah/5364369

Ten years later, I still want to go to Fallujah.
Or as one friend in Iraq calls it, "Fallujahpaloooza".  Laughter through tears.  http://www.youtube.com/watch?v=Dt5qaMHQDfw&desktop_uri=%2Fwatch%3Fv%3DDt5qaMHQDfw&app=desktop
And then I discovered, hidden back at the very bottom of my filing cabinet, a rough draft of my first novel.  I loved that novel so much!  But NOBODY would publish it.  Nobody.  That novel had everything — love, death, war, peace, history, philosophy, drama, even intergalactic travel — and even one fast-moving chapter on how wisdom and kindness always trumps greed, paranoia and fear.  "Pictures of a Future World" was the title.  I may get around to publishing it yet — but this time I'll try Kindle.
PS:  Here's an excerpt from my old unpublished novel, "Pictures of a Future World":
All eyes turn to the Shaman, who continues to speak from his deep trance.

The atmosphere in the sandstone kiva comes alive.  The Shaman moves his mind to a new point of consciousness.  Another one of his emanations begins to speak, this time in an intensely penetrating tone.  "There is a tree on the mesa top," the deep voice slowly intones.  "It has watched the raider warriors kill our people one by one.  It has seen us begin to build our houses here in the dark shadows of the canyon walls instead of up on the sunny mesa tops where they belong…so that we might be safe…from the raider warriors.

"They are killers.

"We are prey.

"So has it always been.  So shall it always be.

"There is no place that we can go on the face of this earth that is safe from them…either now or in the far distant future… when even our mesa-top trees are dead.

"Raiders will always hunt peaceful men.

"They will find us, and they will kill our bodies just as the coyote kills the hare."

Absolute silence falls like a black shroud inside the kiva.

Everyone waits for the Shaman to speak again.  Even the Shaman himself waits.  Is this all that he is going to say?  By now the ceremonial kiva is as bright as day, the elders rigid with attention.

"Of these things we must never be afraid, ever," the Shaman continues.  "The raiders may search us out, the barbarians may chase us down and trap us and corner us like rats…from now until the end of time.

"The needy ones, the greedy ones will hunt us in order to make our wisdom and our abundance their own.  They will act out of evil caused by envy, jealousy or need.  Whatever their reasons — that is the way of it.  No place is safe.  We must be prepared to give up our bodies at any time, willingly and without fear or regret.

"Because our bodies are not us."

The Shaman breathes slowly now, and the clan members sense that he is struggling within himself, trying to clarify what he alone is seeing, forcing himself to go on.  A moment passes.  The mask presses heavily upon him.  Finally he continues:  "We of the pueblo all know this.  We are all made brave because of this knowledge.  This we know:  That always men of peace will die bravely.  That always barbarians will try to kill us and to take our spirits.

"All of us know that the spirit of a man of peace can never belong to a barbarian and can never be harmed.  Ever. It is this knowledge that gives us the courage to continue to live without fear in a world exploding with enemies, enemies gone mad with their own anger and need and violence and lust for our blood."

The air inside the womb-like kiva begins to take on a life of its own; humid, dense, and pulsing.

Inside the ponderous deer-head mask, the Shaman tries to refocus his energy.  He watches his body and his mind divide into a series of complex grids.  Each one of these grids contains an image of himself.  A part of him wonders which grid is his real self.  A part of him knows that his real self is all of them — or none.

More chanting fills the air.  The Shaman forgets about the raider warriors.  They are a part of life.  They will always be there…like the trees. Like the mesa.
Can the sharing economy movement address the root causes of the world's converging crises? Unless the sharing of resources is promoted in relation to human rights and concerns for equity, democracy, social justice and sustainability, then such claims are without substantiation – although there are many hopeful signs that the conversation is slowly moving in the right direction. 
In recent years, the concept and practice of sharing resources is fast becoming a mainstream phenomenon across North America, Western Europe and other world regions. The internet is awash with articles and websites that celebrate the vast potential of sharing human and physical assets, in everything from cars and bicycles to housing, workplaces, food, household items, and even time or expertise. According to most general definitions that are widely available online, the sharing economy leverages information technology to empower individuals or organisations to distribute, share and re-use excess capacity in goods and services. The business icons of the new sharing economy include the likes of Airbnb, Zipcar, Lyft, Taskrabbit and Poshmark, although hundreds of other for-profit as well as non-profit organisations are associated with this burgeoning movement that is predicated, in one way or another, on the age-old principle of sharing.
As the sharing economy receives increasing attention from the media, a debate is beginning to emerge around its overall importance and future direction. There is no doubt that the emergent paradigm of sharing resources is set to expand and further flourish in coming years, especially in the face of continuing economic recession, government austerity and environmental concerns. As a result of the concerted advocacy work and mobilisation of sharing groups in the US, fifteen city mayors have now signed the Shareable Cities Resolution in which they officially recognise the importance of economic sharing for both the public and private sectors. Seoul in South Korea has also adopted a city-funded project called Sharing City in which it plans to expand its 'sharing infrastructure', promote existing sharing enterprises and incubate sharing economy start-ups as a partial solution to problems in housing, transportation, job creation and community cohesion. Furthermore, Medellin in Colombia is embracing transport-sharing schemes and reimagining the use of its shared public spaces, while Ecuador is the first country in the world to commit itself to becoming a 'shared knowledge'-based society, under an official strategy named 'buen saber'.
Many proponents of the sharing economy therefore have great hopes for a future based on sharing as the new modus operandi. Almost everyone recognises that drastic change is needed in the wake of a collapsed economy and an overstretched planet, and the old idea of the American dream – in which a culture that promotes excessive consumerism and commercialisation leads us to see the 'good life' as the 'goods life', as described by the psychologist Tim Kasser - is no longer tenable in a world of rising affluence among possibly 9.6 billion people by 2050. Hence more and more people are rejecting the materialistic attitudes that defined recent decades, and are gradually shifting towards a different way of living that is based on connectedness and sharing rather than ownership and conspicuous consumption. 'Sharing more and owning less' is the ethic that underlies a discernible change in attitudes among affluent society that is being led by today's young, tech-savvy generation known as Generation Y or the Millennials.
However, many entrepreneurial sharing pioneers also profess a big picture vision of what sharing can achieve in relation to the world's most pressing issues, such as population growth, environmental degradation and food security. As Ryan Gourley of A2Share posits, for example, a network of cities that embrace the sharing economy could mount up into a Sharing Regions Network, then Sharing Nations, and finally a Sharing World: "A globally networked sharing economy would be a whole new paradigm, a game-changer for humanity and the planet". Neal Gorenflo, the co-founder and publisher of Shareable, also argues that peer-to-peer collaboration can form the basis of a new social contract, with an extensive sharing movement acting as the catalyst for systemic changesthat can address the root causes of both poverty and climate change. Or to quote the words of Benita Matofska, founder of The People Who Share, we are going to have to "share to survive" if we want to face up to a sustainable future. In such a light, it behoves us all to investigate the potential of sharing to effect a social and economic transformation that is sufficient to meet the grave challenges of the 21st century.
Two sides of a debate on sharing
There is no doubt that sharing resources can contribute to the greater good in a number of ways, from economic as well as environmental and social perspectives. A number of studies show the environmental benefits that are common to many sharing schemes, such as the resource efficiency and potential energy savings that could result from car sharing and bike sharing in cities. Almost all forms of localised sharing are economical, and can lead to significant cost savings or earnings for individuals and enterprises. In terms of subjective well-being and social impacts, common experience demonstrates how sharing can also help us to feel connected to neighbours or co-workers, and even build community and make us feel happier.
Few could disagree on these beneficial aspects of sharing resources within communities or across municipalities, but some controversy surrounds the broader vision of how the sharing economy movement can contribute to a fair and sustainable world. For many advocates of the burgeoning trend towards economic sharing in modern cities, it is about much more than couch-surfing, car sharing or tool libraries, and holds the potential to disrupt the individualist and materialistic assumptions of neoliberal capitalism. For example, Juliet Schor in her book Plenitude perceives that a new economics based on sharing could be an antidote to the hyper-individualised, hyper-consumer culture of today, and could help rebuild the social ties that have been lost through market culture. Annie Leonard of the Story of Stuff project, in her latest short video on how to move society in an environmentally sustainable and just direction, also considers sharing as a key 'game changing' solution that could help to transform the basic goals of the economy.
Many other proponents see the sharing economy as a path towards achieving widespread prosperity within the earth's natural limits, and an essential first step on the road to more localised economies and egalitarian societies. But far from everyone perceives that participating in the sharing economy, at least in its existing form and praxis, is a 'political act' that can realistically challenge consumption-driven economics and the culture of individualism – a question that is raised (although not yet comprehensively answered) in a valuable think piece from Friends of the Earth, as discussed further below. Various commentators argue that the proliferation of new business ventures under the umbrella of sharing are nothing more than "supply and demand continuing its perpetual adjustment to new technologies and fresh opportunities", and that the concept of the sharing economy is being co-opted by purely commercial interests – a debate that was given impetus when the car sharing pioneers, Zipcar, were bought up by the established rental firm Avis.
Recently, Slate magazine's business and economics correspondent controversially reiterated the observation that making money from new modes of consumption is not really 'sharing' per se, asserting that the sharing economy is therefore a "dumb term" that "deserves to die". Other journalists have criticised the superficial treatment that the sharing economy typically receives from financial pundits and tech reporters, especially the claims that small business start-ups based on monetised forms of sharing are a solution to the jobs crisis – regardless of drastic cutbacks in welfare and public services, unprecedented rates of income inequality, and the dangerous rise of the precariat. The author Evgeny Morozov, writing an op-ed in the Financial Times, has gone as far as saying that the sharing economy is having a pernicious effect on equality and basic working conditions, in that it is fully compliant with market logic, is far from valuing human relationships over profit, and is even amplifying the worst excesses of the dominant economic model. In the context of the erosion of full-time employment, the assault on trade unions and the disappearance of healthcare and insurance benefits, he argues that the sharing economy is accelerating the transformation of workers into "always-on self-employed entrepreneurs who must think like brands", leading him to dub it "neoliberalism on steroids".
Problems of definition
Although it is impossible to reconcile these polarised views, part of the problem in assessing the true potential of economic sharing is one of vagueness in definition and wide differences in understanding. The conventional interpretation of the sharing economy is at present focused on its financial and commercial aspects, with continuous news reports proclaiming its rapidly growing market size and potential as a "co-commerce revolution". Rachel Botsman, a leading entrepreneurial thinker on the potential of collaboration and sharing through digital technologies to change our lives, has attempted to clarify what the sharing economy actually is in order to prevent further confusion over the different terms in general use. In her latest typology, she notes how the term 'sharing economy' is often muddled with other new ideas and is in fact a subset of 'collaborative consumption' within the entire 'collaborative economy' movement, and has a rather restricted meaning in terms of "sharing underutilized assets from spaces to skills to stuff for monetary or non-monetary benefits" [see slide 9 of the presentation]. This interpretation of changing consumer behaviours and lifestyles revolves around the "maximum utilization of assets through efficient models of redistribution and shared access", which isn't necessarily predicated on an ethic of 'sharing' by any strict definition.
Other interpretations of the sharing economy are far broader and less constrained by capitalistic assumptions, as demonstrated in the Friends of the Earth briefing paper on Sharing Cities written by Professor Julian Agyeman et al. In their estimation, what's missing from most of these current definitions and categorisations of economic sharing is a consideration of "the communal, collective production that characterises the collective commons". A broadened 'sharing spectrum' that they propose therefore not only focuses on goods and services within the mainstream economy (which is almost always considered in relation to affluent, middle-class lifestyles), but also includes the non-material or intangible aspects of sharing such as well-being and capability [see page 6 of the brief]. From this wider perspective, they assert that the cutting edge of the sharing economy is often not commercial and includes informal behaviours like the unpaid care, support and nurturing that we provide for one another, as well as the shared use of infrastructure and shared public services.
This sheds a new light on governments as the "ultimate level of sharing", and suggests that the history of the welfare state in Europe and other forms of social protection is, in fact, also integral to the evolution of shared resources in cities and within different countries. Yet an understanding of sharing from this more holistic viewpoint doesn't have to be limited to the state provision of healthcare, education, and other public services. As Agyeman et al elucidate, cooperatives of all kinds (from worker to housing to retailer and consumer co-ops) also offer alternative models for shared service provision and a different perspective on economic sharing, one in which equity and collective ownership is prioritised. Access to natural common resources such as air and water can also be understood in terms of sharing, which may then prioritise the common good of all people over commercial or private interests and market mechanisms. This would include controversial issues of land ownership and land use, raising questions over how best to share land and urban space more equitably – such as through community land trusts, or through new policies and incentives such as land value taxation.
The politics of sharing
Furthermore, Agyeman et al argue that an understanding of sharing in relation to the collective commons gives rise to explicitly political questions concerning the shared public realm and participatory democracy. This is central to the many countercultural movements of recent years (such as the Occupy movement and Middle East protests since 2011, and the Taksim Gezi Park protests in 2013) that have reclaimed public space to symbolically challenge unjust power dynamics and the increasing trend toward privatisation that is central to neoliberal hegemony. Sharing is also directly related to the functioning of a healthy democracy, the authors reason, in that a vibrant sharing economy (when interpreted in this light) can counter the political apathy that characterises modern consumer society. By reinforcing values of community and collaboration over the individualism and consumerism that defines our present-day cultures and identities, they argue that participation in sharing could ultimately be reflected in the political domain. They also argue that a shared public realm is essential for the expression of participatory democracy and the development of a good society, not least as this provides a necessary venue for popular debate and public reasoning that can influence political decisions. Indeed the "emerging shareability paradigm", as they describe it, is said to reflect the basic tenets of the Right to the City (RTTC) – an international urban movement that fights for democracy, justice and sustainability in cities and mobilises against the privatisation of common goods and public spaces.
The intention in briefly outlining some of these differing interpretations of sharing is to demonstrate how considerations of politics, justice, ethics and sustainability are slowly being allied with the sharing economy concept. A paramount example is the Friends of the Earth briefing paper outlined above, which was written as part of FOEI's Big Ideas to Change the World series on cities that promoted sharing as "a political force to be reckoned with" and a "call to action for environmentalists". Yet many further examples could also be mentioned, such as the New Economics Foundation's 'Manifesto for the New Materialism' which promotes the old-fashioned ethic of sharing as part of a new way of living to replace the collapsed model of debt-fuelled overconsumption. There are also signs that many influential proponents of the sharing economy – as generally understood today in terms of new economic models driven by peer-to-peer technology that enable access to rather than ownership of resources – are beginning to query the commercial direction that the movement is taking, and are instead promoting more politicised forms of social change that are not merely based on micro-enterprise or the monetisation/branding of high-tech innovations.
Janelle Orsi, a California-based 'sharing lawyer' and author of The Sharing Solution, is particularly inspirational in this regard; for her, the sharing economy encompasses such a broad range of activities that it is hard to define, although she suggests that all its activities are tied together in how they harness the existing resources of a community and grow its wealth. This is in contradistinction to the mainstream economy that mostly generates wealth for people outside of people's communities, and inherently generates extreme inequalities and ecological destruction – which Orsi contends that the sharing economy can help reverse. The problem she recognises is that the so-called sharing economy we usually hear about in the media is built upon a business-as-usual foundation, which is privately owned and often funded by venture capital (as is the case with Airbnb, Lyft, Zipcar, Taskrabbit et cetera). As a result, the same business structures that created the economic problems of today are buying up new sharing economy companies and turning them into ever larger, more centralised enterprises that are not concerned about people's well-being, community cohesion, local economic diversity, sustainable job creation and so on (not to mention the risk of re-creating stock valuation bubbles that overshadowed the earlier generation of dot.com enterprises). The only way to ensure that new sharing economy companies fulfil their potential to create economic empowerment for users and their communities, Orsi argues, is through cooperative conversion – and she makes a compelling case for the democratic, non-exploitative, redistributive and truly 'sharing' potential of worker and consumer cooperatives in all their guises.
Sharing as a path to systemic change
There are important reasons to query which direction this emerging movement for sharing will take in the years ahead. As prominent supporters of the sharing economy recognise, like Janelle Orsi and Juliet Schor, it offers both opportunities and reasons for optimism as well as pitfalls and some serious concerns. On the one hand, it reflects a growing shift in our values and social identities as 'citizens vs consumers', and is helping us to rethink notions of ownership and prosperity in a world of finite resources, scandalous waste and massive wealth disparities. Perhaps its many proponents are right, and the sharing economy represents the first step towards transitioning away from the over-consumptive, materially-intense and hoarding lifestyles of North American, Western European and other rich societies. Perhaps sharing really is fast becoming a counter-cultural movement that can help us to value relationships more than things, and offer us the possibility of re-imagining politics and constructing a more participative democracy, which could ultimately pose a challenge to the global capitalist/consumerist model of development that is built on private interests and debt at the cost of shared interests and true wealth.
On the other hand, critics are right to point out that the sharing economy in its present form is hardly a threat to existing power structures or a movement that represents the kind of radical changes we need to make the world a better place. Far from reorienting the economy towards greater equity and a better quality of life, as proposed by writers such as Richard Wilkinson and Kate Pickett, Tim Jackson, Herman Daly and John Cobb, it is arguable that most forms of sharing via peer-to-peer networks are at risk of being subverted by conventional business practices. There is a perverse irony in trying to imagine the logical conclusion of these trends: new models of collaborative consumption and co-production that are co-opted by private interests and venture capitalists, and increasingly geared towards affluent middle-class types or so-called bourgeois bohemians (the 'bobos'), to the exclusion of those on low incomes and therefore to the detriment of a more equal society. Or new sharing technology platforms that enable governments and corporations to collaborate in pursuing more intrusive controls over and greater surveillance of citizens. Or new social relationships based on sharing in the context of increasingly privatised and enclosed public spaces, such as gated communities within which private facilities and resources are shared.
This is by no means an inevitable outcome, but what is clear from this brief analysis is that the commercialisation and depoliticisation of economic sharing poses risks and contradictions that call into question its potential to transform society for the benefit of everyone. Unless the sharing of resources is promoted in relation to human rights and concerns for equity, democracy, social justice and sound environmental stewardship, then the various claims that sharing is a new paradigm that can address the world's interrelated crises is indeed empty rhetoric or utopian thinking without any substantiation. Sharing our skills through Hackerspaces, our unused stuff through GoodShuffle or a community potluck through mealshare is, in and of itself, a generally positive phenomenon that deserves to be enjoyed and fully participated in, but let's not pretend that car shares, clothes swaps, co-housing, shared vacation homes and so on are going to seriously address economic and climate chaos, unjust power dynamics or inequitable wealth distribution.
Sharing from the local to the global
If we look at sharing through the lens of just sustainability, however, as civil society organisations and others are now beginning to do, then the true possibilities of sharing resources within and among the world's nations are vast and all-encompassing: to enhance equity, rebuild community, improve well-being, democratise national and global governance, defend and promote the global commons, even to point the way towards a more cooperative international framework to replace the present stage of competitive neoliberal globalisation. We are not there yet, of course, and the popular understanding of economic sharing today is clearly focused on the more personal forms of giving and exchange among individuals or through online business ventures, which is mainly for the benefit of high-income groups in the world's most economically advanced nations. But the fact that this conversation is now being broadened to include the role of governments in sharing public infrastructure, political power and economic resources within countries is a hopeful indication that the emerging sharing movement is slowly moving in the right direction.
Already, questions are being raised as to what sharing resources means for the poorest people in the developing world, and how a revival of economic sharing in the richest countries can be spread globally as a solution to converging crises. It may not be long until the idea of economic sharing on a planetary scale - driven by an awareness of impending ecological catastrophe, life-threatening extremes of inequality, and escalating conflict over natural resources – is the subject of every dinner party and kitchen table conversation.
References:
Agyeman, Julian, Duncan McLaren and Adrianne Schaefer-Borrego, Sharing Cities, Friends of the Earth briefing paper, September 2013.
Agyeman, Julian, Just sustainabilities, julianagyeman.com, 21st September 2012.
Bollier, David, Bauwens Joins Ecuador in Planning a Commons-based, Peer Production Economy, 20th September 2013, bollier.org
Botsman, Rachel, The Sharing Economy Lacks A Shared Definition, fastcoexist.com, 21st November 2013.
Botsman, Rachel, The Sharing Economy Lacks a Shared Definition: Giving Meaning to the Terms, Collaborative Lab on Slideshare.net, 19th November 2013.
Childs, Mike, The Power of Sharing: A Call to Action for Environmentalists, Shareable.net, 5th November 2013.
Collaborativeconsumption.com, Shareable Cities Resolution: Passed, 26th June 2013.
Daly, Herman and John Cobb, For the Common Good: Redirecting the Economy toward Community, the Environment, and a Sustainable Future, Beacon Press, 1991.
Eberlein, Sven, Sharing for Profit – I'm Not Buying it Anymore, Shareable.net, 20th February 2013.
Enright, Michael in interview with Benita Matofska and Aidan Enns, Sharing, Not Buying at Christmas (Hr. 1), CBC Radio, 16th December 2012.
Friends of the Earth, Big Idea 2: Sharing – a political force to be reckoned with?, 26th September 2013.
Gaskins, Kim, The New Sharing Economy, Latitude, 1st June 2010.
Gorenflo, Neal, What's Next for the Sharing Movement?, Shareable.net, 31st July 2013.
Grahl, Jodi (trans.), World Charter for the Right to the City, International Alliance of Inhabitants et al, May 2005.
Griffiths, Rachel, The Great Sharing Economy, Co-operatives UK, London UK, 2011.
Grigg, Kat, Sharing As Part of the New Economy: An Interview with Lauren Anderson, The Solutions Journal, 20th September 2013.
Heinberg, Richard, Who knew that Seoul was a leader in the sharing economy?, Post Carbon Institute, 12th November 2013.
Herbst, Moira, Let's get real: the 'sharing economy' won't solve our jobs crisis, The Guardian, 7th January 2014.
Jackson, Tim, Prosperity without Growth: Economics for a Finite Planet, Routeledge, 2011.
Johnson, Cat, From Consumers to Citizens: Welcome to the Sharing Cities Network, Shareable.net, 9th January 2014.
Kasser, Tim, The High Price of Materialism, MIT Press, 2003.
Kisner, Corinne, Integrating Bike Share Programs into a Sustainable Transportation System, National League of Cities, City Practice Brief, Washington D.C., 2011.
Leonard, Annie, The Story of Solutions, The Story of Stuff Project, October 2013, storyofstuff.org
Martin, Elliot and Susan Shaheen, The Impact of Carsharing on Household Vehicle Ownership, Access (UCTC magazine), No. 38 Spring 2011.
Matofska, Benita, Facing the future: share to survive, Friends of the Earth blog, 4th January 2013.
Morozov, Evgeny, The 'sharing economy' undermines workers' rights, Financial Times, 14th October 2013.
Olson. Michael J. and Andrew D. Connor, The Disruption of Sharing: An Overview of the New Peer-to-Peer 'Sharing Economy' and The Impact on Established Internet Companies, Piper Jaffray, November 2013.
Opinium Research and Marke2ing, The Sharing Economy An overview with special focus on Peer-to-Peer Lending, 14th November 2012.
Orsi, Janelle and Doskow, Emily, The Sharing Solution: How to Save Money, Simplify Your Life and Build Community, Nolo, May 2009.
Orsi, Janelle et al, Policies for Shareable Cities: A Sharing Economy Policy Primer for Urban Leaders, Shareable / The sustainable Economics Law Centre, September 2013.
Orsi, Janelle, The Sharing Economy Just Got Real, Shareable.net, 16th September 2013.
Quilligan, James B., People Sharing Resources: Toward a New Multilateralism of the Global Commons, Kosmos Journal, Fall/Winter 2009.
Schifferes, Jonathan, Sharing our way to prosperity (Part 1), rsablogs.org.uk, 6th August 2013.
Schifferes, Jonathan, Profiting from sharing (Part 2), rsablogs.org.uk, 6th August 2013.
Schor, Juliet, Plenitude: The New Economics of True Wealth, Tantor Media, 2010.
Simms, Andrew and Ruth Potts, The New Materialism: How our relationship with the material world can change for the better, New Economics Foundation, November 2012.
Standing, Guy, The Precariat: The New Dangerous Class, Bloomsbury Academic, 2011.
Tennant, Ian, What's in it for me? Do you dare to share?, Friends of the Earth blog, 8th January 2014.
Wiesmann, Thorsten, Living by the Principle of Sharing – an interview with Raphael Fellmer, Oiushare.net, February 2013.
Wilkinson, Richard and Kate Pickett, The Spirit Level: Why Equality is Better for Everyone, Penguin, 2010.
Yglesias, Matthew, There Is No "Sharing Economy", Slate.com, 26th December 2013.
On Wednesday, January 15, 2014, the highly anticipated Senate Intelligence Committee report on the September 11, 2012 Benghazi attacks that killed four Americans was released. The primary investigative report, including redactions, consists of 42 pages with an additional 16 pages of appendices and another 25 pages of additional "majority views." While the report validates much of what I've written well in advance of media reports, it also appears to be deliberately deficient in a number of critical areas.
The report acknowledges that there were no protests over an obscure internet video at this facility in Benghazi, which was neither an embassy nor a consulate. As I initially exposed, the report confirms on page seven that the Benghazi facility was an undercover CIA compound. It was only somewhat known to be a U.S. asset in the region, but had no U.S. flag flying anywhere on the property, and did not serve any diplomatic operational function as would an embassy or consulate. Therefore, no one "in the know" could reasonably believe or even suspect that this location would be the site of any protests about an obscure internet video. Yet, the deliberate mischaracterization of not only the site of the attacks, but the reason behind them, continued to be shamelessly peddled by the politicians and media alike. It was not only a lie, but a contemptible lie.
The critical issue of the actual function that CIA compound served remains the "third rail" of our elected leaders and their obedient media. The report focuses on accountability for the lack of security and later, the lack of response to a critical incident. However, it fails to address that the U.S., under the direction of Barack Hussein Obama in the Executive branch, and Hillary Rodham Clinton as the Secretary of State, were spearheading a weapons running operation to arm the anti-Assad factions in Syria by way of Turkey, Jordan and Lebanon. As I detailed on November 5, 2012, reasonable estimates suggest that between 30-40 million pounds of missiles, guns and even chemical weapons (gas) had been confiscated in Libya and shipped to various prepositioning locations in Turkey and directly into Syria for use by anti-Assad "rebels."
The function of this compound was far different than the legitimate function of the U.S. Embassy in Tripoli. The compound in Benghazi served as a logistics hub to arrange the crisscrossing supply lines of Gadaffi's weapons, under the control of Muslim Brotherhood factions, to the Libyan port city of Dernah, the chokepoint of the arsenals. This was appropriately named the "Ho Chi Minh Trail of Muslim Brotherhood supply lines" as referenced in an October 5, 2012 article by Michael Reagan titled "Building on a kernel of truth."  Despite this exposure, senate and congressional investigators, whose job it is to uncover the truth, still don't seem willing to ask the correct questions. Why?
While the political pundits and the corporate media will continue to shamelessly play political football with not only the bodies of four dead Americans, but with the future of all Americans and everyone in the West, Obama and his operational staff of globalists will continue to advance the U.S., and the world, on a certain course that will take us headlong into World War III. By not addressing the core issues of the larger agenda, the attention of the American people continues to be held captive by a single act of a larger play. As I've written before, the lies are much bigger.
As I have consistently maintained, the attacks in Benghazi were proxy attacks at a nation-state level in response to our arming the anti-Assad terror organizations. They were not the result of an angry protest over an Internet video, although understanding how that video was used provides insight into the role of the CIA and certain other key players in the cover-up. You will find that the video is directly tied to a CIA operation that was to be used as cover at an appropriate moment.
They were also not the result of some false flag operation with plans to kidnap an American ambassador to swap him for the blind sheikh, although kidnapping did played a role in the attacks as I previously detailed. The kidnapping to which I refer, of course, is related to the abduction of seven Iranian-citizen ICRC workers in Benghazi on July 31, 2012. At least that incident earned a footnote in the Senate report. The curiosity regarding the number of attacks on September 11, 2012, combined with the withholding of heavy artillery suggests that the attackers were looking to rescue their compatriots that were held captive until their mysterious release after the attacks.
Even as the merits of this report are debated in the fictional right-left paradigm and the captive press, the agenda for which this CIA compound served continues. The glee shown by former Secretary of State Hillary Rodham Clinton in October 2011 when she laughed about the murder of Gaddafi and the destabilization of Libya will likely be absent when Assad falls. Syria remains the target of this game of Risk among the globalists.
The recent actions of new Secretary of State John Kerry are as insidious as his predecessor's, although perhaps not as overt or easily identifiable in this hall of mirrors of Middle East politics. By stating that the U.S. would not militarily intervene in the take-over by al Qaeda and related terror groups of the Al Anbar Province of Iraq, where many Americans died for the ostensible cause of freedom for the Iraqi people, he has given them a green light to open another front against Syria. The opening a front to the southeast of Syria via Iraq is actually one of many contingency plans, as blaming the use of chemical weapons on Assad did not work as planned as enough people saw that for what it was.
As I have written many times, the goal has always been Syria. Now, if someone thinks that the Russians, Iranians and Syrians are going to be fooled about who's actually behind this proxy eastern front being opened up against Assad, I'd like to ask now, a year-and-a-half later, do you think they were ever fooled about who was behind the arms running operation out of Benghazi and eastern Libya where this all started?  No and HELL NO.  This latest front, just as the first and now failed fronts in Turkey, Lebanon and Jordan, is all about plausible deniability, or PD as it's known in the tradecraft. It's the magic act where sleight of hand and deception rule the day in "the hall of mirrors" that is Mideast politics, a reference again to the aforementioned article written by Michael Reagan.
Syria will not implode and it will not succumb to some rag-tag army of militants. The anti-Assad operation needs Western and external assistance. Putin is aware of our machinations, as are other leaders.  So, when all of this comes unraveled, and it will, look for it to explode eastward into Saudi Arabia, into the Arab sea, north into Iran and all the way to the Strait of Hormuz. And when, not if it does, that attack will not just damage shipping and the free flow of oil into Western markets, it will crush the dollar and with it the hopes and dreams not just of the U.S., but western civilization itself.
If you continue to sleep now America, sleep well. Because when you do wake up, it just might be a long while before you sleep well again. The prematurely darkening sky you see is not just the announcement of evening in America. Those are blustering storm clouds, and the claps of thunder will be along shortly.  And they will most likely be hard to miss.
Source: Douglas J. Hagmann
The 13th Amendment to the Constitution abolished slavery.  This means that if you are a slave today, it's either illegal, or you have voluntarily accepted your servitude.
Neither slavery nor involuntary servitude, except as a punishment for crime whereof the party shall have been duly convicted, shall exist within the United States, or any place subject to their jurisdiction.
You have a Constitutionally protected right to be free. If you aren't free, then revolution is your duty.
Many people believe that revolution requires that they lead a march, stand in front of a crowd with a bullhorn, or form a militia. They feel like it's a job for the Alex Joneses, the Adam Kokeshes,  the James Wesley Rawleses, and the Bradley Mannings of the world.
They're wrong.  You don't have to be a person with thousands of followers on Twitter and Facebook .  You don't have to be a person with a military leadership position on  your resume. You need not get yourself arrested on the steps of the White House, got to prison forever for telling the truth about your unit in the army, or stare down a bunch of scary-looking thugs in jack boots.
But you do have to do something.
You can't just sit there and complain unless you are really just another armchair Rambo.
The way you lead your life every single day can be an act of revolution.  By refusing to concede your natural rights, quietly and resolutely, you are performing an act of revolution. Walking the walk doesn't always require civil disobedience or militia membership (although those actions definitely have their places).  It requires your consistent determination not to be infringed upon.
It doesn't matter if you are a soccer mom from the suburbs, a college student in a dormitory, a church-going dad and husband, or a person who has found themselves homeless through the ongoing economic crisis – by living resolutely, you are performing an act of revolution.
Don't get me wrong – we need the Alexes, the Adams, the militias, the Bradleys, and the JWRs.  We need the people who stand in protest.  We need those who expose wrongdoing.  We need the organizers, the shouters, the big personalities, the quiet strong types, and the leaders. But these are not the only ways to revolt.  If every single person was off organizing their own rally, there'd be no one left to march in it.
What it is imperative upon us to do is to find our compass and follow it.  We must make ourselves immune to control by not needing what "they" hand out.  We have to be armored against the way everyone else lives and choose our own paths.  We must stubbornly refuse to participate in the hoop-jumping that is everyday life in North America.  By all of us who believe in liberty doing this, we form an army of stubborn non-participants in the status quo.
Here's an example. It's a small thing, a battle that today only affected my daughter and me.  My daughter is not vaccinated.  She attends a public school where the kids must be vaccinated, or hoops must be jumped through. I filled out the initial forms stating that I had an objection of conscience to vaccines.  I was contacted by a representative of the school system who suggested that I sign instead the form that stated a religious objection, because that was "easier".  I refused, because my objection is NOT one of religion, and I felt like that was a cop-out. I knew that I was within my rights to have an objection of conscience, and I felt that it was important to make a point that might make it easier for the next parent.  I was then told that I'd have to pay $25 and get a statement notarized to allow her exemption on my basis.  I said I'd be happy to get a statement notarized, but not at my expense. I pointed out that nowhere does our local law state that I should have to pay any money for my child to NOT do something.  Lo and behold, after 5 months of politely going back and forth,  being escalated through numerous different superiors of superiors in the school board and public health system, my daughter is still unvaccinated, I have not spent $25, and she was not suspended from school.  The point I'm making is not about vaccines, but about not stepping back from your rights, for your convenience or for the convenience of others. This requires that you read the relevant laws and understand them.  It requires a certain degree of persistence and a willingness to be a pain in the butt.
There are valid reasons for revolution.
One of the benchmarks of tyranny is the dizzying arrays of laws on the books, with more and more added every single day.  It is humanly impossible not to break multiple laws every single day.  Regulations are revenue builders and/or control mechanisms. If the "authorities" can ALWAYS find a law that you've broken, then they can ALWAYS give a "reason" for punishing you.  Punishment might include incarceration, hefty fines, or the removal of some privilege (like taking away your driver's license or not allowing your child to go to school).
If the laws be so voluminous that they cannot be read, or so incoherent that they cannot be understood; if they be repealed or revised before they are promulgated, or undergo such incessant changes that no man, who knows what the law is to-day, can guess what it will be to-morrow. Law is defined to be a rule of action; but how can that be a rule, which is little known, and less fixed? - James Madison, Federalist Papers 62
The police state is growing at a dizzying rate, and often the news makes it look like we live in Nazi Germany. It is now or never.  Like cockroaches, "they" – the thugs in jackboots and their masters – multiply in the dark, and will soon overtake us if we don't put a stop to it right now.  They want to take our guns because that would make our resistance more difficult.  They keep buying up ammo and now have more than enough to kill every man, woman, and child in America multiple times. The NDAA means that any person can be indefinitely detained. There has been a sustained attack on the Bill of Rights and one by one our rights are being submerged beneath the desires of those who would demand our submission.
How can you be an everyday revolutionary?
The most revolutionary act is to be self-sufficient and in need of nothing that the government can provide for you in exchange for some small liberty.  When there is nothing that you require enough to submit, then bullying you becomes much more difficult.
This list of suggestions is by no means comprehensive.  Please, add your own random acts of resistance in the comments below.
Question absolutely everything you hear on the news.  Always be a skeptic. All major media goes back to just a few conglomerates.  The "news" is now all a propaganda ploy to help the rich get richer and the powerful remain in power.  The media can make or break a candidate with unholy zeal in less than a week.  These people and others like them are the ones that decide what "we the people" get to see.  If they feel like a candidate or a news item might upset the status quo, they black it out by refusing to cover it.
Call out the media. Let everyone know that the mainstream media is the enemy of the people.  When you see coverage that is clearly biased, take a moment to call out the media about it.  Take the time to comment on mainstream media websites and point out the unbalanced coverage.  If you use social media, share this information and post on the media outlet's social media pages as well.
Get out of the banking system. By opting to "unbank" or "underbank" there is a limit to what can be easily stolen from you.  When you have physical control of your financial assets, you are not at as high a risk of losing those assets, and therefore, less likely to be dependent on "the system."
Turn your savings into precious metals or tangible assets. On the same note as unbanking, you definitely don't want to rely on a 401K or savings account to provide for you in your old age. Ask the people of Cyprus how well that worked out for them.  Diversify with assets you can touch. Purchase tangible goods like land, food, ammo, and seeds. Once you are well supplied, move on to precious metals to preserve your wealth.
Educate others. At the (very high) risk of people thinking you're crazy, it's important to let people know WHY you do what you do. If you are an anti-Monsanto activist, teach others about the dangers of GMOs.  If you object to a municipal policy, speak at a town meeting or send a letter to the editor of your local paper.  By ranting incoherently or by keeping your mouth shut, you influence no one. By providing provable facts, you can open minds and awaken others to tyranny.
Get others involved in the fight.  For example, if you are fighting with the city council that wants to rip out the vegetables growing in your front yard, let  your friends and neighbors know, post a notice at the grocery store, and write a letter to the editor.  When injustice occurs, use the power of social media to spread awareness. Often a public outcry is what is necessary to get the "authorities" to back down.  Look at the case of Brandon Raub, the veteran who was kidnapped and taken to a mental hospital for things he posted on Facebook. Raub was not charged, but he was detained in the psych ward involuntarily. His friends and family immediately mobilized and spread the videos of his arrest all over the internet.  It snowballed and alternative media picked it up – soon Raub was released, and all because of a grass roots and social media campaign to bring the injustice to light.
Grow your own food. Every single seed that you plant is a revolutionary act. Every bit of food that you don't have to purchase from the grocery store is a battle cry for your personal independence.  When you educate yourself (and others) about  Big Food, Big Agri, and the food safety sell-outs at the FDA, you will clearly see that we are alone in our fight for healthy, nutritious foods.  Refuse to tolerate these attacks on our health and our lifestyles. Refuse to be held subject to Agenda 21′s version of "sustainability".
Take control of your health. It is imperative that you not blindly trust in the medical establishment.  Many members of this establishment are merely prostitutes for their pimp, Big Pharma.  Millions of children are given powerful psychotropic drugs to help them fit into the neat little classroom boxes, and the numbers are growing every day.  Americans spent 34.2 BILLION dollars on psychiatric drugs in 2010. (Source) Big Pharma is an enormously profitable industry that only pays off if they can convince you that you're sick.  Learn about the toxic injections and medications, weight the risks and benefits, and always look for second and third opinions before making a medical decision.  Maintain your health by avoiding toxins, exercising, and ditching your bad habits to reduce the number of doctor's visits that are necessary.
Refuse to comply. If you know your natural rights, which are guaranteed under the Constitution and its Amendments, then it makes it much harder for "authorities" to bully you.  You don't have to let them search your home without a warrant, you don't have to answer questions, and you don't have to comply with laws that are in conflict with the Constitution.
Learn. Every day, spend time learning. This shouldn't stop once our formal education ends. Fill your mind with history, with current events, with constitutional law, and information about the natural world.  Learn about health, study economics, research things that interest you, and unravel the complicated conspiracies that are afoot.  To pursue unbiased knowledge is to free your mind from the prison of propaganda and indoctrination.
Don't consume chemicals that cause you to be dumbed down. Avoid chemical-laden food with brain-killing neurotoxins like MSG and aspartame.  Don't drink fluoridated water.
Embrace your right to bear arms. Be responsible for your own safety and security.
Don't be in debt.  No one can be free if they are in debt. If you are in debt, you are forced to work in whatever conditions are present, for whatever amount is offered, complying with whatever criteria is necessary to keep your job.  in order to either pay your debt or face penalties. As well, the high interest rates that you pay only serve to make the bankers more wealthy.  Instead of borrowing, save until you can afford something or realize that if you could actually afford it, you wouldn't need to borrow money to have it.
Be prepared for disaster. Have enough food, water, and supplies to take care of your family in the event of a natural disaster. Don't expect FEMA to take care of you.
Be involved in your children's education. For some, this means homeschooling or unschooling, and for others this means being on top of what they are learning in a formal school setting. Join the PTA and actively volunteer if your child goes to school.  Be an advocate for your child and insist that the teachers teach. If your child goes to school, supplement this at home with discourse about current events and outings that help them learn about the world around them.
Be the squeaky wheel. If you see something wrong, don't just ignore it. Say something about it, and keep saying something until it changes.  Whether this is some process that infringes on your privacy, a job requirement that impedes your health, or another injustice, pursue it relentlessly. Ask questions publically, write letters, and use social media to bring pressure to encourage a change.
Reduce your consumer spending. Spending less helps to starve the beast by reducing the sales taxes you pay and withdrawing your financial support to big conglomerates. If we vote with our dollars, eventually there will, of a necessity, be a paradigm shift that returns us to simpler days, when families that were willing to work hard could make a living without selling their souls to the corporate monoliths. A low-consumption lifestyle reduces your financial dependency, which allows for more freedom.
Ditch popular culture. If reality TV isn't a tool for dumbing people down, I don't know what it is.  My daughter recently begged to watch an episode of a popular reality TV show that "everyone" was watching.  She managed about 15 minutes of it and then said, "This is the stupidest thing I've ever seen."  She decided to read a book instead.  Popular entertainment is a media tool used to change our perspectives about our personal values, and to tell us how to think and feel about issues.
Buy locally.  Support local small businesses to help others who are fighting for independence from the system.  You might pay a little bit more than you would at your big box store, but the only people benefiting from your purchases made at the corporate stores are those with the 7 figure annual bonuses.
Develop multiple streams of income.  Don't put all of your eggs in one basket.  Figure out several ways to bring in income.  Not only does this free you from being a wage slave, but it allows you to hire friends or family members.  You are less entangled in the system and not subject to corporate whims.  If one business fails, or becomes subject to regulations that make it no longer worthwhile, you are not forced to comply just to keep a roof over your head.
Say thanks, but no thanks.  There is no such thing as a benevolent hand out.  Nearly anything offered for free (particularly by a government entity) has strings attached.  Maybe there is a handy-dandy registration form that you need to fill out. You might be influenced to vote a certain way just to keep the freebies coming. You might have to pee in a cup every two weeks. Perhaps one day you'll need to have a microchip embedded in your hand.  Either way, by accepting handouts from those in "authority", you become beholden to them or you need them, and someone who is free is neither beholden nor needy.
Don't take the easy road.  The PTB like to seduce people with simplicity.  "If you just sign this paper, it will be much easier," they say.  "This chip is for your convenience," they tell you.  "By giving up this, it lets us take care of you and you will be much safer."  The easy road only gets you to Slave Street a whole lot faster.  Take the difficult road and be responsible for yourself.  Don't take shortcuts that compromise your beliefs. Go to court to fight a ticket, read the laws and defend yourself, and know that anything you give up, you will never get back.
According to the Declaration of Independence,  "Governments are instituted among Men, deriving their just powers from the consent of the governed."
That means that you don't have to accept the unjust laws. That means you don't have to quietly take it, muttering under your breath that it isn't right, but not daring to raise your voice.  That means that "they" are only in control of you if you allow it.
There are nearly 316 million people in the United States. (source)
Only 3% of the population fought in the Revolutionary War, and 10% actively supported them.
If 9,480,000 people quietly and peacefully revolted by withdrawing their consent to be governed by tyrants we could not be silenced.
If 31,600,000 people supported those revolting, we could not be stopped.
The government might  be watching us, but we can watch them right back.  Make the way you live your life a revolutionary act.
Source: The Organic Prepper
The worst fears of all free speech proponents are upon us. The Verizon suit against the Federal Communications Commission, appellate decision sets the stage for a Supreme Court review. The Wall Street Journal portrays the ruling in financial terms: "A federal court has tossed out the FCC's "open internet" rules, and now internet service providers are free to charge companies like Google and Netflix higher fees to deliver content faster."In essence, this is the corporate spin that the decision is about the future cost for being connected.
"The ruling was a blow to the Obama administration, which has pushed the idea of "net neutrality." And it sharpened the struggle by the nation's big entertainment and telecommunications companies to shape the regulation of broadband, now a vital pipeline for tens of millions of Americans to view video and other media.

For consumers, the ruling could usher in an era of tiered Internet service, in which they get some content at full speed while other websites appear slower because their owners chose not to pay up.

"It takes the Internet into completely uncharted territory," said Tim Wu, a Columbia University law professor who coined the term net neutrality."
What the Journal is not telling you is that this "uncharted territory" is easy to project. If ISP's will be able to charge varied rates or decide to vary internet speed, it is a very short step towards selectively discriminate against sites based upon content. Do not get lulled into thinking that constitutional protective political speech is guaranteed.
Once again, the world according to the communication giants paint a very different interpretation as the article, Verizon called hypocritical for equating net neutrality to censorship illustrates.
"Verizon's argument that network neutrality regulations violated the firm's First Amendment rights. In Verizon's view, slowing or blocking packets on a broadband network is little different from a newspaper editor choosing which articles to publish, and should enjoy the same constitutional protection."
The response from advocates of the Net Neutrality standard, that is about to vanish, sums up correctly.
"The First Amendment does not apply, however, when Verizon is merely transmitting the content of third parties. Moreover, these groups point out, Verizon itself has disclaimed responsibility for its users' content when it was convenient to do so, making its free speech arguments ring hollow."
Prepare for the worst. The video, Prepare To Be Robbed. Net Neutrality Is Dead!, which includes frank language and expletives, provides details that place the use of internet access into question coming out of this appellate decision.Analyze the implications logically. It is one thing to charge a for profit service like Netflix a higher fee to transverse the electronic bandwidth of a communication network. Selling a membership to an end user is the source of their cash flow. However, most activist political sites usually provide internet users free access to their particular viewpoint and source links.
Your internet service provider controls the pipeline that feeds your devices and data connection. No matter which company you pay for this service, you are dependent upon this union. A free WiFi link may well become a memory. Beaming a satellite signal, mostly is an alternative, when DSL, cable or other broadband is not available.
No matter what method is used to surf the net, this decision clearly implies that internet access is now a privilege, at the effective discretion, if not mercy; of a provider that allow an account for service.
Next, consider the implication that search engines will use this decision to re-work their algorithms lowering their spider bots selection of sites that challenge the "PC" culture. Restrictive categorization used for years by Google, Yahoo and Bing can use this decision as cover to purge dissenting sites even more from their result rankings.
It is common knowledge that YouTube censors and targets certain uploads. One particular subject that experiences technical glitches is Fukushima. The video You Tube Censoring Truther Channels explains the drill. Add to the frustration are the ads, especially the ones with no skip option and imagine future requirements for uploading approval. What is next, a paid subscription to use and upload to the service?
Yes, the Ending Net Neutrality Signals A Digital Paradigm Shift. It also means that they could unfairly push sites like (add the name of your favorite sites) out of the way of users if they (the "PC" protectors) didn't like them, acting as effective censors.Stephen Lendman writes in Digital Democracy vs. Corporate Dominance: R.I.P. Internet Neutrality?
"Without Net Neutrality, ISPs will be able to devise new schemes to charge users more for access and services, making it harder for us to communicate online – and easier for companies to censor our speech."

Corporate gatekeepers will control "where you go and what you see."

Verizon, AT&T, Comcast and Time Warner Cable "will be able to block content and speech they don't like, reject apps that compete with their own offerings, and prioritize Web traffic…"

They'll be able to "reserve the fastest loading speeds for the highest bidders (while) sticking everyone else with the slowest."

Doing so prohibits free and open communications. Censorship will become policy. Net Neutrality is too important to lose."
Ready yourself for the inevitable results! According to Michael Hiltzik, Net neutrality is dead. Bow to Comcast and Verizon, your overlords.
"In the U.S., there's no practical competition. The vast majority of households essentially have a single broadband option, their local cable provider. Verizon and AT&T provide Internet service, too, but for most customers they're slower than the cable service. Some neighborhoods get telephone fiber services, but Verizon and AT&T have ceased the rollout of their FiOs and U-verse services–if you don't have it now, you're not getting it.

Who deserves the blame for this wretched combination of monopolization and profiteering by ever-larger cable and phone companies? The FCC, that's who. The agency's dereliction dates back to 2002, when under Chairman Michael Powell it reclassified cable modem services as "information services" rather than "telecommunications services," eliminating its own authority to regulate them broadly. Powell, by the way, is now the chief lobbyist in Washington for the cable TV industry, so the payoff wasn't long in coming."
In a digital environment, access to an internet that provides uncensored content at the lowest costs is a direct threat to the corporate economy. Innovation and creative cutting-edge services are clearly marked as competing challenges to the Amazon jungle of merchandising. The big will just get bigger.
Then the unavoidable effects from the "all the news fit to report" mass medium, intensifies their suppression of honest investigative journalism. Filtering out the alternative and truth media is the prime objective of this ruling. Eliminating political dissent from the internet is the ultimate implication. What would the net be like without access to the Drudge Report?
When the cable or satellite services bundle their programming into a "take it or leave it" format, the choices for the consumer becomes a major financial burden just to watch the few channels that have interest. Applying this pattern to the internet will cause even greater resentment.
Just look at the disaster from the Yahoo retooling. That Ms. "wicked witch" MM have pushed up the stock price, but ask any yahoo group member what they think of the new format. This is a classic example of how to turn off users and ruin your product.
Subscription services are playing with fire. With the collapse of the main street economy, the added fees to access content that is mediocre at best, is the actual fallout. Like the dinosaur TV networks, the corporatist sites risk total rejection from internet visitors.
Totalitarian culturalists are rejoicing with this latest damper on free speech. News by way of government press releases is pure propaganda. How did this happen?
For a short explanation history, Nilay Patel writes in The Wrong Words: How The FCC Lost Neutrality And Could Kill The Internet.
"The FCC tried to appease the out-of-control corporate egos of behemoths like Verizon and Comcast by pretending internet providers were special and classifying them as "information service providers" and not "telecommunications carriers." The wrong words. Then, once everyone was wearing the nametag they wanted, the FCC tried to impose common carrier-style telecommunications regulations on them anyway."
Credo Action believes that "FCC Chairman Tom Wheeler can undo the Bush-era decision to deregulate broadband Internet providers and allow them to operate outside of the legal framework that has traditionally applied to companies that offer two-way communication services."Such optimism seems naive in light of the real controllers of policy, much the same, for the Supreme Court coming to the rescue. Mark this court decision as the strategic destruction of the internet as a beacon of unfeigned free expression of information and open political speech. The programmers will be working overtime to set up layers of tasks, restrictions and huddlers to jump over. If you think Facebook censorship is bad, get ready for a purely governmental approved net along the Chinese model.
There is a certain level of dishonesty in the common study of history. We look back at the tyrannies of the past, the monstrous governments, the devastating wars and the unimaginable crimes, and we wonder how it could have been possible. How could the people of that particular generation let such atrocities come to pass? Why didn't they do something? Why didn't they protest? Why didn't they fight back?
We wonder all of this as we absorb the lists of dates, names and actions in books written by other men who memorized other lists of dates, names and actions. We are taught to study and wonder without ever actually applying the lessons of the past to the developments of today. We are conditioned to assert our own narrow spin on yesterday, instead of placing ourselves in the shoes of our ancestors or recognizing that their struggles remain our struggles. The modern method of viewing history detaches us from it, making it seem distant, alien or surreal.
Perhaps many societies fail to prepare or act in the face of tyranny because they had forgotten their own histories, making the demise of their culture appear so schizophrenic they would not believe what their eyes were telling them.
Often, the only way to grasp the more complete truth of the present is to examine it through the lens of the absurd. Sadly, our Nation, our culture and most of the world around us have become so backward, ugly, feeble and twisted that the only adequate comparison is to the nightmares of surrealists.
When I examine recent U.S. legislation, the exposure of classified documents, and the openly admitted criminality of political leadership, I am consistently reminded of Franz Kafka's The Trial.
Kafka was a self-styled socialist back in the days when socialism was thought to be the next revolutionary movement for the downtrodden masses. It was, of course, controlled opposition created by global elitists attempting to exploit the natural rebellious tendencies of the general public within a false paradigm — using the masses to achieve greater power for a select few, while making the people think that they had won. It is ironic that Kafka would write The Trial, one of the greatest condemnations of totalitarian surveillance society, while at the same time supporting the socialist political vehicle that would eventually be used to implement unrelenting bureaucratic despotism.
The Trial is commonly labeled a "surrealist" piece of fiction, but I wonder now if it was actually far more literal than the academics of the past actually gave it credit for. The problem is that most of America, and much of the Western world, has forgotten what it is like to experience true danger and true suffering. We read about it now and watch movies about it like it's entertainment, but few people have the slightest inkling how to deal with the real thing. We don't even know how to recognize it. Because of this, Americans tend to pay more attention to fictional representations of tyranny rather than legitimate tyranny taking place right under their noses.
With that sad fact in mind, watch this clip from Orson Welles' cinematic version of The Trial. See if you recognize your own world in this work of "fantasy":
The main character of The Trial, Josef K., finds his apartment invaded by police in the early hours of the morning. Josef responds with anger but also fear, attempting to defend his character without actually understanding the nature of the police visit. The police answer his questions with more accusatory questions, only later warning him that he is being watched and that he is under arrest. The police do not, however, take him immediately into custody; nor do they ever tell him what his crime was. It is implied, in fact, that Josef is not allowed to know what he is being charged with.
This episode in The Trial has been played out in the real world over and over again, from the Soviet Cheka, to Adolf Hitler's SS and Brownshirts, to Benito Mussolini's Organization for Vigilance and Repression of Anti-Fascism (OVRA), to the German Stasi, to Mao Zedong's Central Security Bureau, etc. In the United States, the culture of surveillance and intrusion has (for now) taken a more subtle approach through the use of technology. We do not yet have agents physically rummaging through all our homes and asking for our papers (though we are not far away from this). Rather, we have the National Security Agency, which rummages through our electronic communications while using our own computer cameras and cellphones to watch us, listen to us and track us. All of this, mind you, is done on a massive scale without warrant.
We have the Authorization for Use of Military Force and the National Defense Authorization Act, which give the President the centralized authority to detain and even kill those Americans designated as "enemy combatants" without trial, without due process and without public oversight.
Our government now uses secret evidence to charge citizens with crimes they are not allowed to discuss with the public on the argument that to do so would "threaten national security."That's right; the government can arrest you or assassinate you based on evidence they never have to disclose to you, your family, your lawyer or the citizenry.
In the U.S. today, the kind of establishment terror Kafka imagined is indeed a reality. We are not on the verge of a total surveillance state, we are there. It exists. And if we do not accept that this is our social condition, there may be no historians tomorrow to look back on our era and wonder: "Why didn't they do something? Why didn't they fight back?"
The revelations brought by Edward Snowden on the NSA and its PRISM mass surveillance program are still only partially understood by the public. Even many self-proclaimed "cypherpunks" and "techno-warriors" don't really grasp the pervasiveness of the all-seeing NSA eye. Recent documents leaked to German news source Der Spiegel by Snowden reveal an Internet almost completely dominated by the NSA, where even total encryption would be a mere temporary stopgap, according to tech researcher and journalist Jacob Appelbaum. The TAO group, sanctioned by the NSA, has been using technologies for years that startle even the most avid tech experts. To make matters worse, many of the intrusive mechanisms have been implemented — likely with the direct aid of American software and computer companies.
With NSA access to the backbone or core of the Internet, there is no digital privacy anywhere. The cypherpunks lost the war for the Web a long time ago, and they don't seem to know it yet.
Beyond the undeniable prevalence of government surveillance, what would our American Kafkaesque experience be like without kangaroo courts designed to defend the criminal establishment instead of the victimized population? The latest Federal court decision on the NSA's methods is that they are perfectly legal and "necessary" to protect Americans from national security threats. If you are a student of Constitutional law, this decision truly boggles the mind.
One of the most powerful incidents in The Trial is Josef's speech to his court of accusers. In this moment, Josef argues with concrete logic and impassioned reason. His position is supported with beautifully crafted merit and truth. But what he does not realize is that the court he is trying to convince does not exist to discover the truth. The court is a sideshow, a piece of elaborate theater. The participants are there to make Josef, and the society at large, feel as though justice has been given a fair chance. Josef's pleas are met with fake cheers, scripted jeers and even engineered distractions. Finally, he comes to understand that the system's purpose is to destroy him. Everything else is an illusion.
The Web cannot be made free or private from within; our courts cannot be made fair and just from within; neither political party can be forced to represent the common man from within; and our government cannot be made honest or transparent from within. To play games of activism within establishment dominated systems is to play make-believe within a surrealist nightmare; a piece of "Alice in Wonderland" political quackery. Like the audience at Josef's trial, the elites simply laugh at such activists, or feign applause, while continuing forever with the same corruption and the criminal status quo.
America has long presented itself as the ultimate alternative to the torturous mechanisms of oligarchs; and a long time ago, it was certainly a noble effort. However, our heritage of liberty — the faint memory of it — is all that's left today.  There is a contingent of men and women in our country, millions of us, that steward over this memory and seek to make whole once again, but the road ahead is long, with struggles beyond all reckoning.
Some people may ask how this could have occurred. How did we become the monster we were supposed to fight against? What happened to the good side and the bad side? Have they become exactly the same?
Those of us who have looked beyond the standardized veil of history know that this is not by accident. Those of us who decipher the surreal know that there is a method to the madness and an ultimate goal. To explain further, I leave you with another piece of fiction, a clip from the British TV series "The Prisoner." While not written by Kafka, it was definitely inspired by him. It carries a message I would have liked to have warned him about concerning the disturbing path of duality, the mask with multiple faces that tyranny uses to subvert and enslave…
Source: Brandon Smith | Alt-Market
A few years back, at the end of 2009, I was approached on two separate occasions by people claiming to be "representatives" of a digital alternative currency format. I was, of course, intrigued by the initial proposal, being that I had been writing for some time on the concept of non-participation as a way to insulate average Americans from the dangers of our unstable fiat driven mainstream economy. Before that, I had already dealt with just about every currency alternative one could imagine; from paper scripts backed by goods, to scripts backed by time or labor, to gold and silver laden currency cards, etc, etc. All of them had the advantage of NOT relying on private Federal Reserve notes, and all of them had flaws as well. The proposed digital script, which the representatives called "Bitcoin", was no different.
The idea was to recruit my website as a promoter for bitcoin, but I had many questions before I would stick my neck out on a brand new high-tech anti-currency, and most of these question were not answered in any satisfactory manner.
There is no shortage of "solutions" in Liberty Movement circles, but many of these solutions require that we work within the system according to establishment rules (which they can change at any given moment). They assume that the system will abide by some kind of internal code, that our candidates will be treated fairly, that elections will not be rigged, that a better methodology or technology will be acknowledged and eventually adopted, that the "majority" of the public will someday see the light and back our cause, that the elite will not simply decide to put a bullet in our head.
The reality is, if a solution is dependent on a paradigm controlled by the corrupt system you are trying to change, it is no solution at all. Because of this, my focus has always been on methods that separate Americans from reliance on the system as much as possible.
When first confronted with bitcoin activism, I recognized almost immediately that this was NOT a method that operated outside the system, even though it tried very hard to appear that way. It was high-tech, it was sexy (admittedly far sexier in its presentation than gold and silver), and it catered to the egos of the digital generation, the loudest voices in media today. This thing was certainly marketable. However, just because something is highly marketable does not make it a good idea, or a meaningful alternative.
The Tantalizing Allure Of Non-Solutions
When a person invests a sizable amount of capital into an idea, not to mention a sizable amount of philosophical faith, they tend to lose a measure of objectivity. This is not just a struggle for proponents of bitcoin but for proponents of ALL methodologies. I do believe that many bitcoin promoters have the best of intentions, and that they are seeking some way to break from what they understand is a corrupt financial structure. That said, there is an escalating streak of elitism within the bitcoin culture, and I have witnessed on numerous occasions the kind of anger and immediate dismissal the average statist would spew when they are confronted with criticism. If you dare to question the greater details behind Bitcoin, be prepared to be accused of anything from "conspiracy theory", to "jealousy" for missing the boat on bitcoin profits, to "ignorance" of the genius of cryptography.
What I came to realize through my questions to bitcoin followers was that many of them were not actually involved in the deeper aspects of the Liberty Movement, constitutional activism, sound money, self defense, and so on. Almost none of them had a preparedness plan, few of them had experience with precious metals, none of them owned firearms, and none of them had any inclination towards the building of local networks for mutual aid. Worst of all, many of them had no understanding of the wider threat of economic collapse that America faces today. In fact, when the possibility of full spectrum collapse is brought up, many Bitcoiners actually respond with the same brand of shallow dismissals that one would expect from the Paul Krugman's and Ben Bernanke's of the world.
This reaction is not necessarily shocking. Most people imagine themselves accomplishing heroic feats, and why not? It is one of the more noble and beautiful traits of mankind. For the crypto-engineers of the new century and the digital generation overall, heroics have felt unattainable. Elections are finally being recognized as the sham they represent, while protest activism has fallen flat on its face. The concept of peaceful redress of grievances has been met with rather frightening displays of state violence and censorship to which a physical response for the common protestor is unthinkable. The signs and slogan chants may have inspired the education of some, but in the meantime, they have accomplished very little in terms of political or social change. The bottom line is that the establishment LOVES non-aggression protests – they have no plan, few concrete goals, and present no overt threat to the elite.
The system only grows more despotic, more invasive, and more dangerous. Anti-establishment champions have been searching for something that goes beyond mere "education", or clamoring like caged monkeys for media attention. They want to storm the castle, they want to fight back, but they haven't the slightest clue how. They desire an intellectual method of combat, something with far less fear, far less risk, and far less pain. Enter Bitcoin.
Bitcoin gives the digital generation the chance to feel heroic where they never could before. They don't have to face the machine head on. They don't have to fight. They don't have to suffer. They don't have to die. All they have to do is utilize some cryptographic wizardry within the supposedly anonymous safety of the web, buy bitcoins en masse, and the system would crumble at their feet, rebuilt in the name of free markets by the electronic commons and without a shot fired. Again, very sexy…
Unfortunately, the real world does not necessarily lend itself to the demands of the digital. The digital world is at the mercy of physical. The real world is rarely sexy; often it is ugly, brutal, hypocritical, illogical, and psychotic. The real world, at times, can break, and when it does the digital will break with it. The digital world is in large part a fantasy supported by the whims of the real. Which leads me to the core failings of the bitcoin adventure…
Bitcoin Theater
We've all heard praises lavished on bitcoin, not only from the web activists but from the mainstream media itself. Establishment controlled outlets like Reuters and Bloomberg have an astonishing number of bitcoin stories per week, and most of these stories paint the crypto-currency in a positive light. We've heard about bitcoin's "unbreakable" cryptography. Its finite supply. The inability to duplicate the currency from thin air. Its rising acceptance in the corporate world. The Cinderella stories of bitcoin investors buying Lamborghinis and New York brownstones. Even Ben Bernanke seems to have a soft spot for bitcoin:
http://www.businessinsider.com/ben-bernanke-on-bitcoin-2013-11
But is bitcoin's rise really all it's cracked up to be? Here are just a few of the problems which lead me to believe the digital currency is ultimately a clever distraction.
Who really started Bitcoin?
One of my first questions to bitcoin representatives back in 2009 was WHO, exactly, founded the operation? Well, Satoshi Nakamodo, everyone knows that, right? But who the hell is Satoshi Nakamodo? Who is the original designer of bitcoin? Who holds the foundational key to the structure of bitcoin's cryptography? Is Nakamodo a person, or a group? Why should we trust him, or them, to safeguard our wealth any more than the Federal Reserve? The fact is no one except maybe Gavin Andresen, the chief scientist at the Bitcoin Foundation, knows who is behind the digital currency. We actually know more about the banking elites behind the Fed than we do about the founders of bitcoin.
The common response to this concern is to suggest that it doesn't really matter, bitcoin is secure, it is open source, it is cryptography's holy grail, the creators are protecting their identities against retribution from the establishment, and the excuses go on…
I'm sorry, but this attitude constitutes an act of blind faith in a currency mechanism, which is exactly what proponents of the dollar are guilty of. If an activist individual or group is going to offer a solution to the movement, then they had better be willing to take the risk of being personally available to the movement. If you don't have the balls to show your face to help legitimize your idea, I can't take your idea seriously. Maybe I'm just old fashioned…
For all we know, bitcoin is a creation of the establishment, not a creation countering the establishment.  After all, the globalists WANT the destruction of the dollar – why not let the public destroy the dollar using a mechanism that ultimately does not represent a threat to the greater bankster cartel?
The Media Love Affair With Bitcoin
During the first and second Ron Paul campaigns, the mainstream media made a blatant and obvious effort to purposely ignore the candidate, his arguments, and his successes. Coverage was next to nil. His expansive crowds of supporters were edited out of news footage. His high polling numbers were censored. If not for the independent media, you wouldn't have known the guy existed. When someone or something presents a legitimate threat to the establishment, the establishment's first tactic is to make sure no one knows.
Bitcoin, on the other hand, has received a steady flow of positive media attention, with the random critical piece thrown in for good measure. Overall, the establishment has embraced, if not directly fueled, the bitcoin trend. This is rather surprising to me considering the "destroyer of the dollar" has only been around for four years.
When an anti-establishment vehicle suddenly becomes the center focus of establishment affections, and when globalist monsters like Ben Bernanke throw flower petals in its path, I have to wonder if Bitcoin is a real threat, or just a ruse.
Bitcoins Can Indeed Be Confiscated
Some of the early hype surrounding Bitcoin claimed that the currency could not be confiscated, making it "better than gold" (the better than gold motto has been widely espoused by Gavin Andresen). This claim turned out to be false when the FBI became the holder of the world's LARGEST Bitcoin wallet:
http://www.wired.com/wiredenterprise/2013/12/fbi_wallet/
I find arguments that this is only a temporary condition and that the feds will eventually auction off their holdings a bit laughable, but indicative of the denial inherent in Bitcoin culture.
Bitcoin Values Can Be Manipulated
Another claim heard was the assertion that bitcoins cannot be created out of thin air, they must be "mined" using powerful computers, which removes centralized manipulation of value. This may be true in certain respects (for now), but anything digital can be exploited in one way or another.
Bitcoin malware, for instance, hijacks the computers of unwitting people and uses them to artificially "mine" the currency.
http://about-threats.trendmicro.com/us/webattack/93/Cybercriminals%2BUnleash%2BBitcoinMining%2BMalware
The bitcoins mined are then transferred into the hands of anonymous hackers. This represents a serious threat to the stability of bitcoin because it creates an invasive form of attack speculation. Bitcoins can be removed from the market and deliberately hoarded. Hackers, or governments could conceivably kill bitcoin by mining a large portion of them out of circulation, artificially hyperinflating the value of the remaining coins (like a speculator would do with commodities), or dumping a large portion and abruptly cutting the value. Major bitcoin hoarders could use their massive bitcoin stakes to shift values at will. As long a Bitcoin operates on supply and demand, it can be threatened through speculation like ay other commodity (if you consider digitized numbers floating around the web a commodity).
Bitcoin Is Not Private
While bitcoins can apparently be stolen or criminally mined by anonymous persons or organizations, honest users are subject to considerable scrutiny. A disturbing aspect of bitcoin is the group surveillance that goes into tracing transactions, otherwise known as the "proof of work system". The bitcoin network is constantly dependent on decoders who track and verify bitcoin trades in order to ensure that the same bitcoins are not used during multiple trades or purchases. Anyone with the desire could decode the transaction history of the network, or "block chain", including governments. Though Bitcoiners are considered "partially anonymous", tracking the individual identity of a bitcoin trade is not difficult for entities such as the NSA because every transaction leaves a digital trail..
The use of anonymising browsers like Tor also have not produced the kind of privacy that was promised when bitcoin was introduced.
This is exactly the kind of currency system global bankers have sought for some time – total information awareness of all financial transactions and purchases within the system. While bitcoin proponents claim that their currency is a revolution against centralized oversight of monetary transactions, the truth is they have built the perfect centralized surveillance solution. Paper dollar purchases are difficult to trace. Gold, silver, and barter purchases are nearly impossible to track. Bitcoin, though, is the most traceable form of currency on the planet, and this is basically REQUIRED by the network itself. The entire trade history of every bitcoin is recorded. The digital landscape is the ultimate form of privacy invasion, especially for the likes of super computer wielding agencies like the NSA. Bitcoin aids the development of this intrusive system.
Bitcoin Relies On The Continued Survival Of The Open Web
Yes, bitcoins can be stored on physical wallet devices, but the majority portion of bitcoin trading and bitcoin mining requires the continued operation of the web. The internet is NOT a creative commons, as many believe. It is in fact a controlled networking system that we have simply been allowed to use. The exposure by Edward Snowden of NSA activities has proven once and for all that nothing you do on the web is private. Everything is tracked and recorded. Period.
Web access can also be easily denied by governments, and power centers around the globe have been utilizing this option more and more. During a national crisis, whether real or engineered, the continued function of the internet as we know it is not guaranteed. A currency relying on a government dominated internet is not truly independent. A grid down situation would also make bitcoin stores virtually useless.
The Suspicious Nature Of Bitcoin
Bitcoin is consistently touted as a superior option to precious metals as a way to decouple from central bank fiat. Under examination, though, it appears to me that bitcoin is instead a deliberate distraction away from gold and silver, and other tangible solutions; in other words, I believe it to be a form of controlled opposition.
A vital aspect of physical gold and silver investment is not only to break from the dollar, but to also remove physical metal from the system and starve international banks that issue millions of fraudulent unbacked paper certificates. The strategy, which I still stand by, is for the public to absorb as much of the precious metals market as possible until manipulators like JP Morgan finally have to admit that they don't have the coins and bars to back all the fake ETF's they have been issuing investors for years. In the process, we decouple from the dollar AND do damage to the banking cartel itself. The bitcoin fad, in my opinion, is designed to lure the public away from overtaking the metals market while banks and foreign governments vacuum up remaining physical in preparation for a dollar collapse.
Bitcoin's market value is not only extremely volatile, the currency is also subject to replacement at any time. Anyone with an interest can create a cryptocurrency. There is nothing particularly special about the bitcoin design, and if someone offered a digital currency tomorrow that was truly anonymous, it could quickly supplant bitcoin. Though its cryptography makes it difficult to artificially inflate (again, for now), other digital currencies can still be produced out of thin air. Bitcoiners desperately want to equate cryptography with tangibility, but the truth is that there is no comparison. Physical gold and silver cannot be artificially produced by anyone, anywhere. Digital currencies can be produced at will and hyped like Dutch tulip mania.
The most unsettling aspect of bitcoin, however, is not its distraction away from precious metals. Rather, it is the distraction away from localized solutions. Bitcoin proponents may be searching for decentralization, but they seem to have forgotten the most most important part of the process – localism. The trade of digital mechanisms over impersonal web networks and online marketplaces is not conducive to local economic stability or sustainability. Bitcoin does not encourage people to build local markets, to adopt useful trade skills, to prepare for a grid down scenario, or circulate wealth within one's community. Bitcoin only furthers the removal of independence and self sustainability from local economies by fooling activists into thinking that buying things without dollars is enough.
If Americans in particular want to pursue any solution to the threat of globalism or dollar collapse, they are going to have to start with themselves, and the community around them. Online trade is the last thing they should be worried about. Only when neighborhoods, towns, and counties become producers and self suppliers will they be safe from financial instability. Only when those same communities band together for mutual aid and self defense will they be safe from tyrannical political entities. Bitcoin accomplishes nothing in either of these categories, making it possibly the most popular non-solution for liberty to date.
Source: Brandon Smith | Alt-Market
Does anyone in authority anywhere tell the truth about Fukushima? If there is any government or non-government authority in the world that is addressing the disaster at Fukushima openly, directly, honestly, and effectively, it's not apparent to the outside observer what entity that might be.
There is instead an apparent global conspiracy of authorities of all sorts to deny to the public reliably accurate, comprehensible, independently verifiable (where possible), and comprehensive information about not only the condition of the Fukushima power plant itself and its surrounding communities, but about the unceasing, uncontrolled release of radioactive debris into the air and water, creating a constantly increasing risk of growing harm to the global community.
While the risk may still be miniscule in most places, the range of risk rises to lethal in Fukushima itself. With the radioactive waste of four nuclear reactors (three of them in meltdown) under uncertain control for almost three years now, the risk of lethal exposure is very real for plant workers, and may decrease with distance from the plant, but may be calculable for anyone on the planet. No one seems to know. No one seems to have done the calculation. No one with access to the necessary information (assuming it exists) seems to want to do the calculation.
There is no moral excuse for this international collusion. The excuses are political or economic or social, but none of them excuses any authority for withholding or lying about information that has potentially universal and destructive impact on everyone alive today and everyone to be born for some unknown generations.
Japanese authorities may be the worst current offenders against the truth, as well as the health and safety of their people. Now the Japanese government has passed a harsh state secrets law that threatens to reduce or eliminate reliable information about Fukushima. The U.S. government officially applauded this heightened secrecy, while continuing its own tight control on nuclear information. Japanese authorities are already attacking their own people in defense of nuclear power: not only under-measuring and ignoring varieties of radioactive threat, but even withholding the iodine pills in 2011 that might have mitigated the growing epidemic of thyroid issues today. Failing to confront Fukushima honestly, the Japanese are laying the basis for what could amount to a radiological sneak attack on the rest of the world.
Just because no one seems to know what to do about Fukushima is no excuse to go on lying about and/or denying the dimensions of reality, whatever they might be.
There are hundreds, probably thousands of people with little or no authority who have long struggled to create a realistic, rational perspective on nuclear threats. The fundamental barrier to knowing the scale of the Fukushima disaster is just that: the scale of the Fukushima disaster.
Chernobyl 1986 and Fukushima 2011 are Not Really Comparable
Chernobyl is the closest precedent to Fukushima, and it's not very close. Chernobyl at the time of the 1986 electric failure and explosion had four operating reactors and two more under construction. The Chernobyl accident involved one reactor meltdown. Other reactors kept operating for some time after the accident. The rector meltdown was eventually entombed, containing the meltdown and reducing the risk. Until Fukushima, Chernobyl was considered the worst nuclear power accident in history, and it is still far from over (albeit largely contained for the time being). The Chernobyl Exclusion Zone of roughly 1,000 square miles remains one of the most radioactive areas in the world and the clean-up is not even expected to be complete before 2065.
At the time of the March 11, 2011, earthquake and tsunami, the Fukushima plant had six operating reactors. Three of them went into meltdown and a fourth was left with a heavily laden fuel pool teetering a hundred feet above the ground. Two other reactors were undamaged and have been shut down. Radiation levels remain lethal in each of the melted-down reactors, where the meltdowns appear to be held in check by water that is pumped into the reactors to keep them cool. In the process, the water gets irradiated and that which is not collected on site in leaking tanks flows steadily into the Pacific Ocean. Within the first two weeks, Fukushima radiation was comparable to Chernobyl's and while the levels have gone down, they remain elevated.
The plant's corporate owner, Tokyo Electric Power Company (TEPCO), in turn effectively owned by the Japanese government after a 2012 nationalization, began removing more than 1,500 fuel rod assemblies from the teetering fuel pool in November, a delicate process expected to take a year or more. There are additional fuel pools attached to each of the melted down reactors and a much larger general fuel pool, all of which contain nuclear fuel rod assemblies that are secure only as long as TEPCO continues to cool them. The Fukushima Exclusion Zone, a 12-mile radius around the nuclear plant, is about 500 square miles (much of it ocean); little specific information about the exclusion zone is easily available, but media coverage in the form of disaster tourism is plentiful, including aGoogle Street View interactive display.
Despite their significant differences as disasters, Chernobyl and Fukushima are both rated at 7 — a "major accident" on the International Nuclear Event Scale designed in 1990 by the International Atomic Energy Agency (IAEA). That is the highest rating on the scale, a reflection of the inherent denial that colors most official nuclear thinking. Designed by nuclear "experts" after Chernobyl, the scale can't imagine a worse accident than Chernobyl which, for all its intensity, was effectively over as an accident in a relatively short period of time. At Fukushima, by contrast, the initial set of events was less acute than Chernobyl, but almost three years later they continue without any resolution likely soon. Additionally Fukushima has three reactor meltdowns and thousands of precarious fuel rod assemblies in uncertain pools, any of which could produce a new crisis that would put Fukushima clearly off the scale.
And then there's groundwater. Groundwater was not a problem at Chernobyl. Groundwater is a huge problem at the Fukushima plant that was built at the seashore, on a former riverbed, over an active aquifer. In a short video, nuclear engineer Arnie Gunderson makes clear why groundwater makes Fukushima so hard to clean up, and why radiation levels there will likely remain dangerous for another hundred years.
Fukushima Unit #3 Activity Led to Some Panic-Driven Reporting in 2013
The Japanese government and nuclear power industry have a history of not telling the truth about nuclear accidents dating back at least to 1995, as reported by New Scientistand Rachel Maddow, among others. Despite Japan's history of nuclear dishonesty, Japanese authorities remain in total control of the Fukushima site and most of the information about it, without significant objection from most of the world's governments, media, and other power brokers, whose reputation for honesty in nuclear matters is almost as bad as Japan's. In such a context of no context, the public is vulnerable to reports like this from the Turner Radio Network (TRN) on December 28:
** NEWS FLASH — URGENT ** STEAM SUDDENLY EMANATING FROM FUKUSHIMA REACTOR # 3 — WEST COAST OF NORTH AMERICA SHOULD BEGIN PREPARATIONS FOR POSSIBLE RADIATION CLOUD WITHIN 3 TO 5 DAYS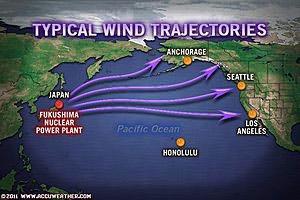 Five days after this story was posted, the "radiation cloud" had not developed despite the story's assertion that: "Experts say this could be the beginning of a spent fuel pool criticality (meltdown)'involving up to 89 TONS of nuclear fuel burning up into the atmosphere and heading to North America." The story named no "experts" and provided links only to TEPCO announcements in Japanese. The bulk of the story reads like an infomercial for "protective" gear of various sorts that TRN makes a point of saying it does NOT sell. Despite such obvious warning signs, others — such as The Ecologist and Gizmodo — reported the threat of "another meltdown" at Fukushima Unit #3 as imminent.
Clarification and reassurance quickly started chasing the "new meltdown" rumor around the Internet. ENENEWS (Energy News) promptly posted the TEPCO reports in English, demonstrating that there was nothing "sudden" about the steam releases, they've been happening more or less daily since 2011, but condensation caused by cold weather makes them visible. At FAIREWINDS (Energy Education), Arnie Gunderson posted on January 1:
"… the Internet has been flooded with conjecture claiming that Fukushima Daiichi Unit 3 is ready to explode… Our research, and discussions with other scientists, confirms that what we are seeing is a phenomenon that has been occurring at the Daiichi site since the March 2011 accident… While the plants are shutdown in nuke speak, there is no method of achieving cold shut down in any nuclear reactor. While the reactor can stop generating the actual nuclear chain reaction, the atoms left over from the original nuclear chain reaction continue to give off heat that is called the decay of the radioactive rubble (fission products)… constantly releasing moisture (steam) and radioactive products into the environment." [emphasis added]
In other words, Fukushima Unit #3 continues to leak radioactivity into both air and water, as Units #1 and #2 presumably do as well. But as Gunderson explains, the level of radioactivity has declined sharply without becoming benign:
"When Unit 3 was operating, it was producing more than 2,000 megawatts of heat from the nuclear fission process (chain reaction in the reactor). Immediately after the earthquake and tsunami, it shut down and the chain reaction stopped, but Unit 3 was still producing about 160 megawatts of decay heat. Now, 30 months later, it is still producing slightly less than 1 megawatt (one million watts) of decay heat… 1 megawatt of decay heat is a lot of heat even today, and it is creating radioactive steam, but it is not a new phenomenon."
Reassurances About Fukushima are As Misleading As Scare Stories
The reassuring aspects of the condition of Unit #3 — radioactive releases are not new, they're less intense than they once were, the nuclear waste is cooling — while true enough, provide only a false sense of comfort. Also true: radiation is released almost continuously, the releases are uncontrolled, no one seems to be measuring the releases, no one seems to be tracking the releases, no one is assessing accumulation of the releases. And while it's true that the waste is cooling and decaying, it's also true that a loss of coolant could lead to another uncontrolled chain reaction. ("Fukushima Daiichi Unit 3 is not going to explode," says Gunderson in a headline, but he can't know that with certainty.)
For the near future, what all that means, in effect, is that the world has to accept chronic radiation releases from Fukushima as the price for avoiding another catastrophic release. And even then, it's not a sure thing.
But there's another aspect of Fukushima Unit #3 that's even less reassuring. Unit #3 is the one Fukushima reactor that was running on Mixed oxide fuel, or MOX fuel, in its fuel rods.MOX fuel typically uses Plutonium mixed with one or more forms of Uranium. UsingPlutonium in fuel rods adds to their toxicity in the event of a meltdown. In part because Plutonium-239 has a half-life of 240,000 years and can be used to make nuclear weapons of "dirty bombs," its use in commercial reactors remains both limited and controversial. Because it contains Plutonium, MOX fuel is more toxic than other nuclear fuel and will burn at lower temperatures. As Natural Resources News reported in 2011:
"The mixed oxide fuel rods used in the compromised number three reactor at the Fukushima Daiichi complex contain enough plutonium to threaten public health with the possibility of inhalation of airborne plutonium particles…. Plutonium is at its most dangerous when it is inhaled and gets into the lungs. The effect on the human body is to vastly increase the chance of developing fatal cancers."
Reportedly, TEPCO plans don't call for the removal of the MOX fuel in Unit #3 for another decade or more. Fuel removal from Units #1, #2, and #3 is complicated by lethal radiation levels at all three reactors, as well as TEPCO's inability so far to locate the three melted cores with any precision.
There is ample reason to hope that Fukushima, despite the complex of uncontrollable and deteriorating factors, will not get worse, because even the Japanese don't want that. But there is little reason to expect anything but worsening conditions, slowly or suddenly, for years and years to come. And there is even less reason to expect anyone in authority anywhere to be more than minimally and belatedly truthful about an industry they continue to protect, no matter how many people it damages or kills.
The perfect paradigm of that ruthlessly cynical nuclear mentality is the current Japanese practice of recruiting homeless people to work at Fukushima in high level radiation areas where someone with something to lose might not be willing to go for minimum wage.
Source: William Boardman  |  Global Research
It is the responsibility of intellectuals to speak the Truth and expose lies. — Noam Chomsky.
My book, The Wizards of Ozymandias, was dedicated "To the memory and spirit of Sophie and Hans Scholl and the White Rose, who reminded us what it means to be civilized." These wonderful young people — most in their teens or twenties — lived in Germany during the Hitler regime, and spent much of their time writing and distributing leaflets exposing and criticizing the policies and practices of the Nazi state. They were found out; brought to trial; found guilty of treason, the demoralization of the troops, and abetting the enemy, and summarily beheaded. Sophie's Gestapo interrogator raises the same arguments one hears directed against such modern speakers of truth as Chelsea Manning, Ed Snowden, Julian Assange, Glenn Greenwald, and others. Those whose moral and intellectual standards can rise no higher than to whine "the law is the law," would do well to consider the exchange between Sophie and her prosecutor. The Nazi functionary declares: "Without law, there is no order. What can we rely on if not the law?" Sophie responds: "Your conscience. Laws change. Conscience doesn't."
Our Western culture is in a state of total collapse. Our institutionalized world is increasingly hostile to any utterances of truth that would be upsetting to the status quo. The mainstream media and most of academia long ago gave themselves over to propagandizing on behalf of defending and/or enhancing the coercive power structure of the state. When war policies are under discussion, retired Army generals or officials from "think-tanks" funded by the national defense industry, are trotted out to "debate" such non-issues as how many troops to send in, who to attack, etc., etc., all to maintain the pretense of having a "fully-informed" public. But when was the last time you saw a Robert Higgs, Noam Chomsky, Lew Rockwell, Amy Goodman, Justin Raimondo, Angela Keaton, Karen Kwiatkowski, Chris Hedges, or other critic of the war system allowed to raise the kinds of questions that are not supposed to be asked in this best of all possible worlds? Do you recall the insult to human intelligence perpetrated by the GOP (Grand Old Pettifoggers) in its efforts to prevent Ron Paul from expressing his contrary views?
Noam Chomsky's above quote doesn't go far enough: it is the responsibility of all thinking people — not just so-called "intellectuals" — to speak the truth and to expose lies! To this end, increasing numbers of people understand that the sources to whom they have been conditioned to look for truth, analysis, and understanding, have largely failed in their roles. To put the proposition more frankly: more and more people have grasped the fact that the free flow of information is disruptive of the interests of the institutional order, whose established position depends upon suppressing or destroying all evidence of the lies, conflicts, contradictions, and destructive nature upon which its primacy depends. This is why so much of the media and academia are peopled with those unable or unwilling to shed light on the dysfunctional nature of the well-ordered madness of the world; men and women who remain content to tread water at the shallow end of the human gene pool!
The political establishment has implicitly embraced the mindset of Hitler's Propaganda Minister, Dr. Joseph Goebbels:
The lie can be maintained only for such time as the State can shield the people from the political, economic and/or military consequences of the lie. It thus becomes vitally important for the State to use all of its powers to repress dissent, for the truth is the mortal enemy of the lie, and thus by extension the truth becomes the greatest enemy of the State.
This is why the state is so threatened by such modern technologies as the Internet, as well as by the "whistleblowers" who insist on exposing the state's embarrassing truths to the general public. It is also why the classic The Emperor's New Clothes needs to be read to every child — as well, perhaps, to adults.
Cable news channels continue providing platforms for those who remind us that the whistleblowers "broke the law," and need to be punished. They recite their bromides with the kind of self-assurance that comes from the delusion that they are actually saying something profound. I find it particularly amusing to hear such babbling coming from lawyers who ought to know that all laws are meant to be broken. Imagine what would happen if every legal dictate were to be obeyed by everyone: no speeding or reckless driving; no illegal drug use; no murders, rapes, or robberies; no discriminatory hiring practices; no zoning violations; etc. What would be the likely consequences? Men and women might then begin to ask the kinds of questions the state could not afford to have asked: why do we need the police, or courts, or prisons? In the world of realpolitik, those who are driven not by a need for social order, but by the ambition for coercive power over their neighbors, would have to dream up new "wrongs" to be policed. The mania that underlies political programs based on "climate change" is just one example of how those who want power over others must invent more and more "conflicts" with which to rationalize their coercive ambitions. It is this sense that Edmund Burke had in mind when he characterized lawyers as "the fomenters and conductors of the petty wars of village vexation." The habit is not confined to lawyers!
This also explains Randolph Bourne's observation that "war is the health of the state." The war system — whose schemes and chicanery the whistleblowers have been exposing — depends upon the kinds of endless conflicts with the rest of the world that will cause Boobus Americanus to part with his liberty, wealth, and life.
Sophie and Hans Scholl and their White Rose friends had minds capable of distinguishing what was legal and what was right, a skill that depends upon separating what is popular from what is true. Sophie's insights were reflected, years later, in Hannah Arendt's observation: "The aim of totalitarian education has never been to instill convictions, but to destroy the capacity to form any."
Butler Shaffer teaches at the Southwestern University School of Law. He is the author of the newly-released In Restraint of Trade: The Business Campaign Against Competition, 1918–1938, Calculated Chaos: Institutional Threats to Peace and Human Survival, andBoundaries of Order. His latest book is The Wizards of Ozymandias.
Source: Butler Shaffer  |  LewRockwell.com
The idea of time travel, one of humanity's favorite sci-fi fixations, is documented as far back as the 9th century BC, in the text of the Indian Mahabharata poem. It seems to be a built-in human trait—not even our ancient ancestors could escape the temptation to wonder if it's possible to skip backwards and forwards through time. But while physicists continue to research the theoretical science behind time travel, not many people have just come out and asked: Hey, is there anyone out there from the future?
Researchers from Michigan Technological University's physics department recently decided to give it a shot, using the internet as their megaphone. They searched the web for prescient messages that could be evidence of future-dwellers. Unfortunately (surprise!) they didn't find any—but they plan to keep looking, according to the study recently published on Arxiv.
The team's approach was to comb through search engines, social media, and popular websites looking for references to information that only someone who had jumped forward in time (they opted against looking for people who had traveled to the past) could know.
Specifically, they looked for two specific terms: Comet ISON and Pope Francis. The thinking was, since Comet ISON was only discovered and introduced to popular nomenclature in 2012, and likewise Pope Francis, the first of that name, elected just last year, any mentions of the names from before those dates must have come from someone who had seen the future.
It's an interesting idea and all, but the method has some serious shortcomings—which is why the study authors note that just because their search came up short, it doesn't disprove time travel. For one, what if humans who had traveled the future had no interest in tweeting or sending tell-tale emails after they got there? Or even if they did, maybe they didn't give a damn about Comet ISON and Pope Francis? Or, maybe there is no internet in the future?
It's also possible, the researchers mused, that some as-of-now unknown law of physics makes it impossible for people from the future to leave traces of their existence behind. Or, they're very good at covering their tracks to avoid skewing the course of history.
On the off chance that there are time travelers hanging out in cyberspace that are ready and willing to communicate with us present-day folks, the researchers put out a call on "a popular public internet forum" asking any time travelers out there to shoot them an email—and for the sake of accurately assessing the ramifications of their existence, to indicate whether or not their actions would alter history by stipulating #ICanChangeThePast2 or #ICannotChangeThePast2. Again, they came up empty handed.
Not to be a buzzkill, but maybe the experiment failed by time travel isn't possible? That's surely the most likely scenario, but many scientists aren't willing to throw in the towel. Some prominent physicists, most famously Stephen Hawking, claim that bending space-time is theoretically possible—by exploiting black holes, or wormholes if they exist, or by traveling at superspeeds, based on Einstein's theory of relativity. We just don't have the necessary know-how or technology to do it yet.
But maybe we will, in the future, and just in case, it's worth keeping a look out for people who have experienced the sci-fi dream of defying time and space. The authors of this latest study weren't the first to try and reach out to potential future-humans. Hawking famously threw a party for time travelers, sending out the invitations after the party was already over. In 2005, MIT students held a time travel convention in the hopes that people from the future would attend. In both cases, no one showed.
Source: Meghan Neal | Motherboard
The answer to this question is being pondered across America in light to the two seeming mutually contradictory US Federal Court decisions handed down this month from Courts in Washington DC and New York.
The legal issue of what rights are left to American citizens that can prevent governmental intrusions into their privacy and also governmental invasions using heavy handed searches and seizures following the launching of the Bush administrations 'war of terrorism' has gained new impetus following disclosures by former National Security Agency analyst turned whistle blower, Edward Snowden. Without Snowden's patriotic leaks, no legal challenge could have been brought to the NSA practices.
Now that two US Federal District Courts, with identical powers under the US Constitution have seemingly reached opposite results on the same legal issue involving the right of the NSA to conduct 'metadata' searches and store the information of scores of millions of unknowing Americans the issue is likely going to have to be decided by the US Supreme Court. As predicted, appeals were immediately filed from the Trial Courts decision in both cases.
Initially, civil libertarians were encouraged earlier this month when in light of the Snowden revelations of massive US government spying on Americans and millions of foreigners, Federal Description: Judge Richard Leon of the United States District Court for the District of Columbia ruled on 12/16/13 that the bulk collection by the National Security Agency of cell phone data (everyone you called, when you called them and where you were when you called them) of Americans violates the Fourth Amendment to the Constitution and is "Orwellian".
Judge Leon explained that we now use our smartphones for a wide variety of personal activities in which we have the expectation of privacy, and probably we have more expectation of privacy from our phones now than we did from a pay phone in the 1980s. He made the point that cell phones today includes a citizens, location when one makes a call and becomes a GPS made the call, functioning essentially as a GPS. He wrote, "It's one thing to say that people expect phone companies to occasionally provide information to law enforcement; it is quite another to suggest that our citizens expect all phone companies to operate what is effectively a joint intelligence-gathering operation with the Government."
Judge Leon focused on whether the NSA massive surveillance violated the 4th Amendment which provides: "The right of the people to be secure in their persons, houses, papers, and effects,against unreasonable searches and seizures, shall not be violated, and no warrants shall issue, but upon probable cause, supported by oath or affirmation, and particularly describing the place to be searched, and the persons or things to be seized."
He writes:
"The threshold issue that I must address, then, is whether plaintiffs have a reasonable expectation of privacy that is violated when the Government indiscriminately collects their telephony metadata along with the metadata of hundreds of millions of other citizens without any particularized suspicion of wrongdoing, retains all of that metadata for five years, and then queries, analyzes and investigates that data without prior judicial approval of the investigative targets. If they do – and a Fourth Amendment search has thus occurred– then the next step of the analysis will be to determine whether such a search is 'reasonable.'
Judge Leon found that the NSA when it demands citizens telephone metadata is conducting a search, and that it is most likely an unreasonable search of our personal effects according to the Fourth Amendment, since there is no specific suspicion of wrongdoing by any individual whose records are demanded. He immediately granted the Plaintiffs request for an injunction that blocks the collection of phone data for the plaintiffs and orders the government to destroy any of their records that have been gathered. As is common Federal Court practice, the judge stayed action on his ruling pending a government appeal, recognizing in his 68-page opinion the "significant national security interests at stake in this case and the novelty of the constitutional issues."
No sooner had the Judge Leon decision been published and was encouraging civil libertarians to argue that the US Constitution still protects some citizen rights against government abuse than US Federal District Judge William H. Pauley III in New York ruled that a National Security Agency program that collects enormous troves of phone records is legal, making the latest contribution to an extraordinary debate among courts and a presidential review group about how to balance security and privacy in the era of big data. In just 11 days, the two judges and the presidential panel reached the opposite of consensus on every significant question before them, including the intelligence value of the program, the privacy interests at stake and how the Constitution figures in the analysis. The latest decision could not have been more different from one issued by Judge Richard J. Leon in Washington, who ruled that the program was "almost Orwellian" and probably unconstitutional.
Judges Leon and Pauley have starkly differing understandings on how legal that program is. Judge Pauley, whose courtroom is just blocks from where the World Trade Center towers stood, endorsed arguments made in recent months by senior government officials — including the former F.B.I. director Robert S. Mueller III — that the program might have caught the Sept. 11, 2001, hijackers had it been in place before the attacks. Wrote Judge Pauley: "While robust discussions are underway across the nation, in Congress and at the White House, the question for this court is whether the government's bulk telephony metadata program is lawful," Judge Pauley wrote on Friday. "This court finds it is."
Judge Pauley decided to ignore several compelling US Constitutional issues and applications of its provisions to the NSA case. He chose to avoid 4th Amendment prohibitions on unreasonable government searches of private papers and effects. As Professor Juan Cole recently reminded us, the 14th Amendment was the basis for a recent Supreme Court ruling forbidding law enforcement from using GPS tracking without a warrant. The courts decided that following someone around 24/7 as a "search" because such intensive monitoring of a person's movements goes beyond just glimpsing the individual in public. NSA collection of metadata from cell phones track individuals just as a GPS devices do.
Other applicable US Constitutional provisions ignored by Judge Pauley include the 1789 Federalist promoted 9th Amendment, which a majority of the Founding Fathers wanted as guarantees that "The enumeration in the Constitution, of certain rights, shall not be construed to deny or disparage others retained by the people." The 9th Amendment is clearly designed to block the government from constraining people's private behavior. As Cole points out, not only are they protected from specific violations of their rights (attempts to curb speech, the press, religious belief or peaceable assembly) but they are also protected as a free people from government intrusions.
There are additional provisions in the constitution and in the history of court rulings that prescribe privacy for individuals from government intrusion. In fact, although "privacy" is not mentioned in the US constitution, the Supreme Court found in Connecticut v. Griswold that American citizens had a constitutional right to use birth control and that the state could not arbitrarily come into the bedroom and prohibit it. Some of the justices referred to the 9th Amendment, which says "The enumeration in the Constitution, of certain rights, shall not be construed to deny or disparage others retained by the people." That is, the government can't just wake up in the morning and decide to constrain people's private behavior. Not only are they protected from specific violations of their rights (attempts to curb speech, the press, religious belief or peaceable assembly) but they are protected in general as a free people from government intrusions.
Judge Pauley also ignored the relevant application of the 14th Amendment. In Griswold v. Connecticut, 381 U.S. 497 (1965) a landmark case in which the Supreme Court ruled that the Constitution protected a right of privacy, justices referenced the due process clause of the 14th amendment, which commands that "No state shall make or enforce any law which shall abridge the privileges or immunities of citizens of the United States; nor shall any state deprive any person of life, liberty, or property, without due process of law; nor deny to any person within its jurisdiction the equal protection of the laws."
The late great Justice William O. Douglas argued that the Bill of Right's specific guarantees have "penumbras," created by "emanations from these guarantees and that these penumbras help give the Bill of Rights life relevance to today's struggle to protect our civil rights. It was Douglas' interpretation of the US Constitution that, the "spirit" of the First Amendment (free speech), Fourth Amendment (freedom from searches and seizures), Fifth Amendment (freedom from self-incrimination), and Ninth Amendment (other rights), as applied against the states by the Fourteenth Amendment, creates a general right to privacy that cannot be unduly infringed." In his view there exists as part of the US Constitution a penumbra of privacy.
Judge Pauley ignored these and other Constitutional applications in order to uphold the NSA informational gathering project in spite of the fact that the NSA, every minute for the past 7 years and until today, is abridging the privileges and immunities of a free citizenry. They are depriving us of liberty without due process of law, for the reason that they have failed to obtain a judicial warrant based on grounds of specific evidence of wrong-doing.
Judge Leon, in Washington, took the opposite view, saying the government had failed to make the case that the program is needed to protect the nation. "The government does not cite a single instance in which analysis of the N.S.A.'s bulk metadata collection actually stopped an imminent attack, or otherwise aided the government in achieving any objective that was time-sensitive in nature," he wrote.
Where these conflicting US Constitutional decisions leave the American public concerned with civil liberties and the disappearance of privacy is in a profound quandary with respect to the issues raised by Edward Snowden. Snowden described in his Christmas address, carried by British Channel 4 and widely aired on the internet the legitimate concern of all people who values individual liberty and privacy: A child born today might "never know what it means to have a private moment to them, an unrecorded, unanalyzed thought." People walk around with a tracking device in their pockets, he noted, and as we now know, the NSA is collecting the metadata of those phones, which includes location information.
With words likely to become part of Law School curriculum, Mr. Snowden said that "this disappearance of privacy is important because privacy is what allows us to determine who we are and who we want to be."
2014 is upon us. For a person who graduated from Georgia Tech in 1961, a year in which the class ring showed the same date right side up or upside down, the 21st century was a science fiction concept associated with Stanley Kubrick's 1968 film, "2001: A Space Odyssey." To us George Orwell's 1984 seemed so far in the future we would never get there. Now it is 30 years in the past.
Did we get there in Orwell's sense? In terms of surveillance technology, we are far beyond Orwell's imagination. In terms of the unaccountability of government, we exceptional and indispensable people now live a 1984 existence. In his alternative to the Queen's Christmas speech, Edward Snowden made the point that a person born in the 21st century will never experience privacy. For new generations the word privacy will refer to something mythical, like a unicorn.
Many Americans might never notice or care. I remember when telephone calls were considered to be private. In the 1940s and 1950s the telephone company could not always provide private lines. There were "party lines" in which two or more customers shared the same telephone line. It was considered extremely rude and inappropriate to listen in on someone's calls and to monopolize the line with long duration conversations.
The privacy of telephone conversations was also epitomized by telephone booths, which stood on street corners, in a variety of public places, and in "filling stations" where an attendant would pump gasoline into your car's fuel tank, check the water in the radiator, the oil in the engine, the air in the tires, and clean the windshield. A dollar's worth would purchase 3 gallons, and $5 would fill the tank.
Even in the 1980s and for part of the 1990s there were lines of telephones on airport waiting room walls, each separated from the other by sound absorbing panels. Whether the panels absorbed the sounds of the conversation or not, they conveyed the idea that calls were private.
The notion that telephone calls are private left Americans' consciousness prior to the NSA listening in. If memory serves, it was sometime in the 1990s when I entered the men's room of an airport and observed a row of men speaking on their cell phones in the midst of the tinkling sound of urine hitting water and noises of flushing toilets. The thought hit hard that privacy had lost its value.
I remember when I arrived at Merton College, Oxford, for the first term of 1964. I was advised never to telephone anyone whom I had not met, as it would be an affront to invade the privacy of a person to whom I was unknown. The telephone was reserved for friends and acquaintances, a civility that contrasts with American telemarketing.
The efficiency of the Royal Mail service protected the privacy of the telephone. What one did in those days in England was to write a letter requesting a meeting or an appointment. It was possible to send a letter via the Royal Mail to London in the morning and to receive a reply in the afternoon. Previously it had been possible to send a letter in the morning and to receive a morning reply, and to send another in the afternoon and receive an afternoon reply.
When one flies today, unless one stops up one's ears with something, one hears one's seat mate's conversations prior to takeoff and immediately upon landing. Literally, everyone is talking nonstop. One wonders how the economy functioned at such a high level of incomes and success prior to cell phones. I can remember being able to travel both domestically and internationally on important business without having to telephone anyone. What has happened to America that no one can any longer go anywhere without constant talking?
If you sit at an airport gate awaiting a flight, you might think you are listening to a porn film. The overhead visuals are usually Fox "News" going on about the need for a new war, but the cell phone audio might be young women describing their latest sexual affair.
Americans, or many of them, are such exhibitionists that they do not mind being spied upon or recorded. It gives them importance. According to Wikipedia, Paris Hilton, a multimillionaire heiress, posted her sexual escapades online, and Facebook had to block users from posting nude photos of themselves. Sometime between my time and now people ceased to read 1984. They have no conception that a loss of privacy is a loss of self. They don't understand that a loss of privacy means that they can be intimidated, blackmailed, framed, and viewed in the buff. Little wonder they submitted to porno-scanners.
The loss of privacy is a serious matter. The privacy of the family used to be paramount. Today it is routinely invaded by neighbors, police, Child Protective Services (sic), school administrators, and just about anyone else.
Consider this: A mother of six and nine year old kids sat in a lawn chair next to her house watching her kids ride scooters in the driveway and cul-de-sac on which they live.
Normally, this would be an idyllic picture. But not in America. A neighbor, who apparently did not see the watching mother, called the police to report that two young children were outside playing without adult supervision. Note that the next door neighbor, a woman, did not bother to go next door to speak with the mother of the children and express her concern that they children were not being monitored while they played. The neighbor called the police. http://news.yahoo.com/blogs/sideshow/mom-sues-polices-she-arrested-letting-her-kids-134628018.html

"We're here for you," the cops told the mother, who was carried off in handcuffs and spent the next 18 hours in a cell in prison clothes.
The news report doesn't say what happened to the children, whether the father appeared and insisted on custody of his offspring or whether the cops turned the kids over to Child Protective Services.
This shows you what Americans are really like. Neither the neighbor nor the police had a lick of sense. The only idea that they had was to punish someone. This is why America has the highest incarceration rate and the highest total number of prison inmates in the entire world. Washington can go on and on about "authoritarian" regimes in Russia and China, but both countries have far lower prison populations than "freedom and democracy" America.
I was unaware that laws now exist requiring the supervision of children at play. Children vary in their need for supervision. In my day supervision was up to the mother's judgment. Older children were often tasked with supervising the younger. It was one way that children were taught responsibility and developed their own judgment.
When I was five years old, I walked to the neighborhood school by myself. Today my mother would be arrested for child endangerment.
In America punishment falls more heavily on the innocent, the young, and the poor than it does on the banksters who are living on the Federal Reserve's subsidy known as Quantitative Easing and who have escaped criminal liability for the fraudulent financial instruments that they sold to the world. Single mothers, depressed by the lack of commitment of the fathers of their children, are locked away for using drugs to block out their depression. Their children are seized by a Gestapo institution, Child Protective Services, and end up in foster care where many are abused.
According to numerous press reports, 6, 7, 8, 9, and 10 year-old children who play cowboys and indians or cops and robbers during recess and raise a pointed finger while saying "bang-bang" are arrested and carried off to jail in handcuffs as threats to their classmates. In my day every male child and the females who were "Tom boys" would have been taken to jail. Playground fights were normal, but no police were ever called. Handcuffing a child would not have been tolerated.
From the earliest age, boys were taught never to hit a girl. In those days there were no reports of police beating up teenage girls and women or body slamming the elderly. To comprehend the degeneration of the American police into psychopaths and sociopaths, go online and observe the video of Lee Oswald in police custody in 1963. http://www.youtube.com/watch?v=4FDDuRSgzFk Oswald was believed to have assassinated President John F. Kennedy and murdered a Dallas police officer only a few hours previously to the film. Yet he had not been beaten, his nose wasn't broken, and his lips were not a bloody mess. Now go online and pick from the vast number of police brutality videos from our present time and observe the swollen and bleeding faces of teenage girls accused of sassing overbearing police officers.
In America today people with power are no longer accountable. This means citizens have become subjects, an indication of social collapse.
Paul Craig Roberts was Assistant Secretary of the Treasury for Economic Policy and associate editor of the Wall Street Journal. He was columnist for Business Week, Scripps Howard News Service, and Creators Syndicate. He has had many university appointments. His internet columns have attracted a worldwide following. His latest book, The Failure of Laissez Faire Capitalism and Economic Dissolution of the West is now available.
Source: Paul Craig Roberts
In 33 years of forecasting trends, the Trends Research Institute has never seen a new year that will witness severe economic hardship and social unrest on one hand, and deep philosophic enlightenment and personal enrichment on the other. A series of dynamic socioeconomic and transformative geopolitical trend points are aligning in 2014 to ring in the worst and best of times.
Ready or not, here they come.
March Economic Madness: One of the most difficult aspects of trend forecasting is getting the timing right. And when it comes to economics, there are many wildcards that can stall or detour any on-rushing trend. We called the Crash of '87, the 1997 Asian Currency Crisis and the Panic of '08 (we even established the domain name in 2007) right on the button. But we missed the mark with our Crash of 2010 prediction.
Why? The Federal Reserve and central banks around the world were secretly pumping tens of trillions of dollars into a failing financial system. These were, at the time, unimagined schemes for nations that pride themselves on capitalism. And while we are not naïve to the dirty dealings of the financial industry, rigging the daily multi-trillion dollar LIBOR and FOREX markets was not on our radar. Thus, what we believed to be economic truths and hard facts were, in fact, cover-ups and lies….
Such unforeseeable factors aside, we forecast that around March, or by the end of the second quarter of 2014, an economic shock wave will rattle the world equity markets. What will cause this econo-shock? How can you prepare for it? It's a Top Trend of 2014. Read about it in the Winter Trends Journal.
Global Chinatowns: Name the continent or pick a country, every one contains its own brand of Chinatown. The Chinese global buying binge, now in its early growth stage, will noticeably accelerate in 2014. From coal mines in Zambia, to Borscht Belt resorts in New York, to factories in Italy, and to farmlands in Ukraine, a seemingly endless variety of Chinese development projects are being incubated around the world. If there is a deal to be had and a need to be filled, Chinese players are increasingly at the front of the line.
Wealthy investors, college graduates without jobs, skilled and unskilled laborers will be migrating out of their overpopulated, congested and highly polluted nation to foreign shores. Where are the new growth areas? What actions will be taken to stop or control the trend? Who will benefit? Who will lose? And what are the dangers and opportunities? You'll find the answers in the Winter Trends Journal.
Wake Up Call: Last year we forecast the Great Awakening 2.0, a period reminiscent of the first Great Awakening that provided the intellectual, philosophical and spiritual ammunition that ignited the American Revolution. The "Awakening" has begun. Throughout 2014, and beyond, you will hear the Wake Up Call. It will be loud and distinct.
In 2013, the White House and Congress proved their extreme incompetence with a series of public failures. From closing down the government, to the debt ceiling debacle, to the aborted attack on Syria and, ultimately, to the disastrous launch of Obamacare, the ineptness of our political leaders was overwhelming. As polls show, a majority of citizens registered levels of scorn and ridicule unparalleled in modern America.
But this phenomenon is not limited to America. Around the world, citizen distrust has turned into universal disdain for entrenched political parties whose draconian austerity measures and punishing economic policies have thrown millions into poverty and pushed millions of protesters into the streets. Civil wars, civil unrest, revolts and revolutions will be just some of the cards dealt by an angry public that has lost everything and has nothing left to lose.
Will those in power hear the Wake Up Call? Or will they attempt to stamp it down and drown it out? Hear it or not, the movement is unstoppable. It will be a battle of the classes. What will it mean? Where will it take the biggest toll? Can the protests and disturbances of tomorrow bring peace and enlightenment that will lead to the Great Awakening 2.0? It's all in the Top Trends 2014 Winter Trends Journal.
Seniors Own Social Media: Seniors now comprise the fastest-growing user segment of the social media world, and the year ahead will see the retail, business, political, health and entertainment industries evolve aggressive strategies to realize the robust economic potential in engaging seniors.
The gamut of possibilities is so grand that we forecast technological and product advances that impact everything from nursing home life to political campaigns and causes. Read the Winter Trends Journal to pinpoint how this trend will unfold and affect you and your interests.
Populism: Regardless of how professional politicians deride it or how the traditional media describe it, "populism" is a megatrend sweeping Europe, and it will soon spread across the globe. Mired in prolonged recession, disgusted with corrupt political parties, and forced to follow EU, ECB and IMF austerity dictates, populist movements are seeking to regain national identity and break free from the euro and Brussels domination. These movements are positioned to bring down ruling parties and build up new ones.
The discontent of the one-size-fits-all Euro Union formula is so deep that populists are expected to gain some 25 percent of the European Parliament seats in next year's elections. "We have the big risk to have the most 'anti-European' European Parliament ever," cried Italian Prime Minister Enrico Letta. "The rise of populism is today the main European social and political issue," Mr. Letta added. "To fight against populism, in my view, is a mission today – in Italy and in the other countries."
Already, some nations, such as Spain, have passed new laws restricting public demonstrations while imposing police-state measures to stamp out dissent. What is the future of populism? How far will it spread? Will it lead to the formation of new parties, or lead to civil wars? Read about it in the Trends Journal's Top Trends 2014 edition.
Trouble in Slavelandia: Even as total US personal wealth soars above a record high of $77 trillion, fueled by the stock market's own record highs, life for the growing number of have-nots in Slavelandia has become more desperate. In today's Plantation Economy – driven by the bottom line needs of multinationals and flailing austerity-prone governments – low-paying service jobs and reduced hours engineered to evade corporate responsibility to provide benefits, are making it tough for the working poor, a group that now includes debt-burdened and underemployed college graduates and seniors as well as the traditional underclass.
Nearly half of the requests for emergency assistance to stave off hunger or homelessness comes from people with full-time jobs. As government safety nets are pulled out from under them – as they will continue to be for the foreseeable future – the citizens of Slavelandia will have no recourse but action. The fast-food worker strikes of 2013, seeking a higher minimum wage, were just a mild taste of what is to come. Learn more in the WinterTrends Journal.
The New Altruism: Several burgeoning trends identified for 2014 will coalesce in a welcome trend toward selfless concern for the wellbeing of others and an interest in the common good. Across the age divide, from people in their youth to those of advanced years, the search for meaning will intensify and become more widespread in response to waning resources, want, and an over-commodified culture. As despair quietly takes more prisoners, Doing Good will be recognized as the key to escape.
Ironically, the Internet that has been much maligned for currying narcissism will make the donation of money, time and talents so easy that people will be able to enact their better natures without resistance. Be they Boomers in renaissance or populists in revolt, people will discover and expand the humanist side of globalism and act accordingly. See why in the Top Trends of 2014 Winter edition of the Trends Journal.
Private Health Goes Public: While the world focused on the blockbuster NSA surveillance revelations and other cyber-snooping episodes of 2013, another powerful trend line was firmly planted: Your health data has been progressively mined, assembled and made accessible to a widening group of interested parties.
While signing up for the Affordable Care Act brought some attention to this developing trend, around the globe, data on individuals' health status, behaviors, prescriptions and even their genetic indicators have been funneled to a wide range of databases. Those databases have many purposes and a growing number of hands on them.
The positive and negative implications of this trend are equally powerful. Individuals and their health care providers can more easily tie vital physical data with worldwide medical databases to anticipate and potentially prevent disease. But, in the wrong hands, the data can be used to exploit, damage and take advantage of individuals and their families. Security concerns will rise in equal importance with the potential benefits of this critical trend line.
What does this mean for you, your family, or your business? The Winter Trends Journal will provide the answers.
Boomer Renaissance Arrives: Distinct and strengthening economic, lifestyle and societal determinants are building a creative foundation for the older population as it discovers new approaches to work and finds long-elusive contentment in the process.
You already know that older workers, seeing their retirement plans shattered, have to work beyond traditional retirement years. You also know that those same economic dynamics are forcing aging Boomers to entirely rethink retirement. And, of course, you know that as Boomers are living longer, traditional thinking about retirement has been stood on its head. What you might not realize is how these factors are compelling Boomers to unearth potent creative energies not only to survive, but to realize potential that evaded them in traditional work roles.
In 2014, we will see growing evidence of this Boomer Renaissance, accentuated by waves of self-guided entrepreneurism that alchemizes commerce, survival and self-actualization into a new world and self view. The Winter Trends Journal will explore this compelling 2014 trend in depth.
Digital Learning Explodes: Fears that online educational platforms fall short of providing depth and effectiveness in the learning experience will all but disappear. Across the entire educational spectrum, online learning will expand to include not only course instruction, but also a wealth of real-life learning experience, with considerable participation by the skills-hungry business community.
For individuals, educational institutions, industries, small businesses and up-and-coming entrepreneurs, the implications are enormous. From traditional degree-based education to very specific micro skills-based learning, this trend line explodes. The Trends Research Institute will break down the implications for individuals, business professionals and a range of industries in its Winter Trends Journal.
Source: Gerald Celente  |  The Trends Journal via LewRockwell.com
That it has been one of the most lackluster shopping seasons in recent years has already been repeatedly covered, with average holiday spending expected to decline for the first time since the Great Financial Crisis of 2008, all this despite record promotions and an ever earlier start to Black Friday.
Another chart showing the same trend from Bloomberg, with the comment that the "eroding middle class can no longer drive activity as it has in the past" – that's odd: we said the same thing in late 2009 for which we got yet another label of tinfoil conspiracy theorists…
However, while the early start to shopping season has missed expectations, driven primarily by an unprecedented weakness in traditional bricks and mortar outlets, there was some hope that the last stretch into Christmas and the New Year would provide a much needed, last minute bump. Those hopes were dashed last night when Shopptertrack reported that retail traffic plummeted by an unprecedented 21% last week, and in-store sales decreased 3.1% from the year before, dashing retailers' hopes that the final stretch before Christmas would offset soft sales numbers earlier in the holiday shopping season.
The disappointing numbers, released by ShopperTrak on Monday, are "kind of staggering," said the research firm's founder, Bill Martin, who last week voiced optimism that retailers would see a noticeable spike in traffic and sales the week of Dec. 16-22 after two consecutive weeks of decreases in both.

He attributed the latest nosedive to successful November promotions, and bad weather last week in the Midwest and other central states. An increase in virtual window-shopping has prevented consumers throughout the shopping season from setting foot in many stores to look, feel and compare prices, he added.
Wait, November promotions were successful? For whom: retailers whose bottom lines got crushed in the margin collapse, or buyers who decided to wait and keep waiting for even better deals, until in the end they decided not to buy at all. Blaming the weather we understand, as do the trend to convert purchases to "window shopping" – in a world in which everything is turning virtual, it only makes sense that Americans pretend to shop asl well.
What's worse, however, is that the deus ex of online sales is not appearing and will not save the day:
But even online sales aren't growing at the expected pace. Online spending from home and work desktop computers in the U.S. from Nov. 1 through Dec. 15 was up 9 percent from the same period last year to $37.8 billion, according to the most available data from comScore.

That's below the 14 percent growth that the Internet research firm is forecasting for the season.

Even though Black Friday holds the title as single busiest shopping day of the holiday season, the week before Christmas is traditionally the busiest week in the most important shopping season of the year. Many retailers depend on November and December to make as much as 40 percent of their annual revenue, the National Retail Federation says. But while 2013 is shaping up to be the largest holiday shopping season on record, retailers are not getting the photo finish they expected.

"The numbers are not devastating, but they are a bit alarming," Martin said.

He is not revising his forecast of 2.4 percent overall growth in retail sales for November and December, already the slowest growth since 2009, because it was strong sales in early November that caused the softer late-season sales.
Finally, it appears that the strategy of pulling forward demand to the present through record discounts, and crushing margins in hopes of "making it up in volume" only works for those perpeptual non-cash flow generating juggernauts like Amazon, which on a long enough timeline will do everything (badly), and supposedly put everyone out of business. Just not yet.
Retailers began earlier than ever promoting deep discounts and deals to appeal to frugal consumers. Retail sales in November were up 4.7 percent from 2012, the Commerce Department reported.

"November was pretty strong, and that's going to carry some weight into December," Martin said. "If December ends up being flat, I expect we're still going to have a 2.4 percent increase."

There are some strong shopping days left before the end of the month, he said, and retailers will push hard to get shoppers back into their stores post-Christmas to exchange gifts, use gift cards and take advantage of post-holiday promotions. Gift cards are not recorded as sales until they are exchanged for merchandise, and because 80 percent of shoppers plan to buy them this year, bringing total gift card spending to an all-time high of $29.8 billion, they could have a big influence on sales after the Christmas holiday.

Final sales figures for the holiday shopping season are expected in January.
We can't wait. In the meantime, we expect seasonally adjusted government retail sales data to indicate once again, that all is well, and that it is not the ARIMA X 12 seasonal fudge-factor goalseeker that is wrong, but that it is reality which is at fault.
Source: Zero Hedge | Alt-Market