Memorial Day is when we commemorate our war dead. Like the Fourth of July, Memorial Day is being turned into a celebration of war.
Those who lose family members and dear friends to war don't want the deaths to have been in vain. Consequently, wars become glorious deeds performed by noble soldiers fighting for truth, justice, and the American way. Patriotic speeches tell us how much we owe to those who gave their lives so that America could remain free.
The speeches are well-intentioned, but the speeches create a false reality that supports ever more wars. None of America's wars had anything to do with keeping America free. To the contrary, the wars swept away our civil liberties, making us unfree.
President Lincoln issued an executive order for the arrest and imprisonment of northern newspaper reporters and editors. He shut down 300 northern newspapers and held 14,000 political prisoners. Lincoln arrested war critic US Representative Clement Vallandigham from Ohio and exiled him to the Confederacy. President Woodrow Wilson used WWI to suppress free speech, and President Franklin D. Roosevelt used WWII to intern 120,000 US citizens of Japanese descent on the grounds that race made them suspect. Professor Samuel Walker concluded that President George W. Bush used the "war on terror" for an across the board assault on US civil liberty, making the Bush regime the greatest danger American liberty has ever faced.
Lincoln forever destroyed states' rights, but the suspension of habeas corpus and free speech that went hand in hand with America's three largest wars was lifted at war's end. However, President George W. Bush's repeal of the Constitution has been expanded by President Obama and codified by Congress and executive orders into law. Far from defending our liberties, our soldiers who died in "the war on terror" died so that the president can indefinitely detain US citizens without due process of law and murder US citizens on suspicion alone without any accountability to law or the Constitution.
The conclusion is unavoidable that America's wars have not protected our liberty but, instead, destroyed liberty. As Alexander Solzhenitsyn said, "A state of war only serves as an excuse for domestic tyranny."
Southern secession did pose a threat to Washington's empire, but not to the American people.Neither the Germans of WWI vintage nor the Germans and Japanese of WWII vintage posed any threat to the US. As historians have made completely clear, Germany did not start WWI and did not go to war for the purpose of territorial expansion. Japan's ambitions were in Asia. Hitler did not want war with England and France. Hitler's territorial ambitions were mainly to restore German provinces stripped from Germany as WWI booty in violation of President Wilson's guarantees. Any other German ambitions were to the East. Neither country had any plans to invade the US. Japan attacked the US fleet at Pearl Harbor hoping to remove an obstacle to its activities in Asia, not as a precursor to an invasion of America.
Certainly the countries ravaged by Bush and Obama in the 21st century–Iraq, Afghanistan, Libya, Somalia, Syria, Pakistan, and Yemen posed no military threat to the US. Indeed, these were wars used by a tyrannical executive branch to establish the basis of the Stasi State that now exists in the US.
The truth is hard to bear, but the facts are clear. America's wars have been fought in order to advance Washington's power, the profits of bankers and armaments industries, and the fortunes of US companies. Marine General Smedley Butler said, " I served in all commissioned ranks from a second Lieutenant to a Major General. And during that time, I spent most of my time being a high-class muscle man for Big Business, for Wall Street, and for the bankers. In short, I was a racketeer for capitalism."
It is more or less impossible to commemorate the war dead without glorifying them, and it is impossible to glorify them without glorifying their wars.
For the entirety of the 21st century the US has been at war, not war against massed armies or threats to American freedom, but wars against civilians, against women, children, and village elders, and wars against our own liberty. Elites with a vested interest in these wars tell us that the wars will have to go on for another 20 to 30 years before we defeat "the terrorist threat."
This, of course, is nonsense. There was no terrorist threat until Washington began trying to create terrorists by military attacks, justified by lies, on Muslim populations.
Washington succeeded with its war lies to the point that Washington's audacity and hubris have outgrown Washington's judgment.
By overthrowing the democratically elected government in Ukraine, Washington has brought the United States into confrontation with Russia. This is a confrontation that could end badly, perhaps for Washington and perhaps for the entire world.
If Gaddafi and Assad would not roll over for Washington, why does Washington think Russia will? Russia is not Libya or Syria. Washington is the bully who having beat up the kindergarden kid, now thinks he can take on the college linebacker.
The Bush and Obama regimes have destroyed America's reputation with their incessant lies and violence against other peoples. The world sees Washington as the prime threat.
Worldwide polls consistently show that people around the world regard the US and Israel as the two countries that pose the greatest threat to peace. http://www.ibtimes.com/gallup-poll-biggest-threat-world-peace-america-1525008 and
http://www.jewishfederations.org/european-poll-israel-biggest-threat-to-world-peace.aspx
The countries that Washington's propaganda declares to be "rogue states" and the "axis of evil," such as Iran and North Korea, are far down the list when the peoples in the world are consulted. It could not be more clear that the world does not believe Washington's self-serving propaganda. The world sees the US and Israel as the rogue states.
The US and Israel are the only two countries in the world that are in the grip of ideologies. The US is in the grip of the Neoconservative ideology which has declared the US to be the "exceptional, indispensable country" chosen by history to exercise hegemony over all others. This ideology is buttressed by the Brzezinski and Wolfowitz doctrines that are the basis of US foreign policy.
The Israeli government is in the grip of the Zionist ideology that declares a "greater Israel" from the Nile to the Euphrates. Many Israelis themselves do not accept this ideology, but it is the ideology of the "settlers" and those who control the Israeli government.
Ideologies are important causes of war. Just as the Hitlerian ideology of German superiority is mirrored in the Neoconservative ideology of US superiority, the Communist ideology that the working class is superior to the capitalist class is mirrored in the Zionist ideology that Israelis are superior to Palestinians. Zionists have never heard of squatters' rights and claim that recent Jewish immigrants into Palestine–invaders really–have the right to land occupied by others for millenniums.
Washington's and Israel's doctrines of superiority over others do not sit very well with the "others." When Obama declared in a speech that Americans are the exceptional people, Russia's President Putin responded, "God created us all equal."
To the detriment of its population, the Israeli government has made endless enemies. Israel has effectively isolated itself in the world. Israel's continued existence depends entirely on the willingness and ability of Washington to protect Israel. This means that Israel's power is derivative of Washington's power.
Washington's power is a different story. As the only economy standing after WWII, the US dollar became the world money. This role for the dollar has given Washington financial hegemony over the world, the main source of Washington's power. As other countries rise, Washington's hegemony is imperiled.
To prevent other countries from rising, Washington invokes the Brzezinski and Wolfowitz doctrines. To be brief, the Brzezinski doctrine says that in order to remain the only superpower, Washington must control the Eurasian land mass. Brzezinski is willing for this to occur peacefully by suborning the Russian government into Washington's empire. "A loosely confederated Russia . . . a decentralized Russia would be less susceptible to imperial mobilization." In other words, break up Russia into associations of semi-autonomous states whose politicians can be suborned by Washington's money.
Brzezinski propounded "a geo-strategy for Eurasia." In Brzezinski's strategy, China and "a confederated Russia" are part of a "transcontinental security framework," managed by Washington in order to perpetuate the role of the US as the world's only superpower.
I once asked my colleague, Brzezinski, that if everyone was allied with us, who were we organized against? My question surprised him, because I think that Brzezinski remains caught up in Cold War strategy even after the demise of the Soviet Union. In Cold War thinking it was important to have the upper hand or else be at risk of being eliminated as a player. The importance of prevailing became all consuming, and this consuming drive survived the Soviet collapse. Prevailing over others is the only foreign policy that Washington knows.
The mindset that America must prevail set the stage for the Neoconservatives and their 21st century wars, which, with Washington's overthrow of the democratically elected government of Ukraine, has resulted in a crisis that has brought Washington into direct conflict with Russia.
I know the strategic institutes that serve Washington. I was the occupant of the William E.Simon Chair in Political Economy, Center for Strategic and International Studies, for a dozen years. The idea is prevalent that Washington must prevail over Russia in Ukraine or Washington will lose prestige and its superpower status.
The idea of prevailing always leads to war once one power thinks it has prevailed.
The path to war is reinforced by the Wolfowitz Doctrine. Paul Wolfowitz, the neoconservative intellectual who formulated US military and foreign policy doctrine, wrote among many similar passages:
"Our first objective is to prevent the re-emergence of a new rival, either on the territory of the former Soviet Union or elsewhere [China], that poses a threat on the order of that posed formerly by the Soviet Union. This is a dominant consideration underlying the new regional defense strategy and requires that we endeavor to prevent any hostile power from dominating a region whose resources would, under consolidated control, be sufficient to generate global power."
In the Wolfowitz Doctrine, any other strong country is defined as a threat and a power hostile to the US regardless of how willing that country is to get along with the US for mutual benefit.
The difference between Brzezinski and the Neoconservatives is that Brzezinski wants to suborn Russia and China by including them in the empire as important elements whose voices would be heard, If only for diplomatic reasons, whereas the Neoconservatives are prepared to rely on military force combined with internal subversion orchestrated with US financed NGOs and even terrorist organizations.
Neither the US nor Israel is embarrassed by their worldwide reputations as the two countries that pose the greatest threat. In fact, both countries are proud to be recognized as the greatest threats. The foreign policy of both countries is devoid of any diplomacy. US and Israeli foreign policy rests on violence alone. Washington tells countries to do as Washington says or be "bombed into the stone age." Israel declares all Palestinians, even women and children, to be "terrorists," and proceeds to shoot them down in the streets, claiming that Israel is merely protecting itself against terrorists. Israel, which does not recognize the existence of Palestine as a country, covers up its crimes with the claim that Palestinians do not accept the existence of Israel.
"We don't need no stinking diplomacy. We got power."
This is the attitude that guarantees war, and that is where the US is taking the world. The prime minister of Britain, the chancellor of Germany, and the president of France are Washington's enablers. They provide the cover for Washington. Instead of war crimes, Washington has "coalitions of the willing" and military invasions that bring "democracy and women's rights" to non-compliant countries.
China gets much the same treatment. A country with four times the US population but a smaller prison population, China is constantly criticized by Washington as an "authoritarian state." China is accused of human rights abuses while US police brutalize the US population.
The problem for humanity is that Russia and China are not Libya and Iraq. These two countries possess strategic nuclear weapons. Their land mass greatly exceeds that of the US. The US, which was unable to successfully occupy Baghdad or Afghanistan, has no prospect of prevailing against Russia and China in conventional warfare. Washington will push the nuclear button. What else can we expect from a government devoid of morality?
The world has never experienced rogue states comparable to Washington and Israel. Both governments are prepared to murder anyone and everyone. Look at the crisis that Washington has created in Ukraine and the dangers thereof. On May 23, 2014, Russia's President Putin spoke to the St. Petersburg International Economic Forum, a three-day gathering of delegations from 62 countries and CEOs from 146 of the largest Western corporations.
Putin did not speak of the billions of dollars in trade deals that were being formalized. Instead Putin spoke of the crisis that Washington had brought to Russia, and he criticized Europe for being Washington's vassals for supporting Washington's propaganda against Russia and Washington's interference in vital Russian interests.
Putin was diplomatic in his language, but the message that powerful economic interests from the US and Europe received is that it will lead to trouble if Washington and European governments continue to ignore Russia's concerns and continue to act as if they can interfere in Russia's vital interests as if Russia did not exist.
The heads of these large corporations will carry this message back to Washington and European capitals. Putin made it clear that the lack of dialogue with Russia could lead to the West making the mistake of putting Ukraine in NATO and establishing missile bases on Russia's border with Ukraine. Putin has learned that Russia cannot rely on good will from the West, and Putin made it clear, short of issuing a threat, that Western military bases in Ukraine are unacceptable.
Washington will continue to ignore Russia. However, European capitals will have to decide whether Washington is pushing them into conflict with Russia that is against European interests. Thus, Putin is testing European politicians to determine if there is sufficient intelligence and independence in Europe for a rapprochement.
If Washington in its overbearing arrogance and hubris forces Putin to write off the West, the Russian/Chinese strategic alliance, which is forming to counteract Washington's hostile policy of surrounding both countries with military bases, will harden into preparation for the inevitable war.
The survivors, if any, can thank the Neoconservatives, the Wolfowitz doctrine, and the Brzezinski strategy for the destruction of life on earth.
The American public contains a large number of misinformed people who think they know everything. These people have been programmed by US and Israeli propaganda to equate Islam with political ideology. They believe that Islam, a religion, is instead a militarist doctrine that calls for the overthrow of Western civilization, as if anything remains of Western civilization.
Many believe this propaganda even in the face of complete proof that the Sunnis and Shi'ites hate one another far more than they hate their Western oppressors and occupiers. The US has departed Iraq, but the carnage today is as high or higher than during the US invasion and occupation. The daily death tolls from the Sunni/Shi'ite conflict are extraordinary. A religion this disunited poses no threat to anyone except Islamists themselves. Washington successfully used Islamist disunity to overthrow Gaddafi, and is currently using Islamist disunity in an effort to overthrow the government of Syria. Islamists cannot even unite to defend themselves against Western aggression. There is no prospect of Islamists uniting in order to overthrow the West.
Even if Islam could do so, it would be pointless for Islam to overthrow the West. The West has overthrown itself. In the US the Constitution has been murdered by the Bush and Obama regimes. Nothing remains. As the US is the Constitution, what was once the United States no longer exists. A different entity has taken its place.
Europe died with the European Union, which requires the termination of sovereignty of all member countries. A few unaccountable bureaucrats in Brussels have become superior to the wills of the French, German, British, Italian, Dutch, Spanish, Greek, and Portuguese peoples.
Western civilization is a skeleton. It still stands, barely, but there is no life in it. The blood of liberty has departed. Western peoples look at their governments and see nothing but enemies. Why else has Washington militarized local police forces, equipping them as if they were occupying armies? Why else has Homeland Security, the Department of Agriculture, and even the Postal Service and Social Security Administration ordered billions of rounds of ammunition and even submachine guns? What is this taxpayer-paid-for arsenal for if not to suppress US citizens?
As the prominent trends forecaster Gerald Celente spells out in the current Trends Journal, "uprisings span four corners of the globe." Throughout Europe angry, desperate and outraged peoples march against EU financial policies that are driving the peoples into the ground. Despite all of Washington's efforts with its well funded fifth columns known as NGOs to destabilize Russia and China, both the Russian and Chinese governments have far more support from their people than do the US and Europe.
In the 20th century Russia and China learned what tyranny is, and they have rejected it.
In the US tyranny has entered under the guise of the "war on terror," a hoax used to scare the sheeple into abandoning their civil liberties, thus freeing Washington from accountability to law and permitting Washington to erect a militarist police state. Ever since WWII Washington has used its financial hegemony and the "Soviet threat," now converted into the "Russian threat," to absorb Europe into Washington's empire.
Putin is hoping that the interests of European countries will prevail over subservience to Washington. This is Putin's current bet. This is the reason Putin remains unprovoked by Washington's provocations in Ukraine.
If Europe fails Russia, Putin and China will prepare for the war that Washington's drive for hegemony makes inevitable.
Paul Craig Roberts was Assistant Secretary of the Treasury for Economic Policy and associate editor of the Wall Street Journal. He was columnist for Business Week, Scripps Howard News Service, and Creators Syndicate. He has had many university appointments. His internet columns have attracted a worldwide following. His latest books are, The Failure of Laissez Faire Capitalism and How America Was Lost. http://www.paulcraigroberts.org/
With the FCC policy to allow a two-speed internet, the die is cast that corporate favoritism is the focus of government, as Internet 2 accelerates to replace the network that has served the public so well for decades. Internet 2 turns 15, asks. Has it delivered on its promise?
"Internet 2 was created by 34 university research institutions in 1996, when the commercial and non-commercial branches of the Internet's evolutionary tree split off and went their separate ways. The mission of Internet 2 was to provide reliable, dedicated bandwidth to support the ever-growing demands of the research and educational communities, and in doing so, to develop technologies that would advance the state of the 'commodity' Internet."
As major ventures like the 16 Major Technology Companies Announce Cloud Service Partnerships to Benefit the Nation's Universities, collaborate to control and store the data stream certainly benefits the corporatist economy, but significantly reduces if not eliminates the independence of personal choices on the web. Make no mistake about it, the big tech giants are so deep in bed with government dominance freaks, that advancing opportunities for constructive commerce would be a mere byproduct to the new system.
Can two different internet platform steams coexist? Do not confuse the rise of the "Social Internet" with the higher speed gateway IN2 interconnect. Intra academic connect-ability is poised to include the next generation of corporate affiliations. With this association, the quaint notion of academic freedom will never pass the algorithm test.
The recent EU Court Decision in Google Search Info Removal Case Appalls Analysts article is a warning of restrictions to come.
"A court decision in the European Union that could force Google to remove offensive information in searches at the request of individuals is receiving harsh criticism from IT analysts who say that such a policy could ultimately diffuse the credibility of the Internet itself."
In an Internet 2 environment, the influence of government lawmakers, agencies and courts will be far more prevalent then the experience that seldom blocked "Politically Incorrect" results. Any surfer of the search engines knows that restricting, and even eliminating, content once freely accessed, has become routine. Today a Google search (both text and images) provides sites that restrict outcomes that were once available. Imagine the greater degree of limitations under a supervised bureaucratic culture that relegates critical conclusions of the governance society under Internet 2.
Whenever the corporatists see the prospects to carve out, more efficient monopolies, they seize the opportunity. The deist's that idolize the synergism partnership of the corporate-state, play into the hands of the non-compete economy.
Townhall the NeoCon publication maintains a political partisan position in the article, Neutrality Nuts Won't Be Happy Until Government Controls the Internet. Author Phil Kerpen criticizes the Free Press opposition to the FCC endorsement of a paid priority internet.
"Together we'll dance, drum and shout that the agency must throw out its destructive plan and reclassify broadband as a telecommunications service. This is the only way to restore real Net Neutrality."
"Restore" is an odd word choice, because the reclassification of broadband Internet as a Title II telecommunications service, also known, ironically, as POTS (Plain Old Telephone Service), would bring about total government economic control on the Internet that has never previously existed."
Now where do you suppose the corporatist will come down on greater regulation? Yep, you guessed it! When you write the legislation and dominate the lobbying of regulators, squeezing out the upstarts or free market entrepreneurs, is right up your alley.

Assigning utility status to the Internet, especially when the U.S. is on the path to turn over administration of the International Corporation for Assigned Names and Numbers (ICANN), to international control, is another step to total global Corporatocracy.The introduction of an Internet 2 connection will foster requirements for playing in the sandbox of the tech titans. Opine all you want, the need for speed comes at a great price, far more than just financial changes. A mobile world of ads and trivia breeds functional illiterates. Texting is not a skill, but a curse.
Burying an uncensored internet is the goal that corporate governance wants. Their draconian design for an OpenID Connect may usher in a new era of federated online identity, is part of the Internet 2 wish list.
"Here's the nut of this issue: governments need ways to authenticate the growing numbers of citizens going online to access digital services. Around the globe, hundreds of millions of people want digital services, increasingly provided through connected mobile devices. For instance, just think about renewing a driver's license or passport, reserving space in public parks, or accessing records.
After inducing the public into accepting the promises of anytime video steaming, the Internet 2 future will suck in the instant gratification set, while relegating the cost conscience consumer into a second-class existence. Once critical mass is established, and the package of greater government regulation is in place, the plug is ready for pulling free expressive content at will. When DAPRA funded the research that developed the crucial internet protocols, and CERN contributed to making information exchange more efficient, the world was not able to demand a digital identity for every inhabitant.So much of world commerce, now conducted on the internet, necessitates that the corporate elites want their government agents to safeguard their financial interests, often at the sacrifice of personal liberty. Hence, the overwhelming need for balance at every stage of transition in the Internet, so that individual rights are as protected for the public as for business.
Origin of the Master Model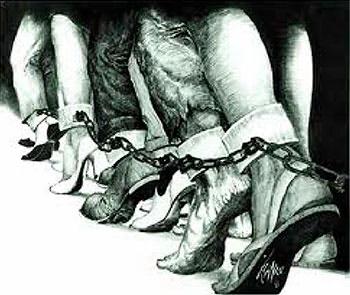 The master plan for world domination we see playing out today was first proposed to the US at the end of World War I. However, there were no takers. People were too war weary. However, when the plan was again proposed at the end of World War II, it was accepted. Consequently, World War II quietly transitioned into the secret "war" to set up what has become known as the "new world order" — an absolute dictatorship over the entire planet.
The United States set up the School of the Americas to train future dictators and terrorists who would be sent out into the world to destroy sovereign nations and place them under US domination by installing puppet governments obedient to the United States. Many conquests were made quietly using clever economic tricks [2]. However, leaders who refused to submit quietly would see their entire country reduced to rubble and the land rendered unlivable by uranium dust scattered by US bombs. The message was clear: Submit to the United States or face total destruction.
A social model based upon the assumption that cleverness and power automatically convey the right to take anything desired from those who are less adept and unable to resist is not a sustainable model for harmonious social interactions. However, this is the chosen model. The mantra for this model, "A man's true worth is measured by the amount of other peoples' happiness that he can possess and destroy" [1], is essentially a call for a class war between the greedy elite and the innocent masses of the world who simply desire a peaceful existence.
Acquisitions
The United States looks at the rest of the world as a "resource". If a country has something — oil, gold, minerals, etc. — that the US covets, it believes it has the right to take those things by whatever means necessary. In many cases the coveted resource is human slave labor. Let's look at some representative examples:
With the cooperation of the dictator, United Fruit Company (US) owned almost half of the country and used the locals as slaves to harvest its Chiquita brand bananas. However, during the period from 1945-1954 new leaders made changes. They helped the poor and set up social security and health care. Then they took land away from United Fruit and gave it to the local people. United fruit complained to the CIA that its business interests were being interfered with by the "communist" government. Any government which shows kindness to the poor and weak is called communist by the US. The US attacked Guatemala — killed the elected leaders and many thousands of citizens — and established a puppet dictatorship which would obey the will of United Fruit. The people were returned to a state of slavery. The CIA trained death squads to make sure the people were crushed into submission.
Strip Mining in Africa [4]
In Africa, the International Monetary Fund — a puppet of the US — destroys a country with strip mining. The original country was self sustaining. People were able to grow lots of food and hunt animals. However, once the land was ruined by US corporations, it was unusable to plant crops and the native animals died. The people had to buy food from other countries with money loaned to them by the IMF which they could never hope to repay. Therefore, a once free and self supporting people were made debt slaves of the IMF. Once all the natural resources have been stolen, the corporations will simply pack up and leave the indigenous people to starve and die.
Countries Used as Trash Dumps [5]
Used computers and associated items are dumped in poor countries where starving barefoot children sift through the mess of hazardous waste and broken obsolete glass computer monitors hoping to find something they can sell to get enough money to stay alive another day. Property stickers show the waste is mainly from the US government and various US state governments.
Corruption of Trusted Sources
Reporters and News Organizations
The masses are conditioned to believe news they receive from establishment sources. In the earlier times, this assumption was often correct. It was considered so important by the founding fathers that freedom of the press was enshrined in the US constitution. However, times have changed.
Walter Cronkite was known as the "trusted voice". No one knew he was also the official announcer at the secret Bohemian Grove meetings. The leaders of the world's news organizations also attend this event. That is why, even though the meetings began over one hundred years ago, until recently no one knew this group even existed. President George W. Bush may have set a new record for bribing journalists to allow their trusted name to be used as the author of material actually written by government propaganda experts. Apparently, everyone has a price and the government, of course, has no problem when it comes to money.
When Ronald Reagan reportedly ordered the death of investigative reporter Jessica Savitch [6], the message to independent journalists was clear: Go against the official party line an you're done!
Today, dedicated journalists face mysterious deaths and strange single car accidents but a few survive long enough to give us a glimpse of truths we would otherwise never know. They are true heroes.
Churches
Churches are everywhere. Unfortunately, legitimate Spiritual teachers are not. People look at churches either as harmless or with some sort of conditioned hypnotic respect. Churches send out "missionaries". However, the "mission" of these missionaries may not be so clear. If you wanted to infiltrate a foreign country, these people would be an ideal asset.
Churches are not Spiritual centers. At best, all they want is your money. At worst, they are Satanic and you are in severe Spiritual danger if you come under their influence and control.
The Catholic Church has been a trusted asset of the US intelligence community for quite some time. Significant information obtained by priests during confessions is routinely passed on to the government.
This agreement predates the internet by many years. Because the church has branches in almost every country, it has great potential for covert activities. For example, if you need to get an operative who is in danger out of a country, they can go to a Catholic church for "confession". Once the door is closed, they can exit through a secret passage, be disguised in robes and spirited safely out of the country. Church secrecy is at least on a par with US secrecy. Also, the Catholic church and the US shadow government share the same Satanic value system and engage in child rape and ritual killings.
Doctors and the Medical Industry
Medicine in the United States is an industry. It is no longer a profession. Its corporate model puts profit above all else. If some patients accidentally benefit they are the lucky ones.
The medical community has a rigid hierarchical structure and effective mechanisms for enforcing secrecy. Essentially, its model closely resembles the military chain of command structure. This makes it a perfect partner for the government in the area of secret human experiments.
For example, when the government was doing radiation experiments on humans, a doctor or someone dressed as a doctor would just walk up to unsuspecting patients and inject them with radioactive material. They were then secretly followed for years to see what would happen. Eventually, some of those who survived were told the truth. Most people used in the MK Ultra and subsequent secret projects were never notified.
Hospitals are set up to protect themselves. Staff may appear to be dedicated, smiling people who truly care about you. However, they are basically prostitutes who are being nice because you are worth money to them. When they make mistakes they have a "loss prevention" department staffed by clever lawyers who are trained to protect the financial interests of the hospital by denying everything and fabricating believable coverups. They are trained to do whatever is necessary. The staff will all agree to support whatever lies are needed. They know their job and their financial future depends upon maintaining strict secrecy.
The only people who receive legitimate medical care are the select elite cleared to accesstop secret medicine. These people always get excellent care because the doctors work for the shadow government and mistakes on their part are simply not tolerated.
Infiltrations
Countries which have the resources to sustain an intelligence community generally try to get operatives (spies) into other countries so they can directly observe activities. When real people gather intelligence, this is called human intelligence or HUMINT. The US, of course, does this too. However, you may not be aware of the extent to which the US also infiltrates itself. The central government really does not trust anyone.
Essentially all local police departments, state offices and state governors have a covert federal agent working close by pretending to be just another employee. Also, every US neighborhood has an informer who reports to the federal government. Large corporations, which tend to behave like "mini governments", need to be infiltrated and kept under observation. Colleges and universities are also monitored.
Here is how this spy network operates: The NSA likes to recruit young kids right out of college. When they are hired and sworn to secrecy they still do not know what their assignment will be. They must agree to do this assignment without first being told what it is.
Some agents, like John Perkins [2], are assigned to work in other countries. However, others are assigned to work inside the US. Their assignment could be to go to some state and apply to join the local police department. They would pretend to be just a regular person looking for a job. They would take the necessary training and spend their life as a local policeman so they could directly observe other local police from the inside and report to the NSA. Since they are actually an employee of the NSA, presumably they get to keep both salaries and, eventually, both retirements. All significant local police forces in the US are infiltrated this way.
Additionally, some agents will be assigned to get a job on the state governor's staff as well as in major local state agencies. A CIA or NSA agent is always on the staff at major colleges and universities. The same goes for major corporations.
Senior level agents are allowed to have special TV receivers in their homes linked to the secret government TV network. This way everyone stays on the same page. The channels on this network actually broadcast the truth. TV channels available to ordinary people contain only government approved propaganda mixed with "bread and circuses" presentations to make sure the sheeple stay asleep and content.
Fronts
The US government is involved in illegal activities internationally and domestically. If it performed these activities overtly in the name of the United States, there would be serious consequences under both international and local laws. To avoid this situation, the US government operates thousands of "front organizations" which appear to be private but are actually shadow operatives of the US.
For example, John Perkins [2] explained that he was recruited, hired and trained by the NSA. He was an NSA agent. However, for his cover as an economic hit man, he "officially" worked for a "private" company called Charles T. Main. This company was a government front to shield the US because the activities the NSA trained Perkins to do were illegal.
This is standard operating procedure for the US as well as other countries and many corporations. It shields them from legal recourse by providing deniability for the crimes they actually direct and commit.
Generally, when the US wants to influence other sovereign countries, it creates harmless looking NGO's which appear to be independent but are actually fronts for covert activities.
Domestically, colleges and universities — especially those with associated medical schools and hospitals — are great places to conceal a variety of covert projects such as the MK Ultra series of human experiments which, reportedly, continue today using new cover names. The US also likes to create non-profit corporations which exist only to provide classified services to the United States. A good example would be the Institutes for Defense Analysis (IDA). The US, reportedly, is its only client.
Programming
Mass media "programming" is actually programming you. It has developed into a subtle form of mind control. Before radio and television, special interests recognized that motion pictures could be used to alter public opinion in their favor. Perhaps, for example, you wanted to attack labor unions. When radio and later television came along providing access to national and international audiences, the temptation to exploit these technologies became irresistible. Originally, the US government recognized this and set up fairness rules to prevent monopolies from taking over the broadcast media and blocking opposing viewpoints. All this ended, unfortunately, when Ronald Regan canceled all the fairness regulations. Today, a handful of powerful corporations own and control essentially all content delivered by radio and television.
Television is the main vehicle for mass indoctrination. It is said that people watching TV actually fall into a light hypnotic trance. The "entertainment" you see on TV does not "just happen to be there". It is very carefully planned and timed to attract and influence targeted audiences. It is said that if some event were to somehow shut down all television broadcasts the government would experience a severe crisis because it would lose control over the minds of the masses.
TV creates sort of a "hive mind" among the masses and keeps everyone coordinated and tuned into the official party line. Without this, people would have no choice but to start thinking for themselves and forming independent opinions. Clearly, this would be a disaster.
The radio broadcast of "War of the Worlds" and the later movie "The Day the Earth Stood Still" are said to be CIA psychological experiments to judge how the general public would react to some type of ET contact.
Today, broadcasting is not just a one way event. Because people react to events and use social media to express these reactions, the effect of specific propaganda can be analyzed in real time. Since the government now intercepts all electronic communications, it is able to see general opinions and then tweak algorithms to maximize the desired effect of propaganda. This ability makes TV a two-way communications system although most people, of course, do not realize this and have no concept of the level of sophistication these technologies have reached.
Information Theory
Information Theory is the name of a relatively new branch of science which became popular in the 1960′s. It covers a broad range of technologies. Basically, it is the science of the flow of information and how that flow can be selectively controlled so that information flows only in desired pathways. As you may have already guessed, governments love this sort of stuff.
ECM
ECM stands for Electronic Counter Measures. In general, these are techniques to disable other electronic devices. Basically, it is electronic warfare. When the secret service is active in an area, for example, they will selectively jam all radio frequencies except for the specific frequencies they are using so that no one else can communicate.
World leaders, who are generally terrified of "threats" materializing from practically anywhere, like to travel with ECM generators running just in case "someone" from "somewhere" was trying to target them for "some reason". Basically, they are paranoid whack jobs.
People familiar with aviation tell the story of how Tony Blair, while traveling to or near a commercial airport, reportedly caused a commercial jet to crash because all the ECM garbage he was transmitting jammed the plane's navigation system. Of course, the British government would never admit this.
Secure Communication With Submarines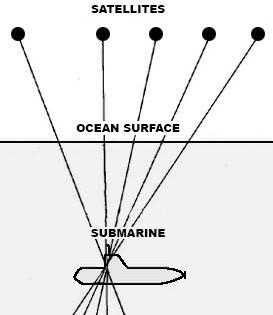 Since submarines were invented, communicating with them has been a problem because conventional radio waves will not travel underwater. Therefore, early submarines had to get close enough to the surface to put up some kind of antenna in the air to send or receive radio messages. Obviously, this could pose a problem if you did not wish to be discovered and located. After all, the motivation to create submarines in the first place was the feeling that they would be able to move about the planet secretly. However, newer technologies now make this impossible.
To solve the problem of reliable secure communication without the need to surface, scientists learned that sea water was essentially transparent to a special type of Argon laser. To set up the current communications network, it was decided to use several satellites with each satellite sending only part of an encrypted communication signal. The complete signal could only be received at a specific point underwater where all the laser beams intersected. Intercepting only one or two beams would prove useless. This communications system is considered to be impossible to intercept.
Quantum Entanglement
Returning to the submarine issue for a moment, before modern communications were perfected, there was a search for some reliable method to send a signal to a submerged submarine that could not be detected. This was considered necessary in a war situation to secretly transmit an attack command. What they originally did was to locate a couple of people who could communicate telepathically. One would be at the command base and the other on the submarine. Doing a bit more research, it was determined that this type of communication is instantaneous and somehow operated outside of time. Radio waves travel at the speed of light.
Quantum entanglement is a process which uses technology to send and receive signals outside of space-time. Now, why would you possibly want to do this? Well, if you had a base or a colony on a planet in some other solar system light years away, you would not want to wait years for messages to be received. Following this thread — and adding some basic common sense — why would you want to dedicate resources to search for habitable planets in distant solar systems when you had already "proven" it would be impossible to ever get there? Could it just be that someone is not coming clean with whole story?
The Separation Barrier
This is a model of the separation barrier which insulates the ruling class from the slave class. It is essentially "intellectual apartheid". The question is, why is it there. It takes considerable effort, money and manpower to maintain this artificial barrier. What is the reasoning behind not having a level playing field for everyone? Why does this idea absolutely terrify the elite? What are they afraid of?
The Pirate Story
This is a summary of a story told years ago on a radio broadcast most likely by Paul Harvey:
Ordinary people were afraid. The Earth was flat so they dare not venture far from home. Periodically, a pirate ship would come. They did not know how it got there or from where it came. It brought treasures they had never seen. The Chief Pirate would encourage the young men to study and specialize in specific skills. He wanted them to become educated but only in one narrow area. The Chief Pirate knew the world was not flat and how to navigate to other lands. However, this knowledge was never discussed. This "top secret" knowledge or the "big picture of the known world" would only be given to the Chief Pirate's son who would inherit his title and someday become the Chief Pirate.
This story is about the origin of the concept we call compartmentalization — the process of controlling the slave masses by only allowing them to know specific bits of the truth while the leaders are allowed to know total truth.
ELITE RULING CLASS
SECURITY CLEARANCES
SECRET POLICE
ASSASSINS
SURVEILLANCE — SIGINT HUMINT COMINT
SPY SATELLITES
SPY DRONES
SMART ELECTRIC METERS
INTERNET SURVEILLANCE
NEIGHBORHOOD SPIES
PLENTIFUL STREET DRUGS
PSYCHIATRIC FORCED DRUGGING
GENETICALLY MODIFIED FOOD
FLUORIDATED WATER
COORDINATED TELEVISION PROPAGANDA
DEGRADED PUBLIC EDUCATION
LOCAL MILITARIZED POLICE
---
SLAVE CLASS
Leaders can only maintain their status if there are slaves. Otherwise, everyone would be equal and operate on a level playing field. This means "leaders" would have to pull their own weight like everyone else. Clearly, this would be intolerable. Leaders love beautiful and exotic things but don't want to do the work needed to create these things. They probably could not even plant a garden much less build the various "ivory towers" where they like to live surrounded by servants. If left on their own they would very likely starve. This is why it is so important to create and maintain the complex separation barrier.
Why don't people who live above the separation barrier ever "come down" and talk to the people below the barrier? Well, other than the obvious fact that they would likely be killed or jailed for espionage or treason, there is another, simpler, reason.
Would you like to spend your days sitting in an open field with kindergarten kids looking for four leaf clovers? Probably not. You have progressed beyond that. The slaves below the separation barrier cannot even imagine the world of those who live above the barrier. In fact, the elite do not even consider the slaves human. They call them "disposable biological units". The United Nations prefers the slang term "the herd". Slaves can be easily bred in quantities needed and programmed to do desired tasks. Then, they can be easily disposed of when no longer useful. That's how they look at you. So, why would they want to make friends with you?
The Mars Example
There is an interesting event playing out today that you may have noticed. This concerns the recruitment and selection of people to be sent to Mars. There are simulation projects where volunteers are locked away to imitate the long voyage to Mars. They are being told that this is a one way trip and they can never hope to return to Earth.
What you are witnessing is the selection process for the "seed people" who will be used to breed the future slave class on Mars. In a situation similar to the period when most believed the Earth was flat and you would fall off if you tried to go to sea, these people are convinced that the only way to get to mars is to ride a rocket on a perilous journey taking years. Because they truly believe this, when they get to Mars, they will teach this crap to their kids along with other misconceptions like it is impossible to go faster than the speed of light and other associated obsolete scientific principles. They will have no
desire to ever return to Earth or go anywhere else because they truly believe it is not possible. They will be contented slaves.
Of course the truth is that there are already secret colonies on Mars. It is not that hard to get there using antigravity and other secret propulsion methods and it is quite likely possible to simply walk through some kind of wormhole device and come out on Mars.
However, the slaves will never know this. Just as it is done on Earth, there will be an artificial separation barrier. The insiders will know the truth and will be physically hidden from the slaves. There will be secret police and other methods — the same as are used on Earth — to make sure no slave ever escapes from the "information prison". Business as usual will continue.
Reinforcement of Ignorance
Governments and their oligarchs love to keep their subjects in a cloud of ignorance. Back in the days when people believed the Earth was flat, the inner circle ruling class knew it was round. Maintaining the deception was convenient because it kept the slaves from developing any desire to travel far from home.
Nothing has changed all that much today. Consider, for example, all the fuss over the missing MH370 plane. You are being played for a sucker. It is impossible for that plane to have "disappeared".
The US DoD spy satellite system reportedly consists of ten constellations of satellites. Each constellation has over seven thousand satellites. They see and record everything that happens on this planet. The floor of the oceans can be seen just as clearly as the land areas. The resolution of the system is better than one square millimeter. Also, everything is recorded so you can go back in time and play past images.

This is a picture of a common electric lamp. Take this lamp and throw it in the ocean — any ocean anywhere on this planet. The spy satellite system will locate it, give you the coordinates and give you a photo at least as good as the one above. That is the capability of the system. So, clearly, it is impossible not to know the location of something as large as a Boeing 777 plane. All the TV publicity is a choreographed play. You are being scammed and you need to wake up and realize this fact.
Murders and Assassinations
To ensure a strong empire, dissent must be crushed. The United States trains assassins and carries out both domestic and foreign murders and assassinations on a regular basis. You may be familiar with the classic movie scenes where a black limousine with tinted windows drives by a target with thugs shooting machine guns. Although this would accomplish the task, it is a bit too obvious in a country that advertises itself to be a free, civilized democracy. Someone might catch on and begin to doubt the party line. Consequently, these things must be done quietly.
Inside the US, murders are reportedly carried out by a group known as "FBI Division Five". Other agencies likely have the responsibility for foreign assassinations. However, the basic techniques used would be similar.
Typically, an agent would wake up every day and connect to the top secret internet to see who he was assigned to kill that day. There would be several options. If it was important to eliminate the target immediately, a fast acting chemical agent would be selected which, for example, would cause the target to die within a few hours of a "natural" heart attack.
However, if time was not critical and the government just wanted the target out of the way, you might want to select one of the cancer causing agents such as those likely used to eliminate Hugo Chavez and Senator Ted Kennedy.
There is also a third possibility. This involves character assassination instead of actual murder. Consider, for example, a person who has gained a lot of public recognition talking about, say, free energy. If you simply kill the person, there could be blowback and talk that he was silenced by the government. In such cases, it is easier to use a chemical agent designed not to kill but, rather, to cause states of mental confusion resulting in obviously strange behavior. This would be coordinated with the government controlled mainstream press to make sure everyone became convinced the person was a nut and would therefore ignore anything said without regard to the truth or validity of the message.
Once the appropriate chemical has been selected, you need to load it into the secret delivery system and locate your target. To find your target you will connect to the top secret internet and pinpoint the location of the target through their cell phone. You can also activate all the cameras and microphones in electronic gadgets connected to the internet associated with the target in case you wish to look around the target's home and hear in real time what is taking place.
Of course, this will not help you locate the target when it is time to actually do the hit. So, you need to get the top secret profile data which will show any predictable habits of the target. Everyone is constantly tracked through their cell phones and profiles are logged and stored. In this case, the profile shows that the target has a favorite restaurant and goes there for lunch every day around 11:30. Now, you know exactly what to do. You go to the restaurant, hang out until you see your target, and get in line behind the target. Now, all you need to do is slightly bump into the target to deliver the chemical. Generally, the targets never even notice.
This mission is now complete. If it is early enough, you can check back in to the top secret system to see who you are supposed to kill next. Just another day. Just a routine job.
Money
Money is an imaginary force. It is used to motivate and control slaves. Real forces effect all life forms. However, only people respond to money. The only reason they do is because they have been artificially programmed to do so.
Money can be created in unlimited quantities by those adept in the use of this force. The physical world is finite, however the world of imagination is not. There is no limit to the quantity of money that can be imagined into existence. Money can also be imagined out of existence.
Let's assume that one day the entire financial system simply disappeared. If you lived in a rural area and had a nice veggie garden, some friendly chickens, collection facilities for rain water and a few photocells for electricity, you would not notice this. The veggies would continue to grow. Rain would periodically fall. The chickens would lay eggs as usual. The sun would continue to shine. However, if you lived in a city environment, you would be devastated.
Before money, people lived in small hunter-gatherer groups. The concept of ownership did not exist. People worked and survived as a group. Men and women were equal. Everyone contributed to the community. Resources were shared equally. The concept of "mine" and "yours" did not exist. Women generally became pregnant only once about every three years although there was no birth control. Later, when the concept of money entered the consciousness, women were seen as having less value because men were paid for work but women were not paid to raise and care for kids. Society has changed, however, the downgraded status of women has not.
Money systems have always been manipulated by clever people. When gold was used as money, people learned they could dilute pure gold with silver or maybe even lead to come up with something that looked like pure gold and had the correct weight but was a fraud. A king suspected he was being scammed but had no way to prove it. He called on the great minds of the time for help. This led to what is known as the Archimedes' principle which is better known today as "specific gravity". This principle made it possible to compare a sample known to be pure gold to a questionable sample and prove the unknown sample was not pure gold. Likely, some clever crook lost his head once this test became known.
There is a general belief that gold is the ultimate reference for all money. However, secrets concerning the exact quantity of gold make this a perilous assumption. Reportedly, the United States stole a tremendous quantity of physical gold from Japan towards the end of World War II. This gold exists off the books. To make matters worse, Japan was not all that concerned. Japan had been using gold bars as ballast on its ships because they were compact and heavy. They thought nothing of throwing the bars overboard as necessary. Japan used platinum as a money reference and the US never got that. This should make one rethink all the hype about the value of gold. It may be a lot more plentiful than we have been led to believe. Also, the secret off the books stashes of gold would allow its relative value to be manipulated at will just like other commodity markets.
The Financial Axis of Evil [3]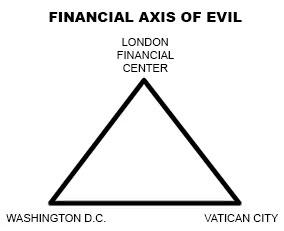 This is the model of the financial axis of evil which rules this planet. It consists of three main branches as shown above. Collectively, they are known as "The Empire of the City". Briefly, here is how this system operates:
The London financial district is in London, Washington D.C. is in the United States and the Vatican is in Italy. However, these three places are not part of the countries where they exist. They are independent "city states" and have their own laws and constitution. They are, effectively, "mini countries" inside of other countries and fly their own flags. The city state of London is a private corporation and pays no taxes to actual London or to Britain. The city state of London is the master power center and is controlled by the Rothschild family which considers itself to be the legal owner of this planet. The Vatican is the largest private land owner in the world and the first true multinational corporation with installations (churches) and secret agents (The Knights of Malta) everywhere. They control through the power of fear of the unknown and practice black magic. Washington D.C. relies upon brute military force. All three closely cooperate combining their specialties of financial trickery, witchcraft and military might. Of course, all three worship Satan as their Master.
Slavery
Slavery is alive and well throughout the world. The US constitution prohibits slavery, however, most americans live in slave-like conditions.
It is said that it will take the average college student until age fifty to pay back their student loan.
The constitutional amendment prohibiting slavery addressed the concept of physically owning another person. However, it did not address the issue of holding another person in bondage as a debt slave. It also did not consider the concept of private for profit prisons who force inmates to work as slaves. These systems exist today and are perfectly legal.
Actually, a recent report from prestigious Princeton University has reclassified the US government as an oligarchy — a country run by and for the rich elite. Former US President Carter has stated that the United States "no longer has a functioning democracy". So much for the Founding Father's dream. Speaking of dreams, check out the free you tube video titled "The American Dream".
Other forms of slavery are illegal but still flourish. Sex slaves are always in demand. Traffickers are sometimes caught but you need to realize that your leaders use sex slaves and also routinely abuse young girls and boys. Sometimes they are also killed during occult rituals. No one ever talks about this and these people are never punished. This has been the normal way of life for Satan worshipers for many years and nothing has changed or is likely to ever change in the future. Stanley Kubrick's last movie, Eyes Wide Shut, covers this subject. Some believe this intense dramatization of how the elite really live may have cost him his life.
People still have some rights left in the United States but other countries are a different story. Qatar is doing construction for the World Cup. The event is not scheduled until the year 2022, however they have already killed 1200 slaves [7] by working them to death. People are lured from poor countries with the promise of jobs and money. When they arrive, their passports are confiscated and they are forced to work until they literally drop dead. If the World Cup is actually held in Qatar in 2022, there will be glamorous TV coverage and no one will remember or care about all the dead slaves. The show must go on.
Qatar, incidentally, sponsors Al Jazeera TV network.
Adaptation Techniques
The status quo of today will never change because the people who created it will never die. Because of top secret medicine, when men like Henry Kissinger, who heads the Bilderberg Group's steering committee, get too feeble to function, they will simply go to one of the secret locations and use the temporal reversal device to regress back to about twenty years old. Their memories will be unaffected. Then they will get new identities and continue on. This process can be repeated indefinitely.
Because you can never change the status quo, your best hope for a lifetime of reasonable quality is to find clever ways to live in this world with as much independence as possible.
One method of adaptation is autonomous and semi-autonomous communities. If the community is registered as a religious institution it is automatically shielded from most government interference by the US constitution. It pays no taxes and can pretty much write its own rules by simply calling whatever it wants to do "religious doctrine". Many small semi-autonomous groups exist where people who share a common set of values find ways to quietly live out their lives pretty much on their own terms. The government does not seem interested in bothering these smaller groups as long as they live peacefully and are not doing anything that the government perceives to be a threat.
The Amish people are a good example of an autonomous group. You would probably not want to live as they do, however, before you completely dismiss them, you may want to look at some definite advantages in their chosen lifestyle.
Remember, these are the people who reject technology. They just might have made the correct choice. Technology, at first, seemed like a good idea. However, now that people are addicted to technology they are also enslaved by technology. Everything they do is monitored and recorded by the government. Privacy no longer exists. It did not have to be this way.
Technology, in itself, is not evil. However, it can be quite evil if you live under a government run by sociopathic control freaks which, unfortunately, you do. In the Amish world, electronic surveillance does not exist because electronic devices do not exist. The constant propaganda from TV has no effect on people who do not have TV. A horse does not report its position to a GPS satellite and is not controlled by a computer.
Also, the people are generally healthy and do not suffer from many diseases common to the mainstream population. They are not being poisoned by fluorinated water or additives found in processed food because they don't use these things. Also, they get lots of physical exercise.
Without totally withdrawing from the world, there are some positive steps you can take. By now you know never to drink fluorinated water or use any personal product containing fluoride such as many brands of toothpaste. To minimize harmful food additives, look for Kosher food which is marked with either the encircled "K" or "U" (Ultra Kosher). These foods have less or no harmful additives. The Jewish community is very protective of its people and the Mossad is widely considered to be the best intelligence service in the world. Therefore, they would have the inside scoop on everything including food and do not want to see their people harmed.
Whatever you decide to do, you definitely do not want to be part of so called mainstream society. These people are doomed. They are sheep (sheeple) slowly walking to the slaughter house. Don't go there!
---
references and credits
[1] DVD "The American Ruling Class". ASIN: B001HM2CE2.
[2] John Perkins. Book: Confessions of an Econemic Hit Man; DVD (free on you tube): "Apology of an Economic Hit Man"; RT interviews.
[3] See the free you tube videos titled "The Red Shield".
[4] DVD: "The Wages of Debt", RT Intl. Also available for purchase.
[5] DVD "Terra Blight", RT Intl. Also available for purchase.
[6] Interview with John Judge of Veterans Against Military Psychiatry.
[7] Also search using the phrase "qatar slaves world cup".
© 2014 W C Vetsch. All rights reserved.
Source: Walter C. Vetsch  |  3108.info | War Is Crime
"The grimmest dictatorship is the dictatorship of the prevailing orthodoxy" – George Galloway
In a relativism culture of social permissiveness, the non-judgmental attitude, held out as the suitable standard for conduct, has become the politically correct behavior. One might think that anything goes under this mindset. However, the exact opposite practice and enforcement, under the most rigid conditions, is championed as necessary for enlighten and tolerant liberalists. The proliferation of demands that hate speech is the new capital crime, actually is counter iterative in building a civil society. This orthodoxy of the fanatical, proudly presents this illuminated and required deportment, as obligatory for all citizens.
So what exactly is hate for the neo-Jacobins? Obviously, whatever the "Society of the Friends of the LIVING Constitution" deems it to be, because under the color of law, the self-proclaimed pure of heart, are justified to off the heads of anyone who dares speak out in inappropriate terms. Remember "thinking progress" for the greater good, must be imposed on anyone who dare defies the wisdom of the gatekeepers for the collective.
Racism has to go, unless practiced by Negros against whites, or is the mere mention of such a term a slight to African-Americans? Once upon a time cries of anti-Semitism would be heard if Donald Sterling was made a pariah after the NAACP did an about face after awarding him for promoting civil rights. Not in today's world, such a distasteful zealot no longer has the protection of his tribe from the scrutiny of the thought police. The almost total condemnation of his recently private remarks has the entire sports world clambering for his forced sale of the LA Clippers.
Such broad-minded fans in a league that made homies multimillionaires and took them out of the hood, must not be dis. No wonder the attraction of not just the NBA, but sports in general, have serious minded buffs of the Wide World of Sports looking for, "The Thrill of Victory…" in other arenas. Why not demonstrate that sporting enthusiasm and jock celebrity worship, by starting a grassroots campaign to install America's favorite redneck, Phil Robertson and his Duck Dynasty clan, as the new ownership of the team.Surely, good standing Democrats should have no problem supporting a bunch of good old boys from the South. Frances Rice writes in the National Black Republicans Association site that, KKK Terrorist Arm of the Democratic Party. "This ugly fact about the Democrat Party is detailed in the book, A Short History of Reconstruction, (Harper & Row Publishers, Inc., 1990) by Dr. Eric Foner, the renowned liberal historian who is the DeWitt Clinton Professor of History at Columbia University. Dr. Foner in his book explores the history of the origins of Ku Klux Klan and provides a chilling account of the atrocities committed by Democrats against Republicans, black and white."
Carole Emberton, an associate professor of history at the University at Buffalo adds:
"The party lines of the 1860s/1870s are not the party lines of today. Although the names stayed the same, the platforms of the two parties reversed each other in the mid-20th century, due in large part to white 'Dixiecrats' flight out of the Democratic Party and into the Republican Party after the passage of the Civil Rights Act of 1964. By then, the Democratic Party had become the party of 'reform,' supporting a variety of 'liberal' causes, including civil rights, women's rights, etc. whereas this had been the banner of the Republican Party in the nineteenth century."

Fast forward to today's conductor Eric Holder, of selective bigoted racism, when describing "his people", who "seem to get a pass on hate crime charges when they select whites for their blood sport", one needs to question who the real haters are. David Risselada provides a valid assessment in the essay, Hate Crimes Legislation . . . Racial Identity Politics and the Institutional Racism of the Left.
"The institutional racism that is built in our society is the responsibility of the left. Throughout history it has been the democrats who have supported segregation and slavery while continuously voting against civil rights legislation. Today, they attempt to hide their history through racial identity politics, and the creation of a system where inequality is the new equality. By creating laws based on racial preferences, the left is telling minorities that they believe they are not as capable as white men and therefore need their programs in order to stand a chance in the racist United States of America. This does little but reinforce hatred while attempting to justify black on white violence."
Once upon a time and in a place long ago, the Democratic Party defended the rights of the individual to associate with individuals of their choosing and speak their minds openly and without concern of censor. Since the conversion to ecumenical orthodoxy, the authoritarians that gave you the New Deal and the Great Society have a long record of creating their own hatred of Free Speech. The example of the New York Times vicious attack on Cliven Bundy illustrates another trumped-up incident ripe to exploit.The New American, author William F. Jasper makes the point:
"Much of what Mr. Bundy is saying closely parallels what even many black leaders, authors and intellectuals — such as Prof. Walter Williams, Rev. C.L. Bryant, Rev. Jesse Lee Peterson, Bill Cosby, Alveda King, Star Parker, and Alan Keyes — have been saying. But Cliven Bundy's "sin" is that he is an elderly white man who is unschooled in traversing the minefield of political correctness — and he was careless in failing to make important distinctions and clarifications. He "sinned" by being born when he was born, and failing to keep up with the constantly changing terminology for ethnic designations. He still uses the terms "Negro," "colored people," and "Mexican," instead of "black/ African American" or "Hispanic/Latino" — but then, race activists still argue amongst themselves concerning the "proper" ethnic label to apply to their lineage and group identity."
When Senator Ed Markey, D-Mass., introduces legislation called the "Hate Crime Reporting Act of 2014," it is another partisan concerted attempt to silence voices and views entirely protected under the First Amendment, by monitoring radio, television and Internet speech. Can one say arbitrary and capricious, or will Big Brother now prey on any convenient and moving target to label anyone as a hate monger, that does not conform to the "PC" orthodoxy?
The excellent video from Ben Swann identifies in New "Hate Crime" Bill Will Attempt To Control Speech On Internet, Radio and TV, that the real objective is to censor the internet.
Well, this development should concern any student of inquiry, but the real world often fosters political threats that seem to be so implausible, if they were not true. The case of the arrest of Paul Weston should alarm everyone. In the Michael Coren interview or Mr. Weston, the vanguard of British lunacy once again blazes new trails in the annals of hate speech. If quoting Winston Churchill is now a crime, what does that make Winnie?The British Bulldog is his own words:
"How dreadful are the curses which Mohammedanism lays on its votaries! Besides the fanatical frenzy, which is as dangerous in a man as hydrophobia in a dog, there is this fearful fatalistic apathy. The effects are apparent in many countries. Improvident habits, slovenly systems of agriculture, sluggish methods of commerce, and insecurity of property exist wherever the followers of the Prophet rule or live. A degraded sensualism deprives this life of its grace and refinement; the next of its dignity and sanctity. The fact that in Mohammedan law every woman must belong to some man as his absolute property — either as a child, a wife, or a concubine — must delay the final extinction of slavery until the faith of Islam has ceased to be a great power among men. Thousands become the brave and loyal soldiers of the faith: all know how to die but the influence of the religion paralyses the social development of those who follow it. No stronger retrograde force exists in the world. Far from being moribund, Mohammedanism is a militant and proselytizing faith. It has already spread throughout Central Africa, raising fearless warriors at every step; and were it not that Christianity is sheltered in the strong arms of science, the science against which it had vainly struggled, the civilisation of modern Europe might fall, as fell the civilisation of ancient Rome."
Move over denial ridden Americans; the English have a talent in leading the civilized world in false guilt. For the rest of humankind, they are perceptive enough to admit that the normal human condition acknowledges Discrimination as a Virtue.
"Discrimination has been characterized as racism. Quite to the contrary, discrimination is an ally in the struggle to end bigotry and injustice. When Liberty is suppressed in a quest for equality; hatred and revulsion breeds, for different groups, cultures and ideologies. All attempts to force equal treatment are futile, even when severe penalties are imposed."
Condemning a person, solely by his beliefs, bias and predisposition – that fanatical frenzy will surely bring about the fall of our cherished tradition of Free Speech. For those who fear Sharia Law, you had better be more concerned about the progressive despots, who are the model for imposed intolerance through a government, which hates everyone that refuses their Groupthink.
Quite a stir occurred with the academic presentation, How Technology Is Destroying Jobs, by Brynjolfsson, a professor at the MIT Sloan School of Management, and his collaborator and coauthor Andrew McAfee. Both "have been arguing for the last year and a half that impressive advances in computer technology—from improved industrial robotics to automated translation services—are largely behind the sluggish employment growth of the last 10 to 15 years. Even more ominous for workers, the MIT academics foresee dismal prospects for many types of jobs as these powerful new technologies are increasingly adopted not only in manufacturing, clerical, and retail work but in professions such as law, financial services, education, and medicine."
"Perhaps the most damning piece of evidence, according to Brynjolfsson, is a chart that only an economist could love. In economics, productivity—the amount of economic value created for a given unit of input, such as an hour of labor—is a crucial indicator of growth and wealth creation. It is a measure of progress. On the chart Brynjolfsson likes to show, separate lines represent productivity and total employment in the United States. For years after World War II, the two lines closely tracked each other, with increases in jobs corresponding to increases in productivity. The pattern is clear: as businesses generated more value from their workers, the country as a whole became richer, which fueled more economic activity and created even more jobs. Then, beginning in 2000, the lines diverge; productivity continues to rise robustly, but employment suddenly wilts. By 2011, a significant gap appears between the two lines, showing economic growth with no parallel increase in job creation. Brynjolfsson and McAfee call it the "great decoupling." And Brynjolfsson says he is confident that technology is behind both the healthy growth in productivity and the weak growth in jobs."
Building upon this study, MSM provides a three part series on, Loss of middle-class jobs compounded by tech advances. The following admission by the technological behemoth should give pause for future generations.
"Most of the jobs will never return, and millions more are likely to vanish as well, say experts who study the labor market. What's more, these jobs aren't just being lost to China and other developing countries, and they aren't just factory work. Increasingly, jobs are disappearing in the service sector, home to two-thirds of all workers.

The global economy is being reshaped by machines that generate and analyze vast amounts of data; by devices such as smartphones and tablet computers that let people work just about anywhere, even when they're on the move; by smarter, nimbler robots; and by services that let businesses rent computing power when they need it, instead of installing expensive equipment and hiring IT staffs to run it."
This reality is all around us, but the full impact yet appreciated, is that the cloud of computing is not increasing business employment for the main street economy. For more bad news look at the results from the Associated Press analysis of employment data from 20 countries in, Can smart machines take your job? Middle class jobs increasingly being replaced by technology, which found that "almost all the jobs disappearing are in industries that pay middle-class wages, ranging from $38,000 to $68,000. Jobs that form the backbone of the middle class in developed countries in Europe, North America and Asia."
"In the United States, half of the 7.5 million jobs lost during the Great Recession paid middle-class wages, and the numbers are even more grim in the 17 European countries that use the euro as their currency. A total of 7.6 million midpay jobs disappeared in those countries from January 2008 through last June."
The article then goes on to cite that more information now crosses the Internet every second than the entire Internet stored 20 years ago. Other examples note that:
The British-Australian mining giant Rio Tinto announced plans last year to invest $518 million in the world's first long-haul, heavy-duty driverless train system at its Pilbara iron ore mines in Western Australia.
Dirk Vander Kooij's furniture-making company in the Netherlands needs only a skeleton crew — four people. The hard work at the Eindhoven-based company is carried out by an old industrial robot that Vander Kooij fashioned into a 3D printer.
Soon to come are pilotless airliners joining the several Japanese rail lines already run by themselves. Add the smart utility meter deployment and soon the employee reader, banished to a wax museum, becomes just another sign of "so called" progress.
Missing in all this corporate excitement for slashing payroll is the indisputable fact that the general standard of living is dropping like a rock for the average family. Couple this deadly trend with the unnerving prospects forecasted by Bob Lord in, Our First Trillionaire: Only a Matter of Time.
"The unavoidable result: Wealth at the top is growing at a faster rate than aggregate wealth. That's where the arithmetic comes in to play. If the wealth of one group within a nation grows at a faster rate than the nation's aggregate wealth, that group's share of the aggregate wealth must increase over time. That's a mathematical certainty. And the level of subsequent wealth concentration has no limit."
Technological development coupled with favorable political treatment is regularly the formula for massive accumulation of fortune. However, the horrendous social distortions that inexorably follows such distortions in income, much less the fact that the disappearance in living wage employment of the masses cannot be ignored without fundamental political upheaval.
Once innovated technology of a Henry Ford raised the living standards and was a benefit for society. Today's objective is to remove or eliminate the middle class as the gap in meaningful employment widens. Added leisure time has no significance if spent on playing games on an IPAD, while living off welfare government programs.
Brynjolfsson and McAfee's breakdown is a chilling look at a bleak future and the goodbye kiss to a populist beneficial economy.
"According to the evidence that I've seen …Odessa was a giant false flag operation. It… was one of those staged massacres that the pro-Western forces from Bosnia to Kosovo, now Ukraine, excel at staging, intended to draw Russia to overreact and commit military forces … I believe that the fact that they are willing to stage such a horrendous atrocity shows the depth of their desperation at this point."

– Nebojsa Malic, political analyst, Russia Today

"Not under foreign skies
Nor under foreign wings protected –
I shared all this with my own people
There, where misfortune had abandoned us."

– "Requiem" – Anna Akhmatova
Photos of the victims of the Odessa fire which have been circulating on theInternet have cast doubt on the official version of events. It's now clear that many of the anti-junta activists who occupied the Trade Unions House were neither burned to death nor died of smoke inhalation, but were savagely shot at point-blank range by agents and thugs who had infiltrated the building to kill as many of the occupants as possible, burn the corpses, and then slip away without notice. Some of the victims–like a young woman who was eight months pregnant –were strangled with an electrical chord and left slumped backwards over her desk in a room that shows no sign of fire or smoke damage. In another case, a woman was stripped naked from the waste down, raped, killed, and set ablaze.
In still other cases, victims with bullet-holes through their skulls, had flammable fluid dumped on their heads and were incinerated, leaving a charred head atop a corpse whose clothes were untouched by fire. The sloppily-executed killing-spree proves that the fire was not the result of a spontaneous clash between pro and anti-Kiev demonstrators, but a carefully planned black-op that likely involved foreign Intel agencies working hand-in-hand with the fascist junta government in Kiev. Did we mention that the CIA has taken up residence in the Ukrainian capital? Here's the scoop from the AFP:
"Dozens of specialists from the US Central Intelligence Agency and Federal Bureau of Investigation are advising the Ukrainian government … helping Kiev end the rebellion in the east of Ukraine and set up a functioning security structure…" (CIA, FBI agents 'advising Ukraine government: report, AFP)
We all know about the CIA's energetic efforts to create a "functioning security structure" in nations around the world. The CIA's presence in Ukraine suggests that the US was either actively involved in the Odessa incident or knows who was. Either way, there should be an independent investigation before the case is referred to the ICC for prosecution.
The rampage in Odessa is part a broader strategy to provoke Moscow into a military confrontation. US war planners want to draw Putin into a conflict to justify NATO expansion, block further EU-Russian economic integration, and facilitate the "pivot to Asia." The victims in this tragedy were sacrificed to advance Washington's imperial ambitions and to establish US global hegemony. Obama has repeatedly reiterated his unwavering support for the crackdown on dissidents in the east. In a Rose Garden press conference just days ago, the president applauded the military attack on civilians saying, "The Ukrainian government has shown remarkable restraint throughout this whole process."
Indeed, the Odessa graveyards are now full of people who can attest to the great restraint of the junta government that Obama so admires.
The coverage of the Odessa massacre by the western media is as bad as any in recent memory. The giant news conglomerates no longer make any attempt to pretend they're anything other propaganda organs for the State. Even by that low standard, the coverage has been abysmal. Here's a typical summary from an article on the liberal website, Huffington Post.
"Police said the deadly fire broke out in a trade union building, but did not give details on how it started. Earlier, police said at least three people had died in a clash between the two sides in the city of 1 million.
According to Ukrainian news reports, the pro-Kiev demonstrators broke up an encampment of Moscow supporters outside the trade union building. The latter took refuge in the building, which then caught fire.
Odessa police spokesman Volodymyr Shasbliyenko told AP the fire apparently was caused by Molotov cocktails. He had no further details or identities of the victims." (Odessa Building Fire Kills Dozens, AP)
The author deliberately misleads his readers about what really took place. The fire did not "break out" in a trade union building. It was started. There's no debate about this. There's video footage of the whole incident and tons of eyewitness reports. Right sector goons started the fire by throwing Molotov cocktails through the windows. It's all on tape.
Second, the "pro-Kiev demonstrators" (did not) "break up an encampment of Moscow supporters outside the trade union building…which then caught fire." This is nonsense. The fascist extremists burned down the tent city, chased the activists into the building, barricaded the exits, and then set the building on fire with the obvious intention of killing the people inside. Again, there is no debate about this. It's all on video. The US media is involved in a massive cover up, mainly because a investigation would undoubtedly point to US involvement. This is why none of the major news organizations are covering an incident which would normally be headline news. Odessa is unique blend of Waco and Columbine, a combo that editors typically use to boost sagging ratings by exploiting public empathy and outrage. Only this time, the media has minimized its coverage and refused to report on a story that would probably lead straight to 1600 Pennsylvania Avenue.
While the New York Times has been widely criticized for publishing fake photos of Russian soldiers in Ukraine, the Wall Street Journal wins the trophy for absolute worst coverage. In a piece titled "Deadly Ukraine Fire Likely Sparked by Rebels, Government Says", the WSJ pushes the improbable theory that the anti-coup activists inside the building actually burned the building down themselves, a pathetic attempt to blame the victims of a ruthless government crackdown. Here's an excerpt from the article:
"The fire began from the roof. There were extremists there, we found casings and firearms," Mr. Chebotar said. "But something unexpected happened; their Molotov cocktails fell, and ignited the higher floors of the building." (Deadly Ukraine Fire Likely Sparked by Rebels, Wall Street Journal)
Utterly ridiculous. Are the editors of the WSJ aware of the fact that footage of the Neo Nazis throwing Molotov cocktails at the building are all over the Internet?
The article, of course, fails to explain how many of the people inside the building were either shot or strangled to death. Nor does the author speculate on why the police stood by while people hurled themselves from windows to escape the fire or were savagely beaten by right wing extremists on the pavement in front of the building. Instead, the WSJ tries to provide a plausible excuse for the one part of the story it chooses to focus on as if "who started the fire" can be separated from other important details. The evidence overwhelmingly suggests that the 40 victims of the incident were killed in a homicidal rampage that was perpetrated by Obama's new friends in Kiev. No amount of whitewash is going to hide that one glaring fact. Here's how Serbian historian and political analyst, Nebosja Malic, summed it up:
"According to all the evidence that I have seen, the entire thing in Odessa was a giant false flag operation. It was a provocation, it was one of those stage massacres that the pro-Western forces from Bosnia to Kosovo, now Ukraine excel at staging, intended to draw Russia to overreact…
"We have proof that the West is instigating this. And just the other day, Catherine Ashton, the EU's commissioner for foreign policy, pretty much gave a green light to the extremists from Kiev. She pretty much said they had a right to establish law and order within the borders of the country. I would say that the EU has blood on its hands, especially Catherine Ashton. It's the same thing they did in Yugoslavia in the 90s, when they started encouraging radicals, extremists, secessionists." (Interview with Nebosja Malic, RT)
It's true that Washington supports Neo-Nazi extremists who burned down the Odessa Trade Unions House. If that wasn't the case, then Obama would have spoken out forcefully against the action, which he has not. That implies that things are going according to plan. Malic is also correct when he says the fire was a "giant false flag operation" which refers to a covert military operation where agents disguise themselves as members of their adversary's group to initiate a provocation that will then be blamed on the other side. In this case, pro-regime fascists (and probably agents from the Security Services) disguised themselves as Kiev regime opponents, in order to throw bricks and stones at the police and Right Sector goons. This was the flashpoint that started the melee that ended in a massacre.
Videos on Russia Today show the agents in red arm bands mingled with the pro-Russia activists, initiated a confrontation with the cops, and then quickly switched sides when the fighting broke out. This is classic false flag operation. The police were obviously in on the scam, as they immediately opened their ranks to let the imposters slip by when the street-scrum began. These same imposters were later filmed shooting handguns and automatic weapons in the direction of the building just minutes after they had switched sides. (Take a look at this video from 3:30 minutes to the 6 minute-point and decide for yourself whether this was a false flag operation or not.)
Bottom line: There was nothing spontaneous about the clash that led to the catastrophic fire that killed 40 people in the Trade Unions House. It was a carefully planned and executed operation designed to shock Moscow into sending troops to protect ethnic Russians in Ukraine. If the CIA is working in Kiev –as it is–there is no doubt that they either knew or actively assisted the operation.
In related news: Moscow has announced it will "deploy additional forces in Crimea as part of beefing up the Black Sea fleet…before year's end". According to RT: "The fleet will receive new submarines and surface ships of new generation this year."
The Kremlin is responding to the buildup of NATO forces in Eastern Europe and the Black Sea where additional aircraft, warships and ground troops have been deployed in case war breaks out. Also, according to RT:
"NATO's three-week 'Spring Storm' drills, involving a record-breaking number of 6,000 troops, have begun in Estonia….(bringing) together a record number of allied troops." (Also) around 150 personnel of the US airborne division arrived in a military transport aircraft to Amari airbase (while) the UK and France deployed eight fighter jets to Lithuania and Poland to strengthen NATO air defense over the Baltic regions." (NATO's record 6,000-strong drills kick off in Estonia amid Ukraine tensions, RT)
So while the death toll mounts, the slide to war continues to gain momentum. Odessa was supposed to be the tipping point, the "catalyzing event" that would draw Putin into the fighting. But it hasn't worked out that way. Putin has stayed on the sidelines and refused to take the bait. That means there'll be more provocations to come; more false flags, more bloodshed, more stage-managed terror disguised as civil unrest. Eventually, people will see who's behind all the trouble. But how many will have died by then?
Note: Here's a 12 minute video on Obama's fascist friends in Ukraine. Listen to the last minute of the video to hear neocon Victoria Nuland praise Ukraine's development of "democratic skills and institutions" with the appropriate backdrop of balaclava-clad Nazis and brightly colored swastikas.
A Time For Discernment…
I am re-reading several of R. J. Rushdoony's books: "Deuteronomy", "Numbers", "Van Til and the Limits of Reason", "The Cure of Souls", "The American Indian", "Systematic Theology", Sovereignty", and, of course, the "Institutes".   For Christians who reverence the entire Word of God and are willing to submit to His rule, Rushdoony's writings elicit several "Amens" per page.
In his book on Van Til, Rushdoony writes, "What did make itself clear to me was that reason is limited by its own experience, whereas the universe is far vaster than the mind of man.  Moreover, God's realm which transcends man's narrow vision is far greater than man's mind can comprehend."  Pg. 57
When humanistic philosophers attempt to define themselves and the universe in terms of their own reason they begin with a false premise.  God created us and enclosed us in time.  Our world is limited by time but He is infinite.  Though we are made in His image His concepts exceed our ability.
Regardless of what they may say few Christian leaders actually position themselves under the Kingship of Christ.  Most of our leaders and their followers see religion as a belief system that they accept and follow.  When man makes himself the arbiter of the Faith he, like Adam, has been seduced by the Devil and is attempting to be like God.
This serious sin is so deeply engrained in us and in our culture that Christians regularly approach the Bible with the evil intention of deciding what parts they believe.  Invariably God's Law which is the core of His character is discarded in favor of a pietistic spiritualism. Famous evangelist, Billy Graham, has succeeded in calling hundreds of thousands of Christians to "accept Christ" and most of these converts still believe that the decision was theirs and theirs alone.  Contemporary Christianity has man firmly entrenched in the driver's seat.
"It is not God who speaks but, again, man's own reason.  God is either eliminated from the scene or allowed to co-exist with autonomous man on man's own terms."  Rushdoony in the book on Van Til.  Pg. 15
The rancor that follows the introduction of Dominion Theology results from the challenge it poses to man's reason.  Since individual Christians reserve the right to reconcile their faith the Christian population of the United States of America is composed of millions of individual human sovereigns whose failure to become faithful servants to the King allows murder and confusion to flourish.  Humanism is deadly!
When confronted with the reality that God is the absolute ruler of His creation and of those He has created we often equivocate.  Rushdoony cites the secular law involving severe punishment for "Habitual criminals" which is widely accepted as just, to the Biblical Law of turning an habitually debauched and recalcitrant son (or daughter) over to the magistrate to receive the ultimate penalty; the former is generally accepted while the latter  makes most Christians cringe.  We can accept the murder of millions of innocent citizens in foreign lands by our armed forces but we cannot stomach the stoning of one guilty, incorrigible son (or daughter).
We cannot know reality apart from the One True God. In "The Cure for Souls" Rushdoony writes concerning the self-righteous humanist, "By denying his sin, he denies the reality about himself.  He replaces self-knowledge with illusion.  This means a departure from the truth into a world of fiction.  Whoever else he may delude, he has deluded himself most of all.  His is a delusional existence." Pg. 102
Delusion has permeated American society.  Our ears are accosted with a constant stream of propaganda from the media, academia, the marketplace, the government, and, sadly, from the Church.  This morning's paper had an article on the confiscation (theft) of property from citizens, both innocent and guilty, by policemen who are enforcing laws passed by a delusional legislature.  Our legal system has become so badly corrupted that justice is seldom a result of contact with our policemen and courts.
"A culture which is not truly Christian may plan grandly for "a new world order".  It may imagine that all problems are to be solved by its wisdom, and it has a great deal of self-admiration.  Is there a major country in the world today which does not see itself as the earth's true center?  Each seeks to direct itself and the world in terms of its ostensibly superior eminence and wisdom."  Pg. 211 "The Cure for Souls"
American television overflows with sneering, self-important experts who love to discuss what should be done with other nations as if they and the government they represent created and governs everything.
According to a reliable internet source Princeton University has reclassified the United States of America from a Democracy to a nation under the control of an Oligarchy.  An Oligarchy is a small, wealthy and powerful, elite group.  The opinions of the governed are no longer valid in the conduct of the affairs of the nation.  We are at the mercy of money and power which controls our elected representatives and the legislation they approve.
Please understand, gentle reader, that what you believe about the Christian religion must be destroyed by what God says about Himself and His Will in His Word.  The One True God is our creator and our ruler.  Rebellion against His rule results in spiritual death and a separation from reality – a delusional existence.
America has forsaken the God of the Bible and replaced His dominion with personal interpretations.  They have substituted worship of the One True God with a humanistic religion of our own making and His Majesty is offended.
Have you attended a Bible study where the Word of God was subjected to human reason and where Truth was accepted or rejected by the evil minds of the participants?  Did you think some of the human responses were brilliant and did you agree with some of them?  Was the leader conciliatory with the questioners?  As Jesus sits at the right hand of His Father and judges the world what do you think His reaction is to hearing His created beings judging His validity under the cover of His Church?
The capture of the United States of America by an elite oligarchy is well along and there is no apparent course that will restrain it.  We are being enslaved because we have been a stiff necked people who have refused to see and accept reality.  The men and women we have elected to office (in spite of adequate information to the contrary) have sold the nation into slavery.
The ruling oligarchs are both arrogant and brutal.  Our failure to require obedience to God's Law has allowed humanistic terrorists to capture the world.  When God's absolute legal structure is forgotten, man's sinful nature will fill the void by putting himself on the throne.
In "Deuteronomy" Rushdoony quotes Dr. Joseph Morecraft III "The entire community has a responsibility when crimes are committed or injustice done.  A community cannot be indifferent to any sin, crime, or injustice in its midst, or else it bears the guilt as well as the offender and is under judgment. When a community shuts its eyes to any evil in its midst and refuses to deal with it justly and in accordance with God's law, then the whole community is under God's condemnation." Pg. 305
In its early years the United States of America lived under a legal structure that was heavily flavored with Biblical principles.  As time has gone on we have allowed secular and often evil laws to be encoded so we have not only failed to be obedient but have failed to set a proper standard.  As a result our policemen have become brutal and our courts have become arenas of bias and injustice.   We are living in a nation full of lies.
We have reached our current state because we have shut our eyes to evil and refused to deal with it in accordance with God's Law.
Is there anyone out there who still believes that Barack Obama, when he's speaking about American foreign policy, is capable of being anything like an honest man? In a March 26 talk in Belgium to "European youth", the president fed his audience one falsehood, half-truth, blatant omission, or hypocrisy after another. If George W. Bush had made some of these statements, Obama supporters would not hesitate to shake their head, roll their eyes, or smirk. Here's a sample:
– "In defending its actions, Russian leaders have further claimed Kosovo as a precedent – an example they say of the West interfering in the affairs of a smaller country, just as they're doing now. But NATO only intervened after the people of Kosovo were systematically brutalized and killed for years."
Most people who follow such things are convinced that the 1999 US/NATO bombing of the Serbian province of Kosovo took place only after the Serbian-forced deportation of ethnic Albanians from Kosovo was well underway; which is to say that the bombing was launched to stop this "ethnic cleansing". In actuality, the systematic deportations of large numbers of people did not begin until a few days after the bombing began, and was clearly a reaction to it, born of Serbia's extreme anger and powerlessness over the bombing. This is easily verified by looking at a daily newspaper for the few days before the bombing began the night of March 23/24, 1999, and the few days following. Or simply look at the New York Times of March 26, page 1, which reads:
… with the NATO bombing already begun, a deepening sense of fear took hold in Pristina [the main city of Kosovo] that the Serbs would now vent their rage against ethnic Albanian civilians in retaliation. [emphasis added]
On March 27, we find the first reference to a "forced march" or anything of that nature.
But the propaganda version is already set in marble.
– "And Kosovo only left Serbia after a referendum was organized, not outside the boundaries of international law, but in careful cooperation with the United Nations and with Kosovo's neighbors. None of that even came close to happening in Crimea."
None of that even came close to happening in Kosovo either. The story is false. The referendum the president speaks of never happened. Did the mainstream media pick up on this or on the previous example? If any reader comes across such I'd appreciate being informed.
Crimea, by the way, did have a referendum. A real one.
– "Workers and engineers gave life to the Marshall Plan … As the Iron Curtain fell here in Europe, the iron fist of apartheid was unclenched, and Nelson Mandela emerged upright, proud, from prison to lead a multiracial democracy. Latin American nations rejected dictatorship and built new democracies … "
The president might have mentioned that the main beneficiary of the Marshall Plan was US corporations  , that the United States played an indispensable role in Mandela being caught and imprisoned, and that virtually all the Latin American dictatorships owed their very existence to Washington. Instead, the European youth were fed the same party line that their parents were fed, as were all Americans.
– "Yes, we believe in democracy – with elections that are free and fair."
In this talk, the main purpose of which was to lambaste the Russians for their actions concerning Ukraine, there was no mention that the government overthrown in that country with the clear support of the United States had been democratically elected.
– "Moreover, Russia has pointed to America's decision to go into Iraq as an example of Western hypocrisy. … But even in Iraq, America sought to work within the international system. We did not claim or annex Iraq's territory. We did not grab its resources for our own gain. Instead, we ended our war and left Iraq to its people and a fully sovereign Iraqi state that could make decisions about its own future."
The US did not get UN Security Council approval for its invasion, the only approval that could legitimize the action. It occupied Iraq from one end of the country to the other for 8 years, forcing the government to privatize the oil industry and accept multinational – largely U.S.-based, oil companies' – ownership. This endeavor was less than successful because of the violence unleashed by the invasion. The US military finally was forced to leave because the Iraqi government refused to give immunity to American soldiers for their many crimes.
Here is a brief summary of what Barack Obama is attempting to present as America's moral superiority to the Russians:
The modern, educated, advanced nation of Iraq was reduced to a quasi failed state … the Americans, beginning in 1991, bombed for 12 years, with one dubious excuse or another; then invaded, then occupied, overthrew the government, tortured without inhibition, killed wantonly … the people of that unhappy land lost everything – their homes, their schools, their electricity, their clean water, their environment, their neighborhoods, their mosques, their archaeology, their jobs, their careers, their professionals, their state-run enterprises, their physical health, their mental health, their health care, their welfare state, their women's rights, their religious tolerance, their safety, their security, their children, their parents, their past, their present, their future, their lives … More than half the population either dead, wounded, traumatized, in prison, internally displaced, or in foreign exile … The air, soil, water, blood, and genes drenched with depleted uranium … the most awful birth defects … unexploded cluster bombs lying in wait for children to pick them up … a river of blood running alongside the Euphrates and Tigris … through a country that may never be put back together again. … "It is a common refrain among war-weary Iraqis that things were better before the U.S.-led invasion in 2003," reported the Washington Post. (May 5, 2007)
How can all these mistakes, such arrogance, hypocrisy and absurdity find their way into a single international speech by the president of the United States? Is the White House budget not sufficient to hire a decent fact checker? Someone with an intellect and a social conscience? Or does the desire to score propaganda points trump everything else? Is this another symptom of the Banana-Republicization of America?
Long live the Cold War
In 1933 US President Franklin D. Roosevelt recognized the Soviet Union after some 15 years of severed relations following the Bolshevik Revolution. On a day in December of that year, a train was passing through Poland carrying the first American diplomats dispatched to Moscow. Amongst their number was a 29 year-old Foreign Service Officer, later to become famous as a diplomat and scholar, George Kennan. Though he was already deemed a government expert on Russia, the train provided Kennan's first actual exposure to the Soviet Union. As he listened to his group's escort, Russian Foreign Minister Maxim Litvinov, reminisce about growing up in a village the train was passing close by, and his dreams of becoming a librarian, the Princeton-educated Kennan was astonished: "We suddenly realized, or at least I did, that these people we were dealing with were human beings like ourselves, that they had been born somewhere, that they had their childhood ambitions as we had. It seemed for a brief moment we could break through and embrace these people."
It hasn't happened yet.
One would think that the absence in Russia of communism, of socialism, of the basic threat or challenge to the capitalist system, would be sufficient to write finis to the 70-year Cold War mentality. But the United States is virtually as hostile to 21st-century Russia as it was to 20th-century Soviet Union, surrounding Moscow with military bases, missile sites, and NATO members. Why should that be? Ideology is no longer a factor. But power remains one, specifically America's perpetual lust for world hegemony. Russia is the only nation that (a) is a military powerhouse, and (b) doesn't believe that the United States has a god-given-American-exceptionalism right to rule the world, and says so. By these criteria, China might qualify as a poor second. But there are no others.
Washington pretends that it doesn't understand why Moscow should be upset by Western military encroachment, but it has no such problem when roles are reversed. Secretary of State John Kerry recently stated that Russian troops poised near eastern Ukraine are "creating a climate of fear and intimidation in Ukraine" and raising questions about Russia's next moves and its commitment to diplomacy.
NATO – ever in need of finding a raison d'être – has now issued a declaration of [cold] war, which reads in part:
"NATO foreign ministers on Tuesday [April 1, 2014] reaffirmed their commitment to enhance the Alliance's collective defence, agreed to further support Ukraine and to suspend NATO's practical cooperation with Russia. 'NATO's greatest responsibility is to protect and defend our territory and our people. And make no mistake, this is what we will do,' NATO Secretary General Anders Fogh Rasmussen said. … Ministers directed Allied military authorities to develop additional measures to strengthen collective defence and deterrence against any threat of aggression against the Alliance, Mr. Fogh Rasmussen said. 'We will make sure we have updated military plans, enhanced exercises and appropriate deployments,' he said. NATO has already reinforced its presence on the eastern border of the Alliance, including surveillance patrols over Poland and Romania and increased numbers of fighter aircraft allocated to the NATO air policing mission in the Baltic States. … NATO Foreign Ministers also agreed to suspend all of NATO's practical cooperation with Russia."
Does anyone recall what NATO said in 2003 when the United States bombed and invaded Iraq with "shock and awe", compared to the Russians now not firing a single known shot at anyone? And neither Russia nor Ukraine is even a member of NATO. Does NATO have a word to say about the right-wing coup in Ukraine, openly supported by the United States, overthrowing the elected government? Did the hypocrisy get any worse during the Cold War? Imagine that NATO had not been created in 1949. Imagine that it has never existed. What reason could one give today for its creation? Other than to provide a multi-national cover for Washington's interventions.
One of the main differences between now and the Cold War period is that Americans at home are (not yet) persecuted or prosecuted for supporting Russia or things Russian.
But don't worry, folks, there won't be a big US-Russian war. For the same reason there wasn't one during the Cold War. The United States doesn't pick on any country which can defend itself.
Cuba … Again … Still … Forever
Is there actually a limit? Will the United States ever stop trying to overthrow the Cuban government? Entire books have been written documenting the unrelenting ways Washington has tried to get rid of tiny Cuba's horrid socialism – from military invasion to repeated assassination attempts to an embargo that President Clinton's National Security Advisor called "the most pervasive sanctions ever imposed on a nation in the history of mankind".  But nothing has ever come even close to succeeding. The horrid socialism keeps on inspiring people all over the world. It's the darnedest thing. Can providing people free or remarkably affordable health care, education, housing, food and culture be all that important?
And now it's "Cuban Twitter" – an elaborately complex system set up by the US Agency for International Development (USAID) to disguise its American origins and financing, aiming to bring about a "Cuban Spring" uprising. USAID sought to first "build a Cuban audience, mostly young people; then the plan was to push them toward dissent", hoping the messaging network "would reach critical mass so that dissidents could organize 'smart mobs' – mass gatherings called at a moment's notice – that might trigger political demonstrations or 'renegotiate the balance of power between the state and society'."  It's too bad it's now been exposed, because we all know how wonderful the Egyptian, Syrian, Libyan, and other "Arab Springs" have turned out.
Here's USAID speaking after their scheme was revealed on April 3: "Cubans were able to talk among themselves, and we are proud of that."  We are thus asked to believe that normally the poor downtrodden Cubans have no good or safe way to communicate with each other. Is the US National Security Agency working for the Cuban government now?
The Associated Press, which broke the story, asks us further to believe that the "truth" about most things important in the world is being kept from the Cuban people by the Castro regime, and that the "Cuban Twitter" would have opened people's eyes. But what information might a Cuban citizen discover online that the government would not want him to know about? I can't imagine. Cubans are in constant touch with relatives in the US, by mail and in person. They get US television programs from Miami and other southern cities; both CNN and Telesur (Venezuela, covering Latin America) are seen regularly on Cuban television"; international conferences on all manner of political, economic and social issues are held regularly in Cuba. I've spoken at more than one myself. What – it must be asked – does USAID, as well as the American media, think are the great dark secrets being kept from the Cuban people by the nasty commie government?
Those who push this line sometimes point to the serious difficulty of using the Internet in Cuba. The problem is that it's extremely slow, making certain desired usages often impractical. From an American friend living in Havana: "It's not a question of getting or not getting internet. I get internet here. The problem is downloading something or connecting to a link takes too long on the very slow connection that exists here, so usually I/we get 'timed out'." But the USAID's "Cuban Twitter", after all, could not have functioned at all without the Internet.
Places like universities, upscale hotels, and Internet cafés get better connections, at least some of the time; however, it's rather expensive to use at the hotels and cafés.
In any event, this isn't a government plot to hide dangerous information. It's a matter of technical availability and prohibitive cost, both things at least partly in the hands of the United States and American corporations. Microsoft, for example, at one point, if not at present, barred Cuba from using its Messenger instant messaging service.
Cuba and Venezuela have jointly built a fiber optic underwater cable connection that they hope will make them less reliant on the gringos; the outcome of this has not yet been reported in much detail.
The grandly named Agency for International Development does not have an honorable history; this can perhaps be captured by a couple of examples: In 1981, the agency's director, John Gilligan, stated: "At one time, many AID field offices were infiltrated from top to bottom with CIA people. The idea was to plant operatives in every kind of activity we had overseas, government, volunteer, religious, every kind."
On June 21, 2012, the Bolivarian Alliance for the Peoples of Our America (ALBA) issued a resolution calling for the immediate expulsion of USAID from their nine member countries, "due to the fact that we consider their presence and actions to constitute an interference which threatens the sovereignty and stability of our nations."
USAID, the CIA, the National Endowment for Democracy (and the latter's subsidiaries), together or singly, continue to be present at regime changes, or attempts at same, favorable to Washington, from "color revolutions" to "spring" uprisings, producing a large measure of chaos and suffering for our tired old world.
Notes
William Blum, America's Deadliest Export – Democracy: The Truth About US Foreign Policy and Everything Else, p.22-5
Walter Isaacson & Evan Thomas, The Wise Men (1986), p.158
Washington Post, March 31, 2014
"NATO takes measures to reinforce collective defence, agrees on support for Ukraine", NATO website, April 1, 2014
Sandy Berger, White House press briefing, November 14, 1997, US Newswire transcript
Associated Press, April 3 & 4, 2014
Washington Post, April 4, 2014
Associated Press, June 2, 2009
George Cotter, "Spies, strings and missionaries", The Christian Century (Chicago), March 25, 1981, p.321
The freedom of the press and the freedom of religion are two of the most important elements of a free society. These were so important to America's Founding Fathers that they were protected in the First Amendment to the U.S. Constitution. A free and independent press serves as watchdogs for liberty, while a free and independent church serves as watchmen for liberty. Sadly, both watchdog and watchman are, for the most part, missing in today's America.
Just about everyone knows that the vast majority of the national press corps has a strong liberal bias. That's a given. But, it's actually worse than that. Instead of being watchdogs on the government, the mainstream media has become little more than lap dogs for the government. Instead of reporting the truth, most of the media is actually more concerned with covering up the truth. With precious few exceptions, investigative reporting is dead in the national news media.
Oh, sure. Republican administrations are depicted more negatively by the mainstream media than are Democrat administrations. No doubt about that. Can anyone recall the media hoopla over Vice President Dan Quayle's misspelling of the word "potato"? The liberal media talked about that almost nonstop for months. But did you hear much of anything when President Barack Obama recently misspelled the word "respect"? I mean from media sources outside of FOX News? Nope. Nary a word.
But when it comes to investigating the truth behind what government spokesmen tell us, it doesn't matter to a tinker's dam whether it is a Republican or Democrat administration: about the only thing national newscasters know to do is to report whatever the official story of the government is. Once in a blue moon, a mainstream newspaper, such as the New York Times, will dare to print a report that questions an official government story, but not very often. And when such a report is printed, it digs only so deep. For the last several years, about the only major newspaper that has had the guts to actually do some real investigative reporting is the London Guardian. Even the Washington Times prints mostly milquetoast exposés.
CBS reporter, Sharly Attkisson, recently left the network due to its liberal bias and aversion to investigative reporting. Politico said this about Attkisson's leaving: "Attkisson, who has been with CBS News for two decades, had grown frustrated with what she saw as the network's liberal bias, an outsize influence by the network's corporate partners and a lack of dedication to investigative reporting, several sources said. She increasingly felt that her work was no longer supported and that it was a struggle to get her reporting on air."
See the Politico report here:
Sharyl Attkisson Resigns From CBS News
In an interview with the CBS affiliate in Philadelphia, Chris Stigall reported, "Responding to comments regarding a Phoenix television reporter yesterday who initially claimed that the White House pre-screens questions from reporters, Attkisson said, 'I wouldn't [be] surprised if sometimes there is that level of cooperation with some questions. If I need something answered from the White House and they won't tell me, I'll call our White House Correspondent. They're friendlier with the White House Correspondents in general. So the White House Correspondent may ask Jay Carney or one of his folks about an issue and they will be told "ask that at the briefing and we'll answer it." They want to answer it in front of everybody. They do know it's coming and they'll call on you. There's that kind of coordination sometimes. I wouldn't be shocked if there's sometimes more coordination. I don't think it's everybody on every briefing, every day. I'm pretty sure it's not. But I think people would be surprised at the level of cooperation reporters have in general with politicians.'"
See Stigall's report here:
Sharyl Attkisson: There Is Coordination Between Reporters And Politicians
Attkisson was putting it very mildly. There is more than just coordination going on between the federal government and the national news media; it's more like coziness and calculated manipulation.
Since when has the major media dared to investigate and report the truth regarding any of the major events that have transpired in this country? The last time there was even a semblance of genuine investigative reporting seen in the national press corps was during the Watergate scandal when Richard Nixon was President–and that was politically-motivated from start to finish.
The mainstream media didn't bother to seriously investigate Ruby Ridge or Waco or the Oklahoma City bombing or TWA Flight 800 or the Sandy Hook shootings or (and especially) the attacks which occurred on 9/11/01. These events took place with both Republicans and Democrats at the helm: it didn't matter. Government spokesmen gave the media the official story, and the media repeatedly regurgitated the official story until anyone who dared to question the official story was turned into a conspiracy nut. That's not reporting the news, folks. That is manipulating the news to disseminate propaganda. Joseph Goebbels had nothing on the major media in America today.
Again, the modern American media are not watchdogs over government; they are lap dogs for government. Reporters who try to truly dig and investigate are seldom rewarded–just the opposite. Their stories are buried–if published at all. They are disinvited from interviewing notable dignitaries. They are passed over for promotions–or even dismissed. It doesn't take people in the news business long to get the message that if they want to go anywhere, they must toe the line and become good little puppets. The First Amendment freedom of the press has been negated by the press itself.
Likewise, the First Amendment freedom of religion has also been negated. A free and independent clergy is essential to the maintenance of liberty. But, for the most part, America has not had a free and independent clergy in decades.
The IRS 501c3 designation for churches, along with State incorporation, has turned America's watchmen into little more than glorified CEOs. The average pulpit is just as politically correct as the national news media. Plus, the average church is as much about the bottom line as news shows.
Did you know that there used to be a time when the major television networks expected that their news shows would not operate in the black financially? It's true. Back then, it was more important that news shows reported and investigated the news than turn a profit. Therefore, corporate donations and government chagrin had little impact upon newscasters and reporters. Those days are long gone.
By the same token, did you know that there used to be a time in this country when most of our pastors and ministers (regardless of denomination) were more concerned about being Biblically correct than being politically correct? For example, so prominent was the role that Presbyterian pastors played in the American Revolution that as news of the rebellion spread throughout England, Horace Walpole told his fellow members of the British Parliament, "There is no use crying about it. Cousin America has run off with a Presbyterian parson, and that is the end of it." Of course, Presbyterians were not the only clergymen in Colonial America to champion the cause of liberty and independence from behind their pulpits.
In truth, if it wasn't for clergymen such as John Leland (along with political statesmen such as Patrick Henry, of course), it is doubtful that there would even be a First Amendment–or the rest of the Bill of Rights, for that matter.
But, back then, pastors were not motivated by the desire to build big buildings or impress political potentates or climb ecclesiastical elevators. They were motivated by courage and commitment. And you could tell it every time you went to church. They didn't mince words; and their sermons seldom concluded in less than an hour. They were watchmen.
Sadly, in the same manner in which the national news media have abandoned their responsibility as America's watchdogs, so, too, the vast majority of pastors have abandoned their responsibility as America's watchmen. The First Amendment protection of the freedom of the press and religion is not enough to protect the freedom of the press and religion from themselves.
To be sure, many of our pastors and ministers today are sincere, compassionate, and honorable men. But they have never been taught the Biblical principles of liberty; they have never been taught how to apply the liberty principles of Scripture to our everyday lives–including our political lives; they have never been taught the true meaning of Biblical submission in general and Romans 13 in particular. However, more and more of these men are coming awake to these things. Of course, others stubbornly refuse to even consider the truth of these matters.
But, listen up, folks! Truth will always find a way to reveal itself: the dear Lord will make sure of that. As the mainstream media became toadies of Big Government, along came independent radio talk shows, newspapers, and the Internet. And in all likelihood, more people are getting their news and information from online sources today than from network or cable news shows. As a result, more and more people are awakening to the truth every day.
And, by the same token, as many establishment churches and pastors have become toadies of the IRS and political correctness, new, independent, unorganized, non-501c3 churches and fellowships are sprouting up all over America. Some of these groups are led by ministers whom God has led out of the establishment church. Others are led by laymen who have likewise left the establishment church. I hear from these people every day. And, by the grace of God, I hope to be more personally involved in helping Christian people around the country form liberty-oriented churches. More on that soon.
The First Amendment was designed to protect America's watchdogs and watchmen. And it is a truism that there can never be a revival of liberty in this land without a resurrection of our watchdogs and watchmen. The good news is that resurrection is already taking place.
All the attention over the epoch vote by Crimean's to leave the Ukraine makes for a timely review of other separatist factions that are seeking a similar resolution. The List of active separatist movements in Europe is exhaustive. The immediate impression is that a pervasive discontent, shared by legions of subjects, who want independence and self-determination, will be hard to derail. When European autocratic and aristocrats ruled, the only option was revolution. Today the descendants of the old regimes still wheeled power under the guise of democratically elected authorities. However, separatist sentiment does not mean the same to every splinter group.
Examine Europe's Latest Secession Movement: Venice, for a telling indicator.
"An organization representing a coalition of Venetian nationalist groups, held an unofficial referendum on breaking with Rome. Voters were first asked the main question -"Do you want Veneto to become an independent and sovereign federal republic?" -followed by three sub-questions on membership in the European Union, NATO, and the eurozone . . .

As the referendum's organizers announced the results: 2,102,969 votes in favor of independence—a whopping 89 percent of all ballots cast—to 257,266 votes against. Venetians also said yes to joining NATO, the EU, and the eurozone."
Note the significance of wanting to be part of NATO and the EU.
Next, look at the more widely reported effort, in the land of "Braveheart" William Wallace. Scottish secession remains unlikely, but momentum is with the schismatics provides a more stately viewpoint from the Commonwealth.
"After months of comfort for the pro-unionist 'Better Together' campaign, the most recent polls point to a tighter race with 40 percent of Scots supporting secession. With six months to go, the momentum appears to be with those seeking an amicable divorce.

Scottish independence would not lead to a republic. Queen Elizabeth II (I of Scotland) would remain head of state, a smart move by the 'Yes' campaign to de-radicalize independence and make the electorate feel more comfortable with a vote for change. The debate has therefore become more focused on incrementalism, with plans for an independent Scotland retaining both membership of NATO and the European Union, a common currency with the rest of the UK, and open borders."
A video from the Carnegie Council gives a spin in Which Separatist Movements Will Succeed, which plays down the urgent motivation for "FREEDOM" for an evolutionary approach.
An essay out of Wharton, Is Secession the Answer? The Case of Catalonia, Flanders and Scotland, points out the obvious, while illustrating the problematic.
"It may seem paradoxical in an age of global communications, but the revival of regionalism "is a global phenomenon," notes Jacob Funk Kierkegaard, a senior fellow at the Peterson Institute for International Economics, a Washington, D.C. think tank. Today's high-speed technologies, including the Internet, "enable people to start a campaign and get out their message" quickly and repeatedly to like-minded people who might have harbored such desires in private.

Beyond its unique constitutional challenges, Catalonia faces another hurdle: The eurozone has a de facto veto over its independence. "If Catalonia becomes independent, will they [still] be part of the eurozone?" Kierkegaard asks, adding that, if Catalonia votes to secede, the EU response could be that "you will have to issue your own currency, and your banks will have no access to the European Central Bank. You won't automatically have a seat on the ECB governing council."
The Spanish situation, by contrast, the establishment would have you believe the militant Basques ETA nationalists harbor violent resolve. The YouTube Thousands March In Spain In Support Of ETA, reports that the EU labels this movement as terrorists. Therefore, it comes as no surprise that the Catalan Sovereignty Claim Blocked by Spain Constitutional Court, is but a spillover effort to discredit the Catalonia's claim. "Sovereignty is "not contemplated in our constitution for nationalities and regions that make up the state" and no one can break the principle of the "indissoluble unity of the Spanish Nation," the ruling said.Such illustrations, all exhibit unique local concerns and grievances, while sharing a basic distrust of national authority. What stands out is an anserine eagerness to remain part of the EU and NATO. This factor may be a distinctively European trait, which seems to be lacking in the proper understanding that the surrender of national authority to a body of central banksters, social technocrats and empire military mercenaries, is the fundamental cause of popular dissatisfaction.
Pat Buchanan in the article, Is Red State America Seceding?, provides numerous other European examples of discontent, then goes on to cite secession initiatives in the United States. It is striking that our countries unique experience has a shape difference from the blue-blooded patricians' clashes that mark the history of Europe. Because of this difference, the indigenous cultures on the continent have never developed the same passion of individual liberty, which is inborn in the American revolutionary spirit.
Applying the same principles defended in the View from the Mount essay, Secession Movement Ready to Take Hold, would serve our European cousins well, in breaking up the EU and their NWO oppression.
"Governments fall, while a consensual nation state can still survive. With the destruction of an accepted traditionalistic national identity, time-honored heritage becomes the target of dictatorial "do gooders" who facilitate subjugation of independent self-governing states.

Blowing out the candles of federal absolutism is the imperative of our age. Secession is not a dirty word, but is an indispensable solution. Dissolving the union of the suppressed, under the auspices of the subverted elite, is the path to social freedom and human liberty."
Libertarian and author L. Neil Smith argues, "What happened in America in the 1860s was a war of secession, a war of independence, no different in principle from what happened in America in the 1770s and 1780s." Compare most of the secession movements in the 21th century as half measure efforts that are not willing to take on the yoke of the globalist central banking financial system. The lessons presented in the Radical Reactionary article, Representation, Secession and Taxation, should be applied and adopted by the European secession movements.
"As discontent rises and practical solutions evaporate, that dirty historic sentiment begins to bubble to the surface, SECESSION. Russell D. Longcore provides a standard, when secession is a vital and justified option that many would accept."Secession should be solemnly deliberated by the elected representatives and the state citizens. Secession should be initiated at the moment that any state reaches the point at which it will no longer accept the despotic tyranny and laws coming from the US Federal Government in Washington, DC. Or, secession should be initiated upon a collapse of the Dollar, or the imposition by Washington DC of martial law in the event of social upheaval."

Discontent is not enough to overthrow the tyrants, who have definitively proven, that a European Union based upon top down authoritarianism is a lawful substitute for locally ruled government based upon common ethics and cultural heritage.
The dramatic rise in opposition to the ruling elites is most encouraging in the eternal struggle against despotism. However, the European socialist welfare model has produced generations of soft stock and irresponsible subjects. Surrendering national sovereignty was the monumental failure of the post war era. Open borders to a confederation of dissimilar ethnic groups, attracts the disparate and incongruent, which builds even more pressure for secession.
As it stands today, the prospects for successful secession movements to attain their independence and autonomy are slim because each are fragmented. The correct and necessary element for separation, must be based upon, the dissolution of the European Union and the elimination of the central banking system, under the control of the international banksters.
Countries need to exercise their proper authority to coin their own currencies and maintain low taxation levels that fund minimum governmental functions.
While such a goal and objective is justified, the globalist controllers will not allow a serene exit from the monolith that they created. Marginal regional self-rule may eventually be reluctantly recognized, only if the basic leviathan structure remain intact and accepted by disgruntle camps. Notwithstanding, that approach can and will never bring about a restoration of national self-determination.
It is time for secession movements to unit and coalesce around a few fundamental principles, which they all share. The regional concerns are issues for local administration. Taking on the monster of globalist governance is a universal task.
Consequently, the undertaking domestically is to build ground swell defiance that moves past a modest grassroots opposition to incorporate the bulk of the rapidly declining middle class. This genuine moral majority must be willing to marginalize the federal government and restore the rightful authority of individual state jurisdiction.
If timid and docile Europeans are engaging in secession movements in such significant numbers, what is the excuse for industrious and energetic Americans from doing the same? This was the country for the home of the brave. Now is the time to restore that outlook with direct action.
"I [sic] give my left n** to bang down your door and come for your gun," said the cop. This statement, made by Branford, Ct., police officer Joseph Peterson in a Facebook conversation earlier this month, created quite a blogosphere firestorm. Internet commenters from Sacramento to Saratoga struck a note of defiance and e-shouted the ancient words of Spartan King Leonidas, "Molon labe!" On the other side there's Ct. governor Dannel Malloy (D), who said to a gun owner at a March 13 town-hall meeting that the anti-Second Amendment set won and "you lost." But it occurs to me that in-your-face actions can go both ways.
Pondering this brings to mind yet another type of response to the (anti)Constitution State door-banger: from law-enforcement officers (LEOs) vowing not to enforce unconstitutional gun laws. One of them, a retired career detective responding to Officer Peterson's statement that his job is only to enforce the law — and that he must do so no matter what form it takes — called Peterson a "fool" and wrote, "Part of the filtering process in criminal justice IS the police choosing whether or not to enforce a law at a particular point in time on a particular person." This gets at an important point: the "good soldier" cop argument is bunk. No LEO tickets everyone driving 31 in a 30 zone, many laws are on the books but not enforced at all, and no moral cop would obey a command to round up all members of a certain ethnic group for extermination. Police use discretion all the time.
And, if our constitutional rights are to be secure, we need fewer Officer Petersons in the world and more, let's say, Sheriff Joe Arpaios. We don't need good-soldier cops — we need good-citizen cops.
The solution to this problem lies in the LEO selection process. If your area is electing a sheriff, there must be an explicit litmus test:
Will you protect constitutional rights?
And will you disobey unconstitutional orders, no matter their origin?
Any waffling or hesitation should disqualify the candidate. We need LEOs who won't just yes us to death, for electoral ambitions have a way of greasing the tongue. We need LEOs who are passionate about the issue, stout-hearted cultural and constitutional warriors. And while we can't read minds, remember this: if you want to know what a person wants you to believe he believes, listen to what he says. If you want to know what he really believes, listen to how he says it. While some people are A-list actors, it's hard to fake true passion.
But even this isn't enough. The candidate must also agree to incorporate as part of regular deputy training a comprehensive course on the U.S. Constitution. This course must reflect what is called a strict "originalist" view of the document, but what is really just the only lawful, correct view. (It would be silly to call someone who follows the rules of poker an originalist and someone who doesn't a "pragmatist." The latter is called a cheater.) It must emphasize that an unconstitutional law is no law at all.
This brings us to something else Gov. Malloy said to the gun owner at the town hall: "[W]e have courts. Courts are where the constitutionality of things are [sic] decided."
Actually, no, they're not.
Courts are where the courts' position on constitutionality is decided.
As for actual constitutionality, that's an objective reality that cannot be changed by cheaters who rationalize that rules can be "living" (which is convenient when you've assumed the power of life and death over them).
And "assumed" is the operative word. Nothing in the Constitution grants the courts the power to be the ultimate arbiter of the document's meaning. So who did grant the courts this power?
The courts themselves!
Chief Justice John Marshall took it upon himself to assert this right in the 1803 Marbury v. Madison decision. This started the transition from the rule of law to the rule of lawyers.
This is why the LEO Constitution course must also incorporate Thomas Jefferson's correct position on the courts' role. Our third president wrote in 1819 that he denied "the right they [the courts] usurp of exclusively explaining the constitution…," saying that if that right became status quo, "then indeed is our constitution a complete felo de se." That's Latin, of course.
It means "suicide pact."
And no American has an obligation to be party to a suicide pact.
Jefferson went on to explain, "For intending to establish three departments, co-ordinate and independent, that they might check and balance one another, it has given, according to this [judicial review] opinion, to one of them alone, the right to prescribe rules for the government of the others, and to that one too, which is unelected by, and independent of the nation." Quite right. And if the courts can unilaterally decide that they have ultimate-arbiter power, guess what?
We can unilaterally decide they don't.
Yes, in-your-face actions can go both ways.
As for law enforcement, what if you can't vote for your head LEO because you live in a city in which the mayor appoints a police chief? Then the litmus test a sheriff would have to pass must be applied to a mayoral candidate. If he's a Bolshevik Bill unwilling to appoint a Constitution-loving-and-fearing chief who will institute the aforementioned Constitution course, tell him sorry, but only true Americans need apply.
As first responders, LEOs can also be first persecutors or first protectors. What they actually will be is up to us.
ATF agents raided a gun parts store over the weekend to obtain a customer list.
The raid began after Dimitri Karras, the owner of Ares Armor, in National City, Calif., refused to turn the customer list over to the federal government as demanded. A retired Marine, Karras said agents with the Bureau of Alcohol, Tobacco, Firearms, and Explosives (ATF) wanted to investigate a list of 5,000 customers who unknowingly had purchased an allegedly illegal part at the store.
The customers reportedly purchased a specific 80 percent lower receiver — used to build an AR-15 rifle – that the Department of Justice and the ATF contend is illegal because it does not have a serial number.
Ares Armor was among a handful of stores which recently received a letter from ATF agents demanding that they not only turn the non-compliant gun part over to the federal government, but provide the names of all customers who bought the item as well.
Karras' attorney asked for and received a temporary restraining order against the ATF from a federal judge, Janis L. Sammartino, who was nominated by President George W. Bush. A preliminary hearing is scheduled to review the situation on March 20.
But on Saturday the ATF agents did break in and enter Karras' gun parts store, which was closed at the time. They walked out with several boxes of files. Federal attorneys had obtained a judicial "ex parte order," which allowed them to search the store as long as no one was there. Sammartino had issued that, too.
Karras previously had said federal officials had told him to turn over the files "or we are coming in and taking pretty much anything."
"Which is a huge privacy concern and something we are not willing to do," he had said. "They were going to search all of our facilities and confiscate our computer and pretty much shut our business down. The government invades our privacy on a daily basis and everyone thinks it's okay. This is one of those situations where hopefully the government institutions come in and say, 'This is protected and you're not taking it from them.'"
Story continues below video
During the Saturday ATF raid on Ares Armor, the agent converged upon the store in full tactical gear and confiscated the remaining AR-lower receivers. Just prior to the raid, both plain clothes and undercover ATF agents reportedly questioned customers outside of the California gun store.
The customers who purchased the part likely will be contacted by federal officials soon.
"If you have purchased an 80% lower receiver from a storefront location or over the Internet from any vendor, I think it is safe to assume that the federal government either has your customer data, or is in the process of trying to obtain your customer data," wrote BearingArms.com editor Bob Owens. "If you want a truly anonymous 80% lower, pay cash via a private sale, the same as you would with a serialized firearm.
Story continues below video
"We have to wonder if this raid wasn't as much an attempt to send a message to 80% lower customers as it was a raid for user data. Perhaps they're attempting to scare people away from buying from these companies, so that they go out of business."
Source: (Tara Dodrill | Off The Grid News)  
Has Russia Invaded Ukraine?
Gerald Celente calls the Western media "presstitutes," an ingenuous term that I often use. Presstitutes sell themselves to Washington for access and government sources and to keep their jobs. Ever since the corrupt Clinton regime permitted the concentration of the US media, there has been no journalistic independence in the United States except for some Internet sites.
Glenn Greenwald points out the independence that RT, a Russian media organization, permits Abby Martin who denounced Russia's alleged invasion of Ukraine, compared to the fates of Phil Donahue (MSNBC) and Peter Arnett (NBC), both of whom were fired for expressing opposition to the Bush regime's illegal attack on Iraq. The fact that Donahue had NBC's highest rated program did not give him journalistic independence. Anyone who speaks the truth in the American print or TV media or on NPR is immediately fired.
Russia's RT seems actually to believe and observe the values that Americans profess but do not honor.
I agree with Greenwald. You can read his article here:http://www.informationclearinghouse.info/article37842.htm Greenwald is entirely admirable. He has intelligence, integrity, and courage. He is one of the brave to whom my just published book,How America Was Lost, is dedicated. As for RT's Abby Martin, I admire her and have been a guest on her program a number of times.
My criticism of Greenwald and Martin has nothing to do with their integrity or their character. I doubt the claims that Abby Martin grandstanded on "Russia's invasion of Ukraine" in order to boost her chances of moving into the more lucrative "mainstream media." My point is quite different. Even Abby Martin and Greenwald, both of whom bring us much light, cannot fully escape Western propaganda.
For example, Martin's denunciation of Russia for "invading" Ukraine is based on Western propaganda that Russia sent 16,000 troops to occupy Crimea. The fact of the matter is that those 16,000 Russian troops have been in Crimea since the 1990s. Under the Russian-Ukrainian agreement, Russia has the right to base 25,000 troops in Crimea.
Apparently, neither Abby Martin nor Glenn Greenwald, two intelligent and aware people, knew this fact. Washington's propaganda is so pervasive that two of our best reporters were victimized by it.
As I have written several times in my columns, Washington organized the coup in Ukraine in order to promote its world hegemony by capturing Ukraine for NATO and putting US missile bases on Russia's border in order to degrade Russia's nuclear deterrent and force Russia to accept Washington's hegemony.
Russia has done nothing but respond in a very low-key way to a major strategic threat orchestrated by Washington.
It is not only Martin and Greenwald who have fallen under Washington's propaganda. They are joined by Patrick J. Buchanan. Pat's column calling on readers to "resist the war party on Crimea" opens with Washington's propagandistic claim: "With Vladimir Putin's dispatch of Russian Troops into Crimea." http://www.informationclearinghouse.info/article37847.htm
No such dispatch has occurred. Putin has been granted authority by the Russian Duma to send troops to Ukraine, but Putin has stated publicly that sending troops would be a last resort to protect Crimean Russians from invasions by the ultra-nationalist neo-nazis who stole Washington's coup and established themselves as the power in Kiev and western Ukraine.
So, here we have three of the smartest and most independent journalists of our time, and all three are under the impression created by Western propaganda that Russia has invaded Ukraine.
It appears that the power of Washington's propaganda is so great that not even the best and most independent journalists can escape its influence.
What chance does truth have when Abby Martin gets kudos from Glenn Greenwald for denouncing Russia for an alleged "invasion" that has not taken place, and when independent Pat Buchanan opens his column dissenting from the blame-Russia-crowd by accepting that an invasion has taken place?
The entire story that the presstitutes have told about the Ukraine is a propaganda production. The presstitutes told us that the deposed president, Viktor Yanukovych, ordered snipers to shoot protesters. On the basis of these false reports, Washington's stooges, who comprise the existing non-government in Kiev, have issued arrest orders for Yanukovych and intend for him to be tried in an international court. In an intercepted telephone call between EU foreign affairs minister Catherine Ashton and Estonian foreign affairs minister Urmas Paet who had just returned from Kiev, Paet reports: "There is now stronger and stronger understanding that behind the snipers, it was not Yanukovych, but it was somebody from the new coalition." Paet goes on to report that "all the evidence shows that the people who were killed by snipers from both sides, among policemen and then people from the streets, that they were the same snipers killing people from both sides . . . and it's really disturbing that now the new coalition, that they don't want to investigate what exactly happened." Ashton, absorbed with EU plans to guide reforms in Ukraine and to prepare the way for the IMF to gain control over economic policy, was not particularly pleased to hear Paet's report that the killings were an orchestrated provocation. You can listen to the conversation between Paet and Ashton here: http://rt.com/news/ashton-maidan-snipers-estonia-946/
What has happened in Ukraine is that Washington plotted against and overthrew an elected legitimate government and then lost control to neo-nazis who are threatening the large Russian population in southern and eastern Ukraine, provinces that formerly were part of Russia. These threatened Russians have appealed for Russia's help, and just like the Russians in South Ossetia, they will receive Russia's help.
The Obama regime and its presstitutes will continue to lie about everything.
Paul Craig Roberts was Assistant Secretary of the Treasury for Economic Policy and associate editor of the Wall Street Journal. He was columnist for Business Week, Scripps Howard News Service, and Creators Syndicate. He has had many university appointments. His internet columns have attracted a worldwide following. His latest books are, The Failure of Laissez Faire Capitalism and How America Was Lost. http://www.paulcraigroberts.org/
Source: Paul Craig Roberts
It was during the Ides of March 51 years ago that the God of the Bible set this stumbling man on his feet and with much Grace began to grow him into the person He intended him to be.  In those early days of my Christian walk there was much talk about the end times and the soon return of the Savior.  "Jesus is Coming Again" was written in 1957 by John Peterson.
Marvelous message we bring,
Glorious carol we sing,
Wonderful word of the King -
Jesus is coming again!
(Chorus)
Coming again, Coming again;
Maybe morning, maybe noon,
Maybe evening and maybe soon!
Coming again, Coming again;
O what a wonderful day it will be -
Jesus is coming again!
Forest and flower exclaim,
Mountain and meadow the same,
All earth and heaven proclaim -
Jesus is coming again!
Standing before Him at last,
Trial and trouble all past,
Crowns at His feet we will cast -
Jesus IS coming again!
Tragically, thousands of Christians got stuck on the emotional ecstasy of praise and it became the core of many Charismatic churches.  Praise and great gratitude are stored in the hearts of all real Christians but when we approach Jesus like a human friend we fail to exhibit the awe and fear that should be accorded to the King and Judge of creation.  When we stand before Jesus at last we will be standing before the Judge.
The God of the Bible is sovereign; He is still on His throne and He rules the world and all of His creation including the human species created in His own image.  Yes, we do possess a form of free will.  We can disobey God's directives and we can decide to oppose His Will, but when He selects a particular individual He draws him to Himself, changes his thoughts and desires, and makes him useful for His purposes. During the process the person seems to be making decisions independently and often fails to recognize God's miraculous hand until much later, if at all.
God selects His servants and though they may have misgivings (Moses), they become servants and do His bidding.  Sometimes He selects servants who turn out to be unfaithful and disobedient (Saul).  Other times He selects servants who have a deep devotion but suffer from serious character defects (David).  He sometimes selects and changes people who hate Him (Paul) and other times He chooses men who love Him but are troubled by fear and disloyalty (Peter).  Sometimes His choice is someone strong and faithful other times He chooses a weak unpopular person and makes him strong and authoritative.  No man comes to Christ unless the Father draws him.
All of God's blessings are contingent on obedience.  Though He can make us obedient He rewards us for choosing to be obedient.  When we choose to be disobedient we suffer; when we choose to be obedient we set the stage for peace, freedom, and prosperity.  We can set the stage but blessing is a gift, as with all gifts we cannot demand it.
God made a New Covenant by sacrificing His only Son that we might be saved in spite of our sin.  His original Covenant with ancient Israel involved Grace and Law and His New Covenant also involves Grace and Law.  When the original Covenant was broken and twelve tribes of Israel were rejected following the crucifixion of Christ, the New Covenant passed to Christians and the Christian Church.
Salvation allows sinners to approach the throne of God as sinless servants.  It allows God to hear our prayers.  It does not remove the requirement of obedience. Obedience is the foundation of Godly living and sets the stage for the blessed existence God intends for His people.  God's Law is a reflection of God's character, when we flaunt it we flaunt God and bring His judgment.
Rev. Billy Graham's crusades have provided an arena for thousands of conversions.  Rev. Graham requests that his listeners "make a decision for Christ" and thousands of converts respond and are saved.  But there is a serious theological problem:  If the creature can "make a decision for Christ" he can also make a decision against Christ which means He is a sort of god over God making the Creator and ruler of the universe subject to his decision.  This is not only an arrogant assumption but an irrational conclusion.  Thousands have been converted in Graham crusades but each of them was chosen by God before going forward.  God is sovereign.
As the frenzy to resist despotic government continues, keeping guns (The Second Amendment to our Constitution) to protect our family and property is a serious concern.  We watch helplessly as the land of the free falls under the authority of a power laden tyrannical regime; some of our citizens like ostriches bury their heads in the sand; others seek to offer resistance but are stymied by a creeping progression that leaves them without a stationary target.
There is a third category made up of pragmatic sycophants who go along with the lies and illegal maneuvers to protect themselves or to further their careers.  Included in this group would be the end times believers who though they claim to be Christians act like heathen.
In his commentary on" Numbers" R. J. Rushdoony writes, "Two motives now govern men. One is egocentrism whereby the individual judges all things by himself.  In terms of Genesis 3:5 he sees himself as a god empowered to judge and determine what is good and evil in terms of himself.  The other motive is group centrism: the criterion for judgment becomes one's social, racial, or special interest group. In either case, no higher law is seen as binding on all.  The political process then becomes a clash of false and petty centers, all determined to destroy the totality if their will is not done."
Tragically, not only the elite would be world rulers but the people they intend to rule have fallen into the condition Rushdoony so aptly describes.  In our times all are "determined to destroy the totality if their will is not done".  We have millions of pseudo-Christians who believe they can stem the advance of the police state by electing the proper political figures.  Their striving is being successfully countered by the wily elite power brokers who actually have the power to control the political apparatus. It is a meager group that seeks to forsake the entire mess, accept, obey and defend the Law of the Creator, and leave the solution in His hands.
Christians have been lackadaisical; living with and accommodated sin without confronting, resisting, and exposing it.  The Christian Church has failed to confront evil and obey God's Law.  When President Wilson broke his anti-war promise and allowed the wealth of the nation to be raped by the criminal Federal Reserve the Christian Church failed to confront the immorality and dishonesty involved.  We did the same when President Franklin D. Roosevelt set up a Socialist Government. We were too involved in our own self-centered agenda to pay proper attention to the enemy in the house.
When sin begins to blossom it can easily be removed but if it is ignored and the blossoms become branches and entangling vines cutting off a strand has not effect on the entire plant.  This is where we are, we are surrounded by massive entangled sin that we have allowed to grow but that we can no longer control.  From a human standpoint our situation is hopeless.
In his commentary on Numbers R. J. Rushdoony writes, "The modern state hides its evils in a vast bureaucracy of endless rules and regulations which make for anonymity.  The anonymity of cowardice now surrounds us and all too many men are silent.  We do not advance in history by means of any natural force or pendulum, but only by faith and moral courage.  This is the great need of our time."
We can elect another liar to the Presidency but he will forsake his promises and continue to allow the puppeteer to dictate his behavior.  We can continue to fight a losing battle against an overwhelming power structure, we can work for a revolution that will result in another oppressive government, or we can put our head in the sand and go along to get along.  These are the alternatives.  But there is another.  God can restore this nation. We cannot untangle the mess but He can.  He can restore freedom to the world!
It was the God of the Bible that miraculously freed His people from Egyptian captivity.  We worship that same miracle working, powerful and merciful God.  "When my people humble themselves—the ones who are called by my name—and pray, seek me, and turn away from their evil practices, I myself will listen from heaven, I will pardon their sins, and I will restore their land."
Christians often quote this verse from Second Chronicles 7:14 but the promise is contingent on obedience and we have failed to obey.  First, God is referring to His Church, "my people – the ones who are called by my name" must humble themselves.  Humility is not a wishy-washy condition.  Being humble means being subservient to the Living God – understanding that He is God and we are His servants enjoined to do His Will.  With a humble spirit we are to seek Him in two ways: One, we are to pray.  Two, we are to repent and turn from our evil ways.
It is the second requirement that sets the foundation for the restoration.  Turning from our evil ways means that we will stop disobeying God.  In order to obey God we must turn to His Law.  We are evil; we suffer from the same urge to disobey that overcame Adam in the book of Genesis.  We want to be God.  We are unable to determine how to obey God without referring the His Law.  We must go back to the Torah and the Law God gave to Moses.  There is no way to gain a better understanding of the character and desires of the God we worship than to read the Laws He gave to Moses.
God's Law sets the foundation for the society He seeks for His people.  We are saved by the Blood of Jesus; by the sacrifice of God's Son our sins are forgiven – forgiven but not forgotten.  The results of sin cross into the next couple of generations.  The sooner we repent and begin to obey God's Law the sooner we and our posterity will begin to enjoy the righteousness, peace, freedom, and prosperity that obedience produces..
We must humble ourselves and pray, seek God with a contrite heart, and begin to learn and obey His Law.  Then He will restore us to our land.  Do you realize, gentle reader, that our land is being stolen from us through government ownership and United Nations control?  Land is a gift from God to be subdued and cultivated for our sustenance.  It is not to be acquired by despotic governments and returned to wilderness.
How do we pray?  We pray for forgiveness from our sins and the sins of our fathers.  We ask God to forgive us for putting the nation ahead of His Kingdom.  We ask to be forgiven for making an idol of politicians and political parties.  We repent from being the arbiter of our faith and vow to treat His Word with humility and reverence. We agree to obey His Law to the best of our ability and we thank Him for the provision He has provided by sacrificing His Son.  We seek forgiveness for supporting illegal wars with a macho desire for victory and promise never to engage in armed conflict without His willing assistance. We agree to promote obedience in our sphere by confronting evil with righteousness.  And we pray all this with the understanding that it is God who has brought the United States of America to this juncture and only He can turn it around.
It is time to acknowledge that we cannot redeem our nation; that human efforts are useless against a powerful opaque enemy who has control of all of the power centers.  We can carp at the results of this hidden adversary but we have no way of confronting the forces that are slowly robbing us of our freedom.
I believe God has divorced the mainline Christian Churches, the Charismatic congregations, the independent mega churches, and many of the Evangelical Churches. These organizations have become social centers and theological aberrations.  They are useless in the battle for redemption.
The Catholic Church has maintained an authoritative center but it has allowed heretical traditions to distort its theology and sexual sin to stain and pollute its heart.  It supports world government and is a significant part of the problem.
The Protestant Church has allowed Antinomianism to destroy its theological base to the point where it can hardly be called a Christian organization.  Lawless Evangelical and Charismatic churches do not worship the God of the Bible.  The Law is a reflection of the character of God.  Christians who deny the Law worship a different god. Rushdoony writes, "To despise God's law is to despise God."
Real Christians can no longer support organized churches.  If we wish to be servants to the Living God we must leave organized churches.
The God of the Bible, The One True God, seeks an obedient people.  He knows our frailties but wants us to do our utmost for His Highest.  Our duty is to seek to obey His Commandments in every phase of our lives and to work to bring all of His creation under His dominion.  His power and blessing will enforce that effort.
In his comments on Christ's High Priestly prayer in "Systematic Theology" R. J. Rushdoony quotes a sterling description of a real church by D. Douglas Bannerman,http://www.docs.is.ed.ac.uk/docs/lib-archive/bgallery/Gallery/records/eighteen/bannerman.html  "That they may be one, even a We are."  Who can tell all that these words foreshadow as in the final estate of the Church of the redeemed?  Christ's disciples shall be one with each other, even as the Three are most high in the unity of the blessed Godhead. They shall be one in heart and will, in righteousness, holiness, and love, in the unity of one new nature in Christ, and yet with no loss of personal character, even as there are high and mysterious differences between the three, who are One upon the throne in heaven, "the same in substance, equal in power and glory."
I am an old man and my energies are waning but I have often dreamed of having an anti-establishment blog in every city.  The Blog would specifically counter the slanted news produced by our press and media.  These Blogs would correct and add to the news that is always distorted and truncated allowing citizens to read a realistic description of the issues.  It would provide the rest of the story that is often found on various internet sites but never in the controlled media.  There are good writers who regularly write for the net without compensation.   Extensive computer savvy would be required but the cost would be minimal – a few bumper stickers would suffice for advertising.
God may already have rejected the Christian Church.  It has been an ineffective organization for many years and efforts to awaken it leaders have failed.  Real Christians need to begin to network and work on projects that resist the massive evil entanglements.  The objective is to bring the world under God's control through willing obedience to His Commandments.
Rushdoony list three requirements of the covenant people "law, obedience, and love".
There it is:  Repent, regroup, pray, and work to bring the light of righteousness back into the world.  Leave the end times and the Second Coming in the hands of God and begin to do the work God intended for us.   When the Mighty God of All Creation is on our side victory is assured.
Confrontation is a necessary dam to the progress of evil in society.
American policy is now confined to determining which of two evils will be rewarded.  For decades conservatives have been voting for the lesser of two evils, impaired by party loyalty and seeking a maligned victory, they fail to confront egregious evil.
Evil is inherent in diversity.  The exclusive righteousness characteristic of ancient Israel was predicated on maintaining religious purity.  That purity is being consistently destructed by toleration.
Christian churches should be at the forefront in confronting these dangers.  It is not surprising that the scant confrontation evidenced in the public domain is coming from Christians.  Nor is it surprising that Christian ministers pre-occupied with growing larger and more powerful churches are wont to confront evil either in the society at large or in their own congregations.
In February, 1994, the late Mother Theresa of Calcutta speaking at the National Prayer Breakfast with then President William Jefferson Clinton and his wife Hillary in the audience made the Included in the prayer was the following litany:
We have lost our spiritual equilibrium and inverted our values.
We confess that we have ridiculed the absolute truth of Your Word and called it moral pluralism.

We have worshiped other gods and called it multiculturalism.

We have endorsed perversion and called it an alternative lifestyle.

We have exploited the poor and called it the lottery.

We have neglected the needy and called it self-preservation.

We have rewarded laziness and called it welfare.

We have killed our unborn and called it choice.

We have shot abortionists and called it justifiable.

We have neglected to discipline our children and called it building self-esteem.

We have abused power and called it political savvy.

We have coveted our neighbors' possessions and called it ambition.

We have polluted the air with profanity and pornography and called it freedom of expression.

We have ridiculed the time-honored values of our forefathers and called it enlightenment.
In May, 1999, Darrell Scott, whose daughter Rachel was fatally shot at Littleton, Colorado's Columbine High School, included the following poem in his poignant remarks before a subcommittee of the House Judiciary Committee:
Your laws ignore our deepest needs
Your words are empty air
You've stripped away our heritage
You've outlawed simple prayer
Now gunshots fill our classrooms
And precious children die
You seek for answers everywhere
And ask the question "Why"
You regulate restrictive laws
Through legislative creed
And yet you fail to understand that
God is what we need!
Hardness in the reprobate heart repels the confrontation of wisdom.  Mother Theresa's sweet rebuke of the Clinton stand on abortion was quickly forgotten.  Several walked out on the repentant prayer read by Pastor Joe Wright and Darrell Scott's confrontation of the House Judiciary subcommittee was like a drop of fresh water in a cesspool.
Error (polite for sin) is a common denominator to human existence and when it is not confronted it metastasizes.  In an effort to preserve their right to debauchery Americans have elevated human comfort above human righteousness.  They have failed to confront lies and distortions of fact in an effort to maintain peace.  This most grievous of errors has become pandemic in our churches rendering them useless in the maintenance of Godly Wisdom and Righteousness.
Fred Reed in one of his recent insightful columns concerning the press writes, "because of law, convention, and political fear papers have to hire "diverse" newsrooms. This exercises a powerful flattening effect on the news. For practical purposes it is not possible to express opinions, or to cover stories, that offend a sizable group on the floor of the newsroom. If your editor is female, or the guy at the next desk black, or gay, you find it very hard to write anything that these groups won't like. You have to come to work every day. More diversity in the newsroom means less diversity in the news."
In a Brian Lamb interview on C-Span a caller queried Midge Dector, a Zionist Jewish author and wife of Neo-Con Norman Podhoretz, about why Jewish-Americans predominate in our superstructure.  The caller, who was able to announce that Jews make up a tiny fraction of the American population but have a tremendous amount of power, was loutishly cut off by Brian Lamb and Midge Dector with a straight but distasteful look on her face denied the existence of extensive Jewish power.
This is, of course, a lie.  Jewish intellectualism is cherished. They are a hardworking, intelligent, well educated, collusive, quasi-patriotic group of unassimilated Americans whose quest for behind the scenes power has been generously rewarded.
The road to Hell is paved with the inability to confront lies and America has been in the paving business for several decades.
Unfortunately, the American media hides facts and perpetrates lies.  While the quest for world government with all of its ancillary plots forges fearlessly ahead, detailed discussion of its disastrous consequences for the American people is studiously avoided.
Reporting on confrontations that involve truth are never widely covered in the media.  With all the ballyhoo that is made about freedom of the press, America has not enjoyed a free press for a long time.  As Fred Reed so aptly states, the press is "controlled, controlled, controlled".
Pictures of aborted babies are avoided; the cruel results of war and the mutilated bodies it produces are never shown to the public; neither the scourge of AIDS nor homosexual activities are reported in all their ugliness; diversity is promoted for America but not for Israel; the efficacy of Christianity is regularly questioned and authentic movies such as "The Passion of Christ" are denigrated.  America's press, ridden with bias and homogeneity, is a threat to the Nation.
The recent ruckus over "The Passion of Christ" has brought the errant nature the media elite into focus.
To question the right of a Christian American to produce a Biblically authentic movie on the death of Christ because it does not conform to the Jewish agenda and the contrived propaganda of Abe Foxman and the Anti-Defamation League is both an example of the power of Jewish influence in America and a travesty of major proportions for both Jews and Christians.
In an essay entitled "The Passion of the Christ, the Jews, and God" Screenwriter Brian Godawa addresses this problem with the following conclusion: "So to understand the New Testament claims of Jesus as Messiah is to understand a history of Israel that includes hundreds of years of stiff-necked resistance to God's own prophets, building to a climactic rejection and killing of God's own Son, the Messiah, followed by the persecution of Messiah's followers and terminating in God's wrath and vengeance being taken out on the nation by the destruction of the holy city of Jerusalem and its temple. The barrenness of that temple, still desolate for over 2000 years, is a testament to the new spiritual temple created by God, the body of Christ — a new "nation" consisting of Jews and Gentiles who both have faith in Messiah, a Messiah, as portrayed in the movie The Passion of the Christ, whose rejection and victimization made Him the "unblemished lamb of sacrifice" slain on God's altar to accomplish the victorious redemption of His people, the forgiveness of their sins."
In his unique style Fred Reed praises the opportunity we all have on the Internet to express ideas that would never be inked in our newspapers.  This is, indeed, an exceptional opportunity but one that will surely be under attack by those that seek to exert their evil agenda over America.
Seyeda Zeinab, Syria – During a meeting at the Dama Rose hotel in Damascus the other morning, this observer was briefed by 'Abu Modar," a reputedly battle-honed field commander of the "Death Brigade," a unit based in the northern Syria Eskanderoun region, north of Latakia. Abu Modar explained that he personally had chosen the rather peculiar name for his outfit to symbolize the willingness of its members to die for their cause—protecting Syria.
"Before each battle or each mission I ask my God to let me die defending Syria", he explained. "If we are involved with a joint operation with Hezbollah, who are much admired because of their honesty and trustworthiness, I lead my men to the front line and ahead of Hezbollah troops out of respect for them and because we Syrians believe that as their grateful hosts we have this duty."

The gentleman began explaining the history of his militia, one of thousands (both pro-and anti-government) operating in Syria these troubled days. It is a history that included some of his predecessors fighting with the PLO in Beirut during the summer of 1982, but as he was relating all this, his phone rang. The conversation was not long. The caller, he informed this observer upon ringing off, was his "contact," advising him that certain intelligence sources had received information overnight that an individual had been observed in the vicinity of Zeinab's shrine placing a parcel of explosives into a vehicle, presumably with the intention to detonate it near her resting place. This riveted my attention, in part because this observer was scheduled by chance to join an army escort the next day and visit the historic site, located about 40 minutes south of Damascus. Nearly two months ago the government regained control of the area, but there are still some snipers around, I had been apprised by friends. Abu Modar's specific mission was to take some of his commandos and kick in the door of the suspect's house sometime during the night, arrest him, and turn him over to someone for interrogation. His mission struck me as simple enough and he was matter of fact in outlining his plan.
"We do this sort of mission often. This is part of our expertise, and we do it whenever we are asked by Resistance friends and Syrian authorities. It spares the army for their normal work on battlefields, and our unit is specialized, and from long experience we have acquired certain useful skills."
I demurred when he invited me to join him, explaining I was a bit out of shape and did not want to get in the way of his men's work or potentially hamper their operation. But he insisted, saying that I could stay in his jeep and just observe, and he doubted that I would be in any serious danger. I was tempted to accept his invitation, and agreed to his proposal to meet after lunch to finalize our plans for that night's outing. At this point, however, I called a trusted and knowledgeable Syrian friend, who knows a lot about these matters, and she seemed exasperated I would even consider tagging along with the Death Brigade.
"Absolutely not Franklin! Khalas! (finish!) You are visiting Seyeda Zeinab bokra with the army and you are not going with anyone else!"
Frankly, I was a bit relieved by my friend's unequivocal counsel, and my new pal from the "Death" militia (who is acquainted with her) sportively understood. An interesting anecdote was at this point related by my interpreter: that Abu Modor had laughed and claimed a badge of honor upon recently being shown YouTube videos regarding his macho, George-Patton-style exploits in Qusayr, and in villages around Qalamoun, and rebel claims that he and his brigade were "the number one pro-regime murderers in Syria." I might also mention that the "Death" unit is part of the not-well-known-in-the-West Popular Front for the Liberation of Iskanderun (PFLI), currently fighting rebels north of Latakia, in the mountains bordering Turkey, and whose forces have also periodically spent time guarding the resting place of Zeinab.
The geographical place name "Seyeda Zeinab" can be confusing for an untutored foreigner, the reason being that it may refer to a group of five small cities in the governorate of Damascus—Al Zeyabeya, Hujayr, Husseiniya, Akraba and Babila—or, alternately, to the sacred burial place and shrine for Zeinab bint Ali, the daughter of Ali, the first Shia Imam, and his first wife Fatima. Zeinab was also the granddaughter of the Prophet Mohammad (PBUH) and the sister of Husayn and Hassan. Her shrine and pilgrimage destination are located in the small town of Seyeda (Lady) Zeinab, but given its fame, the name also refers to a wider area. As a holy shrine and place of prayer and scholarship, one imagines this place to be in the category of perhaps Qoms in Iran, and Najaf in Iraq. All three attract thousands of pilgrims and tourists, and since the area surrounding Seyeda Zeinab was liberated and essentially pacified by the Syrian Army recently, visitors are again arriving daily from countries including Yemen, Bahrain, Iraq, Iran, India, Pakistan and Lebanon, among others.
The Mayor of Seyeda Zeinab, this observer's gracious host, is Mohammad Barakat, a Sunni engineer from Homs, roughly in his early 50's. His staff is of mixed religious backgrounds, and, as with most Syrian citizens I have met over the past three years, was essentially blind to and uninterested in sectarian differences in existence before the current crisis. All the mayor's staff members are working long hours these days, responding to numerous requests for post-liberation help, appeals which they try their best to accommodate with their limited available resources. My three-hour discussion with Mayor Barakat was interrupted perhaps as many as a couple of dozen times by the appearance of an aid often seeking his signature or mayoral stamp on citizen petitions covering anything from requests for food stuffs, problems with housing, or attempts to find employment with a municipal project now getting started.
In his bee hive of an office, the mayor used a pointer to highlight locations on a large wall map hanging next to his desk, the map illustrating areas where repair and construction projects are being readied. Mr. Barakat enthusiastically proclaimed, "2014 is the year we intend to start and finish area restoration work, and we take pride in the prospect that what we achieve here in Seyeda Zeinab can be a model for restoration work all over Syria that hopefully can begin soon."
Barakat and three of his staff members accompanied this observer on an informative and inspiring tour of the Mosque and Shrine of Saeyda Zeinab. The shrine, our hosts informed us, is an example of Shia architecture, and the dome is made of pure gold. The grave of Zeinab is enclosed within a raised, crypt-like structure centered directly beneath the massive golden dome. The doors of the shrine are apparently also made of pure gold, with mirror works on the roof and walls. The minarets and the entrance gate of the holy shrine are covered with Iranian moarrahg tile designed by the famous Iranian architect and tile artist Ali Panjehpour. My colleague from the mayor's office allowed me to finger one and explained that each 4 x 4 inch tile, of which there were hundreds of thousands in the complex, cost more than $100 USD. There is also a large mosque adjoining the shrine which this observer was advised can accommodate more than 1,300 people and a further 150 in the attached courtyards. The two tall minarets, one of which was damaged by a rebel mortar, dominate the architecture of the mosque as well as a large souk on the other side of a newly-built security wall.
In the cavernous nave of the Seyeda Zeinab, just next to the beautifully inlaid, elevated crypt holding her remains, approximately 50 men were performing mid-day Salat al Duhr prayers. Some were in camouflage uniforms and appeared to be on military leave or from the security units guarding the inside and perimeter of Zeinab's Shrine.
This observer did not want to awkwardly press his hosts for details regarding the identities of the armed men guarding Seyeda Zeinab or where they are from. Some Western media sources have speculated that Shia fighters from Iraq and Lebanon came to Syria to protect Seyeda Zeinab following the desecration in Iraq of the tomb of Hajar Bin Aday. Several sites on the Internet published reports claiming that a takfiri group exhumed the tomb of Bin Aday, who was one of the most prominent Muslim leaders at the time of the Prophet Muhammad and who was loyal to Imam Ali bin Abi Talib. Bin Aday's remains were reportedly taken to an unknown location. This observer infers that Hezbollah is currently a prominent presence guarding Seyeda Zeinab, and my Syrian companion noted Lebanese accents in the guard station at the entrance.
At the entrance to the women's area, several women were praying and others appeared to be part of the shrine's Women's Auxiliary, or Guild, as they directed visitors while graciously assisting and providing female visitors with black chadors upon entering the sanctuary. One charming middle age woman, who appeared to be Iranian, smiled knowingly at me, and with a twinkle in her eyes jokingly offered this visiting American a chador as "a gift and souvenir from our Holy Shrine and from our community—to take back to your country, in appreciation of you not bombing us…yet!" And she laughed at her own joke, as did all who heard it, including the mayor, some nearby soldiers, and teen-aged visiting students.
Update on the capture of the bad person sought by Abu Modar
Well, did Abu Modar and his "Death Brigade" get their man?
They did indeed, and it was the night before this observer's arrival at Seyeda Zeinab. Abu Modar detailed to this observer and a few of his militia guys the evening's events as we made plans to leave the next morning for the Iskandroun region and an interview the PFLI President, Ali Kyali. The capture, it seems, came about not by kicking in the alleged bad guy's door, American SWAT team-style. Rather, the suspect was stealthily followed and, during the early morning of 2/25/14, apprehended at one of the Syrian army checkpoints that surround the village of Seyeda Zeinab.
Such incidents make it clear that Seyeda Zeinab is still a target of some jihadist types given its great importance to Syria, the region, and among Muslims globally. Yet across sectarian divides here there are growing signs of the great majority of the exhausted populations being ready, to a degree, to forgive and forget at least some of the events of the past nearly 36 months.
Visiting Seyeda Zeinab is a wonderful, solemn, exhilarating and inspiring ecumenical experience—one highly recommended to all tourists planning to come to the Syrian Arab Republic as improving security conditions begin to allow for the return of international visitors.
May the Sainted Martyr, Zeinab bint Ali, whose life was devoted to charity and to nursing others, and who is a model for all humanity of resistance and defiance against oppression and all forms of injustice, forever rest in peace.