Any [teaching] that is good is in the Word of God, and any that is not in the Word of God is not good. I am a Bible Christian and if an archangel with a wingspread as broad as a constellation shining like the sun were to come and offer me some new truth, I'd ask him for a reference. If he could not show me where it is found in the Bible, I would bow him out and say, "I'm awfully sorry, you don't bring any references with you." ~ A.W. Tozier
There's an ongoing debate as to whether or not Bono, U2 front man and one of the world's most recognized rock stars, is an authentic Christian, although he states that he is.  Many Bible believing Christians have looked at the evidence and have come out and said that, although he professes Christ, he's not a true Christian.
So let's examine the evidence.
On his belief about Jesus Christ, Bono said this:
I believe that Jesus was, you know, the Son of God.
Does he mean the Jesus who's the Second Person of the holy Trinity?
In 2005 after the release of his book "Grace Over Karma" he stated:
The point of the death of Christ is that Christ took on the sins of the world, so that what we put out did not come back to us, and that our sinful nature does not reap the obvious death. That's the point. It should keep us humbled. It's not our own good works that get us through the gates of heaven.
He's right.  It's not our own good works that gets us to heaven "for by grace you have been saved through faith, and that not of yourselves; it is the gift of God, not of works, lest anyone should boast" that saves us. (Eph. 2:8-9)
In 2014 Jim Daly, President of Focus on the Family, interviewed the rock star on his radio broadcast and said this:
[H]e's known great success, both in his career as a musician, and in his work as a global advocate for the poorest of the poor. He's also the co-founder of The ONE Campaign, and their motivation is to help people who are suffering.
All of this is true.  But that means he's a do-gooder.  It does not make him regenerate.
Not surprisingly, when Daly invited him on the show conservative Christians who are aware of some of the controversial things he has said over the years thought it was a mistake.  Many people wondered why a pro-family leader of Daly's stature would pass him off as a Christian by saying, "he's a believer in Jesus Christ, and professes Christ as his Savior. In fact, Bono's spiritual journey has been greatly influenced by a mutual good friend — Eugene Peterson, who's the author of The Message. And he's also written a great book called Run With The Horses that has had a great influence on Bono and many of us."
I don't have the space to address my concerns with Eugene Peterson or The Message Bible he penned – it's a parody of the Bible.  So links are included below.
Looking at the things Bono has said (I'm coming to that) although he professes a belief in Christ clearly he doesn't believe that the Bible is the inerrant Word of God.  Moreover, his social views are decidedly "progressive."  In fact, his religious beliefs blend nicely with emergent gurus such as Brian McLaren, Jim Wallis and Tony Campolo.  These men are leftists who are leading the Church away from Sola Scriptura into what Ken Silva referred to as the "emerging cult of the new liberal theology."  The controversial movement, called the Emerging/Emergent Church (EC), seeks to reach the unchurched with their unbiblical version of the Christian message.  In so doing they have cooked up a cauldron ofsyncretism stew.
So – what's important to know about EC leaders is that their aim is change and their plan, and they do have one, is to dismantle historic orthodox Christianity and bring forth a "new paradigm," a "new kind of Christianity."  Be wary of words such as story (story of God, story of Jesus)… becoming… conversation… missional… reimagine… tribe… deconstruction… vision, etc.  Emergents are "Christ followers," they are "Social Justice Christians."
Social Justice Christianity
The moniker liberals who profess Christ prefer is Social Justice Christian.   One conservative blogger commented that Bono is "social justice, ecumenical, globalist, Agenda 21 promoting."
He's all of that for sure.  Bono's an activist and philanthropist with a stated goal to eliminate world poverty.  Because he's hugely popular people want to know what he thinks about this and that.  So naturally he takes every opportunity to promote causes he cares about including HIV/AIDS infection in Africa and third-world debt relief.  Tom De Weese of the American Policy Center once quipped that he "dogged political leaders around the world, using his rock star status to pressure them into accepting his brand of global guilt."
So – should it matter to Bible believing Christians that Bono is a "progressive"?  Should we be concerned that he's spreading Social Justice Christianity around the globe?  I mean, he's telling people about Jesus, isn't he?
Well, yes, it should matter to Christians that a person as famous as Bono is promoting an unbiblical version of Christianity and a "different Jesus."  Many people idolize celebrities.  Adoring fans hang on their every word.   And, sadly, many Christians don't read their bibles so they not only are ignorant of its teaching, they lack spiritual discernment.  In other words, they're easily influenced by celebrity but not so much by the Bible.
When it comes to a LIE-celeb such as Bono, the question we must ask ourselves is this: What gospel is he sharing, the true Gospel of Jesus Christ or is he sharing another Jesus…another spirit…another gospel (2 Cor. 11:4)?  If it's the later then it makes him a false teacher.
The Apostle Paul spoke out against counterfeit Christians:
And what I am doing I will continue to do, in order to undermine the claim of those who would like to claim that in their boasted mission they work on the same terms as we do.  For such men are false apostles, deceitful workmen, disguising themselves as apostles of Christ.  And no wonder, for even Satan disguises himself as an angel of light. So it is no surprise if his servants, also, disguise themselves as servants of righteousness. Their end will correspond to their deeds. (2 Cor. 12-15)
Elliott Nesch of The Waundering Path writes:
How many of those who have been saved from extreme poverty through Bono's ONE Campaign are now saved from their sins through the same effort? Can social justice, debt relief, and elimination of the AIDS epidemic bring glory to God when it is completely unconnected to the preaching of the Gospel of Jesus Christ? (Source)
A very good question.
Can't We All Just COEXIST?
Lighthouse Trails Research (LTR) has a piece entitled Focus on the Family Gives Bono a Platform – Another Example Where 2 +2 Don't Add Up.  LTR shares a quote by Christian researcher Berit Kjos from her book Protect Your Child From the New Age & Spiritual Deception:
U2's 2005 tour was aimed at joining all religions into a unified global spirituality. To emphasize the coming solidarity, the word "COEXIST" was featured on a giant screen. The capital "C" pointed to the Islamic crescent, the "X" symbolized the Jewish Star of David, and the "T" was a reminder of the Christian cross. Bono led massive crowds in a vibrant chant: "Jesus, Jew, Mohammed—It's True!
Not everyone approved. Singer/songwriter Tara Leigh Cobble said, "He repeated the words like a mantra, and some people even began to repeat it with him. I suddenly wanted to crawl out of my skin. . . . Was Bono, my supposed brother in Christ, preaching some kind of universalism?"
"I felt like I was witnessing an antichrist," said her friend.
In one song, "God's Country," Bono belts out the words, "I stand with the sons of Cain," The Bible tells us that Cain "was of that wicked one, and slew his brother" (1 John 3:12), not exactly someone who a Christian would want to be found standing in agreement with.
Kjos later says:
Are Christian leaders speaking up and warning others about Bono? No, on the contrary, reveals one Christian journalist:
"One of the leaders being promoted today by those purporting to be officiating the way for our young people—to include Bill Hybels, Brian McLaren, Rick Warren, and Rob Bell—is 'Christian' Rock star Bono of U2, whom many emergents view as their 'prophet' and the main icon of their movement. In Bono's rendition of Psalm 23, he alters the entire thrust and message of this beautiful psalm to something that sounds nothing less than blasphemous. For example . . . he alters the wording to say 'I have cursed thy rod and staff. They no longer comfort me.'"  [This rendition of Psalm 23 is documented in The Submerging Church DVD.]
And in the summer of 2005, Rick Warren attended the Live 8 Concert with Bono where he was made the official pastor at the event.  Rick Warren did not issue a warning at the event about Bono, leaving the impression on thousands of young people's minds that Bono is OK.  (from chapter 17, HPC)
Bono Helps Gay's Win The Day
Bill Muehlenberg of Culture Watch is one Christian who isn't standing up for Bono.  And he isn't concerned about issuing a warning either.  Muehlenberg came out swinging after Bono threw his support to Bible torturing radical gay activists who were out to legalize same-sex "marriage" in Ireland.  Homosexuals were ecstatic to have a rock star behind them in their effort to legalize same-sex "marriage."  Pink News reported:
Irish singer Bono, speaking ahead of the band's latest world tour, said "Marriage is an idea that transcends religion."
Bono, who is from a mixed Anglican and Catholic family, told the Irish Times:
"[Marriage] is owned by the people. They can decide. It is not a religious institution.
"As far as I know, Jesus wasn't a married man and neither are most priests talking about it. It is not a religious idea.
"In my mind, commitment is one of the most impossibly great human traits. It is a hard thing to hold on to, and anything that brings that together is a totally wonderful thing."
Gay-affirming Bono does not understand the implications of tossing aside God's plan for marriage—one man one woman for life—so that men can marry men.
Muehlenberg had these harsh words for U2's front man:
Another clear-cut acid test of Christian commitment has to do with the issue of homosexuality. If you get someone trying to tell you that homosexual marriage is just peachy and Jesus would be fully supportive of it, then you know you've got a religious fraud on your hands, and you should give him a very wide berth.
One so-called believer who has worried me greatly for years has in my eyes nailed his coffin completely by his recent support of sodomite marriage. Bono and U2 are going utterly brain-dead in supporting the Irish vote on homosexual marriage.
So if you think Bono is some sort of great Christian, you better think again. This comes from the U2 website:
On Friday Ireland votes in an historic referendum on legalizing same-sex marriage. Here's what the band say: #voteYes.

"Commitment, love and devotion are some of the most impossibly great human traits. Trying to co-opt the word marriage is like trying to make love or devotion gender- or religion-specific. And that has to stop. Marriage is human-specific: a human commitment, one that transcends religion, transcends politics. It should be encouraged wherever, whenever and between whomever that love, that devotion and that commitment exists. #voteYES"
This has got to be one of the most idiotic things I have read in a long time. We expect atheists and militant homosexual activists to come up with sheer baloney like this, but someone who calls himself a Christian? This man is a fool, in the biblical sense of the word. (Source)
The bottom line is this: A person cannot profess a belief in Jesus Christ and live like the devil.  Like so many so-called Christians, Bono takes Christianity cafeteria style – he picks and chooses what pleases him and avoids what doesn't.
Christianity is serious business, brethren.  Jesus requires much of His sheep.  "If you love me you will keep my commandments" (John 14:15).
Do you love Him?
"Thy word is a lamp to my feet and a light to my path" (Psalm 119:105).
Do you get your guidance from the Bible?
Bono does but only when it suits his purpose.
Recommended Resources:
Transcript of Focus on the Family interview
The Homosexual Agenda—Berean Research
What is the purpose of marriage?–CARM
Also,
Reading
Does the Bible Really Say We're Not to Judge—Marsha West
U2's Bono, Unorthodox Superman—Elliott Nesch
Their precious young minds and our precious young minds…
She was a redheaded rebel, the singer in the family, a trash-talking, tattooed 21-year-old wrapped up in a hip-hop dream of becoming Holland's Eminem. Then Betsy found Allah. After her sudden conversion to Islam last summer, Betsy began dressing in full Muslim robes. By January, the once-agnostic Dutch woman, raised in a home where the only sign of religion was a dusty Bible on a shelf, began defending homegrown terrorists. … Denis Cuspert, a German hip-hop artist known as Deso Dogg who converted in 2010 and later joined The Islamic State [ISIS], delivers a rap-like chant portraying the path to jihad as a chance for empowerment, spiritual fulfillment, vengeance and adventure. … 'The door to jihad is standing there waiting for you,' says a Swedish convert to Islam in a video. 'It is the fastest way to paradise.' (1)
Tales told many times in recent years, all over Europe, at times in the United States. Parents and authorities are deeply distressed and perplexed. How can young people raised in the West – the freedom-obsessed, democratic, peace-loving, humanitarian, fun-filled West – join the Islamic State and support the public cutting off of the heads of breathing, living human beings? Each of us in our own way are lost souls searching for answers to the awful mysteries of life. But THIS? What life-quest does The Islamic State satisfy that our beloved West can't satisfy? ISIS is unique in the world in making US foreign policy look good. The Defense Department and the State Department have special task forces studying the new enemy; the latter regularly puts out videos to counteract the many Islamic State videos.
I hope those researching the question look inwardly as well as at ISIS. How do young people raised in the West – the same West we know and love – coldly machine-gun to death more than a dozen Iraqis, men, women, children, reporters, absolutely in cold blood, in the video made famous by Chelsea Manning; but this of course is nothing compared to Fallujah with its two-headed babies, even three-headed, an eye in the middle of the forehead. The Islamic State has done nothing compared to what the United States did to the people of Fallujah. Can anyone name a horror in all of history more gruesome? Yes, there are some, but not many; and much of Fallujah was personally executed by nice, clean-cut, freedom-obsessed, democratic, peace-loving, humanitarian, fun-filled made-in America young men.
Here's US Lieutenant General Ricardo Sanchez, in his memoir, April 6, 2004, the time of Fallujah, in video teleconference with President Bush, Secretary of State Colin Powell, and Secretary of Defense Donald Rumsfeld. "We've got to smash somebody's ass quickly," said Powell. "There has to be a total victory somewhere. We must have a brute demonstration of power." Then Bush spoke: "At the end of this campaign al-Sadr must be gone. At a minimum, he will be arrested. It is essential he be wiped out. Kick ass! If somebody tries to stop the march to democracy, we will seek them out and kill them! We must be tougher than hell! This Vietnam stuff, this is not even close. It is a mind-set. We can't send that message. It's an excuse to prepare us for withdrawal. … There is a series of moments and this is one of them. Our will is being tested, but we are resolute. We have a better way. Stay strong! Stay the course! Kill them! Be confident! Prevail! We are going to wipe them out! We are not blinking!" (2)
"Years from now when America looks out on a democratic Middle East, growing in freedom and prosperity, Americans will speak of the battles like Fallujah with the same awe and reverence that we now give to Guadalcanal and Iwo Jima" in World War II. – George W. Bush, 2006 (3)
Well, George, it's either that or Fallujah was one of the key reasons for the rise of ISIS.
My point here is not that United States foreign policy is as barbaric and depraved as The Islamic State. It's not. Most of the time. I simply hope to make it a bit easier to understand the enemy by seeing ourselves without the stars in our eyes. And I haven't even mentioned what the United States has led the world in for over a century – torture.
The ever-fascinating and ever-revealing subject of ideology

Jeb Bush has gotten himself into trouble because, like all politicians running for office, he is unable to give simple honest answers to simple straightforward questions, for fear of offending one or another segment of the population. How refreshing it would be to have a politician say only what s/he actually believes, even if it's as stupid as usual.
The brother of the previous president has been asked repeatedly: "Knowing what we know now, would you have authorized the invasion of Iraq?" At first his answer was "yes", then at times "I don't know", even "no" at least once, or he's refused to answer at all. Clearly he's been guessing about which reply would win him points with the most people, or which would lose him the least.
This caused a minor uproar, even among conservatives. Right-wing radio host Laura Ingraham was moved to make a rare rational remark: "You can't still think that going into Iraq, now, as a sane human being, was the right thing to. If you do, there has to be something wrong with you."
Such discussions always leave out a critical point. Why did millions of Americans, and even more millions abroad, march against the war in the fall of 2002 and early 2003, before it began? What did they know that the Bush brothers and countless other politicians didn't know? It was clear to the protesters that George W. Bush and Dick Cheney were habitual liars, that they couldn't care less about the people of Iraq, that the defenseless people of that ancient civilization were going to be bombed to hell; most of the protesters knew something about the bombings of Vietnam, Cambodia, Laos, Panama, Yugoslavia, or Afghanistan; and they knew about napalm, cluster bombs, depleted uranium, etc. Those who marched knew that the impending war was something a moral person could not support; and that it was totally illegal, a textbook case of a "war of aggression"; one didn't have to be an expert in international law to know this.
Didn't the Brothers Bush, Hillary Clinton (who voted for the war in the Senate), et al know about any of these things? Of course they did. They just didn't care enough; supporting the empire's domination and expansion was a given, and remains so; no US politician gets very far – certainly not to the White House – questioning the right of American Exceptionalism to impose itself upon humanity (for humanity's sake of course).
Consider the darlings du jour of the American Left, Senators Elizabeth Warren and Bernie Sanders. They very seldom speak out critically about US foreign policy or even the military budget. The anti-war/anti-imperialist segment of the American left need to put proper pressure on the two senators.
Mr. Sanders should also be asked why he routinely refers to himself as a "democratic socialist". Why not just "socialist"? It's likely a legacy of the Cold War. I think that he and other political figures who use the term are, consciously or unconsciously, trying to disassociate themselves from communism, the Soviet Union, Marxism, etc., all those things that are not good for you. (The word "socialist" once connoted furtive men with European accents, sinister facial hair, and bombs.)
It would be delightful to hear Sanders openly declare that he is simply a "socialist". Socialism can be democratic; indeed, a lot more so than capitalism, particularly concerning the distribution of wealth and all the ramifications of that. Presented here are some relevant thoughts on these issues, from myself and others:
It's only the socialists who maintain as a bedrock principle: People before Profit, which can serve as a very concise definition of socialism, an ideology anathema to the Right and libertarians, who fervently believe, against all evidence, in the rationality of a free market. I personally favor the idea of a centralized, planned economy. (Oh my God, a damn Commie!) Modern society is much too complex and technical to leave its operation in the hands of libertarians, communitarians, or anarchists seeking to return to a "community" or "village" level.
"Washington has always regarded democratic socialism as a greater challenge than totalitarian Communism, which was easy to vilify and made for a handy enemy. In the 1960s and '70s, the favored tactic for dealing with the inconvenient popularity of economic nationalism and democratic socialism was to try to equate them with Stalinism, deliberately blurring the clear differences between the world views." – Naomi Klein
"If it is true, as often said, that most socialist regimes turn out to be dictatorships, that is largely because a dictatorship is much harder to overthrow or subvert than a democracy." – Jean Bricmont, Belgian author of "Humanitarian Imperialism" (2006)
Without a proclaimed socialist vision, radical change becomes too many different things for too many different individuals and groups.
"Call it democracy, or call it democratic socialism, but there must be a better distribution of wealth within this country for all of God's children." – Martin Luther King
The United States is so fearful of the word "socialism" that it changed the "social sciences" to the "behavioral sciences".
If for no other reason than to save the environment, the world needs to abandon the capitalist system. Every day, in every spot on earth, in a multitude of ways, corporations are faced with a choice: to optimize profits or to do what's best for the planet.
The great majority of people in any society work for a salary. They don't need to be motivated by the profit motive. It's not in anyone's genes. Virtually everybody, if given the choice, would prefer to work at jobs where the main motivations are to help others, improve the quality of life of society, and provide themselves with meaningful and satisfying work. It's not natural to be primarily motivated by trying to win or steal "customers" from other people, no holds barred, survival of the fittest or the least honest.
And what about this thing called "democracy", or "majority rule"? Many millions marched against the invasion of Iraq before it began. I don't know of a single soul who marched in favor of it, although I'm sure there must have been someone somewhere. That lucky soul was the one they listened to.
Finally, the question being asked of Jeb Bush and others is not the best one. They're asked: "Knowing what we know now, would you have authorized the invasion of Iraq?" A more important question would be: "Knowing what we knew then, would you have authorized the invasion of Iraq?" And the answer should be "no", because we knew that Saddam Hussein had destroyed his weapons of mass destruction. This is very well documented, from diverse sources, international and Iraqi, including Saddam himself and his chief lieutenants.
The American Mainstream Media – A Classic Tale Of Propaganda
"When an American warplane accidentally struck the Chinese Embassy in Belgrade in 1999 during the Kosovo campaign …"
These words appeared in the Washington Post on April 24, 2015 as part of a story about US drone warfare and how an American drone attack in Pakistan in January had accidentally killed two Western aid workers. The Post felt no need to document the Belgrade incident, or explain it any further. Almost anyone who follows international news halfway seriously knows about this famous "accident" of May 7, 1999. The only problem is that the story is pure propaganda.
Three people inside the Chinese embassy were killed and Washington apologized profusely to Beijing, blaming outdated maps among other problems. However, two well-documented and very convincing reports in The Observer of London in October and November of that year, based on NATO and US military and intelligence sources, revealed that the embassy had been purposely targeted after NATO discovered that it was being used to transmit Yugoslav army communications. The Chinese were doing this after NATO planes had successfully silenced the Yugoslav government's own transmitters. (5) The story of how the US mainstream media covered up the real story behind the embassy bombing is absolutely embarrassing. (6)
Over and above the military need, there may have been a political purpose served. China, then as now, was clearly the principal barrier to US hegemony in Asia, if not elsewhere. The bombing of the embassy was perhaps Washington's charming way of telling Beijing that this is only a small sample of what can happen to you if you have any ideas of resisting or competing with the American juggernaut. Since an American bombing campaign over Belgrade was already being carried out, Washington was able to have a much better than usual "plausible denial" for the embassy bombing. The opportunity may have been irresistible to American leaders. The chance might never come again.
All of US/NATO's other bombing "mistakes" in Yugoslavia were typically followed by their spokesman telling the world: "We regret the loss of life." These same words were used by the IRA in Northern Ireland on a number of occasions over the years following one of their bombings which appeared to have struck the wrong target. But their actions were invariably called "terrorist".
Undoubtedly, the US media will be writing of the "accidental" American bombing of the Chinese embassy as long as the empire exists and China does not become a member of NATO.
Notes
1) Washington Post, May 7, 2015
2) Ricardo Sanchez, Wiser in Battle: A Soldier's Story (2008), pages 349-350
3) Associated Press, November 11, 2006
4) William Blum, America's Deadliest Export: Democracy, pp. 61-2
5) The Observer (London), October 17, 1999 ("Nato bombed Chinese deliberately"), and November 28, 1999 ("Truth behind America's raid on Belgrade")
6) Extra! Update (magazine of Fairness and Accuracy in Reporting [FAIR], New York), December 1999; appeared first as solitary article October 22, 1999 ("U.S. Media Overlook Expose on Chinese Embassy Bombing")
Volatility in the currency markets, bond markets, and stock markets likely has a lot of people on Wall Street feeling a bit worn out. Taking a summer vacation in the Hamptons might just be their best idea.
The coming months promise to be anything but quiet and predictable. Here are a couple of items that may yield profound implications for stock, bond and currency investors before summer ends…
The Threat of an Official Recession Is Looming
The next few months are critical for the U.S. economy. The official definition of recession calls for two successive quarters of negative GDP. First quarter GDP came in barely positive, initially estimated at 0.2%, but it will be revised twice before July. Some experts expect it will wind up in negative territory.
The U.S. trade deficit recently came in much larger than expected. The higher deficit will, setting other factors aside, translate to lower GDP. Investors will get a look at 2nd quarter GDP in late July and pessimism among forecasters is growing.
So far U.S. equity investors are hoping for the best, or at least hoping the Fed will reverse course on tightening. Stocks are shrugging off bad news and powering higher with price-to-earnings valuations climbing into the nosebleed section.
It is hard to imagine valuations at these levels holding if investors and high frequency trading algorithms must grapple with an official recession. Of course, should the Fed announce some new form of stimulus in response to bad news then all bets are off.
The End Is Nigh for Greece
The Greek government is running out of tricks to avoid a default. Last week, officials there paid €750 million Greece owed to the IMF by borrowing €650 from the IMF; a last resort gimmick they won't be able to repeat.
Absent finding an agreement with lenders to modify loans and dramatically reduce what is owed, the Greeks will be in outright default as early as next month. This summer should tell the tale on Greece's future within the European Union.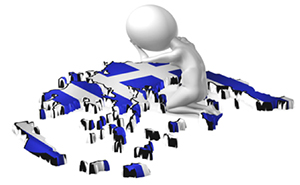 Should Greece default and exit the EU, it will be the first event of its kind, and it has the potential to open a Pandora's Box. There will be bank failures within Greece and pain for anyone holding Greek debt. It could pave the way for bankruptcy and an exit in a number of other nations where finances are also in shambles. And no one can confidently predict the outcome in derivatives markets where banks and hedge funds have been making highly leveraged bets.
Should the Greeks manage to reach an accord with lenders, markets will have to contend with a different set of challenges. You can bet other overly indebted nations including Ireland, Spain, Portugal, and Italy will aggressively pursue similar deals. The pain for bond holders isn't likely to end with Greece.
The EU has a flood of bad debt swirling around its knees, but officials there continue to pretend they stand on solid ground. Regardless of whether Greece defaults outright or manages to cut a deal, it looks like the pretending will have to stop – and soon.
Hedge Fund schemers are the modern version of robber barons. At the top of the list of unscrupulous manipulators is the Nazi collaborator, George Soros. With reports like in Forbes that George Soros May Owe Billions In Taxes, an alarm should go off to all investors.
"By the early 2000s, hedge funds were considered de rigeur for sophisticated investors willing to take a risk in exchange for potential wealth. As that potential wealth grew, so did the potential tax bill, and managers began looking at other options. The solution? Investing in offshore hedge funds. Hedge fund managers are generally taxed on income in the country where the fund is located making relocating to the usual offshore suspects such as the Caymans, Bermuda and Ireland attractive. Tax was essentially deferred on fees from these funds until it landed in the hands of those in the U.S."
The 2008 financial meltdown had all the Wall Street elites scrambling to protect their investment, while avoiding the day of reckoning with the tax man. One such effort as Forbes cites allowed for another deferred work around.
The change was inserted into the Emergency Economic Stabilization Act of 2008 (Public Law 110-343) – and if that sounds familiar, you're not imagining it. That law was also instrumental in the administration of the Troubled Assets Relief Program, or TARP. The new law essentially banned the deferral of fees and compensation by these offshore hedge funds.
Moving the domicile for the Soros fund to Ireland was an attempt to circumvent the intent of an ill-written law.
The Street lays out the basis for the enormous tax bill coming due.
"At the end of 2013, Soros—through Soros Fund Management—had amassed $13.3 billion through the use of deferrals, according to Irish regulatory filings by Soros.

Congress closed the loophole in 2008 and ordered hedge fund managers who used it to pay the accumulated taxes by 2017. A New York-based money manager such as Soros would be subject to a federal rate of 39.6 percent, combined state and city levies totaling 12 percent, and an additional 3.8 percent tax on investment income to pay for Obamacare, according to Andrew Needham, a tax partner at Cravath, Swaine & Moore. Applying those rates to Soros's deferred income would create a tax bill of $6.7 billion."
Now this background provides the business analysis but far more important is the relevance of the political clout that Soros has wheeled for decades and how that influence will effect if he will actually pay his tax bill.
Review the long laundry list of Organizations Funded Directly by George Soros and his Open Society Institute that have received direct funding and assistance from George Soros.
Note that the deadline for payment is 2017, just after the next election. Image the next puppet taking office using an executive order to further delay or water down the actual collection of the Soros tax obligation.
It should be self-evident that the weight of Wall Street influence will be enormous in the 2016 Presidential coronation.
Dismiss the obvious hypocrisy of advocating for higher taxes while avoiding your own tax payment and focus on the actual results.
"A manager with Soros's track record who started with $12 million from investors, took 20 percent of the profits, and reinvested that money tax-free over 40 years, would end up with $15.9 billion. If that same manager paid federal, state, and local taxes on the fees and related investment gains before reinvesting them, the figure would shrink to $2.4 billion…"
This strategy is not unique but it is symbolic of the way the financial elites benefit from their extraordinary influence over the biased tax regulations that favors the politically well connected.
The difficulty for leftist supporters of the Soros mind numbing collectivist culture is that they are unable to separate between the rhetoric and the reality of actual actions.
Soros is a pied piper for the naïve and misguided. All the millions he spends on altering the political landscape have a financial component to protect his own fortune.
Restructuring tax law and regulations never reforms the system. This one example, how hedge funds circumvent taxes, should illustrate that inserting loopholes into statutes is the function of lobbying and providing campaign contributions.
George Soros has a long record of avoiding paying taxes, while undermining political regimes. But he is not alone in avoiding taxes. Bankers Anonymous outlines how the game is played.
"If you set up a traditional hedge fund, first things first: you'll want to charge the traditional "2/20."Embedded in this short-hand lingo of "2/20" for hedge fund fees are two types of income.

With the two types of income, you need the two entities to keep the income tracked separately.  Entity #1 collects the "2," which is taxed like regular business income, and Entity #2 collects the "20," which collects your totally awesome income at a lower tax rate.

The "2" refers to an annual management fee of 2% of assets under management.  On a small/medium-sized hedge fund of, for example, $500 million under management, you will collect $10 million in management fees per year."
Since the standard format for a hedge fund treats fees as different tax rates, the hidden deception is why such hedge funds go unregulated by the SEC? The sweet heart tax treatment deal that allows circumvention of normal rates is a profound offence. Moving the venture offshore just adds to the outrage. Targeting 2017 for final settle up will be forgotten as the next deferment exception is adopted.
Unless people admit the elite as the real power behind the political charade, there will never be equitable tax accountability. Soros plots to overthrow governments. Ignoring the tax bill should be a cake walk. A better solution is to institute serious and comprehensive oversight over the 2-20 tax dodge and apply the same rules to the financial privileged that ordinary citizens must observe. If you agree, keep the pressure on Soros and demand a long overdue resolution.
Does the Name "Strauss-Kahn" Ring a Bell?
The International Monetary Fund has finally admitted that it was wrong to recommend austerity as early as it did in 2010-2011. The IMF now agrees that it should have waited until the US and EU economies were on a sustainable growth-path before advising them to trim their budget deficits and reduce public spending.  According to a report issued by the IMF's research division, the Independent Evaluation Office (IEO):  "IMF advocacy of fiscal consolidation proved to be premature for major advanced economies, as growth projections turned out to be optimistic…This policy mix was less than fully effective in promoting recovery and exacerbated adverse spillovers."
Now there's an understatement.
What's so disingenuous about the IMF's apology,  is that the bank knew exactly what the effects of its policy would be, but stuck with its recommendations to reward its constituents.  That's what really happened. The only reason it's trying to distance itself from those decisions now, is to make the public think it was all  just a big mistake.
But it wasn't a mistake. It was deliberate and here's the chart that proves it:
There it is, six years of policy in one lousy picture. And don't kid yourself, the IMF played a critical role in this wealth-shifting fiasco. It's job was to push for less public spending and deeper fiscal cuts while the Central Banks flooded the financial markets with liquidity (QE). The results are obvious, in fact, one of the Fed's own officials, Andrew Huszar,  admitted that QE was a massive bailout for the rich.  "I've come to recognize the program for what it really is," said Huszar who actually worked on the program, "the greatest backdoor Wall Street bailout of all time."  There it is, straight from the horse's mouth.
So now the IMF wants to throw a little dust in everyone's eyes by making it look like it was a big goof-up by well-meaning but misguided bankers. And the media is helping them by its omissions.
Let me explain: Of the more than 455 articles on Google News covering the IMF's mea culpa, not one piece refers to the man who was the IMF's Managing Director at the time in question. Doesn't that strike you as a bit odd?
Why would the media scrub any mention of Dominique Strauss-Kahn from its coverage? Could it be that (according to NPR):
"The IMF's managing director wanted to give Greece, Portugal and Ireland the time needed to put their accounts in order, and he also argued for softening the austerity measures associated with the bailouts for those countries.
Greek economists say that under Strauss-Kahn's leadership, the IMF was a counterbalance to the strict austerity policies favored by northern European leaders. In fact, according to the daily Le Monde, Strauss-Kahn is fond of calling those who argue for tighter austerity "fous furieux," which roughly translates as "mad men."
Strauss-Kahn's view is that shock-therapy measures imposed on Greece and other European countries with sovereign debt crises will lead only to economic recession and severe social unrest.
Several commentators pointed out Monday that at a time of turmoil in the eurozone and division among European leaders, it was the IMF, under Strauss-Kahn's leadership, that kept the eurozone's rescue strategy on track.
The Financial Times said that the IMF's single most important influence in the resolution of the eurozone crisis was political — amid a lack of political leadership, the paper said, the IMF filled a vacuum.
(IMF Chief's Arrest Renews Euro Debt Crisis Fears, NPR)
Ah-ha! So Strauss-Kahn wasn't on board with the IMF's shock doctrine prescription. In fact, he was opposed to it.  So there were voices for sanity within the IMF, they just didn't prevail in the policy debate.
But why would that be, after all, Strauss-Kahn was the IMF's Managing Director, his views should have carried greater weight than anyone else's, right?
Right. Except DSK got the ax for a sexual encounter at New York's ritzy Sofitel Hotel. So the changes he had in mind never took place, which means that the distribution of wealth continued to flow upwards just like the moneybags constituents of the IMF had hoped for.
Funny how that works, isn't it? Funny how it's always the Elliot Spitzers, and the Scott Ritters, and the Dominique Strauss-Kahn's who get nailed for their dalliances, but the big Wall Street guys never get caught.
Why is that?
The fact is, Strauss-Kahn was off the reservation and no longer supported the policies that the establishment elites who run the IMF wanted to see implemented.  They felt threatened by DSK's Keynesian approach and wanted to get rid of him. That's it in a nutshell.
Do you know why the bigwig plutocrats hated DSK?
It had nothing to do with his sexual acrobatics at the Sofitel Hotel. Nobody cares about that shite.   What they were worried about were his plans for the IMF which he laid out in a speech he gave at the Brookings Institution in April 2011, one month before he got the boot. The speech got very little attention at the time, but– for all practical purposes– it was DSK's swan song.  And, I think you'll see why.
The experience must have been a real shocker for the gaggle of tycoons and hangers-on who attend these typically-tedious gatherings. Instead of praise for "market discipline", "labor flexibility" and "fiscal consolidation", Strauss-Kahn delivered a rousing 30 minute tribute to leftist ideals and wealth-sharing sounding more like a young Leon Trotsky addressing the Forth International than a cold-hearted bureaucrat heading the world's most notorious loan sharking operation. By the time the speech ended, I'm sure the knives were already being sharped for the wayward Managing Director. To put it bluntly, DSK's goose was cooked. Here's a clip from the speech that will help to explain why:
"…The outstanding faults of the economic society in which we live are its failure to provide for full employment and its arbitrary and inequitable distribution of wealth and incomes"…
Not everyone will agree with the entirety of this statement. But what we have learnt over time is that unemployment and inequality can undermine the very achievements of the market economy, by sowing the seeds of instability…
.. the IMF cannot be indifferent to distribution issues…
Today, we need a similar full force forward response in ensuring that we get the recovery we need. And that means not only a recovery that is sustainable and balanced among countries, but also one that brings employment and fair distribution…
But growth alone is not enough. We need direct labor market policies…
Let me talk briefly about the second lung of the social crisis—inequality…IMF research also shows that sustainable growth over time is associated with a more equal income distribution…
We need policies to reduce inequality, and to ensure a fairer distribution of opportunities and resources. Strong social safety nets combined with progressive taxation can dampen market-driven inequality. Investment in health and education is critical. Collective bargaining rights are important, especially in an environment of stagnating real wages. Social partnership is a useful framework, as it allows both the growth gains and adjustment pains to be shared fairly…
We have also supported a tax on financial activities (and) organized jointly with the ILO … to better understand the policies behind job-creating growth…
Ultimately, employment and equity are building blocks of economic stability and prosperity, of political stability and peace. This goes to the heart of the IMF's mandate. It must be placed at the heart of the policy agenda. Thank you very much."   (The Global Jobs Crisis— Sustaining the Recovery through Employment and Equitable Growth, Dominique Strauss-Kahn, Managing Director IMF, April 13, 2011)
Can you imagine the chorus of groans that must have emerged from the crowd when Strauss-Kahn made his pitch for "progressive taxation", "collective bargaining rights", "protecting social safety nets", "direct labor market policies" and  "taxes on financial activities"? And how do you think the crowd reacted when he told them he'd settled on a more enlightened way to distribute the wealth they'd accumulated over a lifetime of insider trading, crooked backroom deals and shady business transactions?
Do you think they liked that idea or do you suppose they lunged for their blood pressure medication before scuttling pell-mell towards the exits?
Let's face it; Strauss-Kahn was headed in a direction that wasn't compatible with the interests of the cutthroats who run the IMF. That much is clear. Now whether these same guys concocted the goofy "honey trap" at the Sofitel Hotel, we may never know.  But what we do know is this: If you're Managing Director of the IMF, you'd better not use your power to champion "distribution" or collective bargaining rights or you're wind up like Strauss-Kahn, dragged off to the hoosegow in manacles wondering where the hell you went wrong.
DSK was probably done-in by the people who hated his guts. Now they want to polish-up their image by rewriting history.
And, you know, they're rich enough to pull it off, too.
Life In 500 Square Feet…
One Hundred and Twenty Thousand results to a Google search on "city is more competitive".  The oligarchs who currently control our world intend to herd people in cities where inter-city  contests will keep everyone producing at a high level.
Read how this is already being implemented in China.
More and more of the land is falling under government control and hundreds of thousands of homes have been repossessed.  American citizens own fewer homes and less land.  If this scenario is successful the earth will be enjoyed by elite overseers while the proletariat toils and lives in tiny cubicles in crowded cities.
I wrote recently about our connection to land
In his daily devotional books R. J. Rushdoony (These books are tightly connected to daily behavior and provide usable righteousness for the Christian seeker.  Buy them here .)describes Rogation Sunday and its practice by early Americans.  In the evening following Sunday prayer for the harvest "each farmer and his family walked the boundaries of their property and gave thanks for the good earth.  As they walked, the boy of the family was 'bumped' against the landmarks, the boundary stone, or against a boundary tree.  If a pond or stream marked the boundary he was ducked into it.  Then the boy who was bumped or ducked was given a small gift.  The purpose of the 'bumping' and of the gift was to make the boy remember the boundaries of the land he would someday fall heir to."
Land plays a primary role in the Biblical narrative.  The occupation of the Promised Land, the events the preceded, and the battles that followed make up a significant part of the Old Testament.  The earth is the Lord's and it is to be carefully maintained.  He provided land for His people and it was apportioned to the Twelve Tribes.  He provided the Year of Jubilee to provide stability and prevent a permanent centralization of wealth and power.
Borders of land are related to God's Law – both are meant to restrain.
In some of America's Western States 80 percent of the land is owned by the Federal Government.  Alaska's land is mostly government property.  Oil drilling rights are controlled in Washington.  If these rights were released United States would be energy independent.  Reliable sources claim the government owns about 30 percent of the entire United States land mass.
There is evidence that powerful elite bankers may be conspiring to take over large tracts of land as collateral for debt.   As our government obligates our posterity for trillions of dollars of debt some of it could be paid by sacrificing government owned land.  This could be the genesis of the recent squabble over cattle grazing.  .
In His provisions for the lands in ancient Israel God allowed the permanent sales of urban properties but had rural lands returned to their original owners in the year of Jubilee.  Stability was vested in the families than owned and cultivated land.  Though often overlooked it is still the same today; the cultivation of land provides sustenance for the populace of the earth.
Water and food are products of the earth.  They sustain life.  Without food and water death comes quickly.  Control over access to water and food is power over life and death.  The earth belongs to The Lord we are short term custodians.  God tells us that those who do not work should not eat.  It is the ability to produce food that is everyone's God given right.
Robots are being touted as a means of reducing the need for human labor.  The analyzer failed to address the fate of displaced workers.  As technology replaces human labor a problem develops over the use of displaced workers.  When Wal-Mart replaces cashiers with do-it-yourself checkout stations they realize an additional profit but the displaced cashiers are faced with the emergency of being deprived of their livelihood.
Societies benefit from technical progress and work that benefits the general population is deserving of reward.  However, when technical improvements displace energetic workers the workers must be provided with the means of working to earn food and lodging for themselves and their families.
What is to be done with the leisure time our technical progress is giving us?  For many it will be used for self-indulgence.  Most of us work to provide the necessities of life but constantly pine for leisure time. But if leisure time is not filled with activity we soon hope for something to do.  We were created for activity and when we are full of sleep we crave it.
Wealth provides a person with activity choices.  Some wealthy individuals find productive activities; others waste their time in sinful indulgences.  A few amass wealth consistently over several generations and use this tacit control of human life to manipulate world powers with an objective of world domination.
We are created beings vested with the mandate to live under the Law our Creator has provided.  The Law is not an impediment to our happiness; obedience is the vehicle to righteous, peace, joy, and prosperity.  God brings blessings for obedience and curses for disobedience.
It is not only difficult to experience but hard to believe that the United States of America is being gutted and destroyed on the altar of world government.  Though the mainstream media is complicit and refuses to publish the atrocities the signs are everywhere.  How can airplanes clearly visible to the entire population fly over our nation and spray long trails of an unknown cloud-like substance while the people, the weather channels, and the major news sources never acknowledge their presence?  How can an entire government, 435 congressional representatives, 100 senators, and one president ignore hundreds of engineers and piles of evidence that the 9/11 attack was false flag operation and allow the policies of our government to be based on its authenticity?  And most shocking of all, how can voters continue with confidence to cast ballots for candidates that invariably betray their trust?
U. S. Voters are like battered spouses that continue to return to the battering partner.  It makes no sense to observers but to the voters its must seem like the only alternative.  An intervention is sometimes the only solution – but how?
The United States of America has been filled with alien immigrants whose only interest is to rape its wealth.  It is engaged in constant wars that sap its strength and destroys its youth.   It has been saturated with pornography and bludgeoned into sodomy. For many years its citizens have been exposed to the most aggressive use of incarceration in the entire world.  It has piled up debt that probably cannot be repaid but will enslave its children for generations.  It is home to so many diverse and ineffective religions that the anarchy of secular humanism is helping push it into tyranny.  Liberty has been lost to the lust for power and we now live under a police force that regularly kills citizens that do not obey.
More and more Americans are becoming concerned with our progressive downfall.  They see the clouds of tyranny approaching and they feel the winds of turmoil.  They are beginning to understand that their government has betrayed them and are apprehensive that unseen forces are overshadowing us. But in spite of this approaching avalanche they are unable to discern the hand of God.
During the 1930s in the small towns of Central United States a deep depression afflicted everyone.  We were grateful to be able to eat from a 25 pound bag of oatmeal three times a day.  Men without work hitched rides on railroad trains that took them to other areas where they hoped to find work.  Those who had food to eat shared with the transients who would often do add jobs in payment.
In the little town where I lived an Evangelical pastor was called to our protestant church.  In an effort to bring the congregation closer to the God of the Bible he began having altar calls.  The altar call was too confrontational for the church leaders whose brush with Christianity consisted of a Sunday School Bible studies where God's Word could be judged by the participants and they could decide whether they believed it or not.  This minister was soon replaced with one who did not upset the status quo.
Before the Evangelical minister left there was a miracle at my mother's home.  She has been a Methodist all of her life and following my conversion we sometimes discussed religion.  On this particular day she was sitting in her antique platform rocker in the living room when she asked me about conversion.  I said, "The Bible says you must be born again".  At that very moment there was a knock on the front door.  It was the recently dismissed minister.  He came in and sat down.  In familiar fashion mother said, "Now, Albert, tell the minster what you were telling me.  I did, the minster affirmed it, and Mother said, "I don't believe I have ever done that".   We bowed our heads and mother accepted Christ as her Savior.  The minister left without ever mentioning why he had knocked on our door.
Neither my mother nor I made much progress in the Faith since correct Christian theology was not readily available and when it was preached it usually fell on deaf and recalcitrant ears.  We are a nation of nominal Christians whose faith is selfish and sinful.  We say we believe in God and have accepted Christ as our Savior but instead of becoming obedient servants we expect Him to serve us
During the 1930s there was a Christian patina that covered heavy layers of humanism.   My mother was a good, dependable woman.  She had earned a college degree from University of Illinois but with my father out of work and not having today's labor saving devices she was forced to work hard to keep up our home and keep food on the table.
For a time my father worked in the WPA but for the most part society during the depression was free from government interference.  Nevertheless, a pride-filled humanism had taken over the country and the seeds for our current tyrannical government were beginning to grow.
Evangelical Christianity brings the good news to individuals but when they are converted the lack of a solid theological base leaves them in a moral limbo that fails to bring change to society.  Once our sins are forgiven and we are made new by the Blood of the Savior God seeks obedience as He always has.  The Jews failed to obey God's commandments and their disobedience broke the Covenant.  All of God's blessings are the result of obedience to His Law.
God will not long allow an oligarchy of wealthy humanistic elitists to control His creation.  All things work together for good for those who love the Lord and He will bring blessing from this unprecedented quest for world domination.  Unfortunately Christians who have failed to work against encroaching evil will be severely judged and will not see the blessing in store for His faithful servants.
"The Christian religion is the religion of our country. From it are derived our prevalent notions of the character of God, the great moral governor of the universe. On its doctrines are founded the peculiarities of our free institutions." (William McGuffey, d. May 4, 1873, professor at the University of Virginia, president of Ohio University, and author of McGuffey's Readers; earstohear.net)
Andre Comte-Sponville, one of France's preeminent atheist philosophers agrees.  In his New York Times bestseller, "The Little Book of Atheist Spirituality," Sponville observes that even though Western and American civilization has become nonreligious it is nevertheless profoundly rooted in transcendent Biblical morality and traditions.   That overt and implied atheism has all but supplanted Biblical beliefs pleases yet simultaneously frightens Sponville as he clearly sees that if Western civilization entirely ceases to be Christian it will fall into something like a refined nihilism.  And if we believe that nothing remains,
"….we might as well throw in the towel at once.   We would have nothing left to oppose to either fanaticism from without or to nihilism from within—and, contrary to what many people seem to think, nihilism is the primary danger.  We would belong to a dead civilization, or at least a dying one….Wealth has never sufficed to make a civilization, poverty, even less so.  Civilizations require culture, imagination, enthusiasm and creativity, and none of these things come without courage, work and effort."    Without these necessities, "Good night…the Western world has decided to replace faith with somnolence." (pp. 28-29)
Sponville admits that in his younger years he had believed in the supernatural God of Revelation and been raised a Christian.  Up till around the age of eighteen his faith was powerful. But then he embraced evolutionary scientism and fell away, and this falling away said Sponville, was liberating because for the liberated autonomous 'self' whose life no longer has any ultimate meaning or purpose there is no valid reason why he personally should not do as he wants to do, or why his friends should not live in the way that they find most advantageous to themselves.
But the lies, amoralism and perverse license, the nihilism Sponville rejoices in becomes an unbearable source of horror and dread when reproduced in millions of souls.  Sponville is right to fear the spread of nihilism, for when multiplied by millions it means there is no longer an ultimate, transcendent source of unchanging truth and moral law independent of sinful men, and as Sponville knows, therefore dreads, the lie is the father of violence:
"(The lie) is the word, act, sign of cunning or silence which makes use of wiles to deceive (all who seek) truth….the attitude of the liar, who full of subtlety, audacity and at times cruel cynicism, misleads his neighbor into the quick sands of falsity.  The use of the lie reveals the liar as a person of evil intentions.  He who tells lies as a way of getting ahead lacks a love of truth (he or she is) a self-centered dissimulator, cunningly manipulating his fellowmen for his own evil purposes."   (The Roots of Violence, Rev. Vincent P. Miceli, S.J., p.29)
Nihilism is the satanically inverted philosophy of violence, lies and license of America's president, his cabinet, and the amoral progressive ruling class of which they are members.  It is also the philosophy of the Marquis de Sade, Friedrich Nietzsche, Karl Marx and the Sophist Callicles in Plato's 'Georgias' who declares:
"The fact is this: luxury and licentiousness and liberty, if they have the support of force, are virtue and happiness and the rest of these embellishments-—the unnatural covenants of mankind-—are all mere stuff and nonsense." (Making Gay Okay, Reilly, pp. 31-32)
In other words, with a consensus of lies backed by force and the threat of violence, the Revelation of God, the Christian Church, virtue, true truth, marriage, gender, your children, your humanity, your wealth, your home, your business, and your Constitutional rights become whatever agents of violence and the mobs in back of them want them to be or not to be from one moment to the next.
What nihilism has already led to in England, said Nate Steuer of Jeremiah Cry Ministries, are buildings that once served as churches that are now museums, stores and even nightclubs, a strong belief in evolution and a strong homosexual-rights movement:
"They don't want to hear the gospel. The gospel is pressed down,' and the homosexual-rights movement is so rooted in England that Christians are afraid to go 'into the streets and preach,' fearing what the LBGT community will do."  ("Fate of Christianity in UK not too far from U.S., warns evangelist," Chris Woodward, OneNewsNow.com, July 8, 2014)
Evolutionary scientism is a form of nihilism leading in practice to dehumanization, demoralization, reckless irresponsibility and genocide.   It is a sham science said G.K. Chesterton.  It is a license by which the stupidest,
"…or wickedest action is supposed to become reasonable or respectable, not by having found a reason in scientific fact, but merely by having found any sort of excuse in scientific language."  The program and attitude of scientism is a "serpent….as slippery as an eel," a "demon…as elusive as an elf," an "evil and elusive creature."   (The Restitution of Man: C.S. Lewis and the Case against Scientism, Michael D. Aeschliman, p. 43)
Evolutionary scientism has amply demonstrated itself as a virulently anti-human, catastrophically destructive, demonically murderous worldview. In just the first eighty-seven years of the twentieth century, violent spirits who love evil and devouring words and breathe out slaughter and death brutally exterminated between 100-170 million un-evolved 'subhuman' men, women, and children in the Soviet Union and Nazi Germany.
In the Soviet Union, the Triune God-and-human hating nihilist of violence, Vladimir Lenin, exulted that,
"Darwin put an end to the belief that the animal and vegetable species bear no relation to oneanother (and) that they were created by God, and hence immutable." (Fatal Fruit, Tom DeRosa, p. 9)
In other words, the 'death' of the God of Revelation allows unfettered violence against millions of people because they are no longer the immutable image-bearers of the Triune God but rather expendable products of evolution on a par with slime, weeds, slugs and rocks.  Empowered by evolutionary scientism, Lenin exercised godlike power over life and death. He saw himself as, "the master of the knowledge of the evolution of social species." 
Fueled by hate, contempt and murderous rage it was Lenin who "decided who should disappear by virtue of having been condemned to the dustbin of history." From the moment Lenin made the "scientific" decision that the bourgeoisie represented a stage of humanity that evolution had surpassed, "its liquidation as a class and the liquidation of the individuals who actually or supposedly belonged to it could be justified." (The Black Book of Communism, p. 752)
In Nazi Germany evolutionary scientism resulted in gas chambers, ovens, and the liquidation of eleven million "useless eaters" and other undesirables.
Alain Brossat draws the following conclusions about the two regimes of nihilism, the Soviet Union and Nazi Germany, and the ties that bind them:
"The 'liquidation' of the Muscovite executioners, a close relative of the 'treatment' carried out by Nazi assassins, is a linguistic microcosm of an irreparable mental and cultural catastrophe that was in full view on the Soviet Stage. The value of human life collapsed, and thinking in categories replaced ethical thought…In the discourse and practice of the Nazi exterminators, the animalization of Other…was closely linked to the ideology of race. It was conceived in the implacably hierarchical racial terms of "subhumans" and "supermen"…but in Moscow in 1937, what mattered…was the total animalization of the Other, so that a policy under which absolutely anything was possible could come into practice." (Black Book of Communism, p. 751)
As in England, evolutionary scientism has replaced the God of Revelation, thus with the animalization of Americans millions of unborn humans have already been aborted, growing numbers of unwanted adults euthanized and late-term unborn babies cruelly dismembered.
Writing in, "New York Abortion Bill Allows Shooting Babies Through the Heart With Poison to Kill Them" Steven Ertelt reports that New York is already the abortion/murder capital of the United States, with practically no oversight of the industry.   Throughout the second trimester, developing babies can be completely dismembered,
"… even when they can feel pain (by) pulling the baby out piece by piece until the mother's uterus is empty. After the abortion, the abortionist must reassemble the child's body to ensure nothing has been left inside the child's mother." (LifeNews.com | 5/20/14 6:28 PM)
What nihilists now demand for late-term abortions that will be legalized in New York by the abortion-expanding Women's Equality Act, is the murder of babies,
"… by sliding a needle filled with a chemical agent, such as digoxin, into the beating heart, before being delivered."
Then there is Wisconsin-based abortionist Dennis Christensen and his partner Bernard Smith who have performed 85,000 to 95,000 abortions in a 40 year period:
"So I see it as a calling, I guess," Christensen said. "But I've been called, I've served and now I'd like to call someone else."  (Abortionist Who's Killed 95,000 Babies in Abortions: "I See It as a Calling" Steven Ertelt, LifeNews.com, 7/7/14)
Something "called him" to murder 95,000 babies, but it wasn't the Holy God of Revelation.
When for millions of nihilists the God of Revelation does not exist and life has no higher, fixed meaning or purpose with neither hope of an afterlife nor any accountability to their Maker for their actions here in this world, then men no longer have reason and purpose for being good, thus are free to be evil.  They are at liberty to invoke meaningless law and perverted justice to destroy freedom, dismember babies, and force disordered appetites upon men, women, and children.  They are free to accuse the good man of evil, to enslave other people and deprive them of life-sustaining electricity, gas, and water.  With this freedom they vandalize and plunder the property and wealth of others and throw our borders open to floods of illegals, rapists, drug-lords, terrorists, pedophiles, murderers and other sinister individuals.
Nihilists can freely lie so as to "normalize" whatever wicked fantasies and schemes they desire, such as global warming/cooling/change, redistributive justice, common core, 'gay' equality and Decadence Festivals:
"The Southern Decadence Festival is one of our nation's most notorious celebrations of sodomy, public sex acts, prostitution, drunkenness, and worse, but is by no means the only such festival….decadence festivals are held over and across post-Christian America and Western Europe as well as in Canada, Hong Kong, Australia, Thailand, Brazil, Belarus, Ireland, Japan, Scotland, China, S. Africa, India and Taipei." (Sex slaves, sexual anarchy and decadence festivals: ominous signs of something really rotten," L. Kimball, Renew America, Oct. 25, 2012)
A society of nihilists is a welcome mat to human predators of every stripe from drug lords, ISIS, and the Muslim Brotherhood to flesh-peddlers and the world's criminal elite: the occult Luciferian New World Order super-wealthy criminal consortium and their merciless leftwing and rightwing allies.   This cohort of sinister nihilists believe in nothing, know only hate, contempt, violence, greed and egotism and share a foundational hatred of the Tri-Personal God of Revelation, faithful Christians and Jews and  traditional Christian grounded Western and American civilization.
In the impeccably documented book, "Sinisterism: Secular Religion of the Lie," Bruce Walker describes the super-wealthy consortium and their like-minded allies as Sinisterists, making political labels like Far Right (Nazis/Fascists), liberals and Far Left (Progressives, Bolsheviks, Marxists, Communists) and even like-minded Radical Muslims the same thing.
What unite all Sinisterists are their hatreds:
"They hate Christians…Jews…America (and) Israel.  They hate truth.  They hate the very idea of truth.  They hate the idea of humans as unique and special in the universe.  They hate the idea of a great moral purpose unfolding in our lives.  Sinisterism is a bundle of connected hatreds.  For the sake of their hatreds, Sinisterists lust for power."(preface)
Because Sinisterists hate the idea of man as God's spiritual image-bearer they have 'killed' the Triune God and forced nihilistic Darwinism upon us because it reduces mankind to less than nothing.  They also invent words and sound-bite phrases such as heterosexist, homophobe, global change and nonexistent categories of mankind such as "racial species" and "emerging genders" that imprison thought.   Following are some other examples:
1. Multiculturalism: the stealthy destruction of America's traditional Christian based culture by insidious elevation of pagan and pantheist cultures and belief systems in the name of politically correct tolerance, pluralism and inclusion.
2.'Gay rights/'gay' marriage: rebellion against and negation of the two created sexes, procreation, and the idea of normal.
3. Political correctness, speech codes, sensitivity training, and hate crime laws:  psychic-cages for the minds of traditional-values Americans.
4. Perverse sex education: As was the case in the Soviet Union, its ultimate purpose is the subversion and perversion of our youth—the awakening of the Devil, as Karl Marx's comrade Bakunin admitted.
5. Critical theory: the mindless vomiting out of destructive criticism upon everything good, true, excellent, normal, and traditional.
6. Global change, Agenda 21, Green Movement, redistributive justice: the evisceration of our standard of living and individual liberties in order to 'save the planet' — in other words, penury, misery, death and slavery on behalf of Gaia.
7. Sustainability: Extreme population control calling for the annihilation of billions of people to achieve spiritual communism.
8. Religious pluralism: the erasure of faithful Judaism, Christian theism and America's founding Christian-based worldview by way of elevating Wicca, animism, Islam, New Age occult spirituality, Gnostic paganism, Buddhism,  shamanism, goddess worship, Luciferian Masonry and atheism in the name of politically correct tolerance and inclusion.
In order to destroy rational thinking, nihilists use words and phrases (i.e., change, "make love not war," "we are Trayvon" "evolution is an established fact of science") to create images rather than ideas and then concentrate on endless repetition of the same word-pictures,
"…to create a hypnotic effect to defend an otherwise hopeless case.  Sinisterists use the same words over and over again."   (p.12)
Nihilism's black heart is the worship of lies, particularly the Big Lie of evolution.   'Elite' transnational Robert Muller, father of Common Core Curriculum and former Assistant Secretary-General of the UN and former Chancellor of the UN University for Peace in Costa Rica speaks of the fate that will befall all politically incorrect thinkers, especially anti-evolutionists:
"…all those who hold contrary beliefs" to politically correct thought favored for the "next  phase of evolution" will "disappear."  A hellish fate awaits all who resist political and spiritual globalization, "…those who criticize the UN are anti-evolutionary, blind, self-serving people.  Their souls will be parked in a special corral of the universe for having been retarding forces, true aberrations in the evolution and ascent of humanity."  (False Dawn, Lee Penn, p. 133)
With malice aforethought, sinister nihilists have dumbed-down Westerners and Americans by infiltrating our education institutions and even our seminaries with nihilist philosophies, propaganda and schemes such as evolutionary scientism, perverse sex education, so-called 'higher Biblical criticism,' critical theory, multiculturalism and revised history.
As evolutionary scientism and the relativity of truth are fatal doctrines– types of nihilism that deny objective truth and reality— they result in the rapid disintegration of critical thinking, faith in God, respect and manners resulting in a twisted, inverted society dominated by moral imbeciles—narcissistic despots, thugs, human parasites and bizarre polymorphously perverse beings— at every level of government and society who know how they feel and what they covet and are thus entitled to but can't think straight, can't spell, and don't know right from wrong.
It should be obvious by now, said Walker, that the relations of people in American and Western society are growing coarser,
"…..more dishonest….shallower….lonelier…more desperate for the narcotics of power, applause and fear as we perceive ourselves moving closer to the status of gods and goddesses.  If we choose, as individuals, that idolatry, then we are doomed.  All the dystopian nightmares of Orwell, Bradbury, Huxley and others will become real all too soon….we will (either) surrender to thugs governing enslaved nations or embittered terrorists." (p. 252)
Our so-called "scientifically enlightened" age is an age of nihilism.  Ecstatic with the voluptuous delight of destruction which rolls humans into satanic depths; nihilists keep pushing society to the brink of social chaos and suicide:
"The Modern Liberal will invariably (and) inevitably side with evil over good, wrong over right and the behaviors that lead to failure over those that lead to success. When I say the Modern Liberal is morally and intellectually retarded at the level of the five-year old child, it is not hyperbole: its diagnosis." (Evan Sayet, The Kindergarten of Evil,evansayet.com)
Nihilism is lawlessness, idolatry, violence, perversion, fear, terrors of mind, and horrors of conscience and loss of true freedom since the despair of nihilism ends in man's slavery to his dark side, death and damnation.
In his poem "The Second Coming," Yeats reveals the murderous delight of de Sade's, Nietzsche's, Marx's, and Callicles modern offspring:
"Things fall apart; the center cannot hold
The blood-dimmed tide is loosed and everywhere
The ceremony of innocence is drowned
The best lack all conviction, while the worst are
Full of passionate intensity.
Surely some revelation is at hand; 
Surely the Second Coming is at hand."
If Western and American nihilists continue to set the God of Revelation aside in favor of "self" and what they really do know are lies and empty, shallow, meaningless evil, then a tyranny of evil will come upon us swiftly and terribly.  But there is another path before us: the way of repentance, truth, decency and God's Divine Truth.  His eternally unchanging Truth will set us free. We should choose the path of Truth and goodness:
"On that choice hangs the fate of humanity. People will either embrace goodness or deny that goodness can exist and commit moral suicide (and) worship The Lie."   (ibid, Walker, p. 252)
People who choose the way of true truth will find the goodness and Light of God.  As they follow the Way of Truth they will stumble sometimes, occasionally journey down blind alleys, and perhaps be on the wrong side of causes at times, but they,
"…will never lose hope or the help of other normal people and the Blessed Creator of the Universe." (ibid, p. 233)
The narrow way leads ever up toward truth, light, beauty, goodness, courage, hope, peace and eternal physical life in an unimaginably beautiful Paradise.   The other way is a broad highway spilling into a downward spiraling vortex marked by the despair of nihilism, the darkness of lies, the sulphuric stench of soul-destroying hate, and the horror of nothingness finally issuing into an eternity in outer darkness.
This is one in a series of articles taken from eyewitness testimony before the International Common Law Court of Justice in Brussels. Five international judges are examining evidence of child rape, torture, murder and kidnapping allegedly done by global elite members of the Ninth Circle Satanic Child Sacrifice Cult network. Regular Ninth Circle child sacrifices were said to take place in the catacombs of Catholic Cathedrals, the Vatican, on private estates and groves and government military bases in Belgium, Holland, Spain, Australia, Ireland, France, England and the US. At least 34 child mass grave sites were identified in Ireland, Spain and Canada – and refused excavation by the respective governments, Crown of England and Catholic Church. Named as present in Ninth Circle activities were Pope Francis, former Pope Ratzinger;Anglican, United Church of Canada and Catholic Church officials including Cardinals; members of European royalty including Queen Elizabeth and Prince Phillip; officials of the Canadian, Australian, UK and US military and governments including the USA's CIA, plus prominent government ministers, judges, politicians and businessmen from the US, Belgium, Holland, Canada, Australia, France, Ireland and the UK.
Teens were drugged, stripped naked, raped, hunted down in the woods and killed by European royals according to this week's latest eyewitness to testify before theInternational Common Law Court of Justice in Brussels. The woman was the fourth eyewitness to give accounts about these human hunting parties of the global elite Ninth Circle Satanic Child Sacrifice Cult network. A former member of the Netherlands criminal drug syndicate known as Octopus testified that victims were obtained for these human hunting parties from juvenile detention centers in Belgium and Holland.
"In 2004 I was an involuntary witness to torture, rape and murder sessions of drugged children performed for a group of high ranked people of the Netherlands" stated a woman. "I was taken to a hunting party in Belgium close to Brussels where I saw two boys and a girl ages 14 to 16, hunted and killed by global elites. The human hunting party was heavily guarded by the Netherlands Royal Guards. I was told that King Albert of Belgium was present."
Four eyewitnesses confirmed that as children and youths they were forced to attend human hunting parties where they and other children were raped, with some killed, and deceased boy's penises were cut off. Allegedly there was a Dutch countryside palace where boys' penises were displayed like trophies on a wall. Some hunting parties were hosted on the grounds of Belgium Queen Beatrix's Palace.
Dutch therapist Toos Nijenhuis claimed that as a four year-old she was forced to witness murders of children that involved former Pope Ratzinger, a Dutch Catholic Cardinal, plus the father of Netherlands Belgium Queen Beatrix and Bilderberger Founder, Dutch Crown Prince Alfrink Bernhard. "I saw the former Pope Joseph Ratzinger murder a little girl″ another witness confirmed. "It was at a French chateau in the fall of 1987. It was ugly, horrible and didn't happen just once. Ratzinger and Bernhard were some of the more prominent men who took part."
In Ireland, Spain and Canada 34 child mass grave sites were discovered and appeared linked to Ninth Circle activities. The largest was the Mohawk Indian Residential School in Brantford Ontario where child remains were identified in 2008 before the Catholic Church, Canadian government and English Crown shut down the dig by professional archeologists. The 2013 ICLCJ Court had found Queen Elizabeth and Prince Phillip guilty for the Oct. 10 1964 disappearance of ten native children from the Catholic residential school in Kamloops British Columbia. In the first two weeks of the 2014 court witnesses identified Dutch and Belgian royal participants in the rape and killing of Mohawk children and newborns. Named were Bernhard and King Hendrick, consort to Queen Wilhelmina of Holland.
Alleged to be present during the human hunting parties were the late Prince Johan Friso and his wife Mabel Wisse Smit, former ministers, the top man of the Dutch army, the under secretary of the Raad Van State in the Netherlands, the Vice-Roy next to Queen Beatrix and other global business and political leaders including some from the US. "Surely the present King Willem Alexander and King Filip and their wives know about this abuse and murder of children" said one eyewitness."They do nothing about it and likely are the ones to stop investigations and prosecutions."
In January 2014 the brother of the king of Holland Prince Johan Friso passed away in a coma after these three Dutch-language websites shown here reached the internet. The websites revealed that Friso was at the human hunting and killing parties."The story came on the internet after years of trying to move the policy and justice department in the Netherlands to act against the criminals," an eyewitness said. "Nobody did anything to stop these criminals, probably because Queen Beatrix and King Albert likely interfered with the investigations."
Human hunting parties were said to take place on the grounds of Belgium Queen Beatrix's Palace in the Netherlands. Two witnesses have named former Pope Joseph Ratzinger and Queen Beatrix's father the deceased Prince Alfrink Bernhard, as being present at child sacrifices. Both were said to be Nazi sympathizers.
The ICLCJ Court received a collection of Jesuit archival records about a child sacrificial cult known as the Knights of Darkness. In 1933 the Knights were established by the Catholic Jesuits and Nazi Waffen S.S. Division. The records showed Ratzinger was identified as a member of the Knights while working as an S.S. Chaplain's assistant at the Ravensbruck Concentration Camp in Germany. The records also stated that Ratzinger participated in child sacrificial rites using kidnapped children from the camps or political prisoners.
Another court document called the Magisterial Privilege indicated child sacrifice was a regular occurrence at the Vatican. At the tender age of 12 "Svali" of San Diego County California claimed she was brought to catacombs beneath the Vatican to witness the sacrifice of a three year-old drugged boy. In this video her interviewer said that 24 years prior a "Maria" told him she witnessed another satanic child sacrifice rite in the same Vatican Catacombs.
Last week an Irish police investigator reported to the ICLCJ Court that the close to 800 babies buried in a Catholic Nun's septic tank were dismembered, decapitated and in bits and pieces – signs that they could have been murdered in Satanic child sacrifice rites. In the last two months the ICLCJ Court has heard these heart-wrenching testimonies about the rape, torture and murder of children as recently as 2010 by Catholic leaders, European royal family members and other global elites. Murder sites of the Ninth Circle Satanic Child Sacrifice Cult were said to be in the catacombs of Catholic Cathedrals including the Vatican and on private estates, military establishments and groves in Belgium, Holland, Spain, Australia, France, England and the US.
The ICLCJ Court has been overwhelmed with newly discovered evidence and a number of new witnesses coming forward to testify about Ninth Circle Satanic Child Sacrifice Cult activities. They have uncovered Ninth Circle Satanic Cult member possible involvement in international child sacrifice, kidnapping, exploitation and drug rings. The five international judges and 27 jury members were expected to remain in session for at least a year due to the complexity of the cases.
Amnesty has been offered to citizens or employees of the Vatican, Crown of England, churches or governments willing to give sworn testimony or evidence that leads to the prosecution of these global elites suspected of committing crimes. Rewards up to 10,000 euros or around 13,660 dollars was available through the ICLCJ court.
The ICLCJ Court had over 450 Common Law Peace Officers in 13 countries, with 51 local chartered groups operating. Local organizing funds were available for common law groups that applied through the International Tribunal into Crimes of Church and State. To contact officers of the court or ITCCS Field Secretary Kevin Annett, email or call: itccscentral@gmail.com, info@iclcj.com, admin@iclcj.com, hiddenfromhistory1@gmail.com, 250-591-4573 (Canada), or 386-323-5774 (USA)
About the Author
Judy Byington, MSW, LCSW, retired, author of "Twenty Two Faces: Inside the Extraordinary Life of Jenny Hill and Her Twenty Two Multiple Personalities" (www.22faces.com) is a retired therapist, Public Speaker, Activist and investigative journalist whose articles on international child exploitation rings have been cited on over 3,000 websites. The ex-Supervisor, Alberta Mental Health and Director Provo Family Counseling Center is the CEO of Child Abuse Recovery and Speakers Bureau (www.ChildAbuseRecovery.com). If you have news tips about child abuse issues please email Judy info@22faces.com. You are invited to sign our petition to Congress for an investigation of the CIA mind control of children by clicking here.
Source: TRUTHCDM
In "The attack on biblical creation in UK schools continues," Phil Robinson reports that in the dechristianized U.K. unrelenting attacks against special creation (Genesis account) display a level of aggressive intolerance that is hard to stomach, coming as they do from self-proclaimed scientifically-enlightened 'voices of reason.'  Some schools have already banned the teaching of special creation in favor of evolutionary science.   (creation.com, Mar. 9, 2014)
Other shrill 'voices of reason' go so far as to connect special creation to mental illness and child abuse. During a radio interview in Australia famous physicist and atheist propagandist Lawrence Krauss said that while in the United States recently, he stated that "teaching creationism is child abuse and I think it is." (Prayer News, a publication of Creation Ministries, Apr. 2014)
Throughout the West and here in America a slash-and-burn operation conducted against the Genesis account, particularly its' literal and historical elements, is justified by the false idea that evolution is science, thus intolerance of special creation is often presented as a 'science versus religion' or 'faith versus reason' issue.   So successful has this war of attrition been that younger generations of Westerners and Americans have been disconnected from both Western history and its' founding Christian-based worldview, thus like seedlings recently popped up from the soil are unconcerned that special creation, where the ultimate source of life, being and unalienable rights are found, has nearly been displaced by anti-human pagan conceptions positing billions of years of evolutionary transformism from lower kinds of things to higher and higher kinds of things— even non-human kinds of things:
"For us, the best way to create new ('artificial') life forms and intelligence is to allow them to emerge through evolution, as nature does, only in much shorter timeframes and with much greater efficiency and variety."

"For conscious evolution to be successful, we need to observe and understand the actual workings of nature, in all its dynamism, to the point of profound reverence, or 'worship.' This is what I call extreme nature-worshipping… From the perspective of extreme nature-worshipping, the real significance of Darwin's evolutionary theory is not that humans descended from lower species, but that we can continue to evolve."(Cosmic Beings: Transhumanist Deism in Ted Chu's Cosmic View, Institute for Ethics & Emerging Technology, Giulio Prisco)
The vicious name-calling, seething resentment toward and censorship of the six day creation account and of all who profess and teach it should raise the eyebrows of any rational thinking person.  If evolution really is a fact of science then why the irrational name-calling, ridicule, scorn, shunning, resentment, intolerance and demonization?
The answer is that the zealous worshipper of evolution is the Spirit of our age that emerged out of the Renaissance whose answer to the Lord Jesus Christ is the Cross (crucify Him) and whose fulfillment will be the Wicked One. (2 Thess. 2:1-8)
From the Renaissance to our own time the Spirit has been transgressing, blaspheming, and departing that it need not obey His voice.   Like a dog returning to its own vomit, the Spirit has returned to its first love: the cult of demons in the Godless universe of matter, psychic energy, and animated forces where time is changed, past history rendered meaningless, and the liberated Spirit imbibes the cup of wrath, an intoxicating mixture of Babylonian Mysteries, incantations, spiritism, Gnosticism, sorcery, witchcraft, Hermetic magic, Kabbalah, reincarnation, astrology, and other devilish occult traditions.
The Book of Revelation pinpoints Babylon as the post-flood center of an occult pagan Mystery religion based on advaitic monism, science of magic transformism, exalted priesthood, gnosis, secret initiations, psychic-powers, familiar spirits, androgyny, sexual perversions, and other evils.
Babylon embraced the Great Lie. Its inhabitants claimed the title, "I AM." The root source of this evil religion and its occult power was the Great Dragon himself….Lucifer:
"…. the Great Lie (is) the foundation stone of Hinduism, Buddhism, Sufism, Jainism, Sikhism, Taoism, the Kabala, the Greek Hermetic, Eleusinian and Gnostic beliefs, Neo-Platonism, all the occult creeds from Theosophy and the Masonic orders to the Rosicrucian's (and) the New Age movement. The Great Lie is…the belief that man is God, that his true identity is the immortal self…that as God, he will never die (and) Sin and depravity are…illusions since this inner divinity is at man's core." (The Great Lie, Tal Brooke, SCP Journal, Vol. 29:2-29:3, 2005)
Though the Spirit of our age claims the title "I AM" it nevertheless follows after and falls down before other fascinating men: theoreticians of evolutionary science, nature philosophy and evolutionary pagan theology. These charismatic Pied Pipers are possessed of surpassing powers of persuasion and inflexible determination of will to which the Spirit assigns more honor than to anything else.
The Spirit has usurped the throne of the Word Incarnate (John 1:1) because He is not good, not just or benevolent but a devil, an evil Tyrant Who, with His infliction of suffering in this life and eternal punishment in the next must be deposed. (Psalm 2:2-3)
Blaming our Lord for their own sins the proud, self-righteous Spirit of rebellion, hypocrisy and negation says to Him, "…you are not my father."  My father is the god of forces, therefore:

"I am I, I come out of myself, and in choice and action I make myself." (Daniel Bell, quoted by Herbert Schlossberg in "Idols for Destruction," p. 43)
In the final analysis, the Spirit of our age is the "striving human will" seeking desperately to launch itself,
"…into minor godhood in an evolving cosmos through the mechanisms of directed spiritual evolution, spiritualized science and spirit contact." The 'new' spirituality now presents itself as the "rightful replacement for the Revealed Word (and) proclaims its spiritual liberation from the worldview that informs Christianity and its freedom from (the) personal and wholly other God.  But this new way of self-salvation (is) little more than the refurbishing of an ancient spiritual mistake."  (The Making of the New Spirituality: the Eclipse of the Western Religious Tradition, James A. Herrick, p. 279)
"As it was in the days of Noah…" 
The ominous signs of this age are obvious, said the English theologian G.H. Pember (1837-1910) in his book, "The Antichrist Babylon and the Coming Kingdom."  Just as it was during the pre-flood generations, open intercourse with demons (spiritism) is now common throughout Christendom and even in Russia.   In France it is the national pastime.   The apostles of the powers of darkness are everywhere proclaiming their scientific and evolutionary theories demonstrating that the world created itself and had no need of a Creator (p. 60) while the miseries which have resulted from sin,
"….are blasphemously charged upon the Almighty, Who so loved the world as to give His son for it (but is now) impiously forbidden to curb and discipline the rebels who owe their existence to the breath of His mouth.  And when we see such men as John Stuart Mill (and) John Morley, the late Chief Secretary for Ireland…guiding their fellows to defiant insubordination, we can scarcely wonder that Bradlaugh…said, 'This world might have been happy, had not the shadow of God fallen upon it." (pp. 35-36, 1888)
Rise of Occult Evolutionary Science 
In the impeccably researched, "The Making of the New Spirituality," James Herrick observes that the scientific tradition in Renaissance Europe developed around three basic approaches: the organic, the mechanical and the magical.   It was magical and/or occult science that provided the greatest impetus for scientific exploration. (p. 45)
C.S. Lewis underscores this point in "The Abolition of Man:"
"You will even find people who write about the sixteenth century as if Magic were a medieval survival and Science the new thing that came in to sweep it away. Those who have studied the period know better. There was very little magic in the Middle Ages: the sixteenth and seventeenth centuries are the high noon of magic. The serious magical endeavour and the serious scientific endeavour are twins: one was sickly and died, the other strong and throve. But they were twins. They were born of the same impulse. I allow that some (certainly not all) of the early scientists were actuated by a pure love of knowledge. But if we consider the temper of that age as a whole we can discern the impulse of which I speak."
In "God and the Knowledge of Reality," the Catholic philosopher and historian, Thomas Molnar (1921–2010), reveals the 'temper of that age' as a spirit of rebellion against the Christian God, and this is why occult science and evolutionary thinking provided the greatest impetus. During the Renaissance, certain Christian theologians, mystics and scholars such as Emanuel Swedenborg had discovered Hermetic magic and occult Jewish Kabbalah texts which they studied and translated resulting in Hermetic Kabbalah. Then like Pico della Mirandola, they argued that occult hermetic science – the divine technology or Magic Way of reaching divine status and powers through ritual procedures (spiritual evolution) is the best proof of the divinity of Christ. In other words said Molnar,
"…..by the time of the Renaissance the esoteric texts of the first centuries A.D. had acquired in scholarly and humanist circles an unparalleled prestige, confronting as equals the texts held sacred by the church. In Pico's estimation, 'nulla est scientia que nos magis certificet de divinitate Christ quam magia et Cabala' (there is no science that would prove for us Christ's divinity better than magic and the Cabala.)" (pp. 78-79)
Hermetic magic and Jewish Kabbalah are ancient Mystery Religion traditions, as affirmed by G. H. Pember in his classic work, "Earth's Earliest Ages."   Pember thoroughly examines the role of fallen angels in connection with the magic (occult transformism) they taught to pre-flood generations and compares them to the explosion of spiritism (open intercourse with evil spirits), astrology, the Mysteries and other occult traditions sweeping over Christendom.
Pember writes that the Mysteries are no longer veiled in mystery but boldly presented by the powerful occult brotherhood that emerged out of the Renaissance as the fruit of modern science, especially evolutionary philosophy, which the brotherhood assert was included in the instructions given,
"…to the initiates of the Hermetic, Orphic, Eleusinian, and Cabbalistic mysteries, and were familiar to Chaldean Magi, Egyptian Priests, Hindu Occultists, Essenes, Therapeutae Gnostics, and Theurgic Neo-Platonists." (Pember, pp.243-244)
Hermetic Magic

Hermeticism is an ancient Egyptian secret magic tradition based on a set of fourteen books known
collectively as the Corpus Hermeticum attributed to a mysterious figure known as Hermes Trismegistus. Implied in Hermeticism is an evolutionary process of magical transformism (spiritual evolution) moving from one kind of lower thing to another kind of higher thing:
"Human beings are themselves the product of a long spiritual evolutionary process that moves from 'creeping things' to fish, mammals, birds and then people.  Humans can—through occult knowledge and extraordinary ability—continue this evolutionary process and become daemons, then gods, and finally planets or stars." (The Making of the New Spirituality: The Eclipse of the Western Religious Tradition, James A. Herrick, p. 40)
With respect to Hermes identity, researchers of antiquity are divided.  Some believe Hermes was a mythical figure.  Others argue he was Ham or his son Cush.  The historian Samuel Shuckford argues that Hermes was Pathrusim, king of Thebais, the son of Mizraim, the son of Ham.   His Egyptian name was Tyoth or Thoth.  (The Sacred and Profane History of the World Connected, 1808)
In any case, it was Thoth-Hermes who instructed his brothers in the arts and science magic of alchemy or transmutation of a lower kind of thing into a higher kind of thing. For example, after a lengthy transformative process out of the eternally existing divine abyss (primordial matter), the self-created Sun-God Ra boasted that he "came into being from primordial matter."  He made all the forms under which he "appeared by means of the god-soul" which he raised up out of Nu, primordial matter. (The Long War Against God, Dr. Henry Morris, p. 243)
Occult Kabalah
"The Kabalah is the key to the occult sciences; and the Gnostics were born of the Kabalists." (Occult Mason Albert Pike, Morals and Dogma, p. 626)
Like its' Hermetic counterpart, Kabala implies a process of evolutionary transformism:
"…the older Enoch book (gives) a fuller insight into the "Merkabah" and "Bereshit" lore of the ancients than the "Hekalot," which present but fragments, while the central figure of the Cabala, Meṭaṭron-Enoch, is seen in ch. lxx.-lxxi. in a process of transformation." (Cabala, Jewish Encyclopedia)
According to Helena Blavatsky, one of the key architects of Luciferian New Age pantheism, Kabalah derived,
"…. from the older secret doctrines concerning divine things and cosmogony, which were combined into a theology after the time of the captivity of the Jews in Babylon. All the works that fall under the esoteric category are termed Kabalistic." (Blavatsky, Theosophical Glossary, p. 168)
The godless cosmogony of Kabala teaches the gradual condensation or evolutionary progression of a primal substance into visible matter.  This is a fundamental,
"… doctrine of the Cabala (and) is the ancient Semitic conception of the 'primal ocean,' known to the Babylonians as 'Apsu' and called by the Gnostics βύθος =  (Anz, 'Die Frage nach dem Ursprung des Gnostizismus,' p. 98).
The Chaldean occult science and pagan Mystery Religion was embraced by apostate Jews during their captivity in Babylon and delivered to subsequent generations of initiates by word of mouth. According to Blavatsky, these initiates of the Chaldean tradition in the centuries before Christ were known as Tanaim:
"The kabalist is a student of 'secret science', one who interprets the hidden meaning of the
Scriptures with the help of the symbolical Kabala… The Tanaim were the first kabalists among the Jews; they appeared at Jerusalem about the beginning of the third century before the Christian era… This secret doctrine is identical with the Persian wisdom, or 'magic'." (Ibid. p.167)
The Essenes were also associated with the Kabala. The Jewish Encyclopedia describes the cabalistic practices of the Essenes, which were Judaized elements of Eastern mystical traditions:
"So, too, were the Essenes familiar with the idea of the journey to heaven…and they were also masters of angelology. The practice of magic and incantation, the angelology and demonology, were borrowed from Babylonia, Persia, and Egypt; but these foreign elements were Judaized in the process, and took the form of the mystical adoration of the name of God and of speculations regarding the mysterious power of the Hebrew alphabet …, 'the name of God creates and destroys worlds', to become, finally, foundations of the philosophy of the 'Sefer Yetzirah."  (Cabala, Jewish Encyclopedia)
According to Blavatsky the Essenes were pagan priests of the Greek goddess, Diana of Ephesus, where the Tanaim had established a college for instruction in the Chaldean mystery religion:
"Essenes… had many Buddhistic ideas and practices; and it is noteworthy that the priests of the Great Mother at Ephesus, Diana-Bhavani with many breasts, were also denominated… It was at Ephesus where was the great College of the Essenes and all the lore the Tanaim had brought from the Chaldees… Essenes, believed in reincarnation." (Theosophical Glossary, pp. 113-14; The Secret Doctrine, Vol. II, p. 111n)
Eventually Alexandria, Egypt became the epicenter of cosmological and pagan religious ideas as well as the intellectual meeting point between Greek Mystery Religion/Hermetic magic initiates and nature sages and guardians of Kabala.  After the fall of Jerusalem, Alexandria was the center from which occult pagan Jews would disguise their mystery tradition in Christian terminology and attempt to penetrate the fledgling Church with heresy.
One of the primary tactics employed by Cabbalist pagan Jews for this purpose is the same one employed by their modern evolutionary Gnostic pagan counterparts.   It involves the reduction of the Genesis account, particularly the first three books, to allegory and myth, a ploy that eliminates the physical Adam from which all people descended and the sin that he transferred to the rest of the human race. This strikes directly at the heart of the Gospel: the need for the 'last Adam' to provide for us an escape from the wrath of God against sin incurred by the first Adam.  In this way, not only is the work of Christ on the cross rendered superfluous, meaning the heart of the faith is ripped out, but God is made responsible for sin and evil. (1 Peter 3:18-22; 1 John 2:22)
Long ago, the teachings of some of the early Church Fathers regarding the apostasy toward the end of the church age predicted the reappearance of this evil tactic. The fathers categorized it a Gnostic pagan heresy.
In "Heresies 6.10″ Hippolytus writes that the Gnostic pagan Simon Magus feigned faith and allegorized much of Scripture, especially Genesis, to support his evolutionary Hermetic and Gnostic occult pantheist teachings.   Church Fathers Ireneaus, Tertullian and Clement of Alexandria reveal that Gnostic cult leader Marcion rejected the Old Testament, taught that the God of the Old Testament and his prophets are evil, made God the author of sin and removed all references that Christ was Creator (John 1:1)   (Ireneaus, "Against Heresies 1.26, 5.1," Tertullian "Against Marcion 2.17," Clement of Alexandria, "Against Heresies 4.29)
In conclusion, the Babylonian Mystery Religion is the mother of evolutionary Cabala, Gnosticism and all other occult pagan traditions:
"….especially does Gnosticism testify to the antiquity of the Cabala. Of Chaldean origin… Gnosticism was Jewish in character long before it became Christian… Gnosticism—that is, the cabalistic 'Hokmah' (wisdom)—seems to have been the first attempt on the part of the Jewish sages to give the empirical mystic lore, with the help of Platonic and Pythagorean or Stoic ideas, a speculative turn; hence the danger of heresy…of which the systems of Philo, an adept in Cabala…show many pitfalls…Jewish gnosticism unquestionably antedates Christianity, for Biblical exegesis had already reached an age of five hundred years by the first century C.E.  Judaism had been in close contact with Babylonian-Persian ideas for at least that length of time, and for nearly as long a period with Hellenistic ideas. Magic, also, which,…was a not unimportant part of the doctrines and manifestations of gnosticism, largely occupied Jewish thinkers. There is, in general, no circle of ideas to which elements of gnosticism have been traced, and with which the Jews were not acquainted."  (Cabala, Jewish Encyclopedia)
Building  the New Tower of Babylon
In the essay, "The Paganization of Biblical Studies," Dr. Peter Jones, director of truthxchange and adjunct professor of Westminster Seminary CA., writes that the books of the evolutionary Gnostic pagan Presbyterian heretic Lloyd Geering, Emeritus Professor of Religious Studies at Victoria University, are promoted by the most powerful element of the Spirit of our age—the international occult New Age Luciferian elite-pagans—as programmatic templates for the future utopian pagan community from the point of view of Christian apostasy and socialism undergirded by evolutionary pantheist orthodoxy.
According to Geering, the world's future culture will be post-Christian, global, religiously pagan and evolutionary.  This agenda is remarkably similar to that of Teilhard de Chardins' disciple, the ex-Roman Catholic Thomas Berry in his book, "The Great Work" which is also being implemented through texts of the UN's global programs.
The rising New World Order will be post-Christian because evolution proves that human beings, as they evolved out of primordial matter, created language, then symbols, then religious explanations and God Himself.  Therefore tomorrow's culture will be pluralistic, syncretistic, relativistic and poly-gendered because evolution integrates all scientific, cultural, religious, economic and human gender into one worldwide anthill thus when the global society emerges from the evolutionary process,
"…it will require humanity to develop a new consciousness and a new form of spirituality" because "the new story which has become basic to the global world begins with a new word or idea…evolution." (ibid, Jones)
Like its' mother, Mystery Babylon, the scientifically-enlightened 'new' global religion of evolutionary transformism is occult pantheist advaita monism, which means that as an ancient impersonal god-force is within the cosmos, earth, human beings, rats, weeds, tumble bugs, cancer and everything else then all things are essentially 'one.'  Since the god-force is within all things it is within the demonically 'illumined' consciousness of every spiritually evolved initiate and adept.
This being the case, by means of trance states, brain-altering drugs, transcendental meditation, visualization, channeling, Zen Buddhism, Kundalini yoga, tantra, and other occult ways, the initiate can channel the god-force within thereby becoming a little god who controls matter because he controls mind. The physical world then, is an illusion because reality is inside the divine mind of the god-man.
This way of thinking is captured by Orwell in his book, "Nineteen Eighty-Four" in which negation of the physical world is an integral part of the social and political philosophy of Big Brother and his despotic Party. At one stage in the book, Winston stumbles upon the shocking realization that in the end the Party would announce that two plus two made five because the logic of Big Brothers' position required it since the existence of external reality was denied by his philosophy.  Thus when the Thought Police agent O'Brien tortures Winston for politically incorrect "wrong thought" he states,
"We control matter because we control the mind.  Reality is inside the skull.  You will learn by degrees, Winston.  There is nothing that we could not do.  Invisibility, levitation—anything.  I could float off this floor like a soap bubble if I wish to….You must get rid of these nineteenth-century ideas about the laws of Nature.  We make the laws of Nature." (Orwell, "The New Spirituality and its Hallmarks, Alan Morrison, SCP Journal, Vol. 30:4-31:1, 2007, p. 19)
Evolving Toward Catastrophe
In "The Aquarian Conspiracy," a book that has been called 'the New Age Bible,' Marilyn Ferguson (1938-2008) admits that the 'new age' evolutionary pantheism and occult technologies being employed throughout America were at one time the private domain of ancient initiates.   In fact, as Constance Cumbey reveals in her thoroughly researched book, "The Hidden Dangers of the Rainbow," many New Age historians claim their occult religion and techniques originated in Atlantis and afterward were preserved in the ancient land of Babylon,
"…and surrounding Plains of Shinar and from there disseminated throughout the earth, including Taoist doctrines of China, Mayan-Aztec teachings of Mexico and Central/South America; Great Spirit teachings of the American Indians, Hindu/Buddhist teachings of Asia, etc." (pp. 250-251)
After the Flood, said Shuckford, while the faithful Noah remained in the East and established the worship of the true God, eighty years after the Flood his rebellious son Ham and his sons together with other family members departed and eventually settled in the plains of Shinar where they resolved to build a tower, a monument to their own pride, vanity, ambition and rebellion against God. (ibid, p.94)
It was Noah's son Ham, according to ancient Church Father Clement, who  'preserved' and revived the Mystery Religion of 'Atlantis' and its attendant evils:
"Fallen angels taught men the use of magical incantations that would force demons to obey man. After the flood Ham the son of Noah…discovered this and taught it to his sons.  This became ingrained into the Egyptians, Persians, and Babylonians.  Ham died shortly after the fall of the Tower of Babel.  Nimrod, called Ninus by the Greeks, was handed this knowledge and by it caused men to go away from the worship of God and go into diverse and erratic superstitions and they began to be governed by the signs in the stars and motions of the planets." (Recognitions of Clement 4.26-29)
In his well-researched book, "Ancient Post-Flood History," Ken Johnson, Th.D., reports that the sons of Ham persuaded the people to accept that the true God was merely an impersonal creative force within all of nature, making man the highest form of life/god.  Through the power of persuasion, Ham and his sons revived magical evolutionary transformism, pantheism and idolatry. (pp. 47-48)
Eventually Ham was deified and worshipped by later pagans as the gods Cronus and Jupiter:
"Ham is represented by many writers as a very wicked, immodest, and profligate creature: Berosus (i) makes him a magician, and to be the same with Zoroast or Zoroastres, and speaks of him as the public corrupter of mankind; and says that he taught men to live as before the flood, to lie with mothers, sisters, daughters, males and brutes, and creatures of all sorts; and that he actually did so himself, and therefore was cast out by his father Janus, or Noah, and got the name of "Chem", the infamous and immodest…" Upon seeing his father's nakedness Ham,  "told his two brethren without; he went out of the tent after he had pleased himself with the sight… and in a wanton, ludicrous, and scoffing manner, related what he had seen: some of the Jewish Rabbins (k), as Jarchi relates, say that Canaan first saw it, and told his father of it; and some say (l), that he or Ham committed an unnatural crime with him; and others (m), that he castrated him; and hence, it is supposed, came the stories of Jupiter castrating his father Saturn, and Chronus his father Uranus."    Genesis 9:22 Gill's Exposition
History did not begin after billions of years of evolution when primitive hominids swung down from the trees and discovered how to scratch crude symbols onto rocks.    Nor did it begin after the Flood.  At least 2,000 years of human existence preceded the Flood, meaning that when Noah and his family entered the ark they carried at least one hundred years of pre-flood memories, traditions, technology, and superior knowledge. Their world view was shaped by the historical Adam and Eve and the generations of their offspring.   Thus Noah and his family brought with them not only the knowledge of the personal God, Special Creation, fall of man, the Deluge, sacrifice to God for the propitiation of sin, the arts of weapon-making and warfare, knowledge of letters, symbols, math, architecture, science, cosmetics, and agriculture  but knowledge of  first-hand encounters with Watchers, their occult teachings, the Nephilim, and primeval pantheism tied to magic, spiritism, herbal abortifacients, human and animal sacrifice, drinking of blood, males marrying males and even beasts, and many other evils.
In affirmation, the eminent researcher of antiquity James Bailey said:
"…human history can now be hesitantly traced back as an unbroken narrative to 4000 B.C….the picture emerging…is one of the Fall of Man in historic terms as well as his rise; it is a picture…more of degradation than of success; it is a picture of monotheism breaking down into polytheism and of the struggle to return to monotheism.  The establishment view of the history of religion gradually progressing from animism to polytheism (then) to monotheism is the reverse of facts." ("The God-Kings and the Titans: The New World Ascendancy in Ancient Times 1973, p. 296)
Four thousand years before Christ were the antediluvian generations and the Watchers in the post-flood world, making the billions of years of evolutionary transformism a fabulous fable.  It is neither 'new' (Ecclesiastes 1: 9-11) nor scientific except in the sense of pre-flood and post-flood occult science and attendant traditions revised and revamped for our own time, as Geering unhappily discovered.
Dr. Jones writes that Geering was surprised when he found out that the 'New Spirituality' has "links with pre-monotheistic…nature religions," leading Jones to wryly comment that in an odd turn of events,
"….contemporary spiritual' evolution goes backwards!  Biblical theism disturbed evolutionary progress.  The clocks have to be put back (for we are in the presence of) a powerful pagan/Gnostic theological agenda, claiming to be spanking new, objective and scientific, but as old as the hills."
Clocks have to be turned back, all the way back to the days of Noah in the pre-flood world where evolution is closely connected to the devil's lie that man is a being who though presently limited in time and space is nevertheless capable of achieving a great leap of being and magically evolving into a much more powerful god-like being in the future.
As the scientifically endarkened Gnostic pagan Spirit of our age simultaneously worships on the altar of 'self' as it self-righteously peers down its' long, pointy nose and contemptuously sniffs and sneers at the remnant of backwards, unscientific, anti-evolution  faithful, in reality it is the entirely deluded pagan Spirit that is on a collision course with a modern version of the pre-flood world catastrophe—-and we know how badly that ended.
It should be obvious that the recent putsch and regime change in the Ukraine inspired and backed by the U.S. shadow government, benefits the international banksters. For the average EU resident, only further economic displacement and diminished prospects can be expected from any inclusion of Ukraine into the EU dictatorial structure. Not so, for the corporatists who expects expanded opportunities as Consortium News analyzes agricultural and energy companies recent involvement within the Ukraine.While corporatists want to extend their monopolies, the appeal of joining the EU with privileges of travel, relocation and better employment, has a very high price tag. So what is really behind the cover that the Brussels technocrats like to provide for the heavy hand treatment, which the banksters always demand? Look to the methods of the IMF for part of the answer.
Michel Chossudovsky of Global Research, in the detailed essay Regime Change in Ukraine and the IMF's Bitter "Economic Medicine", gives a comprehensive account of the handpicked players that are eager to do the bidding of the IMF.
"Shortly after his instatement, the interim (puppet) prime minister Arseny Yatsenyuk casually dismissed the need to negotiate with the IMF. Prior to the conduct of negotiations pertaining to a draft agreement, Yatsenyuk had already called for an unconditional acceptance of the IMF package: "We have no other choice but to accept the IMF offer".
He explains the methods of the standard game plan that the IMF uses to impoverish the peasants and steal assets and resources.
"While the privatization program ensures the transfer of State assets into the hands of foreign investors, the IMF program also includes provisions geared towards the destabilization of the country's privately owned business conglomerates. A concurrent "break up" plan entitled "spin-off" as well as a "bankruptcy program" are often implemented with a view to triggering the liquidation, closing down or restructuring of a large number of nationally owned private and public enterprises."
In addition, the 21th Century Newswire reports that the US Quietly Snatches the Ukraine's Gold Reserves and corroborated by the same Prof Chossudovsky, it becomes clear that economic conquest is a prime component behind the staged coup.
"According to reports out of Kiev, the US has quietly transfers 33 tons of Ukrainian gold out of the country and back to vaults in the US. Presumably, this sovereign wealth transfer would be counted as partial "collateral" for a fresh round of IMF, US FED, and ECB paper debt that is currently being organized for dumping into the Ukraine's economic black hole."
"Later a returned call from a senior official of the former Ministry of Revenue reported that tonight, on the orders of one of the new leaders of Ukraine, the United States had taken custody of all the gold reserves in Ukraine."
Finally, economist Michael Hudson in Who In Ukraine Will Benefit From An IMF Bailout?,
"The objective of IMF loans is to deindustrialize the economy. It is to force the economy–meaning the government when you say the economy–the government has to pay the IMF loan by privatizing whatever remains in the public domain. The Westerners want to buy the Ukrainian farmland. They want to buy the public utilities. They want to buy the roads. They want to buy the ports. And all of this is going to be sold at a very low price to the Westerners, and the price that the Westerners pay will be turned over to the Ukrainian government, that then will turn it back to the Ukraine. So whatever the West gives Ukraine will immediately be taken back."
Watch the informative video, Who In Ukraine Will Benefit From An IMF Bailout?, for the Real News assessment, that clarifies these developments. Now shift to the recent announcement that the EU Signs Association Agreement With Ukraine for a viewpoint reported by Radio Free Europe.
"This deal covers the most existential and most important issues, mainly security and defense cooperation," Yatsenyukd said. "This deal will establish a joint decision-making body, which is to facilitate the process of real reforms in my country. And this deal meets the aspirations of millions of Ukrainians that want to be a part of the European Union."
What exactly can the EU offer by way of defense cooperation? Yes, this is the same central banker stooge, who the Wall Street Journal describes as Washington's Man Yatsenyuk Setting Ukraine Up For Ruin. Without the United States, the EU is a paper tiger. NATO is not an alliance, but a branch of outposts to deploy American troops. How does this phony agreement between the EU and Ukraine help the economic interests of either party?
Such a display of destitution only makes the illegitimate installed Ukraine government look like the vassal state that it has become. Bob Livingston over at Personal Liberty Digest has it correct, "The Ukraine situation is a bankster-orchestrated crisis with the short game more money printing and the end game global governance."The EU governance aspect is the eventual goal, but the immediate economic dislocation that even the talk of sanctions against Russia has, with the trading partners within the EU, surely will experience real pain. These conditions create the perfect storm for the IMF banksters to apply their vile craft.
Now that the Ukraine is reduced to beggar status, the gang of approved corporatist will feast like vultures upon the remains of fire sale assets. Once again the formula imposed upon Ireland, Spain and certainly Greece, will be used to guarantee the billions in EURO credit that will flow into the secret bank accounts of the new junta.
Capturing the Ukraine is more about geopolitical asset thievery than assimilation into the European Union. However, the EU marketed, as a lawful "community of nations" is nothing more than the political front for the money counterfeiters. Fashioning economic distress is the business of the unholy alliance. NATO, the IMF and the EU serve the shyster and shylock central banking system. Ukraine is just the latest victim.

On March 6 President Obama said in Washington that the Crimean authorities' plans for a referendum "violate the Ukrainian Constitution and violate international law." "Any discussion about the future of Ukraine must include the legitimate government of Ukraine. We are well beyond the days when borders can be redrawn over the heads of democratically elected leaders," he added. "Crimea is Ukraine," Secretary of State John Kerry said in Rome on the same day.
Interesting. Six years ago the United States enthusiastically recognized the Kosovo Albanian authorities' self-proclaimed independence, which violated the Serbian constitution and violated international law. The legitimate government of Serbia was not included in any discussions which preceded the American decision. The United States initiated the redrawing of Serbia's borders with an act of armed aggression in 1999, and then formally condoned it in February 2008, over the heads of Serbia's democratically elected President Boris Tadic and Prime Minister Vojislav Koštunica. Furthermore, in September 2012 Obama's then-Secretary of State Hillary Clinton said that "the boundaries of an independent, sovereign Kosovo are clear and set." A few days earlier Obama himself claimed, incredibly, that "Kosovo has made significant progress in solidifying the gains of independence and in building the institutions of a modern, multi-ethnic, inclusive and democratic state."
A President capable of thus characterizing that KLA-run black hole of thuggery and lawlessness – the worst-ruled spot by far in all of Europe – is beyond logic or reason. It would be therefore useless to point out to Obama that the government in Kiev has no legitimacy whatsoever, having grabbed power through a sustained campaign of revolutionary brutality and having violated the Ukrainian constitution and other laws in the process. Obama's claim that the leaders of the regime in Kiev were "democratically elected" is unsurprising, however, coming as it does from a man whose hold on reality – at home and abroad – is becoming more tenuous by the day.
Lest we forget, on February 21 President Viktor Yanukovich and three Ukrainian parliamentary party leaders signed a "reconciliation agreement" co-signed by foreign ministers of France, Germany and Poland – implying that their countries and the EU guaranteed the deal – and approved by a Russian representative. The document provided for constitutional reform reducing presidential powers, the creation of a government of national unity, early presidential election, and disbandment of Maidan armed factions. Far from disbanding, within hours those same armed factions forced Yanukovich to flee Kiev and stage-managed a parliamentary "vote," worthy of the proceedings of the Supreme Soviet ca. 1937, which ushered in the putschist regime.
As Russia's President Vladimir Putin said on March 4, Yanukovich "had in fact given up his power already, and as I told him, he had no chance of being re-elected. What was the purpose of all those illegal, unconstitutional actions, why did they have to create this chaos in the country? Armed and masked militants are still roaming the streets of Kiev. This is a question to which there is no answer." Well, there is one, and he knows it. As a BBC commentator pointed out on March 5, what makes Putin mad is the feeling that he is being deceived:
We saw that with Libya in 2011. Moscow was persuaded not to block a UN Security Council resolution on a no-fly zone to protect civilians. But NATO's military action led to regime change and the death of Col Muammar Gaddafi – far beyond what Russia had expected. It helps explain why Russia has been quick to veto resolutions on Syria. On Ukraine, too, President Putin feels the West has tricked him. Last month he sent his envoy to Kiev to take part in negotiations on a compromise agreement … It remained words only. Less than 24 hours later, Mr. Yanukovych was on the run, the parliament removed him from power and appointed a new acting president from the opposition. The pace of events took Moscow completely by surprise. Russia says the February 21 agreement must be implemented. The opposition signed it, yet allows an uncontrolled militia of violent armed radicals send fear and loathing across a large swath of Ukraine. The US says the agreement no longer matters…
THE GHOST OF WARREN ZIMMERMANN – Washington saying "the agreement no longer matters" brings us to another parallel between the crisis in Ukraine and the conflict in ex-Yugoslavia in the 1990's: the role of the United States in subverting agreements that were meant to save peace. Similar U.S. subterfuges contributed to the outbreak of the war in Bosnia-Herzegovina exactly 22 years ago. In March 1992 the late Warren Zimmermann, the last U.S. ambassador to Yugoslavia before its breakup and civil war, materially contributed, more than any other single man, to the outbreak of that war. The facts of the case have been established beyond reasonable doubt, and are no longer disputed by experts.
Following the unconstitutional and illegal Muslim-Croat referendum on Bosnia's independence (February 28-29), then-Portuguese foreign minister Jose Cutileiro persuaded the leaders of the three constituent nations that Bosnia-Herzegovina should be independent, but internally based on autonomous ethnic "cantons." The breakthrough was due to the Bosnian Serbs' acceptance of an externally sovereign B-H state, provided that the Muslims give up their ambition of an internally centralized, unitary one. Alija Izetbegovic, the Muslim leader, accepted the plan. Only days after it was signed, however, Zimmermann flew from Belgrade to Sarajevo to tell Izetbegovic that the deal was a means to "a Serbian power grab" that could be annulled. State Department later admitted that the U.S. policy was to encourage Izetbegovic to break with the plan.
As early as August 29, 1993, The New York Times brought a revealing quote from the key player himself: "Immediately after Mr. Izetbegovic returned from Lisbon, Mr. Zimmermann called on him in Sarajevo… 'He said he didn't like it; I told him, if he didn't like it, why sign it?'" After that moment Izetbegovic had no motive to seek compromise. He felt authorized to renege on the tripartite accord, which inevitably ignited the Bosnian war. Cutileiro himself insisted later that, but for Izetbegovic reneging, "the Bosnian question might have been settled earlier, with less loss of life and land." He also noted that "Izetbegovic was encouraged to scupper that deal and to fight for a unitary Bosnian state by foreign mediators."
In the fullness of time we shall learn which "foreign mediators" played the role of Zimmermann in Kiev in February 2014. Whoever it was – Victoria "f… the EU" Nuland, her ambassador in situ Pyatt, or Kerry himself – the intervention was a malicious attempt to encourage one side in Ukraine's multiethnic, multi-denominational mosaic to fight for an unitary Ukrainian state. If the result turns out to be the same or similar as that in Bosnia two decades ago, those "mediators" will have blood on their hands no less than Warren Zimmermann had blood on his. He died in February 2004, having greatly contributed to the death of a hundred thousand Bosnian Serbs, Croats and Muslims in 1992-1995.
"UKRAINE" AS "BOSNIA" – A key element in the Western propagandistic misrepresentation of the situation in Ukraine is the claim that it is a coherent nation-state of "Ukrainians," which is subjected to an unprovoked foreign aggression. On March 6 the House adopted a package of "sanctions against Russia, and "lawmakers are also acting in other ways to show solidarity with Ukrainians." Two days earlier John Kerry flew to Kiev to show solidarity with Ukraine's new leaders. Everybody and his uncle, including various MEPs, Canadian MPs, etc. flew to Kiev "to show solidarity with Ukrainians."
In exactly the same manner, in 1992 it was asserted ex hypothesi by the American (and to a lesser extent West European) political elite, and parroted ad nauseam by the media machine, that if there is a "Bosnia" there must be a nation of "Bosnians." In both cases the claim was tantamount to the assertion, in 1861, that "the American nation" was resisting an illegal rebellion. In fact today's Ukraine is like Ireland in 1920: impossible to survive intact, let alone prosper in peace, on the basis of the aspirations and assumptions of one community which are inherently incompatible with those of another. The rights of the legislators in the Crimean Peninsula, Odessa, Kharkov, Donetsk, Dnepropetrovsk etc. vis-à-vis Kiev are exactly the same as those of the Stormont were vis-à-vis the Irish Free State in 1921.
COMMUNIST-DRAWN INTERNAL BOUNDARIES – The problem of internal boundaries between the constituent republics, arbitrarily drawn by communist dictators in complete disregard of the wishes and aspirations of the people thus affected, has been the key foundation of the Yugoslav conflict ever since the first shots were fired in the summer of 1991. Even someone as unsympathetic to the Serb point of view as Lord David Owen, the EU negotiator in 1992-1993, conceded that Marshal Josip Broz Tito's administrative boundaries between Yugoslavia's republics were grossly arbitrary, and that their redrawing should have been countenanced before the issue escalated into a fully-fledged war:
Incomprehensibly, the proposal to redraw the republics' boundaries had been rejected by all eleven EC countries… [T]o rule out any discussion or opportunity for compromise in order to head off war was an extraordinary decision. My view has always been that to have stuck unyieldingly to the internal boundaries of the six republics within the former Yugoslavia… as being those for independent states, was a folly far greater than that of premature recognition itself.
The manner in which Nikita Sergeyevich Khrushchev transferred Crimea to Ukraine in February 1954 is a particularly egregious example of the communist border-changing. The shoe-banger must be having a hearty laugh in his current hot abode at the readiness of the United States to risk a major confrontation with Russia – a minus-sum-game if there ever was one – for the sake of upholding the legacy of his stroke of pen 60 years ago.
REDUCTIO AD HITLERUM – And finally, just as Slobodan Milosevic was the Hitler-du-jour during the Bosnian war, Vladimir Putin is becoming one now. His current transformation could be predicted with mathematical precision. Most notably, Hillary Clinton likened Putin's actions in the Crimean peninsula to those of Hitler in the Sudetenland. On March 3 Zbigniew Brzezinski called Putin "a partially comical imitation of Mussolini and a more menacing reminder of Hitler." ("We haven't seen this kind of behavior since the Second World War," Canadian Prime Minister Stephen Harper said, not that anyone cared.) Senators Marco Rubio (R-Fla.) and John McCain (R-Ariz.) agreed with Clintonwholeheartedly. The obvious comparison, with Oleh Tyagnybok and other black-and-red Svoboda Party heirs to Bandera and the SS Division Galizien, unsurprisingly eludes them. These people are McCain's good buddies, after all – every bit as good as the warriors in the path of Allah in Syria.
As I've noted in these pages before, the final corollary of various ad-hoc Hitlerizations is that we are all potential Fuhrers, and only by vigilantly guarding against deviant thoughts ("I like Americans better than Somalis"), emotions ("I enjoy Wagner's Ring more than Porgy & Bess") and practices ("I enjoy walking my German Shepherd in the Bavarian Alps") can we protect ourselves from the lure of the inner Adolf. Having experienced the reductio myself – having been called "Hitler in full oratorical flight," to be precise – I hereby wish Vladimir Vladimirovich a hearty welcome to the club.
When it gets complicated and confusing, when you're overwhelmed with too much information, changing daily; too many explanations, some contradictory … try putting it into some kind of context by stepping back and looking at the larger, long-term picture.
The United States strives for world domination, hegemony wherever possible, their main occupation for over a century, it's what they do for a living. The United States, NATO and the European Union form The Holy Triumvirate. The Holy Triumvirate has subsidiaries, chiefly The International Monetary Fund, World Bank, World Trade Organization, International Criminal Court … all help to keep in line those governments lacking the Holy Triumvirate Seal Of Approval: the IMF, WB, and WTO impose market fundamentalism, while foreign leaders who act too independent are threatened with being handed over to the ICC for heavy punishment, as the United States imposes sanctions on governments and their leaders as only the King of Sanctions can, lacking any sense of hypocrisy or irony.
And who threatens United States domination? Who can challenge The Holy Triumvirate's hegemony? Only Russia and China, if they were as imperialistic as the Western powers. (No, the Soviet Union wasn't imperialistic; that was self-defense; Eastern Europe was a highway twice used by the West to invade; tens of millions of Russians killed or wounded.)
Since the end of the Cold War the United States has been surrounding Russia, building one base after another, ceaselessly looking for new ones, including in Ukraine; one missile site after another, with Moscow in range; NATO has grabbed one former Soviet Republic after another. The White House, and the unquestioning American mainstream media, have assured us that such operations have nothing to do with Russia. And Russia has been told the same, much to Moscow's continuous skepticism. "Look," said Russian president Vladimir Putin about NATO some years ago, "is this is a military organization? Yes, it's military. … Is it moving towards our border? It's moving towards our border. Why?"
The Holy Triumvirate would love to rip Ukraine from the Moscow bosom, evict the Russian Black Sea Fleet, and establish a US military and/or NATO presence on Russia's border. (In case you were wondering what prompted the Russian military action.) Kiev's membership in the EU would then not be far off; after which the country could embrace the joys of neo-conservatism, receiving the benefits of the standard privatization-deregulation-austerity package and join Portugal, Ireland, Greece, and Spain as an impoverished orphan of the family; but no price is too great to pay to for being part of glorious Europe and the West!
The Ukrainian insurgents and their Western-power supporters didn't care who their Ukrainian allies were in carrying out their coup against President Viktor Yanukovych last month … thugs who set policemen on fire head to toe … all manner of extreme right-wingers, including Chechnyan Islamic militants  … a deputy of the ultra-right Svoboda Party, part of the new government, who threatens to rebuild Ukraine's nukes in three to six months.  … the snipers firing on the protestors who apparently were not what they appeared to be – A bugged phone conversation between Urmas Paet, the Estonian foreign minister, and EU foreign policy chief Catherine Ashton, reveals Paet saying: "There is now stronger and stronger understanding that behind the snipers it was not Yanukovych, but it was somebody from the new coalition."  … neo-Nazi protestors in Kiev who have openly denounced Jews, hoisting a banner honoring Stepan Bandera, the infamous Ukrainian nationalist who collaborated with the German Nazis during World War II and whose militias participated in atrocities against Jews and Poles.
The Israeli newspaper Haaretz reported on February 24 that Ukrainian Rabbi Moshe Reuven Azman advised "Kiev's Jews to leave the city and even the country." Edward Dolinsky, head of an umbrella organization of Ukrainian Jews, described the situation for Ukrainian Jews as "dire" and requested Israel's help.
All in all a questionable gang of allies for a dubious cause; reminiscent of the Kosovo Liberation Army thugs Washington put into power for an earlier regime change, and has kept in power since 1999.
The now-famous recorded phone conversation between top US State Department official Victoria Nuland and the US ambassador to the Ukraine, wherein they discuss which Ukrainians would be to Washington's liking in a new government, and which not, is an example of this regime-change mentality. Nuland's choice, Arseniy Yatseniuk, emerged as interim prime minister.
The National Endowment for Democracy, an agency created by the Reagan administration in 1983 to promote political action and psychological warfare against states not in love with US foreign policy, is Washington's foremost non-military tool for effecting regime change. The NED website lists 65 projects that it has supported financially in recent years in Ukraine.  The descriptions NED gives to the projects don't reveal the fact that generally their programs impart the basic philosophy that working people and other citizens are best served under a system of free enterprise, class cooperation, collective bargaining, minimal government intervention in the economy, and opposition to socialism in any shape or form. A free-market economy is equated with democracy, reform, and growth; and the merits of foreign investment in their economy are emphasized.
The idea was that the NED would do somewhat overtly what the CIA had been doing covertly for decades, and thus, hopefully, eliminate the stigma associated with CIA covert activities. Allen Weinstein, who helped draft the legislation establishing NED, declared in 1991: "A lot of what we do today was done covertly 25 years ago by the CIA."
NED, receives virtually all its financing from the US government ($5 billion in total since 1991  ), but it likes to refer to itself as an NGO (Non-governmental organization) because this helps to maintain a certain credibility abroad that an official US government agency might not have. But NGO is the wrong category. NED is a GO. Its long-time intervention in Ukraine is as supra-legal as the Russian military deployment there. Journalist Robert Parry has observed:
For NED and American neocons, Yanukovych's electoral legitimacy lasted only as long as he accepted European demands for new "trade agreements" and stern economic "reforms" required by the International Monetary Fund. When Yanukovych was negotiating those pacts, he won praise, but when he judged the price too high for Ukraine and opted for a more generous deal from Russia, he immediately became a target for "regime change."
Thus, we have to ask, as Mr. Putin asked – "Why?" Why has NED been funding 65 projects in one foreign country? Why were Washington officials grooming a replacement for President Yanukovych, legally and democratically elected in 2010, who, in the face of protests, moved elections up so he could have been voted out of office – not thrown out by a mob? Yanukovych made repeated important concessions, including amnesty for those arrested and offering, on January 25, to make two of his adversaries prime minister and deputy prime minister; all to no avail; key elements of the protestors, and those behind them, wanted their putsch.
Carl Gershman, president of NED, wrote last September that "Ukraine is the biggest prize".  The man knows whereof he speaks. He has presided over NED since its beginning, overseeing the Rose Revolution in Georgia (2003), the Orange Revolution in Ukraine (2004), the Cedar Revolution in Lebanon (2005), the Tulip Revolution in Kyrgyzstan (2005), the Green Revolution in Iran (2009), and now Ukraine once again. It's as if the Cold War never ended.
The current unbridled animosity of the American media toward Putin also reflects an old practice. The United States is so accustomed to world leaders holding their tongue and not voicing criticism of Washington's policies appropriate to the criminality of those policies, that when a Vladimir Putin comes along and expresses even a relatively mild condemnation he is labeled Public Enemy Number One and his words are accordingly ridiculed or ignored.
On March 2 US Secretary of State John Kerry condemned Russia's "incredible act of aggression" in Ukraine (Crimea) and threatened economic sanctions. "You just don't in the 21st century behave in 19th century fashion by invading another country on completely trumped up pre-text."
Iraq was in the 21st century. Senator John Kerry voted for it. Hypocrisy of this magnitude has to be respected.
POSTSCRIPT: Ukraine's interim prime minister announced March 7 that he has invited the NATO Council to hold a meeting in Kiev over the recent developments in the country. "I invited the North Atlantic Council to visit Kiev and hold a meeting there," Arseny Yatsenyuk said during a visit to Brussels, where he met with NATO Secretary General Anders Fogh Rasmussen and EU officials. "We believe that it will strengthen our cooperation."
Notes
Guardian Weekly (London), June 27, 2001
RT television (RT.com, Moscow/Washington, DC), March 1, 2014
Deputy Mikhail Golovko, RT, March 1, 2014
RT, March 5, 2014, "The EU's Ukraine policy and moral bankruptcy"; the phone conversation is believed to have taken place February 26.
Washington Post, September 22, 1991
Victoria Nuland, speaking at the National Press Club, Washington, DC, December 13, 2013
Washington Post, September 26, 2013
"Face the Nation", CBS, March 2, 2014
I just finished reading Malcolm Gladwell's book, "David and Goliath" — wherein Gladwell says that, in the course of any human interaction, there will always be a graphic curve of diminishing returns when it comes to maximizing the use of force in order to achieve one's goals.
In other words, always punching other people's lights out in order to get your own way can very quickly become counterproductive.  Good grief, I think that Gladwell might be onto something here.
Want examples?
If the maximum use of force in order to obtain one's goals had been successful in Iraq (and assuming that said goals were to depose a dictator and not just to create chaos and steal oil), then the Bush-led invasion would never have been such a dismal failure and there never would have been such a disastrous resistance war there — one that still keeps rolling right along to this day.  So much for Shock and Awe.
If maximum use of force really worked, then Europe would still be saluting Hitler.
Slavery would still be on the books in Georgia and Alabama because of all those happy slaves it created.  Or, alternatively, segregation would still be a huge success and MLK would have had no effect at all on it.
Descendants of Genghis Khan would still be running Russia and China.
There would be no Child Protective Services anywhere and parents would still be beating their kids to within an inch of their lives.  And I would still be lovingly obeying my mean older sister.
Women would look forward to being placed in harems and having a dozen babies each and would never demand the right to be pro-choice.  "Barefoot and pregnant."  They would know their place as slaves to their husbands and not strive for anything else.  Rape would not be a problem for women and girls.
Those viscous stormtroopers who illegally seized control of Palestine 65 years ago by ruthlessly wiping out hundreds of villages and slaughtering Christians and Muslims by the thousands?  They would not still be getting resistance from the Occupied Territories even now.  And the current Israeli neo-cons' constant brutal "eye for an eye" faux cleverness wouldn't have forced Al Qaeda out of the remote caves of Afghanistan where it was holed up in 2001 — and forced it into not-so-remote southern Syria where Al Qaeda is now, right at Israel's front door.
And there would not have been 30 years of The Troubles in Northern Ireland either.
And in South America, Pinochet's ghost would still be running Chile, Argentina's Dirty War would have made Henry Kissinger proud, the billions Reagan spent on killing peasants in Guatemala would not have been wasted, Batista's grandson (not Castro's brother) would still be ruling Cuba and all those tin-pot dictators that the CIA supported in Central and South America over the years would be in Heaven right now — not in Hell.  And phrases like "Banana Republic" and "Military Junta" and "Drug Cartel" would all stir our hearts with pride instead of just making us queasy.
The Soviet Union would still exist — and Afghans and Chechyans would just love being a part of it.  People there would stop praising Tolstoy, Tchaikovsky and Baryshnikov and start even more fan clubs for Stalin.
We would have "Fascism" and "Corporatism" engraved on our dimes now instead of just that stupid old word "Liberty".  And "Mein Kampf" — not "Romeo and Juliette" — would be required reading in all American high schools.
All seven billion of us human beings, when we were babies, would have been spanked every time we cried, been locked in closets for days for the slightest infraction and would have thrived on harsh whippings — and that would have been that.  And as a result we would all have grown up to become obedient citizens, not axe-murdering psychopaths.
Jesus would have been just another loser with wild ideas.  Even Mohammed and the Buddha would have been buked and scorned (and sent to bed without any Last Supper). http://www.youtube.com/watch?v=UdllgBtXPaE
Everyone in America would be happily welcoming the NSA and the militarization of our police forces with open arms right now.  More tanks driving down Main Street?  More surveillance on our phones?  More destruction of our Constitutional rights?  Bring it on!
And Baby Doc and his Bon Ton Macoute would still be running Haiti and Jean-Bertrand Aristide would have been laughed out of the country instead of becoming a hero almost as legendary as Toussaint L'Ouverture.
So why don't whips and chains and oppression and torture work out so well in the long run?  One would think that they would.  Isn't Fear the greatest motivator?  According to Gladwell, apparently not.
And why is "Do unto others as you would have others do unto you" still such a hot item?  You tell me.  Which way would you prefer to be treated?  As a friend or as a slave?  Which way of being treated would piss you off to the degree that you would take torches and pitchforks in hand rather than live under a tyrant?
"When also all that generation were gathered unto their fathers; and there arose another generation after them, which knew not the Lord, nor yet the works which He had done for Israel.  Then the Israelites did evil in the eyes of the Lord and served the Baals. They forsook the Lord, the God of their ancestors, who had brought them out of Egypt. They followed and worshiped various gods of the peoples around them. They aroused the Lord's anger…they forsook him and served Baal and the Ashtoreths."  Judges 2:10-13
In his book "New Evangelicalism: the New World Order," Paul Smith, the younger brother of Pastor Chuck Smith of Calvary Chapel, reports that the second generation sons of faithful evangelicals and evangelical pastors are going astray.  Among those who have already done so are Daniel Fuller, Frank Schaeffer, Rick Warren, and Chuck Smith Jr. (p. 177)
"New" evangelicals are traveling the broad smooth road to compromise, syncretism, universalism and evolutionary pantheism taken years ago by mainline Protestantism.  Already some apostate evangelicals have embraced and are teaching pantheist conceptions of Jesus Christ.
In the "The Christ of the New Age Movement," Ron Rhodes notes that apostate evangelical, now New Age theologian David Spangler defines Christ as a cosmic principle:
"Any old Christ will not do, not if we need to show that we have something better than the mainstream Christian traditions. It must be a cosmic Christ, a universal Christ, a New Age Christ." The Christ is not so much a religious figure, "but rather a cosmic principle, a spiritual presence whose quality infuses and appears in various ways in all the religions and philosophies that uplift humanity and seek unity with spirit." ("The Christ of the New Age Movement: Part One in a Two-Part Series on New Age Christology," cited in "A Quantum Cosmic Christ," Herescope BlogSpot, June 2012)
The cosmic Christ is the Omega refashioned.   The Omega is the Hermetic Hindu-pantheist divine One Substance featured by apostate Catholic theologian Teilhard de Chardin in his New Religion and now by Leonard Sweet in his Quantum Spirituality.
Leonard Sweet, preacher, scholar, and ordained United Methodist clergyman teaches a version of de Chardin's New Religion that he calls Quantum Spirituality. Sweet has remolded Omega as an embodiment of God in process of evolving within the substance of creation:
"Quantum spirituality bonds us to all creation as well as to other members of the human family…. This entails a radical doctrine of embodiment of God in the very substance of creation…. But a spirituality that is not in some way entheistic (whether pan- or trans-), that does not extend to the spirit-matter of the cosmos, is not Christian." (ibid, Leonard Sweet, Quantum Spirituality: A Postmodern Apologetic ")
The fall of the Christian Church is not limited to the Evangelical Church but rather the disaster is manifest over the entire denominational spectrum from the Presbyterian Church USA, which has lost hundreds of churches in the last few years, to the Episcopal and Catholic denominations.
In "Tidings of Discomfort and Joy," Jamie Dean describes a scorched earth policy being conducted by the apostate Episcopal Church against faithful Anglicans leaving the TEC:
"TEC leaders have fought dozens of court battles to force congregations leaving the denomination to forfeit the buildings they, their parents, and their grandparents paid for." (Jamie Dean, World Magazine, Dec. 28, 2013)
Phil Ashey of the American Anglican Council, an advocacy group for parishes and dioceses leaving the TEC, says these conflicts are a kind of "first fruits" of what faithful Christians outside TEC could face in coming years.
Since the TEC consecrated openly homosexual Gene Robinson as its first 'gay' bishop a decade ago, hundreds of churches have fled the denomination.  Departing churches emphasize TEC's approval of open homosexuality as an outgrowth of deeper doctrinal problems: TEC leadership has questioned the authority of Scripture for decades.
Under Katherine Jefferts Schori, the first female presiding bishop, the scorched earth policy has reached new heights.  The apostate Schori said this is because,
"Bad behavior must be confronted." (ibid)
Schori preaches a brand of evolutionary pantheism while masquerading as a Christian bishop.  As she mocks the crucial doctrines of the Christian faith, including the God of creation, the Incarnation, and the Trinity, she calls on Christians to boldly cross the frontier to become God while she taunts the Lord by use of the name Big Man,
"… and then points her finger at everyone listening and tells them that they have "missed the boat." Jefferts Schori then proclaims that she has the answer for this. We all need the "act of crossing boundaries" to become God after which our hands become a "sacrament of mission." In this way Schori continues "her mission of destroying the Christian faith through her rhetorical device of dismissive ridicule. (The False Theology of Episcopalian Bishop Katherine Jefferts Schori," Sarah Frances Ives, PhD, VirtueOnline,   Wednesday, July 11, 2012)
Within the Catholic Church losses have also been devastating, said Patrick Buchanan:
"…Catholic losses have been staggering (and) Catholics who remain in the Church are not nearly as firm in the faith or devout as their parents were.  The institutional shrinkage mirrors a spreading disbelief in doctrines that define the faith.  Millions of Catholic children are being taught their faith by heretics."  (Suicide of a Super Power: Will America Survive to 2025? pp. 91-93)
Evolutionary pantheism quietly infiltrated the Catholic Church years ago.  Bishop Fulton J. Sheen identifies the infamous heretic Teilhard de Chardin as the main villain:
"As one looks at the various trends in our day, one sees that Teilhard's conception of spirituality is in the forefront. He knew that he had to pass through many hazards, but he was directed principally to the cosmic world…..His fundamental orientation was "to attain heaven through the fulfillment of earth. Christify matter." (Bishop Fulton J. Sheen, Footprints In A Darkened Forest, p. 73)
By any name, Quantum Spirituality, Evolutionary Christianity, Schori's brand of evolutionary pantheism or Teilhard's New Religion, all are a synthesis of heresies whose primary doctrine is evolution.
Dr. R. Albert Mohler, president of The Southern Baptist Theological Seminary, describes our age as marked by so much spiritual and theological confusion that the God of the Bible has largely disappeared from view and been replaced by,
"…less imposing deities that are more amenable to the modern mind." (The Disappearance of God, Mohler, p. xiii)
We are witnessing the secularization, paganization and evaporation of orthodox Biblical theism to which must be added rebellion against every vestige of authority, an inversion of history caused by evolutionary thinking, the privatization of truth and,
"…..the fact that millions of Americans claim a divine right to their own spiritual cocoon and belief system."   Americans, "now lay claim to their 'own personal Jesus.' This personal vision of Jesus Christ may well bear little or no resemblance to Jesus as He is revealed in the Bible."  (xiii)
We are on the very brink of an anti-orthodox Christian mentality empowered and promoted by America's apostate paganized 'church.'  This development is approved and applauded by America's cultural elites.  For a long time our 'highly evolved' cultural elites–political, legal, judicial, academic, scientific, entertainment, education—have been not only been largely post-Christian in their mentality but openly hostile:
"NBC's sitcom "The New Normal" isn't just trying to remake society for the Gay Left. It's trying to remake Christianity, which is to say, destroy it."    (Brent Bozell, "The New Normal Christianity?" Townhall.com, Oct 26, 2012)
Paganized, post-Christian, sexually emancipated America is in a very advanced state of moral decay.  Years ago when its' decay was not as advanced, Pitirim Sorokin even then compared it with the morally depraved, sexually decadent social conditions in the Old Kingdom of Egypt 4,500 years ago just prior to its collapse.   In his book, "The American Sex Revolution," Sorokin reported that in the Old Kingdom:
"Sexual anarchy assumed extreme forms and spread through a large part of the population. Side by side with an increase of sexual perversions, a shameless sexual promiscuity also greatly increased. They seduced members of the same family. Relations between father and daughter…..son and mother…….Adultery, rape……prostitution greatly increased………homosexual love entered the mores of the population……all the aberrations of morbid eroticism……..unnatural relations, flagellations, and sodomy." (p. 93)
When sodomy becomes not just socially acceptable to a people but is rather a cause for celebration then collapse cannot be far behind:
"The Southern Decadence Festival is one of our nation's most notorious celebrations of sodomy, public sex acts, prostitution, drunkenness, and worse, but is by no means the only such festival. According to this year's Autumn Gay Pride Calendar, decadence festivals are held over and across post-Christian America and Western Europe as well as in Canada, Hong Kong, Australia, Thailand, Brazil, Belarus, Ireland, Japan, Scotland, China, S. Africa, India and Taipei. ("Sex slaves, sexual anarchy and decadence festivals: ominous signs of something really rotten," L. Kimball, Renew America, Oct. 25, 2012)
One of the central realities of America's moral decay was the dawning of a post-Christian culture now rapidly transitioning into an anti-orthodox Christian society.
The anti-orthodox Christian consciousness is now well developed. Tolerance is perverted into a radical secularism that is wholly open to 'gay' marriage and sodomy, abortion as  legalized 'choice,' perverse sex education for children, occult practices, Satanism, sorcery, Wicca, magic, nudity, pornography and Decadence Festivals but intolerant of God's Authority, Moral Law and sexual ethics.  The post-Christian mind is closed to the eternally unchanging higher truths of God but completely open to the idea that truth has no objective or absolute basis whatsoever.  Indeed, the postmodern mind has a fanatical dedication to moral relativism, love of self, pleasure, and its own personal Jesus idols and gods, be they evolution-gods, science-gods, mystical passion-gods, Omegas, gods-of-reason or something else.
We are living in an age of deep and undeniable breakdown, an age of darkness and spreading evil where moral constraints and restraints have been thrown off in the name of a liberation that does not emancipate but enslave.  Our increasingly bizarre age is marked by a fundamental failure of conviction in unison with deepening corruption and lawlessness characterized by pathological lying, hard-edged egotism and warped, distorted personalities; but then Scripture has told us that sinners love darkness rather than the light.
Something is happening to the consciousness of this age.   A counter-conversion of consciousness is closing the soul to Jesus Christ while opening it to powers of darkness.  If we listen closely said Albert Mohler, we can hear something,
"….like the closing of a steel door—a solemn, cataclysmic slamming of a door." (p. 166)
No matter how much discomfort and suffering it causes us we nevertheless need to "wake up" and "see" and "comprehend" these developments in order to understand the challenges we are already facing and the those yet to come.  We are in a time of shaking, and there is far worse to come.  We are about to see what remains and what falls. There is a sense, said Dr. Mohler, that we are waiting for a signal for something to tell us which way we are going to go,
"Something is happening and about to happen.   The landscape is changing, the skies are darkening—and this is something we know with a spiritual perception, a spiritual sense, a spiritual urgency.  Something is happening that we as believers in the Lord Jesus Christ should see and understand. For we cannot say that we were not warned." (pp. 158, 164, 166)
The events in Volgograd are part of a much larger body of events and a multi-faceted struggle that has been going on for decades as part of a cold war after the Cold War—the post-Cold War cold war, if you please—that was a result of two predominately Eurocentric world wars. When George Orwell wrote his book 1984 and talked about a perpetual war between the fictional entities of Oceania and Eurasia, he may have had a general idea about the current events that are going on in mind or he may have just been thinking of the struggle between the Soviet Union and, surrounded by two great oceans, the United States of America.
So what does Volgograd have to do with the dizzying notion presented? Firstly, it is not schizophrenic to tie the events in Volgograd to either the conflict in the North Caucasus and to the fighting in Syria or to tie Syria to the decades of fighting in the post-Soviet North Caucasus. The fighting in Syria and the North Caucuses are part of a broader struggle for the mastery over Eurasia. The conflicts in the Middle East are part of this very grand narrative, which to many seems to be so far from the reality of day to day life.
 "Bandar Bush" goes to Mother Russia
For the purposes of supporting such an assertion we will have to start with the not-so-secret visit of a shadowy Saudi regime official to Moscow. Prince Bandar bin Sultan bin Abdulaziz Al-Saud, the infamous Saudi terrorist kingpin and former House of Saud envoy to Washington turned intelligence guru, last visited the Russian Federation in early-December 2013. Bandar bin Sultan was sent by King Abdullah to solicit the Russian government into abandoning the Syrians. The goal of Prince Bandar was to make a deal with the Kremlin to let Damascus be overtaken by the Saudi-supported brigades that were besieging the Syrian government forces from Syria's countryside and border regions since 2011. Bandar met with Russian President Vladimir Putin and the two held closed-door discussions about both Syria and Iran at Putin's official residence in Novo-Ogaryovo.
The last meeting that Bandar had with Putin was a few months earlier in July 2013. That meeting was also held in Russia. The July talks between Prince Bandar and President Putin also included Secretary Nikolai Patrushev, the head of the Security Council of the Russian Federation. One would also imagine that discussion about the Iranians increased with each visit too, as Bandar certainly tried to get the Russians on bad terms with their Iranian allies.
After Bandar's first meeting with President Putin, it was widely reported that the House of Saud wanted to buy Russia off. Agence France-Presse and Reuters both cited the unnamed diplomats of the Arab petro-monarchies, their March 14 lackeys in Lebanon, and their Syrian opposition puppets as saying that Saudi Arabia offered to sign a lucrative arms contract with Moscow and give the Kremlin a guarantee that the Arab petro-sheikdoms would not threaten the Russian gas market in Europe or use Syria for a gas pipeline to Europe.
Russia knew better than to do business with the House of Saud. It had been offered a lucrative arms deal by the Saudi regime much earlier, in 2008, to make some backdoor compromises at the expense of Iran. After the compromises were made by Moscow the House of Saud put the deal on ice. If the media leaks in AFP and Reuters were not tactics or lies in the first place aimed at creating tensions between the Syrian and Russian governments, the purportedly extravagant bribes to betray Syria were wasted on the ears of Russian officials.
The House of Saud and the undemocratic club of Arab petro-monarchies that form the Gulf Cooperation Council (GCC) have always talked large about money. The actions of these self portrayed lords of the Arabia Peninsula have almost never matched their words and promises. To anyone who deals with them, the House of Saud and company are known for habitually making grand promises that they will never keep, especially when it comes to money. Even when money is delivered, the full amount committed is never given and much of it is stolen by their corrupt partners and cronies. Whether it is the unfulfilled 2008 arms contract with Russia that was facilitated with the involvement of Iraqi former CIA asset Iyad Allawi or the overabundant commitments of financial and logistical aid to the Lebanese and Palestinian peoples that never materialized, the Arab petro-sheikhdoms have never done more than talk grandly and then get their propagandist to write articles about their generosity and splendor. Underneath all the grandeur and sparkles there has always been bankruptcy, insecurity, and emptiness.
A week after the first meeting with Bandar, the Kremlin responded to the media buzz about the attempted bribe by Saudi Arabia. Yury Ushakov, one of Putin's top aides and the former Russian ambassador to the US, categorically rejected the notion that any deal was accepted or even entertained by the Kremlin. Ushakov avowed that not even bilateral cooperation was discussed between the Saudis and Russia. According to the Kremlin official, the talks between Bandar and Putin were simply about the policies of Moscow and Riyadh on Syria and the second international peace conference being planned about Syria in Geneva, Switzerland.
More Leaks: Fighting Fire with Fire?
If his objective was to get the Russians to abandon Syria, Prince Bandar left both meetings in Russia empty-handed. Nevertheless, his visit left a trail of unverifiable reports and speculation. Discretion is always needed when analyzing these accounts which are part of the information war about Syria being waged on all sides by the media. The planted story from the Saudi side about trying to buy the Russians was not the only account of what took place in the Russian-Saudi talks. There was also a purported diplomatic leak which most likely surfaced as a counter-move to the planted story about Bandar's proposal. This leak elaborated even further on the meeting between Bandar and Putin. Threats were made according to the second leak that was published in Arabic by the Lebanese newspaper As-Safir on August 21, 2013.
According to the Lebanese newspaper, not only did Prince Bandar tell the Russians during their first July meeting that the regimes of the GCC would not threaten the Russian gas monopoly in Europe, but he made promises to the Russians that they could keep their naval facility on the Mediterranean coast of Syria and that he would give the House of Saud's guarantee to protect the 2014 Winter Olympics being held in the North Caucasian resort city of Sochi, on the eastern coast of the Black Sea, from the Chechen separatist militias under Saudi control. If Moscow cooperated with Riyadh and Washington against Damascus, the leak discloses that Bandar also stated that the same Chechen militants fighting inside Syria to topple the Syrian government would not be given a role in Syria's political future.
When the Russians refused to betray their Syrian allies, Prince Bandar then threatened Russia with the cancellation of the second planned peace conference in Geneva and with the unleashing of the military option against the Syrians the leak imparts.
This leak, which presents a veiled Saudi threat about the intended attacks on the Winter Olympics in Sochi, led to a frenzy of speculations internationally until the end of August 2013, amid the high tensions arising from the US threats to attack Syria and the threats coming from Iran to intervene on the side of their Syrians allies against the United States. Originating from the same politically affiliated media circle in Lebanon, reports about Russian military preparations to attack Saudi Arabia in response to a war against Syria began to circulate from the newspaper Al-Ahed also, further fueling the chain of speculations.
A House of Saud Spin on the Neo-Con "Redirection"
Seymour Hersh wrote in 2007 that after the 2006 defeat of Israel in Lebanon that the US government had a new strategy called the "redirection." According to Hersh, the "redirection" had "brought the United States closer to an open confrontation with Iran and, in parts of the region, propelled it into a widening sectarian conflict between Shiite and Sunni Muslims." With the cooperation of Saudi Arabia and all the same players that helped launch Osama bin Ladin's career in Afghanistan, the US government took "part in clandestine operations aimed at Iran and its ally Syria." The most important thing to note is what Hersh says next: "A by-product of these activities has been the bolstering of Sunni extremist groups that espouse a militant vision of Islam and are hostile to America and sympathetic to Al Qaeda."
A new House of Saud spin on the "redirection" has begun. If there is anything the House of Saud knows well, it is rounding up fanatics as tools at the service of Saudi Arabia's patrons in Washington. They did it in Afghanistan, they did it Bosnia, they have done it in Russia's North Caucasus, they did it in Libya, and they are doing it in both Lebanon and Syria. It does not take the British newspaperThe Independent to publish an article titled "Mass murder in the Middle East is funded by our friends the Saudis" for the well-informed to realize this.
The terrorist bombings in Lebanon mark a new phase of the conflict in Syria, which is aimed at forcing Hezbollah to retreat from Syria by fighting in a civil war on its home turf. The attacks are part of the "redirection." The House of Saud has accented this new phase through its ties to the terrorist attacks on the Iranian Embassy in Beirut on November 19, 2013. The attacks were carried out by individuals linked to the notorious Ahmed Al-Assir who waged a reckless battle against the Lebanese military from the Lebanese city of Sidon as part of an effort to ignite a sectarian civil war in Lebanon.
Al-Assir's rise, however, was politically and logistically aided by the House of Saud and its shameless Hariri clients in Lebanon. He is also part of the same "redirection" policy and current that brought Fatah Al-Islam to Lebanon. This is why it is no surprise to see Hariri's Future Party flag flying alongside Al-Qaeda flags in Lebanon. After Al-Assir's failed attempt to start a sectarian Lebanese civil war, he went into hiding and it was even alleged that he was taken in by one of the GCC embassies.
In regard to the House of Saud's roles in the bombings in Lebanon, Hezbollah would confirm that the attack on the Iranian Embassy in Beirut was linked to the House of Saud. Hezbollah's leadership would report that the Abdullah Izzam Brigade, which is affiliated to Al-Qaeda and tied to the bombings, is directly linked to the intelligence services of Saudi Arabia.
Moreover, the Saudi agent, Majed Al-Majed, responsible for the attack would be apprehended by Lebanese security forces in late-December 2013. He had entered Lebanon after working with Al-Nusra in Syria. Fars News Agency, an Iranian media outlet, would report on January 2, 2014 that unnamed Lebanese sources had also confirmed that they had discovered that the attack was linked to Prince Bandar.
Wrath of the House of Saud Unleashed?
A lot changed between the first and second meetings that Prince Bandar and Vladimir Putin had, respectively in July 2013 and December 2013. The House of Saud expected its US patron to get the Pentagon involved in a conventional bombing campaign against Syria in the month of September. It is more than likely that Riyadh was in the dark about the nature of secret negotiations that the US and Iran were holding through the backchannel of Oman in the backdrop of what appeared to be an escalation towards open war.
Bandar's threat to reassess the House of Saud's ties with Washington is probably a direct result of the US government keeping the House of Saud in the dark about using Syria as a means of negotiating with the Iranian government. US officials may have instigated the House of Saud to intensify its offensive against Syria to catalyze the Iranians into making a deal to avoid an attack on Syria and a regional war. Moreover, not only did the situation between the US and Iran change, Russia would eventually sign an important energy contract for Syrian natural gas in the Mediterranean Sea. The House of Saud has been undermined heavily in multiple ways and it is beginning to assess its own expendability.
If one scratches deep enough, they will find that the same ilk that attacked the Iranian Embassy in Beirut also attacked the Russian Embassy in Damascus. Both terrorist attacks were gifts to Iran and Russia, which served as reprisals for the Iranian and Russian roles in protecting Syria from regime change and a destructive war. It should, however, be discerned if the House of Saud is genuinely lashing out at Iran and Russia or if it being manipulated to further the goals of Washington in the US negotiations with Tehran, Moscow, and Damascus.
In the same manner, the House of Saud wants to generously reward Hezbollah too for its role in protecting Syria by crippling Hezbollah domestically in Lebanon. Riyadh may possibly not want a full scale war in Lebanon like the Israelis do, but it does want to neutralize and eliminate Hezbollah from the Lebanese landscape. In this regard, Saudi Arabia has earnestly been scheming to recruit Lebanon's President Michel Suleiman and the Lebanese military against Hezbollah and its supporters.
The Saud grant of three billion dollars to the Lebanese Armed Forces is not only blood money being given to Lebanon as a means of exonerating Saudi Arabia for its role in the terrorist bombings that have gripped the Lebanese Republic since 2013, the Saudi money is also aimed at wishfully restructuring the Lebanese military as a means of using it to neutralize Hezbollah. In line with the House of Saud's efforts, pledges from the United Arab Emirates and reports that NATO countries are also planning on donating money and arms to the Lebanese military started.
In addition to the terrorists bombings in Lebanon and the attack on the Russian Embassy in Damascus, Russia has also been attacked. Since the Syrian conflict intensified there has been a flaring of tensions in Russia's North Caucasus and a breakout of terrorist attacks. Russian Muslim clerics, known for their views on co-existence between Russia's Christian and Muslim communities and anti-separatist views, have been murdered. The bombings in Volgograd are just the most recent cases and an expansion into the Volga of what is happening in the North Caucasus, but they come disturbingly close to the start of the Winter Olympics that Prince Bandar was saying would be "protected" if Moscow betrayed Syria.
Can the House of Saud Stand on its Own Feet?
It is a widely believed that you will find the US and Israelis pulling a lot of the strings if you look behind the dealings of the House of Saud. That view is being somewhat challenged now. Prince Mohammed bin Nawaf bin Abdulaziz Al-Saud, Saudi Arabia's ambassador to the UK, threatened that Saudi Arabia will go it alone against Syria and Iran in a December 2013 article. The letter, like the Saudi rejection of their UN Security Council seat, was airing the House of Saud's rage against the realists running US foreign policy.
In this same context, it should also be noted for those that think that Saudi Arabia has zero freedom of action that Israeli leaders have stressed for many years that Tel Aviv needs to cooperate secretly with Saudi Arabia to manipulate the US against Iran. This is epitomized by the words of Israeli Brigadier-General Oded Tira: "We must clandestinely cooperate with Saudi Arabia so that it also persuades the US to strike Iran."
Along similar lines, some may point out that together the House of Saud and Israel got France to delay an interim nuclear agreement between the Iranians and the P5+1 in Geneva. The House of Saud rewarded Paris through lucrative deals, which includes making sure that the grant it gives to the Lebanese military is spent on French military hardware. Saad Hariri, the main Saudi client in Lebanon, even met Francois Hollande and French officials in Saudi Arabia in context of the deal. Appeasing the House of Saud and Israel, French President Hollande has replicated France's stonewalling of the P5+1 interim nuclear deal with Iran by trying to spoil the second Syria peace conference in Geneva by saying that there can be no political solution inside Syria if President Bashar Al-Assad stays in power.
Again, however, it has to be asked, is enraging Saudi Arabia part of a US strategy to make the Saudis exert maximum pressure on Tehran, Moscow, and Damascus so that the United States can optimize its gains in negotiations? After all, it did turn out that the US was in league with France in Geneva and that the US used the French stonewalling of an agreement with Iran to make additional demands from the Iranians during the negotiations. Russian Foreign Minister Sergey Lavrov revealed that the US negotiation team had actually circulated a draft agreement that had been amended in response to France's demands before Iran and the other world powers even had a chance to study them. The draft by the US team was passed around, in Foreign Minister Lavrov's own words, "literally at the last moment, when we were about to leave Geneva."
Instead of debating on the level of independence that the House of Saud possesses, it is important to ask if Saudi Arabia can act on its own and to what degree can the House of Saud act as an independent actor. This looks like a far easier question to answer. It is highly unlikely that Saudi Arabia can act on its own in most instances or even remain an intact state. This is why Israeli strategists very clearly state that Saudi Arabia is destined to fall apart. "The entire Arabian Peninsula is a natural candidate for dissolution due to internal and external pressures, and the matter is inevitable especially in Saudi Arabia," the Israeli Yinon Plan deems. Strategists in Washington are also aware of this and this is also why they have replicated models of a fragmented Saudi Arabia. This gives rise to another important question: if they US assess that the Kingdom of Saudi Arabia is not a sustainable entity, will it use it until the burns out like a flame? Is this what is happening and is Saudi Arabia being sacrificed or setup to take the blame as the "fall guy" by the United States?
Who is Hiding Behind the House of Saud?
Looking back at Lebanon, the messages from international media outlets via their headlines is that the bombings in Lebanon highlight or reflect a power struggle between the House of Saud and Tehran in Lebanon and the rest of the region. Saying nothing about the major roles of the US, Israel, and their European allies, these misleading reports by the likes of journalists like Anne Barnard casually blame everything in Syria and Lebanon on a rivalry between Saudi Arabia and Iran, erasing the entire history behind what has happened and casually sweeping all the interests behind the conflict(s) under the rug. This is dishonest and painting a twisted Orientalist narrative.
The outlets trying to make it sound like all the Middle East's problems are gravitating around some sort of Iranian and Saudi rivalry might as well write that "the Saudis and Iranians are the sources behind the Israeli occupation of Palestine, the sources behind the Anglo-American invasion of Iraq that crippled the most advanced Arab country, the ones that are blockading medication from reaching Gaza due to their rivalry, the ones who enforced a no-fly zone over Libya, the ones that are launching killer drone attacks on Yemen, and the ones that are responsible for the billions of dollars that disappeared from the Iraqi Treasury in 2003 after Washington and London invaded that country and controlled its finances." These outlets and reports are tacitly washing the hands of  actors like Washington, Tel Aviv, Paris, and London clean of blood by trying to construct a series of false narratives that either blame everything on a regional rivalry between Tehran and Riyadh or the premise that the Sunni Muslims and Shia Muslims are fighting an eternal war that they are biologically programmed to wage against one another.
Arabs and Iranians and Shias and Sunnis are tacitly painted as un-human creatures that cannot be understood and savages to audiences. The New York Times even dishonestly implies that the Sunni Muslims and Shiite Muslims in Lebanon are killing one another in tit-for-tat attacks. It sneakily implies that Hezbollah and its Lebanese rivals are assassinating one another. Bernard, its reporter in Lebanon who was mentioned earlier, along with another colleague write:
In what have been seen as tit-for-tat attacks, car bombs have targeted Hezbollah-dominated neighborhoods in the southern suburbs of Beirut and Sunni mosques in the northern city of Tripoli.

On Friday, a powerful car bomb killed Mohamad B. Chatah, a former Lebanese finance minister who was a major figure in the Future bloc, a political group that is Hezbollah's main Sunni rival.
The New York Times is cunningly trying to make its readers think that Hezbollah was responsible for the bombing as part of a Shiite-Sunni sectarian conflict by concluding with an explanation that the slain former Lebanese finance minister belonged to "Hezbollah's main Sunni rival" after saying that the bombings in Lebanon "have been seen as tit-for-tat attacks" between the areas that support Hezbollah and "Sunni mosques" in Tripoli
The US and Israel wish that a Shiite-Sunni sectarian conflict was occurring in Lebanon and the rest of the Middle East. They have been working for this. It has been them that have been manipulating Saudi Arabia to instigate sectarianism. The US and Israel have been prodding the House of Saud—which does not represent the Sunni Muslims, let alone the people of Saudi Arabia which are under its occupation—against Iran, all the while trying to conceal and justify the conflict being instigated as some sort of "natural" rivalry between Shiites and Sunnis that is being played out across the Middle East. 
It has been assessed with high confidence by outsiders concerned by the House of Saud's inner dealings that Prince Bandar is one of the three Al-Saud princes managing Saudi Arabia's security and foreign policy; the other two being Prince Abdulaziz bin Abdullah bin Abdulaziz Al-Saud, the Saudi deputy foreign minister and one of King Abdullah's point men on Syria due to his ties to Syria from his maternal side, and Prince Mohammed bin Nayef bin Abdulaziz Al-Saud, the interior minister. All three of them are tied to the United States more than any of their predecessors. Prince Bandar himself has a long history of working closely with the United States, which explains the endearing moniker of "Bandar Bush" that he is widely called by. "Chemical Bandar" can be added to the list too, because of the reports about his ties to the Syrian chemical weapon attacks in Ghouta.
As a US client, Saudi Arabia is a source of instability because it has been conditioned hence by Washington. Fighting the terrorist and extremist threat is now being used by the US as a point of convergence with Iran, which coincidently has authored the World Against Violence and Extremism (WAVE) motion at the United Nations. In reality, the author of the regional problems and instability has been Washington itself. In a masterstroke, the realists now at the helm of foreign policy are pushing American-Iranian rapprochement on the basis of what Zbigniew Brzezinski, the former national security advisor of the US, said would be based on Tehran and Washington working together to secure Iran's "volatile regional environment." "Any eventual reconciliation [between the US and Iranian governments] should be based on the recognition of a mutual strategic interest in stabilizing what currently is a very volatile regional environment for Iran," he explains. The point should not be lost either that Brzezinski is the man who worked with the Saudis to arm the Afghan Mujahedeen against the Soviets after he organized an intelligence operation to fool the Soviets into militarily entering Afghanistan in the first place.
The House of Saud did not work alone in Afghanistan during the Cold War either. It was rigorously backed by Washington. The United States was even more involved in the fighting. It is the same in Syria. If the diplomatic leak is to be believed about the meeting between Bandar and Putin, it is of merit to note that "Bandar Bush" told Putin that any "Saudi-Russian understanding" would also be part of an "American-Russian understanding."
Has the "Redirection" Seen its Stalingrad?
Volgograd was called Stalingrad for a part of Soviet history, in honour of the Republic of Georgia's most famous son and Soviet leader Joseph Stalin. It was Volgograd, back then called Stalingrad, where the Germans were stopped and the tide of war in Europe was turned against Hitler and his Axis allies in Europe. The Battle of Stalingrad was where the Nazis were defeated and it was in the Soviet Union and Eastern Europe where the bulk of the fighting against the Germans was conducted. Nor is it any exaggeration to credit the Soviets—Russian, Kazakh, Uzbek, Tajik, Tartar, Georgian, Armenian, Ukrainian, Belarusian, Chechen, and all—for doing most of the fighting to defeat the Germans in the Second World War.
Judging by the bellicose 2013 New Years Eve speech of Russian President Vladimir Putin, the terrorist attacks in Volgograd will be the start of another Battle of Stalingrad of some sorts and the launch of another Russian "war on terror." Many of the terrorists that Russia will go after are in Syria and supported by the House of Saud.
The opponents of the Resistance Bloc that Iran, Syria, Hezbollah, and the Palestinian resistance groups form have called the battlefields in Syria the Stalingrad of Iran and its regional allies. Syria has been a Stalingrad of some sorts too, but not for the Resistance Bloc. The alliance formed by the US, Britain, France, Saudi Arabia, Qatar, Turkey, and Israel has begun to unravel in its efforts to enforce regime change in Syria. The last few years have marked the beginning of a humiliating defeat for those funding extremism, separatism, and terrorism against countries like Russia, China, Iran, and Syria as a means of preventing Eurasian cohesion. Another front of this same battle is being politically waged by the US and the EU in the Ukraine in a move to prevent the Ukrainians from integrating with Belarus, Russia, and Kazakhstan.
Volgograd and the Conquest of Eurasia
While speculation has been entertained with warning in this text, most of what has been explained has not been speculative. The House of Saud has had a role in destabilizing the Russian Federation and organizing terrorist attacks inside Russia. Support or oppose the separatist movements in the North Caucasus, the point is that they have been opportunistically aided and used by the House of Saud and Washington. Despite the authenticity of the narrative about Bandar's threats against Russia, Volgograd is about Syria and Syria is about Volgograd. Both are events taking place as part of the same struggle. The US has been trying to encroach into Syria as a means of targeting Russia and encroaching deeper in the heart of Eurasia.
When George Orwell wrote 1984 he saw the world divided into several entities at constant or "eternal" war with one another. His fictitious superstates police language, use total surveillance, and utterly manipulate mass communication to indoctrinate and deceive their peoples. Roughly speaking, Orwell's Oceania is formed by the US and its formal and informal territories in the Western Hemisphere, which the Monroe Doctrine has essentially declared are US colonies, confederated with Britain and the settler colonies-cum-dominions of the former British Empire (Australia, Canada, Ireland, New Zealand, and South Africa). The Orwellian concept of Eurasia is an amalgamation of the Soviet Union with continental Europe. The entity of Eastasia on the other hand is formed around China. Southeast Asia, India, and the parts of Africa that do not fall under the influence of Oceanic South Africa are disputed territory that is constantly fought for. Although not specifically mentioned, it can be extrapolated that Southwest Asia, where Syria is located, or parts of it are probably part of this fictional disputed territory, which includes North Africa.
If we try to fit Orwellian terms onto the present set of global relations, we can say that Oceania has made its moves against Eurasia/Eastasia for control of disputed territory (in the Middle East and North Africa).
1984 is not just a novel, it is a warning from the farseeing Orwell. Nonetheless, never did he imagine that his Eurasia would make cause with or include Eastasia through a core triple alliance and coalition comprised of Russia, China, and Iran. Eurasia will finish, in one way or another, whatOceania has started. All the while, as the House of Saud and the other rulers of the Arab petro-sheikhdoms continue to compete with one another in building fancy towers, the Sword of Damocles is getting heavier over their heads.
Source: Global Research
Proposed solutions have included greater funding, a longer academic year, national standards, measures to reduce school violence, and educational vouchers. The only proper solution is to completely separate state and school thereby permitting education to be purchased and sold through the free market system. Consumer-financed education must replace tax-based funding of education. We need to dissolve public schools and replace them with educational businesses. By de-monopolizing public schools, we would raise standards, better motivate teachers and students, allow greater innovation, bring costs down, and meet the particularized needs of our children.
Public education is inconsistent with freedom and responsibility. Public education erodes personal freedom and thus should be replaced with parental choice, competition, and market solutions. Parents are responsible for the education of their children. Under a free market, families would decide which are the best educational vehicles for each of their children.
State schools are based on the assumptions that the government is sovereign in education that people are morally and legally obligated to fund the public school system, and that state schools can, and should, teach neutral values. Government policy imposes strict rules and regulations and a directive to use education to engineer political and social outcomes. Public education is a collectivist welfare program in which people are coerced to participate. Not only is political consensus substituted for private individual decisions, the benefits of public education are not commensurate with its costs and its subsidized prices distort individual decision-making.
In the past, families, religious groups, and private schools dominated education, but today the state is in charge. We need to eliminate state involvement in education.
A person should be free to pay for a child's education if he wanted to. Today, people are forced to pay for schools imparting ideas that they would not voluntarily support. Freed of their educational tax burden, individuals would have the funds to pay for private education. In addition, competition would raise school quality and would make private education more affordable and available.
Totally separating education from the state means abolishing school taxes and compulsory school attendance. By divorcing education from political power, parents and their children will be free to pursue education the best serves their needs.
History and Philosophy of Public Education 
Rousseau, like Plato before him and Mann and Dewey after him, believed in the perfectibility of man provided that he was educated so that he could not want to do evil. According to Rousseau, there exists a "general will" over and above wills of individuals. He taught that there is an intellectual elite who is able to discern the commands of the general will and, because of that knowledge, have the authority to implement those commands. The existence and authority of the general will is the cornerstone of Rousseau's philosophy of education.
In Emile, Rousseau portrays the ideal education in the story of a child, who, free from the restrictions of an adult's will, is able to study nature and thus learn what he needs to know. However, Emile has an enlightened tutor, whose purpose is to secretly manufacture the conditions under which nature will teach the student what the tutor wants the student to learn. Through the tutor's disguised intentions, the student, by equating his own will with the will of his tutor, is conditioned to identity his own will with the general will.
German thinkers from Luther to Fichte to the Prussian monarchs developed theories of compulsory state education. Hegel viewed the state, through which the general will found expression, as the supreme earthly manifestation of the Absolute and as the embodiment of ethics. People found freedom when they recognized the state's exalted status and accepted the state's objectives as their own objectives. This view ultimately gave rise to American nationalism and the movement toward universal education.
For the first two hundred years in America, from the early 1600s to the early 1800s, public schools were virtually non-existent. Before the 1830s, education was primarily an informal local activity. Private education in early America included the home, church, Catholic and Protestant schools, charity schools for the poor, apprenticeships, private study, and circulating libraries. With the variety of educational systems available to our forefathers, tax-financed schools did not receive much support. For many years, the only strong advocates of state schools in the U.S. were Boston Unitarians who denied Christian teachings and accepted Rousseau's ideas that negative behavior was the result of mis-education rather than due to man's fallen nature.
Although tax-financed common schools existed by the 18305, most parents continued to send their children to private schools. However, the public school agenda of the Unitarians and other elites began to advance with urgency as Catholic immigration, especially from Ireland and Germany, soared in the 18405 and 18505. Protestants began to fear that Catholic immigrants and the poor would become an unassimilated mass.
Horace Mann, a Unitarian lawyer and legislator, had been appointed secretary of the newly created Massachusetts Board of Education in 1837, the first state board of education in the U.S. During his12 years as its head, Mann created a unified system of common schools including teacher-training initiatives and dedication to a Utopian vision of perfecting the moral character of the nation's youths. Mann was a die-hard Unitarian moralist who perceived the public school as the cure for social ills and exhibited faith in human goodness given the right education and environment. Mann, an admirer of the Prussian approach to public education, said that closing down prisons would be possible, given a generation of schools according to his prescriptions.
Mann's goal was to establish mechanisms of social control. He advocated a standard curriculum, centralization of public funds, a strongly moral character of instruction, and state leadership in training teachers dedicated to the common school agenda. Mann and his fellow reformers sought to use the state's authority and resources to impose a single ethos on every school in the name of enlightenment and social unity.
Originally, many Protestants criticized the peculiar religious character of the common public school. Mann's religion without salvation was attractive to an elite who was confident of its own success and of the country's inevitable progress. Protestant critics feared that the schools' espoused non-denominational neutrality was the same as the institution of secularism through the public schools.
However, the large influx of Catholic immigrants who tended to establish their own schools, was thought by many to be a threat to Protestantism. Encouraged by the Unitarians, many Protestants began to embrace the state school concept. Since the establishment of Protestantism as the American national church was impossible due to the nation's emphasis on religious tolerance, it was thought the public school could perhaps become an acceptable substitute mechanism to control religion. The public school was thus seen by Protestants as a potential mechanism for instilling the true faith.
Mann's non-denominational approach did incorporate Bible reading (the King James version), daily prayer, and hymns into its activities. Of course, as America became more secularized so did the public schools. Public education in America really began to boom after the Civil War, as government- controlled and funded schools replaced the earlier private education system. The biggest boost for state schools came when states began to enact laws of compulsory attendance.
Catholics felt left out of the public school system. As a consequence, the Catholic parochial school system was established in 1874. Catholics, like the Protestants, Unitarians, and others realized that whoever controls the schools controls the upcoming generation.
By altering and connecting Rousseau's ideas of an independently existing general will with the principle of majority rule, 19th century American intellectuals thought that the "will of the majority" as interpreted by themselves, provided a unique source of beneficence and wisdom. Education controlled by that "will" would foster the public good.
John Dewey's progressive model of active learning or pragmatism promoted a revolt against abstract learning and attempted to make education an effective tool for integrating culture and vocation. Dewey was responsible for developing a philosophical approach to education called "experimentalism" which saw education as the basis for democracy. His goal was to turn public schools into indoctrination centers to develop a socialized population that could adapt to an egalitarian state operated by an intellectual elite.
Thinking for Dewey was a collective phenomenon. Disavowing the role of the individual mind in achieving technological and social progress, Dewey promoted the group, rather than the teacher, as the main source of social control in the schools. Denying the ideas of universal principles, natural law, and natural rights, Dewey emphasized social values and taught that life adjustment is more important than academic skills.
Dewey explained that the subject matter and moral lessons in the traditional curricula were meant to teach and inspire but were irrelevant to the students' immediate action experiences. The contradiction between the students' real interests and those of the traditional school alienated students from their schoolwork. School-age children were caught between the opposing forces of immature, undeveloped beings and the values, meanings, and aims of subject matter constructed by a mature adult. Dewey believed that students' energy, talent, and potential could not be realized within the structure of an archaic school system.
Dewey and other members of the Progressive movement wanted a predictable method for providing a common culture and of instilling Americans with democratic values. As a result, by the end of the 19th century, a centrally-controlled, monopolistic, comprehensive, and bureaucratic public education system was deemed to be essential for America's future.
During the 20th century, the job of public education was expanded to inculcating moral values, providing nutrition and health, protecting children from psychological and physical abuse, and combating crime and delinquency. Later, additional social and political goals such as racial integration, democratic participation, environmental awareness and activism, and social tolerance were added.
The Nature of Public Education 
Public schools are coercive political monopolies that are funded through compulsory taxation and that have a captive audience of pupils through mandatory attendance laws. People must pay for the school system even if they do not use public schools or are not satisfied with them. The state uses its coercive taxing power to take money from some, even individuals who do not have children, to fund the education of others. Since most people cannot afford to pay private tuition after bearing their school tax burden the market for private schools is artificially restrained. There would be many more, and a larger variety, of private schools in the absence of a tax-supported system. In fact, the bankruptcy of some private schools can be attributed to unfair competition from the public system.
Decisions are made from the top-down. Small groups of elected or appointed state officials ignore market forces and make decisions regarding teaching methods, curricula, textbooks, class size, teacher qualifications, etc. Public education is designed to serve the state and its ruling elite who endeavor to create a one size fits all education for a population of diverse children.
Public education views children as property of the state, undermines parents' moral authority and responsibility, and stifles the entrepreneurial spirit. A system of force and compulsion replaces education with indoctrination. Students learn officially approved state doctrine from state-approved teachers using state-approved texts. Public schools promote agendas that conflict with parents' rights to shape the values and beliefs of their children.
Opponents of free market education believe that only public education can impart the skills, values, knowledge, and attitudes needed for good citizenship. Political correctness and outcome-based education result from public educators' attempts to socialize the young to make society in their own egalitarian image through the use of compulsory state education. Public education thus tends to be more formative and indoctrinating than it is informative.
Parents have been denied the right to choose the type of education they want for their children. Children do not learn in the same way, at the same rate, by the same methods, or under the same conditions. Parents are in the best position to take into account the relevant differences in their individual children and should be permitted to select the appropriate education for each of them. Not all parents want their children educated in the same way. The superior performance of home-schooled children testifies to the ability of parents compared to that of state-certified teachers.
Public educators want uniformity in the schools since in their minds there would be social inequality if everyone did not have the same education. However, specialized schools which vary in their methods, goals, materials, and assessment methods would better cater to the diversity of human beings.
Public schools do impart values, but they are the values of conformity and docility. Public schooling suppresses the individuality, initiative, and creativity of students. In its efforts to stay ideologically independent, public education is likely to sacrifice intellectual and character development. The idea has caught on that every individual has a right and a duty to be educated and that society through the government has the obligation to fund the education of its citizens. Supporters of public schooling have maintained that many children will go uneducated if education were not compulsory and if the state did not deliver it. The state assumes that parents are irresponsible and must be forced to do what they should do. Parents are not free to ignore school attendance by their children and are not free to ignore tuition payments through taxation. By avowing the legitimacy of public education, voters try to transfer their responsibility for educating their children to the state. However, parental moral responsibility for their child's education cannot be shifted to anyone else.
Public schools get their customers through compulsory attendance laws. Public education is based on the prison concept. Tax-funded schools have coercion as part of their culture. As wards of the state, children are jailed with a mandatory sentence until they are 16. The state removes children from parents assumed to be incompetent in order to keep them from being anti-social and to make them into complacent workers and citizens.
When schooling is mandated by law, the sense of opportunity that accompanies free choice is missing. If education is not compulsory, then students are perceiving education as an opportunity rather than as a requirement. In the absence of compulsory education, students would no longer be captive to ideological and political brainwashing on the part of teachers and administrators.
Most Americans accept the propriety of forcibly taking some people's money in order to educate other people's children. Students are thus taught by example that they are entitled to government "gifts" and that it is proper to obtain an end through organized force. State education teaches that there are a multitude of good ends that can be attained by the state taking wealth to pay for them in the same manner as it pays for students' educations. If children are led to believe that they are owed benefits from the government without any work or its product being exchanged, they tend to think that it is not necessary for them to perform work to obtain any of their desired possessions.
Compulsion negatively affects attitudes and poor attitudes obstruct education. Compulsory education has drawn some children into classes who do not want to be there thereby lowering the quality of education as standards are reduced to meet the lowest common denominator. Some students just don't belong in school, but the government not only forces their attendance, it also compels those who do belong and want to be there to associate with delinquents and the uneducable. Of course, due to self interest, only a few would go uneducated if education were noncompulsory. Attendees would have a financial incentive to get the most out of their education.
When the state provides a "free education" the value of the education is decreased in the minds of parents as well as in the minds of students. Parents will not be as interested in ensuring their children's attendance when schools are free. In addition, parents will not demand much from their children or the schools when education does not cost them anything. Quality declines when the connection between service and payments is severed. Public education breaks the link between consumers' demands for education and their ability to control their own resources in voicing that demand.
Public education continues because it is funded through compulsory tax payments. Because public schools are guaranteed revenue, there is no incentive to strive for excellence. When a school has monopoly control over students, the motivation to produce successful students is lacking. Public education deprives parents of their right to select the kind of schooling that is best for their children. The state taxes away parents' income and permits public bureaucrats to run the school system as they see fit.
Public schools are insulated from failure and protected from competition. Consequently, it is safe for them to ignore their customers. Public educators have little incentive to provide quality, to respect and please their customers, to pursue innovations, to produce results, to be efficient, or to control their costs.
Politicians push for higher taxes to foster their political images by exhibiting their concern for improving public schools. In addition, school administrators do not try to be efficient or cut cost because such behavior would lead to a reduced budget. This helps to explain why the U.S. spends more per student per year than any other major nation. At the same time, student performance has not kept par with the increase in resources devoted to public schooling.
Public school systems lack the entrepreneurial ingredient. The educational bureaucracy is unable to calculate net income or net loss, has no way of using cost-benefit analysis to see if expenditures were appropriately applied, and do not know if they are using taxpayers' money to accurately respond to consumer demand.
Public education uses taxation to evade market prices. There is an immense difference between government paying for education and the parent paying for it in a free market situation. When public education is financed by the state, the real price to taxpayers is much greater than the price perceived by the consumers. The family of a student only pays part of the cost of a state-financed education with the rest of the cost being transferred to taxpayers with no or fewer children than the particular family has.
Vouchers and Other Pseudo-Reforms 
Proponents of educational choice have proposed educational vouchers, charter schools, and tax deductions for private educational expenditures. The fundamental problem, public funding of education, remains under each of these alternatives. There are always strings attached when state funds are provided. Government intrusion always follows government funding.
With respect to educational vouchers, publicly-funded vouchers would be issued to parents of school-age children to spend at the government-approved school of their choice. Parents would be given a voucher worth a precise amount of public tax money. The parent would have the state-granted right to choose from among the local schools that meet the state's standards. Vouchers are based on the assumption that the state, rather than the parents, is sovereign over education. Parents' choices will be restricted by controlling school eligibility for reimbursement through vouchers. The state, the source of educational funding, retains its sanctioning authority under the voucher system.
Every private school that accepts a voucher payment is subject to local, state, and/or federal rules and regulations. Private enterprises cease to be private with the introduction of public funds. Since state funds support private schools in a voucher system, if follows that private schools will be accountable to the government if they are to succeed. For example, public educational officials could require open admissions, insist that a private school's student population reflect the community it serves including proper quotas of minority students, require that vouchers must be accepted as full payment even if they are of less value than the school's tuition, demand that voucher money not be used to finance religious education, etc. A voucher system could also be used to exclude schools that teach "politically incorrect" ideas or that employ teaching methods contrary to the prevailing orthodox methods championed by public education bureaucrats.
As long as an education is publicly funded, decisions regarding educational policy will be politically made. Under the voucher system, voucher-supported private schools become part of the state's monopoly on education. The voucher system creates an illusion of parental authority without the substance of such authority. A voucher program violates the principle that parents are morally and financially responsible for their children's education. In a voucher system, coercive taxation remains the source of education funding. A cosmetic change at best, a voucher program gives the appearance that parents are exercising choice, while, at the same time, transferring the evils of the public system to private schools.
Vouchers will lure students back into publicly-financed education. Currently, many parents remove their children from public education as a matter of principle. The voucher system will entice parents since its benefits will only be received if parents enroll their children in state-approved schools. Vouchers will lessen the demand for private education that is outside the taxpayer financed; education system. Parents who want to keep their children out of government-run schools will have to say no to free education in a state school, turn down vouchers for government licensed schools, and then pay additional funds to send their children to an authentically independent school! In essence, these parents will be paying for education three times while their children only receive one education each.
A charter school is a partially autonomous publicly-financed school that is operated by a group of community members, teachers, and/or parents. It operates under a charter with a local school district board of education or sometimes with an outside agency such as an institution of higher learning. Charter schools are free to a certain degree, but, like the voucher system, charters will corrupt such schools. Restrictions confronting charter schools include the source of its funding, regulations stemming from government control, and such schools' lack of market feedback and accountability.
Some advocate private educational expense deductions for federal income tax purposes. Pre-tax dollars would be used to finance children's education under this approval. Less beneficial than a tax credit, such a deduction would only ameliorate one's tax penalty. In addition the main problem will still be that the educational "benefit" originates in the political order and must be utilized within the political framework.
The Educational Freedom 
The best school choice plan is the free market. Education should be bought and sold through free market processes. The separation of state and education would restore intellectual freedom, academic integrity, and individual achievement. The private market can best provide high quality and efficient education services. Private educational institutions can supply a superior educational product but currently, because of subsidized tuition at public schools, most students select the lower-priced option. When a child attends a private school, the family must pay taxes to subsidize the cost of students in public education and pay the whole cost of education at a private school.
Education is an economic commodity to be purchased in the marketplace according to the preferences and valuations of education consumers. In a free education market parents and students would decide based on the perceived costs and benefits of each option. In essence, the procurement of an educational service does not differ from the acquisition of any other private good.
Outcomes in a consumer-funded education market would be the result of voluntary purchases by educational consumers. The best schools would earn the most income. Profit calculations would permit schools to gauge their performance according to customer evaluations. Parents would choose schools based on performance and reputation. Paying customers value and select competent schools and teachers. Thus, it follows that the consumers of education should be the payers.
Market-based schools have incentives to furnish quality education at a competitive price. Competition would drive poor schools from the market. Market mechanisms would provide the most efficient allocation of resources. Schools would compete for the best students and students would compete for the best teachers and schools. Teachers' salaries would be determined by market competition. Schools would provide instruction at a variety of locations with varying philosophies, specialization areas, and costs. Schools would arise to meet the demands of various students' abilities and needs. Where the demand for a specific type of education arises, an entrepreneur would form the desired institution of learning. With the diversity that exists among individuals, a variety of schools would appear to meet individual educational needs.
It is critical that parents purchase education directly, when, and only for as long as, they believe their children require it. Only the total separation of state and school can re-institute parental responsibility, protect parents' rights, and allow students, schools, and teachers to flourish in a free educational environment. Parents have moral authority over, and responsibility for, their own children.
If school taxes are abolished, parents will benefit by keeping their own money. The money belongs to the parents, not the government. They would then be free to choose their own children's schools. For example, if parents want their children to have prayer, then they would send them to a school that has prayers. If they don't want their children to have prayer, then they would send them to a school that has no prayer. Parents should be free to send their children to religious schools, progressive schools, trade schools, home school, or even no school at all. Of course, it is likely that the pursuit of happiness will supply enough incentive for people to want their children to improve educationally. Schools privately funded and freely selected would be mediating associations like churches, corporations, and unions, and would foster a true sense of belonging and identity.
In private schools in a free market, failure to provide the promised results would lead to declining enrollments, and financial losses. Competition breeds quality. For example, the free market would encourage teachers to improve their skills and would attract others into the teaching profession. Good teachers would be rewarded and poor teachers would be forced to select other careers. The market would also indicate which teaching approaches worked best in given situations and would stimulate creative individuals to produce and market learning materials. True educational businesses would evaluate teachers and their instructional operations to determine whether or not the customers are satisfied and getting their money's worth of education.
Educational competition would result in the lowering of costs. Competition would make private education more affordable and widely available. This means that poor families would be more able to afford the cost of financing their children's educations. In addition, if the poor are excused from the numerous education taxes that currently exist, then they would have the funds to pay for private education. It is also likely that private scholarships and charitable assistance will be available for lower income families, especially when the person or organization funding the scholarship knows that he is paying for a superior educational product.
In a free market, consumer demand and choice would determine which schools survive and prosper. A private, non-compulsory educational system would be better able to provide for diverse student needs, backgrounds, interests, goals, and preferences. A system of voluntary, unsubsidized education means rescinding government compelled financing, attendance, credentialing, accreditation, and curriculum. It means the full separation of school and state.
Source: Dr. Edward Younkins | quebecoislibre.org