So you thought that the unimaginable could not happen. The signal is heard loud and clear. Keeping your money in a fiduciary account will not only earn no interest; there will be an actual cost of parking your funds in a bank relationship. The madness that has engulfed the financial sector is preparing to escalate the systematic looting of saved capital. Ponder the consequences of negative bank rates and ask, what exactly can anyone do or where can they place their money for safekeeping. The first objective of entrusting your funds to a financial institution is to have the ability to obtain access to the return of your capital.
The Less Than Zero article analysis explains accordingly.
"Since central banks rates provide a benchmark for all borrowing costs across a country's economy, yields on a range of fixed-income securities – including government bonds of countries like France and Germany – also slipped below zero. Banks are reluctant to pass on negative rates to retail depositors for fear of losing customers, even though that hurts their profit.

In theory, interest rates below zero should reduce borrowing costs for companies and households, driving demand for loans. In practice, there's a risk that the policy might do more harm than good."
Only a dullard would believe that banking institutions will not eventually drop their interest rate pay outs to depositors, as their own costs are taxed or central banking policy demands that the value of the currency must be diminished.
The example that Australia Wants To Tax Bank Deposits: Will The US Follow? This report poses an obvious question for anyone keeping money in the depository system.
"Several months ago, the government of Australia proposed to tax bank deposits up to $250,000 at a rate of 0.05% (5 basis points). To be clear, the proposal seems to plan on taxing the banks based on the amount of deposits they're holding—but it's pretty obvious this will be passed on to consumers in the form of lower interest rates."
Taxes on bank deposits are generally the same as negative interest rates.
Taxes always start small… then increase over time.
Taxes are rarely used for their stated purpose.
If this can happen in Australia, is anyone foolish enough to think it can't happen in the US or Europe?
Reuven Brenner, in The Potentially Devastating Consequences of Negative Rates, published in Real Clear Markets, the admittedly benedictory of this planned policy.
"The fact that the U.S. stock market has been – at least nominally – at an all-time high is not particularly surprising in such an environment. The problem is that stock-market signals no longer convey the information they did during normal times of positive interest rates. According to Bloomberg, companies have been buying back their shares at $5 billion per day, or roughly 2 percent of the value of shares traded on U.S. exchanges. Since 2009, they have bought back more than $2 trillion of their shares, spending about 95% of their earnings on buybacks and dividends, while issuing bonds at the low interest rates. Central banks' zero interest rate experiment brought about the profitable financial engineering and increased nominal stock prices. The latter do not signal improved real prospects, but only that the buying of one's own shares is a good investment with zero or negative interest rates."
Individual net wealth has declined and real income has been in the tank since the 2008 meltdown is indisputable for the average family. Retirees have been hurt the most. The Negotium essay, Low Interest Rates Impoverish Savers makes the case that minuscule interest rates harm savers and concludes: "The submissive banking customer needs to take a hard look on continuing their depositing relationship with the commercial saving establishment."
This determination is based upon pure common sense. The tangible purchasing power of the U.S. Dollar in this deflationary income scenario is buffeted by higher prices for staple and necessary costs. The end result is a loss of wealth and dim prospects of recouping the decrease in value of their cash.
What actions can be taken while your paper money can still be used to buy assets?
Even if a dramatic implosion of the international financial system can be forestalled or in a perfect world, avoided; the slow drop by drop decline in the marginal liquidity of the personal resources will accelerate even faster. All fantasyland prospects of prosperity returning as indebtedness continues are pure poppycock.
Going to cash presents another risk as author, Pater Tenebrarum's assessment in The Consequences of Imposing Negative Interest Rates, indicates. "In the US, private persons who are found in possession of large amounts of cash must fully expect that it will be confiscated without trial or any evidence of a crime by means of the "civil forfeiture" procedure."
Even if ready Federal Reserve notes are not stolen, the other danger is a currency recall. The "crayola currency" substitution, which has already taken place with hardly a whimper from the public, trained the population for a very real possibility that the U.S. Dollar may go extinct and a new fiat medium with a substantially lower purchasing power would be introduced.
Protecting capital in equities or bonds keeps your money at the mercy of the Corporatocracy. Stashing your notes in a saving account where a charge for keeping a deposit is certainly painful. None of these options are safe much less foolproof.
Buying physical metals has a strong historic record of preserving your remaining wealth. However, how long do you think it will take to criminalize holders of gold when the financial dam busts?
The only certainty known is that only the NWO elites have prepared their vision for global enslavement through the credit and debit paper transactions that they control. Populism demands a new era of monitory accountability and honest money.
Only from the ashes of central banking pillage through a political realignment of decentralized power can the world crawl back to solvency.
For two months this summer, the U.S. Special Operations Command (USSOCOM) will conduct Realistic Military Training (RMT) Operation Jade Helm 15 (JH 15) in seven Southwestern U.S. states: California, Nevada, Utah, Colorado, Arizona, New Mexico, and Texas. Military spokesmen say the operation is merely a standard training exercise designed to prepare Special Forces troops for warfare overseas.
According to the London Daily Mail, Army spokesman Lt. Col. Mark Lastoria said, "'This exercise is routine training to maintain a high level of readiness for Army Special Operations Forces because they must be ready to support potential missions anywhere in the world on a moment's notice.'"
Units participating in the operation include Army Green Berets, Navy SEALS, USAF Special Operations Command, USMC Special Operations Command, USMC Expeditionary Units, Army 82nd Airborne Division, and Interagency Partners (whatever and whoever that is). Over 1,200 troops will participate. For purposes of the exercise, the states of Utah and Texas, and parts of southern California, are designated as "hostile." Local mayors and county commissions have been notified of the operation and have already signed off on it.
To be sure, the U.S. military often conducts off-base exercises; there is nothing new about that. However, this operation might be the largest off-base training exercise on the U.S. mainland. It is certainly one of the most aggressive.
In this exercise, Special Forces troops will practice all sorts of activities including extractions, searches and seizures, urban camouflage, etc. According to the Houston Chronicle, "[A]mong the planned exercises, soldiers will attempt to operate undetected among civilian populations.
"Residents, in turn, will be asked to report suspicious activity in order to gauge the effectiveness of the soldiers."
See the London Daily Mail report here:
Special Forces Set To Swarm Southwest And Operate Undetected Among Civilians In Massive Military Exercise
According to USSOCOM, the exercises will only be conducted between 11pm and 4am. Pray tell, how difficult will it be for Special Forces troops (the best of the best) to operate undetected and "blend in" during the middle of the night? That part of the military's description makes no sense to me at all.
We already have millions of taxpayer dollars being spent on mass media advertising that tells people, "If you see something, say something." Now we are going to "practice" reporting "suspicious activity"? Believe it or not, there was a time in this country when such an idea would have been considered abhorrent by the American people as resembling Nazi Germany or Red Russia too much. Then again, most of our World War II generation has passed, hasn't it?
The Internet is abuzz with speculation that these exercises are not designed to prepare U.S. troops for overseas operations, but are actually designed to prepare U.S. troops for aggressive operations against the American citizenry.
At the risk of sounding paranoid, ever since 9/11, our federal government has targeted America's homeland for all sorts of surveillance, spying, snooping, etc. The National Security Agency (NSA) routinely collects virtually all electronic communications, telephonic transmissions, etc., from the entire American citizenry. The U.S. Congress and federal courts have become nothing more than rubber stamps for an executive branch of government determined to know the most intimate details of every person in the nation. The United States now has the dubious distinction of being the most spied-on country in the history of the world.
For the first time in U.S. history, we have U.S. Northern Command (NORTHCOM), a full active military division (3rd Infantry Division) assigned to the Continental United States. We have the Department of Homeland Security (DHS), which has turned our local and State police agencies into miniature military units, and has armed them with all sorts of military weaponry and equipment–including some of the most sophisticated intelligence-gathering equipment in the world.
The Patriot Act, the Military Commissions Act, NDAA, etc., authorize the federal government to basically treat the U.S. citizenry as "enemy combatants." As far as the passage of these laws is concerned, we Americans have already lost our right to trial by jury, habeas corpus, the right to have an attorney, the right to a speedy trial, the right to be secure in our persons, houses, effects, etc. Martial Law may not be the experience of most U.S. citizens YET, but understand that the laws are already in place for such an event.
The whole idea of practicing "extractions" (a nice word for kidnappings) in U.S. cities sends chills up my spine. Using the aforementioned laws, this kind of activity has already been made "legal" in this country. So, first we have laws authorizing such activity, and now our military troops are practicing doing it? Please tell me, again, how we have nothing to worry about.
Folks, please take a look at what is happening in this country: our local and State police are being militarized; we have ubiquitous laws being proposed and passed (by both major parties) denying the Bill of Rights; we have Twentynine Palms Marine Corps surveys asking Marines if they would turn their guns on the U.S. citizenry; we have repeated attempted gun confiscation coming from Washington, D.C.; we have hundreds of military field-grade officers being dismissed because of their loyalty to the U.S. Constitution; we have a federal foreign policy that seems hell-bent on inciting most every country in the world against us, while practically giving a red-carpet invitation for any would-be terrorist to waltz across our southern border; we have a CIA that gives some of the most powerful weapons in the world to just about any third-world resistance group (including elements of Al Qaeda and, believe it or not, ISIS) that comes along (The U.S. government is far and away the largest gun dealer in the world!), while its sister government organizations, such as the ATF, think we Americans can't be trusted with .223 ammunition;  we have Democrat and Republican presidential administrations alike that use the IRS as a political mafia against people with dissenting opinions; we have a national news media that has become nothing more than a propaganda ministry for the federal government; we have politicians from both parties in Washington, D.C., that can only be described as blood-thirsty war-mongers; we have politicians at the local and State levels who seem determined to turn their communities into a Police State (and some Homeowner Associations are even more Naziesque than the federal government); and, for the most part, we have an apostate, cowardly church pulpit that is doing its dead-level best to turn the Christian people of America into sheepish servants of the state.
I THINK THE AMERICAN PEOPLE HAVE GOOD REASON TO BE A LITTLE PARANOID.
I posted a few preliminary thoughts on my Facebook page regarding this subject before writing this column. Here are a few comments from my Facebook followers:
James: "Jade Helm. Jade is blue. Helm is German for helmet. Blue Helmet. UN blue helmets?"
Jeanie:  "Their supposed reasons for this exercise [don't] make sense. They won't be blending in with civilians in third world countries. The only purpose I can see is to use force against us one day."
Mark: "Pastor, just because we are a bit paranoid doesn't mean there isn't someone out to get us."
Lou: "'Blending in.' LOL."
Jason: "The exercise itself is not a direct danger. It is, however, practice to [acclimate] soldiers and citizens to military action in their neighborhoods."
And, of course, there is this kind of response from Terry: "Worry? No! We should worry about you." [Meaning, yours truly.]
I invite readers to "Like" my Facebook page. I often post comments on my Facebook page that do not make it into my column. Go to my Facebook page at:
I realize it is extremely difficult for Americans to believe that their own government could actually turn against them. And, I'm sure that many people will tell me that to think otherwise is alarmist and extremist. But, isn't that exactly what the citizens of every country overtaken by its own government said? "That can't happen here," have been the last words of millions.
The fact is, the vast majority of us cannot know what the true intention of Operation Jade Helm might really be–and that includes the military personnel who are commanding it and participating in it. I am convinced of this much: the federal government–and its propaganda ministry in the national news media–almost NEVER tells us the truth. Of that much, I am absolutely certain.
Entrepreneurs' versus the corporatists' mode of business culture are separated by a vastly different view of enterprise. The former deems his work as innovative, creative and beneficial to customers. The later see the corporate organization as an institution end of itself. Competition makes the business pioneer sharp and driven, while any competitor is targeted for demise within the corporative culture. Buyouts of ventures that show promise may be a payoff reward for the struggling enterpriser, but the corporatist CEO sees the absorption of new technology as a twofold gain. Acquiring the means to create or advance market share and stamping out any future competitive threats.
This corporatist culture actually has merged with the definitive enforcement partner; namely, the state. The morphing of anti-trust safeguards into a system of crony alliance protection is the current standard for the globalist economy. The implication is that a company needs to pay to play and become "Free Trade" proponents to even remain in business.
Thomas E. Woods Jr. cites a prime example of the contemporary corporate-government fascism that controls the global economy, with the example of Government Electric. In The Cultural Costs of Corporatism: How Government-Business Collusion Denigrates the Entrepreneur and Rewards the Sycophant, the formula is set.
The best case study in political entrepreneurship may be General Electric. CEO Jeffrey Immelt pretty clearly laid out his approach in a letter to stockholders in the depths of the 2008–9 recession, and just days after the inauguration of Barack Obama, who promised to "remake America."
Immelt wrote:
"The global economy, and capitalism, will be "reset" in several ways. The interaction between government and business will change forever. In a reset economy, the government will be a regulator; and also an industry policy champion, a financier, and a key partner. . . . Successful companies won't just "hunker down"; they will seek out the new opportunities in a reset world."
Later in the letter, Immelt stated more directly that GE saw the government as its best potential customer:
"GE's broad technical portfolio positions us as a natural partner as the role of government increases in the current crisis. Over the past decade, we have positioned GE to lead in the "big themes." These include emerging market growth, clean energy, and sustainable healthcare. . . .
Governments will invest to stimulate their economies, solve societal problems, and create jobs. GE's broad portfolio and expertise position us as a natural partner. Tackling important problems together will require teamwork and respect between business, government, and society. We know how to do this and intend to play an important part in solving these essential challenges."
If success is measured by the amount of retained money or return on assets and especially how little taxes are paid, the GE mold is frightening. Corporatism: The Real World of Corporate Favoritism reports.
"General Electric's annual SEC 10-K filing for 2011 (filed February 24, 2012) reveals that the company paid at most 2.3% of its $81.2 billion in U.S. pretax profits in federal income taxes over the last 10 years.

Indeed, General Electric, the nation's largest corporation, paid no federal corporate taxes in the United States in 2010, according to a report in The New York Times."
The book, Rescuing Capitalism from Corporatism by John David Rose documents the long record of GE's criminal price fixing going back to 1911 anti-trust violations. By any reasonable criteria, over a century of predatory pricing and monopolist market domination is a definite cultural deficiency.
Corp Watch contributor Charlie Cray lists a series of General Electric transgression topics and examples. Some of the more relevant items are:
Enronomics

Defense Contracting Fraud

Violations of Securities Laws

Tax issues

History of GE Labor Relations

Environment and product safety

Anti-competitive and consumer protection

Unlawful Debt Collection Practices
It would be difficult to explain away such a pattern of conduct as merely the side effects of becoming a prevailing behemoth. More to the point, the mentality that allows and encourages such behavior is a fundamental component that invigorates transgressions against ethical business practices. The net effects upon society, encourages the corporatist mindset to consolidate their state sponsor cronyism.
It seems unnecessary to dispute the negative consequences of "too big to fail" after the 2008 collapse. However, the concept of The Economic System of Corporatism offers this assessment.
"Coupled with the anti-market sentiments of the medieval culture there was the notion that the rulers of the state had a vital role in promoting social justice. Thus corporatism was formulated as a system that emphasized the positive role of the state in guaranteeing social justice and suppressing the moral and social chaos of the population pursuing their own individual self-interests. And above all else, as a political economic philosophy corporatism was flexible. It could tolerate private enterprise within limits and justify major projects of the state. Corporatism has sometimes been labeled as a Third Way or a mixed economy, a synthesis of capitalism and socialism, but it is in fact a separate, distinctive political economic system."
Yes, once again, let's called this synthesis by its true name; fascism. Just how well has the government achieved this utopian and fantasy notion that government is in the business of dispensing social justice?
At the heart of the corporatist mindset is control of markets and elimination of competitors. Government survives on deceiving the public and transnational corporations thrive on working their partnership relations with official authorities.
GE may be one of the most obvious offenders; nonetheless, the formulation of politics picking winners and losers based upon bribes and favoritism is a dreadful system. Preference for an actual free market based upon a decentralized merchant economy is the only alternative to globalism, which is enslaving the world.
The corporatist culture fuels the despotism, which society is so willing to accept. Voting how to spend your money is one of the few options a consumer has. Business collaborators with government crooks feed the abuses that GE perfects so well. This confederation in crime naturally harms ordinary citizens.
The misplaced reverence to the ill formulated U.S Constitution and hidden subjugation back to the City of London is one aspect of history that is not taught in government schools or discussed in institutes of higher education. This subject is probably new to most observers of the legacy from the Founding Father's biggest mistake. Regular readers of BREAKING ALL THE RULES are familiar with the arguments made in the essays, In the beginning: Let there be the Articles of Confederation and Articles of Confederation was Preferable. Now the case for the betrayal of the purpose of the American Revolution needs to be explored.
Cited on the US Constitution Gave Legal Ownership and Control of the United States to London site is an assessment by Michael Edward.
"Neither the American people nor the Queen of Britain own America. The Crown Temple owns America through the deception of those who have worn their allegiance by oath to the Middle Templar Bar. The Crown Bankers and their Middle Templar Attorneys rule America through unlawful contracts, unlawful taxes, and, contract documents of false equity through debt deceit, all strictly enforced by their completely unlawful, but 'legal,' Orders, Rules and Codes of the Crown Temple Courts Our so-called 'judiciary' in America. This is because the Crown Temple holds the land titles and estate deeds to all of North America."
An examination of The Templars of the Crown provides elaboration on this appraisal. For an even more in-depth analysis, review the material that probes AMERICAN LAND OWNERSHIP, A TRUE OXYMORON, which deals with the work of James Montgomery.
"Many of you are aware that the laws of this nation and it's states, were made to be in compliance and submission to the laws of England, only modified by state and federal law. You will see in this last Chapter state statutes from just a few of the original colonies, that this is the case. Are these what are called ancient statutes? Yes. However, since the king's Corporation is alive and well as are his heirs, so is his Trust and the law used to create and govern it. The law that governs his Trust can only be amended, no law could be enacted contrary to the king's will and cestui que trust, the main corporate sole where office is always found, the Crown. The king's practice of granting lands in this country to those loyal to him continues, along with their land grants being protected by state ancient statutes which are still on the books. We are governed by the king's nobles just as in times of old England, self proclaimed nobles, and corporate trusts. They rule this country and the world. The huge corporations have been granted power and liberty not known by the common man. The nobles, real and the created, occupy their possessions as fiduciaries and trustees of the king's grants; only if they remain loyal to the system, their privilege and life style are their reward."
Invest the time in discovering all the historic accounts, legal rulings and linkages that go back to the Crown, AKA, the City of London.
If you are unfamiliar with The (British) Crown Empire and the City of London Corporation take a quick refresher course on the actual nature of the financial foundation and codified sanction that purports to be lawful. Jurisprudence may be legal by the definition and formulations of the judicious barrister class, but it certainly is not founded on the basic principles of natural law.
Julian Websdale concludes: "The whole Earth is governed by The Crown, through Crown Colonies which belong to The City – The Crown Empire. It governs Africa and still governs China and India. The colonies of the Earth are really just Crown Colonies – The United States of America are states of The Crown."
Now this interpretation may seem bizarre to most and the plot thickens in the The construe Powers – Behind the Global Empire piecing together a long account of legalized equity mandates.
"The signed treaties and charters between Britain and the United States reveals that King James the 1st was not only famous for translating the Bible, but for signing the first charter of Virginia in 1606. That charter granted America's British forefathers a license to settle and colonize America and guaranteed future kings and queens of England to have sovereign authority over citizens and colonized land in America. The treaty of 1783 identifies the king of England as the prince of the United States. King George the 3rd gave up most of his claims over American colonies, but he kept his right to continue receiving payment for his business venture of colonizing America."
The next element to consider has The Top of the Pyramid: The Rothschilds, the British Crown and the Vatican Rule the World. Read this account and trace back the historic lineage of  some of the Englishmen who founded America.
"To have the Declaration of Independence recognized internationally, Middle Templar King George III agreed in the Treaty of Paris of 1783 to establish the legal Crown entity of the incorporated United States, referred to internally as the Crown Temple States (Colonies). States spelled with a capital letter 'S,' denotes a legal entity of the Crown.
At least five Templar Bar Attorneys under solemn oath to the Crown, signed the American Declaration of Independence. This means that both parties were agents of the Crown."
As time proceeds, the sell out of the "shot heard around the world" revolution deepens.Two Constitutions in the United States. 1st was illegally suspended in favor of a Vatican "Crown" corporation in 1871. This approving assessment of the Federal Constitution views a Shadow Government in place since 1871.
"Since 1871 the United States president and the United States Congress has been playing politics under a different set of rules and policies.  The American people do not know that there are two Constitutions in the United States.  The first penned by the leaders of the newly independent states of the United States in 1776.  On July 4, 1776, the people claimed their independence from the Crown (temporal authority of the Roman Catholic Pope) and Democracy was born.  And for 95 years the United States people were free and independent.  That freedom ended in 1871 when the original "Constitution for the United States for America" was changed to the "THE CONSTITUTION OF THE UNITED STATES OF AMERICA".
The Congress realized that the country was in dire financial straits, so they made  a financial deal with the devil –  the Crown (a.k.a. City of London Corporation – est. by the Catholic Church on Jan 1, 1855 ) thereby incurring a DEBT to the Pope.  The conniving Pope and his bankers were not about to lend the floundering nation any money without some serious stipulations. So, they devised a way of taking back control of the United States and thus, the Act of 1871 was passed.  With no constitutional authority to do so, Congress created a separate form of government for the District of Columbia.
With the passage of  "the Act of 1871" a city state (a state within a state) called the District of Columbia located on 10 sq miles of land in the heart of Washington was formed with its own flag and its own independent constitution – the United States' secret second constitution."
Lastly, Three Corporations run the world: City of London, Washington DC and Vatican City list the City of London houses as including:
Rothschild controlled 'Bank of England'
Lloyds of London
The London Stock Exchange
All British Banks
The Branch offices of 384 Foreign Banks
70 USA Banks
Fleet Streets Newspaper and Publishing Monopolies
Headquarters for Worldwide Freemasonry
Headquarters for the worldwide money cartel known as 'THE CROWN'
Conclusion: "City of London directly and indirectly controls all mayors, councils, regional councils, multi-national and trans-national banks, corporations, judicial systems (through Old Bailey, Temple Bar and the Royal Courts of Justice in London), the IMF, World Bank, Vatican Bank (through N. M. Rothschild & Sons London Italian subsidiary Torlonia), European Central Bank, United States Federal Reserve (which is privately owned and secretly controlled by eight British-controlled shareholding banks), the Bank for International Settlements in Switzerland (which is also British-controlled and oversees all of the Reserve Banks around the world including our own) and the European Union and the United Nations Organization."
This introduction to the actual influence and pompous legal authority that underpins the financial hierarchy is based upon a historic explanation that is foreign to most Americans. The implications are staggering and for this reason alone, most are not willing to do their own research. Do not get caught up in the uncanny departure from the usual rendering of reality. Remember that the City of London's coat-of-arms reads in Latin – Domine Dirige Nos – which translates, Lord, direct us. The true question, asks just which deity do the soldiers of the Crown adore?
The Destruction of a Nation…
"we are asked to feel guilty about men in prison.  We are told how many are of particular racial groups, and this is somehow our fault, no matter how many laws these convicts violated."  R. J. Rushdoony, "Systematic Theology", Vol. 1, pg. 464
With substantial support from biased reporting by the media we have experienced social unrest and rioting by Blacks over police infractions that have subsequently been proven false by a jury and by the Federal judicial system.  In the Tryvon Martin case local authorities decided against indictment but deceptive press coverage caused enough Black outrage to force a trial.   George Zimmerman was acquitted by a jury.  In the Michael Brown case in spite of media-fanned riots both Federal and local authorities decided against indicting Darrin Wilson.
In both cases the neocon controlled media provided distorted and incendiary coverage designed to create a violent reaction.  In both cases rather than presenting the evidence as it existed they distorted the evidence to make it seem that an atrocity had been committed. "White policeman kills unarmed Black teen" does not do justice to either event.
In an article in the "Atlantic" TA-Nehisi Coates writes "The investigation concluded that there was no evidence to contradict Wilson's claim that Brown reached for his gun. The investigation concluded that Wilson did not shoot Brown in the back. That he did not shoot Brown as he was running away. That Brown did stop and turn toward Wilson. That in those next moments 'several witnesses stated that Brown appeared to pose a physical threat to Wilson'. That claims that Brown had his hands up 'in an unambiguous sign of surrender'  are not supported by the 'physical and forensic evidence,' and are sometimes, 'materially inconsistent with that witness's own prior statements with no explanation, credible for otherwise, as to why those accounts changed over time.'"
Though slave owners no longer exist in the United States the media and Black leadership is still trying to harness White Americans with guilt over slavery.  Programs on slavery are frequent and any true depiction of current Black society is studiously suppressed.
We have a Black president, there are Blacks in Congress, sports at both the college and professional levels is primarily Black.  Blacks have responsible high paying government jobs, they are frequently seen in all current advertising; they own businesses and many are now solidly ensconced in Middle Class and upper 1% neighborhoods.  There are many loving and supportive Black families that are producing talented and upwardly mobile children.
An honest assessment of Black progress is very positive.  As a race they are doing extremely well.  Sadly, none of this is put forth in the press and media.  Instead, we get a constant ear splitting whine about racial prejudice.
In the first volume of "Sytematic Theology"  R. J. Rushdoony (RJR) writes, "Basic to all non-Christian politics are, first, a false covering, and, second, the cultivation of guilt. By cultivating guilt the state seeks to make its citizenry impotent and enslaved.  A false sense of guilt, moreover, has no solution and no escape is possible from it, as long as it is held.  The state then offers a false covering to that cultivated guilt: a statist program of noble ideas which in practice means the further enslavement of the people, and the increase in statist powers."  Pg. 465
Slavery and the Holocaust are salient examples of the procedure.  Egregious manipulation of our government is allowed by grief over the Holocaust and preferred racial citizenship is accorded by guilt over slavery.  In both cases the guilt is cultivated and in both cases it is bogus.
Christianity is dangerous to the state because Christians are freed from guilt and able to think clearly.  "Guilty men are not free men: they are slaves." (RJR)
In spite of the great progress Blacks have made there are still major problems.   Shootings are part of the evening news for every major city and too often they involve Blacks shooting other Blacks.  Black unemployment is part of the problem and government assistance programs share part of the guilt.  The major culprit, however, is the media which extends their fraudulent news coverage by giving a bully pulpit to self-serving Black leaders with deceitful messages.  The uncontrolled emotional rage, fanned by the press, ignites riots that make matters worse.  Riots destroy the fabric of society.  They work against freedom.  It must be acknowledge that the crime rate in Black inner-city areas is several times that of similar White neighborhoods.  Racial prejudice can no longer be used as an excuse.  We have elected a Black President, twice; a bigoted society would not do that.
A new group of Black realists needs to sit down with their biased leadership and hammer out a just and honest program for Black citizens.  There are some excellent Black pastors that would help with such a project.  Blaming people, places, and things will not provide progress; it must come from the Blacks themselves.
Though they are hardly coming from a position of strength Blacks are right about policing.  Major changes are needed in the behavior law enforcement.  Demands by policemen that innocent citizens submit to personal indignities tarnishes their reputation; policepersons who cannot determine who needs to be handcuffed and who does not do not belong on the street.   Law enforcement needs to earn a better reputation in both White and Black neighborhoods.  When respect is restored compliance will follow.
It is frightening to see a line of almost automated, black garbed, heavily armored police with loaded guns marching toward a residence where civilians will be surprised by a paralyzing no-knock raid.  The object is to shock with massive impregnable force and demand acquiescence.  These Swat team operations grew from a small number to over 40,000 per year by the beginning of the Twenty-First Century.  Read here.    Policing has morphed from protecting society to considering almost everyone to be an enemy.
Bad laws, too many laws, the war on drugs, and war as a way of life are all part of the problem.  The Neocon hate for Christianity and their success in purging it from U. S. society has had devastating effects on behavior.  We are considered a Christian nation with a population that overwhelmingly claims to be Christian but our flaccid pseudo-Christian population is governed by a satanic pagan power structure that exploits their naivety.  Freedom cannot exist under devilish tyranny.
The confiscation of cash from vehicles stopped for any or no particular reason is pandemic.  In some states the victims are predominantly Black but in others race is not a factor.  In one county in Texas in a two year period 200 citizens were victims of confiscations.  Fifty of the 200 were charged with drug possession but the remainder was never charged with a crime.  In many cases the threat of being charged with a crime which would require lawyers and trips back to the area caused victims to leave the money and go free.  Cash confiscations are common in many of our states.
In a small town in Northern Florida the city budget was almost entirely financed by speeding tickets issued to motorists traveling a main state highway that runs through the town.  That municipal thievery has how been stopped but it continued for years.
There are times when a lawless, recalcitrant citizen must be subdued and taken into custody and there are times when such a procedure is not warranted; policepersons should know the difference.
We have allowed our police departments to become sources of revenue that is used by local politicians.  Forfeiture laws and heavy fines are income streams rather than retribution for crimes.  This is fraudulent; it perverts the duties of the police force and cultivates cynicism.  Police are to be enforces of justice and should be filled with pride in that vocation.
The Black struggle for equality in a White society has now become a struggle for power.  They have more than equal legal status but now as a minority population they seek power over the entire government by calling for the resignation of the entire leadership of Ferguson.  Black riots have regularly resulted in concessions and as long as these concessions continue Black riots will continue. It is a dangerous situation when an errant press and media can create riots almost at will. The quest for power without reference to immutable justice is another form of tyranny.
American citizens are allowing manufactured guilt to be used as an excuse to create revolutionary chaos in our nation.
At the end of the "Atlantic" article TA-Nehisi Coates writes "I do not favor lowering the standard of justice offered Officer Wilson. I favor raising the standard of justice offered to the rest of us."
Common wisdom has China as the future model for the Globalist economy. Also, conventional thinking has the Western financial debt created money system as the backbone of the New World Order. The big question is, are both components of the same intentional plan? When China Has Announced Plans For A 'World Currency', the world is put on notice that a fundamental shift is about to take place.
"What you are about to see is rather startling, but it shouldn't be a surprise.  When it comes to economics and finance, the Chinese have always been playing chess while the western world has been playing checkers.  Sadly, we have gotten to the point where checkmate is on the horizon.
The following comes from CNBC …
The tightly controlled Chinese yuan will eventually supersede the dollar as the top international reserve currency, according to a new poll of institutional investors.
The survey of 200 institutional investors – 100 headquartered in mainland China and 100 outside of it – published by State Street and the Economist Intelligence Unit on Thursday found 53 percent of investors think the renminbi will surpass the U.S. dollar as the world's major reserve currency.
Optimism was higher within China, where 62 percent said they saw a redback world on the horizon, compared with 43 percent outside China."
Before the celebration begins that the game is up for the Federal Reserve mastery from the days of the Bretton Woods Conference, look a little closer. While gold and its fixed price were instrumental to that monitory standard, the freeing from fixed rates has generated the madness of floating currency speculation that now dominates the financial markets.
The cunning and patient Chinese built their export economy on cheap priced goods into their importing customer economies. Saving is a noble objective in the East, while going into debt is the hallmark of Western practices. The Chinese have applied their huge balance of trade surpluses to buying up commodities. Most notable is gold.
The article, Could China actually have 30,000 tonnes of gold in reserves? Makes the strongest argument that China is poised to become the new superior currency is based upon the potential of establishing a convertible relationship between the renminbi and bullion.
"China has much more gold than it is allowing the world to see. As Alasdair Macleod, probably the world's number one analyst of the gold market, wrote that between 1983 and 2002 China probably accumulated 25,000 tons of gold. Thus, its current gold holdings are probably north of 30,000 tons in contrast to the USA which has either sold or leased most of its gold."  Now this statement coming from one of the usual gold megabulls might be ignorable, but Hunt does not fall into this category and has a good track record of insights into China's strategic initiatives as far as metals and minerals are concerned."
Before the rush to the door to dump your U.S. Dollars for whatever store of wealth one believes will maintain its purchasing value, consider what the voice of the global financial establishment, the IMF says. Stating the outlook from the central Bankster's perspective in, Will the Renminbi Rule?, the message is that paper money, burdened by debt, is still firmly in place.
"Given China's size and growth prospects, it is widely seen as inevitable that the renminbi will eventually become a reserve currency. To gauge the likelihood and timing, it is necessary to consider the typical attributes of a reserve currency and evaluate China's progress in each of these dimensions. The factors that generally affect a currency's reserve status includes:
Economic size
Macroeconomic policies
Flexible exchange rate
Open capital account
Financial market development
The IMF concludes:
"The renminbi is unlikely to become a prominent reserve currency—let alone challenge the dollar's dominance—unless it can be freely converted and China adopts an open capital account."
Now for anyone even remotely schooled in the manners and maturations of the financial elites, turning the other cheek to a pretender, is not in the lesson book.
Investment manager, Richard Harris offers in a report, Time to create new Chinese-Hong Kong dollar, an interesting possibility.
"The HK dollar itself is a dead unit having been pegged first to the pound and later to the US dollar, with the current rate fixed in 1983. The prevailing view about depegging is that it would be too dangerous. The unit only floated for a relatively short period from 1974-1983 and, I recall, without much confidence in its success.
The obvious answer is to combine the dead HK dollar with the embryonic CNH. This would be a completely independent, floating currency. The CNY would be used for current account transactions such as exports and imports, whilst the new "Chinese Dollar" (HKD/CNH combined) would cater for capital account financial transactions."
Keeping paper money in place as the international medium of exchange is fundamental to the New World Order. While China may never implement an actual redemption of gold for their renminbi, there is a real possibility that some gold weighted backing for Chinese paper instruments could be introduced.
The U.S. Dollar maintains illusionary worth, only because the central bankers are all in with their dollar dominated derivatives. Moreover, the Chinese are very much dependent upon their exports to keep their economy going. Settlement in Federal Reserve notes is crucial for the American system to keep buying from overseas.
Just the mere threat of payment in the renminbi for all the Chinese goods that Walmart imports     could be devastating. Allowing for a gradual transition into a semi-reserve renminbi status keeps the Bankster's game going.
The prudent analysis suggests that the NWO created China's emergence into an economic power through off-shoring domestic industries in their subject countries. Nonetheless, the international cabal is not about to starve their interest paying indebted nations by letting the Chinese accumulate even greater cash reserves.
Expect a downturn in China's prospects, as soon as any ascendency for their currency begins gaining a reserve acceptance.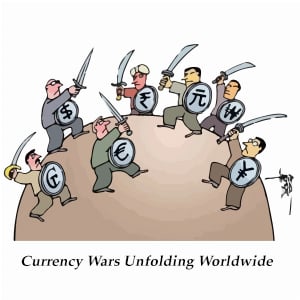 The first two months of 2015 have seen turmoil in the currency markets extend from Russia and Ukraine to the heart of Europe.
"Central Banks Now Open 24/7 Fighting Currency Wars and Deflation," blared a February 12th Bloomberg headline. Against this backdrop, precious metals have been on the rise in terms of all currencies except the Swiss franc and the U.S dollar.
In January, the Swiss National Bank shocked markets by announcing that it would de-link its currency from the euro. The move came one week ahead of the European Central Bank's $1.1 trillion Quantitative Easing announcement. Swiss officials decided it would be too costly to keep accumulating depreciating euros in order to maintain the currency peg. The Swiss franc surged by the most ever in a single day.
With the exception of Switzerland, all other countries in Europe (and many others around the world) are trying to depreciate their currencies.
Since January 1, the following central banks have announced interest rate cuts or other monetary easing measures: European Central Bank, Reserve Bank of Australia, Reserve Bank of New Zealand, Monetary Authority of Singapore, and the central banks of India, Canada, Denmark, and Sweden.
On February 12th, the Swedish Riksbank announced a surprise rate cut from 0% to below 0%. "To ensure that inflation rises towards the target, the Riksbank is prepared to quickly make monetary policy more expansionary, even between the ordinary monetary policy meetings," the world's oldest central bank said in a statement.
Sweden joins the European Central Bank and the central banks of a handful of other countries in pushing benchmark interest rates into negative territory. These central bankers are all aiming to revive inflation. "Investors" who are buying bonds yielding less than nothing (a negative rate) are apparently convinced that central bankers won't succeed in depreciating their currencies.
Insanity! Investors Now Paying for the "Privilege" of Lending to Broke Governments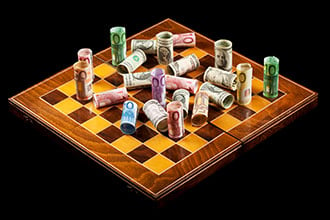 This could go down as one of the oddest, most irrational asset bubbles in history. Trillions of dollars are now tied up in debt instruments that promise to return less than the invested principal. According to a report issued by J.P. Morgan, $3.6 trillion in government bonds around the world now carry negative yields.
It raises the obvious question; why would so many people be willing to accept a negative rate of return?
You'd think that institutional investors would start getting wise to holding gold as a hard-currency alternative to cash instruments that yield less than zero. The fact that gold has no interest rate is actually an advantage in an environment where competing rates are negative! Plus, unlike most of the bonds issued in this upside-down interest rate market, gold has significant appreciation potential.
If inflation rises even modestly to the 2% target of European and U.S. central bankers, then bonds issued at rates of below 2% will all be losers. The two-year Treasury note yields only 0.63%. Even the recent 10-year yield of 1.98% fails to match the Federal Reserve's inflation ambitions.
The fact that gold has no interest rate is actually an advantage in an environment where competing rates are negative!
In this environment of ultra-low nominal yields or even negative real yields, precious metals as a reserve asset look very attractive. Many central bankers around the world agree and are busily accumulating gold. According to a report issued by the World Gold Council in February, governments around the world added 477.2 metric tons of gold to their reserves in 2014. That haul was the second biggest in 50 years.
When inflation fears return to the market, as they eventually will, precious metals will become one of the premier asset classes to hold. Even now, they are performing better than virtually all other world currencies.
The end game of these ongoing currency wars is that all fiat currencies will be debased. And a true flight to quality will accelerate – with assets fleeing depreciating currencies (and debt instruments denominated in them) and piling into gold and silver.
Will the Fed Chicken Out on Rate Hikes?
Of course, right now it's deflation fears that are dominating headlines. But the inflationary policy responses from the European Central Bank and others that have followed the ECB's lead have lifted gold and silver prices markedly in terms of euros and other currencies.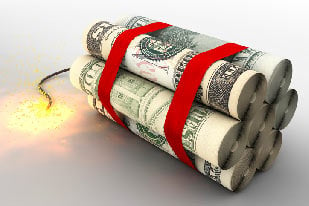 As confidence in European currencies plunges, there's only so much corresponding dollar strength the Federal Reserve is willing to tolerate. There's been much talk of rate hikes coming later this year, and that widespread expectation has been priced into the market. Any rhetorical or policy disappointments from the Fed in the months ahead could cause traders to sell the dollar.
Whether later this year or further down the road, it's only a matter of time before currency turmoil spreads to the United States.
The U.S. has a higher debt-to-GDP ratio than some troubled European countries. It has higher levels of unfunded liabilities (estimated to be in excess of $100 trillion) than any other country. The dollar's status as world reserve currency has allowed the U.S. to become financially overextended. But that vaunted status is slowly deteriorating as Russia, China, and other countries form economic alliances that bypass the dollar.
When these chickens come home to roost, you don't want to be wholly dependent on the U.S. government's promises or its currency. Sizeable holdings in physical precious metals will help make you financially resilient in the face of the spreading global currency crisis.
The concept of banning lead was floated before, but this latest effort to impose back door gun control has all the marking of a tin horn dictator stripping the peasants of any means of resistance. Drop the pretense. All you need to know is WHY IS GOVERNMENT STOCKPILING GUNS, AMMO?, while you are being told you are not allowed to have your own horde.  How you answer this question, reveals much about your attitude towards government, and level of concern for protecting yourself from tyrannical edits. It is startling just how much of the population will accept de facto gun control for any trumped up scheme to impose further governmental mastery.
SCOPE reports on the recent announcement on M855 ammunition.
On 13 February 2015, the Bureau of Alcohol, Tobacco, Firearms and Explosives (BATF) released a document [PDF ] that proposed the reclassification of "5.56mm constituent projectiles of SS109 and M855 cartridges" from the category of "primarily used for sporting purposes" to that of "armor piercing ammunition." The 17-page document was titled

"ATF FRAMEWORK FOR DETERMINING WHETHER CERTAIN PROJECTILES ARE 'PRIMARILY INTENDED FOR SPORTING PURPOSES' WITHIN THE MEANING OF 18 U.S.C. 921(a)(17)(C)" and uploaded to ATF.gov , in part to enable interested parties to review it and submit comments before 16 March 2015.

The proposal cited the Law Enforcement Officers Protection Act of 1986 (P.L. 99-408, known as "LEOPA") and referenced discussions with law enforcement agencies across the country about whether "green tip" ammunition could reasonably be construed an exempt form of sporting ammo under the 1986 guidelines. The publicly available document noted that handguns made to employ the potentially affected ammunition were not available to civilians at the time the exemption was initially granted, and that the ammo type in question did not appear to meet the standard for a sporting purpose exemption:

Applying the sporting purposes framework set-forth above, the 5.56mm projectile that ATF exempted in 1986 does not qualify for an exemption because that projectile when loaded into SS109 and M855 cartridges may be used in a handgun other than a single-shot handgun. Specifically, 5.56mm projectiles loaded into the SS109 and M855 cartridges are commonly used Framework for Deciding Sporting Purpose Ammunition pursuant to 18 USC 921(a) in both "AR-type" rifles and "AR-type" handguns.

The AR platform is the semi-automatic version of the M16 machinegun originally designed for and used by the military. The AR-based handguns and rifles utilize the same magazines and share identical receivers. These AR-type handguns were not commercially available when the armor piercing ammunition exemption was granted in 1986. To ensure consistency, upon final implementation of the sporting purpose framework outlined above, ATF must withdraw the exemptions for 5.56 mm "green tip" ammunition, including both the SS109 and M855 cartridges.
The  video BATF Ammo Ban Violates Federal Law As Well As The Constitution and Infowars article provides the legal definition: AR-15 AMMO NOT "ARMOR PIERCING" ACCORDING TO LAW, BUT ATF BANNING IT ANYWAY, both explains the dubious methods being used to circumvent the 2nd Amendment.
To be considered "armor piercing" under 18 U.S.C. 921 (a)(17)(B) , a bullet must have an entirely metal core or have a jacket weighting more than 25% of its weight, which wouldn't include M855 rounds because their bullets are partly lead .

The definition in full:

(17)

(A) The term "ammunition" means ammunition or cartridge cases, primers, bullets, or propellent powder designed for use in any firearm.

(B) The term "armor piercing ammunition" means- (i) a projectile or projectile core which may be used in a handgun and which is constructed entirely (excluding the presence of traces of other substances) from one or a combination of tungsten alloys, steel, iron, brass, bronze, beryllium copper, or depleted uranium; or (ii) a full jacketed projectile larger than .22 caliber designed and intended for use in a handgun and whose jacket has a weight of more than 25 percent of the total weight of the projectile.

(C) The term "armor piercing ammunition" does not include shotgun shot required by Federal or State environmental or game regulations for hunting purposes, a frangible projectile designed for target shooting, a projectile which the Attorney General finds is primarily intended to be used for sporting purposes, or any other projectile or projectile core which the Attorney General finds is intended to be used for industrial purposes, including a charge used in an oil and gas well perforating device.
Now all this legal mumbo jumbo may seem archaic to anyone other than gun enthusiasts, but in fact allowing the government to banish the business end of shells, because the government fears such bullets might be pointed at them, is an admission of despotic panic.
Governments have little need to feel apprehension from citizens, when their conduct is measured by legal and ethical standards. Just ask, what in the world is this contrived necessity to undertake punitive and restrictive measures to strip the public of their legitimate right for self-defense, really all about?
If there is any doubt how the people are responding, just examine the trend in gun and especially further ammo sales.
Gun sales hit new record, ammo boom to follow
"If ammunition does become the focus for gun owners, that could become another hot-button topic.

Last year, the Homeland Security Department had to explain to Congress its contracts to buy up to 1.6 billion rounds of ammunition.

Some gun owners believed the department was trying to crowd out private consumers in the ammunition market, but federal officials said their purchases amounted to a tiny fraction of the ammunition produced every year."
Obviously, buying up the market is too slow a way to crowd out the public. With no constrains in the last two years of the Obama administration, what is one more show of contempt for the rule of law? Yet, proponents of an ammunition free zone cheer last year's UN Arms Trade Treaty ATT as another component in the efforts to "piecemeal enactment of costly and increasingly restrictive controls on ammunition, private sales and transfers, firearms parts, registration, etc."
Yes, Obama's bureaucrats are walking lock step in line with the global objective of having non elites stripped of their armor. If .223 ammo is slated for a meltdown, what will be next?
The Global Gulag essay, Guns, Guts and Goons foretells the dilemma.
"Gun ownership in America is the primary reason why the internationalists fear the wrath of an armed citizenry. The destruction of the Bill of Rights is a prime objective of the beltway statists. Conversely, the elimination of the remnants of an American federalist constitutional republic is the key eliminate required for imposition of the global Illuminati matrix. The primal reason to foster a society that bears weapons is to maintain the means to fight tyranny on your native soil. The United Nations is a subversive and diabolical appendage of world despotism. The choice has never been clearer. Lock and load or kneel and grovel. Guns are mere instruments of force or defense, while government oppression is the reason why the public must possess the means of accountability."
In the brave new world that is being engineered, going back to archery using rubber tips might be the only option, assuming that stringing for the bow would be allowed.
The list of government warfare against citizen's right to bear arms just grows. Obama's feds hid key data to get Calif. lead ammo ban passed in backdoor gun control move comes as no surprise. "Other states have also wrestled with the lead ammunition issue, but California is the first and only state to ban it altogether."
From that other bastion of individual rights, the New York Times cannot conceal their joy in the item, Move to Ban a Bullet Adds to Its Appeal. However, in the spirit of balance the NYT quotes:
"Representative Robert W. Goodlatte, Republican of Virginia and the chairman of the House Judiciary Committee, urged the agency to reconsider the rule.

"Millions upon millions of M855 rounds have been sold and used in the U.S., yet A.T.F. has not even alleged, much less offered evidence, that even one such round has ever been fired from a handgun at a police officer," Mr. Goodlatte writes in a letter to the agency's director, B. Todd Jones, to be sent this week."
Surely there must be some compelling argument missing that proposes to criminalize the magic tip projectile.
This is a laughable proposal if the underlying intentions for disarming the citizenry was not the ultimate motive were not so draconian.
Do you have the guts to stand up to the goons? You don't need to have guns to resist if they have their way. What good is a gun without bullets? What is needed is a concerted effort to support organizations and representatives that will fight against this tyranny now, before we all bleed because Americans allowed their disarmament.
The charade of false flag gun crimes used to enact more restrictive laws and regulations needs to be exposed as absolute folly and soul-destroying despotism.
As much as we liberty-loving, Constitution-loving, America-loving patriots hate to admit it, the government in Washington, D.C., is NOT fixable. The elitist power structure in D.C. is too ensconced and too powerful. They will never cede power to folks, such as Justin Amash, Thomas Massie, etc., who truly believe in limited government. Nor will they permit the states to reclaim ANY of their constitutionally recognized powers. And neither party in D.C. has enough Ron Paul-types to thwart the evil machinations of the power-drunk leviathan that is Washington, D.C.
Furthermore, the same forces of darkness that control the political establishment in Washington, D.C., also control the media and financial establishments in New York City. The voters of America have too often rejected the presidential and congressional candidates who had the potential to help lead our ship of state to safer waters (if we even have untainted elections). The warnings of the prophets and porters have fallen on deaf ears. For the most part, Americans refuse to dislodge themselves from their addiction to government handouts. In addition, America's pastors have largely abandoned their calling to be watchmen on the wall, which has left our ship of state without a moral compass or a spiritual rudder.
As much as I hate to say it, it is becoming more and more clear that Washington, D.C., may not be fixable. If that's the case, it is only a matter of time before freedomists will be forced to do what freedomists have always been forced to do when facing a tyrannical juggernaut: declare independence.
The closest thing America has had in modern times to Patrick Henry or Thomas Jefferson is former Congressman Ron Paul. In late January, Dr. Paul brought a speech before the Mises Institute. The theme of the event was "Breaking Away: The Case For Secession."
In his address, Ron said, "'And it's [secession] not gonna be because there will be enough people in the U.S. Congress to legislate it. It won't happen. It will be de facto. You know, you'll have a gold standard when the paper standard fails, and we're getting awfully close to that. And people will have to resort to taking care of themselves. So when conditions break down, you know, there's gonna be an alternative. And I think that's what we're witnessing.'
"Later, Paul said the Federal Reserve would end and the states would stop listening to federal laws they didn't agree with.
"'The Fed is gonna end. There is going to be a de facto secession movement going on. The states are going to refuse to listen to some of the laws. We've seen tremendous success already with states saying to the federal government, "We're not gonna listen to you anymore about the drug laws." And they're getting out of it, and I think the American people are waking up to that, and as far as I'm concerned, the more the merrier.'"
See the report here:
Ron Paul: "Good News" That Secession Is Happening
I believe Dr. Paul is right. Secession ("de facto" or otherwise) is inevitable. How it will come and when it will come is debatable. That it will come is not. The only question is, do we wait for a national or international crisis of apocalyptical proportions or do we begin the debate now in the relative tranquility of peace and order? I say we should begin the debate NOW.
The assaults against our liberties are rooted and grounded inside The Beltway. The federal government in Washington, D.C., has been attacking our Natural rights for decades, to the point that it is almost insufferable. It is fomenting war and aggression all over the world; it is turning people around the globe into the enemies of the American people; it is training its own officers to enslave the American citizenry; it has set up a domestic military command that is nothing less than an occupation force; it has passed laws and policies stripping the American people of virtually every freedom protected in our Bill of Rights; it has set the world's most sophisticated spy system against its own citizens; it has freely allowed violent criminals and gang members from foreign nations to have unfettered access to America's heartland; it has dictated policies to the sovereign states to the point that our states more resemble national provinces; it has taken liberty to the precipice of destruction.
The powers of darkness manipulating the politicians in Washington, D.C., are leading us to financial collapse and global war. They are manipulating the east and west against each other; they are facilitating the military build-up of China; they are goading Russia into war; they are manipulating the collapse of the U.S. dollar; and they are declaring patriotic, God-fearing Americans as "homegrown terrorists," while creating real terrorists abroad.
I propose that the People of the several states begin calling for The Third Continental Congress to the intent that this Congress proposes, debates, and eventually votes on the decision to declare independence from the government in Washington, D.C.
Delegates to such a Congress would by necessity be sent by the People of the states, not by the State legislatures. The focus of the Congress would be singular in purpose: to debate and eventually vote on a resolution of independence. I think the resolution of The Third Continental Congress should mirror Richard Henry Lee's resolution during The Second Continental Congress in 1776:
"Resolved, that these United Colonies are, and of right ought to be, free and independent States, that they are absolved from all allegiance to the British Crown, and that all political connection between them and the State of Great Britain is, and ought to be, totally dissolved."
I am fully aware that this is a bitter thought to contemplate. It is for me, too. But, ladies and gentlemen, there may be no other way to preserve liberty in our land.
Granted, if Ron Paul (or perhaps his son, Rand) could obtain the White House–and providing he could stay alive–substantial victories could probably be wrought over the Beast. We should NOT stop fighting for the principles of liberty. No one is more engaged in the liberty fight than I. And I will continue to be engaged.
Furthermore, I continue to believe if America's pastors and churches would collectively awaken to the principles of liberty, see "the man behind the curtain," and aggressively preach and teach the principles of Natural Law regarding government, a certain amount of time might be able to be purchased. That's what I'm trying to accomplish with my Liberty Church Project. It's yet to be seen how quickly we will be able to restore patriot pulpits to America.
Yet, many patriotic folks mistakenly believe that we must preserve the Union at all costs. This is NOT the case. We must preserve LIBERTY at all costs. Our loyalty to the Union should only be up and unto the point that it "becomes destructive" to the security of our liberties. Our original Declaration says it plainly:
"That to secure these rights, Governments are instituted among Men, deriving their just powers from the consent of the governed, –That whenever any Form of Government becomes destructive of these ends, it is the Right of the People to alter or to abolish it, and to institute new Government, laying its foundation on such principles and organizing its powers in such form, as to them shall seem most likely to effect their Safety and Happiness."
The mood for such a declaration is already growing. I believe if such a Congress were convened, several of our sovereign states would vote in the affirmative. I think states such as Texas, Arizona, Oklahoma, Missouri, Idaho, Montana, Wyoming, New Hampshire, Michigan, Indiana, Kentucky, Tennessee, Alabama, Mississippi, Louisiana, Arkansas, West Virginia, Virginia, Alaska, and even Hawaii, would seriously entertain such a resolution. The actual number of states who might be inclined to vote in the affirmative could potentially number at least half (or more) of the total states in the Union.
The idea that we will be able to maintain the Union under the growing tentacles of Washington, D.C., while maintaining liberty at the same time is now an utterly irreconcilable notion. As did our Founding Fathers before us, we have made–and continue to make–repeated redresses, we have convened conferences, we have repeatedly petitioned, and we have "voted the bums out" over and over again. No matter! The Beast in Washington, D.C., only gets more and more insatiable in its hunger to eat away our liberties. At some point, the American people must take their principles of liberty to The Third Continental Congress and vote on a Twenty-First Century declaration of independence.
And, no, a modern declaration of independence does not have to be bloody. Had Scotland voted for independence a few months ago, would London have sent troops to stop them? Absolutely not. World opinion would not tolerate it. Plus, the need for peaceful trade, commerce, and mutual self-defense would demand cooperation between neighboring governments. This would equally apply in North America.
What separation would likely accomplish is to take the teeth out of a ravenous Beast. It would accomplish what our separation from Great Britain accomplished two hundred years ago. The Beast would not be able to subjugate the free people of a new nation. No longer would it be able to play the world's policeman. No longer would it be able to freely foment hatred and war between nations. Plus, it would give the new republic that would likely form the opportunity to export the ideas of liberty, free enterprise, peaceful trade and diplomacy, etc., around the world. You know, the ideas and principles that the United States USED to export. Separation might actually save, not just the liberties of the American people, but the lives of people around the world from a global catastrophe.
The worst scenario is that the American people wait until the powers of darkness controlling Washington, D.C., bring about a global apocalypse before they realize what they must inevitably do. That is the scenario that Dr. Paul alluded to in his remarks referenced above. The better scenario is that the American people have the sagacity and foresight to see the storm clouds on the horizon and put in motion NOW the remedy for their–and their children's–survival.
Unfortunately, the established track record of the American electorate seems to favor Ron Paul's scenario. I much prefer that liberty-loving patriots begin broaching this subject NOW, before times are desperate.
Either way, sooner or later, in my lifetime or not, in a time of relative peace or extreme chaos, separation is inevitable, because unless the patriot pulpit quickly returns to America, or a Ron Paul-type leader be elected President, the government in Washington, D.C., is not fixable. And as such, we desperately need The Third Continental Congress. It just might be liberty's last chance.
During the Oscars last Sunday night, winner Patricia Arquette, Boyhood, admonished America to work for women's equal pay. J.K. Simmons, Whiplash, invited Americans to phone their parents and thank them. Michael Keaton, Birdman, told the audience how thankful he felt for his life and his son.
All of the winners and losers spoke eloquently about their fortunes and misfortunes in the American film making business. Ironically, legendary Clint Eastwood's epic film, American Sniper, out-grossed all the other top Oscar winning films combined. The academy ignored his movie.
The movie, Selma, produced by Oprah Winfrey, didn't fare very well. If you remember, back in the era of Dr. Martin Luther King, African-Americans marched from Selma to Montgomery, Alabama to force this nation toward voter rights and Black rights in the American pantheon.
Since that time, America evolved to see African-Americans like Colin Powell become Secretary of State; Clarence Thomas and Thurgood Marshall served on the Supreme Court; Condoleezza Rice became Secretary of State; Barack Obama became president and much more as US Senators, governors, mayors and House of Representatives feature African-Americans from every walk of life.
African-Americans dominate the NBA, NFL and major television shows such as "Scandal" and "How to get away with murder." American Blacks head up Fortune 500 companies.
With all of their success, a black dance group pranced on the stage at the Oscars with a highly racially charged routine depicting their struggles against White America. At one point, they all raised their hands, shouting, "Hands up! Don't shoot!" They referred to 18-year-old Michael Brown in Ferguson, Missouri who lost his life after he robbed a convenience store and charged a police officer.
Six African-American witnesses testified that Brown wrestled the police officer for his gun in the police squad car and they testified that Brown charged the police officer with intent to overpower him. Riots and carnage resulted in burning down a good portion of the city while Al Sharpton and Jesse Jackson charged racism and ruthless police tactics.
In reality, Michael Brown showed up in several videos where he viciously beat an old man senseless and his crime sheet showed a budding criminal who would reach jail or death, whichever came first.
Somehow, major Black leaders lay the blame on White America for all of Black America's problems. Even Barack Obama said that Trayvon Martin, a budding criminal in his own right, could be Obama's son.
Black Americans omit or ignore numerous aspects of Black crime, poverty, illiteracy and prison sentences.
First of all, the latest statistics show that 6,000 Black on Black killings occur annually in the USA via strangling, guns, knifes and beatings. No Black leaders whisper a word about how to solve such horrible numbers. They don't condemn their own actions, but they always condemn Whites.
Second, 73 percent of African-American children arrive out of wedlock and into welfare with a single mother annually. None of the Black community that screams at the Brown and Garner killings, breathes a word about the irresponsible actions of Black teen girls and their boyfriends. They live on welfare provided by the American taxpayer. Is it any wonder that the African-American family devolves into fatherless families, rogue children, violence, illiteracy, shoplifting and cyclical dependency on taxpayers?
Third, figures show that Black American teens quit high school by 50 to 60 percent in our major cities. Millions of African-Americans guarantee their poverty, homelessness, joblessness and fatherless families. They choose their conditions.
Fourth, millions of Black Americans fill our prisons in a response to their choices to deal, consume and transport drugs. Each African-American chooses prison when they choose to break the law.
Fifth, a whopping 48 million Americans failed themselves as to education, personal responsibility and personal accountability as they subsist on food stamps provided by American taxpayers. Millions of Blacks stand in the ranks of those who gain EBT cards (Electronic Benefits Transfers) for food stamps and free housing.
Each person, Black or White, suffering lack of an education and making poor choices, brings a personal tragedy into the fabric of American life. Our inner city projects like Chicago, Detroit, New York City, Atlanta, Houston, Denver and Los Angeles—bear witness that we must change our national priorities.
Instead of massive financial disasters of 13-year wars created and maintained by bankers and the Military Industrial Complex, we need to fund national educational systems that work for our youth. We need all male and all female schools with dress codes to take the sexual intrigues out of the classrooms. We need to teach parents how to parent their children by mandatory classes before marriage. We need to pay teachers and mentors ample money to create discipline and respect for education.
We need to stop endless and massive legal immigration, that injects 1.2 million people annually, who take jobs from our working poor. We need to reduce all immigration to less than 100,000 annually instead of the current 100,000 every 30 days. We must elect Congressional leaders who garrison troops on our Mexican border to stop in excess of 500,000 illegal aliens jumping our borders and into our workforce annually. If not, we cannot and will not solve mass unemployment of Black America. The past five presidents and Congresses did nothing to help Black or White Americans as to jobs. In fact, Congress forces our poorest into more poverty by mass immigration.
We need Black national leaders to lead, guide and inspire African-American youth to participate in the American Way of Life. Whether Black America likes its past or not, it now must deal with living in a highly educated, highly industrialized 21st century country.
We need all the angry Al Sharpton's, all Black entertainers, all sports heroes and political leaders to stand in front of Black audiences and thank their lucky stars for living in America. If Black Americans lived in the unending violence of Africa for a few months, examples—mass murderer Boko Haram, Somalia, Sudan, Congo, millions dying of AIDS, etc., they would change their mantra of "Hands up! Don't Shoot!" to "How lucky I am! Praise the Lord!"
Have Black Americans wondered why all those millions of starving African immigrants clamor to come to America? They die by the millions in Africa from starvation, AIDS, cholera, Malaria, genocide wars and worse.
If we hope to maintain a viable civilization, we all need to buckle down to education, jobs, lawful communities and civil participation. If not, we all face Ferguson, Missouri's in our own towns across the nation, especially in our cities where the cauldrons boil with contempt for law and order. You heard the marches, "Kill cops now!"
Once our nation loses its respect for law and order, we all face what occurs in Africa, the Middle East, Mexico and Paris, France daily. It's not going to be pretty for anyone.
What can be written about Hillary Clinton that has not already been said? HilLIARy fatigue is natural, but ignoring all the lies and sleaze becomes the first goal of her 2016 presidential campaign. What is clear during the preliminary posturing is that hubby "Big Dog" Bill's practice of trolling for bitches in heat will dominate the coverage. Poor old Hillary, a pureblood victim among mix breeds. The pretense that she continues in a loving marriage is about as insulting to the voters as the perverse behavior of either of the Clintons.
OK, forget the sex allegations no one cares, right? But what about continuing in a relationship with a certified criminal? Oh yes, that is the easy part, since being married to a crook is the part that Bill loves, and "Big Mama" takes no back seat to her partner outlaw in political offense.
From the ancient history files, the article Proof Hillary isn't fit to be president by Larry Klayman reminds such past hits.
Whitewater scandal
Travelgate
Filegate
Chinagate
You can hear the cat calls now, "that's old news, "we need to move forward", but the best one comes from Hillary herself", what difference at this point does it make"?
Well, maybe the monarch of deceit is correct. Who even remembers the scandal years under the "get two for the price of one" regime? Bygone days need to let sleeping dogs lie, but the past is screaming out as a warning for exactly what citizens should fairly expect if she was coroneted as Mister President.
Yet in the instant social media climate that will dominate the next Presidential campaign, both in the primaries and in the general election, 2016 will be all hyped up to report on the next Bill's libido threatens to derail Hillary — again. A sample like this only forecasts the disclosures that will come out of the secretive cabinet recordings.
"And that is to say nothing of Bill's solicitation of mystery donors, the concerns about financial malfeasance at the Bill, Hillary & Chelsea Clinton Foundation, Bill's racially charged verbal gaffes during Hillary's 2008 bid and the alleged longtime, serious mistress who diverted Hillary's presidential campaign from larger problems."
Further background from Hillary Clinton's Skeleton Closet claims that "she has some significant and troubling scandals that get overlooked with all the foo-farah over crazy conspiracy theories."
Now that this ugly aspect is out of the way, what "exactly are the compelling reasons for Hillary to become President? The answer is reducible to one simple motive; she wants to be the Big Kahuna.
Eric Golub on Communities Digital News responds accordingly. "Can anyone name a single significant thing she has ever done that qualifies her to be president? The presidency is too important to be given to another celebrity heavy on cultish devotees but light on substantive successful accomplishments."
Her qualifications as a superstar luminary and passed over by the Democratic power brokers in favor of Barack Obama in 2008, seems to be the basic argument why 2016 is now her turn. Such inevitability out of the GOP playbook just does not play well with the most fanatical of the loony left.
The NYT reveals that Hillary Clinton, Privately, Seeks the Favor of Elizabeth Warren. Their description of some lesson learned from the 2008 campaign seems to point that defusing the competition is her primary platform concern.
"Some of Mrs. Clinton's supporters, frustrated by the attention and adulation generated by Ms. Warren, noted Tuesday that the two actually hold similar positions on a range of economic issues, though Ms. Warren's rhetoric has been more fiery. Mrs. Clinton, hoping to delay formally starting her candidacy for as long as possible, has refrained from detailed discussions of economic policy. In recent weeks, though, she has become more vocal, using Twitter to offer support for the Dodd-Frank financial overhaul, for instance."
Hit the ground running with a splash. ARE YOU READY? So asks to take the Pledge to Support Hillary for President Site. Before you register, a little investigation is in order.
3 Problems Standing in the Way of a Hillary Clinton Presidency starts with the following:
Politics and Experience
Hillary definitely has a legacy problem to overcome. More importantly, she has to talk up her record as Secretary of State. A sizable share of Democrats polled by YouGov, 79%, said earlier this year that they approved of her performance, but only 21% of Republicans and 45% of independents shared that assessment. And public opinion split along the same ideological lines when respondents were asked about her qualifications for office. More to the point, most Republicans are not as concerned with her experience as they are with her politics; although Republicans and independent voters cite her role in the Benghazi terrorist attack as one of her major errors in the State Department.
The Competition
Hillary Clinton could be too establishment. Of course, possible contenders who would fit this progressive and insurgent role do not have the same weight as the former Secretary of State. But they are worth examining, if for nothing else than the fresh perspective and debate they will bring to the presidential primaries.
Money
According to the Wall Street Journal, Wall Street has provided the largest source of campaign funds for the Clintons since 1992, with Goldman Sachs as the largest single contributor, giving close to $5 million. "Clinton Inc. is going to be the most formidable fundraising operation for the Democrats in the history of the country. Period. Exclamation point," Rick Hohlt, a lobbyist and fundraiser for Republican Party presidential candidates, told the Journal, "It sure causes concern." Plus, both Clintons earn massive speaking fees.
How does the public react with something positive about a Hillary Presidency? A Gallop poll reveals that 49% answers nothing or has no opinion.
So much for grassroots popular enthusiasm . . .
With any run-up to the primary season and supporting media barrage of electing the first woman President, a viewpoint that Hillary Clinton Shouldn't Be President: A Feminist Perspective is insightful. "Any woman can become president. It feels like a slap to the face of America that so many of our politicians stem from the same family, or that our first female president appears to require a husband who came before her. It reminds us just how limited access is."
Hillary's retort to such an argument reeks of elitist privilege. Politico reports that Hillary Clinton: Other women qualified for White House.
"A lot of the women senators, we have a couple of women governors — I'm talking on the Democratic side — we have a good bench, so to speak," Clinton says in a video clip posted Monday. "But they haven't gone through the fire. Part of the reason why there's a big drumbeat for me to run is because I've done it."
And in 2008 the Wall Street king makers decided on Obama. In the flip flop composition of Tweedledum and Tweedledee politics, a Republican establishment candidate may well get the nod as the safer capitalist tool.
The real wall that Hillary faces is to massage the Occupy Wall Street wing of the progressive primary activities, while keeping and confirming her true symbiotic identification to the money wing of influence Banksters, who actually decide the direction of the government.
For in the end, the only qualifications that Hillary Clinton has for holding the office of the Presidency is that her hubby will occupy the distractions of a Clinton II kingdom. What a great country that elevates a Hill Billy couple to the highest pinnacle of the scandal sheets, while conducting diplomatic relations with the Davos set.
Can Hillary win in 2016? Hermene Hartman in the Huffington Post thinks so in the article, 10 Reasons Why Hillary Clinton Will Be the Next President. Read her list and consider just how far this nation has fallen.
1)    The Republicans don't have a viable candidate and probably won't.

2)    The Hillary Papers have been released.

3)    Hillary should not and cannot take blame for Bill's poor judgments.

4)    The Clintons are the ultimate Power Couple.

5)    Hillary is ruthless.

6)    Hillary learned valuable lessons from the 2008 election.

7)    She is not a quitter or a loser.

8)    The health bill has passed.

9)    Hillary is a smart politician.

10)   America is ready for the leadership of a Hillary Clinton.
If this list of excited imbecility does not give you pause, you must be part of the Hildebeest groupie crowd and better sign-up for, ARE YOU READY? alerts.
Hillary Klinton has all the worst attributes and moral depravity of her more infamous partner in corruption. Moreover, she lacks the political skills and rogue charm of her flimflam significant other. The brick wall in front of the electorate is that a vote for Hillary is a ballot cast for continuation of the decent into enslavement of the last 25 + years. Knowing the way the selection system for Presidents works, the next guests in the Lincoln bedroom may well be friends of the late Marc Rich.
A homosexual couple goes into a known Christian bakery and asks for a wedding cake for a same-sex "marriage," is refused and then files a government complaint or sues. "Intolerance! Bigotry! Equal access!" is the cry. Many Americans have read of such stories in the news. Often the attempted purchase is a set-up, with activist-minded individuals targeting bakers whom they know will decline the request and then be vulnerable to state persecution by zealous bureaucrats.
It's a new front in the war on faith, legitimate freedom and private property rights. Many point out that it constitutes an unprecedented trampling of religious liberty, and this is true. It also violates the principle of freedom of association, which isn't explicitly mentioned in the Constitution but should be upheld. But neither of these arguments should be the centerpiece of the fight against the tyranny in question. There is another, far more powerful argument:
Freedom of speech.
Usually missed in the commentary on this subject is that the bakers in question are not refusing service to a type of people — they are refusing to be party to a type of message. This is not debatable. When you put writing on a same-sex "wedding" cake, you're crafting a message; if you place figurines (of two men, for instance) on that cake, you're erecting symbols relating that message. Note here that the Supreme Court has already ruled that "Symbolic Speech" — a legal term in U.S. law — is protected under the First Amendment; examples of such rulings would be that pertaining to flag-burning and the Tinker v. Des Moines case.
And can we compel people to participate in the creation of a message? Forced speech is not free speech.
Some homosexuality activists have likened the bakers' refusal to provide faux-wedding cakes to a denial of service to blacks. This is a false analogy. A race-specific refusal is denying service based on what a person is; in the wedding-cake incidents, denial was based on what message was being requested.
In point of fact, none of the targeted bakers had erected signs stating "No shoes, no shirt, no heterosexuality, no service." Nor did they apply a sexuality test to customers. Homosexuals could patronize their establishments and purchase cookies, bread or any products anyone else could; they could even buy wedding cakes for normal weddings — as anyone else could. And, of course, probability would dictate that homosexuals did buy from those bakers at times.
What actually is analogous to the wedding-cake controversy is a black person asking a baker for a cake expressing a racial message such as "Black Power" or "Fight the Blue-eyed Devils." Of course, it could also be a white person with a white-power message or a neo-Nazi asking a Jewish baker to craft an anti-Semitic one.
Some may now assert that while a faux-marriage message is positive (in their eyes, anyway), the above messages would be hateful. But the nature of a message doesn't change the fact that it's still a message. To drive the point home, should a liberal baker be compelled to craft the message, "Celebrate Gun Rights," "Life Begins at Conception" or "Marriage is One Man, One Woman"?
Here's another point: It has often been emphasized that unless the First Amendment protects even unpopular speech, it's "protection" is a sham. After all, popular speech's popularity is protection enough. Likewise, however, it's also true that if the right to refuse to participate in speech doesn't include the right to refuse to participate in popular speech, it is no right at all.
Note here that many commentators have made the "Nazi and Jewish baker" and "white supremacist and black baker" arguments, but they often take a freedom-of-association approach. This gives the other side the opportunity to counter with, "But Nazis and white supremacists aren't 'protected groups'; homosexuals are" (I reject the notion of "protected groups," but the principle currently exists in law, and this is about crafting airtight legal arguments). Emphasizing the speech aspect presents the opposition with no such avenue of attack.
Some may now claim that messages vs. people in the baker controversies is a distinction without a difference, asking "Who else but homosexuals would request a faux-wedding cake?" First, there are many heterosexuals advancing the homosexual agenda, and it's conceivable that such a person could order such a cake, for symbolic value, to serve at an activist gathering. This is in the same way a white person (N.Y.C.'s mayor Bolshevik Bill comes to mind) could order a cake with a black-power message. Or, a heterosexual wedding planner could attempt to order a faux-wedding cake. None of this matters, though. That a message may be characteristic of a certain group doesn't change the fact that it's a message. And forced speech isn't free speech.
In the baker controversy, the free-speech argument should be superior in the courts of both law and of public opinion. While we ought to enjoy completely unfettered freedom of association, Americans long ago became inured to its trampling, and the courts universally accept the "public accommodation" rationalization. So it's currently a non-starter. The religious-freedom argument is more effective, but it has two weaknesses relative to the free-speech strategy. First, there are many more limitations placed on religious practice than on speech; examples would be the outlawing of human sacrifice and polygamy. Thus, there's more of a precedent for further limitations on religious practice. In the area of speech, not much is out of bounds aside from "yelling 'fire!' in a movie theater" and issuing threats.
This difference is evident in the burden placed on a person whose religious practice has been outlawed. As the Harvard Political Review points out, the "'Sherbert Test' requires that an individual must prove sincere religious beliefs and substantial burden through government action. If these are established, the law is unconstitutional unless the government proves a 'compelling state interest'…." No such burden is placed on those exercising unpopular speech, however, and the government cannot prohibit it based on "compelling state interest."
The second issue is that in these secular times, many Americans aren't sympathetic to religious-freedom arguments. But freedom of speech enjoys much broader support, and the fear of its violation is far greater. Remember, only the religious engage in religious practice — but both the religious and non-religious engage in speech.
Of course, it should lastly be mentioned that the argument I've outlined would be applicable not just to bakeries, but anytime a message-oriented product or service is at issue.
It's hard to imagine a sane court (which, unfortunately, leaves out a good portion of today's judiciary) not finding in favor of the free-speech argument. It is airtight, and rationalizing it away would take far more complex intellectual contortions than the freedom-of-religion argument would require. Because, quite simply, forced speech is not free speech.
Kent Hovind is a creation-science evangelist and Baptist minister who has already served eight years of a ten-year prison sentence for alleged tax evasion. Kent has a master's degree in education. He founded and operated Creation Science Evangelism and has traveled extensively presenting creation-science lectures. He has debated evolutionists in over one hundred debates across the country. Kent also operated Dinosaur Adventure Land in Pensacola, Florida. This was a very popular creation-science museum/theme park. Kent also produced scores of videos on the subject of creation-science that have circled the globe and been translated in over thirty languages. Many people affectionately refer to Kent as "Dr. Dino." He and his wife have three children; and all three of their children (all grown) worked alongside of him in the ministry.
Kent and I were college classmates for one year in Michigan. I was a sophomore when Kent transferred to the school from Illinois. I transferred colleges after that year. Kent stayed and graduated from the college in Michigan. After graduation in 1975, my wife and I moved to Pensacola, Florida, to begin our ministerial work. Some years later, Kent and his family also moved to Pensacola. So, I've known Kent a long time.
Kent considered his ministry a church and the people who worked for him as missionaries. He did not incorporate under the 501c3 non-profit organization status. Of course, the Internal Revenue Code states that churches are not required to do so; that, as a church, they automatically have tax-exempt status. Accordingly, Kent believed his ministry was tax-exempt.
Nevertheless, in 2004, IRS agents raided Kent's home and ultimately brought multiple counts of tax-evasion-type charges, including "structuring," against him. "Structuring" means deliberately making cash deposits or withdrawals of just under the supposed reporting level of ten thousand dollars. (Egad! God forbid that the IRS not know the details of our banking transactions.) In 2006, Kent went to trial and was convicted on all counts and sentenced to ten years in federal prison. He has been there ever since.
But now the story gets bizarre. Federal prosecutors are currently bringing charges of mail fraud against Kent for using the mail system from inside prison to challenge the lien that the IRS placed upon his property. And, are you ready for this? They want Kent to serve an additional twenty to one hundred years in prison. Obviously, even if he received twenty years, this amounts to a life sentence.
See this report:
IRS vs. Kent Hovind: Imprisoned Evolutionary Foe Now Facing New Charges, Life Behind Bars
By contrast, the Rev. Al Sharpton is reported to owe nearly $1.5 million in overdue taxes and penalties from many years ago. But our federal government doesn't put Mr. Sharpton in the Big House; it invites him to the White House instead.
See the report here:
Sharpton Owes Nearly $1.5 Million In Back Taxes
Regardless of where one comes down on the whole tax-exempt status issue for churches and non-profit organizations, here is a very relevant fact: the average time spent behind bars for tax "crimes" is between two to five years. For instance, Pete Rose served five months; Chuck Berry served four months; Aldo Gucci served one year; Sun Myung Moon served eighteen months; and Leona Helmsley served four years. Kent has already served much more time than any of those people did.
To help put it in perspective even further, the infamous Chicago gangster, Al Capone, was released after eight years in prison. And, as everyone knows, the only reason the government put him prison for tax evasion was because they couldn't obtain the evidence they needed to convict him of murder, racketeering, bribery, etc. Yet, our federal government wants to keep a Christian minister–who never committed an act of violence against anyone–in prison for the rest of his natural life. In truth, there are thousands of people who have been convicted of some form of homicide who have not spent as many years in prison as Kent has already.
Back in 2001, restaurant owner, fisherman, and ship builder, Frank Patti (also of Pensacola, Florida) was indicted on 24 counts of tax evasion of more than $12 million. He was sentenced to 79 months in prison and released after serving but 39 months. Kent has already served almost 100 months.
After witnessing the Frank Patti case, I wrote this in 2002: "The prospect of local businessman Frank Patti spending 8 years in federal prison for tax evasion causes me to once again reflect upon the justness of throwing people in jail for nonviolent crimes.
"I believe it is past time for America to examine its practice of locking people up for nonviolent crimes. Even though the United States is far from being the most populous country in the world, we incarcerate more people than any other nation. According to recent reports, there are more than two million people behind bars in U.S. jails and prisons [now the number exceeds six million]. Many of these people are there for crimes in which no one was physically injured or killed and, therefore, pose little or no threat to society.
"Furthermore, it seems that this infatuation with locking people up serves more the interests of ever-burgeoning government bureaucracies than the interests of justice. A breadwinner behind bars means more welfare, more food stamps, and more dependence upon government, not to mention more government jobs, of course.
"With the federal government increasingly encroaching into the area of crime and punishment and with an exploding number of new laws continually being created, more and more people are losing their freedom over crimes that have more to do with offending the powers of government than injuring the lives of innocent people. Such a system hardly promotes justice."
These comments do not even take into account the question as to whether refusing to pay personal income taxes to Uncle Sam should even be regarded as a crime at all. The income tax was initially sold to the American people as being a "voluntary" tax, remember? Regardless, the federal government treats the income tax as obligatory and most jurors have the attitude, "If I have to pay taxes, so does this defendant," which is why most juries never acquit folks charged with tax evasion.
In Kent's case, the argument was that his ministry was a church and as such should have been automatically tax exempt.
What Kent's case does show is that the IRS can make its own decisions as to who and what owes taxes, the 501c3 non-profit organization status for churches notwithstanding. Charges of tax evasion are very subjective to the whims of the IRS–as Al Sharpton proves. And let's not forget the Lois Lerner version of selective tax enforcement that targeted conservative organizations. And there is nothing new about that. The federal government has been using the IRS to intimidate or silence individuals or groups it does not like for many, many years under both Republican and Democrat administrations.
While I will not elaborate on this issue here (I've done so many times already in this column), this is just another example of the danger of the 501c3 tax exempt status for churches. With the way the IRS can subjectively interpret and enforce the tax code with impunity, a church or so-called non-profit organization that accepts tax-exempt status, can literally be "damned if you do and damned if you don't." It's mostly to do with politics. Remember, it is the IRS–NOT THE CHURCH–that ultimately defines whether an organization is qualified to be tax-exempt. What the Internal Revenue Code stipulates about churches being automatically tax-exempt means NOTHING to the IRS. You must remember that!
In the case of Kent Hovind, one has to wonder if he is actually being treated as a political prisoner. A life sentence for tax evasion? Whoever heard of such a thing?
Then again, I am reminded of the way our government treated former Idaho Congressman George Hansen. His book "To Harass Our People" (about the IRS) should be regarded as a must-read for every lover of liberty. Then, after you read the book, find out how our federal government railroaded him into a prison sentence and how it mercilessly tortured him afterward. It will make your hair stand on end.
Then, after reading what our federal government did to one of its own congressmen, try to convince yourself that our federal government would NOT do almost anything to anyone. And if this is true for American citizens (and it is) imagine how our federal government (CIA, military Dark Ops, etc.) treats foreign governments–even those it once befriended. Come on, folks. Turn off FOX News long enough to start thinking for yourself a little bit.
If you would like to sound off regarding the obvious injustice being committed against Kent Hovind, there is a website set up for that purpose. See it here:
If enough people rally to Kent's defense, the IRS might rethink its attempt to keep him in prison for the rest of his life. Like most dark forces, the IRS loves darkness and hates light. Whether you think Kent is guilty or not, eight years is enough! Please help spread a little light for Kent Hovind.
America's Founding Fathers wisely instituted a federal government with three separate branches with the intention of creating built-in checks and balances designed to protect the liberties of the American people and the independence of the sovereign states. Each branch of government was given authority to check the other branches when they became oppressive or unconstitutional. In addition to the checks and balances built in to the federal government, they assumed that additional checks to power outside the federal government would serve to protect the people's liberties. Namely, our founders expected that free and independent states, a free and independent press, and free and courageous pulpits would further serve as diligent watchdogs of liberty.
However, only the most naïve among us do not recognize that, for all intents and purposes, the governmental checks and balances in Washington, D.C., are virtually non-existent. For the most part, the three branches of the federal government and the two major political parties in Washington simply facilitate the decisions of the existing power base–especially when it comes to the expansion of federal intrusion and oversight.
All of the political wrangling over the differences between Republicans and Democrats notwithstanding, when it comes to increasing the size and scope of the federal government, the two parties inside the Beltway are practically identical twins. And nowhere is this more clearly observed than in all things said to be for the sake of "national security."
With very few exceptions, America's newspapers regurgitate the federal government's solutions for "national security." With very few exceptions, a majority of the talking heads on television from both the left and the right embrace America's military interventionism in the Middle East and the burgeoning Police State currently mushrooming inside the United States. And, again, the banner flying high above all of this warmongering and domestic enslavement is "national security."
For the sake of "national security," the Church, too, enthusiastically embraces a domestic Police State and wars of aggression abroad–especially in the Middle East.
Anything that falls under the rubric of "national security" is enthusiastically embraced by most Republicans and Democrats, conservatives and liberals, and Christians and unbelievers. This almost always translates into more global intervention by the U.S. military and increased power by federal, State, and local police agencies in America's heartland.
The shadows of power that have mostly controlled the federal government (with rare exceptions) since at least the Woodrow Wilson administration are experts at creating Boogeymen for America to hate. And, of course, fighting these Boogeymen serves as a justifiable reason for the federal government to expunge more and more liberties; it's in the interest of "national security." But since 9/11, the American people have been more manipulated since perhaps any other time in our nation's history.
Take a look at this recent report:
"A church hosting a law enforcement appreciation sermon asked its followers to pledge their allegiance to government this weekend, arguing that all state authorities throughout history have been ordained by God.
"According to an anonymous visitor of the Gold Creek Community Church in Mill Creek, Washington, who provided exclusive photos to Infowars, attendees were ordered to submit to the state without question. 'They had police worship today and last week was military worship where they played clips of American Sniper…' the source said. 'They were telling people to basically worship government and worship police no matter what. No mention of police brutality, no mention of the stingray systems grabbing our data…'
"Near the end of the sermon, members of the congregation were asked to raise their right hands and make a pledge, which included the promise to call 911 on 'suspicious' neighbors."
Of course, the justification that the pastor used for this type of state worship was Romans 13. This devilish misinterpretation of Romans 13 has done more to enslave the minds of America's pastors and Christians than anything I can think of. That's why my son and I co-authored the book, "Romans 13: The True Meaning of Submission."
Romans 13: The True Meaning of Submission
In addition, I delivered a four-message series on Romans 13 that is available on DVD. Find it here:
The True Meaning of Romans 13 Series-DVD
The infowars report also included a local television news report on how pastors and churches are conditioning their parishioners to become sheepish slaves of the state under the rubric of Romans 13:
Clergy Response Teams To Help Government Enforce Martial Law
See the infowars report here:
Church Asks Followers To Submit To Government, Call 911 On Suspicious Neighbors
Ladies and gentlemen, this kind of report could have been repeated throughout the entire country of Germany during the rise of the Third Reich.
Of course, many of the pastors who are regurgitating this form of state worship are not conscience of what they are doing. They have been indoctrinated in our nation's seminaries, Bible colleges, Christian universities, etc., to the point that they actually believe they are being both patriotic and spiritual. They are completely blind to the fact that they have become puppets for the New World Order power elite.
Our pastors are in the same boat as many of our military personnel and police officers. They believe that by being willing to submit to any order, no matter how unconstitutional or unrighteous, they are "serving God and country." Remember, without this ongoing "war on terror" overseas, America's growing domestic Police State would come crashing down. A domestic Police State is TOTALLY dependent upon the international "war on terror." And ever since 9/11, the big, bad Boogeymen that are being used to frighten the American people (especially Christians) out of their senses are Muslims–ALL Muslims.
How many times have I heard some well-intentioned (I think they are well-intentioned) Christian say, "There is no such thing as a moderate Muslim." Or, "There is no such thing as a peaceful Muslim." Really?
Why is it that we rarely heard such ludicrous statements before the events of 9/11? There have been millions of Muslims living among us Americans for as long as any of us can remember. There were doubtless thousands of Muslims in the United States at the time of our Revolutionary War. Where was the holy Jihad in this nation? Where were the mass beheadings or genocide against Christians in this country? For the most part, these millions of Muslim Americans have lived peacefully among us for all of our lives. But, now all of a sudden, they are the greatest threat to our country's very existence? Get real.
The warmongers and international nation builders who desire to drown the United States under the deluge of a global New World Order found the perfect Boogeyman in the form of Islam. If the official report on 9/11 is true (almost half of the American people do NOT believe it is true, including this writer), all the perpetrators of the attacks were men from Saudi Arabia. Yet, we couldn't invade Saudi Arabia. We need their oil too much. Besides, the Muslim nation of Saudi Arabia is deemed to be a U.S. ally. And we couldn't attack Iraq on the basis of Saddam Hussein's alleged atrocities alone. The world just wouldn't buy it.
Did Hussein kill hundreds of Muslim Kurds (most Muslim violence is perpetrated against other Muslims) during his regime? Probably so. Does anyone want to know why? THEY WERE TRYING TO OVERTHROW HIS GOVERNMENT. Am I justifying what Hussein did against his enemies? No. But the same people who are so quick to condemn Hussein for defending his government with violence seem to pay no attention to the atrocities committed by George H.W. Bush and Bill Clinton against U.S. citizens who posed absolutely NO THREAT to the government in Washington, D.C.
I am talking about Ruby Ridge, Idaho, when our own federal government accused ONE MAN, Randy Weaver, of threatening the United States government, and it sent federal agents to murder both him and his wife, Vicki. A federal sniper murdered Vicki and shot Randy (he survived his wounds). Federal agents also shot their young son, Sammy, in the back and killed him.  But Vicki was not holding a rocket launcher or hand grenade; she was holding her little baby in her arms.
I recall that the federal government accused a small splinter group of Seventh Day Adventists (the Branch Davidians) of threatening the U.S. government; and it sent federal agents and combat military personnel to burn them out and machine-gun them to death.
Where was the outrage of all of these patriotic Americans and righteous Christians over the atrocities committed by our own government at Ruby Ridge, Idaho, and Waco, Texas? Neither the Weaver family nor the Branch Davidians posed ANY threat to the U.S. government. Heck! They didn't even pose a threat to their neighbors. But our federal government murdered them, nonetheless.
One more thing to think about: the U.S. war in Iraq is estimated to have killed over 500,000 Iraqi children. That is more people (men, women, and children) than were killed when we dropped the atomic bombs on Hiroshima and Nagasaki. Of course, then-Secretary of State Madeleine Albright testified before Congress and said the deaths of all of those Iraqi children were "worth it." (And by the way many of our Christian brethren in the United States are acting, I suppose they think it was worth it, too.)
So, needing something more than just Saddam Hussein's alleged atrocities against the Kurds to justify a full-scale war in the Middle East, we invented a brand new threat: Al Qaeda. Now, the globalists had their Boogeyman. But after more than a decade of war, and with the American people becoming numb to an Al Qaeda threat, they invented a new Boogeyman: ISIS (IS; ISIL, etc.).
Think of it: OVERNIGHT, ISIS has advanced, sophisticated weapons; OVERNIGHT, it has millions of dollars to spend; OVERNIGHT it has become the greatest threat to, not only the security of the Middle East, but the United States of America. In the name of the threat of ISIS, the surveillance state must be expanded in America. In the name of the threat of ISIS, our local and State police must become more and more militarized. In the name of the threat of ISIS, Americans must be willing to surrender more and more of their liberties.
Neither Al Qaeda nor ISIS could have become the powerful force they have become WITHOUT THE DIRECT ASSISTANCE OF DARK OPS AND DIRTY MONEY FROM THE UNITED STATES. It is just not humanly possible.
Am I suggesting that ISIS is not comprised of radical, militant Muslims who are very violent and dangerous people? Of course not! But I am suggesting, no I am saying, that not every Muslim is a radical, violent Jihadist. I am saying that our country is filled with peaceful, non-violent Muslims who pose absolutely NO THREAT to the people of the United States. And I am saying that the kind of hatred and bigotry that many Christians are demonstrating against the Muslim people in general is a sin against Jehovah God and a contradiction of everything our Savior, the Lord Jesus Christ, taught us. And I am further saying that ISIS could not exist without major assistance from the United States and probably Israel.
Ask yourself, since when do revolutionaries broadcast their atrocities for the entire world to see and for the entire world to become enraged against them? Even surrounding Muslim nations are incensed with the conduct of ISIS. A Jordanian government official just recently stated that members of ISIS are NOT Muslims. Many, if not most, of the Muslim states totally reject ISIS as part of the Muslim brotherhood. Why would ISIS seek to alienate its own brethren? Why would it risk becoming the most hated group of people in the world–even the Muslim world?
It's because ISIS is a contrivance of U.S. and Israeli Dark Ops who have created and attracted the most radical, hate-filled people of the region and set them up in opposition to the laws of decency in order to incite the American public into accepting more war and more abridgments of their liberties. And whether these master manipulators realized it would happen the way it has or not (they probably did), their biggest assets have turned out to be zealous Christians who see themselves as fighting their own holy war against the Muslim infidels.
Yet, America's Founding Fathers did not categorize all Muslim people as Jihadists or militant extremists. Yes, Thomas Jefferson had to deal with violent Muslims during his administration. And he did it constitutionally, by the way. He didn't invade Muslim nations with the U.S. military; he invoked the constitutional solution of asking Congress for letters of marque and reprisal. Ron Paul introduced just such a bill after 9/11, but, of course, George W. Bush and Dick Cheney were already determined to invade Iraq. Invasion plans were in place long before the attacks on 9/11.
That Thomas Jefferson didn't hate Muslims or regard all of them as being violent Jihadists is plain. The man that Jefferson admired–and copied from–most, John Locke, insisted that Muslims be tolerated in England. Campaigning for religious freedom in Virginia, Jefferson demanded recognition for the religious rights of the "Mahamdan [Muslim], the Jew and the pagan." In his autobiography, Thomas Jefferson recounted his satisfaction at the passage of his landmark Bill for Establishing Religious Freedom (1786) and the effort by some in the legislature to limit the bill's scope "in proof that they meant to comprehend, within the mantle of its protection, the Jew and the Gentile, the Christian and Mahometan [Muslim]." Jefferson's perception of Muslims as peaceful people generally was shared by other Founding Fathers.
Richard Henry Lee, who made the motion for independence at the Continental Congress, declared, "True freedom embraces the Mahomitan [Muslim] and the Gentoo [Hindu] as well as the Christian religion."
George Washington proposed an exemption for Muslims in Virginia regarding a proposed law that would have demanded citizens to support the Christian religion with their tax dollars. Washington further welcomed "Mohometans" [Muslims] to Mount Vernon. And think of it: Washington didn't have a company of Secret Service agents protecting him, either.
Of course, men of influence throughout the course of Western Civilization have noted the danger posed by violence-prone Muslims. Rightly so. But I remind you that for many decades, white Americans were the targets of Indian savagery. And the warnings against the Indian tribes were numerous and often justified. I also remind you that much savagery was committed AGAINST the Indians by whites. I further remind you that much of the savagery of the Indians was CREATED by the whites by acts of injustice, deceit, and downright barbarism. It was not all one-sided.
Neither is it all one-sided in the Middle East. America's CIA and illegal Dark Ops are often INCITING the Muslim people of the Middle East against us. This is deliberate and intentional. It foments war and hatred–on both sides. And when people are filled with fear, and war, and hatred, it is much easier to strip them of their liberties and manipulate them into accepting usurpations of their freedoms that they would otherwise never be inclined to do.
Think about it: if our government truly believed we were at war with Al Qaeda or ISIS, why would it insist on keeping our southern border wide open? If the "war on terror" were legitimate, securing our border would be the FIRST thing our government would do. That it doesn't proves the duplicitous nature of our so-called "war on terror."
It's time for Americans (and especially Christians) to understand that there is a war alright: it is a war against our liberties, and the primary enemy is the New World Order globalists who are using elements of our own government (as well as other governments) against us.
Frankly, if the United States would GET OUT of the Middle East and GET OUT of the United Nations, most of this international conflict that we are mired in today would go away.
When pastors and churches succumb to the notion of submitting to a domestic Police State, when they succumb to the fear and paranoia created by a "war on terror," and when they succumb to the sins of hate and bigotry against one group of people, they unwittingly become puppets for the New World Order.
Author's note:  "War Street" is the simplified name that I've given to the war-mongers, weapons manufacturers and military-industrial complex members who pretty much own America right now — along with their buddies on Wall Street and K Street of course.
This is my own personal list.  Feel free to jump right in with a list of your own.
1.   That the Civil War was fought to free the slaves.  Nah, that was solely an afterthought.  The real reason for the Civil War was the lust for $$$$ and power.  Like war always is for.
2.  That holding the Union together back in 1860 was a good thing.  A good thing for who?  Dontcha sometimes just wish that The South had been allowed to go on its own merry way back then — so that we now don't have to waste billions of Yankee dollars on Red State racists, corrupt senators, war-mongers and welfare queens?  Boy, I could surely live without Mitch McConnell.  He's our ultimate grand prize for The North having won the 1860 Civil War?  Really?
3.  "Remember the Maine!"  Yeah right.  Apparently the sinking of the Maine was a false-flag operation to force Americans into a brutal war with Spain.  http://zinnedproject.org/about/a-peoples-history-a-peoples-pedagogy/
4.  The 1908 invasion of the Philippines — wherein approximately one-sixth of its population was massacred by the US Army in the name of bringing "Democracy" to Filipinos.  They could have lived without that one — literally.
5.  World War I?  Really?  Do you even have to ask why this war was based on lies — such as that the Huns were out to murder our babies?  Or that the Lusitania was torpedoed by the evil Kaiser when actually it was illegally carrying six million pounds of explosives on board a munitions transport ship disguised at a cruise liner before it blew up.  Or how about the famous "Zimmerman Telegram" lie?
6.  Pearl Harbor.  Roosevelt knew.  Of course he did.  And Senator Prescott Bush invested in Nazi Germany bigtime.  And after WW II was over, our very own CIA brought 1,000 Nazi officers over here to help J. Edgar Hoover, Allen Dulles and Joe McCarthy organize their new Cold War storm-troopers.  And today "Corporatism," as Mussolini called it, is now king in the USA — and all over the rest of world too.  Unbelievable.  Was there any reason at all why we fought World War II?  http://www.nytimes.com/2014/10/27/us/in-cold-war-us-spy-agencies-used-1000-nazis.html?_r=1
7.  The invasion of Korea.  Again, that phony "Democracy" thing came into play — as it has again and again and again as Wall Street and War Street set up dictator after dictator across the globe and then whitewashed these brutal bad guys to the gullible American public back home:
7.a  Chaing Kai-shek, "Our democratic ally in Asia"
7.b  The Shah of Iran, "Our democratic ally in the Middle East."
7.c  Fulgencio Batista, "Our democratic ally in Cuba."
7.d  Apartheid South Africa, "Our democratic ally in Africa."
7.d  Francisco Franco, "Our democratic ally in Spain."
7.e   Syngman Rhee, "Our democratic ally in South Korea."
7.f.  Papa Doc Duvalier, "Our democratic ally in Haiti."
7.g  Augusto Pinochet, "Our democratic ally in Chile."
7.h  Manuel Noriega, "Our democratic ally in Panama."
7.i  Mubarak and Sisi, "Our democratic allies in Egypt."  http://www.amec.org.za/articles-presentations/135-egypt/484-sisi-s-unenviable-dilemma-the-illusion-of-stability-and-the-perpetuation-of-unrest
7.i  King Salman al Saud, "Our democratic ally in Saudi Arabia."  http://thetyee.ca/Opinion/2015/01/23/Canada-Saudi-Arabia-Weapons-Deal/
Although I must admit that the new Saudi king now appears to be actually lightening up and coming to his senses a bit — not an easy task for someone who allegedly has Alzheimers http://www.huffingtonpost.com/david-hearst/a-saudi-palace-coup_b_6531246.html

However, Saudi Arabia still has a "Democratic" track record that would impress even Hitler, Stalin and Genghis Khan.  In Saudi Arabia today, for example, the government holds a public beheading on the average of once every four days.  No wonder that their ISIS protegees are handy with swords.  But don't even get me started on the Saudis! http://www.iacenter.org/nafricamideast/oil012915/
There are approximately 50 other "Democratic ally" dictators that I could list here too but am running out of space.  I don't wanna be doing this forever you know.
8.  The Kennedy assassination.  Do you really believe that one lone gunman could have gotten through all that security without any help, or could have made that incredible kill shot with a BB gun from behind Kennedy and very far away — and yet still manage to hit the front of Kennedy's head?  Then I have a bridge to sell you.  Lee Harvey Oswald was definitely not Chris Kyle.  He was a patsy.
9.  Vietnam!  The Gulf of Tonkin incident was made-up baloney.
10.  Remember all those lies we were told by that "low-life scum" Henry Kissinger during his vicious secret bombings of Cambodian rice paddies in 1969, wherein approximately 600,000 poor Cambodian farmers were massacred from the skies?  "Never happened," said Henry.  Plausible deniability is all that matters to him.  http://www.informationclearinghouse.info/article40867.htm
11.  The Iran-Contra scandal.  The death squads in Central America.  And all that BS about "Americans do not torture" — even as War Street was running the School of the Americas right under our noses.
12.  What came next?  Oh yeah.  That Milosevic nightmare.  Milosevic was America's go-to guy — until he wasn't.  Didn't you ever wonder why no one did anything to stop him until after socialist Yugoslavia was just a hot mess?
13.  Saudi Arabia.  Again.  They told us that the Saudis were the good guys, but actually Saudi Arabia is where most of the 9-11 hijackers came from. http://www.newyorker.com/news/daily-comment/twenty-eight-pages
14.  Israel, said to be "Our democratic ally in the Middle East."  But if Israel is a democracy, I'll eat my hat.  Just ask the Moroccan-Israeli Jews living there. http://vimeo.com/60814711  Or the Ethiopian-Israeli Jews.
Violent and shifty Israeli neo-colonialists have also committed despicable crime after despicable crime against humanity in the most undemocratic fashion, including their brutal, traitorous, dastardly and deliberate attempt to sink the USS Liberty, a false-flag operation approved and facilitated by War Street itself https://www.youtube.com/watch?v=fRZSzdQuOqM, the horrors of the genocidal bombing of Gaza and Israeli neo-colonials' covert support of ISIS– all in order to steal territory and oil in the Middle East.
Just watch this horrifying film of Israeli neo-colonials' cowardly destruction of a whole city in Gaza, using US weapons and $$$$: https://www.youtube.com/watch?v=rQ41ko3L5Xc  And if you still have the stomach, watch this too: https://www.youtube.com/watch?v=DTr_Un4a_zA
15.  Saddam Husein, who we were told was Ronald Reagan's hot new Middle East boy wonder — until he wasn't.  See #12.
16.  And then there was that first Gulf war, totally based on a lie.  The Kuwaitis were slant-drilling into Iraqi oil reserves, a big no-no, and so Pappy Bush told Saddam, "Sure, they deserve it, go ahead and invade…"  And remember all those incubator babies too?  Lies upon lies.
17.  September 11, 2001.  Bush knew.   And let it happen.  http://www.paulcraigroberts.org/2015/01/30/police-state-upon-us-paul-craig-roberts/
18.  As a result of that infamous "Second Pearl Harbor" on Bush's watch, we were once again lied to and told that we needed to invade Afghanistan instead of Saudi Arabia.  And that we needed to invade Iraq.
18.a.  John McCain himself lied right to my face in Baghdad back in 2007 — but I still can't decide if it was a lie of commission or omission.  At a press conference in the Green Zone, McCain told us that it was perfectly safe for him to walk around a marketplace in Baghdad — but neglected to tell us that he was also protected by body armor, humvees and helicopters, and also put a battalion of grunts in harm's way while he did it.  http://jpstillwater.blogspot.com/2007/04/letters-from-iraq-me-light-brigade-john.html
Just that same morning, I had been told by Major Hernandez of CPIC that if I wanted to go outside of the Green Zone without a major armored escort, I would be dead within five minutes after crossing the 14th of July Bridge.  Luckily I believed Major Hernandez and not John McCain.
18.b.  That, after 9-11, we also needed to invade Libya, Syria, Yemen, Lebanon, I forget where all else, if we were ever to be safe.  And that we needed to invade oodles of other countries all over the world in order to "Keep America Safe".  That was the biggest lie so far.  Are we safe yet?
19.  That Muammar Gaddafi in Libya was standing in the way of "Democracy".  Well, he sure isn't standing in the way any more!  Turns out he was standing in the way of anarchy.  But you get what you pay for.
20.  That Bashar Assad in Syria is in cahoots with ISIS.  Yeah right.  NATO, Turkey, Israel, Saudi Arabia and the Pentagon are in cahoots with ISIS.  Assad is only the victim here, the one who is getting his country torn apart.  Why would he want to support the brigands who are robbing his home? http://www.counterpunch.org/2015/01/30/syria-yes-we-are-responsible/
21.  "I am Charlie."  No, you aren't.  "I am the CIA".  Watching that film of the killers getting into their getaway car was just a big joke.  They took their time.  They even put their AK-47 on the roof of the car while they fiddled with their backpacks and chatted about the weather, obviously knowing that they were protected.  But then they weren't.  See # 12.  https://www.youtube.com/watch?v=iZyHQljawdE&x-yt-ts=1421914688&x-yt-cl=84503534&bpctr=1422157632
22.  The debacle in Ukraine.  "We're not involved," the Pentagon tells me.  Then how come when Flight MH17 was tragically shot down by the Ukies, War Street went to such lengths to blame the event on Russia and not on the neo-Nazi stooges they had set up in Kiev?  https://consortiumnews.com/2015/01/06/nyt-still-pretends-no-coup-in-ukraine/
23.  That the torture and mass murders at Auschwitz and the "preemptive war" on and occupation of Holland, France, Greece, Norway,  Denmark and Poland by Hitler's minions were obviously war crimes — but the torture and mass murders at Abu Ghraib, Guantanamo and Gaza, and "preemptive war" on and occupation of Afghanistan, Iraq, Libya, Syria, Lebanon and Palestine by Bush and Obama's minions aren't.  https://www.youtube.com/watch?v=N294FMDok98&app=desktop
That Nuremberg standards apply to war crimes committed 70 years ago but no longer apply to war crimes committed today.
24.  That we are always being told the truth by the New York Times and Fox News.  Yeah right.  Despite the fact that War Street just loves the "Newspaper of record" to pieces, the Times needs to wash its mouth out with soap.  And Politifact just announced that 60% of everything Fox News tells us is lies.  60%?  Yikes! http://www.politifact.com/punditfact/article/2014/jul/01/introducing-scorecards-tv-networks/?fb_action_ids=10204846428834242&fb_action_types=og.shares
25.  That War is better than Peace.
http://www.crescent-online.net/2015/02/distorting-the-story-of-syrias-heritage-destruction-eva-bartlett-4815-articles.html
Sorry, that's all of the War Street lies I can think of right now.  But I'm sure there are many more out there, many many more lies that I've missed.  Transparency is clearly and obviously not an American value — and democracy doesn't seem to be one either.
But I will tell you one thing that I know for sure:  I won't ever be fooled again.  And the rest of America needs to avoid being suckered down the garden path to War Street as well.
That the American Church has problems is no surprise. Critics of the Church, many of whom have never actually taken an active part, have hurled pot shots at the Church since its inception. Churches are led and comprised of sinful, fallen people. Accordingly, there will be imperfections, shortcomings, failures, etc. Name an institution managed by people that does not have the same pitfalls.
That said, the current Church in America not only has problems, it has BIG problems. I'm talking about problems that are so huge they threaten the very survival of not only the Church itself, but of our nation, as well.
During the Twentieth Century, liberalism pretty much killed America's mainstream denominational churches; and legalism did the same thing to America's fundamentalist conservative churches.
In mainstream denominational churches, the rejection of the veracity of the Scriptures, the repudiation of essential Biblical doctrines, and the reception of liberal social agendas sent people by the millions fleeing these fellowships. Virtually every mainline denomination has been losing membership for decades.
For example, it is one thing for the state to grovel before politically correct ideology and embrace such moral deviances as homosexual marriage. To begin with, the state has no rightful place in sanctioning, defining, or legislating marriage at all. Marriage was never a state matter. It is a sacred matter. Our Creator has already sanctioned and defined marriage. What the state does or doesn't do is irrelevant. As with most issues involving faith, the best thing civil government can do is butt out. But for the Church to embrace homosexual marriage is another matter altogether. No Christian who has even a rudimentary understanding of the Biblical and Natural laws regarding marriage could maintain fellowship with a church or denomination that would surrender to the amoral machinations of a degraded society. And that is just one issue that has caused millions of believers to flee America's mainline churches and denominations.
For fundamentalist conservative churches, legalism has had the same effect as liberalism among mainline churches: it has pretty much killed them. During the last half of the Twentieth Century, fundamentalist conservative churches exploded in growth. A few decades ago, the largest churches and Sunday Schools in America were fundamentalist. But, just as mainstream churches succumbed to liberalism, fundamentalist churches succumbed to legalism. As the Scripture notes, "the letter killeth," and, indeed, it has pretty much destroyed America's fundamentalist churches. In fact, as a movement, it HAS destroyed them.
Accordingly, going into the Twenty First Century, these two cancers were already major problems within the American Church. But the problems that have wormed their way into the Church during the first decade and a half of the Twenty First Century have grown in both intensity and pervasiveness to the point that only a miracle from Heaven can avert impending disaster.
Here are the major problems that are destroying the American Church:
*Success Orientation
America's churches went from a "church growth" ideology in the latter half of the Twentieth Century to a "success" orientation in the formative years of the twenty-first century. "Success" is now the driving motivation of the vast majority of America's churches. But "success" is not defined in Scriptural terms; it is defined in secular terms.
A major study released by George Barna a few months ago clearly showed that "success" is the predominant philosophy of America's churches. And Barna's research listed the five-fold criteria that determined "success" in the minds of most pastors and churches: 1) Attendance, 2) Offerings, 3) Number of programs, 4) Size of staff, and, 5) Square footage of facilities. In fact, Barna's research showed that the vast majority of pastors will purposely NOT preach what they know is Biblical truth in order to accommodate the five-fold "success" goals listed. This has led to popularity-preaching; entertainment-oriented programs; soft, non-confrontational teaching; and an overall weak and compromising pulpit.
The "success" orientation of the modern church is a major problem.
*The Egregious Misinterpretation of Romans 13, the 501c3 IRS non-profit organization status for churches, and Statism
Though these three issues each have an independent nature, I put them together as they are intricately connected.
Though many pastors and church leaders would probably not be willing to admit it, for all intents and purposes, our churches are mostly more concerned with being the compliant servant of the state than they are the obedient servant of God. The way most pastors teach Romans 13 is nothing more than the promotion of idolatry. Christians are taught to obey civil government almost without question. As was the case in Nazi Germany, America's churches are taught that obedience to the state is obedience to God.
Have you been to a modern church wedding recently? If you have, as the pastor pronounced the bride and groom as husband and wife, you probably heard him say, "As an officer of the laws of the State of (your State) and in the presence of God…I now pronounce you man (or husband) and wife."
The IRS 501c3 non-profit organization status for churches (instituted in 1954) has turned pastors and church officers into corporate officers of the state–and most pastors and church leaders KNOW it–even if they are unwilling to admit it.
It's all about preserving the church's non-profit status so contributors can deduct their offerings on income tax forms and so that the church doesn't have to pay sales taxes on what they purchase or property taxes on what they own. And whatever pastors and church officers are required by the state to do in order to preserve that non-profit status, they will comply.
This doesn't require a knock at the door by an IRS agent; it doesn't require threatening letters or phone calls; it doesn't require any direct show of force by any government agency against the church. Pastors and church officers INSTINCTIVELY know where the "third rail" is and will avoid it at all costs in order to not jeopardize their non-profit status.
The desire to comply with the IRC (Internal Revenue Code) for churches makes it easy for pastors to teach the Hitlerian version of total submission to civil government.
Statism is NOT patriotism. Neither is it Christian. The Bible is chock-full of examples of resistance to unlawful government. I'm sure many of our pastors and church leaders have never personally studied the issue and are simply regurgitating what they have been taught. I am confident that many of them are truly ignorant of what they are doing, but that doesn't change what they are doing. Wittingly or unwittingly, they have allowed themselves to become statists: the sheepish servants of the state.
The condition of the American Church today is EXACTLY the same as was the condition of the German and Russian Church during the rise of Adolph Hitler and Joe Stalin. This is why the Church seems totally unconcerned and indifferent to the growing Police State in America today.
*Ignorance of Natural Law and the Law of Nations
God-ordained Natural Law has not been taught from America's pulpits since the Nineteenth Century. The vast majority of pastors and church leaders in America are totally ignorant of these immutable laws.
The lack of understanding regarding Natural Law has made it virtually impossible for the American Church to truly understand the fundamental principles of good government and liberty. All most Christians know about government is what they hear on FOX News or from Rush Limbaugh. Their pastors almost never broach the subject. And for good reason: most pastors are themselves ignorant on the subject. Therefore, about all they can talk about is "liberal" vs. "conservative," or Democrat vs. Republican. The divine principles of Natural Law that are supposed to govern nations and man-to-man relationships are foreign to the thinking and understanding of the vast majority of pastors and churches.
The ignorance and misunderstanding of Natural Law by the Church has created the societal and political conditions that now exist in this country.
But there is one more major problem in the American Church. And I believe this problem is the GREATEST problem of all. And, to be honest, it had not dawned on me how pervasive and deep this problem was until last week.
*The Church is Filled With Hate
In my column last week, I used the movie, American Sniper, as a catalyst to point out that the United States has been waging unjust war on countries such as Iraq–and meddling in the internal affairs of countries such as Iraq–for decades. I also pointed out that not all Muslims are terrorists and to condemn all Muslims on the basis of Muslim Jihadists is wrong.
Folks, you can't believe the firestorm of anger that deluged me. My Facebook page registered over 100,000 views of my comments and precipitated a flood of hate-filled responses. Here is a sample of the more-mild reactions:
"All Christians should be standing against Islam and proclaiming America for the kingdom of Christ. I am not a Muslim sympathizer and I have lost respect for you, Mr. Baldwin. Islam is anti-Christianity. You cannot serve 2 masters."
By standing against Islam, Cathy means it is right and righteous to go to war against Muslim nations, because they are "anti-Christianity." So, Cathy, since when is it America's responsibility to export Christianity over the barrel of a gun? I suppose we should then invade and destroy every Muslim nation in existence, including Saudi Arabia.
Speaking of Saudi Arabia, if we can believe the official story of 9/11 (which I don't), the Muslim terrorists that perpetrated those attacks were all from Saudi Arabia, NOT Iraq. Why didn't we invade Saudi Arabia? Iraq had NOTHING to do with 9/11 and everyone on the planet knows it. In truth, Saudi Arabia has done more to fund Islamist terrorists than any other nation in the region. Yet, official American foreign policy regards Saudi Arabia as our friend and ally.
But Saudi Arabia is a Muslim nation, which means they are "anti-Christianity," so Cathy (and many like her) believes we should go to war with these nations to advance "the kingdom of Christ." But what about Judaism, Cathy? Judaism is as "anti-Christianity" as Islam. What about Hinduism? What about Buddhism? What about Atheism? Is America supposed to go to war with every nation of the world that has a population of people who are "anti-Christianity"? If so, we should be attacking most of the nations of the world.
And since when can we evangelize the pagan peoples of the world via brute force? When has that ever worked? And what Scripture do you base that theory on? People are won to Christ with the message of God's amazing grace and love through Christ's death on the cross. What? Did God commission us to kill and destroy all of the heathen of the world? I thought our commission was to love and win them, not attack and kill them.
But a host of attacks against my comments last week were much more caustic. Here is an example:
"Imam Mohammed Judas Baldwin; My wife and I were listening on line to your 1-25-15 program, I shut the program off when I heard your rant against your Christian brother and sister Pastors. My wife astutely said: 'Muslim Lover?' I believe I have figured out your love of all things Islam, and your betrayal of God, Jesus Christ, and Christians. Your God Allah, Your savior Mohammad, and your fellow Muslims. Allah offered you a better deal. Paradise and 72 Virgins. The Virgins, in your case, 50/50 prepubescent boys and girls. Judas Iscariot had the decency to hang himself for his betrayal of my savior Jesus Christ. How about you? You can get Allah and the virgins, sooner, if you do it to day…Shame on you, you Fool."
The message I delivered last Sunday, and to which Michael was reacting to, was taken from Matthew 5:44, "Love your enemies," and from Matthew 7:12, "Therefore all things whatsoever ye would that men should do to you, do ye even so to them: for this is the law and the prophets."
And, yes, Michael, I do love Muslims, Jews, Hindus, Buddhists, Atheists, etc. They are all souls for whom Christ died.
If unbelievers and pagans want to be filled with hate, so be it; but hatred has NO PLACE WHATSOEVER in the heart of a Christian. And after receiving tens of thousands of hate-filled responses regarding my comments last week, it dawned on me that the American Church is largely filled with hate–hatred against the Muslim people.
Ever since 9/11, Christians and conservatives have developed a hatred and animus, not just against Jihadist-Muslims (which, even that is TOTALLY UNACCEPTABLE for a Christian), but against Muslim people everywhere. All Muslims are commonly castigated and vilified just because they are Muslims.
Ladies and gentlemen, it is absolutely NOT TRUE that all Muslims are anti-American, anti-Christian murderers and terrorists. It is NOT TRUE that all Muslims want to enact Sharia Law in the United States. It is NOT TRUE that all Muslims are our enemies.
I wonder how many of these Muslim haters have ever met a Muslim in person. I have. I have met many–both in the United States and in the Middle East. They are NOT all America-haters. They are NOT all trying to kill us. America has had Christian missionaries ministering among Muslim nations for as long as our country has been in existence. And many Christians would be shocked to know that overall the Gospel has received greater acceptance by the Muslim population than by other religions of the region–much more, in fact, than by the Jewish population.
Here is a letter I received from a Christian missionary named Jeff:
"Hi, Chuck! We…want to tell you that we stand 100% with what you said in both your column and to your congregation. We have been missionaries for 40 years, a good ten of those in Muslim countries (Tunisia, Libya, Jordan, Bangladesh, Pakistan, India, Bosnia, and Albania). We have not just met or talked to a Muslim, we have witnessed to them in depth for years. It is SO RARE to hear anyone nowadays saying anything conciliatory towards Muslims, much less positive. I thank you for the things you have said, and am so very sorry for the hateful responses you received in the comments to your column that reveal the dark heart of many Christians in the U.S."
To be honest, most of the Muslims I have met in the U.S. and in the Middle East demonstrate more kindness, common courtesy, and genuine compassion than many of the so-called Christians I have known.
Let's be honest: some Muslims are Muslims in name only, much like many Baptists are Baptists in name only, or Catholics are Catholics in name only, or Mormons are Mormons in name only, or Jews are Jews in name only, etc. There are millions of Christians in America's churches that couldn't tell you what's in the Bible to save their lives. They couldn't quote the Ten Commandments; they couldn't quote the Golden Rule; they couldn't name Christ's apostles; they couldn't quote five verses of Scripture from memory if their lives depended on it. There are many Muslims in the exact same condition.
Furthermore, not all Muslims, who are devout, take the verses of the Koran that speak of Jihad and killing infidels, etc., to literally mean killing all non-Muslims today. No, not all of them do!
Think of this: how many of us Christians believe that the civil laws and military commands that God gave to the children of Israel through Moses should be literally incorporated into the Church and into the civil laws of America today? Do you believe we should be stoning people to death for adultery, or breaking the Sabbath (So, any Christian nurse or policeman or physician or fireman, etc., who works on Saturday should be stoned to death?), or blasphemy, or for children who curse their parents? Do you? Should we literally destroy entire nations–including men, women, and children today? These things were literally commanded by Jehovah God for the children of Israel under Moses. And, yes, God is God and is righteous and just as much when he condemns as when he forgives. No man sits in judgment of God. His ways are always right and holy. But God is NOT giving direct audible commands to anyone in the U.S. government today–or to anyone in our church pulpits, for that matter.
Many Muslims I've met interpret those passages in the Koran like we do those Old Testament Scriptures. Why can Christians interpret our Bible in this manner but Muslims cannot interpret their bible in a similar fashion?
In fact, I know of several Christian pastors and preachers in America who mimic Muslim Jihadists and believe that we SHOULD be implementing the Mosaic Law in our country today. If they had their way, we would be stoning people to death for the sins mentioned above just as they did under Moses. Have you ever witnessed a stoning? It is as equally torturous as beheading–maybe even more so.
Beyond that, these Muslim haters seem to be completely ignorant of the fact that every day there are tens of thousands of Muslims who risk their lives resisting Muslim Jihadists. It was a Muslim village that risked their lives against the Taliban to save the American fighting man that was depicted in the movie, Lone Survivor. Why don't we recognize this reality? It's because hatred and bigotry against the Muslim people have blinded us.
Plus, the dirty truth that most Americans, including most Christians, seem unwilling to accept is that most of the conflict between the United States and the Muslim nations of the Middle East has been created by our own federal government.
I speak regularly with retired Special Forces military personnel who share with me the way our own CIA and State Department have bullied, lied to, intimidated, and betrayed our Muslim friends in the Middle East. They have seen it up close and personal. This has been going on for decades. In fact, our federal government has tortured hundreds of people in the Middle East in some of the most vile ways possible. The only difference is, they don't broadcast it over television.
I recently asked a retired Green Beret, "How much of the conflict between the U.S. and Middle Eastern states would stop if Washington, D.C., would simply stop meddling in the internal affairs of those countries?" This Green Beret served in the the Middle East for years; he was a Special Ops soldier. He saw the surreptitious and covert things that our government routinely does–things the public doesn't see. His answer to me was, "100%."
Our own federal government put the Taliban in power, put Al Qaeda in power, and put ISIS in power. Our federal government often uses war and conflict to cover up its own murderous activity or to kill the very people that they formerly gave arms to, supported, befriended, etc. Whether one wants to believe it or not, most of the conflict in the Middle East has been caused by our own government. We are our own worst enemy. How convenient that we make Muslim people everywhere the straw man to divert attention away from the real criminals.
Yes, the American Church has a BIG problem: much of it is filled with HATE. To be sure, Christians are instructed to hate "evil," but nowhere are we instructed to hate people–any people. Yet, the hatred of Muslims by Christians in America appears to be epidemic.
Hatred is a cancer. Hatred, bitterness, resentment, bigotry, etc., kill the soul. When Jesus instructed us to love our enemies, it was NOT for our enemies' sake; it was for OUR sake. How can God bless a hate-filled Church when He commands us to love our enemies? How can He bless warmongers when he tells us that it is peacemakers who are blessed?
When America MUST defend itself against any enemy, regardless of nationality, race, ethnicity, religion, etc., we are obligated to do so. In the Twentieth Century, we fought hot wars against Christians from Germany and Italy, against Shintoists from Japan, against atheists from North Korea, and against Buddhists, Taoists, and Confucianists from Vietnam. But there is a huge difference between defending oneself against an enemy that poses and imminent threat and fomenting hatred against an entire people for the crimes of a few.
How can Christians claim to love God and believe in winning lost souls to Christ be so consumed with hatred against an entire people–most of whom have done NOTHING to harm them? Yes, I realize there are some who call themselves Christians who hate other people besides Muslims. Some hate everyone who is a Jew; some hate everyone who is a minority; some hate everyone who is victimized by an aberrant sexual lifestyle, etc. Hatred has been with us since the dawn of human history. But in my entire lifetime, I have never witnessed anything like I am witnessing now: the pervasive, widespread, almost universal hatred of the Muslim people–by Christians.
As I said, hatred destroys the soul. And I fear that hatred is destroying the soul of the Church.
Whose fault is it that mosques are being built in America? Many of the buildings being used for these new mosques are abandoned CHURCH buildings. The darkness of false religion will always fill the vacuum that is left when truth departs. And the fact is, Christianity is dying in the United States. No, it's not dead; but it's dying. There are tens of thousands of empty abandoned churches all over America. More and more Americans are turning their backs on the Church. What difference does it make which form of darkness invades the land? The problem is that the true light (the Church) is failing. What do you expect will happen?
What difference does it make whether the darkness takes the form of Islam, or Buddhism, or Shintoism, or Judaism, or Atheism, or Communism, or any other "ism?" The problem is not the presence of darkness; the problem is the absence of light.
The Church has lost its light and its love. Christ is doing what He said He would do to those who lose their love: He is removing the candlestick.
The American Church has focused on being "successful" instead of being righteous; it has capitulated to the lordship of the state; it fears the IRS more than it fears God; it has stopped preaching the "hard" messages of the Bible; it is popularity-driven, entertainment-driven, and comfort-driven; it has abandoned the fundamental principles of Natural Law and liberty; it has replaced genuine patriotism with statism; and it has used Romans 13 as justification for idolatry.
A quote from Charles Caleb Colton (1820) is in order here: "Men will wrangle for religion; write for it; fight for it; die for it; anything but–live for it."
The Muslim people are NOT our problem; the problem is the American Church. It needs to start living its religion.