On Thursday, European Central Bank chief Mario Draghi dropped rates on overnight deposits to minus 0.1% thereby charging commercial banks to keep their money at the ECB. The move, which was applauded by the media as a "historic measure to fight deflation", is nothing of the kind. Negative rates have been used in both Sweden and Denmark in recent years, but to little effect. The policy will not "get the banks lending again" as the ECB suggests, nor will it ease the high unemployment and slow growth that have plagued the Eurozone for the last six years. In truth, the rate change will have no impact at all. It's merely public relations stunt designed to create the impression that the ECB is aggressively addressing the crisis for which it is largely responsible. Here's how the World Socialist Web Site summed it up:
"The move is an expression of the fact that, nearly six years since the collapse of Lehman Brothers, the world economy remains mired in deep crisis, for which the world's central banks have no solution outside of pumping trillions into banks and financial firms. While trillions are handed out to the banks, workers throughout the continent are told that there is "no money" to pay for pensions, social programs, and healthcare benefits." (European Central Bank cuts interest rate below zero, WSWS)
Stock traders loved the news that the ECB was going "sub zero". As we've seen before, any indication that the easy money regime is here-to-stay is enough to send equities skyrocketing, which it did. All the main indices notched substantial gains on the day while the SandP 500 surged to a new record of 1,940.
The idea that charging the banks a small fee on overnight deposits will induce them to lend more freely, demonstrates a laughable misunderstanding of how the system really works. Banks don't need piles of reserves to issue loans. What they need is creditworthy customers and strong demand. But, of course, demand is weak because the ECB has taken steps to keep the EU in a permanent state of Depression through its austerity policies. What this shows, is that the objectives of the class war precede the requirements for a healthy economy. Draghi and his cohorts would rather decimate the welfare state and reduce EU working people to abject poverty, then implement the policies that would generate a strong economic recovery.
But won't the lower rates lead to more lending, you ask? After all, when the price of money falls, borrowing becomes more attractive, right?
It's a persuasive theory, but it doesn't work that way. For example, check out this blurb from Reuters and you'll see what I mean:
"Lending to companies in the euro zone contracted at the fastest pace on record in November, piling pressure on the European Central Bank to do more to revive the currency bloc's economy…

"Worryingly, there is still no sign of any trend change in bank lending to euro zone businesses…" said Howard Archer, chief European economist at IHS Economics…

Corporate borrowing in the euro zone overall declined at the fastest pace on record, November's 3.9 percent drop comparing with a 3.8 percent decline on the year in the previous month.

Bank lending to Italian firms fell at an annual pace of 5.9 percent in November, the sharpest decline in the measure's 10-year history. That was also true for the euro zone's smallest economy, Malta, which recorded a 10.4 percent drop….The biggest decline was in Spain, where lending to companies fell 13.5 percent." (Euro zone corporate lending shrinks at record pace in November, Reuters)
The reason bank lending saw "the sharpest decline in the measure's 10-year history", is because the economy is in a depression, and people don't borrow tons of dough in a depression. They cut back, hunker down and squirrel-away whatever they can. Draghi knows this. He's just going through the motions to make it look like he cares. It's all PR. What he really cares about is his constituents, and what they want, is an end of the welfare state.
What's so irritating about all of this, is that we know how fix the economy. We know how to increase activity. We know how to boost demand, create jobs, and raise GDP. None of this is new.
When the private sector (consumers and businesses) can't spend for some reason, then the government has to step up and spend like crazy to keep the economy going. The only alternative is to allow consumption to fall sharply, which will push up unemployment, push down GDP and do vast damage to both the economy and financial system. Why would anyone want to do that, especially when all they have to do is increase the budget deficits temporarily while consumers patch their balance sheets and get back on their feet again?
Monetary policy has not and will not fix the economy. How many years are we going to repeat the same mistake before we acknowledge that? The whole presumption that this pointless, circle-jerk policy is designed to do anything other than provide another bailout for underwater, insolvent financial institutions and the crooked bank bondholders who own the whole friggin' planet is laughable in the extreme. Check this out from Bloomberg:
"In a bid to get credit flowing to parts of the economy that need it, the ECB also opened a 400-billion-euro ($542 billion) liquidity channel tied to bank lending and officials will start work on an asset-purchase plan. While conceding that rates are at the lower bound "for all practical purposes," he signaled the the ECB is willing to act again." (Bloomberg)
So that's what this is really all about, eh? Draghi is just laying the groundwork for a European version of QE?
Yep. Sure is. And that means another $542 billion will go to the chiseler class. Another $542 billion propping up crooked banks by purchasing their unwanted, toxic Asset-Backed Securities. (ABS) Do you think I'm kidding? I'm not. That's what the money is earmarked for.
The point is, monetary policy alone will not produce a strong, self sustaining recovery, which is a point that Keynes makes in Chapter 12 of "The General Theory of Employment, Interest and Money". Here's what he says:
"For my own part I am now somewhat skeptical of the success of a merely monetary policy directed towards influencing the rate of interest. I expect to see the State, which is in a position to calculate the marginal efficiency of capital-goods on long views and on the basis of the general social advantage, taking an ever greater responsibility for directly organizing investment; since it seems likely that the fluctuations in the market estimation of the marginal efficiency of different types of capital, calculated on the principles I have described above, will be too great to be offset by any practicable changes in the rate of interest." (John Maynard Keynes, "The General Theory of Employment, Interest and Money", marxists.org, 2002)
Keynes is just stating the obvious, that during periods of weak demand, the sensible option is for the government to take up the slack by "directly organizing investment", in other words, spending money to keep the economy running. Doesn't that seem infinitely more reasonable than the Draghi approach which involves a decade of experimental monetary policy that ends in social upheaval, high unemployment, and political unrest?
And here's the thing: Keynes "The General Theory" was published in 1936. That's nearly 80 years ago! This isn't some new-fangled theory concocted by pointy-head crackpots like Bernanke. This is settled science. Fiscal stimulus works. If the government spends, unemployment will drop. If the government spends, the economy will grow. What else do you need to know?
We've been hoeing this same row for 6 years now and the economy is still in the dumps. And, in the EU, it's even worse. Youth unemployment is above 50 percent in Spain and Greece, GDP stuck at a miserable 0.2 percent, business and consumer lending still shrinking, bond yields on sovereign debt are in the toilet, civil disorder and fascism are on the rise, and with the entire 17-member union is rushing headlong into deflation.
And Draghi thinks that negative rates are going to fix all this and put the economy back on the road to recovery?
In your dreams! The only way out of a mess like this is to spend like a madman, which is what Keynes recommended in his famous statement about bottles stuffed with banknotes. Here's what he said:
"If the Treasury were to fill old bottles with banknotes, bury them at suitable depths in disused coalmines which are then filled up to the surface with town rubbish, and leave it to private enterprise on well-tried principles of laissez-faire to dig the notes up again… there need be no more unemployment and, with the help of the repercussions, the real income of the community, and its capital wealth also, would probably become a good deal greater than it actually is. It would, indeed, be more sensible to build houses and the like; but if there are political and practical difficulties in the way of this, the above would be better than nothing." (p. 129)
Okay, so it sounds crazy, but it's really no different than Bernanke's "helicopter drop" theory, that is, that –during a severe downturn–the government needs to find a way to stimulate demand. The best way to do that, is to avoid the normal transmission mechanisms (which don't function properly during a slump) and get money directly into the hands of the people who will spend it quickly and get the economy growing again. It's all about spending, spending, spending. It doesn't matter if people buy Ipads or Ant Farms. Just spend, dammit. Spending is activity, activity is growth, growth reduces unemployment, which leads to more investment, more jobs and a virtuous circle.
If it seems to you, dear reader, that Keynes antidote for the ailing economy is more likely to succeed than Draghi's, then you are certainly right. Massive doses of fiscal stimulus WILL revive the EU economy, lower unemployment, and boost growth. The question is whether that's a goal the public should really support or not? In other words, is there any point in trying to restore a system which, at its very core, is unstable, self destructive and exploitative? Here's how Counterpunch economics writer Rob Urie sums it up:
"John Maynard Keynes created a host of economic patch-jobs to save capitalism from more effective solutions. In the pit of the Great Depression FDR implemented programs based on Mr. Keynes' ideas (which) produced minor relief now deemed by the economic insightful-lite to be a 'robust' economic recovery….. But the cause, leveraged (finance) capitalism gone wild, was only temporarily tamped down by regulation while its intrinsic instability was left intact…

Calls for re-regulation, managed capitalism, beg the question: re-regulate what? As demonstrated by history, the system of finance capitalism is intrinsically unstable and economically destabilizing. Under the guise of reviving a functioning financial system a dysfunctional system has been revivified, not revived, and nearly all benefits continue to accrue to a tiny economic elite." (Financial Crises and Economic Depressions, Rob Urie, CounterPunch)
So, yeah, Keynes' remedies will work. They'll definitely get the economy up-and-running again and keep it sputtering-along until the next crisis. But why bother?
Why not just scrap the whole thing and move on to Plan B.
Ever wonder why nobody (except Kareem Serageldin) went to jail for all the crimes committed during the financial bubble that popped in 2008?
If you think back to the 2000-era bubble, lots of people went to jail for the fraud perpetuated at Enron, Tyco, Adelphia, and other firms. Plus, the law back then destroyed a whole accounting firm — Arthur Andersen, you may remember — and 28,000 jobs along with it, in the wake of the bust.
Yet post-2000, firms with far more brazen crimes got off by paying a mere fine.
Take HSBC.
Its U.S. subsidiary committed, as Taibbi writes, "an astonishing list of crimes — a laundry list that included pretty much every kind of crime a bank can possibly be charged with."
Such as:
Laundering billions of dollars for drug cartels in Mexico and Colombia
Washing money for terrorist-connected organizations in the Middle East
Allowing "rogue states" under formal sanctions by the U.S. to move billions freely through the bank
Helping Russian mobsters wash money under an elaborate traveler's check scheme
Etc.
And what was the penalty for all this?
$1.9 billion.
At the time, it was the biggest fine in history. But in context, for a firm that made $22 billion per year, it was not much at all. In fact, looked at in a cold calculating light, the message clearly is: Crime pays.
Note there was no jail time for anybody. Everybody at HSBC got paid. Well, HSBC agreed to partially — partially, mind you – defer (!) bonus payments to its top executives.
Oh, and HSBC had to say it was sorry. "We are profoundly sorry," said CEO Stuart Gulliver.
But how did we get here?
Matt Taibbi explores the reasons in his book The Divide. Taibbi used to write for Rolling Stone. He was the guy who famously called Goldman Sachs a "great vampire squid wrapped around the face of humanity, relentlessly jamming its blood funnel into anything that smells like money." (I wish I had written that line.)
He's a very good investigative reporter and a fine writer. He's mellowed out a bit in this book and you won't find much of the usual Taibbi name-calling and profanity. Taibbi, for good or ill, plays this one straight.
He covers a lot of ground, but the central thesis is one most people will intuitively grasp: If you are rich and powerful, you can get away with almost anything. Rights exist on a sliding scale. And if you are on the bottom, you can do time for loitering.
Taibbi writes:
"The cleaving of the country into two completely different states — one a small archipelago of hyper acquisitive untouchables, the other a vast ghetto of expendables with only theoretical rights — has been in the works a long time."
But to answer the question posed up top about why nobody's going to jail, there's more to the story. You have to go back to a memo written by Eric Holder, the current attorney general, back in 1999, when he was an official in the Clinton White House.
He articulated a concept called "collateral consequences."
It meant, in essence, that the government could take into account all kinds of factors like job losses and such in deciding whether to press criminal charges against a big company. "If the math isn't there," Taibbi writes summing things up, "hold the charges. Seek other forms of justice instead. Fines. Civil sanctions. Cease and desist orders. Deferred prosecutions. There are other ways, Holder wrote, to get the job done."
In other words, there would never be another Arthur Andersen. Firms had new ways to wiggle out of criminal charges. Hence, we have the monster we have today. Companies too big to jail.
Meanwhile, in other aspects of life, a culture approximating a police state grows apace. Taibbi points to the record levels of incarcerations in the U.S. "Our prison population, in fact, is now the biggest in the history of human civilization," Taibbi writes. The U.S. has more people behind bars today "than there were at any time in Stalin's gulags."
The story here is nasty. He tells the story of private prisons, such as those of Corrections Corp. of America. They get, "depending on whom you believe," upward of $166 per day from the federal government per inmate. This is four times what it cost back when the government took care of its own detainees.
"The big influx of cash impressed investors on Wall Street," Taibbi writes. From 2000-2011, CCA's stock went up 34-fold. Sales went from $300 million to $1.7 billion by 2011. "Overall, the corrections industry is one of the soundest stock/equity bets in the world, with soaring revenues — the industry as a whole pulled in more than $5 billion in America in 2011."
Needless to say, that didn't just happen. CCA and others donate generously to politicians. They support anything that might lead to more people spending time in their cells. They particularly like anti-immigrant bills. And Taibbi has harrowing tales about the mistreatment of immigrants in this country. He calls Hispanic immigrants "one of America's last great cash crops."
"And someone else wins, too," Taibbi writes. "Wall Street. Some of the biggest investors in private prison companies are, you guessed it, the too-big-to-fail banks."
Taibbi writes about an analysis from Zacks that gleefully revels in the lack of economic sensitivity in the business. And then cites a chart with shows a hockey stick increase in the number of incarcerated Americans.
So the country is turning more and more into a dragnet… but only for the poorest. There is no HSBC banker sitting in a CCA cell. It is symbolic of the kind of economy we have today:
"Like too-big-to-fail banking itself, private prisons are an industry that depends not on the unpredictable economy but upon political connections. It's the perfect kind of business in the oligarchical capitalism age, with guaranteed profits to provide a low-cost public insurance against the vagaries of the market."
The economy is riddled with corruption like this, a marriage between big business and Big Government. And a recurring theme in this book is the offspring this marriage creates: a relentless, insatiable bureaucratic force that grinds up individuals fed into its maw.
"These bureaucracies accomplish just two things," Taibbi writes. "They make small piles of money smaller and big piles of money bigger… It just relentlessly creates and punishes losers, who get to sit beneath an ever-narrowing group of winners, who may or may not stay on top for long."
Legal rights are not absolute. Those with money who can tirelessly throw lawyers and lawsuits and counterlawsuits at any problem can survive almost anything. For the rest, it's a matter of attrition. And those at the bottom have no chance.
I can't do justice to all the journalistic fieldwork and stories Taibbi has put in his 416-page book. It is a gripping read and will infuriate you and frighten you, and maybe even make you sad for what's happened to the "Land of the Free."
The book does not have a happy ending. The good guys don't win in the end. But I encourage you give it a read. What it describes is life in these United States. Those of us who cherish liberty have quite a job ahead of us.
Sincerely,
Chris Mayer
Chris Mayer studied finance at the University of Maryland, graduating magna cum laude. He went on to earn his MBA while embarking on a decade-long career in corporate banking. Chris is the editor of Capital and Crisis and Mayer's Special Situations, a monthly report that unearths unique and unconventional opportunities in smaller-cap stocks. In 2008, Chris authored Invest Like a Dealmaker: Secrets From a Former Banking Insider.
Source: Laissez Faire
President Barack Obama's commencement address at West Point on May 28 managed to displease pretty much everyone in the nation's commentariat. Before making an overall assessment of its significance, it is necessary to examine the validity and implications of Obama's individual statements.
"[B]y most measures America has rarely been stronger relative to the rest of the world. Those who argue otherwise – who suggest that America is in decline or has seen its global leadership slip away – are either misreading history or engaged in partisan politics."
This key assertion, made at the beginning of the President's address, does not stand to empirical scrutiny. In economic terms, America was far stronger vis-à-vis the rest of the world in 1945 than she is today. In more recent times, U.S. share of world GDP peaked in 1985 with just under 33 percent of global GDP (nominal). Between 2004 and 2014, United States' share of global gross domestic product (GDP) adjusted for purchasing power parity (PPP) has fallen from 22.5 percent to 18.5 percent, and it is expected to continue falling. By the end of this year China will overtake the United States in gross domestic product, which had originally been projected to happen by the end of this decade. Analysts concede will gradually shift the ability to confer advantages or disadvantages on other countries – in other words, power – in China's favor.
In military terms, while America enjoyed the nuclear monopoly in 1945-49, her period of undisputed unipolar dominance was between 1991 (the collapse of the USSR) and 2008 (Russia's counterattack in South Ossetia). Although the Pentagon budget will drop from $600 billion this year to $500 billion in 2015, it will continue to account for over a third of the global total. The unsatisfactory outcomes in Iraq and Afghanistan and dented America's image of military invincibility. As the Economist commented on May 3, "The yawning gap between Uncle Sam and his potential foes seems bound to shrink." The prevailing view among most critical analysts is that over the past decade the U.S. has suffered military reverses, and now faces severe global competition.
As for the "global leadership," it is unclear what exactly Obama had in mind. Russia and China are creating a powerful Eurasian counterweight to what they rightly perceive as Washington's continuing bid for the global hegemony. India's new prime minister is a potential partner at best, and certainly loath to acknowledge America's "leadership."  In the Islamic world, Obama's attempts at appeasement – which started with the Cairo speech in 2009 – have not worked: The U.S. is now even more unpopular in the Muslim world than it was under George W. Bush. America is heartily disliked even in Turkey and Jordan, presumably our allies, not least because of the continuing drone strikes. American influence in Latin America is weaker now than at any time since Theodore Roosevelt, as manifested in the unanimous rejection of Washington's efforts to effect a regime change in Venezuela. Members of the American elite class are hard pressed to name a single country with which the U.S. has better relations today than five years ago. The NSA global spying network has infuriated even some otherwise reliable American friends in Western Europe. Most "Old Europeans" are remarkably resistant to U.S. pressure to agree to serious sanctions against Russia.
On balance it appears that Barack Obama is the one misreading history and engaging in partisan politics.
"Meanwhile, our economy remains the most dynamic on Earth, our businesses the most innovative."
In reality, by most value-neutral parameters the American economy is chronically weak and insolvent:
Some "dynamism," some "innovation"…
"America continues to attract striving immigrants."
Obama's statement is correct. It does not illustrate America's alleged strength as was his intent, however; it underscores this country's major weakness. Illegal immigration is spiraling out of control, the Border Patrol is overwhelmed. If the influx continues at current high levels, the U.S. population will increase to almost half a billion in 2060 – more than a 50 percent increase. New immigrants – mostly from the Third World, unskilled, uneducated, and a net drain on American resources – and their descendants will account for over one hundred million of that increase. On current form, English-speaking Americans of European origin will become a minority in their own country four decades from now. They will inhabit an increasingly overpopulated, polluted, lumpenproleterized, permanently impoverished country. America unfortunately does continue "to attract striving immigrants," mostly illegal ones and of poor quality. This is far greater threat to the survival of the United States in a historically or culturally recognizable form than terrorism or any conceivable alliance of foreign powers. Barack Obama does not understand this, or does not care, or – just as likely – cherishes the prospect.
"The values of our founding inspire leaders in parliaments and new movements in public squares around the globe."
By "public squares" Obama was probably alluding to Kiev's Maidan. Indeed, it has propelled some "new movements" to global prominence, such as the Svoboda party and the Right Sector. The Founding Fathers would be horrified to learn that, in the opinion of the President of the United States, their values have inspired Messrs. Tyahnybok, Yarosh, and other blood-soaked heirs to Stepan Bandera. This is on par with Senator Joseph Lieberman saying, "The United States of America and the Kosovo Liberation Army stand for the same values and principles. Fighting for the KLA is fighting for human rights and American values."
"And when a typhoon hits the Philippines, or schoolgirls are kidnapped in Nigeria, or masked men occupy a building in Ukraine, it is America that the world looks to for help."
Obama is mixing apples (natural disasters) and pears (man-made ones). The problem of Islamic terrorism in Nigeria was exacerbated by the refusal of the Department of State under Hillary Clinton to place Boko Haram ("Secular Education is Sinful") on the list of foreign terrorist organizations in 2011, despite the urging of the Justice Department, the FBI, the CIA, and over a dozen Senators and Congressmen. The de facto protection thus given to Boko Haram has enabled it to morph into a state-within-the-state with an estimated 300,000 followers.
It would be ironic if "the world" were to look to America for help in Ukraine (which in any event it does not), since the course of crisis there has been, overwhelmingly, of Washington's own making, as manifested in Victoria Nuland's famous phone call to Ambassador Pyatt. The new Drang nach Ostenmakes sense from the point of view of the liberal globalist-neoconservative duopoly: there is no better way to ensure U.S. dominance along the European rimland in perpetuity than drawing Europe back into NATO (i.e. U.S.) security orbit in general and subverting the Russo-German rapprochement in particular. The "masked men" in buildings are a direct consequence of American meddling.
"So the United States is and remains the one indispensable nation. That has been true for the century past, and it will be true for the century to come."
It has never been true, it is not true now, and it never will be true. Madeleine Albright's famous dictum was an arrogant statement by an immigrant ignorant of American history and a sign of her well-attested instability. It was reiterated in Bill Clinton's 1996 speech, where he explained why he intervened, disastrously, in Bosnia: "The fact is America remains the indispensable nation. There are times when America, and only America, can make a difference between war and peace, between freedom and repression, between hope and fear." That Obama has chosen to recycle such rubbish is a sign of intellectual and moral bankruptcy. "Indispensable" to whom, exactly? It is unimaginable for the leader of any other country in the world – Vladimir Putin, say, or Xi Jinping – to advance such a claim. It is tasteless at best and psychotically grandomaniac at worst, a latter day "Manifest Destiny" on steroids. The problem is that such hubristic delusions easily translate into non-negotiable foreign policy objectives. Resisting the will of the "indispensable nation" is ipso facto evil: Susan Rice's condemnation of Chinese and Russian vetoes of the U.S.-supported UN Security Council resolution on Syria as "disgusting," "shameful" and "unforgivable" comes to mind.
"Russia's aggression towards former Soviet states unnerves capitals in Europe while China's economic rise and military reach worries its neighbors."
Quite apart from the genesis of the crisis in Ukraine, to which "Russia's aggression" hardly applies, Obama's use of the term "former Soviet states," plural, implies that in his opinion Ukraine is not the only "victim of Russia's aggression." Presumably he means Georgia, the only "former Soviet state" with which Russia has had a conflict since the collapse of the Soviet Union. If so, and there is no other explanation for his turn of his phrase, Obama has a dangerously flawed understanding of the August 2008 Georgian crisis.
Georgian then-President Mikheil Saakashvili's order to attack South Ossetia's capital, Tskhinvali, was a breathtakingly audacious challenge to Russia, to which she was bound to react forcefully. That response was promptly exploited, for the first time since Gorbachev, by the American mainstream media machine and the foreign-policy community in Washington to paint Russia as a rogue power that is not only dangerous but intrinsically malignant. The vehemence of that rhetoric exceeded anything ever said or written about jihad, before or after September 11. To be fair, Saakashvili was led to believe that he was tacitly authorized to act as he did. President George W. Bush had treated Georgia as a "strategic partner" ever since the Western-engineered "Rose Revolution" five years earlier, and in early 2008 he strongly advocated NATO membership for Georgia. Washington had repeatedly supported Georgia's "sovereignty and territorial integrity," which implied the right to use force to bring South Ossetia and Abkhazia to heel, just as it is supporting "resolute action" in Donetsk and Lugansk today. Saakashvili may be forgiven for imagining that the United States would have bailed him out if things went badly. It is noteworthy that he was not disabused of such notions. The calculus in Washington appears to have been based on a win-win scenario, not dissimilar to the current Ukrainian strategy. Had Georgian troops occupied South Ossetia in a blitzkrieg operation modeled after Croatia's "Operation Storm," while the Russians remained hesitant or ineffective, Moscow would have suffered a major strategic and (more importantly) psychological defeat after almost four years of sustained strategic recovery. If Russia intervened, however, she would be duly demonized and the U.S. would push for NATO consolidation with new vigor. "Old" Europeans – the Germans especially – would be pressed to abandon their détente with Moscow. A resentful Georgia would become chronically anti-Russian, thus ensuring a long-term American presence in the region.
In the event, like the Ukrainian army today, the Georgian army performed so poorly that a military fait accompli was out of its reach. Excesses against Ossetian civilians – just like the shelling of schools in Slavyansk today – made the "victim of aggression" narrative hard to sell, Obama's "aggression" rhetoric notwithstanding.
"The question we face… is not whether America will lead but how we will lead, not just to secure our peace and prosperity but also extend peace and prosperity around the globe."
It is unclear how, if at all, America will secure her own "peace and prosperity" in the years and decades to come, let alone how she can extend it "around the globe." If this is a statement of Obama's grand strategy, it is flawed in principle and unfeasible in detail. In this statement there is not a hint of an overall blueprint for action that matches our country's resources to her vital interests. A sound grand strategy enables a state to deploy its political, military, economic, and moral resources in a balanced and proportionate manner, in order to protect and enhance its security and promote its well-being, never mind "the globe." In Obama's universe, however, there are no brains behind "indispensable," heavy-handed diplomacy and military power. Obama creates a false dilemma ("the question we face") unsupported by facts. China, India, Russia, the Muslim world and Latin America do not want to be "led," quite the contrary. Old Europe is reluctant at best. Subsaharan Africa is an irrelevant mess. The question we face is not global leadership, but national survival.
"Regional aggression that goes unchecked, whether in southern Ukraine or the South China Sea or anywhere else in the world, will ultimately impact our allies, and could draw in our military. We can't ignore what happens beyond our boundaries."
This simultaneous dig at Russia and China reflects a hubristic world view that is unmatched by conflict-management resources. A sane American relationship with Moscow demands acceptance that Russia has legitimate interests in her "near-abroad." Obama' four-nation tour of East Asia last Aprilescalated existing U.S. military commitments to the region, created some new ones, deeply irritated China, and emboldened American allies and clients to play hardball with Beijing. Obama does not understand that it is extremely dangerous for a great power to alienate two of its nearest rivals simultaneously. The crisis in Ukraine is going on, but the situation in Asia is potentially more volatile. Dealing with both theaters from the position of presumed strength and trying to dictate the outcomes is perilous, as many would-be hegemons (Philip II, Louis XIV, Napoleon, Kaiser Wilhelm, Hitler), blinded by arrogance, have learned to their peril. Obama has continued the hegemonist habit of instigating crises at different spots around the world, even though the resources are scarce and the strategy is fundamentally faulty. An overtly anti-U.S. alliance between Russia and China is now in the making. U.S. overreach led to the emergence of a de facto alliance in the Eurasian Heartland, embodied in the gas deal signed in Shanghai. Russia and China are not natural allies and they may have divergent long-term interests, especially in Central Asia, but they are on the same page when it comes to resisting U.S. hegemony, pardon, "leadership." In the early 1970's Dr. Henry Kissinger wisely understood the benefits of an opening to Beijing as a means of pressuring Moscow on the Cold War's central front. Back then the USSR was far more powerful than the People's Republic. Today, by contrast, China is much more economically and demographically powerful than Russia, and for the United States the optimal strategy would dictate being on good terms with the weaker party in the triangle. America does not have a policymaker of Kissinger's stature today, who would understand the potential of a long-term understanding with Moscow as a tool of curtailing Chinese ambitions along the Pacific Rim.
"America must always lead on the world stage. If we don't, no one else will. The military that you have joined is, and always will be, the backbone of that leadership."
The notion that "the world stage" demands a "leader" is flawed. It is at fundamental odds with the balance-of-power paradigm, which has historically secured the longest periods of peace and unprecedented prosperity to the civilized world. Today's world is being multipolarized, whether Obama the Exceptionalist likes that or not. The very idea of the self-awarded "world leadership" would appear absurd in the days of Bismarck or Metternich. Washington has neither the resources nor the minds for such a role, even if it were called for.
"The United States will use military force, unilaterally if necessary, when our core interests demand it — when our people are threatened; when our livelihoods are at stake; when the security of our allies is in danger."
None of the above applied in Bosnia, Kosovo, Afghanistan, Iraq, or Libya… but enough of Obama. There was more rhetoric at West Point, including an ode to American exceptionalism and further references to America's global leadership, but it just as tedious, vacuous and intellectually wanting as the first ten minutes of his address.
Overall, it is evident that the United States in Barack Obama's final term has not given up the hegemonist habit of instigating crises at different spots around the world, even though the management resources are scarce and the strategy is fundamentally faulty. An overtly anti-U.S. alliance between Russia and China is now in the making. It will be a belated equivalent of the Franco-Russian alliance of 1893 – the predictable result of an earlier great power, Wilhelm's Kaiserreich, basing its strategy on hubristic overestimation of its capabilities. U.S. overreach has led to the emergence of a de facto alliance in the Eurasian Heartland, embodied in last month's energy agreement signed in Shanghai. Russia and China are not natural allies and they may have divergent long-term interests, especially in Central Asia, but they are on the same page when it comes to resisting U.S. hegemony.
In the early 1970's Dr. Henry Kissinger wisely understood the benefits of an opening to Beijing as a means of pressuring Moscow on the Cold War's central front. Back then the USSR was far more powerful than the People's Republic. Today, by contrast, China is much more economically and demographically powerful than Russia, and for the United States the optimal strategy would dictate being on good terms with the weaker party in the triangle. It is unfortunate that America does not have a policymaker of Kissinger's stature today, who would understand the potential of a long-term understanding with Moscow as a tool of curtailing Chinese ambitions along the Pacific Rim.
Judging by the West Point address, for the remaining two and a half years of Obama's term U.S.-initiated global confrontations will continue as before. Instead of de-escalating the bloody mess to which she has made a hefty contribution, Victoria Nuland will continue encouraging her blood-soaked protégés in Kiev to seek a military end-game in the East. Instead of calming the South China Sea, Washington will continue encouraging its clients to be impertinent. And Putin and Xi will draw their conclusions: that they do have a powerful common enemy, a rogue regime not amenable to reason or rational calculus.
It cannot be otherwise, considering the Obama Administration's 2012 Defense Strategic Guidance, which is but a rehash of the strategic assumptions of the Bush era. In Obama's words from two years ago, our "enduring national interest" is to maintain the unparalleled U.S. military superiority, "ready for the full range of contingencies and threats" amid "a complex and growing array of security challenges across the globe." The Guidance itself asserts that the task of the United States is to "confront and defeat aggression anywhere in the world." This is not a grand strategy but a blueprint for disaster—especially when combined with the interventionists' urge to "confront and defeat" not only aggression as such but also "aggression" resulting from  internal conflicts irrelevant to the American interest (Syria, Ukraine) and putative threats to regional stability (Iran).
Obama is a more reluctant interventionist than McCain or Romney would have been, but he, too, does not recognize the limits of American power and does not correlate that power with this country's security and prosperity. He fails to balance military and nonmilitary, short and long-term capabilities. He rejects the fact that the world is becoming multipolar again, while the relative power of the United States is in steady decline. Obama's absence of a viable grand strategy produces policies that are disjointed, nonsensical, and self-defeating. He is prone, no less than his predecessor, to equate any stated political objective in some faraway land with America's vital interests, without ever offering a coherent definition of those "vital" interests.
On both sides of the duopoly, the ideology of American exceptionalism and the doctrine of global dominance reign supreme. At a time of domestic economic weakness and cultural decline, foreign policy based on the American interest requires prudence, restraint, and a rational link between ends and means. Abroad, it demands disengagement from distant countries of which we know little; at home, a sane immigration policy.
It will not happen.
How corrupt has America become? It has become as corrupt as globalism itself, a byproduct in international greed, where the gutting of good paying jobs has relegated the United States to being nothing more than a third rate country with a first rate war machine. An essential aspect to what we regard as the American economy today is its reliance on fraud and corruption, from the banking sector to corporations exporting and outsourcing good jobs with the help of a political class that is not only fraudulent but treasonous to the extreme, they are driving America towards an abyss that it will not come back from.
Waging international war for resources under false pretenses is a globalists wet dream, and under the cloak of the nefarious "war on terror," multinational defense and security firms have made trillions of dollars over the last decade. They destroy so they can rebuild, and all the human collateral damage is just an unsightly part of doing business.
Another perverse aspect to globalism is massive illegal immigration under the disreputable banner of multiculturalism, for some shady businesses in America the profit margins can increase exponentially by hiring illegal workers over Americans.
Corporations hire illegal workers to keep wages low, and benefits to an absolute minimum. Americans are shunned for unquestioning cheep labor, and governments allow and foster this fraud to the detriment of many Americans. Some Americans, if you can still call them Americans, profit greatly in this perverse atmosphere of fraud.  The Federal government consistently places the interests of illegal aliens and businesses who hire them over and above American workers and the 'rule of law'.
A case in point is Oklahoma, specifically Tulsa, Oklahoma, which has become a hotbed of greed and corruption. Tulsa is what some call a sanctuary city, where tens of thousands of illegal workers are in jobs that Americans are obviously not occupying. This ugly fact is good for some corporations and businesses, expanding their profits by paying undocumented workers low wages with no real benefits. What does it cost the American tax payers when these illegal workers have babies and use the medical industry with false identities, who foots the medical bills?  It defiantly is not businesses or the governments.
Another case in point is a company called Name Brand Clothing; based in Tulsa, it has stores in six states, the company sells salvage clothing at 75 percent off retail and it prefers to hire illegal workers instead of Americans. It is the proverbial 'poster child' for corporate greed and corruption in Tulsa, Oklahoma.
Why does it hire illegal workers? Well, first of all, it is about greed, making some people rich at the expense of everyone else. The managers at Name Brand Clothing generate outrageous bonuses by essentially suppressing wages on all hourly paid employees year after year. They choose illegal workers because illegal's do not complain about being stuck on minimum wage for years on end with no real medical benefits and no paid holidays.
The owners and managers of Name Brand Clothing knowingly and willingly submit false identifications and Social Security Numbers to the IRS and to the Oklahoma Tax Commission, which is of course contrary to both federal and state laws. They have been doing this for over a decade, and they can commit these criminal acts because Federal and State governments are currently as corrupt and dishonest as companies like Name Brand Clothing.
Veracity Voice interviewed a long time worker at Name Brands Clothing for an inside examination into the workings of corporate greed and corruption that currently plagues corporate America.
We are protecting the person's identity because the person is still currently employed by the company. We will refer to that person as the 'Employee'.
Veracity Voice: How long have you been working for Name Brands?
Employee: I rather not say exactly since I still work for them, lets just say that I have been employed at Name Brands for about 10 years, give or take a couple of years.
Veracity Voice: What do you do there?
Employee: Again, I rather not say exactly, lets just say I worked in the head office, and have seen the corruption first hand.
Veracity Voice: Why have you decided to speak out at this time, and not before?
Employee: Actually I did in a way speak about this before; I wrote a letter to the Sheriff's department, and the FBI about 4 years ago. I also wrote letters too FOX 23 and Channel Six News, concerning the outlandish fraud and corruption happening at Name Brands, and absolutely nothing came of it. It seems that it is not PC to talk about this issue in Tulsa; the mainstream media won't touch it. That is why I am talking with Veracity Voice; the only outlet whistleblowers have today in America is in the alternative media.
Veracity Voice: Are you saying that the mainstream media is covering it up?
Employee: In a way they are by not reporting all the law breaking going around Tulsa as far as hiring illegal workers by businesses, they certainly seem to be part of the club, and will not rock the boat.
Veracity Voice: What Club?
Employee: Corrupt businesses, Local, State and Federal governments that allow the criminal behavior, the police departments that will not enforce the law and mainstream media that will not report any of it. It is one big corrupt club.
Veracity Voice: What kind of fraud and corruption have you seen at Name Brands?
Employee: Well, you can compare the greed and corruption at Name Brands along the lines of what's happening in Wall Street and the financial system, some people are profiting greatly through outright fraud and thievery at the expense of everyone else, and government is engaged in helping the criminality.
At Name Brands, the fraud is done by submitting false ID's and Social Security Numbers (SSN) to the IRS. I've seen with my own eyes management turn away American workers seeking work then turn around and hire illegals. The main reason they do this, Is because the illegals are content to work for minimum wage with no real benefits. Essentially, they keep everyone's wages stagnant except for management.
Veracity Voice: What do you mean except for management?
Employee: The lower the costs for running the business, the higher the bonuses for management, its classic corporate greed. Management at Name Brands make large sums of money in the form of bonuses while all other workers do not receive real medical benefits or paid holidays except for two, Thanksgiving and Christmas, and those two paid holidays are highly conditional.
Veracity Voice: Highly conditional?
Employee: Yes, two weeks prior to Thanksgiving and Christmas if an employee is late for work for any reason Name Brands will not pay you for the holiday.
Veracity Voice: You're kidding right?
Employee: No, unfortunately I'm not kidding. At Name Brands it's a culture of nepotism and greed, like the saying goes "there is no honor among thieves" there is no honesty, no real integrity, just godless corruption. There is one woman, who has worked for the company for 17 years, and she has only received one 5 cent raise not counting minimum wage increases. It's outright disgusting how they treat workers.
Veracity Voice: Why does she stay?
Employee: Well, some people have problems, and finding other employment can be difficult.
Veracity Voice: What kind of problems?
Employee: All sorts of problems like emotional and mental problems, in some cases drug problems, other cases workers being ex-convicts, finding employment can be difficult. Like some parasite, companies like Name Brands like to take advantage of the most vulnerable and disadvantaged in society, that's why they like illegals; they can thieve from them without any complaint, protected by corrupt governments. Most self-respecting Americans will not work for a company that treats hourly workers like trash.
Veracity Voice: Let's get back to the fraud, how many illegals are they employing?
Employee: At TPC which is Name Brands production center in North Tulsa, they usually have around 80 illegals working there, and at their store in South Tulsa there are about 10.
Veracity Voice: That many?
Employee: Yes, it's absolutely incredulous and in your face. It is both frustrating and depressing at the same time to see this traitorous conduct on a daily basis. It is time for Americans to take a stand against these globalists that are profiting through corruption.
Veracity Voice: Who are the people that run Name Brands Clothing in Tulsa?
Employee: As far as I know, Rusty Gaddy is the CEO, Jim Stevenson and Jim Breese are VP's. At TPC there is Reid Lewellin and Jason Garman, both managers, and Brent Daily is the manager at the Tulsa Store, they all commit fraud on a daily bases. They do not care for America or Americans, all they care about is increasing their bonuses at the expense of everyone else, and what really bothers me is that the governments, both at the local and federal level engage in the same fraud, they do absolutely nothing about it. The Federal government knows very well that Name Brands has for well over a decade submitted thousands of false ID's and SSN's. This is criminal behavior at both the local and Federal level when the government chooses not to enforce its own laws.
Veracity Voice: What do you think should be done with these people?
Employee: These people are more than thieving fraudsters, they are traitors to the country and its people, so I say arrest Rusty Gaddy, arrest Jim Breese, arrest Jason Garman and Reid Lewellin, and arrest all of the crooks that run the criminal enterprise called Name Brands Clothing. These people are also very cowardly, if they find out that any employee is against their corruption they will slander him or her with false accusations, they will make up stuff to make that employee look bad. The two most egregious slanderers at Name Brands are Jason Garman and Jim Breese, they will slander and harass you to the point of desperation, and people will quit their jobs because of the continual harassment.
Veracity Voice: Job harassment is a crime.
Employee: Yes, and they get away with that too.
Veracity Voice: Talk a little bit about the one man that has used more than one ID to work at Name Brands.
Employee: Ya, he has three different aliases. I do not know which one is his real name, all I know is that Name Brands went out and got him a new fake ID, when they found out that the old ID the man was using belonged to a another man.
Veracity Voice: Where did they get the fake ID?
Employee: I do not know for sure, I heard that they went to some website run by the Federal government, and it provided Name Brands with a fake ID.
Veracity Voice: What do you think should be done with companies that choose to break the law as a regular part of doing business?
Employee: Again, arrest and prosecute the criminals, if law enforcement will not do their jobs, then Americans need to start fighting back by boycotting corporations like Name Brands that fragrantly and openly break the law. I mean these people act like it's the turn of the 20th century or something; these anti-American globalists – at the end of the day that's what these people really are – Name Brands conducts business like multinationals that run sweatshops all over the third world. They help create the culture of illegal behavior, by giving employment to illegals, which allows the illegals to stay in the city, drive vehicles without drivers licenses and insurance, use emergency Heath Services at taxpayer cost, they currently function 'above the law' and all accountability. Real Americans need to stand up against these criminals before they completely destroy this country.
Veracity Voice: Many in the business sector and in the political establishment will argue that the illegals fill jobs that Americans will not do, this reasoning is also pushed by the mainstream media, what do you say to this reasoning?
Employee: I think it is a false argument, I've seen with my own eyes Name Brands turn away Americans willing to work, in some cases desperate for a job, they are turned away in favor of hiring illegals. So, that kind of reasoning is nothing more than an illusion.
Veracity Voice: Some will charge you with racism for holding these views, how do you respond to this kind of slander?
Employee: It has been my experience that those that accuse people of being racist are in fact racists themselves. They falsely accuse others of being racist so they could push their nefarious agenda by smearing the reputations of those that are opposed to their mendacity and corruption. The charge of racism holds no water in the case of illegal immigration.
Veracity Voice: Why don't you look for another job?
Employee: I am its not easy finding work these days. And if I quit, I probably will not be able to collect unemployment benefits if I can't find a job.
Veracity Voice: Why?
Employee: Because Name Brands will fight against your right to obtain unemployment insurance, its company policy. They will send their managers to testify against your eligibility for unemployment benefits, and they will without any hesitation, lie and malign anyone applying for the benefits.
Veracity Voice: They have done this before, entered false information against former employees to the Unemployment Bureau?
Employee: Yes, many times, and they get away with that too, companies like Name Brands function 'above the law,' and it must stop now.
Veracity Voice: Thank you for your time.
Employee: You're welcome.
The massive unrestrained flux in illegal immigration has changed the demographics of Tulsa, forcing many businesses to provide bilingual services, including city and state government services at great cost to the taxpayer. It is the ongoing balkanization of the city where east Tulsa is now known as little Mexico, a criminal and negative phenomenon that is currently occurring in many cities across the nation.
On the surface, the economic atmosphere of the U.S. has appeared rather calm and uneventful. Stocks are up, employment isn't great but jobs aren't collapsing into the void (at least not openly), and the U.S. dollar seems to be going strong. Peel away the thin veneer, however, and a different financial horror show is revealed.
U.S. stocks have enjoyed unprecedented crash protection due to a steady infusion of fiat money from the Federal Reserve known as quantitative easing. With the advent of the "taper", QE is now swiftly coming to a close (as is evident in the overall reduction in treasury market purchases), and is slated to end by this fall, if not sooner.
Employment has been boosted only in statistical presentation, and not in reality. The Labor Department's creative accounting of job numbers omits numerous factors, the most important being the issue of long term unemployed. Millions of people who have been jobless for so long they no longer qualify for benefits are being removed from the rolls. This quiet catastrophe has the side bonus of making it appear as though unemployment is going down.
U.S. Treasury bonds, and by extension the dollar, have also stayed afloat due to the river of stimulus being introduced by the Federal Reserve. That same river, through QE, is now drying up.
In my article The Final Swindle Of Private American Wealth Has Begun, I outline the data which leads me to believe that the Fed taper is a deliberate action in preparation for an impending market collapse. The effectiveness of QE stimulus has a shelf-life, and that shelf life has come to an end. With debt monetization no longer a useful tool in propping up the ailing U.S. economy, central bankers are publicly stepping back. Why? If a collapse occurs while stimulus is in full swing, the Fed immediately takes full blame for the calamity, while being forced to admit that central banking as a concept serves absolutely no meaningful purpose.
My research over many years has led me to conclude that a collapse of the American system is not only expected by international financiers, but is in fact being engineered by them. The Fed is an entity created by globalists for globalists. These people have no loyalties to any one country or culture. Their only loyalties are to themselves and their private organizations.
While many people assume that the stimulus measures of the Fed are driven by a desire to save our economy and currency, I see instead a concerted program of destabilization which ismeant to bring about the eventual demise of our nation's fiscal infrastructure. What some might call "kicking the can down the road," I call deliberately stretching the country thin over time, so that any indirect crisis can be used as a trigger event to bring the ceiling crashing down.
In the past several months, the Fed taper of QE and subsequently U.S. bond buying has coincided with steep declines in purchases by China, a dump of one-fifth of holdings by Russia, and an overall decline in new purchases of U.S. dollars for FOREX reserves.
With the Ukraine crisis now escalating to fever pitch, BRIC nations are openly discussing the probability of "de-dollarization" in international summits, and the ultimate dumping of the dollaras the world reserve currency.
The U.S. is in desperate need of a benefactor to purchase its ever rising debt and keep the system running. Strangely, a buyer with apparently bottomless pockets has arrived to pick up the slack that the Fed and the BRICS are leaving behind. But, who is this buyer?
At first glance, it appears to be the tiny nation of Belgium.
While foreign investment in the U.S. has sharply declined since March, Belgium has quickly become the third largest buyer of Treasury bonds, just behind China and Japan, purchasing more than $200 billion in securities in the past five months, adding to a total stash of around $340 billion. This development is rather bewildering, primarily because Belgium's GDP as of 2012 was a miniscule $483 billion, meaning, Belgium has spent nearly the entirety of its yearly GDP on our debt.
Clearly, this is impossible, and someone, somewhere, is using Belgium as a proxy in order to prop up the U.S. But who?
Recently, a company based in Belgium called Euroclear has come forward claiming to be the culprit behind the massive purchases of American debt. Euroclear, though, is not a direct buyer. Instead, the bank is a facilitator, using what it calls a "collateral highway" to allow central banks and international banks to move vast amounts of securities around the world faster than ever before.
Euroclear claims to be an administrator for more than $24 trillion in worldwide assets and transactions, but these transactions are not initiated by the company itself. Euroclear is a middleman used by our secret buyer to quickly move U.S. Treasuries into various accounts without ever being identified. So the question remains, who is the true buyer?
My investigation into Euroclear found some interesting facts. Euroclear has financial relationships with more than 90 percent of the world's central banks and was once partly owned and run by 120 of the largest financial institutions back when it was called the "Euroclear System". The organization was consolidated and operated by none other than JP Morgan Bank in 1972. In 2000, Euroclear was officially incorporated and became its own entity. However, one must remember, once a JP Morgan bank, always a JP Morgan bank.
Another interesting fact – Euroclear also has a strong relationship with the Russian government and is a primary broker for Russian debt to foreign investors. This once again proves my ongoing point that Russia is tied to the global banking cabal as much as the United States. The East vs. West paradigm is a sham of the highest order.
Euroclear's ties to the banking elite are obvious; however, we are still no closer to discovering the specific groups or institution responsible for buying up U.S. debt. I think that the use of Euroclear and Belgium may be a key in understanding this mystery.
Belgium is the political center of the EU, with more politicians, diplomats and lobbyists than Washington D.C. It is also, despite its size and economic weakness, a member of an exclusive economic club called the "Group Of Ten" (G10).
The G10 nations have all agreed to participate in a "General Arrangement to Borrow" (GAB) launched in 1962 by the International Monetary Fund (IMF). The GAB is designed as an ever cycling fund which members pay into. In times of emergency, members can ask the IMF's permission for a release of funds. If the IMF agrees, it then injects capital through Treasury purchases and SDR allocations. Essentially, the IMF takes our money, then gives it back to us in times of desperation (with strings attached).  A similar program called 'New Arrangements To Borrow' (NAB) involves 38 member countries.  This fund was boosted to approximately 370 billion SDR (or $575 billion dollars U.S.) as the derivatives crisis struck markets in 2008-2009.  Without a full and independent audit of the IMF, however, it is impossible to know the exact funds it has at its disposal, or how many SDR's it has created.
It should be noted the Bank of International Settlements is also an overseer of the G10. If you want to learn more about the darker nature of globalist groups like the IMF and the BIS, read my articles, Russia Is Dominated By Global Banks, Too, and False East/West Paradigm Hides The Rise Of Global Currency.
The following article from Harpers titled "Ruling The World Of Money," was published in 1983 and boasts about the secrecy and "ingenuity" of the Bank Of International Settlements, an unaccountable body of financiers that dominates the very course of economic life around the world.
It is my belief that Belgium, as a member of the G10 and the GAB/NAB agreements, is being used as a proxy by the BIS and the IMF to purchase U.S. debt, but at a high price. I believe that the banking elite are hiding behind their middleman, Euroclear, because they do not want their purchases of Treasuries revealed too soon. I believe that the IMF in particular is accumulating U.S. debt to be used later as leverage to absorb the dollar and finalize the rise of their SDR currency basket as the world reserve standard.
Imagine what would happen if all foreign creditors abandoned U.S. debt purchases because the dollar was no longer seen as viable as a world reserve currency.  Imagine that the Fed's efforts to stimulate through fiat printing became useless in propping up Treasuries, serving only to devalue the domestic buying power of our currency.  Imagine that the IMF swoops in as the lender of last resort; the only entity willing to service our debt and keep the system running.  Imagine what kind of concessions America would have to make to a global loan shark like the IMF.
Keep in mind, the plan to replace the dollar is not mere "theory".  In fact, IMF head Christine Lagarde has openly called for a "global financial system" to take over in the place of the current dollar based system.
The Bretton Woods System, established in 1944, was used by the United Nations and participating governments to form international rules of economic conduct, including fixed rates for currencies and establishing the dollar as the monetary backbone. The IMF was created during this shift towards globalization as the BIS slithered into the background after its business dealings with the Nazis were exposed. It was the G10, backed by the IMF, that then signed the Smithsonian Agreement in 1971 which ended the Bretton Woods system of fixed currencies, as well as any remnants of the gold standard. This led to the floated currency system we have today, as well as the slow poison of monetary inflation which has now destroyed more than 98 percent of the dollar's purchasing power.
I believe the next and final step in the banker program is to reestablish a new Bretton Woods style system in the wake of an engineered catastrophe. That is to say, we are about to go full circle. Perhaps Ukraine will be the cover event, or tensions in the South China Sea. Just as Bretton Woods was unveiled during World War II, Bretton Woods redux may be unveiled during World War III. In either case, the false East/West paradigm is the most useful ploy the elites have to bring about a controlled decline of the dollar.
The new system will reintroduce the concept of fixed currencies, but this time, all currencies will be fixed or "pegged" to the value of the SDR global basket. The IMF holds a global SDR summit every five years, and the next meeting is set for the beginning of 2015.
If the Chinese yuan is brought into the SDR basket next year, if the BRICS enter into a conjured economic war with the West, and if the dollar is toppled as the world reserve, there will be nothing left in terms of fiscal structure in the way of a global currency system. If the public does not remove the globalist edifice by force, the IMF and the BIS will then achieve their dream – the complete dissolution of economic sovereignty, and the acceptance by the masses of global financial governance. The elites don't want to hide behind the curtain anymore. They want recognition. They want to be worshiped. And, it all begins with the secret buyout of America, the implosion of our debt markets, and the annihilation of our way of life.
Source:  Brandon Smith | Alt-Market
Origin of the Master Model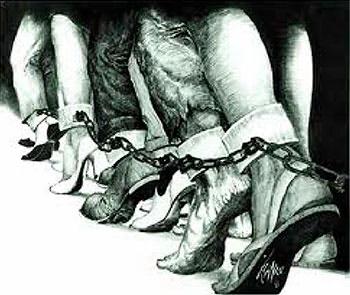 The master plan for world domination we see playing out today was first proposed to the US at the end of World War I. However, there were no takers. People were too war weary. However, when the plan was again proposed at the end of World War II, it was accepted. Consequently, World War II quietly transitioned into the secret "war" to set up what has become known as the "new world order" — an absolute dictatorship over the entire planet.
The United States set up the School of the Americas to train future dictators and terrorists who would be sent out into the world to destroy sovereign nations and place them under US domination by installing puppet governments obedient to the United States. Many conquests were made quietly using clever economic tricks [2]. However, leaders who refused to submit quietly would see their entire country reduced to rubble and the land rendered unlivable by uranium dust scattered by US bombs. The message was clear: Submit to the United States or face total destruction.
A social model based upon the assumption that cleverness and power automatically convey the right to take anything desired from those who are less adept and unable to resist is not a sustainable model for harmonious social interactions. However, this is the chosen model. The mantra for this model, "A man's true worth is measured by the amount of other peoples' happiness that he can possess and destroy" [1], is essentially a call for a class war between the greedy elite and the innocent masses of the world who simply desire a peaceful existence.
Acquisitions
The United States looks at the rest of the world as a "resource". If a country has something — oil, gold, minerals, etc. — that the US covets, it believes it has the right to take those things by whatever means necessary. In many cases the coveted resource is human slave labor. Let's look at some representative examples:
With the cooperation of the dictator, United Fruit Company (US) owned almost half of the country and used the locals as slaves to harvest its Chiquita brand bananas. However, during the period from 1945-1954 new leaders made changes. They helped the poor and set up social security and health care. Then they took land away from United Fruit and gave it to the local people. United fruit complained to the CIA that its business interests were being interfered with by the "communist" government. Any government which shows kindness to the poor and weak is called communist by the US. The US attacked Guatemala — killed the elected leaders and many thousands of citizens — and established a puppet dictatorship which would obey the will of United Fruit. The people were returned to a state of slavery. The CIA trained death squads to make sure the people were crushed into submission.
Strip Mining in Africa [4]
In Africa, the International Monetary Fund — a puppet of the US — destroys a country with strip mining. The original country was self sustaining. People were able to grow lots of food and hunt animals. However, once the land was ruined by US corporations, it was unusable to plant crops and the native animals died. The people had to buy food from other countries with money loaned to them by the IMF which they could never hope to repay. Therefore, a once free and self supporting people were made debt slaves of the IMF. Once all the natural resources have been stolen, the corporations will simply pack up and leave the indigenous people to starve and die.
Countries Used as Trash Dumps [5]
Used computers and associated items are dumped in poor countries where starving barefoot children sift through the mess of hazardous waste and broken obsolete glass computer monitors hoping to find something they can sell to get enough money to stay alive another day. Property stickers show the waste is mainly from the US government and various US state governments.
Corruption of Trusted Sources
Reporters and News Organizations
The masses are conditioned to believe news they receive from establishment sources. In the earlier times, this assumption was often correct. It was considered so important by the founding fathers that freedom of the press was enshrined in the US constitution. However, times have changed.
Walter Cronkite was known as the "trusted voice". No one knew he was also the official announcer at the secret Bohemian Grove meetings. The leaders of the world's news organizations also attend this event. That is why, even though the meetings began over one hundred years ago, until recently no one knew this group even existed. President George W. Bush may have set a new record for bribing journalists to allow their trusted name to be used as the author of material actually written by government propaganda experts. Apparently, everyone has a price and the government, of course, has no problem when it comes to money.
When Ronald Reagan reportedly ordered the death of investigative reporter Jessica Savitch [6], the message to independent journalists was clear: Go against the official party line an you're done!
Today, dedicated journalists face mysterious deaths and strange single car accidents but a few survive long enough to give us a glimpse of truths we would otherwise never know. They are true heroes.
Churches
Churches are everywhere. Unfortunately, legitimate Spiritual teachers are not. People look at churches either as harmless or with some sort of conditioned hypnotic respect. Churches send out "missionaries". However, the "mission" of these missionaries may not be so clear. If you wanted to infiltrate a foreign country, these people would be an ideal asset.
Churches are not Spiritual centers. At best, all they want is your money. At worst, they are Satanic and you are in severe Spiritual danger if you come under their influence and control.
The Catholic Church has been a trusted asset of the US intelligence community for quite some time. Significant information obtained by priests during confessions is routinely passed on to the government.
This agreement predates the internet by many years. Because the church has branches in almost every country, it has great potential for covert activities. For example, if you need to get an operative who is in danger out of a country, they can go to a Catholic church for "confession". Once the door is closed, they can exit through a secret passage, be disguised in robes and spirited safely out of the country. Church secrecy is at least on a par with US secrecy. Also, the Catholic church and the US shadow government share the same Satanic value system and engage in child rape and ritual killings.
Doctors and the Medical Industry
Medicine in the United States is an industry. It is no longer a profession. Its corporate model puts profit above all else. If some patients accidentally benefit they are the lucky ones.
The medical community has a rigid hierarchical structure and effective mechanisms for enforcing secrecy. Essentially, its model closely resembles the military chain of command structure. This makes it a perfect partner for the government in the area of secret human experiments.
For example, when the government was doing radiation experiments on humans, a doctor or someone dressed as a doctor would just walk up to unsuspecting patients and inject them with radioactive material. They were then secretly followed for years to see what would happen. Eventually, some of those who survived were told the truth. Most people used in the MK Ultra and subsequent secret projects were never notified.
Hospitals are set up to protect themselves. Staff may appear to be dedicated, smiling people who truly care about you. However, they are basically prostitutes who are being nice because you are worth money to them. When they make mistakes they have a "loss prevention" department staffed by clever lawyers who are trained to protect the financial interests of the hospital by denying everything and fabricating believable coverups. They are trained to do whatever is necessary. The staff will all agree to support whatever lies are needed. They know their job and their financial future depends upon maintaining strict secrecy.
The only people who receive legitimate medical care are the select elite cleared to accesstop secret medicine. These people always get excellent care because the doctors work for the shadow government and mistakes on their part are simply not tolerated.
Infiltrations
Countries which have the resources to sustain an intelligence community generally try to get operatives (spies) into other countries so they can directly observe activities. When real people gather intelligence, this is called human intelligence or HUMINT. The US, of course, does this too. However, you may not be aware of the extent to which the US also infiltrates itself. The central government really does not trust anyone.
Essentially all local police departments, state offices and state governors have a covert federal agent working close by pretending to be just another employee. Also, every US neighborhood has an informer who reports to the federal government. Large corporations, which tend to behave like "mini governments", need to be infiltrated and kept under observation. Colleges and universities are also monitored.
Here is how this spy network operates: The NSA likes to recruit young kids right out of college. When they are hired and sworn to secrecy they still do not know what their assignment will be. They must agree to do this assignment without first being told what it is.
Some agents, like John Perkins [2], are assigned to work in other countries. However, others are assigned to work inside the US. Their assignment could be to go to some state and apply to join the local police department. They would pretend to be just a regular person looking for a job. They would take the necessary training and spend their life as a local policeman so they could directly observe other local police from the inside and report to the NSA. Since they are actually an employee of the NSA, presumably they get to keep both salaries and, eventually, both retirements. All significant local police forces in the US are infiltrated this way.
Additionally, some agents will be assigned to get a job on the state governor's staff as well as in major local state agencies. A CIA or NSA agent is always on the staff at major colleges and universities. The same goes for major corporations.
Senior level agents are allowed to have special TV receivers in their homes linked to the secret government TV network. This way everyone stays on the same page. The channels on this network actually broadcast the truth. TV channels available to ordinary people contain only government approved propaganda mixed with "bread and circuses" presentations to make sure the sheeple stay asleep and content.
Fronts
The US government is involved in illegal activities internationally and domestically. If it performed these activities overtly in the name of the United States, there would be serious consequences under both international and local laws. To avoid this situation, the US government operates thousands of "front organizations" which appear to be private but are actually shadow operatives of the US.
For example, John Perkins [2] explained that he was recruited, hired and trained by the NSA. He was an NSA agent. However, for his cover as an economic hit man, he "officially" worked for a "private" company called Charles T. Main. This company was a government front to shield the US because the activities the NSA trained Perkins to do were illegal.
This is standard operating procedure for the US as well as other countries and many corporations. It shields them from legal recourse by providing deniability for the crimes they actually direct and commit.
Generally, when the US wants to influence other sovereign countries, it creates harmless looking NGO's which appear to be independent but are actually fronts for covert activities.
Domestically, colleges and universities — especially those with associated medical schools and hospitals — are great places to conceal a variety of covert projects such as the MK Ultra series of human experiments which, reportedly, continue today using new cover names. The US also likes to create non-profit corporations which exist only to provide classified services to the United States. A good example would be the Institutes for Defense Analysis (IDA). The US, reportedly, is its only client.
Programming
Mass media "programming" is actually programming you. It has developed into a subtle form of mind control. Before radio and television, special interests recognized that motion pictures could be used to alter public opinion in their favor. Perhaps, for example, you wanted to attack labor unions. When radio and later television came along providing access to national and international audiences, the temptation to exploit these technologies became irresistible. Originally, the US government recognized this and set up fairness rules to prevent monopolies from taking over the broadcast media and blocking opposing viewpoints. All this ended, unfortunately, when Ronald Regan canceled all the fairness regulations. Today, a handful of powerful corporations own and control essentially all content delivered by radio and television.
Television is the main vehicle for mass indoctrination. It is said that people watching TV actually fall into a light hypnotic trance. The "entertainment" you see on TV does not "just happen to be there". It is very carefully planned and timed to attract and influence targeted audiences. It is said that if some event were to somehow shut down all television broadcasts the government would experience a severe crisis because it would lose control over the minds of the masses.
TV creates sort of a "hive mind" among the masses and keeps everyone coordinated and tuned into the official party line. Without this, people would have no choice but to start thinking for themselves and forming independent opinions. Clearly, this would be a disaster.
The radio broadcast of "War of the Worlds" and the later movie "The Day the Earth Stood Still" are said to be CIA psychological experiments to judge how the general public would react to some type of ET contact.
Today, broadcasting is not just a one way event. Because people react to events and use social media to express these reactions, the effect of specific propaganda can be analyzed in real time. Since the government now intercepts all electronic communications, it is able to see general opinions and then tweak algorithms to maximize the desired effect of propaganda. This ability makes TV a two-way communications system although most people, of course, do not realize this and have no concept of the level of sophistication these technologies have reached.
Information Theory
Information Theory is the name of a relatively new branch of science which became popular in the 1960′s. It covers a broad range of technologies. Basically, it is the science of the flow of information and how that flow can be selectively controlled so that information flows only in desired pathways. As you may have already guessed, governments love this sort of stuff.
ECM
ECM stands for Electronic Counter Measures. In general, these are techniques to disable other electronic devices. Basically, it is electronic warfare. When the secret service is active in an area, for example, they will selectively jam all radio frequencies except for the specific frequencies they are using so that no one else can communicate.
World leaders, who are generally terrified of "threats" materializing from practically anywhere, like to travel with ECM generators running just in case "someone" from "somewhere" was trying to target them for "some reason". Basically, they are paranoid whack jobs.
People familiar with aviation tell the story of how Tony Blair, while traveling to or near a commercial airport, reportedly caused a commercial jet to crash because all the ECM garbage he was transmitting jammed the plane's navigation system. Of course, the British government would never admit this.
Secure Communication With Submarines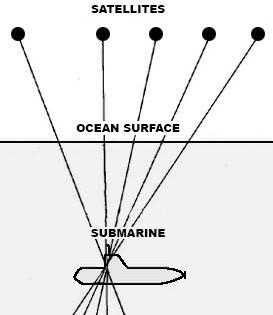 Since submarines were invented, communicating with them has been a problem because conventional radio waves will not travel underwater. Therefore, early submarines had to get close enough to the surface to put up some kind of antenna in the air to send or receive radio messages. Obviously, this could pose a problem if you did not wish to be discovered and located. After all, the motivation to create submarines in the first place was the feeling that they would be able to move about the planet secretly. However, newer technologies now make this impossible.
To solve the problem of reliable secure communication without the need to surface, scientists learned that sea water was essentially transparent to a special type of Argon laser. To set up the current communications network, it was decided to use several satellites with each satellite sending only part of an encrypted communication signal. The complete signal could only be received at a specific point underwater where all the laser beams intersected. Intercepting only one or two beams would prove useless. This communications system is considered to be impossible to intercept.
Quantum Entanglement
Returning to the submarine issue for a moment, before modern communications were perfected, there was a search for some reliable method to send a signal to a submerged submarine that could not be detected. This was considered necessary in a war situation to secretly transmit an attack command. What they originally did was to locate a couple of people who could communicate telepathically. One would be at the command base and the other on the submarine. Doing a bit more research, it was determined that this type of communication is instantaneous and somehow operated outside of time. Radio waves travel at the speed of light.
Quantum entanglement is a process which uses technology to send and receive signals outside of space-time. Now, why would you possibly want to do this? Well, if you had a base or a colony on a planet in some other solar system light years away, you would not want to wait years for messages to be received. Following this thread — and adding some basic common sense — why would you want to dedicate resources to search for habitable planets in distant solar systems when you had already "proven" it would be impossible to ever get there? Could it just be that someone is not coming clean with whole story?
The Separation Barrier
This is a model of the separation barrier which insulates the ruling class from the slave class. It is essentially "intellectual apartheid". The question is, why is it there. It takes considerable effort, money and manpower to maintain this artificial barrier. What is the reasoning behind not having a level playing field for everyone? Why does this idea absolutely terrify the elite? What are they afraid of?
The Pirate Story
This is a summary of a story told years ago on a radio broadcast most likely by Paul Harvey:
Ordinary people were afraid. The Earth was flat so they dare not venture far from home. Periodically, a pirate ship would come. They did not know how it got there or from where it came. It brought treasures they had never seen. The Chief Pirate would encourage the young men to study and specialize in specific skills. He wanted them to become educated but only in one narrow area. The Chief Pirate knew the world was not flat and how to navigate to other lands. However, this knowledge was never discussed. This "top secret" knowledge or the "big picture of the known world" would only be given to the Chief Pirate's son who would inherit his title and someday become the Chief Pirate.
This story is about the origin of the concept we call compartmentalization — the process of controlling the slave masses by only allowing them to know specific bits of the truth while the leaders are allowed to know total truth.
ELITE RULING CLASS
SECURITY CLEARANCES
SECRET POLICE
ASSASSINS
SURVEILLANCE — SIGINT HUMINT COMINT
SPY SATELLITES
SPY DRONES
SMART ELECTRIC METERS
INTERNET SURVEILLANCE
NEIGHBORHOOD SPIES
PLENTIFUL STREET DRUGS
PSYCHIATRIC FORCED DRUGGING
GENETICALLY MODIFIED FOOD
FLUORIDATED WATER
COORDINATED TELEVISION PROPAGANDA
DEGRADED PUBLIC EDUCATION
LOCAL MILITARIZED POLICE
---
SLAVE CLASS
Leaders can only maintain their status if there are slaves. Otherwise, everyone would be equal and operate on a level playing field. This means "leaders" would have to pull their own weight like everyone else. Clearly, this would be intolerable. Leaders love beautiful and exotic things but don't want to do the work needed to create these things. They probably could not even plant a garden much less build the various "ivory towers" where they like to live surrounded by servants. If left on their own they would very likely starve. This is why it is so important to create and maintain the complex separation barrier.
Why don't people who live above the separation barrier ever "come down" and talk to the people below the barrier? Well, other than the obvious fact that they would likely be killed or jailed for espionage or treason, there is another, simpler, reason.
Would you like to spend your days sitting in an open field with kindergarten kids looking for four leaf clovers? Probably not. You have progressed beyond that. The slaves below the separation barrier cannot even imagine the world of those who live above the barrier. In fact, the elite do not even consider the slaves human. They call them "disposable biological units". The United Nations prefers the slang term "the herd". Slaves can be easily bred in quantities needed and programmed to do desired tasks. Then, they can be easily disposed of when no longer useful. That's how they look at you. So, why would they want to make friends with you?
The Mars Example
There is an interesting event playing out today that you may have noticed. This concerns the recruitment and selection of people to be sent to Mars. There are simulation projects where volunteers are locked away to imitate the long voyage to Mars. They are being told that this is a one way trip and they can never hope to return to Earth.
What you are witnessing is the selection process for the "seed people" who will be used to breed the future slave class on Mars. In a situation similar to the period when most believed the Earth was flat and you would fall off if you tried to go to sea, these people are convinced that the only way to get to mars is to ride a rocket on a perilous journey taking years. Because they truly believe this, when they get to Mars, they will teach this crap to their kids along with other misconceptions like it is impossible to go faster than the speed of light and other associated obsolete scientific principles. They will have no
desire to ever return to Earth or go anywhere else because they truly believe it is not possible. They will be contented slaves.
Of course the truth is that there are already secret colonies on Mars. It is not that hard to get there using antigravity and other secret propulsion methods and it is quite likely possible to simply walk through some kind of wormhole device and come out on Mars.
However, the slaves will never know this. Just as it is done on Earth, there will be an artificial separation barrier. The insiders will know the truth and will be physically hidden from the slaves. There will be secret police and other methods — the same as are used on Earth — to make sure no slave ever escapes from the "information prison". Business as usual will continue.
Reinforcement of Ignorance
Governments and their oligarchs love to keep their subjects in a cloud of ignorance. Back in the days when people believed the Earth was flat, the inner circle ruling class knew it was round. Maintaining the deception was convenient because it kept the slaves from developing any desire to travel far from home.
Nothing has changed all that much today. Consider, for example, all the fuss over the missing MH370 plane. You are being played for a sucker. It is impossible for that plane to have "disappeared".
The US DoD spy satellite system reportedly consists of ten constellations of satellites. Each constellation has over seven thousand satellites. They see and record everything that happens on this planet. The floor of the oceans can be seen just as clearly as the land areas. The resolution of the system is better than one square millimeter. Also, everything is recorded so you can go back in time and play past images.

This is a picture of a common electric lamp. Take this lamp and throw it in the ocean — any ocean anywhere on this planet. The spy satellite system will locate it, give you the coordinates and give you a photo at least as good as the one above. That is the capability of the system. So, clearly, it is impossible not to know the location of something as large as a Boeing 777 plane. All the TV publicity is a choreographed play. You are being scammed and you need to wake up and realize this fact.
Murders and Assassinations
To ensure a strong empire, dissent must be crushed. The United States trains assassins and carries out both domestic and foreign murders and assassinations on a regular basis. You may be familiar with the classic movie scenes where a black limousine with tinted windows drives by a target with thugs shooting machine guns. Although this would accomplish the task, it is a bit too obvious in a country that advertises itself to be a free, civilized democracy. Someone might catch on and begin to doubt the party line. Consequently, these things must be done quietly.
Inside the US, murders are reportedly carried out by a group known as "FBI Division Five". Other agencies likely have the responsibility for foreign assassinations. However, the basic techniques used would be similar.
Typically, an agent would wake up every day and connect to the top secret internet to see who he was assigned to kill that day. There would be several options. If it was important to eliminate the target immediately, a fast acting chemical agent would be selected which, for example, would cause the target to die within a few hours of a "natural" heart attack.
However, if time was not critical and the government just wanted the target out of the way, you might want to select one of the cancer causing agents such as those likely used to eliminate Hugo Chavez and Senator Ted Kennedy.
There is also a third possibility. This involves character assassination instead of actual murder. Consider, for example, a person who has gained a lot of public recognition talking about, say, free energy. If you simply kill the person, there could be blowback and talk that he was silenced by the government. In such cases, it is easier to use a chemical agent designed not to kill but, rather, to cause states of mental confusion resulting in obviously strange behavior. This would be coordinated with the government controlled mainstream press to make sure everyone became convinced the person was a nut and would therefore ignore anything said without regard to the truth or validity of the message.
Once the appropriate chemical has been selected, you need to load it into the secret delivery system and locate your target. To find your target you will connect to the top secret internet and pinpoint the location of the target through their cell phone. You can also activate all the cameras and microphones in electronic gadgets connected to the internet associated with the target in case you wish to look around the target's home and hear in real time what is taking place.
Of course, this will not help you locate the target when it is time to actually do the hit. So, you need to get the top secret profile data which will show any predictable habits of the target. Everyone is constantly tracked through their cell phones and profiles are logged and stored. In this case, the profile shows that the target has a favorite restaurant and goes there for lunch every day around 11:30. Now, you know exactly what to do. You go to the restaurant, hang out until you see your target, and get in line behind the target. Now, all you need to do is slightly bump into the target to deliver the chemical. Generally, the targets never even notice.
This mission is now complete. If it is early enough, you can check back in to the top secret system to see who you are supposed to kill next. Just another day. Just a routine job.
Money
Money is an imaginary force. It is used to motivate and control slaves. Real forces effect all life forms. However, only people respond to money. The only reason they do is because they have been artificially programmed to do so.
Money can be created in unlimited quantities by those adept in the use of this force. The physical world is finite, however the world of imagination is not. There is no limit to the quantity of money that can be imagined into existence. Money can also be imagined out of existence.
Let's assume that one day the entire financial system simply disappeared. If you lived in a rural area and had a nice veggie garden, some friendly chickens, collection facilities for rain water and a few photocells for electricity, you would not notice this. The veggies would continue to grow. Rain would periodically fall. The chickens would lay eggs as usual. The sun would continue to shine. However, if you lived in a city environment, you would be devastated.
Before money, people lived in small hunter-gatherer groups. The concept of ownership did not exist. People worked and survived as a group. Men and women were equal. Everyone contributed to the community. Resources were shared equally. The concept of "mine" and "yours" did not exist. Women generally became pregnant only once about every three years although there was no birth control. Later, when the concept of money entered the consciousness, women were seen as having less value because men were paid for work but women were not paid to raise and care for kids. Society has changed, however, the downgraded status of women has not.
Money systems have always been manipulated by clever people. When gold was used as money, people learned they could dilute pure gold with silver or maybe even lead to come up with something that looked like pure gold and had the correct weight but was a fraud. A king suspected he was being scammed but had no way to prove it. He called on the great minds of the time for help. This led to what is known as the Archimedes' principle which is better known today as "specific gravity". This principle made it possible to compare a sample known to be pure gold to a questionable sample and prove the unknown sample was not pure gold. Likely, some clever crook lost his head once this test became known.
There is a general belief that gold is the ultimate reference for all money. However, secrets concerning the exact quantity of gold make this a perilous assumption. Reportedly, the United States stole a tremendous quantity of physical gold from Japan towards the end of World War II. This gold exists off the books. To make matters worse, Japan was not all that concerned. Japan had been using gold bars as ballast on its ships because they were compact and heavy. They thought nothing of throwing the bars overboard as necessary. Japan used platinum as a money reference and the US never got that. This should make one rethink all the hype about the value of gold. It may be a lot more plentiful than we have been led to believe. Also, the secret off the books stashes of gold would allow its relative value to be manipulated at will just like other commodity markets.
The Financial Axis of Evil [3]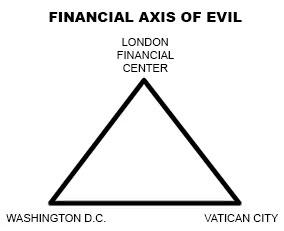 This is the model of the financial axis of evil which rules this planet. It consists of three main branches as shown above. Collectively, they are known as "The Empire of the City". Briefly, here is how this system operates:
The London financial district is in London, Washington D.C. is in the United States and the Vatican is in Italy. However, these three places are not part of the countries where they exist. They are independent "city states" and have their own laws and constitution. They are, effectively, "mini countries" inside of other countries and fly their own flags. The city state of London is a private corporation and pays no taxes to actual London or to Britain. The city state of London is the master power center and is controlled by the Rothschild family which considers itself to be the legal owner of this planet. The Vatican is the largest private land owner in the world and the first true multinational corporation with installations (churches) and secret agents (The Knights of Malta) everywhere. They control through the power of fear of the unknown and practice black magic. Washington D.C. relies upon brute military force. All three closely cooperate combining their specialties of financial trickery, witchcraft and military might. Of course, all three worship Satan as their Master.
Slavery
Slavery is alive and well throughout the world. The US constitution prohibits slavery, however, most americans live in slave-like conditions.
It is said that it will take the average college student until age fifty to pay back their student loan.
The constitutional amendment prohibiting slavery addressed the concept of physically owning another person. However, it did not address the issue of holding another person in bondage as a debt slave. It also did not consider the concept of private for profit prisons who force inmates to work as slaves. These systems exist today and are perfectly legal.
Actually, a recent report from prestigious Princeton University has reclassified the US government as an oligarchy — a country run by and for the rich elite. Former US President Carter has stated that the United States "no longer has a functioning democracy". So much for the Founding Father's dream. Speaking of dreams, check out the free you tube video titled "The American Dream".
Other forms of slavery are illegal but still flourish. Sex slaves are always in demand. Traffickers are sometimes caught but you need to realize that your leaders use sex slaves and also routinely abuse young girls and boys. Sometimes they are also killed during occult rituals. No one ever talks about this and these people are never punished. This has been the normal way of life for Satan worshipers for many years and nothing has changed or is likely to ever change in the future. Stanley Kubrick's last movie, Eyes Wide Shut, covers this subject. Some believe this intense dramatization of how the elite really live may have cost him his life.
People still have some rights left in the United States but other countries are a different story. Qatar is doing construction for the World Cup. The event is not scheduled until the year 2022, however they have already killed 1200 slaves [7] by working them to death. People are lured from poor countries with the promise of jobs and money. When they arrive, their passports are confiscated and they are forced to work until they literally drop dead. If the World Cup is actually held in Qatar in 2022, there will be glamorous TV coverage and no one will remember or care about all the dead slaves. The show must go on.
Qatar, incidentally, sponsors Al Jazeera TV network.
Adaptation Techniques
The status quo of today will never change because the people who created it will never die. Because of top secret medicine, when men like Henry Kissinger, who heads the Bilderberg Group's steering committee, get too feeble to function, they will simply go to one of the secret locations and use the temporal reversal device to regress back to about twenty years old. Their memories will be unaffected. Then they will get new identities and continue on. This process can be repeated indefinitely.
Because you can never change the status quo, your best hope for a lifetime of reasonable quality is to find clever ways to live in this world with as much independence as possible.
One method of adaptation is autonomous and semi-autonomous communities. If the community is registered as a religious institution it is automatically shielded from most government interference by the US constitution. It pays no taxes and can pretty much write its own rules by simply calling whatever it wants to do "religious doctrine". Many small semi-autonomous groups exist where people who share a common set of values find ways to quietly live out their lives pretty much on their own terms. The government does not seem interested in bothering these smaller groups as long as they live peacefully and are not doing anything that the government perceives to be a threat.
The Amish people are a good example of an autonomous group. You would probably not want to live as they do, however, before you completely dismiss them, you may want to look at some definite advantages in their chosen lifestyle.
Remember, these are the people who reject technology. They just might have made the correct choice. Technology, at first, seemed like a good idea. However, now that people are addicted to technology they are also enslaved by technology. Everything they do is monitored and recorded by the government. Privacy no longer exists. It did not have to be this way.
Technology, in itself, is not evil. However, it can be quite evil if you live under a government run by sociopathic control freaks which, unfortunately, you do. In the Amish world, electronic surveillance does not exist because electronic devices do not exist. The constant propaganda from TV has no effect on people who do not have TV. A horse does not report its position to a GPS satellite and is not controlled by a computer.
Also, the people are generally healthy and do not suffer from many diseases common to the mainstream population. They are not being poisoned by fluorinated water or additives found in processed food because they don't use these things. Also, they get lots of physical exercise.
Without totally withdrawing from the world, there are some positive steps you can take. By now you know never to drink fluorinated water or use any personal product containing fluoride such as many brands of toothpaste. To minimize harmful food additives, look for Kosher food which is marked with either the encircled "K" or "U" (Ultra Kosher). These foods have less or no harmful additives. The Jewish community is very protective of its people and the Mossad is widely considered to be the best intelligence service in the world. Therefore, they would have the inside scoop on everything including food and do not want to see their people harmed.
Whatever you decide to do, you definitely do not want to be part of so called mainstream society. These people are doomed. They are sheep (sheeple) slowly walking to the slaughter house. Don't go there!
---
references and credits
[1] DVD "The American Ruling Class". ASIN: B001HM2CE2.
[2] John Perkins. Book: Confessions of an Econemic Hit Man; DVD (free on you tube): "Apology of an Economic Hit Man"; RT interviews.
[3] See the free you tube videos titled "The Red Shield".
[4] DVD: "The Wages of Debt", RT Intl. Also available for purchase.
[5] DVD "Terra Blight", RT Intl. Also available for purchase.
[6] Interview with John Judge of Veterans Against Military Psychiatry.
[7] Also search using the phrase "qatar slaves world cup".
© 2014 W C Vetsch. All rights reserved.
Source: Walter C. Vetsch  |  3108.info | War Is Crime
The ultimate and final goal of evil is to obscure and destroy our very conception of evil itself, to change the inherent moral fiber of all humanity until people can no longer recognize what is right and what is wrong. Evil is not a wisp of theological myth or a simplistic explanation for the aberrant behaviors of the criminal underbelly; rather, it is a tangible and ever present force in our world. It exists in each and every one of us. All men do battle with this force for the entirety of our lives in the hope that when we leave this Earth, we will leave it better and not worse.
When evil manifests among organized groups of people in the halls of power, power by itself is not always considered the greatest prize. The true prize is to mold society until it reflects the psychopathy that rots at the core of their being. That is to say, the elites, the oligarchy, the mad philosopher kings want to make us just like they are: proudly soulless. Only then can they rule, because only then will they be totally unopposed.
The problem is humanity is not only hardwired with a dark side; we are also hardwired with a conscience — at least, most of us are.
The vast studies of psychiatrist Carl Gustav Jung prove an in-depth and intricate inborn set of principles common to every person, regardless of time or place of birth and regardless of environmental circumstances. In some circles we refer to this as "natural law." All people are born with a shared moral compass that is often expressed in various religious works throughout the ages. It is a universal voice, or guide, that we can choose to listen to or to ignore. Organized psychopaths have struggled with the existence of this inborn compass for centuries.
They have tried using force and fear. They have tried abusing our natural inclinations toward family and tribalism. They have tried corrupting the very religious institutions that are supposed to reinforce our consciences and teach us nobility. They have tried psychotropic substances and medications to paralyze our emotional center and make us malleable. They have tried everything, and they have failed so far. How do I know they have failed? Because you are able to read this article today.
Two methods remain prominent in the arsenal of elites.
Convince Good People To Do Evil In The Name Of 'Good'
This strategy is still effective, depending on the scenario encountered. Elitists are very fond of presenting mind games to the public (in TV, cinema, books, etc.), which I call "no-win scenarios." These games are hypothetical dilemmas that require the participant or viewer to make a forced choice with only two options: The participant can strictly follow his conscience, which usually means assured destruction for himself and others; or he can bend or break the rules of conscience in order to save lives and achieve a "greater good."
Watch the propaganda tsunami in the show "24," for example, and tally how many times the hero is faced with a no-win scenario. Then tally how many times he ignores his moral imperative in order to succeed. The message being sent is clear: Solid morality is not logical. Morality is a luxury for those who do not have to concern themselves with immediate survival. In other words, the world needs bad men to fight other bad men.
Of course, real life is not television; and there has never been nor will there ever be a legitimate example of a no-win scenario. There are no dilemmas that require good people to knowingly sacrifice conscience or destroy innocent lives in order to succeed. There are no dilemmas with only two available solutions. All social dilemmas are fluid, which means that solutions are shifting, but infinite. Just because you cannot see the way out does not mean the way out does not exist. To fight monsters, we do not need to become monsters. Survival is meaningless unless we can prove ourselves worthy of life. This does not mean one should not fight back against evil. On the contrary, one should always fight back. But if we fight without a code of principles and honor, then we will have lost before the battle begins.
Convince Good People That There Is No Such Thing As 'Evil' People
Any action, no matter how horrifying, can be rationalized by the intellectual mind or the mathematical mind. This is why we are born with an emotional and empathic side to our natures. Those who embrace evil often seek to soften their image through the use of cold rationalization. They appeal to our desire to feel logically responsible and to boost our intelligent self-image.
Some people might argue that the machinations of evil are self-evident, and that philosophical examinations such as this are unnecessary.  They would say that there is no need to reassert that the works of psychopathy and elitism are fundamentally destructive, but they would be wrong.  I was recently sifting through some mainstream articles when I came across this jewel entitled "Why Psychopaths Are More Successful."
The article summarizes the theories behind a new "science self-help book" entitled The Good Psychopath's Guide To Success. Co-author and Oxford psychology professor, Kevin Dutton, states that he "wanted to debunk the myth that all psychopaths are bad." He wrote:
"I'd done research with the special forces, with surgeons, with top hedge fund managers and barristers. Almost all of them had psychopathic traits, but they'd harnessed them in ways to make them better at what they do."
Now, three important questions need to be asked of Dutton. First, what exactly is his definition of success? Second, if such people are "better" at what they do because of their psychopathic traits, who exactly are they "better" than? Is he suggesting that a non-psychopath could not be just as good a surgeon? Wouldn't it be preferable to be good surgeon without psychopathy, one who still cares about the well-being of his patients rather than just his own success? And third, if a person can be accomplished in a field without abandoning his conscience as a psychopath does, what good is psychopathy to anyone?
You see, elitist academics like Dutton are not interested in answering such questions in an honest way because their goal is not necessarily to outline a legitimate argument for the usefulness of psychopaths. What they really want is to make psychopathy a morally acceptable ideal in the mainstream.
Dutton does this by asserting the false notion that there are such things as good psychopaths and bad psychopaths, thereby creating a superficial dichotomy he essentially pulled from thin air. Dutton cites several character traits he defines as being common to good psychopaths.
Psychopath Volume Control: Dutton argues that a good psychopath has the ability to turn up or turn down his level of perceived empathy in order to avoid burning bridges with those around him. What Dutton fails to mention (or just doesn't understand) is that this "volume control" is very common to the average psychopath. In fact, psychopaths tend to be quite adept at reading the emotional states of others and adapting to their moods to appear more human. This is how psychopaths end up in marriages, with families and in positions of respect in a community. This is how psychopaths become leaders. Catastrophes arise, however, when the psychopath decides he is comfortable enough that he no longer needs to hide his inability to feel conscience or remorse. There is nothing special or good about a morally bankrupt person who happens to be good at disguise.
Fearlessness: Dutton's claim that psychopaths are fearless is simply absurd and is not based in any practical psychology that I know of. Psychopaths are afraid all of the time. What they fear most is losing what they believe belongs to them. This could be money, power or even unlucky people caught in their web. This fear might drive them to take risks in order to accomplish certain goals. But let's be clear: Only those who take risks because they love what they do have truly overcome fear. Psychopaths are incapable of true love.
Lack Of Empathy: This is the root of the movement toward rationalized moral relativism — the argument that empathy gets in the way of success and sometimes gets in the way of the "greater good." Dutton claims that lack of empathy gives the psychopath focus, making him skilled in high-pressure situations. In a hostage situation, he says, he would much rather have a psychopath as his negotiator. Of course, he does not consider that his captors would likely be the same kinds of psychopaths he so praises in his book.
One would conclude by reading Dutton's position that high-pressure jobs require a lack of empathy. And of course, the jobs with the highest pressure are those in political and military leadership. The philosophy of applying positive assumptions to psychopathic qualities is the highest dream of the elite. If you and I could be convinced to see their gruesome behavior as fully necessary to the greater good, then they will have ascended to a place beyond accountability. They become like the old gods of Olympus, dealing death and destruction above the judgment of mere mortals; and we will have handed them that godhood.
Self-Confidence: I think Dutton is confused over the difference between confidence and narcissism. The average psychopath is often self-obsessed, which means he is willing to do anything to get what he wants. This drive might be impressive, but it is not a product of the kind of self-awareness required to gain real self-confidence. A parasitic tick is not necessarily self-confident when he digs into the flesh of a dog; all he knows is that he desperately wants the blood underneath.
A Kingdom Of Psychopaths
In his collected writings entitled "The Undiscovered Self," Jung theorized according to his work with hundreds of patients that some 10 percent of the human population at any given time has latent psychopathic characteristics, with a much smaller percentage living as full-fledged psychopaths. He surmised that this latent psychopathy will often stay hidden or unconscious for most people, unless their social environment becomes unstable enough to bring out their darker side.
The purges in the early days of communist Russia and Stalinism, for example, brought out the very worst in many normally harmless citizens. Neighbor turned against neighbor, and betrayal for personal gain became the norm. The collectivist hive became an incubator for psychopaths. What Dutton's psychopathic success theory does not take into account is the fact that America, and much of the world today, is becoming a breeding ground for morally bankrupt people. That is to say, our society is now designed by psychopaths for psychopaths, and only psychopaths could succeed in such an environment. We are all being encouraged to become more psychopathic, more evil, in order to survive and thrive.
The destruction unleashed by the psychopathy of elitism far outweighs any potential benefits that might arise from their uncompromising brand of ingenuity. Anything these freaks of the psyche might accomplish can be accomplished with far less physical and moral cost by those with self-discipline and a love of their fellow man. I would be willing to wager any power monger that if he and his miscreant organizations were to disappear, humanity would leap forward in strides never before seen. Ultimately, those who embrace evil and those who elevate psychopathy are not the key to the betterment of the world; they are obstacles to the betterment of the world.
Source: Brandon Smith | Alt-Market
Quite a stir occurred with the academic presentation, How Technology Is Destroying Jobs, by Brynjolfsson, a professor at the MIT Sloan School of Management, and his collaborator and coauthor Andrew McAfee. Both "have been arguing for the last year and a half that impressive advances in computer technology—from improved industrial robotics to automated translation services—are largely behind the sluggish employment growth of the last 10 to 15 years. Even more ominous for workers, the MIT academics foresee dismal prospects for many types of jobs as these powerful new technologies are increasingly adopted not only in manufacturing, clerical, and retail work but in professions such as law, financial services, education, and medicine."
"Perhaps the most damning piece of evidence, according to Brynjolfsson, is a chart that only an economist could love. In economics, productivity—the amount of economic value created for a given unit of input, such as an hour of labor—is a crucial indicator of growth and wealth creation. It is a measure of progress. On the chart Brynjolfsson likes to show, separate lines represent productivity and total employment in the United States. For years after World War II, the two lines closely tracked each other, with increases in jobs corresponding to increases in productivity. The pattern is clear: as businesses generated more value from their workers, the country as a whole became richer, which fueled more economic activity and created even more jobs. Then, beginning in 2000, the lines diverge; productivity continues to rise robustly, but employment suddenly wilts. By 2011, a significant gap appears between the two lines, showing economic growth with no parallel increase in job creation. Brynjolfsson and McAfee call it the "great decoupling." And Brynjolfsson says he is confident that technology is behind both the healthy growth in productivity and the weak growth in jobs."
Building upon this study, MSM provides a three part series on, Loss of middle-class jobs compounded by tech advances. The following admission by the technological behemoth should give pause for future generations.
"Most of the jobs will never return, and millions more are likely to vanish as well, say experts who study the labor market. What's more, these jobs aren't just being lost to China and other developing countries, and they aren't just factory work. Increasingly, jobs are disappearing in the service sector, home to two-thirds of all workers.

The global economy is being reshaped by machines that generate and analyze vast amounts of data; by devices such as smartphones and tablet computers that let people work just about anywhere, even when they're on the move; by smarter, nimbler robots; and by services that let businesses rent computing power when they need it, instead of installing expensive equipment and hiring IT staffs to run it."
This reality is all around us, but the full impact yet appreciated, is that the cloud of computing is not increasing business employment for the main street economy. For more bad news look at the results from the Associated Press analysis of employment data from 20 countries in, Can smart machines take your job? Middle class jobs increasingly being replaced by technology, which found that "almost all the jobs disappearing are in industries that pay middle-class wages, ranging from $38,000 to $68,000. Jobs that form the backbone of the middle class in developed countries in Europe, North America and Asia."
"In the United States, half of the 7.5 million jobs lost during the Great Recession paid middle-class wages, and the numbers are even more grim in the 17 European countries that use the euro as their currency. A total of 7.6 million midpay jobs disappeared in those countries from January 2008 through last June."
The article then goes on to cite that more information now crosses the Internet every second than the entire Internet stored 20 years ago. Other examples note that:
The British-Australian mining giant Rio Tinto announced plans last year to invest $518 million in the world's first long-haul, heavy-duty driverless train system at its Pilbara iron ore mines in Western Australia.
Dirk Vander Kooij's furniture-making company in the Netherlands needs only a skeleton crew — four people. The hard work at the Eindhoven-based company is carried out by an old industrial robot that Vander Kooij fashioned into a 3D printer.
Soon to come are pilotless airliners joining the several Japanese rail lines already run by themselves. Add the smart utility meter deployment and soon the employee reader, banished to a wax museum, becomes just another sign of "so called" progress.
Missing in all this corporate excitement for slashing payroll is the indisputable fact that the general standard of living is dropping like a rock for the average family. Couple this deadly trend with the unnerving prospects forecasted by Bob Lord in, Our First Trillionaire: Only a Matter of Time.
"The unavoidable result: Wealth at the top is growing at a faster rate than aggregate wealth. That's where the arithmetic comes in to play. If the wealth of one group within a nation grows at a faster rate than the nation's aggregate wealth, that group's share of the aggregate wealth must increase over time. That's a mathematical certainty. And the level of subsequent wealth concentration has no limit."
Technological development coupled with favorable political treatment is regularly the formula for massive accumulation of fortune. However, the horrendous social distortions that inexorably follows such distortions in income, much less the fact that the disappearance in living wage employment of the masses cannot be ignored without fundamental political upheaval.
Once innovated technology of a Henry Ford raised the living standards and was a benefit for society. Today's objective is to remove or eliminate the middle class as the gap in meaningful employment widens. Added leisure time has no significance if spent on playing games on an IPAD, while living off welfare government programs.
Brynjolfsson and McAfee's breakdown is a chilling look at a bleak future and the goodbye kiss to a populist beneficial economy.
Is there anyone out there who still believes that Barack Obama, when he's speaking about American foreign policy, is capable of being anything like an honest man? In a March 26 talk in Belgium to "European youth", the president fed his audience one falsehood, half-truth, blatant omission, or hypocrisy after another. If George W. Bush had made some of these statements, Obama supporters would not hesitate to shake their head, roll their eyes, or smirk. Here's a sample:
– "In defending its actions, Russian leaders have further claimed Kosovo as a precedent – an example they say of the West interfering in the affairs of a smaller country, just as they're doing now. But NATO only intervened after the people of Kosovo were systematically brutalized and killed for years."
Most people who follow such things are convinced that the 1999 US/NATO bombing of the Serbian province of Kosovo took place only after the Serbian-forced deportation of ethnic Albanians from Kosovo was well underway; which is to say that the bombing was launched to stop this "ethnic cleansing". In actuality, the systematic deportations of large numbers of people did not begin until a few days after the bombing began, and was clearly a reaction to it, born of Serbia's extreme anger and powerlessness over the bombing. This is easily verified by looking at a daily newspaper for the few days before the bombing began the night of March 23/24, 1999, and the few days following. Or simply look at the New York Times of March 26, page 1, which reads:
… with the NATO bombing already begun, a deepening sense of fear took hold in Pristina [the main city of Kosovo] that the Serbs would now vent their rage against ethnic Albanian civilians in retaliation. [emphasis added]
On March 27, we find the first reference to a "forced march" or anything of that nature.
But the propaganda version is already set in marble.
– "And Kosovo only left Serbia after a referendum was organized, not outside the boundaries of international law, but in careful cooperation with the United Nations and with Kosovo's neighbors. None of that even came close to happening in Crimea."
None of that even came close to happening in Kosovo either. The story is false. The referendum the president speaks of never happened. Did the mainstream media pick up on this or on the previous example? If any reader comes across such I'd appreciate being informed.
Crimea, by the way, did have a referendum. A real one.
– "Workers and engineers gave life to the Marshall Plan … As the Iron Curtain fell here in Europe, the iron fist of apartheid was unclenched, and Nelson Mandela emerged upright, proud, from prison to lead a multiracial democracy. Latin American nations rejected dictatorship and built new democracies … "
The president might have mentioned that the main beneficiary of the Marshall Plan was US corporations  , that the United States played an indispensable role in Mandela being caught and imprisoned, and that virtually all the Latin American dictatorships owed their very existence to Washington. Instead, the European youth were fed the same party line that their parents were fed, as were all Americans.
– "Yes, we believe in democracy – with elections that are free and fair."
In this talk, the main purpose of which was to lambaste the Russians for their actions concerning Ukraine, there was no mention that the government overthrown in that country with the clear support of the United States had been democratically elected.
– "Moreover, Russia has pointed to America's decision to go into Iraq as an example of Western hypocrisy. … But even in Iraq, America sought to work within the international system. We did not claim or annex Iraq's territory. We did not grab its resources for our own gain. Instead, we ended our war and left Iraq to its people and a fully sovereign Iraqi state that could make decisions about its own future."
The US did not get UN Security Council approval for its invasion, the only approval that could legitimize the action. It occupied Iraq from one end of the country to the other for 8 years, forcing the government to privatize the oil industry and accept multinational – largely U.S.-based, oil companies' – ownership. This endeavor was less than successful because of the violence unleashed by the invasion. The US military finally was forced to leave because the Iraqi government refused to give immunity to American soldiers for their many crimes.
Here is a brief summary of what Barack Obama is attempting to present as America's moral superiority to the Russians:
The modern, educated, advanced nation of Iraq was reduced to a quasi failed state … the Americans, beginning in 1991, bombed for 12 years, with one dubious excuse or another; then invaded, then occupied, overthrew the government, tortured without inhibition, killed wantonly … the people of that unhappy land lost everything – their homes, their schools, their electricity, their clean water, their environment, their neighborhoods, their mosques, their archaeology, their jobs, their careers, their professionals, their state-run enterprises, their physical health, their mental health, their health care, their welfare state, their women's rights, their religious tolerance, their safety, their security, their children, their parents, their past, their present, their future, their lives … More than half the population either dead, wounded, traumatized, in prison, internally displaced, or in foreign exile … The air, soil, water, blood, and genes drenched with depleted uranium … the most awful birth defects … unexploded cluster bombs lying in wait for children to pick them up … a river of blood running alongside the Euphrates and Tigris … through a country that may never be put back together again. … "It is a common refrain among war-weary Iraqis that things were better before the U.S.-led invasion in 2003," reported the Washington Post. (May 5, 2007)
How can all these mistakes, such arrogance, hypocrisy and absurdity find their way into a single international speech by the president of the United States? Is the White House budget not sufficient to hire a decent fact checker? Someone with an intellect and a social conscience? Or does the desire to score propaganda points trump everything else? Is this another symptom of the Banana-Republicization of America?
Long live the Cold War
In 1933 US President Franklin D. Roosevelt recognized the Soviet Union after some 15 years of severed relations following the Bolshevik Revolution. On a day in December of that year, a train was passing through Poland carrying the first American diplomats dispatched to Moscow. Amongst their number was a 29 year-old Foreign Service Officer, later to become famous as a diplomat and scholar, George Kennan. Though he was already deemed a government expert on Russia, the train provided Kennan's first actual exposure to the Soviet Union. As he listened to his group's escort, Russian Foreign Minister Maxim Litvinov, reminisce about growing up in a village the train was passing close by, and his dreams of becoming a librarian, the Princeton-educated Kennan was astonished: "We suddenly realized, or at least I did, that these people we were dealing with were human beings like ourselves, that they had been born somewhere, that they had their childhood ambitions as we had. It seemed for a brief moment we could break through and embrace these people."
It hasn't happened yet.
One would think that the absence in Russia of communism, of socialism, of the basic threat or challenge to the capitalist system, would be sufficient to write finis to the 70-year Cold War mentality. But the United States is virtually as hostile to 21st-century Russia as it was to 20th-century Soviet Union, surrounding Moscow with military bases, missile sites, and NATO members. Why should that be? Ideology is no longer a factor. But power remains one, specifically America's perpetual lust for world hegemony. Russia is the only nation that (a) is a military powerhouse, and (b) doesn't believe that the United States has a god-given-American-exceptionalism right to rule the world, and says so. By these criteria, China might qualify as a poor second. But there are no others.
Washington pretends that it doesn't understand why Moscow should be upset by Western military encroachment, but it has no such problem when roles are reversed. Secretary of State John Kerry recently stated that Russian troops poised near eastern Ukraine are "creating a climate of fear and intimidation in Ukraine" and raising questions about Russia's next moves and its commitment to diplomacy.
NATO – ever in need of finding a raison d'être – has now issued a declaration of [cold] war, which reads in part:
"NATO foreign ministers on Tuesday [April 1, 2014] reaffirmed their commitment to enhance the Alliance's collective defence, agreed to further support Ukraine and to suspend NATO's practical cooperation with Russia. 'NATO's greatest responsibility is to protect and defend our territory and our people. And make no mistake, this is what we will do,' NATO Secretary General Anders Fogh Rasmussen said. … Ministers directed Allied military authorities to develop additional measures to strengthen collective defence and deterrence against any threat of aggression against the Alliance, Mr. Fogh Rasmussen said. 'We will make sure we have updated military plans, enhanced exercises and appropriate deployments,' he said. NATO has already reinforced its presence on the eastern border of the Alliance, including surveillance patrols over Poland and Romania and increased numbers of fighter aircraft allocated to the NATO air policing mission in the Baltic States. … NATO Foreign Ministers also agreed to suspend all of NATO's practical cooperation with Russia."
Does anyone recall what NATO said in 2003 when the United States bombed and invaded Iraq with "shock and awe", compared to the Russians now not firing a single known shot at anyone? And neither Russia nor Ukraine is even a member of NATO. Does NATO have a word to say about the right-wing coup in Ukraine, openly supported by the United States, overthrowing the elected government? Did the hypocrisy get any worse during the Cold War? Imagine that NATO had not been created in 1949. Imagine that it has never existed. What reason could one give today for its creation? Other than to provide a multi-national cover for Washington's interventions.
One of the main differences between now and the Cold War period is that Americans at home are (not yet) persecuted or prosecuted for supporting Russia or things Russian.
But don't worry, folks, there won't be a big US-Russian war. For the same reason there wasn't one during the Cold War. The United States doesn't pick on any country which can defend itself.
Cuba … Again … Still … Forever
Is there actually a limit? Will the United States ever stop trying to overthrow the Cuban government? Entire books have been written documenting the unrelenting ways Washington has tried to get rid of tiny Cuba's horrid socialism – from military invasion to repeated assassination attempts to an embargo that President Clinton's National Security Advisor called "the most pervasive sanctions ever imposed on a nation in the history of mankind".  But nothing has ever come even close to succeeding. The horrid socialism keeps on inspiring people all over the world. It's the darnedest thing. Can providing people free or remarkably affordable health care, education, housing, food and culture be all that important?
And now it's "Cuban Twitter" – an elaborately complex system set up by the US Agency for International Development (USAID) to disguise its American origins and financing, aiming to bring about a "Cuban Spring" uprising. USAID sought to first "build a Cuban audience, mostly young people; then the plan was to push them toward dissent", hoping the messaging network "would reach critical mass so that dissidents could organize 'smart mobs' – mass gatherings called at a moment's notice – that might trigger political demonstrations or 'renegotiate the balance of power between the state and society'."  It's too bad it's now been exposed, because we all know how wonderful the Egyptian, Syrian, Libyan, and other "Arab Springs" have turned out.
Here's USAID speaking after their scheme was revealed on April 3: "Cubans were able to talk among themselves, and we are proud of that."  We are thus asked to believe that normally the poor downtrodden Cubans have no good or safe way to communicate with each other. Is the US National Security Agency working for the Cuban government now?
The Associated Press, which broke the story, asks us further to believe that the "truth" about most things important in the world is being kept from the Cuban people by the Castro regime, and that the "Cuban Twitter" would have opened people's eyes. But what information might a Cuban citizen discover online that the government would not want him to know about? I can't imagine. Cubans are in constant touch with relatives in the US, by mail and in person. They get US television programs from Miami and other southern cities; both CNN and Telesur (Venezuela, covering Latin America) are seen regularly on Cuban television"; international conferences on all manner of political, economic and social issues are held regularly in Cuba. I've spoken at more than one myself. What – it must be asked – does USAID, as well as the American media, think are the great dark secrets being kept from the Cuban people by the nasty commie government?
Those who push this line sometimes point to the serious difficulty of using the Internet in Cuba. The problem is that it's extremely slow, making certain desired usages often impractical. From an American friend living in Havana: "It's not a question of getting or not getting internet. I get internet here. The problem is downloading something or connecting to a link takes too long on the very slow connection that exists here, so usually I/we get 'timed out'." But the USAID's "Cuban Twitter", after all, could not have functioned at all without the Internet.
Places like universities, upscale hotels, and Internet cafés get better connections, at least some of the time; however, it's rather expensive to use at the hotels and cafés.
In any event, this isn't a government plot to hide dangerous information. It's a matter of technical availability and prohibitive cost, both things at least partly in the hands of the United States and American corporations. Microsoft, for example, at one point, if not at present, barred Cuba from using its Messenger instant messaging service.
Cuba and Venezuela have jointly built a fiber optic underwater cable connection that they hope will make them less reliant on the gringos; the outcome of this has not yet been reported in much detail.
The grandly named Agency for International Development does not have an honorable history; this can perhaps be captured by a couple of examples: In 1981, the agency's director, John Gilligan, stated: "At one time, many AID field offices were infiltrated from top to bottom with CIA people. The idea was to plant operatives in every kind of activity we had overseas, government, volunteer, religious, every kind."
On June 21, 2012, the Bolivarian Alliance for the Peoples of Our America (ALBA) issued a resolution calling for the immediate expulsion of USAID from their nine member countries, "due to the fact that we consider their presence and actions to constitute an interference which threatens the sovereignty and stability of our nations."
USAID, the CIA, the National Endowment for Democracy (and the latter's subsidiaries), together or singly, continue to be present at regime changes, or attempts at same, favorable to Washington, from "color revolutions" to "spring" uprisings, producing a large measure of chaos and suffering for our tired old world.
Notes
William Blum, America's Deadliest Export – Democracy: The Truth About US Foreign Policy and Everything Else, p.22-5
Walter Isaacson & Evan Thomas, The Wise Men (1986), p.158
Washington Post, March 31, 2014
"NATO takes measures to reinforce collective defence, agrees on support for Ukraine", NATO website, April 1, 2014
Sandy Berger, White House press briefing, November 14, 1997, US Newswire transcript
Associated Press, April 3 & 4, 2014
Washington Post, April 4, 2014
Associated Press, June 2, 2009
George Cotter, "Spies, strings and missionaries", The Christian Century (Chicago), March 25, 1981, p.321
At this time, our U.S. Congress rates a nine percent approval rating. It means nine percent of the American public registers "brain-dead."
Those 535 members over the past 40 years deformed our nation from the largest creditor country in the world to the largest debtor nation in the world. We enjoyed less than $1 trillion in national debt to our current $18 trillion debt. That same Congress forced our young men and women into four hopeless, futile and asinine wars that killed tens of thousands of them and sent millions home with Post Traumatic Stress Disorder, drugs and alcoholism. Not to mention dismembered limbs.
That Congress danced to the Military Industrial Complex's tune of contrived wars benefiting the bankers and corporations that outfitted and fed those young soldiers. Those executives made millions while our kids came home in coffins or missing arms and legs and their minds.
That same Congress turned our nation from a rich manufacturing country into a multi-trillion dollar deficit nation where we import everything we once manufactured, to today where we buy everything from China to make their citizens rich. So rich, in fact, that we owe them $1.4 trillion in trade deficits. Ironically, China now owns many U.S. corporations and buys land for its own beachhead here in America, not to mention Vancouver, BC, Canada where it displaced most of the Canadians in the past 30 years. Chinese now dominates the language in once-English speaking Vancouver, BC.
That bunch of hot shot Congressional Critters took our vibrant economy and turned it into 15 million unemployed and 48 million food stamp users. Those same reps allowed 20 million illegal alien migrants to come into our country and work for crooked employers like Chipotle's, Marriot Hotels, Holiday Inns, McDonald's, Hormel, Tyson Chicken, Swift, painting, landscape and construction firms at minimum wages. They and the presidents that headed this country refused to enforce our laws. That's why you MUST press "1" for Spanish and "2" for English.
Today, we face enormous consequences from their actions. Yet, U.S. voters return 96 percent of incumbents—such as Boxer, Feinstein, Hatch, McCain, Kyle, Schumer, Lindsey Graham, Levin, Udall, Bennet, Rangel, Jackson, DeGette and hundreds of other failed Congressional Critters.
So are they stupid or are they corrupt?
One reader named Brad said, "They are not necessarily stupid. It's just that most of these psychopaths are bought. The wealthy buy their services and they get remuneration by jobs when they leave "service", by getting to indulge in insider trading (again – was cut out, but quietly reinstated) etc.
"Just allowing insider trading makes EVERY decision with any economic consequence suspect, as they will have a vested personal income interest in helping corporations increase profits by any means. Thus the repeal of clean air and water regulations. They allow oil fracking to use 2 million gallons of water per well, pour over 530 toxic chemicals into the aquifer to poison and ruin it, and remain exempt from EPA oversight.
"Some may not be bought. Some not all the time. The sad fact is that enough ARE compromised that essentially the damages get done consistently.
"Most in office are so stupid (such as California's Congresswoman Maxine Waters, who is also corrupt in the league with former Congressman Tom Delay of Texas) that they accept stupid, flawed societal paradigms like "what's good for business is good for America" and we can see how well that's working out.
"The parasitic wealthy class is stealing record profits in some of the worst working economy in history – why? Because they have the true entitlement society in which they get tax breaks, tax exemptions, no bid contracts, inflated government costs, subsidizations and most likely a ton of things we never hear about. Simply by allowing industry execs into the alphabet organizations like FDA, USDA, etc., allows them to regulate competition to a ridiculously low level, and to leverage their income, influence, and profits at everyone else's expense."
The greatest flaw facing all U.S. citizens remains "career politicians" that create a "good-old boy" network of cronyism and corruption.
If we citizens fail to press for a maximum of 12-year term limits, we face a downward spiral into poverty and failed government not seen since the 1930s. The majority of Congress remains corrupt. That's why things in the USA don't get better, but continue on the downward path.
Remember: power corrupts; long-term power corrupts absolutely.
Back in high school, rumors started as fast as a lightning storm to destroy any girl's reputation. Often out of jealousy for some perceived transgression, classmates concocted stories to create hurt for another person.
(During your lifetime, you face curving roads, blind corners that you can't see coming and things up ahead that you can't imagine. You will also meet friends, moments and predicaments you could never have imagined. Keep pedaling, paddling or hiking toward your truest self. The journey will reward you with an amazing life.)
As we grew older, most of us learned through the years that everyone paddles his or her canoe as best they can on this unique journey through life.
But along the way, in most communities around the world, people talk about other people. They make judgments. They hold verdicts. They render conclusions based on their perceptions.
Someone always gets emotionally damaged by bitter reprisals, anger, gossip and other peoples' frustrations.
It's been said that, "Life begins at the end of your comfort zone."
I once knew a friend who carried grudges against those who wronged him. He piled them into a potato sack that he slung over his shoulder everyday when he traveled to work. When I saw him for lunch one day, he carried on with new additions to his "potato sack full of grudges."
Finally, I said, "Jack, you carry so many negative thoughts about folks who have done you wrong that you keep piling complaints into that sack that you carry around on your back. The more you complain, the more you add to the sack—I think it must be getting pretty heavy and pretty rotten. Have you ever thought of forgiving all those who wronged you?"
"I just can't," Jack said.
"If you did," I said, "it would take a load off your mind and emotions. Give it a try."
"How do I do it?" he asked.
"People can be harsh, unfair, perverse, dishonest and irrational," I said. "Just forgive them anyhow. Forgive them unconditionally in own mind and heart. They don't need to know it. You don't have to tell them. Just know that you forgave them. In doing that, you forgive yourself. It's really freeing."
Jack seemed to "click" the solution into his mind. From that day, he let go of his anger, bitterness, frustrations and disappointments he experienced with people. One of the best things he did: Jack associated with people who supported him. He fled "those" people who remained in his form paradigm. He changed jobs.
The facts: if you grow into a successful person, others may deride you. Forgive them anyhow.
It's possible that if you maintain honesty and speak your mind, others may call you names or betray you. Forgive them anyhow.
You may build a business or work hard to succeed, but someone undermines you. Forgive them anyhow and move toward your dreams on your earned experiences.
If you show positive energy and aliveness, others may be jealous and display their envy. Guess what? Forgive them anyhow.
In my lifetime, I have picked up a half-million pieces of trash from rivers, lakes and streams. Also, I picked up trash in the oceans, along roads and in parks. People keep throwing it. As angry as it makes me, I forgive them anyhow.
Therefore, you may do things in the world, but people don't care and forget quickly. Do your good anyhow.
While the world disappoints, frustrates and diminishes everyone along the journey, give the world your best anyhow.
During and at the end of your life, you discover that you define your journey, how you live it and how you maintain yourself in the whirling tempest of living.
Shakespeare's Polonius in Hamlet said, "Neither a borrower or a lender be. For the loan oft loses both itself and friend, and borrowing dulls the edge of husbandry. This above all, to thine own self be true, and it must follow as the night the day, though canst be false to any man."
Interesting because Polonius' detractors spoke of him as overly officious, garrulous and impertinent.
Be yourself anyhow, because in the end, it's all between you and the Great Spirit that expresses through all of us.
People from Yemen and Pakistan and elsewhere have told me, and have testified in the U.S. Congress, that they have a hard time convincing their neighbors that everyone in the United States doesn't hate them.  There are buzzing killer robots flying over their houses night and day and every now and then blowing a bunch of people up with a missile with very little rhyme or reason that anyone nearby can decipher.  They don't know where to go or not go, what to do or not do, to be safe or keep their children safe.  Their children have instinctively taken to crouching and covering their heads just like U.S. children in the 1950s were taught to do as supposed protection from Soviet nuclear weapons.
The good news is that, of course, we don't all hate Yemenis or Pakistanis or Somalis or Afghans or Libyans or any of the other people who might suspect us of it.  The bad news — and the news that I'm afraid would be almost incomprehensible to many millions of people around the world — is that most of us have only the vaguest idea where any of those countries are, some of us don't know that they ARE countries at all, and we pay far greater attention to our sports and our pets than to whom exactly our government is killing this Tuesday.
This obliviousness comes into sharpest relief perhaps when we elect the officials who are legally called on to decide on our wars.  The extent to which Congress has handed war making over to presidents is also brought out by observing Congressional elections.  It is not at all uncommon for U.S. Congressional candidates' platforms to entirely ignore all questions of war and peace, and to win support from either Democrats or Republicans despite this omission — despite, in particular, taking no position on the area funded by 57% of the dollars they will vote on if elected, namely wars and war preparations.
Here in Virginia's Fifth Congressional District, a man named Lawrence Gaughan recently announced as a Democratic candidate for Congress.  I'd never heard of him, so I took a look at the "Issues" section of hiswebsite.  Not only WAS there such a section (some candidates campaign purely on their biography without taking positions on anything), but Gaughan's site had clear forthright statements on a number of important issues.  He backed labor unions despite their virtual nonexistence in his district.  He admitted the existence of climate change.  He backed Eisenhower era tax rates (!!).  And his statements made commitments: "I will not vote for any tax cuts for those making over 250,000 dollars a year." "I support the Dream Act." "I would vote for any legislation that would bring back jobs in construction, manufacturing and production." Either this guy had real principles or he was just too new for anyone to have explained to him how to make his promises vague enough not to commit himself to any specific actions.
All too typically, however, when I scrolled through the "Issues," I noticed a gap.  I sent this note off to the candidate's staff:
"Your candidate has some of the best and clearest positions on domestic issues that I've seen, and dramatically superior to Congressman Hurt's, but judging by his website as it stands today he seems to have no position on foreign policy whatsoever, or even on that 57% of discretionary spending that, according to the National Priorities Project, goes to militarism.  For people who support domestic social justice AND peace in the world in this district, we are put in a bind by our history. Congressman Perriello voted for every war dollar he could, and has made a career of pushing for new wars since leaving office.  Congressman Hurt is a disaster on other issues but listened to us and took a stand against missile strikes on Syria. He even listened to us on lawless imprisonment and voted against a "Defense" Authorization Act on one occasion. Helpful as it is to know what Lawrence Gaughan thinks of 43% of the budget, some of us are really going to have to know what he thinks of the larger part.  Would he cut military spending? Would he oppose new wars? Does he oppose drone strikes? Would he repeal the authorization to use military force of '01 and that of '03? Would he support economic conversion to peaceful industries on the model now set up in Connecticut? Would he advance a foreign policy of diplomacy, cooperation, actual aid, and nonviolent conflict resolution? Are there any foreign bases he would close?  Does he think having U.S. troops in 175 nations is too many, too few, or just right? Does he support joining the ICC? Thanks for your time!"
A couple of days later, Gaughan called me on the phone.  We talked for a while about foreign policies, wars, peace, militarism, the economic advantages of converting to peaceful industries, the danger of handing war powers over to presidents.  He said he opposed wars. He said he wanted to take on the influence of the military industrial complex.  He didn't seem particularly well informed, but he seemed to be coming from a fairly good place or to at least be willing to get there.
He proposed allowing military veterans to never pay any taxes.  That's not exactly the sort of resistance to militarism that President Kennedy had in mind when he wrote that wars would continue until the conscientious objector has the honor and prestige of the soldier.  Gaughan offered no tax cuts for conscientious objectors.  Still, he said he'd get some good statements on foreign policy added to his website right away. He also said he'd be willing to debate the other candidates, including the incumbent, on foreign relations, should peace groups create such a forum and invite him.
Lo and behold, the next day, this appeared on Gaughan's website:
"Military

"We have strayed from our constitution when it comes to the defense of our nation and declaration of war. I was opposed to the war in Iraq for many reasons.  The enormous price paid by our brave men and women as well as the huge financial debt that we incurred was not necessary.  Republicans in Congress continue to defer those costs on our military personnel and our veterans through the sequester and other austerity measures.

"Not withstanding the government shutdown, the Republican budget proposals that my opponent, Robert Hurt, has voted for over the past three years, have forced the Pentagon into reductions that have taken a tremendous toll on enlisted personnel right here in our district. These political policies are also causing reductions to TriCare, active duty health benefits, and to retired military pensions. As the greatest nation on earth, it is unacceptable that we have homeless veterans or military families who struggle to pay the bills.

"We owe so much to the men and women who serve. Instead of laying off soldiers and cutting funding for the VA, we could begin by eliminating the ongoing fraud by military contractors. Fraud committed by dozens of irresponsible military industry corporations have cost taxpayers more than $1.1 trillion. Eliminating this fraud would offset most of the estimated $1.2 trillion in policy savings required over the next decade in order to realize the Center on Budget and Policy Priorities estimated $1.4 trillion in deficit reduction without 'gutting our military'. Furthermore, as a component of tax reform, there should be a tax exemption status for veterans written into the tax code."
His topic, all too typically — people around the world should understand — is not how to relate to the 95% of humanity that is not in the United States, but how to treat "The Military."
His first sentence echoes our discussion of the past three-quarters century of undeclared wars, but doesn't spell it out.  Will he oppose wars that lack a Congressional declaration or not?
He picks one past war to oppose without stating his position on future wars.  He describes the costs of a war that killed some million Iraqis and destroyed a nation as all being paid by the U.S. and its soldiers.
He blames the sequester agreement on only one of the two parties that agreed to it, and buys into themyth that it has resulted in cuts to the military.  (True, Democrats in the Senate recently put up a token effort to fund veterans' needs and were blocked by Republicans.)  Gaughan claims that we owe "so much" to members of the military who "serve."  What exactly do we owe them? Can he name something that we owe them? He doesn't want soldiers to be "laid off," as if employing them is a make-work jobs program.
In my view we owe veterans housing, healthcare, education, a clean environment, and a healthy society because they are human beings — and we owe it equally to every other human being.  But we shouldn't pretend that the military's so-called "service" isn't making us hated around the world.  We shouldn't try to produce more veterans as if there were something noble about murdering people.
Gaughan almost closes on an up note.  He acknowledges fraud by military contractors.  He even calls them "military," rather than using the misleading term "defense."  But then he makes clear that he doesn't want to cut the military. He wants to create efficiency to avoid cuts while saving money.
Would he repeal authorizations to use military force? Who knows. Would he back future wars? Who can tell? Does he believe U.S. troops should be in 175 nations? Perhaps.  But if they were in 182 would he then think 182 was the right number?  Does he favor allowing presidents to murder people with missiles from drones or by any other means?  Does he think antagonizing Russia and China and Iran should remain the focus of U.S. foreign policy?  Does he want the occupation of Afghanistan ended? Who knows.
He brought up a Department of Peace on our phone call, but it didn't make the website yet.  One can hope that Gaughan's website is a work in progress.  There's certainly a chance he'll become a far better candidate and Congress member than this district has had in a long time.
But this, dear world, is more or less how the world's largest-ever killing machine operates.  It turns its eyes away from the machine's work and, if pushed, debates the care of the machine itself — maintaining more or less complete obliviousness to the horrors the machine produces in those far away places where you live and die.
Source: DavidSwanson | Washington's Blog
Has Russia Invaded Ukraine?
Gerald Celente calls the Western media "presstitutes," an ingenuous term that I often use. Presstitutes sell themselves to Washington for access and government sources and to keep their jobs. Ever since the corrupt Clinton regime permitted the concentration of the US media, there has been no journalistic independence in the United States except for some Internet sites.
Glenn Greenwald points out the independence that RT, a Russian media organization, permits Abby Martin who denounced Russia's alleged invasion of Ukraine, compared to the fates of Phil Donahue (MSNBC) and Peter Arnett (NBC), both of whom were fired for expressing opposition to the Bush regime's illegal attack on Iraq. The fact that Donahue had NBC's highest rated program did not give him journalistic independence. Anyone who speaks the truth in the American print or TV media or on NPR is immediately fired.
Russia's RT seems actually to believe and observe the values that Americans profess but do not honor.
I agree with Greenwald. You can read his article here:http://www.informationclearinghouse.info/article37842.htm Greenwald is entirely admirable. He has intelligence, integrity, and courage. He is one of the brave to whom my just published book,How America Was Lost, is dedicated. As for RT's Abby Martin, I admire her and have been a guest on her program a number of times.
My criticism of Greenwald and Martin has nothing to do with their integrity or their character. I doubt the claims that Abby Martin grandstanded on "Russia's invasion of Ukraine" in order to boost her chances of moving into the more lucrative "mainstream media." My point is quite different. Even Abby Martin and Greenwald, both of whom bring us much light, cannot fully escape Western propaganda.
For example, Martin's denunciation of Russia for "invading" Ukraine is based on Western propaganda that Russia sent 16,000 troops to occupy Crimea. The fact of the matter is that those 16,000 Russian troops have been in Crimea since the 1990s. Under the Russian-Ukrainian agreement, Russia has the right to base 25,000 troops in Crimea.
Apparently, neither Abby Martin nor Glenn Greenwald, two intelligent and aware people, knew this fact. Washington's propaganda is so pervasive that two of our best reporters were victimized by it.
As I have written several times in my columns, Washington organized the coup in Ukraine in order to promote its world hegemony by capturing Ukraine for NATO and putting US missile bases on Russia's border in order to degrade Russia's nuclear deterrent and force Russia to accept Washington's hegemony.
Russia has done nothing but respond in a very low-key way to a major strategic threat orchestrated by Washington.
It is not only Martin and Greenwald who have fallen under Washington's propaganda. They are joined by Patrick J. Buchanan. Pat's column calling on readers to "resist the war party on Crimea" opens with Washington's propagandistic claim: "With Vladimir Putin's dispatch of Russian Troops into Crimea." http://www.informationclearinghouse.info/article37847.htm
No such dispatch has occurred. Putin has been granted authority by the Russian Duma to send troops to Ukraine, but Putin has stated publicly that sending troops would be a last resort to protect Crimean Russians from invasions by the ultra-nationalist neo-nazis who stole Washington's coup and established themselves as the power in Kiev and western Ukraine.
So, here we have three of the smartest and most independent journalists of our time, and all three are under the impression created by Western propaganda that Russia has invaded Ukraine.
It appears that the power of Washington's propaganda is so great that not even the best and most independent journalists can escape its influence.
What chance does truth have when Abby Martin gets kudos from Glenn Greenwald for denouncing Russia for an alleged "invasion" that has not taken place, and when independent Pat Buchanan opens his column dissenting from the blame-Russia-crowd by accepting that an invasion has taken place?
The entire story that the presstitutes have told about the Ukraine is a propaganda production. The presstitutes told us that the deposed president, Viktor Yanukovych, ordered snipers to shoot protesters. On the basis of these false reports, Washington's stooges, who comprise the existing non-government in Kiev, have issued arrest orders for Yanukovych and intend for him to be tried in an international court. In an intercepted telephone call between EU foreign affairs minister Catherine Ashton and Estonian foreign affairs minister Urmas Paet who had just returned from Kiev, Paet reports: "There is now stronger and stronger understanding that behind the snipers, it was not Yanukovych, but it was somebody from the new coalition." Paet goes on to report that "all the evidence shows that the people who were killed by snipers from both sides, among policemen and then people from the streets, that they were the same snipers killing people from both sides . . . and it's really disturbing that now the new coalition, that they don't want to investigate what exactly happened." Ashton, absorbed with EU plans to guide reforms in Ukraine and to prepare the way for the IMF to gain control over economic policy, was not particularly pleased to hear Paet's report that the killings were an orchestrated provocation. You can listen to the conversation between Paet and Ashton here: http://rt.com/news/ashton-maidan-snipers-estonia-946/
What has happened in Ukraine is that Washington plotted against and overthrew an elected legitimate government and then lost control to neo-nazis who are threatening the large Russian population in southern and eastern Ukraine, provinces that formerly were part of Russia. These threatened Russians have appealed for Russia's help, and just like the Russians in South Ossetia, they will receive Russia's help.
The Obama regime and its presstitutes will continue to lie about everything.
Paul Craig Roberts was Assistant Secretary of the Treasury for Economic Policy and associate editor of the Wall Street Journal. He was columnist for Business Week, Scripps Howard News Service, and Creators Syndicate. He has had many university appointments. His internet columns have attracted a worldwide following. His latest books are, The Failure of Laissez Faire Capitalism and How America Was Lost. http://www.paulcraigroberts.org/
Source: Paul Craig Roberts
In this high-speed society we created for ourselves, Americans live in traffic-congested cities with skyscrapers piercing the sky.
On the ground floor, humans race to catch crowded busses, packed subways and Yellow Cabs. With expressways gridlocked from dawn to dusk, people overflow sidewalks and sirens slash through the air 24/7. The evening news reports robberies,  accidents, homicides and a plethora of  calamities too numerous for human emotions to endure.
But if you look at all the people living in cities, whether in their workplace or their office cubicle, what do you see on the partition wall?
You see posters of what they would rather being doing: windsurfing, skiing, sunbathing on a beach in the Caribbean, scuba diving, dancing, mountain climbing, camping, rafting, bicycling and a dozen other activities they would rather be living.
If you're one of those people wishing you lived a different life or wishing you could live your dreams, then why don't you go after it?
Why not live your poster instead of wishing you were windsurfing across Lake Tahoe or sunning on the beach in Hawaii?
Did you ever wonder how those people you see traveling around the world with a backpack or bicycle, or climbing mountains or taking a winter off to go ski bumming do it?
They defeat the tyranny of resistance.
Henry David Thoreau said, "The mass of men and women live lives of quiet desperation".
In 2014 America, anyone at any station in life, at any age, can renew his or her life by choice, by intention and by action. Such individuals learn how to defeat the "tyranny of resistance."
First of all, what constitutes this modern day tyranny that locks people into cubicle prisons in cities or into humdrum jobs that provide zero meaning?
Such persons yield to an inner resistance to transform themselves because they feel afraid, don't know how to break their cubicle-bonds and, often times, none of their office mates know any better. It's easier to be safe with the constancy and comfort of a paycheck and friends.
Do you remember the TV sitcom "King of Queens" with the fat boy Kevin James and co-star Leah Remini, who also got fat in the series, staged in New York City?  They never showed any happiness, but mostly conflict. Their  jobs: meaningless! They didn't know how to escape their relationship or their jobs.
If you live such a scenario, how can you avoid a lifetime of regrets?
Find your gift of what turns you on to life.  Discover your talent, your ability, your genius and your expertise. You can find it by examining what you do in your spare time. Pursue it, love it and live it.
Practice self-awareness.  Socrates said, "The unexamined life is not worth living". Instead of going through the motions, create your own wave and ride it.
Incorporate your independent will as a "course correction" on your way to your life's destination. As Jack London said, "You can't wait for inspiration to change your life; you have to go after it with a club."
Discover your True North in the scheme of your life.  That's your soul's true knowing and what you desire most about your life. It's your deepest truth.
Finally, you must engage your physical, emotional, mental and spiritual well-being.
Exercise daily to blow off excess energy in the body to release your mind to express itself.  Eat healthy foods to maintain a lean frame.  That, in turn, allows you  emotional balance that originates with your relationship with friends, families and co-workers.  For your mental well-being, read books, take classes and express yourself through journaling, painting, sculpting or other art forms.  Finally, feed your spiritual being via inspirational books, church or nature, and the peace you find from a walk down a tree-lined path.
You will find the tyranny of resistance fades as you walk or gallop toward your happiness in work, play and friends. You won't wish for what you see in the poster on your cubicle wall, you will live it for real.
There's good propaganda and bad propaganda. Bad propaganda is generally crude, amateurish Judy Miller "mobile weapons lab-type" nonsense that figures that people are so stupid they'll believe anything that appears in "the paper of record." Good propaganda, on the other hand, uses factual, sometimes documented material in a coordinated campaign with the other major media to cobble-together a narrative that is credible, but false.
The so called Fed's transcripts, which were released last week, fall into the latter category. The transcripts (1,865 pages) reveal the details of 14 emergency meetings of the Federal Open Market Committee (FOMC) in 2008, when the financial crisis was at its peak and the Fed braintrust was deliberating on how best to prevent a full-blown meltdown. But while the conversations between the members are accurately recorded, they don't tell the gist of the story or provide the context that's needed to grasp the bigger picture. Instead, they're used to portray the members of the Fed as affable, well-meaning bunglers who did the best they could in 'very trying circumstances'. While this is effective propaganda, it's basically a lie, mainly because it diverts attention from the Fed's role in crashing the financial system, preventing the remedies that were needed from being implemented (nationalizing the giant Wall Street banks), and coercing Congress into approving gigantic, economy-killing bailouts which shifted trillions of dollars to insolvent financial institutions that should have been euthanized.
What I'm saying is that the Fed's transcripts are, perhaps, the greatest propaganda coup of our time. They take advantage of the fact that people simply forget a lot of what happened during the crisis and, as a result, absolve the Fed of any accountability for what is likely the crime of the century. It's an accomplishment that PR-pioneer Edward Bernays would have applauded. After all, it was Bernays who argued that the sheeple need to be constantly bamboozled to keep them in line. Here's a clip from his magnum opus "Propaganda":
"The conscious and intelligent manipulation of the organized habits and opinions of the masses is an important element in democratic society. Those who manipulate this unseen mechanism of society constitute an invisible government which is the true ruling power of our country."
Sound familiar? My guess is that Bernays' maxim probably features prominently in editors offices across the country where "manufacturing consent" is Job 1 and where no story so trivial that it can't be spun in a way that serves the financial interests of the MSM's constituents. (Should I say "clients"?) The Fed's transcripts are just a particularly egregious example. Just look at the coverage in the New York Times and judge for yourself. Here's an excerpt from an article titled "Fed Misread Crisis in 2008, Records Show":
"The hundreds of pages of transcripts, based on recordings made at the time, reveal the ignorance of Fed officials about economic conditions during the climactic months of the financial crisis. Officials repeatedly fretted about overstimulating the economy, only to realize time and again that they needed to redouble efforts to contain the crisis." ("Fed Misread Crisis in 2008, Records Show", New York Times)
This quote is so misleading on so many levels it's hard to know where to begin.
First of all, the New York Times is the ideological wellspring of elite propaganda in the US. They set the tone and the others follow. That's the way the system works. So it always pays to go to the source and try to figure out what really lies behind the words, that is, the motive behind the smokescreen of half-truths, distortions, and lies. How is the Times trying to bend perceptions and steer the public in their corporate-friendly direction, that's the question. In this case, the Times wants its readers to believe that the Fed members "misread the crisis"; that they were 'behind the curve' and stressed-out, but–dad-gum-it–they were trying their level-best to make things work out for everybody.
How believable is that? Not very believable at all.
Keep in mind, the crisis had been going on for a full year before the discussions in these transcripts took place, so it's not like the members were plopped in a room the day before Lehman blew up and had to decide what to do. No. They had plenty of time to figure out the lay of the land, get their bearings and do what was in the best interests of the country. Here's more from the Times:
 "My initial takeaway from these voluminous transcripts is that they paint a disturbing picture of a central bank that was in the dark about each looming disaster throughout 2008. That meant that the nation's top bank regulators were unprepared to deal with the consequences of each new event."
Have you ever read such nonsense in your life? Of course, the Fed knew what was going on. How could they NOT know? Their buddies on Wall Street were taking it in the stern sheets every time their dingy asset pile was downgraded which was every damn day. It was costing them a bundle which means they were probably on the phone 24-7 to (Treasury Secretary) Henry Paulson whining for help. "You gotta give us a hand here, Hank. The whole Street is going toes-up. Please."
Here's more from the NYT:
"Some Fed officials have argued that the Fed was blind in 2008 because it relied, like everyone else, on a standard set of economic indicators. As late as August 2008, "there were no clear signs that many financial firms were about to fail catastrophically," Mr. Bullard said in a November presentation in Arkansas that the St. Louis Fed recirculated on Friday. "There was a reasonable case that the U.S. could continue to 'muddle through.' ("Fed Misread Crisis in 2008, Records Show", New York Times)
There's that same refrain again, "Blind", "In the dark", "Behind the curve", "Misread the crisis".
Notice how the Times only invokes terminology that implies the Fed is blameless. But it's all baloney. Everyone knew what was going on. Check out this excerpt from a post by Nouriel Roubini that was written nearly a full year before Lehman failed:
"The United States has now effectively entered into a serious and painful recession. The debate is not anymore on whether the economy will experience a soft landing or a hard landing; it is rather on how hard the hard landing recession will be. The factors that make the recession inevitable include the nation's worst-ever housing recession, which is still getting worse; a severe liquidity and credit crunch in financial markets that is getting worse than when it started last summer; high oil and gasoline prices; falling capital spending by the corporate sector; a slackening labor market where few jobs are being created and the unemployment rate is sharply up; and shopped-out, savings-less and debt-burdened American consumers who — thanks to falling home prices — can no longer use their homes as ATM machines to allow them to spend more than their income. As private consumption in the US is over 70% of GDP the US consumer now retrenching and cutting spending ensures that a recession is now underway.

On top of this recession there are now serious risks of a systemic financial crisis in the US as the financial losses are spreading from subprime to near prime and prime mortgages, consumer debt (credit cards, auto loans, student loans), commercial real estate loans, leveraged loans and postponed/restructured/canceled LBO and, soon enough, sharply rising default rates on corporate bonds that will lead to a second round of large losses in credit default swaps. The total of all of these financial losses could be above $1 trillion thus triggering a massive credit crunch and a systemic financial sector crisis." ( Nouriel Roubini Global EconoMonitor)
Roubini didn't have some secret source for data that wasn't available to the Fed. The financial system was collapsing and it had been collapsing for a full year. Everyone who followed the markets knew it. Hell, the Fed had already opened its Discount Window and the Term Auction Facility (TAF) in 2007 to prop up the ailing banks–something they'd never done before– so they certainly knew the system was cratering. So, why's the Times prattling this silly fairytale that "the Fed was in the dark" in 2008?
I'll tell you why: It's because this whole transcript business is a big, freaking whitewash to absolve the shysters at the Fed of any legal accountability, that's why. That's why they're stitching together this comical fable that the Fed was simply an innocent victim of circumstances beyond its control. And that's why they want to focus attention on the members of the FOMC quibbling over meaningless technicalities –like non-existent inflation or interest rates–so people think they're just kind-hearted buffoons who bumbled-along as best as they could. It's all designed to deflect blame.
Don't get me wrong; I'm not saying these conversations didn't happen. They did, at least I think they did. I just think that the revisionist media is being employed to spin the facts in a way that minimizes the culpability of the central bank in its dodgy, collaborationist engineering of the bailouts. (You don't hear the Times talking about Hank Paulson's 50 or 60 phone calls to G-Sax headquarters in the week before Lehman kicked the bucket, do you? But, that's where a real reporter would look for the truth.)
The purpose of the NYT article is to create plausible deniability for the perpetrators of the biggest ripoff in world history, a ripoff which continues to this very day since the same policies are in place, the same thieving fraudsters are being protected from prosecution, and the same boundless chasm of private debt is being concealed through accounting flim-flam to prevent losses to the insatiable bondholders who have the country by the balls and who set policy on everything from capital requirements on complex derivatives to toppling democratically-elected governments in Ukraine. These are the big money guys behind the vacillating-hologram poseurs like Obama and Bernanke, who are nothing more than kowtowing sock puppets who jump whenever they're told. Here's more bunkum from the Gray Lady:
 "By early March, the Fed was moving to replace investors as a source of funding for Wall Street.

Financial firms, particularly in the mortgage business, were beginning to fail because they could not borrow money. Investors had lost confidence in their ability to predict which loans would be repaid. Countrywide Financial, the nation's largest mortgage lender, sold itself for a relative pittance to Bank of America. Bear Stearns, one of the largest packagers and sellers of mortgage-backed securities, was teetering toward collapse.

On March 7, the Fed offered companies up to $200 billion in funding. Three days later, Mr. Bernanke secured the Fed policy-making committee's approval to double that amount to $400 billion, telling his colleagues, "We live in a very special time."

Finally, on March 16, the Fed effectively removed any limit on Wall Street funding even as it arranged the Bear Stearns rescue." ("Fed Misread Crisis in 2008, Records Show", New York Times)
This part deserves a little more explanation. The author says "the Fed was moving to replace investors as a source of funding for Wall Street." Uh, yeah; because the whole flimsy house of cards came crashing down when investors figured out Wall Street was peddling toxic assets. So the money dried up. No one buys crap assets after they find out they're crap; it's a simple fact of life. The Times makes this sound like this was some kind of unavoidable natural disaster, like an earthquake or a tornado. It wasn't. It was a crime, a crime for which no one has been indicted or sent to prison. That might have been worth mentioning, don't you think?
More from the NYT: "…on March 16, the Fed effectively removed any limit on Wall Street funding even as it arranged the Bear Stearns rescue."
Yipee! Free money for all the crooks who blew up the financial system and plunged the economy into recession. The Fed assumed blatantly-illegal powers it was never provided under its charter and used them to reward the people who were responsible for the crash, namely, the Fed's moneybags constituents on Wall Street. It was a straightforward transfer of wealth to the Bank Mafia. Don't you think the author should have mentioned something about that, just for the sake of context, maybe?
Again, the Times wants us to believe that the men who made these extraordinary decisions were just ordinary guys like you and me trying to muddle through a rough patch doing the best they could.
Right. I mean, c'mon, this is some pretty impressive propaganda, don't you think? It takes a real talent to come up with this stuff, which is why most of these NYT guys probably got their sheepskin at Harvard or Yale, the establishment's petri-dish for serial liars.
By September 2008, Bernanke and Paulson knew the game was over. The crisis had been raging for more than a year and the nation's biggest banks were broke. (Bernanke even admitted as much in testimony before the Financial Crisis Inquiry Commission in 2011 when he said "only one ….out of maybe the 13 of the most important financial institutions in the United States…was not at serious risk of failure within a period of a week or two." He knew the banks were busted, and so did Paulson.) Their only chance to save their buddies was a Hail Mary pass in the form of Lehman Brothers. In other words, they had to create a "Financial 9-11″, a big enough crisis to blackmail congress into $700 no-strings-attached bailout called the TARP. And it worked too. They pushed Lehman to its death, scared the bejesus out of congress, and walked away with 700 billion smackers for their shifty gangster friends on Wall Street. Chalk up one for Hank and Bennie.
The only good thing to emerge from the Fed's transcripts is that it proves that the people who've been saying all along that Lehman was deliberately snuffed-out in order to swindle money out of congress were right. Here's how economist Dean Baker summed it up the other day on his blog:
"Gretchen Morgensen (NYT financial reporter) picks up an important point in the Fed transcripts from 2008. The discussion around the decision to allow Lehman to go bankrupt makes it very clear that it was a decision. In other words the Fed did not rescue Lehman because it chose not to.

This is important because the key regulators involved in this decision, Ben Bernanke, Hank Paulson, and Timothy Geithner, have been allowed to rewrite history and claim that they didn't rescue Lehman because they lacked the legal authority to rescue it. This is transparent tripe, which should be evident to any knowledgeable observer." ("The Decision to Let Lehman Fail", Dean Baker, CEPR)
Here's the quote from Morgenson's piece to which Baker is alluding:
"In public statements since that time, the Fed has maintained that the government didn't have the tools to save Lehman. These documents appear to tell a different story. Some comments made at the Sept. 16 meeting, directly after Lehman filed for bankruptcy, indicate that letting Lehman fail was more of a policy decision than a passive one." ("A New Light on Regulators in the Dark", Gretchen Morgenson, New York Times)
Ah ha! So it was a planned demolition after all. At least that's settled.
Here's something else you'll want to know: It was always within Bernanke's power to stop the bank run and end to the panic, but if he relieved the pressure in the markets too soon (he figured), then Congress wouldn't cave in to his demands and approve the TARP. Because, at the time, a solid majority of Republicans and Democrats in congress were adamantly opposed to the TARP and even voted it down on the first ballot. Here's a clip from a speech by, Rep Dennis Kucinich (D-Ohio) in September 2008 which sums up the grassroots opposition to the bailouts:
"The $700 bailout bill is being driven by fear not fact. This is too much money, in too short of time, going to too few people, while too many questions remain unanswered. Why aren't we having hearings…Why aren't we considering any other alternatives other than giving $700 billion to Wall Street? Why aren't we passing new laws to stop the speculation which triggered this? Why aren't we putting up new regulatory structures to protect the investors? Why aren't we directly helping homeowners with their debt burdens? Why aren't we helping American families faced with bankruptcy? Isn't time for fundamental change to our debt-based monetary system so we can free ourselves from the manipulation of the Federal Reserve and the banks? Is this the US Congress or the Board of Directors of Goldman Sachs?"
But despite overwhelming public resistance, the TARP was pushed through and Wall Street prevailed. mainly by sabotaging the democratic process the way they always do when it doesn't suit their objectives.)
Of course, as we said earlier, Bernanke never really needed the money from TARP to stop the panic anyway. (Not one penny of the $700 bil was used to shore up the money markets or commercial paper markets where the bank run took place.) All Bernanke needed to do was to provide backstops for those two markets and, Voila, the problem was solved. Here's Dean Baker with the details:
"Bernanke deliberately misled Congress to help pass the Troubled Asset Relief Program (TARP). He told them that the commercial paper market was shutting down, raising the prospect that most of corporate America would be unable to get the short-term credit needed to meet its payroll and pay other bills. Bernanke neglected to mention that he could singlehandedly keep the commercial paper market operating by setting up a special Fed lending facility for this purpose. He announced the establishment of a lending facility to buy commercial paper the weekend after Congress approved TARP." ("Ben Bernanke; Wall Street's Servant", Dean Baker, Guardian)
So, there you have it. The American people were fleeced in broad daylight by the same dissembling cutthroats the NYT is now trying to characterize as well-meaning bunglers who were just trying to save the country from another Great Depression.
I could be wrong, but I think we've reached Peak Propaganda on this one.
(Note: By "good" propaganda, I mean "effective" propaganda. From an ethical point of view, propaganda can never be good because its objective is to intentionally mislead people…..which is bad.)
President Obama's Kansas speech is a remarkable document. In calling for more government controls, more taxation, more collectivism, he has two paragraphs that give the show away. Take a look at them.
there is a certain crowd in Washington who, for the last few decades, have said, let's respond to this economic challenge with the same old tune. "The market will take care of everything," they tell us. If we just cut more regulations and cut more taxes–especially for the wealthy–our economy will grow stronger. Sure, they say, there will be winners and losers. But if the winners do really well, then jobs and prosperity will eventually trickle down to everybody else. And, they argue, even if prosperity doesn't trickle down, well, that's the price of liberty.

Now, it's a simple theory. And we have to admit, it's one that speaks to our rugged individualism and our healthy skepticism of too much government. That's in America's DNA. And that theory fits well on a bumper sticker. (Laughter.) But here's the problem: It doesn't work. It has never worked. (Applause.) It didn't work when it was tried in the decade before the Great Depression. It's not what led to the incredible postwar booms of the '50s and '60s. And it didn't work when we tried it during the last decade. (Applause.) I mean, understand, it's not as if we haven't tried this theory.
Though not in Washington, I'm in that "certain crowd" that has been saying for decades that the market will take care of everything. It's not really a crowd, it's a tiny group of radicals–radicals for capitalism, in Ayn Rand's well-turned phrase.
The only thing that the market doesn't take care of is anti-market acts: acts that initiate physical force. That's why we need government: to wield retaliatory force to defend individual rights.
Radicals for capitalism would, as the Declaration of Independence says, use government only "to secure these rights"–the rights to life, liberty, property, and the pursuit of happiness. (Yes, I added "property" in there–property rights are inseparable from the other three.)
That's the political philosophy on which Obama is trying to hang the blame for the recent financial crisis and every other social ill. But ask yourself, are we few radical capitalists in charge? Have radical capitalists been in charge at any time in the last, oh, say 100 years?
I pick 100 years deliberately, because it was exactly 100 years ago that a gigantic anti-capitalist measure was put into effect: the Federal Reserve System. For 100 years, government, not the free market, has controlled money and banking. How's that worked out? How's the value of the dollar held up since 1913? Is it worth one-fiftieth of its value then or only one-one-hundredth? You be the judge. How did the dollar hold up over the 100 years before this government take-over of money and banking? It actually gained slightly in value.
Laissez-faire hasn't existed since the Sherman Antitrust Act of 1890. That was the first of a plethora of government crimes against the free market.
Radical capitalists are just beginning to have a slight effect on the Right wing. The overwhelming majority on the Right are eclectic. Which is a nice way of saying inconsistent.
The typical Republican would never, ever say "the market will take care of everything." He'd say, "the market will take care of most things, and for the other things, we need the regulatory-welfare state."
They are for individualism–except when they are against it. They are against free markets and individualism not only when they agree with the Left that we must have antitrust laws and the Federal Reserve, but also when they demand immigration controls, government schools, regulatory agencies, Medicare, laws prohibiting abortion, Social Security, "public works" projects, the "social safety net," laws against insider trading, banking regulation, and the whole system of fiat money.
Obama blames economic woes, some real some manufactured ("inequality") on a philosophy and policy that was abandoned a century ago. What doesn't exist is what he says didn't work.
Obama absurdly suggests that timid, half-hearted, compromisers, like George W. Bush, installed laissez-faire capitalism–on the grounds that they tinkered with one or two regulations (Glass-Steagall) and marginal tax rates–while blanking out the fact that under the Bush administration, government spending ballooned, growing much faster than under Clinton, and 50,000 new regulations were added to the Federal Register.
The philosophy of individualism and the politics of laissez-faire would mean government spending of about one-tenth its present level. It would also mean an end to all regulatory agencies: no SEC, FDA, NLRB, FAA, OSHA, EPA, FTC, ATF, CFTC, FHA, FCC–to name just some of the better known of the 430 agencies listed in the federal register.
Even you, dear reader, are probably wondering how on earth anyone could challenge things like Social Security, government schools, and the FDA. But that's not the point. The point is: these statist, anti-capitalist programs exist and have existed for about a century. The point is: Obama is pretending that the Progressive Era, the New Deal, and the Great Society were repealed, so that he can blame the financial crisis on capitalism. He's pretending that George Bush was George Washington.
We radical capitalists say that it was the regulatory-welfare state that imploded in 2008. You may disagree, but let's argue that out, rather than engaging in the Big Lie that what failed was laissez-faire and individualism.
The question is: in the messy mixture of government controls and remnants of capitalism, which element caused the Great Depression and the recent financial crisis?
By raising that question, we uncover the fundamental: the meaning of capitalism and the meaning of government controls. Capitalism means freedom. Government means force.
Suddenly, the whole issue comes into focus: Obama is saying that freedom leads to poverty and force leads to wealth. He's saying: "Look, we tried leaving you free to live your own life, and that didn't work. You have to be forced, you have to have your earnings seized by the state, you have to work under our directions–under penalty of fines or imprisonment. You don't deserve to be free."
As a bit of ugly irony, this is precisely what former white slave-owners said after the Civil War: "The black man can't handle freedom; we have to force him for his own good." The innovation of the Left is to extend that viewpoint to all races.
Putting the issue as force vs. freedom shows how the shoe is on the other foot regarding what Obama said. Let me re-write it:
there is a certain crowd in Washington who, for the last few decades, have said, let's respond to this economic challenge with the same old tune. "The government will take care of everything," they tell us. If we just pile on even more regulations and raise taxes–especially on the wealthy–our economy will grow stronger. Sure, they say, there will be winners and losers. But if the losers are protected by more social programs and a higher minimum wage, if there is more Quantitative Easing by the Fed, then jobs and prosperity will eventually trickle up to everybody else. And, they argue, even if prosperity doesn't trickle up, well, that's the price of the social safety net.

Now, it's a simple theory. And we have to admit, it's one that speaks to our intellectuals' collectivism and Paul Krugman's skepticism about freedom. That's in Harvard's DNA. And that theory fits well on a bumper sticker. (Laughter.) But here's the problem: It doesn't work. It has never worked. (Applause.) It didn't work when it was tried in the Soviet Union. It's not what led to the incredible booms in India and China. And it didn't work when Europe tried it during over the last decades. (Applause.) I mean, understand, it's not as if we haven't tried this statist theory.
How does that sound? That's blaming an actual, existing condition–government controls and wealth-expropriation–not a condition that ended in the late 19th century.
So which is the path to prosperity and happiness–freedom or force? Remember that force is aimed at preventing you from acting on your rational judgment.
Obama's real antagonist is Ayn Rand, who made the case that reason is man's basic means of survival and coercion is anti-reason. Force initiated against free, innocent men is directed at stopping them from acting on their own thinking. It makes them, under threat of fines and imprisonment, act as the government demands rather than as they think their self-interest requires. That's the whole point of threatening force: to make people act against their own judgment.
The radical, uncompromised, laissez-faire capitalism that Obama pretends was in place in 2008 is exactly what morality demands. Because, as Ayn Rand wrote in 1961: "No man has the right to initiate the use of physical force against others. . . . To claim the right to initiate the use of physical force against another man–the right to compel his agreement by the threat of physical destruction–is to evict oneself automatically from the realm of rights, of morality and of the intellect."
Obama and his fellow statists have indeed evicted themselves from that realm.
Source: forbes.com