"…that dream of a land in which life should be better and richer and fuller for everyone, with opportunity for each according to ability or achievement. It is a difficult dream for the European upper classes to interpret adequately, and too many of us ourselves have grown weary and mistrustful of it. It is not a dream of motor cars and high wages merely, but a dream of social order in which each man and each woman shall be able to attain to the fullest stature of which they are innately capable, and be recognized by others for what they are, regardless of the fortuitous circumstances of birth or position."

– James Truslow Adams, The Epic of America (1931)
The American Dream has been defined many ways by writers of both poetic and prosaic bent, but its essentials tend to involve life, liberty and the pursuit of happiness (or property, depending on your source).
The Declaration of Independence, upon which an entire nation was radically brought into existence, asserts that not only are all men created equal but that this is a "self-evident" truth. By this "unanimous Declaration of the thirteen united States of America," a contract was agreed to, that their union would be founded on this principle. Thus, America was endowed with its dream at the moment of its conception: the freedom to succeed.
The United States has promoted a self-congratulating exceptionalism for decades, waving its Declaration and Constitution in the faces of other sovereign nations as if the latter had never considered such concepts. Our capital F "Freedom" sets us apart from the rest of the world, as the political rhetoric has repeated ad nauseam, no matter the freedoms enjoyed by democracies on almost every continent. And yet our basic freedom, the freedom to succeed, America's contractual promise, has been shrinking for thirty years.
The freedom to succeed transcends economic systems but it is most potently expressed by capitalist gains. The ability to go "from rags to riches" is ingrained in this nation's ethos and there is nothing intrinsically immoral about that goal. However, the current state of American inequality reveals a very real and expanding gap between the rich and poor that betrays the foundational endowment of this Union. When the freedom to succeed is denied every citizen, their equality is equally denied.
Recently, the Pew Research Center released a poll on what international citizens consider the greatest threat to the planet. Conducted between March 17 and June 5 of this year, the survey received answers from 48,643 respondents in 44 countries. In the U.S. and Europe, the growing gap between the rich and the poor was overwhelmingly considered the greatest danger to world prosperity. Over a quarter of Americans ranked "Inequality" as number one, above Religious & ethnic hatred, Pollution, Nuclear weapons and Infectious diseases.
This is hardly startling news considering that the median net worth of American households fell by 35 percent ($106,591 to $68,839) between 2005 and 2011, according to the U.S. Census Bureau. It is, however, disturbing that inequality remains so prevalent five years after the Great Recession.
Capitalism is not the problem. The problem is that we have let inequality advance in this country so gradually that its obviousness is masked by its familiarity. Below, I outline eight facts about inequality in America that every American should know.
1) 400 Americans have more wealth than half of all Americans combined. This ratio has been verified by Politifact and former Labor Secretary Robert Reich. To put it into context, last year the U.S. Census Bureau estimated that there were over 316 million people living in the United States. That means 400 Americans have more money than over 158 million of their fellow citizens. Their net worth is over$2 trillion, which is approximate to the Gross Domestic Product of Russia.
One explanation for the vast discrepancy in wealth is the definition of "worth," which includes everything a person or household owns. This means savings and property but also mortgages, bills and debt. Poorer households can owe so much in debt that they possess a negative net worth.
2) America has the second-highest level of income inequality, after Chile. The Organization for Economic Cooperation and Development studies thirty-four developed countries and ranks them both before and after taxes and government transfers take effect (government transfers include Social Security, income tax credit and unemployment insurance). Before taxes and government transfers, America ranks tenth in income inequality. After taxes and transfers, it ranks second. Whereas its developed peers reduce inequality through government programs, the United States' government exacerbates it.
3) The current state of inequality can be traced back to 1979. After the Stock Market Crash of 1929, the gap between the rich and the poor began to narrow. For fifty years, wages differed between the upper- and working-classes, but a robust middle-class took shape and there remained ample opportunity for working-class individuals to ascend.
In his book, "The Great Divergence," journalist Timothy Noah traced today's inequality to the beginning of the 1980s and the widening gap between the middle- and upper-classes. This gap was influenced by the following factors: the failure of American schools to prepare students for new technology; poor immigration policies that favor unskilled workers and drive down the price of already low-income labor; federally-mandated minimum wage that has failed to keep pace with inflation; and the decline of labor unions.
4) Non-union wages are also affected by the decline of unions. The Economic Policy Institute claims that 20 percent of the growth in the wage gap between high-school-educated and college-educated men can be attributed to deunionization.
Between 1978 and 2011, union representation for blue-collar and high-school educated workers declined by more than half. This has also diminished the "union wage effect," whereby the existence of unions (more than 40 percent of blue-collar workers were union members in 1978) was enough to boost wages in non-union jobs – in high school graduates by as much as 8.2 percent. Not only did unions protect lower- and middle-class workers from unfair wages, they also established norms and practices that were then adopted by non-union employers. Two prime examples are employee pensions and healthcare.
Today, about 13 percent of workers belong to unions, which has reduced their bargaining power and influence.
5) There is less opportunity for intergenerational mobility. In December 2011, President Obama spoke at Osawatomie High School in Kansas. He was very clear about the prospects of the poor in today's United States:
"[O]ver the last few decades, the rungs on the ladder of opportunity have grown farther and farther apart, and the middle class has shrunk. You know, a few years after World War II, a child who was born into poverty had a slightly better than 50-50 chance of becoming middle class as an adult. By 1980, that chance had fallen to around 40 percent. And if the trend of rising inequality over the last few decades continues, it's estimated that a child born today will only have a one-in-three chance of making it to the middle class – 33 percent."
As refreshing as that honesty is, Obama promised no fix beyond $1 trillion in spending cuts and a need to work toward an "innovation economy."
In a speech one month later, Obama's Chairman of Economic Advisers, Alan Krueger, elaborated on the dire state of America's shrinking middle-class. The contraction, he stated, could partially be attributed to "skill-biased technical change": work activities that have become automated over time, reducing the need for unskilled labor and favoring those with analytical training. He also highlighted the 50 year decline in tax rates for the top 0.1 percent, increased competition from overseas workers, and a lack of educational equality for children. Poor children are denied the private tutors, college prep and business network of family and friends available to their wealthier peers, which locks them into the class they are born into.
6) Tax cuts to the wealthiest have not improved the economy or created more jobs. Krueger also revealed that the tax cuts of the 2000s for top earners did not improve the economy any better than they did in the 1990s (meanwhile, income growth was stronger for lower- and middle-class families in the 1990s than in the last forty years).
Tax rates for the top income earners in America peaked in 1945 at 66.4 percent. Following decades of gradual reductions, they have since been cut in half. During the same time, the payroll tax has increased since the 1950s and individual income tax has bounced between 40-50 percent through the present day. Conversely, corporate tax declined from above 30 percent in the 1950s to under 10 percent in 2011.
All of these tax cuts are made ostensibly to improve the economy and create jobs. However, the National Bureau of Economic Research has concluded that it is young companies, "regardless of their size," that are the real job creators in America. Tax cuts to the wealthiest do not create jobs.
7) Incomes for the top 1% have increased (but the top 0.01% make even more). Between 1979 and 2007, the average incomes of the 1 percent increased 241 percent. Compare that to 19 percent growth for the middle fifth of America and 11 percent for the bottom fifth. Put another way, in 1980 the average American CEO earned forty-two times as much as his average worker. In 2001, he earned 531 times as much.
Average income across the 1 percent is actually stratified into widely disparate echelons. Compare the $29,840 average income for the bottom 90 percent to the $161,139 of the top 10 percent. Compare the $1 million average income of the top 1 percent to the $2.8 million of the top 0.1 percent. Yet both still pale beside the $23 million average income of the top 0.01 percent.
If those numbers seem a bit overwhelming, Politizane has created a video that illustrates this staggering inequality:
8) The majority of Congress does not feel your pain. Empowered by the Constitution to represent their constituents, United States Congress members are, for the first time in history, mostly millionaires. The 2012 financial disclosure information of the 534 current Congress men and women reveals that over half of them have a net worth of $1 million or more.
After the past seven facts it is difficult to read this last one and believe that these 268 legislators have the best interests of the remaining 99 percent at heart. But if that is too presumptuous a leap, it is not too bold to say that wealthier donors, lobbyists and special interest groups enjoy greater access to these lawmakers than the average American.
In January, Congress failed to extend emergency benefits for unemployment, leaving 1.3 million people without federal aid. Congress then went on a weeklong recess that kept them from debating the issue until the end of the month. The bill was too divisive for Republicans and Democrats to reach an agreement on, though unemployment was then above 7 percent nationally.
Thankfully, the unemployed have their Congress working for them. And at $174,000 annual pay, those representatives are sure to return from their vacations committed to fresh solutions.
Origin of the Master Model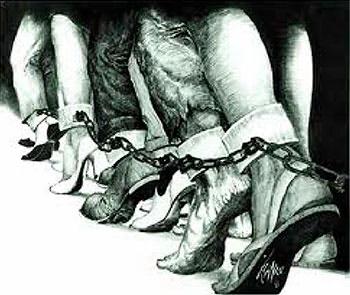 The master plan for world domination we see playing out today was first proposed to the US at the end of World War I. However, there were no takers. People were too war weary. However, when the plan was again proposed at the end of World War II, it was accepted. Consequently, World War II quietly transitioned into the secret "war" to set up what has become known as the "new world order" — an absolute dictatorship over the entire planet.
The United States set up the School of the Americas to train future dictators and terrorists who would be sent out into the world to destroy sovereign nations and place them under US domination by installing puppet governments obedient to the United States. Many conquests were made quietly using clever economic tricks [2]. However, leaders who refused to submit quietly would see their entire country reduced to rubble and the land rendered unlivable by uranium dust scattered by US bombs. The message was clear: Submit to the United States or face total destruction.
A social model based upon the assumption that cleverness and power automatically convey the right to take anything desired from those who are less adept and unable to resist is not a sustainable model for harmonious social interactions. However, this is the chosen model. The mantra for this model, "A man's true worth is measured by the amount of other peoples' happiness that he can possess and destroy" [1], is essentially a call for a class war between the greedy elite and the innocent masses of the world who simply desire a peaceful existence.
Acquisitions
The United States looks at the rest of the world as a "resource". If a country has something — oil, gold, minerals, etc. — that the US covets, it believes it has the right to take those things by whatever means necessary. In many cases the coveted resource is human slave labor. Let's look at some representative examples:
With the cooperation of the dictator, United Fruit Company (US) owned almost half of the country and used the locals as slaves to harvest its Chiquita brand bananas. However, during the period from 1945-1954 new leaders made changes. They helped the poor and set up social security and health care. Then they took land away from United Fruit and gave it to the local people. United fruit complained to the CIA that its business interests were being interfered with by the "communist" government. Any government which shows kindness to the poor and weak is called communist by the US. The US attacked Guatemala — killed the elected leaders and many thousands of citizens — and established a puppet dictatorship which would obey the will of United Fruit. The people were returned to a state of slavery. The CIA trained death squads to make sure the people were crushed into submission.
Strip Mining in Africa [4]
In Africa, the International Monetary Fund — a puppet of the US — destroys a country with strip mining. The original country was self sustaining. People were able to grow lots of food and hunt animals. However, once the land was ruined by US corporations, it was unusable to plant crops and the native animals died. The people had to buy food from other countries with money loaned to them by the IMF which they could never hope to repay. Therefore, a once free and self supporting people were made debt slaves of the IMF. Once all the natural resources have been stolen, the corporations will simply pack up and leave the indigenous people to starve and die.
Countries Used as Trash Dumps [5]
Used computers and associated items are dumped in poor countries where starving barefoot children sift through the mess of hazardous waste and broken obsolete glass computer monitors hoping to find something they can sell to get enough money to stay alive another day. Property stickers show the waste is mainly from the US government and various US state governments.
Corruption of Trusted Sources
Reporters and News Organizations
The masses are conditioned to believe news they receive from establishment sources. In the earlier times, this assumption was often correct. It was considered so important by the founding fathers that freedom of the press was enshrined in the US constitution. However, times have changed.
Walter Cronkite was known as the "trusted voice". No one knew he was also the official announcer at the secret Bohemian Grove meetings. The leaders of the world's news organizations also attend this event. That is why, even though the meetings began over one hundred years ago, until recently no one knew this group even existed. President George W. Bush may have set a new record for bribing journalists to allow their trusted name to be used as the author of material actually written by government propaganda experts. Apparently, everyone has a price and the government, of course, has no problem when it comes to money.
When Ronald Reagan reportedly ordered the death of investigative reporter Jessica Savitch [6], the message to independent journalists was clear: Go against the official party line an you're done!
Today, dedicated journalists face mysterious deaths and strange single car accidents but a few survive long enough to give us a glimpse of truths we would otherwise never know. They are true heroes.
Churches
Churches are everywhere. Unfortunately, legitimate Spiritual teachers are not. People look at churches either as harmless or with some sort of conditioned hypnotic respect. Churches send out "missionaries". However, the "mission" of these missionaries may not be so clear. If you wanted to infiltrate a foreign country, these people would be an ideal asset.
Churches are not Spiritual centers. At best, all they want is your money. At worst, they are Satanic and you are in severe Spiritual danger if you come under their influence and control.
The Catholic Church has been a trusted asset of the US intelligence community for quite some time. Significant information obtained by priests during confessions is routinely passed on to the government.
This agreement predates the internet by many years. Because the church has branches in almost every country, it has great potential for covert activities. For example, if you need to get an operative who is in danger out of a country, they can go to a Catholic church for "confession". Once the door is closed, they can exit through a secret passage, be disguised in robes and spirited safely out of the country. Church secrecy is at least on a par with US secrecy. Also, the Catholic church and the US shadow government share the same Satanic value system and engage in child rape and ritual killings.
Doctors and the Medical Industry
Medicine in the United States is an industry. It is no longer a profession. Its corporate model puts profit above all else. If some patients accidentally benefit they are the lucky ones.
The medical community has a rigid hierarchical structure and effective mechanisms for enforcing secrecy. Essentially, its model closely resembles the military chain of command structure. This makes it a perfect partner for the government in the area of secret human experiments.
For example, when the government was doing radiation experiments on humans, a doctor or someone dressed as a doctor would just walk up to unsuspecting patients and inject them with radioactive material. They were then secretly followed for years to see what would happen. Eventually, some of those who survived were told the truth. Most people used in the MK Ultra and subsequent secret projects were never notified.
Hospitals are set up to protect themselves. Staff may appear to be dedicated, smiling people who truly care about you. However, they are basically prostitutes who are being nice because you are worth money to them. When they make mistakes they have a "loss prevention" department staffed by clever lawyers who are trained to protect the financial interests of the hospital by denying everything and fabricating believable coverups. They are trained to do whatever is necessary. The staff will all agree to support whatever lies are needed. They know their job and their financial future depends upon maintaining strict secrecy.
The only people who receive legitimate medical care are the select elite cleared to accesstop secret medicine. These people always get excellent care because the doctors work for the shadow government and mistakes on their part are simply not tolerated.
Infiltrations
Countries which have the resources to sustain an intelligence community generally try to get operatives (spies) into other countries so they can directly observe activities. When real people gather intelligence, this is called human intelligence or HUMINT. The US, of course, does this too. However, you may not be aware of the extent to which the US also infiltrates itself. The central government really does not trust anyone.
Essentially all local police departments, state offices and state governors have a covert federal agent working close by pretending to be just another employee. Also, every US neighborhood has an informer who reports to the federal government. Large corporations, which tend to behave like "mini governments", need to be infiltrated and kept under observation. Colleges and universities are also monitored.
Here is how this spy network operates: The NSA likes to recruit young kids right out of college. When they are hired and sworn to secrecy they still do not know what their assignment will be. They must agree to do this assignment without first being told what it is.
Some agents, like John Perkins [2], are assigned to work in other countries. However, others are assigned to work inside the US. Their assignment could be to go to some state and apply to join the local police department. They would pretend to be just a regular person looking for a job. They would take the necessary training and spend their life as a local policeman so they could directly observe other local police from the inside and report to the NSA. Since they are actually an employee of the NSA, presumably they get to keep both salaries and, eventually, both retirements. All significant local police forces in the US are infiltrated this way.
Additionally, some agents will be assigned to get a job on the state governor's staff as well as in major local state agencies. A CIA or NSA agent is always on the staff at major colleges and universities. The same goes for major corporations.
Senior level agents are allowed to have special TV receivers in their homes linked to the secret government TV network. This way everyone stays on the same page. The channels on this network actually broadcast the truth. TV channels available to ordinary people contain only government approved propaganda mixed with "bread and circuses" presentations to make sure the sheeple stay asleep and content.
Fronts
The US government is involved in illegal activities internationally and domestically. If it performed these activities overtly in the name of the United States, there would be serious consequences under both international and local laws. To avoid this situation, the US government operates thousands of "front organizations" which appear to be private but are actually shadow operatives of the US.
For example, John Perkins [2] explained that he was recruited, hired and trained by the NSA. He was an NSA agent. However, for his cover as an economic hit man, he "officially" worked for a "private" company called Charles T. Main. This company was a government front to shield the US because the activities the NSA trained Perkins to do were illegal.
This is standard operating procedure for the US as well as other countries and many corporations. It shields them from legal recourse by providing deniability for the crimes they actually direct and commit.
Generally, when the US wants to influence other sovereign countries, it creates harmless looking NGO's which appear to be independent but are actually fronts for covert activities.
Domestically, colleges and universities — especially those with associated medical schools and hospitals — are great places to conceal a variety of covert projects such as the MK Ultra series of human experiments which, reportedly, continue today using new cover names. The US also likes to create non-profit corporations which exist only to provide classified services to the United States. A good example would be the Institutes for Defense Analysis (IDA). The US, reportedly, is its only client.
Programming
Mass media "programming" is actually programming you. It has developed into a subtle form of mind control. Before radio and television, special interests recognized that motion pictures could be used to alter public opinion in their favor. Perhaps, for example, you wanted to attack labor unions. When radio and later television came along providing access to national and international audiences, the temptation to exploit these technologies became irresistible. Originally, the US government recognized this and set up fairness rules to prevent monopolies from taking over the broadcast media and blocking opposing viewpoints. All this ended, unfortunately, when Ronald Regan canceled all the fairness regulations. Today, a handful of powerful corporations own and control essentially all content delivered by radio and television.
Television is the main vehicle for mass indoctrination. It is said that people watching TV actually fall into a light hypnotic trance. The "entertainment" you see on TV does not "just happen to be there". It is very carefully planned and timed to attract and influence targeted audiences. It is said that if some event were to somehow shut down all television broadcasts the government would experience a severe crisis because it would lose control over the minds of the masses.
TV creates sort of a "hive mind" among the masses and keeps everyone coordinated and tuned into the official party line. Without this, people would have no choice but to start thinking for themselves and forming independent opinions. Clearly, this would be a disaster.
The radio broadcast of "War of the Worlds" and the later movie "The Day the Earth Stood Still" are said to be CIA psychological experiments to judge how the general public would react to some type of ET contact.
Today, broadcasting is not just a one way event. Because people react to events and use social media to express these reactions, the effect of specific propaganda can be analyzed in real time. Since the government now intercepts all electronic communications, it is able to see general opinions and then tweak algorithms to maximize the desired effect of propaganda. This ability makes TV a two-way communications system although most people, of course, do not realize this and have no concept of the level of sophistication these technologies have reached.
Information Theory
Information Theory is the name of a relatively new branch of science which became popular in the 1960′s. It covers a broad range of technologies. Basically, it is the science of the flow of information and how that flow can be selectively controlled so that information flows only in desired pathways. As you may have already guessed, governments love this sort of stuff.
ECM
ECM stands for Electronic Counter Measures. In general, these are techniques to disable other electronic devices. Basically, it is electronic warfare. When the secret service is active in an area, for example, they will selectively jam all radio frequencies except for the specific frequencies they are using so that no one else can communicate.
World leaders, who are generally terrified of "threats" materializing from practically anywhere, like to travel with ECM generators running just in case "someone" from "somewhere" was trying to target them for "some reason". Basically, they are paranoid whack jobs.
People familiar with aviation tell the story of how Tony Blair, while traveling to or near a commercial airport, reportedly caused a commercial jet to crash because all the ECM garbage he was transmitting jammed the plane's navigation system. Of course, the British government would never admit this.
Secure Communication With Submarines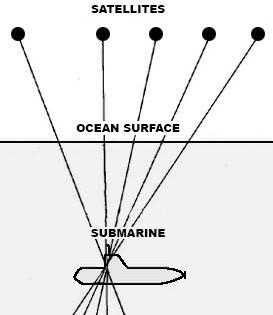 Since submarines were invented, communicating with them has been a problem because conventional radio waves will not travel underwater. Therefore, early submarines had to get close enough to the surface to put up some kind of antenna in the air to send or receive radio messages. Obviously, this could pose a problem if you did not wish to be discovered and located. After all, the motivation to create submarines in the first place was the feeling that they would be able to move about the planet secretly. However, newer technologies now make this impossible.
To solve the problem of reliable secure communication without the need to surface, scientists learned that sea water was essentially transparent to a special type of Argon laser. To set up the current communications network, it was decided to use several satellites with each satellite sending only part of an encrypted communication signal. The complete signal could only be received at a specific point underwater where all the laser beams intersected. Intercepting only one or two beams would prove useless. This communications system is considered to be impossible to intercept.
Quantum Entanglement
Returning to the submarine issue for a moment, before modern communications were perfected, there was a search for some reliable method to send a signal to a submerged submarine that could not be detected. This was considered necessary in a war situation to secretly transmit an attack command. What they originally did was to locate a couple of people who could communicate telepathically. One would be at the command base and the other on the submarine. Doing a bit more research, it was determined that this type of communication is instantaneous and somehow operated outside of time. Radio waves travel at the speed of light.
Quantum entanglement is a process which uses technology to send and receive signals outside of space-time. Now, why would you possibly want to do this? Well, if you had a base or a colony on a planet in some other solar system light years away, you would not want to wait years for messages to be received. Following this thread — and adding some basic common sense — why would you want to dedicate resources to search for habitable planets in distant solar systems when you had already "proven" it would be impossible to ever get there? Could it just be that someone is not coming clean with whole story?
The Separation Barrier
This is a model of the separation barrier which insulates the ruling class from the slave class. It is essentially "intellectual apartheid". The question is, why is it there. It takes considerable effort, money and manpower to maintain this artificial barrier. What is the reasoning behind not having a level playing field for everyone? Why does this idea absolutely terrify the elite? What are they afraid of?
The Pirate Story
This is a summary of a story told years ago on a radio broadcast most likely by Paul Harvey:
Ordinary people were afraid. The Earth was flat so they dare not venture far from home. Periodically, a pirate ship would come. They did not know how it got there or from where it came. It brought treasures they had never seen. The Chief Pirate would encourage the young men to study and specialize in specific skills. He wanted them to become educated but only in one narrow area. The Chief Pirate knew the world was not flat and how to navigate to other lands. However, this knowledge was never discussed. This "top secret" knowledge or the "big picture of the known world" would only be given to the Chief Pirate's son who would inherit his title and someday become the Chief Pirate.
This story is about the origin of the concept we call compartmentalization — the process of controlling the slave masses by only allowing them to know specific bits of the truth while the leaders are allowed to know total truth.
ELITE RULING CLASS
SECURITY CLEARANCES
SECRET POLICE
ASSASSINS
SURVEILLANCE — SIGINT HUMINT COMINT
SPY SATELLITES
SPY DRONES
SMART ELECTRIC METERS
INTERNET SURVEILLANCE
NEIGHBORHOOD SPIES
PLENTIFUL STREET DRUGS
PSYCHIATRIC FORCED DRUGGING
GENETICALLY MODIFIED FOOD
FLUORIDATED WATER
COORDINATED TELEVISION PROPAGANDA
DEGRADED PUBLIC EDUCATION
LOCAL MILITARIZED POLICE
---
SLAVE CLASS
Leaders can only maintain their status if there are slaves. Otherwise, everyone would be equal and operate on a level playing field. This means "leaders" would have to pull their own weight like everyone else. Clearly, this would be intolerable. Leaders love beautiful and exotic things but don't want to do the work needed to create these things. They probably could not even plant a garden much less build the various "ivory towers" where they like to live surrounded by servants. If left on their own they would very likely starve. This is why it is so important to create and maintain the complex separation barrier.
Why don't people who live above the separation barrier ever "come down" and talk to the people below the barrier? Well, other than the obvious fact that they would likely be killed or jailed for espionage or treason, there is another, simpler, reason.
Would you like to spend your days sitting in an open field with kindergarten kids looking for four leaf clovers? Probably not. You have progressed beyond that. The slaves below the separation barrier cannot even imagine the world of those who live above the barrier. In fact, the elite do not even consider the slaves human. They call them "disposable biological units". The United Nations prefers the slang term "the herd". Slaves can be easily bred in quantities needed and programmed to do desired tasks. Then, they can be easily disposed of when no longer useful. That's how they look at you. So, why would they want to make friends with you?
The Mars Example
There is an interesting event playing out today that you may have noticed. This concerns the recruitment and selection of people to be sent to Mars. There are simulation projects where volunteers are locked away to imitate the long voyage to Mars. They are being told that this is a one way trip and they can never hope to return to Earth.
What you are witnessing is the selection process for the "seed people" who will be used to breed the future slave class on Mars. In a situation similar to the period when most believed the Earth was flat and you would fall off if you tried to go to sea, these people are convinced that the only way to get to mars is to ride a rocket on a perilous journey taking years. Because they truly believe this, when they get to Mars, they will teach this crap to their kids along with other misconceptions like it is impossible to go faster than the speed of light and other associated obsolete scientific principles. They will have no
desire to ever return to Earth or go anywhere else because they truly believe it is not possible. They will be contented slaves.
Of course the truth is that there are already secret colonies on Mars. It is not that hard to get there using antigravity and other secret propulsion methods and it is quite likely possible to simply walk through some kind of wormhole device and come out on Mars.
However, the slaves will never know this. Just as it is done on Earth, there will be an artificial separation barrier. The insiders will know the truth and will be physically hidden from the slaves. There will be secret police and other methods — the same as are used on Earth — to make sure no slave ever escapes from the "information prison". Business as usual will continue.
Reinforcement of Ignorance
Governments and their oligarchs love to keep their subjects in a cloud of ignorance. Back in the days when people believed the Earth was flat, the inner circle ruling class knew it was round. Maintaining the deception was convenient because it kept the slaves from developing any desire to travel far from home.
Nothing has changed all that much today. Consider, for example, all the fuss over the missing MH370 plane. You are being played for a sucker. It is impossible for that plane to have "disappeared".
The US DoD spy satellite system reportedly consists of ten constellations of satellites. Each constellation has over seven thousand satellites. They see and record everything that happens on this planet. The floor of the oceans can be seen just as clearly as the land areas. The resolution of the system is better than one square millimeter. Also, everything is recorded so you can go back in time and play past images.

This is a picture of a common electric lamp. Take this lamp and throw it in the ocean — any ocean anywhere on this planet. The spy satellite system will locate it, give you the coordinates and give you a photo at least as good as the one above. That is the capability of the system. So, clearly, it is impossible not to know the location of something as large as a Boeing 777 plane. All the TV publicity is a choreographed play. You are being scammed and you need to wake up and realize this fact.
Murders and Assassinations
To ensure a strong empire, dissent must be crushed. The United States trains assassins and carries out both domestic and foreign murders and assassinations on a regular basis. You may be familiar with the classic movie scenes where a black limousine with tinted windows drives by a target with thugs shooting machine guns. Although this would accomplish the task, it is a bit too obvious in a country that advertises itself to be a free, civilized democracy. Someone might catch on and begin to doubt the party line. Consequently, these things must be done quietly.
Inside the US, murders are reportedly carried out by a group known as "FBI Division Five". Other agencies likely have the responsibility for foreign assassinations. However, the basic techniques used would be similar.
Typically, an agent would wake up every day and connect to the top secret internet to see who he was assigned to kill that day. There would be several options. If it was important to eliminate the target immediately, a fast acting chemical agent would be selected which, for example, would cause the target to die within a few hours of a "natural" heart attack.
However, if time was not critical and the government just wanted the target out of the way, you might want to select one of the cancer causing agents such as those likely used to eliminate Hugo Chavez and Senator Ted Kennedy.
There is also a third possibility. This involves character assassination instead of actual murder. Consider, for example, a person who has gained a lot of public recognition talking about, say, free energy. If you simply kill the person, there could be blowback and talk that he was silenced by the government. In such cases, it is easier to use a chemical agent designed not to kill but, rather, to cause states of mental confusion resulting in obviously strange behavior. This would be coordinated with the government controlled mainstream press to make sure everyone became convinced the person was a nut and would therefore ignore anything said without regard to the truth or validity of the message.
Once the appropriate chemical has been selected, you need to load it into the secret delivery system and locate your target. To find your target you will connect to the top secret internet and pinpoint the location of the target through their cell phone. You can also activate all the cameras and microphones in electronic gadgets connected to the internet associated with the target in case you wish to look around the target's home and hear in real time what is taking place.
Of course, this will not help you locate the target when it is time to actually do the hit. So, you need to get the top secret profile data which will show any predictable habits of the target. Everyone is constantly tracked through their cell phones and profiles are logged and stored. In this case, the profile shows that the target has a favorite restaurant and goes there for lunch every day around 11:30. Now, you know exactly what to do. You go to the restaurant, hang out until you see your target, and get in line behind the target. Now, all you need to do is slightly bump into the target to deliver the chemical. Generally, the targets never even notice.
This mission is now complete. If it is early enough, you can check back in to the top secret system to see who you are supposed to kill next. Just another day. Just a routine job.
Money
Money is an imaginary force. It is used to motivate and control slaves. Real forces effect all life forms. However, only people respond to money. The only reason they do is because they have been artificially programmed to do so.
Money can be created in unlimited quantities by those adept in the use of this force. The physical world is finite, however the world of imagination is not. There is no limit to the quantity of money that can be imagined into existence. Money can also be imagined out of existence.
Let's assume that one day the entire financial system simply disappeared. If you lived in a rural area and had a nice veggie garden, some friendly chickens, collection facilities for rain water and a few photocells for electricity, you would not notice this. The veggies would continue to grow. Rain would periodically fall. The chickens would lay eggs as usual. The sun would continue to shine. However, if you lived in a city environment, you would be devastated.
Before money, people lived in small hunter-gatherer groups. The concept of ownership did not exist. People worked and survived as a group. Men and women were equal. Everyone contributed to the community. Resources were shared equally. The concept of "mine" and "yours" did not exist. Women generally became pregnant only once about every three years although there was no birth control. Later, when the concept of money entered the consciousness, women were seen as having less value because men were paid for work but women were not paid to raise and care for kids. Society has changed, however, the downgraded status of women has not.
Money systems have always been manipulated by clever people. When gold was used as money, people learned they could dilute pure gold with silver or maybe even lead to come up with something that looked like pure gold and had the correct weight but was a fraud. A king suspected he was being scammed but had no way to prove it. He called on the great minds of the time for help. This led to what is known as the Archimedes' principle which is better known today as "specific gravity". This principle made it possible to compare a sample known to be pure gold to a questionable sample and prove the unknown sample was not pure gold. Likely, some clever crook lost his head once this test became known.
There is a general belief that gold is the ultimate reference for all money. However, secrets concerning the exact quantity of gold make this a perilous assumption. Reportedly, the United States stole a tremendous quantity of physical gold from Japan towards the end of World War II. This gold exists off the books. To make matters worse, Japan was not all that concerned. Japan had been using gold bars as ballast on its ships because they were compact and heavy. They thought nothing of throwing the bars overboard as necessary. Japan used platinum as a money reference and the US never got that. This should make one rethink all the hype about the value of gold. It may be a lot more plentiful than we have been led to believe. Also, the secret off the books stashes of gold would allow its relative value to be manipulated at will just like other commodity markets.
The Financial Axis of Evil [3]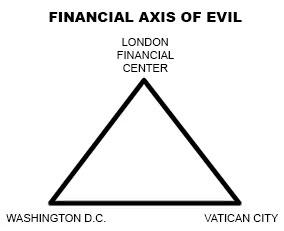 This is the model of the financial axis of evil which rules this planet. It consists of three main branches as shown above. Collectively, they are known as "The Empire of the City". Briefly, here is how this system operates:
The London financial district is in London, Washington D.C. is in the United States and the Vatican is in Italy. However, these three places are not part of the countries where they exist. They are independent "city states" and have their own laws and constitution. They are, effectively, "mini countries" inside of other countries and fly their own flags. The city state of London is a private corporation and pays no taxes to actual London or to Britain. The city state of London is the master power center and is controlled by the Rothschild family which considers itself to be the legal owner of this planet. The Vatican is the largest private land owner in the world and the first true multinational corporation with installations (churches) and secret agents (The Knights of Malta) everywhere. They control through the power of fear of the unknown and practice black magic. Washington D.C. relies upon brute military force. All three closely cooperate combining their specialties of financial trickery, witchcraft and military might. Of course, all three worship Satan as their Master.
Slavery
Slavery is alive and well throughout the world. The US constitution prohibits slavery, however, most americans live in slave-like conditions.
It is said that it will take the average college student until age fifty to pay back their student loan.
The constitutional amendment prohibiting slavery addressed the concept of physically owning another person. However, it did not address the issue of holding another person in bondage as a debt slave. It also did not consider the concept of private for profit prisons who force inmates to work as slaves. These systems exist today and are perfectly legal.
Actually, a recent report from prestigious Princeton University has reclassified the US government as an oligarchy — a country run by and for the rich elite. Former US President Carter has stated that the United States "no longer has a functioning democracy". So much for the Founding Father's dream. Speaking of dreams, check out the free you tube video titled "The American Dream".
Other forms of slavery are illegal but still flourish. Sex slaves are always in demand. Traffickers are sometimes caught but you need to realize that your leaders use sex slaves and also routinely abuse young girls and boys. Sometimes they are also killed during occult rituals. No one ever talks about this and these people are never punished. This has been the normal way of life for Satan worshipers for many years and nothing has changed or is likely to ever change in the future. Stanley Kubrick's last movie, Eyes Wide Shut, covers this subject. Some believe this intense dramatization of how the elite really live may have cost him his life.
People still have some rights left in the United States but other countries are a different story. Qatar is doing construction for the World Cup. The event is not scheduled until the year 2022, however they have already killed 1200 slaves [7] by working them to death. People are lured from poor countries with the promise of jobs and money. When they arrive, their passports are confiscated and they are forced to work until they literally drop dead. If the World Cup is actually held in Qatar in 2022, there will be glamorous TV coverage and no one will remember or care about all the dead slaves. The show must go on.
Qatar, incidentally, sponsors Al Jazeera TV network.
Adaptation Techniques
The status quo of today will never change because the people who created it will never die. Because of top secret medicine, when men like Henry Kissinger, who heads the Bilderberg Group's steering committee, get too feeble to function, they will simply go to one of the secret locations and use the temporal reversal device to regress back to about twenty years old. Their memories will be unaffected. Then they will get new identities and continue on. This process can be repeated indefinitely.
Because you can never change the status quo, your best hope for a lifetime of reasonable quality is to find clever ways to live in this world with as much independence as possible.
One method of adaptation is autonomous and semi-autonomous communities. If the community is registered as a religious institution it is automatically shielded from most government interference by the US constitution. It pays no taxes and can pretty much write its own rules by simply calling whatever it wants to do "religious doctrine". Many small semi-autonomous groups exist where people who share a common set of values find ways to quietly live out their lives pretty much on their own terms. The government does not seem interested in bothering these smaller groups as long as they live peacefully and are not doing anything that the government perceives to be a threat.
The Amish people are a good example of an autonomous group. You would probably not want to live as they do, however, before you completely dismiss them, you may want to look at some definite advantages in their chosen lifestyle.
Remember, these are the people who reject technology. They just might have made the correct choice. Technology, at first, seemed like a good idea. However, now that people are addicted to technology they are also enslaved by technology. Everything they do is monitored and recorded by the government. Privacy no longer exists. It did not have to be this way.
Technology, in itself, is not evil. However, it can be quite evil if you live under a government run by sociopathic control freaks which, unfortunately, you do. In the Amish world, electronic surveillance does not exist because electronic devices do not exist. The constant propaganda from TV has no effect on people who do not have TV. A horse does not report its position to a GPS satellite and is not controlled by a computer.
Also, the people are generally healthy and do not suffer from many diseases common to the mainstream population. They are not being poisoned by fluorinated water or additives found in processed food because they don't use these things. Also, they get lots of physical exercise.
Without totally withdrawing from the world, there are some positive steps you can take. By now you know never to drink fluorinated water or use any personal product containing fluoride such as many brands of toothpaste. To minimize harmful food additives, look for Kosher food which is marked with either the encircled "K" or "U" (Ultra Kosher). These foods have less or no harmful additives. The Jewish community is very protective of its people and the Mossad is widely considered to be the best intelligence service in the world. Therefore, they would have the inside scoop on everything including food and do not want to see their people harmed.
Whatever you decide to do, you definitely do not want to be part of so called mainstream society. These people are doomed. They are sheep (sheeple) slowly walking to the slaughter house. Don't go there!
---
references and credits
[1] DVD "The American Ruling Class". ASIN: B001HM2CE2.
[2] John Perkins. Book: Confessions of an Econemic Hit Man; DVD (free on you tube): "Apology of an Economic Hit Man"; RT interviews.
[3] See the free you tube videos titled "The Red Shield".
[4] DVD: "The Wages of Debt", RT Intl. Also available for purchase.
[5] DVD "Terra Blight", RT Intl. Also available for purchase.
[6] Interview with John Judge of Veterans Against Military Psychiatry.
[7] Also search using the phrase "qatar slaves world cup".
© 2014 W C Vetsch. All rights reserved.
Source: Walter C. Vetsch  |  3108.info | War Is Crime
People from Yemen and Pakistan and elsewhere have told me, and have testified in the U.S. Congress, that they have a hard time convincing their neighbors that everyone in the United States doesn't hate them.  There are buzzing killer robots flying over their houses night and day and every now and then blowing a bunch of people up with a missile with very little rhyme or reason that anyone nearby can decipher.  They don't know where to go or not go, what to do or not do, to be safe or keep their children safe.  Their children have instinctively taken to crouching and covering their heads just like U.S. children in the 1950s were taught to do as supposed protection from Soviet nuclear weapons.
The good news is that, of course, we don't all hate Yemenis or Pakistanis or Somalis or Afghans or Libyans or any of the other people who might suspect us of it.  The bad news — and the news that I'm afraid would be almost incomprehensible to many millions of people around the world — is that most of us have only the vaguest idea where any of those countries are, some of us don't know that they ARE countries at all, and we pay far greater attention to our sports and our pets than to whom exactly our government is killing this Tuesday.
This obliviousness comes into sharpest relief perhaps when we elect the officials who are legally called on to decide on our wars.  The extent to which Congress has handed war making over to presidents is also brought out by observing Congressional elections.  It is not at all uncommon for U.S. Congressional candidates' platforms to entirely ignore all questions of war and peace, and to win support from either Democrats or Republicans despite this omission — despite, in particular, taking no position on the area funded by 57% of the dollars they will vote on if elected, namely wars and war preparations.
Here in Virginia's Fifth Congressional District, a man named Lawrence Gaughan recently announced as a Democratic candidate for Congress.  I'd never heard of him, so I took a look at the "Issues" section of hiswebsite.  Not only WAS there such a section (some candidates campaign purely on their biography without taking positions on anything), but Gaughan's site had clear forthright statements on a number of important issues.  He backed labor unions despite their virtual nonexistence in his district.  He admitted the existence of climate change.  He backed Eisenhower era tax rates (!!).  And his statements made commitments: "I will not vote for any tax cuts for those making over 250,000 dollars a year." "I support the Dream Act." "I would vote for any legislation that would bring back jobs in construction, manufacturing and production." Either this guy had real principles or he was just too new for anyone to have explained to him how to make his promises vague enough not to commit himself to any specific actions.
All too typically, however, when I scrolled through the "Issues," I noticed a gap.  I sent this note off to the candidate's staff:
"Your candidate has some of the best and clearest positions on domestic issues that I've seen, and dramatically superior to Congressman Hurt's, but judging by his website as it stands today he seems to have no position on foreign policy whatsoever, or even on that 57% of discretionary spending that, according to the National Priorities Project, goes to militarism.  For people who support domestic social justice AND peace in the world in this district, we are put in a bind by our history. Congressman Perriello voted for every war dollar he could, and has made a career of pushing for new wars since leaving office.  Congressman Hurt is a disaster on other issues but listened to us and took a stand against missile strikes on Syria. He even listened to us on lawless imprisonment and voted against a "Defense" Authorization Act on one occasion. Helpful as it is to know what Lawrence Gaughan thinks of 43% of the budget, some of us are really going to have to know what he thinks of the larger part.  Would he cut military spending? Would he oppose new wars? Does he oppose drone strikes? Would he repeal the authorization to use military force of '01 and that of '03? Would he support economic conversion to peaceful industries on the model now set up in Connecticut? Would he advance a foreign policy of diplomacy, cooperation, actual aid, and nonviolent conflict resolution? Are there any foreign bases he would close?  Does he think having U.S. troops in 175 nations is too many, too few, or just right? Does he support joining the ICC? Thanks for your time!"
A couple of days later, Gaughan called me on the phone.  We talked for a while about foreign policies, wars, peace, militarism, the economic advantages of converting to peaceful industries, the danger of handing war powers over to presidents.  He said he opposed wars. He said he wanted to take on the influence of the military industrial complex.  He didn't seem particularly well informed, but he seemed to be coming from a fairly good place or to at least be willing to get there.
He proposed allowing military veterans to never pay any taxes.  That's not exactly the sort of resistance to militarism that President Kennedy had in mind when he wrote that wars would continue until the conscientious objector has the honor and prestige of the soldier.  Gaughan offered no tax cuts for conscientious objectors.  Still, he said he'd get some good statements on foreign policy added to his website right away. He also said he'd be willing to debate the other candidates, including the incumbent, on foreign relations, should peace groups create such a forum and invite him.
Lo and behold, the next day, this appeared on Gaughan's website:
"Military

"We have strayed from our constitution when it comes to the defense of our nation and declaration of war. I was opposed to the war in Iraq for many reasons.  The enormous price paid by our brave men and women as well as the huge financial debt that we incurred was not necessary.  Republicans in Congress continue to defer those costs on our military personnel and our veterans through the sequester and other austerity measures.

"Not withstanding the government shutdown, the Republican budget proposals that my opponent, Robert Hurt, has voted for over the past three years, have forced the Pentagon into reductions that have taken a tremendous toll on enlisted personnel right here in our district. These political policies are also causing reductions to TriCare, active duty health benefits, and to retired military pensions. As the greatest nation on earth, it is unacceptable that we have homeless veterans or military families who struggle to pay the bills.

"We owe so much to the men and women who serve. Instead of laying off soldiers and cutting funding for the VA, we could begin by eliminating the ongoing fraud by military contractors. Fraud committed by dozens of irresponsible military industry corporations have cost taxpayers more than $1.1 trillion. Eliminating this fraud would offset most of the estimated $1.2 trillion in policy savings required over the next decade in order to realize the Center on Budget and Policy Priorities estimated $1.4 trillion in deficit reduction without 'gutting our military'. Furthermore, as a component of tax reform, there should be a tax exemption status for veterans written into the tax code."
His topic, all too typically — people around the world should understand — is not how to relate to the 95% of humanity that is not in the United States, but how to treat "The Military."
His first sentence echoes our discussion of the past three-quarters century of undeclared wars, but doesn't spell it out.  Will he oppose wars that lack a Congressional declaration or not?
He picks one past war to oppose without stating his position on future wars.  He describes the costs of a war that killed some million Iraqis and destroyed a nation as all being paid by the U.S. and its soldiers.
He blames the sequester agreement on only one of the two parties that agreed to it, and buys into themyth that it has resulted in cuts to the military.  (True, Democrats in the Senate recently put up a token effort to fund veterans' needs and were blocked by Republicans.)  Gaughan claims that we owe "so much" to members of the military who "serve."  What exactly do we owe them? Can he name something that we owe them? He doesn't want soldiers to be "laid off," as if employing them is a make-work jobs program.
In my view we owe veterans housing, healthcare, education, a clean environment, and a healthy society because they are human beings — and we owe it equally to every other human being.  But we shouldn't pretend that the military's so-called "service" isn't making us hated around the world.  We shouldn't try to produce more veterans as if there were something noble about murdering people.
Gaughan almost closes on an up note.  He acknowledges fraud by military contractors.  He even calls them "military," rather than using the misleading term "defense."  But then he makes clear that he doesn't want to cut the military. He wants to create efficiency to avoid cuts while saving money.
Would he repeal authorizations to use military force? Who knows. Would he back future wars? Who can tell? Does he believe U.S. troops should be in 175 nations? Perhaps.  But if they were in 182 would he then think 182 was the right number?  Does he favor allowing presidents to murder people with missiles from drones or by any other means?  Does he think antagonizing Russia and China and Iran should remain the focus of U.S. foreign policy?  Does he want the occupation of Afghanistan ended? Who knows.
He brought up a Department of Peace on our phone call, but it didn't make the website yet.  One can hope that Gaughan's website is a work in progress.  There's certainly a chance he'll become a far better candidate and Congress member than this district has had in a long time.
But this, dear world, is more or less how the world's largest-ever killing machine operates.  It turns its eyes away from the machine's work and, if pushed, debates the care of the machine itself — maintaining more or less complete obliviousness to the horrors the machine produces in those far away places where you live and die.
Source: DavidSwanson | Washington's Blog
The establishment has an entrenched interest in convincing the public that their vote in elections actually decides who is selected for public office. That same power elite runs and controls both Republican and Democratic political parties. Only a neophyte or a delusional idealist believes that the voting cycle reflects the will of the people. When reform candidates engage in the primary process, hoping to win the nomination from either of the two major parties, they face the stark reality that playing ball with the money bundlers means obeying the directives of masters of the universe. These overlords own politicians, especially those who continue in office by winning predetermined elections.
Democracy as expressed by the ballot box is a fairy tale. Anyone with experience within the Tweedledum and Tweedledee party organizations, understands that the comic book characters, who populate the ranks of politics just want to become a Mini-Me version of "Boss" Tweed.
Dispensing the fruits of power and patronage, while fostering the crony corporatist culture, is integral to maintaining the levers of political administration over a society of inconsequential serfs. When people's frustration mounts, and party leadership blocks even modest attempts of populist reform, voting participation declines.
The GOP once was described, as Rockefeller or Country Club Republicans, is really a deranged asylum of NeoCons whose primary purpose is to purge genuine conservatives and libertarians from their ranks. A party that would nominate a John McCain for President and continue to support him in Senate elections is not worthy of trust. Written in 2004, John McCain: The Man Who Would Be President sums up the dilemma.
"McCain's a full fledged phony without an ounce of conservative values running in his veins. Bush has proven himself to be a fraud and the tool of the NeoCons. This election is a charade of a sham called democracy. There are no surprises left, only the substitution of a name; while the same policies remain. Spell it Bush or McCain; but don't use the designation conservative. Kerry is Bush's brother, in the only society that selects those who are granted the nominations. McCain can only settle for second place, in service of the powers, that host the parlor game – picking a President."
Now that the New Jersey Governor Chris Christie is the toast of the town, the praises and speculation begins. Chris Christie landslide: Template for a Republican presidential win in 2016? "The governor won an impressive 57 percent of women and took a majority of Latino voters. He even garnered 21 percent of black voters – a significant inroad for a Republican. He also won nearly half of union voters and those under the age of 30."
The press would have you believe that the next Republican candidate for President needs to adopt a "political correctness" love fest to be elected. Please . . . dump on the Tea Party and disparage traditional conservatives is no formula for any politicians who deserves support.
That Republican 2010 Landslide and What It Means concludes."The Republican Party's attempt to co-opt the spontaneous spirit of the Tea Party geneses illustrates the panic that both entrenched parties have from a true populist movement. The mind dead voters who continually vote for the lesser of two evils, or adhere to the squishy William Buckley rule guarantee perpetual servitude. "The Buckley Rule is, ostensibly, that you vote for the most electable conservative option (in the primary) against a Democrat in November".
The quest for that illusory electability is the trouble with every recent election. When will a true conservative/libertarian populist win the nomination? The apparent answer is never in a party of RINO's and establishment gatekeepers.
Where can a true believer turn? That leaves Hillary Clinton as the apparent frontrunner nominee for the Democrats. The problem with that presumption is that she got the cold shoulder in 2008 in favor of Barry Soetoro, the CIA's Manchurian Candidate. The Republicans are supposed to be the party of next in line Presidential torch carriers.
So why would the Democrats want HilLAIRy as their, Woman of the Year, or is it? The obvious appeal does not go unnoticed. "All you have to do is look under the dress and you will find the stuff that dreams are made from. Hillary is a man's woman that appeals to the trendy tender gender on both coasts. She's has a lock on the fear factor and will be the survivor of all the village people."What better way to succeed Obama, the beyond race President, with a legendary bisexual voice, who will distribute her racism against white rural America as a condition of perpetuating the multicultural collectivism, which is so necessary for the total destruction of traditional values.
Just how well did all those underprivileged minorities do under Barack Hussein Obama? Surely, a first female President Clinton would add to such striking gains in the quality of life and standard of government dependency income.
All this Great Society II would make the LBJ administration look like spendthrifts.
The people, all the people no matter their race, ethnicity or social identity are not benefiting from a New World Order economy and political authoritarianism. Yet, with each election cycle the grip of both outlaw parties continue to expand their extortion policies. Every ten years the gerrymandering of redistricting divides the territory so that the spoils will continue to be shared.
How dumb are the electorate to allow this corrupt process to continue? Inevitably, stupidity knows no bounds. The Meaning of Third Parties in America describes the dilemma.
"If elections are an expression of consent, why is turn out so low for Third Parties? And if discontent was heightened, why are there not more Third Parties? The answer lies in the election returns. The fact that a majority of eligible voters no long take part in the process speaks volumes of their support. The public is stating their choice loud and clear: "NONE of the ABOVE". This is the Third Party that wins the election. When the public deems that there is no 'real' difference between the two parties and that their self-interests cannot be furthered with their vote, the electoral system breaks down. Yes, the public is frustrated; but they conclude that their vote will never, effectively, change the status quo among the choices that are available. Their lack of participation, should not be misread as satisfaction for the current condition."
The misuse of power by both parties illustrates the breakdown in the two tier party system. Having twins with different spots only means that the look of the predator will camouflage their direction for the kill. The Third Parties segment on "Dueling Twins" reminds the nature of the feeding frenzy.
"The duopoly rivalry that emerged over the centuries, grew from the reality of being 'in or out' of power, more than deep seeded ideological principles. For in its bare raw brute reality, politics is about power. How you get it, what you do when you have it, and how you keep it."
When the Obama administration targets conservative Christian groups with IRS retribution, progressive ideologues remain silent. Protecting civil liberties only apply for the faithful of the congregation of state worship.
In addition, when the RINO's mark patriotic groups and activist individuals for banishment from the ranks of the loyal opposition within their own party, they serve the masters of the same establishment that want a pervasive police state.
U.S. Elections are all too often a joke. The election commissions that administer the ballot process are nothing but extensions of the two corrupt parties.
What if a real grassroots national movement emerged that supersedes all ideology with a singular purpose – remove all careerist "pols" from office. Forget about the phony No Labels effort to diffuse popular disgust. The solution is to attract the very citizens who NEVER vote in elections.A national campaign – No Confidence – would be the clear message that the arrogant confidence game crooks could understand.
Term limits will never be voted upon much less adopted until the entire nation strikes against the establishment with a unified proclamation of revolt.
The organization Grassfire urges that people need to confront the system. Time is short and if the following scandals are allowed to be swept under the rug, the candidates in 2014 and 2016 will just continue with their lying ways.
1. "Fast and Furious"

2. The deadly Benghazi attacks

3. The IRS targeting of Tea Party Americans

4. The NSA security breaches

5. The truth about ObamaCare
Populism requires citizen involvement. Elections are meaningless without active accountability.
With the Citizens United v. Federal Election Commission decision, corporations and labor unions can spend as much as they want to convince people to vote for or against a candidate. With all this money going into media campaigns between sibling spotted leopards, the public never gets to choose honest and transformational constitutional candidates. A vote for a Third Party aspirant is never a waste. Consent for RepubliCANTS and DemocRATS is idiotic.
After the U.S. government shutdown you'd expect Republicans and Democrats to remain at each others' throats, so different was their vision for the country, or so it appeared. 
  
In reality, however, only a bit of the political theater was reserved for "Tea Party" Republicans to invest in their political future by denouncing Obamacare, which they know will enrage millions of people forced to buy shoddy corporate health care; many of these future victims of Obamacare will become diehard Teapartiers.
   
But the real intent behind the government shutdown was lost on the mute American media. The Republicans were once again allowed to use the threat of government default to steer the Obama administration to the right — the right-leaning tail wagging the dog of government in the direction of a "Grand Bargain" to cut "entitlement" programs such as Social Security, Medicare, and other public services.  
But like real dogs, government body and tail cannot be separated: the Democrats are allowing themselves to be "wagged" because they fully agree with the Republican's neoliberal agenda.  
The essence of neoliberalism can be reduced to the following: government should be used exclusively to help big business and the wealthy with tax cuts, subsidies, privatizations, anti-labor laws, etc., while all government programs that help working and poor people should be eliminated. It's really that simple.  
   
In practice, Obama's neoliberalism is blatant: after bailing out the banks he continues to approve of the printing of thousands of billions of Federal Reserve dollars to give to the wealthy and big banks who are racking in record profits, while the jobs crisis is ignored and public services slashed on a state by state level without hope of a government bailout. 
 
Since Obama has been in office, a shocking 95 percent of income gains went to the richest 1%. This is not the blind hand of the free market, but government policy, which can be adjusted to reflect the priorities of working people.
  
Obama dodges responsibility for his neoliberal policies by giving empty speeches about "hope" and whining about the very wealth inequality that he creates via policy. He gives speeches to labor unions about how it's "unfair" that the rich just happen to be getting richer, while working people continue to suffer. Working people learned long ago to ignore Obama's "progressive" blather, while the leaders of national unions drink in his words as if gulping from the Holy Grail. 
 
The first steps of the coming Grand Bargain have already been taken: the "sequester" — massive cuts to national social programs including Medicare — have been extended as a result of government shutdown "negotiations." And now the media is casually reporting that a Grand Bargain that further "reduces entitlements" is inevitable, but it will be only a "small" bargain, so no need to worry.  
The New York Times reports:
"Republicans on Capitol Hill are determined to mitigate those [military sequester] cuts by spreading them among various social programs, like education and Social Security…"   
Obama has said several times that he's more than prepared to use Social Security as a bargaining chip in his Grand Bargain.
At a time when more services are needed, they will be cut instead. Aside from the suffering it will cause millions of people, a "small" Grand Bargain will also create a precedent for even more "bargains" in the future, since the first step in creating negative social change is often the hardest, but once the foot is in the door the process accelerates. 
  
Neoliberalism has already advanced on a state-by-state basis in the U.S., with Democrat and Republican governors in bi-partisan agreement that has drastically cut education and other social services, attacked the wages and benefits of state workers, while lowering the state taxes on the wealthy and corporations.
Large scale neoliberalism on a national level — like the coming Grand Bargain — is sometimes referred to as a "structural reform," meaning that a major component of a nation's economic policy is shifted, or eliminated.  
For example, Social Security and Medicare are two bedrock social programs that constitute a major piece of U.S. budget spending, affecting hundreds of millions of people.  
The attacks on Social Security, Medicare, and public education are neoliberal-style "structural reforms," essentially a corporate attempt to change the underlying social compact of U.S. society that was created under Franklin D. Roosevelt and expanded under Lyndon Johnson's "Great Society" programs. 
   
How was the U.S. social compact formed? Like all social policy, it was a reflection of power, specifically the balance of forces between the corporate and working classes in the U.S. In the 1930s and 1940s, massive strike waves led to an ever-larger unionized workforce that repeatedly flexed its muscles by demanding living wages, health care, and other social programs.  
These demands were backed up by waging mass demonstrations and industry-wide actions along with sympathy strikes. After WWII a third of the U.S. workforce was organized in labor unions, which shifted the entire labor market in favor of all working people, while also shifting the ground on which national social policy was created. A semblance of democracy was not possible without recognizing the demands of the powerfully organized working class.
When arch-conservative Richard Nixon famously declared "we're all Keynesians now," he was merely recognizing the balance of power that existed in the U.S. political system, and the unwillingness of the elites to challenge this social pact for fear of the destabilizing effects that would result.  
This Keynesian consensus was essentially a truce declared in the U.S. class war, where the power of both sides — capital and labor — were balanced, both independently strong enough to repel attacks from the other. In response, Nixon's economic policies make Obama seem like a right-wing neoliberal fanatic. 
   
But while Nixon agreed to the Keynesian consensus at home, he gave his blessing to the radical right-wing economist Milton Freidman to "reform" the economy of Chile under the bloody dictator, Pinochet, whom the U.S. brought to power over the corpse of the democratically elected President Salvador Allende, as well as the thousands of his supporters who were butchered. Chile was essentially a neoliberal experiment that, if successful, would be transferred to the United States.  
Due to the Keynesian consensus, Milton Freidman's radical pro-corporate doctrine was at the time viewed as right-wing fanaticism, which it is.  Now, however, with labor's faltering power, the corporations feel confident enough to flex their muscles unhindered. To enhance their new power they needed an accompanying ideology — Friedman's neoliberalism, free market capitalism unleashed.  
Margaret Thatcher and Ronald Reagan's "revolution" ushered in the neoliberal transformation of the U.S. after seeing the "success" of the Chilean economy. Chile successfully increased corporate profit rates by removing "barriers" to profits, such as trade unions, socialists, and any democratic voice that opposed the "restructuring" of the Chilean economy to reflect the interests of the rich, finally unshackled from the "constraints" of wealth accumulation. Reagan and Thatcher followed in lock-step, targeting unions for destruction, lowering tax rates for the rich, and preaching the virtue of neoliberal "trickle down" economics.  
Implementing the neoliberal shock doctrine breaks the social contract and thus ends the truce of the class war. The first shots were fired by Reagan and the onslaught has continued under the two Bush's as well as under Bill Clinton. The 2008 recession has pushed both parties to double down on neoliberalism as their solution to the ongoing economic crisis.  
Naomi Klein's book, "The Shock Doctrine," tells in gruesome detail the brutality that has accompanied the "implementation" of neoliberal reforms across the globe over the last 30 years. And while the U.S. has slow played this process since 2008, U.S. politicians are slated to follow the example of the European Union elites by accelerating the cuts on a national level.  
The labor and community groups that have tried to deal with the corporate attack by hiding from it still have time to unite their forces to fight for full funding for a national jobs program, expanded Social Security, Medicare for all, accessible, quality public education, and other public services, all to be paid for by taxing the rich and corporations.
The era of Arab Spring euphoria is long ended, having devolved into doubt, confusion or wholesale rejection. Libya and Syria put an abrupt end to the Arab Spring celebrations, with the current situation in Egypt adding to the frustration.
Part of the problem in deciding whether a particular side in these conflicts deserves support or rejection is a lack of criteria that can help to clearly define what is happening. Thus, different analysts describe the same events as a coup, revolution, or civil war. These definitions are totally different perspectives as to what is happening, and imply that the situations should include different levels of political support or rejection.
In Syria the question remains: is the situation a revolution or a civil war? What should be the basis for judging whether or not a situation in general is "revolutionary," and why does it matter?
Below is an attempt to put forth a common sense definition of revolution and apply it to the events in Syria. When such a basic criterion is applied to Syria, it becomes clear that the ongoing events in Syria should not be labeled a revolution.
The label "revolution" is critically important because it implies that the overwhelming majority of people have decided and are dedicated to a specific path for society. This means that the "masses" are passionately intervening to change society, overcoming fear and repression until their objectives are met.
In this sense revolution is the highest form of democracy, since it's the clearest expression of the People's will, expressed through ongoing massive deliberate action, as opposed to the non-participatory form of democracy that is the western hallmark. The label "revolution" is especially important because a movement that has earned a clear revolutionary mandate should be supported without condition, albeit not without criticism.
In order to judge whether a revolution is afoot the evidence should be examined. Clues must be unearthed to decipher the attitudes, feelings, and energy of the social movement in question. Studying revolution is an attempt to gauge mass consciousness — not an exact science but a politically crucial one. All politicians do this as they attempt electoral campaigns, and all dictatorships gauge revolutionary consciousness to see if they have the power to crush it.
What are ways to gather evidence into revolutionary mass consciousness? In some ways the old adage, "you'll know it when you see it," is helpful in describing revolution, since revolutions produce floods of people all expressing pent up emotions, fighting in a united cause, which creates new forms of social solidarity that's impossible to form during non-revolutionary situations. These surreal scenes made no one question whether the toppling of the dictator Mubarak was a "revolution." It was simply obvious.
More specific evidence of revolutionary mass consciousness may include: gigantic demonstrations with united demands, mass civil disobedience, mass labor and student actions and strikes, occupations of public buildings, new forms of direct democracy (which may include new labor unions, new political parties, neighborhood committees, etc.) and other bold actions taken by masses of people who otherwise would take no such actions, such as confronting police and/or military, fighting off right-wing attacks, civil disobedience, ignoring military curfew rules, etc.  Through these types of extraordinary experiences the majority of the population undergoes a personal transformation during the course of revolution.
The ultimate sign that a situation has entered a revolutionary period is that the masses have directly intervened into social life as an independent, powerful force, through ongoing collective action. The people seek to actualize their power, creating a dynamic that shifts the balance of power away from the elites and their institutions. Governments becomes "destabilized," elite authority is lost, and enforcement of laws becomes difficult or impossible. Even martial law is easily defeated by a strong revolution of the majority. Governments melt away.
Whether or not the social power can be fully and permanently shifted depends on the success or failure of the revolution; but the path of revolution has been entered when social equilibrium has tilted — the elites cannot rule in the same way. The people have invested in ongoing, mass actions to change society. The targeted regime thus becomes unbalanced and splits, unable to act collectively to suppress the revolution or neutralize it through concessions; every step the regime takes to resolve the situation only pushes the revolutionary movement forward. The surest sign of a revolution is its effect on the targeted regime, which becomes splintered and ineffective, its power made powerless.
Revolution is a display of power by working and poor people, who collectively choose to assert themselves into public life in order to change it. In non-revolutionary times working people do not actualize their power; they aren't even aware that they have any, as they passively ignore any role in social life as individuals, silently delegating their political power to corporate-bought politicians.
There is no other social power equal to a revolutionary movement in modern society, since revolutions are famous for exposing the weakness of the elite and the elite-run state: armies crumble under revolutionary pressure as soldiers refuse to fire on peaceful protestors; police repression motivates the people to repress the police; secretive "security" agencies are shown powerless, and long-standing elite political parties are smashed. If successful in the long term, a revolutionary movement can fundamentally change society.
Let us now apply these basic criteria of revolution to Syria.
The first essential threshold of revolution was not crossed in Syria: the movement was not able to intervene in a way that was powerful enough to alter the power dynamic of society. The revolutionary movement did not grow large enough to truly challenge the Syrian government, and very soon the "revolutionaries" took the path of a guerrilla war — led not by the Syrian people, but a minority of religious extremists.
The evidence of this is plain to see: the only two social forces currently exercising their power in Syria are completely outside the control of working people — the Syrian government and the Islamist extremist militias. There is no third option for victory here, because the masses have not been powerful enough to assert themselves in an independent way — a basic precondition of revolution.
The two largest cities in Syria — Damascus and Aleppo — never experienced the mass demonstrations that you see in Cairo, Egypt. In fact, there have been several enormous pro-Assad demonstrations in Syria's two largest cities, a fact always ignored by those who argue that there is a revolution afoot in Syria. A similar dynamic occurred in Libya, which showcased anti-government demonstrations in the eastern city of Benghazi, but never occurred in the Libyan capital in Tripoli. Obama thus declared that Libya as a whole was undergoing a "revolution," so that the United States could militarily intervene.
The rebellion in Syria also never found soil in the other religious and ethnic minorities, who remain either passive or dedicated to the Syrian government for fear of ethnic-religious cleansing from the Sunni extremist rebels. The one exception is the Kurds, who have used the conflict to set up an autonomous zone that they are vigorously defending against the Islamist extremist 'rebels.'
The uprising remains a largely Sunni Islam uprising, dominated by Sunni extremists who are armed and funded from the heartland of religious extremism, Saudi Arabia and Qatar, and their paymaster the United States (a true axis of evil in regards to Middle East policy). This is a fact that many on the left refuse to see, or dangerously minimize in order to maintain their pro-rebel support.
Most Syrian analysts, however, admit that the most effective fighting force among the Syrian rebels is Jabhat al-Nursa, religious extremists that use terrorist tactics and are directly affiliated with al-Qaeda. But now this group's dominance is being threatened by another Islamist extremist terror group, Ahrar al-Sham, which is funded and populated by Qatar and which is thought to have 10,000-20,000 fighters in Syria.
A list of the top ten powerful militias in Syria — with the exception of the Kurds — are fighting predominantly for an Islamic state, i.e., they are religious extremists who want nothing to do with democracy, equality or freedom. The Muslim Brotherhood cannot be characterized as a "moderate" group in Syria.
This is a crucial fact. The Islamist extremists are not mere "players" under an umbrella of rebel groupings. The extremists are the motor force of the rebels, who do the vast majority of the fighting, who dominate the "liberated" areas of Syria where fundamentalist Sharia law has been implemented, and who will rule the rest of the country if the Syrian government falls. In essence, they have become what claims to be the "revolution."
By defining the extremists as mere "players" in the anti-Assad "coalition," the true nature of the rebels is distorted: a political movement is defined by who leads it, who exercises power, and by the pursuit of specific political goals. By this more accurate definition the "rebels" must be described as Islamic extremists, who receive support from other minor political players who seek to oust the Syrian government.
In the rebel-controlled regions of Syria one can be executed for "blasphemy" or adultery, lose a limb for minor theft and other misdemeanors, and if you're a woman you'll be relegated to a permanent state of house arrest, except for the moments where a close male relative chooses to escort you out of the house, assuming you are completely hidden behind clothing.
To focus only on the "moderate" rebels and "revolutionary" minority is to purposely blind oneself to the lead actors in this drama, thus giving invaluable political cover to the most reactionary groups in existence, who make the current Syrian government look like liberals.
These facts are crucially important, and must be considered when comparing the current Syrian government — where women have many freedoms similar to American women — to its alternative, which places women as property of men without any semblance of civil rights. If the rebels of Syria are to be called "revolutionaries," they are of the reactionary type.
It is true that there are smaller, non-extremist militias amongst the rebels, or those that function to protect neighborhoods, etc., but these militias do not constitute a powerful social force. They are essentially non-entities in this conflict amongst giants, and focusing almost exclusively on these groups ignores the fundamental reality of the conflict and purposely distorts what is actually happening.
The local "democratic" militias cannot be used as a justification for further militarizing a conflict that will inevitably bring western-backed religious zealots to power, to the detriment of all Syrians. To demand that these rebels be armed is to demand that Syria be fragmented and destroyed in an Iraqi-like fashion.
While glorifying the smaller militias, pro-rebel analysts also overstate the number of Syrian soldiers who've defected to the rebels. The exact number is impossible to know at this time. There are, of course, defectors in all wars, especially civil wars, but the myth that the Syrian rebels are densely populated by defecting soldiers of the Syrian army is best exposed by the fact — recognized by nearly all observers — that the Syrian army has remained very cohesive. A true "flood" of defectors is blatantly inconsistent with this fact, though always ignored by the pro-rebel groups.
Revolutions are notorious for cracking armies like eggs, especially in a prolonged revolutionary upheaval. The firmness and stability of the Syrian army offers yet more damning evidence against labeling the conflict a "revolution."
This fact is rationalized away by pro-rebel analysts who argue that the Syrian military's cohesiveness is due to the army's dominance by Shia Muslims, specifically President Assad's Alawite sect — and are therefore unquestionably loyal to the government, making them an especially unique sectarian army.
In reality, the Syrian military is composed overwhelmingly of Sunni Muslims, who constitute the majority of Syrians. It's true that the Alawites have an over-representation in the military's upper echelons, but the rank-and-file solider is predominantly Sunni, many from Syria's countryside. A majority of these stereotypical Syrian soldiers would not mindlessly mow down their countrymen as the western media claims they have done.
The Syrian defectors' story was mostly a useful propaganda piece for western countries — the U.S. specifically — to push people's attention away from the Islamist extremists who make up the overwhelming majority of the armed struggle. Although there have been a couple of high-level defectors from the Syrian government, they've never expanded beyond token amounts, as the unity of the Syrian government continues to testify. The regime as a whole remains united and stable, which would be impossible if it were confronted by an ongoing nationwide powerful revolution.
More proof that Syria has not entered a revolutionary phase is the non-participation of the Syrian labor movement. All revolutions attract the attention and powerfully affect the nation's labor movement. But Syria's labor movement has either been passive or pro-Assad. The pro-rebel groups blame this fact on the labor movement's blatant subservience to the Syrian government, but this explanation lacks obvious merit.
For example, before Egypt's revolution the Egyptian labor movement was deeply connected to the Egyptian government, as was the Venezuelan labor movement's connection to its government in pre-revolutionary Venezuela. But revolutions transform labor movements in the same way they splinter armies. Syria's labor movement would have bent under the pressure of a real revolutionary movement, as all labor movements do when faced with the force of a real revolution.
It's also untrue that Syria's labor movement has been totally subservient to the Syrian government. Syria's labor movement has directly confronted the government several times over the years, after the Assad government began adopting a privatization agenda and other neoliberal reforms in the country, which has put negative pressure on working class Syrians. Syrian unions are perfectly capable of acting independently and would have done so if they believed a revolution existed in their country that would have benefited working class Syrians.
More proof that Syria is not undergoing a revolution can be found by asking a simple question: how can the "revolutionary" movement in Syria realize its goals?
For example, if we accept the false premise that the revolutionary movement was "forced to take up arms," and then accept the fact that Islamic extremists completely dominate the rebel battlefield, then we must conclude that the "revolution" has ended, since any prospect for a truly revolutionary conclusion is excluded from the basic math of the conflict.
Initially, the pro-democracy revolutionaries were united with other rebels that operated under the umbrella demand to oust President Assad; but now the "revolutionary" demand of the Islamists — who control the rebels — is the demand for an Islamic state.
The demand for an Islamic state should have instantly shattered any alliance between pro-democracy revolutionaries and the Islamists, but the pro-democracy rebels have largely refused to do this. They haven't rejected the Islamists because without them they would be completely powerless. Zero evidence of a revolution would exist. If there are revolutionaries fighting under the Islamic black flag in extremist militias, they are doing a disservice to themselves and the future of their country.
The revolution thus finds itself without a way forward, since there is no independent demand that can currently be realized by the Syrian pro-democracy revolutionaries, who are currently unable to assert their power against the Islamic extremists or the Assad government. This "revolution" is a car without an engine or gas, stalled. A precondition of revolution is the ability for the masses to powerfully assert themselves into social life.  A revolution without a revolutionary movement is no revolution.
It is thus highly irresponsible to demand that the Syrian rebels be armed, while at the same time insisting that Syria be protected from "western intervention." In fact, supplying arms to the rebels is a strategic form of U.S. intervention; arming, funding, and training rebels doesn't happen without strings attached, loyalties and alliances created, promises made, and pro-western geo-political goals pursued.
To insist that the NATO or Gulf monarchies supply arms to the rebels is, in essence, to invite the United States to directly participate in the Syrian conflict on a deeper level (the Obama administration is already neck-deep involved, supplying thousands of tons of arms to the Syrian rebels covertly through the CIA).
The U.S. is already buying and trafficking arms, training and funding rebel fighters, all of which are considered U.S. investments in the future of the conflict, which, at any time, can be paid with interest via a direct U.S. military invasion — starting with a "no fly zone." In fact, without the massive rebel support from the U.S. and its allies this conflict would have ended long ago and thousands of lives would have been spared.  Demanding that this bloodletting continue — especially without ANY prospect for a successful end — is to demand the destruction of Syria.
The last refuge of the pro-rebel analysis argues that, because there are "revolutionary democratic structures" that have been created in rebel-held areas, then we have indisputable evidence of revolution, and thus the rebel cause must be supported. Often cited as proof is the Local Coordinating Committees (LCC) in rebel areas, which are credited with food distribution and other forms of local administration.
But in a conflict covered in depth by cell phone videos and other means of communication, evidence of mass-based local coordinating committees — i.e. a revolutionary democratic structures — is scant. The LCCs have a snazzy website that puts forth the occasional pro-rebel statement — and YouTube videos of rebel military assaults — but it's otherwise difficult to find any convincing evidence of a powerful revolutionary organization, nor is any ever offered by pro-rebel writers who champion the righteous cause of the LCC's.
This is not to say that LCC's do not exist, but like the neighborhood militias, their relevance has been greatly exaggerated in an attempt to define the Syrian situation as revolutionary and thus grant it a status of "unconditional support."
In reality, all semi-objective media observers have noted that local administration and food distribution in rebel-held areas is dominated by the ruling political and military groups of the Islamic extremists. This fact relegates the LCC's to a minor role at best, if they can even be considered politically relevant at all.
It's certainly true that civilian democratic structures exist in Syria where there are power vacuums, much like civilian militias to protect neighborhoods. But temporary power vacuums should not be glorified as proof of a real revolutionary movement; it can just as easily prove that a country is being physically destroyed. These vacuums are filled, as they were in the city of al-Raqqa, when the Islamists enter the void. 
A real revolution does not need to search for evidence of its existence; it displays its power for all to see in massive mobilizations that shake the power of the targeted regime. But in Syria's greatest city, Damascus, there does not exist a whimper, let alone a roar of revolution. If it's true that the people in Damascus are "too scared" to openly rebel — as some pro-rebel groups claim — then they have obviously not yet entered the path of revolution, since overcoming fear is one of the first preconditions of revolution; without it there can be no revolutionary movement or action.
Without accepting some of the above criteria for judging a situation as "revolutionary," a political analysis can run into deep trouble. The pro-rebel analysis has no real criteria that can decide when this "revolution" ceases to be revolutionary. By their method of analysis it seems possible to conclude that the revolution will go on forever — the situation will always remain "revolutionary" so long as certain revolutionary-appearing democratic structures can be unearthed, regardless of how well attended, effective, or whether or not they have any semblance of actual power.  This watered down definition of a revolution would qualify the U.S. Occupy Movement as a revolution, which of course it was not.
A revolutionary movement is inevitably a battle for power. It is the people asserting their power in order to change the power dynamic of society in their favor. For a revolution to exist the people must be in a position to assert their power. At this point President Assad can only be removed by either the Islamic extremists or the U.S. military.
A nation can be inhabited by entirely revolutionary-minded people, but there is no revolution unless people are massively asserting their power in the streets, workplaces, and neighborhoods. This is not the situation in Syria, where no revolution exists at this time.
At some point, one has to wonder why America's churches are the largest block of irrelevant, impotent, and insignificant institutions in the entire country. And make no mistake about it: when it comes to influencing societal conditions, culture, and the political philosophy of the nation, for all intents and purposes, they ARE irrelevant, impotent, and insignificant.
Think about it: according to the latest available statistics, over 75% of America's adults classify themselves as Christians. That's over 159 million people. Over 43% of America's adults attend the more than 300,000 churches regularly. That's over 90 million people. Yes, both of these statistics are WAY DOWN from just a few years ago, but those statistics still represent a HUGE block of the American population. So why do these Christians and churches have so very little influence in America's society, culture, and politics? Asking it bluntly, why is America going to hell in a handbasket with all of these churches dotting the landscape?
There is no mistaking the fact that from before the American Revolution, after the American Revolution, throughout the Eighteenth and Nineteenth centuries, and through the first half of the Twentieth Century, the American Church was a major voice and influence in virtually every facet and sphere of American society. However, with the exception of a temporary resurgence in the 1980s, the influence of the Church in the last half of the Twentieth Century and continuing now into the Twenty First Century is nada. Zilch.
For all intents and purposes, the activist arm of conservative churches, the Religious Right, Christian Coalition, Moral Majority, call it what you will, is clinically dead. It is not comatose; it is dead. When it comes to influencing the culture and politics of the nation, the modern Church is dead. Pastors are dead. Denominations are dead. Christian schools and universities are dead.
Think of it: 159 million Christians, 90 million churchgoers, and 300,000 churches cannot effectively influence even the smallest change of direction in America's society, culture, and political philosophy. America is in a societal, economic, and political tailspin, and the Church sits irrelevant and impotent. And don't forget: we are not talking about an enslaved, oppressed country such as communist China where millions of Christians are forced at gunpoint to submit to the machinations of the state.
While it is true that the underground church in China (the REAL church in China) is seeing great growth, without a revolution such as America experienced in the late 1700s, Chinese Christians will never be able to effect societal and political change in that country. And, of course, the communist government in China has all but guaranteed that such a revolution will not take place by completely disarming the citizenry.
In America, we are talking about a nation in which citizens (including Christians) are able to lobby, redress government, protest, rally, organize opposition, speak, vote, form PACs, march, petition, etc. Christians are as free to influence their societies and governments as are any other group of people in the United States. Furthermore, name the other group in this country that can boast 75% of the population who identify with it in name or 43% of the population who regularly attend its public meetings? What would the country look like if the ACLU could boast these numbers? Or the SPLC? Or labor unions?
Labor unions comprise only 11% of the adult workforce. The ACLU membership is reported to be about 500,000. And, of course, the people who belong to the SPLC could fit in a phone booth. By comparison, these groups comprise a miniscule percentage of the population as opposed to America's churches, yet their influence is exponentially greater. So, what has happened?
The great Nineteenth Century revivalist and major contributor to America's Second Great Awakening, Charles Finney, said this: "Christians must vote for honest men and take consistent ground in politics. God cannot sustain this free and blessed country, which we love and pray for, unless the Church will take right ground. Politics are a part of a religion in such a country as this, and Christians (and citizens) must do their duty to the country as a part of their duty to God. It seems sometimes as if the foundations of the nation are becoming rotten, and Christians seem to act as if they think God does not see what they do in politics."
Finney also said, "If there is a decay of conscience, the pulpit is responsible for it. If the public press lacks moral discernment, the pulpit is responsible for it. If the church is degenerate and worldly, the pulpit is responsible for it. If the world loses its interest in Christianity, the pulpit is responsible for it. If Satan rules in our halls of legislation, the pulpit is responsible for it. If our politics become so corrupt that the very foundations of our government are ready to fall away, the pulpit is responsible for it."
It is no hyperbole to say that, on the whole, the American Church has been mostly ineffective since immediately after World War II. The Church sat mute when God was expelled from America's public life in the 1960s. It sat mute when the government gave license to the premeditated murder of preborn babies in the 1970s. And today it continues to sit mute in the face of a burgeoning police state. There seems to be virtually no abridgment of liberty, no national scandal, or no threat against our constitutional form of government egregious enough to warrant an outcry from America's pastors and churches.
For the most part, today's pastors are not prophets and watchmen; they are cheerleaders and CEOs. Our churches are not "the pillar and ground of the truth" (I Timothy 3:15 KJV); they are centers of social interaction, recreation, and feel-good indoctrination. Preachers are not reprovers, rebukers, and exhorters (II Timothy 4:2); they are ear-ticklers, entertainers, and expositors of irrelevance.
Let me ask you: what good does it do to teach the stories of Daniel and the lions' den, and the three Hebrew children in the burning fiery furnace, and Esther, and John the Baptist, and Elijah, and Simon Peter saying, "We must obey God rather than men," and Samson, and Gideon, etc., ad infinitum, if you are not going to apply those stories to the practical, day-to-day events we are experiencing now? What good does it do to preach expository messages on the Bible if one does not make those messages relevant to the times and circumstances in which we live? Yet, ear-tickling, entertainment, and irrelevant exposition seem to be what the modern church in America excels in. The result: ineffective, impotent, weak, unprepared, and sheepish Christians.
Yes, I know there are many churches and Christian ministries that are doing admirable work. We need homeless shelters, food banks, pregnancy resource centers, addiction ministries, etc. We most definitely need pastors and churches to preach the Gospel of Christ. We need missionary outreach. But we also need pastors and churches to teach the Biblical Natural Law principles of liberty and to prepare their congregations to guard and defend our freedom.
I tell you the truth: Christians in persecuted lands are not enamored with entertainment, recreation, and irrelevant Bible exposition. You don't have to bring in some big-name rock band to entice them to fellowship. You don't have to give their teenagers a big gymnasium. You don't have to give their young adults coffee shops and espresso machines. You don't have to shy away from criticisms of tyrannical government. And you certainly are not going to score any points with your fallacious "obey-the-government-no-matter-what" interpretation of Romans 13.
The time is soon coming in this country when it is going to "rain on the just and on the unjust." (Matthew 5:45 KJV) Mark it down, Christian: when persecution and tribulation comes to America (and it has already begun), you and your family will NOT be exempt. When a jetliner falls out of the sky, everyone in it (Christian or not) goes down with the plane. And when a nation falls, everyone in it (Christian or not) goes down with the country.
The church was not created to teach Christian sugars how to recreate on a playground, but to teach Christian soldiers how to fight on a battlefield.
So many of our Christian brothers and sisters seem to be literally enslaved or addicted to some form of church formality. They need a certain music fix, or entertainment fix, or teaching fix, or liturgical fix, or a hundred other fixes. They demand a certain delivery, a certain style, or a certain personality. They intend to do nothing with what they hear, but it makes them feel good hearing it. The carnality, rancor, envy, and meanness inside the church is equal to, or superior to, that which is outside the church. Many Christian businessmen are just as greedy, just as dishonest, and just as duplicitous as businessmen professing no faith. Many deacons and church officers are just as untruthful and cowardly as anyone in the outside world.
What have all of these Sunday School lessons done for us? What have all of these pacifist expositional messages done for us? What have all of these gymnasiums, youth programs, self-esteem classes, and counseling centers done for us? Pastors and churches have been teaching all forms of Bible prophecy for decades. Generations of Christians have come and gone arguing over the nuances of Eschatology. What good has it done us? While we have been playing, partying, prancing, promoting, pouting, pontificating, patronizing, and philosophizing, a fire has been burning the foundations of our country; and we have not lifted a pail of water to help extinguish the inferno.
Truly did the Lord Jesus say, "Ye are the salt of the earth: but if the salt have lost his savour, wherewith shall it be salted? it is thenceforth good for nothing, but to be cast out, and to be trodden under foot of men." (Matthew 5:13 KJV)
The word "savour" here means "saltiness." Salt is a preservative that retards decay and ruination. God has sprinkled "salt" in the form of Christian people all over the country. We are here to be a preservative and protection against rot and ruin. But when Christians lose their saltiness, Jesus said, they are "good for nothing" and are destined to be "trodden under foot of men." That is a word description of tyranny and oppression. Can anyone say Jackboot?
Unfortunately, many pastors and churches today are "good for nothing." They have lost their saltiness; they no longer preserve and protect. And, ladies and gentlemen, the Jackboots have gotten out the shoe polish as we speak.
It doesn't matter that America has 300,000 churches, 90 million people attending those churches, and 159 million people calling themselves Christians unless those churches and Christians are actively and tenaciously preserving and protecting the foundations and pillars upon which both the church and the country are built.
As God pruned Gideon's army down from 32,000 to 300, so, too, God may need to prune the Church in America. Let the majority of churches rot on the vine; let them intoxicate themselves on the opiate of entertainment and feelgoodism; let the hirelings in the pulpit lust after ease and social acceptance; let the willfully blind bask in their ignorance; and let the sheepish servants in the sanctuary lick the hands of their oppressors.
Those who choose to fight with Gideon's army, leave these fancy churches, which are nothing more than ornate tombs, and run to the sound of battle! Gideon's captains are strategically placed all around the mountains. Join them! God has never needed a majority to prevail; He never will.
The great Christian patriot and "Father of the American Revolution," Sam Adams, said, "It does not require a majority to prevail, but rather an irate, tireless minority keen to set brush fires in the people's minds."
Let the majority of churches be irrelevant, impotent, and insignificant. Even now, God is raising up unconventional fellowships. A fire for liberty churches is ablaze in the hearts of millions of Americans. The establishment churches are dead; shake off the dust of your feet and move on. Already, we have over 700 patriot pastors and churches that appear on our Black Regiment web page. There may be one near you.
See the list of patriot pastors and churches here:
If you can't find a patriot pastor near you, consider watching our service live at Liberty Fellowship each Sunday afternoon at approximately 2:30pm Mountain Time. Watch us here:
If you cannot watch the service live, you can watch my archived messages at:
A majority of pastors, churches, and Christians may be irrelevant, impotent, and insignificant; but you and I don't have to be. Already, God is resurrecting Gideon's army. Will you join us?
My friend RJ at http://www.topplebush.com/ just sent me a very interesting riddle:  "Why are right-wingers always talking about cutting down on government spending and'red tape' yet never ever try to cut down on military spending?  Aren't the armed forces part of the government too?"  Ya got me stumped there.
Here's another riddle I can't seem to solve:  How come us salt-of-the-earth American types who protest against all the banksters' outrageous crimes get thrown in jail, while the criminals themselves are given "get out of jail free" cards like it was Christmas?  Except, of course, for Martha Stewart.
More riddles:  "Why is it okay for Al Qaeda to be the good guys in Syria and Libya — but are the bad guys in Lower Manhattan?"  I'm all confused.
Why is it okay to tax middle-income Americans for an arm and a leg but not okay to tax rich people?  "I wonder."  https://www.youtube.com/watch?v=fMHdq4jm0oQ
How come everybody bitches and moans about the obesity epidemic and the cancer epidemic and the heart attack epidemic and the autism epidemic and the bi-polar epidemic but still live on junk food, never exercise and watch too much TV?  And still have enough balls left to complain about single-payer healthcare?  Can someone please explain this? http://www.indiegogo.com/SuperFatSeries
How come American taxpayers get to pay for the costs of demolishing Christian and Muslim homes in East Jerusalem yet can't get any tax relief when our own homes are being demolished in Detroit and Cincinnati?
How come statistics (and election results and Fox News) show that Americans are definitely being dumbed down these days, but no one wants to spend any money on improving American kindergartens — let alone on upgrading our colleges.  What ever happened to Sputnik?
Why do people fear climate change so much but still happily drive their gas-hogs around like there's no tomorrow?
How come I can't resist playing free-cell solitaire by the hour when I should be out doing the laundry and saving the world?
How can anybody in their right mind vote for any candidate that spends millions of dollars on getting elected?  You would think that if a politician had that kind of money he (or she) might want to just retire to the Bahamas.  Or give it to us.
"Why does America need to own approximately 800 military bases throughout the 'Free World'?"  Hell, if the freaking world is all that free, surely it doesn't need all those American soldiers to keep it in line?  And why does all this so-called freedom always end up costing us taxpayers trillions of dollars as well?
And how come most of "our" jobs are now located in places like China, Haiti and Burma?  Isn't that a really long commute?
And please explain the riddle of how all the top American industrial jobs here at home are now mostly being performed by prison labor?  While the 1% sucks down Oxycontin and Prozac legally and the rest of us all get busted for using medical marijuana — just to make sure they have a large enough prison labor supply in jails?
And why are American labor unions that help the working class being given such a bum rap, but when Wall Street and War Street form unions that destroy the fabric of America's economy, it's called "Capitalism" and "Showing Initiative" — not welfare for the rich?
And why are the RepubliDems always saying that the fiscal cliff is a bad thing?  If it is spozed to be such a terrible disaster, then why in the freak did they create it in the first place?
And why does 2013 still feel so much like 2012?
In his recent New York Times op-ed piece, Princeton professor and regular columnist for The New York Times Paul Krugman observed:
"The American economy is still, by most measures, deeply depressed. But corporate profits are at record high. It's simple: profits have surged as a share of national income, while wages and other labor compensation are down. The pie isn't growing the way it should — but capital is doing fine by grabbing an ever-larger slice, at labor's expense."
And then he adds with almost shocked incredulity: "Wait – are we really back to talking about capital versus labor? Isn't that an old-fashioned, almost Marxist sort of discussion, out of date in our modern information economy?"
This is exactly the conflict that Marx identified as the fundamental, inescapable contradiction of the capitalist system that would eventually create the conditions of its downfall: there is a tendency for the owners of businesses, the capitalists, to accumulate ever-vaster wealth while the people who work for them experience a declining standard of living.
Marx supported this conclusion by offering a description of the fundamental operating mechanism of capitalism. Capitalism is based on the principle of private ownership and competition. Private businesses compete with one another for customers, and those who fail to attract a sufficient number eventually perish. But in order to attract customers, businesses must maximize the quality of their product while minimizing its price. If two products embody the same quality but one is cheaper, customers, in pursuit of their self-interest, will purchase the cheaper version, all other factors being equal.
This means that capitalists must constantly attempt to minimize the price of their product simply for the sake of their own survival. If a business devises a way to lower costs, it can capture the market. But, as Marx pointed out, labor costs are a huge factor in determining the price of a product. So those businesses that minimize labor costs can prevail in the dog-eat-dog world of capitalism. For this reason, a downward pressure on wages and benefits is always operating to one degree or another.
But Krugman made no reference to this aspect of Marx's analysis and instead identified two other factors that contribute to the growing inequality in wealth between capitalists and workers, both of which are discussed by Marx.
The first factor involves the introduction of technology into the labor process, i.e. "labor-saving" technology. In other words, machines replace workers or reduce the amount of skill required in the labor process. To give a current example, software has been developed that analyzes legal documents at a fraction of the time it takes lawyers while costing much less. Accordingly, many well-paid lawyers lose their jobs to such software. Living during the industrial age, Marx supplied many such examples.
Krugman referred to his second explanatory factor that increases inequality between capitalists and labor as the "monopoly power" of large corporations where "increasing business concentration could be an important factor in stagnating demand for labor, as corporations use their growing monopoly power to raise prices without passing the gains on to their employees." Here Krugman is approaching the heart of Marxist theory.
Krugman is basically arguing that large corporations use their power to override purely economic trends and simply demand that their employees work for less. But this is precisely the point of Marxism, although from the other direction. Marx persistently argued that capitalism could not function without the willingness of the working class to perform the work. When workers organize and engage in collective action by withholding their labor, the balance of power shifts in favor of the workers who can then demand higher wages as a condition for their return to work, as the ILWU (International Longshore and Warehouse Union) recently did on the West Coast and the teachers did in Chicago.
Amazingly, Krugman never mentions the decline of organized labor as a huge factor explaining the decline of the standard of living of working people, adding that there has been so little discussion of these developments. But others, especially former Secretary of Labor Robert Reich, have discussed these trends and identified the decline of labor as a major factor.
In the 1930s when labor unions were tenaciously fighting for working people, huge gains were made in terms of salaries and benefits. They conducted militant sit-down strikes and mobilized tens of thousands of people from the community to support labor's struggles. Their successes were to a large degree responsible for the emergence of the so-called middle class that thrived in the 1950s and 1960s.
Workers who are organized, acting both collectively and forcefully, can change the economic landscape. But once organized labor becomes complacent and relaxes its guard and ceases to struggle, the laws of capitalism ineluctably grind down their gains and the growing inequality returns until workers again rise up.
Marx argued that eventually workers would see the futility of this repeating cycle, reject capitalism altogether, and begin to construct a socialist society built on entirely humanistic and democratic principles.
In a recent New York Times article on unionizing workers at the bottom of the pay scale, a union organizer was quoted as saying, "We must go back to the strategies of nonviolent disruption of the 1930s." Currently organized labor is all but dying out. Strikes are like an endangered species. Rather than engaging in militant struggles, union members are urged to elect Democrats who then call on workers to accept sacrifices.
AFL-CIO President Richard Trumka has called on working people "to fight like hell" to resist cuts to Social Security and Medicare. But these are just words. To this date, the unions have failed to mobilize their members to stage massive demonstrations across the country against cuts to these popular social programs – demonstrations that could culminate in hundreds of thousands of working people descending on Washington, D.C. to make their demands clear to the Obama administration and the rest of the politicians. Without the unions taking the lead in this struggle, there is little individual workers will be able to accomplish. And if the unions refuse to return to their more militant roots but remain invisible, economists like Paul Krugman will continue to ignore their existence and overlook their current historic failure to defend working people.
The coast is clear, the media tells us; economic disaster has been averted. The Euro Zone is finally stable and the U.S. economy is recovering. Whew!
Why, then, are government policies internationally still pursuing extremist measures? In the U.S., a third round of excess money printing —called Quantitative Easing — began recently in which banks are directly profiting by unloading their toxic mortgages on the Federal Reserve's balance sheet (another backdoor bailout paid by taxpayers).
After the U.S. presidential election, both Democrats and Republicans are committed to different versions of historic cuts to social services, education, Medicare, unemployment benefits, and very likely Social Security. This bi-partisan plan is often referred to as a "grand bargain," the details of which both parties are still haggling over.
In Europe things are no better. After the Euro Zone central bank promised investors its full backing to bailout all Euro Zone members — by printing money — the world economy sighed a heavy relief. But still the Euro Zone — along with the U.S. — is pursuing a two-pronged solution for an extreme economic crisis: austerity measures and the less-discussed "structural reforms."
What are these policies? Austerity is simple enough: government cuts to social spending, health care, education, pensions, etc. — to balance heavily indebted public budgets (at the expense of working people, rather than taxing the rich and corporations). Austerity can also be achieved through privatization, where once publicly run programs/facilities are sold cheaply to private firms to make a profit, thus taking the cost off the government's budget.
Structural reforms on the other hand are meant to boost economic (corporate) growth, by government intervention in commodity markets — most commonly the labor market. It's called structural reform because markets are usually relatively stable. For example, the labor market is deep-rooted in powerful social forces — wages, benefits, and working conditions are heavily influenced by unions, who use their organization and strike threat to pressure corporations and governments to pay living wages. Non-union workers benefit directly by the unions' ability to alter the national labor market, since non-union companies have to compete with union companies for workers, who naturally go where wages are higher. Professional, higher-paid workers benefit too, since society expects them to get higher wages than, say a carpenter.
In Europe, structural reforms targeting the labor market — alongside austerity measures — are rousing the unions and broader community into the streets with massive demonstrations: Spain, Portugal, Greece, and other countries are fighting reforms that politicians are euphemistically calling "labor market flexibility." This simply means that unions will be undermined by their inability to protect workers' jobs, making firing easier ("flexibility"), which results in compelling workers into accepting lower wages and benefits.
The pro-corporate Economist magazine reports about Portugal:
"With his decision to finance a reduction in company [corporate] costs through a sharp cut in workers' take-home pay, Pedro Passos Coelho, Portugal's prime minister, appears to have taken reform past the limit of what is deemed acceptable by large sections of the electorate."
And France:
"… [President] Hollande has given union leaders and bosses until December to negotiate [anti-union] labor-market changes. On the table are various options, including making it possible for firms [corporations] to reduce hours and salaries in a downturn against a guarantee of job security, along the lines introduced by [Germany's prime minister]… in 2003."
And Spain:
"… the new [labor] law makes it easier and cheaper to lay off workers. For most firms, maximum lay-off payments [unemployment benefits] will be reduced from 42 months' pay to 12 months… it will hugely boost business confidence."
Reducing unemployment benefits is a very popular labor market structural reform for the 1%, since it makes workers more desperate for work, and thus more accepting of low-wage jobs — consequently lowering workers' power in the labor market overall, as wages are lowered nationally.
And while Europe's austerity and structural reforms are on the front page of international media — due to the giant protests and general strikes against them — the exact same policies have been pursued by the U.S. with barely a murmur. Were it not for the labor upsurges in Wisconsin and more recently Chicago, these policies would be completely off the public's radar.
The Wisconsin uprising was in response to a labor-market structural reform pursued by Republicans, denying unions bargaining rights — effectively destroying the union. Democrats, however, are pursuing anti-labor structural reforms — weakening unions — as national policy also, though less directly, by demanding that unions across the country take massive concessions in wages and benefits — a slower, yet more effective form of labor market restructuring.
The teachers in Chicago went on strike against another form of anti-labor structural reform pursued by both Democrats and Republicans. The media-hype around "firing bad teachers" is really a labor-market reform in disguise; the real intention is to bust unions, who are only able to stay strong by their ability to protect the jobs of their members (of course there already exists ways to fire bad teachers).
Teacher merit pay is yet another labor reform measure aimed to weaken unions, since it effectively lowers wages by preventing raises (there is zero evidence that merit pay raises education standards, or that charter schools outperform public schools). It means that every teacher's salary is negotiated individually, and it allows management to punish its critics by denying them merit pay raises.
The teachers are especially targeted in the U.S. because they are the strongest union in the country, due to their numbers, organization, and connections to the community. If they are forced to give "structural" concessions, other unions will be heavily pressured to do so, and thus the labor market will be altered to the benefit of the corporations.
The labor reform attacks — combined with austerity budget cuts — are happening in different forms on a city, state, and federal level with the full backing of the Democrats and Republicans (there is no "debate" in the presidential election about education policy). Thus, if not for the Wisconsin and Chicago struggles, there would be little social consciousness around these issues.
The reasons that austerity and structural adjustment have not produced a Europe-like movement yet is because most labor unions have increasingly accepted these concessions without putting up a real fight. Many labor leaders would simply rather accept these policies, since fighting them would put them in conflict with their "friends," the Democratic politicians pursuing these anti-labor policies.
Hopefully, the post-Occupy movement can show the labor movement the way forward. On November 3rd there will be protest demonstrations against austerity in a number of cities across the country. These protests are targeting the ongoing state by state cuts — and federal post-election cuts — to education, transportation, health care, social programs, and public-sector workers. The protests are challenging the very concept of austerity, as working people refuse to pay for the crisis created by the rich and corporations. There is a potential for these protest demonstrations to teach the American public the word "austerity," assuming they are large enough and connect with the broader community that directly experiences these policies.
Regardless of the results of November 3, demonstrations about the austerity issue in the U.S. will inevitably continue, since even mainstream economists mostly agree that there will be no return to the pre-recession economy. The policies of austerity and structural reform — along with war — are long-term survival strategies of capitalism, which is evolving to survive a global-wide crisis of corporate growth rates by creating a "new normal" of social expectations: lower wages and fewer social programs.
The first step in fighting these measures is mobilizing working people and the broader community in massive Europe-like demonstrations. This tactic educates the whole nation about the issues, which would otherwise remain in the dark. Once the 99% is in the streets together screaming collective demands with a united voice, the movement will decide how best to act, whether it be the general strikes or new political parties that have emerged in Europe.
The U.S. post-election austerity surprises will give new opportunities for millions of people to get into the streets. They will no longer be able or willing to remain ignorant about the nation's new normal.
http://www.economist.com/node/21563352
http://www.economist.com/node/21563303
http://www.economist.com/node/21547831
We will all swallow our cup of corporate poison. We can take it from nurse Romney, who will tell us not to whine and play the victim, or we can take it from nurse Obama, who will assure us that this hurts him even more than it hurts us, but one way or another the corporate hemlock will be shoved down our throats. The choice before us is how it will be administered. Corporate power, no matter who is running the ward after January 2013, is poised to carry out U.S. history's most savage assault against the poor and the working class, not to mention the Earth's ecosystem. And no one in power, no matter what the bedside manner, has any intention or ability to stop it.
If you insist on participating in the cash-drenched charade of a two-party democratic election at least be clear about what you are doing. You are, by playing your assigned role as the Democratic or Republican voter in this political theater, giving legitimacy to a corporate agenda that means your own impoverishment and disempowerment. All the things that stand between us and utter destitution—Medicaid, food stamps, Pell grants, Head Start, Social Security, public education, federal grants-in-aid to America's states and cities, the Women, Infants, and Children nutrition program (WIC), Temporary Assistance for Needy Families and home-delivered meals for seniors—are about to be shredded by the corporate state. Our corporate oligarchs are harvesting the nation, grabbing as much as they can, as fast as they can, in the inevitable descent.
We will be assaulted this January when automatic spending reductions, referred to as "the fiscal cliff," begin to dismantle and defund some of our most important government programs. Mitt Romney will not stop it. Barack Obama will not stop it.
And while Romney has been, courtesy of the magazine Mother Jones, exposed as a shallow hypocrite, Obama is in a class by himself. There is hardly a campaign promise from 2008 that Obama has not broken. This list includes his pledges to support the public option in health care, close Guantanamo, raise the minimum wage, regulate Wall Street, support labor unions in their struggles with employers, reform the Patriot Act, negotiate an equitable peace between the Israelis and the Palestinians, curb our imperial expansion in the Middle East, stop torture, protect reproductive rights, carry out a comprehensive immigration reform, cut the deficit by half, create 5 million new energy jobs and halt home foreclosures. Obama, campaigning in South Carolina in 2007, said that as president he would fight for the right of collective bargaining. "I'd put on a comfortable pair of shoes myself, I'll … walk on that picket line with you as president of the United States of America," he said. But when he got his chance to put on those "comfortable pair of shoes" during labor disputes in Madison, Wis., and Chicago he turned his back on working men and women.
Obama, while promising to defend Social Security, also says he stands behind the planned cuts outlined by his deficit commission, headed by Morgan Stanley board member Erskine Bowles and former Sen. Alan Simpson, a Wyoming Republican. The Bowles-Simpson plan calls for cutting 0.3 percentage points from the annual cost-of-living adjustment in the Social Security program. The annual reduction would slowly accumulate. After a decade it would mean a 3 percent cut. After two decades it would mean a 6 percent cut. The retirement age would be raised to 69. And those on Social Security who continued to work and made more than $40,000 a year would be penalized with further reductions. Obama's payroll tax cuts have, at the same time, served to undermine the solvency of Social Security, making it an easier target for the finance corporations that seek to destroy the program and privatize the funds.
But that is just the start. Cities and states are frantically staving off collapse. They cannot pay for most pension plans and are borrowing at higher and higher interest rates to keep themselves afloat. The country's 19,000 municipalities face steadily declining or stagnant property tax revenues, along with spiraling costs. Annual pension payments for state and local plans more than doubled to 15.7 percent of payrolls in 2011 from 6.4 percent a decade ago, according to a study by the Center for Retirement Research at Boston College. And local governments, which made some $50 billion in pension contributions in 2010, face unfunded pension liabilities of $3 trillion and unfunded health benefit liabilities of more than $1 trillion, according to The Nelson A. Rockefeller Institute of Government. State and local government spending fell at a rate of 2.1 percent in the second quarter of this year, according to the Commerce Department. It was the 11th consecutive quarterly reduction in expenditures. And in the past year alone local governments cut 66,000 jobs, mostly those of teachers and other school employees, reported The Wall Street Journal, which accumulated this list of grim statistics.
The costs of our most basic needs, from food to education to health care, are at the same time being pushed upward with no control or regulation. Tuition and fees at four-year colleges climbed 300 percent between 1990 and 2011, fueling the college loan crisis that has left graduates, most of them underemployed or unemployed, with more than $1 trillion in debt. Health care costs over the same period have risen 150 percent. Food prices have climbed 10 percent since June, according to the World Bank. There are now 46.7 million U.S. citizens, and one in three children, who depend on food stamps. The U.S. Immigration and Customs Enforcement agency under Obama has, meanwhile, expelled 1.5 million immigrants, a number that dwarfs deportations carried out by his Republican predecessor. And while we are being fleeced, the Treasury Department and Federal Reserve Bank has since 2008 doled out $16 trillion to national and global financial institutions and corporations.
Fiscal implosion is only a matter of time. And the corporate state is preparing. Obama's assault on civil liberties has outpaced that of George W. Bush. The refusal to restore habeas corpus, the use of the Authorization to Use Military Force Act to justify the assassination of U.S. citizens, the passing of the FISA Amendments Act to monitor and eavesdrop on tens of millions of citizens without a warrant, the employment of the Espionage Act six times to threaten whistle-blowers inside the government with prison time, and the administration's recent emergency appeal of U.S. District Judge Katherine Forrest's permanent injunction of Section 1021(b)(2) of the National Defense Authorization Act give you a hint of the shackles the Democrats, as well as the Republicans, intend to place on all those who contemplate dissent.
But perhaps the most egregious assault will be carried out by the fossil fuel industry. Obama, who presided over the repudiation of the Kyoto Accords and has done nothing to halt the emission of greenhouse gases, reversed 20 years of federal policy when he permitted the expansion of fracking and offshore drilling. And this acquiescence to big oil and big coal, no doubt useful in bringing in campaign funds, spells disaster for the planet. He has authorized drilling in federally protected lands, along the East Coast, Alaska and four miles off Florida's Atlantic beaches. Candidate Obama in 2008 stood on the Florida coastline and vowed never to permit drilling there.
You get the point. Obama is not in charge. Romney would not be in charge. Politicians are the public face of corporate power. They are corporate employees. Their personal narratives, their promises, their rhetoric and their idiosyncrasies are meaningless. And that, perhaps, is why the cost of the two presidential campaigns is estimated to reach an obscene $2.5 billion. The corporate state does not produce a product that is different. It produces brands that are different. And brands cost a lot of money to sell.
You can dismiss those of us who will in protest vote for a third-party candidate and invest our time and energy in acts of civil disobedience. You can pride yourself on being practical. You can swallow the false argument of the lesser of two evils. But ask yourself, once this nightmare starts kicking in, who the real sucker is.
Chris Hedges, whose column is published Mondays on Truthdig, spent nearly two decades as a foreign correspondent in Central America, the Middle East, Africa and the Balkans. He has reported from more than 50 countries and has worked for The Christian Science Monitor, National Public Radio, The Dallas Morning News and The New York Times, for which he was a foreign correspondent for 15 years.
Source:  Chris Hedges | Truth Dig
With the November elections right around the corner, the millions of unemployed and under-employed have little reason to care. Aside from some sparse rhetoric, neither Democrats nor Republicans have offered a solution to job creation. Most politicians seem purposefully myopic about the jobs crisis, as if a healthy dose of denial might get them through the electoral season unscathed.
In reality, the jobs crisis continues unaddressed, and threatens to get worse after the election. The post-election "fiscal cliff" of social cuts — "triggered" by Obama's debt commission —will pull the economy below the current treading-water phase, drowning millions more workers in America in unemployment and hopelessness. In addition, two million more long-term unemployed — those lucky enough to still receive benefits — face the very likely possibility of having their benefits ended due to the trigger cuts.
But this is all part of the plan. The current jobs crisis is not accidental; there are public policies that could be implemented — such as a federal jobs program — that would stop unemployment in its tracks. Both parties agree that this cannot be done for the same reason: high unemployment is desirable since it acts as a sledgehammer against wages, lowering them with the intent of boosting profitability for corporations. Creating this nationwide "new normal" takes time.
Until corporations have an ideal environment to make super profits — aside from the short-term money printing of the Federal Reserve — unemployment will remain purposefully high. The Feds massive money-printing program — called Quantitative Easing (QE) — is a desperate move that risks super inflation, yet is deemed necessary until politicians implement the economic new normal for workers in America.
This policy is referred to as an "adjustment" period by some economists. Corporations and their puppet politicians have used the recession to start implementing the new normal of lower wages, reduced benefits, and fewer social programs on a city, state, and federal basis. In order to complete this national adjustment, expectations for working people must be drastically lowered, so that they'll be less likely to be angry and fight against this onslaught.
This was Bill Clinton's intention when he told the Democratic National Convention, "The old economy isn't coming back." Most people in America have yet to realize this, but the economic policies of the Democrats and Republicans reflect a conscious plan to push wages down and shred the safety net to fit the "new economy" standards sought by corporate America.
Because corporations only hire workers in order to make profit, businesses today are sitting on trillions of cash, waiting for a sunnier day to invest in labor. The lower the wages of workers in America, the brighter the skies for corporations' bottom line. It is this basic economic interest driving the jobs crisis, as politicians only offer solutions that "encourage businesses to invest" rather than creating immediate solutions for working people.
But millions of people are waiting for sunnier days too. A large number are seeking to wait out the recession by returning to school and are now graduating; a record 30 percent have bachelor degrees, a number that is expected to rise. The increasing number of graduates will drive up unemployment, while those lucky enough to find jobs aren't finding one capable of paying off their massive student loans. The trillion-dollar student loan business is yet another example of wealth transference from bottom to top: students borrow money from the wealthy, and pay them back with interest, sometimes exorbitant interest.
The Bureau of Labor Statistics indicates that there are 12.5 million people who are officially unemployed but an additional 9.5 million who are "unofficially" unemployed — those who are not actively looking for work, "discouraged workers," part-time workers who want full-time work, etc. The number is almost certainly higher. These workers are not counted in the "official" unemployment numbers, and this unofficial number is getting worse. In August 2012, 368,000 more workers joined this illustrious group by dropping out of the labor force, i.e., they gave up looking for a job and thus are no longer counted as unemployed, in this way giving Obama "positive news" since the unemployment numbers actually improved!
These workers are often referred to as "unemployable," meaning that they are usually over fifty years of age or under 30 and are tarnished with a lack of job experience or an excess of it. Corporations can now have an abundance of workers to choose from, and are being extra picky on whom they hire, if anybody.
The new "private sector" jobs that Obama constantly brags about are much lower paying than the jobs they are replacing. According to a study performed by the National Employment Law Project, 58 percent of all new post-recession jobs come with wages below $14.00 an hour, i.e. a not a living wage.
For those millions unable to find jobs, their future lies in either dependence on family or the state, or a risky life in the informal economy, which implies the possibility of imprisonment.
The reason that many labor and community groups have not fully explained the above facts — nor protested against them — is because they are "embarrassing" to the Democrats. Labor unions have gone into pre-election hibernation, ignoring reality as they push their members to campaign for the president who is overseeing this economic "new normal."
The still-sputtering economy is expected to grind to a halt post-election, with average working people again footing the bill. But millions of Americans are experiencing the politics of the 1%, and drawing conclusions; ever since the recession government policy has been aimed at benefiting the wealthy and corporations, while working people have only experienced layoffs, lower wages and benefits, and slashed public services. To stop this dynamic of austerity working people must unite and protest in massive numbers, like the working people of Europe.
In Portland, Oregon, such a demonstration is being planned, pre-election, by a coalition of community groups to "stop the cuts," for debt relief, and against the above national policy of austerity for working people. By highlighting the bi-partisan nature of the attack against working people, the community organizers in Portland hope to educate the community to take action, so that working people are prioritized. Let the wealthy pay for their crisis.
http://voices.washingtonpost.com/economy-watch/2009/05/actual_us_unemployment_158.html
It's impossible to exaggerate the national importance of the teachers' struggle in Chicago. If the Chicago teachers' union — 26,000 members strong — goes on strike, many critical yet ignored political issues will go into the national spotlight, exposing nastiness that many politicians and labor leaders would like ignored until after the presidential elections.
Such a strike would also have the potential to rejuvenate U.S. labor unions by showing them a way out of the never ending wage and benefit concessions demanded by private and public employers. In fact, the Chicago teachers have the potential to become the most important labor struggle in decades, based on the timing, political context, and national relevance of their fight.
U.S. labor unions are in the fight of their lives, especially in the public sector, where their existence literally hangs in the balance. Constant city, state, and federal budget deficits — largely the result of multiple tax breaks for corporations and the rich — have been used as excuses to attack the wages and benefits of public employees, drastically weakening their unions to the point where "ending collective bargaining" is fast becoming a likely outcome.
Teachers are the strongest sector of public employees, based on their numbers, cohesiveness, and ties to the community.   Thus, teachers have been directly targeted via budget cuts and Obama's "Race to the Top" Education policy, which blames "bad teachers" (and the unions that protect them) for poorly performing students, while conveniently ignoring the more obvious predictors of poverty and the constant defunding of public education.
The education policies of President Obama and the Democrats will be put on trial if a strike takes place, since the Chicago teachers are fighting against the Democratic Mayor — Obama's former Chief of Staff Rahm Emanuel — who is most urgently implementing the Democrat's so-called "Race to the Top" education reforms — an education program that aims to privatize public education while decapitating teachers' unions.
Race to the Top forces money-hungry states to compete for a measly $4 billion of federal money. The winners are those states that inflict the most self-harm by firing "bad" teachers and closing "failing" schools. Obama is accomplishing more in one campaign than the anti-public education right wing has accomplished in decades.
Race to the Top encourages the closing of neighborhood public schools and opening up across town private charter schools, where the rich will have access to all the amenities offered at public schools while the poor will be warehoused in a drab environment lacking resources — without sports and other extracurricular activities, no art or music, no counseling or psychological services, etc. Obama's Race to the Top envisions education "reform" to mirror free market ideology, where services once deemed essential are now to be sold as commodities to those who can afford them.
The Chicago Teachers Union website discussed the possibility of a strike and explained its national implications. Aside from the many demands on their wages and benefits, "teachers are concerned about the Board's plan to close over 100 neighborhood schools and create a half public-half charter school district."
Chicago Teachers Union President Karen Lewis explains:
"Whenever our students perform well on tests, [Chicago Public School] moves the bar higher, tells them they are failures and blames their teachers. Now they want to privatize public education and further disrupt our neighborhoods. We've seen public housing shut down, public health clinics, public libraries and now public schools. There is an attack on public institutions, many of which serve low-income and working-class families."
Lewis has correctly made the link behind the attack on the teachers and the national attack on working people in general a key aspect of the Chicago teachers' campaign.
Behind the Democrat and Republican war on "bad teachers" is a war on labor unions. It seems that the only solution being offered to the so-called "bad teacher" problem is the complete undermining of unions: the Democrats want to make firing teachers easier and make them work for "merit pay," two poisons for working people.
Unions are strong because members are united. This is done, in part, by making pay raises equitable, to prevent both discrimination and the employer from dividing the union.  Unions believe that all members who are capable of doing the work should get pay raises based on their work experience.  Merit pay is a right-wing device aimed at this bedrock principle of unionism, to prevent most teachers from getting any pay raises while dividing the workplace against itself by giving wage hikes to those who are least active in the union and denying them to teachers who are strong union supporters and critical of management.
Behind the Democrat's urge to "fire bad teachers" is a deeper assault on unions. Labor unions cannot exist as a fighting force to defend the membership without seniority rights, which protect older workers with higher salaries and minorities from being targeted and fired, and similarly protect union activists. If an employer can easily fire a worker, it will always be an older worker or "trouble making" union activist.
Teachers' unions are aware of these union-specific threats; they've been fighting against Republicans for years who have been trying to implement them. But now the Democrats have adopted the Republicans' anti-union policies, and many teachers' unions have been paralyzed as a result.
Although the national teacher unions have voiced their support for the Chicago teachers, they are also actively campaigning for President Obama, the architect behind the anti-union crusade that aims to crush the Chicago teachers. This blatant hypocrisy is just one reason why the Chicago teachers will have to shake up the labor movement.
National union leaders have failed to put forth a vision to inspire the labor movement. The decades-long friendship with the Democrats has soured as the Democrats have adopted long-standing Republican attitudes to unions: Democratic governors across the country have attacked public employee unions in tandem with Obama's anti-union Race to the Top education policy. Because unions are strongest in the public sector, these policies amount to a planned decapitation of the labor movement.
Instead of waging a relentless battle against these Democrat-inspired attacks, most unions have made giant concessions in the form of wages and benefits, thus undermining the confidence their members have in their union. Most union leaders have chosen not even to discuss this deadly assault on unions because it is coming from the Democrats. The Chicago teachers are saying "no more," and exposing the Democrats in the process.
If the strike occurs and becomes a powerful, city-stopping movement like Wisconsin before it, the November presidential elections will have a new significance. Democrats and Republicans alike will be forced to pick sides: both will choose against the teachers.
It will be made clear to millions of people that the Democrats and Republicans share identical views on public education and labor unions — they both want them destroyed.
Most importantly, the very labor unions who are wasting their members' dues money by giving it to the Obama campaign will have to choose sides too; hopefully many of them will take a break from phone banking and door knocking for Obama to hold Chicago solidarity rallies in their own cities to give extra energy to the struggle.
Ultimately, the Chicago teachers' struggle will set a nationally powerful precedent. If the teachers win through militant struggle, unions everywhere will be inspired to copy their tactics and organize their communities and members alike towards common social goals, fighting hand in hand. However, if the union loses, the opposing side will be galvanized at labor's expense, and the downhill slide for labor will continue, dragging down the wages and benefits of non-union members in the process.
One key lesson from this experience is that labor unions can be transformed relatively quickly. A small group of union activists within the Chicago teachers' union — the Caucus of Rank and File Educators (CORE) — were organized in order to make their union stronger, and were elected by the membership to lead the union. In a few years time CORE has transformed the union into a strong, fighting organization, capable of defending its members' wages and the community's schools. The union has reached out to the community and explained the perils of charter schools in order to draw the community into the struggle. This has laid the foundation for encouraging the community to participate in the picket lines and large support rallies so that the teachers are not isolated but have the obvious support of the public. Many in organized labor have watched the transformation take place and are learning from it. The Chicago teachers are educating the whole labor movement on the real meaning of unionism.
We are only days away from the showdown.
http://www.ctunet.com/media/press-releases/breaking-news-ctu-files-notice-of-intent-to-strike
A fascinating shift has happened in the U.S. mainstream media: After a year of anti-Syria war propaganda and lies, glimmers of truth are making their way into the public's view. This may be too little too late: the country is being torn at the seams into the nightmare of ethnic-religious cleansing and massacres.
After non-stop war mongering, The New York Times took a second to wipe the blood off its hands to report the true state of things in Syria. Apparently, the previous, ongoing reports about the Syrian army indiscriminately massacring citizens in the city of Homs was simply a lie, repeated over and over.
It now turns out that the exact opposite was true.
In actuality, many of the refugees fleeing Homs were persecuted Christians, attacked by members of the Free Syrian Army, who have been killing religious minorities in an attempt to recruit hard-line Sunnis in Syria as they wage a religious war against the Syrian secular state.
The Background
Because the Free Syrian Army did not emerge from a popular revolution — but instead the pocketbooks and arsenal of Saudi Arabia — the war to destroy the Syrian government had to be waged as an ethnic-religious war. Saudi Arabia has a long history of exporting its rare extremist form of Sunni Islam, Wahhabism, as a political tool to help overthrow unfriendly governments.
The U.S. has a long-standing alliance with Saudi Arabia in this effort, a dynamic that, over the years, has given birth to both the Taliban and Al Qaeda. The U.S. refuses to stop using this strategy because it's incredibly effective at overthrowing "unfriendly" governments, while keeping large sections of the Middle East stalled in the formative years of Islam, which keeps a good check on any political activity from working people, since in Saudi Arabia protests, labor unions, and civil rights are illegal.
The persecuted religious minorities in Homs view the Syrian government as their ally against the U.S. media-darling "liberators" of the Free Syrian Army, puppets of Saudi Arabia's foreign policy.
Minority Persecution
The opinion pages of The New York Times laid out the facts better than any previous reporting:
"As Saudi Arabian arms and money bolster the [Free Syria Army] opposition, the 80,000 Christians who've been 'cleansed' from their homes… in Homs Province in March by the Free Syrian Army have gradually given up the prospect of ever returning home."
"The [Free Syria Army] rebels' conduct [ethnic cleansing] has prompted at least some Sunnis who had supported the rebels and once-wavering Syrians to pledge renewed loyalty to Assad. Many who once regarded the regime as a kleptocracy now view it as the best guarantor of Syria's endangered [ethnic-religious] pluralism."
U.S. Complicity
This sudden somersault of facts has been long known to both the U.S. government and the media. The New York Times continues:
"Washington is aware of the scale of the problem [religious fanaticism and minority persecution]. As early as June 2011, Robert Stepen Ford, the U.S. ambassador to Syria, briefed his counterparts in Damascus about Al Qaeda's penetration of the opposition forces. By still ploughing ahead with its support for Saudi Arabia's effort to destabilize Syria, Washington, far from assisting Israel or weakening Iran, is helping to fuel a humanitarian crisis that will come back to haunt the United States."
To summarize: U.S. politicians from both parties have lied to the public about the true nature of the conflict in Syria, because it benefited them politically to see a non-U.S. ally destroyed by ethnic-religious barbarism.
Finally from The New York Times:
"The seeming indifference of the international community to the worsening condition of Syria's religious minorities — and the near total absence of censure of the opposition forces by the Western governments arrayed against Assad — is breeding a bitter anti-Americanism among many secular Syrians who see the United States aligning itself with Saudi Arabia, the fount of Wahhabism [extremist Sunnis], against the Arab world's most resolutely secular state."
There you have it. It took over a year but suddenly the Syrian war isn't so black and white, good guys versus bad guy. The Syrian government is by no means to be glorified, but the utter devastation that is being brought to the country was done so on a false premise, by foreign backers — Saudi Arabia and the U.S. — who wanted nothing except to see the country annihilated so that Iran would be isolated and easier to topple. To sell this bloodbath as an advance of democracy — as U.S. politicians and media have done — is beyond hypocritical; it falls under the category reserved for those who are labeled war criminals.
I'm sure most Americans are mighty proud of the fact that Julian Assange is so frightened of falling into the custody of the United States that he had to seek sanctuary in the embassy of Ecuador, a tiny and poor Third World country, without any way of knowing how it would turn out. He might be forced to be there for years. "That'll teach him to mess with the most powerful country in the world! All you other terrorists and anti-Americans out there — Take Note! When you fuck around with God's country you pay a price!"
How true. You do pay a price. Ask the people of Cuba, Vietnam, Chile, Yugoslavia, Iraq, Iran, Haiti, etc., etc., etc. And ask the people of Guantánamo, Diego Garcia, Bagram, and a dozen other torture centers to which God's country offers free transportation.
You think with the whole world watching, the United States would not be so obvious as to torture Assange if they got hold of him? Ask Bradley Manning. At a bare minimum, prolonged solitary confinement is torture. Before too long the world may ban it. Not that that would keep God's country and other police states from using it.
You think with the whole world watching, the United States would not be so obvious as to target Assange with a drone? They've done it with American citizens. Assange is a mere Aussie.
And Ecuador and its president, Rafael Correa, will pay a price. You think with the whole world watching, the United States would not intervene in Ecuador? In Latin America, it comes very naturally for Washington. During the Cold War it was said that the United States could cause the downfall of a government south of the border … with a frown. The dissolution of the Soviet Union didn't bring any change in that because it was never the Soviet Union per se that the United States was fighting. It was the threat of a good example of an alternative to the capitalist model.
For example, on January 21, 2000 in Ecuador, where almost two-thirds live in poverty, a very large number of indigenous peasants rose up in desperation and marched to the capital city of Quito, where they were joined by labor unions and some junior military officers (most members of the army being of indigenous stock). This coalition presented a list of economic demands, seized the Congress and Supreme Court buildings, and forced the president to resign. He was replaced by a junta from the ranks of the new coalition. The Clinton administration was alarmed. Besides North American knee-reflex hostility to anything that look or smells like a leftist revolution, Washington had big plans for a large military base in Manta (later closed by Correa). And Colombia — already plagued by leftist movements — was next door.
The US quickly stepped in to educate the Ecuadorean coalition leaders as to the facts of Western Hemispheric imperial life. The American embassy in Quito … Peter Romero, Assistant Secretary of State for Latin America and Western Hemispheric Affairs … Sandy Berger, National Security Adviser to President Clinton … Undersecretary of State Thomas Pickering … all made phone calls to Ecuadorian officials to threaten a cutoff in aid and other support, warning that "Ecuador will find itself isolated", informing them that the United States would never recognize any new government the coalition might set up, there would be no peace in Ecuador unless the military backed the vice president as the new leader, and the vice president must continue to pursue neoliberal "reforms", the kind of IMF structural adjustment policies which had played a major role in inciting the uprising in the first place.
Within hours the heads of the Ecuadorian army, navy and air force declared their support for the vice president. The leaders of the uprising fled into hiding. And that was the end of the Ecuadorian revolution of the year 2000.1
Rafael Correa was first elected in 2006 with a 58% majority, and reelected in 2009 with a 55% majority; his current term runs until August 2013. The American mainstream media has been increasingly critical of him. The following letter sent in January to the Washington Post by the Ecuadoran ambassador to the United States is an attempt to clarify one of the issues.
Letter to the Editor:

We were offended by the Jan. 12 editorial "Ecuador's bully," which focused on a lawsuit brought by our president, Rafael Correa, after a newspaper claimed that he was guilty of ordering troops to fire on innocent citizens during a failed coup in 2010. The president asked the publishers to release their evidence or a retraction. When they refused, he sued, as any citizen should do when recklessly wronged.

No journalist has gone to prison or paid a significant fine in the five years of the Correa presidency. Media criticism — fair and unfair, sometimes with malice — of the government appears every day. The case involving the newspaper is on appeal. When the judicial process ends, the president has said, he will waive some or all of the penalties provided he gets a retraction. That is a common solution to libel and slander cases in the United States, I believe.

Your writer uses obnoxious phrases such as "banana republic," but here is the reality of today's Ecuador: a highly popular, stable and progressive democracy for the first time in decades.

Nathalie Cely, Washington
No shelter from the drones of infinite justice or the bacteria of enduring freedom
Afghanistan president Hamid Karzai said recently that he had had an argument with Gen. John Allen, the top US commander in Afghanistan, about the issue of American drone attacks in Afghanistan, following yet another deadly airstrike that killed a number of civilians. Karzai asked Allen an eminently reasonable question: "Do you do this in the United States?" The Afghan president added: "There is police action every day in the United States in various localities. They don't call an airplane to bomb the place."2
Karzai's question to Allen was rhetorical of course, for can it be imagined that American officials would bomb a house in an American city because they suspected that certain bad guys were present there? Well, the answer to that question is that it can be imagined because they've already done it.
In Philadelphia, Pennsylvania. On May 13, 1985, a bomb dropped by a police helicopter burned down an entire block, some 60 homes destroyed, 11 dead, including several small children. The police, the mayor's office, and the FBI were all involved in this effort to evict an organization called MOVE from the house they lived in.
The victims were all black of course. So let's rephrase our question. Can it be imagined that American officials would bomb a house in Beverly Hills or the upper east side of Manhattan? Stay tuned.
And what else can we imagine about a society that's been super militarized, that's at war with much of the world, and is convinced that it's on the side of the angels and history? Well, the Boston transit system, MBTA, recently announced that in conjunction with Homeland Security they plan to release dead bacteria at three stations during off-hours this summer in order to test sensors that detect biological agents, which terrorists could release into subway systems. The bacterium, bacillus subtilis, is not infectious even in its live form, according to the government.3
However, this too has a precedent. During five days in June, 1966 the Army conducted a test called "A Study of the Vulnerability of Subway Passengers in New York City to Covert Attack with Biological Agents". Trillions ofbacillus subtilis variant niger were released into the subway system during rush hours, producing aerosol clouds. The report on the test noted that "When the cloud engulfed people, they brushed their clothing, looked up at the grate [at street level] and walked on."4 The wind of passing trains spread the bacteria along the tracks; in the time it took for two trains to pass, the bacteria were spread from 15th Street to 58th Street.5 It is not known how many people later became ill from being unsuspecting guinea pigs because the United States Army, as far as is known, exhibited no interest in this question.
For the planned Boston test the public has not been informed of the exact days; nor is it known how long the bacteria might linger in the stations or what the possible danger might be to riders whose immune system has been weakened for any reason.
It should be noted that the New York subway experiment was only one of many such experiments. The Army has acknowledged that between 1949 and 1969, 239 populated areas from coast to coast as well as US overseas territories were blanketed with various organisms during tests designed to measure patterns of dissemination in the air, weather effects, dosages, optimum placement of the source, and other factors. Such testing was supposedly suspended after 1969.6
Government officials have consistently denied that the biological agents used could be harmful despite an abundance of expert and objective scientific evidence that exposure to heavy concentrations of even apparently innocuous organisms can cause illness, at a minimum to the most vulnerable segments of the population — the elderly, children, and those suffering from a variety of ailments. "There is no such thing as a microorganism that cannot cause trouble," George Connell, assistant to the director of the Centers for Disease Control and Prevention, testified before the Senate in 1977. "If you get the right concentration at the right place, at the right time, and in the right person, something is going to happen."7
The United States has used biological weapons abroad as well, repeatedly, not for testing purposes but for hostile purposes.8 So what will the land which has the highest (double) standards say when such weapons are used against it? Or when foreign drones hit American cities? Or when American hi-tech equipment is sabotaged by a cyber attack as the US has now admitted doing to Iran? A year ago the Pentagon declared that "computer sabotage coming from another country can constitute an act of war. … If you shut down our power grid, maybe we will put a missile down one of your smokestacks," said a US military official.9
"The true hypocrite is the one who ceases to perceive his deception, the one who lies with sincerity." – André Gide, French Author, 1869-1951
Barack Obama, his mother, and the CIA
In his autobiography, Dreams From My Fathers, Barack Obama writes of taking a job at some point after graduating from Columbia University in 1983. He describes his employer as "a consulting house to multinational corporations" in New York City, and his functions as a "research assistant" and "financial writer".
Oddly, Obama doesn't mention the name of his employer. However, a New York Times story of October 30, 2007 identifies the company as Business International Corporation. Equally odd is that the Times did not remind its readers that the newspaper itself had disclosed in 1977 that Business International had provided cover for four CIA employees in various countries between 1955 and 1960.10
The British journal, Lobster — which, despite its incongruous name, is a venerable international publication on intelligence matters — has reported that Business International was active in the 1980s promoting the candidacy of Washington-favored candidates in Australia and Fiji.11 In 1987, the CIA overthrew the Fiji government after but one month in office because of its policy of maintaining the island as a nuclear-free zone, meaning that American nuclear-powered or nuclear-weapons-carrying ships could not make port calls.12 After the Fiji coup, the candidate supported by Business International, who was much more amenable to Washington's nuclear desires, was reinstated to power — R.S.K. Mara was Prime Minister or President of Fiji from 1970 to 2000, except for the one-month break in 1987.
In his book, not only doesn't Obama mention his employer's name; he fails to say exactly when he worked there, or why he left the job. There may well be no significance to these omissions, but inasmuch as Business International has a long association with the world of intelligence, covert actions, and attempts to penetrate the radical left — including Students for a Democratic Society (SDS)13 — it's reasonable to wonder if the inscrutable Mr. Obama is concealing something about his own association with this world.
Adding to the wonder is the fact that his mother, Ann Dunham, had been associated during the 1970s and 80s — as employee, consultant, grantee, or student — with at least five organizations with intimate CIA connections during the Cold War: The Ford Foundation, Agency for International Development (AID), the Asia Foundation, Development Alternatives, Inc., and the East-West Center of Hawaii.14 Much of this time she worked as an anthropologist in Indonesia and Hawaii, being in good position to gather intelligence about local communities.
As one example of the CIA connections of these organizations, consider the disclosure by John Gilligan, Director of AID during the Carter administration (1977-81). "At one time, many AID field offices were infiltrated from top to bottom with CIA people. The idea was to plant operatives in every kind of activity we had overseas, government, volunteer, religious, every kind."15 And Development Alternatives, Inc. is the organization for whom Alan Gross was working when arrested in Cuba and charged with being part of the ongoing American operation to destabilize the Cuban government.
How the owners of a society play with their property
The Supreme Court of the United States has just upheld the constitutionality of President Obama's health care law, the Affordable Care Act. Liberals as well as many progressives are very pleased, regarding this as a victory for the left.
Under the new law, people can benefit in one way or another depending on the following factors:
Their age; whether their income is at or below 133 percent of the federal poverty level; whether their parents have a health plan; whether they use tobacco; what state they live in; whether they have a pre-existing medical condition; whether they qualify to buy health insurance through newly-created market places known as "exchanges"; and numerous other criteria … They can obtain medical insurance in a "competitive insurance market" (emphasis on the "competitive"); they can perhaps qualify for various other kinds of credits and tax relief if they meet certain criteria … The authors of the Act state that it will save thousands of dollars in drug costs for Medicare beneficiaries by closing a coverage gap called the "donut hole" … They tell us that "It keeps insurance companies honest by setting clear rules that rein in the worst insurance industry abuses."
That's a sample of how health care looks in the United States of America in the 21st century, with a complexity that will keep a small army of lawyers busy for years to come. Ninety miles away, in the Republic of Cuba, it looks a bit different. If you feel sick you go to a doctor. You're automatically qualified to receive any medical care that's available and thought to be suitable. The doctor treats you to the best of his or her ability. The insurance companies play no role. There are no insurance companies. You don't pay anything. You go home.
The Affordable Care Act will undoubtedly serve as a disincentive to the movement for single-payer national health insurance, setting the movement back for years. The Affordable Care Act was undoubtedly designed for that purpose.
Notes
Washington Post, January 23, 2000, p.1; "The coup in Ecuador: a grim warning", World Socialist Web Site, February 2, 2000; Z Magazine (Massachusetts), February 2001, pp.36-7 ↩
Washington Post, June 12, 2012 ↩
Beacon Hill Patch (Boston), "MBTA to Spread Dead Bacteria on Red Line in Bio-Terror Test", May 18, 2012 ↩
Leonard Cole, Clouds of Secrecy: The Army's Germ Warfare Tests over Populated Areas (1990), pp.65-9↩
New York Times, September 19, 1975, p.14 ↩
"Biological Testing Involving Human Subjects by the Department of Defense", 1977, Hearings before the Subcommittee on Health and Scientific Research of the Committee on Human Resources, US Senate, March 8 and May 23, 1977; see also William Blum, Rogue State, chapter 15 ↩
Senate Hearings, op. cit., p.270 ↩
Rogue State, op. cit., chapter 14 ↩
Wall Street Journal, May 30, 2011 ↩
New York Times, December 27, 1977, p.40 ↩
Lobster magazine, Hull, UK, #14, November 1987 ↩
Rogue State, op. cit., pp.199-200 ↩
Carl Oglesby, Ravens in the Storm: A Personal History of the 1960s Antiwar Movement (2008), passim↩
George Cotter, "Spies, strings and missionaries", The Christian Century (Chicago), March 25, 1981, p.321
What is the second half of 2012 going to bring?  Are things going to get even worse than they are right now?  Unfortunately, that appears more likely with each passing day.  I will admit that I am extremely concerned about the second half of 2012.  Historically, a financial crisis is much more likely to begin in the fall than during any other season of the year.  Just think about it.  The stock market crash of 1929 happened in the fall.  "Black Monday" happened on October 19th, 1987.  The financial crisis of 2008 started in the fall.  There just seems to be something about the fall that brings out the worst in the financial markets.  But of course there is not a stock market crash every year.  So are there specific reasons why we should be extremely concerned about what is coming this year?  Yes, there are.  The ingredients for a "perfect storm" are slowly coming together, and in the months ahead we could very well see the next wave of the economic collapse strike.  Sadly, we have never even come close to recovering from the last recession, and this next crisis might end up being even more painful than the last one.
The following are 17 reasons to be extremely concerned about the second half of 2012….
#1 Historical Trends
A recent IMF research paper by Luc Laeven and Fabián Valencia showed that a banking crisis is far more likely to start in September than in any other month.  The following chart is from their report….
So what will this September bring?
#2 JP Morgan
Do you remember back in May when JP Morgan announced that it would be taking a 2 billion dollar trading loss on some derivatives trades gone bad?  Well, the New York Times is now reporting that the real figure could reach 9 billion dollars, but nobody really knows for sure.  At some point is JP Morgan going to need a bailout?  If so, what is that going to do to the U.S. financial system?
#3 Derivatives
Last week, Moody's downgraded the credit ratings of 15 major global banks.  As a result, a number of them have been required to post billions of dollars in additional collateral against derivatives exposures….
Citigroup's two-notch long-term rating downgrade from A3 to Baa2 could have led to US$500m in additional liquidity and funding demands due to derivative triggers and exchange margin requirements, according to the bank's 10Q regulatory filing at the end of the first quarter.

Morgan Stanley – which Moody's downgraded from A2 to Baa1 – said a two-notch downgrade from both Moody's and Standard and Poor's could spur an additional US$6.8bn of collateral requirements in its latest 10Q. The bank did not break down its potential collateral calls under a scenario where only Moody's downgraded the bank below the Single A threshold.

Royal Bank of Scotland estimated it may have to post £9bn of collateral as a result of the one-notch Moody's downgrade to Baa1 in a statement on June 21, but did not detail how much of this additional requirement was driven by margin for swaps exposures.
The worldwide derivatives market is starting to show some cracks, and at some point this is going to become a major disaster.
Remember, the 9 largest U.S. banks have a total of more than 200 trillion dollars of exposure to derivatives.  When this bubble completely bursts it is going to be impossible to fix.
#4 LEAP/E2020 Warning
LEAP/E2020 has issued a red alert for the global financial system for this fall.  They are warning that the "second half of 2012″ will represent a "major inflection point" for the global economic system….
The shock of the autumn 2008 will seem like a small summer storm compared to what will affect planet in several months.

In fact LEAP/E2020 has never seen the chronological convergence of such a series of explosive and so fundamental factors (economy, finances, geopolitical…) since 2006, the start of its work on the global systemic crisis. Logically, in our modest attempt to regularly publish a "crisis weather forecast", we must therefore give our readers a "Red Alert" because the upcoming events which are readying themselves to shake the world system next September/ October belong to this category.
#5 Increasing Pessimism
One recent survey of corporate executives found that only 20 percent of them expect the global economy to improve over the next 12 months and 48 percent of them expect the global economy to get worse over the next 12 months.
#6 Spain
The Spanish financial system is basically a total nightmare at this point.  Moody's recently downgraded Spanish debt to one level above junk status, and earlier this week Moody's downgraded the credit ratings of 28 major Spanish banks.
According to CNBC, Spain's short-term borrowing costs are now about three times higher than they were just one month ago….
Spain's short-term borrowing costs nearly tripled at auction on Tuesday, underlining the country's precarious finances as it struggles against recession and juggles with a debt crisis among its newly downgraded banks.

The yield paid on a 3-month bill was 2.362 percent, up from just 0.846 percent a month ago. For six-month paper, it leapt to 3.237 percent from 1.737 percent in May.
Needless to say, this is very, very bad news.
#7 Italy
The situation in Italy continues to deteriorate and many analysts believe that it could be one of the next dominoes to fall.  The following is from a recent Businessweek article….
The euro zone's third-biggest economy is seen as the next domino at risk of toppling after the European Union's June 9 deal to lend Spain $125 billion in bank bailout funds. Yields on Italy's 10-year government bonds reached 6.2 percent on June 13, up from just 4.8 percent in March. By pushing up Italy's borrowing costs out of fear of default, investors are making a default more likely. 
A recent Fortune article detailed some of the economic fundamentals that have so many economists deeply concerned about the Italian economy right now….
The main glaring risk threats that could propel Italy down the path to become Europe's next domino is the size of country's outstanding debt (at €1.9 trillion or 120% of GDP); the mountain of debt it has to roll over in the next 12 months (nearly €400 billion); and the market's cracking credibility around Prime Minister Mario Monti's ability to reduce the country's fiscal footprint and spur growth.

Further, fear around Italy's creditworthiness, which has recently been expressed by near cycle highs in sovereign CDS spreads and government yields on the 10-year bond, follow some rather glaring negative fundamentals over recent quarters and years:  declining GDP over the last three consecutive quarters; a rising unemployment rate (especially among its youth); deterioration in labor market competitiveness; and increased competition for export goods to its key trading partners.
#8 Greece
I have written extensively about the financial nightmare that is unfolding in Greece.  Unemployment has soared past the 20 percent mark, youth unemployment is above 50 percent, the Greek economy has contracted by close to 25 percentover the past four years and now Greek politicians are saying that a third bailout package may be necessary.
#9 Cyprus
The tiny island nation of Cyprus has become the fifth member of the eurozone to formally request a bailout.  This is yet another sign that the eurozone is rapidly falling apart.
#10 Germany
German Chancellor Angela Merkel continues to promote an austerity path for Europe and she continues to maintain hervery firm position against any kind of eurozone debt sharing….
Merkel, speaking to a conference in Berlin today as Spain announced it would formally seek aid for its banks, dismissed "euro bonds, euro bills and European deposit insurance with joint liability and much more" as "economically wrong and counterproductive," saying that they ran against the German constitution.

"It's not a bold prediction to say that in Brussels most eyes — all eyes — will be on Germany yet again," Merkel said. "I say quite openly: when I think of the summit on Thursday I'm concerned that once again the discussion will be far too much about all kinds of ideas for joint liability and far too little about improved oversight and structural measures."
In fact, Merkel says that there will be no eurobonds "as long as I live".  This means that there will be no "quick fix" for the problems that are unfolding in Europe.
#11 Bank Runs
Every single day, hundreds of billions of dollars is being pulled out of banks in southern Europe.  Much of that money is being transferred to banks in northern Europe.
In a previous article I included an extremely alarming quote from a CNBC article about the unfolding banking crisis in Europe….
Financial advisers and private bankers whose clients have accounts too large to be covered by a Europe-wide guarantee on deposits up to 100,000 euros ($125,000), are reporting a "bank run by wire transfer" that has picked up during May.

Much of this money has headed north to banks in London, Frankfurt and Geneva, financial advisers say.

"It's been an ongoing process but it certainly picked up pace a couple of weeks ago We believe there is a continuous 2-3 year bank run by wire transfer," said Lorne Baring, managing director at B Capital, a Geneva-based pan European wealth management firm.
How long can these bank runs continue before banking systems start to collapse?
#12 Preparations For The Collapse Of The Eurozone
As I have written about previously, the smart money has already written off southern Europe.  All over the continent major financial institutions are preparing for the worst.  For example, just check out what Visa Europe is doing….
Visa Europe is holding weekly meetings to discuss scenarios in the event the euro zone collapses, joining other companies that are preparing for a potential breakup of the currency bloc.

Chief Commercial Officer Steve Perry said Tuesday that management at the U.K.-based credit-card company meets weekly to explore various possible outcomes, including a total collapse of the euro zone.
#13 Global Lending Is Slowing Down
All over the globe the flow of credit is beginning to freeze up.  In fact, the Bank for International Settlements says that worldwide lending is contracting at the fastest pace since the financial crisis of 2008.
#14 Sophisticated Cyber Attacks On Banks
It is being reported that "very sophisticated" hackers have successfully raided dozens of banks in Europe.  So far, it is being estimated that they have stolen 60 million euros….
Sixty million euro has been stolen from bank accounts in a massive cyber bank raid after fraudsters raided dozens of financial institutions around the world.

According to a joint report by software security firm McAfee and Guardian Analytics, more than 60 firms have suffered from what it has called an "insider level of understanding".
What happens someday if we wake up and all the money in the banks is gone?
#15 U.S. Municipal Bankruptcies
All over the United States there are cities and towns on the verge of financial disaster.  This week Stockton, California became the largest U.S. city to ever declare bankruptcy, but the reality is that this is only just the beginning of the municipal debt crisis….
Stockton, California, said it will file for bankruptcy after talks with bondholders and labor unions failed, making the agricultural center the biggest U.S. city to seek court protection from creditors.

"The city is fiscally insolvent and must seek Chapter 9 bankruptcy protection," Stockton said in a statement released yesterday after its council voted 6-1 to adopt a spending plan for operating under bankruptcy protection.
#16 The Obamacare Decision
The U.S. economy is already a complete and total mess, and now the Obamacare decision is going to throw a huge wet blanket on it.  All over America, small business owners are saying that they are going to have to let some workers go because they cannot afford to keep them all under Obamacare.  It would be hard to imagine a more job killing law than Obamacare, and now that the Supreme Court decision has finally been announced we are going to see many businesses making some really hard decisions.
#17 The U.S. Election
It is being reported that Barack Obama is putting together an army of "thousands of lawyers" to deal with any disputes that arise over voting procedures or results.  It certainly looks like this upcoming election is going to be extremely close, and there is the potential that we could end up facing another Bush v. Gore scenario where the fate of the presidency is determined in court.  This campaign season is likely to be exceptionally nasty, and I fear what may happen if there is not a decisive winner on election day.  The possibility of significant civil unrest is certainly there.
We definitely live in "interesting" times.
Personally, I am deeply concerned about the September, October, November time frame.
The other day, Joe Biden delivered a speech in which he made the following statement….
"It's A Depression For Millions And Millions Of Americans"
And what Biden said was right for once.  Millions of Americans are out of work right now and millions of Americans have fallen out of the middle class in recent years.  If you have lost everything, it does feel like you are living through a depression.
When people lose everything, they tend to get desperate.  And desperate people do desperate things – especially when they are angry.
A whole host of recent opinion polls have shown that anger and frustration in the United States are rising to unprecedented levels.  The ingredients are certainly there for an explosion.  Someone just needs to come along and light the fuse.  We truly do live in frightening times.
Let us hope for the best, but let us also prepare for the worst.
Source: The Economic Collapse