No doubt you have heard about the War on Drugs, the War on Terror and the War on Happiness. However, you may not be familiar with the War on God, possibly because it would be an unpopular war to discuss publicly. By the "War on God" (definition) we mean the collection of strategies, methods and techniques which have the combined effect of preventing or seriously hampering the efforts of individuals to seek or achieve legitimate Spiritual enlightenment and the Soul's eventual return to God.
The War on God is an ancient war. While the United States and other countries play an active role in this war today, they definitely did not initiate the war. If you want to use the Christian bible as a reference, you could argue that the War on God began shortly after man was created and rejected God in favor of Satan. Clearly, in some form, the War on God has existed throughout human history.
Today, the United States has effectively broken off diplomatic relations with God. The oligarchs who run the country never physically die and so their souls stay on Earth. Apparently, the United States actually believes that its technology, occult knowledge and black magic skills place it in a position which is superior to God.
We know from whistleblowers like David Morehouse that the United States sponsors and trains a cult of psychics to carry out psychic espionage (remote viewing) and also assassinations using psychic black magic techniques. According to clips of his various interviews on YouTube, it was the training in psychic assassinations which caused Morehouse to become disillusioned, quit the secret program and blow the whistle on the operation. Other countries may well operate similar programs but the details will remain unknown until someone defects and exposes them.
The leaders of the United States have always worshiped Satan. The United States was founded by a cult of Satanists known as the Masons and remains under control of that cult today. By rebranding their cult as a nation state, the cult created the appearance of legitimacy. Cult secrets simply transitioned to state secrets. Cult threats to kill anyone telling their secrets transitioned to the crimes of treason and espionage.
Nothing really changed except for the rebranding from a cult to a government. Today, essentially all members of the CIA, NSA and NASA are Masons. All US presidents have been Masons with the two exceptions of Abraham Lincoln and John Kennedy who were both assassinated.
The term "national security" refers to the security of the cult and not to the security of the general population. The Masonic motto is "If you are not one of us, you are nothing". The cult exists only to enrich itself.
The Masons study and practice the occult. Serious study begins after they take a formal oath of allegiance to Satan at the 30th degree initiation. Basic occult knowledge is neutral and everyone who advances Spiritually learns it. However, Masons seek this knowledge to gain power and control over others as opposed to knowledge for personal advancement. This choice, commonly called the Left Hand Path, places them in opposition to the will of God.
If the Satanists simply wanted to sell their Souls to Satan and mind their own business, one could argue that they had that right because they had free choice. However, the situation is not that simple. The Satanic oligarchs did freely choose to worship Satan. However, they also desire a comfortable life. They don't want to do any "grunt" work. Therefore, they have enslaved the remainder of humanity and are holding their Souls prisoner on this planet to service their needs. Therefore, if you, as an innocent Soul, ever plan to escape from this place and return to God, it is in your interest to investigate and gain an understanding of this war so that you will have an opportunity to Spiritually evolve. Otherwise, your Soul will remain a prisoner here — lifetime after lifetime — serving the Satanic overlords essentially forever.
Earth Based Religions
The phrase Earth Based Religions (definition) refers to religious schools which seek and use knowledge, including occult knowledge, to enhance their experiences during their human lifetimes as opposed to using the same knowledge to foster Spiritual development with the ultimate goal of achieving a stable non-physical Spiritual existence.
Although Pagan religions are usually grouped into this category, a more careful examination would reveal that essentially all mainstream religions are Earth based religions. Mainstream religions make constant references to God and Heaven but never explain exactly what they are talking about. Their books concentrate on historical narratives concerning how people in the past lived and coped with the basic problems of human physical existence. They never give details of any level of Spiritual existence or even any specific hints about what life beyond death will be.
Let's try an example. Suppose you have never seen a motor vehicle. You have heard vague stories that they exist, but that is all. Then, suddenly, you find yourself behind the wheel of a car on a high speed road like the US interstate system or the A roads in Britain. What would you guess would be your chance of survival? Try less than zero.
Now suppose you physically die. Suddenly, you find yourself in your Astral body. However, no one ever told you that you have an Astral body. It does not operate under the same rules as a physical body does. It is a very pliant and nimble body. It can travel in time to the past or future, access any plane and subplane in the Astral universe and research the absolute accurate and incorruptible records system known as the Akashic Records to name just a few. But, as in the previous example, you never learned how to "drive" it.
You would have done fine on the highway if you had gradually learned to drive a motor vehicle. You would do fine after death if you had some experience and training with your Astral body. However, no one ever taught you. What practical use is any religion that constantly rants about Heaven but offers no practical advice about your life after this life?
This information may have been a guarded secret in the past, but those days are gone. You can research this information to your heart's content on the internet, locate legitimate Spiritual groups and learn from those who can leave their physical body and explore the non-physical dimensions. But, don't expect any help from a mainstream church.
You might do well to recall the famous quote attributed to Jesus, "The truth will set you free". Mainstream churches are large, rich institutions. They did not get that way by "setting people free". They got that way by terrifying their followers with ridiculous horror stories of what will happen to them if they do not obey their crazy doctrines, stay with them and give them all their money.
Gnostic and other "non-traditional" religions may be Spiritual based as opposed to Earth based. Jesus always reminded everyone that he represented a kingdom "not of this world". If we had accurate records of his true lectures we would no doubt find practical instructions and information about this "other world". We don't have this information because any practical Spiritual teachings he might have given were censored out to create the simplified — but Spiritually sterile — mainstream religions we have today. They are simple to comprehend and follow but will not lead you anywhere except another physical lifetime somewhere on Earth.
Life Before Technology
Before technology life was simple. Although existence was hard, the opportunity for Spiritual experiences was greater than today. Consider, for example, all the empty time you would have as, say, a sheep herder. Nothing to do except make sure the sheep kept moving. In this situation, there was ample opportunity for the mind to wander and perhaps contemplate and glimpse other realities.
Also, and perhaps most important, no electric grid existed on the planet. Electric fields appear as solid "matter" in the Astral dimension and so can affect Astral experiences — generally in a negative way. Artificially created electromagnetic waves which blanket the planet today also have subtle and generally negative effects on living creatures.
Pagan groups generally conduct occult rituals outdoors and away from high population areas. When buildings are used, it is desirable that they be made only of wood and assembled without any metal (nails) and, of course, have no electrical wires.
Both good and evil existed before technology as they always have. It was possible to use psychological propaganda to influence and control susceptible masses of people. However, the positive and negative forces were more in balance. It was not possible for a single group to successfully dominate the planet.
Drugs existed in the form of various plants. Adepts learned how to use them to help or harm others. People with developed psychic abilities existed as they always have and white and black occult schools existed. Legitimate Spiritual masters existed.
Some techniques that thrived have essentially become extinct because the population of the planet has devolved. It is next to impossible to successfully teach Tantra (sex yoga), because today's generation is incapable of the required level of self control. Classic Tibetan yoga techniques are still taught in isolated areas, but the masters — for good reason — will no longer consider trusting outsiders.
Information Control Techniques
Information control is essential for protecting the integrity of a compartment. People are held as slaves by constructing an information box which holds the slaves in an information prison. As long as the "walls" of the compartment remain impenetrable, the compartment — or belief system — will be stable and no slave will escape.
Considerable energy is required to achieve this. Those assigned to protect the walls obviously know that the compartment is an intellectual illusion. Therefore, they must be sworn to secrecy and intimidated in such a way that they will not compromise the integrity of the compartment. It only takes one "leak" to initiate a chain of events which could collapse the compartment and so allow the slaves to escape.
Consider, for example, the Snowden leaks. One person sharing knowledge has totally destroyed the illusion of privacy that most people had accepted as fact. It will not be possible to reconstruct this illusion. The compartment has collapsed.
Similar principles apply in the Spiritual spectrum. Because of the characteristics of the human bodies in use on this planet, most people do not retain any conscious memory of events before they were born. This is not universally true. Life forms on many other planets retain the memories of previous existences. Because humans generally do not have this recall, they are easily enslaved and can be conditioned to believe most anything.
To maintain a state of Spiritual ignorance it is important to institute methods which will prevent people from realizing that they are actually Souls experiencing a constructed illusion. People somehow reaching this state, sometimes referred to as "self realization", will no longer respond to establishment propaganda and are generally considered a threat to the current social order.
The easiest and most direct method to achieve a stable slave population is simply not to talk about anything even vaguely esoteric. For example, how often have you heard the words astral, chakra or aura mentioned on a mainstream TV channel?
Most people will then likely "remain asleep" throughout their entire lifetime and will be no problem. Unfortunately, people have a natural desire — even though it may be an unconscious desire — to Spiritually evolve. It is, after all, the true purpose of human existence.
When someone tries to break away from the contrived illusions more direct methods are needed to return the slave to a state of ignorance. Today, various methods which cause brain damage — generally performed by psychiatrists — are used to negate any success in Spiritual evolution and return the slave to a state of vacant contentment.
Diversions and Techniques Promoting Inaction
The simplest and most effective diversionary technique is to promote scientific atheismand darwinian evolutionary philosophy as established fact. If you can get someone to buy into this philosophy, their fate is sealed. Even if they experience some contact with another dimension, such as an out-of-body experience, they will follow their programming, dismiss the experience as a delusion and refuse to investigate further. When they die, they will be totally lost and confused, flounder around on some lower Astral plane and eventually reincarnate just as Spiritually ignorant as before.
A side effect of accepting scientific atheism, which totally cripples Spiritual progress, is the acceptance of suicide as a way out of life's problems. Suicide becomes a learned reaction. Consequently, when the Soul is sent back into another physical lifetime, it is likely to commit suicide again when faced with some unpleasant event. It never learns, and this cycle can repeat essentially indefinitely. Dealing with this is one of the most difficult problems faced by the administrators who work on the Astral planes.
For those who want more than scientific atheism, there is mainstream garden variety religion. Mainstream Christianity has developed a clever stonewalling technique that has worked to promote inaction for thousands of years. This technique is centered upon the argument that no one can make any progress until Jesus returns to show the way. In the meantime, people should just do nothing and wait. The effect of this is essentially the same as scientific atheism. No Spiritual progress is made.
Schemes designed to waste time are common. One really off the wall example is the decision in Syria to prohibit vacuum cleaners and standard flat brooms in homes. "Witch type" brooms consisting of a circular straw bundle are allowed. Surely there must be a good reason to keep these terrorist weapons out of the reach of the typical Syrian housewife. The official reason is to make basic housework as difficult and time consuming as possible so as to prevent the woman from having any free idle time which, if allowed, could lead to the emergence of "immoral thoughts". Perfectly logical!
In the western world, complex bureaucracies seem to be deliberately designed to make the path to whatever you want as difficult as possible. Here the apparent motive is to prevent the acquisition of enough free time for any independent thought process. There are just not enough hours in a day to allow for any quiet contemplation of anything.
"Blank time" is always reported as a factor in the development of Spiritual figures. Time alone in the wilderness, time spent meditating alone in some isolated cave or at least periods of dedicated quiet time somewhere figure prominently in historical accounts of these people.
You may know or have heard of kids who spend all their waking hours playing interactive role model video games with other kids on the internet. They eat meals by the computer and never leave except to briefly sleep before returning to the all important game. Their entire life is spent in an imaginary reality. You may want to consider that your "real" life may not be all that different. You play a role. Your attributes are fixed by what society expects based upon that role. You can't change, because others would notice. Your concept of the world beyond your little world is determined by what you see on TV. Daily, you receive your "fix" of carefully choreographed "programming" which appears unusually coherent because, as you may not know or fully comprehend, everything on TV is controlled by a few corporations and all of them are loyal to the official government party line. If you somehow had the opportunity to break from this structured "game" you play from day to day — say, the opportunity to visit other countries and see other cultures — you would likely realize that your existence has not been that much different from the kid addicted to a computer game. You would find that the actual "real" world had very little relationship to the world you had been conditioned to believe existed.
Chemical Control Techniques
"With the use of chemical brain-control agents it may be possible to control the individual and the masses and to do this unobtrusively and without the active cooperation of the victims — not a question for the future — it is here".
This is a quote from the book by Edgar Cayce titled Edgar Cayce on Atlantis. There are references to Dr. Robert Galbraith Heath, and this book bears a copyright date of 1968. The book cites an interview that Heath gave to a newspaper called The Virginia Lighthouse and cites the above statement made by him on November 20, 1966. Heath founded the Department of Psychiatry and Neurology at Tulane University, New Orleans, in 1949 and remained its Chairman until 1980.
During this period, Tulane University actively participated in the CIA mind control project known as MK Ultra [1]. Also, during this period, Tulane became an active member of the secret Institute for Defense Analyses, or IDA, a corporation whose only client is the US government. Heath reportedly performed many experiments there involving electrical stimulation of the brain via surgically implanted electrodes. This work was reportedly partially financed by the CIA and the US military. Heath is now "officially" [11] deceased.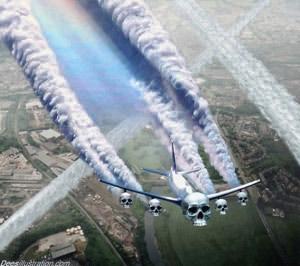 You have been drugged since you were conceived — before you were even born. Your mother was drugged. Soon after birth, you were injected with mercury containing vaccines. And the systematic process of poisoning you never stopped.
By some estimates at least eighty percent of the food in the average supermarket is poison either because it is genetically modified or laced with pesticides and other additives. Even the air is poison now because of geoengineering chemicals sprayed into the upper atmosphere.
It should be noted that things are different in the separate but parallel world of the elite. The Max Keiser show [12] discussed the secret gardens in Japan. These gardens are surrounded by high walls and guarded by the military. They produce the food for the ruling elite. Every plant in the garden has its own health certificate certifying that is pure, healthy and not genetically modified. Obviously, every developed country must have a similar secret supply chain of legitimate food for its ruling class. Certainly the elite know better than anyone that the food supply for the ordinary people is poison. They're not fools. They wouldn't touch the stuff.
Vaccines used for the elite are prepared without the mercury and other toxic additives found in vaccines given to the ordinary people.
Various agents — mainly from plants — have always existed which could be used by those aware of them to harm others or control people by altering their state of consciousness. However, only recently has it become practical to wreck the health of essentially everyone on the planet at the same time. Genetic modification of plants and other life forms used for food has made this possible. Now, quietly, people throughout the world can be sterilized, crippled with serious health problems or even killed by altering the genetic makeup of the food supply. Ordinary people remain generally ignorant of the fact that this awesome power exists and is presently being used against them.
Mind control has become a science. You can't major in it in college because this science is essentially entirely secret. The United States and other countries have spent the equivalent of billions of US dollars investigating and perfecting mind control.
Many secret research projects using unsuspecting or perhaps kidnapped people — some of whom were killed — have been conducted in the past and continue today. We only know about a very few of these projects such as MK Ultra, MK Naomi and Project Other. Even in these projects, specific details are sketchy. From these experiments, practical techniques for creating manchurian candidates and implanting created false personalities and identities have been developed and are in common use today within the secret communities.
Everyone has likely been the victim of some degree of mind control to some extent. Chemical weapons designed to mentally cripple people and render them drooling idiots are freely sold as prescription drugs in drugstores and are available to doctors to use as they please.
The lives of many kids are destroyed by these "drugs" because they have no ability to resist and their parents are ignorant and believe doctors can "do no harm". Actually, today's doctors are agents of the state. Many have top secret clearances and embrace classic Nazi philosophies such as eugenics. Their function is to watch you and make sure you "die appropriately" so as not to burden society. Anything they learn about you and anything you tell them is freely available to anyone in the intelligence community who is curious about you.
Only members of the super elite who are entitled to access top secret medicine will receive legitimate supportive medical care. Ordinary people will be deliberately allowed to die even though doctors with top secret clearances know of effective treatments which would cure them but which are classified and reserved for the chosen elite.
There is no such thing as an incurable disease any more. All the cures have been discovered. If you die, it is because you are not considered important enough to live and not because the cure does not exist.
Common sense should suggest to you that the lives of the elite have statistically different characteristics. For example, members of congress do not live sheltered lives. They work in close quarters and travel extensively both locally and internationally. They are always hanging out with prostitutes as well as playing with the young congressional pages.
Washington D.C. is reported to have more brothels than fast food joints. Strangely, however, these people do not get sick. Have you ever heard that congress had to shut down because everyone was coming down with some infection. It happens in other close populations, so what would make them exempt?
Understanding Astral Damage
Living things have an Astral component. For example, when you cut a leaf and then see the complete leaf on a Kirlian photo you are viewing the Astral component which was unaffected by cutting the physical component because it does not exist in the physical dimension.
Over one hundred years ago, practical techniques for viewing the human Aura were developed by Walter J. Kilner [4]. The original technique used dicyanin dye and a later technique used special glasses. You can't find either one today. In his research, Kilner was able to demonstrate that defects in the human Aura appeared before some corresponding disease manifested in the physical body.
Therefore, he was able to detect and prevent an adverse physical condition before it ever physically materialized. So, you ask, why don't we have this marvelous medical technique available today? Well, we do. It is in use in top secret medicine. However, only the approved elite now have access to it. The information has been removed from public knowledge and classified.
In conventional allopathic medicine, which is based upon scientific atheism and sold to the general public, there is officially no such thing as an Astral body. Conventional medicine denies the existence of anything beyond the physical dimension. Since the Astral body officially does not exist, it is not recognized as a crime to deliberately harm it.
Damage to the Astral body can be compared to damage to the physical body. If you punch holes in the physical body by cutting it, shooting bullets at it or whatever, blood runs out and germs get in. If you cause enough damage, the body dies. Astral bodies do not die, but can suffer critical energy losses. Similar to physical bodies, punching holes in the Astral body allows essential energy to escape and harmful energies to enter.
There are many events which can harm your Astral body. It is in your interest to understand these events because your Astral body will be your primary body when your physical body dies. If it has been damaged, you will be at a severe disadvantage. The chosen elite have perfect Auras because they can use the Aura balancing machines available to them at any top secret medicine provider. However, you cannot.
Also, the ruling elite seem to take some delight in causing harm to the "ordinary" people. Consequently, many drugs, food additives, GMO foods and industrial chemicals found in the environment cause Astral damage. Chemicals recognized as poisons and banned in other countries can be freely added to foods given to ordinary people in the US.
Obviously, there must exist a secret supply chain of safe food and water which is available to the chosen since they know of the contamination and certainly would not want to harm themselves or their friends.
There are ways to closely duplicate the secret techniques available only to the elite. If you can see auras or can find a reputable psychic who can, you can approximate the techniques developed by Kilner and available to everyone over a hundred years ago. Although the secret aura balancing machines are more accurate, a competent psychic healer can do the same thing. Actually, since psychics have always existed, similar techniques have been available throughout the ages to those who were aware.
Fluoride
The concept of adding fluoride to drinking water for the purpose of mind control is said to have originated in the 1930′s as a result of collaboration between German and Russian scientists [2]. Sodium fluoride was originally used and was found to cause a "mild lobotomy" in people who consumed small quantities. The effects were considered to be non reversible after one year of continuous use of the tainted water. Hitler added sodium fluoride to the water in his concentration camps to make the prisoners docile and cooperative as they waited for death.
Sodium fluoride (NaF) is used today in personal products like toothpaste. To poison the water supply of an entire country with sodium fluoride would be expensive. However, it just so happens that there is a waste product created during the manufacture of phosphate fertilizers, Fluorosilicic acid (H2SiF6), which is classified as hazardous waste and would be expensive to dispose of under EPA guidelines.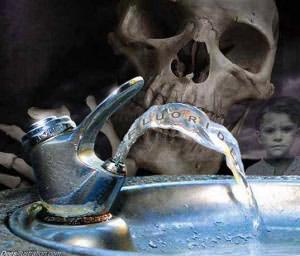 There is lots of this stuff available. This is the poison added to the public water supply in the US and some other countries. It is actually economical for industry because they don't have to pay for hazardous waste disposal. They just pump it into the public water supply.
In the human body, fluoride has an affinity for the pineal gland in the brain. The pineal gland is associated with the "third eye". Everyone has this third eye, but few are aware of it or know how to activate and use it.
Although the pineal gland is part of the physical body, the associated third eye is part of the Astral body and so is invisible in the physical dimension. The third eye allows you to see and communicate with the non-physical dimensions while fully awake and functioning in the physical dimension. So, you could see and carry on a conversation with someone in the physical dimension while invisibly also viewing and communicating with some entity on another plane of existence.
The standard Christian bible refers to the third eye with the phrase, "If thy eye be single thy whole body will be filled with light". However, only students of mysticism would recognize the true meaning of this quote.
Obviously, having this ability would be a threat to the security of any totalitarian society. Poisoning with fluoride destroys this ability and so solves that problem. Literature is available if you wish more detailed information. Simply search using the phrase "fluoride third eye".
On the chance that fluoride in the water is not sufficient to destroy any psychic abilities you may have, there are more aggressive ways to get fluoride into your brain. Here are some structural models of popular psychiatric drugs:
Notice that the element Fluorine (symbolized by its standard chemical symbol "F") figures prominently in all these compounds.
These drugs are used to cause "chemical lobotomy". By blocking communication channels with the higher levels of the human brain, they effectively convert the victim into a lower form of animal. Lower animals do not have the frontal lobes possessed by humans. That is what makes humans special. Disabling the frontal lobes effectively transforms a natural human being into, basically, a docile and obedient house pet which can be trained like a dog.
Incidentally, Fluorine also figures prominently in Sarin nerve gas.
For a more in depth study search YouTube for the free documentary Flouridegate — An American Tragedy by David Kennedy.
They All Drink From the Same Trough
If you casually look out upon the institutions of the world, it may appear to you that they are independent, discrete entities. However, they are not. They are all components of a collective which has successfully hidden its existence and true nature from the general population for generations.
Let's begin with the media in the US. Although it may appear to you that there are thousands of independent sources reporting "news", 90% of all media is controlled by six corporations. They are General Electric, News-Corp, Disney, Viacom, Time-Warner and CBS.
In the US, people believe they are protected from tyranny by the concept of "separation of powers" — that the executive, legislative and judicial branches of government are staffed by independent thinkers who "check and balance" each other. This is also a deception.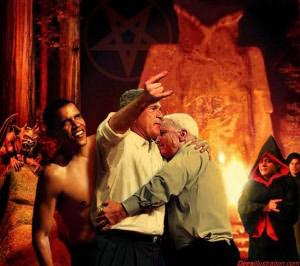 Once a year, at the end of July, there is a secret gathering on private property in the redwood forest of California called the Bohemian Grove. Although this annual meeting has been going on for over one hundred years, it is only during the last several years that outsiders have begun to learn of its existence. The only reason they have is because of the internet and independent journalism. Leaders from the mainstream media are all members of this secret club and so never even report its existence.
Who else goes to this annual secret "party"? Well, for want of a better name, we will call them the "Trusted Satanists". They are the leaders of all the major corporations, banks and representatives from all the major branches of the US government as well as foreign governments.
Although these men outwardly support the concept of capitalism for the masses, this elite group, among themselves, are perhaps best described as "rich socialists". Only men are allowed. For recreation, a stable of prostitutes — both male and female — are kept nearby off-site. The male prostitutes could theoretically enter the Grove.
The "party" begins with a Satanic ritual called "Cremation of Care" (i.e., "we don't care") which features the burning of a coffin at the base of a huge statue of an owl. Walter Cronkite reportedly was the official announcer at the grove until his death.
A secretly filmed video of this event is available on YouTube. It is supposed to be a "simulated" child sacrifice. However, since the CIA, FBI and NSA attend the ritual, who is going to complain on the chance it is a real sacrifice of a human child? After all, they are all trusted Satanists.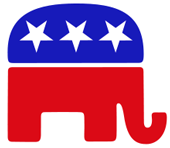 Most attendees from the United States are members of the Republican party. This is completely predictable in view of the fact that the US Republican party flaunts its affiliation with the "dark side" by prominently using the inverted star symbol on its official logo.
During the two week period, corporate leaders, the "independent" government regulators who supposedly keep corporations honest, the leaders from the executive, legislative and judicial branches of US government who are supposed to be "checking and balancing" each other, as well as the media moguls who we "trust" to report the truth, are all running around naked in the woods — pissing on the trees, playing with each other, and the male prostitutes as well as the off-site female prostitutes, and "having discussions".
Well, what are they "having discussions" about? They are discussing what they plan to do with "their world". The Manhattan Project to develop the first atomic bomb was reportedly planned at one of these discussions years ago. What about you? What about your future? What about any expectation of happiness you may have? Well, you see, you "don't need to know". Remember, "If you are not one of us, you are nothing".
Blueprints For the New World
Overview
If this link [7] is still active, it would be in your interest to read through it. This document is a transcript of a speech given by one of the insiders in the year 1969. He boldly states,"Everything is in place and no one can stop us now".
The article details how people ("people" means the slave class who are "nothing"; recall: "If you are not one of us, you are nothing") will just have to get used to changes such needing permission to have children, accepting mandated euthanasia as the law and total surveillance. Essentially all goals are now achieved, although some still remain guarded secrets.
The 1960′s was the period when physical death was eliminated. Of course, this "privilege" is only available to the select Satanic oligarchs. Effective cures for all diseases were also developed. The speaker [7] states that the cures are on file in the Rockefeller Institute. Of course, most are classified and only available to the chosen elite.
Infrastructure
The PBS documentary, Top Secret America [8], presents a good overview of the secret world of the elite. You may think no one is paying attention to the infrastructure in America because streets are in disrepair and bridges are falling down. However, you would be wrong. A tremendous amount of money is being spent on infrastructure in America — for the chosen elite. You will never see it and you will have no need for the decaying bridges and streets because you won't be around to use them. You, as well as 90+ percent of the current population, will be killed in the "Great Culling".
The new infrastructure is quite elaborate as the documentary explains. It consists of thousands of buildings which have a few stories visible above ground but which then extend for 90+ stories underground. All amenities are available within these secret structures which are basically self-sufficient.
It is important for the buildings to reach deep underground so that the lower levels can connect to the secret underground transport network. This network is global and provides safe high speed transport for the elite. Whenever the network crosses a tectonic plate, massive amounts of silicone are used to allow the transport tunnel to flex as needed. The network has access points in all countries. However, these points remain secret in countries which have yet to be subdued and co-opted into the new world order.
NWO Enabling Documents
The treaty known as the Trans-Pacific Partnership appears to be the formal enabling document for the new world. The actual document is secret and only high level corporate executives and politicians are allowed to see it.
Even after the treaty goes into force, its contents will remain secret. Because, in the United States, treaties must be openly debated in congress, the treaty is being called an "agreement" to circumvent the law and keep its contents secret. However, some details have become known.
Although the planet is officially divided into "sovereign" countries, it is overlaid with a network of transnational corporations. This network basically forms a parallel government which encircles the globe. The Trans-Pacific Partnership is designed to cause any country which signs on to surrender its national sovereignty to a secret committee composed of corporate executives. This committee can then alter the constitution and laws of any country which has accepted the treaty as suits their whim. There will be no appeal against this.
Under the treaty, there will be only one purpose to human life. That purpose will be to maximize the profits of the cabal of transnational corporations which will now be essentially a single global corporation in absolute control of the world. This effectively institutionalizes the new world order.
What does this mean for you? Well, to begin with, there can be no retirement. Paying for retirement would negatively impact corporate profits. So, if you can't work, you will be killed. Taking care of sick people would also drain corporate profits. It would be more profitable just to kill the sick and replace them with young, healthy slaves. Disabilities — forget it — disabled kids will never make it out of the womb alive.
Reeducation
To come into compliance with the philosophy of the new world, people will need to be reeducated. Military instruction documents [6] are already teaching that the Founding Fathers of the United States were extremists and anyone who thinks like them would not be suited for today's military.
Well, what did these radical extremists think?
"We hold these truths to be self-evident, that all men are created equal, that they are endowed by their Creator with certain unalienable Rights, that among these are Life, Liberty and the pursuit of Happiness."
Obviously, these principles are not compatible with the new world. The idea of a "Creator" conflicts with the official doctrine of Evolution. We can't have that. People must accept that they and the universe they live in is simply an "accident".
People are already realizing that Liberty and Happiness are gone. They know now that they live under constant surveillance and their lives get worse year after year. How about the right to Life? Can't have that. People need to be reeducated to believe that it is their "duty to die" when they are no longer useful to the state (which is now the global corporation).
Of course, the global elite will live physically forever but ordinary people will not know this.
If a world where people are conditioned to want to die and do not want kids but just sleep around for fun sounds vaguely familiar to you, you might recall that this is the future society described in Huxley's classic novel, Brave New World.
Population Modification
Please refer to [9] as a reference source. Today's "great thinkers" seem to be coming into agreement that most people are unnecessary and need to be exterminated for the convenience of the elite. Bill Gates, who has now been accepted into the super exclusive Bilderberg group, has reportedly taken the task of exterminating the third world population by giving them "free" vaccinations which will render them sterile.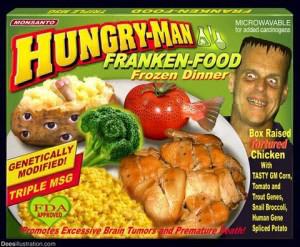 Lots of groups are working on secret sterilization methods. European tests of Monsanto's GM soybeans on hamsters showed the animals became sterile by the third generation [12]. A new gene known as Epicyte [9] is planned to be added to GM corn which will cause immediate sterilization.
Additionally, people are being "eased into" accepting the concept of "after birth abortion". Intellectuals are trying to get people to accept the argument that living human children under three or perhaps even five years old are really "not people but advanced feotuses". Since abortion is already legal, a simple change in the definition of "feotus" would allow young kids to be killed at will for any reason.
Another "new thought" gradually being programmed into the young is the pleasure of the "childless lifestyle". This propaganda seeks to convince people that having kids is too much trouble and they will be happier if they just get sterilized and then run around having lots of sex purely for fun.
These "evolutionary" population control techniques are already in effect. However, the elite likely are not willing to wait several generations to get rid of those they do not need. This brings us to the more direct method commonly called "The Great Culling" which will allow the elite to kill off most of the world's population quickly.
The most likely method will be the release of new designer viruses for which no one will have any natural immunity. Of course, the elite will all get the classified antidote. Preparations for the disposal of the bodies is already complete and stockpiles of plastic coffins — each designed to hold three bodies and manufactured under government contract by Halliburton — have been photographed and documented. Everything is now in place awaiting the "go" command.
Designer Children
Some types of designer children have already been approved for "production". Britain has approved three parent babies [10] and China has proposed a process to artificially fertilize most of a woman's eggs and then examine them to determine which is likely to produce a child with the highest IQ. This will be the only selected egg because Chinese women are only allowed to have one child and must then be sterilized.
In the new world where the only purpose of people will be to do slave labor to serve the elite corporate masters, the concept of allowing the existence of children conceived naturally clearly cannot be allowed. There would be an unexceptable chance for some kind of error that could result, for example, in the creation of a being capable of independent thought who might challenge the establishment.
A man's true worth is measured by the amount of other people's happiness that he can possess and destroy
This is a quote from the docudrama The American Ruling Class [5]. It is worthy of discussion because it is so prophetic.
The Satanic oligarchs who run this world basically exist and thrive on the misery of others. It is not enough just to use and abuse you — they want to consume your Soul. Your misery and suffering is, essentially, their "food". It is the source of their energy.
Ordinary innocent Souls are sustained by the life energy which flows from the Creator. However, since the oligarchs hate God, this energy flow is not available to them. So, they essentially survive by consuming the life energy of the innocent Souls they have captured and enslaved.
Ordinary people do not naturally choose to spend their lives in a state of constant war. They have to be somehow coerced into this behavior. Otherwise, they would likely seek a quiet, peaceful life. The atrocities the US and other warmonger nations force their citizens to commit are so contrary to basic human nature that the US loses more soldiers to suicide than it does to the enemy. The once innocent soldiers find that they simply cannot continue to live with what they have become and the memories of the horrors they have caused to others. The Satanic rulers who create wars, of course, have no problem with this.
Promotions within the inner circles of power are based upon how much evil one has done. The more harm you cause to others the greater your respect. You may have noticed that the stock market, which is a measure of the success of the elite, shows gains during periods when the average person is suffering and losses during periods when, somehow, life for the ordinary person seems to improve. The stock market set a new all time high, for example, during the Vietnam War when innocent young kids were being drafted and slaughtered in Vietnam while peaceful protesters at Penn State were executed by government forces for daring to dissent.
Why You Should Care
On the low Astral planes you will find people — Souls — who are totally lost and confused and seem to move in slow motion. They do not realize they have died. These "people" are not there because they tore up the Bible or burned the Koran or some other offensive act. They are there simply because it is the best they can do. They are using all of the Spiritual energy they have just to maintain this miserable existence. Whatever activities they engaged in while alive had no Spiritual merit and had no effect on developing or increasing their Spiritual energy level. Since the opportunity to do this ended when they died, they will remain strung out in this condition until they reincarnate again at which point they will have another chance to choose activities which enhance Spiritual energies.
You should care because the things you do and the things you fail to do during your brief life here will affect your existence for millions of years in the future.
The other dimensions operate under exact scientific rules just like this dimension. However, the rules are not the same. Because alternate sources of information are available today — mainly because of the internet — it is in your interest to at least investigate the available literature on Spirituality, energy raising techniques and various first-hand reports from people who have successfully visited the neighboring dimensions.
Source:  Walter C. Vetsch   |   3108.info  |  War Is Crime
A man with excruciating pains following multiple traumas was monitored, daily, over one year while managing chronic pain by self-administering quantifiable amounts of natural cannabis. Tetrahydro-cannabinol, Cannabidiol, and Cannabinol were all measured in tinctures, capsules, smoke-able product plus some baked goods, prior to their administration. By allowing standardization, the man was able to develop a daily regimen of pain management that was resistant to a battery of most patented analgesics.
More than 100 million people in the United States suffer from debilitating chronic pain. Pain resulting from a severe on-the-job injury is a frustrating experience both for the patient as well as the treating health practitioners and physicians. If pursuing conventional medical care, it leads to chronic dependence on opiate painkillers and anti-depressants which eventually cause toxicity of the brain and metabolic function. However the relief of pain may be less desired if quality of life of such individuals is poor. The physician and the patients are left with no option but to resort to alternative modes of therapy.
Cannabis has been documented to be one of such measures, especially in advanced cases of cancer. It holds an enormous potential as medicines derived from cannabis plant exhibit a phenomenon termed strain specific symptom relief. It has been documented to be of proven value in arthritis and multiple sclerosis; however few controlled clinical trials for its use in chronic intolerable pain have been reported.
Some studies have examined the effect of adding a cannabinoid to the regimen of patients with chronic pain who report significant pain despite taking stable doses of potent opioids.
An investigational cannabinoid therapy helped provide effective analgesia when used as an adjuvant medication for cancer patients with pain that responded poorly to opioids, according to results of a multicenter trial reported in The Journal of Pain, published by the American Pain Society.
When patients begin to consume cannabis, there is a notable decline in the amount of prescribed medications taken, such as antipsychotics, mood stabilizers, and pain relievers. These drugs have severe side effects. There is not one clinical study which examined the use of cannabis for pain relief where subjects were not able to reduce their drug intake.
A U.S. Patent 6630507 was initiated in 2003 when researchers found that cannabinoids, high ratios which are found in marijuana, had specific antioxidant properties making them useful in the treatment and prophylaxis of wide variety of oxidation associated diseases, such as ischemic, age-related, inflammatory and autoimmune diseases. The cannabinoids are found to have particular application as neuroprotectants, for example in limiting neurological damage following ischemic insults, such as stroke and trauma, or in the treatment of neurodegenerative diseases, such as Alzheimer's disease, Parkinson's disease and HIV dementia. Nonpsychoactive cannabinoids, such as cannabidoil, are particularly advantageous to use because they avoid toxicity that is encountered with psychoactive cannabinoids at high doses useful in the method of the present invention.
Study Details
The person involved in this study was a member of the Green Cross Society of British Columbia, which has Federal tax number to distribute cannabis for medical purposes. The Society provides natural product (cannabis, herbal medicine) to its qualified members.
The volunteer, a 33 year old Caucasian male, volunteer was selected from the membership based on his record keeping ability, the severity of his injury, plus his daily presence at the Society, allowing continuous monitoring. The man kept detailed notes of his condition, including pain charts, medications and dietary habits, allowing comparison by study observers. The individuals note taking allowed an in depth review of his condition. The case described here is strikingly similar to four others of its type, run over the same year, with comparable observations and outcome.
The cannabis supplied by the Societys contracted growers was optimized for THC concentration through genetic selection of specific strains, growing conditions and fertilizers. Organic growing conditions were a priority.
For 15 months the man was monitored for all forms of cannabis use. They accumulated data on the amount of smoke-able, encapsulated, edible and tincture preparations consumed by the man on a daily basis. His prescription record, physicians notes, urine (drug) tests, plus daily interviews were maintained and examined. Daily cannabis use totaling 10 g of natural product cannabis, translating to an average of 420-500 mg of THC, 40-80 mg of CBD and 20-60 mg CBN, was required to achieve a sufficient degree of pain management.
Significant reductions in daily pain scores as well as improved sleep, muscle spasm and general quality of life were achieved. The patient was able to get back to the daily activities, do some part time volunteer work, go to the gym, and lead what resembles a normal life.
He consumed 10-15 g of cannabis per day. He also found benefit in a number of supplements: for chronic pain and depression, including,GABA (500 mg), L- Tyrosine (500 mg), L-Tryptophan (550 mg), DL- Phenylalanine (500 mg) and S-adenosyl methionine (liquid) 40 drops a day. For the breakthrough pain he used cannabis tincture at 10 mg THC/drop; 2 mg CBD/drop: 15-25 drops (as needed), which relieved intense pain, in a couple of seconds. He also used Volcano (vaporizer), 2-4 g a day. A medical examination showed all liver functions to be normal, including clearance of the hypercholesterolemia.

There Is No Longer Doubt That Cannabis Addressed Pain Relief
The analgesic properties of cannabis are becoming well established in the literature. The purpose of this case study was to observe the efficacy and usefulness of the standardized whole plant cannabis medicine. Indeed, the complexities of elucidating the efficacy of such preparations is a difficult task, yet the benefits of the natural product far outweigh the contrary in consideration of toxicity, efficacy and side-effects. With regard to the latter, more frequently unwanted side effects from cannabis result from overdose than any other parameter. And, most frequently, this overdose results from oral ingestion of un-standardized baked goods (i.e. brownies).
Overdose results in confusion, paranoia and fear that subsides after four to six hours, often into sleep. In no case, has it been observed to cause permanent physical or mental damage, but can often leave the individual with extreme caution to repeating the event. The second most frequently observed un-wanted side effects arise from incorrect strain selection for the symptom.
For example, a person seeking pain relief and also suffering from anxiety, chooses a strain containing high concentrations of CBN, with little comparative CBD and low THC, may experience increased anxiety, with little or no pain relief. Another important observation is that there is a genealogical factor in tolerance experienced by individuals of different ethnic backgrounds. Persons of Celtic descent (Scottish, Irish or Welsh) appear to be 3 to 5 times more tolerant to cannabis than persons of middle European or African descent. The person described in this study had a Scottish mother, which may explain the high THC levels required by him, but not by persons in similar studies but of different ethnic background.
Proven Results With Cannabis
With 70% of the members treating chronic pain the same phenomenon is observed over and over that people achieve a significant degree of pain management using standardized natural product cannabis. Often a better quality of life is attained with cannabis use only. The subject in this study was nearly one year using only natural product cannabis plus supplements for his severe pain. He then went through yet another two surgeries to back and hand using only cannabis for postoperative pain.
About the Author
Marco Torres is a research specialist, writer and consumer advocate for healthy lifestyles. He holds degrees in Public Health and Environmental Science and is a professional speaker on topics such as disease prevention, environmental toxins and health policy.
Source: Waking Times
"Repo has a flaw: It is vulnerable to panic, that is, 'depositors' may 'withdraw' their money at any time, forcing the system into massive deleveraging. We saw this over and over again with demand deposits in all of U.S. history prior to deposit insurance. This problem has not been addressed by the Dodd-Frank legislation. So, it could happen again." – Gary B. Gorton, Professor of Management and Finance, Yale School of Management (lifted from Repowatch)
Subprime mortgages did not cause the financial crisis, nor did the housing bubble or Lehman Brothers. The financial crisis originated in a corner of the shadow banking system called the repo market. That's where the bank run occurred that froze the secondary market, sent prices on mortgage-backed assets plunging, and pushed the financial system into a death spiral. In the Great Crash of 2008, repo was ground zero, the epicenter of the global catastrophe. As analyst David Weidner noted in the Wall Street Journal, "The repo market wasn't just a part of the meltdown. It was the meltdown."
Regrettably, the Federal Reserve's nontraditional monetary policies (ZIRP and QE) have succeeded in restoring the repo market to it's precrisis level of activity, but without implementing any of the changes that would have made the system safer. Repo is as vulnerable and crisis-prone today as it was when the French bank PNB Paribas stopped redemptions in its off-balance sheet operations in 2007 kicking off the tumultuous bank run that would eventually implode the entire system and push the economy into the deepest slump since the Great Depression. By failing to rein in repo, the Fed has ensured that financial crises will be a regular feature in the future occurring every 15 or 20 years as was the case before banks were more strictly regulated and government backstops were put in place. Repo returns us to Wild West "anything goes" banking.
Why would the Fed be so reckless and pave the way for another disaster? We'll get to that in a minute, but first, let's give a brief explanation of repo and how the system works.
Repo is short for repurchase agreement. The repo market is where primary dealers sell securities with an agreement for the seller to buy back the securities at a later date. This sounds more complicated than it is. What's really going on is the seller (primary dealers) are getting short-term loans from money market funds, securities firms, banks etc in order to maintain a position in securities in which they're suppose to make markets. So, repo is like a loan that's secured with collateral. (ie–the securities) It is a "funding mechanism".
What touched off the Crash of 2008, was the discovery that the collateral that was being used for repo funding was "toxic", that is, the securities were not Triple A after all, but subprime mortgage-backed gunk that would only fetch pennies on the dollar. So, when PNB Paribas stopped redemptions in its off-balance sheet operations on August 9, 2007, the rout began. Cash-heavy investors (like money markets) turned off the lending spigot, which reduced trillions of dollars of MBS to junk-status, precipitated massive fire sales of distressed assets that were dumped on the market pushing prices further and further down wiping out trillions in equity and reducing the financial system to a smoldering pile of rubble. That's why the Fed stepped in, backstopped the system with explicit guarantees for both regulated and unregulated financial institutions and set about to reflate financial asset prices to their precrisis highs.
Newly appointed Fed chairman Janet Yellen summarized what happened in the panic in a speech she gave earlier this year. She said:
"The trigger for the acute phase of the financial crisis was the rapid unwinding of large amounts of short-term wholesale funding that had been made available to highly leveraged and/or maturity-transforming financial firms."
In other words, the crisis began in repo. Unfortunately, Wall Street has fended off all attempts to fix the system, because repo is a particularly lucrative area of activity. And we are talking serious money here, too. Tri-party repo alone–which is a small subset of the larger repo market–represents "about $1.6 trillion in outstanding repos daily." That means that the prospect of a big dealer dumping his portfolio of securities on the market at a moment's notice igniting another panic, is never far away.
Why do banks borrow in the unregulated, shadow system instead of conducting their business in the light of day where regulators can check the quality of the underlying collateral, oversee the various transactions on public trading platforms, and make sure that capital requirements are maintained?
It's because the banks want to deploy all their capital, leverage up to their eyeballs and play fast-and-loose with the rules. Here's what the New York Fed has to say on the topic:
"One clear motivation for intermediation outside of the traditional banking system is for private actors to evade regulation and taxes. The academic literature documents that motivation explains part of the growth and collapse of shadow banking over the past decade…

Regulation typically forces private actors to do something which they would otherwise not do: pay taxes to the official sector, disclose additional information to investors, or hold more capital against financial exposures. Financial activity which has been re-structured to avoid taxes, disclosure, and/or capital requirements, is referred to as arbitrage activity." ("Shadow Bank Monitoring", Federal Reserve Bank of New York Staff Reports, September, 2013)
In other words, the banks are conducting their operations in the shadows because it's cheaper. That's what this is all about. Here's more from the same report:
"While the fundamental reason for commercial bank runs is the sequential servicing constraint, for shadow banks the effective constraint is the presence of fire sale externalities. In a run, shadow banking entities have to sell assets at a discount, which depresses market pricing. This provides incentives to withdraw funding—before other shadow banking depositors arrive."
Okay, so when there's a run on the local bank, the bank may have to offload some of its illiquid assets (real estate, commercial property, etc) to meet the increased demand of depositors who want their money, but they can also rely on government backing. (deposit insurance). But with shadow banking–like repo– it's a bit different; the problem is fire sales. For example, when repo lenders–like the big money markets–demanded more collateral from the banks in exchange for short-term funding; the banks were forced to dump more of their assets en masse pushing prices lower, eroding their equity and leaving many of the banks deep in the red. This is how the panic wiped out Wall Street and cleared the way for the $700 TARP bailout. It all started in repo.
The point is, had the system been adequately regulated with the appropriate safeguards in place, there would have been no fire sales, no panic, and no crisis. Regulators would have made sure that the underlying collateral was legit, that is, they would have made sure that the subprime borrowers were creditworthy and able to repay their loans. They would have made sure that repo borrowers (the banks) had sufficient capital to meet redemptions if problems arose. And regulators would have limited excessive leveraging of the securitized assets.
Regulation works. It provides safety, stability, and security as opposed to panic, bankruptcy and severe recession which is the scenario that Wall Street's profiteers seem to prefer. Now check this out from the NY Fed:
"While leveraged lending collapsed in 2008 from a peak of $680 billion in 2007, it has rebounded very quickly, and is now at record levels of volume, projected to be larger than $1 trillion in 2013…" (NY Fed)
How's that for progress, eh? So, Bernanke's reflation efforts have effectively restored the same shabby, poorly designed system to its former glory putting all of us at risk again. Here's more:
"One area of concern, however, is the significant increase in the fraction of covenant lite loans, which have increased dramatically from 0 percent in 2010 to 60 percent in 2013. This deterioration in loan underwriting has come hand-in-hand with an increased presence of retail investors in the leveraged loan market, through both CLOs and prime funds, as relatively sophisticated investors, like banks and hedge funds, are exiting the asset class." (New York Fed)
Great. So now we are seeing the same problems that emerged in 2004 and 2005 with subprime mortgages, that is, there's so much liquidity in the system–thanks to the Fed's zero rates and QE– that investors are dabbling in all-types of risky garbage that you wouldn't normally touch with a 10 foot dungpole. Check this out from Testosterone Pit:
"Shadow banking loans are estimated to have reached $15 trillion in the US. And among them is a particularly hot category: lending to highly leveraged companies with junk credit ratings. … the NY Fed found that these loans are increasingly issued in a loosey-goosey manner, with low underwriting standards. And issuance has soared…

Layered into these crappy and risky loans are the crappiest and riskiest of all loans, namely "covenant-lite" loans. Their covenants are so watered down and so full of holes that investors have few if any protections in case of default. If the Fed ever allows reality to set, and these companies stumble under their load of debt or can't refinance it at ridiculously low rates, investors can kiss their money goodbye." …

these desperate small investors…have unknowingly made a quantum leap in risk – allowing the smart money, which hears the hot air hissing from the credit bubble, to bail out. This must be one of the proudest moments in Chairman Bernanke's glorious tenure." ("Fed: Hedge Funds, Banks Sell Crappiest Debt To Small Investors (Before Credit Bubble Blows Up) " Testosterone Pit)
Nice, eh? So the big boys are planning to vamoose before the whole house of cards comes tumbling down. Meanwhile, Mom and Pop are about to get reamed for the umpteenth time when the Fed "tapers" and these covenant lite IEDs blow up in their face taking another sizable chunk out of their retirement savings. Way to go, Bernanke. Here's more from the NY Fed report:
"Shadow credit transformation increased from only 5 percent of total credit transformation in 1945 to a peak amount of 60 percent in 2008 before declining to 55 percent in 2011."
So now the shadow players are generating more than half of all the nation's credit via their dodgy, unregulated operations. Why? So a handful of ravenous banks can make bigger profits.
According to the Financial Stability Board (FSB) "credit intermediation that takes place in an environment where prudential regulatory standards and supervisory oversight are either not applied or are applied to a materially lesser or different degree than is the case for regular banks engaged in similar activities." (FSB, 2011).
Read that over again. What they're saying is that it's a completely ridiculous, insane system. We've given the banks this outrageous privilege of creating private money out of thin air, (credit) and they spit in our face. They won't even follow a few simple rules that would make the process safer for everyone. Keep in mind, that Dodd Frank does nothing to remedy the problems in repo.
One last thing (from the NY Fed):
"Intermediaries create liquidity in the shadow banking system by levering up the collateral value of their assets. However, the liquidity creation comes at the cost of financial fragility as fluctuations in uncertainty cause a flight to quality from shadow liabilities to safe assets. The collapse of shadow banking liquidity has real effects via the pricing of credit and generates prolonged slumps after adverse shocks."
Repeat: "liquidity creation comes at the cost of financial fragility as fluctuations in uncertainty cause a flight to quality from shadow liabilities to safe assets."
Can you believe it? The Fed doesn't even try to deny what's going on. They admit that letting the banks ratchet up their leverage increases "financial fragility " which could precipitate another crash. ("flight to quality from shadow liabilities to safe assets.") In other words, the Fed KNOWS the system is nuts, just like they know that it's only a matter of time before the whole bloody thing blows up again and the economy goes off the cliff. Still, they're not going to lift a finger to change the system.
Why?
You know why.
Because a few fatcats at the top like the way things are now, that's why.
If that doesn't make your blood boil, I don't know what will.
I could barely make out Barack Obama's Syria speech to the nation on my old car radio as I negotiated the narrow curves of Route 79 on the western banks of the Mississippi River in central Missouri last Tuesday night. What I could hear sounded very much like more of Obama's by now standard if stunning arch-mendacity.
"To Take This Debate to Congress"
Looking at the speech transcript and video online[1] recently, my suspicions were richly confirmed. Speaking from the end of the same long red carpet where George W. Bush delivered his demented announcement of the invasion of Iraq, Obama claimed that he has turned to Congress for authorization to use force against Syria because "I'm…the President of the world's oldest constitutional democracy" and "believe[s]…it [is] right, in the absence of a direct or imminent threat to our security, to take this debate to Congress."
That is certainly a lie. He did no such thing in the case of Libya, subjected to a five-week U.S. bombing campaign (though it posed no "direct or imminent threat to [Americans'] security") because he didn't have to, politically. This time it's different, as the liberalMiddle East historian Juan Cole has explained: "Obama did not need Congress in the case of Libya. He had the Arab League, the UN Security Council, and NATO…But [he has] became more and more isolated [on Syria]. The Arab League declined to call for intervention… Egypt, Tunisia, Algeria and other Arab countries forthrightly denounced the idea of foreign military intervention in Syria, a very different stance than many of them took in 2011 with regard to Libya…Then NATO declined to get involved, with Poland, Belgium, and others expressing reluctance…Then the British Parliament followed suit." Failure to garner any meaningful fig leaf of formal international support is why Obama ran to Congress this time.
"I Possess the Authority"
Obama claimed he has gone to Congress "even though I possess the authority to order military strikes." The former "liberal" constitutional law professor with a degree from Harvard Law certainly knows that the U.S. Constitution grants war-making authority in Congress alone. He should know further that it is thoroughly criminal under international law for him to attack any sovereign nation in the absence of any direct or imminent threat to the U.S.
Claims of Humanitarian Concern
Obama's claim to be moved to act by civilian deaths in Syria, citing the horrors of "children writhing in pain, and going still on a cold hospital floor." This claim is contradicted by the grim determination with which he has regularly murdered innocent civilians (including large numbers of women and children) in Afghanistan, Pakistan, Somalia, Yemen, and elsewhere – "collateral damage" in the dirty global war on/of terror he inherited from Cheney-Bush and then expanded. One horrific example – neither the first nor the last among many – occurred in the May of 2009. That's when U.S. air-strikes killed 140 civilians in Bola Boluk, a village in western Afghanistan's Farah Province. Ninety-three of the dead villagers torn apart by U.S. explosives were children. Just 22 were males 18 years or older. Villagers brought tractor trailers full of the pieces of human bodies to the provincial governor's office to prove that the casualties had occurred. "Everyone at the governor's office was crying, watching that shocking scene," one observer reported."[2]
The initial response of the Obama administration and Pentagon to this appalling incident (one of many mass civilian-butchering U.S. aerial killings in Afghanistan, Pakistan and other parts of the Muslim world under Obama) was to absurdly blame the civilian deaths on "Taliban grenades." Obama's Secretary of State Hillary Clinton expressed "regret" about the loss of innocent life, but the administration refused to issue an apology or acknowledge U.S. responsibility for the blasting apart of civilian bodies in Farah Province.[3]
The matter was quickly dropped and forgotten, sent down George Orwell's memory hole, with deep media complicity, as the Pentagon wrote checks to the Afghan government to give families a couple thousand dollars per corpse. The U.S. subsequently conducted a dubious "investigation" that reduced the civilian body count drastically and blamed the Taliban for putting civilians in the way of U.S. bombs.[4]
There have been many crimes like Bola Boluk under Obama. People who command glass houses of a sociopathic, mass-murderous empire should not expect to be taken seriously when throw "humanitarian" stones at other butchers.
If Obama is so dismayed by the spectacle of a government "killing its own people," why is he not calling for missile strikes against the military dictatorship in Egypt, which recently slaughtered hundreds if not thousands of civilians to stop popular protests against the regime? Is it okay to kill your own civilians as long as you are a U.S.-allied regime and/or do the killing with "conventional" weapons?
But why does Obama think we should believe that he can advance humanitarian goals by lobbying cruise missiles at anyone? Two days after Obama's speech, the New York Times published an Opinion-Editorial from Russian president Vladimir Putin. "The potential strike by the United States against Syria, despite strong opposition from many countries and major political and religious leaders, including the pope, will result in more innocent victims and escalation, potentially spreading the conflict far beyond Syria's borders," Putin reasonably observed. "A strike would increase violence and unleash a new wave of terrorism. It could undermine multilateral efforts to resolve the Iranian nuclear problem and the Israeli-Palestinian conflict and further destabilize the Middle East and North Africa. It could throw the entire system of international law and order out of balance."[5]
Selective History and Terrible Weapons
In his discussion of the past horrors of chemical weapons (by European powers during World War I and by the Nazi holocaust) last Tuesday night, Obama deleted the United States' vicious deployment of dioxin during the Vietnam War. That example of chemical warfare caused an explosion of birth defects among other terrible results in Southeast Asia. The president also failed to mention that Washington helped Saddam Hussein use nerve gas against Iranian soldiers and the U.S. Marines used white phosphorous in their massive assaults on the civilian population of Fallujah, Iraq in November of 2004.
Will Obama threaten Tel Aviv with cruise missiles for using white phosphorous against Palestinian civilians in Gaza? Of course not: the Palestinians are officially unworthy victims, like the East Timorese and countless others who have been killed and tortured by governments that are allied with the inherently good United States and therefore officially incapable (like the U.S.) of crimes against humanity.
Obama painted out Syria as a rogue state because it has not signed a treaty against chemical weapons like "189 governments that represent 98 percent of humanity." He did not mention that Syria's neighbors Syria and Egypt (both U.S. allies) have also not signed the treaty.
Obama had nothing to say, of course, about the even greater dreadfulness of nuclear and radioactive ordnance. The U.S. stands alone in having incinerated and poisoned civilians with atomic weapons – quite unnecessarily in August of 1945. And thanks to America's deployment of depleted uranium in Iraq, the toxic legacy of the U.S. attacks on Fallujah was worse was that of the atom-bombing of Hiroshima and Nagasaki. An epidemic of cancer, leukemia, and birth defects quickly followed in Fallujah.[5A]
"We Know the Assad Regime was Responsible"
"We know," Obama said, "the Assad regime was responsible" for the Syrian chemical weapons attack of August 21, 2013. Not so. The proof offered by the president, a former lawyer, was hardly impressive. It contained nothing remotely like a smoking gun. Obama made no attempt to disprove other theories of what might have happened, including some German journalists' finding that the attack was conducted by a rogue Syrian officer acting without Assad's approval. Nor did he address what left commentator Glen Ford rightly calls "credible reports (everybody's reports are more credible than the Americans) that rebels under U.S. allied control were told to prepare to go on the offensive following an American retaliation to chemical attack that would be blamed on Assad's forces."[6]
"No one doubts that poison gas was used in Syria," Putin wrote in his Times editorial: "But there is every reason to believe it was used not by the Syrian Army, but by opposition forces, to provoke intervention by their powerful foreign patrons, who would be siding with [Islamic] fundamentalists." That is a reasonable judgment.
Nobody should doubt the monstrosity of the Assad regime, but Obama's proof of Assad's culpability for the attack in questions amounts pretty much to this: "because I say so."
"These Things Happened:" The Memory Hole
"When dictators commit atrocities, they depend upon the world to look the other way until those horrifying pictures fade from memory," Obama said. "But these things happened. The facts cannot be denied."
An interesting thing to hear from an American president! "From the end of World War Two through the present, the U.S. Empire has caused "the extinction and suffering of countless human beings. The United States," William Blum Pilger noted eight years ago, "attempted to overthrow fifty governments, many of them democracies, and to crush thirty popular movements fighting tyrannical regimes. In the process, twenty-five countries were bombed, causing the loss of several million lives and the despair of millions more."[7]
The leading American imperial crimes include a massive U.S. assault on the peasant nation of Vietnam – an epic attack that killed 3 million Indochinese – and the illegal invasion of oil-rich Mesopotamia, whose terrible human consequences (including at least 2 million Iraqis dying prematurely) remain essentially unmentionable in "mainstream" (dominant) U.S. media. Chemical weapons were deployed in both of these grand imperial transgressions.
Over these decades, the U.S. has been what Noam Chomsky calls " a rogue state, the leading rogue state, radically violating international law, refusing to accept international convention" and even maintaining "self-authorization to commit genocide."[8]
Is it any wonder that, as Putin noted in the Times, "Millions around the world …see America not as a model of democracy but as relying solely on brute force, cobbling coalitions together under the slogan 'you're either with us or against us'" (emphasis added).
"The Anchor of Global Security"
There should be little surprise that knowledgeable observers the world over cringe and/or roll their eyes when U.S. presidents say things like this, from Obama's Tuesday night address:"My fellow Americans, for nearly seven decades, the United States has been the anchor of global security…The burdens of leadership are often heavy, but the world is a better place because we have borne them" (emphasis added).
That is a blatant lie, as Obama surely knows. Tell it to the survivors of the millions who have been snuffed out by rogue state America, consistently identified by the global populace for many years as the leading threat to peace and security in the world. Tell it to the people of Chile. Two days ago they commemorated the 40th anniversary of their 9/11 – the September 11, 1973 coup that overthrew the democratically elected government of socialist president Salvador Allende. The coup was assisted and supported by Washington, determined to install a vicious military dictatorship that executed thousands of leftists and others and became a leading center of international terror. The U.S. would not permit the continued existence of democratic socialist government in "our hemisphere."
What would Dr. Martin Luther King, Jr., say about Obama's claim that the U.S. has been "the anchor of global security" since World War II? In 1967, well within the timeframe of Obama's sweeping historical claim, King identified the U.S. as "the leading purveyor of violence in the world today." The Vietnamese, King said, "must see Americans as strange liberators" as they "languish under our bombs….as we he herd them off the land of their fathers into concentration camps. They know they must move or be destroyed by bombs. They watch as we poison their water, as we kill a million acres of their crops [with chemical weapons]. They must weep as the bulldozers roar through their areas preparing to destroy the precious trees. They wander into the hospitals, with at least twenty casualties from American firepower for one 'Vietcong'-inflicted injury. So far we may have killed a million of them – mostly children…" [9]
Looking at the historical literature on the Cuban Missile Crisis and subsequent moment of supreme nuclear danger, a living King (who would be 84 today had he not been assassinated or perhaps executed inside "the anchor of global security" exactly one year to the day after publicly declaring his opposition to the Vietnam War at the Riverside Church in New York City) today might also like to mention (among other things) the remarkable degree to which the Ahabs of Washington have been willing to risk global thermonuclear war (very barely averted in October 1962) in their quest for unchallenged global supremacy.[10]
"It Never Happened"
But in the U.S, and indeed across much of the West, the record of ongoing, mass-murderous American criminality is airbrushed out of the official history and mass culture. It is tossed down Orwell's memory hole, consistent with Big Brother's dictum in Nineteen Eighty Four: "Who controls the past controls the future. Who controls the present controls the past." As Harold Pinter noted in his biting acceptance of the 2005 Nobel Prize in Literature, the reigning Western cultural authorities behave as if U.S. crimes simply did not occur. When it comes to America's transgression against civilized norms and international law, "nothing ever happened. Even while it was happening," Pinter added, "it never happened. It didn't matter. It was of no interest."[11] Dominant U.S.-led Western cultural codes mandate that the only victims meriting acknowledgement and compassion are those assaulted by officially designated enemies. The larger number victimized by the U.S. and its clients and allies (e.g., the Palestinians suffering under Israeli occupation and apartheid) do not qualify for sympathy or even existence. They don't exist. The crimes against them didn't take place.
Detour and Lost Cool
Eleven minutes into his war speech, Obama had to strangely shift gears and acknowledge the need to delay his hoped-for war vote in light of Russia and Syria's last-minute proposal to demolish Syria's chemical weapons under international supervision and control. He tried to save militaristic face by attributing the Russian and Syrian move to his threatened use of force. He seemed to expect his listeners to preposterously believe that a peaceful, diplomatic, and international solution is his idea.  Obama wants us to think that the United Nations route was his preferred path all along.
That's nonsense. Obama is an aggressive commander of a rogue military state that prefers force and unilateral action in the names of unimpeded hegemony and "American exceptionalism." He and many of his fellow fake-humanitarian cruise missile liberal imperialists have been itching for a bigger war in the Middle East, one that will let him attack the great regional enemy Iran and wrap the remainder of his lame-duck presidency in the splendor of war-fed patriotism.
Like the British Parliament's vote against attacking Syria, Putin and Assad's peace gambit is a great humiliation for Obama. It knocked more stuffing out of his failing fake-humanitarian effort to rally a reluctant, war-weary citizenry plagued by massive domestic problems (including remarkably durable "homeland" poverty and unemployment alongside stunning, New Gilded Age levels of inequality that have only increased under Obama's supposedly progressive presidency) behind another expensive imperial campaign.
Expect the defeated president to do his best to get the nation back on a unilateral war footing. For now, he has been defeated not simply by other politicians but also by public opinion – by the citizenry in whose name he claims to speak. Imagine that. Along the way, Barack "The Empire's New Clothes" Obama may well have lost his public cool, the swagger in his step, once and for all. Syria may prove his undoing –the moment when the outwardly nice and smooth-talking "leader" is most clearly revealed for what he really is: a cold-blooded sociopath and pathological liar. That's long overdue, but its better late than never.
Paul Street (paulstreet99@yahoo.com) is the author of many books, including The Empire's New Clothes: Barack Obama in the Real World of Power (2010), Barack Obama and the Future of American Politics (2008), Crashing the Tea Party (2011), and They Rule: The 1% v. Democracy (Paradigm Publishers, forthcoming in January 2014). 
Selected Notes
1. http://www.whitehouse.gov/the-press-office/2013/09/10/remarks-president-address-nation-syria;http://www.whitehouse.gov/photos-and-video/video/2013/09/10/president-obama-addresses-nation-syria
2. Carlotta Gall and Taimoor Shah, "Civilian Deaths Imperil Support for Afghan War," New York Times, May 6, 2009.
3. Gall and Shah, "Civilian Deaths;"
4. Paul Street, "Niebuhr Lives, Civilians Die in the Age of Obama," ZNet (June 15, 2009), read athttp://www.zmag.org/znet/viewArticle/21701. By contrast around the same time in 2009, there was a brief media frenzy over a very different occurrence, enough to elicit a full apology and to fire a White House official. The problem was that the White House had scared New Yorkers with an ill-advised Air Force One photo-soot flyover of Manhattan that reminded people below of 9/11. SeeChristina Boyle, "President Obama Calls Air Force One Flyover 'Mistake' After Low-Flying Plane Terrifies New York," New York Daily News, April 28, 2009; Michel Muskai, "Presidential Plane's Photo-Op Over New York Coast as Much as $357,000," Los Angeles Times, May 9, 2009; Peter Nicholas, "Louis Caldera Resigns Over Air Force One Flyover Fiasco," Los Angeles Time, May 9, 2009.
5. Vladimir Putin, A Plea for Caution From Russia," New York Times, September 12, 2013.
5A. Patrick Cockburn, "Toxic Legacy of U.S. Assault on Fallujah 'Worse Than Hiroshima," The Independent, July 24, 2010,http://www.independent.co.uk/news/world/middle-east/toxic-legacy-of-us-assault-on-fallujah-worse-than-hiroshima-2034065.html; "Fallujah More Radioactive Than Hiroshima," RT, uploaded on July 29, 2010, http://www.youtube.com/watch?v=gWIy9-cfMIo. A useful history of U.S. use and encouragement of chemical and biological weapons at home and abroad can be found in William Blum,Rogue State: A Guide to the World's Only Superpower (Monroe. ME: Common Courage, 2005), 136-160.
6. Glen Ford, "Obama's Humiliating Defeat," Black Agenda Report (September 11, 2013),http://www.blackagendareport.com/content/obama%E2%80%99s-humiliating-defeat
7. Blum, Rogue State, 1-2. Honduras and Libya must (at the very least) be added to the list of countries where the U.S. has acted to overthrow governments since Blum wrote. Libya and Somalia must (at the least) added to the list of countries bombed by the U.S.
8 Noam Chomsky, "Instead of Illegal Threat to Syria, U.S. Should Back Chemical Weapons Ban in All Nations," Democracy Now! (September 11, 2013), http://www.democracynow.org/2013/9/11/chomsky_instead_of_illegal_threat_to
9. Rev. Martin Luther King, Jr., "Beyond Vietnam – a Time to Break the Silence" (Riverside Church, New York City, April 4, 1967), audio recording at http://www.youtube.com/watch?v=k29PAUSyrlA
10. Noam Chomsky, Address to Left Forum, New York City, 2013, http://www.youtube.com/watch?v=-yvHMtgac0Q
11.Quoted in John Pilger, Freedom Next Time: Resisting the Empire (New York: Nation Books, 2007), 4.
Via Z Net
Japan's apocalypse continues. Emergency conditions persist. No end in sight looms. Fukushima's radioactive discharges can't be stopped. They continue. They're uncontainable.
At issue is by far the worst environmental disaster in history. It's multiples worse than Chernobyl. It's an unprecedented catastrophe. It's reason enough to abolish nuclear power.
According to Japan's Ministry of Economy, Trade and Industry, about 300 tons of radioactive groundwater flow into the Pacific daily.
It's done so since Japan's March earthquake and tsunami triggered Fukushima's meltdown.
Tokyo Electric (TEPCO) says water's getting over and around "chemical walls." It can't be stopped. Three Fukushima reactors suffered meltdowns. A fourth was badly damaged.
The worst fear remains. Unit Four's structural integrity was seriously undermined. It contains hundreds of tons of highly radioactive water.
If an earthquake or other natural disaster occurs, its fuel rods almost certainly will catch fire. Radioactive emissions will follow. They'll compound what's already disastrous.
Emissions will continue longterm. They'll circle the planet. They cause catastrophic harm.
Since March 2011, Tepco estimates around 20 to 40 trillion radioactive tritium becquerels leaked into the Pacific. So have large cesium and strontium discharges. They continue. They're much more dangerous.
According to nuclear expert Arnie Gunderson, "(t)he horse is already out of the barn." Leakage continues since earthquake and tsunami struck.
Radioactive water contaminates the Pacific. Gunderson's "experience with underground water is that – if it is serious at the ocean, it is more serious" on land.
Japanese officials proposed erecting a barrier. At issue is preventing water from reaching the Pacific. Whatever's done "is two years too late and will be too late by the time" construction's finished, said Gunderson.
A barrier's not the solution. It causes another problem. "If the water can't go anywhere into the Pacific Ocean, it is going to build up onsite, which means that the nuclear reactors themselves will become unstable."
"The water can pull underneath the nuclear buildings and if there is an earthquake, in fact the nuclear buildings could topple. So, by solving one problem, they are creating another problem."
Gunderson believes contaminated water will keep discharging for at least 20 to 30 years. It's the most radioactive water he ever experienced.
Cost is another issue. Cleanup involves around half a trillion dollars, says Gunderson. Most important is human health.
Epidemic cancer levels are certain. And not just in Japan. In early July, Fukushima's former chief operator, Masao Yoshida, died of esophogeal cancer.
He was 58. Tepco lied saying his death was unrelated to radiation exposure. Japanese children are experiencing a shocking 40% rise in thyroid irregularities.
Experts expect much higher numbers ahead. Fukushima's an ongoing disaster. It persists. It's not ending. It'll continue for decades.
According to Institute for Energy and Environmental Research (IEER) president Arjun Makhijani:
"Fukushima continues to be an emergency without end – vast amounts of radioactivity, including strontium-90 in the groundwater, evidence of leaks into the sea, the prospect of contaminated seafood."
"Strontium-90, being a calcium analog, bioaccumulates in the food chain. It is likely to be a seaside nightmare for decades."
It's much more dangerous than cesium 137 and 134. It's at levels 30 times higher.
"So to give you an idea of the level of contamination, if somebody drank that water for a year, they would almost certainly get cancer."
"So that's one problem. The other is the defenses to hold back this water from the sea seem to be overcome."
"So now the contaminated waters, 70,000, 80,000 gallons, are flowing into the sea every day."
"(S)ome of it will disperse and dilute. Some of it goes into the sediment, and some of it is taken up by the life in the sea."
"And the unfortunate thing about strontium especially is that it bioaccumulates in algae. It bioaccumulates in fish."
"It targets the bone, because it's like calcium. And so this is a problem. We don't have measurements far out to sea."
"The Woods Hole Institute has done some surveys. And they were surprised by how much continuing radioactivity they found, but no clear explanation yet."
The effect on human health's expected to be devastating. It's already bad. It's getting progressively worse. The genie's out of the bottle. No end in sight looms.
Strontium-90 and cesium are both perilous. "(S)ince strontium-90 is more mobile and also more dangerous biologically, (it) behaves like calcium, so it goes to the bone."
"It also bioaccumulates in the base of the food chain and algae. Ultimately because it does bioaccumulate and there is quite a lot of strontium, you could have a large part of the food chain near Fukushima being contaminated."
If pregnant women ingest contaminated water, fish or other food, "the outcomes could be worse than cancer because then you're talking about a much more compromised child in the sense of having a compromised immune system – it makes you more vulnerable to all kinds of diseases."
Makhijani doesn't know how Tepco can handle the problem. It's uncontrollable.
"It's very, very unclear to me how they are going to be able to get at this molten fuel, extract it from the bottoms of these highly damaged buildings and package it for safer or less dangerous storage or disposal."
"This is an accident that's shockingly not stopping." It's certain to worsen. It's unchartered territory.
It affects the region. It's humanity's worst environmental nightmare. Nuclear rain affects North America and Europe. Obama's an unabashed nuclear power promoter.
He wants more reactors built. He wants licenses for aging poorly maintained plants with poor safety records extended. He wants them operating unregulated.
He's recklessly endangering Americans. He talks clean energy alternatives. Policy measures spurn them. He fronts for corporate favorites.
He's captive to a destructive industry. He risks a Fukushima-type disaster on US soil. He risks millions of American lives. He's mindless of potential dangers.
Nuclear power's inherently unsafe. Einstein called it a hellova way to boil water. It does so through massive heat. It turns it into steam. It powers an electricity generating turbine.
According to anti-nuclear activist Karl Grossman:
Avoiding potentially catastrophic accidents "requires perfection and no acts of God." Humans and technology aren't perfect. Natural and other disasters happen.
"We can't eliminate them. But we can – and must – eliminate atomic energy." Otherwise it'll eliminate us.
Nuclear expert Helen Caldicott's clear and unequivocal, saying:
"As a physician, I contend that nuclear technology threatens life on our planet with extinction."
"If present trends continue, the air we breathe, the food we eat, and the water we drink will soon be contaminated with enough radioactive pollutants to pose a potential health hazard far greater than any plague humanity has ever experienced."
It doesn't get any clearer than that.
A Final Comment
Coverup and denial followed Chernobyl's disaster. Helen Caldicott called doing so "the most monstrous coverup in the history of medicine."
The death toll was many multiples greater than reported. Estimates range up to a million or more.
The New York Academy of Sciences (NYAS) translated thousands of Russian articles and papers. It added "revised and updated contributions."
"Written by leading authorities from Eastern Europe, the volume outlines the history of the health and environmental consequences of the Chernobyl disaster," NYAS said.
"According to the authors, official discussions from the (IAEA) and associated (UN) agencies (e.g. the Chernobyl reports) have largely downplayed or ignored many of the findings reported in the Eastern European scientific literature and consequently have erred by not including these assessments."
Fukushima far exceeds Chernobyl. Millions of lives are threatened. Perhaps future independent studies will explain. They'll be too little to late to help victims.
Stephen Lendman lives in Chicago. He can be reached at lendmanstephen@sbcglobal.net.
His new book is titled "Banker Occupation: Waging Financial War on Humanity."
http://www.claritypress.com/LendmanII.html
Visit his blog site at sjlendman.blogspot.com.
Brothers are supposed to be allies; they are supposed to be friends. This is true for spiritual brothers as well as physical brothers. Unfortunately, it doesn't always work out that way. Sometimes, brothers become enemies.
Think about it: in our War for Independence, brother fought against brother. How many Christians sided with the British Crown and raised voice and bayonet against their brothers in Christ who stood for American liberty and independence? More than we can possibly count. How many Christians were among the British troops that participated in the Boston Massacre? How many Christians were among the British troops that participated in the raid on Lexington and Concord? How many Christians were among the British troops that participated in the assault against the colonists (many of whom were Christians) on Bunker Hill?
The same thing happened in the War for Southern Independence. How many Christian men in the North took up arms against their spiritual brethren in the South for basically the same reason that Christian Tories took up arms against colonial patriots years before: to forbid them from declaring independence. Too many to count. How many Christians were among the troops that invaded Virginia and assaulted the citizens of that State (a sizeable percentage of whom were believers) in the First Battle of Manassas? Again, too many to count.
As an aside, I find it more than interesting that great spiritual revivals broke out among the Confederate Army throughout the War for Southern Independence in much the same way that they had erupted among the Colonial Army during our Revolutionary War. One could make the argument (and I do) that it is the thirst and fight for liberty and independence that almost always coincides with great spiritual awakenings. Therefore, I am absolutely convinced that there will be no more spiritual awakenings in this country without a subsequent thirst and fight for liberty and independence, because "where the Spirit of the Lord is, there is liberty." (II Cor. 3:17) Turn that verse around and it says, "Where liberty is, there is the Spirit of the Lord." The antithesis of the verse would read, "Where there is no liberty, there is no Spirit of the Lord."
Think about what happened in Germany during the rise of the Third Reich. The vast majority of Christian pastors and churchmen turned against their freedom-loving brethren in the Confessing Church and helped Hitler's henchmen and stormtroopers to persecute, imprison, and even murder fellow followers of Christ. The historical record indicates that 95% of the pastors and churches of Germany supported Hitler and openly opposed Christian freedomists such as Martin Niemoller and Dietrich Bonhoeffer. Niemoller and hundreds of others wound up fleeing Germany, while Bonhoeffer and hundreds of others were executed by the Reich.
How is it that so many professing Christians can be so blind to the divine principles of liberty? How is it that they can be so quick to turn against their brethren who choose to stand and fight for those divine principles of liberty? I believe the answer is because, 1) they are truly ignorant of the divine principles of liberty, and/or, 2) they are statists at heart.
1) They are ignorant of the divine principles of liberty
Without courageous preachers and teachers expounding, explaining, exegeting, extrapolating, and elucidating the Biblical Natural Law principles of liberty, Christians (as with anyone else) become quickly dulled and unschooled in liberty principles. The great examples of Abram, Gideon, Samson, David, Daniel, the three Hebrew children, John the Baptist, Simon Peter, etc., are spiritualized away without the principles behind those acts of faith and resistance being the least bit taught, and without any practical application to the modern day. This kind of preaching leaves men totally ignorant and unprepared to understand and deal with modern acts of tyranny when they occur. And this is exactly what is happening in the pulpits and churches of modern America. But it gets even worse than that.
Not only are Christian ministers deliberately not teaching the divine principles of liberty, they are aggressively misinforming their congregations with erroneous teachings of Scripture relative to freedom principles. And nowhere is this more evident than in the way the vast majority of ministers are teaching Romans 13. This brings me to the second point.
2) They are statists at heart
Let's face it: the fallacious "obey-the-government-no-matter-what" interpretation of Romans 13 is one of the biggest allies any would-be tyrant has. This was perhaps Adolf Hitler's favorite passage of Scripture. He instructed his propaganda ministry to prepare sermons and Bible lessons for Germany's churches emphasizing this misinterpretation of Romans 13. Accordingly, the vast majority of Germany's Christians compliantly submitted to Hitler's authority, specifically because they had been taught in church that Romans 13 instructed them to do so. They literally believed that by obeying Hitler, they were obeying God. They truly believed that Hitler (the state) stood in the place of God per Romans 13. All over America today, pastors and churches share this identical belief.
Readers should know that I recently co-authored a book (with my son) to show the true teaching of Romans 13–and all Scripture–regarding submission to government. It is called, "Romans 13: The True Meaning of Submission." For more information, or to order, go here:
Romans 13: The True Meaning of  Submission
In reality, the vast majority of America's pastors, TV preachers, radio preachers, ministers, evangelists, etc., are promoting the Hitlerian philosophy that the state stands in the place of God and must be obeyed without question or hesitation. They believe that anyone (Christian or otherwise) who dares to resist the state is doing a disservice to God and should be punished. And with the clever enticement of the 501c3 non-profit corporation status that most churches submit to today, they have become, either wittingly or unwittingly, the sheepish slaves of the state.
Look at how many Christians believe that whistleblower Eric Snowden is a traitor and enemy of America. Instead of realizing that what our own federal government is doing by creating this Orwellian surveillance society is blatantly and overtly unconstitutional, illegal, and immoral–and that every church in America should be sounding the clarion call repudiating this unlawful activity–instead, America's churches are blaring the call of compliance and non-resistance to unlawful government, even to the point of calling for the death of the man who simply tried to warn the American citizenry to the evil machinations of their own federal government. I am convinced that many of these Christian statists would applaud the imprisonment and execution of the likes of the great Christian theologian and freedomist Dietrich Bonhoeffer all over again.
Ladies and gentlemen, the chasm between freedomists and statists is widening. It is pitting brother against brother; husband against wife; father against son; mother against daughter; friend against friend; and Christian against Christian. In much the same way that the great struggles for liberty have divided brethren in the past, so, too, it is happening today. And the chasm is only going to widen further in the months and years to come.
And mark this down: as the chasm widens, there will be no room for neutrality. Everyone, and I mean everyone, will have to pick a side. We either believe and understand the divine principles of liberty and are ready and willing to fight and defend those principles, or we support the tyrant's position that the state stands in the place of God and must be obeyed at all costs.
This is why it is so important for Christians to leave these churches that promote the damnable doctrine of unlimited submission to the state; and I mean right now. Pastors who continue to preach this fallacious doctrine of unlimited submission to the state are facilitating the destruction of liberty in America. They are helping to put shackles around the necks of our children and grandchildren.
I realize that there are many sincere Christians out there who believe that all their pastor and church must do is preach the Gospel, win souls, etc., and America will be healed. They are sincerely mistaken.
Over the last 60 years in America, we have seen an explosion of Christian witness–an explosion unparalleled in church history. There are over 300,000 churches in this country. For the most part, Baptists faithfully preach Baptist doctrine; Methodists faithfully preach Methodist doctrine; Lutherans faithfully preach Lutheran doctrine; Presbyterians faithfully preach Presbyterian doctrine, etc. Yes, I realize there are schisms and disagreements internally among Christian denominations. And, yes, I realize that some Christians reading this will retort that if everybody else's church was as "true" as is their church, America's problems would be solved. Again, they are wrong.
Over these past 60 years, we have seen more Gospel preaching, more Gospel literature, more Christian colleges, universities and seminaries, more Christian TV and radio ministries, more youth retreats, couples retreats, marriage retreats, Sunday Schools, missions organizations, evangelism programs, ad infinitum, than at any time in church history. And, while many of these institutions and organizations will differ on the nuances of secondary doctrine, for the most part, they have shown fidelity to the Great Commission. With all of this Christian witness, one would think that we would be in the Millennium by now (and, yes, I realize that some Christians think we are). So, why is America teetering on the brink of despotism?
During this same period of time, America has plummeted morally, socially, culturally, politically, and, yes, spiritually. Why? The "salt" has lost its savour and is being cast out, and trodden under foot of men. (Matt. 5:13) Christian pastors and churches are no longer fighting against the decay and decomposition of our country–including against that political and spiritual bacteria that are eating away at the fundamental principles of liberty upon which America was built. As a result, our nation's freedoms are being systematically and rapidly expunged.
For all intents and purposes, freedom and liberty are entering a modern-day Dark Ages. And just as in the ancient days of Middle Eastern and European persecutions and inquisitions, those Christians who stand for liberty today are being ostracized, marginalized, and demonized–by their own brethren. More and more, the same man who is my brother is also my enemy.
In government, failure is success. That's what I call DiLorenzo's First Law of Government. When the welfare state bureaucracy fails to reduce poverty, it is rewarded with more tax dollars and more responsibilities. When the government schools fail to educate children, they are rewarded with more tax dollars and more power to meddle in education. When NASA blows up a space shuttle, it is rewarded with a large budget increase (unlike a private airline which would probably go bankrupt). And when the Fed caused the worst depression since the Great Depression in 2007, it was rewarded with a vast expansion of its powers.
DiLorenzo's Second Law of Government is that politicians will rarely, if ever, assume responsibility for any of the problems that they cause with bad policies. No one group in society is more irresponsible than politicians. There are a few exceptions, but in general they will always blame capitalism for our economic problems even when capitalism is not even the economic system that we live under (economic fascism or crony capitalism would be more accurate). Nothing is more irresponsible than knowingly destroying what's left of our engine of economic growth with more and more governmental central planning, even if it is given the laughable name of "public interest regulation."
DiLorenzo's Third Law of Government is that, with few exceptions, politicians are habitual liars. The so-called "watchdog media" is more appropriately labeled the "lapdog media," for pointing out the lies of politicians is the best way to end one's career as a journalist. Do this, and your sources of information will cut you off.
One of the biggest governmental lies is that financial markets are unregulated and in dire need of more central planning by government. Laissez-faire is said to have caused the "Great Recession." Fed bureaucrats have lobbied for some kind of Super Regulatory Authority to supposedly remedy this problem. This is all a lie because according to one of the Fed's own publications ("The Federal Reserve System: Purposes and Functions"), the Fed already has "supervisory and regulatory authority" over the following partial list of activities: bank holding companies, state-chartered banks, foreign branches of member banks, edge and agreement corporations, U.S. state-licensed bank branches, agencies and representative offices of foreign banks, nonbanking activities of foreign banks, national banks, savings banks, nonbank subsidiaries of bank holding companies, thrift holding companies, financial reporting procedures of banks, accounting policies of banks, business "continuity" in case of economic emergencies, consumer protection laws, securities dealings of banks, information technology used by banks, foreign investment by banks, foreign lending by banks, branch banking, bank mergers and acquisitions, who may own a bank, capital "adequacy standards," extensions of credit for the purchase of securities, equal opportunity lending, mortgage disclosure information, reserve requirements, electronic funds transfers, interbank liabilities, Community Reinvestment Act sub-prime lending "demands," all international banking operations, consumer leasing, privacy of consumer financial information, payments on demand deposits, "fair credit" reporting, transactions between member banks and their affiliates, truth in lending, and truth in savings.
In addition, the Fed also engages in legalized price fixing of interest rates and creates price inflation and boom-and-bust cycles with its "open market operations." In addition, financial markets are just as heavily regulated by the Securities and Exchange Commission, Comptroller of the Currency, Office of Thrift Supervision, and dozens of state government regulatory agencies. All of this is the Washington, D.C. definition of "laissez-faire" in financial markets.
DiLorenzo's Fourth Law of Government is that politicians will only take the advice of their legions of academic advisors if the advice promises to increase the state's power, wealth, and influence even if the politicians know that the advice is bad for the rest of society. The academics happily play along with this corrupt game because it also increases their notoriety and wealth. A glaring example of this phenomenon is the fact that, in the aftermath of the onset of the "Great Recession" there was almost no discussion at all by government officials, the media, or op-ed writers about the vast literature of economics that documents the gross failures of government regulation over the past century to promote "the public interest."
There has always been some kind of government regulation of economic activity in America, but the federal regulatory state got its first big boost with an 1877 Supreme Court case known as Munn v. Illinois. The two Munn brothers owned a grain storage business and the powerful farm lobby in their state wanted to essentially steal their property by having the state legislature impose price ceilings on grain storage. Such laws had previously been ruled unconstitutional as a violation of the Contract Clause of the U.S. Constitution. But the plunder-seeking farmers prevailed, and it was hailed by statists everywhere as a victory for "the public interest." Thus, the very first major example of "public interest regulation" was unequivocally an act of legal plunder that benefited a very narrow special interest at the expense of the public, which would have benefited more from a free market.
Either because of ignorance or corruption (or both), the statist academics of the time sang the "public interest" tune with regards to regulation, creating the myth that markets always "fail" and that the remedy is benevolent and wise government regulation in the public interest. The academics did this despite the fact that there was glaring evidence all around them that regulation was always and everywhere a special-interest phenomenon, as indeed almost all governmental activity is.
As historian Gabriel Kolko wrote in his 1963 book, The Triumph of Conservatism, big business in the early twentieth century sought government regulation because the regulation "was invariably controlled by leaders of the regulated industry, and directed toward ends they deemed acceptable or desirable." Government regulation has generally served to further the very economic interests that are being regulated. Chicago School economists labeled this phenomenon the "capture theory of regulation."
Most academic economists, seduced by the prestige, employment, and money that came from being governmental advisors, ignored all of this reality and instead spent roughly fifty years—from the pre-World War I years to the 1960s—inventing myriad factually emptytheories of "market failure." A popular book at the time was entitled Anatomy of Market Failure, by Francis Bator. This literature was (and is) based on the fraudulent technique of comparing real-world markets to an unobtainable, theoretical, Utopian ideal ("perfect competition") and then condemning the real world for being "imperfect," all the whileassuming that the politics of government regulation would perfectly "correct" these imperfections. Economist Harold Demsetz labeled this charade "the Nirvana Fallacy." Comparing real-world markets to "Nirvana" will always cause one to conclude that markets are "imperfect" by comparison. The market failure theorists never once compared government to Nirvana to subject interventionism to the same criteria. The Austrian School of economics is the only school of thought within the economics profession that never participated in this farce.
To its credit, the Chicago School of economics joined with the Austrians in exposing many of the market failure/regulation—is-always-good fallacies. Hundreds of journal articles and books were published that rediscovered the old truth that "as a rule, regulation is acquired by the industry and is designed and operated primarily for its benefit," as Nobel laureate George Stigler wrote in 1971.
This kind of research was expanded over the years to show that large corporations often support and lobby for onerous government "safety" and environmental regulations because they understand that the regulations will be so costly to enforce that they will likely bankrupt their smaller competitors while deterring others from entering the market in the first place. Businesses long ago discovered that the only way to have a long-lasting cartel is to have the cartel agreement enforced by the government. Privately-enforced cartels always break down because of cheating by the cartel members. The railroad and trucking industries were cartelized by the federal Interstate Commerce Commission (ICC) for many decades, for example. The ICC set monopolistic prices in these industries and prohibited genuine competition. The Civil Aeronautics Board (CAB) cartelized the airline industry by prohibiting price competition until it was deregulated in the late 1970s. There was vigorous competition in the electric power industry in the U.S. until it was ended by government regulation in the early twentieth century by the creation of monopoly franchises by state and local governments. AT&T enjoyed a government-sanctioned monopoly for many decades as well.
During the period of history when government-sanctioned monopoly was increasingly the norm, the Fed was created to facilitate the creation of a banking industry cartel. As Murray Rothbard wrote in A History of Money and Banking in the United States,
the financial elites of this country … were responsible for putting through the Federal Reserve System, as a govemmentally created and sanctioned cartel device to enable the nation's banks to inflate the money supply … without suffering quick retribution from depositors or note holders demanding cash.
In other words, giving the Fed more regulatory authority is not unlike giving an alcoholic another bottle of whisky, a murderer another gun, or a bank robber a ski mask. It is bound to make things worse, not better.
Source:  Thomas J. DiLorenzo  |  Excerpt from the book:  Organized Crime:  The Unvarnished Truth About Government
They are 67 new families, or about 400 Palestinian refugees displaced from Syria, residing in 60 recently erected tents set up as an emergency 'gathering' near the Ein el-Hilweh Palestinian refugee camp adjacent to the city of Sidon in southern Lebanon.  In all, there are approximately 75,000 thousand Palestinians in Lebanon who have fled from Syria over the past 28 months.
Additional Palestinians arrive every week and sometimes meet former neighbors from Yarmouk and other Syrian Palestinian camps at the Masnaa Lebanon-Syria border crossing. The new arrivals are often grimaced to happen upon their countrymen who are returning to take their chances facing death in Syria including dodging the snipers and bombings targeting Yarmouk and elsewhere. The reasons the returnees give for returning to Syria focus on the appalling humanitarian conditions in Lebanon for Palestinians as well as the nearly 780,000 other refugees here from Syria.
Palestinians forced into Lebanon from Syria soon learn, if they were not aware previously, that all Palestinians refugees in Lebanon are barred by law from the most elementary civil rights to work and to own a home.  More than 50 professions open to Palestinians in Syria and in every other country, including occupied Palestine, are forbidden here. Two examples of jobs Palestinians can do  and  are doing in Lebanon when they arrive from Syria include scavenging through the rotting filth at Saida Garbage Mountain and other Lebanese government public garbage dumps to find something worth a few Lebanese Lira (LL) to help their loved ones survive. No, nearly impossible to secure work permit, is even required so they need not fear arrest by the Lebanese authorities who irregularly round up Palestinian violators of this country's  no work for Palestinian refugees ban.
The same, "no work permit required" reality  is true of another profession which critics accuse the "Government" of Lebanon and its competing politicians of approving instead of allowing even one currently banned legitimate job to those whose lives are at risk and who are desperately in need of livelihood.
That profession which is open to every Palestinian today in Lebanon willing to consider it, is 'hired gun'.
While both the major political grouping in Lebanon will deny they do it but will accuse the other, the fact of the matter is that both continue to discreetly recruit Palestinians to fight their personal battles on the cheap. It is unfortunately the case that some Palestinians, sweltering in the squalid, fetid camps in Lebanon, discriminated against in public institutions of higher learning, and barred from internationally mandated elementary civil rights, are seeking jobs as militiamen. This against the admonitions and sage counsel of the older generation of PLO fighters, now mainly retired, that the Syrian civil war is not theirs and that Palestinian involvement will not advance Return to Palestine and reclaiming stolen homes and land, by one minute or by one inch.
The choice for many Palestinian young men in Lebanon has come down to guns or education.  By force of Lebanese law and under threat of prison for violators, Palestinians are denied the elementary civil rights to work in more than 50 professions and are barred by a 2001 racist law from them or their families, more than six decades living as refugees in Lebanon, from even owning a home. Among Palestinian youth, unemployment rates hover around 70%, while refugee students are also discriminated against in admission to Lebanese state institutions of higher education, including the relatively low-tuition fees at Lebanese University. This makes it difficult for young Palestinians in Lebanon to pursue higher education after graduating from UNWRA schools and passing the Baccalaureate II exam. Being barred from most jobs, it is very difficult to come up with even modest sums for tuition payments.
Against this backdrop of flagrant state sponsored discrimination, if one were to offer un-employed young camp resident, say $ 200 per month, an AK-47 with plenty of ammo, and free cigarettes, the odds are good that you just might have yourself a militiaman. Those journalists and observers who spent much of the summer of 2011 in Libya saw a similar phenomenon and now it's also the case in Syria.  In Lebanon, it is resurgent from the 1975-90 civil war days.  The gun for hire resource is being exploited across the political spectrum here among many of the same confessions and political parties that ignited this country's massively destructive civil war more than three decades ago.
Today, some Palestinians are being  paid to fight for certain factions  whether from the North of Lebanon at Tripoli and Akkar, to  Beirut and various contentious areas such as Tariq al-Jdideh, Sabra, Cola, and down south in Saida during recent clashes that saw 16 Lebanese army killed and twice that number from the supporters of Salafist activist Ahmad Asir.  Despite denials from some sources, there were a few Palestinians who fought for Asir and some Palestinians joined other militia including the Hezbollah organized "Resistance Brigades' and the Lebanese army in fighting against Asir's forces.  An investigation in supposedly underway of the army's conduct and the involvement of political parties from both the March 14anti-Assad sects and elements of the March 8th pro-Assad groups regarding recruitment of Palestinian youngsters.
President Mahmoud Abbas repeatedly warned Palestinians in Lebanon during his 72 hour visit to Lebanon last week to reject these offers and not to be drawn into the Syrian conflict despite the 'market place maneuverings' going on here from various armed confessions. What he meant is that as most of the Lebanese sects are frantically arming and seeking gunmen and weapons, that Palestinian s must refuse to be exploited once again and that they must reject any involvement in a military conflict that contravenes their communities wishes and their national interest. He lectured a gathering of PLO factions at a Palestine Embassy event that this terrible error was the case during the 1975-1990 Lebanese civil wars. For that involvement, Palestinians in Lebanon continue to pay a very heavy price from certain factions here that rather see Lebanon's economy continue to decline than allow Palestinians to work and help build the local economy as they have done in countless other countries which granted them the right to work and the opportunity to invest in the economy with their technical competence and business skills.
As one Palestinian academic pointed out last week to this observer, "While President Abbas assured Lebanese politicians that Palestinian factions did not want to join the Syrian civil war, he also chastised Lebanon's government in private for not pressuring various factions, most with representatives in Parliament, to stop recruiting and enticing the hapless, desperate for work refugees, forced into Lebanon against their will.
PA President Abbas also repeated the PLO's willingness to turn the refugee camps weapons over to the government.  He did this with a straight face but surely he knows well that despite the regular scapegoating of Palestinians refugees in Lebanon and the danger they are said by some to pose because some have access to light arms, as everyone in Lebanon does, the truth of the matter is that the Lebanese political groups, even the most open about their hatred of Palestinians in Lebanon, do not want the state to collect or receive as gifts the arms in the Palestinian camps and gatherings, however many there they in fact are.  The reason is that if the Palestinians had no weapons at all in the camp, it would make it awkward for some politicians to use the fear of a return to the early 1970's and the potential danger of a Palestinian uprising for sects political advantage.  Truth told, there is no realistic fear, unless provoked, from Palestinians arms. They are exaggerated as is the number of salafist factions inside camps. Yet without the right to work, some Palestinians will doubtless be seduced into becoming hired guns for scarce cash to feed their families.
Hiring young men as gunmen in Lebanon is also impliedly condoned by silence on this problem from various polarized and politicized religious leaders.  Some of Lebanon's religious personalities, too often, wearing pious faces and donning prelatical 'Pope-wannabe', if sometimes comical, outfits, and often sporting fingers ringed with gold and precious jewels, intone their gospels according to St. Mark, or his equivalents, about human dignity and being our brother's keeper,  and often referencing  " our blood-veins support for Palestine and the Right of Return." While simultaneously standing in Janus-faced opposition to the elementary internationally mandated right to work for Palestinians in Lebanon.
When a Palestinian is arrested for carrying a weapon, it's often front-page news but also usually exaggerated or later shown to be inaccurate.  What is more surprising is that more Palestinians are not in the streets, motivated by the Arab Spring and Islamic Awakening, demanding the civil right to work. Yet signs are starting to appear of a pending and overdue intifada in Lebanon demanding this universally recognized right of every refugee to be able to seek work to sustain oneself and family.
Rumors abound these tense days in many part of Lebanon, as if to say, "I told you didn't I? The Palestinians are the source of most of Lebanon's problems!" (or the Zionists, or the Saudis, EU, Iranians, Syrians, other Lebanese sects or the Americans, or just about anyone except, this countries deeply destructive confessional system and the Lebanese who profit from this, to date, failed state. Too many Lebanese politicians reject granting rights to Palestinian refugees while they seek to gain personal, regional and international benefits from playing the "Palestinian card". Meanwhile, dangerous temperature and pressure levels are building in the huge Presto cookers that are Lebanon's camps.
On a brighter note, arriving with a late news item of 7/18/13, are the just released results of the General Science (SG) and Life Science (SV) secondary school official exam results known as the Baccalaureate II exam results. Preliminary analysis suggests that despite all their hardships, Palestinian and Syrian refugees have done well on the required exams.
One Palestinian mother from Yarmouk camp in Damascus, now among the 700 Palestinian refugee families temporarily here from Syria, and squeezed into the already overflowing Shatila camp explained to this observer as she proudly displayed this week's announcement of her children's academic success.  She beamed that even with little electricity in her family hovel, polluted drinking water, no fresh air and not much food this past year, her daughter's and son's success in passing 'the BACC II" made her forget her family's misery.
So it is that the doors are cracked open for higher education, if Palestinian refugees in Lebanon can come up with tuition, sometimes fairly modest by western standards but beyond the means of a majority of camp families.  The good news that there will be places in Lebanon's institutions of higher learning this fall semester, assuming that these youngsters, desperate to be allowed to work at the same jobs that every other foreigner in granted on arriving to Lebanon, do not heed the sirens calls of various sects here, singing seductive songs of quick cash in exchange for carrying a gun.
On April 19, 2013 at the Shatila Camp Youth Center,  exactly 30 years to the week following the death of American journalist, Janet Lee Stevens here in Beirut, and recalling times during the 1982 Israeli aggression that rained American bombs of various types down on the civilian population, and still  hearing Janet's voice telling young Palestinian defenders, during the 75-day Zionist siege, " Once the fighting ends you must, every one of you, return to school, whether to study quantum physics or literature or whatever interests you.  Higher education is what will hasten your return to Palestine.  Education is your greatest resource and your most potent weapon."
Speaking at the Shatila Scholarship Award event, one American, paying tribute to Janet as a mediator and advocate for Palestine, and addressing the tuition grant recipients, sought to encourage these future Palestinian leaders:
 "An education is forever and its purpose is to enjoy a more productive lifetime while seeking to fulfill all of what each of us is capable as we give back to our respective communities. Staying in school here in Lebanon where we are all guests, just for the time being, and pursuing knowledge and practical skills is a quintessential and noble  act and commitment of Resistance against oppression and occupation – anywhere. 

Education cannot be ethnically cleansed, stolen, tortured, jailed, uprooted, bulldozed, massacred, murdered, bombed or burned down. Rather, staying in school and pursuing ones dream is what your cherished for-bearers, who were forced from their homes and lands into Lebanon and trekked from Palestine- approximately 130,000- in the summer and fall of 1948, would want for you, and expect of you.
 Education is a Saladinian Resistance toward liberating, six decades after the Nakba, those still under occupation in Palestine.  And to help achieve for refugees in the diaspora, their inalienable full Right of Return." 
When and how do we put an end to this outrage which is an urgent humanitarian imperative shared by every one of us?
We end it immediately.
We do it by Lebanon's parliament, taking 90 minutes of its time, which is all that would be required, and grant these youngsters the most elementary civil right to work which will also enable them to pursue their dreams of higher education.
And by international support.
This can be facilitated by international pressure. One telephone call from Washington, Riyadh, or Tehran, to local political allies, can get the job done in just over an hour without further procrastination.
If not, to add to its other problems, Lebanon may face a civil right intifada– ignited by continued repression.
In the words of the angelic Miss Hiba of Ein el Hilweh camp, now 19 years old and three years after her defiant declaration in 2010 to those who sneered at her that she should get married at age 16, and with her beauty, could demand a handsome dowry for her impoverished family, and forget about college:  "There is no other choice than success with the civil rights goal of every Palestinian in Lebanon to seek a job and to pursue education as we peacefully intensify our struggle to Return to our stolen and still occupied country, Palestine. "
Today, Hiba continues the good fight as she completes next year, her degree in engineering.  She insists she will need this knowledge when she returns to her family's occupied home near Safed.
President (aka Barry) Obama is not, nor ever was a master politician, master diplomat, master bureaucrat, master lawyer or master anything. As a former professor who had to publish or perish, I was especially impressed that Obama lacked a hefty, impressive record of academic publications, actually nothing. As Ed Lasky summed up: "Notwithstanding an apparent eleven-year teaching career in constitutional law at a top-flight law school, not one single article, published talk, book review, or comment of any kind, appears anywhere in the professional legal literature, under Barack Obama's name."
Instead of actual accomplishment and performance, he simply took advantage of his color, personality, unusual political opportunities, and an innate talent for sometimes being able to give a great (but not necessarily honest) speech to become President. He took advantage of new national demographics to capture the necessary Electoral College votes to achieve victory, not once, but twice. His ability to enlist the critical assistance of brilliant masters at political fund raising and campaigning has never been matched by being able or willing to obtain similar high caliber people to run his White House and administration.
As someone who held high level positions inside the Washington, DC political system for some twenty years I was always convinced that Obama never was even close to being qualified to be US President. On the other hand, I was totally dismayed at the awful Republican candidates who opposed him. Still, I was bewildered how so many Americans could be seduced by lofty speech rhetoric and end up believing Obama was an unusually honest politician capable and willing to reform an inefficient, corrupt political system. Sure, unlike Hillary Clinton, he was no long term Washington insider. But neither was there any evidence that he was a true, courageous reformer. Obama was never authentically bold and creative, nor driven by a strong moral compass but rather by extreme arrogance. Think: the audacity of arrogance. Self-delusion prevailed, especially among Democrats and progressives drunk over terrific political slogans.
What could not be predicted, however, was that millions of angry and mostly white Americans would seize upon his color, birthplace and family roots to wage an effective national campaign within the boundaries of the Tea and Republican Parties to help make his presidency largely paralyzed through warlike partisanship. What was best for the nation has never been able to overcome hateful political emotions. The combination of hate and racist driven right wing zealots and self-deluded people on the left has dragged American democracy deeper into dysfunction.
Everyone should remember that with just over 50 percent of eligible voters voting and the presidential winner obtaining just over 50 percent of voter support, not much more than 25 percent of Americans actually support this or any other President. Factor in that nearly all incumbent members of Congress get reelected despite dismal overall public support, most recently just 10 percent for Congress. If you still believe in the myth that US democracy is the best on the planet, then you are just plain nuts.
It would take many thousands of words to fully articulate all the presidential failings of Obama. My own personal favorites are these: He failed to pursue a single payer approach for universal health care insurance and instead created a hugely complex and costly system that will probably collapse of its own awfulness. He did not swiftly end the ludicrous and incredibly costly wars in Iraq and Afghanistan. His administration has failed miserably in adequately taking care of veterans. He has clearly done next to nothing to ensure a truly transparent federal government and, instead, has aggressively pursued secret and invasive information and intelligence gathering of US citizens. His policies about underemployment and jobs have been pathetic. His Department of Justice utterly failed to pursue criminal indictments of the many people and companies in the banking, mortgage and financial sectors that caused the national and global economic collapse in recent years that even today explains the economic plight of many millions of Americans.
American democracy has so deteriorated that I can see little hope of its resurrection absent some form of revolution consistent with the Constitution, namely using what our Founders gave us: an Article V convention of state delegates with the legal authority to propose true reform constitutional amendments that still would have to be ratified by three-quarters of the states. Clearly, there is no reason to have any faith that Congress would ever propose amendments to fix our corrupt, inefficient and dysfunctional federal system that Senators and Representatives continue to deface and defraud. For example, taking all private money out of politics. Nor is there any basis for believing that the Supreme Court will come to the rescue.
Seems pretty hopeless, don't you think? Unless millions of Americans join together and demand that Congress obey the Constitution, honor the many hundreds of state requests for a convention and convene the first one.
It is  a scene out of a futuristic political  thriller—the Secretary of State issues secret orders for embassy officials to collect the DNA of foreign heads of state while the President, speaking at a $1000 a plate dinner, is surrounded by a contingent of Secret Service agents wiping clean his drinking glasses and picking up stray hair follicles. They are not just protecting the President—they are protecting the President's DNA.
If this sounds like a script treatment for a Hollywood version of a Philip K. Dick novel, consider this: The Secretary of State's name is Hillary Clinton and her directives to embassies were uncovered in a 2010 Wikileaks cable release.  The President in this scenario is Barack Obama and the Secret Service unit pledged to protect his DNA is a group of Navy stewards, as revealed in the 2009 book by Ronald Kessler, entitled "In the President's Secret Service."
Our government's DNA obsession was again in the news this week as the Supreme Court handed down a decision, worthy of penning by George Orwell, that law enforcement collection of arrestees' DNA  is not an invasion of privacy. The decision likened DNA to fingerprints, neatly sidestepping the fact that a person's complete genetic makeup is contained in those drops of blood that the police can now collect with impunity and without fear of a civil rights lawsuit.
Beyond the obvious surface concerns that this decision violates both the Fourth Amendment and the subsequent exclusionary rule (http://en.wikipedia.org/wiki/Exclusionary_rule), there are further, deeper concerns as to why our government is so keen on collecting our DNA. The stated aim of furthering   crime solution becomes tinny when one realizes that the government is also collecting the DNA of newborns. President Bush signed   The Newborn Screening Saves Lives Act of 2007, which formally   codified the process that the federal government has been engaged in for years, screening the DNA of all newborn babies in the U.S.
Since we are not yet threatened with the spectre of toddlers robbing banks or committing rape, one must look further to discern what is the big deal about our DNA.
Back in 1997, Dr. Wayne Nathanson warned  a meeting of the  Science and Ethics Department of the Medical Society of the United Kingdom that "gene therapy" might be turned to insidious uses and result in "gene weapons," which could be used to target specific people containing a specific genetic structure.  These weapons, Nathanson warned, "could be delivered not only in the forms already seen in warfare such as gas and aerosol, but could also be added to water supplies, causing not only death but sterility and birth defects in targeted groups." /www.projectcensored.org/top-stories/articles/16-human-genome-project-opens-the-door-to-ethnically-specific-bioweapons/
Decades before Dr. Nathanson's highly publicized warning, the U.S. Government was already hard at work in scientific endeavors to find gene and ethnic specific weapons. In an article entitled "Ethnic Weapons," published in the Military Review in 1970, the author, Dr. Carl A. Larson, was found rhapsodizing about the state of technology facilitating the targeting of ethnic groups with covert weapons. Wrote Larson: "Surrounded with clouds of secrecy, a systematic search for new incapacitating agents is going on in many laboratories. The general idea, as discussed in open literature, was originally that of minimum destruction."
However, his tone soon changes and he writes, somewhat chillingly, that "It is quite possible to use incapacitating agents over the entire range of offensive operations, from covert activities to mass destruction."
Larson concludes with the following stark declaration: "The enzymatic process for RNA production has been known for some years but now the factors have been revealed which regulate the initiation and specificity of enzyme production. Not only have the factors been found, but their inhibitors. Thus, the functions of life lie bare to attack." (emphasis added)
Dr. Wouter Basson's research for Project Coast, the biological and chemical warfare unit under the apartheid government in South Africa, was known to be focused on developing a "blacks only" bioweapon.  Basson, who was tied to intelligence facilities and labs in both Great Britain and the U.S., has been reported to have been successful in his endeavors, which were taking place back in the seventies.  According to sources close to Basson, his research entailed locating substances which would attach onto melanin. Melanin is present in high degrees in darker colored skin.
Since Basson's work on the melanin project, the rates of hypertension and diabetes have skyrocketed in people of color—specifically those of African descent and also indigenous, brown skinned populations. In some communities, the incidence of these diseases is now reported as up to 50%. Consonant with the reports that this disease- producing melanin- related substance has been leaked into processed food, one finds the spiking rates of the "silent killers,"  hypertension and diabetes, to be present in the developed world, where people eat more processed food. In rural Africa, for example, where the population eats food from natural sources, the rates of diabetes and hypertension have remained constant over the years.
The mapping of the human genome satisfied all the requisites for creating gene specific weapons. Geneticists have maintained that developing an ethnic weapon is actually far more difficult than creating a gene weapon to target a specific person.  The differences between groups are apparently much smaller than the differences between individuals and therefore the creation of a genetic weapon to target, for example, a head of state or a President is far less challenging than creating such a weapon to target an entire race.
The FBI admits to a database of around 13 million offenders, many only arrested and never charged with a crime. According to Twila Brase, President of Citizens Council for Health Freedom, around 4 million samples (filed with the babies' names) are collected each year by State Health Departments. Some states, such as Minnesota, have been collecting newborn DNA samples since the mid-eighties. Minnesota alone is reported to have a newborn database of over 1.5 million samples.
The delivery systems for a DNA weapon would be easy: Everything.
Because the weaponized genetic material would only affect the target, the weapon could be leaked into the food supply, the water supply or sprayed in an airborne delivery system, such as the inexplicable chemtrails that are now blanketing our skies. And should a low profile target suddenly die, who would ever know that he died of a gene based weapon? Should the target be high profile, like perhaps a Hugo Chavez or Canada's Jack Layton, who would be able to trace a deadly disease back to a weapon targeting his DNA?
The insistence of the U.S. Government that it is only trying to protect its citizens from a terrorist threat is the perfect cover of plausible deniability. Under the mantle of "protection," our rights have been systematically stripped away while wars abroad have been launched against the Semitic peoples of the Middle East.  Genetic based weapons are another tool in the plausible deniability eugenics tool box. They may, in fact, be one of the most salient tools.
Years before Nathanson's warning was issued, our government had already attained a significant level of ability to weaponize against ethnic groups. An article entitled Ethnic Weapons, published in the Military Review in 1970, found the author, Dr. Carl A Larson rhapsodizing about the scientific accomplishments enabling the creation and deployment of ethnic weapons. Wrote Larson: "Surrounded with clouds of secrecy, a systematic search for new incapacitating agents is going on in many laboratories. The general idea, as discussed in open literature, was originally that of minimum destruction." However, his tone soon changes and he writes, somewhat chillingly that "It is quite possible to use incapacitating agents over the entire range of offensive operations, from covert activities to mass destruction."
Call it living in Upside-downLand or the realization of the Bible's prediction of a time when bad will be called good and good, bad, but once again innocent schoolchildren have been persecuted for, well, just being children. This time the offender was Chase Lake Elementary School (CLES) in Edmonds, WA, where some kids were suspended for using Nerf guns on school grounds. And it's an all-too-common story. A child will be punished for drawing a gun, shaping his fingers as one and saying "bang!" merely talking about guns or some other innocuous action. And recently there was a case of a five-year-old boy who brought a cap gun to school to show a friend and then was interrogated for two hours until he wet his pants. It's all very bizarre and very twisted.
In the Edmonds case, the children were told that they could bring the toys to school, but I'm not interested in individual details but deeper matters. And make no mistake, something deeper is afoot here.
To introduce this, let's start with another common thread in these cases: the reaction of the persecuted children's parents. While they're always upset about the relatively draconian punishment visited upon their kids, their comments often reflect those of Edmonds mother Stacey Leidholm, who addressed her son's suspension and marred permanent record and said "I do understand that they definitely need consequences, but not that harsh of a consequence."
Let's stop right there. Why do they "need consequences"? This isn't a matter of simply having to respect the rules even if you disagree with them, since "with toy or facsimile guns, discipline is handed out at the discretion of the principal [at CLES]," writes KomoNews.com. Moreover, consequences imply a transgression, but what's wrong with playing with toy guns? It's not as if these brightly colored toys could be mistaken for real guns, and playing with them is certainly less likely to cause injury than is playing baseball or most any other sport. So what danger is posed by the possession of toy guns on school grounds?
Before I get to that, a bit of history. Not that long ago it was common for boys to bring guns to school, as they might have target shooting afterwards; this was even the case in New York City in the 1940s and '50s, where kids would often ride the subways with their guns. And while this no longer occurred when I attended school in the Bronx in the '70s, no school official even batted an eye at our bringing toy guns to school. That was just what little boys did. Clearly, something has changed in society—and it isn't the availability of guns or little boys' desire to play with them.
The obvious answer here is that the last two decades' school shootings and our civilization's general moral decline have changed the equation. But while this would explain the desire to keep students with real firearms off school grounds, there is no logical reason to apply this to toy guns. Saying otherwise is like claiming that because you wouldn't trust an 11-year-old to drive the family car to school, you won't let him bring toy cars with him, either; or that he won't be allowed to possess toy airplanes because he isn't ready to pilot a 747 for Delta. The same applies to the argument that bringing toy guns to school makes the leap to bringing real ones that much shorter; it's as nonsensical as saying that junior is more likely to steal the family sedan if you let him play with Matchbox cars.
Of course, there is the paranoia explanation: the school shootings have made people so fearful that anything smacking of firearms is reflexively rejected. And I'm sure this is a factor—but I'm also sure there's more to it. What is it?
Conditioning.
Many have posited the theory that the goal here is to raise generations amenable to strict gun control by instilling the young with negative attitudes toward firearms. And how better to do this than with swift and sure punishment for anything that evidences even the thought of a gun? Doodle a firearm, point your fingers like one—anything at all—and, bang!, you suffer for your wrong thinking. Think doubleplusgood thoughts, little boy, about flowers and kittens and rainbows and what gender you want to be. And should a child be a tad recalcitrant, nothing creates negative associations with firearms like a two-hour, pants-wetting interrogation at the age of five.
(By the way, it's funny how leftists who would outlaw a 30-second spanking will then commit horrendous psychological and emotional child abuse. Hey, nothing convinces a situational-values libtard of the value of punishment like a person in need of reeducation.)
To buttress this theory, please consider this 1990s video of our beloved attorney general, Eric Withholder. He outlines a plan for combating violence and says:
What we need to do is change the way people think about guns—especially young people—and make it something that's not cool; that it's not acceptable, it's not hip to carry a gun anymore, in the way that we've changed out attitudes about cigarettes. …Over time we changed the way people thought about smoking, so now we have people who cower outside of buildings and kind of smoke in private and don't want to admit it. And that's what I think we need to do with guns. …I've asked that the creative community in Washington… devote [their] talent in a more constructive way, so we can get at the minds of these young people. …. People who have credibility with young people should be on the television, on the radio…and telling these youngsters that it's wrong to carry a gun…. I've also asked the school board to make a part of every day some kind of anti-violence, anti-gun message; every day, every school at every level. One thing that I think is clear with young people, and with adults as well, is that we have to be repetitive about this…. We need to do this every day of the week and just really brainwash people into thinking about guns in a vastly different way [emphasis added].
Now, I don't imply this is a grand conspiracy. It doesn't have to be when you have millions of like-minded people who, being fellow travelers, all act in similar ways quite instinctively. Sure, there are puppet masters in the vanguard of these movements who create policy (like the zero-tolerance nonsense) and who purposely effect Machiavellian designs, but they are mere catalysts. Of course, there are many others—teachers and administrators (mostly women)—who instinctively dislike guns, or fear them, and for this reason are inclined to carry out these policies and punish a wrong-thinking child harshly. But theirs is more an emotional reaction, as opposed to the colder, more insidious, Luciferian motives of the world's Withholders.
But then there are millions of other sheeple, caught in the Matrix, who simply enforce these rules because they exist. As to this, I called CLES and asked someone in community relations the following: "How does the possession of toy guns on school grounds pose a threat?" After giving me a non-answer and then my having to rephrase the question once or twice, the school official seemed genuinely flummoxed and said that she would have to consult the literature and get back to me. An unthinking drone.
But the question is, are the rest of us going to be sheeple as well? If not, there are things we can and should do to counter the schools' war on guns and tradition. First, parents should organize, pick up their children from an offending school with toy guns in hand, and play a visible shoot-'em-up game on school grounds. I'm serious. It's called desensitization. Moreover, it tells the children in the strongest way possible that there is nothing wrong with toy-gun play. And if the schools are trying to condition your kids the wrong way, why not condition them the right way?
Then there is the stick. The reason insanity keeps occurring at schools and elsewhere is that leftists are never held accountable. But here we must take a leaf out of their book. When someone transgresses against their politically correct code—think Jimmy "the Greek" Snyder, Don Imus, or James Watson here—an apology won't suffice.
The left wants the person destroyed.
So follow suit. Don't be like a certain popular cable-news host who is wont to say "I don't want to see ____ (the tyrant du jour) lose his job." Make sure a school official who commits leftist abuse upon a child never works again. Go for the jugular, for the kill shot; give no quarter. Go Roman. It's only when thousands of the thought police's decaying corpses of careers are lining the Apian Way that those in darkness will see the light. The Culture War is just that—a war. And if you want to turn it around, this must be your mindset—every day, every way, every school, at every level.
Success stories of medical marijuana use in children range from the treatment of disorders that affect classroom performance such as autism and ADHD to life-threatening conditions such as epilepsy and cancer. But while a growing number of doctors are beginning to consider medical marijuana as a legitimate form of clinical therapy, the vast majority remain wary of its impact in younger patients.
The underlying factor in the medical community's resistance to cannabis seems to be the overall lack of clinical research that has been conducted so far, especially in children and adolescents. On the other hand, the absence of research happens to be only a recent phenomena, as a review of the medical literature reveals numerous reports and studies on the safety of marijuana commissioned over the past many decades.
What these studies demonstrate appears to echo what marijuana advocates have been saying for decades: Cannabis is an overwhelmingly harmless substance.
Safety Profile of Marijuana
Perhaps the earliest study to investigate the safety profile of marijuana comes from the Indian Hemp Drugs Commission — a research team ordered by the British government in 1893 to study the effects of ever-prevalent cannabis use in India. The Commission completed their report in 1894 — a lengthy 3,281 page document which demonstrated a clear lack of observable drawbacks associated with marijuana use.
"In regard to the physical effects, the Commission have come to the conclusion that the moderate use of hemp drugs is practically attended by no evil results at all… It has been the most striking feature in this inquiry to find how little the effects of hemp drugs have obtruded themselves on observation."
Likewise, a report published by the National Commission on Marihuana and Drug Abuse in 1972 could find no fault with the use of cannabis, despite governmental pressure to prove otherwise.
"Marijuana has been used by man around the world for many centuries. Scientifically, more is known about marijuana's effects than many other botanical substances used by man… Almost all chronic, heavy hashish smokers are indistinguishable from their peers in social behaviour, work performance, mental status and overall life style."
Risks For Children/Teens
Despite significant evidence of marijuana's lack of side effects, children and adolescents are treated with particular caution when it comes to any form of medical therapy, because of the developmental vulnerability that individuals face during their formative years.
In fact, one of the largest concerns of doctors and parents alike are the effects of drugs on a child's developing brain. And while evidence of marijuana's impact on neural development remains conflicted, some studies have managed to link early marijuana use with deficits in brain volume and intelligence (1).
Still, it's important to note the lack of census among the medical community on these findings, as large-scale clinical trials have never been conducted. Furthermore, cannabis-based pharmaceuticals, such as Marinol, have already been approved by the FDA for childhood use (2). Marinol is a pure THC pill that shares a nearly identical side effect profile as medical marijuana (3).
However, the fact remains that the safety of marijuana use in children and adolescents remains a largely unknown variable, which also happens to be the most common reason given by doctors when explaining their lack of support for medical marijuana (4).
But while this is true for cannabis, it is also true for many other cancer medications and anti-psychotics that are regularly prescribed to children. As such, a minority of health practitioners have already begun to voice their support for the use of medical marijuana, even in child and adolescent patients.
Support For Medical Marijuana
Although still a subject of much debate, medical marijuana has become an increasingly popular form of treatment among the North American population — both for adults and children. In fact, a number of paediatricians, including Dr. Claudia Jensen, have started to recommend medical marijuana as an alternative treatment for conditions that have traditionally been dominated by the pharmaceutical industry such as ADHD (5).
In an interview with MSNBC, Dr. Jensen explained how medical marijuana could be used effectively as a treatment for ADHD without the mind-numbing side effects that are typically associated with cannabis use.
"They don't have to get stoned — it's dose-related. But they do get the benefit of being able to focus, pay attention, not be impulsive, not be angry, be peaceful and relaxed and pay attention in school, which helps them get better grades."
Likewise, Harvard-trained psychiatrist Dr. Lester Grinspoon voiced his support for using medical marijuana to control childhood ADHD in a recent interview with Sphere (6).
"I'd have no hesitation giving a youngster with ADHD a trial of oral marijuana. For some kids, it appears to be more effective than traditional treatments. And marijuana certainly has fewer potential dangers than Ritalin."
Indeed, while concerns continue to be expressed over the use of medical marijuana in society's most vulnerable of patients, evidence of its relative safety seems more than obvious to those with an open mind towards non-traditional therapies.
As Dr. Grinspoon states, medical marijuana could very well be a safer treatment option for children with ADHD and, more than likely, many other conditions that afflict the younger generation of patients.
About the Author
Kent Mao is a contributor to Waking Times and the editor of TruthOnPot.com, an online resource for medical marijuana facts, information and research. TruthOnPot.com actively engages in the online discussion of marijuana research and policy. You can learn more by visiting www.truthonpot.com. Kent is also a contributor to Waking Times.
Sources:
Source: The Waking Times
Drones are a weapon of war, presently being used by the U.S. Military using assertions not supported by facts. These weapons are manufactured and sold to the military by companies which own the technologies and thereby profit. The right or wrong of the war is ignored in their calculations, which focus on the profit to be made.
The membership organization which lobbies for the use of drones for the corporations which comprise its membership is the Association for Unmanned Vehicle Systems International. The growth of this industry is now measured in the billions of dollars, with applications for drone usage growing out into law enforcement within the United States on a weekly basis.
These are facts, supportable by contracts reflecting sales.
Facts are generally inconvenient for parties attempting to 'win' the battle for public opinion. These facts are true for drone contractors today and were true of the Military Industrial Complex on January 17, 1961 when Dwight D. Eisenhower gave his farewell address, and warning about the influence of these corporations, to the American People.
Propaganda 
Manufacturing opinion in Americans results in increased sales and a limiting of the options they see as possible. This is at the heart of the strategy by which the Multi-National Corporations have build their business plan from the time of World War I – present day.
Propaganda had been used to influence groups and nations for as long as we have recorded history. But the practice was codified with a set of rules by Edward Bernays, a cousin of Sigmund Freud, in the 1020s. There are seven principles of propaganda, which include:
Seven Main Principles
Bandwagon – Follow the Crowd.
Card stacking – Tell them ONLY what you want them to know.
Glittering Generalities – Use words which let the listener fool themselves.
Name Calling – Negative, derogatory langauge to describe the enemy in speech, images, and writing.
Plain Folks – Taking on language, idioms, jokes, and accent to increase of the target audience to increase familiarity and elicit acceptance and trust.
Additional Principles
Assertion – Say it, and say it again with conviction
Lesser of Two Evils – Limit the choices to this or that, ignoring all other possibilities.
Pinpointing the Enemy – Name an individual, group, or nation as the 'problem.' Ignore refuting facts.
Simplification (Stereotyping) – Similar to Pinpointing. Ignore refuting facts.
The opinions held by Americans are largely the product of propaganda today, though this is now changing through access to the Internet.
Public Relations professionals know the public forgets about scandals, both corporate and politically, in only a few months or years. Today, major scandals of the early 90s have vanished from the collective memory. 
Main Stream Media 
Controlling the Main Stream Media, which is owned entirely my major corporations, ensured this would remain true. America originally saw independent journalism as an essential protection for the rights of the people. Newspapers were mostly owned locally, reflecting a diversity of voices.
Local 'government,' which was understood to be a service center used by the People, who together were and are the real government under American theory and law, was used to carry out those functions deemed of mutual benefit by the People. 
America's Foundations 
Until the rise of the Internet, Americans had, in large part, lost connection with their own history and the foundations for American government. A reading of the Declaration of Independence, the Constitution, theBill of Rights, and survey of the Federalist and Anti-Federalist Papers shows this to be the case.
The rising power of corporations, asserting itself through government, began to change this in the late 1800s. World War I and World War II enormously enriched the same corporations and banks named by Eisenhower in his speech. A significant number of these were simultaneously in business with Nazi Germany before and during World War II and also Russia. In his book, "Creature from Jekyll Island," G. Edward Griffin provides documentation for this.
Major General Smedley Butler was the most respected and decorated military figure in America in the first half of the 20th Century. Having spent his life serving his country as a Marine in wars dictated by the economic wishes of corporations for decades he realized he and the troops he commanded had been used by those corporations. In response, he wrote, "War is a Racket."
VIDEO – Major General Smedley Butler & The Fascist Takeover Of The USA – A Warning From History
The General conveniently, and very suddenly, died in 1940 before our entry into World War II. War was building immense wealth within a small number of corporations, who were determined this flow of power and money continue. 
Wars for Profit 
The Second World War was opposed by Conservative Republican congressional leader Robert A. Taft, "who articulated a non-interventionist foreign-policy vision sharply at odds with the internationalism of Truman and Eisenhower. Although derided as ostrich-like, Taft was prescient on several points, such as the structural weakness of the United Nations and the propping up of repressive regimes that would result from U.S. interventionism."
After World War II Conservatism was targeted by the Rockefeller Republicans, who today we know as NeoConservatives. To accomplish this they used an array of tools which included the C. I. A., an agency which recruited from a social elite who had strong connections to the corporate world.
Today, the assassination of John Fitzgerald Kennedy on November 22, 1963, is credited to a cooperative effort between the C.I.A., and corporations in such first hand and authoritative books as "Mary's Mosaic,"by Peter Janney. Janney is the son of Wistar Janney, a high level operative in the C. I. A. from close to the time of it's inception after World War II through the 1960s.
After the fall of the Berlin Wall the world appeared to be heading for a long-awaited peace. But this was not in alignment with the business plans of the Military Industrial Complex.
Managing American Fear
The public relations people for the corporations had used boogymen to persuade Americans to the necessity of war and vast expenditures in military spending from World War I until the Wall came down. For this purpose they had first vilified the 'Hun,' and then 'Communism.'
They chose a new boogyman in the last years of the Reagan Administration.
"The Power of Nightmares," produced by the BBC, digs into the history of the C.I.A., and its manipulation of Islam and placement of operatives to stymy their move toward liberalization, which threatened the oil companies. The issue of a threat from a radical Islam must be considered outside the narrowing confines of propaganda, the corporate tool used to herd Americans, keeping us within the limits which powers their profits. This is especially true for the strategies of Pinpointing the Enemy, and Stereotyping.
VIDEOS
Part I: Baby It's Cold Outside
Part III: The Shadows in the Cave
Big Oil 
If you identify the location of the major world sources of oil you will notice much of the world reserves are located in land controls by Islamic people. Until this became known Islam was never presented as a threat. Once this took place, this changed.
Multiple operations in these countries by the CIA and its corporate partners caused shifts in attitudes within the people living in these countries. Ron Paul, using the term coined by the CIA, called it "Blow-Back." John Perkins, in his book, "Confessions of an Economic Hit-Man," explains the means used to defraud smaller nations of their natural resources, oil chief among these.
People resent being manipulated, bombed, and defrauded. Where we did not have enemies, they were created.
VIDEO – Confessions of an Economic Hit Man: How the U.S. Uses Globalization to Cheat Poor Countries Out of Trillions
For a century corporations have used the military and government of our country to make war on people around the world. They have done this for profit and without showing a shred of conscience.
Today, the world is fed up. If the roles were reversed, we would have taken action long since.
These same interests understand well Americans are waking from their long sleep. This why drone technologies are now being deployed within the United States.
Every so often we come across a secular Jewish 'anti' Zionist'  who argues that Zionism is not Judaism and vice versa. Interestingly enough, I have just come across an invaluable text that illuminates this question from a rabbinical perspective. Apparently back in 1942, 757 American Rabbis added their names to a public pronouncement titled 'Zionism an Affirmation of Judaism'. This Rabbinical rally for Zionism was declared at the time "the largest public pronouncement in all Jewish history."
Today, we tend to believe that world Jewry's transition towards support for Israel followed the 1967 war though some might  argue that already in 1948, American Jews manifested a growing support for Zionism. However, this rabbinical pronouncement proves that as early as 1942, the American Jewish religious establishment was already deeply Zionist. And if this is not enough, the rabbis also regarded Zionism as the 'implementation' of Judaism. Seemingly, already then, the peak of World War two, the overwhelming majority of American Rabbis regarded Zionism, not only as fully consistent with Judaism, but as a "logical expression and implementation of it."
In spite of the fact that early Zionist leaders were largely secular and the East European Jewish settler waves were driven by Jewish socialist ideology, the rabbis contend that "Zionism is not a secularist movement. It has its origins and roots in the authoritative religious texts of Judaism.
Those rabbis were not a bunch of ignoramuses. They were patriotic and nationalistic and they grasped that "universalism is not a contradiction of nationalism." The rabbis tried to differentiate between contemporaneous German Nationalism and other national movements and they definitely wanted to believe that Zionism was categorically different to Nazism. "Nationalism as such, whether it be English, French, American or Jewish, is not in itself evil. It is only militaristic and chauvinistic nationalism, that nationalism which shamelessly flouts all mandates of international morality, which is evil." But as we know, just three years after the liberation of Auschwitz the new Jewish State launched a devastating racially driven ethnic-cleansing campaign. Zionism has proven to be militaristic and chauvinistic.
Shockingly enough, back in 1942 as many as 757 American rabbis were able to predict the outcome of the war and they realised that the suffering of European Jewry would be translated into a Jewish State . "We are not so bold as to predict the nature of the international order which will emerge from the present war. It is altogether likely, and indeed it may be desirable, that all sovereign states shall under the coming peace surrender some of their sovereignty to achieve a just and peaceful world society (a Jewish State)."
Some American patriots today are concerned with Israeli-American dual nationality and the dual aspirations of American Jews. Apparently our rabbis addressed this topic too. According to them, there is no such conflict whatsoever. All American Jews are American patriots and all American decision makers are Zionists. "Every fair-minded American knows that American Jews have only one political allegiance–and that is to America. There is nothing in Zionism to impair this loyalty. Zionism has been endorsed in our generation by every President from Woodrow Wilson to Franklin Delano Roosevelt, and has been approved by the Congress of the United States. The noblest spirits in American life, statesmen, scholars, writers, ministers and leaders of labor and industry, have lent their sympathy and encouragement to the movement."
Back in 1942 our American rabbis were bold enough to state that defeating Hitler was far from sufficient. For them, a full solution of the Jewish question could only take place in Palestine. "Jews, and all non-Jews who are sympathetically interested in the plight of Jewry, should bear in mind that the defeat of Hitler will not of itself normalize Jewish life in Europe. "
But there was one thing the American rabbis failed to mention – the Palestinian people. For some reason, those rabbis who knew much about 'universalism' and in particular Jewish 'universalism' showed very little concern to the people of the land. I guess that after all, chosennss is a form of blindness and rabbis probably know more about this than anyone else.
http://zionistsout.blogspot.com/2008/03/zionism-affirmation-of-judaism.html
ZIONISM AN AFFIRMATION OF JUDAISM A Reply by 757 Orthodox, Conservative and Reform Rabbis of America to a Statement Issued by Ninety Members of the Reform Rabbinate Charging That Zionism Is Incompatible with the Teachings of Judaism
THE SUBJOINED REPLY was prepared at the initiative of the following Rabbis who submitted it to their colleagues throughout the country for signature: Philip S. Bernstein, Barnett R. Brickner, Israel Goldstein, James G. Heller, Mordecai M. Kaplan, B. L. Levinthal, Israel H. Levinthal, Louis M. Levitsky, Joshua Loth Liebman, Joseph H. Lookstein, Jacob R. Marcus, Abraham A. Neuman, Louis I. Newman, David de Sola Pool, Abba Hillel Silver, Milton Steinberg, and Stephen S. Wise.
WE, THE UNDERSIGNED RABBIS of all elements in American Jewish religious life, have noted with concern a statement by ninety of our colleagues in which they repudiate Zionism on the ground that it is inconsistent with Jewish religious and moral doctrine.This statement misrepresents Zionism and misinterprets historic Jewish religious teaching, and we should be derelict in our duty if we did not correct the misapprehensions which it is likely to foster.
We call attention in the first place to the fact that the signatories to this statement, for whom as fellow-Rabbis we have a high regard, represent no more than a very small fraction of the American rabbinate. They constitute a minority even of the rabbinate of Reform Judaism with which they are associated. The overwhelming majority of American Rabbis regard Zionism not only as fully consistent with Judaism but as a logical expression and implementation of it.
Our colleagues concede the need for Jewish immigration into Palestine as contributing towards a solution of the vast tragedy of Jewish homelessness. They profess themselves ready to encourage such settlement. They are aware of the important achievements, social and spiritual, of the Palestinian Jewish community and they pledge to it their unstinted support. And yet, subscribing to every practical accomplishment of Zionism, they have embarked upon a public criticism of it. In explanation of their opposition they advance the consideration that Zionism is nationalistic and secularistic. On both scores they maintain it is incompatible with the Jewish religion and its universalistic outlook. They protest against the political emphasis which, they say, is now paramount in the Zionist program and which, according to them, tends to confuse both Jews and Christians as to the place and function of the Jewish group in American society. They appeal to the prophets of ancient Israel for substantiation of their views.
TREASURING the doctrines and moral principles of our faith no less than they, devoted equally to America and its democratic processes and spirit, we nonetheless find every one of their contentions totally without foundation.
Zionism is not a secularist movement. It has its origins and roots in the authoritative religious texts of Judaism. Scripture and rabbinical literature alike are replete with the promise of the restoration of Israel to its ancestral home. Anti-Zionism, not Zionism, is a departure from the Jewish religion. Nothing in the entire pronouncement of our colleagues is more painful than their appeal to the prophets of Israel—to those very prophets whose inspired and recorded words of national rebirth and restoration nurtured and sustained the hope of Israel throughout the ages.
Nor is Zionism a denial of the universalistic teachings of Judaism. Universalism is not a contradiction of nationalism. Nationalism as such, whether it be English, French, American or Jewish, is not in itself evil. It is only militaristic and chauvinistic nationalism, that nationalism which shamelessly flouts all mandates of international morality, which is evil. The prophets of Israel looked forward to the time not when all national entities would be obliterated, but when all nations would walk in the light of the Lord, live by His law and learn war no more.
Our colleagues find themselves unable to subscribe to the political emphasis "now paramount in the Zionist program." We fail to perceive what it is to which they object. Is it to the fact that there are a regularly constituted Zionist organization and a Jewish Agency which deal with the mandatory government, the Colonial office, the League of Nations and other recognized political bodies? But obviously, even immigration and colonization are practical matters which require political action. The settlement of a half million Jews in Palestine since the last war was made possible by political action which culminated in the Balfour Declaration and the Palestine Mandate. There can be little hope of opening the doors of Palestine for mass Jewish immigration after the war without effective political action. Or is it that they object to the ultimate achievement by the Jewish community of Palestine of some form of Jewish statehood? We are not so bold as to predict the nature of the international order which will emerge from the present war. It is altogether likely, and indeed it may be desirable, that all sovereign states shall under the coming peace surrender some of their sovereignty to achieve a just and peaceful world society.
Certainly our colleagues will allow to the Jews of Palestine the same rights that are allowed to all other peoples resident on their own land. If Jews should ultimately come to constitute a majority of the population of Palestine, would our colleagues suggest that all other peoples in the post-war world shall be entitled to political self-determination, whatever form that may take, but the Jewish people in Palestine shall not have such a right? Or do they mean to suggest that the Jews in Palestine shall forever remain a minority in order not to achieve such political self-determination?
PROTESTING their sympathy both for the homeless Jews of the world and for their brethren in Palestine, our colleagues have by their pronouncement done all these a grave disservice. It may well be that to the degree to which their efforts arc at all effective, Jews who might otherwise have found a haven in Palestine will be denied one. The enemies of the Jewish homeland will be strengthened in their propaganda as a result of the aid which these Rabbis have given them. To the Jews of Palestine, facing the gravest danger in their history and fighting hard to maintain morale and hope in the teeth of the totalitarian menace, this pronouncement comes as a cruel blow.
We do not mean to imply that our colleagues intended it as such. We have no doubt that they are earnest about their fine spun theoretical objections to Zionism. We hold, however, that these objections have no merit, and further that voicing them at this time has been unwise and unkind.
We have not the least fear that our fellow Americans will be led to misconstrue the attitudes of American Jews to America because of their interest in Zionism. Every fair-minded American knows that American Jews have only one political allegiance–and that is to America. There is nothing in Zionism to impair this loyalty. Zionism has been endorsed in our generation by every President from Woodrow Wilson to Franklin Delano Roosevelt, and has been approved by the Congress of the United States. The noblest spirits in American life, statesmen, scholars, writers, ministers and leaders of labor and industry, have lent their sympathy and encouragement to the movement.
Jews, and all non-Jews who are sympathetically interested in the plight of Jewry, should bear in mind that the defeat of Hitler will not of itself normalize Jewish life in Europe.
An Allied peace which will not frankly face the problem of the national homelessness of the Jewish people will leave the age-old tragic status of European Jewry unchanged. The Jewish people is in danger of emerging from this war not only more torn and broken than any other people, but also without any prospects of a better and more secure future and without the hope that such tragedies will not recur again, and again. Following an Allied victory, the Jews of Europe, we are confident, will be restored to their political rights and to equality of citizenship. But they possessed these rights after the last war and yet the past twenty-five years have witnessed a rapid and appalling deterioration in their position. In any case, even after peace is restored Europe will be so ravaged and war-torn that large masses of Jews will elect migration to Palestine as a solution of their personal problems.
 Indeed, for most of these there may be no other substantial hope of economic, social and spiritual rehabilitation.
THE freedom which, we have faith, will come to all men and nations after this war, must come not only to Jews as individuals wherever they live, permitting them to share freedom on a plane of equality with all other men, but also to the Jewish people, as such, restored in its homeland, where at long last it will be a free people within a world federation of free peoples.
Of the 757 Rabbis listed below, 214 are members of the Central Conference of American Rabbis (Reform); 247 are members of the Rabbinical Assembly of America (Conservative); and the rest are affiliated with the Rabbinical Council of America (Orthodox) or the Union of Orthodox Rabbis. The total represents the largest number of rabbis whose signatures are attached to a public pronouncement in all Jewish history.
To see the scanned image in PDF format with the list of signers, click here
Note: A version of the above statement was released to the press on November 20, 1942. By that time 818 rabbis had signed on. It appears in Samuel Halperin's The Political World of American Zionism. (Detroit: Wayne State UP, 1961) 333.
Many of us non-RC traditionalist all over the world had awaited the news from Rome with some trepidation. In the end it turned out to be rather good. Pope Francis, the first non-European Bishop of Rome since Gregory III (d. 741), is universally described as "modest" and "moderate"—which is much preferred to the dreaded "bold" or "courageous," in the sense that those words are used by the global media.
"He lives like a monk in a small apartment, travels by bus, and detests all vanity," Metropolitan Amfilohije of Montenegro told me when he heard the news. His Grace has visited Buenos Aires repeatedly in recent years as the Orthodox Diocesan Administrator, but he has not met Cardinal Jorge Bergoglio, who was mostly in Rome on those occasions. "I've heard from many local people, however, both lay and clergy, that he radiates a burning faith," says the Metropolitan and adds that his simplicity and compassion for the poor go hand in hand with doctrinal firmness.
Two examples illustrate this dichotomy. When Pope John Paul II appointed him a cardinal in 2001, Bergoglio appealed to affluent Argentines not to fly to Rome to celebrate his investiture but instead to donate to charity the money they would have spent on air fare. In 2010 he furiously opposed Argentina's legalization of same-sex "marriages," arguing that children need to have the right to be raised and educated by a father and a mother. In a letter to the faithful he spoke strongly: "Let us not be naïve, we are not talking about a simple political battle; it is a destructive pretension against the plan of God. We are not talking about a mere bill, but rather a machination of the Father of Lies that seeks to confuse and deceive the children of God." Argentine president Cristina Fernández de Kirchner reacted by saying that his tone was reminiscent of "medieval times and the Inquisition."
After an unprecedented 35 years of non-Italian pontificates, many observers had expected the Italian contingent in the College of Cardinals to insist on one of their own. Jorge Bergoglio is as close to being an Italian, however, as is possible for a straniero. He was born in Argentina in 1936 to first-generation Italian immigrants, speaks Italian without an accent, and has a deep grounding in Italian culture, arts and literature. At 76, Pope Francis is significantly older than expected by laity or predicted by punditry. His election is a compromise which will keep most traditionalists contented, if not exactly enthused, while giving the reformist zealots another decade or so to select a strong, charismatic candidate for their long-planned onslaught. Pope Benedict's sudden decision has caught them off-guard and unprepared.
Among the congratulatory messages sent to Francis, the one from France's President Francois Hollande was remarkable for its cold, Christophobic rudeness. Hollande said that France, "faithful to its universal principles of liberty, equality and fraternity," would continue its "dialogue" with the Holy See for "peace, justice, solidarity and human dignity." That country used to be Christian, once. Archbishop of Canterbury Justin Welby, on the other hand, made an innocent mistake when stating that the new pope's "choice of the name Francis suggests that he wants to call us all back to the transformation that St Francis knew and brought to the whole of Europe." As a Jesuit—the first ever to become pope—Bergoglio was guided in his choice of the name by the co-founder of the Society of Jesus, St. Francis Xavier.
If you wonder, why the world is so confused and incoherent, look no further then the concept that All Truth Is Local. "Cultural Relativism is the view that moral or ethical systems, which vary from culture to culture, are all equally valid and no one system is really "better" than any other. This is based on the idea that there is no ultimate standard of good or evil, so every judgment about right and wrong is a product of society. Therefore, any opinion on morality or ethics is subject to the cultural perspective of each person. Ultimately, this means that no moral or ethical system can be considered the "best," or "worst," and no particular moral or ethical position can actually be considered "right" or "wrong."
This viewpoint is patently absurd on face value. Yet much of humanity uses "words like "pluralism," "tolerance," and "acceptance" in a loose way in which modern society defines these ideas has made it possible for almost anything to be justified on the grounds of "relativism."
The article by Gene Howington, Ethical Relativism: A Good Idea or a Path to Anarchy? – cites a compelling example of an indisputable immorality performed that resulted in the deaths of innocents.
"One of the strongest arguments against ethical relativism comes from the assertion that universal ethical and/or moral standards can exist even if some practices and beliefs vary among cultures. In other words, it is possible to acknowledge cultural differences and still find that some of these practices and beliefs are wrong. Consider that although the Aztec had a society that was in some ways more advanced that their contemporary European counterparts, that their practice of human sacrifice is simply wrong."
Most people seldom analyze their personal behavior in light of such extreme historic atrocities. However, many live a life of individual relativism. The OBJECTIVITY, SUBJECTIVITY, AND MORAL VIEWS site poses the danger of accepting a situation ethics and the risk of adopting the dead end captivity of iconoclasm.
"Individual relativism is close to, but should not be confused with, moral nihilism. An individual relativist takes standards seriously perhaps even by going so far as establishing a strict, or burdensome moral code for himself or herself. Under this position, we view the code as binding only for that one person. A nihilist, on the other hand, believes that morality is an illusion. Nothing is really binding, even a code one establishes for oneself. Nihilism about any subject is difficult to overcome, if overcoming it means giving a nihilist reasons adequate to change his or her belief, because the nihilist can continually reject the basis for our reasoning. We may claim that an objective moral code is needed for proper social function, to avoid harm, to do good, to preserve integrity. The nihilist keeps telling us that all of this is an illusion or that each involves an imposed standard."
Is there really a difference between a personally devised ethical system, which inescapably descends into an abstruseness of conflict and indiscriminate conduct, and the nihilistic delusion that no moral behavior is attainable? Admittedly, each act of moral conscience is individual, but when society promotes a cultural relativism mystique, in order to establish an egalitarian moral neutral acceptance, the glue that binds civilization together breaks apart.
The conventional basis that philosophers acknowledge as foundational for any culture that accepts a deity, is natural law. The University of Tennessee provides an impressive summary of moral thought, in MORAL PHILOSOPHY THROUGH THE AGES.
The traditional underpinnings that apply Aristotle's precepts, to Christian teachings are found in Aquinas Natural Law Theory. Aquinas's account of natural law appears in his "Treatise on Law," a section of his several thousand page Summa Theologica (1a2ae q. 90-144).
"In short, for Aquinas, all moral laws are ultimately grounded in God's unchanging eternal law, and we discover general rules of natural law through intuition. Legal experts then deduce more specific rules of human law from these, and in scriptural divine laws we find examples of both general and specific rules. Since we don't have access to the complete list of eternal law, from our limited human perspectives morality begins with a search for the general rules of natural law. But where do we begin looking for the general rules of natural law? Aquinas says that we must look to human nature as a guide:

… [each human being] has a share of the Eternal Reason, whereby it has a natural inclination to its proper act and end: and this participation of the eternal law in the rational creature is called the natural law. [Summa Theologica, 1a2ae 90:2]

According to Aquinas, when God created us he gave us natural instincts that reflect the general moral principles of natural law. There are two distinct levels of morally-relevant instincts. First, God implanted in us an instinctive intuition that we should pursue our proper human end. Second, God implanted in us a series of instincts that define our proper end as living, reproducing, and rational creatures."
Now the relevance of submitting yourself unto the authority of divine design is rare in an age of godless cultural relativism. Without a willful acceptance of inspired purpose and rules for prescribed conduct, the barbarism of immoral nihilism is inevitable. Politically, the rages of wicked government repression become institutionalized, and a much greater cruelty, than most cleric domination abuses. One need not be a defender of any particular faith to accept the fundamental inherent autonomy of your being within the world. Your plight is often proportional to your circumstance, but your morality or lack thereof; is directly tied to the nature of your created soul.
The ontogeny of every individual is a product of social environment, mortal will and providential inspiration. Most of temporal society is geared to combating political disputes or fostering phony promises. Personages cope according to their singular talents and determination to compete. Many reject, from this equation, the role and influence of the muses consorting with your own mythology. Notwithstanding, the very mention of obedience to Almighty God and the submission to His natural law, bears the risk of being burned at the stake of the cultural relativist.
Thinking About Obscurity suggests: "Obscurity is the idea that when information is hard to obtain or understand, it is, to some degree, safe." Alas, this seems to be the current condition of embracing natural law in an age of cultural relativism. Asking for divine inspiration that seeks eternal reason or using your natural instincts to discover everlasting principles, is hidden from the nihilist and their relativist cousins. Their condescending attacks against religion stems from their own inadequacies, while they spend their energy on convincing themselves of the illusion that a world without God is safe for their own form of Nahuatl liturgy sacrifices.
Dr. Edward Younkins provides a strong defense of Western Civilization in his essay, "Why the World is the Way It Is: Cultural Relativism and It's Descendents". By including, "Multiculturalism, racism, postmodernism, deconstructionism, political correctness, and social engineering are among cultural relativism's "intellectual" descendents", into this mistaken value system, the stage is set for his valid conclusion.
"In reality, the superiority of Western culture can be objectively demonstrated when cultures are appraised based on the only befitting standard for judging a society or culture—the extent to which its core values are life affirming or antilife. Prolife culture recognizes and honors man's nature as a rational being who needs to discern and produce the circumstances that his survival and flourishing require. Such a culture would promote reason, man's natural rights, productivity, science, and technology. Western culture, the prime example of this type of culture, exhibits levels of freedom, opportunity, health, wealth, productivity, innovation, satisfaction, comfort, and life expectancy unprecedented in history.

Western civilization represents man at his best. It embodies the values that make life as a man possible—freedom, reason, individualism, and man's natural rights; capitalism, self-reliance, and self-responsibility based on free will and achievement; the need for limited, republican representative government and the rule of law; language, art, and literature depicting man as efficacious in the world; and science and technology, the rules of logic, and the idea of causality in a universe governed by natural laws intelligible to man. These values, the values of Western civilization, are values for all men cutting across ethnicity, geography, and gender."
That so many pseudo intellectuals not only reject this timeless assessment and actually rebel against the natural order of society, demonstrates why the world is such a mess. Diversity of ethnical relativism cries out for a methodical demise. The cultural suicide of civilization is really a crisis in valid moral values.
There is little safety left on a planet that surrenders it individual responsibility to the collective and forgoes any duty to fulfill ones natural purpose. The progressive slough that society proceeds upon only demeans the whole. Abandoning the quest for universal ethics denies our instinctive intuition. In order to fulfill our nature as a rational creature, humanity must believe that rightful moral principles are ubiquitously applicable.