By any reasonable measure, I think it is safe to say that the last quarter of 2013 has been an insane game of economic Russian Roulette.  Even more unsettling is the fact that most of the American population still has little to no clue that the U.S. was on the verge of a catastrophic catalyst event at least three times in the past three months alone, and that we face an even greater acceleration next year.
The first near miss was the Federal Reserve's announcement of a possible "taper" of QE stimulus in early fall, which sent shivers through stock markets and proved what we have been saying all along – that the entire recovery is a facade built on an ever thinning balloon of fiat money.  Today, markets function entirely on the expectation that the Fed will continue stimulus forever.  If the Fed does cut QE in any way, the frail psychology of the markets will shatter, and the country will come crashing down with it.
The second near miss was the possible unilateral invasion of Syria demanded by the Obama Administration.  As we have discussed here at Alt-Market for years, any invasion of Syria or Iran will bring detrimental consequences to the U.S. economy and energy markets, not to mention draw heavy opposition from Russia and China.  Though the naïve shrug it off as a minor foreign policy bungle, Syria could have easily become WWIII, and I believe the only reason the establishment has not yet followed through with a strike in the region is because the alternative media has been so effective in warning the masses.  The elites need a certain percentage of support from the general public and the military for any war action to be effective, which they did not receive.  After all, no one wants to fight and die in support of CIA funded Al Qaeda terrorist cells on the other side of the world.  The establishment tried to hide who the rebels were, and failed.
The third near miss was, of course, the debt ceiling debate, which has been extended to next spring.  America came within a razor's edge of debt default, which many people rightly fear.  What some do not yet grasp, though, is that debt default of the U.S. was NOT avoided last month, it is INEVITABLE.  Debt default will ultimately result in the death of the dollar as the world reserve currency, and the petro-currency.  This final gasp will lead to hyperstagflation within our financial system, and third world status for most of the citizenry.  It is only a matter of time, and timing.
"Timing" is truly what we are all concerned about.  Those of us in the field of alternative media and economics understand well that the U.S. is on a collision course with disaster; it is a mathematical certainty.  We no longer think in terms of "if" it happens – we only question "when" it will happen.  Our fiscal structure now hangs by the thinnest of threads, a thread which for all we know could be cut at a moments notice.  However, economic and political storms appear to be brewing with the year 2014 as a target.
Globalists have been openly seeking the destabilization of U.S. sovereignty, and they have openly admitted that the destruction of the dollar and our economic foundations will aid them in their goal.  It is important to never forget that international financiers WANT to absorb America into a new global economic structure, and that the U.S. must be debased before this can be accomplished.   Here are a few reasons why I believe 2014 may be the year they make their final move…
Debt Debate On Steroids
Nothing concrete was decided during the highly publicized "battle" between Democrats and the GOP on what would be done to solve the U.S. debt addiction.  Some people might assume that the fight will go on indefinitely, and that the "can" will be kicked down the road for years to come.  This assumption is a dangerous one.  If you thought the last debt debate was hair raising, the next is likely to give you a coronary.  Think of 2013 as a practice run, a warm up to the main event in 2014.  Why will next year be different?  Because the motivations behind a debt ceiling freeze (and thus debt default) are now supported by the obvious failure of Obamacare.
Funding for Obamacare was the underlying issue that gave strength to the push for new debt ceiling extensions.  The U.S. government has overreached financially in ever way imaginable.  We have long running entitlement programs that have been technically bankrupt for years.  But, Obamacare was so pervasive during the debt debate that we heard nothing of these existing liabilities.  Ultimately, Obamacare is the primary reason why so many Americans on the "left" want unlimited spending and inflation, and why so many Americans on the "right" are actually seeking debt default.
We all know that at the top of the pyramid the debt debate itself is false left/right theater, but it is still theater with a purpose.
In my articles 'The Socialization Of America Is Economically Impossible' and 'Obamacare: Is It A Divide And Conquer Distraction', I discussed why universal healthcare could not be implemented in America, and I predicted in advance that Obamacare was actually a farce that was designed to fail.  The program's only purpose is to provide a vehicle by which divisions between the fake left and the fake right could be solidified in the minds of the common populace.  A lot of cynicism was directed at the notion that the government might create a socialized healthcare initiative and then allow it to fail.  Of course, we now know that is exactly what they had in mind.
During the last debt debate, Obamacare was just a policy waiting to be implemented; next debate, that policy will be rightly labeled a train wreck.  Obamacare is falling apart at it's very inception, and evidence makes clear that the White House KNEW in advance that this would occur.  In the days before it's launch, performance tests on the Obamacare website showed conclusively that the system could not handle more than 500 users.
Obama promised that preexisting healthcare plans would be retained by Americans and that the Affordable Care Act would not do damage to established insurance models.  He made this promise knowing full well that he could not or would not keep it.  This dishonesty has resulted in rebellion by Democrats who have sided with Republicans to pass a bill which obstructs the erasure of existing health coverage.
States once disturbingly loyal to the White House are now moving to limit the application of the Obamacare structure.
The White House had foreknowledge that the program was nowhere near ready, yet, they moved forward anyway.  Why wouldn't they stall?  Why would Obama knowingly unleash his "opus" before it was finished?  He had it in the bag, right?  He won, right?  All he had to do was build a functioning website and keep his promises at least long enough to sucker the majority of Americans into the system.  Instead, he throws the fight and hits the canvas before he's even punched?  Why?
It all sounds rather insane if you aren't aware of the bigger picture, and I'm sure the average Democrat out there is wide-eyed and bewildered.  Some might blame it on "ego", or "hubris", but this makes little sense.  Obamacare is an American socialist's dream.  With a simple working public interaction model, Obama would be worshiped by leftists for decades to come as the next Franklin Delano Roosevelt.  Hubris should have ENSURED that the White House launch of Obamacare would be flawless.
Once you realize that this is not about Obama, and that Obama is nothing but a middle-man for the globalists, and that the actual implementation of Obamacare never mattered to the establishment, the fog begins to clear.
With Obamacare in shambles, the dynamic of the debt debate theater changes completely.  Some Democrats may well show support for a hold on the debt ceiling, for, what reason do they have to champion more spending?  Obama has already made fools of them all, and the Obamacare motivator is essentially out of the picture.  The GOP will be energized and more unified than the last debate, giving more momentum to a debt ceiling lock.  The argument will be made that a resulting debt default will not be harmful, and that the U.S. can carry the weight of existing liabilities until the budget is balanced.
This is certainly a lie, but it is a fashionable lie that Americans will want to hear.
Americans do not want to hear that our economy is too far gone and that any motion, to spend, or to cut, will have the same result – currency collapse and fiscal implosion.  They do not want to hear that pain must be suffered before a realistic solution can be applied.  They do not want to hear the the system will have to be brought down before it can be rebuilt.  And, they definitely do not want to hear that the system will be deliberately brought down and replaced with something even worse.
Will the next debt debate in Spring 2014 end in debt default and the collapse that globalists desire so much?  It's hard to say, but many insiders appear to be preparing for just such a scenario…
The Fed's Buzz Kill 
No one, and I mean no one, believes the private Federal Reserve will ever commit to a taper of fiat stimulus.  Hell, I barely believe it's possible, and I'm open to just about any scenario.  That said, I have to ask a question which few analysts seem to be asking – why does the Fed keep pre-injecting the concept of taper into the mainstream if they never intend to implement it?  When has the Fed ever pre-injected a plan into the MSM which it did not eventually implement?
The banksters have the markets in the palm of their hand, or at least they seem to.  Stocks now rise and fall according to whatever meaningless press release the central bank happens to put out on any given morning.  What do they have to gain by consistently shaking the confidence of investors around the world by suggesting that the fiat party they created will abruptly end?
The impending approval by the Senate of Janet Yellen, a champion of the printing press, would suggest to many that QE-infinity is assured.  We know that the black hole generated by the derivatives implosion cannot be filled (debts still exist in the quadrillions of dollars), and that the Fed will have to print endlessly in order to slow the deterioration of the the banking sector.  We know that none of the currency flows created by the Fed are trickling down to main street, which is why credit remains mostly frozen,  real unemployment counting U-6 measurements remains at around 25%, food stamp recipients have risen to around 50 million, and the only sales boosts to property markets are those caused by big banks buying bankrupt houses and then reissuing them as rentals.
We know that it makes sense for the central bank to continue QE, if only to continue pumping up banks and the stock market and hide the truly dismal state of the overall system.  But let's forget about what we think "makes sense" for just a moment…
What if the Fed no longer WANTS to hide the true state of the system anymore?  What if QE is now giving back diminishing returns, and will soon be no longer effective at hiding economic weakness?Central bankers surely don't want to take the blame for a collapse, but what if the perfect patsy is already lined up?  A patsy so hated and despised that no one would think twice about their guilt?  I am, of course, talking about the Federal Government itself.
Think about it; the failure of Obamacare promises a debt debate in the Spring of 2014 that will rock the very foundations of the global economy.  Both sides, Democrat and Republican, are ready to blame the other fully for any disastrous outcome, though "Tea Party" conservatives have been painted by the mainstream media as the lead culprits behind a financial catastrophe that began before the Tea Party was born.  The idea of "gridlock" leading to impasse and calamity is already built into the country's consciousness.  The general public's opinion of all areas of government has recently hit all time lows.  In fact, our opinion of government could scarcely go any lower than it already has.  Everyone HATES what government is, or what they think it is.  Most Americans would be happy to place the brunt of the blame for an economic disaster on the shoulders of Washington DC.
The genius of it is, they deserve a large part of the blame.  They helped to make possible all of the horrors the citizenry will face in the coming years.  The problem is, the public may become so blinded with rage over the failure of the political system, that they may completely forget about the role of international and central banks and turn on each other instead.
Why is the Fed now discussing, just before the possible confirmation of Janet Yellen, a stimulus dove, the need for taper measures by 2014? 
Is it just coincidence that the taper discussion is taking place parallel to the debt ceiling battle, or are these two things related?  What if the Fed plans to apply QE cuts during or after the renewed debt debate in order to make the market effects even more negative?  What if the Fed is timing the taper to give energy to a debt default?  What if the Fed wants to reduce support, so that later, when all hell breaks loose, we'll come begging them for support?
Whether you believe a debt default will be deliberately induced or not, certain foreign investors have been preparing for such a U.S. breakdown for years, and once again, the apex investor, China, has made plans for dramatic economic policy changes to take place in 2014…
China Is Ready To File For Divorce 
The economic marriage between China and the U.S. has been touted Ad nauseum as an invincible relationship chained in eternity by unassailable interdependency.  I've just never bought this fanciful tale.  For years I've written about the likelihood that China will decouple from the American dollar apparatus, and so far, most of my warnings have come to pass.
China has pushed forward with massive physical gold purchases despite all arguments by skeptics that gold is no longer necessary or prudent as a safe haven investment.  Apparently, the Chinese know something they do not.  China is on pace to become the largest holder of gold in the world as early as 2014.
China has now issued Yuan denominated bonds and other assets around the globe, and its central bank has expanded its total balance sheet to at least $24 Trillion, outmatching the reported increased balance sheets of all other central banks:
Now, some feel that this Chinese liquidity should be considered a massive bubble on the verge of exploding, and that it will be Chinese instability, not U.S. instability, that triggers renewed crisis.  I would like to offer an alternative view…
I am not shocked at all by this incredible spike in Yuan circulation.  In fact, I expected it.  The fall back argument against China dumping the dollar as the world reserve has always been that there is no alternative currency that boasts as much liquidity as the dollar.  Well, as we now know, China has been raining Yuan down on every continent.  International banks like JP Morgan have been HELPING them do it.
China is not desperately attempting to prop up its own markets like we are in the U.S.  China is DELIBERATELY generating massive liquidity because they seek to aid the IMF in its longtime plan to replace the greenback as the world reserve currency.  These are not the activities of an investor that wants to stick with the U.S. or the dollar.  These are not the activities of a nation that wishes to continue its limited role as a source of cheap industrial labor.
China, being the largest importer of petroleum surpassing the U.S., is now planning to price its crude oil futures in Yuan, instead of the dollar.
And, the Chinese central bank has announced that it now plans to stop all purchases of U.S. dollars for its reserves.
These decisions are part of a precision strategy, a formula which was finalized during a little discussed and very secretive economic policy meeting which took place in China this past month.
While much of the media was focused on China's call for softer restrictions on its one-child policy, they ignored the thrust of the meeting, which was to establish Chinese consumption over exports, and internationalize the Yuan.  All that is left is for China to "float" the Yuan's value on the open market, which is an action the head of the PBOC, Zhou Xiaochuan, says he plans to expedite.
All of the reforms discussed at China's Third Plenum meeting are supposed to begin taking shape in…that's right…2014.

A Storm Of Septic Proportions
As I have always pointed out, economic collapse is not necessarily an event, it is a process.  The most frightening elements of this process usually do not become visible until it is too late for common people to react in a productive way.  All of the dangers covered in this article could very well set fires tomorrow, that is how close our nation is to the edge.  However, the culmination of events so far seems to be setting the stage for something, an important something, in 2014.  If the worst is possible, assume the worst is probable.  The next leg down, or the next economic carpet bombing.  Maybe slightly painful, maybe mortal.  Sadly, as long as Americans continue to remain dependent on the existing corrupt system, global bankers can pull the plug at their leisure, and determine the depth of the wound with scientific precision.
Source: Brandon Smith | Alt-Market
It is often said there only two kinds of people in this world: those who know, and those who don't. I would expand on this and say that there are actually three kinds of people: those who know, those who don't know, and those who don't care to know. Members of the last group are the kind of people I would characterize as "sheeple."
Sheeple are members of a culture or society who are not necessarily oblivious to the reality of their surroundings; they may have been exposed to valuable truths on numerous occasions. However, when confronted with facts contrary to their conditioned viewpoint, they become aggressive and antagonistic in their behavior, seeking to dismiss and attack the truth by attacking the messenger and denying reason.  Sheeple exist on both sides of America's false political paradigm, and they exist in all social "classes".  In fact, the "professional class" and the hierarchy of academia are rampant breeding grounds for sheeple; who I sometimes refer to as "intellectual idiots".  Doctors and lawyers, scientists and politicians are all just as prone to the sheeple plague as anyone else; the only difference is that they have a bureaucratic apparatus behind them which gives them a false sense of importance.  All they have to do is tow the establishment line, and promote the establishment view.
Of course the common argument made by sheeple is that EVERYONE thinks everyone else is blind to the truth, which in their minds, somehow vindicates their behavior.  However, the characteristic that absolutely defines a sheeple is not necessarily a lack of knowledge, but an unwillingness to consider or embrace obvious logic or truth in order to protect their egos and biases from harm.  A sheeple's mindset is driven by self centered motives.
So-called mainstream media outlets go out of their way to reinforce this aggressive mindset by establishing the illusion that sheeple are the "majority" and that the majority perception (which has been constructed by the MSM) is the only correct perception.
Many liberty movement activists have noted recently that there has been a surge in media propaganda aimed at painting the survival, preparedness and liberty cultures as "fringe," "reactionary," "extremist," "conspiracy-minded," etc. National Geographic's television show "Doomsday Preppers" appears to have been designed specifically to seek out the worst possible representatives of the movement and parade their failings like a carnival sideshow. Rarely do they give focus to the logical arguments regarding why their subjects become preppers, nor do they normally choose subjects who can explain as much in a coherent manner. This is a very similar tactic used by the establishment media at large-scale protests; they generally attempt to interview the least-eloquent and easiest-to-ridicule person present and make that person a momentary mascot for the entire group and the philosophy they hold dear.
The goal is to give sheeple comfort that they are "normal" and that anyone who steps outside the bounds of the mainstream is "abnormal" and a welcome target for the collective.
It would appear that the life of a sheeple is a life of relative bliss. The whole of the establishment machine seems engineered to make them happy and the rest of us miserable. But is a sheeple's existence the ideal? Are they actually happy in their ignorance? Are they truly safe within the confines of the system? Here a just a few reasons why you should feel sorry for them.
Sheeple Are Nothing Without The Collective
A sheeple gathers his entire identity from the group. He acts the way he believes the group wants him to act. He thinks the way he believes the group wants him to think. All of his "ideas" are notions pre-approved by the mainstream. All of his arguments and talking points are positions he heard from the media, or academia, and he has never formed an original opinion in his life. Without the group telling him what to do, the average sheeple is lost and disoriented. When cast into a crisis situation requiring individual initiative, he panics or becomes apathetic, waiting for the system to come and save him rather than taking care of himself. Sheeple are so dependent on others for every aspect of their personality and their survival that when faced with disaster, they are the most likely people to curl up and die.
Sheeple Crave Constant Approval From Others
Sheeple are not only reliant on the collective for their identity and their survival; they also need a steady supplement of approval from others in order to function day to day. When a sheeple leaves his home, he is worried about how his appearance is perceived, how his attitude is perceived, how his lifestyle is perceived and how his opinions are perceived. Everything he does from the moment his day begins revolves around ensuring that the collective approves of him. Even his acts of "rebellion" are often merely approved forms of superficial "individualism" reliant on style rather than substance. This approval becomes a kind of emotional drug to which the sheeple is addicted. He will never make waves among the herd or stand out against any aspect of the herd worldview, because their approval sustains and cements his very existence. To take collective approval away from him would be like cutting off a heroin junky's supplier. To be shunned by the group would destroy him psychologically.
Sheeple Are Incapable Of Original Creativity
Because sheeple spend most of their waking moments trying to appease the collective, they rarely, if ever, have the energy or inclination to create something of their own. Sheeple do not make astonishing works of art. They do not achieve scientific discovery. They do not make history through philosophical or ideological innovation.  Instead, they regurgitate the words of others and hijack ideas from greater minds.  They remain constant spectators in life, watching change from the bleachers, caught in the tides of time and tossed about like congealed satellites of Pacific Ocean garbage from the after-wash of Fukushima. The destiny of the common sheeple is entirely determined by the outcome of wars and restorations waged by small groups of aware individuals — some of them good, some of them evil.
Sheeple Have No Passion
If you draw all of your beliefs from what the collective deems acceptable, then it is difficult, if not impossible, to become legitimately passionate about them. Sheeple have little to no personal connection to their ideals or principles; so they become mutable, empty and uninspired. They tend to turn toward cynicism as a way to compensate, making fun of everything, especially those who ARE passionate about something. The only ideal that they will fight for is the collective itself, because who they are is so intertwined with the survival of the system. To threaten the concept of the collective is to threaten the sheeple's existence by extension.
Sheeple Are Useless
The average sheeple does not learn how to be self-reliant because it is considered "abnormal" by the mainstream to be self-reliant. The collective and the state are the provider. They are mother and father. Sheeple have full faith that the system will protect them from any and all harm. When violence erupts, they cower and hide instead of defending themselves and others. When large-scale catastrophe strikes, they either sit idle waiting for the state to save them or they join yet another irrational mob. They do not take proactive measures, because they never felt the need to learn how.
Consider this: Why do the mainstream and the people subject to it care if others prepare for disaster or end their dependency on the establishment? Why are they so desperate to attack those of us who find our own path? If the system is so effective and the collective so correct in its methodology, then individualists are hurting only themselves by walking away, right? But for the sheeple, successfully self-reliant individuals become a constant reminder of their own inadequacies. They feel that if they cannot survive without the system, NO ONE can survive without the system; and they will make sure that individualists never prove otherwise. "You didn't build that" becomes the sheeple motto, as they scratch and scrape like spoiled children, trying to dismantle the momentum of independent movements and ventures in non-participation.
Sheeple Are Easily Forgotten
To live a life of endless acceptance is to live a life of meaningless obscurity. When one arrives at his deathbed, does he want to reflect on all of his regrets or all of his accomplishments? Most of us would rather find joy than sadness when looking back over our past. For sheeple, though, this will not be possible — for what have they ever done besides conform? What will they have left behind except a world worse off than when they were born? What will they have accomplished, but more pain and struggle for future generations? In the end, what have their lives really been worth?
I cannot imagine a torture more vicious and terrifying than to realize in the face of one's final days that one wasted his entire life trying to please the plethora of idiots around him, instead of educating them and himself and molding tomorrow for the better. I cannot imagine a punishment more severe than to spend the majority of one's years as a slave without even knowing it. I cannot imagine an existence more deserving of pity and remorse than that of the sheeple.
Source: Brandon Smith | Alt-Market
"There exists in this country a plot to enslave every man, woman, and child. Before I leave this high and noble office I intend to expose this plot." John F Kennedy, just before his Assassination…
For those who were of age and alive at the time of the Dallas killing, a fresh memory of the times and era are integral to their assessment. Those who were born later, have no firsthand experience of the actual change that took place to the body politics. Comparing before and after is mostly forgotten by the history accounts. For those who remember, the country started on a downward spiral that continues to the present. The assassination of John F. Kennedy was a political coup d'état and has been described as an enigma with many layers of disinformation. However, peeling back this onion exposes a rot that very much explains the current condition of our country.
When raising the subject of a conspiracy, it is both amusing and tragic that establishment defenders are quick to discredit the investigator, while avoiding facts, evidence and common sense. Solving the mystery to the satisfaction of competing and often conflicting factions is not necessary. However, understanding the course of events that took hold after the Camelot myth was buried is intensely valuable. The end of innocence became an existential awakening to the perceptive, while believing the conclusions of the Warren commission provided reassurance for not facing reality.
Why did powerful elites fear Kennedy? The Entire John F. Kennedy Secret Society Speech provides the motive behind the mask of the media filter.
From this "President and the Press" Speech (April 27, 1961)
"The very word "secrecy" is repugnant in a free and open society; and we are as a people inherently and historically opposed to secret societies, to secret oaths and to secret proceedings. We decided long ago that the dangers of excessive and unwarranted concealment of pertinent facts far outweighed the dangers which are cited to justify it. Even today, there is little value in opposing the threat of a closed society by imitating its arbitrary restrictions. Even today, there is little value in insuring the survival of our nation if our traditions do not survive with it. And there is very grave danger that an announced need for increased security will be seized upon by those anxious to expand its meaning to the very limits of official censorship and concealment. That I do not intend to permit to the extent that it is in my control. And no official of my Administration, whether his rank is high or low, civilian or military, should interpret my words here tonight as an excuse to censor the news, to stifle dissent, to cover up our mistakes or to withhold from the press and the public the facts they deserve to know."
Remember that most famous of all winks at the LBJ swearing in? Look to None Dare Call It Conspiracy!, and put the pieces of the puzzle in place.
"The significance of the Stone film, JFK, is demonstrated by the assault that the established order heaped upon his portrayal. Believe it or reject it, but investigate the questions that have never been answered. If logic has meaning, have Arlene Spector explain that magic bullet again. That 'Man X' was real – his name, colonel Fletcher Prouty, a true 'black bag' magician."
Lyndon B. Johnson initiated the Reign on Terror that continues to this day. His involvement into the plot is supported in the new book, The Man Who Killed Kennedy: The Case Against LBJ by Roger Stone with Mike Colapietro.
"The notable individuals that knew and said Johnson was involved in murderous acts is also well-documented… they include Oswald murderer Jack Ruby, Dexter Scott King, son of Dr. Martin Luther King, as well as LBJ associate Billy Sol Estes, LBJ mistress Madeleine Brown, Texas Governor Allan Shivers, renowned Texas Ranger Clint Peoples, CIA asset E. Howard Hunt and US Senator and 1964 Republican nominee for President Barry Goldwater. The KGB, fearing that they or their puppet state Cuba would be falsely blamed conducted their own investigation and concluded LBJ killed JFK at the same to time French Intelligence would tell Jackie Kennedy LBJ murdered her husband."
If this is just too much to accept, look at the "Skull and Bones" operative, who just happened to be a Texas Oilman. Similarly, he was Vice President at the time of an assassination attempt that almost was successful. Sure, such a coincidence should be fodder for an Oliver Stone sequel – Reagan.
Now consider the CIA component in the "Big Event". Did George H.W. Bush Coordinate a JFK Hit Team?
"Next, George Bush can be seen in photos of Dealey Plaza, next to the TSBD doorway and Ed Lansdale, shortly following the assassination (see below). These photos, unmistakably George Bush, tell us where he went after he left the Dallas Sheriff's Office: back to the crime scene to get an update on all that he had missed. He must have made his call to the FBI reporting James Parrot from the Dallas Sheriff's Office, at 1:45 PM, because Bush is seen in Dealey Plaza with Lansdale, who would leave the plaza at about 2 PM and walk past "the three tramps" toward the parking lot. Bush obviously had to go straight back to Dealey Plaza for him to be photographed with Lansdale, who remained around Dealey Plaza until Oswald was arrested at the Texas Theater at 1:50 PM."
J. Edgar Hoover's FBI was up to his ears in the investigation. He certainly was no friend of the Kennedy's. Therefore, when eyewitness testimony from scores of witnesses was ignored or discarded by the Bureau, no one should be surprised that the final report will be suspect. The Mary Ferrell Foundation site furnishes the following:
"The Church Committee in the 1970s analyzed the CIA's role in supporting the Warren Commission, and found it lacking. The Committee "developed evidence which impeaches the process by which the intelligence agencies [CIA and FBI] arrived at their own conclusions about the assassination, and by which they provided information to the Warren Commission."
Now watch the video from Jim Marrs & St. John Hunt - E. Howard Hunt Deathbed Confession JFK Assassination. A dying admission once held legal merit. But in this disinformation world of government scripted deflection, the public needs to be kept in tranquil ignorance. The Daily Paul site provided additional information.
"One of most explosive under-reported stories of the last 50 years is the deathbed confession of E. Howard Hunt, who was personal assistant to Allen Dulles, head of the CIA at the time, to knowledge that Lee Harvey Oswald did not act alone and that he, Hunt, had been personally involved in the assassination. Hunt said in his written confession that the assassination was code-named "the Big Event."
Whatever determination you maintain on the actual circumstances, the results from JFK's elimination are dramatic. Five Fiendish Ways the Kennedy Assassination Warped Our World list is an effective analysis.
1. LBJ Unleashed – Johnson's profligate Great Society spending strategies, which took the New Deal and accelerated it into hyper-drive.

2. Vietnam – in October of 1963, Kennedy issued National Security Action Memorandum (NSAM) 263, which detailed his plan to withdraw U.S. advisers from Vietnam while gradually scaling back our involvement in Southeast Asia. But within four days of the assassination, Lyndon Johnson had already signed and submitted NSAM 273, which reversed course and basically pledged to stand by the government in South Vietnam come hell or high water.

3. The Federal Reserve Survives – In June of 1963, Kennedy signed Executive Order 11110, which authorized the U.S. Treasury to issue certificates backed by silver as an alternative form of money to Federal Reserve notes. But when President Kennedy was killed, LBJ suspended this program immediately, and the Federal Reserve's control over the U.S. economy has never once been challenged since.

4. The CIA and Our Culture of Secrecy – Kennedy's statement to "splinter the CIA into a thousand pieces and scatter it to the wind", his death allowed the CIA to continue and preserve its culture of secrecy.

5. Mainstream Nonsense and the Mainstream Media – The vast majority of the Fourth Estate took the path of least resistance, and the idea of an independent media that would fearlessly search for the truth no matter where it led died a painful and difficult death.
So what is the significance of the JFK Assassination? In an interview, Roger Stone answers the question: How did JFK's death affect society, people's minds? Is the impact still present in your opinion?
"I think it certainly changed our policy very dramatically – I think we moved it back into the Cold War. After the death of John F. Kennedy the important conversations between the Russian State and the United States were damaged. We know, because it was historically recorded that Nikita Khrushchev wept, when he heard of the death of Kennedy. There was an American journalist who was with Fidel Castro, when he was distraught what he learned: he said over and over again "this is very bad, this is very bad"… I think we were engaged – we were beginning to engage in some fruitful conversations in terms of easing the tensions between our countries and I think there were those in the Pentagon, those in the US military, those in our US-based intelligent services who were very unhappy about that direction. I think it is a major factor – not the factor, – but a major factor in getting John F. Kennedy killed."
It is the contention of this "Reign of Terror" series to provide accounts and evidence that the nation has endured under a shadow government of ruling elites; especially, since the elimination of a President, who dared challenge the interests of the true masters of the establishment.
The deplorable circumstance of a society, so ignorant to make distinctions, of real history from invented official fairy tales, explains largely why Americans are in serial denial. The article JFK retrospectives adnauseam, makes this point.
"People never learn. After the sanctioned assassination, healing the country provided the necessary cover to implement the goals of the coup. Most of the evidence that explains the background that led up to the removal of Kennedy fails to address the breakdown of the entire historic underpinning of the nation, since WWII. The seeds of the Great Society were sown in the idiocy of being dragged into that global contrived conflict. Those who should know best, since they lived during that era, often deny their own blind faith in a misguided allegiance to a central government."
As for the population that never knew or heard actual accounts of this age, "so called" news reporting usually sugar coats or distorts the facts, ignorance really is not bliss. Today's electronic media is a hodgepodge of government talking points or press releases.
The constant drumbeat to blame Lee Harvey Oswald solely for the Kennedy assassination intends to make patsies of the American people. The greater fool theory works in elections. In a New poll finds that belief in JFK assassination conspiracy still strong, but slipping slightly may be a trend worth noting. Reflecting the goals of the "Great Society" means, that acceptance of government authoritarianism became easier.
Deconstructing the JFK Myth offers this distinction. "Ask not what your country can do for you — ask what you can do for your country." The invocation needed to read: "Ask not what you can do for your country — Ask what we can do together to insure individual Liberty"
Propagandists of the ilk of Sargeant Shriver and Arthur Schlesinger Jr., designed a legend that defied factual references", but the martyrdom of a slain President misses the point. John Kennedy was not a saint, but was an obstacle. What better message to future aspirant reformers that a magic bullet awaits their demise.
Few institutional government critics were known for rocking the boat, especially when Kennedy's "a rising tide lifts all boats" might upset his elitist executioners. The system is much bigger than any individual. Bucking the sub-rosa interests that seek greater concentrated control can be deadly. America was condemned to a Reign of Terror on November 22, 1963.
It is natural for a society to search for explanations and motivations in the wake of a man-made tragedy. It is also somewhat natural for people to be driven by their personal biases when looking for someone or something to blame. In recent years, however, our country has been carefully conditioned to view almost every criminal event from an ideological perspective.
The mainstream media now places far more emphasis on the political affiliations and philosophies of "madmen" than it does on their personal disorders and psychosis. The media's goal, or mission, if you will, is to associate every dark deed whether real or engineered to the political enemies of the establishment, and to make the actions of each individual the collective shame of an entire group of people.
I could sift through a long list of terror attacks and mass shootings in which the establishment media jumped to the conclusion that the perpetrators were inspired by the beliefs of Constitutional conservatives, "conspiracy theorists", patriots, etc. It is clear to anyone paying attention that the system is going out of its way to demonize those who question the officially sanctioned story, or the officially sanctioned world view. The circus surrounding the latest shooting of multiple TSA agents at Los Angeles International Airport is a perfect example.
Paul Ciancia, the primary suspect in the shooting, was immediately tied to the Liberty Movement by media outlets and the Southern Poverty Law Center, by notes (which we still have yet to see proof of) that law enforcement claims to have found on his person. The notes allegedly use terms such as "New World Order" and "fiat money", commonly covered by those of us in the alternative media. The assertion is, of course, that Paul Ciancia is just the beginning, and that most if not all of us involved in the exposure of the globalist agenda are powder kegs just waiting to "go off." The label often used by the MSM to profile people like Ciancia and marginalize the organizational efforts of liberty based culture is "anti-government."
The establishment desires to acclimate Americans to the idea that being anti-government is wrong; that it is a despicable philosophy embracing social deviance, aimless violence, isolation and zealotry. Looking beyond the mainstream position, my question is, is it really such a bad thing to be anti-government today?
Conspiracy Realists
The terms "anti-government" and "conspiracy theorist" are almost always used in the same paragraph when mainstream media pundits espouse their propaganda. They are nothing more than ad hominem labels designed to play on the presumptions of the general population, manipulating them into dismissing any and all alternative viewpoints before they are ever heard or explained. The establishment and the media are ill-equipped to debate us on fair terms, and understand that they will lose control if Americans are allowed to hear what we have to say in a balanced forum. Therefore, their only fallback is to bury the public in lies so thick they won't want to listen to us at all.
The Liberty Movement now has the upper hand in the war for information. The exposure of multiple conspiracies in the past several years alone has given immense weight to our stance, and reaffirmed warnings we gave long ago.
When we spoke out against the invasion of Iraq, commissioned by George W. Bush on the dubious claim that Iraqi weapons of mass destruction were an immediate threat to the security of our nation, we were called "liberals" and "traitors."  Today, Bush and Cheney have both openly admitted that no WMD's were ever present in the region. When we attempted to educate the masses on the widespread surveillance of innocent people by the NSA, some of them laughed. Today, it is common knowledge that all electronic communications are monitored by the Federal government. When we refused to accept the official story behind the Bureau of Alcohol, Tobacco, Firearms and Explosives' Fast and Furious program, we were called "kooks". Today, it is common knowledge that the Obama Administration purposely allowed U.S. arms to fall into the hands of Mexican cartels. When we roared over the obvious hand the White House played in the Benghazi attack, we were labeled "racists" and "right wing extremists." Today, it is common knowledge that the White House ordered military response units to stand down and allow the attack to take place. I could go on and on…
Events that were called "conspiracy theory" by the mainstream yesterday are now historical fact today. Have we ever received an apology for this slander? No, of course not, and we don't expect one will ever surface. We have already gained something far more important – legitimacy.
And what about Paul Ciancia's apparent belief in the dangers of the "New World Order" and "fiat money"? Are these "conspiracy theories", or conspiracy realism? The Liberty Movement didn't coin the phrase "New World Order", these political and corporate "luminaries" did:
Is economic collapse really just a fairytale perpetrated by "anti-government extremists" bent on fear mongering and dividing society?  Perhaps we should ask Alan Greenspan, who now openly admits that he and the private Federal Reserve knew full well they had helped engineer the housing bubble which eventually imploded during the derivatives collapse of 2008.
Or, why not ask the the White House, which just last month proclaimed that "economic chaos" would result if Republicans did not agree to raise the debt ceiling.
Does this make Barack Obama and the Democratic elite "conspiracy theorists" as well?
It is undeniable that government conspiracies and corporate conspiracies exist, and have caused unquantifiable pain to the American people and the people of the world. Knowing this, is it not natural that many citizens would adopt anti-government views in response? Is it wrong to distrust a criminal individual or a criminal enterprise? Why would it be wrong to distrust a criminal government?
The Purpose Behind The Anti-Government Label
When the establishment mainstream applies the anti-government label, they are hoping to achieve several levels propaganda. Here are just a few:
False Association: By placing the alleged "anti-government" views of violent people in the spotlight, the establishment is asserting that it is the political philosophy, not the individual, that is the problem. They are also asserting that other people who hold similar beliefs are guilty by association. That is to say, the actions of one man now become the trespasses of all those who share his ideology. This tactic is only applied by the media to those on the conservative or constitutional end of the spectrum, as it was with Paul Ciancia. For example, when it was discovered that Arizona mass shooter Jared Loughner was actually a leftist, the MSM did not attempt to tie his actions to liberals in general. Why? Because the left is not a threat to the elitist oligarchy within our government. Constitutional conservatives, on the other hand, are.
False Generalization: The term "anti-government" is so broad that, like the term "terrorist", it can be applied to almost anyone for any reason. The establishment does not want you to distinguish between those who are anti-government for the wrong reasons, and those who are anti-government for the right reasons. Anyone who questions the status quo becomes the enemy regardless of their motives or logic. By demonizing the idea of being anti-government, the establishment manipulates the public into assuming that all government by extension is good, or at least necessary, when the facts actually suggest that most government is neither good or necessary.
False Assertion: The negative connotations surrounding the anti-government stance also suggest that anyone who defends themselves or their principles against government tyranny, whether rationally justified or not, is an evil person. Just look at how Washington D.C. has treated Edward Snowden. Numerous political elites have suggested trying the whistle-blower for treason, or assassinating him outright without due process, even though Snowden's only crime was to expose the criminal mass surveillance of the American people by the government itself. Rather than apologizing for their corruption, the government would rather destroy anyone who exposes the truth.
False Shame: Does government criminality call for behavior like that allegedly taken by Paul Ciancia? His particular action was not morally honorable or even effective.  It helped the establishment's position instead of hurting it, and was apparently driven more by personal psychological turmoil rather than political affiliation. But, would it be wrong for morally sound and rational Americans facing imminent despotism within government to physically fight back? Would it be wrong to enter into combat with a totalitarian system? The Founding Fathers did, but only after they had exhausted all other avenues, and only after they had broken away from dependence on the system they had sought to fight. Being anti-government does not mean one is a violent and dangerous person. It does mean, though, that there will come a point at which we will not allow government to further erode our freedoms. We will not and should not feel shame in making that stand.
I do not agree with every element of the "anti-government" ethos that exists in our era, but I do see the vast majority of reasons behind it as legitimate. If the establishment really desired to quell the quickly growing anti-government methodology, then they would stop committing Constitutional atrocities and stop giving the public so many causes to hate them. If they continue with their vicious bid to erase civil liberties, dominate the citizenry through fear and intimidation and steal and murder in our name, then our response will inevitably be "anti-government", and we will inevitably move to end the system as we know it.
Source: Brandon Smith | Alt-Market
The verdict is out on flu shots. Many medical experts now agree it is more important to protect yourself and your family from the flu vaccine than the flu itself.
Every year the pharmaceutical industry, medical experts and the mainstream media work hard to convince us to get vaccinated against the flu. But we're not being told the whole story. What we don't hear, are cases about the adverse reactions or about the toxic chemicals being injected into us.
Read below 11 reasons why flu shots are more dangerous than the flu itself.
1. The flu shot actually makes you sick to begin with Have you ever noticed how vaccinated children get sick almost immediately following a vaccination? This is because the flu virus is introduced into their bodies. So rather than immunize, the flu shot actually only sensitizes the body against the virus. And the fact that it causes individuals to get ill following a shot indicates immuno-suppression (i.e. lowering of the immunity).
2. Flu vaccines contain other dangerous ingredients such as mercury The pharmaceutical industry, medical experts and the mainstream media are candid in telling us that flu vaccines contain strains of the flu virus. What they are less likely to reveal though is the long list of other ingredients that come with the vaccine. It is now a known fact that flu vaccines contain mercury, a heavy metal known to be hazardous for human health. Mercury toxicity can cause depression, memory loss, cardiovascular diseases, respiratory problems, ADD, oral health problems, digestive imbalances and other serious health issues.
3. The flu shot can cause Alzheimer's disease Evidence now suggests that flu vaccines can cause Alzheimer's disease. Research conducted by Dr. Hugh Fudenberg, a leading immunogeneticist, shows that those who consistently get the flu vaccine increase their risk of Alzheimer's disease by 10 fold. He believes this is due to the toxic combination of aluminum and mercury in the vaccine. Additionally, introducing the flu virus to an elderly person (who with age will naturally have a weaker immune system) will only increase the chances of that individual becoming susceptible to more serious illness.
4. The very people pushing flu vaccinations are making billions of dollars each year In August 1999, the Committee on Government Reform initiated an investigation into Federal vaccine policy. This investigation focused on possible conflicts of interest on the part of the Food and Drug Administration (FDA) and the Centers for Disease Control and Prevention (CDC). The investigation concluded that many individuals serving on two key advisory committees had financial ties to the pharmaceutical companies that manufacture vaccines. Often, these individuals were granted waivers to fully participate in the discussions that led to recommendations on vaccine licensing and adding vaccines to the Childhood Immunization Schedule. This in itself creates serious doubt as to how effective flu vaccines really are.
5. Lack of real evidence that young children even benefit from flu shots 51 studies involving 260,000 children age 6 to 23 months established no evidence that the flu vaccine is any more effective than a placebo. Additionally, flu shots only protect against certain strains of the virus meaning that you can still easily get the flu if you come into contact with a different strain of virus.
6. Makes you more susceptible to pneumonia and other contagious diseases For someone with an already suppressed immune system, injecting strains of the flu virus can have devastating consequences. If your body is already working to fight off a virus or simply operating with low immunity, a vaccine injection could put your body in serious danger of contracting influenza with stronger symptoms, or even worse pneumonia and other contagious diseases.
7. Vascular disorders Medical research shows flu shots are associated with an increased risk of vascular inflammation. Symptoms include fever, jaw pain, muscle aches, pain and stiffness in the neck, upper arms, shoulder and hips and headache.
8. Children under the age of 1 are at risk Children under 1 years of age are highly vulnerable to a neurotoxic breach of the delicate nerve center surrounding the brain and central nervous system. The first round of the flu vaccine is administered at age 6 months. A child under the age of 1 lacks sufficient protection to guard against premature damage to the blood barrier in the brain.
9. Increased risk of narcolepsy There have been dozens of reported cases of children in 12 different countries who have developed narcolepsy (a chronic sleep disorder) after receiving the flu vaccine. The study, which took place between October 2009 and the December 2011, compared 3.3 million vaccinated Swedes with 2.5 million who were not vaccinated. The risk was found to be highest among the youngest people who took the vaccines. For those under the age of 21, the risk of contracting narcolepsy was three times higher.
10. Weakens immunological responses There have been literally thousands of medical journal articles published that show injecting vaccines can lead to harmful immunological responses and a host of other infections. Moreover, weak immunological responses only decrease a person's ability to fight the diseases that the vaccine was supposed to protect against in the first place.
11. Serious neurological disorders Evidence now suggests that ingredients in flu vaccinations can actually cause serious neurological disorders. In 1976 a significant number of those who received the flu vaccine acquired Guillain-Barré Syndrome (GBS), a disorder characterized by permanent nerve damage and even paralysis. Flu vaccines can contain many harmful materials including detergent, mercury, formaldehyde, and strains of live flu virus.
Source: Blindfold
I realize it is hard for some people to understand (especially those holding political office), but in the United States, "We the People" are the sovereigns. America has no king. In America, "We the People" are Caesar. Someone rightly said, "In America, the people rule; they have the power of the ballot box, the jury box, and the cartridge box." Amen. And in this land of liberty, nothing is more important than the jury box. The right to a speedy trial by a jury of one's peers is a benchmark principle of a free land.
Juries have immeasurable power. Not only do they have power over the fate of the accused, they have power over the accusers. No one has more authority than a jury–not even the judge. And without hyperbole I can say that a constitutionally literate, fully informed jury is pretty much all that stands between the ballot box and the cartridge box.
In a letter to Thomas Paine, Thomas Jefferson wrote, "I consider [trial by jury] as the only anchor ever yet imagined by man by which a government can be held to the principles of its constitution." And two years before the first musket shot was fired that started America's War for Independence, a Boston lawyer by the name of John Adams said, "Representative government and trial by jury are the heart and lungs of liberty. Without them we have no other fortification against being ridden like horses, fleeced like sheep, worked like cattle, and fed and clothed like swine and hounds."
All of the rhetoric of modern judges notwithstanding, juries have a constitutional duty and obligation to judge, not only the merits of the case before them, but also the merits of the law which brought the accused before them. And America's Founding Fathers agree with what I just said.
John Adams said, "It is not only his [the juror's] right, but his duty…to find the verdict according to his own best understanding, judgment, and conscience, though in direct opposition to the direction of the court." Again, this is from one of our country's most celebrated attorneys, a signer of the Declaration of Independence, and America's second President. America's first Supreme Court Chief Justice agreed with Adams. John Jay wrote, "The jury has the right to judge both the law as well as the fact in controversy."
The rest of America's founders agreed with Adams, Jay, and Jefferson. US Supreme Court Justice and signer of the Declaration, Samuel Chase, wrote, "The jury has the right to determine both the law and the facts." Patrick Henry said, "Why do we love this trial by jury? Because it prevents the hand of oppression from cutting you off…This gives me comfort, that, as long as I have existence, my neighbors will protect me."
Protect its neighbors is exactly what a jury in Liberty County, Florida, recently did. The neighbor in the case was none other than the county sheriff, Nick Finch. Infowars.com covers the story:
"Nick Finch, the Florida sheriff arrested in June after he defended the Second Amendment, has been declared 'not guilty' of the charges brought against him by the State of Florida, according to [former Graham County, Arizona, Sheriff] Richard Mack.
"The Liberty Co. sheriff was charged with felony 'official misconduct' and 'falsifying public records' after he released a suspect arrested on an unconstitutional gun charge and removed the arrest file.
"After closing arguments by prosecutors and the defense, the jury took less than 90 minutes to reach its verdict."
The report continues saying, "During the trial, the sheriff testified that he released Floyd Eugene Parrish, who was arrested for unlawfully carrying a firearm, because he believed the Second Amendment trumped all state gun laws.
"As we reported back in June, the Florida Department of Law Enforcement accused Finch of covering up the arrest of Floyd Eugene Parrish after releasing him from the Liberty County Jail.
"On March 8, Sgt. James Joseph Hoagland of the Liberty County Sheriff's Office arrested Parrish during a traffic stop after finding a .25 automatic pistol in Parrish's right front pocket and a holstered revolver in his car, according to court records.
"Parrish was then taken to the county jail.
"After being notified of Parrish's arrest, Finch took the arrest file and told jailers that Parrish would be released with no charges, according to investigators.
"Finch also ordered both the pistol and revolver be returned."
See the report here:
Pro-Gun Sheriff Found Not Guilty
This verdict is one of the most important jury decisions in modern history; and how many reports did you see about it in the mainstream media? Where was ABC, CBS, NBC, MSNBC, CNN, or FOX News?
Sheriff Finch is a modern-day Daniel. He stood for his principles, the Constitution, and the liberties of the people of his county; and he was thrown into a den of lions by Republican Governor Rick Scott and the FDLE (Florida Department of Law Enforcement). But an eight-person jury acquitted him of all charges and the sheriff was reinstated.
This is what a jury is supposed to do: protect its neighbors from the oppression of unlawful government. And that is exactly what that Liberty County jury did. They deserve the gratitude of liberty-loving people all over the United States.
It is pathetic and sad that Governor Scott did not stand with Sheriff Finch as he should have done. Scott threw this modern-day Daniel into the lion's den, but God delivered him. Now the people of Florida should throw Governor Scott into the lion's den (as King Darius did to Daniel's accusers) by impeachment and removal from office for not defending the US Constitution, as he took an oath to do. I guarantee you that Patrick Henry, Thomas Jefferson, John Adams, Samuel Chase, and John Jay would have stood with Sheriff Finch. And so would US Supreme Court Justice Oliver Wendell Holmes. Justice Holmes said, "The jury has the power to bring a verdict in the teeth of both law and fact."
And bringing "a verdict in the teeth of both law and fact" is exactly what a Liberty County, Florida, jury did. They upheld the constitutional right of people to keep and bear arms, and they repudiated the Florida State gun-control laws that abridge that right under the rubric of license.
In truth, every law-abiding citizen in this country has a right under the US Constitution to carry his or her arms–concealed or open. It is past time for county sheriffs, State governors, and local juries to follow the example of Sheriff Finch and this Liberty County, Florida, jury. It is time for freedom-loving people in all 50 states to demand that these copious State and local gun-control laws that prohibit or restrict the right of the people to keep AND BEAR arms be expunged. That means, if you are called upon to serve on a jury in a case involving a law that restricts the Second Amendment right to freely keep and bear arms, you should do what this Liberty County, Florida, jury did and acquit the accused.
All over America, sheriffs and governors pretend to be supporters of the Constitution. All over America, sheriffs and governors give lip service to the Second Amendment. It is time the American people start demanding more than lip service from their elected officials. We need sheriffs like Nick Finch. And we need governors like…well, like PATRICK HENRY. (Sadly, I can't think of a single governor today to use as an example.)
Patrick Henry said he depended on his neighbors, when sitting as a jury, to protect him. Happily, Sheriff Finch has some good neighbors. But in truth, juries do more than protect individuals; they protect liberty itself.  Any law that infringes on or contradicts the Bill of Rights should be considered null and void by any citizen-jury. In this way, it is the citizen-jury, not the Supreme Court, which is the final arbiter of a law's constitutionality. Without the veto power of the jury (call it nullification, if you will), America is not a country of, by, and for the People: but a country of, by, and for the politicians and judges.
Kudos to Sheriff Finch and the people of Liberty County, Florida.
If you would like to send personal kudos to Sheriff Finch, here is the website with his contact information:
Florida Sheriffs Association—Sheriff Nick Finch
In 2009, Jim Rickards, a lawyer, investment banker and adviser on capital markets to the Director of National Intelligence and the Office of the Secretary of Defense, participated in a secret war game sponsored by the Pentagon at the Applied Physics Laboratory (APL). The game's objective was to simulate and explore the potential outcomes and effects of a global financial war. At the end of the war game, the Pentagon concluded that the U.S. dollar was at extreme risk of devaluation and collapse in the near term, triggered either by a default of the U.S. Treasury and the dumping of bonds by foreign investors or by hyperinflation by the private Federal Reserve.
These revelations, later exposed by Rickards, were interesting not because they were "new" or "shocking." Rather, they were interesting because many of us in the field of alternative economics had ALREADY predicted the same outcome for the American financial system years before the APL decided to entertain the notion. At least, that is what the public record indicates.
The idea that our government has indeed run economic collapse scenarios, found the United States in mortal danger, and done absolutely nothing to fix the problem is bad enough. I have my doubts, however, that the Pentagon or partnered private think tanks like the RAND Corporation did not run scenarios on dollar collapse long before 2009. In fact, I believe there is much evidence to suggest that the military industrial complex has not only been aware of the fiscal weaknesses of the U.S. system for decades, but they have also been actively engaged in exploiting those weaknesses in order to manipulate the American public with fears of cultural catastrophe.
History teaches us that most economic crisis events are followed or preceded immediately by international or domestic conflict. War is the looming shadow behind nearly all fiscal disasters. I suspect that numerous corporate think tanks and the Department Of Defense are perfectly aware of this relationship and have war gamed such events as well. Internal strife and civil war are often natural side effects of economic despair within any population.
Has a second civil war been "gamed" by our government? And are Americans being swindled into fighting and killing each other while the banksters who created the mess observe at their leisure, waiting until the dust settles to return to the scene and collect their prize? Here are some examples of how both sides of the false left/right paradigm are being goaded into turning on each other.
Conservatives: Taunting The Resting Lion
Conservatives, especially Constitutional conservatives, are the warrior class of American society. The average conservative is far more likely to own a firearm, have extensive tactical training with that firearm, have military experience and have less psychological fear of conflict; and he is more apt to take independent physical action in the face of an immediate threat. Constitutional conservatives are also more likely to fight based on principal and heritage, rather than personal gain, and less likely to get wrapped up in the madness of mob activity.
What's the greatest weakness of conservatives? It's their tendency to entertain leadership by men who claim exceptional warrior status, even if those men are not necessarily honorable.
Constitutional conservatives are the most substantial existing threat to the establishment hierarchy because, unlike dissenting groups of the past, we know exactly who the guiding hand is behind economic and social calamity. In response, the overall conservative culture has come under relentless attack by the establishment using the Administration of Barack Obama as a middleman. The goal, I believe, is to misdirect conservative rage toward the Democratic left and away from the elites. The actions of the White House have become so absurd and so openly hostile as of late that I can only surmise that this is a deliberate strategy to lure conservatives into ill-conceived retaliation against a puppet government, rather than the men behind the curtain.
Department of Defense propaganda briefings with military personnel have been exposed. These briefings train current serving soldiers to view Tea Party conservatives and even Christian organizations as "dangerous extremists." Reports from sources within Fort Hood andFort Shelby confirm this trend.
The DOD has denied some of the allegations or claimed that it has "corrected" the problem; however, Judicial Watch has obtained official training documents through a Freedom of Information Act request that affirm that extremist profiling is an integral part of these military briefings. The documents also cite none other than the Southern Poverty Law Center (SPLC) as a primary resource for the training classes. The SPLC is nothing more than an outsourced propaganda wing for the DHS that attacks Constitutional organizations and associates them with terrorist and racist groups on a regular basis. (Check pages 32-33.)
This indoctrination program has accelerated since January 2013, after Professor Arie Perliger, a member of a West Point think tank called Combating Terrorism Center (and according to the sparse biographical information available, a man with NO previous U.S. military experience), published and circulated a report called "Challengers From The Sidelines: Understanding America's Violent Far Right" at West Point. The report classified "far right extremists" as "domestic enemies" who commonly "espouse strong convictions regarding the federal government , believing it to be corrupt and tyrannical, with a natural tendency to intrude on individuals' civil and constitutional right."  The profile goes on to list supporting belief in "civil activism, individual freedoms, and self government" as the dastardly traits of evil extremists.
Soldiers have been told that associating with "far right extremist groups" could be used as grounds for court-martial. A general purge of associated symbolism has ensued, including new orders handed down to Navy SEALs that demand that operators remove the "Don't Tread On Me" Navy Jack patch from their uniforms.
The indoctrination of the military also follows on the heels of a massive media campaign to demonize Constitutional conservatives who fought against Obamacare in the latest debt ceiling debate as "domestic enemies" and "terrorists." I documented this in my recent article "Are Constitutional Conservatives Really the Boogeyman?"
Obama and his ilk have been caught red-handed in numerous conspiracies, including Fast and Furious, which shipped American arms through the Bureau of Alcohol, Tobacco, Firearms and Explosives into the hands of Mexican drug cartels. And how about the exposure of the IRS using its bureaucracy as a weapon to harass Tea Party organizations and activists? And what about Benghazi, Libya, the terrorist attack that Barack Obama and Hillary Clinton allowed to happen, if they didn't directly order it to happen? And let's not forget about the Edward Snowden revelations, which finally made Americans understand that mass surveillance of our population is a constant reality.
To add icing to the cake, a new book called Double Down, which chronicles the Obama campaign of 2012, quotes personal aides to the President who relate that Obama, a Nobel Peace Prize winner, when discussing his use of drone strikes, bragged that he was "really good at killing people."
Now, my question is, why would the Obama Administration make so many "mistakes," attack conservatives with such a lack of subtlety, and attempt to openly propagandize rank-and-file soldiers, many of whom identify with conservative values? Is it all just insane hubris, or is he serving his handlers by trying to purposely create a volatile response?
Liberals: Taking Away The Cookie Jar
Many on the so-called "left" are socially oriented and find solace in the functions of the group, rather than individualism. They seek safety in administration, centralization and government welfare. Wealth is frowned upon, while "redistribution" of wealth is cheered. They see government as necessary to the daily survival of the nation, and they work to expand Federal influence into all facets of life. Some liberals do this out of a desire to elevate the poverty-stricken and ensure certain educational standards. However, they tend to ignore the homogenizing effect this strategy has on society, making everyone equally destitute and equally stupid. Their faith in government subsidies also makes them vulnerable to funding cuts and reductions in entitlements. The left normally fights only when their standard of living and comfort to which they have grown accustomed plummets below a certain threshold, and mob methods are usually their fallback form of retaliation.
Austerity cuts, which the mainstream media calls the "sequester," are beginning to take effect. But, they are being applied in areas that are clearly meant to create the most public anger. Reductions in welfare programs are also being implemented in a way that will certainly agitate average left-leaning citizens. The debt debate itself revolved around those who want the government to spend within its means versus those who want the government to spend even more on welfare programs no matter the consequence. The loss of subsidies is at bottom the greatest fear of the left.
A sudden and inexplicable shutdown of electronic benefit transfer cards (EBT cards or food stamps) occurred in more than 17 States while the debt debate just happened to be climaxing. This month, cuts to existing food stamp funds have taken effect, and food pantries across the country are scrambling against a sharp spike in demand.
Remember, about 50 million Americans are currently dependent on EBT welfare in order to feed themselves and their families. The response to the relatively short EBT shutdown last month was outright fury. Imagine the response in the event of a long-term shutdown, or if extraneous cuts were to occur? And where would that anger be directed? Since the entire debt debacle has been blamed on the Tea Party, I suspect conservatives will be the main target of welfare mobs.
The left, once just as opposed to government stimulus and banker bailouts as the right, is now unwittingly throwing its support behind infinite stimulus in order to cement the continued existence of precious Federal handouts. The issue of Obamacare has utterly blinded liberals to fiscal responsibility. Universal healthcare, perhaps the ultimate Federal handout, is a prize too titillating for them to ignore. Democrats will now go to incredible lengths to defend the Obama White House regardless of past crimes.
They are willing to ignore his offenses against the 4th Amendment and personal privacy. They are willing to look past his offenses against the 1st Amendment, including the Constitutional right to trial by jury for all Americans, and Obama's secret war against the free speech of whistle-blowers. They are willing to shrug off his endless warmongering in the Mideast, his attempts to foment new war in Syria and Iran, and his support for predator drone strikes in sovereign nations causing severe civilian collateral damage. They are willing to forget Snowden, mass surveillance and executive assassination lists — all for Obamacare.
And the saddest thing of all? It is likely that Obamacare was never meant to be successful in the first place.
Does anyone really believe that the White House, with billions of dollars at its disposal, could not get a website off the ground if it really wanted to? Does anyone really believe that Obama would launch the crowning jewel of his Presidency without making certain that it was fully operational, unless this was part of a greater scheme?  And how about his promise that pre-existing health care plans would not be destroyed by Obamacare mandates?  Over 900,000 people in the state of California alone are about to lose their health care insurance due to the Affordable Healthcare Act.  Why would Obama go back on such a vital pledge unless he WANTED to piss off constituents?
Already, liberal websites and forums across the blogosphere are abuzz with talk of sabotage of the Obamacare website by "the radical right" and the diabolical Koch Brothers (liberals had no idea who they were a year ago, but now, they the go to scapegoat for everything). Once again, conservatives are presented as the culprits behind all the left's troubles.
As I have stated in the past, Obamacare is designed to fail. The government has no capacity to fund it, and never will. Its only conceivable purpose is to further divide the country and excite both sides of the false paradigm into attacking each other as the reason the system is failing, when both sides should be questioning whether the current system should exist at all.
As the situation stands today, at least 50 million welfare recipients and who knows how many others exist as a resource pool for the establishment to be used to wreak havoc on the rest of us. All they have to do is take away the cookie jar.
Who Would Win?
Who would prevail in a second American civil war? Tactically speaking, conservatives have the upper hand and are far better prepared. Food rioters wouldn't last beyond three to six weeks as starvation takes its toll, and mindless mobs would not last long against seasoned riflemen. The military, though suffering purges by the White House, still contains numerous conservatives within its ranks. Outside influences, including NATO or the United Nations, are a possibility. There are numerous factors to consider. But I would point out that the most dangerous adversary Constitutional conservatives face is not the left, Obama, or a Federal government gone rogue. Rather, our greatest adversary is ourselves.
If lured into a left/right civil war, would most conservatives be able to see beyond the veil and recognize that the fight is not about Obama, or the Left, or tyrannical government alone? Could we be co-opted by devious influences disguised as friends and compatriots? Will we end up following neocon salesmen and military elites who materialize out of the woodwork at the last minute to "lead us to victory" while actually leading us towards globalization with a slightly different face?
If a civil conflict has been war gamed by the establishment, you can bet they have contingency plans regardless of which side attains the upper hand. In the end, if we do not make the fight about the bankers and globalists, the Federal Reserve, the International Monetary Fund, the Council On Foreign Relations, etc., then everyone loses. Who wins in a new American civil war? If we become blinded by the trespasses of a certain White House jester, only the globalists will win.
Source: Brandon Smith | Alt-Market
Mainstream media sources are now reporting:
The shooter at LAX, who killed one TSA (?) employee and wounded several others today, is in custody. His name is Paul Anthony Ciancia. He is 23 years old. His weapon was a semi-automatic rifle.
Pete Williams (NBC, who, as chief Pentagon spokesman, covered up the extent of US military killings in the 1989 Panama invasion), states that Ciancia had "anti-government materials" in his bag.
Other sources state Ciancia had a note in his bag which stated that he wanted to "kill TSA."
Ciancia is a Los Angeles resident. His family lives in Pennsville, New Jersey. This morning, prior to the shooting, Ciancia's father called the local Pennsville police and reported his son was missing.
The father also stated that his son had written to a sibling "in reference to taking his own life."
That's the storyline so far.
Agenda? Another gun murder in a public place, so take away guns from everybody. Semi-auto rifle was used? Ban them. Gun plus anti-government opinion? Terrorist. Step up surveillance, ID, watch, harass, and even arrest people who own guns and don't like the government.
And now for the questions. This is a checklist that should accompany every such mass shooting:
Was the accused shooter seeing a psychiatrist?
Had he ever seen a psychiatrist or MD who prescribed psychiatric drugs?
If so, what were the drugs?
Ritalin (or other speed-type compounds) for ADHD?
Antidepressants, in particular the SSRI types (e.g., Prozac, Paxil, Zoloft)?
Both classes of drugs are known to push people over into suicidal ideation, suicide, violence, murder. (See Peter Breggin, Toxic Psychiatry, Medication Madness, and other titles. Also see the website, SSRI stories.)
Had the accused shooter ever withdrawn from, stopped using any psychiatric drugs? Withdrawal, done incorrectly, can cause severe problems, including aggression and violence.
Had the accused shooter ever stated he was under surveillance, was being harassed by authorities, was being targeted with microwaves, was hearing voices?
Yes, there are people who incorrectly believe these things are happening to them; but there are also people who are, in fact, being subjected to such harassment and control.
Has the accused shooter ever been subjected to military indoctrination? Has he ever had connections to military or civilian intelligence employees or assets? If so, what were the specifics?
And finally, was the accused shooter actually the shooter, or was he a patsy, a scapegoat?
I'm not downplaying the difficulty of answering these questions. But I am saying they're all relevant.
Whereas the job of major media, in these incidents, is relaying to the public the statements of law-enforcement personnel and politicians. That's their only job. They don't investigate. They don't go off on their own. They don't know what they pretend to know. Pretending is what earns them their paychecks.
Source: Jon Rappoport
Iran to Follow?
Damascus – Additional easing of Syrian sanctions is expected by mid-November according to staff at the US Treasury Department's Office of Financial Asset Control (OFAC).
Pressure on Obama from Putin is part of the 'price tag' for Russia's role in bailing out the American president, whose chemical weapons 'redline' became something of an albatross. But another reason for the relaxation is that the White House believes it needs to communicate to Damascus that prospects for better relations, and possibly even some cooperation, are not completely dead, despite the 32-month crisis still raging in the Syrian Arab Republic.
This second easing of sanctions will show more balance and neutrality than those of last June, which were perceived as supporting Saudi and Gulf aid to the rebels while weakening the Assad government just as the Syrian Army had begun gaining back ground from the rebels. At that time, licenses for exports of certain goods related to reconstruction of infrastructure were allowed in areas held by the rebels. Specifically, OFAC indicated that license applications would be accepted for commodities, technology and software related to water supply and sanitation, agricultural production and food processing, power generation, oil and gas production, construction and engineering, transportation, and educational infrastructure. Most benefited would be rebel-controlled areas.
No doubt it is with a deep patriotic spirit of wanting to help out their fellow Americans, that the US Treasury Departments heavily pro-Zionist OFAC asks US citizens to "consult our Frequently Asked Questions (FAQ) to find answers to your most commonly-asked questions about how Syrian and Iranian sanctions may affect your own families and your business."
That is unlikely to be easy given the obfuscatory legalize of the sanctions texts.
There are currently three types of sanctions that the U.S. government has imposed against Syria.  The most comprehensive sanction, called the Syria Accountability Act (SAA) of 2004, prohibits the export of most goods containing more than 10% U.S.-manufactured component parts to Syria.  Another sanction, resulting from the USA Patriot Act, was levied specifically against the Commercial Bank of Syria in 2006.  The third type of sanction contains many Executive Orders from the President that specifically deny certain Syrian citizens and entities access to the U.S. financial system due to their participation in proliferation of weapons of mass destruction, association with Al Qaida, the Taliban or Osama bin Laden; or destabilizing activities in Iraq and Lebanon.
Syria Accountability and Lebanese Sovereignty Restoration Act
In May 2004, the President signed E.O. 13338 implementing the Syria Accountability and Lebanese Sovereignty Restoration Act (SAA) which imposes a series of sanctions against Syria for its support for terrorism, involvement in Lebanon, weapons of mass destruction programs, and the destabilizing role it is playing in Iraq.
In addition, the Treasury Department's Statement of Policy indicated that OFAC would consider on a case-by-case basis applications to permit certain services in the agricultural sector, as well as in the Syrian telecommunication industry, enabling private citizens better access to the Internet, while certain petroleum transactions benefiting rebel forces were also authorized. OFAC also revised Syria General License 11 and replaced it with General License 11A authorizing NGOs to engage in activities to preserve the cultural heritage of the country, including museums, historic buildings and archaeological sites.
The new lifting of sanctions, tentatively scheduled to be announced next month, will help the Assad government because international banking and trade prohibitions are expected to be reduced. At the same time, US officials are discussing with their Russian "partners" a number of proposals that would acknowledge the right of the Syrian people to choose who to support in next year's Presidential elections without Washington insisting that Syrian President Bashar Assad step down as part of a "transition to democracy."
In addition, the White House is telling Congressional leaders, loudly enough for all to hear, that the president's recent waiving of restrictions on supplying arms to Syrian rebels was much more limited than depicted in mainstream media reports. In fact, the waiver—on certain portions of the Arms Export Control Act—authorizes only specific transfers to "vetted" members of the opposition and to NGOs in Syria. The defense items to be provided are described as those "necessary for the conduct of …operations inside or related to Syria, or to prevent the preparation, use, or proliferation of Syria's chemical weapons." Who was to be responsible for "vetting" the opposition members was not specified, nor were the particular articles detailed. But significantly the White House claims this is not a general waiver, but rather one with regard to a single specific contemplated transaction. Defense companies do not now have a blanket license to ship their wares to the Syrian opposition. This is because Section 40(g) of the Arms Export Control Act, 22 U.S.C. § 2780 (g), specifically gives the President authority to waive the provisions of the Act with respect to a specific transaction should he find that the waiver is "essential to the national security interests of the United States" and should he make the requisite report on the waiver to Congress. His determination on that finding directs the Secretary of State to make the required report to Congress.
The main opposition to White House plans to lessen the civilian targeting sanctions comes, as usual, from the US Congressional Zionist lobby. Israel's supporters in Congress seek to prevent any lessening of US sanctions—against Iran first, and Syria second. Two days of talks are about to begin in Vienna between experts from the P5+1 (the United States, Russia, China, Britain, France, and Germany) and their Iranian counterparts, who will discuss technical issues relating to Tehran's nuclear program and international sanctions. The meeting will help lay the groundwork for the next round of diplomatic negotiations, scheduled to take place in Geneva on November 7-8, and it is anticipated that the White House will accede to EU and Russian proposals to send a reciprocal good faith response to Tehran by lifting some of the sanctions targeting Iranian civilians. Although the P5+1 and Tehran have agreed to keep the contents of their negotiations secret, the general aim of the talks has been for Iran to reduce its capacity to enrich uranium and certain other nuclear activities in return for relief from the sanctions regime, which is strangling the nation's economy. The main hurdles include verification of any concessions Iran makes and the sequencing of any reduction in sanctions.
Signs of progress were visible earlier this week in comments made after separate talks between Iran and the International Atomic Energy Agency. In a rare joint statement, both sides called the talks "very productive"—a significant departure from eleven previous meetings in recent years, all of which failed to achieve progress in resolving what the IAEA has called the "possible military dimensions" of Iran's nuclear program. The new joint statement also indicates that a document discussed in past meetings has been set aside and a new approach taken.
Eager as it is for negotiations to succeed, the Obama administration has also echoed the Zionist lobby's contention that "no deal is better than a bad deal." Yet if the talks fail, international support for sanctions will likely begin to fall apart, reducing U.S. leverage even further.
The world is watching, particularly U.S. allies in Europe and Asia, as well as regional "friends" like Jordan, the United Arab Emirates, and Saudi Arabia. Though reportedly interested in lifting some of the sanctions on Syria and Iran, the White House is facing stiff opposition from Tel Aviv and Riyadh, with both governments criticizing the US for its lack of resolve in Syria and its presumed conciliatory attitude toward Iran.
Secretary of State John Kerry is reportedly slated to continue meetings with Saudi-Israeli officials in an attempt to tamp down their growing angst.
No doubt you have heard about the War on Drugs, the War on Terror and the War on Happiness. However, you may not be familiar with the War on God, possibly because it would be an unpopular war to discuss publicly. By the "War on God" (definition) we mean the collection of strategies, methods and techniques which have the combined effect of preventing or seriously hampering the efforts of individuals to seek or achieve legitimate Spiritual enlightenment and the Soul's eventual return to God.
The War on God is an ancient war. While the United States and other countries play an active role in this war today, they definitely did not initiate the war. If you want to use the Christian bible as a reference, you could argue that the War on God began shortly after man was created and rejected God in favor of Satan. Clearly, in some form, the War on God has existed throughout human history.
Today, the United States has effectively broken off diplomatic relations with God. The oligarchs who run the country never physically die and so their souls stay on Earth. Apparently, the United States actually believes that its technology, occult knowledge and black magic skills place it in a position which is superior to God.
We know from whistleblowers like David Morehouse that the United States sponsors and trains a cult of psychics to carry out psychic espionage (remote viewing) and also assassinations using psychic black magic techniques. According to clips of his various interviews on YouTube, it was the training in psychic assassinations which caused Morehouse to become disillusioned, quit the secret program and blow the whistle on the operation. Other countries may well operate similar programs but the details will remain unknown until someone defects and exposes them.
The leaders of the United States have always worshiped Satan. The United States was founded by a cult of Satanists known as the Masons and remains under control of that cult today. By rebranding their cult as a nation state, the cult created the appearance of legitimacy. Cult secrets simply transitioned to state secrets. Cult threats to kill anyone telling their secrets transitioned to the crimes of treason and espionage.
Nothing really changed except for the rebranding from a cult to a government. Today, essentially all members of the CIA, NSA and NASA are Masons. All US presidents have been Masons with the two exceptions of Abraham Lincoln and John Kennedy who were both assassinated.
The term "national security" refers to the security of the cult and not to the security of the general population. The Masonic motto is "If you are not one of us, you are nothing". The cult exists only to enrich itself.
The Masons study and practice the occult. Serious study begins after they take a formal oath of allegiance to Satan at the 30th degree initiation. Basic occult knowledge is neutral and everyone who advances Spiritually learns it. However, Masons seek this knowledge to gain power and control over others as opposed to knowledge for personal advancement. This choice, commonly called the Left Hand Path, places them in opposition to the will of God.
If the Satanists simply wanted to sell their Souls to Satan and mind their own business, one could argue that they had that right because they had free choice. However, the situation is not that simple. The Satanic oligarchs did freely choose to worship Satan. However, they also desire a comfortable life. They don't want to do any "grunt" work. Therefore, they have enslaved the remainder of humanity and are holding their Souls prisoner on this planet to service their needs. Therefore, if you, as an innocent Soul, ever plan to escape from this place and return to God, it is in your interest to investigate and gain an understanding of this war so that you will have an opportunity to Spiritually evolve. Otherwise, your Soul will remain a prisoner here — lifetime after lifetime — serving the Satanic overlords essentially forever.
Earth Based Religions
The phrase Earth Based Religions (definition) refers to religious schools which seek and use knowledge, including occult knowledge, to enhance their experiences during their human lifetimes as opposed to using the same knowledge to foster Spiritual development with the ultimate goal of achieving a stable non-physical Spiritual existence.
Although Pagan religions are usually grouped into this category, a more careful examination would reveal that essentially all mainstream religions are Earth based religions. Mainstream religions make constant references to God and Heaven but never explain exactly what they are talking about. Their books concentrate on historical narratives concerning how people in the past lived and coped with the basic problems of human physical existence. They never give details of any level of Spiritual existence or even any specific hints about what life beyond death will be.
Let's try an example. Suppose you have never seen a motor vehicle. You have heard vague stories that they exist, but that is all. Then, suddenly, you find yourself behind the wheel of a car on a high speed road like the US interstate system or the A roads in Britain. What would you guess would be your chance of survival? Try less than zero.
Now suppose you physically die. Suddenly, you find yourself in your Astral body. However, no one ever told you that you have an Astral body. It does not operate under the same rules as a physical body does. It is a very pliant and nimble body. It can travel in time to the past or future, access any plane and subplane in the Astral universe and research the absolute accurate and incorruptible records system known as the Akashic Records to name just a few. But, as in the previous example, you never learned how to "drive" it.
You would have done fine on the highway if you had gradually learned to drive a motor vehicle. You would do fine after death if you had some experience and training with your Astral body. However, no one ever taught you. What practical use is any religion that constantly rants about Heaven but offers no practical advice about your life after this life?
This information may have been a guarded secret in the past, but those days are gone. You can research this information to your heart's content on the internet, locate legitimate Spiritual groups and learn from those who can leave their physical body and explore the non-physical dimensions. But, don't expect any help from a mainstream church.
You might do well to recall the famous quote attributed to Jesus, "The truth will set you free". Mainstream churches are large, rich institutions. They did not get that way by "setting people free". They got that way by terrifying their followers with ridiculous horror stories of what will happen to them if they do not obey their crazy doctrines, stay with them and give them all their money.
Gnostic and other "non-traditional" religions may be Spiritual based as opposed to Earth based. Jesus always reminded everyone that he represented a kingdom "not of this world". If we had accurate records of his true lectures we would no doubt find practical instructions and information about this "other world". We don't have this information because any practical Spiritual teachings he might have given were censored out to create the simplified — but Spiritually sterile — mainstream religions we have today. They are simple to comprehend and follow but will not lead you anywhere except another physical lifetime somewhere on Earth.
Life Before Technology
Before technology life was simple. Although existence was hard, the opportunity for Spiritual experiences was greater than today. Consider, for example, all the empty time you would have as, say, a sheep herder. Nothing to do except make sure the sheep kept moving. In this situation, there was ample opportunity for the mind to wander and perhaps contemplate and glimpse other realities.
Also, and perhaps most important, no electric grid existed on the planet. Electric fields appear as solid "matter" in the Astral dimension and so can affect Astral experiences — generally in a negative way. Artificially created electromagnetic waves which blanket the planet today also have subtle and generally negative effects on living creatures.
Pagan groups generally conduct occult rituals outdoors and away from high population areas. When buildings are used, it is desirable that they be made only of wood and assembled without any metal (nails) and, of course, have no electrical wires.
Both good and evil existed before technology as they always have. It was possible to use psychological propaganda to influence and control susceptible masses of people. However, the positive and negative forces were more in balance. It was not possible for a single group to successfully dominate the planet.
Drugs existed in the form of various plants. Adepts learned how to use them to help or harm others. People with developed psychic abilities existed as they always have and white and black occult schools existed. Legitimate Spiritual masters existed.
Some techniques that thrived have essentially become extinct because the population of the planet has devolved. It is next to impossible to successfully teach Tantra (sex yoga), because today's generation is incapable of the required level of self control. Classic Tibetan yoga techniques are still taught in isolated areas, but the masters — for good reason — will no longer consider trusting outsiders.
Information Control Techniques
Information control is essential for protecting the integrity of a compartment. People are held as slaves by constructing an information box which holds the slaves in an information prison. As long as the "walls" of the compartment remain impenetrable, the compartment — or belief system — will be stable and no slave will escape.
Considerable energy is required to achieve this. Those assigned to protect the walls obviously know that the compartment is an intellectual illusion. Therefore, they must be sworn to secrecy and intimidated in such a way that they will not compromise the integrity of the compartment. It only takes one "leak" to initiate a chain of events which could collapse the compartment and so allow the slaves to escape.
Consider, for example, the Snowden leaks. One person sharing knowledge has totally destroyed the illusion of privacy that most people had accepted as fact. It will not be possible to reconstruct this illusion. The compartment has collapsed.
Similar principles apply in the Spiritual spectrum. Because of the characteristics of the human bodies in use on this planet, most people do not retain any conscious memory of events before they were born. This is not universally true. Life forms on many other planets retain the memories of previous existences. Because humans generally do not have this recall, they are easily enslaved and can be conditioned to believe most anything.
To maintain a state of Spiritual ignorance it is important to institute methods which will prevent people from realizing that they are actually Souls experiencing a constructed illusion. People somehow reaching this state, sometimes referred to as "self realization", will no longer respond to establishment propaganda and are generally considered a threat to the current social order.
The easiest and most direct method to achieve a stable slave population is simply not to talk about anything even vaguely esoteric. For example, how often have you heard the words astral, chakra or aura mentioned on a mainstream TV channel?
Most people will then likely "remain asleep" throughout their entire lifetime and will be no problem. Unfortunately, people have a natural desire — even though it may be an unconscious desire — to Spiritually evolve. It is, after all, the true purpose of human existence.
When someone tries to break away from the contrived illusions more direct methods are needed to return the slave to a state of ignorance. Today, various methods which cause brain damage — generally performed by psychiatrists — are used to negate any success in Spiritual evolution and return the slave to a state of vacant contentment.
Diversions and Techniques Promoting Inaction
The simplest and most effective diversionary technique is to promote scientific atheismand darwinian evolutionary philosophy as established fact. If you can get someone to buy into this philosophy, their fate is sealed. Even if they experience some contact with another dimension, such as an out-of-body experience, they will follow their programming, dismiss the experience as a delusion and refuse to investigate further. When they die, they will be totally lost and confused, flounder around on some lower Astral plane and eventually reincarnate just as Spiritually ignorant as before.
A side effect of accepting scientific atheism, which totally cripples Spiritual progress, is the acceptance of suicide as a way out of life's problems. Suicide becomes a learned reaction. Consequently, when the Soul is sent back into another physical lifetime, it is likely to commit suicide again when faced with some unpleasant event. It never learns, and this cycle can repeat essentially indefinitely. Dealing with this is one of the most difficult problems faced by the administrators who work on the Astral planes.
For those who want more than scientific atheism, there is mainstream garden variety religion. Mainstream Christianity has developed a clever stonewalling technique that has worked to promote inaction for thousands of years. This technique is centered upon the argument that no one can make any progress until Jesus returns to show the way. In the meantime, people should just do nothing and wait. The effect of this is essentially the same as scientific atheism. No Spiritual progress is made.
Schemes designed to waste time are common. One really off the wall example is the decision in Syria to prohibit vacuum cleaners and standard flat brooms in homes. "Witch type" brooms consisting of a circular straw bundle are allowed. Surely there must be a good reason to keep these terrorist weapons out of the reach of the typical Syrian housewife. The official reason is to make basic housework as difficult and time consuming as possible so as to prevent the woman from having any free idle time which, if allowed, could lead to the emergence of "immoral thoughts". Perfectly logical!
In the western world, complex bureaucracies seem to be deliberately designed to make the path to whatever you want as difficult as possible. Here the apparent motive is to prevent the acquisition of enough free time for any independent thought process. There are just not enough hours in a day to allow for any quiet contemplation of anything.
"Blank time" is always reported as a factor in the development of Spiritual figures. Time alone in the wilderness, time spent meditating alone in some isolated cave or at least periods of dedicated quiet time somewhere figure prominently in historical accounts of these people.
You may know or have heard of kids who spend all their waking hours playing interactive role model video games with other kids on the internet. They eat meals by the computer and never leave except to briefly sleep before returning to the all important game. Their entire life is spent in an imaginary reality. You may want to consider that your "real" life may not be all that different. You play a role. Your attributes are fixed by what society expects based upon that role. You can't change, because others would notice. Your concept of the world beyond your little world is determined by what you see on TV. Daily, you receive your "fix" of carefully choreographed "programming" which appears unusually coherent because, as you may not know or fully comprehend, everything on TV is controlled by a few corporations and all of them are loyal to the official government party line. If you somehow had the opportunity to break from this structured "game" you play from day to day — say, the opportunity to visit other countries and see other cultures — you would likely realize that your existence has not been that much different from the kid addicted to a computer game. You would find that the actual "real" world had very little relationship to the world you had been conditioned to believe existed.
Chemical Control Techniques
"With the use of chemical brain-control agents it may be possible to control the individual and the masses and to do this unobtrusively and without the active cooperation of the victims — not a question for the future — it is here".
This is a quote from the book by Edgar Cayce titled Edgar Cayce on Atlantis. There are references to Dr. Robert Galbraith Heath, and this book bears a copyright date of 1968. The book cites an interview that Heath gave to a newspaper called The Virginia Lighthouse and cites the above statement made by him on November 20, 1966. Heath founded the Department of Psychiatry and Neurology at Tulane University, New Orleans, in 1949 and remained its Chairman until 1980.
During this period, Tulane University actively participated in the CIA mind control project known as MK Ultra [1]. Also, during this period, Tulane became an active member of the secret Institute for Defense Analyses, or IDA, a corporation whose only client is the US government. Heath reportedly performed many experiments there involving electrical stimulation of the brain via surgically implanted electrodes. This work was reportedly partially financed by the CIA and the US military. Heath is now "officially" [11] deceased.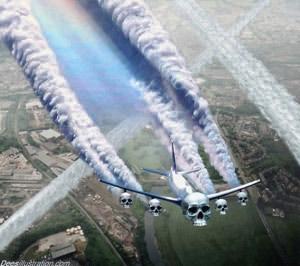 You have been drugged since you were conceived — before you were even born. Your mother was drugged. Soon after birth, you were injected with mercury containing vaccines. And the systematic process of poisoning you never stopped.
By some estimates at least eighty percent of the food in the average supermarket is poison either because it is genetically modified or laced with pesticides and other additives. Even the air is poison now because of geoengineering chemicals sprayed into the upper atmosphere.
It should be noted that things are different in the separate but parallel world of the elite. The Max Keiser show [12] discussed the secret gardens in Japan. These gardens are surrounded by high walls and guarded by the military. They produce the food for the ruling elite. Every plant in the garden has its own health certificate certifying that is pure, healthy and not genetically modified. Obviously, every developed country must have a similar secret supply chain of legitimate food for its ruling class. Certainly the elite know better than anyone that the food supply for the ordinary people is poison. They're not fools. They wouldn't touch the stuff.
Vaccines used for the elite are prepared without the mercury and other toxic additives found in vaccines given to the ordinary people.
Various agents — mainly from plants — have always existed which could be used by those aware of them to harm others or control people by altering their state of consciousness. However, only recently has it become practical to wreck the health of essentially everyone on the planet at the same time. Genetic modification of plants and other life forms used for food has made this possible. Now, quietly, people throughout the world can be sterilized, crippled with serious health problems or even killed by altering the genetic makeup of the food supply. Ordinary people remain generally ignorant of the fact that this awesome power exists and is presently being used against them.
Mind control has become a science. You can't major in it in college because this science is essentially entirely secret. The United States and other countries have spent the equivalent of billions of US dollars investigating and perfecting mind control.
Many secret research projects using unsuspecting or perhaps kidnapped people — some of whom were killed — have been conducted in the past and continue today. We only know about a very few of these projects such as MK Ultra, MK Naomi and Project Other. Even in these projects, specific details are sketchy. From these experiments, practical techniques for creating manchurian candidates and implanting created false personalities and identities have been developed and are in common use today within the secret communities.
Everyone has likely been the victim of some degree of mind control to some extent. Chemical weapons designed to mentally cripple people and render them drooling idiots are freely sold as prescription drugs in drugstores and are available to doctors to use as they please.
The lives of many kids are destroyed by these "drugs" because they have no ability to resist and their parents are ignorant and believe doctors can "do no harm". Actually, today's doctors are agents of the state. Many have top secret clearances and embrace classic Nazi philosophies such as eugenics. Their function is to watch you and make sure you "die appropriately" so as not to burden society. Anything they learn about you and anything you tell them is freely available to anyone in the intelligence community who is curious about you.
Only members of the super elite who are entitled to access top secret medicine will receive legitimate supportive medical care. Ordinary people will be deliberately allowed to die even though doctors with top secret clearances know of effective treatments which would cure them but which are classified and reserved for the chosen elite.
There is no such thing as an incurable disease any more. All the cures have been discovered. If you die, it is because you are not considered important enough to live and not because the cure does not exist.
Common sense should suggest to you that the lives of the elite have statistically different characteristics. For example, members of congress do not live sheltered lives. They work in close quarters and travel extensively both locally and internationally. They are always hanging out with prostitutes as well as playing with the young congressional pages.
Washington D.C. is reported to have more brothels than fast food joints. Strangely, however, these people do not get sick. Have you ever heard that congress had to shut down because everyone was coming down with some infection. It happens in other close populations, so what would make them exempt?
Understanding Astral Damage
Living things have an Astral component. For example, when you cut a leaf and then see the complete leaf on a Kirlian photo you are viewing the Astral component which was unaffected by cutting the physical component because it does not exist in the physical dimension.
Over one hundred years ago, practical techniques for viewing the human Aura were developed by Walter J. Kilner [4]. The original technique used dicyanin dye and a later technique used special glasses. You can't find either one today. In his research, Kilner was able to demonstrate that defects in the human Aura appeared before some corresponding disease manifested in the physical body.
Therefore, he was able to detect and prevent an adverse physical condition before it ever physically materialized. So, you ask, why don't we have this marvelous medical technique available today? Well, we do. It is in use in top secret medicine. However, only the approved elite now have access to it. The information has been removed from public knowledge and classified.
In conventional allopathic medicine, which is based upon scientific atheism and sold to the general public, there is officially no such thing as an Astral body. Conventional medicine denies the existence of anything beyond the physical dimension. Since the Astral body officially does not exist, it is not recognized as a crime to deliberately harm it.
Damage to the Astral body can be compared to damage to the physical body. If you punch holes in the physical body by cutting it, shooting bullets at it or whatever, blood runs out and germs get in. If you cause enough damage, the body dies. Astral bodies do not die, but can suffer critical energy losses. Similar to physical bodies, punching holes in the Astral body allows essential energy to escape and harmful energies to enter.
There are many events which can harm your Astral body. It is in your interest to understand these events because your Astral body will be your primary body when your physical body dies. If it has been damaged, you will be at a severe disadvantage. The chosen elite have perfect Auras because they can use the Aura balancing machines available to them at any top secret medicine provider. However, you cannot.
Also, the ruling elite seem to take some delight in causing harm to the "ordinary" people. Consequently, many drugs, food additives, GMO foods and industrial chemicals found in the environment cause Astral damage. Chemicals recognized as poisons and banned in other countries can be freely added to foods given to ordinary people in the US.
Obviously, there must exist a secret supply chain of safe food and water which is available to the chosen since they know of the contamination and certainly would not want to harm themselves or their friends.
There are ways to closely duplicate the secret techniques available only to the elite. If you can see auras or can find a reputable psychic who can, you can approximate the techniques developed by Kilner and available to everyone over a hundred years ago. Although the secret aura balancing machines are more accurate, a competent psychic healer can do the same thing. Actually, since psychics have always existed, similar techniques have been available throughout the ages to those who were aware.
Fluoride
The concept of adding fluoride to drinking water for the purpose of mind control is said to have originated in the 1930′s as a result of collaboration between German and Russian scientists [2]. Sodium fluoride was originally used and was found to cause a "mild lobotomy" in people who consumed small quantities. The effects were considered to be non reversible after one year of continuous use of the tainted water. Hitler added sodium fluoride to the water in his concentration camps to make the prisoners docile and cooperative as they waited for death.
Sodium fluoride (NaF) is used today in personal products like toothpaste. To poison the water supply of an entire country with sodium fluoride would be expensive. However, it just so happens that there is a waste product created during the manufacture of phosphate fertilizers, Fluorosilicic acid (H2SiF6), which is classified as hazardous waste and would be expensive to dispose of under EPA guidelines.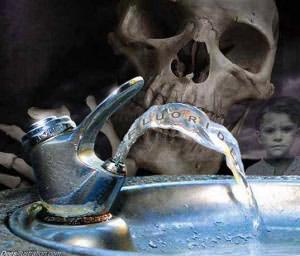 There is lots of this stuff available. This is the poison added to the public water supply in the US and some other countries. It is actually economical for industry because they don't have to pay for hazardous waste disposal. They just pump it into the public water supply.
In the human body, fluoride has an affinity for the pineal gland in the brain. The pineal gland is associated with the "third eye". Everyone has this third eye, but few are aware of it or know how to activate and use it.
Although the pineal gland is part of the physical body, the associated third eye is part of the Astral body and so is invisible in the physical dimension. The third eye allows you to see and communicate with the non-physical dimensions while fully awake and functioning in the physical dimension. So, you could see and carry on a conversation with someone in the physical dimension while invisibly also viewing and communicating with some entity on another plane of existence.
The standard Christian bible refers to the third eye with the phrase, "If thy eye be single thy whole body will be filled with light". However, only students of mysticism would recognize the true meaning of this quote.
Obviously, having this ability would be a threat to the security of any totalitarian society. Poisoning with fluoride destroys this ability and so solves that problem. Literature is available if you wish more detailed information. Simply search using the phrase "fluoride third eye".
On the chance that fluoride in the water is not sufficient to destroy any psychic abilities you may have, there are more aggressive ways to get fluoride into your brain. Here are some structural models of popular psychiatric drugs:
Notice that the element Fluorine (symbolized by its standard chemical symbol "F") figures prominently in all these compounds.
These drugs are used to cause "chemical lobotomy". By blocking communication channels with the higher levels of the human brain, they effectively convert the victim into a lower form of animal. Lower animals do not have the frontal lobes possessed by humans. That is what makes humans special. Disabling the frontal lobes effectively transforms a natural human being into, basically, a docile and obedient house pet which can be trained like a dog.
Incidentally, Fluorine also figures prominently in Sarin nerve gas.
For a more in depth study search YouTube for the free documentary Flouridegate — An American Tragedy by David Kennedy.
They All Drink From the Same Trough
If you casually look out upon the institutions of the world, it may appear to you that they are independent, discrete entities. However, they are not. They are all components of a collective which has successfully hidden its existence and true nature from the general population for generations.
Let's begin with the media in the US. Although it may appear to you that there are thousands of independent sources reporting "news", 90% of all media is controlled by six corporations. They are General Electric, News-Corp, Disney, Viacom, Time-Warner and CBS.
In the US, people believe they are protected from tyranny by the concept of "separation of powers" — that the executive, legislative and judicial branches of government are staffed by independent thinkers who "check and balance" each other. This is also a deception.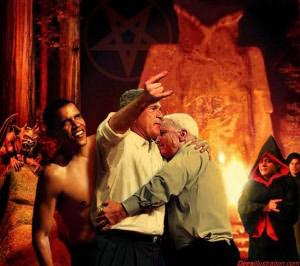 Once a year, at the end of July, there is a secret gathering on private property in the redwood forest of California called the Bohemian Grove. Although this annual meeting has been going on for over one hundred years, it is only during the last several years that outsiders have begun to learn of its existence. The only reason they have is because of the internet and independent journalism. Leaders from the mainstream media are all members of this secret club and so never even report its existence.
Who else goes to this annual secret "party"? Well, for want of a better name, we will call them the "Trusted Satanists". They are the leaders of all the major corporations, banks and representatives from all the major branches of the US government as well as foreign governments.
Although these men outwardly support the concept of capitalism for the masses, this elite group, among themselves, are perhaps best described as "rich socialists". Only men are allowed. For recreation, a stable of prostitutes — both male and female — are kept nearby off-site. The male prostitutes could theoretically enter the Grove.
The "party" begins with a Satanic ritual called "Cremation of Care" (i.e., "we don't care") which features the burning of a coffin at the base of a huge statue of an owl. Walter Cronkite reportedly was the official announcer at the grove until his death.
A secretly filmed video of this event is available on YouTube. It is supposed to be a "simulated" child sacrifice. However, since the CIA, FBI and NSA attend the ritual, who is going to complain on the chance it is a real sacrifice of a human child? After all, they are all trusted Satanists.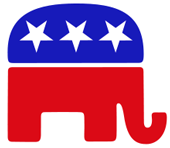 Most attendees from the United States are members of the Republican party. This is completely predictable in view of the fact that the US Republican party flaunts its affiliation with the "dark side" by prominently using the inverted star symbol on its official logo.
During the two week period, corporate leaders, the "independent" government regulators who supposedly keep corporations honest, the leaders from the executive, legislative and judicial branches of US government who are supposed to be "checking and balancing" each other, as well as the media moguls who we "trust" to report the truth, are all running around naked in the woods — pissing on the trees, playing with each other, and the male prostitutes as well as the off-site female prostitutes, and "having discussions".
Well, what are they "having discussions" about? They are discussing what they plan to do with "their world". The Manhattan Project to develop the first atomic bomb was reportedly planned at one of these discussions years ago. What about you? What about your future? What about any expectation of happiness you may have? Well, you see, you "don't need to know". Remember, "If you are not one of us, you are nothing".
Blueprints For the New World
Overview
If this link [7] is still active, it would be in your interest to read through it. This document is a transcript of a speech given by one of the insiders in the year 1969. He boldly states,"Everything is in place and no one can stop us now".
The article details how people ("people" means the slave class who are "nothing"; recall: "If you are not one of us, you are nothing") will just have to get used to changes such needing permission to have children, accepting mandated euthanasia as the law and total surveillance. Essentially all goals are now achieved, although some still remain guarded secrets.
The 1960′s was the period when physical death was eliminated. Of course, this "privilege" is only available to the select Satanic oligarchs. Effective cures for all diseases were also developed. The speaker [7] states that the cures are on file in the Rockefeller Institute. Of course, most are classified and only available to the chosen elite.
Infrastructure
The PBS documentary, Top Secret America [8], presents a good overview of the secret world of the elite. You may think no one is paying attention to the infrastructure in America because streets are in disrepair and bridges are falling down. However, you would be wrong. A tremendous amount of money is being spent on infrastructure in America — for the chosen elite. You will never see it and you will have no need for the decaying bridges and streets because you won't be around to use them. You, as well as 90+ percent of the current population, will be killed in the "Great Culling".
The new infrastructure is quite elaborate as the documentary explains. It consists of thousands of buildings which have a few stories visible above ground but which then extend for 90+ stories underground. All amenities are available within these secret structures which are basically self-sufficient.
It is important for the buildings to reach deep underground so that the lower levels can connect to the secret underground transport network. This network is global and provides safe high speed transport for the elite. Whenever the network crosses a tectonic plate, massive amounts of silicone are used to allow the transport tunnel to flex as needed. The network has access points in all countries. However, these points remain secret in countries which have yet to be subdued and co-opted into the new world order.
NWO Enabling Documents
The treaty known as the Trans-Pacific Partnership appears to be the formal enabling document for the new world. The actual document is secret and only high level corporate executives and politicians are allowed to see it.
Even after the treaty goes into force, its contents will remain secret. Because, in the United States, treaties must be openly debated in congress, the treaty is being called an "agreement" to circumvent the law and keep its contents secret. However, some details have become known.
Although the planet is officially divided into "sovereign" countries, it is overlaid with a network of transnational corporations. This network basically forms a parallel government which encircles the globe. The Trans-Pacific Partnership is designed to cause any country which signs on to surrender its national sovereignty to a secret committee composed of corporate executives. This committee can then alter the constitution and laws of any country which has accepted the treaty as suits their whim. There will be no appeal against this.
Under the treaty, there will be only one purpose to human life. That purpose will be to maximize the profits of the cabal of transnational corporations which will now be essentially a single global corporation in absolute control of the world. This effectively institutionalizes the new world order.
What does this mean for you? Well, to begin with, there can be no retirement. Paying for retirement would negatively impact corporate profits. So, if you can't work, you will be killed. Taking care of sick people would also drain corporate profits. It would be more profitable just to kill the sick and replace them with young, healthy slaves. Disabilities — forget it — disabled kids will never make it out of the womb alive.
Reeducation
To come into compliance with the philosophy of the new world, people will need to be reeducated. Military instruction documents [6] are already teaching that the Founding Fathers of the United States were extremists and anyone who thinks like them would not be suited for today's military.
Well, what did these radical extremists think?
"We hold these truths to be self-evident, that all men are created equal, that they are endowed by their Creator with certain unalienable Rights, that among these are Life, Liberty and the pursuit of Happiness."
Obviously, these principles are not compatible with the new world. The idea of a "Creator" conflicts with the official doctrine of Evolution. We can't have that. People must accept that they and the universe they live in is simply an "accident".
People are already realizing that Liberty and Happiness are gone. They know now that they live under constant surveillance and their lives get worse year after year. How about the right to Life? Can't have that. People need to be reeducated to believe that it is their "duty to die" when they are no longer useful to the state (which is now the global corporation).
Of course, the global elite will live physically forever but ordinary people will not know this.
If a world where people are conditioned to want to die and do not want kids but just sleep around for fun sounds vaguely familiar to you, you might recall that this is the future society described in Huxley's classic novel, Brave New World.
Population Modification
Please refer to [9] as a reference source. Today's "great thinkers" seem to be coming into agreement that most people are unnecessary and need to be exterminated for the convenience of the elite. Bill Gates, who has now been accepted into the super exclusive Bilderberg group, has reportedly taken the task of exterminating the third world population by giving them "free" vaccinations which will render them sterile.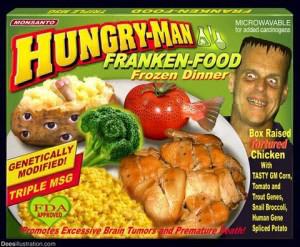 Lots of groups are working on secret sterilization methods. European tests of Monsanto's GM soybeans on hamsters showed the animals became sterile by the third generation [12]. A new gene known as Epicyte [9] is planned to be added to GM corn which will cause immediate sterilization.
Additionally, people are being "eased into" accepting the concept of "after birth abortion". Intellectuals are trying to get people to accept the argument that living human children under three or perhaps even five years old are really "not people but advanced feotuses". Since abortion is already legal, a simple change in the definition of "feotus" would allow young kids to be killed at will for any reason.
Another "new thought" gradually being programmed into the young is the pleasure of the "childless lifestyle". This propaganda seeks to convince people that having kids is too much trouble and they will be happier if they just get sterilized and then run around having lots of sex purely for fun.
These "evolutionary" population control techniques are already in effect. However, the elite likely are not willing to wait several generations to get rid of those they do not need. This brings us to the more direct method commonly called "The Great Culling" which will allow the elite to kill off most of the world's population quickly.
The most likely method will be the release of new designer viruses for which no one will have any natural immunity. Of course, the elite will all get the classified antidote. Preparations for the disposal of the bodies is already complete and stockpiles of plastic coffins — each designed to hold three bodies and manufactured under government contract by Halliburton — have been photographed and documented. Everything is now in place awaiting the "go" command.
Designer Children
Some types of designer children have already been approved for "production". Britain has approved three parent babies [10] and China has proposed a process to artificially fertilize most of a woman's eggs and then examine them to determine which is likely to produce a child with the highest IQ. This will be the only selected egg because Chinese women are only allowed to have one child and must then be sterilized.
In the new world where the only purpose of people will be to do slave labor to serve the elite corporate masters, the concept of allowing the existence of children conceived naturally clearly cannot be allowed. There would be an unexceptable chance for some kind of error that could result, for example, in the creation of a being capable of independent thought who might challenge the establishment.
A man's true worth is measured by the amount of other people's happiness that he can possess and destroy
This is a quote from the docudrama The American Ruling Class [5]. It is worthy of discussion because it is so prophetic.
The Satanic oligarchs who run this world basically exist and thrive on the misery of others. It is not enough just to use and abuse you — they want to consume your Soul. Your misery and suffering is, essentially, their "food". It is the source of their energy.
Ordinary innocent Souls are sustained by the life energy which flows from the Creator. However, since the oligarchs hate God, this energy flow is not available to them. So, they essentially survive by consuming the life energy of the innocent Souls they have captured and enslaved.
Ordinary people do not naturally choose to spend their lives in a state of constant war. They have to be somehow coerced into this behavior. Otherwise, they would likely seek a quiet, peaceful life. The atrocities the US and other warmonger nations force their citizens to commit are so contrary to basic human nature that the US loses more soldiers to suicide than it does to the enemy. The once innocent soldiers find that they simply cannot continue to live with what they have become and the memories of the horrors they have caused to others. The Satanic rulers who create wars, of course, have no problem with this.
Promotions within the inner circles of power are based upon how much evil one has done. The more harm you cause to others the greater your respect. You may have noticed that the stock market, which is a measure of the success of the elite, shows gains during periods when the average person is suffering and losses during periods when, somehow, life for the ordinary person seems to improve. The stock market set a new all time high, for example, during the Vietnam War when innocent young kids were being drafted and slaughtered in Vietnam while peaceful protesters at Penn State were executed by government forces for daring to dissent.
Why You Should Care
On the low Astral planes you will find people — Souls — who are totally lost and confused and seem to move in slow motion. They do not realize they have died. These "people" are not there because they tore up the Bible or burned the Koran or some other offensive act. They are there simply because it is the best they can do. They are using all of the Spiritual energy they have just to maintain this miserable existence. Whatever activities they engaged in while alive had no Spiritual merit and had no effect on developing or increasing their Spiritual energy level. Since the opportunity to do this ended when they died, they will remain strung out in this condition until they reincarnate again at which point they will have another chance to choose activities which enhance Spiritual energies.
You should care because the things you do and the things you fail to do during your brief life here will affect your existence for millions of years in the future.
The other dimensions operate under exact scientific rules just like this dimension. However, the rules are not the same. Because alternate sources of information are available today — mainly because of the internet — it is in your interest to at least investigate the available literature on Spirituality, energy raising techniques and various first-hand reports from people who have successfully visited the neighboring dimensions.
Source:  Walter C. Vetsch   |   3108.info  |  War Is Crime
The following articles examine the official and witness stories from the days of the Bin Laden Raid in Pakistan 2011. What really happened that day we still do not know, and the U.S. government and military certainly continue to lie and obfuscate.
21st Century Wire reports on eyewitness testimony and asks whether the SEAL Team 6 casualties from the 2011 chopper crash in Afghanistan were actually killed during the raid itself.
DeadLine Live reveals how the SEAL families are pushing for answers and coming to the conclusion that there's been a cover-up one way or another.
In all, nothing concrete is being released by official channels (except lucrative book deals and public-myth-creation movies) and the truth is a non-story to the mainstream media. Once again vital information is being brought to the forefront by the alternative media in a continued push to learn what really happened.
—
Did Part of SEAL Team Six Die in a Helicopter Explosion During the Bin Laden Raid?
From: 21st Century Wire
21st Century Wire says…
What the public were told by the US government via the corporate media, and what actually happened during the White House's much-celebrated "Bin Laden Raid" in 2011 – are not the same.
One thing which becomes clearer by the day about the fabled Bin Laden Raid which took place in Abbotabad, Pakistan, is that the US government has intentionally deceived the public about what happened. In other words, what President Obama described when he addressed the American people following "the raid" – was a work of pure fiction.
The following interview appeared on Pakistani broadcast channel, Sama TV, and includes a translation in English from an eye witness on the scene. If the translation is accurate, then this eye witness blows the lid off of another plank in the White House's fictional drama.
The following is an interview with Muhammad Bashir, who lives next door to the alleged "compound" of Osama bin Laden. He claims that the first US helicopter suffered an explosion, which killed all of its US military occupants, somewhere between 10 and 20 men.
Based on this man's testimony, we have to ask the question: did the White House cover this up in order to protect the Dear Leader from a devastating "Jimmy Carter moment" (1979 Iran hostage rescue cock-up). That's certainly what this looks like at first glance. Would Obama lie to protect his and his party's political legacy? We'll let the readers answer that question.
"It seems that although initially, the TV station was overjoyed with this interview, they changed their tune, twenty four hours later (for some unknown reason)". You decide why…
So the original lie, the 9/11 Operation, was covered up by the next lie – the Bin Laden Raid. Following on to this, it only stands to reason that the Abbotabad lie should be concealed by the next lie. The next lie is that no one knows where Bin Laden's body is. In stark contrast to President Obama's declaration that bin Laden was "buried at sea", US Navy Sailors on the USS Carl Vinson have stated on record did not witness an at-sea burial of Osama bin Laden. Therefore, someone is lying. Did Barack Obama chop down the cherry tree?
[...]
Read the full article at: 21stcenturywire.com
Red Ice Creations: Here's an article published shortly after the raid, May 3, 2011 by The Associated Press. Inflammatory language, threats of danger, and propagandist statements demonstrate the high emotions around the event – so much for incredulity of the press and actual investigative reporting! This "news" reads like it came right from the DOD Press Office.
—
U.S. analyzing material seized during bin Laden raid
From: News10ABC
Navy SEALs who killed the world's most-wanted terrorist seized a trove of al-Qaida documents during the raid on Osama bin Laden's compound.
The CIA is already poring over confiscated hard drives, DVDs and other documents. The agency is looking for inside information on al-Qaida, including clues that might lead to his presumed successor, Egyptian Ayman al-Zawahri. Al-Qaida under al-Zawahri would likely be further radicalized, unleashing a new wave of attacks to avenge bin Laden's killing by U.S. troops in Pakistan.
Al-Zawahri's extremist views and his readiness to use deadly violence are beyond doubt.
The Associated Press 
Article from: news10.net
Red Ice Creations: This following post from DeadlineLive.info points out that the families of the SEAL Team 6 crash are right to have suspicions about the crash and the soldiers' deaths, but the Washington Times piece seems to be misdirecting blame, and as always, hiding real possibilities:
—
Families suspect SEAL Team 6 crash was "inside job"
By Jack Blood | DeadlineLive
* When reading this we want to keep in mind who the "Taliban" are, and who they work for, etc… And who the Govt / Cops in Kabul are paid by etc…
By Propagandist at the Washington (Mooney) Times
Questions haunt the families of Extortion 17, the 2011 helicopter mission in Afghanistan that suffered the most U.S. military deaths in a single day in the war on terrorism.

Every day, Charlie Strange, the father of one of the 30 Americans who died Aug. 6, 2011, in the flash of a rocket-propelled grenade, asks himself whether his son, Michael, was set up by someone inside the Afghan government wanting revenge on Osama bin Laden's killers — SEAL Team 6.

"Somebody was leaking to the Taliban," said Mr. Strange, whose son intercepted communications as a Navy cryptologist. "They knew. Somebody tipped them off. There were guys in a tower. Guys on the bush line. They were sitting there, waiting. And they sent our guys right into the middle."

Doug Hamburger's son, Patrick, an Army staff sergeant, also perished when the CH-47D Chinook descended to a spot less than 150 yards from where armed Taliban fighters watched from a turret.

He asks why the command sent his son into Tangi Valley toward a "hot landing zone" in a cargo airship instead of a special operations helicopter. The souped-up choppers — the MH-47 and the MH-60 Black Hawk, which SEAL Team 6 rode the stealth version of to kill bin Laden — are flown by Night Stalker pilots skilled in fast, ground-hugging maneuvers to avoid detection.

"When you want to fly them into a valley, when you've got hillsides on both sides of it with houses built into sides of the valley, that is an extremely dangerous mission," Mr. Hamburger said. "The MH, the new model, they've got radar that will pick up an incoming missile or incoming RPG. They're faster. They're quicker on attack. They're more agile. So there was every reason in the world to use the MH that night."

Sith Douangdara, whose 26-year-old son, John, was a Navy expeditionary specialist who handled warrior dog Bart, said he has lots of unanswered questions.

"I want to know why so many U.S. servicemen, especially SEALs, were assembled on one aircraft," he said. "I want to know why the black box of the helicopter has not been found. I want to know many things."
[...]
Read the full article at: deadlinelive.info
Source Compilation: Red Ice Creations
The infamous Trilateral Commission still exists. Many people think the TC, created in 1973 by David Rockefeller, is a relic of an older time. Think again.
Patrick Wood, author of Trilaterals Over Washington, points out there are only 87 members of the Trilateral Commission who live in America. Obama appointed elevenof them to posts in his administration.
Keep in mind that the original stated goal of the TC was to create "a new international economic order." Knowing that you have to break eggs to make an omelette, consider how the following TC members, in key Obama posts, can help engender further national chaos; erase our sovereign national borders; and install binding international agreements that will envelop our economy and money in a deeper global collective: a new world order:
Tim Geithner, Treasury Secretary;
James Jones, National Security Advisor;
Paul Volker, Chairman, Economic Recovery Committee;
Dennis Blair, Director of National Intelligence.
All Trilateralists.
In the run-up to his inauguration after the 2008 presidential election, Obama was tutored by the co-founder of the Trilateral Commission, Zbigniew Brzezinski.
In Europe, the financially embattled nations of Greece and Italy brought in Lucas Papademos and Mario Monti as prime ministers. Both men are Trilateral members, and Monti is the former European chairman of the Trilateral Commission.
In the US, since 1973, author Wood counts eight out of 10 US Trade Representative appointments, and six out of eight World Bank presidencies, as American Trilateral members.
Zbigniew Brzezinski wrote, four years before birthing the TC with his godfather, David Rockefeller:
"[The] nation state as a fundamental unit of man's organized life has ceased to be the principal creative force. International banks and multinational corporations are acting and planning in terms that are far in advance of the political concepts of the nation state."
Several other noteworthy Trilateral members: George HW Bush, Bill Clinton, Dick Cheney, Al Gore. The first three men helped sink the US further into debt by fomenting wars abroad; and Gore's cap and trade blueprint would destroy industrial economies, while vastly increasing the numbers of people in Third World countries who have no access to modern sources of energy.
Does all this offer a clue as to why the US economy has failed to recover from the Wall Street debacle of 2008, why the federal bailout was a handout to super-rich criminals, and why Obama took actions which prevented a recovery?
A closer look at Tim Geithner's circle of economic advisers reveals the chilling Trilateral effect: Paul Volker; Alan Greenspan; E. Gerald Corrigan (director, Goldman Sachs); and Peter G Peterson (former CEO, Lehman Brothers, former chairman of the Council on Foreign Relations). These men are all Trilateral members.
How many foxes in the hen house do we need, before we realize their Trilateral agenda is controlling the direction of our economy?
The TC has no interest in building up the American economy. They want to torpedo it, as part of the end-game of creating a new international currency, ushering in a de facto Globalist management system for the whole planet.
Any doubt on the question of TC goals is answered by David Rockefeller himself, the founder of the TC, in his Memoirs (2003):
"Some even believe we are part of a secret cabal working against the best interests of the United States, characterizing my family and me as 'internationalists' and of conspiring with others around the world to build a more integrated global political and economic structure—one world, if you will. If that is the charge, I stand guilty, and I am proud of it."
Even in what many people mistakenly think of as the TC's heyday, the 1970s, there were few who realized its overarching power.
Here is a close-up snap shot of a remarkable moment from out of the past. It's a through-the-looking-glass secret—in the form of a conversation between a reporter, Jeremiah Novak, and two Trilateral Commission members, Karl Kaiser and Richard Cooper. The interview took place in 1978. It concerned the issue of who exactly, during President Carter's administration, was formulating US economic and political policy.
The careless and off-hand attitude of Trilateralists Kaiser and Cooper is astonishing. It's as if they're saying, "What we're revealing is already out in the open, it's too late to do anything about it, why are you so worked up, we've already won…"
NOVAK (the reporter): Is it true that a private [Trilateral committee] led by Henry Owen of the US and made up of [Trilateral] representatives of the US, UK, West Germany, Japan, France and the EEC is coordinating the economic and political policies of the Trilateral countries [which would include the US]?

COOPER: Yes, they have met three times.

NOVAK: Yet, in your recent paper you state that this committee should remain informal because to formalize 'this function might well prove offensive to some of the Trilateral and other countries which do not take part.' Who are you afraid of?

KAISER: Many countries in Europe would resent the dominant role that West Germany plays at these [Trilateral] meetings.

COOPER: Many people still live in a world of separate nations, and they would resent such coordination [of policy].

NOVAK: But this [Trilateral] committee is essential to your whole policy. How can you keep it a secret or fail to try to get popular support [for its decisions on how Trilateral member nations will conduct their economic and political policies]?

COOPER: Well, I guess it's the press' job to publicize it.

NOVAK: Yes, but why doesn't President Carter come out with it and tell the American people that [US] economic and political power is being coordinated by a [Trilateral] committee made up of Henry Owen and six others?After all, if [US] policy is being made on a multinational level, the people should know.

COOPER: President Carter and Secretary of State Vance have constantly alluded to this in their speeches.

KAISER: It just hasn't become an issue.

Source: Trilateralism: The Trilateral Commission and Elite Planning for World Management, ed. by Holly Sklar, 1980. South End Press, Boston. Pages 192-3.
Of course, although Kaiser and Cooper claimed everything being manipulated by the Trilateral Commission committee was already out in the open, it wasn't.
Their interview slipped under the mainstream media radar, which is to say, it was ignored and buried. It didn't become a scandal on the level of, say, Watergate, although its essence was far larger than Watergate.
US economic and political policy run by a committee of the Trilateral Commission—the Commission had been been created in 1973 as an "informal discussion group" by David Rockefeller and his sidekick, Zbigniew Brzezinski, who would become Jimmy Carter's National Security Advisor.
When Carter won the presidential election, his aide, Hamilton Jordan, said that if after the inauguration, Cy Vance and Brzezinski came on board as secretary of state and national security adviser, "We've lost. And I'll quit." Lost — because both men were powerful members of the Trilateral Commission and their appointment to key positions would signal a surrender of White House control to the Commission.
Vance and Brzezinski were appointed secretary of state and national security adviser, as Jordan feared. But he didn't quit. He became Carter's chief of staff.
Now consider the vast propaganda efforts of the past 40 years, on so many levels, to install the idea that all nations and peoples of the world are a single Collective.
From a very high level of political and economic power, this propaganda op has had the objective of grooming the population for a planet that is one coagulated mass, run and managed by one force. A central engine of that force is the Trilateral Commission.
Source: Patrick Wood, "Trilateral Commission Endgame" | Jon Rappoport  |  No More Fake News
Only a week ago, the consensus among most mainstream economic analysts and even some alternative analysts was that a government shutdown was not going to happen. The Republicans would fold in the shadow of President Barack Obama's overwhelming drive for socialization, spending would continue to grow unabated, and the debt ceiling would be vaulted yet again to feed the bureaucratic machine with more fiat. Today, there is no consensus, very few people continue to be so blithely self-assured and even the mainstream is beginning to wonder if a much bigger game is afoot here.
As I discussed before the shutdown in a recent article, it is important to take all facets of this situation seriously, or risk being bitten by hidden dangers while entranced in one's own arrogant cynicism.
One rule I try to follow whenever possible is to always be open to possibilities beyond the expected and never assume that today's dynamic will be the same as tomorrow's dynamic. Even the Liberty Movement can at times be susceptible to group think.  In a world of staggering political and economic manipulation, one has to grasp hold of certain fundamental truths in order to survive. In my time working within the liberty movement and outside of the mainstream, these are a few of the cold, hard truths that have served me well.
It's Always About Globalization
Every action the elites within our government take pushes the U.S. closer to globalism and away from sovereignty. We may not always see the bigger picture in the heat of the moment, but a look back tells us much. Seemingly simple changes in financial legislation render devastating fiscal shifts a decade later (as with the progressive erasure of Glass-Steagall). Shocking disaster events that appear random suddenly open doors for totalitarian legislation that had been prepared years in advance. Wars end with further calls for world "unification." Nothing, and I mean nothing, happens within government that does not revolve around the desire of establishment oligarchy to achieve total global economic, political and social control.
The Bankers Did It
Central banks and international banks are the bedrock of globalization, and all greater political decisions eventually stand on this bedrock. One need only examine the cabinets of the past four U.S. Presidents; there you will find a regular carnival freak show of banking elites who would go on to revolve in and out of government and back into the international financial sector. Private central banks like the Federal Reserve dominate the very currency (and thus the economy) of most nations on the planet. Most wars and man-made disasters of the past several centuries have served only to further enrich and empower the merchant class, and the same holds true today. If you want to understand why a certain calamity has occurred, first look to who benefited most. Invariably, you will find the banker class smiling when all is said and done.
America's Two-Party System Is Actually A One-Party System
If you do not yet understand that the elite of the Republican Party and the Democratic Party share the same foundational philosophy of globalism, then you will NEVER understand why our government does what it does. Public battles of words and legislation are nothing but rhetorical cinema. Ultimately, the goals of neocons and neolibs revolve around the centralization of power. All legislation is used either to further centralization or as a smokescreen to confuse the public while centralization is taking place. When has the leadership of either party, for instance, ever demanded a full audit of the Federal Reserve? When has the leadership of either party ever attempted to dismantle the Patriot Act or the despotic provisions of the National Defense Authorization Act or the President's openly admitted assassination list? They may seem to disagree violently at times, but do not be fooled. The disagreement is likely just another means to gain more dominance.
The Goal Is To Destroy The American Economy
What you believe to be political blunders are often actually calculated and engineered events. What you believe to be chaotic disasters of coincidence are often actually deliberate acts of attrition warfare against the common people disguised as random catastrophe. Those you believe to be heroes are actually villains in friendly masks. Those you are told to be villains are actually good men and women who refused to be enslaved by the system. That which you see and hear is never exactly as it appears.
Nearly every concrete action our government and central bank have taken in the past several decades has led to the further erosion of the American economy. If this is all just the consequence of "stupidity" or "childish greed," you would think our so-called leadership would have at least made a few good decisions by mistake; but they are incredibly adept at choosing all the wrong paths.
The reality is that collapses on the scale we are now witnessing in America rarely happen by accident.
The destruction of Glass-Steagall was a carefully crafted coup. The Federal Reserve deliberately and artificially lowered interest rates in order to allow banks to generate massive toxic debt through the derivatives markets. The Securities and Exchange Commission did little to nothing to stop the spread of cancerous mortgage instruments and ignored numerous calls for investigation. Ratings agencies like Moody's and Fitch examined all of these toxic assets, knowing exactly what they were, and rated them AAA anyway. And banks like Goldman Sachs, knowing that the market was a sham, sold these bad assets around the world and then secretly bet AGAINST them later. Either this is economic warfare implemented with precision, or it's all a string of coincidental blunders. I don't believe in such coincidences.
America is being destroyed by design to make way for a new global system administered by the International Monetary Fund and the World Bank, as well as a new global currency tied to the IMF's Special Drawing Rights.
If you are able to accept this, the confusion surrounding events like the government shutdown and debt ceiling debate withers, and everything becomes clear. With that clarity in mind, we can now examine the possible outcomes of the shutdown theater.
Republicans Surrender At The Last Minute
Of course, since both parties are essentially one party, the idea of "brinksmanship" on the part of either is absurd. The GOP will surrender, or "stand fast," because its serves the interests of the globalist establishment. There is no political battle here, only the empty chest-beating of a staged wrestling match.
Bets on a last-minute Republican reversal were in the majority for the past week of the shutdown, but that is slowly changing — and for good reason. Obama has stated that the Affordable Care Act is off the table in negotiations, while Republicans like Ted Cruz and John Boehner are now stating with surprising candor that debt default is on the table if Obama refuses to compromise.
Gee, it would seem we are at an impasse.
In the meantime, the GOP is also moving to wrap the debt ceiling debate into the shutdown fight, making a "diplomatic compromise" even less likely to make sense to the public. (Those who argued that the shutdown and the debt ceiling were two entirely separate issued should accept this reality and move on.)
If I were writing this bit of fiction, I would say I was writing myself into a corner and that a last-minute Republican white flag would be illogical to my audience. That said, not all stories are well-written stories, so a Republican rollover remains an option for the time being. The primary reason I can see for the establishment to instruct the GOP to retreat would be to set the stage for a new stimulus event, like a war, which still leaves the U.S. dollar on track to lose its world reserve status — just not as fast a track.
Default Occurs By Winter
This plot twist makes far more sense to me given the way our story has progressed so far. Why? Because it provides perfect cover for an economic collapse that was going to occur anyway, except in this version the banking elite avoid all blame.
Just look at all the angry rhetoric being thrown around in the mainstream media; red team versus blue team has returned as the pervasive American sitcom.
Conservatives blame liberals and Obama. Liberals blame conservatives and the Tea Party. We're all too happy to blame each other. Certainly, both elements of our government share responsibility for any debt default or subsequent collapse. But who started this avalanche to begin with? What about the Federal Reserve? What about Goldman Sachs, JPMorgan, Citigroup, etc.? What about the globalists?
Debt default is no small matter. Such a disaster would indeed fuel a flight from U.S. Treasuries by foreign investors and eventually lead to the complete abandonment of the greenback as the world reserve standard. Austerity measures would be implemented at break-neck speed. Cuts to entitlement programs, pensions, State funding, etc. will hit the American people like a freight train.
The way in which the MSM is already painting "Tea Party" conservative as saboteurs should a default occur is actually a very practical strategy. Not only do the elites get their economic collapse, but they manipulate the general public to believe that Constitutional conservatives, their mortal enemies, were the CAUSE of the pain, rather than the banks.
Order From Chaos
Should the establishment decide this is the moment to pull the plug on our financial structure, expect some rather insane-sounding solutions to be presented as rational alternatives. When Obama was asked by reporters if he considered the 14th Amendment as an option to end the debt ceiling debate, Obama did not rule out the idea.
This should raise some eyebrows. By the 14th Amendment I can only surmise that they mean Section 4, which states:
The validity of the public debt of the United States, authorized by law, including debts incurred for payment of pensions and bounties for services in suppressing insurrection or rebellion, shall not be questioned. But neither the United States nor any State shall assume or pay any debt or obligation incurred in aid of insurrection or rebellion against the United States, or any claim for the loss or emancipation of any slave; but all such debts, obligations and claims shall be held illegal and void.
Some people, including CNBC's Jim Cramer, think that this gives the President the power to raise the debt ceiling regardless of what Congress decides.
And Obama doesn't appear to be dismissing the notion either. However, Section 5 of the 14thAmendment says:
The Congress shall have power to enforce, by appropriate legislation, the provisions of this article.
Nowhere in Section 5 does it say that the President has the power to enforce the provisions of the 14th Amendment, but this may not stop the White House from twisting the law to insinuate more expansive controls.
Beyond the 14th Amendment, there are numerous executive orders and continuity of government programs that the White House could cite as authority to implement national emergency standards. This would probably start as a kind of "soft" martial law, and then grow from there. Each action will be rationalized as necessary for the greater good of the country, but will serve only the interests of the establishment oligarchy.
On the Republican side, there is another disturbing development that may be presented as a solution in the face of crisis — namely, the idea of instituting a Constitutional convention.
A Constitutional convention is essentially a complete rewriting of the document (which they call "amending") in the name of rebooting a government that has strayed too far from the wishes of the people. The concept is being promoted avidly by certain neocon talking heads and scholars, even on the FOX News circuit.
It sounds very noble on the surface, and neocons use very pretty language to candy coat the idea for legitimate Constitutionalists; but it is truly the most foolish action our country could take, opening the door to a complete erasure of Bill of Rights protections while offering no assurances that any meaningful provisions will be respected or afforded by the Federal government.  The people are given the illusion of potential redress when in reality a Con-Con produces only more centralized theater for the masses. If the liberty movement is suckered into a Constitutional convention, we will have been lured into writing our own destruction.
Another scenario could involve the Federal Reserve moving to take what they often call "extraordinary measures".  The Fed, being a private bank, may use the shutdown as an opportunity to paint itself as an economic "hero" (as unbelievable as that may sound), by instituting stimulus measures to the Federal Government regardless of Congressional or presidential impasse.  Given enough public desperation in the midst of default, the Fed may attempt to assert unprecedented financial authority in the name of "saving the country from it's own government".  The bankers then establish their role as the wise saviors and high priests of the fiscal universe, and cement private dominance over American political decisions as "acceptable" in the minds of the citizenry.
The most dangerous solution that will inevitably be paraded for the public will be a petition for aid from the IMF. The IMF has a long history of loansharking to indebted nations and then subsuming them and their natural resources in the process. The ignorant illusion that the United States is the sole power behind the IMF will be exposed all too late when a defaulting American Treasury is told to collateralize infrastructure to pay off creditors, while the dollar is bled completely dry and absorbed by the IMF's Special Drawing Rights basket currency.
Whether default occurs or is avoided, watch vigilantly over the next few weeks. Do not blink. Do not be conned, and do not let fear or bias blind you to the bigger picture. The shutdown could amount to nothing immediate, or it could amount to everything we have warned about for the past five years. I personally believe the month of October may be a major turning point in America's history. Whether it be for good or ill depends on how mentally and physically prepared we are.
Source: Brandon Smith | Alt-Market
America's 'New' Reality of Non-Self and Madness…
In the wake of the insurrection against the living, personal God of Revelation that began during the Renaissance eventuating in the proclamation of the death of God and cataclysmic eruptions of fire, brimstone and rivers of blood during the 20th century, ex-atheist Alexander Solzhenitsyn said the world had never before known,
"…godlessness as organized, militarized, and tenaciously malevolent as that practiced by Marxism. Within the philosophical system of Marx and Lenin, and at the heart of their psychology, hatred of God is the principal driving force, more fundamental than all their political and economic pretensions. Militant atheism is not merely incidental or marginal to Communist policy; it is not a side effect, but the central pivot." (goodreads.com)
In his analysis of Marxist Communism and its' alter ego, scientific materialism, Frank Meyers, an early conservative intellectual concluded that Communism is the state form,
"….taken by a materialist faith determined to rule the world."  Godless Communism is the "final synthesis of all heretical tendencies that have pervaded Western civilization for many centuries."  It is materialist scientism of which, "Communism is the culminating hubris of the Promethean man who reaches out for the world and means to remake creation.  It is scientism gone political." (The Conservative Intellectual Movement in America, George H. Nash, pp. 251-252)
Both scientific evolutionary materialism and its new age evolutionary pantheist counterpart belong to the family of 'new' pagan or modern naturalism.  Modern naturalism refers to a one-dimensional view of reality grounded in a monist pagan philosophy holding that only void, matter and evolutionary (developmental and change-making) energies exist.  Therefore void, matter and energy are the Ultimate One Substance of which the universe consists and with which all life is in continuity, thus "all is one" and "everything is perpetually evolving and ascending."
The main difference between these two views resides in whether matter is thought to be physical (i.e., Greek Atomism) or spiritual (Hinduism). However, both views share in common the following:
Hatred of the supernatural God of Revelation and of man as His spiritual image-bearer
One dimensional views of reality
An inverted account of  origins and history lending itself to the notion that since there was no fall then Lucifer is not the devil and men are not sinful but rather evolving into gods
Scientific materialism or its' New Age spiritual science counterpart
Evolutionary conceptions.  These serve two main functions. First, as a mechanical process of development and second, as a mechanism for purification of matter
The nihilism of Buddha
Jesus Christ to Buddha,
"…you took God away (and) your espousal of an absence of self is the most unique and fearsome claim you made." (The Lotus and the Cross: Jesus Talks with Buddha, Ravi Zacharias, pp. 59, 67)
Life is only with the living God of Revelation, the creator and upholder of the life and being (soul/spirit) of men.  But if He does not exist, it logically follows that there is no ultimate source for life, conscious being, meaning and purpose; or for the sanctity of human life, worth, dignity, individual liberty and personal property.  Without God the Father Almighty unalienable (God given) human rights are as meaningless as America's founding documents have become in our Godless pagan society.
If man is not God's spiritual image-bearer then he is less than nothing, a conclusion Buddha reached long before Jesus Christ God Incarnate walked this earth:
"Six centuries before Jesus Christ, the Buddha already knew that if God does not exist, then the human self cannot exist either…Therefore, he deconstructed the Hindu idea of the soul.  When one starts peeling the onion skin of one's psyche, he discovers that there is no solid core at the center of one's being."  Thus your sense of self becomes illusion, "Reality is nonself…You don't exist. Liberation, the Buddha taught, is realizing the unreality of your existence." (The Book that Made Your World: How the Bible Created the Soul of Western Civilization, Vishal Mangalwadi, p. 6)
Naturalism: the Antithesis
Modern naturalism is in every way the antithesis of God's Revelations and Christianity, the spiritual and moral foundation of Western civilization.   For fifteen hundred years, Christendom and then later Protestant America had affirmed the biblical view of total reality. In this historically unique view total reality consists of two interfacing, interactive halves: the seen (natural) and the unseen (supernatural).
According to this view, man faces both unseen and seen and interprets truth against these two interfacing halves of reality.  Thus Paul declares that as men live out their lives they are spectacles, "unto the world, and to angels and men." (1 Cor. 4:9)
In opposition to modern naturalism's one dimensional view, Paul affirms that total reality consists of two halves, hence this earth (the seen) is really a theater and men are actors on its stage observed not only by other men (the seen) but by the Spirit of God and angels (the unseen).
Though men cannot see the Spirit of God and very rarely see angels they can see, hear and interact with men.  The Spirit of God opens our eyes to understanding (Ps. 118: 34, 125, 144), tests our hearts, knows out secrets, motives, and thoughts (Psa. 17:3; 44:21; 139:1-4).
Both holy and unholy angels are all around us, watching, listening, helping and protecting if holy, if unholy then binding the disobedient to their power.   Just as the Lord of Hosts gives His Holy Spirit to those who love and obey Him, He can send evil spirits upon those who are rebellious, live in persistent sin, practice occult arts or men who in their pride, covetousness and envy reject and hate Him as was the case with Karl Marx and Nietzsche, the apostate Christian philosopher who proclaimed the death of God.  Unto these men the Lord of Hosts sent evil spirits just as He sent one to King Saul (1 Sam. 16:14).   The evil spirit influenced and disordered Saul's thinking, afflicted him with obsessions and paranoia, befouled his conscience, and inflated his disordered passions thereby, "filling him with unrest, anger, fear and murderous intent."  (Occult Bondage and Deliverance, Kurt E. Koch, p. 137)
Dr. Kurt Koch (1913-1987) was a highly respected German minister who pastored, counseled and delivered in excess of twenty thousand people suffering from demonic subjection. According to Koch, demonic subjection is an increasingly common occurrence in post-Christian Western and American society.  Most people have little or no clue that they are in fact demonically subjected while some people, such as Marx, Nietzsche, Hitler and Stalin seem to possess a limitless supply of demonic energy, especially when engaged in imposing their will over the wills of others.
There are many underlying causes of demonic subjection.  Koch delineates some of the leading ones common to apostatizing America:
"If a person blatantly lives a life of sin and persistently resists the Spirit of God and remains completely unrepentant, or…carries the sin of murder or abortion on his conscience, or has committed perjury or practical incest, if he has cursed his fellow men or blasphemed against the cross or against Christ, the Holy Spirit, or God, then he will have laid himself open to the devil's attacks.  Every curse is in fact a cry to the devil, and can…lead a person into bondage." (Koch, p. 138)
"….God created man in his own image…..male and female created he them." Gen. 1:27
According to the uniquely Christian view of total reality, the essence of the human is not the body and brain (the seen) but the unseen…the soul/spirit:
"It is the soul alone that God made in his own image and the soul that he loves…For the sake of the soul…the Son of God came into the world…" (Incomplete Work on Matthew, Homily 25, Ancient Christian Devotional, Oden and Crosby, p. 153)
Building off of the view of man as embodied spirit, St. Augustine (AD 354-430) affirmed that as all men are the spiritual image bearers of the supernatural Triune God in three Persons, then it logically follows that each man is a person; a trinity of being comprised of soul/spirit (unseen), and body, brain (seen).
The citadel of the soul is spirit (heart).  Spirit is immortal and self-aware.  It can will and think and is responsible for what it wills, thinks, speaks, and acts on while in this world.
Spirit is the unique property that distinguishes soul from the material body in which it is fully embedded.  In Biblical thought, spirit allows man to spiritually transcend the natural dimension in order to access the third Heaven.  By way of prayer and petitions the spirit of man's mind allows him to enter into a personal relationship with the Spirit of God.  Through this relationship, spirit is renewed over time, thus enabling man to more perfectly orient the manner of his thoughts, passions, words and actions in this world in preparation for eternity in Paradise.
In Christian thought, a person is a spirit (self) and personality is the total individuality of the spirit.  Without spirit there is no 'self,' hence no person.
The key to personal liberty in the natural or sensory half of reality is man's spiritual liberty contrasted against a genetically pre-programmed animal-like orientation.  Animals have souls but not spirits, the basis of intelligence, sensitivity, imagination, self-consciousness, reflection back and forward into time, and the capacity for truth and moral goodness.
A person is uniquely free because he can spiritually transcend his material brain to access the Spirit of the Lord as Paul affirms:
"Now the Lord is Spirit, and where the Spirit of the Lord is, there is freedom." (2 Cor. 3:17)
Vishal Mangalwadi, India's foremost Christian intellectual observes that this historically unique concept of man as God's spiritual image-bearer gave birth to the "belief in the unique dignity of human beings," and this is the force,
"…that created Western civilization, where citizens do not exist for the state but the state exists for the individual.  Even kings, presidents, prime ministers, and army generals cannot be allowed to trample upon an individual and his or her rights." (Truth and Transformation: A Manifesto for Ailing Nations, Mangalwadi, pp. 12-13)

One-Dimensional Godless Naturalism: the Reality of Non-Self
Modern naturalism, whether of materialist or pantheist permutation positing a non-existent immanent conception of deity (i.e. Omega, Gaia) is at bottom Godless, and said Ravi Zacharias,  absolutely nothing,
"… has a more direct bearing on the moral choices made by individuals or the purposes pursued by society than belief or disbelief in God." Key issues of the day "whether it be…sexual orientation and practice, or life in the fetal stage, sooner or later filter down to whether there is a God, and if so, has he spoken?" (The Real Face of Atheism, Zacharias, p. 21)
In "The Gnostic Religion," Hans Jonas provides a full-scale study of the heretical world of pre-Christian and Christian era pagan Gnostic nihilism together with its modern variants:  materialist and pantheist naturalism.
Jonas writes that while ancient Gnostic pagan man was thrown,
"…into an antagonistic, anti-divine, and therefore anti-human nature, modern man (is thrown) into an indifferent one." (p. 338)
The ancient gnostic conception was still anthropomorphic despite the nihilism, hostility and demonic.  But its' modern counterpart with its' indifferent nature, its' completely godless, soulless, anti-human, demonic nature, represents the "absolute vacuum, the really bottomless pit."
At least the ancient Gnostic dualism, as fantastic as it was, was at least self-consistent, as there was the illusion of a source for 'self' (being).   Not so for its' modern counterpart:
"So radically has anthropomorphism been banned from….nature that even man must cease to be conceived anthropomorphically if he is just an accident of nature.  As the product of the indifferent, his being, too, must be indifferent.  Then the facing of his mortality would simply warrant the reaction, 'Let us eat and drink for tomorrow we die." (ibid, p. 339)
In conclusion:
"…modern nihilism (is) infinitely more radical and more desperate than gnostic nihilism ever could be for all its panic terror of the world and its defiant contempt of its laws.  That nature does not care, one way or the other, is the true abyss.  That only man cares, in his finitude facing nothing but death, alone with….the objective meaninglessness of his projected meanings, is a truly unprecedented situation." (Jonas, p. 339)
In other words, the death of the living God of Revelation means there is neither source for life and 'self' (soul/spirit) nor for higher truth and morality, purpose, meaning, salvation and eternity.   For depersonalized man, the evolved ape or bag of chemicals, there is nothing—no heaven above, no hell below and no,
"…. vast mind behind the framing of the world; no transcending voice giving counsel to this world…no light at the end of the tunnel (hence only) the loneliness of existence in its most desolate form."  (Zacharias, p. 27)
The determined assault against the living Holy God that began during the Renaissance gained speed and force with the materialist implications of Darwin's neo-pagan theory.  The idea that humans evolved by chance and natural selection from non-life bearing chemicals lay the axe at the very foundation of the Genesis account of creation ex nihilo.  On the heels of Darwin's theory Christianity came under forceful attack allowing a one-dimensional worldview draining into nihilism to be declared a scientifically supported reality.
Darwin's "Origin of Species" was published in 1859 and instantly and uncritically accepted by people such as Karl Marx, T.H. Huxley, Herbert Spencer, Ernst Haeckel in Germany and large numbers of clergy more eager to be thought scientific and modern than to defend the faith once given.
For materialist and pantheist alike, Darwin's theory was a wish come true and so became the center of their respective one-dimensional worldviews.
The demonized Karl Marx hated the God of Revelation and his exuberance for Darwin's idea prompted him to consider dedicating his Das Kapital to Darwin, an honor which he declined.  Since Marx favored scientific materialism the rationale behind his invitation to Darwin was that he saw how Darwin's materialist theory provided a scientific framework to support the economic infrastructure on which Marx could build his godless communist utopia.
Darwin's materialist theory and Marxist materialist presuppositions (economic theory based on envy and hatred of God) together with Freud's materialist-based analysis of religion and human sexuality threw faith in God and Christianity "over the wall of civilization,' said Zacharias:
"With such abusive attacks directed at religious belief coming from so many directions, it was left for someone to cast this creature called theism completely out, and exorcise the world of all such influence.  The one who did that was the German philosopher Friedrich Nietzsche." (p. 25)
By the time of Nietzsche, perceptive thinkers had already been expressing apprehension at the prospect of multitudes of unsuspecting Westerners who would eventually be cruelly exploited by anti-human haters of God.
With Nietzsche, dreadful apprehension deepened into certainty, for Nietzsche despised religion in general, but upon Christianity he poured his unbridled fury:
"I call Christianity the one great curse, the one enormous and innermost perversion, the one great instinct of 
revenge, for which no means are too venomous, too underhanded, too underground, and too petty." (Nietzsche in "The Life of Nietzsche," Faru Forster Nietzsche, 1921, p. 656)
However, rather than mindless infatuation for Darwin's idea, Nietzsche (1844–1900) harshly criticized it:
"What surprises me most when I survey the broad destinies of man is that I always see before me the opposite of that which Darwin and his school see or want to see today: selection in favor of the stronger, better-constituted, and the progress of the species. Precisely the opposite is palpable … I incline to the prejudice that the school of Darwin has been deluded everywhere…" (Nietzsche: The evolutionist who was anti-God and anti-Darwin, Russell Grigg, creation.com)
Nietzsche was not anti-evolution but rather had his own evolutionary conception which he called "the will to power."
While Darwin received his idea from his pantheist grandfather Erasmus Darwin, Nietzsche's conception was preceded by mystical ecstasy.  Nietzsche experienced two mystical encounters with the first one taking place in August, 1881.
Charles Andler writes that previous to his scientific reasoning, Nietzsche received revelations during mystical encounters just as Spinoza did.  Mystical ecstasy,
"…. preceded (Spinoza's) system and his geometric form, thus, with Nietzsche mystical ecstasy preceded his scientific reasoning." (Charles Andler cited by Henri De Lubac, "The Drama of Atheist Humanism," p. 481)
According to Henri De Lubac, secret knowledge was revealed to Nietzsche that he was "….the first of men to know.'   The shock of it was sudden and profound.  Though no direct document relates his experience sure evidence is found in an agitated page of Ecce Homo where Nietzsche wrote:
"Suddenly, with sureness, with indescribable delicacy, a thing makes itself seen, makes itself heard.  It shakes you, it overwhelms you right to your innermost depths.  You hear it…You let it fill you….A thought blazes forth like a flash of lightening…It imposes itself as a necessity…I never had to choose it.  It is an ecstasy….You are enraptured, taken outside of yourself…All of this…is accompanied by a tumultuous feeling of liberty, of independence, of divinity…There you have my experience of the inspiration." (Lubac, p. 472)
In the months that followed he remained silent about the knowledge he received.  But in August of 1882 he discussed his experience with Lou Salome.  Salome writes that Nietzsche spoke of his encounter only in obscure words and with hushed voice.  Giving "every indication of the most profound horror" Nietzsche described the terrible and marvelous revelation he had received with two words: Eternal Return. (ibid, p. 473)
In the autumn of 1882 he experienced his second encounter which he described in the poem Sils Maria:
"I was sitting and waiting, without waiting for anything/Beyond good and evil, tasting Light sometimes and sometimes shade/Absorbed by this brew…When suddenly…what was one became two, And Zarathustra passed before me…" (ibid, p. 475)
It was a vision without a doubt, precise and sudden:
"I could tell you the day and the hour….Zarathustra has fallen on me, he assaults me.."  (ibid)
Zarathustra was an evil spirit who confirmed to Nietzsche the 'truth' of the revelations already received, which included man's evolution from worms:
"You [mankind] have made your way from worm to human, and much in you is still worm. Once you were apes, and even now the human being is still more of an ape than any ape is." (Nietzsche, Thus Spake Zarathustra, Zarathustra's Prologue section 3, trans. by G. Parkes, Oxford University Press, New York, 2005, p. 11)
Henceforth, Nietzsche is an inspired prophet who knows for certain that the God of Revelation is dead, that man's evolution from worms is absolutely true, and that he is Jesus Christ's successor, the 'new' Christ.  Within ten days he drafted by way of automatic writing the whole first book of his prophecy.  He called his finished work Zarathustra, the new Bible of scientific evolutionary naturalism, and told the world to throw away all other books, for now you have my Zarathustra, "a new Holy Book." 
It was Nietzsche, the 'new' Christ, who saw that the death of the personal God had already begun to cast its first dark shadows over Europe, and though,
"the event itself is far too great, too remote, too much beyond most people's power of apprehension, for one to suppose that so much as the report of it could have reached them," still its advent was certain, and it was men like Nietzsche, the 'new' Christ who were "the firstlings and premature children of the coming century," the century of the "triumph of Nihilism." (Nihilism: The Root of the Revolution of the Modern Age, Eugene Rose, p. 44)
Nietzsche was the first apostate Christian to gaze fully upon man's loss of faith and its terrifying consequences.  With no living God 'up there' to obstruct his vision, the nihilism he saw was agonizing.  As there was no longer any Light from God above, there was only darkness in the hermetically sealed world below.  The paralyzing darkness that overtook the mind of the 'new' Christ was spiritual.  It was not so much,
"….an exterior phenomenon crowding inward but rather an inner blinding that spread outward." (Ravi Zacharias, p. 27)
This was precisely Nietzsche's point.  With the death of the personal God of Revelation the darkness of objective meaninglessness would penetrate every avenue of thought and life, making life itself unbearable with the consequence of hedonism, abortion, euthanasia, sodomy, suicide, drugs, crime and murder becoming virtues.
Speaking through the writings of the 'new' Christ, Zarathustra went on to say that because God had died in the 19th century there would follow two terrible consequences beginning in the 20th century. (Romans 1:18)
First, the 20th century would become one of the most evil century's in history, and second, a universal madness (Romans 1:21, 22) would break out and turn the once glorious W. Europe and America upside-down.
Though apostates and the apostatizing professed themselves wise, their cognitive thought processes would become darkened (vain) and with their conscience dead to sin they would become fools, meaning they would accept and publicly profess incredibly stupid conceptions of themselves (i.e., man is an evolved worm, ape or robot; man is evolving into god).
"And I will give children to be their princes, and the effeminate shall rule over them." Isaiah 3:4
In turning away from the Spirit of God and the truth He has given, 'wise' males will become effeminate cowards and females mannish.  They will be adolescent emotional-tyrants in adult-size bodies: sinister, greedy, spiteful, vindictive, treacherous, back-stabbing sophists.  They will celebrate Lucifer (the devil) and in their madness actively seek the way of Luciferian initiation because they will be spiritually blind in regard to total reality.  Like demons they will flee from the cross of Jesus but exalt the devil as the first free thinker, the genetic creator of man, the seething energy and angel of evolution.  Truth will be lies, evil will be good, unfaithfulness will be faith and the 'wise' will preach and blaspheme from pulpits, exercise political power, enact legislation, and wield broken law to plunder, punish, and ruin.
Zarathustra has been right on both counts.  First, apostatizing W. Europe and America, though dotted here and there by small islands of Light, decency and sanity, are becoming darkened, satanically inverted places ruled by the 'wise,' hence boiling over with madness, particularly Hollywood, academia, mainstream media and the highest, most powerful political offices in the land.   Second, Nietzsche was made to show the 'wise' what is in store for them by spending the last eleven years of his life insane.
"U.S. hopes of winning more influence over Syria's divided rebel movement faded Wednesday after 11 of the biggest armed factions repudiated the Western-backed political opposition coalition and announced the formation of an alliance dedicated to creating an Islamist state. The al-Qaeda-affiliated Jabhat al-Nusra, designated a terrorist organization by the United States, is the lead signatory of the new group." 1
Pity the poor American who wants to be a good citizen, wants to understand the world and his country's role in it, wants to believe in the War on Terrorism, wants to believe that his government seeks to do good … What is he to make of all this?
For about two years, his dear American government has been supporting the same anti-government side as the jihadists in the Syrian civil war; not total, all-out support, but enough military hardware, logistics support, intelligence information, international political, diplomatic and propaganda assistance (including the crucial alleged-chemical-weapons story), to keep the jihadists in the ball game. Washington and its main Mideast allies in the conflict – Turkey, Jordan, Qatar and Saudi Arabia – have not impeded the movement to Syria of jihadists coming to join the rebels, recruited from the ranks of Sunni extremist veterans of the wars in Chechnya, Iraq, Afghanistan, and Libya, while Qatar and the Saudis have supplied the rebels with weapons, most likely bought in large measure from the United States, as well as lots of of what they have lots of – money.
This widespread international support has been provided despite the many atrocities carried out by the jihadists – truck and car suicide bombings (with numerous civilian casualties), planting roadside bombs à la Iraq, gruesome massacres of Christians and Kurds, grotesque beheadings and other dissections of victims' bodies (most charming of all: a Youtube video of a rebel leader cutting out an organ from the chest of a victim and biting into it as it drips with blood). All this barbarity piled on top of a greater absurdity – these Western-backed, anti-government forces are often engaged in battle with other Western-backed, anti-government forces, non-jihadist. It has become increasingly difficult to sell this war to the American public as one of pro-democracy "moderates" locked in a good-guy-versus-bad-guy struggle with an evil dictator, although in actuality the United States has fought on the same side as al Qaeda on repeated occasions before Syria. Here's a brief survey:
Afghanistan, 1980-early 1990s: In support of the Islamic Moujahedeen ("holy warriors"), the CIA orchestrated a war against the Afghan government and their Soviet allies, pouring in several billions of dollars of arms and extensive military training; hitting up Middle-Eastern countries for donations, notably Saudi Arabia which gave hundreds of millions of dollars in aid each year; pressuring and bribing Pakistan to rent out its country as a military staging area and sanctuary.
It worked. And out of the victorious Moujahedeen came al Qaeda.
Bosnia, 1992-5: In 2001 the Wall Street Journal declared:
It is safe to say that the birth of al-Qaeda as a force on the world stage can be traced directly back to 1992, when the Bosnian Muslim government of Alija Izetbegovic issued a passport in their Vienna embassy to Osama bin Laden. … for the past 10 years, the most senior leaders of al Qaeda have visited the Balkans, including bin Laden himself on three occasions between 1994 and 1996. The Egyptian surgeon turned terrorist leader Ayman Al-Zawahiri has operated terrorist training camps, weapons of mass destruction factories and money-laundering and drug-trading networks throughout Albania, Kosovo, Macedonia, Bulgaria, Turkey and Bosnia. This has gone on for a decade. 2
A few months later, The Guardian reported on "the full story of the secret alliance between the Pentagon and radical Islamist groups from the Middle East designed to assist the Bosnian Muslims – some of the same groups that the Pentagon is now fighting in "the war against terrorism". 3
In 1994 and 1995 US/NATO forces carried out bombing campaigns over Bosnia aimed at damaging the military capability of the Serbs and enhancing that of the Bosnian Muslims. In the decade-long civil wars in the Balkans, the Serbs, regarded by Washington as the "the last communist government in Europe", were always the main enemy.
Kosovo, 1998-99: Kosovo, overwhelmingly Muslim, was a province of Serbia, the main republic of the former Yugoslavia. In 1998, Kosovo separatists – The Kosovo Liberation Army (KLA) – began an armed conflict with Belgrade to split Kosovo from Serbia. The KLA was considered a terrorist organization by the US, the UK and France for years, with numerous reports of the KLA having contact with al-Qaeda, getting arms from them, having its militants trained in al-Qaeda camps in Pakistan, and even having members of al-Qaeda in KLA ranks fighting against the Serbs. 4
However, when US-NATO forces began military action against the Serbs the KLA was taken off the US terrorist list, it "received official US-NATO arms and training support" 5 , and the 1999 US-NATO bombing campaign eventually focused on driving Serbian forces from Kosovo.
In 2008 Kosovo unilaterally declared independence from Serbia, an independence so illegitimate and artificial that the majority of the world's nations still have not recognized it. But the United States was the first to do so, the very next day, thus affirming the unilateral declaration of independence of a part of another country's territory.
The KLA have been known for their trafficking in women, heroin, and human body parts (sic). The United States has naturally been pushing for Kosovo's membership in NATO and the European Union.
Nota bene: In 1992 the Bosnian Muslims, Croats, and Serbs reached agreement in Lisbon for a unified state. The continuation of a peaceful multi-ethnic Bosnia seemed assured. But the United States sabotaged the agreement. 6
Libya, 2011: The US and NATO to the rescue again. For more than six months, almost daily missile attacks against the government and forces of Muammar Gaddafi as assorted Middle East jihadists assembled in Libya and battled the government on the ground. The predictable outcome came to be – the jihadists now in control of parts of the country and fighting for the remaining parts. The wartime allies showed their gratitude to Washington by assassinating the US ambassador and three other Americans, presumably CIA, in the city of Benghazi.
Caucasus (Russia), mid-2000s to present: The National Endowment for Democracy and Freedom House have for many years been the leading American "non-government" institutions tasked with destabilizing, if not overthrowing, foreign governments which refuse to be subservient to the desires of US foreign policy. Both NGOs have backed militants in the Russian Caucasus area, one that has seen more than its share of terror stretching back to the Chechnyan actions of the 1990s. 7
"Omission is the most powerful form of lie." – George Orwell
I am asked occasionally why I am so critical of the mainstream media when I quote from them repeatedly in my writings. The answer is simple. The American media's gravest shortcoming is much more their errors of omission than their errors of commission. It's what they leave out that distorts the news more than any factual errors or out-and-out lies. So I can make good use of the facts they report, which a large, rich organization can easier provide than the alternative media.
A case in point is a New York Times article of October 5 on the Greek financial crisis and the Greeks' claim for World War Two reparations from Germany.
"Germany may be Greece's stern banker now, say those who are seeking reparations," writes theTimes, but Germany "should pay off its own debts to Greece. … It is not just aging victims of the Nazi occupation who are demanding a full accounting. Prime Minister Antonis Samarass government has compiled an 80-page report on reparations and a huge, never-repaid loan the nation was forced to make under Nazi occupation from 1941 to 1945. … The call for reparations has elicited an emotional outpouring in Greece, where six years of brutal recession and harsh austerity measures have left many Greeks hostile toward Germany. Rarely does a week go by without another report in the news about, as one newspaper put it in a headline, 'What Germany Owes Us'."
"The figure most often discussed is $220 billion, an estimate for infrastructure damage alone put forward by Manolis Glezos, a member of Parliament and a former resistance fighter who is pressing for reparations. That amount equals about half the country's debt. … Some members of the National Council on Reparations, an advocacy group, are calling for more than $677 billion to cover stolen artifacts, damage to the economy and to the infrastructure, as well as the bank loan and individual claims."
So there we have the morality play: The evil Germans who occupied Greece and in addition to carrying out a lot of violence and repression shamelessly exploited the Greek people economically.
Would it be appropriate for such a story, or an accompanying or follow-up story, to mention the civil war that broke out in Greece shortly after the close of the world war? On one side were the neo-fascists, many of whom had cooperated with the occupying Germans during the war, some even fighting for the Nazis. Indeed, the British Foreign Secretary, Ernest Bevin, acknowledged in August 1946 that there were 228 ex-members of the Nazi Security Battalions – whose main task had been to track down Greek resistance fighters and Jews – on active service in the new Greek army. 8
On the other side was the Greek left who had fought the Nazis courageously, even forcing the German army to flee the country in 1944.
So guess which side of the civil war our favorite military took? … That's right, the United States supported the neo-fascists. After all, an important component of the Greek left was the Communist Party, although it wouldn't have mattered at all if the Greek left had not included any Communists. Support of the left (not to be confused with liberals of course) anywhere in the world, during and since the Cold War, has been verboten in US foreign policy.
The neo-fascists won the civil war and instituted a highly brutal regime, for which the CIA created a suitably repressive internal security agency, named and modeled after itself, the KYP. For the next 15 years, Greece was looked upon much as a piece of real estate to be developed according to Washington's political and economic needs. One document should suffice to capture the beauty of Washington's relationship to Athens – a 1947 letter from US Secretary of State George Marshall to Dwight Griswold, the head of the American Mission to Aid Greece, said:
During the course of your work you and the members of your Mission will from time to time find that certain Greek officials are not, because of incompetence, disagreement with your policies, or for some other reason, extending the type of cooperation which is necessary if the objectives of your Mission are to be achieved. You will find it necessary to effect the removal of these officials. 9
Where is the present-day Greek headline: "What The United States Owes Us"? Where is the New York Times obligation to enlighten its readers?
The latest step in the evolution of America's Police State
"If you've got nothing to hide, you've got nothing to fear."
So say many Americans. And many Germans as well.
But one German, Ilija Trojanow, would disagree. He has lent his name to published documents denouncing the National Security Agency (NSA), and was one of several prominent German authors who signed a letter to Chancellor Angela Merkel urging her to take a firm stance against the mass online surveillance conducted by the NSA. Trojanow and the other authors had nothing to hide, which is why the letter was published for the public to read. What happened after that, however, was that Trojanow was refused permission to board a flight from Salvador da Bahia, Brazil, to Miami on Monday, September 30. Without any explanation.
Trojanow, who was on his way to speak at a literary conference in Denver, told the Spiegel magazine online website that the denial of entry might be linked to his criticism of the NSA. Germany's Foreign Ministry says it has contacted US authorities "to resolve this issue". 10
In an article published in a German newspaper, Trojanow voiced his frustration with the incident: "It is more than ironic if an author who raises his voice against the dangers of surveillance and the secret state within a state for years, will be denied entry into the 'land of the brave and the free'."11
Further irony can be found in the title of a book by Trojanow: "Attack on freedom. Obsession with security, the surveillance state and the dismantling of civil rights."
Director of National Intelligence James R. Clapper Jr., who oversees the NSA and other intelligence agencies, said recently that the intelligence community "is only interested in communication related to valid foreign intelligence and counterintelligence purposes." 12
It's difficult in the extreme to see how this criterion would apply in any way to Ilija Trojanow.
The story is a poignant caveat on how fragile is Americans' freedom to criticize their Security State. If a foreigner can be barred from boarding a flight merely for peaceful, intellectual criticism of America's Big Brother (nay, Giant Brother), who amongst us does not need to pay careful attention to anything they say or write.
Very few Americans, however, will even be aware of this story. A thorough search of the Lexis-Nexis media database revealed a single mention in an American daily newspaper (The St. Louis Post-Dispatch), out of 1400 daily papers in the US. No mention on any broadcast media. A single one-time mention in a news agency (Associated Press), and one mention in a foreign English-language newspaper (New Zealand Herald).
Notes
Washington Post, September 26, 2013 ↩
Wall Street Journal, November 1, 2001 ↩
The Guardian (London), April 22, 2002 ↩
RT TV (Moscow), May 4, 2012 ↩
Wall Street Journal, November 1, 2001 ↩
New York Times, June 17, 1993, buried at the very end of the article on an inside page ↩
Sibel Edmonds' Boiling Frogs Post, "Barbarians at the Gate: Terrorism, the US, and the Subversion of Russia", August 30, 2012 ↩
Parliamentary Debates, House of Commons, October 16, 1946, column 887 (reference is made here to Bevin's statement of August 10, 1946) ↩
Foreign Relations of the United States, 1947, Vol. V (U.S. Government Printing Office, 1971), pp. 222-3. See William Blum, Killing Hope: US Military and CIA Interventions Since World War II, chapter 3 for further details of the US role in postwar Greece. ↩
Associated Press, October 2, 2013 ↩
Huffington Post, "Ilija Trojanow, German Writer, Banned From US For Criticizing NSA", October 1, 2013 ↩
Washington Post, October 5, 2013 ↩
In March of 2010, Barack Obama signed the Affordable Care Act (otherwise known as "Obamacare") into law amid a host of economic uncertainties and unwanted Federal Reserve bailouts. Two years before, Washington had confirmed the passage of Troubled Asset Relief Program (TARP) measures that had already met with disapproval from, according to some polls, more than 80 percent of Americans. In the meantime, the Occupy Wall Street movement was gaining momentum, involving elements of both traditionally Republican and traditionally Democratic organizations. Self-proclaimed "conservatives" and "liberals" were beginning to find common ground on issues ranging from the overall fiscal system to the National Defense Authorization Act (NDAA). The consensus was clear: Government had grown corrupt, power-hungry, and ultimately destructive to every citizen regardless of his political affiliation.
However, certain hot-button issues always seem to flood government rhetoric and the mainstream media whenever the U.S. citizenry begins to unify, causing renewed rifts and luring Americans to fight among themselves while the cruise ship on which we are floating sinks into the abyss. Those on the left believe Obamacare is a genuine attempt to institute socialized medicine, and they love it. Those on the right believe Obamacare is a genuine attempt to institute socialized medicine, and they despise it. But what if Obamacare's government-controlled healthcare plan is only a secondary pursuit, while cutting America down the middle is the first goal?
Consider this: The launch of Obamacare comes at a time when the official national debt of the United States is about $17 trillion and the national deficit is some $1 trillion per year. Keep in mind that when Obama was elected in 2008, the official national debt stood at only $10 trillion. That means the Obama Administration has added more than $7 trillion in debt in only five years, and I can barley fathom how much more damage he can do in the time he has left as president.
While mainstream talking heads with low IQs proclaim victory for the Obama camp because of a supposedly "shrinking" deficit, what they either fail to mention or are too stupid to understand is that the official reporting of the deficit DOES NOT account for real deficit expenditures each year. The official deficit does not include what government number crunchers call "unfunded liabilities," like Social Security and Medicare, or off-book agencies like Fannie Mae and Freddie Mac. The average taxpayer suffers the costs of such expenditures yet they are never counted in official statistics. If one were to tally our true national debt, including "unfunded liabilities," it would stand anywhere from $120 trillion to more than $200 trillion. The true deficit skyrockets to more than $5 trillion per year (and growing) when such programs are included.
It is hard to say whether Obamacare costs will be openly included in official debt numbers or hidden like most entitlement programs. The point is, the government has been lying for quite some time, under multiple Presidents, about the real state of the U.S. economy.
When the White House claims in its talking points that government-assisted healthcare will require a net payment of only $1.1 trillion over the next 10 years, what method of accounting is used? Is this the total cost or just the "official cost" minus off-book liabilities? Even if this ends up being the full and complete spending required, how can Washington afford to burn another $1.1 trillion on top of $5 trillion a year already in the red?
If our national debt continues to climb exponentially, as it has in the wake of the Administrations of Presidents George W. Bush and Obama, will we see another $7 trillion or more added to the "official" number in the next five years, and can our country sustain such debt levels without imploding in on itself like a fashion model?
According to The Washington Post, Obamacare is now a fact of life, even in the face of agovernment shutdown.
But is this claim really true, or is it just empty posturing? You may like Obamacare, or you may hate Obamacare; but the fact remains that we CANNOT AFFORD Obamacare at this time. So my first question to proponents of socialized medicine would be:
Where is the money going to come from?
More taxes? How can Obamacare be funded by increased taxes, when the average median household income has fallen every year for five years in a row.
How about more taxes for the super rich? Four hundred of America's top earners brought in an average adjusted gross income of $202 million in 2009. If each of these people were taxed 100 percent of their annual taxable income in act of total criminal disregard for free markets, the resulting $80 billion in revenue would still not be enough to fund Obamacare, let alone our already existing massive debts.
If taxes won't do the job, what about foreign treasury investment?
U.S. Treasury holdings by foreign creditors witnessed a record sell-off in June of this year, and subsequent purchases have not covered the loss in recent months.
The majority of all recent Treasury purchases by foreign investors are short-term bonds, meaning international faith in America's ability to cover its debts has fallen considerably. Creditors now want only bonds that mature quickly, so that they can be liquidated at a moment's notice. Foreign investment in the United States is currently either static or dropping, depending on the country, meaning no extra cash flow for Obamacare.
At bottom, Obamacare is doomed to failure. The money simply does not exist in order to cover the cost. The math does not add up. Period.
Now, I can understand hard-core socialists being too dim-witted to wrap their heads around this problem. After all, the average socialist thinks government funds will infinitely expand to meet the needs of infinite demand, as long as public wealth is "harmonized" in the process. Socialists are utterly unable to imagine that the money may run out one day, thus decimating the economy.
But what about the establishment? Are the central banking elite and their minions really unaware that Obamacare is unsustainable? I think not.
Government bureaucrats and central bankers carefully create our false economic reality on a daily basis. They receive hard financial data and then spin it to suit very particular needs. Each statistic is crafted and manipulated to elicit a specific public response.  Those who dominate the establishment hierarchy are exposed regularly to our dire fiscal position, hide the information and its consequences, yet, we are supposed to believe that they are "not aware" of the eventual result?  Obama and the elites who pull his strings are fully conscious that our economy is on the verge of complete collapse, and they are aware that Obamacare in its current form will never survive. So why continue with the charade if there is no mathematical possibility that the program will succeed?
Social division is the only plausible answer.
Universal healthcare has been a longtime pursuit of the left, and many Democrats are willing to forgo or completely ignore other dangerous political developments surrounding the White House as long as they finally attain socialized medicine. I have personally engaged in numerous debates with Obama supporters, pointing out his transgressions against the Constitution and the Mideast, his close relationships with the banking elite, and his willingness to throw aside his own promises. Amazingly, some of his supporters admit that Obama is monstrous in many respects, but they STILL defend him on the basis that "at least he's going to give us free healthcare."  Kill children in foreign lands, trample the Constitution, but fill their prescription for free, and they'll call you Papa Obama!
In this way, the establishment has retained about 30 percent of the American population as political cannon fodder to be exploited at will by the Obama Administration. And if a government shutdown takes place over Obamacare measures, that percentage may climb as citizens are duped into believing that Tea Party Republicans and their "unwillingness to compromise" are to blame for the situation.  In fact, the entire thrust of the mainstream media's approach to the government shutdown has been to point out the legitimate consequences in the wake of a default (to which there are many), then proceed to outline how all of these horrors will be the result of conservative "brinksmanship".
If you understand that both major parties are nothing but two sides to the same globalist coin, then the idea of "brinksmanship" one way or the other becomes ridiculous.  The Republican leadership plays the role of the staunch limited spending watchdog, but usually rolls over because secretly they are just as fond of centralization and debt creation as the Democrats.  But what if this time, the script says they aren't supposed to roll over?  What if this time, traditional conservatives are meant to take the blame for throwing the American economy into disrepute, all over Obamacare?
What the Liberty Movement needs to keep in mind during the chaos of the debt debate is that it may not ultimately be about Obamacare at all.  Instead, the debt debate may be about drawing artificial lines between the American people and letting us tear each others' throats out.  In the meantime, fingers may point to OUR defining principles as the trigger to the madness.  Only time will tell, and the consensus holds that there is "no way" the Republicans will stand fast or that the debt ceiling will remain stationary.  But, questions need to be asked here.  Does the shutdown and the illusion of Obamacare serve a greater purpose?
The establishment knows that a financial crisis is upon us.  The establishment essentially engineered this crisis through artificially low interest rates and the deliberate spread of toxic derivatives.  But, it wants YOU to believe that the inevitable collapse was caused by something or someone else.  By "political gridlock," foreign fiscal schemes or "conservative hubris." It does not want members of the public to draw any connections between their suffering and the international banking elite behind the greater catastrophe. Obamacare is a red herring.  It's smoke and mirrors.  It's a distraction. And, while we battle over a program that will never find adequate funding anyway, the rest of the economic system crumbles.
Source: Brandon Smith | Alt-Market