Origin of the Master Model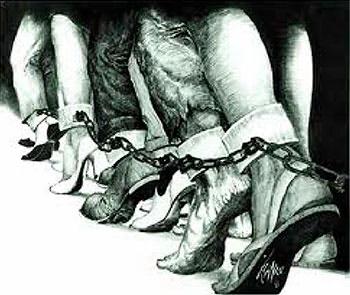 The master plan for world domination we see playing out today was first proposed to the US at the end of World War I. However, there were no takers. People were too war weary. However, when the plan was again proposed at the end of World War II, it was accepted. Consequently, World War II quietly transitioned into the secret "war" to set up what has become known as the "new world order" — an absolute dictatorship over the entire planet.
The United States set up the School of the Americas to train future dictators and terrorists who would be sent out into the world to destroy sovereign nations and place them under US domination by installing puppet governments obedient to the United States. Many conquests were made quietly using clever economic tricks [2]. However, leaders who refused to submit quietly would see their entire country reduced to rubble and the land rendered unlivable by uranium dust scattered by US bombs. The message was clear: Submit to the United States or face total destruction.
A social model based upon the assumption that cleverness and power automatically convey the right to take anything desired from those who are less adept and unable to resist is not a sustainable model for harmonious social interactions. However, this is the chosen model. The mantra for this model, "A man's true worth is measured by the amount of other peoples' happiness that he can possess and destroy" [1], is essentially a call for a class war between the greedy elite and the innocent masses of the world who simply desire a peaceful existence.
Acquisitions
The United States looks at the rest of the world as a "resource". If a country has something — oil, gold, minerals, etc. — that the US covets, it believes it has the right to take those things by whatever means necessary. In many cases the coveted resource is human slave labor. Let's look at some representative examples:
With the cooperation of the dictator, United Fruit Company (US) owned almost half of the country and used the locals as slaves to harvest its Chiquita brand bananas. However, during the period from 1945-1954 new leaders made changes. They helped the poor and set up social security and health care. Then they took land away from United Fruit and gave it to the local people. United fruit complained to the CIA that its business interests were being interfered with by the "communist" government. Any government which shows kindness to the poor and weak is called communist by the US. The US attacked Guatemala — killed the elected leaders and many thousands of citizens — and established a puppet dictatorship which would obey the will of United Fruit. The people were returned to a state of slavery. The CIA trained death squads to make sure the people were crushed into submission.
Strip Mining in Africa [4]
In Africa, the International Monetary Fund — a puppet of the US — destroys a country with strip mining. The original country was self sustaining. People were able to grow lots of food and hunt animals. However, once the land was ruined by US corporations, it was unusable to plant crops and the native animals died. The people had to buy food from other countries with money loaned to them by the IMF which they could never hope to repay. Therefore, a once free and self supporting people were made debt slaves of the IMF. Once all the natural resources have been stolen, the corporations will simply pack up and leave the indigenous people to starve and die.
Countries Used as Trash Dumps [5]
Used computers and associated items are dumped in poor countries where starving barefoot children sift through the mess of hazardous waste and broken obsolete glass computer monitors hoping to find something they can sell to get enough money to stay alive another day. Property stickers show the waste is mainly from the US government and various US state governments.
Corruption of Trusted Sources
Reporters and News Organizations
The masses are conditioned to believe news they receive from establishment sources. In the earlier times, this assumption was often correct. It was considered so important by the founding fathers that freedom of the press was enshrined in the US constitution. However, times have changed.
Walter Cronkite was known as the "trusted voice". No one knew he was also the official announcer at the secret Bohemian Grove meetings. The leaders of the world's news organizations also attend this event. That is why, even though the meetings began over one hundred years ago, until recently no one knew this group even existed. President George W. Bush may have set a new record for bribing journalists to allow their trusted name to be used as the author of material actually written by government propaganda experts. Apparently, everyone has a price and the government, of course, has no problem when it comes to money.
When Ronald Reagan reportedly ordered the death of investigative reporter Jessica Savitch [6], the message to independent journalists was clear: Go against the official party line an you're done!
Today, dedicated journalists face mysterious deaths and strange single car accidents but a few survive long enough to give us a glimpse of truths we would otherwise never know. They are true heroes.
Churches
Churches are everywhere. Unfortunately, legitimate Spiritual teachers are not. People look at churches either as harmless or with some sort of conditioned hypnotic respect. Churches send out "missionaries". However, the "mission" of these missionaries may not be so clear. If you wanted to infiltrate a foreign country, these people would be an ideal asset.
Churches are not Spiritual centers. At best, all they want is your money. At worst, they are Satanic and you are in severe Spiritual danger if you come under their influence and control.
The Catholic Church has been a trusted asset of the US intelligence community for quite some time. Significant information obtained by priests during confessions is routinely passed on to the government.
This agreement predates the internet by many years. Because the church has branches in almost every country, it has great potential for covert activities. For example, if you need to get an operative who is in danger out of a country, they can go to a Catholic church for "confession". Once the door is closed, they can exit through a secret passage, be disguised in robes and spirited safely out of the country. Church secrecy is at least on a par with US secrecy. Also, the Catholic church and the US shadow government share the same Satanic value system and engage in child rape and ritual killings.
Doctors and the Medical Industry
Medicine in the United States is an industry. It is no longer a profession. Its corporate model puts profit above all else. If some patients accidentally benefit they are the lucky ones.
The medical community has a rigid hierarchical structure and effective mechanisms for enforcing secrecy. Essentially, its model closely resembles the military chain of command structure. This makes it a perfect partner for the government in the area of secret human experiments.
For example, when the government was doing radiation experiments on humans, a doctor or someone dressed as a doctor would just walk up to unsuspecting patients and inject them with radioactive material. They were then secretly followed for years to see what would happen. Eventually, some of those who survived were told the truth. Most people used in the MK Ultra and subsequent secret projects were never notified.
Hospitals are set up to protect themselves. Staff may appear to be dedicated, smiling people who truly care about you. However, they are basically prostitutes who are being nice because you are worth money to them. When they make mistakes they have a "loss prevention" department staffed by clever lawyers who are trained to protect the financial interests of the hospital by denying everything and fabricating believable coverups. They are trained to do whatever is necessary. The staff will all agree to support whatever lies are needed. They know their job and their financial future depends upon maintaining strict secrecy.
The only people who receive legitimate medical care are the select elite cleared to accesstop secret medicine. These people always get excellent care because the doctors work for the shadow government and mistakes on their part are simply not tolerated.
Infiltrations
Countries which have the resources to sustain an intelligence community generally try to get operatives (spies) into other countries so they can directly observe activities. When real people gather intelligence, this is called human intelligence or HUMINT. The US, of course, does this too. However, you may not be aware of the extent to which the US also infiltrates itself. The central government really does not trust anyone.
Essentially all local police departments, state offices and state governors have a covert federal agent working close by pretending to be just another employee. Also, every US neighborhood has an informer who reports to the federal government. Large corporations, which tend to behave like "mini governments", need to be infiltrated and kept under observation. Colleges and universities are also monitored.
Here is how this spy network operates: The NSA likes to recruit young kids right out of college. When they are hired and sworn to secrecy they still do not know what their assignment will be. They must agree to do this assignment without first being told what it is.
Some agents, like John Perkins [2], are assigned to work in other countries. However, others are assigned to work inside the US. Their assignment could be to go to some state and apply to join the local police department. They would pretend to be just a regular person looking for a job. They would take the necessary training and spend their life as a local policeman so they could directly observe other local police from the inside and report to the NSA. Since they are actually an employee of the NSA, presumably they get to keep both salaries and, eventually, both retirements. All significant local police forces in the US are infiltrated this way.
Additionally, some agents will be assigned to get a job on the state governor's staff as well as in major local state agencies. A CIA or NSA agent is always on the staff at major colleges and universities. The same goes for major corporations.
Senior level agents are allowed to have special TV receivers in their homes linked to the secret government TV network. This way everyone stays on the same page. The channels on this network actually broadcast the truth. TV channels available to ordinary people contain only government approved propaganda mixed with "bread and circuses" presentations to make sure the sheeple stay asleep and content.
Fronts
The US government is involved in illegal activities internationally and domestically. If it performed these activities overtly in the name of the United States, there would be serious consequences under both international and local laws. To avoid this situation, the US government operates thousands of "front organizations" which appear to be private but are actually shadow operatives of the US.
For example, John Perkins [2] explained that he was recruited, hired and trained by the NSA. He was an NSA agent. However, for his cover as an economic hit man, he "officially" worked for a "private" company called Charles T. Main. This company was a government front to shield the US because the activities the NSA trained Perkins to do were illegal.
This is standard operating procedure for the US as well as other countries and many corporations. It shields them from legal recourse by providing deniability for the crimes they actually direct and commit.
Generally, when the US wants to influence other sovereign countries, it creates harmless looking NGO's which appear to be independent but are actually fronts for covert activities.
Domestically, colleges and universities — especially those with associated medical schools and hospitals — are great places to conceal a variety of covert projects such as the MK Ultra series of human experiments which, reportedly, continue today using new cover names. The US also likes to create non-profit corporations which exist only to provide classified services to the United States. A good example would be the Institutes for Defense Analysis (IDA). The US, reportedly, is its only client.
Programming
Mass media "programming" is actually programming you. It has developed into a subtle form of mind control. Before radio and television, special interests recognized that motion pictures could be used to alter public opinion in their favor. Perhaps, for example, you wanted to attack labor unions. When radio and later television came along providing access to national and international audiences, the temptation to exploit these technologies became irresistible. Originally, the US government recognized this and set up fairness rules to prevent monopolies from taking over the broadcast media and blocking opposing viewpoints. All this ended, unfortunately, when Ronald Regan canceled all the fairness regulations. Today, a handful of powerful corporations own and control essentially all content delivered by radio and television.
Television is the main vehicle for mass indoctrination. It is said that people watching TV actually fall into a light hypnotic trance. The "entertainment" you see on TV does not "just happen to be there". It is very carefully planned and timed to attract and influence targeted audiences. It is said that if some event were to somehow shut down all television broadcasts the government would experience a severe crisis because it would lose control over the minds of the masses.
TV creates sort of a "hive mind" among the masses and keeps everyone coordinated and tuned into the official party line. Without this, people would have no choice but to start thinking for themselves and forming independent opinions. Clearly, this would be a disaster.
The radio broadcast of "War of the Worlds" and the later movie "The Day the Earth Stood Still" are said to be CIA psychological experiments to judge how the general public would react to some type of ET contact.
Today, broadcasting is not just a one way event. Because people react to events and use social media to express these reactions, the effect of specific propaganda can be analyzed in real time. Since the government now intercepts all electronic communications, it is able to see general opinions and then tweak algorithms to maximize the desired effect of propaganda. This ability makes TV a two-way communications system although most people, of course, do not realize this and have no concept of the level of sophistication these technologies have reached.
Information Theory
Information Theory is the name of a relatively new branch of science which became popular in the 1960′s. It covers a broad range of technologies. Basically, it is the science of the flow of information and how that flow can be selectively controlled so that information flows only in desired pathways. As you may have already guessed, governments love this sort of stuff.
ECM
ECM stands for Electronic Counter Measures. In general, these are techniques to disable other electronic devices. Basically, it is electronic warfare. When the secret service is active in an area, for example, they will selectively jam all radio frequencies except for the specific frequencies they are using so that no one else can communicate.
World leaders, who are generally terrified of "threats" materializing from practically anywhere, like to travel with ECM generators running just in case "someone" from "somewhere" was trying to target them for "some reason". Basically, they are paranoid whack jobs.
People familiar with aviation tell the story of how Tony Blair, while traveling to or near a commercial airport, reportedly caused a commercial jet to crash because all the ECM garbage he was transmitting jammed the plane's navigation system. Of course, the British government would never admit this.
Secure Communication With Submarines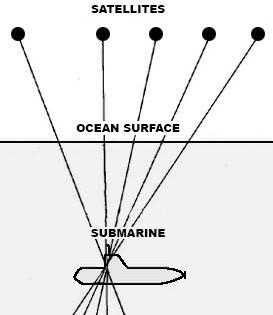 Since submarines were invented, communicating with them has been a problem because conventional radio waves will not travel underwater. Therefore, early submarines had to get close enough to the surface to put up some kind of antenna in the air to send or receive radio messages. Obviously, this could pose a problem if you did not wish to be discovered and located. After all, the motivation to create submarines in the first place was the feeling that they would be able to move about the planet secretly. However, newer technologies now make this impossible.
To solve the problem of reliable secure communication without the need to surface, scientists learned that sea water was essentially transparent to a special type of Argon laser. To set up the current communications network, it was decided to use several satellites with each satellite sending only part of an encrypted communication signal. The complete signal could only be received at a specific point underwater where all the laser beams intersected. Intercepting only one or two beams would prove useless. This communications system is considered to be impossible to intercept.
Quantum Entanglement
Returning to the submarine issue for a moment, before modern communications were perfected, there was a search for some reliable method to send a signal to a submerged submarine that could not be detected. This was considered necessary in a war situation to secretly transmit an attack command. What they originally did was to locate a couple of people who could communicate telepathically. One would be at the command base and the other on the submarine. Doing a bit more research, it was determined that this type of communication is instantaneous and somehow operated outside of time. Radio waves travel at the speed of light.
Quantum entanglement is a process which uses technology to send and receive signals outside of space-time. Now, why would you possibly want to do this? Well, if you had a base or a colony on a planet in some other solar system light years away, you would not want to wait years for messages to be received. Following this thread — and adding some basic common sense — why would you want to dedicate resources to search for habitable planets in distant solar systems when you had already "proven" it would be impossible to ever get there? Could it just be that someone is not coming clean with whole story?
The Separation Barrier
This is a model of the separation barrier which insulates the ruling class from the slave class. It is essentially "intellectual apartheid". The question is, why is it there. It takes considerable effort, money and manpower to maintain this artificial barrier. What is the reasoning behind not having a level playing field for everyone? Why does this idea absolutely terrify the elite? What are they afraid of?
The Pirate Story
This is a summary of a story told years ago on a radio broadcast most likely by Paul Harvey:
Ordinary people were afraid. The Earth was flat so they dare not venture far from home. Periodically, a pirate ship would come. They did not know how it got there or from where it came. It brought treasures they had never seen. The Chief Pirate would encourage the young men to study and specialize in specific skills. He wanted them to become educated but only in one narrow area. The Chief Pirate knew the world was not flat and how to navigate to other lands. However, this knowledge was never discussed. This "top secret" knowledge or the "big picture of the known world" would only be given to the Chief Pirate's son who would inherit his title and someday become the Chief Pirate.
This story is about the origin of the concept we call compartmentalization — the process of controlling the slave masses by only allowing them to know specific bits of the truth while the leaders are allowed to know total truth.
ELITE RULING CLASS
SECURITY CLEARANCES
SECRET POLICE
ASSASSINS
SURVEILLANCE — SIGINT HUMINT COMINT
SPY SATELLITES
SPY DRONES
SMART ELECTRIC METERS
INTERNET SURVEILLANCE
NEIGHBORHOOD SPIES
PLENTIFUL STREET DRUGS
PSYCHIATRIC FORCED DRUGGING
GENETICALLY MODIFIED FOOD
FLUORIDATED WATER
COORDINATED TELEVISION PROPAGANDA
DEGRADED PUBLIC EDUCATION
LOCAL MILITARIZED POLICE
---
SLAVE CLASS
Leaders can only maintain their status if there are slaves. Otherwise, everyone would be equal and operate on a level playing field. This means "leaders" would have to pull their own weight like everyone else. Clearly, this would be intolerable. Leaders love beautiful and exotic things but don't want to do the work needed to create these things. They probably could not even plant a garden much less build the various "ivory towers" where they like to live surrounded by servants. If left on their own they would very likely starve. This is why it is so important to create and maintain the complex separation barrier.
Why don't people who live above the separation barrier ever "come down" and talk to the people below the barrier? Well, other than the obvious fact that they would likely be killed or jailed for espionage or treason, there is another, simpler, reason.
Would you like to spend your days sitting in an open field with kindergarten kids looking for four leaf clovers? Probably not. You have progressed beyond that. The slaves below the separation barrier cannot even imagine the world of those who live above the barrier. In fact, the elite do not even consider the slaves human. They call them "disposable biological units". The United Nations prefers the slang term "the herd". Slaves can be easily bred in quantities needed and programmed to do desired tasks. Then, they can be easily disposed of when no longer useful. That's how they look at you. So, why would they want to make friends with you?
The Mars Example
There is an interesting event playing out today that you may have noticed. This concerns the recruitment and selection of people to be sent to Mars. There are simulation projects where volunteers are locked away to imitate the long voyage to Mars. They are being told that this is a one way trip and they can never hope to return to Earth.
What you are witnessing is the selection process for the "seed people" who will be used to breed the future slave class on Mars. In a situation similar to the period when most believed the Earth was flat and you would fall off if you tried to go to sea, these people are convinced that the only way to get to mars is to ride a rocket on a perilous journey taking years. Because they truly believe this, when they get to Mars, they will teach this crap to their kids along with other misconceptions like it is impossible to go faster than the speed of light and other associated obsolete scientific principles. They will have no
desire to ever return to Earth or go anywhere else because they truly believe it is not possible. They will be contented slaves.
Of course the truth is that there are already secret colonies on Mars. It is not that hard to get there using antigravity and other secret propulsion methods and it is quite likely possible to simply walk through some kind of wormhole device and come out on Mars.
However, the slaves will never know this. Just as it is done on Earth, there will be an artificial separation barrier. The insiders will know the truth and will be physically hidden from the slaves. There will be secret police and other methods — the same as are used on Earth — to make sure no slave ever escapes from the "information prison". Business as usual will continue.
Reinforcement of Ignorance
Governments and their oligarchs love to keep their subjects in a cloud of ignorance. Back in the days when people believed the Earth was flat, the inner circle ruling class knew it was round. Maintaining the deception was convenient because it kept the slaves from developing any desire to travel far from home.
Nothing has changed all that much today. Consider, for example, all the fuss over the missing MH370 plane. You are being played for a sucker. It is impossible for that plane to have "disappeared".
The US DoD spy satellite system reportedly consists of ten constellations of satellites. Each constellation has over seven thousand satellites. They see and record everything that happens on this planet. The floor of the oceans can be seen just as clearly as the land areas. The resolution of the system is better than one square millimeter. Also, everything is recorded so you can go back in time and play past images.

This is a picture of a common electric lamp. Take this lamp and throw it in the ocean — any ocean anywhere on this planet. The spy satellite system will locate it, give you the coordinates and give you a photo at least as good as the one above. That is the capability of the system. So, clearly, it is impossible not to know the location of something as large as a Boeing 777 plane. All the TV publicity is a choreographed play. You are being scammed and you need to wake up and realize this fact.
Murders and Assassinations
To ensure a strong empire, dissent must be crushed. The United States trains assassins and carries out both domestic and foreign murders and assassinations on a regular basis. You may be familiar with the classic movie scenes where a black limousine with tinted windows drives by a target with thugs shooting machine guns. Although this would accomplish the task, it is a bit too obvious in a country that advertises itself to be a free, civilized democracy. Someone might catch on and begin to doubt the party line. Consequently, these things must be done quietly.
Inside the US, murders are reportedly carried out by a group known as "FBI Division Five". Other agencies likely have the responsibility for foreign assassinations. However, the basic techniques used would be similar.
Typically, an agent would wake up every day and connect to the top secret internet to see who he was assigned to kill that day. There would be several options. If it was important to eliminate the target immediately, a fast acting chemical agent would be selected which, for example, would cause the target to die within a few hours of a "natural" heart attack.
However, if time was not critical and the government just wanted the target out of the way, you might want to select one of the cancer causing agents such as those likely used to eliminate Hugo Chavez and Senator Ted Kennedy.
There is also a third possibility. This involves character assassination instead of actual murder. Consider, for example, a person who has gained a lot of public recognition talking about, say, free energy. If you simply kill the person, there could be blowback and talk that he was silenced by the government. In such cases, it is easier to use a chemical agent designed not to kill but, rather, to cause states of mental confusion resulting in obviously strange behavior. This would be coordinated with the government controlled mainstream press to make sure everyone became convinced the person was a nut and would therefore ignore anything said without regard to the truth or validity of the message.
Once the appropriate chemical has been selected, you need to load it into the secret delivery system and locate your target. To find your target you will connect to the top secret internet and pinpoint the location of the target through their cell phone. You can also activate all the cameras and microphones in electronic gadgets connected to the internet associated with the target in case you wish to look around the target's home and hear in real time what is taking place.
Of course, this will not help you locate the target when it is time to actually do the hit. So, you need to get the top secret profile data which will show any predictable habits of the target. Everyone is constantly tracked through their cell phones and profiles are logged and stored. In this case, the profile shows that the target has a favorite restaurant and goes there for lunch every day around 11:30. Now, you know exactly what to do. You go to the restaurant, hang out until you see your target, and get in line behind the target. Now, all you need to do is slightly bump into the target to deliver the chemical. Generally, the targets never even notice.
This mission is now complete. If it is early enough, you can check back in to the top secret system to see who you are supposed to kill next. Just another day. Just a routine job.
Money
Money is an imaginary force. It is used to motivate and control slaves. Real forces effect all life forms. However, only people respond to money. The only reason they do is because they have been artificially programmed to do so.
Money can be created in unlimited quantities by those adept in the use of this force. The physical world is finite, however the world of imagination is not. There is no limit to the quantity of money that can be imagined into existence. Money can also be imagined out of existence.
Let's assume that one day the entire financial system simply disappeared. If you lived in a rural area and had a nice veggie garden, some friendly chickens, collection facilities for rain water and a few photocells for electricity, you would not notice this. The veggies would continue to grow. Rain would periodically fall. The chickens would lay eggs as usual. The sun would continue to shine. However, if you lived in a city environment, you would be devastated.
Before money, people lived in small hunter-gatherer groups. The concept of ownership did not exist. People worked and survived as a group. Men and women were equal. Everyone contributed to the community. Resources were shared equally. The concept of "mine" and "yours" did not exist. Women generally became pregnant only once about every three years although there was no birth control. Later, when the concept of money entered the consciousness, women were seen as having less value because men were paid for work but women were not paid to raise and care for kids. Society has changed, however, the downgraded status of women has not.
Money systems have always been manipulated by clever people. When gold was used as money, people learned they could dilute pure gold with silver or maybe even lead to come up with something that looked like pure gold and had the correct weight but was a fraud. A king suspected he was being scammed but had no way to prove it. He called on the great minds of the time for help. This led to what is known as the Archimedes' principle which is better known today as "specific gravity". This principle made it possible to compare a sample known to be pure gold to a questionable sample and prove the unknown sample was not pure gold. Likely, some clever crook lost his head once this test became known.
There is a general belief that gold is the ultimate reference for all money. However, secrets concerning the exact quantity of gold make this a perilous assumption. Reportedly, the United States stole a tremendous quantity of physical gold from Japan towards the end of World War II. This gold exists off the books. To make matters worse, Japan was not all that concerned. Japan had been using gold bars as ballast on its ships because they were compact and heavy. They thought nothing of throwing the bars overboard as necessary. Japan used platinum as a money reference and the US never got that. This should make one rethink all the hype about the value of gold. It may be a lot more plentiful than we have been led to believe. Also, the secret off the books stashes of gold would allow its relative value to be manipulated at will just like other commodity markets.
The Financial Axis of Evil [3]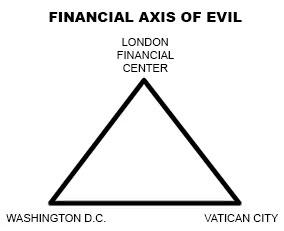 This is the model of the financial axis of evil which rules this planet. It consists of three main branches as shown above. Collectively, they are known as "The Empire of the City". Briefly, here is how this system operates:
The London financial district is in London, Washington D.C. is in the United States and the Vatican is in Italy. However, these three places are not part of the countries where they exist. They are independent "city states" and have their own laws and constitution. They are, effectively, "mini countries" inside of other countries and fly their own flags. The city state of London is a private corporation and pays no taxes to actual London or to Britain. The city state of London is the master power center and is controlled by the Rothschild family which considers itself to be the legal owner of this planet. The Vatican is the largest private land owner in the world and the first true multinational corporation with installations (churches) and secret agents (The Knights of Malta) everywhere. They control through the power of fear of the unknown and practice black magic. Washington D.C. relies upon brute military force. All three closely cooperate combining their specialties of financial trickery, witchcraft and military might. Of course, all three worship Satan as their Master.
Slavery
Slavery is alive and well throughout the world. The US constitution prohibits slavery, however, most americans live in slave-like conditions.
It is said that it will take the average college student until age fifty to pay back their student loan.
The constitutional amendment prohibiting slavery addressed the concept of physically owning another person. However, it did not address the issue of holding another person in bondage as a debt slave. It also did not consider the concept of private for profit prisons who force inmates to work as slaves. These systems exist today and are perfectly legal.
Actually, a recent report from prestigious Princeton University has reclassified the US government as an oligarchy — a country run by and for the rich elite. Former US President Carter has stated that the United States "no longer has a functioning democracy". So much for the Founding Father's dream. Speaking of dreams, check out the free you tube video titled "The American Dream".
Other forms of slavery are illegal but still flourish. Sex slaves are always in demand. Traffickers are sometimes caught but you need to realize that your leaders use sex slaves and also routinely abuse young girls and boys. Sometimes they are also killed during occult rituals. No one ever talks about this and these people are never punished. This has been the normal way of life for Satan worshipers for many years and nothing has changed or is likely to ever change in the future. Stanley Kubrick's last movie, Eyes Wide Shut, covers this subject. Some believe this intense dramatization of how the elite really live may have cost him his life.
People still have some rights left in the United States but other countries are a different story. Qatar is doing construction for the World Cup. The event is not scheduled until the year 2022, however they have already killed 1200 slaves [7] by working them to death. People are lured from poor countries with the promise of jobs and money. When they arrive, their passports are confiscated and they are forced to work until they literally drop dead. If the World Cup is actually held in Qatar in 2022, there will be glamorous TV coverage and no one will remember or care about all the dead slaves. The show must go on.
Qatar, incidentally, sponsors Al Jazeera TV network.
Adaptation Techniques
The status quo of today will never change because the people who created it will never die. Because of top secret medicine, when men like Henry Kissinger, who heads the Bilderberg Group's steering committee, get too feeble to function, they will simply go to one of the secret locations and use the temporal reversal device to regress back to about twenty years old. Their memories will be unaffected. Then they will get new identities and continue on. This process can be repeated indefinitely.
Because you can never change the status quo, your best hope for a lifetime of reasonable quality is to find clever ways to live in this world with as much independence as possible.
One method of adaptation is autonomous and semi-autonomous communities. If the community is registered as a religious institution it is automatically shielded from most government interference by the US constitution. It pays no taxes and can pretty much write its own rules by simply calling whatever it wants to do "religious doctrine". Many small semi-autonomous groups exist where people who share a common set of values find ways to quietly live out their lives pretty much on their own terms. The government does not seem interested in bothering these smaller groups as long as they live peacefully and are not doing anything that the government perceives to be a threat.
The Amish people are a good example of an autonomous group. You would probably not want to live as they do, however, before you completely dismiss them, you may want to look at some definite advantages in their chosen lifestyle.
Remember, these are the people who reject technology. They just might have made the correct choice. Technology, at first, seemed like a good idea. However, now that people are addicted to technology they are also enslaved by technology. Everything they do is monitored and recorded by the government. Privacy no longer exists. It did not have to be this way.
Technology, in itself, is not evil. However, it can be quite evil if you live under a government run by sociopathic control freaks which, unfortunately, you do. In the Amish world, electronic surveillance does not exist because electronic devices do not exist. The constant propaganda from TV has no effect on people who do not have TV. A horse does not report its position to a GPS satellite and is not controlled by a computer.
Also, the people are generally healthy and do not suffer from many diseases common to the mainstream population. They are not being poisoned by fluorinated water or additives found in processed food because they don't use these things. Also, they get lots of physical exercise.
Without totally withdrawing from the world, there are some positive steps you can take. By now you know never to drink fluorinated water or use any personal product containing fluoride such as many brands of toothpaste. To minimize harmful food additives, look for Kosher food which is marked with either the encircled "K" or "U" (Ultra Kosher). These foods have less or no harmful additives. The Jewish community is very protective of its people and the Mossad is widely considered to be the best intelligence service in the world. Therefore, they would have the inside scoop on everything including food and do not want to see their people harmed.
Whatever you decide to do, you definitely do not want to be part of so called mainstream society. These people are doomed. They are sheep (sheeple) slowly walking to the slaughter house. Don't go there!
---
references and credits
[1] DVD "The American Ruling Class". ASIN: B001HM2CE2.
[2] John Perkins. Book: Confessions of an Econemic Hit Man; DVD (free on you tube): "Apology of an Economic Hit Man"; RT interviews.
[3] See the free you tube videos titled "The Red Shield".
[4] DVD: "The Wages of Debt", RT Intl. Also available for purchase.
[5] DVD "Terra Blight", RT Intl. Also available for purchase.
[6] Interview with John Judge of Veterans Against Military Psychiatry.
[7] Also search using the phrase "qatar slaves world cup".
© 2014 W C Vetsch. All rights reserved.
Source: Walter C. Vetsch  |  3108.info | War Is Crime
A poll last year showed that trust in the mainstream media is increasing, which should worry all of us who value truth, integrity and press freedom. Why? Here are 10 disturbing things everyone needs to know about the global media giants who control our supply of information, wielding immense power over the people- and even over the government.
1. Mainstream media exists solely to make profit

What´s the purpose of the mainstream media? Saying that the press exists to inform, educate or entertain is like saying Apple corporation´s primary function is to make technology which will enrich our lives. Actually, the mass media industry is the same as any other in a capitalist society: it exists to make profit. Medialens, a British campaigning site which critiques mainstream (or corporate) journalism, quotedbusiness journalist Marjorie Kelly as saying that all corporations, including those dealing with media, exist only to maximize returns to their shareholders. This is, she said,  ´the law of the land…universally accepted as a kind of divine, unchallengeable truth´. Without pleasing shareholders and a board of directors, mass media enterprises simply would not exist. And once you understand this, you´ll never watch the news in the same way again.
2. Advertisers dictate content
So how does the pursuit of profit affect the news we consume? Media corporations make the vast majority (typically around 75%) of their profit from advertising, meaning it´s advertisers themselves that dictate content- not journalists, and certainly not consumers. Imagine you are editor of a successful newspaper or TV channel with high circulation or viewing figures. You attract revenue from big brands and multinational corporations such as BP, Monsanto and UAE airlines. How could you then tackle important topics such as climate change, GM food or disastrous oil spills in a way that is both honest to your audience and favorable to your clients? The simple answer is you can´t. This might explain why Andrew Ross Sorkin of the New York Times-  sponsored by Goldman Sachs-  is so keen todefend the crooked corporation. Andrew Marr, a political correspondent for the BBC, sums up the dilemma in his autobiography: ´The biggest question is whether advertising limits and reshapes the news agenda. It does, of course. It's hard to make the sums add up when you are kicking the people who write the cheques.´ Enough said…
3. Billionaire tycoons & media monopolies threaten real journalism


The monopolization of the press (fewer individuals or organizations controlling increasing shares of the mass media) is growingyear by year, and this is a grave danger to press ethics and diversity. Media mogul RupertMurdoch´s  neo-liberal personal politics are reflected in his 175 newspapers and endorsed by pundits (see Fox news) on the 123 TV channels he owns in the USA alone. Anyone who isn´t worried by this one man´s view of the world being consumed by millions of people across the globe- from the USA to the UK, New Zealand to Asia, Europe to Australia- isn´t thinking hard enough about the consequences. It´s a grotesquely all-encompassing monopoly, leaving no doubt that Murdoch is one of the most powerful men in the world. But as the News International phone hacking scandal  showed, he´s certainly not the most honorable or ethical. Neither is AlexanderLebedev, a former KGB spy and politician who bought British newspaper The Independent  in 2010.  With Lebedev´s fingers in so many pies (the billionaire oligarch is into everything from investment banking to airlines), can we really expect news coverage from this once well-respected publication to continue in the same vein? Obviously not: the paper had always carried a banner on its front page declaring itself  ´free from party political bias, free from proprietorial influence´, but interestingly this was dropped in September 2011.
4. Corporate press is in bed with the government

Aside from the obvious, one of the most disturbing facts to emerge from Murdoch´s News International phone hacking scandal (background information here ) was the exposure of shady connections  between top government officials and press tycoons. During the scandal, and throughout the subsequent Leveson inquiry into British press ethics (or lack of them), we learned of secret meetings, threatsby Murdoch to politicians who didn´t do as he wanted, and that Prime Minister David Cameron has a very close friendship with The Sun´s then editor-in-chief (and CEO of News International) Rebekah Brooks. How can journalists do their job of holding politicians to account when they are vacationing together or rubbing shoulders at private dinner parties? Clearly, they don´t intend to. But the support works both ways- Cameron´s government tried to help Murdoch´s son win a bid for BSkyB, while bizarrely,  warmongering ex Prime Minister Tony Blair is godfather to Murdoch´s daughter Grace. As well as ensuring an overwhelming bias in news coverage and election campaigns, flooding newspapers with cheap and easy articles from unquestioned government sources, and gagging writers from criticizing those in power, these secret connections also account for much of the corporate media´s incessant peddling of the patriotism lie–  especially in the lead-up to attacks on other countries. Here´s an interestinganalysis of The New York Times´s coverage of the current Syria situation for example, demonstrating how corporate journalists are failing to reflect public feeling on the issue of a full-scale attack on Assad by the US and its allies. 

5. Important stories are overshadowed by trivia

You could be forgiven for assuming that the most interesting part of Edward Snowden´s status as a whistleblower was his plane ride from Hong Kong to Russia, or his lengthy stint waiting in Moscow airport for someone- anyone– to offer him asylum. Because with the exception of The Guardian who published the leaks (read them in fullhere), the media has generally preferred not to focus on Snowden´s damning revelations about freedom and tyranny, but rather on banaltrivia – his personality and background, whether his girlfriend misses him, whether he is actually a Chinese spy, and ahhh, didn´t he remind us all of Where´s Waldo as he flitted across the globe as a wanted fugitive? The same could be said of Bradley Manning´s gender re-assignment, which conveniently overshadowed the enormous injustice of his sentence. And what of Julian Assange? His profile on the globally-respected BBC is dedicated almost entirely to a subtle smearing of character, rather than detailing Wikileaks´s profound impact on our view of the world. In every case, the principal stories are forgotten as our attention, lost in a sea of trivia, is expertly diverted from the real issues at hand: those which invariably, the government wants us to forget.
6. Mainstream media doesn´t ask questions

´Check your sources, check your facts´ are golden rules in journalism 101, but you wouldn´t guess that from reading the mainstream press or watching corporate TV channels. At the time of writing, Obama is beating the war drums over Syria. Following accusations by the US and Britain that Assad was responsible for a nerve gas attack on his own civilians last month, most mainstream newspapers- like the afore-mentioned New York Times– have failed to demand evidence or call for restraint on a full-scale attack. But there are several good reasons why journalists should question the official story. Firstly, British right-wing newspaper The Daily Mail actually ran a news piece back in January this year, publishing leaked emails from a British arms company showing the US was planning a false flag chemical attack on Syria´s civilians. They would then blame it on Assad to gain public support for a subsequent full-scale invasion. The article was hastily deleted but a cached version still exists. Other recent evidence lends support to the unthinkable. It has emerged that the chemicals used to make the nerve gas were indeed shipped from Britain, and German intelligenceinsists Assad was not responsible for the chemical attack. Meanwhile, a hacktivist has come forward with alleged evidence of US intelligence agencies´ involvement in the massacre (download it for yourself here ), with a growing body of evidence suggesting this vile plot was hatched by Western powers. Never overlook the corporate media´s ties to big business and big government before accepting what you are told- because if journalism is dead, you have a right and a duty to ask your own questions.
7. Corporate journalists hate real journalists

Sirota rightly points out the irony of this: ´Here we have a reporter expressing excitement at the prospect of the government executing the publisher of information that became the basis for some of the most important journalism in the last decade.´ Sirota goes on to note various examples of what he calls the ´Journalists against Journalism club´, and gives severalexamples of how The Guardian columnist Glenn Greenwald has been attacked by the corporate press for publishing Snowden´s leaks. The New York Times' Andrew Ross Sorkin called for Greenwald's arrest, while NBC's David Gregory´s declared that Greenwald has ´aided and abetted Snowden´. As for the question of whether journalists can indeed be outspoken, Sirota accurately notes that it all depends on whether their opinions serve or challenge the status quo, and goes on to list the hypocrisy of Greenwald´s critics in depth: ´Grunwald has saber-rattling opinions that proudly support the government's drone strikes and surveillance. Sorkin's opinions promote Wall Street's interests. (The Washington Post´s David) Broder had opinions that supported, among other things, the government's corporate-serving "free" trade agenda. (The Washington Post´s Bob) Woodward has opinions backing an ever-bigger Pentagon budget that enriches defense contractors. (The Atlantic´s Jeffrey) Goldberg promotes the Military-Industrial Complex's generally pro-war opinions. (The New York Times´s Thomas) Friedman is all of them combined, promoting both "free" trade and "suck on this" militarism. Because these voices loyally promote the unstated assumptions that serve the power structure and that dominate American politics, all of their particular opinions aren't even typically portrayed as opinions; they are usually portrayed as noncontroversial objectivity.´
8. Bad news sells, good news is censored, and celebrity gossip trumps important issues

It´s sad but true: bad news really does sell more newspapers. But why? Are we really so pessimistic? Do we relish the suffering of others? Are we secretly glad that something terrible happened to someone else, not us? Reading the corporate press as an alien visiting Earth you might assume so. Generally, news coverage is sensationalist and depressing as hell, with so many pages dedicated to murder, rape and pedophilia and yet none to the billions of good deeds and amazingly inspirational movements taking place every minute of every day all over the planet. But the reasons we consume bad news are perfectly logical. In times of harmony and peace, people simply don´t feel the need to educate themselves as much as they do in times of crises. That´s good news for anyone beginning to despair that humans are apathetic, hateful and dumb, and it could even be argued that this sobering and simple fact is a great incentive for the mass media industry to do something worthwhile. They could start offering the positive and hopeful angle for a change. They could use dark periods of increased public interest to convey a message of peace and justice. They could reflect humanity´s desire for solutions and our urgent concerns for the environment. They could act as the voice of a global population who has had enough of violence and lies to campaign for transparency, equality, freedom, truth, and real democracy. Would that sell newspapers? I think so. They could even hold a few politicians to account on behalf of the people, wouldn´t that be something? But for the foreseeable future, it´s likely the corporate press will just distract our attention with another picture of Rhianna´s butt, another rumor about Justin Bieber´s coke habit, or another article about Kim Kardashian (who is she again?) wearing perspex heels with swollen ankles while pregnant. Who cares about the missing$21 trillion, what was she thinking?
9. Whoever controls language controls the population

Have you read George Orwell´s classic novel1984 yet? It´s become a clichéd reference in today´s dystopia, that´s true, but with good reason. There are many- too many- parallels between Orwell´s dark imaginary future and our current reality, but one important part of his vision concerned language. Orwell coined the word ´Newspeak´  to describe a simplistic version of the English language with the aim of limiting free thought on issues that would challenge the status quo (creativity, peace, and individualism for example). The concept of Newspeak includes what Orwell called ´DoubleThink´-  how language is made ambiguous or even inverted to convey the opposite of what is true. In his book, the Ministry of War is known as the Ministry of Love, for example, while the Ministry of Truth deals with propaganda and entertainment. Sound familiar yet? Another book that delves into this topic deeper is Unspeak, a must-read for anyone interested in language and power and specifically how words are distorted for political ends. Terms such as ´peace keeping missiles´, ´extremists´ and ´no-fly zones´, weapons being referred to as ´assets´, or misleading business euphemisms such as ´downsizing´ for redundancy and ´sunset´ for termination- these, and hundreds of other examples, demonstrate how powerful language can be. In a world of growing corporate media monopolization, those who wield this power can manipulate words and therefore public reaction, to encourage compliance, uphold the status quo, or provoke fear.
10. Freedom of the press no longer exists

The only press that is currently free (at least for now) is the independent publication with no corporate advertisers, board of directors, shareholders or CEOs. Details of how the state has redefined journalism are noted here and are mentioned in #7, but the best recent example would be the government´s treatment of The Guardian over its publication of the Snowden leaks. As a side note, it´s possible this paper plays us as well as any other- The Guardian Media Group isn´t small fry, after all. But on the other hand- bearing in mind points 1 to 9- why should we find it hard to believe that after the NSA files were published, editor Alan Rusbridge wastold by the powers that be ´you´ve had your fun, now return the files´, that government officials stormed his newsroom and smashed up hard drives, or that Greenwald´s partner David Miranda wasdetained for 9 hours in a London airport under the Terrorism Act as he delivered documents related to the columnist´s story? Journalism, Alan Rusbridge lamented, ´may be facing a kind of existential threat.´ As CBS Evening News anchor Dan Rather wrote: 'We have few princes and earls today, but we surely have their modern-day equivalents in the very wealthy who seek to manage the news, make unsavory facts disappear and elect representatives who are in service to their own economic and social agenda… The "free press" is no longer a check on power. It has instead become part of the power apparatus itself.'
Sophie is a staff writer for True Activist and a freelance feature writer for various publications on society, activism and other topics. You can read more of her stuff here.
Source: True Activist
The fact that the initiation of the Zionist project had nothing to do with the Holocaust, as it developed more than a half century earlier, and the fact of the mostly indifference to the slaughter of Jews on the part of the founders of Israel, together with its collaboration with the Nazi Party, undermines Israel's projected, and exploited, image as innocent victim.
Both Nazism and Zionism arose in tandem from small insignificant social movements in the early part of the 20th century, arguing, with equal force, that Jews were an alien and indigestible mass living in the midst of an otherwise pure Aryan population. Both movements contributed to the more general acceptance of this argument in Europe, and particularly in Germany, as mid-century approached, and both have to be responsible for the consequences.
In 1896, journalist Theodore Herzl's book, Der Judenstaat (The Jews' State), Herzl expressed his understanding of inevitability, permanence, and omnipresence of anti-Semitism and argued that the only solution was a separate state for Jews.  Herzl stated, in his book:
The Jewish question exists wherever Jews live in perceptable numbers. Where it does not exist, it is carried by Jews in the course of their migrations. We naturally move to those places where we are not persecuted, and there our presence produces persecution. …1
In 1912, Chaim Weizman, Israel's first president, and the Zionist advocate who had the most to do with lobbying the British for the Balfour Declaration of 1917, echoed this view, speaking to a Berlin audience:
… each country can absorb only a limited number of Jews, if she doesn't want disorder in her stomach. Germany already has too many Jews.2
Chaim Weizman
Reflecting in 1949 in his autobiography, Trial and Error, Weizmann wrote:
Whenever the quantity of Jews in any country reaches the saturation point, that country reacts against them …
Weizmann, the chemist, invoking a metaphor from the sciences, added:
… the determining factor in this matter is not the is solubility of Jews, but the solvent power of the country. …

This cannot be looked upon as anti-Semitism in the ordinary or vulger sense of that word;

it is a universal social and economic concomitant of Jewish immigration, and we cannot shake it off …3
Ben Frommer, an American Revisionist, stated in 1935:
No matter what country he inhabits … [it] is not of the [his] tribal origins. … Consequently, the Jew's attempt at complete identity with his country sounds spurious; his patriotism despite his vociferousness [sounds] hollow even to himself; and therefore his demand for complete equality with those who are of the essence of the nation naturally creates friction. This explains the intolerance of the Germans, Austrians, Poles and the increasing tide of antagonism in most European countries … It is presumptuous on the part of a Jew to demand that he be treated as lovingly as say a Teuton in a Teutonic country or a Pole in a Polish country. He must jealously guard his life and liberty, but he must candidly recognize that he does not 'belong'. The liberal fiction of perfect equality is doomed because is was unnatural. [Italics mine]4
Indeed, in 1925, Jacob Klatzkin, the co-editor of the massive Encyclopedia Judaica, wrote:
If our people is deserving and willing to live its own national life, then it is an alien body that insists on its own distinctive identity, reducing the domain of their life. It is right therefore, that they should fight against us for their national integrity … Instead of establishing societies for defense against the anti-Semites, who want to reduce our rights, we should establish societies for defense against our friends who desire to defend our rights.5
The understanding of Herzl, as well as the Zionists, about the inevitability of anti-Semitism was possibly self-fulfilling, for rather than opposing anti-Semitism in the first half of the 20th century, the Zionists found common cause with Hitler, Eichmann, and the Nazis and used anti-Semitism and Nazism as a means of achieving their end which was the establishment of a Jewish state. The two reactionary movements shared the view that German Jews were living in that country as a 'foreign race' and that the racial divide was essential to maintain. The Zionists' use of Nazism involved, among other things, the blocking of avenues of escape to other countries of Europe's Jews and diverting them to Palestine, even as the death trains began to roll in Europe. The rise of Nazism and Hitler to power was never, or almost never, opposed by the Zionists prior to the establishment of Israel.
Thus, in an article by Siegfried Moses, which appeared in the Rundschau, the official newspaper of the German Zionist Federation, and later, its head, stated:
… it is true that the defense against anti-Semitism is not our main task, it does not concern us to the same extent and is not of the same importance for us as is the work for Palestine …6
Rabbi Stephen S Wise
In 1934, Stephen Wise, head of the American Jewish Congress said:
… I cannot be indifferent to the Galuth [the Jewish diaspora living outside of Palestine] … if I had to choose between Eretz Israel and its upbuilding and the defense of the Galuth, I would say that then the Galuth must perish.7
On October 2, 1937, two SS officers, Herbert Hagen and Adolf Eichmann, disembarked in Haifa and were met by the Gestapo's agent in Palestine, Fritz Reichert, and later in the day, Fevel Polkes, a Haganah agent, who showed the Nazi officials Haifa from Mt Carmel and then visited a kibbutz. Some years later, when Eichmann was hiding in Argentina, he taped a story of his excursion to Palestine, stating:
I did see enough to be very impressed with the way the Jewish colonists were building up their land. … In the years that followed I often said to Jews with whom I had dealings that had I been a Jew, I would have been a fanatical Zionist.8
Adolf Eichmann;
Eichmann had read Herzl's book, Der Judenstaat, and also studied Hebrew.  In their trip report, the two SS officers paraphrased Polkes's message to them:
The Zionist state must be established by all means and as soon as possible. … When the Jewish state is established according to the current proposals laid down in the Peel paper, and in line with England's partial promises, then the borders may be pushed further outwards according to one wished.9

… in Jewish nationalist circles people were very pleased with the radical German policy, since the strength of the Jewish population in Palestine would be so far increased thereby that in the foreseeable future the Jews could reckon upon numerical superiority over the Arabs in Palestine.10
During his February trip to Berlin, Polkes proposed that the Haganah act as spies for the Nazi government and, as a sign of good faith, passed on intelligence information which was detrimental to their mutual enemies, the Communists.  History might have been very different had the Zionist component of Jewry opposed Nazism; there might never have been a Holocaust. And there might never have been a state of Israel, as some Zionists well understood.
Lenni Brenner puts it:
… of all of the active Jewish opponents of the boycott idea [of Nazi Germany], the most important was the world Zionists Organization (WZO). It not only bought German wares; it sold them, and even sought out new customers for Hitler and his industrialist backers.

The WZO saw Hitler's victory in much the same way as its German affiliate, the ZVfD [the German Zionist Organization]: not primarily as a defeat for all Jewry, but as positive proof of the bankruptcy of assimilation and liberalism.11
Here Brenner is referring to the so-called Ha'avara agreement, or 'transfer agreement'.
In 1933, Sam Cohen, owner of a citrus export company in Tel Aviv, approached the German government with the proposal that emigrants from Germany could avoid the flight tax by instead purchasing German products, which would then be shipped to Palestine, along with their purchasers, where the new arrivals in Palestine could then redeem their investments after the sale of the products by import merchants.
Heinrich Wolff, the German Consul in Jerusalem, quickly realized the utility of such an arrangement in tamping the international boycott effort of German import goods. He wrote to Berlin:
Whereas in April and May the Yishuv [the European Jewish community in Palestine] was waiting boycott instructions from the United States, it now seems that the situation has been transformed. It is Palestine which now gives the instructions… It is important to break the boycott first and foremost in Palestine, and the effect will inevitably be felt on the main front, in the United States.12
Cohen had promised Heinrich Wolff that he would work behind the scenes at the forthcoming Jewish conference in London to weaken or defeat any boycott resolution.
Dr Fritz Reichert, the Gestapo's agent in Palestine, later wrote to his headquarters:
The London Boycott Conference was torpedoed from Tel Aviv because the head of the Transfer in Palestine, in close contact with the consulate in Jerusalem, sent cables to London. Our main function here is to prevent, from Palestine, the unification of world Jewry on a basis hostile to Germany … It is advisable to damage the political and economic strength of Jewry by sowing dissention in its ranks.12
Negotiations with the Nazi government were taken over by the World Zionist Organization and Cohen was replaced by Chaim Arlosoroff, the Political Secretary of the Jewish Agency. Arlosoroff traveled to Berlin in May of 1933. He and the Nazis reached a preliminary understanding to continue Cohen's arrangement. Arlosoroff returned to Tel Aviv where he was assassinated, most probably by some members of the Revisionist wing of Zionism headed by Jabotinsky who opposed any accommodation with the Nazis.
Negotiations continued, however, and an agreement was signed in 1933 between the Nazis and the World Zionist Organization which persisted until 1939 and the German invasion of Poland. The Ha'arava grew to become a substantial banking and trading house with 137 specialists in its Jerusalem office at the height of its activities. The sale of German products expanded to include destinations outside of Palestine, but the arrangement remained essentially the same as the one originally negotiated by Sam Cohen – that German Jews wishing to emigrate, rather giving up most or all of their wealth to the German government, could invest their money in a German bank which would be used for purchasing German export goods. The purchaser could then redeem his investment when the goods had been sold and after he had arrived in Palestine. The German government set the rules and the emigrant would lose typically in excess of 30% of his investment and, eventually, 50%.
Indeed, there was a fundamental incompatibility with the upbuilding of a Jewish state in Palestine and opposition to the Nazi program of extermination of Europe's Jews. The Ha'avara agreement allowed the transfer of LP 8,100,000 (Palestinian Pounds; then $40,419,000) to Palestine along with 60,000 German Jews between 1933 and 1939. But it also had the effect of undercutting the international boycott effort and providing an inflow of capital to the German government owing to the sale of German manufactured goods abroad.
This understanding is important, as the Holocaust has been central in provoking sympathy for the State of Israel and in amplifying the claims for reparations from European governments. Sympathy for the victims of the Holocaust, whether Jews or Roma, is no less justified, but the state of Israel cannot maintain an air of complete innocence nor be the justified recipient of billions of dollars or reparations, very little of which is actually dispersed to Holocaust survivors.
Nor has Israel accepted the universal principle that states must pay reparations to ethnicities whom it has harmed, as Israel has ignored or denied the catastrophe of ethnic cleansing and massacres which it prosecuted against the Palestinian people in 1948.
The model of Jews fleeing a burning building; i.e., the Nazi Holocaust, and thus creating a redoubt of safety in the form of the state of Israel cannot be maintained. Aside from the fact that the Zionist project was initiated at least by the time of Herzl's Der Judenstaat of 1896 and his founding of the World Zionist Congress a year later, and well before the Nazi ascension to power in the 1930s, the Zionists were little concerned with the slaughter of Jews in Europe and almost exclusively focused on building a state in Palestine.
Delegates at First Zionist Congress.
A proposal by the British, in the aftermath of Kristallnacht, of November 1938, that Britain admit a thousand children directly into Britain was sternly opposed by Ben Gurion who told a meeting of the Labor Zionist in December:
If I knew that it would be possible to save all the children in Germany by bringing them over to England, and only half of them by transferring them to Eretz Israel, then I would opt for the second alternative. For we must weigh not only the life of these children, but also the history of the People of Israel.13
By 1943, ample reports of massacres of Europe's Jews were arriving in the US, though it garnered little of the mainstream press.
Jabotinsky's "revisionist zionism"At this time, Peter Bergson, a Palestinian Jew and member of the Irgun, a militant offspring of the Revisionist Zionists, and his young colleagues, shifted their attention to saving Europe's Jews. Bergson, who had been sent to New York City, by Revisionists leader, Jaobtinsky, in order to create American support of the establishment of a Jewish army in Palestine, and his colleagues formed the Emergency Committee to Save Europe's Jews and initiated it with a conference attended by 1500 delegates including former President Herbert Hoover and New York Mayor Fiorello La Guardia. The delegates ultimately adopted an eight-point rescue program, the primary feature of which was the creation of a US government agency charged with saving Europe's Jews. They also called for their allies to immediately attack the concentration camps and bomb railroads lines leading to them.
The conference's program sought to avoid the issue of a Jewish state in Palestine, preferring to leave that to another day. Indeed, the efforts of Bergson were perceived by the American Jewish organizations, and especially by Rabbi Stephen Wise, head of the American Jewish Conference, as an effort to divert energy and attention away from Zionism and the upbuilding of a Jewish state in Palestine.
Bergson's group sponsored full page advertisements in the New York Timesand other newspapers with such bold headlines as, "HELP Prevent 4,000,000 People from Becoming Ghosts." Another read, "THIS IS STRICTLY A RACE AGAINST DEATH."
The Emergency Committee also organized public events and rallies and a march by 450 Orthodox rabbis to the White House and the US Capitol. They also staged a theatrical production, entitled, We Will Never Die, authored by Academy Award winning screen writer Ben Hecht and included actors such as Edward G. Robinson with music written by Bertoldt Brecht. The play chronicled the contributions of Jews and addressed the current situation of Europe's Jews.
The production played to 40,000 in Madison Square Garden and, in Washington, was viewed by Eleanor Roosevelt and hundreds of members of Congress.
Though the Emergency Committee had raised the consciousness of Americans for the plight of Europe's Jews, their efforts were strongly opposed by America's organized Jewish groups including Rabbi Stephen Wise and his American Jewish Congress.
In Buffalo, Baltimore, and Pittsburgh, local mainstream Jewish organizations attempted to block the production of We Will Never Die.
Most significant of the Emergency Committees' actions was to provoke the sponsorship of a resolution, introduced in the House by Baldwin and Will Rogers Jr., and in the Senate by Guy Gillette, on November 9, 1943.
The full text follows:
Whereas the Congress of the United States, by concurrent resolution adopted on March 15 of this year, expressed its condemnation of Nazi Germany's 'mass murder of Jewish men, women, and children,' a mass crime which has already exterminated close to two million human beings, about 30 per centum of the total Jewish population of Europe, and which is growing in intensity as Germany approaches defeat; and

Whereas the American tradition of justice and humanity dictates that all possible means be employed to save from this fate the surviving Jews of Europe, some four million souls who have been rendered homeless and destitute by the Nazis: therefore be it

Resolved, That the House of Representatives recommends and urges the creation by the President of a commission of diplomatic, economic, and military experts to formulate and effectuate a plan of immediate action designed to save the surviving Jewish people of Europe from extinction at the hands of Nazi Germany.
Senator Gillette emphasized that the bill focused only on rescue and not on the issue of Palestine or a Jewish state.
It is not to be confused with the dispute over the future of Palestine, over a Jewish state or a Jewish army. The issue is non-sectarian. The sole object here is to rescue as many as possible of Hitler's victims, pending complete Allied victory.
Stephen Wise tried unsuccessfully to persuade the sponsors of the bill to withdraw their support. But failing that, Wise traveled to Washington and testified before the House Foreign Affairs Committee, chaired by Sol Bloom, stating that the resolution was '"inadequate" because it did not urge the British government to open Palestine to Jewish refugees" [italics mine].14
The lack of a reference to Palestine was, of course, intentionally absent from the bill.
Congressman Rogers also faced strong pressure from Zionists groups:
When it became known that I was becoming a member of the Bergson group, there was a terrific amount of pressure from all sorts of areas. I went back to Beverly Hills and I remember meeting with Rabbi Stephen S Wise in a synagogue. … He took me aside and said, 'Now, young man. I knew your father very well. Now you are getting confused, you are getting mixed up with the wrong type of people. Let me tell you and steer you clear when it comes on, or want to meet the right people, the responsible people.' He was quite the diplomat. He didn't say, 'If you get mixed up with them, you are not going to be reelected.' He wasn't that direct, but he made every pressure that he could, and where he know it would be effective.15
Gillette also faced strong opposition.
These people used every effort, every means at their disposal, to block the resolution. … [They] tried to defeat it by offering and amendment, insisting on an amendment to it that would raise the question, the controversial question of Zionism or anti-Zionism … or anything that might stop or block the action that we were seeking.15
On stationary with the letterhead of the American Jewish Congress, Stephen Wise wrote to Secretary of the Interior, Harold L. Ickles on December 23, 1943:
I was very sorry to note, as were others among your friends, that you had accepted the Chairmanship of the Washington Division of the Committee to Rescue European Jews. … I do not like to speak ill of you, not of us, concerning a group of Jews, but I am under the inexorable necessity of saying to you that the time will come, and come soon, when you will find it necessary to withdraw from this irresponsible group, which exists and obtains funds through being permitted to use the names of non-Jews like yourself.
Nor was Bergson beyond the crosshairs of the American Zionists. Bergson received an offer from Congressman Samuel Dickstein (D-NY) to meet with him in his DC office where it turned out that several other US Congressmen had also assembled. He was told, as paraphrased by Bergson, that unless he 'behaved", "we will deport you. … One shouldn't mistake democracy with lawlessness, and don't feel that you can just come to this country without – on temporary visitor's visa and do whatever you wish …"15
Despite the opposition of the American Zionist community, the bill passed the Senate Foreign Relations Committee unanimously only to die in the entire Senate.
According to a State Department memorandum, Rabbi Stephen Wise had expressed to State Department John Pehle, that Wise "had gone so far as to inform Mr Pehle that he regarded Bergson as equally great an enemy of the Jews as Hitler, for reasons that his activities could only lead to increased anti-Semitism."11
Reports of atrocities and mass murders in the Ukraine began arriving in the west in 1941. In January 1942, the Soviets issued a report of the working of the Einsatzgruppen, or the SS, and in May of that year, the Bund, the Jewish Workers Union of Poland and Russia, which was anti-Zionist, sent London a radio message that 700,000 people, most Jews, were exterminated in Poland. This message was repeated on the BBC two months later.
In April, even before the Bund broadcast, Moshe Shertok, later to become Israel's second Prime Minister, wrote to British General and commander of the British Eight Army in North Africa:
The destruction of the Jewish race is a fundamental tenet of the Nazi doctrine. The authoritative reports recently published show that that policy is being carried out with a ruthlessness which defies description … An even swifter destruction, it must be feared, would overtake the Jews of Palestine.16
The focus here is on the hypothetical Nazi attack on Palestine, not on the slaughter actually taking place in Europe, but based, nonetheless, on Shertok's understanding that such a slaughter was, in fact, taking place.
Despite the amply sufficient reports of massacres and exterminations, essentially nothing at all was done by the Zionist organizations, and reports of atrocities were consistently minimized.
Bernard Joseph (later Dov Yosef)
Dov Joseph, acting director of the Jewish Agency's Political Department cautioned:
… against publishing data exaggerating the number of Jewish victim, for if we announce that millions of Jews have been slaughtered by the Nazis, we will justifiably be asked where the millions of Jews are, for whom we claim that we shall need to provide a home in Eretz Israel after the war ends.17
Yitzhak Gruenbaum, leader of the Jewish Agency's Vaad Hazalah (Rescue Committee) who, in 1942 also believed the reports of atrocities taking place in Europe were exaggerated, offers a defense in his post war book, Bi-mei Hurban ve Sho'ah (In the Days of Holocaust and Destruction):
I want to destroy this assumption [that the Zionist leadership was to blame that it did not do everything possible to help the European Jews] in order to take out people from the occupied countries … it would be necessary for the neutral countries to provide refuge, that the warring nations open their gates to the refugees. …

How is it possible that in a meeting in Yerushalayim people will call: "If you don't have enough money you should take it from Keren Hayesod [the Palestine Foundation Fund], you should take the money from the bank, there is money there." I thought it obligatory to stand before this wave … .

And this time in Eretz Yisrael, there are comments: "Don't put Eretz Yisrael in priority in this difficult time, in the time of destruction and European Jewry.' I do not accept such sayings. And when some asked me: 'Can't you give money from the Keren Hayesod to save Jews in the Diaspora'? I said: no! And again I say no! … I think we have to stand before this wave that is putting Zionist activity into second row. …  I think it necessary to say here Zionism is over everything… [Italics mine]

… [W]e must guard Zionism. There are those who feel that this should not be said at the time a Holocaust is occurring, but believe me, lately we see worrisome manifestations in this respect: Zionism is above all – it is necessary to sound this whenever a Holocaust diverts us from our war of liberation in Zionism. Our war of liberation does not arise from the fact of the Holocaust in a straight forward manner and does not interlock with actions for the benefit of the Diaspora … And we must guard – especially in these times – the supremacy of the war of redemption [Italics mine].18
The irony is overwhelming. Though the memory and imagery of the Holocaust is not far from the lips of every Israel leader, particularly the present one, and though this imagery is exploited for the sake of gaining tolerance and forbearance from the international community, as well as reparations which go well beyond actuarial merits, there was little serious concern on the part of organized Zionism for those facing extermination in Europe. Rather the Holocaust was regarded as a threat which had the potential of diverting energy and resources from the creation of a Jewish state in Palestine which was by far their highest priority.
The fact that the initiation of the Zionist project had nothing to do with the Holocaust, as it developed more than a half century earlier, and the fact of the mostly indifference to the slaughter of Jews on the part of the founders of Israel, together with its collaboration with the Nazi Party, undermines Israel's projected, and exploited, image as innocent victim.
At the end of the war a document, dated 11 January 1941, produced by Avraham Stern, proposing a military alliance and an understanding between the Third Reich and the Zionists was found in the German embassy in Ankara. It had been presented to two German diplomats in Lebanon, under Vichy at that time. The document was entitled, "Proposal for the National Military Organization (Irgun Zvai Leumi) Concerning the Solution of the Jewish Question in Europe and the Participation of the NMO in the War on the side of Germany." The NMO, later to adopt the name Lohamamei Herut Yisrael, or lehi for short, was universally known by its British designation as the Stern gang.
The document read:
The evacuation of the Jewish masses from Europe is a precondition for solving the Jewish question; but this can only be made possible and complete through the settlement of these masses in the home of the Jewish people, Palestine, and through the establishment of a Jewish state in its historical boundaries …  The NMO, which is well acquainted with the goodwill of the German Reich government and its authorities towards Zionist activity inside Germany and towards Zionist emigration plans, is of the opinion that:

1. Common interests could exist between the establishment of a New Order in Europe in conformity with the German concept, and the true national aspirations of the Jewish people as they are embodied by the NMO.

2. Cooperation between the new Germany and a renewed volkish-national Hebrium would be possible; and,

3. The establishment of the historical Jewish state on a national and totalitarian basis, and bound by a treaty with the German Reich, would be in the interest of a maintained and strengthened future German position of power in the Near East.

Proceeding from these considerations, the NMO in Palestine, under the condition the above-mentioned national aspirations of the Israeli freedom movement, are recognized on the side of the German Reich, offers to actively take part in the war on Germany's side [italics mine].

This offer by the NMO … would be connected to the military training and organization of Jewish manpower in Europe, under the leadership and command of the NMO. These military units would take part in the fight to conquer Palestine, should such a front be decided upon.

The indirect participation of the Israeli freedom movement in the New Order in Europe, already in the preparatory stage, would be linked with a positive-radical solution of the European Jewish problem in conformity with the above-mentioned national aspirations of the Jewish people. This would extraordinarily strengthen the moral basis of the New Order in the eyes of all humanity.19
The Irgun, (the MNO) under Manachem Begin, and the Stern Gang, are sometime blamed, by mainstream Zionism, as being uniquely responsible for the more grotesque atrocities of Israel's fight against both the Arabs and against the British in its quest for statehood; for example, the bombing of the King David Hotel in 1946, in which 96 mostly civilians were killed, and the massacre at Deir Yassin. In fact, both of these actions involved the coordination of these 'dissident groups' with the Haganah — the military under the direction of David Ben Gurion.
Yitzhak Yzernitsky — later to call himself Yitzhak Shamir,
Yitzhak Yzernitsky — later to call himself Yitzhak Shamir, and later to become Israeli Prime Minister, in fact, the longest serving Prime Minister of Israel except for David Ben Gurion — became the operations commander of the Stern Gang after Avraham Stern was killed by the British army in February of 1942. Under Shamir's leadership, 14 assassinations were attempted of British officials with two successful ones, of Lord Moyne, the British Minister Resident in the Middle East, sitting in Cairo, and the UN Representative to Palestine, Count Folke Bernadotte, who received three bullets in the heart on the order of Stern's operations commander and future Prime Minister – Yitzhak Shamir.
The Charter of the Stern Gang, or more accurately, the principles promulgated by Stern, included the establishment of a Jewish state "from the Nile to the Euphrates", the 'transfer of the Palestinian Arabs to regions outside of the Jewish state, and the building of the Third Temple in Jerusalem. It maintained offices outside of the Middle East – including Warsaw, Paris, London, and New York City, the latter headed by Benzion Netanyahu, the present Prime Minister's father.
William James Martin has written many articles on the Arab-Israeli conflict and the Middle East. He can be reached at : wjm20@caa.columbia.edu.
Original Source : Dissident Voice
Source: William James Martin | My Catbird Seat
Knowing the accuracy of historical reality is difficult, but accepting the truth in that chronicle is almost impossible for most people to accept. This reluctance to deal with the stark and calculated obliteration of societal freedom is the ultimate curse of the human condition. The denial of the authoritarian plan by elites like the Bilderberg cabal is the equivalent of Satan's greatest lie, convincing us he does not exist. Well, the days of casting the smear of conspiracy over any reporting on the secret and hidden conclave of global manipulators, is officially over.
At this year's Bilderberg conference, for the first time, there will be a Press Office – hosted by the Bilderberg Welcoming Committee – located on the hotel grounds. The aim of the Press Office will be to facilitate the mainstream and alternative media in their coverage of the meeting.There will be liaison officers from the Hertfordshire Constabulary present in the Reception Zone for the duration of the conference.

This is the first officially sanctioned Press Office for the Bilderberg conference, and is a considerable step forward in the relations between the conference and the press.
With the dramatic public reversal of deniability of their existence and the acknowledgement that the newly elected leader of the Swedish social-democratic party, Stefan Löfven, will be the guest of Jacob Wallenberg – a prominent member of the Bilderberg steering committee, Bilderberg confirmation of the decades of reporting by the late Jim Tucker is vindicated.
Additional background and a comparison of How the media covers Bilderberg meetings and Bilderberg Propaganda Rules the Planet is worth a review. For a persuasive critique of the investigations and research of Daniel Estulin into the underlying implication of these gatherings, read the entire summary by Stephen Lendman of "The True Story of the Bilderberg Group" and What They May Be Planning Now.
"Whatever its early mission, the Group is now "a shadow world government….threaten(ing) to take away our right to direct our own destinies (by creating) a disturbing reality" very much harming the public's welfare. In short, Bilderbergers want to supplant individual nation-state sovereignty with an all-powerful global government, corporate controlled, and check-mated by militarized enforcement."
Even more significant is the account of the age-old struggle for global control that can be traced to the Ancient Roots of Bilderberg Reveal Prusso-Teutonic Agenda for World Domination. Author Jurriaan Maessen provides a provocative analysis.
"As Paul Joseph Watson reported in his May 11 2009 article Top Nazis Planned EU-Style Fourth Reich, top Nazi industrialists were present at the cradle of the European Union and, through the creation of the Bilderberg group, guided her growth during all stages of development into the post-war era. German industrialists, it seems, have aligned themselves with the Anglo-American establishment after the war, teaming up to form what is better known as the New World Order. As reported in the article, a group of top ranking German industrialists planned for an economic super state founded upon a common market for the whole of Europe. It has also been confirmed that the Bilderberg group had their plans for a European Union and currency in place by at least 1955.The idea of uniting Europe in a closed trade bloc is no longer shocking if Germany assumes domination over such a bloc", wrote one of the founding Nazi-ideologues in the 19th century. The man who arranged for Hitler to become Chancellor of Germany, Von Papen, had also written about the possibility of a "European Federation" under strict German control of course, with Berlin as its glorious power center.

NATO has provided for the international army, while the European Central Bank does the same for international finance. All these activities have been developed under the careful direction of the Bilderberg Group and subsequently carried out by its designated subdivisions."
Authoritarianism is not new to the blue-blood lineage of continental nobility. Millenniums of succeeding empires shared the same ambition – rule the world.
The next citation provided the linkage that many "PC" armchair observers are afraid to deal with.
The David Icke Newsletter argues in the The Zionist Elephant In The Room:
"Today, Rothschild Illuminati fronts like the Council on Foreign Relations, Trilateral Commission, Bilderberg Group, Royal Institute of International Affairs, and others, still answer to the Round Table which string-pulls and coordinates from the shadows. This is why Zionists in government are invariably connected with these Rothschild-controlled organizations.

Let's get this straight. Zionism doesn't give a damn about Jewish people. To the Rothschilds and their Zionist gofers and thugs the Jewish people as a whole are merely cattle to be used and abused as necessary – just like the rest of the human population.

The networks of the House of Rothschild were behind Hitler and the rise of the Nazi Party in the Rothschild heartland of Germany where they had changed their name from Bauer in 18th century Frankfurt and launched the dynasty that was to control global finance."
Under this explanation of the forbidden knowledge that if kept from your scrutiny by the mainstream press, the Bilderberg summits were protected for decades from objective observation of their agenda and strategy for implementing their New World Order absolutism.
The iconoclastic Brother Nathanael – Street Evangelist rants, "One of the Bilderberg's deceptions is to invite insignificant leaders in the academic & scientific realms as a "decoy." Here Are The Real Players Attending the 2008 Bilderberg & They Are Jewish Bankers:
Ben Shalom Bernanke: Chairman of the privately held US Federal Reserve Bank.

James Wolfensohn: International Jewish financier. Chairman of Wolfensohn & Company Investments. A former World Bank President, this Jew has more than 140 employees and offices in London, Tokyo and Moscow. Wolfensohn also has a banking partnership with Fuji Bank of Japan and Jacob Rothschild of Britain.

Robert Zoellick: Chairman of the US World Bank Group a covert subsidiary of the Rothschild run International Monetary Fund.

Josef Ackermann: Chairman of the Executive Committee of Deutsche Bank AG of Zurich Switzerland. Ackermann is a Rothschild partner in white collar crime.

Kenneth Jacobs: Deputy Chairman Head of Lazard Bank North America. Lazard Bank, a Rothschild associate bank, operates in 39 cities throughout North America, Europe, Australia, Asia, and South America.

David Rockefeller: Owner of Chase Manhattan Bank. Former Chairman of the Council on Foreign Relations & Founder of the Trilateral Commission. Though not a Jew, Rockefeller is a Rothschild stooge.
Now the relevant viewpoint is that the Bilderberg assembly is by invitation from the highest echelon of committed agents of globalism. Their decisions become policy and governance turns into a continuous decent into slavery. The manifestation of the Bilderberg coalition is in keeping with the Round Table, a secret society started around the turn of the 20th century by Freemason and Rothschild agent, Lord Alfred Milner, who was entrusted the mission by Cecil Rhodes.The Anglo-American dominance of international intervention is rooted in Bilderberg discussions organized on the principle of reaching consensus for global hegemony. Pro Zionist financiers impose the objectives of the House of Rothschild upon America and England. The origins of totalitarian assimilation under the banner of the centralized authority oppression stems from the cult of the moneychangers.
Keeping informed on the latest schemes of Bilderberg 2013 In The UK with Press For Truth by watching the video is a must view. Also, follow the Bilderberg 2013 Stream page that has several links covering live feeds from the meetings. Finally, the Infowarscoverage of Bilderberg with Alex Jones and David Icke promises to be groundbreaking.Exhaustive arguments and proofs of the cataclysmic consequences coming out of every Bilderberg session encircle our globe with even incremental policy that fosters the New World Order. The names of the elites vary over time, but the globalist authoritarian culture only grows.
The fact that the exposure of the Bilderberg union is gaining traction gives solace to guardians of the human race. The sect of banksters devotion to the mischievous sprite and the dark side cannot force their tyranny on an awakened public dedicated to the defeat of the Illuminati empire.
The first step is to accept the truth that globalism is the engine of national destruction and a world governance substitute, under the control of an aristocratic bloodline, is the existential nihilist end of civilization. The Amschel Moses Rothschild – Cecil Rhodes vision of competing world dominance has merged into a technocratic intercellular substance of subjugation and extermination.
The days of allowing a massive media cover-up of the actual intentions of the Bilderberg clan are over. The alternative press has the credibility to speak truth to power. The public has the responsibility to mature emotionally and reject the delusional myths that protect the fabricated privileges of evil elites.
The secrecy of secret societies in a global telecommunication environment is doomed. Only with greater levels of planetary oppression, can the controllers of the Bilderberg fraternity maintain their cruel imperium. It is up to the citizens of the world to neuter this lineage of deranged plutocrats.
Engineering Consent For An Attack On Syria…


Yet another alleged "massacre" of "civilians" by the Syrian regime was in the establishment-press headlines this week, supposedly a brutal killing spree by dictator Bashar al-Assad's forces in the village of Tremseh that left up to 250 people dead. As has become typical, Western governments and mainstream media outlets — the New York Times, the BBC, and others included — parroted anonymous "opposition activists" for the claims. But within days, after foreign powers seeking regime change had their chance to beat the war drums even louder, the carefully constructed tale was already falling apart.
U.S. Secretary of State Hillary Clinton, one of the top defenders of the dangerous "rebel" coalition operating in Syria at American taxpayer expense, immediately claimed there was "indisputable evidence that the regime deliberately murdered innocent civilians" — "over 200 men, women and children," in fact. She did not present or cite any of the alleged evidence, but vowed to punish those responsible amid more calls for immediate regime change. Other Western leaders and financiers of the violence in Syria issued similar condemnations and more threats.
Despite hysterical reporting and wild statements by political leaders, however, even "opposition activists" were conceding early on that most of the dead were actually armed combatants who had staged attacks on the regime's military forces. More recent reports, even those based on anonymous "opposition activists," also suggest that closer to 100 people had died. Almost all of the dead were military-aged men, too — a far cry from Clinton's "over 200 men, women and children."
"At this stage, though we do not yet have the final count, the number of civilians killed by shelling is not more than seven," an anti-Assad "activist" known as "Jaafar" with the Sham News Network (SNN) told the AFP press agency. "The rest were members of the [Western-backed] Free Syrian Army." How could Clinton and the establishment press have messed up the story so badly, again?
One problem, according to analysts, is that the Free Syrian Army (FSA) is consistently discussed using deceptive terminology. "From the U.S. State Department and outward through its tentacles across the corporate media, the so-called 'Free Syrian Army' is continuously referred to interchangeably as 'civilians' and 'activists,'" noted analyst Tony Cartalucci, who has followed the conflict closely. "In reality they are heavily armed, foreign-backed, and include amongst their ranks a sizable proportion of foreign fighters — betraying the very name Free 'Syrian' Army."
Cartalucci called the deceptive mainstream-media reporting and the dangerous Western war-mongering against Syria an example of "Goebbelsesque propaganda." Numerous other analysts criticized the lies and propaganda as well. And it is hardly the first allegation of a "massacre" conducted by the Syrian regime to crumble upon closer scrutiny.
Of course, there was indeed killing going on in the area, and many young men — possibly up to 100 — did indeed die. Both sides acknowledged that. And Assad's tyrannical regime did deploy heavy weapons including tanks and helicopters as both sides continued to violate the international cease-fire agreement. What exactly happened, however, remains unclear. Members of the UN mission in Syria are supposed to be investigating and reporting their findings as soon as possible.
"The BBC's Jim Muir in Beirut says it remains far from clear what took place at Tremseh," acknowledged the state-run British news service, days after touting opposition claims along with most of the establishment press and not long after it was caught using an old photo from Iraq to illustrate a previous "civilian massacre" in Syria. After parroting anonymous claims about the latest alleged "civilian massacre" in Tremseh conducted by the regime, other news outlets and "opposition activists" reluctantly followed suit and admitted that the facts did not fit the original allegations.
Clinton and other Western advocates of "regime change," however, have not yet corrected themselves. And as the war-mongers continue to demand international military intervention to oust the Syrian despot, it is unlikely that they will.
The Assad dictatorship claims it was battling "armed terrorist" groups backed by foreign powers at the request of innocent local villagers in the area who were being terrorized and slaughtered by the establishment-backed "opposition" fighters. It also alleged in press reports that the "terrorists" had been summarily executing people including women and children. No independent confirmation has been made of the claims.
"Syria has been exposed to more than 16 months of terrorist attacks and booby-trapped suicide attacks by foreign-backed armed terrorist groups, which in part coordinate their attacks with some media outlets, especially once a UN session about Syria is to be or convened," reported the dictatorship-run Syrian Arab News Agency (SANA), echoing concerns of analysts around the world after top mainstream news outlets like CNN and Al Jazeera were caught broadcasting staged propaganda by the rebels. The report also acknowledged that the regime's forces had indeed killed and captured "scores" of "terrorists."
"Had the Army or security personnel existed in the village, the terrorists wouldn't have been able to overrun the village and perpetrate their massacres," claimed villager Abo Arif al-Khalid, a supposed "witness" to the alleged rebel atrocities, in an interview with the state-run media. The man, apparently crying in the interview, also claimed that the Western-backed opposition fighters had killed women and children including his cousin.
At least three Syrian soldiers died in the conflict, according to the regime.
On the other hand, anonymous "democracy activists" cited in early establishment-press reports originally claimed, like Clinton, that the Syrian military had indiscriminately slaughtered innocent villagers with tanks and helicopters. However, when no evidence was offered to substantiate those claims — let alone images of dead women and children — the narrative slowly changed. The few videos that did emerge showed at most 17 dead or bloody military-aged men alleged to have been victims of the fighting.
In a July 12 report, the New York Times implicitly — and deceptively — suggested that there was actual evidence. "Activists in Hama posted a video on YouTube accusing the government of 'ethnic cleansing in Hama,' and said the killings in Tremseh were 'unlike any massacre that has previously occurred in Syria,'" the paper reported. Instead of a video showing any "ethnic cleansing" or "massacre," however, the clip cited by the Times actually just shows a man with a bandage on his head talking in Arabic making assorted accusations. You can watch it here.
Online commentators were not buying it, though. "This revolution of the Syrian free army is nothing but a paid thugs running around to create terrorism," noted the top comment on the YouTube video as of July 14. "When they get killed or injured your stupid media starts to cry 'oh my god Bashar is evil.'"
The Times also cited a statement by the anti-Assad Muslim Brotherhood. "The Muslim Brotherhood in Syria do not consider Bashar the Beast the only one responsible for this horrific massacre," the radical Islamic socialist group claimed. "Responsibility for this and for previous massacres also lies with Annan, with the Russians and the Iranians, and all those states who claim they are protecting peace and stability yet stay silent and skulk away from taking any responsibility." Apparently the extremist group wants the world to intervene militarily on its side.
Some analysts have tried to claim that the Assad dictatorship has not been responsible for any massacres at all, arguing that it would be counterproductive to his campaign to retain power. That is almost certainly not the case, as thousands have already died on both sides, with Assad's forces likely involved in many of the deaths. But the timing of the latest alleged massacre was indeed suspicious — like most reports of Assad atrocities, it coincided perfectly with high-level international negotiations on Syria.
When asked about why the alleged mass abuses perpetrated by Assad against his opponents often seem to be timed just ahead of major UN Security Council meetings, a spokesman for the Bilderberg-linked "Syrian National Council" — which includes the radical Muslim Brotherhood and is considered by the establishment to be the main "representative" of Syria's opposition — dodged the question. "Assad doesn't really care about the international community," the SNC spokesman finally said in what was probably the only relevant comment to the query.
Both sides — the barbaric Assad regime and the anti-Assad foreign powers backing the rebels — are undoubtedly using propaganda to advance their narratives. However, a disturbing pattern has emerged over the last year: numerous massacres blamed on the dictatorship's forces were actually conducted by the Western-backed rebels. Christians in particular, who have found one of the last Middle Eastern refuges in Syria under Assad and therefore largely support the regime, are being exterminated by the foreign-financed Islamist opposition in what observers have called a real example of "ethnic cleansing."
Of course, none of the information presented here is meant to defend the barbarian tyrant ruling over Syria. The point is that there is much more going on than Western governments and the mainstream press would like citizens to realize — and people are dying based on gross deceptions perpetrated by the highest levels of the establishment. More will undoubtedly die in the coming months.
Instead of presenting the truth, powerful establishment forces are using lies and deception, as well as taxpayer money, in an effort to impose a new regime on the Syrian people by force of arms if necessary. And unfortunately for the populations of Syria and maybe Iran next, more than a few analysts worry that the new rulers — if and when the bloodshed ever stops — might be even worse than the current situation. Only time will tell.
Source: The New American Magazine
The narrative that has been constructed by the Western mainstream media on Syria may seem to be self-evident from the scenes presented on television, but it is a narrative duplicitously promoted and coordinated so as to conceal and facilitate the regime-change project that is part of the war on Iran.
What we are seeing is a new stage of information war intentionally constructed and cast as a simplistic narrative of a struggle for human rights and democracy so as deliberately to exclude other interpretations and any geo-strategic motivation.
The narrative, as CNN puts it, is in essence this: "The vast majority of reports from the ground indicate that government forces are killing citizens in an attempt to wipe out civilians seeking [President Bashar] al-Assad's ouster" – the aim being precisely to elicit a heart-wrenching emotional response in Western audiences that trumps all other considerations and makes the call for Western/Gulf intervention to effect regime change.
But it is a narrative based on distortion, manipulation, lies and videotape.
In the first months, the narrative was of unarmed protesters being shot by Syrian forces. This then evolved into one of armed insurgents reluctantly "being provoked into taking up arms", as US Secretary of State Hillary Rodham Clinton explained, to defend peaceful protesters.
It was also a narrative that from the outset, according to a recent report in Time magazine, that the US has facilitated by providing training, support and equipment to Syrian opposition "cyber-warriors".
Reports confirmed by leading Syrian opposition leaders in April 2011 reveal that in addition to cyber-training, weapons and money from Syrian exiles, as well as from a "major Arab Gulf country" and a Lebanese political party, were being distributed to "young demonstrators". The former head of Russian intelligence, Yevgeny Primakov, similarly noted that the Syrian conflict "started with armed revolts against the authorities, not peaceful demonstrations".
Ironically, one of the most accurate descriptions of the sectarian conflict we are witnessing in Syria comes from an assessment by the neoconservative Brookings Institute in its March 2012 report "Assessing Options for Regime Change in Syria", one option being for "the United States [to] fight a "clean" war … and leave the dirty work on the ground to the FSA [Free Syrian Army], perhaps even obviating a massive commitment to Iraq-style nation-building".
"Let the Arabs do it," echoed Israeli President Shimon Peres. "Do it yourself and the UN will support you." This point was not lost on one leading Turkish commentator, who noted that US Senator John McCain "said that there would be no American boots on the ground in Syria. That means we Turks will have to spill our precious blood to get what McCain and others want in the States."
In the wake of the failures at state-building in Afghanistan and Iraq, direct intervention, with all the responsibilities this would entail, would not go down well in cash-strapped Western nations. Better to get others to do the "dirty work" – pursue "regime change by civil war".
"The United States, Europe and the Gulf states … are starving the regime in Damascus and feeding the opposition. They have sanctioned Syria … and are busy shoveling money and helping arms supplied by the Gulf get to the rebels," Joshua Landis, director of the Center of Middle Eastern Studies, wrote in Foreign Policy in June.
With regional allies prepared to do the "dirty work" of providing increasingly sophisticated weapons clearly geared for purposes other than "self-defense", and the FSA and its jihadist allies doing the "dirty work" within Syria (their salaries paid by Saudi Arabia), the US and European nations can proffer their clean hands by limiting support to communications equipment, intelligence and humanitarian aid, and of course to providing the moral posturing required to topple the Syrian system and implant a regime hostile to Iran and friendly to Israel. Having "clean hands" enables the US, France and Britain to pose as abiding by UN standards, while at the same time flouting the UN Charter by promoting an attack on a member state.
Time magazine reported last month that the administration of US President Barack Obama "has tiptoed across an invisible line. [It] said it will not actively support the Syrian opposition in its bid to oust Assad … [but] as US officials have revealed, the administration has been providing media-technology training and support to Syrian dissidents by way of small non-profits like the Institute for War & Peace Reporting and Freedom House.
"Viral videos of alleged atrocities," noted Time, "have made Assad one of the most reviled men on the planet, helping turn the Arab League against him and embarrassing his few remaining allies almost daily."
It is a position that reeks of hypocrisy: as US columnist Barbara Slavin notes, "Without a UN Security Council mandate, the prospects for US military intervention in Syria are minimal … the provision of communications gear frees up others to provide weapons."
A US official quoted by Associated Press was more frank: Washington's equipment and medical supplies to the opposition "can now be easily augmented with weapons from other donors. Smuggling lines are smuggling lines. We use the same donkeys," he said, pointing out that routes are in essence the same for bandages as they are for bullets.
And while various Western governments are helping "document crimes" committed by Syrian forces, these same governments have refused to investigate their own killings of civilians in attacks by the North Atlantic Treaty Organization in Libya. NATO "created its own definition for 'confirmed' deaths: only a death that NATO itself investigated and corroborated could be called confirmed", enabling the alliance to conclude: "We have no confirmed reports of civilian casualties."
Britain was the only country involved in the bombings to conduct its own inquiry. Its report accepted "that coalition forces did their best to prevent and minimize civilian casualties … We commend them for this approach."
For every tragic story like journalist Marie Colvin's final dispatch before she was killed while embedded for British media with the FSA ("In Babr Amr. Sickening. Cannot understand how the world can stand by. Watched a baby die today. Shrapnel: doctors could do nothing. His little tummy just heaved and heaved until he stopped. Feeling Helpless"), there are other similar tragedies, committed by the insurgents, that are rarely reported in the mainstream Western press.
You won't read in the mainstream press of foreign jihadists increasingly pouring into Syria to fight their holy war; you won't read that some ultraconservative Salafi sheikhs in Saudi Arabia are running their own military network inside Syria; you won't read how Assad's support during the 14-month crisis has if anything increased in light of the insecurity gripping the country; you won't read comments like those of the Lebanese Christian Maronite patriarch who said that while "Syria, like other countries, needs reforms which the people are demanding … the closest thing to democracy [in the Arab world] is Syria".
You won't read how the head of the opposition in Turkey, a former ambassador to Washington, Faruk Logoglu, has said that what Turkey is doing hosting armed FSA fighters and allowing them to carry out attacks in Syria is "is against all international norms; against all neighborly relations … It is a basic rule that countries must respect the sovereignty of others."
You won't read how armed insurgents used the Arab League observer mission's ceasefire to "reinforce themselves and bring supplies from Lebanon, knowing the regime would be limited in its ability to obstruct them at that time", or how they have used the Kofi Annan plan to prepare for larger attacks.
While we have seen extensive demonization of Assad, his wife and family, with the president depicted recently in the British press bathing in blood, you won't read articles demonizing the Saudi or Qatari regimes, or highlighting the hundreds of millions of dollars they have poured into political parties and groups, particularly Salafists, across the region in their "counter-revolution" against change; or the recent declaration by the official Saudi Mufti for all churches in the Arabian Peninsula to be demolished (which was not covered by a single Western mainstream news outlet); or as a senior Sunni political figure told me recently, the more than 23,000 detainees in Saudi prisons, a majority of whom (a recent report notes 90%) have degrees (to be fair, Chatham House did comment on this in a recent report that this "is indicative of the prevalence of a university education").
You won't read how Saudi Arabia and Qatar have bullied satellite hosting channels in the region to stop broadcasting "pro-regime" public and private Syrian television channels; or that the Syrian opposition has set up 10 satellite channels, all with an Islamist orientation and which take a strong sectarian line – calling on the FSA to "kill Iran's mice" and "the rats of the Lebanese devil's party" (Hezbollah); or how Russia has been attempting to facilitate a political process of reconciliation with the internal opposition since the onset of the crisis.
There is clear duplicity in the deliberate unwillingness of the Western mainstream media to acknowledge the nature of those who are the West's allies in the regime-change project – particularly Saudi Arabia and Qatar – and the danger they pose in the region through their arming and firing up of jihadist Salafist groups in Syria and across the region. Rare are articles in the mainstream Western press that highlight this hypocrisy.
A critical piece in the British press by Peter Oborne, The Daily Telegraph's chief political correspondent, was an exception: "Washington never ceases to complain about the connection between the Pakistani intelligence services and the Taliban. But we never hear a whisper of concern about the connection between Saudi intelligence and Salafi movements across the Middle East, of which al-Qaeda is the best-known offshoot."
The essential components of what we do see daily in the Western press have changed little during the conflict: in effect, all violence and terror are apportioned to one side only – the Syrian government and its purported "ghostly shadowy" shabiha forces.
Any violence committed by the "peaceful protesters" and the Free Syrian Army is purely for defensive purposes – all of which comes straight out of the color-revolution/regime-change text book; daily figures for those killed are based almost exclusively on "reports by activists and YouTube footage" (unverifiable, it is claimed, because the Syrian government does not allow free movement of journalists) and are described simply as "people" – dead insurgents do not appear; Al-Qaeda-type jihadist groups are played down (reports in leading media outlets like The Guardian continue to question whether they exist at all); and any weapons or equipment supplied to the "opposition" is, according to Saudi leaders, to help Syrians "defend themselves".
Embedding journalists on their side is an asset that the FSA, activists and their Western and regional partners have clearly learned from the experience of the US Army in the wake of its attacks on Fallujah in 2004. A US Army intelligence analysis leaked by WikiLeaks revealed that "in the military's opinion, the Western press are part of the US's propaganda operation. This process was facilitated by the embedding of Western reporters in US military units". In their second attack on Fallujah in November 2004, the US Army "got many reporters … to embed with US troops, so that they could act, as the intelligence report calls for, as the propaganda arm of US forces".
The fundamental pillar of this Western narrative relies almost exclusively on claims and "evidence" provided by "activists" and opposition-affiliated groups, particularly the Syrian Observatory for Human Rights. Are we seriously to believe that this outfit, reportedly run from Coventry by a man who, according to Reuters, part-time runs a clothes shop with his wife, then "sits with a laptop and phones and pieces together accounts of conflict and rights abuses before uploading news to the Internet", is the primary source of daily casualty statistics on the 14-month Syrian conflict – the key geo-strategic conflict of the time?
It is clearly the front office of a large-scale (dis)information project – when Russian diplomats asked to meet with the organization, they were refused. Senior political figures in the region have told me, as other reports indicate, that the Observatory is in fact funded from a Dubai-based slush fund and is a key component of the regime-change project.
Russian Foreign Minister Sergei Lavrov noted that it was in the opposition's interest "to provoke a humanitarian catastrophe, to get a pretext to demand external interference", so it is not surprising that analysis of the Observatory's figures, including claims of "massacres", consistently show a significant inflation in numbers of casualties, sometimes wildly so.
As Al-Jazeera journalist Nir Rosen, who spent some months embedded with the Free Syria Army, explained: "Every day the opposition gives a death toll, usually without any explanation of the cause of the deaths. Many … reported killed are in fact dead opposition fighters, but the cause of their death is hidden and they are described … as innocent civilians killed by security forces, as if they were all merely protesting or sitting in their homes."
Analysis I did of what was reported to be the "deadliest day of the nine-month uprising" (December 20, 2011), with the "organized massacre" of a "mass defection" of army deserters widely reported by the international press, and opposition Syrian National Council claims of areas "exposed to large-scale genocide", showed that figures differed so significantly (between 10 and 163 armed insurgents, nine to 111 unarmed civilians and zero to 97 government forces), that the "truth" was impossible to establish. Similarly, analysis of The Guardian's data blog on casualties as of December 2011, based solely on press reports largely from opposition sources, contained basic inaccuracies and made no reference to any killings of armed insurgents during the entire 10-month period.
So the Observatory and "activists" provide doctored figures, the Western media report these figures uncritically, and the UN provides reports on the basis of opposition and activist sources alone. The December 2011 UN Human Rights Commissioner's report was based solely on interviews with 233 alleged "army defectors"; similarly, the first UN report to accuse the Syrian government of crimes against humanity was based on 369 interviews with "victims and witnesses". The spokesman for the UN Office of the High Commission for Human Rights explained that while "getting evidence from victims and defectors – some who corroborated specific names", the UN "is not in a position to cross-check names and will never be in a position to do that … The lists are clear – the question is whether we can fully endorse their accuracy."
British public-service broadcaster Channel 4 has championed the cause of Syrian "video journalists" who it claims are leading a "Syrian media revolution". The channel's foreign-affairs correspondent Jonathan Miller wrote: "Each report is datelined; exact location and date, [which] doesn't in itself necessarily authenticate the report, but combined with other reports from other districts of the same attack filmed from a different location, the reports have the effect of corroborating each other." The channel even made a documentary of activists exaggerating the "truth" – "even if it means embellishing events".
During the early months of the Syrian conflict, activists like the now-notorious Danny and Khaled Abou Salah were regularly interviewed in the Western media – that is until footage found by the Syrian army in Homs after the attack on insurgents showed them, among other things, preparing child "victims" for interviews and until their "witness statements" lost all credibility. The New York Times' Neil MacFarquhar, reporting from Beirut, almost exclusively bases his reports on "activists speaking by Skype" and "video posted on YouTube".
Described as "the most horrific video" yet by Britain's Daily Mail, a YouTube clip of an opposition member being "buried alive" was found most likely to be fake. Perhaps more telling than the use of the actual photo by the British Broadcasting Corp of hundreds of body bags from Iraq in 2003 that was used for the story of the al-Houla massacre three weeks ago was the caption beneath the photo: "Photo from Activist. This image – which cannot be independently verified – is believed to show bodies of children in Houla awaiting funeral."
Nevertheless, activist-supplied videos and statements continue to provide the basis for unquestioned reports in the mainstream press: in the wake of the Houla massacre, for example, The Guardian ran a front-page story – "among the most important of the testimonies" from an army defector reportedly on leave at the time. From his house 300 meters away, the man saw and heard the massacre, despite there being persistent shelling at the time. He claimed to have seen men "he knew to be shabiha "riding into Taldous village in cars, motorbikes and army trucks, shouting: 'Shabiha forever, for your eyes, Assad.'"
This is not to argue that Syrian security forces and some supporters of the Syrian government have not committed abuses and killings; they have admitted this to be the case. "Don't put me in a position of defending brutality and knifing people," former US national security adviser Zbigniew Brzezinski said about Syria recently. "Frankly that is not the issue. We do know these things happened, and they are horrible. They also happened on a much larger scale in many other countries in which we have not intervened."
What we are witnessing is a new generation of warfare – an information war where, by using what is in effect propaganda, the aim is to construct a consensual consciousness to provide overwhelming public support for regime change.
Not to be outdone by Senator McCain (described by a leading US foreign-policy magazine as one of the "three amigos … who have rarely found a country they didn't want to bomb or invade"), The Guardian itself noted in March: "If you think Guardian readers are a peace-loving bunch, think again. In an online poll, more than 83% [13,200 votes] have so far backed John McCain's call to launch air strikes against Syria."
While The Guardian describes the so-called shabihain what appears to be a piece of pure propaganda – "according to demonstrators" it interviewed – as "large lines of plain-clothed or khaki-clad men and boys armed with submachine-guns" who appear "awaiting an excuse to intervene" and who fire on protesters, a senior European diplomat based in the region told me that it is not in fact clear who the shabiha are, or whether they actually exist.
The diplomat told me of an instance when the UN monitors were filmed by activists as they were inspecting an insurgent-blocked subsidiary road; they later saw footage of themselves at the same ditch on the international news spliced in such a way as to make it appear that there had been bodies in an excavated area and that the UN monitors were watching bodies being removed, whereas in fact it was no more than a ditch across a road that they had been filming.
Human rights are a fundamental component of this information war that is a cover for regime change. By in effect taking a one-sided approach to events in Syria, leading human-rights groups like Amnesty International and Human Rights Watch are, willingly or unwillingly, being used as an integral part of this information war on Syria.
Despite publishing the odd report on abuses, torture and killings perpetrated by the insurgents, they cast the conflict in Syria as a simple one-sided case of aggressors and victims, lamenting, along the lines of John Bolton and McCain, "Why is the world doing nothing?" Amnesty International's Eyes on Syria site, for example, exclusively documents "the scale of torture and ill-treatment by security forces, army and pro-government armed gangs", harassment of "pro-reform" Syrians, and deaths in government custody.
A notable exception has been the International Committee of the Red Cross, which has continually criticized the militarization of humanitarian assistance. When former French president Nicolas Sarkozy and Turkish Prime Minister Recep Tayyip Erdogan called for the creation of "humanitarian corridors", the ICRC publicly criticized a move that would inevitably involve the deployment of armed forces to enforce the zones.
The use of propaganda as a tool in war is an old one. During World War I, in the wake of British propaganda of "babies [with] their hands cut off … impaled on bayonets … loudly spoken of in buses and public places … paraded, not as an isolated instance of an atrocity, but as … a common practice", a member of Parliament wrote: "In Parliament there was the usual evasion … the only evidence given was 'seen by witnesses'."
What we see now in coverage of Syria has echoes of 2003 – Western governments and the Western media accept at face value the claims of exiles living in the West. Paul Pillar, a former official of the US Central Intelligence Agency now at Georgetown University in Washington, notes that the neocon case for arming the Syrian opposition "is a continuation of the same patterns of neoconservative thinking that led to [president George W] Bush's war [on Iraq]. There is the same wishful thinking substituting for careful analysis about consequences."
Charged with defining the future of warfare, the US deputy chief of staff for intelligence in 1997 defined this "conflict between information masters and information victims … We are already masters of information warfare … we write the script," he wrote. "Societies that … cannot manage the flow of information simply will not be competitive … Emotions, rather than strategy, will set the terms of struggles." Against such an onslaught, there is little the Syrian government can do to defend itself – Assad has already said that Syria cannot win the media war with the West.
As Syria tips into the next more violent stage of sectarian war, with the SNC/FSA and their foreign backers increasing the ante with possible supplies if heavy weapons by the US, leading to more violent attacks, and the Syrian government (with its Republican Guard and the Syrian Army's powerful 4th Division still held in reserve) cracking down on "all armed groups", we should expect to see the "crusaders" in the mainstream media follow suit with their onslaught on Syrian government "atrocities" – massacres, use of children as human shields, claims of the imminent collapse of the Syrian government, etc.
But we would do well to acknowledge that there are two competing narratives out there. The BBC acknowledged recently that while "video filed by the opposition … may provide some insight into the story on the ground … stories are never black and white – [they are] often shades of grey", and Channel 4's Alex Thomson's near escape after being set up by the Free Syria Army prompted him to say: "Do not for one moment believe that my experience with the rebels in al-Qusair was a one-off." It makes you wonder, he wrote, "who else has had this experience when attempting to find out what is going on in rebel-held Syria". The narrative, however, complete with myths, has established a virtual reality that is now set in stone.
Sixteen months into the conflict, it is too little, too late to acknowledge that there are "shades of grey" at play in the Syrian context: for 16 months, The Guardian, Channel 4, the BBC and others have presented the conflict, using largely spurious "evidence", in exactly the black-and-white terms that increasingly people are now questioning. Peter Oborne, writing some months ago in The Daily Telegraph, warned that by presenting the conflict as a struggle between the regime and "the people", British Prime Minister David Cameron is either "poorly briefed or he is coming dangerously close to a calculated deception of the British public".
The Takfiri jihadists and their backers have been allowed to define and dominate the crisis. The crisis is now symbolized by car bombings, assassinations, mutilations and atrocities. This empowering of the extreme end of the opposition spectrum – albeit a minority – has in effect silenced and pushed to the sidelines the middle ground – that is, most of the internal opposition. One key internal opposition leader recently told Conflicts Forum that, like other leaders, he has had close relatives assassinated by the Salafists. The internal opposition has acknowledged the stark choice between two undesirables – either a dialogue that currently is not realizable, or the downfall of Syria, as Al-Akhbar, one of the leading independent newspapers in the region, recently reported.
With weapons of war, words and ideology, the self-appointed "Friends of Syria" have done everything they can to tiptoe around the UNSC and to undercut all attempts at an intra-Syrian political dialogue and a negotiated end to the conflict, of which the Annan mission is the latest attempt. The West/Saudi/Qatari "dirty war" on Syria applies as much to its (dis)information campaign as it does to getting others to fight and kill for them.
As was no doubt the intention, Clinton's "spin" that Russia was supplying attack helicopters to Syria went a long way – the US Congress, the British government and the mainstream media all fell into line calling for action. A member of the Senate Armed Services Committee wrote to the US defense secretary calling the Russian state arms firm "an enabler of mass murder in Syria", and Cobra, the British government's emergency security committee, met several times.
It turned out, however, that what the New York Times described as "the Obama administration's sharpest criticism yet of Russia's support for the Syrian government" was, according to a senior Defense Department official, "a little spin" put on the story by Clinton so as "to put the Russians in a difficult position". It was three helicopters of "marginal use militarily", explained the Times, returning from routine servicing in Russia.
For their part, the mainstream media bear some responsibility for the slide toward sectarian war in Syria, the victims of which, as always, are civilians. The media's conceptualization of victims and oppressors has in effect eliminated the space for negotiation. Lavrov has warned: "Either we gather everyone with influence at the negotiating table or once again we depart into ideology, where it is declared shamelessly that everything is the fault of the regime, while everyone else are angels and therefore the regime should be changed.
"The way the Syrian crisis is resolved", he advised, "will play an important role in the world tomorrow; whether the world will be based on the UN Charter, or a place where might makes right."
Aisling Byrne is projects coordinator with Conflicts Forum and is based in Beirut.
Source: Asia Times
The Department of Justice has a long record of acting as the dictatorship of jurisprudence. Acting like council to the mob, the "Consigliore" Attorney General plots protection rackets for the ultimate organized crime syndicate. Eric Holder is the latest in a long line of lawyers that distort and stretch credibility to the theater of the absurd. Making up legal arguments to distort or conceal culpability is a prime prerequisite to serve as the chief law enforcement thug for the current President.
Some four decades ago, the nation suffered through the most critical constitutional crisis of recent times. The Watergate calamity tormented the nation on a daily basis, resulting in a new level of cynicism and disgust. What started as a third rate burglary concluded in the resignation of Richard. M. Nixon. The flawed life of the symbol of the imperial presidency, shamed into submission, vacated office to avoid conviction. Sadly, the prospect that Barack Hussein Obama has the dignity of ignominy to fade away from the White House is most remote.Nixon's Attorney Generals John Mitchell and Richard Kleindienst earned their disgrace for the cover-up, while Holder has built an entire career on sleaze and treason. Some of the inglorious achievements of Holder include his finger prints all over the Oklahoma City Bombing, the Marc Rich Pardon and the New Black Panther Party voter intimidation case.Therefore, when the
Fast and Furious scandal became a thorn in the side of the Obama administration, the lackey fixer was called upon to do his stonewall dance. From the contempt vote in the House Oversight and Government Reform Committee, Holder's tiptoe is not exactly getting rave reviews from the political pundits.The charges of playing partisan politics coming from the Democratic choirs are reminiscent of the Nixon defenders at every disclosure from the Bob Haldeman and John Ehrlichman damage control team. Remember the hilarious responses from Nixon's Press Secretary, Ron Ziegler? Compare that comic performance with the idiotic comments from James "Jay" Carney. The only difference is that Obama won't use the same body language, when Nixon pushed Ziegler from the backside out of frustration."Fast and Furious" has not risen to the public outcry of Watergate because of the nature of the mainstream pressitute media. The heralded coverage from the
Washington Post warns Republicans to venture with kid gloves.
"But arguing in a partisan fashion is a loser for Republicans. Already there are GOP leaders who want to promote what they're doing, not just on the merits of the matter at hand, but by asserting that the Democrats were much worse in their treatment of the Bush Justice Department. That is not a reason to aggressively pursue this tragedy. No Republican or conservative commentator should even raise it. The notion that this is partially motivated by political payback is very damaging to what very little credibility Congress has today, and the approach is belittling to agent Brian Terry, who was killed, and unfair to his family. Also, by the way, it's the worst political move Republicans can make."
From Tricky Dick
To Barry Soetoro
Not exactly, the same daring reporting, that Woodard and Bernstein invented, in their quixotic quest to take down the naughty Nixon. Shielding the peccadilloes of the Obama administration is a full time effort for the liberal press, but avoiding the extreme transgression of the DoJ to create another false flag excuse, is indefensible. Therefore, when CBS reports some real news, it becomes a true event!
"Documents obtained by CBS News show that the Bureau of Alcohol Tobacco, Firearms and Explosives (ATF) discussed using their covert operation "Fast and Furious" to argue for controversial new rules about gun sales.In Fast and Furious, ATF secretly encouraged gun dealers to sell to suspected traffickers for Mexican drug cartels to go after the "big fish." But ATF whistleblowers told CBS News and Congress it was a dangerous practice called "gunwalking," and it put thousands of weapons on the street. Many were used in violent crimes in Mexico. Two were found at the murder scene of a U.S. Border Patrol agent.

ATF officials didn't intend to publicly disclose their own role in letting Mexican cartels obtain the weapons, but emails show they discussed using the sales, including sales encouraged by ATF, to justify a new gun regulation called "Demand Letter 3?. That would require some U.S. gun shops to report the sale of multiple rifles or "long guns." Demand Letter 3 was so named because it would be the third ATF program demanding gun dealers report tracing information.

On July 14, 2010 after ATF headquarters in Washington D.C. received an update on Fast and Furious, ATF Field Ops Assistant Director Mark Chait emailed Bill Newell, ATF's Phoenix Special Agent in Charge of Fast and Furious:

"Bill – can you see if these guns were all purchased from the same (licensed gun dealer) and at one time. We are looking at anecdotal cases to support a demand letter on long gun multiple sales. Thanks."
Is there an honest man or woman in the Obama administration? Recall the valor of Nixon's Attorney General, Elliot Richardson and his resignation that precipitated the "Saturday Night Massacre". Look around for a courageous Deputy AG like William Ruckelshaus in the corrupt den of vipers that serve not an imperial president but a collectivist dictator. Woefully, all you find are careerist stooges who follow orders. When Robert Bork finally, fired independent special prosecutor Archibald Cox, his reputation was negatively impacted.No impeachment for this "constitutional lawyer" !!!
Obama acts as tin horn despot in the land of the drug cartel. The federal government is addicted to fiat pronouncements designed to circumnavigate around Congress. Executive orders are de facto usurpation of legislative authority. Executive privilege that spits in the eye of separation of powers is an impeachable offense.
Refusal to instruct Eric Holder to turn over the complete record of "Fast and Furious" documents makes the same mistake that Nixon made when he decided to violate his oath of office. The appearance of withholding evidence of possible sinister disclosures becomes a reality when transparency is abandoned. Coming clean on the decision process and naming names of those responsible for "gunwalking" practices is imperative.
What does the Obama crowd fear? It seems unlikely that a G. Gordon Liddy clone went rogue or a James McCord want-a-be was stealing guns on the side. What the American public needs to know is the E. Howard Hunt figure behind "Fast and Furious"?
Those too young to remember the paralysis and fallout that engulfed the government during Watergate will not appreciate the national danger that arises when an administration is determined to force a constitutional crisis. For all practical purpose, the U.S. Constitution is already abolished. The duty of Congress to reassert its legitimate oversight function is crucial for a second American revolution to remain non-violent.
Ironically, the intent to gut the second amendment was certainly an intended objective behind the gun running operation. The federal authoritarians at ATF are no different from the gang members on a segment of the Sons of Anarchy FX series. Fiction becomes fact when the government enforces their brand of tyranny as national security. When the rubber hits the road and the guns turn on government officers, one would normally hear a deafening scream for accountability.Holder has clearly demonstrated that agent Brian Terry was expendable, and that his family does not fall under the protective umbrella of justice.
The Watergate break-in was purportedly an operation to secure proof that the Cuban government was supplying funds to the Democratic Party. Somehow supplying Mexican drug lords with military grade weapons seems just a little more outrageous.Now, the political climate forty years later is hardly an environment that gives confidence that the people, much less then the government, is committed to lawful accountability. The political impact may be marginable because presently national outrage over any scandal has a very short half-life. The toxic consequences of allowing career criminals to hold public office is the death trap for any democratic regime, much less a constitutional republic.
When Marco Rubio Says Eric Holder Should Resign, some will claim it is just politics. The correct question is why isn't President Obama demanding the head of Eric Holder? We all know the answer to this question. Crooks keep their soldiers in the fold until they are no longer useful.The manner by which this next escalation of the "Fast and Furious" operation is reported will tell much about the level of decency left in the country. Obama has decided to stretch out the controversy by pushing the Congress to go to court. Not much has changed for the better since the Watergate tragedy. Under Obama, you have a megalomaniac that makes Richard Nixon look tame.
Congress needs to step up and do their duty with bipartisan support. The Rubio demand will soon look meek, as angry citizens' calls for the resignation of the POTUS himself. The fall election should register public sentiment on the intensity of indignation. Hopefully, a second Obama manic term and administration will be a moot issue.
The media three-ring circus focus on the forthcoming trial of George Zimmerman for the killing of Trayvon Martin has all the hallmarks of another rush to judgment. Conviction in the press is nothing new, when the dominant liberal bleeding hearts feel offended. Others can relish on every detail, motivation and circumstance, but this viewpoint obscures the fundamental conflict that exists in society. It is a social taboo to engage in a sincere and substantive dialogue on race in this country. The long history that consumes racial animosity will always continue as long as "Political Correctness" prohibits genuine honesty.
Many Blacks suffer from selective memory when charges of racism are hurled around as if hatred only resides in the hearts and minds of White Americans. Conspicuously absent in this bias viewpoint is the perverse sentiment and conduct from their own "community". When a country elevates a demented and disruptive despot like Eric Holder to the office of Attorney General, the nation is at peril from selective prosecution. Do not forget the lesson from the pathetic refusal of Holder to prosecute the New Black Panther Party for voting law violations in Philadelphia.
The Daily Caller reports,
"Attorney General Eric Holder said Tuesday that voter intimidation by members of the New Black Panther Party was different than the historic intimidation experienced by "my people."

In December, the U.S. Commission on Civil Rights released a scathing report on the Justice Department's handling of the New Black Panthers case."
This is the same Holder of Ruby Ridge, Waco, Oklahoma City and Marc Rich pardon infamy. Now he is up to his ears with "Fast and Furious". If this is the standard for Black justice, no wonder the atmosphere for racial discontent is fanned by a history of brutal totalitarianism. The jungle collectivism that excuses social hysteria for a serious dialogue on civilized behaviors is at the core of the racial divide.
Therefore, when Eric Holder Praises Left-Wing Activist Al Sharpton, Says Facts, Law Will Guide Trayvon Martin Investigation, any reasonable person should be skeptical.
"Attorney General Eric Holder praised left-wing activist Rev. Al Sharpton at the opening of the National Action Network (NAN) convention on Wednesday, and also stressed that the Justice Department is conducting a thorough investigation of the fatal Trayvon Martin shooting that "will examine the facts and the law."
The consequences for ignoring the law at the Philadelphia ballot location lead to the following.
New Black Panthers Zimmerman Bounty: Doesn't It Warrant Charges Too?
"That $10,000 bounty on George Zimmerman's head by a hate crimes movement deserves as close an inspection by the DOJ as Eric Holder promised in the Trayvon Martin case. Otherwise, it looks like race is truly an issue in this particular controversial topic, as Zimmerman's anonymous family member insinuates in a letter to the man appointed by Pres. Obama.

New Black Panthers member, Mikhail Muhammad, didn't hesitate to say to the nation at large that the monetary promise he and his group were making for the unauthorized (dead or alive) apprehension of Zimmerman was just "an eye for an eye, a tooth for a tooth," mentality, as reported by NPR at the end of March."
The video New Black Panthers: Race War For Trayvon April 9th 'Day of Action'caused quite a stir. When the heat got too hot Michelle Williams made a feeble attempt to save her ass.
"My words were out of anger. I did not incite, I did not promote, nor did I encourage anyone to go and pick up a gun."
The significance of all this self-reviling racist rhetoric is that it drives an even greater wedge into the social fabric. When compared to the written arguments of traditional columnists like John Derbyshire and Robert Weissberg, you gain a clear distinction in the true meaning of racist conduct.
The Neocon publication, The National Review banished both columnists for violating the "PC" canon. Telling racial truth is not allowed in the realm of the Rich Lowryorthodoxy.
"Unbeknowst to us, occasional Phi Beta Cons contributor Robert Weissberg (whose book was published a few years ago by Transaction) participated in an American Renaissance conference where he delivered a noxious talk about the future of white nationalism," editor Rich Lowry wrote in a post on the National Review's website. "He will no longer be posting here. Thanks to those who brought it to our attention."
In The Guillotining of John Derbyshire, Alex Kurtagic writes,
"John Derbyshire's "Talk" column for Takimag last week detonated the ire of commentators on the lunatic fringes of the extreme Left. Ulcers flared and torrents of bile swamped the internet. The roar was even heard across the Atlantic, as the Guardian weighed in, wondering on Sunday why Mr. Derbyshire's piece was still online. By Monday I was perplexed to find that, amidst the still raging sandstorm of prose, not one journalist or commentator had sought Mr. Derbyshire for comment (though Gawker finally published an interview later that day). What follows is my effort to rectify this omission."
The Conservative Times adds this valuable insight.
"If you haven't been following the development, Derbyshire's article at TakiMag, "The Talk: Nonblack Version," is a play on the "talk" that black leaders tell blacks to have with their children: don't trust whitey. Looking at mundane crime statistics, Derbyshire wrote a piece advising white parents to tell their kids not to visit black neighborhoods, etc. The leftist and neocon media went ballistic. Derb was first attacked by PC leftists, who were quickly joined by Trotskyite neocons like Jonah Goldberg and Ramesh Ponnuru.

Why now? Derbyshire has written controversial pieces previously. Is the MSM now pushing for a final pre-election purge of all unacceptable thought from mainstream press? First Buchanan and now Derb? Is it because it's on the heals of the Trayvon Martin story? Is it because Derb, undergoing chemotherapy, is now most vulnerable? Or, is it because what he says hits so close to home? Although one may disagree with a few points in Derb's piece, who's going to disagree with its main premise? How many white suburban liberal parents do you know that tell their kids to go hang out with gangbangers in the inner city? Everyone knows what Derb writes is true. Perhaps that is his real crime. In a state of totalitarian political correctness, telling the truth is the greatest crime one can commit."
Finally, The Daily Caller chimes in with the politically correct catcalls from suspect conservative publications that boast their "TC" (Totalitarian Collectivism) credentials.
"The American Conservative's Noah Millman, who considers himself a friend of Derbyshire's, told TheDC that it's no surprise National Review ended its relationship with the longtime contributor.

"I think it's safe to say that Derbyshire's piece was bluntly racist," Millman said.

"Derbyshire seems to think that there's a straight line of deductive reasoning from his views on the science of racial differences and the observable statistical disparities in things like crime rates, to his 'advice' to his children about how to keep themselves safe from black-on-white violence."
The contrast between the unholy behavior of the New Black Panther Party and Eric Holder to the intellectual advocacy of John Derbyshire and Robert Weissberg is evident to any objective observer. The manner in which an Al Sharpton spouts his venom on MSNBC, while bona fide traditional conservatives are cast into the pit of obscurity, is proof of the concerted effort to silence the common sense alternative to the destructive outcome of radical racist social reality.
The fallout from the George Zimmerman – Trayvon Martin carnival produces a sideshow to divert your attention from the actual national disasters. Class warfare to enhance social welfare entitlements is the game. State Attorney Angela Corey's attempt to become the next Marcia Rachel Clark is no substitute for addressing the racial divides. Since Zimmerman is half Latino, why is he being painted as whitey?The conscious intent to avoid a forthright discussion on race is a central foundation of the progressive guilt complex. Discrimination against whites is condoned under the Holder doctrine of perverted justice. Such double standards are recognized by articulate and solid conservative Blacks, that commit the cardinal sin against their own race; namely, being fair and honest.
America is on the verge of a monumental financial collapse as the media attempts to build ratings around a killing that needs resolution in court by a jury of Mr. Zimmerman's peers. The hood that is the center of the trial is the one placed over the head of Lady Justice. This country champions social denial and condemns any voice of reason and racial sanity. High moral and ethical standards have no color barrier. True justice is universal. One in three black men resides in jail at some point in their lives. Do you really believe most deserve incarceration, much less the fate of Mr. Martin? It is time to start an earnest discussion on race for the survival of an equitable social order.
Do you remember the second terms under President William Jefferson Clinton and George Walker Bush? Even the most rabid partisans cannot say with a straight face that memorable government came during their last four years. Now the nation suffers from the Obama malaise that rivals the Jimmy Carter debacle. The dependency culture, especially in the post 911 incarnations, adjusted to the heavy hand of government omnipotence to accept the next level of political excess. Recent polls suggest that the enlightened voters of the nanny state are prepared to cast their ballot to give Barry Soetoro another term. Their answer to the proverbial question, are you better off today than four years ago, indicates just how far the collective mentality of the electorate has fallen.
The essential dialogue, which the mainstream press refuses to report, avoids the depth of the tyranny that government has achieved. Examine the range and scope of federal agencies and compare those to the most invasive and desperate days of World War II. If one awoke from a long Rip Van Winkle sleep and declared your loyalty to the American Revolution you would be judged a terrorist. This ironic twist from rising from a resting slumber as a British subject, to a free and independent citizen, is all upside down today. The American empire replaced the Crown and the sovereign individual became a doped dependent to a dominating despotism.
With this context in mind, can you blame the brain dead voter from casting their X on the ballot form and pay homage to the foreign-born dictator? If you are one of the parasites that feed off the public trough, you will hail the emperor that wears no clothes as your hero. This simple relationship may well explain why the prospects for four more Obama years are in the cards.
A site called Obama's Achievements Center provided a laundry list of Obama Administration's Achievements. The categories include:
| | |
| --- | --- |
| Arts and Culture | Housing |
| Banking and Financial Reform | Humanitarianism |
| Civil Rights | Immigration |
| Commerce, Trade and technology | Infrastructure |
| Conservation | Labor |
| Economy | Law and Justice |
| Education: College | Medicaid/Medicare/Social Security |
| Education: Health of Children | Military and National Security |
| | |
| --- | --- |
| Employment: Jobs | Military Veterans and Families |
| Energy: Green | National Disasters and Emergencies |
| Energy: Old | National Service |
| Energy: Oil | Scientific and Medical Research |
| Foreign Affairs and International Relations | Space Exploration and Space Station |
| Government Efficiency | Taxes |
| Health and Wellness | Transparency and Accountability |
| Health Care Reform (See also Taxes) | Miscellaneous |
Take the time to browse some of the items on this site and separate the promises from the results. If this is progress, can you imagine the giveaway programs in a second Obama Term? By any reasonable standard, the presidential election should stand or fall on the prospect of the economy. However, Michael Tefft sheds perspective on how one defines the political significance of the economy in It's Official: Most Americans Make Their Living Off The Government.
"A widely covered report from TrimTabs Investment Research, based on data from the Bureau of Economic Analysis, has found that 35 percent of all earnings are now direct transfer payments from the government. According to CNBC, "social welfare benefits make up 35 percent of wages and salaries this year, up from 21 percent in 2000 and 10 percent in 1960."

But the real story is much worse. Nearly 8% of Americans work directly for the government while an additional 9.6% of Americans work as contractors for the government. Taken together, more than half of all Americans make their living directly from the government. "We have reached a tipping point," says Grassfire Nation's Steve Elliott. "That's why what is happening in Wisconsin could have huge ramifications. Unless citizens stand now for less government and fiscal restraint, the government-dependent class will demand more and more government and our nation will be destroyed from within."
A little historic context adds to the analysis. Michael Filozof in Prepare Yourself for Obama's Second Term reminds what happens when the opposition loses their nerve.
"Does anyone remember the disaster that was Bill Clinton's first term? The first attempt to put gays in the military, the first attack on the World Trade Center by Muslim fanatics, and the "Assault Weapons" Ban? The proposal to raise taxes, increase spending, and downsize the military? Hillary arrogantly proclaiming that she was no little Tammy Wynette standing by her man and baking cookies? That she would revamp the entire health care system, by herself, in secret, without congressional input? Does anyone remember the Waco debacle, which led directly to the Oklahoma City bombing, and Clinton's allegation that it was the fault of talk radio? Does anyone remember the landslide Republican victory in the House in 1994, breaking forty straight years of Democratic control — a massive rebuke of the Clinton administration?

And yet…Clinton got re-elected in 1996. He didn't just squeak by, either — he won a crushing 379-159 victory in the Electoral College and beat the Republican ticket by eight and a half percent in the popular vote.

Conservatives were in shock. How could this happen? Answer: after the 1994 conservative revolution in the midterm elections, the Republican 1996 presidential campaign turned into the Revenge of the Flaming Moderates."
Nonetheless, most rational voters ignore the phony illusion that Republicans are really a counterweight to the madness of the Marxists that pose as Democrats. The preposterous pipe dream that the loyal opposition will act different from the current criminal regime is a true test of the mental health of the idiots that believe there is a difference between Democrats and Republicans.
A favorite leftist site alternet lists Nine Things Obama Should Do In a Second Term.
| | | |
| --- | --- | --- |
| 1. Free higher education at all public institutions of higher education | 4. Manhattan Project for renewable energy | 7. Fifty-percent income tax on all income over $5 million a year (with no loopholes) |
| 2. Add a million teachers (and teachers' aides) to the public school system | 5. Financial transaction tax | 8. Get behind a constitutional amendment to end the buying of elections |
| 3. Medicare for all | 6. Break up the big banks | 9. Legalize pot/empty the prisons |
Now some of these objectives as, break up the big banks seem appropriate in the abstract. However, the devil is in the details, which are written or managed by the very institutional interests that are viewed as the cause of serious problems. Some will reach out for a small glimmer of hope for gridlock. However, few astute observers project that a genuine reversal of the nanny state is possible much less likely.
From Outside the Beltway, Doug Mataconis theorizes in Obama's Second Term Would Be Neither Groundbreaking Nor A Calamity.
"As I noted, the tendency for second Presidential terms to be largely a disappointment is something neither Democrats nor Republicans would like to acknowledge publicly. Democrats would prefer their supporters to think that a second Obama Administration would mean further progress on the goals set in the campaign, many of which have been abandoned over the past three years. Republicans, on the other hand, want their supporters to believe that a second Obama Administration would be an absolute calamity and, indeed, I've run into more than a few conservatives who seem absolutely convinced of the silly idea that the re-election of Barack Obama would mean the end of America. Neither of them would get much political mileage out of telling their supporters the truth, which is that a second Obama Administration is unlikely to be anywhere near as successful in achieving its goals, especially if one or both Houses of Congress is controlled by the opposition (or as long as the filibuster exists in the Senate)."
Most serious conservatives see every administration as a calamity because disappointment is the actual legacy of the last presidency. Even the venerable Daily Paul site fears that the Liberty message will die once again at another Republican convention. Consider the horror of this prospect. 'Al Cardenas, head of the American Conservative Union, has said that Republican turmoil might lead to a brokered convention in which Jeb Bush, former Florida governor, would emerge as a 'possible alternative' party nominee.'The tangible tragedy is why did not some "Blue Dog" Democrat challenge President Obama in a primary? The Loony Left can always draft Keith Olbermann as their standard-bearer if they were serious about their mindless ideology. Allowing the Obama clone another four years proves that big government proponents have lost their own self-respect.
The absurdity of staged elections should sicken every real American. Under a second Obama presidency, you will never be better off again. A vote for this pretender tool is the height of lunacy. What else can you expect from a society populated by comatose Rip Van Winkle snoozers? If you want your vote to have meaning, Ron Paul is the only choice.
Imagine having the mental prowess to be able to create living filaments heretofore unknown, that can reproduce themselves, some of which come with identifying letters embossed on them, and then to make them extrude from beneath your skin, all against your conscious will.
Sound like science fiction? It's not, says the US Centers for Disease Control.
Despite having spent four years and $600,000, and using the world's largest forensic database, the premier health agency reports it is unable to identify the source of the fibers emanating from those suffering with Morgellons. [1]
The CDC suggests that four out of a hundred thousand people, the rate of infection in Northern California, are imagining these filaments into existence.
Comprising an array of physical and mental symptoms [2], Morgellons is distinguished by novel fibers that protrude from the skin, causing lesions and sores that do not heal, or that heal very slowly. Though clustered in California, Florida and Texas, it is found in every state and around the planet.
"We conducted an investigation of this unexplained dermopathy to characterize the clinical and epidemiologic features and explore potential etiologies," the paper explains. The only potential etiology suggested was that the patients were delusional:
"No common underlying medical condition or infectious source was identified, similar to more commonly recognized conditions such as delusional infestation."
The CDC provided more information in its press releases [3] hyping the study than it did in the 300-word study published last week. Its Unexplained Dermopathy webpage goes beyond what was reported in the actual study, saying there is "no evidence of an environmental link," and promised to do no further studies. [4]
"People who suffer from Morgellons disease are NOT delusional no matter what the CDC or the mainstream press would have you believe," says Jan Smith of MorgellonsExposed.com. She's suffered with Morgellons for over 13 years.
The image above is on her home page. "Ponder why a person with Morgellons disease would have tissue coming out of their body with embossed letters on it. This photo is real and the sample has not been altered in any way. It is available for research and DNA testing." [5]
The CDC study reported, "Most materials collected from participants' skin were composed of cellulose, likely of cotton origin."
One of the specimens extruded from Smith's body was found to be composed of cellulose and GNA, the synthetic form of DNA. [6] Glycol nucleic acid does not occur naturally; it is used to create synthetic life forms. [7]
But why would the CDC not know exactly the origin of the cellulose, instead saying it's likely from cotton? And what about the rest that was not cellulose? The study provided no details.
The CDC sent the cellulose and unnatural fibers to the Armed Forces Institute of Pathology, reports the Associated Press. [8] AFIP has been collecting fiber samples and other forensic material for 150 years. [9] Its 2011 budget was $65 million. [10] Surely, if these novel fibers are natural or lab-created, the AFIP would know. Apparently not.
AFIP is the same group that collected all the forensic evidence of the 9/11 attack on the Pentagon and at the Pennsylvania crash site, under code name Operation Noble Eagle. [11] Forensic evidence and a generous dose of imagination led National Geographic to produce a documentary asserting that the plane that supposedly hit the Pentagon disintegrated on impact. Talk about delusion.
Please support my work by reading the full piece at Activist Post. Thanks!
The Seventh Review Conference of the Biological Weapons Convention was predicted to be a dud. According to a number of BWC watchers, the expectations for this conference accomplishing very much at all were quite low.
And if you believe the mainstream media, the only noteworthy event during the fourteen day conference, held at Palais Nations in Geneva, Switzerland, took place on December 7, when Secretary of State Hillary Clinton addressed the meeting. Clinton's speech (http://www.state.gov/secretary/rm/2011/12/178409.htm) highlighted the critical nature of work being done to protect the world from the spectre of biological weapons but nixed the idea of launching any verification protocol. The speech was, according to journalist John Zarocosta, "Pure  Bolton."
John Bolton was Under Secretary of State for Arms Control and International Security back in 2001 when the US stonewalled the long awaited verification protocols, refusing to accept the proposal which was years in the making. In a widely quoted speech, Bolton said, "Will we be courageous, unflinching, and timely in our actions to develop effective tools to deal with the threat as it exists today, or will we merely defer to slow moving multilateral mechanisms that are oblivious to what is happening in the real world…The United States will simply not enter into agreements that allow rogue states or others to develop and deploy biological weapons. We will continue to reject flawed texts like the BWC draft Protocol, recommended to us simply because they are the product of lengthy negotiations or arbitrary deadlines, if such texts are not in the best interests of the United States and many other countries represented here today."
Due to this, the BWC remains a paper tiger, a treaty in name only, with no means of dealing with violations and no way to verify compliance. 165 nations to date have signed the treaty, which entered into force in 1975.
Yes, if you were to believe mainstream media, nothing happened in the rotunda in Room 18, Building E at the United Nations during those icy days in December. Diplomats from all over the world earnestly debated the merits of proposed language for inclusion in a final declaration (http://www.unog.ch/80256EDD006B8954/(httpAssets)/570C9E76CAAB510AC1257972005A6725/$file/ADVACNCE-BWC+7RC+Final_Document.pdf), which was agreed upon the last day of the meeting, just before the Convention was scheduled to close. The subjects on the international plate included such items as: Should the declaration "encourage" or "support" universalization? Should smaller countries be expected to contribute any money for the Implementation Support Unit, a superannuated secretarial service for the BWC?
One might be tempted to shake one's head in bewilderment at the earnest labors of the best and the brightest over a document which could be seen as fulfilling the poetic prophesy of Macbeth's famous absurdist lament……"Full of sound and fury/signifying nothing." Because in reality, without a verification and implementation protocol, the BWC is pretty much hot air.
Not all in attendance supported the continued lack of verification. Delegates from India, Iran, Cuba and elsewhere repeatedly and plaintively raised their voices insisting that the Convention get back on track and attend to creating a mechanism to give itself some teeth.
These voices were effectively squelched by the Western "democracies," as the UK, Canada, Switzerland and others (including the United States, of course) steered discussion away from verification, advocating instead fiddling around with the unverifiable CBMs. The CBMs ("Confidence Building Measures") are forms on which each country is to self report its research programs, legislation and other aspects of their biological "defense" programs. The utter absurdity of expecting countries to accurately report their activities on these forms is reflected in the dismal rate of compliance in submissions. Asking the fox to report on his behavior in the henhouse and calling these unverifiable forms "Confidence Building Measures" is simply not taken seriously by most countries. The low CBM submission rate reflects the level of perceived weight these forms carry.
But was the Seventh Review Conference just a bunch of suits and starched shirts exercising their considerable verbal acuity and diplomatic skills and fiddling around while Rome burns?
The threat of a biological weapons deployment is more severe now than at any other time in recent history. Amidst rumors and allegations of covert bioweapons programs in Iran, Russia, Libya and, of course, the drone of complaints about the "terrorists," the United States has quietly and with studied deception launched a biological weapons program of its own. The BWC bans the development, production and stockpiling of these weapons of mass destruction, but does not ban research. Currently, there are over 1360 BSL-3's in the US and, while the CDC  insists there are only 6 BSL-4's, the actual number appears far higher  (http://www.activistpost.com/2011/06/concerns-continue-to-mount-on-us.html). The BSLs (biosafety labs) are coded by their containment levels. BSL-4's handle the most dangerous bugs known to man, those for which there is no known cure. The BSL-3's deal with slightly less deadly germs, such as anthrax and plague. According to a report tendered by Edward Hammond, director of the now defunct Sunshine Project, there is no one providing oversight as to the type of research going on in these labs.
Apparently, the Soviet Union had indeed launched an offensive biological weapons program, a fact which came to light in the 1990´s, following the dissolution of the Soviet Union.  A Soviet scientist who subsequently came over to the US, Dr. Kenneth Alibek, believes that Russia is still involved in developing offensive biological weapons (http://thewednesdayreport.com/articles/research/weapons_of_mass_destruction-super_diseases.htm). Questions have also emerged as to whether the research going on at Porten Down in Great Britain  may constitute offensive weapons research.
Russia, Great Britain and the US are the depositaries of the Biological Weapons Convention, which is not technically a United Nations treaty agreement, but is rather posited with the Big Three.
This reporter attended the BWC under the mantle of an NGO with the intent of informing the world community that the United States has violated the treaty and has launched a secret, illegal bioweapons program with intent to deploy. The information provided the delegates, both in a short speech and in subsequent handouts, summarized the following concerns:
The United States has amended its biological weapons legislation via Section 817 of the US PATRIOT Act and is now giving its own agents immunity from prosecution for violating the law
The United States has failed to report this change in legislation to the BWC, as it is mandated to do in a politically binding agreement
These weapons are reported to be secretly stockpiled at Sierra Army Depot in Northern California
Two separate domestic delivery systems have been delineated—one involving country wide reconfigurations of water systems and the other involving imposter pharmaceuticals
While questions have been raised about some of the general language in 817, the fundamental concern revolves around its final caveat, which states that "c)… the prohibition contained in this section shall not apply to any duly authorized United States governmental activity." A number of attorneys have weighed in on the implications of this peculiar caveat, and some controversy has been brewing as to the meaning of this release from culpability.
These concerns were magnified rather than alleviated by the behavior of representatives from the United States during three side events, hosted by Team USA. Dr. Daniel Gerstein of the Department of Homeland Security made a presentation detailing the US's legislative efforts to combat bioterrorism. However, his power point demonstration featured the older legislation,    Title 18 Chapter 10 chapter 175, and did not include mention of  the problematic revisions in Section 817  http://www.ehrs.upenn.edu/programs/bio/selectagents/patriot/sec817.html.
When this omission was brought to his attention, he mumbled something about needing to check the legislation and quickly moved on to another questioner. When queried about the reports of stockpiles at Sierra Army Depot, Gerstein declared that he didn't believe there was such a military base Here is the link to Sierra Army Depot, which does indeed exist (http://www.sierra.army.mil/Public).
Gerstein made an alarming prediction during his presentation, stating that "we expect a pandemic by the end of 2013." One must wonder how Gerstein could possibly pinpoint a timeline for a pandemic, which is generally seen to be the result of unpredictable microscopic events. Unless, of course, he has a hand in creating one.
At the second US side event,   Selwyn R. Jamison of FBI Bioterrorism  responded to a query that the language in 817 constitutes a violation of the BWC stating, "You must be mistaken. The US does not violate treaties." There was no time allowed for a follow up question which would have refuted his statement. Waterboarding and the Convention Against Torture come to mind, for starters.
At a third US side event, panel members from Health and Human Services and the Center for Disease Control were asked about plans to triage in event of a pandemic, plans which were first published in Chest, a journal of the American Medical Association, in May of 2008. The triage plans delineate that some people, such as the elderly and those with cognitive disabilities, would of necessity be denied medical care, in the event of scarce resources. The Associated Press subsequently picked up on the Chest reports, in a widely published article entitled "Triage plan details whom to let die during a pandemic."http://articles.sfgate.com/2008-05-05/news/17153864_1_critical-care-task-force-health-care
However, both Dr. George Korch of HHS and Dr. Scott Dowell of CDC  disavowed knowledge of such triage plans.
While a number of reporters were present for these events, none chose to report on these concerns. Besides some spotty attendance by the mainstream press, the Bioweapons Prevention Project had a reporter present at the BWC, Richard Guthrie. Guthrie (http://www.cbw-events.org.uk/rg.html) produced detailed daily reports as to the events at the Convention; however, he failed to report on the fact that concerns were being raised as to the veracity of the United States' public statements about its compliance. When asked if he would like to be copied on a series of emails between NGO representatives who were pondering the implications of 817, Guthrie replied that there were so many critical issues going on at the Convention that he didn't think it would be worthwhile. He went on to issue an apparent apologia for the PATRIOT Act, saying that he had read it and thought it must have been hastily constructed .
A number of NGO participants took a different view of the relevance of concerns as to the US's compliance, as did a number of state parties, who directly contacted this reporter to express alarm and gratitude for bringing these issues to the fore. Whether or not a state party will act upon these concerns and request the Secretary General to assign an inspection team is as yet undetermined. In the absence of a verification protocol, the only way that an inspection team can be assembled is if a state party contacts the UN Secretary General and requests this.
This reporter also had meetings with several higher-ups at the UN. Valere Mantels, Political officer of the Geneva branch of the United Nations Office for Disarmament Affairs, refused to accept documentation from this reporter, saying "I am not going to burn my fingers turning over documentation to the Secretary General." Peter Kolarov of Disarmament Affairs declined to meet with this reporter, suggesting the documentation be taken to New York (?). UN Political officer Bantan Nugroho, also of Disarmament Affairs, did agree to a meeting and was handed a stack of relevant documentation. He declined to take action, cheerfully suggesting that this reporter take Gerstein's 2013 prediction as a personal deadline.
A final meeting with Jarmo Sareva, Director of Disarmament Affairs at the Geneva branch of the United Nations, ended in a stalemate when he informed this reporter, "We are neutral. We do not take sides." When it was suggested that neutrality was a concept useful when there was a debate about facts but here the documentation amassed may have transcended what could be termed a difference of opinion, he mumbled something about how countries might "use this information for political purposes…." This reporter pushed ahead, stating that "we are not talking about missing money here. We are talking about the possible destruction of human life on a nearly unimaginable scale."
When Sareva did not respond this reporter terminated the meeting.
Early on in the Conference, a member of the US delegation made a comment which may reflect the true nature of the current status of the Biological Weapons Convention. This delegate, an officer at the US State Department, reminded the attendees that the BWC itself provides for no meetings after the First Conference.  "This Conference has no legal standing," he declared. "We just like each other a lot and so we keep getting together, year after year. But there is no legally binding aspect to anything we do here."
While in Geneva, I went to see the new Soderbergh film, "Contagion." The movie features a scenario in which a pandemic wipes out a big chunk of the world´s population. The meta messages in the movie were clear—"Government is good. A pandemic is an accidental natural event and your government is only trying to protect you. Bloggers, however, are evil and opportunistic and not to be believed." Propaganda, it appears, is not only the dominion of main stream reporters. Hollywood has gotten into the game, as well, pushing out movies which have a subtext which is frankly poisonous.
So where does this leave us? While no overt movement took place in terms of dealing with the threat posed by the United states, seeds may have been planted. Delegates from a number of countries expressed their concern to me, promising to take the information back to their respective capitals. One can hope that they do.
As I said to Director Jarmo Sareva as I pleaded for intervention, we appear to be cresting on a deliberately engineered attack, under the guise of a circumstantial pandemic, which has the potential of killing untold millions of people.  The fact that the delivery systems which have been identified are domestic indicates that the United States is planning to attack selected segments of its own population. Saddam Hussein was hung for a purported attack on his own people, the infamous gassing of the Kurds. Is the United States now so powerful that no one will attempt to put a stop to this?
Is there a country on earth which has the guts to stand up to America and demand accountability? And while we are waiting to see if a country breaks from the pack, what can we do to protect ourselves?
To be continued…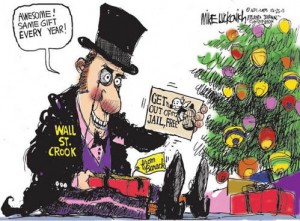 Nothing is more emblematic of the mainstream media (MSM) than NBC's "Meet the Press."  I wonder if it should be renamed "Meet the Corporate Mainstream Press" because that is exactly what it was on Sunday.  Before the first vote was cast, Sunday's panel anointed Mitt Romney as the Republican candidate to face Barack Obama this fall.  I really wonder why we have caucuses or primaries at all.  We should all just watch TV and let shows like "Meet the Press" tell us what's good for us.  The word pompous comes to mind when I see them in action, and last night, Ron Paul showed them how little they know what America really wants by finishing just a few percentage points behing the Romney.
The MSM doesn't tell reporters or guests what to say; they just pick the people who will say what they want.  I heard only one relatively flattering thing about front runner Ron Paul during the entire discussion.  Kathie Obradovich from the Des Moines Register said some of the caucus goers were "flocking" to Ron Paul because they were "desperate for real change," and Congressman Paul was "completely different." Other than that, every other word about Paul was negative.  Why?  Let's face it, the left and right do not want real change and will try to taint or destroy anyone who brings it.  They want the system of secret banker bailouts and Fed deals that rescue companies like General Electric from financial ruin which is part owner of NBC.  (During the financial meltdown of 2008, GE was the sole owner of NBC and now has only a 49% share of the network.)  They do not want prosecutions of Wall Street bankers for causing the financial meltdown with "liar loans" and "toxic" mortgage backed securities.  Republicans and Democrats want what they have now and are just taking turns ripping off the country.  The corporate owned MSM is just happy to take campain advertising money and are happy to cover the fake fighting.
You could not have gotten a more Romney biased panel on "Meet the Press" if you would have gone to Mitt's campaign headquarters.  Mike Murphy, GOP strategist, said Congressman Paul, ". . . would be the surprise disappointing finish."  Mark Halperin of Time Magazine said he saw "two scenarios for Romney and they were "great" and "good."  Andrea Mitchel of NBC said Paul "really hurt himself on foreign policy."  To be fair, it is not just NBC doing a hatchet job on Congressman Paul, other networks have been less than objective.  Yesterday on FOX, Democratic strategist James Carville opined that Romney was the only Republican that "has a chance of winning nationally." 
I think the Democrats and President Obama would like nothing more than to run against the man who thinks"corporations are people too."  Mitt Romney would be predictable and would not go after the real issues that are holding America back.  The main issue is the fraud and rip-offs in the financial system.  There will be no recovery and little job creation unless and until the banks and Wall Street are no longer able to rig the system so they always win.  There should also be some prosecutions, but I digress.  Romney, who couldn't get much more than 25% of the Iowa Republican vote, will be very beatable for Mr. Obama.  Both are the picks of Super PAC corporations.  Santorum would just be the Republican replacement for Romney if he can hold up after Iowa.
Paul, on the other hand, would be unpredictable and difficult to corner.  The Congressman also has something all other Republicans envy and that is motivated, young supporters who want real change.  President Obama can no longer campaign on the change slogan.  He got in and nothing really changed.
If you would have said Ron Paul would be a close third in Iowa a year ago, I am sure you would have been laughed out of the room.  That is the same thing you could have said about Barack Obama in January of 2008.  Hillary Clinton was so strong, they were doing skits on "Saturday Night Live" belittling the other candidates in the Democratic field. We all know how that turned out.  I am not stumping for Congressman Paul.  I just want accurate reporting, and accurate reporting is usually fair reporting.   I don't see much objectivity from most of the MSM, and it is not asking too much for facts without spin or distortion.
Source: Greg Hunter's USAWatchdog.com 
Remember that the hearings was closed to the public and the media. Classic Scandinavian style – an "open society" right.
The judge ordered that 32-year-old Andres Behring Breivik is to be detained without access to letters or visitors, apart from his lawyer. He's getting four weeks in isolation. Maybe enought time to carry out more mind control experiments on Breivik.
Apparently the police knew the gunman's name before the arresthe's was on a intelligence watch list since March. Someone in Poland was said to be arrested, this is now being denied by Polish authorities.
Questions have been raised about why it took 90 minutes for the police to reach the island Utoya.
Breivik has said he was "surprised" he wasn't stopped sooner.
Shooting Survivors Convinced There Were 2 Gunmen on Norway's Utoya Island
In an article from the telegraph, Breivik now claims that he was recruited to a secret society in London and that he guided by an English "mentor".
Not surprising considering his freemasonic ties and knights templar manifesto, with large chunks copied from mind control victim Ted Kaczynski.
We don't know the truth about this "secret society" or English "mentor", this could be nonsense put out by Breivik to further confuse the investigation. It could be the truth but it could also be the spin of the "advisers" and the "" behind the scenes.
Tragedies are always used for political purposes. This will justify another hunt for a "new kind of terrorist" that isn't really there.
This might even change the fact that you have the right of meeting in "secret" or doing things in "secret". Even if you might not agree to how the masons do business, I think most people value their privacy and right do do what they want to do – without the knowledge of authorities or other people …as long as it doesn't hurt anybody.
Now your thoughts and opinions are the target and all the "insane ideas" that are spreading on the internet.
Be sure that laws will be put in place, guns will be banned and nationalism will further be branded as "extremism".
Paul Joseph Watson wrote:
It's also a reminder that the mainstream press instantly falls in line with whoever the establishment designates the enemy du jour to be at any given time. Now that Muslims have been so vehemently demonized as terrorists, it's the turn of so called "right-wing extremists," or anyone who disagrees with mass immigration, loss of sovereignty and globalist financial looting, to feel the heat.

The effort to smear European conservatives as unhinged radicals who harbor simmering urges for bloodlust is now in full swing, and it's a demonization campaign firmly founded on the carefully crafted public portrayal of Anders Behring Breivik.
This tragedy is now in the hands the media, the police and the politicians.
They are now spinning a web designed to further trap anybody that have valid points of criticism against how society is being guided down the toilet.
Source:  Henrik Palmgren | redicecreations.com
There's an old saying, "The road to hell is paved with good intentions," meaning that people who believe they are doing good often end up doing evil.  It's the law of unintended consequences.  Unfortunately this is what has happened to some–not all–religious conservative organizations.   I know of altruistic Christian activists, both conservative and liberal, who believe they are doing God's work, but in their effort to "right wrongs" they have utterly failed to honor God's command to "earnestly contend for the faith which was once delivered unto the saints. " (Jude 1:3)
What does Jude mean?  Simply that true followers of Jesus Christ are first and foremost to share Christ with the lost.   Yet many so-called Christians are not evangelizing the lost for fear of being perceived as trying to "push their religion on others."  They detest being thought of as intolerant, thus they remain silent.  News flash:  The Gospel of Jesus Christ always has been and always will be offensive to those who are lost!  It's a whole lot easier to say "Jesus loves you" than "take up your cross and follow Him."
Some prominent Christian Right (CR) leaders that head up ginormous organizations are so busy fighting the culture war that they've forgotten what's most important — Truth!  Jesus said: "Thy Word is truth!" (John 17:17)
The CR (unrepentantly) unites with pretty much anyone who is likeminded politically. Sadly this includes a slew of false teachers, cultists, and Social Justice Christians (SJC) a.k.a. Progressive Evangelicals.  SJCs are chiefly liberals whose main goal is to dismantle historical, orthodox Christianity and usher in a "new kind of Christianity."  In the name of social justice, SJC leaders stealthly steer undiscerning believers into a left-wing collectivized utopia!
SJC is beyond of the scope of this article so I'll move on.
PRAGMATISM = COMPROMISE
Many in the CR leadership are uniting with evil doers (God's word, not mine). They have climbed aboard the SS Pragmatism and are proceeding full speed ahead into shark infested waters. Uniting with evil doers serves two specific purposes.   It helps get the message out and provides an additional source of revenue.  And let's face it.  When the money stops rolling in organizations are forced to close their doors.  So these additional funds, regardless of the source, keep the message alive and the group afloat.
Before I move to my next point I need to stress that it is my belief that Christians should try to influence public policy.  How?  By casting their vote, serving in local government, forming and joining special interest groups, writing letters to the Editor, giving financial support, and participating in lawful demonstrations. Anti-abortion activists are a good example of Christians trying to influence public policy.  Pro-lifers have formed groups comprised mostly of Christians that engage in politics because it is the only means they have to end abortion.  If Roe v. Wade is overturned, it will happen because of the dogged determination of political action groups.
For obvious reasons Christians should never relinquish control of the government to godless secular humanists and "grievous wolves" (Acts 20:29)!  On the other hand, Christ never commanded His followers to build a theocracy!
Isn't the NAR's attempting to do this?
A SUBTLE SHIFT
P. J. Miller urges visitors to Sola Dei Gloria to read an essay by Rachel Tabachnic titled Lions In the Pews. "This is an extremely interesting article," says Miller, "one I would suggest reading in its entirety. You may not agree with all of it, (the author touches on the rapture and a few other points which many believers differ over, theologically) but sitting that aside, the information concerning the subtle shift many Churches are making into Dominionist/Dominionism theology is excellent reading for those interested in the goals these people have set and are pursuing: That includes the NAR…"  (Bold added by P. J.)
The following is an excerpt from Tabachnic's article with bold by P. J.:
But this strand has emerged from Pentecostal and Charismatic backgrounds and has been nearly invisible to both the mainstream press and progressive writers. Like other Dominionists the New Apostolics are culture warriors and have specific stated goals for overtaking all spheres of American society and government as seen in the video above.
Also, like other dominionist groups they actually invest much of their efforts in fighting the traditional institutionalized church.
However, they differ from most other Dominionist groups in their embrace of the outpouring of gifts of the holy spirit, or manifestations, like being slain in the spirit, Holy Laughter, and other states of altered consciousness that are a part of their very experiential worship style.
The New Apostolic Reformation is also much more focused on the expulsion of demons as the process for healing, social reform, or even raising people from the dead.  They have a unique and extensive lingo that is dedicated to the description of the expulsion of territorial demons including terms like ground level spiritual warfare, occult level spiritual warfare, and strategic level spiritual warfare.
While Pentecostal churches have always celebrated a restoration of the church, this has been tempered with Rapture theology.   As churches embrace this Apostolic revolution they are moving away from the traditions of Assemblies of God and other denominations and  are adopting a  view of the end time that includes the triumph and perfection of the church as opposed to escaping  in the Rapture from an evil world descending into the apocalypse.
They see the imminent end times as a time of great glory for the restored true  Apostolic church greater than the one of New Testament times, and a time when the foot soldiers of this church will be imparted with supernatural powers.
This outpouring of powers will allow them to crush evil with a "rod of iron" and deliver a purified church to Jesus when he returns.
Seeing as pro-family leaders Tony Perkins, Don Wildmon, Janet Porter and Mat Staver have united with the NAR one can't help but wonder if they share their end times beliefs.  It's a legitimate question to ask.
PENTECOSTAL MOVEMENT
Methodist holiness preacher Charles Parham is considered the founder of modern Pentecostalism. Parham broke with the Methodist church and started his own ministry. In 1901Agnes Ozman began to speak in "tongues" when hands were laid on her. Parham believed that speaking in tongues was both a sign of Spirit baptism and also the signal of the end of the age. Parham also linked the Baptism of the Holy Spirit with a latter-day Pentecost.
"What began on a corner at the turn of the twentieth century is now barreling down Main Street. What was once known as thePentecostal movement has now splintered into numerous diverse, yet overlapping movements: Pentecostal, Charismatic, Vineyard,Word-Faith, and Holy Laughter." (1)
Add to the list Latter Rain Restorationism/ International House of Prayer (IHOP)/Third Wave/Deliverance/ Soaking in the Spirit/ and the aforementioned Dominionists/ Seven Mountains/Elijah Revolution/Kingdom Now/Joel's Army/Manifest Sons of God and most recently the NAR.  I've only scratched the surface!
Bud Press of Christian Research Service lamented:
The Prophetic Movement is a dark, evil wasteland teeming with false apostles, false prophets, hyper-heretics, false healers, and greedy, money-hungry con men and women, all of whom are overshadowed by Satan and his demonic forces.
There's plenty of blame to go around for the unholy mess the Church has become.   Liberals, liars, and loons have infiltrated her.  To paraphrase my pastor's teaching (from my notes), believers have been misled by well-spoken, self-promoting, self-serving, charismatic leaders who emphasize power gifts but put little emphasis on preaching the gospel.   These men and women think nothing of exploiting God's people for their own gain.
Jesus gave us fair warning:
Beware of false prophets, which come to you in sheep's clothing, but inwardly they are ravening wolves. Ye shall know them by their fruits. Do men gather grapes of thorns, or figs of thistles? Even so every good tree bringeth forth good fruit; but a corrupt tree bringeth forth evil fruit. (Mat 7:15-17)
While we're on the subject of ravening wolves, some false teachers deny the divinity of Jesus Christ…
There was no bodily resurrection…
The Bible was written by men, not by Divine inspiration.   It's a book of myths and fables, full of contradictions, open to interpretation, holds hidden meanings that only the "enlightened" can know…
Seriously?
Wolves teach that God loves, doesn't judge, so all humans go to heaven.
Triniterianism is out…
No vicarious Atonement…
The virgin birth?  Don't make me laugh!…
As for sodomy? No sin there!…
Fornication and cohabitation? What's the big deal?…
Abortion?  It's my choice!…
Wait a minute!  A Christian can choose to murder a baby?
Really?
I could go on, but hopefully the point is made. The postmodern Church will only tolerate a small "g" god who simply rolls his/her eyes at sin and say, "Boys will be boys."
Over 20 years ago the late Dr. Walter Martin took on liberalism in the Church:
Let me tell you something that I have learned; I know the liberals. I know them well; I was one of them. And they are the most dangerous, insidious, and all-pervading cult that's loose in the United States right at this moment…
And this theological flea infestation is ruining the lifeblood of the Church, which is evangelism. And, you think these are very strong statements; I intend to back them up in—if necessary—excruciating details. For any person who does not know that today in the United States, and in denominational structures world-around, we are in an accelerating apostasy does not know—I repeat—does not know what's going on…
We have, for more than one hundred years, been under sustained attack in the United States; in our theological seminaries, church related schools, and our churches. A sustained attack by people, who have the form of godliness, and work within the structure of the Church and have—wherever they have been permitted the opportunity—diluted the Gospel and destroyed the Faith.
They occupy today the chairs in our major theological seminaries; the rulership of our major denominational structures—they maintain boldly and boastfully—"This[is] the Church!" But it's not the Church if it denies the power of the Gospel… (2)
LYING SIGNS & WONDERS
The NAR travels the globe allegedly performing miraculous healings, raising the dead back to life and breaking down "demonic strongholds."  They have visions as clear as a movie screen… give future prophecies…experience visitations from Jesus, angels, and Aimee Simple McPherson.  As an extra added bonus they get "revelation knowledge" directly from God and have the unmitigated arrogance to say, "The Spirit of God spoke to me…" but there's no way to verify whose voice they hear!  According to Isaiah 8:20, "[I]f they speak not according to this word it is because there is no light in them."
With all the powers these wolves possess, I presume some of them can walk on water.
WE'RE STILL WAITING, RICK
In 1988 "super-prophet" Rick Joyner shared his "vision" concerning the coming "revolution" in the Church:
"What is about to come upon the earth is not just a revival, or another awakening; it is a veritable revolution. The vision was given in order to begin to awaken those who are destined to radically change the course, and even the very definition of Christianity. The dismantling of organizations and disbanding of some works will be a positive and exhilarating experience for the Lord's faithful servants. A great company of prophets, teachers, pastors and apostles will be raised up with the spirit of Phineas; it will be said of the apostles soon to be anointed that they have turned an upside down world right side up. Nations will tremble at the mention of their name." (3)
Have I missed something?  I can't think of a single nation that trembles at the name of Rick Joyner or the other so-called apostles and prophets.  Joyner's alleged prophecy came to him over two decades ago. He claimed that the "soon to be" anointed would turn an upside world right side up. Well, what's the hold up? With the way things are going in this country, I'm eager for the "great company" to turn things right side up, aren't you?
A CALL TO DISCERNMENT
Admittedly there are some CR leaders that want to build a theocracy as do Dominionists, but many in the CR do not.  The CR leadership unfamiliar with the NAR's global goals is leading those involved in fighting the culture war into shark infested waters.  They must "take heed to thyself that thou be not snared by following them (evil men)." (Deut. 12:30)  In other words, listen up — and abandon ship!
For such are false apostles, deceitful workers, transforming themselves into the apostles of Christ. And no marvel; for Satan himself is transformed into an angel of light. (2 Cor. 11:13, 14)
FOOTNOTES:
[1] The History of the Charismatic Movement–By Gary E. Gilley
[2] Walter Martin, The Cult of Liberalism, CD Rom—Obtained from Apprising Ministries
[3] Rick Joyner. Restoration, May/June 1988, "The Harvest"
RECOMMENDED READING
For a more thorough understanding of the NAR, go to "Recommended Reading" in Part 1 & Part 2
The Prophet Movement: An Evil and Adulterous Generation—Christian Research Service website
Alexander Campbell Looks Beyond the Dominionists' Seven Mountains–By David Brumley
Apostles and Prophets and the Foundation of the Church: Biblical Exegesis that Proves that Only the New Testament Apostles are Authoritative—By Critical Issues Commentary
Former IHOP Member Explains Why IHOP (International House of Prayer) Is A Cult— Sola Sisters website, posted by Christine Pack
VIEW VIDEOS:
The Religious Right's Modern Day Spartan Army—Tony Perkins of FRC talks with NAR "Apostle" Rick Joyner
America Needs Godly Leaders–Tony Perkins of FRC talks with Word of Faith preacher James Robison
Mat Staver invites you to TheCall Sacramento—Mat Staver, President of Liberty Council
LISTEN TO INTEVIEWS:
Ingrid Schlueter's interview with Sarah Leslie of Discernment Ministries
Jan Markell's interview with Mike Oppenheimer of Let Us Reason Ministries
The difference, of course, is that in Egypt the protesters were marching to get rid of a public-sector kleptocracy, while in Wisconsin they are marching to preserve one.

"When school children start paying union dues,

that 's when I'll start representing the interests of school children."

"It's time to admit that public education operates like a planned economy, a bureaucratic system in which everybody's role is spelled out in advance and there are few incentives for innovation and productivity. It's no surprise that our school system doesn't improve; it more resembles the communist economy than our own market economy."

Albert Shanker

| | |
| --- | --- |
| | The Lottery |
| | |
Canada faces virtually the same predicament as America in that it continues mass immigration from the third world that grows by 80 million desperately poor people net gain annually.  It causes their cultures and populations a Faustian Dilemma with Hobson's Choice as the final exit plan.
Tim Murray, www.immigrationwatchCanada.org , http://sinkinglifeboat.blogspot.com or http://biodiversityfirst.googlepages.com,  said, "I came upon an orchestration, the environmental movement, and all the musicians were playing violins to the tune of "Overconsumption, overconsumption, overconsumption."
In this continuing series with journalist Tim Murray, he answers the question, "Who needs Stephen King when we are already living a nightmare?"

"More than a year ago I was invited to become one of the people the Vancouver Province newspaper would turn to when they wanted a short opinion on current issues," said Murray. "Here is your chance to get your say in The Province!" they explained.  Silly me, I expected to be asked to comment on issues of over-riding importance. But I forgot that newspaper owners don't see that their mandate is necessarily to inform and educate the public. Instead it is to both titillate and sedate them with inconsequential rubbish. The world is burning so let's all fiddle. As long as the advertisers and subscribers are happy, who cares?
"Even environmental journalists tip-toe around brutal inconvenient truths to satisfy our psychotic need for a happy ending. As T. Michael Maher revealed in his seminal study, "How and Why Journalists Avoid the Population-Environment Connection", only one in ten environmental stories identified population growth as a root cause of the problem, even those reporters who are most aware of its critical importance shied away from it.  Newspaper editors and reporters won't go near the ticking time-bomb of human overpopulation—- they are so frightened of tackling this taboo that they choose instead to frighten us with symptoms and sideshows.
"The following is a sample of the kind of trivia that excites the editors of the mainstream press. "What do you like to do to celebrate Halloween?" the Vancouver Province asks.  What would your response be? Mine would be something like, "As a dress rehearsal for the impending collapse of industrial society I want to spend my Halloween hunkered down in my bunker provisioned with enough food supplies and ammo to deal with the legions of starving marauders who will attempt to get at them. For entertainment I will watch "The Road" which conjures up more terrifying images than the ghosts and goblins of Halloween night. Instead of indulging in the clichéd fantasies of the supernatural, why doesn't the Province attempt to educate its readership about the very real horrors that Peak Oil will visit upon us?"
"The submission date is providentially ironic, October 27th. It was about this time of year when, following my  12th birthday, the Cuban missile crisis was upon us. At school I was taught to "duck and cover", and on my way home, the air raid siren two blocks away went daily off just for practice in case I we weren't traumatized enough. Like other kids, on more than one occasion,  I ran home in panic . For almost two weeks, I would come home to find my mother standing over the ironing board in front of our black and white TV set, with her eyes glued to Walter Cronkite while, almost robotically, her hand guided the iron over the newly dried clothes, or sat mending them from a chair positioned to see the unfolding drama. On some afternoons she would just sit there transfixed and paralytic. I can still see her now.
"Like my classroom, my home was a morgue, and I could read the same fear on the faces of my parents that my  teacher, Mrs. Nergaard had. They didn't dare to tell us how serious the situation was, but they didn't have to. School children of all ages knew. They read body language too. After all, we got Reader's Digest and I remember it was full of nuclear war scenarios.  I remember reading one story about how a family survived the onslaught of Russian bombers by being prepared. How I begged my Dad to build a bomb shelter. But my parents were wise.
"They made it clear that there was no secure shelter from an atomic blast in our city nor from the fall-out thereafter. Even if we did survive for a time, they pointed out,  our supplies would run out, and if they didn't, we could not possibly prevent less prepared survivors from taking them.  The same arguments could be made now. We will see a collapse of some kind of horrendous and unprecedented proportions, either abrupt or protracted, and there will be no sanctuary from privation when our economy crashes. And certainly not from the nuclear, chemical or biological war that could ensue from the desperate competition between nations for scarce resources. There can be no duck and cover from $300/barrel oil.
"What struck me then, even at that age, was the absurdity of having been 'scared' for two weeks in October, and then, still shaken, being subjected to an obscene but sanctioned ritual at the end of the month whereby kids were once more 'scared sh*tless' —- only with corpses, skeletons, axe-murderers, poltergeists and demons instead of mushroom clouds. All in good fun, you see, and with enough of a sugar overdose from Halloween candies to keep our pancreas pumping for days.   As if real life-horror was not enough to contend with.
"Forget Stephen King. I will stick with the two Richards, Duncan and  Heinberg. That's horror enough for me now."