Cancerous Humanistic Law…
The confusion that comes from attempting to manage a nation (or the world) without the immutable justice that is provided by God's Law is plainly apparent in the United States of America!
Dishonesty, fraud, and immoral self-concern are rampant throughout our society.  Politicians are elected by making promises they know they cannot keep and a conniving and unreliable press and media purposely misinform the public.
Private property is no longer safe from unscrupulous policemen and avaricious politicians. During a ten year span in the late Twentieth Century federal, state, and local governments seized the property of over 200,000 Americans.  A stub from a marijuana cigarette left or planted in an automobile can warrant seizure of the vehicle. Land occupied and owned by private citizens can be expropriated without recourse.  Children can be taken from their parents when nude pictures of a new baby are deemed pornographic.
Private homes, cars, boats, and cash are all vulnerable to the zealous hand of the state.  One legislator maintained that 80 percent of the victims of property seizure under the drug laws have never committed any crime.
The litany of government murder and mayhem is depressing to review and the complete lack of proper oversight is astounding.  Government officials and local police can invade property; destroy possessions; beat up, falsely charge, and arrest the obviously innocent; illegally invade privacy; lie; cheat; falsify evidence, and physically injure and murder American citizens without reprimand or accountability.
Serious problems begin with police demands that innocent citizens comply with their orders when no crime has been committed.  The doctrine that suspicion allows forceful action has given authorities absolute power over those they are hired to serve.  Absolute power vested in human beings is always misused.
In 1644 Samuel Rutherford published a book entitled "Rex Lex, The Law is King".   This sentiment was echoed by the Founders of the United States.  When the law is king there is freedom, when the king is law there is tyranny.  If the government of a nation is bound by law the people can enjoy freedom; when the citizens of a nation are bound by law and the government's decisions are arbitrary, the citizens are tyrannized.  This condition is more and more prevalent in the United States where the government ignores the law but imposes thousands of incomprehensible laws on citizens.
One wonders what kind of race relations we would have between Black and White citizens if the government has stayed out of the affairs of it subjects.  Slaves were freed by government decree and integration was accomplished by government force.  Technology would soon have made slavery untenable and freedom would have evolved at a slower and more orderly pace.  Black progress would have come by Black achievement and not by government edict.
Ostensibly to protect us the State has inserted its power into society. Hundreds of professions now require government licenses:  Barbers, dentists, teachers, plumbers, electricians, masseuses, interior decorators, tattoo artists, etc. etc.  Recently I paid a thousand dollars to a dentist who worked about an hour drilling out a molar and capping it.  I wonder what that manual procedure would have cost if the dental profession was free from licensing.
In 1988 the Rehnquist Supreme Court decided that checkpoint searches were legal since they were imposed equally on all drivers.  This decision by the High Court essentially nullified the Fourth Amendment to the Constitution and showcased the practice of allowing human opinion to encroach on the letter of the law.  The United States of America, founded as a nation of laws, is now a nation where the king is the law.  When the law is no longer king power replaces law and citizens are subjected to the arbitrary decisions of the power structure.
The following famous case, seldom recounted in detail, is a prime example.
In 1989 a White Supremacist named Randy Weaver was targeted by the BATF.  He was the victim of the sting operation perpetrated by an undercover agent who urged and intentionally sold him two illegal sawed off shotguns.  The BATF then changed the date of his trial so that he did not appear resulting in a warrant for his arrest.  Weaver and his family lived in a remote mountain area where he retreated from what appeared to be a government vendetta.  His retreat was surrounded by BATF agents who began a lengthy surveillance of his home.
According to an article in the Washington Post, "The marshals called in military aerial reconnaissance and had photos studied by the Defense Mapping Agency."  They installed long range spy cameras, they read all of his mail, and even found the exact dates of his daughter's menstrual cycle planning an arrest using that information.
In 1992 agents trespassed on Weavers property with machine guns.  When fourteen year old son, Sammy, heard their dogs barking he grabbed his rifle and went with a friend, Kevin Harris, to see what was happening.  The marshals shot and killed one of the dogs infuriating Sammy who fired a shot in their direction.  Randy Weaver yelled at his son to come back. When Sammy turned he was shot in the back and killed.  Kevin Harris then aimed his rifle, shot and killed one of the marshals.
The death of a marshal infuriated the Government and an FBI hostage rescue team was dispatched with orders to shoot to kill any armed person seen outside the home.  Several hundred agents were dispatched to the area.  Weaver had put Sammy's body in a shed outside the house and when he went to pay his last respects he was shot and wounded.  As he struggled back to the house his wife, Vicki, carrying a ten month old baby in her arms held the door.  A sniper shot her in the face killing her instantly.
In eleven more days Weaver surrendered.  He and Kevin Harris were charged with the murder of a U. S. Marshal.  The government tried to prove that Weaver had conspired to have an armed conflict with the government and that Harris had fired first. As the trial went on the government case fell apart and the FBI was found to have fabricated evidence.
Weaver was found not guilty but was convicted of not appearing for the 1991 trial and violating his release conditions.  He could have gotten a fifteen year sentence but the judge decided he had suffered enough and released him on time served.
In subsequent suits sizeable sums of money were paid to both Randy Weaver and Kevin Harris in out of court settlements.
Gerry  Spence, Weaver's famous and very capable lawyer said after the trial that someone must answer for these needless deaths.  No one has.  Lon Horiuchi, the shooter went free and the government agencies circled the wagons.  FBI director Louis Freeh promoted one of the lead agents, Larry Potts, to the Bureau's number-two position.
It is doubtful that justice would have resulted from this trial had it been held in another venue.
The power structure set up to enforce a just administration of the law is stained with a military-like elitism.  Their esprit de corps allows rampant violations of law and justice without interior oversight.
In 1993, at Waco, Texas the government did it again when the FBI and local authorities brought an overwhelming military type siege against a religious cult known as the Branch Dividians burning nearly a hundred men, women and children to death in a fire that they were responsible for setting. Read about this siege here. https://en.wikipedia.org/wiki/Waco_siege
Following the genocide at Waco a high ranking official explained: "These people had thumbed their nose at law enforcement".  It is this assumption by federal and local police that causes minor incidents to escalate into mayhem and death.  Only tyrants require innocent citizens to obey whimsical police commands.  Police personnel who expect conformance to unnecessary orders create resentment and hamper their usefulness.  When they expect obedience to commands that are not legal they become unable to get obedience to those that are.
As we have forsaken law we have embraced confusion.  While our jails are full and overflowing with more inmates per capita than any other nation, our law enforcement is busy running sting operations to incarcerate more law abiding citizens by turning them into criminals.  Policepersons sit under computer screens finding anyone who downloads child pornography – they don't arrest the people who produce and put it on the net, only those who view it!
The BATF has undercover agents who attempt to lure unsuspecting citizens into purchasing illegal firearms.  Drug enforcers arrest peaceful users subjecting them to long mandatory prison sentences.  Local police departments dress female officers in provocative outfits and send them out on the street to tempt citizens with cheap sex, arresting them when they succumb.  With our jails overflowing it is time they stopped this madness.
Have you considered that when you vote for a Congressperson or Senate person or even a local state representative you are voting to vest another person with the right to write and pass additional law when we already have more laws than a citizen can know and understand?  Isn't that insanity?
Yes, gentle reader, we need to stop all this humanistic legal cancer, return to God's simple mandates and enforce them without prejudice.  Did I hear someone say that God's Law was for ancient Israel and no longer applies to modern society?  I wonder, my friend, if you believe that the Triune God of the Bible has changed?  Do you not know that He is the same today, yesterday and always and that His immutable standard is applicable throughout the ages?
Freedom is impossible when law is the product of the capricious minds of human beings and can logically be disobeyed by those whose opinion differs.  Freedom requires the absolute standards of the One True God.
Much of the information in this article came from James Bovard's excellent book "Lost Rights".  Bovard's book, published in 1994, is an outstanding rendition of the thousands of injustices perpetrated by an unjust and tyrannical government.  The travesties are so numerous and so blatant that reading about such utter depravity is shocking and depressing; it helps to put the book aside and take it up later with a fresh spirit.
You Are The Slave…
Recently I received a book about the history of Islam.  It is written in inviting prose and covers in detail the saga that unfolded through history from the time of the birth of Ishmael and Isaac.  On the cover is the bust of a soldier armed with a rifle on a background tinted in blood red.  The Tile of the book is "The Blood of the Moon" written by Dr. George Grant and published in 1991.  It is a great read.  I recommend it.
Grant contends that Islam is a religion that cannot be stamped out by the sole use of military force.  Nevertheless he seems to support both Israel and the United States military.  The book provides a clarion call for resistance to an Islamic plan to use brutalities to bring the world under their control.
I have just finished reading through several of R. J. Rushdoony's books for the second time. .  His writing platform has King Jesus enthroned and active in the affairs of the world. Rushdoony provides superb explanations of the implications of a thorough, literal interpretation of Scripture.  He maintains that righteous government requires righteous citizens.
Good books written by capable thinkers invariably avoid the obvious existence of conspiracies.  We have progressed from the empires of Rome and France where large portions of the world fell under tyranny to quests for new world orders that hope to extend hegemony over the entire earth.  Like the airplanes that spray chemicals in our skies the public and most good commentators ignore reality, preferring instead to live in the comfortable but dangerous world of fantasy.
Chalcedon Foundation has published another collection of Dr. Rushdoony's musings entitled "Our Threatened Freedom".  It is a collection of radio spots recorded in the early 1980s.  As with all of Reverend Rushdoony's commentaries they are incisive and pertinent. They cement the necessity of freedom in creating a prosperous society and pinpoint the insanity of allowing humanism to gain control.  Over and over again Rushdoony documents the irrational chaos created by overzealous humanistic government. The book produces extensive evidence that the checks and balances incorporated into our Constitution are not working.
Unfortunately, Rushdoony does not entertain the premise that irrational chaos is being purposely created throughout the world because chaotic societies are easier to dominate. There is no mention of the yearly Bilderberg meetings (See Here) where the wealthy and powerful meet to discuss and implement their collective agenda.  There is no mention of Zionism, which is a conspiracy, or the International bankers who control currencies, a power which is tantamount to control of the food supply.  David Rockefeller's long time promotion of world government now confirmed in his book "Memoirs" is not cited.
There is an element of irony in the fact that theologically sound Christian teaching maintains that the Triune God created the world and even in these rebellious and barbaric times is in firm control of current events.  This fact allays the fears and striving of those that oppose the power seekers.  God controls the world and will always do so in spite of the evil efforts of those He created.
Coincidentally, Presidential candidates are often invited to the Bilderberg meetings prior to running for office.
Princeton's Martin Gilens and Northwestern's Benjamin I. Page have published a study that concludes "–ordinary citizens have virtually no influence over what their government does in the United States. And economic elites and interest groups, especially those representing business, have a substantial degree of influence. Government policy-making over the last few decades reflects the preferences of those groups — of economic elites and of organized interests."  Read here and here.
Conspiracies are ignored because "conspiracy theorists" are widely considered a bit whacky. The word "conspiracy" has been demonized to prevent the expression of truth.
The plotters have made great progress in the past several decades World government wonks have become leaders in most Western nations and as the United States military does the bidding of the Zionists, hegemonic progress is occurring in the Muslim world.
Influential neocon Max Boot lobbies for perpetual war seeking the destruction of all enemies of Israel using the United States military.  It has been going on for a long time.  Boot is supported by scores of wealthy, influential neocons in powerful positions throughout the nation; he also has the media and a horde of wild eyed Evangelical Christians that make his current position almost impregnable. We are a giant puppet being controlled by a midget puppeteer creating an anomaly that is regularly ignored by prominent American authors.  Read here and here
Jacob Hornberger (Future of Freedom Foundation) describes the current condition of our nation:  "Is the situation here at home bad? We both know it is. Invasions, occupations, torture, indefinite detention, embargoes, sanctions, foreign aid, empire, militarized police, drug raids, asset forfeiture, infringements on civil liberties, IRS, income taxation, Federal Reserve, fiat money, welfare, minimum-wage laws, and economic regulations. The welfare-warfare state is destroying our freedom, morality, prosperity, and independence. We need to smash this immoral and destructive apparatus out of existence!"
Hornberger is on target with his description and the need to "smash this immoral and destructive apparatus out of existence".  However, he fails to identify exactly how it is to be smashed!
There are some cracks beginning to appear in one conspiracy that could bode for future confrontation.  Publisher, Editor and writer, Tal Brooke, has used his SPC (Spiritual Counterfeits Project) Journal to bring some light to our current dilemma.  In the latest issue 38.1 and 38.2 he has authored an incisive piece entitled "The Messiah of a Divided People".  In a paragraph describing the ancient Elders of the Sanhedrin he describes their dissatisfaction with a Messiah "who went like a lamb to the slaughter" preferring one that would defeat the Romans, install Zion as the world ruler and appoint them as rulers of the world
He writes, "This was, and remains, their aim and expectation. They would be the world's five star generals and judges, Jerusalem would be the center of the World Court.  And they could tell Caesar to roll over like a dog.  They could walk into the city of Rome and take anything they wanted.  They could occupy the palace, they could execute judgment on the multitudes of the treacherous.  The world would finally be theirs as they believed Isaiah had promised them. And these Elders would rule the entire earth from Zion.  This remains the goal."   (Emphasis mine.)  .  (For copies of the SPC Journal call 510-540-0300)
The same issue of the SPC Journal contains articles by Jewish Christian writers Steven Wohlberg and Steven Sizer.  Confrontation is not about hatred but about justice, peace, truth and righteousness for all people.
Talmudic Zionists realize at least two goal by supporting perpetual war:  They destroy the United States of America, a supposedly Christian nation (a religion they overtly hate), and at the same time contribute to the safety and power of neo-Israel.  Christianity seeks to bring the Creation under the dominion of the Triune God by peaceful means; Talmudic Zionists by stealth; and Islam by siege.
What will happen when these various power structures conflict?  Will the bankers dominate; the Zionists, the international Bilderbergers, Islam, or the business tycoons?  Will the Christian Triune God allow His world to be controlled by evil forces as punishment to rebellious Christians?  Or will Christians repent and allow the sword of the Spirit to Challenge the enemies of Christ?  Time will tell.
Wake up America.  It is not our elected officials who are setting policy for our nation.  Instead, it is the money barons, the Zionists, the Bilderbergers, and the international business tycoons.  That is at least a partial reason why elected officials do not keep their pre-electoral promises.  Obedience to the enabling masters is mandatory and retribution for disobedience is severe – note the fate of Presidents Reagan and Kennedy.
President Nixon set the stage for China to decimate the U. S. economy; President Carter gave away the Panama Canal; the Patriot Act was written long before 9/11, and Obamacare was constructed before his election.  The agenda is set in place before the presidents are elected and the people are expected to blame the puppet president rather than the invisible power centers that are actually setting policy.  The system is working.
It is time for American voters to understand that the candidates for President of the United States are pre-selected and only those obedient candidates are allowed to gain the office.  Voting is a sham to placate the populace.
Overt slavery has been eradicated in most of the Western World but the often denied sinfulness of men has put the entire world under a threat of becoming a massive slave plantation.
"Russia reinforced what Western and Ukrainian officials described as a stealth invasion on Wednesday [August 27], sending armored troops across the border as it expanded the conflict to a new section of Ukrainian territory. The latest incursion, which Ukraine's military said included five armored personnel carriers, was at least the third movement of troops and weapons from Russia across the southeast part of the border this week."
None of the photos accompanying this New York Times story online showed any of these Russian troops or armored vehicles.
"The Obama administration," the story continued, "has asserted over the past week that the Russians had moved artillery, air-defense systems and armor to help the separatists in Donetsk and Luhansk. 'These incursions indicate a Russian-directed counteroffensive is likely underway', Jen Psaki, the State Department spokeswoman, said. At the department's daily briefing in Washington, Ms. Psaki also criticized what she called the Russian government's 'unwillingness to tell the truth' that its military had sent soldiers as deep as 30 miles inside Ukraine territory."
Thirty miles inside Ukraine territory and not a single satellite photo, not a camera anywhere around, not even a one-minute video to show for it. "Ms. Psaki apparently [sic] was referring to videos of captured Russian soldiers, distributed by the Ukrainian government." The Times apparently forgot to inform its readers where they could see these videos.
"The Russian aim, one Western official said, may possibly be to seize an outlet to the sea in the event that Russia tries to establish a separatist enclave in eastern Ukraine."
This of course hasn't taken place. So what happened to all these Russian soldiers 30 miles inside Ukraine? What happened to all the armored vehicles, weapons, and equipment?
"The United States has photographs that show the Russian artillery moved into Ukraine, American officials say. One photo dated last Thursday, shown to a New York Times reporter, shows Russian military units moving self-propelled artillery into Ukraine. Another photo, dated Saturday, shows the artillery in firing positions in Ukraine."
Where are these photographs? And how will we know that these are Russian soldiers? And how will we know that the photos were taken in Ukraine? But most importantly, where are the fucking photographs?
Why am I so cynical? Because the Ukrainian and US governments have been feeding us these scare stories for eight months now, without clear visual or other evidence, often without even common sense. Here are a few of the many other examples, before and after the one above:
The Wall Street Journal (March 28) reported: "Russian troops massing near Ukraine are actively concealing their positions and establishing supply lines that could be used in a prolonged deployment, ratcheting up concerns that Moscow is preparing for another [sic] major incursion and not conducting exercises as it claims, US officials said."
"The Ukrainian government charged that the Russian military was not only approaching but had actually crossed the border into rebel-held regions." (Washington Post, November 7)
"U.S. Air Force Gen. Philip M. Breedlove told reporters in Bulgaria that NATO had observed Russian tanks, Russian artillery, Russian air defense systems and Russian combat troops enter Ukraine across a completely wide-open border with Russia in the previous two days." (Washington Post, November 13)
"Ukraine accuses Russia of sending more soldiers and weapons to help rebels prepare for a new offensive. The Kremlin has repeatedly denied aiding the separatists." (Reuters, November 16)
Since the February US-backed coup in Ukraine, the State Department has made one accusation after another about Russian military actions in Eastern Ukraine without presenting any kind of satellite imagery or other visual or documentary evidence; or they present something that's very unclear and wholly inconclusive, such as unmarked vehicles, or unsourced reports, or citing "social media"; what we're left with is often no more than just an accusation. The Ukrainian government has matched them.
On top of all this we should keep in mind that if Moscow decided to invade Ukraine they'd certainly provide air cover for their ground forces. There has been no mention of air cover.
This is all reminiscent of the numerous stories in the past three years of "Syrian planes bombing defenseless citizens". Have you ever seen a photo or video of a Syrian government plane dropping bombs? Or of the bombs exploding? When the source of the story is mentioned, it's almost invariably the rebels who are fighting against the Syrian government. Then there's the "chemical weapon" attacks by the same evil Assad government. When a photo or video has accompanied the story I've never once seen grieving loved ones or media present; not one person can be seen wearing a gas mask. Is it only children killed or suffering? No rebels?
And then there's the July 17 shootdown of Malaysia Flight MH17, over eastern Ukraine, taking 298 lives, which Washington would love to pin on Russia or the pro-Russian rebels. The US government – and therefore the US media, the EU, and NATO – want us all to believe it was the rebels and/or Russia behind it. The world is still waiting for any evidence. Or even a motivation. Anything at all. President Obama is not waiting. In a talk on November 15 in Australia, he spoke of "opposing Russia's aggression against Ukraine – which is a threat to the world, as we saw in the appalling shoot-down of MH17". Based on my reading, I'd guess that it was the Ukranian government behind the shootdown, mistaking it for Putin's plane that reportedly was in the area.
Can it be said with certainty that all the above accusations were lies? No, but the burden of proof is on the accusers, and the world is still waiting. The accusers would like to create the impression that there are two sides to each question without actually having to supply one of them.
The United States punishing Cuba
For years American political leaders and media were fond of labeling Cuba an "international pariah". We haven't heard that for a very long time. Perhaps one reason is the annual vote in the United Nations General Assembly on the resolution which reads: "Necessity of ending the economic, commercial and financial embargo imposed by the United States of America against Cuba". This is how the vote has gone (not including abstentions):

This year Washington's policy may be subject to even more criticism than usual due to the widespread recognition of Cuba's response to the Ebola outbreak in Africa.
Each fall the UN vote is a welcome reminder that the world has not completely lost its senses and that the American empire does not completely control the opinion of other governments.
Speaking before the General Assembly before last year's vote, Cuban Foreign Minister Bruno Rodriguez declared: "The economic damages accumulated after half a century as a result of the implementation of the blockade amount to $1.126 trillion." He added that the blockade "has been further tightened under President Obama's administration", some 30 US and foreign entities being hit with $2.446 billion in fines due to their interaction with Cuba.
However, the American envoy, Ronald Godard, in an appeal to other countries to oppose the resolution, said:
The international community … cannot in good conscience ignore the ease and frequency with which the Cuban regime silences critics, disrupts peaceful assembly, impedes independent journalism and, despite positive reforms, continues to prevent some Cubans from leaving or returning to the island. The Cuban government continues its tactics of politically motivated detentions, harassment and police violence against Cuban citizens.
So there you have it. That is why Cuba must be punished. One can only guess what Mr. Godard would respond if told that more than 7,000 people were arrested in the United States during the Occupy Movement's first 8 months of protest in 2011-12 ; that many of them were physically abused by the police; and that their encampments were violently destroyed.
Does Mr. Godard have access to any news media? Hardly a day passes in America without a police officer shooting to death an unarmed person.
As to "independent journalism" – What would happen if Cuba announced that from now on anyone in the country could own any kind of media? How long would it be before CIA money – secret and unlimited CIA money financing all kinds of fronts in Cuba – would own or control most of the media worth owning or controlling?
The real reason for Washington's eternal hostility toward Cuba has not changed since the revolution in 1959 – The fear of a good example of an alternative to the capitalist model; a fear that has been validated repeatedly over the years as many Third World countries have expressed their adulation of Cuba.
How the embargo began: On April 6, 1960, Lester D. Mallory, US Deputy Assistant Secretary of State for Inter-American Affairs, wrote in an internal memorandum: "The majority of Cubans support Castro … The only foreseeable means of alienating internal support is through disenchantment and disaffection based on economic dissatisfaction and hardship. … every possible means should be undertaken promptly to weaken the economic life of Cuba." Mallory proposed "a line of action which … makes the greatest inroads in denying money and supplies to Cuba, to decrease monetary and real wages, to bring about hunger, desperation and overthrow of government."
Later that year, the Eisenhower administration instituted its suffocating embargo against its everlasting enemy.
The United States judging and punishing the rest of the world
In addition to Cuba, Washington currently is imposing economic and other sanctions against Burma, Democratic Republic of the Congo, Iran, China, North Korea, South Korea, United Arab Emirates, Pakistan, Sri Lanka, Switzerland, Turkey, Germany, Malaysia, South Africa, Mexico, South Sudan, Sudan, Russia, Syria, Venezuela, India, and Zimbabwe. These are sanctions mainly against governments, but also against some private enterprises; there are also many other sanctions against individuals not included here.
Imbued with a sense of America's moral superiority and "exceptionalism", each year the State Department judges the world, issuing reports evaluating the behavior of all other nations, often accompanied by sanctions of one kind or another. There are different reports rating how each lesser nation has performed in the previous year in areas such as religious freedom, human rights, the war on drugs, trafficking in persons, and sponsors of terrorism. The criteria used in these reports are often political. Cuba, for example, is always listed as a sponsor of terrorism whereas anti-Castro exile groups in Florida, which have committed literally hundreds of terrorist acts over the years, are not listed as terrorist groups or supporters of such.
Cuba, which has been on the sponsor-of-terrorism list longer (since 1982) than any other country, is one of the most glaring anomalies. The most recent State Department report on this matter, in 2012, states that there is "no indication that the Cuban government provided weapons or paramilitary training to terrorist groups." There are, however, some retirees of Spain's Basque terrorist group ETA (which appears on the verge of disbanding) in Cuba, but the report notes that the Cuban government evidently is trying to distance itself from them by denying them services such as travel documents. Some members of the Revolutionary Armed Forces of Colombia (FARC) have been allowed into Cuba, but that was because Cuba was hosting peace talks between the FARC and the Colombian government, which the report notes.
The US sanctions mechanism is so effective and formidable that it strikes fear (of huge fines) into the hearts of banks and other private-sector organizations that might otherwise consider dealing with a listed state.
Some selected thoughts on American elections and democracy
In politics, as on the sickbed, people toss from one side to the other, thinking they will be more comfortable.
– Johann Wolfgang von Goethe (1749-1832)
2012 presidential election:
223,389,800 eligible to vote
128,449,140 actually voted
Obama got 65,443,674 votes
Obama was thus supported by 29.3% of eligible voters
There are 100 million adults in the United States who do not vote. This is a very large base from which an independent party can draw millions of new votes.
If God had wanted more of us to vote in elections, he would give us better candidates.
"The people can have anything they want. The trouble is, they do not want anything. At least they vote that way on election day." – Eugene Debs, American socialist leader (1855-1926)
"If persons over 60 are the only American age group voting at rates that begin to approximate European voting, it's because they're the only Americans who live in a welfare state – Medicare, Social Security, and earlier, GI loans, FHA loans." – John Powers
"The American political system is essentially a contract between the Republican and Democratic parties, enforced by federal and state two-party laws, all designed to guarantee the survival of both no matter how many people despise or ignore them." – Richard Reeves (1936- )
The American electoral system, once the object of much national and international pride, has slid inexorably from "one person, one vote", to "one dollar, one vote".
Noam Chomsky: "It is important to bear in mind that political campaigns are designed by the same people who sell toothpaste and cars. Their professional concern in their regular vocation is not to provide information. Their goal, rather, is deceit."
If the Electoral College is such a good system, why don't we have it for local and state elections?
"All the props of a democracy remain intact – elections, legislatures, media – but they predominantly function at the service of the oligarchy." – Richard Wolff
The RepDem Party holds elections as if they were auctions; indeed, an outright auction for the presidency would be more efficient. To make the auction more interesting we need a second party, which must at a minimum be granted two privileges: getting on the ballot in all 50 states and taking part in television debates.
The US does in fact have two parties: the Ins and the Outs … the evil of two lessers.
Alexander Cockburn: "There was a time once when 'lesser of two evils' actually meant something momentous, like the choice between starving to death on a lifeboat, or eating the first mate."
Cornel West has suggested that it's become difficult to even imagine what a free and democratic society, without great concentrations of corporate power, would look like, or how it would operate.
The United States now resembles a police state punctuated by elections.
How many voters does it take to change a light bulb? None. Because voters can't change anything.
H.L. Mencken (1880-1956): "As democracy is perfected, the office represents, more and more closely, the inner soul of the people. We move toward a lofty ideal. On some great and glorious day the plain folks of the land will reach their heart's desire at last, and the White House will be adorned by a downright moron."
"All elections are distractions. Nothing conceals tyranny better than elections." – Joel Hirschhorn
In 1941, one of the country's more acerbic editors, a priest named Edward Dowling, commented: "The two greatest obstacles to democracy in the United States are, first, the widespread delusion among the poor that we have a democracy, and second, the chronic terror among the rich, lest we get it."
"Elections are a necessary, but certainly not a sufficient, condition for democracy. Political participation is not just a casting of votes. It is a way of life." – UN Human Development Report, 1993
"If you don't vote, you can't complain!" I reply, "You have it backwards. If you DO vote, you can't complain. You asked for it, and they're going to give it to you, good and hard."
"How to get people to vote against their interests and to really think against their interests is very clever. It's the cleverest ruling class that I have ever come across in history. It's been 200 years at it. It's superb." – Gore Vidal
We can't use our democracy/our vote to change the way the economy functions. This is very anti-democratic.
What does a majority vote mean other than that the sales campaign was successful?
Roman Emperor Marcus Aurelius: "The opinion of 10,000 men is of no value if none of them know anything about the subject."
We do have representative government. The question is: Who does our government represent?
"On the day after the 2002 election I watched a crawl on the bottom of the CNN news screen. It said, 'Proprietary software may make inspection of electronic voting systems impossible.' It was the final and absolute coronation of corporate rights over democracy; of money over truth." – Mike Ruppert, RIP
"It's not that voting is useless or stupid; rather, it's the exaggeration of the power of voting that has drained the meaning from American politics." – Michael Ventura
After going through the recent national, state and local elections, I am now convinced that taxation without representation would have been a much better system.
"Ever since the Constitution was illegally foisted on the American people we have lived in a blatant plutocracy. The Constitution was drafted in secret by a self-appointed elite committee, and it was designed to bring three kinds of power under control: Royalty, the Church, and the People. All were to be subjugated to the interests of a wealthy elite. That's what republics were all about. And that's how they have functioned ever since." – Richard K. Moore
"As demonstrated in Russia and numerous other countries, when faced with a choice between democracy without capitalism or capitalism without democracy, Western elites unhesitatingly embrace the latter." – Michael Parenti
"The fact that a supposedly sophisticated electorate had been stampeded by the cynical propaganda of the day threw serious doubt on the validity of the assumptions underlying parliamentary democracy as a whole." – British Superspy for the Soviets Kim Philby (1912-1988), explaining his reasons for becoming a Communist instead of turning to the Labour Party
US Supreme Court Justice Louis Brandeis (1856-1941): "We may have democracy in this country, or we may have wealth concentrated in the hands of a few, but we cannot have both."
"We don't need to run America like a business or like the military. We need to run America like a democracy." – Jill Stein, Green Party presidential candidate 2012
Notes
Democracy Now!, October 30, 2013
Huffingfton Post, May 3, 2012
Department of State, Foreign Relations of the United States, 1958-1960, Volume VI, Cuba(1991), p.885 (online here)
For the complete detailed list, see U.S. Department of State, Nonproliferation Sanctions
U.S. Department of State, "Country Reports on Terrorism 2012, Chapter 3: State Sponsors of Terrorism," May 20, 2013
Bill Johnson is no stranger to controversy.  For one thing, he claims to be an apostle, as in the unique position held by the twelve apostles of Jesus Christ.  He was given this high honor by C. Peter Wagner who holds many titles himself, including president of Global Harvest Ministries, chancellor of Wagner Leadership Institute, convening apostle of theNew Apostolic Roundtable, and my personal favorite: presiding apostle of International Coalition of Apostles (ICA).  So for the purpose of this article I'll dub him Presiding Apostle Peter or PA Peter for short.   What's important to know about him is that he's sort of like the pope of the "new apostolic-prophetic movement."
Following is ICA's definition of modern day apostle:
An apostle is a Christian leader gifted, taught, commissioned, and sent by God with the authority to establish the foundational government of the church within an assigned sphere of ministry by hearing what the Spirit is saying to the churches and by setting things in order accordingly for the growth and maturity of the church.
What role do the so-called apostles play?  There are a couple of tasks, says PA Peter.  First, apostles are to "set things in order" and "they're to assure that the body of Christ is operating on the basis of sound, biblical doctrine."
Sound biblical doctrine my Aunt Fanny!
PA Peter and his self-proclaimed apostles and prophets are out-and-out false teachers!  These men and women (yes, there are women apostles) are well aware that accusations of heresy have been leveled against them by a large number of highly regarded orthodox Bible scholars and still they continue the pretense.
In this two part series you'll discover the many twists and turns the new apostolic-prophetic movement has taken over the years and why those of us who are in an online discernment ministry believe it is a clear and present danger to the Body of Christ, thus we will continue warning the brethren.  (Acts 20:31)
Now, keep in mind that the men and women involved in this heretical movement are sincere in their belief that they're in the same league as the Old Testament prophets and the Lord's hand-picked disciples who later became the Twelve Apostles.  The leaders have convinced their followers that the office of apostleship is not reserved for a select few, as the Bible teaches.  Moreover, they've led people to believe that Christ is once again choosing apostles and prophets to preside over His Church.  Listen to Got Questions' dire warning:
Those claiming the office of apostle seek authority equal to, or at least rivaling, the authority of the original twelve apostles. There is absolutely no biblical evidence to support such an understanding of the role of apostle today. This would fit with the New Testament's warning against false apostles (2 Corinthians 11:13).
So – if it's true that Christ is giving authority to a select few apostles and prophets why, pray tell, would our Lord give it to individuals who possess questionable character?  I'll have more on this in a moment.
Suffice it to say C. Peter Wagner and Bill Johnson believe that the Lord has given them the authority to rule over the Church.  So – if it's also true that the so-called apostles arecalled by Christ to form a government to control the Church and that they will hold Church leaders accountable then who, pray tell, is going to hold them accountable?
Itching Ears
Without getting too far afield, since the new apostolic-prophetic movement's inception it has been referred to in a number of different ways, i.e. Dominionism…Latter Rain…Joel's Army…Manifest[ed] Sons of God…Kingdom Now…Charismatic Renewal…Positive Confession and a few others.  Its current handle, New Apostolic Reformation (NAR), was coined by Presiding Apostle Peter in the 1990s.  He "reinvigorated the Latter Rain/Manifest Sons of God false prophecies about a great endtime revival accompanied by signs and wonders."  As I said, NAR leaders teach that God is restoring the lost offices of church governance – and they are His chosen ones to bring it to fruition!
Do not be surprised:
For the time is coming when people will not endure sound teaching, but having itching ears they will accumulate for themselves teachers to suit their own passions,;and will turn away from listening to the truth and wander off into myths 2 Timothy 4:3
In Paul's final warning to the Church he never suggested that they embrace new movements.  On the contrary, he warned that they would not listen to the truth.  CommentatorMatthew Poole clarifies:
Having itching ears; for their ears itch, and they must have those that will scratch them. The disease of lust in their souls brings forth an itch in their ears, that they will have a mind to hear only such as will by scratching please them.
Shall they heap to themselves teachers, will be finding out teachers, not according to God's, but to their own hearts; and there will be plenty of them to be found, they shall heap them up, choosing them without any judgment, regarding nothing but whether they will not be smart upon their lusts. (emphasis in original)

Paul's message throughout his entire letter was that the church must "follow the pattern of the sound words that you have heard from me" (1:13); "guard the good deposit entrusted to you (1:14); "what you have heard from me in the presence of many witnesses entrust to faithful men, who will be able to teach others also" (2:2).
Unity Over Doctrine
Now to Bill Johnson, head pastor of Bethel Church (BC).  BC's leadership holds to the theology of the Word of Faith (WoF) movement.  WoF doctrine teaches the occult belief that:
He [God] framed the world with His words. You can't build without substance. He took words — faith-Filled words were God's substance. Here, essentially, is what God did. God filled His words with faith. He used His words as containers to hold His faith and contain that spiritual force and transport it out there into the vast darkness by saying 'Light be!' That's the way God transported His faith causing creation and transformation. (Source)
One word: unscriptural!
BC also has its roots in the early1980s movement dubbed by C. Peter Wagner the Third Wave (TW).
Following is an excerpt from Apologetics Index.  What they've laid out here should help prevent people from getting drawn into TW:
[D]istinctives of the Third Wave movement include — but are not limited to — the following:
The baptism with the Holy Spirit is identified with conversion. This is unlike other Pentecostal movements, in which the baptism with the Spirit is either a separate and/or a recurring experience.
the belief that the spiritual gifts are valid for today; that Christians can ask for, receive and learn how to use these spiritual gifts (and become better at using them with practice.
the belief that the primary use of the spiritual gifts is for ministry in the power and anointing of the Holy Spirit – both to bless and heal those inside the church and to minister to those outside the church ("Power Evangelism."). This ministry includes healing the sick, casting out demons, prophesying, etcetera.
active promotion of unity — sometimes at any cost (e.g. the Toronto Blessing Movement 's acceptance of certain Word-Faith teachers. "Unity over doctrine"
the belief that people, Christians included, can be possessed (or 'demonized' — or 'oppressed,' something seen as a lesser form of possession) by evil spirits with or without their consent
the belief that objects or places can project evil influence and act as conduits for demonic oppression
the belief that traumatic events, either in our lives or in our ancestral past, can make us particularly vulnerable to demonic influence, possession or oppression
the belief that some Christians — using appropriate spiritual gifts — can identify and cast out demonic spirits
a general acceptance of Kingdom Now theology, which has led to the practice of so-called 'Strategic Level Spiritual Warfare' or SLSW — an unbiblical concept in which Christians identify (through 'spiritual mapping') and then target (with SLSW) 'Territorial Spirits.' (all links are AI's)  (Source)
WoF and TW leaders are false teachers.  (You'll find the names of these as well as many other false teachers on my website.)   Over the years self-proclaimed apostles and prophets have managed to coax undiscerning individuals to involve themselves in some of the strangest physical manifestations imaginable.  Those who participate in church services where "signs and wonders" take place like to blame their crude behavior on the Holy Spirit.  Now, try to imagine giants of the faith such as John, Peter, James or even Paul "drunk in the spirit," crawling on all fours barking like a dog, clucking like a chicken, jerking and twitching, rolling on the floor, laughing themselves into a convulsive state.  People involved in NAR have done these things in the past and continue them to this day.  When I think about it, it really wouldn't surprise me to witness Apostle Bill on all fours, nose in the air, howling like a wolf.  But I digress.
Two Super Apostles Restore A Fraud
During the alleged Lakeland Outpouring aka Lakeland Revival in Florida, a story hit the news that put NAR evangelist Todd Bentley in a bad light.  It was revealed that that the rock-star evangelist was in an adulterous relationship with a female intern – and suddenly all hell broke loose.  In my column "We have had enough of false prophets" I scrutinized the NAR's leaders and pointed out that Apostle Bill,
calls those who exposed Todd Bentley as a false prophet "sharks." He also says:
"I'll never blame the opponents [sharks] of this outpouring for Todd's choices [sin].  However, it had a greater effect on the outcome than any of his critics will likely own up to in this lifetime. History proves this."
(More on the Bentley brouhaha here, here and here.)
Apostle Bill and fellow apostate – oops! — apostle-prophet Rick Joyner decided to involve themselves in Bentley's "restoration process."  Just so you know, Rick Joyner's the founder and Executive Director of MorningStar Publications and Ministries and is a big promoter of the "new breed" of apostles and prophets.
Both Bill Johnson and Rick Joyner, who are seasoned apostle-prophets, claim to hold the title "Super-Apostle" and/or "Super-Prophet" which is comparable to holding the high office of cardinal in the Roman Catholic Church.  Chew on that for a moment.  As an aside I should mention that some "Super-Apostles" have been accused of using cultic mind control techniques on those they prey upon.
Listen to Apostle Rick pontificate about how he sees himself:
Even though I have not been able to go to journalism school, or even Bible school, in many ways I would not trade my education for anyone's. Like Paul, I can say that what I received I did not receive from men.
I mean, really, are we supposed to believe him?  And why would we?
Now, back to Bentley.  Bringing this man under submission took place following his divorce and after he married the Proverbs 7 woman, who, by the way, wasn't the only woman he had an extra marital affair with.  Apostle Bill was well aware that the fraud-evangelist had had a prior dalliance.  Both "Super-Apostles" knew that he was drunk during his Lakeland stage act yet they chose to return him to ministry.  But, then, no one has ever accused NAR leaders of doing much of anything by The Book.
Todd Bentley is no more qualified for ministry than is disgraced televangelist/prosperity preacher Jim Bakker, who was incarcerated for fleecing the flock (fraud).  After his release from prison, what did Bakker do?  Still craving attention, he returned to public ministry.
So – how should churches handle a person in a leadership role when he/she brings shame on the Name of our Lord Jesus?  I've already addressed this topic in my column entitledDoes the Bible Really Say We're Not to Judge?   In a nutshell the biblical way to handle it is for the church hierarchy to apply an appropriate level of discipline necessary to bring the person to true repentance.  Church leaders who have a "moral failing" must publically repent of his/her sin against God.  They then must seek spiritual guidance and accountability and move out of the limelight altogether.  Once the person's restored, he/she's most often encouraged to serve the Lord behind the scenes.  Sadly, this hasn't been the case with Todd Bentley.  And the reason for this is that the self-appointed Super Apostles Bill and Rick found it in their hearts—not in the Bible—to reinstate the man to public ministry.
I'll close part 1 with a plea from a genuine apostle:
I appeal to you, brothers, to watch out for those who cause divisions and create obstacles contrary to the doctrine that you have been taught; avoid them. For such persons do not serve our Lord Christ, but their own appetites, and by smooth talk and flattery they deceive the hearts of the naive. (Romans 16:17-18)
Part 2 coming up!
Resources:
Strange Fire Conference Q&A—Phil Johnson interviews John MacArthur
The New Age Propensities of Bethel Church's Bill Johnson–By John Lanagan
Peter Wagner launches WLI Seattle, Sonrise Chapel, Feb. 3, 2008–Around 54:00 into the session, Wagner responds to a question during the Q&A. He tells the audience that when the Holy Spirit stopped revealing things through the written Word, He kept on revealing new things to us through the "Rhema Word." He claims that the Holy Spirit still speaks to us today by giving us information that you cannot find in the 66 books of the Bible, info that the Bible doesn't address, but it's not contradictory.
NAR "Apostle C. Peter Wagner teaching its key doctrine of Dominionism
Todd Friel of Wretched Radio/TV on Bill Johnson — 2:14 min.
Why I Must Speak Out Against the NAR and Bethel Church—Tony Miano, host of Cross Encounters radio, discusses, among other things, the music of BC's music team Jesus Culture (more below). Listen to Tony tell of his Twitter chat with Beni Johnson, Bill's pastorette wife.
Bill Johnson…scroll down—Apologetics Index
New Apostolic Reformation/Dominionism –On Solid Rock Resources
Bethel Church's Music & Entertainment:
Jesus Culture of Bethel Church and Practicing Raising the Dead—Ken Silva
The Holy Spirit Makes A Movie?  I Don't Think So…—Amy Spreeman
The "Jesus Culture" – a petri dish for growing young new heretics?
Watch And Weep:
Try this Bethel Redding Snack Pack—My Word Like Fire
Gold dust rains at Bethel service
Bethel Church children's director and "trips to heaven, with kids"
School of Worship – Prophetic Song
"French aircraft were due to begin their first reconnaissance flights over Iraq," France's Foreign Minister Laurent Fabius announced on September 15. Britain is already flying reconnaissance missions over Iraq. Several other countries – Arab ones included – say they are willing to support the air campaign. None seem interested in pledging any ground troops, however.
"Well, you will hear from Secretary Kerry on this over the coming days. And what he has said is that others have suggested that they're willing to do that. But we're not looking for that right now," Chief of Staff Denis McDonough waffled on "Meet the Press" on Sunday, September 14. "We're trying to put together the specifics of what we expect from each of the members," he added, which is one way of saying the United States is finding it hard to persuade other countries to provide ground forces – something the self-designed leader of the "coalition" is unwilling to do. Also on "Meet the Press" James Baker noted that the biggest problem "of course, is who are our, quote, 'partners on the ground' that the president referred to in his speech. And I don't know where they come from." Let it be noted that Baker put forth an ad-hoc strategic plan that was, in fact, far better than the one outlined by Obama. He suggested joining forces with China, Russia, Iran, Syria and others, following a non-UN-sponsored international conference of genuine international leaders.
There are no "partners on the ground" for now, and those that the Administration wants to groom for the role are worse than none: McDonough conceded that ground troops are needed, "that's why we want this program to train the [Syrian] opposition that's currently pending in Congress." In my curtain-raiser on President Obama's much-heralded speech of September 10, posted two days before he delivered it ("Obama's Non-Strategy"), I warned that he – disastrously – still counts on the non-existent "moderate rebels" in Syria to come on board, and still refuses to talk to Bashar al-Assad, whose army is the only viable force capable of confronting the IS now and for many years to come. In short, "he has no plan to systematically degrade the IS capabilities, no means to shrink the territory that they control, and certainly no strategy to defeat them."
Obama's address to the nation on September 10 confirmed all of the above, but it also contained numerous non sequiturs, falsehoods, and delusional assertions that need to be addressed one by one. (The President's words are in italics.)
I want to speak to you about what the United States will do with our friends and allies to degrade and ultimately destroy the terrorist group known as ISIL.
This is an audacious statement of intent: not what the U.S. and America's unnamed "friends and allies" will try to do, but what they will do to destroy an effective fighting force of some 30,000 fanatical jihadists at the time of this writing, and rapidly rising – an army, in fact, which is well armed and equipped, solvent, and highly motivated. Regardless of the coherence of Obama's proposed methods – more of that later – what he announced is the beginning of yet another open-ended Middle Eastern war in which the United States will be fully committed and in which the "job" will not be considered "done" until and unless the IS is "destroyed." Newt Gingrich is already salivating at the prospect of America spending "half of a century or more hunting down radicals, growing reliable self-governing allies, and convincing friends and neutrals to be anti-radical." This nightmare is good news – at home – only for the military-industrial complex, and abroad for the jihadists of all color and hue. "Half a century or more" of such idiocy can only accelerate this country's road to bankruptcy, financial as well as moral.
Over the last several years, we have consistently taken the fight to terrorists who threaten our country. We took out Osama bin Laden and much of al Qaeda's leadership in Afghanistan and Pakistan.
Osama bin Laden's death did not make one scintilla of difference. Al Qaeda's (AQ) leadership is not a snake but a hydra: you can "take out" a hundred of its leaders today, and another hundred will take their place tomorrow. Successfully killing scores or thousandsof jihadists should not be confused with winning against jihad. More importantly – and Obama seems to be oblivious to the fact – al Qaeda is not a hierarchical organization, but a state of mind and a blueprint for action. Its non-affiliates, too – in Nigeria, Libya, Syria, the Philippines, Kashmir etc. – follow the same guiding principles and seek the same millenarian objectives. As any counterterrorism expert can tell you, "targeted" drone killings are doing more damage than good by angering local populations – which suffer "collateral damage" – thus providing an inexhaustible pool of fresh recruits for the jihadists (quite apart from legal and moral considerations).
We've targeted al Qaeda's affiliate in Yemen, and recently eliminated the top commander of its affiliate in Somalia.
It is breathtaking that Obama should imply that Yemen and Somalia are his administration's success stories that should be emulated in the campaign against the IS. As Nicholas Kristof noted in The New York Times, "Obama may be the only person in the world who would cite conflict-torn Yemen and Somalia as triumphs."
Yemen is an ever-growing hotbed of terrorist activity regardless of (and more likely partly due to) more than 100 American airstrikes since 2002, which killed some 500 militants and over a hundred civilians. (When Yemeni kids are disobedient, their parents have a new tool of enforcing discipline: "A big American drone will come and get you!") The Department of state admitted in its most recent worldwide terrorism report that "of the AQ affiliates, AQAP (Al Qaeda in the Arabian Peninsula) continues to pose the most significant threat to the United States and U.S. citizens and interests in Yemen." Its success, according to the report, is "due to an ongoing political and security restructuring within the government itself" [i.e. no effective government and no reliable security forces]. "AQAP continued to exhibit its capability by targeting government installations and security and intelligence officials, but also struck at soft targets, such as hospitals," and it continues to expand territory under its control. Somalia is an utterly failed state with no functioning government, and al-Shabaab's terrorist base from which complex operations are launched against soft targets in neighboring countries (notably last year's attack on Nairobi's Westgate mall, which killed at least 67 people).
If this is the model for the anti-IS campaign, then even a century of Newt's "hunting down radicals, growing reliable self-governing allies, and convincing friends and neutrals to be anti-radical" will be a fiasco – albeit on an infinitely grander scale.
We've done so while bringing more than 140,000 American troops home from Iraq, and drawing down our forces in Afghanistan, where our combat mission will end later this year. Thanks to our military and counterterrorism professionals, America is safer.
The fruits of the war in Iraq are all too visible. It cannot be stated often enough that America's war against Saddam – who never threatened the United States, and opposed Islamic terrorism – produced the IS, which is now treated as an existential threat which requires another American war to eliminate.
In Afghanistan the Taliban is well poised to make a comeback one, two, at most three years after the end of the American combat mission. It is able to carry out attacks in the center of the capital, Kabul, the latest of which – on September 16 – killed three members of NATO's International Security Assistance Force. Safer, indeed.
Now let's make two things clear: ISIL is not "Islamic." No religion condones the killing of innocents, and the vast majority of ISIL's victims have been Muslim.
This is surreal. Obama may have been born and raised a Muslim, but he claims not to be a Muslim now; it is therefore as preposterous for him to pass judgments on the Islamic bona fides of Muslim entities as it would be for the Saudi king to decide whether the Orange Order of Ulster or the Episcopal Church are "Christian" (a purely technical parallel, of course). In any event, Obama's theological credentials were established with clarity in the aftermath of James Foley's beheading by the IS, when he declared (also in the context of absolving Islam of any connection with the IS) that "no just God would stand for what they did yesterday and what they do every single day." Since they did what they did, this unambiguous statement means that – in Obama's opinion – either there is no God, or God is not just.
Contrary to Obama's assurances, Islam does condone the killing of infidels (non-Muslims) and apostates (Shiites) – they are not "innocents" by definition. And of course Muslims have been killing other Muslims – often on a massive scale – ever since three of the four early caliphs, Muhammad's immediate successors, were murdered by their Muslim foes. It is immaterial whether ISIS is true to "Islam" as Obama chooses to define it. It is undeniable that it is true to the principles and practices of historical Islam.
Obama either does not know what he is talking about, or he is practicing a variety of taqiyya. As Nonie Darwish put it bluntly in the American Thinker on September 12, Obama does not want to go down in history as the one who destroyed and extinguished the dream of resurrecting the Islamic State. Under his watch Islam was placed on a pedestal and that helped revive the Islamic dream of the Caliphate:
Muslims felt that Obama was their man, under whom they had a chance to achieve their powerful Islamic state. Obama himself was not happy with the military takeover and destruction of the Muslim Brotherhood in Egypt. Jihadist ambition had to move away from Egypt to war-torn Syria and Iraq. For more than two years, Islamists have carried out flagrant and barbaric mass terrorism – beheadings, torture, kidnapping, and sexual slavery of women, men, and children. Obama ignored the problem until it blew up in our faces with the beheading of two Americans.
Even if he could defeat ISIS, Darwish argues, that would turn him into an infidel enemy number one of Islam – one who supported Muslims in their dream of the Caliphate by looking the other way, only to later crush it. Obama therefore cannot be honest about this dilemma regarding ISIS; "a dilemma between his duty to the USA, the country he chose to lead, and his dream of becoming the hero of the Muslim World who taught the West a lesson on how to treat Muslims. Obama will not obliterate ISIS but will contain it, as he said. He will eventually kick the can to the next administration, not only because he hates wars as he claims, but because he does not want to be enemy number one of Islam and the Muslims." That is Obama's dirty little secret that explains his paralysis before ISIS, Darwish concludes: "Ironically, the man who claimed to have healed the relationship between the West and the Muslim world will go down in history as the one who helped the rise and the bloody fall of the Islamic State and perhaps America itself."
And ISIL is certainly not a state… It is recognized by no government, nor the people it subjugates.
Obama does not know the feelings of some ten million people under IS control. Many of those who did not cherish life under its black banner have already fled to Damascus, Baghdad, or Erbil. There is no doubt that it is successful in attracting thousands upon thousands of new recruits every month. And as I wrote in the current issue of Chronicles, the Caliphate is a "state" whether we like it or not:
Traditional international law postulates the possession of population, of territory, and the existence of a government that exercises effective control over that population and territory: a state exists if it enjoys a monopoly on coercive mechanisms within its domain, which the caliphate does. After all, unrecognized state entities such as Transnistria, Abkhazia, Northern Cyprus, South Ossetia, and Nagorno-Karabakh command their denizens' overwhelming loyalty and exercise effectively undisputed control over their entire territory. Some international jurists may cite the ability of the self-proclaimed state's authority to engage in international discourse, but that is a moot point. The capacity to control a putative state's territory and population almost invariably leads to such ability, regardless of the circumstances of that state's inception: South Sudan is a recent case in point, and the creation of Israel in 1947 also comes to mind.
ISIS controls an area the size of Montana in northeastern Syria and western and northwestern Iraq. It has substantial funds at its disposal, initially given it by the Saudis, Kuwaitis, Turks, Qataris, Bahrainis, UAE donors, et al., and augmented to the tune of half a billion dollars looted from the Iraqi government vaults in Mosul and Tikrit. It is effective in collecting taxes, tolls, and excise duties. With no debts or liabilities, the existing stash and ongoing cash flow makes the emerging Caliphate more solvent than dozens of states currently represented in the UN. It has enough oil and derivatives not only for its own needs, but also to earn the foreign exchange needed to buy all the food and other goods it needs from abroad.
ISIL is a terrorist organization, pure and simple.
It is not that (see above). This statement reflects a conceptual delusion which ab initio cannot provide the basis for a sound strategy. Obama's own State Department declared as far back as July 23 that "ISIL is no longer simply a terrorist organization" – or at least that is what Brett McGurk, deputy assistant secretary for Iraq and Iran, told a House Foreign Affairs Committee hearing on that day. "It is now a full-blown army seeking to establish a self-governing state through the Tigris and Euphrates Valley in what is now Syria and Iraq."
And it has no vision other than the slaughter of all who stand in its way.
It does have a vision. That vision is eminently Islamic in its millenarian strategic objectives, in its tactics, and in its methods. It is no more utopian than Obama's vision of an "indispensable" America, which – as he put it at the very end of his speech – stands for "freedom, justice and dignity," an America which defends those "timeless ideals that will endure long after those who offer only hate and destruction have been vanquished from the Earth."
In its self-proclaimed status as a caliphate, the IS claims – in principle – religious authority over all Muslims in the world, and ultimately aspires to bring all Muslim-inhabited lands of the world under its political control. Last June ISIS published a document which announced that "the legality of all emirates, groups, states and organizations becomes null by the expansion of the khilafah's authority and arrival of its troops to their areas." It rejects the political divisions established by Western powers in the Sykes–Picot Agreement of 1917. Its self-declared immediate-to-medium-term goal is to conquer Iraq, Syria and other parts of al-Sham – the loosely-defined Levant region – including Jordan, Israel, Palestine, Lebanon, Cyprus and southeastern Turkey. It is a bold, even audacious vision, but a vision it most certainly is.
In a region that has known so much bloodshed, these terrorists are unique in their brutality. They execute captured prisoners. They kill children. They enslave, rape, and force women into marriage. They threatened a religious minority with genocide.
There is absolutely nothing "unique" in the IS fighters' brutality. They are only following the example of their prophet. Muhammad executed Meccan prisoners after the battle of Badr in 624AD. He condoned the killing of women and children besieged in Ta'if in 630. He and his followers enslaved, raped and forced into marriage Jewish women after he massacred the men of the Jewish tribes of Banu Qurayzain 627 and Banu Nadir in 629. He even "married" one of the captured Banu Nadir women, Safiyya bint Huyayy captured after the men Banu Nadir were massacred. He did not "threaten" the Jews of the Arabian peninsula with genocide, he carried that genocide so thoroughly that not a trace of them remains to this day. Christians living in the IS who want to remain in the "caliphate" face three options according to IS officials: converting to Islam, paying a religious tax (jizya), or "the sword." This choice is as conventionally Islamic as it gets, having been stipulated many times in the Quran and hadith.
But this is not our fight alone. American power can make a decisive difference, but we cannot do for Iraqis what they must do for themselves, nor can we take the place of Arab partners in securing their region. That's why I've insisted that additional U.S. action depended upon Iraqis forming an inclusive government, which they have now done in recent days… I can announce that America will lead a broad coalition to roll back this terrorist threat.
The would-be coalition of Sunni Muslim "partners" includes those who had been aiding and abetting ISIS for years, and who have neither the will nor the resources to fight it. As I wrote here last week, those countries' military forces are unable to confront an enemy which consists of highly motivated light infantry, knows the terrain, enjoys considerable popular support, and operates in small motorized formations:
On the basis of its poor showing in Yemen it is clear that the Saudis in particular are no better than the Iraqi army which performed so miserably last June. Even when united in their overall strategic objectives, Arab armies are notoriously unable to develop integrated command and control systems – as was manifested in 1947-48, in the Seven-Day War of 1967, and in the Yom Kippur War of 1973. Their junior officers are discouraged from making independent tactical decisions by their inept superiors who hate delegating authority. Both are, inevitably, products of a culture steeped in strictly hierarchical modes of thought and action. Furthermore, their expensive hardware integrated into hard to maneuver brigade-sized units is likely to be useless against an elusive enemy who will avoid pitched battles.
An additional unresolved problem is Turkey, which is staying aloof and will not allow even U.S. facilities in its territory to be used for the air campaign. Erdogan is definitely not a "partner," and Turkey continues to tolerate steady recruiting of ISIS volunteers in its territory as well as the passage of foreign jihadists across the 550-mile borderit shares with Syria and Iraq.
The most important problem in creating a coalition with Obama's "Arab partners" is religious, however. The leaders of all Sunni Arab countries and Turkey are well aware that, contrary to Obama's claims, ISIS is a Muslim group firmly rooted in the teachings and practices of orthodox Sunni Islam. They are loath to ally themselves with the kuffar in fighting those who want to fulfill the divine commandment to strive to create the Sharia-based universal caliphate. Those leaders are for the most part serious believers, and they do not want to go to hell.
Our objective is clear: we will degrade, and ultimately destroy, ISIL through a comprehensive and sustained counter-terrorism strategy. First, we will conduct a systematic campaign of airstrikes against these terrorists. Working with the Iraqi government, we will expand our efforts … so that we're hitting ISIL targets as Iraqi forces go on offense.
The Shia-dominated Iraqi army is not to be counted upon, as attested by its flight from Mosul, and it cannot be counted upon to cooperate with the armed forces of the overtly anti-Shia regimes, even if in the fullness of time they provided ground troops. The Kurdish pershmerga also would be loath to treat Saudis or Qataris as brothers-in-arms. Even if they were capable of major operations, which they are not, both the Iraqi army and the peshmerga would be perceived by the Sunni Arab majority in northwestern Iraq as an occupying force with the predictable result that the "caliphate" could count on thousands of fresh volunteers. Obama's "regional allies" could end up helping their Sunni coreligionists fight the Shia "apostates." They regard the IS in western Iraq and northeastern Syria as a welcome buffer against the putative Shia crescent extending from Iran to the Lebanese coast. As for the "Iraqi forces," they are devoid of any offensive potential now and that will not change for years to come.
Across the border, in Syria, we have ramped up our military assistance to the Syrian opposition… In the fight against ISIL, we cannot rely on an Assad regime that terrorizes its people; a regime that will never regain the legitimacy it has lost. Instead, we must strengthen the opposition as the best counterweight to extremists like ISIL, while pursuing the political solution necessary to solve Syria's crisis once and for all.
"The Syrian opposition" is ideologically indistinguishable from the IS, militarily ineffective, internally divided, and far keener to renew its stalled fight against Bashar al-Assad than to fight the Caliphate. America's would-be "coalition" partners have indirectly indicated that they are aware of this fact: several mentioned Iraq when announcing the proposed military measures last Monday, but none made any mention of the challenge next door.
Obama's present heavy reliance on the "Syrian opposition" is at odds with his own doubts about its viability, which were openly expressed in an interview with New York Times's Tom Friedman only a month earlier:
"With 'respect to Syria,' said the president, the notion that arming the rebels would have made a difference has 'always been a fantasy. This idea that we could provide some light arms or even more sophisticated arms to what was essentially an opposition made up of former doctors, farmers, pharmacists and so forth, and that they were going to be able to battle not only a well-armed state but also a well-armed state backed by Russia, backed by Iran, a battle-hardened Hezbollah, that was never in the cards.'"
Now, however, Obama is rejecting cooperation with Damascus – the only realist course with any chance of success – and is relying on a "fantasy" scenario to create some boots on the ground. No lessons have been drawn from Libya's collapse into bloody anarchy, or from the failure of America's decade-long effort to train and equip the Iraqi army, which disintegrated when faced with the IS three months ago. Such fiascos notwithstanding, Obama wants to build up a Syrian rebel force as one of the pillars of his strategy – that same force of which he said to Friedman on August 8 that "there's not as much capacity as you would hope."
We will continue providing humanitarian assistance to innocent civilians who have been displaced by this terrorist organization. This includes Sunni and Shia Muslims who are at grave risk, as well as tens of thousands of Christians and other religious minorities. We cannot allow these communities to be driven from their ancient homelands.
"Tens of thousands of Christians" is a hundred-fold reduction of the magnitude of the problem that long-suffering community has faced in the region since the start of the Iraqi war in 2003. Obama's statement is the exact numerical and moral equivalent to saying that "hundreds of thousands of European Jews" were at grave risk at the time of the Wannsee conference. As Peggy Noonan wrote the other day in the Wall Street Journal, "genocide" is the right word to describe the plight of the region's Christians, noting that "for all his crimes and failings, Syria's justly maligned Assad was not attempting to crush his country's Christians. His enemies were – the jihadists, including those who became the Islamic State." As well as those, let us add, who are now being groomed by the President of the United States to fight the Islamic State. No wonder he is deliberately and cynically minimizing the plight of his protégés' Christian victims.
This is our strategy.
Lord have mercy!
This is American leadership at its best: we stand with people who fight for their own freedom; and we rally other nations on behalf of our common security and common humanity.
Cringe.
My Administration has also secured bipartisan support for this approach here at home. I have the authority to address the threat from ISIL.
This is disputable. Obama refers to the authorization originally concerning action against al-Qaeda, treating as a blank check for starting a new war of unknown magnitude and duration.
This counter-terrorism campaign will be waged through a steady, relentless effort to take out ISIL wherever they exist, using our air power and our support for partner forces on the ground. This strategy of taking out terrorists who threaten us, while supporting partners on the front lines, is one that we have successfully pursued in Yemen and Somalia for years.
Deja-vu all over again. On the grimly positive note, more Yemeni and Somali-like "successes" may be needed to accelerate America's eventual return home.
America is better positioned today to seize the future than any other nation on Earth.
It would be a cliché to state that Obama is either deluded or stunningly cynical. He is both, of course, I'd say roughly 60:40.
Our technology companies and universities are unmatched; our manufacturing and auto industries are thriving. Energy independence is closer than it's been in decades. For all the work that remains, our businesses are in the longest uninterrupted stretch of job creation in our history.
Cringe again: tasteless, self-serving inanities that have nothing to do with ISIS or strategy. Obama's psychopatic narcissism trumps that of the Clintons, impossible as it may have seemed.
Abroad, American leadership is the one constant in an uncertain world. It is America that has the capacity and the will to mobilize the world against terrorists.
"The world," indeed, minus Russia, China, India, Brazil, Argentina, Iran, South Africa, and scores of lesser powers on all continents (save Australia) which have the capacity and the will to reject Obama's audacious and increasingly absurd notions of global leadership.
It is America that has rallied the world against Russian aggression, and in support of the Ukrainian peoples' right to determine their own destiny. It is America – our scientists, our doctors, our know-how – that can help contain and cure the outbreak of Ebola. It is America that helped remove and destroy Syria's declared chemical weapons so they cannot pose a threat to the Syrian people – or the world – again.
There is no "Russian aggression," and "the Ukrainian peoples' right to determine their own destiny" was brazenly undermined by the State Department/CIA-engineered coup d'etat in Kiev last February. It is preposterous for Obama to take credit for the destruction of Syria's chemical weapons – it was Vladimir Putin's diplomatic coup which got Obama off the hook when Congress and the public at large expressed their opposition to the intended bombing of Syria. But yes, American scientists and doctors definitely "can help contain and cure the outbreak of Ebola." That was the only true statement in Obama's address. Its relevance to his anti-IS strategy is unclear.
And it is America that is helping Muslim communities around the world not just in the fight against terrorism, but in the fight for opportunity, tolerance, and a more hopeful future.
… especially in places like Marseilles, Antwerp, Malmo, Dortmund, and Dearborn, Michigan.
America, our endless blessings bestow an enduring burden. But as Americans, we welcome our responsibility to lead. From Europe to Asia – from the far reaches of Africa to war-torn capitals of the Middle East – we stand for freedom, for justice, for dignity. These are values that have guided our nation since its founding.
Obama wouldn't know the founding values if they hit him in the head. He is the worst president of the United States in history after all. That is no mean feat, considering the competition.
Appearing in part 1 is the phrase "low-information voter" (LIV) which is oft used by a popular radio talk show host.  The host suggests that those who make up this population set are individuals who vote for a candidate or important issue having little or in most cases zero knowledge about either.  LIVs are highly opinionated even when they have no idea what they're talking about.
Also included in part 1 was the following quote from D. Edmund Wright.  I appreciate the way he expands on the LIV concept:
But forget low-information voters for just a minute; the malignancy that is really destroying this country is low-information people with high-profile power and/or influence.  You know, people who would lobby for, comment on, advocate for, or vote on laws like ObamaCare without any understanding of its real-world impact.  Such felonies are then carried out by low-information bureaucratic microbes with the power to destroy lives and businesses with impunity, and a political and talking-head class with the access and sway to codify these common malfeasances. Destruction of private property and liberty – and these two concepts are not divisible – takes place in government cubicles every minute of every day across the country.  And why not?  (Source – emphasis in original)
His thoughts fit nicely with what I've come to believe about many leaders in the evangelical community.  Specifically, a large number of them are uninformed people with high-profile power and/or influence.  The LIVs Wright's pointing a finger at are liberals.  Likewise many of the evangelicals that came to mind for me are liberals but because liberal has a negative connotation they prefer "progressive Christian" or "social justice Christian." Take your pick.  But whichever one you go with has its roots in communism.
So to Christianize the LIV phrase I simply changed "voter" to "evangelical," thus it became "low-information evangelical" (LIE).   I defined the LIE in this way:
Reminiscent of the LIV, the high-profile LIE does not understand the impact that his unorthodox view has on the visible church.  When it comes to the Bible, the LIE has opinions on a variety of challenging topics.  Even when his opinion is decidedly unbiblical, he presents it as the gospel truth.  The LIE's arguments are often based, not on what God's Word clearly teaches but instead on esoteric experiences he's had or what he's picked up from LIE celebrities.  
More on esoteric experiences in a moment.
There's also a group of evangelicals that fall into the category of undistinguished LIE (ordinary folk).  The term I bestowed on them is u-LIE.  This group is also uninformed on many things (both Christian and otherwise).  They are often biblically illiterate.  In part 1 I made this observation:
Sadly, some undistinguished low information evangelicals (u-LIEs) assume that popular pastors, teachers and best-selling authors would never steer them wrong.  But nothing could be further from the truth!
Last but not least, I coined the phrase LIE-celebs.  These individuals are prominent Christian leaders who are uninformed people with high-profile power and/or influence.  Many of them are false teachers who do not speak for God.
LIE-celebs And Their Vain Hopes
God tells us how we are to handle false teachers:
Thus says the LORD of hosts: "Do not listen to the words of the prophets who prophesy to you, filling you with vain hopes. They speak visions of their own minds, not from the mouth of the LORD." (Jeremiah 23:16).
We are to pay these folks no mind.
One example of a LIE-celeb is popular women's Bible teacher Beth Moore.  In part 1 I reported on Moore's claim that she receives personal direct revelation from Almighty God.  In other words, God tells her things.  According to her, He calls her "baby" and "honey."  I'll have more to share on this modern day prophetess in a moment.
LIE-celeb Joyce Meyer also claims that she receives extra biblical revelation or "revelation knowledge" from the Almighty.  Both Moore and Meyer's respective claims clearlydeny the sufficiency of Scripture.   Equally troubling is that Joyce holds to heretical Word of Faith (WoF) theology.  So naturally her students are swallowing the poisonous prosperity health and wealth gospel that does not save anyone.  Following is an erroneous assertion made by her:
The Bible can't even find any way to explain this. Not really.  That is why you have got to get it by revelation. There are no words to explain what I am telling you. I have got to just trust God that he is putting it into your spirit like he put it into mine. (Source)
Why do I say this is erroneous?  Because it's not taught in the Bible.  She made it up.  How do I know this?  I searched the scriptures.  (Acts 17:10-15)   Nowhere does Scripture teach that God's people are given special "revelation knowledge."
"The fact that contemporary evangelicals seek 'fresh' revelations from God," says Larry DeBruyn, "indicates that they no longer consider Holy Scripture to be sufficient and authoritative in matters of faith (2 Timothy 3:16). This seeking is Gnostic and mystic.  Harvie Conn …a former missionary in Korea, noted that the 'central feature of mystical religion is its 'belief in special revelation outside the Bible.' Yet if the Bible is no longer considered sufficient, the coming of "new revelations" raises the following conundrum. I repeat it.
"If added revelations repeat what's in the Bible, they are unnecessary. If new revelations contradict the Word of God, they are heresy. And if they supplement God's Word, then the new revelations imply Scripture's insufficiency, and about this Proverbs warns: 'Add thou not unto his [God's] words, lest he [God] reprove thee, and thou be found a liar' (Proverbs 30:6, KJV)." (Source – emphasis added.)
Gnosticism is esoteric mysticism – a desire to "know the unknowable."  One of the obstacles the early church faced was Gnosticism.  The Gnostics believed that the masses are not in possession of spiritual knowledge, and only the truly "enlightened" can experience God.  The Apostles condemned Gnosticism as a heresy.
But Gnosticism is not the issue; the issue at hand is this: how can one know for certain if Meyer's so-called revelation came from God?  "Is she on par with the apostles who received revelation knowledge from God himself?" asks apologist Matt Slick.  He continues:
Or how about the Old Testament prophets?  Does she, like them, also receive revelation knowledge from God?  If so, how would we know if it were true or not? The answer is simple:  we test what she says against Scripture, and it is obvious that she is getting a lot of things from somewhere else that contradict the word of God. (Source)
More On Moore
In part I brought the reader up to speed on Beth Moore's slide into mysticism and also gave a heads up on her unbiblical teaching and had planned to leave it at that.  But then the news came that she made an appearance on Joyce Meyer's TV show.  This is the sort of news Beth fans should be made aware of, so I decided to include a bit about it here.  Just before her appearance Beth tweeted:
I have the great privilege of sitting down w/@ Joyce Meyer in her studio today to talk about unity. Pray for Jesus to be so present & pleased.
The unity Meyer and Moore espouse is man centered, not Christ centered.
Scoffers And Bullies And Meanies, Oh My!
So – Beth Moore sitting down for a chat with a WoF heretic is a problem in and of itself.  But the reason she gave for appearing on the show was to talk about unity.  The obvious question is why would a "solid Bible teacher," as she is called, choose to unite with a woman who preaches a false gospel?   Although their tête-à-tête is troubling it's not the only concern people have with her.  As I pointed out in part 1, she's been under fire for, among other things, engaging in Christian mysticism, likewise for her acceptance of "charismania" which is odd for someone who's an SBC Lifeway Bible teacher.  Another problem arose when she appeared on Life Today with "Protholic" and big time promoter of ecumenism James Robison and proceeded to advise the audience to tune out the "scoffers":
We're going to have people that are honestly going to want to debate and argue with us about awakening and downpours … But there will be scoffers and they will be the far bigger threat, the one within our own brothers and sisters, our own family of God — far, far more demoralizing. And yes, it will come from bullies, and yes, it will come from the mean-spirited. (Source)
Beth's attempt to shut people up who question her teaching should be concerning to Christian women who read her books and participate in Bible studies she has written.
Be Watchful! 
For those of you who are Joyce Meyer fans, it's imperative that you wake up to the fact that some of this woman's teaching is outright heresy.  Anyone who continues learning from her is choosing to remain under the teaching of what Jesus referred to in Mat. 7:15 as a ravenous wolf.  Listen to John's warning:
Everyone who goes on ahead and does not abide in the teaching of Christ, does not have God. Whoever abides in the teaching has both the Father and the Son. If anyone comes to you and does not bring this teaching, do not receive him into your house or give him any greeting, for whoever greets him takes part in his wicked works. (2 John 9-11)
Sadly, a growing number of LIE-celebs, likewise u-LIEs, are taking part in the wicked works John spoke of.
We are living in perilous times, brethren.  It's now common place for professing Christians to dabble in mysticism.  The result?  Many believers boast of having subjective magical mystical experiences such as visions; dreams; impressions; hearing inner voices; experiencing private illumination; and angel visitations.  Warning! Christians who engage in esoteric mysticism deny sola Scriptura – the sufficiency of Scripture.
God's people must come to grips with the fact that historic orthodox Christianity holds to the belief that everything we need to know about our Triune God is contained within the pages of the Bible.  (Psalm 119:105)
Stranded In Spiritual Infancy
Following is an observation by apologist and author Bill Muehlenberg from a post entitled Kindergarten Christianity:
We have millions of believers who may have been saved decades ago, but are still acting like spiritual infants. They have not grown much, they have not progressed much in their walk with Christ, and their spiritual condition is rather anaemic [sic] and shallow.
They have not become genuine disciples in other words, and they are still stranded in a spiritual infancy. They can't even handle the deep truths of God as revealed in Scripture. Indeed, many of them hardly even read their Bibles, barely pray, or engage in in-depth fellowship.
No wonder they are still floundering around as babies. They have not moved beyond the nursery. They are all stuck in day care. They are permanent residents of Christian kindergarten. Sadly this is so very widespread today in our churches.
This brings me back to the low information evangelical.  As Muehlenberg pointed out, many Christians prefer milk to solid food.  (1 Cor 3:1-3)  Consequently they're biblically illiterate…which is the reason for the colossal lack of discernment among Christians.  So it should come as no surprise that the worst sort of unbiblical teaching has reared its ugly head in the visible church, thanks largely to diaper-wearing milk-fed u-LIEs who rarely, if ever, go to the Bible to scrutinize someone's teaching.  (1 John 4:1)  These same u-LIEs are the ones who put on a pedestal/promote/pay tribute to and finance the lavish lifestyles of LIE-celebs, some of whom are prosperity preaching/health and wealth televangelists. What will it take to get professing Christians to understand that they're propping up heretics?
Before I close I must also mention that the liberal media seems to think that all Protestants are evangelicals – and that includes WoF heretics such as Joyce Meyer, Joel Osteen,T.D. Jakes and Oprah's pal New Age/New Thought/Emergent guru Rob Bell.  Nowadays evangelical is such a broad term that it has lost its meaning.  Even Red-letter ChristiansTony Campolo and Jim Wallis, who have abandoned the biblical gospel for the "social gospel," call themselves evangelicals.
Campolo, Wallis, Osteen, Bell, et al can say they are monarchs and wear a crown if they so desire.  But as I've said many times, a mouse in the cookie jar is not a cookie.
Resources:
Beth Moore: God's Vision for the Church Includes the Roman Catholic Church "Denomination"—Apprising Ministries
Beth Moore recommends 'Jesus Calling' book—Apprising Ministries
Contemplative Prayer–On Solid Rock Resources
Cults and Heretical Teaching—On Solid Rock Resources
Emergent/Emerging Church—On Solid Rock Resources
New Age/New Thought Spirituality—On Solid Rock Resources
Occult—On Solid Rock Resources
Word of Faith/Televangelists—On Solid Rock Resources
The statistics are just beginning to be analyzed—by UN agencies and a myriad of NGO's whose mandates include salvaging young lives from the nearly incalculable ravages of the five-week (and counting) Zionist aggression upon Gaza. It is of course the third aggression in six years against the 1.8 million Palestinians, sardine-canned into what is increasingly referred to as history's largest open air prison, but the outcome this time is looking particularly cruel and grim.
As the Netanyahu regime announced (on 8/10/14) that its attacks on Gaza would continue, increasing numbers of obscene calls—for Israel to "finish the job" and "go all the way" etc.—are floating in the Zionist state's malodorous public echo-chamber, emanating from such figures as the Knesset's deputy speaker, who advocates driving Palestinians into the Sinai desert and resettling Gaza with Jews.
In Khuza'a "the Israeli military had trapped at least 32 people in a home and then prevented the Red Cross from evacuating them before shelling the area," reported Lebanese-American journalist Roqayah Chamseddine. Hoping for safe haven, the people in the house sought refuge in the basement of a neighbor's home, where they found additional families already inside.
"By that point we were 120 people, 10 men and the rest women and children," Kamel al-Najjar recalled for Human Rights Watch.
After dawn and without warning (no polite leaflets or knocks on the roof apparently), Israel struck the house, killing three people and wounding 15 others.
The toll of the war on Gaza's children has been "catastrophic," according to UN agencies. At least 450 have been killed, and those not having their physical bodies buried have found their innocence entombed. It is another casualty in the war—a war against all things daring to live and resist in Gaza. According to Chamseddine:
"Israel has forced the children of Gaza to lay flowers atop headstones, and watch helplessly as coffins that are filled with not only their most beloved family members, teachers, neighbors, and friends but also their most treasured memories, lullabies, lessons learned and those that will never come, descend into the belly of the earth. Their lips will memorize and form prayers for the dead and the stars that defied the siege that flickered freely high above them will be snatched from their skies."
Increasingly it is being heard from Gazans that "Israel has stolen everything beautiful in our lives," and Israel's barbarity confirms this sentiment.
Middle East analysts point out that it is difficult to recall a time in modern history when there has been so much sustained slaughter of this region's civilian population, with more than two-thirds of the victims being women and children. For the past year, UN agencies and other humanitarian organizations have lamented a simple reality—that there is not a sufficient level of international aid to save lives and treat those in need of emergency and longer term medical care.
But now something is changing.
The horrors we have just witnessed, especially with respect to traumas inflicted on children, is producing, as should be the case, a major and rapidly growing international focus on salvaging young lives. Descriptions and evaluations of the consequences of Gaza wars are being published and urgently discussed. Some analysts and government officials, including Pentagon planners, are calling for a 'Medical Marshall Plan,' to save Gaza's children. One proposed first step is the dispatching of a humanitarian support group of hospital ships that would sail to Gaza without further delay.
What can and must be done, by the United States and other countries with the naval and medical capacity to do so, is to organize a Hospital Ship flotilla to break the siege of Gaza, to anchor offshore, and to begin caring for the medical needs of all, with a special focus on children and their psychological well-being. Call it a Mercy Mission. Initially it could include the following countries—all well known for their hospital ships with up-and-running medical staffs: the USA, UK, France, China, Russia, Spain, Argentina, and Australia. Within this group of nations are ships with hundreds of patient beds and fully stocked pharmacies. Moreover, it is a group not likely to be interfered with by those who have imposed the inhumane blockade of Gaza (and of course it even includes some of their collaborators in the region), but perhaps most importantly, every country on the list possesses one or more hospital ships that are fully staffed and available to act.
France is reportedly ready to join such an effort and is also working on a related crisis—in Iraq, where it plans delivery of first aid equipment "in the coming hours," according to the office of Francois Hollande. The French president has "reaffirmed the will of France to stand by the side of civilian victims of continued attacks" in Iraq, and his spokesmen said that "France will do the same thing for Gaza."
"The European Union is called upon to also take necessary measures with great urgency to respond to immediate humanitarian needs," the spokesman added.
Hundreds of EU citizens, with their specialized skills in fields of pediatric medicine and child psychology, are reportedly ready to help the children of Gaza. Two fully stocked and staffed American medical ships, the USNS Mercy and the USNS Comfort, could contribute greatly to the effort. Each ship's hospital is a full floating medical treatment facility, containing 12 fully equipped operating rooms, a 1,000-bed patient capacity, digital radiological services, medical laboratory, pharmacy, optometry lab, and intensive care ward; each also has a dental clinic with full services, CT scanner, and two oxygen-producing plants.
Helicopter landing decks are available as well, for patient transports, and the ships also have side ports that could take on patients from Gaza fishing boats and other crafts at sea. In addition to these two mammoth-sized medical vessels, dozens of other US Navy ships also have hospitals on board. For example, in one year, the medical department of the USS George Washington handled over 15,000 out-patient visits, drew almost 27,000 lab samples, filled almost 10,000 prescriptions, took about 2,300 x-rays, and performed 65 surgical operations—and nearly 100 other US ships are capable of doing the same.
Just one example with respect to capacity is illustrative. In April of this year, the USNS Comfort—a converted 70,000-ton tanker—sailed from Norfolk, Virginia carrying 900 doctors, nurses, and engineers, including staff from the U.S. military, civilian agencies, non-government charities, and even foreign navies. The ship is designed to be deployed quickly for four month intensive full service medical assistance; yet similar capacities obtain in certain other US ships and in foreign navies as well. All of these resources must be put to immediate use to save Gaza's children.
Looking at the longer term, the Pentagon should seriously consider ordering a sufficient number of catamaran transports and shallow-draft littoral ships to fill out the flotilla, vessels capable of delivering aid by sea via the relatively shallow Gaza coastline. The success of breaking the siege of Gaza will likely give impetus to a UN Security Council decision to construct a seaport for Gaza, perhaps with a shipping channel to Cyprus.
Similarly, the UK hospital ship, RFA Argus, designated as a 'Primary Casualty Receiving Ship,' is moored in Falmouth, England, and is also uniquely designed for this type of humanitarian crisis; and it, too, is reportedly ready to sail once given the green light by Downing Street.
Five Hospital ships are urgently needed along Gaza's shoreline at the following locations: opposite Jabaliya and North Gaza, Gaza City, Deir al-Balah, Khan Younis, and Rafah.
Although attacking a hospital ship is clearly a war crime, the Israeli pattern of targeting medical facilities in Gaza is well known, and threats from the settler movement and the right wing Likud Party to "sink any ship that enters Gaza waters if judged to be aiding the terrorists" must be taken seriously. Yet one imagines the occupation regime would have to think carefully about sinking another US Navy vessel as it did in 1967 with the repeated bombing of the USS Liberty.
Instead of recycling raw combat power, the White House can best meet the demands of a war-weary American public through an emphasis on missions such as those the USNS Mercy and USNS Comfort are designed for. Poll after US public opinion poll reveal that Americans believe their humanitarian values are best reflected when our navy is tailored for delivering humanitarian aid to places like Gaza, and not by delivering munitions to occupying colonial regimes.
(1) It is simply a lie that Israel's slaughter in Gaza is a response to an "unprovoked attack" by Hamas. Not only is it a lie, it is a transparent, brazen lie, whose falsehood is glaringly apparent to anyone who had given even a cursory look at coverage of the Israeli government's response to the murder of three Israeli teenagers in June.
At that time, we were told in many news reports about an Israeli "crackdown" in Gaza, including mass arrests, military operations and, finally, the killing of six Hamas members. It was after these operations and these killings — which were clear breaches of a ceasefire which Hamas had been honoring for 19 months — that Hamas began its retaliation against Israel's unprovoked attacks.
(And no, the murder of the teenagers was not a "provocation" by Hamas, which disclaimed all connection to the crime. It was almost certainly carried out a rogue clan which has often — conveniently — staged provocations whenever it seems that some small movement toward peace might be made, and has been a thorn in Hamas' side for a long time. What's more, as Max Blumenthal reported, the Israeli government knew the teenagers had been murdered almost immediately, and who the likely culprits were; but the Netanyahu regime chose to wage a worldwide campaign of mendacity — and torment the boys' parents — by claiming they might still be alive, and launching "search" missions for them.)
These are all undisputed facts. The narrative that dominates the Washington media and political discourse — "plucky Israel attacked without motive by demonic foes" — is, again, an obvious lie. But that has not stopped it from being repeated endlessly, all across the political spectrum and in every form of media, day after day after day.
It is impossible that Barack Obama does not know these undisputed facts. Standing at the apex of history's most all-pervasive intelligence system — and receiving daily digests of news reports on volatile areas like the Middle East — he of all people knows that the Hamas rocket fire was a response to an Israeli military action, an Israeli violation of a long ceasefire.
It is also impossible that a majority, if not all, of the 100 U.S. Senators who voted to endorse the Israeli slaughter in Gaza — including stalwart "progressives" like Al Franken and "socialist" Bernie Sanders — did not know the truth when they cast their ballots. It is impossible that the editors and reporters of the nation's leading media organizations do not know these facts — which they themselves reported only a few weeks ago.
Yet day after day after day, from the commanding heights of our "culture" (if the debased goon show of our public discourse deserves such a word), the Big Lie thunders forth. What's more, Obama is putting his money (or rather, our money) where his mendacious mouth is, tacking $225 million for Israel's "Iron Dome" missile defense system into a bill ostensibly meant to deal with the influx of child immigrants. Obama and the Senate Democrats are making political pawns out of these children — most of whom are fleeing Central American hellholes created in no small part by decades of bipartisan military and political backing for repressive oligarchs. (Including, of course, Obama's support for an oligarch-militarist "regime change" coup in Honduras early in his presidency.) With the new money for Israel's military, the Democrats hope to sucker the Republicans into voting for the emergency immigration bill (from which they cut $1 billion — hey, you don't want to coddle those kids!), or else put them in a political bind if the immigrant-hating GOP votes against the bill: "You aren't supporting plucky little Israel!"
A very cynical ploy, yes, but no matter: even if it fails and the children are left to languish, some other way will be found to get the money to Israel and, most importantly, show the world that America fully supports the massacre — more than 800 Palestinians killed so far, including whole families, refugees at a UN shelter, patients in hospitals and other prime military targets.
Eight hundred dead — and Obama gives the IDF a $225 million bounty. Maybe when the death count reaches a thousand, he'll buy Netanyahu a pony or something.
2.
James Marc Leas lays out the timeline leading up to the operation in this succinct marshaling of the facts in CounterPunch. You should read the whole thing, but here are a few excerpts:
The July 8 ITIC report also divulged why Hamas launched its first rocket fire at Israel in more than 19 months on July 7: On that night Israeli forces had bombed and killed 6 Hamas members in Gaza. The ITIC report includes a picture of the six Hamas members. Thus, a report from an authoritative Israeli source described the provocation for the resumption of rocket fire: Hamas rocket fire began only after Israeli forces had engaged in nearly a month of military operations in violation of the ceasefire agreement and had killed 6 Hamas members in Gaza. …
The facts show that Israeli forces had to work quite hard to get Hamas to end its cease-fire. The killing of the six Hamas members was not an isolated event. Israeli forces and settlers had gone wild on the West Bank starting on June 12 after the kidnaping of three Israeli teens. Israeli forces had also attacked 60 targets in Gaza during those three weeks of June. Then, on the night of July 7, 2014, the Israeli Air Force had attacked approximately 50 more "terrorist targets" in the Gaza Strip, as described in the ITIC report.
Human Rights Watch (HRW) reported on July 3:
Israel's military operations in the West Bank following the abduction and killing of three Israeli teenagers have amounted to collective punishment. The military operations included unlawful use of force, arbitrary arrests, and illegal home demolitions. … Giving more details, several of the weekly reports from the Palestine Center for Human Rights (PCHR) indicate that Israeli forces and settlers killed 11 Palestinians and wounded 51 during 369 incursions into the West Bank between June 12 and July 2 and that Israeli forces raided hundreds of houses on the West Bank each week.
110 bombing raids, a military incursion, 17 killings, mass arrests — all before Hamas fired a single rocket. This is what Obama — and every single member of the United States Senate — call an "unprovoked attack." They say it with a straight face — nay, with long, somber, pious faces — but they know it's a lie.
3.
But let us imagine, just for a moment, that their deceitful narrative was true. What if Hamas just woke up one fine, clear peaceful morning and said, "Hey, let's start firing missiles at Israel, fellas! Won't that be a hoot?" The fact is that even in that scenario, it would not be an "unprovoked attack," but a legitimate act of self-defense.
How do we know this? Because one of Israel's most honored statesmen told us so. As Jonathan Schwarz notes, Abba Eban, one of the founding fathers of Israel, used his renowned eloquence to defend Israel in the UN from charges of aggression for striking first in the 1967 Six-Day War. Rising to address the global body — where he had once served as vice-president of the General Assembly — Eban put forth his case. The surprise attack was justified, he said, because Egypt had blockaded an Israeli port:
The blockade is by definition an act of war, imposed and enforced through armed violence. Never in history have blockade and peace existed side by side. From May 24 onward, the question who started the war or who fired the first shot became momentously irrelevant. There is no difference in civil law between murdering a man by slow strangulation or killing him by a shot in the bead. From the moment at which the blockade was imposed, active hostilities had commenced and Israel owed Egypt nothing of her Charter rights. If a foreign power sought to close Odessa or Copenhagen or Marseilles or New York harbour by the use of force, what would happen? Would there be any discussion about who had fired the first shot? Would anyone ask whether aggression had begun?
As Schwarz points out — and which the entirety of the American political-media establishment perpetually fails to point out — Gaza has been subject to a stringent and ruinous blockade by Israel since 2007. As noted here the other day:
Israel has imprisoned the people of Gaza in a stateless limbo while carefully controlling almost every aspect of their lives, including what medicines they can have, what manufacturing and building materials they are allowed and even, at times, how much food they are allowed to eat to keep the population weakened but just above malnutrition levels. This brutal regimen in daily life is of course punctuated with regular night raids, bombings,  kidnappings, "disappearings" and almost weekly civilians deaths at the hands of Israeli overseers. This has gone on year after year.
Eban said Israel was justified in retaliating with military force when Egypt had blockaded a port for a few weeks. How much more justified would the Palestinians be in retaliating against a total blockade — by land, sea and air — that has lasted almost eight years?
I don't agree with lobbing missiles into cities. I believe it's wrong. But I also realize that I have the great luxury of pondering these moral and legal and philosophical questions at my leisure, in comfort and safety. I haven't seen my family half-starved, my children's growth stunted, my friends and relatives blown to bits. I haven't been trapped in stateless limbo, with no passport, no freedom, no opportunity, under threat of violent death or arbitrary arrest every moment of my life. I don't know what I would do if that was my reality. I don't know what I'd do if I saw my loved ones suffer that way, year after year. I might somehow hold on to the ideal of non-violent resistance — or I very well might not.
But I do know that by the terms of the world's great and good — who speak portentously of the "laws of war" and analyze in great detail the "justifications" for violent conflict — the Palestinians have a right to resist the "slow strangulation" of the blockade … and the "shot in the head" (and the missile in the crib) that they are now being subjected to. By Abba Eban's own reasoning, from the very first day of the Israeli blockade of Gaza, "the question who started the war or who fired the first shot became momentously irrelevant."
Source: http://chris-floyd.com
What The DHS Is Building Is Indeed A Beast…
One of the great concerns of our Founding Fathers was a large standing army on American soil. James Madison spoke for all of America's founders when he said, "A standing military force, with an overgrown Executive will not long be safe companions to liberty." I wonder what Madison and the rest of our founders would have to say about the Department of Homeland Security (DHS).
John Whitehead, the president of The Rutherford Institute, recently wrote a trenchant summary of the DHS. He began by saying, "If the United States is a police state, then the Department of Homeland Security (DHS) is its national police force, with all the brutality, ineptitude and corruption such a role implies. In fact, although the DHS' governmental bureaucracy may at times appear to be inept and bungling, it is ruthlessly efficient when it comes to building what the Founders feared most–a standing army on American soil."
Whitehead observes that the DHS employs over 240,000 full time workers and has an annual budget of $61 billion. Sub-agencies of the DHS include the Coast Guard, Customs and Border Protection, Secret Service, Transportation Security Administration (TSA), and the Federal Emergency Management Agency (FEMA).
Whitehead states, "In the 12 years since it was established to 'prevent terrorist attacks within the United States,' the DHS has grown from a post-9/11 knee-jerk reaction to a leviathan with tentacles in every aspect of American life. With good reason, a bipartisan bill to provide greater oversight and accountability into the DHS' purchasing process has been making its way through Congress.
"A better plan would be to abolish the DHS altogether. In making the case for shutting down the de facto national police agency, analyst Charles Kenny offers the following six reasons: one, the agency lacks leadership; two, terrorism is far less of a threat than it is made out to be; three, the FBI has actually stopped more alleged terrorist attacks than DHS; four, the agency wastes exorbitant amounts of money with little to show for it; five, 'An overweight DHS gets a free pass to infringe civil liberties without a shred of economic justification'; and six, the agency is just plain bloated."
In addition to Kenny's reasons for shutting down the DHS, Whitehead adds the following indictments:
"Militarizing police and SWAT teams. The DHS routinely hands out six-figure grants to enable local municipalities to purchase military-style vehicles, as well as a veritable war chest of weaponry, ranging from tactical vests, bomb-disarming robots, assault weapons and combat uniforms. This rise in military equipment purchases funded by the DHS has, according to analysts Andrew Becker and G.W. Schulz, 'paralleled an apparent increase in local SWAT teams.' The end result? An explosive growth in the use of SWAT teams for otherwise routine police matters, an increased tendency on the part of police to shoot first and ask questions later, and an overall mindset within police forces that they are at war–and the citizenry are the enemy combatants.
"Stockpiling ammunition. DHS, along with other government agencies, has been stockpiling an alarming amount of ammunition in recent years, which only adds to the discomfort of those already leery of the government. As of 2013, DHS had 260 million rounds of ammo in stock, which averages out to between 1,300 to 1,600 rounds per officer. The US Army, in contrast, has roughly 350 rounds per soldier. DHS has since requisitioned more than 1.6 billion rounds of ammo, 'enough,' concludes Forbes magazine, 'to sustain a hot war for 20+ years.'
"Distributing license plate readers. DHS has already distributed more than $50 million in grants to enable local police agencies to acquire license plate readers, which rely on mobile cameras to photograph and identify cars, match them against a national database, and track their movements. Relying on private contractors to maintain a license plate database allows the DHS and its affiliates to access millions of records without much in the way of oversight.
"Contracting to build detention camps. In 2006, DHS awarded a $385 million contract to a Halliburton subsidiary to build detention centers on American soil. Although the government and Halliburton were not forthcoming about where or when these domestic detention centers would be built, they rationalized the need for them in case of 'an emergency influx of immigrants, or to support the rapid development of new programs' in the event of other emergencies such as 'natural disasters.' Viewed in conjunction with the NDAA provision allowing the military to arrest and indefinitely detain anyone, including American citizens, it would seem the building blocks are already in place for such an eventuality.
"Tracking cell-phones with Stingray devices. Distributed to local police agencies as a result of grants from the DHS, these Stingray devices enable police to track individuals' cell phones–and their owners–without a court warrant or court order. The amount of information conveyed by these devices about one's activities, whereabouts and interactions is considerable. As one attorney explained: 'Because we carry our cellphones with us virtually everywhere we go, stingrays can paint a precise picture of where we are and who we spend time with, including our location in a lover's house, in a psychologist's office or at a political protest.'
"Carrying out military drills and lockdowns in American cities. Each year, DHS funds military-style training drills in cities across the country. These Urban Shield exercises, elaborately staged with their own set of professionally trained Crisis Actors playing the parts of shooters, bystanders and victims, fool law enforcement officials, students, teachers, bystanders and the media into thinking it's a real crisis.
"Using the TSA as an advance guard. The TSA now searches a variety of government and private databases, including things like car registrations and employment information, in order to track travelers' before they ever get near an airport. Other information collected includes 'tax identification number, past travel itineraries, property records, physical characteristics, and law enforcement or intelligence information.'
"Conducting virtual strip searches with full-body scanners. Under the direction of the TSA, American travelers have been subjected to all manner of searches ranging from whole-body scanners and enhanced patdowns at airports to bag searches in train stations. In response to public outrage over what amounted to a virtual strip search, the TSA has begun replacing the scanners with equally costly yet less detailed models. The old scanners will be used by prisons for now.
"Carrying out soft target checkpoints. VIPR task forces, comprised of federal air marshals, surface transportation security inspectors, transportation security officers, behavior detection officers and explosive detection canine teams have laid the groundwork for the government's effort to secure so-called 'soft' targets such as malls, stadiums, bridges, etc. Some security experts predict that checkpoints and screening stations will eventually be established at all soft targets, such as department stores, restaurants, and schools. DHS' Operation Shield, a program which seeks to check up on security protocols around the country with unannounced visits, conducted a surprise security exercise at the Social Security Administration building in Leesburg, Fla., when they subjected people who went to pick up their checks to random ID checks by federal agents armed with semi-automatic weapons.
"Directing government workers to spy on Americans. Terrorism Liaison Officers are firefighters, police officers, and even corporate employees who have received training to spy on and report back to government entities on the day-to-day activities of their fellow citizens. These individuals are authorized to report 'suspicious activity' which can include such innocuous activities as taking pictures with no apparent aesthetic value, making measurements and drawings, taking notes, conversing in code, espousing radical beliefs, and buying items in bulk.
"Conducting widespread spying networks using fusion centers. Data collecting agencies spread throughout the country, aided by the National Security Agency, fusions centers–of which there are at least 78 scattered around the U.S.–constantly monitor our communications, collecting and cataloguing everything from our internet activity and web searches to text messages, phone calls and emails. This data is then fed to government agencies, which are now interconnected: the CIA to the FBI, the FBI to local police. Despite a budget estimated to be somewhere between $289 million and $1.4 billion, these fusion centers have proven to be exercises in incompetence, often producing irrelevant, useless or inappropriate intelligence, while spending millions of dollars on 'flat-screen televisions, sport utility vehicles, hidden cameras and other gadgets.'"
On a personal note, I can testify to Whitehead's warning regarding fusion centers. When I ran as the Constitution Party's candidate for President back in 2008, DHS fusion centers funneled warnings to the State of Missouri law enforcement agencies to be on the look-out for people sporting bumper stickers with my name, Ron Paul's name, and Bob Barr's (the Libertarian Party candidate for President that same year) name. People with these bumper stickers were said to be "potential dangerous militia members," "extremists," etc.
When word of this blatant violation of fundamental liberties publicly surfaced, tens of thousands of outraged Americans inundated the political offices within the State of Missouri. Ron, Bob, and I sent a letter to the governor and MIAC officer in charge demanding an apology and that the statements be removed from Missouri law enforcement memos. Public pressure was so massive that it didn't take long for Missouri officials to apologize to us and remove the libelous statements. However, if you think this kind of conduct is not continuing, you are very mistaken.
I have had several liberty-minded law enforcement officers (in several states) personally show me interoffice memos and computer reports depicting me (and several other liberty-minded public figures) as "extremists," "radicals," "hate-group leaders," etc. Virtually, every such memo or report is being distributed to local police departments and sheriff's offices via DHS fusion centers–in concert with the ultra-liberal Southern Poverty Law Center (SPLC).
Whitehead continues:
"Carrying out Constitution-free border control searches. On orders from the DHS, the government's efforts along the border have become little more than an exercise in police state power, ranging from aggressive checkpoints to the widespread use of drone technology, often used against American citizens traveling within the country. Border patrol operations occur within 100 miles of an international crossing, putting some 200 million Americans within the bounds of aggressive border patrol searches and seizures, as well as increasingly expansive drone surveillance. With 71 checkpoints found along the southwest border of the United States alone, suspicionless search and seizures on the border are rampant. Border patrol agents also search the personal electronic devices of people crossing the border without a warrant.
"Funding city-wide surveillance cameras. As Charlie Savage reports for the Boston Globe, the DHS has funneled 'millions of dollars to local governments nationwide for purchasing high-tech video camera networks, accelerating the rise of a "surveillance society" in which the sense of freedom that stems from being anonymous in public will be lost.' These camera systems, installed on city streets, in parks and transit systems, operating in conjunction with sophisticated computer systems that boast intelligent video analytics, digital biometric identification, military-pedigree software for analyzing and predicting crime and facial recognition software, create a vast surveillance network that can target millions of innocent individuals.
"Utilizing drones and other spybots. The DHS has been at the forefront of funding and deploying surveillance robots and drones for land, sea and air, including robots that resemble fish and tunnel-bots that can travel underground. Despite repeated concerns over the danger surveillance drones used domestically pose to Americans' privacy rights, the DHS has continued to expand its fleet of Predator drones, which come equipped with video cameras, infrared cameras, heat sensors, and radar. DHS also loans its drones out to local, state, and federal law enforcement agencies for a variety of tasks, although the agency refuses to divulge any details as to how, why and in what capacity these drones are being used by police. Incredibly, the DHS has also been handing out millions of dollars in grants to local police agencies to 'accelerate the adoption' of drones in their localities."
Whitehead concludes by saying, "It's not difficult to see why the DHS has been described as a 'wasteful, growing, fear-mongering beast.' If it is a beast, however, it is a beast that is accelerating our nation's transformation into a police state through its establishment of a standing army, a.k.a. national police force."
See John Whitehead's report here:
Has The Dept. of Homeland Security Become America's Standing Army?
When the British government employed such tactics (in their own way, given the lack of technology in the mid-1700s), the pulpits of Colonial America thundered forth the call of liberty. Presbyterians, Baptists, Congregationalists, Separatists, Anglicans: it didn't matter. Pastors from across the denominational spectrum boldly and courageously implored their congregants to resist these tyrannical tactics. And resist they did!
So, what are our pastors and churches doing today in the face of this burgeoning police state? For the most part, they are sitting back mute and dumb. If they are not absolutely apathetic to the rise of this beast, they are actually assisting it. Through the egregiously unbiblical interpretation of Romans 13, whereby pastors are telling their adherents to submit to evil government, or through the fear of losing their precious 501c3 tax-exempt status, pastors are deliberately leading their churches as sheep to the slaughter.
And make no mistake about it: what the DHS is building is indeed a BEAST. And prophecy buffs should be well-acquainted with that word. Does not the Scripture warn us that there are "many" anti-Christs in the world? Is not the word "beast" and "anti-Christ" synonymous? They absolutely are. Prophecy students are also well aware of the fact that the prophetic "beast" is as much a system as it is a person. Without a doubt, this beastly system is being constructed before our very eyes.
Interestingly enough, this beast was created by the professing Christian president, G.W. Bush. Is that why Christian pastors are so complacent? Are they truly that gullible? A "conservative" Republican creates the beast, and a "liberal" Democrat feeds it. Both are equally culpable.
These pastors can talk about following Jesus all they want; they can cry crocodile tears when they sing Amazing Grace all they want; they can preach about Heaven all they want; and they can talk about being "born again" all they want. But if they are not warning their people about this growing beast, and if they are not emphatically imploring their people to resist this beast, they are helping to feed their sheep to the wolves.
Dear Christian friends, get out of these churches! As nice as the pastor seems to be, as sincere as he seems to be, as doctrinally-sound as he appears to be, by his refusal to resist this growing police state he is helping to put the chains of slavery around the necks of your children and grandchildren. He is facilitating the rise of a very dangerous and hungry beast in our land.
Real men of God throughout history have been noted by their courage to resist the evil beasts that have attempted to devour God's people. From Gideon and Samson to Martin Luther and Huldrych Zwingli, and from Dietrich Bonhoeffer and Martin Niemoller to Jonas Clark and James Caldwell, these men of God were indefatigable and heroic champions of liberty.
The "standing military force" and "overgrown Executive" are here! Now, where are the patriot pulpits to resist them?
"The Doctrine and Covenants leaves no doubt about the Mormon teaching of exclusivity when it says the LDS Church is, 'the only true and living church upon the face of the whole earth, with which I, the Lord, am well pleased….'"
Glenn Beck recently threw a hissy fit on his daily radio program over "religious people [who] claim to be followers of Christ" getting upset that he was the featured convocation speaker at Liberty University (LU).  Beck accused those who were concerned over a cultist preaching a sermon of "absolutely smearing" LU.
Let's cut to the chase.  Glenn Beck is a Mormon in good standing.  Mormonism is a theological cult.  Thus Beck's not an authentic Christian — period.  That some Christians have the temerity to object to a cultist giving a sermon at a Christian university offended Mr. Beck, thus his rant.
In an earlier column I wrote Questioning with boldness: Which is it Glenn, are you a Mormon or a Christian? I provided an in depth examination of the Church of Jesus Christ of Latter-day Saints.  So I'm not going to spend a lot of time re-examine it here.  However, to help you get a handle on what Mormons believe, the following is a snippet of Mormon Christianity from my column.  As you will see, what they believe isn't even close to biblical Christianity:
LDS Christianity outright denies the Trinity which is an essential of biblical Christianity.  So LDS Christianity and orthodox Christianity do not believe in the same God.  Mormon Christianity teaches that there are many gods who are overseers of other planets.  The god of planet Earth, the one they call Elohim, was just a man with a body of flesh and bones who progressed to godhood and was rewarded with his own planet.  [Founder]Joseph Smith taught, "God himself was once as we are now, and is an exalted man, and sits enthroned in yonder heavens. That is the great secret… [Y]ou have got to learn how to be Gods yourselves, and to be kings and priests to God, the same as all Gods have done before you…"
Brigham Young believed in a plurality of gods: "How many Gods there are, I do not know. But there never was a time when there were not Gods…" (Journal of Discourses 7:333).
Mormons believe that after death they will become gods and will be rewarded with their own planet.  Thereafter they will spend eternity with their many wives (polygamy) producing offspring to populate their planet.  Traditional Christianity says that God is not a man. (Numbers 23:19) Mormon Christianity teaches that man first existed as spirits in heaven.  Biblical Christianity says that the physical body comes before the spiritual. (1 Cor 15:46) 
And LDS Christianity teaches this humdinger: Jesus and Lucifer are spirit children of God, which makes them spirit brothers. 
Bible believing Christians will understand that historic orthodox Christianity does not hold to any of what Joseph Smith conjured up.  There is no way that Glenn Beck is unaware of Smith's beliefs and background.  Later in my column I brought to light that,
…it was Joseph Smith and subsequent Mormon hierarchy that attacked Christianity.  The truth is Joseph Smith's religion, which he made up out of whole cloth, is an abomination to God! 
It seems weird to me that Glenn Beck spends oodles of time gathering dirt on leftist radicals and that he digs deep to get the skinny on President Obama but has neglected to do some deep digging on …  Joseph Smith.  His church's so-called prophet was a charlatan, a polygamist, an adulterer, and he was up to his eyeballs in the occult as was his father.  There's plenty of evidence on the web for inquiring minds that want to know the truth about Mormonism's founder.  (Source)
For reasons known only to him, Glenn Beck holds the LDS Church in high regard.  Consequently, he's deluded.  Why do I say that?  To put it bluntly, Mormonism is a satanic cult.  (Those who wish to research the LDS are invited to visit my website.)  LU knows this full well, yet Beck was invited to speak to its students.  As I mentioned above, Beck preached a sermon saturated with Mormon theology.  Moreover, he shared a valuable artifact — Joseph Smith's pocket watch.
Liberty University Enlightens Us
Following is LU's explanation, in part, for their decision:
We have explained over the decades repeatedly that convocation is an opportunity for students to hear from people of all faiths and from all walks of life.  Liberty has also made it clear repeatedly that it does not endorse any statements made by any convocation speaker.
So far so good.
By contrast, our faculty are all required to profess Liberty's statement of faith and to affirm our doctrinal statement.  Our students are all required to take many credit hours of theology and Bible courses, regardless of their major.  Our students have no question about what Liberty's doctrinal statement is.  It is posted publicly for all to see. Our doctrinal statement is our public statement on Mormonism.  It is the same statement that Liberty was founded upon and it will never change.
College is about learning.  How can you defend what you believe if you don't understand what others believe? 
Good point.
I believe our students are stronger in their faith because of our convocation speaker series and the wide diversity of views that they have been privileged to hear in person over the last few decades.
By the way, many conservative evangelical leaders who are closer to Beck than me have told me that they believe Beck has had a born again experience recently.
Hold it right there!  The "Glenn Beck is saved" rumor has been circulating for several years thanks largely to Wall Builders Founder David Barton, "American evangelicals' favorite historian."  If it's true, then why is Beck keeping the good news from his friends and fans?  Moreover, if he truly is regenerate then why hasn't he cut all ties to the LDS Church and joined a church where the true gospel of Christ is preached?
LU's explanation continues:
I do not know his heart but our audience knows that he was speaking only for himself and expressing his personal opinions and beliefs, not those of Liberty University or even of Mormonism generally. As Jerry Falwell, Sr., our founder, often used to say about speakers at Liberty who had different views than him, Liberty students are smart enough to eat the fish and spit out the bones! I believe that's as true today as it was in his day.
Are we to assume every student is mature in their faith and has spiritual discernment?  Are we to assume that every student who attends a Christian university has been born again and thus saved? Did it not occur to Jerry Falwell, Jr. that some of the students who ate the fish Glenn Beck dished up could have choked on the bones?!
Now, don't get me wrong. Liberty University has the right to invite whoever they wish to speak to its students.  But lately they seem to have an affinity for Mormons, as Glenn Beck has spoken at the university twice.  In 2010 he delivered the commencement address and received an honorary doctorate degree.  Likewise, Mormon Mitt Romney gave the commencement speech in 2012.
A Martyr?
Is it true that Joseph Smith died a martyr, as Glenn Beck declared to LU's students?  Not so fast, Glenn!  The factual account of what led to Smith's death reveal that he and his brother Hyrum were charged with treason and conspiracy by Illinois authorities whereby they were arrested and imprisoned in a minimum security cell in the Carthage city jail. According to The Martyrdom of Joseph Smith by Eric Johnson:
He and his brother Hyrum Smith were murdered on June 27, 1844, by an armed mob, an event that has prompted Mormons to classify them as martyrs. It has caused others, however, to raise the question whether someone who dies in a gun battle fighting against his enemies can be considered to be a martyr. A close examination of the term reveals that one must meet specific requirements to be considered a martyr, which involve, for example, the reasons why one is put to death and the way one faces such a death. An investigation of the reasons why Smith was murdered and the actions he took to avoid this fate inevitably makes it difficult to maintain that Smith was "like a lamb led to the slaughter." (Source)
Johnson offers several reasons why he believes it is not accurate to classify Smith a martyr which you'll find in his essay under the heading: THE FALLACY OF DEEMING SMITH A MARTYR.
Glenn's Rant
To spare you from having to read Beck's ridiculous rant, I'll post a few quotes from a piece by Erica Ritz:
This is why your churches are dwindling. … You think you're standing for something, when indeed, you're standing for hate and bigotry. I think Jesus was hanging out with prostitutes and sinners, wasn't he? You won't even listen to a man who says … 'I challenge you to know your faith, not my faith, your faith so well that you're willing to die for it. Stand with one another.' That frightens you so much? If it does, you might want to consider that you're on the wrong side.
Let's see.  "Prophet" Joseph Smith said that "Christianity had become apostate, and all of their creeds were corrupt, and all of their followers were deceived." Therefore, it fell to Smith not to "reform" the Christian church, but to "restore" it."
And anyone who rejects Mormon heresy is "standing for hate and bigotry."
More…
I look at every single lover of light and truth as my ally, my friend, my brother. … I look at everyone who is my enemy as my brother. I don't care what you say; I don't care what you think your belief is; I don't care what your lifestyle is — you're not going to change me. And I invite you to join me, join others of multiple faiths — never asking anyone to change their faith — asking you to strengthen your faith, whatever it is. (Source)
Beck is oblivious to the fact that his truth is NOT biblical Truth.  On the contrary, what he's "preaching" to anyone who's willing to listen, and to a captive audience at LU by the way, is ecumenism.  This New Age Mormon who professes Christ vociferously urges his followers to join together with other religious faiths and sing We Are the World.  If Michael Jackson were alive today, he'd be proud of Glenn.
Partnerships
Glenn claims he's read the Bible several times.  Perhaps he has.  However, he must have skipped over Paul's teaching in 2 Cor. 6:14-16:
Do not be unequally yoked with unbelievers. For what partnership has righteousness with lawlessness? Or what fellowship has light with darkness? What accord has Christ with Belial?  Or what portion does a believer share with an unbeliever?  What agreement has the temple of God with idols?  For we are the temple of the living God.
Unbelievers are in darkness.  For this reason believers are not to unite with them in any sort of spiritual enterprise.  And those who are in darkness, the unsaved, are not our brothers and sisters.  Thus, we are commanded to share the gospel of Christ with them.  (1 Cor. 15:1-11)
One last quote from Glenn Beck's hero, Joseph Smith where we learn a bit more of his bizarre and unbiblical understanding of God, which, by his own admission is the view of God Glenn holds as he is, after all, a professing Mormon:
I say, if you were to see him [God] to-day, you would see him like a man in form–like yourselves, in all the person, image, and very form as a man . . . it is necessary that we should understand the character and being of God, and how he came to be so; for I am going to tell you how God came to be God. We have imagined and supposed that God was God from all eternity,  I will refute that idea, and will take away and do away the veil, so that you may see . . . and that he was once a man like us; yea, that God himself the Father of us all, dwelt on an earth the same as Jesus Christ himself did.  (Source)
Now a bit of wise counsel from Erin Benziger in What If 'My God' Is Bigger than 'Your God'? :
It is sinful pride that leads men into idolatry as they create imaginary gods that suit their own personal needs. It is the same sinful pride that prevents men from bowing low before the True God. It is this pride that refuses to acknowledge one's own inability to offer anything truly "good" and refuses to acknowledge his own sinfulness. Yet it is God Who can, by wonderful, amazing grace, break a man of this pride and bring him to his knees in humility. It is God Who can bring the most stubborn, prideful man to a place of repentance and faith in the Savior, Jesus Christ. May we pray this day and every day that God would use us to proclaim the truth of His Gospel to such men, and may we pray that His Spirit would stir and work within those men to bring them to repentant, saving faith and knowledge of His Son. (Source)
Recommended:
Church of Jesus Christ of Latter-day Saints/Mormonism—On Solid Resources
New Age Movement—On Solid Rock Resources
Glenn Beck's "pure personal truth," Part 1, Part 2—Marsha West
Origin of the Master Model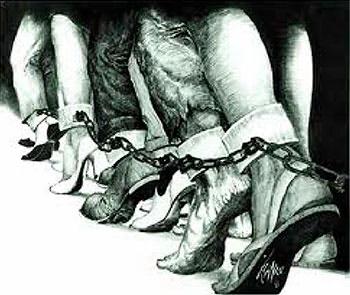 The master plan for world domination we see playing out today was first proposed to the US at the end of World War I. However, there were no takers. People were too war weary. However, when the plan was again proposed at the end of World War II, it was accepted. Consequently, World War II quietly transitioned into the secret "war" to set up what has become known as the "new world order" — an absolute dictatorship over the entire planet.
The United States set up the School of the Americas to train future dictators and terrorists who would be sent out into the world to destroy sovereign nations and place them under US domination by installing puppet governments obedient to the United States. Many conquests were made quietly using clever economic tricks [2]. However, leaders who refused to submit quietly would see their entire country reduced to rubble and the land rendered unlivable by uranium dust scattered by US bombs. The message was clear: Submit to the United States or face total destruction.
A social model based upon the assumption that cleverness and power automatically convey the right to take anything desired from those who are less adept and unable to resist is not a sustainable model for harmonious social interactions. However, this is the chosen model. The mantra for this model, "A man's true worth is measured by the amount of other peoples' happiness that he can possess and destroy" [1], is essentially a call for a class war between the greedy elite and the innocent masses of the world who simply desire a peaceful existence.
Acquisitions
The United States looks at the rest of the world as a "resource". If a country has something — oil, gold, minerals, etc. — that the US covets, it believes it has the right to take those things by whatever means necessary. In many cases the coveted resource is human slave labor. Let's look at some representative examples:
With the cooperation of the dictator, United Fruit Company (US) owned almost half of the country and used the locals as slaves to harvest its Chiquita brand bananas. However, during the period from 1945-1954 new leaders made changes. They helped the poor and set up social security and health care. Then they took land away from United Fruit and gave it to the local people. United fruit complained to the CIA that its business interests were being interfered with by the "communist" government. Any government which shows kindness to the poor and weak is called communist by the US. The US attacked Guatemala — killed the elected leaders and many thousands of citizens — and established a puppet dictatorship which would obey the will of United Fruit. The people were returned to a state of slavery. The CIA trained death squads to make sure the people were crushed into submission.
Strip Mining in Africa [4]
In Africa, the International Monetary Fund — a puppet of the US — destroys a country with strip mining. The original country was self sustaining. People were able to grow lots of food and hunt animals. However, once the land was ruined by US corporations, it was unusable to plant crops and the native animals died. The people had to buy food from other countries with money loaned to them by the IMF which they could never hope to repay. Therefore, a once free and self supporting people were made debt slaves of the IMF. Once all the natural resources have been stolen, the corporations will simply pack up and leave the indigenous people to starve and die.
Countries Used as Trash Dumps [5]
Used computers and associated items are dumped in poor countries where starving barefoot children sift through the mess of hazardous waste and broken obsolete glass computer monitors hoping to find something they can sell to get enough money to stay alive another day. Property stickers show the waste is mainly from the US government and various US state governments.
Corruption of Trusted Sources
Reporters and News Organizations
The masses are conditioned to believe news they receive from establishment sources. In the earlier times, this assumption was often correct. It was considered so important by the founding fathers that freedom of the press was enshrined in the US constitution. However, times have changed.
Walter Cronkite was known as the "trusted voice". No one knew he was also the official announcer at the secret Bohemian Grove meetings. The leaders of the world's news organizations also attend this event. That is why, even though the meetings began over one hundred years ago, until recently no one knew this group even existed. President George W. Bush may have set a new record for bribing journalists to allow their trusted name to be used as the author of material actually written by government propaganda experts. Apparently, everyone has a price and the government, of course, has no problem when it comes to money.
When Ronald Reagan reportedly ordered the death of investigative reporter Jessica Savitch [6], the message to independent journalists was clear: Go against the official party line an you're done!
Today, dedicated journalists face mysterious deaths and strange single car accidents but a few survive long enough to give us a glimpse of truths we would otherwise never know. They are true heroes.
Churches
Churches are everywhere. Unfortunately, legitimate Spiritual teachers are not. People look at churches either as harmless or with some sort of conditioned hypnotic respect. Churches send out "missionaries". However, the "mission" of these missionaries may not be so clear. If you wanted to infiltrate a foreign country, these people would be an ideal asset.
Churches are not Spiritual centers. At best, all they want is your money. At worst, they are Satanic and you are in severe Spiritual danger if you come under their influence and control.
The Catholic Church has been a trusted asset of the US intelligence community for quite some time. Significant information obtained by priests during confessions is routinely passed on to the government.
This agreement predates the internet by many years. Because the church has branches in almost every country, it has great potential for covert activities. For example, if you need to get an operative who is in danger out of a country, they can go to a Catholic church for "confession". Once the door is closed, they can exit through a secret passage, be disguised in robes and spirited safely out of the country. Church secrecy is at least on a par with US secrecy. Also, the Catholic church and the US shadow government share the same Satanic value system and engage in child rape and ritual killings.
Doctors and the Medical Industry
Medicine in the United States is an industry. It is no longer a profession. Its corporate model puts profit above all else. If some patients accidentally benefit they are the lucky ones.
The medical community has a rigid hierarchical structure and effective mechanisms for enforcing secrecy. Essentially, its model closely resembles the military chain of command structure. This makes it a perfect partner for the government in the area of secret human experiments.
For example, when the government was doing radiation experiments on humans, a doctor or someone dressed as a doctor would just walk up to unsuspecting patients and inject them with radioactive material. They were then secretly followed for years to see what would happen. Eventually, some of those who survived were told the truth. Most people used in the MK Ultra and subsequent secret projects were never notified.
Hospitals are set up to protect themselves. Staff may appear to be dedicated, smiling people who truly care about you. However, they are basically prostitutes who are being nice because you are worth money to them. When they make mistakes they have a "loss prevention" department staffed by clever lawyers who are trained to protect the financial interests of the hospital by denying everything and fabricating believable coverups. They are trained to do whatever is necessary. The staff will all agree to support whatever lies are needed. They know their job and their financial future depends upon maintaining strict secrecy.
The only people who receive legitimate medical care are the select elite cleared to accesstop secret medicine. These people always get excellent care because the doctors work for the shadow government and mistakes on their part are simply not tolerated.
Infiltrations
Countries which have the resources to sustain an intelligence community generally try to get operatives (spies) into other countries so they can directly observe activities. When real people gather intelligence, this is called human intelligence or HUMINT. The US, of course, does this too. However, you may not be aware of the extent to which the US also infiltrates itself. The central government really does not trust anyone.
Essentially all local police departments, state offices and state governors have a covert federal agent working close by pretending to be just another employee. Also, every US neighborhood has an informer who reports to the federal government. Large corporations, which tend to behave like "mini governments", need to be infiltrated and kept under observation. Colleges and universities are also monitored.
Here is how this spy network operates: The NSA likes to recruit young kids right out of college. When they are hired and sworn to secrecy they still do not know what their assignment will be. They must agree to do this assignment without first being told what it is.
Some agents, like John Perkins [2], are assigned to work in other countries. However, others are assigned to work inside the US. Their assignment could be to go to some state and apply to join the local police department. They would pretend to be just a regular person looking for a job. They would take the necessary training and spend their life as a local policeman so they could directly observe other local police from the inside and report to the NSA. Since they are actually an employee of the NSA, presumably they get to keep both salaries and, eventually, both retirements. All significant local police forces in the US are infiltrated this way.
Additionally, some agents will be assigned to get a job on the state governor's staff as well as in major local state agencies. A CIA or NSA agent is always on the staff at major colleges and universities. The same goes for major corporations.
Senior level agents are allowed to have special TV receivers in their homes linked to the secret government TV network. This way everyone stays on the same page. The channels on this network actually broadcast the truth. TV channels available to ordinary people contain only government approved propaganda mixed with "bread and circuses" presentations to make sure the sheeple stay asleep and content.
Fronts
The US government is involved in illegal activities internationally and domestically. If it performed these activities overtly in the name of the United States, there would be serious consequences under both international and local laws. To avoid this situation, the US government operates thousands of "front organizations" which appear to be private but are actually shadow operatives of the US.
For example, John Perkins [2] explained that he was recruited, hired and trained by the NSA. He was an NSA agent. However, for his cover as an economic hit man, he "officially" worked for a "private" company called Charles T. Main. This company was a government front to shield the US because the activities the NSA trained Perkins to do were illegal.
This is standard operating procedure for the US as well as other countries and many corporations. It shields them from legal recourse by providing deniability for the crimes they actually direct and commit.
Generally, when the US wants to influence other sovereign countries, it creates harmless looking NGO's which appear to be independent but are actually fronts for covert activities.
Domestically, colleges and universities — especially those with associated medical schools and hospitals — are great places to conceal a variety of covert projects such as the MK Ultra series of human experiments which, reportedly, continue today using new cover names. The US also likes to create non-profit corporations which exist only to provide classified services to the United States. A good example would be the Institutes for Defense Analysis (IDA). The US, reportedly, is its only client.
Programming
Mass media "programming" is actually programming you. It has developed into a subtle form of mind control. Before radio and television, special interests recognized that motion pictures could be used to alter public opinion in their favor. Perhaps, for example, you wanted to attack labor unions. When radio and later television came along providing access to national and international audiences, the temptation to exploit these technologies became irresistible. Originally, the US government recognized this and set up fairness rules to prevent monopolies from taking over the broadcast media and blocking opposing viewpoints. All this ended, unfortunately, when Ronald Regan canceled all the fairness regulations. Today, a handful of powerful corporations own and control essentially all content delivered by radio and television.
Television is the main vehicle for mass indoctrination. It is said that people watching TV actually fall into a light hypnotic trance. The "entertainment" you see on TV does not "just happen to be there". It is very carefully planned and timed to attract and influence targeted audiences. It is said that if some event were to somehow shut down all television broadcasts the government would experience a severe crisis because it would lose control over the minds of the masses.
TV creates sort of a "hive mind" among the masses and keeps everyone coordinated and tuned into the official party line. Without this, people would have no choice but to start thinking for themselves and forming independent opinions. Clearly, this would be a disaster.
The radio broadcast of "War of the Worlds" and the later movie "The Day the Earth Stood Still" are said to be CIA psychological experiments to judge how the general public would react to some type of ET contact.
Today, broadcasting is not just a one way event. Because people react to events and use social media to express these reactions, the effect of specific propaganda can be analyzed in real time. Since the government now intercepts all electronic communications, it is able to see general opinions and then tweak algorithms to maximize the desired effect of propaganda. This ability makes TV a two-way communications system although most people, of course, do not realize this and have no concept of the level of sophistication these technologies have reached.
Information Theory
Information Theory is the name of a relatively new branch of science which became popular in the 1960′s. It covers a broad range of technologies. Basically, it is the science of the flow of information and how that flow can be selectively controlled so that information flows only in desired pathways. As you may have already guessed, governments love this sort of stuff.
ECM
ECM stands for Electronic Counter Measures. In general, these are techniques to disable other electronic devices. Basically, it is electronic warfare. When the secret service is active in an area, for example, they will selectively jam all radio frequencies except for the specific frequencies they are using so that no one else can communicate.
World leaders, who are generally terrified of "threats" materializing from practically anywhere, like to travel with ECM generators running just in case "someone" from "somewhere" was trying to target them for "some reason". Basically, they are paranoid whack jobs.
People familiar with aviation tell the story of how Tony Blair, while traveling to or near a commercial airport, reportedly caused a commercial jet to crash because all the ECM garbage he was transmitting jammed the plane's navigation system. Of course, the British government would never admit this.
Secure Communication With Submarines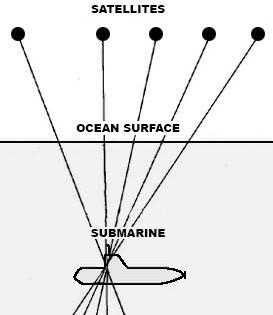 Since submarines were invented, communicating with them has been a problem because conventional radio waves will not travel underwater. Therefore, early submarines had to get close enough to the surface to put up some kind of antenna in the air to send or receive radio messages. Obviously, this could pose a problem if you did not wish to be discovered and located. After all, the motivation to create submarines in the first place was the feeling that they would be able to move about the planet secretly. However, newer technologies now make this impossible.
To solve the problem of reliable secure communication without the need to surface, scientists learned that sea water was essentially transparent to a special type of Argon laser. To set up the current communications network, it was decided to use several satellites with each satellite sending only part of an encrypted communication signal. The complete signal could only be received at a specific point underwater where all the laser beams intersected. Intercepting only one or two beams would prove useless. This communications system is considered to be impossible to intercept.
Quantum Entanglement
Returning to the submarine issue for a moment, before modern communications were perfected, there was a search for some reliable method to send a signal to a submerged submarine that could not be detected. This was considered necessary in a war situation to secretly transmit an attack command. What they originally did was to locate a couple of people who could communicate telepathically. One would be at the command base and the other on the submarine. Doing a bit more research, it was determined that this type of communication is instantaneous and somehow operated outside of time. Radio waves travel at the speed of light.
Quantum entanglement is a process which uses technology to send and receive signals outside of space-time. Now, why would you possibly want to do this? Well, if you had a base or a colony on a planet in some other solar system light years away, you would not want to wait years for messages to be received. Following this thread — and adding some basic common sense — why would you want to dedicate resources to search for habitable planets in distant solar systems when you had already "proven" it would be impossible to ever get there? Could it just be that someone is not coming clean with whole story?
The Separation Barrier
This is a model of the separation barrier which insulates the ruling class from the slave class. It is essentially "intellectual apartheid". The question is, why is it there. It takes considerable effort, money and manpower to maintain this artificial barrier. What is the reasoning behind not having a level playing field for everyone? Why does this idea absolutely terrify the elite? What are they afraid of?
The Pirate Story
This is a summary of a story told years ago on a radio broadcast most likely by Paul Harvey:
Ordinary people were afraid. The Earth was flat so they dare not venture far from home. Periodically, a pirate ship would come. They did not know how it got there or from where it came. It brought treasures they had never seen. The Chief Pirate would encourage the young men to study and specialize in specific skills. He wanted them to become educated but only in one narrow area. The Chief Pirate knew the world was not flat and how to navigate to other lands. However, this knowledge was never discussed. This "top secret" knowledge or the "big picture of the known world" would only be given to the Chief Pirate's son who would inherit his title and someday become the Chief Pirate.
This story is about the origin of the concept we call compartmentalization — the process of controlling the slave masses by only allowing them to know specific bits of the truth while the leaders are allowed to know total truth.
ELITE RULING CLASS
SECURITY CLEARANCES
SECRET POLICE
ASSASSINS
SURVEILLANCE — SIGINT HUMINT COMINT
SPY SATELLITES
SPY DRONES
SMART ELECTRIC METERS
INTERNET SURVEILLANCE
NEIGHBORHOOD SPIES
PLENTIFUL STREET DRUGS
PSYCHIATRIC FORCED DRUGGING
GENETICALLY MODIFIED FOOD
FLUORIDATED WATER
COORDINATED TELEVISION PROPAGANDA
DEGRADED PUBLIC EDUCATION
LOCAL MILITARIZED POLICE
---
SLAVE CLASS
Leaders can only maintain their status if there are slaves. Otherwise, everyone would be equal and operate on a level playing field. This means "leaders" would have to pull their own weight like everyone else. Clearly, this would be intolerable. Leaders love beautiful and exotic things but don't want to do the work needed to create these things. They probably could not even plant a garden much less build the various "ivory towers" where they like to live surrounded by servants. If left on their own they would very likely starve. This is why it is so important to create and maintain the complex separation barrier.
Why don't people who live above the separation barrier ever "come down" and talk to the people below the barrier? Well, other than the obvious fact that they would likely be killed or jailed for espionage or treason, there is another, simpler, reason.
Would you like to spend your days sitting in an open field with kindergarten kids looking for four leaf clovers? Probably not. You have progressed beyond that. The slaves below the separation barrier cannot even imagine the world of those who live above the barrier. In fact, the elite do not even consider the slaves human. They call them "disposable biological units". The United Nations prefers the slang term "the herd". Slaves can be easily bred in quantities needed and programmed to do desired tasks. Then, they can be easily disposed of when no longer useful. That's how they look at you. So, why would they want to make friends with you?
The Mars Example
There is an interesting event playing out today that you may have noticed. This concerns the recruitment and selection of people to be sent to Mars. There are simulation projects where volunteers are locked away to imitate the long voyage to Mars. They are being told that this is a one way trip and they can never hope to return to Earth.
What you are witnessing is the selection process for the "seed people" who will be used to breed the future slave class on Mars. In a situation similar to the period when most believed the Earth was flat and you would fall off if you tried to go to sea, these people are convinced that the only way to get to mars is to ride a rocket on a perilous journey taking years. Because they truly believe this, when they get to Mars, they will teach this crap to their kids along with other misconceptions like it is impossible to go faster than the speed of light and other associated obsolete scientific principles. They will have no
desire to ever return to Earth or go anywhere else because they truly believe it is not possible. They will be contented slaves.
Of course the truth is that there are already secret colonies on Mars. It is not that hard to get there using antigravity and other secret propulsion methods and it is quite likely possible to simply walk through some kind of wormhole device and come out on Mars.
However, the slaves will never know this. Just as it is done on Earth, there will be an artificial separation barrier. The insiders will know the truth and will be physically hidden from the slaves. There will be secret police and other methods — the same as are used on Earth — to make sure no slave ever escapes from the "information prison". Business as usual will continue.
Reinforcement of Ignorance
Governments and their oligarchs love to keep their subjects in a cloud of ignorance. Back in the days when people believed the Earth was flat, the inner circle ruling class knew it was round. Maintaining the deception was convenient because it kept the slaves from developing any desire to travel far from home.
Nothing has changed all that much today. Consider, for example, all the fuss over the missing MH370 plane. You are being played for a sucker. It is impossible for that plane to have "disappeared".
The US DoD spy satellite system reportedly consists of ten constellations of satellites. Each constellation has over seven thousand satellites. They see and record everything that happens on this planet. The floor of the oceans can be seen just as clearly as the land areas. The resolution of the system is better than one square millimeter. Also, everything is recorded so you can go back in time and play past images.

This is a picture of a common electric lamp. Take this lamp and throw it in the ocean — any ocean anywhere on this planet. The spy satellite system will locate it, give you the coordinates and give you a photo at least as good as the one above. That is the capability of the system. So, clearly, it is impossible not to know the location of something as large as a Boeing 777 plane. All the TV publicity is a choreographed play. You are being scammed and you need to wake up and realize this fact.
Murders and Assassinations
To ensure a strong empire, dissent must be crushed. The United States trains assassins and carries out both domestic and foreign murders and assassinations on a regular basis. You may be familiar with the classic movie scenes where a black limousine with tinted windows drives by a target with thugs shooting machine guns. Although this would accomplish the task, it is a bit too obvious in a country that advertises itself to be a free, civilized democracy. Someone might catch on and begin to doubt the party line. Consequently, these things must be done quietly.
Inside the US, murders are reportedly carried out by a group known as "FBI Division Five". Other agencies likely have the responsibility for foreign assassinations. However, the basic techniques used would be similar.
Typically, an agent would wake up every day and connect to the top secret internet to see who he was assigned to kill that day. There would be several options. If it was important to eliminate the target immediately, a fast acting chemical agent would be selected which, for example, would cause the target to die within a few hours of a "natural" heart attack.
However, if time was not critical and the government just wanted the target out of the way, you might want to select one of the cancer causing agents such as those likely used to eliminate Hugo Chavez and Senator Ted Kennedy.
There is also a third possibility. This involves character assassination instead of actual murder. Consider, for example, a person who has gained a lot of public recognition talking about, say, free energy. If you simply kill the person, there could be blowback and talk that he was silenced by the government. In such cases, it is easier to use a chemical agent designed not to kill but, rather, to cause states of mental confusion resulting in obviously strange behavior. This would be coordinated with the government controlled mainstream press to make sure everyone became convinced the person was a nut and would therefore ignore anything said without regard to the truth or validity of the message.
Once the appropriate chemical has been selected, you need to load it into the secret delivery system and locate your target. To find your target you will connect to the top secret internet and pinpoint the location of the target through their cell phone. You can also activate all the cameras and microphones in electronic gadgets connected to the internet associated with the target in case you wish to look around the target's home and hear in real time what is taking place.
Of course, this will not help you locate the target when it is time to actually do the hit. So, you need to get the top secret profile data which will show any predictable habits of the target. Everyone is constantly tracked through their cell phones and profiles are logged and stored. In this case, the profile shows that the target has a favorite restaurant and goes there for lunch every day around 11:30. Now, you know exactly what to do. You go to the restaurant, hang out until you see your target, and get in line behind the target. Now, all you need to do is slightly bump into the target to deliver the chemical. Generally, the targets never even notice.
This mission is now complete. If it is early enough, you can check back in to the top secret system to see who you are supposed to kill next. Just another day. Just a routine job.
Money
Money is an imaginary force. It is used to motivate and control slaves. Real forces effect all life forms. However, only people respond to money. The only reason they do is because they have been artificially programmed to do so.
Money can be created in unlimited quantities by those adept in the use of this force. The physical world is finite, however the world of imagination is not. There is no limit to the quantity of money that can be imagined into existence. Money can also be imagined out of existence.
Let's assume that one day the entire financial system simply disappeared. If you lived in a rural area and had a nice veggie garden, some friendly chickens, collection facilities for rain water and a few photocells for electricity, you would not notice this. The veggies would continue to grow. Rain would periodically fall. The chickens would lay eggs as usual. The sun would continue to shine. However, if you lived in a city environment, you would be devastated.
Before money, people lived in small hunter-gatherer groups. The concept of ownership did not exist. People worked and survived as a group. Men and women were equal. Everyone contributed to the community. Resources were shared equally. The concept of "mine" and "yours" did not exist. Women generally became pregnant only once about every three years although there was no birth control. Later, when the concept of money entered the consciousness, women were seen as having less value because men were paid for work but women were not paid to raise and care for kids. Society has changed, however, the downgraded status of women has not.
Money systems have always been manipulated by clever people. When gold was used as money, people learned they could dilute pure gold with silver or maybe even lead to come up with something that looked like pure gold and had the correct weight but was a fraud. A king suspected he was being scammed but had no way to prove it. He called on the great minds of the time for help. This led to what is known as the Archimedes' principle which is better known today as "specific gravity". This principle made it possible to compare a sample known to be pure gold to a questionable sample and prove the unknown sample was not pure gold. Likely, some clever crook lost his head once this test became known.
There is a general belief that gold is the ultimate reference for all money. However, secrets concerning the exact quantity of gold make this a perilous assumption. Reportedly, the United States stole a tremendous quantity of physical gold from Japan towards the end of World War II. This gold exists off the books. To make matters worse, Japan was not all that concerned. Japan had been using gold bars as ballast on its ships because they were compact and heavy. They thought nothing of throwing the bars overboard as necessary. Japan used platinum as a money reference and the US never got that. This should make one rethink all the hype about the value of gold. It may be a lot more plentiful than we have been led to believe. Also, the secret off the books stashes of gold would allow its relative value to be manipulated at will just like other commodity markets.
The Financial Axis of Evil [3]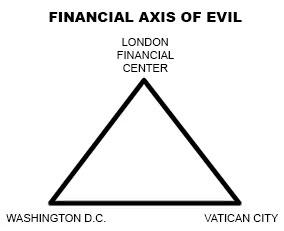 This is the model of the financial axis of evil which rules this planet. It consists of three main branches as shown above. Collectively, they are known as "The Empire of the City". Briefly, here is how this system operates:
The London financial district is in London, Washington D.C. is in the United States and the Vatican is in Italy. However, these three places are not part of the countries where they exist. They are independent "city states" and have their own laws and constitution. They are, effectively, "mini countries" inside of other countries and fly their own flags. The city state of London is a private corporation and pays no taxes to actual London or to Britain. The city state of London is the master power center and is controlled by the Rothschild family which considers itself to be the legal owner of this planet. The Vatican is the largest private land owner in the world and the first true multinational corporation with installations (churches) and secret agents (The Knights of Malta) everywhere. They control through the power of fear of the unknown and practice black magic. Washington D.C. relies upon brute military force. All three closely cooperate combining their specialties of financial trickery, witchcraft and military might. Of course, all three worship Satan as their Master.
Slavery
Slavery is alive and well throughout the world. The US constitution prohibits slavery, however, most americans live in slave-like conditions.
It is said that it will take the average college student until age fifty to pay back their student loan.
The constitutional amendment prohibiting slavery addressed the concept of physically owning another person. However, it did not address the issue of holding another person in bondage as a debt slave. It also did not consider the concept of private for profit prisons who force inmates to work as slaves. These systems exist today and are perfectly legal.
Actually, a recent report from prestigious Princeton University has reclassified the US government as an oligarchy — a country run by and for the rich elite. Former US President Carter has stated that the United States "no longer has a functioning democracy". So much for the Founding Father's dream. Speaking of dreams, check out the free you tube video titled "The American Dream".
Other forms of slavery are illegal but still flourish. Sex slaves are always in demand. Traffickers are sometimes caught but you need to realize that your leaders use sex slaves and also routinely abuse young girls and boys. Sometimes they are also killed during occult rituals. No one ever talks about this and these people are never punished. This has been the normal way of life for Satan worshipers for many years and nothing has changed or is likely to ever change in the future. Stanley Kubrick's last movie, Eyes Wide Shut, covers this subject. Some believe this intense dramatization of how the elite really live may have cost him his life.
People still have some rights left in the United States but other countries are a different story. Qatar is doing construction for the World Cup. The event is not scheduled until the year 2022, however they have already killed 1200 slaves [7] by working them to death. People are lured from poor countries with the promise of jobs and money. When they arrive, their passports are confiscated and they are forced to work until they literally drop dead. If the World Cup is actually held in Qatar in 2022, there will be glamorous TV coverage and no one will remember or care about all the dead slaves. The show must go on.
Qatar, incidentally, sponsors Al Jazeera TV network.
Adaptation Techniques
The status quo of today will never change because the people who created it will never die. Because of top secret medicine, when men like Henry Kissinger, who heads the Bilderberg Group's steering committee, get too feeble to function, they will simply go to one of the secret locations and use the temporal reversal device to regress back to about twenty years old. Their memories will be unaffected. Then they will get new identities and continue on. This process can be repeated indefinitely.
Because you can never change the status quo, your best hope for a lifetime of reasonable quality is to find clever ways to live in this world with as much independence as possible.
One method of adaptation is autonomous and semi-autonomous communities. If the community is registered as a religious institution it is automatically shielded from most government interference by the US constitution. It pays no taxes and can pretty much write its own rules by simply calling whatever it wants to do "religious doctrine". Many small semi-autonomous groups exist where people who share a common set of values find ways to quietly live out their lives pretty much on their own terms. The government does not seem interested in bothering these smaller groups as long as they live peacefully and are not doing anything that the government perceives to be a threat.
The Amish people are a good example of an autonomous group. You would probably not want to live as they do, however, before you completely dismiss them, you may want to look at some definite advantages in their chosen lifestyle.
Remember, these are the people who reject technology. They just might have made the correct choice. Technology, at first, seemed like a good idea. However, now that people are addicted to technology they are also enslaved by technology. Everything they do is monitored and recorded by the government. Privacy no longer exists. It did not have to be this way.
Technology, in itself, is not evil. However, it can be quite evil if you live under a government run by sociopathic control freaks which, unfortunately, you do. In the Amish world, electronic surveillance does not exist because electronic devices do not exist. The constant propaganda from TV has no effect on people who do not have TV. A horse does not report its position to a GPS satellite and is not controlled by a computer.
Also, the people are generally healthy and do not suffer from many diseases common to the mainstream population. They are not being poisoned by fluorinated water or additives found in processed food because they don't use these things. Also, they get lots of physical exercise.
Without totally withdrawing from the world, there are some positive steps you can take. By now you know never to drink fluorinated water or use any personal product containing fluoride such as many brands of toothpaste. To minimize harmful food additives, look for Kosher food which is marked with either the encircled "K" or "U" (Ultra Kosher). These foods have less or no harmful additives. The Jewish community is very protective of its people and the Mossad is widely considered to be the best intelligence service in the world. Therefore, they would have the inside scoop on everything including food and do not want to see their people harmed.
Whatever you decide to do, you definitely do not want to be part of so called mainstream society. These people are doomed. They are sheep (sheeple) slowly walking to the slaughter house. Don't go there!
---
references and credits
[1] DVD "The American Ruling Class". ASIN: B001HM2CE2.
[2] John Perkins. Book: Confessions of an Econemic Hit Man; DVD (free on you tube): "Apology of an Economic Hit Man"; RT interviews.
[3] See the free you tube videos titled "The Red Shield".
[4] DVD: "The Wages of Debt", RT Intl. Also available for purchase.
[5] DVD "Terra Blight", RT Intl. Also available for purchase.
[6] Interview with John Judge of Veterans Against Military Psychiatry.
[7] Also search using the phrase "qatar slaves world cup".
© 2014 W C Vetsch. All rights reserved.
Source: Walter C. Vetsch  |  3108.info | War Is Crime
America's founders, largely distrustful of centralized power, created several checks and balances into the U.S. Constitution to help insure that one person, or one group of people, would not be able to unilaterally exert his or their will over the American citizenry. First, the federal government itself was divided into three separate and distinct branches–each holding the capability (and responsibility) to check the power of the other. Second, the Bill of Rights was made part of the Constitution for the protection of individual liberties. Third, the "free and independent states" of the nation retained their sovereignty and independence after the central government was created (by the states), with the Tenth Amendment specifically recognizing their authority and jurisdiction over matters not directly delegated to the federal government.
It was also assumed that the freedom of the press and the freedom of religion would help the citizenry be sufficiently informed and inspired to keep the would-be despots at bay. And, of course, "We the People" are recognized as being the ultimate guardians of liberty by the recognition that "to secure these rights, Governments are instituted among Men, deriving their just powers from the consent of the governed." (Declaration) The "consent of the governed" was given teeth by the constitutional recognition of the people's right to wield the power of the voting booth, the jury box, and, as a last resort, the cartridge box.
What has become increasingly obvious to a large segment of the American populace is the complete unwillingness of the national media to hold the federal government accountable. Neither do America's pulpits provide the moral leadership necessary to maintain good government. The freedom of the press and religion accomplish precious little today in the safeguarding of liberty. And it is also absolutely clear that the three branches of government in Washington, D.C., adamantly refuse to use the constitutional obligations placed upon them to hold the federal government in check.
The latter was made crystal clear by a recent decision by the Supreme Court of the United States. Here is the report:
"A decision by the U.S. Supreme Court means the federal government now has an open door to 'detain as a threat to national security anyone viewed as a troublemaker,' according to critics.
"The high court this week refused to review an appeals court decision that said the president and U.S. military can arrest and indefinitely detain individuals.
"The firm of William J. Olson, P.C., which filed a friend-of-the court brief asking the court to step in, noted that not a single justice dissented from the denial of the request for review.
'The court ducked, having no appetite to confront both political parties in order to protect the citizens from military detention,' the legal team said in a statement to WND. 'The government has won, creating a tragic moment for the people–and what will someday be viewed as an embarrassment for the court.'"
The report continues: "The controversial provision authorizes the military, under presidential authority, to arrest, kidnap, detain without trial and hold indefinitely American citizens thought to 'represent an enduring security threat to the United States.'
"Journalist Chris Hedges was among the plaintiffs charging the law could be used to target journalists who report on terror-related issues.
"A friend-of-the-court brief submitted in the case stated: 'The central question now before this court is whether the federal judiciary will stand idly by while Congress and the president establish the legal framework for the establishment of a police state and the subjugation of the American citizenry through the threat of indefinite military arrest and detention, without the right to counsel, the right to confront one's accusers, or the right to trial.'
"The brief was submitted to the Supreme Court by attorneys with the U.S.
Justice Foundation of Ramona, California; Friedman Harfenist Kraut & Perlstein of Lake Success, New York; and William J. Olson, P.C. of Vienna, Virginia."
Amici Curiae of the brief included U.S. Congressman Steve Stockman, Virginia Delegate Bob Marshall, Virginia Senator Dick Black, Gun Owners of America, Downsize DC Foundation, Western Journalism Center, The Lincoln Institute for Research and Education, Tenth Amendment Center, Policy Analysis Center, Constitution Party National Committee, Professor Jerome Aumente, and yours truly, among others.
See the brief here:
The WND report goes on to say: "The 2012 NDAA was fast-tracked through the U.S. Senate, with no time for discussion or amendments, while most Americans were distracted by the scandal surrounding A&E's troubles with 'Duck Dynasty' star Phil Robertson.
"Eighty-five of 100 senators voted in favor of the new version of the NDAA, which had already been quietly passed by the House of Representatives. [Disgustingly, Montana's only U.S. House member, Republican Steve Daines, who purports himself to be a staunch conservative, voted for the indefinite detention provision of the NDAA, as did Montana's two Democrat Senators Max Baucus and Jon Tester. How did your congressman and senators vote? In my opinion, this is a monumentally-important vote, and a vote granting this unconstitutional power to the military and federal police agencies is inexcusable and demonstrates how both Democrats and Republicans will unite together to dismantle the constitutional protections of the American people in the name of "national security."]
"Hedges, a Pulitzer Prize-winning journalist, and others filed a lawsuit in 2012 against the Obama administration to challenge the legality of an earlier version of the NDAA.
"It is Section 1021 of the 2012 NDAA, and its successors, that drew a lawsuit by Hedges, Daniel Ellsberg, Jennifer Bolen, Noam Chomsky, Alex O'Brien, Kai Warg All, Brigitta Jonsottir and the group U.S. Day of Rage. Many of the plaintiffs are authors or reporters who stated that the threat of indefinite detention by the U.S. military already had altered their activities.
"'It's clearly unconstitutional,' Hedges said of the bill. 'It is a huge and egregious assault against our democracy. It overturns over 200 years of law, which has kept the military out of domestic policing.'
"Hedges is a former foreign correspondent for the New York Times and was part of a team of reporters awarded a Pulitzer Prize in 2002 for the paper's coverage of global terrorism."
See the complete WND report here:
Supreme Court Green Lights Detention Of Americans
Remember that it was Republican President George W. Bush and a Republican U.S. House and Senate that shackled the American people with the USA Patriot Act, the Department of Homeland Security–along with the rest of the gargantuan police state apparatus under which the people of the United States are now being forced to live. And it is Democrat President Barack Obama and a Democrat U.S. Senate–along with a Republican U.S. House–that continues to expand the reach of this police state. One thing that both Republicans and Democrats and conservatives and liberals agree on is the construction and implementation of a police state. Under the rubric of "national security" or "law and order," the Bill of Rights is being systematically and deliberately expunged by both sides of the political aisle.
And now we know the judicial branch of government in Washington, D.C., also refuses to hold the executive and legislative branches of government in check–as if we needed more evidence. Both Republican-appointed and Democrat-appointed justices refused to say a word condemning this draconian abuse of power within the NDAA. By so doing, the Supreme Court showed itself unwilling to stand in between the liberties of the American people and an ever-burgeoning police state.
In fact, when it comes to holding the government in DC in check, when does the Supreme Court ever intervene? Hardly ever! If it is a dispute between the states and the federal government or between individuals and the federal government, SCOTUS almost always rules in favor of DC.
Once-in-awhile, one or the other branch of government (including the judicial branch) in DC will be willing to protect constitutional liberties from another branch of government in DC, but such instances are the exception, not the rule.
And since the liberties of the American people have few friends in the national media or in the country's pulpits, the protection of our freedoms has quickly come down to the states, the local media (yes, some local media is still friendly to freedom), county sheriffs, and the people ourselves.
Currently, there is a huge momentum building among State legislatures to begin pushing back against the overreach of Washington, D.C. For example, the State of Texas is squaring off against the BLM over tens of thousands of acres along the Red River border of Texas and Oklahoma, and the State of Utah has already passed legislation claiming more than 30 million acres currently controlled by the federal government. Here is an excerpt from a Breitbart.com report:
"Utah Governor Gary Herbert (R), earlier this year, signed the Transfer of Public Lands Act. This new state law calls upon the federal government to turn over control of more than 30 million acres to the State."
See the complete report at:
Utah Grabbing Land From BLM While Texas Plays Defense
Plus, more and more county sheriffs are beginning to stand against federal encroachments. Read this report:
And, of course, just recently it was "We the People" standing against a brutish, totalitarian-style federal assault against the Bundy family in Bunkerville, Nevada. And among the brave souls at Bunkerville were State and local officials and even county sheriffs. And I was there, too. Here is the video of my message to, and prayer service for, the Oath Keepers and militia on the ground there in Bunkerville:
Sermon & Prayer At Bundy Ranch
As the three branches of government in Washington, D.C., become less and less accountable to the checks and balances assigned them by the Constitution, it is going to require that the states, county sheriffs, and people ourselves become more and more engaged in pushing back against federal overreach and abuse of power.
So, what do we have here? In Libya, in Syria, and elsewhere the United States has been on the same side as the al-Qaeda types. But not in Ukraine. That's the good news. The bad news is that in Ukraine the United States is on the same side as the neo-Nazi types, who – taking time off from parading around with their swastika-like symbols and calling for the death of Jews, Russians and Communists – on May 2 burned down a trade-union building in Odessa, killing scores of people and sending hundreds to hospital; many of the victims were beaten or shot when they tried to flee the flames and smoke; ambulances were blocked from reaching the wounded. Try and find an American mainstream media entity that has made a serious attempt to capture the horror.
And how did this latest example of American foreign-policy exceptionalism come to be? One starting point that can be considered is what former Secretary of Defense and CIA Director Robert Gates says in his recently published memoir: "When the Soviet Union was collapsing in late 1991, [Defense Secretary Dick Cheney] wanted to see the dismemberment not only of the Soviet Union and the Russian empire but of Russia itself, so it could never again be a threat to the rest of the world." That can serve as an early marker for the new cold war while the corpse of the old one was still warm. Soon thereafter, NATO began to surround Russia with military bases, missile sites, and NATO members, while yearning for perhaps the most important part needed to complete the circle – Ukraine.
In February of this year, US State Department officials, undiplomatically, joined anti-government protesters in the capital city of Kiev, handing out encouragement and food, from which emanated the infamous leaked audio tape between the US ambassador to Ukraine, Geoffrey Pyatt, and the State Department's Victoria Nuland, former US ambassador to NATO and former State Department spokesperson for Hillary Clinton. Their conversation dealt with who should be running the new Ukraine government after the government of Viktor Yanukovich was overthrown; their most favored for this position being one Arseniy Yatsenuk.
My dear, and recently departed, Washington friend, John Judge, liked to say that if you want to call him a "conspiracy theorist" you have to call others "coincidence theorists". Thus it was by the most remarkable of coincidences that Arseniy Yatsenuk did indeed become the new prime minister. He could very soon be found in private meetings and public press conferences with the president of the United States and the Secretary-General of NATO, as well as meeting with the soon-to-be new owners of Ukraine, the World Bank and the International Monetary Fund, preparing to impose their standard financial shock therapy. The current protestors in Ukraine don't need PHDs in economics to know what this portends. They know about the impoverishment of Greece, Spain, et al. They also despise the new regime for its overthrow of their democratically-elected government, whatever its shortcomings. But the American media obscures these motivations by almost always referring to them simply as "pro-Russian".
An exception, albeit rather unemphasized, was the April 17 Washington Post which reported from Donetsk that many of the eastern Ukrainians whom the author interviewed said the unrest in their region was driven by fear of "economic hardship" and the IMF austerity plan that will make their lives even harder: "At a most dangerous and delicate time, just as it battles Moscow for hearts and minds across the east, the pro-Western government is set to initiate a shock therapy of economic measures to meet the demands of an emergency bailout from the International Monetary Fund."
Arseniy Yatsenuk, it should be noted, has something called the Arseniy Yatsenuk Foundation. If you go to the foundation's website you will see the logos of the foundation's "partners".  Among these partners we find NATO, the National Endowment for Democracy, the US State Department, Chatham House (Royal Institute of International Affairs in the UK), the German Marshall Fund (a think tank founded by the German government in honor of the US Marshall Plan), as well as a couple of international banks. Is any comment needed?
Getting away with supporting al-Qaeda and Nazi types may be giving US officials the idea that they can say or do anything they want in their foreign policy. In a May 2 press conference, President Obama, referring to Ukraine and the NATO Treaty, said: "We're united in our unwavering Article 5 commitment to the security of our NATO allies". (Article 5 states: "The Parties agree that an armed attack against one or more of them … shall be considered an attack against them all.") Did the president forget that Ukraine is not (yet) a member of NATO? And in the same press conference, the president referred to the "duly elected government in Kyiv (Kiev)", when in fact it had come to power via a coup and then proceeded to establish a new regime in which the vice-premier, minister of defense, minister of agriculture, and minister of environment, all belonged to far-right neo-Nazi parties.
The pure awfulness of the Ukrainian right-wingers can scarcely be exaggerated. In early March, the leader of Pravy Sektor (Right Sector) called upon his comrades, the infamous Chechnyan terrorists, to carry out further terrorist actions in Russia.
There may be one important difference between the old Cold War and the new one. The American people, as well as the world, can not be as easily brainwashed as they were during the earlier period.
Over the course of a decade, in doing the research for my first books and articles on US foreign policy, one of the oddities to me of the Cold War was how often the Soviet Union seemed to know what the United States was really up to, even if the American people didn't. Every once in a while in the 1950s to 70s a careful reader would notice a two- or three-inch story in the New York Times on the bottom of some distant inside page, reporting that Pravda or Izvestia had claimed that a recent coup or political assassination in Africa or Asia or Latin America had been the work of the CIA; theTimes might add that a US State Department official had labeled the story as "absurd". And that was that; no further details were provided; and none were needed, for how many American readers gave it a second thought? It was just more commie propaganda. Who did they think they were fooling? This ignorance/complicity on the part of the mainstream media allowed the United States to get away with all manner of international crimes and mischief.
It was only in the 1980s when I began to do the serious research that resulted in my first book, which later became Killing Hope, that I was able to fill in the details and realize that the United States had indeed masterminded that particular coup or assassination, and many other coups and assassinations, not to mention countless bombings, chemical and biological warfare, perversion of elections, drug dealings, kidnapings, and much more that had not appeared in the American mainstream media or schoolbooks. (And a significant portion of which was apparently unknown to the Soviets as well.)
But there have been countless revelations about US crimes in the past two decades. Many Americans and much of the rest of the planet have become educated. They're much more skeptical of American proclamations and the fawning media.
President Obama recently declared: "The strong condemnation that it's received from around the world indicates the degree to which Russia is on the wrong side of history on this."  Marvelous … coming from the man who partners with jihadists and Nazis and has waged war against seven nations. In the past half century is there any country whose foreign policy has received more bitter condemnation than the United States? If the United States is not on the wrong side of history, it may be only in the history books published by the United States.
Barack Obama, like virtually all Americans, likely believes that the Soviet Union, with perhaps the sole exception of the Second World War, was consistently on the wrong side of history in its foreign policy as well as at home. Yet, in a survey conducted by an independent Russian polling center this past January, and reported in the Washington Post in April, 86 percent of respondents older than 55 expressed regret for the Soviet Union's collapse; 37 percent of those aged 25 to 39 did so. (Similar poll results have been reported regularly since the demise of the Soviet Union. This is fromUSA Today in 1999: "When the Berlin Wall crumbled, East Germans imagined a life of freedom where consumer goods were abundant and hardships would fade. Ten years later, a remarkable 51% say they were happier with communism.")
Or as the new Russian proverb put it: "Everything the Communists said about Communism was a lie, but everything they said about capitalism turned out to be the truth."
A week before the above Post report in April the newspaper printed an article about happiness around the world, which contains the following charming lines: "Worldwide polls show that life seems better to older people – except in Russia." … "Essentially, life under President Vladimir Putin is one continuous downward spiral into despair." … "What's going on in Russia is deep unhappiness." … "In Russia, the only thing to look forward to is death's sweet embrace."
No, I don't think it was meant to be any kind of satire. It appears to be a scientific study, complete with graphs, but it reads like something straight out of the 1950s.
The views Americans hold of themselves and other societies are not necessarily more distorted than the views found amongst people elsewhere in the world, but the Americans' distortion can lead to much more harm. Most Americans and members of Congress have convinced themselves that the US/NATO encirclement of Russia is benign – we are, after all, the Good Guys – and they don't understand why Russia can't see this.
The first Cold War, from Washington's point of view, was often designated as one of "containment", referring to the US policy of preventing the spread of communism around the world, trying to blockthe very idea of communism or socialism. There's still some leftover from that – see Venezuela and Cuba, for example – but the new Cold War can be seen more in terms of a military strategy. Washington thinks in terms of who could pose a barrier to the ever-expanding empire adding to its bases and other military necessities.
Whatever the rationale, it's imperative that the United States suppress any lingering desire to bring Ukraine (and Georgia) into the NATO alliance. Nothing is more likely to bring large numbers of Russian boots onto the Ukrainian ground than the idea that Washington wants to have NATO troops right on the Russian border and in spitting distance of the country's historic Black Sea naval base in Crimea.
The myth of Soviet expansionism
One still comes across references in the mainstream media to Russian "expansionism" and "the Soviet empire", in addition to that old favorite "the evil empire". These terms stem largely from erstwhile Soviet control of Eastern European states. But was the creation of these satellites following World War II an act of imperialism or expansionism? Or did the decisive impetus lie elsewhere?
Within the space of less than 25 years, Western powers had invaded Russia three times – the two world wars and the "Intervention" of 1918-20 – inflicting some 40 million casualties in the two wars alone. To carry out these invasions, the West had used Eastern Europe as a highway. Should it be any cause for wonder that after World War II the Soviets wanted to close this highway down? In almost any other context, Americans would have no problem in seeing this as an act of self defense. But in the context of the Cold War such thinking could not find a home in mainstream discourse.
The Baltic states of the Soviet Union – Estonia, Latvia, and Lithuania – were not part of the highway and were frequently in the news because of their demands for more autonomy from Moscow, a story "natural" for the American media. These articles invariably reminded the reader that the "once independent" Baltic states were invaded in 1939 by the Soviet Union, incorporated as republics of the USSR, and had been "occupied" ever since. Another case of brutal Russian imperialism. Period. History etched in stone.
The three countries, it happens, were part of the Russian empire from 1721 up to the Russian Revolution of 1917, in the midst of World War I. When the war ended in November 1918, and the Germans had been defeated, the victorious Allied nations (US, Great Britain, France, et al.) permitted/encouraged the German forces to remain in the Baltics for a full year to crush the spread of Bolshevism there; this, with ample military assistance from the Allied nations. In each of the three republics, the Germans installed collaborators in power who declared their independence from the new Bolshevik state which, by this time, was so devastated by the World War, the revolution, and the civil war prolonged by the Allies' intervention, that it had no choice but to accept the fait accompli. The rest of the fledgling Soviet Union had to be saved.
To at least win some propaganda points from this unfortunate state of affairs, the Soviets announced that they were relinquishing the Baltic republics "voluntarily" in line with their principles of anti-imperialism and self-determination. But is should not be surprising that the Soviets continued to regard the Baltics as a rightful part of their nation or that they waited until they were powerful enough to reclaim the territory.
Then we had Afghanistan. Surely this was an imperialist grab. But the Soviet Union had lived next door to Afghanistan for more than 60 years without gobbling it up. And when the Russians invaded in 1979, the key motivation was the United States involvement in a movement, largely Islamic, to topple the Afghan government, which was friendly to Moscow. The Soviets could not have been expected to tolerate a pro-US, anti-communist government on its border any more than the United States could have been expected to tolerate a pro-Soviet, communist government in Mexico.
Moreover, if the rebel movement took power it likely would have set up a fundamentalist Islamic government, which would have been in a position to proselytize the numerous Muslims in the Soviet border republics.
Notes
See RT.com (formerly Russia Today) for many stories, images and videos
Robert Gates, Duty (2014), p.97
If this site has gone missing again, a saved version can be found here.
Voice of Russia radio station, Moscow, April 18, 2014; also see Answer Coalition, "Who's who in Ukraine's new [semi-fascist] government", March 11, 2014
RT.com, news report March 5, 2014
CBS News, March 3, 2014
Washington Post, April 11, 2014
USA Today (Virginia), Oct. 11, 1999, page 1
Washington Post print edition, April 2, 2014; online here
Is there anyone out there who still believes that Barack Obama, when he's speaking about American foreign policy, is capable of being anything like an honest man? In a March 26 talk in Belgium to "European youth", the president fed his audience one falsehood, half-truth, blatant omission, or hypocrisy after another. If George W. Bush had made some of these statements, Obama supporters would not hesitate to shake their head, roll their eyes, or smirk. Here's a sample:
– "In defending its actions, Russian leaders have further claimed Kosovo as a precedent – an example they say of the West interfering in the affairs of a smaller country, just as they're doing now. But NATO only intervened after the people of Kosovo were systematically brutalized and killed for years."
Most people who follow such things are convinced that the 1999 US/NATO bombing of the Serbian province of Kosovo took place only after the Serbian-forced deportation of ethnic Albanians from Kosovo was well underway; which is to say that the bombing was launched to stop this "ethnic cleansing". In actuality, the systematic deportations of large numbers of people did not begin until a few days after the bombing began, and was clearly a reaction to it, born of Serbia's extreme anger and powerlessness over the bombing. This is easily verified by looking at a daily newspaper for the few days before the bombing began the night of March 23/24, 1999, and the few days following. Or simply look at the New York Times of March 26, page 1, which reads:
… with the NATO bombing already begun, a deepening sense of fear took hold in Pristina [the main city of Kosovo] that the Serbs would now vent their rage against ethnic Albanian civilians in retaliation. [emphasis added]
On March 27, we find the first reference to a "forced march" or anything of that nature.
But the propaganda version is already set in marble.
– "And Kosovo only left Serbia after a referendum was organized, not outside the boundaries of international law, but in careful cooperation with the United Nations and with Kosovo's neighbors. None of that even came close to happening in Crimea."
None of that even came close to happening in Kosovo either. The story is false. The referendum the president speaks of never happened. Did the mainstream media pick up on this or on the previous example? If any reader comes across such I'd appreciate being informed.
Crimea, by the way, did have a referendum. A real one.
– "Workers and engineers gave life to the Marshall Plan … As the Iron Curtain fell here in Europe, the iron fist of apartheid was unclenched, and Nelson Mandela emerged upright, proud, from prison to lead a multiracial democracy. Latin American nations rejected dictatorship and built new democracies … "
The president might have mentioned that the main beneficiary of the Marshall Plan was US corporations  , that the United States played an indispensable role in Mandela being caught and imprisoned, and that virtually all the Latin American dictatorships owed their very existence to Washington. Instead, the European youth were fed the same party line that their parents were fed, as were all Americans.
– "Yes, we believe in democracy – with elections that are free and fair."
In this talk, the main purpose of which was to lambaste the Russians for their actions concerning Ukraine, there was no mention that the government overthrown in that country with the clear support of the United States had been democratically elected.
– "Moreover, Russia has pointed to America's decision to go into Iraq as an example of Western hypocrisy. … But even in Iraq, America sought to work within the international system. We did not claim or annex Iraq's territory. We did not grab its resources for our own gain. Instead, we ended our war and left Iraq to its people and a fully sovereign Iraqi state that could make decisions about its own future."
The US did not get UN Security Council approval for its invasion, the only approval that could legitimize the action. It occupied Iraq from one end of the country to the other for 8 years, forcing the government to privatize the oil industry and accept multinational – largely U.S.-based, oil companies' – ownership. This endeavor was less than successful because of the violence unleashed by the invasion. The US military finally was forced to leave because the Iraqi government refused to give immunity to American soldiers for their many crimes.
Here is a brief summary of what Barack Obama is attempting to present as America's moral superiority to the Russians:
The modern, educated, advanced nation of Iraq was reduced to a quasi failed state … the Americans, beginning in 1991, bombed for 12 years, with one dubious excuse or another; then invaded, then occupied, overthrew the government, tortured without inhibition, killed wantonly … the people of that unhappy land lost everything – their homes, their schools, their electricity, their clean water, their environment, their neighborhoods, their mosques, their archaeology, their jobs, their careers, their professionals, their state-run enterprises, their physical health, their mental health, their health care, their welfare state, their women's rights, their religious tolerance, their safety, their security, their children, their parents, their past, their present, their future, their lives … More than half the population either dead, wounded, traumatized, in prison, internally displaced, or in foreign exile … The air, soil, water, blood, and genes drenched with depleted uranium … the most awful birth defects … unexploded cluster bombs lying in wait for children to pick them up … a river of blood running alongside the Euphrates and Tigris … through a country that may never be put back together again. … "It is a common refrain among war-weary Iraqis that things were better before the U.S.-led invasion in 2003," reported the Washington Post. (May 5, 2007)
How can all these mistakes, such arrogance, hypocrisy and absurdity find their way into a single international speech by the president of the United States? Is the White House budget not sufficient to hire a decent fact checker? Someone with an intellect and a social conscience? Or does the desire to score propaganda points trump everything else? Is this another symptom of the Banana-Republicization of America?
Long live the Cold War
In 1933 US President Franklin D. Roosevelt recognized the Soviet Union after some 15 years of severed relations following the Bolshevik Revolution. On a day in December of that year, a train was passing through Poland carrying the first American diplomats dispatched to Moscow. Amongst their number was a 29 year-old Foreign Service Officer, later to become famous as a diplomat and scholar, George Kennan. Though he was already deemed a government expert on Russia, the train provided Kennan's first actual exposure to the Soviet Union. As he listened to his group's escort, Russian Foreign Minister Maxim Litvinov, reminisce about growing up in a village the train was passing close by, and his dreams of becoming a librarian, the Princeton-educated Kennan was astonished: "We suddenly realized, or at least I did, that these people we were dealing with were human beings like ourselves, that they had been born somewhere, that they had their childhood ambitions as we had. It seemed for a brief moment we could break through and embrace these people."
It hasn't happened yet.
One would think that the absence in Russia of communism, of socialism, of the basic threat or challenge to the capitalist system, would be sufficient to write finis to the 70-year Cold War mentality. But the United States is virtually as hostile to 21st-century Russia as it was to 20th-century Soviet Union, surrounding Moscow with military bases, missile sites, and NATO members. Why should that be? Ideology is no longer a factor. But power remains one, specifically America's perpetual lust for world hegemony. Russia is the only nation that (a) is a military powerhouse, and (b) doesn't believe that the United States has a god-given-American-exceptionalism right to rule the world, and says so. By these criteria, China might qualify as a poor second. But there are no others.
Washington pretends that it doesn't understand why Moscow should be upset by Western military encroachment, but it has no such problem when roles are reversed. Secretary of State John Kerry recently stated that Russian troops poised near eastern Ukraine are "creating a climate of fear and intimidation in Ukraine" and raising questions about Russia's next moves and its commitment to diplomacy.
NATO – ever in need of finding a raison d'être – has now issued a declaration of [cold] war, which reads in part:
"NATO foreign ministers on Tuesday [April 1, 2014] reaffirmed their commitment to enhance the Alliance's collective defence, agreed to further support Ukraine and to suspend NATO's practical cooperation with Russia. 'NATO's greatest responsibility is to protect and defend our territory and our people. And make no mistake, this is what we will do,' NATO Secretary General Anders Fogh Rasmussen said. … Ministers directed Allied military authorities to develop additional measures to strengthen collective defence and deterrence against any threat of aggression against the Alliance, Mr. Fogh Rasmussen said. 'We will make sure we have updated military plans, enhanced exercises and appropriate deployments,' he said. NATO has already reinforced its presence on the eastern border of the Alliance, including surveillance patrols over Poland and Romania and increased numbers of fighter aircraft allocated to the NATO air policing mission in the Baltic States. … NATO Foreign Ministers also agreed to suspend all of NATO's practical cooperation with Russia."
Does anyone recall what NATO said in 2003 when the United States bombed and invaded Iraq with "shock and awe", compared to the Russians now not firing a single known shot at anyone? And neither Russia nor Ukraine is even a member of NATO. Does NATO have a word to say about the right-wing coup in Ukraine, openly supported by the United States, overthrowing the elected government? Did the hypocrisy get any worse during the Cold War? Imagine that NATO had not been created in 1949. Imagine that it has never existed. What reason could one give today for its creation? Other than to provide a multi-national cover for Washington's interventions.
One of the main differences between now and the Cold War period is that Americans at home are (not yet) persecuted or prosecuted for supporting Russia or things Russian.
But don't worry, folks, there won't be a big US-Russian war. For the same reason there wasn't one during the Cold War. The United States doesn't pick on any country which can defend itself.
Cuba … Again … Still … Forever
Is there actually a limit? Will the United States ever stop trying to overthrow the Cuban government? Entire books have been written documenting the unrelenting ways Washington has tried to get rid of tiny Cuba's horrid socialism – from military invasion to repeated assassination attempts to an embargo that President Clinton's National Security Advisor called "the most pervasive sanctions ever imposed on a nation in the history of mankind".  But nothing has ever come even close to succeeding. The horrid socialism keeps on inspiring people all over the world. It's the darnedest thing. Can providing people free or remarkably affordable health care, education, housing, food and culture be all that important?
And now it's "Cuban Twitter" – an elaborately complex system set up by the US Agency for International Development (USAID) to disguise its American origins and financing, aiming to bring about a "Cuban Spring" uprising. USAID sought to first "build a Cuban audience, mostly young people; then the plan was to push them toward dissent", hoping the messaging network "would reach critical mass so that dissidents could organize 'smart mobs' – mass gatherings called at a moment's notice – that might trigger political demonstrations or 'renegotiate the balance of power between the state and society'."  It's too bad it's now been exposed, because we all know how wonderful the Egyptian, Syrian, Libyan, and other "Arab Springs" have turned out.
Here's USAID speaking after their scheme was revealed on April 3: "Cubans were able to talk among themselves, and we are proud of that."  We are thus asked to believe that normally the poor downtrodden Cubans have no good or safe way to communicate with each other. Is the US National Security Agency working for the Cuban government now?
The Associated Press, which broke the story, asks us further to believe that the "truth" about most things important in the world is being kept from the Cuban people by the Castro regime, and that the "Cuban Twitter" would have opened people's eyes. But what information might a Cuban citizen discover online that the government would not want him to know about? I can't imagine. Cubans are in constant touch with relatives in the US, by mail and in person. They get US television programs from Miami and other southern cities; both CNN and Telesur (Venezuela, covering Latin America) are seen regularly on Cuban television"; international conferences on all manner of political, economic and social issues are held regularly in Cuba. I've spoken at more than one myself. What – it must be asked – does USAID, as well as the American media, think are the great dark secrets being kept from the Cuban people by the nasty commie government?
Those who push this line sometimes point to the serious difficulty of using the Internet in Cuba. The problem is that it's extremely slow, making certain desired usages often impractical. From an American friend living in Havana: "It's not a question of getting or not getting internet. I get internet here. The problem is downloading something or connecting to a link takes too long on the very slow connection that exists here, so usually I/we get 'timed out'." But the USAID's "Cuban Twitter", after all, could not have functioned at all without the Internet.
Places like universities, upscale hotels, and Internet cafés get better connections, at least some of the time; however, it's rather expensive to use at the hotels and cafés.
In any event, this isn't a government plot to hide dangerous information. It's a matter of technical availability and prohibitive cost, both things at least partly in the hands of the United States and American corporations. Microsoft, for example, at one point, if not at present, barred Cuba from using its Messenger instant messaging service.
Cuba and Venezuela have jointly built a fiber optic underwater cable connection that they hope will make them less reliant on the gringos; the outcome of this has not yet been reported in much detail.
The grandly named Agency for International Development does not have an honorable history; this can perhaps be captured by a couple of examples: In 1981, the agency's director, John Gilligan, stated: "At one time, many AID field offices were infiltrated from top to bottom with CIA people. The idea was to plant operatives in every kind of activity we had overseas, government, volunteer, religious, every kind."
On June 21, 2012, the Bolivarian Alliance for the Peoples of Our America (ALBA) issued a resolution calling for the immediate expulsion of USAID from their nine member countries, "due to the fact that we consider their presence and actions to constitute an interference which threatens the sovereignty and stability of our nations."
USAID, the CIA, the National Endowment for Democracy (and the latter's subsidiaries), together or singly, continue to be present at regime changes, or attempts at same, favorable to Washington, from "color revolutions" to "spring" uprisings, producing a large measure of chaos and suffering for our tired old world.
Notes
William Blum, America's Deadliest Export – Democracy: The Truth About US Foreign Policy and Everything Else, p.22-5
Walter Isaacson & Evan Thomas, The Wise Men (1986), p.158
Washington Post, March 31, 2014
"NATO takes measures to reinforce collective defence, agrees on support for Ukraine", NATO website, April 1, 2014
Sandy Berger, White House press briefing, November 14, 1997, US Newswire transcript
Associated Press, April 3 & 4, 2014
Washington Post, April 4, 2014
Associated Press, June 2, 2009
George Cotter, "Spies, strings and missionaries", The Christian Century (Chicago), March 25, 1981, p.321
Nobody expected events to move on with such a breath-taking speed. The Russians took their time; they sat on the fence and watched while the Brown storm-troopers conquered Kiev, and they watched while Mrs Victoria Nuland of the State Department and her pal Yatsenyuk ("Yats") slapped each other's backs and congratulated themselves on their quick victory. They watched when President Yanukovych escaped to Russia to save his skin. They watched when the Brown bands moved eastwards to threaten the Russian-speaking South East. They patiently listened while Mme Timoshenko, fresh out of gaol, swore to void treaties with Russia and to expel the Russian Black Sea Fleet from its main harbour in Sevastopol. They paid no heed when the new government appointed oligarchs to rule Eastern provinces. Nor did they react when children in Ukrainian schools were ordered to sing "Hang a Russian on a thick branch" and the oligarch-governor's deputy promised to hang dissatisfied Russians of the East as soon as Crimea is pacified. While these fateful events unravelled, Putin kept silent.
He is a cool cucumber, Mr Putin. Everybody, including this writer, thought he was too nonchalant about Ukraine's collapse. He waited patiently. The Russians made a few slow and hesitant, almost stealthy moves. The marines Russia had based in Crimea by virtue of an international agreement (just as the US has marines in Bahrain) secured Crimea's airports and roadblocks, provided necessary support to the volunteers of the Crimean militia (called Self-Defence Forces), but remained under cover. The Crimean parliament asserted its autonomy and promised a plebiscite in a month time. And all of a sudden things started to move real fast!
The poll was moved up to Sunday, March 16. Even before it could take place, the Crimean Parliament declared Crimea's independence. The poll's results were spectacular: 96% of the votes were for joining Russia; the level of participation was unusually high – over 84%. Not only ethnic Russians, but ethnic Ukrainians and Tatars voted for reunification with Russia as well. A symmetrical poll in Russia showed over 90% popular support for reunification with Crimea, despite liberals' fear-mongering ("this will be too costly, the sanctions will destroy Russian economy, the US will bomb Moscow", they said).
Even then, the majority of experts and talking heads expected the situation to remain suspended for a long while. Some thought Putin would eventually recognise Crimean independence, while stalling on final status, as he did with Ossetia and Abkhazia after the August 2008 war with Tbilisi. Others, especially Russian liberals, were convinced Putin would surrender Crimea in order to save Russian assets in the Ukraine.
But Putin justified the Russian proverb: the Russians take time to saddle their horses, but they ride awfully fast. He recognised Crimea's independence on Monday, before the ink on the poll's results dried.  The next day, on Tuesday, he gathered all of Russia's senior statesmen and parliamentarians in the biggest, most glorious and elegant St George state hall in the Kremlin, lavishly restored to its Imperial glory, and declared Russia's acceptance of Crimea's reunification bid. Immediately after his speech, the treaty between Crimea and Russia was signed, and the peninsula reverted to Russia as it was before 1954, when Communist Party leader Khrushchev passed it to the Ukrainian Soviet Republic.
This was an event of supreme elation for the gathered politicians and for people at home watching it live on their tellies. The vast St George Hall applauded Putin as never before, almost as loudly and intensely as the US Congress had applauded Netanyahu. The Russians felt immense pride: they still remember the stinging defeat of 1991, when their country was taken apart. Regaining Crimea was a wonderful reverse for them. There were public festivities in honour of this reunification all over Russia and especially in joyous Crimea.
Historians have compared the event with the restoration of Russian sovereignty over Crimea in 1870, almost twenty years after the Crimean War had ended with Russia's defeat, when severe limitations on Russian rights in Crimea were imposed by victorious France and Britain. Now the Black Sea Fleet will be able to develop and sail freely again, enabling it to defend Syria in the next round. Though Ukrainians ran down the naval facilities and turned the most advanced submarine harbour of Balaclava into shambles, the potential is there.
Besides the pleasure of getting this lost bit of land back, there was the additional joy of outwitting the adversary. The American neocons arranged the coup in Ukraine and sent the unhappy country crashing down, but the first tangible fruit of this break up went to Russia.
A new Jewish joke was coined at that time:
Israeli President Peres asks the Russian President:
       
Vladimir, are you of Jewish ancestry?

      

Putin: What makes you think so, Shimon?

       

Peres: You made the US pay five billion dollars to deliver Crimea to Russia. Even for a Jew, that is audacious!
Five billion dollars is a reference to Victoria Nuland's admission of having spent that much for democratisation (read: destabilisation) of the Ukraine. President Putin snatched victory from the jaws of defeat, and US hegemony suffered a set-back.
The Russians enjoyed the sight of their UN representative Vitaly Churkin coping with a near-assault by Samantha Power. The Irish-born US rep came close to bodily attacking the elderly grey-headed Russian diplomat telling him that "Russia was defeated (presumably in 1991 – ISH) and should bear the consequences… Russia is blackmailing the US with its nuclear weapons," while Churkin asked her to keep her hands off him and stop foaming at the mouth. This was not the first hostile encounter between these twain: a month ago, Samantha entertained a Pussy Riot duo, and Churkin said she should join the group and embark on a concert tour.
The US Neocons' role in the Kiev coup was clarified by two independent exposures. Wonderful Max Blumenthal and Rania Khalek showed that the anti-Russian campaign of recent months (gay protests, Wahl affair, etc.) was organised by the Zionist Neocon PNAC (now renamed FPI) led by Mr Robert Kagan, husband of Victoria "Fuck EC" Nuland. It seems that the Neocons are hell-bent to undermine Russia by all means, while the Europeans are much more flexible. (True, the US troops are still stationed in Europe, and the old continent is not as free to act as it might like).
The second exposé was an interview with Alexander Yakimenko, the head of Ukrainian Secret Services (SBU) who had escaped to Russia like his president. Yakimenko accused Andriy Parubiy, the present security czar, of making a deal with the Americans. On American instructions, he delivered weapons and brought snipers who killed some 70 persons within few hours. They killed the riot police and the protesters as well.
The US Neocon-led conspiracy in Kiev was aimed against the European attempt to reach a compromise with President Yanukovych, said the SBU chief. They almost agreed on all points, but Ms Nuland wanted to derail the agreement, and so she did – with the help of a few snipers.
These snipers were used again in Crimea: a sniper shot and killed a Ukrainian soldier. When the Crimean self-defence forces began their pursuit, the sniper shot at them, killed one and wounded one. It is the same pattern: snipers are used to provoke response and hopefully to jump-start a shootout.
Novorossia
While Crimea was a walkover, the Russians are far from being home and dry. Now, the confrontation moved to the Eastern and South-Eastern provinces of mainland Ukraine, called Novorossia (New Russia) before the Communist Revolution of 1917. Alexander Solzhenitsyn in his later years predicted that Ukraine's undoing would come from its being overburdened by industrial provinces that never belonged to the Ukraine before Lenin, – by Russian-speaking Novorossia. This prediction is likely to be fulfilled.
Who fights whom over there? It is a great error to consider the conflict a tribal one, between Russians and Ukrainians. Good old Pat Buchanan made this error saying that "Vladimir Putin is a blood-and-soil, altar-and-throne ethno-nationalist who sees himself as Protector of Russia and looks on Russians abroad the way Israelis look upon Jews abroad, as people whose security is his legitimate concern." Nothing could be farther away from truth: perhaps only the outlandish claim that Putin is keen on restoring the Russian Empire can compete.
Putin is not an empire-builder at all (to great regret of Russia's communists and nationalists). Even his quick takeover of Crimea was an action forced upon him by the strong-willed people of Crimea and by the brazen aggression of the Kiev regime. I have it on a good authority that Putin hoped he would not have to make this decision. But when he decided he acted.
The ethno-nationalist assertion of Buchanan is even more misleading. Ethno-nationalists of Russia are Putin's enemies; they support the Ukrainian ethno-nationalists and march together with Jewish liberals on Moscow street demos. Ethno-nationalism is as foreign to Russians as it is foreign to the English. You can expect to meet a Welsh or Scots nationalist, but an English nationalist is an unnatural rarity. Even the English Defence League was set up by a Zionist Jew. Likewise, you can find a Ukrainian or a Belarusian or a Cossack nationalist, but practically never a Russian one.
Putin is a proponent and advocate of non-nationalist Russian world. What is the Russian world?
Russian World
Russians populate their own vast universe embracing many ethnic units of various background, from Mongols and Karels to Jews and Tatars. Until 1991, they populated an even greater land mass (called the Soviet Union, and before that, the Russian Empire) where Russian was the lingua franca and the language of daily usage for majority of citizens. Russians could amass this huge empire because they did not discriminate and did not hog the blanket. Russians are amazingly non-tribal, to an extent unknown in smaller East European countries, but similar to other great Eastern Imperial nations, the Han Chinese and the Turks before the advent of Young Turks and Ataturk. The Russians did not assimilate but partly acculturated their neighbours for whom Russian language and culture became the gateway to the world. The Russians protected and supported local cultures, as well, at their expense, for they enjoy this diversity.
Before 1991, the Russians promoted a universalist humanist world-view; nationalism was practically banned, and first of all, Russian nationalism. No one was persecuted or discriminated because of his ethnic origin (yes, Jews complained, but they always complain). There was some positive discrimination in the Soviet republics, for instance a Tajik would have priority to study medicine in the Tajik republic, before a Russian or a Jew; and he would be able to move faster up the ladder in the Party and politics. Still the gap was small.
After 1991, this universalist world-view was challenged by a parochial and ethno-nationalist one in all ex-Soviet republics save Russia and Belarus. Though Russia ceased to be Soviet, it retained its universalism. In the republics, people of Russian culture were severely discriminated against, often fired from their working places, in worst cases they were expelled or killed. Millions of Russians, natives of the republics, became refugees; together with them, millions of non-Russians who preferred Russian universalist culture to "their own" nationalist and parochial one fled to Russia. That is why modern Russia has millions of Azeris, Armenians, Georgians, Tajiks, Latvians and of smaller ethnic groups from the republics. Still, despite discrimination, millions of Russians and people of Russian culture remained in the republics, where their ancestors lived for generations, and the Russian language became a common ground for all non-nationalist forces.
If one wants to compare with Israel, as Pat Buchanan did, it is the republics, such as Ukraine, Georgia, Uzbekistan, Estonia do follow Israeli model of discriminating and persecuting their "ethnic minorities", while Russia follows the West European model of equality.
France vs Occitania
In order to understand the Russia-Ukraine problem, compare it with France. Imagine it divided into North and South France, the North retaining the name of France, while the South of France calling itself "Occitania", and its people "Occitans", their language "Occitan". The government of Occitania would force the people to speak Provençal, learn Frederic Mistral's poems by rote and teach children to hate the French, who had devastated their beautiful land in the Albigensian Crusade of 1220. France would just gnash its teeth. Now imagine that after twenty years, the power in Occitania were violently seized by some romantic southern fascists who were keen to eradicate "800 years of Frank domination" and intend to discriminate against people who prefer to speak the language of Victor Hugo and Albert Camus. Eventually France would be forced to intervene and defend francophones, at least in order to stem the refugee influx. Probably the Southern francophones of Marseilles and Toulon would support the North against "their own" government, though they are not migrants from Normandy.
Putin defends all Russian-speakers, all ethnic minorities, such as Gagauz or Abkhaz, not only ethnic Russians. He defends the Russian World, all those russophones who want and need his protection. This Russian World definitely includes many, perhaps majority of people in the Ukraine, ethnic Russians, Jews, small ethnic groups and ethnic Ukrainians, in Novorossia and in Kiev.
Indeed Russian world was and is attractive. The Jews were happy to forget their schtetl and Yiddish; their best poets Pasternak and Brodsky wrote in Russian and considered themselves Russian. Still, some minor poets used Yiddish for their self-expression. The Ukrainians, as well, used Russian for literature, though they spoke their dialect at home for long time. Nikolai Gogol, the great Russian writer of Ukrainian origin, wrote Russian, and he was dead set against literary usage of the Ukrainian dialect. There were a few minor Romantic figures who used the dialect for creative art, like Taras Shevchenko and Lesya Ukrainka.
Solzhenitsyn wrote: "Even ethnic-Ukrainians do not use and do not know Ukrainian. In order to promote its use, the Ukrainian government bans Russian schools, forbids Russian TV, even librarians are not allowed to speak Russian with their readers. This anti-Russian position of Ukraine is exactly what the US wants in order to weaken Russia."
Putin in his speech on Crimea stressed that he wants to secure the Russian world – everywhere in the Ukraine. In Novorossia the need is acute, for there are daily confrontations between the people and the gangs sent by the Kiev regime. While Putin does not yet want (as opposed to Solzhenitsyn and against general Russian feeling) to take over Novorossia, he may be forced to it, as he was in Crimea. There is a way to avoid this major shift: the Ukraine must rejoin the Russian world. While keeping its independence, Ukraine must grant full equality to its Russian language speakers. They should be able to have Russian-language schools, newspapers, TV, be entitled to use Russian everywhere. Anti-Russian propaganda must cease. And fantasies of joining NATO, too.
This is not an extraordinary demand: Latinos in the US are allowed to use Spanish. In Europe, equality of languages and cultures is a sine qua non. Only in the ex-Soviet republics are these rights trampled – not only in Ukraine, but in the Baltic republics as well. For twenty years, Russia made do with weak objections, when Russian-speakers (the majority of them are not ethnic Russians) in the Baltic states were discriminated against. This is likely to change. Lithuania and Latvia have already paid for their anti-Russian position by losing their profitable transit trade with Russia. Ukraine is much more important for Russia. Unless the present regime is able to change (not very likely), this illegitimate regime will be changed by people of Ukraine, and Russia will use R2P against the criminal elements in power.
The majority of people of Ukraine would probably agree with Putin, irrespective of their ethnicity. Indeed, in the Crimean referendum, Ukrainians and Tatars voted en masse together with Russians. This is a positive sign: there will be no ethnic strife in the Ukraine's East, despite US efforts to the contrary. The decision time is coming up fast: some experts presume that by end of May the Ukrainian crisis will be behind us.
English language editing by Ken Freeland.

On March 6 President Obama said in Washington that the Crimean authorities' plans for a referendum "violate the Ukrainian Constitution and violate international law." "Any discussion about the future of Ukraine must include the legitimate government of Ukraine. We are well beyond the days when borders can be redrawn over the heads of democratically elected leaders," he added. "Crimea is Ukraine," Secretary of State John Kerry said in Rome on the same day.
Interesting. Six years ago the United States enthusiastically recognized the Kosovo Albanian authorities' self-proclaimed independence, which violated the Serbian constitution and violated international law. The legitimate government of Serbia was not included in any discussions which preceded the American decision. The United States initiated the redrawing of Serbia's borders with an act of armed aggression in 1999, and then formally condoned it in February 2008, over the heads of Serbia's democratically elected President Boris Tadic and Prime Minister Vojislav Koštunica. Furthermore, in September 2012 Obama's then-Secretary of State Hillary Clinton said that "the boundaries of an independent, sovereign Kosovo are clear and set." A few days earlier Obama himself claimed, incredibly, that "Kosovo has made significant progress in solidifying the gains of independence and in building the institutions of a modern, multi-ethnic, inclusive and democratic state."
A President capable of thus characterizing that KLA-run black hole of thuggery and lawlessness – the worst-ruled spot by far in all of Europe – is beyond logic or reason. It would be therefore useless to point out to Obama that the government in Kiev has no legitimacy whatsoever, having grabbed power through a sustained campaign of revolutionary brutality and having violated the Ukrainian constitution and other laws in the process. Obama's claim that the leaders of the regime in Kiev were "democratically elected" is unsurprising, however, coming as it does from a man whose hold on reality – at home and abroad – is becoming more tenuous by the day.
Lest we forget, on February 21 President Viktor Yanukovich and three Ukrainian parliamentary party leaders signed a "reconciliation agreement" co-signed by foreign ministers of France, Germany and Poland – implying that their countries and the EU guaranteed the deal – and approved by a Russian representative. The document provided for constitutional reform reducing presidential powers, the creation of a government of national unity, early presidential election, and disbandment of Maidan armed factions. Far from disbanding, within hours those same armed factions forced Yanukovich to flee Kiev and stage-managed a parliamentary "vote," worthy of the proceedings of the Supreme Soviet ca. 1937, which ushered in the putschist regime.
As Russia's President Vladimir Putin said on March 4, Yanukovich "had in fact given up his power already, and as I told him, he had no chance of being re-elected. What was the purpose of all those illegal, unconstitutional actions, why did they have to create this chaos in the country? Armed and masked militants are still roaming the streets of Kiev. This is a question to which there is no answer." Well, there is one, and he knows it. As a BBC commentator pointed out on March 5, what makes Putin mad is the feeling that he is being deceived:
We saw that with Libya in 2011. Moscow was persuaded not to block a UN Security Council resolution on a no-fly zone to protect civilians. But NATO's military action led to regime change and the death of Col Muammar Gaddafi – far beyond what Russia had expected. It helps explain why Russia has been quick to veto resolutions on Syria. On Ukraine, too, President Putin feels the West has tricked him. Last month he sent his envoy to Kiev to take part in negotiations on a compromise agreement … It remained words only. Less than 24 hours later, Mr. Yanukovych was on the run, the parliament removed him from power and appointed a new acting president from the opposition. The pace of events took Moscow completely by surprise. Russia says the February 21 agreement must be implemented. The opposition signed it, yet allows an uncontrolled militia of violent armed radicals send fear and loathing across a large swath of Ukraine. The US says the agreement no longer matters…
THE GHOST OF WARREN ZIMMERMANN – Washington saying "the agreement no longer matters" brings us to another parallel between the crisis in Ukraine and the conflict in ex-Yugoslavia in the 1990's: the role of the United States in subverting agreements that were meant to save peace. Similar U.S. subterfuges contributed to the outbreak of the war in Bosnia-Herzegovina exactly 22 years ago. In March 1992 the late Warren Zimmermann, the last U.S. ambassador to Yugoslavia before its breakup and civil war, materially contributed, more than any other single man, to the outbreak of that war. The facts of the case have been established beyond reasonable doubt, and are no longer disputed by experts.
Following the unconstitutional and illegal Muslim-Croat referendum on Bosnia's independence (February 28-29), then-Portuguese foreign minister Jose Cutileiro persuaded the leaders of the three constituent nations that Bosnia-Herzegovina should be independent, but internally based on autonomous ethnic "cantons." The breakthrough was due to the Bosnian Serbs' acceptance of an externally sovereign B-H state, provided that the Muslims give up their ambition of an internally centralized, unitary one. Alija Izetbegovic, the Muslim leader, accepted the plan. Only days after it was signed, however, Zimmermann flew from Belgrade to Sarajevo to tell Izetbegovic that the deal was a means to "a Serbian power grab" that could be annulled. State Department later admitted that the U.S. policy was to encourage Izetbegovic to break with the plan.
As early as August 29, 1993, The New York Times brought a revealing quote from the key player himself: "Immediately after Mr. Izetbegovic returned from Lisbon, Mr. Zimmermann called on him in Sarajevo… 'He said he didn't like it; I told him, if he didn't like it, why sign it?'" After that moment Izetbegovic had no motive to seek compromise. He felt authorized to renege on the tripartite accord, which inevitably ignited the Bosnian war. Cutileiro himself insisted later that, but for Izetbegovic reneging, "the Bosnian question might have been settled earlier, with less loss of life and land." He also noted that "Izetbegovic was encouraged to scupper that deal and to fight for a unitary Bosnian state by foreign mediators."
In the fullness of time we shall learn which "foreign mediators" played the role of Zimmermann in Kiev in February 2014. Whoever it was – Victoria "f… the EU" Nuland, her ambassador in situ Pyatt, or Kerry himself – the intervention was a malicious attempt to encourage one side in Ukraine's multiethnic, multi-denominational mosaic to fight for an unitary Ukrainian state. If the result turns out to be the same or similar as that in Bosnia two decades ago, those "mediators" will have blood on their hands no less than Warren Zimmermann had blood on his. He died in February 2004, having greatly contributed to the death of a hundred thousand Bosnian Serbs, Croats and Muslims in 1992-1995.
"UKRAINE" AS "BOSNIA" – A key element in the Western propagandistic misrepresentation of the situation in Ukraine is the claim that it is a coherent nation-state of "Ukrainians," which is subjected to an unprovoked foreign aggression. On March 6 the House adopted a package of "sanctions against Russia, and "lawmakers are also acting in other ways to show solidarity with Ukrainians." Two days earlier John Kerry flew to Kiev to show solidarity with Ukraine's new leaders. Everybody and his uncle, including various MEPs, Canadian MPs, etc. flew to Kiev "to show solidarity with Ukrainians."
In exactly the same manner, in 1992 it was asserted ex hypothesi by the American (and to a lesser extent West European) political elite, and parroted ad nauseam by the media machine, that if there is a "Bosnia" there must be a nation of "Bosnians." In both cases the claim was tantamount to the assertion, in 1861, that "the American nation" was resisting an illegal rebellion. In fact today's Ukraine is like Ireland in 1920: impossible to survive intact, let alone prosper in peace, on the basis of the aspirations and assumptions of one community which are inherently incompatible with those of another. The rights of the legislators in the Crimean Peninsula, Odessa, Kharkov, Donetsk, Dnepropetrovsk etc. vis-à-vis Kiev are exactly the same as those of the Stormont were vis-à-vis the Irish Free State in 1921.
COMMUNIST-DRAWN INTERNAL BOUNDARIES – The problem of internal boundaries between the constituent republics, arbitrarily drawn by communist dictators in complete disregard of the wishes and aspirations of the people thus affected, has been the key foundation of the Yugoslav conflict ever since the first shots were fired in the summer of 1991. Even someone as unsympathetic to the Serb point of view as Lord David Owen, the EU negotiator in 1992-1993, conceded that Marshal Josip Broz Tito's administrative boundaries between Yugoslavia's republics were grossly arbitrary, and that their redrawing should have been countenanced before the issue escalated into a fully-fledged war:
Incomprehensibly, the proposal to redraw the republics' boundaries had been rejected by all eleven EC countries… [T]o rule out any discussion or opportunity for compromise in order to head off war was an extraordinary decision. My view has always been that to have stuck unyieldingly to the internal boundaries of the six republics within the former Yugoslavia… as being those for independent states, was a folly far greater than that of premature recognition itself.
The manner in which Nikita Sergeyevich Khrushchev transferred Crimea to Ukraine in February 1954 is a particularly egregious example of the communist border-changing. The shoe-banger must be having a hearty laugh in his current hot abode at the readiness of the United States to risk a major confrontation with Russia – a minus-sum-game if there ever was one – for the sake of upholding the legacy of his stroke of pen 60 years ago.
REDUCTIO AD HITLERUM – And finally, just as Slobodan Milosevic was the Hitler-du-jour during the Bosnian war, Vladimir Putin is becoming one now. His current transformation could be predicted with mathematical precision. Most notably, Hillary Clinton likened Putin's actions in the Crimean peninsula to those of Hitler in the Sudetenland. On March 3 Zbigniew Brzezinski called Putin "a partially comical imitation of Mussolini and a more menacing reminder of Hitler." ("We haven't seen this kind of behavior since the Second World War," Canadian Prime Minister Stephen Harper said, not that anyone cared.) Senators Marco Rubio (R-Fla.) and John McCain (R-Ariz.) agreed with Clintonwholeheartedly. The obvious comparison, with Oleh Tyagnybok and other black-and-red Svoboda Party heirs to Bandera and the SS Division Galizien, unsurprisingly eludes them. These people are McCain's good buddies, after all – every bit as good as the warriors in the path of Allah in Syria.
As I've noted in these pages before, the final corollary of various ad-hoc Hitlerizations is that we are all potential Fuhrers, and only by vigilantly guarding against deviant thoughts ("I like Americans better than Somalis"), emotions ("I enjoy Wagner's Ring more than Porgy & Bess") and practices ("I enjoy walking my German Shepherd in the Bavarian Alps") can we protect ourselves from the lure of the inner Adolf. Having experienced the reductio myself – having been called "Hitler in full oratorical flight," to be precise – I hereby wish Vladimir Vladimirovich a hearty welcome to the club.