But What Do Globalists Want?
The invasion of illegal aliens across our southern border is no extemporaneous event. It is a cold, calculated, and cunning attempt to fundamentally change America. The Obama Administration has sent a loud and clear signal to our neighbors to the south that illegals are welcome, that they won't be sent home, and that they will be provided either real or de facto amnesty–especially if those illegals are minors. The result is a torrent of illegals pouring over the border into the United States. These illegals are being housed, fed, given medical care, and are being transported to destinations throughout the U.S. Few are being deported. Several military installations have been essentially turned into daycare centers and nurseries, and according to several published reports, up to 70% of U.S. Border Patrol personnel are now being assigned to administrative duties in an attempt to process the hundreds of thousands of illegals that have amassed at the border.
Giving amnesty to illegal aliens is a long time goal of both Democrats and Republicans in Washington, D.C. U.S. Congressman Kerry Bentivolio (R-Mich) stated it succinctly: "Democrats want the votes, and the Republicans want the cheap labor."
The only people opposing granting amnesty to illegals in Washington, D.C., are the Tea Party Republicans. And had it not been for the defeat of Republican House Majority Leader Eric Cantor (a major proponent of amnesty) by Tea Party Republicans in Virginia a few weeks ago, there is absolutely no question that the GOP-led House and Democrat-led Senate would have collaborated on, and passed, an amnesty bill this summer. But with the defeat of Cantor, scores of GOP House members are extremely skittish about supporting amnesty–especially with the fall elections just around the corner.
Of course, the pro-amnesty media and their fellow-travelers in the Congress are pitching the idea that all of these illegal immigrant children are "refugees" escaping war-torn conditions in Central America. This plays well on the heartstrings of a compassionate American citizenry–just as it is designed to do. Even pseudo-conservatives such as Glenn Beck and Joe Scarborough are trying to score ratings points by getting into the "help the children" act by stunts like sending soccer balls and teddy bears to the border. But the facts just don't support the hype.
Think about it: Does anyone really believe those youngsters traveled hundreds of miles on their own? Get real! They were led, fed, and supervised all the way to the border. Someone paid those coyotes (human smugglers) hundreds or even thousands of dollars to take those young people to the border. Make no mistake about it: This is a premeditated strategy of insurgents.
The only veteran of both the Vietnam and Iraq wars serving in Congress, Rep. Bentivolio took a fact-finding trip to Central America to assess conditions there. The congressman told World Net Daily that "conditions in Guatemala, Honduras and El Salvador are certainly not great and there is much hardship, but they are not war zones." In fact, the congressman noted that the conditions of the Central American countries are not dissimilar from many of the inner city neighborhoods of big U.S. cities.
Congressman Bentivolio also said that solving the illegal immigration problem is not complex: "If we had secure borders, we wouldn't have this problem. We need to send a strong message that, if you want to come to America, do it legally, and get in line."
See the WND report here:
Congressman Exposes Truth Behind Illegal Kids
Exactly! "Do it legally, and get it line." That is the way it's been historically done. The next time you hear someone say America is "a nation of immigrants," realize that is not strictly true. America is a nation of LEGAL immigrants.
But neither Republican nor Democrat presidential administrations (Bush I, Clinton, Bush II, Obama) have done diddly-squat to protect America's southern border. Does anyone not find it interesting that the federal government will send U.S. military forces to the Middle East with assignments that include protecting and securing the borders of those countries but will not protect the borders of the United States?
Of course, if the federal government was not underwriting illegal immigration with all kinds of government services, illegals would not even have that much incentive to enter the country in the first place. First, the federal government provides every incentive for illegals to sneak into the country via copious government-subsidized benefits, then it refuses to remotely secure the border, and then it refuses to deport them after they have arrived: DUH! I wonder why we have an illegal alien problem!
Beyond that, the federal government has released thousands of illegals from U.S. jails and prisons who have committed the most heinous crimes within this country. At the same time, it has not even attempted to arrest the influx of hundreds of thousands of violent illegals.
According to Texas State Senator Dan Patrick, there are at least 100,000 illegal immigrant gang members in the State of Texas alone. Breitbart.com covered the story:
"On Monday's The Laura Ingraham Show, Patrick, who is also the Republican candidate for lieutenant governor, said from 2008 to 2012, 143,000 illegal immigrant criminals were arrested and jailed in Texas. He said these were 'hardened criminals, gang members, and other criminals that we identified as being in Texas illegally.'
"'We charged them with 447,000 crimes, a half-million crimes in four years, just in Texas, including over 5,000 rapes and 2,000 murders,' Patrick said. 'We estimate we have 100,000 gang members here illegally.'"
Patrick also noted that only between one in five or one in ten illegals are actually apprehended. So, do the math.
See the report at:
Texas State Senator: 100,000 Illegal Immigrant Gang Members In State
If we know there are at least that many violent criminals coming across the border, how many potential terrorists must we assume have also come into the United States through this porous, unprotected southern border? The prospect is absolutely frightening!
In addition, the unchecked stream of illegals from Mexico and Central America is also taking a toll upon the health of everyone involved in this debacle. Border Patrol agents are coming down with diseases. There are reports of contagious diseases spreading rapidly.
ABC 15 TV (Phoenix, Arizona) recently gave a report regarding the concern many people have about the spread of contagious diseases being brought into the country by illegals from the third-world countries below the United States. Health workers are already seeing scabies, chicken pox, MRSA staph infections, and other diseases.
A quick note on the MRSA disease: MRSA is considered to be one of the 18 microbes listed by the CDC as a multidrug resistant microbe or "superbug." You should Google up that disease and see what our children in the public schools are going to be subjected to when all of these illegals get farmed out to the schools of America's heartland.
And, interestingly enough, the DHS has prohibited health care providers from talking to the media. I wonder why?
See the ABC report here:
Undocumented Immigrants Bringing Diseases Across Border?
Plus, the ABC report above does not even touch on the spread of Sexually Transmitted Diseases (STD) that are being reported as being rampant among the tens of thousands of illegals on the border.
And, yes, America's schoolchildren (and the rest of the U.S. citizenry) will certainly be subjected to the health risks described above. Listen to this:
"The U.S. Senate Appropriations Subcommittee approved a Department of Homeland Security (DHS) budget for Fiscal Year (FY) 2015 that includes $5.508 billion for Immigration and Customs Enforcement operations. Included in that amount is more than $87 million for the transportation of illegal immigrants–most often via plane–from the U.S.-Mexico border to federal facilities around the nation.
"The FY 2015 bill summary states that the federal government will provide '$87.6 million above the request for the transportation of unaccompanied immigrant children–often via commercial or charter aircraft–from DHS custody to the legally required shelters operated by the Office of Refugee Resettlement within Department of Health and Human Services.'
"A DHS request for 'escort services for unaccompanied alien children,' posted online in January, claimed that 50 percent of transported foreign minors are brought to interior U.S. cities via commercial planes. The others are transported via local ground transport and ICE charter air crafts."
See the report here:
Budget To Transport Illegals Across USA Approaches $100M
So, the people of the United States must be subjected to all of the above because "Democrats want the votes, and the Republicans want the cheap labor." But what do the globalists want? The globalists are the real power behind both the Democrat and Republican parties in Washington, D.C. Nothing substantial happens in politics or business without their approbation. So, what do they want to get out of a chaotic border crisis?
Remember, the goal of globalists is the dismantlement of nationhood. They envision a global government complete with a global economy and global military. The United States is the biggest hindrance to this objective. America, alone, has the freedom-oriented history, heritage, culture, laws, arms, attitude, etc., that stands as a huge impediment to the globalists' agenda. This is in spite of the fact that every presidential administration since Ronald Reagan, most congresses, and the national media have been dominated by globalists.
Remember, too, that the two main assets assisting the cause of globalism are perpetual war abroad and the rise of a Police State domestically. In fact, the latter is dependent upon the former. Perpetual war, conflict, crisis, upheaval, etc., is the impetus for the rise of the Super State, (aka the Police State), which is ostensibly designed to "protect" the people from the crisis. It is no exaggeration to say that most of the crises in the post-World War II world have been manufactured crises for the purposes of creating the Super State. The illegal immigration crisis is no exception.
The influx of millions of illegals–many of whom are violent criminals, murderous gang members, potential terrorists, disease-carriers, and people from third-world, socialist countries who have absolutely no understanding of, or appreciation for, constitutional law, Natural Law, republican government, etc.–will most definitely turn American cities into war zones. And that's exactly what globalists want. They want every city in America to look like Chicago.
Do you know that there have been more murders in Chicago than in all of the mass-killings throughout the United States combined? See AWR Hawkins' report:
Report: Far More People Killed In Chicago Than In All Mass Shootings Combined
And what is the City of Chicago but a Police State with barely any rights of self-defense. My friends, that is what the globalists have planned for your city. And illegal immigration is the vehicle that is designed to bring it to pass.
Yes, "Democrats want the votes, and the Republicans want the cheap labor," but the globalists want a national crisis that will further facilitate turning America into a giant Police State. But, I suppose the biggest question is what do the American people want? We'll soon see.
For the last several years, the press on the disastrous North American Union has been off front-page news. Nonetheless, the plans to remove barriers and open up borders keeps chucking along. Those who belief this course is desirable or those who conclude that it is unpreventable because the climate of globalization is overpowering, are subversive collaborators of the NWO or gutless wimps that deserve to be run over by the hordes of barbarians that flood our country.Jerome R. Corsi writes in the essay, Kerry signals advance of 'North American Union' plan, "with the expected ratification by Congress of the Trans-Pacific Partnership, or TPP, the Obama administration already considers the U.S., Mexico and Canada as part of a "post-NAFTA" world." What a horrendous admission to make. As stated in the article,
Obama Presses "North American Union" With Mexico, Canada, and this plan for hemispheric integration has a very long record of treason. Some background leading to the current crisis.
"Following the establishment of NAFTA in 1994, under the Clinton administration, President George W. Bush attempted to deepen the U.S.-Canada-Mexico tri-national region with the Security and Prosperity Partnership (SPP), but public opposition spearheaded by this publication, The John Birch Society, WorldNetDaily, Phyllis Schlafly's Eagle Forum, and other pro-independence, pro-Constitution groups, forced the Bush administration to shelve the plan — temporarily — and drop the tainted SPP moniker.

At the same time, the Bush administration was pushing the broadening agenda, under the banner of the Free Trade Area of the America's (FTAA), an endeavor launched during the Clinton administration to expand NAFTA to include all the nations of North and South America. As with the SPP, an awakened electorate put sufficient heat on the U.S. Congress to torpedo the FTAA. The subversive integration/merger plans that The New American had been exposing for years were confirmed in 2011 with the release by WikiLeaks of U.S. State Department cables showing that U.S. officials had been colluding with their Canadian and Mexican counterparts to undermine our constitutional government through various "integration" schemes. (See here and here.)"
Therefore, it comes as no surprise when General Petraeus announces, "After America Comes North America." He also boasted about how the three economies have been put "together" over the last 20 years as part of the "implementation" of the North American Free Trade Act. As The New American publication proves, resistance to a NAU is not only justified but also necessary if America is to survive as an independent nation.Back in 2006, Dr. Corsi refutes NeoCon proponent John Hawkins, who uses Saul D. Alinsky tactics, in Human Events account that NORTH AMERICAN UNION IS NO CONSPIRACY. The point is that the Obama administration is carrying forward the same strategy, ever protected by the lame stream media, to advance the disintegration of American sovereignty.
The video, NORTH AMERICAN UNION FORMING NOW!! THIS IS THE END OF THE U.S.A, provides a vivid analysis just what is at stake. In addition, one example of the methods used by Obama is reveled in the 2012 column, New Obama Executive Order Pushes Us Closer To A North American Union And A One World Economic System.
"Most Americans have absolutely no idea how far plans to integrate the United States, Canada and Mexico have advanced.

Last year, Barack Obama signed an agreement to create a "North American security perimeter" and most Americans never even heard about it because the mainstream news networks almost entirely ignored it.

But this is exactly what the globalists want. They don't want people to become alarmed by these moves toward North American integration. In fact, a document uncovered by Wikileaks shows that those involved in the effort to integrate North America believe that an "incremental" approach is best. Apparently they believe that small moves toward integration are less likely to alarm the general population."
Well, the pretence looks to be over. The fear of alarming American nationalists no longer exists. However, the Homeland Security policy to open the southern border is backfiring as seen in the article, Border Patrol Agents Quitting as Obama's Mass Invasion Mess at The Border Permeates the Rest of the Country.
"And now our Border Patrol agents are saying, screw it, and looking for new careers/jobs as known Mexican gang members are enjoying the Obama/Holder 'catch and release' policy.More than one person is concluding the Obama administration is responsible and has intentionally set this massive border mess into motion with his policies on immigration, hoping to force amnesty as his solution to the man-made disaster and humanitarian crisis (which is designed to never allow to go to waste) of his making."
Clearly the establishment's efforts to create a fabricated immigration crisis in order to force a bogus "comprehensive" consolidation in this dreadful North American Union, is at the core of the mass migration. For the bleeding heart do-gooders, the death trains cry out for a more humane mode of transportation to import the Central America into the former Republic of the United States.
One such redemptive fix is to interject a dose of altruism. Replace the clingers on boxcars, reminiscent of Indian Dalit untouchables, with the sleek travel experience of the U.S. and Mexico could be connected by multi-billion-dollar high speed train within FOUR YEARS.
"A multi-billion-dollar high-speed train network linking America with Mexico moved a step closer as officials from both sides of the border thrashed out details.

The proposed 300 mile route would link San Antonio, Texas, to Monterrey, Mexico – slashing the current journey time from five hours by car to under two hours."
Just look at the advantages of streamlining a direct route from Mexico, that bypasses any border checkpoints and deposits these "PC" undocumented immigrants directly to resettlement facilities. The return trip south can be used to transport Fast and Furious guns, useful in the drug trade, which is central to the economics of laundering monies in the North American Union hierarchy.A decade ago, the article, Do Foreigners Have a Right to Enter the United States?, covered the efforts of Asa Hutchinson, the then Under Secretary of Homeland Security for Border and Transportation Security.
"Starting this week foreign visitors will be digitally fingerprinted and photographed as part of a nationwide program to check their backgrounds and keep track of when they enter and leave the United States. On the surface this looks like a necessary and desirable procedure. This procedure is the first phase of the Department of Homeland Security's automated entry-exit system called the U.S. Visitor and Immigrant Status Indicator Technology, or US-VISIT."
Guess that tracking system proved too much of a burden for the latest rush to process these "so called" undocumented migrants. Oh yes, let's correct the terminology; this mass exodus wants to stay permanently in the only country that allows open borders for the premeditated and systemic destruction of their own nation.With the open admission that Former Border Patrol Agents: Illegal Immigration Crisis "Contrived", does any federal officials listen, much less act to close the border? The National Association of Former Border Patrol Officers (NAFBPO) released a statement:
"This is not a humanitarian crisis. It is a predictable, orchestrated and contrived assault on the compassionate side of Americans by her political leaders that knowingly puts minor Illegal Alien children at risk for purely political purposes. Certainly, we are not gullible enough to believe that thousands of unaccompanied minor Central American children came to America without the encouragement, aid and assistance of the United States Government. Anyone that has taken two six to seven year old children to an amusement park can only imagine the problems associated with bringing thousands of unaccompanied children that age up through Mexico and into the United States. I doubt even the Cartels would undertake that chore at any price. No, it has to be heartless corrupt politicians and their minions lusting for more money and power."
There a few issues more absolute than the words of Ronald Reagan, "A nation that cannot control its borders is not a nation." When Congressional Rep. Steve King says that "Ronald Reagan's signature on the 1986 amnesty act" gave Barack Obama about 15 million additional Hispanic votes in 2012, he is prophesying even a worse future and inevitable prospects under a North American Union.
Reading a headline in the New York Times, Pentagon Plans to Shrink Army to Pre-World War II Level, one needs to ponder what it would take for a defensive deployment on the southern border. If General John "Black Jack" Pershing was sent to track down Pancho Villa, what prevents permanent military patrols to simply guard the border? Obviously, there is not any junior grade George S. Patton's in the army that would have the courage to buck the commander of treason. This border war is the true existential threat that Americans do not have the stomach to fight.Those who propagate a North American Union are globalists and hate everything that the authentic America stands for. Look in a mirror, that ugly face could be you, if you fall for the propaganda of the NAU.
What would a psychiatrist call this? Delusions of grandeur?
US Secretary of State John Kerry, July 8, 2014:
"In my travels as secretary of state, I have seen as never before the thirst for American leadership in the world."
President Barack Obama, May 28, 2014:
"Here's my bottom line, America must always lead on the world stage. If we don't, no one else will."
Nicholas Burns, former US Under Secretary of State for Political Affairs, May 8, 2014:
"Where is American power and leadership when the world needs it most?"
Mitt Romney, Republican Party candidate for President, September 13, 2012:
"The world needs American leadership. The Middle East needs American leadership and I intend to be a president that provides the leadership that America respects and keep us admired throughout the world."
Paul Ryan, Congressman, Republican Party candidate for Vice President, September 12, 2012:
"We need to be reminded that the world needs American leadership."
John McCain, Senator, September 9, 2012:
"The situation in Syria and elsewhere 'cries out for American leadership'."
Hillary Clinton, September 8, 2010:
"Let me say it clearly: The United States can, must, and will lead in this new century. Indeed, the complexities and connections of today's world have yielded a new American Moment — a moment when our global leadership is essential, even if we must often lead in new ways."
Senator Barack Obama, April 23, 2007:
"In the words of President Franklin Roosevelt, we lead the world in battling immediate evils and promoting the ultimate good. I still believe that America is the last, best hope of Earth."
Gallup poll, 2013:
Question asked: "Which country do you think is the greatest threat to peace in the world today?"
Replies:
United States 24%
Pakistan 8%
China 6%
Afghanistan, Iran, Israel, North Korea, each 5%
India, Iraq, Japan, each 4%
Syria 3%
Russia 2%
Australia, Germany, Palestinian territories, Saudi Arabia, Somalia, South Korea, UK, each 1%
The question is not what pacifism has achieved throughout history, but what has war achieved?
Remark made to a pacifist: "If only everyone else would live in the way you recommend, I would gladly live that way as well – but not until everyone else does."
The Pacifist's reply: "Why then, sir, you would be the last man on earth to do good. I would rather be one of the first."
Article 9 of the Japanese Constitution, 1947, words long cherished by a large majority of the Japanese people:
"Aspiring sincerely to an international peace based on justice and order, the Japanese people forever renounce war as a sovereign right of the nation and the threat or use of force as means of settling international disputes.

"In order to accomplish the aim of the preceding paragraph, land, sea, and air forces, as well as other war potential, will never be maintained. The right of belligerency of the state will not be recognized."
This statement is probably unique amongst the world's constitutions.
But on July 1, 2014 the government of Japanese Prime Minister Shinzo Abe, without changing a word of Article 9, announced a "reinterpretation" of it to allow for military action in conjunction with allies. This decision can be seen as the culmination of a decades-long effort by the United States to wean Japan away from its post-WW2 pacifist constitution and foreign policy and set it back on the righteous path of being a military power once again, only this time acting in coordination with US foreign policy needs.
In the triumphalism of the end of the Second World War, the American occupation of Japan, in the person of General Douglas MacArthur, played a major role in the creation of this constitution. But after the communists came to power in China in 1949, the United States opted for a strong Japan safely ensconced in the anti-communist camp. For pacifism, it's been downhill ever since … step by step … MacArthur himself ordered the creation of a "national police reserve", which became the embryo of the future Japanese military … visiting Tokyo in 1956, US Secretary of State John Foster Dulles told Japanese officials: "In the past, Japan had demonstrated her superiority over the Russians and over China. It was time for Japan to think again of being and acting like a Great Power."  … various US-Japanese security and defense cooperation treaties, which called on Japan to integrate its military technology with that of the US and NATO … the US supplying new sophisticated military aircraft and destroyers … all manner of Japanese logistical assistance to the US in Washington's frequent military operations in Asia … repeated US pressure on Japan to increase its military budget and the size of its armed forces … more than a hundred US military bases in Japan, protected by the Japanese military … US-Japanese joint military exercises and joint research on a missile defense system … the US Ambassador to Japan, 2001: "I think the reality of circumstances in the world is going to suggest to the Japanese that they reinterpret or redefine Article 9."  … Under pressure from Washington, Japan sent several naval vessels to the Indian Ocean to refuel US and British warships as part of the Afghanistan campaign in 2002, then sent non-combat forces to Iraq to assist the American war as well as to East Timor, another made-in-America war scenario … US Secretary of State Colin Powell, 2004: "If Japan is going to play a full role on the world stage and become a full active participating member of the Security Council, and have the kind of obligations that it would pick up as a member of the Security Council, Article Nine would have to be examined in that light."  …
In 2012 Japan was induced to take part in a military exercise with 21 other countries, converging on Hawaii for the largest-ever Rim of the Pacific naval exercises and war games, with a Japanese admiral serving as vice commander of the combined task force.  And so it went … until, finally, on July 1 of this year, the Abe administration announced their historic decision. Abe, it should be noted, is a member of the Liberal Democratic Party, with which the CIA has had a long and intimate connection, even when party leaders were convicted World War 2 war criminals.
If and when the American empire engages in combat with China or Russia, it appears that Washington will be able to count on their Japanese brothers-in-arms. In the meantime, the many US bases in Japan serve as part of the encirclement of China, and during the Vietnam War the United States used their Japanese bases as launching pads to bomb Vietnam.
The US policies and propaganda not only got rid of the annoying Article 9, but along the way it gave rise to a Japanese version of McCarthyism. A prime example of this is the case of Kimiko Nezu, a 54-year-old Japanese teacher, who was punished by being transferred from school to school, by suspensions, salary cuts, and threats of dismissal because of her refusal to stand during the playing of the national anthem, a World War II song chosen as the anthem in 1999. She opposed the song because it was the same one sung as the Imperial Army set forth from Japan calling for an "eternal reign" of the emperor. At graduation ceremonies in 2004, 198 teachers refused to stand for the song. After a series of fines and disciplinary actions, Nezu and nine other teachers were the only protesters the following year. Nezu was then allowed to teach only when another teacher was present.
Yankee Blowback
The number of children attempting to cross the Mexican border into the United States has risen dramatically in the last five years: In fiscal year 2009 (October 1, 2009 – September 30, 2010) about 6,000 unaccompanied minors were detained near the border. The US Department of Homeland Security estimates for the fiscal year 2014 the detention of as many as 74,000 unaccompanied minors. Approximately 28% of the children detained this year are from Honduras, 24% from Guatemala, and 21% from El Salvador. The particularly severe increases in Honduran migration are a direct result of the June 28, 2009 military coup that overthrew the democratically-elected president, Manuel Zelaya, after he did things like raising the minimum wage, giving subsidies to small farmers, and instituting free education. The coup – like so many others in Latin America – was led by a graduate of Washington's infamous School of the Americas.
As per the standard Western Hemisphere script, the Honduran coup was followed by the abusive policies of the new regime, loyally supported by the United States. The State Department was virtually alone in the Western Hemisphere in not unequivocally condemning the Honduran coup. Indeed, the Obama administration has refused to call it a coup, which, under American law, would tie Washington's hands as to the amount of support it could give the coup government. This denial of reality still persists even though a US embassy cable released by Wikileaks in 2010 declared: "There is no doubt that the military, Supreme Court and National Congress conspired on June 28 [2009] in what constituted an illegal and unconstitutional coup against the Executive Branch". Washington's support of the far-right Honduran government has been unwavering ever since.
The questions concerning immigration into the United States from south of the border go on year after year, with the same issues argued back and forth: What's the best way to block the flow into the country? How shall we punish those caught here illegally? Should we separate families, which happens when parents are deported but their American-born children remain? Should the police and various other institutions have the right to ask for proof of legal residence from anyone they suspect of being here illegally? Should we punish employers who hire illegal immigrants? Should we grant amnesty to at least some of the immigrants already here for years? … on and on, round and round it goes, decade after decade. Those in the US generally opposed to immigration make it a point to declare that the United States does not have any moral obligation to take in these Latino immigrants.
But the counter-argument to this last point is almost never mentioned: Yes, the United States does indeed have a moral obligation because so many of the immigrants are escaping a situation in their homeland made hopeless by American intervention and policy. In addition to Honduras, Washington overthrew progressive governments which were sincerely committed to fighting poverty in Guatemala and Nicaragua; while in El Salvador the US played a major role in suppressing a movement striving to install such a government. And in Mexico, though Washington has not intervened militarily since 1919, over the years the US has been providing training, arms, and surveillance technology to Mexico's police and armed forces to better their ability to suppress their own people's aspirations, as in Chiapas, and this has added to the influx of the oppressed to the United States, irony notwithstanding.
Moreover, Washington's North American Free Trade Agreement (NAFTA), has brought a flood of cheap, subsidized US agricultural products into Mexico, ravaging campesino communities and driving many Mexican farmers off the land when they couldn't compete with the giant from the north. The subsequent Central American Free Trade Agreement (CAFTA) has brought the same joys to the people of that area.
These "free trade" agreements – as they do all over the world – also result in government enterprises being privatized, the regulation of corporations being reduced, and cuts to the social budget. Add to this the displacement of communities by foreign mining projects and the drastic US-led militarization of the War on Drugs with accompanying violence and you have the perfect storm of suffering followed by the attempt to escape from suffering.
It's not that all these people prefer to live in the United States. They'd much rather remain with their families and friends, be able to speak their native language at all times, and avoid the hardships imposed on them by American police and other right-wingers.
M'lady Hillary
Madame Clinton, in her new memoir, referring to her 2002 Senate vote supporting military action in Iraq, says: "I thought I had acted in good faith and made the best decision I could with the information I had. And I wasn't alone in getting it wrong. But I still got it wrong. Plain and simple."
In a 2006 TV interview, Clinton said: "Obviously, if we knew then what we know now, there wouldn't have been a vote. And I certainly wouldn't have voted that way."
On October 16, 2002 the US Congress adopted a joint resolution titled "Authorization for Use of Military Force Against Iraq". This was done in the face of numerous protests and other political events against an American invasion.
On February 15, 2003, a month before the actual invasion, there was a coordinated protest around the world in which people in some 60 countries marched in a last desperate attempt to stop the war from happening. It has been described as "the largest protest event in human history." Estimations of the total number of participants involved reach 30 million. The protest in Rome involved around three million people, and is listed in the 2004 Guinness Book of World Records as the largest anti-war rally in history. Madrid hosted the second largest rally with more than 1½ million protesters. About half a million marched in the United States. How many demonstrations in support of the war can be cited? It can be said that the day was one of humanity's finest moments.
So what did all these people know that Hillary Clinton didn't know? What information did they have access to that she as a member of Congress did not have?
The answer to both questions is of course "Nothing". She voted the way she did because she was, as she remains today, a wholly committed supporter of the Empire and its unending wars.
And what did the actual war teach her? Here she is in 2007, after four years of horrible death, destruction and torture:
"The American military has done its job. Look what they accomplished. They got rid of Saddam Hussein. They gave the Iraqis a chance for free and fair elections. They gave the Iraqi government the chance to begin to demonstrate that it understood its responsibilities to make the hard political decisions necessary to give the people of Iraq a better future. So the American military has succeeded."
And she spoke the above words at a conference of liberals, committed liberal Democrats and others further left. She didn't have to cater to them with any flag-waving pro-war rhetoric; they wanted to hear anti-war rhetoric (and she of course gave them a tiny bit of that as well out of the other side of her mouth), so we can assume that this is how she really feels, if indeed the woman feels anything. The audience, it should be noted, booed her, for the second year in a row.
"We came, we saw, he died." – Hillary Clinton as US Secretary of State, giggling, as she referred to the uncivilized and utterly depraved murder of Moammar Gaddafi in 2011.
Imagine Osama bin Laden or some other Islamic leader speaking of September 11, 2001: "We came, we saw, 3,000 died, ha-ha."
Notes
Los Angeles Times, September 23, 1994
Washington Post, July 18, 2001
BBC, August 14, 2004
Honolulu Star-Advertiser, June 23 and July 2, 2012
Tim Weiner, "Legacy of Ashes: The History of the CIA" (2007), p.116-21
Washington Post, August 30, 2005
Washington Post, June 6, 2014
Speaking at the "Take Back America" conference, organized by the Campaign for America's Future, June 20, 2007, Washington, DC; this excerpt can be heard on the June 21, 2007 edition of Democracy Now!
Imagine the following scenario.
It is mid-afternoon on the Wednesday just before Thanksgiving. Some jerk walks into the Atlanta airport, gets his boarding pass and makes his way to the mini-North Korea known as TSA. He hands the blueshirt his boarding pass and driver's license. He then reaches into his carry-on bag, presses a button and – KABOOOOOOM!!!!!! – kills 2000 people.
At the same moment, two other jerks are doing the exact same thing at O'Hare and DFW as part of a co-ordinated attack. And not only have more people just died than died on 9/11, but America's three largest aviation hubs have just experienced massive destruction and air travel everywhere has been severely interrupted.
TSA could not prevent this, just like they could not prevent the fatal shooting of a TSA agent at LAX last year. Terrorism need not happen at 35,000 feet. Indeed, extremely few terror attacks have anything to do with aviation.
TSA does not keep you safe. Period.
However, the American people persist in the notion that it does. And they will tolerate endless violations of their civil liberties and physical bodies in the name of Schutz und Sicherheit.
It all started shortly after 9/11 with the passing of the Patriot Act, which ushered in numerous violations on our Fourth Amendment protections against unlawful search and seizure. And most people supported it because, after all, we had to "go after the terrorists." And, hey, we had to give up our liberty for a time until the crisis passed.
I have to confess that I acquiesced in this for a very short time. I, like so many millions of others, was caught up in the passions of the moment.
But then I started asking: now that the camel's nose is under the tent, what else are they going to do? And, more importantly, how much more will the American people accept?
It appears that there is no limit here.
Will we routinely accept the violation of our physical bodies in the name of safety and security? It turns out that we have.
Just consider the passivity with which most people accept "porn, perversion and pedophilia" – I wish I knew who said that first – in the name of "transportation safety". When you look at a nude photograph of a minor, it is child pornography. If someone else feels you up without your consent, it is sexual assault. (And if anyone did this to me under any other circumstances, it would take about one nanosecond for me to put the wretched little pervert's teeth on the ground.)
The Nazis didn't do it. No communist regime ever did it. Yet, in the "land of the free", being felt up in order to prove one's innocence is now a condition of travel.
And just look at these tax-mainlining Uncle Ernies.
And if you will let the authorities photograph you naked and feel you up, why wouldn't you let them violate you even further?
Would you let them catheterize you, like these central Utah police did when looking for marijuana?
Would you let them draw your blood? Read what is happening in Tennessee, Texas and Oregon.
Would you submit to cavity searches, such as those performed in Milwaukee and in Deming, New Mexico?
Would you let them slit your throat and kill you? Police did just this on a drug bust in Huntsville, Alabama. And just as TSA has never caught a terrorist, the cops in this case found no drugs.
"But …… but …… but, they were looking for terrorists and drugs."
The wars on drugs and terror are just like any other type of federal overreach. Both come clothed in somebody's good intention. Both are sold to us in the name of some Higher Good. They always grow bigger and uglier with time. And they always create bigger problems than those they were intended to solve.
Do you want to live in a society when the authorities can invade your body at will and with impunity? Do you want to live in a society where you are constantly required to prove your innocence? A government that will force you to prove your innocence is infinitely more dangerous than any drug or terrorist.
Even more dangerous is a populace that feels protected by such a government. Obama is too good for such a people.
The epidemic of stupidity in the USA has risen to new heights with the widespread public, political and media support for the tens of thousands of illegal immigrants from Central America invading the country from Mexico. Those protesting the way the government is behaving are being attacked.
The narrative goes like this: Oh those poor children and mothers escaping incredibly awful conditions want nothing more than a decent life in the USA, and why not? After all we are a nation of immigrants. How could we deny giving these suffering kids and mothers a place in our nation? Never mind the legitimate sanctity of our borders.
A sure sign of disgraceful and all too frequent media bias is use of the terms "migrants" and "undocumented immigrants" instead of illegal immigrants.
But here is where the real stupidity comes in. What could amount to from 50,000 to 100,000 of these illegal immigrants crashing into our nation at considerable expense is nothing compared to the many millions of kids and mothers in many places globally also suffering admittedly terrible conditions. What about all those in Africa, the Middle East and the desperately poor in India, for example? Sadly, in all too many places, children with or without their parents are plagued by disease, violence, starvation, exploitation and abandonment.
So it is rational to ask: What if millions of people, both parents and children, seeking nothing more than a better life in the USA were to make it across any of our borders? Should we not also let them come in and stay? Are those from a few Central American countries intrinsically deserving of better treatment? Are some illegal immigrants more deserving than others?
Can any nation maintain sovereign self respect and ensure its own economic future by allowing huge numbers of illegal immigrants to enter and stay in its country? I say absolutely NO!
I want to see a nationwide grassroots uprising that vigorously protests what is now happening. More Americans need to envision a lifeboat that sinks into the ocean because more and more floundering, desperate people beg to be let into the lifeboat and the idiots already in the lifeboat acquiesce. So they all sink and perish. Welcome to Lifeboat America.
Here is an idea for the insanely barbaric Islamic radicals filled with hatred for the USA: Start to replace your many ideas on how to use violence to defeat the USA with plans to ship suffering kids and mothers by any means across any of our borders. Think big. Think in terms of sending a few million sufferers to the USA. Get them on boats and airplanes. Don't use explosives on airplanes. Use the worst off kids and mothers instead. Finance their transport to the USA. Then sit back and watch Lifeboat USA sink.
Wake up Americans. This illegal immigration situation is not about compassion and humanitarian assistance. It is sheer illogical stupidity. If we do not rationally and intelligently control illegal immigration, we have no future for most Americans. Our political system is clearly dysfunctional. Too many politicians seek an advantage by being illegal immigrant friendly; too many people in the business sector want to ensure low cost labor.
We cannot expect immediate rational action from the two-party duopoly and greed driven oligarchy. Not unless many millions of Americans understand that illegal immigration is a life or death issue for the country they profess to love. A big picture, longer term perspective supports government policy that requires all new illegal immigrants be immediately sent back to their country of origin. Anything other than this creates widespread motivation in foreign countries and among those making money from transporting illegal immigrants to keep sending more and more illegal immigrants across our borders. What would stop this madness? The longer it goes on, the more difficult it becomes to stop it.
Who Are Those Guys?
Ein el Helwe camp — As Washington and London were affirming the past few days their intentions to continue to arm "moderate rebel factions" in Syria, Tel Aviv just announced it would like to be helpful by joining with "moderate Arab nations" to battle their mutual Muslim enemies.
Israel offered on 6/26/14 to help "moderate" Arab nations who may feel threatened by the lightning land grabbing offensive by Islamic militants in Iraq. As its foreign minister Avigdor Lieberman, an arch Zionist Islamophobe and Arabphobe, met with Secretary of State John Kerry in Paris, he reportedly talked sweet about some Arabs and told Kerry that "the extremists currently operating in Iraq and Syria will try to challenge the stability in the entire Gulf region, first of all in Kuwait." A statement from his office added that "Israel could provide effective and reliable assistance to moderate Arab states who are dealing with extremists."
Just a few days after visiting Iraq, and being briefed on the pathetic situation, Kerry seems intrigued by the Zionist idea and noted according to a senior U.S. official, that it is "important that countries in the region (including Israel) stand together against the (ISIS) threat."
Basically "Israel wants to do what Shite Iran has started doing" he continued, which according to the New York Times is flying surveillance drones over Iraq and sending military equipment to help Baghdad fight the Sunni insurgents. Except Israel wants to arm the Sunni tribes in league with the West and the Gulf monarchies and not arm the Shia.
Israeli officials and AIPAC are arguing to Washington that Israeli interests were converging with moderate Arab nations and "both sides should be dealing with the threat of Iran, world jihad and al-Qaida, as well as the spill-over of conflicts in Syria and in Iraq to neighboring countries." The Israeli embassy issued a statement, "Today, (6/26/14) there is a basis for the creation of a new diplomatic-political structure in the Middle East." Yet another 'New Middle East', one wonders?
This week, (6/22/14) on NBC's Meet the Press, Israel's Prime Minister Netanyahu restated the half-century old Zionist project and continuing to permanently divide and control the Middle East. On the subject of the Islamic State of Iraq and Syria (DAASH) Netanyahu expressed the intention of his regime to continue to promote internal strife in Israel's neighboring states. "We must weaken both [Sunni and Shia Muslims]," Netanyahu said, restating his governments preferred policy to have Muslims continue fighting among themselves. "When your enemies are fighting each other, don't strengthen either one of them, weaken both," he told the American public.
While it would not be the first time the Zionist regime has worked with preferred members of the Arab League to advance its own interests, another strong incentive to ratchet up its "split the Arabs" policy is the popular spill-over political effects of the advancements of DAASH in Iraq and Syria. Briefly stated, Lebanon is awash with rumors about a "Sunni uprising" to regain what is viewed by some in Lebanon and the region as seeking justice for their substantial political and economic loses since the 2003 Bush-Blair invasion of Iraq.
If the Gulf Kingdoms and the West agree to share information and leverage with respect to Iraq and Syria with Netanyahu & Co., it will be with the knowledge that Israel has another motive in wanting to join the coalescing forces against ISIS (DAASH). Presumably it is also is what its Lebanon based agents are surely reporting from the Palestinian camps.
Briefly put Palestinian camps generally, and using Ein el Helwe, in Saida, Lebanon as an example, are beginning to experience what Nahr el Bared camp near Tripoli, Lebanon did in 2007. At Nahr al Bared, over a period of more than six months began to notice the arrival of 'strangers.' Some camp residents asked "Who are those guys"? At first the new arrivals appeared to be rather self-effacing, very polite, and seemingly deeply religious. They tended to keep to themselves and soon their families arrived. More than one Sheik in Nahr al Bared assured the camp residents that the strangers were "good Muslims" and some were even teaching lessons from the Koran at the Mosque.
Fast forward, and as one of the Nahr el Bared camp leader explained in great detail to this observer at the time, soon residents soon began to notice changes in what were in fact affiliates or members of a new group calling itself "Fatah el Islam (FEI)." For example, the Islamists began to accost women on the street demanding that they wear a full length Hijabs and to stop smoking and more generally change their ways to be "better Muslims".
Today, FEI is relatively strong and growing, but secretively in Ein el Helwe. But they are not alone. New arrivals, plus young, unemployed, discouraged and increasingly disenchanted and angry youth are reportedly secretly holding meetings with DAASH, Al Nusra and other recruiters and they are promised immediate material benefits and soon to be granted the full right to work plus a deepening Resistance to the occupation of their country, Palestine. There are takers naturally, but numbers so far are difficult to learn. Militias are growing in the camps but it's difficult to calculate just how fast because camp residents know of many outside intelligence agents living among them, ranging from Lebanese Internal Security to Zionist agents and many others, so keeping their work secret is most essential.
According to analysts in Lebanon, and a recent report in Now Lebanon, the small cells based in rural northern Lebanon, the eastern Bekaa, and the Palestinian camps, where law enforcement remains very difficult are expanding due to the ISIS' surge in Iraq and its apparent success in securing popular support from Sunni tribes and former Baathist groups. Fears continue to spread that the Sunni-Shiite sectarian struggle will explode in Lebanon as well.
But the threat does not come only from outside Lebanon's borders, according to a security source in Ain al-Helweh Palestinian refugee camp. The source reported that he has been receiving information recently about Jihadist factions mobilizing in several areas of Lebanon, including Palestinian refugee camps with both DAASH (ISIS) and al Nusra Front setting up training camps. According to one source, Jihadists reportedly are not only mobilizing inside the Palestinian camps: it is happening across Lebanon, especially after the Qalamoun second battle. Fanatic Muslims and takfiris are spreading very fast. "What is happening in Iraq and Qalamoun shows that the situation will soon be very dangerous in the region, including Lebanon. It will all become a jihad battlefield," the source said.
Two active and knowledgeable Palestinians from Ein el Helwe camp explained to this observer this week as they introduced me to the leader of Fatah el Islam, "Of course all the camps are affected just like everyone else around here by what has been happening in Iraq and Syria. Palestinians always want to avoid local fights but we always seem to be pulled in. Look what happened in the Lebanese civil war. Our leadership tried everything it could do stay out of the sectarian fight but we were pulled in and paid a huge price.
As for the attitude of the general camp population in Lebanon, a recent unscientific poll found that more than 96% of camp residents in Lebanon do not want to stop the Resistance but rather to reclaim all their stolen land. This survey results compares remarkably closely to a June 15-17 poll commissioned by the Zionist Washington Institute. That poll comprised face-to-face interviews with a standard random geographic probability sample of 1,200 adult Palestinians, yielding results with a 3% statistical margin of error. Only 22% of Gazans would opt to give up the 'by whatever means necessary' Resistance "to end the occupation of the West Bank and Gaza to achieve a two-state solution." Even fewer, pick a "one-state solution," in which "Arabs and Jews having equal rights in one country, but want their country returned from the river to the sea." The "two-state solution" is the preferred option of a mere 9% in the West Bank and 10% in Gaza. Nearly two-thirds of the Palestinians in the same Zionist poll said "resistance should continue until all of historic Palestine is liberated."
Both the Zionist poll and the informal one done in Palestinian camps in Lebanon find board support for popular resistance against the Zionist occupation seen as having a positive impact by most respondents in Gaza, the West Bank and Lebanon. These activities include stepped up demonstrations, building more support for the BDS campaign, strikes, marches, and mass refusals to cooperate, though various acts of Resistance to confront the Zionist occupiers.
Increased Resistance is seen as having a positive impact by most respondents in both territories: 62% in the West Bank, 73% in Gaza and close to 90% in Ein el Helwe.
Meanwhile, a twitter account with 21,000 followers, one of many, and this one dubbed the "League of Supporters", called this week for DAASH sympathizers to post messages warning America not to carry out airstrikes against DAASH. Rather they urged their supporters to prepare to follow them and to confront the Zionists across Palestine.
In summation, the Zionist regime is very aware that the camps are likely to explode for a number of reasons not least of which the lack of civil rights including Palestinians is being banned from most jobs and the rising anger in and among the camps. It is also the case that the Zionists realize that the future looks bleak for its continuing occupation of Palestine internationally and helping stamp our extremist Jihadists, even by working with Arab regimes, and to weaken Iran in the process, it what it must do.
As Canadian freelance writer and journalist Brandon Martinez reminds us: "Fragmenting, weakening and Balkanizing the Middle East has been part and parcel of the Zionist impulse from the very beginnings of the Jewish state. Israeli strategist Oded Yinon candidly outlined this imperialist line of thought in his 1982 paper "A Strategy for Israel in the 1980s." A strong, unified Iraq is Israel's primary military concern, Yinon stressed" Yinon went on to push for the territorial dissection of Iraq into three state-lets along ethnic and confessional lines. And we may well witness these developments in Iraq. He promoted much the same scenario for Syria, Egypt, Lebanon, Iran and other Arab/Muslim states bordering the Zionist colony.
Martinez further observes, "The Zionists have used deception, subterfuge and cunning to con the world into entering conflicts and conflagrations that have expedited their ominous aims. But Israel's insatiable avarice for more land and resources will eventually be its downfall, just as every empire in history has sooner or later collapsed under its own weight."
Reminding this observer of a quote a valued friend from New Mexico recently sent to me:
"Look back over the past, with its changing empires that rose and fell, and you can foresee the future, too" (Marcus Aurelius).
If millions of soldiers from south of the border were flooding our nation for the purposes of colonizing our land, we would easily recognize the threat. And if some amongst us were aiding and abetting this invasion — purposely lowering border security to facilitate it — we'd know what to call them. And we'd know how they should be dealt with.
This comes to mind when considering the flood of humanity that does continually pour across our border, a phenomenon whose most recent manifestation is the children's crusade (which includes many teens, some of whom are gang members) currently in the news. Oh, the people trespassing on our land aren't wearing uniforms; they aren't wielding cold steel. But this isn't always necessary. As Muammar Gaddafi once pointed out, some invasions are prosecuted "without sword, without gun, without conquest." "We don't need terrorists; we don't need homicide bombers," he said. "The 50 plus million Muslims [in Europe] will turn it into the Muslim Continent within a few decades." Of course, in the waning West, we call this "diversity" and "demographic change."
And as we're being diversified into a country definitely not Western via demographic warfare, as we euphemize from sunrise to the sunset of our demise, something is exactly the same as in my opening example:
There are those amongst us aiding and abetting this invasion.
We can start with the fact that Barack Obama and his fellow travelers have sparked this most recent human wave with promises of amnesty for young illegals. Obama has also hobbled immigration enforcement, which itself is a euphemistic way of saying that he has, like a fifth column, cleared the way for an invading force. Adding insult to injury, not only is there no effort at deportation, but his administration's first response to the children's crusade was to provide lawyers for the illegals — paid for with your tax money — to help make these reinforcements permanent.
In fact, Obama is so intent on aiding the invasion that he has served notice that if Congress won't be complicit in his scheme, he will use an executive order to help the foreign boots on the ground.
Question: what do you call such a person?
Of course, this is nothing new. We have had seven amnesties in recent decades, and all the way through there were promises to secure the border. It never happened. Fool me once, shame on you. And if they can fool you seven times?
You're a doormat.
There's only one thing foreign boots on the ground do to doormats, mind you — and it isn't to show respect and gratitude.
It's obvious why leftists such as Obama have long facilitated immigration: they are importing voters. Upwards of 80 percent of the new arrivals will vote Democrat upon being naturalized. And is this any surprise? Most all illegals — and a majority of legal immigrants — hail from Hispanic nations, which are notoriously socialist (only the degree varies). And people don't suddenly change ideology just because they change location.
This brings us to Republicans who claim that Hispanics are a "natural conservative constituency" and that all the GOP need do is offer the olive branch of amnesty. Theirs is an imagination that could put Gene Roddenberry to shame.
While Hispanics do generally favor amnesty, the main thing the majority of them want is what they voted for in their socialist homelands: big government. Don't believe me, Karl? Just consider recent Pew research (hat tip: American Thinker's Thomas Lifson) showing that only 19 percent of Hispanics favor a smaller government while a whopping 75 percent prefer a bigger one. Of course, assimilation is the answer, right? Take a gander at the rest of the Pew data:
And what does this equate to once Hispanic majority status is reached (along with the leftward drift of non-Hispanic whites)?
19- 75 = government of Venezuela
36-58 = government of Mexico
In other words, modern immigration = death of America.
And to reiterate, this doesn't mean just illegal migration. Ever since Ted Kennedy's immigration act of 1965, 85 percent of our legal immigrants have hailed from the Third World and Asia. So in terms of demographic and ideological change, there is no difference between legal and illegal migration.
Yet it isn't just Hispanic immigrants. One reason I favor a moratorium on all immigration is that we face a largely socialist world. Where would we find immigrants amenable to authentic Americanism? Europe? China? Africa? The Middle East? The only exception may be Russia, but I wouldn't want to bet my culture on that, either.
While I've framed this ideologically, it can be defined culturally and racially (gasp!), too. And I won't shrink from this since it is exactly what the left is doing.
There's an old saying, if you can't get the people to change the government, change the people. Here's a simple fact: what we call traditional conservatism is a phenomenon of Christian, European-descent people (modern Europeans no longer qualify because of their secularism). One can debate the reasons for this, but it is plainly true. It's why almost 90 percent of GOP voters are white and almost 90 percent are Christian; it's why church attendance is one of the best predictors of voting patterns. Mind you, this doesn't mean that other groups won't contain some conservatives, but the fact is that no other major group is majority conservative.
Then there is that uncomfortable truth: Obama and many other leftists hate what they see as "white America"— Obama described white culture as "alien" in his book Dreams from My Father — and they want to destroy it as fast as possible. This is why, while giving the 1998 commencement address at Oregon's Portland State University, Bill Clinton spoke glowingly of the day when whites become a minority in America (to the uproarious cheers of the mostly white students).
Of course, this is where Obama, Clinton and the rest of the fifth column will say that if you're not cheering, you're a bigot.
If the Joneses were somehow gaining access to the Smith's home, squatting there and slowly taking over while the police refused to enforce trespassing laws, no one would wonder if the Smiths objected. The fact that Joneses aren't Smiths would be explanation enough. Or let's say that millions of Chinese were flooding the Ivory Coast, were supplanting African culture and threatening to soon outnumber the Africans. Would we be surprised if the Ivorians were up in arms? Would anthropologists call the transformation anything but cultural genocide?
Again, though, we call this diversity. But there's a funny thing about that oh-so necessary quality:
It's only encouraged in Western lands.
If diversity is such an imperative, why don't we push it in Saudi Arabia, Japan, Tunisia or Rwanda? And don't tell me we're just minding our own business, as Obama thought nothing of parading around Africa last year preaching about homosexual rights.
The truth is that when liberals say "Our strength lies in our diversity," they really mean their strength. They're building a solid socialist majority that won't blink at leftist corruption because these new arrivals are inured to it — corruption is status quo in their native lands.
And what else can we say about these migrants? Most are just coming to the US to make money, while some have criminal designs. But what is certain is that even if they were capable of shedding deep-seated socialist instincts, they're not coming here to become American — in spirit. And they're casting votes Americans won't cast.
Back in 2009, a former Labour (Britain's liberal party) speechwriter created a firestorm by revealing that the UK government had encouraged unfettered immigration "to rub the Right's nose in diversity." This prompted The Telegraph's Ed West to call the leftists' plan "borderline treason."
Borderline? I think that's another border that was brazenly crossed. And does this kind of behavior deserve any less damning a characterization on our side of the pond?
In the last few months, 47,000 refugee children stormed America's southern border.    They arrived from Central and South America.  The usual onslaught from Mexico's overburdened population continued by the thousands.
In excess of 15 million undocumented Mexican border crossers now call America home.  They feed off America's welfare systems from housing, food, educational and medical care.  They cost taxpayers in excess of $346 billion annually across 15 federal agencies.
Bush, Clinton, Bush II and Obama stopped enforcing our borders 30 years ago.  The word spread like a California wildfire.
Journalist Tom Ashbrook reported:  "The numbers of children surging over the southern US border now – unaccompanied, as young as six – is just staggering.  Forty thousand-plus.  Up 90 percent.  Still growing, flooding in.  Coming up from Central America, Mexico. Coming a thousand miles and more from Honduras.  Scared north by vicious gangs.   And now, piling up in US facilities not designed for an influx of kids."
The third world uses America, Canada, Europe and Australia for a human "escape valve."  Since the third world adds 80 million desperate children annually to already staggering populations in China, India, Bangladesh, Mexico, Indochina and most of Africa—Western countries face shocking migration numbers that will collapse civilizations.
Because of relentless, enormous and endless legal and illegal immigration, America faces an added 300,000,000 (million) more people within this century.
Ironically, Diane Sawyer, Brian Williams, Shepard Smith, Scott Pelley and Wolf Blitzer benignly report the invasion of our country—but they refuse to interview anyone who speaks about the end result of adding 300,000,000 people to America.
This is what it will look like:
"Immigration by the numbers—off the chart" by Roy Beck  www.NumbersUSA.org
http://www.youtube.com/watch?v=muw22wTePqQ
If every American saw this video, they would scream at Congress and Obama to effectively close down mass migration into America.
Instead, powerful forces like the U.S. Chamber of Commerce, Speaker of the House John Boehner and corporations clamor for more immigration in the face of 48 million Americans subsisting on food stamps and tens of millions living off taxpayers with Section 8 housing.
"Late last week, the Obama administration asked Congress for $1.4 billion in extra funding to help house, feed and transport the tens of thousands of children being caught trying to cross the border illegally, and turned to the Defense Department to help temporarily house more than 1,000 of the children," said Chris Sherman, DC journalist.
Every dollar paid out to care for endless legal and illegal immigration must be borrowed from foreign nations.  Our country stands a mind-numbing $18 trillion in debt.
As a country, as a civilization, as a people, we cannot continue on this path of accepting the world's endless refugee line.  If we continue, we face ultimate collapse ourselves.  It's that simple.
Our citizens chose 2.0 children per female since 1970, but the world eschewed birth control to continue adding 80 million annually, net gain.  Now, because of mass starvation of 10,000,000 (million children) annually, they cannot and we cannot solve the overload.
As a world traveler, I can tell you that the line never ends; it only grows exponentially.  Humanity faces hard choices in the 21st century that it continues to avoid, ignore and evade. But not much longer.
"It is abundantly clear that the reason for the uptick …has to do with what's going on in Central American countries," said an administration official on the conference call. "The federal government prepared for this trend," an official said, "but it was larger than we had anticipated."
As we continue accepting millions as the "human population escape valve" of the 21st century, the third world, driven by the Catholic Church, Islamic Church and other ancient religions refuse to advocate for birth control—continues exponentially.
This humanitarian crisis cannot and will not end well for Americans or the migrants.
What needs to be done:
Distribute birth control to third world countries.
Focus on the Catholic and Islamic churches to come to terms with human overpopulation in the 21st century worldwide; demand they come to terms with the 21st century and advocate for birth control.
Guard America's borders to allow no one to breach our country by using our military. Force those countries to deal with their own human overload. Stop encouraging endless immigration.
Reduce all legal immigration into the United States to less than 100,000 annually instead of the current 100,000 every 30 days.
Promote a world conference on human overpopulation and all nations' stake in providing birth control throughout the human family.
Interview top experts who scientifically show the end result if we fail to take destiny into our own hands.
What is that destiny?
If we don't halt population growth with justice and compassion, it will be done for us by nature, brutally and without pity – and will leave a ravaged world.  ~Nobel Laureate Dr. Henry W. Kendall
"The raging monster upon the land is population growth. In its presence, sustainability is but a fragile theoretical construct.  To say, as many do, that the difficulties of nations are not due to people, but to poor ideology and land-use management is sophistic."  Harvard scholar and biologist E.O. Wilson
"Unlimited population growth cannot be sustained; you cannot sustain growth in the rates of consumption of resources. No species can overrun the carrying capacity of a finite land mass. This Law cannot be repealed and is not negotiable." Dr. Albert Bartlett, www.albartlett.org , University of Colorado, USA.
"Most Western elites continue urging the wealthy West not to stem the migrant tide [that adds 80 million net gain annually to the planet], but to absorb our global brothers and sisters until their horrid ordeal has been endured and shared by all—ten billion humans packed onto an ecologically devastated planet." Dr. Otis Graham, Unguarded Gates
To stop the invasion, join for free:  www.CapsWeb.org ; www.NumbersUSA.org ; www.Fairus.org ; www.TheSocialContract.com
Commenting recently on the Elliot Rodger killings, arch-leftist Michael Moore wrote that while "other countries have more violent pasts…more guns per capita in their homes…and the kids in most other countries watch the same violent movies and play the same violent video games that our kids play, no one even comes close to killing as many of its own citizens on a daily basis as we do…." From a man who used to take the simple-minded gun-control position "fewer guns=less homicide," it was surprising evidence of growth. After making his point, however, Moore made a mistake in following up with, "and yet we don't seem to want to ask ourselves this simple question: "Why us? What is it about US?" It's not, however, that we don't want to ask the question.
It's that we don't want to hear the answer.
We can begin seeking it by asking another question: Why is it that Vermont, with approximately the same rate of gun ownership as Louisiana, has less than one-eighth the murder rate? Even more strikingly, why does New Hampshire have both a far higher gun ownership rate and a lower murder rate than England, Piers Morgan's favorite poster-boy nation for gun control?
Professor Thomas Sowell provided more of these seeming contradictions in 2012, writing:
When it comes to the rate of gun ownership, that is higher in rural areas than in urban areas, but the murder rate is higher in urban areas. The rate of gun ownership is higher among whites than among blacks, but the murder rate is higher among blacks.
… [There are also] countries with stronger gun control laws than the United States, such as Russia, Brazil and Mexico. All of these countries have higher murder rates than the United States.
You could compare other sets of countries and get similar results. Gun ownership has been three times as high in Switzerland as in Germany, but the Swiss have had lower murder rates. Other countries with high rates of gun ownership and low murder rates include Israel, New Zealand, and Finland.
So what's the answer we don't want to hear? The critical difference among these regions and nations is explained right in Sowell's title: it's "not guns."
"It's people."
What "people" differences are relevant? Let's start with race and ethnicity. In the cases of homicide in 2012 in which the races of the perpetrators were known, 55 percent were committed by blacks, 62 percent of whom were under 30 years of age. Black youths are 16 percent of the youth population, but constitute 52 percent of those arrested for juvenile violent crime.
The statistics for Hispanics are more difficult to ferret out because, unbeknownst to many, law enforcement agencies tend to lump them in with whites in crime statistics (the FBI has announced that it will finally categorize Hispanic crime — in its report on 2013). However, there is some information available. Examiner's Ken LaRive tells us that "Hispanics commit three times more violent crimes than whites," but that the disparity could be even greater because of their often being classified as white.
The National Youth Gang Survey Analysis reports that gang members are approximately 49 percent Hispanic, 35 percent black and 10 percent white. And while whites are 35 percent of NYC's population, blacks and Hispanics commit 96 percent of all crime in the Big Apple and 98 percent of all gun crime.
Another good indicator is international crime statistics. Hispanic countries dominate the homicide-rate rankings, with Honduras topping the list with a rate eight times as high as that of our worst state, Louisiana. Also note that there are no European/European descent nations in the top 20 and not one Western-tradition nation in the top 30 (Russia and Moldova are 24 and 28, respectively).
And what can we say about these "people" differences? It's much as with the question of why men are more likely to be drunkards than women. You could explore whether the differences were attributable to nature, nurture or both. But it would be silly to wonder if the answer lay in men having greater access to bars, alcohol or shot glasses.
This brings us to why covering up minority criminality encourages gun control:
Americans won't understand that the critical factor is people differences if they aren't told about the people differences.
They will then — especially since most citizens aren't even aware that there are nations with more firearms but less murder — be much more likely to blame guns. Of course, this is precisely what you want if you're a left-wing media propagandist.
There is a question that could now be posed by the other side: if the main difference in criminality is demographics, why not outlaw guns? After all, it won't make a difference one way or the other, right? I'll offer a couple of answers to this question.
First, for a people to maintain just liberties, a freedom must always be considered innocent until proven guilty; the burden of proof is not on those who would retain it, but on those who would take it away.
Second, while private gun ownership and just law enforcement can't turn barbarians into civilized people any more than excellent schools can transform dunces into geniuses, they can act as mitigating factors that minimize criminality as much as possible given the "raw material" with which the particular society has to work. It's much as how you can maximize your personal safety: you may be safer in a great neighborhood with no martial arts training than in a terrible one with that training. Nonetheless, it allows you to be safer than you would be otherwise whatever neighborhood you choose.
And what do the stats show in our fair to middling USA neighborhood? Florida State University criminologist Gary Kleck reported that guns are used by good citizens 2.2 to 2.5 million times per year to deter crime. That likely saves many more innocent lives than are lost in massacres every year, but these unseen non-victims don't make headlines the way Sandy Hook tragedies do. That's why I like to say, using a twist on a Frédéric Bastiat line, a bad social analyst observes only what can be seen. A good social analyst observes what can be seen — and what must be foreseen.
Lastly, one more truth becomes evident upon recognizing that demographics are the main factor in criminality: even if you do believe in gun control, imposing it federally and applying a one-size fits all standard is ridiculous. In terms of people and crime, there's a world of difference between towns in New Hampshire or Vermont, with their England-level murder rates, and cities such as East St. Louis, IL, or Detroit, which rival El Salvador in citizen lethality. You can make gun control the same everywhere, but you can't change the fact that people will be very, very different.
Ever wonder why nobody (except Kareem Serageldin) went to jail for all the crimes committed during the financial bubble that popped in 2008?
If you think back to the 2000-era bubble, lots of people went to jail for the fraud perpetuated at Enron, Tyco, Adelphia, and other firms. Plus, the law back then destroyed a whole accounting firm — Arthur Andersen, you may remember — and 28,000 jobs along with it, in the wake of the bust.
Yet post-2000, firms with far more brazen crimes got off by paying a mere fine.
Take HSBC.
Its U.S. subsidiary committed, as Taibbi writes, "an astonishing list of crimes — a laundry list that included pretty much every kind of crime a bank can possibly be charged with."
Such as:
Laundering billions of dollars for drug cartels in Mexico and Colombia
Washing money for terrorist-connected organizations in the Middle East
Allowing "rogue states" under formal sanctions by the U.S. to move billions freely through the bank
Helping Russian mobsters wash money under an elaborate traveler's check scheme
Etc.
And what was the penalty for all this?
$1.9 billion.
At the time, it was the biggest fine in history. But in context, for a firm that made $22 billion per year, it was not much at all. In fact, looked at in a cold calculating light, the message clearly is: Crime pays.
Note there was no jail time for anybody. Everybody at HSBC got paid. Well, HSBC agreed to partially — partially, mind you – defer (!) bonus payments to its top executives.
Oh, and HSBC had to say it was sorry. "We are profoundly sorry," said CEO Stuart Gulliver.
But how did we get here?
Matt Taibbi explores the reasons in his book The Divide. Taibbi used to write for Rolling Stone. He was the guy who famously called Goldman Sachs a "great vampire squid wrapped around the face of humanity, relentlessly jamming its blood funnel into anything that smells like money." (I wish I had written that line.)
He's a very good investigative reporter and a fine writer. He's mellowed out a bit in this book and you won't find much of the usual Taibbi name-calling and profanity. Taibbi, for good or ill, plays this one straight.
He covers a lot of ground, but the central thesis is one most people will intuitively grasp: If you are rich and powerful, you can get away with almost anything. Rights exist on a sliding scale. And if you are on the bottom, you can do time for loitering.
Taibbi writes:
"The cleaving of the country into two completely different states — one a small archipelago of hyper acquisitive untouchables, the other a vast ghetto of expendables with only theoretical rights — has been in the works a long time."
But to answer the question posed up top about why nobody's going to jail, there's more to the story. You have to go back to a memo written by Eric Holder, the current attorney general, back in 1999, when he was an official in the Clinton White House.
He articulated a concept called "collateral consequences."
It meant, in essence, that the government could take into account all kinds of factors like job losses and such in deciding whether to press criminal charges against a big company. "If the math isn't there," Taibbi writes summing things up, "hold the charges. Seek other forms of justice instead. Fines. Civil sanctions. Cease and desist orders. Deferred prosecutions. There are other ways, Holder wrote, to get the job done."
In other words, there would never be another Arthur Andersen. Firms had new ways to wiggle out of criminal charges. Hence, we have the monster we have today. Companies too big to jail.
Meanwhile, in other aspects of life, a culture approximating a police state grows apace. Taibbi points to the record levels of incarcerations in the U.S. "Our prison population, in fact, is now the biggest in the history of human civilization," Taibbi writes. The U.S. has more people behind bars today "than there were at any time in Stalin's gulags."
The story here is nasty. He tells the story of private prisons, such as those of Corrections Corp. of America. They get, "depending on whom you believe," upward of $166 per day from the federal government per inmate. This is four times what it cost back when the government took care of its own detainees.
"The big influx of cash impressed investors on Wall Street," Taibbi writes. From 2000-2011, CCA's stock went up 34-fold. Sales went from $300 million to $1.7 billion by 2011. "Overall, the corrections industry is one of the soundest stock/equity bets in the world, with soaring revenues — the industry as a whole pulled in more than $5 billion in America in 2011."
Needless to say, that didn't just happen. CCA and others donate generously to politicians. They support anything that might lead to more people spending time in their cells. They particularly like anti-immigrant bills. And Taibbi has harrowing tales about the mistreatment of immigrants in this country. He calls Hispanic immigrants "one of America's last great cash crops."
"And someone else wins, too," Taibbi writes. "Wall Street. Some of the biggest investors in private prison companies are, you guessed it, the too-big-to-fail banks."
Taibbi writes about an analysis from Zacks that gleefully revels in the lack of economic sensitivity in the business. And then cites a chart with shows a hockey stick increase in the number of incarcerated Americans.
So the country is turning more and more into a dragnet… but only for the poorest. There is no HSBC banker sitting in a CCA cell. It is symbolic of the kind of economy we have today:
"Like too-big-to-fail banking itself, private prisons are an industry that depends not on the unpredictable economy but upon political connections. It's the perfect kind of business in the oligarchical capitalism age, with guaranteed profits to provide a low-cost public insurance against the vagaries of the market."
The economy is riddled with corruption like this, a marriage between big business and Big Government. And a recurring theme in this book is the offspring this marriage creates: a relentless, insatiable bureaucratic force that grinds up individuals fed into its maw.
"These bureaucracies accomplish just two things," Taibbi writes. "They make small piles of money smaller and big piles of money bigger… It just relentlessly creates and punishes losers, who get to sit beneath an ever-narrowing group of winners, who may or may not stay on top for long."
Legal rights are not absolute. Those with money who can tirelessly throw lawyers and lawsuits and counterlawsuits at any problem can survive almost anything. For the rest, it's a matter of attrition. And those at the bottom have no chance.
I can't do justice to all the journalistic fieldwork and stories Taibbi has put in his 416-page book. It is a gripping read and will infuriate you and frighten you, and maybe even make you sad for what's happened to the "Land of the Free."
The book does not have a happy ending. The good guys don't win in the end. But I encourage you give it a read. What it describes is life in these United States. Those of us who cherish liberty have quite a job ahead of us.
Sincerely,
Chris Mayer
Chris Mayer studied finance at the University of Maryland, graduating magna cum laude. He went on to earn his MBA while embarking on a decade-long career in corporate banking. Chris is the editor of Capital and Crisis and Mayer's Special Situations, a monthly report that unearths unique and unconventional opportunities in smaller-cap stocks. In 2008, Chris authored Invest Like a Dealmaker: Secrets From a Former Banking Insider.
Source: Laissez Faire
How corrupt has America become? It has become as corrupt as globalism itself, a byproduct in international greed, where the gutting of good paying jobs has relegated the United States to being nothing more than a third rate country with a first rate war machine. An essential aspect to what we regard as the American economy today is its reliance on fraud and corruption, from the banking sector to corporations exporting and outsourcing good jobs with the help of a political class that is not only fraudulent but treasonous to the extreme, they are driving America towards an abyss that it will not come back from.
Waging international war for resources under false pretenses is a globalists wet dream, and under the cloak of the nefarious "war on terror," multinational defense and security firms have made trillions of dollars over the last decade. They destroy so they can rebuild, and all the human collateral damage is just an unsightly part of doing business.
Another perverse aspect to globalism is massive illegal immigration under the disreputable banner of multiculturalism, for some shady businesses in America the profit margins can increase exponentially by hiring illegal workers over Americans.
Corporations hire illegal workers to keep wages low, and benefits to an absolute minimum. Americans are shunned for unquestioning cheep labor, and governments allow and foster this fraud to the detriment of many Americans. Some Americans, if you can still call them Americans, profit greatly in this perverse atmosphere of fraud.  The Federal government consistently places the interests of illegal aliens and businesses who hire them over and above American workers and the 'rule of law'.
A case in point is Oklahoma, specifically Tulsa, Oklahoma, which has become a hotbed of greed and corruption. Tulsa is what some call a sanctuary city, where tens of thousands of illegal workers are in jobs that Americans are obviously not occupying. This ugly fact is good for some corporations and businesses, expanding their profits by paying undocumented workers low wages with no real benefits. What does it cost the American tax payers when these illegal workers have babies and use the medical industry with false identities, who foots the medical bills?  It defiantly is not businesses or the governments.
Another case in point is a company called Name Brand Clothing; based in Tulsa, it has stores in six states, the company sells salvage clothing at 75 percent off retail and it prefers to hire illegal workers instead of Americans. It is the proverbial 'poster child' for corporate greed and corruption in Tulsa, Oklahoma.
Why does it hire illegal workers? Well, first of all, it is about greed, making some people rich at the expense of everyone else. The managers at Name Brand Clothing generate outrageous bonuses by essentially suppressing wages on all hourly paid employees year after year. They choose illegal workers because illegal's do not complain about being stuck on minimum wage for years on end with no real medical benefits and no paid holidays.
The owners and managers of Name Brand Clothing knowingly and willingly submit false identifications and Social Security Numbers to the IRS and to the Oklahoma Tax Commission, which is of course contrary to both federal and state laws. They have been doing this for over a decade, and they can commit these criminal acts because Federal and State governments are currently as corrupt and dishonest as companies like Name Brand Clothing.
Veracity Voice interviewed a long time worker at Name Brands Clothing for an inside examination into the workings of corporate greed and corruption that currently plagues corporate America.
We are protecting the person's identity because the person is still currently employed by the company. We will refer to that person as the 'Employee'.
Veracity Voice: How long have you been working for Name Brands?
Employee: I rather not say exactly since I still work for them, lets just say that I have been employed at Name Brands for about 10 years, give or take a couple of years.
Veracity Voice: What do you do there?
Employee: Again, I rather not say exactly, lets just say I worked in the head office, and have seen the corruption first hand.
Veracity Voice: Why have you decided to speak out at this time, and not before?
Employee: Actually I did in a way speak about this before; I wrote a letter to the Sheriff's department, and the FBI about 4 years ago. I also wrote letters too FOX 23 and Channel Six News, concerning the outlandish fraud and corruption happening at Name Brands, and absolutely nothing came of it. It seems that it is not PC to talk about this issue in Tulsa; the mainstream media won't touch it. That is why I am talking with Veracity Voice; the only outlet whistleblowers have today in America is in the alternative media.
Veracity Voice: Are you saying that the mainstream media is covering it up?
Employee: In a way they are by not reporting all the law breaking going around Tulsa as far as hiring illegal workers by businesses, they certainly seem to be part of the club, and will not rock the boat.
Veracity Voice: What Club?
Employee: Corrupt businesses, Local, State and Federal governments that allow the criminal behavior, the police departments that will not enforce the law and mainstream media that will not report any of it. It is one big corrupt club.
Veracity Voice: What kind of fraud and corruption have you seen at Name Brands?
Employee: Well, you can compare the greed and corruption at Name Brands along the lines of what's happening in Wall Street and the financial system, some people are profiting greatly through outright fraud and thievery at the expense of everyone else, and government is engaged in helping the criminality.
At Name Brands, the fraud is done by submitting false ID's and Social Security Numbers (SSN) to the IRS. I've seen with my own eyes management turn away American workers seeking work then turn around and hire illegals. The main reason they do this, Is because the illegals are content to work for minimum wage with no real benefits. Essentially, they keep everyone's wages stagnant except for management.
Veracity Voice: What do you mean except for management?
Employee: The lower the costs for running the business, the higher the bonuses for management, its classic corporate greed. Management at Name Brands make large sums of money in the form of bonuses while all other workers do not receive real medical benefits or paid holidays except for two, Thanksgiving and Christmas, and those two paid holidays are highly conditional.
Veracity Voice: Highly conditional?
Employee: Yes, two weeks prior to Thanksgiving and Christmas if an employee is late for work for any reason Name Brands will not pay you for the holiday.
Veracity Voice: You're kidding right?
Employee: No, unfortunately I'm not kidding. At Name Brands it's a culture of nepotism and greed, like the saying goes "there is no honor among thieves" there is no honesty, no real integrity, just godless corruption. There is one woman, who has worked for the company for 17 years, and she has only received one 5 cent raise not counting minimum wage increases. It's outright disgusting how they treat workers.
Veracity Voice: Why does she stay?
Employee: Well, some people have problems, and finding other employment can be difficult.
Veracity Voice: What kind of problems?
Employee: All sorts of problems like emotional and mental problems, in some cases drug problems, other cases workers being ex-convicts, finding employment can be difficult. Like some parasite, companies like Name Brands like to take advantage of the most vulnerable and disadvantaged in society, that's why they like illegals; they can thieve from them without any complaint, protected by corrupt governments. Most self-respecting Americans will not work for a company that treats hourly workers like trash.
Veracity Voice: Let's get back to the fraud, how many illegals are they employing?
Employee: At TPC which is Name Brands production center in North Tulsa, they usually have around 80 illegals working there, and at their store in South Tulsa there are about 10.
Veracity Voice: That many?
Employee: Yes, it's absolutely incredulous and in your face. It is both frustrating and depressing at the same time to see this traitorous conduct on a daily basis. It is time for Americans to take a stand against these globalists that are profiting through corruption.
Veracity Voice: Who are the people that run Name Brands Clothing in Tulsa?
Employee: As far as I know, Rusty Gaddy is the CEO, Jim Stevenson and Jim Breese are VP's. At TPC there is Reid Lewellin and Jason Garman, both managers, and Brent Daily is the manager at the Tulsa Store, they all commit fraud on a daily bases. They do not care for America or Americans, all they care about is increasing their bonuses at the expense of everyone else, and what really bothers me is that the governments, both at the local and federal level engage in the same fraud, they do absolutely nothing about it. The Federal government knows very well that Name Brands has for well over a decade submitted thousands of false ID's and SSN's. This is criminal behavior at both the local and Federal level when the government chooses not to enforce its own laws.
Veracity Voice: What do you think should be done with these people?
Employee: These people are more than thieving fraudsters, they are traitors to the country and its people, so I say arrest Rusty Gaddy, arrest Jim Breese, arrest Jason Garman and Reid Lewellin, and arrest all of the crooks that run the criminal enterprise called Name Brands Clothing. These people are also very cowardly, if they find out that any employee is against their corruption they will slander him or her with false accusations, they will make up stuff to make that employee look bad. The two most egregious slanderers at Name Brands are Jason Garman and Jim Breese, they will slander and harass you to the point of desperation, and people will quit their jobs because of the continual harassment.
Veracity Voice: Job harassment is a crime.
Employee: Yes, and they get away with that too.
Veracity Voice: Talk a little bit about the one man that has used more than one ID to work at Name Brands.
Employee: Ya, he has three different aliases. I do not know which one is his real name, all I know is that Name Brands went out and got him a new fake ID, when they found out that the old ID the man was using belonged to a another man.
Veracity Voice: Where did they get the fake ID?
Employee: I do not know for sure, I heard that they went to some website run by the Federal government, and it provided Name Brands with a fake ID.
Veracity Voice: What do you think should be done with companies that choose to break the law as a regular part of doing business?
Employee: Again, arrest and prosecute the criminals, if law enforcement will not do their jobs, then Americans need to start fighting back by boycotting corporations like Name Brands that fragrantly and openly break the law. I mean these people act like it's the turn of the 20th century or something; these anti-American globalists – at the end of the day that's what these people really are – Name Brands conducts business like multinationals that run sweatshops all over the third world. They help create the culture of illegal behavior, by giving employment to illegals, which allows the illegals to stay in the city, drive vehicles without drivers licenses and insurance, use emergency Heath Services at taxpayer cost, they currently function 'above the law' and all accountability. Real Americans need to stand up against these criminals before they completely destroy this country.
Veracity Voice: Many in the business sector and in the political establishment will argue that the illegals fill jobs that Americans will not do, this reasoning is also pushed by the mainstream media, what do you say to this reasoning?
Employee: I think it is a false argument, I've seen with my own eyes Name Brands turn away Americans willing to work, in some cases desperate for a job, they are turned away in favor of hiring illegals. So, that kind of reasoning is nothing more than an illusion.
Veracity Voice: Some will charge you with racism for holding these views, how do you respond to this kind of slander?
Employee: It has been my experience that those that accuse people of being racist are in fact racists themselves. They falsely accuse others of being racist so they could push their nefarious agenda by smearing the reputations of those that are opposed to their mendacity and corruption. The charge of racism holds no water in the case of illegal immigration.
Veracity Voice: Why don't you look for another job?
Employee: I am its not easy finding work these days. And if I quit, I probably will not be able to collect unemployment benefits if I can't find a job.
Veracity Voice: Why?
Employee: Because Name Brands will fight against your right to obtain unemployment insurance, its company policy. They will send their managers to testify against your eligibility for unemployment benefits, and they will without any hesitation, lie and malign anyone applying for the benefits.
Veracity Voice: They have done this before, entered false information against former employees to the Unemployment Bureau?
Employee: Yes, many times, and they get away with that too, companies like Name Brands function 'above the law,' and it must stop now.
Veracity Voice: Thank you for your time.
Employee: You're welcome.
The massive unrestrained flux in illegal immigration has changed the demographics of Tulsa, forcing many businesses to provide bilingual services, including city and state government services at great cost to the taxpayer. It is the ongoing balkanization of the city where east Tulsa is now known as little Mexico, a criminal and negative phenomenon that is currently occurring in many cities across the nation.
It is easy to stand up and cheer for your favorite government activity. It is quite another to acknowledge what it means in the real world.
I almost never try to speak for other people. However, I think it is fairly safe to say that the average military recruit firmly believes that he joins the military so that you and I can live and breathe in freedom. To be sure, he had other reasons for joining, but I think the defense of liberty is a fairly common characteristic.
That is certainly what I thought when I was in Navy boot camp in Orlando, Florida, in 1983. After all, this is what I had been told all my life: sailors, soldiers, airmen and marines defend freedom.
But is this actually what they do?
Consider the following:
This Marine lost both legs in an IED blast in Iraq. He claims he was forced by TSA to remove both prosthetic legs before he could board an airplane in Phoenix.
This Vietnam veteran in Spicewood, Texas, had flashbacks to his combat experience during a marijuana raid at a friend's house. What police claimed was marijuana turned out to be ragweed.
Jared Goering, who served 19 years in the Army, including tours in Iraq and Afghanistan, was kicked off the boardwalk in Wildwood, N.J. for walking with his service dog, Gator.
Emily Yates, who served two tours with the Army in Iraq, was violently arrested by park police in Philadelphia for asking why she couldn't play her banjo under some shade trees.
Dimitrios Karras is a Marine Corps veteran of Iraq and Afghanistan. Read about the ATF raid on his business in National City, California.
Martin Goldberg of Brooklyn is a World War II veteran whose apartment was subject to a drug raid. Later, the cops realized they had raided the wrong apartment. His 83-year-old wife was hospitalized with an irregular heartbeat as a result of the raid.

In 1997, four sailors from the USS Saipan (LHA-2) were falsely accused of the rape and murder of a Norfolk, Virginia, woman. One spent eight-and-one-half years in prison while the other three were sentenced to life in prison. These three were pardoned in 2009. Even though the actual killer is serving a life sentence, four innocent men are still required to register as sex offenders and are still fighting to clear their names.
Charles Loeks was 18 and fresh out of Marine boot camp. On a trip home to Covina, California, he was hanging out with a few friends when he was arrested for resisting arrest and nothing else. He spent 21 days in Los Angeles County jail, even though he had harmed no one.
Carlos Jaramillo is a former Marine combat instructor who lives in Onslow County, North Carolina. Watch what happened when he recorded a sheriff's deputy who arrested him for no apparent reason.
Noel Polanco was an unarmed 22-year-old National Guardsman who was shot and killed by New York City police at a traffic stop near LaGuardia Airport.
John Laigaie, a retired Army master sergeant, was threatened at gunpoint by police while legally carrying a gun in a park in Bellingham, Washington.
Homer Wright is an 80-year-old Army veteran who was charged with felony gun use after he shot a burglar who entered his home in Englewood, Illinois.

Mark Schmidter, a Vietnam veteran who lives in Orlando, is currently serving 145 days in a cage for passing out jurors' rights information on the steps of a local courthouse.
Justin Ross of Ankeny, Iowa, was recently discharged from the Army. Police used a battering ram to enter his home executing a warrant for some items purchased with stolen credit cards. They did not find any of these items.
Saadiq Long is an Air Force veteran who was placed on a TSA no-fly list. He had to battle for months to be removed from this list just so he could fly home from Qatar to visit his ailing mother.
Chuck Benton of Long Grove, Iowa, served 22 years in the Army. He was arrested and charged simply for living in the same house with his son who was growing medical marijuana.
Cody Donovan is a former Marine MP who lives in New Milford, N.J. He was charged with unlawful possession of a weapon after carrying a loaded gun into the Garden State Plaza mall when he attempted to help police apprehend the shooter.

In 1932, 17,000 veterans marched on Washington to demand payment of bonuses they had been promised as a result of their service in World War I. Two were shot and killed by police. 55 were arrested and 135 were injured when the United States Army became an instrument of domestic law enforcement. Two of the chief enforcers were named MacArthur and Patton. Yes, those two.
Mark England, an Army combat medic who saw action in Iraq and Kosovo was beaten and tasered by police at McCarran Airport in Las Vegas.
Air Force Staff Sergeant Matt Pinkerton of Glen Burnie, Maryland, faces second degree murder charges after fatally shooting a home intruder in September.
Leo Hendrick, an army veteran who lives in Northwood, Iowa, faces up to 30 days in jail and a $600 fine for raising chickens in his yard.
Yes, the cops had a search warrant. However that in no way excuses their vandalizing the home of Army veteran Dan Neary of Lakewood, Washington.
These World War II veterans were threatened with arrest for visiting a closed war memorial in Washington, D.C. during the October "shutdown."

These Vietnam veterans actually were arrested for visiting a New York City war memorial after curfew.
Denis Reynoso was a disabled veteran who saw action with the Marines in Iraq. He was shot dead by police in his Lynn, Massachusetts, apartment.
Nick Morgan, an Iraq veteran, was pulled out of a crowd by police in Hempstead, New York, and trampled by their horses.
Gary Shepherd of Broadhead, Kentucky was a Vietnam veteran. He used medical cannabis to relieve the pain in his left arm, which was crippled during the war. Shepherd was shot dead by a SWAT team, after they had threatened to cut down his cannabis plants.
Valente and Manuel Valenzuela of San Antonio produced sufficient documentation to enlist, respectively, in the Army and Marine Corps. Both fought in Vietnam, where Valente won a Bronze Star. Now they are facing deportation to Mexico because of erroneous entries on their birth certificates.
Jerome Murdough, a homeless Marine Corps veteran, died in a jail cell on New York's Rikers Island after being arrested for trespassing. A heating malfunction caused the temperature in the cell to soar to 100 degrees.
Kenneth Chamberlain was a retired Marine and Vietnam veteran living in White Plains, New York. Early one morning he set off his medical alert device. The first responders in this case were not medics, but rather police, who proceeded to kill Mr. Chamberlain.

This group of combat veterans in Colorado organized to help legalize marijuana during the 2012 elections. They claim – and I believe them – that marijuana helps mitigate PTSD. If you support any punishment whatsoever for a combat veteran who heals himself with a plant that grows wild in some form within a few miles of you, I don't care what you tell me. YOU DON'T BELIEVE IN FREEDOM!
Stanley Gibson, a 43-year-old Gulf War veteran was shot dead over a total non-crime by Las Vegas police in December, 2011.
Army Specialist Michael Sharkey returned home from deployment in Afghanistan to find his home in New Port Richey, Florida, unlawfully occupied by two squatters. The local sheriff says that Sharkey has no grounds upon which to evict them.
These veterans say they are being required to prove they are worthy of gun rights. Our rights are gifts from God that are inherent in our very humanity. We never have to prove to anybody that we have them.
Dwight Edwards, a disabled Marine veteran of Afghanistan, says that cops in Queens brutally beat him for no reason.
Army Staff Sgt. C.J. Grisham, who won the Bronze Star with Valor, was forcibly disarmed for no good reason by a policeman while on a hike with his son not far from Fort Hood, Texas.

Brandon Raub, a Marine who was decorated for bravery in Iraq and Afghanistan, was forced to spend a week in a Virginia mental hospital over some "anti-government" Facebook posts. (His interviewer here, John Whitehead, is a constitutional attorney, Vietnam infantry veteran and superlative anti-police state blogger.)
Operation Vigilant Eagle is a project of the Department of Homeland Security that has led to numerous Iraq and Afghanistan veterans "finding themselves under surveillance, threatened with incarceration or involuntary commitment, or arrested, all for daring to voice their concerns about the alarming state of our union and the erosion of our freedoms." Indeed, merely being a "returning veteran" can have you designated as a potential terrorist.

We will never know the whole truth about Navy veteran and former Los Angeles cop Christopher Dorner, who was the subject of a police manhunt and media witch hunt in 2013. He never got the chance to tell his story in court.
Hector Barrios came to America in 1961. He was drafted and served as an infantry soldier in Vietnam. In 1996, he was busted for possessing marijuana, which he used to treat his PTSD. As a result, he was deported to his native Mexico where he died.
Matthew Corrigan of Washington, D.C. was a first sergeant in the Army Reserve and a veteran of Iraq. His home was destroyed in a SWAT rampage because it was reported to the police that Corrigan had a gun.
Jamie Dean was an Army veteran of Afghanistan was diagnosed with PTSD. Upset about his impending deployment to Iraq, Dean had an intense emotional outburst at his Maryland home in December 2006. Even though he neither harmed nor threatened anyone, he was shot and killed by a local SWAT team.


Bennie Coleman, 76, is a retired Marine who lost his Washington, D.C., home because of a $134 tax lien that District authorities had sold to an investor.
Jeremy Usher is a former Navy hospital corpsman who lives in Greeley, Colorado. He faces jail time for using medical marijuana to treat his PTSD.
Brittany Ball, a 23-year-old soldier at Fort Jackson, S.C., was manhandled by a cop at a local bar, even though she had done nothing wrong.
Air Force Airman First Class Michael Davidson was shot in the stomach by police in Opelika, Alabama, at the scene of a traffic accident.
Benjamin Wassell sustained traumatic brain injuries while with the Marines in Iraq. The Buffalo-area resident was the first person charged with illegal gun sales under New York's new SAFE Act.

Erik Scott graduated from West Point in 1994 and served as a tank platoon leader. In 2010, he was gunned down and killed by police as he peacefully walked out of a Las Vegas Costco.
Scott Olsen saw action with the Marines in Iraq. Later, he would join the Occupy Oakland movement. In October, 2011, suffered a fractured skull after being hit in the head with a projectile fired by police.
Derek Hale served honorably with the Marines in Iraq. Although, he had committed no crime, he died after being tasered three times and then shot three times by police in Wilmington, Delaware.
Roderick King, an Iraq war veteran, was arrested in Philadelphia after he and his friends had criticized a cop's driving.
Howard Dean Bailey, a Navy veteran, was deported to his native Jamaica when immigration authorities discovered he had taken a plea bargain in a marijuana case in Norfolk, Virginia.

To be sure, the recently deceased folk singer Pete Seeger could not have been more of a leftist. However, he did serve three years in the Army after being drafted during World War II. He was sentenced to one year in jail after refusing to reveal his political connections to the House Un-American Activities Committee in 1956. He appealed this sentence, citing the First Amendment, and ultimately spent only four hours behind bars.
Larry Kirschenman of Nogales, Arizona, served 22 years in the Army and was decorated for bravery in Vietnam. Learn how he was brutalized by Border Patrol agents when asking why he was subjected to a warrantless search.
We will never know for sure what happened in Army veteran Matthew Stewart's Ogden, Utah, apartment one night in January 2012, as he will never have his day in court. He was in prison awaiting trial on charges of shooting and killing one of the police officers who raided his apartment searching for marijuana. Stewart, whose guilt was never proven, committed suicide in his cell.
Sergio Arreola is a cop in Los Angeles who served with the Marines in Iraq. He was beaten by the police in suburban Pomona for no good reason whatsoever.
This former Army paratrooper is appealing to the New York state legislature to legalize medical marijuana. He has severe multiple sclerosis and is "forced to break the law to have some semblance of a bearable existence."


On May 5, 2011, a Tucson SWAT team approached the home of Jose Guerena, who had served two tours with the Marines in Iraq. Guerena grabbed his AR-15 as is his right, but did not fire. The SWAT team let loose with 71 rounds, 60 of which perforated Guerena's body.
Marty Maiden lived a few blocks from Guerena in Tucson. and saw action with the Army in Afghanistan. He posted a suicidal note on Facebook which prompted a call to the police, who shot him dead.
Steve Lefemine is a West Point graduate who was arrested for protesting against abortion in a "no-demonstration zone" outside the Republican National Convention in New York in 2004. The 2nd Circuit U.S. Circuit Court justified the arrest based on a "compelling state interest in security".

Eileen Erickson's husband Sid served in Vietnam and died of Agent Orange exposure. Erickson is now in the crosshairs of authorities in Venice, California, who want to tear down the tree house Sid built before he died.
Listen to this disabled Navy veteran plead with then-Senate candidate Kelly Ayotte (R-NH) about the benefits of medical marijuana. Listen to the totalitarian response.
John Wrana, a 95-year-old Army Air Corps veteran of World War II, was tasered and then shot to death by police in Forest Park, Illinois. His "crime"? Refusing medical attention.
John Colaprete saw action in Vietnam as a Marine Corps officer. In 1994, his Virginia Beach home and restaurants were the object of paramilitary-style raids by the IRS. The raid was prompted by a false accusation by a former employee. While you need to watch this documentary in its entirety some time, for now just pick it up for a few minutes starting at the 55:40 mark.

Boxing legend Joe Louis was also tyrannized by the IRS. The Brown Bomber enlisted in the Army in 1942 saying "Let us at them Japs." Louis never saw combat, as he was assigned to the Special Services Division. While still a civilian, Louis fought some charity bouts and donated the proceeds to the Navy Relief Society. The IRS, however, viewed these proceeds as taxable income. IRS problems would plague him all his life. Please watch this video starting at the 53:17 mark.
Adam Arroyo is a Hispanic veteran of the Iraq war who lives in Buffalo. Police shot and killed his dog while executing a drug warrant for a black man.
Henry Taylor was a retired Air Force veteran in Louisville, Tennessee, who was shot dead by a local sheriff's deputy while investigating a burglary at a rental property he owned.
This is a fascinating article: When Johnny Comes Marching Home … He Goes to Jail. It is absolutely tragic how we chew up and spit out so many of those we send to "fight for our freedom."

Radio talk host Adam Kokesh won the Navy Commendation Medal as a Marine in Iraq. In recent years, he has been arrested several times for various non-violent protests. His most recent arrest happened after he loaded a shotgun in public in Washington, D.C. on July 4, 2013. On July 10, police violently raided his home and arrested him. He was incarcerated for four months without bond, bail or trial. He is currently on probation for two years. You may not like Kokesh's demeanor or approve of all of his antics, but he has been very courageous when so many of his critics can't be bothered to put down the remote.

James Moore, my brothah from anothah mothah, walked away from a very lucrative engineering position in San Jose to re-enlist in the Army following 9/11. He sustained significant physical injuries as well as PTSD while serving in the Special Forces in Afghanistan. On the afternoon of March 25, 2008, Moore, who had done absolutely nothing wrong, was beaten to the point of flat lining by Denver police.
One of the coolest people I have never met is Antonio Buehler. Buehler graduated from West Point in 1999, earned his Ranger tab, and saw action in Kosovo and Iraq. (He also sports a Stanford MBA.) Early in the morning on January 1, 2012, Buehler was arrested for taking a few pictures of Austin police manhandling a young woman outside a 7-11. Buehler has been arrested four times since. He heads the Peaceful Streets Project, whose members work to expose abuse, brutality and overreach both in Austin and across the nation.

There are no doubt numerous other injustices against veterans that I do not know about. Enough to fill a book. None of these things would have happened if America were a free society. As Kokesh puts it, "The greatest enemies to the Constitution are not to be found in the sands of some far off land but rather right here at home."
I cannot speak to the specific political beliefs of most of the veterans I have mentioned here. Some may be pacifists, while others may make John McCain look like a hippie in Haight-Ashbury. No matter what their individual views may be, the freedom they risked their lives for was flagrantly violated on the streets of the land they fought to protect.
Society endlessly applauds sailors, soldiers, airmen and Marines for "fighting for our freedom". It is in no way disrespectful to say that this is not what they do. No foreign government or terrorist group poses any threat to our liberty. America accounts for about half of the world's military spending. We have 300 ships in our Navy, plus thousands of planes, tanks and nuclear warheads as well as 300 million firearms in private hands. Nobody is going to invade us.
In a constitutional country, which America ceased to be 100 years ago, the job of the military – a vital and most noble one – is to defend the borders, shores and airspace. It cannot protect you from being tyrannized domestically. Indeed, throughout history, armies have been instruments of domestic tyranny. Our Constitution forbids a standing army for just this reason.
Nazi Germany and Soviet Russia had enormous military establishments. How did things work out in these countries?
I am a Christian who believes liberty is a gift from God – Leviticus 25:10; II Corinthians 3:17; Galatians 5:1. To quote Jefferson, liberty is preserved not by military might, but by "eternal vigilance" against one's own government at all levels. It is the grossest form of disrespect to send young men around the world to "fight for freedom" while relinquishing that freedom on the home front.
For several years, America has had the world's highest incarceration rate. Since 2001, Americans have gladly accepted previously unthinkable intrusions on their freedom in the name of "safety" and "security". These include, but are not limited to: warrantless searches and spying, the suspension of habeas corpus, sexual assault as a condition of travel, rampant police brutality, indefinite detention without any semblance of due process, severe restrictions on peaceful protest, massive ammunition purchases by DHS and surveillance drones in our skies watching our every move. Can predator drones be far behind?
And in every election 98 percent of voters put their stamp of approval on perpetuating this monstrosity.
On April 20, 2013, Boston and several surrounding towns got a serious taste of martial law. How many military veterans were on the receiving end of this? Is this what they signed up to fight for?
Stop thinking in clichés. Have a good hard look at everything your media and government tell you. This includes media outlets and parts of the government that you like. Study. Read. Ask questions. And learn that the defense of liberty is not the duty of the military. Rather, it is your duty and mine.
~~~~~~~~~~~~~~~~~~~~~~~~~~~~~~~~~~~~~~~~~~~~~~~~~~~~~~~~~~~~~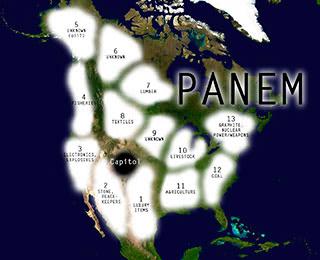 One of the most popular films of 2012 was The Hunger Games which portrayed a post-apocalyptic nation called Panem in which a super-rich, super-pampered, super-callous 'elite' lived in high-tech luxury while the rest of the population daily battled to survive in abject poverty locked away behind prison fences in intensively-populated 'people zones'. Panem comes from the Latin phrase 'panem et circenses' or 'bread and circuses' — a term derived from Rome and meaning to give the people diversions and distractions to hide what is being done to them. Exactly what is happening today.
The Totalitarian Tiptoes to just such a world are happening all around us, although most people can't see this because they don't connect the dots. People tend to live in their own 'little world' and focus on only a few subjects and interests. This gives them a distorted view of what is happening because they are so busy concentrating on the strands that they cannot see the tapestry. The world of The Hunger Games is already well on the way to fruition unless humanity has a fundamental reassessment of reality.
The foundations, structure and 'must haves' of a Hunger Games society are detailed in a plan being imposed through the United Nations called Agenda 21 which encompasses two related themes of 'sustainable development' and 'biodiversity'. Sustainable development — as in don't use more than can be replaced — sounds sensible enough at first until you realize what this and biodiversity really mean in the context of the conspiracy.
Agenda 21 was established at the United Nations Conference on Environment and Development in Rio de Janerio, Brazil, in 1992, hosted by Maurice Strong, a Canadian oil and business billionaire and long-time front man for the Rothschilds and Rockefellers. Strong has been a leader of their exploit-the-environment-to-scam-the-people programme which is now in full flow. Strong is a member of the Club of Rome, the environmental Hidden Hand in the Round Table network that includes the Bilderberg Group, Trilateral Commission and Council on Foreign Relations.
Strong said in support of Agenda 21:
'Isn't the only hope for this planet that the industrialised civilization collapse? Isn't it our responsibility to bring that about?'
This is a man who became mega-rich through the oil industry. He now lives in billionaire luxury in China where carbon-emitting industry is booming and he is a director of the Chicago Climate Exchange (largest shareholder, Goldman Sachs), which is 'the world's first and North America's only legally-binding greenhouse-gas emission registry reduction-system for emission sources and offset projects in North America and Brazil'.
The Exchange was established with funding from the Joyce Foundation where Barack Obama was once a director. Strong and Al Gore make money through the Carbon Exchange and other means from the lies they promote about climate change and the solutions they propose. Kate Johnston wrote on the Globalresearch.cawebsite:
'The same men that sold us the myth of man-made global warming are the same men that sold us the "solution" of a Carbon Tax and Emissions Trading Scheme and now they're profiting off their lucrative investments which are based on lies.' (See "The Climate Change Hoax").
Strong fled to China in 2006 after being accused of corruption with respect to the UN oil for food program.
Climate change propaganda is a No-Problem-Reaction-Solution technique to justify Agenda 21 and its stable-mate the Biodiversity Treaty. This is an internationally-binding document involving nearly 200 countries. The United States signed the treaty, but it was not ratified by the Senate after people like ecologist and ecosystem scientist Dr. Michael Coffman exposed its true consequences and implications. He said that he realized during the 1980s and 1990s that the plan was to use the excuse of protecting the environment to confiscate half the land of the United States.
Similar plans exist for every other country. America may not have ratified the treaty, but it is being implemented by the day. Agenda 21 demands the central global control of all land; all private property; all water sources and distribution; all other resources which includes people in its definition; all energy supplies and distribution and all food production and distribution.
Agenda 21 is called 'the agenda for the 21st century' and that refers to global fascism / communism. This is a summary of what Agenda 21 / Sustainable Development / Biodiversity is seeking to impose:
An end to national sovereignty
State planning and management of all land resources, ecosystems, deserts, forests, mountains, oceans and fresh water; agriculture; rural development; biotechnology; and ensuring 'equity' (equal slavery)
The State to 'define the role' of business and financial resources
Abolition of private property (it's not 'sustainable')
'Restructuring' the family unit
Children raised by the State
People told what their job will be
Major restrictions on movement
Creation of 'human settlement zones'
Mass resettlement as people are forced to vacate land where they currently live
Dumbing down education (achieved)
Mass global depopulation in pursuit of all the above
This horrific plan is being coordinated through the United Nations, the stalking horse for world dictatorship, via a non-governmental network once called the International Council of Local Environmental Initiatives ICLEI), and now known as Local Governments for Sustainability although still using the shortened name ICLEI. The United Nations is now opening 'embassies' around the world called 'UN Houses' under the guise of raising awareness of UN activities, but not the activities that people really need to know about. They have opened one in Hunter Square, Edinburgh, Scotland, for example.
Local Governments for Sustainability (ICLEI) and other organisations are integrating the plan into every village, town, city and region and it is already becoming widespread across the world. The organisational infrastructure of Agenda 21 is already fantastic and involves government agencies, non-governmental organisations (NGOs), think-tanks, trusts, foundations, 'training' (mind control) operations and 'initiatives' which have been building the infrastructure for what they call 'the post-industrial, post-democratic' society while the public go about their daily business oblivious of the prison being built all around them by the hour.
Harvey Ruvin, a vice-chairman of ICLEI, was asked how Agenda 21 would affect liberties with regard to the US Constitution and Bill of Rights, private property and freedom of speech. He replied:
'Individual rights must take a back-seat to the collective.'
The arrogance of these people is breathtaking. The extraordinary network supporting ICLEI and Agenda 21 includes the Rockefeller-sponsored America 2050; United Cities and Local Governments (UCLG); Metropolis; World Economic Forum; United Nations Framework Convention on Climate Change; United Nations International Strategy for Disaster Reduction; World Bank; Clinton Climate Initiative; Climate Group (Tony Blair); World Conservation Union (IUCN); Renewable Energy and Energy Efficiency Partnership; Global Footprint Network; Renewable Energy and Energy Efficiency Partnership; Global Footprint Network; International Centre for Sustainable Cities; Earthquakes and Megacities Initiative and the Stakeholder Forum. These and so many others are working to the same end — Agenda 21 and total human enslavement worldwide, although most of those involved will have no idea that they are building a global prison for themselves and their families.
Another of these front organisations is the World Business Council for Sustainable Development which includes the hideously anti-people Monsanto. Destroying food-growing land, contaminating the countryside with toxins and replacing proper food with deadly and soil-destroying genetically-modified organisms is Monsanto's contribution to 'sustainability'. Agenda 21 is operating in more than 600 towns, cities and counties in the United States and expanding by the day.
A member of the Agenda 21 committees in Santa Cruz, California, in the mid-1990s said that the proposals he heard were so crazy that he laughed at them because they could never happen. These included that 'Mother Earth's surface was not to be scratched'; humans should be concentrated in settlement zones; education should focus on the environment as a central organising principle and all aspects of life covered by Agenda 21, but all of these crazy plans are now being introduced. It's all happy, feely, smiling faces and how we care, when the truth is that Agenda 21 is a vicious, brutal, heartless strategy to impose a global Orwellian state.
Agenda 21 manipulators either create or hijack some local organisation or other, many of them in locations with large populations, and they have their (controlled) leadership to agree the Agenda 21 blueprint for their community together with any uninformed, unwitting idiots who can be sold a human nightmare as saving the planet. This allows them to claim that decisions were made after 'public participation' when that would have been the last thing they wanted, and 99 percent of the 'community' has never heard of Agenda 21 let alone had their say on it. They want no democracy which is why these people talk privately, sometimes even publicly, about the post-democratic, post-industrial society.
They want to control every man, woman and child on the planet — everyone and everywhere and every resource, water source and piece of land. To do this they need a global structure of fascist control that goes right down into every local community with the jackboots at local level enforcing the will of the global centre. This is why there is so much emphasis on local authorities and town and city authorities in Agenda 21.
There is a 'training organisation' called Common Purpose (common purpose, common consensus, everyone the same) which has been paid very large amounts of money by governments and local authorities, police forces and other institutions of state to 'train the leaders' of the post-democratic, post-industrial society. Common Purpose was heavily represented in the Leveson 'inquiry' leading to new media laws in Britain. It is not a training programme; it is a programming programme and turns out unquestioning zombie administrators who serve the god of Agenda 21 and the associated European Union. The theme of 'common' also applies to the ever greater standardisation of laws and regulations and constant reference to 'international law'. This is the unfolding global dictatorship of Agenda 21. What do you need to be a global dictator? Laws that everyone on the planet must obey — international law and the standardisation of global regulation.
You can see The Hunger Games connection when you look at the official Biodiversity wish-for map of the United States in Figure 1. The red areas are designated for no human use and most of the rest of America is confiscated for little and highly-regulated use. The mass of the population would be concentrated in high-rise, densely-packed 'human settlement zones' and denied access to something like 80 percent of present day America. It is without question the world of The Hunger Games with a globally-enforced top-down hierarchy that has a world government using its world army and police force to impose its will at regional and local levels (sectors). The Rockefeller-funded America 2050 has produced a map of the new United States divided into eleven 'megaregions' and includes parts of Canada (Figure 2). Seattle, Portland and Vancouver, British Columbia, become the megaregion known as 'Cascadia' and this regional system comes under the collective name of 'megalopolis' which is Greek for large city or great city. America, Canada and Mexico are due to merge to form the North American Union in line with the European Union blueprint.
The European Union is planned to be broken up into regions and the same structure is in development all over the world. The map of the new Europe has regions from different countries linked up with regions in other countries to end any vestige of national sovereignty or even national existence (Figure 3). This is a global plan with its fierce central control hidden behind its lower elements such as the European Union and local government. What is planned would clearly require a fantastic reduction of the global population and this is indeed what Agenda 21 / Sustainable Development / Biodiversity demand.
The e-book Agenda 21: Your Life In Their Hands can be downloaded here.
reference:
Icke, David. The Perception Deception. Ryde: David Icke Books, 2013.
Julian Websdale is an independent researcher in the fields of esoteric science and metaphysics, and a self-initiate of the Western Esoteric Tradition. His interest in these subjects began in 1988. Julian was born in England, received his education as an electronic and computer engineer from the University of Bolton, served in a Vaishnava monastery during 2010, and has travelled to over 21 countries. Julian is also a member of the Palestinian Solidarity Campaign.
Source: Julian Websdale  |  Waking Times | War Is Crime
So, what do we have here? In Libya, in Syria, and elsewhere the United States has been on the same side as the al-Qaeda types. But not in Ukraine. That's the good news. The bad news is that in Ukraine the United States is on the same side as the neo-Nazi types, who – taking time off from parading around with their swastika-like symbols and calling for the death of Jews, Russians and Communists – on May 2 burned down a trade-union building in Odessa, killing scores of people and sending hundreds to hospital; many of the victims were beaten or shot when they tried to flee the flames and smoke; ambulances were blocked from reaching the wounded. Try and find an American mainstream media entity that has made a serious attempt to capture the horror.
And how did this latest example of American foreign-policy exceptionalism come to be? One starting point that can be considered is what former Secretary of Defense and CIA Director Robert Gates says in his recently published memoir: "When the Soviet Union was collapsing in late 1991, [Defense Secretary Dick Cheney] wanted to see the dismemberment not only of the Soviet Union and the Russian empire but of Russia itself, so it could never again be a threat to the rest of the world." That can serve as an early marker for the new cold war while the corpse of the old one was still warm. Soon thereafter, NATO began to surround Russia with military bases, missile sites, and NATO members, while yearning for perhaps the most important part needed to complete the circle – Ukraine.
In February of this year, US State Department officials, undiplomatically, joined anti-government protesters in the capital city of Kiev, handing out encouragement and food, from which emanated the infamous leaked audio tape between the US ambassador to Ukraine, Geoffrey Pyatt, and the State Department's Victoria Nuland, former US ambassador to NATO and former State Department spokesperson for Hillary Clinton. Their conversation dealt with who should be running the new Ukraine government after the government of Viktor Yanukovich was overthrown; their most favored for this position being one Arseniy Yatsenuk.
My dear, and recently departed, Washington friend, John Judge, liked to say that if you want to call him a "conspiracy theorist" you have to call others "coincidence theorists". Thus it was by the most remarkable of coincidences that Arseniy Yatsenuk did indeed become the new prime minister. He could very soon be found in private meetings and public press conferences with the president of the United States and the Secretary-General of NATO, as well as meeting with the soon-to-be new owners of Ukraine, the World Bank and the International Monetary Fund, preparing to impose their standard financial shock therapy. The current protestors in Ukraine don't need PHDs in economics to know what this portends. They know about the impoverishment of Greece, Spain, et al. They also despise the new regime for its overthrow of their democratically-elected government, whatever its shortcomings. But the American media obscures these motivations by almost always referring to them simply as "pro-Russian".
An exception, albeit rather unemphasized, was the April 17 Washington Post which reported from Donetsk that many of the eastern Ukrainians whom the author interviewed said the unrest in their region was driven by fear of "economic hardship" and the IMF austerity plan that will make their lives even harder: "At a most dangerous and delicate time, just as it battles Moscow for hearts and minds across the east, the pro-Western government is set to initiate a shock therapy of economic measures to meet the demands of an emergency bailout from the International Monetary Fund."
Arseniy Yatsenuk, it should be noted, has something called the Arseniy Yatsenuk Foundation. If you go to the foundation's website you will see the logos of the foundation's "partners".  Among these partners we find NATO, the National Endowment for Democracy, the US State Department, Chatham House (Royal Institute of International Affairs in the UK), the German Marshall Fund (a think tank founded by the German government in honor of the US Marshall Plan), as well as a couple of international banks. Is any comment needed?
Getting away with supporting al-Qaeda and Nazi types may be giving US officials the idea that they can say or do anything they want in their foreign policy. In a May 2 press conference, President Obama, referring to Ukraine and the NATO Treaty, said: "We're united in our unwavering Article 5 commitment to the security of our NATO allies". (Article 5 states: "The Parties agree that an armed attack against one or more of them … shall be considered an attack against them all.") Did the president forget that Ukraine is not (yet) a member of NATO? And in the same press conference, the president referred to the "duly elected government in Kyiv (Kiev)", when in fact it had come to power via a coup and then proceeded to establish a new regime in which the vice-premier, minister of defense, minister of agriculture, and minister of environment, all belonged to far-right neo-Nazi parties.
The pure awfulness of the Ukrainian right-wingers can scarcely be exaggerated. In early March, the leader of Pravy Sektor (Right Sector) called upon his comrades, the infamous Chechnyan terrorists, to carry out further terrorist actions in Russia.
There may be one important difference between the old Cold War and the new one. The American people, as well as the world, can not be as easily brainwashed as they were during the earlier period.
Over the course of a decade, in doing the research for my first books and articles on US foreign policy, one of the oddities to me of the Cold War was how often the Soviet Union seemed to know what the United States was really up to, even if the American people didn't. Every once in a while in the 1950s to 70s a careful reader would notice a two- or three-inch story in the New York Times on the bottom of some distant inside page, reporting that Pravda or Izvestia had claimed that a recent coup or political assassination in Africa or Asia or Latin America had been the work of the CIA; theTimes might add that a US State Department official had labeled the story as "absurd". And that was that; no further details were provided; and none were needed, for how many American readers gave it a second thought? It was just more commie propaganda. Who did they think they were fooling? This ignorance/complicity on the part of the mainstream media allowed the United States to get away with all manner of international crimes and mischief.
It was only in the 1980s when I began to do the serious research that resulted in my first book, which later became Killing Hope, that I was able to fill in the details and realize that the United States had indeed masterminded that particular coup or assassination, and many other coups and assassinations, not to mention countless bombings, chemical and biological warfare, perversion of elections, drug dealings, kidnapings, and much more that had not appeared in the American mainstream media or schoolbooks. (And a significant portion of which was apparently unknown to the Soviets as well.)
But there have been countless revelations about US crimes in the past two decades. Many Americans and much of the rest of the planet have become educated. They're much more skeptical of American proclamations and the fawning media.
President Obama recently declared: "The strong condemnation that it's received from around the world indicates the degree to which Russia is on the wrong side of history on this."  Marvelous … coming from the man who partners with jihadists and Nazis and has waged war against seven nations. In the past half century is there any country whose foreign policy has received more bitter condemnation than the United States? If the United States is not on the wrong side of history, it may be only in the history books published by the United States.
Barack Obama, like virtually all Americans, likely believes that the Soviet Union, with perhaps the sole exception of the Second World War, was consistently on the wrong side of history in its foreign policy as well as at home. Yet, in a survey conducted by an independent Russian polling center this past January, and reported in the Washington Post in April, 86 percent of respondents older than 55 expressed regret for the Soviet Union's collapse; 37 percent of those aged 25 to 39 did so. (Similar poll results have been reported regularly since the demise of the Soviet Union. This is fromUSA Today in 1999: "When the Berlin Wall crumbled, East Germans imagined a life of freedom where consumer goods were abundant and hardships would fade. Ten years later, a remarkable 51% say they were happier with communism.")
Or as the new Russian proverb put it: "Everything the Communists said about Communism was a lie, but everything they said about capitalism turned out to be the truth."
A week before the above Post report in April the newspaper printed an article about happiness around the world, which contains the following charming lines: "Worldwide polls show that life seems better to older people – except in Russia." … "Essentially, life under President Vladimir Putin is one continuous downward spiral into despair." … "What's going on in Russia is deep unhappiness." … "In Russia, the only thing to look forward to is death's sweet embrace."
No, I don't think it was meant to be any kind of satire. It appears to be a scientific study, complete with graphs, but it reads like something straight out of the 1950s.
The views Americans hold of themselves and other societies are not necessarily more distorted than the views found amongst people elsewhere in the world, but the Americans' distortion can lead to much more harm. Most Americans and members of Congress have convinced themselves that the US/NATO encirclement of Russia is benign – we are, after all, the Good Guys – and they don't understand why Russia can't see this.
The first Cold War, from Washington's point of view, was often designated as one of "containment", referring to the US policy of preventing the spread of communism around the world, trying to blockthe very idea of communism or socialism. There's still some leftover from that – see Venezuela and Cuba, for example – but the new Cold War can be seen more in terms of a military strategy. Washington thinks in terms of who could pose a barrier to the ever-expanding empire adding to its bases and other military necessities.
Whatever the rationale, it's imperative that the United States suppress any lingering desire to bring Ukraine (and Georgia) into the NATO alliance. Nothing is more likely to bring large numbers of Russian boots onto the Ukrainian ground than the idea that Washington wants to have NATO troops right on the Russian border and in spitting distance of the country's historic Black Sea naval base in Crimea.
The myth of Soviet expansionism
One still comes across references in the mainstream media to Russian "expansionism" and "the Soviet empire", in addition to that old favorite "the evil empire". These terms stem largely from erstwhile Soviet control of Eastern European states. But was the creation of these satellites following World War II an act of imperialism or expansionism? Or did the decisive impetus lie elsewhere?
Within the space of less than 25 years, Western powers had invaded Russia three times – the two world wars and the "Intervention" of 1918-20 – inflicting some 40 million casualties in the two wars alone. To carry out these invasions, the West had used Eastern Europe as a highway. Should it be any cause for wonder that after World War II the Soviets wanted to close this highway down? In almost any other context, Americans would have no problem in seeing this as an act of self defense. But in the context of the Cold War such thinking could not find a home in mainstream discourse.
The Baltic states of the Soviet Union – Estonia, Latvia, and Lithuania – were not part of the highway and were frequently in the news because of their demands for more autonomy from Moscow, a story "natural" for the American media. These articles invariably reminded the reader that the "once independent" Baltic states were invaded in 1939 by the Soviet Union, incorporated as republics of the USSR, and had been "occupied" ever since. Another case of brutal Russian imperialism. Period. History etched in stone.
The three countries, it happens, were part of the Russian empire from 1721 up to the Russian Revolution of 1917, in the midst of World War I. When the war ended in November 1918, and the Germans had been defeated, the victorious Allied nations (US, Great Britain, France, et al.) permitted/encouraged the German forces to remain in the Baltics for a full year to crush the spread of Bolshevism there; this, with ample military assistance from the Allied nations. In each of the three republics, the Germans installed collaborators in power who declared their independence from the new Bolshevik state which, by this time, was so devastated by the World War, the revolution, and the civil war prolonged by the Allies' intervention, that it had no choice but to accept the fait accompli. The rest of the fledgling Soviet Union had to be saved.
To at least win some propaganda points from this unfortunate state of affairs, the Soviets announced that they were relinquishing the Baltic republics "voluntarily" in line with their principles of anti-imperialism and self-determination. But is should not be surprising that the Soviets continued to regard the Baltics as a rightful part of their nation or that they waited until they were powerful enough to reclaim the territory.
Then we had Afghanistan. Surely this was an imperialist grab. But the Soviet Union had lived next door to Afghanistan for more than 60 years without gobbling it up. And when the Russians invaded in 1979, the key motivation was the United States involvement in a movement, largely Islamic, to topple the Afghan government, which was friendly to Moscow. The Soviets could not have been expected to tolerate a pro-US, anti-communist government on its border any more than the United States could have been expected to tolerate a pro-Soviet, communist government in Mexico.
Moreover, if the rebel movement took power it likely would have set up a fundamentalist Islamic government, which would have been in a position to proselytize the numerous Muslims in the Soviet border republics.
Notes
See RT.com (formerly Russia Today) for many stories, images and videos
Robert Gates, Duty (2014), p.97
If this site has gone missing again, a saved version can be found here.
Voice of Russia radio station, Moscow, April 18, 2014; also see Answer Coalition, "Who's who in Ukraine's new [semi-fascist] government", March 11, 2014
RT.com, news report March 5, 2014
CBS News, March 3, 2014
Washington Post, April 11, 2014
USA Today (Virginia), Oct. 11, 1999, page 1
Washington Post print edition, April 2, 2014; online here
In "The attack on biblical creation in UK schools continues," Phil Robinson reports that in the dechristianized U.K. unrelenting attacks against special creation (Genesis account) display a level of aggressive intolerance that is hard to stomach, coming as they do from self-proclaimed scientifically-enlightened 'voices of reason.'  Some schools have already banned the teaching of special creation in favor of evolutionary science.   (creation.com, Mar. 9, 2014)
Other shrill 'voices of reason' go so far as to connect special creation to mental illness and child abuse. During a radio interview in Australia famous physicist and atheist propagandist Lawrence Krauss said that while in the United States recently, he stated that "teaching creationism is child abuse and I think it is." (Prayer News, a publication of Creation Ministries, Apr. 2014)
Throughout the West and here in America a slash-and-burn operation conducted against the Genesis account, particularly its' literal and historical elements, is justified by the false idea that evolution is science, thus intolerance of special creation is often presented as a 'science versus religion' or 'faith versus reason' issue.   So successful has this war of attrition been that younger generations of Westerners and Americans have been disconnected from both Western history and its' founding Christian-based worldview, thus like seedlings recently popped up from the soil are unconcerned that special creation, where the ultimate source of life, being and unalienable rights are found, has nearly been displaced by anti-human pagan conceptions positing billions of years of evolutionary transformism from lower kinds of things to higher and higher kinds of things— even non-human kinds of things:
"For us, the best way to create new ('artificial') life forms and intelligence is to allow them to emerge through evolution, as nature does, only in much shorter timeframes and with much greater efficiency and variety."

"For conscious evolution to be successful, we need to observe and understand the actual workings of nature, in all its dynamism, to the point of profound reverence, or 'worship.' This is what I call extreme nature-worshipping… From the perspective of extreme nature-worshipping, the real significance of Darwin's evolutionary theory is not that humans descended from lower species, but that we can continue to evolve."(Cosmic Beings: Transhumanist Deism in Ted Chu's Cosmic View, Institute for Ethics & Emerging Technology, Giulio Prisco)
The vicious name-calling, seething resentment toward and censorship of the six day creation account and of all who profess and teach it should raise the eyebrows of any rational thinking person.  If evolution really is a fact of science then why the irrational name-calling, ridicule, scorn, shunning, resentment, intolerance and demonization?
The answer is that the zealous worshipper of evolution is the Spirit of our age that emerged out of the Renaissance whose answer to the Lord Jesus Christ is the Cross (crucify Him) and whose fulfillment will be the Wicked One. (2 Thess. 2:1-8)
From the Renaissance to our own time the Spirit has been transgressing, blaspheming, and departing that it need not obey His voice.   Like a dog returning to its own vomit, the Spirit has returned to its first love: the cult of demons in the Godless universe of matter, psychic energy, and animated forces where time is changed, past history rendered meaningless, and the liberated Spirit imbibes the cup of wrath, an intoxicating mixture of Babylonian Mysteries, incantations, spiritism, Gnosticism, sorcery, witchcraft, Hermetic magic, Kabbalah, reincarnation, astrology, and other devilish occult traditions.
The Book of Revelation pinpoints Babylon as the post-flood center of an occult pagan Mystery religion based on advaitic monism, science of magic transformism, exalted priesthood, gnosis, secret initiations, psychic-powers, familiar spirits, androgyny, sexual perversions, and other evils.
Babylon embraced the Great Lie. Its inhabitants claimed the title, "I AM." The root source of this evil religion and its occult power was the Great Dragon himself….Lucifer:
"…. the Great Lie (is) the foundation stone of Hinduism, Buddhism, Sufism, Jainism, Sikhism, Taoism, the Kabala, the Greek Hermetic, Eleusinian and Gnostic beliefs, Neo-Platonism, all the occult creeds from Theosophy and the Masonic orders to the Rosicrucian's (and) the New Age movement. The Great Lie is…the belief that man is God, that his true identity is the immortal self…that as God, he will never die (and) Sin and depravity are…illusions since this inner divinity is at man's core." (The Great Lie, Tal Brooke, SCP Journal, Vol. 29:2-29:3, 2005)
Though the Spirit of our age claims the title "I AM" it nevertheless follows after and falls down before other fascinating men: theoreticians of evolutionary science, nature philosophy and evolutionary pagan theology. These charismatic Pied Pipers are possessed of surpassing powers of persuasion and inflexible determination of will to which the Spirit assigns more honor than to anything else.
The Spirit has usurped the throne of the Word Incarnate (John 1:1) because He is not good, not just or benevolent but a devil, an evil Tyrant Who, with His infliction of suffering in this life and eternal punishment in the next must be deposed. (Psalm 2:2-3)
Blaming our Lord for their own sins the proud, self-righteous Spirit of rebellion, hypocrisy and negation says to Him, "…you are not my father."  My father is the god of forces, therefore:

"I am I, I come out of myself, and in choice and action I make myself." (Daniel Bell, quoted by Herbert Schlossberg in "Idols for Destruction," p. 43)
In the final analysis, the Spirit of our age is the "striving human will" seeking desperately to launch itself,
"…into minor godhood in an evolving cosmos through the mechanisms of directed spiritual evolution, spiritualized science and spirit contact." The 'new' spirituality now presents itself as the "rightful replacement for the Revealed Word (and) proclaims its spiritual liberation from the worldview that informs Christianity and its freedom from (the) personal and wholly other God.  But this new way of self-salvation (is) little more than the refurbishing of an ancient spiritual mistake."  (The Making of the New Spirituality: the Eclipse of the Western Religious Tradition, James A. Herrick, p. 279)
"As it was in the days of Noah…" 
The ominous signs of this age are obvious, said the English theologian G.H. Pember (1837-1910) in his book, "The Antichrist Babylon and the Coming Kingdom."  Just as it was during the pre-flood generations, open intercourse with demons (spiritism) is now common throughout Christendom and even in Russia.   In France it is the national pastime.   The apostles of the powers of darkness are everywhere proclaiming their scientific and evolutionary theories demonstrating that the world created itself and had no need of a Creator (p. 60) while the miseries which have resulted from sin,
"….are blasphemously charged upon the Almighty, Who so loved the world as to give His son for it (but is now) impiously forbidden to curb and discipline the rebels who owe their existence to the breath of His mouth.  And when we see such men as John Stuart Mill (and) John Morley, the late Chief Secretary for Ireland…guiding their fellows to defiant insubordination, we can scarcely wonder that Bradlaugh…said, 'This world might have been happy, had not the shadow of God fallen upon it." (pp. 35-36, 1888)
Rise of Occult Evolutionary Science 
In the impeccably researched, "The Making of the New Spirituality," James Herrick observes that the scientific tradition in Renaissance Europe developed around three basic approaches: the organic, the mechanical and the magical.   It was magical and/or occult science that provided the greatest impetus for scientific exploration. (p. 45)
C.S. Lewis underscores this point in "The Abolition of Man:"
"You will even find people who write about the sixteenth century as if Magic were a medieval survival and Science the new thing that came in to sweep it away. Those who have studied the period know better. There was very little magic in the Middle Ages: the sixteenth and seventeenth centuries are the high noon of magic. The serious magical endeavour and the serious scientific endeavour are twins: one was sickly and died, the other strong and throve. But they were twins. They were born of the same impulse. I allow that some (certainly not all) of the early scientists were actuated by a pure love of knowledge. But if we consider the temper of that age as a whole we can discern the impulse of which I speak."
In "God and the Knowledge of Reality," the Catholic philosopher and historian, Thomas Molnar (1921–2010), reveals the 'temper of that age' as a spirit of rebellion against the Christian God, and this is why occult science and evolutionary thinking provided the greatest impetus. During the Renaissance, certain Christian theologians, mystics and scholars such as Emanuel Swedenborg had discovered Hermetic magic and occult Jewish Kabbalah texts which they studied and translated resulting in Hermetic Kabbalah. Then like Pico della Mirandola, they argued that occult hermetic science – the divine technology or Magic Way of reaching divine status and powers through ritual procedures (spiritual evolution) is the best proof of the divinity of Christ. In other words said Molnar,
"…..by the time of the Renaissance the esoteric texts of the first centuries A.D. had acquired in scholarly and humanist circles an unparalleled prestige, confronting as equals the texts held sacred by the church. In Pico's estimation, 'nulla est scientia que nos magis certificet de divinitate Christ quam magia et Cabala' (there is no science that would prove for us Christ's divinity better than magic and the Cabala.)" (pp. 78-79)
Hermetic magic and Jewish Kabbalah are ancient Mystery Religion traditions, as affirmed by G. H. Pember in his classic work, "Earth's Earliest Ages."   Pember thoroughly examines the role of fallen angels in connection with the magic (occult transformism) they taught to pre-flood generations and compares them to the explosion of spiritism (open intercourse with evil spirits), astrology, the Mysteries and other occult traditions sweeping over Christendom.
Pember writes that the Mysteries are no longer veiled in mystery but boldly presented by the powerful occult brotherhood that emerged out of the Renaissance as the fruit of modern science, especially evolutionary philosophy, which the brotherhood assert was included in the instructions given,
"…to the initiates of the Hermetic, Orphic, Eleusinian, and Cabbalistic mysteries, and were familiar to Chaldean Magi, Egyptian Priests, Hindu Occultists, Essenes, Therapeutae Gnostics, and Theurgic Neo-Platonists." (Pember, pp.243-244)
Hermetic Magic

Hermeticism is an ancient Egyptian secret magic tradition based on a set of fourteen books known
collectively as the Corpus Hermeticum attributed to a mysterious figure known as Hermes Trismegistus. Implied in Hermeticism is an evolutionary process of magical transformism (spiritual evolution) moving from one kind of lower thing to another kind of higher thing:
"Human beings are themselves the product of a long spiritual evolutionary process that moves from 'creeping things' to fish, mammals, birds and then people.  Humans can—through occult knowledge and extraordinary ability—continue this evolutionary process and become daemons, then gods, and finally planets or stars." (The Making of the New Spirituality: The Eclipse of the Western Religious Tradition, James A. Herrick, p. 40)
With respect to Hermes identity, researchers of antiquity are divided.  Some believe Hermes was a mythical figure.  Others argue he was Ham or his son Cush.  The historian Samuel Shuckford argues that Hermes was Pathrusim, king of Thebais, the son of Mizraim, the son of Ham.   His Egyptian name was Tyoth or Thoth.  (The Sacred and Profane History of the World Connected, 1808)
In any case, it was Thoth-Hermes who instructed his brothers in the arts and science magic of alchemy or transmutation of a lower kind of thing into a higher kind of thing. For example, after a lengthy transformative process out of the eternally existing divine abyss (primordial matter), the self-created Sun-God Ra boasted that he "came into being from primordial matter."  He made all the forms under which he "appeared by means of the god-soul" which he raised up out of Nu, primordial matter. (The Long War Against God, Dr. Henry Morris, p. 243)
Occult Kabalah
"The Kabalah is the key to the occult sciences; and the Gnostics were born of the Kabalists." (Occult Mason Albert Pike, Morals and Dogma, p. 626)
Like its' Hermetic counterpart, Kabala implies a process of evolutionary transformism:
"…the older Enoch book (gives) a fuller insight into the "Merkabah" and "Bereshit" lore of the ancients than the "Hekalot," which present but fragments, while the central figure of the Cabala, Meṭaṭron-Enoch, is seen in ch. lxx.-lxxi. in a process of transformation." (Cabala, Jewish Encyclopedia)
According to Helena Blavatsky, one of the key architects of Luciferian New Age pantheism, Kabalah derived,
"…. from the older secret doctrines concerning divine things and cosmogony, which were combined into a theology after the time of the captivity of the Jews in Babylon. All the works that fall under the esoteric category are termed Kabalistic." (Blavatsky, Theosophical Glossary, p. 168)
The godless cosmogony of Kabala teaches the gradual condensation or evolutionary progression of a primal substance into visible matter.  This is a fundamental,
"… doctrine of the Cabala (and) is the ancient Semitic conception of the 'primal ocean,' known to the Babylonians as 'Apsu' and called by the Gnostics βύθος =  (Anz, 'Die Frage nach dem Ursprung des Gnostizismus,' p. 98).
The Chaldean occult science and pagan Mystery Religion was embraced by apostate Jews during their captivity in Babylon and delivered to subsequent generations of initiates by word of mouth. According to Blavatsky, these initiates of the Chaldean tradition in the centuries before Christ were known as Tanaim:
"The kabalist is a student of 'secret science', one who interprets the hidden meaning of the
Scriptures with the help of the symbolical Kabala… The Tanaim were the first kabalists among the Jews; they appeared at Jerusalem about the beginning of the third century before the Christian era… This secret doctrine is identical with the Persian wisdom, or 'magic'." (Ibid. p.167)
The Essenes were also associated with the Kabala. The Jewish Encyclopedia describes the cabalistic practices of the Essenes, which were Judaized elements of Eastern mystical traditions:
"So, too, were the Essenes familiar with the idea of the journey to heaven…and they were also masters of angelology. The practice of magic and incantation, the angelology and demonology, were borrowed from Babylonia, Persia, and Egypt; but these foreign elements were Judaized in the process, and took the form of the mystical adoration of the name of God and of speculations regarding the mysterious power of the Hebrew alphabet …, 'the name of God creates and destroys worlds', to become, finally, foundations of the philosophy of the 'Sefer Yetzirah."  (Cabala, Jewish Encyclopedia)
According to Blavatsky the Essenes were pagan priests of the Greek goddess, Diana of Ephesus, where the Tanaim had established a college for instruction in the Chaldean mystery religion:
"Essenes… had many Buddhistic ideas and practices; and it is noteworthy that the priests of the Great Mother at Ephesus, Diana-Bhavani with many breasts, were also denominated… It was at Ephesus where was the great College of the Essenes and all the lore the Tanaim had brought from the Chaldees… Essenes, believed in reincarnation." (Theosophical Glossary, pp. 113-14; The Secret Doctrine, Vol. II, p. 111n)
Eventually Alexandria, Egypt became the epicenter of cosmological and pagan religious ideas as well as the intellectual meeting point between Greek Mystery Religion/Hermetic magic initiates and nature sages and guardians of Kabala.  After the fall of Jerusalem, Alexandria was the center from which occult pagan Jews would disguise their mystery tradition in Christian terminology and attempt to penetrate the fledgling Church with heresy.
One of the primary tactics employed by Cabbalist pagan Jews for this purpose is the same one employed by their modern evolutionary Gnostic pagan counterparts.   It involves the reduction of the Genesis account, particularly the first three books, to allegory and myth, a ploy that eliminates the physical Adam from which all people descended and the sin that he transferred to the rest of the human race. This strikes directly at the heart of the Gospel: the need for the 'last Adam' to provide for us an escape from the wrath of God against sin incurred by the first Adam.  In this way, not only is the work of Christ on the cross rendered superfluous, meaning the heart of the faith is ripped out, but God is made responsible for sin and evil. (1 Peter 3:18-22; 1 John 2:22)
Long ago, the teachings of some of the early Church Fathers regarding the apostasy toward the end of the church age predicted the reappearance of this evil tactic. The fathers categorized it a Gnostic pagan heresy.
In "Heresies 6.10″ Hippolytus writes that the Gnostic pagan Simon Magus feigned faith and allegorized much of Scripture, especially Genesis, to support his evolutionary Hermetic and Gnostic occult pantheist teachings.   Church Fathers Ireneaus, Tertullian and Clement of Alexandria reveal that Gnostic cult leader Marcion rejected the Old Testament, taught that the God of the Old Testament and his prophets are evil, made God the author of sin and removed all references that Christ was Creator (John 1:1)   (Ireneaus, "Against Heresies 1.26, 5.1," Tertullian "Against Marcion 2.17," Clement of Alexandria, "Against Heresies 4.29)
In conclusion, the Babylonian Mystery Religion is the mother of evolutionary Cabala, Gnosticism and all other occult pagan traditions:
"….especially does Gnosticism testify to the antiquity of the Cabala. Of Chaldean origin… Gnosticism was Jewish in character long before it became Christian… Gnosticism—that is, the cabalistic 'Hokmah' (wisdom)—seems to have been the first attempt on the part of the Jewish sages to give the empirical mystic lore, with the help of Platonic and Pythagorean or Stoic ideas, a speculative turn; hence the danger of heresy…of which the systems of Philo, an adept in Cabala…show many pitfalls…Jewish gnosticism unquestionably antedates Christianity, for Biblical exegesis had already reached an age of five hundred years by the first century C.E.  Judaism had been in close contact with Babylonian-Persian ideas for at least that length of time, and for nearly as long a period with Hellenistic ideas. Magic, also, which,…was a not unimportant part of the doctrines and manifestations of gnosticism, largely occupied Jewish thinkers. There is, in general, no circle of ideas to which elements of gnosticism have been traced, and with which the Jews were not acquainted."  (Cabala, Jewish Encyclopedia)
Building  the New Tower of Babylon
In the essay, "The Paganization of Biblical Studies," Dr. Peter Jones, director of truthxchange and adjunct professor of Westminster Seminary CA., writes that the books of the evolutionary Gnostic pagan Presbyterian heretic Lloyd Geering, Emeritus Professor of Religious Studies at Victoria University, are promoted by the most powerful element of the Spirit of our age—the international occult New Age Luciferian elite-pagans—as programmatic templates for the future utopian pagan community from the point of view of Christian apostasy and socialism undergirded by evolutionary pantheist orthodoxy.
According to Geering, the world's future culture will be post-Christian, global, religiously pagan and evolutionary.  This agenda is remarkably similar to that of Teilhard de Chardins' disciple, the ex-Roman Catholic Thomas Berry in his book, "The Great Work" which is also being implemented through texts of the UN's global programs.
The rising New World Order will be post-Christian because evolution proves that human beings, as they evolved out of primordial matter, created language, then symbols, then religious explanations and God Himself.  Therefore tomorrow's culture will be pluralistic, syncretistic, relativistic and poly-gendered because evolution integrates all scientific, cultural, religious, economic and human gender into one worldwide anthill thus when the global society emerges from the evolutionary process,
"…it will require humanity to develop a new consciousness and a new form of spirituality" because "the new story which has become basic to the global world begins with a new word or idea…evolution." (ibid, Jones)
Like its' mother, Mystery Babylon, the scientifically-enlightened 'new' global religion of evolutionary transformism is occult pantheist advaita monism, which means that as an ancient impersonal god-force is within the cosmos, earth, human beings, rats, weeds, tumble bugs, cancer and everything else then all things are essentially 'one.'  Since the god-force is within all things it is within the demonically 'illumined' consciousness of every spiritually evolved initiate and adept.
This being the case, by means of trance states, brain-altering drugs, transcendental meditation, visualization, channeling, Zen Buddhism, Kundalini yoga, tantra, and other occult ways, the initiate can channel the god-force within thereby becoming a little god who controls matter because he controls mind. The physical world then, is an illusion because reality is inside the divine mind of the god-man.
This way of thinking is captured by Orwell in his book, "Nineteen Eighty-Four" in which negation of the physical world is an integral part of the social and political philosophy of Big Brother and his despotic Party. At one stage in the book, Winston stumbles upon the shocking realization that in the end the Party would announce that two plus two made five because the logic of Big Brothers' position required it since the existence of external reality was denied by his philosophy.  Thus when the Thought Police agent O'Brien tortures Winston for politically incorrect "wrong thought" he states,
"We control matter because we control the mind.  Reality is inside the skull.  You will learn by degrees, Winston.  There is nothing that we could not do.  Invisibility, levitation—anything.  I could float off this floor like a soap bubble if I wish to….You must get rid of these nineteenth-century ideas about the laws of Nature.  We make the laws of Nature." (Orwell, "The New Spirituality and its Hallmarks, Alan Morrison, SCP Journal, Vol. 30:4-31:1, 2007, p. 19)
Evolving Toward Catastrophe
In "The Aquarian Conspiracy," a book that has been called 'the New Age Bible,' Marilyn Ferguson (1938-2008) admits that the 'new age' evolutionary pantheism and occult technologies being employed throughout America were at one time the private domain of ancient initiates.   In fact, as Constance Cumbey reveals in her thoroughly researched book, "The Hidden Dangers of the Rainbow," many New Age historians claim their occult religion and techniques originated in Atlantis and afterward were preserved in the ancient land of Babylon,
"…and surrounding Plains of Shinar and from there disseminated throughout the earth, including Taoist doctrines of China, Mayan-Aztec teachings of Mexico and Central/South America; Great Spirit teachings of the American Indians, Hindu/Buddhist teachings of Asia, etc." (pp. 250-251)
After the Flood, said Shuckford, while the faithful Noah remained in the East and established the worship of the true God, eighty years after the Flood his rebellious son Ham and his sons together with other family members departed and eventually settled in the plains of Shinar where they resolved to build a tower, a monument to their own pride, vanity, ambition and rebellion against God. (ibid, p.94)
It was Noah's son Ham, according to ancient Church Father Clement, who  'preserved' and revived the Mystery Religion of 'Atlantis' and its attendant evils:
"Fallen angels taught men the use of magical incantations that would force demons to obey man. After the flood Ham the son of Noah…discovered this and taught it to his sons.  This became ingrained into the Egyptians, Persians, and Babylonians.  Ham died shortly after the fall of the Tower of Babel.  Nimrod, called Ninus by the Greeks, was handed this knowledge and by it caused men to go away from the worship of God and go into diverse and erratic superstitions and they began to be governed by the signs in the stars and motions of the planets." (Recognitions of Clement 4.26-29)
In his well-researched book, "Ancient Post-Flood History," Ken Johnson, Th.D., reports that the sons of Ham persuaded the people to accept that the true God was merely an impersonal creative force within all of nature, making man the highest form of life/god.  Through the power of persuasion, Ham and his sons revived magical evolutionary transformism, pantheism and idolatry. (pp. 47-48)
Eventually Ham was deified and worshipped by later pagans as the gods Cronus and Jupiter:
"Ham is represented by many writers as a very wicked, immodest, and profligate creature: Berosus (i) makes him a magician, and to be the same with Zoroast or Zoroastres, and speaks of him as the public corrupter of mankind; and says that he taught men to live as before the flood, to lie with mothers, sisters, daughters, males and brutes, and creatures of all sorts; and that he actually did so himself, and therefore was cast out by his father Janus, or Noah, and got the name of "Chem", the infamous and immodest…" Upon seeing his father's nakedness Ham,  "told his two brethren without; he went out of the tent after he had pleased himself with the sight… and in a wanton, ludicrous, and scoffing manner, related what he had seen: some of the Jewish Rabbins (k), as Jarchi relates, say that Canaan first saw it, and told his father of it; and some say (l), that he or Ham committed an unnatural crime with him; and others (m), that he castrated him; and hence, it is supposed, came the stories of Jupiter castrating his father Saturn, and Chronus his father Uranus."    Genesis 9:22 Gill's Exposition
History did not begin after billions of years of evolution when primitive hominids swung down from the trees and discovered how to scratch crude symbols onto rocks.    Nor did it begin after the Flood.  At least 2,000 years of human existence preceded the Flood, meaning that when Noah and his family entered the ark they carried at least one hundred years of pre-flood memories, traditions, technology, and superior knowledge. Their world view was shaped by the historical Adam and Eve and the generations of their offspring.   Thus Noah and his family brought with them not only the knowledge of the personal God, Special Creation, fall of man, the Deluge, sacrifice to God for the propitiation of sin, the arts of weapon-making and warfare, knowledge of letters, symbols, math, architecture, science, cosmetics, and agriculture  but knowledge of  first-hand encounters with Watchers, their occult teachings, the Nephilim, and primeval pantheism tied to magic, spiritism, herbal abortifacients, human and animal sacrifice, drinking of blood, males marrying males and even beasts, and many other evils.
In affirmation, the eminent researcher of antiquity James Bailey said:
"…human history can now be hesitantly traced back as an unbroken narrative to 4000 B.C….the picture emerging…is one of the Fall of Man in historic terms as well as his rise; it is a picture…more of degradation than of success; it is a picture of monotheism breaking down into polytheism and of the struggle to return to monotheism.  The establishment view of the history of religion gradually progressing from animism to polytheism (then) to monotheism is the reverse of facts." ("The God-Kings and the Titans: The New World Ascendancy in Ancient Times 1973, p. 296)
Four thousand years before Christ were the antediluvian generations and the Watchers in the post-flood world, making the billions of years of evolutionary transformism a fabulous fable.  It is neither 'new' (Ecclesiastes 1: 9-11) nor scientific except in the sense of pre-flood and post-flood occult science and attendant traditions revised and revamped for our own time, as Geering unhappily discovered.
Dr. Jones writes that Geering was surprised when he found out that the 'New Spirituality' has "links with pre-monotheistic…nature religions," leading Jones to wryly comment that in an odd turn of events,
"….contemporary spiritual' evolution goes backwards!  Biblical theism disturbed evolutionary progress.  The clocks have to be put back (for we are in the presence of) a powerful pagan/Gnostic theological agenda, claiming to be spanking new, objective and scientific, but as old as the hills."
Clocks have to be turned back, all the way back to the days of Noah in the pre-flood world where evolution is closely connected to the devil's lie that man is a being who though presently limited in time and space is nevertheless capable of achieving a great leap of being and magically evolving into a much more powerful god-like being in the future.
As the scientifically endarkened Gnostic pagan Spirit of our age simultaneously worships on the altar of 'self' as it self-righteously peers down its' long, pointy nose and contemptuously sniffs and sneers at the remnant of backwards, unscientific, anti-evolution  faithful, in reality it is the entirely deluded pagan Spirit that is on a collision course with a modern version of the pre-flood world catastrophe—-and we know how badly that ended.
According to The Salt Lake Tribune, "It's time for Western states to take control of federal lands within their borders, lawmakers and county commissioners from Western states said at Utah's Capitol on Friday.
"More than 50 political leaders from nine states convened for the first time to talk about their joint goal: wresting control of oil-,timber-and mineral-rich lands away from the feds.
"'It's simply time,' said Rep. Ken Ivory, R-West Jordan, who organized the Legislative Summit on the Transfer for Public Lands along with Montana state Sen. Jennifer Fielder. 'The urgency is now.'
"Utah House Speaker Becky Lockhart, R-Provo, was flanked by a dozen participants, including her counterparts from Idaho and Montana, during a press conference after the daylong closed-door summit. U.S. Sen. Mike Lee addressed the group over lunch, Ivory said. New Mexico, Arizona, Nevada, Wyoming, Oregon and Washington also were represented.
"The summit was in the works before this month's tense standoff between Nevada rancher Cliven Bundy and the Bureau of Land Management over cattle grazing, Lockhart said.
"'What's happened in Nevada is really just a symptom of a much larger problem,' Lockhart said."
See the report here:
Western Lawmakers Gather In Utah To Talk Federal Land Takeover
Now we are getting somewhere!
The western states have been used as both playground and sugar stick for big-government politicians since before most of the western states became states. Compare the percentage of State land owned by the federal government in the western states to that of the eastern states.
Here is the percentage of land owned by the federal government in seven eastern states:
Illinois: 1.8%
Ohio: 1.7%
Alabama: 1.6%
Maine: 1.1%
New York: 0.8%
Rhode Island: 0.4%
Connecticut: 0.4%
By contrast, here is the percentage of land owned by the federal government in seven western states:
Wyoming: 42.3%
California: 45.3%
Arizona: 48.1%
Idaho: 50.2%
Oregon: 53.1%
Utah: 57.4%
Nevada: 84.5%
The situation with the Bundys in Nevada highlights the heavy-handed tactics that the federal government employs against anyone who dares to challenge the manner in which the feds are attempting to kick hard-working, productive citizens off of federal lands. Remember that ranchers and farmers such as Cliven Bundy were promised access to these federal lands in perpetuity back in the nineteenth century when all of these land deals were being negotiated between the states and the federal government. Beyond that, ownership of the land by the federal government was supposed to preserve and protect the land for the people, not for the federal government.
A few years ago, there were dozens of successful and prosperous ranchers in the area around the Bundys. But since the BLM was given legislative mandates when Congress enacted the Federal Land Policy and Management Act (FLPMA) in 1976, Cliven Bundy is now the only rancher in the area still standing.
The BLM has grown into a totalitarian monster.
Today, the BLM regulates hunting, fishing, camping, hiking, boating, hang gliding, shooting, off-highway vehicle driving, mountain biking, bird watching, and visiting natural and historical sites. The BLM also regulates logging, mining, fracking and other activities. What ranchers such as Cliven Bundy are going through loggers and miners are also experiencing. In fact, it is no hyperbole to say that, for all intents and purposes, the ranching, logging, and mining industries in the western states are being systematically regulated out of existence.
And in the case of Cliven Bundy, it is not about saving the Desert Tortoise or grazing fees or anything of the sort. It is all about letting fat-cat politicians such as Harry Reid negotiate lucrative solar energy deals with Communist China. Hey, folks: if the land doesn't belong to Cliven Bundy, it doesn't belong to Harry Reid, either!
The BLM's evil twin sister is the Environmental Protection Agency (EPA), which was established in 1970. These two federal agencies have become the Wicked Witch of the East and Wicked Witch of the West in what used to be a beautiful land paved with yellow brick roads.
I dare say that if the eastern states were enduring the haranguing and harassment that the western states are enduring, the BLM would have been brought under control years ago. Absent national unity from eastern states on the matter, it is time for the western states to take matters into their own hands.
The legislative action being contemplated by the above-mentioned State legislators who assembled in Salt Lake City last Friday is a terrific first step. It is absolutely time for the western states to use their eminent domain authority to reclaim the lands within their borders that are currently owned by Washington, D.C. With the exception of National Parks, states should serve notice that they are taking back the land owned by the federal government–land that should never have been ceded to the central government to begin with.
The second problem that the siege against Cliven Bundy illustrates is the unconstitutional police powers assumed by federal agencies such as the BLM. Originally, the only federal agency that was lawfully allowed to make arrests on behalf of the U.S. government was the U.S. Marshals Service, which was created back in 1789–the year that the U.S. Constitution was ratified. Today, there are scores of alphabet agencies of the federal government who carry a badge and a gun and are allowed to enforce law at bayonet point. And the vast majority of these agencies are acting on assumed authority–authority not granted them constitutionally. Among these, there is no greater culprit than the BLM.
"You don't send the Seventh Cavalry to collect a bill, and that's exactly what happened," Pat Buchanan told Sean Hannity on his radio show last Monday.
Buchanan went on to say, "And when they put all those forces out there-that's what attracted all the others, the history of what happened at Waco, Ruby Ridge. And so these folks came to that rancher's defense. But the initial problem here is [the] sending of all the force of arms out there to that ranch, which was a provocation to which these folks responded."
See the report here:
Pat Buchanan Sums Up Nevada Ranch Standoff: Sending 'Seventh Cavalry To Collect A Bill'
The Tenth Amendment to the U.S. Constitution states, "The powers not delegated to the United States by the Constitution, nor prohibited by it to the States, are reserved to the States respectively, or to the people."
The Constitution delegates only three crimes to the federal government: treason, piracy, and counterfeiting. That's it. No other crimes are mentioned. That means that all other crimes are the purview of the states–including local and State police, sheriff's deputies, and citizen militias and posses.
Of course, the problem is the Congress (and Court) in Washington, D.C., has used the "Necessary and Proper Clause" of Article. I. Section. 8. to justify all sorts of federal law enforcement enactments.
The result of this unconstitutional federal expansion of police powers is we now have scores of federal agencies that are using unchecked and unbridled power–power that is turning the United States into a giant police state.
The states must push back!
Not only must states reclaim millions of acres of land within their borders that are now controlled by the federal government, they must also pass legislation requiring federal bureaucracies such as the BLM to obtain the consent of county sheriffs in order to execute arrest warrants. States must make it clear in unmistakable terms that only the U.S. Marshals Service may execute federal warrants within their states; otherwise, only the county sheriff is authorized to execute arrest warrants within their states.
Furthermore, the U.S. Congress needs to disarm the countless federal bureaucracies that are currently terrorizing the American people. In truth, very few federal agencies need to carry guns. The politicians in Washington, D.C., love to try to disarm the American people, but the ones they should be disarming are most of the federal alphabet agencies.
Why do employees of the federal Department of Education need to carry guns? Why do postal employees need to carry guns? Why do agents of the BLM need to carry guns? Why do employees at NASA need to carry guns? Why do employees of the EPA need to carry guns? Why do employees at NOAA need to carry guns? Why do employees of the National Weather Service need to carry guns? Why do employees of the Social Security Administration need to carry guns? Why do employees at the Department of Agriculture need to carry guns? Why do employees of the National Marine Fisheries Service need to carry guns?
Ladies and gentlemen, law enforcement is mostly the responsibility of State and local governments. Why are so many federal bureaucracies carrying guns? Agencies of the federal government are not soldiers; and they are not even policemen. Furthermore, the American people are not the enemy!
Pat Buchanan is right: had not BLM agents marched onto the Bundy ranch like Nazi Stormtroopers, none of the events that are still playing out in the Nevada desert would have taken place. The memory of Waco and Ruby Ridge are still very vivid in the collective memory of the people of the United States. If anything burns deep in our collective conscience, it is that THERE MUST NEVER AGAIN BE ANOTHER WACO OR RUBY RIDGE. And that is exactly why those Americans have put themselves between the federal government and the Bundy family down in Bunkerville, Nevada.
The events in Salt Lake City, Utah, conducted by dozens of legislators from the western states last Friday were as monumental as the events in Bunkerville, Nevada, conducted by the citizen militia the previous Saturday.
Free and independent states and "We the People" have always been the guardians of liberty in this land. And if freedom is going to be preserved for our posterity, it is going to take the combined effort of both the individual sovereign states and individual citizens to arise and stand in the gap once again. It would also seem that the rise has already begun. Praise God! The only thing missing now is the patriot pulpit.
P.S. I have been inundated with requests from pastors and laymen alike to help them establish non-501c3, unaffiliated, unorganized, unincorporated churches. I have heard their pleas; and I have a very important announcement regarding this matter coming in the very near future. Stay tuned.