What would happen if we Americans suddenly decided to withdraw all of our troops currently scattered all over the world and to actually bring them back to within our own US borders where they belong?  What would happen if we actually closed down all of America's extensive and pricy (over one thousand and counting) military bases and black-site operations all around the globe?  We may never know.  "Why?" you might ask.  Because it is never gonna happen, that's why.
Despite all of the incredibly huge amounts of money, energy, pain and grief that all these bases and black-site operations are costing us American taxpayers daily right now, the subject of closing even a few of these bases and black-site operations (or at least to stop opening up new ones!) isn't even up for debate.
There are so many other topics that we are happily debating in America right now — but not this one.
Americans are currently debating such crap topics as how best to save rich people from having to pay taxes; whether cops should be allowed to kill minority and/or poor people at will; why torture is a good thing; how we can most easily give large corporations our life savings and pensions; whether or not our kids should get measles vaccines; and exactly how soon "we" can bomb the crap out of Russia.  But one of the most important subjects for debate in America today is not even on the menu right now.
A raging debate on how to return America to its grand old isolationist tradition should be the major topic in every newspaper headline and TV news show in America right now.  But, sadly, it is not.
And there are many other life-threatening topics for debate here in America that we should be discussing too (but are not) such as, "Is it really in our best interest to support chaos in the Middle East or be Israeli neo-colonialists' catspaws?"  Or whether corporations really are people, or "Why is election-malfeasance in America is still running amuck?"  Or if we really want to be committing climate-change suicide?  Or why America now has the same distribution of wealth between the upper classes and the rest of us that it had back in 1910 and that the difference in income between America's top 1% and the rest of us is further apart now than any other time in history including the Roman Empire, Charles Dickens' London and Marie Antoinette's France.
According to economist Thomas Piketty, "Income inequality has exploded in the United States."
And why the freak is America a member of NATO, the most war-mongering organization in the entire world outside of the US Department of "Defense"?
And — really?  Here's a headline that will warm all those Scrooge-like corporate hearts: "Pentagon preparing for mass civil breakdown"Social science is being militarized to develop 'operational tools' to target peaceful activists and non-violent protest movements. Should we not be discussing that too?
And then there's that good old "New World Order" thingie popping up again, and it no longer even includes America on the list of those giving the New Orders — because the global overlord dudes who are currently drawing up the list to re-order our world seem to have us Americans in mind only to play the minor roles of vassals and serfs.
But none of these other topics are up for debate in America either.
According to journalist Juan Cole, the top five favorite planks for the Republican party platform in 2016 are gonna be torture, war-mongering, bank corruption, tax evasion for the uber-rich and how best to steal elections.     Why aren't we discussing that either?
Frankly, there seems to be no debate in America today on almost any topic that should be of primary concern to We the People who are paying for all this crap.  But I digress.  Let's get back on topic, the topic of closing over a thousand US military bases and black-site operations all across the globe.
Of course I myself am obviously an advocate for closing all U.S. bases and black-site operations on foreign soil and bringing all of our troops home where they belong.  So.  Let's debate.
Debaters in favor of keeping America's foreign empire strong and all these bases and black-site operations open might come up with a list of arguments such as:
1.  "They" will come here and terrorize us if we let down our guard.
2.  We will then have little or no access to raw materials and natural resources.  Our economy will shrink.
3.  We need the war industry because it produces jobs.
4.  We must bring freedom and democracy to the world and stop tyrannies.
These four points are all laughably easy to refute — except for perhaps point number three.  Here are my counter-arguments:
1.  In the many decades since the end of WW II, America has systematically created more enemies than one can shake a stick at due to its brutal policy of foreign military interference abroad.  People all over the world used to love America.  But this is no longer true.  Obviously.  These foreign bases and black-site operations are not keeping America safe.  Just look at 9/11.  Just look at the Great Recession of 2008.  I rest my case.
2.  Hey, we can always get access to foreign natural resources by actually paying for them.  Now there's a unique idea.  It's called Capitalism!
Right now, our military mainly serves the purpose of acting as thugs and extortionists for corporations, allowing corporations to go into foreign countries at will and steal their natural resources.  Our nation's finest young men and women are being forced to serve as mega-corporations' personal security forces and Mafia crews.  Hell, let these corporations pay for their own damn security thugs.  Why should we taxpayers do the job?  We are never the ones who make money off of this deal.  Au contraire.  We get to pay through the nose for it.
Why should we American taxpayers keep paying out trillions of dollars so that the best and brightest of our young generation can die violent and lonely deaths and leave widows and orphans behind them — in order to "Keep Corporations Strong"?  It's like Vietnam all over again.
3.  Yes, the war industry does produce jobs.  But working for the Yankee Dollar is a high-risk employment, is morally repugnant and the benefits are few.  How about, instead, that we hire all those soldiers to work in the solar industry or to repair our shabby infrastructure?  Or train them to become doctors or teachers.  Just think of the money we'd save!
4.  America doesn't bring democracy to the world.  "We" mostly bring dictators and ruffians and torturers and election fraud.  And "we" are currently supporting monsters like ISIS and those neo-Nazis in Ukraine.  It's all about the money.  The American dream has become a nightmare if you live overseas (and will probably become more of a nightmare here too if we continue to keep the same vampires and doofuses in charge).
That's my argument and I'm sticking with it.
Hey, I may be wrong here about proposing that we immediately bring all of "our" weapons and troops home.  Or I may be right.  Who knows.  But shouldn't we at least be having this debate?
You're not paranoid if you think the world feels more unstable — it is.  There's a dangerous confluence of political, economic, and military phenomena that is producing a very hazardous international situation.   Heightened national tensions that lead to regional confrontations have become normal as economic and political winds constantly shift in the direction of instability and conflict.
At the center of each maelstrom is the U.S. Government, and instead of acting as a promoter of peace and stability the Obama administration has been a catalyst of confrontation and war.
Whether it be the Middle East, Asia, Russia's border, or the world economy, the actions of the Obama administration have leaned towards various forms of provocation and aggression — economic sanctions, threats, funneling arms, etc. This dynamic makes an eventual regional conflict inevitable, beyond the one already occurring in Syria/Iraq, where a U.S.-led proxy war against Syria and Iran is dangerously close to a full-out regional war.
The U.S. public is dangerously ignorant about the significance of these various regional conflicts. To the extent that they're even reported, the "news" has excelled at blaming others and sharpening conflict, rather than shedding light or presenting peaceful alternatives.
An especially combustible zone is the Ukraine, where the U.S. is engaged in what is becoming a full-fledged proxy war with Russia. The Obama administration's decisive role in the Ukrainian conflict has received only a sliver of space from the U.S. media, even after an audio of Obama's Under Secretary of State was leaked, exposing the U.S.' direct leadership role in a coup that overthrew Ukraine's democratically elected government.
Obama's allied boots on the ground in the Ukrainian coup were open fascists — the Svoboda and "Right Sector" — whose ideological hero, Stepan Bandera, was one of Hitler's most reliable fascist allies during World War II.
The Obama administration has given crucial military and economic support to the anti-Russian Ukrainian government, and provided this fascist-friendly government with various forms of military assistance, and now is considering giving more "lethal" military aid to a government that cemented its coup power via questionable elections during the start of a civil war.
Former USSR president and media darling, Mikhail Gorbachev, is now disregarded by the U.S. media, since his words no longer promote U.S. foreign policy objectives. Gorbachev recently said:
"If we call a spade a spade, America has pulled us into a new cold war, trying to openly implement its general idea of triumphalism. Where will it take us all? The [new] cold war is already on. What's next? Unfortunately, I cannot say firmly that the cold war will not lead to the hot one. I'm afraid that they might take the risk."
This "new cold war" is warming quickly, since the U.S.-Russian proxy war in Ukraine shares a large chunk of Russia's border, and like all wars borders are ignored when convenient. Gorbachev fears that the 5,000 dead Ukrainians and 1.5 million refugees may just be the detonator for a larger war between two fully nuclear countries. Meanwhile, the U.S. media completely ignores this very real threat, giving valuable political cover to Obama's reckless actions.
Equally crazy is Obama's longstanding policy in the Middle East, where his "no troops on the ground" mantra has led to non-stop drone bombing and a massive proxy war in Syria, which every nation in the region has directly contributed to. The 200,000 dead and millions of refugees have boiled political tensions across the region, and Obama's dedication to regime change in Syria is partially due to his dedication to the two biggest pariah nations in the world — Saudi Arabia and Israel.
When Israel recently bombed Syria again — a now regular occurrence — an Iranian general and Hezbollah leader were killed in the attack, which was labeled an assassination. Soon after, it was finally revealed that in 2008 the U.S. and Israel organized a terrorist attack in Lebanon that killed a Hezbollah leader. Both events push the Syrian conflict to the tipping point of regional war, and Obama's silence over Israel's repeated bombings against Syria only encourage an extremely dangerous regional conflagration.
Equally reckless is that Obama's Syrian proxy war relied on thousands of Islamic extremists from neighboring countries.  Obama's funding, training, and tolerating these extremists created the ideal conditions for a group like ISIS to rise from obscurity into a regional colossus.
To date the Obama administration has proposed no peace plan for Syria outside of "regime change." When the Russian government recently organized a major peace conference to address the Syrian war, the U.S.-led Syrian National Coalition boycotted the talks, and Obama put no public pressure on his allies to attend, when he should have been publicly demanding it. Once the peace conference started neither Obama nor the U.S. media cared much to talk about the happenings, since continued fighting is the priority.
One shouldn't forget Obama's Africa policies, where his "successful" bombing campaign-turned regime change in Libya has ruined a country that previously had the highest standard of living on the continent. After Obama waged an illegal, aggressive war and assassinated the Libyan president, Muammar Gaddafi, Hillary Clinton said — while giggling — "we came, we saw, he died."
Libya's weapons were looted and are now, according to the U.N., being funneled throughout the Middle East and Africa, destabilizing neighboring countries and empowering the Islamic extremists that Obama allied with against Gaddafi (similar to the ones he allied with against Syria's president).
When it comes to the global economy Obama has been launching financial weapons of mass destruction against his enemies. The economic sanctions against Iran, Russia, N. Korea, Venezuela, Syria, etc., are of course an act of war. This kind of war is described in the book, "Treasury's War," by former Under Secretary of the U.S. Treasury, Juan Zarate, who glamorizes this "new" form of war that the U.S. has a monopoly over, given the U.S. dollar's preeminence as the global reserve currency.
Another lethal non-military weapon Obama has recklessly used is his helping crash the price of oil. The U.S. media publicly discussed the anti-Russian motive behind Obama intervening in the oil markets, by selling the "strategic oil reserves" held by the U.S. government — intended to be used at times of severe shortages. But Obama started unloading the strategic reserves at a time when there was already increasing global supply. The oil price floor fell out when Obama persuaded Saudi Arabia to ramp up production, flooding the market with cheap oil.
And whereas the Obama administration has kept mum about the Saudi's accomplice role in crashing the oil market, the Saudis themselves have been pretty open about using their oil weapon, which they're using to force Russia to drop support for Syria's President Bashar al-Assad. The New York Times reported:
"Saudi Arabia has been trying to pressure President Vladimir Putin of Russia to abandon his support for President Bashar al-Assad of Syria, using its dominance of the global oil markets at a time when the Russian government is reeling from the effects of plummeting oil prices."
Russia's economy is consequently in free fall, with Iran, Venezuela and every other oil-producing nation suffering massive economic consequences. All of this is barely mentioned in the complicit U.S. media, content with shrugging its shoulders over the subsequent political chaos that directly affects hundreds of millions of people globally, and threatens to boomerang back on the U.S. in the form of unemployment and economic disruption.
All of the above policies have directly created havoc internationally. And today's world is more inter-connected than ever; the chaos in the oil markets has already caused layoffs in the U.S., and threatens a larger economic conflagration. Obama's policies in Libya, Syria, Iraq, and Afghanistan have greatly increased the likelihood of another terror attack in the U.S.
In a world of increasing danger and threats of war, the Obama administration has been completely unable to champion any serious peace proposal. His main contribution to global affairs has been chaos and death — either by proxy (Syria and Ukraine), drones (Pakistan, Yemen, Somalia, etc.) dollars, gun trafficking, sanctions, or direct military intervention (Afghanistan and Libya).
Even the pathetic "peace process" Obama faked with Israel-Palestine was revealed as farce the second Israel decided to re-destroy the Gaza Strip: Obama gave crucial support to Israel in committing its numerous war crimes.
Obama is aided and abetted in his reckless actions by a media that cheer-leads the government's every move, except when it encourages a more "aggressive" approach. In this way the above realities of U.S. foreign policy — and the very real dangers they present — are completely obscured from the American public. And when the next inevitable military combustion occurs, the public may be disorientated just long enough to fall victim to scapegoating and fear mongering that can lead to a bi-partisan military "solution."
Surviving in a world of offensive double standards comes easy for people who lost their moral compass. Most culturally deficient pawns have such limited intellectual capacities and ethical fortitude to apply the same critical standards to zealots, who practice and defend barbarism no matter where it is committed. The narration that masquerades as objective news reporting out of the mass media, acts as a gatekeeper to provide political cover for Zionist protection. If the eternal struggle between Muslims and Jews was the supreme existential conflict, why would Christians take sides, when the purported feud between cousins, drips blood no matter whose hand holds the sword?
Oh how dare equivocate between both pseudo religious cultures, when both are engulfed in political warfare as their primary tenant. If moral principle was the essence of either society, this obscene charade of state sponsored terrorism would be exposed for what it really represents. Now before the do-gooder Christians bask in their own moral superiority, your own secular humanism surrender does not bode well for your final judgment.
The point is that unholy religious and politically inspired violence against a perceived enemy to achieve an atmosphere of panic is simply wrong. When government special operations, globalist intelligence interests and elite NWO sociopaths plan, fund, recruit, direct and cover-up false flag attacks, designed to complete a global despotism; all citizens of exploited countries lose their rights and become duped into thinking insecurity stems from radical psychopaths. The collective mental health of most societies is in a crisis of terminal proportions.
Ponder the linkage of France's lower house of parliament votes 339 to 151 in favor of symbolic motion to recognize statehood of Palestine and Netanyahu's Chilling Threat To France Prior To The Charlie Hebdo Tragedy. Surely, a coincidence in what is widely seen as consistent with a pattern of a sponsored Mossad scenario, the Charlie Hebdo murders in Paris has the world primed for even more draconian measures that in fact, extinguishes genuine security.
Benjamin Netanyahu's latest ruse to advance the victimhood claim is transparent.
The real reason Bibi wants French Jews to move to Israel reports "By calling on France's Jews to move to Israel, Netanyahu is promoting a worldview in which there is no national conflict, no occupation and no Palestinian people. There are only Jews and radical Muslims."
"The leader of a country that is constantly in a state of war, and that every few years actually goes to war, is imploring France's Jews to leave their country in the wake of two terrorist attacks (one of which was not directed at a Jewish target), and move to Israel. Even if we ignore the downright chutzpah of his demand vis-a-vis the French government (try imagining a leader of a Western state calling on Israelis to immigrate to his country because of the security situation in Israel), no one doubts that French Jewish immigrants will be in much greater danger living in Israel. Perhaps our foreign minister would do well to update Netanyahu on the travel warnings issued fairly often for our country?"
The insecurity hysteria that infects Western countries from the Zionist bias media about a terrorist under every bed refuses to speak the truth. Honest reporting would require coverage of the following. The same old story, Israeli atrocities against Palestinians, but where in the controlled propaganda and fantasy viewpoint of corporatist political correctness, will such factual Zionist atrocities be reported and condemned?
Once upon a time fair play was a well established standard in international affairs. Even if it was often ignored in practice, the objective was seen as a condition that established moral authority. The reality is that governance of Israel maintains a hostility that sabotages any attempts for coexistence. EXAMPLES OF HATE SPEECH BY ISRAEL AGAINST PALESTINE illustrates the savage attitude that earns world enmity for the Zionist apartheid state. Watch the chilling documentary video, Israeli Genocide in Gaza which supports righteous outrage.
The boycott Israel movement may not have taken off to a level that its proponents hoped. Yet, such non violent opposition goes unnoticed with all the hype about terrorism. The Boycott Israel Campaign provides a list of companies and answered frequently asked questions about their efforts. If this cause gained traction, the screams would be deafening from media sentinels.
In order to maintain the storyline of extreme Islamophobia terrorism, it is necessary to eliminate any debate that analyzes the established policies that foster "Greater Israel" dominance in the Middle East. Just examine the Saudi Israeli alliance forged in blood.
"The attack on Gaza comes by Saudi Royal Appointment. This royal warrant is nothing less than an open secret in Israel, and both former and serving defense officials are relaxed when they talk about it.  Former Israeli defense minister Shaul Mofaz surprised the presenter on Channel 10 by saying Israel had to specify a role for Saudi Arabia and the United Arab Emirates in the demilitarization of Hamas. Asked what he meant by that, he added that Saudi and Emirati funds should be used to rebuild Gaza after Hamas had been defanged."
Reports: Saudis Looking for Alliance With Israel presents a chilling prospect for the beleaguered Palestinians.
"Given the successes of the radical Sunni Islamic State (formerly ISIS), the lingering threat of the Muslim Brotherhood (which birthed Hamas), and the rising Shiite power in Iran, Riyadh is seen as more keen than ever to complete that process so it can formerly align with Israel, and thereby gain the advantage of its military and economic might.

The only problem is that the Saudis want to solve that "minor conflict" by asking Israel to take severe security risks by surrendering strategic positions to a Palestinian populace that has sadly proved its unwillingness to eradicate the violent anti-Israel elements within."
Well, there you have it. Those radical Palestinian elements are dedicated terrorists, while the Saudi's benefactor funds their barbaric wahhabi client fanatics, who miraculously never have a map to locate Israel.
If you are not allowed to discuss who really is behind the ISIS band of cutthroats, fall back on a proven tactic of diversion. $1B trial opens against PLO over Israel terror attacks in a U.S. courtroom. "The victims allege that the Palestinian groups violated the US Anti-Terrorism Act by giving money and weapons — and employment — to terrorists in the attacks that occurred between 2001 and 2004."
Do not hold your breath waiting for a similar suit against Saudi financiers must less about U.S. covert agencies supplying arms and coordination to their new best friend, ISIS hit squads.
In this obscene world of select memory, a terrorist is your friend if they are killing an enemy of Israel, especially if a high profile attack can garnish mass public opinion support to keep the phony "War of Terror" rolling along.
When it comes to actual non state sponsored terrorism, the number of definite instances can be disputed. The GTD Global Terrorism Database lists information on over 125,000 terrorist attacks. A search of Jewish Terrorists provides results of well over 100 instances. The JDL, Jewish Defense League is a leading "Perpetrator" with a long list of crimes within the United States. The savage legacy of Rabbi Meir Kahane has a long record of terrorism to use as inspiration.
Past Zionist-Jewish Terrorism – Some Historical Facts provides both Israeli Defense Force missions and the tactics used during the formatting years of the Zionist State. Such examples seldom get a whisper of notice much less coverage in the Newspeak media. The Jewish ownership and financial control of the establishment media allows for a self prophecy of inevitability if one believes the distortions, omissions and outright lies.
Imbalance in culpability that condemns terrorist with the same intensity and blame, no matter who is responsible for the violence, will never allow for a peaceful resolution to the mutual hate that propels the globe towards oblivion.
Pat Buchanan makes a profound point in the essay, To Die for Charlie Hebdo?
"As for the "glorification of terrorist acts," Israel's Menachem Begin, the ANC's Nelson Mandela, and the PLO's Yasser Arafat were all credibly charged with acts of terrorism in their liberation struggles.

And all three won the Nobel Prize for Peace."
His observation is not that terrorists are rewarded by the World Community, but that the hypocrisy of the establishment fabrication that makes heroes out of thugs with blood stained hands goes with the political objectives to demonize your enemy,   while crowning the butchers.
Islamic bombers who eagerly evaporate themselves as long as they can kill others, is a sickness that no authentic religion could justify.  Governments that employ aerial bombing to obliterate entire neighborhoods, and have an official policy, that kills children; practices true terrorism.
If the Christian West is ever to regain its moral foundation, their governments must no long encourage continued terrorism because of their insane foreign policies. Abandoning the teaching of Jesus Christ, a Jew, and Son of God has allowed the apocalyptic demons to run wild. Looking for a rapprochement between Muslim and Jew will never be realized until the final carnage and tribulation is stopped with His Second Coming at the end of this satanic age.
Okay, so what?  So what if you've just joined ISIS, been given a sword and been sent off to Syria and Iraq.  So what if you now have a huge bloody sword in your hand and you've just cut off somebody's head?  Big freaking deal.  You're the one that will be going to Hell, not me.  But what I want to know is this:  Where, exactly, did you get that huge bloody sword in the first place?  "Swords R Us"?
From your local "Samurai of the Desert" katana convenience store?
To find out who is really financing, training and supplying ISIS, just check out who is supplying its swords.
"Made in China"?  Of course.  Isn't everything these days.  But who are the swords being shipped to?
Syrians aren't supplying the swords.  Syrians stand solidly behind Assad — as evidenced by their June elections, and also by the fact that almost all Syrian internal refugees flee to Assad refugee camps, and no one, I repeat, no one ever flees off to ISIS.
Syrians hate ISIS — almost as much as they hate being beheaded!  Plus ISIS is still beheading their fathers and mothers and nephews and cousins and aunts.  How can you possibly become BFFs with someone like that?  Let alone give them more swords so that they can go after your wives and kids too?
According to a new Tweet just sent out from Kurdish Syria, "Hoped American planes will help us.  Instead American tanks in the hands of ISIS are killing us."
And Libya isn't supplying the swords either.  Why?  Because Libya itself just had its head handed to it on a platter too — courtesy of the dread Sword of NATO.  All that those American-backed "rebels" now in charge of the failed state of Libya are supplying ISIS with currently are some used American rocket launchers and RPGs left over from Benghazi, and a bunch of guys trained by the US to behead Gaddafi.
But perhaps Saudi Arabia is supplying the swords?  After all, their state symbol is two swords and a palm tree.  But I still don't understand why the Saudis would do such a dumb thing — buy entire shipments of swords to give to creepy guys hovering right outside their borders?  Aren't the Saudis afraid of blow-back?
Aren't the Saudi princes afraid that "Behead like a Pirate" day might be coming to Riyadh too?
And isn't it bad enough already that a bunch of Saudis got their hands on those box-cutters over on the other side of the Atlantic back in 2001 — and just look at all the mischief that caused!    Can Saudis really be trusted to play well with swords right in their very own backyards?  Saudi Arabia is about to find out.
And how about Turkey?  Seen any bloody swords stamped "Made in Istanbul" lately?  But why would the Turks want to do that?  The blow-back there would be even more immense.  You'd have to be crazy to arm a horde of ISIS madmen to go next door and cut off your Syrian neighbors' heads — no matter how much you hate Syrians.  Oops, too late.  Turkey has already supplied ISIS with every kind of weapon you can think of — and then naively hired ISIS to be its Neighborhood Watch.
But apparently Turkey thinks that by supplying weapons to ISIS (and also establishing a no-fly zone over Syria) that Syria will fail too and then Turkey will get the Ottoman empire back.
Sorry, Turkey.  It's heads.  You lose.
But what about Israel?  Did Israeli neo-cons supply all those swords?  Who will ever know?  Who the freak ever knows what Israeli neo-cons are up to?  Certainly not the Jews who first hired them.  And definitely not me.  Ask the Mossad.  But a fly on the wall at Mossad headquarters would probably hear something like this:  "Those stupid Americans actually think that we are their only friends in the Middle East.  However, before we came along America had no enemies there at all.  Good job, guys!"  Followed by a high-five.
The nightmare of having ISIS swordsmen let loose to create panic and havoc in the Arab world sounds like an Israeli neo-con wet dream to me.
And what about American neo-cons?  Nah.  Their most important product is weapons, sure, but they prefer selling Tomahawks rather than swords.
"But Jane," you might say, "American weapons-manufacturers will sell anything to anyone, even swords to ISIS, if it will make them a buck."  Hell, they'd even sell drones to the Taliban if they thought that money was involved.  They'd sell out America in a heartbeat for money.  They'd probably even behead their own mothers for a few dollars more.
According to former Austrian general Matthias Ghalem, several years ago Al Qaeda wannabes "signed a financial-military contract to confront upcoming military and security challenges in southern Syria in the future…and that two deputies of Robert Stephen Ford, US former ambassador to Syria, were also present at the meeting….  And according to the Los Angeles Times, since the opening of a new US base in the desert in southwest of Jordan in November 2012, CIA operatives and US special operations troops have covertly trained these militants in groups of 20 to 45 at a time in two-week courses."
But according to US vice-president Joe Biden, the Saudis are to blame for arming ISIS.  Of course they are.  But it is American weapons that these ISIS cutthroats are firing — and it is American humvees that ISIS is doing donuts with out in the desert too.  So why not brandish American swords as well?  American neo-cons suddenly draw a line in the sand against swords?  But RPGs are okay?
And then there's Russia.  Russia stood silently by while the "Coalition of the Willing" beheaded Iraq and Libya.  Would it really be in their best interests to let Syria and Iran get beheaded next?  Or is Russia playing the "Afghanistan Game" with the US instead — wherein America slowly but surely beheads its own economy by trying to put eleven trillion dollars worth of "boots on the ground" all over the freaking world where they don't belong?
Or did Iran sell ISIS the swords?  With the American military-industrial complex and Israeli neo-cons using every trick in the book to try to find an excuse to put Iran's head on the chopping block for fun and profit even as we speak?  I think not.
And a friend of mine just asked me the following question:  "Or else could it be that Libya and Syria are/were among the few remaining countries that have resisted the imposition of a central bank associated with the Bank of England/Federal Reserve?"  Hadn't thought of that.  Hell, maybe the banksters bought ISIS their swords!
And now we get to the next question.  Who the freak would ever even want to behead anyone in the first place?  That takes a whole bunch of work.  Not to mention all that blood-splatter involved  — and with no laundromats in sight either.
You've got to be really really angry or crazy or both to cut off someone's head.  So what got these ISIS fruitcakes so pissed off in the first place?  Perhaps it might have been all these past 60 or 70 years that they, their parents and their grandparents have spent trying to survive the constant "War on Arabs" by American colonialists and Israeli neo-cons?  Perhaps this is what has finally sent them around the bend and into horror-movie mode?
Just be glad that ISIS got their inspiration for weapons from watching the "Walking Dead" and not from watching the "Texas Chainsaw Massacre".  But I'm sure that the weapons industry would far rather prefer to produce chainsaws than swords.  Chainsaws are a bit more profitable to make, more effectively bloody and just a bit less Old School.
Not What the Neocons Planned…
One need not be prescient to understand the unfolding "Jihadi Spring" is fueling the plans and perhaps destiny of ascendant Islamists in this region with the increasing help of in-country nationalists, including remnants of the Iraqi Baath Party. This, according to more than a dozen ardent supporters of The Islamic State in Iraq and the Levant (ISIS), known locally as DAASH whose representatives allowed this observer over the past six months to interview some of its supporters to discuss what they found inaccurate in a piece I wrote about DAASH actions in Raqqa, Syria. In that article I claimed that DAASH was selling Syria's archeological treasures, just as they are selling Syria's oil and in some instances, food warehouse contents, to the highest foreign bidder. There is no paucity of the latter.
The final "S" in the acronym "ISIS" relates to the Arabic word "al-Sham" which itself is variously used to refer to the Levant, Syria or even Damascus. But DAASH (ISIS) means the Levant or Eastern Mediterranean including Cyprus, Palestine, Jordan, Syria, and southern Turkey. ISIS has just announced that Raqqa, the only one of 14 Governorates its controls in Syria, is now the "Capital" of their emerging "Caliphate" which so far is a swathe of territory encompassing much of eastern and northern Syria and western and northern Iraq. The Emir is to be their military strategist and leader and successor of Abu Mus'ab Zarqawi, Dr. Abu Bakr al-Baghdadi.
Those interviewed at length include sympathizers, students of politics and of the Islamist 'spring' in Syria and Iraq, as well as a few shadowy claimed jihadist recruiters, some working with a claimed new specialized DAASH unit organized at the beginning of 2013 and which focuses exclusively on destroying the Zionist regime occupying Palestine. DAASH's "Al Quds Unit" (AQU) is currently working to broaden its influence in more than 60 Palestinian camps and gatherings from Gaza, across Occupied Palestine, to Jordan, and Lebanon up to the north of Syria seeking to enlist support as it prepares to liberate Palestine.
DAASH believes, according to one of its claimed academic advisers, that the ummat al-Islamiyah (Islamic community), as a US Foreign Relations staffer, on 6/18/14 advised this observer, that the White House estimates that approximately six million Iraqi Sunni have recently become supportive of the armed action by DAASH. The support excludes its strict, indeed anti-social societal mores and abhorrence of current harsh realities of life in DAASH territory. The Islamist organization believes it currently has massive regional support for it rapidly expanding "revolution of the oppressed." Large numbers in this region do appear to appreciate its recent successes, despite its history of calculated brutality for political purposes.  DAASH urges the public to study its remarkable history that reaches back to 2003 when Abu Mus'ab Zarqawi got out of prison in Jordan and headed to Afghanistan, gained valuable experience from if the trust of Osama Bin Laden, and then crossed over to Iraq to wage jihad against America. DAASH appears to be using sectarian appeals in Iraq and Syria much the same way Zawqawi did when he confronted the ascendant Shia militia following the US invasion and occupation.
DAASH supporters claim that it has been joined by more than a dozen Sunni groups such as one called Men of the Army of the Naqshbandia Order." JRTN as it is known locally, was established in 2007 following the execution of Saadam Hussein and is made up of former Hussein regime loyalists, including intelligence officers and soldiers from his Republican Guards. If its alliance with DAASH holds, JRTN can contribute thousands of fighters with strong social roots in the community. One JRTN interlocutor explained to this observer, "As Sunni Muslims, DAASH can resolve differences between its views of Islam and those of the Ummah. First we need victory and to achieve that we need each other and if our Baathist partners decide to position themselves to be secular guardians of Sunni Arab nationalism that can be discussed   later. The official website of the Naqshbandi Army includes a 1/1/2014 announcement: "To all our brothers and families of the tribes and factions we tell you, you are not alone in this battlefield."

DAASH insists that it has become less active in killing anyone who works for the government of Syria or Iraq including rubbish collectors, a barbaric practice that alienated the Sunni population and that their support is growing as they increasingly provide the essential social services in the forming proto-Caliphate. "Zionists call us masked, sociopathic murderers but we are much more complicated and representative of those seeking justice than they portray us.  Are we more barbaric than the Zionist terrorists who massacred at Dier Yassin, Shatila twice at Qana, and committed dozens of other massacres?  History will judge us after we free Palestine." A few years ago the CIA and others estimated that the Zionist occupation of Palestine will collapse in less than a decade.  DAASH claims it can do the job in 72 months.
With respect to events surrounding its takeover of Mosel and other social media broadcast exhibitions of mass brutality, ISIS claims it was done for a purpose, the same purpose that other state and non-state actors have used over the past two decade and that is for 90% of the world 1.5 billion Muslims (Sunni) to free themselves from the oppression of the 10% (Shia).
Several reasons were given as to why Palestinians should hold out hope for ISIS succeeding in their cause when all other Arab, Muslim, and Western claimed Resistance supporters have been abject failures and invariably end up benefiting the Zionist occupation regime terrorizing Palestine. "All countries in this region are playing the sectarian card just as they have long played the Palestinian card but the difference with ISIS is that we are serious about Palestine and they are not. Tel Aviv will fall as fast as Mosul when the time is right", a DAASH ally explained. Another gentleman insisted, "DAASH will fight where no one else is willing."

ISIS appears uniformly contemptuous of the Zionist regime and its army and also appears eager to fight them in the near future despite expectation that the regime will use nuclear weapons. "Do you think that we do not have access to nuclear devises? The Zionists know that we do and if we ever believe they are about to use theirs we will not hesitate.  After the Zionists are gone, Palestine will have to be decontaminated and rebuilt just like areas where there has been radiation released."
DAASH supporters claim that it reaches out to local notables and tribal leaders and discuss their differences and seek their tribal counsel. DAASH claims that the Roman Catholic Vatican supports its own claims that when they captured Mosul last week they did not harm Christian residents or desecrate churches. In this they are supported by Archbishop Giorgio Lingua, the Apostolic Nuncio (Pope's envoy) in Iraq who this week told the media: "The guerrillas who are in control of Mosul have to date not committed any violent act or damaged the churches there."
It is becoming clear that DAASH has set up well organized local administrations in areas it controls, including an Islamic court system and a local non-hostile police force which support public safety with measures such as closing shops for selling poor products in the souks and supermarkets and on the street, destroying cigarettes and whipping some individuals for disrespecting and insulting their neighbors, confiscating counterfeit medicines in addition to some death sentences for apostasy.
DAASH supporters claim that as soon as they 'liberate" an area  they invest in public works such as the  new souk in Raqqa, installs new power lines and conducts training sessions on how citizens can do-it-yourself  for more self-reliance with fixing infrastructure problems. In addition DAASH claims that it quickly fixes potholes, runs a low fare bus system, has established a 'green' program to build parks and plant trees and flowers, helps farmers with harvests and runs a zakat (alms-giving) organization. Moreover, ISIS has established a number of religious schools for children, including ones for girls where they can memorize  the Koran and receive awards if successful, while also holding 'fun days' for kids including all the ice cream they can eat and inflatable slides. For their older counterparts, ISIS has established training sessions  for new imams and preachers. Schedules for prayers and Koran lessons are posted at mosques. In a more worrisome development, ISIS runs training camps  for "cub scouts" and houses these recruits for 'instruction'. Several social media reports and a few eyewitness accounts appear to confirm that DAASH has developed health and welfare programs, operates bread factories and distributes free fruits and vegetables to needy families, passing the goods out personally as well as setting up a free food kitchen in Raqqa and an adoption agency to place orphans with families in their areas. Unlike the Taliban and some other regimes which exhibit paranoia about vaccination campaigns, DAASH claims to be more 'modern" and actively promotes polio-vaccination in its areas to try stop its spread.
The social services that DAASH provides obviously do not ameliorate the deadly violence it carries out, but does suggest it is well-organized and has caught the interest of the Sunni Muslims who feel besieged by Shia. According to an al-Bagdadi relative, nearly the half a billion dollars that was snatched from Mosul's central bank this month will help to win hearts and minds and correct some of its "bad press". DAASH appears to ascribe to the cliché that half of any war is a rumor. It condemns the project of many satellite channels and claims that they do not objectively report the news but mainly spread rumors with sectarian instigation as the goal. On this point who can refute them?
DAASH supporters deny any interest in training and directing foreign fighters to attack Europe and other places, claiming that their goals are to establish an al-Sham Caliphate and liberate Palestine. With respect to exactly how DAASH intends to liberate Palestine, the Iraqi's and now the Obama administration ar3 in possession of an encyclopedia of information about detailed DAASH plans, and tactics it will confront the Zionist occupiers with,  according to a congressional staffer via email with this observer. Reportedly the employment of large numbers of militarily untrained foreign volunteers as suicide bombers, moving on foot wearing suicide vests, or driving vehicles packed with explosives is just the tip of a deep iceberg of what DAASH is planning.
The trove reportedly came from Iraqi intelligence sources that came upon it less than 48 hours before Mosul fell. Apparently a fellow known as "Abu Hajjar" a captured trusted DAASH messenger broke under Iraqi torture and turned over more than 160 computer flash sticks which contained the most detailed information to date about DAASH. The US intelligence community are still decrypting and analyzing the flash sticks.
Predictably, no sooner that this information reached the US Congress, than Congresswoman and Israeli agent, Ileana Ros-Lehtinen former Chair of the House Foreign Affairs Committee and her partners at AIPAC went to work trying to get ahold copies of the flash sticks and share them with the Israeli Embassy and no doubt the Mossad. The current sense on Capitol Hill is reported to be that the Obama administration in not in the mood to share anything with Israel these days and certainly not with the Netanyahu regime which it loathes.
Time will reveal if DAASH achieves one or both of its objectives.  Many believe if they eject the Zionist regime from Palestine, the expanding Islamist group will set in motion historic currents that in all likelihood will be rather different from the Ehud Omert-Condeleeza Rice fantasy of "a New Middle East."
In any event, it is unlikely that Iraq, Syria, Yemen, Libya, Lebanon, among other countries in this region, are going to look much like what George Bush and Dick Cheney and their still active neocon advisers had in mind when they were beating the drums for a U.S. invasion of Iraq, Libya,  and now Syria and Iran.
Origin of the Master Model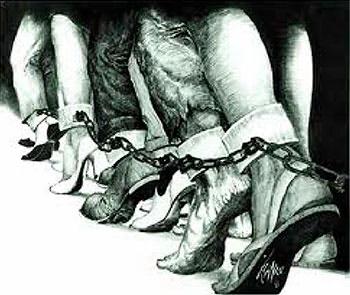 The master plan for world domination we see playing out today was first proposed to the US at the end of World War I. However, there were no takers. People were too war weary. However, when the plan was again proposed at the end of World War II, it was accepted. Consequently, World War II quietly transitioned into the secret "war" to set up what has become known as the "new world order" — an absolute dictatorship over the entire planet.
The United States set up the School of the Americas to train future dictators and terrorists who would be sent out into the world to destroy sovereign nations and place them under US domination by installing puppet governments obedient to the United States. Many conquests were made quietly using clever economic tricks [2]. However, leaders who refused to submit quietly would see their entire country reduced to rubble and the land rendered unlivable by uranium dust scattered by US bombs. The message was clear: Submit to the United States or face total destruction.
A social model based upon the assumption that cleverness and power automatically convey the right to take anything desired from those who are less adept and unable to resist is not a sustainable model for harmonious social interactions. However, this is the chosen model. The mantra for this model, "A man's true worth is measured by the amount of other peoples' happiness that he can possess and destroy" [1], is essentially a call for a class war between the greedy elite and the innocent masses of the world who simply desire a peaceful existence.
Acquisitions
The United States looks at the rest of the world as a "resource". If a country has something — oil, gold, minerals, etc. — that the US covets, it believes it has the right to take those things by whatever means necessary. In many cases the coveted resource is human slave labor. Let's look at some representative examples:
With the cooperation of the dictator, United Fruit Company (US) owned almost half of the country and used the locals as slaves to harvest its Chiquita brand bananas. However, during the period from 1945-1954 new leaders made changes. They helped the poor and set up social security and health care. Then they took land away from United Fruit and gave it to the local people. United fruit complained to the CIA that its business interests were being interfered with by the "communist" government. Any government which shows kindness to the poor and weak is called communist by the US. The US attacked Guatemala — killed the elected leaders and many thousands of citizens — and established a puppet dictatorship which would obey the will of United Fruit. The people were returned to a state of slavery. The CIA trained death squads to make sure the people were crushed into submission.
Strip Mining in Africa [4]
In Africa, the International Monetary Fund — a puppet of the US — destroys a country with strip mining. The original country was self sustaining. People were able to grow lots of food and hunt animals. However, once the land was ruined by US corporations, it was unusable to plant crops and the native animals died. The people had to buy food from other countries with money loaned to them by the IMF which they could never hope to repay. Therefore, a once free and self supporting people were made debt slaves of the IMF. Once all the natural resources have been stolen, the corporations will simply pack up and leave the indigenous people to starve and die.
Countries Used as Trash Dumps [5]
Used computers and associated items are dumped in poor countries where starving barefoot children sift through the mess of hazardous waste and broken obsolete glass computer monitors hoping to find something they can sell to get enough money to stay alive another day. Property stickers show the waste is mainly from the US government and various US state governments.
Corruption of Trusted Sources
Reporters and News Organizations
The masses are conditioned to believe news they receive from establishment sources. In the earlier times, this assumption was often correct. It was considered so important by the founding fathers that freedom of the press was enshrined in the US constitution. However, times have changed.
Walter Cronkite was known as the "trusted voice". No one knew he was also the official announcer at the secret Bohemian Grove meetings. The leaders of the world's news organizations also attend this event. That is why, even though the meetings began over one hundred years ago, until recently no one knew this group even existed. President George W. Bush may have set a new record for bribing journalists to allow their trusted name to be used as the author of material actually written by government propaganda experts. Apparently, everyone has a price and the government, of course, has no problem when it comes to money.
When Ronald Reagan reportedly ordered the death of investigative reporter Jessica Savitch [6], the message to independent journalists was clear: Go against the official party line an you're done!
Today, dedicated journalists face mysterious deaths and strange single car accidents but a few survive long enough to give us a glimpse of truths we would otherwise never know. They are true heroes.
Churches
Churches are everywhere. Unfortunately, legitimate Spiritual teachers are not. People look at churches either as harmless or with some sort of conditioned hypnotic respect. Churches send out "missionaries". However, the "mission" of these missionaries may not be so clear. If you wanted to infiltrate a foreign country, these people would be an ideal asset.
Churches are not Spiritual centers. At best, all they want is your money. At worst, they are Satanic and you are in severe Spiritual danger if you come under their influence and control.
The Catholic Church has been a trusted asset of the US intelligence community for quite some time. Significant information obtained by priests during confessions is routinely passed on to the government.
This agreement predates the internet by many years. Because the church has branches in almost every country, it has great potential for covert activities. For example, if you need to get an operative who is in danger out of a country, they can go to a Catholic church for "confession". Once the door is closed, they can exit through a secret passage, be disguised in robes and spirited safely out of the country. Church secrecy is at least on a par with US secrecy. Also, the Catholic church and the US shadow government share the same Satanic value system and engage in child rape and ritual killings.
Doctors and the Medical Industry
Medicine in the United States is an industry. It is no longer a profession. Its corporate model puts profit above all else. If some patients accidentally benefit they are the lucky ones.
The medical community has a rigid hierarchical structure and effective mechanisms for enforcing secrecy. Essentially, its model closely resembles the military chain of command structure. This makes it a perfect partner for the government in the area of secret human experiments.
For example, when the government was doing radiation experiments on humans, a doctor or someone dressed as a doctor would just walk up to unsuspecting patients and inject them with radioactive material. They were then secretly followed for years to see what would happen. Eventually, some of those who survived were told the truth. Most people used in the MK Ultra and subsequent secret projects were never notified.
Hospitals are set up to protect themselves. Staff may appear to be dedicated, smiling people who truly care about you. However, they are basically prostitutes who are being nice because you are worth money to them. When they make mistakes they have a "loss prevention" department staffed by clever lawyers who are trained to protect the financial interests of the hospital by denying everything and fabricating believable coverups. They are trained to do whatever is necessary. The staff will all agree to support whatever lies are needed. They know their job and their financial future depends upon maintaining strict secrecy.
The only people who receive legitimate medical care are the select elite cleared to accesstop secret medicine. These people always get excellent care because the doctors work for the shadow government and mistakes on their part are simply not tolerated.
Infiltrations
Countries which have the resources to sustain an intelligence community generally try to get operatives (spies) into other countries so they can directly observe activities. When real people gather intelligence, this is called human intelligence or HUMINT. The US, of course, does this too. However, you may not be aware of the extent to which the US also infiltrates itself. The central government really does not trust anyone.
Essentially all local police departments, state offices and state governors have a covert federal agent working close by pretending to be just another employee. Also, every US neighborhood has an informer who reports to the federal government. Large corporations, which tend to behave like "mini governments", need to be infiltrated and kept under observation. Colleges and universities are also monitored.
Here is how this spy network operates: The NSA likes to recruit young kids right out of college. When they are hired and sworn to secrecy they still do not know what their assignment will be. They must agree to do this assignment without first being told what it is.
Some agents, like John Perkins [2], are assigned to work in other countries. However, others are assigned to work inside the US. Their assignment could be to go to some state and apply to join the local police department. They would pretend to be just a regular person looking for a job. They would take the necessary training and spend their life as a local policeman so they could directly observe other local police from the inside and report to the NSA. Since they are actually an employee of the NSA, presumably they get to keep both salaries and, eventually, both retirements. All significant local police forces in the US are infiltrated this way.
Additionally, some agents will be assigned to get a job on the state governor's staff as well as in major local state agencies. A CIA or NSA agent is always on the staff at major colleges and universities. The same goes for major corporations.
Senior level agents are allowed to have special TV receivers in their homes linked to the secret government TV network. This way everyone stays on the same page. The channels on this network actually broadcast the truth. TV channels available to ordinary people contain only government approved propaganda mixed with "bread and circuses" presentations to make sure the sheeple stay asleep and content.
Fronts
The US government is involved in illegal activities internationally and domestically. If it performed these activities overtly in the name of the United States, there would be serious consequences under both international and local laws. To avoid this situation, the US government operates thousands of "front organizations" which appear to be private but are actually shadow operatives of the US.
For example, John Perkins [2] explained that he was recruited, hired and trained by the NSA. He was an NSA agent. However, for his cover as an economic hit man, he "officially" worked for a "private" company called Charles T. Main. This company was a government front to shield the US because the activities the NSA trained Perkins to do were illegal.
This is standard operating procedure for the US as well as other countries and many corporations. It shields them from legal recourse by providing deniability for the crimes they actually direct and commit.
Generally, when the US wants to influence other sovereign countries, it creates harmless looking NGO's which appear to be independent but are actually fronts for covert activities.
Domestically, colleges and universities — especially those with associated medical schools and hospitals — are great places to conceal a variety of covert projects such as the MK Ultra series of human experiments which, reportedly, continue today using new cover names. The US also likes to create non-profit corporations which exist only to provide classified services to the United States. A good example would be the Institutes for Defense Analysis (IDA). The US, reportedly, is its only client.
Programming
Mass media "programming" is actually programming you. It has developed into a subtle form of mind control. Before radio and television, special interests recognized that motion pictures could be used to alter public opinion in their favor. Perhaps, for example, you wanted to attack labor unions. When radio and later television came along providing access to national and international audiences, the temptation to exploit these technologies became irresistible. Originally, the US government recognized this and set up fairness rules to prevent monopolies from taking over the broadcast media and blocking opposing viewpoints. All this ended, unfortunately, when Ronald Regan canceled all the fairness regulations. Today, a handful of powerful corporations own and control essentially all content delivered by radio and television.
Television is the main vehicle for mass indoctrination. It is said that people watching TV actually fall into a light hypnotic trance. The "entertainment" you see on TV does not "just happen to be there". It is very carefully planned and timed to attract and influence targeted audiences. It is said that if some event were to somehow shut down all television broadcasts the government would experience a severe crisis because it would lose control over the minds of the masses.
TV creates sort of a "hive mind" among the masses and keeps everyone coordinated and tuned into the official party line. Without this, people would have no choice but to start thinking for themselves and forming independent opinions. Clearly, this would be a disaster.
The radio broadcast of "War of the Worlds" and the later movie "The Day the Earth Stood Still" are said to be CIA psychological experiments to judge how the general public would react to some type of ET contact.
Today, broadcasting is not just a one way event. Because people react to events and use social media to express these reactions, the effect of specific propaganda can be analyzed in real time. Since the government now intercepts all electronic communications, it is able to see general opinions and then tweak algorithms to maximize the desired effect of propaganda. This ability makes TV a two-way communications system although most people, of course, do not realize this and have no concept of the level of sophistication these technologies have reached.
Information Theory
Information Theory is the name of a relatively new branch of science which became popular in the 1960′s. It covers a broad range of technologies. Basically, it is the science of the flow of information and how that flow can be selectively controlled so that information flows only in desired pathways. As you may have already guessed, governments love this sort of stuff.
ECM
ECM stands for Electronic Counter Measures. In general, these are techniques to disable other electronic devices. Basically, it is electronic warfare. When the secret service is active in an area, for example, they will selectively jam all radio frequencies except for the specific frequencies they are using so that no one else can communicate.
World leaders, who are generally terrified of "threats" materializing from practically anywhere, like to travel with ECM generators running just in case "someone" from "somewhere" was trying to target them for "some reason". Basically, they are paranoid whack jobs.
People familiar with aviation tell the story of how Tony Blair, while traveling to or near a commercial airport, reportedly caused a commercial jet to crash because all the ECM garbage he was transmitting jammed the plane's navigation system. Of course, the British government would never admit this.
Secure Communication With Submarines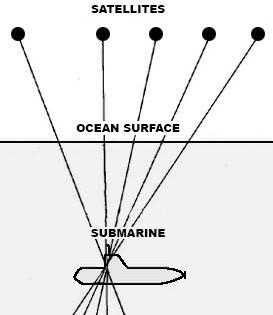 Since submarines were invented, communicating with them has been a problem because conventional radio waves will not travel underwater. Therefore, early submarines had to get close enough to the surface to put up some kind of antenna in the air to send or receive radio messages. Obviously, this could pose a problem if you did not wish to be discovered and located. After all, the motivation to create submarines in the first place was the feeling that they would be able to move about the planet secretly. However, newer technologies now make this impossible.
To solve the problem of reliable secure communication without the need to surface, scientists learned that sea water was essentially transparent to a special type of Argon laser. To set up the current communications network, it was decided to use several satellites with each satellite sending only part of an encrypted communication signal. The complete signal could only be received at a specific point underwater where all the laser beams intersected. Intercepting only one or two beams would prove useless. This communications system is considered to be impossible to intercept.
Quantum Entanglement
Returning to the submarine issue for a moment, before modern communications were perfected, there was a search for some reliable method to send a signal to a submerged submarine that could not be detected. This was considered necessary in a war situation to secretly transmit an attack command. What they originally did was to locate a couple of people who could communicate telepathically. One would be at the command base and the other on the submarine. Doing a bit more research, it was determined that this type of communication is instantaneous and somehow operated outside of time. Radio waves travel at the speed of light.
Quantum entanglement is a process which uses technology to send and receive signals outside of space-time. Now, why would you possibly want to do this? Well, if you had a base or a colony on a planet in some other solar system light years away, you would not want to wait years for messages to be received. Following this thread — and adding some basic common sense — why would you want to dedicate resources to search for habitable planets in distant solar systems when you had already "proven" it would be impossible to ever get there? Could it just be that someone is not coming clean with whole story?
The Separation Barrier
This is a model of the separation barrier which insulates the ruling class from the slave class. It is essentially "intellectual apartheid". The question is, why is it there. It takes considerable effort, money and manpower to maintain this artificial barrier. What is the reasoning behind not having a level playing field for everyone? Why does this idea absolutely terrify the elite? What are they afraid of?
The Pirate Story
This is a summary of a story told years ago on a radio broadcast most likely by Paul Harvey:
Ordinary people were afraid. The Earth was flat so they dare not venture far from home. Periodically, a pirate ship would come. They did not know how it got there or from where it came. It brought treasures they had never seen. The Chief Pirate would encourage the young men to study and specialize in specific skills. He wanted them to become educated but only in one narrow area. The Chief Pirate knew the world was not flat and how to navigate to other lands. However, this knowledge was never discussed. This "top secret" knowledge or the "big picture of the known world" would only be given to the Chief Pirate's son who would inherit his title and someday become the Chief Pirate.
This story is about the origin of the concept we call compartmentalization — the process of controlling the slave masses by only allowing them to know specific bits of the truth while the leaders are allowed to know total truth.
ELITE RULING CLASS
SECURITY CLEARANCES
SECRET POLICE
ASSASSINS
SURVEILLANCE — SIGINT HUMINT COMINT
SPY SATELLITES
SPY DRONES
SMART ELECTRIC METERS
INTERNET SURVEILLANCE
NEIGHBORHOOD SPIES
PLENTIFUL STREET DRUGS
PSYCHIATRIC FORCED DRUGGING
GENETICALLY MODIFIED FOOD
FLUORIDATED WATER
COORDINATED TELEVISION PROPAGANDA
DEGRADED PUBLIC EDUCATION
LOCAL MILITARIZED POLICE
---
SLAVE CLASS
Leaders can only maintain their status if there are slaves. Otherwise, everyone would be equal and operate on a level playing field. This means "leaders" would have to pull their own weight like everyone else. Clearly, this would be intolerable. Leaders love beautiful and exotic things but don't want to do the work needed to create these things. They probably could not even plant a garden much less build the various "ivory towers" where they like to live surrounded by servants. If left on their own they would very likely starve. This is why it is so important to create and maintain the complex separation barrier.
Why don't people who live above the separation barrier ever "come down" and talk to the people below the barrier? Well, other than the obvious fact that they would likely be killed or jailed for espionage or treason, there is another, simpler, reason.
Would you like to spend your days sitting in an open field with kindergarten kids looking for four leaf clovers? Probably not. You have progressed beyond that. The slaves below the separation barrier cannot even imagine the world of those who live above the barrier. In fact, the elite do not even consider the slaves human. They call them "disposable biological units". The United Nations prefers the slang term "the herd". Slaves can be easily bred in quantities needed and programmed to do desired tasks. Then, they can be easily disposed of when no longer useful. That's how they look at you. So, why would they want to make friends with you?
The Mars Example
There is an interesting event playing out today that you may have noticed. This concerns the recruitment and selection of people to be sent to Mars. There are simulation projects where volunteers are locked away to imitate the long voyage to Mars. They are being told that this is a one way trip and they can never hope to return to Earth.
What you are witnessing is the selection process for the "seed people" who will be used to breed the future slave class on Mars. In a situation similar to the period when most believed the Earth was flat and you would fall off if you tried to go to sea, these people are convinced that the only way to get to mars is to ride a rocket on a perilous journey taking years. Because they truly believe this, when they get to Mars, they will teach this crap to their kids along with other misconceptions like it is impossible to go faster than the speed of light and other associated obsolete scientific principles. They will have no
desire to ever return to Earth or go anywhere else because they truly believe it is not possible. They will be contented slaves.
Of course the truth is that there are already secret colonies on Mars. It is not that hard to get there using antigravity and other secret propulsion methods and it is quite likely possible to simply walk through some kind of wormhole device and come out on Mars.
However, the slaves will never know this. Just as it is done on Earth, there will be an artificial separation barrier. The insiders will know the truth and will be physically hidden from the slaves. There will be secret police and other methods — the same as are used on Earth — to make sure no slave ever escapes from the "information prison". Business as usual will continue.
Reinforcement of Ignorance
Governments and their oligarchs love to keep their subjects in a cloud of ignorance. Back in the days when people believed the Earth was flat, the inner circle ruling class knew it was round. Maintaining the deception was convenient because it kept the slaves from developing any desire to travel far from home.
Nothing has changed all that much today. Consider, for example, all the fuss over the missing MH370 plane. You are being played for a sucker. It is impossible for that plane to have "disappeared".
The US DoD spy satellite system reportedly consists of ten constellations of satellites. Each constellation has over seven thousand satellites. They see and record everything that happens on this planet. The floor of the oceans can be seen just as clearly as the land areas. The resolution of the system is better than one square millimeter. Also, everything is recorded so you can go back in time and play past images.

This is a picture of a common electric lamp. Take this lamp and throw it in the ocean — any ocean anywhere on this planet. The spy satellite system will locate it, give you the coordinates and give you a photo at least as good as the one above. That is the capability of the system. So, clearly, it is impossible not to know the location of something as large as a Boeing 777 plane. All the TV publicity is a choreographed play. You are being scammed and you need to wake up and realize this fact.
Murders and Assassinations
To ensure a strong empire, dissent must be crushed. The United States trains assassins and carries out both domestic and foreign murders and assassinations on a regular basis. You may be familiar with the classic movie scenes where a black limousine with tinted windows drives by a target with thugs shooting machine guns. Although this would accomplish the task, it is a bit too obvious in a country that advertises itself to be a free, civilized democracy. Someone might catch on and begin to doubt the party line. Consequently, these things must be done quietly.
Inside the US, murders are reportedly carried out by a group known as "FBI Division Five". Other agencies likely have the responsibility for foreign assassinations. However, the basic techniques used would be similar.
Typically, an agent would wake up every day and connect to the top secret internet to see who he was assigned to kill that day. There would be several options. If it was important to eliminate the target immediately, a fast acting chemical agent would be selected which, for example, would cause the target to die within a few hours of a "natural" heart attack.
However, if time was not critical and the government just wanted the target out of the way, you might want to select one of the cancer causing agents such as those likely used to eliminate Hugo Chavez and Senator Ted Kennedy.
There is also a third possibility. This involves character assassination instead of actual murder. Consider, for example, a person who has gained a lot of public recognition talking about, say, free energy. If you simply kill the person, there could be blowback and talk that he was silenced by the government. In such cases, it is easier to use a chemical agent designed not to kill but, rather, to cause states of mental confusion resulting in obviously strange behavior. This would be coordinated with the government controlled mainstream press to make sure everyone became convinced the person was a nut and would therefore ignore anything said without regard to the truth or validity of the message.
Once the appropriate chemical has been selected, you need to load it into the secret delivery system and locate your target. To find your target you will connect to the top secret internet and pinpoint the location of the target through their cell phone. You can also activate all the cameras and microphones in electronic gadgets connected to the internet associated with the target in case you wish to look around the target's home and hear in real time what is taking place.
Of course, this will not help you locate the target when it is time to actually do the hit. So, you need to get the top secret profile data which will show any predictable habits of the target. Everyone is constantly tracked through their cell phones and profiles are logged and stored. In this case, the profile shows that the target has a favorite restaurant and goes there for lunch every day around 11:30. Now, you know exactly what to do. You go to the restaurant, hang out until you see your target, and get in line behind the target. Now, all you need to do is slightly bump into the target to deliver the chemical. Generally, the targets never even notice.
This mission is now complete. If it is early enough, you can check back in to the top secret system to see who you are supposed to kill next. Just another day. Just a routine job.
Money
Money is an imaginary force. It is used to motivate and control slaves. Real forces effect all life forms. However, only people respond to money. The only reason they do is because they have been artificially programmed to do so.
Money can be created in unlimited quantities by those adept in the use of this force. The physical world is finite, however the world of imagination is not. There is no limit to the quantity of money that can be imagined into existence. Money can also be imagined out of existence.
Let's assume that one day the entire financial system simply disappeared. If you lived in a rural area and had a nice veggie garden, some friendly chickens, collection facilities for rain water and a few photocells for electricity, you would not notice this. The veggies would continue to grow. Rain would periodically fall. The chickens would lay eggs as usual. The sun would continue to shine. However, if you lived in a city environment, you would be devastated.
Before money, people lived in small hunter-gatherer groups. The concept of ownership did not exist. People worked and survived as a group. Men and women were equal. Everyone contributed to the community. Resources were shared equally. The concept of "mine" and "yours" did not exist. Women generally became pregnant only once about every three years although there was no birth control. Later, when the concept of money entered the consciousness, women were seen as having less value because men were paid for work but women were not paid to raise and care for kids. Society has changed, however, the downgraded status of women has not.
Money systems have always been manipulated by clever people. When gold was used as money, people learned they could dilute pure gold with silver or maybe even lead to come up with something that looked like pure gold and had the correct weight but was a fraud. A king suspected he was being scammed but had no way to prove it. He called on the great minds of the time for help. This led to what is known as the Archimedes' principle which is better known today as "specific gravity". This principle made it possible to compare a sample known to be pure gold to a questionable sample and prove the unknown sample was not pure gold. Likely, some clever crook lost his head once this test became known.
There is a general belief that gold is the ultimate reference for all money. However, secrets concerning the exact quantity of gold make this a perilous assumption. Reportedly, the United States stole a tremendous quantity of physical gold from Japan towards the end of World War II. This gold exists off the books. To make matters worse, Japan was not all that concerned. Japan had been using gold bars as ballast on its ships because they were compact and heavy. They thought nothing of throwing the bars overboard as necessary. Japan used platinum as a money reference and the US never got that. This should make one rethink all the hype about the value of gold. It may be a lot more plentiful than we have been led to believe. Also, the secret off the books stashes of gold would allow its relative value to be manipulated at will just like other commodity markets.
The Financial Axis of Evil [3]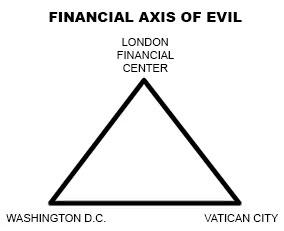 This is the model of the financial axis of evil which rules this planet. It consists of three main branches as shown above. Collectively, they are known as "The Empire of the City". Briefly, here is how this system operates:
The London financial district is in London, Washington D.C. is in the United States and the Vatican is in Italy. However, these three places are not part of the countries where they exist. They are independent "city states" and have their own laws and constitution. They are, effectively, "mini countries" inside of other countries and fly their own flags. The city state of London is a private corporation and pays no taxes to actual London or to Britain. The city state of London is the master power center and is controlled by the Rothschild family which considers itself to be the legal owner of this planet. The Vatican is the largest private land owner in the world and the first true multinational corporation with installations (churches) and secret agents (The Knights of Malta) everywhere. They control through the power of fear of the unknown and practice black magic. Washington D.C. relies upon brute military force. All three closely cooperate combining their specialties of financial trickery, witchcraft and military might. Of course, all three worship Satan as their Master.
Slavery
Slavery is alive and well throughout the world. The US constitution prohibits slavery, however, most americans live in slave-like conditions.
It is said that it will take the average college student until age fifty to pay back their student loan.
The constitutional amendment prohibiting slavery addressed the concept of physically owning another person. However, it did not address the issue of holding another person in bondage as a debt slave. It also did not consider the concept of private for profit prisons who force inmates to work as slaves. These systems exist today and are perfectly legal.
Actually, a recent report from prestigious Princeton University has reclassified the US government as an oligarchy — a country run by and for the rich elite. Former US President Carter has stated that the United States "no longer has a functioning democracy". So much for the Founding Father's dream. Speaking of dreams, check out the free you tube video titled "The American Dream".
Other forms of slavery are illegal but still flourish. Sex slaves are always in demand. Traffickers are sometimes caught but you need to realize that your leaders use sex slaves and also routinely abuse young girls and boys. Sometimes they are also killed during occult rituals. No one ever talks about this and these people are never punished. This has been the normal way of life for Satan worshipers for many years and nothing has changed or is likely to ever change in the future. Stanley Kubrick's last movie, Eyes Wide Shut, covers this subject. Some believe this intense dramatization of how the elite really live may have cost him his life.
People still have some rights left in the United States but other countries are a different story. Qatar is doing construction for the World Cup. The event is not scheduled until the year 2022, however they have already killed 1200 slaves [7] by working them to death. People are lured from poor countries with the promise of jobs and money. When they arrive, their passports are confiscated and they are forced to work until they literally drop dead. If the World Cup is actually held in Qatar in 2022, there will be glamorous TV coverage and no one will remember or care about all the dead slaves. The show must go on.
Qatar, incidentally, sponsors Al Jazeera TV network.
Adaptation Techniques
The status quo of today will never change because the people who created it will never die. Because of top secret medicine, when men like Henry Kissinger, who heads the Bilderberg Group's steering committee, get too feeble to function, they will simply go to one of the secret locations and use the temporal reversal device to regress back to about twenty years old. Their memories will be unaffected. Then they will get new identities and continue on. This process can be repeated indefinitely.
Because you can never change the status quo, your best hope for a lifetime of reasonable quality is to find clever ways to live in this world with as much independence as possible.
One method of adaptation is autonomous and semi-autonomous communities. If the community is registered as a religious institution it is automatically shielded from most government interference by the US constitution. It pays no taxes and can pretty much write its own rules by simply calling whatever it wants to do "religious doctrine". Many small semi-autonomous groups exist where people who share a common set of values find ways to quietly live out their lives pretty much on their own terms. The government does not seem interested in bothering these smaller groups as long as they live peacefully and are not doing anything that the government perceives to be a threat.
The Amish people are a good example of an autonomous group. You would probably not want to live as they do, however, before you completely dismiss them, you may want to look at some definite advantages in their chosen lifestyle.
Remember, these are the people who reject technology. They just might have made the correct choice. Technology, at first, seemed like a good idea. However, now that people are addicted to technology they are also enslaved by technology. Everything they do is monitored and recorded by the government. Privacy no longer exists. It did not have to be this way.
Technology, in itself, is not evil. However, it can be quite evil if you live under a government run by sociopathic control freaks which, unfortunately, you do. In the Amish world, electronic surveillance does not exist because electronic devices do not exist. The constant propaganda from TV has no effect on people who do not have TV. A horse does not report its position to a GPS satellite and is not controlled by a computer.
Also, the people are generally healthy and do not suffer from many diseases common to the mainstream population. They are not being poisoned by fluorinated water or additives found in processed food because they don't use these things. Also, they get lots of physical exercise.
Without totally withdrawing from the world, there are some positive steps you can take. By now you know never to drink fluorinated water or use any personal product containing fluoride such as many brands of toothpaste. To minimize harmful food additives, look for Kosher food which is marked with either the encircled "K" or "U" (Ultra Kosher). These foods have less or no harmful additives. The Jewish community is very protective of its people and the Mossad is widely considered to be the best intelligence service in the world. Therefore, they would have the inside scoop on everything including food and do not want to see their people harmed.
Whatever you decide to do, you definitely do not want to be part of so called mainstream society. These people are doomed. They are sheep (sheeple) slowly walking to the slaughter house. Don't go there!
---
references and credits
[1] DVD "The American Ruling Class". ASIN: B001HM2CE2.
[2] John Perkins. Book: Confessions of an Econemic Hit Man; DVD (free on you tube): "Apology of an Economic Hit Man"; RT interviews.
[3] See the free you tube videos titled "The Red Shield".
[4] DVD: "The Wages of Debt", RT Intl. Also available for purchase.
[5] DVD "Terra Blight", RT Intl. Also available for purchase.
[6] Interview with John Judge of Veterans Against Military Psychiatry.
[7] Also search using the phrase "qatar slaves world cup".
© 2014 W C Vetsch. All rights reserved.
Source: Walter C. Vetsch  |  3108.info | War Is Crime
Their al Qaeda terrorists soundly defeated by Hezbollah forces in Syria, the City of London Illuminati banksters have turned their sights on resource-rich Ukraine. They knew Russian President Vladimir Putin would be distracted by the Sochi Olympics, along with the barrage of threats and propaganda being hurled his way by these demonic Zio-fascists and their Western media lapdogs.
With unlimited time and money at their disposal, this is the bankster modus operandi. They attack where they see opportunity, retreat when defeated, then attack another sector of the planet within days based on vulnerability and resources.
Ukraine declared independence from the old Soviet Union in 1990. In 2004-2005 Western NGOs worked with CIA/Mossad/MI6 assets to stage the phony Orange Revolution. Victor Yuschenko became Prime Minister but was poisoned during the campaign. Western media blamed it on the Russians, but it was likely a Mossad operation since he was succeeded by more bankster-friendly right-wing billionaire Yulia Tymoshenko.
Tymoshenko had co-led the Orange Revolution and is one of Ukraine's richest people. In 2005 Forbes named her the third most powerful woman in the world. In 2007 she traveled to the US to meet with Vice-President Dick Cheney and National Security Advisor Condaleeza Rice to talk energy. Tymoshenko became rich as an executive at a natural gas company.
Ukraine was being plugged into Cheney's crooked Energy Policy Task Force, which opened the planet to unregulated oil & gas exploration, including fracking. Tymoshenko privatized over 300 state industries during her reign,
But the Ukrainian people smelled a rat.
In 2010 they voted in Prime Minister Viktor Yanukovych with 48% of the vote. His Party of Regions again defeated Tymoshenko's Fatherland Party in parliamentary elections of 2012.
Tymoshenko was convicted of embezzlement of state funds and abuse of power. She was given a seven year prison sentence and fined $188 million. The crimes occurred in the natural gas sector.
Two weeks ago Tymoshenko was released from prison as part of a deal hatched at a secret meeting between Yanukovych, EU, NATO and Russian officials first reported by William Engdahl in an article for Veterans Today. Soon after her release all hell broke loose.
Mossad's Fascist Friends
On February 22nd snipers opened fire from rooftops on Kiev's square. Engdahl says these snipers were members of a far-right fascist terror cell known as Ukrainian National Assembly – Ukrainian People's Self Defense (UNA-UNSO).
Led by Andriy Shkil, the group has ties to the neo-Nazi German National Democratic Party. According the Engdahl's intelligence sources UNA-UNSO is part of a secret NATO Gladio cell and was involved in conflicts ranging from Georgia to Kosovo to Chechnya as part of a strategy of tension aimed at Russia.
Shkil also has direct ties to Tymoshenko, as does newly installed Prime Minster Oleksandr Turchynov, a Baptist preacher and former Tymoshenko advisor who took over after Yanukovych fled under threat to his life to Russia.
In 2006 state prosecutors opened a criminal case against Turchynov, who was accused of destroying files which showed Tymoshenko's ties to organized crime boss Semion Mogilevich. With Turchynov as Prime Minister Ukraine is now under the thumb of fascist organized criminals known collectively as Right Sector.
It came as no surprise then, when Press TV reported that both Haaretz and the Times of Israel openly bragged of how a group of "former" Israeli soldiers known as the Blue Helmets of the Maidan had led the "protesters" in Kiev's square under the leadership of a man code-named Delta. According to Paul Craig Roberts, these "protestors" were also being paid by the EU and US.
A Mossad coup brought Right Sector to power, pushing aside more moderate voices being funded and backed by the US, as revealed in the now-infamous YouTube video showing Assistant Secretary of State Victoria Nuland discussing with US Ambassador to Ukraine Geoffrey Pyatt (both Israeli assets within the State Department) who they would want to install as Ukrainian Prime Minster once they got rid of Yanukovych.
A Resource Grab
As usual this Rothschild-led bankster putsch is all about resources. Ukraine lies in a highly strategic geographic location, fronting both the Black Sea and the Sea of Azov. Ukraine is the bread basket of the Eastern Hemisphere. In 2011 it was the world's 3rd largest grain exporter. It ranks in the top 10 countries in the world for sought-after farmland.
Ukraine has the 2nd largest military in Europe after Russia and the NATO Rothschild tool would love nothing better than to run out theRussian Black Sea Fleet at Sevastopol – a symbol of Russian naval power since the 18th century.
Ukraine has vast natural gas deposits, an advanced industrial base and is a highly strategic crossroads for oil & gas pipelines connecting Four Horsemen Caspian Sea energy fields with European consumers. In 2009 a dispute between Putin and Tymoshenko over Russia's trans-Ukrainian gas supplies caused a huge spike in gas prices in Europe.
In October 2013 the IMF met with Ukrainian officials to discuss the country's alleged "budget crisis". The bankster enforcer arm demanded that Ukraine double consumer prices for natural gas and electricity, devalue its currency, slash state funding for schools and the elderly, and lift a ban on the sale of its rich farmland to foreigners. In return for this Ukraine was promised a measly $4 billion.
Yanukovych told the IMF to take a hike and Russia soon stepped in promising cheaper energy and stating it would buy $15 billion in Ukrainian bonds. Yanukovych was now on the bankster hit list, and the rest is history.
Russia has responded to the Ukrainian coup by sending troops into the Crimea to protect its mostly Russian-speaking population and the Black Sea Fleet. It was here 160 years ago where Catherine the Great launched a major campaign to seize the Crimea from Ottoman sultans.
During WWII ethnic Tatars in Crimea collaborated with Hitler in seizing the region briefly, before Stalin routed them and expelled the Tatar separatists. Many have since returned.
As this drama unfolds, look for the banksters' Western media tool to make up some "humanitarian crisis" involving the Tatars. There will be more trouble in Crimea.
But the Russians have responded swiftly, as has the alternative media. It ain't like the good old days, where bankster coups went unquestioned and unnoticed. The Ukrainian people will not stand for these fascists for long either. They saw the empty promises brought forth by the last bankster "event"- the Orange Revolution. They have experience in the field.
The demonic City of London Illuminati banksters may have unlimited time and money. But the people are awakening. The human spirit has unlimited potential. We are much closer to the beginning of this story than to the end.
Dean Henderson is the author of four books: Big Oil & Their Bankers in the Persian Gulf: Four Horsemen, Eight Families & Their Global Intelligence, Narcotics & Terror Network, The Grateful Unrich: Revolution in 50 Countries, Stickin' it to the Matrix, Das Kartell der Federal Reserve and The Federal Reserve Cartel.
Source: Dean Henderson
It's all too customary for those analyzing the crises humanity faces to associate climate change, aka global warming, with whatever proximate cause they postulate for our imminent demise. John Tirman, for instance, in his book 100 Ways America Is Screwing Up the World lists as the first way "Altering the Earth's Climate". Richard Heinberg of the Post Carbon Institute includes Climate along with Energy and Debt as the three problem areas which threaten our future. Nafez Mossadeq Ahmed, author of A User's Guide to the Crisis of Civilization, integrates climate change with the other crises he believes civilization faces: the financial meltdown, dwindling oil reserves, terrorism and food shortages. This linking of concrete, demonstrable societal ills with the less grounded, more debatable theory of global warming is an ill-considered, strategic mistake, I think, as I believe critics of the global warming theory, the so-called "deniers", are going to win the debate, at least for the near future. It would be a tragedy if valid, much-needed warnings about the dangers haunting our future were to be discredited because of their being tied to discredited fears about climate change.
Here's why I think this is likely to happen. The warming trend which the earth experienced in the thirty years before the turn of this century has virtually stopped. This "hiatus", as it is called, has been going on for over a decade and is likely to continue for another two. Check out this graph from the National Oceanic and Atmospheric Administration:
What do you see? I see a 60-year cycle in which a 30-year cooling period alternates with a 30-year warming period; to wit, from about 1880 to 1910 the mean global temperature went down, then from 1910 to 1940 the earth warmed up, then from 1940 to 1970, the earth cooled slightly, followed by the 30-year period from 1970 to 2000 when the earth warmed dramatically, and finally the dozen years from the turn of the century till now during which the mean temperature hasn't risen (the hiatus). Given that the concept of a mean global temperature is an artificial construct subject to error and manipulation, just looking at this graph what would you predict for the near future? Wouldn't you bet that for the next 20 years or so the earth is not going to get warmer, may even cool a bit?
If this does come to pass, what will be the consequence for the theory of global warming? Won't it be viewed with increasing skepticism by the pubic at large, at least until the next warming demi-cycle commences 20 years from now? Won't the discrediting of the global warming theory infect theories which have been linked to it? Are you willing to wait 20 years for your forewarnings of impending doom to be taken seriously?
Unless you have been following the issue as I have, you are probably not aware that the debate over the theory of global warming has been heating up (pardon the pun) of late, largely because of the prolonged global tepidness. If you believe the science is settled, consider that the "settled" science has generated a multiplicity of climate models which have done a terrible job of forecasting, invariably predicting warmer temperatures than what has actually occurred. If the science is so settled, why have global warming adherents only recently postulated that heat from the warming of the atmosphere is being absorbed by the oceans, their explanation for the hiatus? The models did not foresee this.What about that august body of climate scientists who comprise the UN's Intergovernmental Panel on Climate Change (IPCC), you ask. Just recently the IPCC certified once again – with 95% certainty (whatever that means) – that human activities are causing global warming? We are told that 1800 scientists arrived at this conclusion; but, if you look into it, you will find the majority of the scientists on the panel are not climatologists and some not scientists at all. One scientist who served on the IPCC's review committee called global warming fears the worst scientific scandal in history, predicting "When people come to know what the truth is, they will feel deceived by science and scientists."For one side in a debate to label the opposition "deniers" is a sleazy rhetorical gambit usually employed by the name-callers when they are losing the debate (equally true in the case of another group of iconoclasts routinely labeled "deniers", but that's a story for another day). Consider who some of these so-called "deniers" are:
Richard Lindzen, Professor of Meteorology at MIT
Fred Singer, Professor emeritus of environmental science at the University of Virginia
Roy Spencer, former NASA Senior Scientist for Climate Studies
Judith Curry, chair of the School of Earth and Atmospheric Sciences at Georgia Tech
Pat Michaels, past president of the American Association of State Climatologists
Do you really believe such people deny science?
Perhaps you believe such credentialed skeptics are in the pay of Big Oil. It's true that the global warming theory was once opposed by powerful interests who dominated the debate; but, when a former Vice President of the United States can win both an Academy Award and a Noble Prize for a highly tendentious film full of hyperbole and misinformation, you know there are powerful interests behind the global warming scare, too. If Big Oil has bought off the media, why is it that so many people are aware that sea ice in the Arctic shrank to its smallest extent in modern times in 2012 but not that sea ice in the Antarctic was expanding at the same time or that ice in the Arctic made its largest rebound ever last year, approaching the average for the last thirty years? Why is every extreme weather event – even blizzards– attributed to global warming when, in fact, extreme events like hurricanes, forest fires, tornados and even record high temperatures are less prevalent today than in the past?
I'm not a climatologist, so I'm neither inclined nor competent to expound on the science of global warming, but I do hope to have convinced you that the science surrounding global warming is far from settled and consequently to hitch your wagon to that fading star is not a good idea. Please, at least listen to what the skeptics have to say – for instance, by consulting the websites I've cited – before you link the fate of your own doleful prophecies to that of climate change.
Only Washington Knows Best…
The control freaks in Washington think that only the decisions that Washington makes and imposes on other sovereign countries are democratic. No other country on earth is capable of making a democratic decision.
The world has witnessed this American self- righteousness for eons as Washington overthrows one democratic government after the other and imposes its puppet, as Washington did in Iran in 1953 when the CIA, as it now admits, and as Ervand Abrahamian proves in his book The Coup (The New Press, 2013), overthrew the elected government of Mossadeq, and more recently the elected government of Honduras and many governments in between.
Currently Washington is working overtime to overthrow the governments of Syria, Iran again, and Ukraine. Washington has also targeted Venezuela, Bolivia, Ecuador, and Brazil, and in its wildest dreams the governments of Russia and China.
On January 26 Syrian government advisor Bouthaina Shaaban asked Wolf Blitzer, a propagandist for Washington and the Israel Lobby, on US TV why the US government, speaking through Secretary of Stare John Kerry, has the right to decide who is to be the government of Syria instead of the Syrian people. [Polls show that Syrian president Assad's approval ratings exceed those of every Western leader.] Even the slimy Blitzer wasn't slimy enough to answer, "because we are the exceptional, indispensable people." But that's what Washington thinks.
Washington will soon be back at work on destabilizing the government of Iran again, a habit I suppose, but for the moment Washington is focused on destabilizing Ukraine.
Ukraine has a democratically elected government, but Washington doesn't like it because Washington didn't pick it. The Ukraine or the western part of it is full of Washington funded NGOs whose purpose is to deliver Ukraine into the clutches of the EU where US and European banks can loot the country, as they looted, for example, Latvia, and simultaneously weaken Russia by stealing a large part of traditional Russia and converting it into US/NATO military bases against Russia.
Perhaps Putin, an athlete, is distracted by the Olympic Games in Russia. Otherwise, it is something of a puzzle why Russia hasn't put its nuclear missiles on high alert and occupied the western Ukraine with troops in order to prevent Ukraine's overthrow by Washington's money. Every country has citizens that will sell the country out for money, and western Ukraine is overflowing with such traitors.
As we have seen for decades, Arabs and Muslims will sell out their people for Western money. So will western Ukrainians. The NGOs financed by Washington are committed to delivering Ukraine into Washington's hands where Ukrainians can become American serfs and this integral part of Russia can become a staging ground for the US military.
Of all the violent protests that we have witnessed, the Ukrainian one is the most orchestrated.
On February 6,  Zero Hedge,  one of the intelligent and informed Internet sites, posted a leaked recording from the despicable Victoria Nuland, an Assistant Secretary of State in the Obama Regime. Nuland is caught discussing with the US envoy to Ukraine, Geoffrey Pyatt, Washington's choice for who heads the next Ukrainian government.
Nuland is incensed that the European Union has not joined Washington in imposing sanctions on the Ukrainian government in order to complete Washington's takeover of Ukraine. Nuland speaks as if she is God with the God-given right to select the government of Ukraine, which she proceeds to do.
The EU, as corrupt as it is by Washington's money, nevertheless understands being made rich by Washington is no protection agains Russian nuclear missiles. Nuland's response to Europe's hesitancy to risk its existence for the benefit of US hegemony is:
"Fuck the EU."
So much for Washington's attitude toward its captive allies and the peoples of the world.
Марионетки Майдана – "Puppets of Maidan"
Paul Craig Roberts was Assistant Secretary of the Treasury for Economic Policy and associate editor of the Wall Street Journal. He was columnist for Business Week, Scripps Howard News Service, and Creators Syndicate. He has had many university appointments. His internet columns have attracted a worldwide following. His latest book, The Failure of Laissez Faire Capitalism and Economic Dissolution of the West is now available.
Source: Paul Craig Roberts
The response from the NY Times to the following two exclusive submissions was the Auto-Reply that they were received.
For the next 12 Days before Christmas I will be TWEETING the short link to this post to the NY TIMES, such as this:
@nytimes
@nytimesworld
@NYTLive
@nytvideo
@nytwire
#BreakingNews
#Israel
#Vanunu and 12 Days Before #Christmas
I also will be TWEETING it to every Media outlet I can find at TWITTER; but first a little background:
I learned about Vanunu while researching my first historical novel and wrote him into the Chapter THANKSGIVING EVE 1987 
A few months later, I met Vanunu during my first of 8 journeys to both sides of The Wall in Israel Palestine and wrote that experience in the Chapter 16 Days in Israel Palestine

The last time I saw Vanunu was a week before Thanksgiving 2013:
One correction I have repeatedly addressed on the WWW is the legend of Cindy/Cheryl and the "honey trap":
When I asked Vanunu what he was thinking when he took off with Cindy, he maintained eye contact and readily replied,
"It wasn't like THAT-when Maxwell's paper published my photo without ever talking to me and some of the stolen Dimona photos with a very bad story against me, I knew the Mossad was after me. Cindy said she had a sister in Rome and I thought I would be safe there until I could return to London.
"We went to movies and art galleries. I trusted her.
"But, as soon as I got into the apartment, I was hit on the head and drugged. When I woke up and they took me for interrogation, they threw the Times article on the table and said, 'Look, what you did.' I was so relieved they had published it and that I had done what I did."
What 'Cindy' did was masquerade as an American beautician on holiday in London. In reality, 'Cindy' was the American Mossad agent, Cheryl Hanin Bentov who was using her sister-in-laws passport!
It is illegal under American-Israeli diplomatic protocols for the Mossad to operate in America.
MY Submissions to The New York Times:
Nov. 6, 2013
oped@nytimes.com,
  publiceditor@nytimes.com,
  letters@nytimes.com,
  opinion.video@nytimes.com,
  editorial@nytimes.com,
 opinion@nytimes.com
Dear New York Times,
As the current leader of the International Cause dedicated to help free Mordechai Vanunu, I am informing you of Mordechai Vanunu's mid December Appeal.
On 6 December, Vanunu wrote: "Court hearing against the restrictions not to leave Israel, schedule hearing in the Supreme court will be Dec' 16, 2013. The same Appeal was in 2004, 2005, 2006, 2008, 2009, 2010 and 2011. The court can send me free and end all this case from 1986-2013."
In 1986, Israel kidnapped Vanunu from Rome and after a closed door trial, convicted him of espionage and treason. 

Although released on 21 April 2004, Israel has denied Vanunu the right to  "get on the first plane out of here."
In 1985, Vanunu suffered a crisis of conscience, when he realized he was "a bolt" in the manufacturing of WMD.
After a supervisor carelessly left the keys in the shower room, Vanunu seized his opportunity to document top secret locations within Israel's 7-story underground nuclear facility and he spent a few intense hours doing just that!
View Vanunu's photos of the Dimona at his YouTube Channel:

A few months later, Vanunu leaves Israel and travels throughout Europe with the two rolls of undeveloped film. 

After meeting Peter Hounam, a reporter for the London Sunday Times, Vanunu shares all he knew in his position as a mid-level technician and the two develop the film.
A total of 1,200 pages of transcript of Vanunu's closed door trial have been released.
Defense witness Peter Hounam stated, "We did not pay him money, but only covered his expenses…Money did not motivate him."
During my conversations with Vanunu beginning in 2005, he told me:

"All the secrets I had were published in 1989 in an important book, by [Nuclear Physicist] Frank Barnaby, The Invisible Bomb: Nuclear Arms Race in the Middle East."
Barnaby testified, "I found Vanunu very straightforward about his motives for violating Israel's secrecy laws he explained to me that he believed that both the Israeli and the world public had the right to know about the information he passed on. He seemed to me to be acting ideologically.

"Israel's political leaders have, he said, consistently lied about Israel's nuclear-weapons programme and he found this unacceptable in a democracy. 
"The knowledge that Vanunu had about Israel's nuclear weapons, about the operations at Dimona, and about security at Dimona could not be of any use to anyone today. He left Dimona in October 1985."

Vanunu also told me:

"Did you know that President Kennedy tried to stop Israel from building atomic weapons? In 1963, he forced Prime Minister Ben Guirion to admit the Dimona was not a textile plant, as the sign outside proclaimed, but a nuclear plant. The Prime Minister said, 'The nuclear reactor is only for peace.'
"Kennedy insisted on an open internal inspection. He wrote letters demanding that Ben Guirion open up the Dimona for inspection.
"The French were responsible for the actual building of the Dimona. The Germans gave the money; they were feeling guilty for the Holocaust, and tried to pay their way out.
"When Johnson became president, he made an agreement with Israel that two senators would come every year to inspect. Before the senators would visit, the Israelis would build a wall to block the underground elevators and stairways. From 1963 to '69, the senators came, but they never knew about the wall that hid the rest of the Dimona from them.
"Nixon stopped the inspections and agreed to ignore the situation. As a result, Israel increased production. In 1986, there were over two hundred bombs. Today, they may have enough plutonium for ten bombs a year."
Contact Vanunu through his website HERE
Most sincerely.
Eileen Fleming ###

November 9, 2013
opinion@nytimes.com,
  editorial@nytimes.com,
 roomfordebate@nytimes.com,
  opinion.video@nytimes.com,
 public@nytimes.com
Dear New York Times,
Photo of Mordechai Vanunu, by me 24 November 2013, east Jerusalem.
As the current leader of the international cause dedicated to free Mordechai Vanunu I write to alert you that on 9 December, Vanunu wrote:
"Changes in date, Court hearing against the restrictions not to leave Israel, schedule hearing in the Supreme court will be Dec' 25, 2013, moved from the Dec' 16, the same Appeal was 2004, 2005, 2006, 2008, 2009, 2010 and 2011. The court can send me free and end all this case from 1986-2013."
The restrictions that have subjected Vanunu to 24/7 surveillance [his movements, phone calls and emails] since he emerged from 18 years behind bars on 21 April 2004, come from the Emergency Defense Regulations, which were implemented by Britain against Palestinians and Jews after World War II.
Attorney Yaccov Shapiro, who later became Israel's Minister Of Justice, described the Emergency Defense Regulations as "unparalleled in any civilized country: there were no such laws in Nazi Germany."
View Vanunu moments after emerging from 18 years behind bars:
On 2 October 2009, The Washington Times reported that President Obama agreed to keep Israel's nukes 'secret' and reaffirmed a 4-decade-old understanding that has allowed Israel to keep a nuclear arsenal without opening it to international inspections.
Three officials spoke on the condition that they not be named because they were discussing private conversations, but all said Obama pledged to maintain the agreement when he first hosted Israeli Prime Minister Benjamin Netanyahu at the White House in May 2009.
On 24, November 2006, Vanunu wrote:
"My lawyer succeeded to reveal a few very important facts: This General of the Army also was not allowed to see all the secrets that he is required to protect by these restrictions that they claim I know them. So, he gave orders of restrictions without knowing what he is protecting or that he is also following orders blindly, and Mossad Sheen Bet using its authority for just punishing me.
"He testified that it is not a crime for me to talk with foreigners in general anywhere. He testified that I can speak freely to any Israeli citizens about anything; it is not his concern what I am saying to them. These Israelis can give this information to any foreigners. It was difficult for the Judge to understand why this dichotomy exits between foreigners and Israelis. It means that it is not about secrecy but about something else."
In 2004, Yossi Melman wrote for Haaretz:
"This is the secret that hasn't yet been told in the affair: the story of the security fiasco that made it possible for Vanunu to do what he did, and the story of the subsequent attempts at cover-up, whitewashing and protection of senior figures in the defense establishment, who were bent on divesting themselves of responsibility for the failure."
Will the New York Times shine a light on Israel's Nuclear Whistle Blower's nearly 10 year struggle for freedom from Israel before his Christmas Day appeal?
Most sincerely,
Eileen Fleming
The NBC star tells his viewers that Iranian leaders are 'suddenly claiming they don't want nuclear weapons', even though they've been saying it for years…
There is ample reason for skepticism that anything substantial will change in Iran-US relations, beginning with the fact that numerous US political and media figures are vested in the narrative that Iran is an evil threat whose desire for a peaceful resolution must not be trusted (and some hard-line factions in Iran are similarly vested in ongoing conflict). Whatever one's views are on the prospects for improving relations, the first direct communications in more than 30 years between the leaders of those two countries is a historically significant event.
Here is what NBC News anchor Brian Williams told his viewers about this event when leading off his broadcast last night, with a particularly mocking and cynical tone used for the bolded words:
This is all part of a new leadership effort by Iran – suddenly claiming they don't want nuclear weapons! ; what they want is talks and transparency and good will. And while that would be enough to define a whole new era, skepticism is high and there's a good reason for it."
Yes, Iran's claim that they don't want nuclear weapons sure is "sudden" – if you pretend that virtually everything that they've said on that question for the past ten years does not exist. Here, for instance, is previous Iranian president Mahmoud Ahmadinejad in an August 13, 2011, interview:
"Q: 'Are you saying that at some point in the future you may want to acquire a nuclear deterrent, a nuclear weapon?'
"Ahmadinejad: 'Never, never. We do not want nuclear weapons. We do not seek nuclear weapons. This is an inhumane weapon. Because of our beliefs we are against that.

"Firstly, our religion says it is prohibited. We are a religious people. Secondly, nuclear weapons have no capability today. If any country tries to build a nuclear bomb, they in fact waste their money and resources and they create great danger for themselves. . . .

"Nuclear weapons are the weapons of the previous century. This century is the century of knowledge and thinking, the century of human beings, the century of culture and logic. . . . Our goal in the country and the goal of our people is peace for all. Nuclear energy for all, and nuclear weapons for none. This is our goal.

"All nuclear activities in Iran are monitored by the IAEA. There have been no documents against Iran from the agency. It's just a claim by the US that we are after nuclear weapons. But they have no evidence that Iran is diverting resources to that purpose."
In fact, the country's supreme leader, Ayatollah Ali Khamenei, issued a 2005 religious edict banning the pursuit of nuclear weapons, and in January of this year, Iranian official Ramin Mehmanparast declared: "There is nothing higher than the exalted supreme leader's fatwa to define the framework for our activities in the nuclear field." He added: "We are the first country to call for a Middle East free of nuclear weapons. When the highest jurist and authority in the country's leadership issues a fatwa, this will be binding for all of us to follow. So, this fatwa will be our top agenda."
The following month, Khamenei himself said: "We believe that nuclear weapons must be eliminated. We don't want to build atomic weapons." The New York Times noted that "American officials say they believe that Ayatollah Khamenei exercises full control over Iran's nuclear program."
These are identical to the statements top Iranian officials have been making for years. In 2012, Khamenei "insisted his country was not seeking nuclear weapons, claiming that 'holding these arms is a sin as well as useless, harmful and dangerous.'" The following month, Iran's top leader gave what Professor Juan Cole described at the time as "a major foreign policy speech" and said:
The Iranian nation has never pursued and will never pursue nuclear weapons. There is no doubt that the decision makers in the countries opposing us know well that Iran is not after nuclear weapons because the Islamic Republic, logically, religiously and theoretically, considers the possession of nuclear weapons a grave sin and believes the proliferation of such weapons is senseless, destructive and dangerous."
Can that be any more absolute? Iran's top leadership has been making similarly unambiguous statements for almost a full decade, even taking out a full page ad in the New York Times in 2005 to counter the growing clamor in the US for a military attack by proclaiming that Iran had no desire for nuclear weapons, was not pursuing them, and wanted transparency, accountability and peace – exactly what Brian Williams told his viewers last night was a "sudden" and newfound claim.
Obviously, the fact that Iran claims it does not want nuclear weapons is not proof that it is not seeking them or will not seek them at some point in the future; all government statements should be subjected to skepticism (and one can only dream of the day when US media stars subject the statements of their own government to the same skepticism accorded to those of leaders of non-allied countries). But what is true is that US intelligence agencies have repeatedly though secretly concluded that they do not believe that Iran is building a nuclear weapon, and even top Israeli military officials have expressed serious doubts that Iran is building, or will build, a nuclear weapon.
But whether Iran is sincere is an entirely separate question from the one about which Williams radically misled his viewers last night. While Iran's actual intentions regarding nuclear weapons may be debatable, the fact that they have repeatedly and over the course of many years emphatically disclaimed any interest in acquiring nuclear weapons is not debatable. It is indisputable fact that they have done exactly that. There is nothing new or "sudden" about this claim.
To the contrary, Iran has been trying to make Americans hear for years that they have no interest in nuclear weapons. Indeed, they have repeatedly made clear that they have not only banned such weapons but favor region-wide nuclear disarmament, including of Israel's vast nuclear arsenal, which actually exists. It is Israel, not Iran, which has steadfastly refused to allow inspections of its nuclear arsenal (despite UN demands they do so) or to join the NPT or other conventions designed to monitor and regulate nuclear weapons.
But these facts have been excluded almost entirely from the dominant US media narrative for years. The fact that Iran, at its highest leadership levels, has repeatedly and unequivocally disavowed any interest in nuclear weapons is something that most Americans simply don't know, because the country's media stars have barely ever mentioned it. Brian Williams himself was either ignorant of this history, or chose to pretend last night that it did not happen when framing this historic event for his viewers.
Whichever of those two options is true, NBC News feels free to spout such plainly false propaganda – "suddenly claiming they don't want nuclear weapons!" – because they know they and fellow large media outlets have done such an effective job in keeping their viewers ignorant of these facts. They thus believe that they can sow doubts about Iran's intentions with little danger that their deceit will be discovered. Many NBC News viewers have likely never heard before that Iran has emphatically claimed not to want nuclear weapons and have even formally banned them, and thus are easily misled into believing Williams when he tells them that these current claims represent some "sudden", inexplicable, and bizarre reversal that are not to be trusted.
Source: The Guardian
Washington has been at war for 12 years. According to experts such as Joseph Stiglitz and Linda Bilmes, these wars have cost Americans approximately $6 trillion, enough to keep Social Security and Medicare sound for years. All there is to show for 12 years of war is fat bank balances for the armament industries and a list of destroyed countries with millions of dead and dislocated people who never lifted a hand against the United States.
The cost paid by American troops and taxpayers is extreme. Secretary of Veteran Affairs Erik Shinseki reported in November 2009 that "more veterans have committed suicide since 2001 than we have lost on the battlefields of Iraq and Afghanistan." Many thousands of our troops have suffered amputations and traumatic brain injuries. At the Marine Corps War College Jim Lacey calculated that the annual cost of the Afghan war was $1.5 billion for each al-Qaeda member in Afghanistan. Many US and coalition troops paid with their lives for every one al-Qaeda member killed. On no basis has the war ever made sense.
Washington's wars have destroyed the favorable image of the United States created over the decades of the cold war. No longer the hope of mankind, the US today is viewed as a threat whose government cannot be trusted.
The wars that have left America's reputation in tatters are the consequence of 9/11. The neoconservatives who advocate America's hegemony over the world called for "a new Pearl Harbor" that would allow them to launch wars of conquest. Their plan for conquering the Middle East as their starting point was set out in the neoconservative "Project for the New American Century." It was stated clearly by Commentary editor Norman Podhoretz and also by many neoconservatives.
The neocon argument boils down to a claim that history has chosen "democratic capitalism" and not Karl Marx as the future. To comply with history's choice, the US must beef up its military and impose the American Way on the entire world.
In other words, as Claes Ryn wrote, the American neoconservatives are the "new Jacobins," a reference to the French Revolution of 1789 that intended to overthrow aristocratic Europe and replace it with "Liberty, equality, fraternity," but instead gave Europe a quarter century of war, death, and destruction.
Ideologies are dangerous, because they are immune to facts. Now that the United States is no longer governed by the US Constitution, but by a crazed ideology that has given rise to a domestic police state more complete than that of Communist East Germany and to a warfare state that attacks sovereign countries based on nothing but manufactured lies, we are left with the irony that Russia and China are viewed as constraints on Washington's ability to inflict evil, death, and destruction on the world.
The two pariah states of the 20th century have become the hope of mankind in the 21st century!
As Oliver Stone and Peter Kuznick prove in their book, The Untold History of the United States, the American government has never deserved its white hat reputation. Washington has been very successful in dressing up its crimes in moralistic language and hiding them in secrecy. It is only decades after events that the truth comes out.
For example, on August 19, 1953, the democratically elected government of Iran was overthrown by a coup instigated by the US government. Sixty years after the event declassified CIA documents detail how the secret CIA operation overthrew a democratic government and imposed Washington's puppet on the people of Iran.
The declassified documents could not have spelled it out any clearer: "The military coup that overthrew Mossadeq and his National Front cabinet was carried out under CIA direction as an act of U.S. foreign policy, conceived and approved at the highest levels of government."http://www.cnn.com/2013/08/19/politics/cia-iran-1953-coup 
In the 21st century Washington is attempting to repeat its 1953 feat of overthrowing the Iranian government, this time using the faux "green revolution" financed by Washington.
When that fails, Washington will rely on military action.
If 60 years is the time that must pass before Washington's crimes can be acknowledged, the US government will admit the truth about September 11, 2001 on September 11, 2061. In 2013, on this 12th anniversary of 9/11, we only have 48 years to go before Washington admits the truth. Alas, the members of the 9/11 truth movement will not still be alive to receive their vindication.
But just as it has been known for decades that Washington overthrew Mossadeq,
we already know that the official story of 9/11 is hogwash.
No evidence exists that supports the government's 9/11 story. The 9/11 Commission was a political gathering run by a neoconservative White House operative. The Commission members sat and listened to the government's story and wrote it down. No investigation of any kind was made. One member of the Commission resigned, saying that the fix was in. After the report was published, both co-chairmen of the Commission and the legal counsel wrote books disassociating themselves from the report. The 9/11 Commission was "set up to fail," they wrote.
NIST's account of the structural failure of the twin towers is a computer simulation based on assumptions chosen to produce the result. NIST refuses to release its make-believe explanation for expert scrutiny. The reason is obvious. NIST's explanation of the structural failure of the towers cannot survive scrutiny.
There are many 9/11 Truth organizations whose members are high-rise architects,
structural engineers, physicists, chemists and nano-chemists, military and civilian airline pilots, firemen and first responders, former prominent government officials, and 9/11 families. The evidence they have amassed overwhelms the feeble official account.
It has been proven conclusively that World Trade Center Building 7 fell at free fall which can only be achieved by controlled demolition that removes all resistance below to debris falling from above so that no time is lost in overcoming resistance from intact structures. NIST has acknowledged this fact, but has not changed its story.
In other words, still in America today official denial takes precedence over science and
known undisputed facts.
On this 12th anniversary of a false flag event, it is unnecessary for me to report the voluminous evidence that conclusively proves that the official story is a lie. You can read it for yourself. It is available online. You can read what the architects and engineers have to say. You can read the scientists' reports. You can hear from the first responders who were in the WTC towers. You can read the pilots who say that the maneuvers associated with the airliner that allegedly hit the Pentagon are beyond their skills and most certainly were not performed by inexperienced pilots.
You can read David Griffin's many books. You can watch the film produced by Richard Gage and Architects & Engineers for 9/11 truth. You can read the 9/11 Toronto Report, International Hearings on 9/11. http://www.amazon.com/9-11-Toronto-Report/dp/1478369205/ref=sr_1_1?s=books&ie=UTF8&qid=1376960447&sr=1-1&keywords=The+Toronto+Report You can read this book: http://www.international.to/index.php?option=com_content&view=article&id=9319:hijacking-americas-mind-on-911-counterfeiting-evidence&catid=66:oped&Itemid=151
Actually, you do not need any of the expert evidence to know that the US government's story is false. As I have previously pointed out, had a few young Saudi Arabians, the alleged 9/11 hijackers, been capable of outwitting, without support from any government and intelligence service, not only the CIA and FBI, but all sixteen US intelligence services, the intelligence services of Washington's NATO allies and Israel's Mossad, the National Security Council, NORAD, the Joint Chiefs of Staff, Air Traffic Control, and defeat Airport Security four times in one hour on the same morning, the White House, Congress, and the media would have been demanding an investigation of how the National Security State could so totally fail.
Instead, the President of the United States and every government office fiercely resisted any investigation. It was only after a year of demands and rising pressure from the 9/11 families that the 9/11 Commission was created to bury the issue.
No one in government was held accountable for the astonishing failure. The national security state was defeated by a few rag tag Muslims with box cutters and a sick old man dying from renal failure while holed up in a cave in Afghanistan, and no heads rolled.
The total absence from the government for demands for an investigation of an event that is the greatest embarrassment to a "superpower" in world history is a complete give-away that 9/11was a false flag event. The government did not want any investigation, because the government's cover story cannot stand investigation.
The government could rely on the mega-media corporations in whose hands the corrupt Clinton regime concentrated the US media. By supporting rather than investigating the government's cover story, the media left the majority of Americans, who are sensitive to peer pressure, without any support for their doubts. Effectively, the American Ministry of Propaganda validated the government's false story.
Common everyday experiences of Americans refute the government's story. Consider, for example, self-cleaning ovens. How many American homes have them? Thirty million? More? Do you have one?
Do you know what temperature self-cleaning ovens reach? The self-cleaning cycle runs for several hours at 900 degrees Fahrenheit or 482 degrees Celsius. Does your self-cleaning oven melt at 482 degrees Celsius. No, it doesn't. Does the very thin, one-eighth inch steel soften and your oven collapse? No, it doesn't.
Keep that in mind while you read this: According to tests performed by NIST (National Institute of Standards and Technology), only 2% of the WTC steel tested by NIST reached temperatures as high as 250 degrees Celsius, about half the temperature reached by your self-cleaning oven. Do you believe that such low temperatures on such small areas of the WTC towers caused the massive, thick, steel columns in the towers to soften and permit the collapse of the buildings? If you do, please explain why your self-cleaning oven doesn't weaken and collapse.
In Section E.5 of the Executive Summary in this NIST reporthttp://www.nist.gov/customcf/get_pdf.cfm?pub_id=101019 it says: "A method was developed using microscopic observations of paint cracking to determine whether steel members had experienced temperatures in excess of 250 degrees C. More than 170 areas were examined . . . Only three locations had a positive result indicating that the steel and paint may have reached temperatures in excess of 250 degrees C." Analysis of steel "microstructures show no evidence of exposure to temperatures above 600 degrees C for any significant time."
In section 3.6 of the NIST report http://www.nist.gov/customcf/get_pdf.cfm?pub_id=860495NIST states: "NIST believes that this collection of steel from the WTC towers is adequate for purposes of the investigation."
How did these truths get out? My explanation is that the NIST scientists, resentful of the threat to their jobs and future employment opportunities and chaffing under the order to produce a false report, revealed the coerced deception by including information that their political masters did not understand. By stating unequivocally the actual temperatures, NIST's scientists put the lie to the coerced report.
The melting point of steel is around 1,500 degrees C. or 2,600 degrees F. Steel can lose strength at lower temperatures, but the NIST scientists reported that only a small part of the steel was even subjected to moderate temperatures less than those obtained by the self-cleaning oven in your home.
If you need to think about this a bit more, obtain a copy of The Making of the Atomic Bomb by Richard Rhodes. Have a look at the streetcar in photo 108. The caption reads: "The Hiroshima fireball instantly raised surface temperatures within a mile of the hypocenter well above 1,000 degrees F." Is the streetcar a melted lump of steel? No, it is structurally intact, although blackened with burnt paint.
Washington would have you believe that steel that survived intact the atomic bomb would melt from low temperature, short lived, isolated office fires. What do you think of a government that believes that you are that stupid?
Who would support a government that lies every time it opens its mouth?
The three WTC buildings that were destroyed were massive heat sinks. I doubt that
the limited, short-lived, low temperature fires in the buildings even warmed the massive steel structures to the touch.
Moreover, not a single steel column melted or deformed from softening. The columns
were severed at specific lengths by extremely high temperature charges placed on the columns.
On this 12th anniversary of 9/11, ask yourself if you really want to believe that temperatures half those reached by your self-cleaning oven caused three massive steel structures to crumble into dust.
Then ask yourself why your government thinks you are so totally stupid as to believe such a fairy tale as your government has told you about 9/11.
Source: Paul Craig Roberts
I think it's true to say that the days of creating 'dodgy dossiers'(pdf)[1] are now over, at least if the latest 'dodgy report' is anything to go by. Put out by the UK's Joint Intelligence Committee, it purports to offer proof that Assad gassed his own people. But aside from the fact that it offers not a shred of proof, it's also amateurish and clearly put together in a panic.
We…have a limited but growing body of intelligence which supports the judgement that the regime was responsible for the attacks and that they were conducted to help clear the Opposition from strategic parts of Damascus. Some of this intelligence is highly sensitive but you have had access to it all. – UK Joint Intelligence Organisation, 29 August 2013
The 'intelligence' report (pdf) is short, barely two pages of text and short not only in size, it's also short of any real content that backs up the mantra,'Assad, the brutal dictator did it'. Not a single fact is presented. Here are are the relevant 'proofs' offered by the JIC's report:
JIC assessment of 27 August on Reported Chemical Weapons use in DamascusIt is not possible for the opposition to have carried out a CW attack on this scale. The regime has used CW on a smaller scale on at least 14 occasions in the past. There is some intelligence to suggest regime culpability in this attack.
Run this past me again? "It is not possible for the opposition to have carried out a CW attack on this scale", ergo, it must have been Assad. This is evidence? It's a pathetic, not to say ludicrous attempt and obviously hastily assembled from thin air. Aside from anything else, it's just not true, there is definitive proof that the 'rebels' had sarin gas.
Then the 'report' resorts to using the numerous videos to be found on Youtube as somehow proof that Assad used toxic gas on its citizens but again the videos don't show who did it, how could they?
Extensive video footage attributed to the attack in eastern Damascus (which we assess would be very difficult to falsify) is consistent with the use of a nerve agent, such as sarin, and is not consistent with the use of blister or riot control agents. – JIC Report
This 'report' is pure hokum. After you take away all the padding which constitutes 90% of the document, there's nothing left except the allegation that because the 'rebels' couldn't have done it, it had to be Assad.
I suspect that the political class here (and in the US) really didn't expect to have so much trouble convincing people to support more Anglo-Saxon slaughter and got caught off-guard as it were, hence the paucity of the document, rushed out in a few days and aside from an alleged Syrian Army conversation (see below), nothing at all to work with.
Ok, I think I've dispensed with the disinfo put out by the UK Cabinet Office, it doesn't amount to much. But I suppose the time constraints imposed by Cameron jumping the gun, all gung ho to kill some more 'rag-heads', forced the Empire's hand.
The Israeli connection
To understand how this false flag operation got started we need to go back to the first article published on the debkafile website 21 August 2013.
Syrian opposition activists report between 200 and 650 dead and hundreds more wounded in a poison gas strike by Bashar Assad's forces on rebel-held areas of eastern Damascus. They claim nerve gas canisters were dropped by Syrian Air Force fighter planes which were seen flying over the area after the attack, the most extensive reported till now. Their claim has not been verified. The regime denied the accusation, saying there was "no truth whatsoever" in reports that chemical gas was used near Damascus, and maintaining over state television that the Syrian army was conducting a conventional attack on rebel positions south and east of Damascus. –  'Reported Syrian gas attack killing hundreds after first US-trained rebel incursion from Jordan', debkafile, 21 August 2013 (my emph. WB)
The gas attack, according to debka was actually just part of a three-pronged attack (masterminded in Tehran), carried out to counter a major incursion from Jordan, commanded by US personnel, into Syria, in order to extend the Israeli-imposed 'buffer zone' between Syria and the occupied Golan Heights.[2]
debkafile reports exclusively that Assad is acting to counter the first organized incursion of US-trained Syrian rebels from Jordan into southern Syria. The first group of 250 rebels, trained in special operations tactics by US and Jordanian instructors, entered Syria Saturday, Aug. 17, armed with weapons of Russian provenance supplied by the US and Saudi Arabia.

They are fighting under US and Jordanian commanders based in the Hashemite Kingdom.
A second group of 300 fighters crossed into Syria from Jordan Monday.

They are linking up with local rebel groups chosen from amongst those with no ties with the jihadist Jabhat al-Nusra (Al Qaeda in Syria).

According to our military sources, the rebel units are advancing at speed along the Syrian-Israeli border. They have forced the Syrian brigades posted there into retreating from positions inside a strip of 1-25 kilometers from the border, and captured the villages of Raihaniya, Breiqa and Beer Ajam.

This tactic has moved the Syrian army back from the area opposite the Israeli Golan, and started marking out a buffer zone between Israeli and Syrian forces in the Horan province.
/../

This Jordan-based rebel offensive was launched shortly after Gen. Martin Dempsey, Chairman of the Joint US Chiefs of Staff, visited US forces in Jordan and inaugurated the underground US war room near Amman for commanding the operation in Syria.

Syrian ruler Bashar Assad has more than once declared that if the Syrian capital Damascus came under threat, he would resort to chemical warfare and the entire Middle East including Israel would go up in flames. For now, his army is fighting to keep the rebels from taking control of southern Syria. –ibid
Enter the Dragon – sorry Tehran
But by 24 August, the situation had changed and so had debka's story. Now the poison gas shells were,
…fired from the big Mount Kalmun army base south of Damascus, one of the three repositories of Syria's chemical weapons. In response to a demand from Moscow last December, Assad collected his chemical assets in three depots. The other two are Dummar, a suburb 5 kilometers outside Damascus, and the Al-Safira air base, west of Aleppo. – 'The sarin shells fired on Damascus – by Syrian 4th Division's 155th Brigade – were followed by rockets on Israel and car bombings in Lebanon', debkafile, 24 August 2013
And here comes the alleged Iranian connection,
Israeli Prime Minister Binyamin Netanyahu commented Thursday, Aug. 22 that Iran is using Syria as its testing ground while closely monitoring international responses to its actions [like gassing hundreds of people?].
The debka piece continues,
debkafile's military sources affirm that, just as the Assad brothers orchestrated the chemical shell attack on Syrian civilians, so too did Hizballah's leader Hassan Nasrallah set in motion the rocket attack on Israel.

/../

Then, on Friday night, two car bombs blew up outside Sunni mosques in the northern Lebanese town of Tripoli, killing 42 people and injuring 500.

The triple coordinated outrages added up to a dire warning from Tehran and Damascus about what they have in store for the region, and especially Syria's neighbors, as payback for foreign intervention in the Syrian civil war. – ibid
Then there's that conversation…
Then we have the 'evidence' leaked separately to Focus magazine in Germany, also from Mossad which I've dealt with elsewhere, concerning the alleged Israeli monitoring of Syrian communications. Remember all of this 'intelligence' originates with Mossad, Israel's intelligence agency, no matter that it's repeated by other, Western governments as 'their' intelligence.
As I noted before, this monitored communication is interesting because apparently, the Israeli 8200 intelligence unit only started listening after the bombs/missiles had been launched. And why wait three days to inform the world (Focus published the story on the 24 August)? And given that Syria is on a knife edge, why not release these recordings now? (And we are still waiting for the US' declassified report that we should have had yesterday, the 29 August, why the delay?)
It's all hearsay; talk of a panicked army officer, the implication being that it was a 'rogue' soldier wot did it? No identities, it's all conveniently left vague. Not exactly a smoking gun. And I think it explains why the political class on both sides of the (polluted) pond are all stirred up and agitated.For once, they've not been able to to get their way, yet…
So there we have it, all the essential elements of a false flag operation, initiated by Mossad but with the obvious collusion of the US and possibly even the UK, that used the media to insert the story 'sideways', first via debka and Focus, followed by Ynet, the Times of Israel and then the leap across to the UK Guardian and all points West.
But clearly, what started as a military/psyops campaign centred around the Golan Heights and designed to drag Iran into it, rapidly morphed into something far larger, perhaps because whoever was responsible for the carnage, 'overcooked' it and killed far too many people?[3] But the change does explain much about the nature of the propaganda campaign and how the story has 'evolved'.
But the fact that the Empire is not lobbing cruise missiles in Syria's direction just yet is a temporary victory for the forces of progress. Moreover, I think independent journalism is starting to have some impact on events, perhaps at last we can begin to think about neutralising or effectively countering the MSM and the state's massive propaganda onslaught, especially if it's as badly managed as this one has been.
Notes
1. It was more than ten years ago when Tony Blair, his spin doctor and MI5 cooked up the Dodgy Dossier that formed the basis for the invasion of Iraq in March 2003.
2. Could this have anything to do with extending the occupied Golan Heights, the illegal drilling for oil by Israel on Syrian territory?
Genie Energy (NYSE: GNE, GNEPRA), said today that the government of Israel has awarded its subsidiary, Genie Israel Oil and Gas, Ltd., an exclusive petroleum exploration license covering 396.5 square kilometers in the Southern portion of the Golan Heights, and look who at who are on the board: Dick Cheney, Rupert Murdoch, and Lord Jacob Rothschild. See: 'Israel has granted oil exploration rights inside Syria, in the occupied Golan Heights' by Craig Murray, Global Research, 21 February 2013
3. There are reports that allude to this here, and here.
Source: William Bowles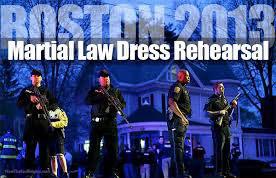 We have grown accustomed to the tyranny at the Federal level. The CIA is the most efficient organized criminal operation on the planet. The spy tactics of the NSA would make the East German Stasi green with envy. With the NSA watching our every move, nobody should feel safe for fear of being branded an enemy of the state. Even journalists are feeling the brunt of the new found bravado of the globalists. The systematic murders of journalists such as Andrew Breitbart and Michael Hastings for getting "too close" are stark reminders that our republic democracy is a facade and has degenerated into a wolf in sheep's clothing.
Where the Federal government and the existence of their confederate secret societies such as the Council on Foreign Relation and the Trilateral Commission, were once denied, they are now fully admitted to and championed as the true rulers of this country.
Trilaterals Over Washington
I remember back in 1979 when I was given the book Trilaterals Over Washington which was co-authored by Anthony Sutton and Patrick Wood, that I was horrified that such a small group of men could control such vast resources and do so much harm to humanity. My admitted surprise speaks to my level of ignorance at that time. I was a budding researcher at the time and I had a ravenous appetite to learn more about these Constitutional usurpers. What I discovered was that Sutton and Wood's book was largely a standalone piece. Of course there was the classic None Dare Call It a Conspiracy, by Gary Allen, and there was that one article in 1977 in Atlantic Monthly which mentioned the Trilateral Commission, but debunked the conspiratorial angle.
The media was postured in such a way, in that day, that if anyone mentioned the Council on Foreign Relations and the Trilateral Commission, you were marginalized and ridiculed. Today, we are witnessing a complete reversal in government secrecy as it relates to their participation in global tyranny and the installation of a police state surveillance grid.The destruction of this country is totally being done in stealth, but things have changed.
Why Are the Misdeeds of the CIA Out In the Open?
Indeed, the veil of NWO secrecy has been stripped away. The CIA is admitting past transgressions from as far back as 60 year ago when modern Iranianhistory took a critical turn when the CIA backed coup overthrew the overthrew the country's prime minister, Mohammed Mossadegh. True to their mafia nature, the CIA never admits to anything. Does this mean that they are turning over a new leaf and are submitting to a new era of agency transparency and accountability? Not really, when the CIA admits to their complicit behavior of running drugs for guns in the Iran-Contra Affair and setting up the cocaine gangs and started the drug war in LA in the 1980′s to fund and facilitate Iran Contra, I might take their "open disclosure intentions" more seriously. And when the CIA admits its role in the murder of JFK, then I might begin to cut some slack to what has been the most virulent organized criminal organization in the world. And when CIA director Brennan, admits to having award winning journalist Michael Hastings murdered, then maybe I will take a serious look at considering that the CIA is entering into a new era of openness.
Did Obama Actually Fulfill One of His Campaign Promises?
Some would argue that there is a new era of transparency that is emanating from Washington D.C. and that Obama is finally making good on his campaign promise to oversee the most transparent organization in the history of the country? Not in a pig's eye. We are not witnessing a new age of accountability, we are watching the unveiling of in-your-face tyranny.
Fear and Intimidation Is the Objective
Didn't you get the message that tyranny is out of the closet and is being placed firmly in the faces of the American public? The globalists are sending a clear message, "Fear Us!" Their intent is to frighten and intimidate the public into believe that resistance is futile.
Recently, the NSA revealed that they spied upon innocent Americans by intercepting an unspecified number of emails. Of course, the NSA said that this was an "accident." The accident aspect of the story is not believable, however, the objective was achieved with the revelation: "Be afraid America, very afraid, we are watching everything you do."
Nowhere is the in-your-face-tyranny more prevalent than in the today's law enforcement agencies as we have witnessed the militarization of the police which are now designed to harass and intimidate.
The Overt Militarization of the Police
As we witness the unfolding of the extreme militarization of the police, the American public is increasingly being subjected to heinous, Gestapo and KGB types of crimes being committed against innocent American citizens.
Recently, in Phoenix, stunned neighbors watched as mentally disturbed Michael Ruiz, who was having a mental heath episode on the roof of his apartment building, was choked and tasered while one of the assailing cops chanted the familiar refrain: "Stop resisting! Stop resisting!" The assailing cops then shackled Ruiz's hands and feet, and dragged him down the stairs without supporting his head. Ruiz's unsupported head struck every one of the concrete stairs on the way down. By the time Ruiz reached the parking, he was murdered by the shock troops of the Phoenix Police Department. Ruiz was declared brain-dead at nearby St. Joseph's hospital. The police attempted to cover up their thuggish behavior by confiscating all the cell phones and cameras that they could find. However, these criminal police did not get all of them.
Alejandro Gonzalez surrendered in San Jose on January 10, 2011. The 22-year-old was the suspect in a non-fatal shooting that had taken place on New Year's Day at a local bar called the Mucky Duck.
A multi-agency SWAT team invaded the home of 31-year-old Rogelio Serrato, Jr. Serrato, who was known as Roger to friends and family, and was not a suspect in the shooting. He was thought to have been harboring Gonzalez, which he was not. The police swat team threw in a flash grenade to his home, thus setting the house on fire and Serrato subsequently was killed.
Monterey County agreed to a $2.6 million settlement with Serrato's family, which was paid by the county's insurance carrier and absolves the sheriff's office of legal responsibility while praising the actions of the arresting officers.
Who will ever forget the aftermath of the Boston Marathon Bombing? The show of force following the event was unwarranted and unprecedented as the police were given a script to follow by the Federal government and local officers performed their martial law "Federalized" duties with notable distinction.
Even My Efforts Have Drawn Scrutiny From Criminal Elements
I have been investigating the presence of Russian troops in Alaska, Tennessee, Kentucky and California. My efforts have drawn scrutiny as the new level of intimidation is being visited upon me for my efforts.
Dave,

Last month I talked to you on the phone and we were disconnected twice. As I know you are aware it was the ears of those who watch that disconnected us. Most of my communications by any means is usually intercepted, delayed or is sent back to me and never makes it to the receiver. I bring this up to you as I was talking to someone who knows me. This person told me they received a text message that identified it as coming from me and received several of them. They then received a telephone call from my number and claimed to be me and of course this person knew this was not true as they know my voice. Why i bring this up is during the course of the conversation whoever was calling commented that they wanted to talk to them about "Dave Hodges". The only way that my number and your name would come up was from when we talked. There is some extremely guarded stuff going on at mclb in yermo. Thought i would share this with you, eyes and ears.
This is clearly a thinly veiled warning designed to intimidate me. For the record, I am not suicidal and I do not drive at high rates of speeds.
Conclusion
The police are the country's most dangerous street gang. One significant distinction between police and their private sector counterparts is that street gangs don't expect to receive commendations when they kill innocent people. However, it is not tyranny without an endgame. The fear and intimidation being perpetrated by law enforcement is by design. Why do they want us to be so fearful? They want us to be fearful, very fearful. What do they want us to be afraid of? The answer to that question is contained in the part of part of this series.
Source: War Is Crime | Dave Hodges  |  The Common Sense Show
US regime change plans are longstanding. War was planned years ago. US-supported proxy fighters wage it.
Obama didn't initiate conflict to end it. At issue now is what's next. Insurgent invaders are no match for Syria's superior military. Guerrilla fighting can continue interminably.
Defense Secretary Chuck Hagel warned about America embroiled "in a significant, lengthy, and uncertain commitment."
Joint Chiefs Chairman General Martin Dempsey said:
"Once we take action, we should be prepared for what comes next. Deeper involvement is hard to avoid."
At the same time, he outlined multiple options. They're not cheap, he stressed. At least 1$ billion monthly's required, he said.
They include limited air strikes, no-fly zone implementation, involvement of "hundreds of aircraft, ships, submarines, and other enablers," as well as "thousands" of US troops.
Some Pentagon sources believe about 70,000 are needed. According to Dempsey, controlling Syria's chemical weapons requires "thousands of special operations forces and other ground forces…to assault and secure critical sites."
At the same time, whatever's tried may fail, he said. The entire effort may backfire. Syria's a cauldron of violence and instability. It's much like post-Gaddafi Libya. It's spilling cross-borders. The entire region's threatened.
William Kristol co-founded the Project for the New American Century (PNAC). The Foreign Policy Initiative's its new incarnation. It's just as belligerent. Kristol's one of four board members.
They're neocon extremists. They're ideologically over-the-top. They support permanent wars. They urge them to advance America's imperium.
On August 9, Kristol headlined "Feebleness in the Executive," saying:
"(T)wo years ago (Obama said) Assad must go. He hasn't gone. President Obama said a year ago that if Assad crossed certain red lines there would be 'enormous consequences.' There have been no consequences."
Kristol wants full-scale war on Syria. Violence and instability rage throughout parts of the Middle East, North Africa and Eurasia.
Kristol's mindless about making a bad situation worse. He blames Obama for "limit(ed use) of American power." He made the wrong choice, he said.
"We need to resist it for the next three and a half years," said Kristol. "We need to reverse if on January 20, 2017."
William Inboden headed George Bush's National Security Council strategic planning. He held senior State Department positions.
He co-edits Foreign Policy magazine's Shadow Government initiative. It contributes opinion pieces. On August 8, he headlined "The Obama Administration's Diplomatic Deficit," saying:
"Obama's past hollow threats and 'red lines' on Syria have eroded American credibility and now regrettably make a diplomatic solution to that war all but impossible."
In other words, war is the only solution.
Washington Post editors urge "robust" US intervention in Syria. "(I)t's time for Mr. Obama to recognize that the war in Syria threatens vital US interests," they say.
They urge direct US intervention. They've done so all along. They're mindless of potential consequences. They may get their wish.
On August 12, the Defense Department said Joint Chiefs Chairman General Martin Dempsey arrived in Israel.  It's his first stop before heading to Jordan.
He'll meet with senior Israeli and Jordanian officials.  He'll "discuss the unwavering US commitment to Israel's security, in addition to potential threats from Iran, the ongoing civil war in Syria and uncertainty in the Sinai.
"In Jordan, (he) plans to visit US troops and to gain a richer understanding of how the conflict in Syria is affecting Jordan and the region."
Pentagon air defense missiles are deployed in Jordan. US F-16 pilots patrol its airspace and Syrian border.
On August 13, Mossad-connected DEBKAfile (DF) headlined "Dempsey in Israel, Jordan, to tie last ends before Obama decides finally on US military action in Syria."
Dempsey's meeting with Netanyahu, Defense Secretary Moshe Ya'alon and IDF Chief of Staff General Benny Gantz. Parallel talks in Jordan will follow.
According to DF, he came "to lay the ground ahead of (Obama's) final decision to embark on limited US military (Syrian) intervention."
His plan "involve(s) Saudi Arabia, Emirates, Israel, Jordan and possibly Turkey." DF claims it includes:
(1) US, UK, French, Saudi and UAE no-fly zone implementation "over central and southern Syria." Israeli and Jordanian border areas as well as Damascus will be patrolled.
(2) Israeli warplanes will provide "air cover from Syrian air space."
(3) "A 40-kilometer deep military buffer zone will be drawn from the Jordanian-Israeli borders up to the southern and western outskirts of Damascus."
"The military units controlling this zone will hold the entire area of the capital within artillery range."
(4) Washington's war on Syria began in Deraa. It's in southern Syria. It'll "be declared capital of Liberated Syria."
(5) US troops won't be deployed in buffer zone areas. Anti-Assad insurgents will instead.
(6) Forces will consist of around 3,000 US-trained fighters. Jordanian special forces will direct them. They'll operate under US control.
(7) The Pentagon built a "huge (Jordanian) training camp and logistical system." Weapons and equipment for war are readied there.
(8) US Brig. General John Wright's in charge. He heads America's Amman-based Syrian operational command center. He's an Afghanistan/Iraq/Libyan combat veteran.
(9) US warplanes are positioned for no-fly zone implementation. They're in various regional locations. They're ready to act on 36 hours notice.
(10) A special "Druze unit" will be a "key (insurgent force) component."
(11) Regional US forces will be readied for possible reprisals.
Whether DF's right remains to be seen. Know the source. It's reports are mixed. Some are credible. Others aren't.
Nothing good can come from direct US intervention. Doing so assures escalated regional conflict. It promises greater mayhem than already.
Bush and Obama belligerence bear testimony to imperial arrogance writ large. It reflects failed policy initiatives.
Afghanistan is America's longest war. It rages. It shows no signs of ending. Things get worse, not better.
Iraq's a cauldron of violence. Multiple car bombings throughout the country occur daily. In July, nearly 1,000 died. Many others were injured.
Libya's a nation state in name only. Conditions are anarchic. They're out-of-control. Fear and panic grip the country. It's up for grabs. Gun battles, bombings and assassinations occur daily.
Libya's so-called government deployed dozens of armored vehicles to protect Tripoli. Chances of success are slim to none.
Egypt's in turmoil. Civil war perhaps is possible. Bahrainis have been struggling against Al Khalifa despotism for over two and half years. They show no signs of quitting.
Tunisians want justice. Opposition leader Mohamed Brahmi's July 25 assassination unleashed a wave of protests.
Tens of thousands chant "We have to topple the government." Political deadlock shows no signs of ending.
Jordanians are restless. Protests occur intermittently. Longstanding grievances are unaddressed.
Jordanians want Americans out. Signs read "No to the presence of American forces in Jordan." Egypt's coup heightened tensions.
Intermittent protests rock Saudi Arabia. They've been ongoing for over two years. Little gets reported. Whether they'll escalate further remains to be seen.
Brutal crackdowns try to prevent it. On August 12, Russia Today headlined "Saudi prince defects: 'Brutality, oppression as govt scared of Arab revolts.' "
Khaled Bin Farhan Al-Saud spoke to RT. He did so from Dusseldorf, Germany. He confirmed reports of extreme repression.
Tens of thousands of political prisoners languish in Saudi's gulag. They face torture and other forms of abuse.
Khaled Bin Farhan "accused the monarchy of corruption and silencing all voices of dissent."
No independent judiciary exists. Evidence is fabricated. Defense attorneys are prohibited. Guilt by accusation is policy. No one the regime targets is safe inside or outside the country.
People take so much before exploding. Saudi's monarchy risks day of reckoning justice. Some observers predicted it for years.
Major grievances can't go unaddressed forever. It's true throughout the region. US intervention exacerbates things.
War on Syria assures no good ending. Attacking Iran reflects madness. Whether Obama's willing to risk it remains to be seen.
His permanent war policy makes anything possible. The price of his imperial arrogance may be greater than humanity can bear.
Stephen Lendman lives in Chicago. He can be reached at lendmanstephen@sbcglobal.net.
His new book is titled "Banker Occupation: Waging Financial War on Humanity."
http://www.claritypress.com/LendmanII.html
Visit his blog site at sjlendman.blogspot.com.
In the midst of its short summer, Moscow is balmy and relaxed. Sidewalks brim with tables and merry customers, even traffic jams are less severe due to holiday season. The only danger for men is the girls' dresses, they are precariously short.
In a few days, perhaps even tomorrow, the charms and dangers of the city will be available to Edward Snowden, who is about to receive a refugee ID, allowing him to roam freely the whole length and breadth of Russia and to socialise with its folk.
It will be a nice change from Sheremetyevo International Airport, where he was marooned for quite a while. The airport is vast; some unfortunates, mainly paperless refugees, live in its transit area for ten years or more. For a while, it was felt that our hero would remain stuck forever in limbo. The Russians and the intrepid Snowden sat on the fence, getting used to each other while keeping their distance. At long last, the ice was broken. Snowden had gotten to meet with representatives of the Russian public: a few members of Parliament (called Duma, in Russian), some human rights folks, leading lawyers.
He reminded them that he "had the capability without any warrant to search for, seize, and read your communications… [and] change people's fates". He invoked the US Constitution transgressed by the spooks, for the Constitution "forbids such systems of massive, pervasive surveillance". He rightly rejected the legal ruse of Obama's secret courts, for no secrecy can purify the impure. He recalled the Nuremberg ruling: "Individual citizens have the duty to violate domestic laws to prevent crimes against peace and humanity from occurring." And this system of total surveillance is indeed a crime against humanity, the cornerstone of the Iron Heel regime they plan to establish on the planet. When his declaration was interrupted by the airport's routine announcements over the loudspeaker, he charmingly smiled and said "I've heard it so many times during the last week".
The Russians loved him; the whole attitude to Snowden changed for better, as I expected when I called for this meeting on the pages of the leading Russian newspaper, the KP (Komsomolskaya Pravda). Now we've learned that the Russians have decided to issue him a refugee ID and grant him freedom of movement.
Why did they hesitate for so long?
Snowden is an American, and the Americans, like the British, are quite prejudiced against Russia, their common Cold War enemy. For them, it is the country of the Gulag and the KGB. Though both menaces vanished decades ago, traditions die hard, if at all. Even the Gulag and the KGB were only a modernised version of the Tsar, knout and serfdom horror of the 19th century, to be eventually superseded by the Brutal New Russian Mafia State as updated by Luke Harding. For an average American, the prospect of befriending Russia is nigh unto impossible. Even more so for an American who served in the CIA and NSA, as Snowden did. He felt that by embracing Russia he would lose his whistle-blower status and be regarded as an enemy agent, a totally different kettle of fish.
This was the case for Julian Assange, as well. When it was proposed that the head of Wikileaks flee to Russia (it was technically possible), he procrastinated, dragged his feet and remained in England, unable, in the end, to cross the great East/West divide.
Snowden was not seeking limelight, quite the opposite! He wished to stop the crimes being committed by No Such Agency in the name of American people, no more, no less. He hoped to become a new Deep Throat, whose identity would never be revealed. His first profound revelations were made by correspondence; he flew to Hong Kong as he was familiar with the place, spoke fluent Chinese, and planned to return home to Hawaii. It appears that the Guardian Newspaper pushed him into revealing his identity. Even then he thought himself safe, for Hong Kong is under Chinese sovereignty, and China is a mighty state, not an easy pushover.
The Chinese used Snowden's revelations to defuse American accusations of electronic espionage, but they weren't going to spoil relations with the US for his sake – the hot potato was tossed. As a final courtesy they gave him 24 hours warning of his impending arrest. He had to flee, and he boarded the Aeroflot flight to Moscow in company of charming English lady, a Wikileaks executive Sarah Harrison.
Snowden landed in Moscow, but he never considered taking refuge in Russia. For him, this was just a transit point to a neutral country, be it Iceland or Venezuela, some part of the West. He planned to fly to Havana and change planes there for Caracas. He did not take into account the length to which the US Deep State would go to seize and punish him.
At first, the Americans put enormous pressure on Cuba to refuse transit for Snowden. They threatened Cuba with invasion and blockade, and Castro asked Snowden to look for another route. No airline but Aeroflot would fly Snowden out of Russia, and Aeroflot flies via Havana only. So the first plan got unstuck.
The gas summit in Moscow offered another opportunity for escape: the summit was attended by the presidents of Bolivia and Venezuela, both came with their private planes able to make the long flight. Bolivian president Evo Morales had left Moscow first; his plane was forced down and searched, setting a historical precedent. This served as a warning to the Venezuelan President Nicolas Maduro; he flew away from Moscow Snowden-less.
This was an important discovery for Ed Snowden: he learned by this experience that there is just one country on the planet that is outside of the US grasp. Just one country that is a real alternative to the Empire; the only country Navy Seals are not likely to raid nor Obama drones to bomb, the only country whose planes can't be scrambled and searched. He understood that Moscow is the only safe place on the globe for an identified enemy of the Empire. Now he was ready to contact the Russians; he resumed his temporary refuge request, which will probably be granted.
The Russians also hesitated. They were not keen on angering the US, they were aware that Snowden did not intend to come to them and just happened to get stuck in transit. He was a hot potato, and many people were convinced it's better to follow the Chinese example and toss him.
The US Lobby pulled out all the stops trying to have him extradited. There were human rights activists and NGO members in the employ of the US State Department. Such people and organisations are promoted by the Americans, a Fifth Column of sorts. Lyudmila Alexeeva is a leading Russian activist of this kind; she was an anti-Soviet dissident, acquired US citizenship, came back to Russia and resumed her fight for human rights and against the Russian state. She is on record as saying that Snowden is a traitor to the service, neither a whistle-blower nor a human rights defender. He should be surrendered to the US, she averred. Other notorious dissidents and fighters against Putin's regime agreed with her, unmasking their true colours.
Some siloviki were also against Snowden. These are members and ex-members of Russian intelligence community, who embraced the concept of convergence of security services and collaborated with the Americans and other services, notably the Israelis. They said that loyalty to one's service is the most important virtue, and a traitor can't be trusted. They pooh-poohed Snowden's revelations saying they had known it all along. They said he is not worth quarrelling with Washington about. This was also the line of Konstantin Remchukov, an important Russian media lord, the owner of Nezavisimaya Gazeta, who added that Snowden was a Chinese spy.
And finally there were conspiracy freaks, who said that Snowden is a Trojan Horse, sent to pry open Russian secrets. He was actually a CIA double agent, they said. No, he was an agent of Mossad, others argued. Return him to the US, they asserted. This bottom line has exposed many American agents, whether faux human rights defenders or equally false siloviki, security personnel.
Among supporters of Snowden in Russia, there was my friend, the poet Eduard Limonov, who called Snowden the harbinger of Unipolar World collapse. My newspaper KP supported the cause as well. The state-owned TV took a cautious approach, and was rather dismissive of Snowden's discoveries.
President Putin, too, played a cautious game. Initially, he stopped talk of surrendering Snowden with a laconic statement: «Russia never ever extradites anybody to any state». Then he offered Snowden refuge on condition that he would not act against the US. This is a usual condition for a political refuge. He added that probably Snowden would not accept it as he wants to continue his struggle "just like Professor Sakharov", a renown dissident of Soviet days. He also tried to dissuade America from pursuing Snowden, comparing this pursuit with "shearing a piglet", producing more screams than wool. This cautious game paid well: Snowden accepted his precondition and applied for temporary refuge until the road to Latin America opens up for him, while the President saved face and did his best to avoid quarrelling with the US and with the mighty pro-American lobby in Moscow. I should say that despite his autocratic macho image, Putin does not control free Russian media, which are usually owned by pro-Western media lords. His positions in the national discourse get limited exposure.
The Russian leader was not confrontational. He does not look for trouble, as a rule. He comes off as rather a cautious, prudent, conservative ruler. He would probably prefer that Snowden fly away, especially as Snowden, an American patriot, would not share his stolen crown jewels with the Russians. His granting permission for Snowden to meet with the Russian public was withheld for a long while. However, during this period, the US added many more names to the secret Magnitsky List of Russians whose properties and accounts were to be snatched ("frozen" is the technical term) by the US and its allies. Members of Congress freely vituperated against Putin and referred to Russia in abusive terms. Just wait — Obama will call Putin tonight and he will send Snowden packing, said the White House spokesman. Meanwhile, the US continued its build-up against Syria in the Middle East, and Israel bombed Syrian positions, presumably with American support. Instead of showing any consideration, Obama tried to bully Putin. This was the wrong tactic, and it backfired.
At the same time, Russia carried out a sudden check of its military preparedness, apparently keeping all options open. This great country is not looking for trouble, but it does not shrink from it either. Snowden is safe here in Moscow, where nobody can harm him, so he will be able to tell the world about the crimes against humanity committed by the American secret services. And Moscow is a great place to be, especially in summer.