With election time almost upon us, here's a rather sobering thought:  By spending as little as a mere two billion dollars, anyone with that amount of money can now afford to buy an entire American election — Congress, the White House, governorships and all.
"But Jane," you might ask, "why would anyone even want to do that?"  Why?  Just look at all the immense amount of loot you can score with just this tiny investment.  Access to national park land, bank deregulation, profits from weapons production, corporate monopoly status, pro-pollution laws, judges' rulings in your favor…need I go on?
For instance, eleven trillion dollars has been recently spent on escalating and pursuing fake wars.  So if you "invest" in American elections and still only receive, say, just ten percent of those eleven trillion singles for your weapons-manufacturing services or whatever the heck else companies like Halliburton do, you still have just grown your measly two-billion-buck investment at least a thousand times over.  Forever War really pays off!
Or if you are guys like Obama, Bush and Cheney — and can't resist playing with war toys?  Then you get to buy your very own wars!  Lots and lots of wars.  You get to play with actual life-sized GI Joe dolls and call yourself "Commander in Chief".  You get to bomb Libya and Ukraine and Iraq and Syria.  What fun!  Two billion dollars can buy you a hecka lot of war toys — eleven trillion dollars worth to be exact.
Or let's say that your net worth is approximately 100 billion dollars, like, say, the Koch brothers' worth is.  You spend less than three percent of that money on buying elections — and voila!  You too get over a thousand percent return on every dollar you spend.  What kind of crazy-good investment is that!
Or let's say you are a member of the notorious WalMart family, worth hundreds of billions of dollars.  You spend just a few paltry billion on election buyouts — and suddenly us taxpayers are paying for all of your employees' healthcare.  And we're throwing food stamps into the bargain too.  Brilliant idea!
Or what if you own a giant coal company, oil company, car company, power company or some other major polluter?  Common sense tells us voters that we need to cut down on polluting the atmosphere so as to avoid drastic climate change that even now threatens to kill off the whole human race.
We could have been using solar power all this time for instance — and also cleaned up our rivers and even eliminated the need for fossil fuel.  But no.  For a few (billion) dollars more at election time, you can potentially doom the entire human race.  America, are we having fun yet?
Or let's say for instance that you are AIPAC, that Israeli political action committee.  Spend just two billion dollars to buy every election in America — up to and including the dog catcher?  What a deal!  And since Israel is already receiving three billion dollars every year from America, guaranteed, voted by Congress, you don't even have to risk using your own moolah.  You can use ours.  Fabulous investment.  http://www.counterpunch.org/2014/09/12/how-the-west-created-the-islamic-state/
Plus you also get permission to bomb Gaza, take over the West Bank, design America's stupid "Bomb Syria" policy, have red-carpet access to the entire Middle East (as in red carpets of blood) and get away with committing all kinds of other violations of the Nuremberg precedents and Geneva war crime conventions too.  
According to Middle East expert Paul Larudee, "Israeli prime minister Benjamin Netanyahu infamously bragged that 'America is a thing you can move very easily'."  Apparently all you need is just two billion bucks.   Hell, Attila the Hun never even had that kind of power.  Or even Josef Stalin.  All he ever got out his American investments was the freaking Cold War.
But don't worry, Josef!  The Cold War is about to heat up again, thanks to AIPAC.  Hell, now AIPAC is even an unofficial member of NATO (and apparently its most influential member too).  And, as such, Israeli war hawks seem hell-bent on fomenting World War III.  Does the American public really want to go there?  I think not.
Or you could invest your capital in running America's prison-industrial complex?  Just think of all the cheap labor you'll get!  For much less than two billion in folding money, you don't even have to ship your goods over from China any more.  Plus you get to have them stamped "Made in America" too.  Definitely a win-win for you.
Or what if you are Monsanto or Big Pharma or Bank of America or CitiCorp or Goldman Sachs or General Electric?  For far less than two billion dollars, you can get rid of unions, create your own monopolies, write your own "regulations", appoint your own "regulators" and rake in the profits.  And if you are Big Media, our publicly-owned airwaves now belong to you.  Think Rupert Murdock.  Or net neutrality up in smoke.  Think AT&T.  Boo-yah!
Yep, America is for sale for really cheap these days.  The total assets of the United States of America is currently 188 trillion dollars.  And just think.  For just a mere two billion simoleons, all that can be yours!  Buy a little false advertizing, do a bit of voter-suppression, get your hands on a few electronic voting machines, tell a few lies on Fox News and CNN and, boom shake the room, you can own all of that.  All $188,000,000,000,000.00 worth.  "Worth playing for?"  Yeah.
My country these days has become like some aging cheap whore, selling herself on street corners to the first two-bit John who comes along and offers her a couple of dollars.
America these days isn't even a high-priced call girl any more.
In a post-modernism age the most assertive and self-proclaimed worshipers in the supremacy of science, have no room for a belief in God. These arrogant elites treat anyone, who profess that a true understanding of science does not contradict the presence of the almighty, with condescending distain for refusing to accept that God is dead. The transhumanist insistence that they will emerge as supreme beings is the pivotal sacrilege that underpins the social culture and political chaos that leads to the ultimate destruction of the species. Extinction of the human race and the invention of an artificial deity, denies that the act of creation inherently is the prowess of the All Powerful.
Sophomoric intelligence based upon pretentious and conceited self-regard is actually immature and ill-informed sense of worth and understanding. The reason for the absurdity, which is the hallmark of societal dysfunction, stems from the malevolent masterminds NWO globalist plan and carried out by their technocrat minions.
The Most Secret Science by Archibald E Roberts examines the MATTOID SYNDROME in chapter twelve. "Irrational political decisions at policy-making levels force upon perceptive Americans the conclusion that an invisible government of men "unbridled by logic or understanding" has acquired ultimate power and influence in the United States. Furthermore, the image-building manipulations of these Mattoids favor the development of similar attitudes in others and give thousands—perhaps millions—of normally well-balanced persons the courage to overtly engage in absurd or infamous acts."
Colonel Archibald E. Roberts championed his views several decades ago. Yet, his analysis has not lost any of the impact or importance as the 21th century unfolds. Essentially, the situation is a geometric progression as the delusion worsens.
Scientists once relied upon empirical evidence and followed the four steps of the scientific method.
Observation and description of a phenomenon or group of phenomena.
Formulation of a hypothesis to explain the phenomena. In physics, the hypothesis often takes the form of a causal mechanism or a mathematical relation.
Use of the hypothesis to predict the existence of other phenomena, or to predict quantitatively the results of new observations.
Performance of experimental tests of the predictions by several independent experimenters and properly performed experiments.
The current credibility of the academic community is suspect as government funding and peer pressure for career advancement demands conformity to promote specific political agendas. No area of science is more tainted than the study of global climate. In the New Report, IPCC Falsifying Climate Science, New Fraud Reports Exposed, CO2 illustrates the politicization of science and the betrayal of their own methodology standards.
Inexhaustible debate on the global warming hypothesis has developed bitter contention because conclusions much be tailored to advance the globalist hysteria that is seen as necessary to maintain the New World Disorder Psychology. Wacko environmentalists share an extreme similarity with their scientist gurus who mock divine intervention and profess that man has all the knowledge necessary to become masters of the universe.
"Secular Humanism, has become, the leading export of the 'West' to the rest of the world. The movers and shakers of public policy accept its values, cosmology, as Sigmund Freud views that reason rules, and that a rejection of God is acceptable. Religion is seen as a threat, and that life can be lived without delusions, especially the illusion of a religious belief. His theory of human nature and the culture of morality is founded upon the substitute of the super-ego, for the role of religion. As the source of morality and conscience, man is able to apply his reason to follow ethical behavior."
In the end, all the HAARP manipulations and chemtrail spraying cannot and will not achieve domination over the planet. Relying on NASA to discover nirvana or trusting Japanese scientists to resolve a Fukushima nuclear winter is no better than following celebrity global warming advocates into the vast void of their own mental space.
However, the stakes become critical, when purported distinguished scientific institutes, fall into the trap of anti-intellectual conduct. The Prestigious Helmholtz Research Center Gutter-Dives…Promotes Sophomoric Attacks On Skeptics, Labelling Them "Deniers"
"It's worrisome enough that the German government itself recently issued a brochure singling out, naming, and defaming German and American climate science skeptics. Today we have one of Germany's most prestigious science associations actively backing adolescent-level attacks on skeptics who have decided not to take part in the collective climate hysteria."
Seeking remission for fabricated crisis, like the newly renamed climate disruption, plays to the mental illness of fools who demand that saving the planet requires that they bury any semblance of religious belief and repentance. According to such enlighten cretins; absolution is not necessary, since acknowledging a creator would make their Frankenstein genetic engineering and eugenics experiments unholy.
Proponents of deceptive discourse would have you believe that sophomoric reasoning is rationalizing about what one understands poorly. It is often apologetics (starting with a conclusion) and masquerades as "critical thinking". Sound good on the surface, but when you probe closely the real bias of the position becomes obvious.
"Science begins with hypotheses; apologetics begins with conclusions. Science performs experiments which can disconfirm hypotheses; apologetics employs rhetoric (conclusions can never be disconfirmed). Science discovers how the world works; Christian apologetics assures that the world conforms to the Bible (or to church doctrine). Apologetics is not a productive approach to discovering how the world works; science is not a productive method for making the world conform to the Bible."
The last point divulges the basic disconnect. Belief in the Bible is an existential decision. Inquiry in the way the world operates is not reducible to merely running technological experimentation. Dismissing the significance and value of accepting faith in a revealed Creator is the usual determination to the scientific trained mind. Yet the objection to investigate the validity for acceptance of a divine plan for the salvation of souls permeates the man-centered culture of Modern Prometheus inquiry.
The function of science is to question, but the methods of science are not synonymous with scholarship. The burden of proof that an agnostic or atheistic conviction is a requirement for conducting good science is a research project that most universities will avoid. Nevertheless, membership of good standing into the scientific community undoubtedly rests upon this canon of doctrine.
It seems to be puerile to demand blindness to the universal evident, that the cosmos provides. Benjamin Cain critique of Stephen Hawking's Scientific Atheism philosophy concludes it is absurdly anti-philosophical, so he is forced to pretend that his atheism is purely scientific.
"Here is Hawking's stripped-down argument for God's nonexistence: the universe was created in the Big Bang, which means that in its earliest stage the universe was infinitesimal and so the laws of quantum mechanics apply to its origin, and we know from those laws that quantum events can happen spontaneously without any cause; moreover, the Big Bang's gravitational singularity was in effect a black hole and we know that in modern-day black holes time stops inside of them, which means there was no time before the Big Bang and thus no time for anyone to create the universe."
Mr. Cain continues, "atheists presuppose a religion in their effort to unite naturalism with their typical liberal values: this religion is secular humanism, Scientism, positivism, or pragmatism. But when a religion is only presupposed rather than openly acknowledged, the religion is bound to be clumsy and lackluster, and that's the case with Hawking's atheistic argument."
Taking the "Political Incorrect" cult of religion to the extreme, the example of Lawrence Torcello – assistant professor of philosophy at Rochester Institute of Technology, NY, writes in an essay at The Conversation that climate scientists who fail to communicate the correct message about "global warming" should face trial for "criminal negligence". How advance civilization has become under the scientific inquisition.Absolution by compurgation testimony of your peers may become necessary for acquittal. Under the new standard of scientific rule, even the "PC" philosopher must adopt the dogma of the Galileo court. How radical the tables have turned now that we know that the earth is round and rotates around the sophomoric society.
One of the latest targets for political persecution happens to be Dinesh D'Souza. During a recent debate on the subject he argued that the two — science and religion — are fundamentally separate.
"The questions to which God is the answer are not scientific questions," D'Souza said. Humans around the world want to know why the universe exists, the purpose of our existence and what will come afterward. Science doesn't "have a clue" as to the answers to these questions, D'Souza said.
Looking to science for a discovery of salvation is irrational. Achieving Raymond Kurzweil's singularity promise of immorality within the artificial intelligence of a new life form species sounds allot like Satan's sin of pride.While religion has never rendered a redemptive society, faith in God provides the only hope in living in a world of the boundless inhumanity of man to his brother. When scientists dismiss the need for forgiveness, their culture of forging enhanced tiers of technology, usually translates into greater levels of human bondage. The real climate disruption comes out of the laboratories of weird science. Adversely altering the natural order of the universe is as simpleminded as you can get.
When Major General Smedley Butler made his case,"War is a Racket" he did not pull any punches. "The normal profits of a business concern in the United States are six, eight, ten, and sometimes twelve percent. But war-time profits – ah! That is another matter – twenty, sixty, one hundred, three hundred, and even eighteen hundred per cent – the sky is the limit. All that traffic will bear. Uncle Sam has the money. Let's get it." The business of military procurement has multiplied since his fateful revelations.Not satisfied with fair profits or feasible competition, the practices of the defense corporatists illustrate one aspect of waste, graft and systemic bribery. William D. Hartung describes the consolidation and expanse of a select group of companies in the paper, The Military-Industrial Complex Revisited: Shifting Patterns of Military Contracting in the Post-9/11 Period
"Many of the same companies that benefited from increased Pentagon and war spending were top contractors for other security related agencies. For example, Lockheed Martin was not only the top contractor for the Pentagon, but it also ranked number one at the Department of Energy; number eight at the Department of Homeland Security (Boeing was number one); number two at the State Department; and number three at the National Aeronautics and Space Administration (NASA). Contracts let by these agencies were only a fraction of the levels awarded by the Pentagon, but they were significant nonetheless. For example, the Department of Homeland Security issued $13.4 billion in contracts in FY2008, NASA $15.9 billion, the State Department $5.5 billion, and the Department of Energy $24.6 billion."
This dramatic growth in budgets is even more significant, when viewed in the context of world expenditures of other counties. Leaving aside the relative merits of the dangers and risk of external threats, the gigantic enterprise of fostering the biggest military apparatus in history has made select factions rich at the expense of the many.
Jonathan Turley in Pentagon Plugs: New Study Finds Pentagon Has Hidden Trillions In Missing Money And Equipment, references an example on how the overall avoidance of financial accountability, outright fraud and intentional concealment operates.
"A new report has detailed how the military has cooked the books to hide trillions, that's right trillions, in missing money and equipment. The military calls them "plugs," a curious term for fraud. These are knowingly fake figures used to hide the fact that there is no accurate record of the money.

The plugs are generally the work of the office of the Defense Finance and Accounting Service, the Pentagon's main accounting agency. Required to complete an audit, the staff simply faked the numbers."
Reuter's reports on a Special Report: The Pentagon's doctored ledgers conceal epic waste.
"Over the past 10 years, the Defense Department has signed contracts for the provision of more than $3 trillion in goods and services. How much of that money is wasted in overpayments to contractors, or was never spent and never remitted to the Treasury, is a mystery. That's because of a massive backlog of "closeouts" – audits meant to ensure that a contract was fulfilled and the money ended up in the right place."
Now trillions are sums that are unimaginable The Department of the Treasury acknowledges that U.S. gold reserves (if you believe their figures) total $11,041,059,958.16 as of their Current Report: January 31, 2014.
An eleven billion dollars equivalent is a mere drop in the bucket to the monies allocated to the military and homeland security. Taxpayers are regularly deceived about the costs. Congress is kept in the dark about black programs. And the war racket keeps funneling and siphoning off unknown sums to accounts that only a super computer can track.
Corporatocracy: How the Corporate Welfare State Divides and Conquers is a video by James Corbertt that provides an insightful analysis which establishes a surreal account how the oligarchy operates. The financial shenanigans of corporatists contribute to the interlocking directorates, which run the money pit that keeps the empire operating.
A rational reform of a depraved money laundering arrangement is impossible without a fundamental repudiation of the internationalist foreign policy doctrines that permeates the State Department. Funding advance technological warfare platforms that are unheard of to even congressional oversight is profoundly unconstitutional.
When such practices become routine, the economic incentives breed crooked abuses. The obligations for responsible public policy are methodically destroyed, when transparency is eliminated.
The Washington Blog provides several useful sources that document the extent of the problem in "$8.5 TRILLION In Taxpayer Money Doled Out By Congress To The Pentagon Since 1996 … Has NEVER Been Accounted For" and sums up with a bleak assessment.
"The Pentagon is the only federal agency that has not complied with a law that requires annual audits of all government departments. That means that the $8.5 trillion in taxpayer money doled out by Congress to the Pentagon since 1996, the first year it was supposed to be audited, has never been accounted for. That sum exceeds the value of China's economic output last year."
Evidently, the elites that benefit from bilking appropriations and the board members that steer the defense contractors want the con to continue. For all the money directed towards maintaining the war machine, our actual security become less secure.
Banks laundry ill-gotten gain, as prevailing practice, in the normal course of business because the arm merchants are protected players in the trade. The reprehensible circle that the dogs of war unleash the cash flow from their illicit drug sales, through arms sales, allows for the smooth transfer of hidden blood money into number accounts.
Such an organized system of mutual payoffs greases the ever growing industry of fear and destruction. All the missing money is buried in the unknown cashes of subterranean tyranny. Creating false flag threats allows for imaginary scourges to be new enemies. Protection from such manufactured foes is the real business of the military-industrial-complex.
So, when more details surface about the lost and unaccounted military funding money, it is just part of the price of keeping you safe.
It's all too customary for those analyzing the crises humanity faces to associate climate change, aka global warming, with whatever proximate cause they postulate for our imminent demise. John Tirman, for instance, in his book 100 Ways America Is Screwing Up the World lists as the first way "Altering the Earth's Climate". Richard Heinberg of the Post Carbon Institute includes Climate along with Energy and Debt as the three problem areas which threaten our future. Nafez Mossadeq Ahmed, author of A User's Guide to the Crisis of Civilization, integrates climate change with the other crises he believes civilization faces: the financial meltdown, dwindling oil reserves, terrorism and food shortages. This linking of concrete, demonstrable societal ills with the less grounded, more debatable theory of global warming is an ill-considered, strategic mistake, I think, as I believe critics of the global warming theory, the so-called "deniers", are going to win the debate, at least for the near future. It would be a tragedy if valid, much-needed warnings about the dangers haunting our future were to be discredited because of their being tied to discredited fears about climate change.
Here's why I think this is likely to happen. The warming trend which the earth experienced in the thirty years before the turn of this century has virtually stopped. This "hiatus", as it is called, has been going on for over a decade and is likely to continue for another two. Check out this graph from the National Oceanic and Atmospheric Administration:
What do you see? I see a 60-year cycle in which a 30-year cooling period alternates with a 30-year warming period; to wit, from about 1880 to 1910 the mean global temperature went down, then from 1910 to 1940 the earth warmed up, then from 1940 to 1970, the earth cooled slightly, followed by the 30-year period from 1970 to 2000 when the earth warmed dramatically, and finally the dozen years from the turn of the century till now during which the mean temperature hasn't risen (the hiatus). Given that the concept of a mean global temperature is an artificial construct subject to error and manipulation, just looking at this graph what would you predict for the near future? Wouldn't you bet that for the next 20 years or so the earth is not going to get warmer, may even cool a bit?
If this does come to pass, what will be the consequence for the theory of global warming? Won't it be viewed with increasing skepticism by the pubic at large, at least until the next warming demi-cycle commences 20 years from now? Won't the discrediting of the global warming theory infect theories which have been linked to it? Are you willing to wait 20 years for your forewarnings of impending doom to be taken seriously?
Unless you have been following the issue as I have, you are probably not aware that the debate over the theory of global warming has been heating up (pardon the pun) of late, largely because of the prolonged global tepidness. If you believe the science is settled, consider that the "settled" science has generated a multiplicity of climate models which have done a terrible job of forecasting, invariably predicting warmer temperatures than what has actually occurred. If the science is so settled, why have global warming adherents only recently postulated that heat from the warming of the atmosphere is being absorbed by the oceans, their explanation for the hiatus? The models did not foresee this.What about that august body of climate scientists who comprise the UN's Intergovernmental Panel on Climate Change (IPCC), you ask. Just recently the IPCC certified once again – with 95% certainty (whatever that means) – that human activities are causing global warming? We are told that 1800 scientists arrived at this conclusion; but, if you look into it, you will find the majority of the scientists on the panel are not climatologists and some not scientists at all. One scientist who served on the IPCC's review committee called global warming fears the worst scientific scandal in history, predicting "When people come to know what the truth is, they will feel deceived by science and scientists."For one side in a debate to label the opposition "deniers" is a sleazy rhetorical gambit usually employed by the name-callers when they are losing the debate (equally true in the case of another group of iconoclasts routinely labeled "deniers", but that's a story for another day). Consider who some of these so-called "deniers" are:
Richard Lindzen, Professor of Meteorology at MIT
Fred Singer, Professor emeritus of environmental science at the University of Virginia
Roy Spencer, former NASA Senior Scientist for Climate Studies
Judith Curry, chair of the School of Earth and Atmospheric Sciences at Georgia Tech
Pat Michaels, past president of the American Association of State Climatologists
Do you really believe such people deny science?
Perhaps you believe such credentialed skeptics are in the pay of Big Oil. It's true that the global warming theory was once opposed by powerful interests who dominated the debate; but, when a former Vice President of the United States can win both an Academy Award and a Noble Prize for a highly tendentious film full of hyperbole and misinformation, you know there are powerful interests behind the global warming scare, too. If Big Oil has bought off the media, why is it that so many people are aware that sea ice in the Arctic shrank to its smallest extent in modern times in 2012 but not that sea ice in the Antarctic was expanding at the same time or that ice in the Arctic made its largest rebound ever last year, approaching the average for the last thirty years? Why is every extreme weather event – even blizzards– attributed to global warming when, in fact, extreme events like hurricanes, forest fires, tornados and even record high temperatures are less prevalent today than in the past?
I'm not a climatologist, so I'm neither inclined nor competent to expound on the science of global warming, but I do hope to have convinced you that the science surrounding global warming is far from settled and consequently to hitch your wagon to that fading star is not a good idea. Please, at least listen to what the skeptics have to say – for instance, by consulting the websites I've cited – before you link the fate of your own doleful prophecies to that of climate change.
I recently interviewed Daniel Estulin the author of what will be the newest best seller,TransEvolution: The Coming Age of Human Deconstruction.
Estulin wrote the book based largely on a Bilderberg white paper which was smuggled to him by a Bilderberg insider. The document was filled with information which spelled the end of the human race as we know it.
Hollywood Prepares the American Public for the Inevitable
Hollywood has made millions on movies like The Terminator, Blade Runner, and RoboCob, just to name a few. In fact, Robocop is being re-released in the next several weeks. Estulin states that cyborgs or man-machines are the future in a post-human world. Yes, you read that correctly, we could soon find ourselves living in a post-human world.
You may be familiar with the new TV series on FOX called Almost Human where one of the main characters is a cyborg cop. We could see such an interaction between nonhuman and morphed humans in the near future (i.e. Robocop).
Rules for Thee but Not for Me
In the future of transevolution we will be witnessing a literal fountain of youth, which will result from becoming a cyborg as it will soon be possible to purchase immortality in the future. However, everyone except the super elite will be banned from purchasing this literal fountain of youth.
Your existence, my common brethren, will be similar to what movie goers saw in the Summer of 2013 in the movie, Man of Steel. In the opening 30 minutes of the movie, it was revealed that every resident of Krypton had certain genes "turned on" and certain genes "turned off". And everyone from Krypton, except for Superman, had been artificially bred for specific purposes. This is what humanity is quickly moving towards and unless you are the elite, you will be bred, dumbed down if needed, to serve a purpose for the global elite.
The Purpose for the Destruction of the Global Economy
Estulin mentioned that the wholesale destruction of the world's economy is not an accident, nor is it a miscalculation or the result of political shenanigans. This destruction is being done on purpose, absolutely on purpose. Estulin revealed that his Bilderberg insider told him that the slave masters on this planet want to collapse the economy, force people into the stack and pack cities of mega millions and then exterminate most of humanity.
Estulin and I explored the methods that the super elite may use to exterminate 90% of all people on this planet. We both agreed that starvation is the most likely candidate. Starvation is a clean method of killing, it is quick and it would leave the planet in good shape for the global elite to establish their paradise on Earth.
Some of my readers and listeners have asked me about why I am so opposed to Agenda 21 and devote so much time fighting against it? To these and all others, I answer that forcing humanity to forsake rural and suburban living and move into the soon-to-be death traps of these mega cities, is very consistent with the tenets of Agenda 21 (i.e. Earth First).
Monsanto: The Great Satan of Food Production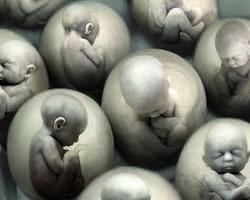 I recently interviewed my good friend, Barbara Peterson, who presented evidence which demonstrated that the super elite are in the process of attacking not just humans with GMO's which will eventually kill you, the GMO's are also sterilizing our food supply. And then, as if by magic, Peterson and I took calls on my show from farmers all across the country, who confirmed the sterilization of both crops and farm animals was well under way.
Let's give credit where credit is due. Monsanto is not alone in this conspiracy against humanity. In Chapter two of his book, Estulin, details how huge corporations like Monsanto, Cargill, and Archer Daniels are plotting to set up mass starvation on the planet. These corporate names became household names and they have become an "interlocked self perpetuating syndicate that will decide who eats and who doesn't, who lives and who dies."
Why are mega corporations, such as these and a small socio-political elite, allowed to own our food and control the very basis of humanity? The simple answer is, because they can.
Studies have shown that rats that are fed with genetically modified organisms (GMO), like potatoes, showed structural changes in their white blood cells making them more vulnerable to infection and disease, which could indicate a greater future risk of developing cancer, when compared to other rats fed non-GMO potatoes. Estulin's research indicates that GMO food was the creation of the Rockefeller Foundation, who are members of the Bilderberg Group. This all part of the plan for total control of mankind. As an aside, Barbara Peterson noted in my interview with her that McDonalds fries will soon all be made of GMO's.
Genetic Engineering
Genetic engineering is about taking control of nature, redesigning it and rebuilding it. The phrase "playing God" comes up in almost every conversation about genetic engineering. This is no longer the stuff of science fiction. Nothing good comes from genetic engineering as this generation of children will be the last generation which will be human in the sense that we define humanity today.
Estulin documented how insects are being weaponized for combat through chipping as a result of recent DARPA projects. Humans will soon be chipped, not necessarily for warfare, but for the purpose of transformation into something hideous which will serve the whims of the global elite.
The National Security State
Presently, all the communication happening on the planet right now can be monitored in real time and it is being done to control us, to dumb us down, to brainwash, to influence, and to predict our future behavior. The super elite is doing this so that we don't get in the way of important people by doing too much thinking on our own. A simple example of this fact is in evidence in an ever-increasing number of airports as facial scanning techniques are designed to reveal to security individuals who are angry, malevolent, etc. This technology is right here, right now!
Estulin mentions Nazi Germany, in his book, numerous times throughout the book, Estulin drew a similarity between the mass control the Nazis had in comparison to the control the super elite has over the human race right now. Presently, America is the 21st century fulfillment of what Hitler, Stalin and Mao as they attempted to initiate their genocidal regimes.
Off World Escape Plan If Things Get Ugly
According to USA Today,
"NASA recently revealed that their Mars robotic rover has found signs that a vast and hospitable lake once spread over the now-desolate surface, a potential home to past life for centuries or more."
With this new discovery that life may be possible on Mars, the elite could easily, through nanotechnology subsequently build a homestead there! There are many private corporations on the planet who are ready to go to Mars within five years. Some speculate that billionaire, Robert Bigelow, is ready now.
Apparently, if the elite cannot exterminate humanity in the clean and neat ways that they have designed, it may be necessary to temporarily move off world while the job is completed in more "messy" ways. According to some, this is their "Plan B".
A Cowardly New World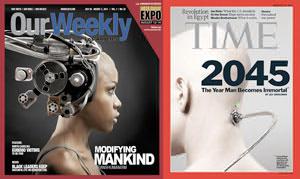 Unlike Huxley, I have seen nothing brave about this new world. Nanotechnology is a powerful new technology for taking apart and reconstructing nature at the atomic level. Scientists are acting like God to manipulate life through the use of this technology. I can only imagine all the horrible things nanotechnology can do to the human race.
Nothing good with regard to nanotechnology can or will come from this blatant insanity. The plans of the global elite constitute an abomination before God.
Right now, the elite are employing their "Promethean plans" which will change the world and will transform the very essence of humanity. Again, this is happening Now!!!
Let's make no mistake about it, the super elite are attempting to become more powerful than God. The super elite controls the human race in every imaginable possible way. Just the term, "conspiracy theorist", was invented by the global elite as a marginalizing tool to keep the public from believing in conspiracy theories that will enslave humanity.
Absolutely nothing that happens in our world is an accident; it's all part of this grand plan. Because of this, there is no hope for humanity if we do not rise up and defeat Agenda 21 and force a change in the leadership of the world, and it must be done RIGHT NOW, before the personal control mechanisms of this new system are locked into place.
My fellow human beings, we do not have five years. You sit idly by on the sidelines at the risk of not only your life but the lives of your children and grandchildren, born or not yet born. Soon, we will be saying "Welcome to Krypton", as humanity becomes the weak puppets in the theatre of life created by the super elite.
Source: Dave Hodges  |  The Common Sense Show
Want to know the dates for the Blood Moons and total lunar eclipses in 2014 and 2015? You've come to the right place…
We have been receiving a number of inquiries about some upcoming Blood Moons in the years 2014 and 2015. And we want to say, first of all, that the Blood Moons most people are asking about are not part of astronomy. Instead, their origin is religious, at least according to Christian pastor John Hagee, who wrote a 2013 book about Blood Moons. More about that below. Still, since they're moons, and since people are asking us, we wanted to reply.
Follow the links below to learn more about Blood Moons.
Dates of Harvest and Hunter's Moons in 2014 and 2015
Blood Moons in Biblical prophecy
Dates of Biblical prophecy Blood Moons in 2014 and 2015
How common is a tetrad of total lunar eclipses?
Why is the term Blood Moon being used to mean a full moon of a lunar tetrad?

Why is a Hunter's Moon linked in people's minds with a red moon? First of all, in autumn, the angle of the ecliptic – or sun and moon's path – makes a narrow angle with the horizon. Image via classicalastronomy.com.
Secondly, the narrow angle of the ecliptic means the moon rises noticeably farther north on the horizon, from one night to the next. So, every autumn, there is no long period of darkness between sunset and moonrise. Around the time of full moon, many people see the moon low in the sky, around the time of twilight. At that time, the moon often looks reddish. Image via classicalastronomy.com.
Blood Moons in astronomy. In astronomical lore, all the full moons have names. The names typically coincide with months of the year, or seasons.
One of the most famous moon names isthe Hunter's Moon. It is the the full moonimmediately following the Harvest Moon, which is the full moon occurring most closely to the autumnal equinox.
The Hunter's Moon, in skylore, is also sometimes called the Blood Moon. Why? Probably because it's a characteristic of these autumn full moons that they appear nearly full – and rise soon after sunset – for several evenings in a row. Many people see them when they are low in the sky, shortly after they've risen, at which time there's more atmosphere between you and the moon than when the moon is overhead. When you see the moon low in the sky, the extra air between you and the moon makes the moon look reddish. Voila. Blood moon.
Dates for the Northern Hemisphere's Harvest and Hunter's Moons in 2014 and 2015:
2014:
Harvest Moon: September 9
Autumn Equinox: September 23
Hunter's (Blood) Moon: October 8

2015:
Autumn Equinox: September 23
Harvest Moon: September 28
Hunter's (Blood) Moon: October 27
This book, published in 2013, is apparently what launched all the questions to our astronomy website about Blood Moons. We confess. We haven't read it.
Blood Moons in Biblical prophecy. We're not experts on prophecy of any kind. But we'll tell you what we know about the new definition for Blood Moon that has caused so many questions recently.
From what we've been able to gather, two Christian pastors, Mark Blitz and John Hagee, use the termBlood Moon to apply to the full moons of the upcoming tetrad – four successive total lunar eclipses, with no partial lunar eclipses in between, each of which is separated from the other by six lunar months (six full moons) – in 2014 and 2015. John Hagee appears to have popularized the term in his 2013 book Four Blood Moons: Something is About to Change.
Mark Blitz and John Hagee speak of a lunar tetrad as representing a fulfillment of Biblical prophecy. After all, the moon is supposed to turn blood red before the end times, isn't it? As described in Joel 2:31 (Common English Bible):
The sun will be turned to darkness, and the moon to blood before the great and dreadful day of the LORD comes.
That description, by the way, describes both a total solar eclipse and total lunar eclipse. Sun turned to darkness = moon directly between the Earth and sun in a total solar eclipse. Moon turned to blood = Earth directly between the sun and moon, Earth's shadow falling on the moon in a total lunar eclipse.
This is what a total eclipse looks like. This is the total eclipse of October 27, 2004 via Fred Espenak of NASA. Visit Fred's page here. We astronomy writers often describe a totally eclipsed moon as appearing 'blood red.' Here's why the moon turns red during a total eclipse.
We astronomy writers often describe total lunar eclipses as appearing blood red. Why red? They appear reddish because sunlight from all of Earth's sunrises and sunsets is scattered by the Earth's atmosphere and falls on the surface of the eclipsed moon. In years where volcanic activity is pronounced, however, a total lunar eclipse may appear more brownish or gray in color. Read more here: Why does the moon look red during a total lunar eclipse?
Dates of Biblical prophecy Blood Moons in 2014 and 2015. These are the dates for the upcomingtetrad – four successive total lunar eclipses – in these years.
2014:
Total lunar eclipse: April 15
Total lunar eclipse: October 8

2015:
Total lunar eclipse: April 4
Total lunar eclipse: September 28
There are a total of 8 tetrads in the 21st century (2001 to 2100). But proponents of this Biblical prophecy regard the upcoming tetrad as especially significant because it coincides with two important Jewish holidays: Passover and Tabernacles.
The April 2014 and April 2015 total lunar eclipses align with the feast of Passover. The October 2014 and September 2015 total lunar eclipses align with the feast of Tabernacles.
The Jewish calendar is a lunar calendar. In any year, it's inevitable that a full moon should fall on or near the feasts of Passover (15 Nissan) and Tabernacles (15 Tishri). Nissan and Tishri are the first and seventh months of the Jewish calendar, respectively.
It is somewhat ironic that three of these four lunar eclipses are not visible – even in part – from Israel. The only eclipse that can be seen at all from Israel is the tail end of the September 28, 2015 eclipse, which may be observable for a short while before sunrise.
How common is a tetrad of total lunar eclipses? Depending upon the century in which you live, alunar tetrad (four consecutive total lunar eclipses, spaced at six lunar months apart from one another) may happen fairly frequently – or not at all.
For instance, in our 21st century (2001-2100), there are a total 8 tetrads, but in the 17th, 18th and 19th centuries, there were none at all. If we include all the centuries from the 1st century (AD 1-100) through the 21st century (2001-2100), inclusive, there are a total of 62 tetrads. The last one occurred in 2003-2004, and the next one after the 2014-2015 tetrad will happen in 2032-2033.
However, if we want to know which tetrads specifically fell on the Jewish feasts of Passover and Tabernacles, there appear to be a total of 8 in these 21 centuries:
1. 162-163 C.E. (Common Era)
2. 795-796 C.E.
3. 842-843 C.E.
4. 860-861 C.E.
5. 1493-1494 C.E.
6. 1949-1950 C.E.
7. 1967-1968 C.E.
8. 2014-2015 C.E.
Why is the term Blood Moon being used to mean a full moon of a lunar tetrad? We can't really tell you why more and more people are using the term Blood Moon to describe the four full moons of alunar tetrad. We don't know why, exactly.
Here's the definition of a lunar tetrad, again: four successive total lunar eclipses, with no partial eclipses in between, each of which is separated from the other by six lunar months (six full moons). There's no obvious reason why Blood Moon should be associated with this term.
To the best of our knowledge, however, the use of the term Blood Moon to describe a lunar tetrad is of recent origin. It might have originated with John Hagee's 2013 book.
We're still not sure whether Blood Moon pertains to the full moon of any tetrad, or specifically to a tetrad that coincides with the feasts of Passover and Tabernacles.
Either way, I suspect the nouveau definition of Blood Moon will gain traction as we approach the tetrad, the four total lunar eclipses of 2014 and 2015.
Bottom line: The term Blood Moon in astronomy in sometimes used as another name for the Hunter's Moon. The term Blood Moon in Biblical prophecy appears to have been popularized by two Christian pastors, Mark Blitz and John Hagee. They use the term Blood Moon to apply to the full moons of the upcoming tetrad – four successive total lunar eclipses, with no partial lunar eclipses in between, each of which is separated from the other by six lunar months (six full moons) – in 2014 and 2015. Astronomers will not be using the term Blood Moon to describe these four upcoming lunar eclipses.
Source: EarthSky
For a long time now holocaust revisionists, aka "deniers", have occupied a spot in the public's esteem somewhere below pedophiles and just above serial killers. Now, a new contender for the penultimate position in the scale of public opprobrium has emerged: global warming "deniers". The debate-squelching term has been applied to the likes of Richard Lindtzen, professor emeritus of meteorology at MIT; Roger Pielke Sr., professor emeritus of Atmospheric Science at Colorado State; and Patrick Michaels, past president of the American Association of State Climatologists. A while back, Scott Pelley of CBS News directly linked the two sets of heretics.
As with holocaust deniers, who enjoyed a brief exposure in the national media in the early 1990s but have since been banned from the airwaves, attempts are being made to deny global warming skeptics access to the podium. The Los Angeles Times recently banned "factually inaccurate" letters to the editor skeptical of human-caused climate change. In November, Mark Hertsgaard, environment correspondent for The Nation, accused Piers Morgan of being "journalistically irresponsible" for allowing a denier, Roy Spencer of the University of Alabama-Huntsville, on his program (Hertsgaard, who I suspect has a degree in Art History or the like, admonished Dr. Spencer, a former senior climate scientist at NASA, telling him he "needs to read more scientific papers", to which Dr. Spencer graciously responded "I've got a feeling I've read more than you have, Mark".)
Like holocaust denial, global warming denial can be hazardous to your career. In her inaugural address to Department of the Interior staff, the newly-appointed Secretary, Sally Jewell, warned ""I hope there are no climate-change deniers in the Department of Interior" (She's probably checking the closets right now). Heidi Cullen, host of The Weather Channel's "The Climate Code", has called for the American Meteorologist Society to decertify weathermen who express skepticism about human activity causing climate change. And in Oregon, Governor Ted Kulongoski, sought to strip Professor George Taylor of the honorary title "State Climatologist", bestowed on him by Oregon State, because of his anti-warmist views.
Fortunately, global warming denial has not been criminalized as has holocaust denial in Europe… yet. But RFK Jr. once accused supposed financial backers of global warming denial, like Exxon-Mobil, of treason, and David Suzuki, a well-known Canadian environmentalist, urged his fans to find a way to throw global warming denying politicians in jail because "what they're doing is a criminal act". David Roberts of Grist went ballistic in an op-ed in that online mag, labeling climate change denial a "war crime" worthy of a Nuremberg-type prosecution. Thankfully, we don't prosecute holocaust deniers in this country, and I think it unlikely their global warming co-defendants will suffer that fate either.
There's one final similarity between holocaust and global warming deniers: they're both beginning to win the debate. Success for the global warming skeptics derives from the fact the earth hasn't warmed in over a decade, something the models didn't predict. In groping for an explanation, warmists have resorted to arguments very similar to those employed by holocaust believers. For instance, in testimony before Congress recently, David Titley, Deputy Under Secretary for Operations at the National Oceanic and Atmospheric Administration (NOAA), in trying to explain the lack of evidence for climate change-induced severe weather, argued "The Absence of Evidence is not the Evidence of Absence", echoing the holocaust believers' argument that the absence of any evidence of gas chambers is not evidence that gas chambers never existed. Dedicated and courageous scholars – often writing under pseudonyms for obvious reasons – have debunked the major holocaust myths to my satisfaction. If the Russian archives are ever opened fully, I'm sure the revelations they contain will be sufficient to convince the rest of you.
So, if over the next few years, the mean global temperature fails to rise, arctic sea ice recovers its former extent, severe weather events don't increase in intensity or frequency, the polar bears continue to thrive (while you're shedding a tear for the forlorn polar bears drifting towards extinction on their ever-shrinking ice floes, remember the poor penguins, who now have to walk 22 miles further to reach the sea because of the record ice extent in the Antarctic), and you find yourself listening with increased respect to what the global warming deniers have to say, please consider whether those other more venerable, even more denigrated deniers might, too, have something to say worth listening to. In fact, why wait? (a good place to start is The Committee for Open Debate on the Holocaust)
Adam Smith said governments are "instituted for the defense of the rich against the poor." Wars are waged to make them richer.
Howard Zinn called war "terrorism magnified a hundred times." Make it many thousands of times.
Michael Parenti said "the best way to win a Nobel Peace Prize (is) to wage war or support those who wage (it) instead of peace."
In his book titled "The Face of Imperialism," he discusses a richly financed military/industrial complex. Peter Phillips and Mickey Huff call it the "military-industrial media complex."
Waging wars requires selling them. Public support is needed. Edward Herman and Noam Chomsky call it "Manufacturing Consent."
Propaganda works as intended. Minds are manipulated to support war. Truth is suppressed. Fear is stoked. Patriotism, national security, and democratic values are highlighted.
Longstanding US policy facilitates earning obscene amounts from militarism, wars, homeland security, and related operations.
Doing so has nothing to do with external or internal threats. It's unrelated to spreading democracy. It isn't about humanitarian intervention.
It about advancing America's imperium. Parenti calls the process "the most powerful force in world history over the last four or five centuries. (It) "carves up whole continents."
"(T)he dominant politico-economic interests of one nation expropriate for their own enrichment the land, labor, raw materials, and markets of another people."
Capitalist imperialism differs from earlier forms. It dominates other economies and political systems. It accumulates enormous amounts of wealth.
It uses money to make more of it. It gains market control. It exploits resources and labor.
According to Marx and Engels:
Bourgeois capital "chases over the whole surface of the globe. It must nestle everywhere, settle everywhere, establish connections everywhere…It creates a world after its own image."
Societies are destroyed and remade to do it. Nations are pillaged for profit. Populations become disenfranchised. Workers become serfs. Local cultures become mass-market consumer ones.
Agribusiness replaces local farming. Competitive industries are eliminated.  Foreign investment crowds out local capital.
Dominance legitimizes capital's divine right. Plunder assures obscene profits. Capital accumulation demands more. Profiteering becomes a be-all-and-end-all.
Businesses price according to what the market will bear. Profiteers take advantage of emergency or other out-of-ordinary conditions to cash in excessively.
WikiLeaks calls profiteering "a pejorative term for the act of making profit by methods considered unethical."
Price fixing is illegal. Price gouging reflects grabbing all you can. It's charging more than what's considered reasonable and fair.
War profiteers are in a class by themselves. They thrive on war. They depend on it. Their businesses require conflicts and instability to prosper. The more ongoing, the greater the potential profits.
Lot of players profit from wars. Companies develop technologies with military applications. Black marketeers cash in.
Politicians taking campaign contributions, special favors or bribes benefit handsomely. Nations do by acquiring control over territory, resources and exploitable people.
Private military contractors include companies offering a wide range of services. They provide everything from tactical combat to security to consulting to logistics to technical support.
In his book titled "Halliburton's Army: How a Well-Connected Texas Oil Company Revolutionized the Way America Makes War," Pratap Chatterjee describes a company tainted by sweetheart deal no-bid contacts, bribes, kickbacks, inefficiency, shoddy work, corruption, fraud, gross overcharging, worker exploitation, and other serious offenses.
Other companies operate the same way. Military spending is hugely wasteful. Fraud and abuse are rampant. War is extremely profitable. Why else would so many be waged.
Mercenaries are guns for hire. They're for sale to the highest bidder. They're in it for the money. They're unchecked, unaccountable and unprincipled.
Arms and munitions companies benefit most. Amounts spent are mind-bogging.
Bloomberg says defense budgets "contain hundreds of billions of dollars for new generations of aircraft carriers and stealth fighters, tanks that even the Army says it doesn't need and combat vehicles too heavy to maneuver in desert sands or cross most bridges in Asia, Africa, or the Middle East."
According to BusinessWeek, redundancy wastes lots of money. "One need only spend 10 minutes walking around the Pentagon or any major military headquarters to see" it.
Why doesn't Congress trim fat? Because politicians want lots of pork for constituents. It's a great vote-getter.
BusinessWeek explained more, saying:
"Why is sensible military budgeting so difficult? Because lawmakers, including small-government Republicans, protect defense business in their home states with the ferocity of Spartans."
"Even if the Pentagon offered up (sensible) cuts…Congress would almost certainly reject them."
"The senators and representatives don't have the political courage to face voters and tell them that the republic simply does not need the weapon under construction in their hometown."
Trillions of dollars are spent.  Former Defense Secretary Leon Panetta once said DOD "is the only major federal agency that cannot pass an audit today."
Even during October's 16 day shutdown, huge amounts of wasteful spending continued.
Ralph Nader calls now the time to address bloated military spending. Let's "start shutting down the waste and fraud in our military budget," he stresses.
Billions get tossed around mindlessly. Profiteers never had it better. Government watchdogs identify hundreds of billions of potential savings from unneeded weapons, defective ones, no-bid excess, overpayments, and outright fraud.
The Stockholm International Peace Research Institute (SIPRI) conducts research on security, war and peace.
"A world in which sources of insecurity are identified and understood, conflicts are prevented or resolved, and peace is sustained," it says.
It reports on "recent trends in military expenditure(s)."
Amounts spent are huge. In 2012, nominal global military spending exceeded $1.7 trillion. It's around historic highs.
In real terms, it exceeds peak amounts spent during the Cold War. Post-9/11, spending increased sharply. America led the way.
In 2012, 15 nations accounted for over 80% military spending. SIPRI lists them as follows:
America: $682 billion – 39%

China: $166 billion – 9.5%

Russia: $90.7 billion – 5.2%

Britain: $60.8 billion – 3.5%

Japan: 59.3 billion – 3.4%

France: $58.9 billion – 3.4%

Saudi Arabia: $56.7 billion – 3.2%

India: $46.1 billion – 2.6%

Germany: $45.8 billion – 2.6%

Italy: $34 billion – 1.9%

Brazil: $33.1 billion – 1.9%

South Korea: $31.7 billion – 1.8%

Australia: $26.2 billion – 1.5%

Canada: $22.5 billion – 1.3%

Turkey: $18.2 billion – 1%

Others 18%
SIPRI calculates nominal military spending. Amounts America spends far exceeds annual defense authorizations.
Other allocations are for the Energy Department, State Department, Department of Veterans Affairs, Homeland Security, Treasury, NASA, military construction, various categories related to security, and interest attributable to past defense outlays.
Black intelligence, Pentagon and other budgets add many tens of billions more. So do supplemental military allocations. Foreign aid is mostly military related.
The Library of Congress listed the top 10 2012 recipients and amounts as follows:
Israel: $3.075 billion
Note: Israel gets special benefits provided no other nations.
They include annual $3 billion + direct appropriations, undisclosed additional amounts, state-of-the-art weapons and technology, billions in loan guarantees, military loans as grants, privileged contracts for Israeli companies, trade exemptions, and more.
Special allocations are buried in various agency budgets. Low or no-interest loans are provided. Some are never repaid. Most often, whatever Israel wants it gets.
Afghanistan: $2.327 billion

Pakistan: $2.102 billion

Iraq: $1.683 billion

Egypt: $1.557 billion

Jordan: $676 million

Kenya: $652 million

Nigeria: $625 million

Ethiopia: $580 million

Tanzania: $531 million
US defense related spending exceeds $1.5 trillion annually. It's half or more what other nations spend in total.
Militarism defines America. So do permanent wars. They're a national addiction. They're part of the national culture.
Violence is the American way. Wars are glorified. Pacifism is considered sissy. Peace is deplored. Conflicts persist with no end.
War profiteers gorge themselves at the public trough. Their operations thrive on war. They depend on it.
They're waged for profit and dominance. They continue without end. Peace is verboten. It's a convenient illusion.
Howard Zinn once asked "(h)ow can you have a war on terrorism when war itself is terrorism?"
"There is no flag large enough to cover the shame of killing innocent people."
Why most Americans put up with it they'll have to explain. Doing so lets Washington get away with mass murder and then some. It lets war profiteers benefit at our expense.
Stephen Lendman lives in Chicago. He can be reached at lendmanstephen@sbcglobal.net.
His new book is titled "Banker Occupation: Waging Financial War on Humanity."
http://www.claritypress.com/LendmanII.html
Visit his blog site at sjlendman.blogspot.com.
No doubt you have heard about the War on Drugs, the War on Terror and the War on Happiness. However, you may not be familiar with the War on God, possibly because it would be an unpopular war to discuss publicly. By the "War on God" (definition) we mean the collection of strategies, methods and techniques which have the combined effect of preventing or seriously hampering the efforts of individuals to seek or achieve legitimate Spiritual enlightenment and the Soul's eventual return to God.
The War on God is an ancient war. While the United States and other countries play an active role in this war today, they definitely did not initiate the war. If you want to use the Christian bible as a reference, you could argue that the War on God began shortly after man was created and rejected God in favor of Satan. Clearly, in some form, the War on God has existed throughout human history.
Today, the United States has effectively broken off diplomatic relations with God. The oligarchs who run the country never physically die and so their souls stay on Earth. Apparently, the United States actually believes that its technology, occult knowledge and black magic skills place it in a position which is superior to God.
We know from whistleblowers like David Morehouse that the United States sponsors and trains a cult of psychics to carry out psychic espionage (remote viewing) and also assassinations using psychic black magic techniques. According to clips of his various interviews on YouTube, it was the training in psychic assassinations which caused Morehouse to become disillusioned, quit the secret program and blow the whistle on the operation. Other countries may well operate similar programs but the details will remain unknown until someone defects and exposes them.
The leaders of the United States have always worshiped Satan. The United States was founded by a cult of Satanists known as the Masons and remains under control of that cult today. By rebranding their cult as a nation state, the cult created the appearance of legitimacy. Cult secrets simply transitioned to state secrets. Cult threats to kill anyone telling their secrets transitioned to the crimes of treason and espionage.
Nothing really changed except for the rebranding from a cult to a government. Today, essentially all members of the CIA, NSA and NASA are Masons. All US presidents have been Masons with the two exceptions of Abraham Lincoln and John Kennedy who were both assassinated.
The term "national security" refers to the security of the cult and not to the security of the general population. The Masonic motto is "If you are not one of us, you are nothing". The cult exists only to enrich itself.
The Masons study and practice the occult. Serious study begins after they take a formal oath of allegiance to Satan at the 30th degree initiation. Basic occult knowledge is neutral and everyone who advances Spiritually learns it. However, Masons seek this knowledge to gain power and control over others as opposed to knowledge for personal advancement. This choice, commonly called the Left Hand Path, places them in opposition to the will of God.
If the Satanists simply wanted to sell their Souls to Satan and mind their own business, one could argue that they had that right because they had free choice. However, the situation is not that simple. The Satanic oligarchs did freely choose to worship Satan. However, they also desire a comfortable life. They don't want to do any "grunt" work. Therefore, they have enslaved the remainder of humanity and are holding their Souls prisoner on this planet to service their needs. Therefore, if you, as an innocent Soul, ever plan to escape from this place and return to God, it is in your interest to investigate and gain an understanding of this war so that you will have an opportunity to Spiritually evolve. Otherwise, your Soul will remain a prisoner here — lifetime after lifetime — serving the Satanic overlords essentially forever.
Earth Based Religions
The phrase Earth Based Religions (definition) refers to religious schools which seek and use knowledge, including occult knowledge, to enhance their experiences during their human lifetimes as opposed to using the same knowledge to foster Spiritual development with the ultimate goal of achieving a stable non-physical Spiritual existence.
Although Pagan religions are usually grouped into this category, a more careful examination would reveal that essentially all mainstream religions are Earth based religions. Mainstream religions make constant references to God and Heaven but never explain exactly what they are talking about. Their books concentrate on historical narratives concerning how people in the past lived and coped with the basic problems of human physical existence. They never give details of any level of Spiritual existence or even any specific hints about what life beyond death will be.
Let's try an example. Suppose you have never seen a motor vehicle. You have heard vague stories that they exist, but that is all. Then, suddenly, you find yourself behind the wheel of a car on a high speed road like the US interstate system or the A roads in Britain. What would you guess would be your chance of survival? Try less than zero.
Now suppose you physically die. Suddenly, you find yourself in your Astral body. However, no one ever told you that you have an Astral body. It does not operate under the same rules as a physical body does. It is a very pliant and nimble body. It can travel in time to the past or future, access any plane and subplane in the Astral universe and research the absolute accurate and incorruptible records system known as the Akashic Records to name just a few. But, as in the previous example, you never learned how to "drive" it.
You would have done fine on the highway if you had gradually learned to drive a motor vehicle. You would do fine after death if you had some experience and training with your Astral body. However, no one ever taught you. What practical use is any religion that constantly rants about Heaven but offers no practical advice about your life after this life?
This information may have been a guarded secret in the past, but those days are gone. You can research this information to your heart's content on the internet, locate legitimate Spiritual groups and learn from those who can leave their physical body and explore the non-physical dimensions. But, don't expect any help from a mainstream church.
You might do well to recall the famous quote attributed to Jesus, "The truth will set you free". Mainstream churches are large, rich institutions. They did not get that way by "setting people free". They got that way by terrifying their followers with ridiculous horror stories of what will happen to them if they do not obey their crazy doctrines, stay with them and give them all their money.
Gnostic and other "non-traditional" religions may be Spiritual based as opposed to Earth based. Jesus always reminded everyone that he represented a kingdom "not of this world". If we had accurate records of his true lectures we would no doubt find practical instructions and information about this "other world". We don't have this information because any practical Spiritual teachings he might have given were censored out to create the simplified — but Spiritually sterile — mainstream religions we have today. They are simple to comprehend and follow but will not lead you anywhere except another physical lifetime somewhere on Earth.
Life Before Technology
Before technology life was simple. Although existence was hard, the opportunity for Spiritual experiences was greater than today. Consider, for example, all the empty time you would have as, say, a sheep herder. Nothing to do except make sure the sheep kept moving. In this situation, there was ample opportunity for the mind to wander and perhaps contemplate and glimpse other realities.
Also, and perhaps most important, no electric grid existed on the planet. Electric fields appear as solid "matter" in the Astral dimension and so can affect Astral experiences — generally in a negative way. Artificially created electromagnetic waves which blanket the planet today also have subtle and generally negative effects on living creatures.
Pagan groups generally conduct occult rituals outdoors and away from high population areas. When buildings are used, it is desirable that they be made only of wood and assembled without any metal (nails) and, of course, have no electrical wires.
Both good and evil existed before technology as they always have. It was possible to use psychological propaganda to influence and control susceptible masses of people. However, the positive and negative forces were more in balance. It was not possible for a single group to successfully dominate the planet.
Drugs existed in the form of various plants. Adepts learned how to use them to help or harm others. People with developed psychic abilities existed as they always have and white and black occult schools existed. Legitimate Spiritual masters existed.
Some techniques that thrived have essentially become extinct because the population of the planet has devolved. It is next to impossible to successfully teach Tantra (sex yoga), because today's generation is incapable of the required level of self control. Classic Tibetan yoga techniques are still taught in isolated areas, but the masters — for good reason — will no longer consider trusting outsiders.
Information Control Techniques
Information control is essential for protecting the integrity of a compartment. People are held as slaves by constructing an information box which holds the slaves in an information prison. As long as the "walls" of the compartment remain impenetrable, the compartment — or belief system — will be stable and no slave will escape.
Considerable energy is required to achieve this. Those assigned to protect the walls obviously know that the compartment is an intellectual illusion. Therefore, they must be sworn to secrecy and intimidated in such a way that they will not compromise the integrity of the compartment. It only takes one "leak" to initiate a chain of events which could collapse the compartment and so allow the slaves to escape.
Consider, for example, the Snowden leaks. One person sharing knowledge has totally destroyed the illusion of privacy that most people had accepted as fact. It will not be possible to reconstruct this illusion. The compartment has collapsed.
Similar principles apply in the Spiritual spectrum. Because of the characteristics of the human bodies in use on this planet, most people do not retain any conscious memory of events before they were born. This is not universally true. Life forms on many other planets retain the memories of previous existences. Because humans generally do not have this recall, they are easily enslaved and can be conditioned to believe most anything.
To maintain a state of Spiritual ignorance it is important to institute methods which will prevent people from realizing that they are actually Souls experiencing a constructed illusion. People somehow reaching this state, sometimes referred to as "self realization", will no longer respond to establishment propaganda and are generally considered a threat to the current social order.
The easiest and most direct method to achieve a stable slave population is simply not to talk about anything even vaguely esoteric. For example, how often have you heard the words astral, chakra or aura mentioned on a mainstream TV channel?
Most people will then likely "remain asleep" throughout their entire lifetime and will be no problem. Unfortunately, people have a natural desire — even though it may be an unconscious desire — to Spiritually evolve. It is, after all, the true purpose of human existence.
When someone tries to break away from the contrived illusions more direct methods are needed to return the slave to a state of ignorance. Today, various methods which cause brain damage — generally performed by psychiatrists — are used to negate any success in Spiritual evolution and return the slave to a state of vacant contentment.
Diversions and Techniques Promoting Inaction
The simplest and most effective diversionary technique is to promote scientific atheismand darwinian evolutionary philosophy as established fact. If you can get someone to buy into this philosophy, their fate is sealed. Even if they experience some contact with another dimension, such as an out-of-body experience, they will follow their programming, dismiss the experience as a delusion and refuse to investigate further. When they die, they will be totally lost and confused, flounder around on some lower Astral plane and eventually reincarnate just as Spiritually ignorant as before.
A side effect of accepting scientific atheism, which totally cripples Spiritual progress, is the acceptance of suicide as a way out of life's problems. Suicide becomes a learned reaction. Consequently, when the Soul is sent back into another physical lifetime, it is likely to commit suicide again when faced with some unpleasant event. It never learns, and this cycle can repeat essentially indefinitely. Dealing with this is one of the most difficult problems faced by the administrators who work on the Astral planes.
For those who want more than scientific atheism, there is mainstream garden variety religion. Mainstream Christianity has developed a clever stonewalling technique that has worked to promote inaction for thousands of years. This technique is centered upon the argument that no one can make any progress until Jesus returns to show the way. In the meantime, people should just do nothing and wait. The effect of this is essentially the same as scientific atheism. No Spiritual progress is made.
Schemes designed to waste time are common. One really off the wall example is the decision in Syria to prohibit vacuum cleaners and standard flat brooms in homes. "Witch type" brooms consisting of a circular straw bundle are allowed. Surely there must be a good reason to keep these terrorist weapons out of the reach of the typical Syrian housewife. The official reason is to make basic housework as difficult and time consuming as possible so as to prevent the woman from having any free idle time which, if allowed, could lead to the emergence of "immoral thoughts". Perfectly logical!
In the western world, complex bureaucracies seem to be deliberately designed to make the path to whatever you want as difficult as possible. Here the apparent motive is to prevent the acquisition of enough free time for any independent thought process. There are just not enough hours in a day to allow for any quiet contemplation of anything.
"Blank time" is always reported as a factor in the development of Spiritual figures. Time alone in the wilderness, time spent meditating alone in some isolated cave or at least periods of dedicated quiet time somewhere figure prominently in historical accounts of these people.
You may know or have heard of kids who spend all their waking hours playing interactive role model video games with other kids on the internet. They eat meals by the computer and never leave except to briefly sleep before returning to the all important game. Their entire life is spent in an imaginary reality. You may want to consider that your "real" life may not be all that different. You play a role. Your attributes are fixed by what society expects based upon that role. You can't change, because others would notice. Your concept of the world beyond your little world is determined by what you see on TV. Daily, you receive your "fix" of carefully choreographed "programming" which appears unusually coherent because, as you may not know or fully comprehend, everything on TV is controlled by a few corporations and all of them are loyal to the official government party line. If you somehow had the opportunity to break from this structured "game" you play from day to day — say, the opportunity to visit other countries and see other cultures — you would likely realize that your existence has not been that much different from the kid addicted to a computer game. You would find that the actual "real" world had very little relationship to the world you had been conditioned to believe existed.
Chemical Control Techniques
"With the use of chemical brain-control agents it may be possible to control the individual and the masses and to do this unobtrusively and without the active cooperation of the victims — not a question for the future — it is here".
This is a quote from the book by Edgar Cayce titled Edgar Cayce on Atlantis. There are references to Dr. Robert Galbraith Heath, and this book bears a copyright date of 1968. The book cites an interview that Heath gave to a newspaper called The Virginia Lighthouse and cites the above statement made by him on November 20, 1966. Heath founded the Department of Psychiatry and Neurology at Tulane University, New Orleans, in 1949 and remained its Chairman until 1980.
During this period, Tulane University actively participated in the CIA mind control project known as MK Ultra [1]. Also, during this period, Tulane became an active member of the secret Institute for Defense Analyses, or IDA, a corporation whose only client is the US government. Heath reportedly performed many experiments there involving electrical stimulation of the brain via surgically implanted electrodes. This work was reportedly partially financed by the CIA and the US military. Heath is now "officially" [11] deceased.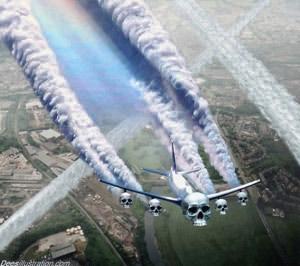 You have been drugged since you were conceived — before you were even born. Your mother was drugged. Soon after birth, you were injected with mercury containing vaccines. And the systematic process of poisoning you never stopped.
By some estimates at least eighty percent of the food in the average supermarket is poison either because it is genetically modified or laced with pesticides and other additives. Even the air is poison now because of geoengineering chemicals sprayed into the upper atmosphere.
It should be noted that things are different in the separate but parallel world of the elite. The Max Keiser show [12] discussed the secret gardens in Japan. These gardens are surrounded by high walls and guarded by the military. They produce the food for the ruling elite. Every plant in the garden has its own health certificate certifying that is pure, healthy and not genetically modified. Obviously, every developed country must have a similar secret supply chain of legitimate food for its ruling class. Certainly the elite know better than anyone that the food supply for the ordinary people is poison. They're not fools. They wouldn't touch the stuff.
Vaccines used for the elite are prepared without the mercury and other toxic additives found in vaccines given to the ordinary people.
Various agents — mainly from plants — have always existed which could be used by those aware of them to harm others or control people by altering their state of consciousness. However, only recently has it become practical to wreck the health of essentially everyone on the planet at the same time. Genetic modification of plants and other life forms used for food has made this possible. Now, quietly, people throughout the world can be sterilized, crippled with serious health problems or even killed by altering the genetic makeup of the food supply. Ordinary people remain generally ignorant of the fact that this awesome power exists and is presently being used against them.
Mind control has become a science. You can't major in it in college because this science is essentially entirely secret. The United States and other countries have spent the equivalent of billions of US dollars investigating and perfecting mind control.
Many secret research projects using unsuspecting or perhaps kidnapped people — some of whom were killed — have been conducted in the past and continue today. We only know about a very few of these projects such as MK Ultra, MK Naomi and Project Other. Even in these projects, specific details are sketchy. From these experiments, practical techniques for creating manchurian candidates and implanting created false personalities and identities have been developed and are in common use today within the secret communities.
Everyone has likely been the victim of some degree of mind control to some extent. Chemical weapons designed to mentally cripple people and render them drooling idiots are freely sold as prescription drugs in drugstores and are available to doctors to use as they please.
The lives of many kids are destroyed by these "drugs" because they have no ability to resist and their parents are ignorant and believe doctors can "do no harm". Actually, today's doctors are agents of the state. Many have top secret clearances and embrace classic Nazi philosophies such as eugenics. Their function is to watch you and make sure you "die appropriately" so as not to burden society. Anything they learn about you and anything you tell them is freely available to anyone in the intelligence community who is curious about you.
Only members of the super elite who are entitled to access top secret medicine will receive legitimate supportive medical care. Ordinary people will be deliberately allowed to die even though doctors with top secret clearances know of effective treatments which would cure them but which are classified and reserved for the chosen elite.
There is no such thing as an incurable disease any more. All the cures have been discovered. If you die, it is because you are not considered important enough to live and not because the cure does not exist.
Common sense should suggest to you that the lives of the elite have statistically different characteristics. For example, members of congress do not live sheltered lives. They work in close quarters and travel extensively both locally and internationally. They are always hanging out with prostitutes as well as playing with the young congressional pages.
Washington D.C. is reported to have more brothels than fast food joints. Strangely, however, these people do not get sick. Have you ever heard that congress had to shut down because everyone was coming down with some infection. It happens in other close populations, so what would make them exempt?
Understanding Astral Damage
Living things have an Astral component. For example, when you cut a leaf and then see the complete leaf on a Kirlian photo you are viewing the Astral component which was unaffected by cutting the physical component because it does not exist in the physical dimension.
Over one hundred years ago, practical techniques for viewing the human Aura were developed by Walter J. Kilner [4]. The original technique used dicyanin dye and a later technique used special glasses. You can't find either one today. In his research, Kilner was able to demonstrate that defects in the human Aura appeared before some corresponding disease manifested in the physical body.
Therefore, he was able to detect and prevent an adverse physical condition before it ever physically materialized. So, you ask, why don't we have this marvelous medical technique available today? Well, we do. It is in use in top secret medicine. However, only the approved elite now have access to it. The information has been removed from public knowledge and classified.
In conventional allopathic medicine, which is based upon scientific atheism and sold to the general public, there is officially no such thing as an Astral body. Conventional medicine denies the existence of anything beyond the physical dimension. Since the Astral body officially does not exist, it is not recognized as a crime to deliberately harm it.
Damage to the Astral body can be compared to damage to the physical body. If you punch holes in the physical body by cutting it, shooting bullets at it or whatever, blood runs out and germs get in. If you cause enough damage, the body dies. Astral bodies do not die, but can suffer critical energy losses. Similar to physical bodies, punching holes in the Astral body allows essential energy to escape and harmful energies to enter.
There are many events which can harm your Astral body. It is in your interest to understand these events because your Astral body will be your primary body when your physical body dies. If it has been damaged, you will be at a severe disadvantage. The chosen elite have perfect Auras because they can use the Aura balancing machines available to them at any top secret medicine provider. However, you cannot.
Also, the ruling elite seem to take some delight in causing harm to the "ordinary" people. Consequently, many drugs, food additives, GMO foods and industrial chemicals found in the environment cause Astral damage. Chemicals recognized as poisons and banned in other countries can be freely added to foods given to ordinary people in the US.
Obviously, there must exist a secret supply chain of safe food and water which is available to the chosen since they know of the contamination and certainly would not want to harm themselves or their friends.
There are ways to closely duplicate the secret techniques available only to the elite. If you can see auras or can find a reputable psychic who can, you can approximate the techniques developed by Kilner and available to everyone over a hundred years ago. Although the secret aura balancing machines are more accurate, a competent psychic healer can do the same thing. Actually, since psychics have always existed, similar techniques have been available throughout the ages to those who were aware.
Fluoride
The concept of adding fluoride to drinking water for the purpose of mind control is said to have originated in the 1930′s as a result of collaboration between German and Russian scientists [2]. Sodium fluoride was originally used and was found to cause a "mild lobotomy" in people who consumed small quantities. The effects were considered to be non reversible after one year of continuous use of the tainted water. Hitler added sodium fluoride to the water in his concentration camps to make the prisoners docile and cooperative as they waited for death.
Sodium fluoride (NaF) is used today in personal products like toothpaste. To poison the water supply of an entire country with sodium fluoride would be expensive. However, it just so happens that there is a waste product created during the manufacture of phosphate fertilizers, Fluorosilicic acid (H2SiF6), which is classified as hazardous waste and would be expensive to dispose of under EPA guidelines.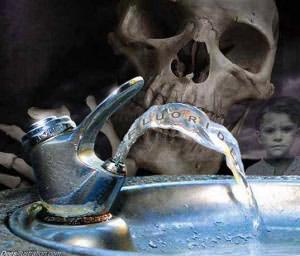 There is lots of this stuff available. This is the poison added to the public water supply in the US and some other countries. It is actually economical for industry because they don't have to pay for hazardous waste disposal. They just pump it into the public water supply.
In the human body, fluoride has an affinity for the pineal gland in the brain. The pineal gland is associated with the "third eye". Everyone has this third eye, but few are aware of it or know how to activate and use it.
Although the pineal gland is part of the physical body, the associated third eye is part of the Astral body and so is invisible in the physical dimension. The third eye allows you to see and communicate with the non-physical dimensions while fully awake and functioning in the physical dimension. So, you could see and carry on a conversation with someone in the physical dimension while invisibly also viewing and communicating with some entity on another plane of existence.
The standard Christian bible refers to the third eye with the phrase, "If thy eye be single thy whole body will be filled with light". However, only students of mysticism would recognize the true meaning of this quote.
Obviously, having this ability would be a threat to the security of any totalitarian society. Poisoning with fluoride destroys this ability and so solves that problem. Literature is available if you wish more detailed information. Simply search using the phrase "fluoride third eye".
On the chance that fluoride in the water is not sufficient to destroy any psychic abilities you may have, there are more aggressive ways to get fluoride into your brain. Here are some structural models of popular psychiatric drugs:
Notice that the element Fluorine (symbolized by its standard chemical symbol "F") figures prominently in all these compounds.
These drugs are used to cause "chemical lobotomy". By blocking communication channels with the higher levels of the human brain, they effectively convert the victim into a lower form of animal. Lower animals do not have the frontal lobes possessed by humans. That is what makes humans special. Disabling the frontal lobes effectively transforms a natural human being into, basically, a docile and obedient house pet which can be trained like a dog.
Incidentally, Fluorine also figures prominently in Sarin nerve gas.
For a more in depth study search YouTube for the free documentary Flouridegate — An American Tragedy by David Kennedy.
They All Drink From the Same Trough
If you casually look out upon the institutions of the world, it may appear to you that they are independent, discrete entities. However, they are not. They are all components of a collective which has successfully hidden its existence and true nature from the general population for generations.
Let's begin with the media in the US. Although it may appear to you that there are thousands of independent sources reporting "news", 90% of all media is controlled by six corporations. They are General Electric, News-Corp, Disney, Viacom, Time-Warner and CBS.
In the US, people believe they are protected from tyranny by the concept of "separation of powers" — that the executive, legislative and judicial branches of government are staffed by independent thinkers who "check and balance" each other. This is also a deception.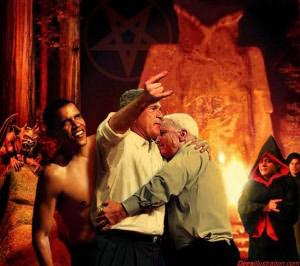 Once a year, at the end of July, there is a secret gathering on private property in the redwood forest of California called the Bohemian Grove. Although this annual meeting has been going on for over one hundred years, it is only during the last several years that outsiders have begun to learn of its existence. The only reason they have is because of the internet and independent journalism. Leaders from the mainstream media are all members of this secret club and so never even report its existence.
Who else goes to this annual secret "party"? Well, for want of a better name, we will call them the "Trusted Satanists". They are the leaders of all the major corporations, banks and representatives from all the major branches of the US government as well as foreign governments.
Although these men outwardly support the concept of capitalism for the masses, this elite group, among themselves, are perhaps best described as "rich socialists". Only men are allowed. For recreation, a stable of prostitutes — both male and female — are kept nearby off-site. The male prostitutes could theoretically enter the Grove.
The "party" begins with a Satanic ritual called "Cremation of Care" (i.e., "we don't care") which features the burning of a coffin at the base of a huge statue of an owl. Walter Cronkite reportedly was the official announcer at the grove until his death.
A secretly filmed video of this event is available on YouTube. It is supposed to be a "simulated" child sacrifice. However, since the CIA, FBI and NSA attend the ritual, who is going to complain on the chance it is a real sacrifice of a human child? After all, they are all trusted Satanists.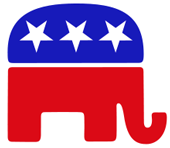 Most attendees from the United States are members of the Republican party. This is completely predictable in view of the fact that the US Republican party flaunts its affiliation with the "dark side" by prominently using the inverted star symbol on its official logo.
During the two week period, corporate leaders, the "independent" government regulators who supposedly keep corporations honest, the leaders from the executive, legislative and judicial branches of US government who are supposed to be "checking and balancing" each other, as well as the media moguls who we "trust" to report the truth, are all running around naked in the woods — pissing on the trees, playing with each other, and the male prostitutes as well as the off-site female prostitutes, and "having discussions".
Well, what are they "having discussions" about? They are discussing what they plan to do with "their world". The Manhattan Project to develop the first atomic bomb was reportedly planned at one of these discussions years ago. What about you? What about your future? What about any expectation of happiness you may have? Well, you see, you "don't need to know". Remember, "If you are not one of us, you are nothing".
Blueprints For the New World
Overview
If this link [7] is still active, it would be in your interest to read through it. This document is a transcript of a speech given by one of the insiders in the year 1969. He boldly states,"Everything is in place and no one can stop us now".
The article details how people ("people" means the slave class who are "nothing"; recall: "If you are not one of us, you are nothing") will just have to get used to changes such needing permission to have children, accepting mandated euthanasia as the law and total surveillance. Essentially all goals are now achieved, although some still remain guarded secrets.
The 1960′s was the period when physical death was eliminated. Of course, this "privilege" is only available to the select Satanic oligarchs. Effective cures for all diseases were also developed. The speaker [7] states that the cures are on file in the Rockefeller Institute. Of course, most are classified and only available to the chosen elite.
Infrastructure
The PBS documentary, Top Secret America [8], presents a good overview of the secret world of the elite. You may think no one is paying attention to the infrastructure in America because streets are in disrepair and bridges are falling down. However, you would be wrong. A tremendous amount of money is being spent on infrastructure in America — for the chosen elite. You will never see it and you will have no need for the decaying bridges and streets because you won't be around to use them. You, as well as 90+ percent of the current population, will be killed in the "Great Culling".
The new infrastructure is quite elaborate as the documentary explains. It consists of thousands of buildings which have a few stories visible above ground but which then extend for 90+ stories underground. All amenities are available within these secret structures which are basically self-sufficient.
It is important for the buildings to reach deep underground so that the lower levels can connect to the secret underground transport network. This network is global and provides safe high speed transport for the elite. Whenever the network crosses a tectonic plate, massive amounts of silicone are used to allow the transport tunnel to flex as needed. The network has access points in all countries. However, these points remain secret in countries which have yet to be subdued and co-opted into the new world order.
NWO Enabling Documents
The treaty known as the Trans-Pacific Partnership appears to be the formal enabling document for the new world. The actual document is secret and only high level corporate executives and politicians are allowed to see it.
Even after the treaty goes into force, its contents will remain secret. Because, in the United States, treaties must be openly debated in congress, the treaty is being called an "agreement" to circumvent the law and keep its contents secret. However, some details have become known.
Although the planet is officially divided into "sovereign" countries, it is overlaid with a network of transnational corporations. This network basically forms a parallel government which encircles the globe. The Trans-Pacific Partnership is designed to cause any country which signs on to surrender its national sovereignty to a secret committee composed of corporate executives. This committee can then alter the constitution and laws of any country which has accepted the treaty as suits their whim. There will be no appeal against this.
Under the treaty, there will be only one purpose to human life. That purpose will be to maximize the profits of the cabal of transnational corporations which will now be essentially a single global corporation in absolute control of the world. This effectively institutionalizes the new world order.
What does this mean for you? Well, to begin with, there can be no retirement. Paying for retirement would negatively impact corporate profits. So, if you can't work, you will be killed. Taking care of sick people would also drain corporate profits. It would be more profitable just to kill the sick and replace them with young, healthy slaves. Disabilities — forget it — disabled kids will never make it out of the womb alive.
Reeducation
To come into compliance with the philosophy of the new world, people will need to be reeducated. Military instruction documents [6] are already teaching that the Founding Fathers of the United States were extremists and anyone who thinks like them would not be suited for today's military.
Well, what did these radical extremists think?
"We hold these truths to be self-evident, that all men are created equal, that they are endowed by their Creator with certain unalienable Rights, that among these are Life, Liberty and the pursuit of Happiness."
Obviously, these principles are not compatible with the new world. The idea of a "Creator" conflicts with the official doctrine of Evolution. We can't have that. People must accept that they and the universe they live in is simply an "accident".
People are already realizing that Liberty and Happiness are gone. They know now that they live under constant surveillance and their lives get worse year after year. How about the right to Life? Can't have that. People need to be reeducated to believe that it is their "duty to die" when they are no longer useful to the state (which is now the global corporation).
Of course, the global elite will live physically forever but ordinary people will not know this.
If a world where people are conditioned to want to die and do not want kids but just sleep around for fun sounds vaguely familiar to you, you might recall that this is the future society described in Huxley's classic novel, Brave New World.
Population Modification
Please refer to [9] as a reference source. Today's "great thinkers" seem to be coming into agreement that most people are unnecessary and need to be exterminated for the convenience of the elite. Bill Gates, who has now been accepted into the super exclusive Bilderberg group, has reportedly taken the task of exterminating the third world population by giving them "free" vaccinations which will render them sterile.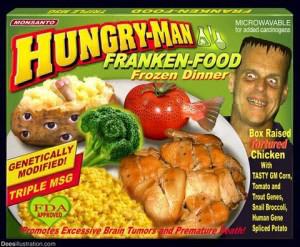 Lots of groups are working on secret sterilization methods. European tests of Monsanto's GM soybeans on hamsters showed the animals became sterile by the third generation [12]. A new gene known as Epicyte [9] is planned to be added to GM corn which will cause immediate sterilization.
Additionally, people are being "eased into" accepting the concept of "after birth abortion". Intellectuals are trying to get people to accept the argument that living human children under three or perhaps even five years old are really "not people but advanced feotuses". Since abortion is already legal, a simple change in the definition of "feotus" would allow young kids to be killed at will for any reason.
Another "new thought" gradually being programmed into the young is the pleasure of the "childless lifestyle". This propaganda seeks to convince people that having kids is too much trouble and they will be happier if they just get sterilized and then run around having lots of sex purely for fun.
These "evolutionary" population control techniques are already in effect. However, the elite likely are not willing to wait several generations to get rid of those they do not need. This brings us to the more direct method commonly called "The Great Culling" which will allow the elite to kill off most of the world's population quickly.
The most likely method will be the release of new designer viruses for which no one will have any natural immunity. Of course, the elite will all get the classified antidote. Preparations for the disposal of the bodies is already complete and stockpiles of plastic coffins — each designed to hold three bodies and manufactured under government contract by Halliburton — have been photographed and documented. Everything is now in place awaiting the "go" command.
Designer Children
Some types of designer children have already been approved for "production". Britain has approved three parent babies [10] and China has proposed a process to artificially fertilize most of a woman's eggs and then examine them to determine which is likely to produce a child with the highest IQ. This will be the only selected egg because Chinese women are only allowed to have one child and must then be sterilized.
In the new world where the only purpose of people will be to do slave labor to serve the elite corporate masters, the concept of allowing the existence of children conceived naturally clearly cannot be allowed. There would be an unexceptable chance for some kind of error that could result, for example, in the creation of a being capable of independent thought who might challenge the establishment.
A man's true worth is measured by the amount of other people's happiness that he can possess and destroy
This is a quote from the docudrama The American Ruling Class [5]. It is worthy of discussion because it is so prophetic.
The Satanic oligarchs who run this world basically exist and thrive on the misery of others. It is not enough just to use and abuse you — they want to consume your Soul. Your misery and suffering is, essentially, their "food". It is the source of their energy.
Ordinary innocent Souls are sustained by the life energy which flows from the Creator. However, since the oligarchs hate God, this energy flow is not available to them. So, they essentially survive by consuming the life energy of the innocent Souls they have captured and enslaved.
Ordinary people do not naturally choose to spend their lives in a state of constant war. They have to be somehow coerced into this behavior. Otherwise, they would likely seek a quiet, peaceful life. The atrocities the US and other warmonger nations force their citizens to commit are so contrary to basic human nature that the US loses more soldiers to suicide than it does to the enemy. The once innocent soldiers find that they simply cannot continue to live with what they have become and the memories of the horrors they have caused to others. The Satanic rulers who create wars, of course, have no problem with this.
Promotions within the inner circles of power are based upon how much evil one has done. The more harm you cause to others the greater your respect. You may have noticed that the stock market, which is a measure of the success of the elite, shows gains during periods when the average person is suffering and losses during periods when, somehow, life for the ordinary person seems to improve. The stock market set a new all time high, for example, during the Vietnam War when innocent young kids were being drafted and slaughtered in Vietnam while peaceful protesters at Penn State were executed by government forces for daring to dissent.
Why You Should Care
On the low Astral planes you will find people — Souls — who are totally lost and confused and seem to move in slow motion. They do not realize they have died. These "people" are not there because they tore up the Bible or burned the Koran or some other offensive act. They are there simply because it is the best they can do. They are using all of the Spiritual energy they have just to maintain this miserable existence. Whatever activities they engaged in while alive had no Spiritual merit and had no effect on developing or increasing their Spiritual energy level. Since the opportunity to do this ended when they died, they will remain strung out in this condition until they reincarnate again at which point they will have another chance to choose activities which enhance Spiritual energies.
You should care because the things you do and the things you fail to do during your brief life here will affect your existence for millions of years in the future.
The other dimensions operate under exact scientific rules just like this dimension. However, the rules are not the same. Because alternate sources of information are available today — mainly because of the internet — it is in your interest to at least investigate the available literature on Spirituality, energy raising techniques and various first-hand reports from people who have successfully visited the neighboring dimensions.
Source:  Walter C. Vetsch   |   3108.info  |  War Is Crime
In an exclusive interview with the Voice of Russia, Bruce Gagnon shares little known facts about the militarization of space by the United States, the development of first strike space drones and the foundation of the US military industrial complex by Nazi scientists bent on victory in World War III. If you thought missile defense and drones were bad, you haven't heard anything yet.
Robles: According to your organization the US Space Command has publicly stated they intent to control space in order to protect US interests and investments. Is space now US territory?
Gagnon: Well, indeed the United States likes to believe that it owns space, and particularly the Space Command, who on their headquarters building in Colorado Springs, just above the doorway they have their logo that reads "Master of Space". So, I think that it is quite evident that the Space Command does indeed view space as US territory that must be controlled because they clearly understand that all warfare on the earth today is coordinated by space technology and that whoever essentially controls space will control the planet below, in this case on behalf I believe of corporate globalization. And so the Space Command in our thinking has become the military arm of corporate globalization.
And so today the US is developing a whole host of technologies to allow it to fight war from space, through space and in space, controlling not only the Earth but also the pathway on and off the planet Earth, the pathway to other planetary bodies as resources are discovered on other planets: magnesium, cobalt, uranium, gold, water etc.
In a congressional study done back in the 1980s, the Congress gave the Pentagon the mandate to develop the technologies to control the pathway on and off the planet Earth. So, the Space Command sees its role in a very-very robust kind of way.
Robles: Several questions just popped up after what you just said. First one: how do they intend to "control the pathway", I mean there is not only one pathway off the planet, I mean, how are they going to do that?
Gagnon: Well, in this particular study entitled "Military Space Forces the Next 50 Years", they talk about the Earth-Moon Gravity Well, that whoever controls the Earth-Moon Gravity Well, essentially with bases on the Moon and armed space stations between, what they said were the L4 and L5 positions in space, they would be able to control these.
And interestingly enough, we know that it was in fact the former Nazi scientists that were brought to the United States following World War II under a program, a secret program, called Operation Paper Clip. These Nazi scientists that ran Hitler's V1 and V2 rocket programs, they were the first to bring to the Congress of the United States, this idea of having orbiting battle stations controlling the pathway on and off the planet as well as the Earth below.
So, today again there is the whole host of technologies that are being developed by the Space Command. They say at the Pentagon that we are not going to get all of these technologies to work, but through the investment and the research and development in these various technologies, things like "Rods from God": orbiting battle stations with tungsten-steel rods they would be able to hit targets on the Earth below…
Robles: They call those "Rods from God"?
Gagnon: Yes, they call it "Rods from God". The new military space plane that is being tested now by the Pentagon, it has shown its ability to stay in orbit for a whole year at a time: an unpiloted space drone essentially. And then with ground stations all over the planet that the United States has established, what they call downlink stations that communicate with US military satellites all over the planet. This whole network has been put into place to really give the US, as they say in one of their planning documents, "control and domination of space".
Robles: More questions: The space drone that you just mentioned, it is actually…it's operational right now?
Gagnon: It is called the X37B, it's been over the past couple of years. The testing program has accelerated and they've had three successful launches of it now. Just recently, I believe it was just at the end 2012, was the last of the missions, the third mission actually. But prior to that they had one of them spend a whole year in space.
The role of this X37B, or the military space plane, is somewhat in dispute. Some people believe that it is for surveillance, to spy on various countries, like Russia and China. Or others believe that it is actually a first strike weapons system whose job would be to fly down from orbit, drop an attack on a particular country.
In fact the Space Command annually war games a first strike attack on China set in the year 2016. And in one of the articles, in one of the industry publications, Aviation Week and Space Technology, I read a report about the first weapon that was used in one of these computer war game attacks of China, was this military space plane. So, indeed they are war gaming with it as a first strike weapon.
Robles: Now, you mentioned Nazi scientists a minute ago. I mean, it is not a very widely known fact that after World War II, I believe it was, about 400,000 Nazis found refugee in the United States. Can you tell us a little more on the scientists that were developing these programs and working with the US government? Can you expand on that a little bit?
Gagnon: Under Operation Paper Clip, 1,200 Nazis were brought into the United States, former Nazi intelligence. They were brought in to help create the CIA.
Wernher von Braun, the Nazi scientist that ran the V1 and V2 operations, was brought in. He became one of the leaders of NASA and he built the first successful rockets that were launched by the US military after the Kennedy administration wanted to respond to the Soviet Union's launch of Sputnik.
Other Nazi scientists were brought in to create US Flight Medicine programs, the MKUltra LSD-drug experiments of the 1960s in the United States, where people were jumping out of windows and killing themselves because they were given drugs.
The people that were running these were the former Nazi scientists who had been doing similar tests on prisoners of war and Jews and other people in concentration camps inside of Germany.
So, the entire military industrial complex was seeded with these top Nazi operatives. And I've always maintained that when you do that: "Is there an ideological contamination that comes along with that?" My belief is: indeed there is.
Robles: That's exactly the point I wanted to make myself.
Gagnon: Major-General Walter Dornberger was the Head of Hitler's secret Space Development Program. He was brought to the United States to work for Bell Aerospace in New York State after the war.
He testified before the Congress in the 1950s. And I can quote him, he said to the Congress: "Gentlemen, I didn't come to this country to lose the third world war, I lost two already." And he again was one of the first to lay out this vision of control of space, giving the US full control of the planet Earth.
Source: Bruce Gagnon and John Robles | GlobalResearch.ca
The scale and rate of modern climate change have been underestimated.
The release to date of a total of over 500 billion ton (GtC) of carbon through emissions, land clearing and fires,  has raised CO2 levels to 397-400 ppm and near 470 ppm CO2-e [a value including methane] at a rate of ~2 ppm CO2 per year [1] (Figures 1 and 2). These developments are shifting the Earth's climate toward Pliocene-like (5.2 – 2.6 million years-ago [Ma]; +2-3oC) conditions and possibly mid-Miocene-like (~16 Ma; +4oC) conditions [2], within a couple of centuries―a geological blink of an eye.
The current CO2 level generates amplifying feedbacks from the ice/water transformation and albedo loss, methane release from permafrost, methane clathrates and bogs, from droughts and loss of vegetation cover, from fires and from reduced CO2 sequestration by warming water.
With CO2 atmospheric residence times in the order of thousands to tens of thousands years [3], protracted reduction in emissions, either flowing from human decision or due to reduced economic activity in an environmentally stressed world, may no longer be sufficient to arrest the feedbacks.
Four of the large mass extinction events in the history of Earth (end-Devonian, Permian-Triassic, end-Triassic, K-T boundary) have been associated with rapid perturbations of the carbon, oxygen and sulphur cycles, on which the biosphere depends, at rates to which species could not adapt [4].
Since the 18th century, and in particular since about 1975, the Earth system has been shifting away from Holocene (10,000 years to the present) conditions, which allowed agriculture, previously not possible due to instabilities in the climate and extreme weather events. The shift is most clearly manifested by the loss of polar ice [5] (Figure 3). Sea level rises have been accelerating, with a total of more than 20 cm since 1880 and about 6 cm since 1990 [6]..
For temperature rise of 2.3oC, to which the climate is committed if sulphur aerosol emission discontinues (see Figure 1), sea levels would reach Pliocene like levels of 25+/-12 meters, with lag effects due to ice sheet hysteresis.
With global CO2-e levels at ~470 ppm, just under the upper stability limit of the Antarctic ice sheet, current rate of CO2 emissions from fossil fuel combustion, cement production, land clearing and fires of ~9.7 GtC in 2010 [7] , global civilization is at a tipping point, facing the following alternatives:
With carbon reserves sufficient to raise atmospheric CO2 levels to above 1000 ppm (Figure 4), continuing business-as-usual emissions can only result in advanced melting of the polar ice sheets, a corresponding rise of sea levels on the scale of meters to tens of meters and continental temperatures rendering agriculture unlikely.
With atmospheric CO2 at ~400 ppm, abrupt decrease in carbon emissions may no longer be sufficient to prevent current feedbacks (melting of ice, methane release from permafrost, fires). Attempts to stabilize the climate would require global efforts at CO2 draw-down, using a range of methods including global reforestation, extensive biochar application, chemical CO2 sequestration (using sodium hydroxide, serpentine and new innovations) and burial of CO2 [8]
As indicated in Table 1, the use of short-term solar radiation shields such as sulphur aerosols cannot be regarded as more than a band aid, with severe deleterious consequences in terms of ocean acidification and retardation of the monsoon and of precipitation over large parts of the Earth. Retardation of solar radiation through space sunshades is of limited residence time and would not prevent further acidification from ongoing carbon emission.
Dissemination of ocean iron filings aimed at increasing fertilization by plankton and algal blooms, or temperature exchange through vertical ocean pipe systems, are unlikely to be effective in transporting CO2 to relatively safe water depths.
By contrast to these methods, CO2 sequestration through fast track reforestation, soil carbon, biochar and possible chemical methods such as "sodium trees" and serpentine (combining Ca and Mg with CO2) (Figure 5) may be effective, provided these are applied on a global scale, requiring budgets on a scale of military spending (>$20 trillion since WWII).
Urgent efforts at innovation of new CO2 draw-down methods are essential. It is likely that a species which decoded the basic laws of nature, split the atom, placed a man on the moon and ventured into outer space should also be able to develop the methodology for fast sequestration of atmospheric CO2. The alternative, in terms of global heating, sea level rise, extreme weather events, and the destruction of the world's food sources is unthinkable.
Good planets are hard to come by.
[1] IPCC AR4 http://www.ipcc.ch/ ; Global Carbon Project  http://www.globalcarbonproject.org/ ; State of the planet declaration http://www.planetunderpressure2012.net/
[2] Zachos, 2001 cmbc.ucsd.edu/content/1/docs/zachos-2001.pdf; Beerling and Royer, 2011 http://www.nature.com/ngeo/journal/v4/n7/fig_tab/ngeo1186_ft.html; PRISM USGS Pliocene Project http://geology.er.usgs.gov/eespteam/prism/
[3] Eby et al., 2008. geosci.uchicago.edu/~archer/reprints/eby.2009.long_tail.pdf
[4] Keller, 2005; Glikson, 2005; Ward, 2007. http://www.amazon.com/Under-Green-Sky-Warming-Extinctions/dp/B002ECEGFC#reader_B002ECEGFC
[5] Loss of polar ice http://www.agu.org/pubs/crossref/2011/2011GL046583.shtml
[6] CLIM 012 Assessment Nov 2012; http://www.eea.europa.eu/data-and-maps/indicators/sea-level-rise-1/assessment, Rahmstorf et al., 2012, http://iopscience.iop.org/1748-9326/7/4/044035/article.
[7] Raupach, 2011, www.science.org.au/natcoms/nc-ess/documents/ GEsymposium.pdf)
[8] Geo-engineering the Climate? A Southern Hemisphere perspective. AAS conference www.science.org.au/natcoms/nc-ess/documents/GEsymposium.pdf
Geographically:  Now that the world's ocean levels have started rising much faster than predicted, America's coastal cities may become submerged far sooner than we thought.  And, sooner rather than later, Manhattan stands a very good chance of becoming the next lost Atlantis.
Here's a cute little video from NASA that describes what's been happening to our planet's climate over the last 131 years.  Check it out:  http://www.climatecentral.org/blogs/131-years-of-global-warming-in-26-seconds/  In this video animation, blue represents minus-two degrees Celsius and red represents plus-two degrees Celsius.  That's only a four-degree variation — but what a variation it is!  At the blue point, ice all over the planet used to be still intact.  At the red point, however, it has melted.  At this rate, San Francisco will soon join Manhattan in its race to become the first lost Atlantis.
But enough said about that. I just hope that you don't own a condo down in SoHo or beach-front property in Honolulu.  You do?  You're screwed.
And then there's Burning Man.  This year Black Rock City was completely engulfed in air-born dust particles and white-out sand storms almost 24/7.   If this drought doesn't let up, perhaps they ought to change its name to Dust Bowl City.
And also, for the first time in memory, we have gotten a hecka lot of Canada geese hanging around Berkeley this summer instead of just passing by in the spring and the fall.  Guess they don't have to fly so far south to get warm any more.  No winter vacation in Cancun for them!   And we humans don't need to fly south to Puerto Vallarta during the winter months any more either.  Last year was the warmest winter in NorCal that I can remember (but I still love Puerto Vallarta).
Morally:  The Republican party (and the huge corporations that now own it) are completely using and abusing their only staunch allies — the older white American males and blind-faith Christians who support them — in order to enact laws and make policies that not only undermine these staunch allies' beliefs but also their very existence.
Jobs, Social Security, homes, families, medical care, infrastructure, water supplies, energy sources, the very teachings of Christ Himself, you name it — all have been put in grave danger by the very corporate interests that naive older white Americans and gullible Christians have blindly trusted and supported all these years.  It's just sad to watch these trusting staunch allies of the GOP constantly getting knifed in the back.
Then there are the famous Fetus Wars.  Jesus is being called upon to testify against Planned Parenthood — and yet Jesus isn't even allowed on the premises when multiple brutal vicious and bloody wars have been declared against millions of innocent children all around the world.  You wanna call yourself a Christian?  Then you gotta act Christ-like!  Duh.
And Repubs are now actually saying that Ted Kennedy originated the War on Women.  Chappaquiddick was a tragic accident.  That's not the same thing.  But a true war on women appears to be the GOP's latest favorite game plan — as Repubs happily head down the same path that other "Christians" took back in the European Middle Ages when an estimated nine million women who dared to speak up for themselves, tried to get an education or attempted to practice medicine were burned alive at the stake.
Economically:  Since outsourcing and deregulation has hit America like a category-5 hurricane, our economy has become a disaster area — literally.  So many jobs have fled overseas and so much wealth has fled to the Caymans that many parts of the USA look almost like New Orleans after Katrina.
All the things that we used to make here?  We don't even know how to make them any more.  And all that knowledge of how to make them has been lost too.
Sometimes I wish that the UN or NATO or whoever — perhaps the war-criminal-trial folks over at the Hague — would sanction America like they are now sanctioning Iran.  Then we would be FORCED to become economically independent again.
Republicans have deliberately created a vast pool of unemployed Americans so that they won't have to pay us high wages.  Hence the GOP's refusal to endorse a job program.  Why would they want to do that!
In their haste to make more and more money, large corporations are polluting our water and air and elevating our risk of cancer of course.  But they are also killing off billions of bees.  Good luck with getting our crops in when there is no pollination.  And bye-bye flowers too.  We don't even have to wait until water drowns out the new American Atlantis to miss our fruit trees and flowers.  Monsanto has already taken care of that.
Politically:  Anyone can buy a seat in Congress these days — or even buy the White House itself or the Supreme Court (especially the Supreme Court).  Who would have ever thought that it would be that way here in the former Land of the Free.  Not since Boss Tweed and Tammany Hall have our public offices been so "For Sale".  Shame on us for letting this happen.
And remember back in 1999 when we all thought that YK2 was going to be an international disaster?  Well all the computers didn't crash, but YK2 turned out to be an incredible disaster anyway — when George W. Bush stole the 2000 election and almost NOBODY in America objected or even noticed.  Then Bush allowed 9-11 to happen, followed by the disastrous Afghanistan invasion, the incredibly expensive Iraq invasion and the 2008 economic crash.
Yes, YK2 really was a disaster.
More political immorality:  Who has been a very important ally of corporate-owned Washington in places like Afghanistan, Syria and Libya?  Wait for it.  "Al Qaeda!"  Arming and encouraging the people behind 9-11?  Isn't that about as politically immoral as you can get?  But Americans seem to accept this hypocrisy without batting an eye.  Go figure.
And what can our bought-and-paid-for politicians possibly be thinking when they systematically alienate huge countries like Russia and China while kissing the booties of their corporate neo-con counterparts in teeny-tiny Israel.  Israel?  The size of New Jersey?  Israel's neo-con corporatists are gonna save us from the wrath of Russia, China, Africa, the Middle East, Latin America and all the other places and countries that our corporate-owned government has thoroughly screwed over the years?  Huh?
And then there's that cruel joke that used to be America's legendary and heroic Supreme Court.  No justice at all to be had there these days — if you are merely working class.  Those guys in black robes take their reverse-Robin-Hood roles very seriously.
"Take from the worker bees and give to the drones" should be carved in marble over our corporate-owned government buildings in Washington — just before America, the next lost Atlantis, slowly sinks into the sea.
But you had better get to carving it soon — because there is something in the air in America these days, a sense that nasty undercurrents are moving stealthily toward us from somewhere very deep, somewhere that the average voter isn't in touch with — except in our guts.
And our guts seem to be telling us that America is now sinking fast.  And that "We the People" have absolutely no life jackets — but that the billionaires who now own our government are already provisioning their yachtshttp://www.smirkingchimp.com/node/45275.
To paraphrase Plato, "…once upon a time your State stayed the course of a mighty host, which, starting from a distant point in the Atlantic ocean, was insolently advancing to attack the whole of Europe, and Asia to boot" — and then their city of Atlantis got all drowned out.
And to paraphrase Ray Bradbury, "Something wicked is definitely coming our way".
"…we are here dealing with a totalitarian state of which the philosophy included an utter contempt for the individual… any freedom of thought or action was inconceivable in the Aztec world… dependence and instability were absolute, fear reigned. Death lurked ceaselessly everywhere, and constituted the cement of the building in which the individual Aztec was prisoner… Clearly the spirituality of some aspects of Aztec life must have sprung from an old pre-Aztec tradition, later betrayed…" 

Laurette Sejourne ('Burning Water')
The life of a nation, of a culture, is sustained by very few but very critical social circumstances.  These pillars must stand strong, maintained with the utmost care and caution; as one would fight to maintain the beat of his own heart.  If these vital foundations are dissolved or destroyed, the nation and the people contained within are subject to the most heinous of generational afflictions.  The citizenry and all that nurtures their progress, begins to die.  Slowly suffocating in a corrosive atmosphere of dishonor, men turn toward pure self interest at the expense of their greater selves, giving rise to hatred, desperation, and an environment of disturbed malleability that is easily exploited by those who seek power.
Eventually, the entire edifice comes crashing down, sometimes so far into the pits of black and terrible times that it is all but lost, even to memory…
As I look out past the near horizon of this time, and this nation, I see considerable potential for a revitalization of that which is best in humanity.  I see a population that strives for independence.  I see a return to the entrepreneurial spirit of discovery.  I see unhindered freedom of thought and action feeding a fire of creativity that inspires us to unimaginable heights.  I see new expression given license not just by the masses, but by structures of a government which truly follows the will of the common man, and not the will of an elite few.  I see America breathing full, eyes wide open and alive.
However, this potential future would have to come at a considerable cost.
America has so strayed from its founding roots that it now hungers; starving for lack of nutrients from its natural soil.  As with all other catastrophic societies of the past, we have been manipulated and conned into overlooking and over-rationalizing astonishing injustice and in some cases, unmitigated evil.  I frankly don't know what else to call it.  There are some acts of malevolence that go beyond human weakness and inadequacy and reach into realms of calculation that are so cold, so soulless, there is simply no other way to describe them.  These actions and attitudes tend to run rampant in dying nations but are rarely singled out and criticized by those in the midst of the great fall.  Each begins with the loss of particular principles and inherent morals that are normally prized under more healthy circumstances, but are despised in times of chaos and uncertainty.
This begins with the rise of moral relativism.
All Is "Rational"… 
The concept that our inherent conscience should be set aside at times in order to achieve a "greater good" is a long running philosophy that has led to some of the greatest evils mankind has ever witnessed.  From Plato's "noble lie", to Machiavelli's politics of subversion, to the Marquis De Sade's insane fantasy world without self limit; such men and those who adopt their ideals have proven that intellect alone is no magic ticket to a well balanced society.  Indeed, intellect without intuitive conscience can be a tool for rationalizing the most horrifying of crimes.
In America today, we have quite a few moral relativists at the helm of our government, and many more who would advise them.
Ralph Peters, a retired United States Army Lieutenant Colonel and former campaign adviser to John McCain, known for his array of Islamo-fearmongo books and novels, is, in my view, a perfect example of the moral relativist in action.  Talking points from his writings are parroted constantly by Neo-Cons and now Neo-Libs who feel compelled to defend Barack Obama's continued blood-letting in the Middle East.  Peters asserts that American troops and warfare tactics must become essentially as monstrous as the enemy we fight in order for victory to be achieved.  This is excusable, in his opinion, because America is the "good guy", and they are the "bad guys":
http://www.freeman.org/m_online/apr04/peters.htm
Ironically, Peters often uses the example of Rome's genocidal attacks on Carthage as a primer for his arguments, loosely comparing the "barbarians" of Carthage to the "barbarian" Muslims of his War on Terror.  His position; that Rome was safest when they were absolute in their brutality.
What Peters ignorantly overlooks (or perhaps deliberately overlooks) is that the fall of Rome was not hastened by outside "barbarians", but by Rome's own barbarity and stupidity.  Rome's elites provoked and gave birth to enemy hoards through their relentless acts of bloodshed across the known world over the course of centuries.  America is set on the same exact path with the help of men like Peters; claiming that our principles stand in the way of our survival, and that all targets are fair game and all means are acceptable as long as we prevail.  The problem is, as Peters admits, one should never declare actual victory in the War on Terror.  Thus, by his own logic, there can be no conclusion, only an endless cycle of death perpetrated in ever more diabolical ways.
Nations that take on this mentality of pure destruction without boundaries lose all high ground in the annals of history.
It is not enough that a country or a culture should survive; it must also be worthy of survival.  Recent debacles in Afghanistan, including the deliberate killing of 16 civilians (which I'm sure Peters would attempt to advocate), show clearly that the longer you try to occupy a foreign nation based on false premises, the more it will eventually start looking like Vietnam, along with the toll of madness and depression that overtakes soldiers after multiple tours of duty fighting a war that makes no sense to them anymore.

Science Supercedes Conscience? 
In the world of Bioethics, Moral relativism has been refined to an artform, and the prominence of bioethical arguments is expanding considerably here in the U.S.  The reason for this can be tied directly to the elitist adoption of environmental activism as a vehicle to promote morally relative social policies.  The field of climate change continues to offer the most ample venue.  If the very future of our planet is supposedly at stake due to the mere creation of carbon emissions, a product of almost every human action, then all aspects of human life come into question and eventually, lend themselves to taxation, regulation, and domination.
Despite the fact that climate research labs like those at the CRU of East Anglia and NASA still refuse to release the source data for their experiments supporting their assertions that man causes global warming, and the fact that East Anglia's rigged computer modeling methods were exposed through the Climategate emails, the Bioethics community continues to use manmade global warming as the boogieman rationalization for scientific tyranny.  This includes suggestions of medicating the populace in order to make them more "empathetic" to the dangers of climate change:

http://www.theatlantic.com/technology/archive/2012/03/how-engineering-the-human-body-could-combat-climate-change/253981/
The climate change dynamic invariably leads to calls for population reduction.   Arguments have been recently presented stating that because newborn babies do not have fully formed cognition, they are "not yet human" and should be susceptible to legal abortion (of course, men like Steven Pinker, Noam Chomsky, Carl Jung, and many others have proven that there are multiple inherent qualities to children at birth, and Bioethicists have no idea how much of our personality is a part of that, but hey, who am I to argue with a Bioethicist):
http://www.nbcdfw.com/news/weird/Killing-Newborn-Babies-141014423.html
For the ancient Aztecs, high priests used the fake threat of the solar eclipse and the swallowing of the sun as a means to control the people and force them to conduct human sacrifice to satiate the bloodlust of their rulers.  In America today, we have high priests in the garb of pseudoscience who use the specter of climate change annihilation to seize similar control and condone clinical human sacrifice to satiate the thirst of environmental elitists for depopulation.

It Always Ends In Cannibalism…
People eating other people is just one of those aspects of extreme decline that the collapse of civilizations seem to elicit.  It goes against all natural law and even our animal instinct, but in a land where principles are rejected wholesale, it can become commonplace.  Most animals avoid turning to cannibalism because their very genetics demand that they continue the species.  This is very difficult to do when one's own species is self consuming.  Even if conscience were never a question (which it always is), our very DNA should prevent us from such activity.  When it does occur, with extensive participation by the general populace, it is a sure sign of a culture on the edge of a full-on swan dive into epic seventh circle of hell-style calamity.
This is why anyone should feel rather disturbed and sickened at the news that companies like Pepsi, Nestle, and Kraft Foods are working with artificial flavor manufacturer Senomyx, which uses aborted fetal tissue in the creation of its products:

http://healthfreedoms.org/2011/06/01/aborted-fetal-tissue-used-to-test-new-food-additives/
The Senomyx patents which include fetal tissue use (HEK Cell lines that express hetero oligomeric taste receptors) can be viewed here:
http://patft.uspto.gov/netacgi/nph-Parser?Sect1=PTO2&Sect2=HITOFF&u=/netahtml/PTO/search-adv.htm&r=0&p=1&f=S&l=50&Query=Senomyx&d=PTXT
Senomyx and the companies associated with it have made a wide range of assertions surrounding this practice.  Some deny fetal tissue is used at all.  Others argue that it is only used in the "testing" of certain chemical flavorings.  While the consensus is that human material is not actually present in the final food products of the companies involved, I find it a bit disconcerting to know that dead fetuses are being used to test better flavor enhancements for someone's next soda or slice of cheese.  Regardless of how you may feel about the issue of abortion, you have to admit that this lack of respect for human remains for the purposes of profit when numerous alternatives exist is chilling.
This news, along with the revelation that hybrid rice containing human DNA has been approved by the USDA, tells me that someone out there REALLY wants the average American to dive into at least lighter forms of cannibalism:

http://www.dailymail.co.uk/news/article-440302/The-rice-human-genes.html
Given these developments, it is only a matter of time before present technological food practices take another step forward into even more questionable realms.  Is the "Soylent Green" method of cannibalism more acceptable than the Aztec form of cannibalism?  No.  Ultimately, both stem from a complete lack of regard for life; a regard that usually keeps societies from tearing themselves to shreds over the rolling boil of a stew pot.
Moments Of Clarity Lost…
The above examples of undesirable trends are only a taste of the stampede of modern tyranny that we must brace for and defend against in the near term.  The most important factor of all is to understand why a social condition causes us pain.  In regret, and in sadness, that which makes us human is most distinctly felt.  Our inner voice, once lost or forgotten, is difficult to retrieve.  The ease by which the darker side of life presents itself becomes enticing, and, the good we were once capable of fades.
America (and the rest of the world) is at the most important stage of historical life; the stage at which the people choose to leave all reason behind to ride the mangling tides of fate, or, choose to stand and fight for a clarity of sight one could only define as individual destiny.  Regardless of the circumstances we are eventually faced with, one difficult truth remains; without a sense of honor and principle, there can be no liberty, and therefore, no society worth a damn.  Some see this as a handicap in the battle for transparency and truth in our culture.  I do not.
In the end, HOW we fight is just as important as WHY we fight.  The example we set is just as important as the ideals we espouse.  The way we live is just as important if not more important than the length of our time on this planet.  What we leave behind after the dust settles and our land driven forms remain but cast shadows in the minds of generations we will never meet, is what makes us who we are.  Anyone who says that the "ends justify the means", is not serving the future, but the moment, and that moment will be harsh and fleeting…
Source: Brandon Smith | Alt-Market
Is the U.S. government stockpiling huge amounts of food and supplies in anticipation that something bad is about to happen?  Is something about to cause a major economic crisis that will require large quantities of emergency food?  For a while, I have been hearing things about the government storing food through the grapevine and I have not been sure what to think about those rumors.  Well, today I received a phone call that blew me away.  I debated for quite a while before I decided whether or not to share this information with you all.  Normally I do not like to talk about anything unless I am able to prove it by pointing to an article in the mainstream media.  But the source of the information that I am about to share with you is rock solid.  I cannot reveal his name, so you will just have to trust me on that.  Hopefully the following information will be one more "dot" as we all try to connect the dots about what is really going on out there.
This morning I received a call from a very prominent person in the storable food industry.  He has asked me not to reveal his name.  I have been dealing with him for an extended period of time and I consider him to be a rock-solid source.  When I talked to him today, he had just received a huge order for storable food from a U.S. government source.  He told me that the dollar amount of the order was in the "five figures".
When he asked about why so much food was being ordered, the government source told him essentially that "you know what is coming".  When pushed further, the government official did not elaborate.
It was unclear whether this was part of a larger food stockpiling program by the government.  Perhaps this order was just part of the normal preparations that government agencies make for potential emergencies.
Nobody could blame the government for storing up some emergency food.  That is something that we all should be doing.
The truth is that the government is taking emergency preparedness very seriously these days.  For example, you can see video of a high-level NASA official urging NASA employees to develop preparedness plans for their own families right here.
But what if this is a sign of something bigger?
Remember, this is not some rumor I just pulled off the Internet.  This is not something that someone got from "an aunt" somewhere.
I got this information over the telephone from the person who took the order.
I promised that I would not reveal any more specific details, so I won't.
But this does seem to fit with a pattern that we are beginning to see emerge.
Earlier this year, FEMA issued an RFI (Request For Information) that inquired about the availability of 140 million meals of emergency food.  Apparently the food was meant to be stored up in case there was a "catastrophic disaster event" along the New Madrid Fault.
You can view this FEMA RFI right here.  The following is an excerpt….
The Federal Emergency Management Agency (FEMA) procures and stores pre-packaged commercial meals to support readiness capability for immediate distribution to disaster survivors routinely.  The purpose of this Request for Information is to identify sources of supply for meals in support of disaster relief efforts based on a catastrophic disaster event within the New Madrid Fault System for a survivor population of 7M to be utilized for the sustainment of life during a 10-day period of operations.   FEMA is considering the following specifications (14M meals per day):

– Serving Size – 12 ounce (entree not to exceed 480 calorie count);
– Maximum calories – 1200 and/or 1165 per meal;
– Protein parameters – 29g-37g kit;
– Trans Fat – 0;
– Saturated Fat – 13 grams (9 calories per gram);
– Total Fat – 47 grams (less than 10% calories);
– Maximum sodium – 800-930 mg;

Requested Menus to include snacks (i.e. fruit mix, candy, chocolate/peanut butter squeezers, drink mix, condiments, and utensils).  All meals/kits must have 36 months of remaining shelf life upon delivery.   Packaging should be environmentally friendly.
Mysteriously, seven days later this RFI was cancelled.
At that same time, FEMA also issued an RFI that sought to identify a supplier for 140 million blankets.  You can view that RFI right here.  The following is an excerpt….
The Federal Emergency Management Agency (FEMA) procures and stores blankets to support readiness capability for immediate distribution to disaster survivors routinely.  The purpose of this Request for Information is to identify sources of supply for blankets in support of disaster relief efforts based on a catastrophic disaster event within the New Madrid Fault System for a survivor population of 7M to be utilized for the sustainment of life during a 10-day period of operations.   FEMA is considering the following specifications (14M blankets per day):

– 100% cotton;
– White;
– 66″ x 90″
Also, there have been some much publicized shortages of storable feed recently.  There has been much speculation about whether or not the government is part of the reason for these shortages.
There are some products that simply were not available for an extended period of time.  For example, the following was posted on the Mountain House home page….
As you know we have removed #10 cans from our website temporarily. The reason for this is sales of #10 cans have continued to increase. OFD is allocating as much production capacity as possible to this market segment, but we must maintain capacity for our other market segments as well.
The shortages around the country got so bad at one point earlier this year thata special alert was posted on Raiders News….
Look around you. Read the headlines. See the largest factories of food, potassium iodide, and other emergency product manufacturers literally closing their online stores and putting up signs like those on Mountain House's Official Website and Thyrosafe's Factory Webpage that explain, due to overwhelming demand, they are shutting down sales for the time being and hope to reopen someday.
Unfortunately, shortages have not been limited to storable food.  Most Americans don't realize this, but there is a significant shortage of certain pharmaceutical drugs in many areas of the country right now.  Just check out the video news report posted below….
In addition, it is not just in the United States where food is being aggressively stored up.  For example, a recent article in The Telegraph noted that governments all over the globe are now stockpiling food….
Authoritarian governments across the world are aggressively stockpiling food as a buffer against soaring food costs which they fear may stoke popular discontent.
Also, some governments are now gobbling up as much farmland as they can.
According to the New York Times, China has been buying up "vast tracts of Latin America's agricultural heartland" and is seeking to acquire quality farmland all over the globe.
So what does all of this mean?
It could mean something.
It could mean nothing.
But as I have written about so much recently, we really do seem to be on the verge of a major economic crisis.
The signs that the financial world is melting down are all around us.  I won't take the time to repeat what I have covered in the last few days here.  If you missed any of it, just go back and read these articles over….
*Is Financial Instability The New Normal?
*Depressed As A Nation? 80 Percent Of Americans Believe That We Are In A Recession Right Now
*Nervous Breakdown? 21 Signs That Something Big Is About To Happen In The Financial World
One thing that I haven't covered yet is a very curious move by Lloyd's of London.  It turns out the Lloyd's of London has started pulling money out of banks in Europe's peripheral economies according to Bloomberg….
Lloyd's of London, concerned European governments may be unable to support lenders in a worsening debt crisis, has pulled deposits in some peripheral economies as the European Central Bank provided dollars to one euro-area institution.
At this point, world financial markets have officially entered "bear" territory.  In fact, global stocks are down approximately 20 percent since May.
Many believe that what we have seen is just the beginning of another major financial crisis.
For example, in a recent editorial for The Ticker, Karl Denninger (who saw the 2008 crash coming) warned that the house of cards is starting to fall once again….
Well, America (and the world), you've been scammed by the financial institutions and governments for the last 30 years.  2008 was the first spasm of recognition but was short-circuited by…. you guessed it…. even more scams.  Rather than demand truth and an end to the games the American consumer lapped up the frauds and schemes of the politicians on both sides of the aisle who conspired with the financiers to rip you off once again.
Later on in the editorial, Denninger stated that he hopes that all of us have "taken the last couple of years to become prepared"….
Now recognition of that fact is dawning on people in a convulsive fashion, and markets of all sorts are reacting as one would expect when their entire worldview is exposed as having been a gigantic and intentional pyramid scheme constructed of debt layered upon debt thatcannot be paid down.  The wrong thing was done in 2008 and there is zero evidence that our government has changed one iota in their singular focus on misdirection and lies in this regard.

Welcome to awareness; I hope you've taken the last couple of years to become prepared.
Well, if the anecdotal evidence presented above is an indication of a larger trend, it appears that the government is getting prepared.
And if the government is stockpiling food, who can blame them?
It should be obvious to anyone that the world has become an incredibly unstable place.
Hopefully we are not about to enter another major economic crisis, but it never hurts to be prepared.
If anyone out there has any additional information that is relevant to this report, please let me know.
If the government really has started to aggressively stockpile food, that would be an important thing to know.
If it is happening, the mainstream media surely will not tell us about it.  So we will have to rely on one another for information.
Source: The Economic Collapse
The competition for jobs in the United States is absolutely brutal right now, and it is about to get worse.  A new wave of layoffs is sweeping across America.  During tough economic times, Wall Street favors companies that are able to cut costs, and the fastest way to "cut costs" is to eliminate employees.  After a period of relative stability, the employment picture in the U.S. is starting to get bleaker again.  New applications for unemployment benefits have now been above 400,000 for 15 straight weeks.  Finding a good job is kind of like winning the lottery in this economy. Our federal government and the state governments have made it incredibly complicated and extremely expensive to have employees on the payroll.  It is getting harder and harder to get a large enough return to justify the time and expense that hiring employees requires.  So many firms now find themselves trying to do more with the employees that they already have.  Other companies are turning to temp agencies as a way to reduce costs and increase workplace flexibility.  A lot of the big corporations are sending as much work as they can overseas where the wages are far lower and where the regulatory environment is much simpler.  All of this is really bad news for American workers that just want good jobs that will enable them to provide for their families.
When we first started seeing huge numbers of layoffs a few years ago, I encouraged people to look into government jobs because I thought that they would be a lot more stable in this economic environment.
But today that is no longer true.  In fact, state and local governments all over the United States are responding to massive budget problems by slashing payrolls in an unprecedented fashion.
Sadly, the reality is that the number of "secure jobs" is rapidly declining in America.  If you have a "job" ("just over broke") right now, you might not have it for long.  That is one reason why everyone should be trying to become more independent of the system.
Once upon a time the U.S. economy produced a seemingly endless supply of good jobs.  This helped us develop the largest and most vibrant middle class in modern world history.
But now employees are regarded as "costly liabilities", and businesses and governments alike are trying to reduce those "liabilities" as much as they can.
This summer the pace of layoffs seems to be accelerating all over the nation.  Just check out what has been happening over the past few weeks….
-Lockheed Martin has made "voluntary layoff offers" to 6,500 employees.
-Detroit is losing even more jobs. American Axle & Manufacturing Holdings has told the remaining 300 workers at its manufacturing facility in Detroit that their jobs will be ending in early 2012.
-Layoff notices have been sent to 519 employees of Milwaukee Public Schools, and more than 400 open positions are going to go unfilled.
-The Gap has announced that up to 200 stores will be closed over the next two years.
-Cisco has announced plans to lay off 9 percent of their total workforce.
-Chicago Mayor Rahm Emanuel says that 625 city employees will be losing their jobs as a result of cutbacks.
-Pharmaceutical giant Merck recently dumped 51 workers from an office in Raleigh, North Carolina.
-Perkins has revealed that they will be closing 58 restaurants.
-This week, Goldman Sachs announced that they will be eliminating 1,000 jobs.
-Cracker Barrel is rapidly reducing staff at its headquarters.
-Telecommunications and web marketing firm Crexendo has announced that it will be laying off about 30 percent of its workforce.
-Borders has announced that they will be shutting down their remaining 399 stores and that 10,700 employees will lose their jobs.
-Now that the space shuttle program has ended, thousands of NASA employees will be losing their jobs.
Sadly, there are hundreds of more examples of recent layoffs and job losses.  One website that tracks these layoffs daily is Daily Job Cuts.  It is pretty sad when there are entire websites that are devoted to chronicling how fast our economy is bleeding jobs.
What is worse is that it looks like the pace of layoffs is going to keep increasing.
One report that was recently released found that the number of job cuts being planned by U.S. employers increased by 11.6% in June.
That is not good news.
Things don't look good for employees of state and local governments either.
State and local governments have eliminated approximately 142,000 jobs so far this year.
That is bad, but this is just the beginning.
UBS Investment Research is projecting that state and local governments in the U.S. will combine to slash a whopping 450,000 jobs by the end of next year.
Ouch.
Barack Obama and Ben Bernanke keep trying to tell us that the economy is improving, but that simply is not the case.  Yes, some of the largest corporations have announced big earnings, but that is not translating into lots of jobs for American workers.
Today, most large corporations only want to have as many U.S. workers as absolutely necessary.  In a world where labor has been globalized, it just doesn't make sense for corporations to shell out massive amounts of money to American workers when they can legally get away with paying slave labor wages to workers on the other side of the globe.
So if it seems like it is far harder to get a good job in America today than it used to be, the truth is that you are not imagining things.
Our entire system discourages job creation inside the United States.  Every single year, even more ridiculous job-killing regulations are being passed on the federal and state levels.  It has become extremely expensive and ridiculously complicated to hire people.
So how are American families surviving?  Those that still do have jobs are finding that wages are not going up but the cost of living rapidly is.  Many American families are making up the difference by using their credit cards more.
In June, credit card purchases in the U.S. increased by 10.7 percent compared to the same month a year ago.
It looks like a whole lot of people have not learned their lessons about how bad credit card debt is.
Millions of other American families have fallen out of the middle class completely.  Today, one out of every six Americans is enrolled in at least one government anti-poverty program.  The level of economic suffering in this country continues to soar.
In fact, the number of Americans that are now sleeping in their cars or living in tent cities remains at staggering levels.
What we are witnessing in this country is not just a "recession" or an "economic downturn".  What we are witnessing are fundamental economic changes.
Until there are fundamental policy changes in the United States, there will continue to be huge waves of layoffs and millions of jobs will continue to be shipped out of the country.
In the old days, one could go to college, get a good job with one company for 30 years and retire with a big, fat pension.
Now, that way of doing things is completely and totally dead.
Today, there is virtually no loyalty out there.  It doesn't matter how long you have been working at a particular job.  When it becomes financially expedient to get rid of you, that is exactly what is going to happen.
It is a cold, cruel world out there right now.  Don't assume that you will always have a good job.  The world is rapidly changing.
Don't get caught in the trap of believing that the way that things were is the way that things are always going to be in the future.
Source: The Economic Collapse