Perhaps Arizona governor Jan Brewer was sincere when saying that the Religious Freedom Restoration Act (SB 1062) she vetoed yesterday could "create more problems than it purports to solve." After all, observers such as Napp Nazworth at The Christian Post contend that SB 1062 might actually — contrary to all the hysteria — have made it harder for most business owners to refuse service to homosexuals. This analysis may have merit and can be read here, but it's irrelevant to a larger point:
The GOP's handling of this matter was a good illustration of conservatism's fatal flaw.
Whatever the legal realities, about something we can be sure: many conservatives believed in SB 1062. And as with the three GOP lawmakers who voted for the bill but turned against it after the heat was turned up,  many of those conservatives caved under great pressure from greedy businesses, limp-wristed neo-con artists (John McCain) and that great leftist public-relations team (the media).
I've long lamented that conservatives are conservative; that is to say, they play defense and just try to protect the status quo, which was, though conservatives generally appear oblivious to the fact, created by yesterday's liberals.
So they never actually try to rescind those efforts at thought control called hate-crime laws, but just hope to limit the scope of new proposals for them. They never really endeavor to eliminate government programs and bureaucracies; they just aim to slow down their metastasizing. They hardly ever try to reduce spending and shrink government, but just seek to limit the rate at which both balloon. And with the Arizona effort, they weren't really willing to do what was necessary to reclaim freedom of association. They just proposed a half measure and then folded like cheap cameras.
As for the Three Mouseketeers who ran for cover — senators Bob Worsley, Adam Driggs and Steve Pierce — they wrote in a letter to Brewer that while they wanted "to create a shield for all citizens' religious liberties, the bill has been mischaracterized by its opponents as a sword for religious intolerance."
Wow, is that all it takes?
We might as well just bow down and lick the left's jackboots right now.
How did these three chronologically adult politicians think the left would characterize their effort? Who are these guys, Beaver and Wally Cleaver and Dennis (the Menace) Mitchell? Of course the left is going to call you names! That's what they do. And now you've just confirmed for them, once again, that this is all they have to do to bring you to your knees. Welcome to How to Lose a Culture War 101.
How should conservatives handle such name calling?
Hurl names right back.
Call the leftists what they are: tyrants, socialists and haters of liberty. Explain that they want to destroy freedom of association. Seek to control the language of the debate and to frame the narrative — and use their own Alinsky tactics against them. And we do have one great advantage: we're right and righteous.
As for strategy, realize that framing this as a matter of freedom of religion makes it seem a special-interest cause, as not everyone considers himself "religious." What we really need is a Freedom of Association Restoration Act.
For this freedom is increasingly trampled. A photographer in New Mexico being sued and two Oregon bakers forced to close their business — both for refusing to be party to lesbian so-called "weddings" — are just two examples of the phenomenon.
But think about the supposition justifying this kind of government coercion: no one would deny me the right to include in or exclude from my home whomever I please. Why should I lose this right simply because I decide to erect extra tables and sell food?
It's still my private property, paid for with my own money and created by the sweat of my own brow. It's tyranny to give me a choice between relinquishing my rights — and starving.
Likewise, no one would force you to bake cakes for or take pictures of people with whom you didn't want to consort. Why should this change just because you decide to bake cakes or take pictures for money? The principle is simple: your home, your oven, your camera — your choice.
The hypocrisy here is thick, too. We wouldn't force a Muslim butcher to deal in pork or a Jewish baker to place Nazi symbols on a cake; in fact, there's a story about a supermarket that refused to place the name of a neo-Nazi's son — Adolf Hitler Campbell — on a birthday cake. And even more recently we heard about a bar in California denying service to legislators seeking to protect marriage. Of course, the left will claim there's no comparison, as pork eaters, Nazis and pro-marriage individuals aren't protected groups. So let's get this straight:
They trumpet discrimination as an argument for disallowing discrimination.
And what invidious discrimination theirs is. They somehow think that supporting the granting of just some groups "protected status" — and thus leaving other groups, apparently, "unprotected" — gives them moral high ground in trying to discriminate against yet other groups by forcing them, but not others (e.g., those opposing and denying service to traditionalist legislators), to violate their deeply held convictions. Only a twisted mind could consider this justice. Of course, though, with liberals telling us via a high-school textbook (Magruder's American Government & Civics) that justice "is difficult to define for justice is a concept, an idea, an invention of the human mind [and that] [l]ike other concepts such as truth, liberty, and fairness justice means what people want it to mean," this is no surprise.
Some will balk at my argument, saying that my position on freedom of association would allow businesses to discriminate even on the basis of race or sex. The answer to this is illustrated with a simple analogy: does freedom of speech mean anything if only extended to popular speech? It then isn't freedom of speech at all, but merely the establishment of different prohibitions than may exist in Iran, North Korea or Cuba. Likewise, the true test of whether we really believe in freedom of association is if we'll extend it to even those who would exercise it in a way we abhor.
As for businesses that must operate in today's tyrannical, rights-squelching environment, I have a solution. If, for instance, people forced me through law to provide bakery services for them, the trauma just might affect my ability to identify and measure ingredients and follow a recipe. And I would then show them that you can have your cake, but you can't eat it, too.
The HSBC bank is limiting withdrawals in both the United States and in Britain.
For the life of me, I have no idea why anyone would want to bank in this criminal enterprise bank. Regardless, isn't the money your money? Shouldn't you be able to do with your money what you want without justifying the purpose to the bank that you designate to hold your money?
John Cruz is a former vice president and relationship manager at HSBC. Cruz has made two guest appearances on The Common Sense Show in which he alleged that he uncovered that HSBC was laundering money for the Mexican drug cartels through phony shell corporations. He brought this to the attention of his supervisors  at HSBC and was told to "leave it alone". When he did not leave it alone, he was fired. Cruz went to prosecutors in the New York City area. They acknowledged that they knew what was going at HSBC, but they refused to investigate and prosecute and DHS and the FBI told Cruz the same thing.  
The Cruz revelations leave no doubt that the entire banking system is nothing but a criminal enterprise system.
The Banking System Is Nearing Collapse
HSBC has admitted that it has not informed customers of the change in policy which allows the bank to deny customer withdrawals of cash from their own account. This policy was implemented in November of 2013.
This development at HSBC should raise red flags for everyone, not just HSBC customers, because in the same time frame, JP Morgan Chase announced an identical policy. As a result, many financial analysts are predicting a bank run in the near future and this is the primary strategy of the banks as they are obviously bracing for an economic collapse.
This illegal withholding of bank customer funds is justified by Eric Leenders, the present head of retail at the British Bankers Association. Leenders states that the banks are just being sensible to ask questions as to what the money is for and then make a subsequent decision on whether to release the funds to the account holder. Leenders stated that "I can understand it's frustrating for customers. But if you are making the occasional large cash withdrawal, the bank wants to make sure it's the right way to make the payment." I would agree with Mr. Leenders in that the theft of customer money by a supposed trusted bank is indeed frustrating.
Sending a Clear Message
Clearly, this is a portend of things to come. If the banks were on sound financial footing, account holders would not see any such restrictions. However, if you knew if a bank crash was coming, wouldn't you make sure your bank was as liquid as possible? To the banks, being liquid and cautious in these perilous times means that the banks intend on making it very difficult for their customers to gain access to their money.
These are the chest pains before the heart attack. Take your money out of the bank while you still can.
An Ominous Development
When the banking collapse happens, it will not be American bankers that will gobble up your life savings, pensions, 401K's and IRA's. It will be the Chinese.
Isn't it interesting that JP Morgan Chase  has sold their property located at One Chase Manhattan Plaza skyscraper to Fosun International, a Chinese investment firm, for $725 million. This is only the latest in a series of New York real estate purchases by Chinese investors.
It is time to connect the dots.
Just the Facts Ma'am
Fact, the American economy is in freefall.
Fact, the Chinese have purchased a large portion of our debt.
Fact, if the Chinese do not position themselves to acquire America's hard assets before the crash, they will be left holding useless paper.
Fact, your house is a hard asset and the paper note is owned by the bank.
Fact, the Chinese not only make your clothes and most of your personal possessions, the Chinese will be calling in the loans on your homes before the crash, once they acquire more of our banks.
Fact, if a person does not think that your home is not at risk of being taken, then that person does not understand basic finance and they have obviously never heard of the MERS mortgage fraud.

Fact, the government has begun stealing everyone's 401K and retirement plans from their previous allocations and converting them to buying U.S. government bonds and who owns the lion's share of the bonds? Chinese take-out anyone?
Fact, many have been reporting that Hillary Clinton has been collateralizing American home mortgages, office buildings, land, public holdings and mineral assets to the Chinese so that they will continue, for a short time, to continue to purchase our debt.
Fact, it would be wise to learn Mandarin Chinese so that you can more effectively communicate with your soon-to-be slave masters.
Welcome to the Old West, Chinese Style
Are you familiar with the term "Company Town"? This is a phrase that was primarily reserved for towns in the "Old West" in places like Bisbee, Arizona. The mining company in Bisbee owned everything. The owned the mine where the people worked. They owned the homes where the people lived. They owned the drug stores. They owned the Grocery stores. In short, they owned it all! I fear that this is the new reality under which we will soon be living in which the Chinese will own everything.
One interesting side note has to do with a historical event called the Bisbee Deportation. The event was precipitated by miners who thought they would protest dangerous working conditions and substandard living quarters. The owners of the company town responded to worker demands by forcing the dissenters into trains and then transported the protesters to the deserts of New Mexico and were forced off of the train in the middle of nowhere. In the near future, I do not think the Chinese will transport dissenters to the desert, the new destination will consist of barb wire facing in and the word FEMA will be imprinted on the sign outside the destination.
Conclusion
What name would you give a system of economics and government where corporate entities own all of the property? I would call it modern day feudalism.
I can best sum up these events in the words of Johnny Cash, "I hear the train acomin' it's rollin' round the bend and I ain't seen the sunshine since I don't know when …"
Source: The Common Sense Show
Acute water shortages, aquifers exhausted, contaminated rivers…
Few Americans understand what their children face within 37 years with the addition of 100 million immigrants to the United States of America.  The ramifications of passage of mass Amnesty Bill S.744 guarantee devastating consequences to our country.  I hope, as you read this series, you understand that your children will become victims of your apathy and inaction.
Instead of this crisis standing front and center at the national leadership and media levels—America's population predicament remains the most ignored, evaded and suppressed issue of our time.
I'm not exactly certain why we stand in denial of the effects of adding 100 million immigrants.  You could ask the average American on the street about the implications of S744 and he or she wouldn't possess the slightest idea of what you're talking about.
As a reminder validating the reason for this series: demographic experts project the United States adding 100 million immigrants to this country by 2050—a scant 37 years from now.  All totaled, since we reached 300 million in October of 2007, we will add 138 million people by 2050 to total 438 million people—enough to duplicate 20 of our top cities' populations to our country.  That 100 million people will have to be watered, fed, housed, transported and provided medical services. The enormity of it transcends understanding.  The Pew Research Center, U.S. Population Projections by Fogel/Martin and the U.S. Census Bureau document those demographic facts.
Today in America, seven states suffer water shortages in 2013: Florida, Georgia, Texas, New Mexico, Arizona, Nevada and California.  They may be able to water their populations at this time, but they stand on the edge of acute water shortages.
Florida sustains 18 million people in 2013, but demographic projections show them doubling to 36 million within 37 years—all of it because of legal immigration.  Texas, at 26 million, expects to hit 36 million by 2050.   The whopper granddaddy of them all: California holds 38 million on their way to 58 million.
What amazes me: no one whispers a word.  Somebody with a brain in the media or government must be pulling their hair out while wondering why the media always reports "downstream" or after the catastrophic event already occurred.
But when the "Water footprint" disaster hits, we will have already added 100 million immigrants.  At that point, everyone becomes victims.
(We pollute our drinking water with trash and chemicals all over the planet. Notice the mountain of plastic debris; but you can't see the chemical contamination within the water.  Not until, of course, you contract cancer.)  Photography www.lightstalkers.org
"Without sustainability, 'severe' water scarcity by 2050" By Andrew Nusca
"Today, 36% of the global population — approximately 2.4 billion people — already live in water-scarce regions and 22% of the world's GDP ($9.4 trillion at 2000 prices) is produced in water-short areas," said Nusca. "Moreover, 39% of current global grain production is not sustainable in terms of water use.
"According to IFPRI's analysis, current "business as usual" water management practices and levels of water productivity will put at risk approximately $63 trillion, or 45 percent of the projected 2050 global GDP (at 2000 prices), equivalent to 1.5 times the size of today's entire global economy. Moreover, 4.8 billion people (52 percent of the world population) will be exposed to severe water scarcity by 2050."
(This is the kind of water contamination I have seen in my world travels. Many beaches around the world feature knee deep plastic trash. Worse, most of it sinks to the bottom and disrupts ocean, river and lake eco-systems.  Yet, not one world leader or corporations calls for a 25 cent deposit-return law.)  Photography by www.lightstalkers.org
As their water shortages slam home, where do you think they flee?  Answer: first world countries.
Interestingly enough: these figures stand for our current 7.1 billion humans.  Projections show another 3.1 billion added to that to reach 10 billion by 2050.
Something will happen and it won't be pretty.
1 out of 6 people in the world lack access to clean water – that equals 1.1 billion people
9 million people will die this year from lack of access to clean water
Every 15 seconds a child dies from water related illness
Exactly how do we Americans think we will escape those realities by adding 100 million immigrants?
(Imagine millions gallons of chemicals being dumped into America's lakes and streams 24/7 because that's what's happening. Leaking gas tanks from gas stations and individual oil dumps poison our ground water. Dairy, beef, pig and chicken farms cause enormous ground water pollution.  Add another 100 million immigrants and we face humongous consequences that will become irreversible and unsolvable.) Photography by www.wikipedia.org
Facts about Pollution from Livestock Farms
Livestock pollution and public health
California officials identify agriculture, including cows, as the major source of nitrate pollution in more than 100,000 square miles of polluted groundwater.
In 1996 the Centers for Disease Control established a link between spontaneous abortions and high nitrate levels in Indiana drinking water wells located close to feedlots.
Manure from dairy cows is thought to have contributed to the disastrous Cryptosporidiumcontamination of Milwaukee's drinking water in 1993, which killed more than 100 people, made 400,000 sick and resulted in $37 million in lost wages and productivity.
Water expert Ken Midkiff said, "In just a few short decades in the US, we have depleted our water supply. In the eastern states, which once had an abundance of water, bitter disputes and legal battles have become commonplace over water shortages caused by overpopulation. In the western states, where water has always been in short supply, population growth in dry areas has led to water shortages that threaten to severely restrict or perhaps even bar further growth."
How do you "bar growth" by adding over 100 million people to America inside of four decades?
Just imagine with me: within 37 years, endless immigration will add 20 million immigrants to California.  Anyone want to guess the outcome of that many people on the water supplies?
Water is essential for all dimensions of life.  Over the past few decades, use of water has increased, and in many places water availability is falling to crisis levels. More than eighty countries, with forty percent of the world's population, are already facing water shortages, while by year 2020 the world's population will double. The costs of water infrastructure have risen dramatically. The quality of water in rivers and underground has deteriorated, due to pollution by waste and contaminants from cities, industry and agriculture. Ecosystems are being destroyed, sometimes permanently. Over one billion people lack safe water, and three billion lack sanitation; eighty per cent of infectious diseases.
Does anyone in the United States understand or comprehend what America will look like in 2050 "IF" we continue endless immigration into our country? Does any leader possess an inkling of the ramifications of adding the projected 100 million immigrants, their kids and chain-migrated relatives?
That's correct, at the current rate of immigration legalized by the 1986 Reagan amnesty, we continue on course to add 100 million immigrants from all over the world. They arrive legally at 1.0 million annually. They birth 900,000 babies among their numbers annually. (Source: Dr. Steven Camorata, www.cis.org) With chain migration, that means each "new" American may invite 10 of his or her relatives to join them with "family-reunification." If the current S744 amnesty bill passes, your US Congress jumped that 1.0 million to 2.0 million legal immigrants annually.
Do the math! Any way you cut it, that means America will experience an avalanche, a human tsunami, or simply the biggest wave of humanity ever to hit our country or any country, ever. We will grow from our current 316 million to well over 438 million people within 37 years. The extra 38 million will come from our own "population momentum." These figures stem from our country reaching 300 million in October of 2007. We grow by 3.1 million annually.
What's it going to look like? Answer: it will become ugly on multiple levels—environmentally, sociologically, linguistically, culturally, quality of life and downgraded standard of living—for starters. Parts 1 through 5 will cover what we face.
First of all, 100 million immigrants will equal our adding 20 of our most populated cities. Think of it: we will add another New York City, Detroit, Atlanta, Miami, Chicago, Denver, Houston, Dallas, Phoenix, Los Angeles, San Francisco, Seattle and eight other American cities.
We face watering 100 million more people, housing them, transporting them, warming them, feeding them and finding jobs for them.
Today in 2013, seven states face shortages: Georgia, Florida, Texas, New Mexico, Arizona, Nevada and California. But Georgia will grow from 8.2 million to 16.4 million. Florida expects to grow from 18 million to 36 million. For the whopper fact of all, California expects to jump from 38 million to 58 million.
Our cities face resembling present-day Mumbai, India; or Tokyo, Japan; or Paris, France; or Shanghai, China—bursting at the seams with 50 to100 mile traffic jams, people smooched into 200 square foot apartments rising out of the ground like mindless stalactites.
Our rivers will run with endless chemicals from industrial, farm, human and acid rain pollution. Our National Parks will become so crowded that you will be forced to draw a lottery number in order to visit them.
Every last bit of arable land and wildreness will be destroyed by what scientists call "ecological footprint." In Ethiopia, it takes .4 (4/10ths) of an acre of land to feed, water and house a person. In the USA, it takes 25.4 acres of land to support one person. (Source:www.allspecis.org)
With those 100 million immigrants, we must destroy 2.54 BILLION acres of land. That, in turn, guarantees accelerating our current 250 species suffering extinction annually in the lower 48 to double that number which will mean 5,000 species a year suffering extinction at the hands of our encroachment on the natural world.
As those enormous human numbers impact the carbon footprint and impact the "water footprint", we face water predicament that will become unsolvable and irreversible. We face water wars, water confrontations, water irrigation problems heretofore never imagined.
Our giant aquifers like the Ogallala will dry up leaving us with no irrigation of our corn, wheat and hay fields.
We incorporate a Faustian Bargain in 2013 to reap a Hobson's Choice in 2050—a scant 37 years from now.
Our quality of life cannot help but degrade into severe limitations as to hunting, fishing, wildlife extermination, energy exhaustion and resource depletion.
Let's talk about energy: we hit Peak Oil in 2011. We face the last 50 percent of all oil remaining on the planet. It takes more energy units to pump it and less energy units out of the ground. Finally, at some point, we will be left with little oil at staggering prices—but a 438 million population to feed. Of sobering note, the world will have added 3.1 billion humans to feed, to this nightmare extends beyond our borders.
How about the environment? Anybody want to guess how much damage our carbon footprint will wreak havoc on our oceans with acidification and warming of the waters? My guess: we face annual Hurricane Sandy's and Katrina's. More tornadoes will mow humans down at an outstanding rate.
Additionally: I've only covered the tip of the iceberg of what we bequeath to our children.
As I sit here with the scientific facts, my own world travels having seen the 12 largest cities on the planet and my own scientific experiences in Antarctica—I am appalled that the American people and our leaders gallop into this added 100 million more immigrants without so much as a shout, whimper or cry.
Our kids will curse our stupidity, arrogance and outright disregard for their futures. My own two U.S. Senators understand what we face because I spent 45 minutes explaining the facts to their staffs, but they voted to add 2.0 million legal immigrants annually to make our fate arrive even faster than 37 years.
My guess: our leaders resemble intellectual lunatics. Our people resemble the dumbest sheep on the planet.
Finally, why am I one of the few Americans who "sees" this so clearly? Why aren't there tens of millions of Americans who "see" and take it to "60 Minutes" ; "Charlie Rose" ; "Today Show" ; "DateLine" ; "Good Morning America" ; Scott Pelley, Diane Sawyer, Brian Williams, Wolf Blitzer, Kelly Mygen, Shepard Smith and every other media leader? Why don't we demand a national discussion?
If we refuse to act, remain too apathetic to act, or don't act—the S744 Amnesty Bill will pass and add that 100 million immigrants to this country in a blink of time. God help our children when they inherit our legacy of 100 million immigrants.
He was an experiment, really. One of the first recruits for a new kind of warfare in which men and machines merge. He flew multiple missions, but he never left his computer. He hunted top terrorists, saved lives, but always from afar. He stalked and killed countless people, but could not always tell you precisely what he was hitting. Meet the 21st-century American killing machine. Who's still utterly, terrifyingly human.
From the darkness of a box in the Nevada desert, he watched as three men trudged down a dirt road in Afghanistan. The box was kept cold—precisely sixty-eight degrees—and the only light inside came from the glow of monitors. The air smelled spectrally of stale sweat and cigarette smoke. On his console, the image showed the midwinter landscape of eastern Afghanistan's Kunar Province—a palette of browns and grays, fields cut to stubble, dark forests climbing the rocky foothills of the Hindu Kush. He zoomed the camera in on the suspected insurgents, each dressed in traditional shalwar kameez, long shirts and baggy pants. He knew nothing else about them: not their names, not their thoughts, not the thousand mundane and profound details of their lives.
He was told that they were carrying rifles on their shoulders, but for all he knew, they were shepherd's staffs. Still, the directive from somewhere above, a mysterious chain of command that led straight to his headset, was clear: confirmed weapons. He switched from the visible spectrum—the muted grays and browns of "day-TV"—to the sharp contrast of infrared, and the insurgents' heat signatures stood out ghostly white against the cool black earth. A safety observer loomed behind him to make sure the "weapon release" was by the book. A long verbal checklist, his targeting laser locked on the two men walking in front. A countdown—three…two…one…—then the flat delivery of the phrase "missile off the rail." Seventy-five hundred miles away, a Hellfire flared to life, detached from its mount, and reached supersonic speed in seconds.
It was quiet in the dark, cold box in the desert, except for the low hum of machines.
He kept the targeting laser trained on the two lead men and stared so intently that each individual pixel stood out, a glowing pointillist dot abstracted from the image it was meant to form. Time became almost ductile, the seconds stretched and slowed in a strange electronic limbo. As he watched the men walk, the one who had fallen behind seemed to hear something and broke into a run to catch up with the other two. Then, bright and silent as a camera flash, the screen lit up with white flame.
Airman First Class Brandon Bryant stared at the scene, unblinking in the white-hot clarity of infrared. He recalls it even now, years later, burned into his memory like a photo negative: "The smoke clears, and there's pieces of the two guys around the crater. And there's this guy over here, and he's missing his right leg above his knee. He's holding it, and he's rolling around, and the blood is squirting out of his leg, and it's hitting the ground, and it's hot. His blood is hot. But when it hits the ground, it starts to cool off; the pool cools fast. It took him a long time to die. I just watched him. I watched him become the same color as the ground he was lying on."
That was Brandon Bryant's first shot. It was early 2007, a few weeks after his twenty-first birthday, and Bryant was a remotely-piloted-aircraft sensor operator—a "sensor" for short—part of a U.S. Air Force squadron that flew Predator drones in the skies above Iraq and Afghanistan. Beginning in 2006, he worked in the windowless metal box of a Ground Control Station (GCS) at Nellis Air Force Base, a vast sprawl of tarmac and maintenance hangars at the edge of Las Vegas.
The airmen kept the control station dark so they could focus on controlling their MQ-1B Predators circling two miles above the Afghan countryside. Bryant sat in a padded cockpit chair. He had a wrestler's compact build, a smooth-shaved head, and a piercing ice blue gaze frequently offset by a dimpled grin. As a sensor, his job was to work in tandem with the drone's pilot, who sat in the chair next to him. While the pilot controlled the drone's flight maneuvers, Bryant acted as the Predator's eyes, focusing its array of cameras and aiming its targeting laser. When a Hellfire was launched, it was a joint operation: the pilot pulled a trigger, and Bryant was responsible for the missile's "terminal guidance," directing the high-explosive warhead by laser to its desired objective. Both men wore regulation green flight suits, an unironic Air Force nod to the continuity of military decorum in the age of drone warfare.
Since its inception, the drone program has been largely hidden, its operational details gathered piecemeal from heavily redacted classified reports or stage-managed media tours by military public-affairs flacks. Bryant is one of very few people with firsthand experience as an operator who has been willing to talk openly, to describe his experience from the inside. While Bryant considers leakers like Chelsea Manning and Edward Snowden heroes willing to sacrifice themselves for their principles, he's cautious about discussing some of the details to which his top-secret clearance gave him access. Still, he is a curtain drawn back on the program that has killed thousands on our behalf.
Despite President Obama's avowal earlier this year that he will curtail their use, drone strikes have continued apace in Pakistan, Yemen, and Afghanistan. With enormous potential growth and expenditures, drones will be a center of our policy for the foreseeable future. (By 2025, drones will be an $82 billion business, employing an additional 100,000 workers.) Most Americans—61 percent in the latest Pew survey—support the idea of military drones, a projection of American power that won't risk American lives.
And yet the very idea of drones unsettles. They're too easy a placeholder or avatar for all of our technological anxieties—the creeping sense that screens and cameras have taken some piece of our souls, that we've slipped into a dystopia of disconnection. Maybe it's too soon to know what drones mean, what unconsidered moral and ethical burdens they carry. Even their shape is sinister: the blunt and featureless nose cone, like some eyeless creature that has evolved in darkness.
For Bryant, talking about them has become a sort of confessional catharsis, a means of processing the things he saw and did during his six years in the Air Force as an experimental test subject in an utterly new form of warfare.
Looking back, it was really little more than happenstance that had led him to that box in the desert. He'd been raised poor by his single mom, a public-school teacher in Missoula, Montana, and he struggled to afford tuition at the University of Montana. In the summer of 2005, after tagging along with a buddy to the Army recruiting office, he wandered into the Air Force office next door. His friend got a bad feeling and bailed at the last minute, but Bryant had already signed his papers. In short order he was running around at Lackland Air Force Base during Warrior Week in the swelter of a Texas summer. He wasn't much for military hierarchy, but he scored high on his aptitude tests and was shunted into intelligence, training to be an imagery analyst. He was told he would be like "the guys that give James Bond all the information that he needs to get the mission done."
Most of the airmen in his intel class were funneled into the drone program, training at Creech Air Force Base in the sagebrush desert an hour north of Las Vegas. Bryant was told it was the largest group ever inducted. His sensor-operator course took ten weeks and led into "green flag" exercises, during which airmen piloted Predators and launched dummy Hellfires at a cardboard town mocked up in the middle of the desert. The missiles, packed with concrete, would punch through the derelict tanks and wrecked cars placed around the set. "It's like playing Dungeons & Dragons," says Bryant. "Roll a d20 to see if you hit your target." His training inspector, watching over his shoulder, would count down to impact and say, "Splash! You killed everyone."
Within a few months he "went off" to war, flying missions over Iraq at the height of the conflict's deadliest period, even though he never left Nevada.
His opening day on the job was also his worst. The drone took off from Balad Air Base, fifty miles outside Baghdad in the Sunni Triangle. Bryant's orders, delivered during a pre-shift mission briefing, were straightforward: a force-protection mission, acting as a "guardian angel" over a convoy of Humvees. He would search out IEDs, insurgent activity, and other threats. It was night in the U.S. and already daylight in Iraq when the convoy rolled out.
From 10,000 feet, Bryant scanned the road with infrared. Traffic was quiet. Everything normal. Then he spotted a strange circle, glowing faintly on the surface of the road. A common insurgent's technique for laying IEDs is to douse a tire with gasoline, set it afire on a roadway, and dig up the softened tar beneath. The technique leaves a telltale heat signature, visible in infrared. Bryant, a fan ofThe Lord of the Rings, joked that it looked like the glowing Eye of Sauron.
Bryant pointed the spot out to the pilot, who agreed it looked like trouble. But when they tried to warn the convoy, they realized they couldn't. The Humvees had activated their radio jammers to disrupt the cell-phone signals used to remotely detonate IEDs. The drone crew's attempts at radio contact were as useless as shouting at the monitor. Brandon and his pilot patched in their flight supervisor to brainstorm a new way to reach them. They typed frantically back and forth in a group chat, a string of messages that soon included a cast of superiors in the U.S. and Iraq. Minutes passed, and the convoy rolled slowly toward the glowing circle. Bryant stared at the screen, heart pounding, scarcely breathing. The lead Humvee rolled across the eye. "Nothing happens," says Bryant. "And we're kind of like, maybe it was a mistake. Everyone's like Whew, good on you for spotting it, but we're glad that it wasn't what you thought it was." He remembers exhaling, feeling the nervous tension flow out of him.
"And the second vehicle comes along and boom.…"
A white flash of flame blossomed on the screen. Bryant was zoomed in as close as he could get, toggling his view between infrared and day-TV, watching in unblinking horror as the shredded Humvee burned. His headset exploded with panicked chatter from the ground in Iraq: What the fuck happened? We've got guys down over here! Frantic soldiers milled around, trying to pull people out of the smoldering wreckage. The IED had been tripped by either a pressure plate or manual detonation; the radio jammers would have done nothing to prevent it. Three soldiers were severely wounded, and two were killed.
"I kind of finished the night numb," Bryant says. "Then you just go home. No one talked about it. No one talked about how they felt after anything. It was like an unspoken agreement that you wouldn't talk about your experiences."
The pace of work in the box unraveled Bryant's sense of time. He worked twelve-hour shifts, often overnight, six days a week. Both wars were going badly at the time, and the Air Force leaned heavily on its new drone fleet. A loaded Predator drone can stay aloft for eighteen hours, and the pilots and sensors were pushed to be as tireless as the technology they controlled. (Bryant claims he didn't get to take leave for the first four years he served.)
Even the smell of that little shed in the desert got to Bryant. The hermetically sealed control center was almost constantly occupied—you couldn't take a bathroom break without getting swapped out—and the atmosphere was suffused with traces of cigarette smoke and rank sweat that no amount of Febreze could mask. One bored pilot even calculated the number of farts each cockpit seat was likely to have absorbed.
Mostly the drone crews' work was an endless loop of watching: scanning roads, circling compounds, tracking suspicious activity. If there was a "troops-in-contact" situation—a firefight, ground troops who call in a strike—Bryant's Predator could be called to the scene in minutes with its deadly payload. But usually time passed in a haze of banal images of rooftops, walled courtyards, or traffic-snarled intersections.
Sitting in the darkness of the control station, Bryant watched people on the other side of the world go about their daily lives, completely unaware of his all-seeing presence wheeling in the sky above. If his mission was to monitor a high-value target, he might linger above a single house for weeks. It was a voyeuristic intimacy. He watched the targets drink tea with friends, play with their children, have sex with their wives on rooftops, writhing under blankets. There were soccer matches, and weddings too. He once watched a man walk out into a field and take a crap, which glowed white in infrared.
Bryant came up with little subterfuges to pass the long hours at the console: sneaking in junk food, mending his uniforms, swapping off twenty-minute naps with the pilot. He mastered reading novels while still monitoring the seven screens of his station, glancing up every minute or two before returning to the page. He constructed a darkly appropriate syllabus for his occupation. He read the dystopian sci-fi classic Ender's Game, about children whose violent simulated games turn out to be actual warfare. Then came Asimov, Bryant pondering his Three Laws of Robotics in an age of Predators and Hellfires. A robot may not injure a human being….
Bryant took five shots in his first nine months on the job. After a strike he was tasked with lingering over a site for several haunting hours, conducting surveillance for an "after-action report." He might watch people gather up the remains of those killed and carry them to the local cemetery or scrub the scene by dumping weapons into a river. Over Iraq he followed an insurgent commander as he drove through a crowded marketplace. The man parked in the middle of the street, opened his trunk, and pulled two girls out. "They were bound and gagged," says Bryant. "He put them down on their knees, executed them in the middle of the street, and left them there. People just watched it and didn't do anything." Another time, Bryant watched as a local official groveled in his own grave before being executed by two Taliban insurgents.
In the early months Bryant had found himself swept up by the Big Game excitement when someone in his squadron made "mind-blowingly awesome shots, situations where these guys were bad guys and needed to be taken out." But a deep ambivalence about his work crept in. Often he'd think about what life must be like in those towns and villages his Predators glided over, like buzzards riding updrafts. How would he feel, living beneath the shadow of robotic surveillance? "Horrible," he says now. But at first, he believed that the mission was vital, that drones were capable of limiting the suffering of war, of saving lives. When this notion conflicted with the things he witnessed in high resolution from two miles above, he tried to put it out of his mind. Over time he found that the job made him numb: a "zombie mode" he slipped into as easily as his flight suit.
Bryant's second shot came a few weeks after targeting the three men on that dirt road in Kunar. He was paired with a pilot he didn't much like, instructed to monitor a compound that intel told them contained a high-value individual—maybe a Taliban commander or Al Qaeda affiliate, nobody briefed him on the specifics. It was a typical Afghan mud-brick home, goats and cows milling around a central courtyard. They watched a corner of the compound's main building, bored senseless for hours. They assumed the target was asleep.
Then the quiet ended. "We get this word that we're gonna fire," he says. "We're gonna shoot and collapse the building. They've gotten intel that the guy is inside." The drone crew received no further information, no details of who the target was or why he needed a Hellfire dropped on his roof.
Bryant's laser hovered on the corner of the building. "Missile off the rail." Nothing moved inside the compound but the eerily glowing cows and goats. Bryant zoned out at the pixels. Then, about six seconds before impact, he saw a hurried movement in the compound. "This figure runs around the corner, the outside, toward the front of the building. And it looked like a little kid to me. Like a little human person."
Bryant stared at the screen, frozen. "There's this giant flash, and all of a sudden there's no person there." He looked over at the pilot and asked, "Did that look like a child to you?" They typed a chat message to their screener, an intelligence observer who was watching the shot from "somewhere in the world"—maybe Bagram, maybe the Pentagon, Bryant had no idea—asking if a child had just run directly into the path of their shot.
"And he says, 'Per the review, it's a dog.' "
Bryant and the pilot replayed the shot, recorded on eight-millimeter tape. They watched it over and over, the figure darting around the corner. Bryant was certain it wasn't a dog.
If they'd had a few more seconds' warning, they could have aborted the shot, guided it by laser away from the compound. Bryant wouldn't have cared about wasting a $95,000 Hellfire to avoid what he believed had happened. But as far as the official military version of events was concerned, nothing out of the ordinary had happened. The pilot "was the type of guy to not argue with command," says Bryant. So the pilot's after-action report stated that the building had been destroyed, the high-value target eliminated. The report made no mention of a dog or any other living thing. The child, if there had been a child, was an infrared ghost.
The closest Bryant ever got to "real" combat—the roadside bombs and mortar fire experienced by combat troops—was after volunteering to deploy to Iraq. He spent the scorching summer and fall of 2007 stationed at the airfield in Balad, flying Predators on base-defense missions—scanning the area for insurgents. Some troops thanked the drone crews for being "angels in the sky," but more often they were the butt of jokes, mocked as "chair-borne rangers" who would "only earn a Purple Heart for burning themselves on a Hot Pocket."
Bryant struggled to square the jokes with the scenes that unfolded on his monitors. On one shift, he was told by command that they needed coordinates on an insurgent training compound and asked him to spot it. There was a firing range, and he watched as a group of fighters all entered the same building. One of the issues with targeting insurgents was that they often traveled with their families, and there was no way to tell who exactly was in any given building. Bryant lasered the building as he was ordered. Moments later, smoke mushroomed high into the air, a blast wave leveling the entire compound. An F-16, using Bryant's laser coordinates as guidance, had dropped a 1,000-pound bomb on the building—ten times the size of a Hellfire. "They didn't actually tell us that they were gonna blow it up," says Bryant. "We're like, 'Wow, that was nice of you to inform us of that.' "
In 2008, Bryant was transferred to a new post in "the shittiest place in the world," a drone squadron out of Cannon Air Force Base in Clovis, New Mexico, where, Bryant says, "the air is not oxygen, it's basically cow shit." He continued as an operator for several more years, but his directive had changed. He was now mainly tracking high-value targets for the Joint Special Operations Command—the same secret-shrouded branch of the service that spearheaded the hunt for Osama bin Laden. "We were going after top dudes. They started showing us PowerPoint presentations on who these people are," he says. "Why we're after him, and what he did. I liked that. I liked being able to know shit like that."
Bryant has never been philosophically opposed to the use of drones—he sees them as a tool, like any other, that can be used for good ends, citing their potential use to fight poachers, or to monitor forest fires. For him it's about who controls them, and toward what ends. "It can't be a small group of people deciding how they're used," he says. "There's got to be transparency. People have to know how they're being used so they're used responsibly."
Transparency has not been the defining feature of U.S. drone policy over the last decade. Even as Bryant was being trained to operate drones in our very public wars in Iraq and Afghanistan, a parallel and clandestine drone war was being waged in places like Pakistan, Yemen and Somalia. Since 2004, the CIA has carried out hundreds of strikes in Pakistani territory, cutting secret deals with Pakistani intelligence to operate a covert assassination program. Another covert CIA drone base was operated from Saudi Arabia, launching strikes against militants in the lawless and mountainous interior of Yemen. While Bryant never flew for the CIA itself, their drone operators were drawn directly from the Air Force ranks.
While stationed in Clovis, among the highest-value targets Bryant's squadron hunted was Anwar al-Awlaki, the U.S.-born Yemeni imam and Al Qaeda recruiter. Al-Awlaki was ultimately killed by a CIA drone strike in Yemen in September 2011 (as was his 16-year-old son, Abdulrahman, a few weeks later). But Bryant claims his Air Force squadron "did most of the legwork" to pinpoint his location.
By 2011, Bryant had logged nearly 6,000 hours of flight time, flown hundreds of missions, targeted hundreds of enemies. He was in what he describes as "a fugue state of mind." At the entrance to his flight headquarters in Clovis, in front of a large bulletin board, plastered with photographs of targets like al-Awlaki, he looked up at the faces and asked: "What motherfucker's gonna die today?"
It seemed like someone else's voice was speaking, some dark alter ego. "I knew I had to get out."
By the spring of 2011, almost six years after he'd signed on, Senior Airman Brandon Bryant left the Air Force, turning down a $109,000 bonus to keep flying. He was presented with a sort of scorecard covering his squadron's missions. "They gave me a list of achievements," he says. "Enemies killed, enemies captured, high-value targets killed or captured, stuff like that." He called it his diploma. He hadn't lased the target or pulled the trigger on all of the deaths tallied, but by flying in the missions he felt he had enabled them. "The number," he says, "made me sick to my stomach."
Total enemies killed in action: 1,626.
"After that first missile hit, I didn't really talk to anyone for a couple weeks." Bryant spoke to me while driving his beat-up black Dodge Neon in looping cursive circles around his hometown of Missoula. A yellow support-the-troops sticker on his bumper was obscured by a haze of road salt. The car's interior was festooned with patches from the different units he'd served with; in the back seat was a military pack stuffed with equal parts dirty laundry and bug-out gear. The gray midwinter sky weighed on a procession of strip malls and big-box stores; the snowy crenellations of the Bitterroot Range stretched far away to the south. He stared ahead as though watching the scene of his shot on an endless loop. "I didn't know what it meant to kill someone. And watching the aftermath, watching someone bleed out, because of something that I did?"
That night, on the drive home, he'd started sobbing. He pulled over and called his mother. "She just was like, 'Everything will be okay,' and I told her I killed someone, I killed people, and I don't feel good about it. And she's like, 'Good, that's how it should feel, you should never not feel that way.' "
Other members of his squadron had different reactions to their work. One sensor operator, whenever he made a kill, went home and chugged an entire bottle of whiskey. A female operator, after her first shot, refused to fire again even under the threat of court martial. Another pilot had nightmares after watching two headless bodies float down the Tigris. Bryant himself would have bizarre dreams where the characters from his favorite game, World of Warcraft, appeared in infrared.
By mid-2011, Bryant was back in Missoula, only now he felt angry, isolated, depressed. While getting a video game at a Best Buy, he showed his military ID with his credit card, and a teenage kid behind him in line spoke up. "He's like, 'Oh, you're in the military; my brother, he's a Marine, he's killed like thirty-six dudes, and he tells me about it all the time.' And I turn around and say, 'If you fucking ever talk like this to me again, I will stab you. Don't ever disrespect people's deaths like that ever again.' " The kid went pale, and Bryant took his game and left.
At the urging of a Vietnam veteran he met at the local VA office, Bryant finally went to see a therapist. After a few sessions, he just broke down: "I told her I wanted to be a hero, but I don't feel like a hero. I wanted to do something good, but I feel like I just wasted the last six years of my life." She diagnosed him with post-traumatic stress disorder.
It was an unexpected diagnosis. For decades the model for understanding PTSD has been "fear conditioning": quite literally the lasting psychological ramifications of mortal terror. But a term now gaining wider acceptance is "moral injury." It represents a tectonic realignment, a shift from a focusing on the violence that has been done to a person in wartime toward his feelings about what he has done to others—or what he's failed to do for them. The concept is attributed to the clinical psychiatrist Jonathan Shay, who in his book Achilles in Vietnam traces the idea back as far as the Trojan War. The mechanisms of death may change—as intimate as a bayonet or as removed as a Hellfire—but the bloody facts, and their weight on the human conscience, remain the same. Bryant's diagnosis of PTSD fits neatly into this new understanding. It certainly made sense to Bryant. "I really have no fear," he says now. "It's more like I've had a soul-crushing experience. An experience that I thought I'd never have. I was never prepared to take a life."
In 2011, Air Force psychologists completed a mental-health survey of 600 combat drone operators. Forty-two percent of drone crews reported moderate to high stress, and 20 percent reported emotional exhaustion or burnout. The study's authors attributed their dire results, in part, to "existential conflict." A later study found that drone operators suffered from the same levels of depression, anxiety, PTSD, alcohol abuse, and suicidal ideation as traditional combat aircrews. These effects appeared to spike at the exact time of Bryant's deployment, during the surge in Iraq. (Chillingly, to mitigate these effects, researchers have proposed creating a Siri-like user interface, a virtual copilot that anthropomorphizes the drone and lets crews shunt off the blame for whatever happens. Siri, have those people killed.)
In the summer of 2012, Bryant rejoined the Air Force as a reservist, hoping to get into the famed SERE program (Survival, Evasion, Resistance, Escape), where he would help train downed pilots to survive behind enemy lines. After so much killing, he wanted to save people. But after a severe concussion in a training accident, he dropped out and returned once more to Missoula. He walked with a cane, had headaches and memory lapses, and fell into a black depression.
During the worst of it, Bryant would make the rounds of Missoula's dozens of roughneck bars and drink himself to blackout on whiskey and cokes, vanishing for days or weeks on end. Many of those nights he would take his government-issued minus-forty-degree sleeping bag and pull into a parking lot in the middle of town next to the Clark Fork river. There's a small park with a wooden play structure there, built to look like a dragon with slides and ladders descending from it. He would climb to the little lookout deck at the top, blind drunk, and sleep there, night after night.
He doesn't remember much of that hazy period last summer, but his mother, LanAnn, does. Several times he had left a strange locked case sitting out on the kitchen table at her house, and she had put it back in the closet. The third day she woke to find the case open, with a loaded Sig Sauer P226 semi-automatic pistol lying out. Terrified that he might kill himself, she gave it to a friend with a locked gun safe. She'd only told her son about it a week earlier. He had no memory of any of it.
"I really thought we were going to lose him," LanAnn Bryant says now.
Something needed to change. Bryant hoped that by going to the press, people would understand drone crews' experience of war, that it was "more than just a video game" to them. In the fall, he spoke to a reporter for the German newsweekly Der Spiegel. The story was translated into English, and the British tabloid Daily Mail picked it up, posting it with the wildly inaccurate headline drone operator followed orders to shoot a child…and decided he had to quit. The story went viral.
The backlash from the drone community was immediate and fierce. Within days, 157 people on Bryant's Facebook page had de-friended him. "You are a piece of shit liar. Rot in hell," wrote a former Air Force comrade. In a sort of exercise in digital self-flagellation, Bryant read thousands of Reddit comments about himself, many filled with blistering vitriol and recrimination. "I read every single one of them," he says. "I was trying to just get used to the negative feelings." The spectrum of critics ranged from those who considered drone warfare a crime against humanity to combat veterans who thought Bryant was a whiner. He'd had death threats as well—none he took seriously—and other people said he should be charged with treason and executed for speaking to the media. On the day of one of our interviews, The New York Times ran an article about the military's research into PTSD among drone operators. I watched as he scanned a barrage of Facebook comments mocking the very idea that drone operators could suffer trauma:
>I broke a fucking nail on that last mission!
>Maybe they should wear seatbelts
>they can claim PTSD when they have to do "Body Collection & Identification"
And then Bryant waded in:
>I'm ashamed to have called any of you assholes brothers in arms.
>Combat is combat. Killing is killing. This isn't a video game. How many of you have killed a group of people, watched as their bodies are picked up, watched the funeral, then killed them too?
>Yeah, it's not the same as being on the ground. So fucking what? Until you know what it is like and can make an intelligent meaningful assessment, shut your goddamn fucking mouths before somebody shuts them for you.
Bryant's defense—a virtual battle over an actual war—left him seething at his keyboard. He says that when flying missions, he sometimes felt himself merging with the technology, imagining himself as a robot, a zombie, a drone itself. Such abstractions don't possess conscience or consciousness; drones don't care what they mean, but Bryant most certainly does. Now he plans to study to be an EMT, maybe get work on an ambulance, finally be able to save people like he always wanted. He no longer has infrared dreams, no longer closes his eyes and sees those strange polarized shadows flit across them.
Bryant closed his laptop and went out into the yard, tossing a tennis ball to his enormous bounding Japanese mastiff. Fingers of snow extended down through the dark forests of the Bitterroot, and high white contrails in the big sky caught the late-afternoon sunlight. The landscape of western Montana, Bryant observed, bears a striking resemblance to the Hindu Kush of eastern Afghanistan—a place he's seen only pixelated on a monitor. It was a cognitive dissonance he had often felt flying missions, as he tried to remind himself that the world was just as real when seen in a grainy image as with the naked eye, that despite being filtered through distance and technology, cause and effect still applied. This is the uncanny valley over which our drones circle. We look through them at the world, and ultimately stare back at ourselves.
Source: GQ  |  MATTHEW POWER  | PHOTOGRAPHS BY ETHAN LEVITAS
When millions of people are suffering and dying we tend to focus on the stories of individuals who then come to represent them all. Anne Frank represents for a vast majority the ugliness visited on Jews during WWII. The stories are haunting. All stories of vast human suffering impact us.
Only those without conscience or empathy can view the suffering of others and not be moved. Anne Frank died before I was born, but sometimes, unexpectedly, you find yourself confronted with a story of human endurance which is overwhelming.
Another saga of suffering, endured by millions as World War II was playing out, is the massive geographical dislocation of millions of Eastern Europeans as the Soviet-German rolled into Germany from the east.
I learned about this story, unexpectedly, while reviewing a foreclosure case from New Mexico. For the Carl Mehner, who with his parents and siblings survived the nightmare of war, dislocation, starvation, the trauma has has been life long.
Carl's father, an accountant in Dresden, Germany, and his wife were Christians of the "Sabbatarian" persuasion. Their faith made them targets of persecution in Germany as possibly sympathetic to Jews.
Carl's farther, never a soldier, was forced into slave labor, separated from his family, and forced to dig anti-tank ditches.
In 1943, separately, they became refugees, attempting to reach the west as the Soviet Army swept in. Their children were 2, 3 and 6. Carl remembers sleeping in fields, ruins, deserted and destroyed buildings, hungry all the time. Walking seemed endless through a landscape of burning villages.
First separately, and then together, they struggled to find food for themselves and their children. Carl was always cold and starving. Traumas were continuous.
Reunited, Carl's parents were determined to reach America. It was a ten year long struggle. In America, the family worked on a farm for food, as their children attended school.
Eventually, Carl married Frances Phillips from Southgate, California.
The couple eventually settled in Albuquerque, New Mexico where Carl served as chairman for the modern language department for 22 years, retiring in 2005. Frances ran a court reporting business.
Then, the mortgage meltdown began, taking their home without reason.
Fighting back Pro Se, Carl and Frances endured arrest, harassment, and abuse, as have others. They continue to fight. We never know what is possible until we have given our fullest measure. Carl's parents taught him this, and he remembers.
I recently read a column by Dr. Paul Craig Roberts that was so good I wish I had written it. First, a little bit about Roberts. This is from his official web site: "Dr. Roberts has held academic appointments at Virginia Tech, Tulane University, University of New Mexico, Stanford University where he was Senior Research Fellow in the Hoover Institution, George Mason University where he had a joint appointment as professor of economics and professor of business administration, and Georgetown University where he held the William E. Simon Chair in Political Economy in the Center for Strategic and International Studies."
His bio continues: "Dr. Roberts was associate editor and columnist for The Wall Street Journal and columnist for Business Week and the Scripps Howard News Service. He was a nationally syndicated columnist for Creators Syndicate in Los Angeles. In 1992 he received the Warren Brookes Award for Excellence in Journalism. In 1993 the Forbes Media Guide ranked him as one of the top seven journalists in the United States."
And one more paragraph about Paul Craig Roberts: "President Reagan appointed Dr. Roberts Assistant Secretary of the Treasury for Economic Policy and he was confirmed in office by the U.S. Senate. From 1975 to 1978, Dr. Roberts served on the congressional staff where he drafted the Kemp-Roth bill and played a leading role in developing bipartisan support for a supply-side economic policy. After leaving the Treasury, he served as a consultant to the U.S. Department of Defense and the U.S. Department of Commerce."
See Paul's web site at:
I realize that anyone who dares to contradict accepted politically correct dogma is demonized as being "radical," "extremist," or racist," and some people have tried to characterize Dr. Roberts in that vein. But it should be obvious to any honest and objective person that Paul Craig Roberts has one of the most distinguished resumes of anyone in America today.
Paul recently wrote a column entitled, "Humanity Is Drowning In Washington's Criminality." I realize it is difficult for most Americans to conceive the idea that their federal government could actually be criminal, but the case Roberts makes in his column cannot be tossed aside as the ranting of some right-wing nut (as if there are no left-wing nuts).
Roberts writes, "Americans will soon be locked into an unaccountable police state unless US Representatives and Senators find the courage to ask questions and to sanction the executive branch officials who break the law, violate the Constitution, withhold information from Congress, and give false information about their crimes against law, the Constitution, the American people and those in Afghanistan, Pakistan, Yemen, Iraq, Libya, Syria, Somalia, Guantanamo, and elsewhere. Congress needs to use the impeachment power that the Constitution provides and cease being subservient to the lawless executive branch. The US faces no threat that justifies the lawlessness and abuse of police powers that characterize the executive branch in the 21st century.
"Impeachment is the most important power of Congress. Impeachment is what protects the citizens, the Constitution, and the other branches of government from abuse by the executive branch. If the power to remove abusive executive branch officials is not used, the power ceases to exist. An unused power is like a dead letter law. Its authority disappears. By acquiescing to executive branch lawlessness, Congress has allowed the executive branch to place itself above law and to escape accountability for its violations of law and the Constitution.
"National Intelligence Director James R. Clapper blatantly lied to Congress and remains in office. Keith B. Alexander, Director of the National Security Agency, has also misled Congress, and he remains in office. Attorney General Holder avoids telling Congress the truth on just about every subject, and he also remains in office. The same can be said for President Obama, one of the great deceivers of our time, who is so adverse to truth that truth seldom finds its way out of his mouth.
"If an American citizen lies to a federal investigator, even if not under oath, the citizen can be arrested, prosecuted, and sent to prison. Yet, these same federal personnel can lie to Congress and to citizens with impunity. Whatever the American political system is, it has nothing whatsoever to do with accountable government. In Amerika [Roberts' spelling] no one is accountable but citizens, who are accountable not only to law but also to unaccountable charges for which no evidence is required."
Roberts is one hundred percent right. While everyone seems to be caught up in debating all kinds of remedies to Washington's ills, hardly anyone seems to notice that the power to put a stop to all of this unconstitutional (not to mention criminal) conduct on behalf of the executive branch of the federal government rests squarely in the laps of the 535 men and women who comprise the US House of Representatives and US Senate. Granted, impeachment has been seldom used by the legislative branches in Washington, but what was that again about desperate times calling for desperate measures? Besides, impeachment is not a desperate measure; it is a constitutionally-required measure. When the executive branch of the federal government is run amuck in foul play, it is the duty of Congress to protect both the American citizenry and the US Constitution.
Roberts rightly asks, "The question demanding to be asked is: What is the purpose of the domestic surveillance of all Americans? This is surveillance out of all proportion to the alleged terrorist threat. The US Constitution is being ignored and domestic law violated. Why? Does the US government have an undeclared agenda for which the 'terrorist threat' is a cover?
"What is this agenda? Whose agenda is more important than the US Constitution and the accountability of government to law? No citizen is secure unless government is accountable to the Constitution and to law. It is an absurd idea that any American is more threatened by terrorism than by unaccountable government that can execute them, torture them, and throw them in prison for life without due process or any accountability whatsoever. Under Bush/Obama, the US has returned to the unaccountable power of caesars, czars, and autocrats."
Roberts is exactly right. The modern-day burgeoning police state, under the rubric of "national security," is the biggest threat to our liberties since the British marched on Lexington and Concord in 1775. And, unfortunately, when it comes to the destruction of civil liberties, Republicans are as culpable as Democrats.
Roberts writes, "American conservatives regard civil liberties as mere excuses for liberal judges to coddle criminals and terrorists. Never expect a conservative Republican, or more than two or three of them, to defend your civil liberty. Republicans simply do not believe in civil liberty. Democrats cannot conceive that Obama–the first black president in office, a member of an oppressed minority–would not defend civil liberty. This combination of disinterest and denial is why the US has become a police state.
"Civil liberty has few friends in government, the political parties, law schools, bar associations, or the federal judiciary. Consequently, no citizen is secure. Recently, a housewife researched online for pressure cookers looking for the best deal. Her husband was searching for a backpack. The result was that a fully armed SWAT team appeared at the door demanding to search the premises and to have questions answered."
When it comes to creating the modern-day police state, the left-right paradigm that most people are consumed with means absolutely nothing. NOTHING! As Roberts notes, for the most part, both Democrats and Republicans, liberals and conservatives, Christians and heathens seem to see nothing wrong with the dismantlement of the Bill of Rights if the stated reason is to keep us "secure."
Beyond that, so many Americans seem to have the attitude, "I don't care if the government is spying on me; I haven't done anything wrong." To this, Roberts writes, "I am always amazed when someone says: 'I haven't done anything wrong. I have nothing to fear.' If you have nothing to fear from the government, why did the Founding Fathers put the protections in the Constitution that Bush and Obama have stripped out? Unlike the Founding Fathers who designed our government to protect the citizens, the American sheeple [Roberts' word] trust the government to their own demise."
And exactly who are the real terrorists, anyway? Roberts answers:
"Terrorism seldom comes from outside. The source almost always is the government in power. The Czarist secret police set off bombs in order to blame and arrest labor agitators. The Nazis burned down the Reichstag in order to decimate the communists and assume unaccountable power in the name of 'public safety.' An alleged terrorist threat is a way of using fear to block popular objection to the exercise of arbitrary government power.
"In order to be 'safe from terrorists,' the US population, with few objections, has accepted the demise of their civil liberties, such as habeas corpus, which reaches back centuries to Magna Carta as a constraint on government power. How, then, are they safe from their government? Americans today are in the same position as the English prior to the Great Charter of 1215. Americans are no longer protected by law and the Constitution from government tyranny.
"The reason the Founding Fathers wrote the Constitution was to make citizens safe from their government. If citizens allow the government to take away the Constitution, they might be safe from foreign terrorists, but they are no longer safe from their government.
"Who do you think has more power over you, foreign terrorists or 'your' government?"
Roberts continues:
"The constitutional principle of freedom of speech is being redefined as treason, as aiding an undefined enemy, and as seeking to overthrow the government by casting aspersions on its motives and revealing its secret misdeeds. The power-mad inhabitants of Washington have brought the US so close to Gestapo Germany and Stalinist Russia that it is no longer funny. Indeed, it is sometimes difficult to see the difference.
"The neoconservatives have declared that Americans are the 'exceptional' and 'indispensable people.' Yet, the civil liberties of Americans have declined the more 'exceptional' and 'indispensable' that Americans become. We are now so exceptional and indispensable that we no longer have any rights.
"And neither does the rest of the world. Neoconservatism has created a new dangerous American nationalism. Neoconservatives have given Washington a monopoly on right and endowed its military aggressions with a morality that supersedes the Geneva Conventions and human rights. Washington, justified by its 'exceptionalism,' has the right to attack populations in countries with which Washington is not at war, such as Pakistan and Yemen. Washington is using the cover of its 'exceptionalism' to murder people in many countries."
Roberts also rightly observes, "Washington is always morally right, whatever it does, and those who report its crimes are traitors who, stripped of their coddling by civil liberties, are locked away and abused until they confess to their crimes against the state. Anyone who tells the truth, such as Bradley Manning, Julian Assange, and Edward Snowden, are branded enemies of the state and are ruthlessly persecuted."
See Paul Craig Roberts' column at:
Humanity Is Drowning In Washington's Criminality
Sadly, everything Dr. Roberts stated above is absolutely true.
Many previous administrations most certainly pushed the envelope of federal usurpation of power from time to time, but the administrations of G.W. Bush and Barack Obama have (and are) literally taken America to the very precipice of a police state. With the advent of the Patriot Act, the Department of Homeland Security, the Military Commissions Act, the NDAA, USNORTHCOM, etc., all of the laws and military apparatus which would be necessary to enact a police state within the continental United States are in place.
Plus, grassroots Americans throughout the country are abuzz with both rumors and truthful eyewitness testimony to the strange movement of military supplies and personnel and the construction of large, unmarked and undeclared facilities. All over America, large containment-looking facilities are being built. Most of these structures are large, fenced (with the fences designed to keep people IN not OUT), in rural areas, near train tracks, and are completely unmarked and inaccessible.
Granted, for every substantiated fact there seems to be a dozen meritless rumors out there. I will absolutely give you that. But, there are simply too many reports by extremely credible eyewitnesses (including military and police personnel) to simply ignore as mere conspiracy theories. Concerned federal agents (yes, MANY federal agents love freedom and the Constitution just as much as we do) continue to leak information regarding unusual training, equipment purchases, procedural instructions, etc., to their fellow citizens.
Could some of this strange and unconfirmed information be government propaganda and disinformation designed to embarrass and marginalize patriot-minded citizens? Absolutely. But the old adage is still true, "Where there is smoke, there is fire." And right now, this is a HUGE amount of smoke.
Paul Craig Roberts has spent a lifetime in the upper echelons of economics, journalism, and politics. His assertion that Washington, D.C., is awash in "criminality" cannot be taken lightly.
"We're extremely disappointed that the Russian government would take this step despite our very clear and lawful requests in public and in private to have Mr. Snowden expelled to the United States to face the charges against him," White House spokesman Jay Carney said. He added that Barack Obama might now boycott a bilateral meeting with Putin in September, due to be held when the President travels to St. Petersburg for a G20 summit on September 5-6.
"Russia has stabbed us in the back, and each day that Mr. Snowden is allowed to roam free is another twist of the knife," says Senator Chuck Schumer (D-N.Y.). He urged Obama to insist on moving out of Russia the G20 summit.
Russia's action is a "disgrace and a deliberate effort to embarrass the United States… a slap in the face of all Americans," Sen. John McCain (R-AZ) said. "Now is the time to fundamentally rethink our relationship with Putin's Russia, he added. Mc Cain and his GOP colleague Lindsey Graham suggested the United States should retaliate by completing all missile-defense programs in Europe and proceeding with further expansion of NATO to include Russia's neighbor Georgia.
Rep. Jim Moran (D-VA) predicted that Snowden is "going to want to get back to the United States in any way possible after he realizes what it's like to live in a totalitarian state."
We are not going to discuss now which is more "totalitarian," Putin's Russia or Obama's America; my views on the kind of society we live in are presented here. We are also not going to join the "Traitor or Hero" debate on Snowden. Two technical points need to be made in the context of the White House and Congressional reactions to Snowden's Russian asylum: (1) America has granted asylum to the Chechen "foreign minister," the spokesman for one of the most barbarian regimes in recent history, who is wanted in Russia for terrorism; and (2) America "renditions" Russian citizens from third countries to have them tried for crimes allegedly committed in Russia without informing the Russian authorities.
Imagine the No. 3 leader of a terrorist separatist movement in southern Texas, New Mexico and Arizona, a group guilty of murdering thousands of unarmed Anglos—airline passengers, theatergoers, women, hospital patients, and schoolchildren—being granted political asylum in Russia and living openly for over a decade in a posh part of Moscow, courtesy of Russia's taxpayers. One can only imagine the paroxysm of rage in the White House and on the Hill. Diplomatic relations would be severed. McCain-Graham would urge nuking Russia.
No needs to imagine much, just reverse the roles. Ilyas Akhmadov, foreign minister and chief global media advocate of the short-lived "Chechen Republic," until 2000 was the third highest-ranking leader of that blood-soaked monstrosity, after Aslan Maskhadov and Shamil Basayev. To take but one exampke, he was directly responsible for the atrocities of the Chechen terrorist regime, including the invasion of the Russian Republic of Dagestan in the summer of 1999 when hundreds of unarmed men, women, and children were murdered. According to the UNHCR, 32,000 people were driven from their homes. And yet Akhmadov was granted political asylum in the United States in 2003, in spite of Russia's repeated and amply documented demands for his extradition for a variety of terrorist offenses. As Professor Robert Bruce Ware asked eight years ago ("Response to Brzezinski," Johnson's Russia List, March 20, 2005), if the U.S. was right to declare the entire Taliban government a terrorist organization, why is Russia not right to declare the self-designed Chechen government—Akhmadov included—a terrorist organization?
If we would think it wrong of Russia to grant political asylum to Mullah Omar, then why do we not think that it is wrong for the United States to grant political asylum to Illyas Akhmadov? Why didn't Illyas Akhmadov resign from the Chechen government when Dagestan was invaded? … Exactly what record is there that Illyas Akhmadov ever issued a public statement repudiating the invasions of Dagestan while those invasions were in progress, or supporting the extradition of the invasions' leaders? If the 9/11 [attacks] made Bin Laden a terrorist, and if the Oklahoma City blast made McVeigh a terrorist, then why didn't his public acceptance of responsibility for the Ingushetia raids make Aslan Maskhadov a terrorist? And if his public acceptance of responsibility for those raids made Maskhadov a terrorist, then why doesn't it implicate those who represented him, such as Illyas Akhmadov, in charges of terrorism? And if it does make Illyas Akhmadov a terrorist then why is he enjoying political asylum and a prestigious professional position at the expense of the American taxpayer?
"Harboring terrorists, their henchmen and sponsors undermines the unity and mutual trust of parties to the antiterrorist front," Russian Foreign Minister Sergey Lavrov said at the U.N. General Assembly in 2004. "We cannot have double standards while fighting terrorism and it cannot be used as a geopolitical game," President Vladimir Putin declared in December of that year. But Maskhadov remains in his Wodley Park mansion in Washington D.C. to this day, courtesy of your tax dollars. Back in 2004e was also given a generous State Department grant that enabled him to maintain an office with a secretary at the National Endowment for Democracy, to keep a busy travel schedule,e and to retain the services of a PR agency.
Akhmadov is an utterly nasty piece of work, so much so that in 2004 then-House Judiciary Committee Chairman F. James Sensenbrenner (R-WI), and the Immigration and Border Security subcommittee chairman John Hostettler (R-IN) jointly demanded that Attorney General John Ashcroft review the ruling that granted Akhmadov political asylum. "If the United States had evidence that Mr. Akhmadov was involved in terrorist activities, it is unclear why he was not barred from asylum as a terrorist and as a danger to the security of our nation," they wrote to Ashcroft in September of that year—but to no avail. "I'm not exaggerating when I say that one of the happiest days of my life was when I called Ilyas to tell him that he would be able to stay in America," averred America's über-Russophobe Zbigniew Brzezinski, as quoted by Akhmadov's publicist and Zbig's nephew Matthew in the Washington Post (March 20, 2005).
It would be equally interesting to imagine the reaction of McCain et al. if Russia routinely resorted to the arrest of American citizens in third countries—Belarus or Kazakhstan, say—and their extradition to Moscow for trial on various charges. That is exactly what the U.S. is doing to Russians. The most recent case concerns Aleksander Panin, a 24-year-old Russian computer programmer from Tver. Panin was arrested at the airport after visiting the Dominican Republic in May, swiftly transferred to a Federal prison in Georgia, and charged with a variety of cyber crimes committed in Russia—and all that without Moscow's consent or knowledge. The case only became known a month later. "Of course, we are seriously concerned with yet another arrest of a Russian citizen with a U.S. warrant in a third country… The fact that such practices are becoming a vicious tendency is absolutely unacceptable and inadmissible," Russian Foreign Ministry spokeswoman Maria Zakharova said. "We have repeatedly told the US that if there are demands for our citizens, it is necessary to send relevant requests to the Russian law enforcement authorities on the basis of the 1999-bilateral agreement on mutual legal assistance in criminal cases. However, this is still not being done."
There are several cases similar to Panin's. On July 22 Dmitry Ustinov, a Russian citizen, was extradited to the U.S. from Lithuania and accused of smuggling night-vision goggles. In November 2010, Russian citizen Viktor Bout was extradited from Bangkok to the United States, where he was convicted of involvement in the illegal arms trade. In May 2010 a Russian pilot, Konstantin Yaroshenko, was arrested in Liberia and taken to the U.S. on charges of drug trafficking. In 2011 was sentenced to 20 years in prison for allegedly conspiring to smuggle cocaine into the United States.
The practice of having Russian citizens arrested in some pliant third country and delivered to the U.S. to be tried for alleged crimes committed outside America is a legal novelty which has the potential to create a great deal of trouble for U.S. citizens, too, and especially for American businessmen working in the former Soviet Central Asia. But as the cases of Snowden and Akhmadov indicate, all too many people in Washington still act in accordance with Madeleine Albright's psychotic doctrine of imperial exceptionalism—"we  are America, we are the indispensable nation"—which is as profoundly un-American as it is irritating to the rest of the world. (Another gem of hers is "I've never seen America as an imperialist or colonialist or meddling country.")
The delusions of late-imperial grandeur die hard, but in the fullness of time they will die nevertheless; the sooner, the better.
The mainstream media covered the inauguration of Barack Obama with breathless anticipation on Monday, but should we really be celebrating another four years of Obama?  The truth is that the first four years of Obama were an absolute train wreck for the U.S. economy.  Over the past four years, the percentage of working age Americans with a job has fallen, median household income has declined by more than $4000, poverty in the U.S. has absolutely exploded and our national debt has ballooned to ridiculous proportions.  Of course all of the blame for the nightmarish performance of the economy should not go to Obama alone.  Certainly much of what we are experiencing today is the direct result of decades of very foolish decisions by Congress and previous presidential administrations.  And of course the Federal Reserve has more influence over the economy than anyone else does.  But Barack Obama steadfastly refuses to criticize anything that the Federal Reserve has done and he even nominated Ben Bernanke for another term as Fed Chairman despite his horrific track record of failure, so at a minimum Barack Obama must be considered to be complicit in the Fed's very foolish policies.  Despite what the Obama administration tells us, the U.S. economy has been in decline for a very long time, and that decline has accelerated in many ways over the past four years.  Just consider the statistics that I have compiled below.  The following are 37 statistics which show how four years of Obama have wrecked the U.S. economy…
1. During Obama's first term, the number of Americans on food stamps increased by an average of about 11,000 per day.
2. At the beginning of the Obama era, 32 million Americans were on food stamps.  Today, more than 47 million Americans are on food stamps.
3. According to one calculation, the number of Americans on food stamps now exceeds the combined populations of "Alaska, Arkansas, Connecticut, Delaware, District of Columbia, Hawaii, Idaho, Iowa, Kansas, Maine, Mississippi, Montana, Nebraska, Nevada, New Hampshire, New Mexico, North Dakota, Oklahoma, Oregon, Rhode Island, South Dakota, Utah, Vermont, West Virginia, and Wyoming."
4. The number of Americans receiving money directly from the federal government each month has grown from 94 million in the year 2000 tomore than 128 million today.
5. According to the U.S. Census Bureau, more than 146 million Americans are either "poor" or "low income" at this point.
6. The unemployment rate in the United States is exactly where it was (7.8 percent) when Barack Obama first entered the White House in January 2009.
7. When Barack Obama first entered the White House, 60.6 percent of all working age Americans had a job.  Today, only 58.6 percent of all working age Americans have a job.
8. During the first four years of Obama, the number of Americans "not in the labor force" soared by an astounding 8,332,000.  That far exceeds any previous four year total.
9. During Obama's first term, the number of Americans collecting federal disability insurance rose by more than 18 percent.
10. The Obama years have been absolutely devastating for small businesses in America.  According to economist Tim Kane, the following is how the number of startup jobs per 1000 Americans breaks down by presidential administration…
Bush Sr.: 11.3
Clinton: 11.2
Bush Jr.: 10.8
Obama: 7.8
11. Median household income in America has fallen for four consecutive years.  Overall, it has declined by over $4000 during that time span.
12. The economy is not producing nearly enough jobs for the hordes of young people now entering the workforce.  Approximately 53 percentof all U.S. college graduates under the age of 25 were either unemployed or underemployed in 2011.
13. According to a report from the National Employment Law Project, 58 percent of the jobs that have been created since the end of the recession have been low paying jobs.
14. Back in 2007, about 28 percent of all working families were considered to be among "the working poor".  Today, that number is up to 32 percent even though our politicians tell us that the economy is supposedly recovering.
15. According to the Center for Economic and Policy Research, only 24.6 percent of all of the jobs in the United States are "good jobs" at this point.
16. According to the U.S. Census Bureau, the middle class is taking home a smaller share of the overall income pie than has ever been recorded before.
17. According to the Economic Policy Institute, the United States is losinghalf a million jobs to China every single year.
18. The United States has fallen in the global economic competitiveness rankings compiled by the World Economic Forum for four years in a row.
19. According to the World Bank, U.S. GDP accounted for 31.8 percentof all global economic activity in 2001.  That number declined steadily over the course of the next decade and was only at 21.6 percent in 2011.
20. The United States actually has plenty of oil and we should not have to import oil from the Middle East.  We need to drill for more oil, but Obama has been very hesitant to do that.  Under Bill Clinton, the number of drilling permits approved rose by 58 percent.  Under George W. Bush, the number of drilling permits approved rose by 116 percent.  Under Barack Obama, the number of drilling permits approved actuallydecreased by 36 percent.
21. When Barack Obama took office, the average price of a gallon of gasoline was $1.84.  Today, the average price of a gallon of gasoline is$3.26.
22. Under Barack Obama, the United States has lost more than 300,000 education jobs.
23. For the first time ever, more than a million public school students in the United States are homeless.  That number has risen by 57 percent since the 2006-2007 school year.
24. Families that have a head of household under the age of 30 now have a poverty rate of 37 percent.
25. More than three times as many new homes were sold in the United States in 2005 as were sold in 2012.
26. Electricity bills in the United States have risen faster than the overall rate of inflation for five years in a row.
27. Health insurance costs have risen by 29 percent since Barack Obama became president.
28. Today, 77 percent of all Americans live paycheck to paycheck at least part of the time.
29. It is being projected that Obamacare will add 16 million more Americans to the Medicaid rolls.
30. The total amount of money that the federal government gives directly to the American people has grown by 32 percent since Barack Obama became president.
31. The Obama administration has been spending money on some of the most insane things imaginable.  For example, in 2011 the Obama administration spent $592,527 on a study that sought to figure out once and for all why chimpanzees throw poop.
32. U.S. taxpayers spend more than 20 times as much on the Obamas as British taxpayers spend on the royal family.
33. The U.S. government has run a budget deficit of well over a trillion dollars every single year under Barack Obama.
34. When Barack Obama was first elected, the U.S. debt to GDP ratio was under 70 percent.  Today, it is up to 103 percent.
35. During Obama's first term, the federal government accumulated more debt than it did under the first 42 U.S presidents combined.
36. As I wrote about yesterday, when you break it down the amount of new debt accumulated by the U.S. government during Obama's first term comes to approximately $50,521 for every single household in the United States.  Are you ready to contribute your share?
37. If you started paying off just the new debt that the U.S. has accumulated during the Obama administration at the rate of one dollar per second, it would take more than 184,000 years to pay it off.
But despite all of these numbers, the mainstream media and the left just continue to shower Barack Obama with worship and praise.  Newsweek recently heralded Obama's second term as "The Second Coming", and at Obama's pre-inauguration church service Reverand Ronald Braxton openly compared Obama to Moses…
At Metropolitan African Methodist Episcopal Church, Braxton reportedly crafted his speech around Obama's personal political slogan: "Forward!"

Obama, said Braxton, was just like Moses facing the Red Sea: "forward is the only option … The people couldn't turn around. The only thing that they could do was to go forward." Obama, said Braxton, would have to overcome all obstacles – like opposition from Republicans, presumably, or the bounds of the Constitution. Braxton continued, "Mr. President, stand on the rock," citing to Moses standing on Mount Horeb as his people camped outside the land of Israel.

But it wasn't enough to compare Obama with the founder of Judaism and the prophet of the Bible. Braxton added that Obama's opponents were like the Biblical enemies of Moses, and that Obama would have to enter the battle because "sometimes enemies insist on doing it the hard way."
So what do you think the next four years of Obama will bring?
Source: The Economic Collapse

If someone were to ask you for an example of a "totalitarian society", how would you respond?  Most Americans would probably think of horribly repressive regimes such as the Soviet Union, Nazi Germany, Communist China, East Germany or North Korea, but the truth is that there is one society that has far more rules and regulations than any of those societies ever dreamed of having.  In the United States today, our lives are governed by literally millions of laws, rules and regulations that govern even the smallest details of our lives, and more laws, rules and regulations are constantly being added.  On January 1st, thousands of restrictive new laws went into effect all over America, but most Americans have become so accustomed to the matrix of control that has been constructed all around them that it does not even bother them when even more rules and regulations are put into place.  In fact, a growing number of Americans have become totally convinced that "freedom" and "liberty" must be tightly restricted for the good of society and that "the free market" is inherently dangerous.  On the national, state and local levels, Americans continue to elect elitist control freaks that are very eager to tell all the rest of us how to run virtually every aspect of our lives.
According to Merriam-Webster, the following is one of the ways that the word "totalitarian" is defined: "of or relating to a political regime based on subordination of the individual to the state and strict control of all aspects of the life and productive capacity of the nation especially by coercive measures".  And that is exactly what we are witnessing in America today – nearly all aspects of our lives and of the economy are very tightly controlled by a bunch of control freaks that just keep tightening that control with each passing year.  We still like to call ourselves "the land of the free", but the truth is that we are being transformed into a totalitarian society unlike anything the world has ever seen before.  Where will we end up eventually if we keep going down this road?
If you still believe that America is "free", just consider some of the things that are illegal in America today…
-Starting on January 1st, it is now illegal to make or import 75 watt incandescent light bulbs anywhere in the United States.
-In Oregon, it is illegal to collect rainwater that falls on your own property.
-In New Jersey, it is illegal to have an "unrestrained" cat or dog in your vehicle while you are driving.
-If you milk your cow and sell some of the milk to your neighbor, you could end up having your home raided by federal agents.
-In Miami Beach, Florida you must recycle your trash properly or face huge fines.
-All over the United States, cops are shutting down lemonade stands run by children because they don't have the proper "permits".
-Down in Tulsa, Oklahoma one unemployed woman had her survival garden brutally ripped out and carted away by government thugs because it did not conform to regulations.
-Over in Massachusetts, all children in daycare centers are mandated by state law to brush their teeth after lunch.  In fact, the state even provides the fluoride toothpaste for the children.
-At one public school down in Texas, a 12-year-old girl named Sarah Bustamantes was arrested for spraying herself with perfume.
-A 13-year-old student at a school in Albuquerque, New Mexico was arrested by police for burping in class.
-All over the United States cities have passed laws that actually make it illegal to feed the homeless.
With each passing year, the number of decisions that we are allowed to make for ourselves gets smaller and smaller.
This includes some really fundamental things such as basic health decisions.
For example, the CDC will soon be recommending that nearly every single American be vaccinated for the flu every single year.  The following is from a recent Natural News article…
An advisory panel to the U.S. Centers for Disease Control and Prevention (CDC) has recommended that every person be vaccinated for the seasonal flu yearly, except in a few cases where the vaccine is known to be unsafe.

"Now no one should say 'Should I or shouldn't I?'" said CDC flu specialist Anthony Fiore.

The Advisory Committee on Immunization Practices voted 11-0 with one abstention to recommend yearly flu vaccination for everyone except for children under the age of six months, whose immune systems have not yet developed enough for vaccination to be safe, and people with egg allergies or other health conditions that are known to make flu vaccines hazardous.
These "recommendations" are often made into mandatory requirements by school districts and employers all over the country.  Will employers all over the nation soon require all of their employees to take these vaccines each year based on these CDC "recommendations"?  This is already happening in the healthcare field.  Hundreds of healthcare professionals all over the nation are being firedfor refusing to take certain vaccines.  It doesn't matter that there is atremendous amount of evidence that many of these vaccines are dangerous.  Many health professionals today are being faced with the choice of either submitting to the "recommendations" of the "experts" or losing their jobs.
We see this kind of "creeping totalitarianism" in the business world as well.  As I have written about previously, small businesses all over the country are being absolutely suffocated by mountains of laws, rules and regulations.
One of the biggest changes that small businesses will be dealing with in the next couple of years is Obamacare.  Many small businesses have been cutting back hours in an attempt to get around the new requirements contained in Obamacare.  The following is one example from a news story that was published earlier this week…
Around 100 local Wendy's workers have learned their hours are being cut. A spokesperson says a new health care law is to blame.

"Thirty-six to 37 hours a week." That's how many hours T.J. Growbeck works at the 84th and Giles Wendy's restaurant. The money he earns helps him pay for the basics, but that's not the case for all his co-workers. "There are some people doing it trying to get by."

The company has announced that all non-management positions will have their hours reduced to 28 a week. Gary Burdette, Vice President of Operations for the local franchise, says the cuts are coming because the new Affordable Health Care Act requires employers to offer health insurance to employees working 32-38 hours a week. Under the current law they are not considered full time and that as a small business owner, he can't afford to stay in operation and pay for everyone's health insurance.
But the IRS has announced that it is going to make it very hard for employers to avoid these new Obamacare regulations.  According to new IRS rules, all firms that "have at least 50 full-time employees or an equivalent combination of full-time and part-time employees" will be required to provide healthcare for their employees and their dependents.  The following is from a recent New York Times article…
Under the rules, employers must offer coverage to employees in 2014 and must offer coverage to dependents as well, starting in 2015.

The new rules apply to employers that have at least 50 full-time employees or an equivalent combination of full-time and part-time employees. A full-time employee is a person employed on average at least 30 hours a week. And 100 half-time employees are considered equivalent to 50 full-time employees.

Thus, the government said, an employer will be subject to the new requirement if it has 40 full-time employees working 30 hours a week and 20 half-time employees working 15 hours a week.
So conceivably an employer could have only part-time employees and still be required to provide healthcare coverage under Obamacare.
Of course many small businesses will not be able to afford to do this, so expect to see a significant number of them shut down or to try to survive with skeleton crews in 2014 and 2015.
As the number of laws, rules and regulations that govern our lives continues to multiply, the control freaks that run things will continue to try to use technology to watch us all and make sure that we are obeying their rules.
One way that they are doing this is with automated traffic cameras.  Of course much of the time the performance of these cameras is terribly flawed.  Just consider the following example which recently appeared in the Baltimore Sun…
The Baltimore City speed camera ticket alleged that the four-door Mazda wagon was going 38 miles per hour in a 25-mph zone — and that owner Daniel Doty owed $40 for the infraction.

But the Mazda wasn't speeding.

It wasn't even moving.

The two photos printed on the citation as evidence of speeding show the car was idling at a red light with its brake lights illuminated. A three-second video clip also offered as evidence shows the car motionless, as traffic flows by on a cross street.
But even though technology sometimes fails, the control freaks that run things seem absolutely obsessed with using it to monitor us.  After all, there are so many of us and watching all of us is a very big job.
For example, did you know that listening devices are being installed on public buses all over the United States?  The following is from a recent Wired article…
Transit authorities in cities across the country are quietly installing microphone-enabled surveillance systems on public buses that would give them the ability to record and store private conversations, according to documents obtained by a news outlet.

The systems are being installed in San Francisco, Baltimore, and other cities with funding from the Department of Homeland Security in some cases, according to the Daily, which obtained copies of contracts, procurement requests, specs and other documents.
According to the article, some of these systems are incredibly advanced and pair the audio that is being recorded with video that is being taken at the same time…
In Eugene, Oregon, the Daily found, transit officials requested microphones that would be capable of "distilling clear conversations from the background noise of other voices, wind, traffic, windshields wipers and engines" and also wanted at least five audio channels spread across each bus that would be "paired with one or more camera images and recorded synchronously with the video for simultaneous playback."
But that is just one example of how the surveillance of the American people is rapidly growing.  For many more examples, please see my previous article entitled "29 Signs That The Elite Are Transforming Society Into A Total Domination Control Grid".
If America continues down the path that it is on right now, the United States will eventually be transformed into a "Big Brother society" that is far more restrictive than anything George Orwell ever dreamed of.
We need a fundamental cultural revolution in this nation.  We need a revival of the principals of liberty and freedom that were so important during the founding days of this country.  We need to teach people that even though liberty and freedom may be unpredictable at times, such an environment is greatly preferable to a society where all of our decisions are made for us by a tiny elite.
Please share this article with as many people as you can.  Time is running out, and we need to wake up as many as we can while there is still time.
Source: The American Dream
As of November of 2012, a mind-numbing 47.7 million Americans subsist on taxpayer-funded food stamps.  One in seven Americans cannot feed himself or herself with a job or work of any kind.  What constitutes the irony to this national tragedy?  Answer: our U.S. Congress imports 100,000 legal immigrants into the USA with green cards every 30 days.
No matter how much poverty and unemployment blacks, whites and Hispanic Americans suffer– the leaders of this country continually pound more humans into the mix without pause.  At the same time, food banks go belly up with bare shelves. Over 13 million American children live in destitute poverty and cannot secure three square meals per day.
While Congress supports our enormous military spending into the trillions of dollars and two 10 year long wars that devour (ed) money—it fails to create jobs and feed our poorest.  It fails the fundamental rights of our own citizens to work and eat.
The gross statistics created by our U.S. Congress:  (Source:hubpages.com)
#1 According to one calculation, the number of Americans on food stamps now exceeds the combined populations of "Alaska, Arkansas, Connecticut, Delaware, District of Columbia, Hawaii, Idaho, Iowa, Kansas, Maine, Mississippi, Montana, Nebraska, Nevada, New Hampshire, New Mexico, North Dakota, Oklahoma, Oregon, Rhode Island, South Dakota, Utah, Vermont, West Virginia, and Wyoming."
#2 In October 2008, 30.8 million Americans were on food stamps. By August 2012 that number had risen to 47.1 million Americans.
#3 Right now, one out of every seven Americans is on food stamps and one out of every four American children is on food stamps.
#4 It is projected that half of all American children will be on food stamps at least once before they turn 18 years of age.
#5 According to new numbers that were just released by the U.S. Census Bureau, the number of Americans living in poverty increased to a new all-time record high of 49.7 million last year.
#6 The number of Americans living in poverty has increased by about 6 million over the past four years.
#7Today, about one out of every four workers in the United States brings home wages that are at or below the federal poverty level.
#8According to the U.S. Census Bureau, the poverty rate for children living in the United States is about 22 percent.
#9 Overall, approximately 57 percent of all children in the United States are living in homes that are either considered to be either "low income" or impoverished.
#10 In the United States today, close to 100 million Americans are considered to be either "poor" or "near poor".
#11 One university study estimates that child poverty costs the U.S. economy 500 billion dollars each year.
#12 Households that are led by a single mother have a 31.6 percent poverty rate.
#13 In 2010, 42 percent of all single mothers in the United States were on food stamps.
Once you research the numbers, you cannot help but look to your own U.S. Senators and House reps and see failure, duplicity and corruption.  No excuses!  How could men and women who are supposed to represent American citizens continually leave American citizens in the grips of poverty, joblessness and homelessness?
Some kind of moral, ethical and spiritual wrong grows in the nation's capitol all the way up to the president.  American citizens become its victims.
Do you think there is any chance of it changing and becoming better as that same U.S. Congress adds over 3.1 million immigrants every year on our way to adding 100 million immigrants within the next 38 years?
The New Mexico desert gets blistering hot, but inside the small windowless container where Brandon Bryant worked as a drone operator for the U.S. Air Force it stays a cool 63 degrees all year long.
Nicola Abé at der Spiegel spoke with Bryant, no longer in the Air Force, who relays a disturbing and tragic scene from his time inside that isolated container in the American desert.
Sixty-three finger numbing degrees and Bryant describes sitting with a group of other pilots looking at more than a dozen computer monitors. The crew are directing drones over Afghanistan 6,250 miles away and the screens jump with a two to five second delay, as infrared video sent from the UAVs whips through the air to New Mexico.
When the order to fire on a target arrives, Bryant paints the roof of a hut with the laser that will guide in a Hellfire missile released by the pilot beside him.
"These moments are like in slow motion," he says to Abé.
No doubt, because on this occasion Bryant says a child walked from behind the building at the last second. Too late for him to do anything else but ask the other pilot, "Did we just kill a kid?"
From der Spiegel:
"Yeah, I guess that was a kid," the pilot replied.
"Was that a kid?" they wrote into a chat window on the monitor.
Then, someone they didn't know answered, someone sitting in a military command center somewhere in the world who had observed their attack. "No. That was a dog," the person wrote.
They reviewed the scene on video. A dog on two legs?
The article follows another widely publicized story from the Marine Times about children killed by Americans on Afghan soil published just weeks ago. While obviously a tragedy for the victims and their families, Bryant describes the incredible toll taken on U.S. troops required to obey orders producing such dire results.
From his mother's couch in Missoula, Montana Bryant talks of his 6,000 Air Force flight hours and says he used to dream in infrared. "I saw men, women and children die during that time," he says. "I never thought I would kill that many people. In fact, I thought I couldn't kill anyone at all."
The three part article digs deeply into the life of a troubled former service member and the war-fighting policies that don't look to be changing anytime soon.
Source: Business Insider
Each day, California adds 1,655 people, net gain, to its population. That horrific human overload stems from endless legal and illegal immigration.  California stands as the most immigrant dominated state in the country.  At 38 million in 2012, it expects to add 20 million people by 2040.  Most of them immigrants and their children. (Source: www.capsweb.org)
This is not about race, creed or color. It's about sustainable numbers. It's about water, energy, resources, food, transports and quality of life.  We need a discussion on how many people California and the United States can continue importing from foreign lands where world citizens refuse to be responsible for their own birth rates.  Frankly, Europe, Australia and Canada must engage the same question.
By adding another 20 million to California, not only will it overload their water supplies, but it will deplete land, energy and resources. It will change the very culture, language and essence of California and ultimately, America.  We must ask ourselves as Americans if we want to continue on this path, can we sustain this path, will future generations be able to enjoy quality of life and a decent standard of living with such a massive human overload?  Answer: most definitely not.
Dan Stein, president of the Federation for American Immigration Reform, www.FAIRUS.org , spoke about it in his latest report.
"California Governor Brown vetoed a bill which would have prevented local authorities from honoring federal requests for detention of illegal aliens arrested for other crimes in the state," said Stein. "If AB 1081, also known as the Trust Act, had become law, deportable criminal aliens would have been turned loose in communities all across California with the likely result that many would have reoffended.
"The last minute veto announcement is a rare victory for law-abiding Californians. The powerful lobby dedicated to protecting illegal aliens mobilized to push for the Governor's signature on AB 1081 in the final weeks leading up to the veto deadline. House Democrats from California, including House Minority Leader Nancy Pelosi, unions, day laborer groups, clergy members, and even actor Martin Sheen voiced support for the fundamentally flawed and dangerous legislation.
"Illegal alien advocacy groups and politicians pushed the bill in order to prevent the successful use of the Secure Communities initiative and thwart the federal government's ability to hold and remove illegal aliens, even those arrested for or convicted for serious or violent crimes. Immigration and Customs Enforcement (ICE) Director John Morton has said such policies in other jurisdictions – including Cook County, Illinois, and Santa Clara, California – "undermine public safety and hinder ICE's ability to enforce the nation's immigration laws."
"Families of the victims of criminal aliens focused their pain and outrage on stopping this bill. The Shaw family of Los Angeles, in particular, is due credit for helping stop AB 1081. Their continued concern over California's sanctuary policies and efforts to prevent future family tragedies led them to speak out against the legislation. They helped put a face – that of their late son Jamiel Shaw, Jr. – on the real consequences of turning criminal aliens loose into communities.
"FAIR is encouraged that Governor Brown listened to the pleas of the victims' families and sheriffs across California who urged him to veto this dangerous legislation. However, Brown indicated that he would be open to working with lawmakers to develop and implement a narrower version of the bill to allow "minor" offenders to avoid deportation."
Gov. Brown Grants Driver's Licenses to Illegal Aliens
Defeat for Public Safety and Common Sense
"While California Governor Brown made an important veto in the case of AB 1081, he caved into pressure from the illegal alien lobby by signing a bill that will give driver's licenses to illegal aliens benefiting from President Obama's administrative amnesty program," said Stein. "AB 2189 had been sitting on Governor Brown's desk since it passed the California legislature in late August. As with other pending immigration legislation, Brown waited until the last possible minute to act.
"With this law, illegal aliens who receive deferred action under Obama's amnesty plan will have access to California driver's licenses. This means that the estimated 450,000 illegal aliens in the state who are or will be eligible for amnesty will now get yet another benefit for breaking U.S. immigration law. The law was introduced by Assemblyman Gil Cedillo's (D-Los Angeles), who has spent years pushing an even broader bill to give driver's license to all illegal aliens in the state.
"In addition to adding yet another benefit to the laundry list of services state taxpayers provide for illegal aliens, the law is an outright threat to public safety in all 50 states. California will give licenses to those illegal aliens who obtain work authorization from the Obama administration, ignoring the loopholes and lack of security inherent in the amnesty program. The administration's plan allows illegal aliens to skip in-person interviews and submit copies of identification and other documents – there's no guarantee that amnesty applicants will even be who they say they are.
"California is the first state to expand driver's license eligibility to illegal aliens since the announcement of Obama's amnesty policy. Other states like Arizona and Nebraska have reaffirmed policies barring illegal aliens from state benefits and identification. New Mexico and Washington already allowed illegal aliens to obtain driver's licenses."
We need to ask ourselves as a country if we want to continue mass immigration that will lead to these enormous numbers of people that have to be watered, fed, housed, warmed, transported and sustained?  Can we do it on a level of resource usage that typical Americans maintain?  Answer: it is mathematically impossible.
Join www.FAIRUS.org to help change the course of history.
Dan Stein can be reached at www.FAIRUS.org .
Frosty Wooldridge is a member of the board of directors at FAIR.
The USAF is reportedly targeting and trailing civilian auto traffic on New Mexico's highways. Harmless or just another example of the blurred lines between the international and domestic application of U.S. military technology?
They are most likely not "armed drones," but news has surfaced that the US Air Force is training drone pilots to trail civilian auto traffic on New Mexico's highways.
In a 'lifestyles-of-video-game-war' piece by Mark Mazzetti that appears in The New York Times Magazine this Sunday, Mazzetti writes:
When I visited the base [Holloman Air Force Base, N.M.] earlier this year with a small group of reporters, we were taken into a command post where a large flat-screen television was broadcasting a video feed from a drone flying overhead. It took a few seconds to figure out exactly what we were looking at. A white S.U.V. traveling along a highway adjacent to the base came into the cross hairs in the center of the screen and was tracked as it headed south along the desert road. When the S.U.V. drove out of the picture, the drone began following another car.

"Wait, you guys practice tracking enemies by using civilian cars?" a reporter asked. One Air Force officer responded that this was only a training mission, and then the group was quickly hustled out of the room.
Some may shrug and say that the undisclosed high-altitude tracking of US vehicles for training purposes is harmless, but the line between civilian privacy and an increasingly Orwellian capacity of the U.S. federal government to track its own citizens is blurred just a bit more by this practice.
There are already serious concerns about U.S. military drones — designed for warfare abroad — being re-purposed for civilian purposes.
The blog Loss of Privacy reports that unarmed drones at Grand Forks Air Force Base, N.D. are being used for civilian surveillance. And according to the same report former California Congresswoman and now Wilson Center for International Scholars President Jane Harman helped lead efforts to block expansion of drone hardware and related intelligence to the US domestic theater:
In 2008 and 2010, Harman helped beat back efforts by Homeland Security officials to use imagery from military satellites to help domestic terrorism investigations. Congress blocked the proposal on grounds it would violate the Posse Comitatus Act, which bars the military from taking a police role on U.S. soil.
The problem with an ever powerful national government with more and more tools to control and track its citizenry is that these powers, legal and technical, are often abused and used in ways not originally intended.
Tools developed for the so-called war on terror are now used to spy on Americans — and not enough, Dana Priest and Shane Harris excepted, are blowing the whistle on this creeping intelligence capacity that is now using Americans as unwitting guinea pigs before the video-trained pilots go track and destroy similar SUVs in Afghanistan, Pakistan, Yemen, and elsewhere.
This should not be happening. There should be controls on what the U.S. Air Force can target. The Department of Defense has no shortage of vehicles, enormous swaths of federal land for their own staff to traverse.
If Air Force video pilots need to train by tracking something from the air, they should target soldiers in their ranks.
Source:  Steve Clemons | TheAtlantic.com
Images: Red Ice Creations
Over the past two decades the decisionmakers in Washington have acquired and internalized a bias in Balkan affairs that falls outside the parameters of rational debate. As Doug Bandow of the Cato Institute has noted, such policy is not as inconsistent as it seems: "Time after time the U.S. policy makers would ask what is it that the Serbs want, they would think about it for about five seconds, and reply that it is totally unacceptable."
Such consistency has had grim results. Their mendacity, as displayed at Rambouillet in February 1999, was on par with the farce of Munich in 1938. In Kosovo their bombs led to a violent secession by an ethnic minority which, in the fullness of time, may render many European borders tentative. In Bosnia-Herzegovina they helped ignite the war in the spring of 1992, notably with U.S. Ambassador Warren Zimmermann's now notorious mission to Sarajevo. They kept it going in 1993 by torpedoing the European-led peace initiatives. They engineered an outcome in 1995 that could have been obtained in 1992 without a single shot. In Croatia, in August 1995, they aided and abetted the biggest act of ethnic cleansing in post-1945 Europe.
The puzzling question remains: why did America get involved in Balkan affairs, which bear no relationship to U.S. security, involving herself in long-standing and perhaps incurable national conflicts, and consistently acting in bad faith at that?
THE BURDEN OF HISTORY—The U.S. policy in the Balkans made its debut near the end of the First World War. President Wilson, while advocating the creation of Yugoslavia in 1918, did not realize that the unification of Serbs, Croats and Slovenes was at least half-century overdue: the process of separate cultural development and the emergence of mutually incompatible national identities among the South Slavs had been completed. But being a liberal, Wilson did not allow Balkan realities to get in the way of his vision. He blended the Puritan self-righteous zeal with the Progressive Era's belief in the power of politics to change the world for the better. His concepts of "self-determination," "enlarging democracy" and "collective security" signaled the birth of a view of America's role in world affairs which has created—and is still creating—endless problems for America and for the world.
After 1948 Tito came to be perceived as an asset by the U.S. Money, weapons, and warm welcome were soon to follow and continued until the end of the dictator's life in 1980. Fixated on "Tito's Yugoslavia" as a factor of Cold War stability, key American leaders disregarded—a decade later—the fact that Tito's internal boundaries between the federal republics were the root cause of the looming conflict. Arbitrarily designed by the communist winners in the civil war in 1945, they left a third of all Serbs outside Serbia-proper, in Bosnia-Herzegovina, Croatia and Montenegro. For good measure two "autonomous provinces" were carved out of Serbia, one of which—Kosovo—is an almost Serbenfrei quasi-state today.
For as long as Yugoslavia existed the Serbs could nevertheless derive some comfort from the existence of a common Federal framework: it appeared to promise them a measure of security from the repetition of the nightmare of 1941-45. When Yugoslavia started unraveling, however, in 1991-92, they were determined to resist any attempt by the breakaway republics to force millions of Serbs to become insecure and disliked minorities in their own land.
POLITICAL ESSENCE OF THE WARS—In Croatia in 1991 and in Bosnia in 1992 the Serbs reacted in the same manner as the Americans of Texas, Arizona or New Mexico may react—10 or 20 years from now—if they are outvoted by a Latino majority demanding that those states be reabsorbed into Mexico, or into a contrived "Republic of the North." For those who discount such outcomes, let us remember history. For example, the Protestant Ulstermen fought, demanded, and were given the right to stay in the United Kingdom when the Irish nationalists opted for secession in 1921. A second poignant illustration is the creation of the State of West Virginia in 1863 when—during the Civil War—the Union annexed the counties of the Commonwealth of Virginia that rejected secession. When comparing the paradigms, the Loyalists of Ulster and the Unionists of West Virginia were just as guilty of a "Joint Criminal Enterprise" to break up Ireland, or the Old Dominion, as were the Serbs of Bosnia-Herzegovina who did not want to be dragged into secession by the Muslim plurality.
Yugoslavia was a flawed polity, and in principle there should have been no objection to the striving of Croats or Bosnian Muslims to create their own nation-states. But equally there could have been no justification for forcing over two million Serbs west of the Drina River to be incorporated into those states against their will. Yugoslavia came together in 1918 as a union of South Slav peoples, and not as a federation of states or territorial units. Its divorce, once it became inevitable, should have proceeded on the same basis. This has been the key foundation of the Yugoslav conflict ever since the first shots were fired in May 1991.
The political essence of the wars of Yugoslav disintegration has been systematically hidden or distorted in the Western mainstream media, academia, and political forums, behind the portrayal of the Serbs as primitive ultranationalists who seek to conquer other peoples' lands by violent means. The demonization of the Serbs was an exercise in social constructivism, depressingly effective in its crude simplicity. As early as 1992 the media pack equated the brutalities of the Balkans with the Holocaust. Once the paradigm matured with the myth of the "Srebrenica Genocide," and once any doubters were equated with holocaust deniers, the possibilities for mendacity were limitless. Its fruits will be with us for decades to come.
UNDERSTANDING THE ABSURD—At the level of institutionalized corruption which passes for the political process in Washington D.C. the Yugoslav policy was the end-result of the interaction of pressure groups within the power structure: finding a new role for NATO, earning points in the Muslim world, caving in to ethnic lobbying, pandering to the military-industrial complex, isolating Russia, controlling strategic routes between Europe and the Middle East, and above all cementing American global hegemony. The influence of organized political lobbies in Washington was not decisive, but it should not be underestimated. Anti-Serb lobbies, notably Albanian-Americans, have been well-funded and well-placed for decades, while today (as in the past) the "Serbian lobby" does not exist. As James Jatras has noted, well before the outbreak of hostilities in 1991, the Serbs had already been branded the bad guys. Combined with media reinforcement, much false information was and still is accepted as unquestionable fact.
The Bosnian war transformed NATO into a tool of U.S. hegemony and it opened the door to the renewal of American dominance in European affairs to an extent not seen since Kennedy. As the late Richard Holbrooke put it, Dayton demonstrated that Europeans were not capable of resolving their own problems and that America was still the "indispensable nation." He boasted, a year later, "We are re-engaged in the world, and Bosnia was the test."
It is undeniable that geopolitical-strategic factors have played a role in defining the Balkan policy in Washington. Such "rational" reasons are not sufficient, however, to explain the zeal of successive administrations in pursuing a premeditatedly duplicitous anti-Serb policy. The clue is not in the realm of tangible strategic benefits and geopolitical assets, of transit corridors, oil and gas pipelines, lignite and zinc reserves, or military bases such as Camp Bondsteel. The key is in the desire of the Western elite class to use the Balkans as a testing ground for their emerging postmodernist, postnational project. They know that Kosovo is more than a piece of real estate, that it is to the Serbs what Alamo is to Texans or Jerusalem to Jews, that taking it away and letting its churches and monasteries be demolished is an unprecedented exercise in ethnocide. They condoned the Albanian barbarity because they saw the demolition of a small nation steeped in tradition of heroism and martyrdom—the Kosovo saga embodies it perfectly—as a step in the direction of a U.S.-dominated post-national world based on propositional abstractions.
This is the cue to the treatment of the Serbs by the U.S. political and media decision-makers over the past two decades. On the ruins of real nations, the rhetoric of "universal human rights" is imposed as the new basis for law and morality. The Serbs were merely a litmus test. The slogan of choice is multicultural democracy, irrespective of the wishes of the citizens of the particular territory involved—unless it is Serbs who wish to maintain a multi-ethnic state, in which case secession is the West's preferred policy.
PANDERING TO ISLAMIC MILITANTS—In 1980 the U.S. supported hard-core Islamists in the insurgency against the Soviets in Afghanistan. That decision was a strategic mistake of the highest order: it prompted the release of the Jihadist genie from a bottle that had remained sealed for almost three centuries after the siege of Vienna. Dr. Zbigniew Brzezinski's "brilliant idea"—as he called the Afghan covert action almost two decades after the event—meant that hundreds of millions, and eventually billions of dollars were poured into the coffers and arsenals of people who openly stated their intention to rebuild an early-medieval theocracy in Afghanistan.
The fruits went beyond the jihadists' wildest dreams. Brzezinski will go down in history as the man who did for Bin Laden what the Kaiser did for Lenin by providing him with that sealed train in 1917. Two "liberal" interventions on the side of the Balkan Muslims, in Bosnia and Kosovo, ensued in the 1990s. The most tangible result of promoting "common ideals and interests in this globalized world" by NATO bombs is the existence of a vibrant, hard-core jihadist base in the heart of Europe that has had a connection with every major terrorist attack in the past decade. Even 9/11 itself had a Bosnian Connection: Khalid Sheikh Muhammad, who planned the 9/11 attacks, was a seasoned veteran of the Bosnian jihad, as were two of the hijackers.
In spite of all other unresolved domestic and foreign issues, at a time when the U.S. power and authority are challenged around the world, key players in President Obama's team still look upon the Balkans as the last geopolitically significant area where they can assert their "credibility" by postulating a maximalist set of objectives as the only outcome acceptable to the United States, and duly insisting on their fulfillment. We have already seen this pattern with Kosovo, and we've seen an attempt to stage its replay in Bosnia under the ongoing demand for unitarization.
The U.S. policy in the Balkans—just like its policy in Libya last year and in Syria today –facilitates the jihadist agenda. American goals paradoxically coincide with the regional objectives of those same Islamists who confront America in other parts of the world. Far from enhancing peace and regional stability, such policies continue to encourage pan-Islamic agitation for the completion of an uninterrupted Green Corridor in the Balkans by linking its as yet unconnected segments. It destabilizes Bosnia by encouraging constant Muslim demands for the abolition of the Republika Srpska, and it destabilizes Serbia in the Raska region ("Sanjak"). It encourages greater-Albanian aspirations against Macedonia, Montenegro, Greece, and Serbia. It encourages escalation of Turkey's neo-Ottoman ambitions in the region. It is destructive and harmful.
In all cases the immediate bill will be paid by the people of the Balkans, as it is already being paid by Kosovo's disappearing Serbs; but long-term costs of the U.S. policy in the Balkans will haunt the West. By encouraging its Albanian clients to proclaim independence, the U.S. administration has made a massive leap into the unknown, potentially on par with Austria's July 1914 ultimatum to Serbia. The fruits will be equally bitter. In the fullness of time both America and Europe will come to regret the criminal folly of their current leaders. Remarkably, the continuing automatic-pilot policy directed against the Serbs is taking place without any serious debate in Washington on the ends and uses of American power, in the Balkans or anywhere else. Obama's and Bush's rhetoric differ, but they are one regime, identical in substance and consequence. Its leading lights will go on disputing the validity of the emerging balance-of-power system because they reject the legitimacy of any power in the world other than that of the United States, controlled and exercised by themselves. Theirs is, indeed, the global equivalent of the Brezhnev Doctrine.
The quest for hegemony leads to a counter-coalition which defeats it. The proponents of American exceptionalism nevertheless scoff at history's warnings provided by Napoleon's defeat in 1815, the Kaiser's in 1918, or Hitler's in 1945, as inapplicable in the post-history that they seek to construct. They confront the argument that no vital American interest worthy of risking a major war is involved in Georgia, or Syria, or the Balkans, with the claim that the whole world is America's near-abroad. It is therefore essential for the emerging powers to refuse in principle to accept the validity of Washington's ideological assumptions and the legitimacy of its associated geopolitical claims. At the same time, the key "liberal hawks" in the Obama Administration remain anchored in Madeleine Albright's hubris: "If we have to use force, it is because we are America. We are the indispensable nation. We stand tall."
The premises of an imperial presidency—which in world affairs translates into the quest for dominance and justification for interventionism—remain unchallenged, as we are witnessing in Syria today and as we shall witness in Iran tomorrow. (We are witnessing it in America, too, with Obama's unrestrained use of the Presidential executive order—an extreme emergency measure—as a tool for overriding the will of the Legislative branch.) American meddling in the Balkans has been paradigmatic of the problem. It remains unaffected by the ongoing financial crisis manifest in a 16-trillion public debt, just as Moscow's late-Cold War adventurism—so tragically manifested in Afghanistan—was enhanced, rather than curtailed, by the evident shortcomings of the Soviet political and economic system.
[Excerpts from Dr. Trifkovic's paper presented in Belgrade at The Gorchakov Foundation conference European Security: The Balkan Angle on June 27, 2012.]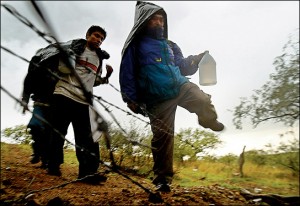 Barack Obama seems completely obsessed with systematically legalizing illegal immigration.  The United States borders a failed narco-state that is one of the most crime-ridden nations on the entire planet, but Barack Obama refuses to secure the border and the consequences for the American people have been absolutely catastrophic.  Right now it is already costing us tens of billions of dollars a year to provide welfare for illegal immigrants and to educate their children in our public schools.  Right now illegal immigrants are already working millions of jobs that should belong to American workers.  Right now Mexican drug cartels are already active in more than 1,000 U.S. cities.  But apparently that is not good enough for Barack Obama.  He wants to roll out the red carpet and give the green light to tens of millions more illegal immigrants.  Last year, Obama issued a list of 19 factors for government officials to use when deciding whether to use "prosecutorial discretion" in deportation cases.  In essence, under that new set of rules criminals and "national security threats" were to be deported and virtually everyone else was to be allowed to stay.  But now Barack Obama has taken things to a whole new level.  Now, if you are under the age of 30, came to the United States under the age of 16 and have lived here for at least five years you will be able to apply for legal status and a work permit.  With the election less than 6 months away it is obvious that Barack Obama is pandering for votes.   But this kind of "banana republic politics" is only going to divide America even more deeply and is going to result in some very serious pain for this nation in the years ahead.
How close do you think officials are going to check to see if people applying for this new amnesty are really under the age of 30 or really have been in this country for at least five years?
As I have written about previously, illegal immigrants lie to the IRS all the time.  Every year they file hordes of fraudulent tax returns that result in them receiving 4 billion dollars in tax refunds that they are not entitled to.
So if they are willing to even lie to the IRS, then why wouldn't they lie about when they came to the U.S. or about how long they have been here?
For a long time Barack Obama has supported "sanctuary cities" for illegal immigrants, but now he has essentially turned the entire country into a "sanctuary city".  Our immigration laws are still on the books, but everyone knows that Obama is not going to enforce the vast majority of them.
And that is really sad.  The United States will always need immigration, but the way that we do things today is really stupid.  We make legal immigration an absolute nightmare, but we leave the back door completely wide open for anyone that wants to break the rules and come in illegally.  So those that would like to come in legally and do things the right way are greatly discouraged from doing so while criminals, drug dealers, gang members, welfare parasites and those willing to survive in the underground economy are given the green light to come on over any time they would like.
Our immigration system makes no sense whatsoever and now Obama has just made things a whole lot worse.
The following are 10 things that will happen if Barack Obama continues to systematically legalize illegal immigration….
#1 There Will Be Fewer Jobs For American Workers
In the United States today, 53 percent of all college graduates under the age of 25 are either unemployed or underemployed.  Many of them are absolutely desperate for work.
Overall, there are more than 100 million working age Americans that do not have jobs right now.
Meanwhile, millions of illegal immigrants are occupying jobs that could otherwise be held by American citizens.  Many employers prefer to hire illegals because they work for a lot less money.
Sadly, many prominent politicians actually support the "right" of these "undocumented workers" to steal our jobs as a recent article by Devvy Kidd pointed out….
In April 2008, the very popular, New Jersey Gov. Chris Christie, prostituted himself during a speech for votes at an event sponsored by the Latino Leadership Alliance of New Jersey by assuring his audience illegal aliens were not really here illegally, but were simply "undocumented."

The 'unofficial' number of unemployed Americans is close to 25 MILLION. Those "undocumented" criminals Gov. Christie refers to are illegally holding 11.5 MILLION jobs that belong to Americans and naturalized citizens. Shame on you, Gov. Christie for thumbing your nose at our federal immigration laws and encouraging even more criminals to break into our country. Roll out the welcome mat. Unemployment in New Jersey is holding at a steady 9.3%. Gov. Christie apparently doesn't care if jobs go to illegal aliens instead of legal citizens in his state. After all, they're simply "undocumented".
#2 Wages For American Workers Will Continue To Decline
When you have a lot more workers competing for the same number of jobs, what happens?
That is right – wages go down.
We are seeing this happen in industry after industry.
For example, several decades ago a roofer could live a nice middle class lifestyle and support an entire family on one income.
But today that is no longer the case.
So what has changed?
A flood of illegal labor has entered the marketplace.
#3 Illegal Immigrants Will Overwhelm Our Welfare System
Every year, illegal immigrants receive tens of billions of dollars in welfare payments.  They get free food assistance, free housing assistance, free health care benefits and free education for their children.  Life is good if you are an illegal immigrant and you know how to game the system.
In fact, many cities in United States now openly advertise that they will help illegal immigrants with these things.
Unfortunately, according to Devvy Kidd the cost to taxpayers is getting to be astronomical….
Last year alone, the cost to taxpayers of LA County was whopping $600 MILLION dollars in welfare for children of illegal aliens. I guess it doesn't bother the people there getting fleeced in taxes to pay for all that welfare because they continue to elect governors who refuse to lock down the border and sympathizers of the invasion across the southern border of California to their legislature.
Overall, it has been estimated that U.S. taxpayers spend $12,000,000,000 a year on primary and secondary school education for the children of illegal immigrants.
#4 Mexican Drug Cartels Will Establish A Presence In Nearly Every City In The United States
Mexican drug cartels continue to expand their influence inside the United States at a frightening pace.  They are slowly taking over our communities.  How far do things have to go before we say enough is enough?
The amount of money that Mexican drug cartels bring in from selling drugs inside the United States is absolutely staggering….
In the sober reckoning of the RAND Corporation, for instance, the gross revenue that all Mexican cartels derive from exporting drugs to the United States amounts to only $6.6 billion. By most estimates, though, Sinaloa has achieved a market share of at least 40 percent and perhaps as much as 60 percent, which means that Chapo Guzmán's organization would appear to enjoy annual revenues of some $3 billion — comparable in terms of earnings to Netflix or, for that matter, to Facebook.
Can you imagine that?
We are talking about serious money.
And Mexican drug cartels are not just operating in huge cities such as Los Angeles, Chicago and New York.  The truth is that they have become deeply embedded in many rural communities as well….
News of cartel machinations are common in cities near the border, such as Phoenix, and the far-flung drug hubs of New York, Chicago or Atlanta, but smaller towns bring business, too. In unsuspecting suburbs and rural areas, police are increasingly finding drugs, guns and money they can trace back to Mexican drug organizations.

The numbers could rise in coming years. The Justice Department's National Drug Intelligence Center estimates Mexican cartels control distribution of most of the methamphetamine, heroin and marijuana coming into the country, and they're increasingly producing the drugs themselves.

In 2009 and 2010, the center reported, cartels operated in 1,286 U.S. cities, more than five times the number reported in 2008. The center named only 50 cities in 2006.
#5 There Will Be Increasing "Anti-American Violence" Inside The United States
These days a lot of Americans are being attacked (and sometimes killed) down in Mexico.
The following is from a recent ABC News article….
American travelers to Mexico should beware of possible violent retaliation for this week's arrest of alleged Zetas drug cartel associates and family members inside the U.S., the U.S. State Department has warned.

Though the warning does not specify which "Transnational Criminal Organization" might engage in "anti-American" violence, on Tuesday federal authorities arrested seven alleged associates of the powerful Zetas drug cartel in New Mexico and Oklahoma for allegedly laundering millions in drug profits through breeding and racing quarterhorses in the U.S. Those arrested included Jose Trevino Morales, the brother of Zetas leaders Miguel Angel and Oscar Omar Trevino Morales, who were also indicted but remain at large in Mexico.
As Mexican drug cartels and criminal gangs expand north, it is inevitable that "anti-American violence" will spread deeper and deeper into the U.S. itself.
The level of violence that we are seeing down in Mexico right now is absolutely frightening.  These drug cartels can beabsolutely brutal….
Fourteen dismembered bodies were found in a truck in the center of a town in northern Mexico on Thursday in what appeared to be the latest atrocity committed by rival gangs battling over drug-smuggling routes, local media said.


The bodies of 11 men and three women were discovered in the sugar-cane farming town of Ciudad Mante in the south of Tamaulipas state, which borders on Texas, daily Milenio reported on its website.
Overall, more than 55,000 people have been killed in drug-related violence in Mexico since 2006.
Is that the kind of violence we want in this country?
Already the region along the U.S./Mexico border is an open war zone.
Just across the U.S. border, the city of Juarez, Mexico is considered to be one of the most dangerous cities on the face of the earth.  In fact, Juarez is now the murder capital of the western hemisphere.
But instead of strengthening security along the border, Barack Obama wants to make the border meaningless.
#6 Massive Bribes Will Corrupt Our Judicial System
When there are billions of dollars involved, it is inevitable that some members of the police and some members of the judiciary will take bribes.
Just look at what has happened down in Mexico.  The following is from a recent article in the New York Times….
When you tally it all up, bribery may be the single largest line item on a cartel's balance sheet. In 2008, President Felipe Calderón's own drug czar, Noe Ramirez, was charged with accepting $450,000 each month. Presumably, such gargantuan bribes to senior officials cascade down, securing the allegiance of their subordinates. "You have to recruit the high commands, so they can issue the information to lower ranks and order whatever they want," the corrupt cop, Fierro Méndez, testified. But in key jurisdictions, the cartel most likely makes payments up and down the chain of command. In a 2010 speech, Genaro García Luna, Mexico's secretary of public security, speculated that together, the cartels spend more than a billion dollars each year just to bribe the municipal police.
What would you do if you were offered a bribe of $450,000 a month?
Don't assume that Americans are so much more "moral" than the Mexicans are.
#7 Gang Activity Will Continue To Grow In The United States By Leaps And Bounds
Gang activity is absolutely exploding inside the United States.
According to the FBI, there are now 1.4 million gang members involved in the 33,000 different gangs that are active inside the United States.
The number of gang members in America has increased by 40 percent since 2009.
Those stats should be very alarming to all of us.
What are we going to do if gangs keep growing at this rate?
According to federal statistics, gang members are responsible for up to 80 percent of all violent crimes committed in the United States every year.
A very large percentage of these gang members have entered the United States from Mexico, but the federal government refuses to do anything to stop it.
#8 The Decline Of Our Health Care System Will Continue To Accelerate
Illegal immigrants are overwhelming emergency rooms all over the country.  They walk in, receive high quality treatment and often never pay after they leave.
Things have gotten so bad in many areas of the nation that it is causing entire hospitals to go bankrupt and shut down.
In a previous article, I described what unchecked illegal immigration is doing to the health care system in California….
Thanks to illegal immigration, California's overstretched health care system is on the verge of collapse.  Dozens of California hospitals and emergency rooms have shut down over the last decade because they could not afford to stay open after being endlessly swamped by illegal immigrants who were simply not able to pay for the services that they were receiving.  As a result, the remainder of the health care system in the state of California is now beyond overloaded.  This had led to brutally long waits, diverted ambulances and even unnecessary patient deaths.  Sadly, the state of California now ranks dead last out of all 50 states in the number of emergency rooms per million people.
#9 Legalizing Illegal Immigrants Will Cause A Huge Shift In Voting Patterns
Instead of looking out for the American people, many Democrats support legalizing illegal immigration because it will give the Democratic Party more support at the polls.
This is incredibly selfish and self-serving, but this is the way that the political game is played in 2012.
#10 There Will Be A Flood Of New Illegal Immigrants
Amazingly, far more people move into the United States illegally than come in through the legal immigration process.
As word spreads of the "Obama amnesty", millions more will come on over.  After all, what would they have to lose?  If they get caught crossing over they will just get nicely sent back and can try again in a few days.
If they make it they can take advantage of all the free goodies here in the United States.  Thanks to Obama, the odds of deportation are now very slim.  And they can often make significantly more money in the "underground economy" in the U.S. than they can back home.
So what is the downside for illegal immigrants?
Where is the pain?
If you do get deported, you can always sneak back in.  Security along the U.S. border with Mexico is a total joke.
Sadly, many politicians on both sides of the border seem very pleased that the United States and Mexico are slowly but surely being integrated through illegal immigration.
In fact, one gets the impression that Barack Obama would be quite pleased if the border between the United States and Mexico were to disappear completely.
Politicians like Barack Obama don't seem to care about the catastrophic impact that illegal immigration is having on this country.  They are absolutely obsessed with their social and political agendas and they aren't going to allow a few inconvenient "details" to derail them.
Unfortunately, there is not much hope for significant change any time soon.  Mexico is already a "failed state" and we are freely allowing millions of their bad guys to pour into our country.
In the end, we will pay a very great price for our foolishness.
Source: The American Dream