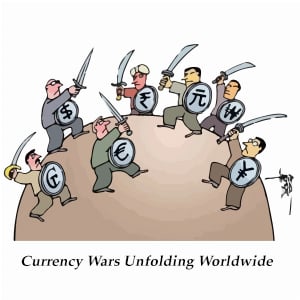 The first two months of 2015 have seen turmoil in the currency markets extend from Russia and Ukraine to the heart of Europe.
"Central Banks Now Open 24/7 Fighting Currency Wars and Deflation," blared a February 12th Bloomberg headline. Against this backdrop, precious metals have been on the rise in terms of all currencies except the Swiss franc and the U.S dollar.
In January, the Swiss National Bank shocked markets by announcing that it would de-link its currency from the euro. The move came one week ahead of the European Central Bank's $1.1 trillion Quantitative Easing announcement. Swiss officials decided it would be too costly to keep accumulating depreciating euros in order to maintain the currency peg. The Swiss franc surged by the most ever in a single day.
With the exception of Switzerland, all other countries in Europe (and many others around the world) are trying to depreciate their currencies.
Since January 1, the following central banks have announced interest rate cuts or other monetary easing measures: European Central Bank, Reserve Bank of Australia, Reserve Bank of New Zealand, Monetary Authority of Singapore, and the central banks of India, Canada, Denmark, and Sweden.
On February 12th, the Swedish Riksbank announced a surprise rate cut from 0% to below 0%. "To ensure that inflation rises towards the target, the Riksbank is prepared to quickly make monetary policy more expansionary, even between the ordinary monetary policy meetings," the world's oldest central bank said in a statement.
Sweden joins the European Central Bank and the central banks of a handful of other countries in pushing benchmark interest rates into negative territory. These central bankers are all aiming to revive inflation. "Investors" who are buying bonds yielding less than nothing (a negative rate) are apparently convinced that central bankers won't succeed in depreciating their currencies.
Insanity! Investors Now Paying for the "Privilege" of Lending to Broke Governments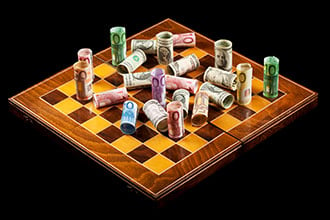 This could go down as one of the oddest, most irrational asset bubbles in history. Trillions of dollars are now tied up in debt instruments that promise to return less than the invested principal. According to a report issued by J.P. Morgan, $3.6 trillion in government bonds around the world now carry negative yields.
It raises the obvious question; why would so many people be willing to accept a negative rate of return?
You'd think that institutional investors would start getting wise to holding gold as a hard-currency alternative to cash instruments that yield less than zero. The fact that gold has no interest rate is actually an advantage in an environment where competing rates are negative! Plus, unlike most of the bonds issued in this upside-down interest rate market, gold has significant appreciation potential.
If inflation rises even modestly to the 2% target of European and U.S. central bankers, then bonds issued at rates of below 2% will all be losers. The two-year Treasury note yields only 0.63%. Even the recent 10-year yield of 1.98% fails to match the Federal Reserve's inflation ambitions.
The fact that gold has no interest rate is actually an advantage in an environment where competing rates are negative!
In this environment of ultra-low nominal yields or even negative real yields, precious metals as a reserve asset look very attractive. Many central bankers around the world agree and are busily accumulating gold. According to a report issued by the World Gold Council in February, governments around the world added 477.2 metric tons of gold to their reserves in 2014. That haul was the second biggest in 50 years.
When inflation fears return to the market, as they eventually will, precious metals will become one of the premier asset classes to hold. Even now, they are performing better than virtually all other world currencies.
The end game of these ongoing currency wars is that all fiat currencies will be debased. And a true flight to quality will accelerate – with assets fleeing depreciating currencies (and debt instruments denominated in them) and piling into gold and silver.
Will the Fed Chicken Out on Rate Hikes?
Of course, right now it's deflation fears that are dominating headlines. But the inflationary policy responses from the European Central Bank and others that have followed the ECB's lead have lifted gold and silver prices markedly in terms of euros and other currencies.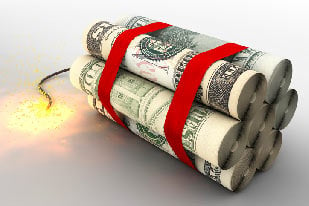 As confidence in European currencies plunges, there's only so much corresponding dollar strength the Federal Reserve is willing to tolerate. There's been much talk of rate hikes coming later this year, and that widespread expectation has been priced into the market. Any rhetorical or policy disappointments from the Fed in the months ahead could cause traders to sell the dollar.
Whether later this year or further down the road, it's only a matter of time before currency turmoil spreads to the United States.
The U.S. has a higher debt-to-GDP ratio than some troubled European countries. It has higher levels of unfunded liabilities (estimated to be in excess of $100 trillion) than any other country. The dollar's status as world reserve currency has allowed the U.S. to become financially overextended. But that vaunted status is slowly deteriorating as Russia, China, and other countries form economic alliances that bypass the dollar.
When these chickens come home to roost, you don't want to be wholly dependent on the U.S. government's promises or its currency. Sizeable holdings in physical precious metals will help make you financially resilient in the face of the spreading global currency crisis.
Is Putin Creating A New World Order?
"If undercharging for energy products occurs deliberately, it also effects those who introduce these limitations. Problems will arise and grow, worsening the situation not only for Russia but also for our partners." – Russian President Vladimir Putin
It's hard to know which country is going to suffer the most from falling oil prices. Up to now, of course, Russia, Iran and Venezuela have taken the biggest hit, but that will probably change as time goes on. What the Obama administration should be worried about is the second-order effects that will eventually show up in terms of higher unemployment, market volatility, and wobbly bank balance sheets. That's where the real damage is going to crop up because that's where red ink and bad loans can metastasize into a full-blown financial crisis. Check out this blurb from Nick Cunningham at Oilprice.com and you'll see what I mean:
"According to an assessment from the Federal Reserve Bank of Dallas, an estimated 250,000 jobs across eight U.S. states could be lost in 2015 if oil prices don't rise. More than 50 percent of those job losses would occur in Texas, which leads the nation in oil production.

There are some early signs that a slowdown in drilling could spread to the manufacturing sector in Texas… One executive at a metal manufacturing company said in the survey, "the drop in crude oil prices is going to make things ugly… quickly." Another company that manufactures machinery told the Dallas Fed, "Low oil prices will drive reductions in U.S. drilling rigs, which will in turn reduce the market for our products."

The sentiment was similar for a chemical manufacturer, who said "lower oil prices will adversely impact margins. Energy volatility will cause our customers to keep inventories tight."

States like Texas, North Dakota, Oklahoma, and Louisiana have seen their economies boom over the last few years as oil production surged. But the sector is now deflating, leaving gashes in employment rolls and state budgets." (Low Prices Lead To Layoffs In The Oil Patch, Nick Cunningham, Oilprice.com)
Of course industries lay-off workers all the time and it doesn't always lead to a financial crisis. But unemployment is just one part of the picture, lower personal consumption is another. Take a look:
"Falling oil prices are a bigger drag on economic growth than the incremental "savings" received by the consumer…..Another way to show this graphically is to look at the annual changes in Personal Consumption Expenditures (PCE) in aggregate as compared to the subsection of PCE spent on energy and related products. This is shown in the chart below.

Lower Energy Prices To Lower PCE (Personal Consumption Expenditures):
See? So despite what you might have read in the MSM, lower gas prices do not translate into greater personal consumption or more robust growth. Quiet the contrary, they tend to intensify deflationary pressures and reduce activity which is a damper on growth.
Then there's the knock-on effects that crashing prices and layoffs have on other industries like mining, manufacturing and chemical production. Here's more from Oil Price:
"Oil and gas production makeup a hefty chunk of the "mining and manufacturing" component of the employment rolls. Since 2000, when the oil price boom gained traction, Texas has comprised more than 40% of all jobs in the country according to first quarter data from the Dallas Federal Reserve…

The majority of the jobs "created" since the financial crisis have been lower wage paying jobs in retail, healthcare and other service sectors of the economy. Conversely, the jobs created within the energy space are some of the highest wage paying opportunities available in engineering, technology, accounting, legal, etc. In fact, each job created in energy related areas has had a "ripple effect" of creating 2.8 jobs elsewhere in the economy from piping to coatings, trucking and transportation, restaurants and retail….

The obvious ramification of the plunge in oil prices is that eventually the loss of revenue will lead to cuts in production, declines in capital expenditure plans (which comprise almost 1/4th of all capex expenditures in the S&P 500), freezes and/or reductions in employment, and declines in revenue and profitability…

Simply put, lower oil and gasoline prices may have a bigger detraction on the economy than the "savings" provided to consumers." (The Gasoline Price Myth, Lance Roberts, oilprice.com)
None of this sounds very reassuring, does it? And yet, all we hear from the media is how the economy is going to reach "escape velocity" on the back of cheap oil. Nonsense. This is just more "green shoots" baloney wrapped in public relations hype. The fact is, the economy needs the good-paying jobs more than it needs low-priced energy. But now that prices are tumbling, those jobs are going to disappear which is going to be a drag on growth. Now check out these headlines I picked up on Google News that help to show what's going on off the radar:
"Texas is in danger of a recession", CNN Money.
"Texas Could Be Headed for an Oil-Fueled Recession, JP Morgan Economist Says", Wall Street Journal "Good Times From Texas to North Dakota May Turn Bad on Oil-Price Drop", Bloomberg
"Low Oil Prices in the New Year Are Screwing Petrostates", Vice News
"Top US Oil States Are Taking A Hit From Plunging Crude Prices", Business Insider
Get the picture? If oil prices continue to fall, unemployment is going to spike, activity is going to slow, and the economy is going tank. And the damage won't be limited to the US either. Get a load of this from the UK Telegraph:
"A third of Britain's listed oil and gas companies are in danger of running out of working capital and even going bankrupt amid a slump in the value of crude, according to new research.

Financial risk management group Company Watch believes that 70pc of the UK's publicly listed oil exploration and production companies are now unprofitable, racking up significant losses in the region of £1.8bn.

Such is the extent of the financial pressure now bearing down on highly leveraged drillers in the UK that Company Watch estimates that a third of the 126 quoted oil and gas companies on AIM and the London Stock Exchange are generating no revenues.

The findings are the latest warning to hit the oil and gas industry since a slump in the price of crude accelerated in November when the Organisation of Petroleum Exporting Countries (Opec) decided to keep its output levels unchanged. The decision has caused carnage in oil markets with a barrel of Brent crude falling 45pc since June to around $60 per barrel." (Third of listed UK oil and gas drillers face bankruptcy, Telegraph)
"Carnage in oil markets," you say?
Indeed. Many of the oil-drilling newcomers set up shop to take advantage of the low rates and easy money available in the bond market. Now that prices have crashed, investors are avoiding energy-related junk bonds like the plague which is making it impossible for the smaller companies to roll over their debt or attract fresh capital. When these companies start to default en masse, as they certainly will if prices don't rebound, the blowback will be felt on bank balance sheets across the country creating the possibility of another financial meltdown. (Now we ARE talking about a financial crisis.)
The basic problem is that the banks have bundled a lot of their dodgy debt into financially-engineered products like Collateralized Loan Obligations (CLOs) and Collateralized Debt Obligations (CDOs) that will inevitably fail when borrowers are no longer able to service the loans. The rot can be concealed for a while, but eventually, if prices don't recover, a significant number of these companies are going to go under which will push the perennially-undercapitalized banking system to the brink once again. That's why Washington's plan to push down oil prices (to hurt the Russian economy) might have made sense on a short-term basis (to shock Putin into submission) but as a long-term strategy, it's nuts. And what's even crazier, is that Obama has decided to double-down on the same wacky plan even though Putin hasn't given an inch. Check this out from Reuters on Monday:
"The Obama administration has opened a new front in the global battle for oil market share, effectively clearing the way for the shipment of as much as a million barrels per day of ultra-light U.S. crude to the rest of the world…

The Department of Commerce on Tuesday ended a year-long silence on a contentious, four-decade ban on oil exports, saying it had begun approving a backlog of requests to sell processed light oil abroad.

The action comes at a critical juncture for the global oil market. World prices have halved to less than $60 a barrel since the summer as top exporter Saudi Arabia, once a staunch defender of $100 oil, refused to cut production in the face of surging U.S. shale output and tempered global demand…

With global oil markets in flux, it is far from clear how much U.S. condensate will find a market overseas."
(Analysis – U.S. opening of oil export tap widens battle for global market, Reuters)
Does that make sense to you, dear reader? Why would Obama suddenly opt to change the rules of the game when he knows it will increase supply and push prices down even further? Why would he do that? Certainly, he doesn't want to inflict more pain on domestic producers, does he?
Let's let Obama answer the question for himself. Here's a clip from an NPR interview with the president just last week. About halfway through the interview, NPR's Steve Inskeep asks Obama: "Are you just lucky that the price of oil went down and therefore their currency collapsed or …is it something that you did?
Barack Obama: If you'll recall, their (Russia) economy was already contracting and capital was fleeing even before oil collapsed. And part of our rationale in this process was that the only thing keeping that economy afloat was the price of oil. And if, in fact, we were steady in applying sanction pressure, which we have been, that over time it would make the economy of Russia sufficiently vulnerable that if and when there were disruptions with respect to the price of oil — which, inevitably, there are going to be sometime, if not this year then next year or the year after — that they'd have enormous difficulty managing it." (Transcript: President Obama's Full NPR Interview)
Am I mistaken or did Obama just admit that he wanted "disruptions" in the "price of oil" because he figured Putin would have "enormous difficulty managing it"?
Isn't that the same as saying that it was all part of Washington's plan; that plunging prices were just the icing on the cake for their asymmetrical attack on the Russian economy? It sure sounds like it. And that would also explain why Obama decided to allow domestic producers to dump more oil on the market even though it's going to send prices lower. Apparently, none of that matters as long as the policy hurts Russia.
So maybe the US-Saudi oil collusion theory isn't so far fetched after all. Maybe Salon's Patrick L. Smith was right when he said:
"Less than a week after the Minsk Protocol was signed, Kerry made a little-noted trip to Jeddah to see King Abdullah at his summer residence. When it was reported at all, this was put across as part of Kerry's campaign to secure Arab support in the fight against the Islamic State.

Stop right there. That is not all there was to the visit, my trustworthy sources tell me. The other half of the visit had to do with Washington's unabated desire to ruin the Russian economy. To do this, Kerry told the Saudis 1) to raise production and 2) to cut its crude price. Keep in mind these pertinent numbers: The Saudis produce a barrel of oil for less than $30 as break-even in the national budget; the Russians need $105.

Shortly after Kerry's visit, the Saudis began increasing production, sure enough — by more than 100,000 barrels daily during the rest of September, more apparently to come…

Think about this. Winter is coming, there are serious production outages now in Iraq, Nigeria, Venezuela and Libya, other OPEC members are screaming for relief, and the Saudis make back-to-back moves certain to push falling prices still lower? You do the math, with Kerry's unreported itinerary in mind, and to help you along I offer this from an extremely well-positioned source in the commodities markets: "There are very big hands pushing oil into global supply now," this source wrote in an e-mail note the other day." ("What Really Happened in Beijing: Putin, Obama, Xi And The Back Story The Media Won't Tell You", Patrick L. Smith, Salon)
Vladimir Putin: Public Enemy Number 1
Let's cut to the chase: All these oil shenanigans are really aimed at just one man: Vladimir Putin. There are a number of reasons why Washington wants to get rid of Putin, the first of which is that the Russian president has become an obstacle to US plans to pivot to Asia. That's the main issue. As long as Putin is calling the shots, there's going to be growing resistance to NATO's push eastward and Washington's military expansion across Central Asia which could undermine US plans to encircle China and remain the world's only superpower. Here's an excerpt from Zbigniew Brzezinski's The Grand Chessboard which helps to explain the importance Eurasia is in terms of Washington's global ambitions:
"..how America 'manages' Eurasia is critical. A power that dominates Eurasia would control two of the world's three most advanced and economically productive regions. A mere glance at the map also suggests that control over Eurasia would almost automatically entail Africa's subordination, rendering the Western Hemisphere and Oceania (Australia) geopolitically peripheral to the world's central continent. About 75 per cent of the world's people live in Eurasia, and most of the world's physical wealth is there as well, both in its enterprises and underneath its soil. Eurasia accounts for about three-fourths of the world's known energy resources." (p.31) (Zbigniew Brzezinski, The Grand Chessboard: American Primacy And It's Geostrategic Imperatives, Key Quotes From Zbigniew Brzezinksi's Seminal Book)
Get it? Prevailing in Asia is the administration's top priority, which is why the US is rapidly moving its military assets into place. Check this out from the World Socialist Web Site:
"Under Obama's "pivot to Asia," the Pacific Command will account for more than 60 percent of all US military forces, up from 50 percent under the Bush administration. This includes new US basing arrangements in the Philippines, Singapore and Australia, as well as renewed close military ties to New Zealand, and ongoing US military exercises in Thailand, Malaysia, Indonesia and Taiwan….(as well as) large troop deployments in Japan and South Korea, including nuclear-armed units." (The global scale of US militarism, Patrick Martin, World Socialist Web Site)
The "Big Shift" is already underway, which is why obstacles have to be removed and Putin's got to go.
Second, Putin has made himself a general nuisance vis a vis US strategic objectives in Syria, Iran and Ukraine. In Syria, Putin has thrown his support behind Assad who the US wants to topple in order to redraw the map of the Middle East and build gas pipelines from Qatar to Turkey to access the lucrative EU market.
Third, Putin has strengthened a number of coalitions and alliances –the BRICS bank, the Eurasian Economic Union, and the Shanghai Cooperation Organization–all of which pose a challenge to US dominance in the region as well as a viable alternative to neoliberal financial institutions like the IMF and World Bank. Going back to Brzezinski's "chessboard" once again, we see that the US should not feel threatened by any one nation, but should be constantly on-the-lookout for "regional coalitions" which could derail its plans to rule the world. Here's Brzezinski again:
"…the three grand imperatives of imperial geostrategy are to prevent collusion and maintain security dependence among the vassals, to keep tributaries pliant and protected, and to keep the barbarians from coming together." (p.40)

"Henceforth, the United States may have to determine how to cope with regional coalitions that seek to push America out of Eurasia, thereby threatening America's status as a global power." (p.55) (Zbigniew Brzezinski, The Grand Chessboard: American Primacy And It's Geostrategic Imperatives, Key Quotes From Zbigniew Brzezinksi's Seminal Book)
As a founding member and primary backer of these organizations, (and initiator of giant energy deals with China, India and Turkey) Putin has become Washington's biggest headache and a logical target for regime change.
Finally, Putin is doing whatever he can to circumvent dollar-denominated business and financial transactions. The move away from the buck is a direct attack on the US's greatest source of power, the ability to control the de facto international currency and to require that other nation's stockpile dollars for their energy purchases which are then recycled into US financial assets, stocks bonds and US Treasuries. This petrodollar-recycling scam allows the US to run gigantic current account deficits without raising interest rates or reducing government spending. Putin's anti-dollar policies could diminish the greenback's role as reserve currency and put an end to a system that institutionalizes looting.
This is why Putin is Public Enemy Number 1. It's because he's blocking the US pivot to Asia, strengthening anti-Washington coalitions, sabotaging US foreign policy objectives in the Middle East, creating institutions that rival the IMF and World Bank, transacting massive energy deals with critical US allies, increasing membership in an integrated, single-market Eurasian Economic Union, and attacking the structural foundation upon which the entire US empire rests, the dollar.
Naturally, Washington's powerbrokers are worried about these developments, just as they are worried about the new world order which is gradually taking shape under Putin's guidance. But, so far, they haven't been able to do anything about it. The administration's regime change schemers and fantasists have shown time-and-again that they're no match for Bad Vlad who has beaten them at every turn.
Bravo, Putin.
Culprits Include The City Of Chicago, Big Retailers, The Media, And Churches…
Proponents of the Nanny State have been trying to take away man's Natural right of self-defense ever since the United Nations was created back in 1945. Of course, the Natural right of self-defense is totally unknown in communist and socialist countries; and big-government toadies in several so-called "democratic" countries have also succeeded in turning citizens into subjects by removing or severely restricting the Natural right of self-defense. Obviously, I'm talking about countries such as Great Britain, France, Germany, New Zealand, Australia, and Canada.
By self-defense, I am talking about a man's right to carry a Personal Defense Weapon (PDW)–which, in modern times, mostly requires a firearm–anywhere and everywhere he goes. A state that does not allow a man to be personally armed in his day-to-day activities is literally stripping him of his right of self-defense. To require a citizen to keep his or her PDW in their home or vehicle is to deny the citizen's Natural right of self-defense. To say a citizen may lawfully protect himself in only limited and duly-prescribed locations is to make the citizen a subject of the state. Furthermore, it removes from him the most fundamental of all the Natural rights that were granted to him by his Creator: the right of self-defense.
Four-legged predators are constantly on the prowl for animals that are defenseless. Two-legged predators do the same thing. These human predators do not respect "gun-free" zones. Like all predators, they are opportunistic beasts. They prey on the weak and vulnerable. When the state takes away a person's right to be always armed, it makes the entire citizenry weak and vulnerable. As I have said many times, guns don't kill people; gun-free zones kill people.
Gun control laws are among the most egregious violations of Natural Law. Men and women who are truly free are allowed to carry a PDW everywhere they go. Banks, schools, government buildings, churches, etc., should be no exceptions. It is no coincidence that just about every single mass-shooting in recent memory has taken place in a so-called "gun-free" zone, where the only people who were armed were the perpetrators. Gun-free zones turn free men into human prey.
For all intents and purposes, several states and major cities within the United States have become "gun-free" zones, in that they mostly deny their citizens the right to carry a PDW on their person. Whether the people of these cities and states realize it or not, they have lost the right to be called free men and have been turned into human prey by their own State and municipal governments. There is no greater example of this tyranny than the city of Chicago, Illinois.
Chicago has some of the strictest and most stringent gun-control laws in the entire nation. The government of Chicago has, in effect, turned the town into a giant killing-field where ravenous two-legged beasts are allowed to feast on the millions of defenseless prey that inhabit our country's third largest city. For example, over the past Independence Day weekend, 82 people were shot and 14 people were killed in Chicago violence. Breitbart.com covered the story:
"Breitbart reported that the violence was high on Friday, Saturday, and Sunday morning, but when Thursday, the final hours of Sunday, and the first few hours of Monday morning were added to the accounting, the rate of violence proved to be even more appalling.
"On Monday morning, July 7, the Chicago Tribune shocked the city with the list of weekend violence reporting that between Thursday, as the holiday weekend began, to the early hours of Monday morning, Chicago experienced 82 shootings with 14 killed."
Included in the Breitbart report is the fact that one man's life was actually saved by virtue of the fact that he had a concealed carry permit (no small feat in the City of Chicago) and used his PDW to protect himself against three violent miscreants. In this case, one of the dead was a violent predator. Had the innocent citizen not been armed, he would have been the statistic. In addition, the report states that eight of the dead were at the hands of Chicago police officers in the line of duty, proving, once again, that policemen carry guns, not for the protection of the citizenry, but for their own protection.
Predictably, Chicago Mayor Rahm Emanuel blamed the increased violence on "weak" gun laws in the neighboring states of Indiana and Wisconsin.
See the Breitbart.com report here:
Between Thursday And Monday 82 Shot, 14 Killed In Chicago Violence
Of course, what Emanuel won't tell you is that the violent crime rates of those states where the right to keep AND BEAR arms is less infringed are far less–far less! For example, there are 11 states in the country that allow their citizens to carry firearms freely and openly with no permit or license required. Those states are Alaska, Montana, Idaho, Wyoming, Nevada, Arizona, New Mexico, South Dakota, Vermont, Kentucky, and Virginia. So, using Emanuel's logic, one could expect that there should have been hundreds of shootings in those states last weekend–what with their "weak" gun laws and all, right? You know that's not true.
Check the incidents of shootings in the above-listed states and we might even discover that the City of Chicago may have had more shootings over this past Independence Day weekend than those 11 states COMBINED. Think of it: the City of Chicago (with some of the strictest gun control laws in the country) may have had more shootings than the combined shootings of the 11 states that recognize their citizens' Natural right of self-defense by allowing them to freely and openly carry a PDW.
Of course, it's not only various and sundry governments (though they are the most egregious usurpers of the Natural right of self-defense) that want to deny people the right to bear arms; many large retailers are adding their weight to the anti-self-defense hysteria.
Just a few days ago, the giant retailer, Target, announced a corporate policy that asks its patrons to leave their firearms at home. Once again, Breitbart.com covers the story.
"On July 2nd, Target 'respectfully' asked law-abiding citizens to 'not bring firearms' in their stores.
"The department store chain did this via an announcement posted on its website and shared by interim CEO John Mulligan.
"The announcement says:
"'As you've likely seen in the media, there's been a debate about whether guests in communities that permit "open carry" should be allowed to bring firearms into Target stores. Our approach has always been to follow local laws, and of course, we will continue to do so. But starting today we will respectfully request that guests not bring firearms to Target–even in communities where it is permitted by law.'
"By taking this step, Target joins Chipotle, Jack in the Box, Sonic, and Chili's in asking law-abiding citizens not to carry guns in their businesses."
The author of the report, AWR Hawkins, notes, "Within two weeks of asking law-abiding customers to come unarmed, two Jack in the Box stores were robbed, and a shooting took place at a third. Patrons were robbed at gunpoint in one of the robberies, as well."
See the report at:
Target 'Respectfully' Asks Law-Abiding Citizens To Leave Guns At Home
But the war against your Natural right to self-defense doesn't stop with the City of Chicago or the Target chain-stores. The mainstream media seem absolutely determined to take away your right to defend yourself and your loved ones.
After CNN sacked Piers Morgan due to his immense unpopularity, which was mostly due to his arrogant attacks against America's Second Amendment, the cable network recently announced that it was replacing Morgan with former America's Most Wanted host, John Walsh, who immediately proclaimed that his show would continue Morgan's attacks against the Second Amendment.
Once more, Breitbart.com covers the story:
"Former America's Most Wanted host John Walsh is hosting a new show on CNN on which he vows to keep the push for gun control and the war on the NRA alive.
"According to The Wrap, Walsh said:
"'I'm the father of a murdered child. I've done nothing but track violence in America since my son was murdered. We have a serious problem with guns in this country… and the NRA solution to arm every grammar-school 80-year-old teacher with a gun is absolutely ludicrous.'
"He claims the NRA has gotten so big and financially powerful through relationships with gun manufacturers that 'they're not a lobbyist on Capitol Hill, they're a gun manufacturer rep.'
"Walsh's new show, The Hunt, premieres July 13. Walsh says he did not initially realize 'how much his gun control efforts would be a part of his new show.'"
See the report at:
New CNN Host John Walsh Vows To Continue Piers Morgan's War On The NRA
Obviously, CNN is hoping that it's continued anti-Second Amendment agenda will be more palatable to the American people if it comes from a fellow American–especially one with whom everyone can truly sympathize with by virtue of his losing a child to an act of violence (although Adam Walsh's murder did not involve the use of a firearm)–than from the arrogant and pompous British elitist, Piers Morgan. But make no mistake about it: the anti-Second Amendment message is the same. Only the messenger has changed.
And most sadly, churches, too, are often at the forefront of the anti-self-defense fanaticism. Christian leaders from denominations across the board are often the ones who promote gun control (even gun confiscation) among their congregations and who deny their parishioners the right to be armed on church property.
For example, back in 2004, the president of the LDS church issued a declaration to all Mormon churches in Utah that gave "public notice that firearms are prohibited in the church's houses of worship, including temples, meetinghouses, the Assembly Hall, the Salt Lake Tabernacle, and the Conference Center."
The declaration went on to say, "Once such public notice is given, persons who bring firearms into a church house of worship should be informed of the church's position and politely asked to take their firearms to another safe location. Persons who refuse to take their firearms from the house of worship or repeatedly ignore the church's prohibition should be referred to local law enforcement officers for possible criminal prosecution."
See the church statement here:
Text Of Letter From First Presidency On Guns
But if you think the LDS church is the only church in the country that has taken such a position, you are sadly misinformed. My educated guess is that the vast majority of denominations and churches in America have a very similar position.
But instead of denying the Christian people of America from exercising their God-given right of self-defense on church property, church leaders should be boldly teaching the Biblical Natural Law principles of self-defense and encouraging their people to jealously guard this most fundamental liberty. By demanding that Christian people not be armed on church property, church leaders are no better than Rahm Emanuel–who insists that Chicago's residents not be allowed to protect themselves–and are opening up their churches to those two-legged wolves who would seek to devour the sheep.
There are only a small handful of countries today that recognize the Natural right of self-defense. The advent of the United Nations has facilitated the demise of this right in country after country. The United States is the last major power that yet somewhat protects this most precious Natural right.
Obviously, several State and local governments within the United States (not to mention the worst offender of all: the federal government in Washington, D.C.) have themselves assisted the dismantlement of the right of self-defense. Several giant retailers are assisting the attacks against our Natural right of self-defense. The mainstream media is incessant in its attacks against the Second Amendment. And even many of America's churches have set themselves against the right to BEAR arms. The war against our Natural right of self-defense continues.
However, I need to point out that the architects of the Nanny State have been trying to disarm the American people since even before the United Nations was created. And while the right to keep and bear arms has been severely restricted by myriads of federal, State, and local laws, the American people continue to be the most heavily armed people in the world. Not only is the American citizenry an armed citizenry, it is an absolutely determined citizenry. The message to any and all potential tyrants who would attempt to remove our Natural right of self-defense is the same–whether they are from King George's London, Mao's Beijing, Stalin's Moscow, Emanuel's Chicago, Obama's Washington, D.C., or the U.N.'s New York City: MOLON LABE, COME AND TAKE THEM!
Commenting recently on the Elliot Rodger killings, arch-leftist Michael Moore wrote that while "other countries have more violent pasts…more guns per capita in their homes…and the kids in most other countries watch the same violent movies and play the same violent video games that our kids play, no one even comes close to killing as many of its own citizens on a daily basis as we do…." From a man who used to take the simple-minded gun-control position "fewer guns=less homicide," it was surprising evidence of growth. After making his point, however, Moore made a mistake in following up with, "and yet we don't seem to want to ask ourselves this simple question: "Why us? What is it about US?" It's not, however, that we don't want to ask the question.
It's that we don't want to hear the answer.
We can begin seeking it by asking another question: Why is it that Vermont, with approximately the same rate of gun ownership as Louisiana, has less than one-eighth the murder rate? Even more strikingly, why does New Hampshire have both a far higher gun ownership rate and a lower murder rate than England, Piers Morgan's favorite poster-boy nation for gun control?
Professor Thomas Sowell provided more of these seeming contradictions in 2012, writing:
When it comes to the rate of gun ownership, that is higher in rural areas than in urban areas, but the murder rate is higher in urban areas. The rate of gun ownership is higher among whites than among blacks, but the murder rate is higher among blacks.
… [There are also] countries with stronger gun control laws than the United States, such as Russia, Brazil and Mexico. All of these countries have higher murder rates than the United States.
You could compare other sets of countries and get similar results. Gun ownership has been three times as high in Switzerland as in Germany, but the Swiss have had lower murder rates. Other countries with high rates of gun ownership and low murder rates include Israel, New Zealand, and Finland.
So what's the answer we don't want to hear? The critical difference among these regions and nations is explained right in Sowell's title: it's "not guns."
"It's people."
What "people" differences are relevant? Let's start with race and ethnicity. In the cases of homicide in 2012 in which the races of the perpetrators were known, 55 percent were committed by blacks, 62 percent of whom were under 30 years of age. Black youths are 16 percent of the youth population, but constitute 52 percent of those arrested for juvenile violent crime.
The statistics for Hispanics are more difficult to ferret out because, unbeknownst to many, law enforcement agencies tend to lump them in with whites in crime statistics (the FBI has announced that it will finally categorize Hispanic crime — in its report on 2013). However, there is some information available. Examiner's Ken LaRive tells us that "Hispanics commit three times more violent crimes than whites," but that the disparity could be even greater because of their often being classified as white.
The National Youth Gang Survey Analysis reports that gang members are approximately 49 percent Hispanic, 35 percent black and 10 percent white. And while whites are 35 percent of NYC's population, blacks and Hispanics commit 96 percent of all crime in the Big Apple and 98 percent of all gun crime.
Another good indicator is international crime statistics. Hispanic countries dominate the homicide-rate rankings, with Honduras topping the list with a rate eight times as high as that of our worst state, Louisiana. Also note that there are no European/European descent nations in the top 20 and not one Western-tradition nation in the top 30 (Russia and Moldova are 24 and 28, respectively).
And what can we say about these "people" differences? It's much as with the question of why men are more likely to be drunkards than women. You could explore whether the differences were attributable to nature, nurture or both. But it would be silly to wonder if the answer lay in men having greater access to bars, alcohol or shot glasses.
This brings us to why covering up minority criminality encourages gun control:
Americans won't understand that the critical factor is people differences if they aren't told about the people differences.
They will then — especially since most citizens aren't even aware that there are nations with more firearms but less murder — be much more likely to blame guns. Of course, this is precisely what you want if you're a left-wing media propagandist.
There is a question that could now be posed by the other side: if the main difference in criminality is demographics, why not outlaw guns? After all, it won't make a difference one way or the other, right? I'll offer a couple of answers to this question.
First, for a people to maintain just liberties, a freedom must always be considered innocent until proven guilty; the burden of proof is not on those who would retain it, but on those who would take it away.
Second, while private gun ownership and just law enforcement can't turn barbarians into civilized people any more than excellent schools can transform dunces into geniuses, they can act as mitigating factors that minimize criminality as much as possible given the "raw material" with which the particular society has to work. It's much as how you can maximize your personal safety: you may be safer in a great neighborhood with no martial arts training than in a terrible one with that training. Nonetheless, it allows you to be safer than you would be otherwise whatever neighborhood you choose.
And what do the stats show in our fair to middling USA neighborhood? Florida State University criminologist Gary Kleck reported that guns are used by good citizens 2.2 to 2.5 million times per year to deter crime. That likely saves many more innocent lives than are lost in massacres every year, but these unseen non-victims don't make headlines the way Sandy Hook tragedies do. That's why I like to say, using a twist on a Frédéric Bastiat line, a bad social analyst observes only what can be seen. A good social analyst observes what can be seen — and what must be foreseen.
Lastly, one more truth becomes evident upon recognizing that demographics are the main factor in criminality: even if you do believe in gun control, imposing it federally and applying a one-size fits all standard is ridiculous. In terms of people and crime, there's a world of difference between towns in New Hampshire or Vermont, with their England-level murder rates, and cities such as East St. Louis, IL, or Detroit, which rival El Salvador in citizen lethality. You can make gun control the same everywhere, but you can't change the fact that people will be very, very different.
The psychopathic propaganda power brokers are inciting hysteria over expanding their Ukrainian coup operation. Pushing Russia to accept a hostile empire on their border is irrational. Belligerence and intimidation makes indefensible foreign affairs relationships. Those who swallow the "wag the dog" script that circulates in the Western mainstream media, deceived or brainwashed, are incapable of any independent thought. The forces that seek unremitting interventionist intrusions that thrive on self-induced chaos are the true threats to world peace.
Until the perception and experience of the intrepid Michael Scheuer becomes universally accepted, the failed foreign policy mistakes will continue as seen in Russia annexing Crimea is the cost of U.S.-EU intervention in Ukraine.
"Overall, U.S. and Western leaders should be lining up to thank Vladimir Putin for a painful but thorough lesson in how the adult leader of a nation protects his country's genuine national interests. And, it must be noted, Putin is not teaching rocket science. Had Western leaders received a decent education — especially in the fields of history and human nature — they would have been absolutely certain from the start that any destabilizing Western intervention in Ukraine that even remotely threatened Russia's assured access to its Crimean naval bases would provoke precisely the kind of Russian response that occurred. They also would have known that West and the UN could bleat forever about the requirements of various treaties and international law, but that a nation acting to protect what it perceives to be life-or-death national interests — as is Putin's Russia — is both insane and suicidal if it refrains from acting because of a raft of documents designed to address Cold War conditions that no longer exist.

The lesson of the Ukraine crisis — if it ends without war — for the U.S. and the EU will be crystal clear: Hoe your own row, and mind your own business. If it ends in a civil or European war, they will have only themselves to blame."
With the results from the Crimean referendum in hand the Guardian newspaper reports:
The referendum ballot itself, as posted a few days ago to the parliament's website, doesn't exactly give voters an option to say "No". The two choices are:

"Do you support joining Crimea with the Russian Federation as a subject of Russia?"

"Do you support restoration of the 1992 Crimean constitution, and Crimea's status as part of Ukraine?

This second option is somewhat contradictory: the 1992 constitution asserts Crimea is an independent state and not part of Ukraine (reference to autonomy within Ukraine was inserted at a later date). By "supporting the restoration of the 1992 constitution" voters will actually support enhanced autonomy. No matter what, voters are ticking a box for independence from Ukraine.
In the inimitable and immortal words of that heroine of all transgender sociopaths, the former Secretary of State, Hillary Clinton sums up the double standard: What Difference Does It Make? The bipartisan support for an unbalanced death wish to jump-start the DEFCON alert level, reflected in the comments of General Dempsey: US ready for military response to Russia if Crimean conflict escalates, should alarm everyone. "We do have treaty obligations with our NATO allies. And I have assured them that if that treaty obligation is triggered [in Europe], we would respond."
For a listing of reports on Lessons of the Ukrainian Coup, examine the latest BATR RealPolitik Newsletter – March 13, 2014. Especially appreciate the Robert Parry article, Neocons and the Ukraine Coup, which targets the perverse mentality of the NeoCon influence.
"Now, you have Assistant Secretary of State Nuland, the wife of prominent neocon Robert Kagan, acting as a leading instigator in the Ukrainian unrest, explicitly seeking to pry the country out of the Russian orbit. Last December, she reminded Ukrainian business leaders that, to help Ukraine achieve "its European aspirations, we have invested more than $5 billion." She said the U.S. goal was to take "Ukraine into the future that it deserves."
Any attempt to establish sanity in foreign policy must recognize that the betrayers within have sold out America for the last century. Foggy Bottom is the depository of dual loyalists as explained in the Totalitarian Collectivism essay, The State Department's New World Order Agenda.
Just who are the maniacal lunatics that drive this insatiable need to threaten continuous war to achieve global imperium? One needs not be a Putin booster to recognize that the post 911 expansions of a garrison mentality guarantees further military expeditions into the internal affairs of any country that bucks the "international community" New World Order goals.
Author of the book "The New American Empire", Rodrigue Tremblay exposes the lunacy behind The Bush-Obama's Neocon Foreign Policy of Isolating Russia and of Expanding NATO is a Dismal Failure.
"President Barack Obama was candid in admitting it on Monday March 3, 2014, when he said that "we are indicating to the Russians [that] if in fact they continue on the current trajectory they're on, then we are examining a whole series of steps — economic, diplomatic— that will isolate Russia."
Well, it is precisely this desire to expand NATO and to isolate Russia by incorporating all the countries bordering Russia into NATO, i.e. a strategy of geopolitical and military encirclement of Russia, which has provoked that country when it felt threatened in its national security.
The truth is that NATO should have been disbanded after the collapse of the Soviet empire in 1991, and especially after the Warsaw Pact was itself dismantled . . . But no! The United States wanted to take advantage of the situation and demanded that everything fell into the military-financial U.S. Empire."
The Global Gulag essay, NATO a Dinosaur Overdue for Extinction, amplifies upon this conclusion.
"If the breakdown in NATO is destined to avail an opportunity to curtail the Yankee Hyperpower, the alternative need not be the formation of another suspect alliance. It is not unpatriotic to advocate the wisdom in an America First policy. NATO doesn't secure an advance for our country, but only provides the military command and enforcement that imposes the will of global masters. Resistance and opposition against an independent EU rapid defense force, comes not from the nations of Europe, but from the elites that control the mechanisms of global power. NATO is one of their tools. Alliances are one of their methods. And suppression of viable self determination is their cherished goal."
Just think what the response would be if Putin reacted to the bellicose threats from EU/NATO/US to intervene into whatever geographic Ukraine composition remains, by re-creating Russian bases in the Western hemisphere? Venezuela becoming the 21th Century Cuba cannot stand. You can hear the cries – no Russian Guantánamo Bay bases in our backyard.
The impotency of superpower status means that the nuclear option becomes executable. This attitude is pure madness, and leads to unilateral imperialism.
When the formidable voice of moral authority, Paul Craig Roberts, warns about World War 1 All Over Again, the nation must come to grips with the fact that the establishment political class is hell bent on running the world by whatever means they decide as they undertake to eliminate any and all opposition to their brinkmanship of NWO jingoism.
"Did US Secretary of State John Kerry ask you before he delivered an all or nothing ultimatum to Russia? Did he ask Congress? Did he ask the countries of western and eastern Europe–NATO members who Kerry has committed to whatever the consequences will be of Washington's inflexible, arrogant, aggressive provocation of Russia, a well-armed nuclear power? Did Kerry ask Japan, Taiwan, South Korea, New Zealand, Australia, Canada, Mexico, South America, Africa, China, Central Asia, all of whom would be adversely affected by a world war provoked by the crazed criminals in Washington?"
Absent from a sober and balanced national policy, on what is truly best for the American people, is recognition that the internationalism fostered by Woodrow Wilson has destroyed the Republic. America First requires the acceptance and courage to admit that the globalist coup d'état, which actually took over and now rules our own country, is the definitive enemy of all humanity.
The treason of the NeoCons and International Libs promote a satanic cosmology, which seeks to destroy any traditional institutional legacy that George Washington elaborated in his Farewell Address. Risking World War III over Ukraine, especially when the forces of globalism initiated the unrest, is sheer folly.
If there are any real Patriots left in positions of authority within the Federal government, is it now time to enlist in the much-needed second American Revolution? Liberate our own country before starting conflicts that will only result in an existential demise of our nation. The American holocaust planned from within and exercised by commands from traitors is the real reign of terror that faces every truehearted citizen.
An empire necessitates the elimination of the Republic. If Crimea can hold a referendum, only the NWO Jacobins deny the same option for us.
"Bias in favor of the orthodox is frequently mistaken for 'objectivity'. Departures from this ideological orthodoxy are themselves dismissed as ideological." – Michael Parenti
An exchange in January with Paul Farhi, Washington Post columnist, about coverage of US foreign policy:
Dear Mr. Farhi,

Now that you've done a study of al-Jazeera's political bias in supporting Mohamed Morsi in Egypt, is it perhaps now time for a study of the US mass media's bias on US foreign policy? And if you doubt the extent and depth of this bias, consider this:

There are more than 1,400 daily newspapers in the United States. Can you name a single paper, or a single TV network, that was unequivocally opposed to the American wars carried out against Libya, Iraq, Afghanistan, Yugoslavia, Panama, Grenada, and Vietnam? Or even opposed to any two of these wars? How about one? In 1968, six years into the Vietnam war, the Boston Globe  surveyed the editorial positions of 39 leading US papers concerning the war and found that "none advocated a pull-out".

Now, can you name an American daily newspaper or TV network that more or less gives any support to any US government ODE (Officially Designated Enemy)? Like Hugo Chávez of Venezuela or his successor, Nicolás Maduro; Fidel or Raúl Castro of Cuba; Bashar al-Assad of Syria; Mahmoud Ahmadinejad of Iran; Rafael Correa of Ecuador; or Evo Morales of Bolivia? I mean that presents the ODE's point of view in a reasonably fair manner most of the time? Or any ODE of the recent past like Slobodan Milosevic of Serbia, Moammar Gaddafi of Libya, Robert Mugabe of Zimbabwe, or Jean-Bertrand Aristide of Haiti?

Who in the mainstream media supports Hamas of Gaza? Or Hezbollah of Lebanon? Who in the mainstream media is outspokenly critical of Israel's treatment of the Palestinians? And keeps his or her job?

Who in the mainstream media treats Julian Assange or Chelsea Manning as the heroes they are?

And this same mainstream media tell us that Cuba, Venezuela, Ecuador, et al. do not have a real opposition media.

The ideology of the American mainstream media is the belief that they don't have any ideology; that they are instead what they call "objective". I submit that there is something more important in journalism than objectivity. It is capturing the essence, or the truth, if you will, with the proper context and history. This can, as well, serve as "enlightenment".

It's been said that the political spectrum concerning US foreign policy in the America mainstream media "runs the gamut from A to B".

Sincerely, William Blum, Washington, DC
(followed by some of my writing credentials)
–
Reply from Paul Farhi:
I think you're conflating news coverage with editorial policy. They are not the same. What a newspaper advocates on its editorial page (the Vietnam example you cite) isn't the same as what or how the story is covered in the news columns. News MAY have some advocacy in it, but it's not supposed to, and not nearly as overt or blatant as an editorial or opinion column. Go back over all of your ODE examples and ask yourself if the news coverage was the same as the opinions about those ODEs. In most cases. I doubt it was.
–
Dear Mr. Farhi,

Thank you for your remarkably prompt answer.

Your point about the difference between news coverage and editorial policy is important, but the fact is, as a daily, and careful, reader of the Post for the past 20 years I can attest to the extensive bias in its foreign policy coverage in the areas I listed. Juan Ferrero in Latin America and Kathy Lally in the Mideast are but two prime examples. The bias, most commonly, is one of omission more than commission; which is to say it's what they leave out that distorts the news more than any factual errors or out-and-out lies. My Anti-Empire Report contains many examples of these omissions, as well as some errors of commission.

Incidentally, since 1995 I have written dozens of letters to the Post pointing out errors in foreign-policy coverage. Not one has been printed.

Happy New Year
–
I present here an extreme example of bias by omission, in the entire American mainstream media: In my last report I wrote of the committee appointed by the president to study NSA abuses – Review Group on Intelligence and Communications Technologies – which actually came up with a few unexpected recommendations in its report presented December 13, the most interesting of which perhaps are these two:
"Governments should not use surveillance to steal industry secrets to advantage their domestic industry."
"Governments should not use their offensive cyber capabilities to change the amounts held in financial accounts or otherwise manipulate the financial systems."
So what do we have here? The NSA being used to steal industrial secrets; nothing to do with fighting terrorism. And the NSA stealing money and otherwise sabotaging unnamed financial systems, which may also represent gaining industrial advantage for the United States.
Long-time readers of this report may have come to the realization that I'm not an ecstatic admirer of US foreign policy. But this stuff shocks even me. It's the gross pettiness of "The World's Only Superpower".
A careful search of the extensive Lexis-Nexis database failed to turn up a single American mainstream media source, print or broadcast, that mentioned this revelation. I found it only on those websites which carried my report, plus three other sites: Techdirt, Lawfare, and Crikey (First Digital Media).
For another very interesting and extreme example of bias by omission, as well as commission, very typical of US foreign policy coverage in the mainstream media: First read the January 31, page one, Washington Post article making fun of socialism in Venezuela and Cuba.
Then read the response from two Americans who have spent a lot of time in Venezuela, are fluent in Spanish, and whose opinions about the article I solicited.
I lived in Chile during the 1972-73 period under Salvadore Allende and his Socialist Party. The conservative Chilean media's sarcastic claims at the time about shortages and socialist incompetence were identical to what we've been seeing for years in the United States concerning Venezuela and Cuba. The Washington Post article on Venezuela referred to above could have been lifted out of Chile's El Mercurio, 1973.
[Note to readers: Please do not send me the usual complaints about my using the name "America(n)" to refer to "The United States". I find it to be a meaningless issue, if not plain silly.]
JFK, RFK, and some myths about US foreign policy
On April 30, 1964, five months after the assassination of President John F. Kennedy, his brother, Attorney General Robert F. Kennedy, was interviewed by John B. Martin in one of a series of oral history sessions with RFK. Part of the interview appears in the book "JFK Conservative" by Ira Stoll, published three months ago. (pages 192-3)
RFK: The president … had a strong, overwhelming reason for being in Vietnam and that we should win the war in Vietnam.

MARTIN: What was the overwhelming reason?

RFK: Just the loss of all of Southeast Asia if you lost Vietnam. I think everybody was quite clear that the rest of Southeast Asia would fall.

MARTIN: What if it did?

RFK: Just have profound effects as far as our position throughout the world, and our position in a rather vital part of the world. Also it would affect what happened in India, of course, which in turn has an effect on the Middle East. Just as it would have, everybody felt, a very adverse effect. It would have an effect on Indonesia, hundred million population. All of those countries would be affected by the fall of Vietnam to the Communists.

MARTIN: There was never any consideration given to pulling out?

RFK: No.

MARTIN: … The president was convinced that we had to keep, had to stay in there …

RFK: Yes.

MARTIN: … And couldn't lose it.

RFK: Yes.
These remarks are rather instructive from several points of view:
Robert Kennedy contradicts the many people who are convinced that, had he lived, JFK would have brought the US involvement in Vietnam to a fairly prompt end, instead of it continuing for ten more terrible years. The author, Stoll, quotes a few of these people. And these other statements are just as convincing as RFK's statements presented here. And if that is not confusing enough, Stoll then quotes RFK himself in 1967 speaking unmistakably in support of the war.

It appears that we'll never know with any kind of certainty what would have happened if JFK had not been assassinated, but I still go by his Cold War record in concluding that US foreign policy would have continued along its imperial, anti-communist path. In Kennedy's short time in office the United States unleashed many different types of hostility, from attempts to overthrow governments and suppress political movements to assassination attempts against leaders and actual military combat; with one or more of these occurring in Vietnam, Cambodia, Laos, British Guiana, Iraq, Haiti, Dominican Republic, Cuba and Brazil.

"Just have profound effects as far as our position throughout the world, and our position in a rather vital part of the world."

Ah yes, a vital part of the world. Has there ever been any part of the world, or any country, that the US has intervened in that was not vital? Vital to American interests? Vital to our national security? Of great strategic importance? Here's President Carter in his 1980 State of the Union Address: "An attempt by any outside force to gain control of the Persian Gulf region will be regarded as an assault on the vital interests of the United States of America".

"What a country calls its vital economic interests are not the things which enable its citizens to live, but the things which enable it to make war." – Simone Weil (1909-1943), French philosopher

If the US lost Vietnam "everybody was quite clear that the rest of Southeast Asia would fall."

As I once wrote:

Thus it was that the worst of Washington's fears had come to pass: All of Indochina – Vietnam, Cambodia and Laos – had fallen to the Communists. During the initial period of US involvement in Indochina in the 1950s, John Foster Dulles, Dwight Eisenhower and other American officials regularly issued doomsday pronouncements of the type known as the "Domino Theory", warning that if Indochina should fall, other nations in Asia would topple over as well. In one instance, President Eisenhower listed no less than Taiwan, Australia, New Zealand, the Philippines and Indonesia amongst the anticipated "falling dominos".

Such warnings were repeated periodically over the next decade by succeeding administrations and other supporters of US policy in Indochina as a key argument in defense of such policy. The fact that these ominous predictions turned out to have no basis in reality did not deter Washington officialdom from promulgating the same dogma up until the 1990s about almost each new world "trouble-spot", testimony to their unshakable faith in the existence and inter-workings of the International Communist Conspiracy.
Killing suicide
Suicide bombers have become an international tragedy. One can not sit in a restaurant or wait for a bus or go for a walk downtown, in Afghanistan or Pakistan or Iraq or Russia or Syria and elsewhere without fearing for one's life from a person walking innocently by or a car that just quietly parked nearby. The Pentagon has been working for years to devise a means of countering this powerful weapon.
As far as we know, they haven't come up with anything. So I'd like to suggest a possible solution. Go to the very source. Flood selected Islamic societies with this message: "There is no heavenly reward for dying a martyr. There are no 72 beautiful virgins waiting to reward you for giving your life for jihad. No virgins at all. No sex at all."
Using every means of communication, from Facebook to skywriting, from billboards to television, plant the seed of doubt, perhaps the very first such seed the young men have ever experienced. As some wise anonymous soul once wrote:
A person is unambivalent only with regard to those few beliefs, attitudes and characteristics which are truly universal in his experience. Thus a man might believe that the world is flat without really being aware that he did so – if everyone in his society shared the assumption. The flatness of the world would be simply a "self-evident" fact. But if he once became conscious of thinking that the world is flat, he would be capable of conceiving that it might be otherwise. He might then be spurred to invent elaborate proofs of its flatness, but he would have lost the innocence of absolute and unambivalent belief.
We have to capture the minds of these suicide bombers. At the same time we can work on our own soldiers. Making them fully conscious of their belief, their precious belief, that their government means well, that they're fighting for freedom and democracy, and for that thing called "American exceptionalism". It could save them from committing their own form of suicide.
The rancour between Japan and China was on public display at the World Economic Forum in Davos, Switzerland when Japanese Prime Minister Shinzo Abe gave his keynote speech to the gathering of billionaires, bankers, CEOs, and political leaders on Wednesday.
After expounding on his "Abenomics" pro-market restructuring agenda, Abe spent the second half of his speech making barely-veiled jabs at China that were calculated to further inflame tensions.
Abe began by declaring that "freedom of movement" was of particular importance—a reference to the dangerous dispute that emerged last month over China's declaration of an Air Defence Identification Zone in the East China Sea, including the disputed islets known as Senkaku in Japan and Diaoyu in China.
The US, followed by Japan, immediately flew war planes into the zone unannounced, challenging Chinese authority and sharply escalating tensions. As China scrambled its own fighters in response, the danger emerged of a clash precipitated by a mistake or miscalculation on either side.
Referring to the Senkaku/Diaoyu islands, Abe repeated his adage that disputes should be resolved through dialogue and the rule of law, not through force and coercion. In fact, his government refuses to even recognise that there is a dispute over the rocky outcrops and has stepped up military measures in the area, raising the risk of a military clash.
Again pointing to China, Abe proclaimed the need to "restrain military expansion in Asia, which could otherwise go unchecked." He called for military budgets to be made "completely transparent"—a criticism repeatedly made by the US and its allies over China's military spending.
While repeatedly declaring his commitment to peace, Abe last year announced the first increase in the Japanese military budget in a decade. His government continued to shift the strategic focus of the Japanese military to "island defence" and Japan's southern island chain adjacent to the Chinese mainland.
Japan's defence expansion has been encouraged and backed by the Obama administration, as part of its "pivot to Asia" that includes strengthening of alliances and partnerships throughout the region aimed against China.
Making clear the dangers of war were real, Abe warned his audience: "If peace and stability were shaken in Asia, the knock-on effect for the entire world would be enormous."
Asked by the chair of the session, Abe defended his visit in December to the notorious Yasukuni war shrine—a hated symbol of Japanese militarism in the 1930s and 1940s, where many "Class A" Japanese war criminals are buried. Abe claimed he was simply "praying for the souls of the departed," which should be "something quite natural for a leader of any country in the world."
While Abe did not name China in the course of his speech, the target of his remarks was unmistakable.
In another Davos session, Chinese academic Wu Xinbo responded by calling Abe a "troublemaker", likening him to North Korean leader Kim Jong-un. "Political relations between our two countries will remain very cool, even frozen for the remaining years of Abe in Japan," he warned.
In a less public forum at Davos with international journalists, Abe was more explicit. Asked by Financial Times journalist Gideon Rachman if war with China was "conceivable", the Japanese prime minister did not rule it out. Instead, he compared the current tensions between China and Japan to the rivalry between Britain and Germany in the years before the World War I, saying that it was a "similar situation".
While various commentators have made the same comparison, such remarks carry added significance coming from Japan's prime minister. Abe reinforced the point by declaring that China's increase in military spending was a major source of instability in the region.
As reported in Rachman's blog, Abe noted that, "Britain and Germany—like China and Japan—had a strong trading relationship. But in 1914, this had not prevented strategic tensions leading to the outbreak of conflict." He warned of the danger of "some conflict or dispute arising out the blue, on an ad hoc level… or inadvertently"—a reference to the killing of the Austrian archduke in 1914 that sparked war.
Abe offered no suggestion as to how conflict could be avoided, other than a half-hearted proposal for a "military-force level communications channel" between Beijing and Tokyo. "Unfortunately we don't have a clear and explicit roadmap," he said, adding later than Japan would "very much like to strengthen our military relationship with the US."
This last remark highlights the role of the Obama administration is stoking up tensions throughout the region. Its "pivot to Asia" has encouraged allies as Japan and the Philippines to take a far more aggressive stance in their maritime quarrels with China. Four years ago, the dispute over the Senkaku/Diaoyu islands barely registered in international politics. Today it has become a dangerous flashpoint for war in Asia.
Abe's speech is part of an escalating propaganda war between Japan and China. Following Abe's visit to the Yasukuni Shrine on December 26, Chinese and Japanese ambassadors have engaged in embittered exchanges in the newspapers in at least a dozen countries, including the United States, Britain, Australia and New Zealand.
In Britain, the exchange took the bizarre form of likening the other country to Lord Voldemort—the ultimate incarnation of evil the Harry Potter children's novels—and accusing it of militarism and aggression.
Like the Abe government, the Chinese regime has seized on the dispute to whip up reactionary patriotic sentiment, seeking to divert attention from the social crisis at home and manoeuvre diplomatically abroad. Chinese ambassador Liu Xiaoming concluded his diatribe against Japan with an appeal for Britain and China to renew the World War II alliance—that is, against Japan—in order "to safeguard regional stability and world peace."
The tensions between Japan and China at Davos, where business and political leaders are supposedly gathered to iron out the problems of global capitalism, underlines the bankruptcy of the social order that they all defend. Five years after the global financial crisis, the economic breakdown continues unabated, fuelling geo-political rivalries that are driving towards a catastrophic war.
Source: wsws
Just sit right back
And you'll hear a tale,
A tale of a fateful trip…
(Theme song from the TV show "Gilligan's Island")
You're probably familiar with the "scientific" expedition from Australia which got stuck in the ice in Antarctica last Christmas Eve, but you may not be aware what a rollicking good tale it is. "You're sure to get a smile," as the show's theme song promises, but I promise you more than just a chuckle. There's a moral to the story as well.
The first comic relief – other than the fact it's summer down under, mate – comes with the introduction of the organizer of the "Australasian Antarctic Expedition (AAE)", Chris Turney, self-described "scientist, explorer, writer" and ardent global warmist. Christened "The Spirit of Mawson" after an Australian scientist who led an expedition to Antarctica in 1911, the expedition's purpose was to "meld science and adventure, repeating century old measurements to discover and communicate the changes taking place in this remote and pristine environment". Despite the scientific veneer, the make-up of the 50-odd person crew resembled more the complement of the good ship Minnow ("The millionaire and his wife; The movie star; The professor and Mary Ann") than that of Mawson's S. Y. Aurora. The pseudo-scientific antics of this menage a trois of scientists, journalists, and tourists made the voyage look more like Winter Carnival at Dartmouth than Darwin aboard the Beagle.
Comments on Turney's website ("marked shift in westerly winds… melting large sections of the Antarctic ice sheet" ) suggest he expected to find more open water than had Mawson a century earlier. Why Turney hoped to find open water when it was well known sea ice in the Antarctic was setting records is a mystery. I suspect he'd been led astray by fellow warmists like Al Gore, who predicted in 2008 "the entire North Polar ice cap may well be completely gone in five years" . Gore almost achieved prophet status in 2012 when Arctic ice shrank to its smallest extent since modern recordkeeping began, but last year the ice made a huge comeback and is now almost back to normal.
Whatever the case, the expedition's Russian ship, the Akademik Shokalskiy, got stuck in the ice. The Australian government sent out its ice breaker, the Aurora Australis, to rescue the ship, but they could come no closer than 10 miles from their fellow countrymen. A larger icebreaker, the Chinese Xue Long, got within six miles but could get no further. The decision was made to helicopter the stranded Aussies to the Chinese ship, leaving the Russians to their fate. But for days bad weather forced postponement of the airlift.
Meanwhile, aboard the Shokalskiy it wasn't exactly "No phone, no lights, no motor car; Not a single luxury; Like Robinson Crusoe; It's primitive as can be", but then our castaways weren't exactly basking in the tropics, either. The first mate and his Skipper too, will do their very best to make the others comf'terble in their tropic island nest (make that "antipodal mess"). Courageously ignoring their life-threatening predicament (or too drunk to remember they were in one), the boozy explorers partied as if there were no tomorrow (which might be true if the weather didn't break and the heat ran out). On New Year's Eve the ice-olated penguin-huggers celebrated with a concerned world through
YouTube (a bit nerdy, almost makes them look like scientists).
Unable to get a good weather forecast, the expedition contacted a San Diego TV station and asked if they could help. The station's weatherman, John Coleman, contacted some colleagues knowledgeable on the Antarctic, who came up with a
forecast which held out the hope the wind might shift to offshore, causing the ice to break up and free the vessel. But before that could happen, the expedition opted for evacuation by helicopter when the weather improved sufficiently a day or two later.
From the Xue Long, the now world-infamous Australasian Antarctic Expedition was transferred to the Aurora Australis, which then continued on its original mission to re-supply an Australian Antarctic base. Meanwhile, the Xue Long now became stuck in the ice. Fortunately, the wind shift postulated by the weathermen came to pass, and both stuck ships, the Xue Long and the Akademik Shokalskiy, were able to free themselves. As it turns out, our intrepid explorers would have gotten home sooner had they not abandoned ship as the Shokalskiyarrived back in Australia while our parka-clad party animals were still stuck in Antarctica waiting for a ride home.
If all this hasn't given you a chuckle, you're a diehard warmist with no sense of humor. One last attempt to tickle your funny bone. The meteorologists who predicted the weather might improve sufficiently for the Akademik Shokalskiy to free itself are global warming skeptics, or, as the still unbowed leader of the AAE might say, deniers.
Not so funny (even by my warped standards) is the hundreds of thousands, maybe millions, of dollars someone, maybe the Australian taxpayer, is going to have to ante up to cover the cost of the rescue. The AAE vowed prior to departure to plant trees in New Zealand to offset the carbon emissions resulting from their expedition. Adding in the emissions spewed out by the fossil fuel-guzzling icebreakers, this should result in a forest of taigan proportions, which, like its Siberian counterpart, will be a tribute to the awesome, fear-inspiring forces of nature.
On the bright side, the expedition fared better than Mawson's in one respect: they all came back alive. Mawson and two companions were forced to make a 300-mile trek across the ice back to their base camp. Losing his companions to the harsh conditions along the way, Mawson stumbled into the camp after a months-long trek only to see the S. Y. Aurora steaming away in the distance. Living off the provisions left behind, Mawson spent the winter alone on Terra Australis, dreaming of that other "Land of the South" from whence he came and to which he would belatedly return the next summer.
The moral of the story? Global warming is real. Just kidding. The true moral is not to defy settled science, the science that is settled being that there is a lot about the climate we don't understand. To see everything through the prism of a still young, still baffling warming trend is to risk, to put it ironically, snow blindness. The attribution of the recent Polar Vortex-induced cold wave in the United States to
global warming is a case in point. An obsessively global warming-centric view of the world can lead to errors of the fatal variety, as almost befell our Gilliganesque lot, but perhaps even more dangerous in the long run, to errors of science.
A poll last year showed that trust in the mainstream media is increasing, which should worry all of us who value truth, integrity and press freedom. Why? Here are 10 disturbing things everyone needs to know about the global media giants who control our supply of information, wielding immense power over the people- and even over the government.
1. Mainstream media exists solely to make profit

What´s the purpose of the mainstream media? Saying that the press exists to inform, educate or entertain is like saying Apple corporation´s primary function is to make technology which will enrich our lives. Actually, the mass media industry is the same as any other in a capitalist society: it exists to make profit. Medialens, a British campaigning site which critiques mainstream (or corporate) journalism, quotedbusiness journalist Marjorie Kelly as saying that all corporations, including those dealing with media, exist only to maximize returns to their shareholders. This is, she said,  ´the law of the land…universally accepted as a kind of divine, unchallengeable truth´. Without pleasing shareholders and a board of directors, mass media enterprises simply would not exist. And once you understand this, you´ll never watch the news in the same way again.
2. Advertisers dictate content
So how does the pursuit of profit affect the news we consume? Media corporations make the vast majority (typically around 75%) of their profit from advertising, meaning it´s advertisers themselves that dictate content- not journalists, and certainly not consumers. Imagine you are editor of a successful newspaper or TV channel with high circulation or viewing figures. You attract revenue from big brands and multinational corporations such as BP, Monsanto and UAE airlines. How could you then tackle important topics such as climate change, GM food or disastrous oil spills in a way that is both honest to your audience and favorable to your clients? The simple answer is you can´t. This might explain why Andrew Ross Sorkin of the New York Times-  sponsored by Goldman Sachs-  is so keen todefend the crooked corporation. Andrew Marr, a political correspondent for the BBC, sums up the dilemma in his autobiography: ´The biggest question is whether advertising limits and reshapes the news agenda. It does, of course. It's hard to make the sums add up when you are kicking the people who write the cheques.´ Enough said…
3. Billionaire tycoons & media monopolies threaten real journalism


The monopolization of the press (fewer individuals or organizations controlling increasing shares of the mass media) is growingyear by year, and this is a grave danger to press ethics and diversity. Media mogul RupertMurdoch´s  neo-liberal personal politics are reflected in his 175 newspapers and endorsed by pundits (see Fox news) on the 123 TV channels he owns in the USA alone. Anyone who isn´t worried by this one man´s view of the world being consumed by millions of people across the globe- from the USA to the UK, New Zealand to Asia, Europe to Australia- isn´t thinking hard enough about the consequences. It´s a grotesquely all-encompassing monopoly, leaving no doubt that Murdoch is one of the most powerful men in the world. But as the News International phone hacking scandal  showed, he´s certainly not the most honorable or ethical. Neither is AlexanderLebedev, a former KGB spy and politician who bought British newspaper The Independent  in 2010.  With Lebedev´s fingers in so many pies (the billionaire oligarch is into everything from investment banking to airlines), can we really expect news coverage from this once well-respected publication to continue in the same vein? Obviously not: the paper had always carried a banner on its front page declaring itself  ´free from party political bias, free from proprietorial influence´, but interestingly this was dropped in September 2011.
4. Corporate press is in bed with the government

Aside from the obvious, one of the most disturbing facts to emerge from Murdoch´s News International phone hacking scandal (background information here ) was the exposure of shady connections  between top government officials and press tycoons. During the scandal, and throughout the subsequent Leveson inquiry into British press ethics (or lack of them), we learned of secret meetings, threatsby Murdoch to politicians who didn´t do as he wanted, and that Prime Minister David Cameron has a very close friendship with The Sun´s then editor-in-chief (and CEO of News International) Rebekah Brooks. How can journalists do their job of holding politicians to account when they are vacationing together or rubbing shoulders at private dinner parties? Clearly, they don´t intend to. But the support works both ways- Cameron´s government tried to help Murdoch´s son win a bid for BSkyB, while bizarrely,  warmongering ex Prime Minister Tony Blair is godfather to Murdoch´s daughter Grace. As well as ensuring an overwhelming bias in news coverage and election campaigns, flooding newspapers with cheap and easy articles from unquestioned government sources, and gagging writers from criticizing those in power, these secret connections also account for much of the corporate media´s incessant peddling of the patriotism lie-  especially in the lead-up to attacks on other countries. Here´s an interestinganalysis of The New York Times´s coverage of the current Syria situation for example, demonstrating how corporate journalists are failing to reflect public feeling on the issue of a full-scale attack on Assad by the US and its allies. 

5. Important stories are overshadowed by trivia

You could be forgiven for assuming that the most interesting part of Edward Snowden´s status as a whistleblower was his plane ride from Hong Kong to Russia, or his lengthy stint waiting in Moscow airport for someone- anyone- to offer him asylum. Because with the exception of The Guardian who published the leaks (read them in fullhere), the media has generally preferred not to focus on Snowden´s damning revelations about freedom and tyranny, but rather on banaltrivia – his personality and background, whether his girlfriend misses him, whether he is actually a Chinese spy, and ahhh, didn´t he remind us all of Where´s Waldo as he flitted across the globe as a wanted fugitive? The same could be said of Bradley Manning´s gender re-assignment, which conveniently overshadowed the enormous injustice of his sentence. And what of Julian Assange? His profile on the globally-respected BBC is dedicated almost entirely to a subtle smearing of character, rather than detailing Wikileaks´s profound impact on our view of the world. In every case, the principal stories are forgotten as our attention, lost in a sea of trivia, is expertly diverted from the real issues at hand: those which invariably, the government wants us to forget.
6. Mainstream media doesn´t ask questions

´Check your sources, check your facts´ are golden rules in journalism 101, but you wouldn´t guess that from reading the mainstream press or watching corporate TV channels. At the time of writing, Obama is beating the war drums over Syria. Following accusations by the US and Britain that Assad was responsible for a nerve gas attack on his own civilians last month, most mainstream newspapers- like the afore-mentioned New York Times- have failed to demand evidence or call for restraint on a full-scale attack. But there are several good reasons why journalists should question the official story. Firstly, British right-wing newspaper The Daily Mail actually ran a news piece back in January this year, publishing leaked emails from a British arms company showing the US was planning a false flag chemical attack on Syria´s civilians. They would then blame it on Assad to gain public support for a subsequent full-scale invasion. The article was hastily deleted but a cached version still exists. Other recent evidence lends support to the unthinkable. It has emerged that the chemicals used to make the nerve gas were indeed shipped from Britain, and German intelligenceinsists Assad was not responsible for the chemical attack. Meanwhile, a hacktivist has come forward with alleged evidence of US intelligence agencies´ involvement in the massacre (download it for yourself here ), with a growing body of evidence suggesting this vile plot was hatched by Western powers. Never overlook the corporate media´s ties to big business and big government before accepting what you are told- because if journalism is dead, you have a right and a duty to ask your own questions.
7. Corporate journalists hate real journalists

Sirota rightly points out the irony of this: ´Here we have a reporter expressing excitement at the prospect of the government executing the publisher of information that became the basis for some of the most important journalism in the last decade.´ Sirota goes on to note various examples of what he calls the ´Journalists against Journalism club´, and gives severalexamples of how The Guardian columnist Glenn Greenwald has been attacked by the corporate press for publishing Snowden´s leaks. The New York Times' Andrew Ross Sorkin called for Greenwald's arrest, while NBC's David Gregory´s declared that Greenwald has ´aided and abetted Snowden´. As for the question of whether journalists can indeed be outspoken, Sirota accurately notes that it all depends on whether their opinions serve or challenge the status quo, and goes on to list the hypocrisy of Greenwald´s critics in depth: ´Grunwald has saber-rattling opinions that proudly support the government's drone strikes and surveillance. Sorkin's opinions promote Wall Street's interests. (The Washington Post´s David) Broder had opinions that supported, among other things, the government's corporate-serving "free" trade agenda. (The Washington Post´s Bob) Woodward has opinions backing an ever-bigger Pentagon budget that enriches defense contractors. (The Atlantic´s Jeffrey) Goldberg promotes the Military-Industrial Complex's generally pro-war opinions. (The New York Times´s Thomas) Friedman is all of them combined, promoting both "free" trade and "suck on this" militarism. Because these voices loyally promote the unstated assumptions that serve the power structure and that dominate American politics, all of their particular opinions aren't even typically portrayed as opinions; they are usually portrayed as noncontroversial objectivity.´
8. Bad news sells, good news is censored, and celebrity gossip trumps important issues

It´s sad but true: bad news really does sell more newspapers. But why? Are we really so pessimistic? Do we relish the suffering of others? Are we secretly glad that something terrible happened to someone else, not us? Reading the corporate press as an alien visiting Earth you might assume so. Generally, news coverage is sensationalist and depressing as hell, with so many pages dedicated to murder, rape and pedophilia and yet none to the billions of good deeds and amazingly inspirational movements taking place every minute of every day all over the planet. But the reasons we consume bad news are perfectly logical. In times of harmony and peace, people simply don´t feel the need to educate themselves as much as they do in times of crises. That´s good news for anyone beginning to despair that humans are apathetic, hateful and dumb, and it could even be argued that this sobering and simple fact is a great incentive for the mass media industry to do something worthwhile. They could start offering the positive and hopeful angle for a change. They could use dark periods of increased public interest to convey a message of peace and justice. They could reflect humanity´s desire for solutions and our urgent concerns for the environment. They could act as the voice of a global population who has had enough of violence and lies to campaign for transparency, equality, freedom, truth, and real democracy. Would that sell newspapers? I think so. They could even hold a few politicians to account on behalf of the people, wouldn´t that be something? But for the foreseeable future, it´s likely the corporate press will just distract our attention with another picture of Rhianna´s butt, another rumor about Justin Bieber´s coke habit, or another article about Kim Kardashian (who is she again?) wearing perspex heels with swollen ankles while pregnant. Who cares about the missing$21 trillion, what was she thinking?
9. Whoever controls language controls the population

Have you read George Orwell´s classic novel1984 yet? It´s become a clichéd reference in today´s dystopia, that´s true, but with good reason. There are many- too many- parallels between Orwell´s dark imaginary future and our current reality, but one important part of his vision concerned language. Orwell coined the word ´Newspeak´  to describe a simplistic version of the English language with the aim of limiting free thought on issues that would challenge the status quo (creativity, peace, and individualism for example). The concept of Newspeak includes what Orwell called ´DoubleThink´-  how language is made ambiguous or even inverted to convey the opposite of what is true. In his book, the Ministry of War is known as the Ministry of Love, for example, while the Ministry of Truth deals with propaganda and entertainment. Sound familiar yet? Another book that delves into this topic deeper is Unspeak, a must-read for anyone interested in language and power and specifically how words are distorted for political ends. Terms such as ´peace keeping missiles´, ´extremists´ and ´no-fly zones´, weapons being referred to as ´assets´, or misleading business euphemisms such as ´downsizing´ for redundancy and ´sunset´ for termination- these, and hundreds of other examples, demonstrate how powerful language can be. In a world of growing corporate media monopolization, those who wield this power can manipulate words and therefore public reaction, to encourage compliance, uphold the status quo, or provoke fear.
10. Freedom of the press no longer exists

The only press that is currently free (at least for now) is the independent publication with no corporate advertisers, board of directors, shareholders or CEOs. Details of how the state has redefined journalism are noted here and are mentioned in #7, but the best recent example would be the government´s treatment of The Guardian over its publication of the Snowden leaks. As a side note, it´s possible this paper plays us as well as any other- The Guardian Media Group isn´t small fry, after all. But on the other hand- bearing in mind points 1 to 9- why should we find it hard to believe that after the NSA files were published, editor Alan Rusbridge wastold by the powers that be ´you´ve had your fun, now return the files´, that government officials stormed his newsroom and smashed up hard drives, or that Greenwald´s partner David Miranda wasdetained for 9 hours in a London airport under the Terrorism Act as he delivered documents related to the columnist´s story? Journalism, Alan Rusbridge lamented, ´may be facing a kind of existential threat.´ As CBS Evening News anchor Dan Rather wrote: 'We have few princes and earls today, but we surely have their modern-day equivalents in the very wealthy who seek to manage the news, make unsavory facts disappear and elect representatives who are in service to their own economic and social agenda… The "free press" is no longer a check on power. It has instead become part of the power apparatus itself.'
Sophie is a staff writer for True Activist and a freelance feature writer for various publications on society, activism and other topics. You can read more of her stuff here.
Source: True Activist
The events in Volgograd are part of a much larger body of events and a multi-faceted struggle that has been going on for decades as part of a cold war after the Cold War—the post-Cold War cold war, if you please—that was a result of two predominately Eurocentric world wars. When George Orwell wrote his book 1984 and talked about a perpetual war between the fictional entities of Oceania and Eurasia, he may have had a general idea about the current events that are going on in mind or he may have just been thinking of the struggle between the Soviet Union and, surrounded by two great oceans, the United States of America.
So what does Volgograd have to do with the dizzying notion presented? Firstly, it is not schizophrenic to tie the events in Volgograd to either the conflict in the North Caucasus and to the fighting in Syria or to tie Syria to the decades of fighting in the post-Soviet North Caucasus. The fighting in Syria and the North Caucuses are part of a broader struggle for the mastery over Eurasia. The conflicts in the Middle East are part of this very grand narrative, which to many seems to be so far from the reality of day to day life.
 "Bandar Bush" goes to Mother Russia
For the purposes of supporting such an assertion we will have to start with the not-so-secret visit of a shadowy Saudi regime official to Moscow. Prince Bandar bin Sultan bin Abdulaziz Al-Saud, the infamous Saudi terrorist kingpin and former House of Saud envoy to Washington turned intelligence guru, last visited the Russian Federation in early-December 2013. Bandar bin Sultan was sent by King Abdullah to solicit the Russian government into abandoning the Syrians. The goal of Prince Bandar was to make a deal with the Kremlin to let Damascus be overtaken by the Saudi-supported brigades that were besieging the Syrian government forces from Syria's countryside and border regions since 2011. Bandar met with Russian President Vladimir Putin and the two held closed-door discussions about both Syria and Iran at Putin's official residence in Novo-Ogaryovo.
The last meeting that Bandar had with Putin was a few months earlier in July 2013. That meeting was also held in Russia. The July talks between Prince Bandar and President Putin also included Secretary Nikolai Patrushev, the head of the Security Council of the Russian Federation. One would also imagine that discussion about the Iranians increased with each visit too, as Bandar certainly tried to get the Russians on bad terms with their Iranian allies.
After Bandar's first meeting with President Putin, it was widely reported that the House of Saud wanted to buy Russia off. Agence France-Presse and Reuters both cited the unnamed diplomats of the Arab petro-monarchies, their March 14 lackeys in Lebanon, and their Syrian opposition puppets as saying that Saudi Arabia offered to sign a lucrative arms contract with Moscow and give the Kremlin a guarantee that the Arab petro-sheikdoms would not threaten the Russian gas market in Europe or use Syria for a gas pipeline to Europe.
Russia knew better than to do business with the House of Saud. It had been offered a lucrative arms deal by the Saudi regime much earlier, in 2008, to make some backdoor compromises at the expense of Iran. After the compromises were made by Moscow the House of Saud put the deal on ice. If the media leaks in AFP and Reuters were not tactics or lies in the first place aimed at creating tensions between the Syrian and Russian governments, the purportedly extravagant bribes to betray Syria were wasted on the ears of Russian officials.
The House of Saud and the undemocratic club of Arab petro-monarchies that form the Gulf Cooperation Council (GCC) have always talked large about money. The actions of these self portrayed lords of the Arabia Peninsula have almost never matched their words and promises. To anyone who deals with them, the House of Saud and company are known for habitually making grand promises that they will never keep, especially when it comes to money. Even when money is delivered, the full amount committed is never given and much of it is stolen by their corrupt partners and cronies. Whether it is the unfulfilled 2008 arms contract with Russia that was facilitated with the involvement of Iraqi former CIA asset Iyad Allawi or the overabundant commitments of financial and logistical aid to the Lebanese and Palestinian peoples that never materialized, the Arab petro-sheikhdoms have never done more than talk grandly and then get their propagandist to write articles about their generosity and splendor. Underneath all the grandeur and sparkles there has always been bankruptcy, insecurity, and emptiness.
A week after the first meeting with Bandar, the Kremlin responded to the media buzz about the attempted bribe by Saudi Arabia. Yury Ushakov, one of Putin's top aides and the former Russian ambassador to the US, categorically rejected the notion that any deal was accepted or even entertained by the Kremlin. Ushakov avowed that not even bilateral cooperation was discussed between the Saudis and Russia. According to the Kremlin official, the talks between Bandar and Putin were simply about the policies of Moscow and Riyadh on Syria and the second international peace conference being planned about Syria in Geneva, Switzerland.
More Leaks: Fighting Fire with Fire?
If his objective was to get the Russians to abandon Syria, Prince Bandar left both meetings in Russia empty-handed. Nevertheless, his visit left a trail of unverifiable reports and speculation. Discretion is always needed when analyzing these accounts which are part of the information war about Syria being waged on all sides by the media. The planted story from the Saudi side about trying to buy the Russians was not the only account of what took place in the Russian-Saudi talks. There was also a purported diplomatic leak which most likely surfaced as a counter-move to the planted story about Bandar's proposal. This leak elaborated even further on the meeting between Bandar and Putin. Threats were made according to the second leak that was published in Arabic by the Lebanese newspaper As-Safir on August 21, 2013.
According to the Lebanese newspaper, not only did Prince Bandar tell the Russians during their first July meeting that the regimes of the GCC would not threaten the Russian gas monopoly in Europe, but he made promises to the Russians that they could keep their naval facility on the Mediterranean coast of Syria and that he would give the House of Saud's guarantee to protect the 2014 Winter Olympics being held in the North Caucasian resort city of Sochi, on the eastern coast of the Black Sea, from the Chechen separatist militias under Saudi control. If Moscow cooperated with Riyadh and Washington against Damascus, the leak discloses that Bandar also stated that the same Chechen militants fighting inside Syria to topple the Syrian government would not be given a role in Syria's political future.
When the Russians refused to betray their Syrian allies, Prince Bandar then threatened Russia with the cancellation of the second planned peace conference in Geneva and with the unleashing of the military option against the Syrians the leak imparts.
This leak, which presents a veiled Saudi threat about the intended attacks on the Winter Olympics in Sochi, led to a frenzy of speculations internationally until the end of August 2013, amid the high tensions arising from the US threats to attack Syria and the threats coming from Iran to intervene on the side of their Syrians allies against the United States. Originating from the same politically affiliated media circle in Lebanon, reports about Russian military preparations to attack Saudi Arabia in response to a war against Syria began to circulate from the newspaper Al-Ahed also, further fueling the chain of speculations.
A House of Saud Spin on the Neo-Con "Redirection"
Seymour Hersh wrote in 2007 that after the 2006 defeat of Israel in Lebanon that the US government had a new strategy called the "redirection." According to Hersh, the "redirection" had "brought the United States closer to an open confrontation with Iran and, in parts of the region, propelled it into a widening sectarian conflict between Shiite and Sunni Muslims." With the cooperation of Saudi Arabia and all the same players that helped launch Osama bin Ladin's career in Afghanistan, the US government took "part in clandestine operations aimed at Iran and its ally Syria." The most important thing to note is what Hersh says next: "A by-product of these activities has been the bolstering of Sunni extremist groups that espouse a militant vision of Islam and are hostile to America and sympathetic to Al Qaeda."
A new House of Saud spin on the "redirection" has begun. If there is anything the House of Saud knows well, it is rounding up fanatics as tools at the service of Saudi Arabia's patrons in Washington. They did it in Afghanistan, they did it Bosnia, they have done it in Russia's North Caucasus, they did it in Libya, and they are doing it in both Lebanon and Syria. It does not take the British newspaperThe Independent to publish an article titled "Mass murder in the Middle East is funded by our friends the Saudis" for the well-informed to realize this.
The terrorist bombings in Lebanon mark a new phase of the conflict in Syria, which is aimed at forcing Hezbollah to retreat from Syria by fighting in a civil war on its home turf. The attacks are part of the "redirection." The House of Saud has accented this new phase through its ties to the terrorist attacks on the Iranian Embassy in Beirut on November 19, 2013. The attacks were carried out by individuals linked to the notorious Ahmed Al-Assir who waged a reckless battle against the Lebanese military from the Lebanese city of Sidon as part of an effort to ignite a sectarian civil war in Lebanon.
Al-Assir's rise, however, was politically and logistically aided by the House of Saud and its shameless Hariri clients in Lebanon. He is also part of the same "redirection" policy and current that brought Fatah Al-Islam to Lebanon. This is why it is no surprise to see Hariri's Future Party flag flying alongside Al-Qaeda flags in Lebanon. After Al-Assir's failed attempt to start a sectarian Lebanese civil war, he went into hiding and it was even alleged that he was taken in by one of the GCC embassies.
In regard to the House of Saud's roles in the bombings in Lebanon, Hezbollah would confirm that the attack on the Iranian Embassy in Beirut was linked to the House of Saud. Hezbollah's leadership would report that the Abdullah Izzam Brigade, which is affiliated to Al-Qaeda and tied to the bombings, is directly linked to the intelligence services of Saudi Arabia.
Moreover, the Saudi agent, Majed Al-Majed, responsible for the attack would be apprehended by Lebanese security forces in late-December 2013. He had entered Lebanon after working with Al-Nusra in Syria. Fars News Agency, an Iranian media outlet, would report on January 2, 2014 that unnamed Lebanese sources had also confirmed that they had discovered that the attack was linked to Prince Bandar.
Wrath of the House of Saud Unleashed?
A lot changed between the first and second meetings that Prince Bandar and Vladimir Putin had, respectively in July 2013 and December 2013. The House of Saud expected its US patron to get the Pentagon involved in a conventional bombing campaign against Syria in the month of September. It is more than likely that Riyadh was in the dark about the nature of secret negotiations that the US and Iran were holding through the backchannel of Oman in the backdrop of what appeared to be an escalation towards open war.
Bandar's threat to reassess the House of Saud's ties with Washington is probably a direct result of the US government keeping the House of Saud in the dark about using Syria as a means of negotiating with the Iranian government. US officials may have instigated the House of Saud to intensify its offensive against Syria to catalyze the Iranians into making a deal to avoid an attack on Syria and a regional war. Moreover, not only did the situation between the US and Iran change, Russia would eventually sign an important energy contract for Syrian natural gas in the Mediterranean Sea. The House of Saud has been undermined heavily in multiple ways and it is beginning to assess its own expendability.
If one scratches deep enough, they will find that the same ilk that attacked the Iranian Embassy in Beirut also attacked the Russian Embassy in Damascus. Both terrorist attacks were gifts to Iran and Russia, which served as reprisals for the Iranian and Russian roles in protecting Syria from regime change and a destructive war. It should, however, be discerned if the House of Saud is genuinely lashing out at Iran and Russia or if it being manipulated to further the goals of Washington in the US negotiations with Tehran, Moscow, and Damascus.
In the same manner, the House of Saud wants to generously reward Hezbollah too for its role in protecting Syria by crippling Hezbollah domestically in Lebanon. Riyadh may possibly not want a full scale war in Lebanon like the Israelis do, but it does want to neutralize and eliminate Hezbollah from the Lebanese landscape. In this regard, Saudi Arabia has earnestly been scheming to recruit Lebanon's President Michel Suleiman and the Lebanese military against Hezbollah and its supporters.
The Saud grant of three billion dollars to the Lebanese Armed Forces is not only blood money being given to Lebanon as a means of exonerating Saudi Arabia for its role in the terrorist bombings that have gripped the Lebanese Republic since 2013, the Saudi money is also aimed at wishfully restructuring the Lebanese military as a means of using it to neutralize Hezbollah. In line with the House of Saud's efforts, pledges from the United Arab Emirates and reports that NATO countries are also planning on donating money and arms to the Lebanese military started.
In addition to the terrorists bombings in Lebanon and the attack on the Russian Embassy in Damascus, Russia has also been attacked. Since the Syrian conflict intensified there has been a flaring of tensions in Russia's North Caucasus and a breakout of terrorist attacks. Russian Muslim clerics, known for their views on co-existence between Russia's Christian and Muslim communities and anti-separatist views, have been murdered. The bombings in Volgograd are just the most recent cases and an expansion into the Volga of what is happening in the North Caucasus, but they come disturbingly close to the start of the Winter Olympics that Prince Bandar was saying would be "protected" if Moscow betrayed Syria.
Can the House of Saud Stand on its Own Feet?
It is a widely believed that you will find the US and Israelis pulling a lot of the strings if you look behind the dealings of the House of Saud. That view is being somewhat challenged now. Prince Mohammed bin Nawaf bin Abdulaziz Al-Saud, Saudi Arabia's ambassador to the UK, threatened that Saudi Arabia will go it alone against Syria and Iran in a December 2013 article. The letter, like the Saudi rejection of their UN Security Council seat, was airing the House of Saud's rage against the realists running US foreign policy.
In this same context, it should also be noted for those that think that Saudi Arabia has zero freedom of action that Israeli leaders have stressed for many years that Tel Aviv needs to cooperate secretly with Saudi Arabia to manipulate the US against Iran. This is epitomized by the words of Israeli Brigadier-General Oded Tira: "We must clandestinely cooperate with Saudi Arabia so that it also persuades the US to strike Iran."
Along similar lines, some may point out that together the House of Saud and Israel got France to delay an interim nuclear agreement between the Iranians and the P5+1 in Geneva. The House of Saud rewarded Paris through lucrative deals, which includes making sure that the grant it gives to the Lebanese military is spent on French military hardware. Saad Hariri, the main Saudi client in Lebanon, even met Francois Hollande and French officials in Saudi Arabia in context of the deal. Appeasing the House of Saud and Israel, French President Hollande has replicated France's stonewalling of the P5+1 interim nuclear deal with Iran by trying to spoil the second Syria peace conference in Geneva by saying that there can be no political solution inside Syria if President Bashar Al-Assad stays in power.
Again, however, it has to be asked, is enraging Saudi Arabia part of a US strategy to make the Saudis exert maximum pressure on Tehran, Moscow, and Damascus so that the United States can optimize its gains in negotiations? After all, it did turn out that the US was in league with France in Geneva and that the US used the French stonewalling of an agreement with Iran to make additional demands from the Iranians during the negotiations. Russian Foreign Minister Sergey Lavrov revealed that the US negotiation team had actually circulated a draft agreement that had been amended in response to France's demands before Iran and the other world powers even had a chance to study them. The draft by the US team was passed around, in Foreign Minister Lavrov's own words, "literally at the last moment, when we were about to leave Geneva."
Instead of debating on the level of independence that the House of Saud possesses, it is important to ask if Saudi Arabia can act on its own and to what degree can the House of Saud act as an independent actor. This looks like a far easier question to answer. It is highly unlikely that Saudi Arabia can act on its own in most instances or even remain an intact state. This is why Israeli strategists very clearly state that Saudi Arabia is destined to fall apart. "The entire Arabian Peninsula is a natural candidate for dissolution due to internal and external pressures, and the matter is inevitable especially in Saudi Arabia," the Israeli Yinon Plan deems. Strategists in Washington are also aware of this and this is also why they have replicated models of a fragmented Saudi Arabia. This gives rise to another important question: if they US assess that the Kingdom of Saudi Arabia is not a sustainable entity, will it use it until the burns out like a flame? Is this what is happening and is Saudi Arabia being sacrificed or setup to take the blame as the "fall guy" by the United States?
Who is Hiding Behind the House of Saud?
Looking back at Lebanon, the messages from international media outlets via their headlines is that the bombings in Lebanon highlight or reflect a power struggle between the House of Saud and Tehran in Lebanon and the rest of the region. Saying nothing about the major roles of the US, Israel, and their European allies, these misleading reports by the likes of journalists like Anne Barnard casually blame everything in Syria and Lebanon on a rivalry between Saudi Arabia and Iran, erasing the entire history behind what has happened and casually sweeping all the interests behind the conflict(s) under the rug. This is dishonest and painting a twisted Orientalist narrative.
The outlets trying to make it sound like all the Middle East's problems are gravitating around some sort of Iranian and Saudi rivalry might as well write that "the Saudis and Iranians are the sources behind the Israeli occupation of Palestine, the sources behind the Anglo-American invasion of Iraq that crippled the most advanced Arab country, the ones that are blockading medication from reaching Gaza due to their rivalry, the ones who enforced a no-fly zone over Libya, the ones that are launching killer drone attacks on Yemen, and the ones that are responsible for the billions of dollars that disappeared from the Iraqi Treasury in 2003 after Washington and London invaded that country and controlled its finances." These outlets and reports are tacitly washing the hands of  actors like Washington, Tel Aviv, Paris, and London clean of blood by trying to construct a series of false narratives that either blame everything on a regional rivalry between Tehran and Riyadh or the premise that the Sunni Muslims and Shia Muslims are fighting an eternal war that they are biologically programmed to wage against one another.
Arabs and Iranians and Shias and Sunnis are tacitly painted as un-human creatures that cannot be understood and savages to audiences. The New York Times even dishonestly implies that the Sunni Muslims and Shiite Muslims in Lebanon are killing one another in tit-for-tat attacks. It sneakily implies that Hezbollah and its Lebanese rivals are assassinating one another. Bernard, its reporter in Lebanon who was mentioned earlier, along with another colleague write:
In what have been seen as tit-for-tat attacks, car bombs have targeted Hezbollah-dominated neighborhoods in the southern suburbs of Beirut and Sunni mosques in the northern city of Tripoli.

On Friday, a powerful car bomb killed Mohamad B. Chatah, a former Lebanese finance minister who was a major figure in the Future bloc, a political group that is Hezbollah's main Sunni rival.
The New York Times is cunningly trying to make its readers think that Hezbollah was responsible for the bombing as part of a Shiite-Sunni sectarian conflict by concluding with an explanation that the slain former Lebanese finance minister belonged to "Hezbollah's main Sunni rival" after saying that the bombings in Lebanon "have been seen as tit-for-tat attacks" between the areas that support Hezbollah and "Sunni mosques" in Tripoli
The US and Israel wish that a Shiite-Sunni sectarian conflict was occurring in Lebanon and the rest of the Middle East. They have been working for this. It has been them that have been manipulating Saudi Arabia to instigate sectarianism. The US and Israel have been prodding the House of Saud—which does not represent the Sunni Muslims, let alone the people of Saudi Arabia which are under its occupation—against Iran, all the while trying to conceal and justify the conflict being instigated as some sort of "natural" rivalry between Shiites and Sunnis that is being played out across the Middle East. 
It has been assessed with high confidence by outsiders concerned by the House of Saud's inner dealings that Prince Bandar is one of the three Al-Saud princes managing Saudi Arabia's security and foreign policy; the other two being Prince Abdulaziz bin Abdullah bin Abdulaziz Al-Saud, the Saudi deputy foreign minister and one of King Abdullah's point men on Syria due to his ties to Syria from his maternal side, and Prince Mohammed bin Nayef bin Abdulaziz Al-Saud, the interior minister. All three of them are tied to the United States more than any of their predecessors. Prince Bandar himself has a long history of working closely with the United States, which explains the endearing moniker of "Bandar Bush" that he is widely called by. "Chemical Bandar" can be added to the list too, because of the reports about his ties to the Syrian chemical weapon attacks in Ghouta.
As a US client, Saudi Arabia is a source of instability because it has been conditioned hence by Washington. Fighting the terrorist and extremist threat is now being used by the US as a point of convergence with Iran, which coincidently has authored the World Against Violence and Extremism (WAVE) motion at the United Nations. In reality, the author of the regional problems and instability has been Washington itself. In a masterstroke, the realists now at the helm of foreign policy are pushing American-Iranian rapprochement on the basis of what Zbigniew Brzezinski, the former national security advisor of the US, said would be based on Tehran and Washington working together to secure Iran's "volatile regional environment." "Any eventual reconciliation [between the US and Iranian governments] should be based on the recognition of a mutual strategic interest in stabilizing what currently is a very volatile regional environment for Iran," he explains. The point should not be lost either that Brzezinski is the man who worked with the Saudis to arm the Afghan Mujahedeen against the Soviets after he organized an intelligence operation to fool the Soviets into militarily entering Afghanistan in the first place.
The House of Saud did not work alone in Afghanistan during the Cold War either. It was rigorously backed by Washington. The United States was even more involved in the fighting. It is the same in Syria. If the diplomatic leak is to be believed about the meeting between Bandar and Putin, it is of merit to note that "Bandar Bush" told Putin that any "Saudi-Russian understanding" would also be part of an "American-Russian understanding."
Has the "Redirection" Seen its Stalingrad?
Volgograd was called Stalingrad for a part of Soviet history, in honour of the Republic of Georgia's most famous son and Soviet leader Joseph Stalin. It was Volgograd, back then called Stalingrad, where the Germans were stopped and the tide of war in Europe was turned against Hitler and his Axis allies in Europe. The Battle of Stalingrad was where the Nazis were defeated and it was in the Soviet Union and Eastern Europe where the bulk of the fighting against the Germans was conducted. Nor is it any exaggeration to credit the Soviets—Russian, Kazakh, Uzbek, Tajik, Tartar, Georgian, Armenian, Ukrainian, Belarusian, Chechen, and all—for doing most of the fighting to defeat the Germans in the Second World War.
Judging by the bellicose 2013 New Years Eve speech of Russian President Vladimir Putin, the terrorist attacks in Volgograd will be the start of another Battle of Stalingrad of some sorts and the launch of another Russian "war on terror." Many of the terrorists that Russia will go after are in Syria and supported by the House of Saud.
The opponents of the Resistance Bloc that Iran, Syria, Hezbollah, and the Palestinian resistance groups form have called the battlefields in Syria the Stalingrad of Iran and its regional allies. Syria has been a Stalingrad of some sorts too, but not for the Resistance Bloc. The alliance formed by the US, Britain, France, Saudi Arabia, Qatar, Turkey, and Israel has begun to unravel in its efforts to enforce regime change in Syria. The last few years have marked the beginning of a humiliating defeat for those funding extremism, separatism, and terrorism against countries like Russia, China, Iran, and Syria as a means of preventing Eurasian cohesion. Another front of this same battle is being politically waged by the US and the EU in the Ukraine in a move to prevent the Ukrainians from integrating with Belarus, Russia, and Kazakhstan.
Volgograd and the Conquest of Eurasia
While speculation has been entertained with warning in this text, most of what has been explained has not been speculative. The House of Saud has had a role in destabilizing the Russian Federation and organizing terrorist attacks inside Russia. Support or oppose the separatist movements in the North Caucasus, the point is that they have been opportunistically aided and used by the House of Saud and Washington. Despite the authenticity of the narrative about Bandar's threats against Russia, Volgograd is about Syria and Syria is about Volgograd. Both are events taking place as part of the same struggle. The US has been trying to encroach into Syria as a means of targeting Russia and encroaching deeper in the heart of Eurasia.
When George Orwell wrote 1984 he saw the world divided into several entities at constant or "eternal" war with one another. His fictitious superstates police language, use total surveillance, and utterly manipulate mass communication to indoctrinate and deceive their peoples. Roughly speaking, Orwell's Oceania is formed by the US and its formal and informal territories in the Western Hemisphere, which the Monroe Doctrine has essentially declared are US colonies, confederated with Britain and the settler colonies-cum-dominions of the former British Empire (Australia, Canada, Ireland, New Zealand, and South Africa). The Orwellian concept of Eurasia is an amalgamation of the Soviet Union with continental Europe. The entity of Eastasia on the other hand is formed around China. Southeast Asia, India, and the parts of Africa that do not fall under the influence of Oceanic South Africa are disputed territory that is constantly fought for. Although not specifically mentioned, it can be extrapolated that Southwest Asia, where Syria is located, or parts of it are probably part of this fictional disputed territory, which includes North Africa.
If we try to fit Orwellian terms onto the present set of global relations, we can say that Oceania has made its moves against Eurasia/Eastasia for control of disputed territory (in the Middle East and North Africa).
1984 is not just a novel, it is a warning from the farseeing Orwell. Nonetheless, never did he imagine that his Eurasia would make cause with or include Eastasia through a core triple alliance and coalition comprised of Russia, China, and Iran. Eurasia will finish, in one way or another, whatOceania has started. All the while, as the House of Saud and the other rulers of the Arab petro-sheikhdoms continue to compete with one another in building fancy towers, the Sword of Damocles is getting heavier over their heads.
Source: Global Research
There's nothing like a glass of cool, clear water to quench one's thirst. But the next time you or your child reaches for one, you might want to question whether that water is in fact, too toxic to drink. If your water is fluoridated, the answer may well be yes.
For decades, we have been told a lie, a lie that has led to the deaths of hundreds of thousands of Americans and the weakening of the immune systems of tens of millions more. This lie is called fluoridation. A process we were led to believe was a safe and effective method of protecting teeth from decay is in fact a fraud. For decades it's been shown that fluoridation is neither essential for good health nor protective of teeth. What it does is poison the body. We should all at this point be asking how and why public health policy and the American media continue to live with and perpetuate this scientific sham.
The Latest in Fluoride News
Today more than ever, evidence of fluoride's toxicity is entering the public sphere.The summer of 2012 saw the publication of a systematic review and meta-analysis by researchers at Harvard University that explored the link between exposure to fluoride and neurological and cognitive function among children. The report pooled data from over 27 studies- many of them from China- carried out over the course of 22 years. The results, which were published in the journal Environmental Health Sciencesshowed a strong connection between exposure to fluoride in drinking water and decreased IQ scores in children. The team concluded that "the results suggest that fluoride may be a developmental neurotoxicant that affects brain development at exposures much below those that can cause toxicity in adults." 1
The newest scientific data suggest that the damaging effects of fluoride extend to reproductive health as well. A 2013 study published in the journal Archives of Toxicology showed a link between fluoride exposure and male infertility in mice. The study's findings suggest that sodium fluoride impairs the ability of sperm cells in mice to normally fertilize the egg through a process known as chemotaxis. 2 This is the latest in more than 60 scientific studies on animals that have identified an association between male infertility and fluoride exposure.3
Adding more fuel to the fluoride controversy is a recent investigative report by NaturalNews exposing how the chemicals used to fluoridate United States' water systems today are commonly purchased from Chinese chemical plants looking to discard surplus stores of this form of industrial waste. Disturbingly, the report details that some Chinese vendors of fluoride advertise on their website that their product can be used as an "adhesive preservative", an "insecticide" as well as a" flux for soldering and welding".4 One Chinese manufacturer, Shanghai Polymet Commodities Ltd,. which produces fluoride destined for municipal water reserves in the United States, notes on their website that their fluoride is "highly corrosive to human skin and harmful to people's respiratory organs". 5
The Fluoride Phase Out at Home and Abroad
There are many signs in recent years that indicate growing skepticism over fluoridation. The New York Times reported in October 2011 that in the previous four years, about 200 jurisdictions across the USA moved to cease water fluoridation. A panel composed of scientists and health professionals in Fairbanks, Alaska recently recommended ceasing fluoridation of the county water supply after concluding that the addition of fluoride to already naturally-fluoridated reserves could pose health risks to 700,000 residents. The move to end fluoridation would save the county an estimated $205,000 annually. 6
The city of Portland made headlines in 2013 when it voted down a measure to fluoridate its water supply. The citizens of Portland have rejected introducing the chemical to drinking water on three separate occasions since the 1950's. Portland remains the largest city in the United States to shun fluoridation.7
The movement against fluoridation has gained traction overseas as well. In 2013, Israel's Ministry of Health committed to a countrywide phase-out of fluoridation. The decision came after Israel's Supreme Court deemed the existing health regulations requiring fluoridation to be based on science that is "outdated" and "no longer widely accepted."8
Also this year, the government of the Australian state of Queensland eliminated $14 million in funding for its state-wide fluoridation campaign. The decision, which was executed by the Liberal National Party (LNP) government, forced local councils to vote on whether or not to introduce fluoride to their water supplies. Less than two months after the decision came down, several communities including the town of Cairns halted fluoridation. As a result, nearly 200,000 Australians will no longer be exposed to fluoride in their drinking water.9
An ever-growing number of institutions and individuals are questioning the wisdom of fluoridation. At the fore of the movement are thousands of scientific authorities and health care professionals who are speaking out about the hazards of this damaging additive. As of November 2013, a group of over 4549 professionals including 361 dentists and 562 medical doctors have added their names to a petition aimed at ending fluoridation started by the Fluoride Action Network.  Among the prominent signatories are Nobel Laureate Arvid Carlsson and William Marcus, PhD who served as the chief toxicologist of the EPA Water Division.10
The above sampling of recent news items on fluoride brings into sharp focus just how urgent it is to carry out a critical reassessment of the mass fluoridation campaign that currently affects hundreds of millions of Americans. In order to better understand the massive deception surrounding this toxic chemical, we must look back to the sordid history of how fluoride was first introduced.
How to Market a Toxic Waste
"We would not purposely add arsenic to the water supply. And we would not purposely add lead. But we do add fluoride. The fact is that fluoride is more toxic than lead and just slightly less toxic than arsenic." 11
These words of Dr. John Yiamouyiannis may come as a shock to you because, if you're like most Americans, you have positive associations with fluoride. You may envision tooth protection, strong bones, and a government that cares about your dental needs. What you've probably never been told is that the fluoride added to drinking water and toothpaste is a crude industrial waste product of the aluminum and fertilizer industries, and a substance toxic enough to be used as rat poison. How is it that Americans have learned to love an environmental hazard? This phenomenon can be attributed to a carefully planned marketing program begun even before Grand Rapids, Michigan, became the first community to officially fluoridate its drinking water in 1945. 12   As a result of this ongoing campaign, nearly two-thirds of the nation has enthusiastically followed Grand Rapids' example. But this push for fluoridation has less to do with a concern for America's health than with industry's penchant to expand at the expense of our nation's well-being.
The first thing you have to understand about fluoride is that it's the problem child of industry. Its toxicity was recognized at the beginning of the Industrial Revolution, when, in the 1850s iron and copper factories discharged it into the air and poisoned plants, animals, and people.13   The problem was exacerbated in the 1920s when rapid industrial growth meant massive pollution. Medical writer Joel Griffiths explains that "it was abundantly clear to both industry and government that spectacular U.S. industrial expansion ­ and the economic and military power and vast profits it promised ­ would necessitate releasing millions of tons of waste fluoride into the environment."14  Their biggest fear was that "if serious injury to people were established, lawsuits alone could prove devastating to companies, while public outcry could force industry-wide government regulations, billions in pollution-control costs, and even mandatory changes in high-fluoride raw materials and profitable technologies." 15
At first, industry could dispose of fluoride legally only in small amounts by selling it to insecticide and rat poison manufacturers. 16   Then a commercial outlet was devised in the 1930s when a connection was made between water supplies bearing traces of fluoride and lower rates of tooth decay. Griffiths writes that this was not a scientific breakthrough, but rather part of a "public disinformation campaign" by the aluminum industry "to convince the public that fluoride was safe and good." Industry's need prompted Alcoa-funded scientist Gerald J. Cox to announce that "The present trend toward complete removal of fluoride from water may need some reversal." 17   Griffiths writes:
"The big news in Cox's announcement was that this 'apparently worthless by-product' had not only been proved safe (in low doses), but actually beneficial; it might reduce cavities in children. A proposal was in the air to add fluoride to the entire nation's drinking water. While the dose to each individual would be low, 'fluoridation' on a national scale would require the annual addition of hundreds of thousands of tons of fluoride to the country's drinking water.
"Government and industry ­ especially Alcoa ­ strongly supported intentional water fluoridation… [it] made possible a master public relations stroke ­ one that could keep scientists and the public off fluoride's case for years to come. If the leaders of dentistry, medicine, and public health could be persuaded to endorse fluoride in the public's drinking water, proclaiming to the nation that there was a 'wide margin of safety,' how were they going to turn around later and say industry's fluoride pollution was dangerous?
"As for the public, if fluoride could be introduced as a health enhancing substance that should be added to the environment for the children's sake, those opposing it would look like quacks and lunatics….
"Back at the Mellon Institute, Alcoa's Pittsburgh Industrial research lab, this news was galvanic. Alcoa-sponsored biochemist Gerald J. Cox immediately fluoridated some lab rats in a study and concluded that fluoride reduced cavities and that 'The case should be regarded as proved.' In a historic moment in 1939, the first public proposal that the U.S. should fluoridate its water supplies was made ­ not by a doctor, or dentist, but by Cox, an industry scientist working for a company threatened by fluoride damage claims." 18
Once the plan was put into action, industry was buoyant. They had finally found the channel for fluoride that they were looking for, and they were even cheered on by dentists, government agencies, and the public. Chemical Week, a publication for the chemical industry, described the tenor of the times: "All over the country, slide rules are getting warm as waterworks engineers figure the cost of adding fluoride to their water supplies." They are riding a trend urged upon them, by the U.S. Public Health Service, the American Dental Association, the State Dental Health Directors, various state and local health bodies, and vocal women's clubs from coast to coast. It adds up to a nice piece of business on all sides and many firms are cheering the PHS and similar groups as they plump for increasing adoption of fluoridation." 19
Such overwhelming acceptance allowed government and industry to proceed hastily, albeit irresponsibly. The Grand Rapids experiment was supposed to take 15 years, during which time health benefits and hazards were to be studied. In 1946, however, just one year into the experiment, six more U.S. cities adopted the process. By 1947, 87 more communities were treated; popular demand was the official reason for this unscientific haste.
The general public and its leaders did support the cause, but only after a massive government public relations campaign spearheaded by Edward L. Bernays, a nephew of Sigmund Freud. Bernays, a public relations pioneer who has been called "the original spin doctor," 20  was a masterful PR strategist. As a result of his influence, Griffiths writes, "Almost overnight…the popular image of fluoride ­ which at the time was being widely sold as rat and bug poison ­ became that of a beneficial provider of gleaming smiles, absolutely safe, and good for children, bestowed by a benevolent paternal government. Its opponents were permanently engraved on the public mind as crackpots and right-wing loonies." 21
Griffiths explains that while opposition to fluoridation is usually associated with right-wingers, this picture is not totally accurate. He provides an interesting historical perspective on the anti-fluoridation stance:
"Fluoridation attracted opponents from every point on the continuum of politics and sanity. The prospect of the government mass-medicating the water supplies with a well-known rat poison to prevent a nonlethal disease flipped the switches of delusionals across the country ­ as well as generating concern among responsible scientists, doctors, and citizens.
"Moreover, by a fortuitous twist of circumstances, fluoride's natural opponents on the left were alienated from the rest of the opposition. Oscar Ewing, a Federal Security Agency administrator, was a Truman "fair dealer" who pushed many progressive programs such as nationalized medicine. Fluoridation was lumped with his proposals. Inevitably, it was attacked by conservatives as a manifestation of "creeping socialism," while the left rallied to its support. Later during the McCarthy era, the left was further alienated from the opposition when extreme right-wing groups, including the John Birch Society and the Ku Klux Klan, raved that fluoridation was a plot by the Soviet Union and/or communists in the government to poison America's brain cells.
"It was a simple task for promoters, under the guidance of the 'original spin doctor,' to paint all opponents as deranged ­ and they played this angle to the hilt….
"Actually, many of the strongest opponents originally started out as proponents, but changed their minds after a close look at the evidence. And many opponents came to view fluoridation not as a communist plot, but simply as a capitalist-style con job of epic proportions. Some could be termed early environmentalists, such as the physicians George L. Waldbott and Frederick B. Exner, who first documented government-industry complicity in hiding the hazards of fluoride pollution from the public. Waldbott and Exner risked their careers in a clash with fluoride defenders, only to see their cause buried in toothpaste ads." 22
By 1950, fluoridation's image was a sterling one, and there was not much science could do at this point. The Public Health Service was fluoridation's main source of funding as well as its promoter, and therefore caught in a fundamental conflict of interest. 12   If fluoridation were found to be unsafe and ineffective, and laws were repealed, the organization feared a loss of face, since scientists, politicians, dental groups, and physicians unanimously supported it. 23  For this reason, studies concerning its effects were not undertaken. The Oakland Tribune noted this when it stated that "public health officials have often suppressed scientific doubts" about fluoridation.24 Waldbott sums up the situation when he says that from the beginning, the controversy over fluoridating water supplies was "a political, not a scientific health issue."25
The marketing of fluoride continues. In a 1983 letter from the Environmental Protection Agency, then Deputy Assistant Administrator for Water, Rebecca Hammer, writes that the EPA "regards [fluoridation] as an ideal environmental solution to a long-standing problem. By recovering by-product fluosilicic acid from fertilizer manufacturing, water and air pollution are minimized and water utilities have a low-cost source of fluoride available to them." 26    A 1992 policy statement from the Department of Health and Human Services says, "A recent comprehensive PHS review of the benefits and potential health risks of fluoride has concluded that the practice of fluoridating community water supplies is safe and effective." 27
According to the CDC website, about 200 million Americans in 16,500 communities are exposed to fluoridated water. Out of the 50 largest cities in the US, 43 have fluoridated water. 28
To help celebrate fluoride's widespread use, the media recently reported on the 50th anniversary of fluoridation in Grand Rapids. Newspaper articles titled "Fluoridation: a shining public health success" 29  and "After 50 years, fluoride still works with a smile"  30  painted glowing pictures of the practice. Had investigators looked more closely, though, they might have learned that children in Muskegon, Michigan, an unfluoridated "control" city, had equal drops in dental decay. They might also have learned of the other studies that dispute the supposed wonders of fluoride.
The Fluoride Myth Doesn't Hold Water
The big hope for fluoride was its ability to immunize children's developing teeth against cavities. Rates of dental caries were supposed to plummet in areas where water was treated. Yet decades of experience and worldwide research have contradicted this expectation numerous times. Here are just a few examples:
In British Columbia, only 11% of the population drinks fluoridated water, as opposed to 40-70% in other Canadian regions. Yet British Columbia has the lowest rate of tooth decay in Canada. In addition, the lowest rates of dental caries within the province are found in areas that do not have their water supplies fluoridated. 31
According to a Sierra Club study, people in unfluoridated developing nations have fewer dental caries than those living in industrialized nations. As a result, they conclude that "fluoride is not essential to dental health." 32
In 1986-87, the largest study on fluoridation and tooth decay ever was performed. The subjects were 39,000 school children between 5 and 17 living in 84 areas around the country. A third of the places were fluoridated, a third were partially fluoridated, and a third were not. Results indicate no statistically significant differences in dental decay between fluoridated and unfluoridated cities. 33
A World Health Organization survey reports a decline of dental decay in western Europe, which is 98% unfluoridated. They state that western Europe's declining dental decay rates are equal to and sometimes better than those in the U.S. 34
A 1992 University of Arizona study yielded surprising results when they found that "the more fluoride a child drinks, the more cavities appear in the teeth." 35
Although all Native American reservations are fluoridated, children living there have much higher incidences of dental decay and other oral health problems than do children living in other U.S. communities. 36
In light of all the evidence, fluoride proponents now make more modest claims. For example, in 1988, the ADA professed that a 40- to 60% cavity reduction could be achieved with the help of fluoride. Now they claim an 18- to 25% reduction. Other promoters mention a 12% decline in tooth decay.
And some former supporters are even beginning to question the need for fluoridation altogether. In 1990, a National Institute for Dental Research report stated that "it is likely that if caries in children remain at low levels or decline further, the necessity of continuing the current variety and extent of fluoride-based prevention programs will be questioned." 37
Most government agencies, however, continue to ignore the scientific evidence and to market fluoridation by making fictional claims about its benefits and pushing for its expansion. For instance, according to the U.S. Department of Health and Human Services, "National surveys of oral health dating back several decades document continuing decreases in tooth decay in children, adults and senior citizens. Nevertheless, there are parts of the country and particular populations that remain without protection. For these reasons, the U.S. PHS…has set a national goal for the year 2000 that 75% of persons served by community water systems will have access to optimally fluoridated drinking water; currently this figure is just about 60%. The year 2000 target goal is both desirable and yet challenging, based on past progress and continuing evidence of effectiveness and safety of this public health measure." 38
This statement is flawed on several accounts. First, as we've seen, research does not support the effectiveness of fluoridation for preventing tooth disease. Second, purported benefits are supposedly for children, not adults and senior citizens. At about age 13, any advantage fluoridation might offer comes to an end, and less than 1% of the fluoridated water supply reaches this population.  And third, fluoridation has never been proven safe. On the contrary, several studies directly link fluoridation to skeletal fluorosis, dental fluorosis, and several rare forms of cancer. This alone should frighten us away from its use.
Biological Safety Concerns
Only a small margin separates supposedly beneficial fluoride levels from amounts that are known to cause adverse effects. Dr. James Patrick, a former antibiotics research scientist at the National Institutes of Health, describes the predicament:
"[There is] a very low margin of safety involved in fluoridating water. A concentration of about 1 ppm is recommended…in several countries, severe fluorosis has been documented from water supplies containing only 2 or 3 ppm. In the development of drugs…we generally insist on a therapeutic index (margin of safety) of the order of 100; a therapeutic index of 2 or 3 is totally unacceptable, yet that is what has been proposed for public water supplies."39 
Other countries argue that even 1 ppm is not a safe concentration. Canadian studies, for example, imply that children under three should have no fluoride whatsoever. The Journal of the Canadian Dental Association states that "Fluoride supplements should not be recommended for children less than 3 years old." 40   Since these supplements contain the same amount of fluoride as water does, they are basically saying that children under the age of three shouldn't be drinking fluoridated water at all, under any circumstances. Japan has reduced the amount of fluoride in their drinking water to one-eighth of what is recommended in the U.S. Instead of 1 milligram per liter, they use less than 15 hundredths of a milligram per liter as the upper limit allowed. 41
Even supposing that low concentrations are safe, there is no way to control how much fluoride different people consume, as some take in a lot more than others. For example, laborers, athletes, diabetics, and those living in hot or dry regions can all be expected to drink more water, and therefore more fluoride (in fluoridated areas) than others. 42   Due to such wide variations in water consumption, it is impossible to scientifically control what dosage of fluoride a person receives via the water supply.43
Another concern is that fluoride is not found only in drinking water; it is everywhere. Fluoride is found in foods that are processed with it, which, in the United States, include nearly all bottled drinks and canned foods. 44  Researchers writing in The Journal of Clinical Pediatric Dentistry have found that fruit juices, in particular, contain significant amounts of fluoride. In one study, a variety of popular juices and juice blends were analyzed and it was discovered that 42% of the samples examined had more than l ppm of fluoride, with some brands of grape juice containing much higher levels ­ up to 6.8 ppm! The authors cite the common practice of using fluoride-containing insecticide in growing grapes as a factor in these high levels, and they suggest that the fluoride content of beverages be printed on their labels, as is other nutritional information. 45  Considering how much juice some children ingest, and the fact that youngsters often insist on particular brands that they consume day after day, labeling seems like a prudent idea. But beyond this is the larger issue that this study brings up: Is it wise to subject children and others who are heavy juice drinkers to additional fluoride in their water?
Here's a little-publicized reality: Cooking can greatly increase a food's fluoride content. Peas, for example, contain 12 micrograms of fluoride when raw and 1500 micrograms after they are cooked in fluoridated water, which is a tremendous difference. Also, we should keep in mind that fluoride is an ingredient in pharmaceuticals, aerosols, insecticides, and pesticides.
And of course, toothpastes. It's interesting to note that in the 1950s, fluoridated toothpastes were required to carry warnings on their labels saying that they were not to be used in areas where water was already fluoridated. Crest toothpaste went so far as to write: "Caution: Children under 6 should not use Crest." These regulations were dropped in 1958, although no new research was available to prove that the overdose hazard no longer existed. 46
Today, common fluoride levels in toothpaste are 1000 ppm. Research chemist Woodfun Ligon notes that swallowing a small amount adds substantially to fluoride intake. 47 Dentists say that children commonly ingest up to 0.5 mg of fluoride a day from toothpaste. 48
This inevitably raises another issue: How safe is all this fluoride? According to scientists and informed doctors, such as Dr. John Lee, it is not safe at all. Dr. Lee first took an anti-fluoridation stance back in 1972, when as chairman of an environmental health committee for a local medical society, he was asked to state their position on the subject. He stated that after investigating the references given by both pro- and anti-fluoridationists, the group discovered three important things:
"One, the claims of benefit of fluoride, the 60% reduction of cavities, was not established by any of these studies. Two, we found that the investigations into the toxic side effects of fluoride have not been done in any way that was acceptable. And three, we discovered that the estimate of the amount of fluoride in the food chain, in the total daily fluoride intake, had been measured in 1943, and not since then. By adding the amount of fluoride that we now have in the food chain, which comes from food processing with fluoridated water, plus all the fluoridated toothpaste that was not present in 1943, we found that the daily intake of fluoride was far in excess of what was considered optimal." 49
What happens when fluoride intake exceeds the optimal? The inescapable fact is that this substance has been associated with severe health problems, ranging from skeletal and dental fluorosis to bone fractures, to fluoride poisoning, and even to cancer.
Skeletal Fluorosis
When fluoride is ingested, approximately 93% of it is absorbed into the bloodstream. A good part of the material is excreted, but the rest is deposited in the bones and teeth, and is capable of causing a crippling skeletal fluorosis. This is a condition that can damage the musculoskeletal and nervous systems and result in muscle wasting, limited joint motion, spine deformities, and calcification of the ligaments, as well as neurological deficits.
Large numbers of people in Japan, China, India, the Middle East, and Africa have been diagnosed with skeletal fluorosis from drinking naturally fluoridated water. In India alone, nearly a million people suffer from the affliction. 39   While only a dozen cases of skeletal fluorosis have been reported in the United States, Chemical and Engineering News states that "critics of the EPA standard speculate that there probably have been many more cases of fluorosis ­ even crippling fluorosis ­ than the few reported in the literature because most doctors in the U.S. have not studied the disease and do not know how to diagnose it." 50
Radiologic changes in bone occur when fluoride exposure is 5 mg/day, according to the late Dr. George Waldbott, author of Fluoridation: The Great Dilemma. While this 5 mg/day level is the amount of fluoride ingested by most people living in fluoridated areas, 51   the number increases for diabetics and laborers, who can ingest up to 20 mg of fluoride daily. In addition, a survey conducted by the Department of Agriculture shows that 3% of the U.S. population drinks 4 liters or more of water every day. If these individuals live in areas where the water contains a fluoride level of 4 ppm, allowed by the EPA, they are ingesting 16 mg/day from the consumption of water alone, and are thus at greater risk for getting skeletal fluorosis. 52
Dental Fluorosis
According to a 1989 National Institute for Dental Research study, 1-2% of children living in areas fluoridated at 1 ppm develop dental fluorosis, that is, permanently stained, brown mottled teeth. Up to 23% of children living in areas naturally fluoridated at 4 ppm develop severe dental fluorosis. 53  Other research gives higher figures. The publication Health Effects of Ingested Fluoride, put out by the National Academy of Sciences, reports that in areas with optimally fluoridated water (1 ppm, either natural or added), dental fluorosis levels in recent years ranged from 8 to 51%. Recently, a prevalence of slightly over 80% was reported in children 12-14 years old in Augusta, Georgia.
Fluoride is a noteworthy chemical additive in that its officially acknowledged benefit and damage levels are about the same. Writing in The Progressive, science journalist Daniel Grossman elucidates this point: "Though many beneficial chemicals are dangerous when consumed at excessive levels, fluoride is unique because the amount that dentists recommend to prevent cavities is about the same as the amount that causes dental fluorosis." 54   Although the American Dental Association and the government consider dental fluorosis only a cosmetic problem, the American Journal of Public Health says that "…brittleness of moderately and severely mottled teeth may be associated with elevated caries levels." 45   In other words, in these cases the fluoride is causing the exact problem that it's supposed to prevent. Yiamouyiannis adds, "In highly naturally-fluoridated areas, the teeth actually crumble as a result. These are the first visible symptoms of fluoride poisoning." 55
Also, when considering dental fluorosis, there are factors beyond the physical that you can't ignore ­ the negative psychological effects of having moderately to severely mottled teeth. These were recognized in a 1984 National Institute of Mental Health panel that looked into this problem. 
A telling trend is that TV commercials for toothpaste, and toothpaste tubes themselves, are now downplaying fluoride content as a virtue. This was noted in an article in the Sarasota/Florida ECO Report, 56 whose author, George Glasser, feels that manufacturers are distancing themselves from the additive because of fears of lawsuits. The climate is ripe for these, and Glasser points out that such a class action suit has already been filed in England against the manufacturers of fluoride-containing products on behalf of children suffering from dental fluorosis.
Bone Fractures
At one time, fluoride therapy was recommended for building denser bones and preventing fractures associated with osteoporosis. Now several articles in peer-reviewed journals suggest that fluoride actually causes more harm than good, as it is associated with bone breakage. Three studies reported in The Journal of the American Medical Association showed links between hip fractures and fluoride. 575859 Findings here were, for instance, that there is "a small but significant increase in the risk of hip fractures in both men and women exposed to artificial fluoridation at 1 ppm."   In addition, the New England Journal of Medicine reports that people given fluoride to cure their osteoporosis actually wound up with an increased nonvertebral fracture rate. 60  Austrian researchers have also found that fluoride tablets make bones more susceptible to fractures.61 The U.S. National Research Council states that the U.S. hip fracture rate is now the highest in the world. 62
Louis V. Avioli, professor at the Washington University School of Medicine, says in a 1987 review of the subject: "Sodium fluoride therapy is accompanied by so many medical complications and side effects that it is hardly worth exploring in depth as a therapeutic mode for postmenopausal osteoporosis, since it fails to decrease the propensity for hip fractures and increases the incidence of stress fractures in the extremities." 63
Fluoride Poisoning
In May 1992, 260 people were poisoned, and one man died, in Hooper Bay, Alaska, after drinking water contaminated with 150 ppm of fluoride. The accident was attributed to poor equipment and an unqualified operator. 55   Was this a fluke? Not at all. Over the years, the CDC has recorded several incidents of excessive fluoride permeating the water supply and sickening or killing people. We don't usually hear about these occurrences in news reports, but interested citizens have learned the truth from data obtained under the Freedom of Information Act. Here is a partial list of toxic spills we have not been told about:
July 1993 ­ Chicago, Illinois: Three dialysis patients died and five experienced toxic reactions to the fluoridated water used in the treatment process. The CDC was asked to investigate, but to date there have been no press releases.
May 1993 ­ Kodiak, Alaska (Old Harbor): The population was warned not to consume water due to high fluoride levels. They were also cautioned against boiling the water, since this concentrates the substance and worsens the danger. Although equipment appeared to be functioning normally, 22-24 ppm of fluoride was found in a sample.
July 1992 ­ Marin County, California: A pump malfunction allowed too much fluoride into the Bon Tempe treatment plant. Two million gallons of fluoridated water were diverted to Phoenix Lake, elevating the lake surface by more than two inches and forcing some water over the spillway.
December 1991 ­ Benton Harbor, Michigan: A faulty pump allowed approximately 900 gallons of hydrofluosilicic acid to leak into a chemical storage building at the water plant. City engineer Roland Klockow stated, "The concentrated hydrofluosilicic acid was so corrosive that it ate through more than two inches of concrete in the storage building." This water did not reach water consumers, but fluoridation was stopped until June 1993. The original equipment was only two years old.
July 1991 ­ Porgate, Michigan: After a fluoride injector pump failed, fluoride levels reached 92 ppm and resulted in approximately 40 children developing abdominal pains, sickness, vomiting, and diarrhea at a school arts and crafts show.
November 1979 ­ Annapolis, Maryland: One patient died and eight became ill after renal dialysis treatment. Symptoms included cardiac arrest (resuscitated), hypotension, chest pain, difficulty breathing, and a whole gamut of intestinal problems. Patients not on dialysis also reported nausea, headaches, cramps, diarrhea, and dizziness. The fluoride level was later found to be 35 ppm; the problem was traced to a valve at a water plant that had been left open all night. 64
Instead of addressing fluoridation's problematic safety record, officials have chosen to cover it up. For example, the ADA says in one booklet distributed to health agencies that "Fluoride feeders are designed to stop operating when a malfunction occurs… so prolonged over-fluoridation becomes a mechanical impossibility."    In addition, the information that does reach the population after an accident is woefully inaccurate. A spill in Annapolis, Maryland, placed thousands at risk, but official reports reduced the number to eight. 65  Perhaps officials are afraid they will invite more lawsuits like the one for $480 million by the wife of a dialysis patient who became brain-injured as the result of fluoride poisoning.
Not all fluoride poisoning is accidental. For decades, industry has knowingly released massive quantities of fluoride into the air and water. Disenfranchised communities, with people least able to fight back, are often the victims. Medical writer Joel Griffiths relays this description of what industrial pollution can do, in this case to a devastatingly poisoned Indian reservation:
"Cows crawled around the pasture on their bellies, inching along like giant snails. So crippled by bone disease they could not stand up, this was the only way they could graze. Some died kneeling, after giving birth to stunted calves. Others kept on crawling until, no longer able to chew because their teeth had crumbled down to the nerves, they began to starve…." They were the cattle of the Mohawk Indians on the New York-Canadian St. Regis Reservation during the period 1960-1975, when industrial pollution devastated the herd ­ and along with it, the Mohawks' way of life….Mohawk children, too, have shown signs of damage to bones and teeth." 66
Mohawks filed suit against the Reynolds Metals Company and the Aluminum Company of America (Alcoa) in 1960, but ended up settling out of court, where they received $650,000 for their cows. 67
Fluoride is one of industry's major pollutants, and no one remains immune to its effects. In 1989, 155,000 tons were being released annually into the air,    and 500,000 tons a year were disposed of in our lakes, rivers, and oceans. 68

Cancer
Numerous studies demonstrate links between fluoridation and cancer; however, agencies promoting fluoride consistently refute or cover up these findings.
In 1977, Dr. John Yiamouyiannis and Dr. Dean Burk, former chief chemist at the National Cancer Institute, released a study that linked fluoridation to 10,000 cancer deaths per year in the U.S. Their inquiry, which compared cancer deaths in the ten largest fluoridated American cities to those in the ten largest unfluoridated cities between 1940 and 1950, discovered a 5% greater rate in the fluoridated areas. 69  The NCI disputed these findings, since an earlier analysis of theirs apparently failed to pick up these extra deaths. Federal authorities claimed that Yiamouyiannis and Burk were in error, and that any increase was caused by statistical changes over the years in age, gender, and racial composition. 70
In order to settle the question of whether or not fluoride is a carcinogen, a Congressional subcommittee instructed the National Toxicology Program (NTP) to perform another investigation. 71  That study, due in 1980, was not released until 1990. However, in 1986, while the study was delayed, the EPA raised the standard fluoride level in drinking water from 2.4 to 4 ppm. 72   After this step, some of the government's own employees in NFFE Local 2050 took what the Oakland Tribune termed the "remarkable step of denouncing that action as political." 73
When the NTP study results became known in early 1990, union president Dr. Robert Carton, who works in the EPA's Toxic Substances Division, published a statement. It read, in part: "Four years ago, NFFE Local 2050, which represents all 1100 professionals at EPA headquarters, alerted then Administrator Lee Thomas to the fact that the scientific support documents for the fluoride in drinking water standard were fatally flawed. The fluoride juggernaut proceeded as it apparently had for the last 40 years ­ without any regard for the facts or concern for public health.
"EPA raised the allowed level of fluoride before the results of the rat/mouse study ordered by Congress in 1977 was complete. Today, we find out how irresponsible that decision was. The results reported by NTP, and explained today by Dr. Yiamouyiannis, are, as he notes, not surprising considering the vast amount of data that caused the animal study to be conducted in the first place. The results are not surprising to NFFE Local 2050 either. Four years ago we realized that the claim that there was no evidence that fluoride could cause genetic effects or cancer could not be supported by the shoddy document thrown together by the EPA contractor.
"It was apparent to us that EPA bowed to political pressure without having done an in-depth, independent analysis, using in-house experts, of the currently existing data that show fluoride causes genetic effects, promotes the growth of cancerous tissue, and is likely to cause cancer in humans. If EPA had done so, it would have been readily apparent ­ as it was to Congress in 1977 ­ that there were serious reasons to believe in a cancer threat.
"The behavior by EPA in this affair raises questions about the integrity of science at EPA and the role of professional scientists, lawyers and engineers who provide the interpretation of the available data and the judgements necessary to protect the public health and the environment. Are scientists at EPA there to arrange facts to fit preconceived conclusions? Does the Agency have a responsibility to develop world-class experts in the risks posed by chemicals we are exposed to every day, or is it permissible for EPA to cynically shop around for contractors who will provide them the 'correct' answers?" 74
What were the NTP study results? Out of 130 male rats that ingested 45 to 79 ppm of fluoride, 5 developed osteosarcoma, a rare bone cancer. There were cases, in both males and females at those doses, of squamous cell carcinoma in the mouth. 75  Both rats and mice had dose-related fluorosis of the teeth, and female rats suffered osteosclerosis of the long bones.76
When Yiamouyiannis analyzed the same data, he found mice with a particularly rare form of liver cancer, known as hepatocholangiocarcinoma. This cancer is so rare, according to Yiamouyiannis, that the odds of its appearance in this study by chance are 1 in 2 million in male mice and l in 100,000 in female mice.    He also found precancerous changes in oral squamous cells, an increase in squamous cell tumors and cancers, and thyroid follicular cell tumors as a result of increasing levels of fluoride in drinking water. 77
A March 13, 1990, New York Times article commented on the NTP findings: "Previous animal tests suggesting that water fluoridation might pose risks to humans have been widely discounted as technically flawed, but the latest investigation carefully weeded out sources of experimental or statistical error, many scientists say, and cannot be discounted." 78  In the same article, biologist Dr. Edward Groth notes: "The importance of this study…is that it is the first fluoride bioassay giving positive results in which the latest state-of-the-art procedures have been rigorously applied. It has to be taken seriously." 71
On February 22, 1990, the Medical Tribune, an international medical news weekly received by 125,000 doctors, offered the opinion of a federal scientist who preferred to remain anonymous:
"It is difficult to see how EPA can fail to regulate fluoride as a carcinogen in light of what NTP has found. Osteosarcomas are an extremely unusual result in rat carcinogenicity tests. Toxicologists tell me that the only other substance that has produced this is radium….The fact that this is a highly atypical form of cancer implicates fluoride as the cause. Also, the osteosarcomas appeared to be dose-related, and did not occur in controls, making it a clean study." 79
Public health officials were quick to assure a concerned public that there was nothing to worry about! The ADA said the occurrence of cancers in the lab may not be relevant to humans since the level of fluoridation in the experimental animals' water was so high. 80   But the Federal Register, which is the handbook of government practices, disagrees: "The high exposure of experimental animals to toxic agents is a necessary and valid method of discovering possible carcinogenic hazards in man. To disavow the findings of this test would be to disavow those of all such tests, since they are all conducted according to this standard." 73   As a February 5, 1990, Newsweek article pointed out, "such megadosing is standard toxicological practice. It's the only way to detect an effect without using an impossibly large number of test animals to stand in for the humans exposed to the substance." 81 And as the Safer Water Foundation explains, higher doses are generally administered to test animals to compensate for the animals' shorter life span and because humans are generally more vulnerable than test animals on a body-weight basis. 82
Several other studies link fluoride to genetic damage and cancer. An article in Mutation Research says that a study by Proctor and Gamble, the very company that makes Crest toothpaste, did research showing that 1 ppm fluoride causes genetic damage.83 Results were never published but Proctor and Gamble called them "clean," meaning animals were supposedly free of malignant tumors. Not so, according to scientists who believe some of the changes observed in test animals could be interpreted as precancerous. 84   Yiamouyiannis says the Public Health Service sat on the data, which were finally released via a Freedom of Information Act request in 1989. "Since they are biased, they have tried to cover up harmful effects," he says. "But the data speaks for itself. Half the amount of fluoride that is found in the New York City drinking water causes genetic damage." 46
A National Institutes of Environmental Health Sciences publication, Environmental and Molecular Mutagenesis, also linked fluoride to genetic toxicity when it stated that "in cultured human and rodent cells, the weight of evidence leads to the conclusion that fluoride exposure results in increased chromosome aberrations." 85 The result of this is not only birth defects but the mutation of normal cells into cancer cells. The Journal of Carcinogenesis further states that "fluoride not only has the ability to transform normal cells into cancer cells but also to enhance the cancer-causing properties of other chemicals." 86
Surprisingly, the PHS put out a report called Review of fluoride: benefits and risks, in which they showed a substantially higher incidence of bone cancer in young men exposed to fluoridated water compared to those who were not. The New Jersey Department of Health also found that the risk of bone cancer was about three times as high in fluoridated areas as in nonfluoridated areas. 87
Despite cover-up attempts, the light of knowledge is filtering through to some enlightened scientists. Regarding animal test results, the director of the U.S. National Institute of Environmental Health Sciences, James Huff, does say that "the reason these animals got a few osteosarcomas was because they were given fluoride…Bone is the target organ for fluoride."  Toxicologist William Marcus adds that "fluoride is a carcinogen by any standard we use. I believe EPA should act immediately to protect the public, not just on the cancer data, but on the evidence of bone fractures, arthritis, mutagenicity, and other effects." 88
The Challenge of Eliminating Fluoride
Given all the scientific challenges to the idea of the safety of fluoride, why does it remain a protected contaminant? As Susan Pare of the Center for Health Action asks, "…even if fluoride in the water did reduce tooth decay, which it does not, how can the EPA allow a substance more toxic than Alar, red dye #3, and vinyl chloride to be injected purposely into drinking water?" 89
This is certainly a logical question and, with all the good science that seems to exist on the subject, you would think that there would be a great deal of interest in getting fluoride out of our water supply. Unfortunately, that hasn't been the case. As Dr. William Marcus, a senior science advisor in the EPA's Office of Drinking Water, has found, the top governmental priority has been to sweep the facts under the rug and, if need be, to suppress truth-tellers. Marcus explains 90  that fluoride is one of the chemicals the EPA specifically regulates, and that he was following the data coming in on fluoride very carefully when a determination was going to be made on whether the levels should be changed. He discovered that the data were not being heeded. But that was only the beginning of the story for him. Marcus recounts what happened:
"The studies that were done by Botel Northwest showed that there was an increased level of bone cancer and other types of cancer in animals….in that same study, there were very rare liver cancers, according to the board-certified veterinary pathologists at the contractor, Botel. Those really were very upsetting because they were hepatocholangeal carcinomas, very rare liver cancers….Then there were several other kinds of cancers that were found in the jaw and other places.
"I felt at that time that the reports were alarming. They showed that the levels of fluoride that can cause cancers in animals are actually lower than those levels ingested in people (who take lower amounts but for longer periods of time).
"I went to a meeting that was held in Research Triangle Park, in April 1990, in which the National Toxicology Program was presenting their review of the study. I went with several colleagues of mine, one of whom was a board-certified veterinary pathologist who originally reported hepatocholangeal carcinoma as a separate entity in rats and mice. I asked him if he would look at the slides to see if that really was a tumor or if the pathologists at Botel had made an error. He told me after looking at the slides that, in fact, it was correct.
"At the meeting, every one of the cancers reported by the contractor had been downgraded by the National Toxicology Program. I have been in the toxicology business looking at studies of this nature for nearly 25 years and I have never before seen every single cancer endpoint downgraded…. I found that very suspicious and went to see an investigator in the Congress at the suggestion of my friend, Bob Carton. This gentleman and his staff investigated very thoroughly and found out that the scientists at the National Toxicology Program down at Research Triangle Park had been coerced by their superiors to change their findings."91
Once Dr. Marcus acted on his findings, something ominous started to happen in his life: "…I wrote an internal memorandum and gave it to my supervisors. I waited for a month without hearing anything. Usually, you get a feedback in a week or so. I wrote another memorandum to a person who was my second-line supervisor explaining that if there was even a slight chance of increased cancer in the general population, since 140 million people were potentially ingesting this material, that the deaths could be in the many thousands. Then I gave a copy of the memorandum to the Fluoride Work Group, who waited some time and then released it to the press.
"Once it got into the press all sorts of things started happening at EPA. I was getting disciplinary threats, being isolated, and all kinds of things which ultimately resulted in them firing me on March 15, 1992." 
In order to be reinstated at work, Dr. Marcus took his case to court. In the process, he learned that the government had engaged in various illegal activities, including 70 felony counts, in order to get him fired. At the same time, those who committed perjury were not held accountable for it. In fact, they were rewarded for their efforts:
"When we finally got the EPA to the courtroom…they admitted to doing several things to get me fired. We had notes of a meeting…that showed that fluoride was one of the main topics discussed and that it was agreed that they would fire me with the help of the Inspector General. When we got them on the stand and showed them the memoranda, they finally remembered and said, oh yes, we lied about that in our previous statements.
"Then…they admitted to shredding more than 70 documents that they had in hand ­ Freedom of Information requests. That's a felony…. In addition, they charged me with stealing time from the government. They…tried to show…that I had been doing private work on government time and getting paid for it. When we came to court, I was able to show that the time cards they produced were forged, and forged by the Inspector General's staff…." 
For all his efforts, Dr. Marcus was rehired, but nothing else has changed: "The EPA was ordered to rehire me, which they did. They were given a whole series of requirements to be met, such as paying me my back pay, restoring my leave, privileges, and sick leave and annual leave. The only thing they've done is put me back to work. They haven't given me any of those things that they were required to do."92
What is at the core of such ruthless tactics? John Yiamouyiannis feels that the central concern of government is to protect industry, and that the motivating force behind fluoride use is the need of certain businesses to dump their toxic waste products somewhere. They try to be inconspicuous in the disposal process and not make waves. "As is normal, the solution to pollution is dilution. You poison everyone a little bit rather than poison a few people a lot. This way, people don't know what's going on."
Since the Public Health Service has promoted the fluoride myth for over 50 years, they're concerned about protecting their reputation. So scientists like Dr. Marcus, who know about the dangers, are intimidated into keeping silent. Otherwise, they jeopardize their careers. Dr. John Lee elaborates: "Back in 1943, the PHS staked their professional careers on the benefits and safety of fluoride. It has since become bureaucratized. Any public health official who criticizes fluoride, or even hints that perhaps it was an unwise decision, is at risk of losing his career entirely. This has happened time and time again. Public health officials such as Dr. Gray in British Columbia and Dr. Colquhoun in New Zealand found no benefit from fluoridation. When they reported these results, they immediately lost their careers…. This is what happens ­ the public health officials who speak out against fluoride are at great risk of losing their careers on the spot." 
Yiamouyiannis adds that for the authorities to admit that they're wrong would be devastating. "It would show that their reputations really don't mean that much…. They don't have the scientific background. As Ralph Nader once said, if they admit they're wrong on fluoridation, people would ask, and legitimately so, what else have they not told us right?" 
Accompanying a loss in status would be a tremendous loss in revenue. Yiamouyiannis points out that "the indiscriminate careless handling of fluoride has a lot of companies, such as Exxon, U.S. Steel, and Alcoa, making tens of billions of dollars in extra profits at our expense…. For them to go ahead now and admit that this is bad, this presents a problem, a threat, would mean tens of billions of dollars in lost profit because they would have to handle fluoride properly. Fluoride is present in everything from phosphate fertilizers to cracking agents for the petroleum industry." 
Fluoride could only be legally disposed of at a great cost to industry. As Dr. Bill Marcus explains, "There are prescribed methods for disposal and they're very expensive. Fluoride is a very potent poison. It's a registered pesticide, used for killing rats or mice…. If it were to be disposed of, it would require a class-one landfill. That would cost the people who are producing aluminum or fertilizer about $7000+ per 5000- to 6000-gallon truckload to dispose of it. It's highly corrosive." 
Another problem is that the U.S. judicial system, even when convinced of the dangers, is powerless to change policy. Yiamouyiannis tells of his involvement in court cases in Pennsylvania and Texas in which, while the judges were convinced that fluoride was a health hazard, they did not have the jurisdiction to grant relief from fluoridation. That would have to be done, it was ultimately found, through the legislative process.    Interestingly, the judiciary seems to have more power to effect change in other countries. Yiamouyiannis states that when he presented the same technical evidence in Scotland, the Scottish court outlawed fluoridation based on the evidence.
Indeed, most of Western Europe has rejected fluoridation on the grounds that it is unsafe. In 1971, after 11 years of testing, Sweden's Nobel Medical Institute recommended against fluoridation, and the process was banned.93 The Netherlands outlawed the practice in 1976, after 23 years of tests. France decided against it after consulting with its Pasteur Institute64   and West Germany, now Germany, rejected the practice because the recommended dosage of 1 ppm was "too close to the dose at which long-term damage to the human body is to be expected." 84   Dr. Lee sums it up: "All of western Europe, except one or two test towns in Spain, has abandoned fluoride as a public health plan. It is not put in the water anywhere. They all established test cities and found that the benefits did not occur and the toxicity was evident."94
Isn't it time the United States followed Western Europe's example? While the answer is obvious, it is also apparent that government policy is unlikely to change without public support. We therefore must communicate with legislators, and insist on one of our most precious resources ­ pure, unadulterated drinking water. Yiamouyiannis urges all American people to do so, pointing out that public pressure has gotten fluoride out of the water in places like Los Angeles; Newark and Jersey City in New Jersey; and 95Bedford, Massachusetts. 46   He emphasizes the immediacy of the problem: "There is no question with regard to fluoridation of public water supplies. It is absolutely unsafe…and should be stopped immediately. This is causing more destruction to human health than any other single substance added purposely or inadvertently to the water supply. We're talking about 35,000 excess deaths a year…10,000 cancer deaths a year…130 million people who are being chronically poisoned. We're not talking about dropping dead after drinking a glass of fluoridated water…. It takes its toll on human health and life, glass after glass." 96
There is also a moral issue in the debate that has largely escaped notice. According to columnist James Kilpatrick, it is "the right of each person to control the drugs he or she takes." Kilpatrick calls fluoridation compulsory mass medication, a procedure that violates the principles of medical ethics. 97   A New York Times editorial agrees:
"In light of the uncertainty, critics [of fluoridation] argue that administrative bodies are unjustified in imposing fluoridation on communities without obtaining public consent…. The real issue here is not just the scientific debate. The question is whether any establishment has the right to decide that benefits outweigh risks and impose involuntary medication on an entire population. In the case of fluoridation, the dental establishment has made opposition to fluoridation seem intellectually disreputable. Some people regard that as tyranny." 98
Source: Dr. Gary Null, PhD
"U.S. hopes of winning more influence over Syria's divided rebel movement faded Wednesday after 11 of the biggest armed factions repudiated the Western-backed political opposition coalition and announced the formation of an alliance dedicated to creating an Islamist state. The al-Qaeda-affiliated Jabhat al-Nusra, designated a terrorist organization by the United States, is the lead signatory of the new group." 1
Pity the poor American who wants to be a good citizen, wants to understand the world and his country's role in it, wants to believe in the War on Terrorism, wants to believe that his government seeks to do good … What is he to make of all this?
For about two years, his dear American government has been supporting the same anti-government side as the jihadists in the Syrian civil war; not total, all-out support, but enough military hardware, logistics support, intelligence information, international political, diplomatic and propaganda assistance (including the crucial alleged-chemical-weapons story), to keep the jihadists in the ball game. Washington and its main Mideast allies in the conflict – Turkey, Jordan, Qatar and Saudi Arabia – have not impeded the movement to Syria of jihadists coming to join the rebels, recruited from the ranks of Sunni extremist veterans of the wars in Chechnya, Iraq, Afghanistan, and Libya, while Qatar and the Saudis have supplied the rebels with weapons, most likely bought in large measure from the United States, as well as lots of of what they have lots of – money.
This widespread international support has been provided despite the many atrocities carried out by the jihadists – truck and car suicide bombings (with numerous civilian casualties), planting roadside bombs à la Iraq, gruesome massacres of Christians and Kurds, grotesque beheadings and other dissections of victims' bodies (most charming of all: a Youtube video of a rebel leader cutting out an organ from the chest of a victim and biting into it as it drips with blood). All this barbarity piled on top of a greater absurdity – these Western-backed, anti-government forces are often engaged in battle with other Western-backed, anti-government forces, non-jihadist. It has become increasingly difficult to sell this war to the American public as one of pro-democracy "moderates" locked in a good-guy-versus-bad-guy struggle with an evil dictator, although in actuality the United States has fought on the same side as al Qaeda on repeated occasions before Syria. Here's a brief survey:
Afghanistan, 1980-early 1990s: In support of the Islamic Moujahedeen ("holy warriors"), the CIA orchestrated a war against the Afghan government and their Soviet allies, pouring in several billions of dollars of arms and extensive military training; hitting up Middle-Eastern countries for donations, notably Saudi Arabia which gave hundreds of millions of dollars in aid each year; pressuring and bribing Pakistan to rent out its country as a military staging area and sanctuary.
It worked. And out of the victorious Moujahedeen came al Qaeda.
Bosnia, 1992-5: In 2001 the Wall Street Journal declared:
It is safe to say that the birth of al-Qaeda as a force on the world stage can be traced directly back to 1992, when the Bosnian Muslim government of Alija Izetbegovic issued a passport in their Vienna embassy to Osama bin Laden. … for the past 10 years, the most senior leaders of al Qaeda have visited the Balkans, including bin Laden himself on three occasions between 1994 and 1996. The Egyptian surgeon turned terrorist leader Ayman Al-Zawahiri has operated terrorist training camps, weapons of mass destruction factories and money-laundering and drug-trading networks throughout Albania, Kosovo, Macedonia, Bulgaria, Turkey and Bosnia. This has gone on for a decade. 2
A few months later, The Guardian reported on "the full story of the secret alliance between the Pentagon and radical Islamist groups from the Middle East designed to assist the Bosnian Muslims – some of the same groups that the Pentagon is now fighting in "the war against terrorism". 3
In 1994 and 1995 US/NATO forces carried out bombing campaigns over Bosnia aimed at damaging the military capability of the Serbs and enhancing that of the Bosnian Muslims. In the decade-long civil wars in the Balkans, the Serbs, regarded by Washington as the "the last communist government in Europe", were always the main enemy.
Kosovo, 1998-99: Kosovo, overwhelmingly Muslim, was a province of Serbia, the main republic of the former Yugoslavia. In 1998, Kosovo separatists – The Kosovo Liberation Army (KLA) – began an armed conflict with Belgrade to split Kosovo from Serbia. The KLA was considered a terrorist organization by the US, the UK and France for years, with numerous reports of the KLA having contact with al-Qaeda, getting arms from them, having its militants trained in al-Qaeda camps in Pakistan, and even having members of al-Qaeda in KLA ranks fighting against the Serbs. 4
However, when US-NATO forces began military action against the Serbs the KLA was taken off the US terrorist list, it "received official US-NATO arms and training support" 5 , and the 1999 US-NATO bombing campaign eventually focused on driving Serbian forces from Kosovo.
In 2008 Kosovo unilaterally declared independence from Serbia, an independence so illegitimate and artificial that the majority of the world's nations still have not recognized it. But the United States was the first to do so, the very next day, thus affirming the unilateral declaration of independence of a part of another country's territory.
The KLA have been known for their trafficking in women, heroin, and human body parts (sic). The United States has naturally been pushing for Kosovo's membership in NATO and the European Union.
Nota bene: In 1992 the Bosnian Muslims, Croats, and Serbs reached agreement in Lisbon for a unified state. The continuation of a peaceful multi-ethnic Bosnia seemed assured. But the United States sabotaged the agreement. 6
Libya, 2011: The US and NATO to the rescue again. For more than six months, almost daily missile attacks against the government and forces of Muammar Gaddafi as assorted Middle East jihadists assembled in Libya and battled the government on the ground. The predictable outcome came to be – the jihadists now in control of parts of the country and fighting for the remaining parts. The wartime allies showed their gratitude to Washington by assassinating the US ambassador and three other Americans, presumably CIA, in the city of Benghazi.
Caucasus (Russia), mid-2000s to present: The National Endowment for Democracy and Freedom House have for many years been the leading American "non-government" institutions tasked with destabilizing, if not overthrowing, foreign governments which refuse to be subservient to the desires of US foreign policy. Both NGOs have backed militants in the Russian Caucasus area, one that has seen more than its share of terror stretching back to the Chechnyan actions of the 1990s. 7
"Omission is the most powerful form of lie." – George Orwell
I am asked occasionally why I am so critical of the mainstream media when I quote from them repeatedly in my writings. The answer is simple. The American media's gravest shortcoming is much more their errors of omission than their errors of commission. It's what they leave out that distorts the news more than any factual errors or out-and-out lies. So I can make good use of the facts they report, which a large, rich organization can easier provide than the alternative media.
A case in point is a New York Times article of October 5 on the Greek financial crisis and the Greeks' claim for World War Two reparations from Germany.
"Germany may be Greece's stern banker now, say those who are seeking reparations," writes theTimes, but Germany "should pay off its own debts to Greece. … It is not just aging victims of the Nazi occupation who are demanding a full accounting. Prime Minister Antonis Samarass government has compiled an 80-page report on reparations and a huge, never-repaid loan the nation was forced to make under Nazi occupation from 1941 to 1945. … The call for reparations has elicited an emotional outpouring in Greece, where six years of brutal recession and harsh austerity measures have left many Greeks hostile toward Germany. Rarely does a week go by without another report in the news about, as one newspaper put it in a headline, 'What Germany Owes Us'."
"The figure most often discussed is $220 billion, an estimate for infrastructure damage alone put forward by Manolis Glezos, a member of Parliament and a former resistance fighter who is pressing for reparations. That amount equals about half the country's debt. … Some members of the National Council on Reparations, an advocacy group, are calling for more than $677 billion to cover stolen artifacts, damage to the economy and to the infrastructure, as well as the bank loan and individual claims."
So there we have the morality play: The evil Germans who occupied Greece and in addition to carrying out a lot of violence and repression shamelessly exploited the Greek people economically.
Would it be appropriate for such a story, or an accompanying or follow-up story, to mention the civil war that broke out in Greece shortly after the close of the world war? On one side were the neo-fascists, many of whom had cooperated with the occupying Germans during the war, some even fighting for the Nazis. Indeed, the British Foreign Secretary, Ernest Bevin, acknowledged in August 1946 that there were 228 ex-members of the Nazi Security Battalions – whose main task had been to track down Greek resistance fighters and Jews – on active service in the new Greek army. 8
On the other side was the Greek left who had fought the Nazis courageously, even forcing the German army to flee the country in 1944.
So guess which side of the civil war our favorite military took? … That's right, the United States supported the neo-fascists. After all, an important component of the Greek left was the Communist Party, although it wouldn't have mattered at all if the Greek left had not included any Communists. Support of the left (not to be confused with liberals of course) anywhere in the world, during and since the Cold War, has been verboten in US foreign policy.
The neo-fascists won the civil war and instituted a highly brutal regime, for which the CIA created a suitably repressive internal security agency, named and modeled after itself, the KYP. For the next 15 years, Greece was looked upon much as a piece of real estate to be developed according to Washington's political and economic needs. One document should suffice to capture the beauty of Washington's relationship to Athens – a 1947 letter from US Secretary of State George Marshall to Dwight Griswold, the head of the American Mission to Aid Greece, said:
During the course of your work you and the members of your Mission will from time to time find that certain Greek officials are not, because of incompetence, disagreement with your policies, or for some other reason, extending the type of cooperation which is necessary if the objectives of your Mission are to be achieved. You will find it necessary to effect the removal of these officials. 9
Where is the present-day Greek headline: "What The United States Owes Us"? Where is the New York Times obligation to enlighten its readers?
The latest step in the evolution of America's Police State
"If you've got nothing to hide, you've got nothing to fear."
So say many Americans. And many Germans as well.
But one German, Ilija Trojanow, would disagree. He has lent his name to published documents denouncing the National Security Agency (NSA), and was one of several prominent German authors who signed a letter to Chancellor Angela Merkel urging her to take a firm stance against the mass online surveillance conducted by the NSA. Trojanow and the other authors had nothing to hide, which is why the letter was published for the public to read. What happened after that, however, was that Trojanow was refused permission to board a flight from Salvador da Bahia, Brazil, to Miami on Monday, September 30. Without any explanation.
Trojanow, who was on his way to speak at a literary conference in Denver, told the Spiegel magazine online website that the denial of entry might be linked to his criticism of the NSA. Germany's Foreign Ministry says it has contacted US authorities "to resolve this issue". 10
In an article published in a German newspaper, Trojanow voiced his frustration with the incident: "It is more than ironic if an author who raises his voice against the dangers of surveillance and the secret state within a state for years, will be denied entry into the 'land of the brave and the free'."11
Further irony can be found in the title of a book by Trojanow: "Attack on freedom. Obsession with security, the surveillance state and the dismantling of civil rights."
Director of National Intelligence James R. Clapper Jr., who oversees the NSA and other intelligence agencies, said recently that the intelligence community "is only interested in communication related to valid foreign intelligence and counterintelligence purposes." 12
It's difficult in the extreme to see how this criterion would apply in any way to Ilija Trojanow.
The story is a poignant caveat on how fragile is Americans' freedom to criticize their Security State. If a foreigner can be barred from boarding a flight merely for peaceful, intellectual criticism of America's Big Brother (nay, Giant Brother), who amongst us does not need to pay careful attention to anything they say or write.
Very few Americans, however, will even be aware of this story. A thorough search of the Lexis-Nexis media database revealed a single mention in an American daily newspaper (The St. Louis Post-Dispatch), out of 1400 daily papers in the US. No mention on any broadcast media. A single one-time mention in a news agency (Associated Press), and one mention in a foreign English-language newspaper (New Zealand Herald).
Notes
Washington Post, September 26, 2013 ↩
Wall Street Journal, November 1, 2001 ↩
The Guardian (London), April 22, 2002 ↩
RT TV (Moscow), May 4, 2012 ↩
Wall Street Journal, November 1, 2001 ↩
New York Times, June 17, 1993, buried at the very end of the article on an inside page ↩
Sibel Edmonds' Boiling Frogs Post, "Barbarians at the Gate: Terrorism, the US, and the Subversion of Russia", August 30, 2012 ↩
Parliamentary Debates, House of Commons, October 16, 1946, column 887 (reference is made here to Bevin's statement of August 10, 1946) ↩
Foreign Relations of the United States, 1947, Vol. V (U.S. Government Printing Office, 1971), pp. 222-3. See William Blum, Killing Hope: US Military and CIA Interventions Since World War II, chapter 3 for further details of the US role in postwar Greece. ↩
Associated Press, October 2, 2013 ↩
Huffington Post, "Ilija Trojanow, German Writer, Banned From US For Criticizing NSA", October 1, 2013 ↩
Washington Post, October 5, 2013 ↩
You know, in spite of the visit from The Bone Lady when I was just three years old, and all the grim foreshadowing that she downloaded to me via direct intuition, I always held out hope that humanity could or would somehow turn things around on this planet, and snatch victory from the jaws of defeat.
As long as there is breath there is always hope, that was my thinking for a long time, but I am no longer so sanguine.
As one of my friends recently remarked to me, there is, indeed, real evil abroad in this world. I don't know how else to explain the wickedness of what is happening at Fukushima, in Japan, where the situation with the exploded and/or melted down nuclear reactors just goes from frightfully dire to unimaginably worse.
I frequently check the developments there at www.enenews.com and the latest news is very disturbing. I said from the outset, in the spring of 2011, that Tokyo would be evacuated. I still believe that to be inevitable. It is possible that much of Japan will be evacuated to elsewhere. The apocalyptic dimensions of the crisis are being covered up by TEPCO, the Japanese government, General Electric, and the USSA government. The reality is that there was at least one, and maybe more, really dirty nuclear blasts there in March of 2011, that wrecked the reactors and created a radioactive hell that no one knows how to remedy or bring under control. At the least we are probably looking at the failure and collapse of Japanese society with likely evacuation of tens of millions of people or more, and the fairly rapid death of vast portions of the Pacific Ocean, as deadly radioactive waste water continues to flow into the sea by the hundreds of tons, every day.
And when the cooling pool at reactor four collapses, the many tons of highly radioactive, spent, fuel rods that it contains will overheat and burn and or catastrophically fission, i.e., cause a runaway, nuclear reaction, or, in lay man's terms, there will be another atomic explosion, along with a mushroom cloud, and tons of highly poisonous nuclear isotopes will be spread aloft into the atmosphere and/or will drain or be blown into the sea, to poison the Pacific Ocean even further.
This is worse than bad news. This is planetary chaos news. This is civilization ending news. This is species extinction level news, as in extinction of the human species on this planet. If you do not think so, all I can say is: wait. It won't be long. Probably not ten years, not five, maybe even by Christmas this year, and you will begin to see what i mean, if you haven't already.
And even if the cooling pool at reactor four doesn't fail or collapse of its own accord in the near future, though that is very highly probable, TEPCO's plan to manually remove the many tons of bent, mangled, fused, welded together, very highly radioactive fuel rods that remain in the pool, beginning in November of this year, is so fraught with peril that it is likely to spectacularly fail, with unimaginably negative consequences. Any slight mistake, miscue or dropped fuel rod could result in a fission criticality, a runaway nuclear chain reaction, to wit, an atomic explosion that will shower the northern hemisphere and the Pacific Basin with a fatal radioactive sleet that will persist for hundreds of thousands of years.
As I said, the situation is somewhere far south of dire, with a headlong, hellward trajectory.
The Nuclear Chain Reaction
Because what is inevitable, the longer the situation at Fukushima festers, is that the whole site will have to be abandoned. Due to the high radiation levels, no one will be able to work there without dying. So the workers will pull back, and the cooling pools and storage pools that contain thousands of tons of extremely radioactive, spent fuel rods will fail or collapse and there will be more explosions and radioactive fires. As the radioactively contaminated NO GO ZONE expands, as the population flees, the day will come when nuclear reactors at other, nearby power generating plants will also fail, melt down and/or explode, because the nuclear engineers and maintenance workers no longer come to work and operate them — BECAUSE THEY ARE DEAD.
And then there will be three or four more, and the radioactive No Go Zone will expand, widen, grow. And other nuclear power plants will then fail, melt down and/or explode, because their operators are also DEAD, and so do not come to work, do not maintain them.
There are over 50 nuclear power reactors in Japan, and they all have their spent fuel rod cooling pools. It doesn't matter if the reactors themselves are shut down, because there are thousands and thousands of tons of highly radioactive, spent, nuclear fuel rods stored in the cooling pools all over Japan. So, given time, the crisis will continue to fester and worsen, and then it will begin to cascade, like a row of toppling dominoes, only it will be a series of failing nuclear power reactors, one after the other, heralding the end of the nuclear age, and quite possible the end of humanity.
It's just that serious.
All of that will send a killing wave of radioactivity across the Pacific to North America. So what happens when the population on the west coast of the USSA flees in panic from the approaching killer wave of radioactivity? Well, there will be no one left to operate the nuclear power reactors in California, for example. or at Palo Verde, the massive nuclear power plant just to the west of Phoenix. So when those nuclear reactors and their spent fuel cooling pools fail, melt down, and/or blow up, the civilization-ending, planet-killing, Fukushima Syndrome will come home to America with a wicked vengeance.
All courtesy of General Electric. General Electric designed five out of the six reactors at Fukushima and built three of them, so what we see here is genocidal, planet-killing failure of American (alleged) "high technology" on a spectacular scale.
General Electric — busy exterminating a planet near you of its resident, biological life forms.
At the end of the day, all the differential calculus, the nuclear physics, the nuclear chemistry, the nuclear engineering, the corporate profits, the Madison Avenue advertising slogans, the multinational wheeling and dealing, all has conspired to assassinate the planet on which we, and they, all live. Make no mistake, the planet is now dying. The global poisoning process is so very far advanced that it probably cannot be stopped. Certainly, there is not now any serious, international effort to do so, not anything remotely commensurate with the level of danger that we are facing.
No doubt we are dealing with profound iniquity, a betrayal so complete of all that is human that no words exist to describe its foul dimension. The ones who have done this thing walk among us, though for how long? – understanding that they, too, will certainly drop dead along with countless millions of others, as a direct result of their abjectly arrogant ignorance.
Arrogant Ignorance
All of their super-computers, the advanced mathematics, their (so-called) "hi-tech" industrial base, all of their billions of dollars of (so-called) "high finance" — and they kill the planet? And themselves and their posterity in the process? That's the best they can do? They get a PhD in nuclear chemistry and use their (so-called) "knowledge" and (so-called) technical "expertise" to kill the planet? The planet that they also live on?
Geniuses. All of them.
Central Banking Middle East Madness
Then there is the very real prospect of a shooting, nuclear war, beginning in the Middle East. The USSA has a powerful fleet in the region. So do the Russians, as a counterpoint. Sadly for all humanity, the Washington, DC — City of London — Lower Manhattan — Tel Aviv — NATO cabal seems hell bent on war, and so we are on the slippery slope to war. Unfortunately, this psychopathic cabal is very heavily nuclear armed.
I saw all of this coming from waaaaaaay back, from way back in my infancy, since the age of three years, when The Bone Lady visited me and clued me in to realities that I still don't want to think about, given their ghastly, hideous savagery. But I'll tell you what, it's enough to give a man insomnia, it's enough to drive him out onto the nuclear missile silos, again and again, in a personal effort to inject a note of sanity and warning into a positively insane political and military climate, in an attempt to wake up anyone who may be susceptible to awakening.
ANYONE.
My latest sally was 15 April 2010 in North Dakota, USA. I went over the security fence onto the H-8 Minuteman III nuclear missile silo in the Minot Air Force Base nuclear missile field, near Parshall, North Dakota, at the intersection of 33rd Street and 76th Avenue. I conducted a nonviolent, peace demonstration on the silo and was arrested by the USSA military and imprisoned for 100 days, almost all of the time served in the Heart of America Correctional and Treatment Center in Rugby, North Dakota.
My Minot Manifesto explains my motivations, reasons and spiritual and political philosophy. It is one of the most important documents I have written in my entire life.
A Serious Message From The Heart of America was my personal statement that I mailed to the news media from jail in Rugby, North Dakota, on 14 July 2010, prior to being criminally tried and convicted in USSA federal court in Minot, North Dakota.
I explain the symbolism in my dress and accoutrements in the photo below, in the text of my lengthy Minot Manifesto. It's thirteen pages, but worth the time and effort to read. It is a major life statement on my part, that reflects literal decades of deep thought, a very large quantum of concentrated life energy and hours, weeks, months and years of preparation, a statement that distills an important fraction of my life essence into human language. I invite you to partake of my gift by taking the time to read and reflect on what I have written, and then to take meaningful, principled, creative, nonviolent action yourself.
I don't quite know what more to say, what more to do. In fact, were I to do more than I already have, and I have been out on the nuclear missile silos three times (and been jailed for my trouble all three times, in Arkansas, Missouri and North Dakota), I would run the very real risk of infringing on your right and your very real, personal RESPONSIBILITY to also courageously act. So what are you waiting for? Why are you here on this planet, at this time, reading this blog post, and articles like it?
Because make no mistake about it, the time to act, if you are going to act, is here. The time has arrived. The planet is on the brink. We face the very real prospect of a shooting nuclear war. Additionally, the Fukushima crisis, and the threat from nuclear power plants in general, ALL OF THEM, could not be more serious.
In recent days, I find myself musing about the closing scene from "Dr. Stramgelove," with the haunting song by Vera Lynn, "We'll Meet Again, Don't Know Where, Don't Know When," that was such a huge hit in World War II, for obvious reasons.
And it fills me with such melancholy and sorrow. Because if it starts, this ugly thing called nuclear war, and we are headed that way, can all unravel very rapidly. The machines will take over, and automated, pre-programmed orders of battle will be carried out, without human control, as machines battle machines with nuclear fire. Waves of missiles will come in, again and again, to batter the underground bases. I have read the declassified documents. Warhead after warhead will come in at 10 minute intervals. You cannot imagine the depths of the hell that is already programmed and waiting to be unleashed.
Back in the 1960s, the USSA military was counting on 140 million casualties in the mainland USSA alone. I know this because I have read the documents. I have done the research. The USSA population is much larger now, and much more urban, so the casualty rate would be even higher. Maybe 200 million? 250 million casualties in the USSA alone?
Do you think you will just watch that on CNN?
Refuge in the Southern Hemisphere
If you have read my previous writings you will know that I have said that IF humanity has a future, it is likely to be in the southern hemisphere, if only because the lion's share of the nuclear weapons and nuclear power reactors are in the northern hemisphere. As the nuclear power plants fail, melt down, and/or explode most of them will be in the northern hemisphere. This is not an intellectual exercise — already we have had catastrophic failure of nuclear power plants at Chernobyl, Ukraine and Fukushima, Japan. They are just the first. There will be more.
Likewise, any shooting nuclear war is logically likely to be concentrated in the northern hemisphere, since all of the known, nuclear armed, military powers are in the northern hemisphere
But even then, there are enormous problems in the southern hemisphere. The vegetation in the Amazon region of South America produces something like 20 to 30% of the oxygen in the Earth's atmosphere. As the Amazon dies, and it is being destroyed right now, so too, is the Earth's breathable oxygen supply being destroyed. I don't know about you, but I breathe oxygen all day and all night, every day and every night of my life.
So even if we resolve the nuclear issue, and there is ZERO progress on that front right now, only to lose the Amazon, we all will still die, because none of us can survive with 20 to 30% less oxygen. Just cannot.
Right now, we, humanity, every last one of us, are in a life and death struggle for the life of our species, and the life of our planet.
If we win, we live. If we lose, we die. ALL OF US.
End of the story. End of our species' genetic line. For ever and ever.
Done. Finished.
So maybe moving to Bolivia or Uruguay or Namibia or Madagascar or New Zealand will buy you a little time, a year or ten. However, if we fail to rein in and ABOLISH nuclear reactors and nuclear weapons, if we fail to reforest the Earth and cleanse it of radioactive contamination, then we are through. It's the end for us.
This is our group decision. Right now we are on a self-destructive path to global extinction.
So Here Is My View
If you will act decisively, now is the time. Pick your issue and your spot and act creatively, courageously and nonviolently.
It's your world and your life. Act like they both count for something.
And here's the other thing. If you cannot, or will not act, then how about supporting those of us who have acted, and who continue to act?
In my case, I have paid a very heavy price, in earnings forever foregone, by putting my life on the line, repeatedly, for you, whom I do not even know. But because you are my human kin, I went out on the missile silos, again and again, and I went to jail. I lost more than a year and a half of productive labor. I lost, as well, the opportunity to have a whole wide range of well paying jobs, due to my arrest and prison record, even though I have multiple advanced university degrees, up to the doctorate level.
Subsequent to my arrival in South America, I immersed myself in Amazonian shamanic culture, the better to understand the Amazonian region, the jungle itself, and the shamanic human ecology of the region that interfaces with the hyper-conscious plants in the jungle, only to be very gravely assaulted by one of the said Amazonian shamans and hospitalized for more than four months with massive trauma to both my body and emotions. I am now pursing a criminal case against the shaman and that also costs heavily, several thousands of dollars in attorneys' fees, at the very time when so much of my time and energy is taken up with therapy and the sheer physical effort of getting around with impaired mobility. Nine months after the assault I still have physical nerve trauma in my lower extremities, a good deal of numbness and what is called drop foot. I walk with crutches. My electro-therapy also costs. At the moment I cannot go to electro-therapy, although I badly need it, because I only have $35 to my name.
I have run completely through my meager life savings and there is no more.
Additionally, I have this week begun the formal petition process to the government of Ecuador to request political asylum. My years-long record of anti-nuclear activism and repeated jailing by the USSA government is one factor in my decision, coupled with other factors such as recent revelations of universal NSA surveillance and espionage, the secret arrest and indefinite military detention provisions of the NDAA of 2012 and 2013, the recently revealed, previously secret 2011 FBI documents that blatantly discuss plans to murder Occupy Movement activists by sniper fire, including in San Antonio, Texas, where I lived and worked as a window washer from 2000 to 2009, and all of this in the context of an all encompassing pattern of unbridled lawlessness and pervasive lying with regard to EVERYTHING by the American government. All of this and more, has brought home to me the seriousness of this moment that we are living now.
I have the obligation to safeguard my own liberty and safety. It is clear to me that politically I am freer and safer in Ecuador than in the USSA. The American government has taken a hard, dictatorial turn towards neo-fascism. That is the plain truth. The harsh, repressive treatment of Edward Snowden and Chelsea (formerly Bradley) Manning makes that clear enough. We are in altogether different territory now. And so I have petitioned for political refuge in Ecuador.
This also entails paying an attorney, to assist me in my interactions with the administrative, legal and political system in Ecuador. It is my life on the line and I am proceeding very carefully, every step of the way.
But it is also your life on the line, in that my anti-nuclear activism, my immersion in the Amazonian culture, and my pursuit of political refuge in Ecuador all have profound implications far beyond just me. What happens to me also has broad implications for you. The consequences of nuclear war are too horrific to contemplate, and if it is to be avoided, it is because of actions such as mine. Similarly, we simply cannot afford to lose the Amazon, and yet we are losing it right now. If we are to save it, a big part of that will be due to the personal efforts of those who come to the region and get personally involved in the nitty-gritty, even life-threatening struggle for the soul of the Amazon, because more than anything, we are involved in a pitched battle for the very spirit and soul of the Amazon and of the rest of this planet.
Similarly, if I, with my history of activism, book writing, researching, blogging, public speaking, interviews, and repeated nonviolent civil disobedience and consequent jail record, cannot obtain political refuge abroad, then what hope do you have? You're boxed in, that's what. You're in a cage with no exit.
And so, if you cannot or have not done the things that I and others like myself have done and are doing, then can you please, will you at least please support us?
I desperately need your support now. My legal fees run to thousands of dollars, and my therapy is ongoing. I appreciate and really need your generosity. Please communicate with me at: dr.samizdat1618@gmail.com or via Skype at richard.sauder333 as to how to donate.
Come Ye That Love The Lord
I am a native Virginian, and have lived, worked, traveled, studied and gone to jail all over the American South, from the Virginias and Maryland, all the way across to South Texas, and numerous points in between. A very large block of my life has been spent down South. Although I am not now a church attending man, I have in the past been in all kinds of Christian churches, both Black and White, in big cities and small country towns.
Some of the most memorable sermons I have ever heard have been by Black pastors in rural areas of the deep South. One of the things I like about the traditional Black style of hymn singing down South is the way that the head deacon or pastor will frequently line out a hymn, especially the first line or two of a verse, and then the other deacons or members of the choir will join in, accompanied by riffs on the organ, if there is an organist, and there are some really gifted organists playing in southern Black churches.
I well remember a sermon that I once chanced to hear, decades ago, by a Black lay preacher, one sultry, Sunday night, in a tiny little town way down South, about as far south as you can go, and still be in the South and not somewhere else. The ceiling fans lazily stirred the muggy summer air, as the moths flitted vainly around the naked incandescent light bulbs hanging from the ceiling overhead. The windows were flung wide open and the pale light from the sanctuary washed feebly out through the rusted screens and flooded onto the close cropped lawn that surrounded the church. It was one of the most extraordinary public speaking performances I ever witnessed. The preacher used as his text Ezekiel 37, the theme being dry bones and systematically connecting them one to the other, the purpose being to reassemble and restore "them dry bones" to life. As he spoke, I saw that he fell into a trance, that he entered another state of consciousness, that he was self-hypnotized and that the sermon itself had a sort of existence independent of him, that the message took on a life of its own and was using his mind, his mouth, his body, to project itself into the ears, hearts and minds of the sparse assemblage present that evening. As he finished, he collapsed exhausted backwards into his armchair and lined out the first words of the hymn that he wanted the choir to sing. I don't anymore remember exactly what song he called for, but it could well have been this: Come Ye That Love The Lord
If there is to truly be a new world order, as distinct from the obscene power that currently holds sway on this planet today, then we will need to see a completely new order of human being on this world, a species of human being motivated by love for the Creator and by devotion to inward and outward service to the sacred life impulse. We don't see that now, and the human species may go extinct on this planet for its want.
I do believe in God and have been profoundly privileged to see some of His servants face to face. I find their company congenial.
Come, ye that love the Lord,
And let your joys be known;
Join in a song with sweet accord,
And thus surround the throne.

Let those refuse to sing
That never knew our God,
But children of the heavenly King
May speak their joys abroad.

The God of heaven is ours,
Our Father and our love ;
His care shall guard life's fleeting hours,
Then waft our souls above.

There shall we see his face,
And never, never sin;
There, from the rivers of his grace,
Drink endless pleasures in.

Yes, and before we rise
To that immortal state.
The thoughts of such amazing bliss
Should constant joys create.

Children of grace have found
Glory begun below:
Celestial fruits on earthly ground,
From faith and hope may grow.

The hill of Sion yields
A thousand sacred sweets,
Before we reach the heavenly fields,
Or walk the golden streets.

Then let our songs abound,
And ev'ry tear be dry;
We're trav'lling through Immanuel's ground,
To fairer worlds on high.

(John Wesley, ca. 1703- 1791)
Source: Richard Sauder  |  Event Horizon Chronicle
Americans will soon be locked into an unaccountable police state unless US Representatives and Senators find the courage to ask questions and to sanction the executive branch officials who break the law, violate the Constitution, withhold information from Congress, and give false information about their crimes against law, the Constitution, the American people and those in Afghanistan, Pakistan, Yemen, Iraq, Libya, Syria, Somalia, Guantanamo, and elsewhere. Congress needs to use the impeachment power that the Constitution provides and cease being subservient to the lawless executive branch. The US faces no threat that justifies the lawlessness and abuse of police powers that characterize the executive branch in the 21st century.
Impeachment is the most important power of Congress. Impeachment is what protects the citizens, the Constitution, and the other branches of government from abuse by the executive branch. If the power to remove abusive executive branch officials is not used, the power ceases to exist. An unused power is like a dead letter law. Its authority disappears. By acquiescing to executive branch lawlessness, Congress has allowed the executive branch to place itself above law and to escape accountability for its violations of law and the Constitution.
National Intelligence Director James R. Clapper blatantly lied to Congress and remains in office. Keith B. Alexander, Director of the National Security Agency, has also misled Congress, and he remains in office. Attorney General Holder avoids telling Congress the truth on just about every subject, and he also remains in office. The same can be said for President Obama, one of the great deceivers of our time, who is so adverse to truth that truth seldom finds its way out of his mouth.
If an American citizen lies to a federal investigator, even if not under oath, the citizen can be arrested, prosecuted, and sent to prison. Yet, these same federal personnel can lie to Congress and to citizens with impunity. Whatever the American political system is, it has nothing whatsoever to do with accountable government. In Amerika no one is accountable but citizens, who are accountable not only to law but also to unaccountable charges for which no evidence is required.
Congress has the power to impeach any presidential appointee as well as the president. In the 1970s Congress was going to impeach President Richard Nixon simply because he lied about when he learned of the Watergate burglary. To avoid impeachment, Nixon resigned. In the 1990s, the House impeached President Bill Clinton for lying about his sexual affair with a White House intern. The Senate failed to convict, no doubt as many had sexual affairs of their own and didn't want to be held accountable themselves.
In the 1970s when I was on the Senate staff, corporate lobbyists would send attractive women to seduce Senators so that the interest groups could blackmail the Senators to do their bidding. Don't be surprised if the NSA has adopted this corporate practice.
The improprieties of Nixon and Clinton were minor, indeed of little consequence, when compared to the crimes of George W. Bush and Obama, their vice presidents, and the bulk of their presidential appointees. Yet, impeachment is "off the table," as Nancy Pelosi infamously declared. http://www.nytimes.com/cq/2006/11/08/cq_1916.html Why do Californian voters send a person to Congress who refuses to protect them from an unaccountable executive branch? Who does Nancy Pelosi serve? Certainly not the people of California. Most certainly not the US Constitution. Pelosi is in total violation of her oath of office. Will Californians re-elect her yet again? Little wonder America is failing.
The question demanding to be asked is: What is the purpose of the domestic surveillance of all Americans? This is surveillance out of all proportion to the alleged terrorist threat. The US Constitution is being ignored and domestic law violated. Why? Does the US government have an undeclared agenda for which the "terrorist threat" is a cover?
What is this agenda? Whose agenda is more important than the US Constitution and the accountability of government to law? No citizen is secure unless government is accountable to the Constitution and to law. It is an absurd idea that any American is more threatened by terrorism than by unaccountable government that can execute them, torture them, and throw them in prison for life without due process or any accountability whatsoever. Under Bush/Obama, the US has returned to the unaccountable power of caesars, czars, and autocrats.
In the famous play, "A Man For All Seasons," Sir Thomas More, Chancellor of England, asks: So, you would have me to cut down the law in order to chase after devils? And what will we do, with the law cut down, when the devil turns on us?
This is the most important legal question ever asked, and it is seldom asked today, not in our law schools, not by our bar associations, and most certainly not by the Justice (sic) Department or US Attorneys.
American conservatives regard civil liberties as mere excuses for liberal judges to coddle criminals and terrorists. Never expect a conservative Republican, or more than two or three of them, to defend your civil liberty. Republicans simply do not believe in civil liberty. Democrats cannot conceive that Obama–the first black president in office, a member of an oppressed minority–would not defend civil liberty. This combination of disinterest and denial is why the US has become a police state.
Civil liberty has few friends in government, the political parties, law schools, bar associations, or the federal judiciary. Consequently, no citizen is secure. Recently, a housewife researched online for pressure cookers looking for the best deal. Her husband was searching for a backpack. The result was that a fully armed SWAT team appeared at the door demanding to search the premises and to have questions answered. http://www.theatlanticwire.com/national/2013/08/government-knocking-doors-because-google-searches/67864/ 
I am always amazed when someone says: "I haven't done anything wrong. I have nothing to fear." If you have nothing to fear from the government, why did the Founding Fathers put the protections in the Constitution that Bush and Obama have stripped out? Unlike the Founding Fathers who designed our government to protect the citizens, the American sheeple trust the government to their own demise.
Glenn Greenwald recently explained how the mass of data that is being accumulated on every American is being mined for any signs of non-terrorist-related criminal behavior. As such warrantless searches are illegal evidence in a criminal trial, the authorities disguise the illegal way in which the evidence is obtained in order to secure conviction based on illegally obtained evidence.http://www.informationclearinghouse.info/article35773.htm
In other words, the use of the surveillance justified by the "war on terror" has already spread into prosecutions of ordinary criminals where it has corrupted legal safeguards and the integrity, if any, of the criminal court system, prosecutors and judges.
This is just one of the many ways in which you have much to fear, whether you think you are doing anything wrong or not. You can be framed for crimes based on inferences drawn from your Internet activity and jokes with friends on social media. Jurors made paranoid by the "terrorist threat" will convict you.
We should be very suspicious of the motive behind the universal spying on US citizens. The authorities are aware that the terrorist threat does not justify the unconstitutional and illegal spying. There have been hardly any real terrorist events in the US, which is why the FBI has to find clueless people around whom to organize an FBI orchestrated plot in order to keep the "terrorist threat" alive in the public's mind. At last count, there have been 150 "sting operations" in which the FBI recruits people, who are out of touch with reality, to engage in a well-paid FBI designed plot. Once the dupes agree, they are arrested as terrorists and the plot revealed, always with the accompanying statement that the public was never in any danger as the FBI was in control.
When 99 percent of all terrorism is organized by the FBI, why do we need NSA spying on every communication of every American and people in the rest of the world?
Terrorism seldom comes from outside. The source almost always is the government in power. The Czarist secret police set off bombs in order to blame and arrest labor agitators. The Nazis burned down the Reichstag in order to decimate the communists and assume unaccountable power in the name of "public safety." An alleged terrorist threat is a way of using fear to block popular objection to the exercise of arbitrary government power.
In order to be "safe from terrorists," the US population, with few objections, has accepted the demise of their civil liberties, such as habeas corpus, which reaches back centuries to Magna Carta as a constraint on government power. How, then, are they safe from their government? Americans today are in the same position as the English prior to the Great Charter of 1215. Americans are no longer protected by law and the Constitution from government tyranny.
The reason the Founding Fathers wrote the Constitution was to make citizens safe from their government. If citizens allow the government to take away the Constitution, they might be safe from foreign terrorists, but they are no longer safe from their government.
Who do you think has more power over you, foreign terrorists or "your" government?
Washington defines all resistance to its imperialism and tyranny as "terrorism." Thus, Americans who defend the environment, who defend wildlife, who defend civil liberties and human rights, who protest Washington's wars and robbery of the people in behalf of special interests, all become "domestic extremists," the term Homeland Security has substituted for "terrorist." Those who are out of step with Washington and the powerful private interests that exploit us, other peoples, and the earth for their profits and power fall into the wrong side of Bush's black and white division of the world: "you are for us or against us."
In the United States independent thought is on the verge of being criminalized as are constitutionally guaranteed protests and the freedom of the press. http://www.theguardian.com/commentisfree/2013/aug/10/james-risen-prison-journalism-criminalised The constitutional principle of freedom of speech is being redefined as treason, as aiding an undefined enemy, and as seeking to overthrow the government by casting aspersions on its motives and revealing its secret misdeeds. The power-mad inhabitants of Washington have brought the US so close to Gestapo Germany and Stalinist Russia that it is no longer funny. Indeed, it is sometimes difficult to see the difference.
The neoconservatives have declared that Americans are the "exceptional" and "indispensable people." Yet, the civil liberties of Americans have declined the more "exceptional" and "indispensable" that Americans become. We are now so exceptional and indispensable that we no longer have any rights.
And neither does the rest of the world. Neoconservatism has created a new dangerous American nationalism. Neoconservatives have given Washington a monopoly on right and endowed its military aggressions with a morality that supersedes the Geneva Conventions and human rights. Washington, justified by its "exceptionalism," has the right to attack populations in countries with which Washington is not at war, such as Pakistan and Yemen. Washington is using the cover of its "exceptionalism" to murder people in many countries. http://news.antiwar.com/2013/08/11/us-drones-pound-yemen-but-targets-arent-all-militants/print/ Hitler tried to market the exceptionalism of the German people, but he lacked Washington's Madison Avenue skills.
Washington is always morally right, whatever it does, and those who report its crimes are traitors who, stripped of their coddling by civil liberties, are locked away and abused until they confess to their crimes against the state. Anyone who tells the truth, such as Bradley Manning, Julian Assange, and Edward Snowden, are branded enemies of the state and are ruthlessly persecuted.
How does the "indispensable, exceptional nation" have a diplomatic policy? How can a neoconized State Department be based on anything except coercion? It can't. That is why Washington produces nothing but war and threats of war.
Wherever a person looks, whatever a person hears, it is Washington's threat–"we are going to bomb you into the stone age" if you don't do what we want and agree to what we require. We are going to impose "sanctions," Washington's euphemism for embargoes, and starve your women and children to death, permit no medical supplies, ban you from the international payments system unless you relent and consent to being Washington's puppet, and ban you from posting your news broadcasts on the Internet.
This is the face that Washington presents to the world: the hard, mean face of a tyrant.
Washington's power will survive a bit longer, because there are still politicians in Europe, the Middle East, Africa, Asia, Latin America and in Canada, Australia, New Zealand, and the NGOs in Russia, who are paid off by the almighty dollar. In exchange for Washington's money, they endorse Washington's immorality and murderous destruction of law and life.
But the dollar is being destroyed by Quantitative Easing, and the domestic US economy is being destroyed by jobs offshoring.http://www.manufacturingnews.com/news/TAA0731131.html 
Rome was powerful until the Germans ceased to believe it. Then the rotten edifice collapsed. Washington faces sooner or later the same fate. An inhumane, illegal, unconstitutional regime based on violence alone, devoid of all morality and all human compassion, is not acceptable to China, Russia, India, Iran, and Brazil, or to readers of this column.
The evil that is Washington cannot last forever. The criminals might destroy the world in nuclear war, but the lawlessness and lack of humanity in Washington, which murders more people as I write, is no longer acceptable to the rest of the world, not even to its European puppet states, despite the leaders being on Washington's payroll.
Gorbachev is correct. The collapse of the Soviet Union was a debacle for the entire world. It transformed the US from the "city upon the hill," the "beacon for humanity," into an aggressive militarist state. Consequently, Amerika has become despised by everyone who has a moral conscience and a sense of justice.
Paul Craig Roberts was Assistant Secretary of the Treasury for Economic Policy and associate editor of the Wall Street Journal. He was columnist for Business Week, Scripps Howard News Service, and Creators Syndicate. He has had many university appointments. His internet columns have attracted a worldwide following. His latest book, The Failure of Laissez Faire Capitalism and Economic Dissolution of the West is now available.
Source: Paul Craig Roberts
I do not want to pretend that this is an impartial investigation. Instead I am now fully convinced that most diseases are indeed caused by the medical system, and in the following I want to state my reasons for this conclusion.
Increasingly over the years my health beliefs have been turned around. I started out by working as a biochemist and toxicologist in university medical departments fully believing that all these chronic and incurable diseases are indeed incurable and generally of unknown origin, but that pharmaceutical drugs made life easier for patients and often were even curative. My re-education started after immigrating to New Zealand and learning about natural healing and living; this made me realize that disease is mainly caused by unnatural living conditions and can be overcome by natural methods of living and healing.
While I learned about the harmful nature of drug treatment, I was still thinking of it as being ineffective and causing side-effects rather than as a main cause of our diseases. Diseases caused by medical treatment are called iatrogenic diseases. The total number of iatrogenic deaths in the USA for 2001 is estimated to be 783,936. These were due to fatal drug reactions, medical error and unnecessary medical and surgical procedures. With this, the medical system is the leading cause of death and injury in the United States. In comparison the 2001 heart disease death rate was 699,697 and the annual cancer death rate 553,251 (1).
This is also the reason why it is so beneficial for patients when doctors go on strike. Statistics show that whenever there was a strike by doctors, the death rate in the affected population fell dramatically. In 1976 the death rate fell by 35 per cent in Bogotá, Colombia. In Los Angeles County,California, it fell by 18 per cent during a strike in the same year, while in Israel it fell by 50 per cent during a strike in 1973. Only once before was there a similar drop in the death rate in Israel and that was during another doctors' strike 20 years earlier. After each strike the death rate jumped again to its normal level (2).
However these figures of iatrogenic deaths do not take into account iatrogenic diseases from the long-term harm done by medical treatments where patients survive but with a chronic disease. My real awakening to this problem started when I became aware of the story of Orion Truss who discovered the Candidiasis-causing potential of antibiotics.
Dr Orian Truss
In 1953 Dr Orian Truss discovered the devastating effects of antibiotics in an Alabama (USA) hospital (3). During a ward round Truss was intrigued by a gaunt, apparently elderly man who was obviously dying. However, he was only in his forties and in hospital for four months. No specialist had been able to make a diagnosis. Out of curiosity Truss asked the patient when be was last completely well.
The man answered that he was well until six months before when he had cut his finger. He had received antibiotics for this. Shortly afterwards he developed diarrhoea and his health deteriorated. Truss had seen before how antibiotics cause diarrhoea. It was known that Candida was opportunistic and thrived in debilitated patients, but now Truss wondered if it might not be the other way round, that Candida actually caused the debilitated condition.
He had read that potassium iodide solution could be used to treat Candida infestation of the blood. So he put the patient on six to eight drops ofLugol's solution four times a day for 3 weeks and soon the patient was again completely well.
Soon afterwards he had a female patient with a stuffy nose, a throbbing headache, vaginitis and severe depression. To his amazement all her problems immediately cleared with Candida treatment. Some time later he saw a female patient who had been schizophrenic for six years with hundreds of electroshock treatments and massive drug dosages. He started treating the woman for sinus allergies with a Candida remedy. Soon she had recovered mentally and physically, and remained well.
From then on he treated his patients against Candida at the slightest indication of its presence. Many of his patients made remarkable recoveries from most unusual conditions, including menstrual problems, hyperactivity, learning disabilities, autism, schizophrenia, multiple sclerosis and auto-immune diseases such as Crohn's disease and lupus erythematosus.
Every experienced naturopath can relate similar success stories. Also some alternative medical practitioners have realized the curative potential of anti-Candida therapy, as for instance Dr William Crook who wrote several books about the successful treatment of allergies and hyperactive children (4).
The Antibiotic Syndrome
Candidiasis is not the only side-effect of antibiotic treatment, and antibiotics are not the only drugs that cause such problems. Drugs used in chemotherapy, anti-inflammatory steroidal drugs and other long-term drug therapies tend to kill or suppress the natural intestinal bacteria, and yeast, parasites and harmful bacteria start taking over. This is then called dysbiosis. Most patients receive such drugs in hospitals and can be expected todevelop systemic Candida overgrowth as a result.
Our natural intestinal flora, mainly based on lactobacteria, not only helps to digest and absorb food, it also protects us against ingested harmful bacteria that otherwise may cause food poisoning. With a healthy intestinal flora millions of salmonella bacteria may be needed to cause an infection but with dysbiosis only tens of salmonella would be required.
With chronic dysbiosis the intestinal wall becomes inflamed, causing ulcers, appendicitis, malabsorption and Crohn's disease, and as the intestinal membrane erodes we develop multiple food allergies, arthritis and autoimmune diseases. In addition to Candida also other pathogens and parasites now invade the bloodstream and various organs. With live cell analysis natural therapists can see and show their patients the fungi in their blood. This invasion greatly weakens the immune system so that people now become susceptible to frequent or chronic infections. Commonly this is then treated with more antibiotics, which continues to intensify the symptoms.
Actually, the problem is not with the antibiotics. You can take a course if you feel it is needed, provided that you take a fungicide, such as fresh garlic, at the same time, and have some probiotics after the antibiotic and before you ingest any carbohydrates. This will prevent most diseases that are caused by the careless medical method of using antibiotics. For more details see Candida and the Antibiotic Syndrome.
Autoimmune Diseases and Asthma
Autoimmune diseases, including psoriasis, lupus erythematosus and pancreatitis, have been linked to dysbiosis. When remedies are given that bind bacterial endotoxins, these conditions usually improve. In addition autoimmune diseases have been shown to be linked to mycoplasmas ornanobacteria which start to develop from diseased red blood cells in the presence of toxic chemicals and systemic Candida. The weaker our immune system becomes, the more these mycoplasms start to develop into bacterial and finally fungal forms. They have been found in all autoimmune diseases, cancers and AIDS (5).
Antibiotics are also a major contributing cause of asthma. Children who received broad-spectrum antibiotics were about 9 times more likely to suffer from asthma (6). A recent research paper confirmed dysbiosis as a main cause of asthma (7)
In the 1980's New Zealand had the highest rate of asthma deaths in the world. This was drastically reduced when in 1991 the inhaler drug Fenoterolwas banned as it caused a 13 times higher risk of dying (8). This reduction in the asthma death rate was generally hailed as a great triumph for medical science. Other studies revealed that asthmatics using more than one bronchodilator inhaler a month had a fifty-fold increased risk of suffering a fatal asthma attack.
In addition to asthma, I also see the combination of pasteurized cow's milk with antibiotic-induced dysbiosis in babies and infants as the main cause of their frequent infections, glue ear and greatly contributing to cot or crib death. Because health authorities insist on pasteurizing milk, and doctors prescribe antibiotics without the most basic precautions, I regard asthma and most childhood infections as predominantly iatrogenic diseases.
In the 'good old days' people ingested a lot of lactic acid fermented foods and raw milk products that replenished our 'good' bacteria, and because antibiotics had not been invented, dysbiosis and therefore chronic diseases were rare. Instead people mainly died from acute infections due to unhygienic living conditions, and in the slums also from malnutrition.
Staphylococcus aureus or golden staph causes serious infections in hospital patients. It has been found that not only golden staph but also other infections are greatly potentized when they occur combined with Candida overgrowth. As Candida overgrowth is a natural outcome of the standard hospital treatment, it is easy to see why golden staph is so deadly in hospitals.
A similar picture emerges with AIDS. People do not die from the AIDS virus but from Candida or fungal-potentized bacterial and mycoplasmainfections. The end stage of AIDS is the same as the end stage of cancer. It is called cachexia, a wasting condition mainly caused by fungal overgrowth. Lugol's iodine solution and other systemic fungicides should do wonders for it. Presently also MMS, a 28% solution of sodium chlorite, is gaining acceptance as an effective antimicrobial remedy (see http://miraclemineral.org).
All of this shows that antibiotic-induced dysbiosis and Candida are not isolated and relatively harmless problems as the medical profession prefers to believe, but rather the underlying cause of most of our modern diseases.
 Cancer and Leukemia
One hundred years ago the rate of cancer was very low. I have no doubt that the phenomenal increase in the use of agricultural and industrial chemicals as well as pharmaceutical drugs has greatly accelerated the increase in the rate of cancer, and there is also a link to the consumption of sugar.  Even stronger is the link to dysbiosis and Candida.
Chemotherapy commonly leads to systemic Candida infections, which greatly limit the success rate of the treatment. Long-term follow-up studies show that children develop 18 times more secondary malignant tumors later in life, girls face a 75 times higher risk of breast cancer by the time they are 40 (9), while the risk of developing leukemia after chemotherapy for ovarian cancer increased 21-fold. Also other tumors commonly develop after treating malignancies with chemotherapy (10). A main problem appears to be the development of deep or systemic Candida infections shortly after starting chemotherapy (11).
Only recently have oncologists started to acknowledge what patients called "chemo-brain", a distressing loss of memory and other cognitive functions.  Psychiatrists have now found that the conventional treatment of cancer causes serious depression in 15 to 25 percent of patients. "The depression itself can often be worse than the disease" they say (12). Brain fog and depression are common with systemic Candida.
All of this shows that chemotherapy tends to cause leukemia and cancer many years later mainly as a result of dysbiosis and systemic Candida. The reason for the widespread use of chemotherapy despite its lack of effectiveness, severe side effects, and long-term cancer promotion can be seen in the fact that private-practice oncologists (in the US) typically derive two-thirds of their income from selling chemotherapy to patients (13).
This chemotherapy connection makes it very likely that dysbiosis and systemic Candida can also cause cancer and leukemia when they are caused as a result of antibiotic treatment. The rate of cancer really accelerated only after the use of antibiotics became widespread.
There is also more direct evidence that Candida and other fungi are a cause of leukemia. Meinolf Karthaus, MD, reported several children with leukemia going into remission upon receiving antifungal remedies for their 'secondary' fungal infections (14). In his lifetime work Milton White, MD, was able to find fungal spores in every sample of cancer tissue he studied (15).
Fungal infections have been diagnosed and treated as leukemia, and leukemia has disappeared on grain-free diets, presumably because of the high content of mycotoxins in grains (16).
The Italian oncologist Dr. Tullio Simincini claims a success rate of up to 90% by treating cancer as a fungus. He infuses tumors with sodium bicarbonate solution and recommends taking bicarbonate in water to get rid of gastro-intestinal tumors (17).
Recently I received a personal communication that a large stomach tumor had unexpectantly shrunk after swallowing some mouthwash for a few weeks for a different problem. The main ingredient of this mouthwash was benzoic acid, a strong fungicide that inhibits the metabolism of fungal cells. Cancer cells have the same fungal-type metabolism which thrives on high levels of glucose and insulin, and they may therefore be regarded as a kind of fungal cells.
While the work of the German Dr Ryke Geerd Hamer (18) shows that emotional shock is a major trigger for the development of cancer, a weak immune system as caused by intestinal dysbiosis, systemic Candidiasis, toxic chemicals, and root canal treatments appears to be an essential co-factor. After all, a century ago people must have had a similar number of emotional shocks as at present, but cancer was very rare. Conversely, there are lots of people with dysbiosis and root canals that do not have cancer, but add emotional shock, and voilà!
Root Canals
Root-canal filled teeth are a variation of the theme of intestinal dysbiosis. They, too, appear to be a major contributing factor in many health problems, not only cancer but also heart disease, arthritis, kidney disease and auto-immune diseases. This is due to microbes that multiply in the multitude of tiny canals or tubules in the dentine and gradually leach out into the lymph system. Even normally harmless microbes become very dangerous and more virulent and toxic under the anaerobic conditions in dead teeth.
Dr Weston Price (19), a former Director of Research for the American Dental Association, observed that the removal of root-filled teeth from patients with kidney or heart disease would in most cases lead to an improvement. When he then inserted a removed root-filled tooth under the skin of a rabbit it would die within 2 days. When he implanted normal teeth there was no adverse health effect. In some experiments he implanted the same fragments of root-filled teeth in succession under the skins of up to 100 rabbits and they all died within 2 weeks of the same disease that the human donor had!
Dr Price conducted about 5,000 experiments over 25 years. He did not find a reliable method to disinfect dead teeth and make them safe. His research has been suppressed, and if at all mentioned by our dental associations then they are described as "dated" because this research was conducted and published over 70 years ago but it has never been repeated or otherwise investigated, or root canals shown to be safe.
The main argument for their supposed safety is that millions of people have them and are still alive many years later. The question of root canals causing widespread degenerative diseases is not discussed or researched. Price found that about 30% of individuals have such a strong immune system that they do not develop problems from root canals until they become old but the remaining 70% develop problems much sooner.
I regard root canals, even more so then intestinal dysbiosis, as a major cause of autoimmune diseases. In 1993 George E. Meinig, DDS, a formerUS root canal specialist, re-published the dental research of Dr Price in a popular version, and included his own experiences (20).
Iatrogenic Heart Attacks
One hundred years ago heart attacks were almost unknown despite diets generally being high in saturated fats. The ascent of heart attacks began with the pasteurization of milk and the use of chlorine to kill bacteria in public water supplies. This began around 1900 and was generally accepted in Western countries in the l920's. From 1920 onwards the explosive increase in the incidence of cardiovascular disease and fatal heart attacks began, but only in countries that chlorinated their water supplies. These diseases remained unknown, for instance, in Africa, China, Japan, and other parts of ASIA. However, when Japanese citizens immigrated to Hawaii where water was chlorinated, they suffered the same rate of heart attacks as the Americans, and the black population in the US have the average US rate of heart attacks but not their brothers in Africa. Inhabitants of the non-chlorinated Roseto in Pennsylvania remained free of heart attacks unless they moved to a chlorinated area (21).
Some of the chlorine reacts with organic impurities in water to form organochlorins (DDT is an Organo-chlorine) while the rest remains as residual free chlorine in the water. It may then react either with food chemicals or with parts of our digestive tract. In 1967 a Dr J. Price in the US performed a decisive experiment. With one group of 50 three-month-old chickens (cockerels) he added one third of a teaspoon of chlorine bleach to about one litre of water whilst another group of 50 chickens served as controls. Seven months later over 95 per cent of the chlorinated group had advanced atherosclerosis, yet none of the control group showed any such evidence.
In the following years Dr Price repeated his experiment many times, always with the same results, and more recently even researchers funded by the US Environmental Protection Agency have confirmed atherosclerotic type changes in other animals, including monkeys, when exposed to chlorinated water (22).
Drugs and Chemicals
Basically all drugs are more or less toxic, the more so, the more 'powerful' they are. Natural remedies cannot be patented, therefore in order to maximize profits the pharmaceutical industry routinely makes and sells synthetic versions of effective natural remedies. Synthetic substances are usually more difficult to detoxify than natural remedies and tend to create more problems the longer they are taken. Often they become highly addictive and after some time may cause the symptoms that they originally alleviated. This, however, is rarely acknowledged by drug companies or medical practitioners, instead when a problem arises simply alternative or additional drugs are prescribed.
A main problem is that drugs are tested individually for relatively short periods, but are then prescribed as drug cocktails for very long periods. Drugs have not been tested under these conditions, and therefore all drug use, except as individual drugs for short periods, is unscientific and unsafe. As a result of this, there are countless dangerous and fatal drug interactions and side-effects as reported in numerous books, articles and statistics.
It is similar with the thousands of synthetic chemicals and heavy metals that are allowed by health authorities to contaminate our living space. These are even less tested than drugs but also react with each other and with drugs in a brew that is impossible to disentangle.
I want to mention just one instance of such a combination. The herbicide paraquat and the fungicide maneb are widely used in farming and may remain present as crop residues. Each on its own did not cause a problem but if rats and mice were exposed to both together, even at very low rates, they developed symptoms of Parkinson's disease.  The leader of the research team said: "No one has looked at the effects of studying together some of these compounds that, taken by themselves, have little effect. This has enormous implications," and "it's a huge problem to start thinking about a nearly infinite array of mixtures of chemicals, instead of the risk that a single chemical might pose" (23).
We have similar problems with fluoride and chlorine as well as mercury, aluminium, nickel and other heavy and toxic metals being deliberately put into vaccines and used in dentistry. For a detailed documentation of the problems associated with heavy metals and endocrine disrupting chemicals see Bernard Windham (24).
Sunlight
Health authorities and medical associations have campaigned strongly to avoid sun exposure of the skin. Presumably this causes skin cancer, including melanoma that can kill. However, the vast majority is normal skin cancer that almost never kills, and there is widespread doubt that melanomas are really caused by normal sun exposure, although there seems to be a link with sunburn. Generally outdoor workers with the most sun exposure had the lowest rates of skin cancer and melanoma, while melanomas often show up in office workers. Melanoma often occurs on areas of the skin that had not been exposed to sunlight. Other studies show a strong link between long-term exposure to fluorescent lighting and melanoma (25). With the present campaign to replace all incandescent light bulbs with fluorescent ones, I expect a melanoma epidemic in ten to twenty years (26).
Now more and more research papers show that a vast number of diseases, and especially cancer, could be avoided by greatly increasing our levels of vitamin D with suitable foods, supplements, and frequent or daily short sun exposure of the skin. Sunlight is our main source of vitamin D. Research shows that there is a strong negative correlation between available sunlight and breast cancer death rates – living in a sunny area is associated with lower cancer rates. Even skin cancer is inhibited by regular low-level sun exposure; only sunburn is a strong skin cancer promoter. It has now been calculated that with these measures worldwide about 600,000 cases of colon and breast cancer could be prevented (27).
Furthermore, the researchers pointed out that by increasing levels of vitamin D3 by regular sun exposure and other measures we could prevent diseases that claim nearly 1 million lives throughout the world each year (28, 29).
The irony of all this is that the present skin cancer epidemic has, in my opinion, been manufactured by our health authorities and medical experts. There are three conditions that make us susceptible to develop skin cancers with high sun exposure. These are overacidity, a high ratio of omega-6 to omega-3 fatty acids, and a lack of antioxidants. The most common cause of overacidity is Candida overgrowth, especially in combination with the officially recommended diet high in cereals. Our omega-6 to omega-3 ratio was always somewhat too high but it went off the chart when our health authorities recommended replacing saturated fats with seed oils high in omega-6 fatty acids. This increased inflammatory conditions of all kinds, including tumors and skin cancers. To make matters worse, health authorities also discourage and legally minimize the use of antioxidant nutrients.
With these measures health authorities created the conditions for an epidemic of skin cancers. Then they tried to prevent skin cancers by recommending complete avoidance of sun exposure, which in turn caused large-scale vitamin D deficiency with an estimated loss of 1 million lives each year. I sometimes ask myself if it is simply ignorance and incompetence or if there is something more sinister to it.
The Obesity epidemic     
I could write a book about all the health problems caused by the medical-pharmaceutical complex and the neglectful way in which health authorities contribute to our diseases. In addition to directly causing diseases, these same forces also prevent the healing of these same diseases by restricting, suppressing and persecuting the practitioners of natural medicine as well as giving disease-causing nutritional advice.
Until 1980 the rate of obesity and Type 2 diabetes was fairly stable. However, when health authorities in the U.S.A. started vilifying foods containing fats and cholesterol, and recommended eating more carbohydrates instead, obesity increased from 15% of the adult U.S. population to 25% within one decade and continued to rise to 32.9% in 2003-2004 (30). Type 2 diabetes became an epidemic as well. In addition, for the first time in history a large number of obese children developed Type 2 diabetes. Since then it is no longer called maturity-onset diabetes. Also children start now developing Type 1 and Type 2 diabetes simultaneously (31, 32, 33). All of these are iatrogenic diseases, caused by the medical system.
Natural practitioners are experts in preventing and successfully treating chronic diseases with nutrition and other natural methods. This includes the metabolic syndrome which leads to diabetes, heart disease and overweight. It is routinely and quickly remedied with proper nutrition, but with accepted medical practice it becomes a life-long condition managed with more or less toxic drugs. Surgery is used for a wide range of conditions, and patients are severely traumatized or mutilated for life when these problems could be successfully treated with natural therapies.
Vaccinations
Vaccinations are the proud showpiece of drug medicine in eliminating the dreaded childhood infections of previous centuries. However, long-term statistics and diagrams tell a different story. Starting between 1850 and 1900 scarlet fever, diphtheria, whooping cough, and measles had declined by about 90% by the time general vaccination was introduced for each disease. While statistics vary between different countries, this is generally true for England, the United States and Australia. Whooping cough had declined in England by about 98.5% before a vaccine became generally available, and measles had declined by over 99%. Tuberculosis had declined by 87% when antibiotics first became available and by 93% before the introduction of the BCG vaccine. The death rate from rheumatic fever had declined by 86% when penicillin was introduced (34). All of this has obviously more to do with better plumbing than with vaccinations.
There are also statistics showing that death rates from targeted diseases rose with the introduction of vaccines. Other side-effects ascribed to modern vaccines are cot or crib death (SIDS), a strong rise in autism and ADHD, and shaken baby syndrome (spot bleeding in the brain) which apparently landed innocent parents in jail. Experts strongly deny that there is a connection between vaccines and autism, but it is strange nevertheless that the rates of autism have suddenly exploded after greatly increased numbers of vaccinations in recent decades, and there is no obvious alternative reason. Also autism is absent in Amish children who are generally not vaccinated. Vaccinated children are reported to have about 150% more neurological disorders such as ADHD and autism compared to unvaccinated children (35).
Another curios aspect of vaccine safety statistics was highlighted by Dr Archie Kalokerinos. Working in the remote Australian outback with Aboriginals he found that every second child died as a result of vaccinations. Because deaths commonly occurred about 3 weeks later, they were not recorded as vaccine-related; officially reactions were limited to occur only for up to 2 weeks after vaccination. However, eventually Dr Kalokerinossolved the problem by giving babies high doses of vitamin C before vaccinations, and no more vaccination deaths occurred. Also SIDS disappeared. Naturally he encountered ridicule and hostility from his medical colleges, and babies are still dying needlessly (36).
Deliberate Bias Against Natural Therapies
It has become a habit that any successful natural cancer remedy or treatment is quickly outlawed by our health authorities. Many natural health practitioners have been dragged before the courts and often imprisoned, especially in the area of cancer treatment (37). This is especially regrettable because there is no evidence that the methods of orthodox cancer therapy are in any way successful (38).
One of the methods increasingly used to denigrate natural therapies is for the pharmaceutical industry to finance shoddy research on natural remedies and then proclaim them to be ineffective or harmful. This is only partly intended to influence the general public but mainly to provide the justification for health authorities to outlaw and greatly restrict natural remedies (39).
Another strategy is not to list favorable vitamin studies in the MEDLINE database. This is taxpayer-funded and operated by the US National Library of Medicine. It lists all articles by medical research journals, including Time magazine and Readers' Digest, but not the peer-reviewed Journal of Orthomolecular Medicine (http://www.orthomed.org/jom/jomlist.htm) which specializes in vitamin research. Now the British Medical Journal has published a letter about Medline bias (40) and this has forced Medline to index articles on Medline bias.
Because all these favorable vitamin studies are not indexed by Medline, proponents of drug medicine can claim that there are no studies that show that vitamins are useful in the treatment of diseases or that they are safe in high doses, and therefore should be restricted to very low doses. Of course, world-wide yearly fatalities due to vitamins are zero; in comparison drug fatalities are infinitely higher.
30 years ago Linus Pauling showed that high doses of vitamin C are beneficial in cancer treatment. This has been 'disproved' by the orthodoxy ever since. But now a study by conventional Johns Hopkins scientists has shown that he was right (41). In addition, the Journal of Orthomolecular Medicine has just published a double-blind, randomized clinical trial showing that HIV-positive patients given supplemental nutrients can stop their decline into AIDS (42). This would pose a big threat to the medical-pharmaceutical complex and is one more reason not to index this journal on Medline.
There exists a systemic culture of suppression of dissenting views in science and medicine, and frequently a vicious persecution with "Gestapo-like" methods (43, 44). Recently in the US even a mother has been jailed and brutalized for "illegally" using natural methods to cure her son of malignant melanoma (45).
Of course, this assault of the medical-pharmaceutical complex on natural healing methods is not illegal. On the contrary, in a capitalist system it is their duty to maximize profits by eliminating the competition and generating a steady supply of patients with chronic diseases who can be managed indefinitely with drugs. The question is just why do government health authorities make and enforce laws on behalf of drug medicine and against natural medicine?
Theoretically they should be impartial and ensure the best outcome for the population. I believe the answer can be found in some good lateral thinking by the pharmaceutical industry. By paying for and influencing much of the medical education (46, 47, 48), they automatically produce health officials and government advisers who are steeped in pharmaceutical thinking and biased against natural medicine. No bribery is needed, but health officials always know that there is a well-paid job waiting if and when they want to retire from government service, simple!
Natural Medicine to the Rescue
Health authorities so far have ignored the claims and evidence of natural medicine that it is the superior form of treatment for chronic and medically incurable diseases. The very fact of a high rate of chronic disease in our society attests to the inability of the medical profession to successfully treat these diseases. I have no doubt that natural medicine could eliminate most chronic diseases within a decade, needing only a few percent of the money that is spent on conventional medicine. The knowledge is already available; no expensive high-tech research is needed that may or may not give results sometime in the future.
There is a simple low-cost solution for bringing about the healing of our society:
1.   Phase out public assistance for pharmaceutical companies and their research, and require research to show that a drug is safe with long-term use in combination with other common drugs and chemicals and with old or fragile patients, or alternatively that it is superior in the long-term to available natural treatments
2.   Make it illegal for pharmaceutical companies to fund medical education or provide drug information, marketing or incentives directly to the public or to medical practitioners, or to employ former health officials. Information to medical practitioners should be provided by an independent and impartial body
3.   Except for unethical conduct according to general society standards, make it illegal for medical associations to restrict the therapies used by their members
4.   Afford qualified practitioners of natural medicine the same recognition and opportunities as those of drug medicine, including in hospitals, rehabilitation, research and publications, health departments and regulating authorities
So far our medical and economic leaders do not want to face reality. They brainwash the public into believing that the present health situation is completely normal. Importantly, the whole economic structure of Western civilization is based on the production and distribution of goods and services that are contributing to poor health. These include chemicalized agriculture and food processing, the pharmaceutical industry, technological medicine and the petrochemical and plastics industries.
The guiding motto for industry is 'profit', while for the consumer it is 'convenience'. The price for all to pay is the loss of health. This situation is the natural outcome of a society based on selfish motivation. A change for the better can only come when more and more people realize that ultimately they harm themselves with selfish attitudes, and start electing leaders who are prepared to act in a compassionate and cooperative way in the interest of the whole society. We get what we choose: natural health or enduring drug management.
REFERENCES 
(1)      Null, G, Dean, C. et al.: Death by Medicine. Nutrition Institute of America, Nov 2003, www.NutritionInstituteOfAmerica.org
(2)      Mendelsohn, R.S. Confessions of a Medical Heretic. McGraw-Hill 1990, first published Contemporary Books, Chicago, 1979
(3)      Truss, C.O.: The Missing Diagnosis. Truss, Birmingham, AL, 1983
(4)       Crook, W.G.: The Yeast Connection. Vintage Books, N.Y. 1986
(5)       Cantwell, A." The Cancer Microbe. Aries Rising Press, Los Angeles, 1990. http://ariesrisingpress.com/ is Alan Cantwell's website
(6)      Motluk, Alison, "Baby study links antibiotics to asthma" New Scientist 30 September  2003
(7)      G. Huffnagle and M.C. Noverr in the January 2005 issue of Infection & Immunity
(8)      Crane J, Pearce N. et al: Prescribed fenoterol and death from asthma in New Zealand, 1981-83: case-control study. Lancet 1989, Apr 29; 1 (8644):917-22
(9)      Bhatia, S., Robison, L.L. et al.: Breast cancer and other second neoplasms after childhood Hodgkin's disease. N Engl J Med. 1996 Mar 21;334(12):745-51.
(10)   Klein-Szanto, A.J.P.: Carcinogenic effects of chemotherapeutic compounds. Progress in Clinical and Biological Research, 374, 167-74, 1992.
(11)    Klingspor, L., Stintzing, G., Tollemar, J. Deep Candida infection in children with leukaemia. Acta Paediatr 86 (1) 30-6, 1997
(12)    Moss, R.W.: THE MOSS REPORTS Newsletter #128 April 11/04
(13)    Reynolds T.: Salary a major factor for academic oncologists, study shows. J Natl Cancer Inst 2001;93(7):491. Retrieved March 12, 2004 from:http://jncicancerspectrum.oupjournals.org/cgi/content/full/jnci;93/7/491 and Abelson, Reed. Drug sales bring huge profits, and scrutiny to cancer doctors. New York Times. January 26, 2003, page A1. Cancer scare tactics: New York Times editorial March 22, 2004
http://www.nytimes.com/2004/03/22/opinion/22MON2.html. Also in THE MOSS REPORTS Newsletter #126 03/28/04
(14)    Karthaus, M. Treatment of fungal infections led to leukemia remissions. Sept. 28, 1999
(15)    White, M.W. Medical Hypotheses. 1996;47,35-38
(16)    Etzel, R.A. Mycotoxins. Jan 23, 2002. 387(4). Journal of the American Medical Association
(17)    Simoncini, T.: Is the Cause of Cancer a Common Fungus? Nexus Magazine Vo. 14/5, 2007, also www.cancerfungus.com
(18)    The official English-language website of Dr Hamer is at www.newmedicine.ca. See also The New Medicine of Dr Hamer (Nexus Magazine 10/05 and www.health-science-spirit.com/hamer.html)
(19)   Price, Weston A., Nutrition and Physical Degeneration, Price–Pottenger Nutrition Foundation, first published 1939, http://www.ppnf.org/catalog/product_info.php?products_id=226
(20)    Meinig, G.E: Root Canal Cover-Up. Bion Publ. 1993 www.ppnf.org/catalog/ppnf/Articles/Rootcanal.htm
(21)   Price, Joseph M: Coronaries/Cholesterol/Chlorine. Jove Books, New York, 1981
(22)   ibid.
(23)   Comments by Prof. Deborah Cory-Slechta, Ph.D. reported at http://www.mindfully.org/Pesticide/Paraquat-Maneb-Parkinsons.htm
(24)   Bernard Windham: www.flcv.com/dams.html and www.flcv.com/indexa.html
(25)   Walter S.D., Marrett L.D., Shannon H.S.,From L. and Hertzman C.: The Association of Cutaneous Malignant Melanoma and Fluorescent Light Exposure. Am J Epidemiol 1992; 135:749–62;  http://aje.oxfordjournals.org/cgi/content/abstract/135/7/749
(26)   http://www.greenhouse.gov.au/energy/cfls/index.html
(27)   Press Release: Study shines more light on benefit of vitamin D in fighting cancer: http://www.eurekalert.org/pub_releases/2007-08/uoc–ssm082107.php
(28)   Dr Mercola: Lack of Sunshine Causes One Million Deaths a Year.  http://articles.mercola.com/sites/articles/archive/2007/08/24/lack-of-sunshine-causes-600-000-cancers-a-year.aspx
(29)   Garland C.F., Grant W.B. et al: What is the Dose-Response Relationship between Vitamin D and Cancer Risk?  Nutrition Reviews, Volume 65, Supplement 1, August 2007 , pp. 91-95(5)
(30)   Centers for Disease Control and Prevention, "Overweight and Obesity", http://www.cdc.gov/nccdphp/dnpa/obesity/index.htm
(31)   Centers for Disease Control and Prevention, "Number (in Millions) of Persons with Diagnosed Diabetes, United States, 1980–2005″, http://www.cdc.gov/diabetes/statistics/prev/national/figpersons.htm
(32)   Yale Medical Group, "Type 2 Diabetes Tough on Teens", August 2007, http://www.yalemedicalgroup.org/news/diabetes_807.html
(33)   Thompson, Dennis, "'Double Diabetes' a New Threat", 3 December 2006, http://www.livescience.com/healthday/534999.html
(34)   http://www.whale.to/a/graphs.html and http://www.healthsentinel.com/graphs.php
(35)   Generation Rescue Press Release 25 September 2007, http://www.generationrescue.org/survey_pr.html
(36)   Archie Kalokerinos: Every Second Child. Thomas Nelson (Australia) Melbourne1974 and Keats Publishing New Canaan CT 1981
(37)   Walter Last: Persecution of Natural Cancer Therapists. www.health-science-spirit.com/cancerpersecution.html
(38)   Walter Last: How Scientific are Orthodox Cancer Treatments? NEXUS 2004; 11(4); also at  www.health-science-spirit.com/cancerscience.html
(39)    For details see Alliance for Natural Health http://www.alliance-natural-health.org/
(40)   http://bmj.bmjjournals.com/cgi/eletters/331/7531/1487#124851
(41)    Science Blog 2007-09-10: How vitamin C stops the big 'C' http://scienceblog.com/14162/how-vitamin-c-stops-the-big-c/
(42)    Namulemia, Edith; Sparling, James; Foster, Harold D. Nutritional supplements can delay the progression of AIDS in HIV-infected patients: results from a double-blinded, clinical trial at Mengo Hospital, Kampala, Uganda. Journal of Orthomolecular Medicine 2007; 22(3), 129-136. 
(43)    James DeMeo: The Suppression of Dissent and Innovative Ideas In Science and Medicine; http://www.orgonelab.org/suppression.htm
(44)    Brian Martin, "Suppression of Dissent in Science", Research in Social Problems and Public Policy, Volume 7, edited by William R. Freudenburg and Ted I. K. Youn (Stamford, CT: JAI Press, 1999), pp. 105-135. Available on-line: http://www.uow.edu.au/arts/sts/bmartin/pubs/99rsppp.html
(45)   http://angryscientist.wordpress.com/2007/10/03/mother-jailed-put-on-trial-for-curing-her-son-of-melanoma/ and http://www.healthsalon.org/349/melanoma-cured-by-mother-mother-and-son-go-to-jail
(46)   New Scientist 19 October 2007: Scale of pharma payments to med schools revealed http://www.newscientist.com/channel/opinion/mg19626263.500
(47)   Professor Christopher Nordin: The pharmaceutical industry and doctors' prescribing habits. http://www.abc.net.au/rn/ockhamsrazor/stories/2007/2056879.htm
(48)    Campbell, E.G. et al: Institutional Academic – Industry Relationships. JAMA 2007, 298:1779-1786. http://www.medicalnewstoday.com/articles/86180.php?nfid=44282Heath Science Spirit
A previous article discussed Stasi. It was East Germany's secret police. It was one of the most repressive state apparatuses in modern times.
Its infamous reputation speaks for itself. It's reincarnated in new form. Given today's state-of-the-art technology. It's worse now than then. The previous article said the following:
On July 7, Der Spiegel headlined "Snowden claims: NSA Ties Put German Intelligence in Tight Spot."
"They're in bed together," said Snowden. NSA partners with foreign intelligence in other countries. Its "Foreign Affairs Directorate (BND)" does so.
It's done in ways to "insulate their political leaders from the backlash." It's precautionary in case people learn "how grievously they're violating global privacy."
BND/NSA cooperation is far greater than previously known. At issue are serious violations of Germany's privacy laws. According to Der Spiegel, NSA provides "analysis tools."
They're for "BND's signals monitoring of foreign data streams that travel through Germany."
Besides other areas, BND focuses on "the Middle East route through which data packets from crisis regions travel."
Der Spiegel said "BND pulls data from five different nodes that are then analyzed at the foreign intelligence service's headquarters in Pullach near Munich."
Gerhard Schindler heads it. He "confirmed the partnership during a meeting with members of the German parliament's control committee for intelligence issues."
Snowden told Der Spiegel that German outrage over NSA spying was pretense. Both countries work closely together. Relations are longstanding.
Current operations far exceed Stasi's. They're conducted with technological ease. Decades earlier spying was crude compared to today's.
Modern methods operate in unprecedented ways. Virtually everyone can be monitored everywhere at all times. Nearly everything about targets is known.
Almost nothing's too secret to escape scrutiny. There's no way to hide. There's no place to do it.
On July 20, Der Spiegel headlined " 'Prolific Partner:' German Intelligence Used NSA Spying Program," saying:
Chancellor Merkel lied. It didn't surprise. She does it repeatedly. She "and her ministers claim they first learned about the US government's comprehensive spying programs from press reports."
"But SPIEGEL has learned that German intelligence services themselves use one of the NSA's most valuable tools."
BND and its Federal Office for the Protection of the Constitution (BfV) intelligence agency collaborated with NSA. Secret documents reveal it.
They show BfV "was equipped with a program called XKeyScore intended to 'expand their ability to support NSA as we jointly prosecute CT (counterterrorism) targets.' "
"The BND is tasked with instructing the domestic intelligence agency on how to use the program, the documents say."
It's a "productive espionage tool." It's able to "retroactively reveal any terms" targeted persons type into search engines.
It's able to receive "full takeâ¤|unfiltered dataâ¤|including" communications content. It can do so over a period of days.
Documents show up to "500 million (monthly) data connections from Germany accessed by the NSA." XKeyScore collects much of it.
German/NSA cooperation "recently intensified." BND's Schindler expressed an "eagerness and desire" to do so. According to NSA:
"The BND has been working to influence the German government to relax interpretation of the privacy laws to provide greater opportunities of intelligence sharing."
In 2012, Germany showed a "willingness to take risks and to pursue new opportunities for cooperation with the US."
In Afghanistan, BND was NSA's "most prolific partner." The relationship is longstanding. It's hard-wired. Merkel lied. Anger expressed over US spying was fake.
She knows what's going on. She's involved. On September 22, German federal elections are scheduled. Voters will choose Bundestag representatives.
Merkel's coalition needs up to 300 or more seats to retain power. Until NSA spying and Germany's involvement were revealed, easy reelection was expected.
She's seeking a third term. Perhaps she won't get it. Earlier polls showed her ahead. Voters may have second thoughts. They'll  decide if she's a spent force. In weeks we'll know.
In the meantime, expect more revelations. On July 19, Der Spiegel headlined "Greenwald: 'Explosive' NSA Spying Reports Are Imminent," saying:
Expect them in a few days. They'll be the next shoe to drop. They'll be "more explosive in Germany" than previous reports.
They'll tell more about BND/NSA cooperation. Greenwald said he's got around 9,000 to 10,000 top secret documents. He's had them for weeks.
He's been analyzing them. Some documents are "extremely complicated." He's living in Rio de Janeiro. CIA has a "robust" presence there.
He's worried about his safety. He feels "threatened in the sense that there are very prominent American politicians and even American journalists who have called for (his) arrest, who have called (him) a criminal."
Possession of top secret US documents jeopardizes his safety. He's got multiple copies. He maintains regular contact with Snowden. They use "encrypted chat technologies."
German/NSA cooperation isn't at the same level as Britain, Australia, Canada or New Zealand. It's the "next tier where they exchange information all the time."
It's intensifying. BND's Schindler's eager to do so. Perhaps Germany's heading for joint NSA cooperation matching any other country.
A Final Comment
On July 18, the Electronic Frontier Foundation headlined "House Judiciary Committee Rails Against Domestic Spying," saying:
House Judiciary Committee members "grilled" government witnesses. It was more show than tell. Obama officials "hid behind secrecy."
Grilling belies congressional sincerity. Congress, the courts, Obama, and administration officials are co-conspirators. It shows in legislation enacted.
It shows in court decisions. It shows America's current state. Washington's criminal class is bipartisan. It includes High Court justices.
Police state lawlessness replaced constitutional law. Full-blown tyranny's a hair's breadth away. America's no longer safe to live in. Universal monitoring persists.
It's official policy. Corporate bosses are complicit. Democracy's a convenient illusion. So is freedom. It's on the chopping block for elimination. It's practically gone already.
Doing the right thing is criminalized. Press freedom's up for grabs. On July 19, The New York Times headlined "Court Tells Reporter to Testify in Case of Leaked CIA Data," saying:
The US Fourth Circuit Court of Appeals ruled Times writer James Risen must do so. It said First Amendment protections don't cover "unauthorized leaks."
Federal District court Judge Leonie Brinkema held otherwise. She got it right. She supported press freedom. She called it First Amendment "reporter's privilege." Obama's DOJ claims it doesn't exist.
Appeals Court Chief Judge William Byrd Traxler wrote the majority (two/one) ruling, saying:
"Clearly, Risen's direct, firsthand account of the criminal conduct indicted by the grand jury cannot be obtained by alternative means, as Risen is without dispute the only witness who can offer this critical testimony."
"There is no First Amendment testimonial privilege, absolute or qualified, that protects a reporter from being compelled to testify by the prosecution or the defense in criminal proceedings about criminal conduct that the reporter personally witnessed or participated in, absent a showing of bad faith, harassment, or other such non-legitimate motive, even though the reporter promised confidentiality to his source."
Risen vowed to go to prison rather than testify. He may end up there. He'll appeal to the Supreme Court. Odds of winning are slim.
The Court's stacked with right wing extremists. They're largely comfortable with police state lawlessness. It shows in their rulings.
Risen may first ask for a full Fourth Circuit ruling. His lawyer Joel Kurtzberg said:
"We are disappointed by and disagree with the court's decision. We are currently evaluating our next steps."
Fourth Circuit's Judge Roger Gregory "vigorous(ly) dissent(ed)." He called the ruling a threat to investigative journalism, saying:
"Under the majority's articulation of the reporter's privilege, or lack thereof, absent a showing of bad faith by the government, a reporter can always be compelled against her will to reveal her confidential sources in a criminal trial."
"Whatever the limits of who may claim reporter's privilege, it is clear that Risen – a full-time reporter for a national news publication, The New York Times – falls into the category of people who should be eligible to invoke the privilege."
"The majority exalts the interests of the government while unduly trampling those of the press, and in doing so, severely impinges on the press and the free flow of information in our society."
Friday's ruling set a precedent. It applies only to the Fourth Circuit. It's important. It includes Maryland and Virginia. It's Pentagon, CIA and NSA headquarters.
Risen's case pertains to information in his 2006 book, "State of War: The Secret History of the CIA and the Bush Administration." It's about Bush era CIA tactics. Clinton also.
It involves "trick(ing) Iranian scientists by having a Russian defector give them blueprints for a nuclear triggering device that had been altered with an error."
It "portrays the operation as reckless and botched in a way that could have helped the Iranians gain accurate information."
In December 2010, former CIA officer Jeffrey Sterling was called Risen's source. He was indicted on Espionage Act charges.
According to Reporters Committee for Freedom of the Press, since 1984, 17 journalists were jailed for refusing to testify or disclose sources.
Police states operate this way. America's by far the worst. For sure it's the most reckless, outlandish and dangerous.
Stephen Lendman lives in Chicago. He can be reached at lendmanstephen@sbcglobal.net.
His new book is titled "Banker Occupation: Waging Financial War on Humanity."
http://www.claritypress.com/LendmanII.html
Visit his blog site at sjlendman.blogspot.com.